Condo Reviews

Floridian Review: Miami-Inspired Condo in Bukit Timah With Rooftop Facilities
Matt K
April 18, 2022

30

min read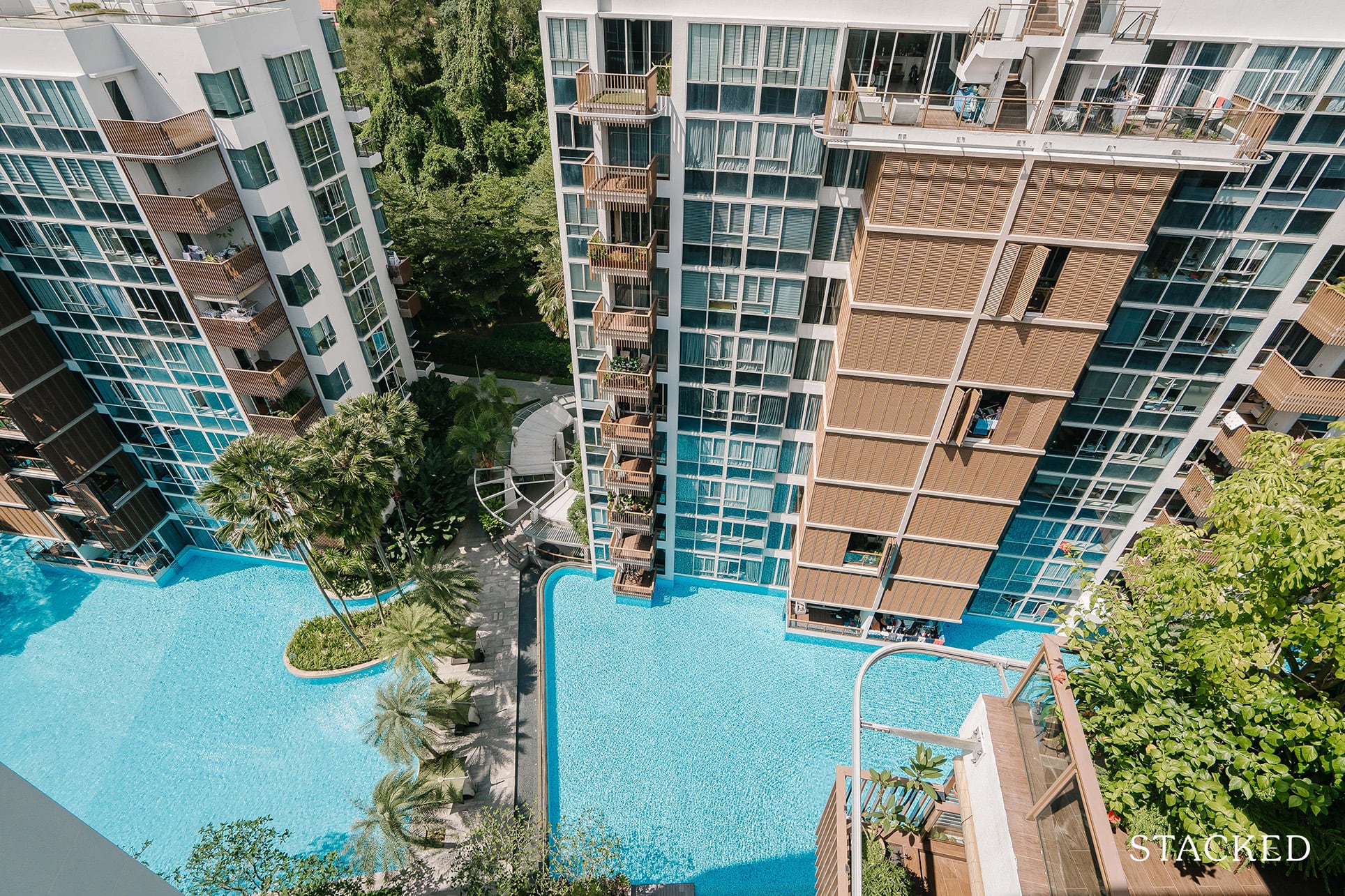 Our Verdict
Floridian aspires to be the luxury condo of King Albert Park and was certainly priced as such at its launch in 2007. It is the newest condo in the area with full facilities and continues to be well maintained after 10 years. From its impressive drop-off point to rooftop facilities and 8 pools within the development, Floridian sets the standard for what modern resort-style living feels like.
Reviewed by Matt on April 17, 2022
What we like
Plentiful facilities - including a rooftop with 2 tennis courts and views of Bukit Timah Hill

Walking distance to MGS and King Albert Park MRT

More upmarket than its neighbouring condos
What we don't like
—

Heavy traffic during rush hours

—

Lacks the frontage enjoyed by the likes of Maple Woods 
30
min read
| | |
| --- | --- |
| Project: | Floridian |
| District: | 21 |
| Address: | 965 – 977 Bukit Timah Road |
| Tenure: | Freehold |
| No. of Units: | 336 |
| Site Area: | 230,694 sqft |
| Developer: | JV between Far East Organization & Wing Tai |
| TOP: | 2012 |
Ever wanted to live in a resort-style condo, but found the existing resale options a tad too old (think Villa Marina and Spanish Village? Well, Floridian could be one to consider then.
Inspired by the coastal lifestyle of Miami, Florida, it's no surprise that this was also the inspiration for the development's name. Tucked away in a quiet corner of Bukit Timah Road, Floridian doesn't have the frontage that its neighbours Maple Woods and The Cascadia enjoy. However, Floridian is no less prominent – it is the newest full-featured condo development in the King Albert Park vicinity (excluding KAP Residences which is newer but more of a boutique project) with its well-maintained grounds, a ton of pools, and beautiful landscaping. As with all the condos along this stretch of Bukit Timah, Floridian is within 1 km of the desirable Methodist Girls School and is a short walking distance from King Albert Park MRT. 
Floridian was jointly developed by Far East Organization and Wing Tai. Here are some tidbits of history to whet your appetite – these 2 developers are by far the dominant players in the King Albert Park precinct – Wing Tai was behind Maple Woods, The Blossomvale, The Tessarina, and The Nexus (also jointly with Far East) while Far East Organization were the developers of Gardenvista, Jardin and The Sterling following their acquisition of Yeo Hiap Seng. Interestingly, these latter 3 condos were built on the prized sites of YHS' former drinks and soy sauce factories. 
It could have been total domination by Wing Tai had they been successful in their bid to control Yeo Hiap Seng – it was a messy family fallout for Singapore's most iconic drinks company and it was the attractiveness of their land bank that made Singapore's most prominent real estate players bid for the company. I'm not going to go into the entire history, but if you are interested, you can read more about it here.
Hence, it's no surprise that the developers were well aware of Floridian's appeal – be it aesthetically, functionally, or locationally – and priced this development very optimistically during its launch in 2007 at an average of $1,640 to $1,750 psf. Mind you, this was all before the completion of the MRT station. In comparison, The Cascadia next door was launched at an average of $1,485 psf.
In retrospect, we know that the Global Financial Crisis hit the world a year later and prices went downhill for a couple of years. Astute bargain hunters picked up units for as little as $1,139 psf for a 2 Bedroom unit just 2 years later in 2009. A similarly sized unit at 969 sqft was also purchased that year at $1,370 psf and recently sold for $2,095 psf in November 2021, reaping that seller a whopping 52% return on his initial $1.3m investment. On the flip side, there were also a number of unprofitable transactions at Floridian given how high prices started out.
While gains/losses of this magnitude may not seem as apparent on our current horizon, it stresses the importance of doing your homework as much as you can – and if you need trusted, genuine advice on your purchase or sale, do reach out to us at Stacked.
I'm sure you're excited to find out what makes Floridian unique so let's go right to the Insider Tour!
Floridian Insider Tour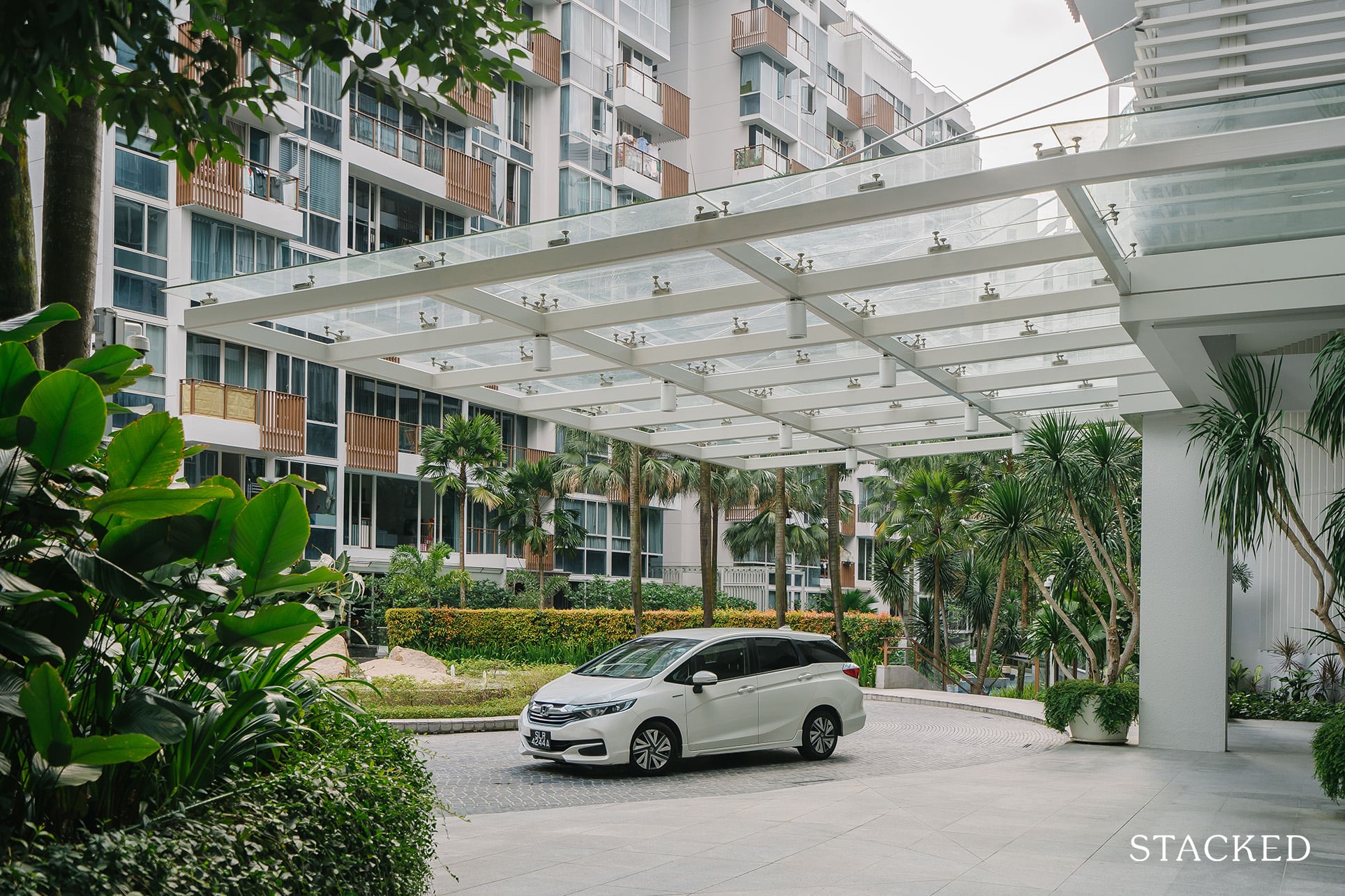 Floridian is located on a cul-de-sac along Bukit Timah Road, just after The Cascadia and before Maple Woods. At Stacked, we are pretty familiar with this area, having written reviews on both condos, as well as Mayfair Modern and Mayfair Gardens opposite.
Floridian shares the side road with the 242-unit condo The Nexus. As it is tucked away from the car-heavy Bukit Timah Road, you can naturally expect a more tranquil living environment. Some may comment that Floridian consequently does not have the kind of frontage that its neighbours enjoy but the 130m distance from the main road might remind you a little of the exclusivity afforded to luxury condos such as Perfect Ten, which has an 80m driveway and is also situated in Bukit Timah. And so although it isn't as convenient (you have to walk further out to the bus or MRT), I do like that you are sheltered from the traffic noise from Bukit Timah Road.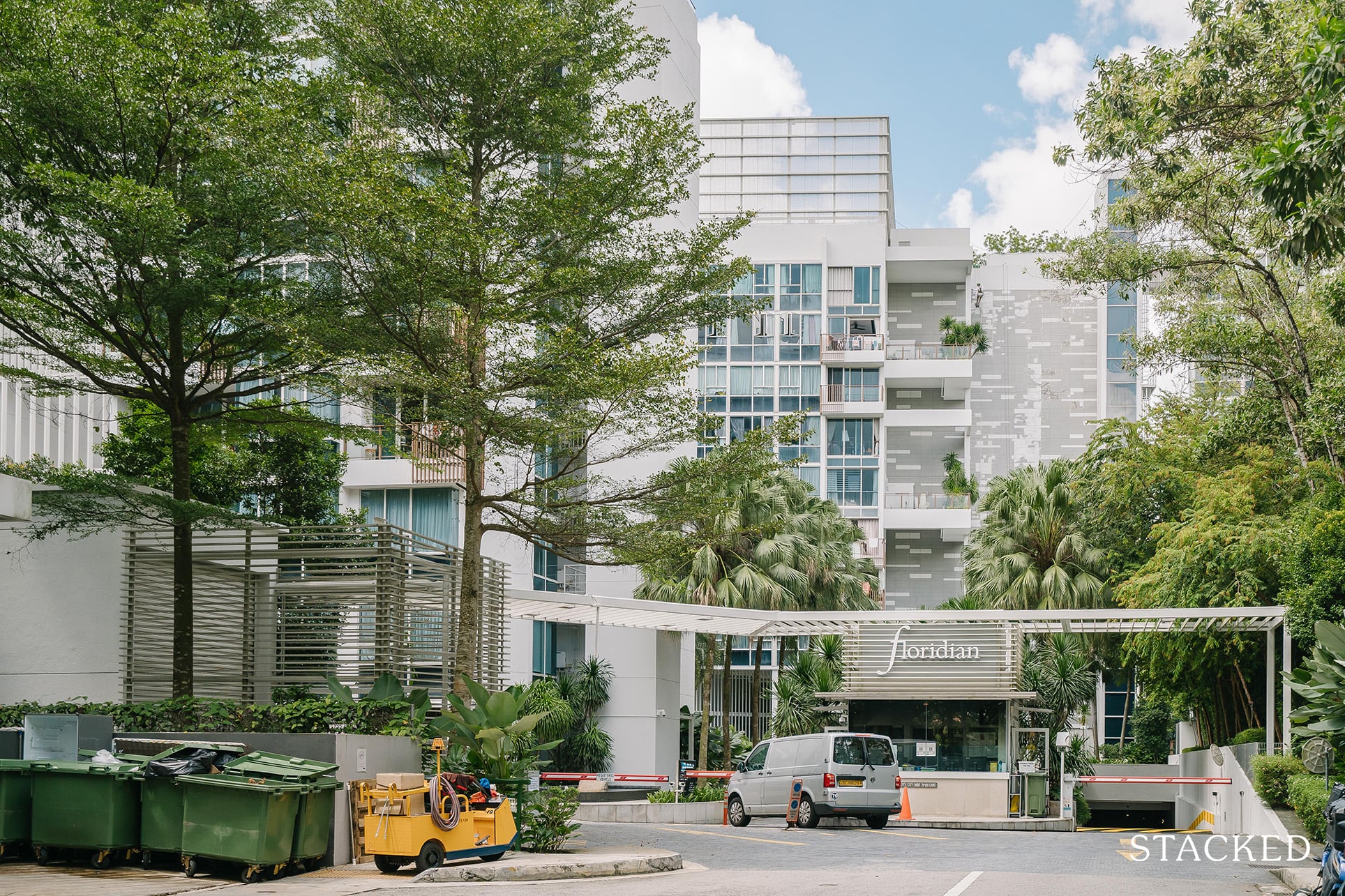 While it is not quite in the same league as this is not a private road, Floridian gives buyers that sense of private access when driving home. Even for those taking public transport, you will be delighted to know that it is a fully sheltered path from the MRT to your entrance. Yet I must point out that the entrance here is not perfect – the bin centre for The Nexus is close to Floridian's entrance so it's clear this is not quite the sight I want for myself or my guests visiting. This is especially perplexing since The Nexus was developed by the very same developers as Floridian so they could have easily factored this into their consideration.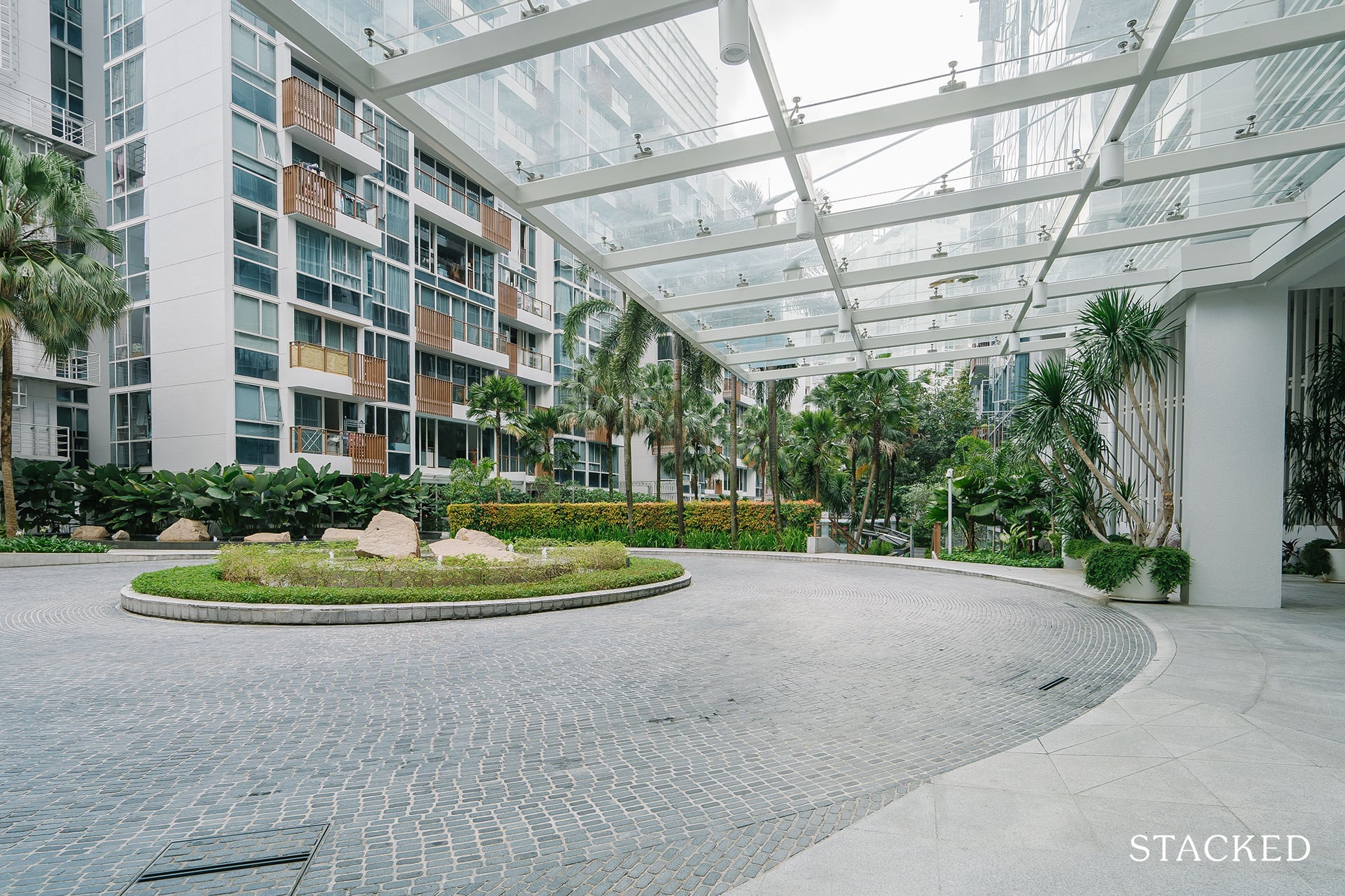 Floridian's drop-off is impressive. For a development of fewer than 500 units, I felt that there was a generous amount of space catered for this, and feels suitably luxurious. It's wide enough to accommodate 2 cars and its shelter is also rather massive – and not some half-baked shelters you sometimes find in resale condos (where you can get wet on a day with heavy rain anyway).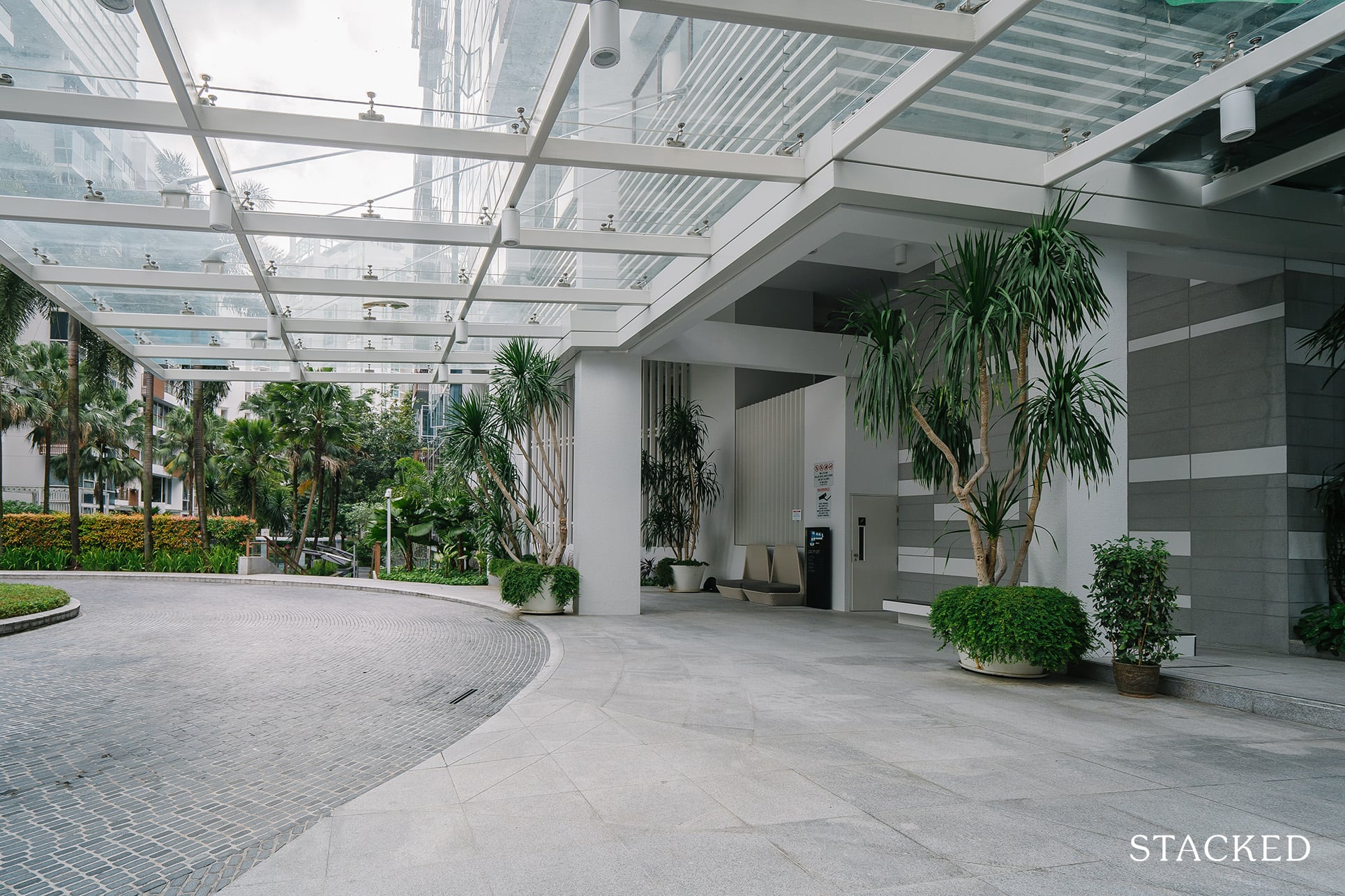 As always, first impressions count and I think we are off to a good start here. There are also some seats that are provided here for those waiting for their ride. Rain or shine, Floridian is able to provide you with a comfortable waiting spot.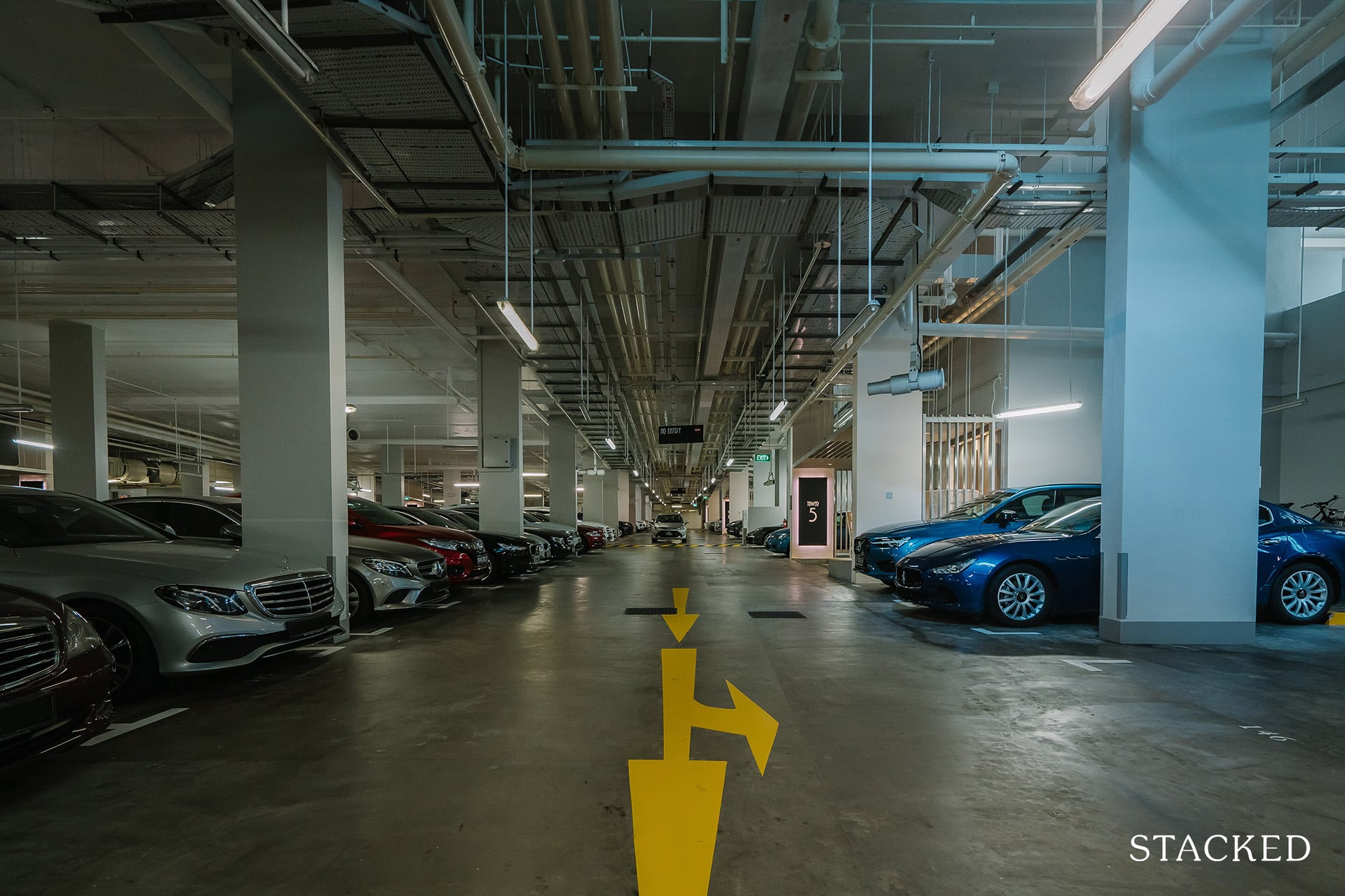 Heading next to the basement car park and you will find one that has a good amount of lighting and clear signages. It also helps that in some areas, the ceiling height is higher than average so it does feel more spacious as well.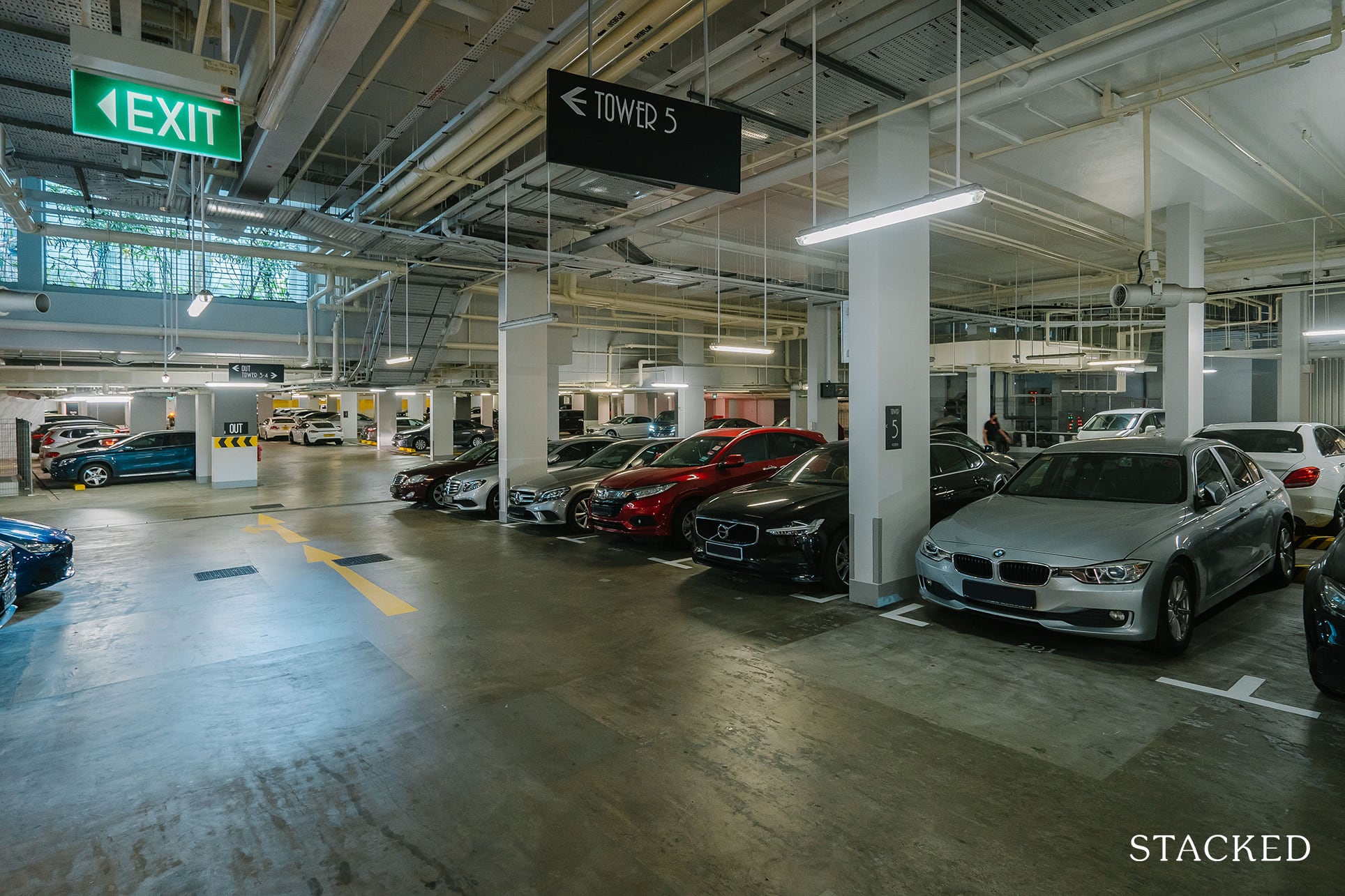 There are also parts that have openings above, so it adds more ventilation and light into the space as well. In general, the lots here are quite well-sized, but you don't have the nice epoxy smooth coating here – which always helps to make the car park feel more premium.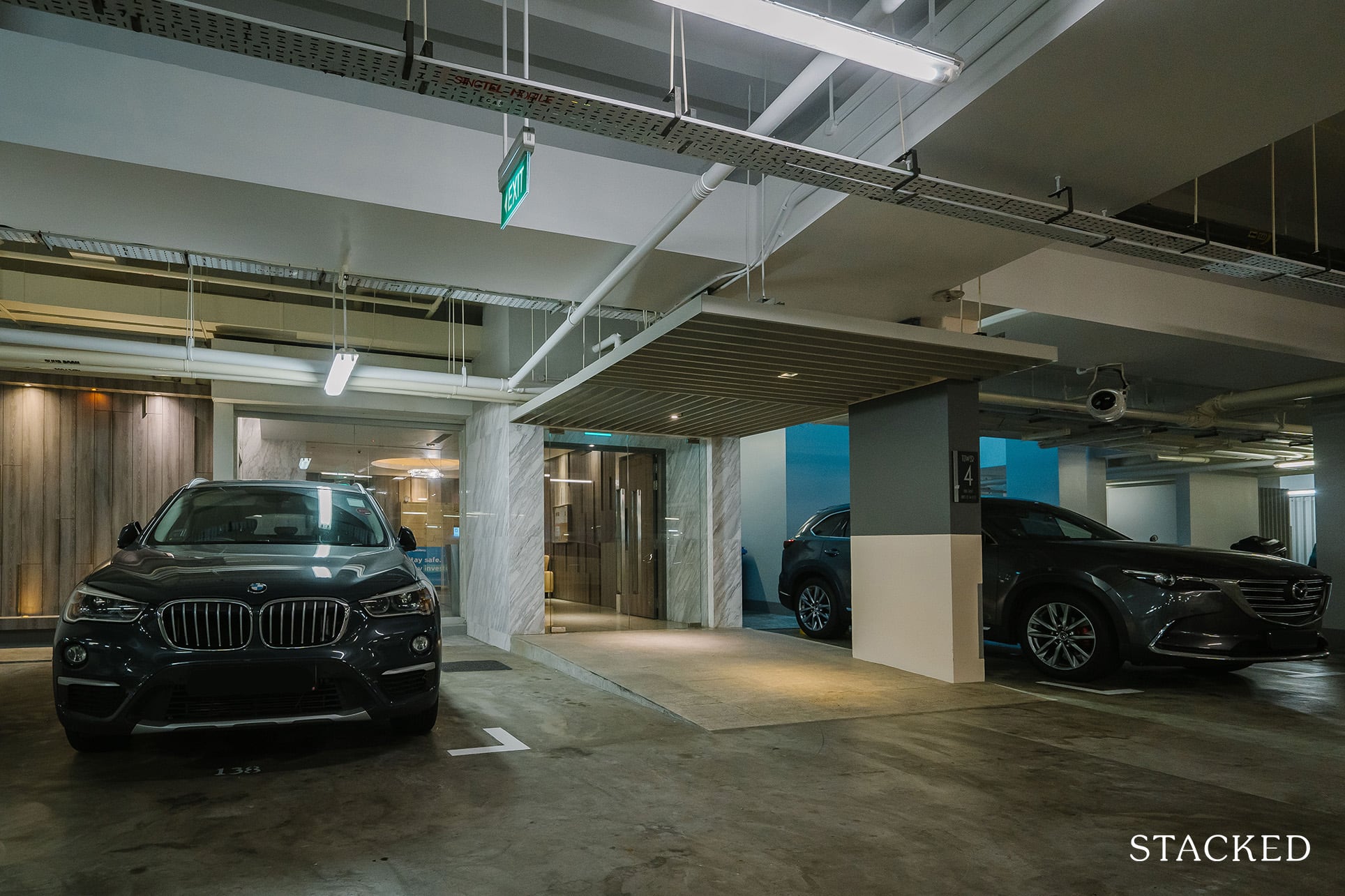 As standard, there are individual lift lobbies for units and even chairs placed outside for some of them. However, there is no requirement for security access at lift lobbies – which is quite odd as that seems to be the minimal requirement nowadays. To be fair, security is never really a big concern in Singapore (which we should never take for granted), and so I can't imagine that this would be a drawback for many people.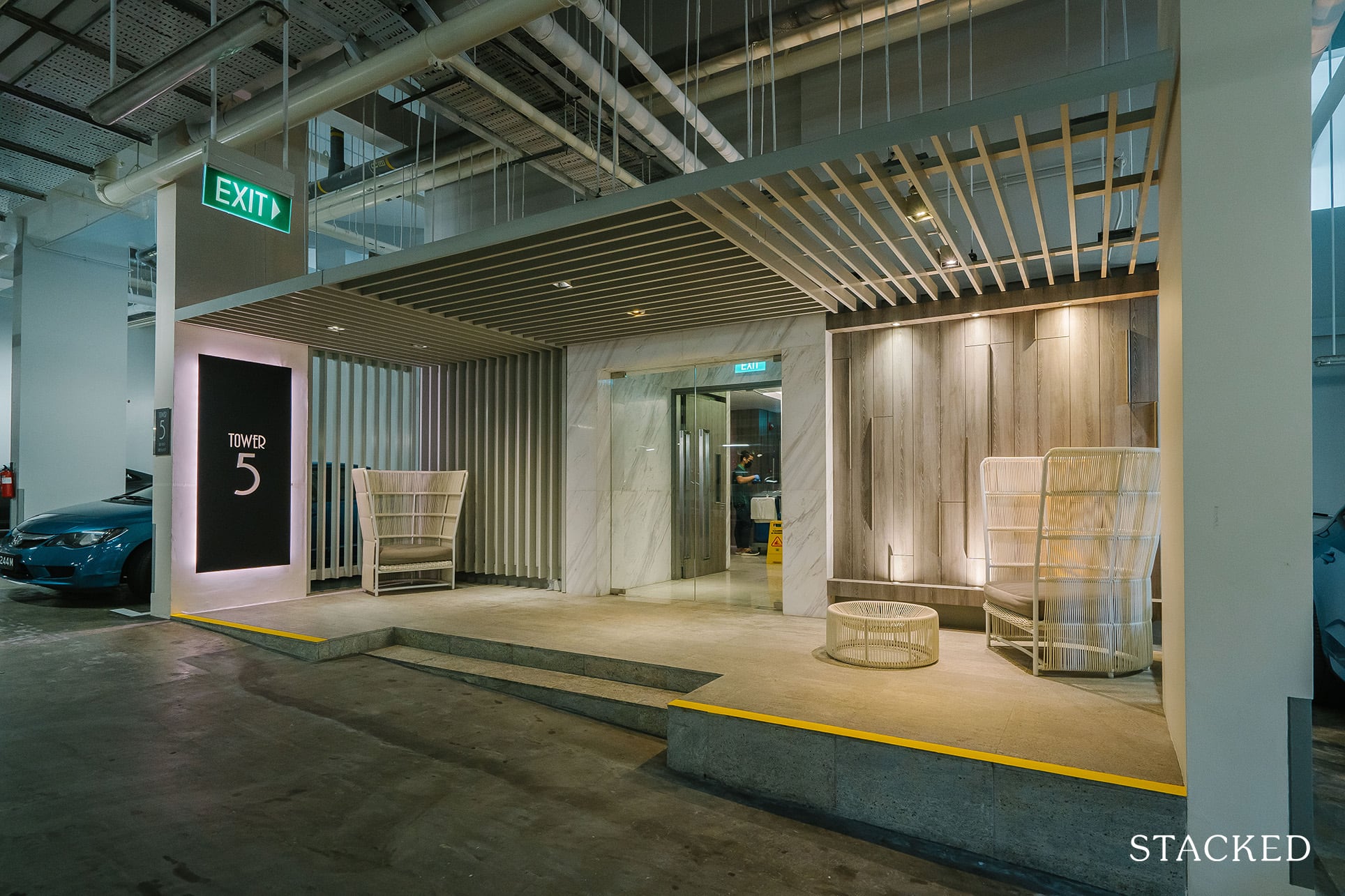 You can also see that the developers have tried to luxe up the lift lobbies with marble-like textures greeting you as you enter and the air-conditioned lobby certainly helps to give residents and visitors alike a comfortable welcome. The area is also brightly lit, so it's definitely unmissable for visitors.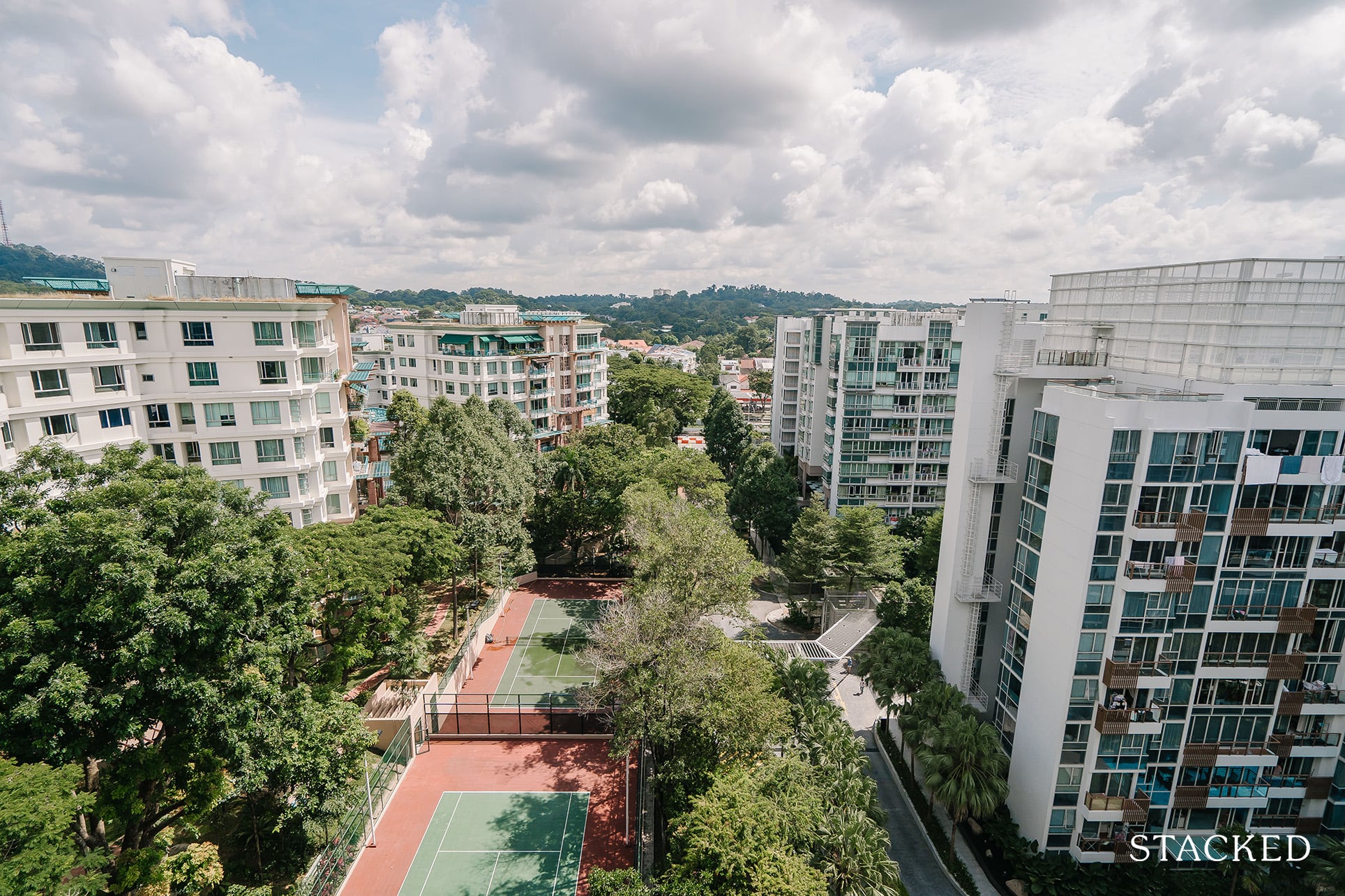 Facilities wise, they are split between the first floor and the rooftop and this is perhaps one of the few condos in the vicinity with the latter (Jardin is the other one I can think of). This is the most efficient use of space because effectively nearly the entire 230,694 square feet plot of land is catered to facilities. I've always liked rooftop facilities anyway, especially when there are views of some sort but we'll come to that later on.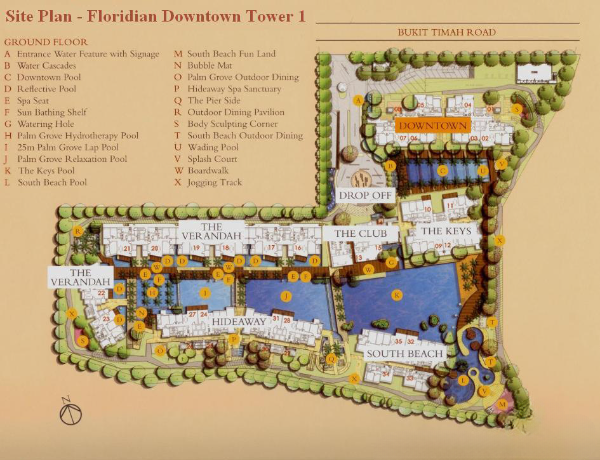 What's a Miami-themed resort without palm trees, swimming pools, and deck chairs? Unsurprisingly, if you check out the site map, there are at least 8 facilities with the word "pool" in them. That said, half of them are not full-sized pools – you wouldn't want them to be either as you will likely run up higher maintenance fees. Nonetheless, looking at how the stacks are laid out, every internal-facing unit has a pool view, which can be quite therapeutic for some – as long as there are not too many kids squealing all day!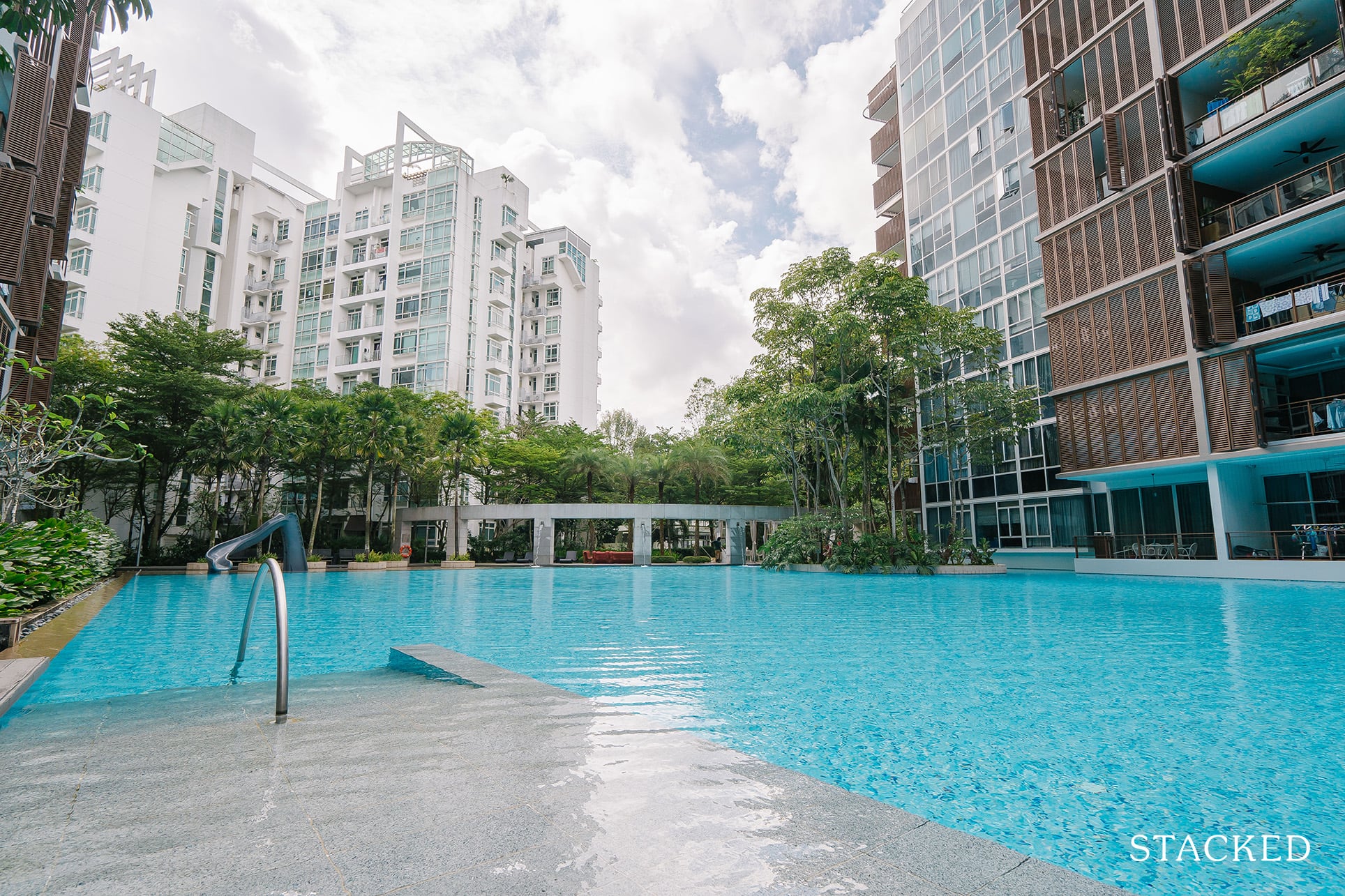 There are about 4 main pools at the Floridian, with each having varying width and lengths. Based on the site map, the shortest one seems to be 25m. 3 of the pools are situated side by side between the 'main' stacks of the development – namely blocks 967 to 977 (The Keys, The Verandah, Hideaway, and South Beach). The one above is The Keys Pool, the biggest and widest of the lot. And of course, seeing how the blocks are laid out, blocks The Keys and South Beach here represent the widest separation between the blocks if privacy is your main concern.
On that note, it can be a little confusing to identify the block numbers here as the condo goes by themes (such as South Beach, etc above) and tower numbers (e.g. Tower 5 for The Verandah), which does not tally with its exact address.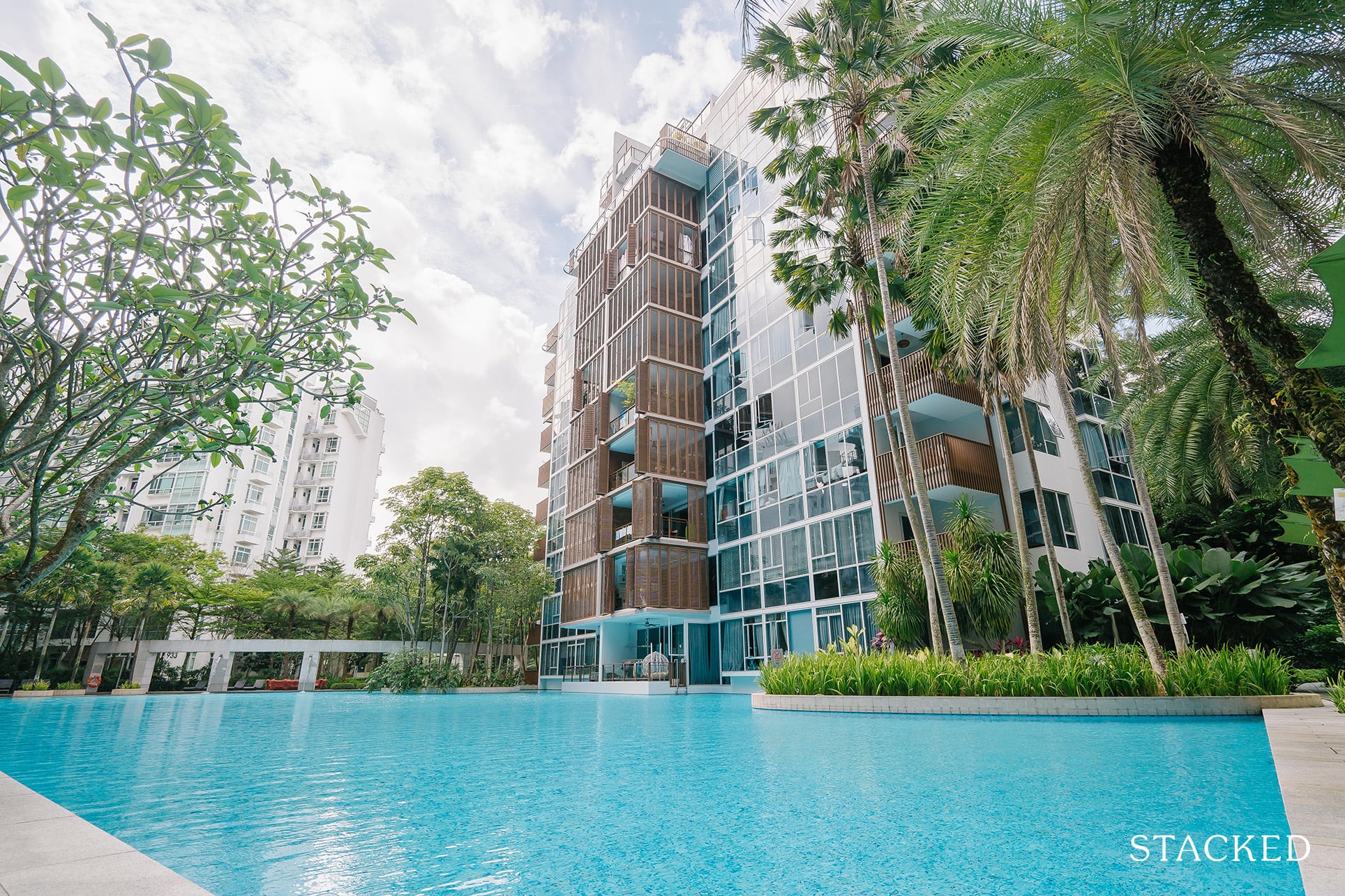 If you wanted a more private pool, I've found The Keys Pool to be the most exclusive (that's the one at block 965, closest to the entrance). As it's located away from the majority of the blocks and is arguably the most "serious-looking", avid swimmers should definitely go to this pool regularly.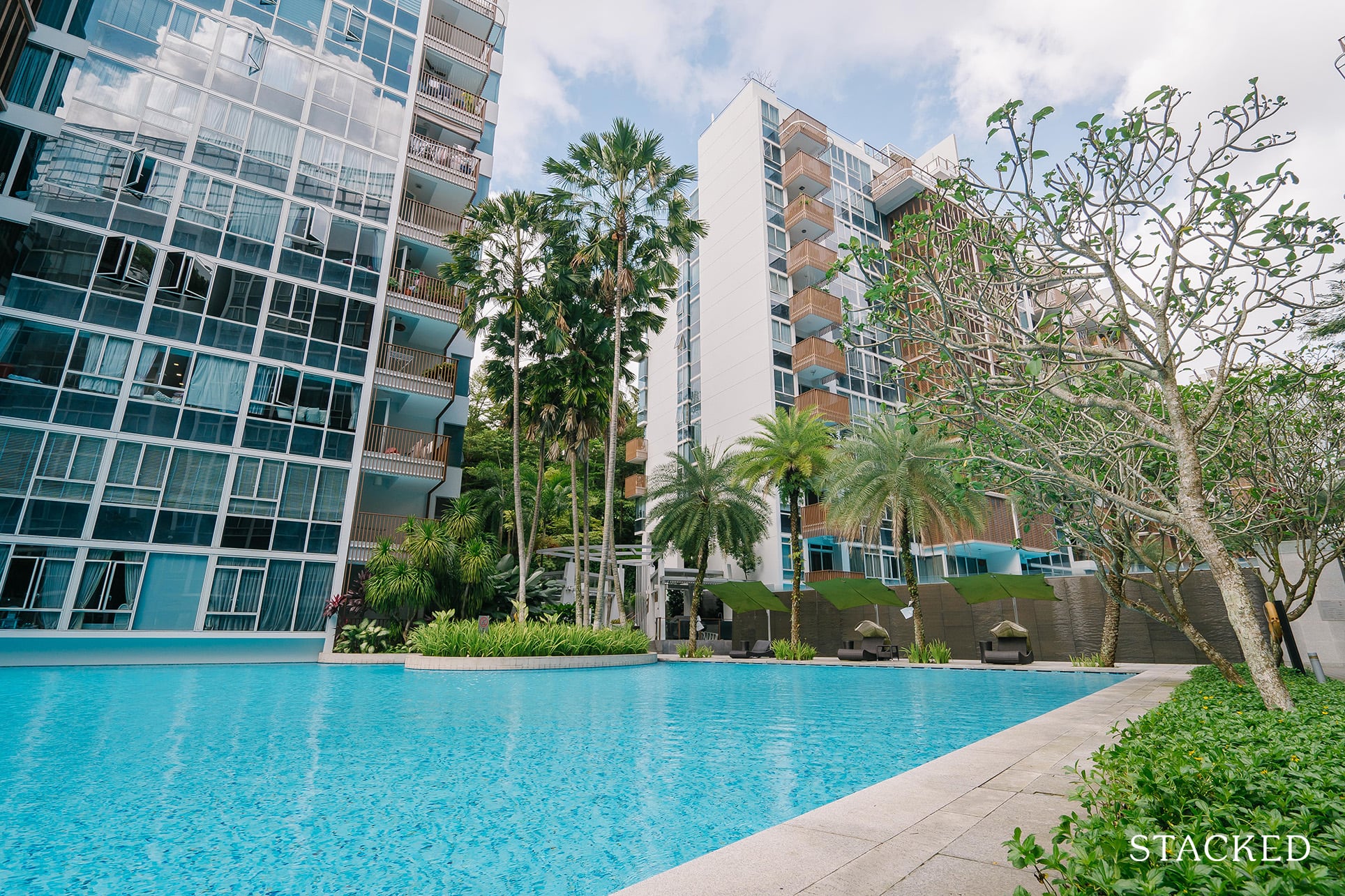 Next up is the Palm Grove Relaxation Pool. This one is smaller and less wide but differs from the rest with a certain elevation to the different pools, which also provides more distinction between each. You can essentially overlook the other pool (it's an infinity-edged one), so you have the luxury of choosing between different swimming pools for more variation.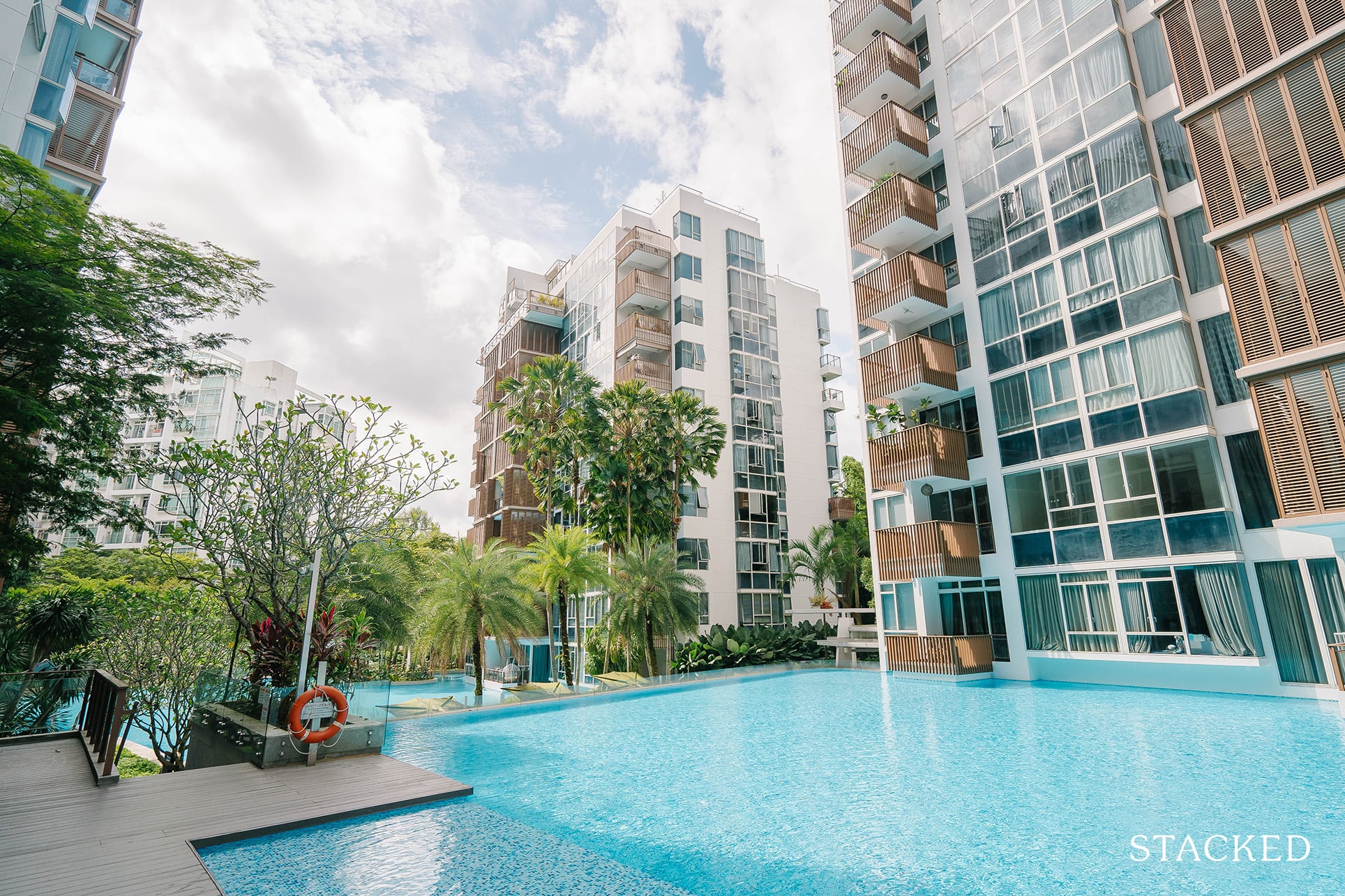 While the developers could have probably built a 100m long lap pool here, I think the decision to break them up into 3 separate pools makes sense too. It helps to segment the users to the pools nearest to their blocks. Besides the initial 'wow' factor of having a 100m lap pool, having a shorter lap pool means completing more laps (even though I know they are shorter) – cheap thrills, I know.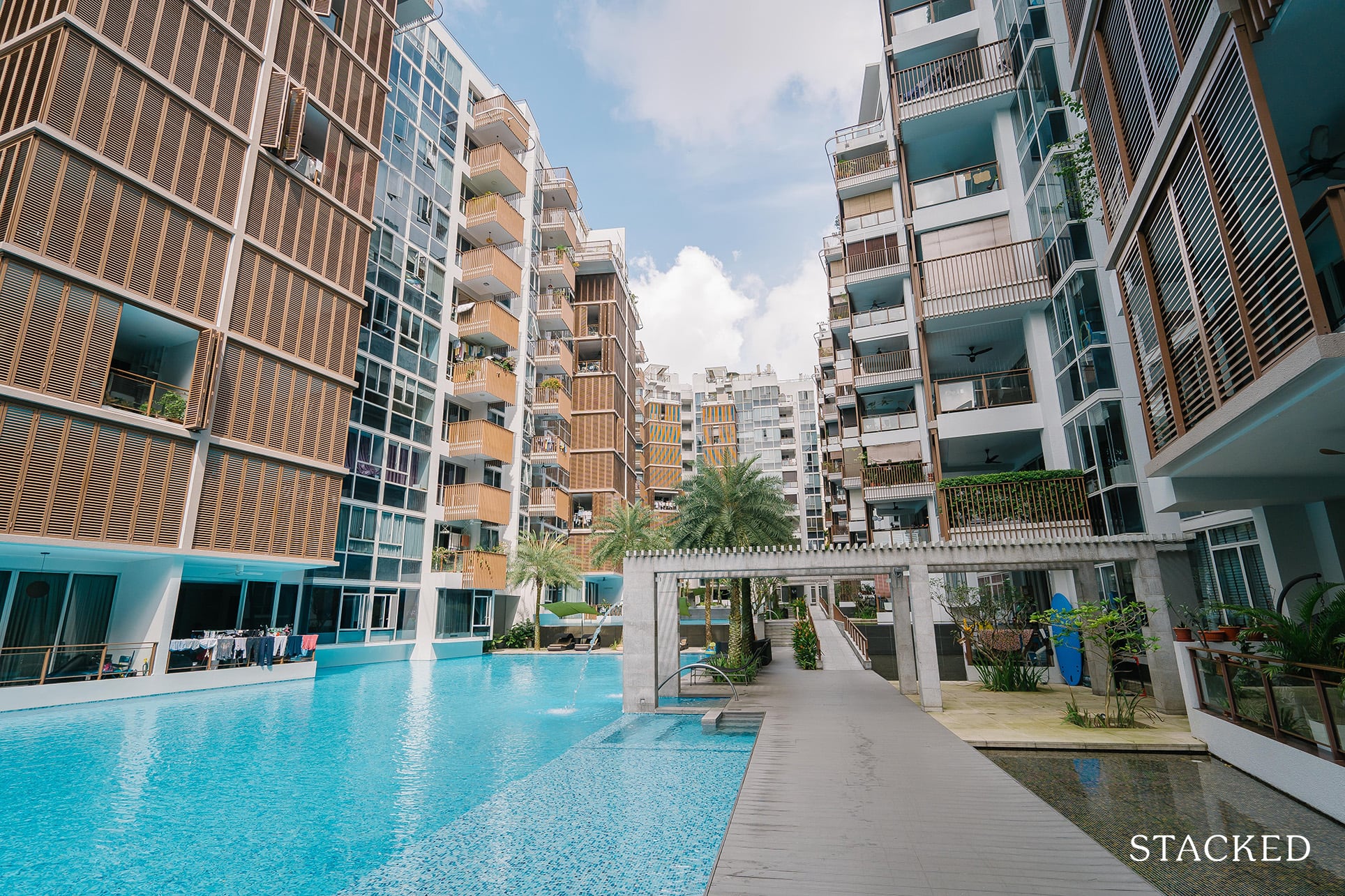 Another interesting feature is the shallow step into the swimming pool as well.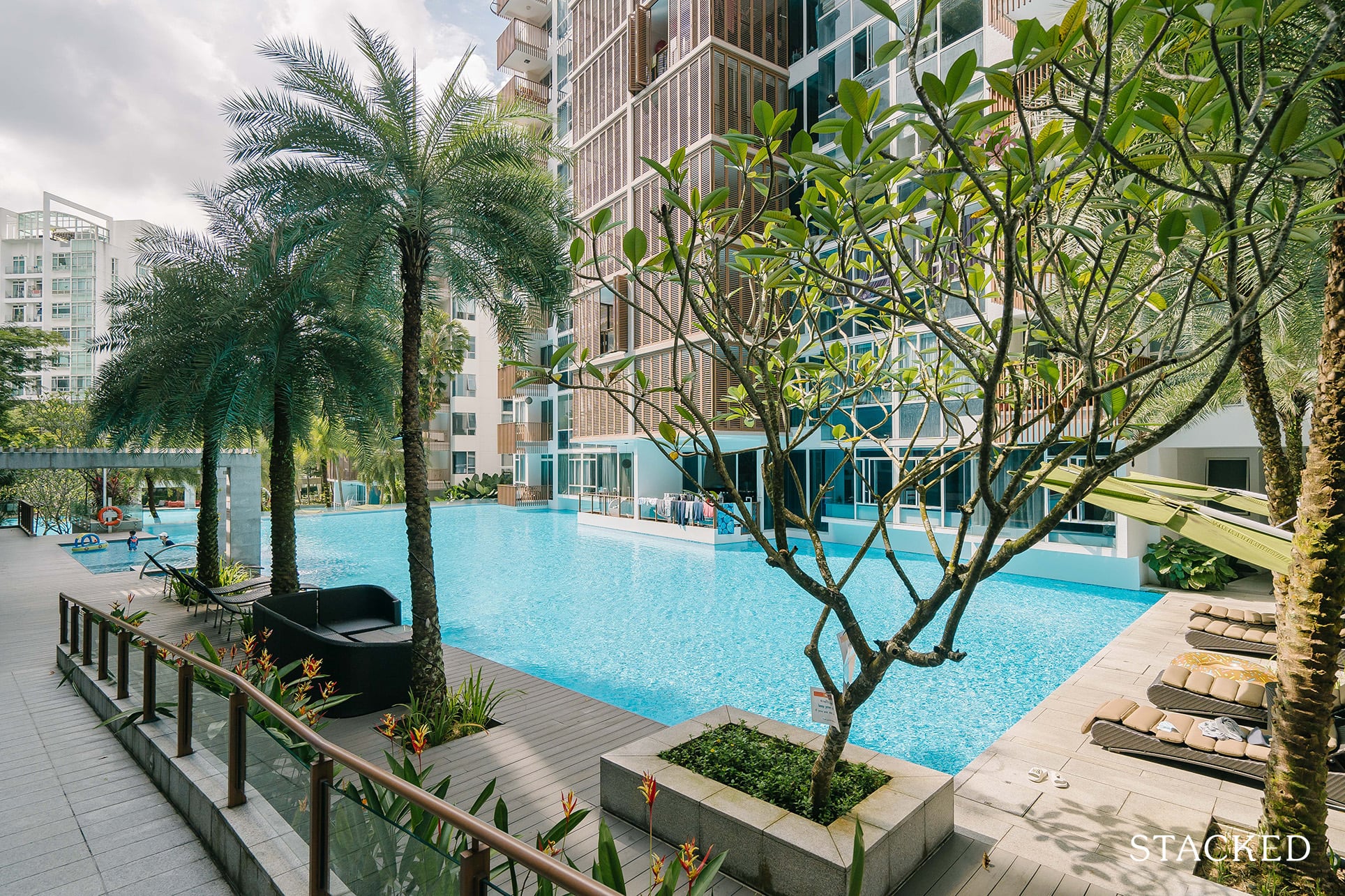 Which, as you can see above, is a cosy nook for kids to wade around in.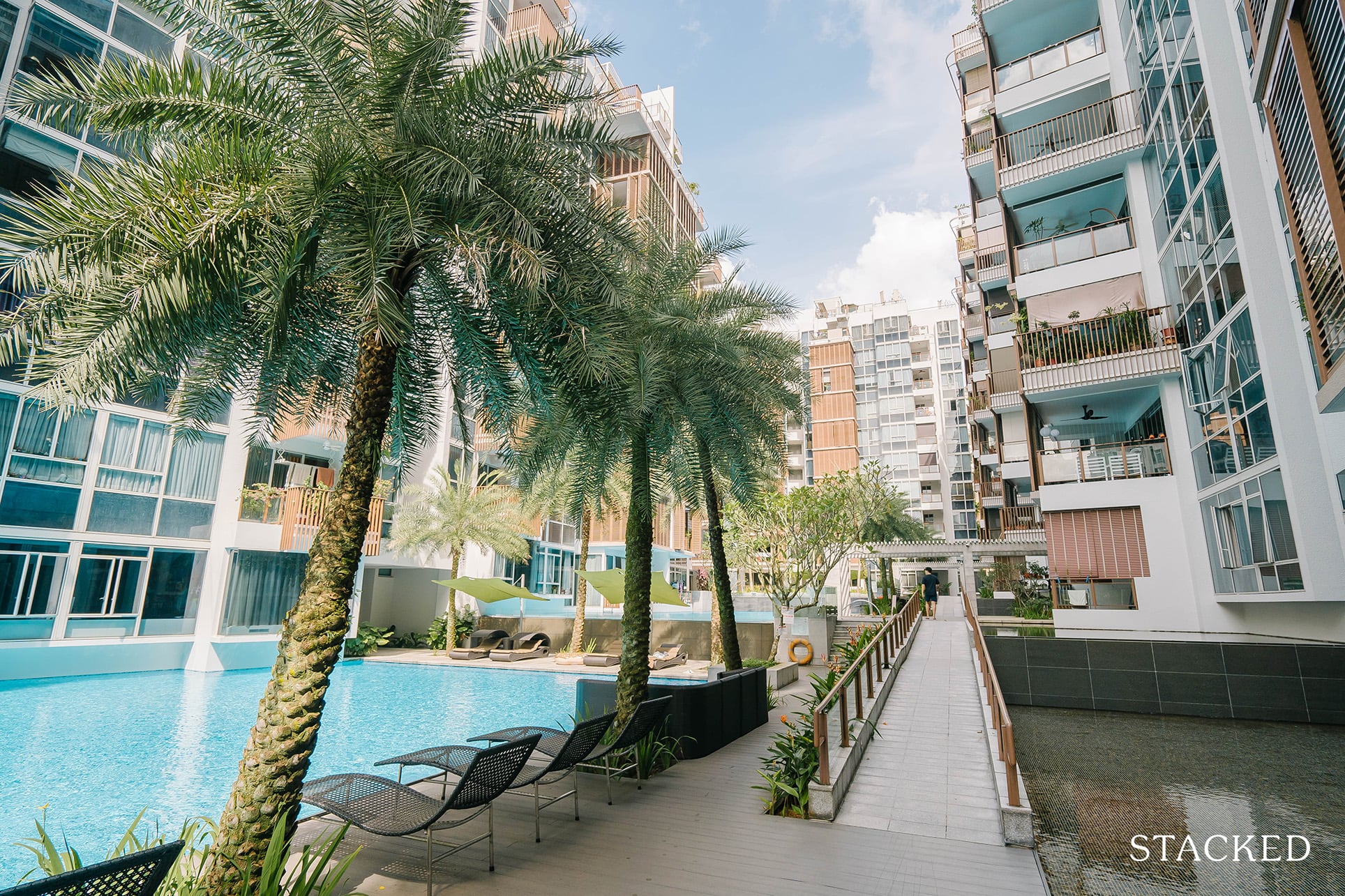 This one also comes with various deck chairs by the side of the pool deck, although I did expect to see some poolside cabanas here in keeping with that Miami vibes, so it was a surprising miss here.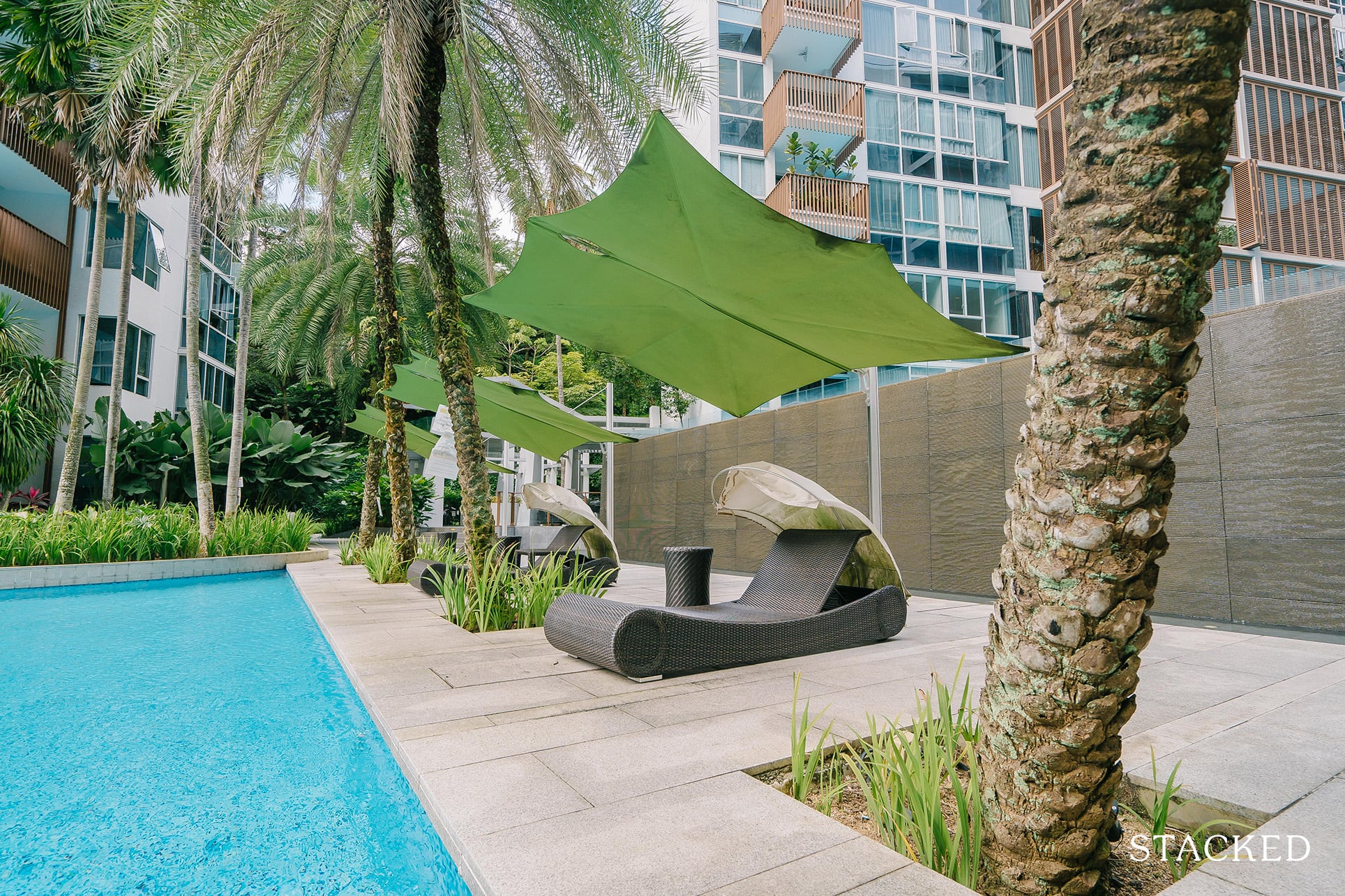 That said, you do get a variety of deck chairs along with the different pools of Floridian. While most are pretty standard, you get some interesting-looking ones too – like this one with a large leaf-like shade over you – to shield you away from the sun while you read your book. It also fits in the theme perfectly don't you think – with palm trees beside and a pretty looking pool close by.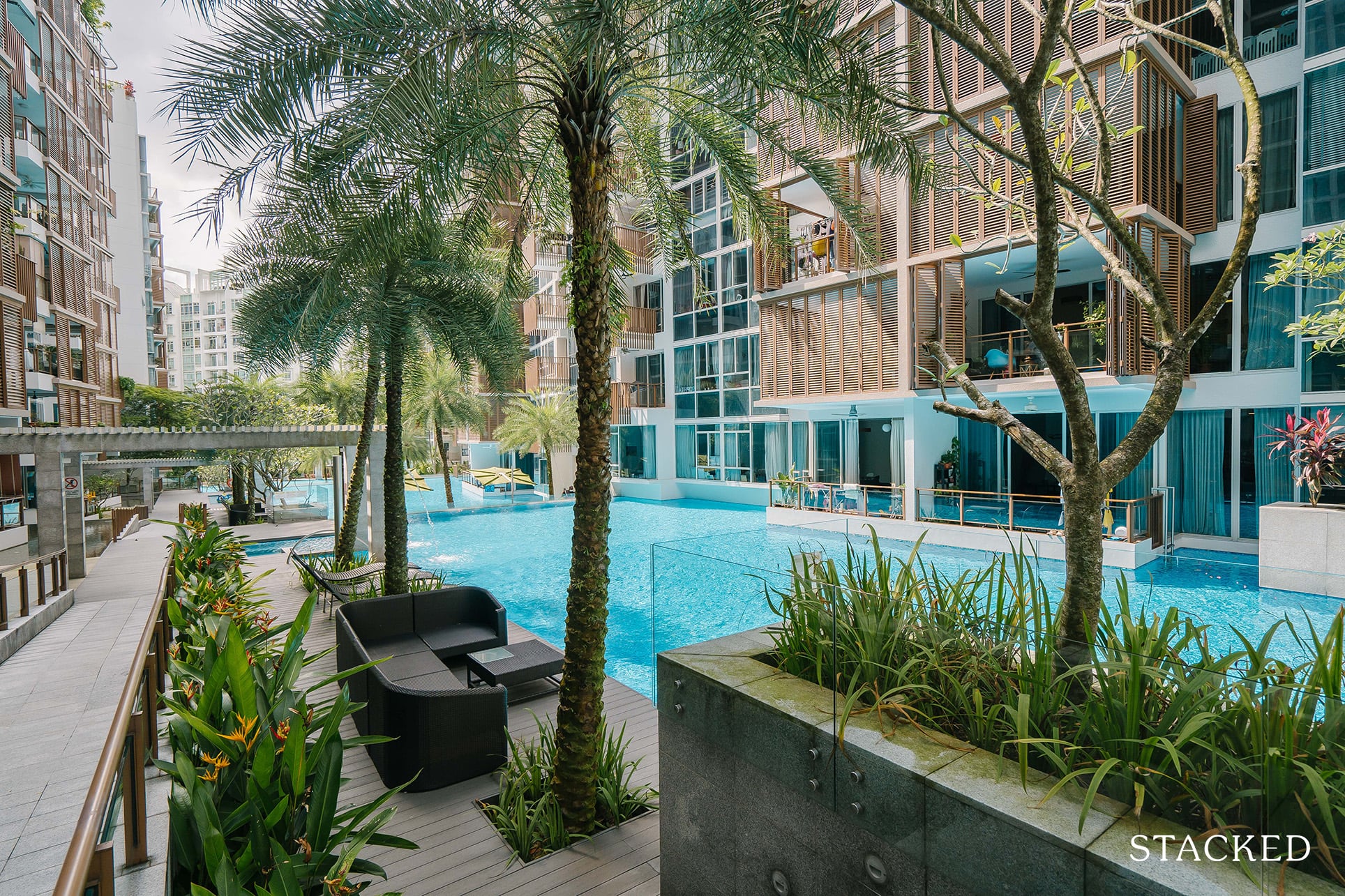 The last pool along this stretch is the 25m Palm Grove lap pool. This one is the "skinniest" of the lot, and while it has the highest elevation, it's the least private as a result. So I think most people would prefer the other pools as it almost feels like you'd be invading the privacy of the ground floor units here.
That could work in the favour of the pool-facing units here though as if it remains uncrowded, it can almost feel like your very own private pool outside your balcony.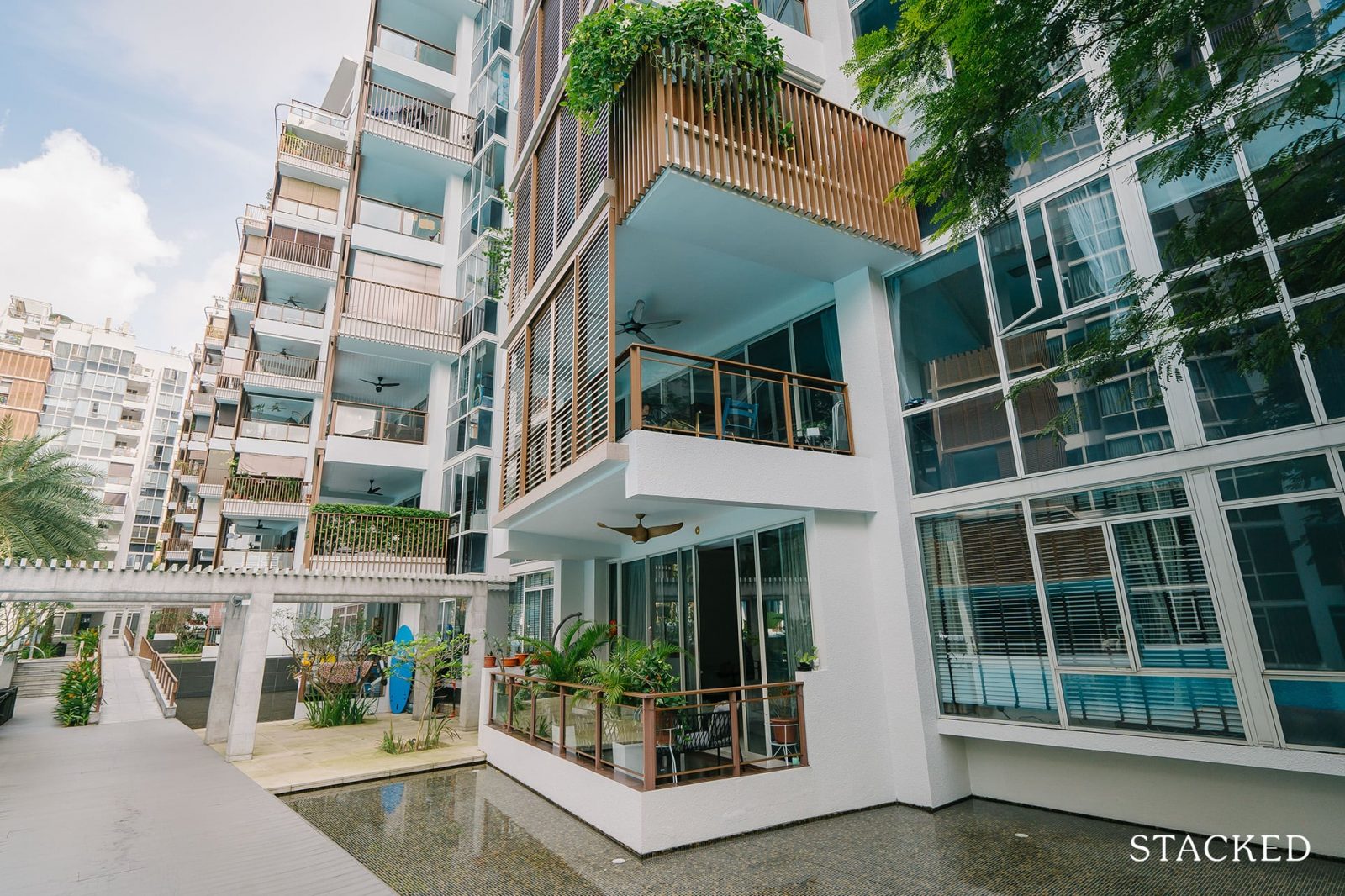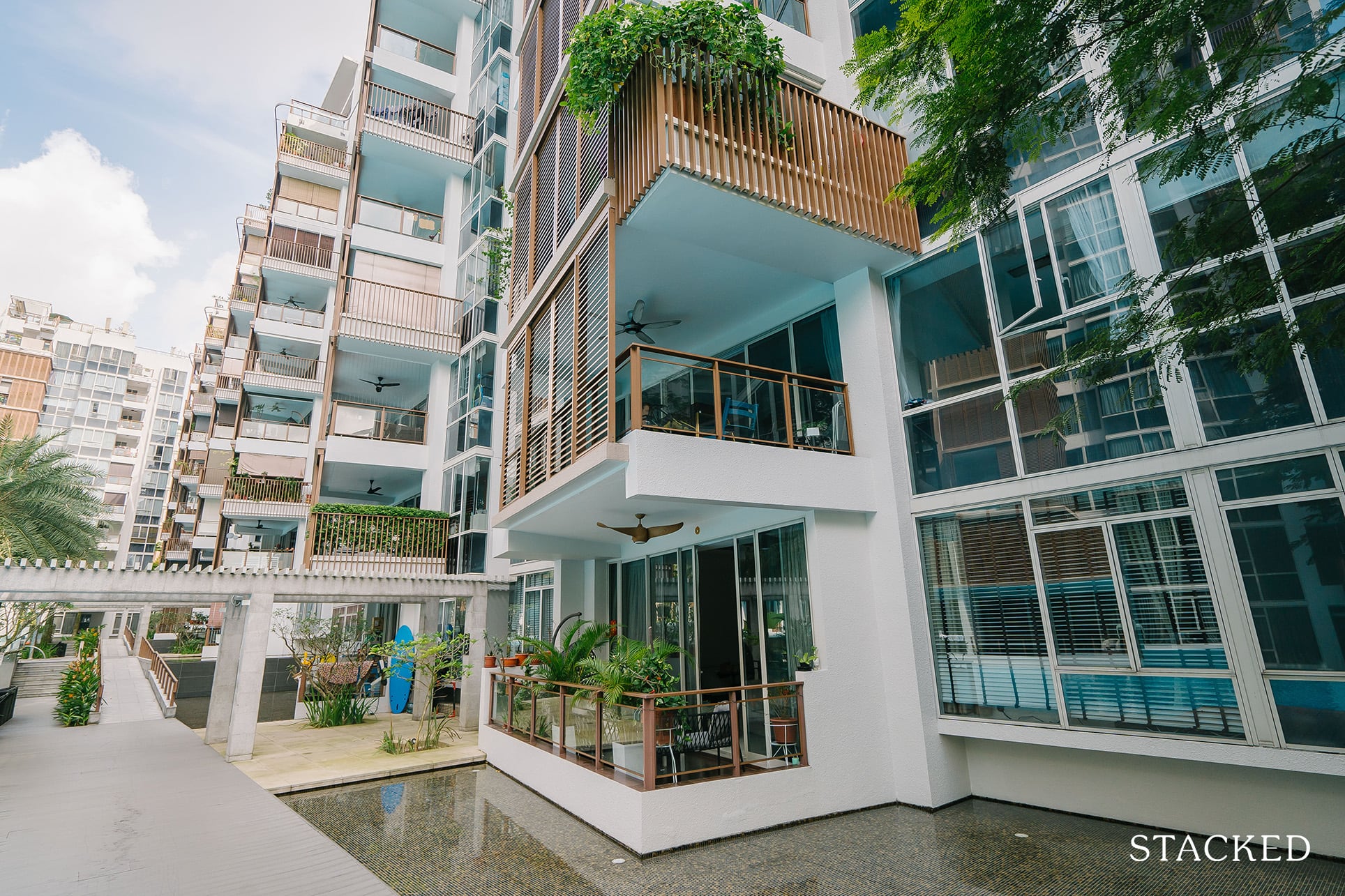 Overall though, the pool vibes here give off very much of the resort feel. As you've seen above some of the ground floor units have their balconies right by the pool. And as there's no side gate to speak of – you can literally jump right in! The pools look very well maintained even after 10 years – so definitely a big plus point here!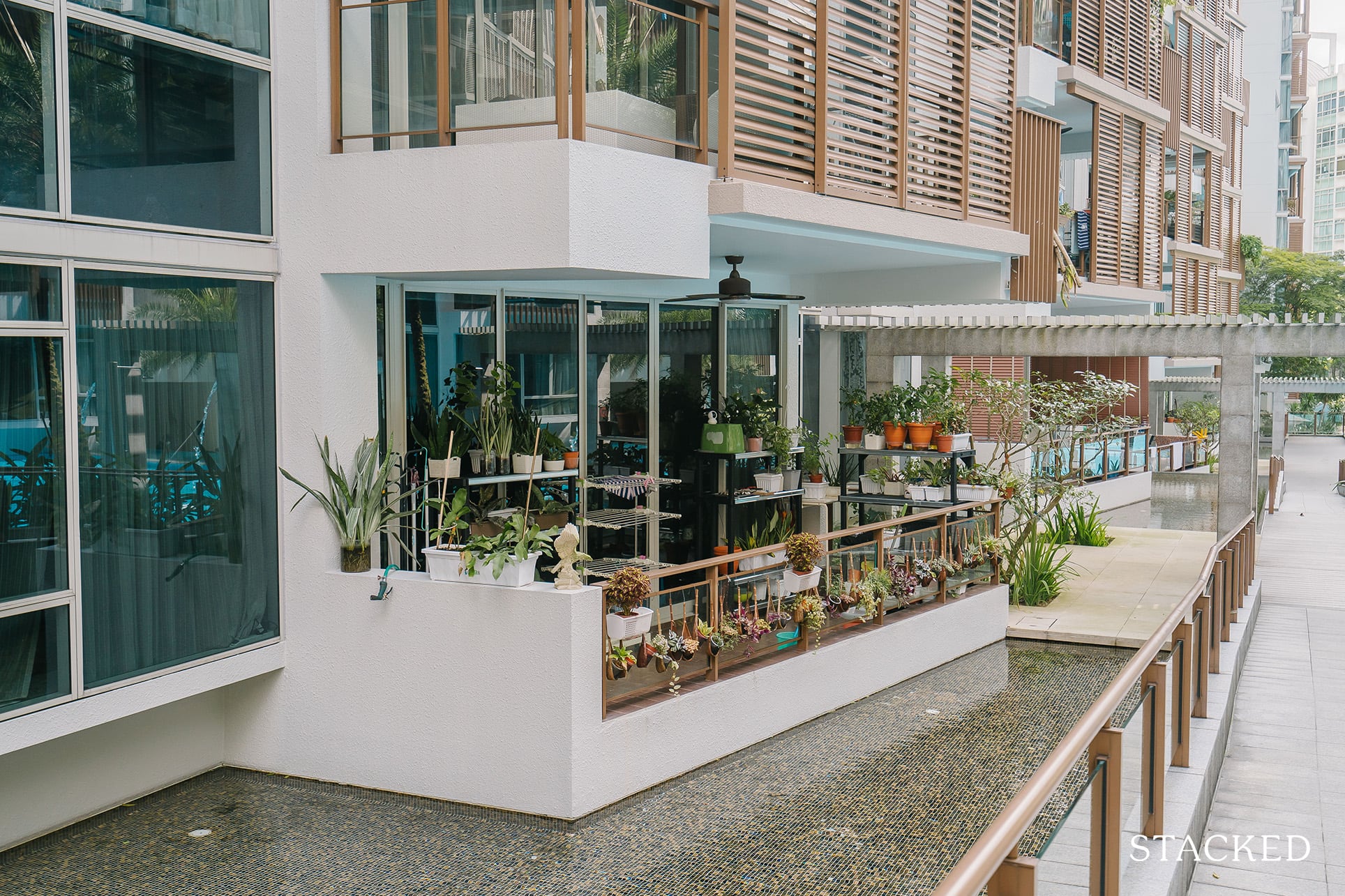 Remember how I mentioned earlier that most of the internal facing units have pool-facing views? Some do not like it because of privacy concerns – especially when the next block is close by and you can look straight into their balcony and living room. An example of that would be the condo I just covered, The Sixth Avenue Residences.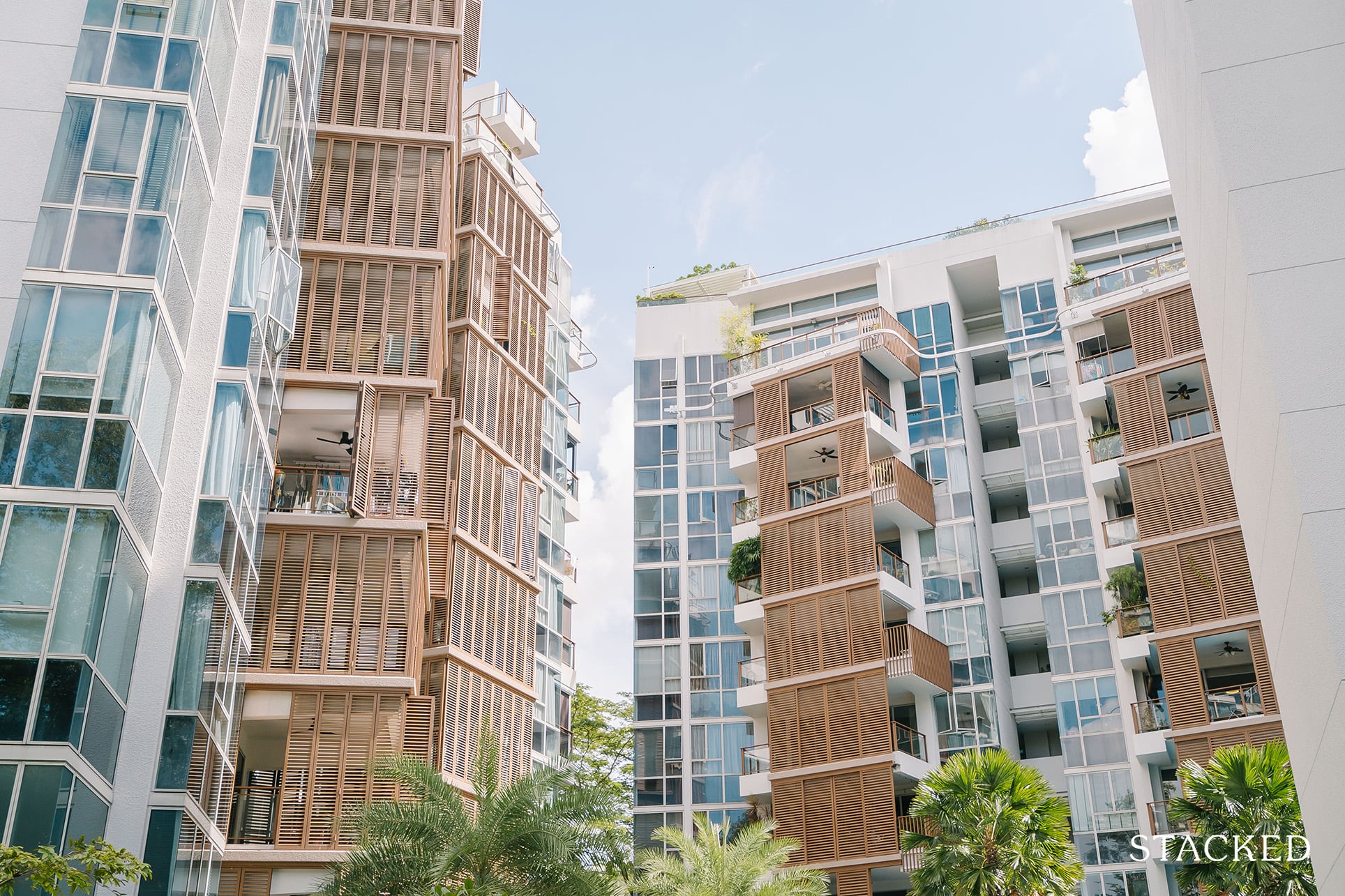 Here at Floridian, the developers were thoughtful enough to provide screens for the balconies of every unit, so residents can choose to close them up if they are having friends over or prefer a more private space. Many of these are also larger units with bigger balconies, so I'm sure buyers appreciate this nice gesture. A number of the units also have Juliet windows, which is very unique by Singapore's standards – you can read more about them here. If you are interested, you can check out the showflat at Ki Residences which also has a similar concept.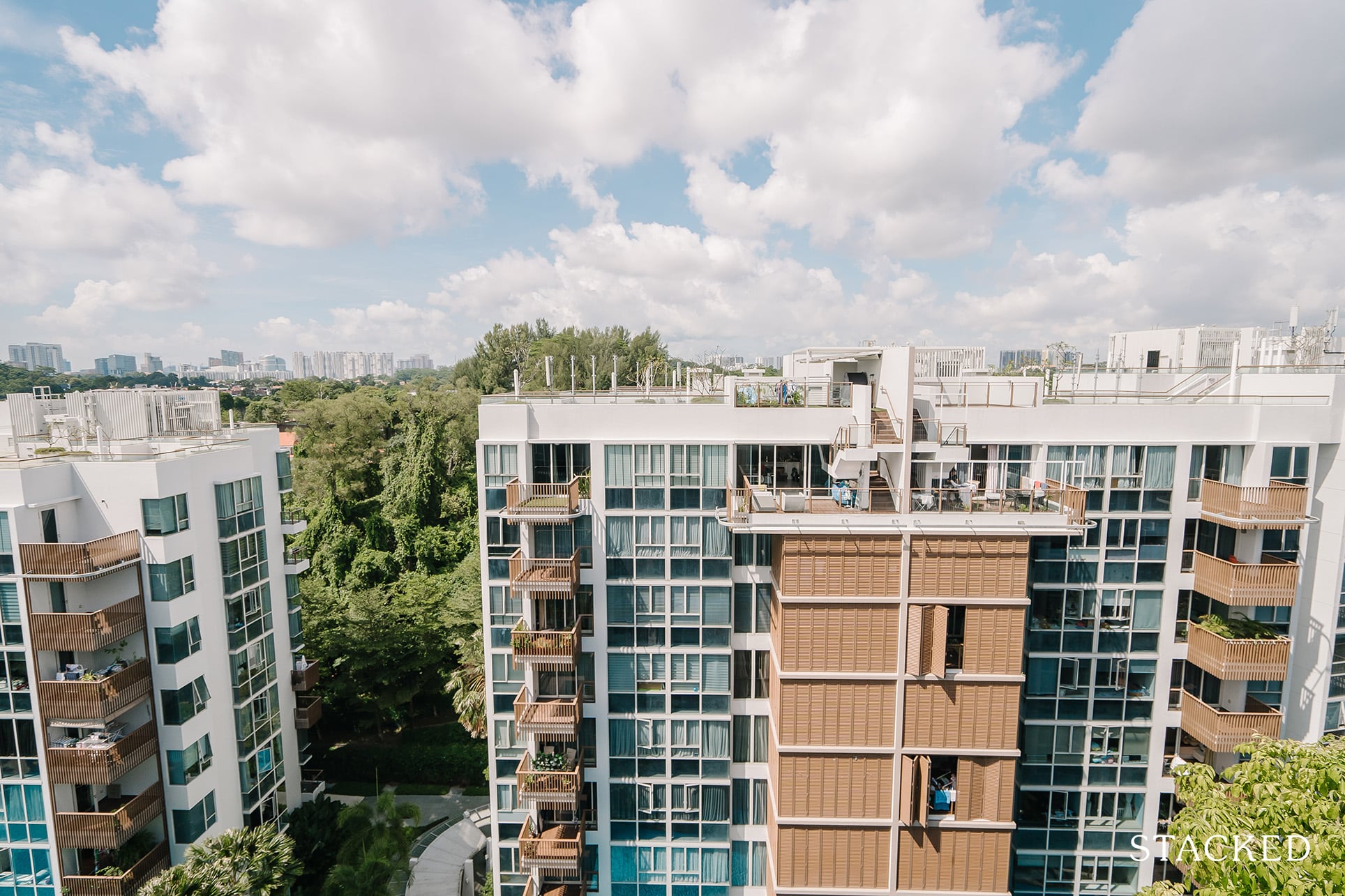 Exterior-wise, the overall facade at Floridian is one that is more towards the brownish/orange tone, which I think is rather neutral and inoffensive. It might not look as sleek and modern as some of the newer condos today, but I'd say that this look should age quite well.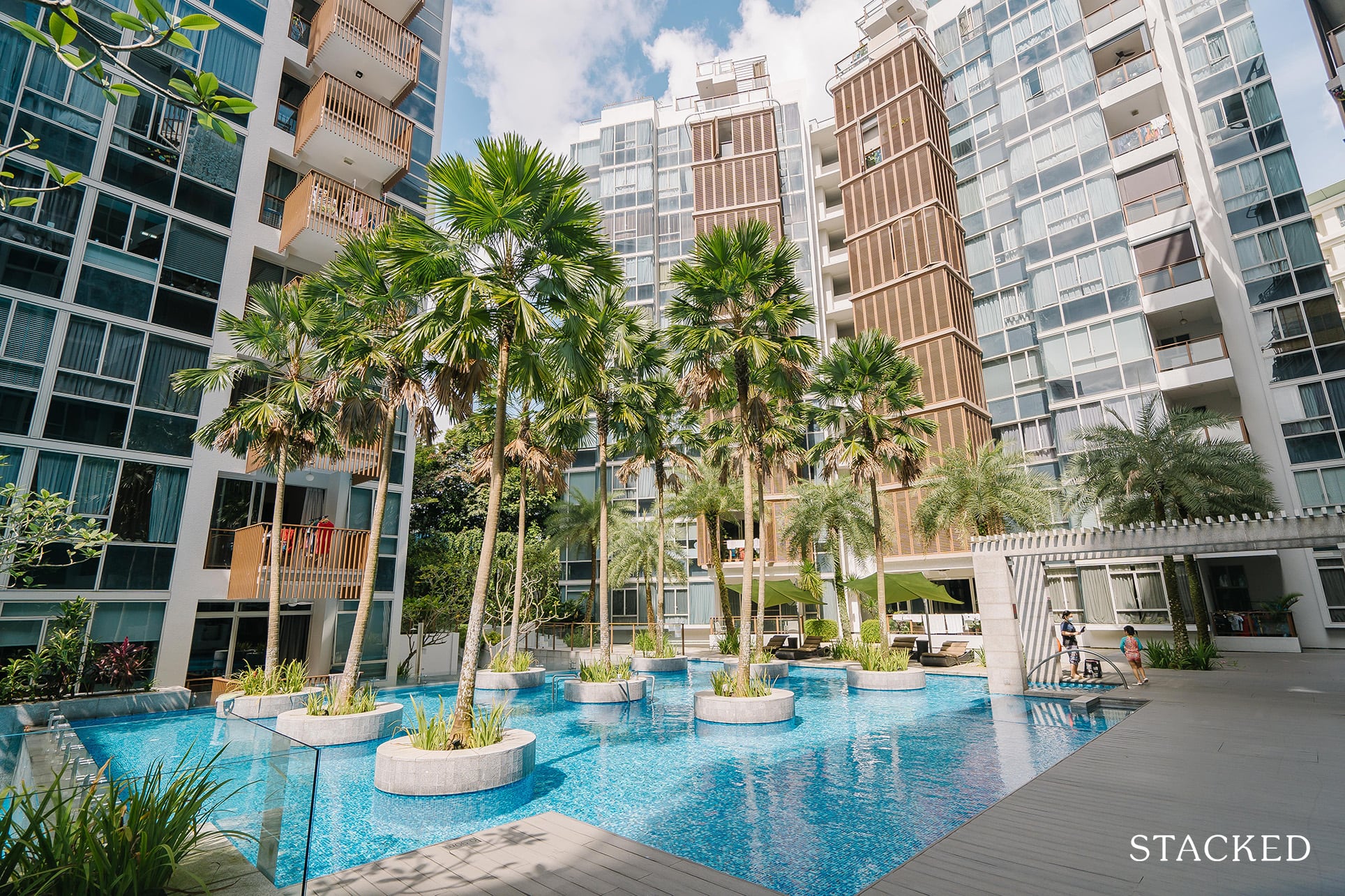 I'll touch briefly on some of the other smaller pools you can find at Floridian before moving to the other facilities here. Continuing on the theme of palm trees, there's actually a Palm Grove Hydrotherapy Pool here, where you get a cluster of 9 palm trees right smack in the middle of the pool. Intriguing.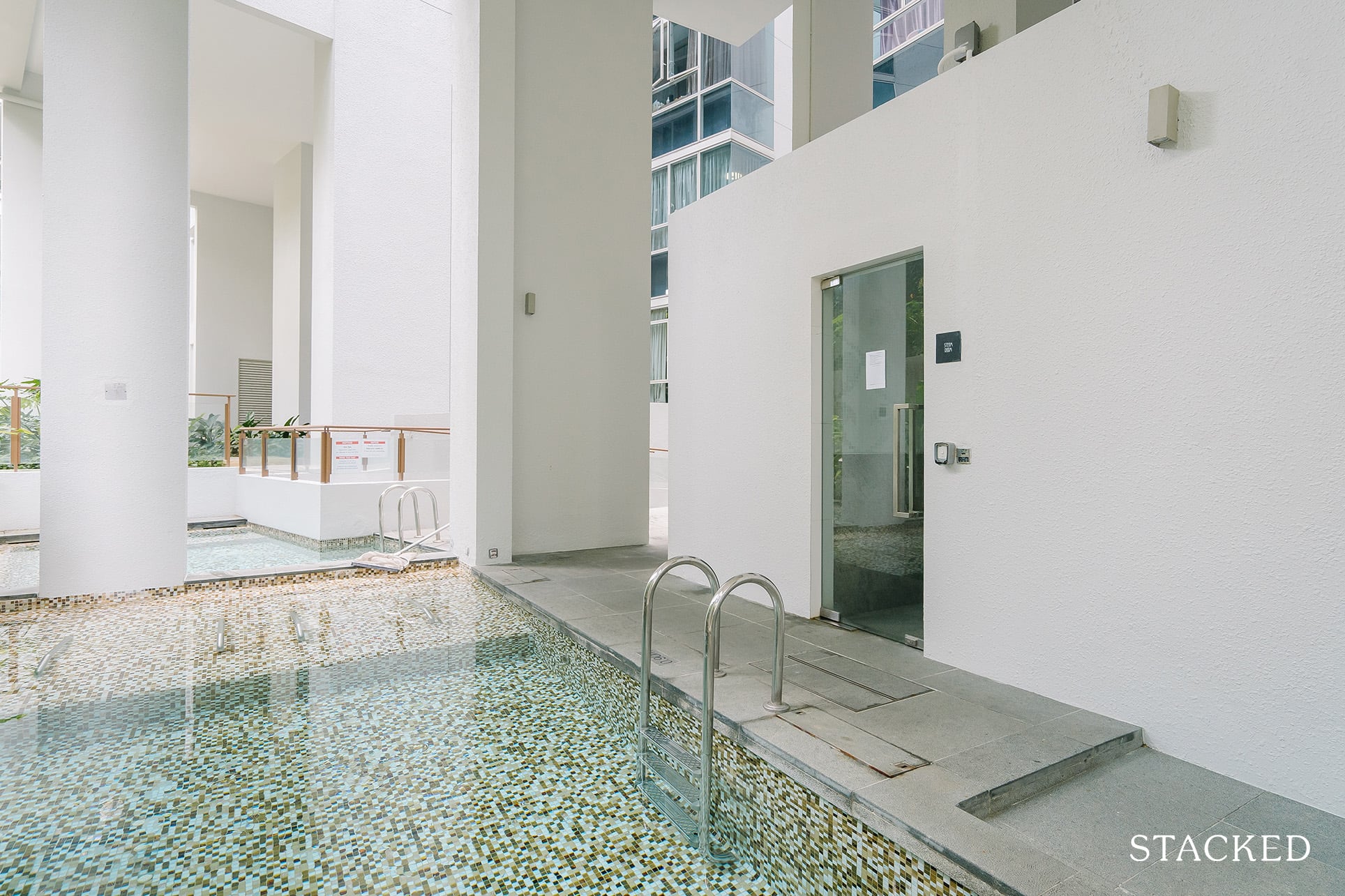 There are also some smaller, more private spots such as the South Beach Pool by the corner of the development and the hideaway spa sanctuary. Depending on the occasion – whether you're down for a serious swim or prefer a quieter spot to just relax and ponder about life, you have options here at Floridian.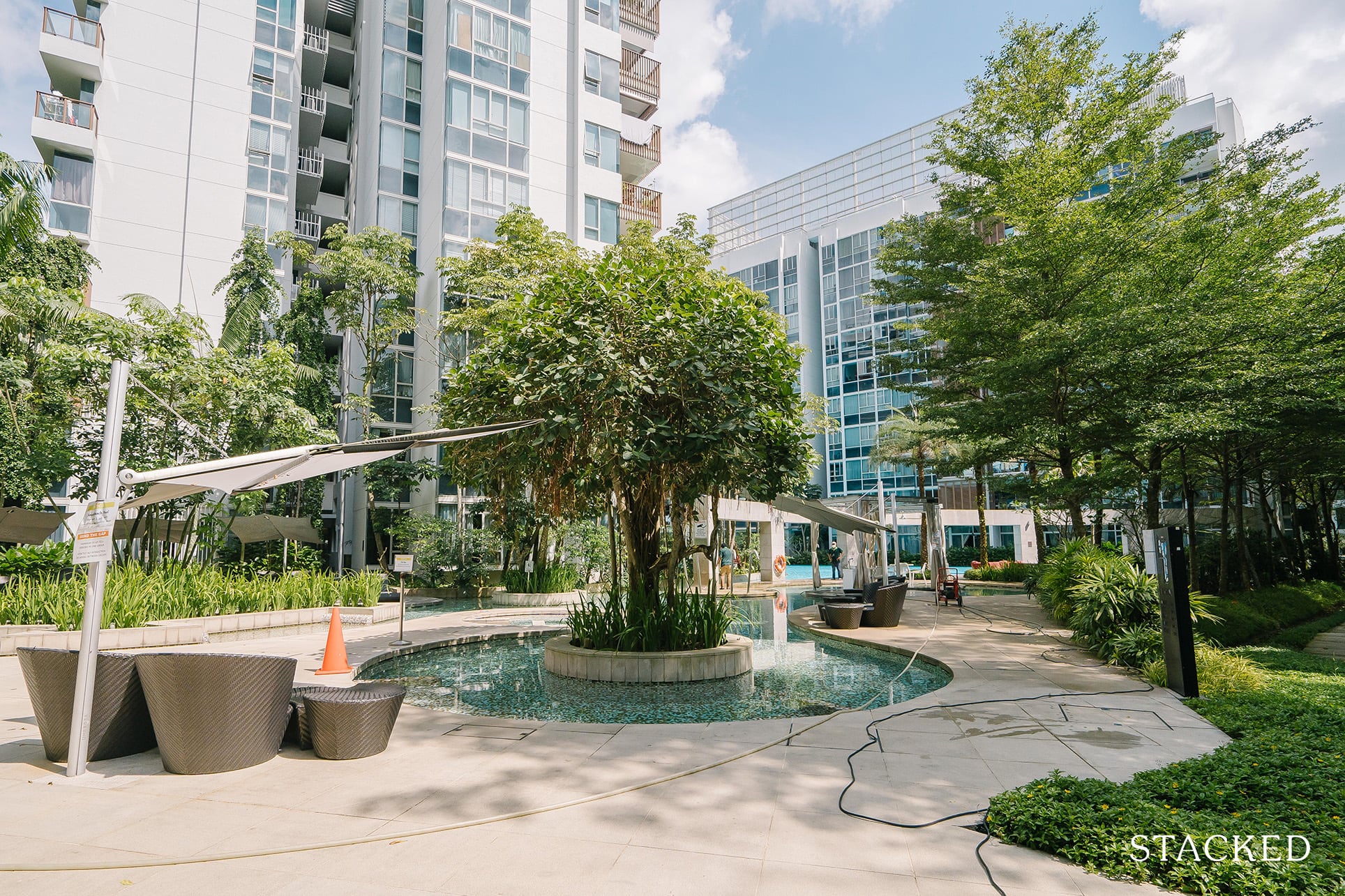 As with most condos in this era, you can be assured that the developers will make it as accessible as possible. That means that you get ramp access wherever possible, which is important, especially as we move towards a greying population.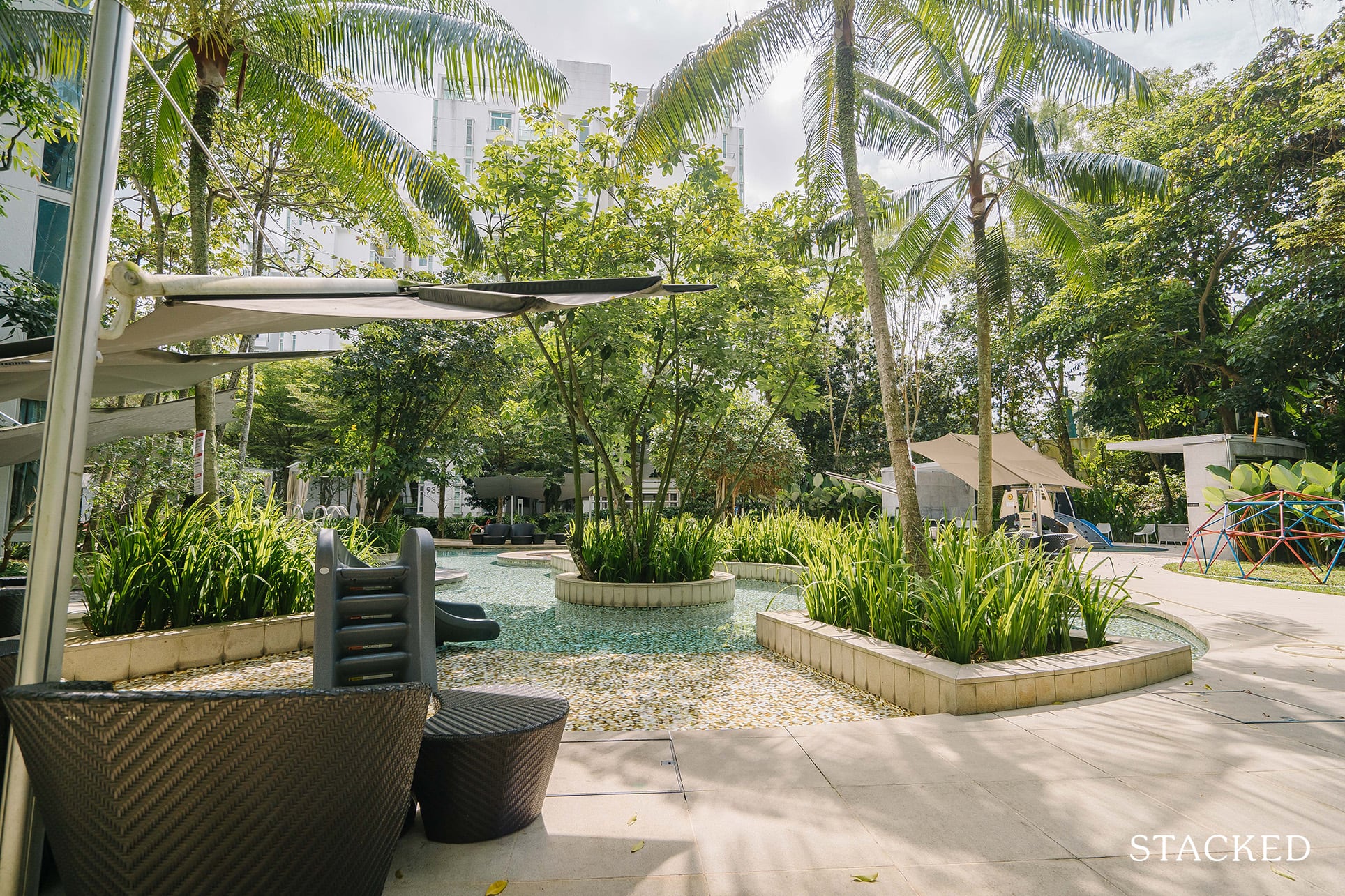 The South Beach Pool area by the playgrounds is quite a nice area for kids to amble about.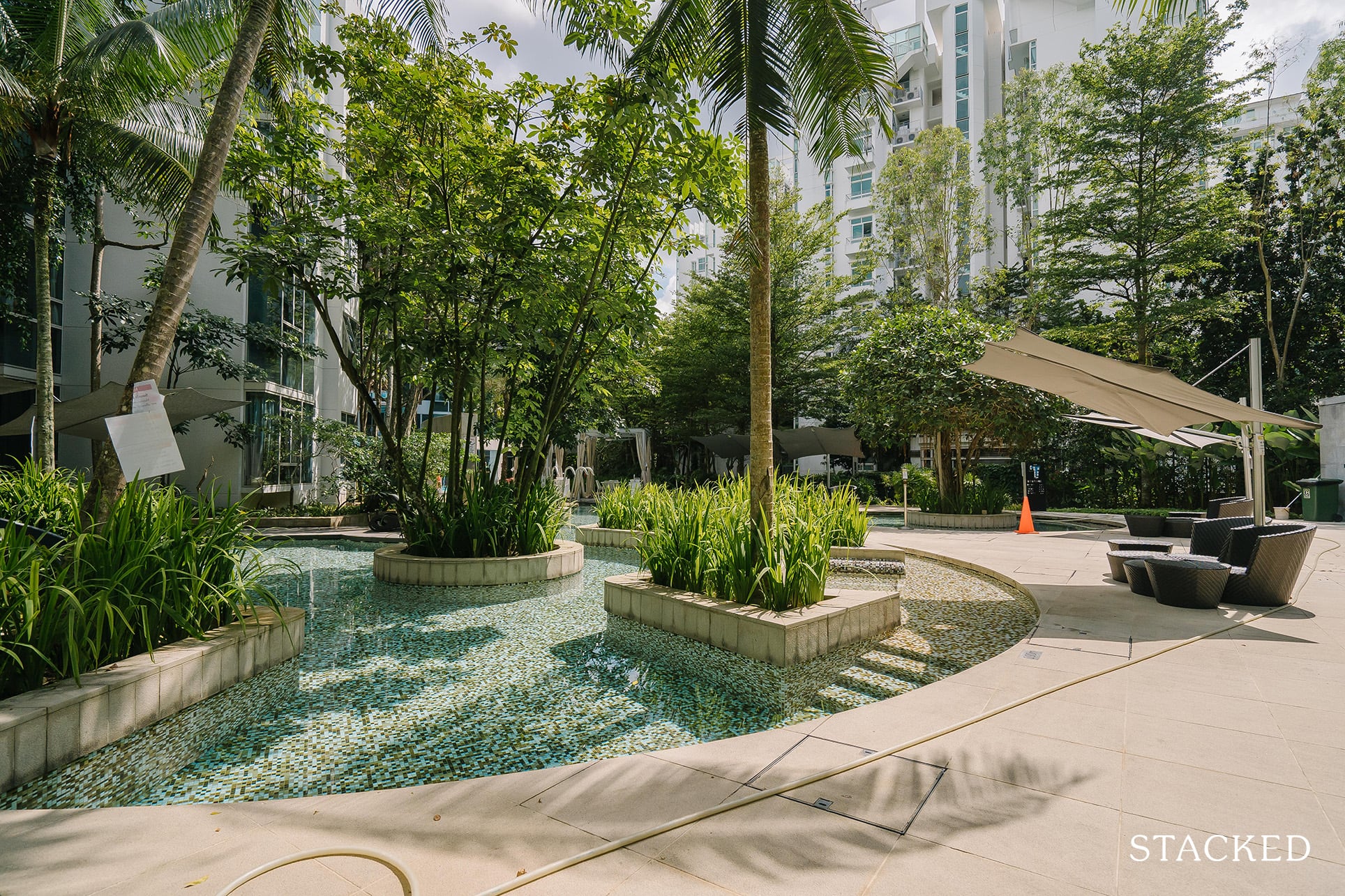 It's shallow and even comes with a small slide for young children to have a whale of a time at the pool.
Last but not least is the Downtown Pool. This one is set away from the main area, and could be described as probably the most private one of all.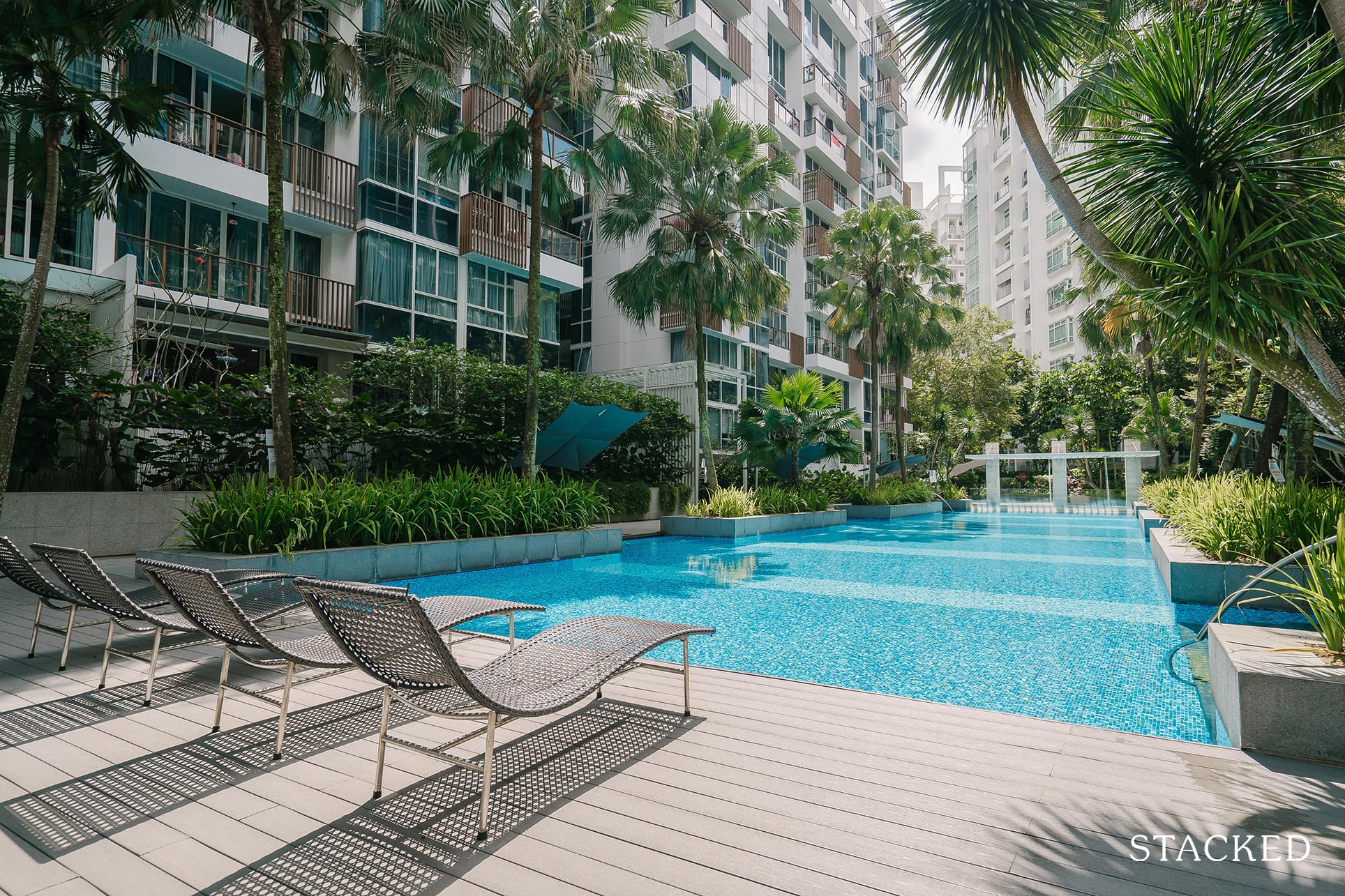 That's mainly down to the fact that you don't have pool access units here, so there's more privacy all around.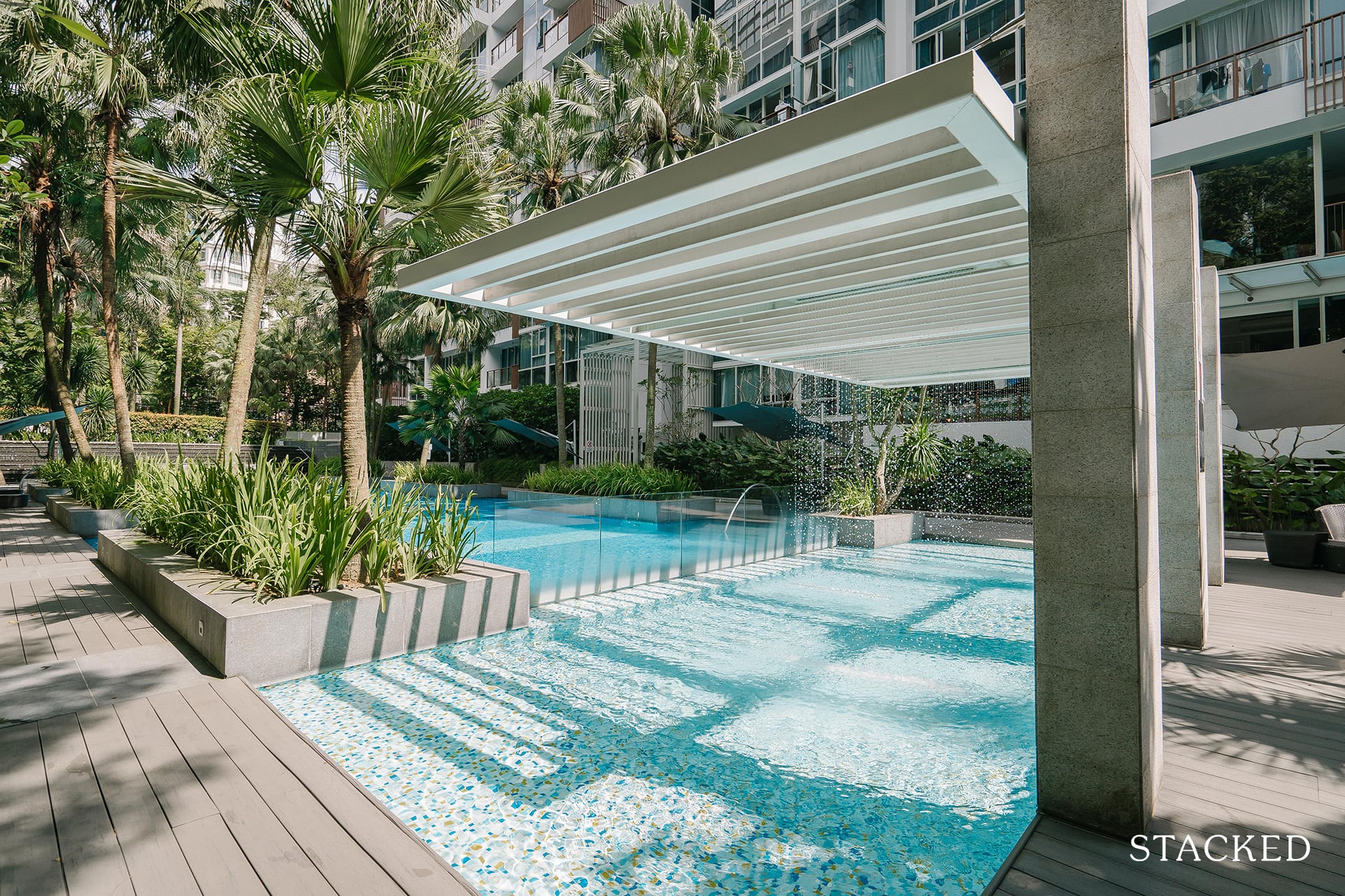 And you do have the provision of a wading pool too for children, so you can keep an eye on them while swimming nearby.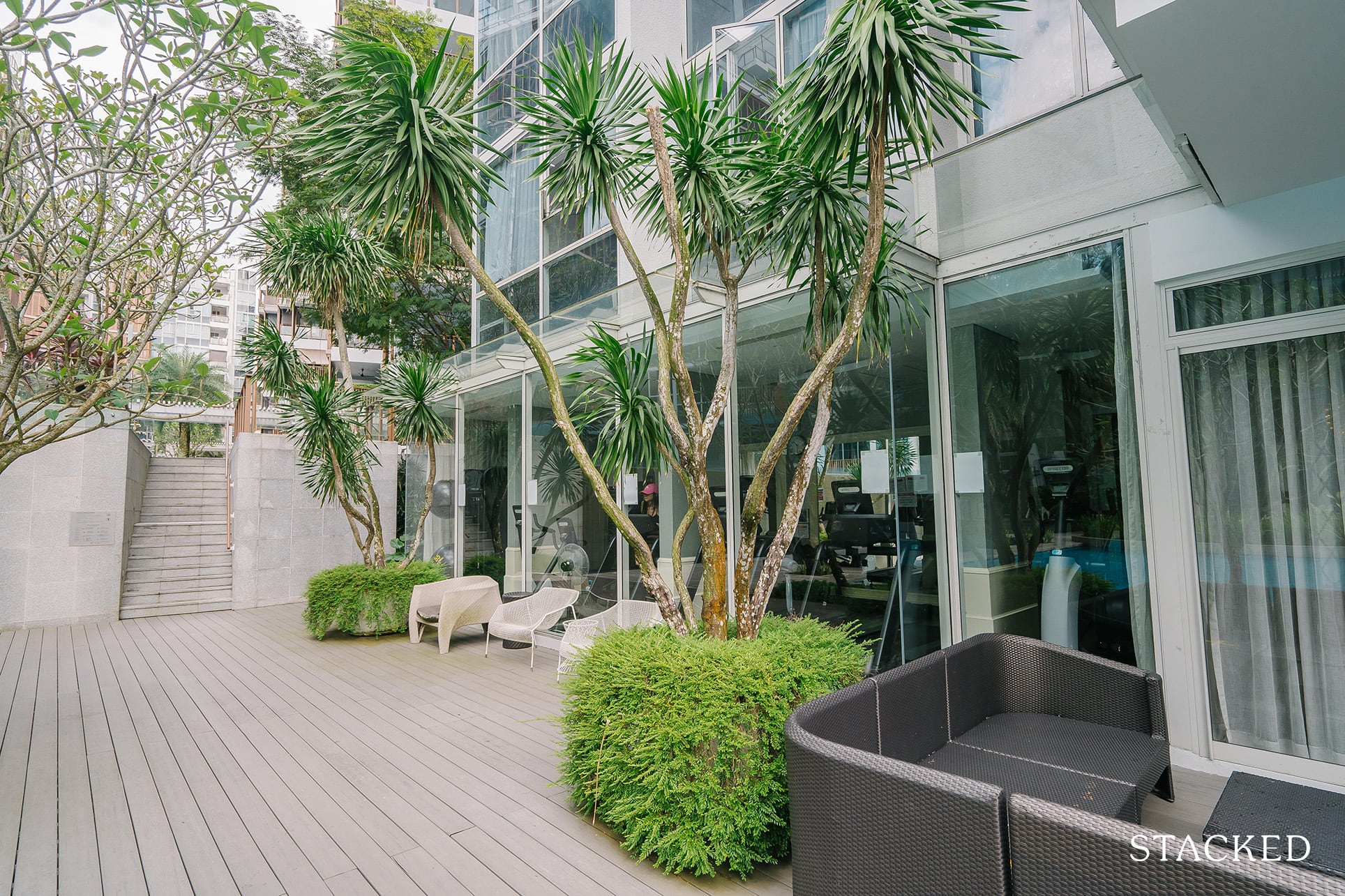 Enough about the pools at Floridian, let's take a trip back to the roundabout drop-off to explore some of the other facilities there. You have sheltered access to the clubhouse, which houses the gym, reading room, private dining room, and a lounge. Some of the facilities have windows looking out to the pools of Floridian.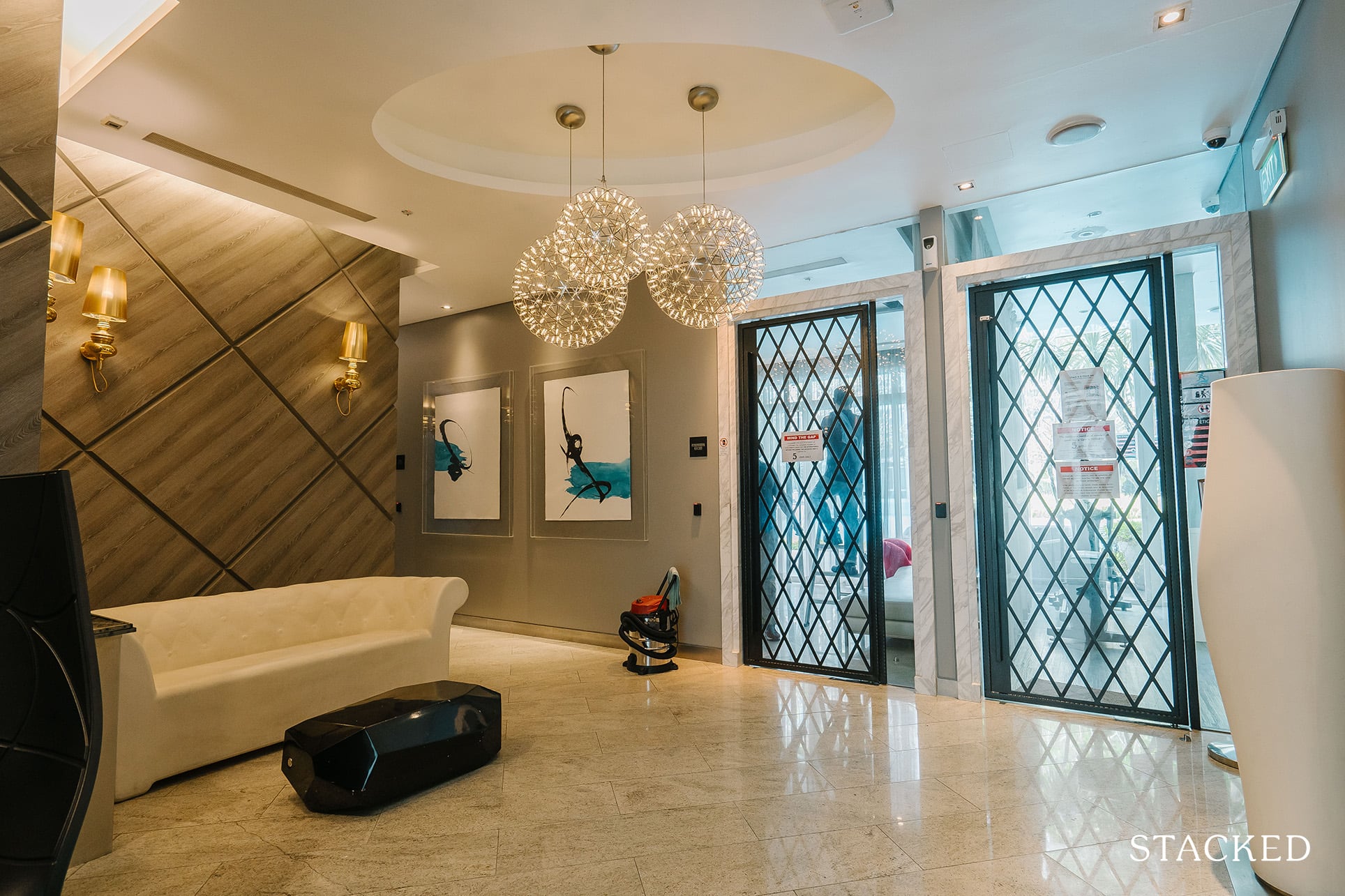 The clubhouse is designed to be a more vibrant-looking lounge with a smattering of brighter lights. When I visited, one of the private rooms was used for an orchestra recording, which I thought was a rather creative use of the space.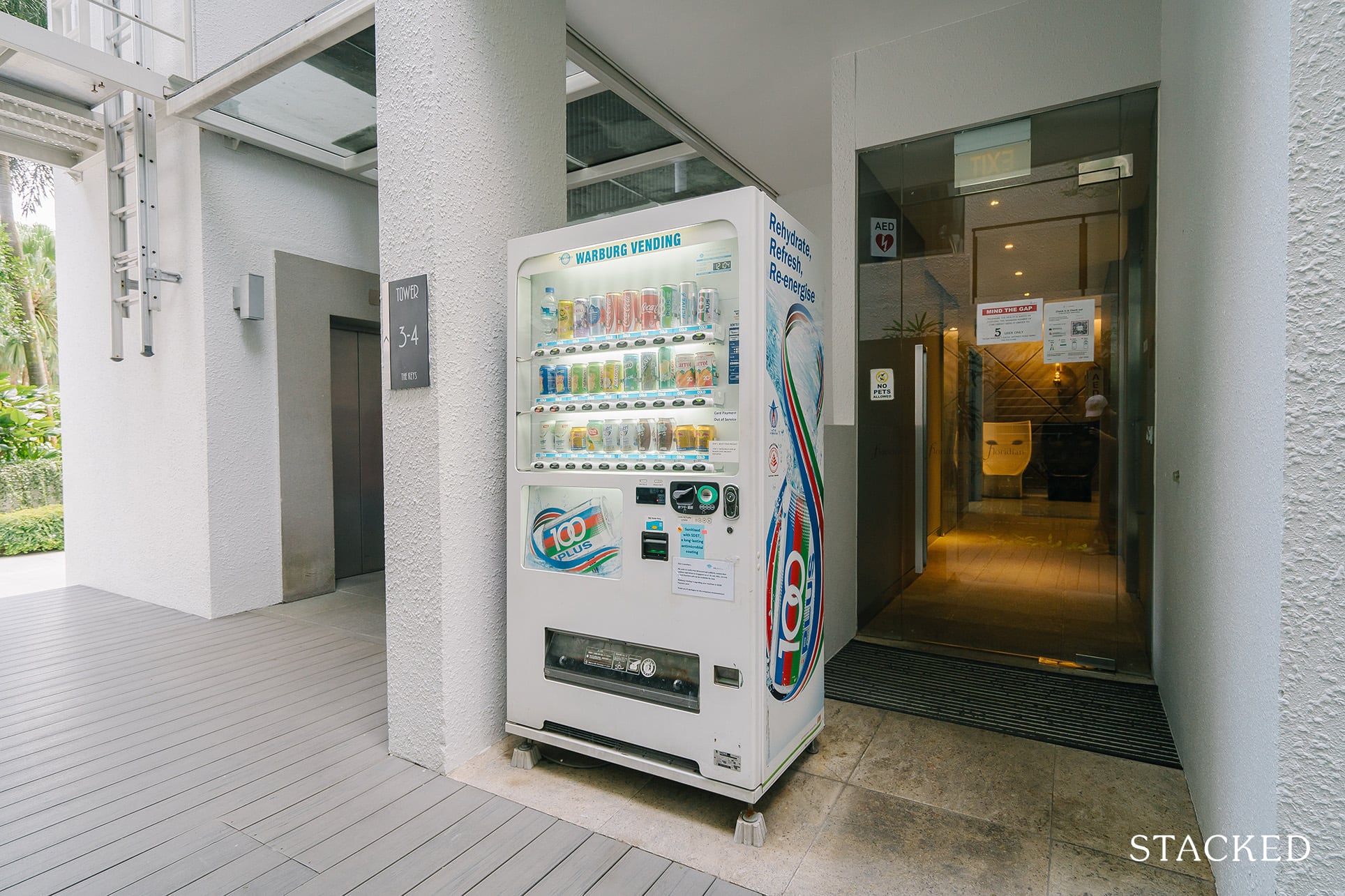 Just outside the clubhouse is where you will find a number of vending machines for your basic necessities. Among them, are those for can drinks and loaves of bread so when you're desperate for some kaya toast, you have an option here.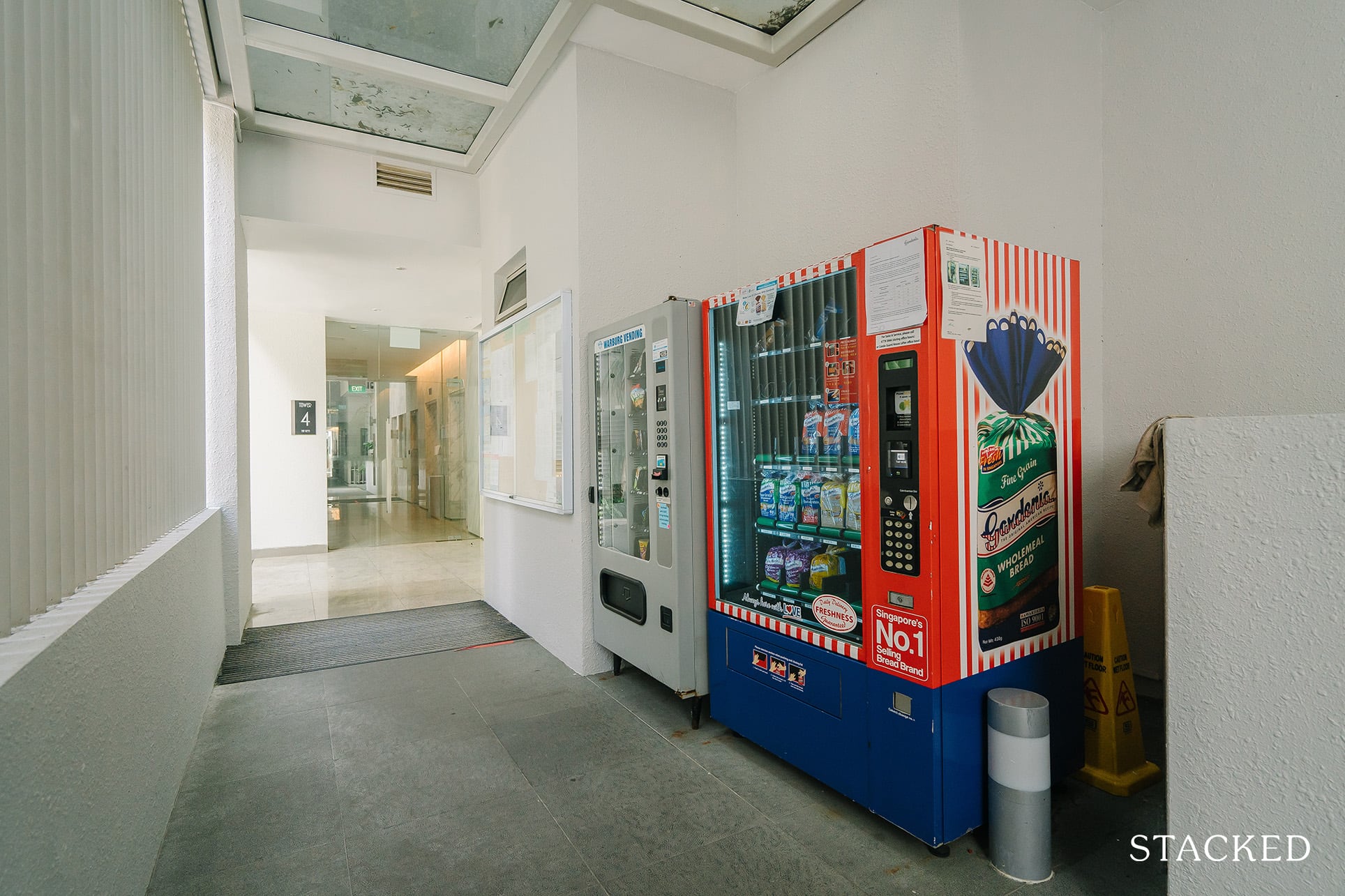 Sticking to the facilities on the first floor, there is also a fitness corner here for those looking to get some exercise done. There are more on the rooftop – so read on for that.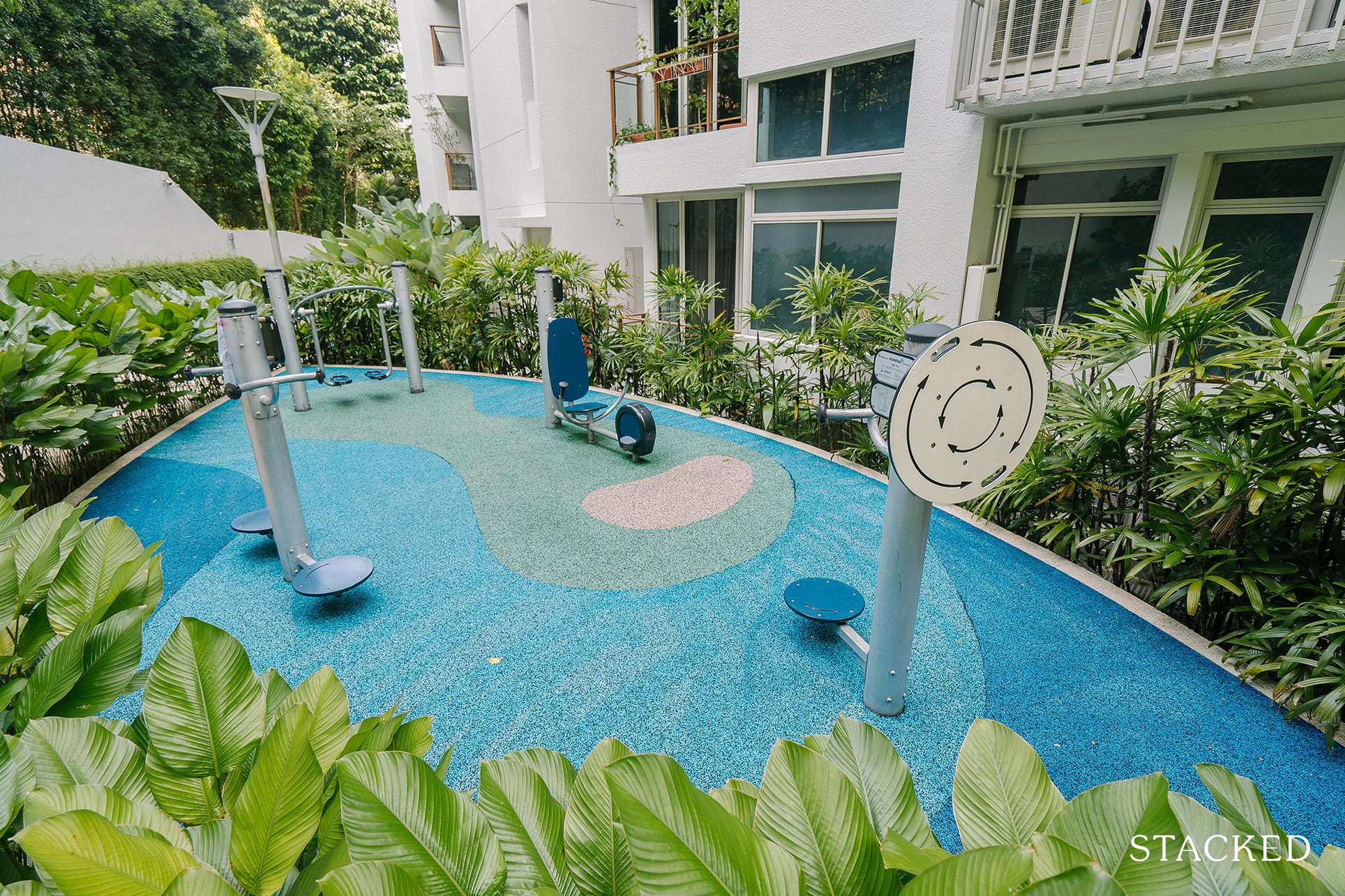 For the kids, how can we forget having a playground? Frankly, it's a small-sized one for the size of the land and I do wish that there were more of it planned for the little ones. It is quite a strange oversight, especially considering the family clientele that condos along Bukit Timah would usually be targeting.
Though to be fair, the number of swimming pool options may just make up for it.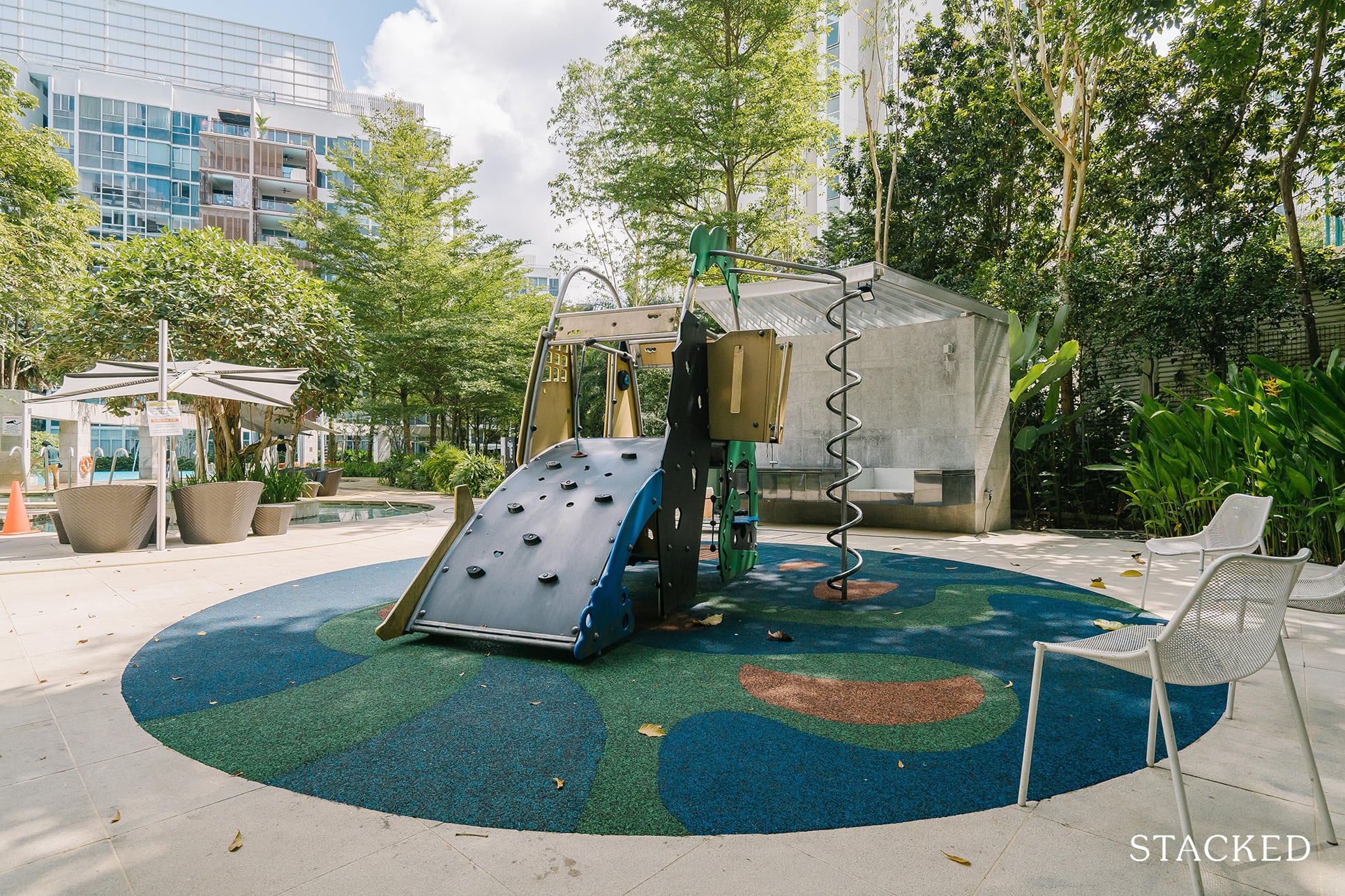 Also, the dining facilities are well catered for here at The Floridian. The ones on the first floor are all fully sheltered, which I think is good as it allows you to actually continue the party even if inclement weather hits.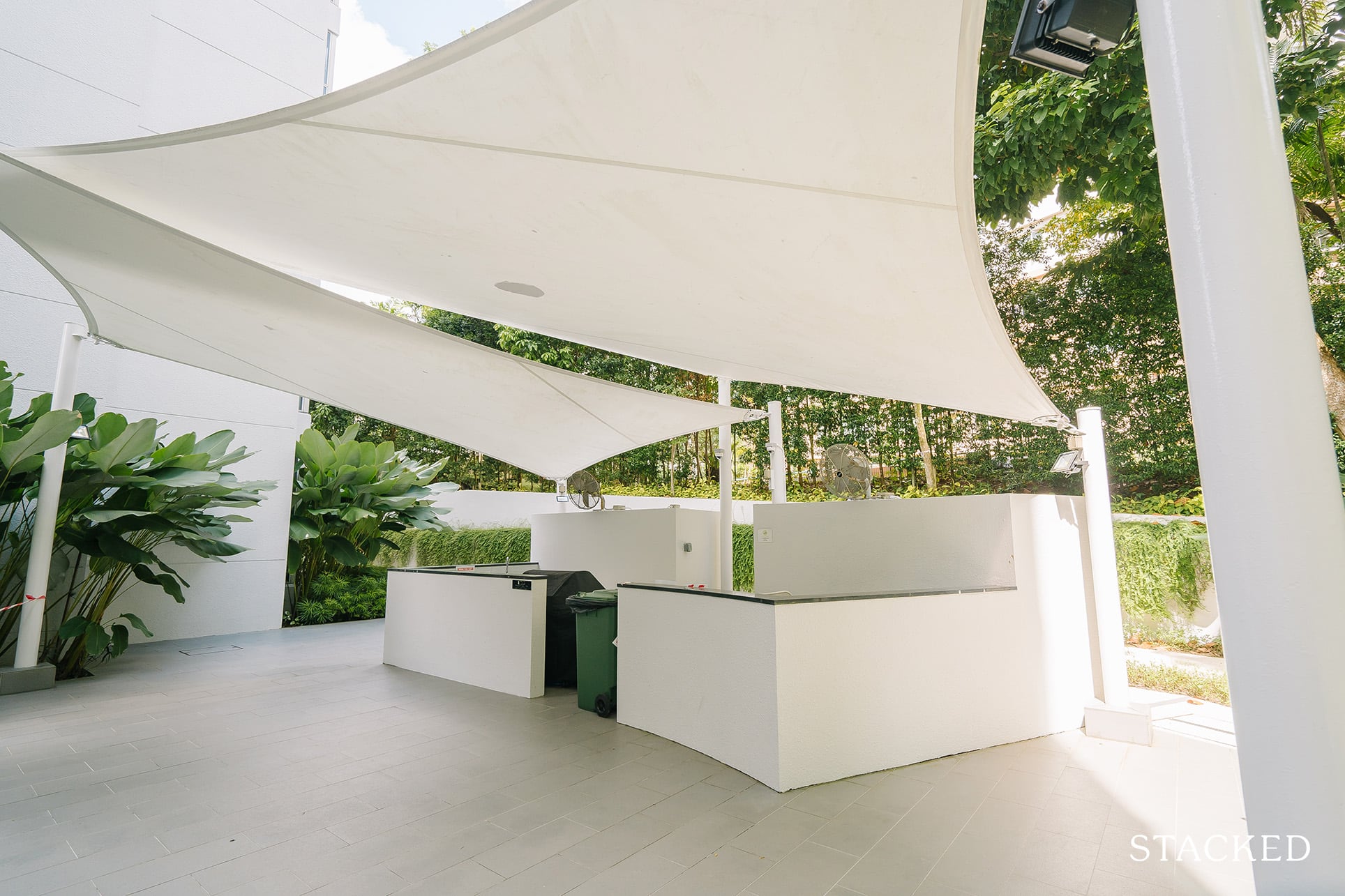 There's also plenty of seating here for a proper BBQ. Considering how this condo is a mid-sized one at 300+ units, and there are more BBQ pits on the rooftop, the developers have definitely been very generous with their provisions on this front.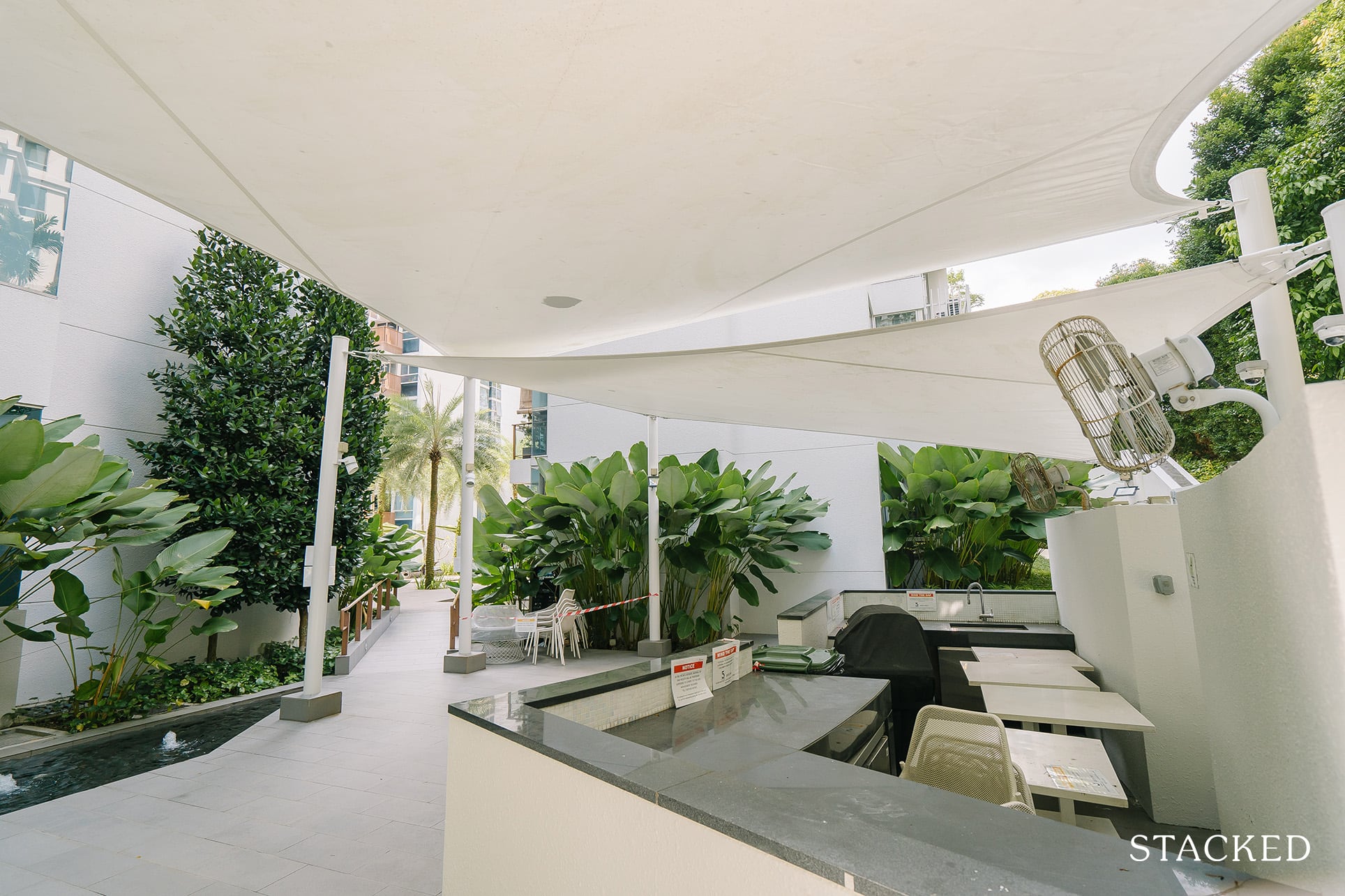 This one here is also set away from the pool for a little more privacy.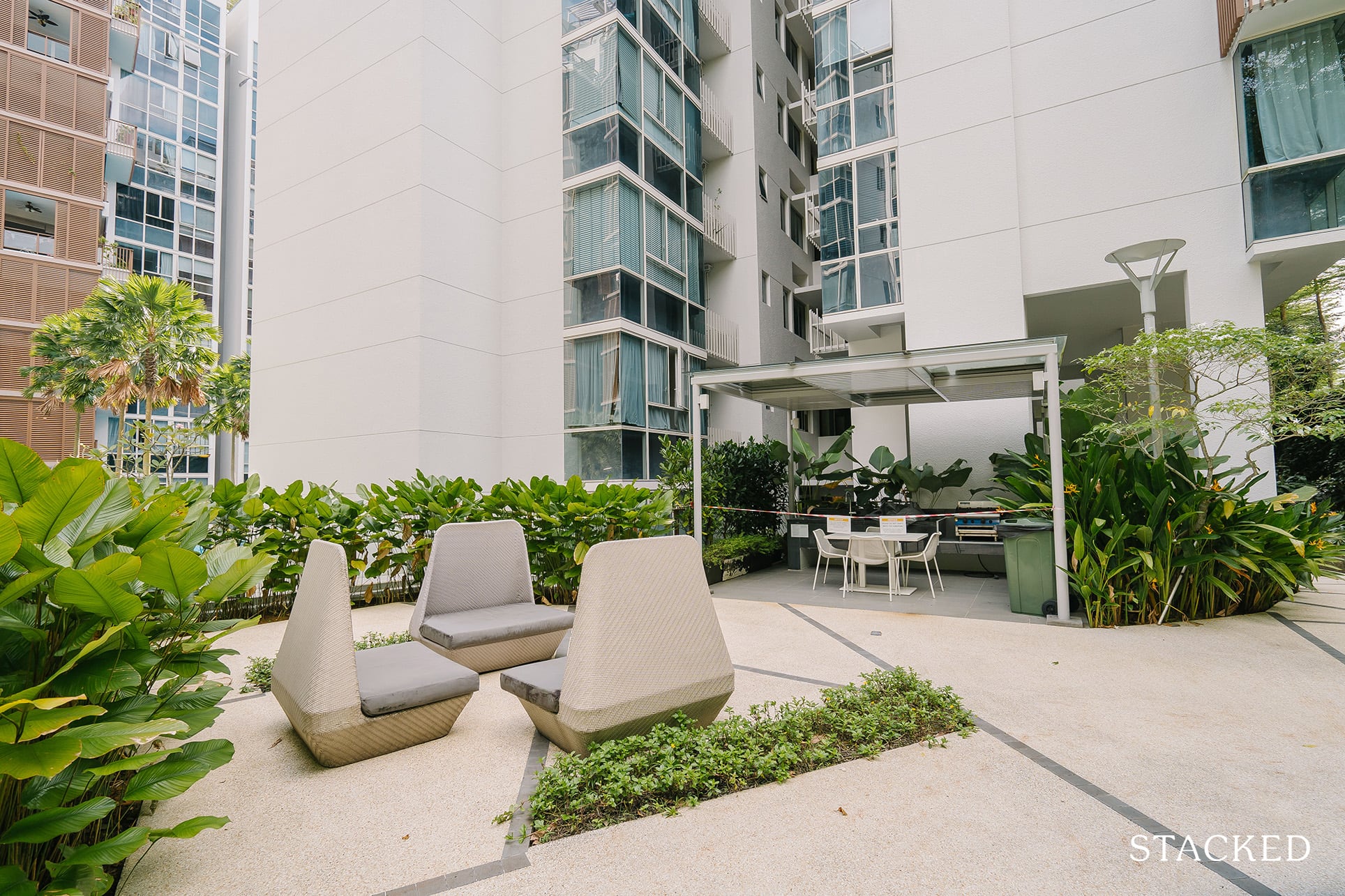 There are also others that are set nearer the residential blocks, which may not be as ideal for those units on the same floor.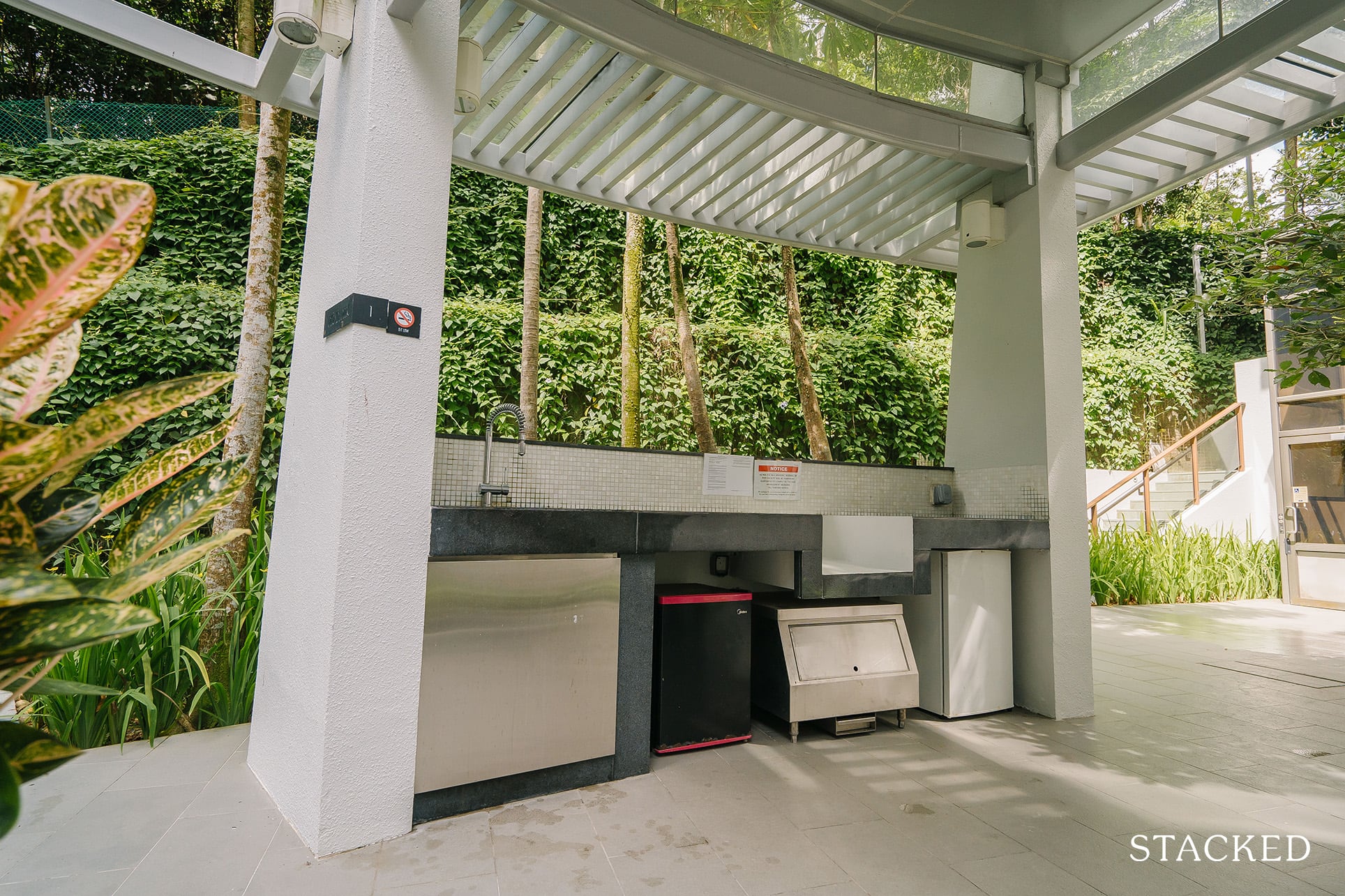 All of them will come with the usual dining facilities, complete with a sink for easy washing up.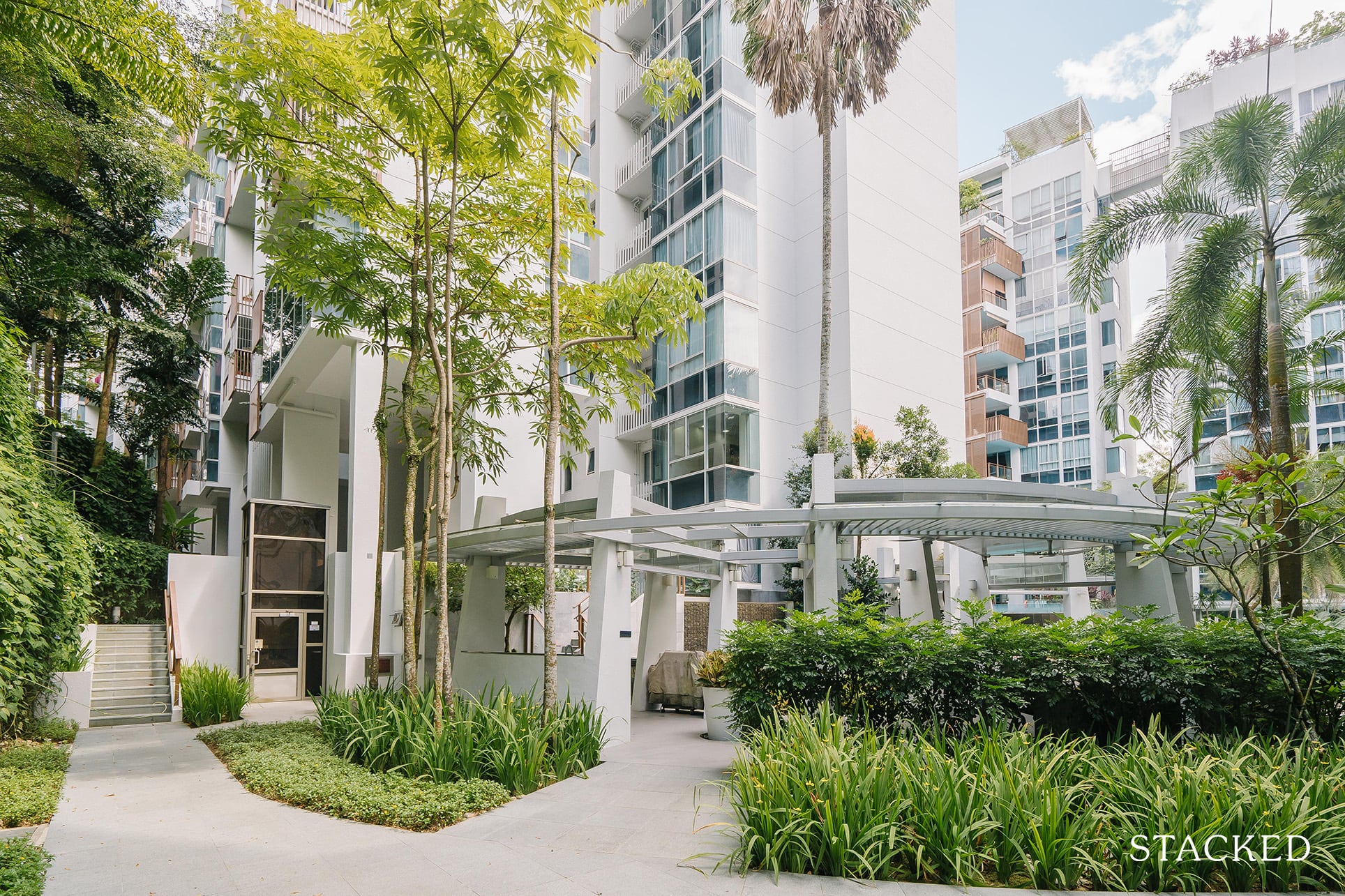 There is one more major dining facility on the ground floor to show you. It's a disc-shaped one, and it's set just a little off from the main pool area.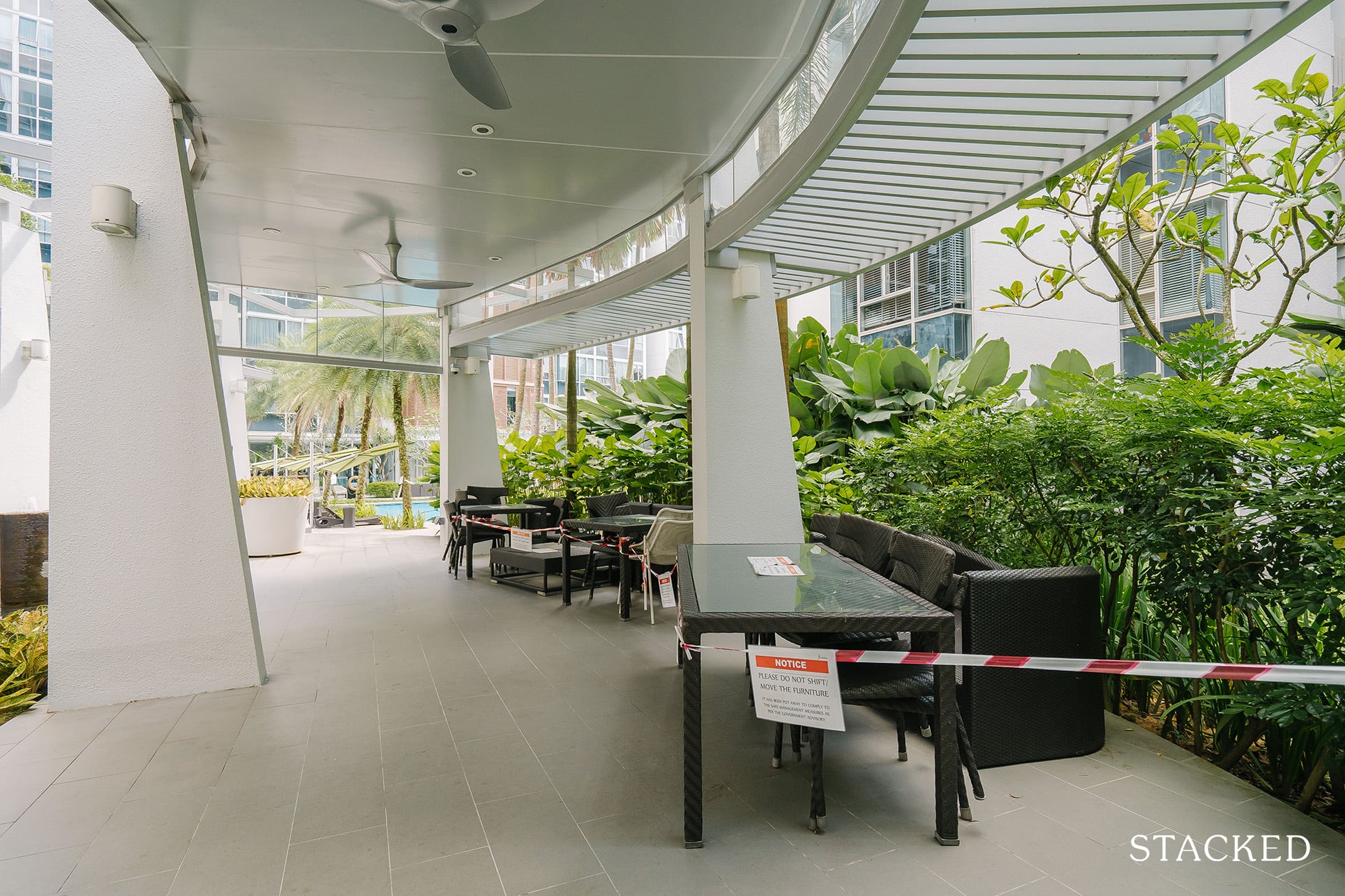 With the current Covid-19 restrictions, most common areas have been reduced to an ugly assortment of furniture, so do bear with the not-so-appealing photo. Still, it's easy to see that the seating areas, dining areas, and swimming pools certainly have no lack of options at the Floridian.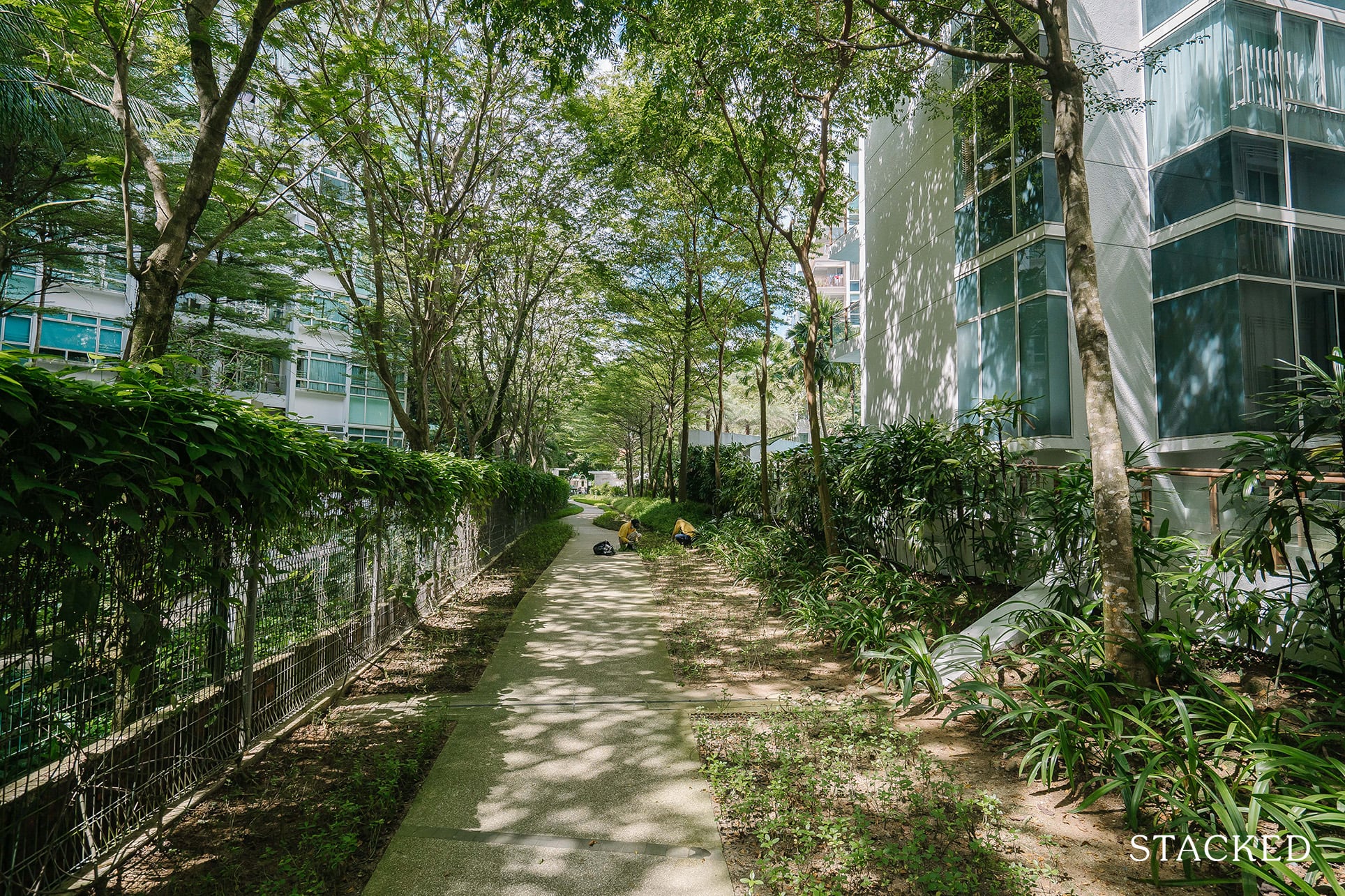 As with many condos, there is a jogging path that encircles the periphery of the development. It's well maintained for its age and parts of the journey will be shrouded in tall trees and plants, which is always a therapeutic sight.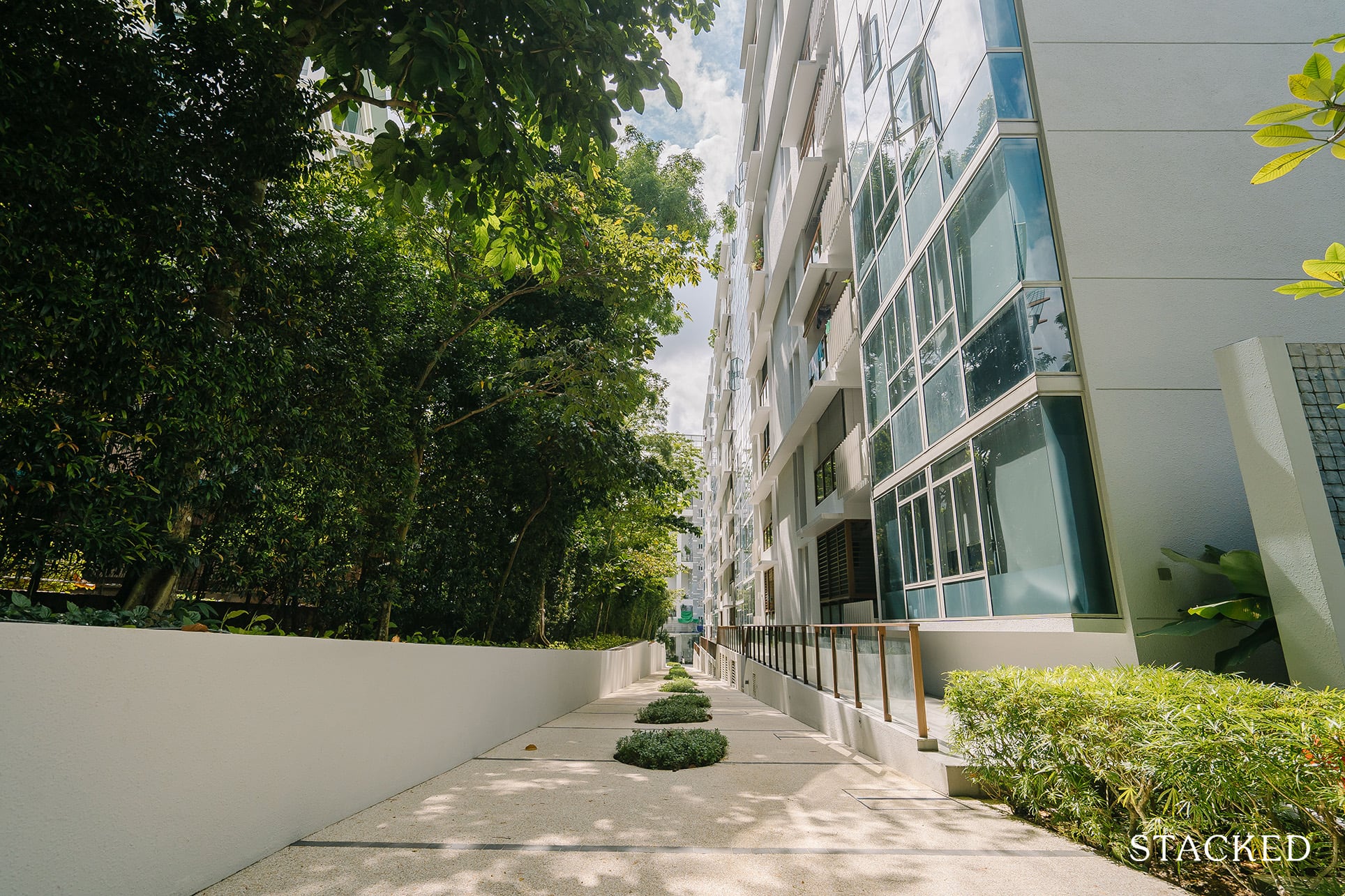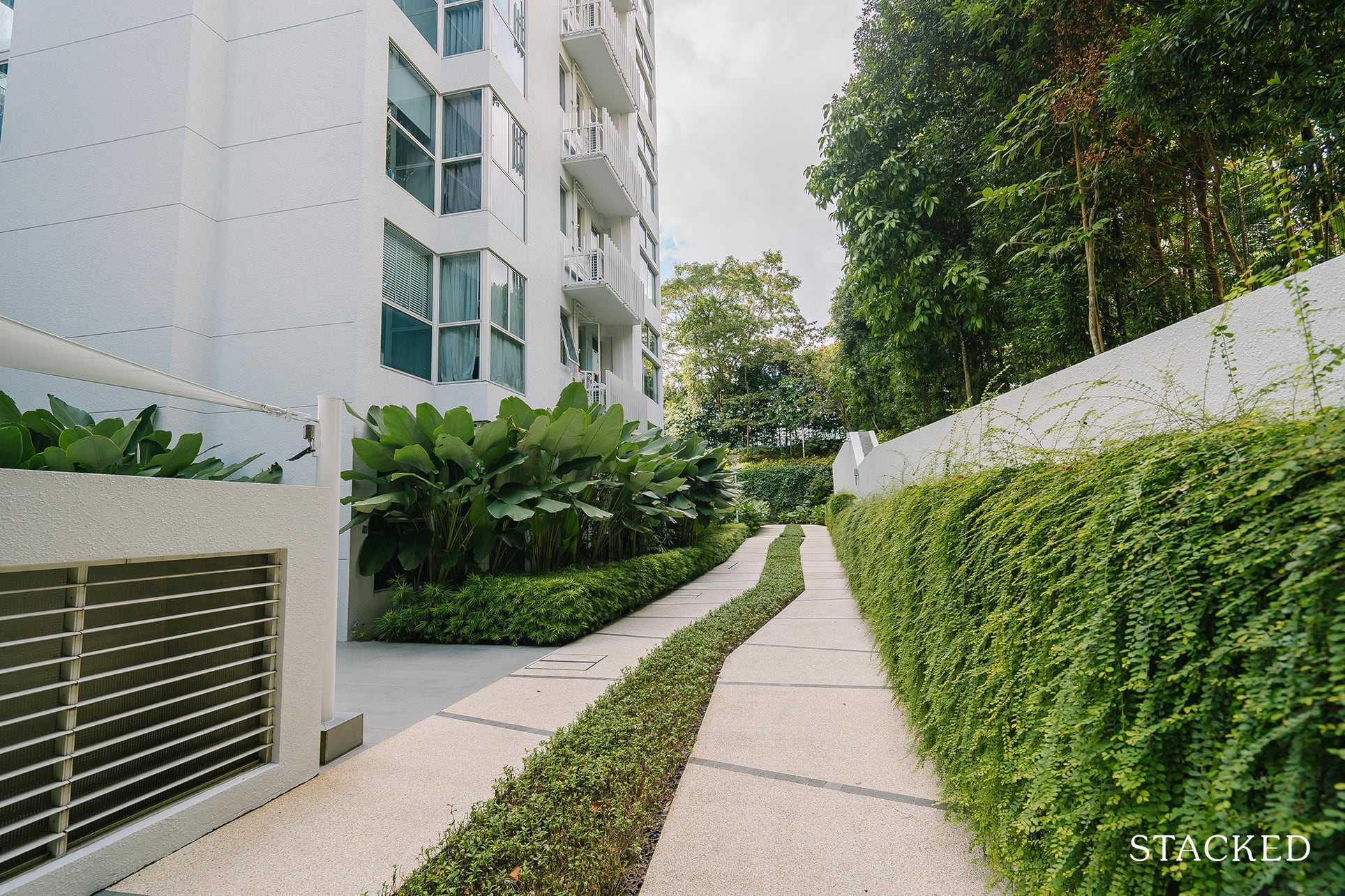 As you walk around, you can also see that the general landscaping is well maintained in most areas.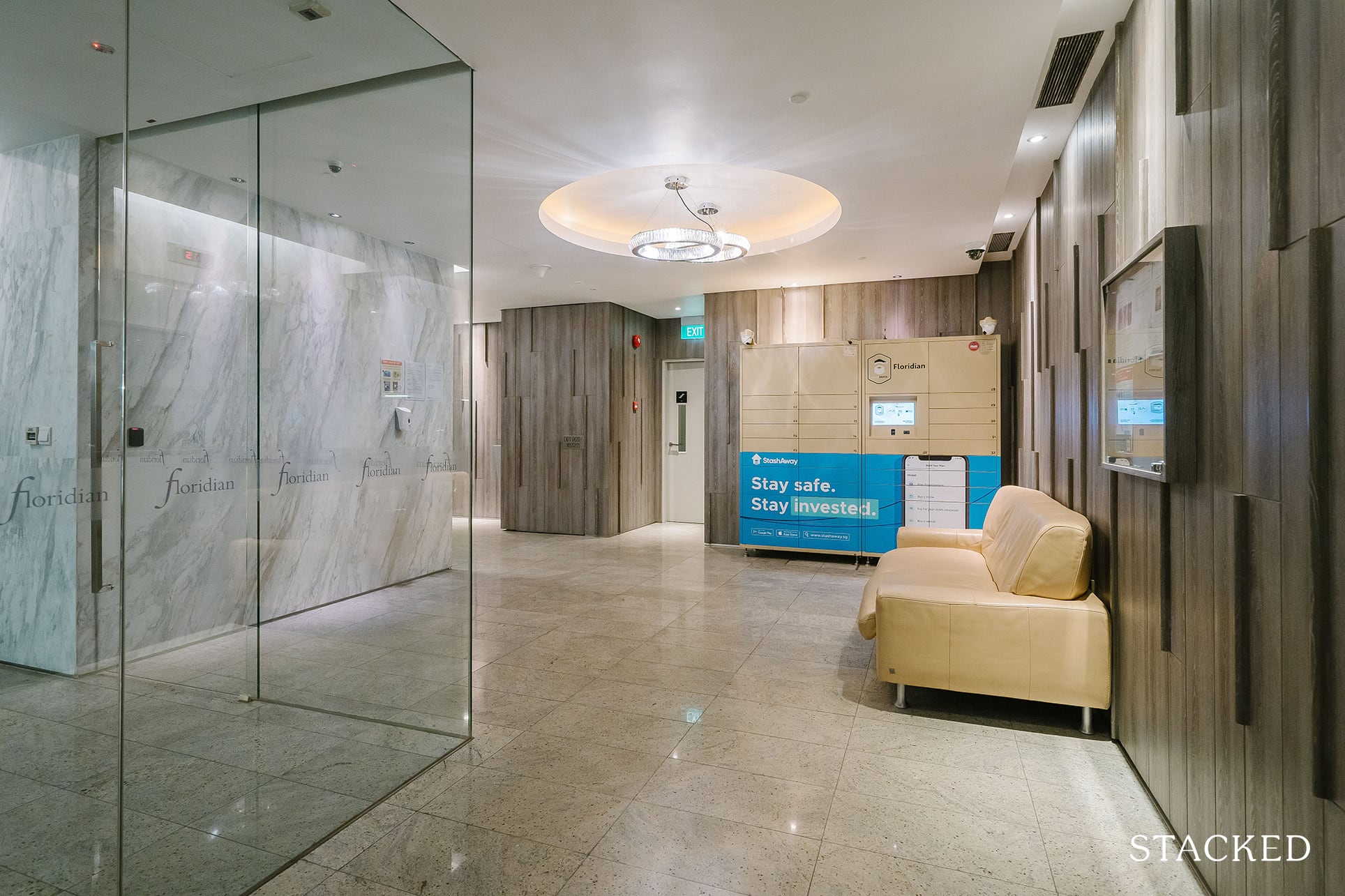 Now, let's head up to the rooftop to check what facilities Floridian has to offer there. It's not just a token gesture but a full-fledged rooftop that stretches the entire length of a number of stacks from The Keys (stacks 9 to 12) to The Club (stacks 13 to 15) to The Verandah (stacks 16 to 21).
As mentioned earlier, the lift lobbies are air-conditioned, and they look quite upmarket too (this sofa above is beginning to show its age though). At this one, in particular, there's a Parcel Santa, which is always a welcome amenity.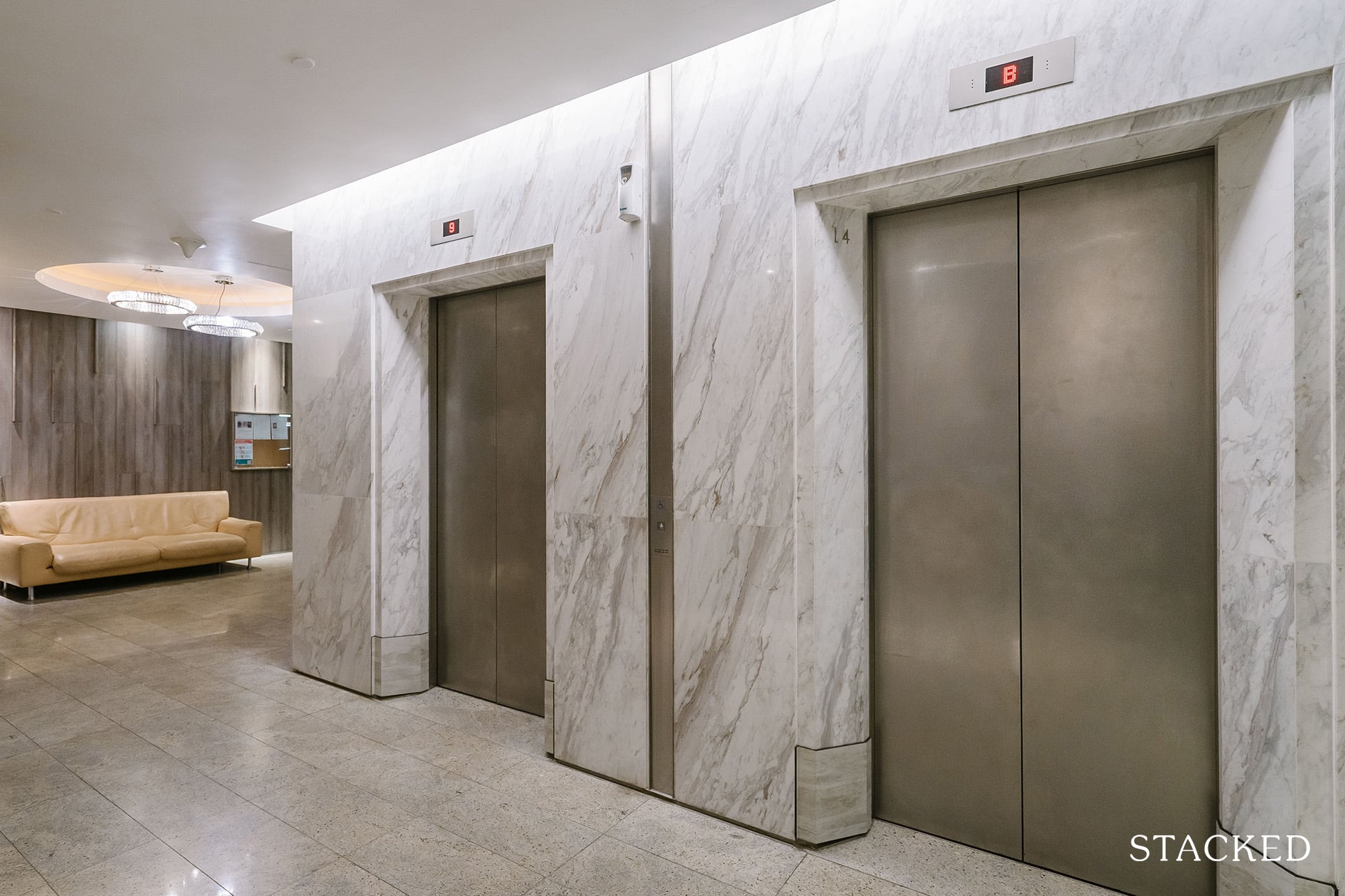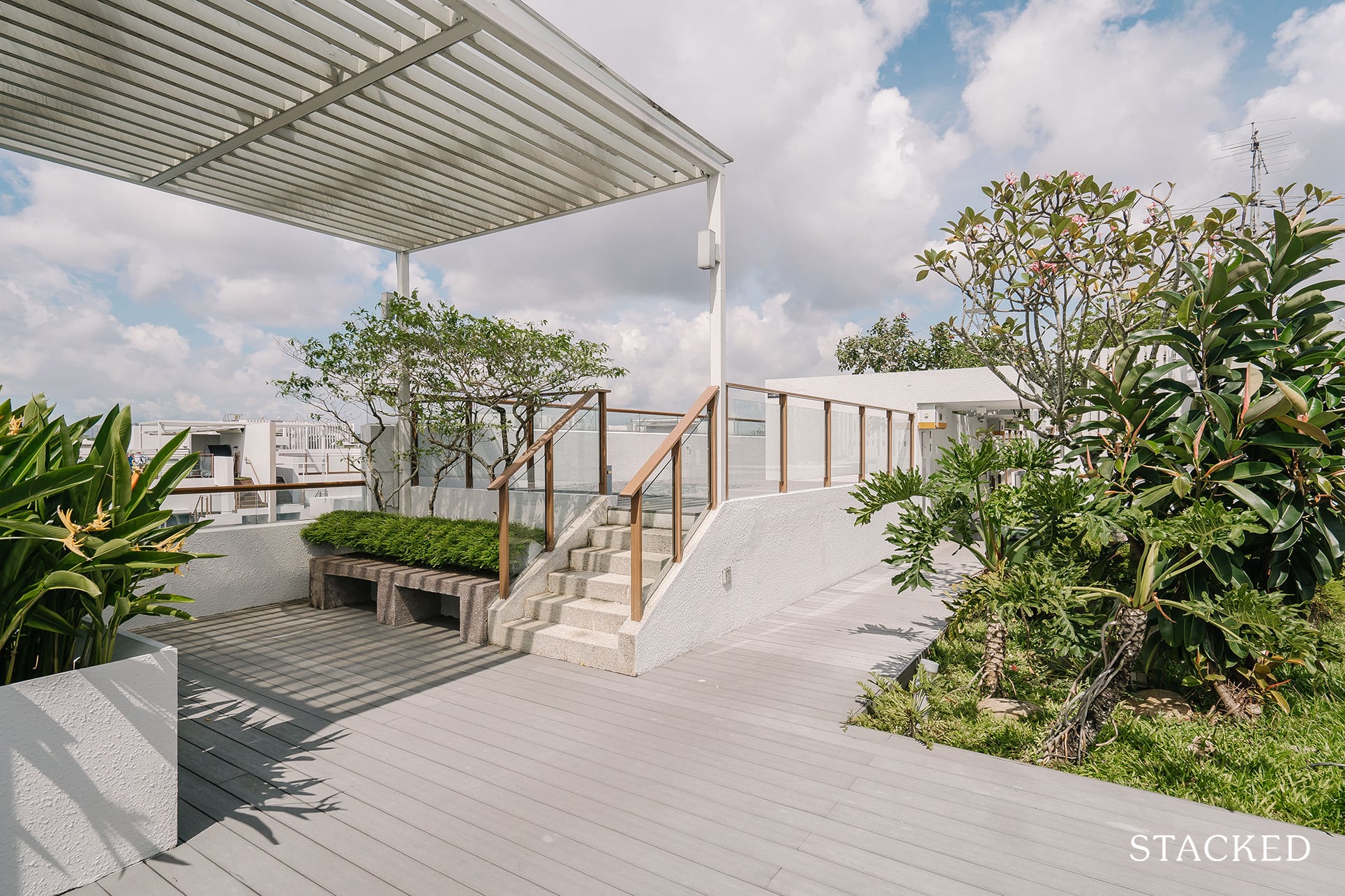 In fact, there's another rooftop facility on top of Downtown (Stacks 2 to 8), where you will find the second of the 2 rooftop tennis courts found at Floridan.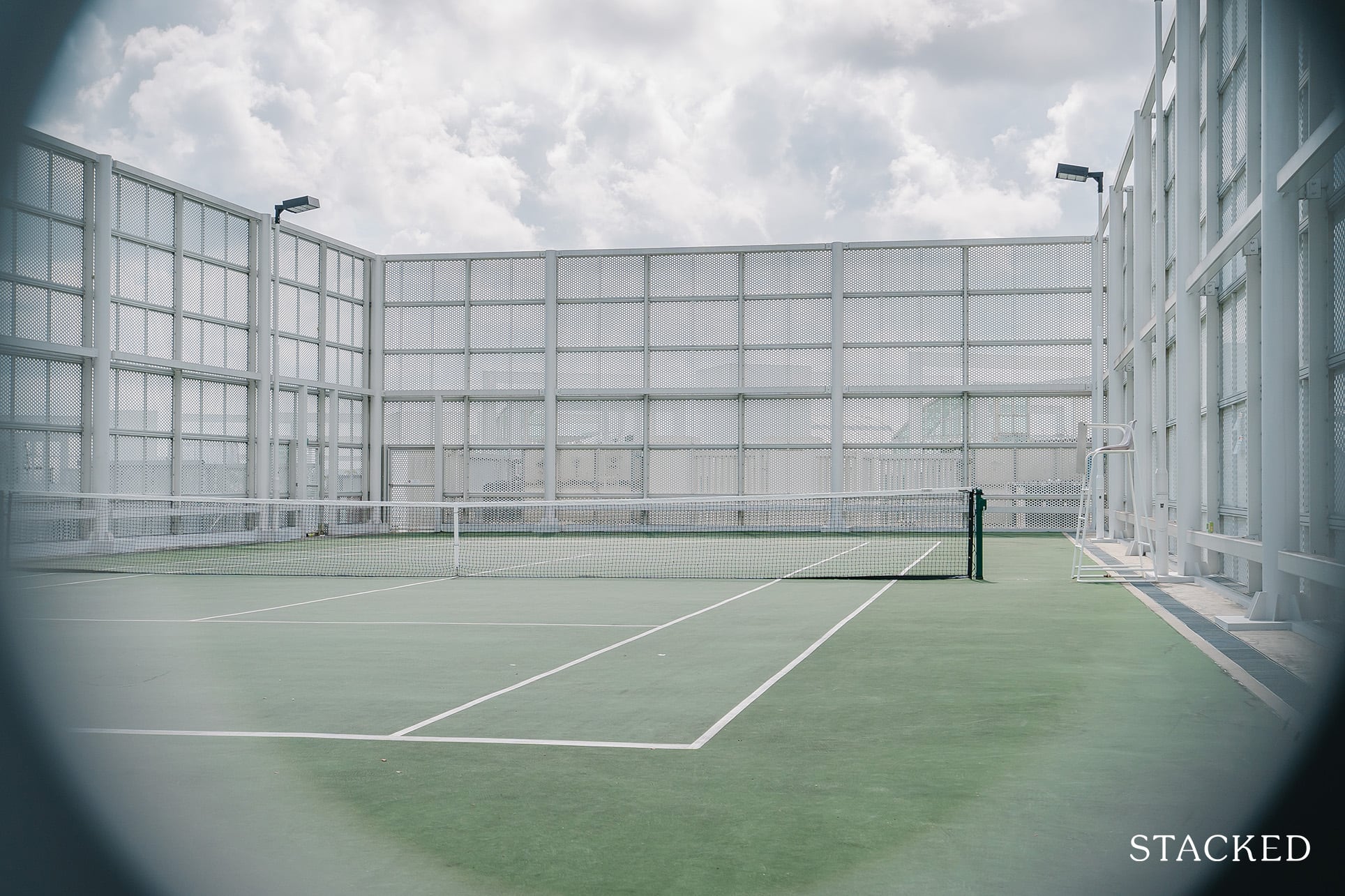 Don't be surprised at this space-saving hack though, and this has been a mini-trend we observed from its Bukit Timah peers Robin Residences and RoyalGreen. Nonetheless, for a development with just 336 units, having 2 tennis courts is a highly desirable ratio that everyone will be envious of. Looking at new launches like Stirling Residences, with 1,259 units and just one tennis court, or Parc Esta with 1,399 units and again just one tennis court and you can see just what a luxury The Floridian is providing.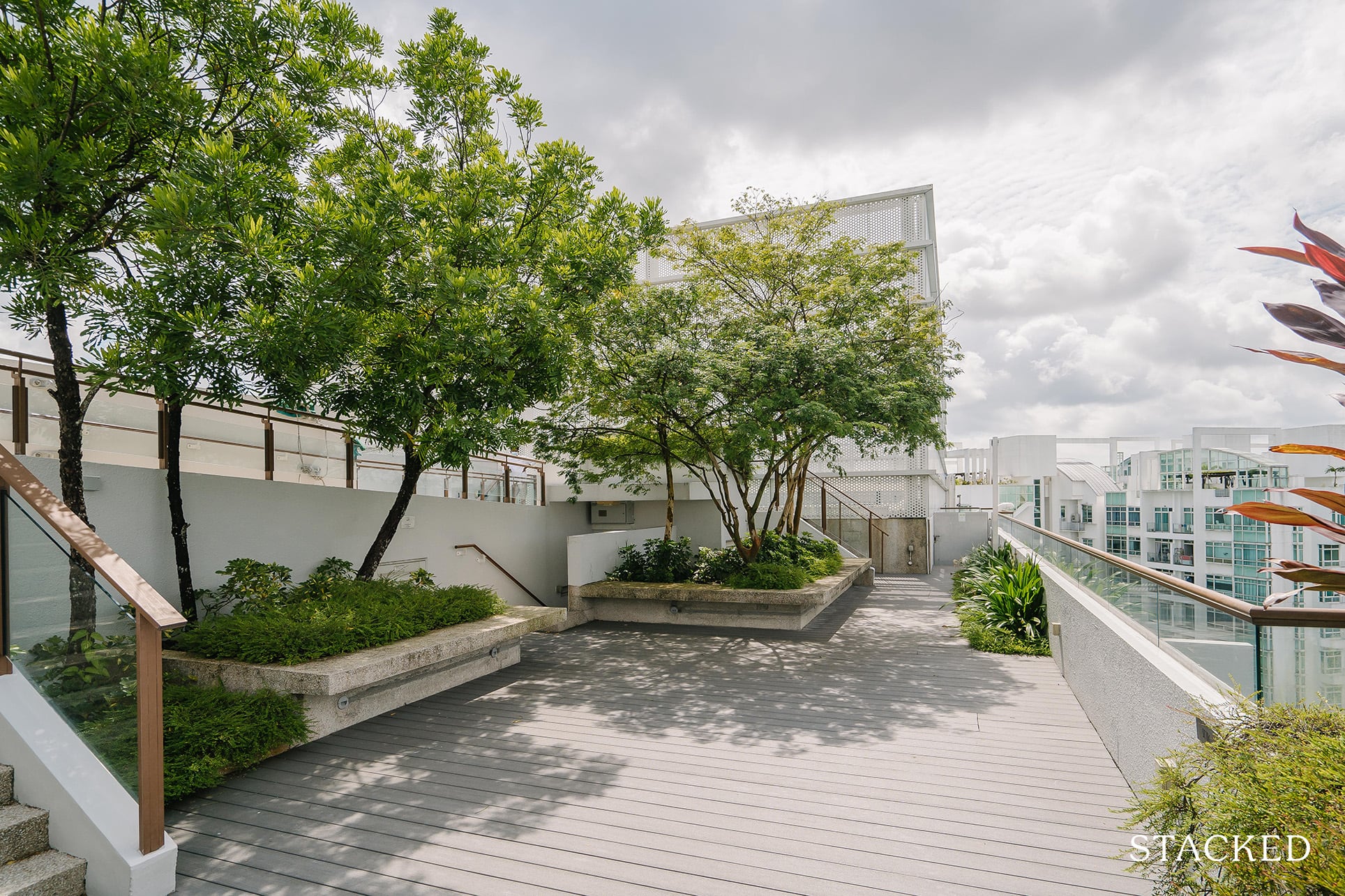 Moving to the other rooftop space, and this is where you can find a host of facilities that can in itself is already impressive. You get a tennis court and sitting coves and viewing pavilions close by. One side of them is internal facing and gives you good views of the extensive pools in the development. Some of these are also nicely shaded.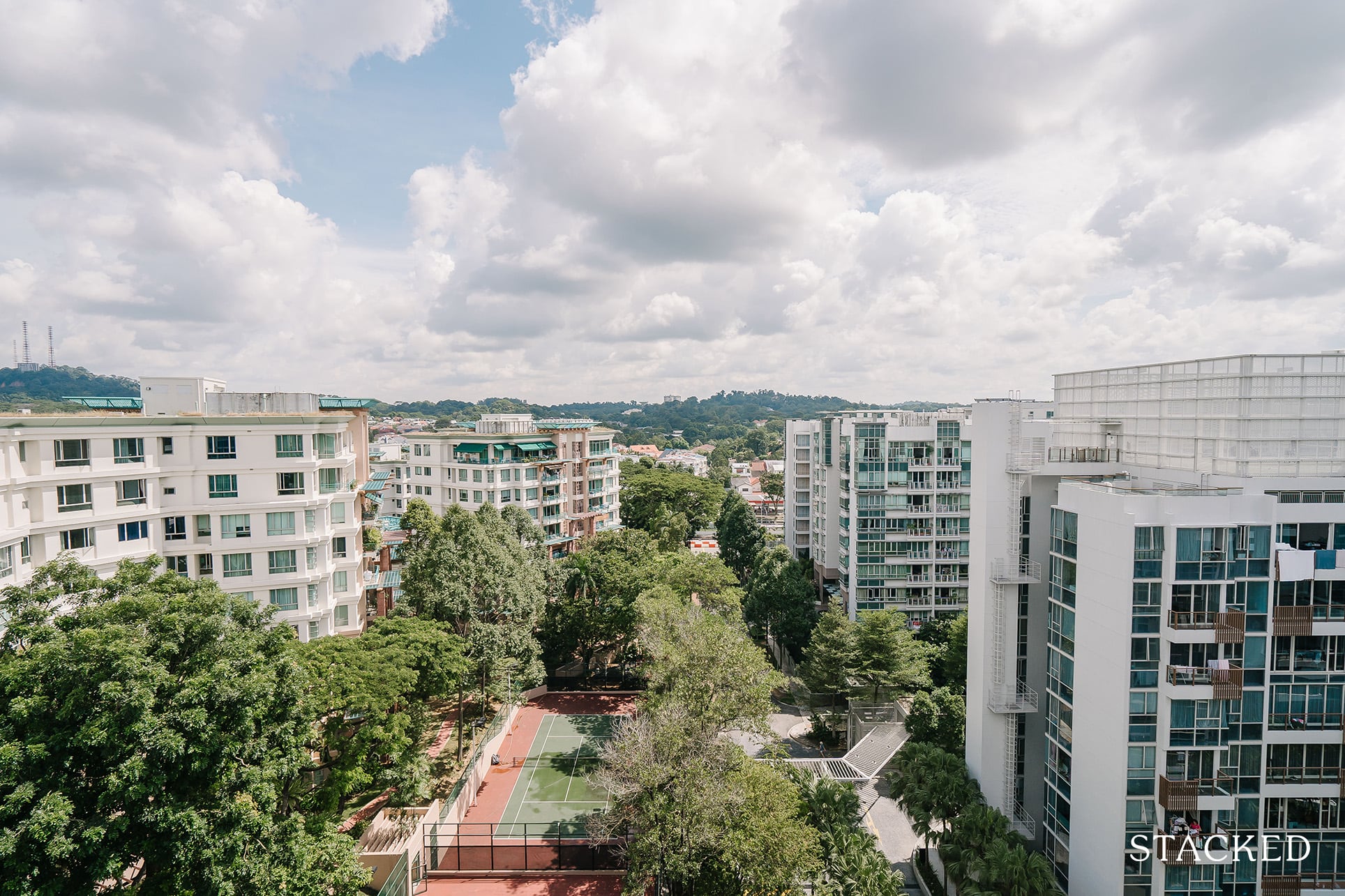 The view on the other side gives you great views of Bukit Timah Hill. It's not exactly unblocked per se, as you have Maple Woods and The Nexus in your immediate vicinity. However, I'll let the photos do the talking – it's pretty nice up here in my opinion and I appreciate those greenery views in the distance.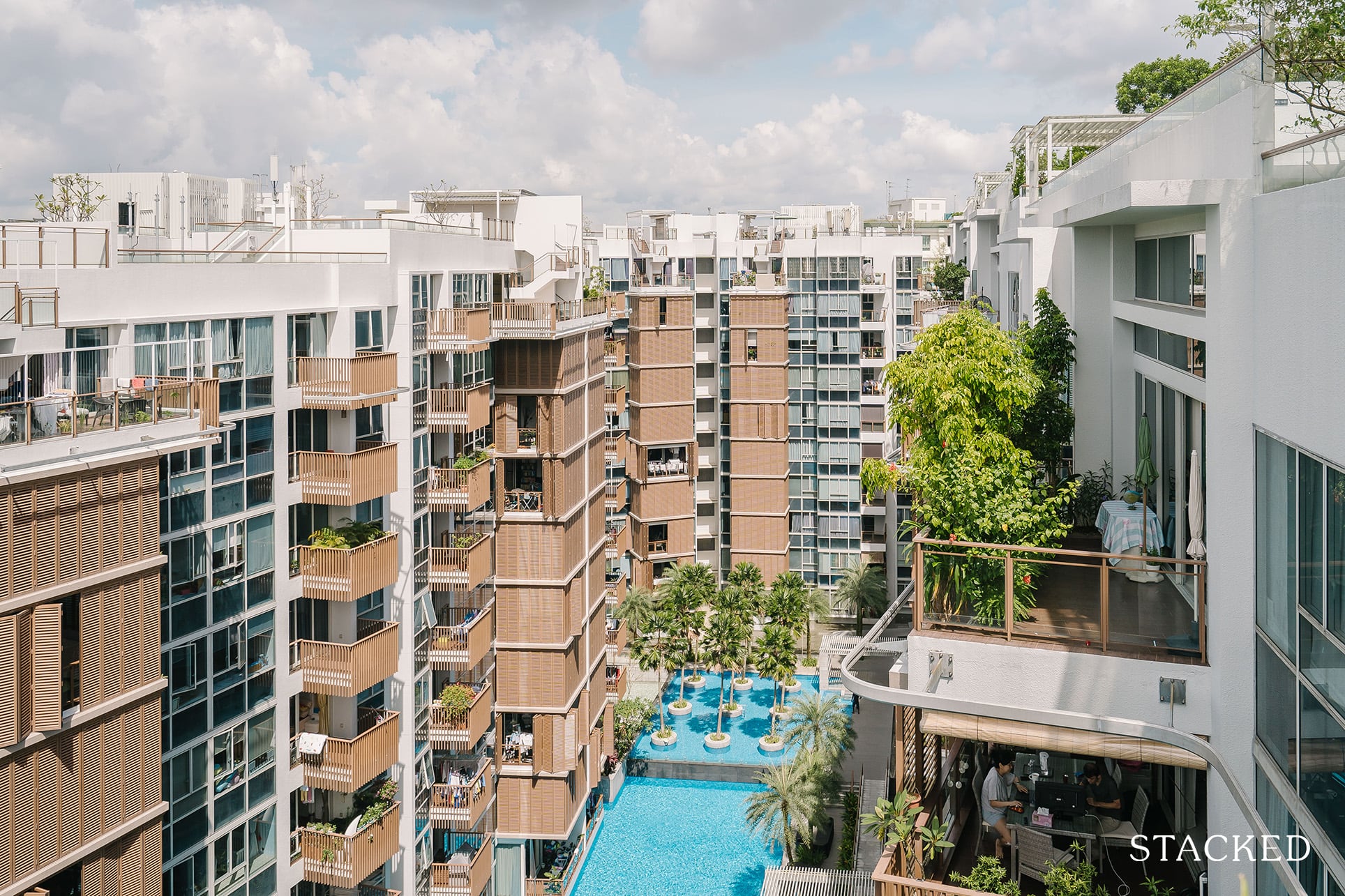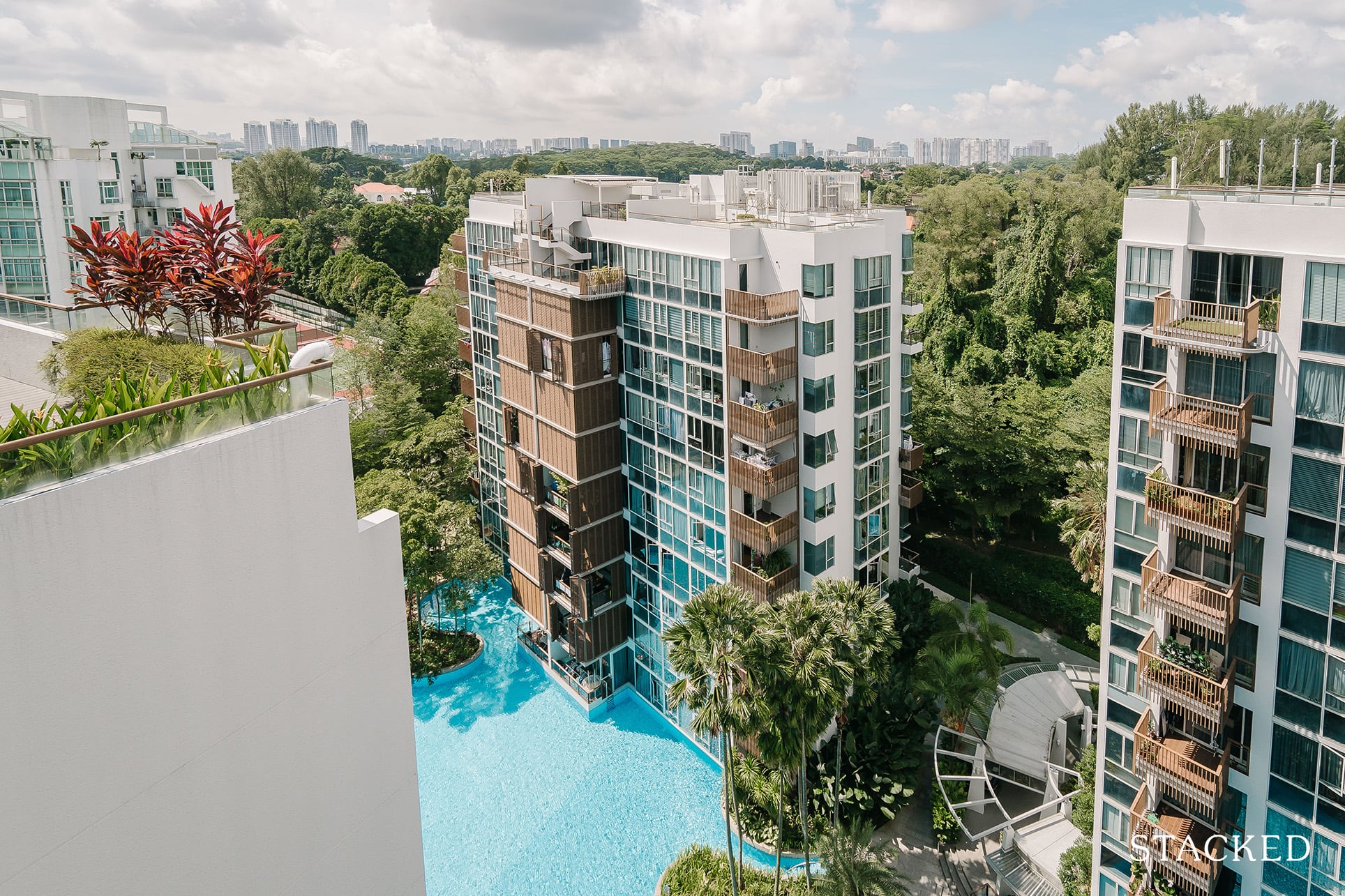 You will have certain stacks here that face Old Holland Road, which as of now, will offer fantastic greenery views. Unfortunately, these will change in the future as the entire area is zoned residential in the URA Master Plan.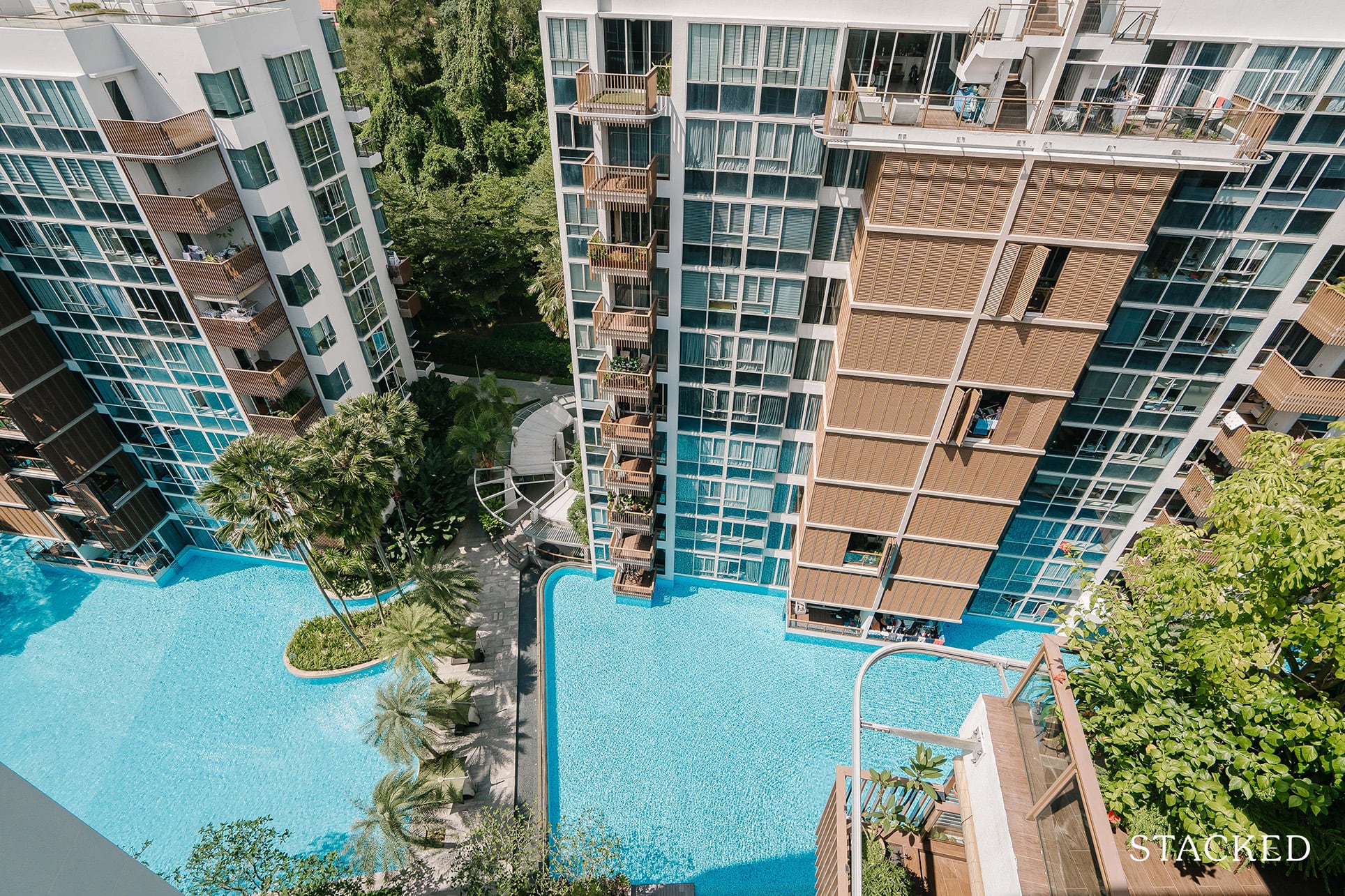 From here you can also see the pool views that most of the units can enjoy. I'd say that having the pools drawn right up to the edges of the units does provide for a unique look from the top, it almost seems as if the blocks are floating atop a body of water instead.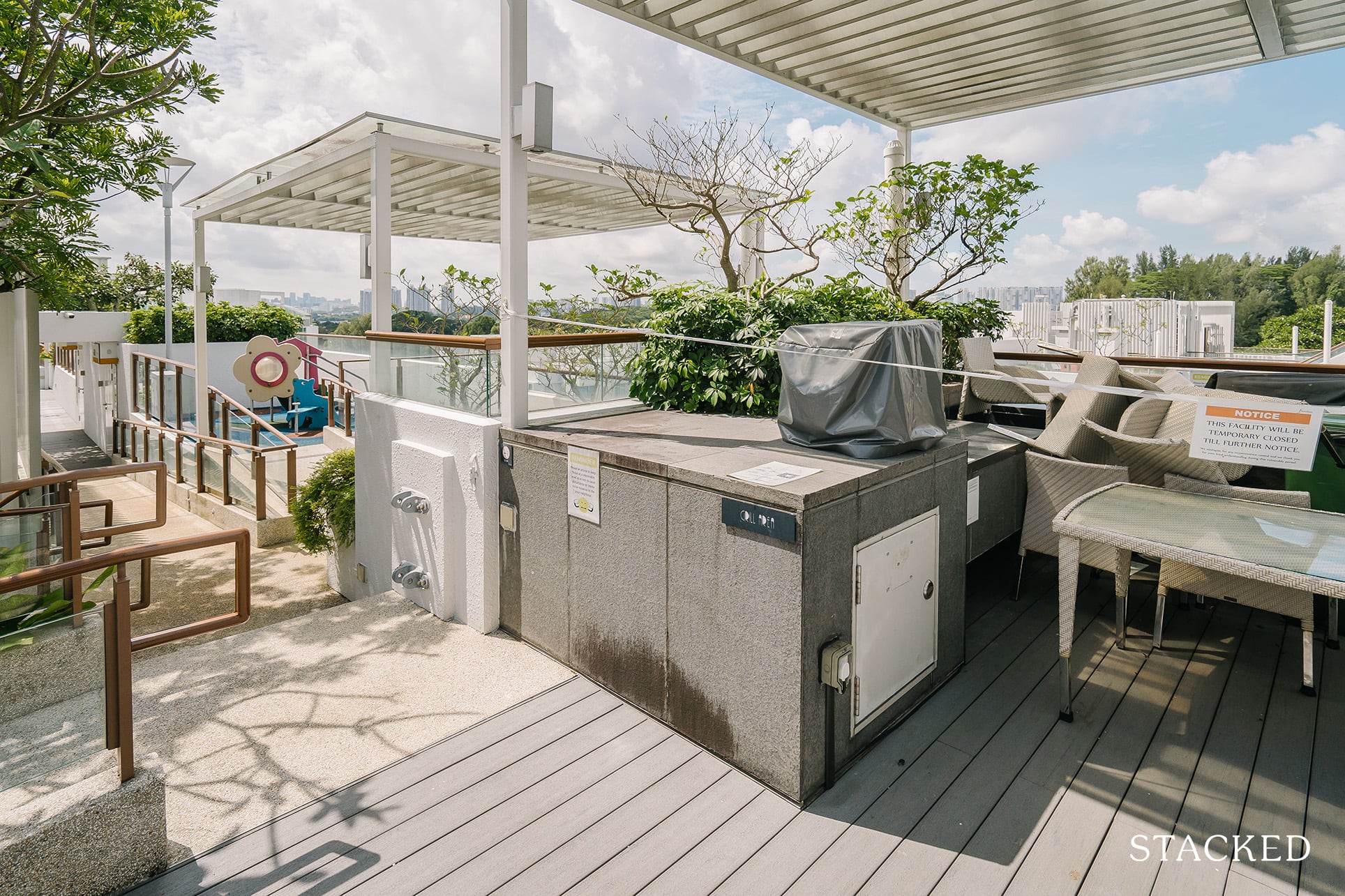 Besides the views, you also have more practical areas such as Grill Areas to host friends and family. The air is always fresher up there, isn't it? With this, you get an option as to whether you prefer hosting on the ground floor or on your rooftop – regardless of which floor you actually stay on.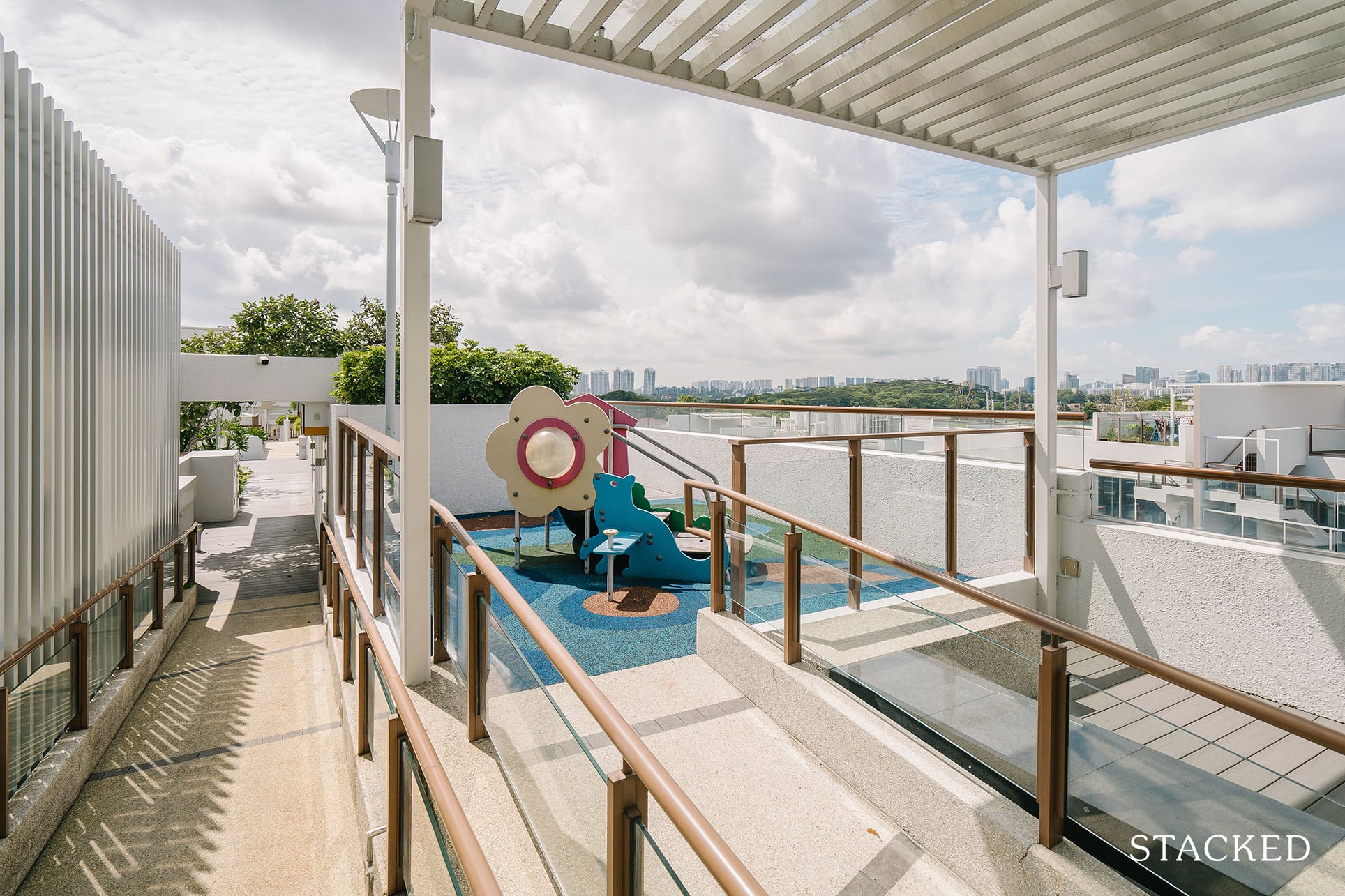 There are also facilities such as the fitness corner, reflexology corner, and a small playground to cater to a wide variety of residents – both young and old.
Overall, I find that the facilities at Floridian have all been well executed and can be said to definitely be better quality than the mainstream condos of its day. It set out to be a luxury condo in its vicinity and I feel its details have definitely lived up to its reputation.
With that, let's move on to chat a little more about its location.
Floridian Location Review
Floridian is conveniently located just 500m away from King Albert Park MRT, where you will also find the ever-popular Methodist Girls School and KAP Mall. The former is one of the key selling points of Floridian and its neighbouring condos.
The same cannot be said for the latter during its early days but has since been given a new lease of life because of the leadership of Dr Julian Theng and his sister Lisa, who as strata owners, have rejuvenated KAP Mall with plenty of food and lifestyle options.
Floridian is situated along the recognisable belt of Bukit Timah condos in the D21 precinct, such as Maple Woods and The Cascadia. All have benefited greatly from the opening of King Albert Park MRT in 2015.
Nearest MRT: King Albert Park MRT (6 mins walk, 500m from side gate)
Public Transport
| | | |
| --- | --- | --- |
| Bus Station | Buses Serviced | Distance From Condo (& Est. Walking Time) |
| The NexusStop ID: 42041 | 67, 74, 77, 151, 154, 157, 170, 170A, 174, 852, 961, 961M, 970 | 230m, 2 mins |
| Opp The NexusStop ID: 42039 | 67, 74, 77, 151, 154, 157, 170, 170A, 174, 852, 961, 961M, 970 | 400m, 5 mins |
Schools
| | |
| --- | --- |
| School | Distance From Condo (& Est. Walking Time) |
| Methodist Girls School | 0.7km, 9 mins |
| Pei Hwa Presbyterian Primary | 1.4km, 19 mins (<2km radius) |
| Henry Park Primary School | 2.9km, 36 mins (<2km radius) |
Retail / Dining Options
| | |
| --- | --- |
| Destination | Distance From Condo (& Est. Walking Time) |
| Restaurants at Binjai Park (LINO, Ivins, Capri Trattoria & Pizzeria etc) | 550m, 7 minutes |
| KAP Mall | 950m, 11 minutes |
Private Transport
| | |
| --- | --- |
| Key Destinations | Distance From Condo (Average Time at Peak Hour [0830] Drive Time) |
| CBD (Raffles Place) | 16.4km, 36 mins |
| Orchard Road | 10.8km, 28 mins |
| Suntec City | 18.4km, 30 mins |
| Changi Airport | 27.2km, 36 mins |
| Tuas Port (By 2040) | 31.4km, 42 mins |
| Paya Lebar Quarters/Airbase (By 2030) | 16.8km, 30 mins |
| Mediapolis (and surroundings) | 7.2km, 23 mins |
| Mapletree Business City | 10.9km, 28 mins |
| Tuas Checkpoint | 21.2km, 30 mins |
| Woodlands Checkpoint | 14.6km, 21 mins |
| Jurong Cluster (JCube) | 6.6km 19 mins |
| Woodlands Cluster (Causeway Point) | 15.2km, 26 mins |
| HarbourFront Cluster (Vivo City) | 12.8km, 31 mins |
| Punggol Cluster (Waterway Point) | 25.9km, 39 mins |
Immediate Road Exit: 1 – onto the busy Bukit Timah Road. You can get to Clementi Road / PIE shortly later or make a U-turn towards Sixth Avenue / Botanic Gardens.
Unit Mix
| | |
| --- | --- |
| Unit Type | Size |
| 2 Bedroom | 840 – 947 sqft |
| 2 Bedroom + Study | 893 – 1,001 sqft |
| 3 Bedroom | 1,281 – 1,432 sqft |
| 3 Bedroom + Study | 1,658 – 2,034 sqft |
| 4 Bedroom | 1,830 – 2,347 sqft |
| 4 Bedroom + Study | 2,357 – 2,852 sqft |
It should come as no surprise that the units here are larger than new launches in the market. After all, Floridian is 10 years old and billed as a luxury project in its day.
Indeed, the 3 Bedroom and above units have rather large sizes. However, the 2 Bedroom and 2 Bedroom + Study units felt rather compact in my opinion as the developers wanted to cram as much bang for the buck as possible. In particular, the common bedrooms and kitchen tended to feel smaller than other condos of its vintage.
On the other hand, for the larger unit sizes, the emphasis seems to have been placed on the living and dining areas, especially in the balcony space. Since Floridian was marketed as a 'lifestyle' condo of sorts, I think it is fair to say that the clientele are those who have an appreciation for the relaxed Florida-themed life.
Developer Notes
Far East Organization is Singapore's largest privately-owned real estate company. Founded in 1960, its founder, Ng Teng Fong, was Singapore's richest man before his death in 2010. The company expanded from developing landed homes in Serangoon Gardens, Katong, and Watten Estate to retail and hotel developments, including Far East Plaza and Lucky Plaza. They also expanded successfully into Hong Kong in 1971 through the establishment of Sino Group, which today, is run by Ng Teng Fong's son, Robert Ng. Far East Organization is the owner/developer of many of Singapore's most iconic buildings, including The Fullerton Hotel, Central, The Bayshore, Cyan, Silversea, and Orchard Scotts. More recently, Far East Organization won the bid for the highly anticipated mixed-use development at Beauty World and are building One Holland Village, which is their first residential development in Singapore after some time. If you are interested in their contributions to the Singapore real estate scene, you can read more about them here.
Wing Tai was founded in 1955 and has been listed on the SGX since 1989. It has diverse business interests in property investment and development, lifestyle retail, and hospitality management across Singapore, Malaysia, Hong Kong, and China. Their residential portfolio in Singapore includes The M, The Crest, The Garden Residences, and Le Nouvel Ardmore. 
Best Stacks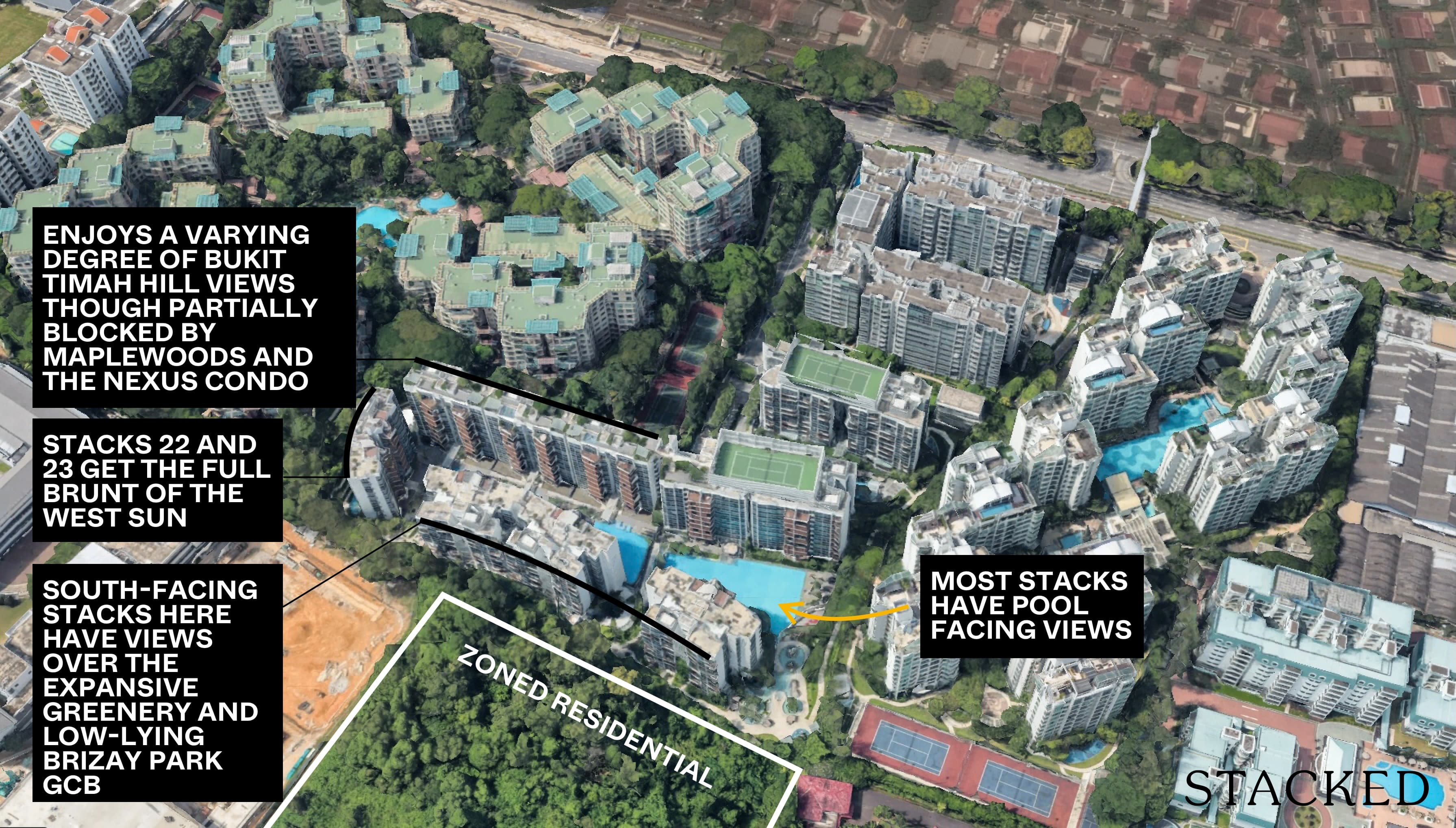 There are a number of different views from units at Floridian. About half the number of stacks will have pool-facing views and those will have additional balcony screens provided by the developer for enhanced privacy.
While some may gravitate towards pool views, you also have the option of facing the low-rise MGS or the expansive greenery and unblocked Brizay Park GCB views. Stacks 22 and 23 get the full brunt of the West sun and face MGS while the other units mostly have the Southwest sun shining on them.
At present, there is still a massive green plot in front of Floridian and units get these natural views from each floor. However, do note that this may not last forever it has been zoned residential in the URA Masterplan although this will likely tie in with the wider Old Holland Road field developments. The best views will likely be from the South Beach (block 977), which enjoys the best of both the greenery and the perpetually unblocked Brizay Park GCB views.
On the other side, some of The Verandah stacks will also enjoy varying degrees of Bukit Timah Hill views, with some getting blocked by Maple Woods and The Nexus condo blocks nearby. Nevertheless, you could also say that some form of greenery is better than none.
Floridian Price Review
If you are considering Floridian, you will undoubtedly compare it against its neighbouring developments. So here is how it stacks up!
| | | | | | |
| --- | --- | --- | --- | --- | --- |
| Development | Units | Psf | TOP | Tenure | Price Gap |
| Floridian | 336 | $2,088 | 2012 | Freehold | |
| Maple Woods | 697 | $1,992 | 1997 | Freehold | (5%) |
| The Cascadia | 536 | $1,869 | 2010 | Freehold | (10%) |
| The Nexus | 242 | $1,786 | 2006 | Freehold | (14%) |
| The Tessarina | 443 | $1,917 | 2003 | Freehold | (8%) |
| Mayfair Modern | 171 | $2,119 | 2024 | 99 Years | 1% |
| Mayfair Gardens | 215 | $2,054 | 2024 | 99 Years | (2%) |
The price comparison for Floridian is quite interesting. On the one hand, as the newest full facility condo in the vicinity, it commands the highest psf, and costs 10% more on average than The Cascadia, which is just 2 years older. That says one of 2 things – either because buyers recognise Floridian's appeal or do not quite like the product at The Cascadia. I'm more inclined to say that it is the latter as The Cascadia even costs less than what is arguably the bellwether for the KAP precinct – Maple Woods despite being 13 years younger. You can read more about our review of The Cascadia here. I'm not saying that there is something majorly wrong with the condo at all but some may have found it a little more crammed and utility looking than some may have liked. I would also add that Floridian is in a sweet spot in terms of units. 336 is small enough that it doesn't feel overcrowded, yet with enough units that the maintenance would usually be reasonable, and that facilities would be full-featured. As with the case at Floridian, with multiple swimming pools, and 2 tennis courts, along with varied dining facilities on the ground and rooftop. In fact, when compared on this playing field, it almost seems like there's not much of a fight between Floridian and the rest.
If you are into aesthetics, I would say that among the resale condos, it's a battle between Maple Woods and Floridian and evidently, the psfs are also a testament to that. Maple Woods has more of an old school, laid back resort feel complete with 4 tennis courts. There's even a restaurant within! You can read more about it from our review here. Floridian on the other hand definitely feels more modern with more funky facilities such as an entire rooftop zone. It comes down to personal preference but I'm definitely voting for Floridian simply because of its younger age – less maintenance issues to worry about!
On the other hand, if we look at Floridian's pricing vis-a-vis the new launches Mayfair Modern and Mayfair Gardens, we see that it is flat-ish compared to them. Granted, both new launches are 99-year leasehold projects but new launches tend to command a premium over their resale peers regardless of their tenure. Again, it says one of two things – that Floridian is slightly steep or the 2 new launches are reasonably priced. I'm a little divided on this front and feel that there is a case to be made on both fronts.
I first visited Floridian back in 2018, when you could still find units in the $17++ psf range so prices have appreciated a fair bit since which is in line with the rest of Singapore. As it is a freehold project, well maintained with some trimmings of a luxury condo, I think there continues to be a market for it years down the road.
As for the Mayfair series, its black and white inspiration from London Mayfair (although I'm sceptical that Mayfair ever had that monochromatic theme) also gives it a beautiful aesthetic that many buyers appreciate. Its 99 years lease will only weigh it down many years down the road, and should not be a concern to most buyers. Its PSF also seems fair by 2022 standards.
Appreciation Analysis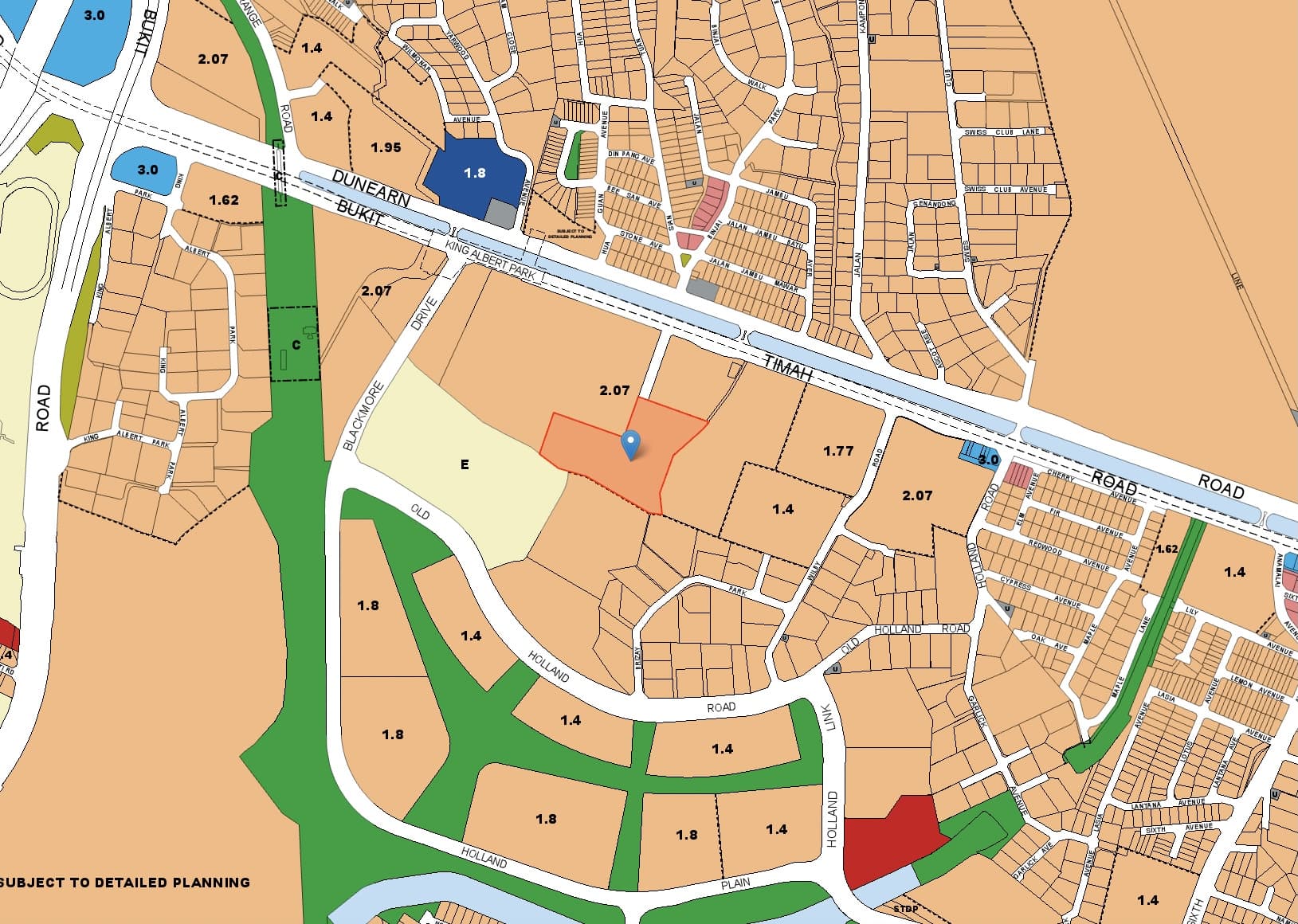 Beauty World Transformation
I'm probably already sounding like a broken recorder but it is what it is. Every new development at Bukit Timah has been talking up the whole Beauty World transformation. Far East Organization won the bid for a mixed-use development at Beauty World for $1.02Bn and will rejuvenate the neighbourhood that looks past its prime. We hence expect added vibrancy and increased connectivity brought about by the new integrated transport hub. Floridian is just 1 stop from Beauty World and is arguably more central, which should bring about some price support to the area.
Holland Plain Redevelopment
There are many plans around the development of large land plots in the wider Bukit Timah region. Besides the massive Turf Club plot, you also have the Holland Plain field right in Floridian's backyard. This will yield some 2,500 units and the expansion of the park connector will bring about greater leisure options for residents here. If managed well, these 99-year plots will help to set new benchmarks in the Bukit Timah region, which Floridian is poised to take advantage of given its Freehold status and more complete facilities.
Rail Corridor Rejuvenation
Located close to the Rail Corridor, the Government's enhancements to the Rail Corridor will provide further lifestyle benefits to residents in the area. Those familiar will certain recognise the conserved Bukit Timah Truss Bridge, which has been the subject of many graduation and wedding photos. The old railway station and station master's quarters will be conserved, with the latter eventually being an F&B site. These are the intangible factors that do not directly affect your property's prices but provide the area with more excitement.
Our Take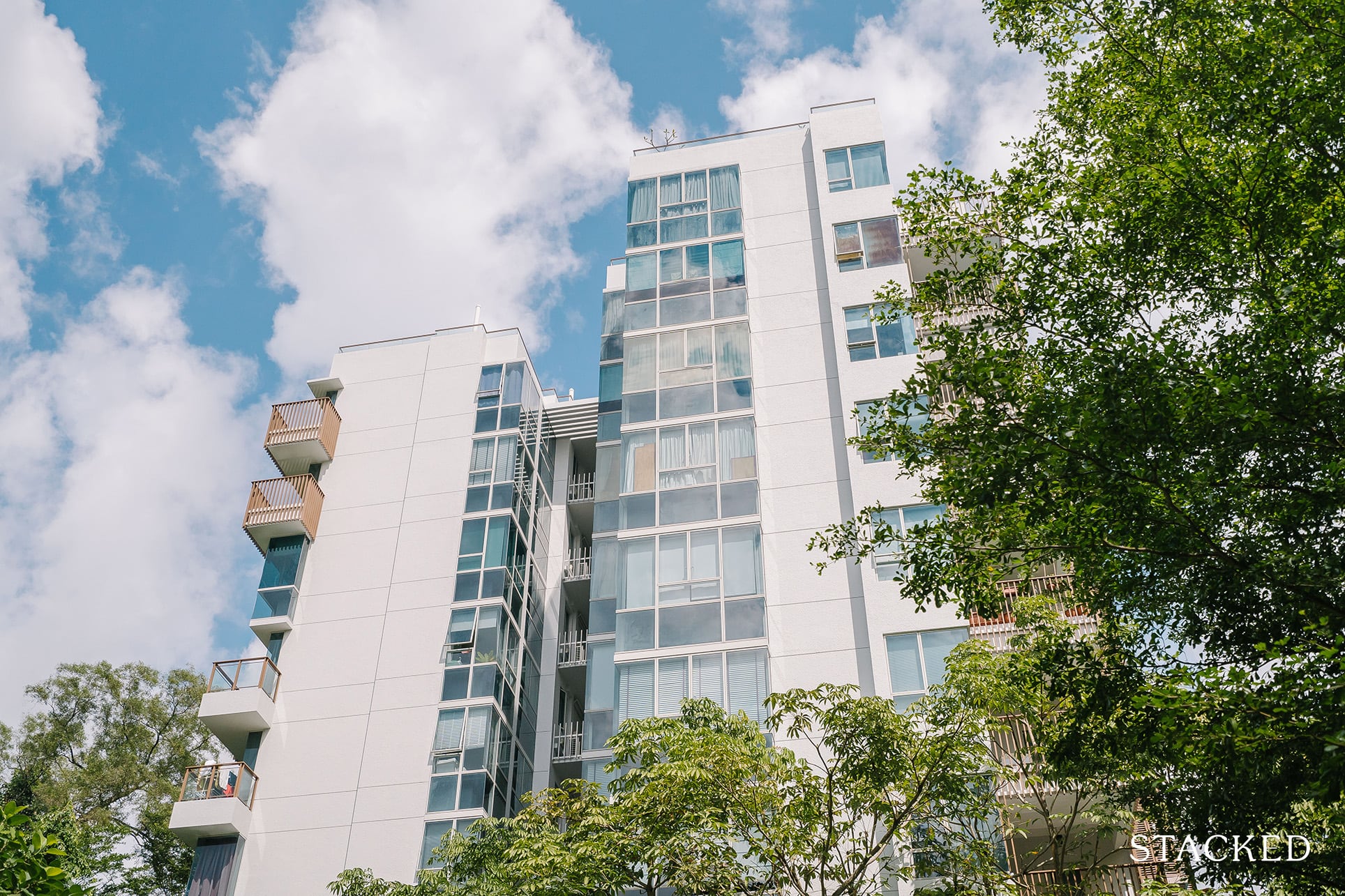 Floridian is situated among a cluster of popular King Albert Park condos that grants you easy access to the MRT and MGS. Yet even amidst the competition, it stands out with unique facilities such as an entire rooftop zone and more luxurious provisions throughout the development. From the expansive drop off and the numerous pools to the 2 tennis courts and air-conditioned lobbies, Floridian has set out stall to impress.
Personally, for me, I think Floridian does have a justified price premium among its neighbours because on paper, it is the best. It's not all too common to find such a full-facility set, along with just 336 units, and a location that is still reasonably near to the MRT and yet protected from the road noise.
However, its high initial psf selling price means that some initial buyers have had to make losses on this development and Floridian continues to be the most expensive condo in the vicinity. It is also the newest before Mayfair Gardens and Modern TOP in 2024. Yet with all the exciting URA Masterplans happening in its backyard, I am excited to see if Floridian continues to shine brightly among its peers.
What this means for you
You might like Floridian if you:
Want to be close to MGS:One of the primary reasons for many parents purchasing a unit in the KAP vicinity.
Fancy plenty of facilities:2 tennis courts, 7 pools and many dining pavilions mean that residents will have little excuse to not keep fit or feast, whichever your preference might be. Rooftop facilities are definitely a plus too!
Prefer to be in a more exclusive part of KAP:Most condos along this stretch are sited on the main road while Floridian is in a cul-de-sac, away from the noisy Bukit Timah Road.
You may not like Floridian if you:
Find its psf steep:It is the newest full facility condo in the area and its high initial selling price means sellers are likely not willing to settle for less in the current market.
End of Review