Condo Reviews

Maplewoods Condo Review: Greenery Abounds Plus 4 Tennis Courts
Reuben
December 4, 2019

21

min read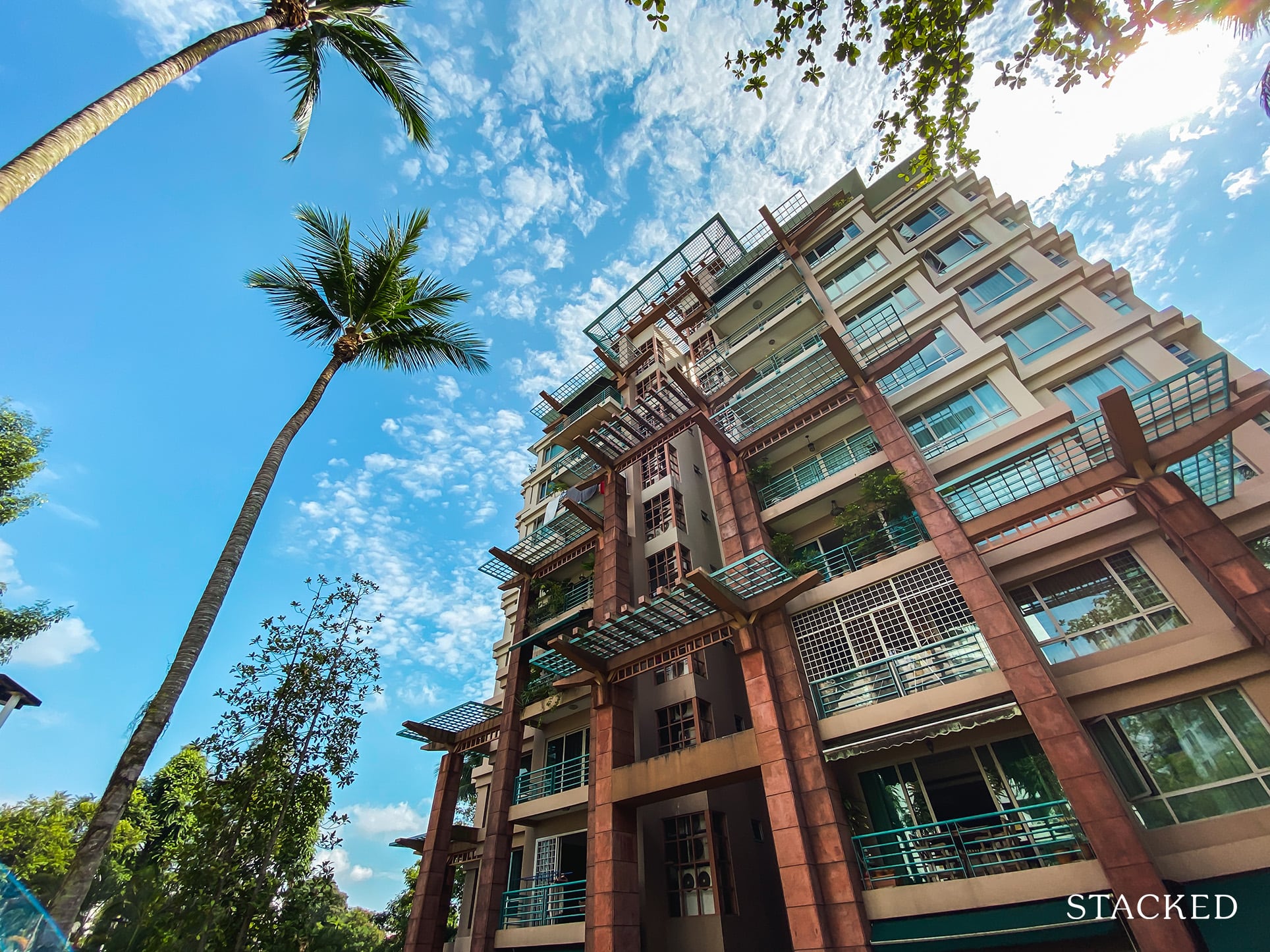 Maplewoods is perfect for those who love expansive living spaces, with a 4-bedroom unit coming in at 3,000 sqft! The abundant greenery and foliage will also pique any nature lover's interest. However it's steep average $psf may put those on a strict budget off, especially when considering the larger unit spaces.
Reviewed by Reuben on 4 December 2019
What we like
Lush greenery

Big units

Near good schools

Near MRT
What we don't like
—

Under-utilised spaces

—

One entrance only via Bukit Timah Road
21
min read
About this condo

| | | | |
| --- | --- | --- | --- |
| Project: | Maplewoods | District: | 21 |
| Address: | Bukit Timah Road | Tenure: | Freehold |
| Site Area: | 593,779 sqft | No. of Units: | 697 |
| Developer: | Wing Tai Holdings Private Limited | TOP: | 1997 |
'It almost feels like you've been transported back in time'. A secluded estate of its own away from all the cares and worries of the world.
8 years ago, residents at Maplewoods signed a petition for minister Lee Hsien Loong to review LTA's decision to position key footpaths following the construction of tunnels for the Downtown Line.
The condo was 14 years old then.
Today, the condo continues to stand proud, massive luscious foliage sheltering the equally impressive development from rain and shine – a haven of rest and heritage in the wealthy Bukit Timah District.
Surrounded by distinct amenities (and King Albert Park MRT – of which construction eventually went ahead, undoubtedly to the ire of many a resident here), this freehold gem continues to command a powerful quantum – even when compared to its more recent neighbours.
In a somewhat sentimental sum-up, Maplewoods Condo is an incredibly well-maintained establishment that brings tranquility and all the positives of the past to a city and district of ever-changing landscapes.
Maplewoods Insider Tour
Facilities in Maplewoods
Barbeque area
Covered car park
Driving range
Jacuzzi
Playground
Sauna
24 hours security
Squash court
Swimming pool
Tennis courts
Wading pool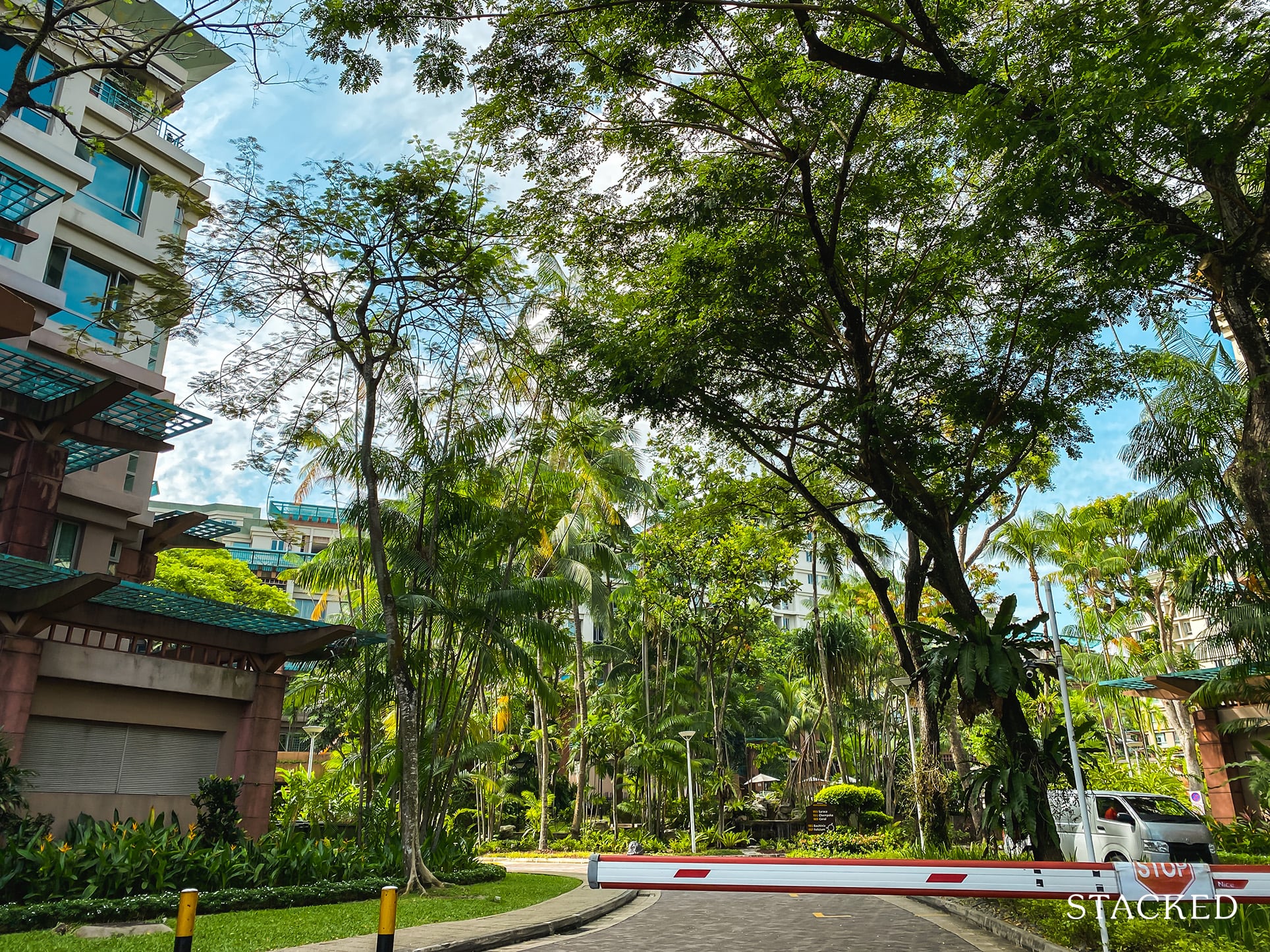 Although you might have driven past it many times on the main Bukit Timah Road, it is tough to see how big the Maplewoods condo actually is from the outside. And make no mistake, it is gargantuan at 593,779 square feet of land. From the moment you step in you can see where it gets its name from, the trees are super lush and it is almost greenery everywhere your eye lands on.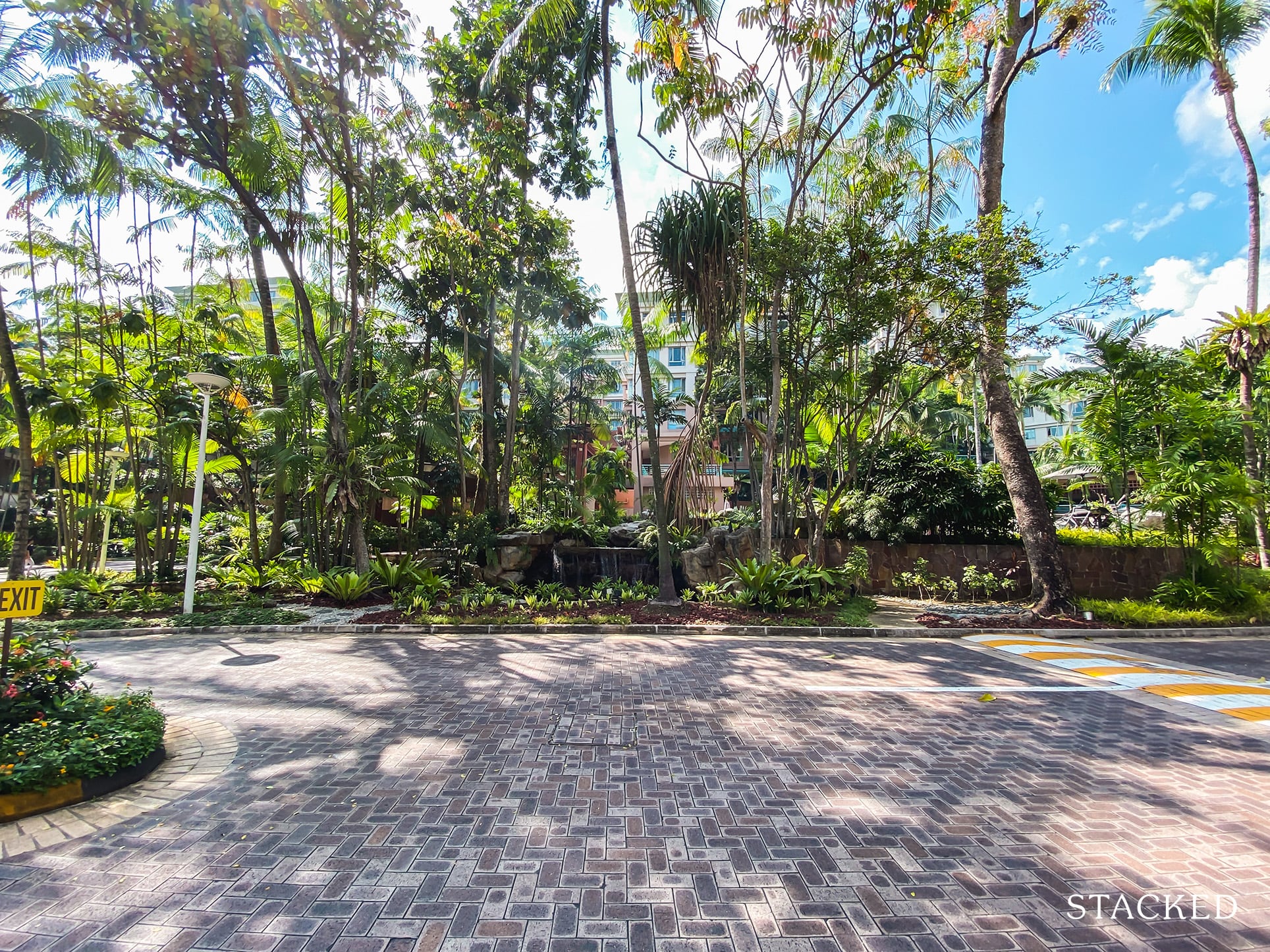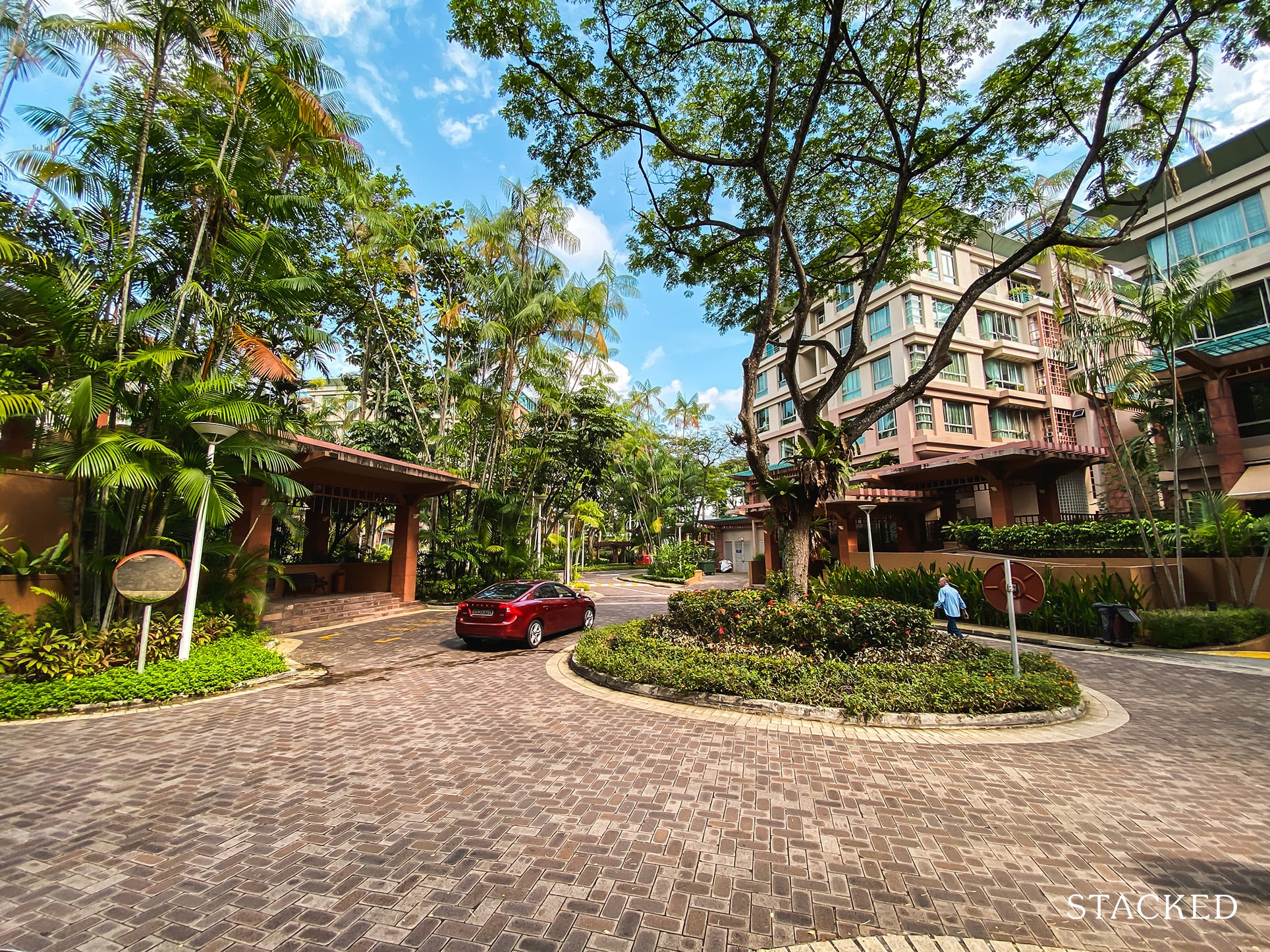 Despite the size of the Maplewoods, the length of the internal roads is surprisingly quite short, with just two roundabouts that allow you to reach two blocks each respectively. So if you are parents of young kids, this should ease your worries slightly when they are running around the condo!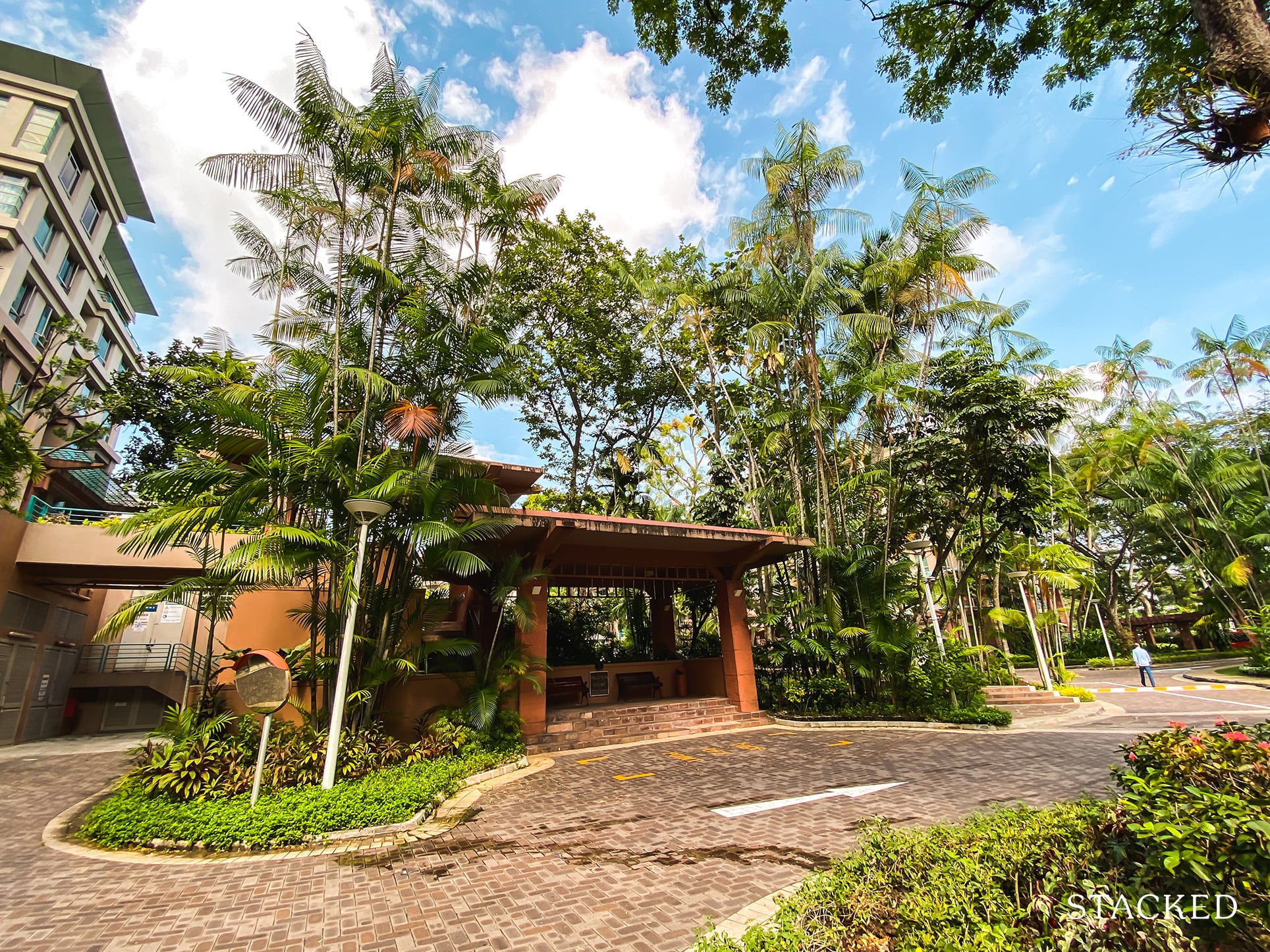 There are multiple dropoff points, but the shelter itself is actually a little short so on really rainy days you'll have to use the basement carpark instead.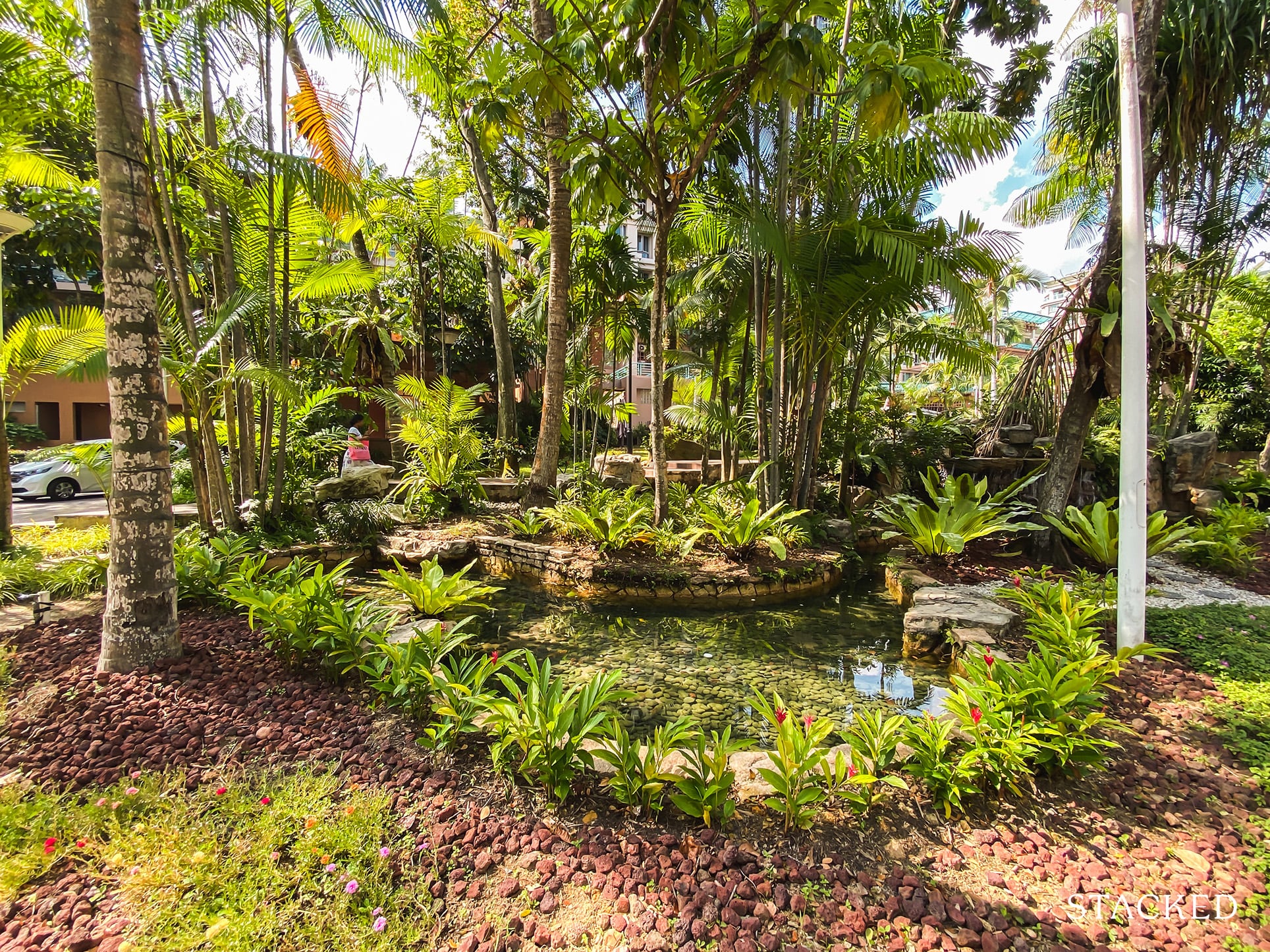 Just before you get to the swimming pool, there's a landscaped pond.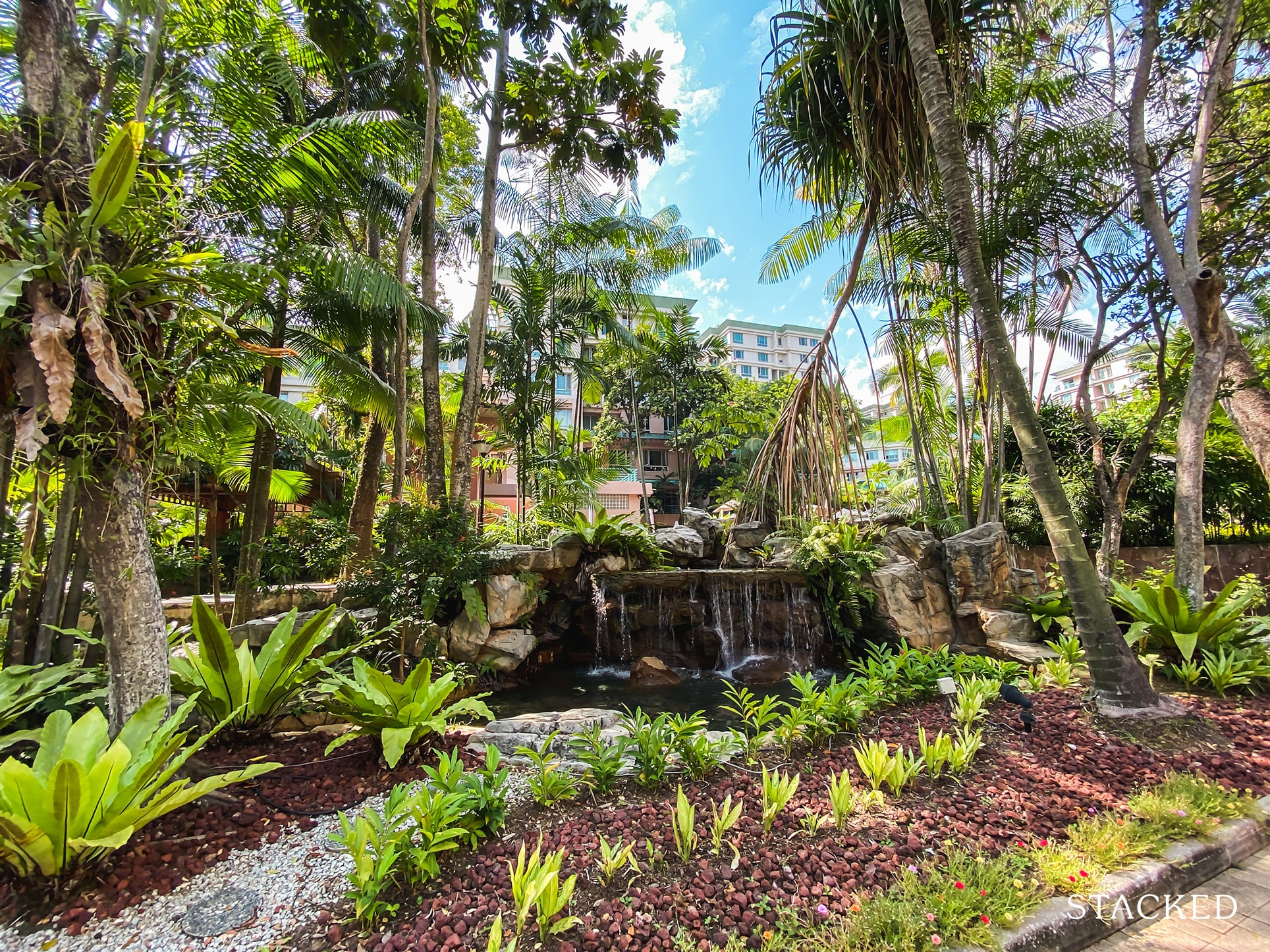 Plus a water fountain towards the right. It's rustic looking and definitely fits in with the tropical resort feel of the development.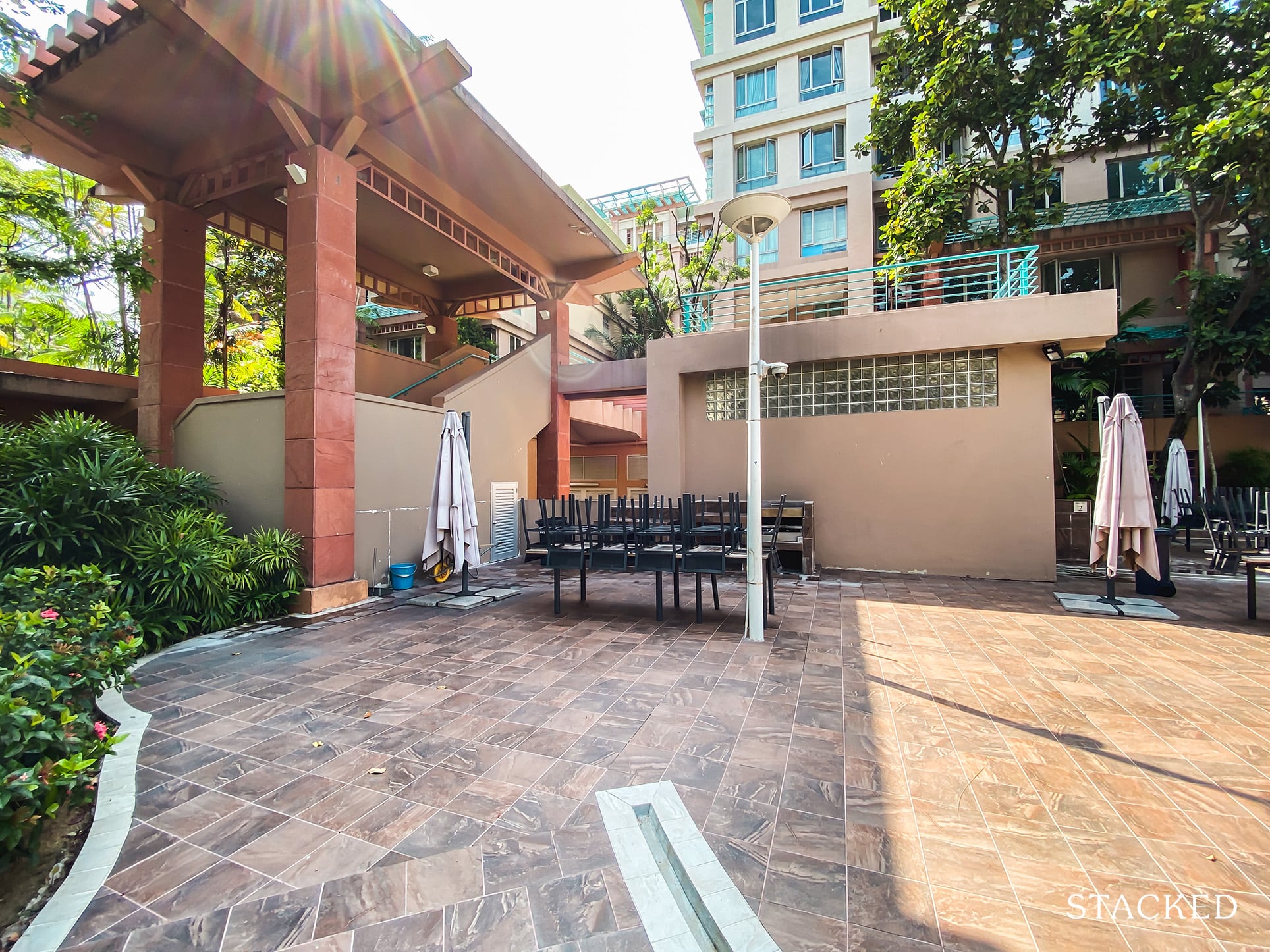 Right by the pool, there are numerous barbeque pits.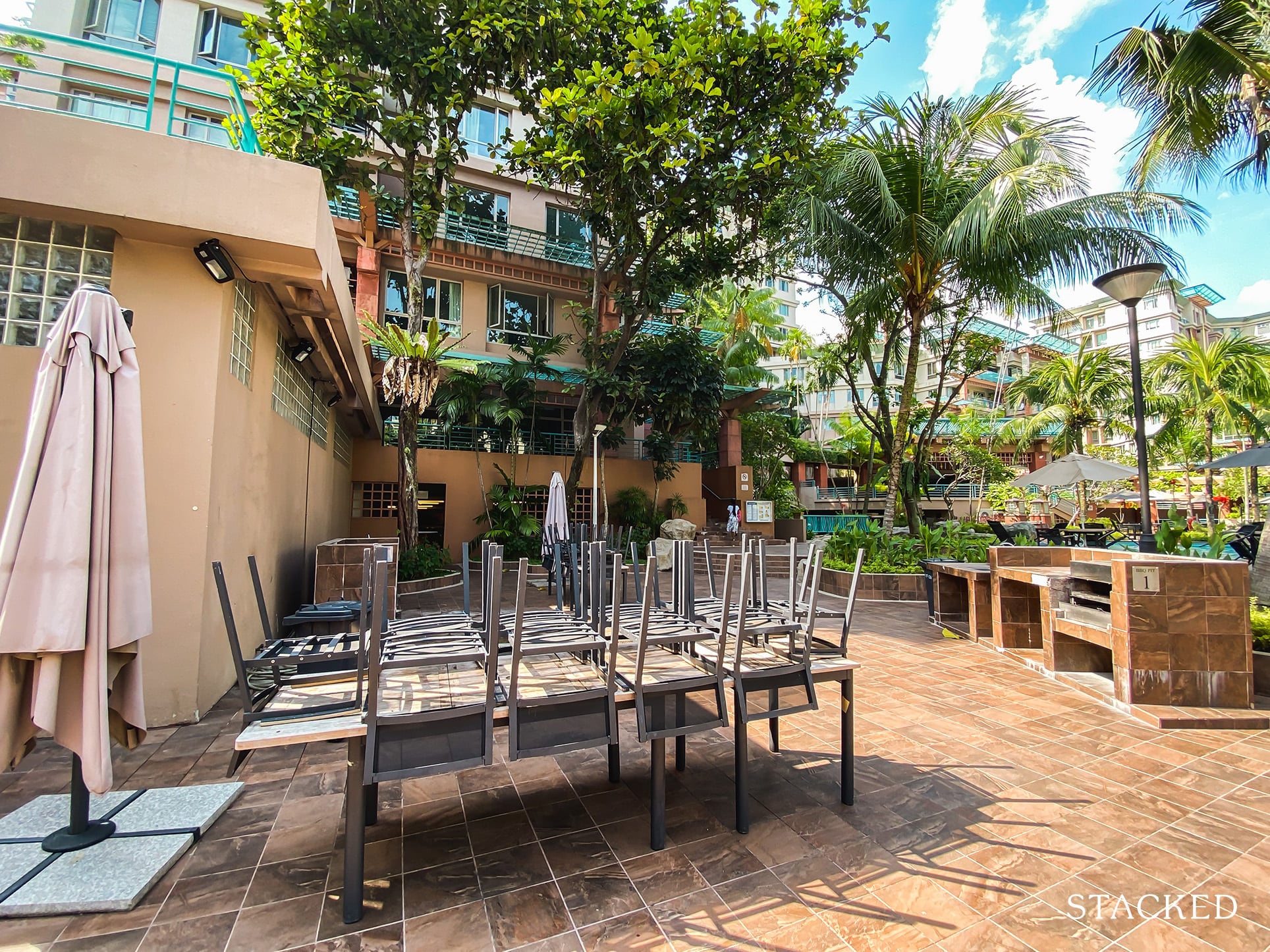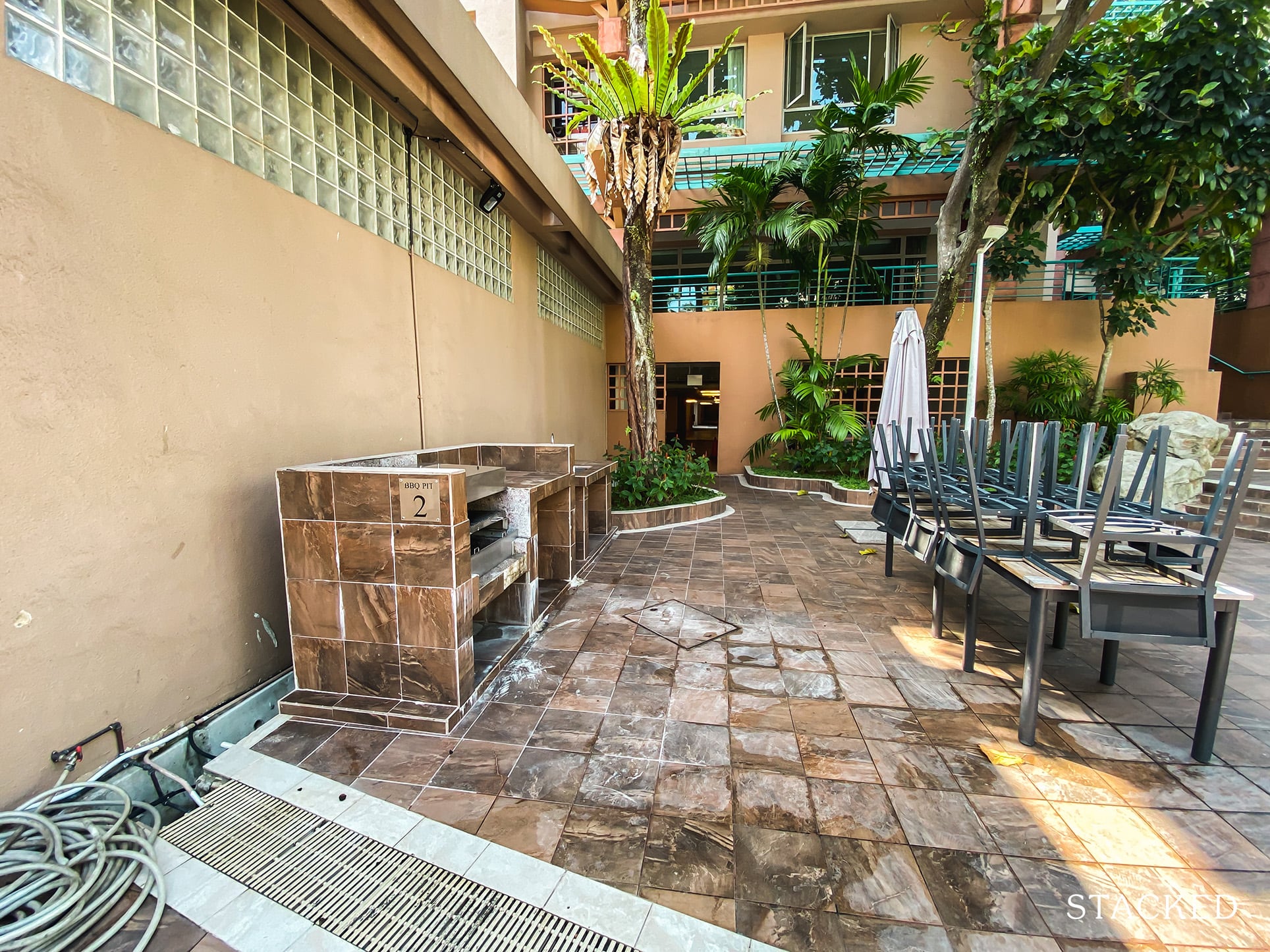 You'll find three pits in total here, each having a long table which can seat up to 10 people. If you are holding a huge gathering this would be extremely ideal, but for separate bookings, there is a lack of privacy because of how near each pit is located to each other.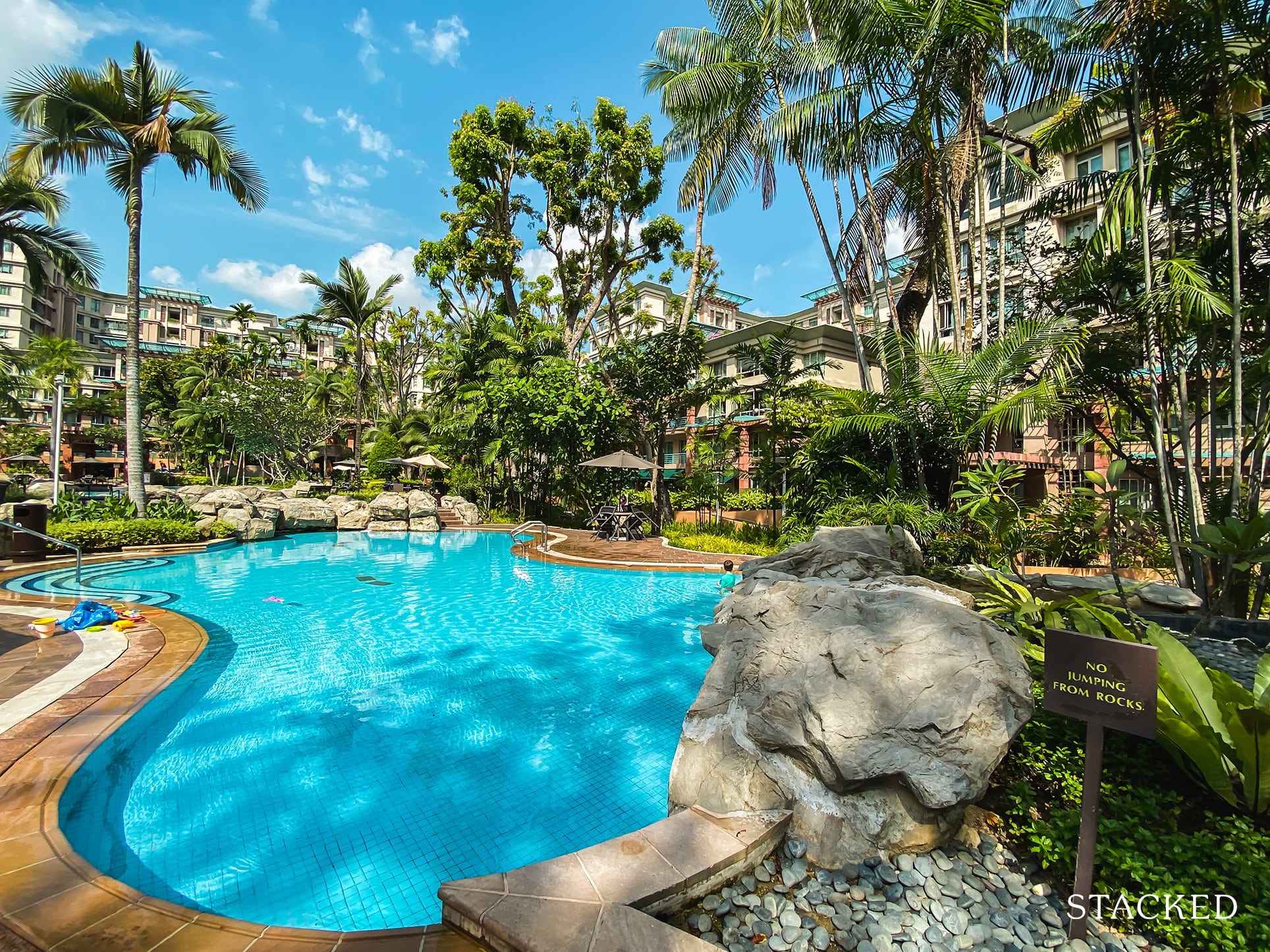 Young children have it good here, with a really big pool (for kids). It's a pity there isn't a slide here as it looks like the perfect place for it!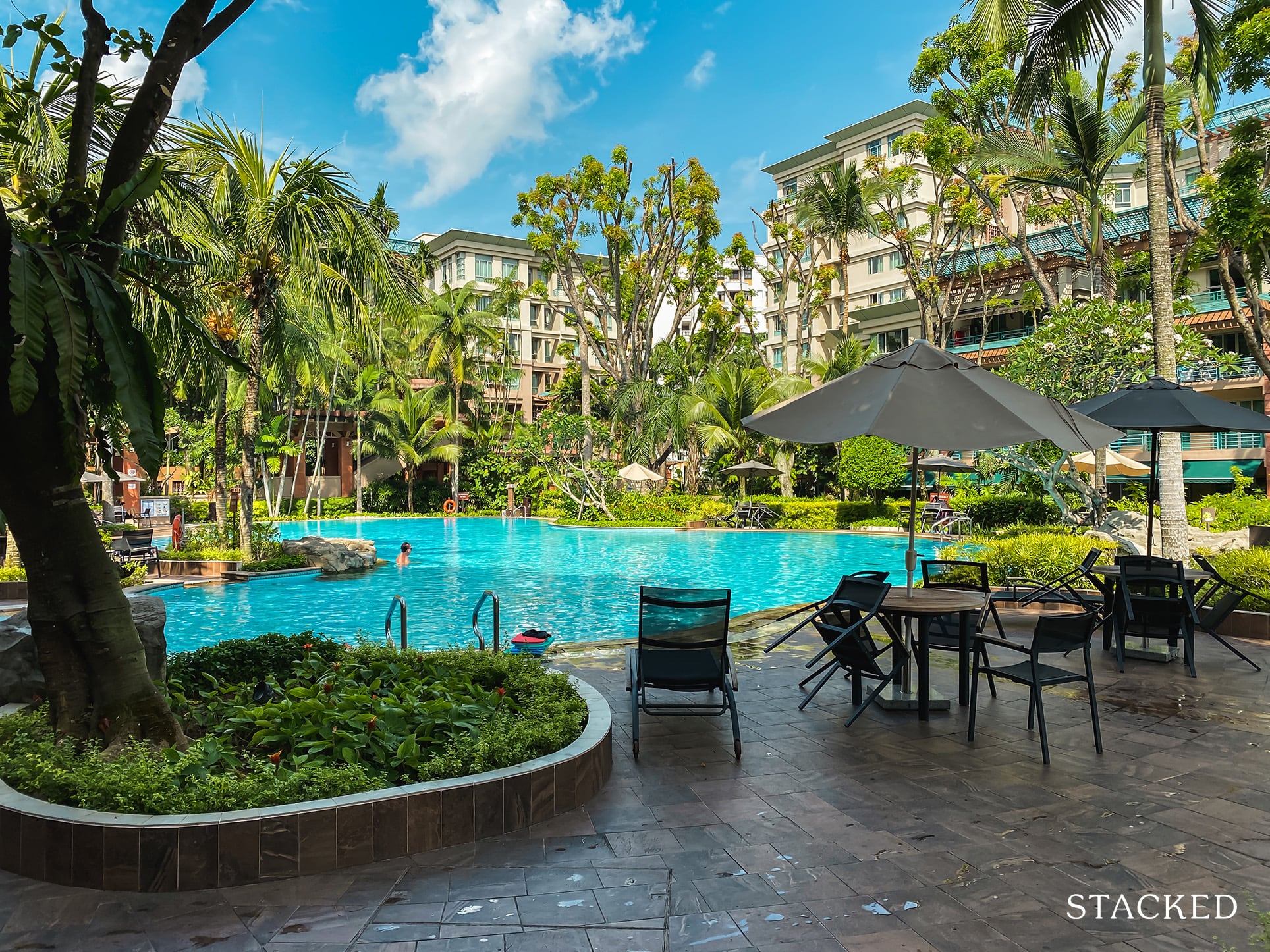 Surrounding the main pool are quite a number of chairs with umbrellas for shelter. The ambiance of the place is really reminiscent of a laid back resort in somewhere like Phuket or Bali. I love the coconut trees and various other plants dotted around, it just gives you such a holiday vibe.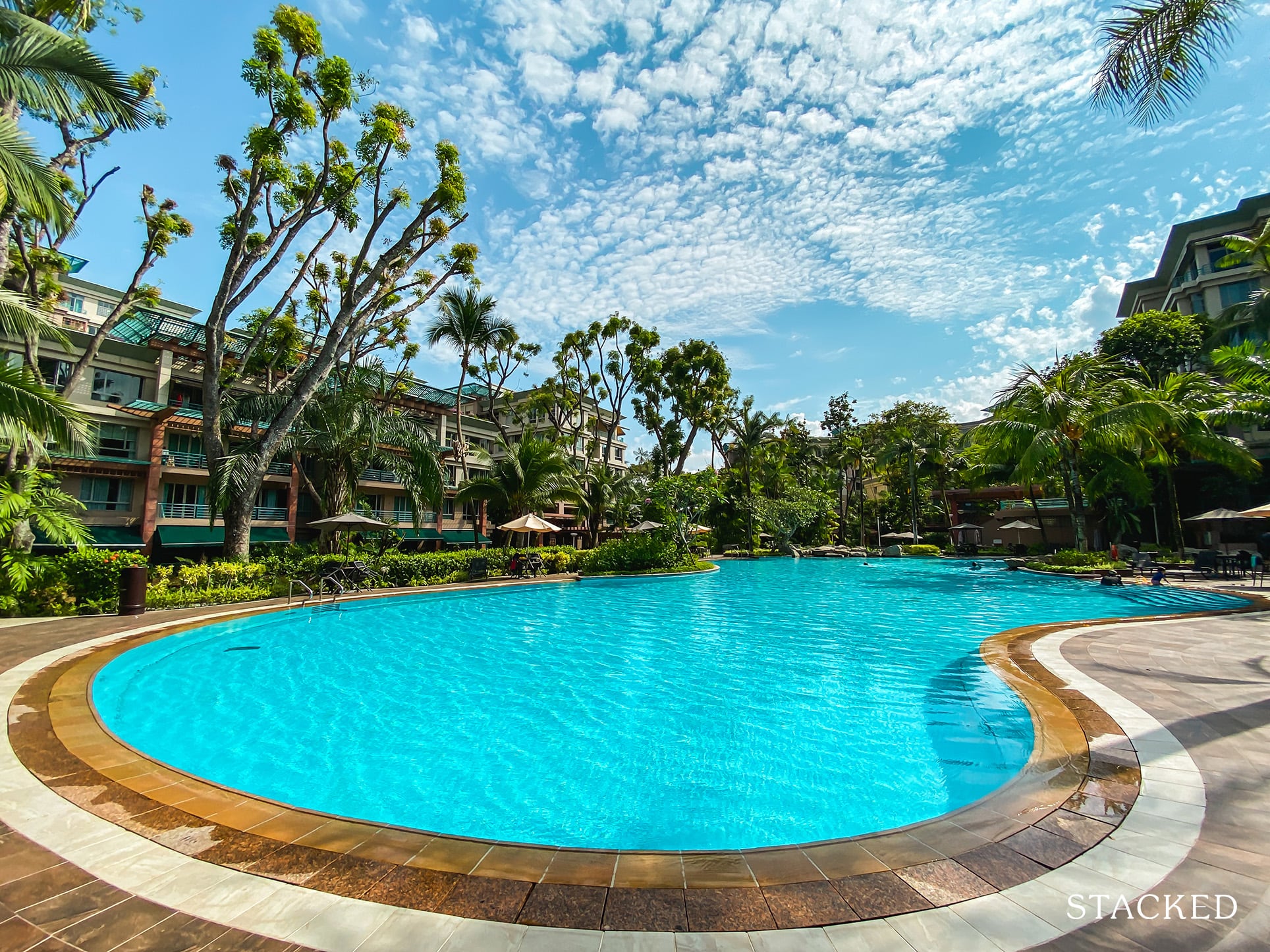 Maplewoods might be getting on in age, but on a lovely day like this, the swimming pool looks absolutely inviting to jump right in. It's big enough to swim laps in, but with such relaxing settings, it feels like you are much better off just taking a breather to chill out.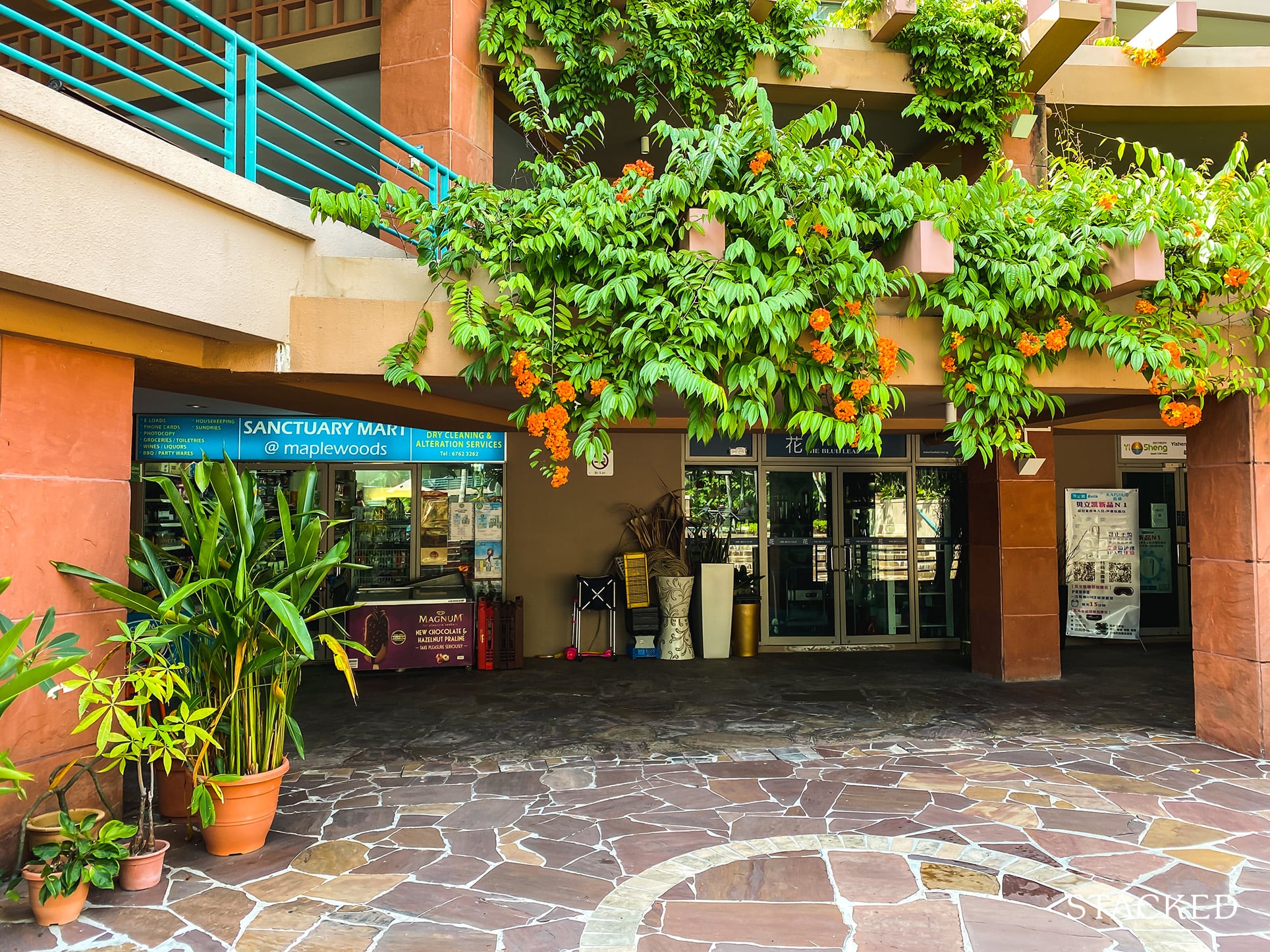 Let's move on to the clubhouse! As with most of the big condos in a similar era (Pine Grove, Pandan Valley, Sommerville Park, and Signature Park), there's a mini-mart and a couple of small shops.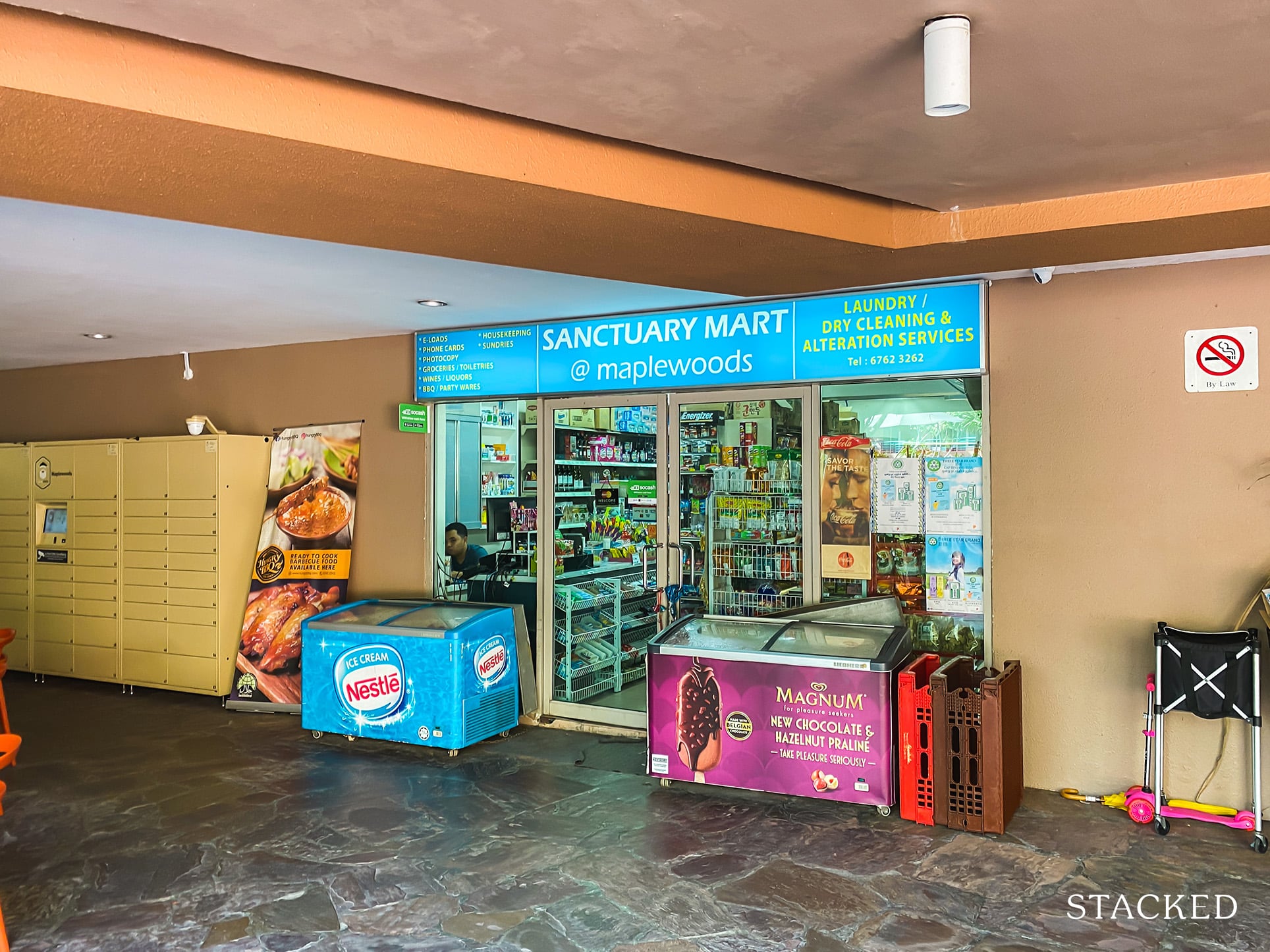 Even in this era of online grocery delivery services, there is still nothing like being able to grab a quick snack when you feel like it. Not to mention, they even have laundry and dry cleaning services!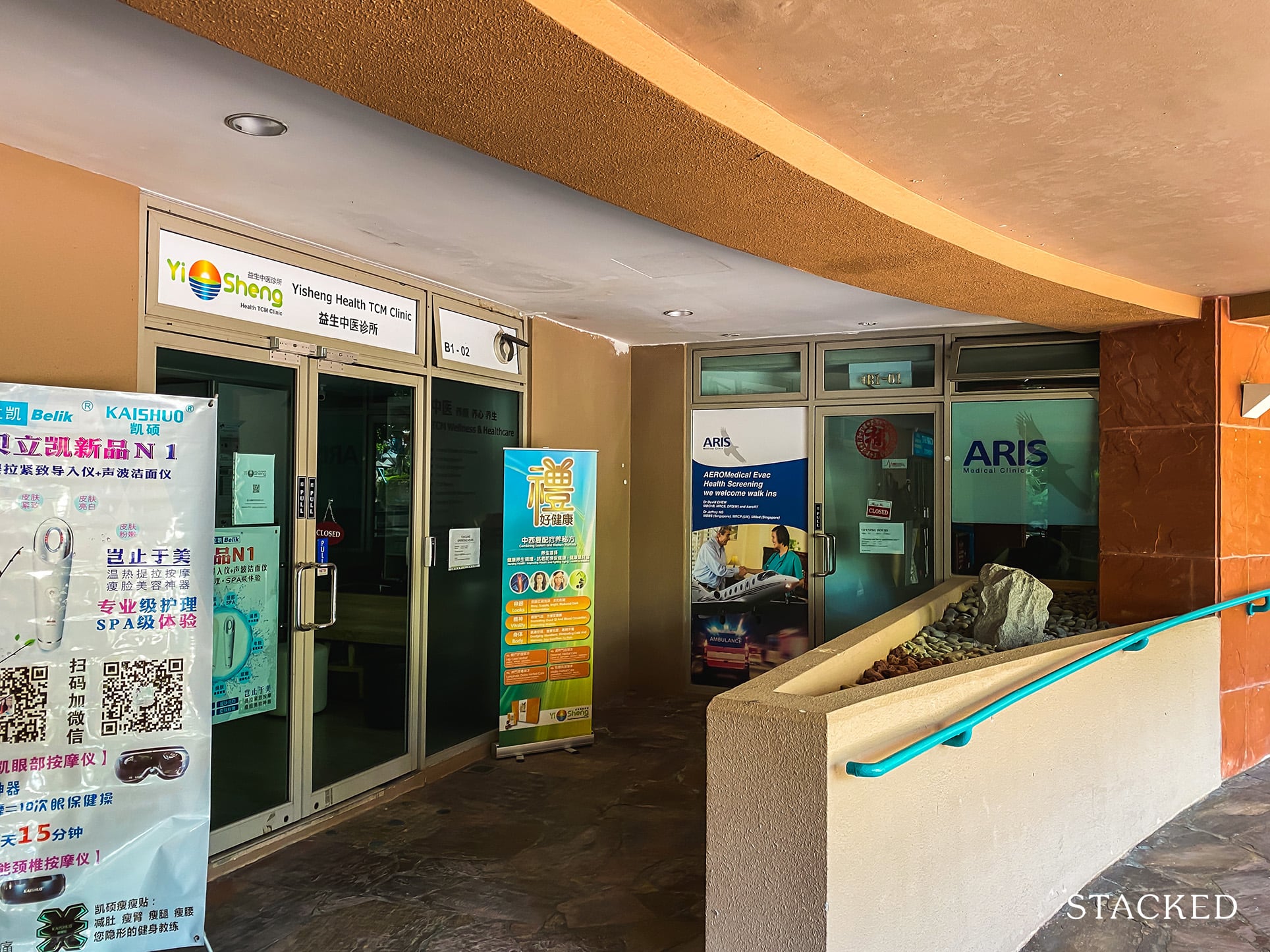 With 697 units, Maplewoods is able to support a couple more outlets here.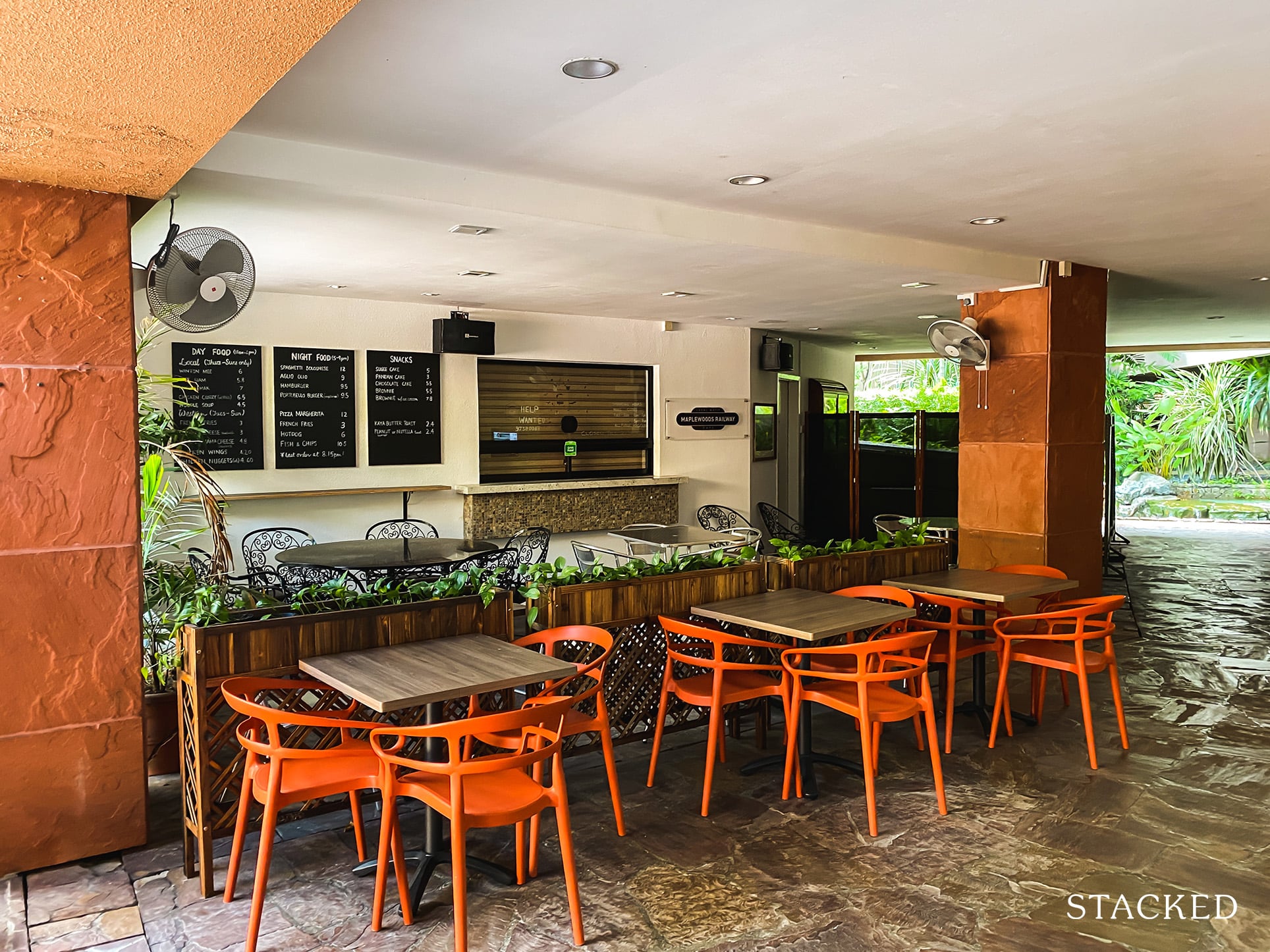 And even a cafe!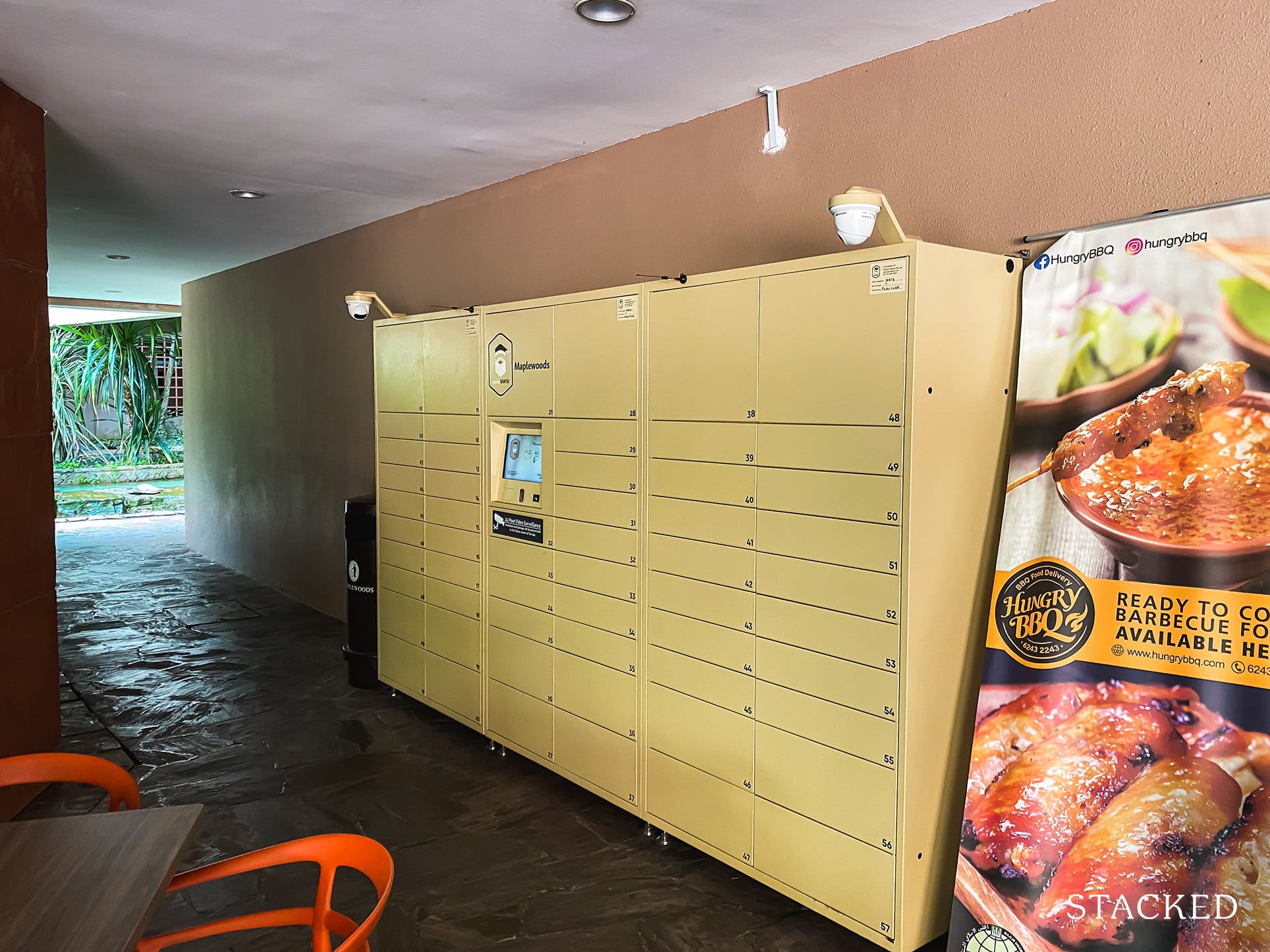 The sharp-eyed among you would have noticed the Parcel Santa right next to the mini-mart.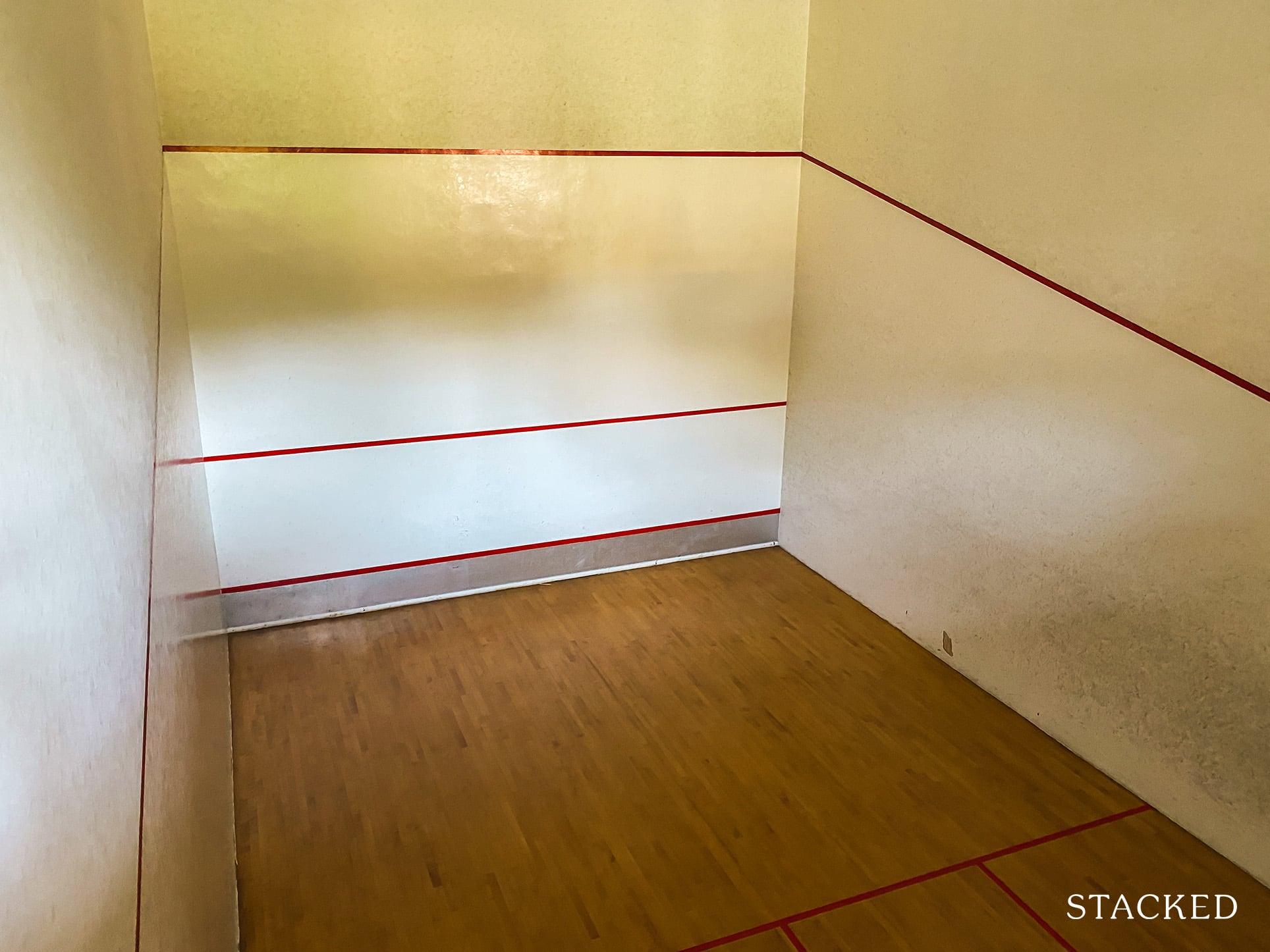 The squash courts are located here too. As you can see, having a squash court used to be a trend among condominiums in the earlier days and it's a pity it's slowly dying out due to a lack of space in Singapore.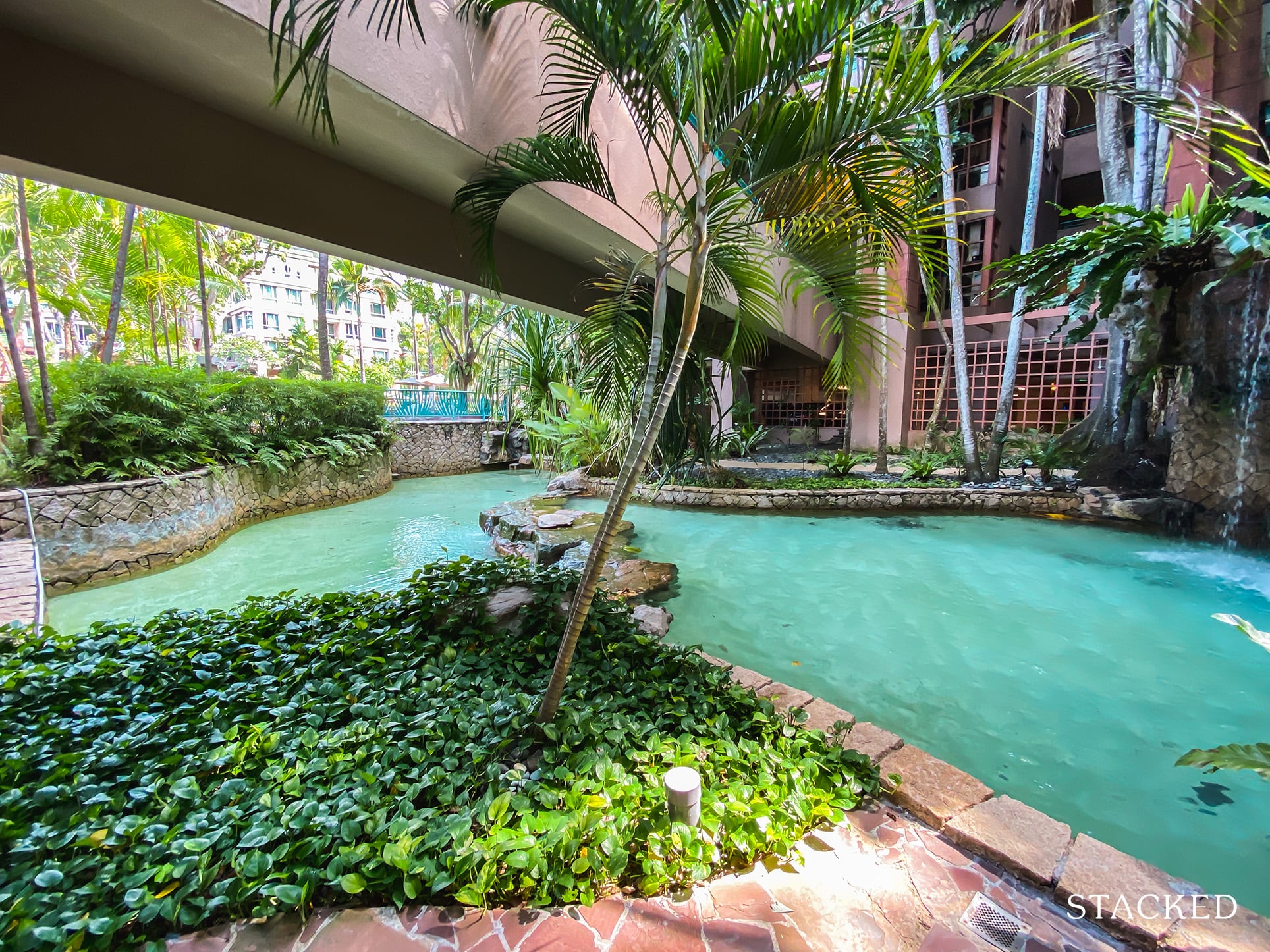 Moving further down, you'll find a huge water feature along with the sound of rushing water from a fountain.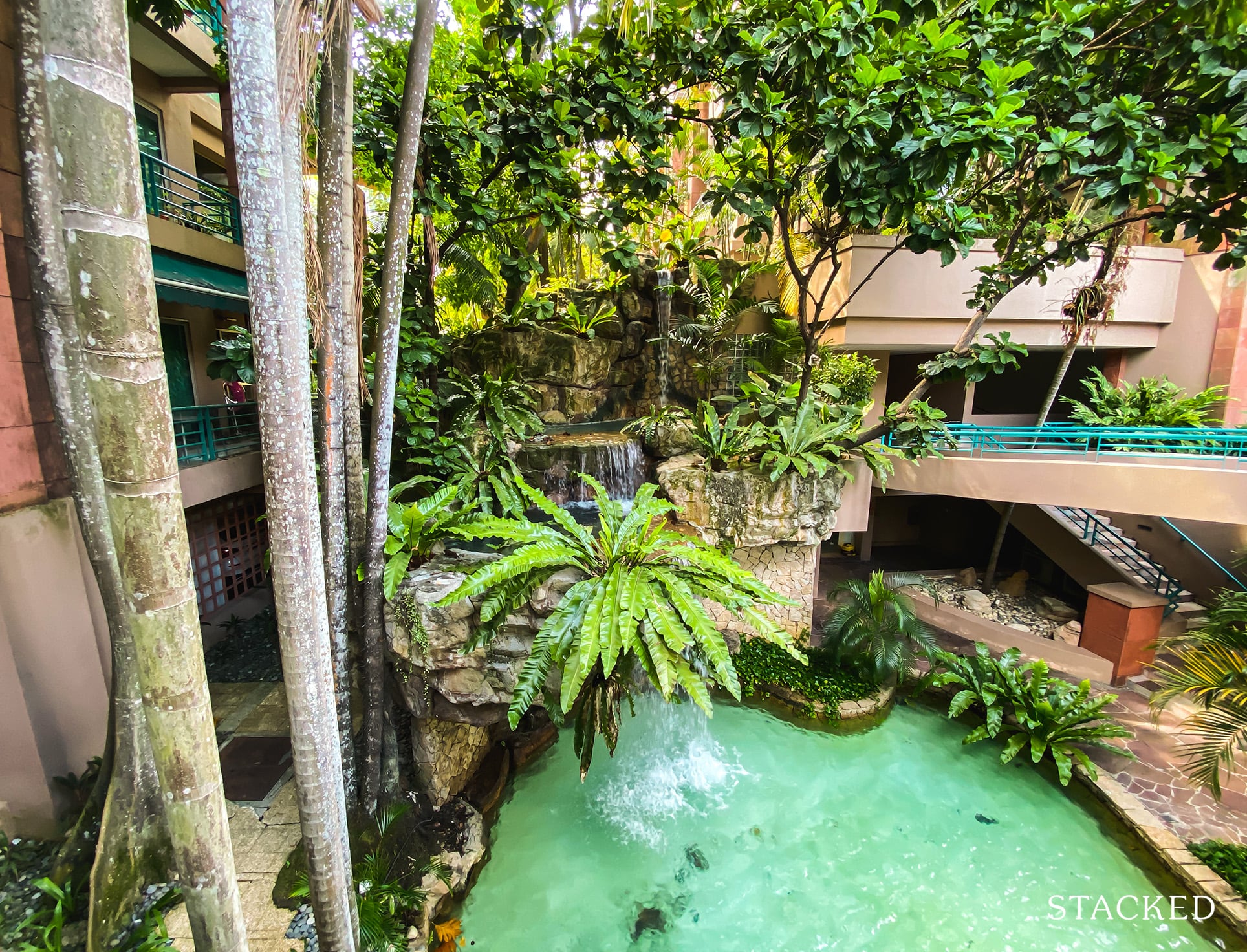 Of which you'll find that it is actually a waterfall spanning 3 stories! It might not be the prettiest waterfall that you'll ever come across, but this is definitely something very rare that you won't see in most other developments.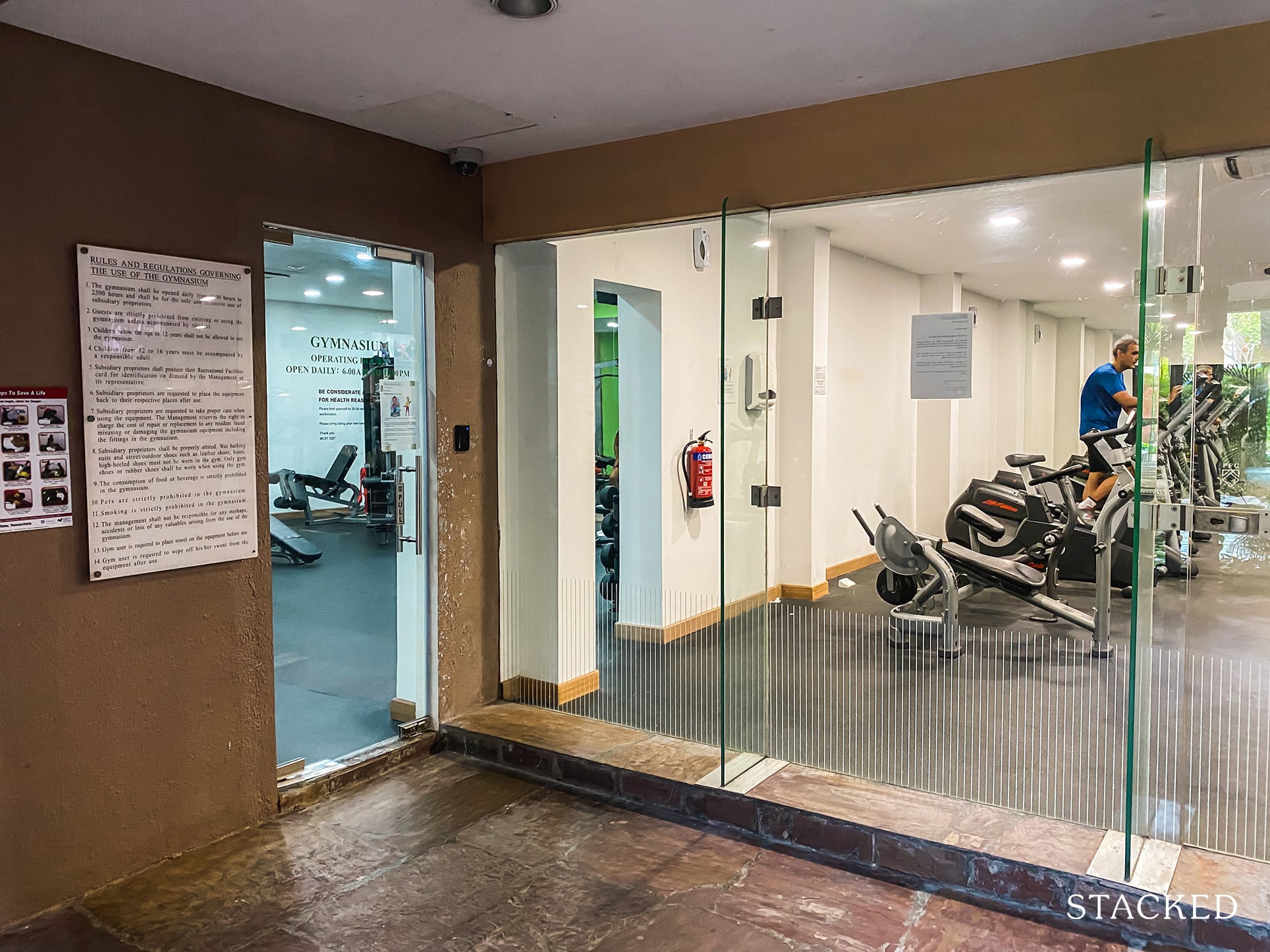 The gym here is quite impressive. Again, not the most modern-looking, but it is big enough that it had to be split into two different areas. The one on the left is dedicated to free weights and machines.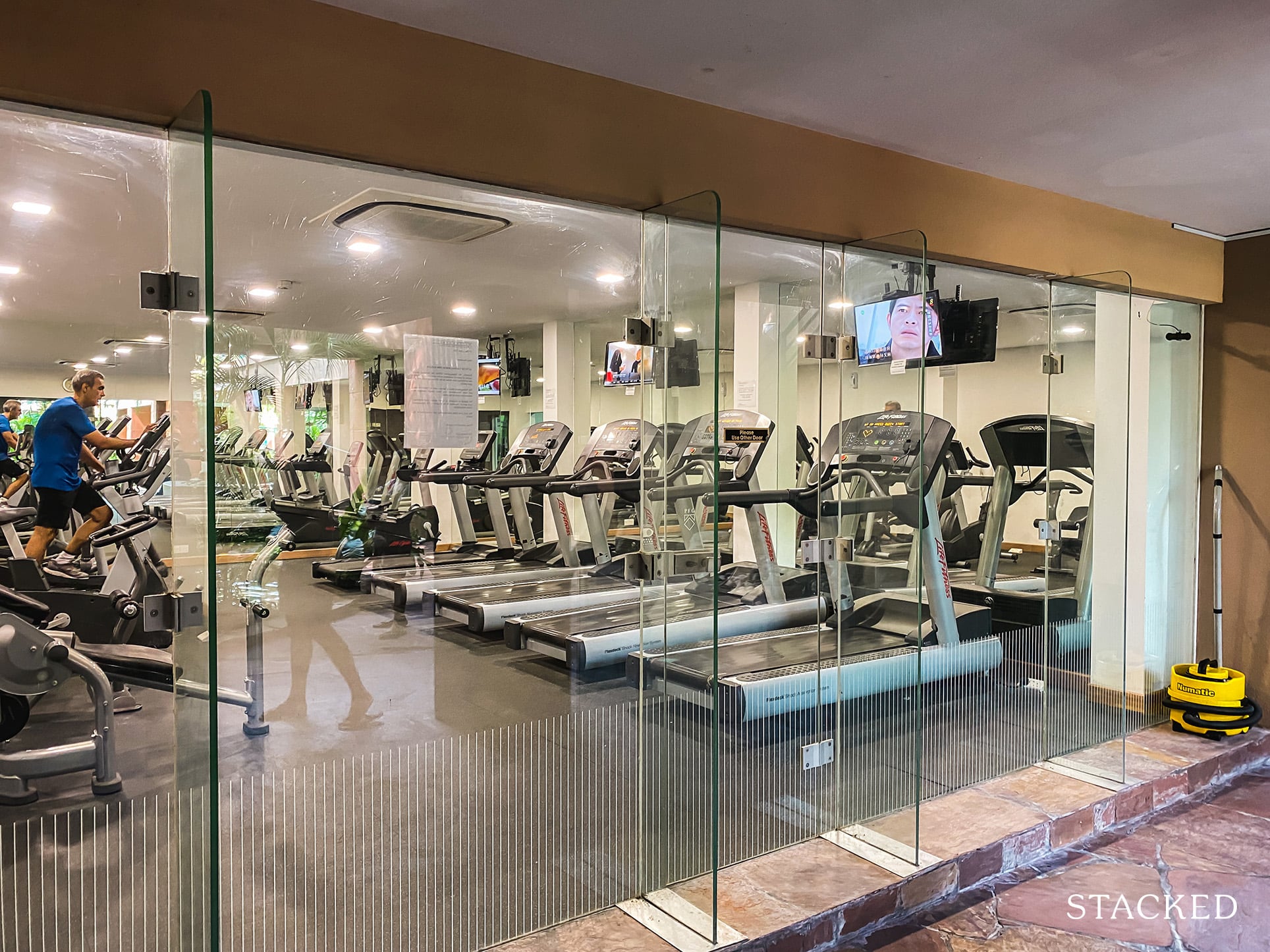 And the right is where you'll find numerous cardio equipment. There isn't any view here to speak of, so it's cool that there are a couple of televisions installed.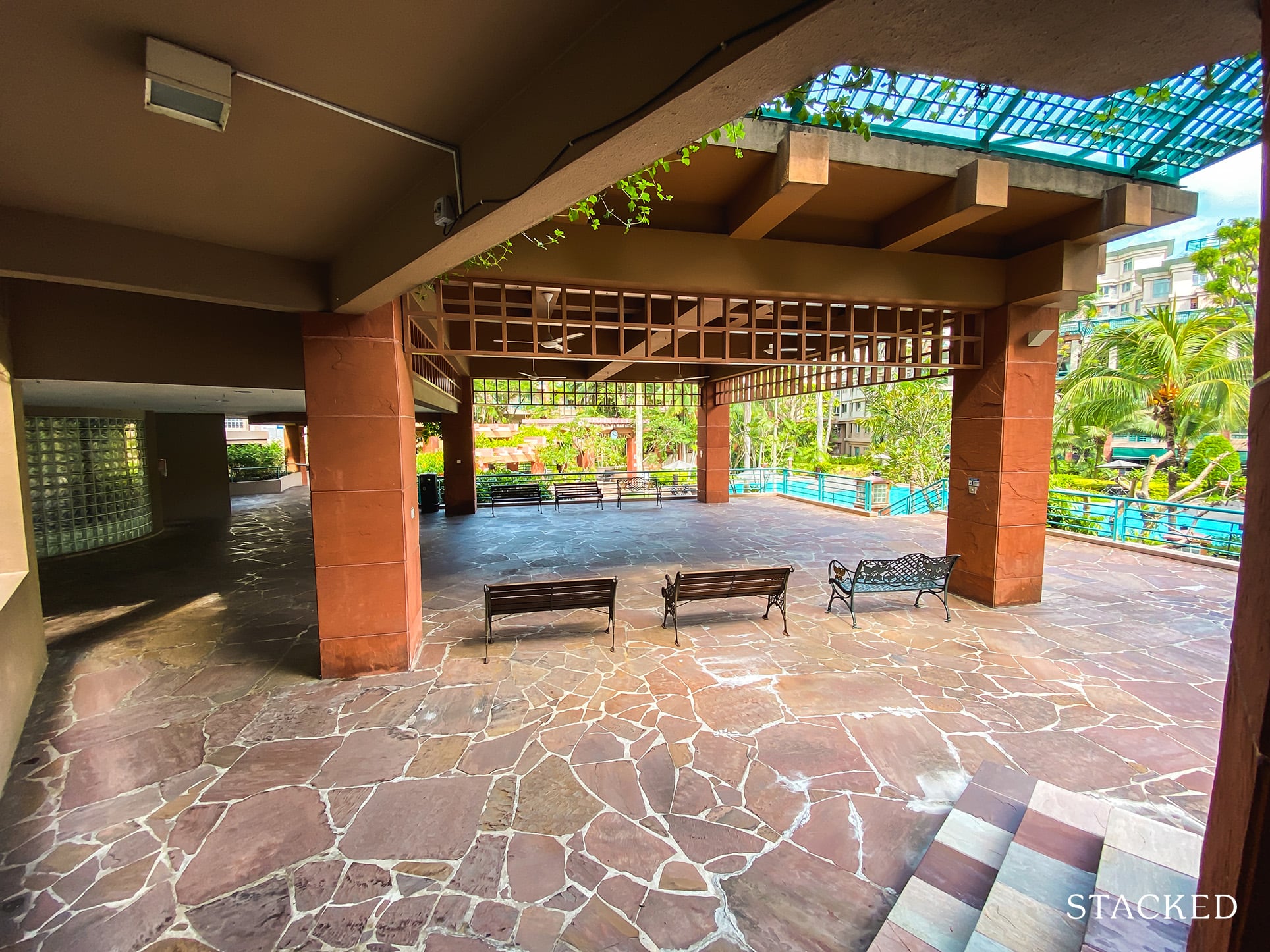 Above the gym, you'll find a huge open area. It's actually a lot of space that seems to be underutilised, which is quite wasted if you ask me. Perhaps some lounging outdoor couches would be a good idea here?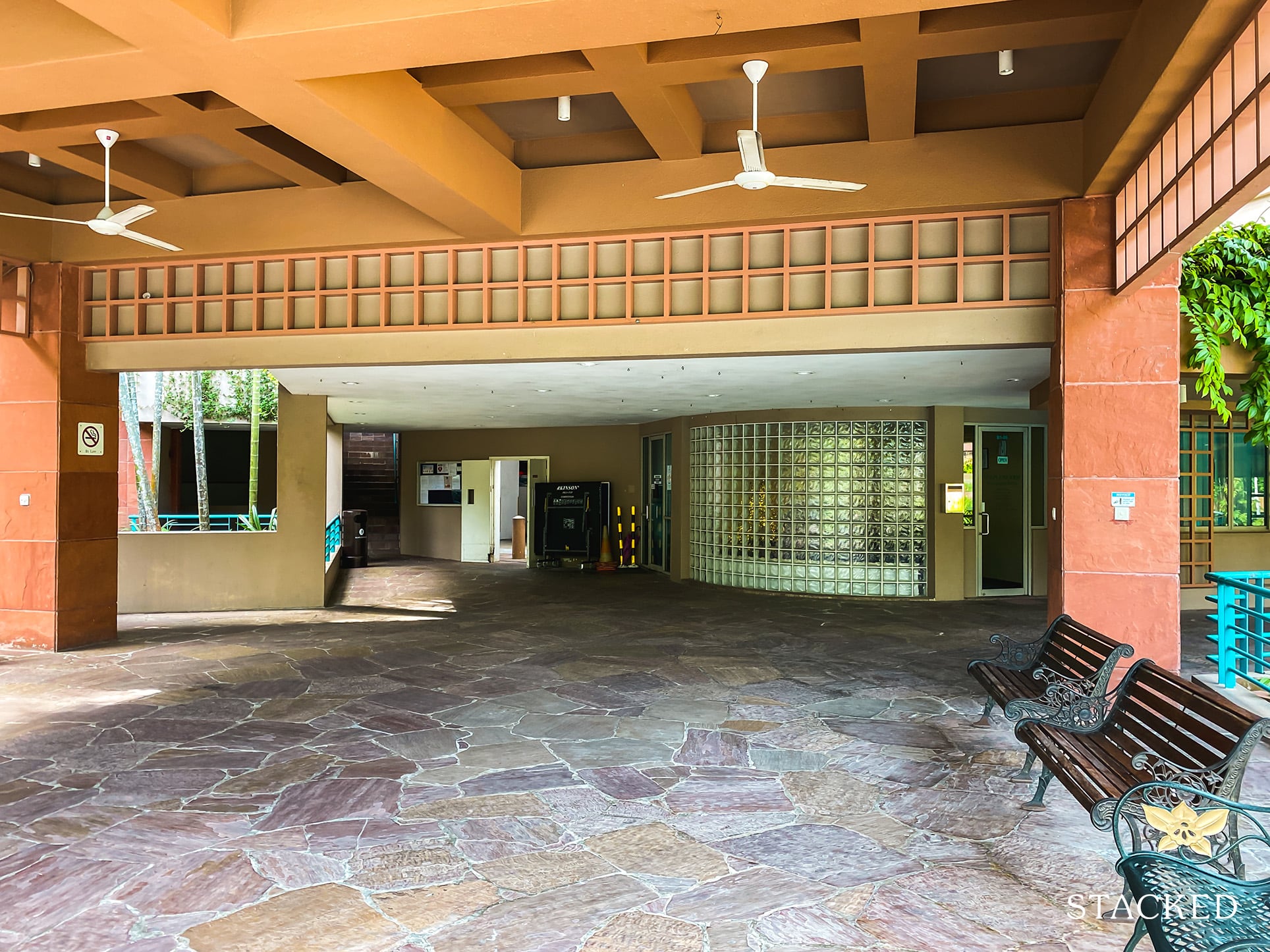 Although on the left there is a table tennis table that is stowed away. You could easily fit a few more with the amount of space available!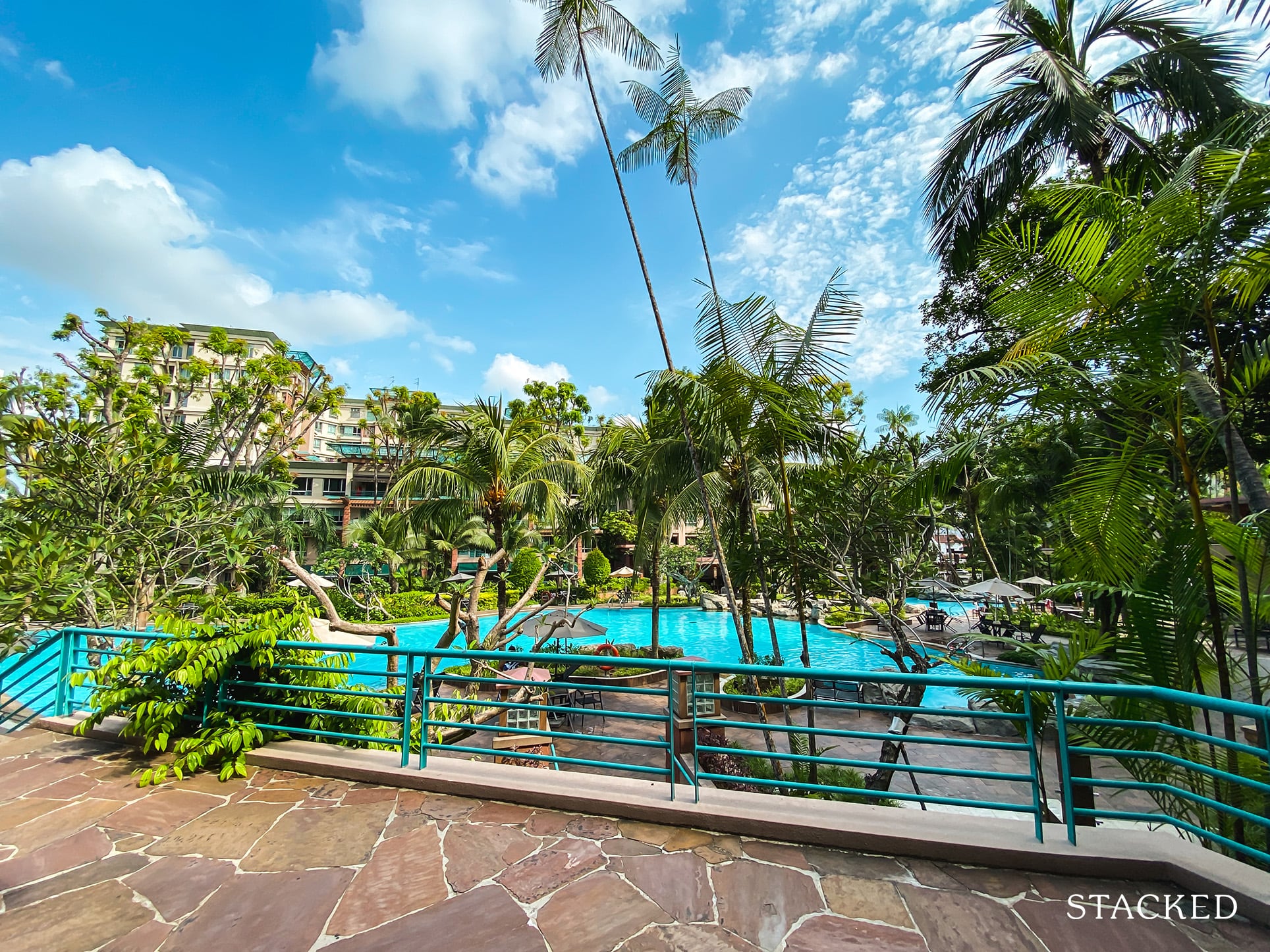 The second level does get you some incredible views of the pool.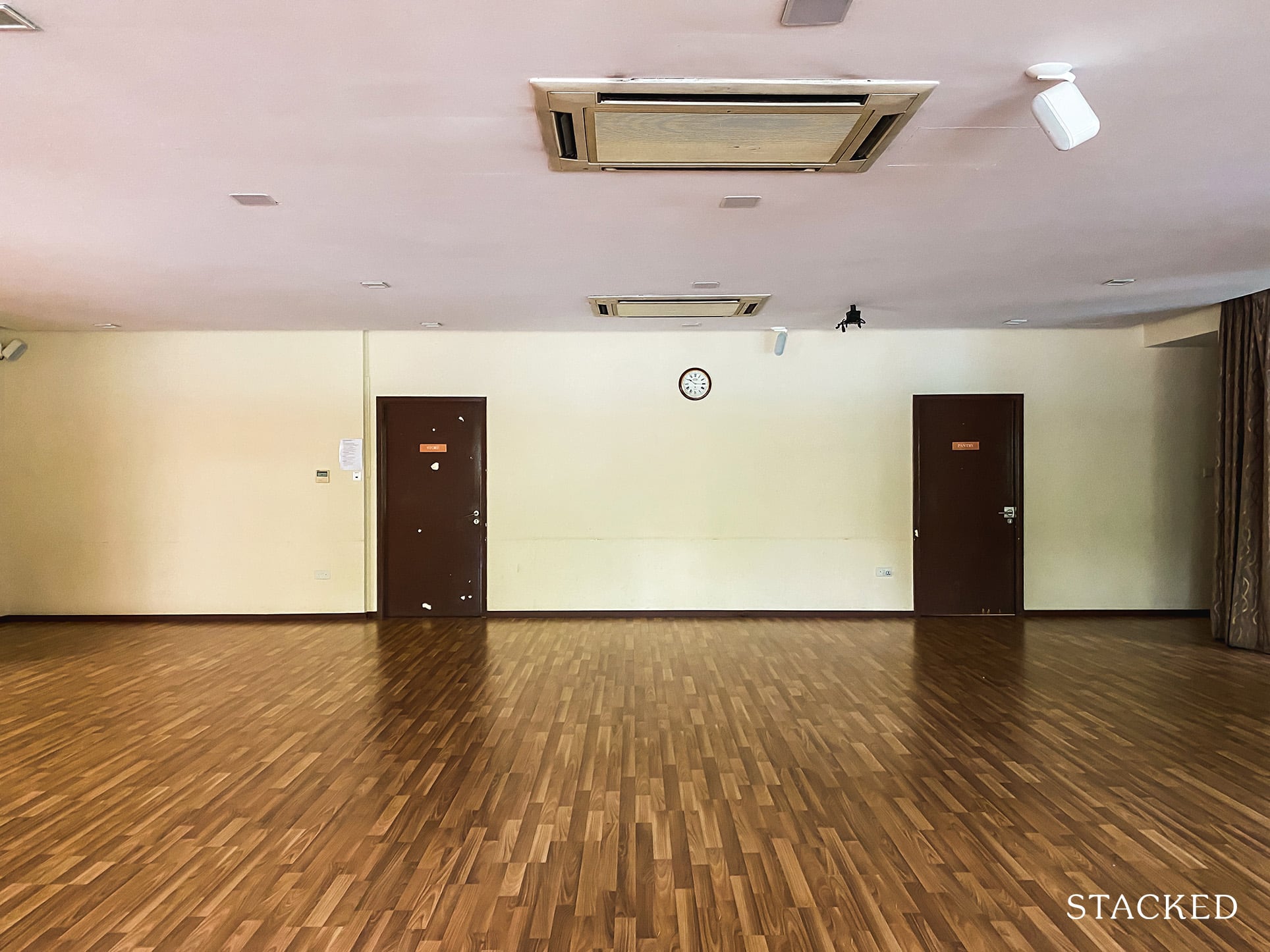 On the same level, there is a function room available too. It's a rectangular spacious area. Dated, yes, but still very much usable.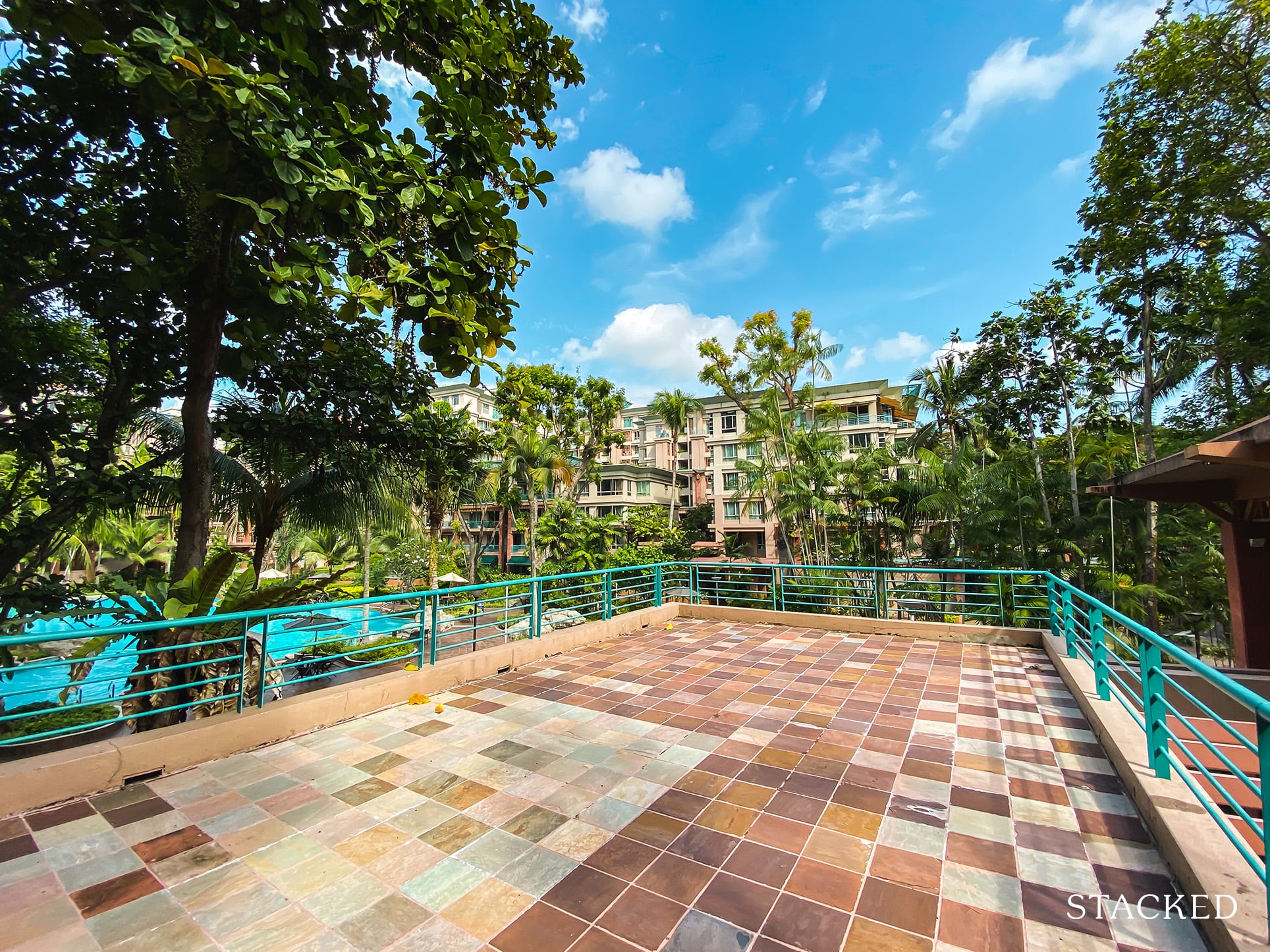 Right outside the function room is another considerable empty space. I suppose you could use it to hold some events in conjunction with the indoor function room area.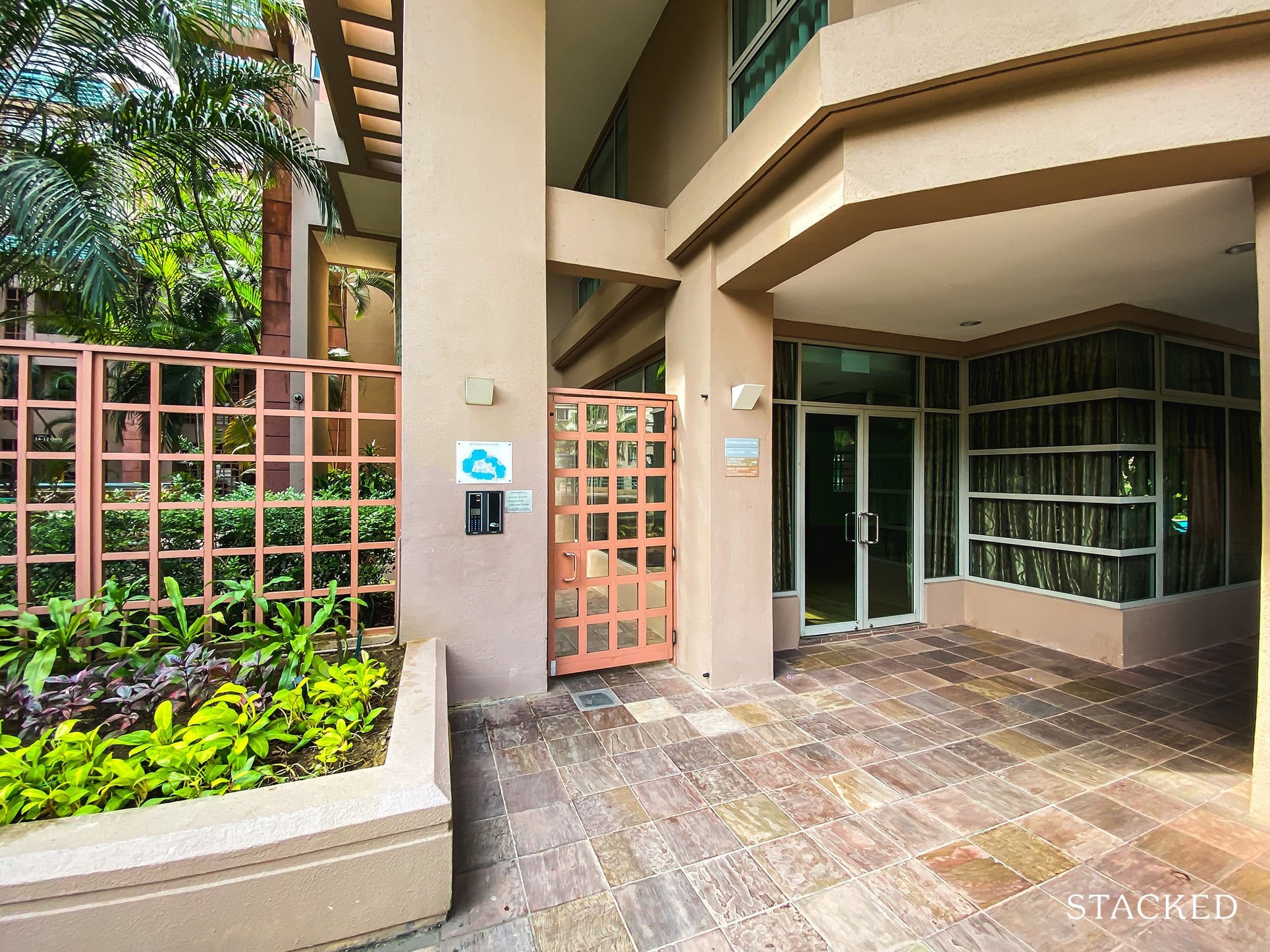 Next to the function room is actually gated access to the units, which is good security for peace of mind.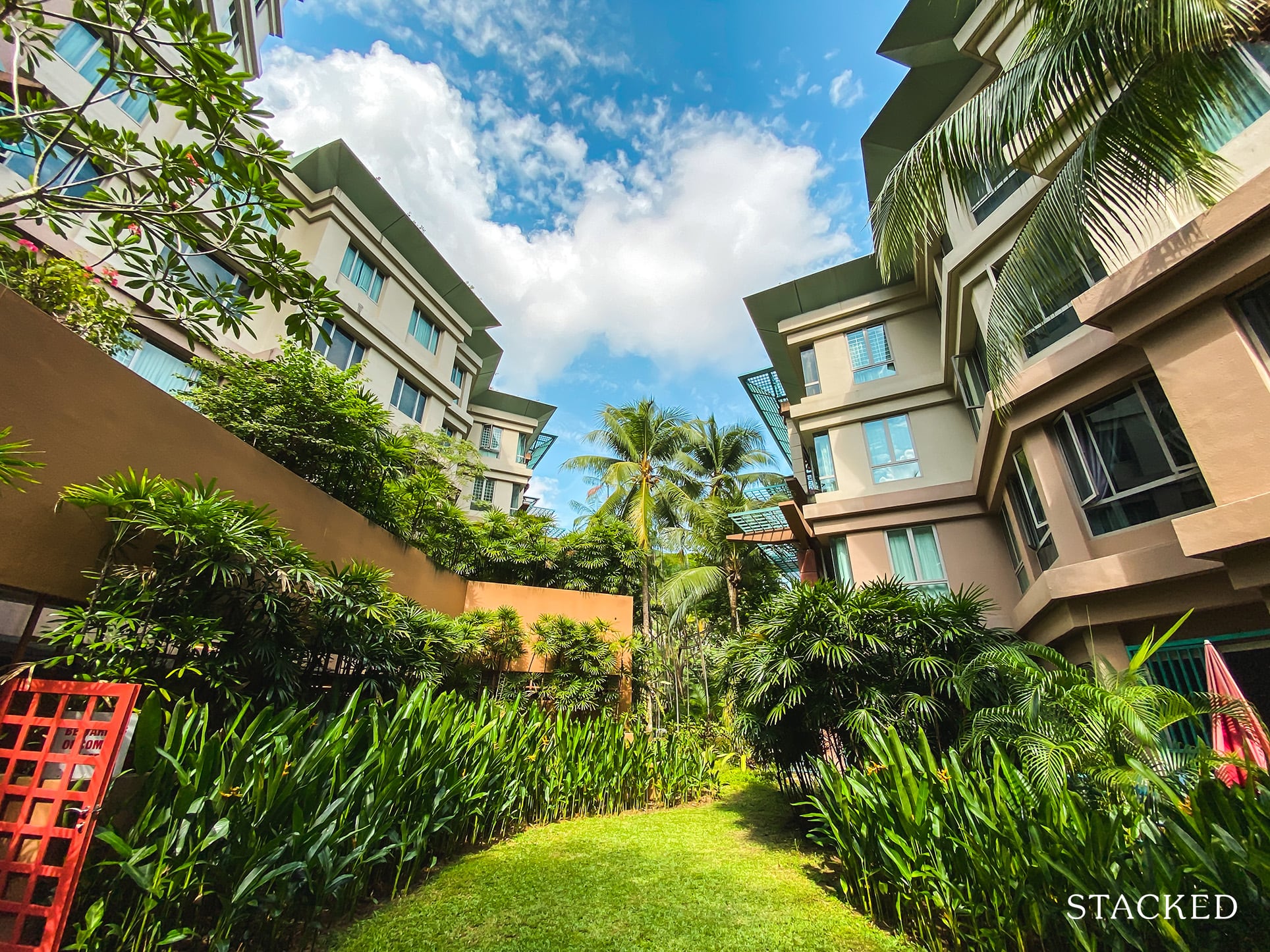 Let's now look at the exterior of the Maplewoods, which is where it truly shines, in my opinion.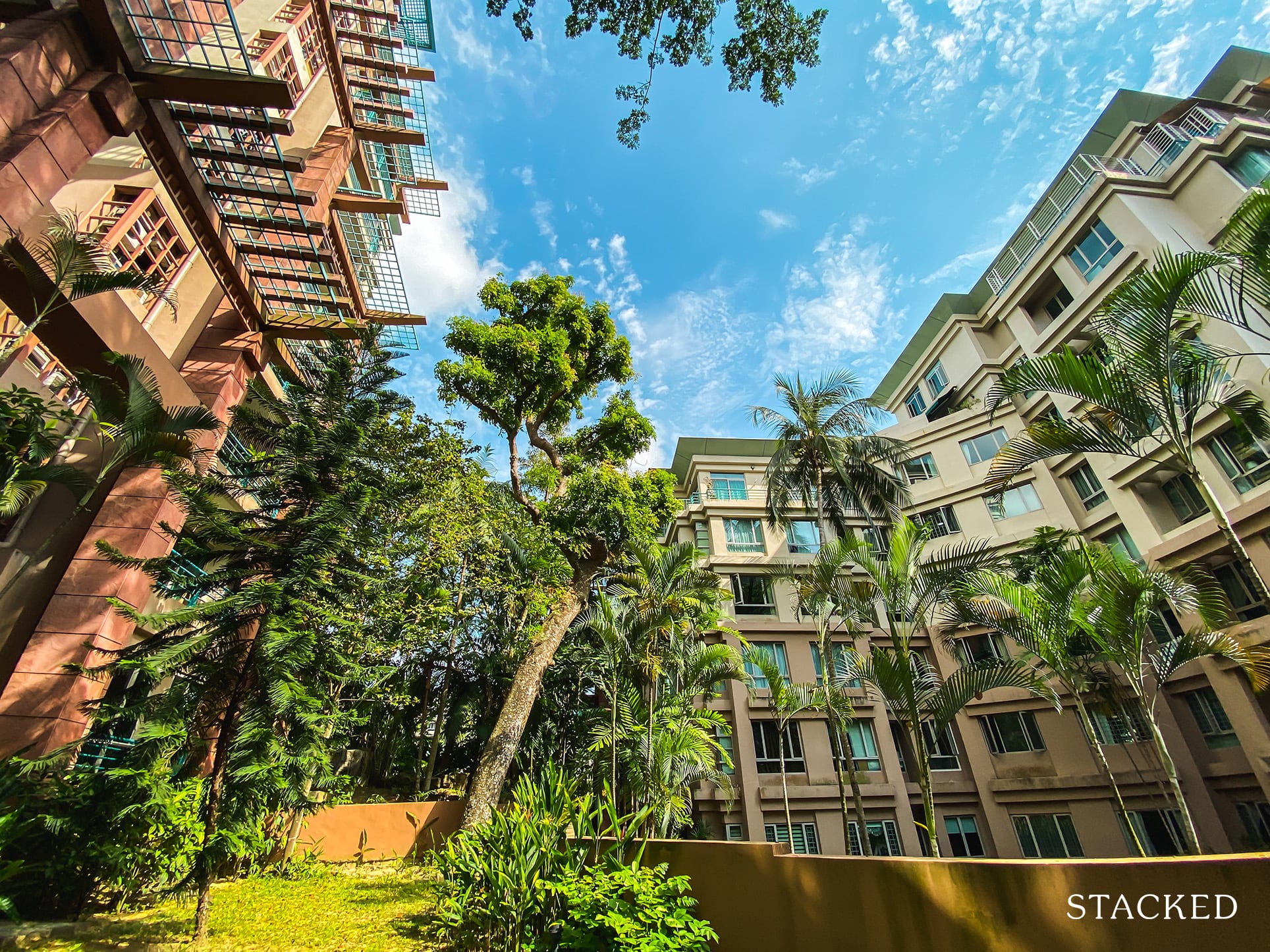 It's not the well-manicured type of landscaping that you'll see in a new build condo. But rather, it is more haphazard in a good way, as it looks very natural plus really evokes a sense of calmness.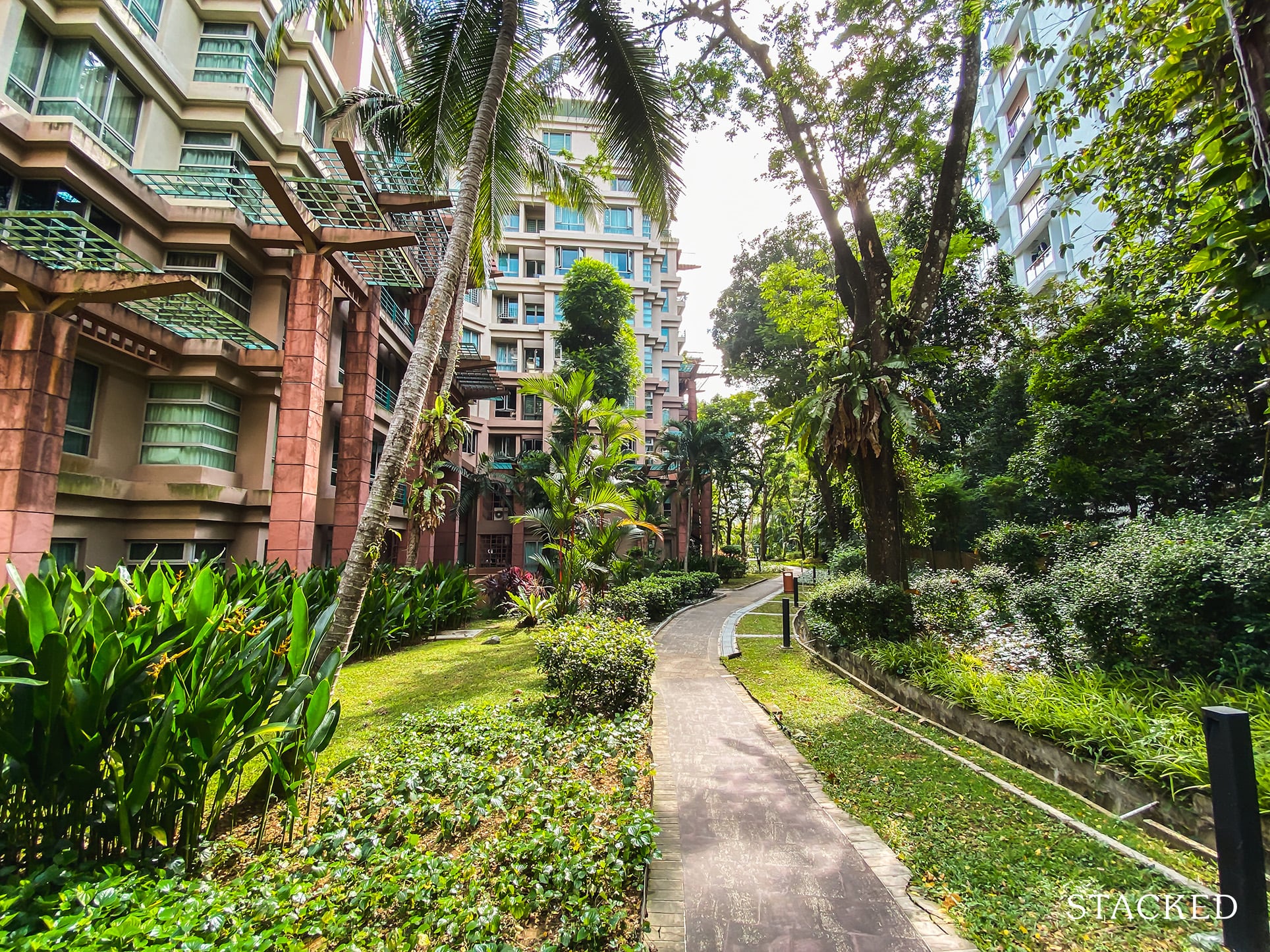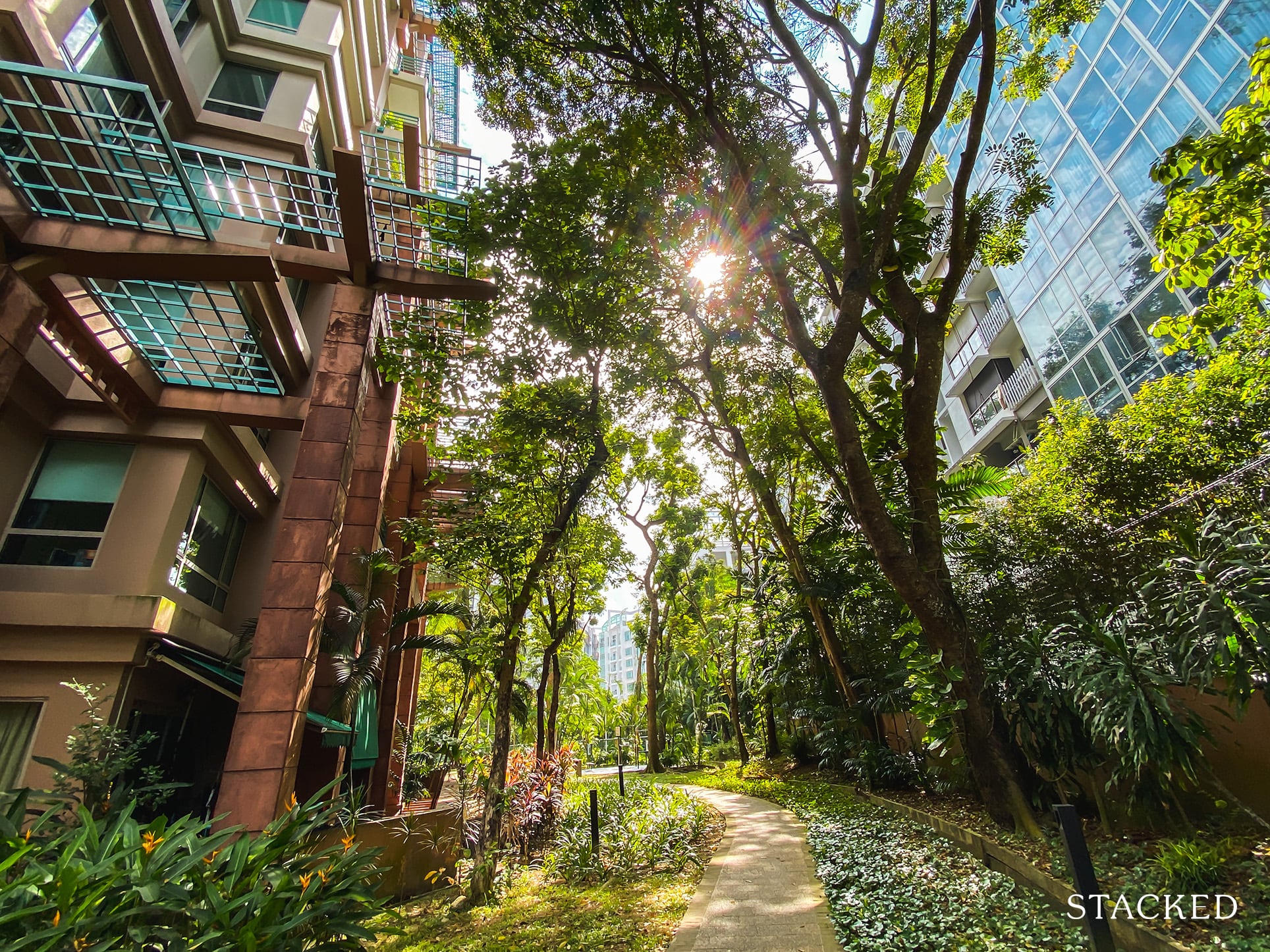 The pathways extend around the circumference of the development, so you don't even have to venture out if you are going for your morning walks or evening strolls. That said, the planned sky park on top of the Bukit Timah canal would probably be a good reason for you to get out there!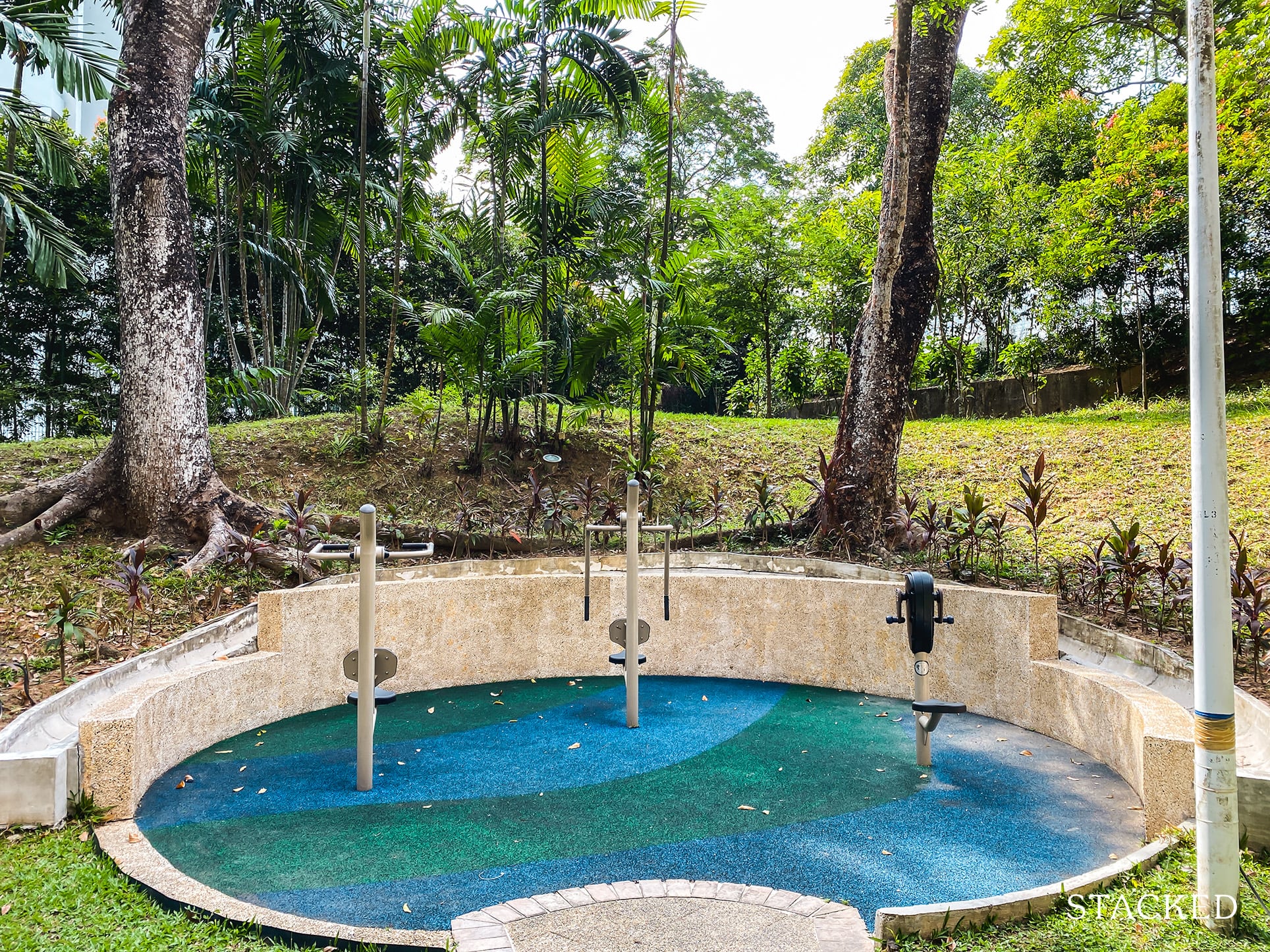 Along the pathways, you'll find different types of outdoor fitness stations.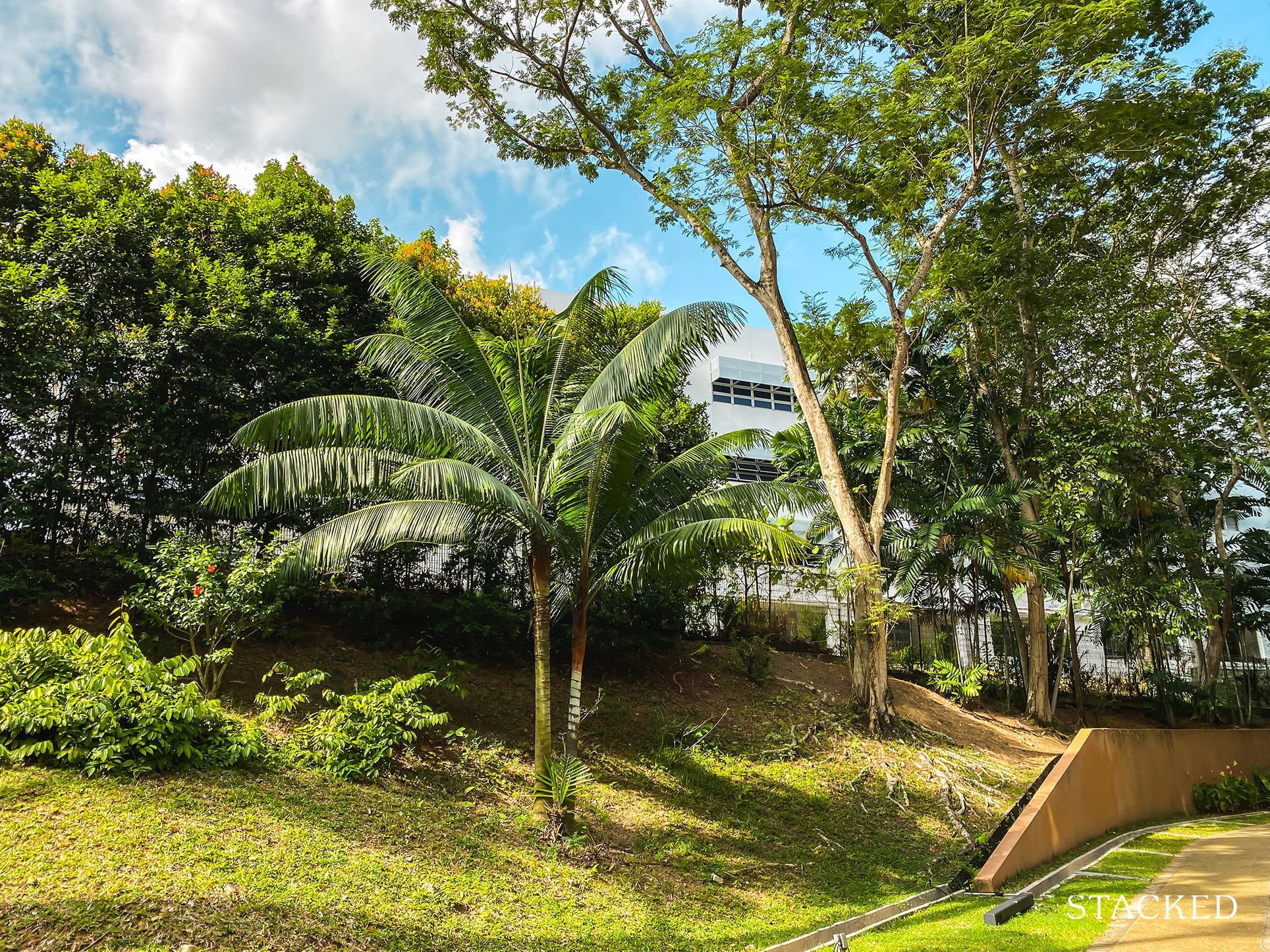 The back of Maplewoods is actually bordering the grounds of the Methodist Girls School. For parents, this proximity is a big reason why Maplewoods still holds its value. For those who are schooling here, it must be a torture to have to go all the way around to get to school and back!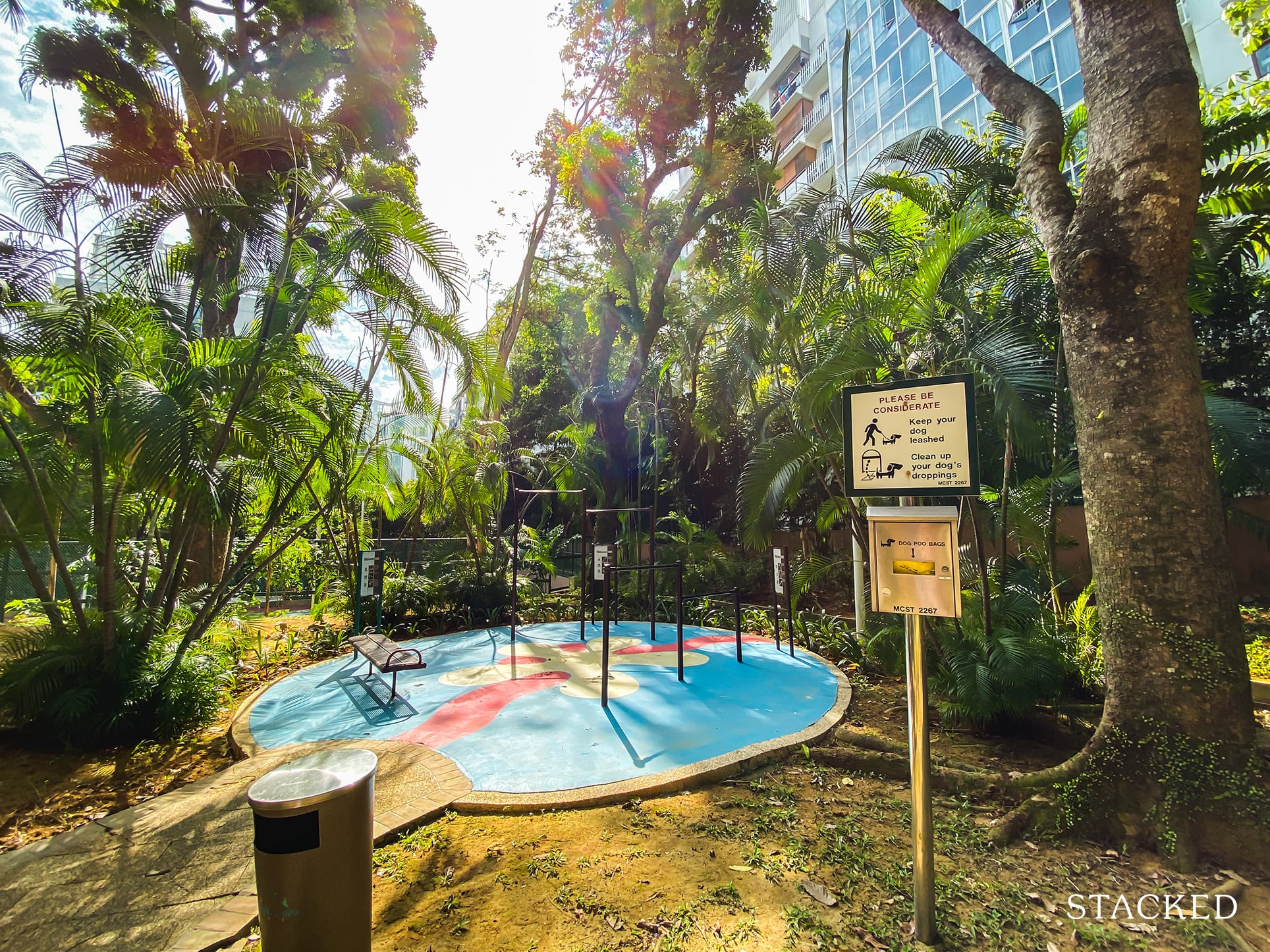 Another fitness station, with much more strenuous equipment this time. For pre-NS enlistees, this would be a good place to start training!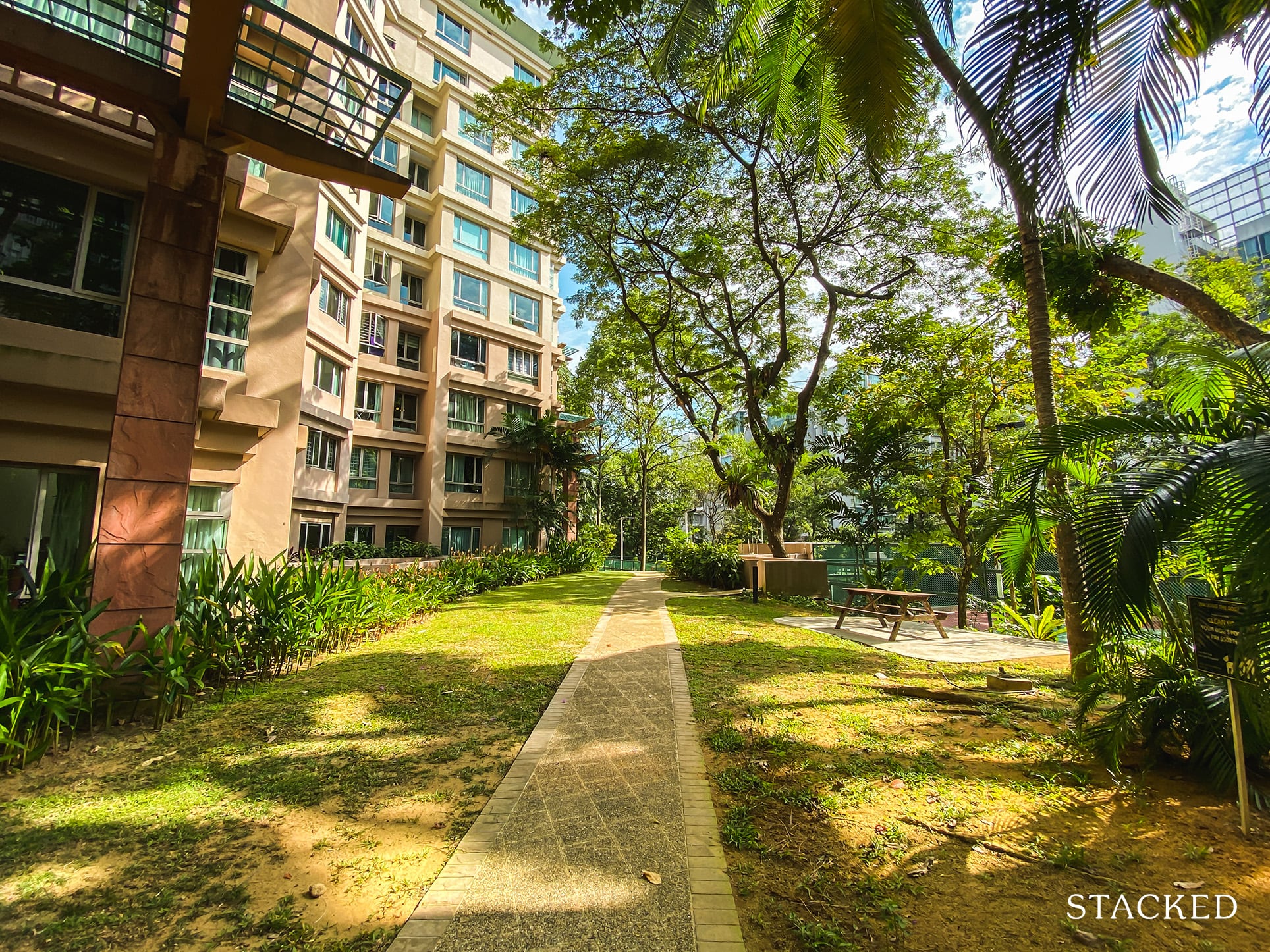 Despite the merciless rays of the sun, you can see that most of the path is actually very well sheltered by the abundant foliage. This makes afternoon walks on weekends very much doable!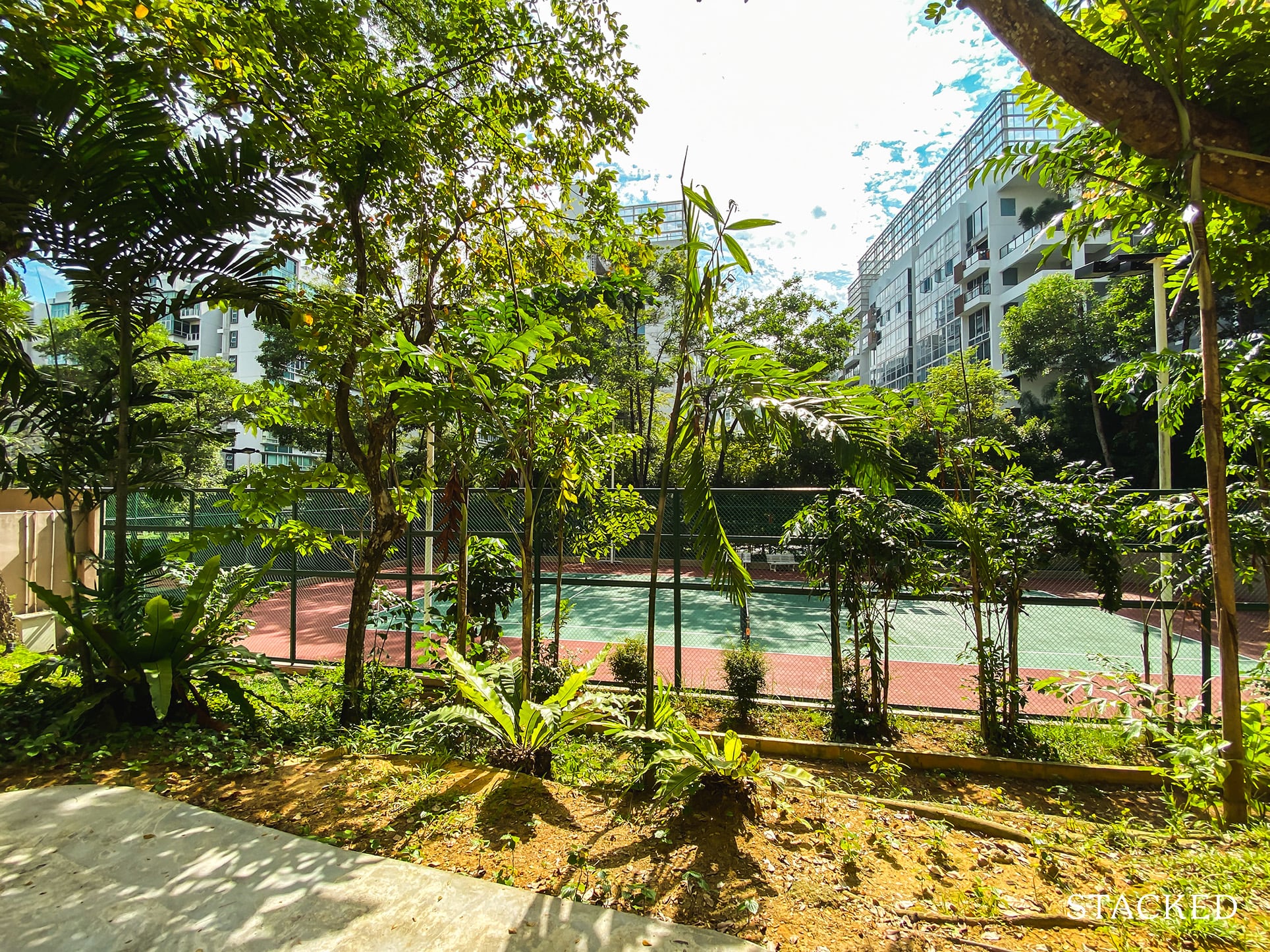 Another incredible thing about the Maplewoods is the number of tennis courts that they have.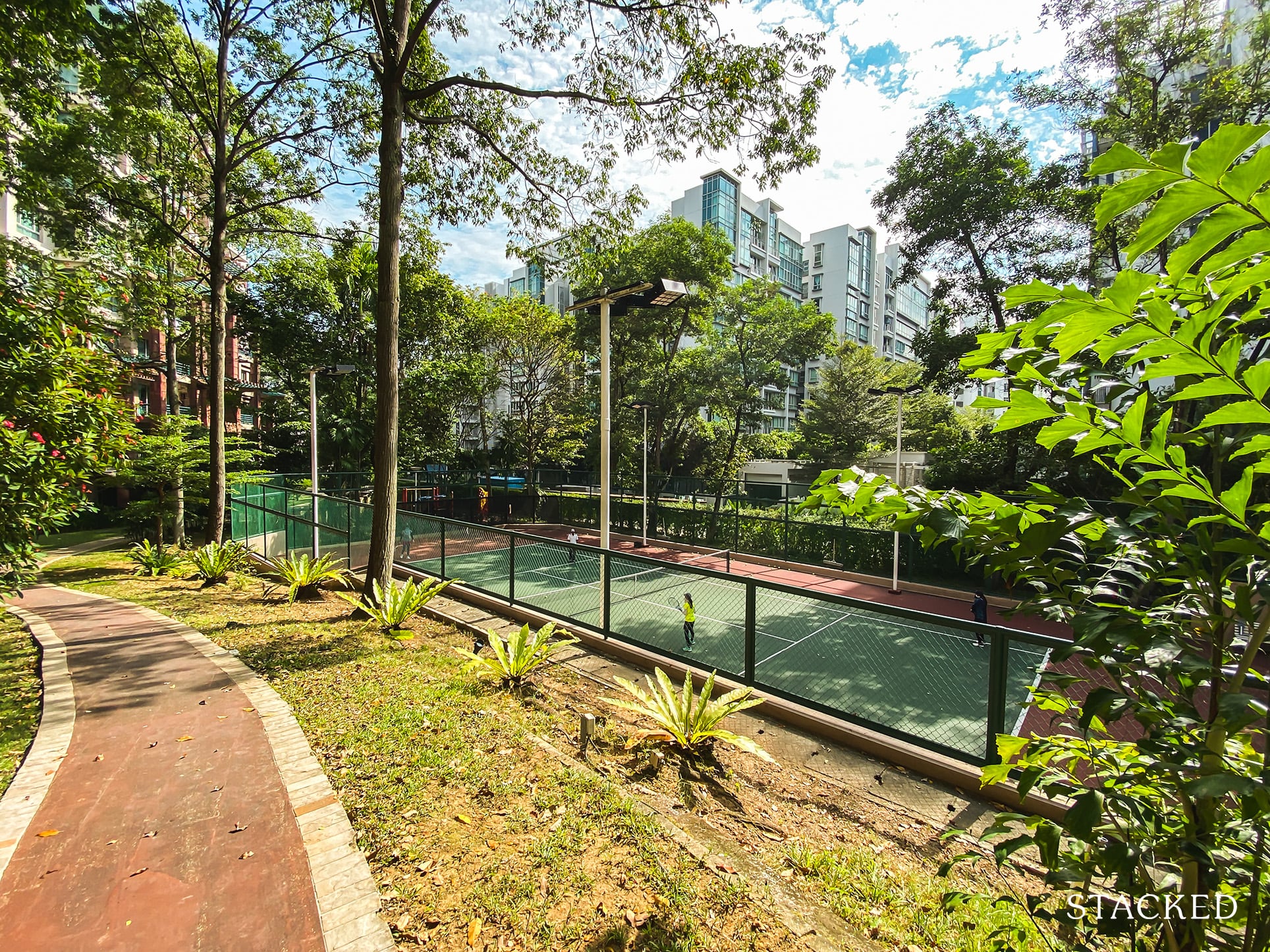 Here is the second tennis court (more to follow).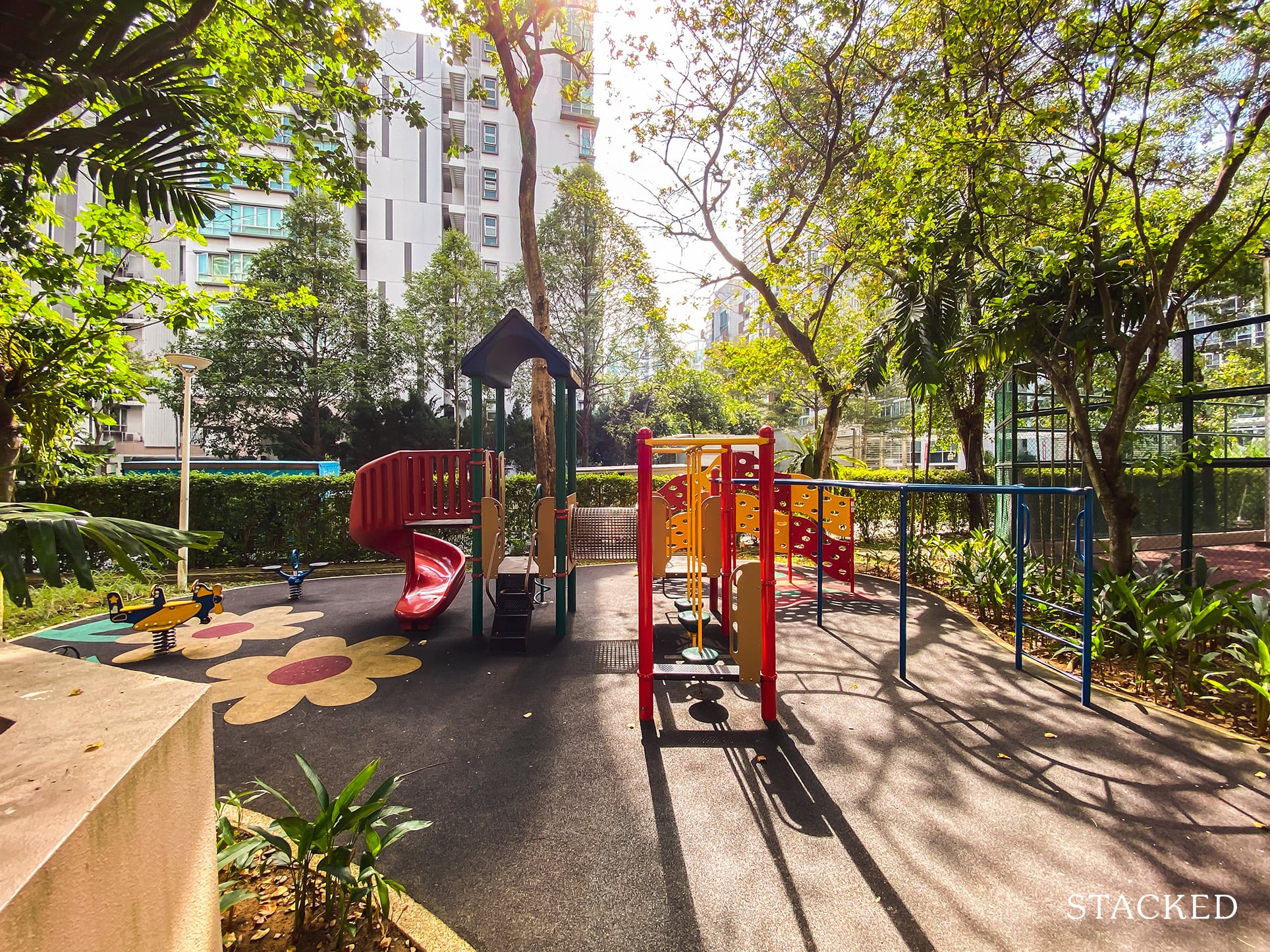 At the foot of the tennis court is a playground, which again is very well sheltered!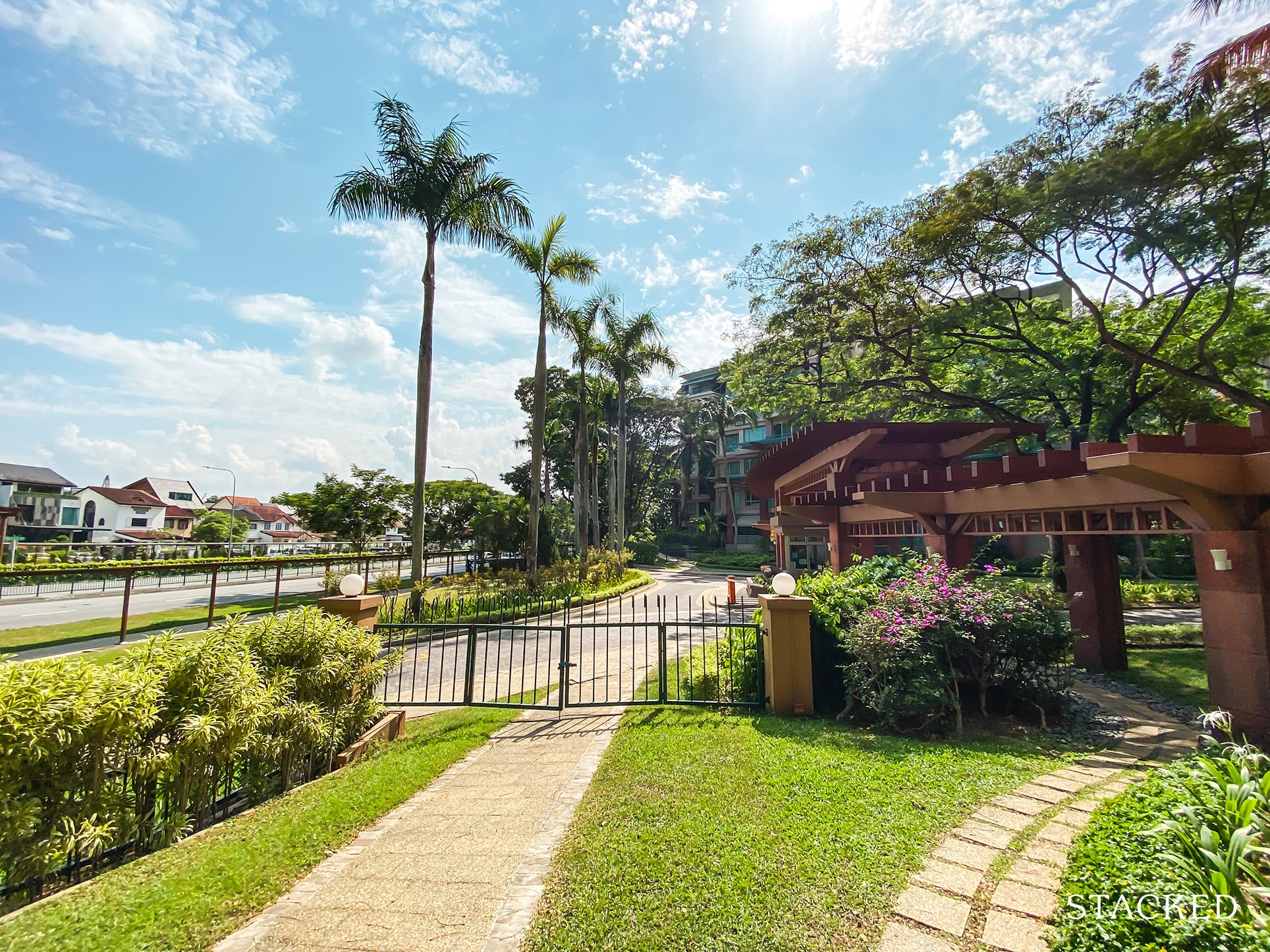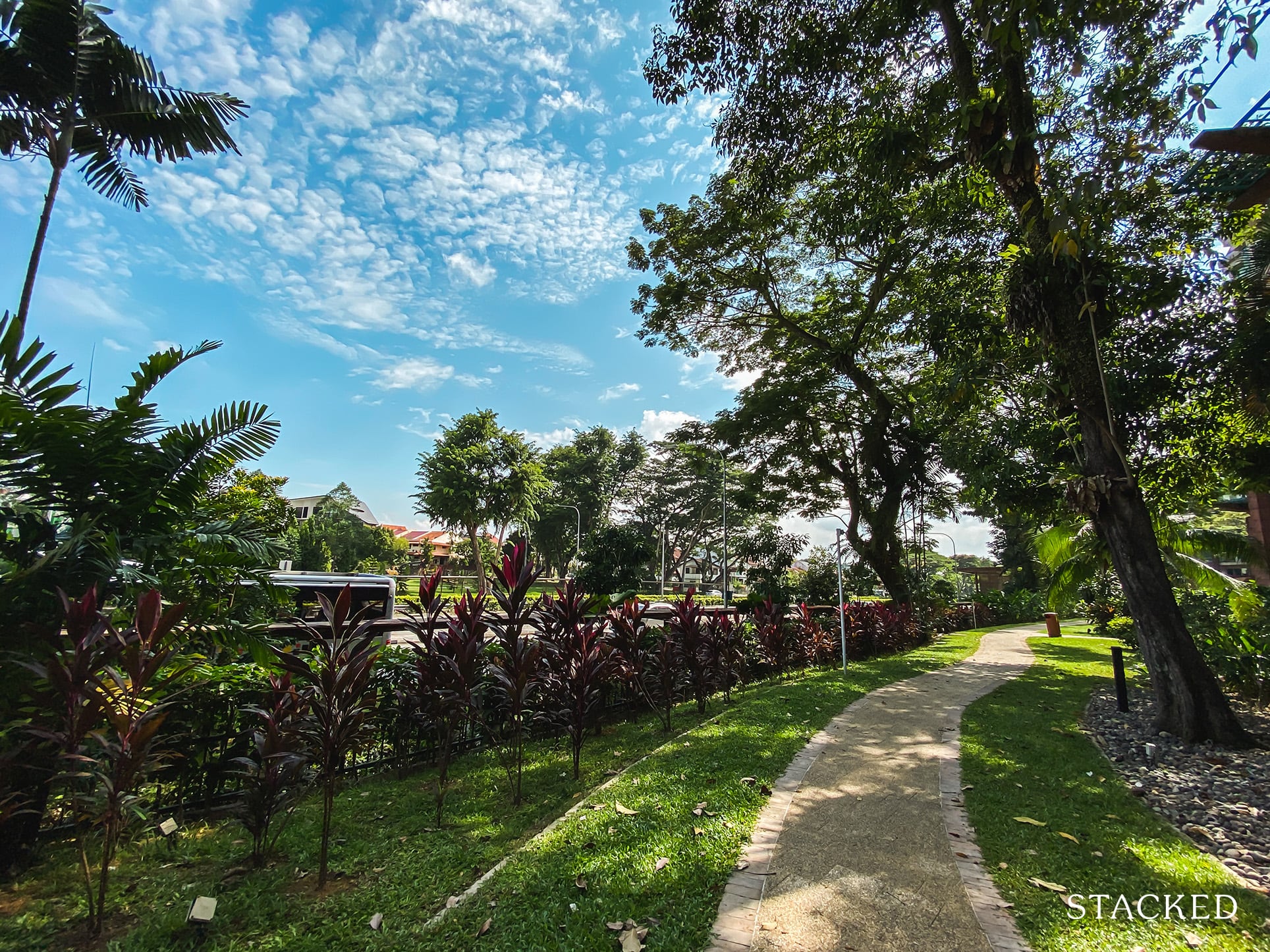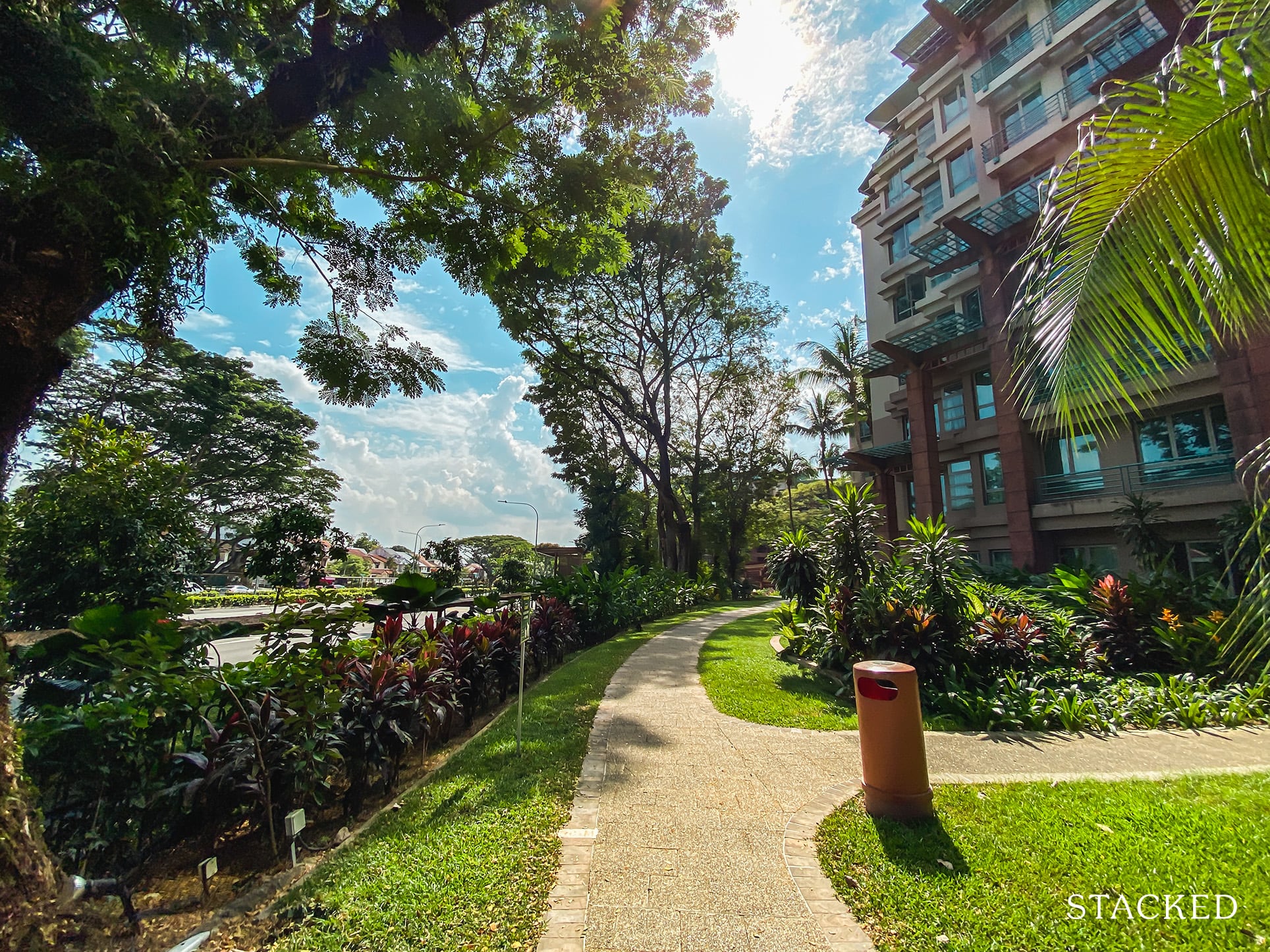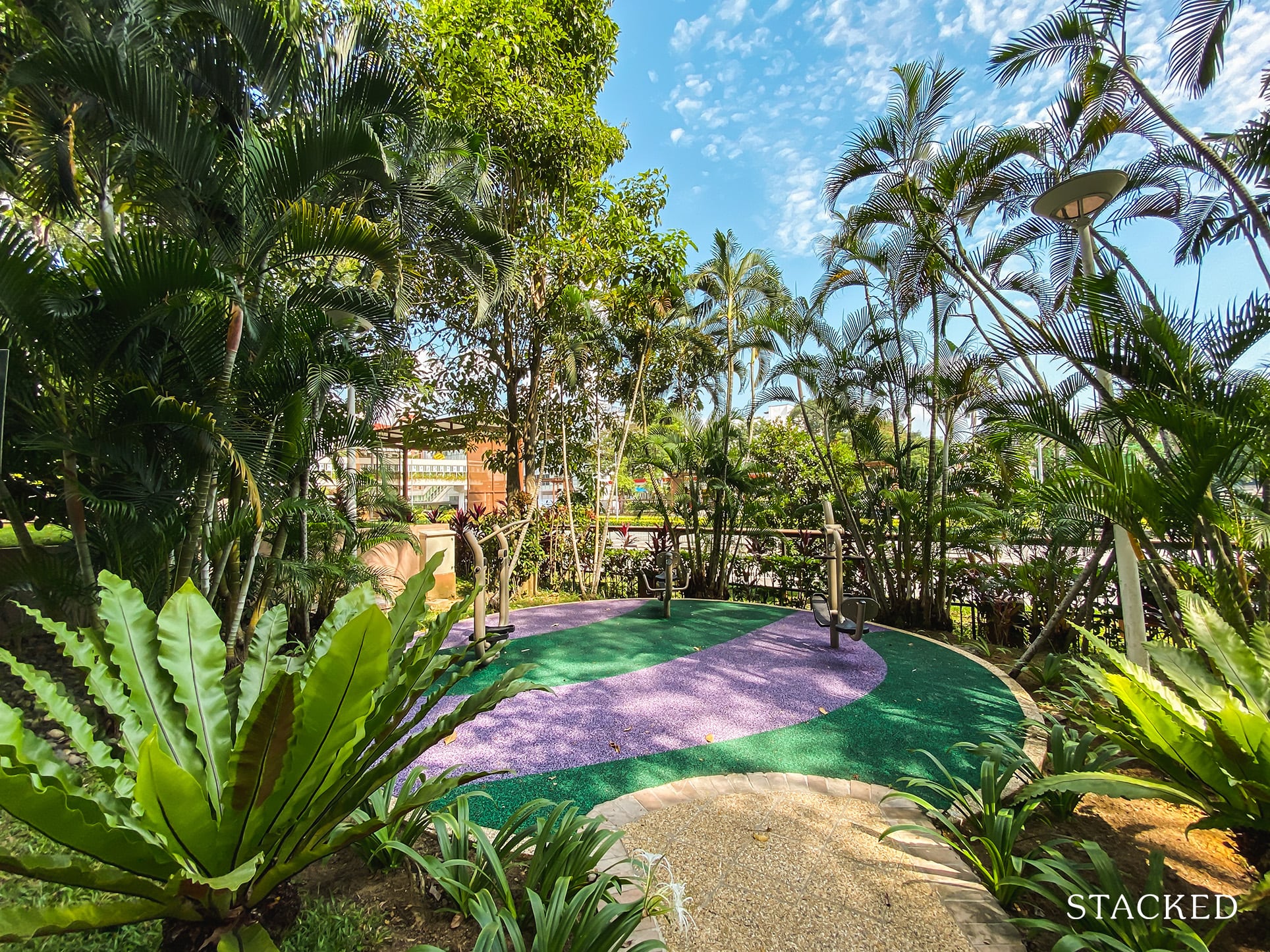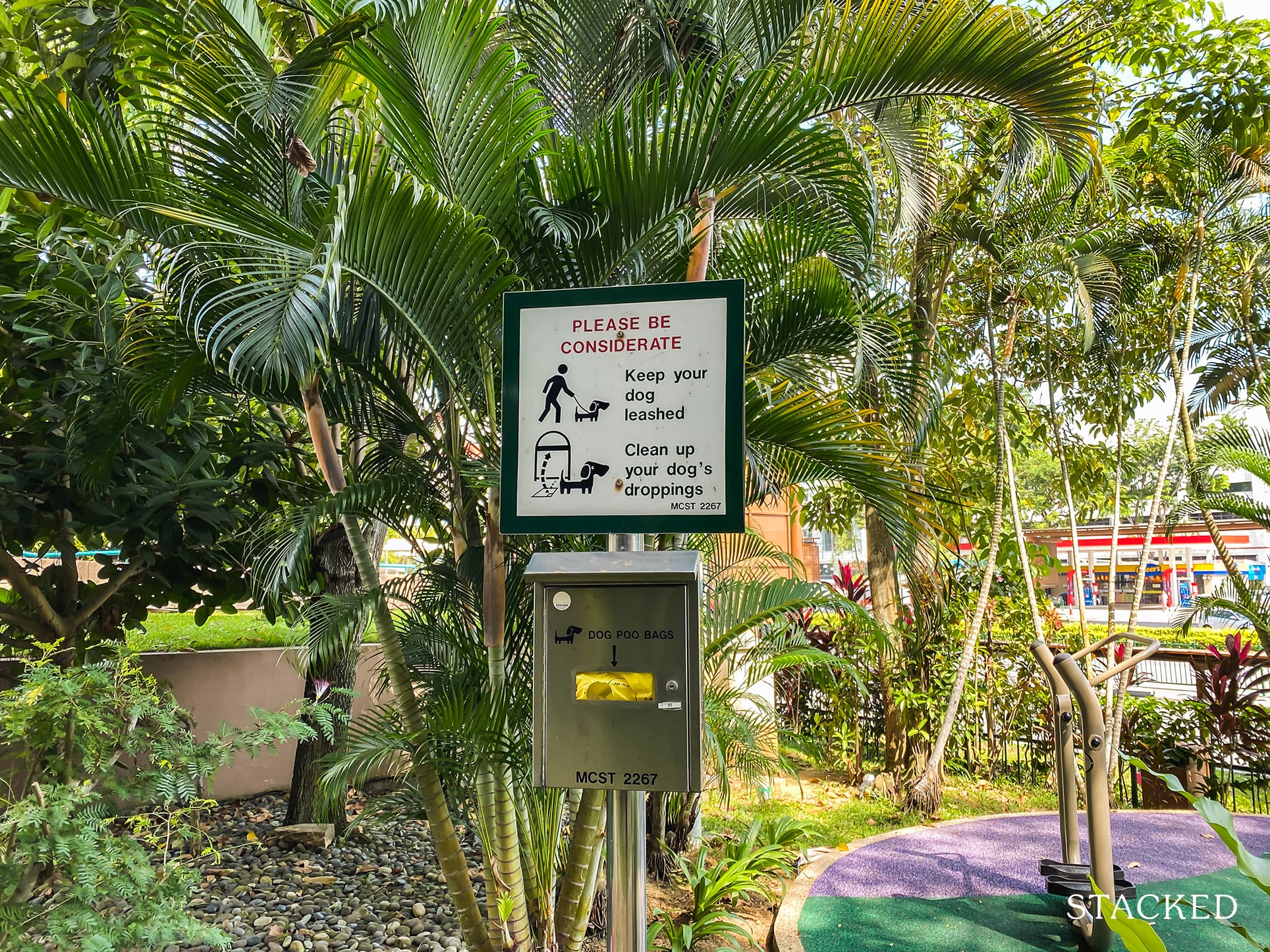 If you've noticed, there are multiple of these dog poo bag stands situated around, and it's not difficult to see why. This development is a haven for dog lovers!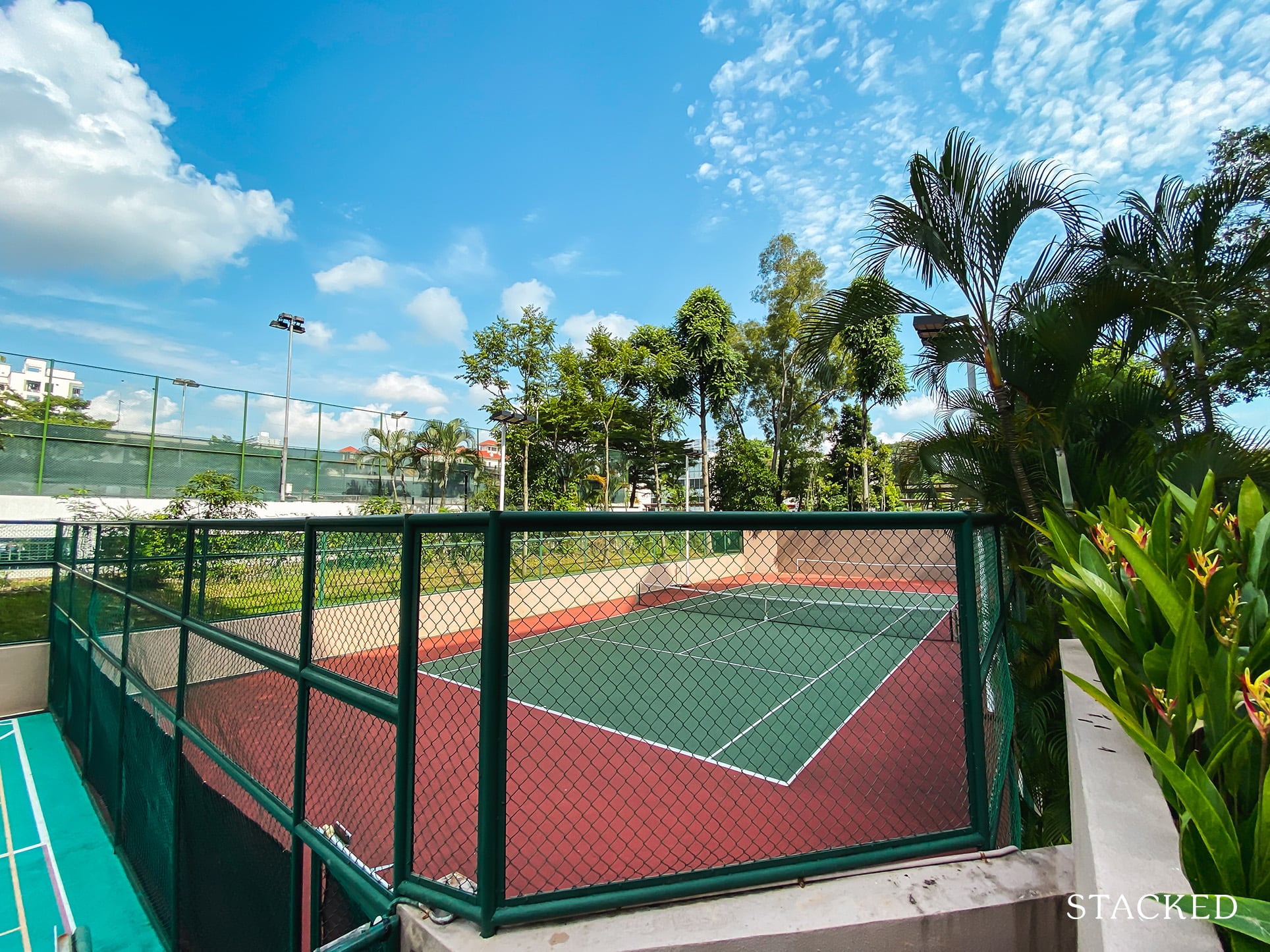 Finally, its the other side of the Maplewoods, where you'll find a 3rd tennis court…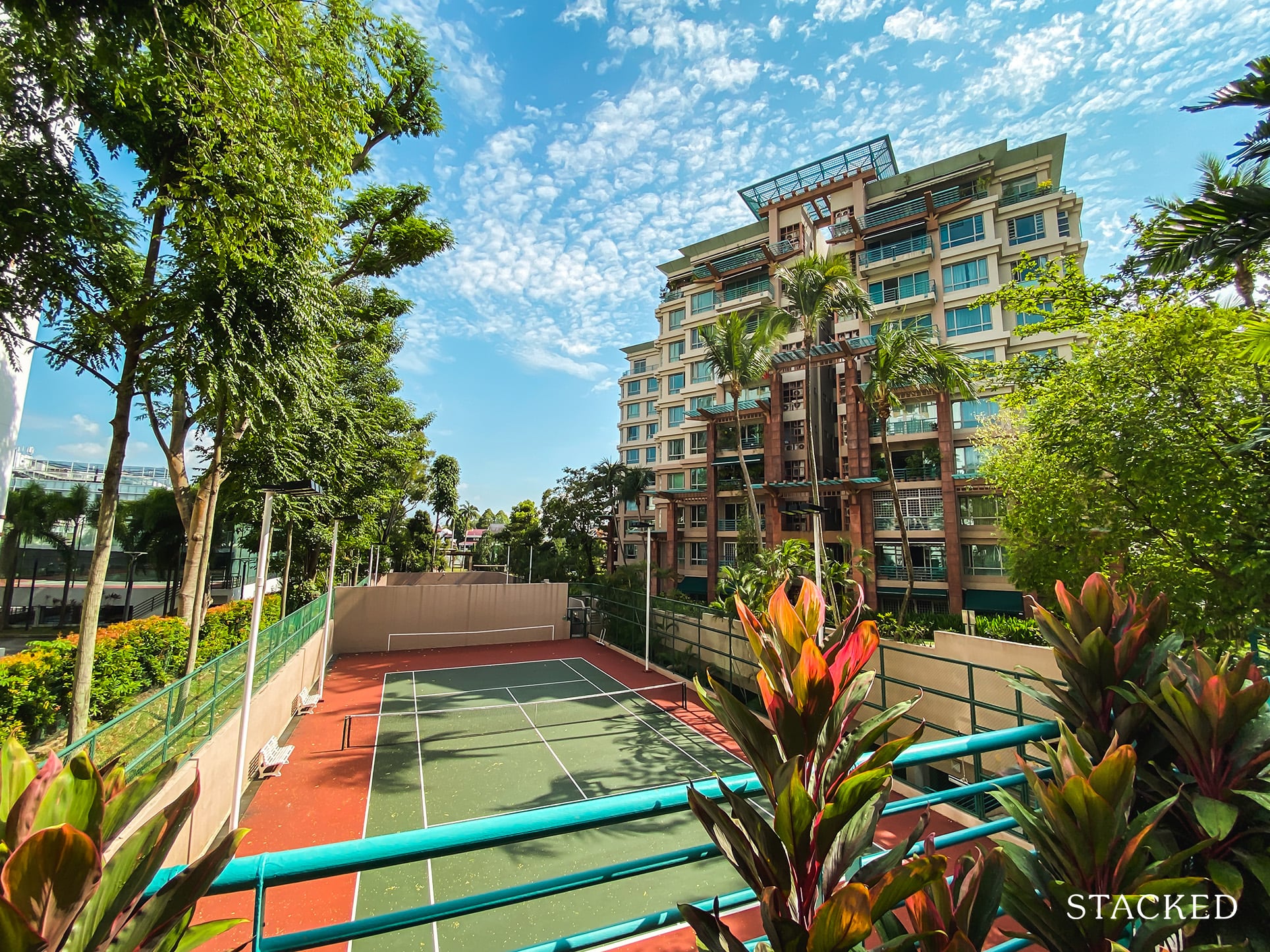 And a 4th tennis court! That is truly incredulous, to have 4 tennis courts in a condo development. Could this be possibly the record in Singapore? I'd find it hard to believe there could ever be a time where all four courts are taken up at the same time.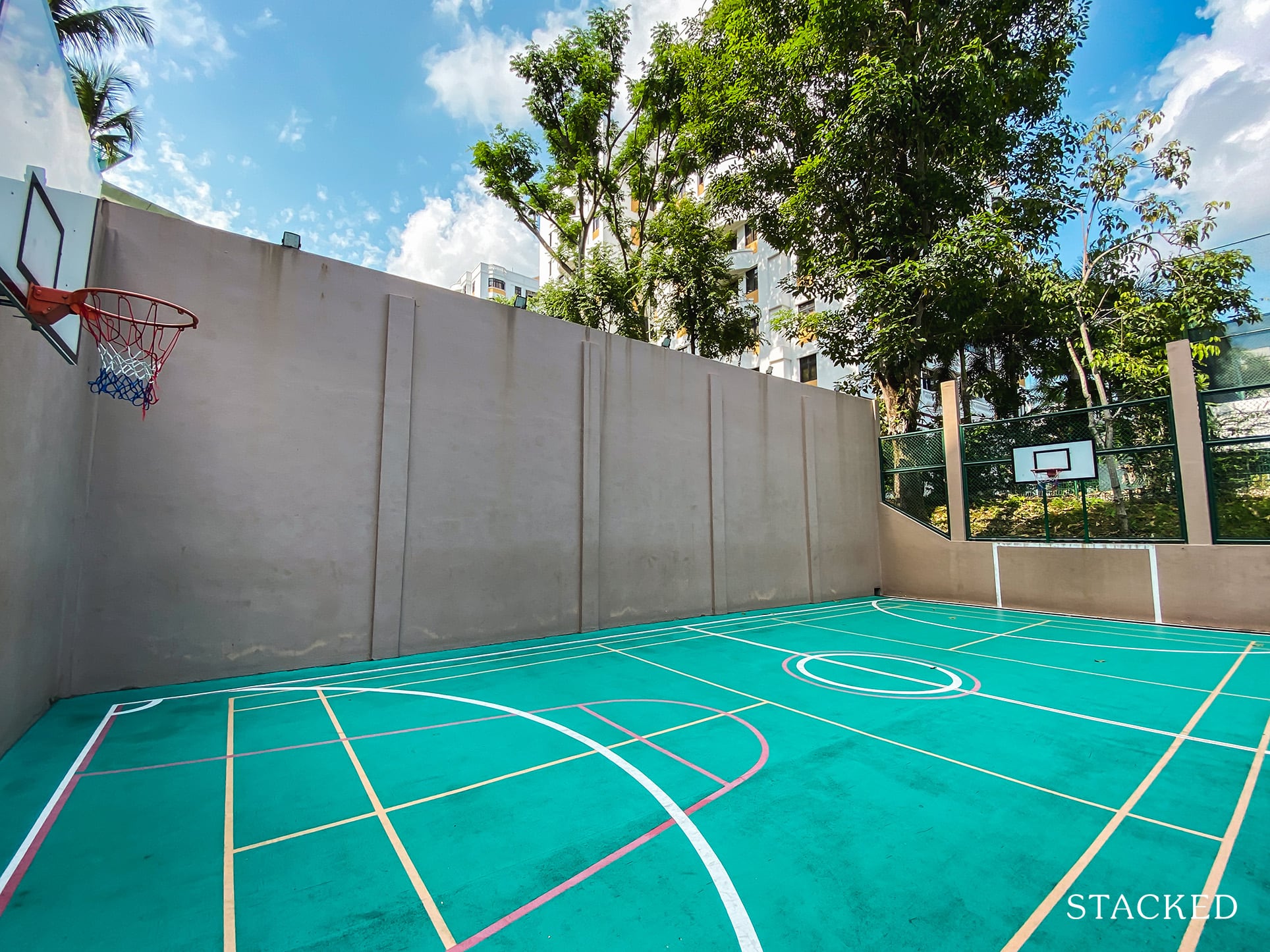 Not forgetting a basketball court sandwiched in the middle of both tennis courts. They have also painted a white frame goal post on too so you can use this for a game of street soccer too!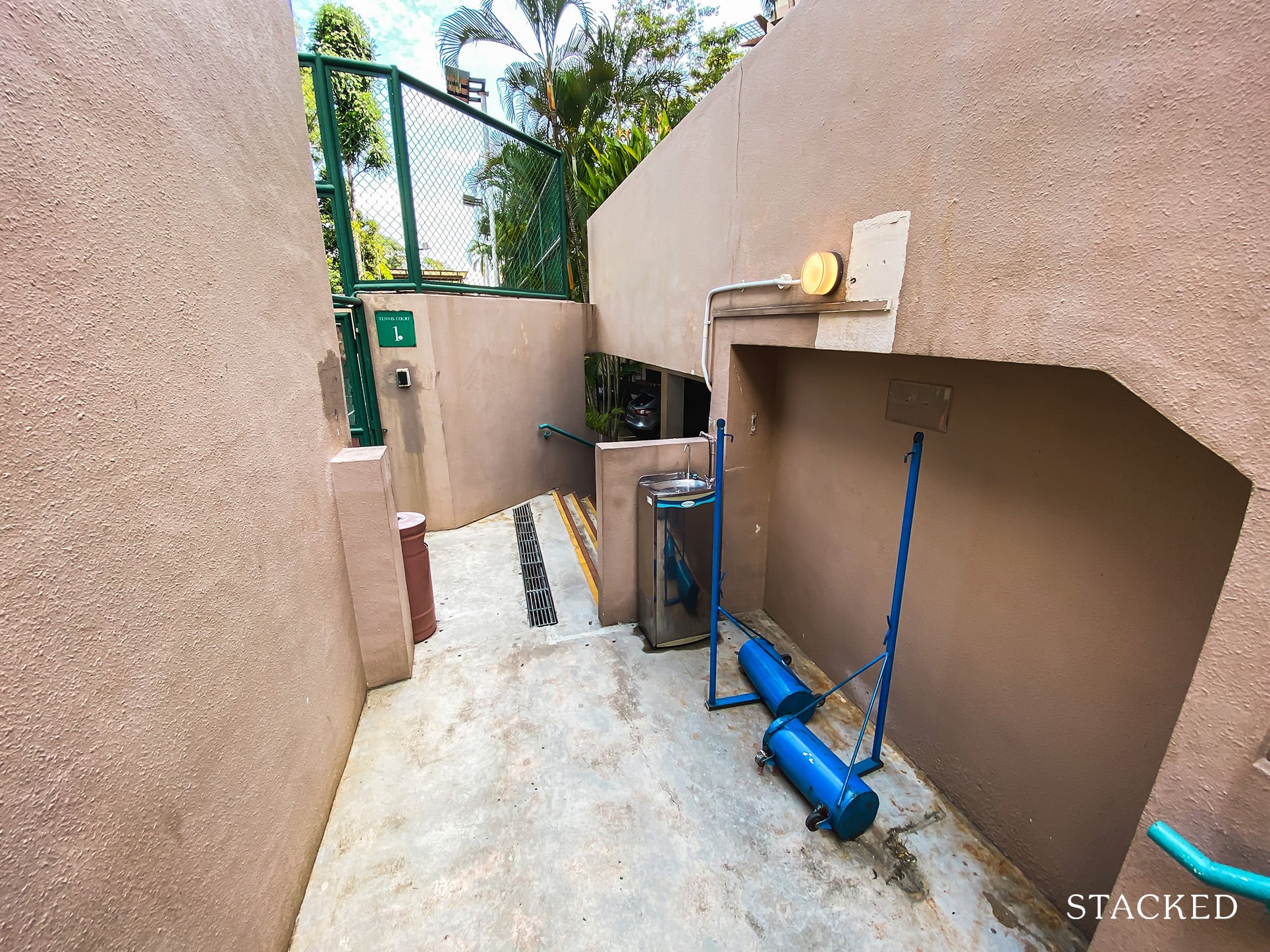 Thankfully, there is even a water cooler on site which is super useful.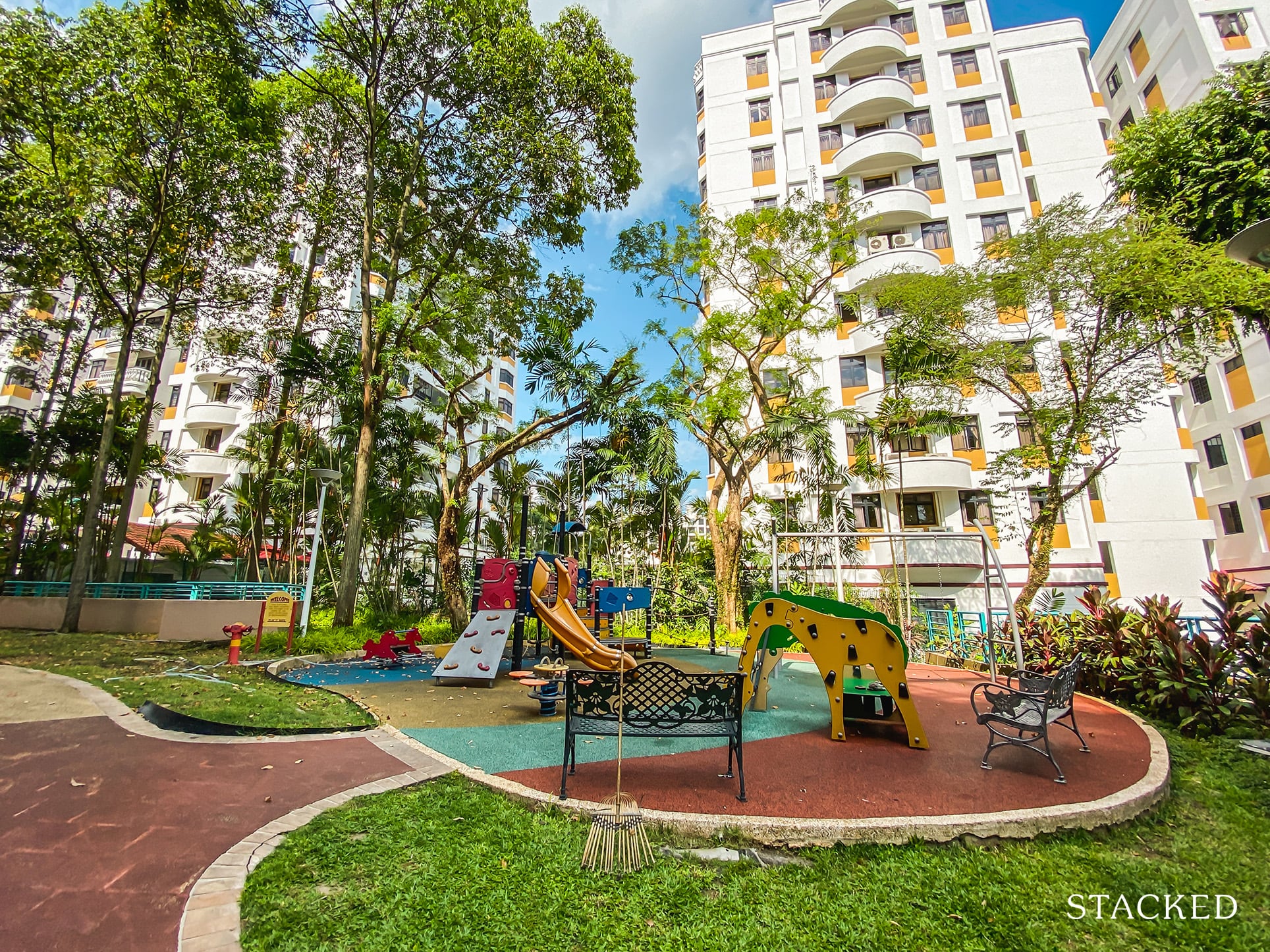 Last but not least, there is another playground further uphill.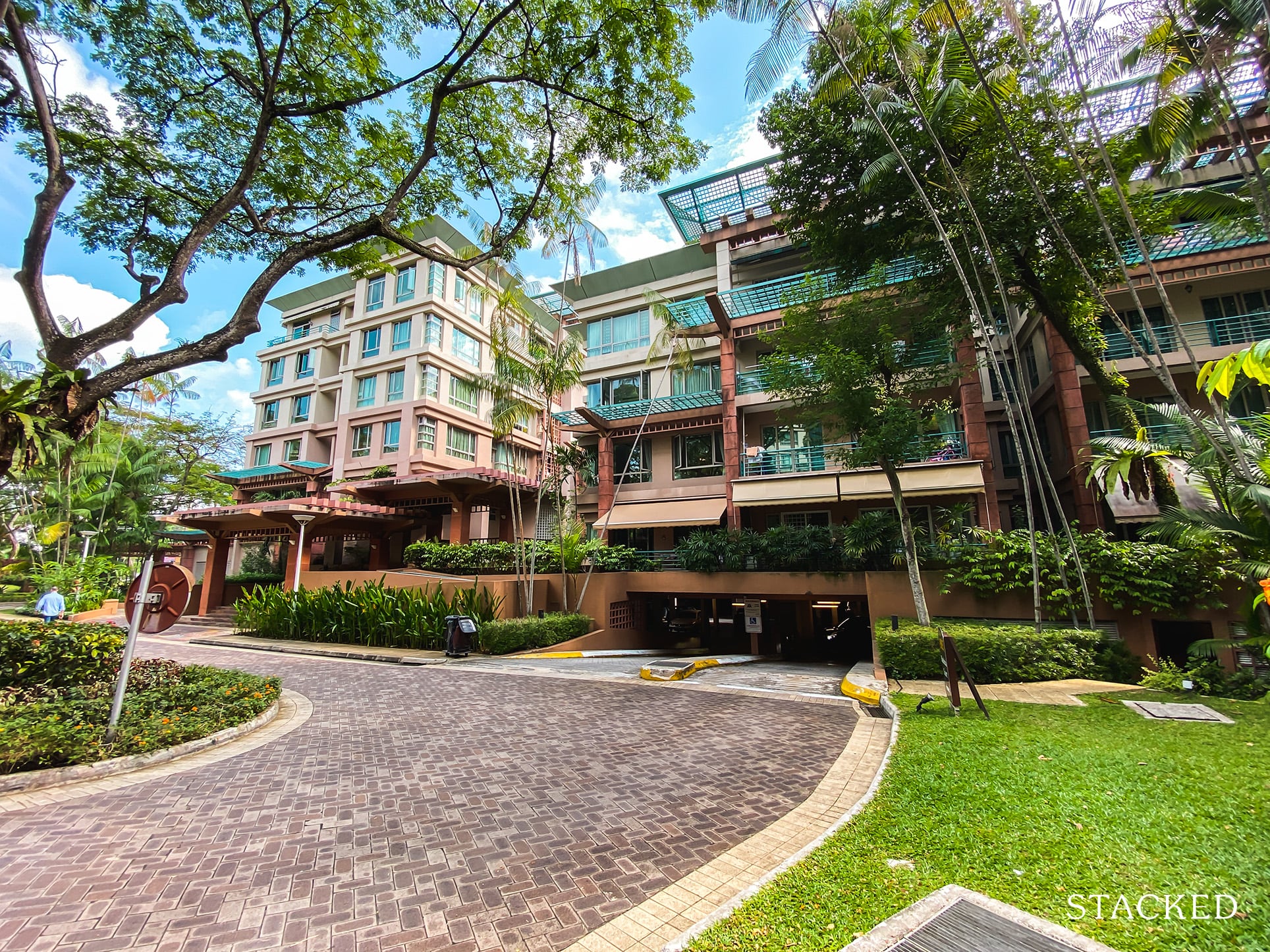 Now for one of the stranger parts of the development. If you'd notice, there isn't any open-air carpark here, unlike many of the developments in the same era.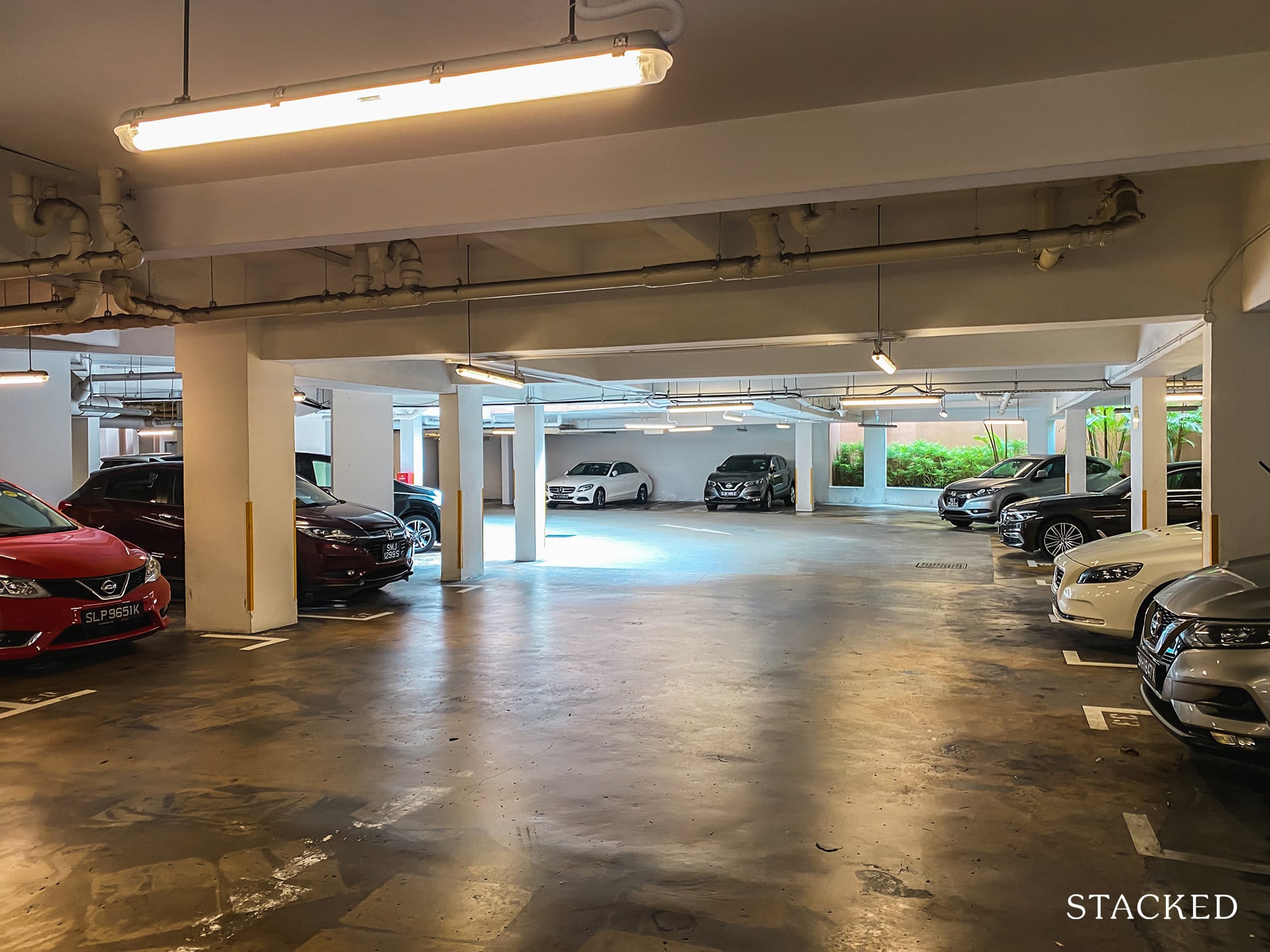 The funny part is, the carparks are actually split in two, with no way of getting from one to the other. For residents, this is no issue of course, but for guests who are visiting for the first time could easily find themselves lost!
Location
Situated in the upper half of Bukit Timah Road between King Albert Park and Sixth Avenue MRT (the development is relatively closer to the former), Maplewoods Condo is further flanked by Methodist Girls' School and the Sime Darby Centre from just across the road.
Transport
| | | |
| --- | --- | --- |
| Bus Station | Buses Serviced | Distance From Condo (& Est. Walking Time) |
| 'King Albert Park Stn' | 66, 66B, 67, 74, 77, 151, 154, 157, 170, 170A, 171, 174, 852, 961, 961M, 970 | 400m, 5-min walk |
| 'Hua Guan Gdns' | 66, 66B, 67, 67A, 74, 77, 151, 154, 157, 170, 171, 174, 852, 961, 961M, 970 | 500m, 6-min walk |
Closest MRT: King Albert Park (K.A.P) MRT – 350m, 4-min walk
Public transport in the area is extremely convenient – especially when considering the fact that the King Albert Park MRT station is on the same side as the condo (sorry bridge-crossing junkies).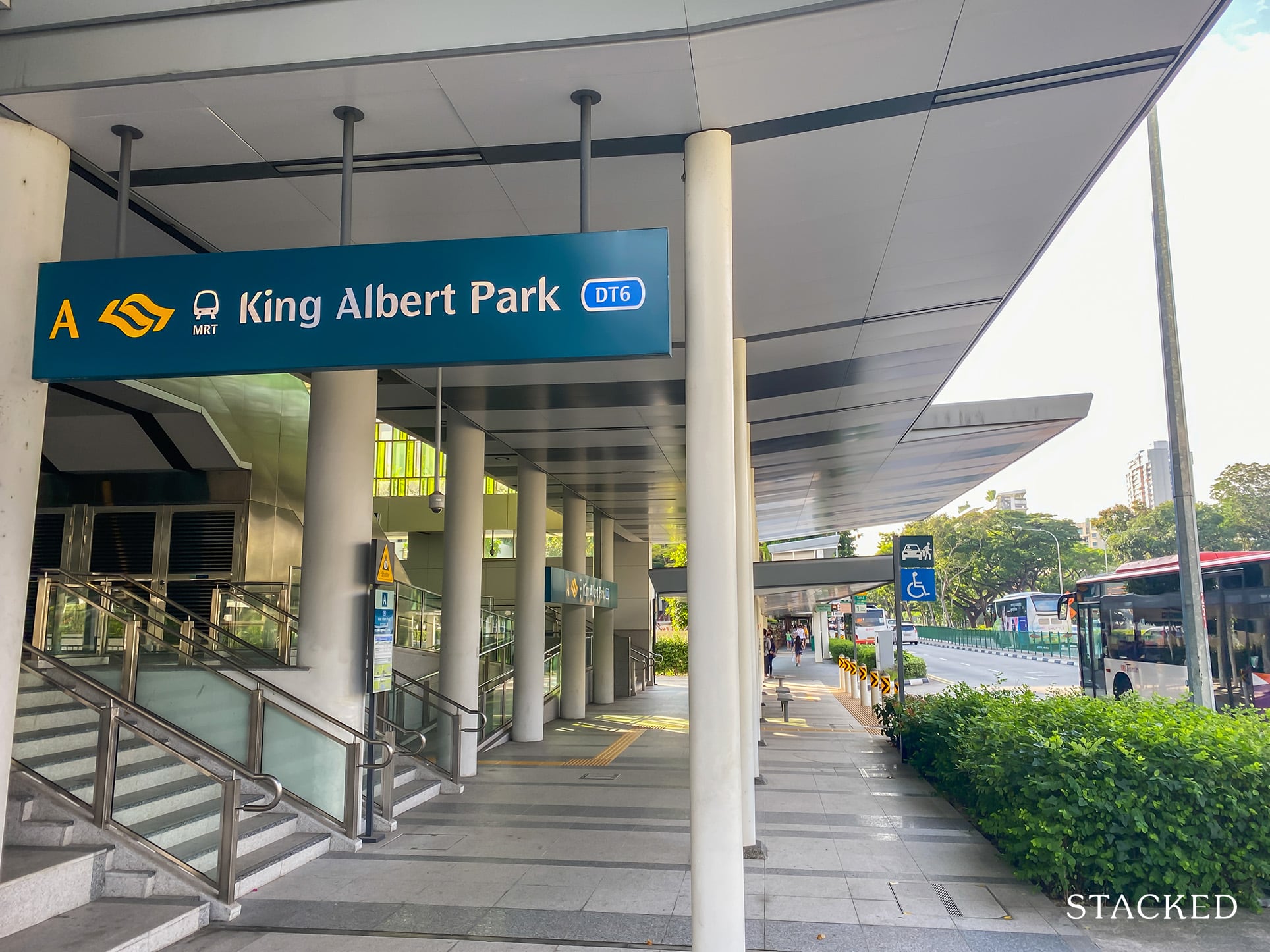 It is further worth noting that the path to the MRT is 90% sheltered, save for the bit where you will have to cross Blackmore Drive right before entering the station.
One other thing to bear in mind is that due to the number of units here and the massive amount of schools in the vicinity, crowded bus stops at peak hours are relatively commonplace here.
Private transport accessibility: Very Good
| | |
| --- | --- |
| Highway/Major Road | Distance From Condo (& Est. Off-Peak Drive Time) |
| Bukit Timah Road | Immediate |
| Clementi Road | 850m, 3-min drive |
| Adam/Farrer Road | 3.9km, 7-min drive |
| Upper Bukit Timah Road | 1.7km, 4-min drive |
| Clementi Ave 6 | 2.7km, 5-min drive |
| Lornie Highway | 5.5km, 8-min drive |
| CTE | 7.9km, 12-min drive |
| AYE | 5.1km, 8-min drive |
| PIE | 2.1km, 6-min drive |
| ECP | 15.6km, 17-min drive |
| KPE | 12.8km, 14-min drive |
| BKE | 3.4km, 7-min drive |
| SLE | 12.3km, 13-min drive |
| KJE | 8.4km, 10-min drive |
As is in tune with most other developments along Bukit Timah Road, private transport accessibility at Maplewoods is rather solid in terms of nearby highways and amenities. 
The only drawback is that the above-mentioned road does get extremely crowded during peak hours. An issue somewhat mitigated by the condo's location at the end of this busy stretch and hence, its almost immediate access to other exit points (note that they too can get congested).
This issue also brings to light the somewhat narrow singular exit from the condo onto the frequently busy Bukit Timah Road. It is therefore important to exercise both confidence and caution when turning out.
Nonetheless, the yellow box should have you covered either way.
Groceries
| | |
| --- | --- |
| Name of Grocery Shop | Distance From Condo (& Est. Off-Peak Drive Time) |
| Cold Storage – Sime Darby | 600m, 2-min drive OR 7-min walk |
| Cold Storage – Guthrie House | 2.5km, 6-min drive |
| FairPrice Finest – Bukit Timah Plaza | 1.2km, 4-min drive |
| FairPrice – Coronation Plaza | 4.6km, 10-min drive |
Grocery options are present here, though not of a massive variety as you would expect from the more uptown, central city developments.
It is also worth noting that to get to the closest Cold Storage at Sime Darby by foot, you'd have to cross the overhead bridge – a small factor that could prove slightly troublesome for the older folks.
Still, not a massive deal-breaker given the ever-presence of online grocery delivery options and the fact that the condo has an emergency mini-mart of its own!
Shopping Malls
| | |
| --- | --- |
| Name of Shopping Mall | Distance From Condo (& Est. Off-Peak Drive Time) |
| Sime Darby Center | 600m, 2-min drive OR 7-min walk |
| KAP Shopping Mall | 750m, 2-min drive OR 9-min walk |
| Bukit Timah Plaza | 1.2km, 4-min drive |
| Bukit Timah Shopping Centre | 2.1km, 6-min drive |
| Beauty World Centre | 2km, 6-min drive |
| Beauty World Plaza | 2km, 6-min drive |
| The Grandstand | 2.5km, 6-min drive |
If you read our recent review on Mayfair Gardens, you might have noticed the similarities in terms of amenity offerings. The reason for this is because the condo is located just across the road from Maplewoods (albeit slightly to the left and deeper in).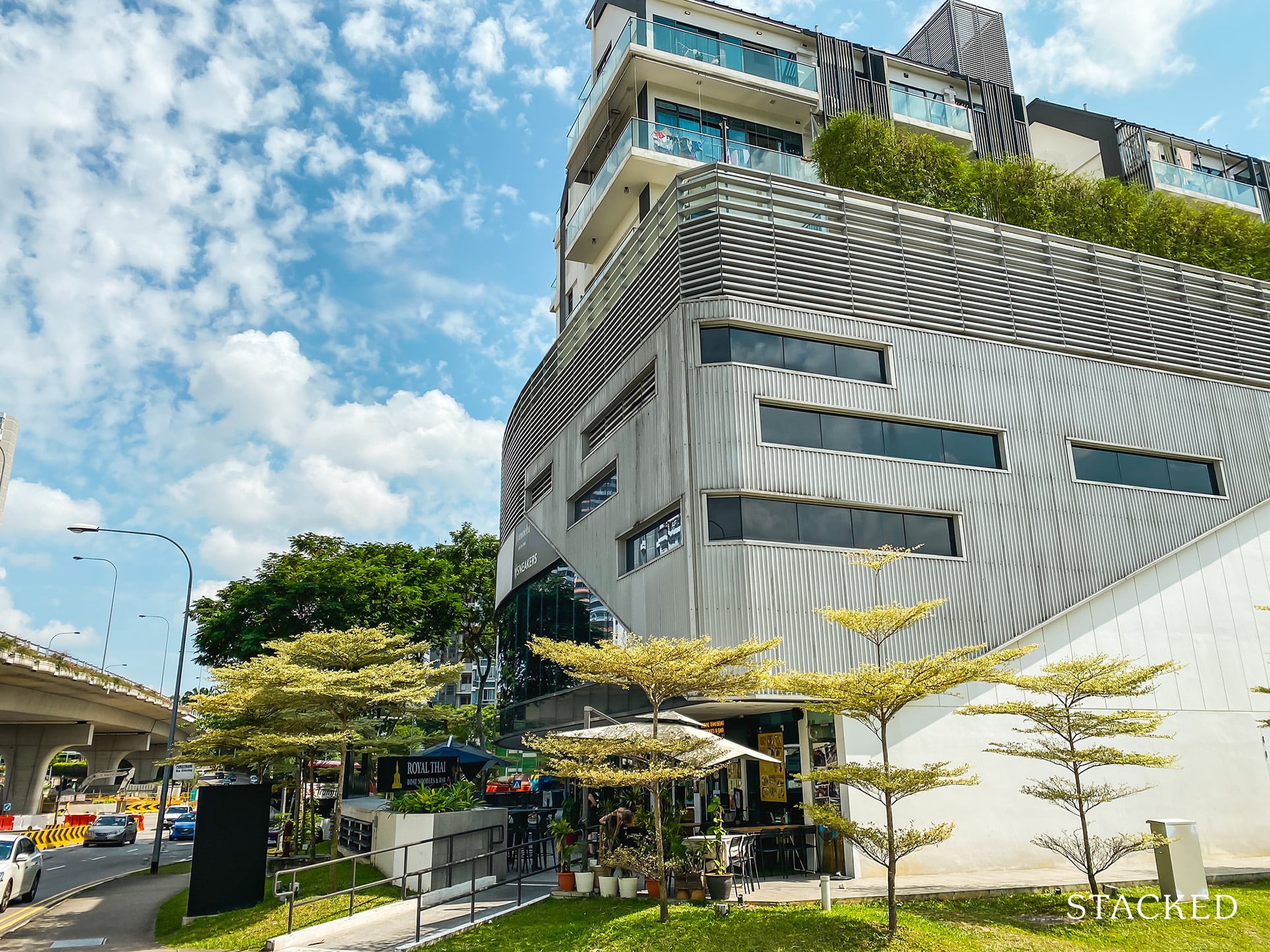 Once again, these shopping centres are not the newest (save for KAP mall), but there sure is a solid variety of them in such a small radius.
For those who crave more diversity however, it is only a short drive down to the Clementi and Star Vista areas as well as the eastern end of Bukit TImah Road. There you will find shopping malls of various statures that further add to the diversity!

Schools
| | | |
| --- | --- | --- |
| Name of School | Education Level | Distance From Condo (Est. Off-Peak Drive Time) |
| Preschool By-The-Park | Preschool | 900m, 3-min drive OR 500m, 6-min walk |
| ChildFirst @ King Albert Park | Preschool | 1.4km, 4-min drive OR 600m, 7-min walk |
| Kidzee Pre-school | Preschool | 1.2km, 4-min drive |
| EtonHouse Pre-school Vanda | Preschool | 2.1km, 5-min drive |
| Little Paddington Preschool | Preschool | 2.3km, 5-min drive |
| Methodist Girls' School | Primary | Immediate |
| Cambridge Primary | Primary | 1.6km, 6-min drive |
| Bukit Timah Primary | Primary | 2.6km, 8-min drive |
| Pei Hwa Presbyterian School | Primary | 3km, 9-min drive |
| Raffles Girls' Primary | Primary | 3.3km, 7-min drive |
| Pei Tong Primary | Primary | 4.2km, 9-min drive |
| Nan Hua Primary | Primary | 4.5km, 8-min drive |
| Henry Park Primary | Primary | 4.9km, 9-min drive |
| Nanyang Primary | Primary | 4.9km, 10-min drive |
| Qi Fa Primary | Primary | 6.2km, 10-min drive |
| Nanyang Girls' High | Secondary | 2.7km, 6-min drive |
| Yusof Ishak Secondary | Secondary | 4.1km, 9-min drive |
| Hwa Chong Institution | Secondary | 4.4km, 9-min drive |
| New Town Secondary | Secondary | 4.4km, 9-min drive |
| St. Margaret's Secondary | Secondary | 4.7km, 10-min drive |
| Ngee Ann Polytechnic | Tertiary | 1.4km, 4-min drive |
| SUSS | Tertiary | 2.2km, 4-min drive |
| SIM | Tertiary | 2.4km, 5-min drive |
| National Junior College | Tertiary | 3.8km, 9-min drive |
| University at Buffalo | Tertiary | 3.9km, 9-min drive |
| UBS Business School | Tertiary | 4.9km, 9-min drive |
| Hwa Chong Institution | Tertiary | 5.1km, 10-min drive |
| Singapore Polytechnic | Tertiary | 5.1km, 9-min drive |
| Eunoia Junior College | Tertiary | 5.5km, 10-min drive |
| NUS Law Faculty | Tertiary | 5.5km, 11-min drive |
| Anglo-Chinese Junior College | Tertiary | 6km, 11-min drive |
| SIT | Tertiary | 6.3km, 13-min drive |
| Catholic Junior College | Tertiary | 7.6km, 13-min drive |
| NUS | Tertiary | 8.5km, 16-min drive |
Perhaps the biggest difference between Mayfair Gardens in terms of educational offerings is the presence of the Methodist Girls' School (MGS) right next to the Maplewoods condo.
Apart from that, the number of schools remain the same with a larger emphasis on 'prime' primary schools in the area as well as a couple more secondary schools outside the 10-minute drive radius.
Add in the increased number of junior colleges in the area and it's really no longer surprising that many refer to this part of town as the Bukit Timah Education Belt.
Additional Pointers at Maplewoods
One thing that stands out for the condo is the luscious greenery that you seem to observe from anywhere on the grounds.
It doesn't seem to end there however.
With the Bukit Timah Nature Reserve (bear in mind that it links to the entire Lower Pierce Reservoir and MacRitchie areas) and Old Bukit Timah Railway Station reserve just around the corner, nature lovers will be elated with this part of Singapore. This, not withholding the fact that more greeneries equals cooler temperatures!
With the illustrious Beauty World food area just a slight drive or a quick bus ride from Maplewoods, residents here will be spoilt for choice when it comes to food pickings.
The presence of a number of posh cafes and restaurants in the immediate area as well as the Adam Road and Bukit Timah Food Centre in either direction (not to mention the delicious Pasarbella @ Grandstand) only further adds to the scintillating allure.
Relatively Quiet Development in a Noisy Neighbourhood
To be frank, the Bukit Timah area is a relatively peaceful enclave – save for its incredibly noisy road. What makes things more interesting for the condo is that it's actually situated right next to it!
While it is understandable that some of the closer blocks to the road will naturally receive some traffic noise as a result, the dense foliage in between the road and the development serves both as a privacy cover and a pretty incredible noise absorber!
Numerous Entertainment Options
As mentioned on a number of occasions, residents in this part of town have access to numerous entertainment venues ranging from golf courses to axe-throwing venues!
While the latter might not appeal to everyone (understandable), it is worth noting that there are a variety of other options that include cricket, paintball and futsal. Numerous other community hotspots in the region like the British, Swiss and even Singapore Island Country Club only serve to further the cause.
Maplewoods Development Site Review
Despite our best efforts, it seems that every copy of the Maplewood's development site that we got our hands on was either too old or too blurry. We've since decided that grabbing a screenshot from Google Earth's our best bet for now (we'll keep you updated if anything better comes along).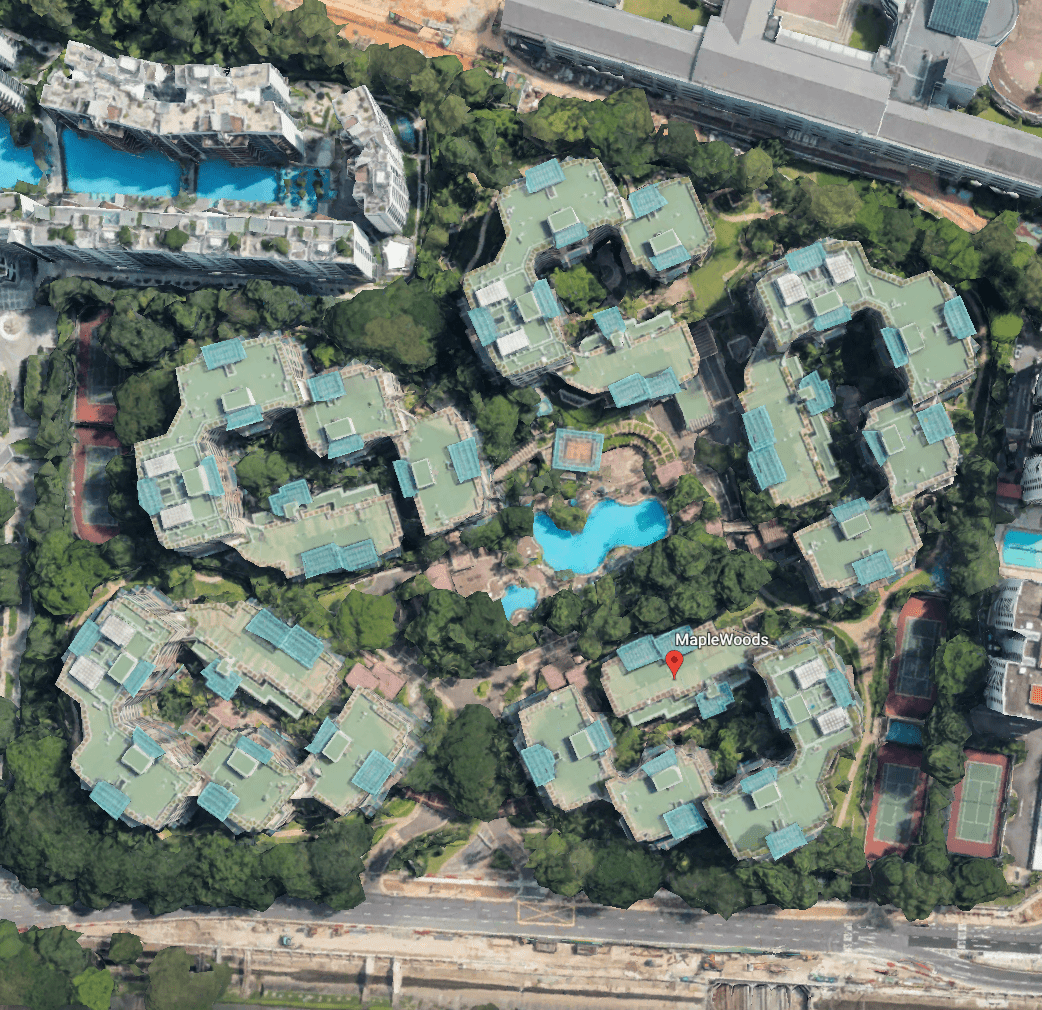 As you can see, Maplewood is an incredibly large development – especially given its prime land locale. Also all the more reason why its singular vehicular entrance/exit proves tedious for those entering and leaving the area at peak hours.
(*On that note, bear in mind that the entrance to its spacious car park is relatively narrow – visitors for the first time here… watch out!!)
Now for those of you interested in a unit here, bear in mind that the front two blocks are exposed to flavorful traffic noise while the back two blocks will naturally receive a certain degree of hullabaloo from the adjacent Methodist Girls School — we'll leave you to decide which is the lesser of the two evils!
IF however, you are a devout seeker of silence (welcome brother), the middle block might suit you best, though note that you won't be getting any primetime views from there.
Let's quickly escape to our brief unit mix:
Unit mix in Maplewoods

| | |
| --- | --- |
| Unit Type | Size of Units (sqft) |
| 2-bedroom | 850 – 1,066 sqft |
| 3-bedroom | 1,066 – 1,496 sqft |
| 4-bedroom | 2,551 – 3,046 sqft |
Looking at this simplified tabulation, it's easy to see why more homeowners are turning their sights on older resale developments.
Yes, these places might be slightly less modern or incorporate state-of-the-art facilities – but just look at the unit sizes! In fact, most of the 3,000 sqft units nowadays belong to the middle/higher-end scale of penthouses if you think about it.
Undoubtedly however, purchasing larger units like these generally mean that you'd have to fork out more for the extra space regardless of quantum.
Cleaning and maintaining the entire area could also prove slightly tedious for both working adults and the older folks hence looking into a part/full-time cleaner could be ideal in most cases.
Still, these are tiny tradeoffs should space be a priority and quantum/age a lesser concern.
Best Stacks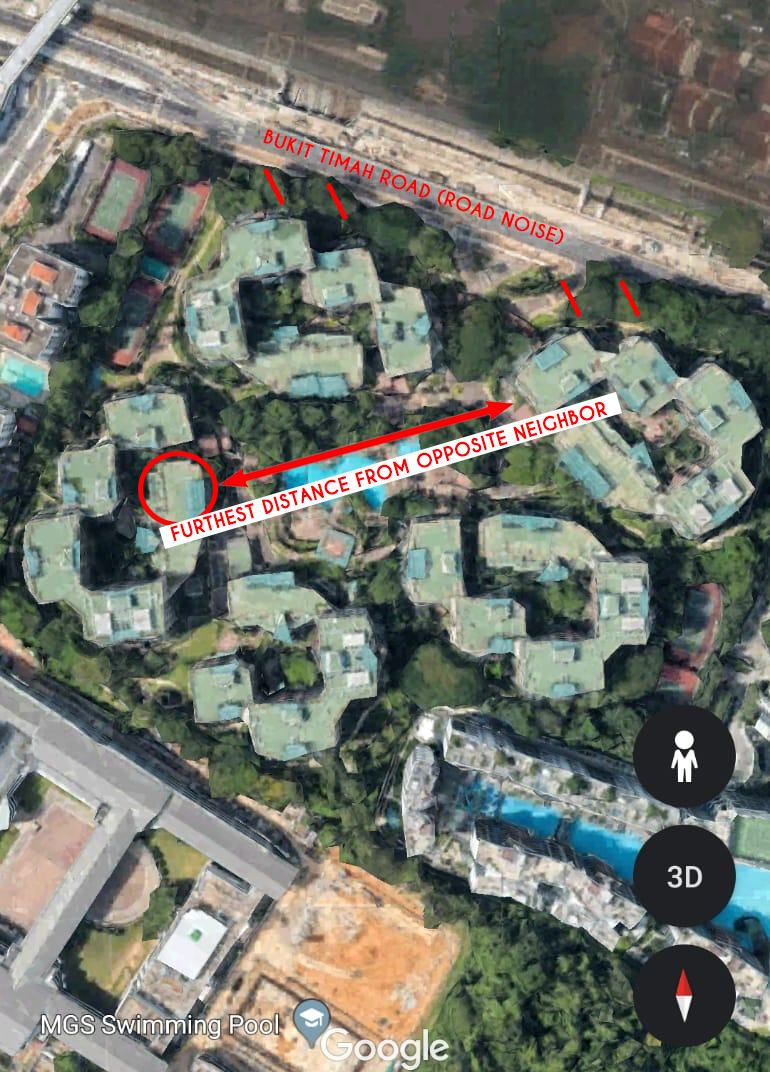 The best stacks in Maplewoods is probably stacks 1 and 2 in Block 991 as circled above. This is because there is no west sun, it is the furthest distance away from its neighbour and is far enough from Bukit Timah Road (away from the road noise). The only downside is the proximity to the swimming pool, so although you get the nice pool view you might have to endure some noise on the weekends or public holidays.
Maplewoods Price Review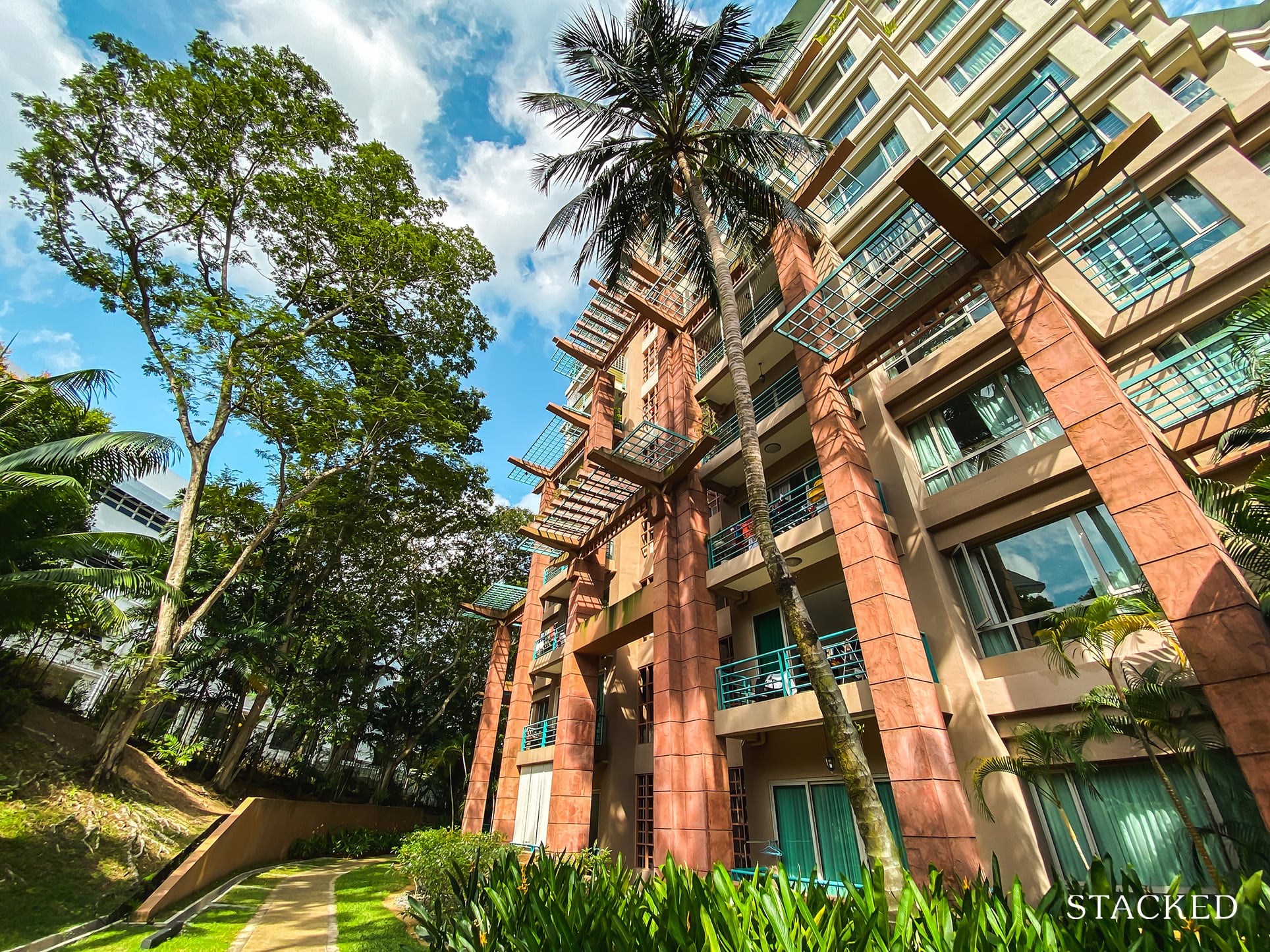 Considering the variety of condos here as well as their respective proximities to MRTs and the main Bukit Timah Road (noise factors can often impact quantums), there are many price-related factors that we can look at when comparing the Maplewoods' current quantum.
Let's base our main analysis off developments with similar age and tenure. For this, we have both The Sterling and 1 King Albert Park for comparison.
If you are familiar with the area (or simply check it out on Google Maps), you'd notice that these developments are in fact adjacent to each other. Starting with 1 King Albert Park situated closest to the major Clementi Road junction, we then have The Sterling in the middle, and finally the Maplewoods Condo at the other end.
From the table you can see that Maplewoods commands the highest quantum. This despite the fact that 1 King Albert Park is right next to the new K.A.P Shopping Mall and that The Sterling is situated right next to the K.A.P MRT.
Why is this the case?
Firstly, both the K.A.P Shopping Mall and MRT amenities are still relatively accessible for residents at Maplewoods hence they aren't massive quantum-dipping factors alone.
Secondly, Maplewoods is adjacent to Methodist Girls School (MGS) – a huge bonus and worry-free factor that caters to a niche yet substantial target audience. A factor that could even attribute to an 'endowment effect' amongst former children here who have now grown up.
Third, the development is incredibly massive which naturally means more facilities – and really the condo doesn't disappoint with its wonderful offerings of foliage.
More than that, units further back are well enveloped from the noise of Bukit Timah Road, very much unlike the units at 1 King Albert Park.
Still, the newer developments like The Cascadia, KAP Residences, Floridian and the impending British-flavoured Mayfair Gardens naturally command a higher quantum regardless of amenity offerings/proximity…or do they?
Yes, they have higher PSFs on paper, but if you were to actually calculate the total cost per unit, you might be surprised that Maplewoods could still become up high amongst the district's quantum ranking given its superior unit spaces!
Maplewoods: Our Take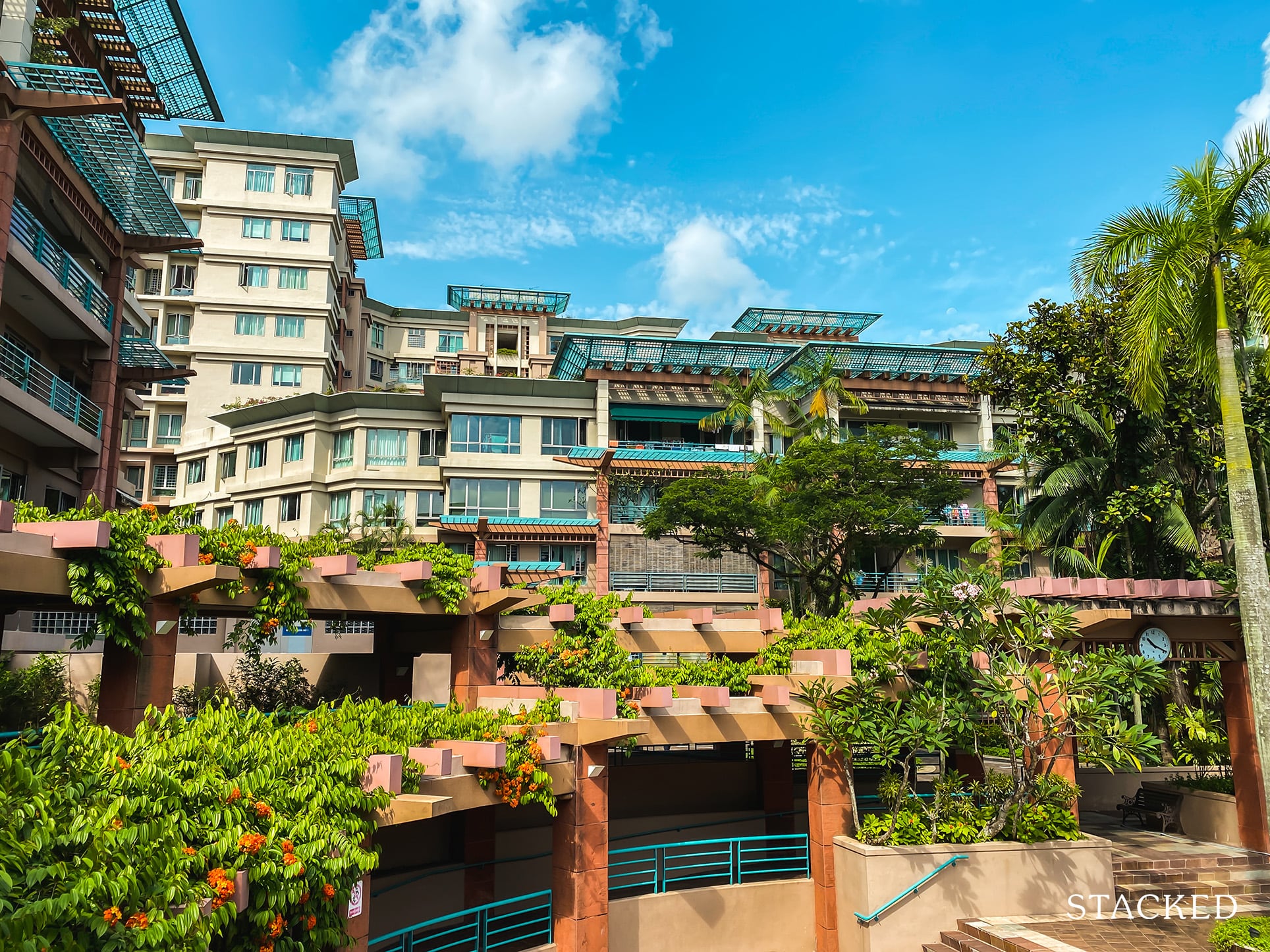 As always, I'm slightly biased when it comes to large unit spaces and lush surrounding greenery both in and outside the condo.
What's more, the condo does seem extremely well maintained, is next to a distinct amenity (in MGS) and even has a couple shops of its own!
To me, it feels very much like an entire throwback estate in itself. A warm, homely estate that has stood the test of time in a posh, developing district and continues to serve as a wonderful residential enclave.
Yes, it does command a hefty quantum despite its more modern neighbours, but really this just adds volume to its value.
Given its freehold status and a number of residential units here, I can see the Maplewoods condo lasting for quite some time more as a rare and luscious escape from the past.
What this means for you
You might like Maplewoods Condo if you:
• Enjoy massive unit spaces:At 3,000 square feet for a 4-bedroom unit, Maplewoods offers an incredible opportunity for those who crave expansive living spaces.
• Are a fan of naturesque condos:An abundance of greenery, foliage shelter, and even a 3-storeyed waterfall in the condo make this place perfect for nature-lovers.
You might not like Maplewoods Condo if you:
• Are on a strict budget:At 1,500+ average PSF, prices of units here might be a little steep, especially when considering the larger unit spaces.
• Prefer a more modern residential:Maplewoods is turning 23 in just a couple of months. Despite all its positives, it is a dated development with an aging facade.
End of Review