38
min read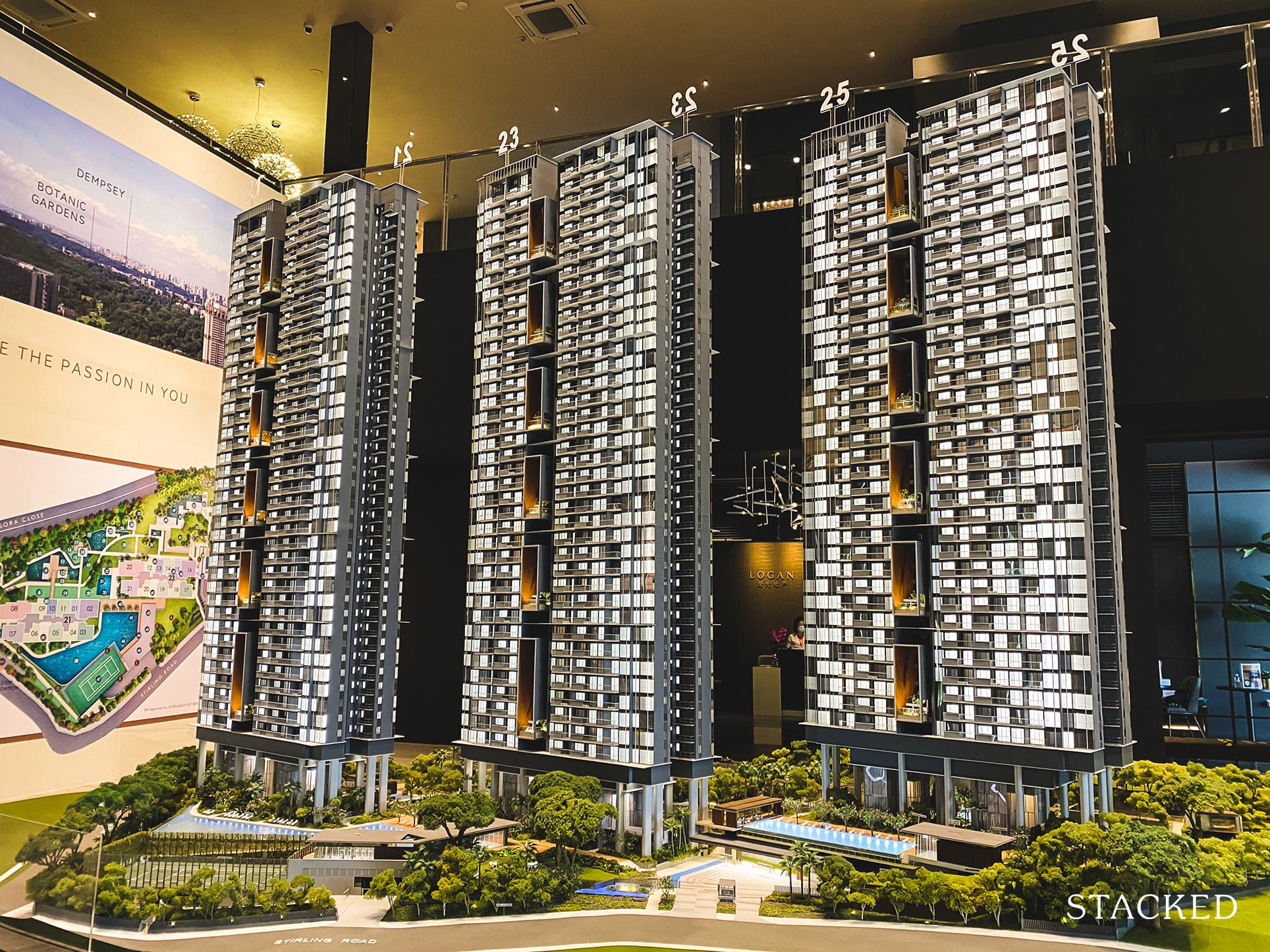 Incredible views on the high floors
Stirling Residences is perfect for those who work in the CBD. In fact, it's one of the biggest perks of staying here – being just 10-minutes away from the CBD by MRT. Residents living on a relatively high floor here will also get to enjoy incredible views, depending on the unit facing.
| | |
| --- | --- |
| Project: | Stirling Residences |
| District: | 03 |
| Address: | Stirling Road |
| Tenure: | 99-Year Leasehold |
| No. of Units: | 1259 |
| Site Area: | 227,221 sqft |
| Developer: | Nanshan Group & Logan Property Holdings |
| TOP: | 2022 |
When it comes to securing real estate deals in land-locked Singapore, you'll find that the most unlikely of developer partnerships can come to fruition – and quite possibly prosper amidst the competition.

Back in May 2017 (just as the en bloc fever was heating up), foreign developers Nanshan Group and Logan property submitted a joint record-breaking $1.03 billion bid that would crown them owners of one of the last available (mega) land plots in District 3.

In other words, their bid price translated to a hefty $1,051psf ppr.

This raised intense speculation about the pricing and demand of the mega city-fringe project – especially since both the neighbouring Queens Peak and Commonwealth Towers were successfully bidded at $871 and $883 psf ppr respectively a couple of years before.

Now if you were to take a look at Stirling Residences' take-up rate today, you'd notice that just 22% (or 277) units are left for the taking.

…Out of the 1259 units initially available!
Bear in mind that the project is also a tad further away from the MRT station when compared to its aforementioned peers, and yet is still able to command an eyebrow-raising price average of almost $2,000 psf today!

Why is this the case?

Find out the answer to that and much more in our full showroom tour and analysis below!
Stirling Residences Insider Tour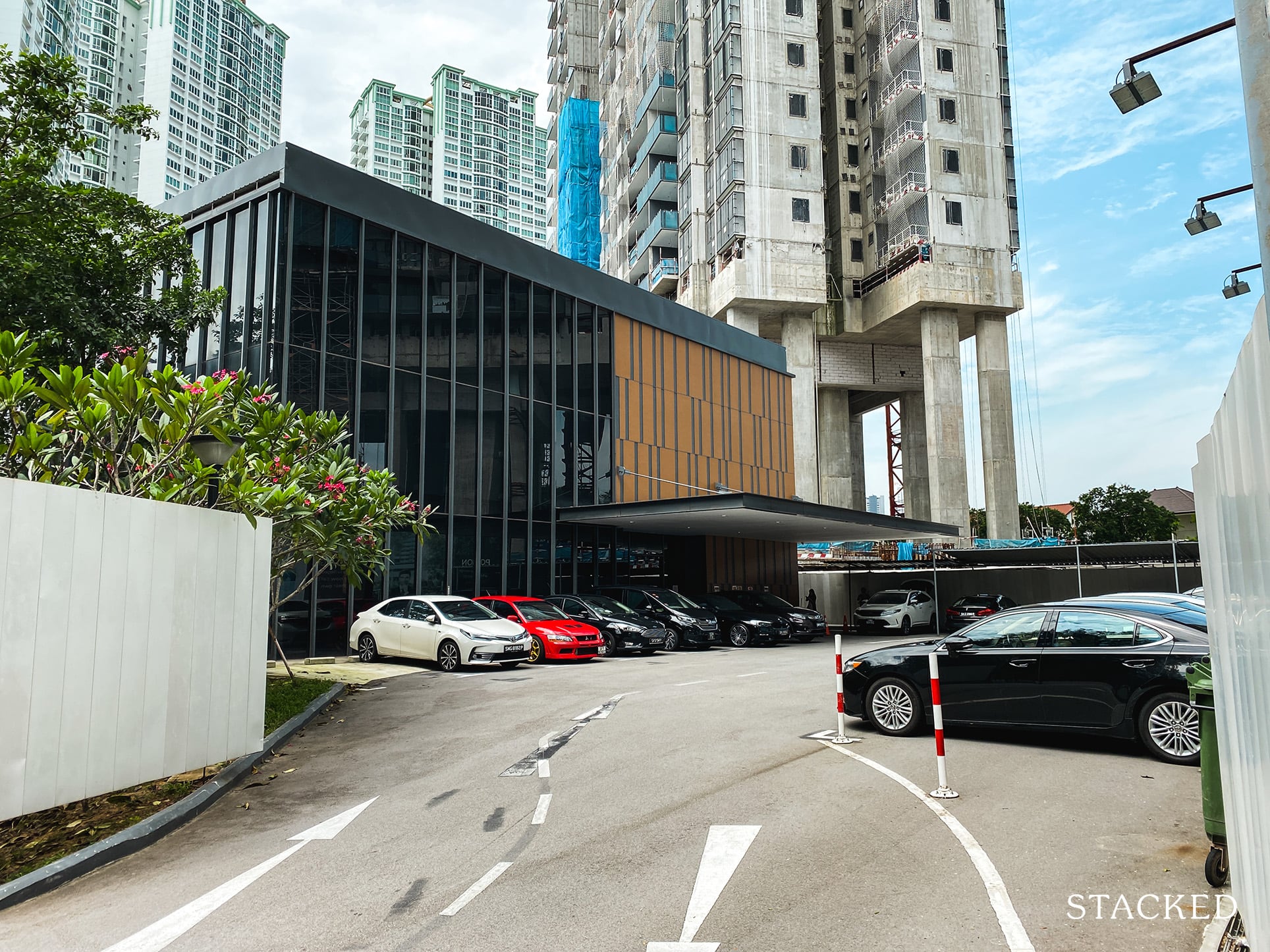 The Stirling Residences showflat is located at the actual site itself (along Stirling Road), which I always much prefer – mainly because you can get a much better representation of the grounds and vibe of its surroundings.
From here you can see the Queens condo as well, a development that no doubt many of you would have drawn a comparison to. As a matter of fact, the resemblance to the Queens condo is quite uncanny. It's 3 towers of almost the same height with a very similar land size. Think of it as the modern version of the Queens – a much sleeker look with many more units crammed inside.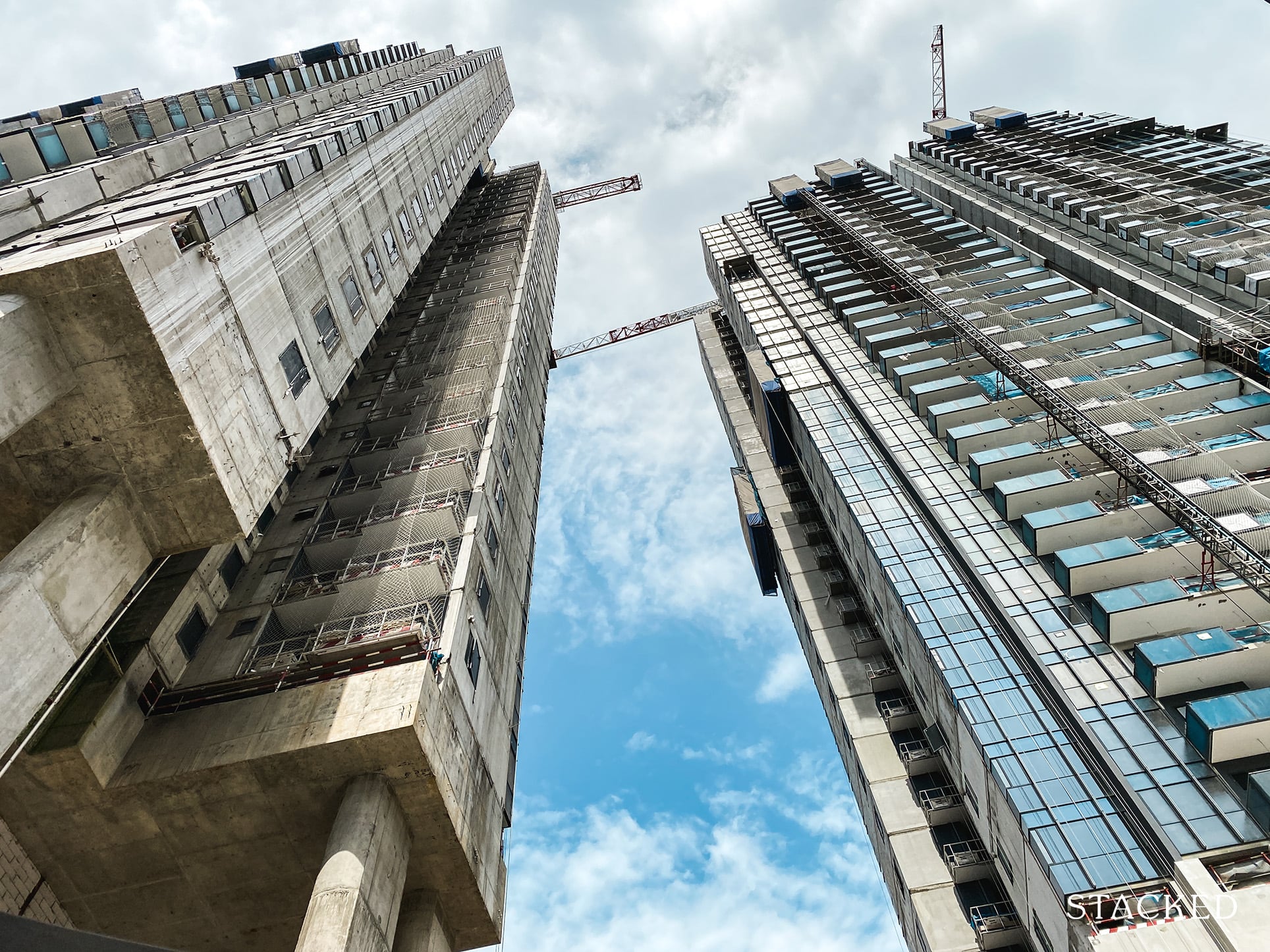 As you can clearly see by the amount of construction that has been done, it is getting on quite nicely. At the time of writing, Stirling Residences has sold 77.8% of its units. And that's no small feat at all, given that it is quite a mega project of 1,259 units total.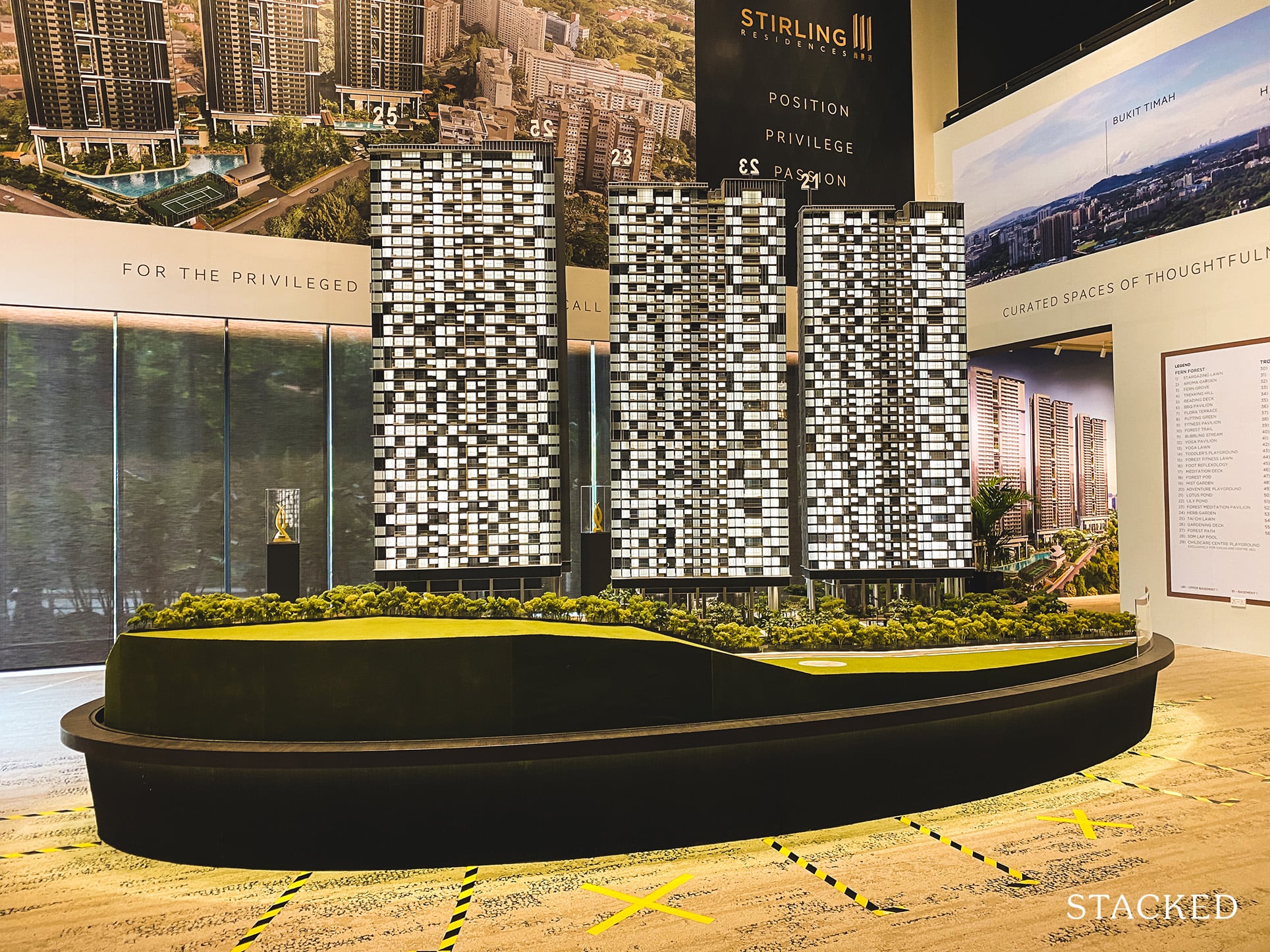 As mentioned earlier Stirling Residences consists of 3 towers – two 40 storey and one 38 storey one. Stirling Road itself is on a slight slope, so by virtue of that it will be set a little higher than the Queens condo.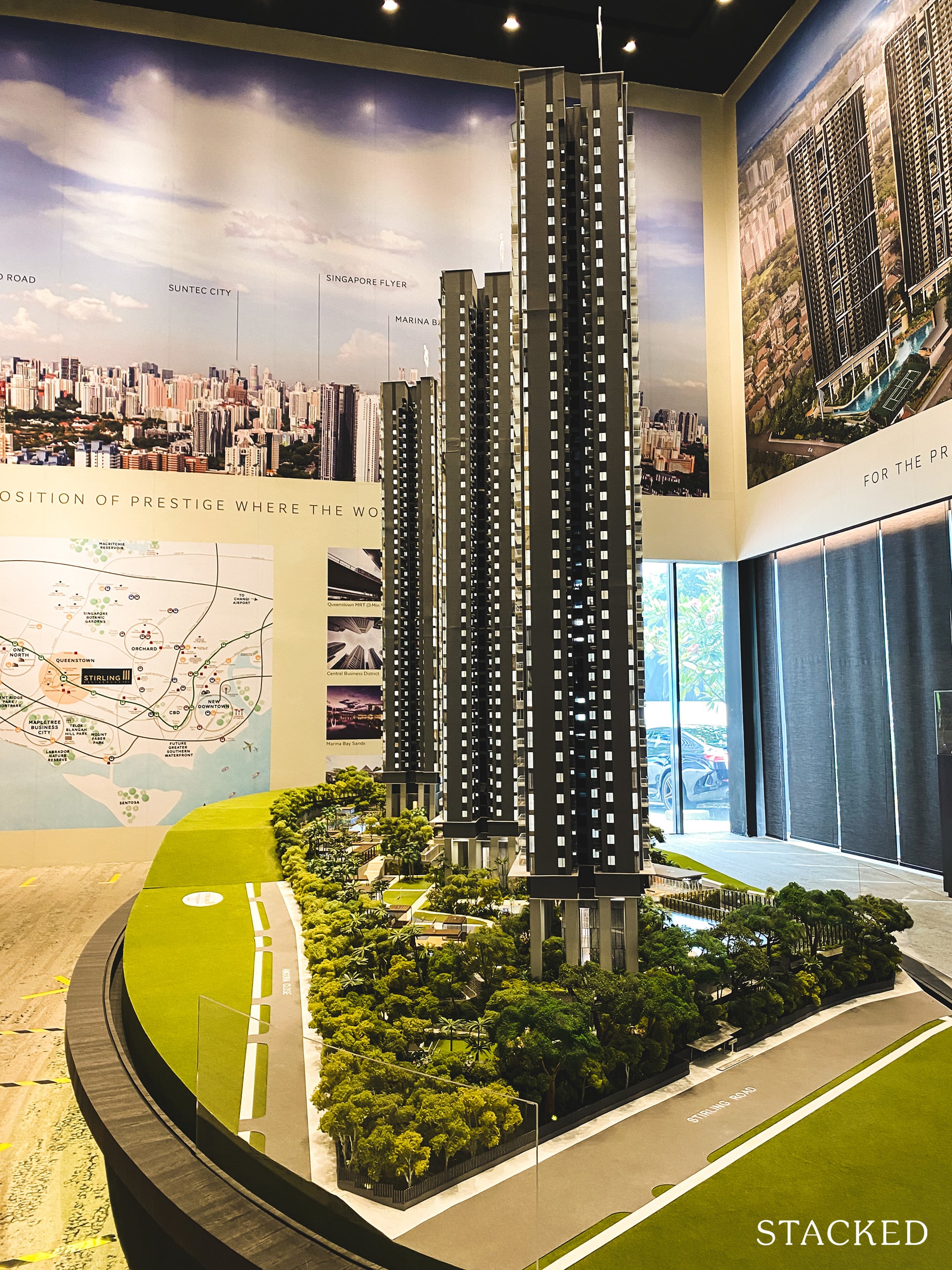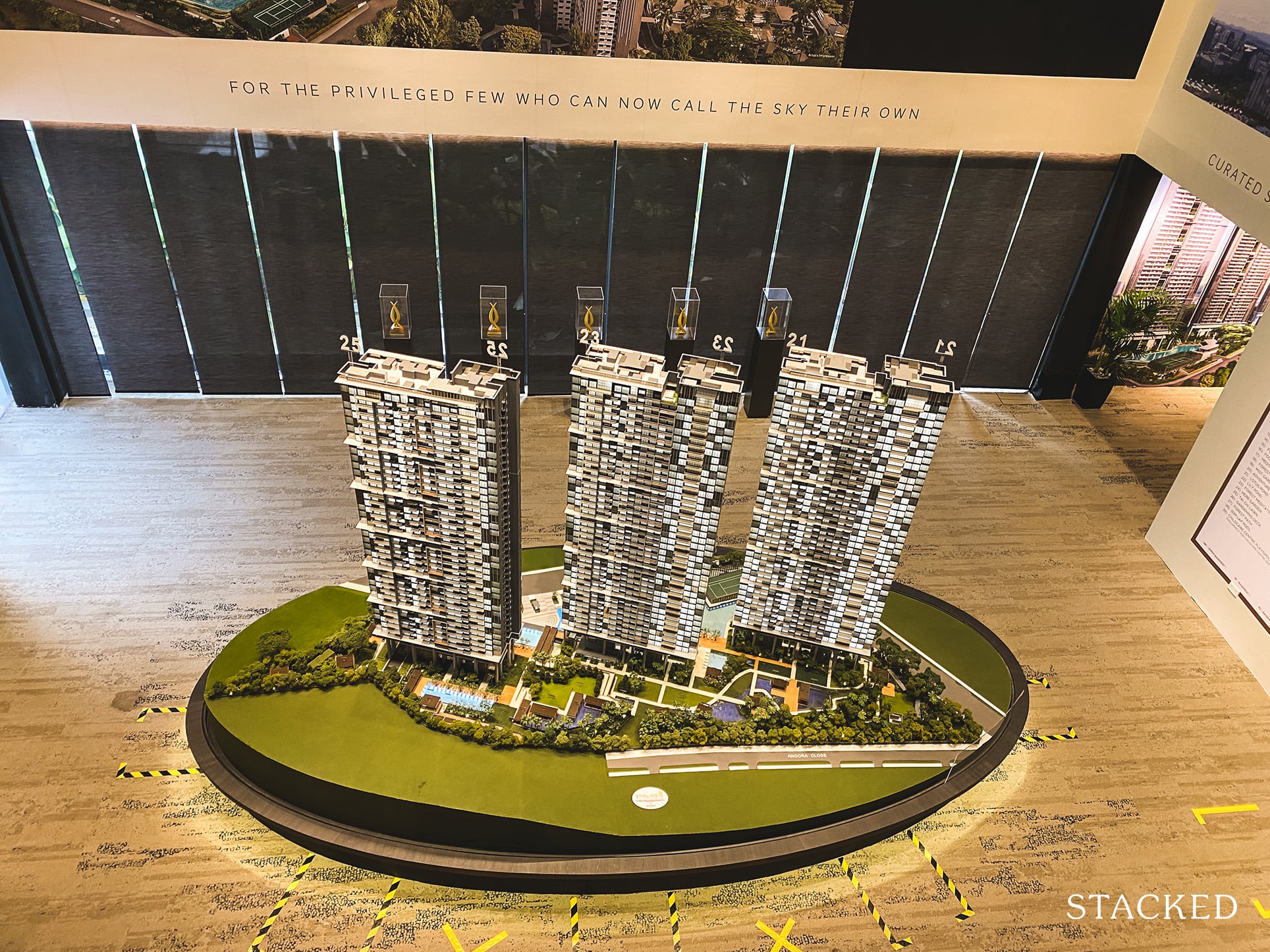 Stirling Residences sits on a land size of 227,215 square feet, which is actually not all that big especially when you compare with other mega new launch developments such as Parc Clematis, Parc Esta, and JadeScape. To put things into perspective for you, they are sized at 633,644, 376,716, and 397,823 square feet respectively. So while Parc Clematis and Parc Esta do have more units, the land sizes are significantly bigger. Put simply, there's no question that it will feel more cramped here.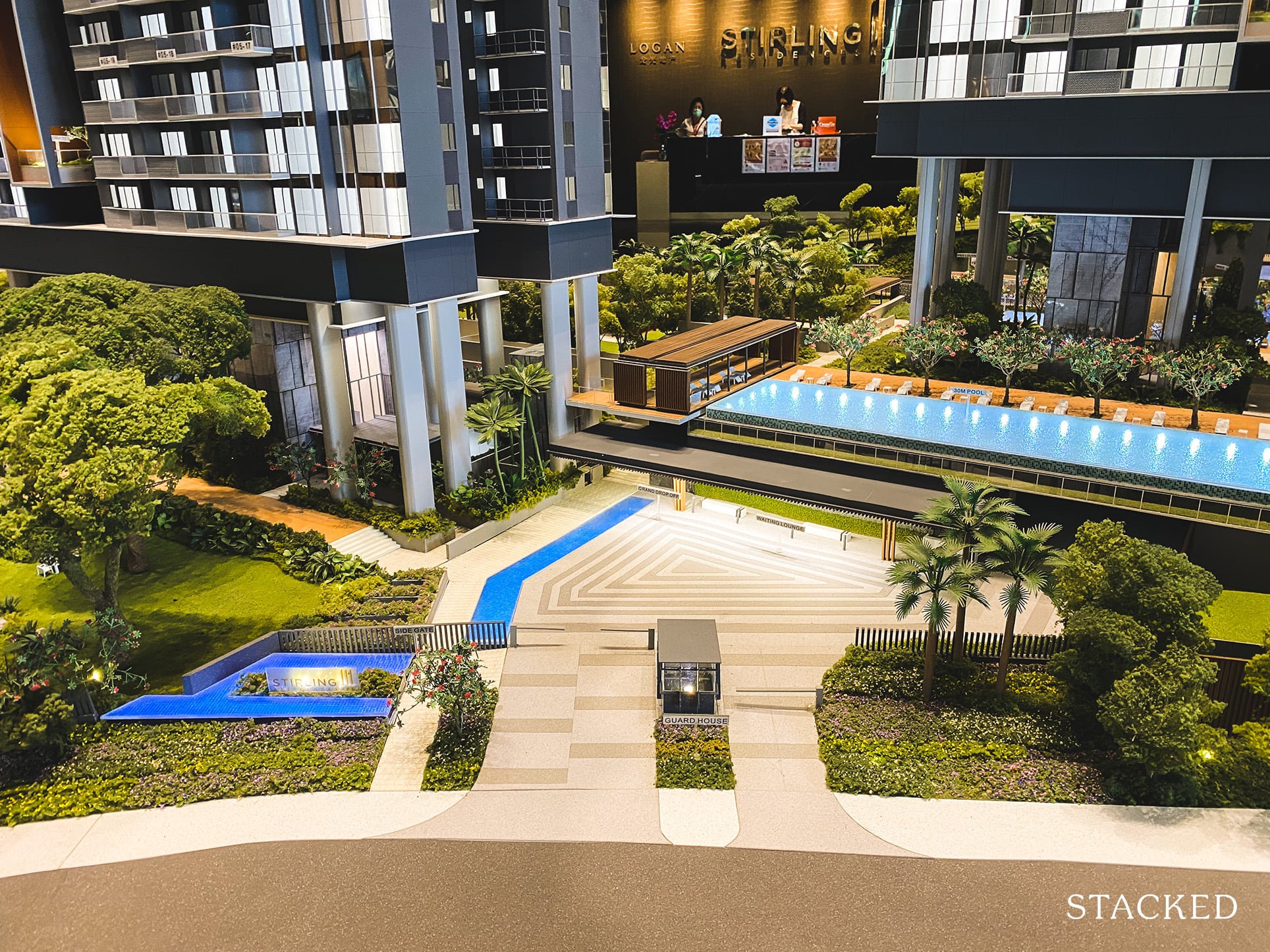 There's only one entrance to the development along Stirling Road, so traffic flow could be a concern during peak hours. That said, other than the Queens condo, the rest of the developments here are all HDB housing. So you could also expect less drivers here given the proximity to Queenstown MRT station. There are also multiple entry points via Queensway and Commonwealth Avenue so I don't expect this to be a big concern.
The arrival area is decent enough, but can't hold a candle to the extravagant one at JadeScape.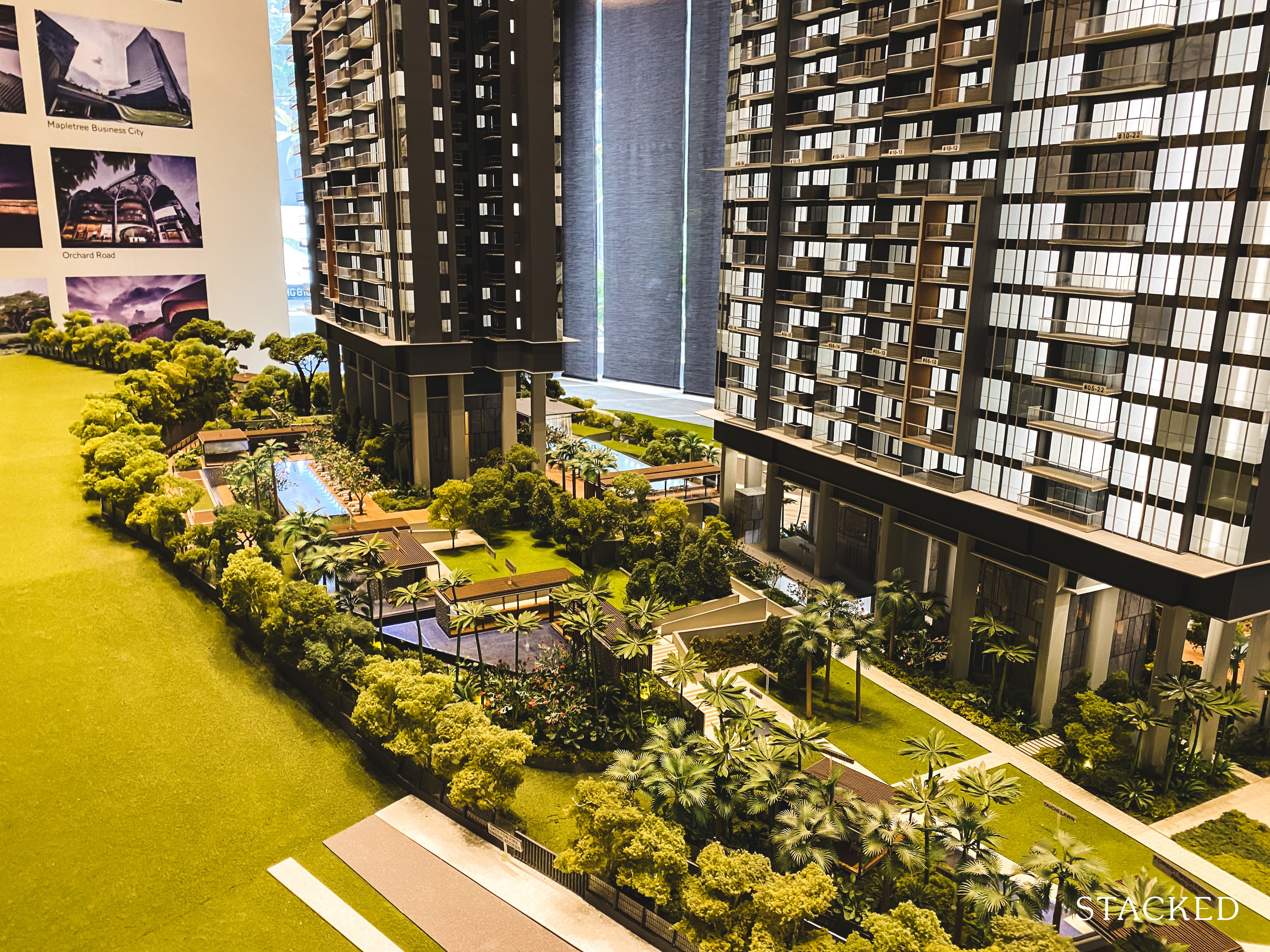 The landscape of Stirling Residences is divided into 3 forest zones, the Fern Forest, the Tropical Forest, and the Rain Forest. Bluntly speaking, other than the different types of trees planted, it really isn't a massive difference between the 3.
You'll be happy to know that there's more than one swimming pool at the Stirling Residences. This one right here is the standard rectangular-shaped 30m lap pool. It runs parallel to Stirling Road while overlooking the arrival area, so not too much there in terms of a view.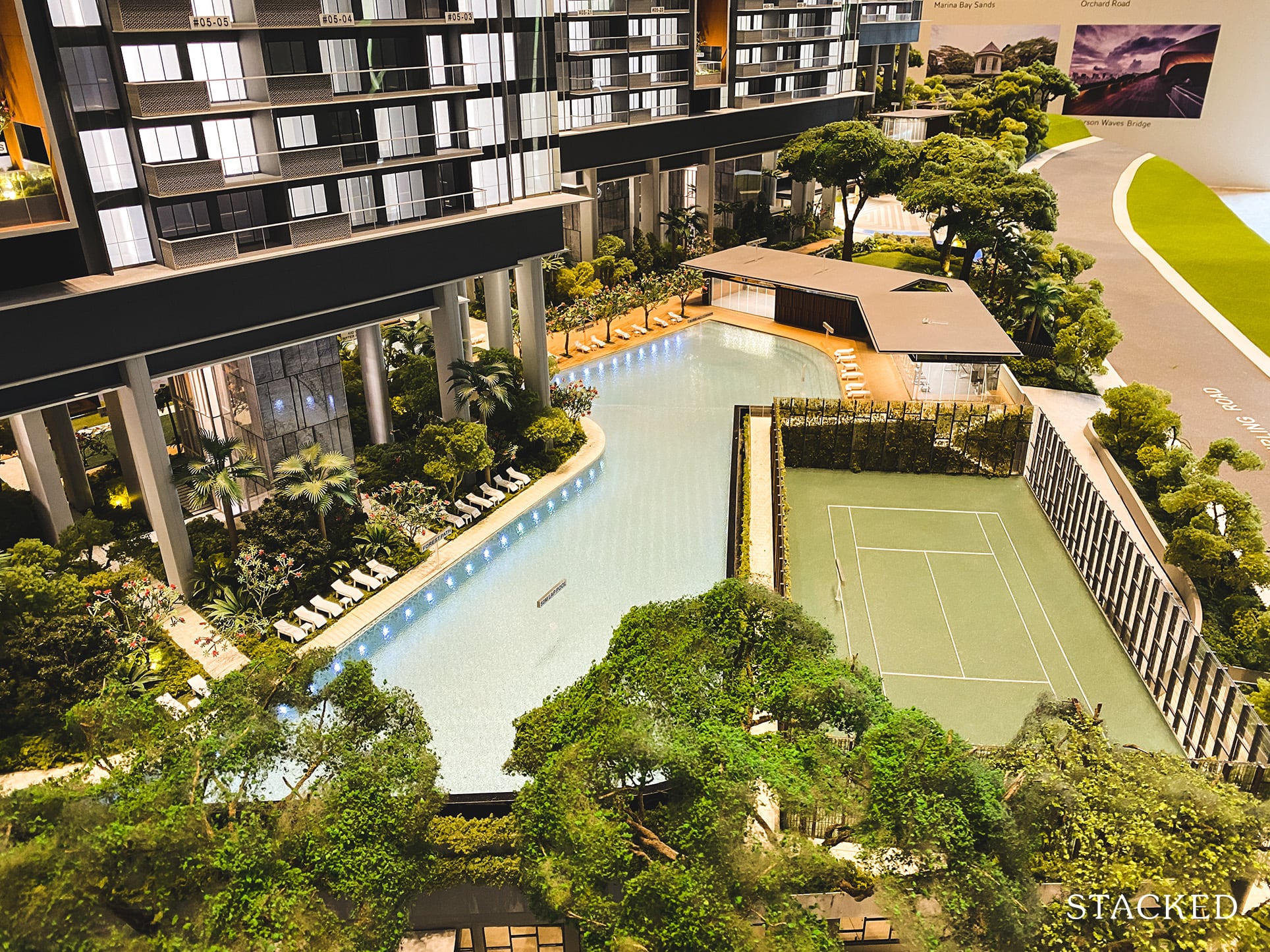 The highlight of the facilities here would probably be the much bigger 50m length pool. Again, don't expect too much in terms of a view as this partly faces the Queens condo as well as the tennis court.
One interesting point to highlight here is the elevated height of each block. While you don't get ground floor units with patios that open up to the garden here, some would say that this is actually a better arrangement. For one, even the "first" floor units enjoy a raised view. Having these pillars also allow for better airflow through the landscaped grounds.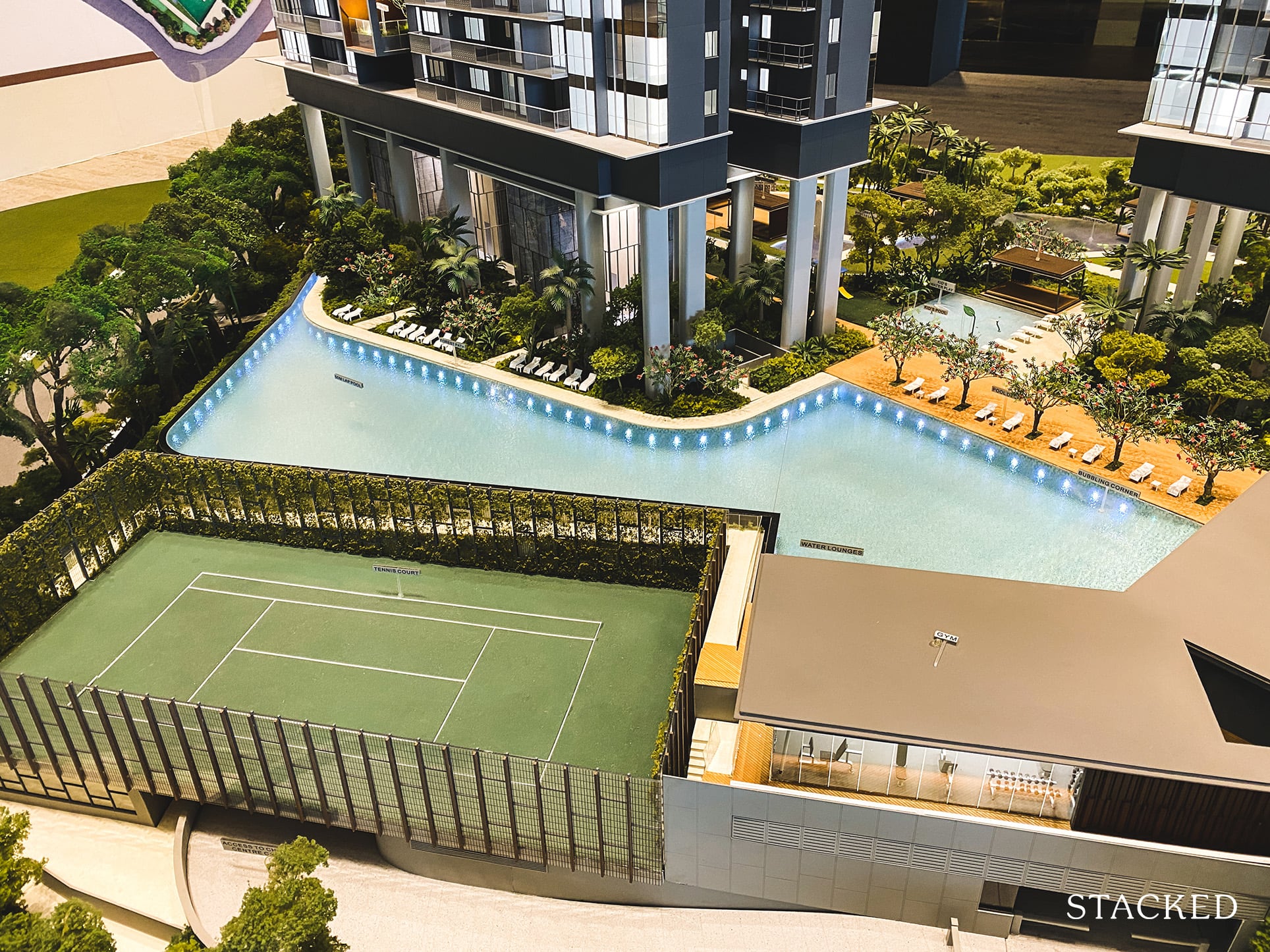 Needless to say, having just one tennis court is just not adequate. More so because its close neighbour, the Queens condo has 2 tennis courts at hand on a similar sized piece of land. Then again, I think most people would rather more swimming spaces than the addition of another tennis court.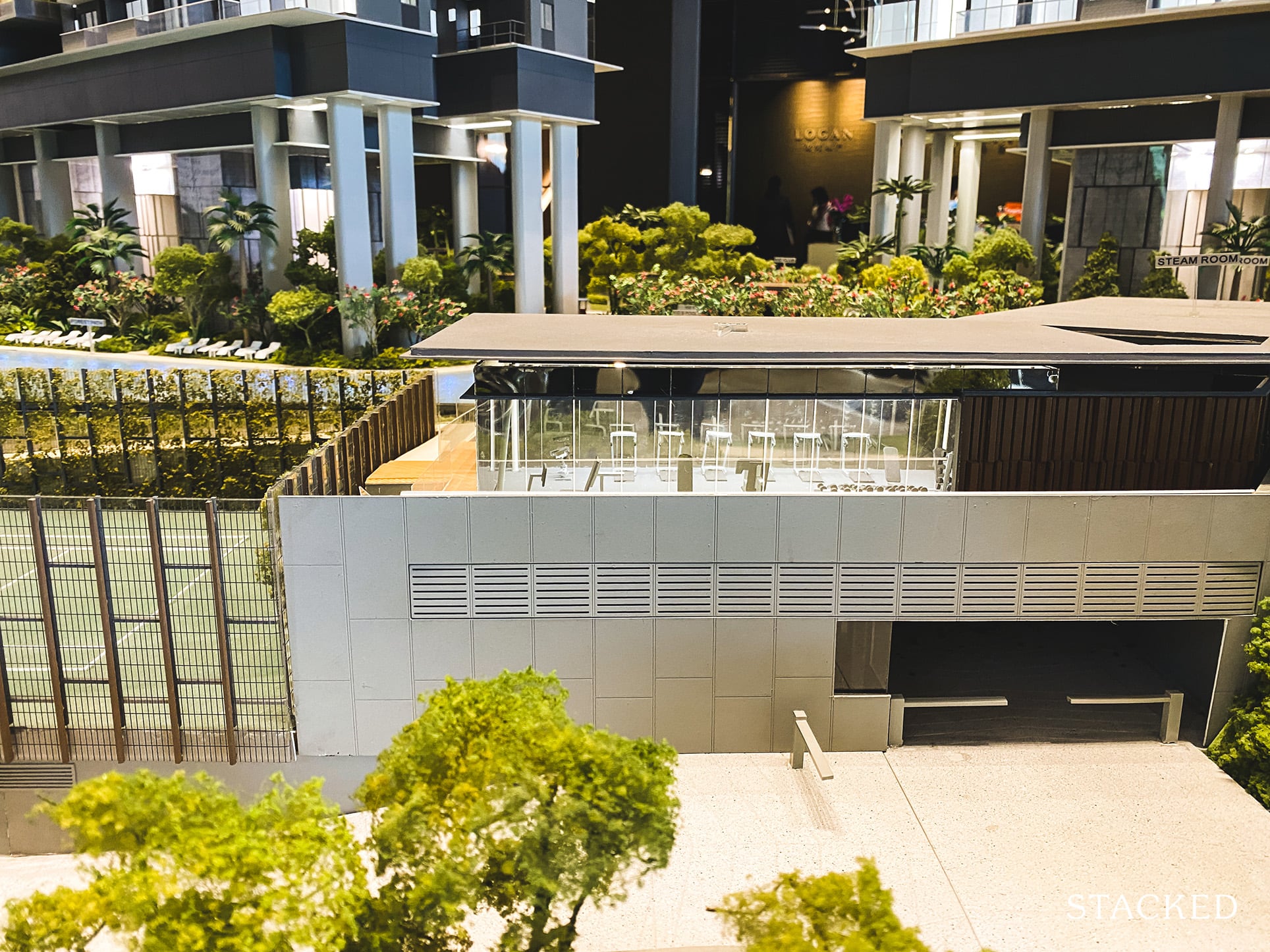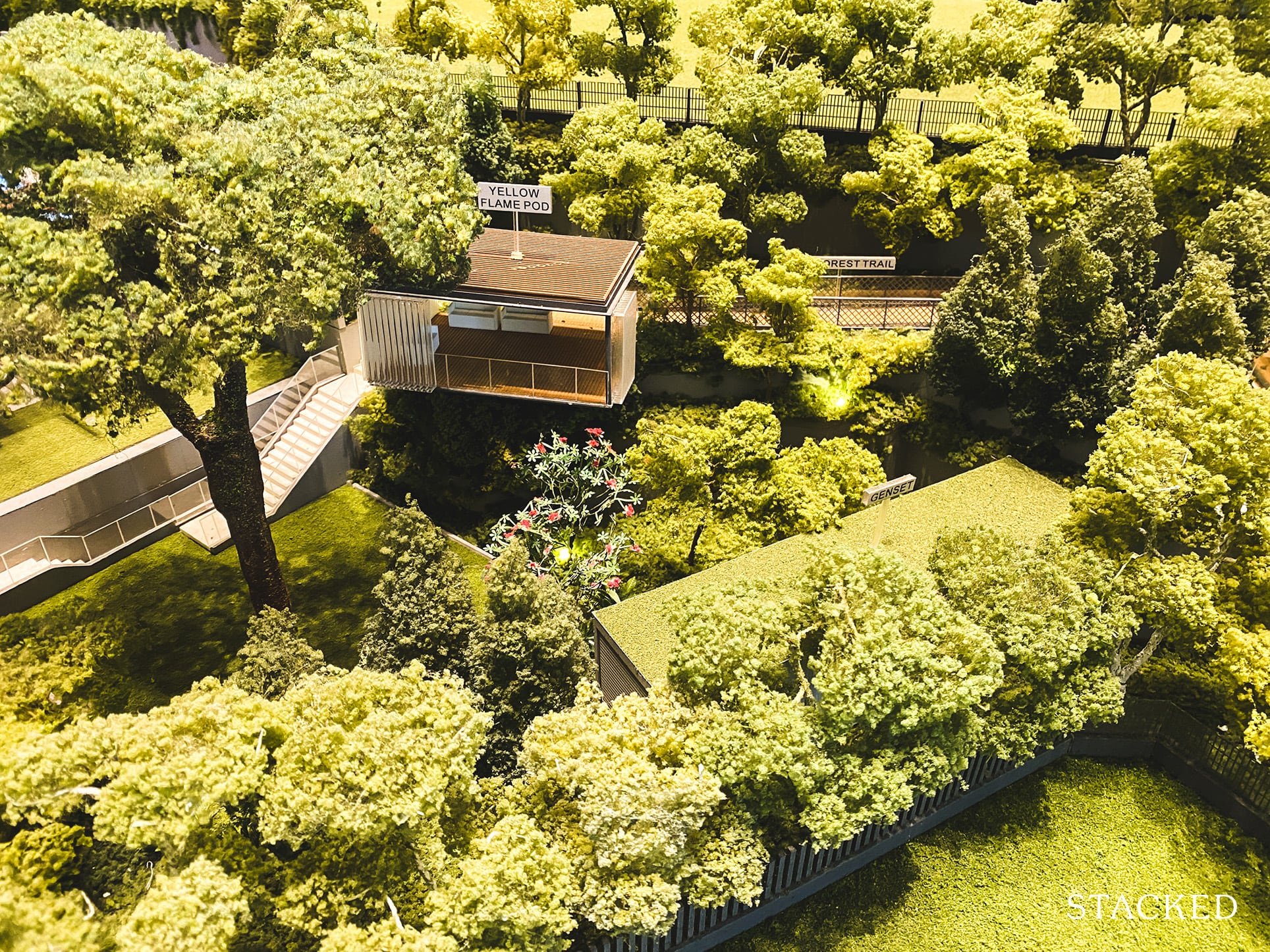 Rather surprisingly, the developers managed to carve out a corner of the development for a forest trail. Having this abundant greenery definitely helps make the entire place feel more luxuriant.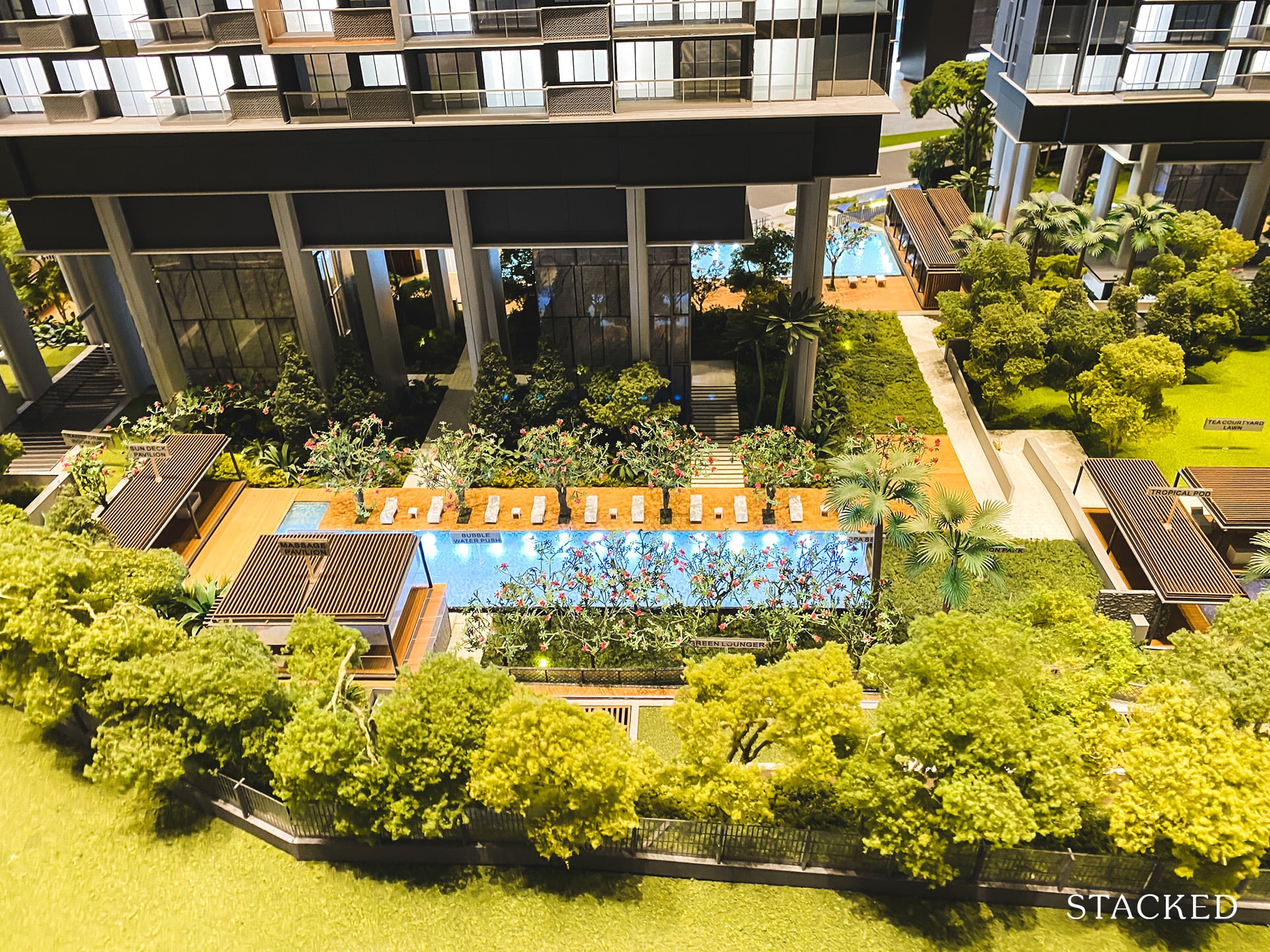 If you were to take a flip through the sales brochure, you'll find a list of 80 facilities. To be honest, this is really just marketing speak – unless you really consider a forest path or a cascading stream as a facility of use to you.
To be fair, this is something every developer does so I can't quite blame them for doing so here.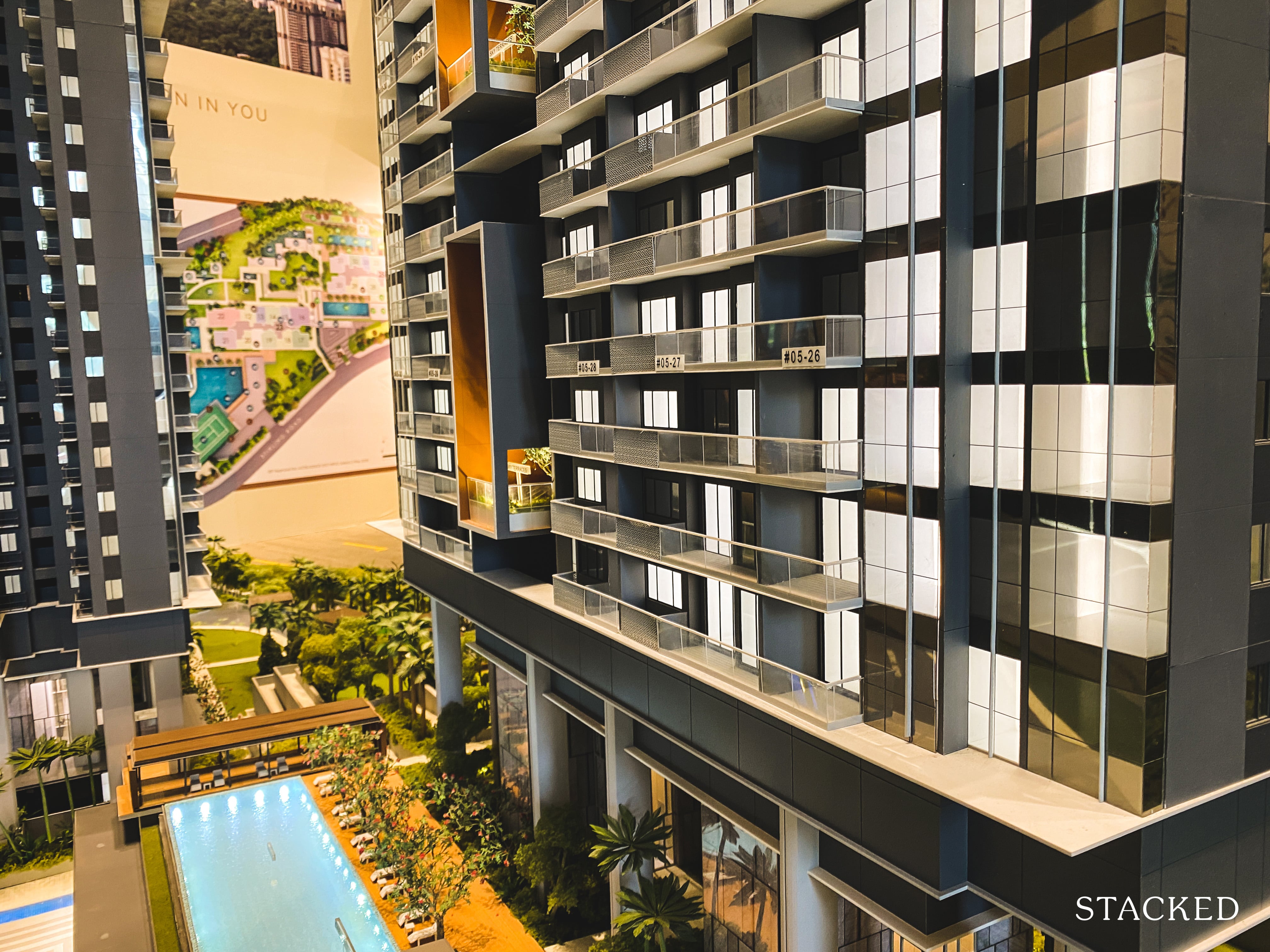 In between each block are sky terraces that are placed along the 3rd, 11th, 17th, 23rd, 29th and 35th storey. From the outside, these look like rectangular cubby holes that also plays a role in keeping the design slightly more interesting.
There is a roof terrace available to take in the sweeping views over Queenstown, but this is only available on block 21 and 23.
The developers managed to carve out a corner of the development for a forest trail. Having this abundant greenery definitely helps make the entire place feel more luxuriant.

Reuben Dhanaraj
Stirling Residences 2 Bedroom Review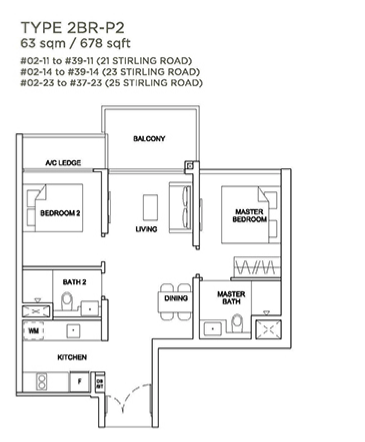 At a size of 678 square feet, this 2 bedroom unit at Stirling Residences is just about average of what you'd expect from a new launch project today. As a point of reference, a 2 bedroom at the Queens condo would be at 915 square feet – quite a fair bit bigger.
There are two important attributes that I like about this 2 bedroom unit – the enclosed kitchen and the dumbbell layout.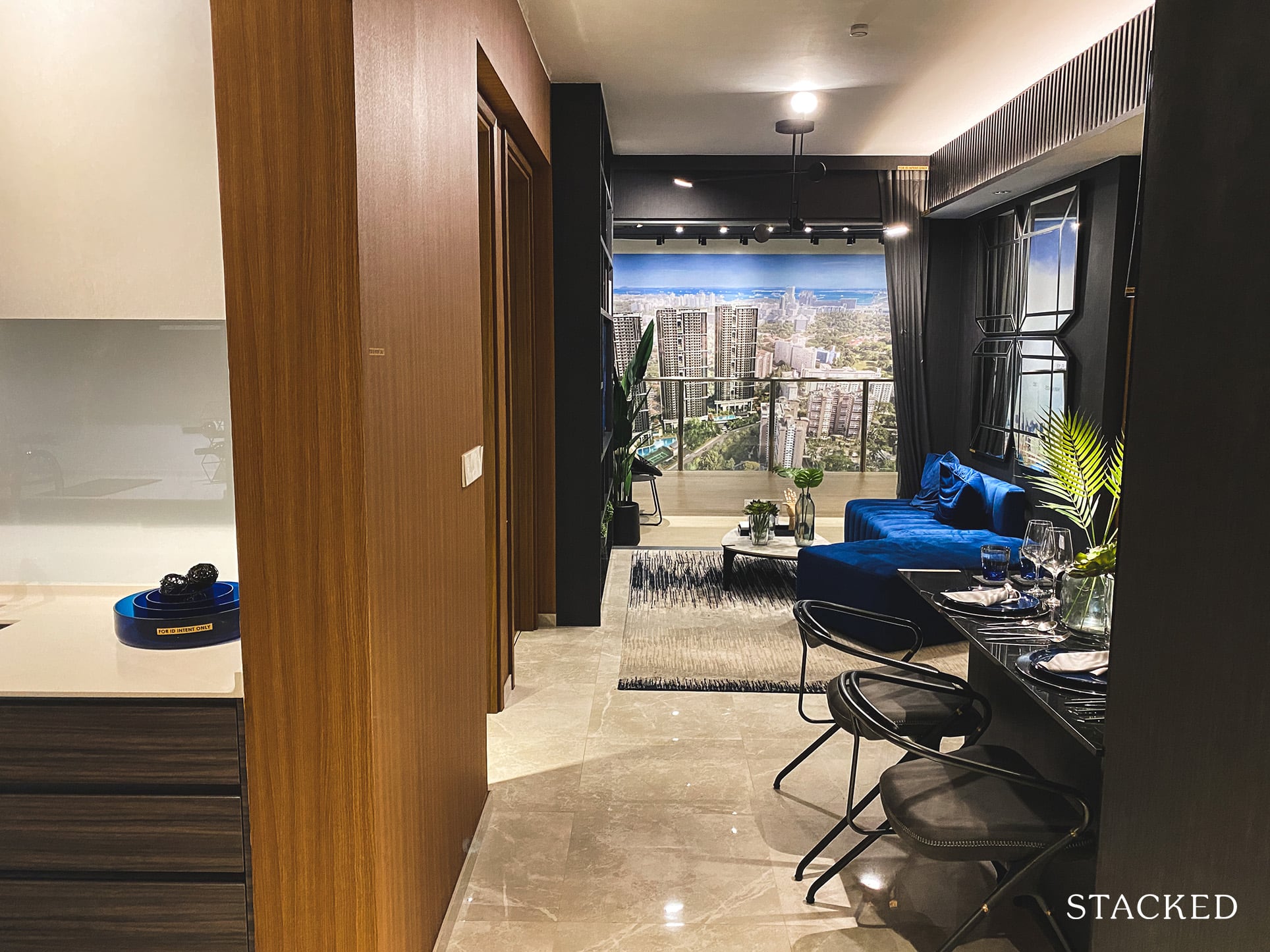 If you've been shopping around for a new launch condo for a while, you'll immediately notice something different about this 2 bedroom unit – the absence of the open kitchen. Most other 2 bedroom layouts will have an open kitchen that forms part of the entryway. So while this design does feature some wasted space at the entrance, the upside here is really the enclosed kitchen.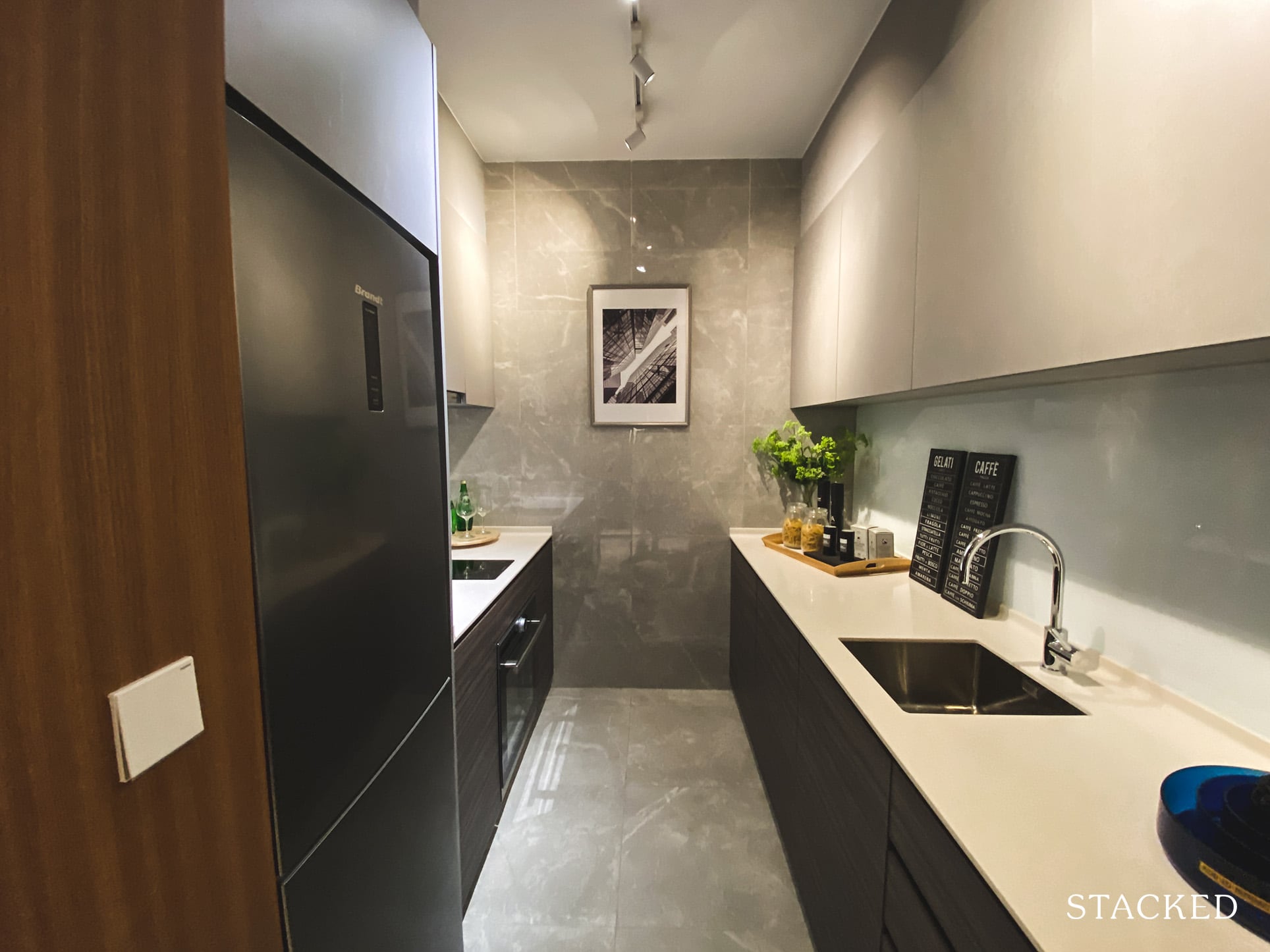 If you're the type that uses the kitchen as a means to keep your beer and heat up takeaway, this probably would not be the most ideal for you. But if you are an avid cook, you'll definitely appreciate having an enclosed kitchen.
And while it isn't the biggest kitchen you'll find, there is certainly adequate countertop space as well as storage. Sadly, however, that is the end of the positives to the kitchen.
The biggest oversight? There isn't any windows here for ventilation. Sure, you could always use the cooker hood, but in my experience when it comes to heavy-duty cooking there is a limitation to the usefulness of it.
Last but not least, while the flooring here looks like marble, it is really just homogeneous tiles. And as you can see, kitchen appliances are all from Brandt.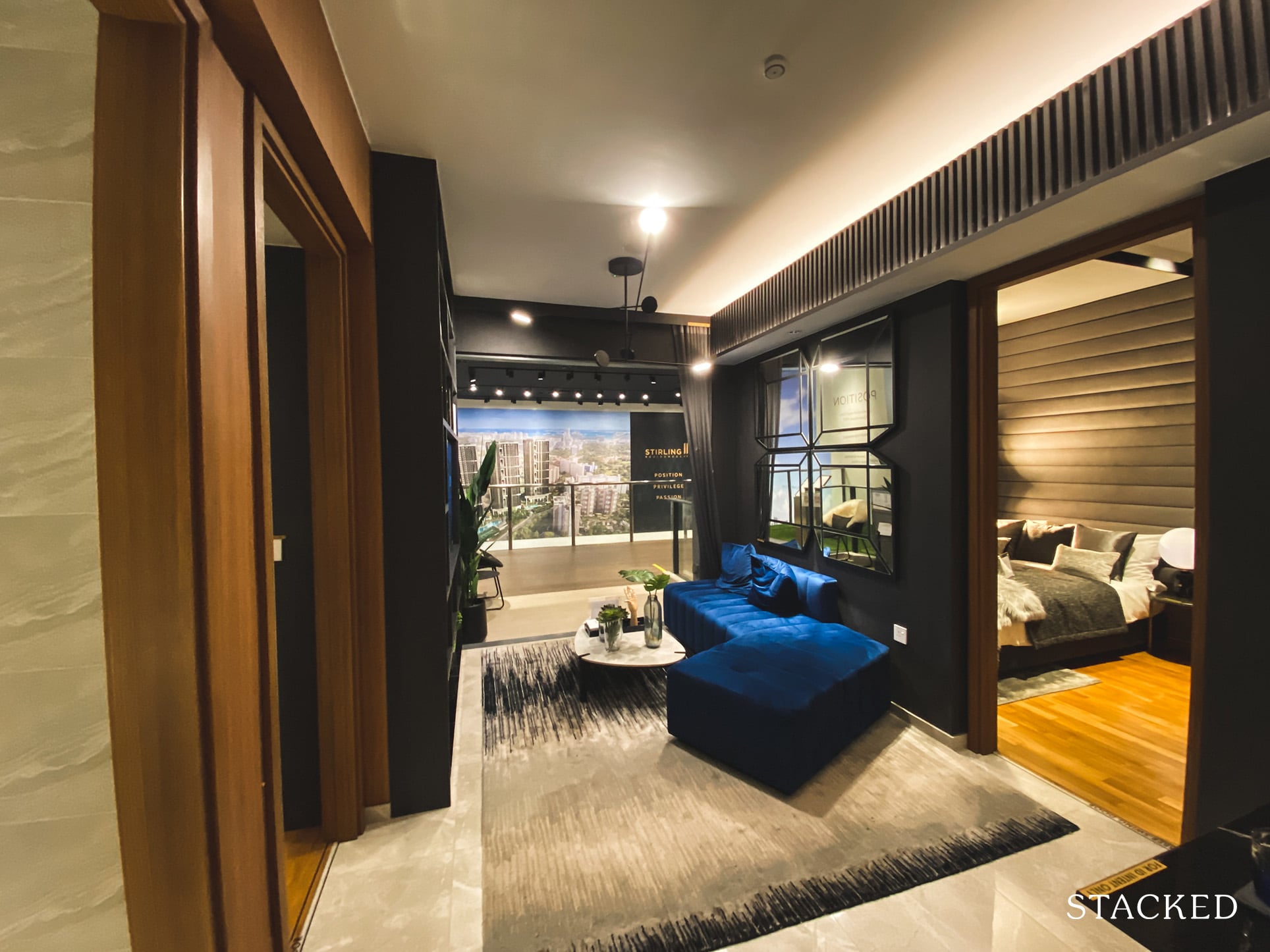 You know how sometimes when you step into a showflat and it feels larger than what it is on paper? Well, sad to say, but this wasn't one of those times. It does feel like its advertised 678 square feet though – if that is any consolation at all. Perhaps, this could also be attributed to its very average ceiling height of 2.8 metres.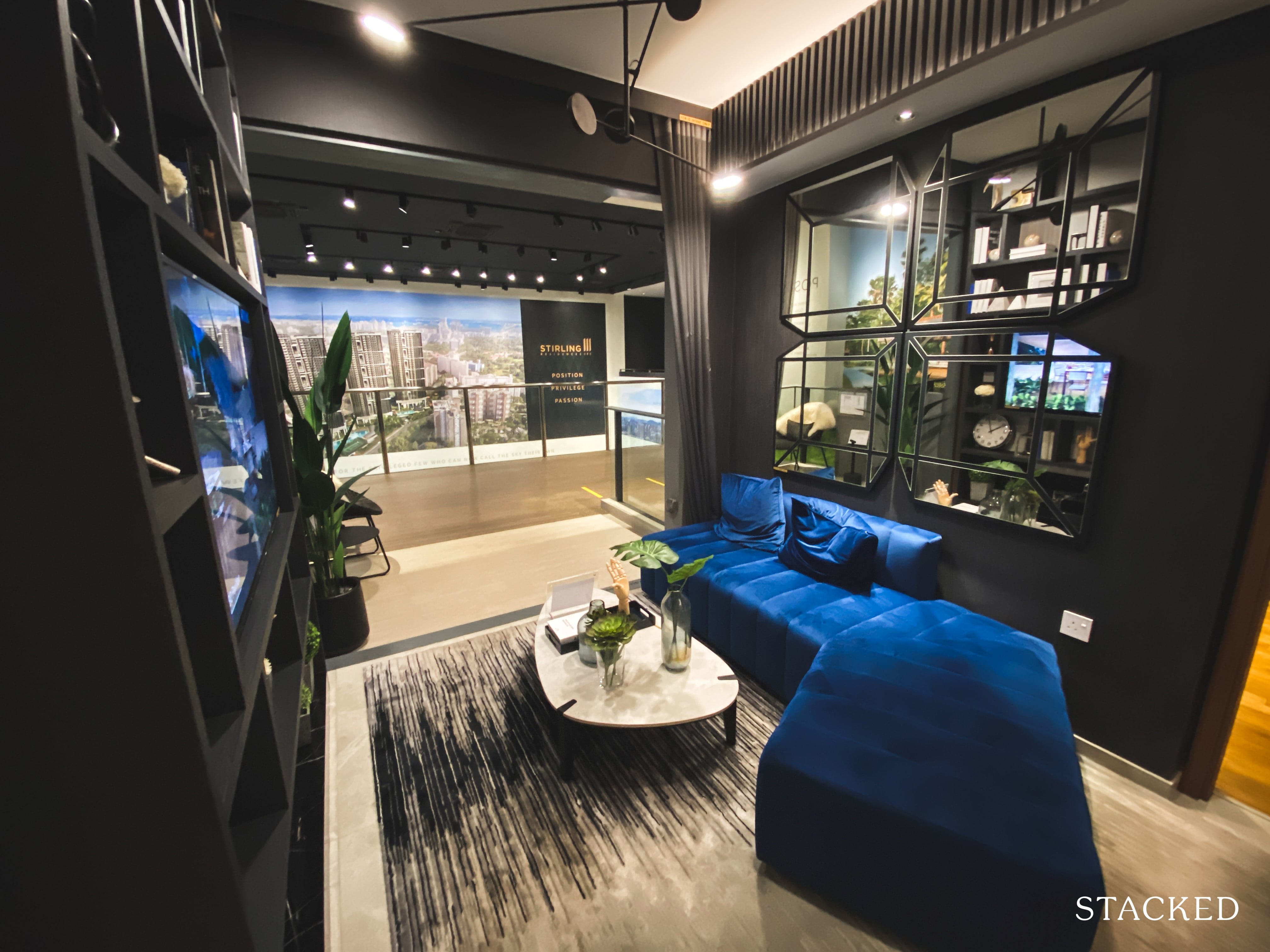 The living area is decently sized, not particularly wide or long but it is typical of what you'll get in most other competing 2 bedroom units.
Given the already small living area, it's a good thing the balcony here is kept to a minimum. Of course, if you're looking at a high enough floor you might actually want a bigger outdoor space – but this should be adequate for most people.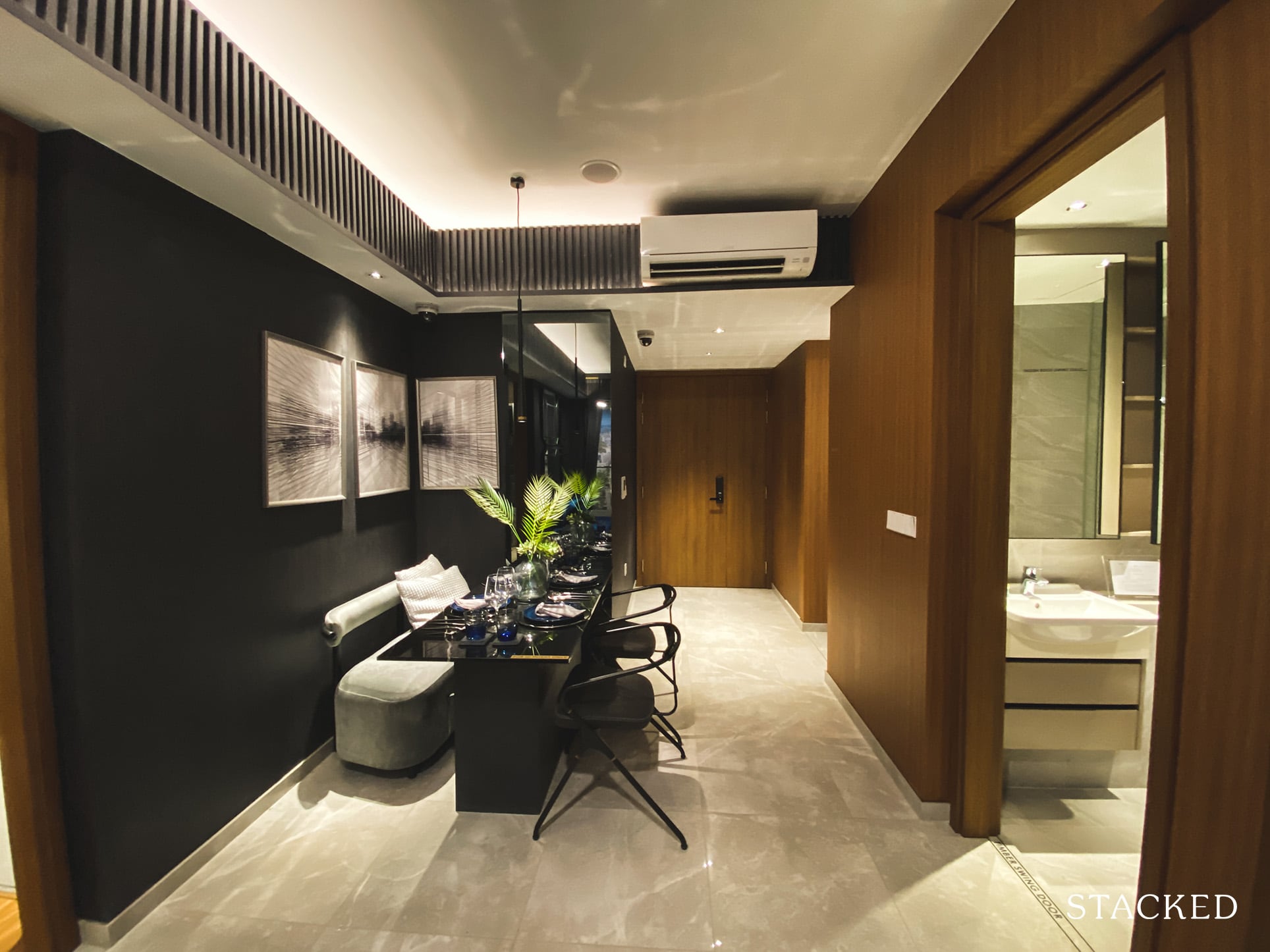 Air conditioning units in all unit types will be supplied by Mitsubishi.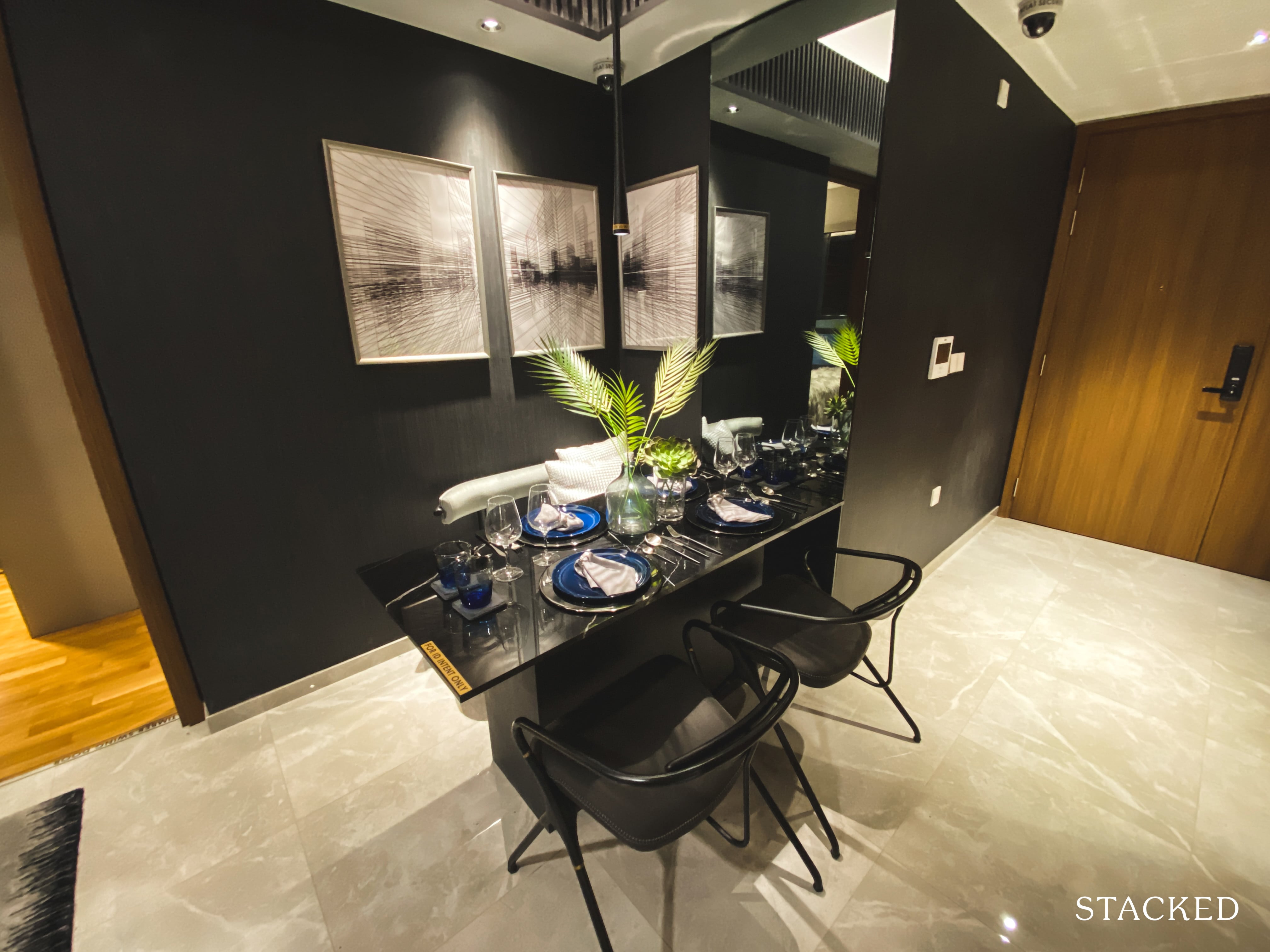 On paper, the dining area is actually not bad at all. But because it forms part of the walkway, you are actually limited by the size of your dining table. One easy alternative is to opt for bench seating on one side, this will flush the entire dining space towards the wall.
Again, while the flooring here might look like marble too it is actually homogeneous tiles.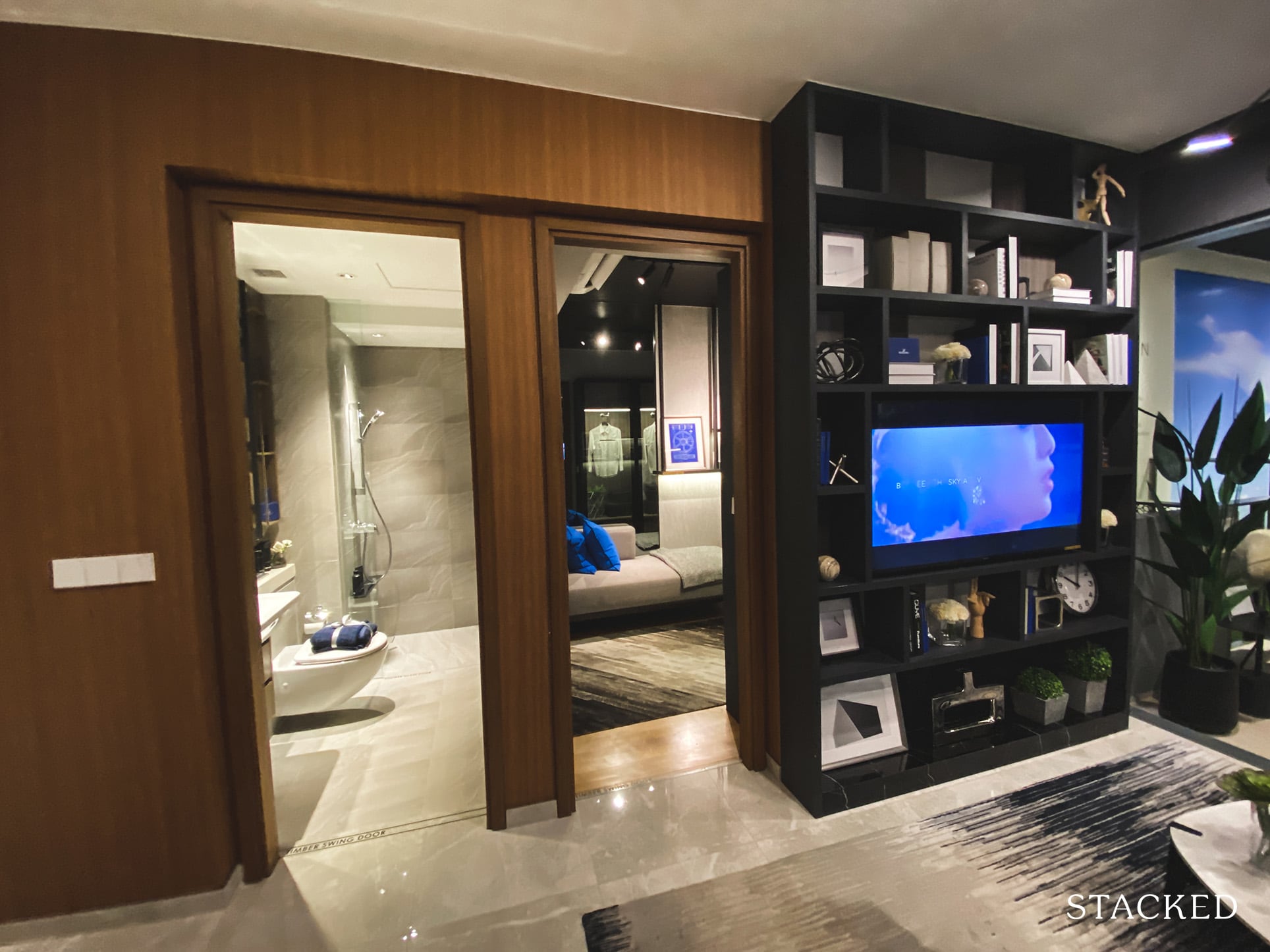 Let's move onto the common bedroom next. As mentioned, this is actually a dumbbell unit, so both bedrooms here get a certain degree of privacy.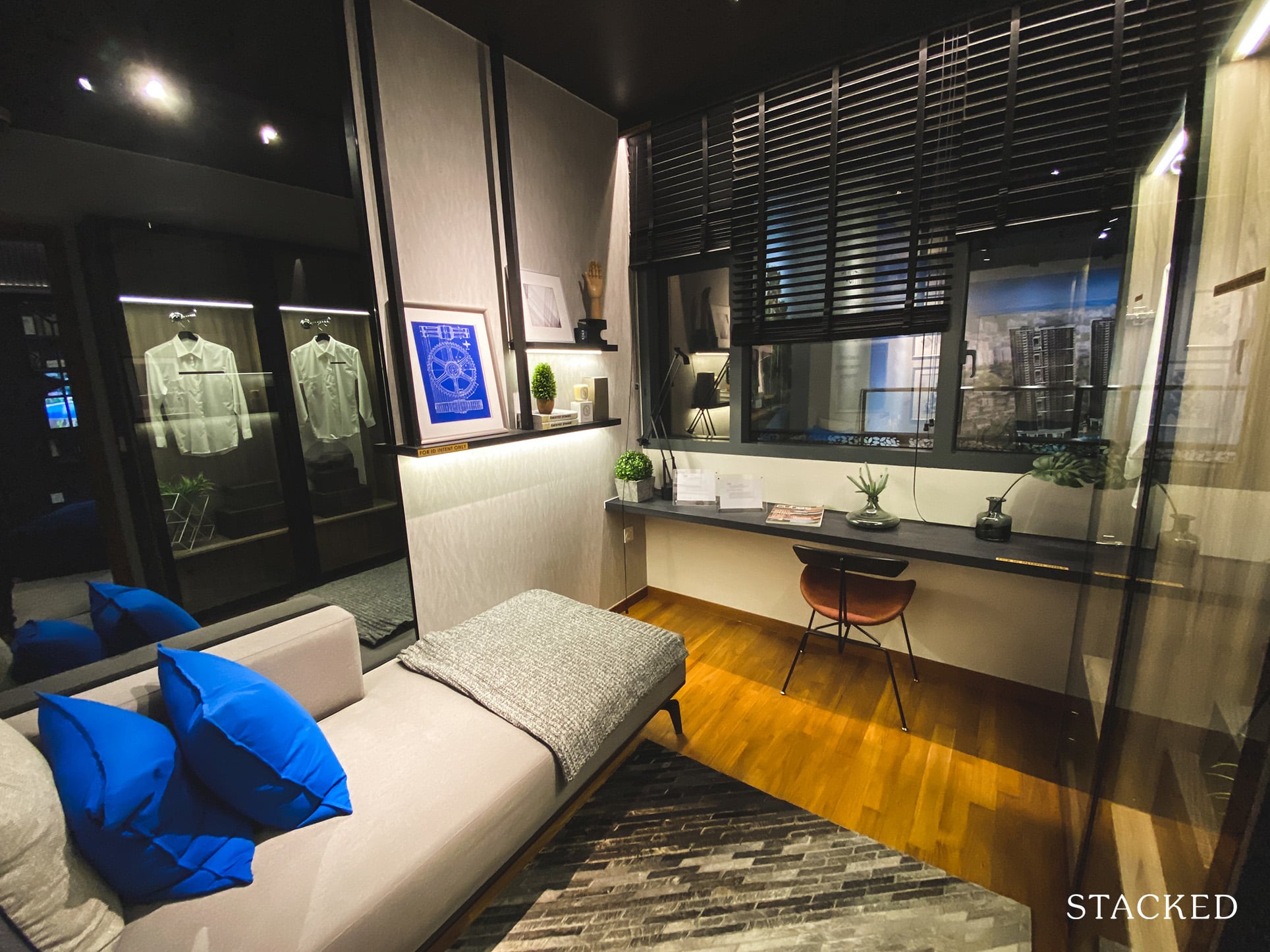 The common bedroom is a tad small, and while you definitely could still fit a queen-sized bed, it will be a squeeze. The AC ledge is situated on the outside – so no floor to ceiling windows here.
With all that said, here's the strangest part about this common bedroom – it does not come with any wardrobe. While you could look on the positive side and be happy that you are now able to curate the space to whatever you want it to be, I think most people would rather have the wardrobe included.
*Update: Wardrobes are an option – you can choose if you want it included or not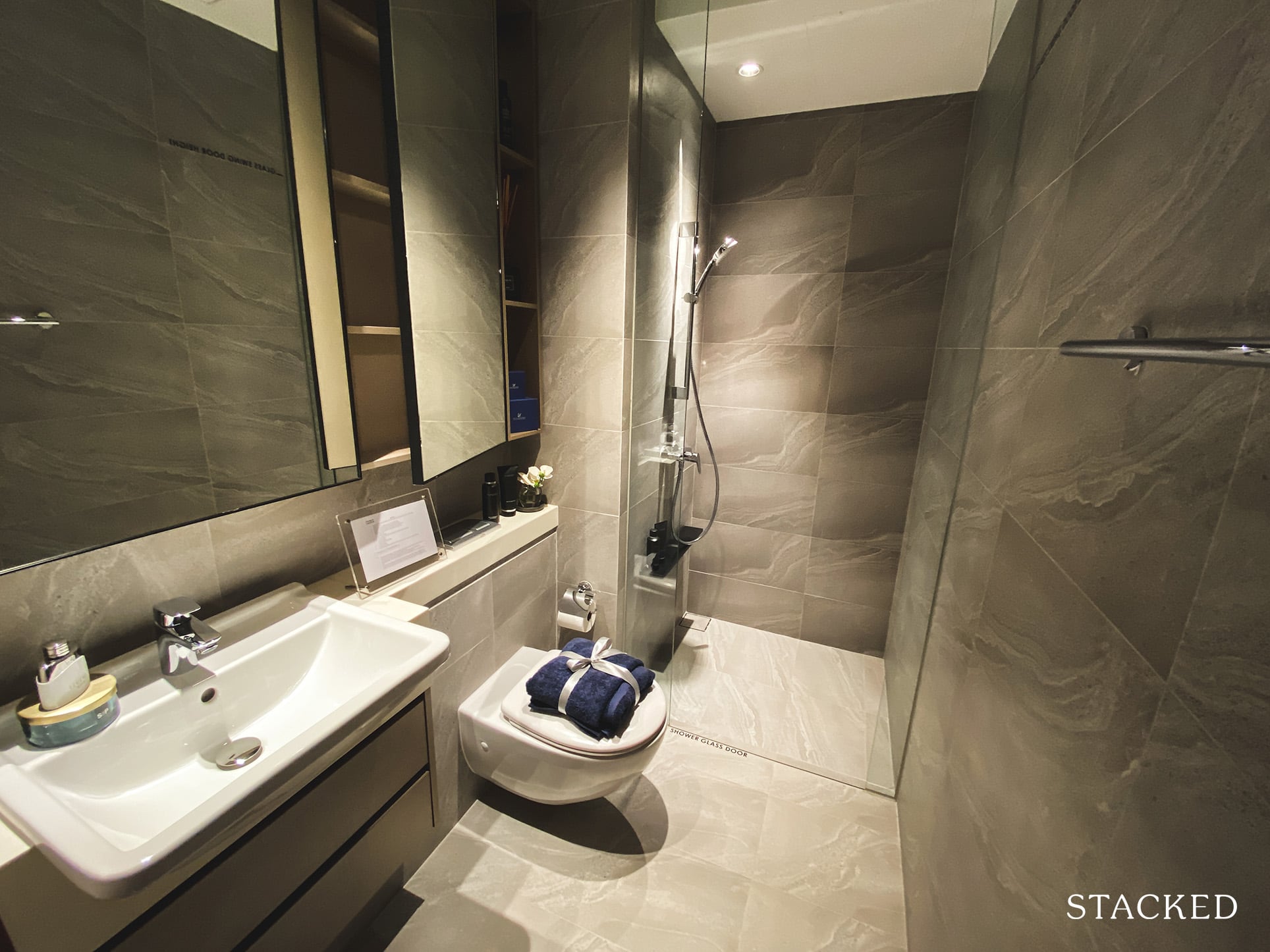 The common bathroom isn't of the jack and jill variety – so it is only accessible through one entrance. Size-wise it's just okay, it is of a reasonable standard that one might expect. It comes with homogeneous tiles as well, with bathroom fittings from Hansgrohe and Duravit.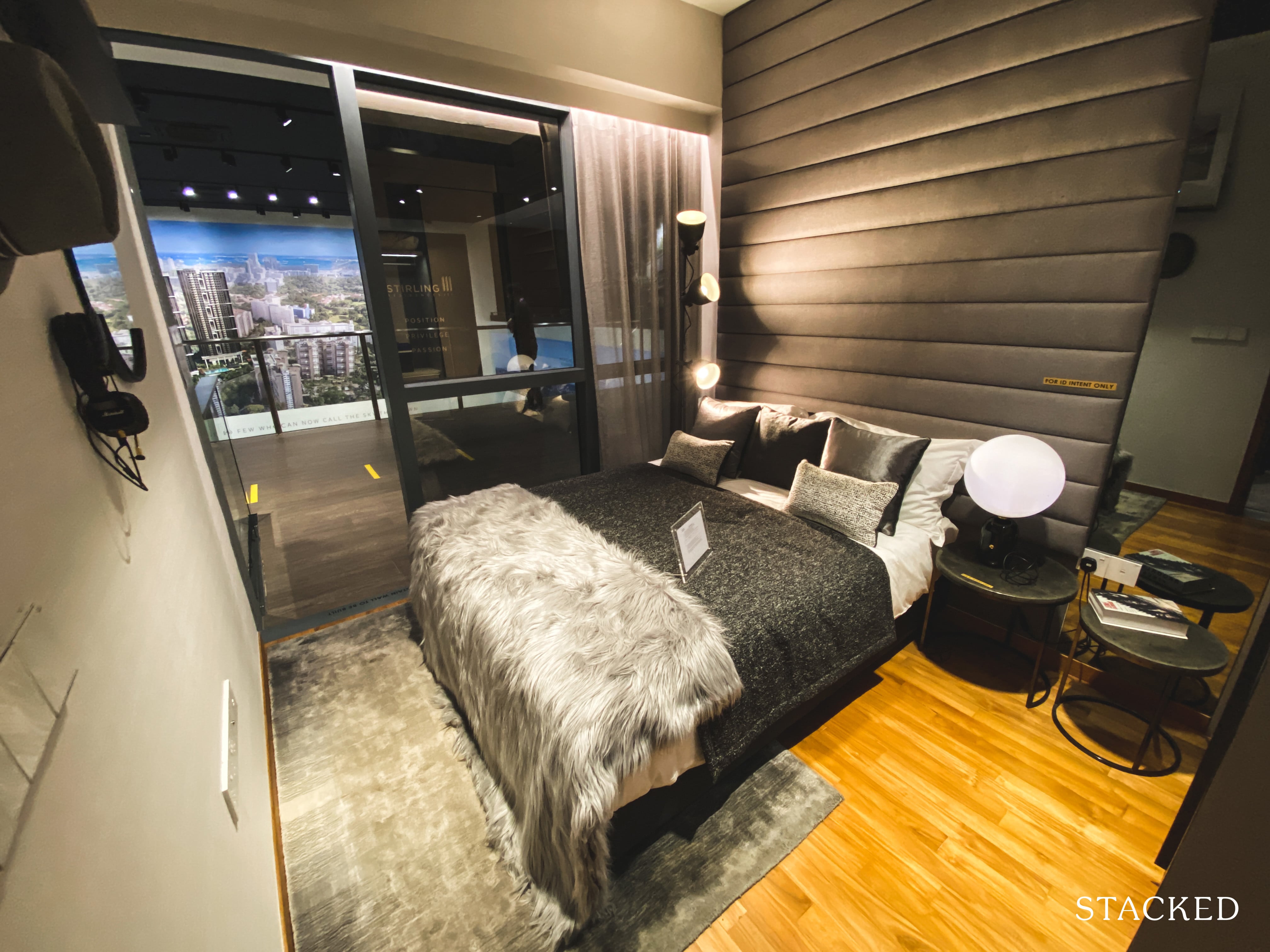 The master bedroom is on the small side too, it is honestly not that much bigger from the common bedroom. That said, there is no AC ledge here so you do get an almost full-length window.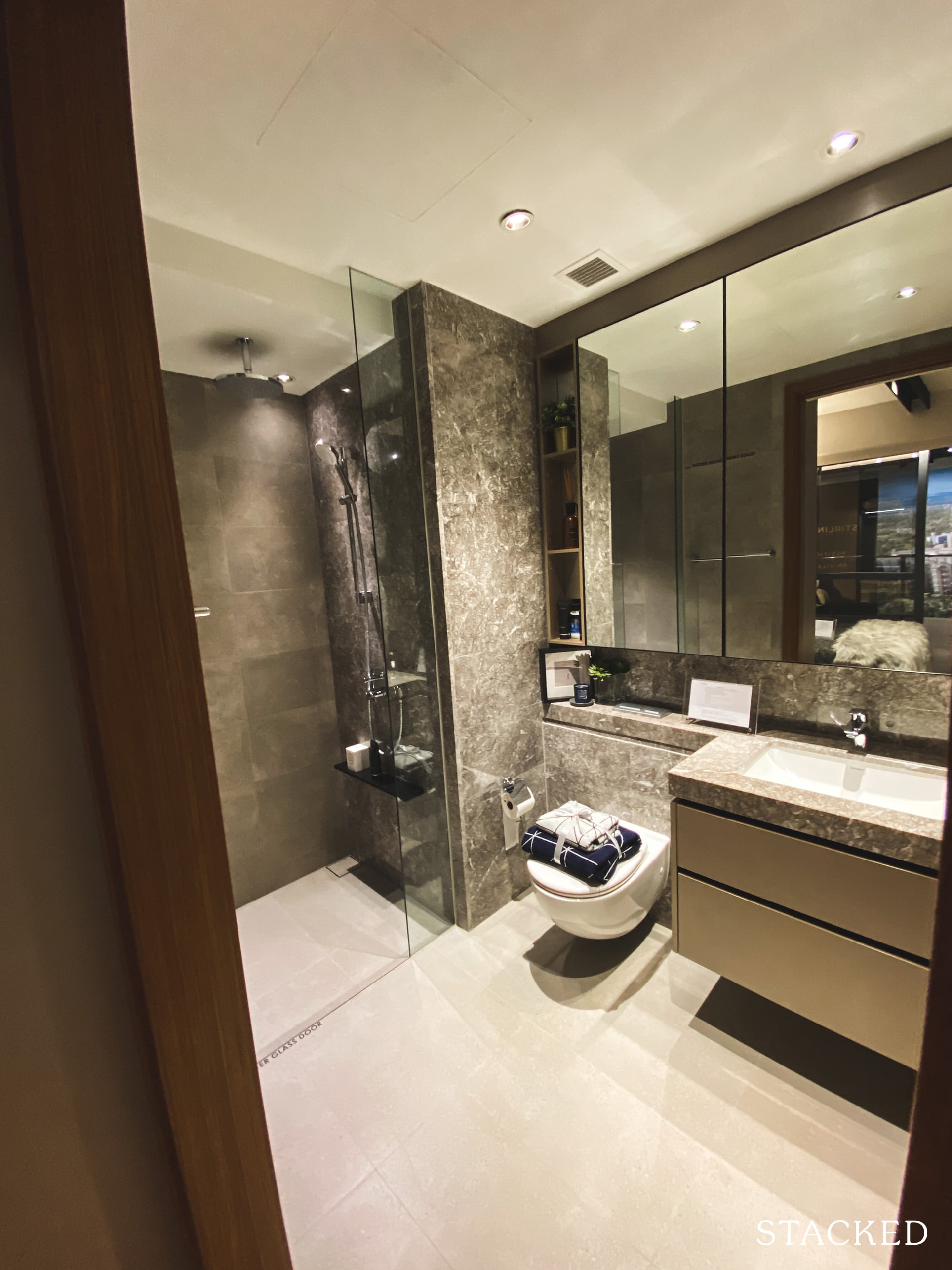 The master bathroom does fare better with regards to its size. Bathroom fittings are from Hansgrohe and Duravit too, but there is the special addition of the rain shower here (a minor plus point).
Read this next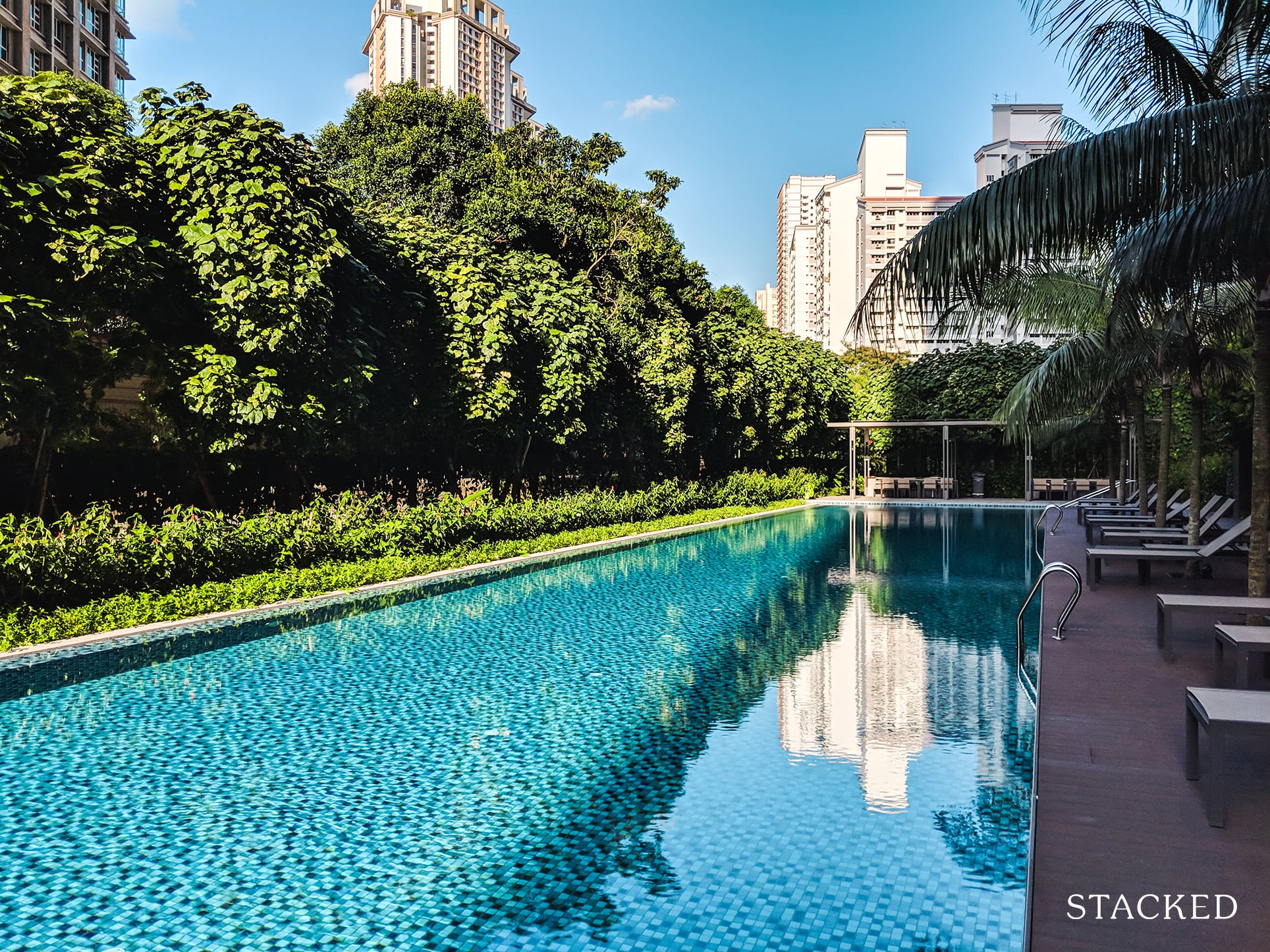 Stirling Residences 3 Bedroom Review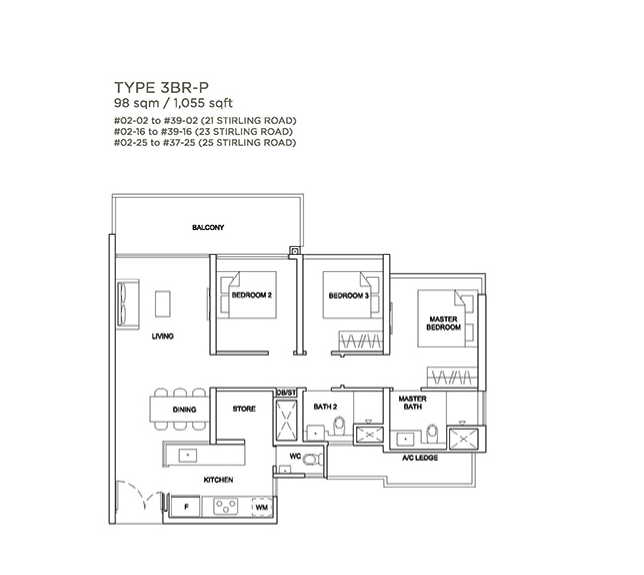 Next up is the 3 bedroom unit at Stirling Residences. Coming in at 1,055 square feet, again, is typical of what you might expect in a mass-market new launch project today. Overall, it is most efficiently laid out, with wastage spaces coming in the form of the entryway and the hallway.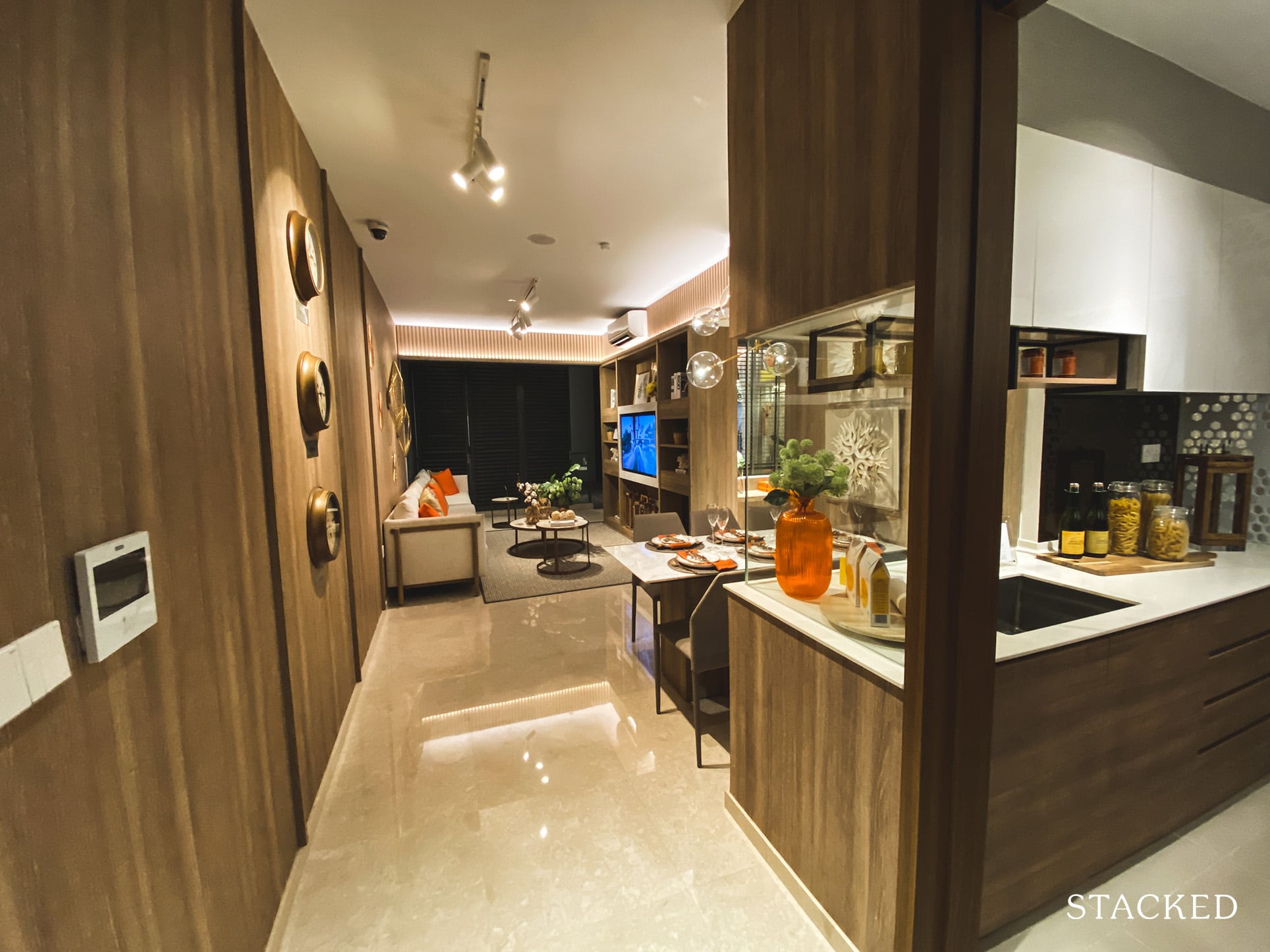 Stepping into the 3-bedroom, I was surprised at how wide the entranceway was. On first impressions, it does seem relatively spacious – I think the glass cutaway of the kitchen wall certainly helped.
Another plus point? Flooring in the 3 bedders and above are made of marble.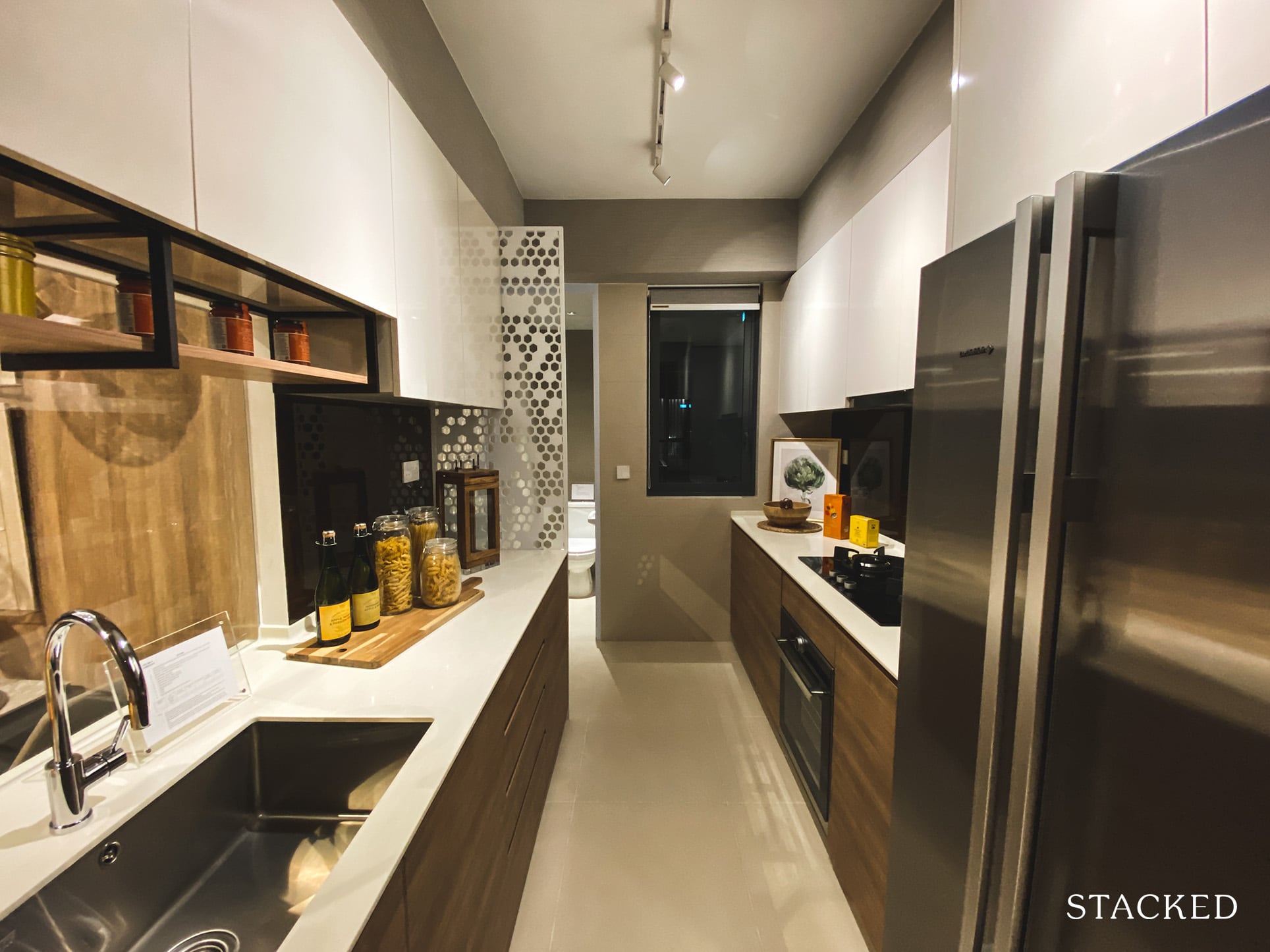 The kitchen is a good size – lengthy countertops on both sides, a nice sized sink, and a good amount of storage.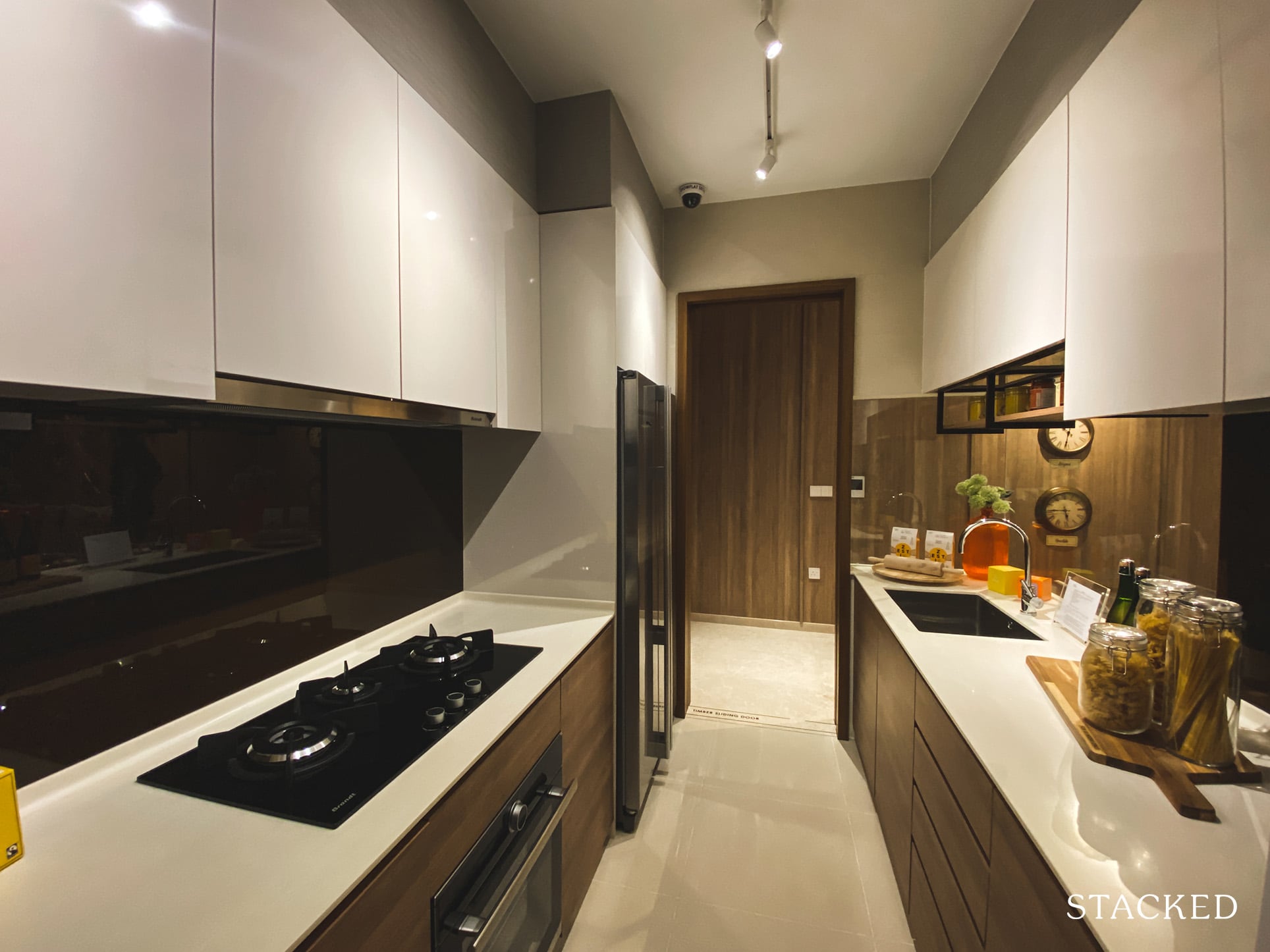 It's definitely adequate enough for 2 or even 3 people to cook here quite comfortably.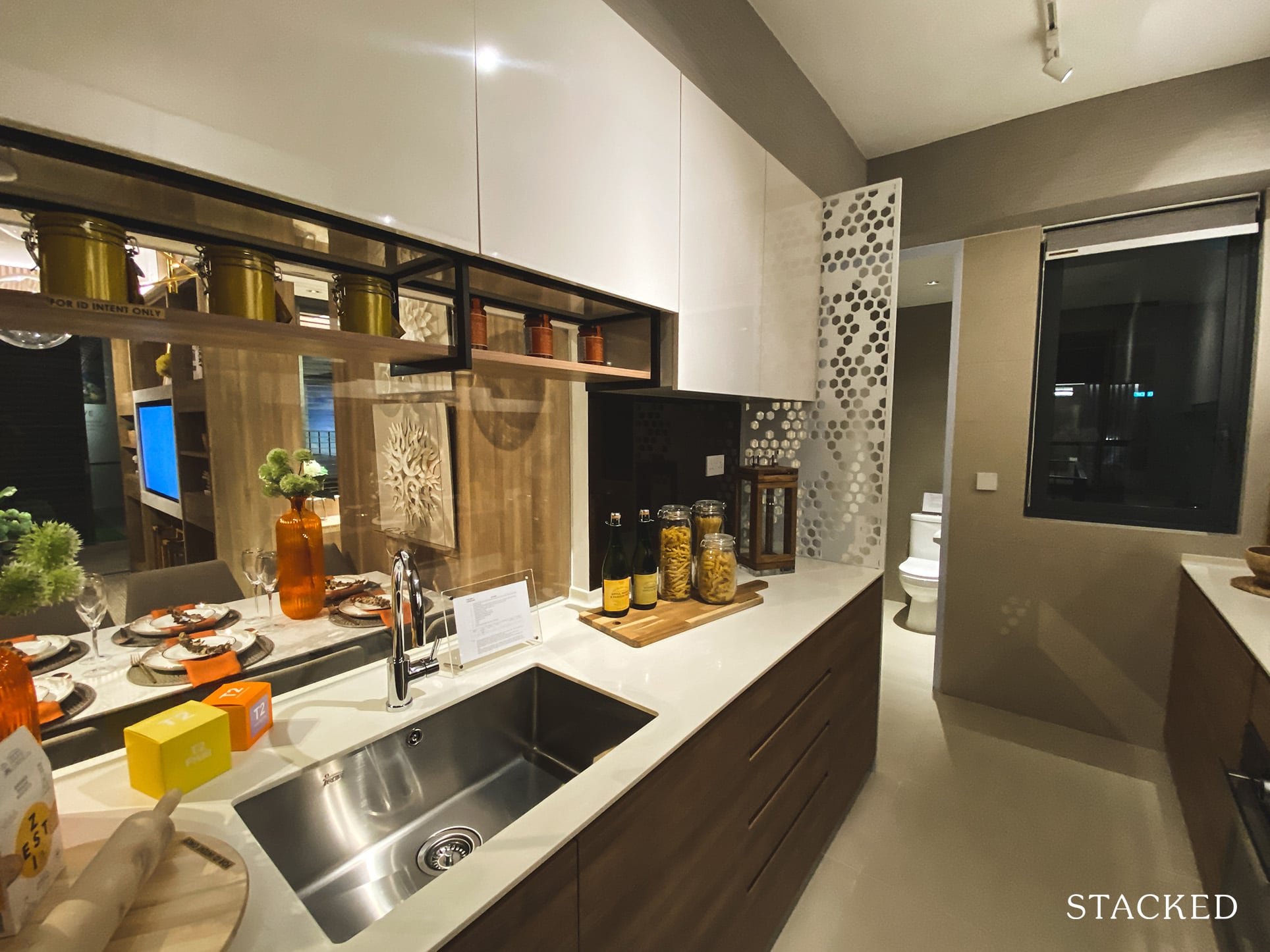 Towards the end of the kitchen, is a small bathroom, along with the store (which I'll circle back to in a bit). There's no yard here so you will have to allocate some space in the kitchen for washing/drying clothes.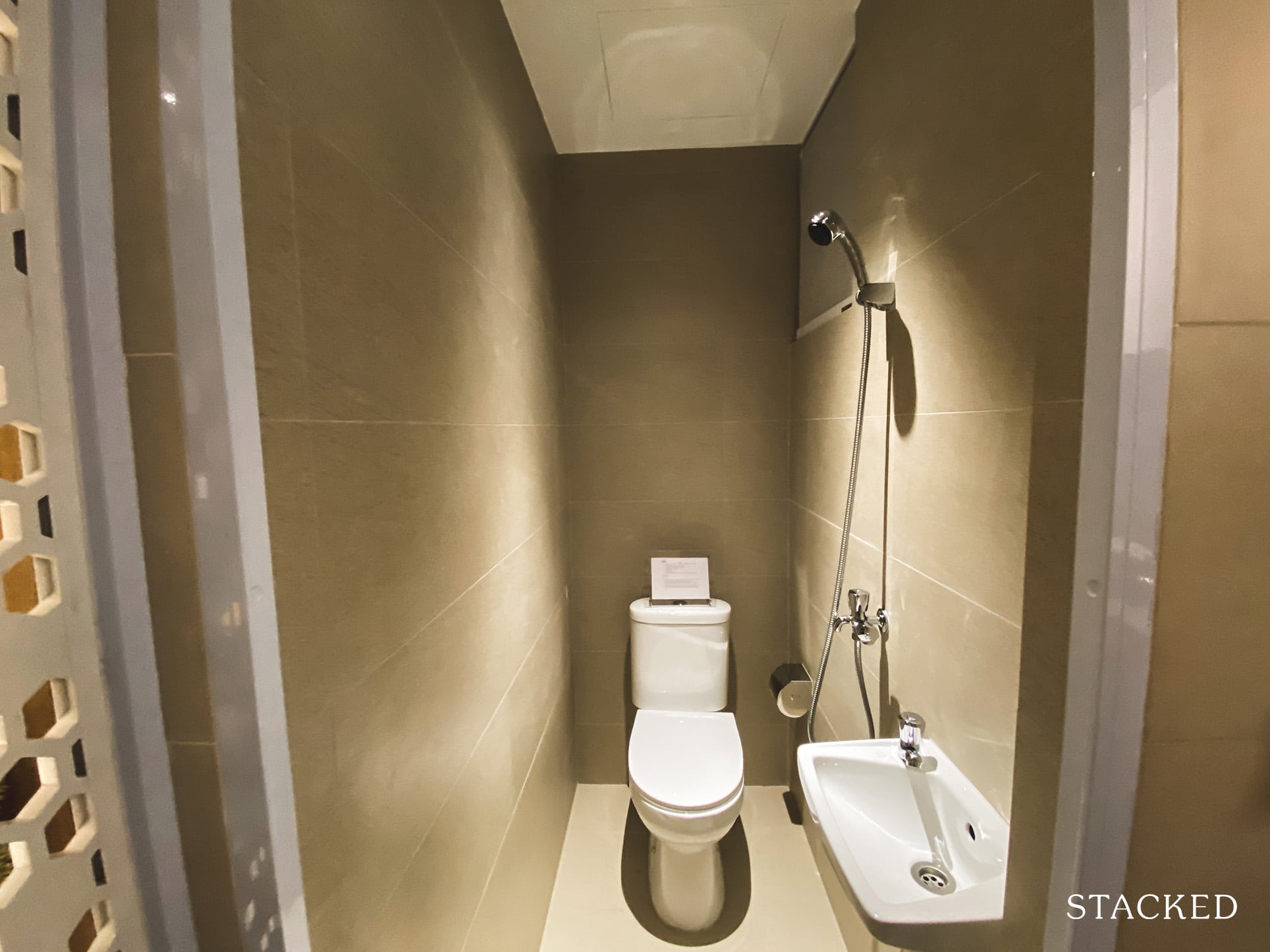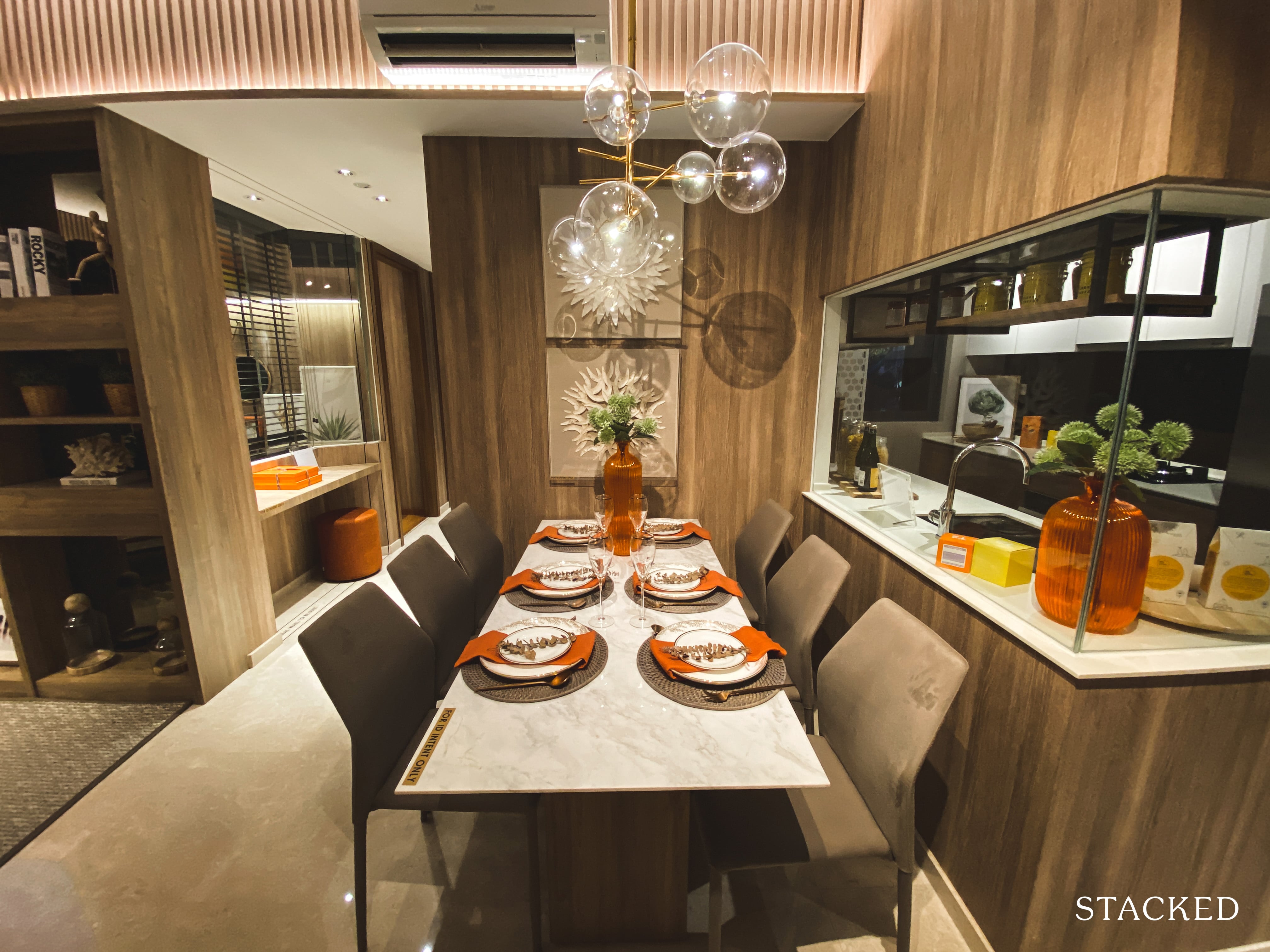 The dining area is quite small, more so because it is constrained by the walkways from the entrance as well as to the hallway. So unless you have ultra-slim family members, you'll probably have to eat into the hallway space.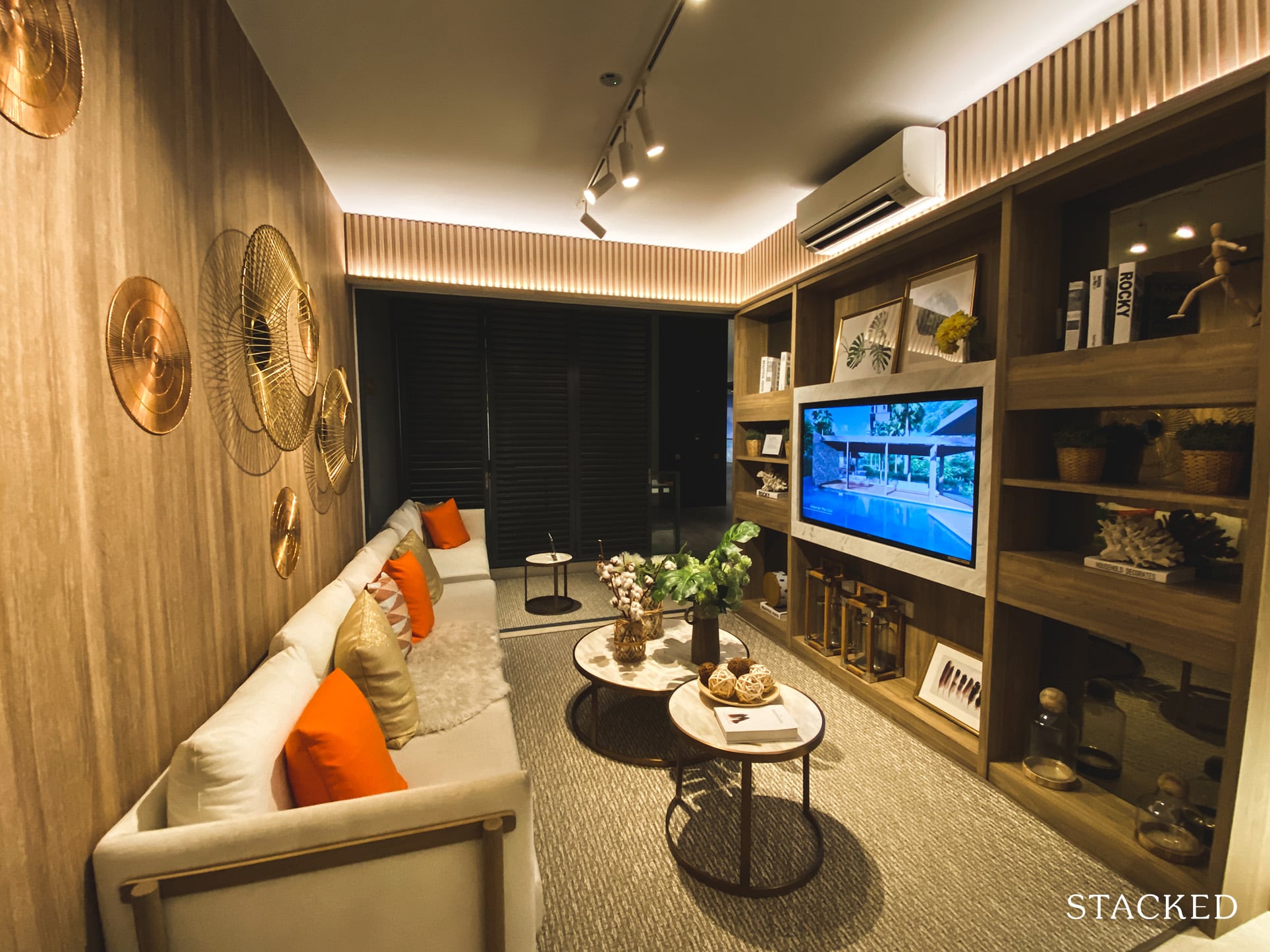 Living room space is decent on the whole. The sofa, coffee table, and console are quite good representations of reasonable sized furniture most people would be looking at. If you're wondering, ceiling height is the same here at 2.8 metres – this is the same throughout for all units bar the penthouse.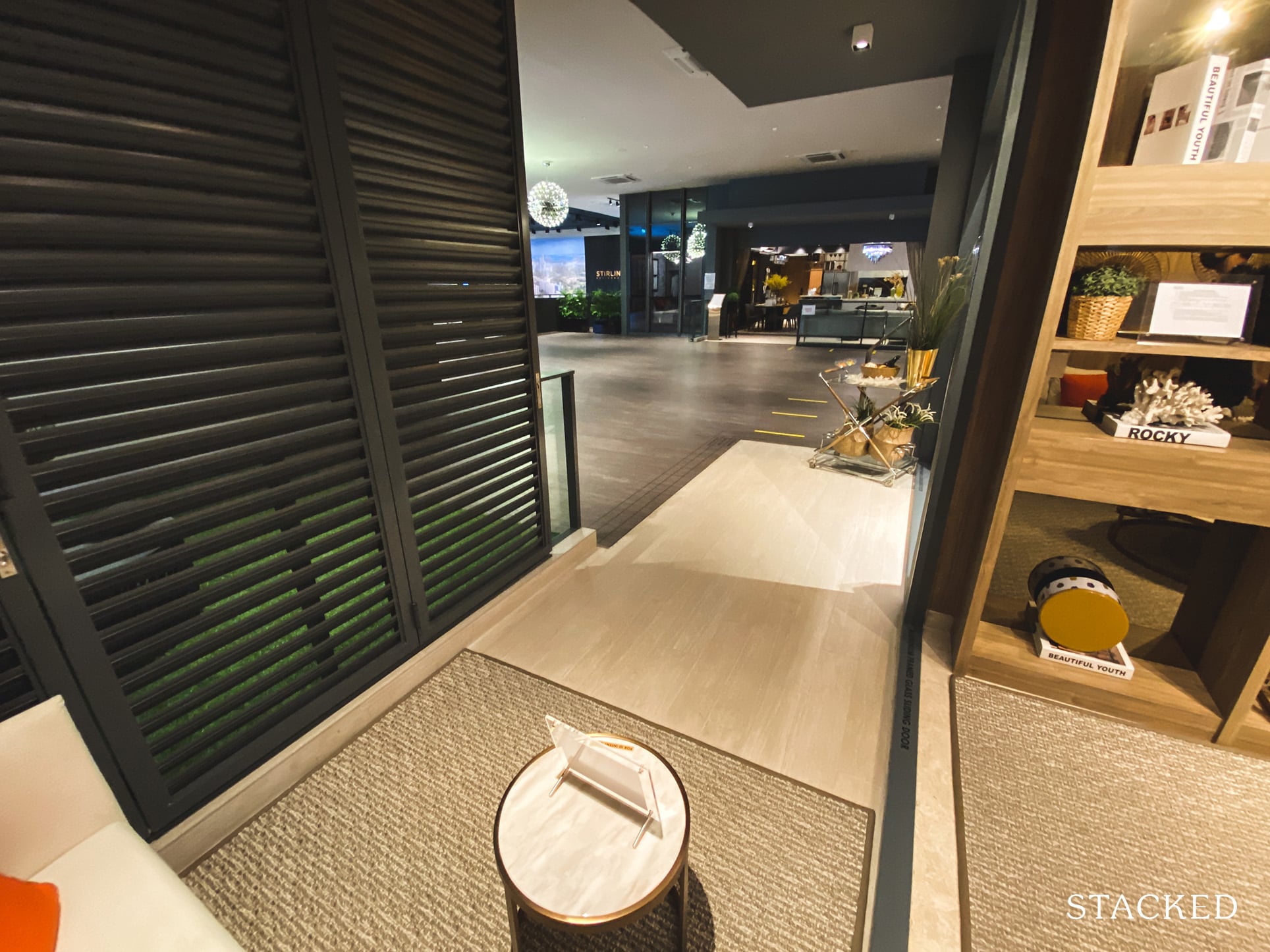 The balcony space in the 3 bedroom unit is a long one that stretches till the first common bedroom. It isn't that wide so it isn't as functional in my opinion. Still, at a high enough floor level, some comfy seats here should do the trick.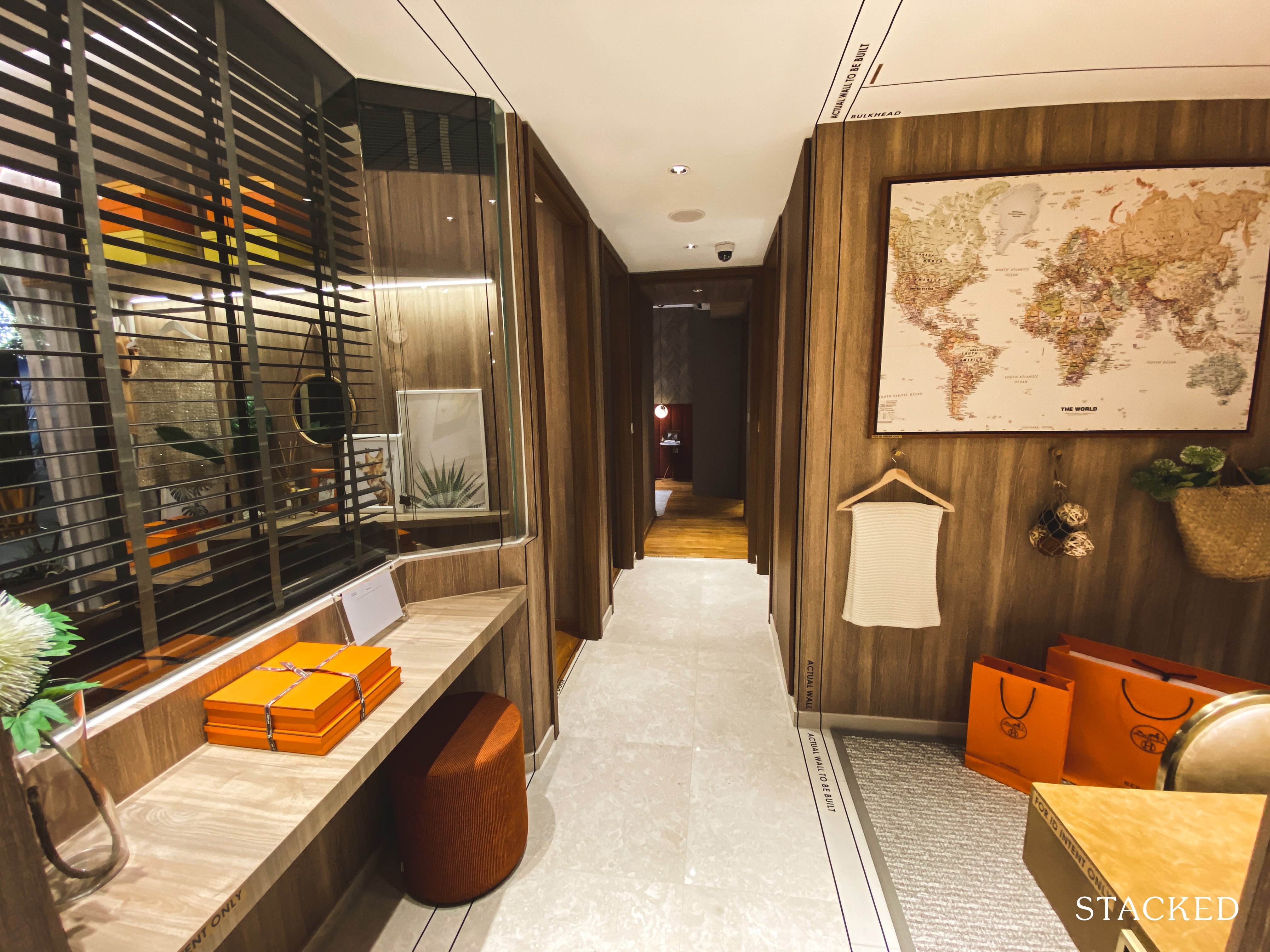 The hallway looks really spacious here but it is quite misleading because of the open storeroom on the right, and the indent into the common bedroom on the left.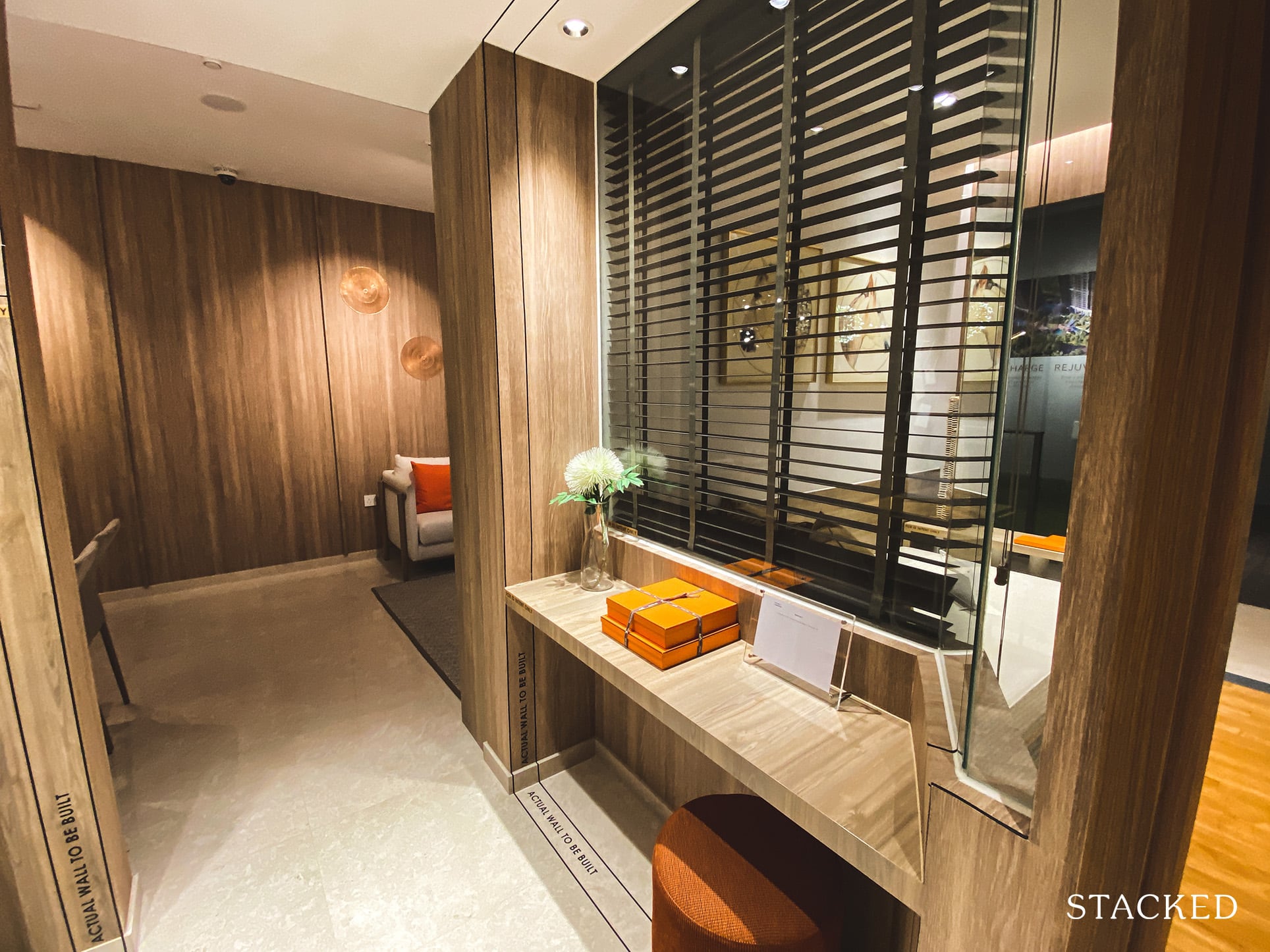 I'll be honest, I can't quite fathom why this was showcased here. As it is, new launch bedrooms are getting increasingly small, let alone having enough space to carve out for a mini-study area. Plus, look at the width of the table – it really isn't very practical.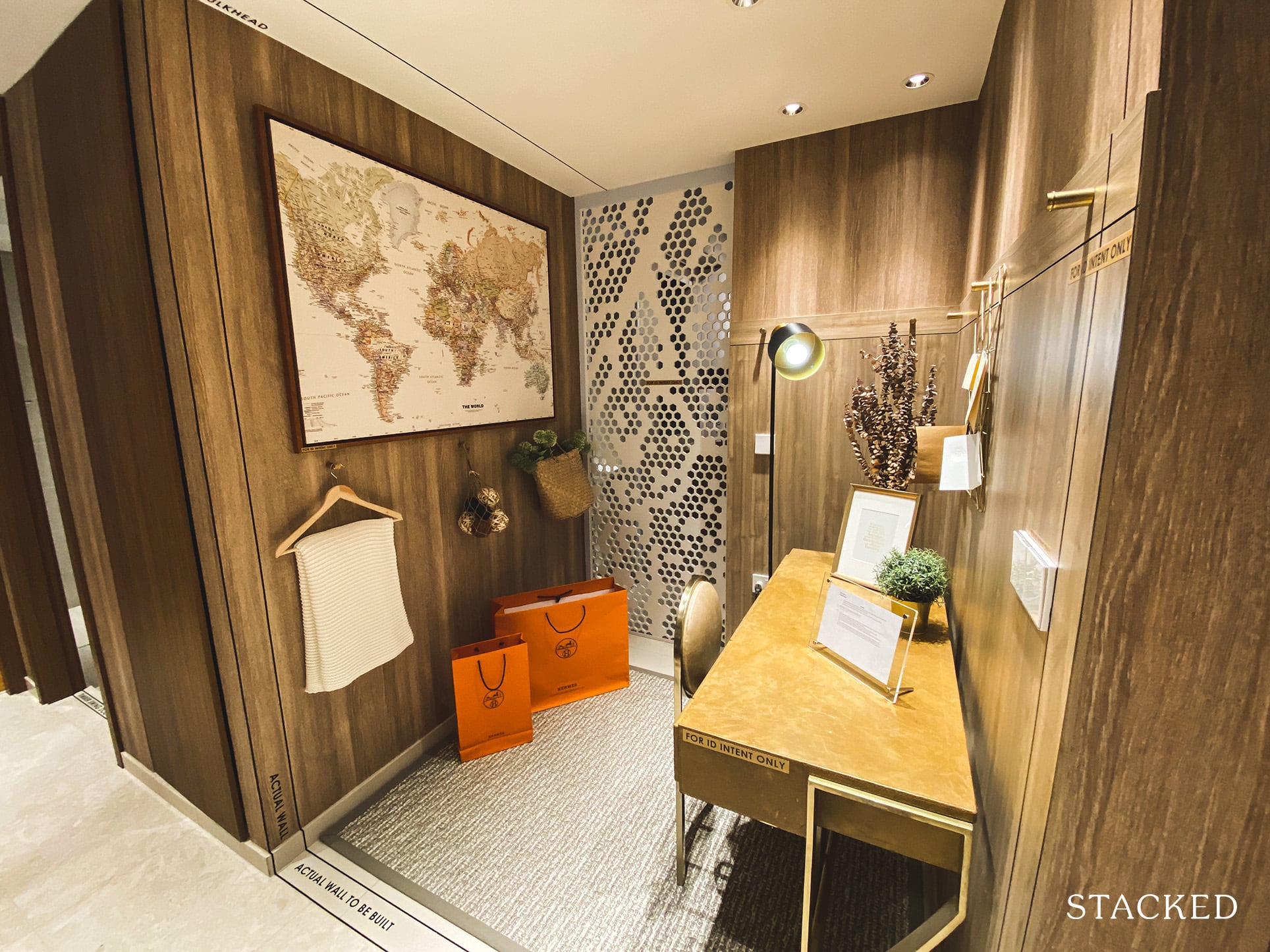 On a more positive note, the store is huge for a 3 bedroom of this size. You could either use it as a helper's room, or as shown – a quiet cosy study corner.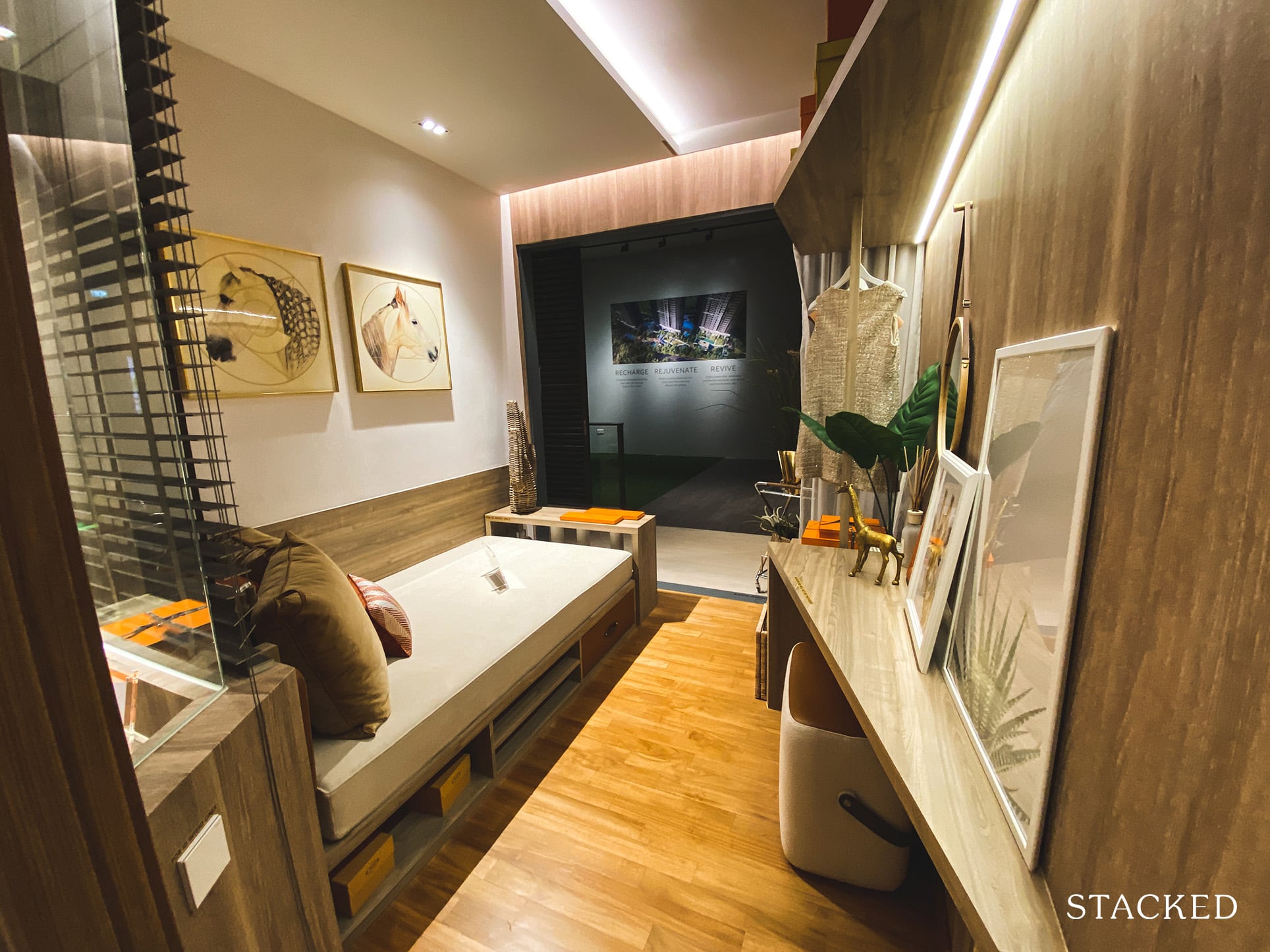 The first common bedroom looks quite tight in space – no thanks to the intrusion mentioned earlier and the triangular table fitted at the side. Not to mention, this is without any wardrobe space whatsoever – this is the "chosen" bedroom to go without one.
*Update: Wardrobes are an option – you can choose if you want it included or not
Thankfully, there is a silver lining here – this bedroom has the trump card of direct balcony access – which is definitely a unique attribute!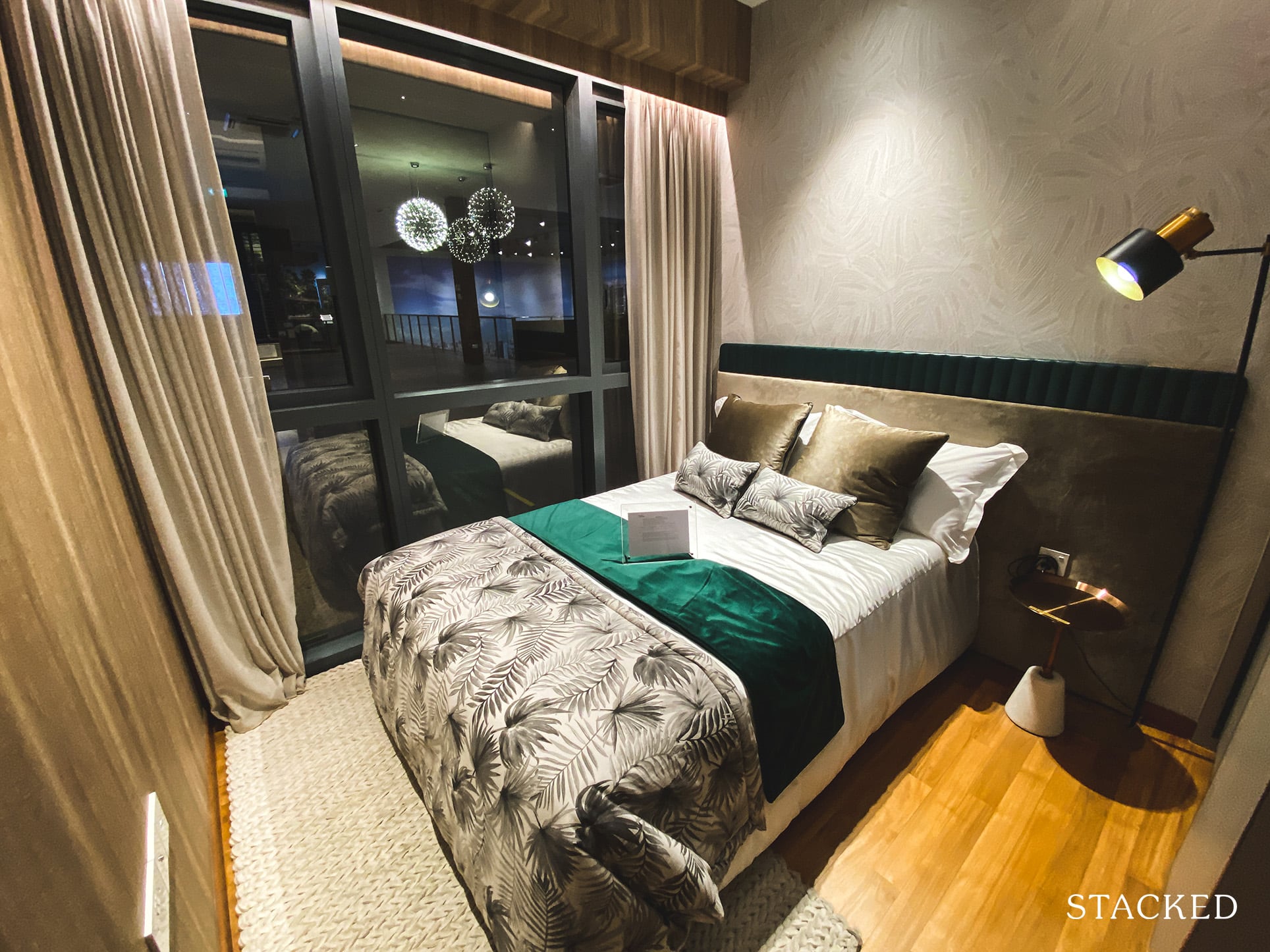 The second common bedroom is of a similar size, with almost full-length windows. Flooring in all bedrooms are made of timber.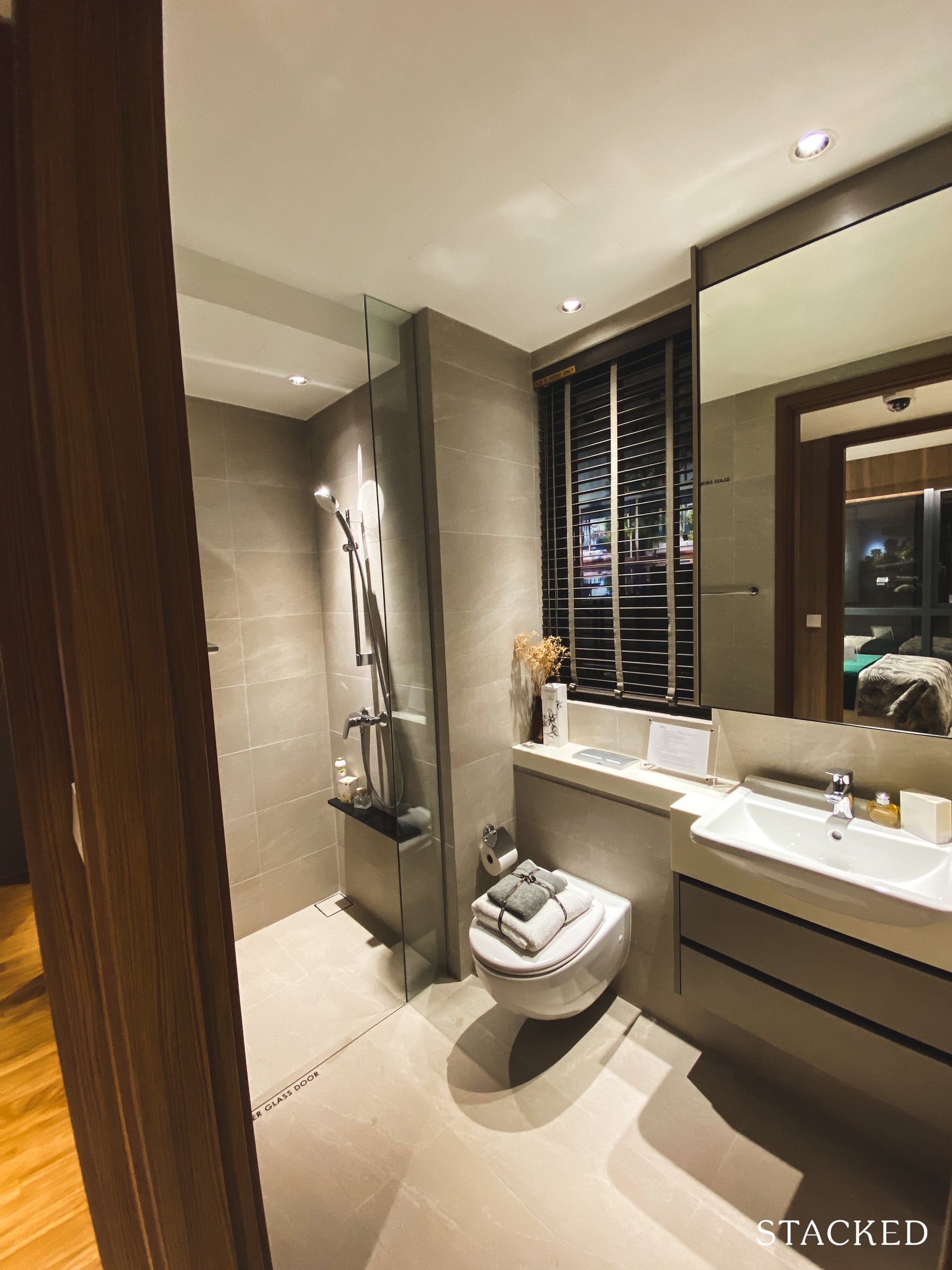 The common bathroom is a fair size, but is a bit skimpy on storage due to the window above the toilet bowl. As per the other units, the bathroom fittings are from Hansgrohe and Duravit.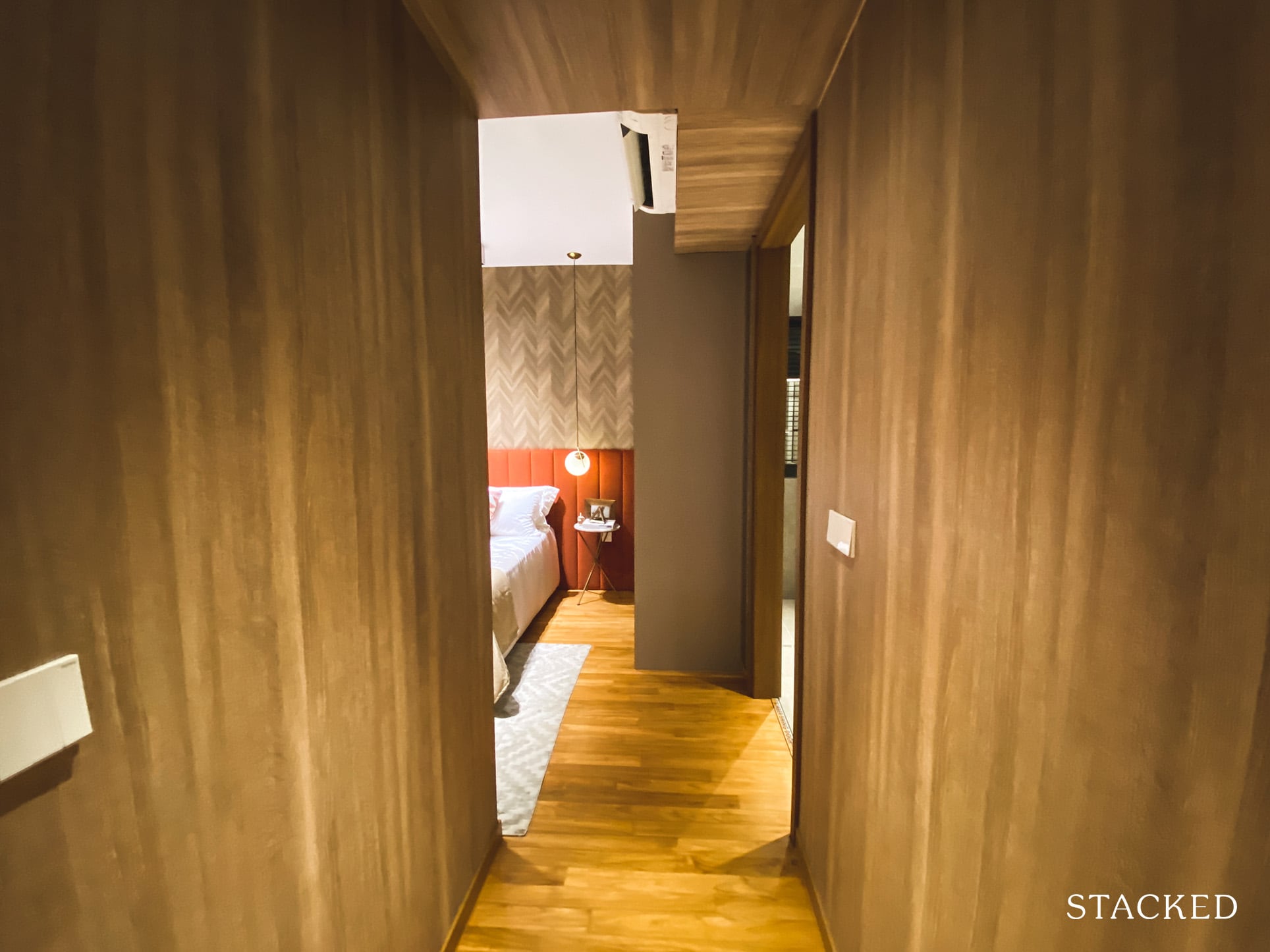 Last but not least, the master bedroom. I would usually say the walkway is a bit of a wasted space, but it does provide for more privacy here.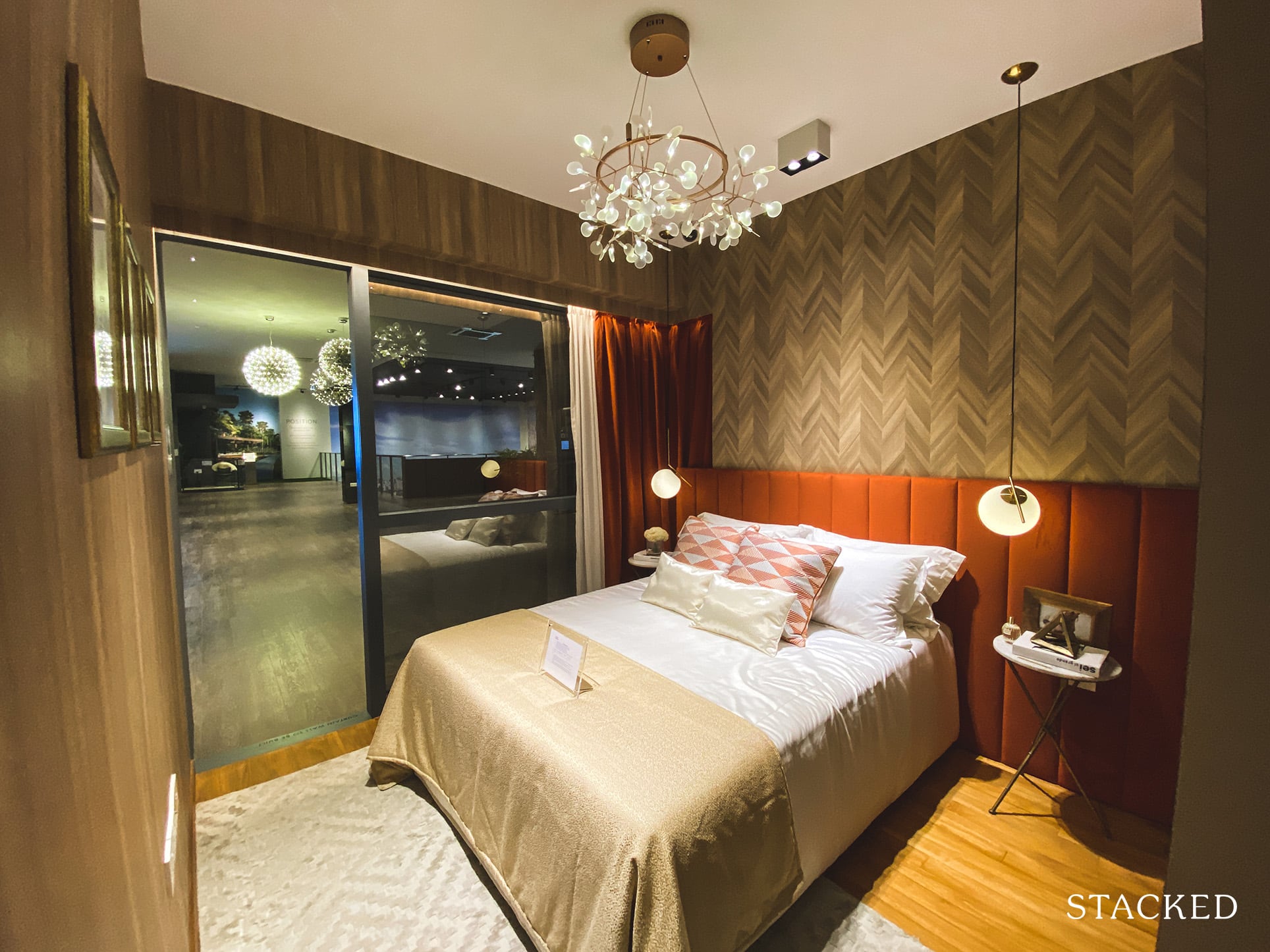 The space in the master bedroom is relatively decent, you do have enough walkway space at both sides and at the front of the bed as well.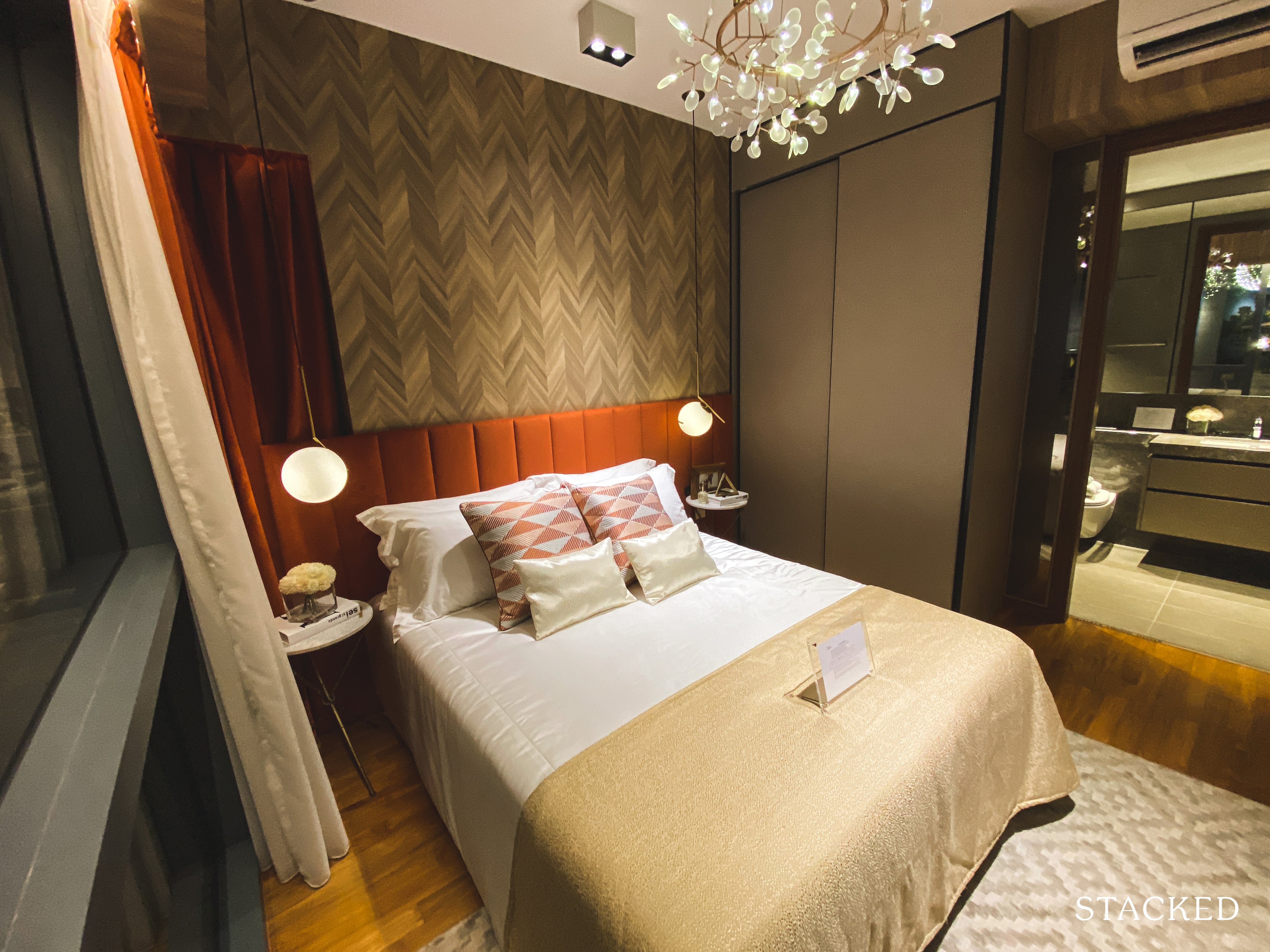 As per my usual gripes with storage in new projects, this one here is really no different. I would say that it is slightly mitigated by the larger than average storeroom, but if you have a helper than this is really all just a moot point.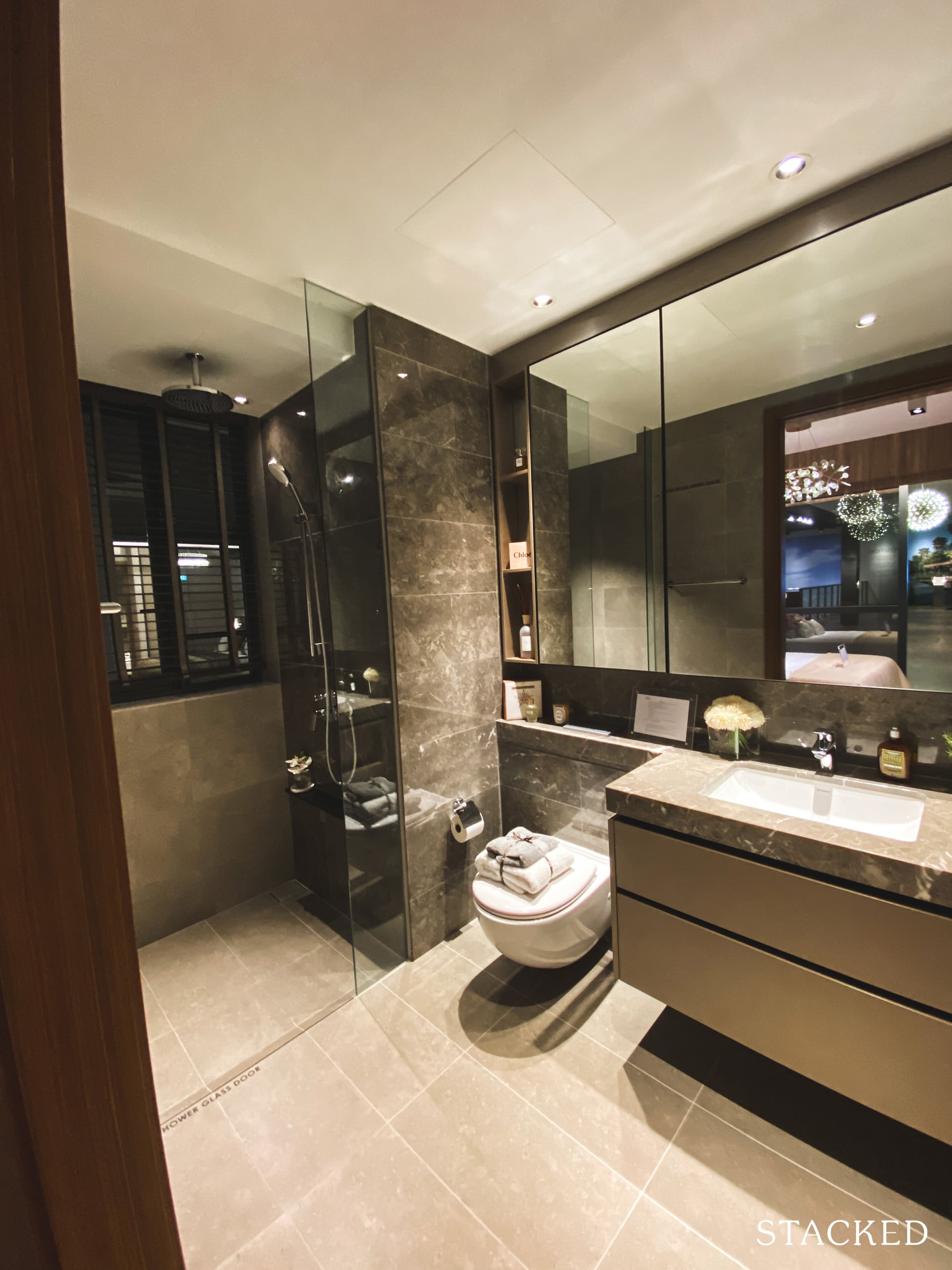 The master bathroom is spacious with a good amount of storage areas. As with all bathrooms, the flooring is homogenous tiles, with the bathroom fittings from Hansgrohe and Duravit. This one comes with a rain shower too, which is always a welcome luxury.
Stirling Residences 4 Bedroom Review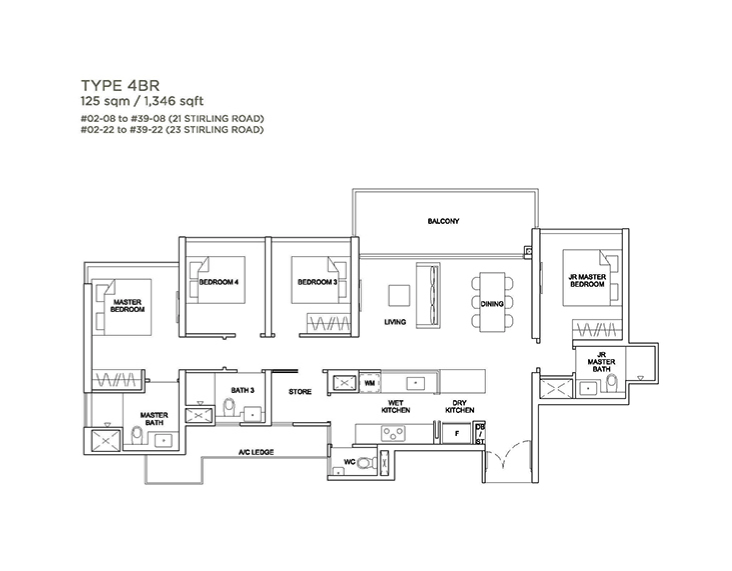 At 1,346 square feet, the 4 bedroom unit is on the smaller side when compared to the average new launch 4 bedrooms on the market. The layout is quite standard – a balcony that spans the living and dining area, junior master bedroom flushed to one side, and a wet and dry kitchen to boot.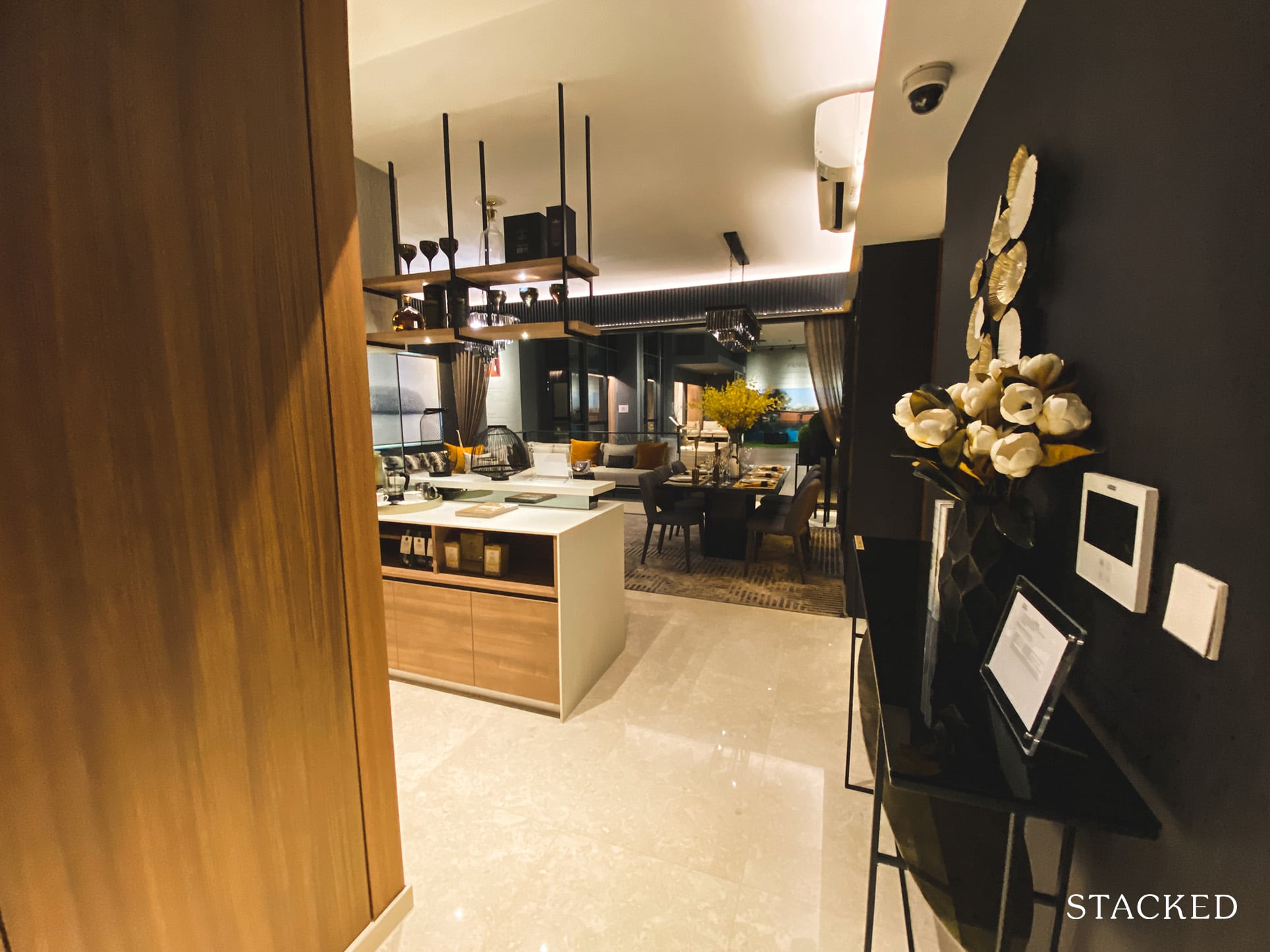 There isn't any private lift access here – just your normal entranceway.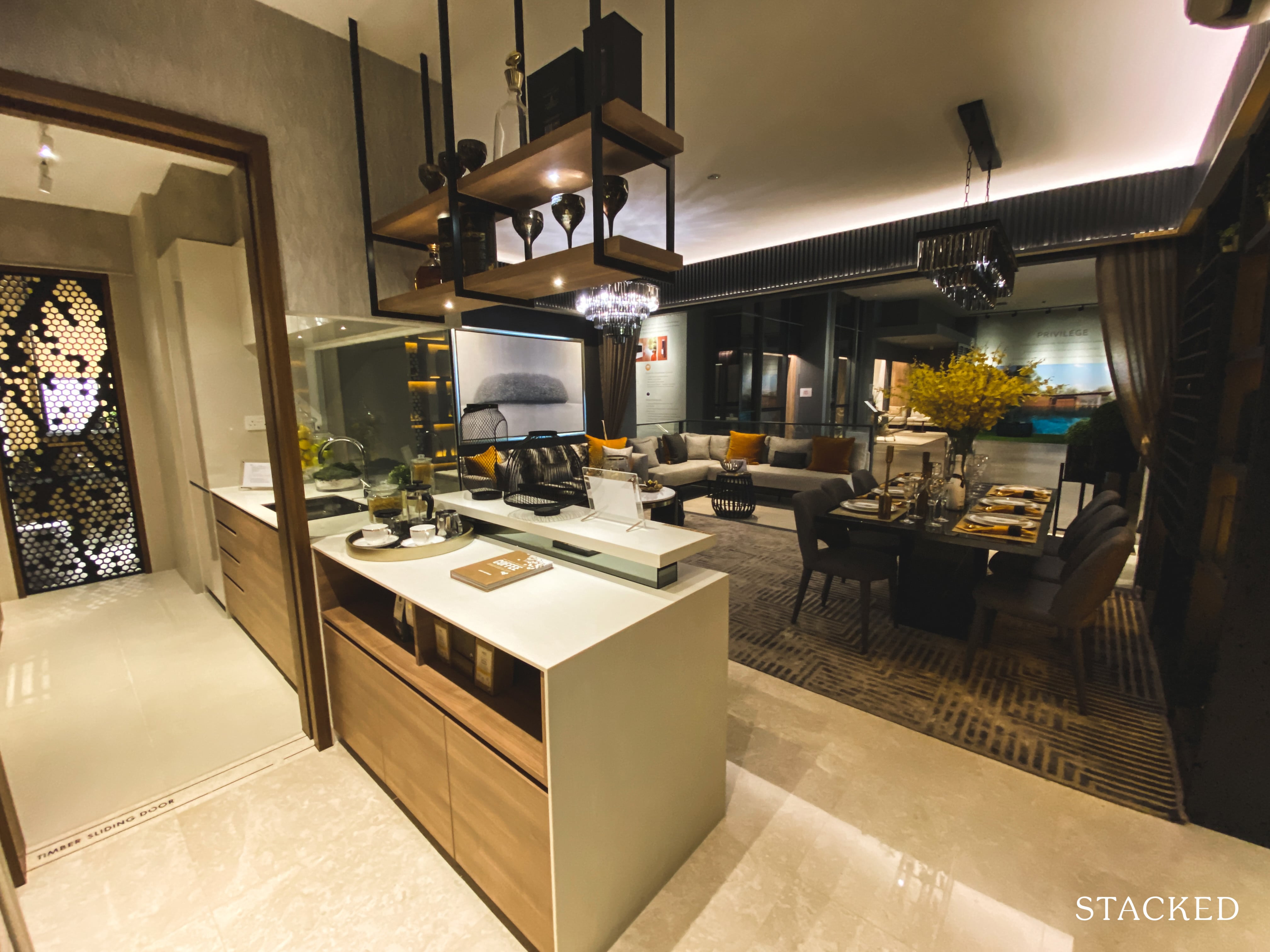 There is a wet and dry kitchen available, but I would say that this is merely just an extension countertop from the wet kitchen. There's no sink, or even a ceramic hot plate here for me to fully classify it as a dry kitchen. Do note that the above-suspended shelf is an ID treatment and would not be included in the actual unit itself.
Flooring wise, it is marble throughout the living and dining areas, while the kitchen is homogenous/porcelain tiles.
The main fridge is placed behind the countertop. It's not too much of a big deal, but the width of the walkway isn't great. So if you were to open up the fridge, there is no crossing over to the wet kitchen.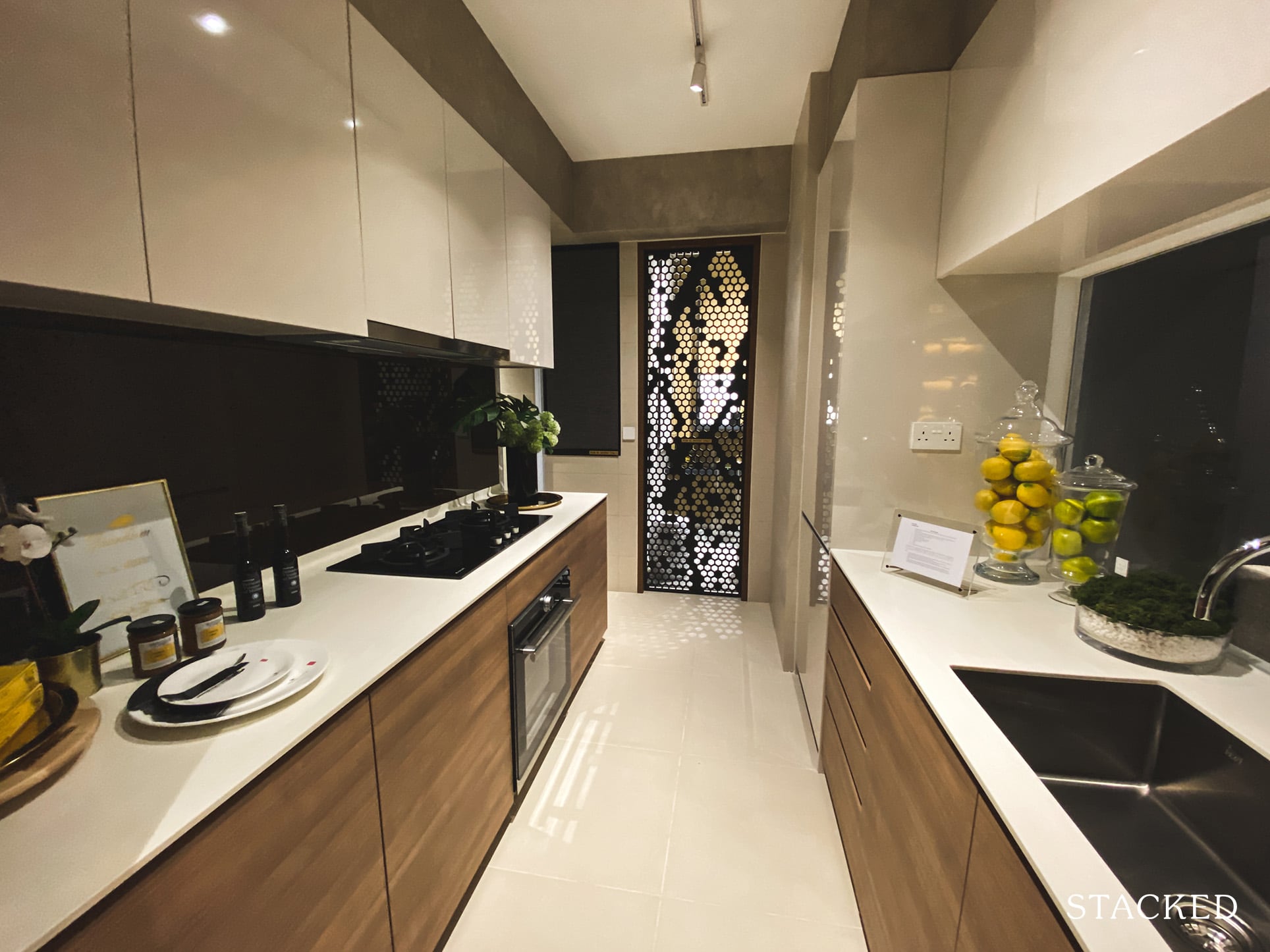 The wet kitchen does have an adequate amount of storage and countertop space on both sides.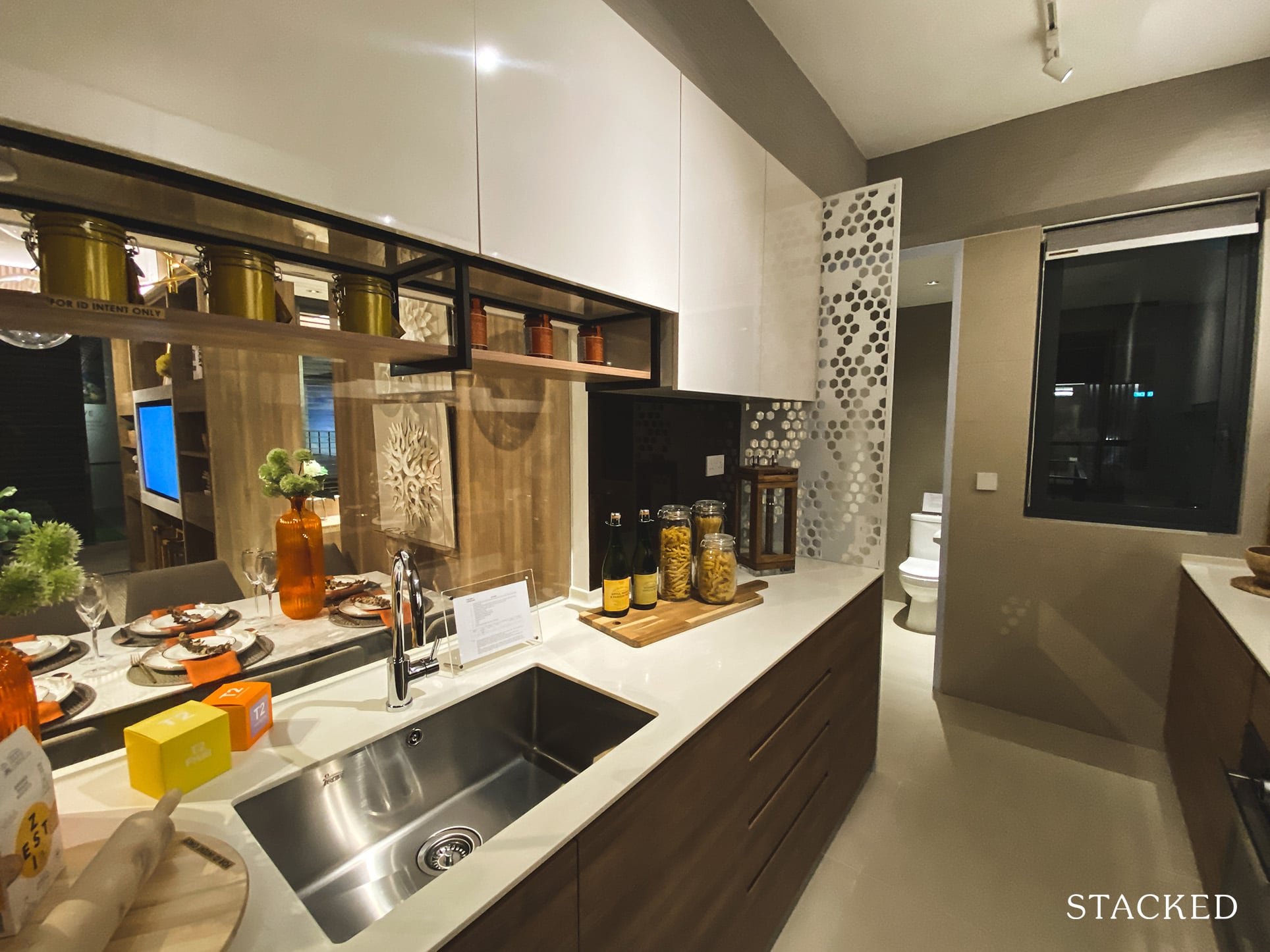 Similar to the layout of the 3 bedroom unit, the end of the kitchen features a tiny yard area and a small bathroom. It also links to the store/utility room, which again can be used as a helper's room instead.
Considering this type of unit is marketed towards families, I do find the lack of a proper yard here quite a drawback.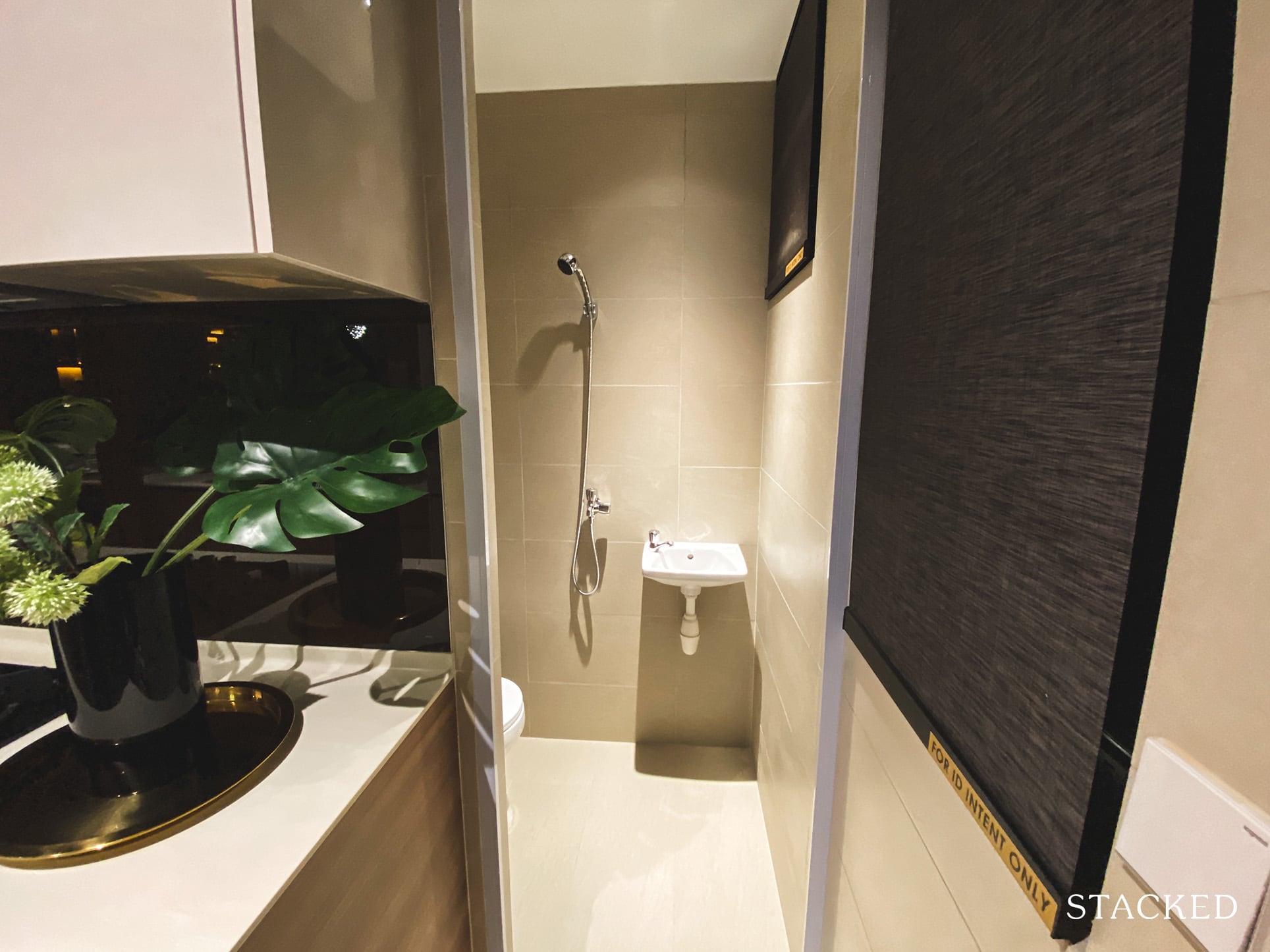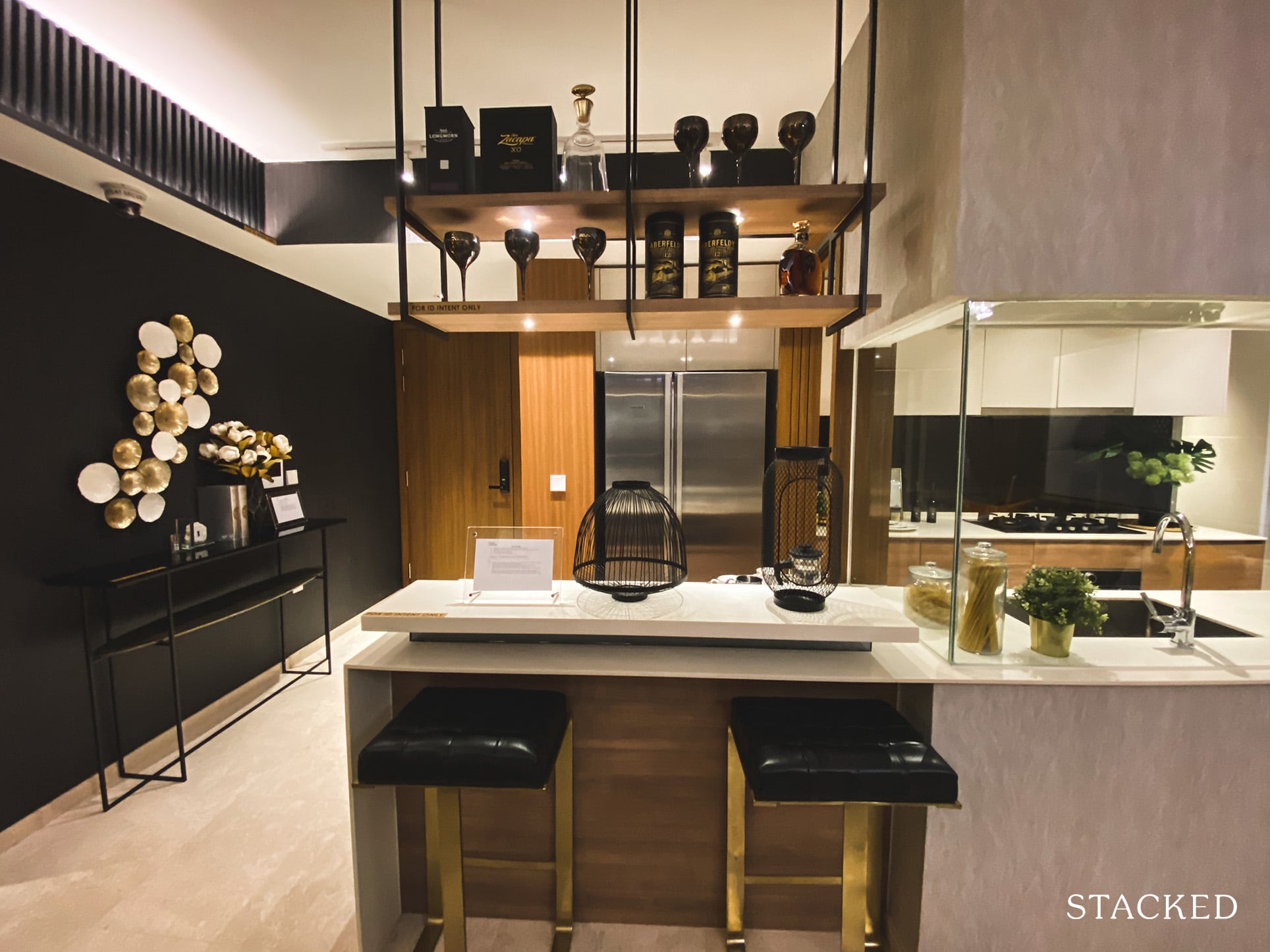 I do quite like the right-angled glass panels that cut through the kitchen walls. It makes the kitchen feel more spacious as well as allows you to take a peek – especially so if you have a MasterChef-in-training family member at home!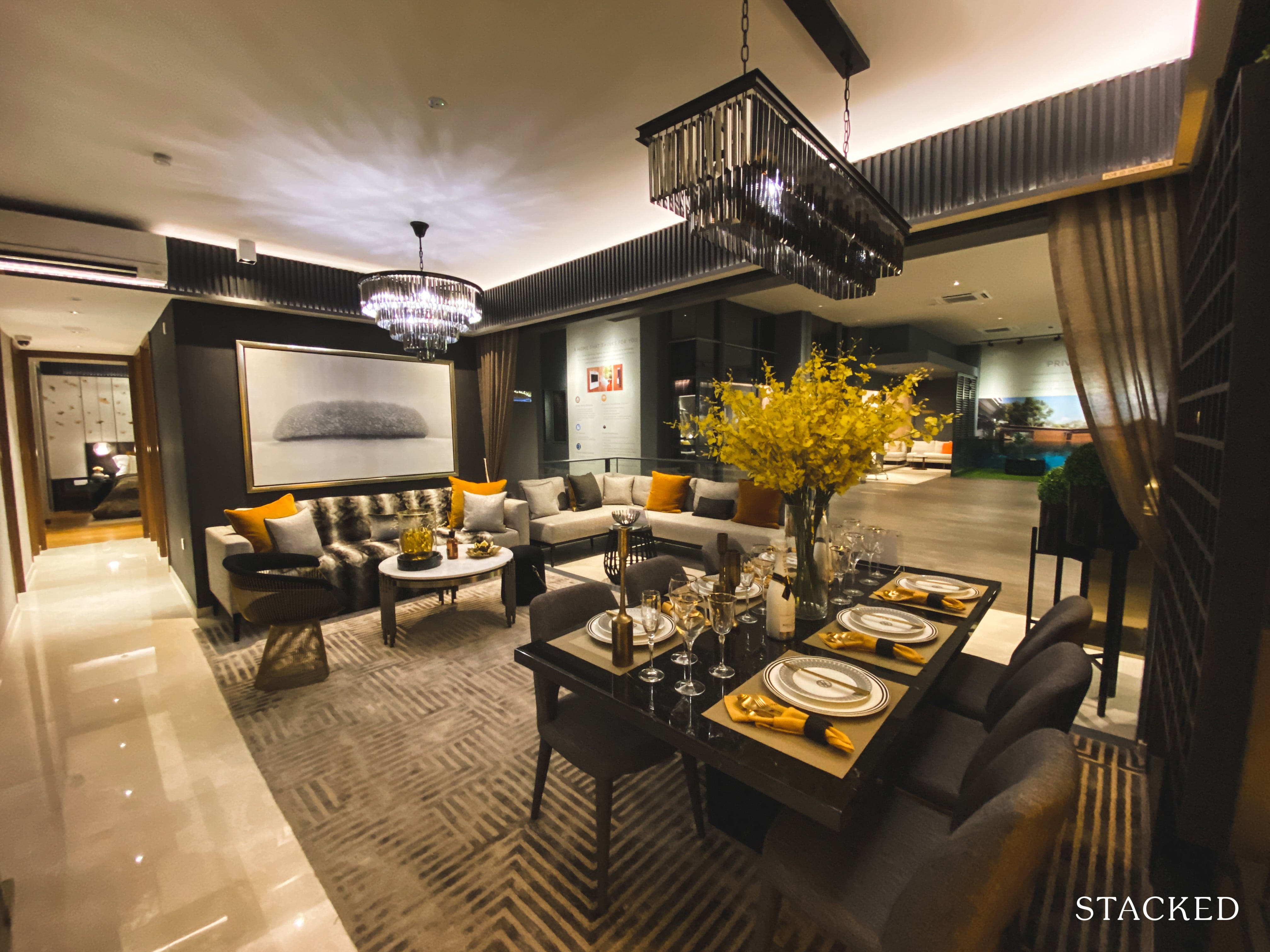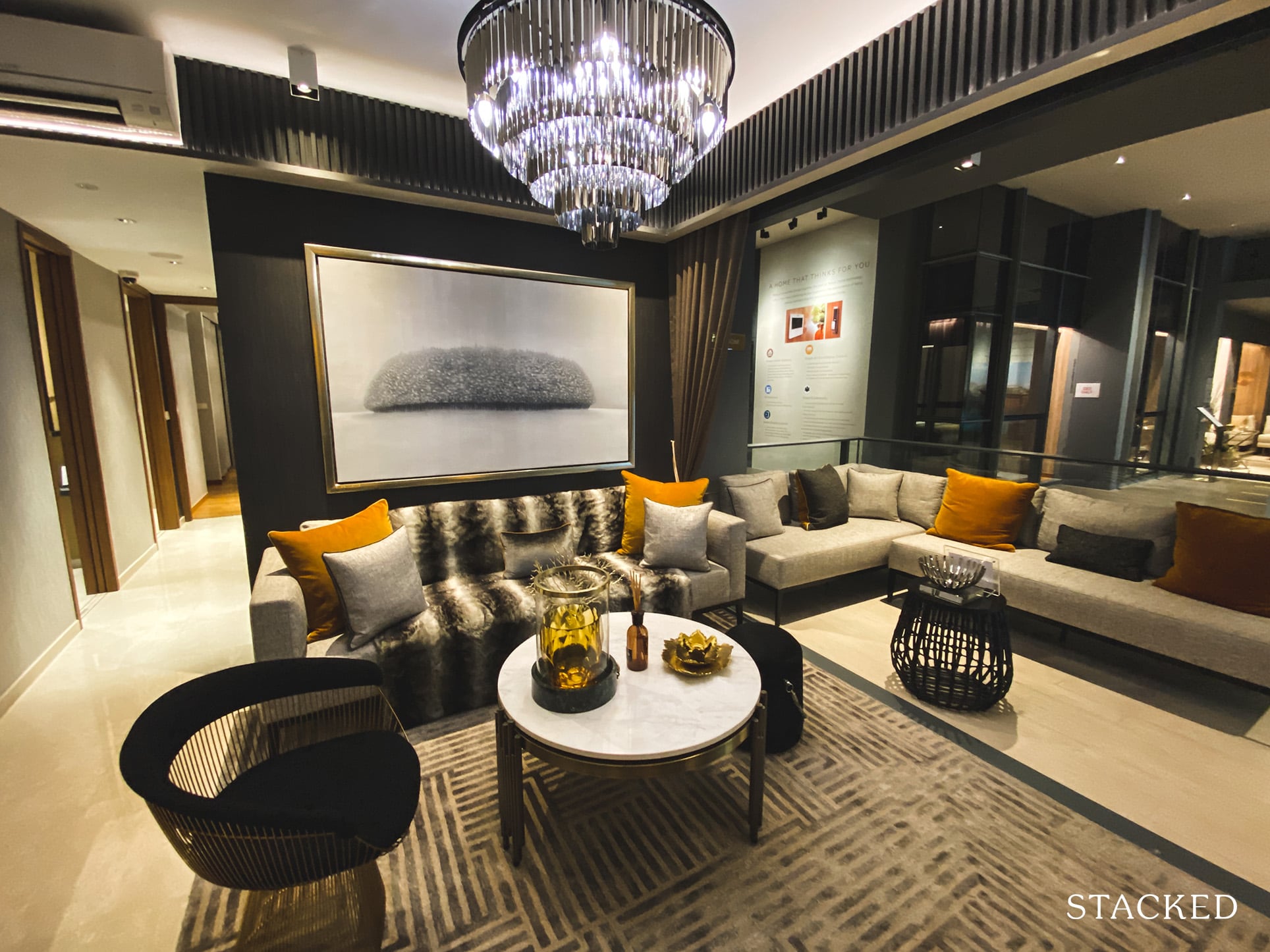 The living area is on the small side as it doesn't really have a great width to it. So you are going to be constrained by the size of the sofa lest it eats into the hallway. You could adopt the showflat design of an L-shaped couch that leads on into the balcony to make the space feel more open, but that would really depend on if you are the type that likes to leave your balcony open 24/7.
Remember there isn't a TV showcased here as well, so most likely the arrangement of the sofa would be on the opposite to this instead.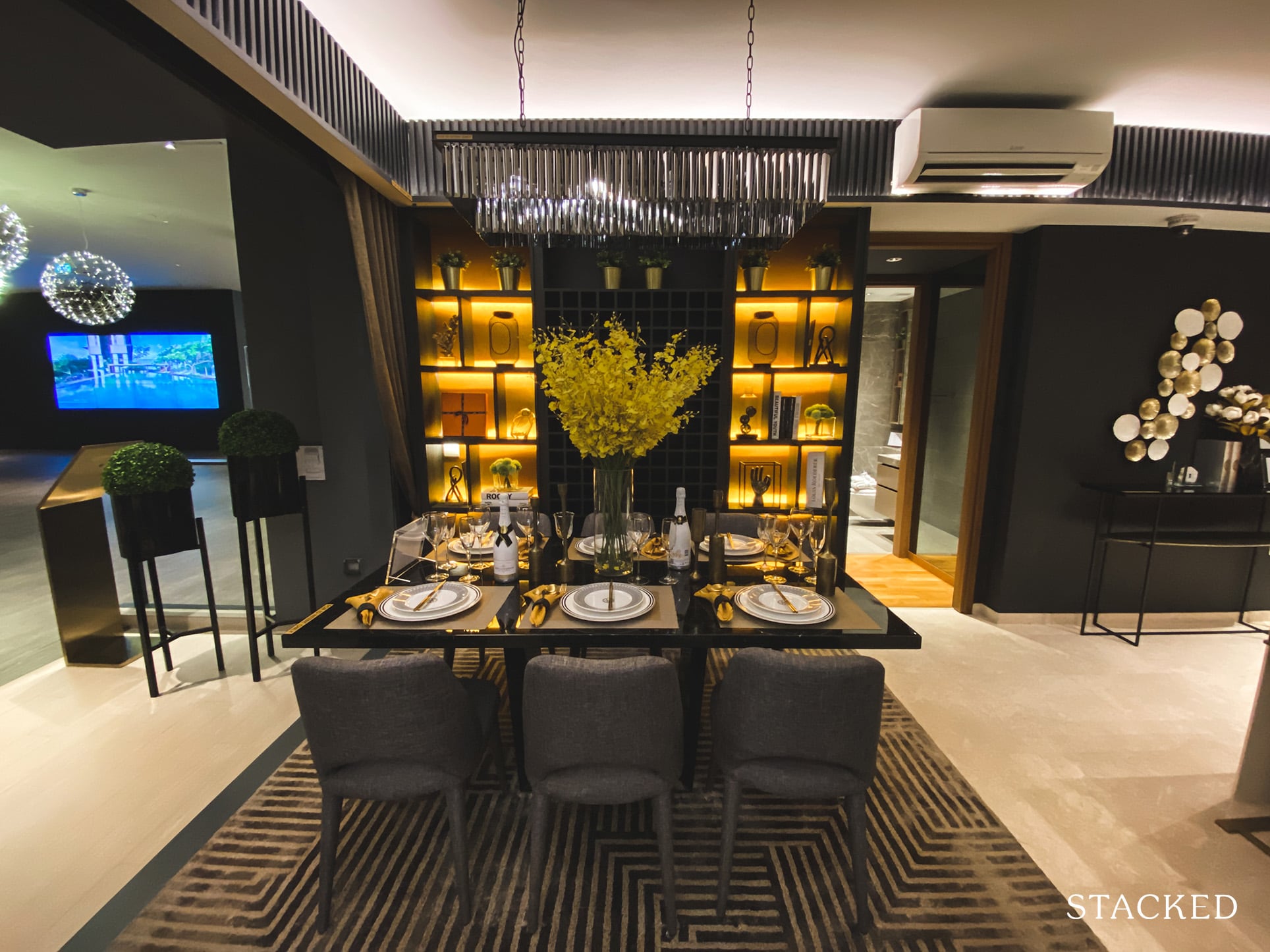 The dining area fares a little better, there is definitely enough space for a 8 seater dining table at the very least.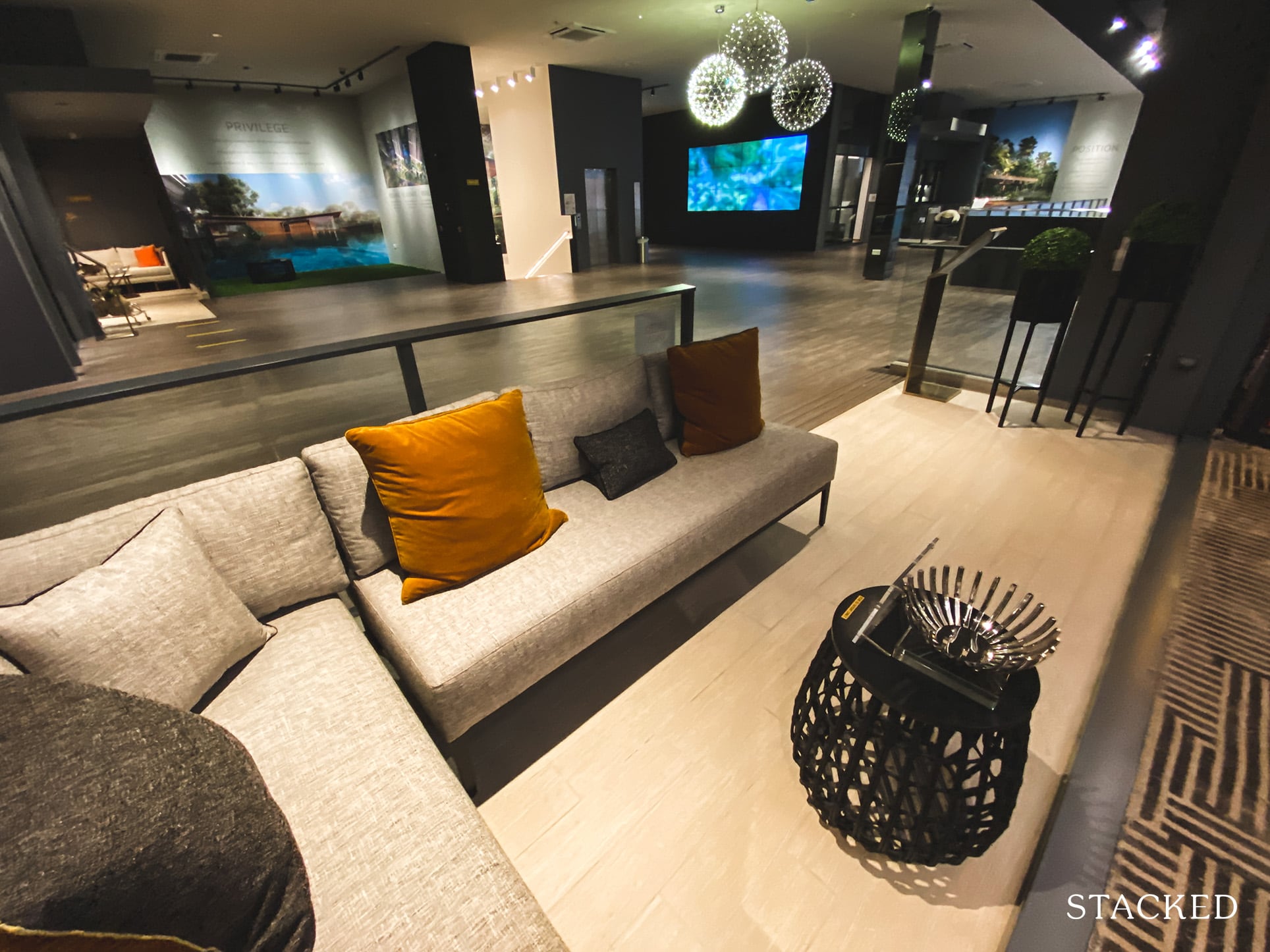 Outdoor space is what you'd minimally expect for a unit of this size. You could do some outdoor dining here, but it might be a squeeze depending on the number of people.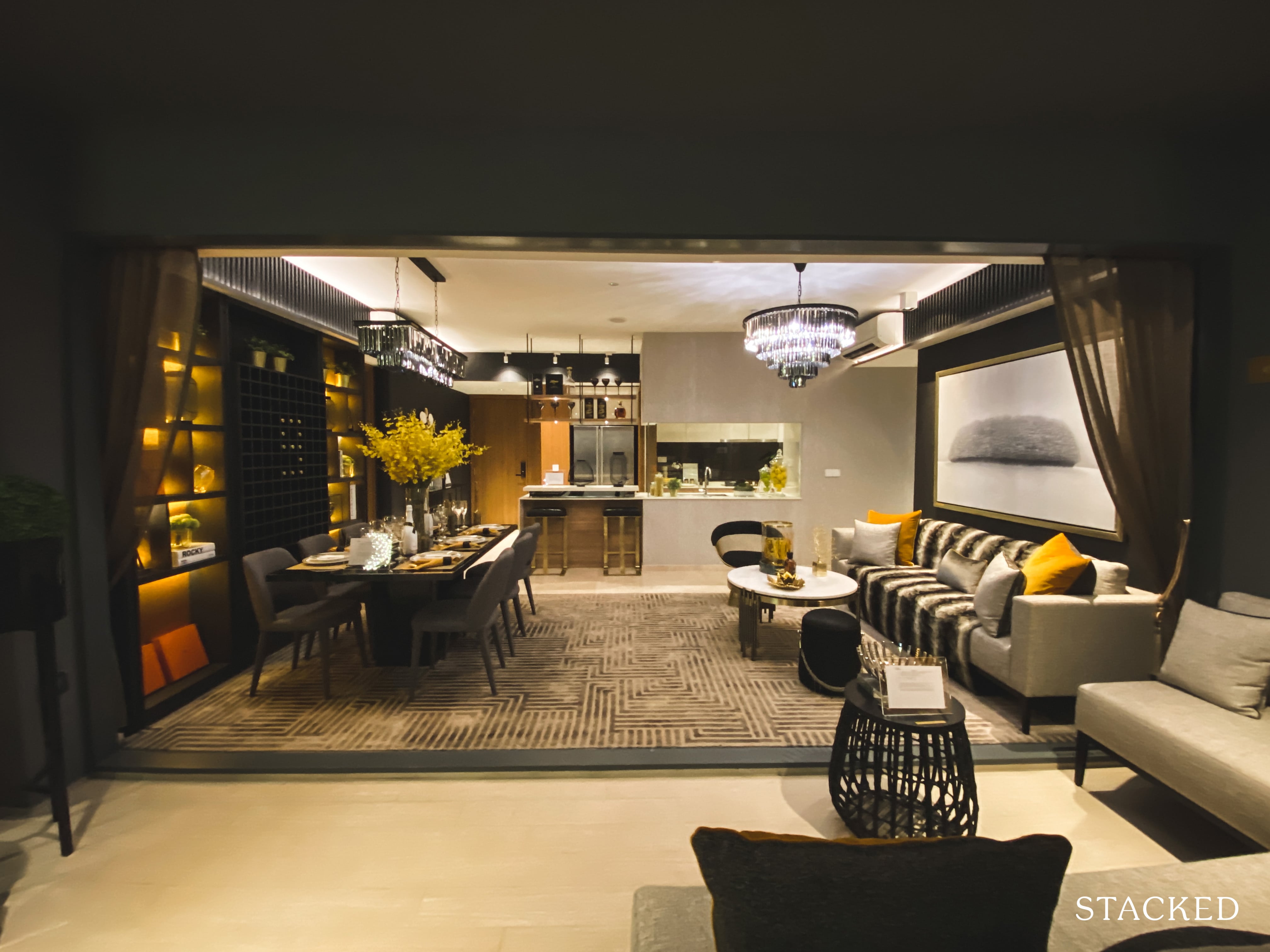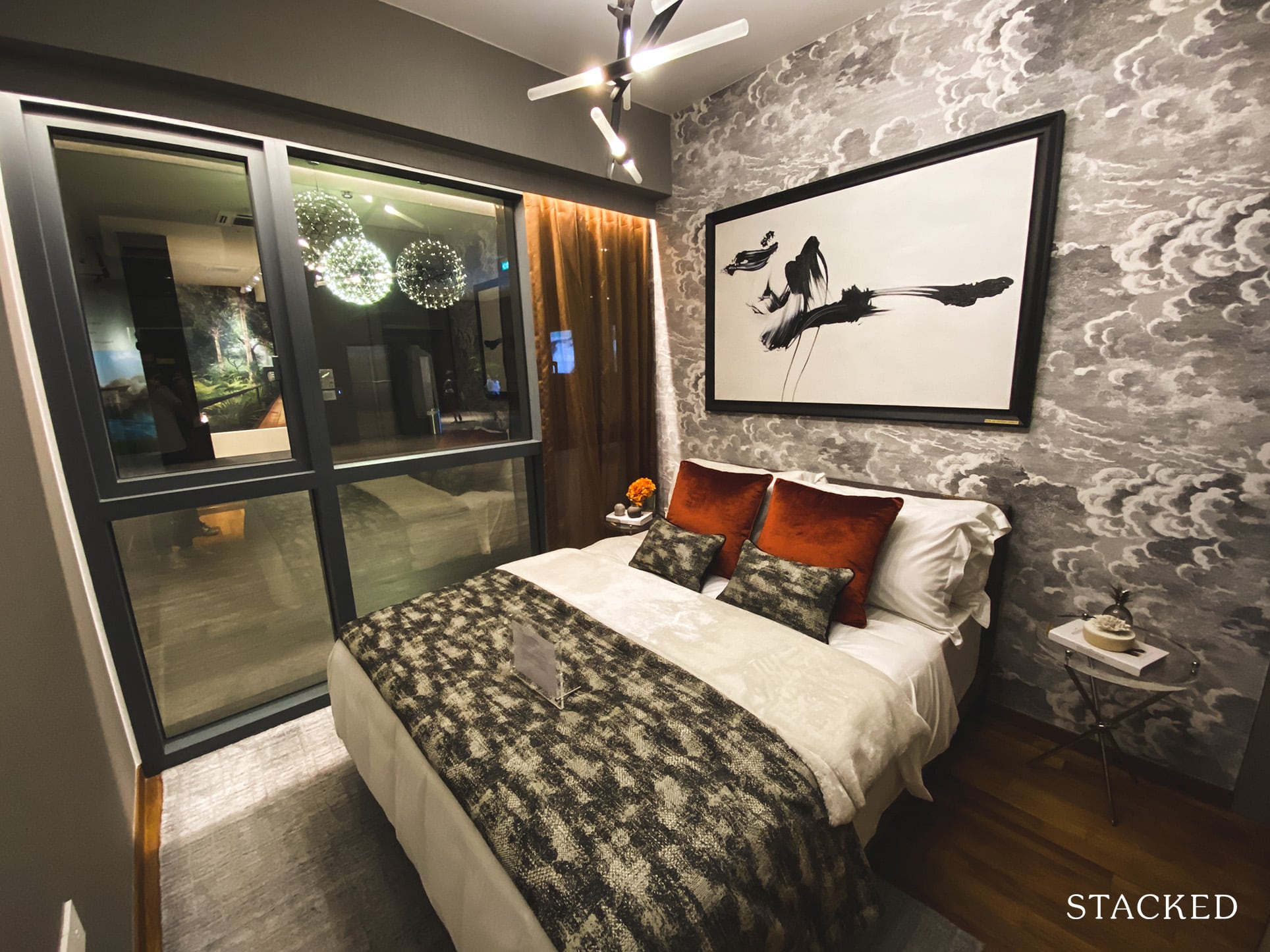 As mentioned earlier, on the right of the entrance is the location of the junior master bedroom. I am fond of such a layout mainly because it offers a higher level of flexibility. As it offers its occupants more privacy, it can be used to house elderly parents or even a newlywed couple.
Size-wise it is decent, with good allowances to move around the room.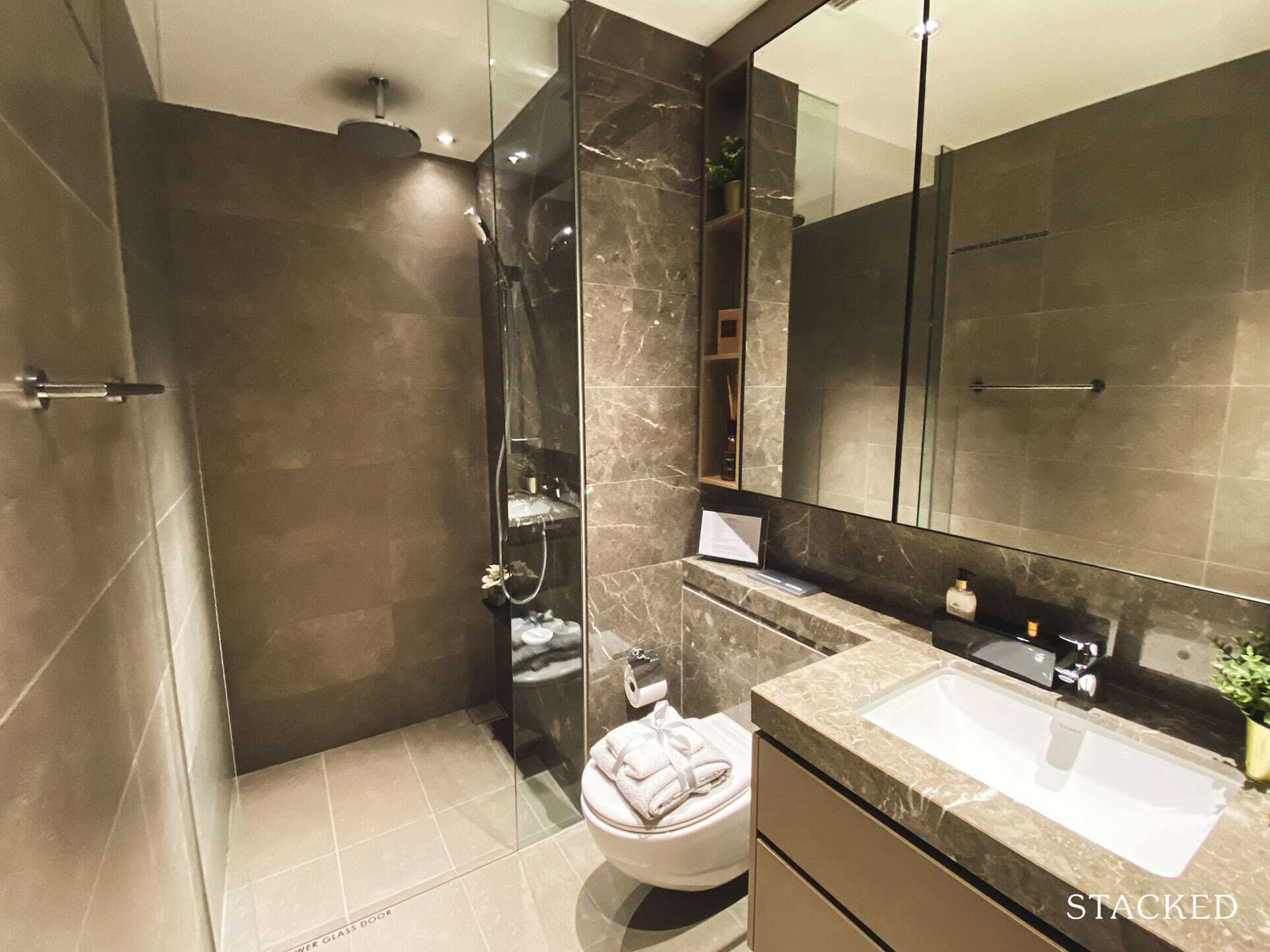 The junior master bathroom is an average size but does come with the perk of a rain shower as well. Bathroom fittings are the standard Hansgrohe and Duravit variety.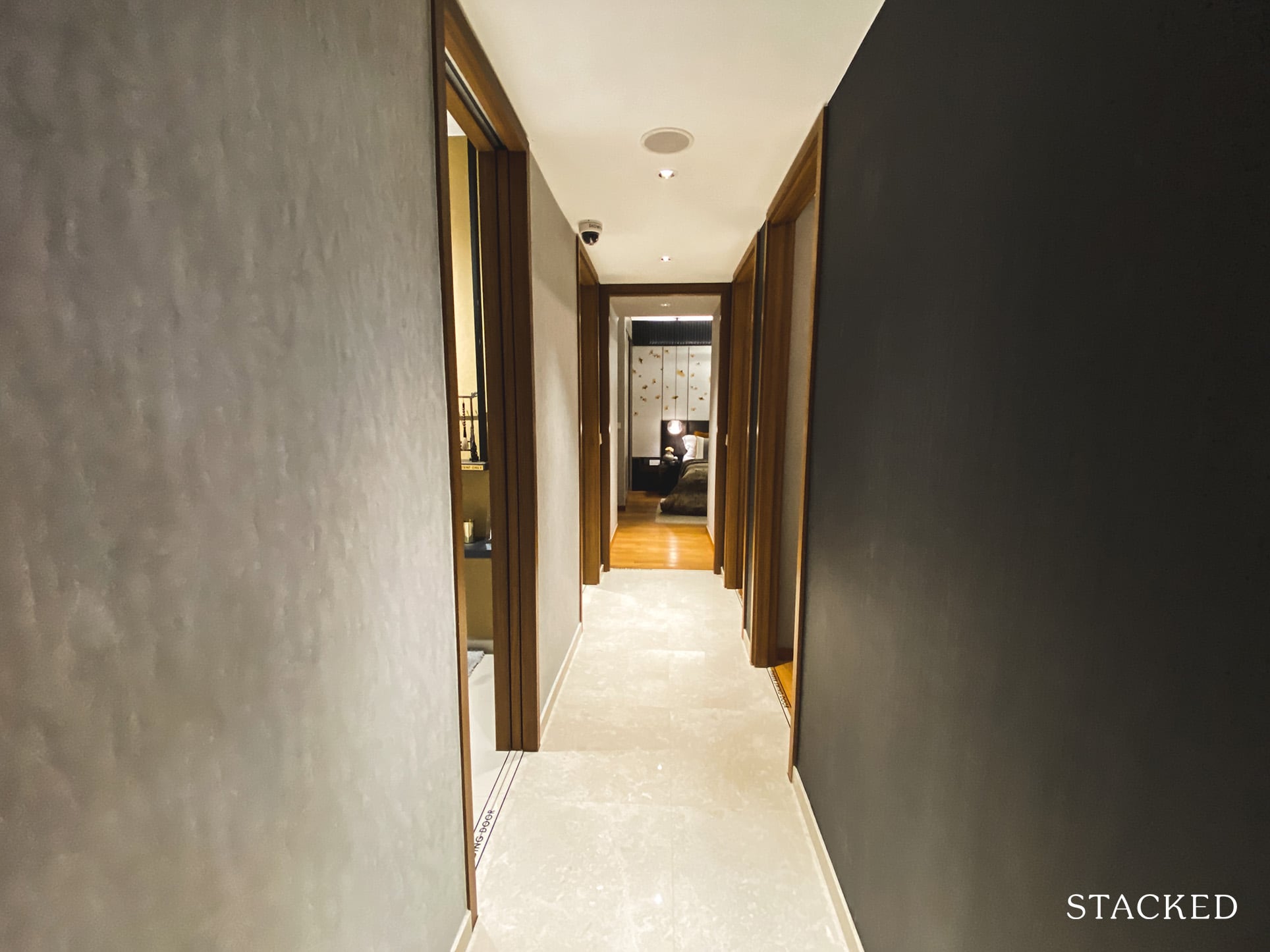 Next up, the hallway that houses the rest of the 3 bedrooms and the store.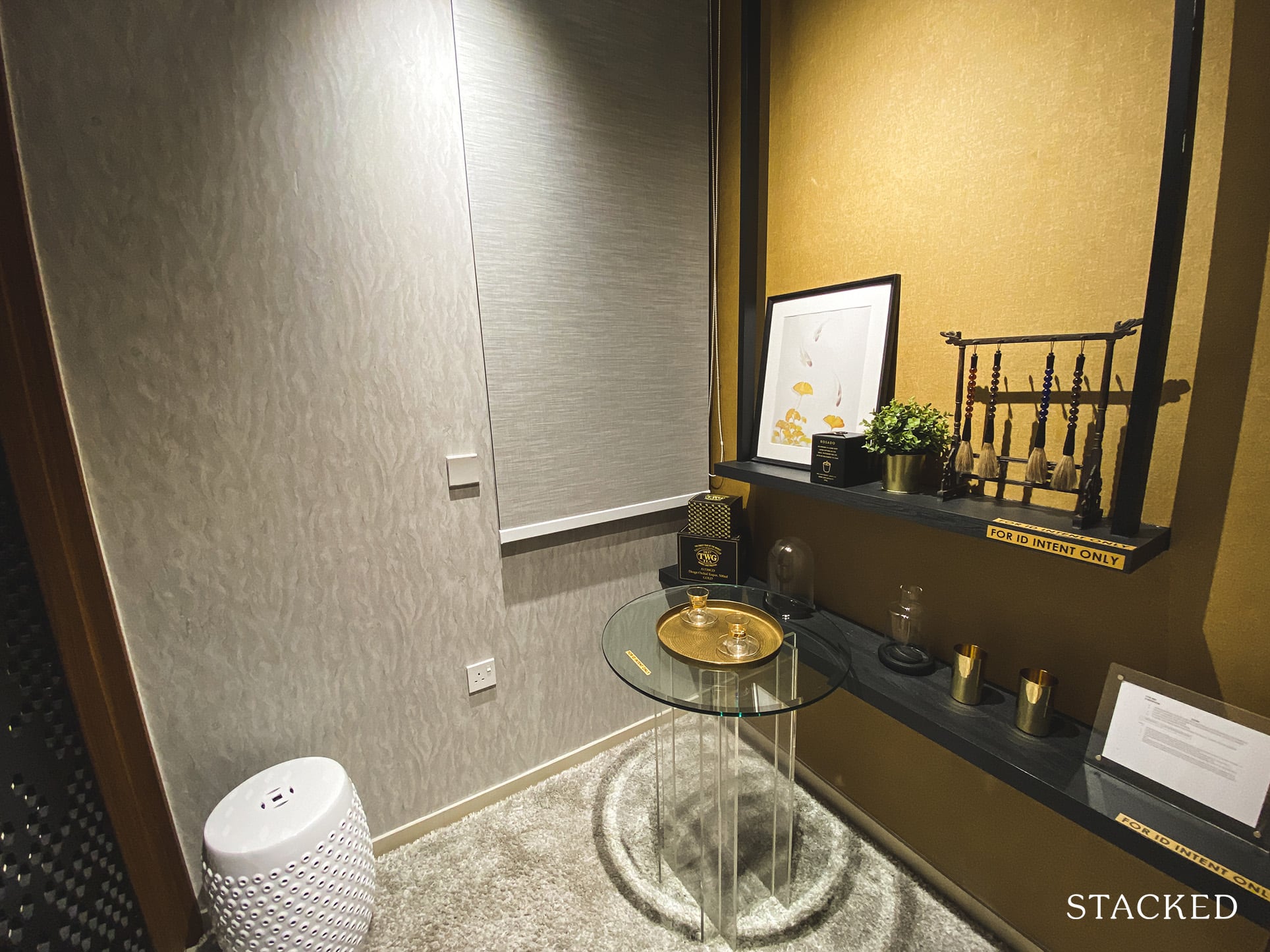 Like the 3 bedder previously, the storeroom is an impressively sized space. You could also use it as a helper's room, so there is some flexibility there.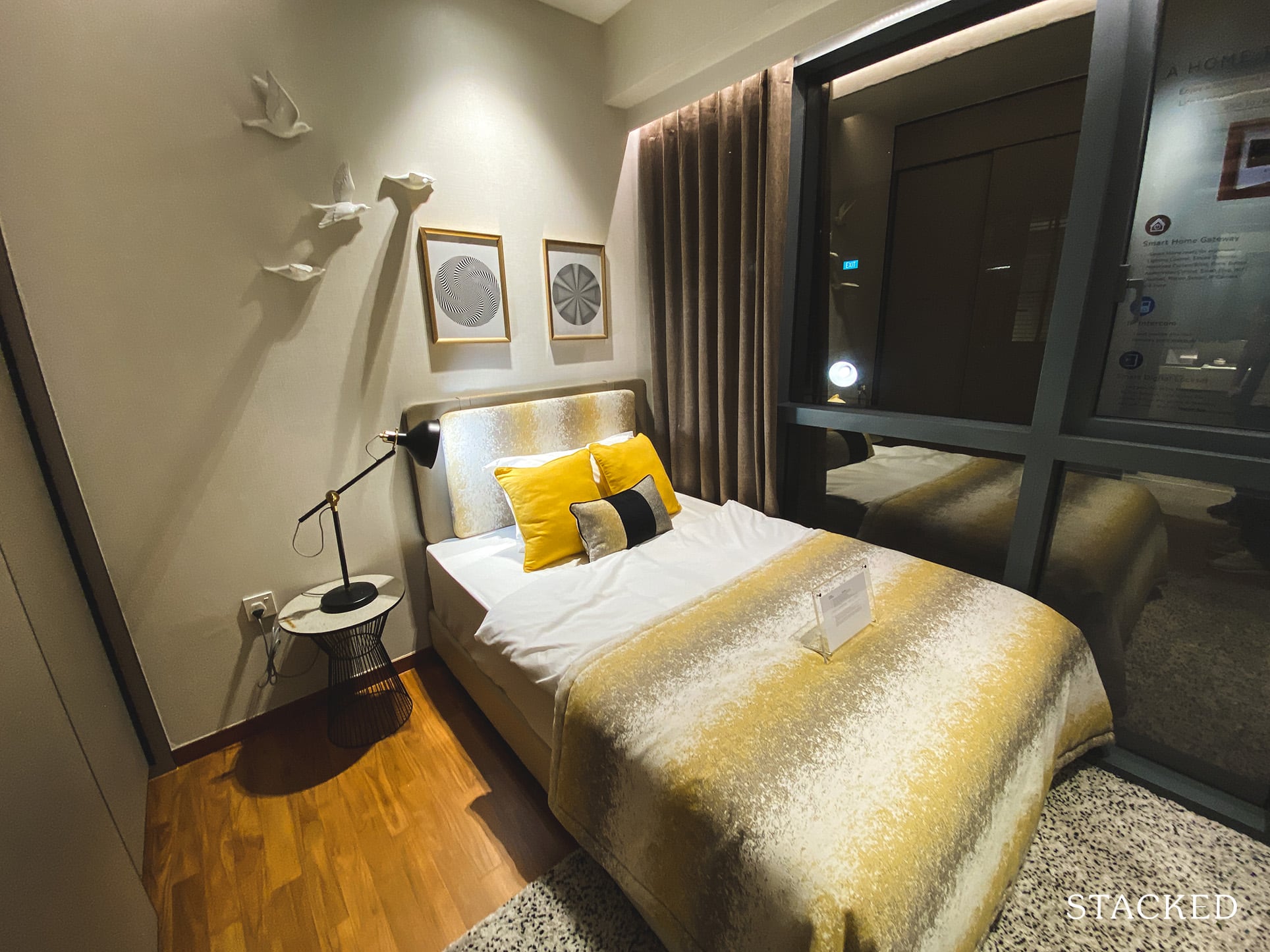 Aside from the junior master and master bedroom, both common bedrooms are on the small side. You could still fit a queen-sized bed but it would be a squeeze for sure.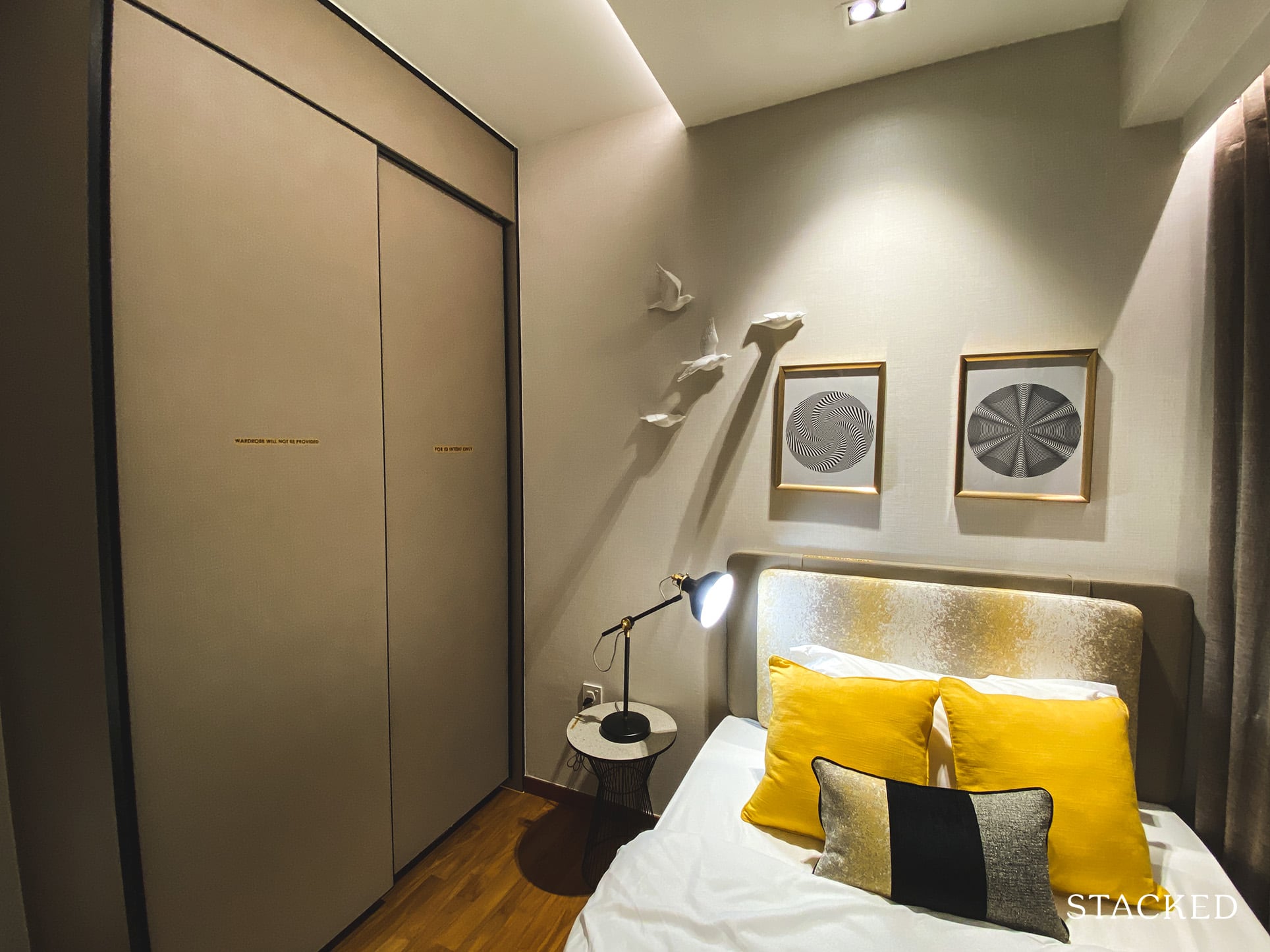 As with the peculiar theme that has been featured throughout so far, this bedroom will not come with the wardrobe provided. I still can't quite understand the rationale behind the move – perhaps there was data showing that most people end up using the additional bedroom as a study/office?
*Update: Wardrobes are an option – you can choose if you want it included or not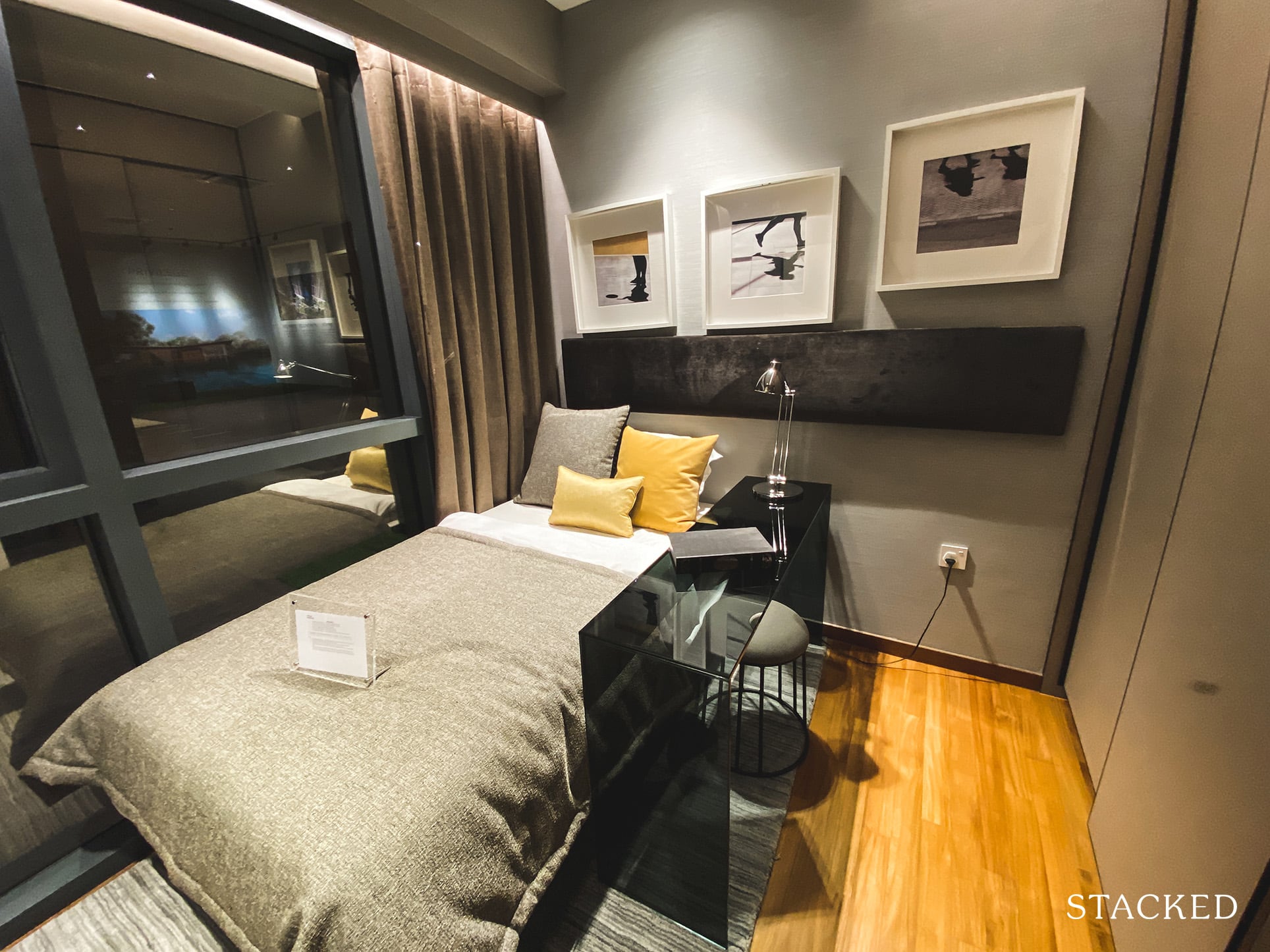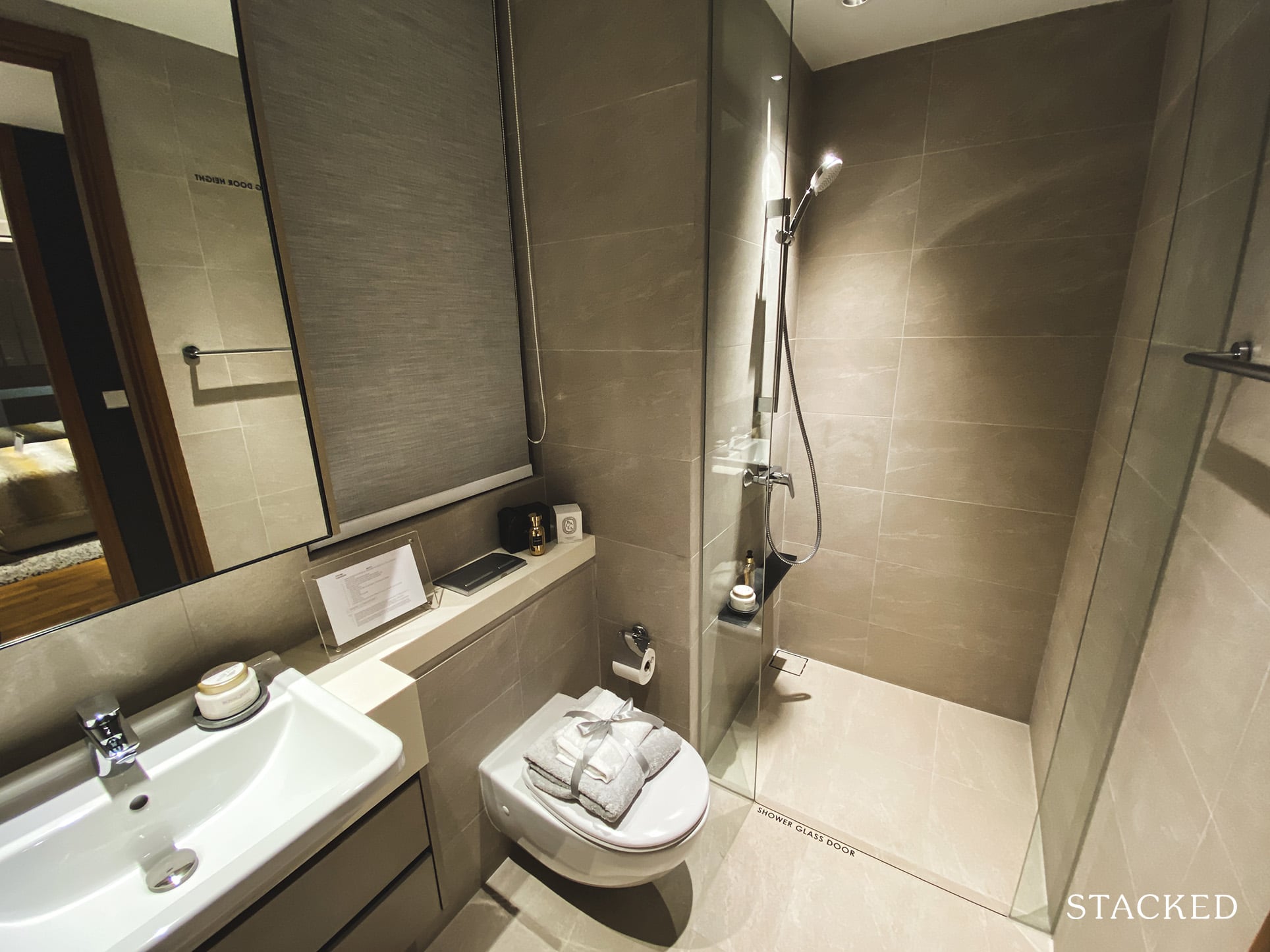 Both common bedrooms will have to share this common bathroom.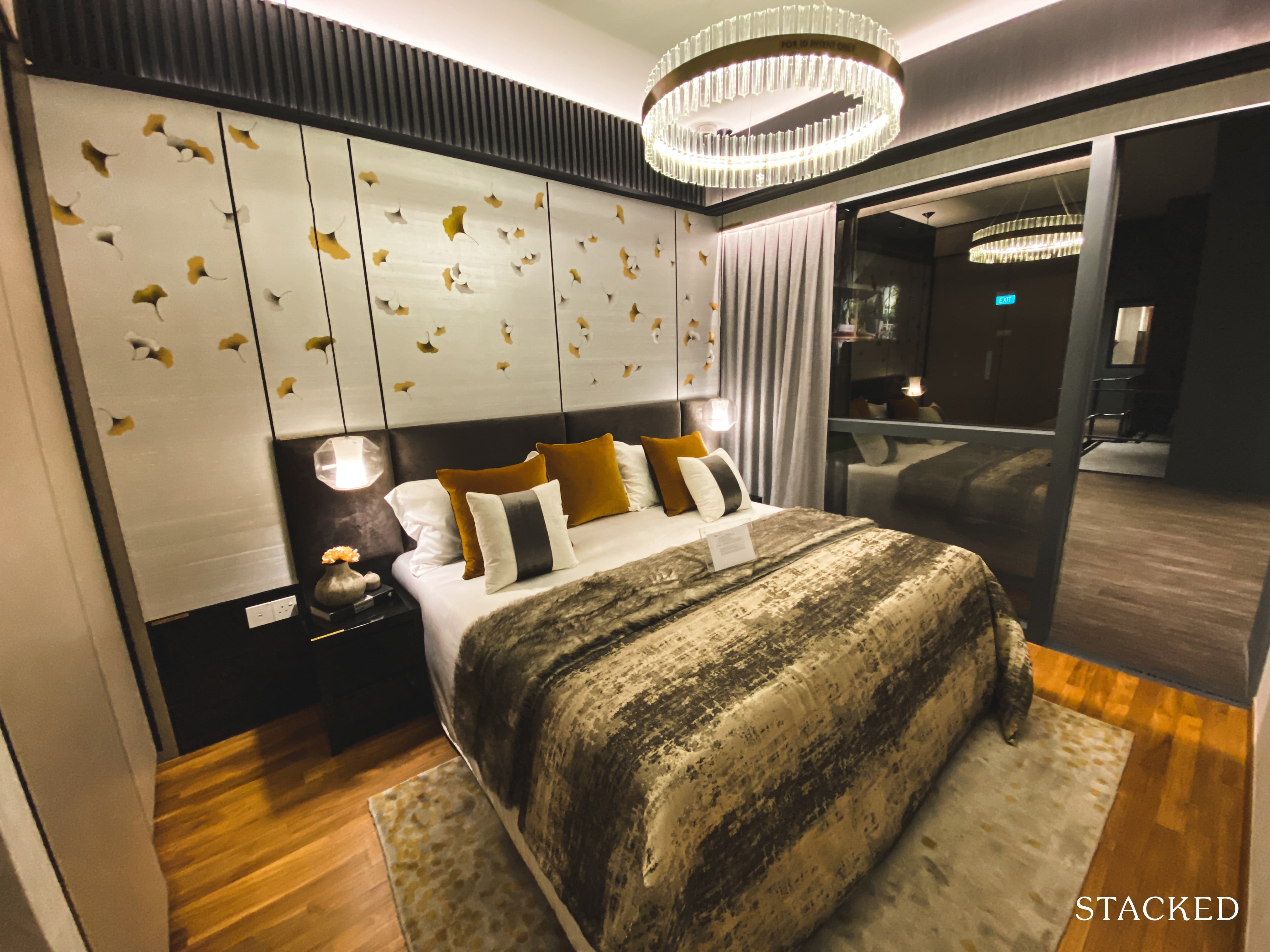 Given the overall size of this 4 bedroom unit, I wasn't expecting much from the master bedroom. Overall, it is quite average in size, there is decent space to move around comfortably.
It's really a no-frills master bedroom here – the only advantage over the rest of the bedrooms would be the bigger space.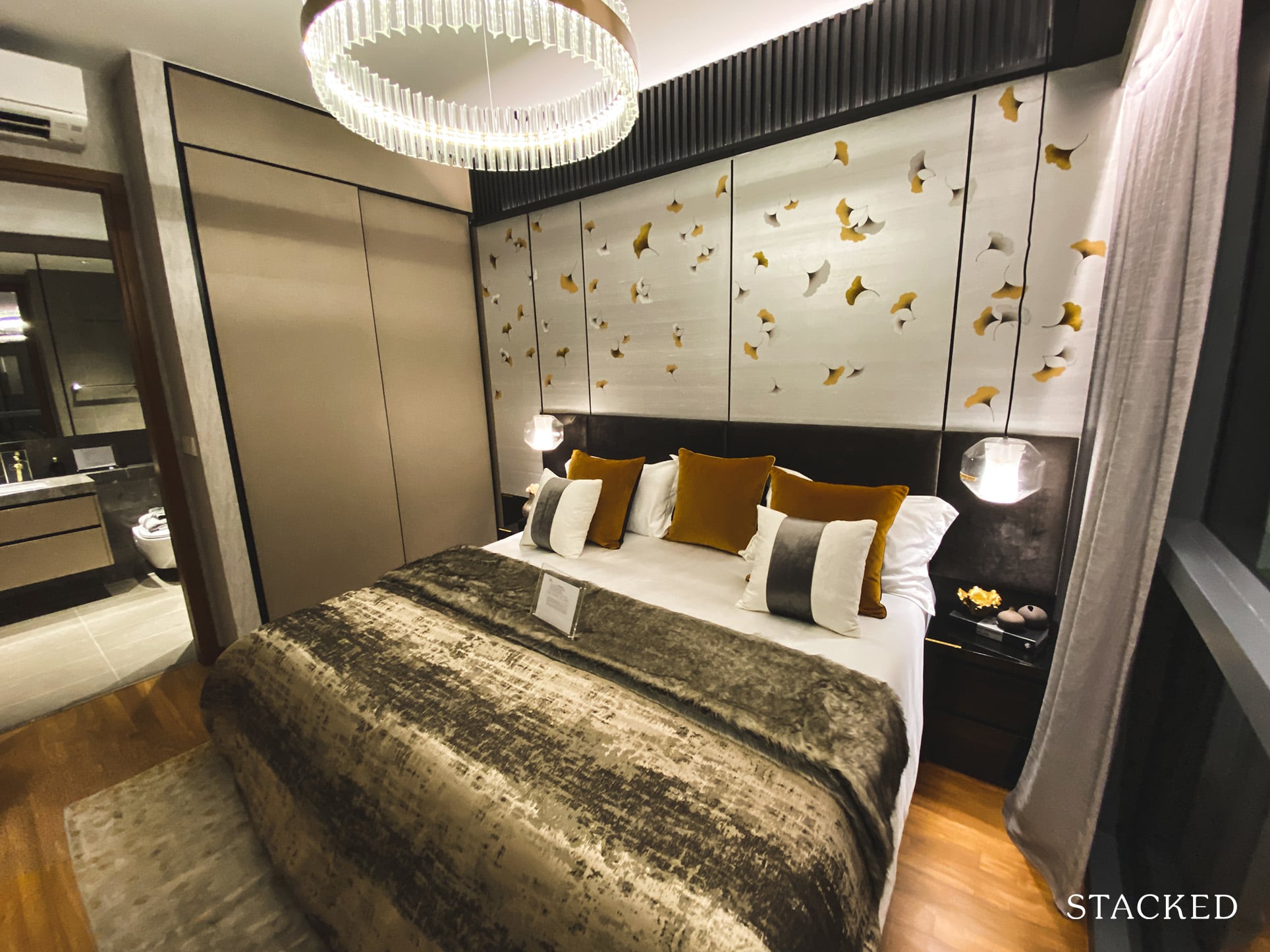 Storage space is an absolute minimum here, I think for most people you would find the limited storage to be an issue.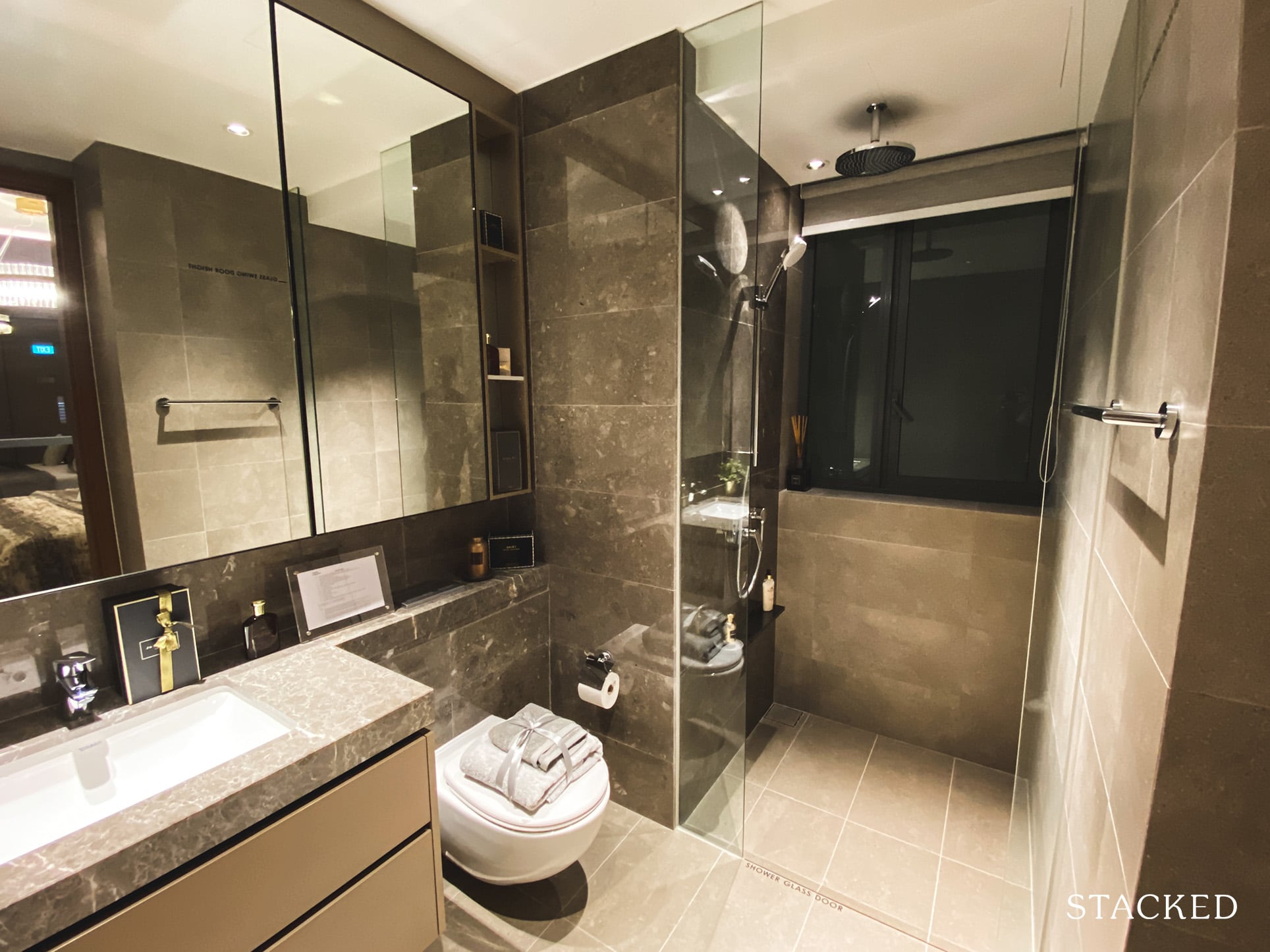 It's really the same story for the master bathroom, there's truly no special features to point out. Flooring is made of the same homogeneous tiles, and the bathroom fittings are the same Hansgrohe and Duravit.
No bathtub here as well, just the "regular" rain shower.
Stirling Residences Location Review
The soon-to-be Stirling Residences is located in the highly sought-after District 3. Amongst all the city-fringe or RCR locations, District 3 is often the hottest due to its incredible proximity to the CBD.

Naturally, prices here are a little steeper as well, which might dissuade some buyers who are looking for economical new launch options.

Stirling Residences finds itself in a rather intriguing position geographically.

To one side, you will observe a string of landed properties that make up the Shepherds Drive and Barbary Walk areas.

To the other, you will find an assorted mix of HDB buildings, as well as the 38-storeyed Queens Condo that boasts incredible views of the city and in some stacks, the sparkling sea waters that surround our island home.
Public Transport

| | | |
| --- | --- | --- |
| Bus Station | Buses Serviced | Distance From Condo (& Est. Walking Time) |
| 'Opp Queens' | 64 | 170m, 2-min walk |
| 'Queenstown Stn Exit A/D' | 51, 111, 145, 186, 195, 195A, 970, NR5 | 450m, 5-min walk |
Closest MRT: Queenstown MRT – 450m, 3 – 4 min walk

As mentioned previously in our review of Jadescape, those who are looking at units adjacent to MRT stations should be cautious of the associated noise disturbances that often come alongside.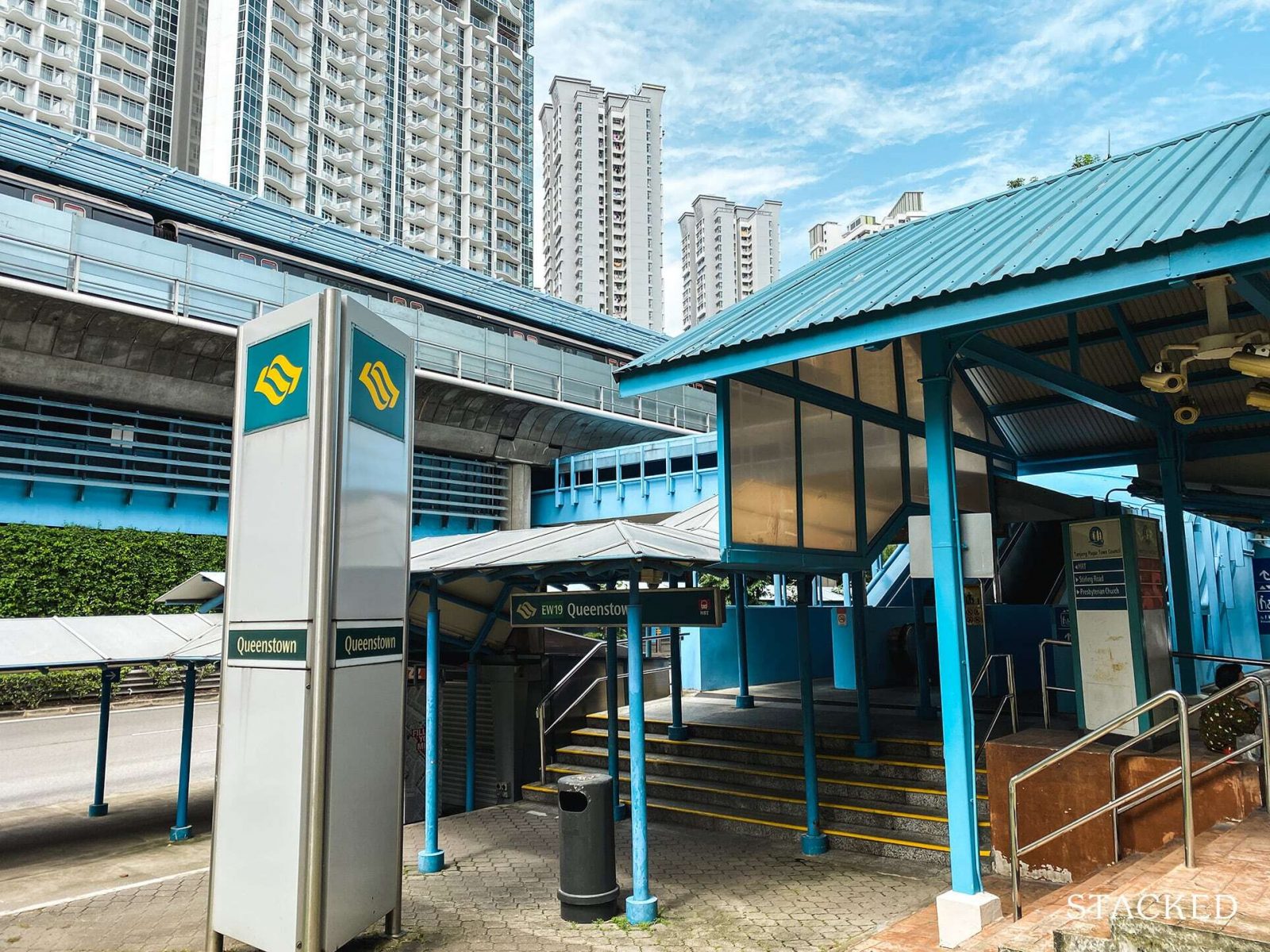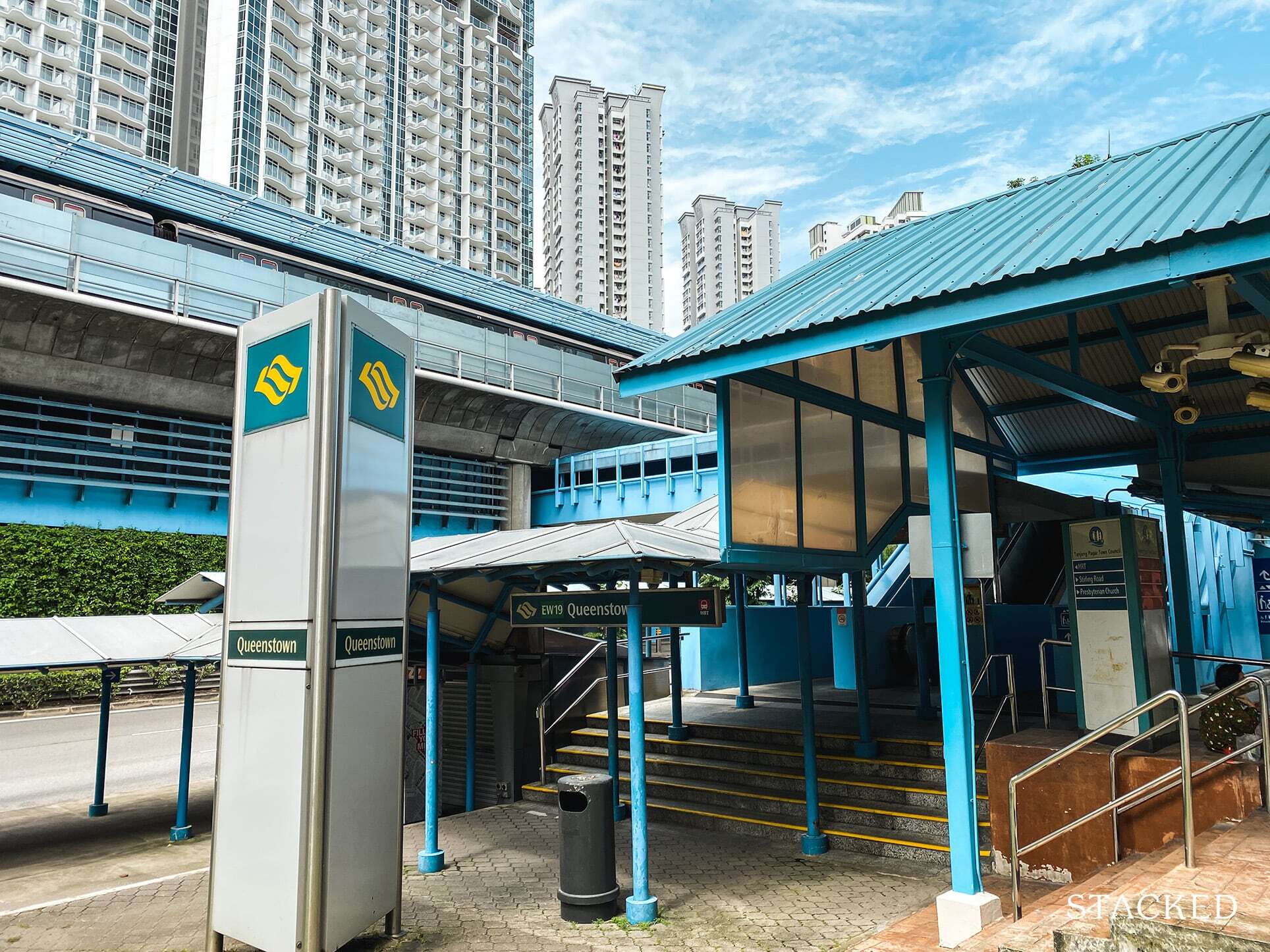 Given that the tracks connecting Queenstown MRT station are also above ground level, this effect is further compounded, and lower-floored residents of the neighbouring Queens Peak and Commonwealth Towers will tell you just that.

Thankfully, Stirling Residences is mostly outside the main noise sphere, whilst still remaining relatively close enough to the station for easy access.

What's more, as a city-fringe development, the public transport times to central areas are also incredibly decent.

Raffles Place MRT (CBD) is a mere 10-minute ride away across 5 stations.

On the other hand, those heading toward Orchard MRT will have to undertake a slightly longer ride time of 17-minutes across 9 stations and a single change to the North South line at City Hall MRT.
Private Transport
| | |
| --- | --- |
| Key Destinations | Distance From Condo (& Est. Peak Hour Drive Time) |
| CBD (Raffles Place) | 9.6km, 15-min drive |
| Orchard Road | 6.1km, 15-min drive |
| Suntec City | 14km, 20-min drive |
| Changi Airport | 27.7km, 28-min drive |
| Tuas Port (By 2040) | 32km, 35-min drive |
| Paya Lebar Quarters/Airbase (By 2030) | 16.2km, 22-min drive |
| Mediapolis (and surroundings) | 2.2km, 5-min drive |
| Mapletree Business City | 2.8km, 10-min drive |
| Tuas Checkpoint | 21.8km, 22-min drive |
| Woodlands Checkpoint | 20.6km, 25-min drive |
| Jurong Cluster (JCube) | 9.9km, 15-min drive |
| Woodlands Cluster (Causeway Point) | 9.7km, 15-min drive |
| HarbourFront Cluster (Vivo City) | 5.7km, 15-min drive |
| Punggol Cluster (Waterway Point) | 23.2km, 30-min drive |
*Note that Drive Times are calculated during Peak Hours

Immediate Road Exit(s): 1 Exit along Stirling Road

Summary: Single exit for a 1,259-unit project does seem a little concerning, although this is slightly mitigated by the convenience of public transport here – and hence a possibly lower dependence on private transport. Stirling Road is also single-laned, and given the proximity to the nearby Queenstown MRT station, we could observe some heavy traffic flow here during peak hours. Thankfully, there are multiple entry points to get to the development from Stirling Road and Commonwealth which is a plus point for convenience.

Groceries

| | |
| --- | --- |
| Name of Grocery Shop | Distance From Condo (& Est. Walk Time) |
| FairPrice – Stirling Road | 250m, 3-min walk OR 350m, 2-min drive |
| FairPrice – Stirling Road | 250m, 3-min walk OR 350m, 2-min drive |
Schools

| | |
| --- | --- |
| Educational Tier | Number of Institutes |
| Preschool (within 1km walk) | 1 |
| Primary (3km-drive) | 4 |
| Secondary (3km-drive) | 2 |
| International School (3km-drive) | 3 |
| Junior College (5km-drive) | 1 |
| University (5km-drive) | 2 |
| Polytechnic (10km-drive) | 2 |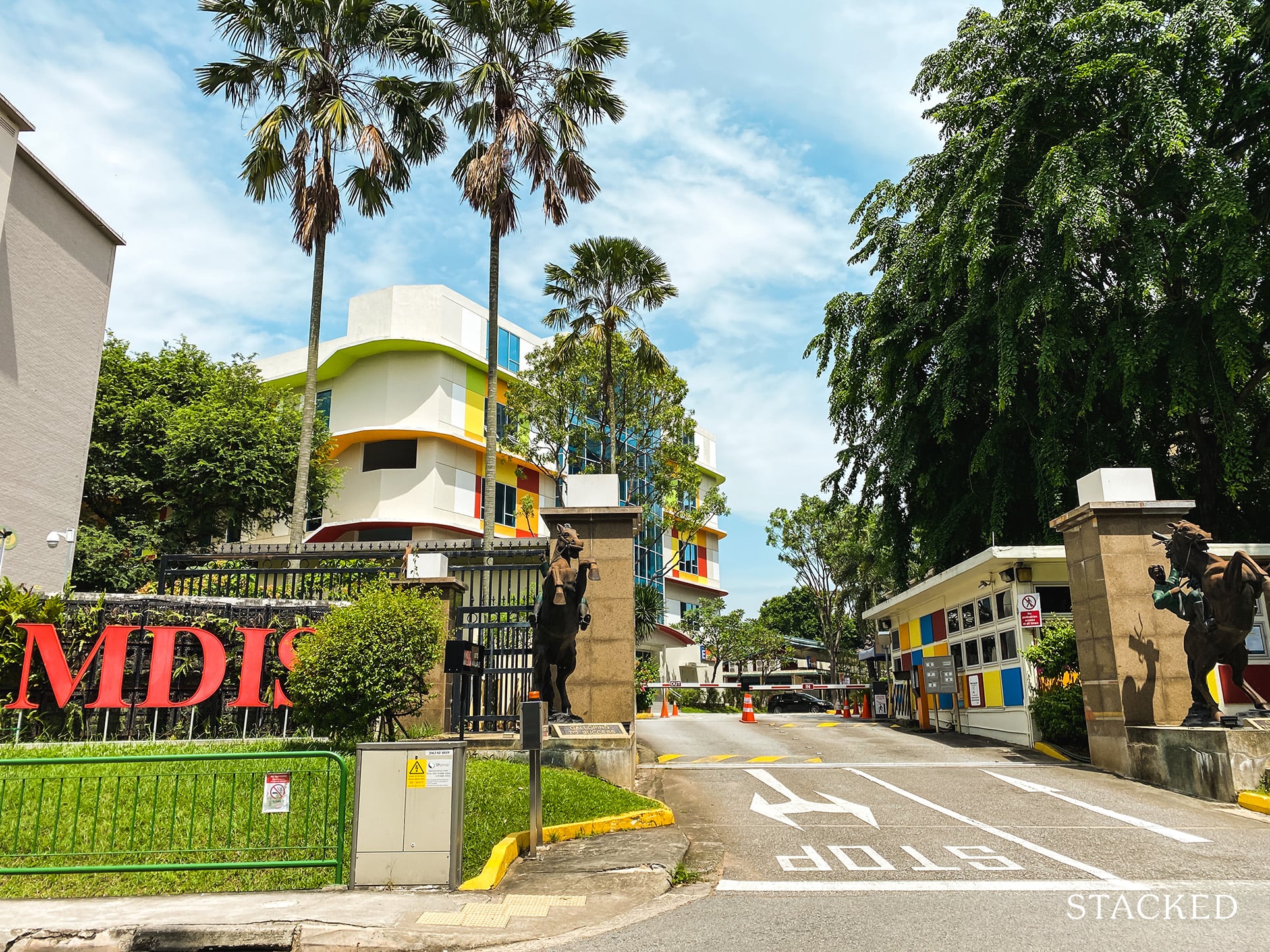 Additional Pointers
For those familiar with the region's history, you'd know that Queenstown is commonly referred to as Singapore's first satellite town.

In fact, the very first public housing skyscraper in Singapore was built on these very grounds, some 60 years ago.

It was then referred to as the beloved Forfar house.

As the sands of time have shifted, so has the residential landscape of this charming neighbourhood.

Today, we see a number of skyscraping residentials littering the horizon, from the magnificent Queens Peak and Commonwealth Towers (as part of the private projects) to the governmental-inclusions of the Dawson Estate skyscrapers.

Given all the skyscrapers in the area, one could logically raise the question of view blockages.

Fortunately for residents at Stirling Residences, they'll find that the project is located south of these massive buildings, with only the low-rise landed properties of Shepherds Drive and Barbary Walk to their immediate south.

Stretching up to 40-storeys high, owners of the higher floored units at Stirling Residences will undoubtedly be presented with incredible (sea) views for the project's short to mid-term future.
As with all matured estates in Singapore, the Queenstown area boasts an incredibly well-diversified array of amenities.

For my fellow sports enthusiasts, you might just relate to me when I tell you that as a boy, I would jump at the opportunity to visit the Queenstown Shopping Centre – simply to browse their latest accessories (mostly of the covered shoe variety).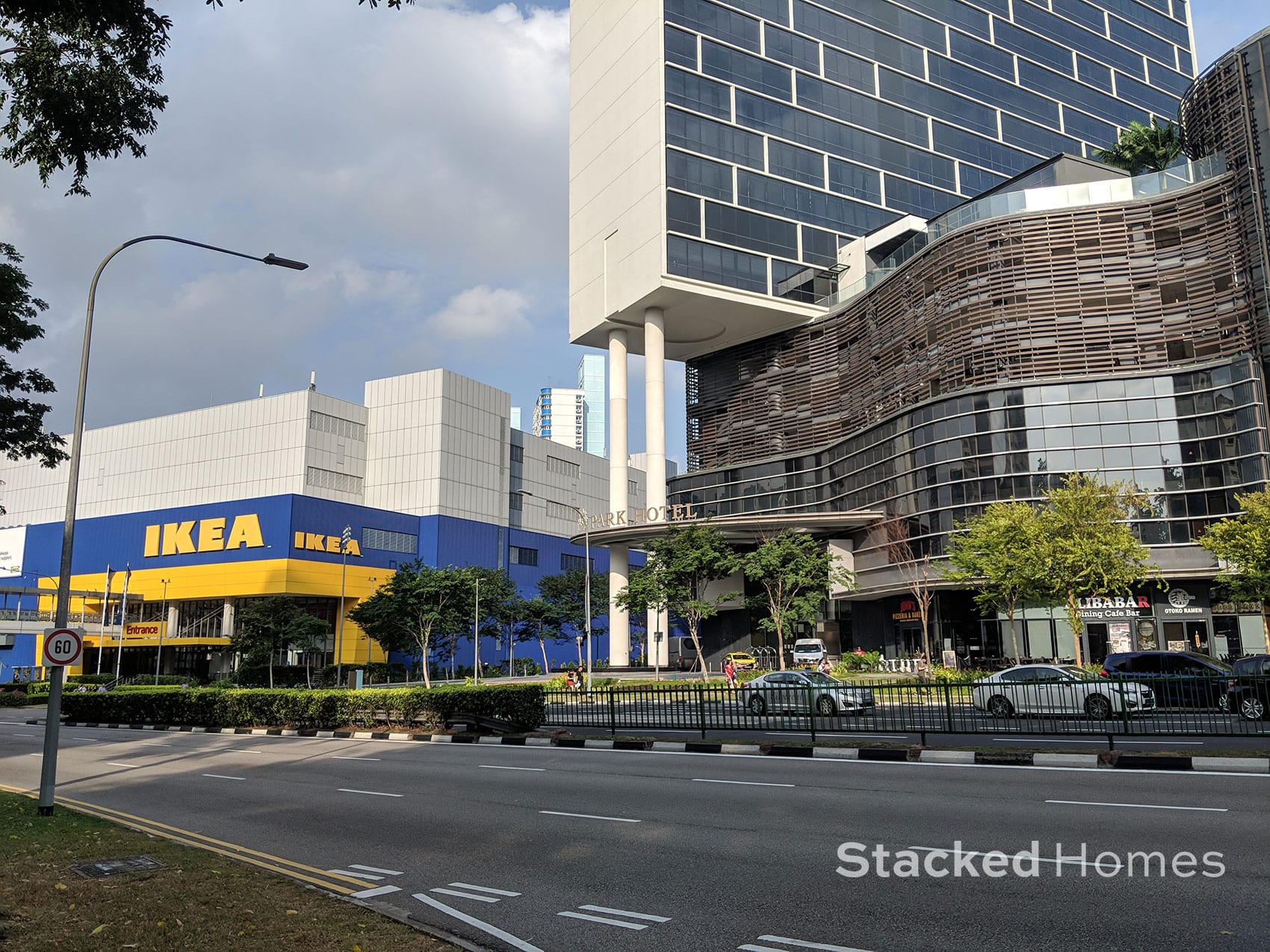 A subsequent stop at the Ikea across from Anchorage Point for some meatballs and cranberry sauce would often wrap up this little adventure to the 'west'.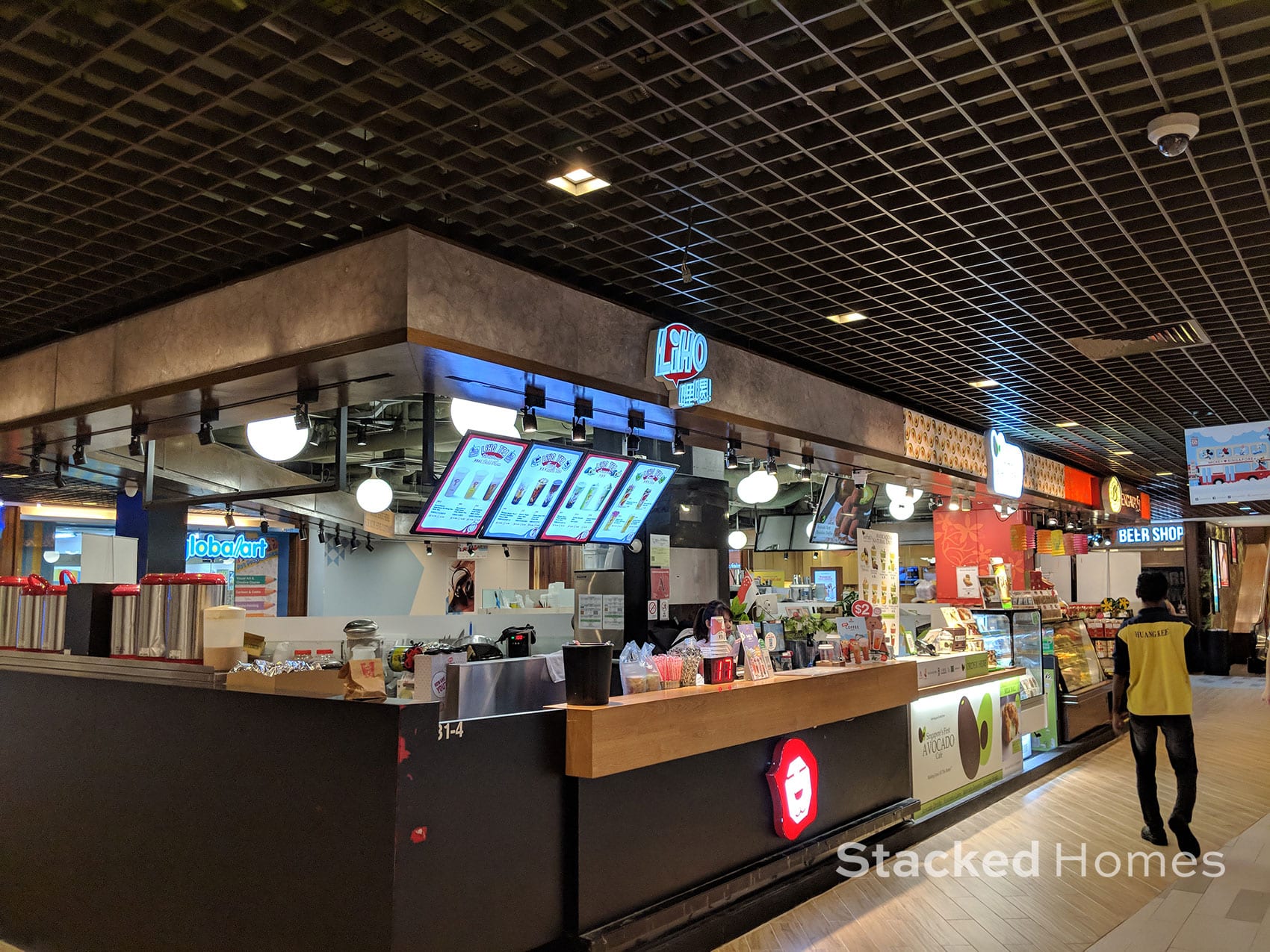 More than just the distant mall musings of a little boy however, Queenstown does truly offer unparalleled convenience. From its food centres, to its neighbourhood clinics, shops and recreational spots (parks, cinemas, swimming pools and running tracks to name a few), it is little wonder that units in the area are so highly sought after – especially when you consider their proximity to the CBD!

Although hospitals can be easily considered as an amenity, the importance of nearby medical care should never go underestimated.

This current pandemic has shown us now, more than ever before, that the quality of our Singaporean healthcare system ranks amongst the top in the world – and having doorstep accessibility to these medical facilities could prove vital in emergencies.

With the Alexandra Hospital a mere 5-minute drive from the condo, and the subsequent National University Hospital a 6-minute drive away, rest assured that any unanticipated medical contingencies can be easily/swiftly attended to.

Perhaps more conveniently, these hospitals also offer a variety of medical services, ranging from full-body health screenings to chiropractic services and even orthopaedic rectifications for those who find themselves constantly immersed in the world of sports.
Stirling Residences Development Site Review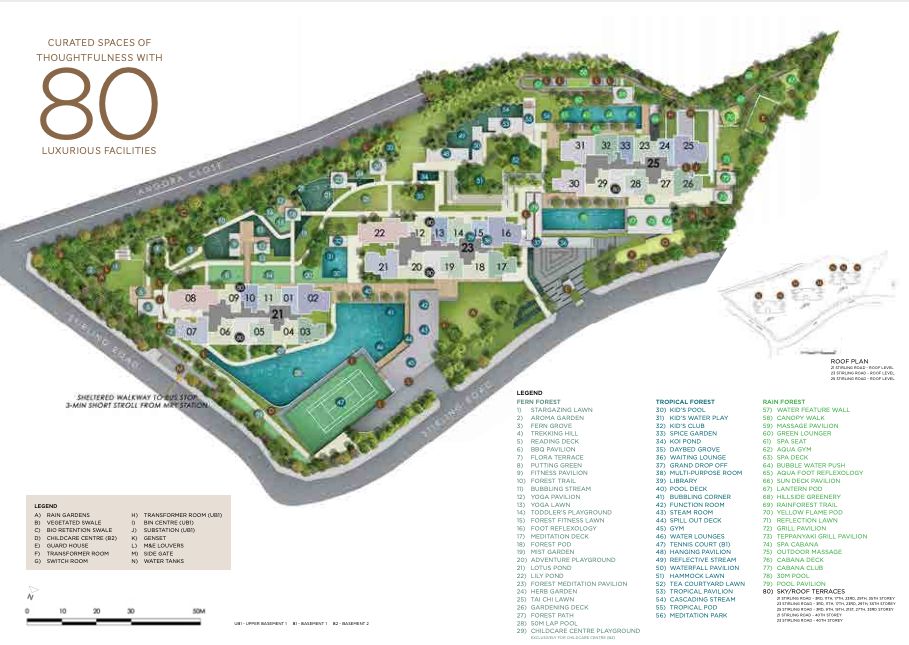 Facilities in Stirling Residences

| | | |
| --- | --- | --- |
| Lawn | Reading deck | Barbeque Pits |
| Fitness area | Playground | Garden |
| Pond | 50m Lap Pool | Childcare centre |
| Tennis courts | Kid's pool | Multi-purpose room |
| Library | Steam room | Gym |
| Water lounges | Hammock Lawn | Aqua gym |
| Walking trail | Aqua foot reflexology | Teppanyaki Grill |
| Spa cabana | 30M Pool | Pool pavilion |
If you take a quick look at the residential blocks here, you'll realise that they have been positioned such that they are not facing each other.

In other words, this means that you'll not be getting any view blockages from the neighbouring blocks – or worst, have to deal with pesky neighbours frequently peeking into the privacy of your unit.

Speaking of privacy, residents of the condo will be presented with a specialised condo app that will allow both tenants and landlords alike to pre-register visitors, without the hassle of manually letting them in. Facility bookings and a range of other services can also be accessed from this app.

Let's now talk about the '80 luxurious facilities' on offer here.

My initial concern (as always) is the compounded effect that the ageing of these numerous facilities will have on the quality/reputation of the project in the coming years – and the fear of a dip in maintenance during this timeline that might further accelerate this outcome.

As for the actual facilities, the initial impressions that I receive is one of natural-bliss, given the abundance of ponds and gardens as well as the 500m-long 'forest trail' and waterfall features.

Perhaps more poignantly, let us hope that all the flora promised here will, in some way mitigate Singapore's scorching heat.

The library doesn't go unnoticed as well.

In many foreign developments that I've had the pleasure of residing in, I often notice the presence of a single library that serves as a respite amidst sometimes tumultuous condo grounds. Personally, a termed 'library' should be more than just a simple lounge room with a small trail of books.

Finally, the main facilities do seem to be in shorter supply. The single tennis court might not bode well with the 1,259 units here – out of which, I'm sure are quite a few racquet enthusiasts.

As for the swimming pools, you'd notice a single 50m lap pool, followed by another 30m one. A single kids pool and an aqua gym make up the rest of the 'usable' water-facilities in the development.

Certainly nothing like Principal Gardens in terms of aquatic usability – and once again, given the number of units here, having an uninterrupted lap-workout here during post-work hours might prove a tad challenging.
Best Stacks With The Least Afternoon Sun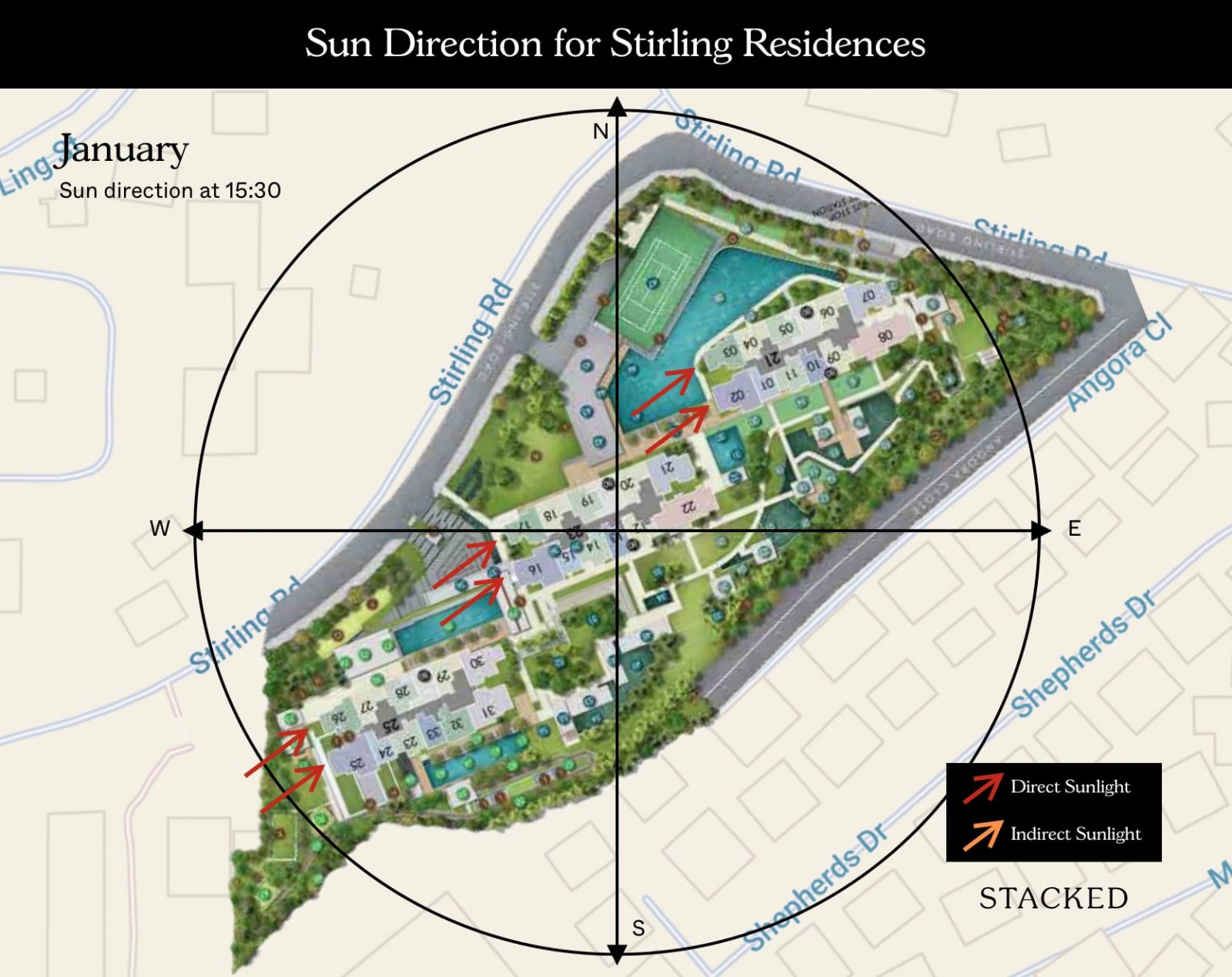 The afternoon sun at Stirling Residences tend to be the greatest for stacks facing the North-West orientation sometime around July. Stacks with the least afternoon sun includes 23, 24, 31-33, 13-15, 21-22, 01, and 08-11 as they have the South-East orientation.
Best Stacks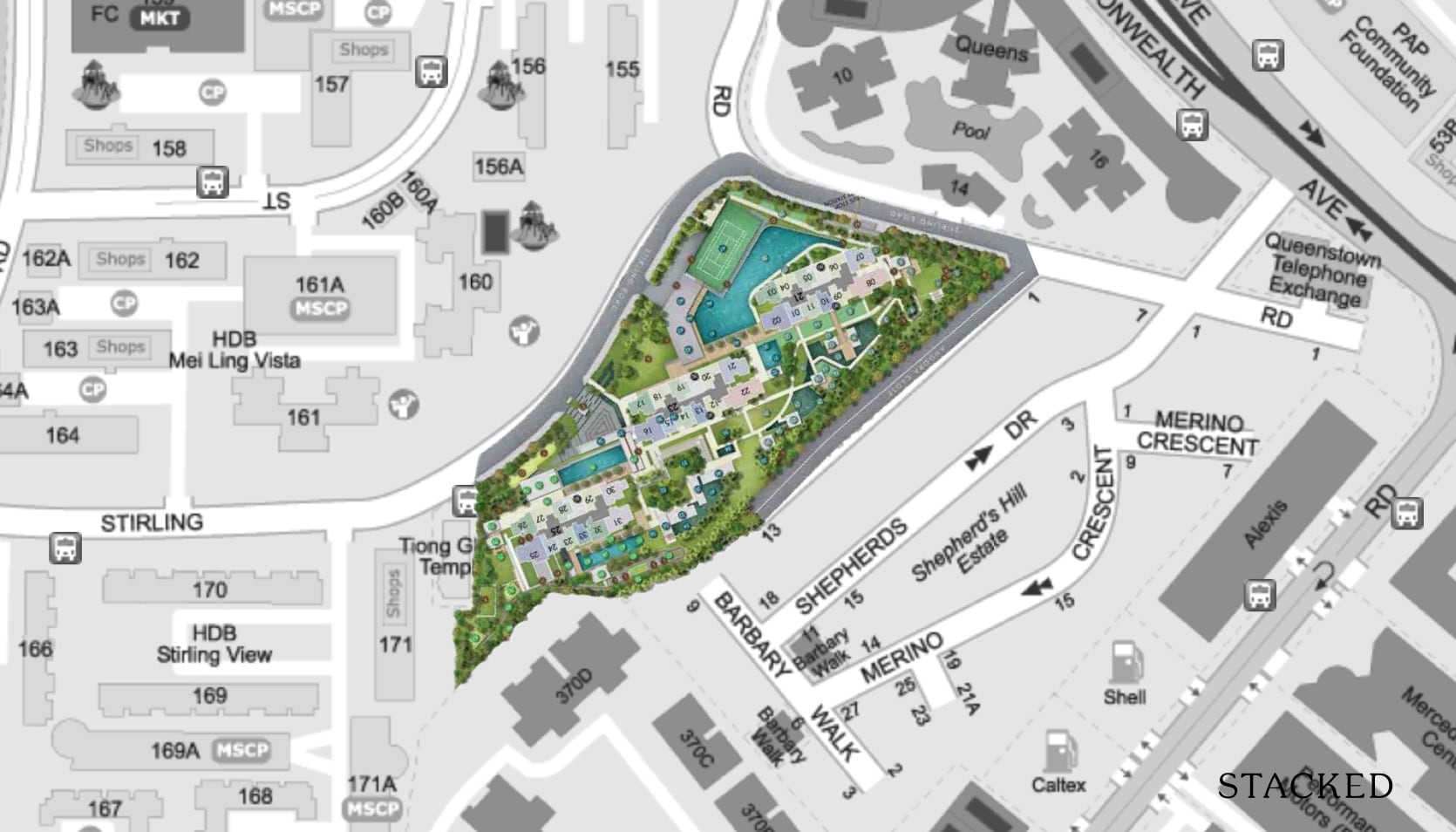 In terms of best stacks for Stirling Residences, it's quite clear that you should be looking at the South West facing stacks. This is purely because this is facing the low-lying landed cluster at Shepherd's Hill Estate. And because the Stirling Residences is built on "stilts", even the lower levels will not be blocked by the landed homes.

Of course, the high floors here will be able to enjoy a sea view.
Unit Mix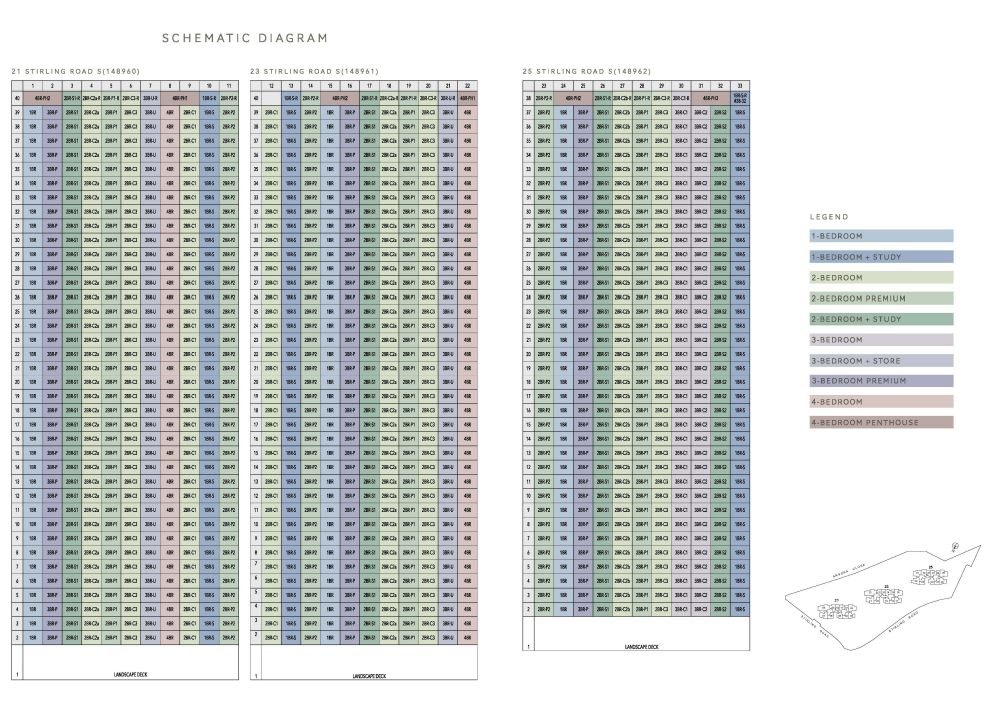 | | | |
| --- | --- | --- |
| Unit Type | No. Of Units | Size of Units (sqft) |
| 1-Bedroom | 112 | 441 sqft |
| 1-Bedroom + Study | 115 | 506 – 710 sqft |
| 2-Bedroom | 306 | 624 – 872 sqft |
| 2-Bedroom Premium | 230 | 678 – 904 sqft |
| 2-Bedroom + Study | 151 | 764 – 980 sqft |
| 3-Bedroom | 73 | 883 – 1,130 sqft |
| 3-Bedroom + Utility | 78 | 980 – 1,281 sqft |
| 3-Bedroom Premium | 112 | 1,055 sqft |
| 4-Bedroom | 76 | 1,346 sqft |
| 4-Bedroom Penthouse | 6 | 1,959 – 1,970 sqft |
Given that there are only 1 to 4 bedroom-unit types at Stirling Residences, the developers of Queenstown's most iconic project to date have done a great job in further diversifying the layouts and spatial allocations of units in each tier.

As always, note that smaller units usually come in at a higher psf than their bigger counterparts.

This is especially true for the smaller 1-bedders here (441 square feet) which cost just upwards of $2,100 psf based on recent sales – as compared to the bigger units which are currently averaging just above $1,900 psf.

For brief comparisons, the smallest 1-bedroom units at Queens Peak (431 square feet) and Commonwealth Towers (441 square feet) are currently averaging $1,850 and $1,950 psf respectively.

As for a brief recap on the interiors, each unit will come equipped with Mitsubishi air-conditioning and mostly German kitchen appliances. Bedroom flooring is coated with timber flooring whilst the rest of the area is decked with the usual homogenous tile floorings (parquet lovers take note!).

Finally, bear in mind that the well-ventilated units here will reach up to 40-storeys high with an elevated landscape deck at each block's base, adding to both the grandeur, and the price of living on the project's higher floors.

Prices for Stirling Residences
Price Breakdown (1st Property)
1-Bedroom
2-Bedroom
3-Bedroom
4-Bedroom
Price
$898,535
$1,275,116
$1,641,464
$2,317,651
25% Down Payment
$224,634
$318,779
$410,366
$579,413
Additional Costs
Buyer Stamp Duty
$21,556
$35,605
$50,259
$77,306
Legal Fees
$2,500
$2,500
$2,500
$2,500
Valuation Fees
$300
$300
$300
$300
Stamping Fees
$500
$500
$500
$500
Total Price
$923,391
$1,314,021
$1,695,023
$2,398,257
Initial Investment Amount
$249,490
$357,684
$463,925
$660,019
Return on Investment
Expected Rental Price
$2,372
$3,056
$3,542
$4,974
Rental Yield
3.08%
2.79%
2.51%
2.49%
Price (2nd Property)
1-Bedroom
2-Bedroom
3-Bedroom
4-Bedroom
Cost Without ABSD
$923,391
$1,314,021
$1,695,023
$2,398,257
Plus: ABSD (12%)
$107,824
$153,014
$196,976
$278,118
Total Price After ABSD
$1,031,215
$1,467,035
$1,891,998
$2,676,375
Initial Investment Amount
$357,314
$510,698
$660,900
$938,137
Return on Investment
Expected Rental Price
$2,372
$3,056
$3,542
$4,974
Rental Yield
2.76%
2.50%
2.25%
2.23%
Price Review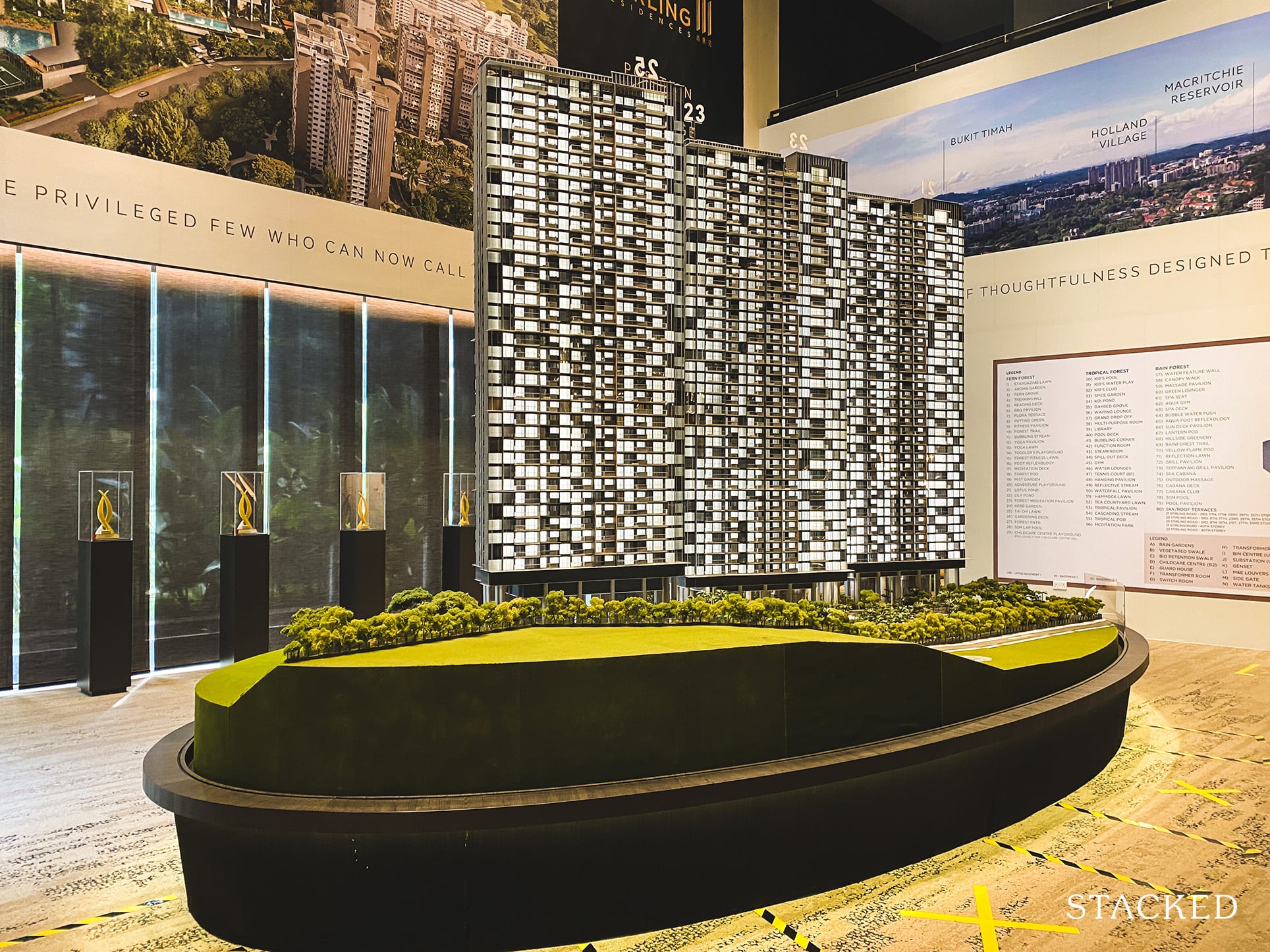 For those who have read our review on Jadescape previously, you'd understand that there aren't many current new launch comparisons between these two projects that can generate an apples to apples comparison.

In that review, I brought up the comparisons based on mega developments (800+ units) that were in the RCR (or city fringe) and were at most within 5 minutes walking distance of their respective MRT stations.

In this review, I'm going to widen the stats comparison a little more such that the list is based solely on mega New Launch developments located in the RCR, regardless of MRT proximity.

(You can find out more details about each listed project in our current New Launch Cheatsheet.)

| | | | | | | |
| --- | --- | --- | --- | --- | --- | --- |
| Project Name | Tenure | TOP | Average Price (PSF) | Distance from MRT | MRT Station | Total Units |
| Stirling Residences | 99-year leasehold | 2022 | $1,914 | 450m, 5-min walk | Queenstown MRT | 1,259 |
| Affinity at Serangoon | 99-year leasehold | 2024 | $1,551 | 2.7km, 30-min walk | Lorong Chuan/Hougang MRT | 1,012 |
| Tre Ver | 99-year leasehold | 2022 | $1,627 | 850m, 11-min walk | Potong Pasir MRT | 729 |
| Parc Esta | 99-year leasehold | 2022 | $1,694 | 230m, 3-min walk | Eunos MRT | 1,399 |
| Jadescape | 99-year leasehold | 2023 | $1,715 | 350m, 4-min walk | Marymount MRT | 1,206 |
| Park Colonial | 99-year leasehold | 2022 | $1,939 | 350m, 4-min walk | Woodleigh MRT | 805 |
| Avenue South Residence | 99-year leasehold | 2023 | $2,022 | 1.6km, 17-min walk | Outram Park MRT | 1,074 |
| One Pearl Bank | 99-year leasehold | 2023 | $2,505 | 650m, 9-min walk | Chinatown/Outram Park MRT | 774 |
Naturally, One Pearl Bank tops the list on psf value given its proximity to both Chinatown and Outram Park MRT stations, as well as the CBD (5-min drive).

At the other tail end of this price list is Affinity at Serangoon. This reason for this is most likely because of the lack of a current immediate MRT station to the project, as well as its outer city fringe location.

That said, we could still expect some price movements through the years for the condo as the government carries out its planned decentralisation of the CBD. A future MRT station in the vicinity (or even new residential developments in the relatively 'untouched' area for that matter) will further add to this upside potential.

Stirling Residence sits near the top of this pricing list given its well-thought out project architecture – which will allow incredible views to almost all high-floored units, as well as its location which is a mere 10-minute train ride from the CBD.

Now what about a price comparison with its immediate neighbours?

| | | | |
| --- | --- | --- | --- |
| Project Name | Tenure | TOP | Average Price (PSF) |
| Stirling Residences | 99-year leasehold | 2022 | $1,914 |
| Queens | 99-year leasehold | 2002 | $1,284 |
| The Anchorage | Freehold | 1997 | $1,488 |
| Alexis | Freehold | 2012 | $1,643 |
| Commonwealth Towers | 99-year leasehold | 2017 | $1,793 |
| Queens Peak | 99-year leasehold | 2020 | $1,806 |
For those looking at private condo units in the general Queenstown/Alexandra area, this is the list that you should be looking at.

I've left out Queensway Tower due to its age, as well as the Interlace condo, which I feel quite a distance away from Stirling Residences to be compared as an immediate neighbour. If you're interested in the Interlace however, be sure to check out the full review here!

If you were to look at this pricing list, you'd quickly realise that Stirling Residences is the most expensive condo development in the entire Queenstown area.

For those looking at cheaper private condo options, Queens does stand out given its proximity to the MRT station (200m). Despite its age, it does boast skyscraper views from its higher floors (38 storeys in total).

As for others looking to reside closer to amenities, The Anchorage does stand out as a freehold option that is located in immediate proximity to the Ikea, Anchorage and Queenway shopping centres – even if it is a tad further from the MRT station.

Commonwealth Towers and Queens Peak round up the list of new, slightly more affordable diversities. Their immediate proximity to Queensway MRT is presented as a double edged sword.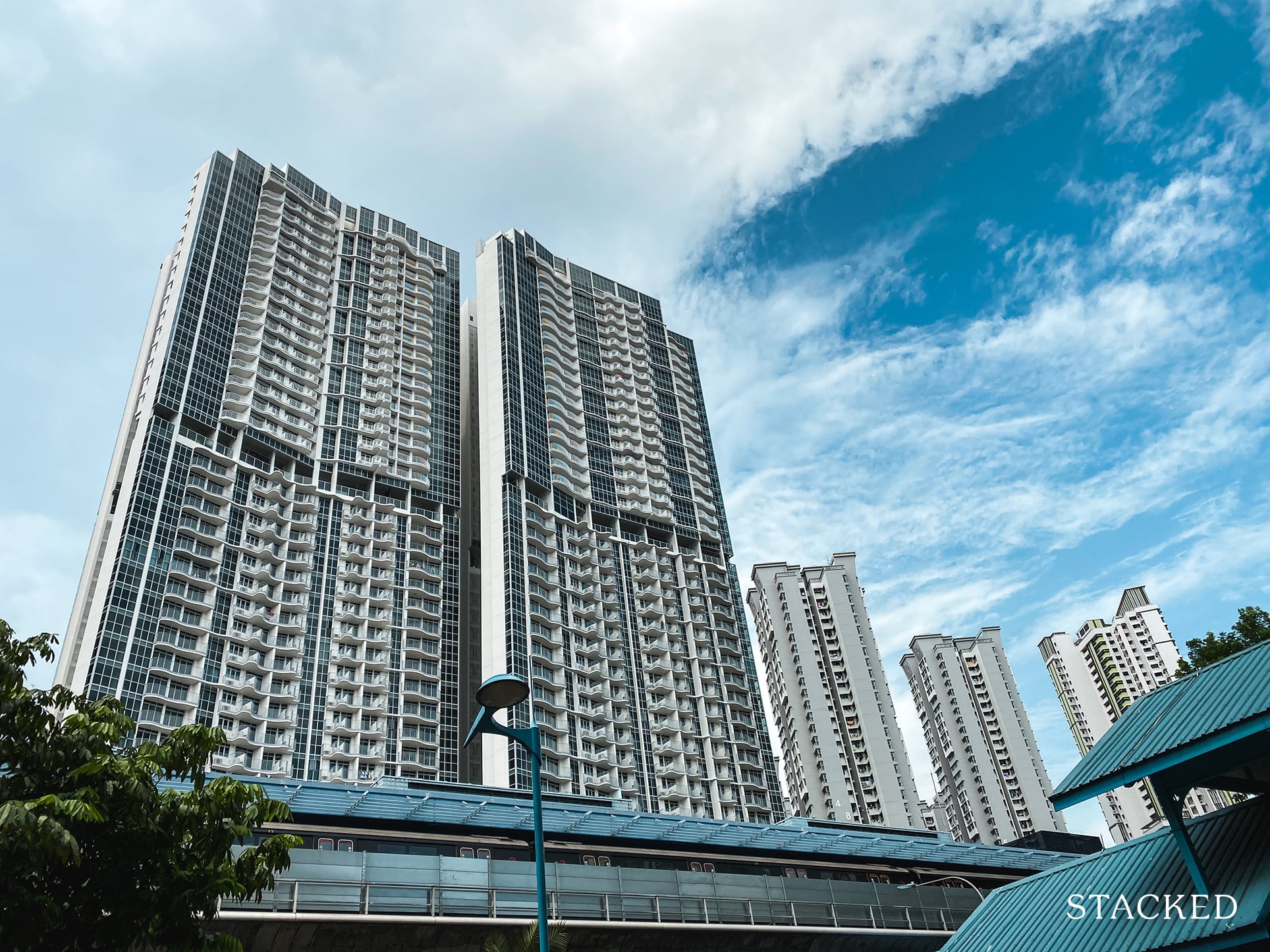 On the positive end, the added convenience could result in higher rentability, while the negative note sees that their adjacency to the 'above-ground' tracks could prove extremely 'rumbly' to those taking up residence here.

And while that is all for private residential condo comparisons, HDB resales in the area have also been a massive talking point of late, especially with the Dawson estate on the horizon.

Many resale units have crossed the 1 million-dollar mark, and those who are excited solely by the location should also take a look at these public housing alternatives.
Not sure whether to go for a HDB or Private Condo unit in the area? Drop us an email at hello@stackedhomes.com and we'll work out the best solutions with you based on your priorities and available unit pricing potentials!

Appreciation Analysis
As we know, during property market upswings, central projects tend to appreciate the fastest and furthest, followed by the rest – much like a sonar wave effect (we'll leave out the bit about potential decentralisation for now).

What's more, the bigger iconic developments (ie. Rivergate Condo etc.) in most Singaporean districts often see their price points scale over the years if their quality and reputations are deemed worthy.

That said, their developers (which we will get to in a bit) are admittedly new to developing residential projects in Singapore, even if they are already experts at that in their home countries. This might be a cause of concern for some.

Personally, I am positive that the combination of these two foreign companies together with public hype/demand should provide a strictly adhered quality threshold that will eventually result in the project exceeding expectations.

Yes, Queens Peak and Commonwealth Towers were bidded at lower prices, launched with lower psfs and are essentially next to the Queenstown MRT station. But what they do not have is the noise seclusion, abundance of facilities and incredibly far-reaching views (for a majority of units) that Stirling Residences boasts.

And as well all know, exclusive quality begets demand. And demand begets good prices.

The other topic revolves around the rentability of the condo.

For investors, it is important to note that once Stirling Residences and the nearby Margaret Ville are completed, they will add a further 1,568 units (or 69% more units) in the area, on top of the current 2,268 private residential units.

If you also factor in Queens Peak which is technically reaching TOP by the end of this year, that's 2,268 units or an 86% increase!

Naturally, that is going to add fierce rental competition. Given the proximity of both Queens Peak and Commonwealth Towers to the MRT as well as their generally lower asking prices (rent-wise), it is possible that landlords of smaller (more expensive) units at Stirling Residences might find good rental yield and demand to be a rare combination here.

Of course, this is simply speculation, and demand could grow massively as more people (expats and locals alike) are directed in the direction of Queenstown.
There is also the possibility that Stirling Residences becomes such an iconic project that we see renters flocking to the project.
But truthfully, and in more realistic terms, I continue to stand by my initial point.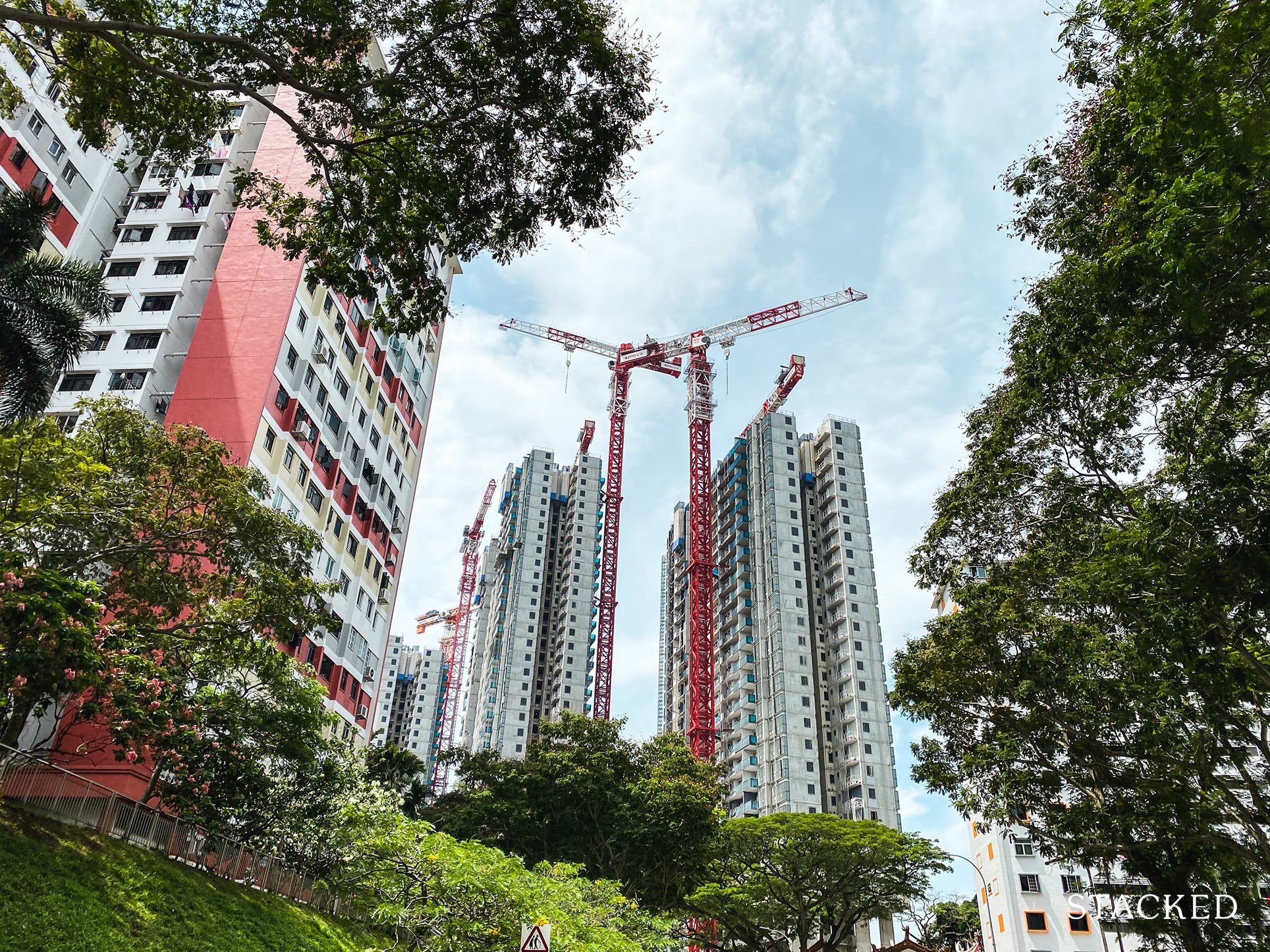 Our Take
What we like
Quiet yet convenient location

Mostly good views and facing
What we don't like
–

One tennis court

–

Possible overcrowding of facilities
And so as we've seen in the price reviews, there are quite a number of mega city-fringe developments to choose from today.

That said, not many of them are within this distance to the CBD. Some of them aren't even close to an MRT station for that matter.

Of course, there are plenty of other smaller developments with lesser facilities that you could look at, but we'll leave that discussion for a later date.
(Don't forget! You can also reach out to us at hello@stackedhomes.com if you have any real-estate related queries!)

At the end of the day, if you were to go into a comparison between its new immediate neighbours based solely from a homeowner's perspective, I feel that Stirling Residences will offer a more 'homely-vibe' than its Queens Peak and Commonwealth Towers counterparts.

This is mainly due to the seclusion from the MRT tracks and adjacent traffic noise as well as the incredible unblocked sea views from the higher floors of the condo.

Yes, you'd be forking more for this condo.
But if you do decide to eventually take the plunge, rest assured that you'll be living in Queenstown's most iconic residential for many years to come.

Developer Notes:

Both Nanshan Group and Logan Property belong to foreign roots that have ventured onto Singaporean soil.

As is often the case, there has been slight mistrust of foreign (specifically Chinese) developers coming into Singapore, and the quality of their wares.

That said, both these companies have had solid track records in their home countries and undoubtedly aim to conjure the same here in Singapore.

Nanshan Group was initially founded after the Chinese Economic Reform in 1978. Through a diversity of trade-lines, the company now finds itself as a top Real Estate developer in mainland China.

Their determination to get into the Singapore market via their real estate arm – Nanshan Group Singapore Co. hasn't gone unnoticed.

With frequent (highest) GLS bids and a number of developments like Park Regis Hotel at Merchant Road as well as the Mercure Singapore at Bugis already under their name, the future for Nanshan Group's real estate venture in Singapore does look very promising, even if this is only their second full-fletched private residential project in Singapore (behind Thomson Impressions).

Logan Property is another Chinese developer based in Shenzhen but listed on the Hong Kong Stock Exchange back in 2013. It is often touted as one of the best developers in China with top-notched projects in the Pearl River Delta.

It has since ventured into the enticing Singaporean real estate market, and while still relatively inexperienced in developing real estate projects in the city (this will be their first private residential project here), have proven time and again that their deep pockets are well backed with solid leadership and lengthy experience.
What this means for you
You might like Stirling Residences if you:
• Work in the CBD:

A 10-minute ride to the CBD from the nearby Queenstown MRT station is probably one of the biggest perks of living at Stirling Residences.

• Appreciate Incredible Views:

For those fortunate enough to get a relatively high floor (peaks at 40-storeys), you'd be rewarded with incredible views depending on which direction the unit faces.
You might not like Stirling Residences if you:
• Prefer Smaller Developments:

At over 1,259 units atop 227,222 square feet of land, be prepared that this (very) high-rise project will be accommodating a massive number of residents at any one time.

• Prioritise your Budget:

Stirling Residences is the most expensive private residential in the area. For those interested in the area, but with a concern for cash, why not have a look at the alternative private or public residentials in the area?
End of Review
Join our Telegram group for instant notifications
Join Now
Reuben