New Launch Reviews

Mayfair Gardens Review: British Inspired Condo in Bukit Timah
Reuben
November 29, 2019

19

min read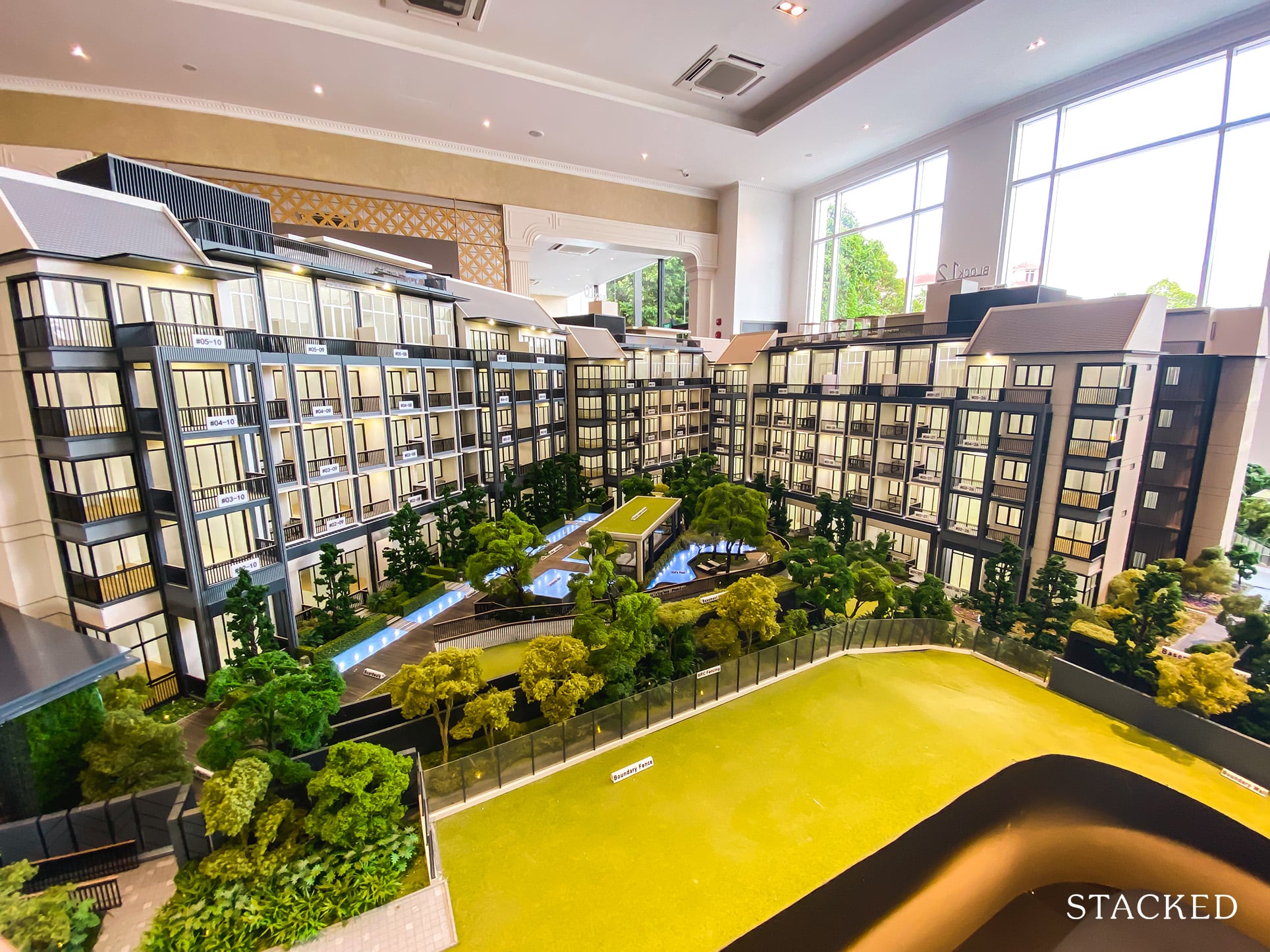 Mayfair Gardens "Georgian-inspired" theme is perfect for those who appreciate design and want to live like a "British Royal". It's enclaved position also makes it suitable for those who appreciate peace and quiet. However, its high quantum makes it appealing to look at older, more affordable freehold resale units with similar access to amenities in the area.
Reviewed by Reuben on 29 November 2019
What we like
Unique exterior design

Close to good schools

Quiet enclave
What we don't like
—

High prices for leasehold

—

Some layouts are not as practical
19
min read
About this condo

| | | | |
| --- | --- | --- | --- |
| Project: | Mayfair Gardens | District: | 21 |
| Address: | Rifle Range Road | Tenure: | 99 years |
| Site Area: | 116,129 sqft | No. of Units: | 215 |
| Developer: | Citrine Property Pte Ltd | TOP: | 2024 |
As kids, there were few things we dreaded more than stepping on that little blue rectangle on the monopoly board.
'Mayfair… That'll be 2000 dollars please!' a smug kid would say, frantically rummaging for his title deed and then proudly pronouncing his price.
Fast forward a couple of years and it does seem like history is about to repeat. But this time, in a way more elegant fashion.
In late November of 2017 (around the birth period of Singapore's legendary en bloc craze), land rights over Mayfair Gardens were obtained by Oxley Holdings for a whopping $311 million.
That was only the beginning.
In a bid to emulate developments along the 'O.G.' London Mayfair, Oxley thereafter announced that 4 ravishing duplicates of 5-storey Georgian-themed blocks would take precedence on the coveted grounds – their dimensions in exact accordance to its esteemed predecessors.
A testament of luxury in a seamless locale, the 215 units at the 99-year leasehold Mayfair Gardens will not come cheap despite the presence of its (more affordable) freehold neighbours.
Curious about this lavish Victorian-like project, we popped down to the Mayfair Gardens' showflats for a closer peek.
Mayfair Gardens Insider Tour
Facilities in Mayfair Gardens
Boardwalk
Reflective Pool
Sky Deck
English Tea Pavilion
Kid's Pool
Playground
Floral Deck
Water Play
Garden Pavilion
Pine Forest
Jogging Trail
Flower Garden
Fitness Corner
Gym
Clubhouse
Spa
Lawn
Swimming Pool
Aqua Gym
BBQ Pavilion
Sky Garden
Roof Viewing Lounge
Cabana Roof Garden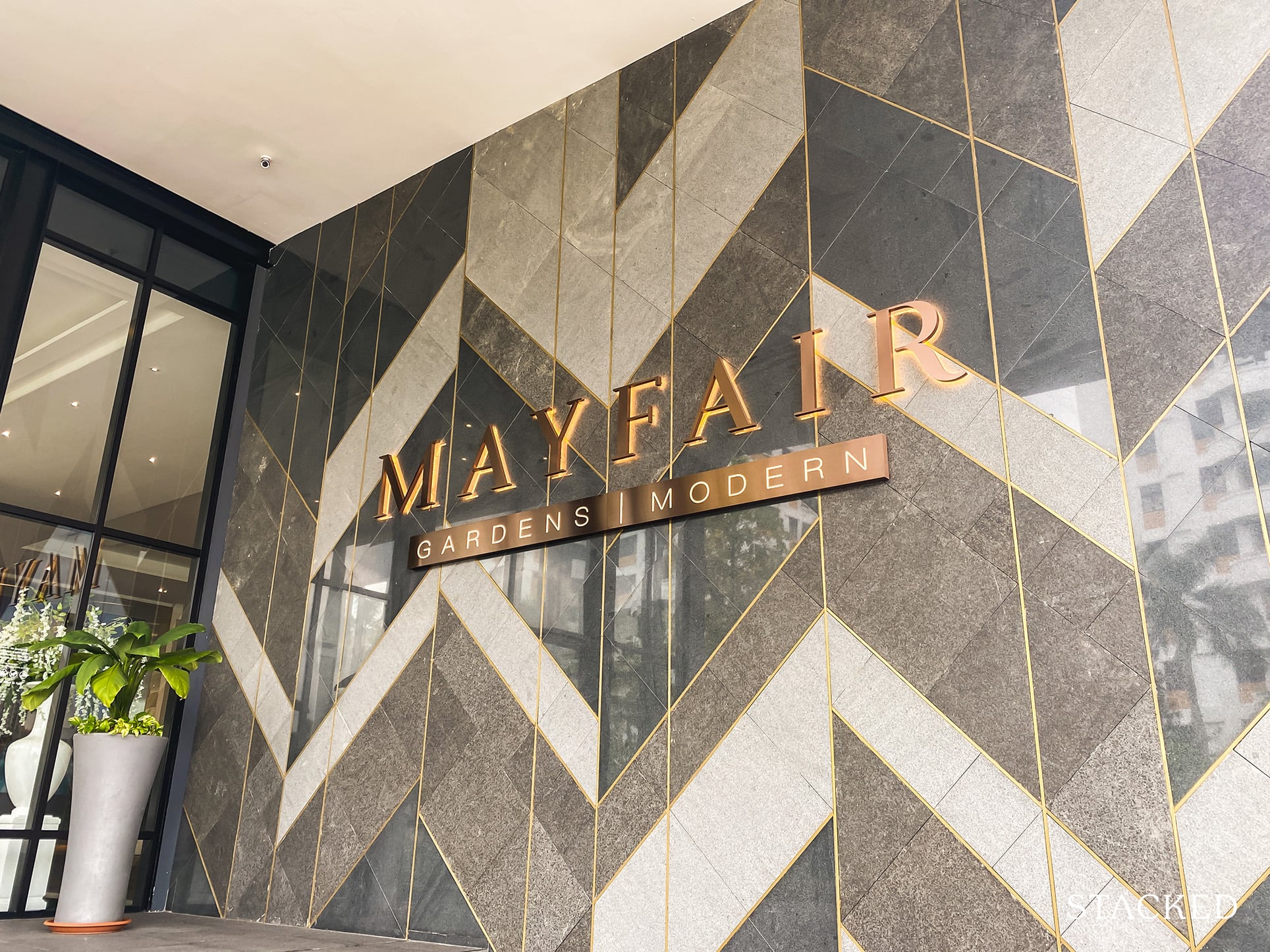 Even though you can consider both Mayfair Gardens and Mayfair Modern to be separate developments, they are both located in the same showflat.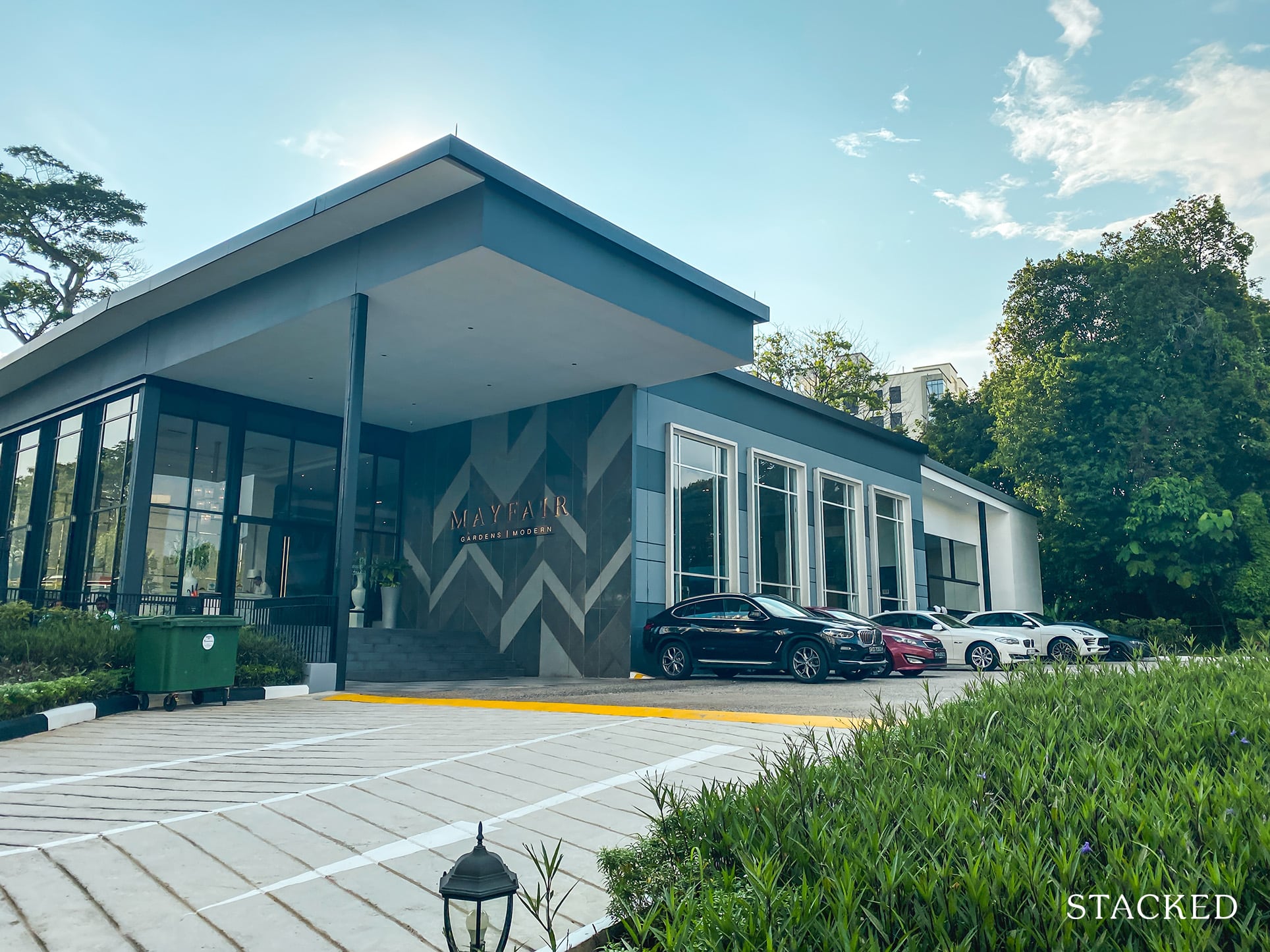 From first impressions, it's quite clear that some effort has been made to show off its Georgian influence from the posh Mayfair districts in London.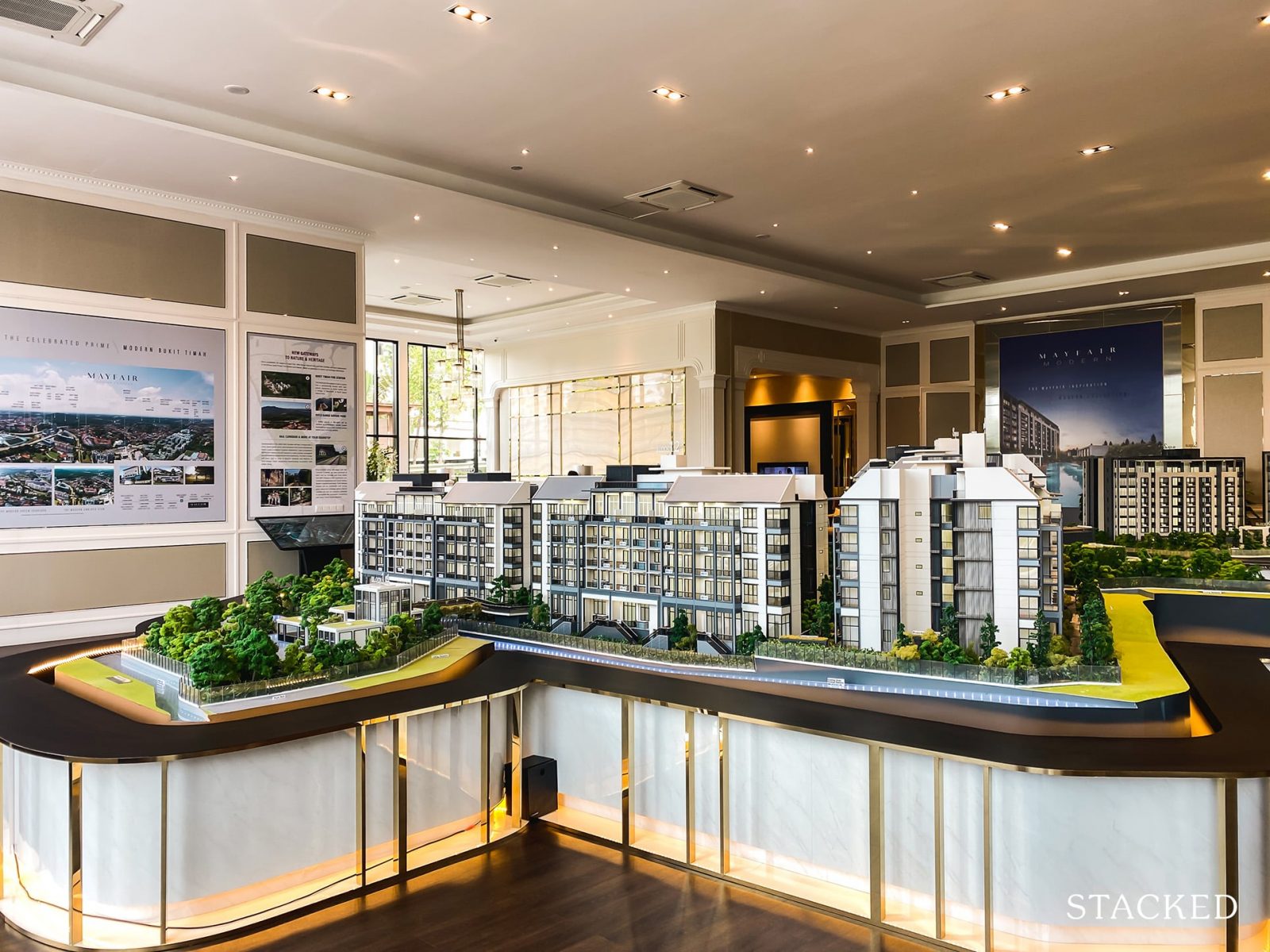 While I can't say that I am the biggest fan of Georgian architecture, I'll admit that the design here is fresh and it does set the Mayfair Gardens apart from the usual run-of-the-mill condos that you see so often in Singapore. I think that Oxley has communicated the difference in design very clearly and is overall a commendable job.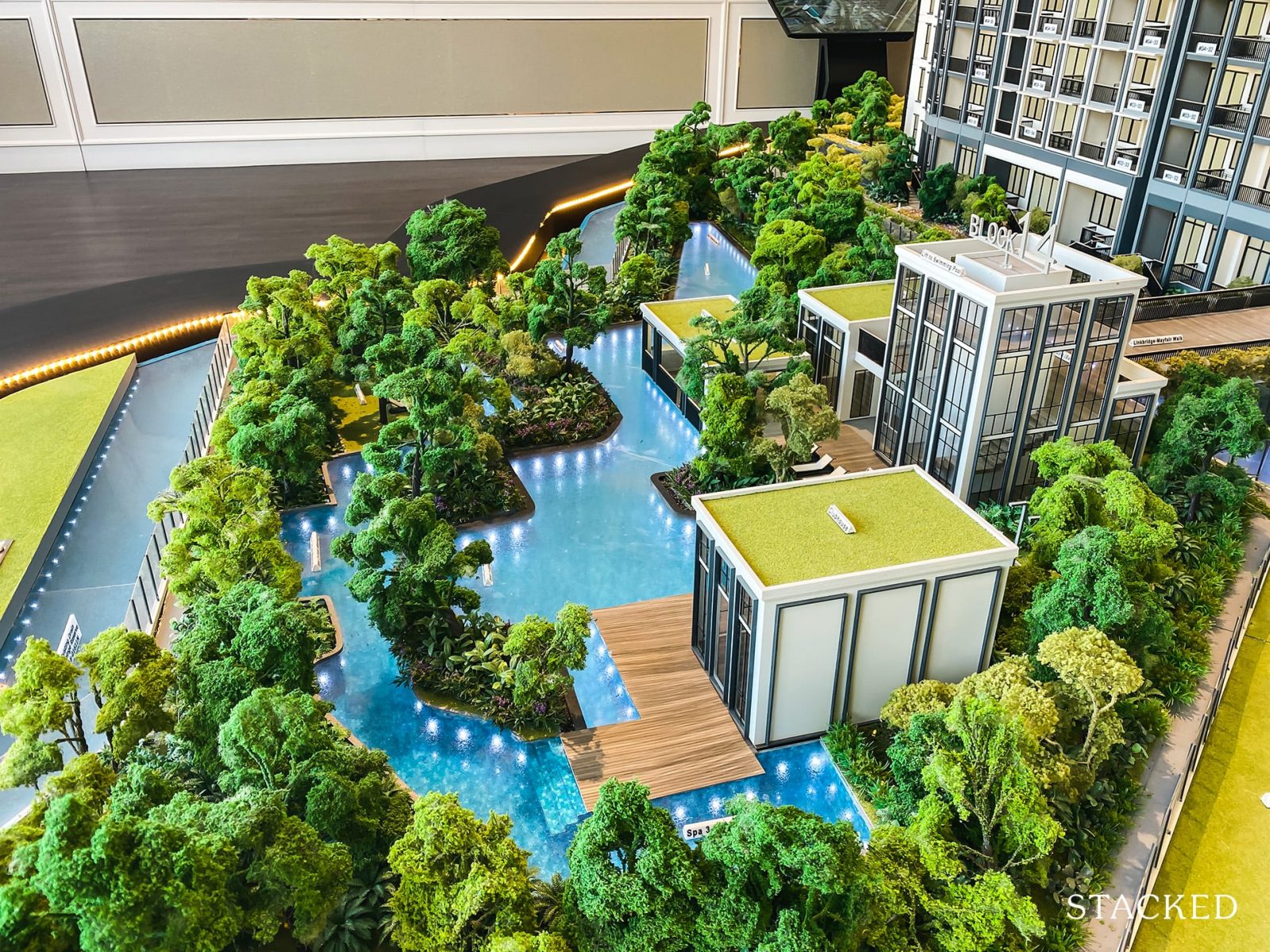 At 116,129 square feet of land, the Mayfair Gardens is actually bigger than the one at Mayfair Modern and it shows. Here, there are a few key areas that help to elevate the overall offering and differences. For one, the swimming pool is not your usual rectangular lap pool. Instead, it is shaped like a flowing river, with the lush landscape blending in with the natural aspect of Bukit Timah.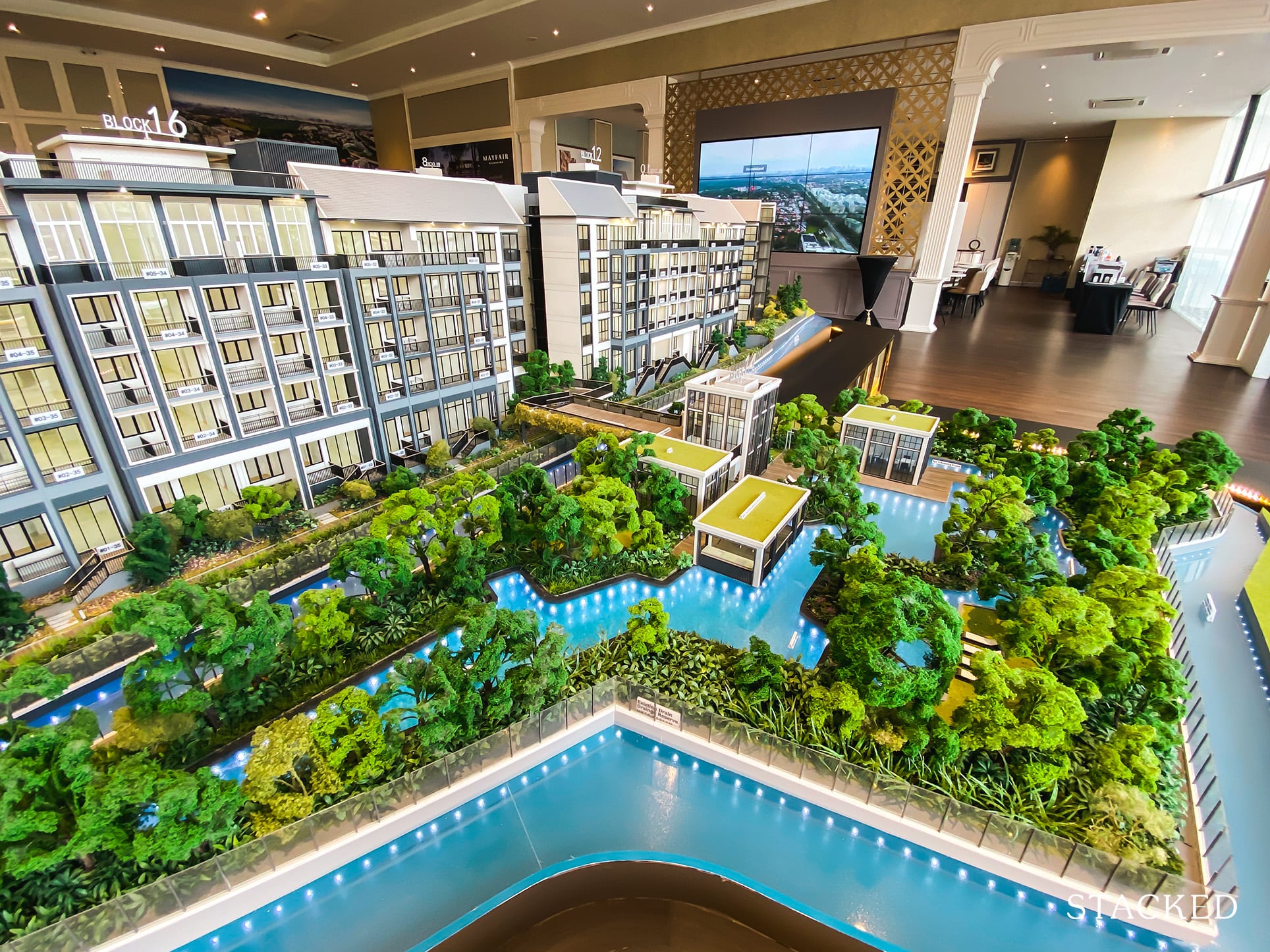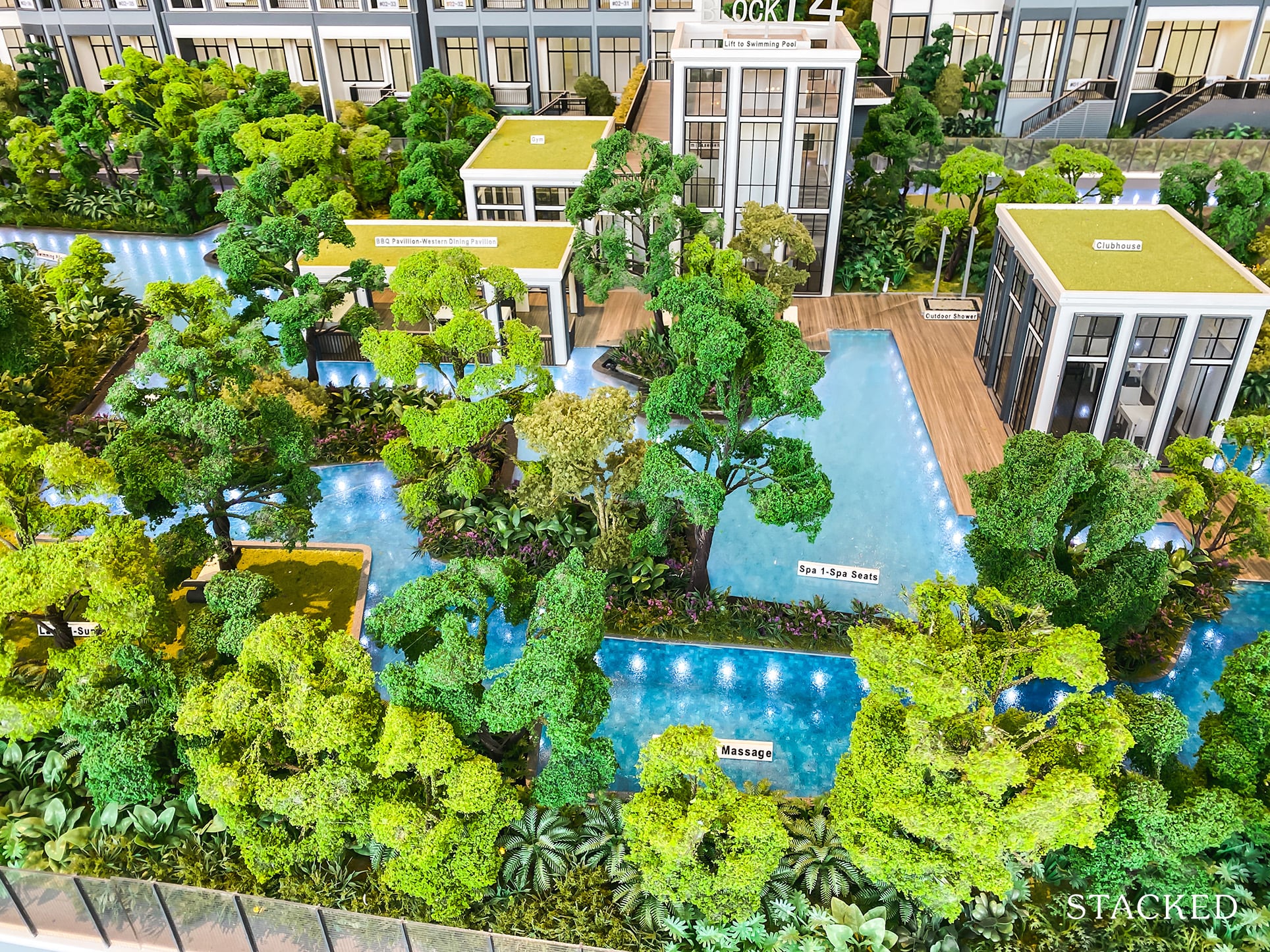 If the landscaping is as on point as the showflat model makes it out to be, it will certainly make for a very relaxing atmosphere.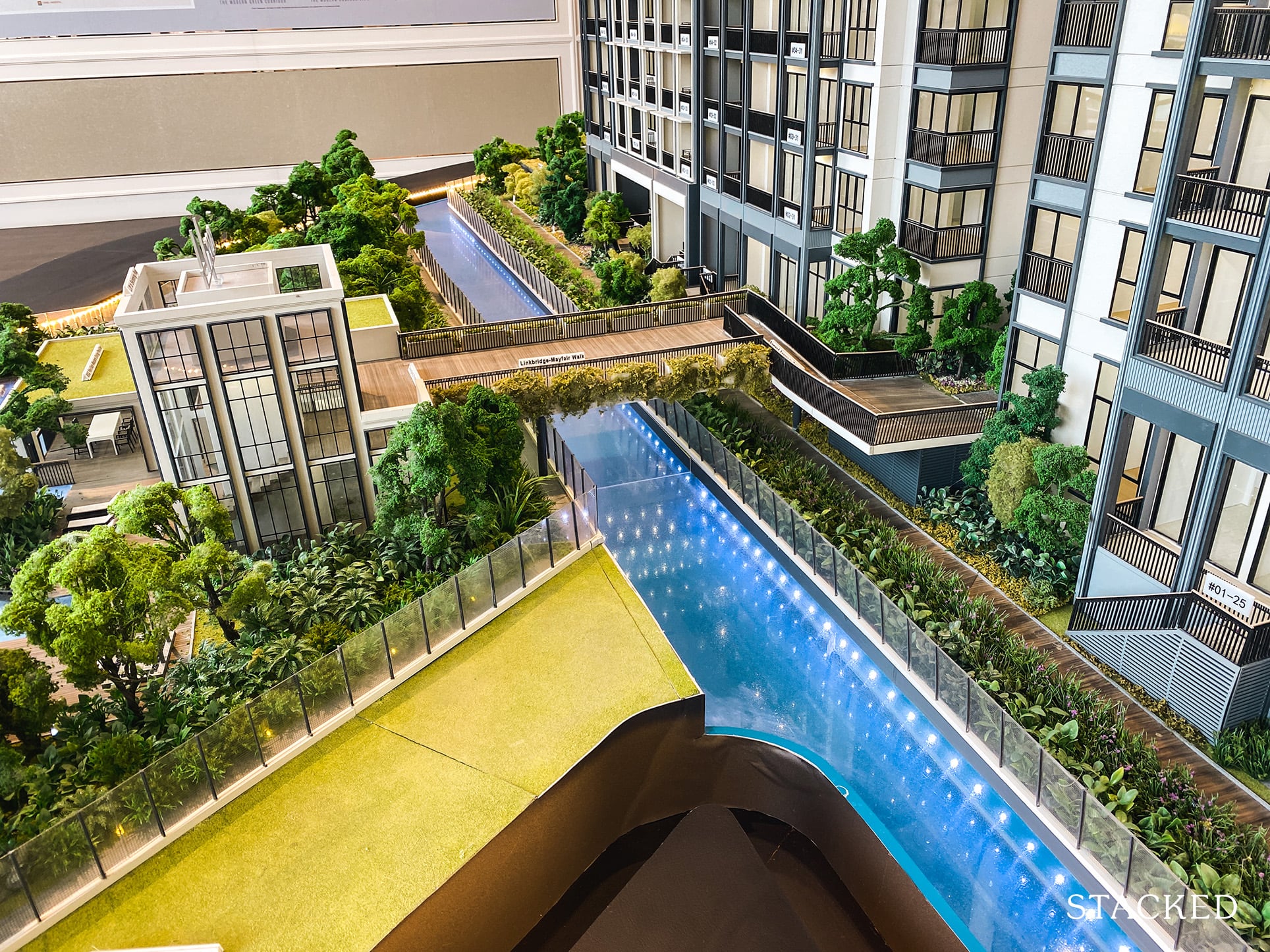 The link bridge over the canal looks cool too, and I think with the right lighting it will create a nice ambiance at night.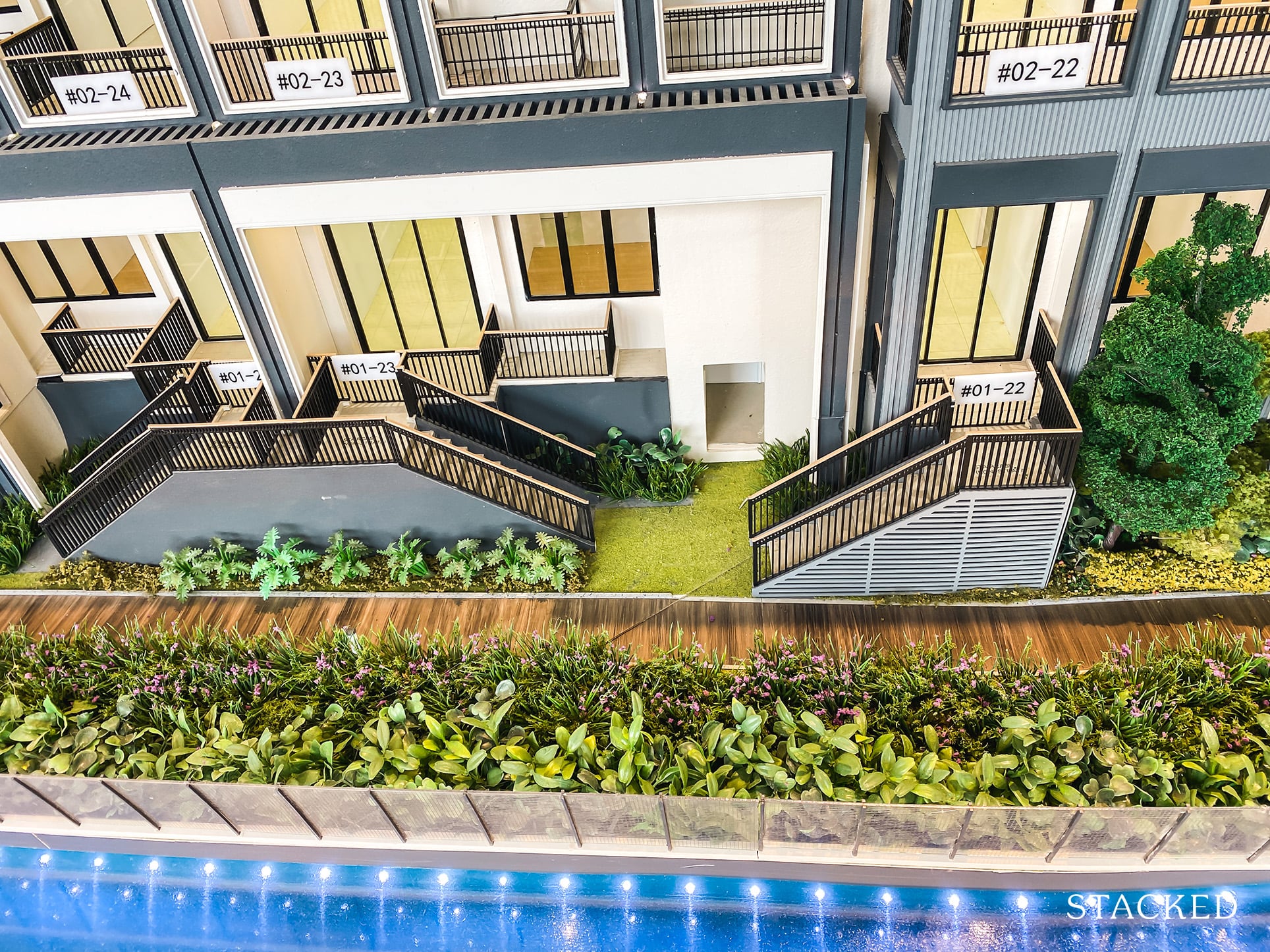 It's worth pointing out here that the ground floor units have no patio area, and instead is on elevated grounds that have a staircase leading to them. I do find that quite strange as having ground floor gardens would have been very much in keeping with the English theme.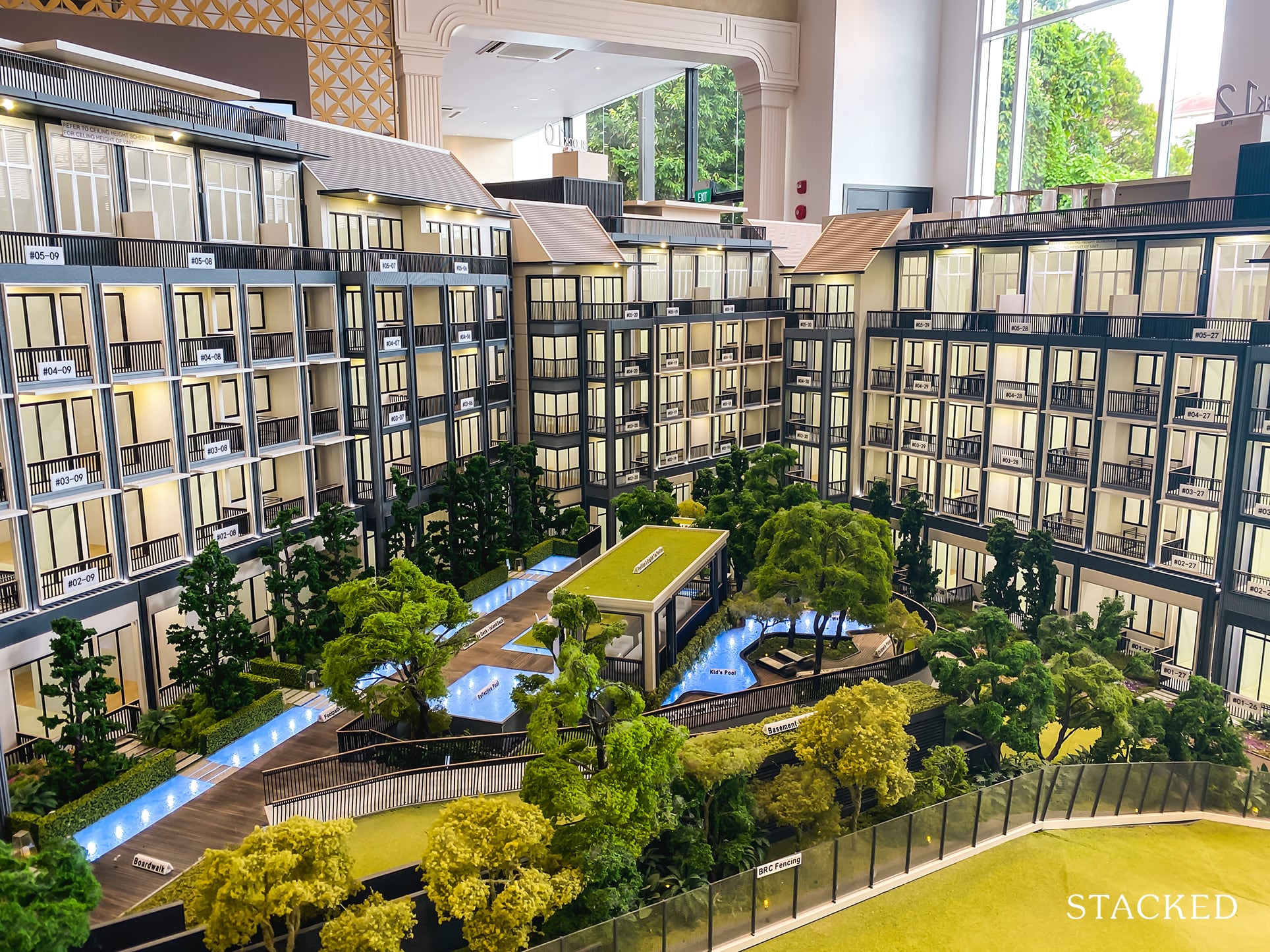 There is a kids pool along with a pavilion at the front too. The ground floor units here make more sense too, as they have their own mini-gardens out at the front.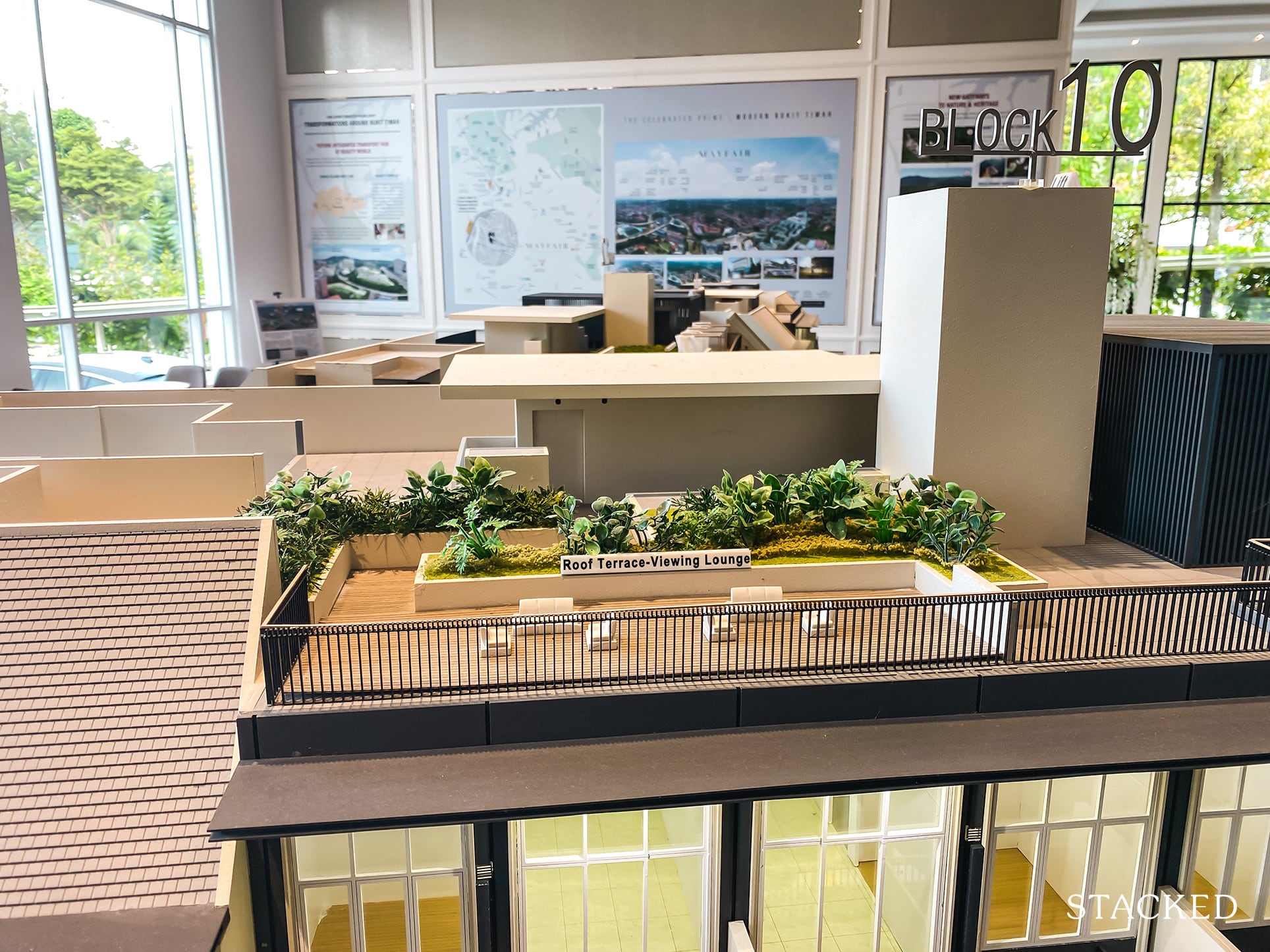 Last but not least, there is a roof terrace viewing lounge that overlooks the lowrise Bukit Timah side.
Mayfair Gardens 1-Bedroom + Study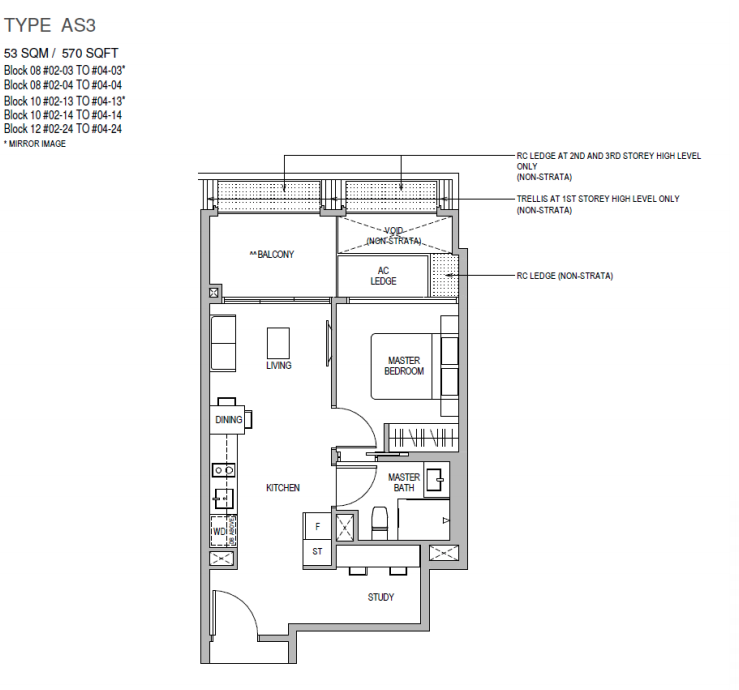 At 570 square feet for a one-bedroom unit, it definitely is bigger than the average one bedder units out there. That said, I personally feel that the layout is a bit awkward, and would have rather the study area been combined with the master bedroom to give you more flexibility.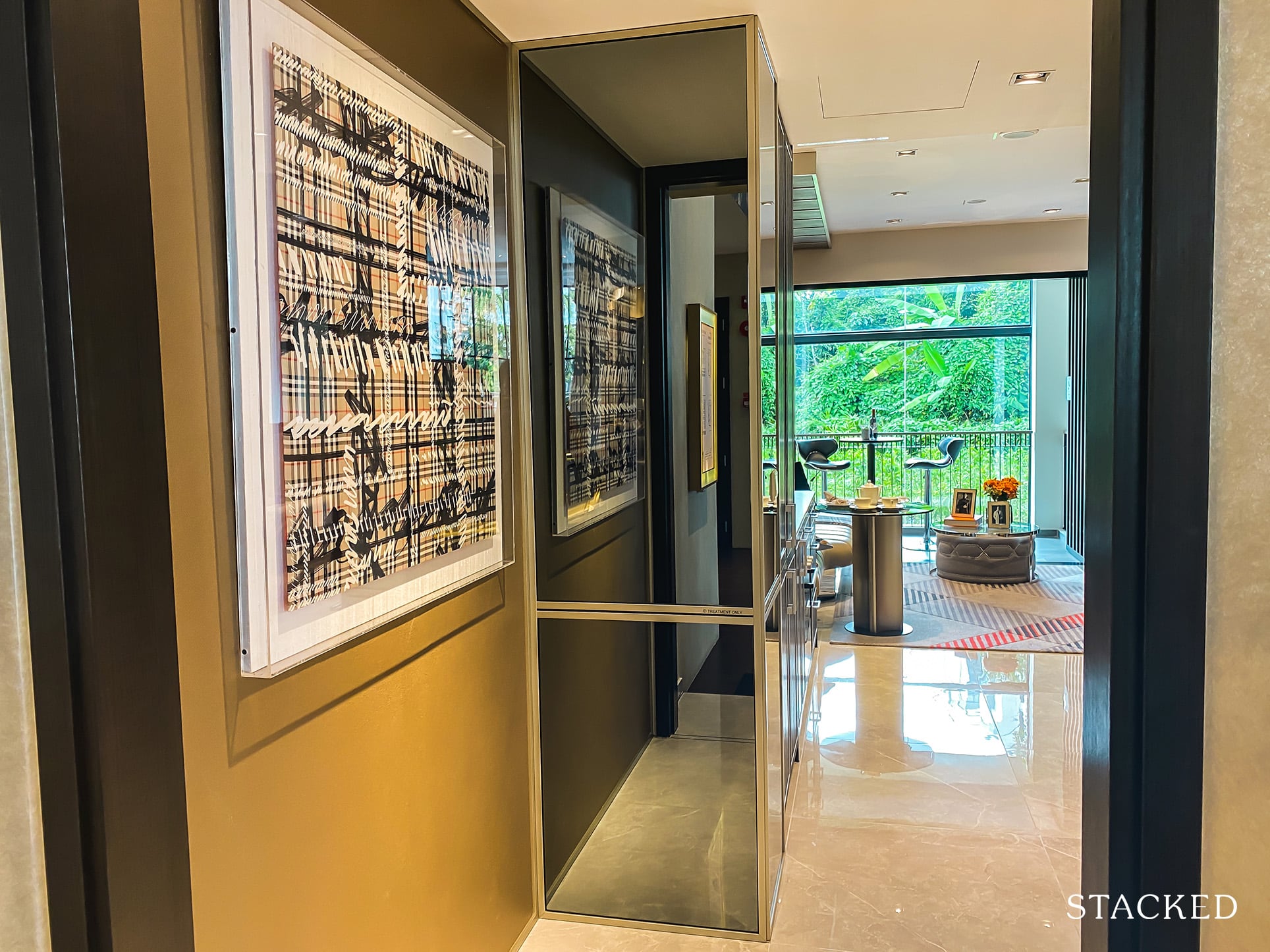 Because of the way the unit is laid out, you could attribute more kitchen storage areas if you'd like. With the result being a bigger kitchen space overall. In terms of usable counter space, however, it does come out quite short (both figuratively and literally).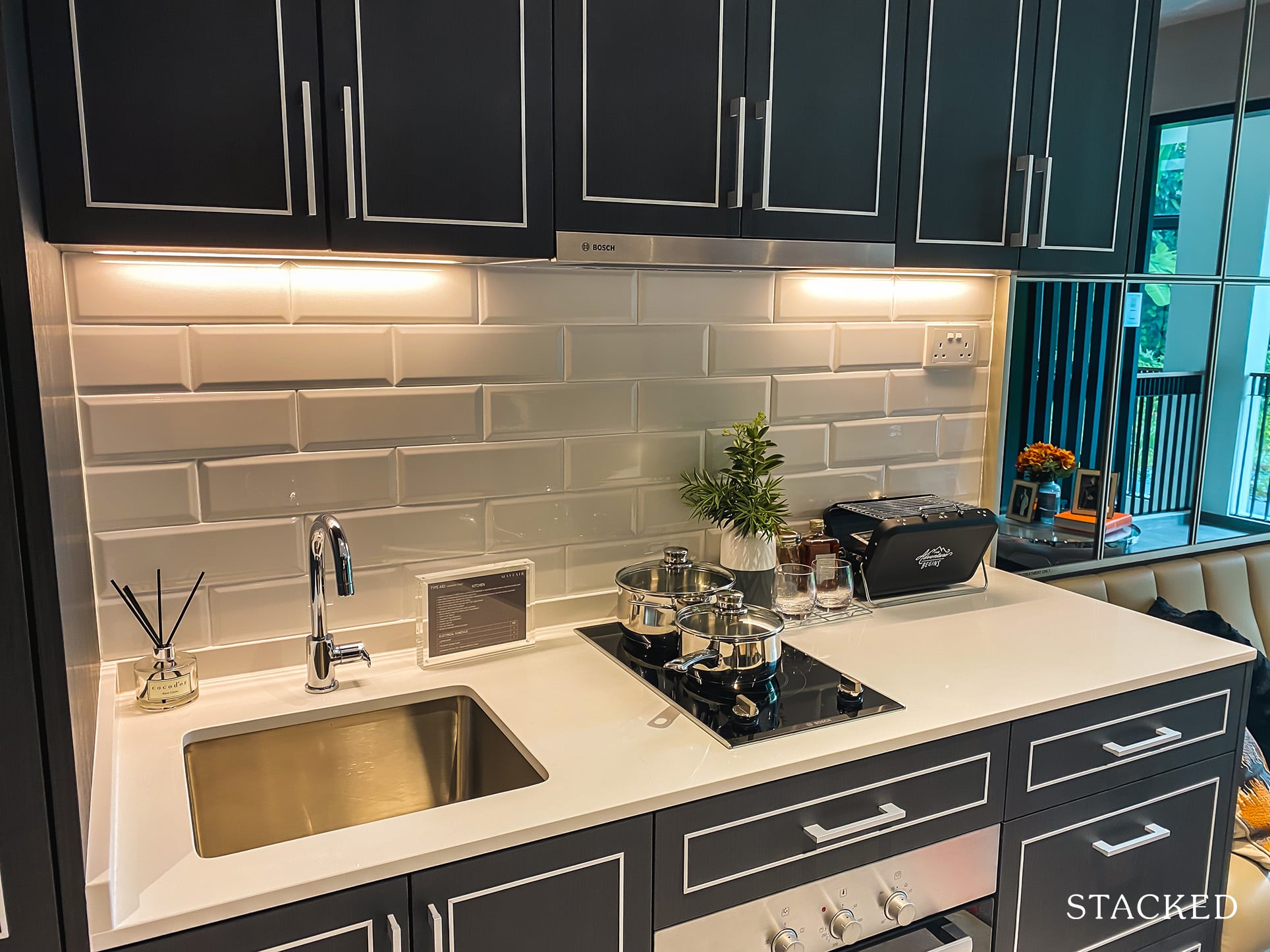 By itself, the kitchen is already quite a big space for a one-bedroom unit. The design is very much in keeping with the English theme, and I think it could be quite polarising. You'd really either love it or hate it.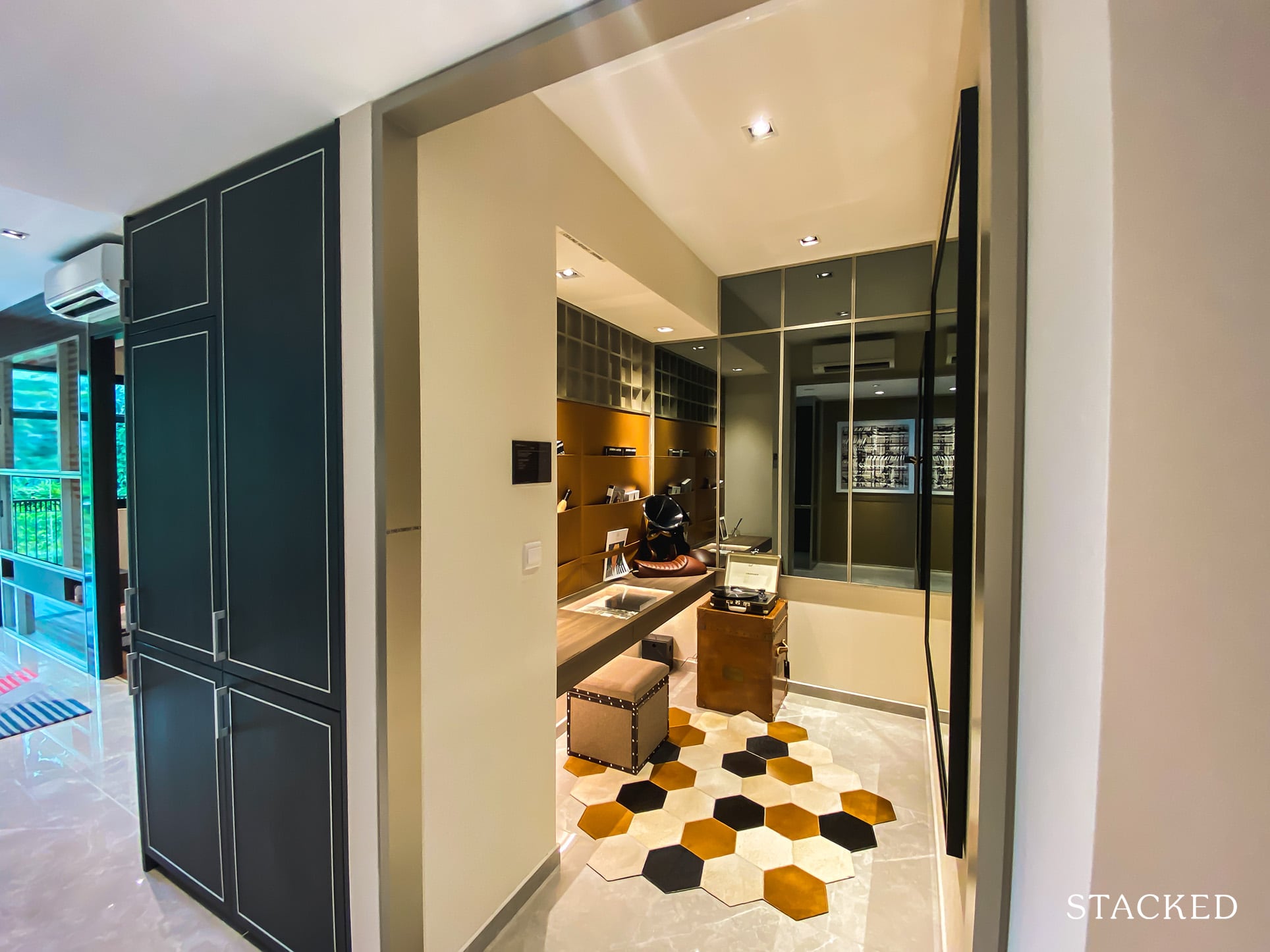 To the right is the study area, which you could keep as an open concept or a closed room if you'd like. If you work from home, this would easily be a smart choice for you. But I think most people, would prefer the flexibility of bigger living space.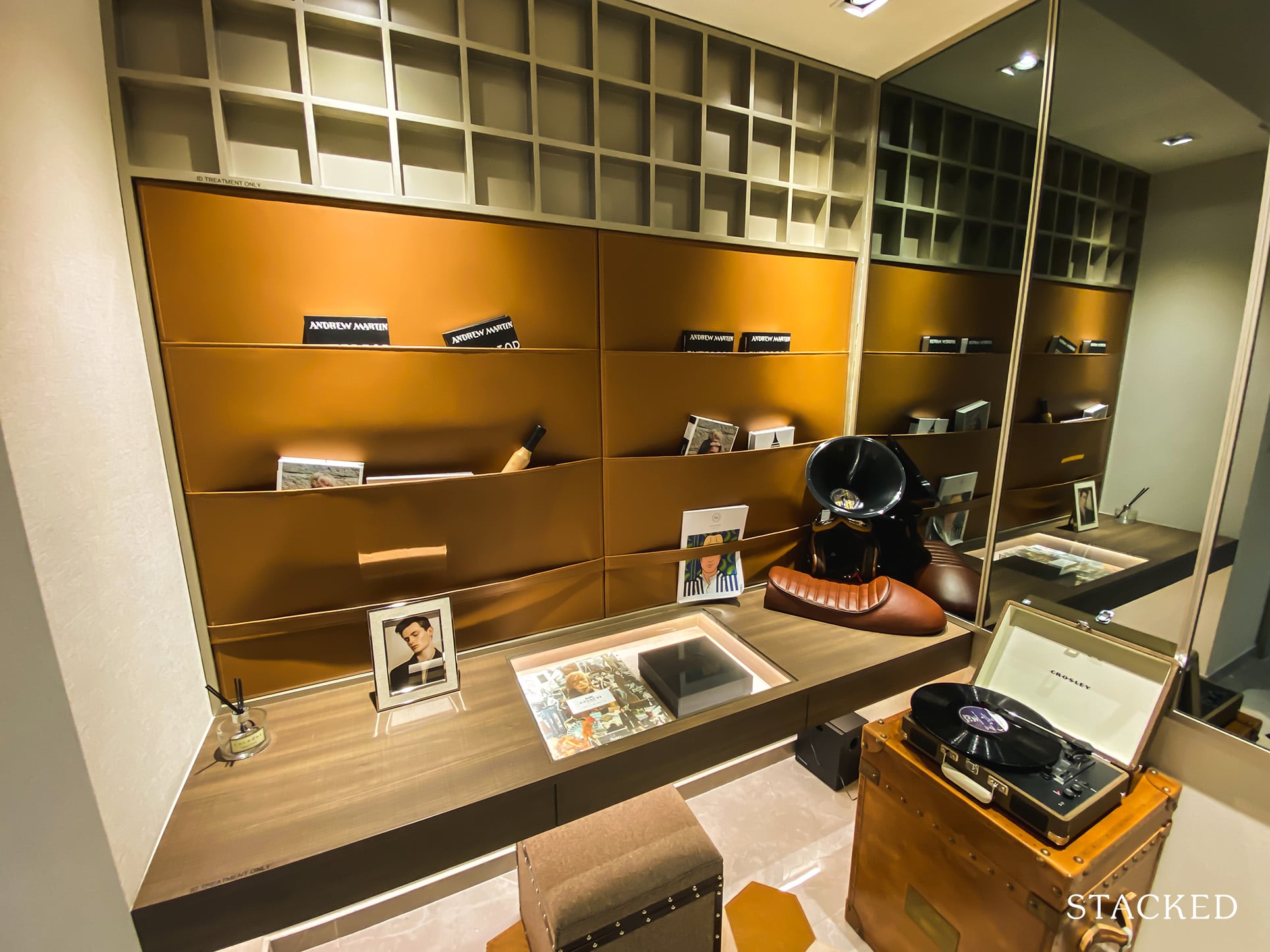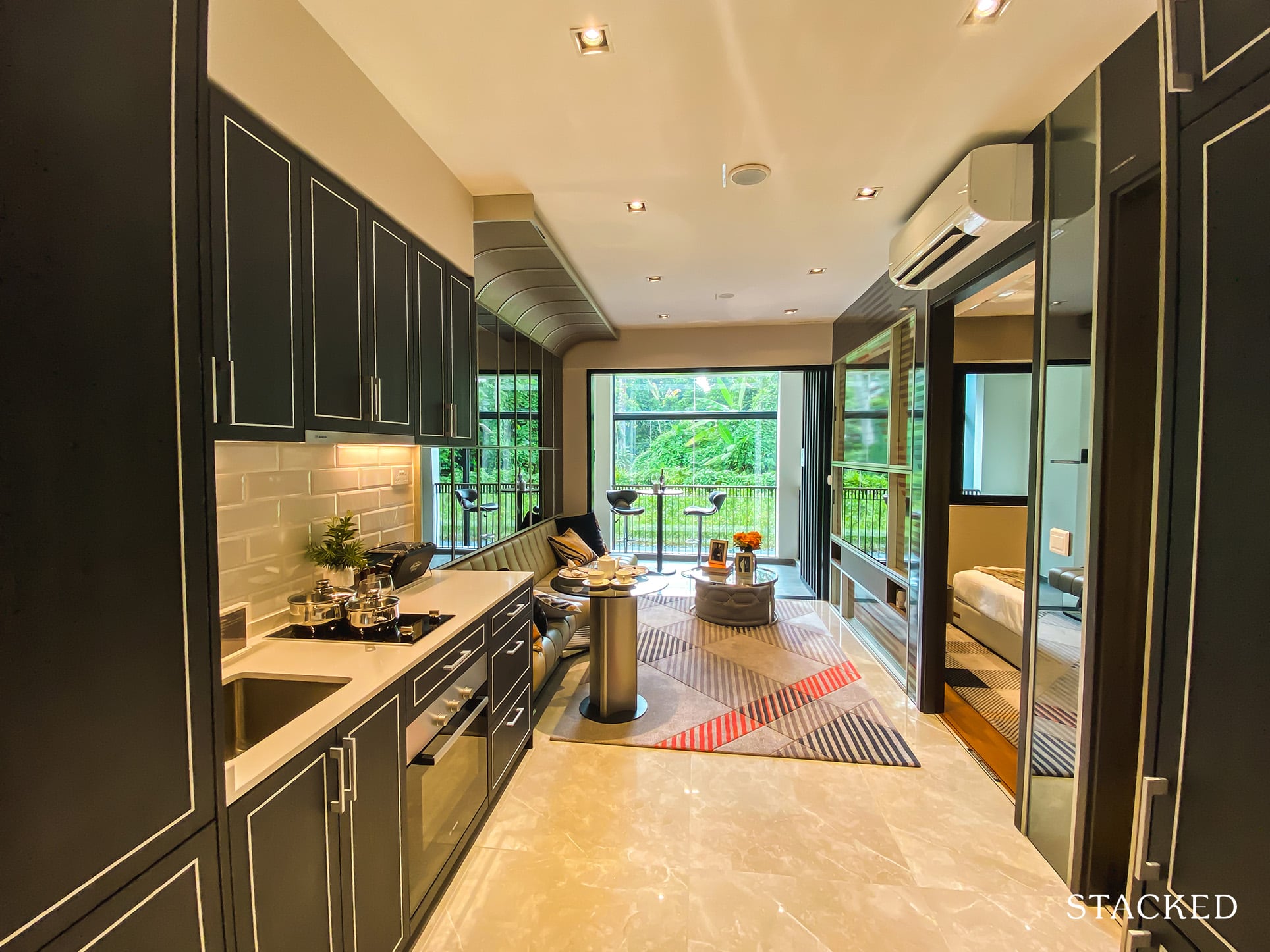 From this view, the 1 bedroom looks really spacious (which it is, size-wise). But don't be taken in too much by the spaciousness as the ID unit shows an unusable dining table the size of a regular coffee table.
The living room is barely passable in terms of space, and it is here that the ID gets a bit murky for me. The whole living section does not look as if it is part of the theme of the Mayfair Gardens, and is altogether a strange choice of furniture. Just some nitpicks – which thankfully, will not come with the actual unit.
One downside to the Georgian-inspired design is the thick pillars, which, as you see here relatively obstructs your views. The balcony is quite big for a one-bedroom unit, so if you aren't a fan of outdoor space this would be a minus point for sure.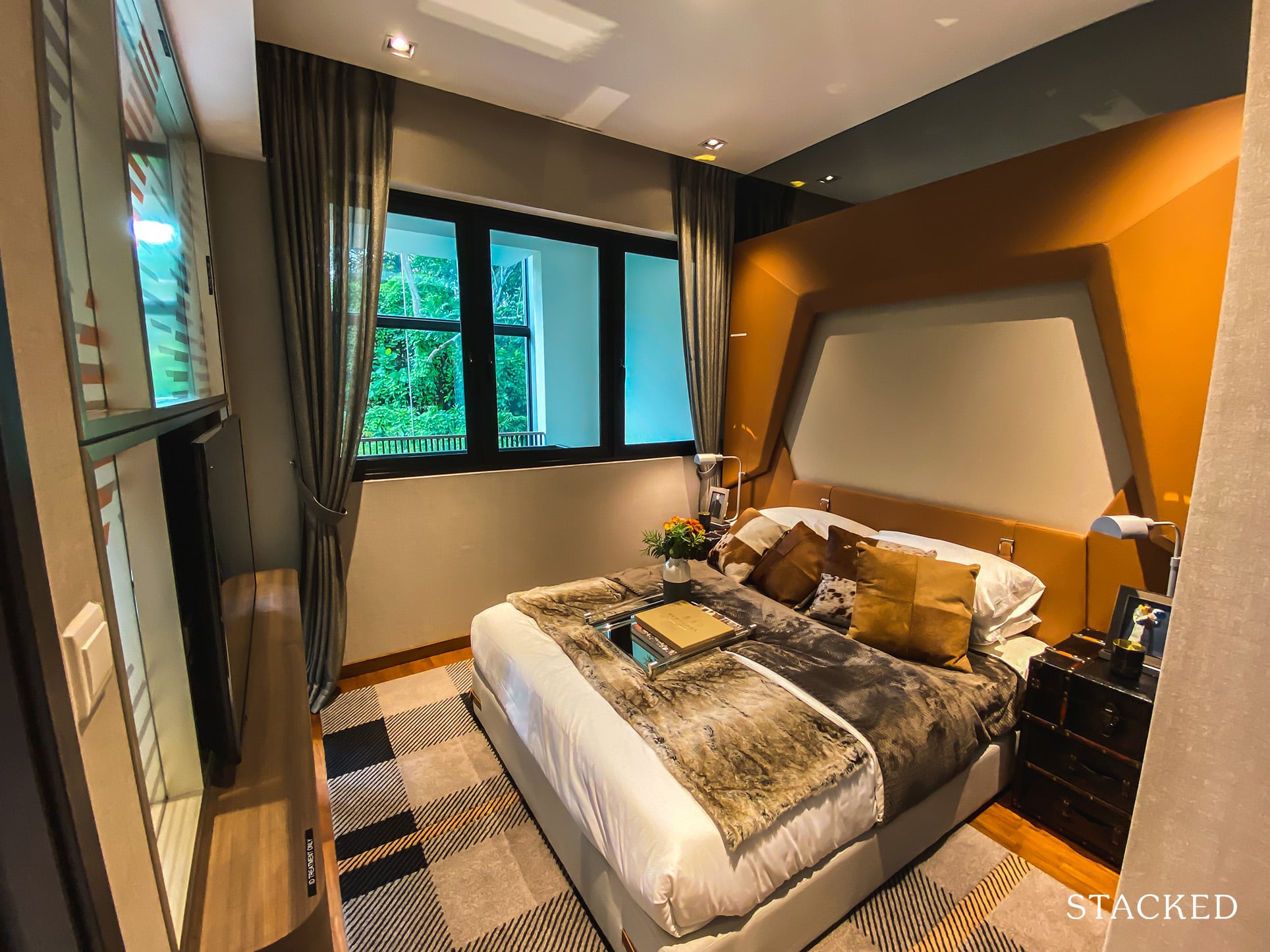 The master bedroom is just okay in size, plus the lack of bigger windows probably doesn't help its cause. The tall ledge is because of the air-con ledge behind it, but again, the exterior design of the Mayfair Gardens has a negative impact on the usability of the space.
The bathroom is of a decent size, and as with most 1-bedroom units, you can access it from both the master bedroom and the living room.
Mayfair Gardens 3 Bedroom Review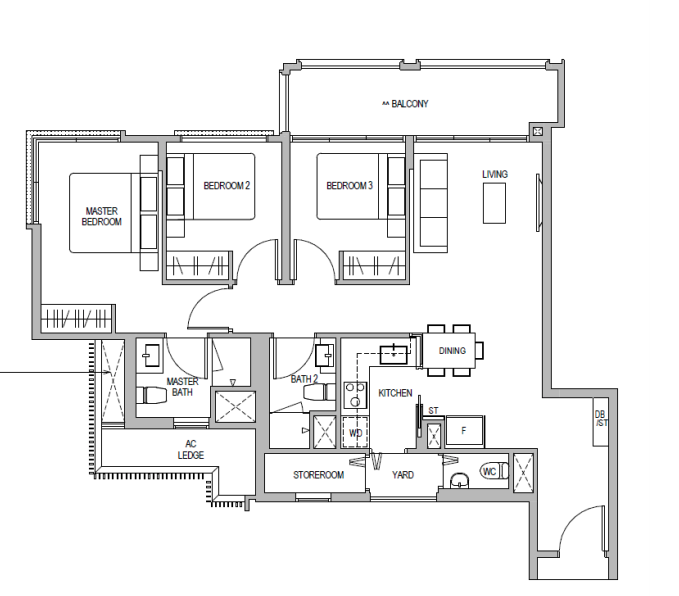 At 1,130 square feet of space, the 3 bedroom is actually very sufficient in terms of size. But one thing you'll immediately notice is the unusable spaces, with the long hallway and entrance.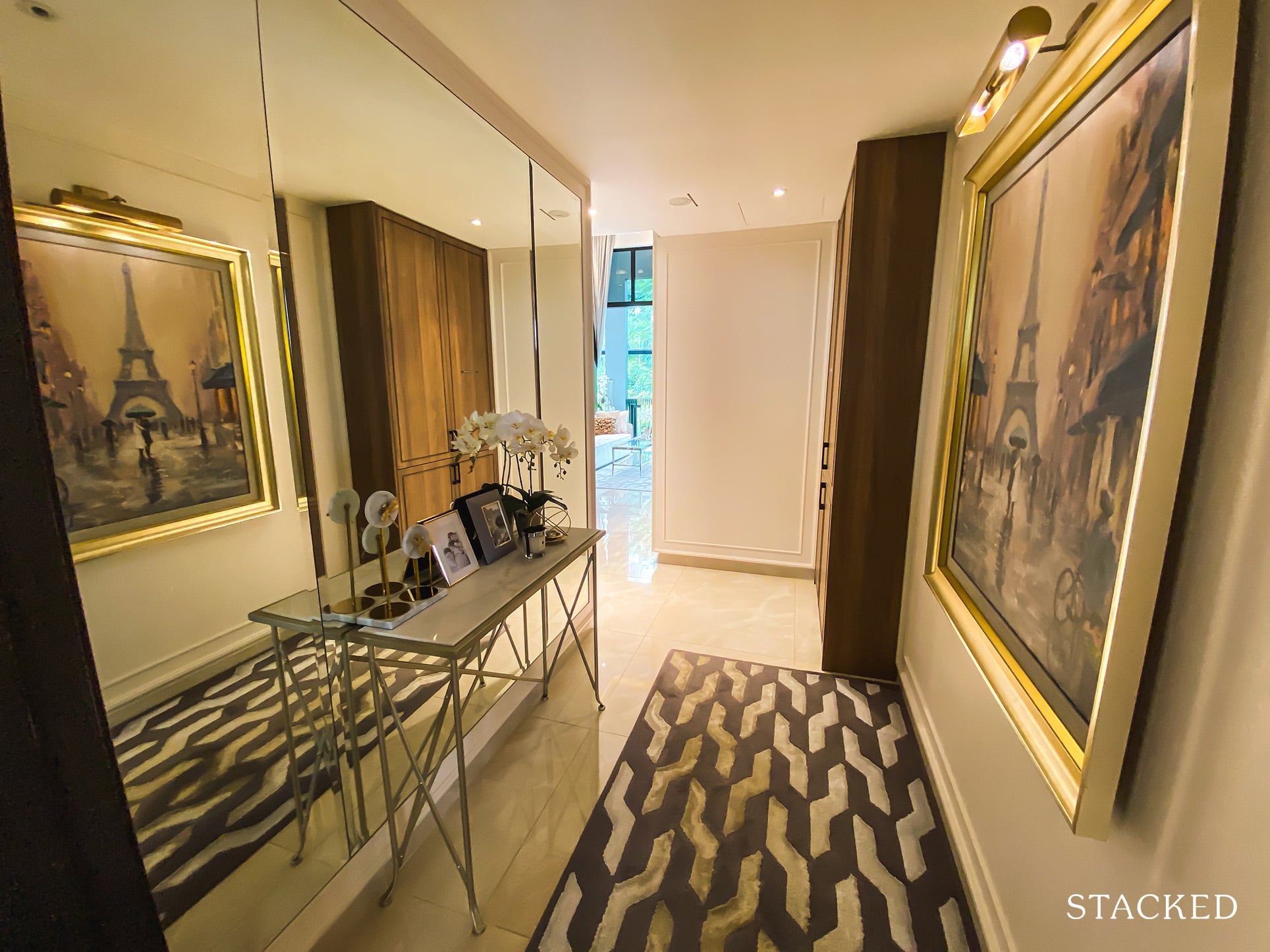 Having a long entranceway is good to prepare for a grander entrance into the unit, but I usually find that it is best suited for units with ample space. With many of the new launches today adopting smaller sizes, this entrance is really quite a waste of usable space in my opinion.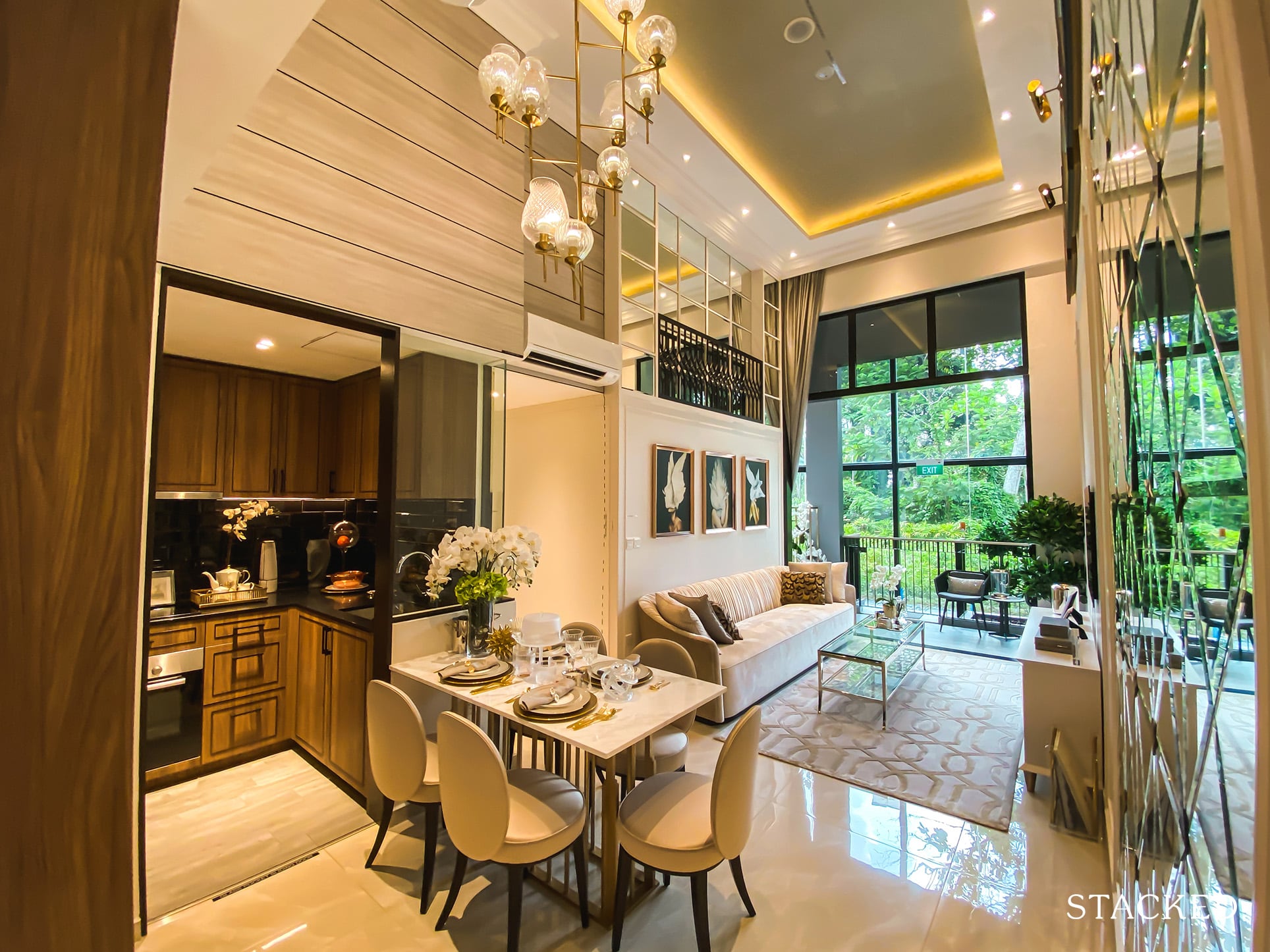 On the plus side, you'll get to receive a grander welcome into this high ceiling 3-bedroom unit (4.65m!). Although you are really paying for the airspace, I can definitely see the appeal of having a high ceiling living and dining area. It just brings about a much better sense of spaciousness and aesthetic.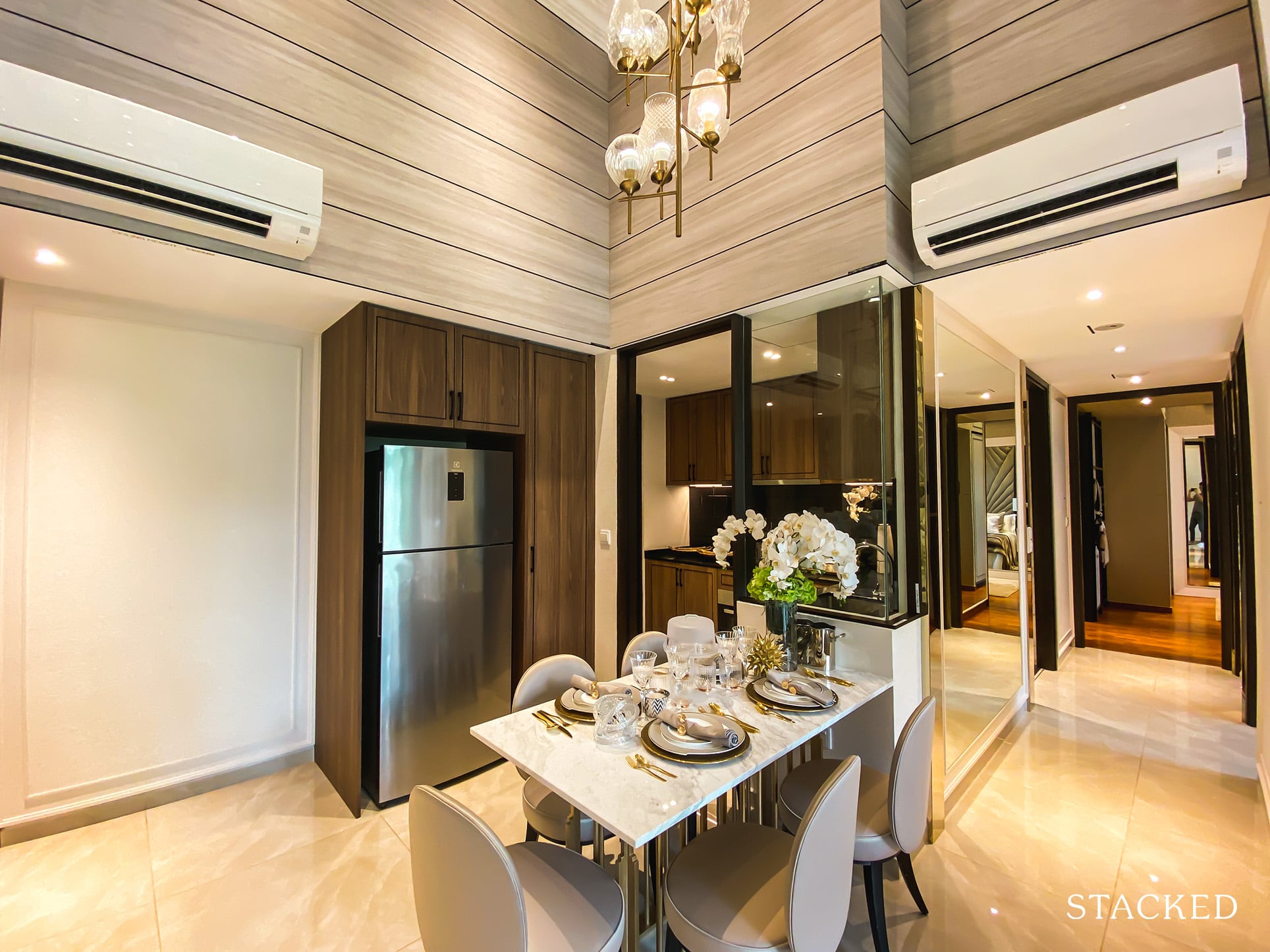 With how the kitchen and dining area is laid out, it is a very awkward orientation that does not seem to allow for the best fit for the dining table. For example, the dining table shown here was placed against the wall to give space for a walkway towards the living area. But this limits the width and length of the dining table. Any bigger, however, would mean that it would eat into the entrance of the hallway, which is not ideal at all. The conclusion? The dining area is simply too small. With the ceiling height, you could think of a more out-of-the-box solution, but that would certainly require more funds for construction.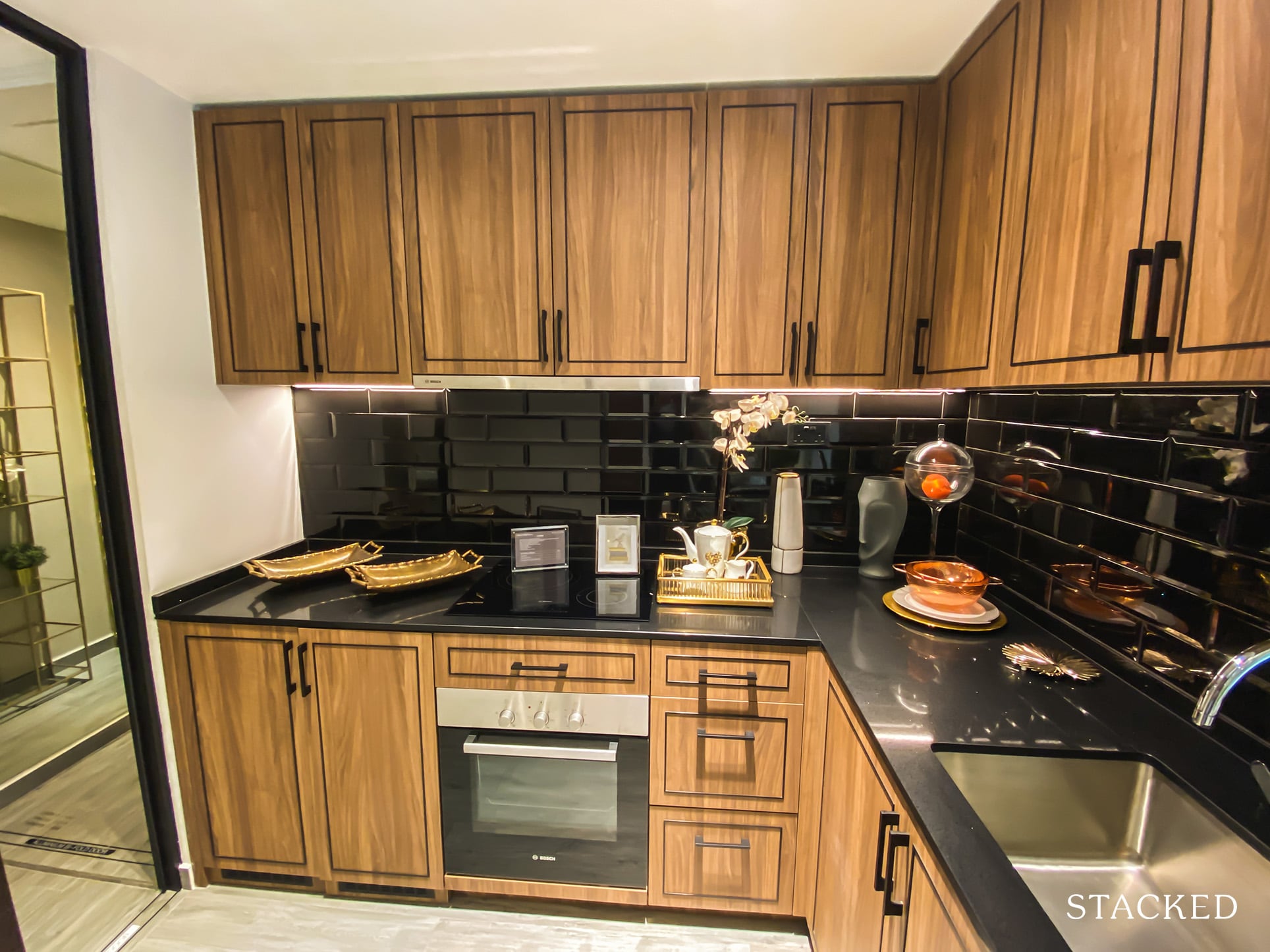 It's the same story with the kitchen, which is quite cramped for a 3-bedroom unit. The kitchen countertop is pretty long though, so there is some usable space here.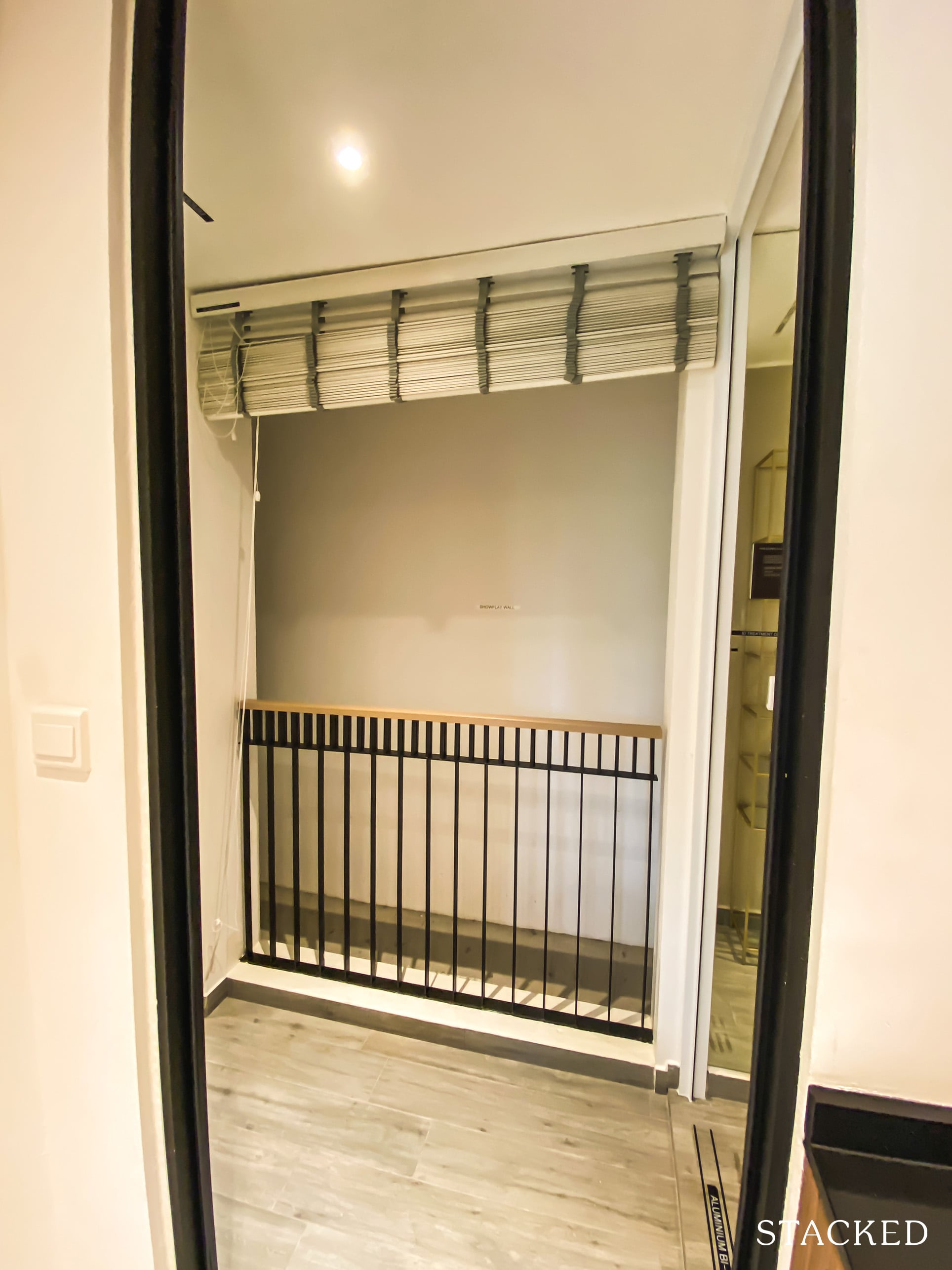 On a more positive note, there is a very useful outdoor yard at the back along with a small bathroom and store/helper's room.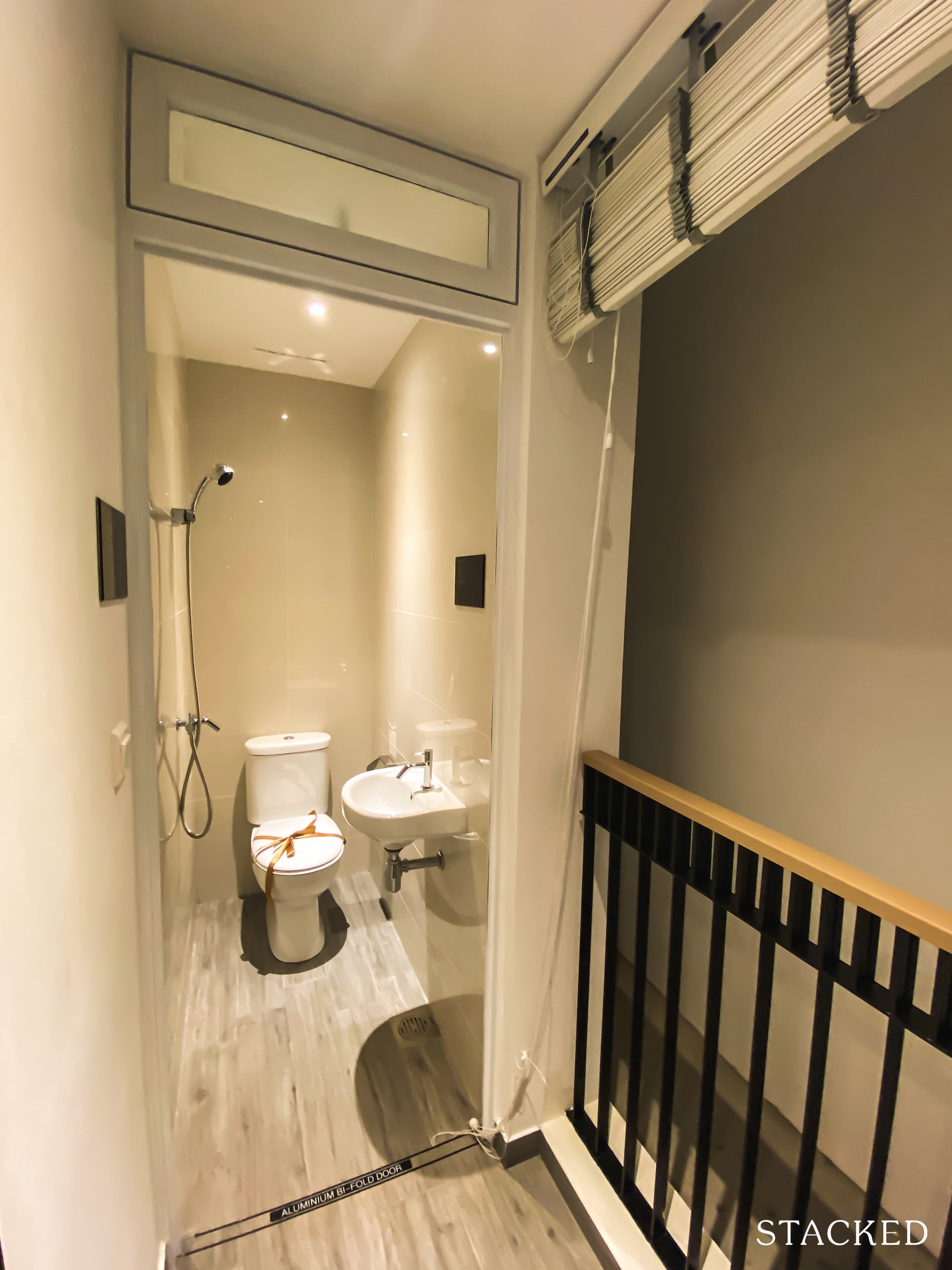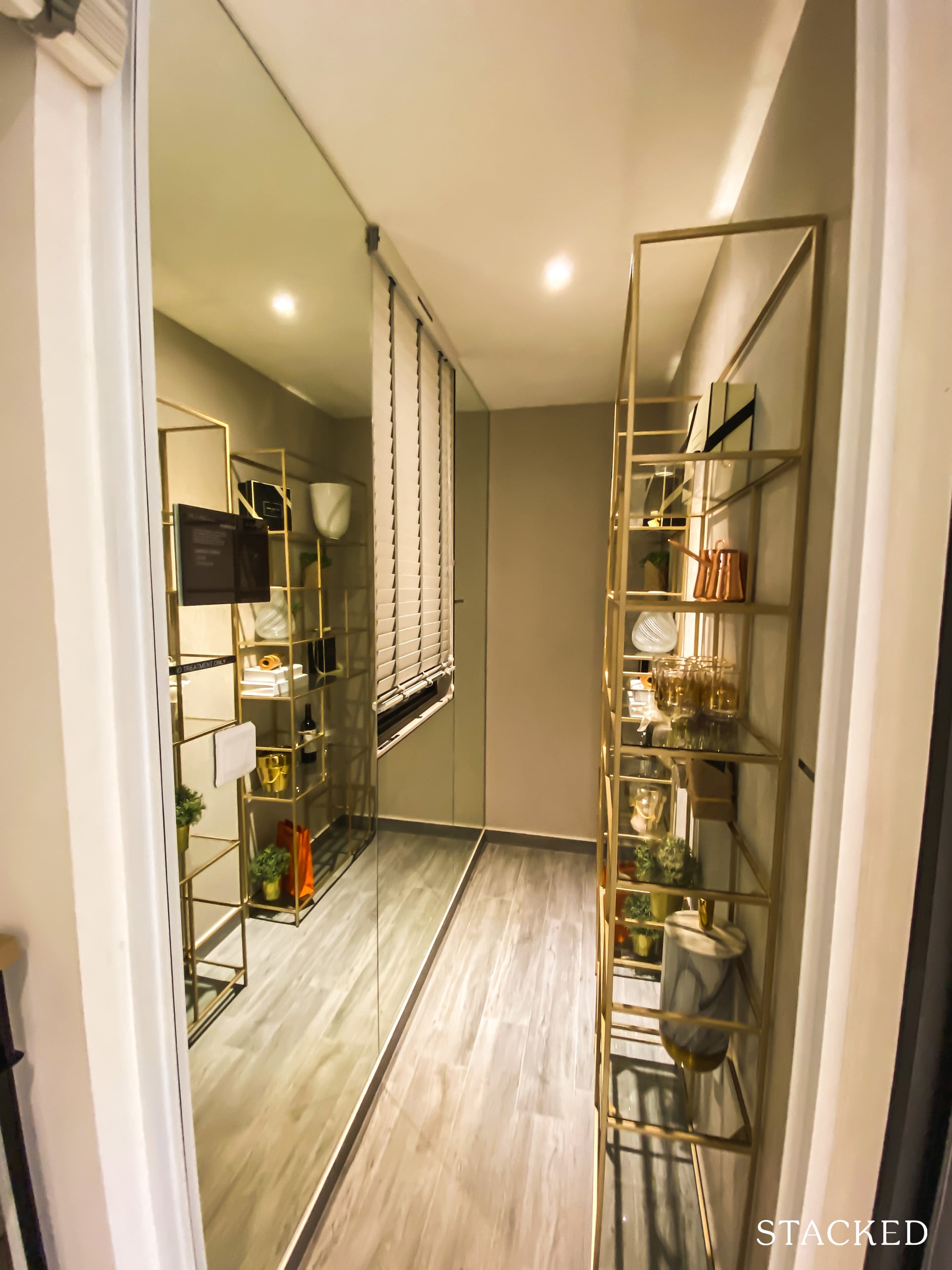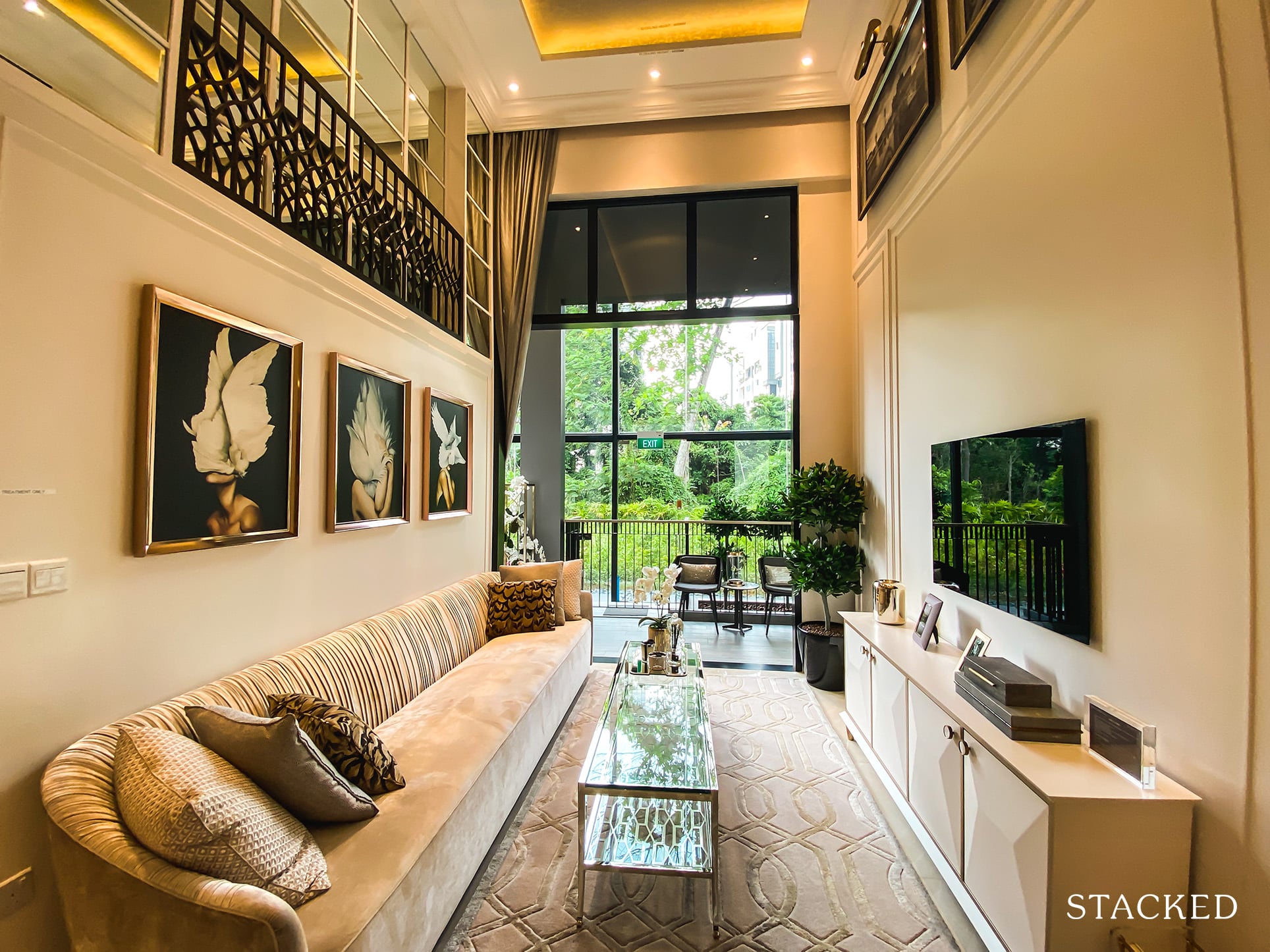 For me, the best spot in the house is no doubt the living room. It's not very wide, but it is long (as emphasised by the couch). The high ceiling definitely adds so much to the space, with the big opening to the balcony letting in loads more light. Not to mention, this allows you to take in so much more of the view as well.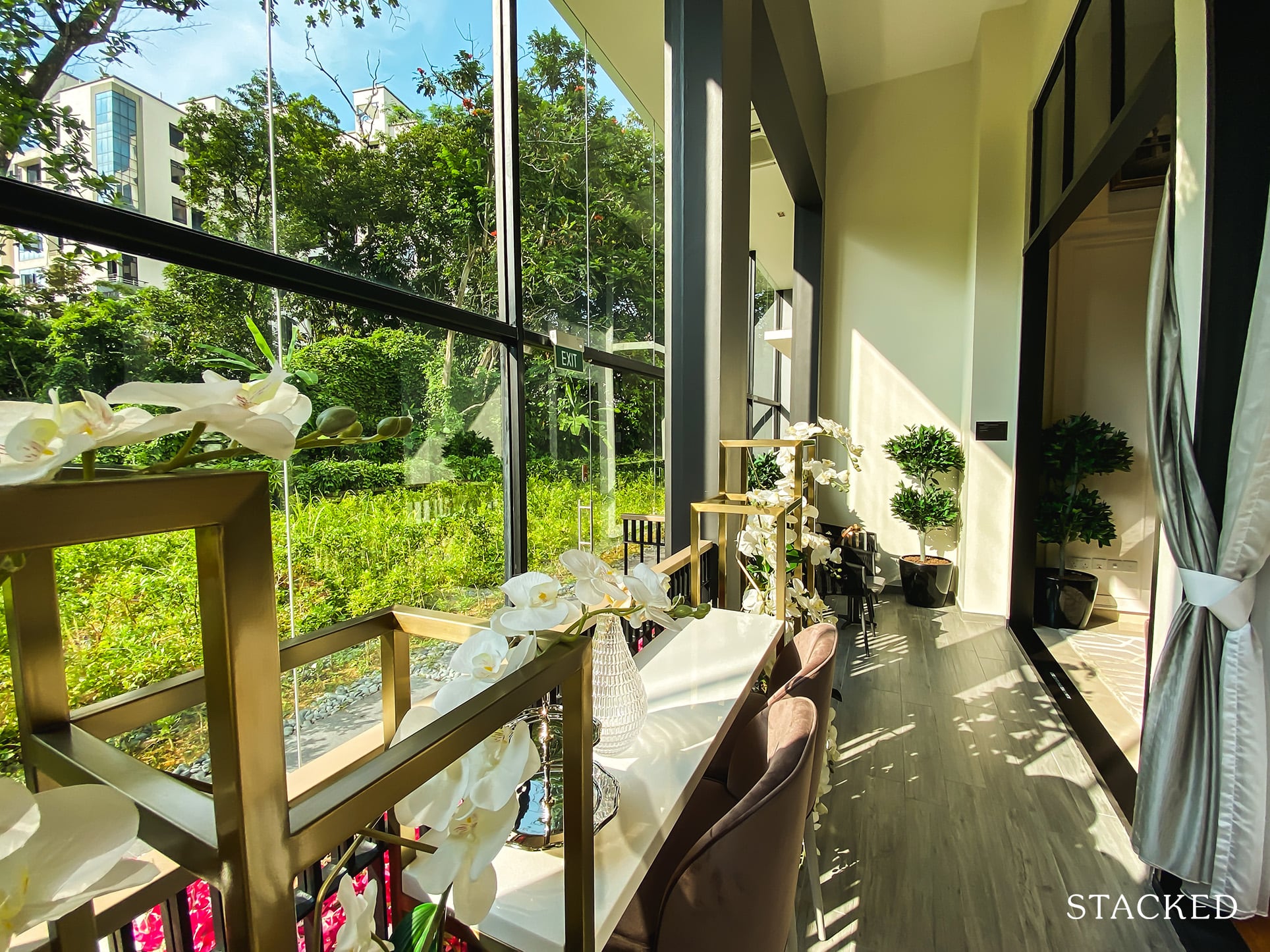 The balcony in this 3-bedroom unit is bigger than the average that you see. If you are the type of person that likes the high volume ceiling, I think that you'll probably enjoy the larger outdoor space as a change of environment too. On that thought, you could use this space for dining instead of the miserly one indoors!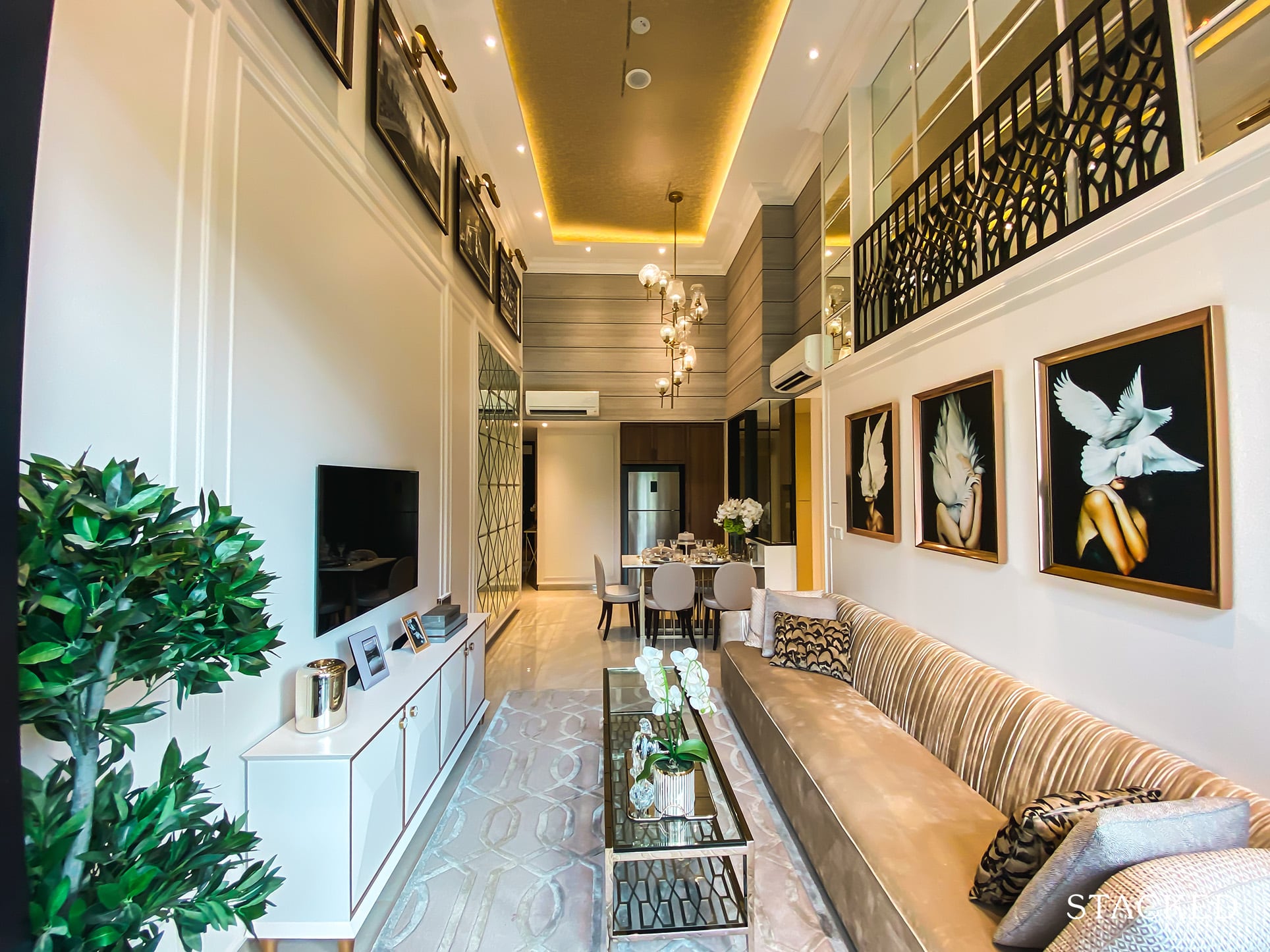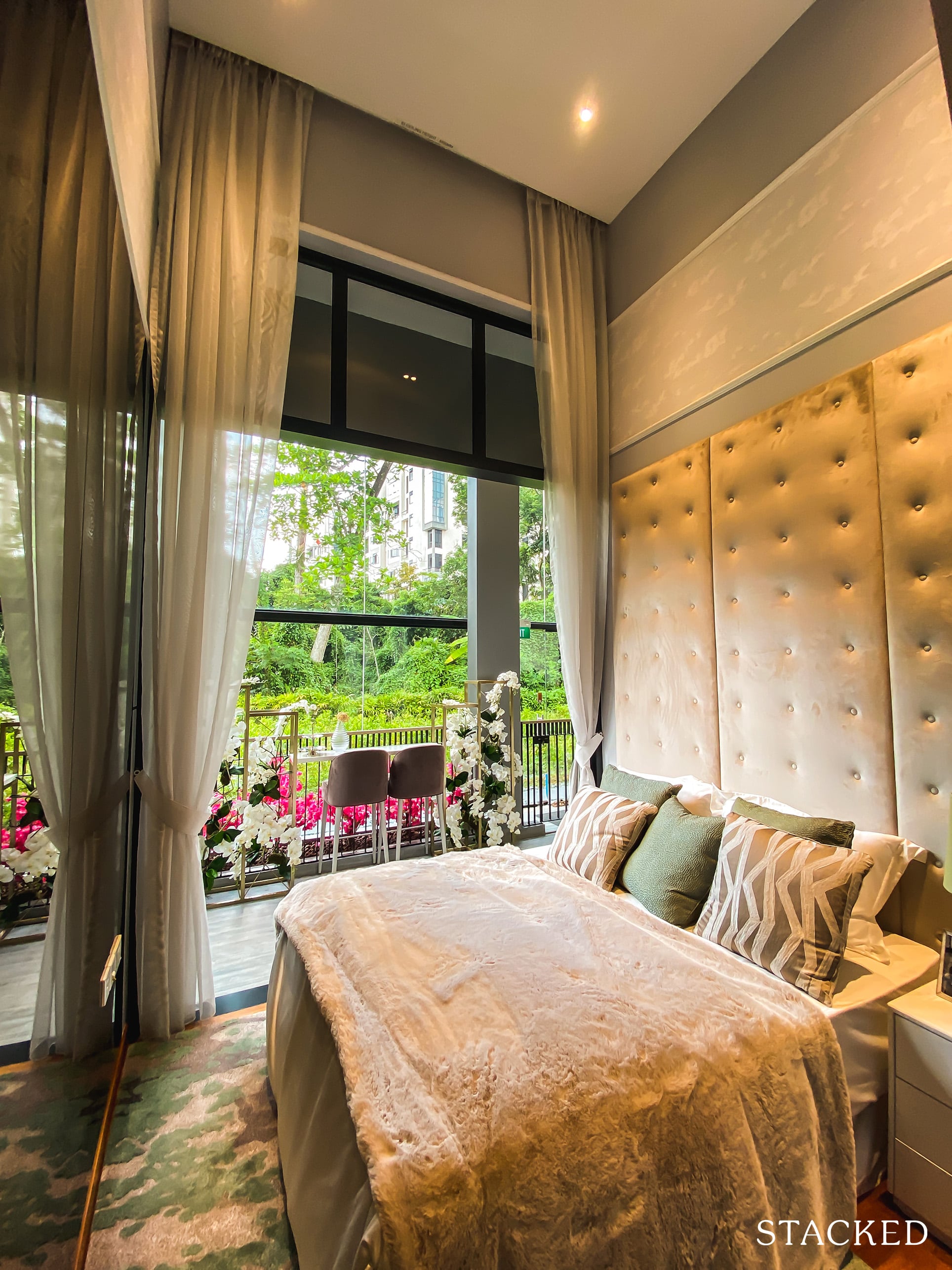 What's special about this unit is that the high ceiling continues all the way into the bedrooms too. The bedroom size is very decent plus it is made to look a lot bigger because of the ceiling height. This is also the pick of the two common bedrooms as you are able to access the balcony from here too!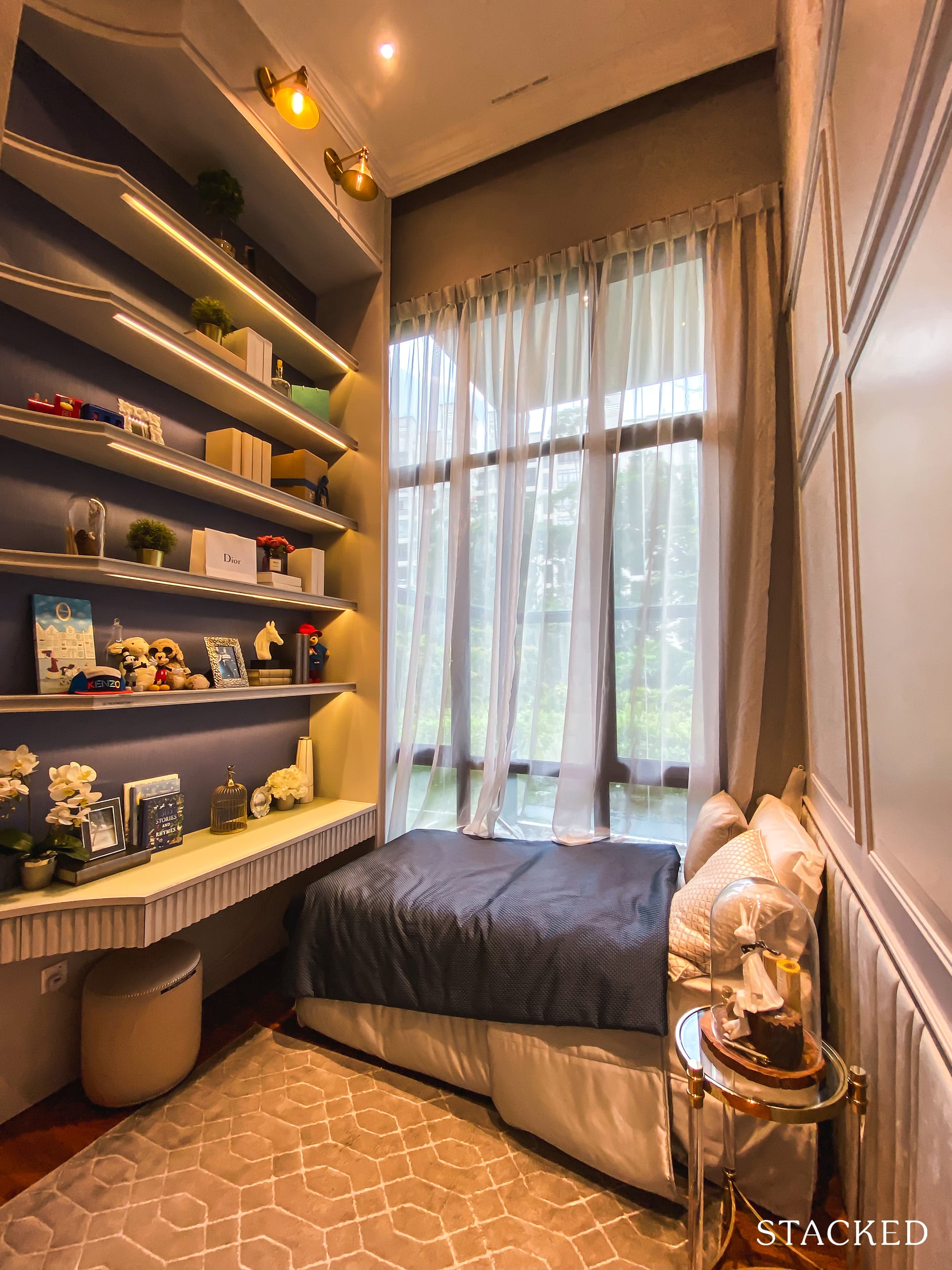 Likewise, the high ceiling here really has a huge effect on the sense of space you get. You could even have a double-decker bed here (if you have two young kids) with ample ceiling space to spare. One practical point you will have to take note of if you are considering this unit would be cleaning: You definitely need to purchase a ladder!
After all that high ceiling goodness, the normal ceiling height bathroom starts to look pretty small… Jokes aside, it is really just an average size.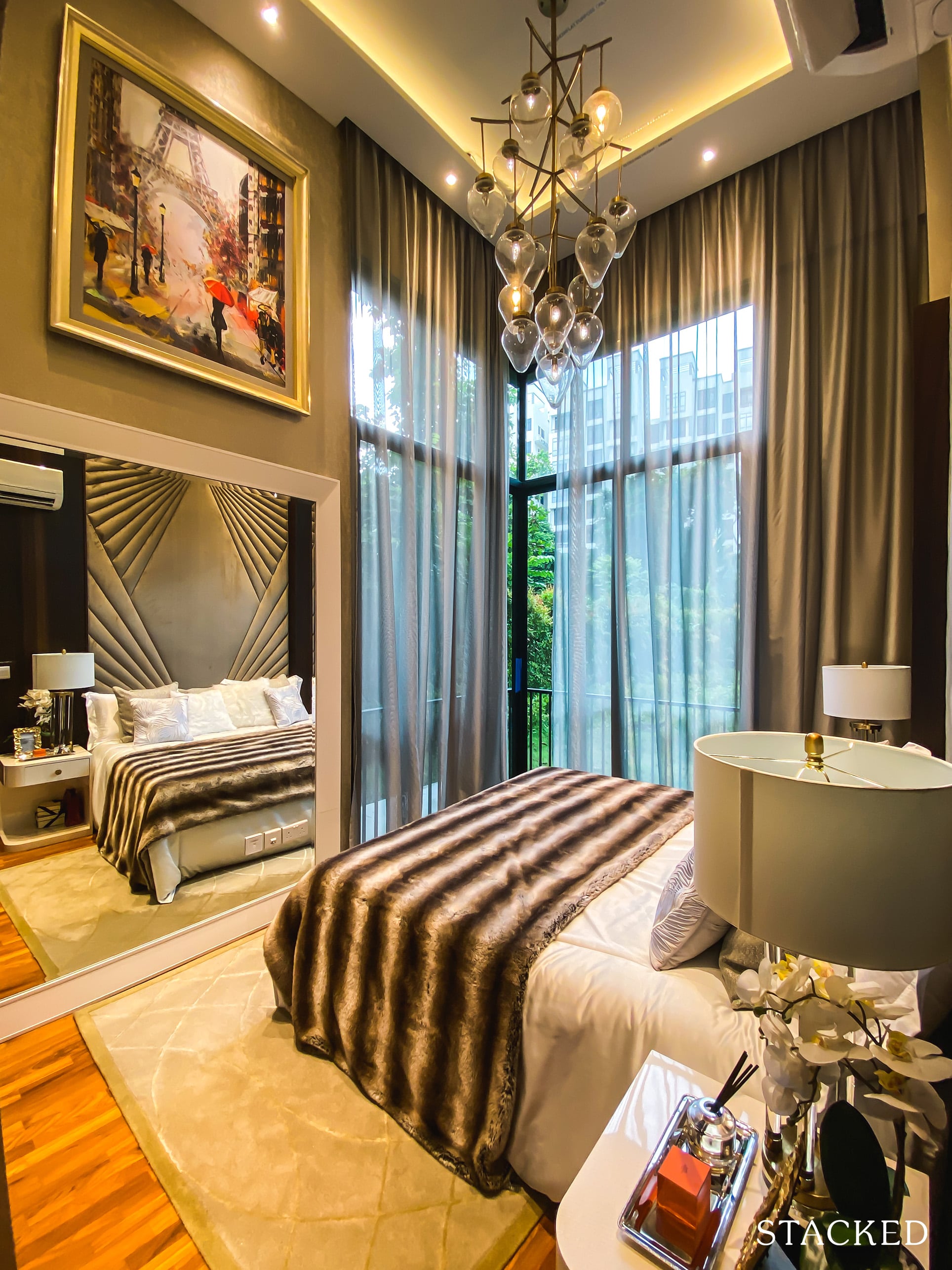 As you'd expect, the master bedroom with the high ceiling looks absolutely divine. The room itself is actually pretty big, and the tall ceiling plus windows really do wonders to accentuate it.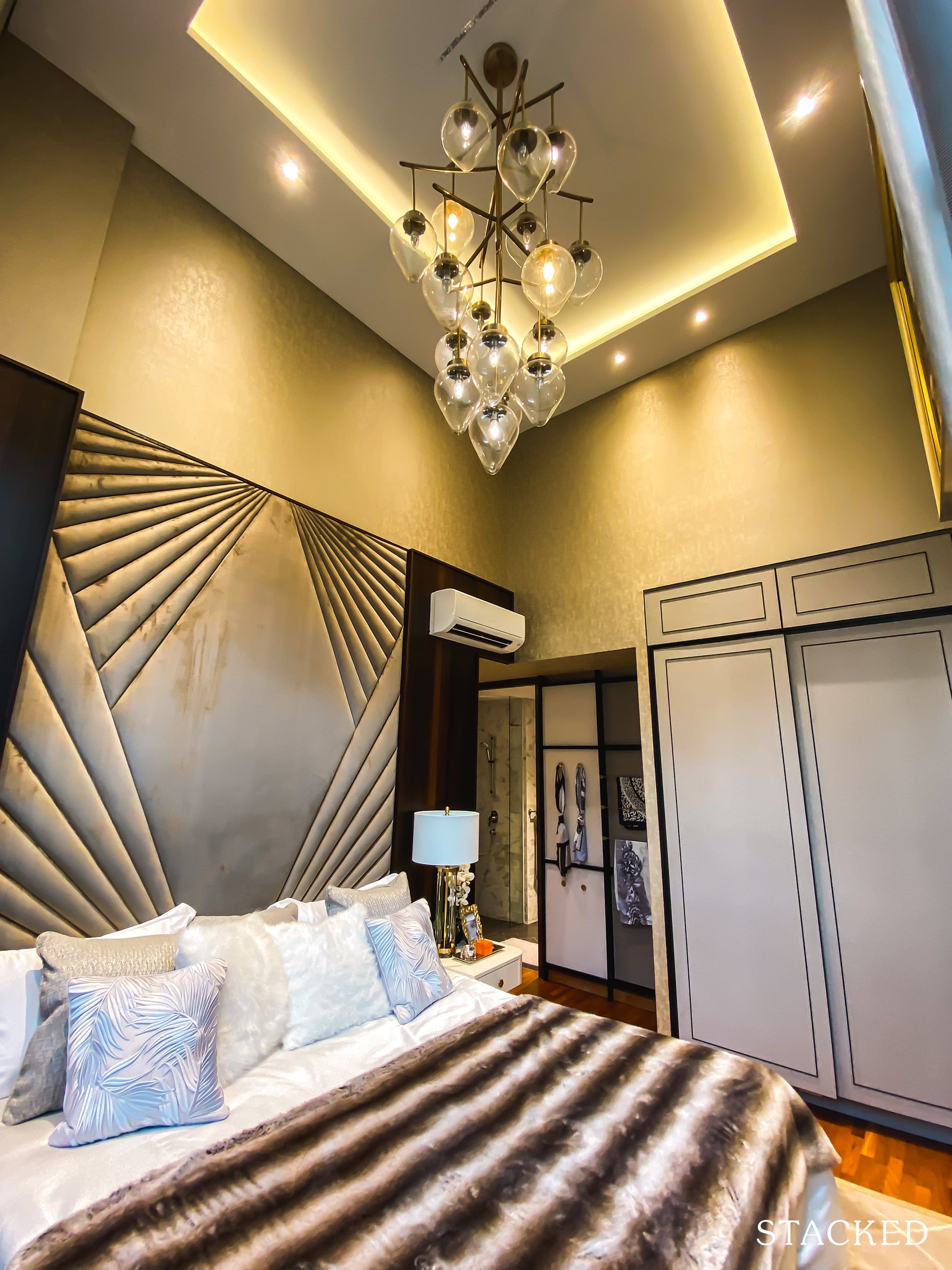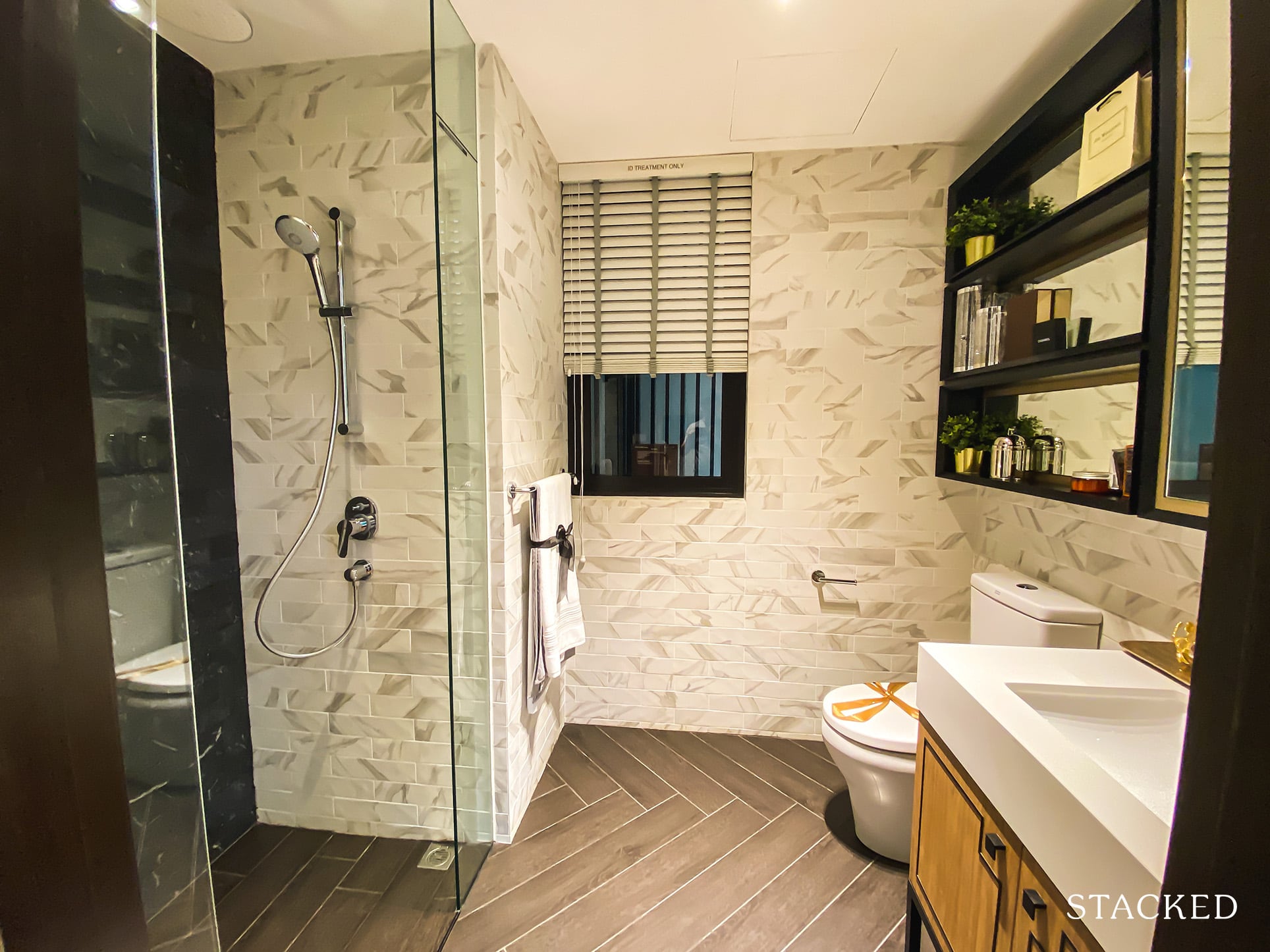 Now, if you were wondering if the high ceiling would finally be translated in the bathroom too, you'll be sadly mistaken. It's not a bad size at all, even for 2 people to be in the bathroom at the same time.
Mayfair Gardens Location Review
Tucked away from the busy roads, the Mayfair Garden development is enclaved at the tail-end of an arterial extensive of the Rifle Range Road – a feature that undoubtedly enhances its exclusivity.
It serves as a peaceful retreat and offers relatively solid accessibility to entertainment needs, grocery options and public transport offerings – even if owning a vehicle here could be incredibly useful.
Transport
| | | |
| --- | --- | --- |
| Bus Station | Buses Serviced | Distance From Condo (& Est. Walking Time) |
| 'Opp King Albert Pk Stn' | 66, 66B, 67, 67A, 74, 77, 151, 154, 157, 170, 171, 174, 852, 961, 961M, 970 | 280m, 3-min walk |
| 'King Albert Pk' | 66, 66B, 67, 74, 77, 151, 154, 157, 170, 170A, 171, 174, 852, 961, 961M, 970 | 400m, 5-min walk |
Closest MRT: King Albert Park MRT – 6-min walk, 600m
A welcome trade-off to Mayfair Gardens' secluded position manifests itself via the condo residents' ease-of-access to public transport.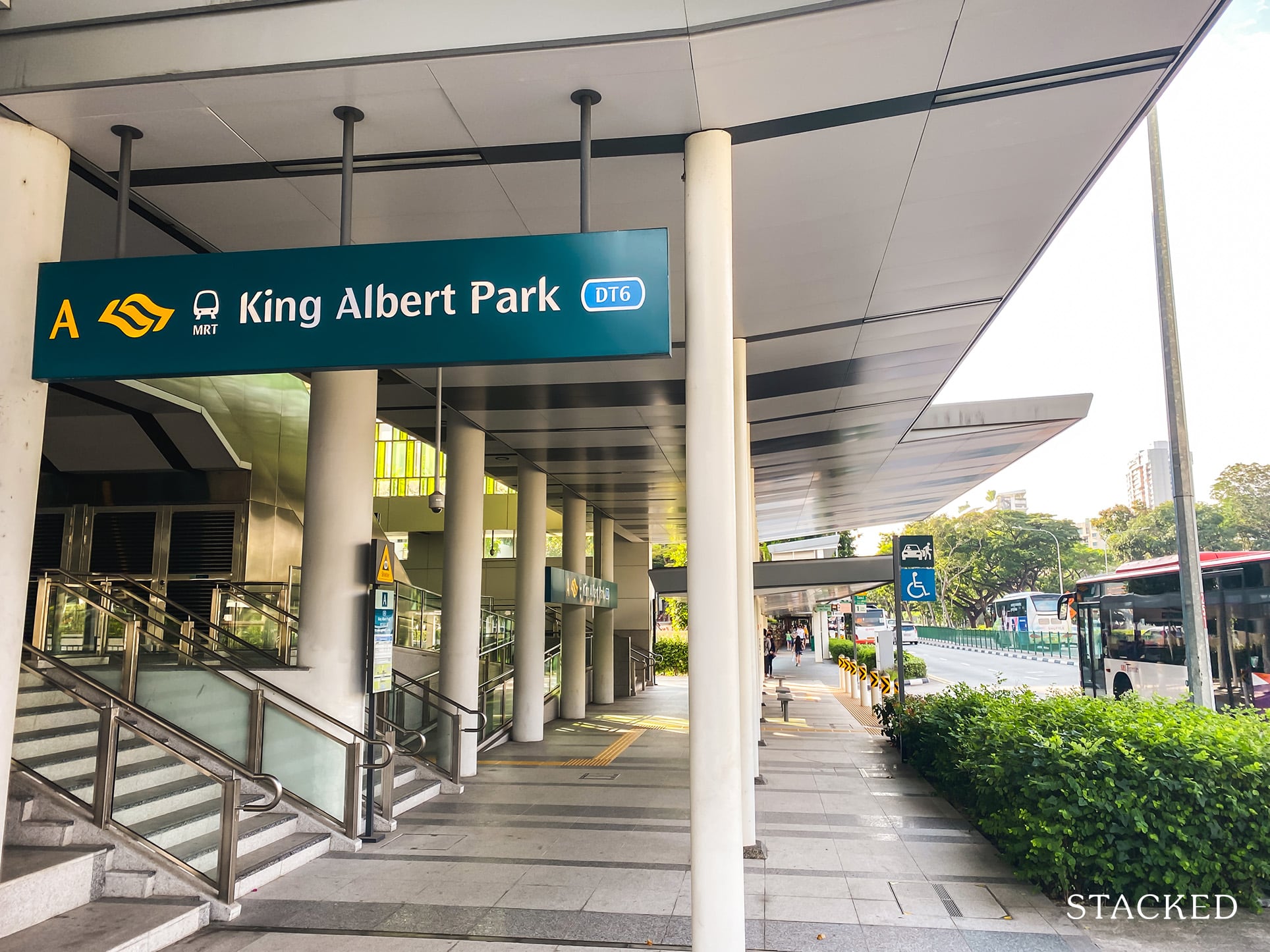 While the distances aren't incredibly far, it is worth noting that getting to the 'King Albert Pk' bus stop and MRT will further require you to cross overhead bridges – the latter of which has both escalator and elevator access.
Furthermore, King Albert Park MRT isn't extremely central and would require a couple of stops to town or even a line switch for that matter.
Private transport accessibility: Very Good
| | |
| --- | --- |
| Highway/Major Road | Distance From Condo (& Est. Off-Peak Drive Time) |
| Dunearn Road | 250m, 1-min drive |
| Upper Bukit Timah/Clementi Road | 1km, 3-min drive |
| Farrer/Adam Road | 4.3km, 6-min drive |
| PIE | 2.3km, 4-min drive |
| BKE | 3.6km, 5-min drive |
| AYE | 5.3km, 6-min drive |
| KJE | 8.6km, 8-min drive |
| ECP | 11.1km, 12-min drive |
| CTE | 11.2km, 10-min drive |
| SLE | 12.3km, 10-min drive |
| KPE | 13km, 12-min drive |
With an incredible array of 'enclaved' amenities around, it is only natural that private transport accessibility gets a solid score. But what about the Bukit Timah area's notorious jams?
If you are a regular of the Bukit Timah area, you'll know that the roads here can also be clogged during the afternoons (outside of peak hours) with the numerous schools in the area being the main contributor.
It also gets extremely crowded in the mornings as a result when both demographics clash on these roads – so its best to avoid driving out during this period if you can.
Groceries
| | |
| --- | --- |
| Name of Grocery Shop | Distance From Condo (& Est. Off-Peak Drive Time) |
| Cold Storage – Sime Darby | 750m, 2-min drive OR 9-min walk |
| Cold Storage – Guthrie House | 2.6km, 5-min drive |
| FairPrice Finest – Bukit Timah Plaza | 1.3km, 4-min drive OR 800m, 11-min walk |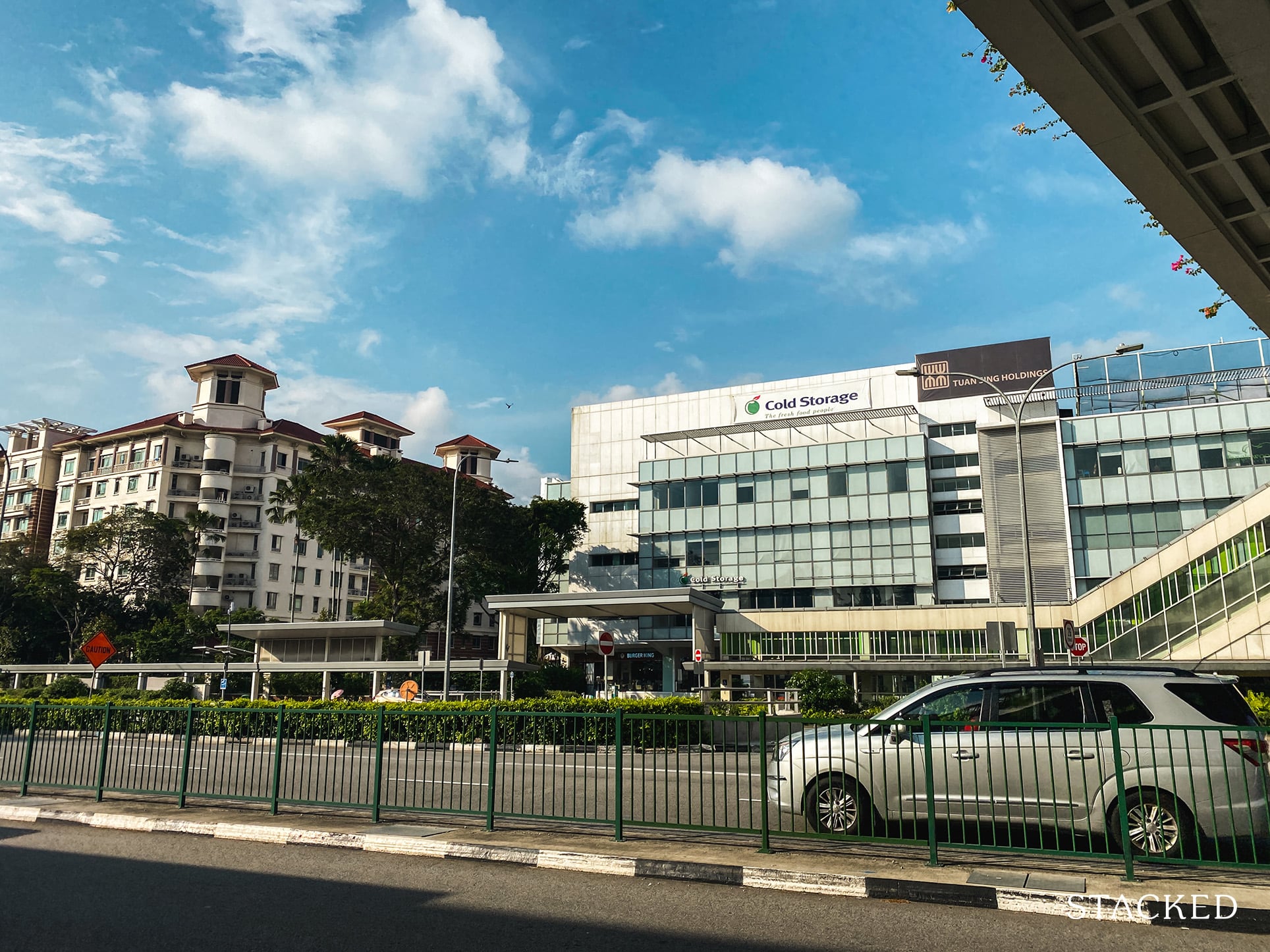 As it is relatively unclear if you could cut through the shrubbery separating Mayfair Gardens from Sime Darby in the near future, we've opted to include only the walking time estimates shown on Google Maps.
Unlike the variety that most 'inner-city' developments have when it comes to grocery options, developments on the outer fringes tend to vary greatly in terms of grocery offerings. The diversity here is relatively average – though admittedly, that is a luxury that few really crave.
What's more, the proximity of Cold Storages to the condo (as opposed to FairPrices) is part-testament to the locale's 'up-town' status.
Shopping Malls
| | |
| --- | --- |
| Name of Shopping Mall | Distance From Condo (& Est. Off-Peak Drive Time) |
| Sime Darby Center | 750m, 2-min drive OR 9-min walk |
| KAP Shopping Mall | 950m, 2-min drive OR 600m, 8-min walk |
| Bukit Timah Plaza | 1.2km, 4-min drive |
| Bukit Timah Shopping Centre | 2.1km, 6-min drive |
| Beauty World Centre | 2.2km, 7-min drive |
| The Grandstand | 2.7km, 6-min drive |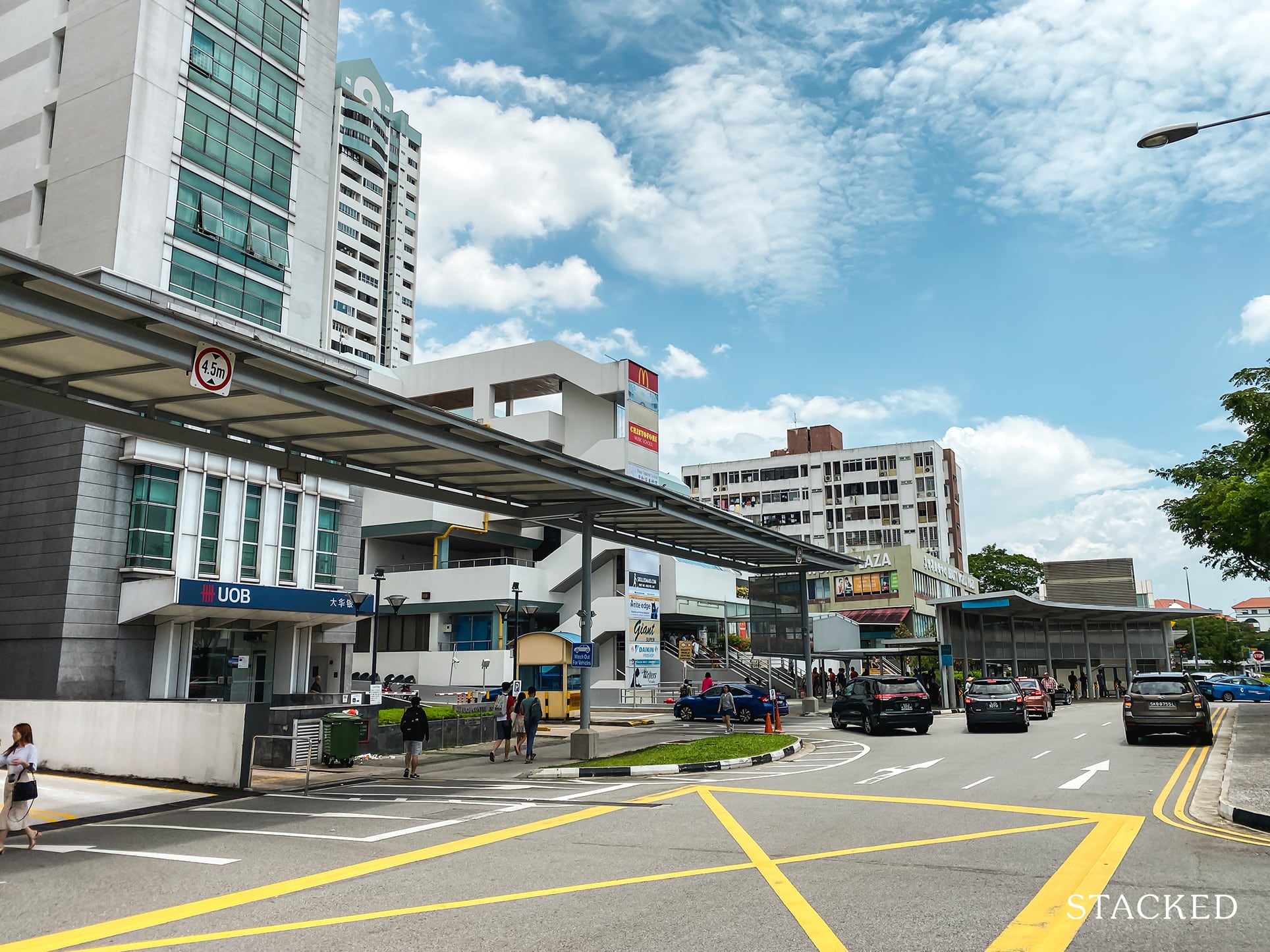 For our regular readers, you'd know that it is quite a rarity to have so many shopping centres within a 3km radius.
Yes, these aren't state-of-the-art shopping malls (you'd have to pop over to the Clementi, Farrer Road or Jurong districts for that), but they do serve up quite a wide offering of food, shopping options, and wholesale entertainment value.
Another point worth noting is that these areas are frequented by numerous students from the nearby Ngee Ann Polytechnic and surrounding schools at lunchtime – so keep in mind that it could get a tad crowded during this period.
Schools
| | | |
| --- | --- | --- |
| Name of School | Education Level | Distance From Condo (Est. Off-Peak Drive Time) |
| ChildFirst @ King Albert Park | Preschool | 550m, 2-min drive OR 500m, 6-min walk |
| Preschool By-The-Park | Preschool | 1km, 2-min drive OR 12-min walk |
| Kidzee Pre-school | Preschool | 1.3km, 4-min drive OR 800m, 11-min walk |
| EtonHouse Pre-school Vanda | Preschool | 2.2km, 4-min drive |
| Little Paddington Preschool | Preschool | 2.4km, 5-min drive |
| Cambridge Primary | Primary | 1.8km, 6-min drive |
| Bukit Timah Primary | Primary | 2.7km, 8-min drive |
| Pei Hwa Presbyterian School | Primary | 3.2km, 9-min drive |
| Methodist Girls' School | Primary | 3.4km, 7-min drive |
| Raffles Girls' Primary | Primary | 3.5km, 7-min drive |
| Pei Tong Primary | Primary | 4.4km, 9-min drive |
| Nan Hua Primary | Primary | 4.7km, 8-min drive |
| Henry Park Primary | Primary | 4.8km, 10-min drive |
| Nanyang Primary | Primary | 5km, 10-min drive |
| Qi Fa Primary | Primary | 6.4km, 10-min drive |
| Nanyang Girls' High | Secondary | 2.8km, 6-min drive |
| Yusof Ishak Secondary | Secondary | 4.3km, 9-min drive |
| Hwa Chong Institution | Secondary | 4.5km, 10-min drive |
| New Town Secondary | Secondary | 4.6km, 9-min drive |
| St. Margaret's Secondary | Secondary | 4.9km, 10-min drive |
| Ngee Ann Polytechnic | Tertiary | 1.8km, 5-min drive |
| SUSS | Tertiary | 2.4km, 5-min drive |
| SIM | Tertiary | 2.6km, 5-min drive |
| National Junior College | Tertiary | 3.9km, 9-min drive |
| University at Buffalo | Tertiary | 4.1km, 9-min drive |
| UBS Business School | Tertiary | 5.1km, 9-min drive |
| Hwa Chong Institution | Tertiary | 5.1km, 10-min drive |
| Singapore Polytechnic | Tertiary | 5.4km, 11-min drive |
| Eunoia Junior College | Tertiary | 5.4km, 12-min drive |
| NUS Law Faculty | Tertiary | 5.7km, 11-min drive |
| Anglo-Chinese Junior College | Tertiary | 6.1km, 11-min drive |
| SIT | Tertiary | 6.5km, 13-min drive |
| Catholic Junior College | Tertiary | 7.7km, 13-min drive |
| NUS | Tertiary | 8.7km, 17-min drive |
This is where the Bukit Timah district really blossoms – especially for those who are part of larger families.
The number of schools in the area distinctively cuts down traveling time for the kids to schools – allowing them to concentrate this time on more productive aspects (eg. sleeping a little more before school!).
Furthermore, the allure of these mission/'top-notch' schools could go a long way in both motivating the kids and satisfying parents who highly desire quality education options for their children.
Also, notice the larger-than-average number of Junior Colleges on the list and note that there a quite a few more secondary school options just past the 10-min drive radius.
Additional Pointers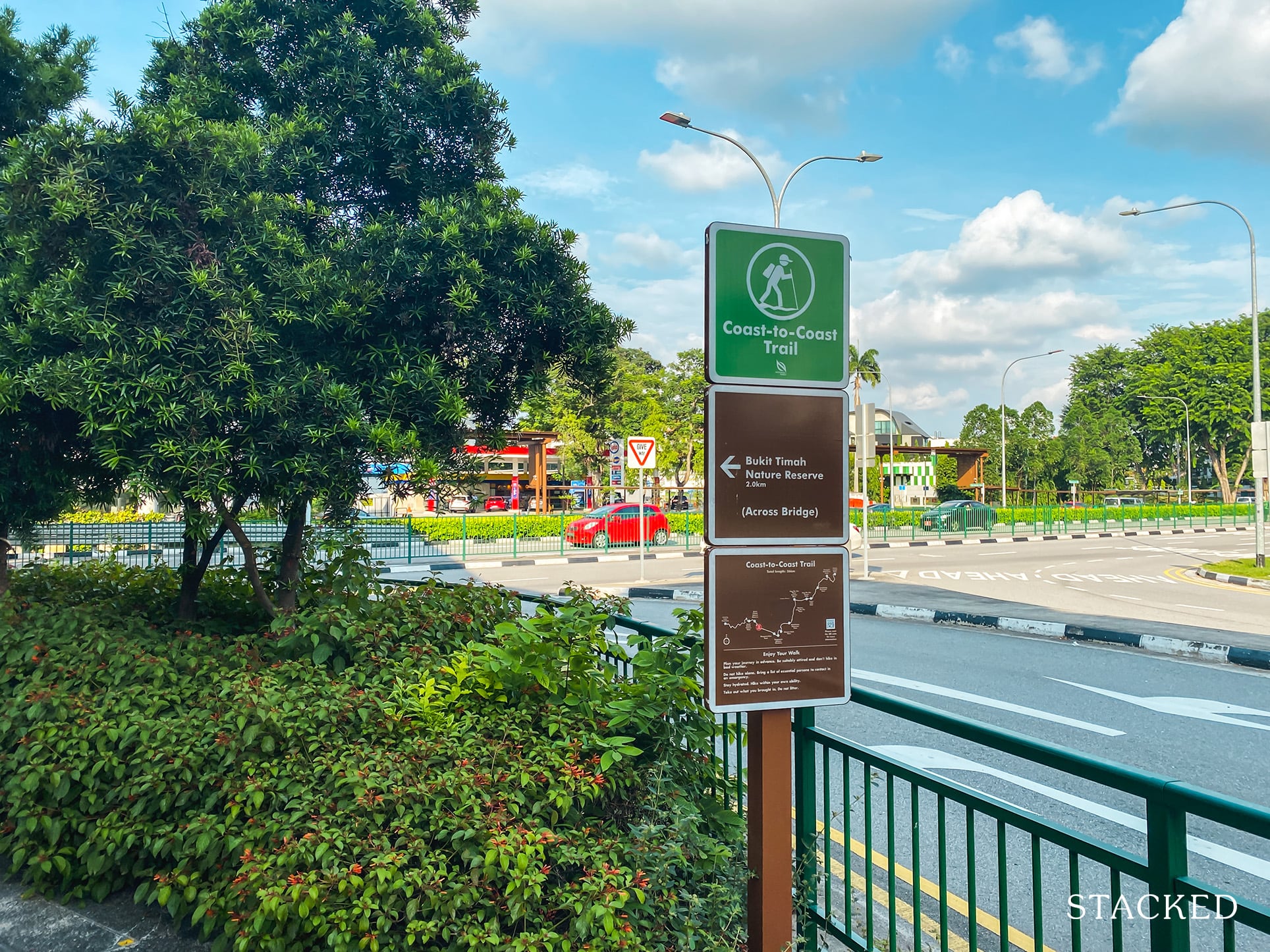 Living just a few minutes walk from Singapore's most esteemed nature reserve has its perks for the nature-inclined. The Green Corridor and proposed Rifle Range Nature Park will further this allure come move-in time.
Just remember to slap on the anti-mosquito patches before you head out!
Plenty of Leisure Activities to partake in
Located just a few minutes drive from The Grandstand, British Club, Swiss Club Singapore, and Singapore Island Country Club, residents at Mayfair Gardens can choose to enjoy the more affordable options in futsal and even paintball or indulge in more luxurious hobbies like golf and cricket.
Distinct Variety of Cuisines
Famous for its numerous food hideaways, the Bukit Timah district serves up anything from amazing hawker fare to posh restaurants to cosy cafes. A venue that pops to mind is the incredible Beauty World 'food paradise area'.
Mayfair Gardens Development Site Review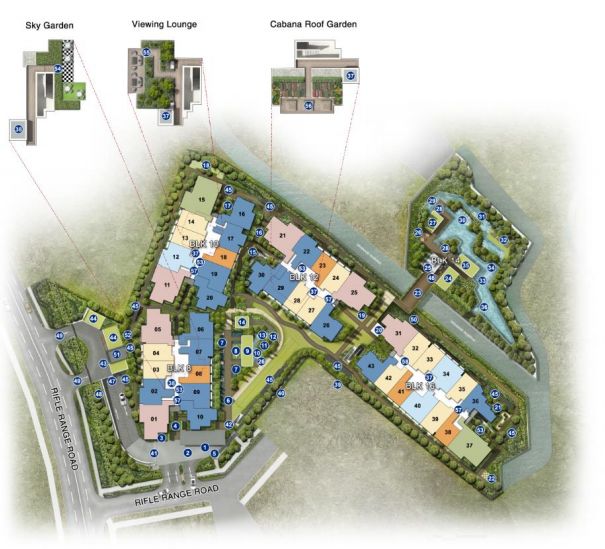 A glance at the hefty facility offerings and you can tell that Mayfair Gardens has really tried to go the extra mile. But you'd immediately notice one glaring omission – a lack of a tennis court.
While there doesn't seem to be two separate exits (apart from the service gate), it is worth noting that the roads go underground in this development – a great initiative to prevent extra road noise and maximise land space.
Rooftop amenities could also mean some noise pollution for the higher floors. With the 4.3m ceiling-ed units, however, we expect this effect to be minimal.
Best Stacks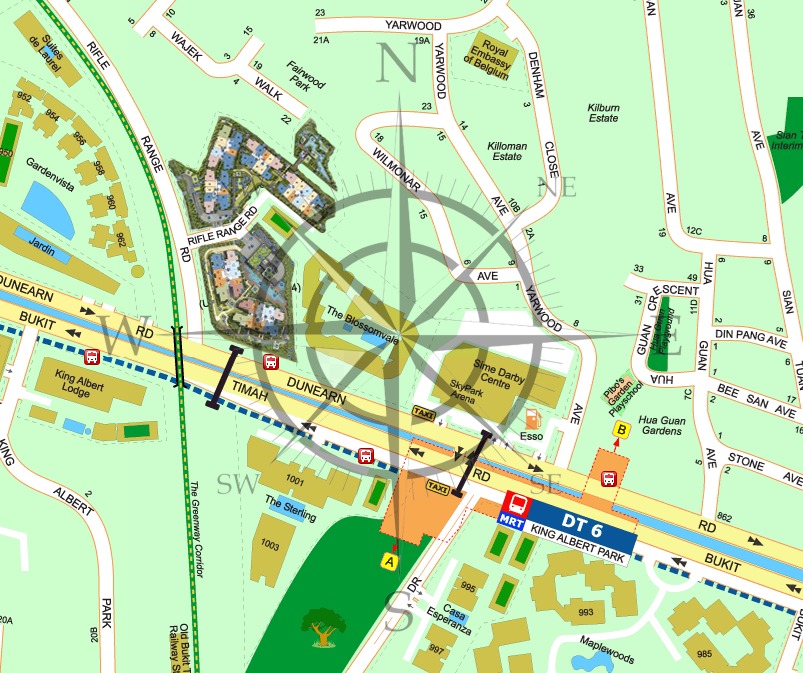 From here you can see that units that are NE facing will have unblocked views as the landed areas are a 2 story zoning semi-detached.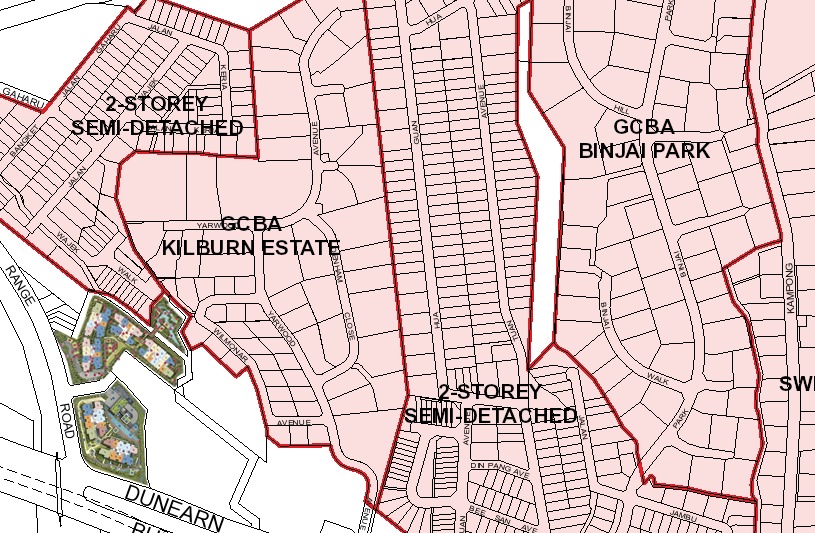 The best stacks that we recommend are as follows:
1BR – 23
1BR(S) – 24
2 BR – 22,36
3BR – 21
4BR – 37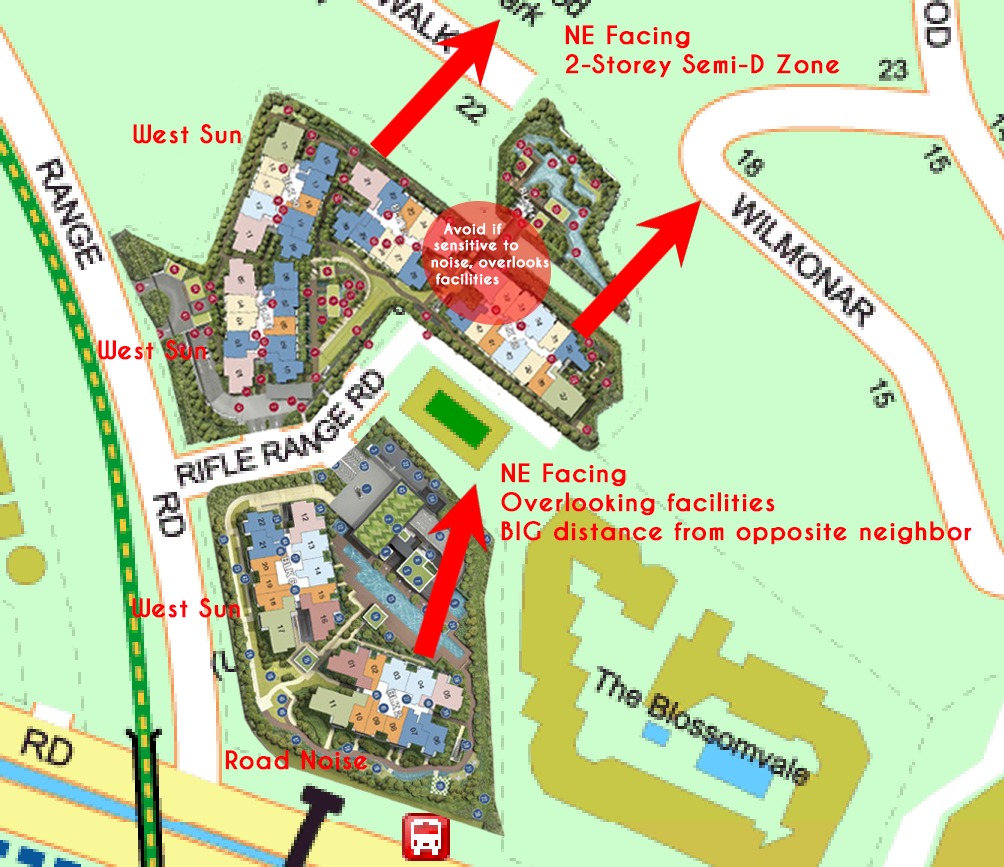 So a high floor NE facing unit would give you a brilliant view over the low rise landed area, not to mention, avoiding the afternoon sun.
Lastly, do bear in mind that Mayfair Modern (just across the road) is set to launch a tad later – which could (while highly unlikely) technically means a later completion date and hence a period of construction noise disturbance for homeowners banking on early move-ins.
Over to the unit mix:
Unit mix in Mayfair Gardens

| | | |
| --- | --- | --- |
| Unit Type | No. Of Units | Size of Units (sqft) |
| 1-Bedroom | 25 (12%) | 495 – 646 sqft |
| 1-Bedroom + Study | 64 (30%) | 549 – 753 sqft |
| 2-Bedroom | 72 (33%) | 710 – 904 sqft |
| 2-Bedroom + Study | 14 (7%) | 797 – 1023 sqft |
| 3-Bedroom | 26 (12%) | 1,012 – 1,216 sqft |
| 4-Bedroom | 8 (4%) | 1,216 – 1,249 sqft |
| Penthouse | 6 (3%) | 1,539 – 1,733 sqft |
As you'll observe, developers Oxley have catered to quite a variety of demographics.
What's somewhat surprising, however, is the solid emphasis on 1-bedroom units (42% in total) – especially when you consider that Fourth Avenue Residences is already 70% made up of 1 and 2-bedroom units.
In fact, many developments in the area (RoyalGreen pops to mind) have chosen to omit the 1-bedder altogether.
Still, the added charm of the high ceilings, above-average unit size, and distinct outer-architectural prowess might just provide the 1-bedders here with an edge over the other developments in the area.
This, provided purchase quantum isn't a major concern.
Price Review
For those who noticed that Mayfair Gardens' land lease actually started way back in 1983, let us first put your mind at ease by saying that Oxley paid an estimated $52 million for a leasehold top-up during its en bloc purchase.
Now as mentioned earlier, Mayfair Gardens sits atop the immediate area's quantum range.
This, despite its 99-year leasehold status. Perhaps the biggest reason for its ability to command such a price (apart from its novelty) is its incredible luxury allure alongside its famed status as a 'replica' of London's finest.
In fact, a staggering 40% sale of its total units over Mayfair Garden's weekend launch in late September last year is a testament to this.
Unfortunately, this has followed on with swiftly declined demand following the uptake of 'choice units' with only 35% more units sold over the past year following its launch.
Whether the developers will accede to a price drop to ensure uptake of these 'less-prime' units will remain to be seen.
Our Take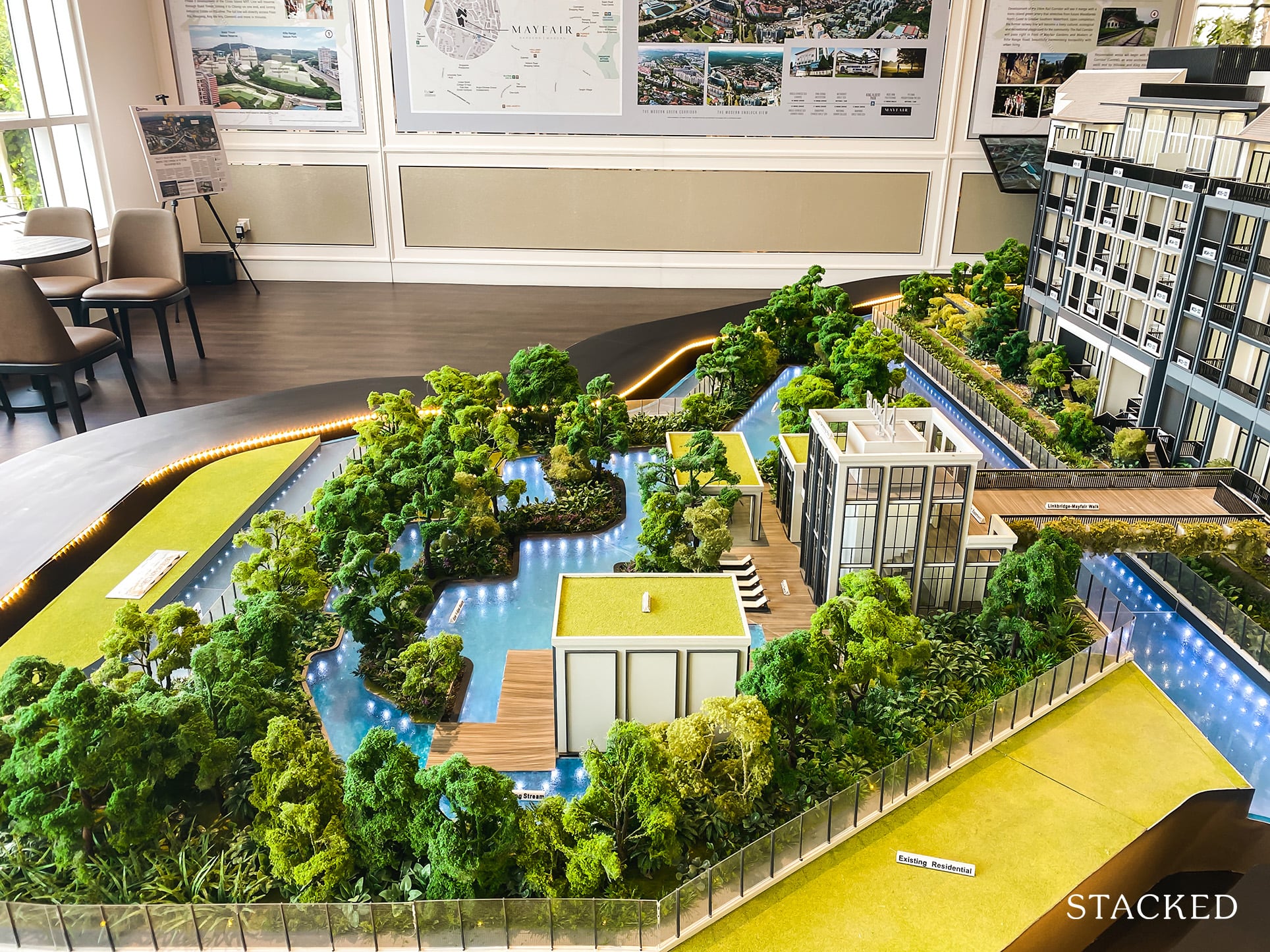 Living in a Georgian-like house adorned with an esteemed international (boardgame) name and district definitely have its perks in the showing-power department.
On the more practical side, however, the condo's biggest perks (in my opinion) are its proximity to schools and luxury-hobby amenities.
Perks that can also be garnered from its surrounding freehold neighbours.
Yes, it has a feel-good architectural vibe, a noise-free environment, and a really luscious offering of facilities steeped in nature – all this combined with larger-than-average unit spaces based on modern developments.
Personally, however, its high quantum, immediate area tenure comparison, and slightly inefficient unit layouts outweigh its positives – especially when you consider that most of its choice units have been sold and that the older developments here have similar if not large unit spaces for a lower quantum.
That being said, a choice unit here (provided it hasn't already been snapped up) could well be a quantifiable purchase… though that is mostly for the well-heeled.
What this means for you
You might like Mayfair Gardens if you:
• Are a fan of the design:Not many developments can boast a Georgian-inspired theme. If living like a British Royal suits you, then the Mayfair's architectural/design prowess is the first place to start.
• Are looking for a peaceful development in the district:Most developments here are notorious for the amount of noise pollution they receive. Given its enclaved position, peace is very much guaranteed for residents of the Mayfair Gardens.
You might not like Mayfair Gardens if you:
• Prioritize your budget:Given its position at the top of the immediate area's quantum range, it is understandable that most buyers revert to older, more affordable freehold resale units for similar amenity access.
• Prefer to live near the glitz and glamour:Mayfair Gardens might have an up-town vibe and locale. Unfortunately, it doesn't have similar glitzy offerings that most of the newer District 9 condos offer.
End of Review
[optin-monster-shortcode id="gzivtlotizxfiuzqwtnx"]