Condo Reviews

Cascadia Condo Review: Family Friendly But Unspacious Grounds
Reuben
July 15, 2020

26

min read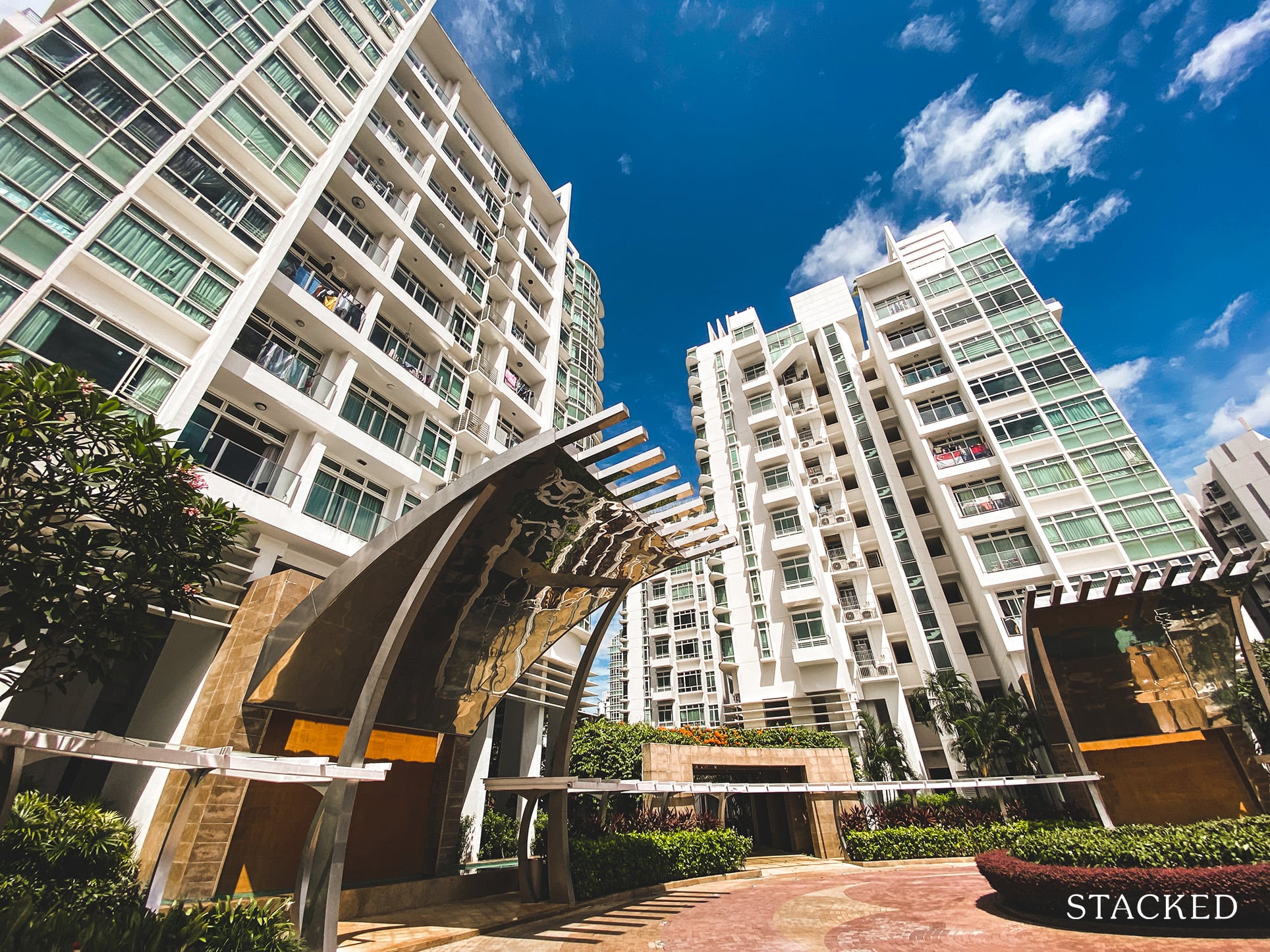 The Cascadia is perfect for sport lovers and those who appreciate the resort-like vibe given the lush greenery. However, residents who prefer spacious compounds might want to look elsewhere given the tightly-spaced blocks.
Reviewed by Reuben on July 15, 2020
What we like
Facilities available for most sports

Location
What we don't like
—

Blocks too close together

—

Poor maintenance in places
26
min read
| | |
| --- | --- |
| Project: | The Cascadia |
| District: | 21 |
| Address: | Bukit Timah Road |
| Tenure: | Freehold |
| No. of Units: | 536 |
| Site Area: | 293,650 sqft |
| Developer: | Boonridge Pte Ltd |
| TOP: | 2011 |
If you've been following our unit-of-the-week series for some time now, you might have noticed the beautiful penthouse that we showcased from The Cascadia all the way back in issue #6.

Coincidentally enough, it wasn't the only 'Cascadia-n' penthouse to have caught the attention of the public.

Back in 2018, a similar 1,733 square foot 2-bedroom penthouse unit was also going for sale at $2 million with its current renters paying $4,500/month (equating to 2.7% rental yield based on initial purchase price).

The biggest USPs for the unit at that time was the condo's freehold status, en bloc potential and (very) comfortably spaced unit size – which was ideal for smaller families.

As for the other more important details of the condo (apologies for digressing a little back there) – you'll find that The Cascadia was actually built in 2010 and is home to 536 units across 293,650 square feet of land today.

Despite the seemingly beautiful and spacious area (on paper), there have been complaints from tenants over the years that maintenance of the general condo is often a sore-spot, with certain unit-related appliances not living up to par (ie. needing frequent repairs over the years).

Perhaps one of the biggest concerns was that the blocks here were positioned a little too close to each other and that the widespread layout of the pool and the numerous greenery in the area meant lesser walking spaces in the condo grounds.

That said, the condo is located in one of Singapore's more affluent neighbourhoods with good educational options around as well as a number of key amenities and solid public/private transport convenience.

As for time of writing, The Cascadia is actually priced just slightly above the average psf-value of its immediate neighbours.

We'll go more in depth into all that in just a bit. For now, here's a little tour of the condo's grounds that will give you some first impressions of the place without having to actually head down yourself!
Cascadia Insider Tour
Facilities in The Cascadia

| | | |
| --- | --- | --- |
| Barbeque Area | Gymnasium room | Swimming pool |
| Playground | Tennis Courts | Function Room |
| Jogging Track | Jacuzzi | Basketball Practice Area |
| Clubhouse | Fitness Area | Badminton Court |
The name Cascadia actually comes from the word "cascades", which means falling water or waterfalls. Naturally, if you've never stepped foot into Cascadia before, you might expect there to be multiple cascading waterfalls, or perhaps even an abundance of swimming pools. After all, that is what the condo name evokes, right?
So if you are anything like me – you'll probably be quite disappointed.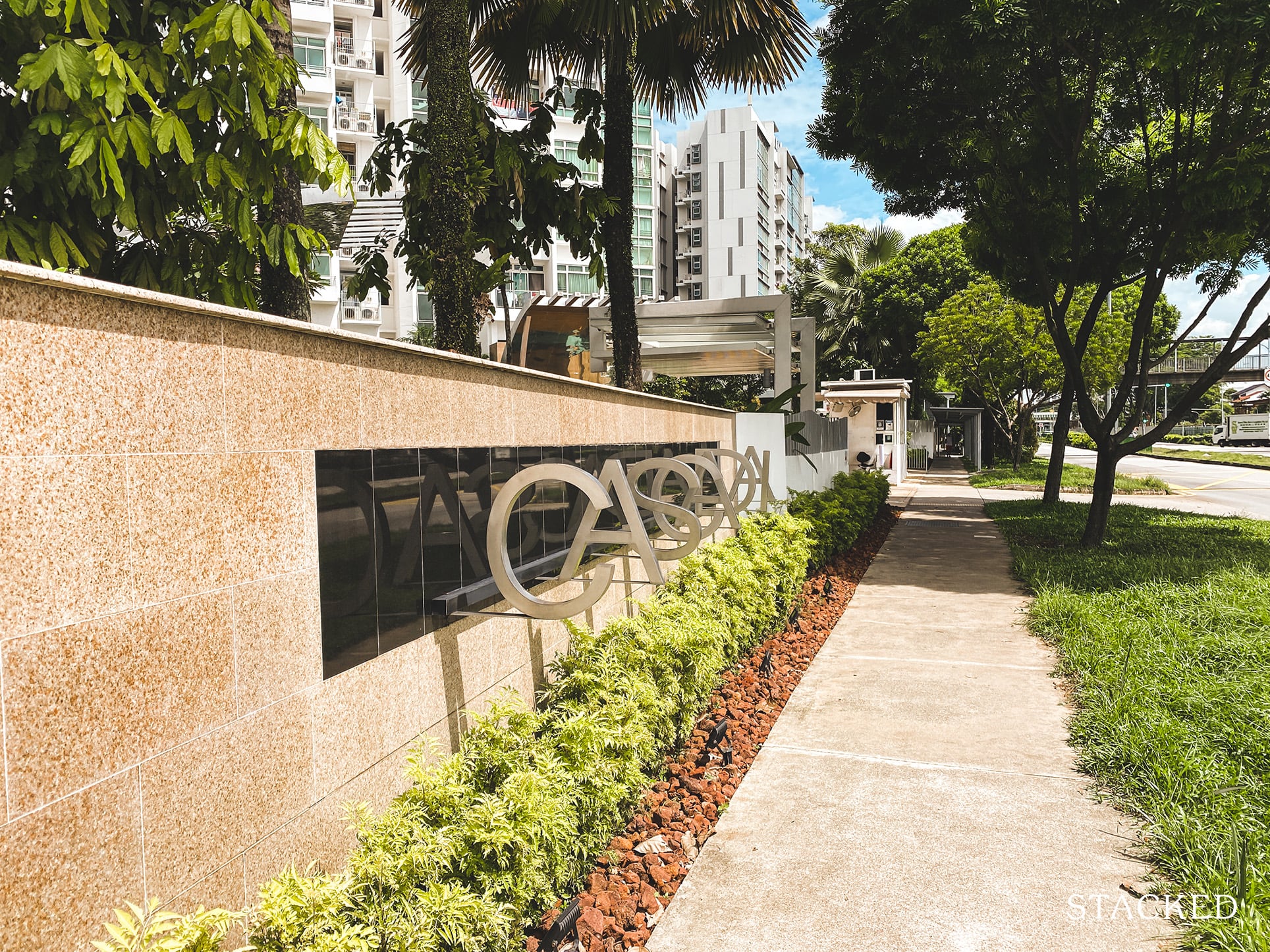 I'm not saying that a condo should have multiple waterfalls or swimming pools for it to be a liveable one, but I don't quite understand the rationale of its name here. Sure, it might not be a big deal but why name it after something that doesn't have a real connection to it?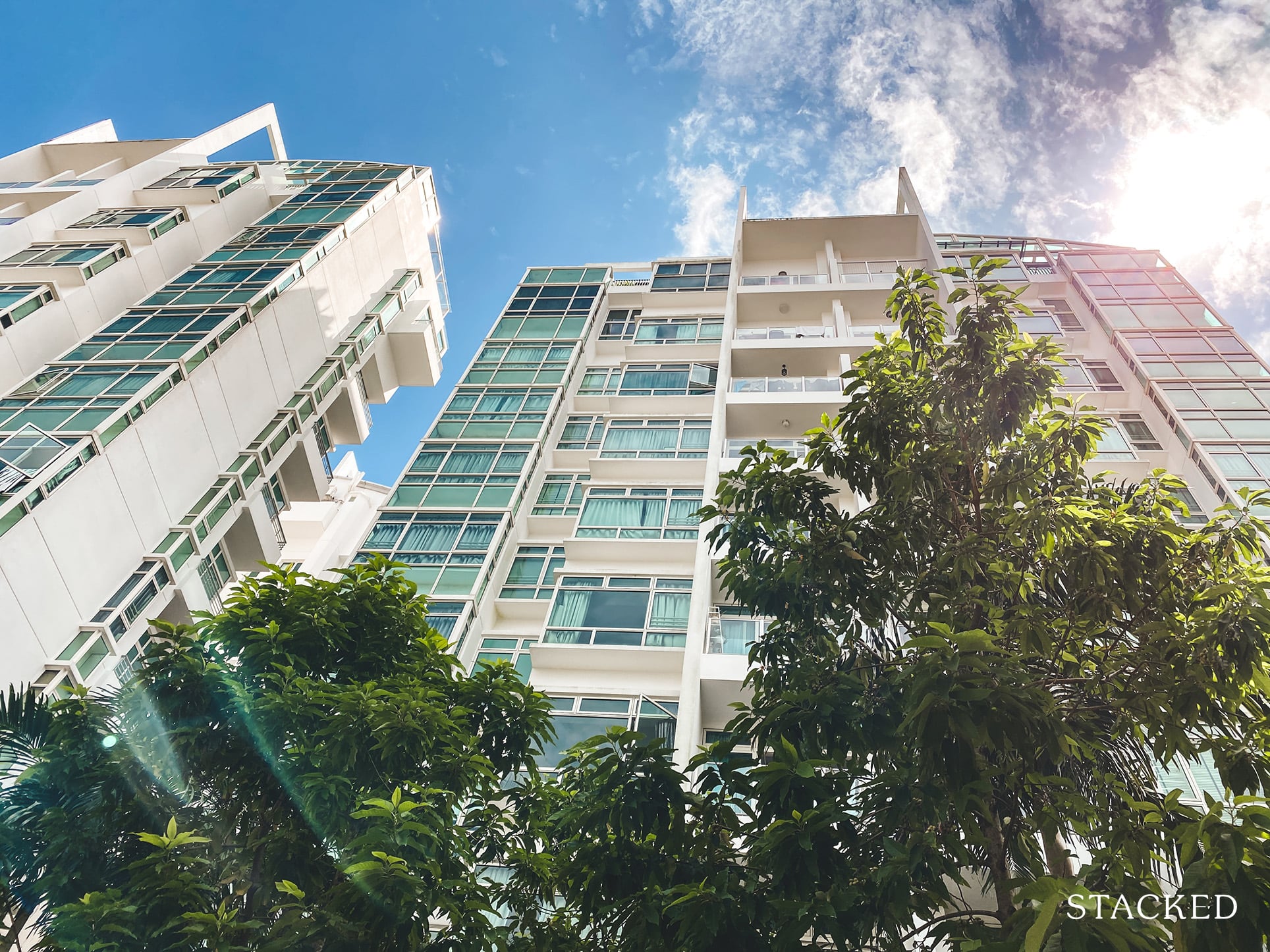 As far as first impressions on the exterior go, the development strikes a fairly conservative but still suitably modern look. It was built in 2011, so it is just a year shy of its 10-year anniversary at this point. I would say more people wouldn't have much complaints over its design – its a safe choice. But for the overly picky, you can definitely tell that this development belongs in an older time period.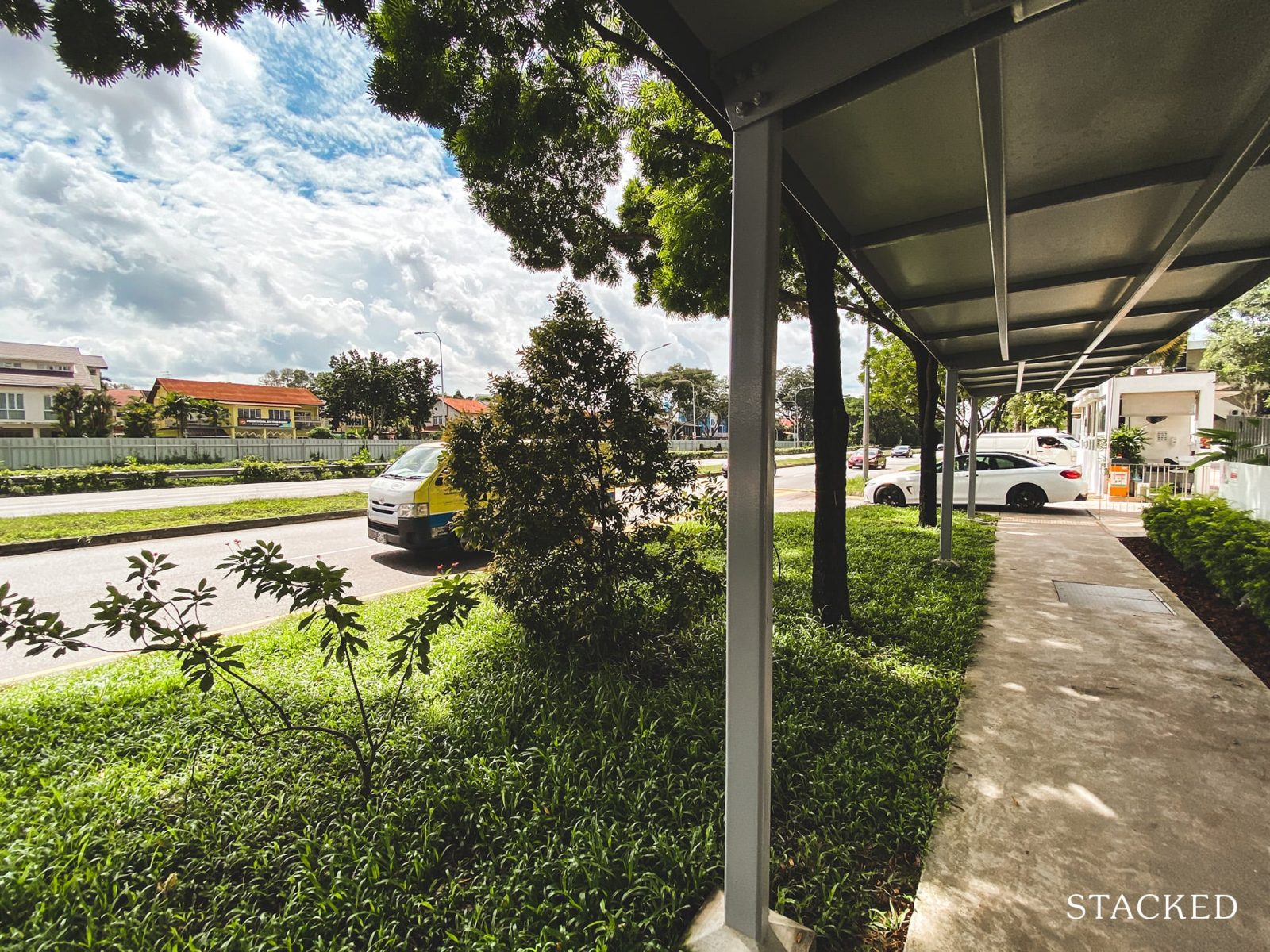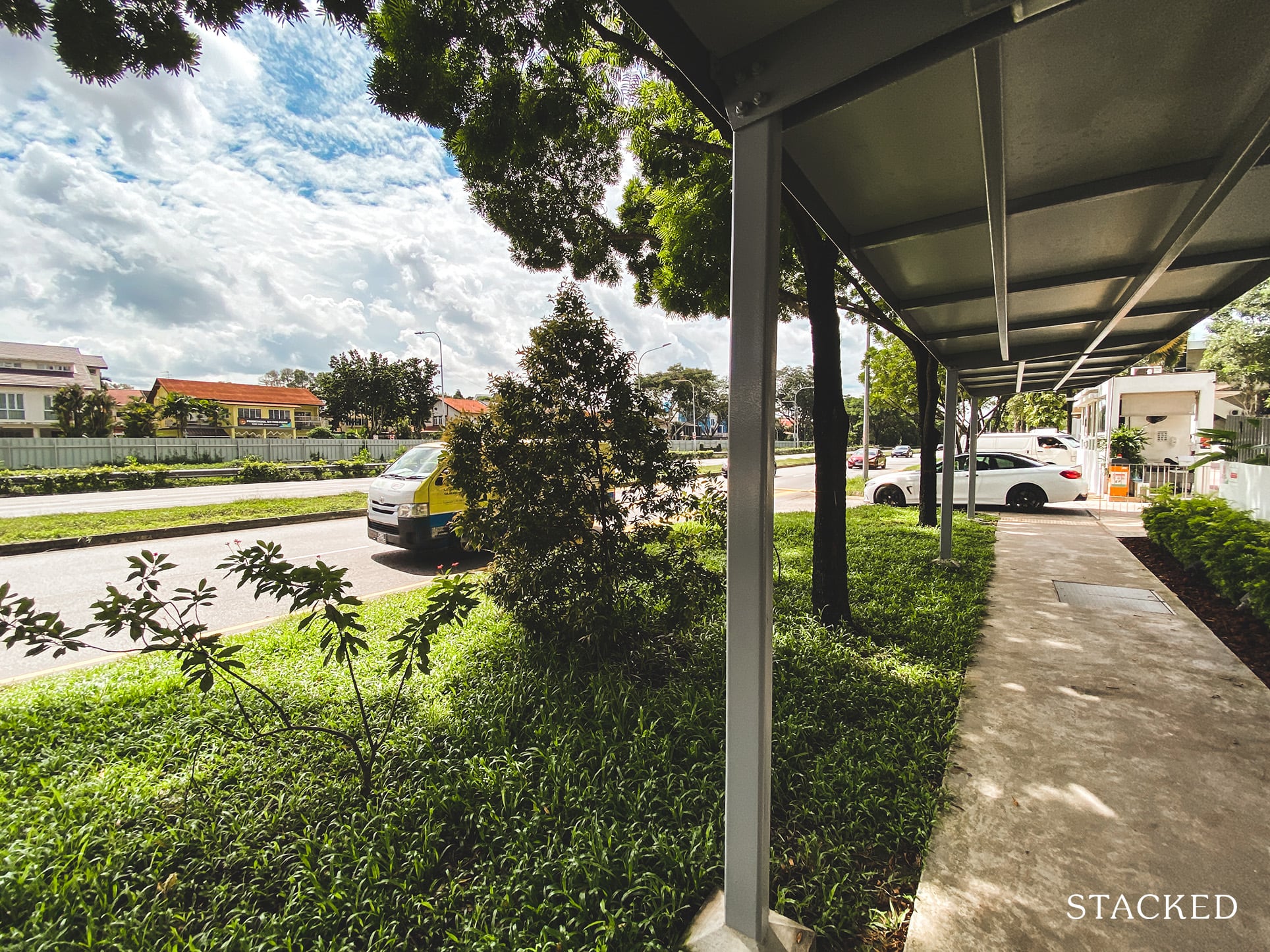 The entrance is located right by Bukit Timah Road – which is a plus point accessibility wise. That said, it does go quite deep in so if you are living in the blocks at the back it is definitely a bit of a walk to get to the main road. On a positive note, only the first two blocks are road facing, so the rest are more insulated for those seeking some peace and quiet.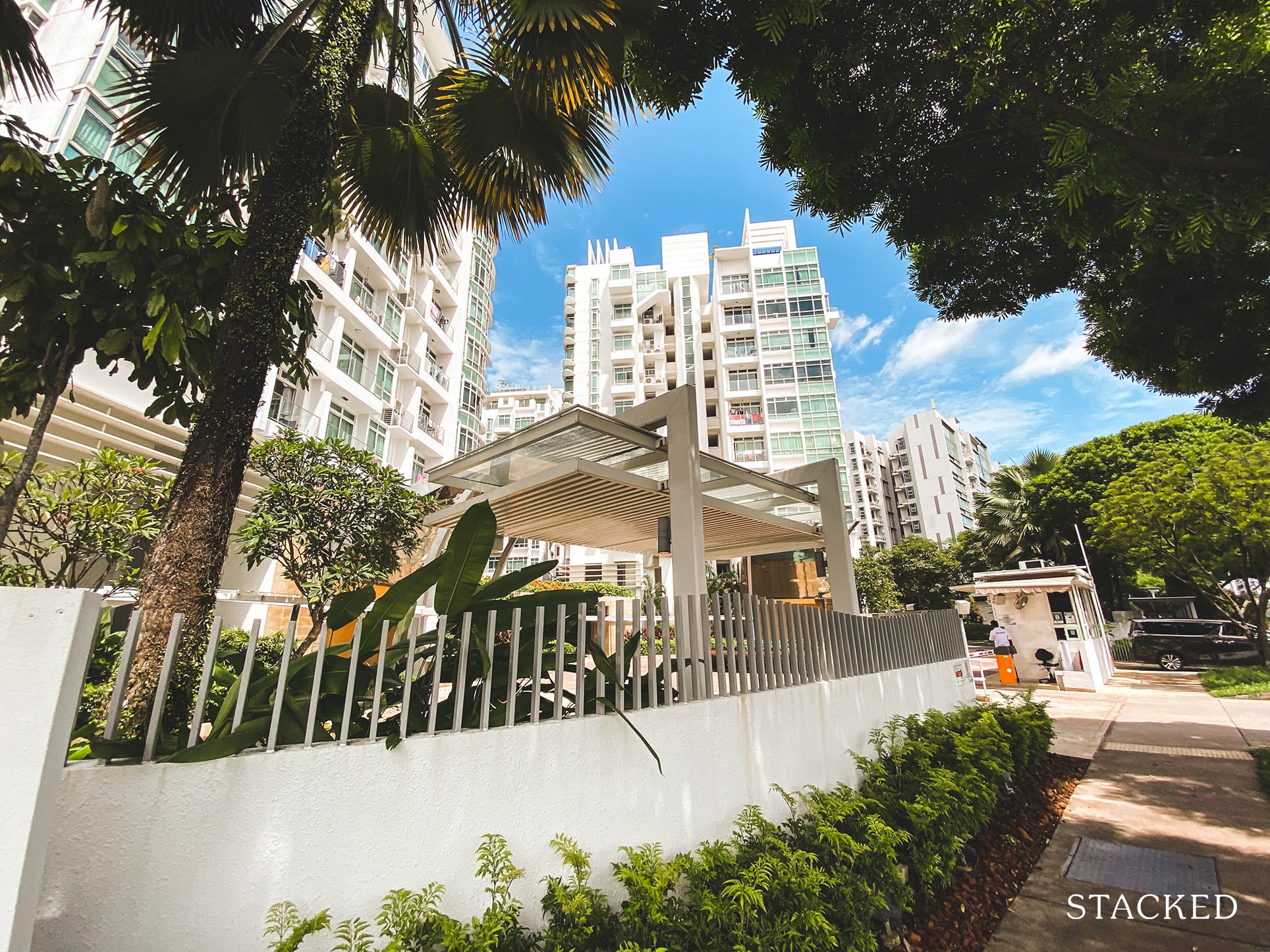 This might not be as big an issue post-Covid, but because security checks are now longer for visitors and delivery services, the entrance does get swamped on occasion during peak hours. So for residents coming home you could see yourself having to wait due to the nature of how vehicles would turn in from the main road.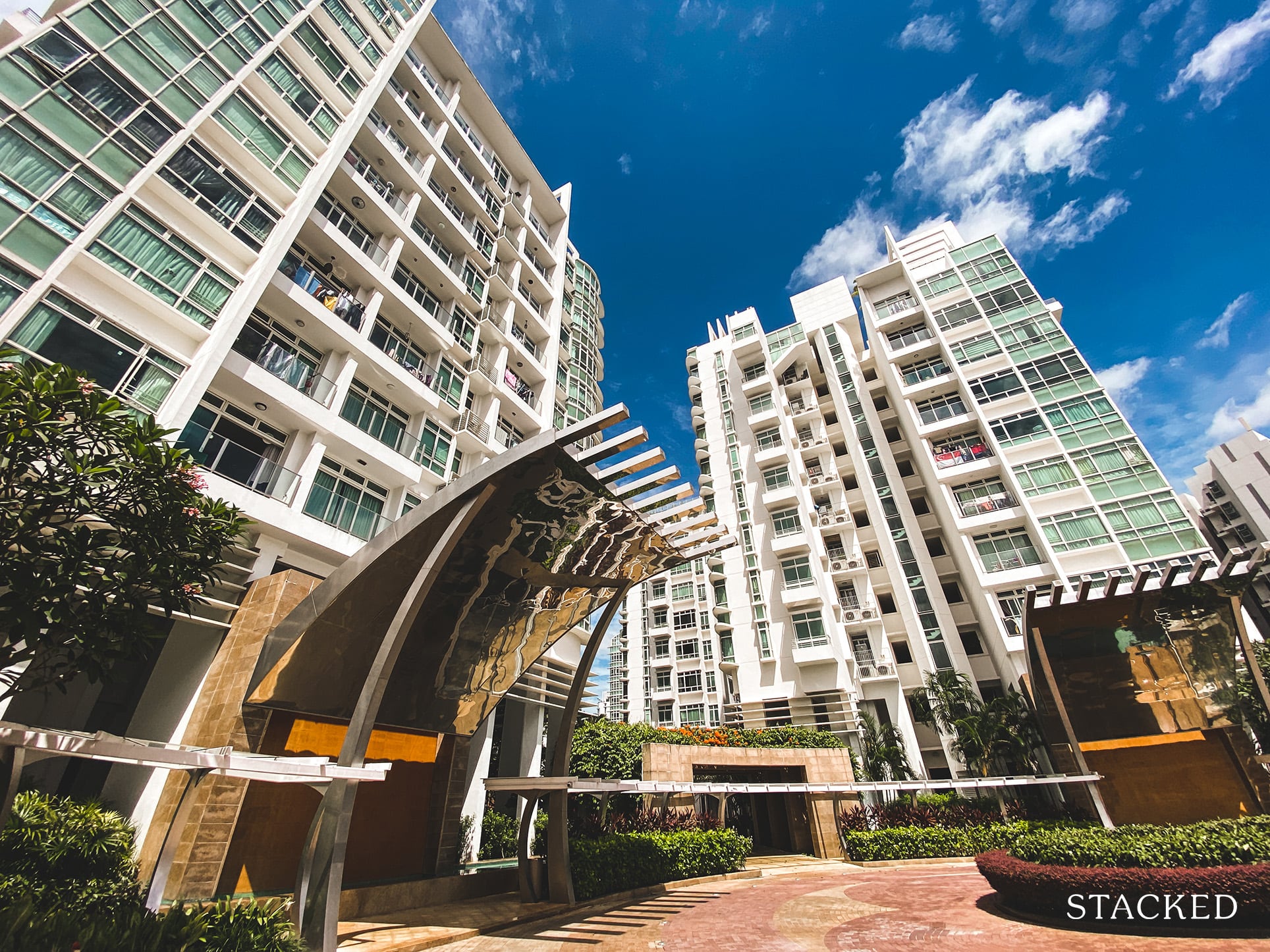 It is a big roundabout, so traffic flow here should be relatively smooth given there are 2 drop-off points as well.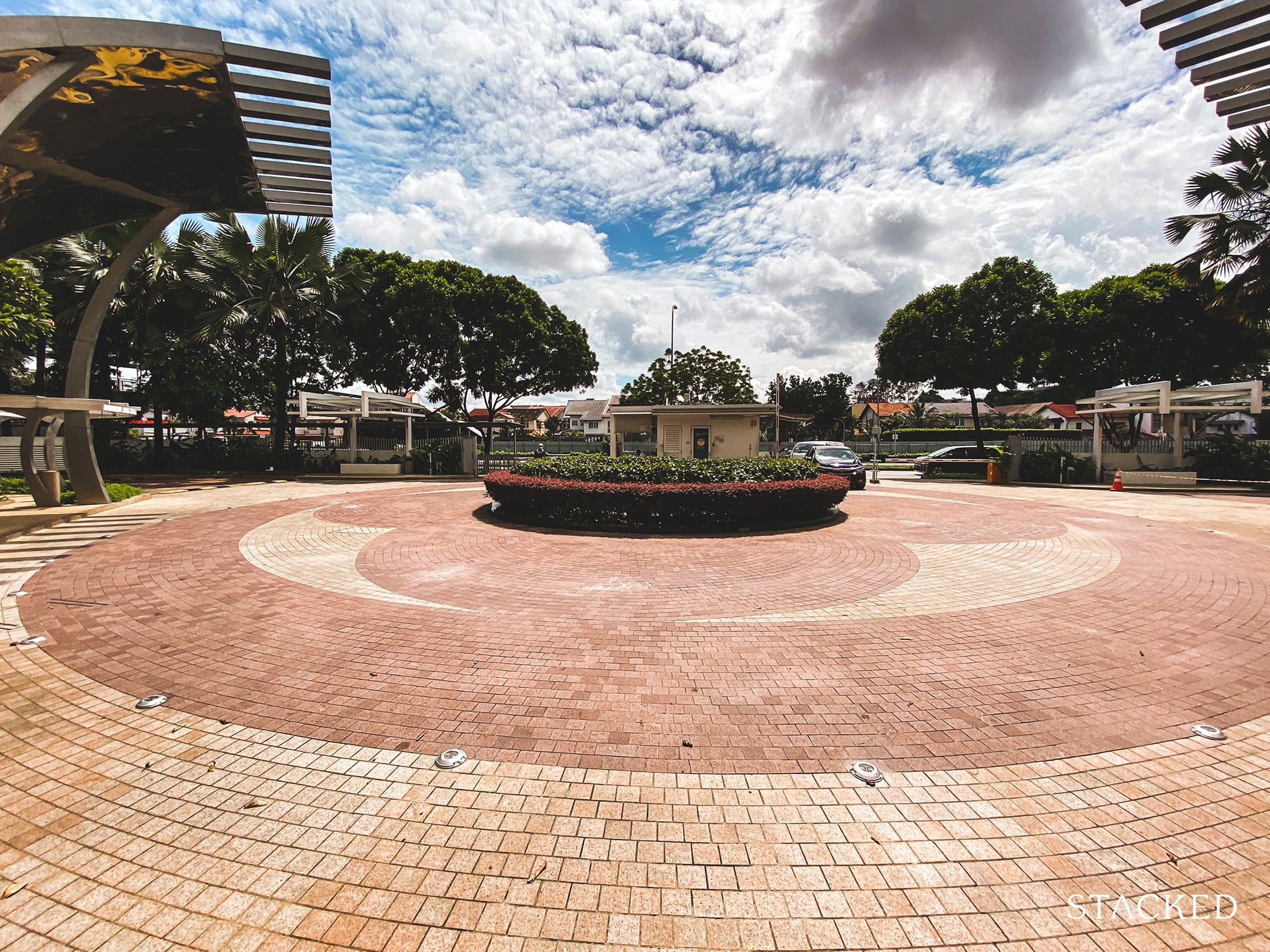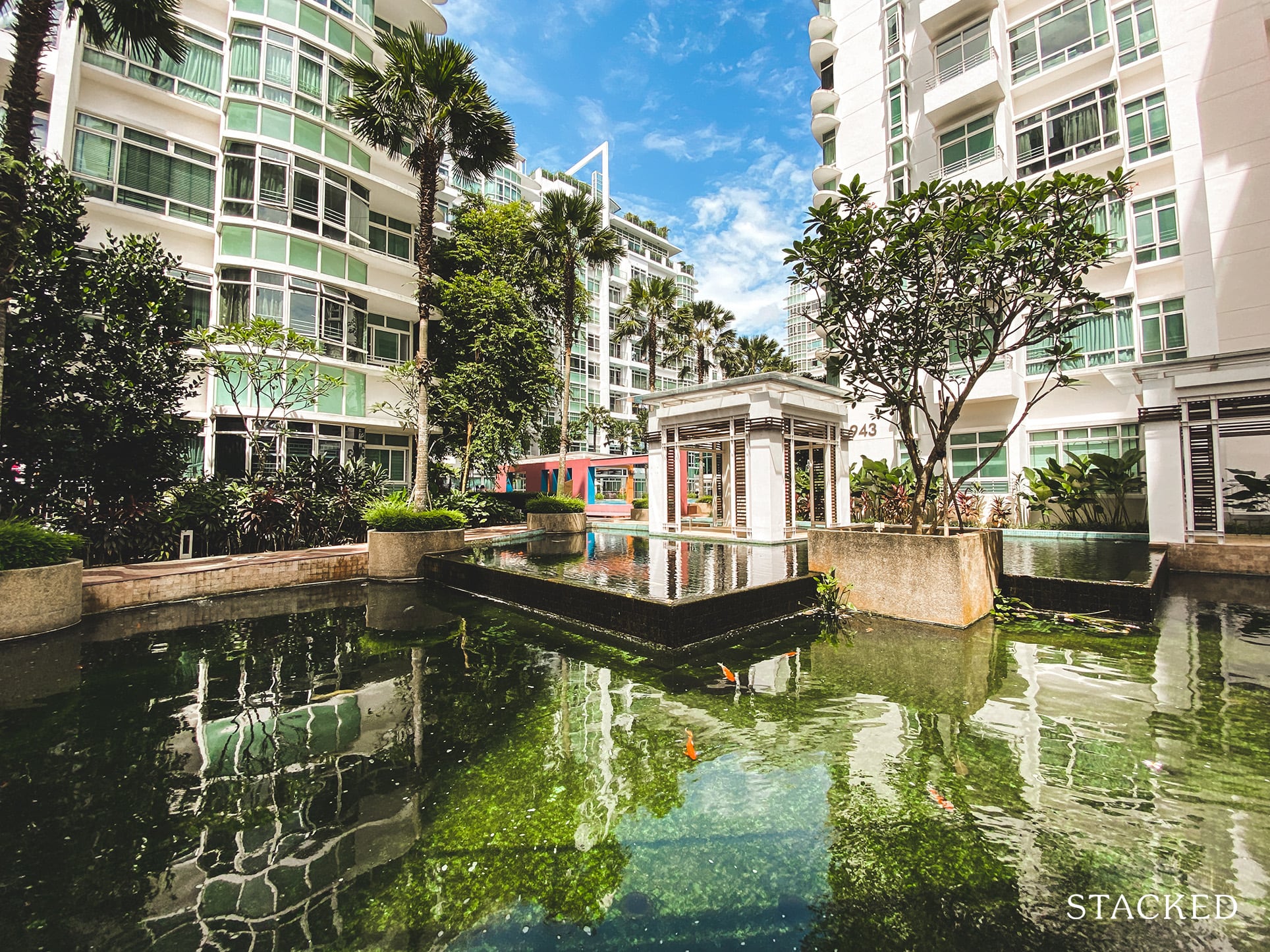 Once you step in to the main compound of the development, you are greeted by a greenish looking pond with some very hungry-looking Koi. I wouldn't say it is the most aesthetically pleasing pond out there, but a water feature welcoming you home is always gratifying nonetheless.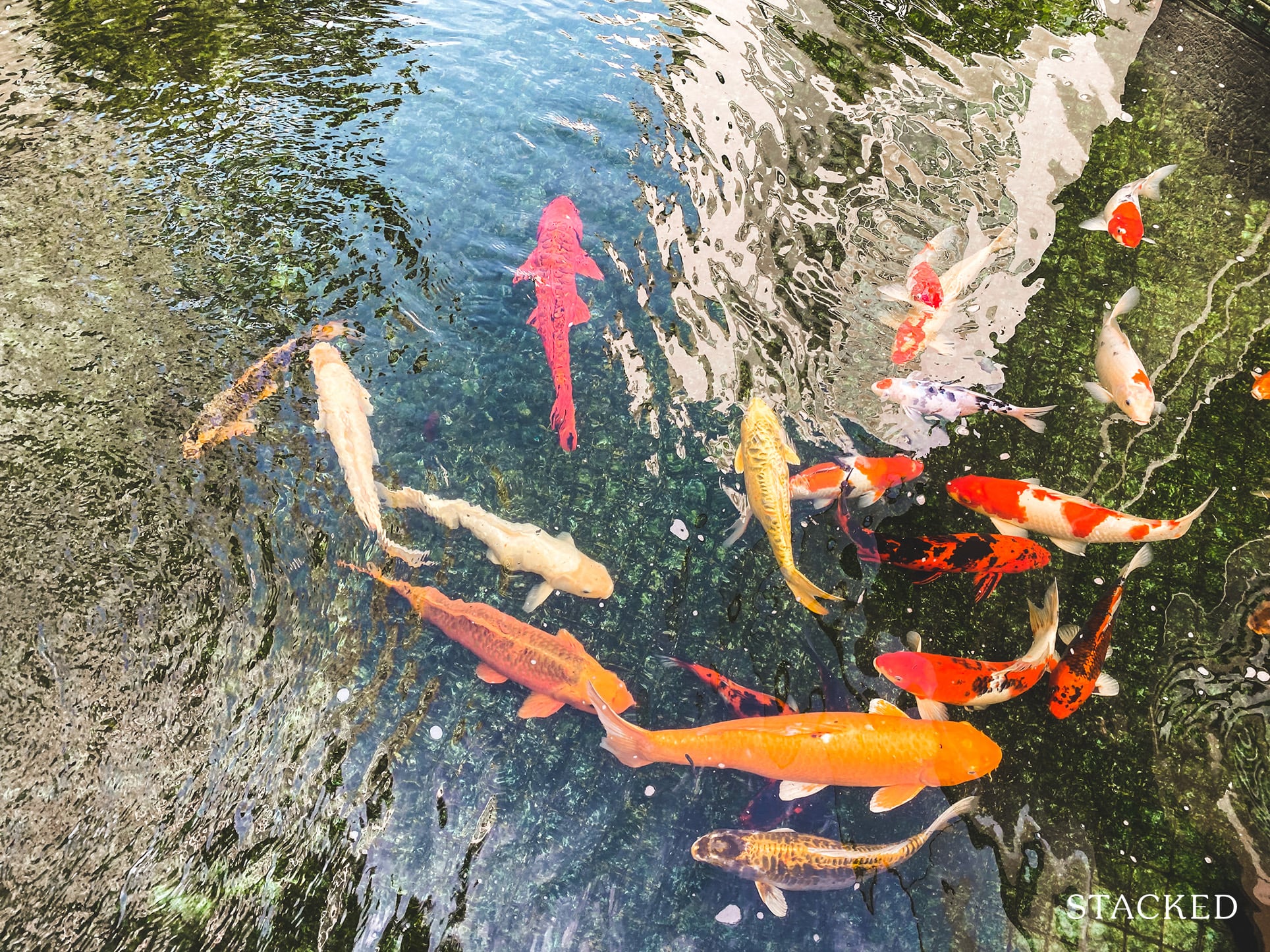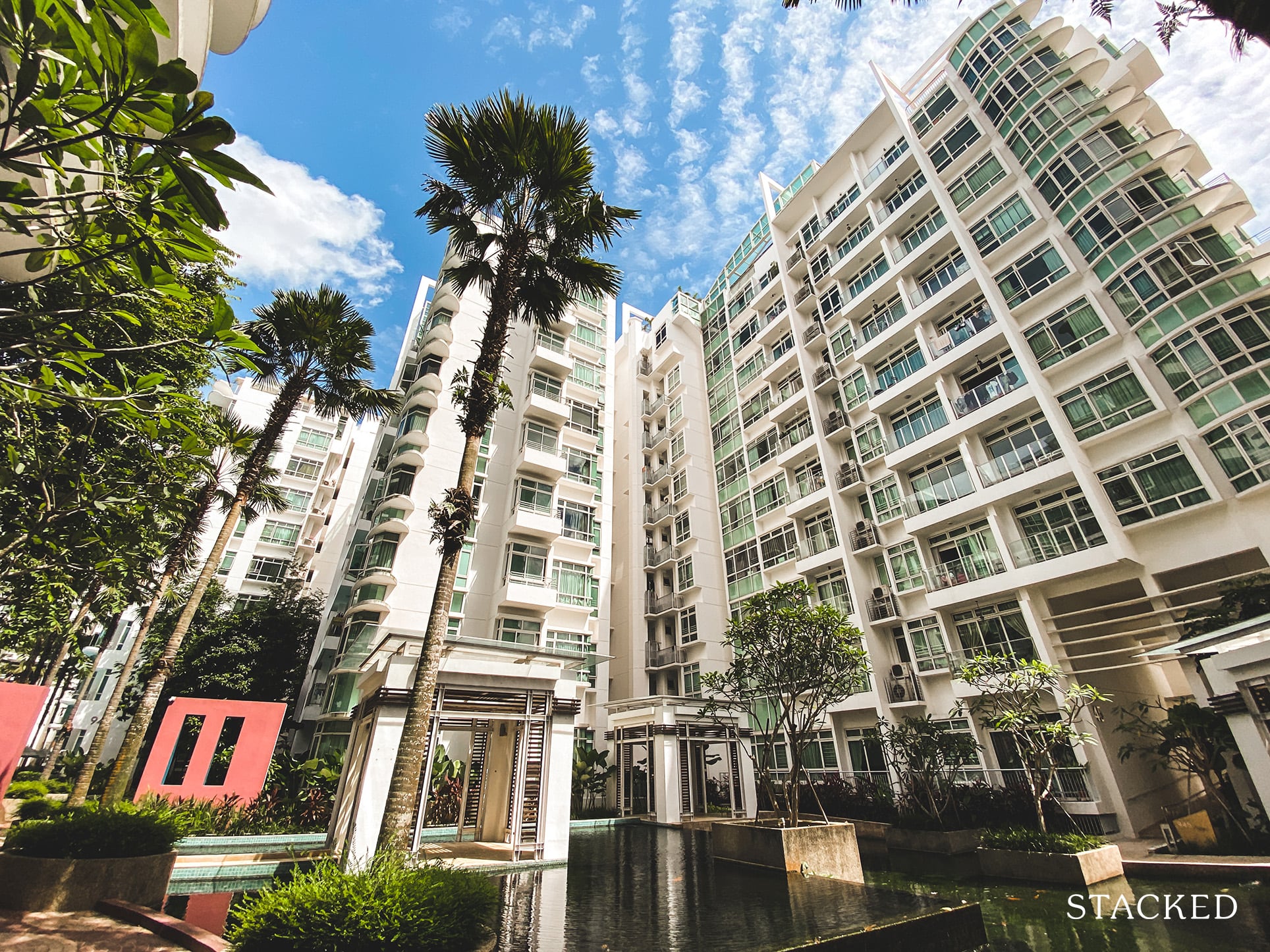 But more importantly, however, you'd notice that it doesn't quite feel as open as its land size would suggest. In fact, the tightly woven nature of each block is a pervasive problem throughout the rest of the development (as you'll see in different parts of the estate).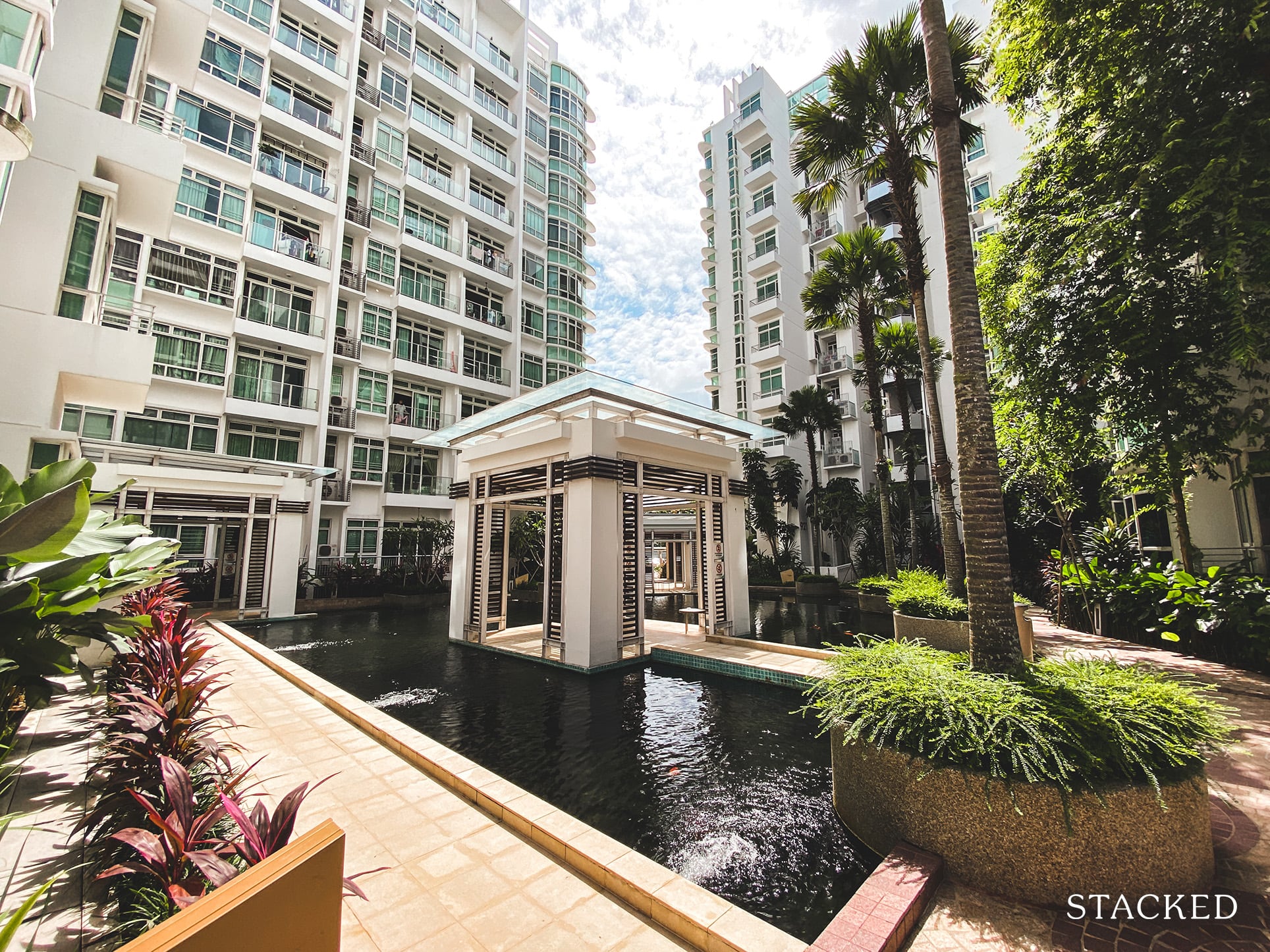 I mean, 293,539 square feet of land size is nothing to be sniffed at – even if it does have 536 total units. Of course, you can't expect the expansive feel that Maplewoods provides (593,779 sqft, 697 units), but still, you don't expect it to feel as constricted as it feels.
To give you a better frame of reference, Park Infinia at Wee Nam sits on a smaller piece of land (224,531 vs 293,539) with less units as well (486 vs 536) but does a much better job with its layout and feeling of space. Admittedly, the blocks there do go much higher, but the difference in openness is quite apparent.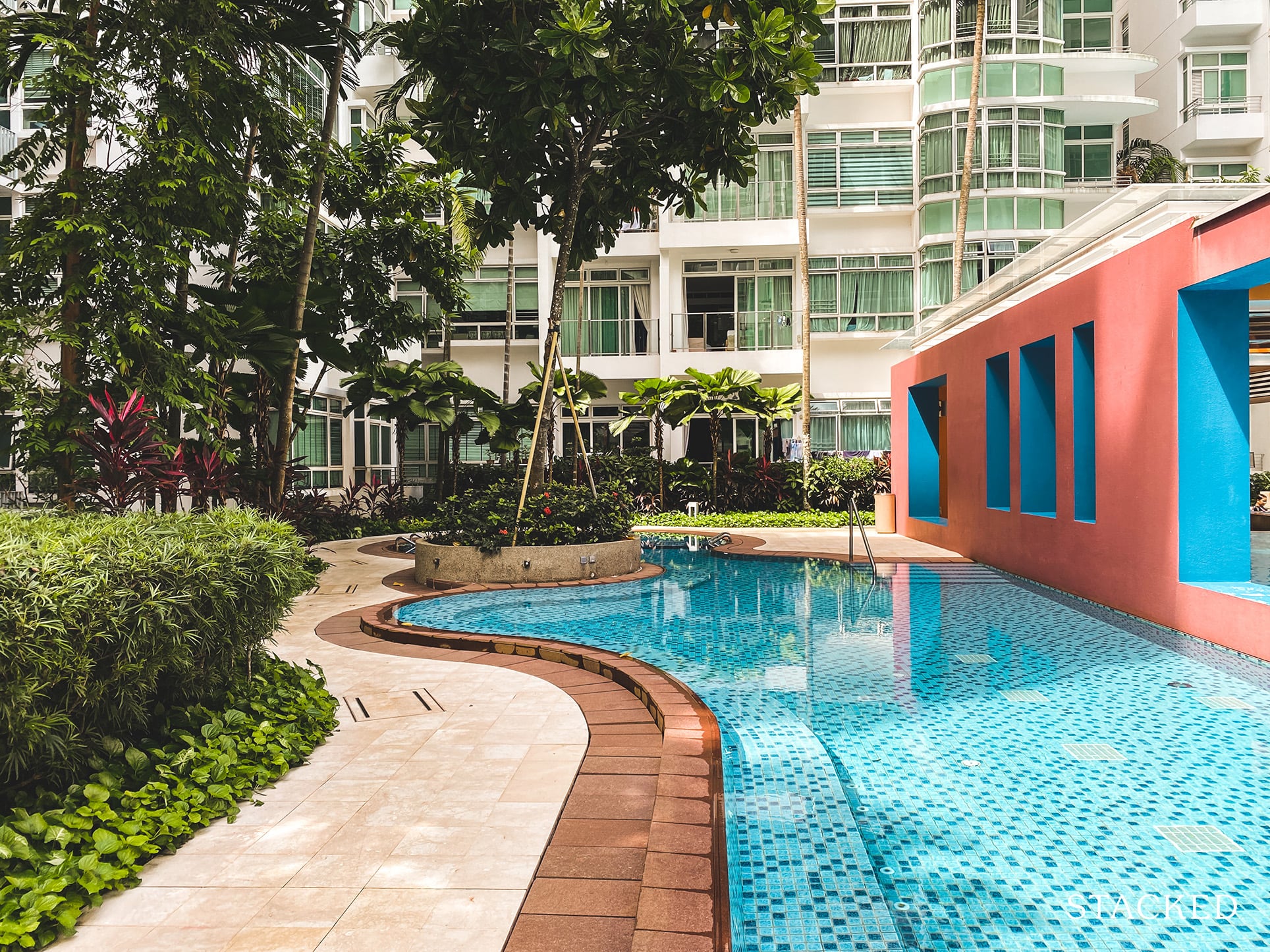 Moving forward, you'll find a jacuzzi that comes just before the main swimming pool. It is very generous in size, but certain sections are placed too close to the surrounding blocks. So yes, while you have a mountain of space, it doesn't fulfil the other requirement of a jacuzzi – privacy. It's hardly relaxing to be milling about while looking directly into your neighbours balcony – it's just an uncomfortable scenario for both parties.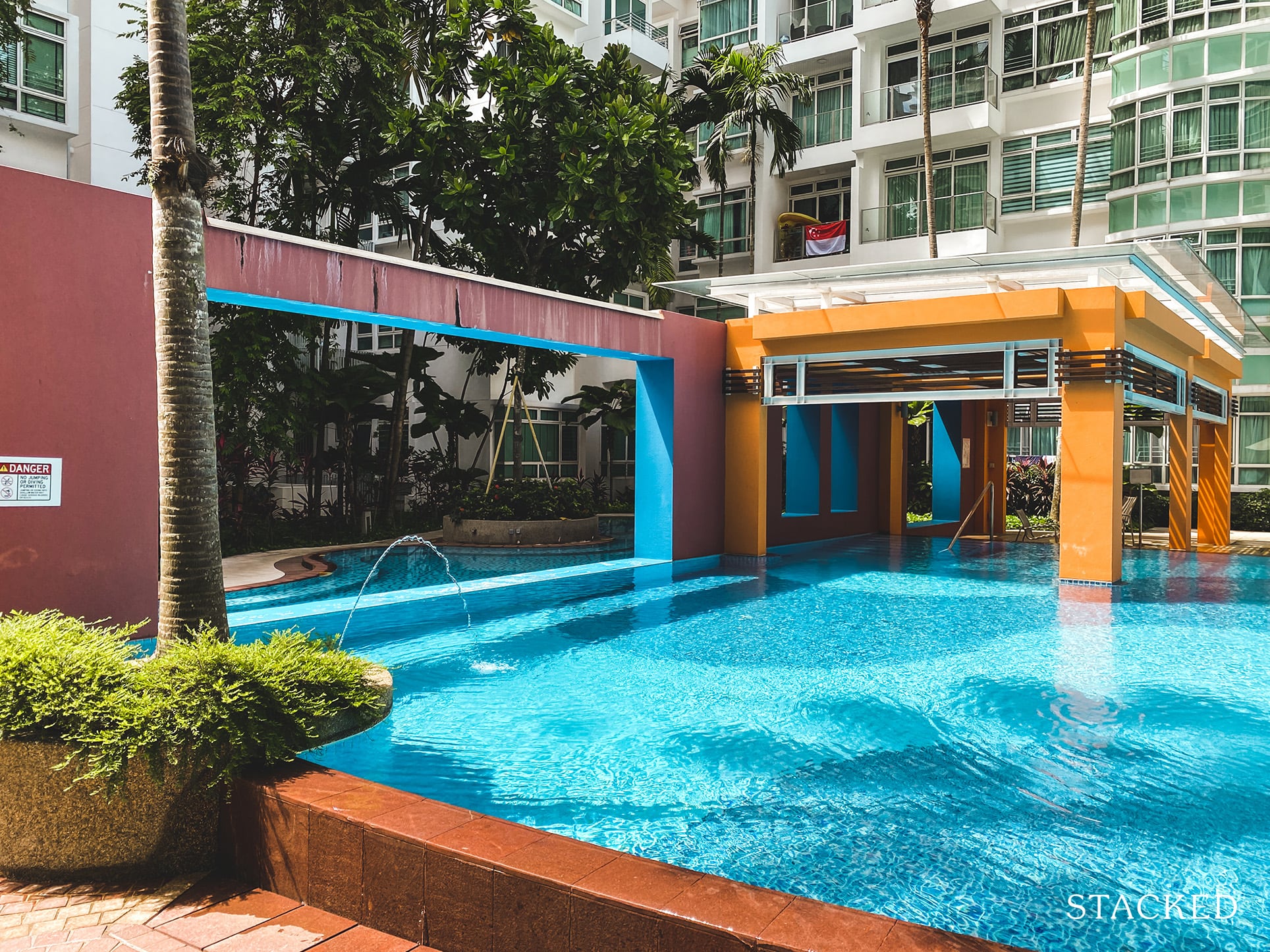 Next to the jacuzzi are sheltered seating areas that are painted in different shades of colour.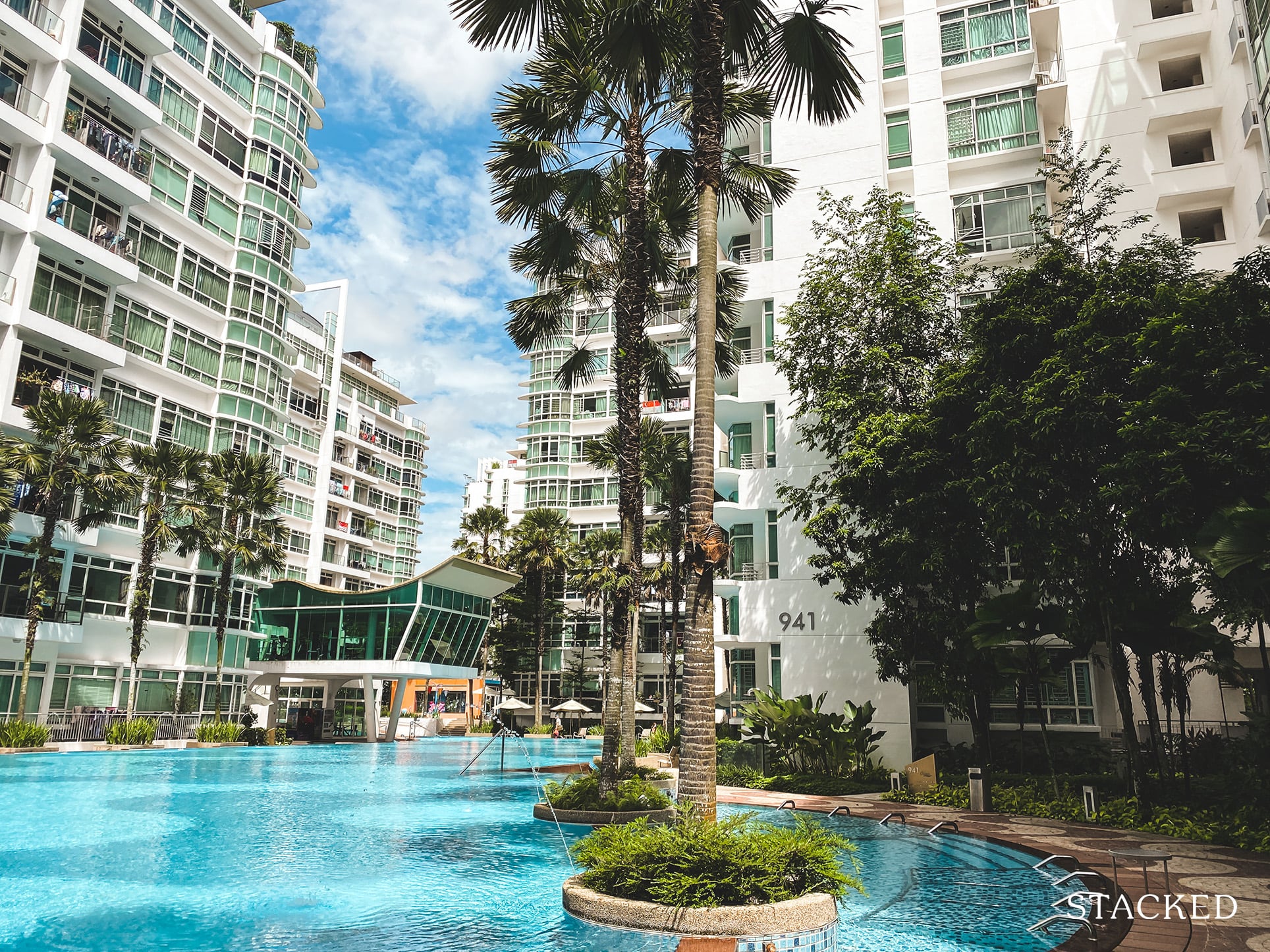 And it's much of the same problem with the main swimming pool itself. It's big, no doubt, but it really is situated too close to the blocks.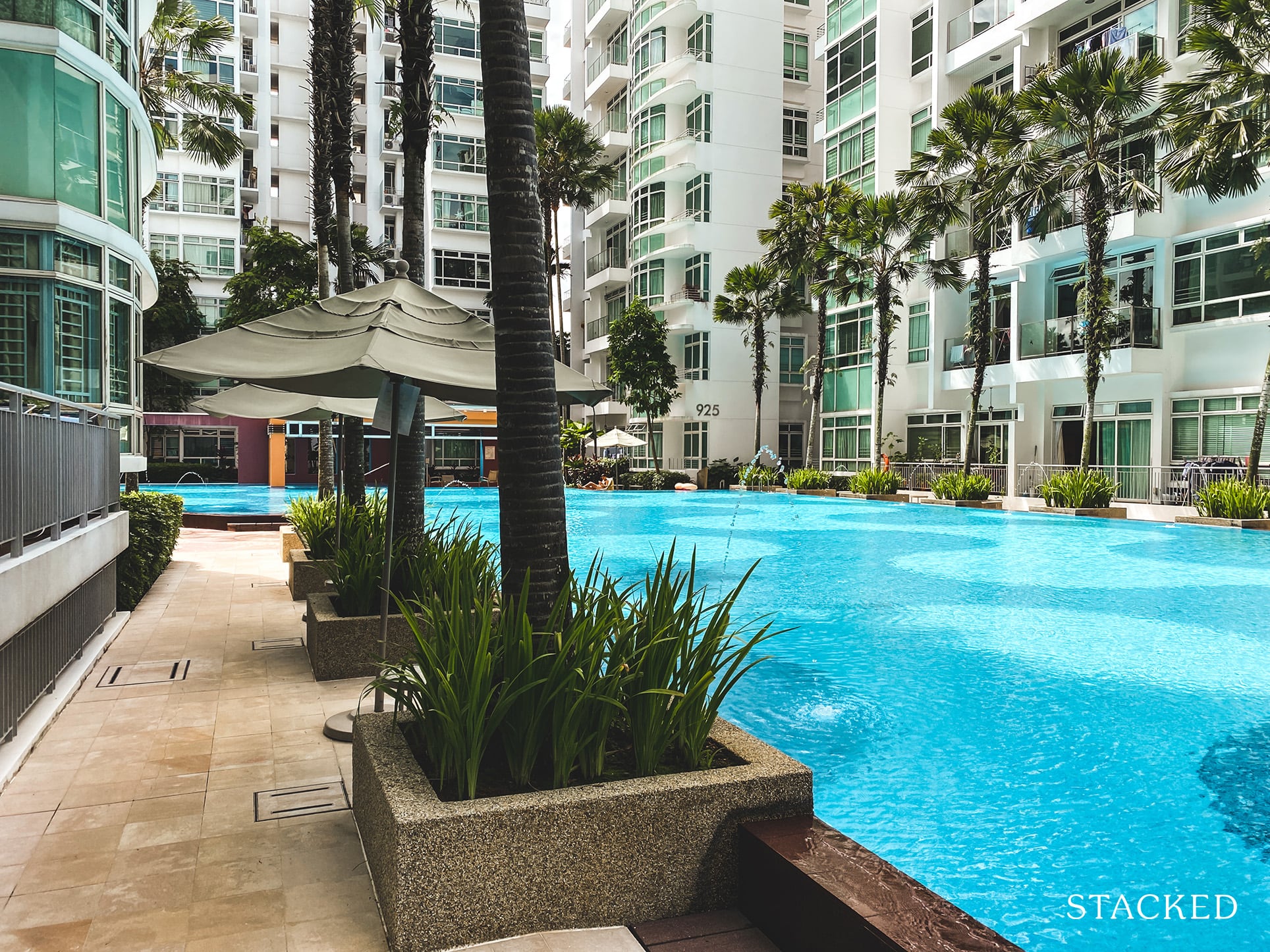 Just look at the walkway space down the sides of the pool. There's barely enough space for two people to walk side by side comfortably let alone when the chairs and deck chairs are placed back again.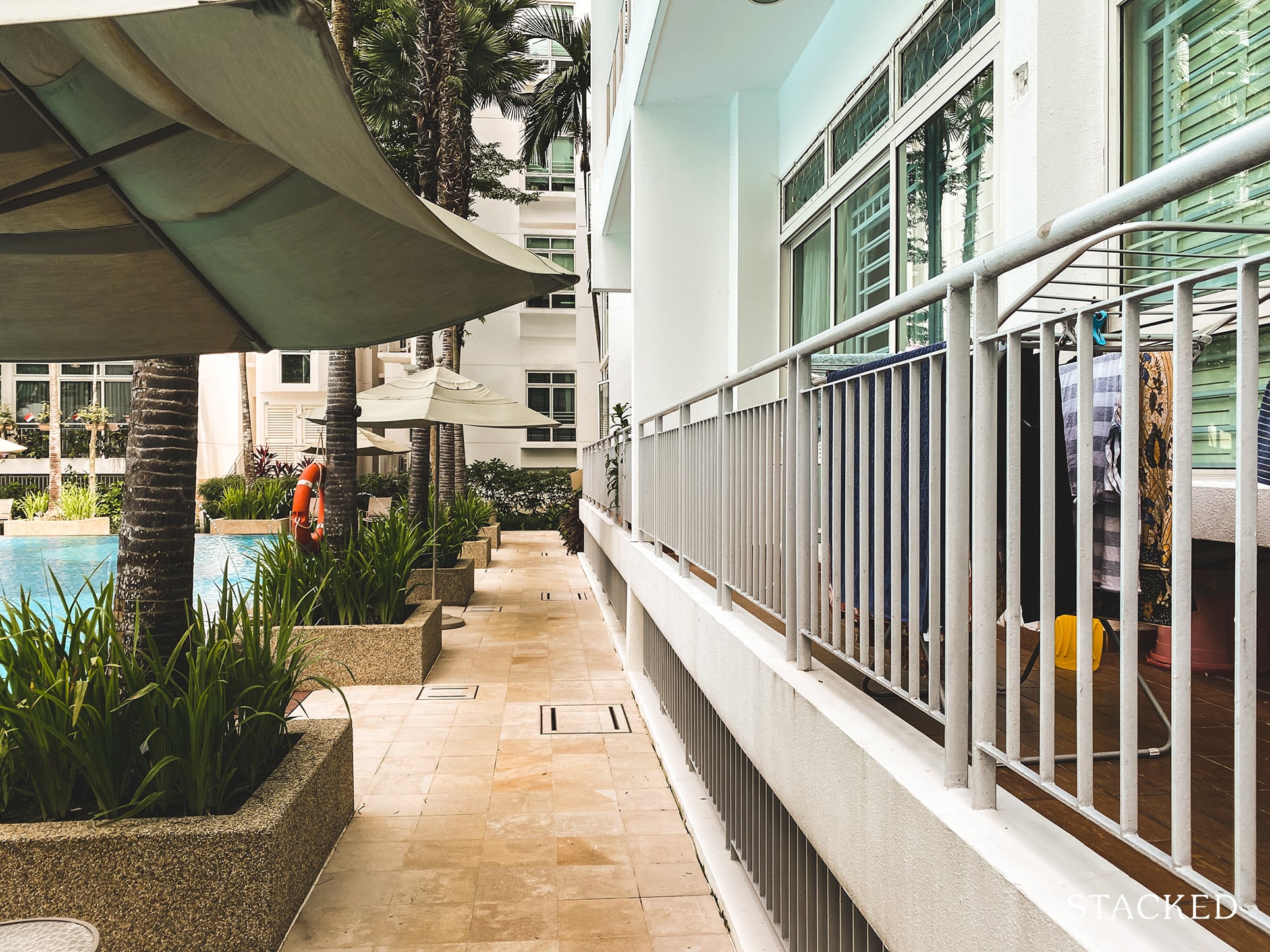 You could spin a positive story here, as some people living on the ground floor may like the quick in-and-out nature to get to the swimming pool. Personally, I'm not quite as taken in – especially thinking about the noise from the pool on weekends.
It's a privacy issue too, as it really is much too close for comfort. Everyone walking by can get a good peek into your living area – you'd have to keep the blinds closed all the time if you want to keep prying eyes out.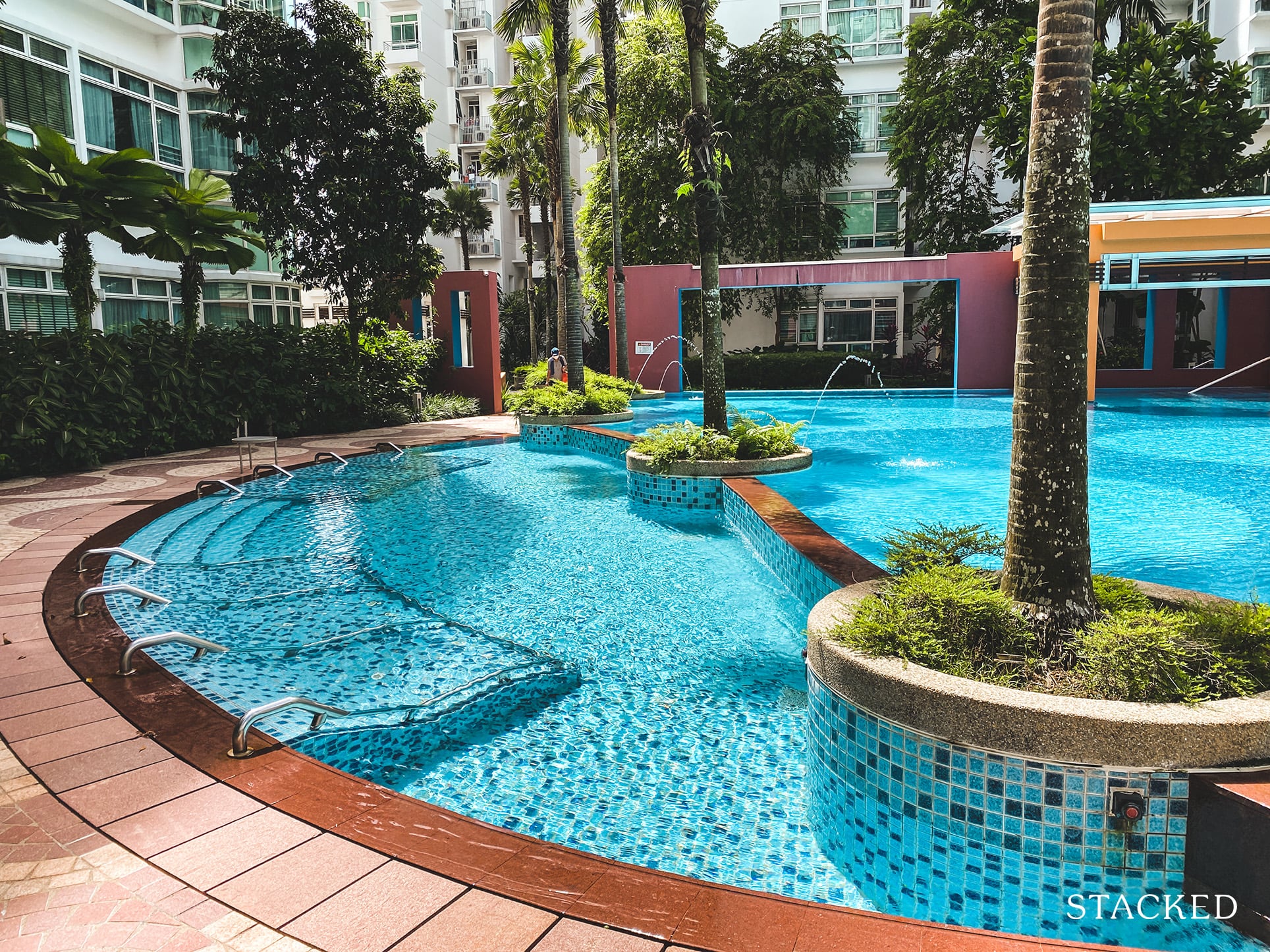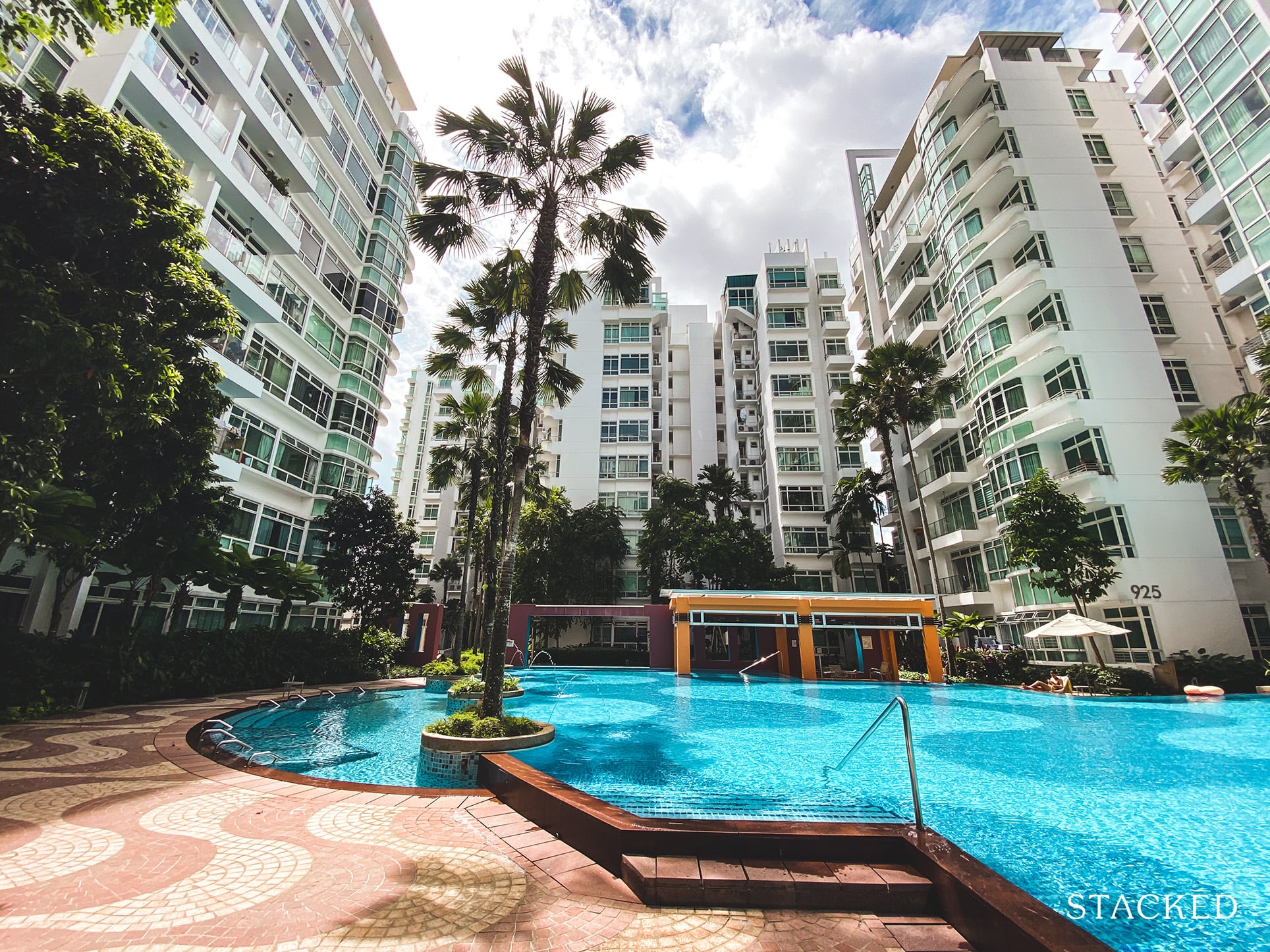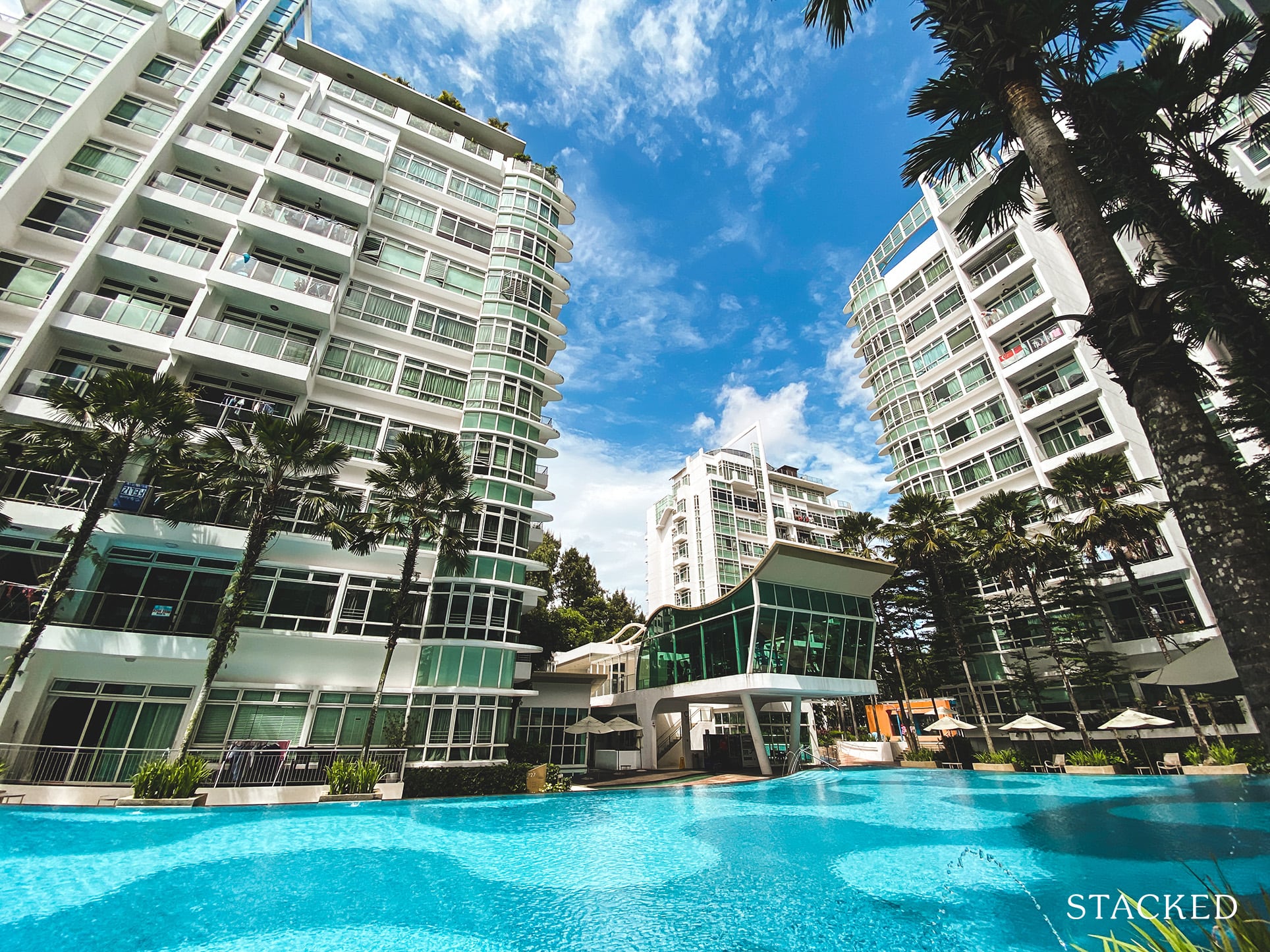 Generally, the swimming pool is within reasonable expectations – with a good length and width for proper swimming. That said, you can expect it to get crowded on weekends given that this is the only swimming pool available.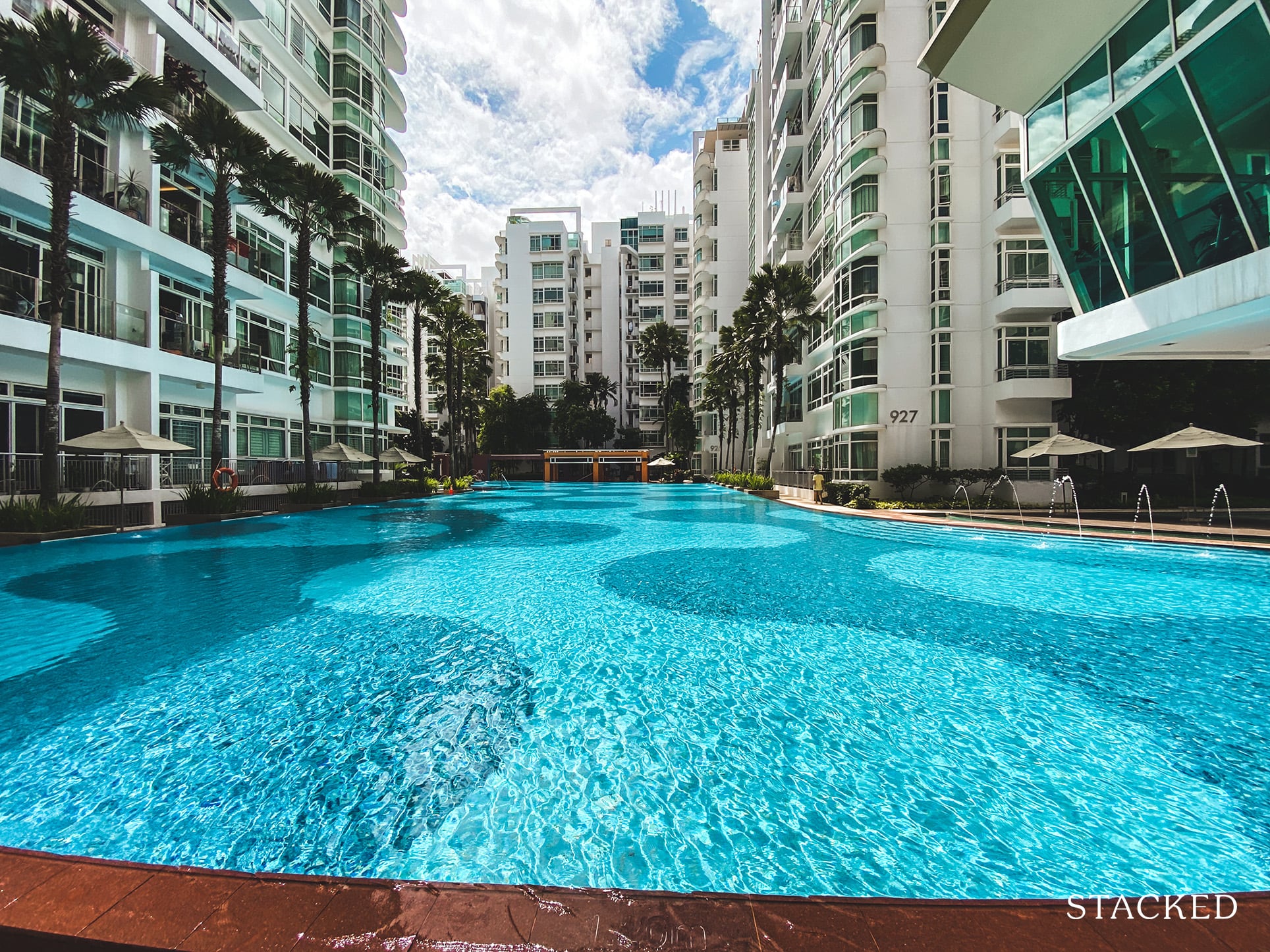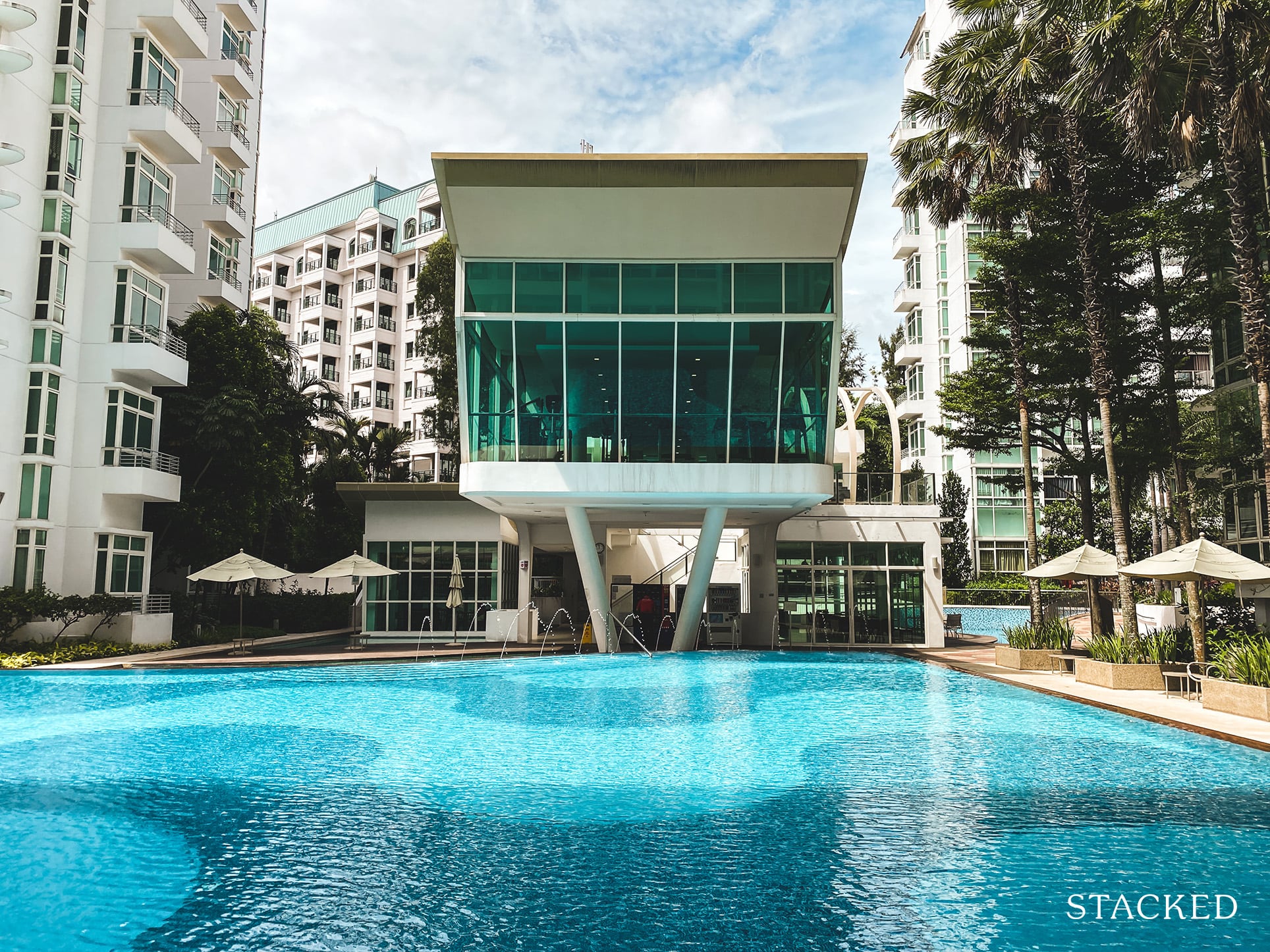 Overlooking the pool is the gym, along with the rest of the clubhouse.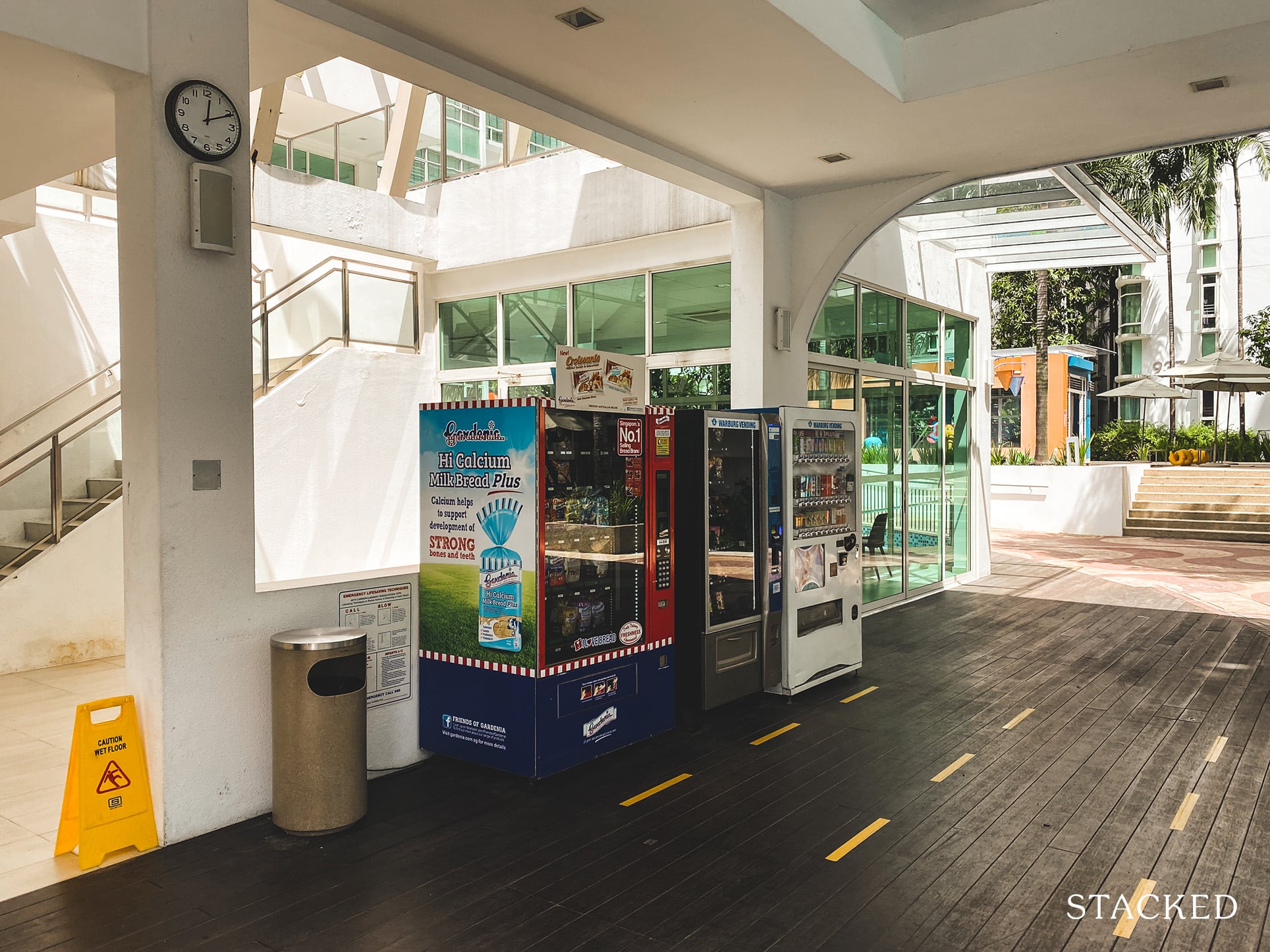 As you've probably seen in many other developments by now, there are vending machines available for bread, snacks, and drinks.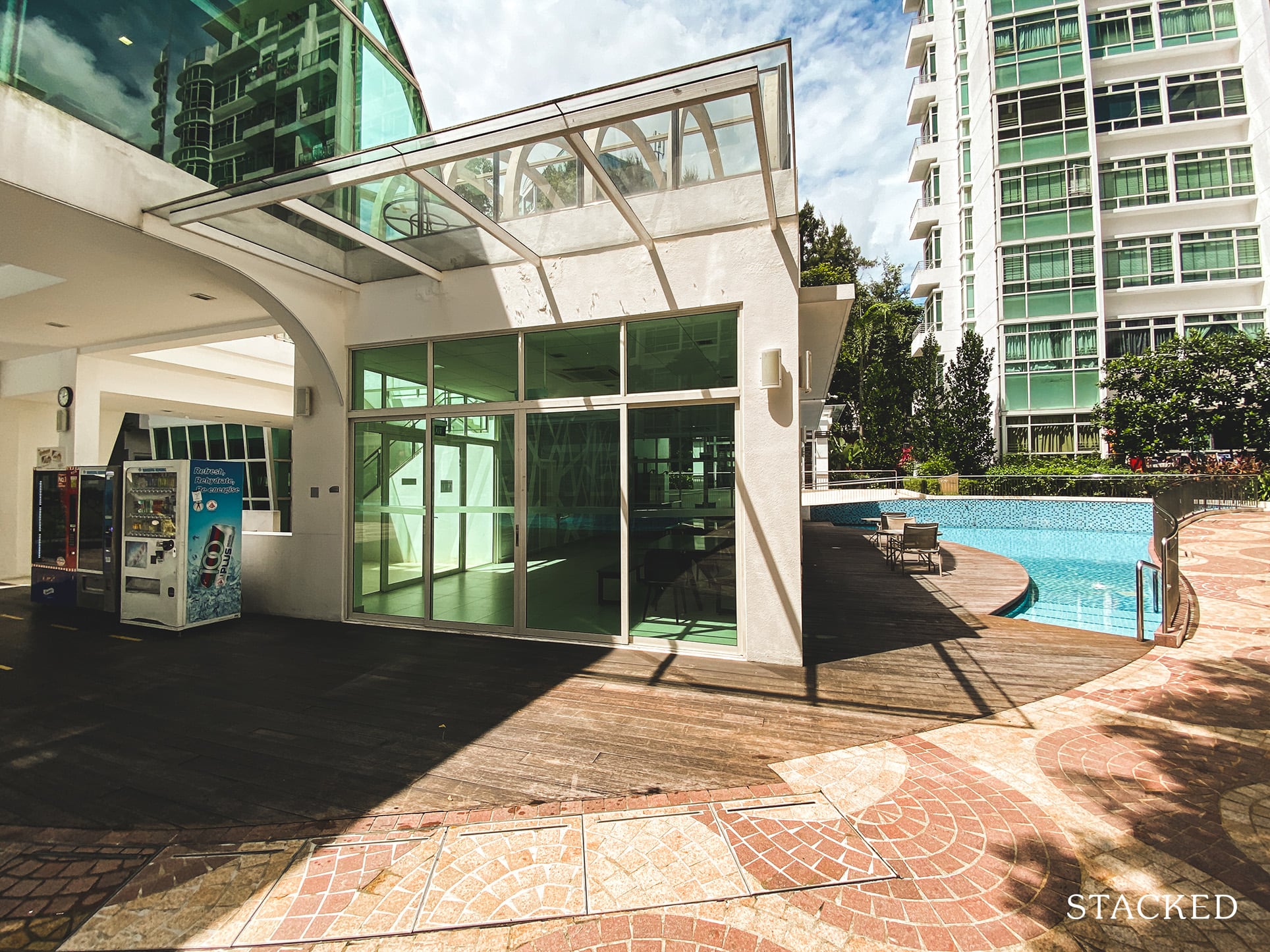 On the first floor of the clubhouse, you'll find a reading room and function room.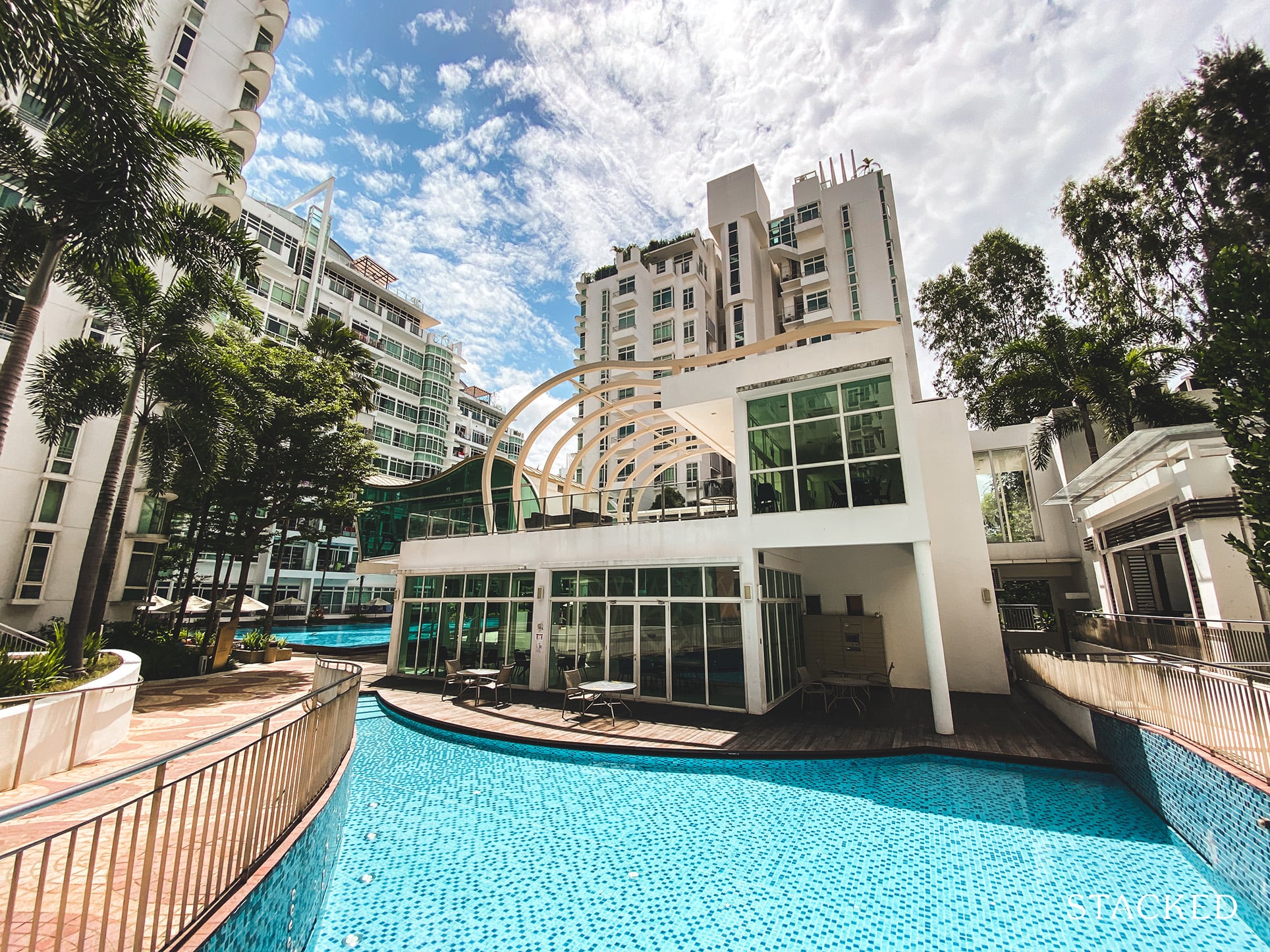 The function room is fairly big, you could definitely hold a decent sized gathering here. While it is quite bare bones in terms of decoration, it does have a good number of seating available as well. The best part? The "fun pool" right outside. You could even think of it as your "private" pool for your gatherings as it is well placed for kids to frolic about. It is shallow enough and the close proximity means you can keep a watchful eye on them.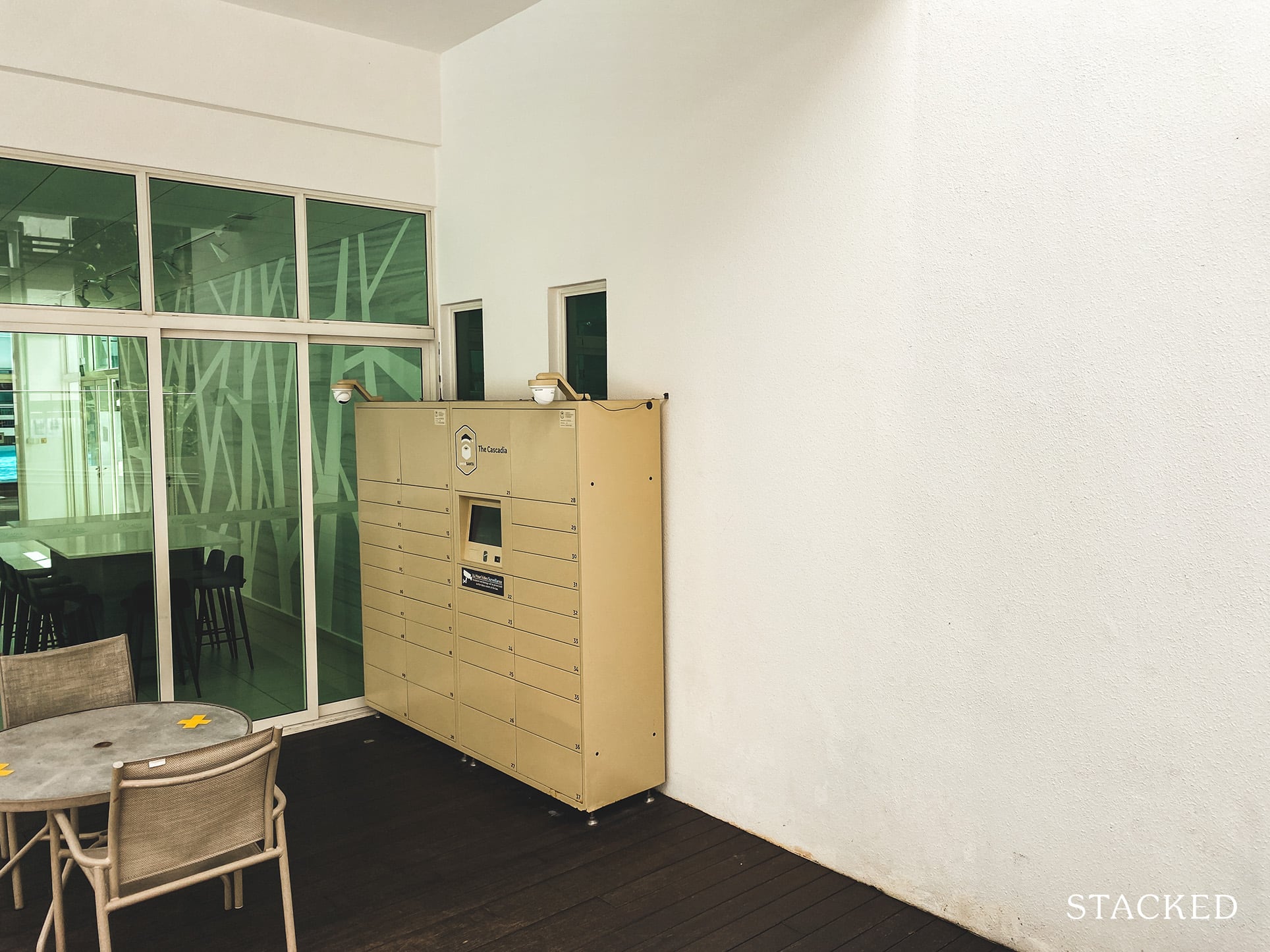 And in what is quite an odd place to collect your parcels, there is a Parcel Santa located at the corner. For condos without a concierge service, this definitely is a bonus when it comes to convenience for its residents.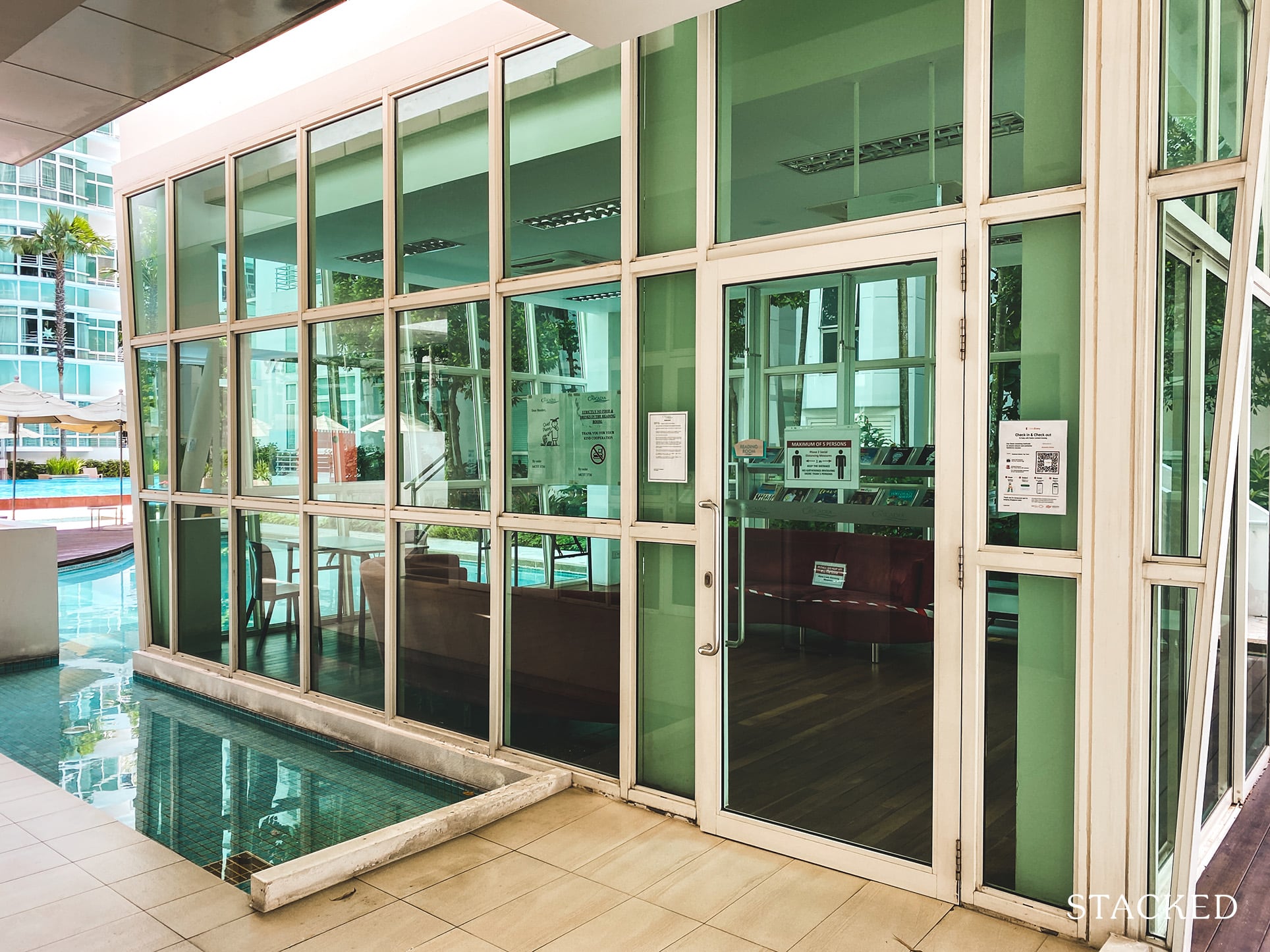 Similar to the function room, the reading room is not what you'd describe as a place to luxuriate in. Instead, it is as no-frills as they come – but at the very least it does overlook a shallow water feature.
You can see from here too that maintenance leaves much to be desired, a recurring problem that will see its ugly head rear up at different points later on.
Read this next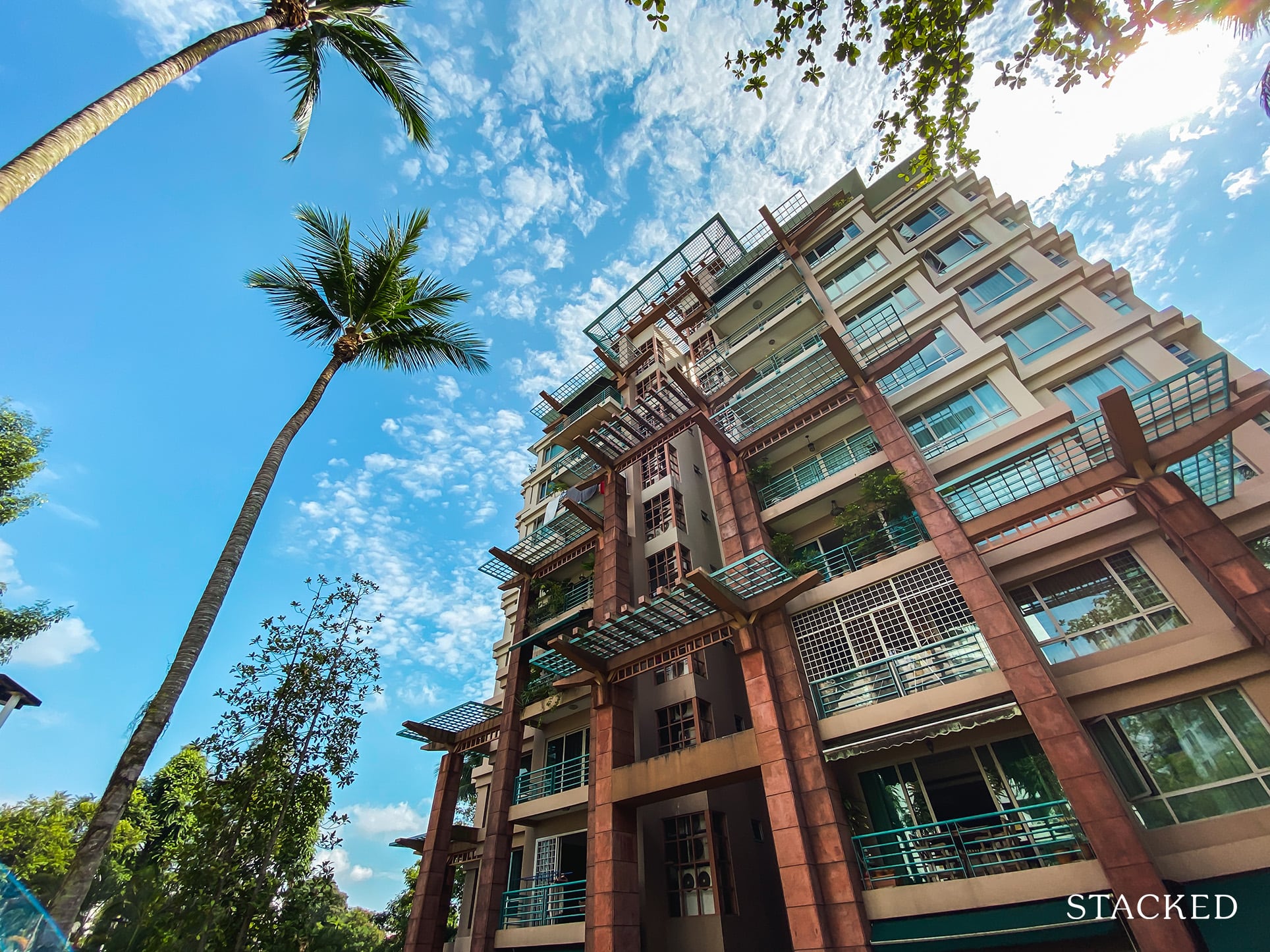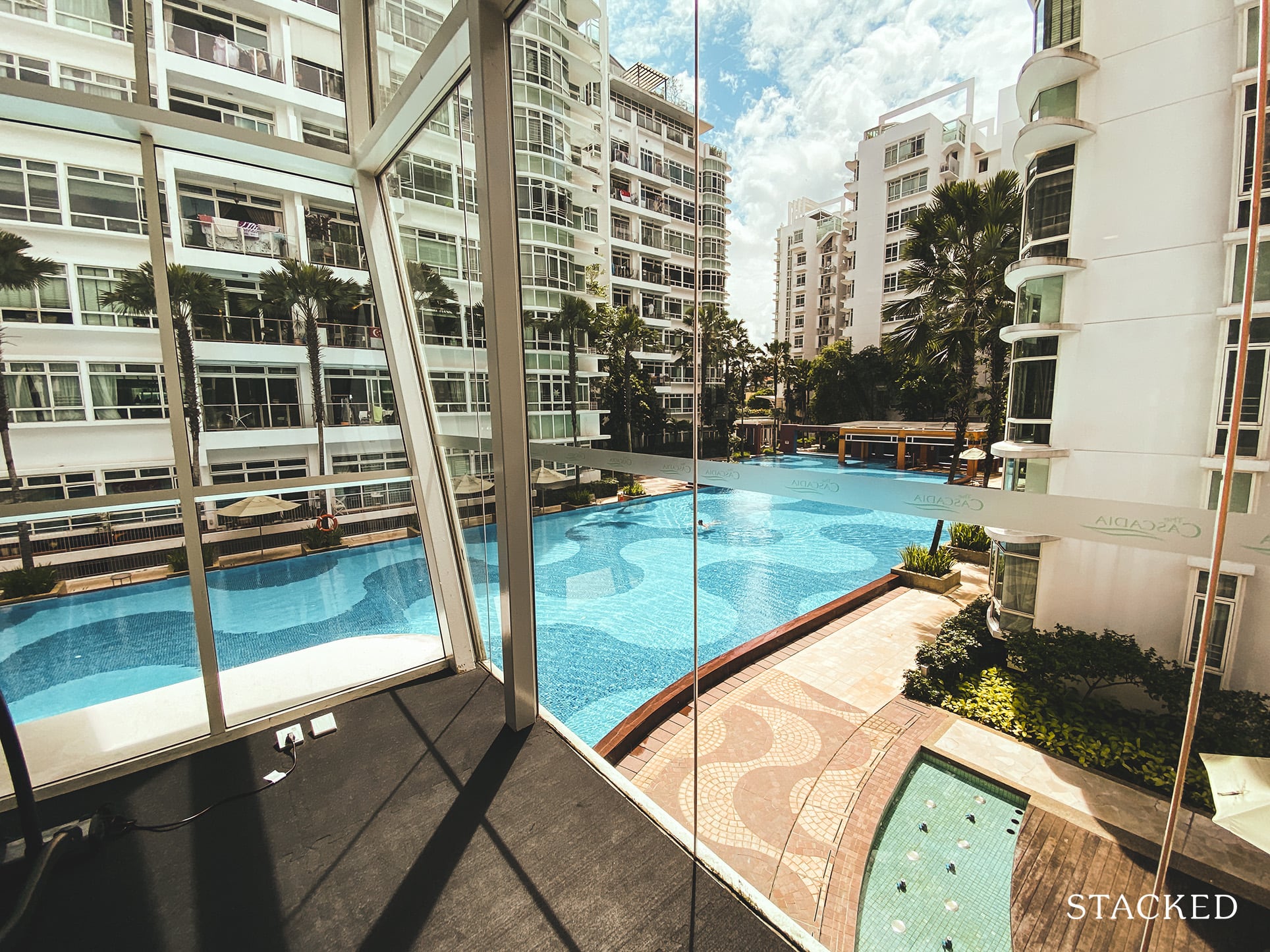 Step inside the gym on the second floor and the nearly 360 surround view will immediately catch your eye. The floor to ceiling windows are fantastic for a motivational view and the gym is pleasantly well equipped, with a good range of weights and equipment.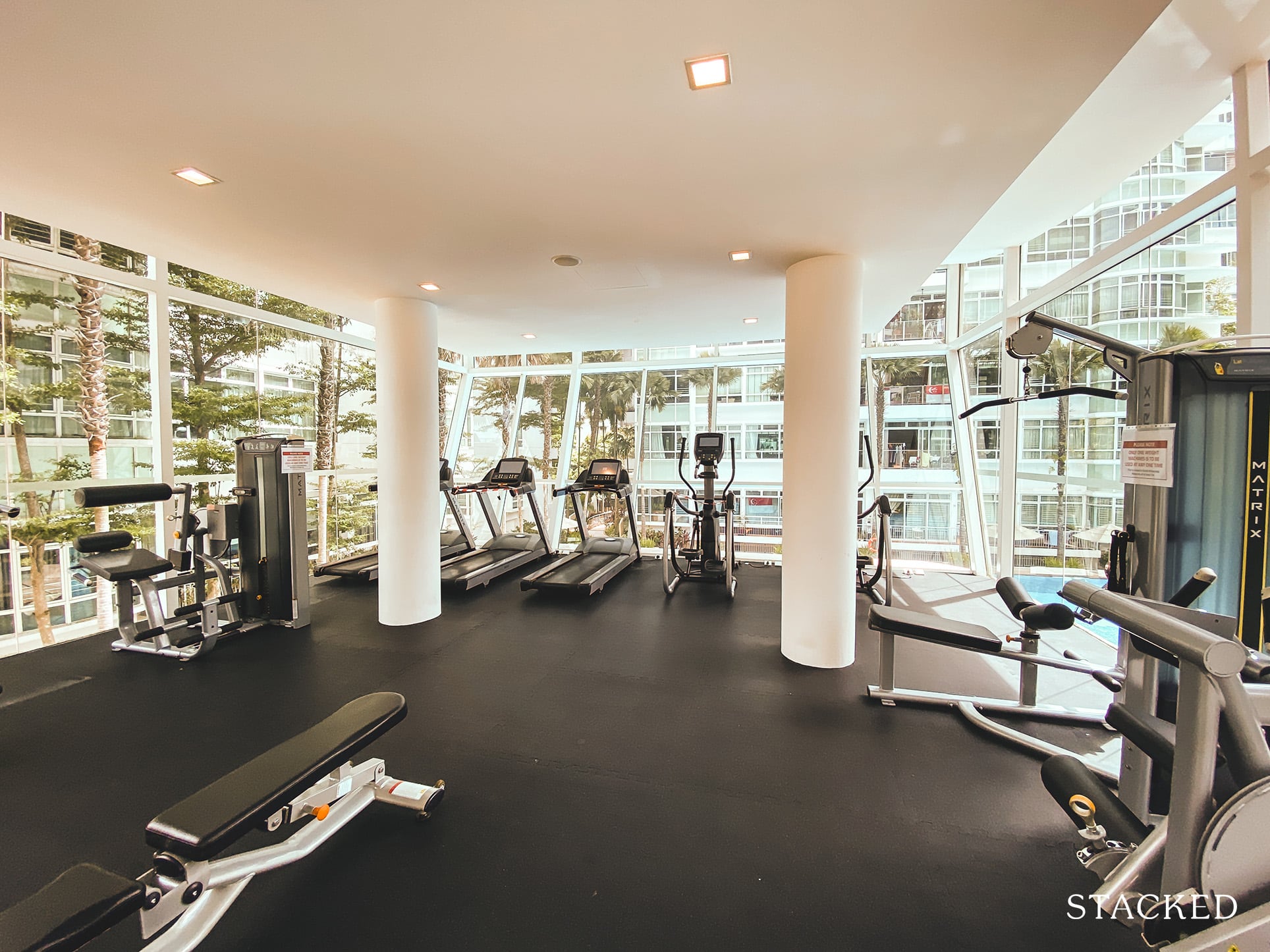 On a less positive note, you can expect the gym to be quite packed during peak hours – it is on the small side considering the number of units.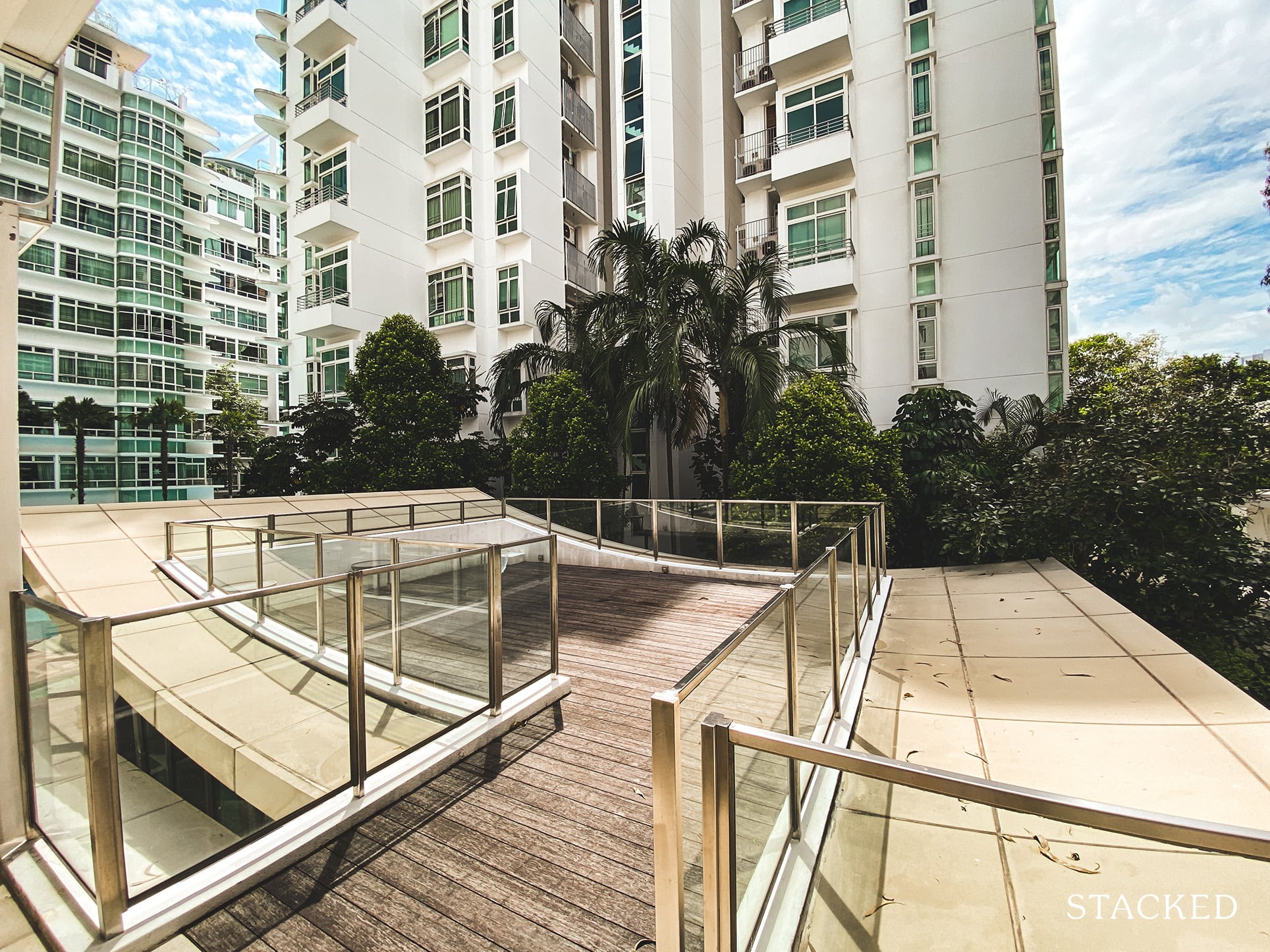 Outside the gym is an open deck, which strangely enough has a high barricade that does not allow you to take advantage of its taller vantage point.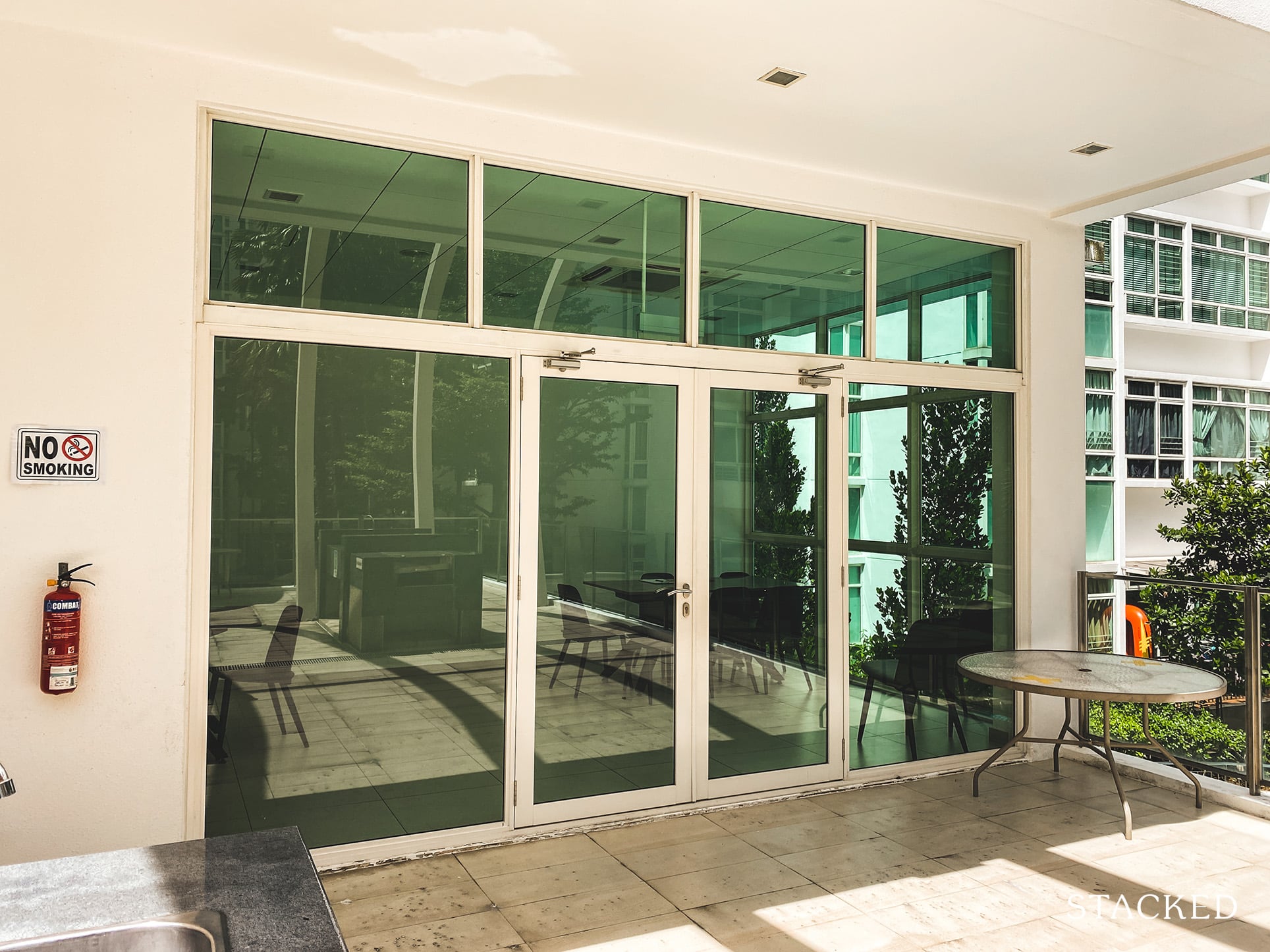 The function room here is smaller and definitely more suited for intimate gatherings. It also has the added benefit of barbecue pits right outside.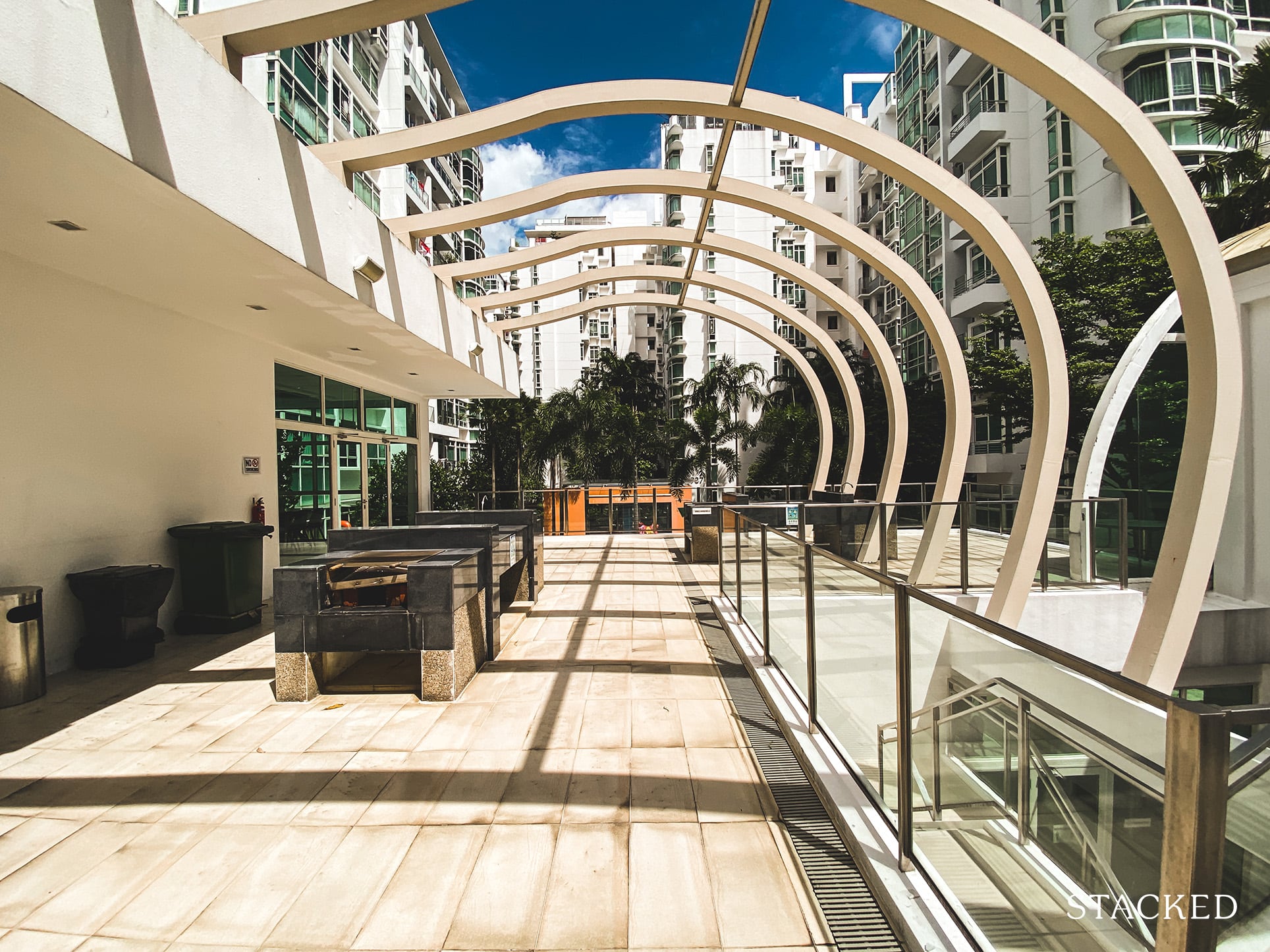 There's also another barbecue pavilion just off the back of the clubhouse. This one is a lot more private as it sits on an elevated position looking down towards the fun pool, plus it is sheltered as well.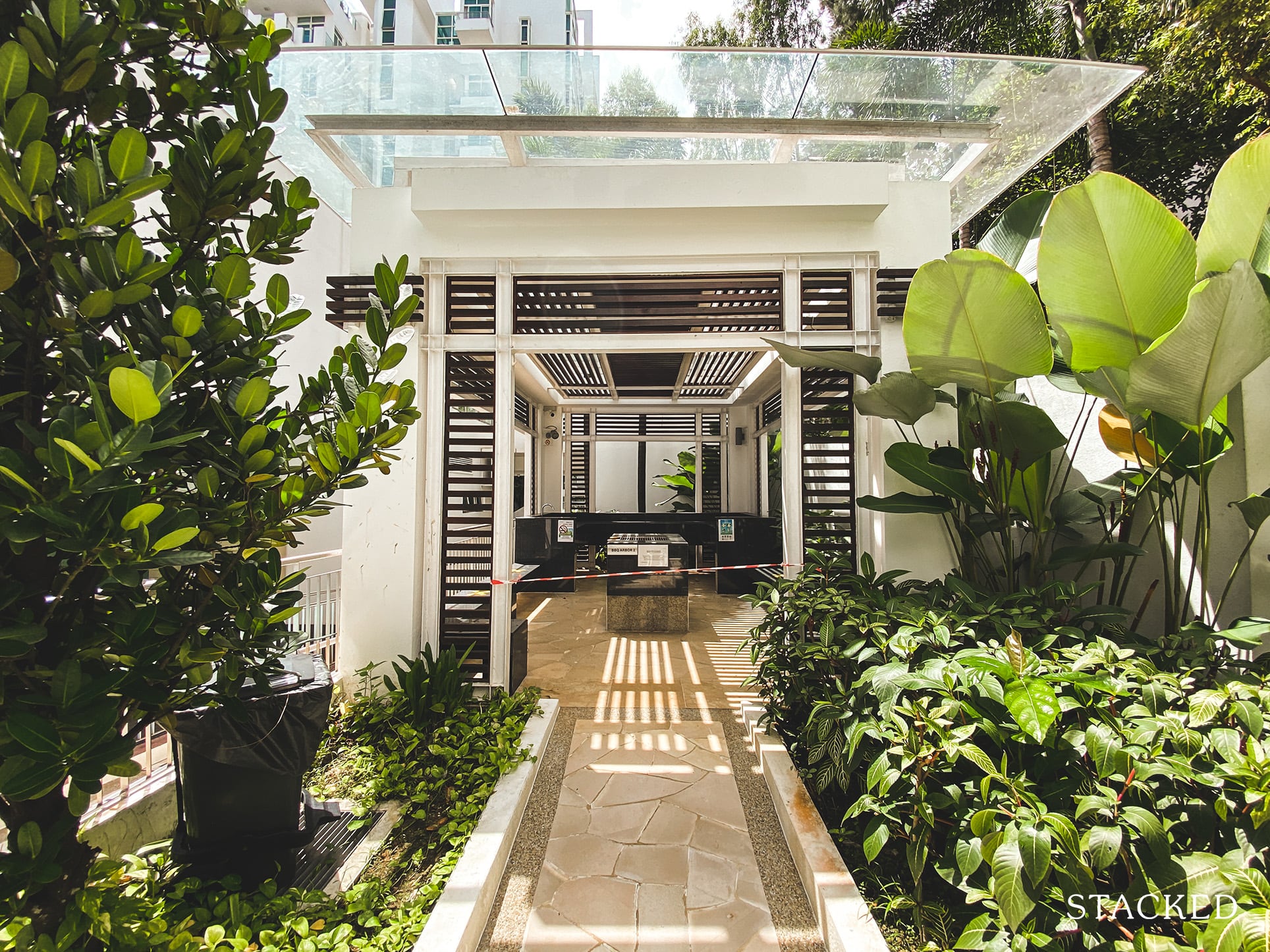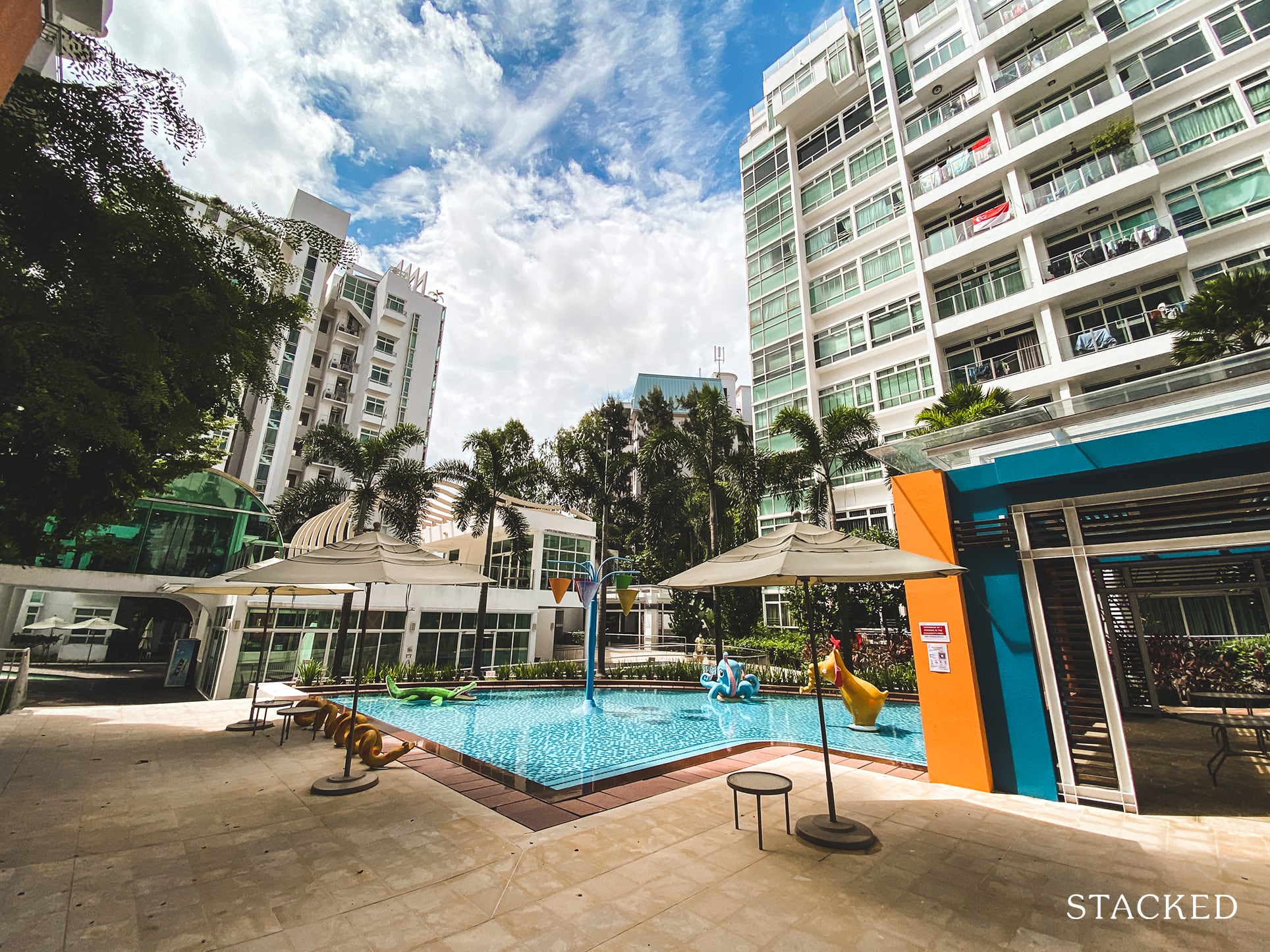 Moving on from the clubhouse, the dedicated kids pool is located on slightly higher grounds. Parents will definitely appreciate the colourful characters for their kids, although it is clear to see that a touch up of paint is required soon.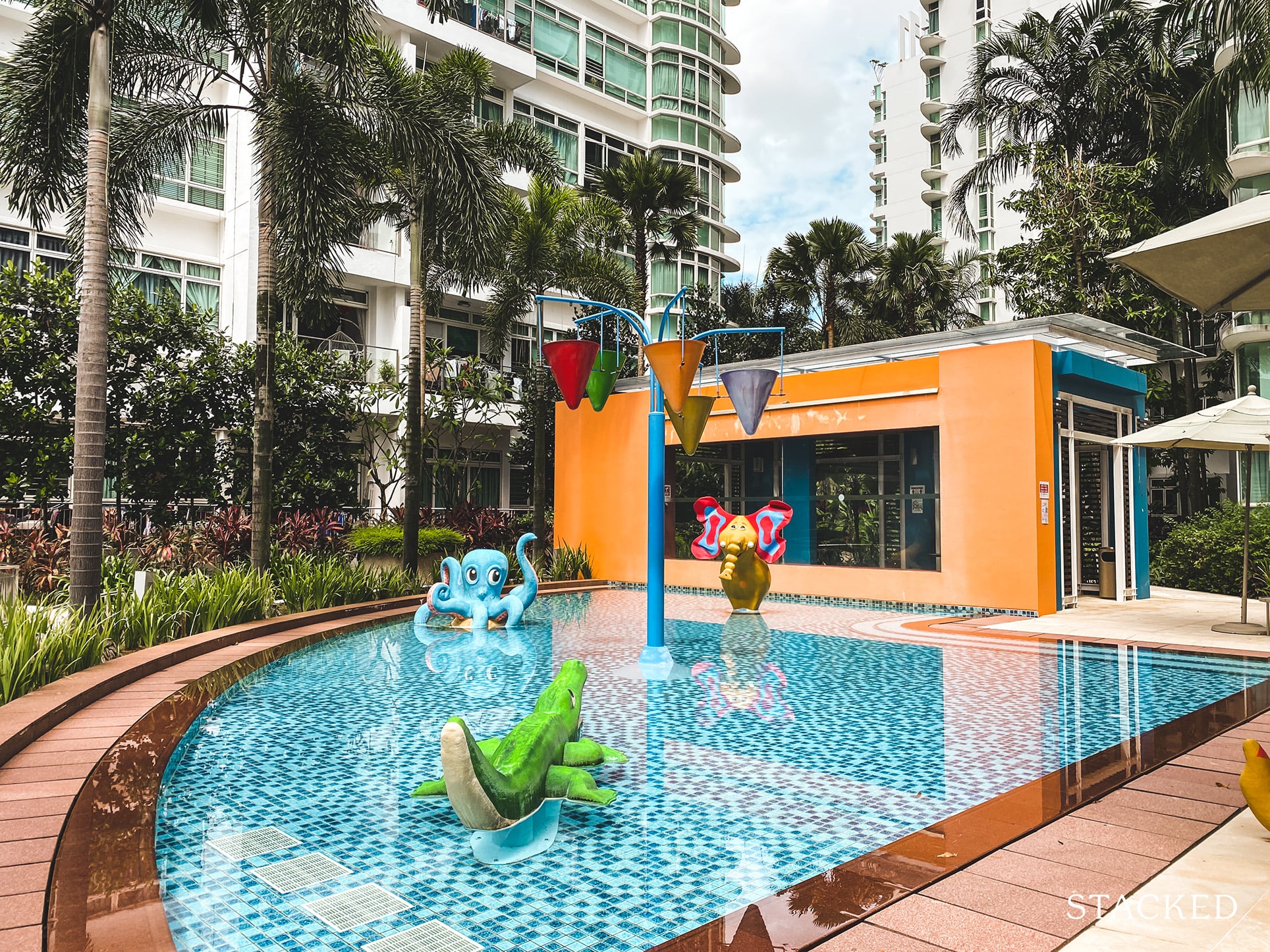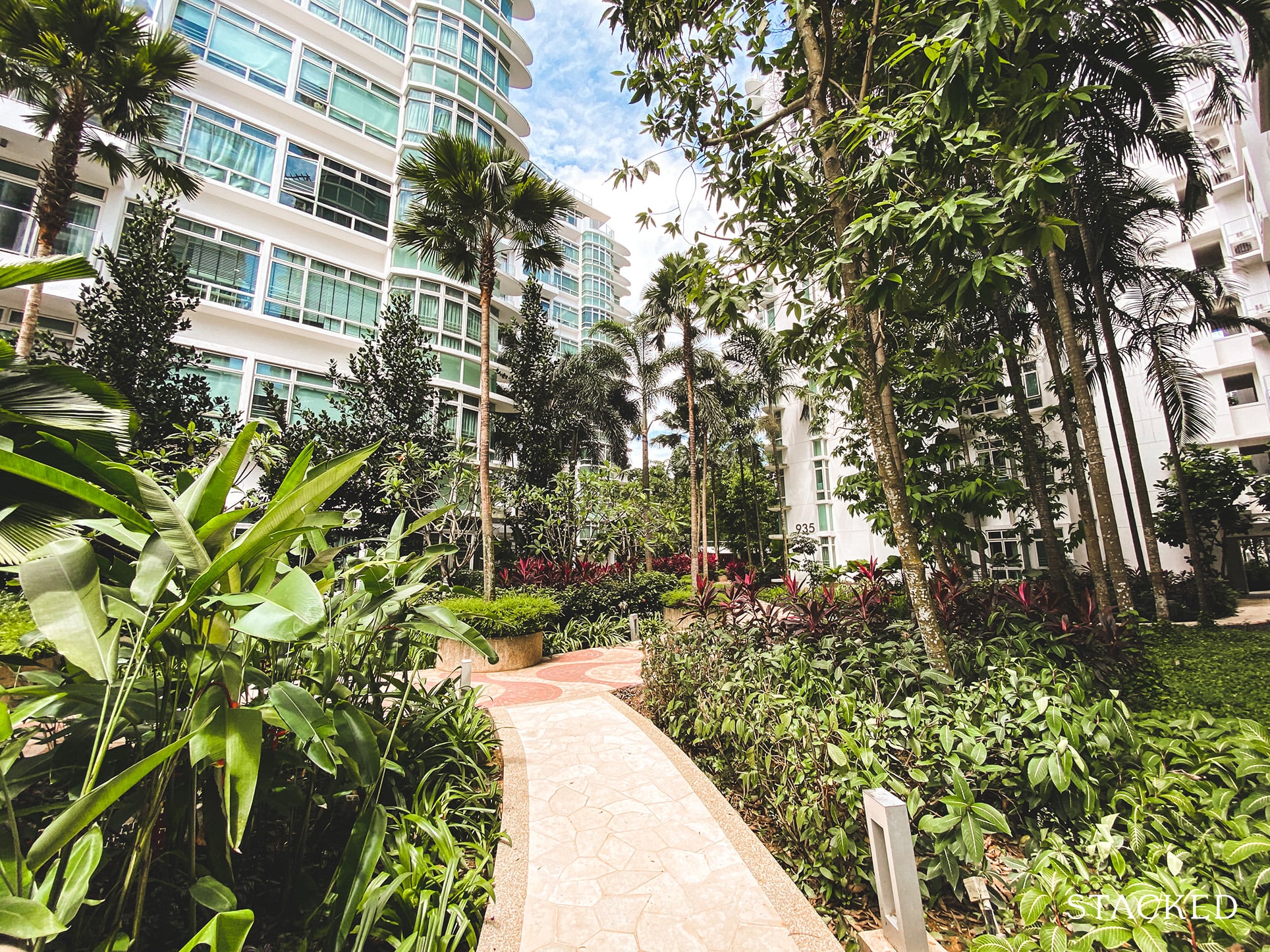 Landscape wise, the Cascadia performs reasonably well in this department. Foliage is generally quite varied and the pathways are kept clean and tidy. But even throughout the pathways you'll notice how close the blocks are to each other, it never quite feels as open as I'd like.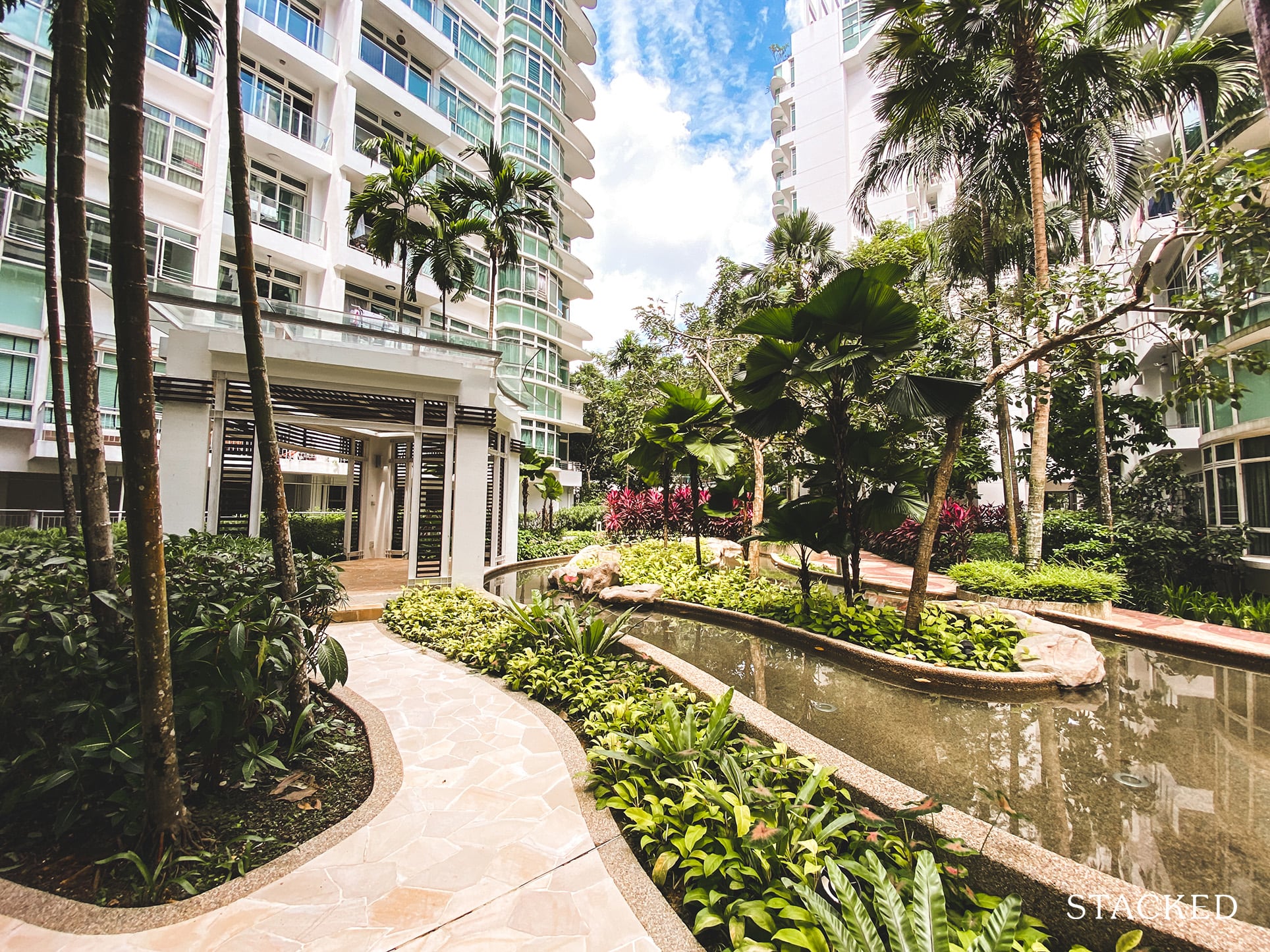 It does get better towards the end, particularly as the back of the Cascadia faces the back of the landed Brizay Park – so it is much more open and unblocked all around.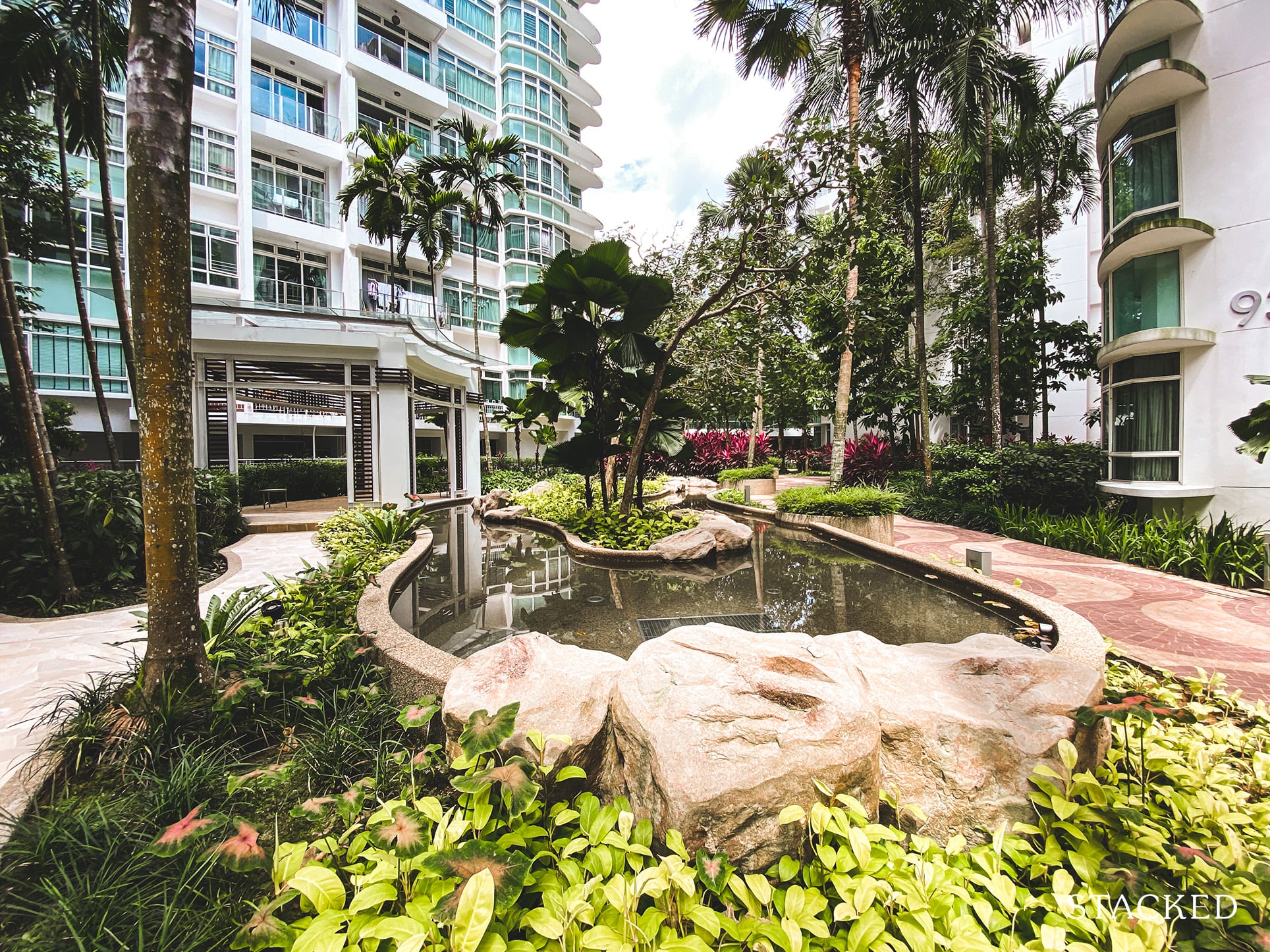 With the stream of water running through the middle, it does look a lot more visually appealing as well – although I do wish it was featured in a more attractive shade of colour.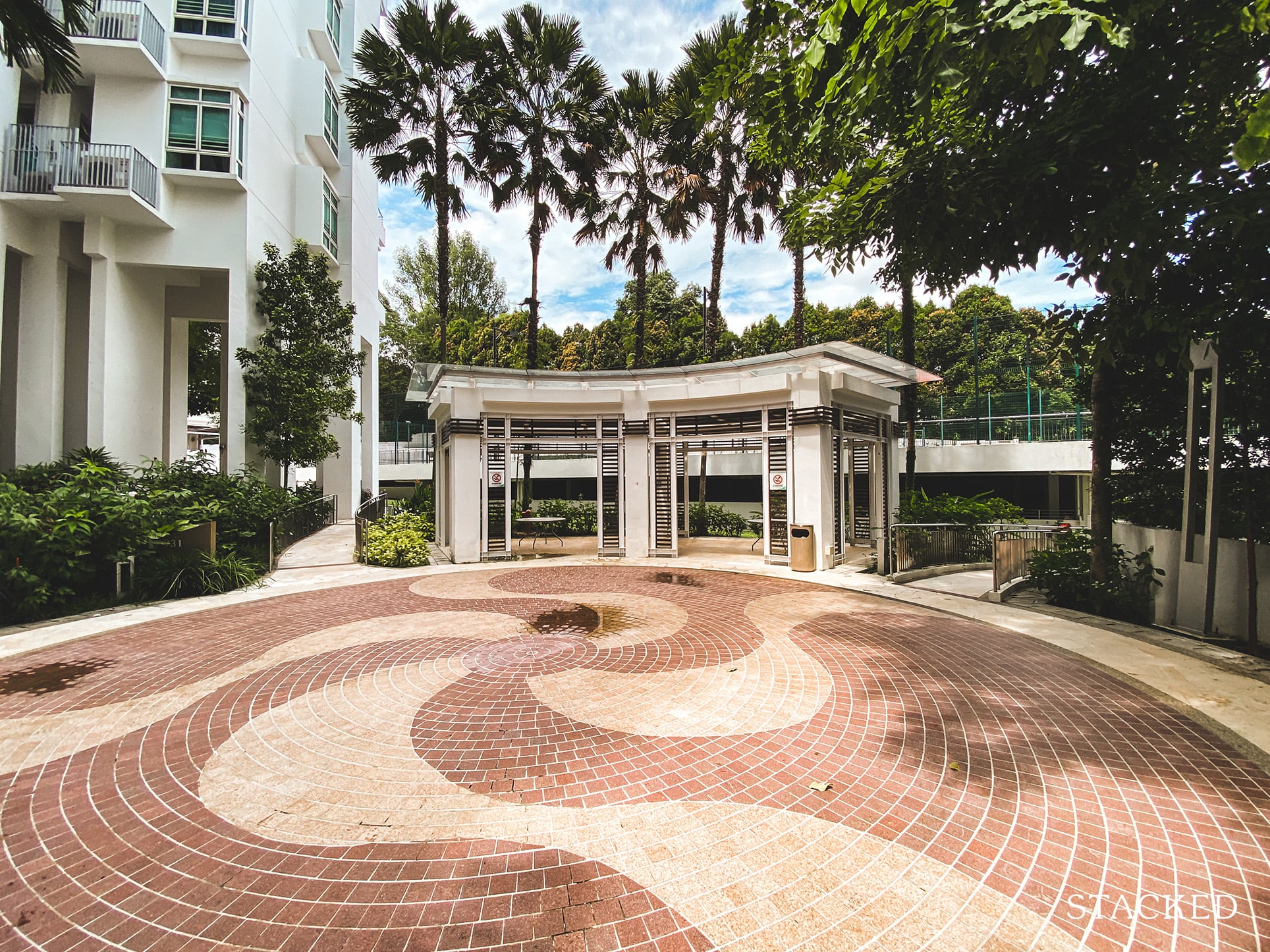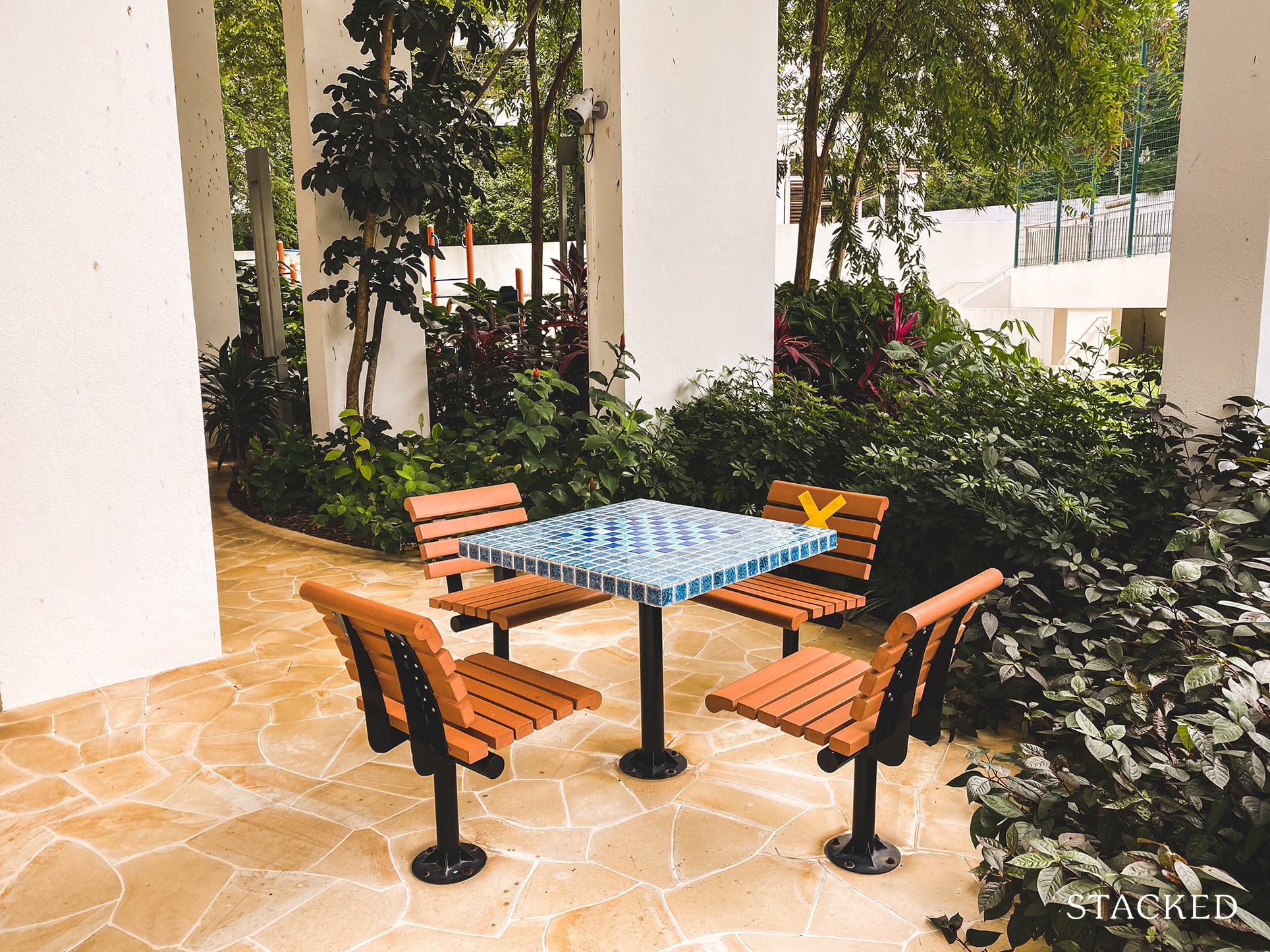 Just before the tennis court, you'll find a random seating area with a chess/checkers table.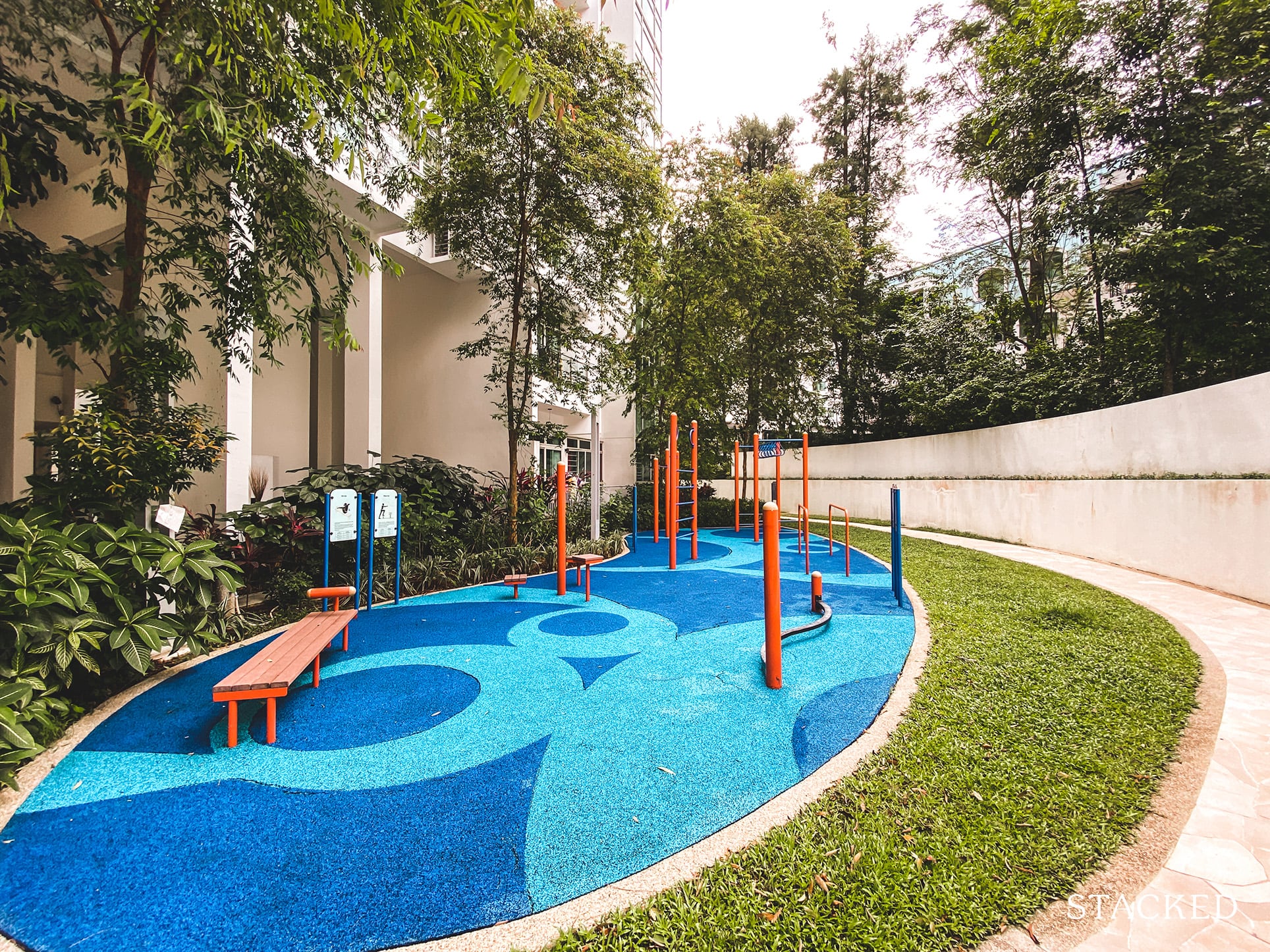 Close by is the outdoor fitness station. This particular one is quite extensive, with multiple workout stations.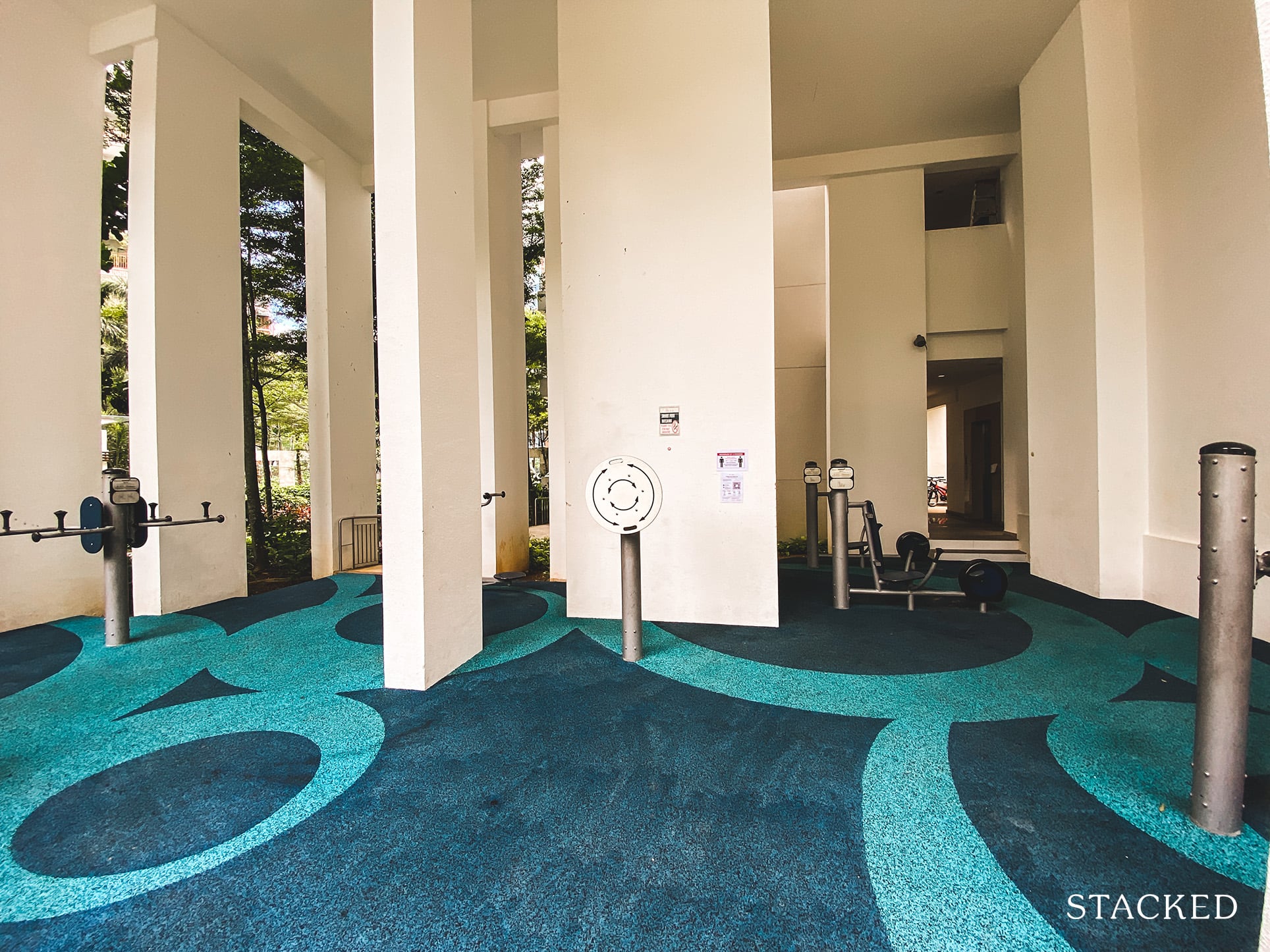 Over on the other block is a sheltered work out area, which is a great option for rainy days.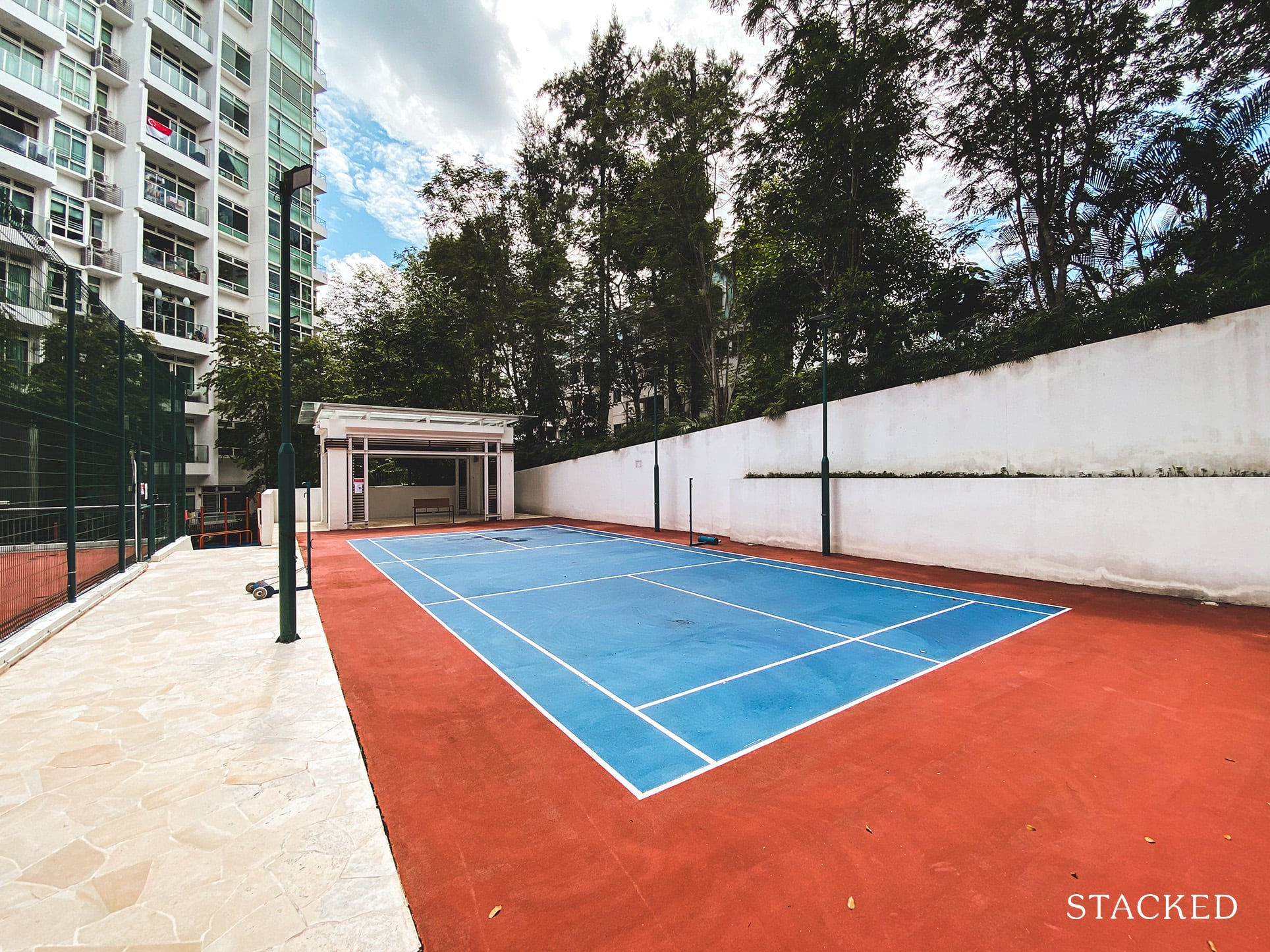 It's exercise galore at the back of the Cascadia, with 2 tennis courts, a multi-purpose court, and a mini basket ball court.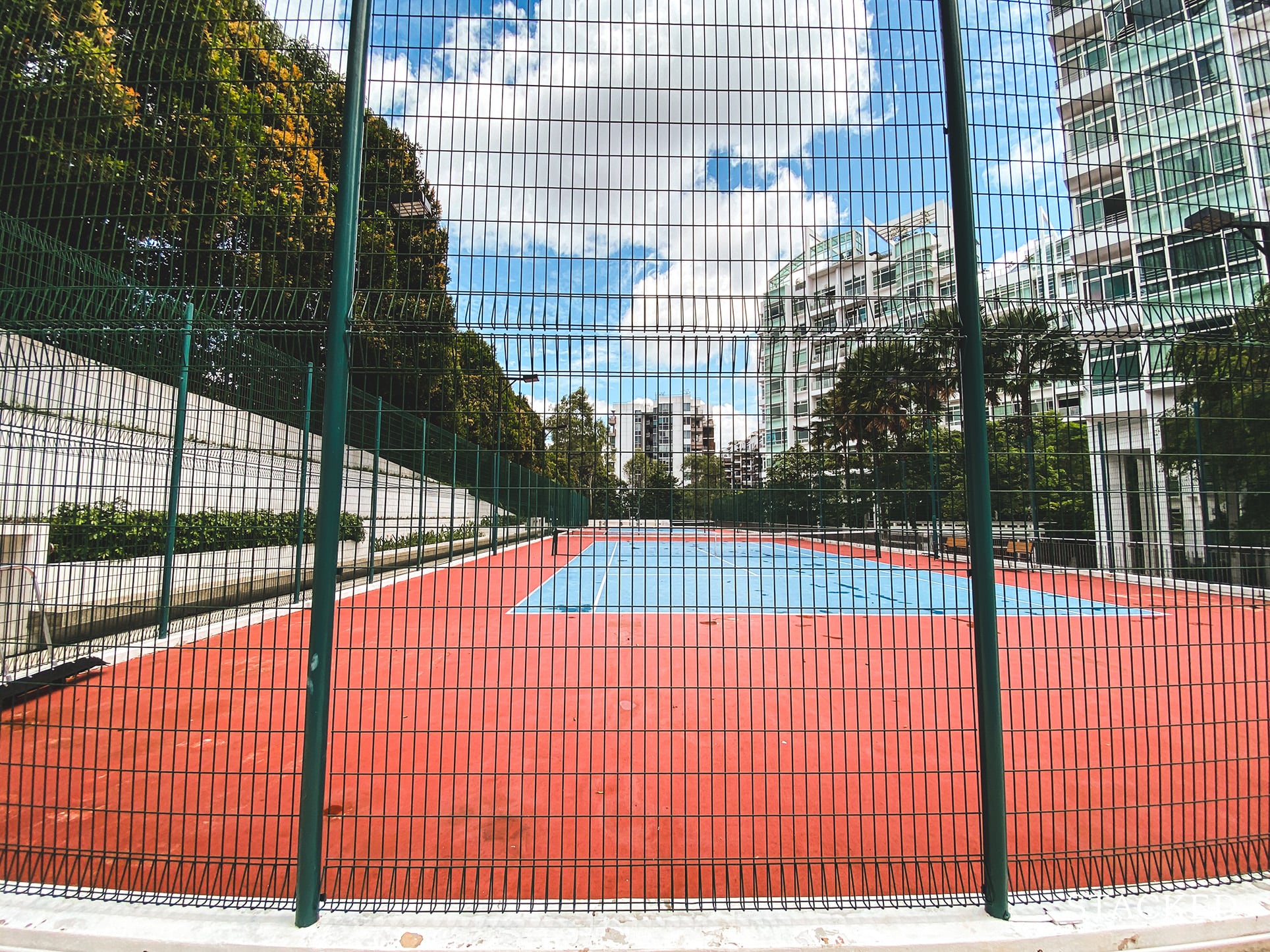 Having two tennis courts is pretty generous if we were to go by today's standards. (A prime example, Stirling Residences with 1,259 units and one tennis court).
It is supremely quiet here as well, and due to its location it gives off a large open feel that is an enjoyable escape from the rest of the development.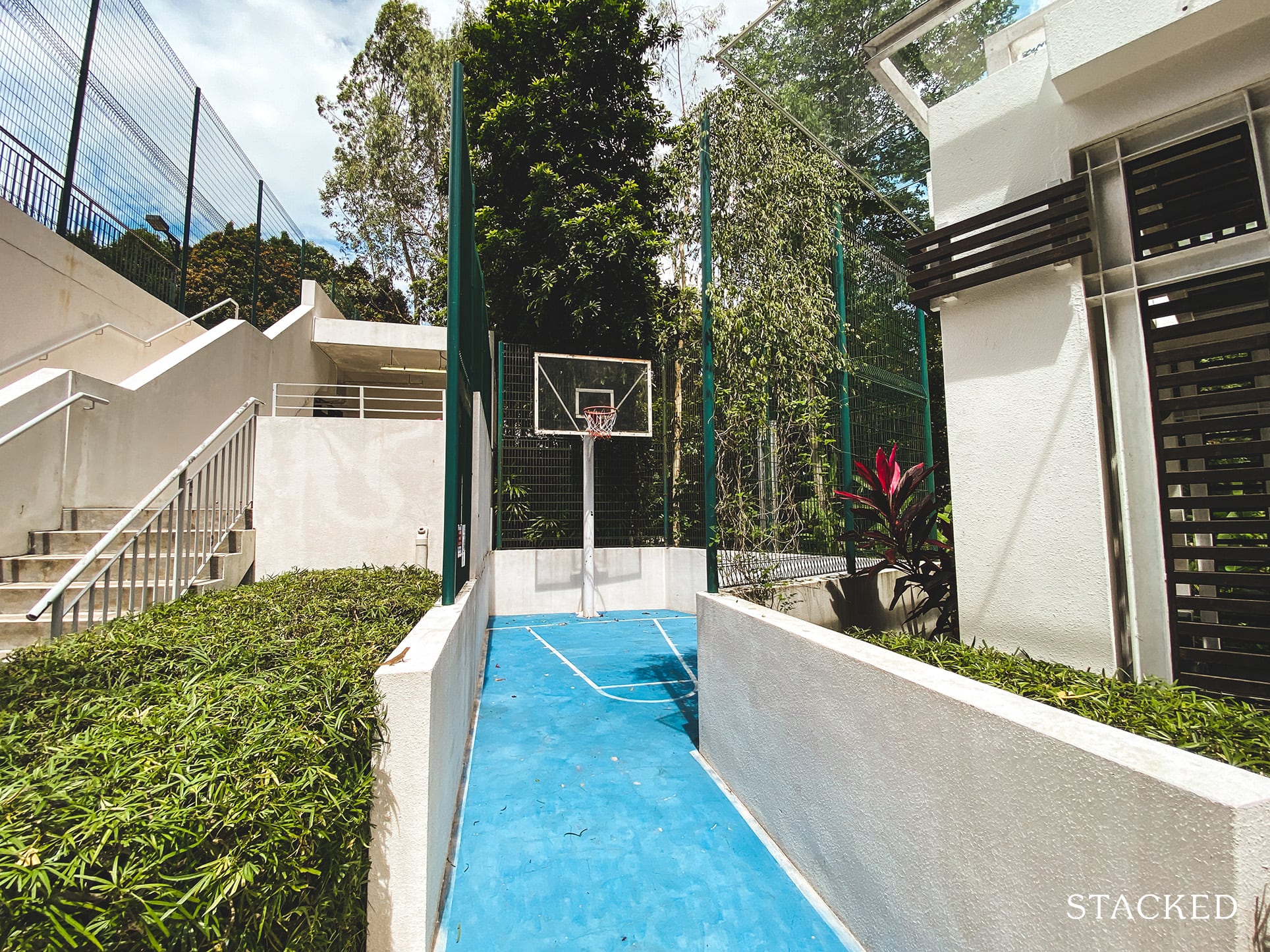 You could even say that my initial description of a mini basket ball court here is grossly misrepresented. If I had to rephrase, it's really more of a basketball hoop with a little play area in front of it.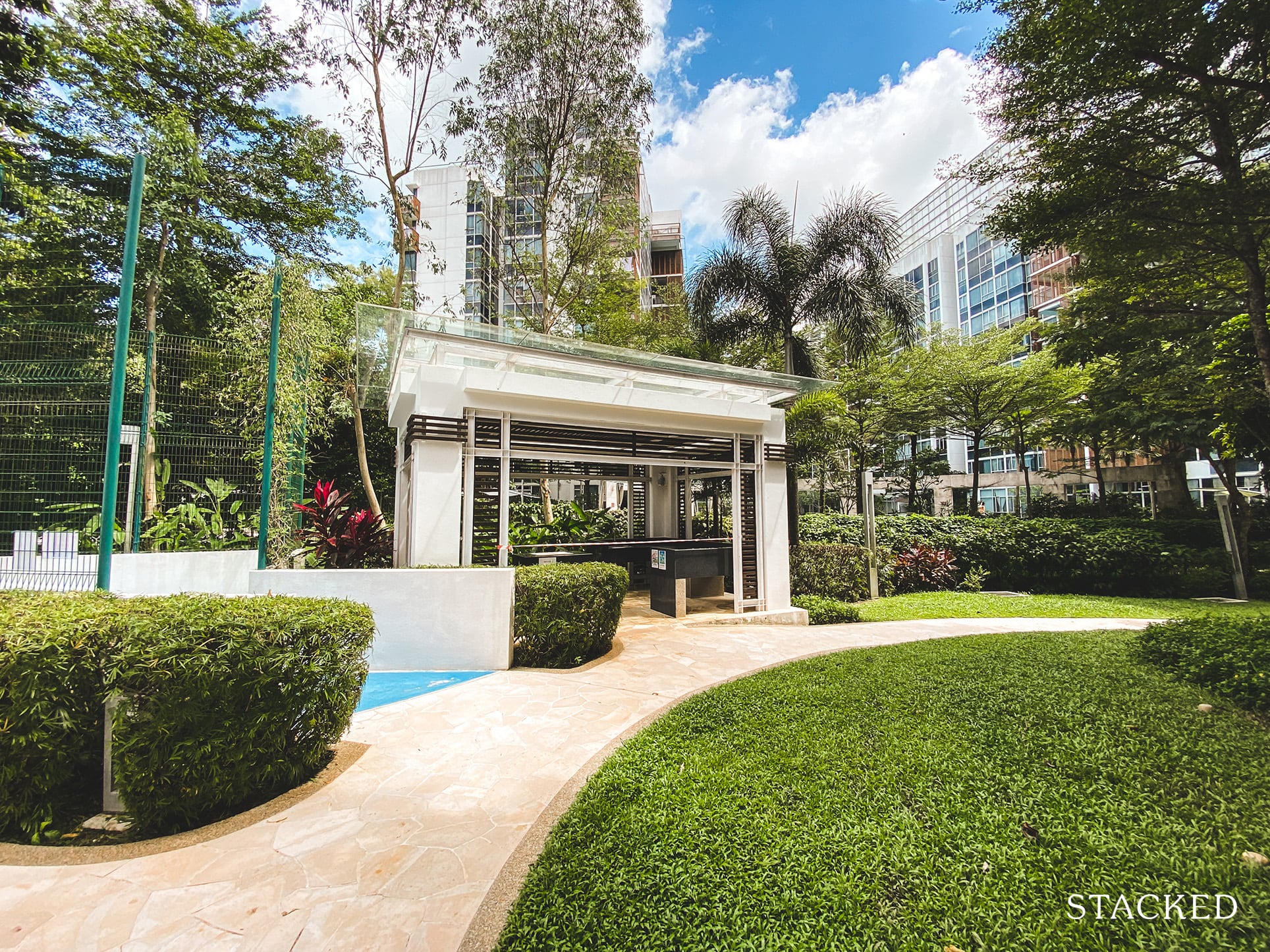 Just outside the basketball hoop is another barbecue area. Like the previous one, this one is quite private and arguably much less claustrophobic as well.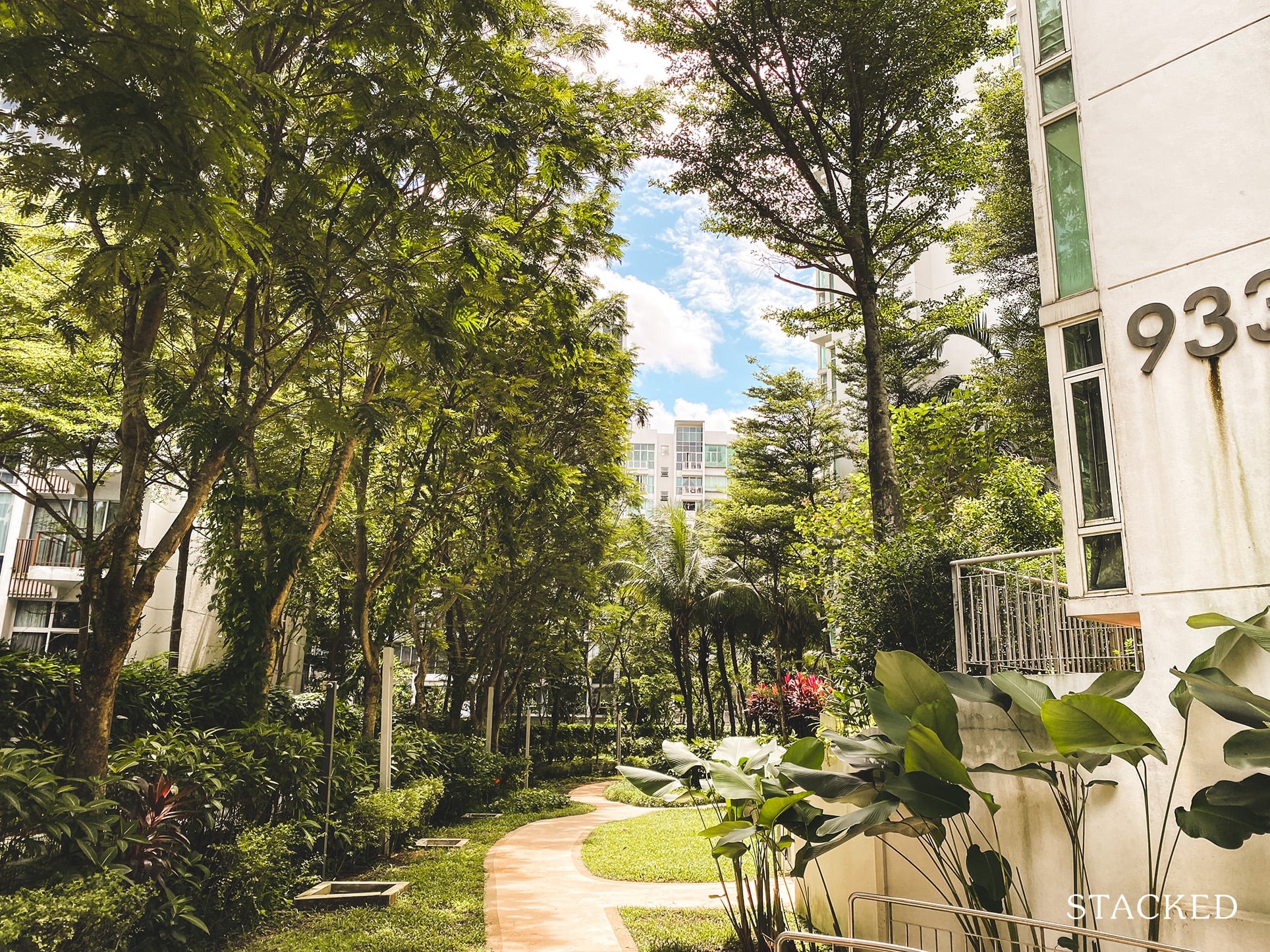 Given its close to 300k square feet of land size, the walking path surrounding the circumference of the estate can be a fitness challenge for those who've just started their exercising regime.
It's also a sufficiently wide path for an enjoyable walk with your pet, as it is definitely a lot more open here than the internal path.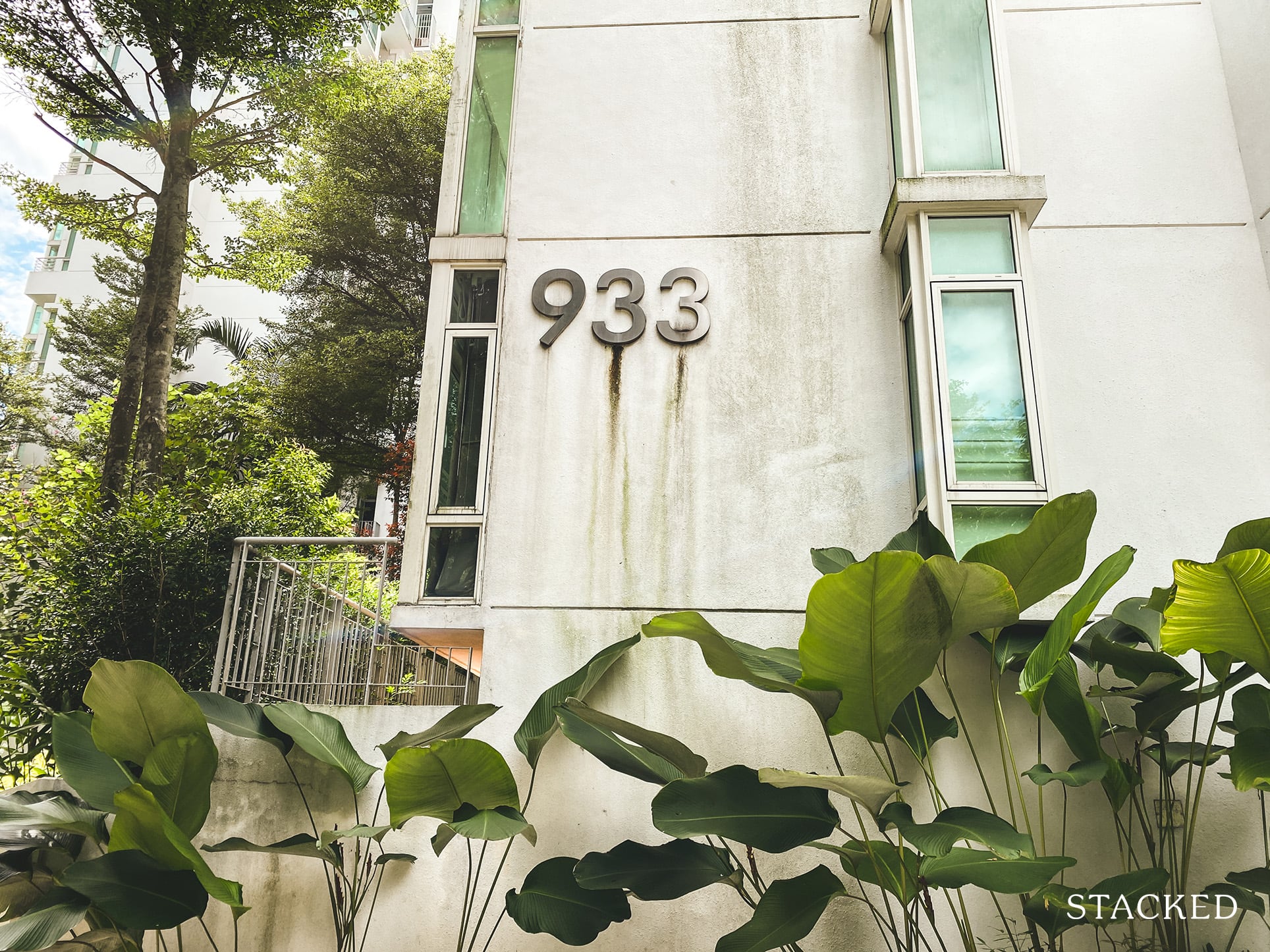 To be honest, 9 years isn't terribly old by any stretch, so seeing the level of upkeep in certain areas of the development could be a cause of concern.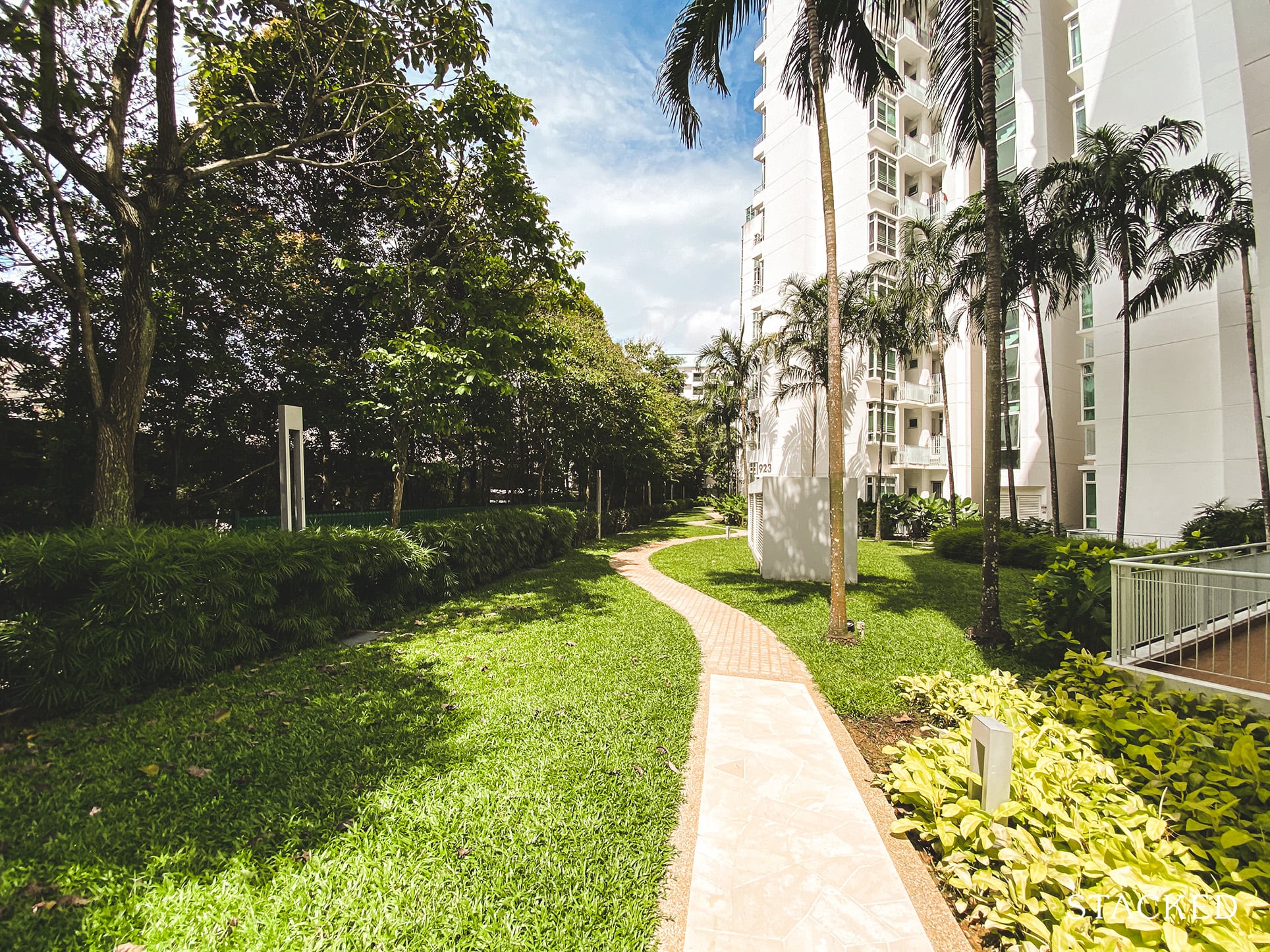 The path winds all the way to the front, where you'll find another barbecue area.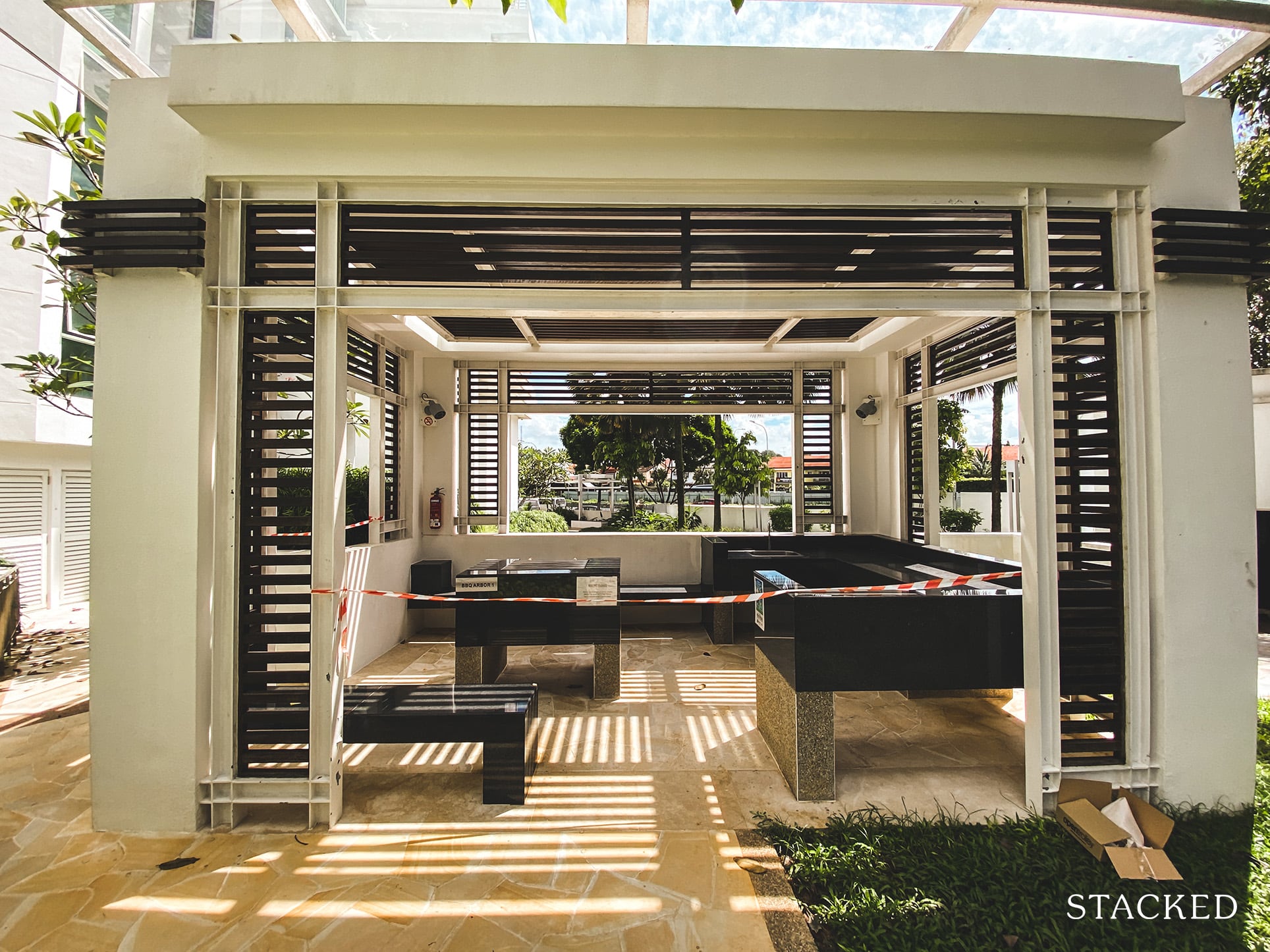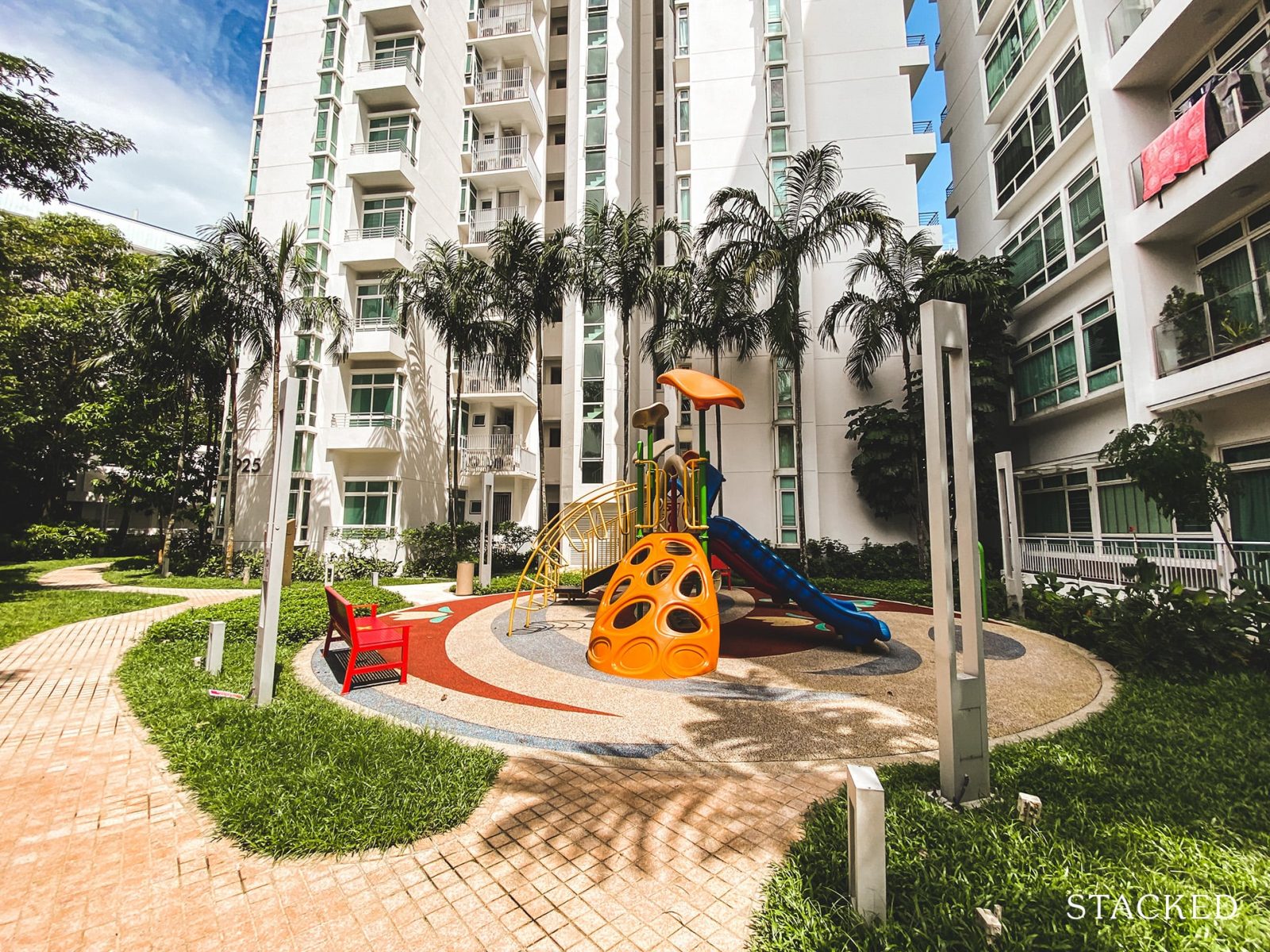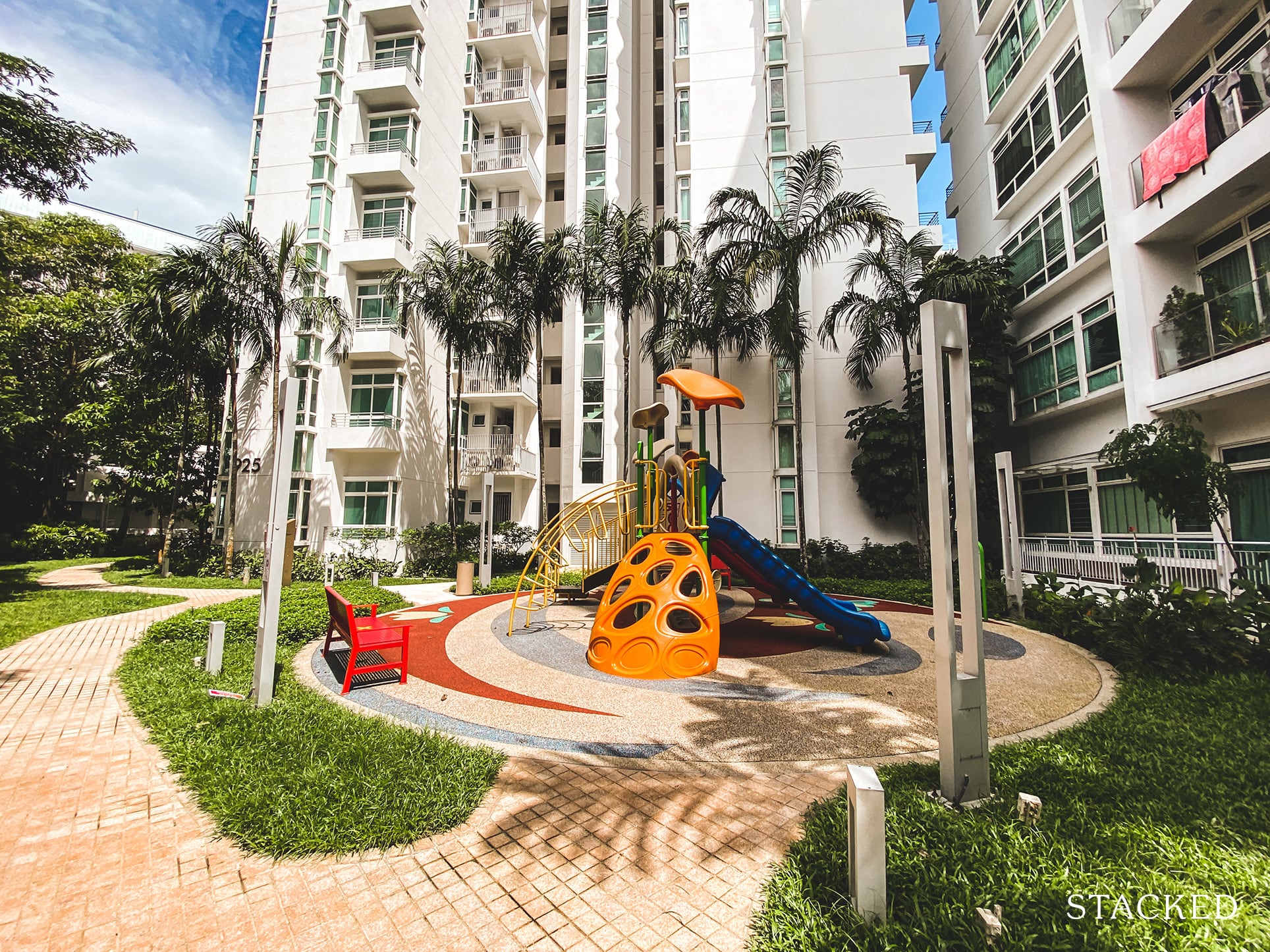 And the ubiquitous kids playground just further up the path.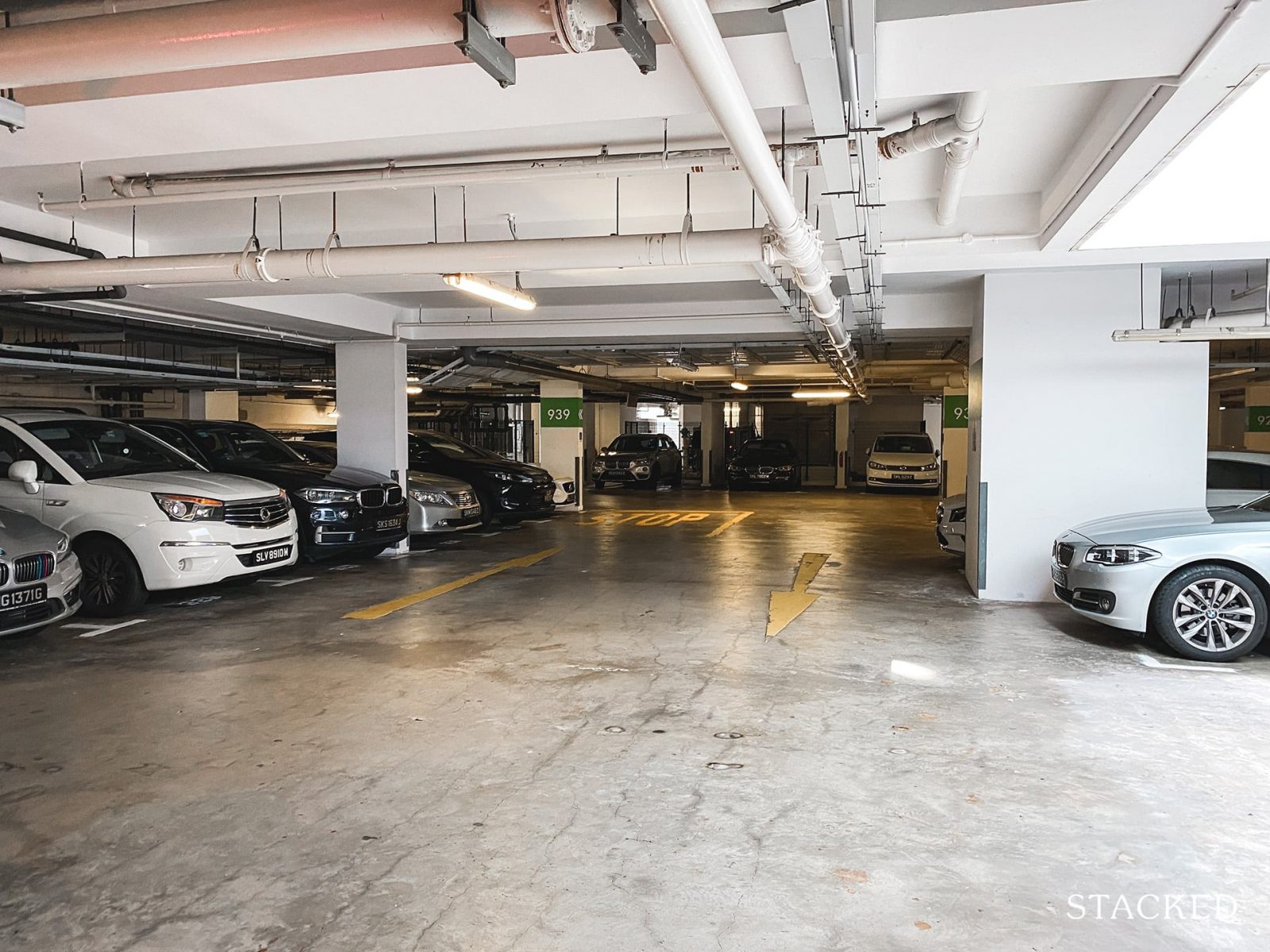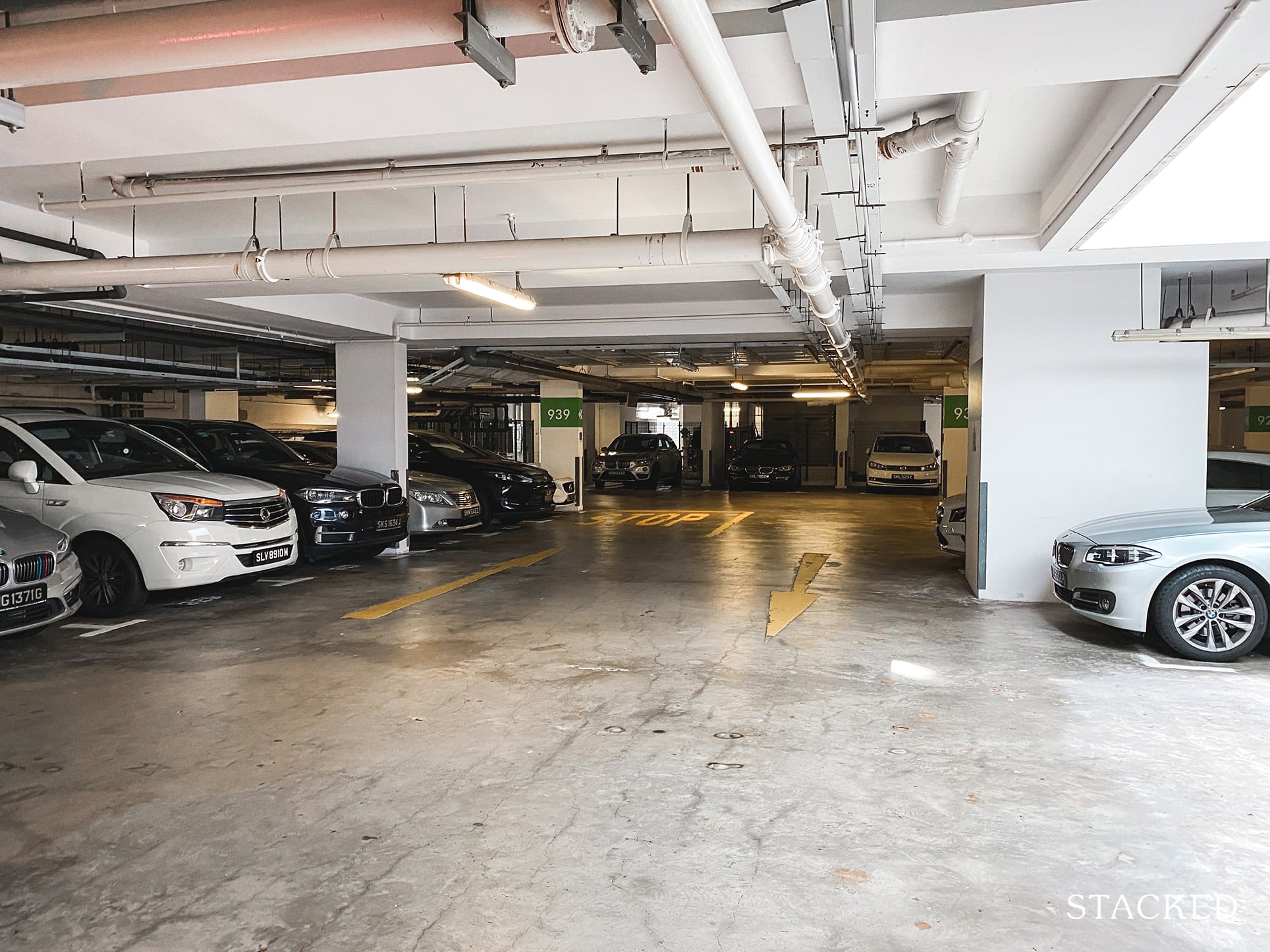 Last but not least, the underground carpark is fairly spacious and there is sufficient carpark lots for residents. But given the tightly packed nature of the blocks, coming home later than usual work hours will result in you having to park further away.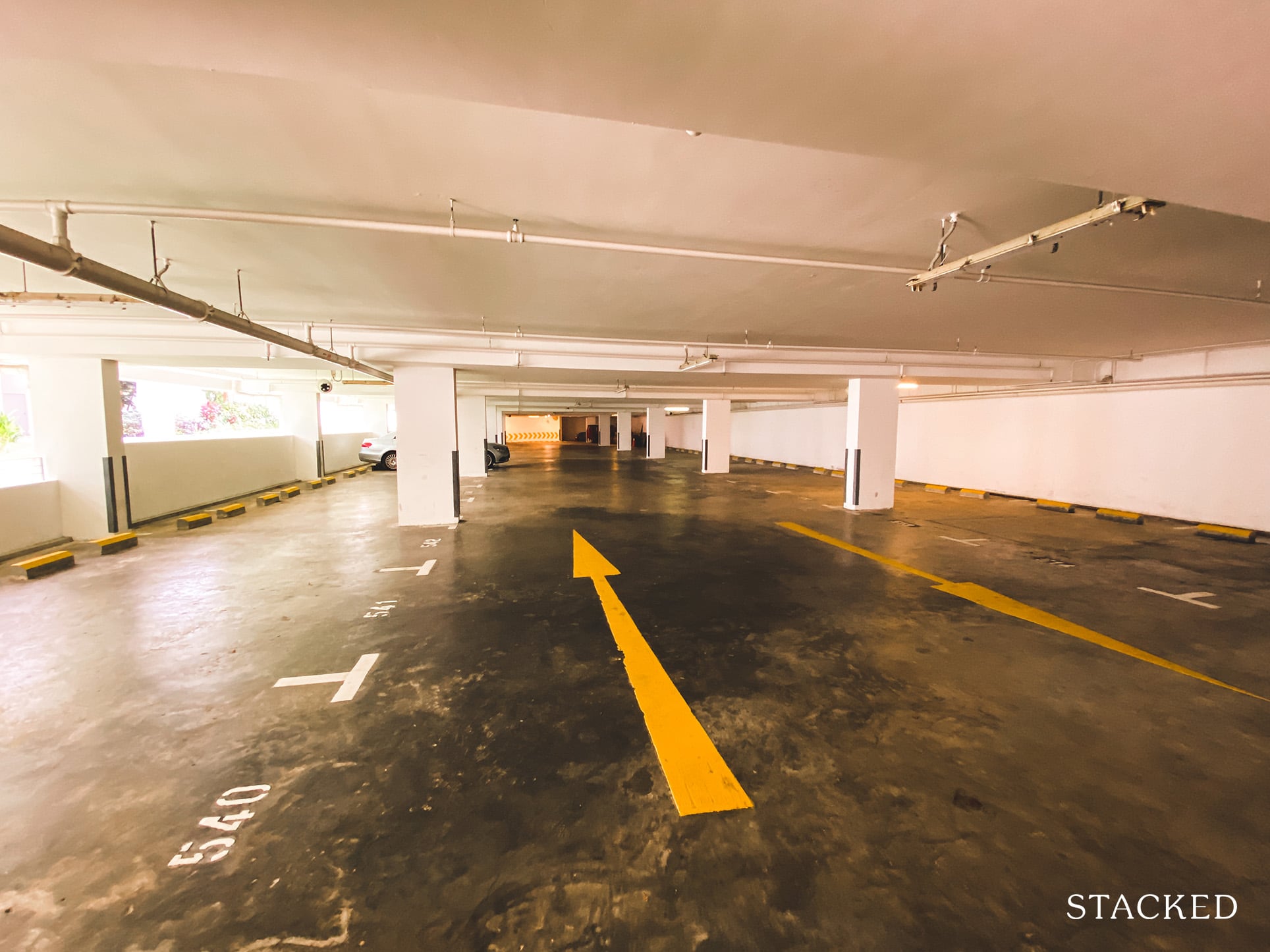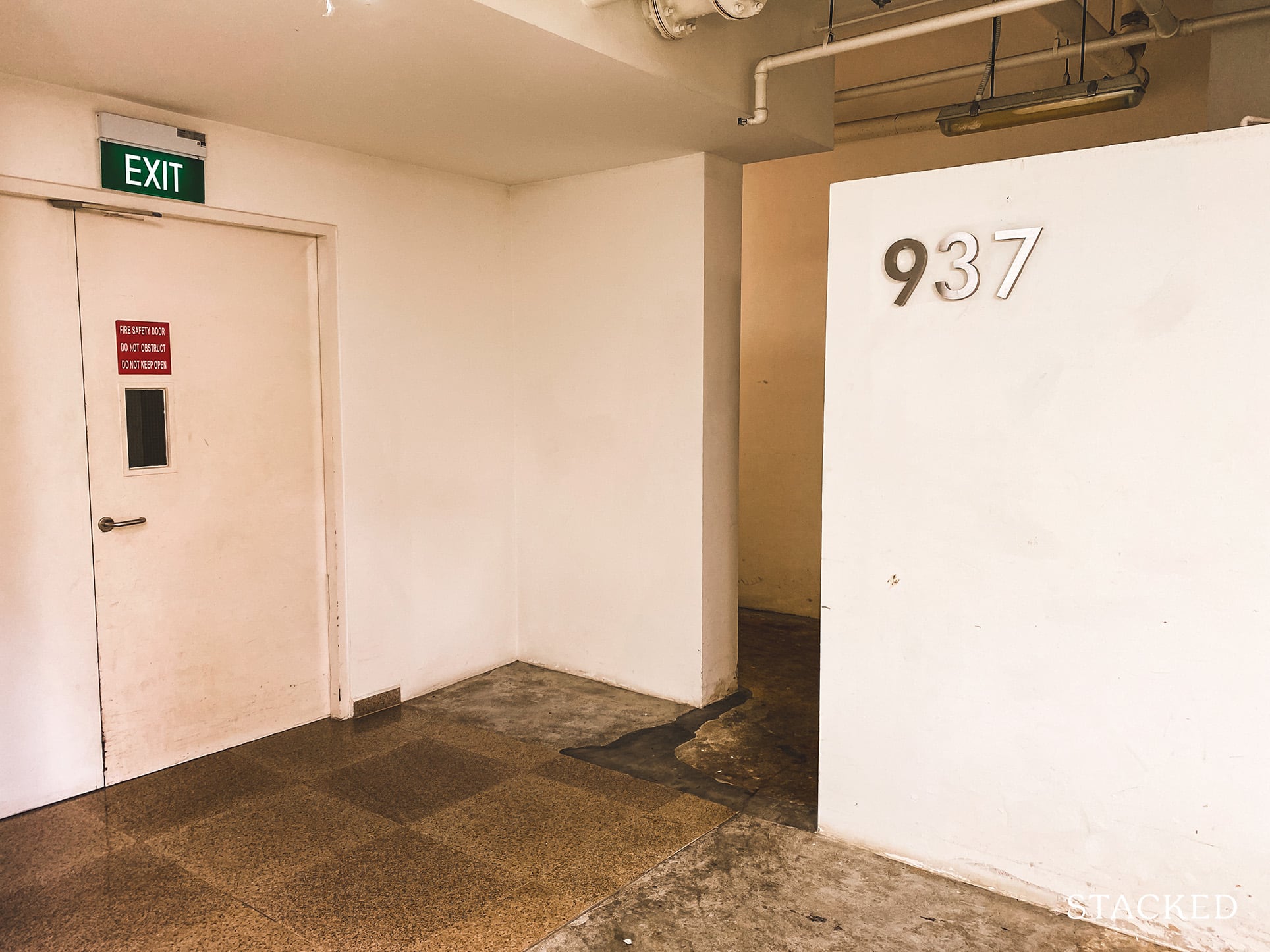 Another negative point worth pointing out is the location of the refuse area – it's right by the entrance of each lobby. Unless you are content with breathing through your mouth each time you go to and from home, not many people are going to be happy with this oversight.
But to be fair, there are other developments that I've been to that employ this layout – but they don't have as bad an issue when it comes to the leakage of the refuse smell. This could either mean the area isn't being cleaned up properly, or perhaps there is a deeper seated issue at hand here.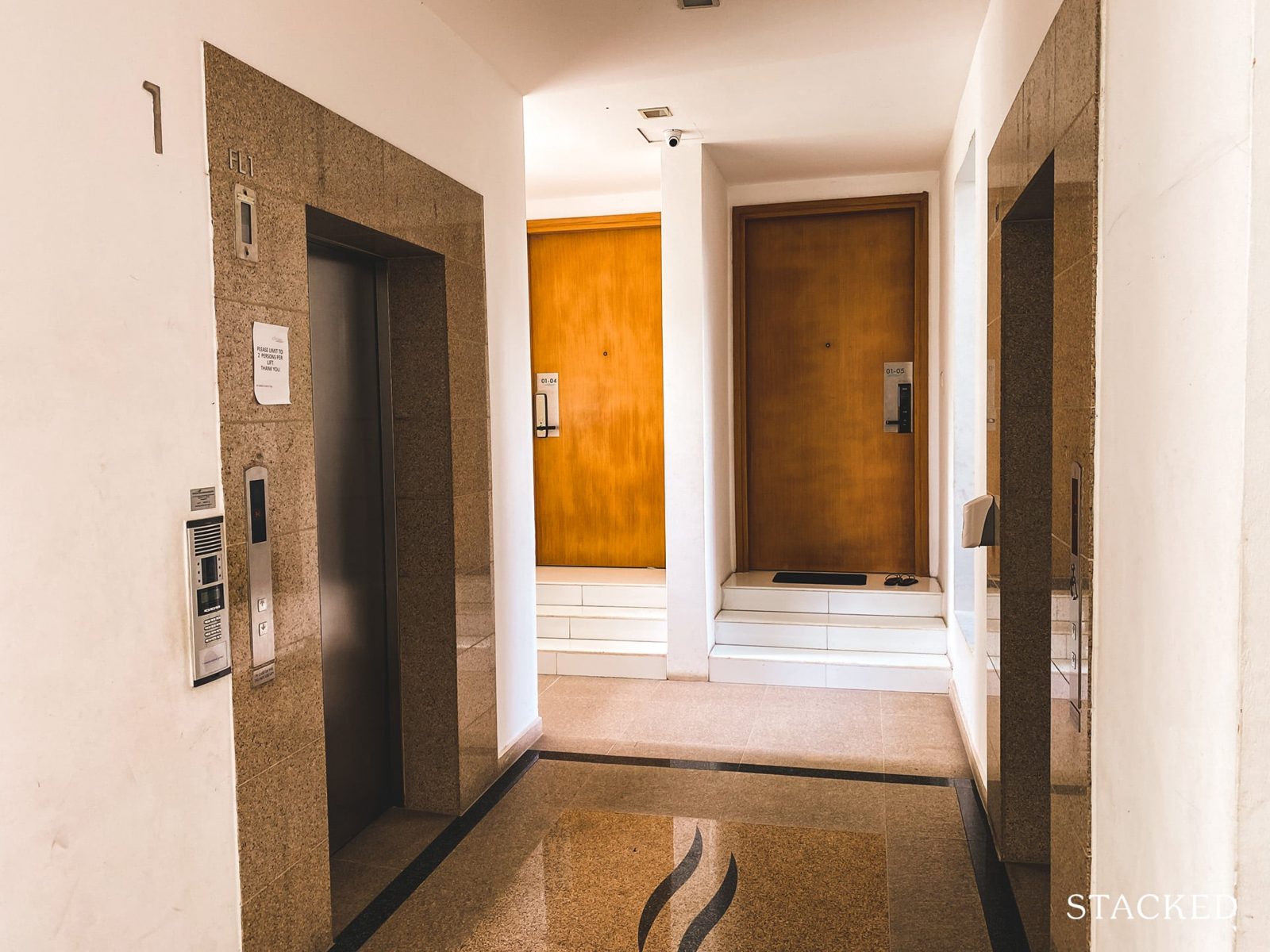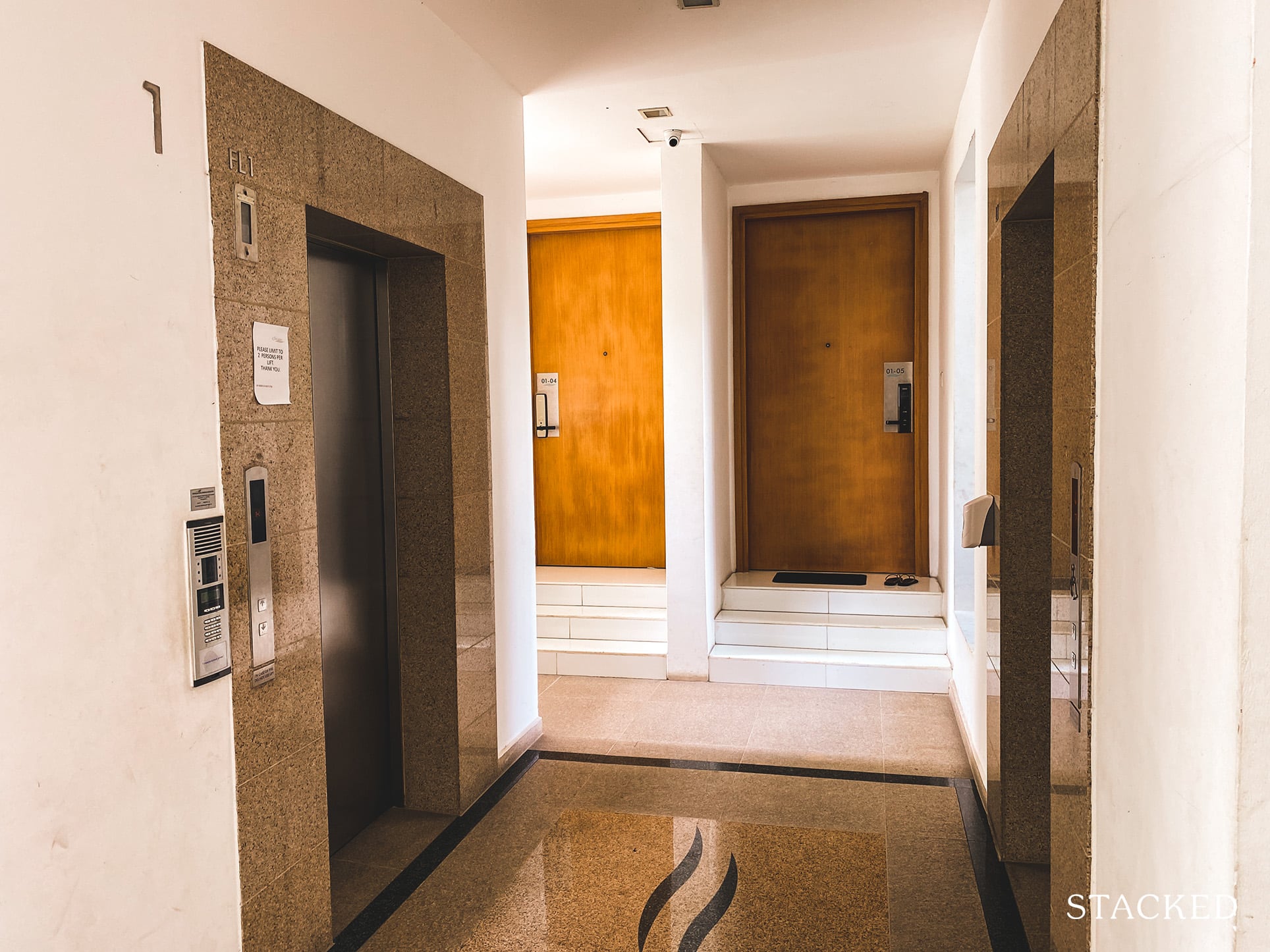 Going up to your unit requires the resident's keycard access, or being dialled up as a guest – definitely a plus point here security wise.
Cascadia Location Review
Located in the premium District 21, The Cascadia is located on the southern 'Bukit Timah Road-side of things'. Interestingly enough, it shares a relatively similar latitudinal position to Parksuites – which you'll find further south along the Holland Road area.

Its immediate residential neighbours (on the same side of Bukit Timah Road) are The Nexus, Floridian and Maplewoods (to its west), as well as The Tessarina and a string of landed properties located along Old Holland Road (to its east).

You'll also find that its immediate neighbour is actually a commercial/industrial space that serves mainly automobile customers with additional branches into the architectural and refuse industry.

A quaint little cafe termed the 'Asanoya Boulangerie @ Bukit Timah' can also be found here.
Public Transport

| | | |
| --- | --- | --- |
| Bus Station | Buses Serviced | Distance From Condo (& Est. Walking Time) |
| 'The Nexus' | 66, 67, 74, 77, 151, 154, 157, 170, 170A, 171, 174, 852, 961, 961M, 970 | 170m, 2-min walk |
| 'Opp The Nexus' | 66, 66B, 67, 67A, 74, 77, 151, 154, 157, 170, 171, 174, 852, 961, 961M, 970 | 200, 3-min walk (+ overhead bridge) |
Closest MRT: King Albert Park MRT – 600m, 7-min walk

As mentioned earlier, public transportation here is mostly well-provided for. Perhaps the biggest perk is really the number of bus services we find available here on both sides of the road.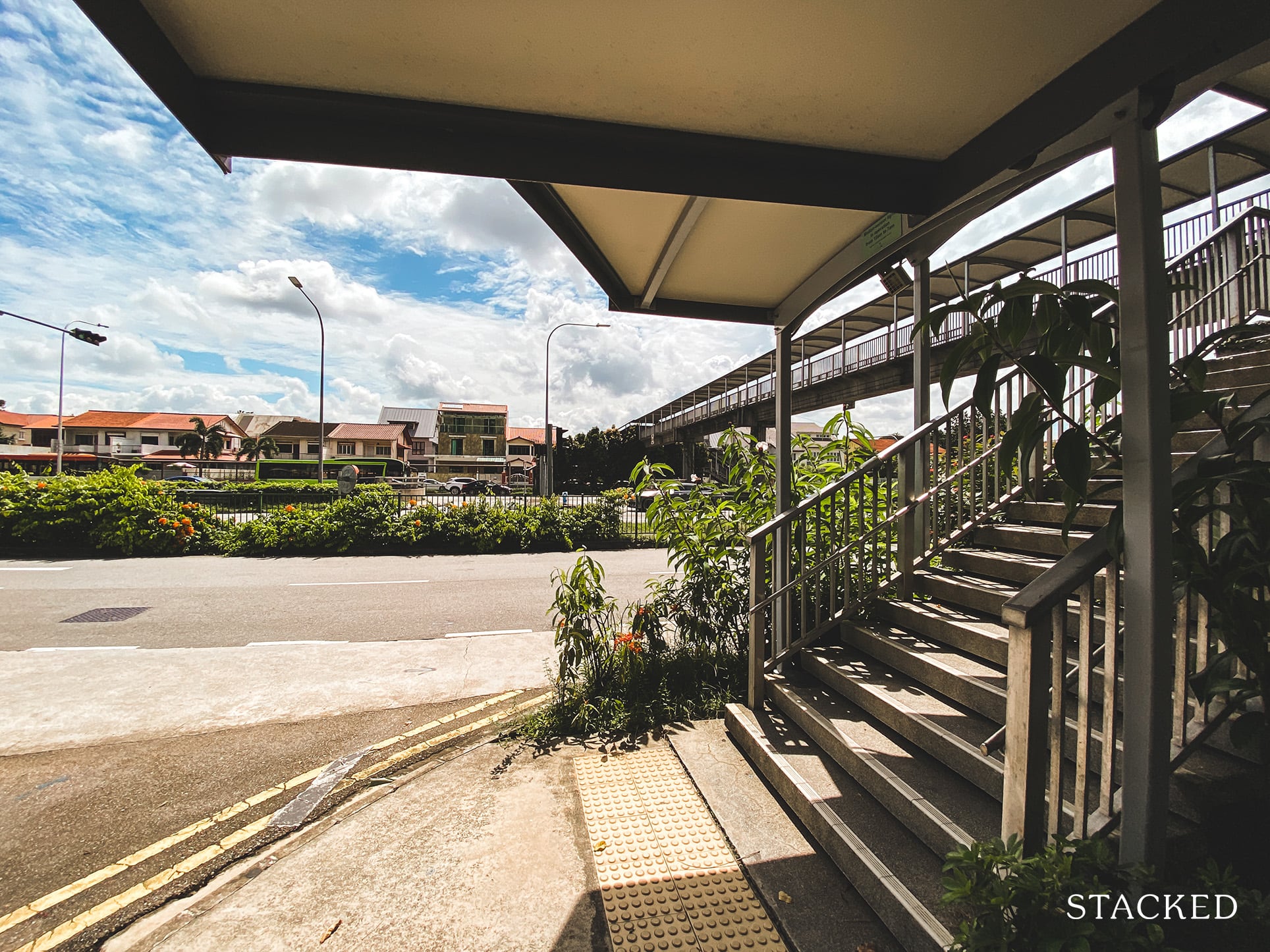 The MRT station is also within relatively decent walking distance. The route there is completely sheltered both by cool foliage and a pathway shelter.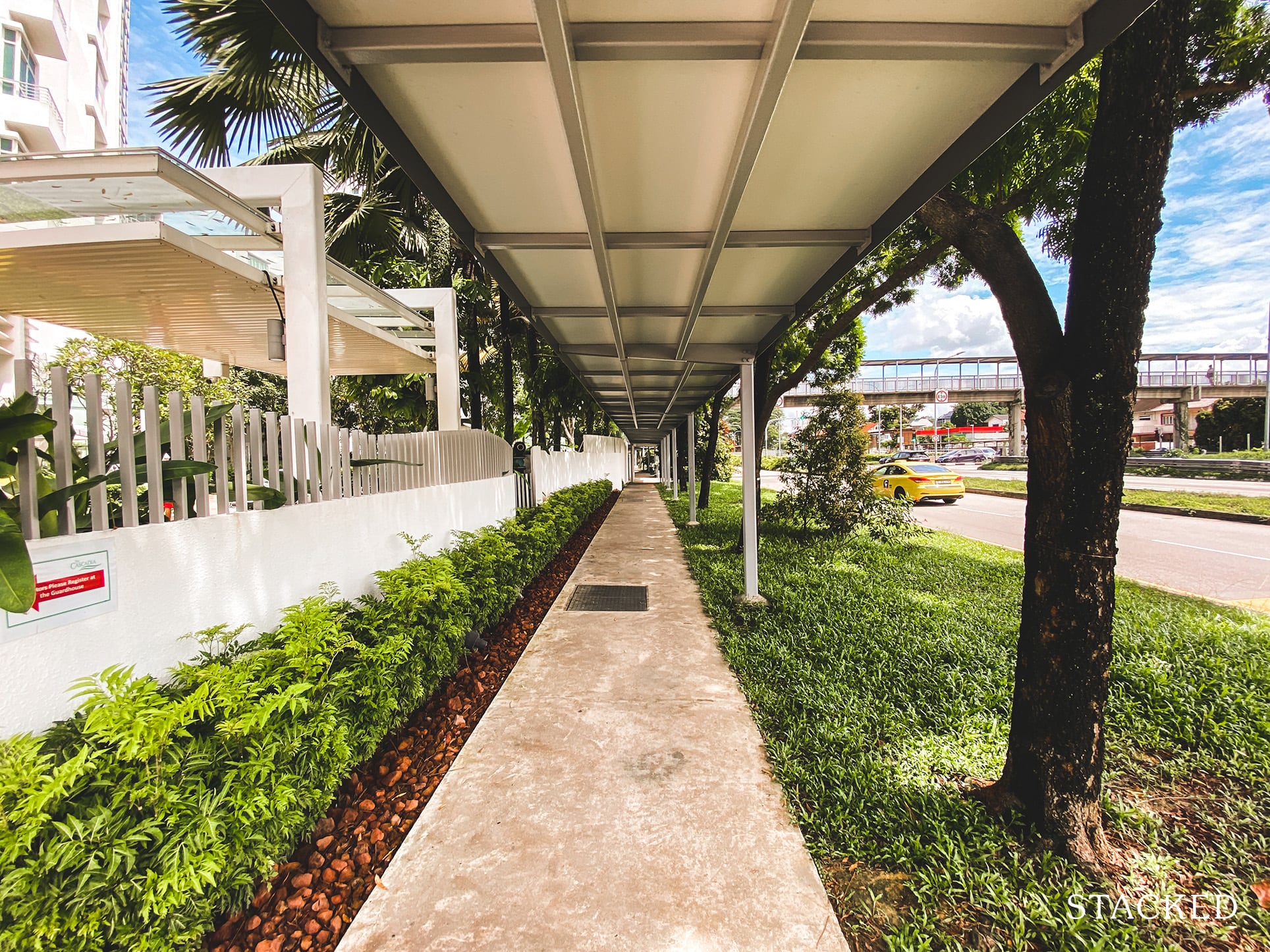 For those who would prefer to avoid the walk altogether, you can hop onto any one of the buses at 'The Nexus' bus stop for a brief 2-3minute ride to the MRT station.

Commuters who find themselves heading in the direction of Orchard can board the train at King Albert Park MRT. The 12-min ride spans 6 stops and involves a single line change along the way at Newton MRT on the way to Orchard MRT.

Those heading towards the CBD (Raffles Place MRT) can board bus 74 at 'The Nexus' bus stop towards Dover MRT station (12-min ride). From there, it is a 16-min ride across 8 stops towards Raffles Place MRT.

Alternatively, you could hop onto the train at King Albert Park MRT before alighting at Telok Ayer (12 stops and 23-min ride away) – following which is a quick walk to Raffles Place.
Private Transport
| | |
| --- | --- |
| Key Destinations | Distance From Condo (& Est. Peak Hour Drive Time) |
| CBD (Raffles Place) | 16km, 25-min drive |
| Orchard Road | 9.1km, 20-min drive |
| Suntec City | 17km, 25-min drive |
| Changi Airport | 25.8km, 30-min drive |
| Tuas Port (By 2040) | 31.5km, 40-min drive |
| Paya Lebar Quarters/Airbase (By 2030) | 15.8km, 25-min drive |
| Mediapolis (and surroundings) | 7.3km, 20-min drive |
| Mapletree Business City | 10.9km, 22-min drive |
| Tuas Checkpoint | 21.2km, 25-min drive |
| Woodlands Checkpoint | 14.9km, 22-min drive |
| Jurong Cluster (JCube) | 6.7km, 16-min drive |
| Woodlands Cluster (Causeway Point) | 16km, 25-min drive |
| HarbourFront Cluster (Vivo City) | 13.7km, 25-min drive |
| Punggol Cluster (Waterway Point) | 24.6km, 30-min drive |
*Note that Drive Times are calculated during Peak Hours

Immediate Road Exit(s): Single Exit along Bukit Timah Road

Summary: Single-laned exit onto 2-laned Bukit Timah Road might get congested during peak hours. That said, a yellow-box has been positioned here for easier exiting. Those looking to turn onto Dunearn Road will find a U-turn just 100metres after exiting. Following which is the notorious Bukit Timah/Clementi Road junction (approximately 1.2km away).

Groceries

| | |
| --- | --- |
| Name of Grocery Shop | Distance From Condo (& Est. Walk Time) |
| Cold Storage – Sime Darby | 800m, 10-min walk OR 850m, 5-min drive |
| Cold Storage – Guthrie House | 1.1km, 14-min walk OR 2.7km, 9-min drive |
| Fairprice Finest – Bukit Timah Plaza | 1.4km, 19-min walk OR 1.4km, 7-min drive |
Schools

| | |
| --- | --- |
| Educational Tier | Number of Institutes |
| Preschool (within 1km walk) | 6 |
| Primary (3km-drive) | 3 |
| Secondary (3km-drive) | 2 |
| International School (3km-drive) | 6 |
| Junior College (5km-drive) | 2 |
| University (5km-drive) | 5 |
| Polytechnic (10km-drive) | 2 |
Additional Pointers

Of late, I've been trying to detail more of this particular topic in our additional pointers section – mainly because it seems like every other condo has these seemingly 'great amenities nearby'.

It is afterall Singapore – so naturally offerings are convenient. I guess the bigger question is just how convenient and how diverse exactly.

For those who've lived near in the Bukit Timah area (or perhaps studied at/frequented its surroundings), you'd understand that it offers a very different slice of life than in most other parts in Singapore.

There's a certain 'posh-ness' that you get from the road-side cafes and shops here.

Unlike your slightly more traditional shophouses in the Chinatown/Little India district, or the slightly more 'in-your-face'/commercial-based, low-rise shops you find along Upper Thomson Road, the shops here have a taste of upper-class flair to them (mainly in service offerings/quality) – made further exclusive by the surrounding (secluded) foliage that lines Bukit Timah Road.

Around the area you'll also find a number of interesting hobby/sport-related amenities. The Grandstand for example (just a 15-minute walk away) has a number of football pitches, a quaint indoor bazaar that offers wonderful produce, craft beers etc. (Pasarbella) and a whole bunch of activity offerings like billiards, darts and even axe-throwing (not to mention the incredible restaurants also available here).

Around the place you'll also find a number of other country clubs like the Tanglin Rugby Club, Swiss Club Singapore (also Swiss Embassy and Swiss school here), as well as The British Club.

We often complain of Singapore being a concrete jungle with the lack of mountains and lakes, as well as a nice enough temperature that would make you fall in love with strolling around your neighborhood.

The abundance of greenery here in the Bukit Timah area helps to mitigate some of the midday heat, while providing a relatively calm and tranquil walk experience (just try to avoid strolling by the side of Bukit Timah Road if you can help it).

The Green Corridor (filled with a number of antiquities like the Old Bukit Timah Railway Station and Track) is just a 10-minute walk away, and you'll find that the expansive Bukit Timah Reserve is not too far away as well.

Just remember to slap on the mosquito spray, bring some water and dress cool if you're planning on heading in that direction (Singapore is afterall a tropical island – and there's unfortunately the best we can do for now to mitigate the ill-effects that comes with hiking in our jungles).

There are also a number of lovely quaint parks in the area like the Clementi Neighbourhood Park and Henry Park that will suffice for a lovely evening wind-down ( – which reminds me, check out our Parksuites review if you're a nature lover and haven't already done so!).
Cascadia Development Site Review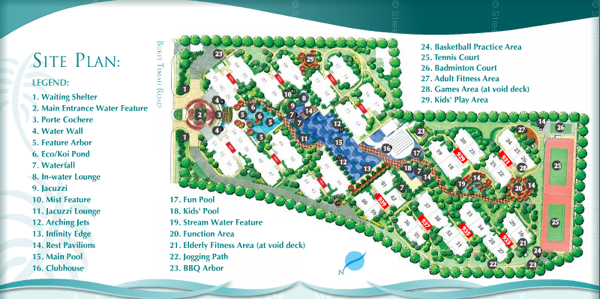 As always, apologies for the slightly older map.

(On a side note, I was just thinking to myself and it's actually been very interesting to see the growth of development site maps over the years to the current New Launch maps we see today. That said, I am still eagerly waiting for my first VR/holographic development site map!)

Regarding the actual layout of the place, we immediately realise how 'squeezed-together' the area seems to be. Blocks are positioned incredibly close to each other, with a handful of units overlooking each other.

As for the actual grounds (which you've no doubt already seen in the tour), I maintain the thought that the walking paths by the pool should have seen better planning.

For some residents, walking by the pool is a necessary endeavour to get to the exit/back to their homes. Given how narrow the path here is, I can imagine the wariness with which these residents take the path; doing their best to avoid any unanticipated splashes en route.

Perhaps more importantly, this also poses a safety hazard for the elderly and little children who use the path.

With the blocks positioned so close to the pool, a couple of the living rooms in the ground units here are further exposed to the public eye.

Of course, some will appreciate this resort-style layout, and so it really boils down to preference at the end of the day.

Some other positives include the inclusion of the two tennis courts (we've seen how developers have been scrimping on these courts of late – Stirling Residences comes to mind), as well as a singular badminton court and a basketball practice area that you almost never find in newer developments these days.

Yes, there might not be many new/fancy facilities, but if you think about it, the basic sport necessities are met, if not exceeded… save for a gym!
While there are dedicated fitness areas for the young and the elderly, those who enjoy the rush of pumping iron will (unfortunately) have to venture outside the condo for a shot at that.

As for the general on-ground decor, it is well decked out in foliage with numerous trees providing cool shade to the walkways, as well as a number of lovely water features like the waterfall wall, koi pond and arching jets that further adds to the vibe of the place.

All in all, relatively nice resort-y feel (depending on how you look at it) with adequate facilities for sport lovers.

Best Stacks

Unit Mix

| | | |
| --- | --- | --- |
| Unit Type | No. Of Units | Size of Units (sqft) |
| 1-Bedroom | 38 | 570 – 710 sqft |
| 2-Bedroom & 2-Bedroom + Study | 109 | 871 – 1,162 sqft |
| 3-Bedroom & 3-Bedroom + Study | 81 | 1,173 – 1,323 sqft |
| 4-Bedroom & 4-Bedroom + Study | 45 | 1,410 – 1,593 sqft |
| 2-Bedroom & 2-Bedroom + Study Penthouse | 12 | 1,679 – 2,260 sqft |
| 3-Bedroom & 3-Bedroom + Study Penthouse | 7 | 2,346 – 2,884 sqft |
| 4-Bedroom & 5-Bedroom Penthouse | 4 | 3,961 – 5,231 sqft |
Considering that there are just 536 units here, I would say that the unit diversity is very well spread out.

That said, some have criticised the interior of units here, with both noise and lack of unit ventilation being the biggest complaints.

Balcony spaces are very tight – so for those who love more interior space, this is a plus. Kitchens are open-concept, meaning that the likelihood of food smells wafting out and oil splashes to the living room is very much a possibility too.

The floor in the hall area is finished with granite tiles (pleasant looking), while the rooms are finished with wood. Note that water heating here is done through a hidden heating tank as opposed to gas heating. Naturally, this will add a little to electrical bills over the years.

Finally, for those looking at the smaller tiered penthouses, it is worth noting that the 2 and 3-bedroom penthouses here are double-storeyed – though unfortunately the upper floors are made up completely of roof terraces. 

Bigger penthouses have living spaces on both floors with private pools to boot.

Best Stacks

Prices for Cascadia
Price Breakdown (1st Property)
1-Bedroom
2-Bedroom
3-Bedroom
4-Bedroom
2-Bedroom PH
3-Bedroom PH
4-Bedroom PH
Price
$979,260
$1,559,090
$1,999,965
$2,497,110
$1,704,185
$2,498,490
$4,677,941
25% Down Payment
$244,815
$389,773
$499,991
$624,278
$426,046
$624,623
$1,169,485
Additional Costs
Buyer Stamp Duty
$23,978
$46,964
$64,599
$84,484
$52,767
$84,540
$171,718
Legal Fees
$2,500
$2,500
$2,500
$2,500
$2,500
$2,500
$2,500
Valuation Fees
$300
$300
$300
$300
$300
$300
$300
Stamping Fees
$500
$500
$500
$500
$500
$500
$500
Total Price
$1,006,538
$1,609,354
$2,067,864
$2,584,894
$1,760,252
$2,586,330
$4,852,959
Initial Investment Amount
$272,093
$440,036
$567,890
$712,062
$482,114
$712,462
$1,344,503
Return on Investment
Expected Rental Price
$2,280
$3,049
$4,106
$4,935
$4,198
$5,865
$9,903
Rental Yield
2.72%
2.27%
2.38%
2.29%
2.86%
2.72%
2.45%
Price (2nd Property)
1-Bedroom
2-Bedroom
3-Bedroom
4-Bedroom
2-Bedroom PH
3-Bedroom PH
4-Bedroom PH
Cost Without ABSD
$1,006,538
$1,609,354
$2,067,864
$2,584,894
$1,760,252
$2,586,330
$4,852,959
Plus: ABSD (12%)
$117,511
$187,091
$239,996
$299,653
$204,502
$299,819
$561,353
Total Price After ABSD
$1,124,049
$1,796,444
$2,307,859
$2,884,548
$1,964,755
$2,886,148
$5,414,312
Initial Investment Amount
$389,604
$627,127
$807,886
$1,011,715
$686,616
$1,012,281
$1,905,856
Return on Investment
Expected Rental Price
$2,280
$3,049
$4,106
$4,935
$4,198
$5,865
$9,903
Rental Yield
2.43%
2.04%
2.13%
2.05%
2.56%
2.44%
2.19%
The Cascadia Price Review
| | | | |
| --- | --- | --- | --- |
| Project Name | Tenure | TOP | Average Price (PSF) |
| Cascadia | Freehold | 2010 | $1,683 |
| The Tessarina | Freehold | 2003 | $1,510 |
| The Nexus | Freehold | 2006 | $1,644 |
| Maplewoods | Freehold | 1997 | $1,724 |
| Floridian | Freehold | 2012 | $1,728 |
As you can see, The Cascadia sits just above the list average of $1,658 psf. Of course, this isn't the way we should be calculating affordability. It is merely a ballpark given that psf-values for various tiered units tend to fluctuate.

To understand the actual cost ratios, it is best to single out a particular unit-tier (or unit) of comparison, calculate its quantum value, and compare it to similarly-tiered units in competitor projects.

That said, The Cascadia does seem to hold a relatively reasonable psf value against its listed peers when you take into account its age – 2 years older than the newest development here (also beats the average TOP of '2006' by 4 years).

All in all, prices here might seem like a very tight margin based on psf alone, but when you bring in developments like Maplewoods, you realise that the massive unit areas in these older projects naturally result in much higher quantum values.

Yes, you get the incredible space, seclusion and surroundings, but you end up forking out quite a bit more here (despite the age) – which might put off potential buyers who have strict budgets.

For example, the last resale at Maplewoods in 2012 for a mid-floored 4-bedroom unit (middle-end size spectrum based on unit-tier) cost $1,381psf across a whopping 2,896 square feet.

A similar mid-floored 4-bedroom unit at The Cascadia less than a year later (once again on the middle-end size spectrum of its unit-tier) went for $1,815psf across 1,421 square feet.

Higher psf yes, but when you compare their quantum values, the unit at Maplewoods cost $3.99m while the unit at The Cascadia cost $2.57m.

(Note: This comparison is simply to illustrate the price-to-size difference, and should not be used as a ballpark for current unit figures today)

What's more, due to the sentiment of owners in older projects like Maplewoods for example, you rarely get any resales here (this sentiment is mostly due to owners' endowment effects/current solid rental yields/waiting for en bloc opportunities) – which would naturally mean higher asking prices.  

That said, you can either look at it as a negative point towards The Cascadia, that despite it being much newer, it falls around the same bracket psf wise as Maplewoods. Or on the flip side, you could look towards Maplewoods as having really solid price retention instead.

Appreciation Analysis
In the past year or two, we've seen a stark increase in average psf prices of the surrounding (zoomed-out) area that The Cascadia sits on – or in other words, the 'Holland Road' region.

Here are some pictures for better illustration: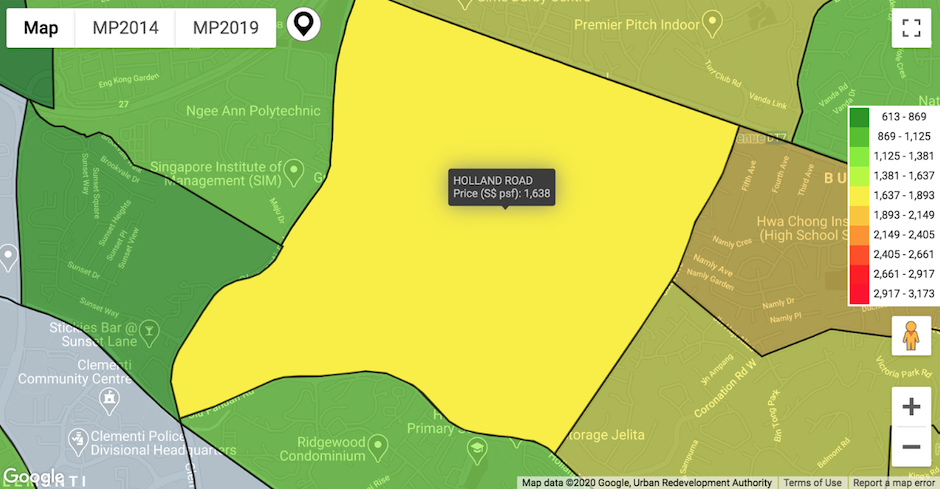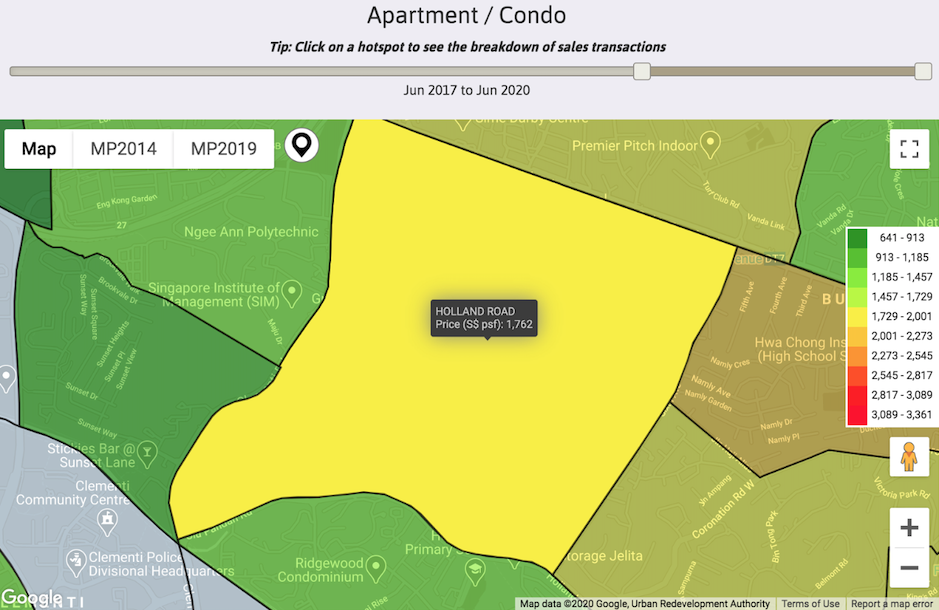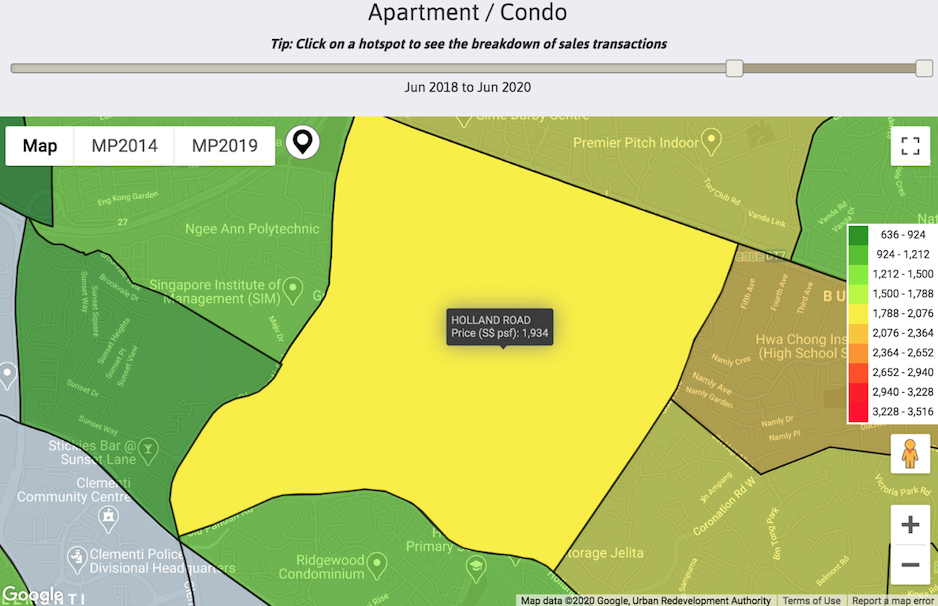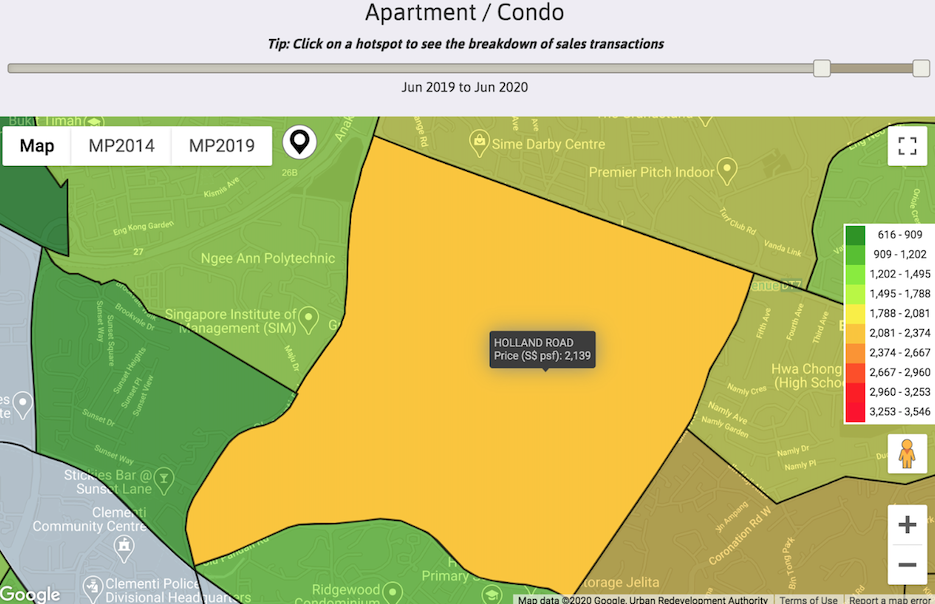 As you can see, the prices over the past year have skyrocketed in the region. And perhaps more surprisingly, there aren't any new launches in this particular land mass.

In fact, the latest TOP here was all the way back in 2014!

Admittedly, The Cascadia sits on the edge of this region, so it isn't directly affected by this seemingly substantial price hike that has no doubt stemmed from the Holland area revamp.

That said, we've definitely seen gradual price increases for units of the Cascadia over the past years.

What's more, the nearest new launch developments to the condo are actually the esteemed duo of Mayfair Gardens and Mayfair Modern just across the road. They are currently going at $2,014 and $1,924 average psf currently with the former receiving higher acclaim from the public than the latter.

Further given the area's reputation as a posh, central district, as well as the numerous older freehold projects in the area, I would say that there is definitely some en bloc potential for developments here in the near future (assuming there aren't any major corrections done to en bloc procedures during this time).

Our Take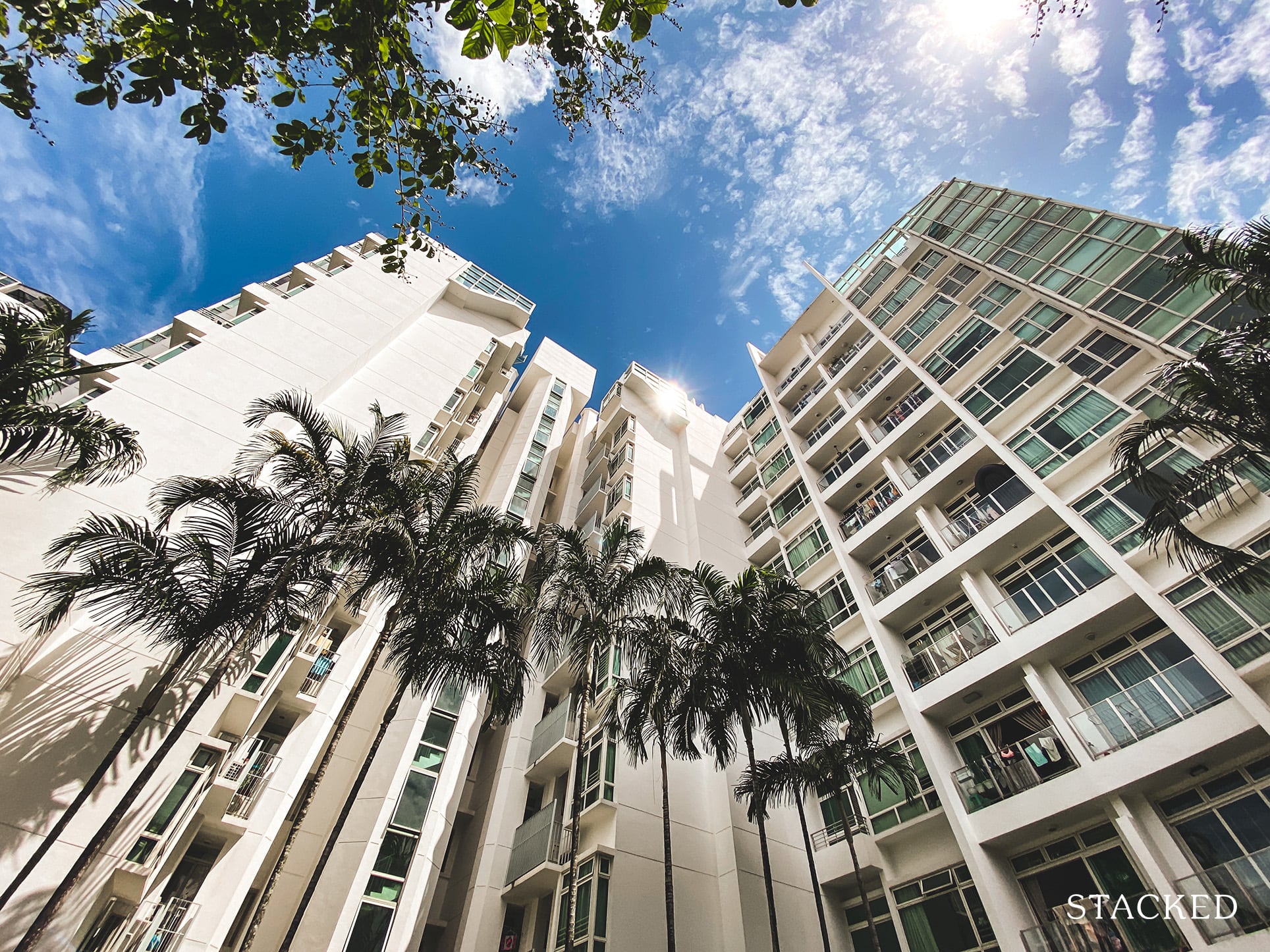 To me, the Cascadia seems like a jack of all trades, but master of none. It doesn't have a particular USP that allows it to stand out from the rest apart from its partially resort-like vibe.

Perhaps the biggest problem for the Cascadia is that you aren't short of relatively similar housing options in this neck of the woods.

Its price points are just slightly above the immediate average, and in that sense, there isn't that sense of exclusivity that you might get in higher-end condos here.

That being said, the surrounding Bukit Timah area is held in high regard by locals and expats alike, and the numerous educational institutes and unique/high-quality amenities in the area makes the location a very alluring option.
What this means for you
You might like The Cascadia if you:
• Are a Sports Enthusiast:With 2 tennis courts, a full-sized pool, a basketball area, a badminton court and 2 seperate fitness areas for adults and the elderly, sports lovers will appreciate the facilities on offer here (save for the absence of an indoor gym).
• Appreciate Lush Greenery:Fitted with numerous trees and shrubbery, the condo gives off a certain resort-like vibe that some might appreciate (note, this doesn't mean good seclusion/silence in the project!).
You might not like The Cascadia if you:
• Prefer Spacious Compounds:Due to the numerous foliage and tightly spaced blocks, there isn't much free space that meets the eye here despite the area being over 200,000 square feet large.
• Would like a Taste of the Modern:Pun intended. With Mayfair Modern just across the road, this 2010 development has definitely seen better days – and those who prefer novelty should perhaps look elsewhere.
End of Review
About Our Reviews
Our reviews are not sponsored nor do we receive incentives in any form to write these reviews. As such, the views expressed in our condo reviews are solely our own based on our own observations and analysis. Feel free to share your thoughts on our reviews in the comments below, or drop us an email at hello@stackedhomes.com