Condo Reviews

Robin Residences Review: Almost Perfect Location With A Rooftop Tennis Court
Reuben
December 8, 2019

17

min read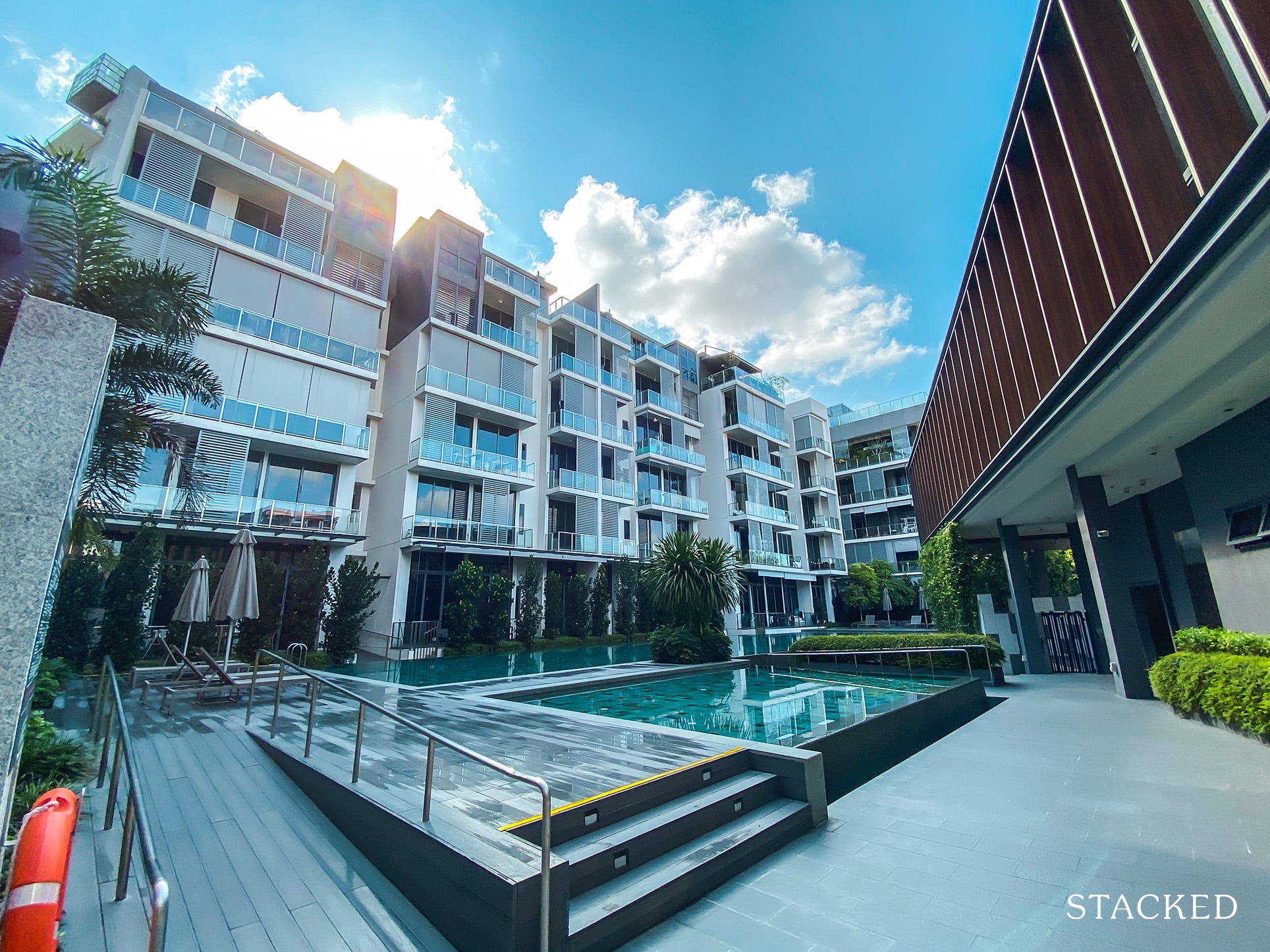 Robin Residences is perfect for those seeking a modern locale with convenience - being only 2 minutes to Stevens MRT. However, those with stricter budgets or who prefers condos with plenty of facilities may want to look elsewhere.
Reviewed by Reuben on 8 December 2019
What we like
Near MRT

Close to SCGS/ACS

Easy access to development
What we don't like
—

Road noise (for some units)

—

Can be hard to turn out to main road
17
min read
About this condo

| | | | |
| --- | --- | --- | --- |
| Project: | Robin Residences | District: | 10 |
| Address: | Robin Drive | Tenure: | Freehold |
| Site Area: | 88,749 sqft | No. of Units: | 134 |
| Developer: | Sing Holdings Limited | TOP: | 2016 |
While we're still waiting on a Batman Bay (might take a while), we've got trusty old Robin with the breakthrough he's been waiting for.
For our regular readers, you'd know that we've been foraging a little higher up on the Bukit Timah stretch in recent times. Our newest calling however, brings us to a sublime boutique development a tad downtown.
With just a little over 130 units present in this chic establishment by Sing Holdings, it is a good size for those looking to live in the central areas but yet are seeking some level of privacy.
For a relatively new project, Robin Residences definitely boasts above-average unit spaces – not to mention some pretty incredible facility-feats (we'll catch up to that in a bit) despite its size.
Add in its exclusivity, alluring freehold status, plus primetime locale and its demanding quantum begins to make sense.
Needless to say, you'd still want to pop in some solid research before looking for a resale unit here even if the prospects might seem incredible.
Robin Residences Insider Tour
Facilities in Robin Residences
Swimming Pool
Wading Pool
Sun Deck
Playing Lawn
Reflective Pool
Leisure Lounge
Meditation Deck
Children's Playground
Aromatic Garden
Tea Corner
Clubhouse
Function Room
Gymnasium
Recreation Tennis Court
Viewing Pavilion
Barbeque Corner
Sky Lounge
Party Pavilion
Car Park
24-Hour Security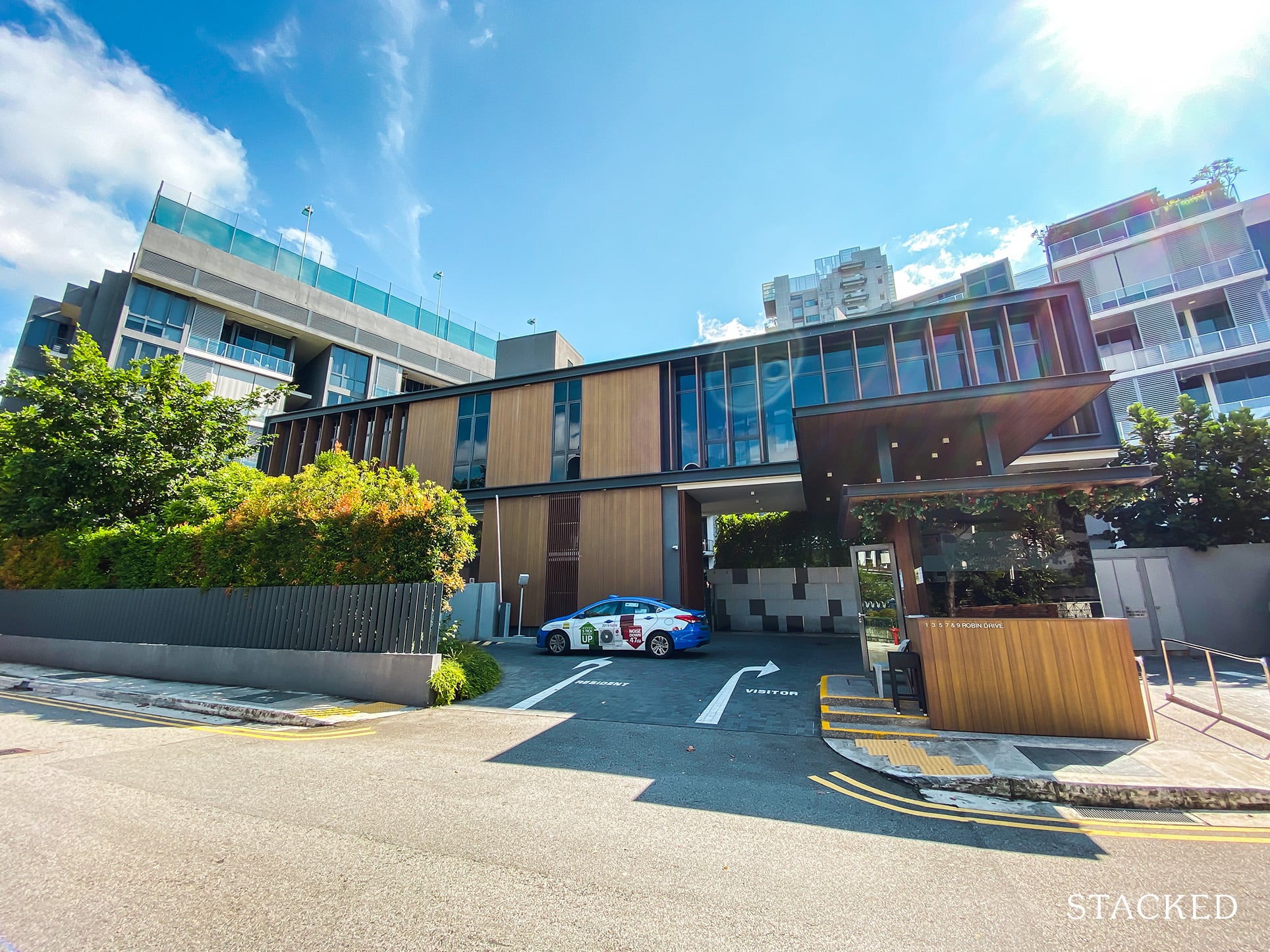 The entrance to Robin Residences is located along Robin Drive. As mentioned earlier, it is not a big development with only 134 units. One thing I really like is that there is more than one way to drive back home – via Bukit Timah Road and Stevens Road.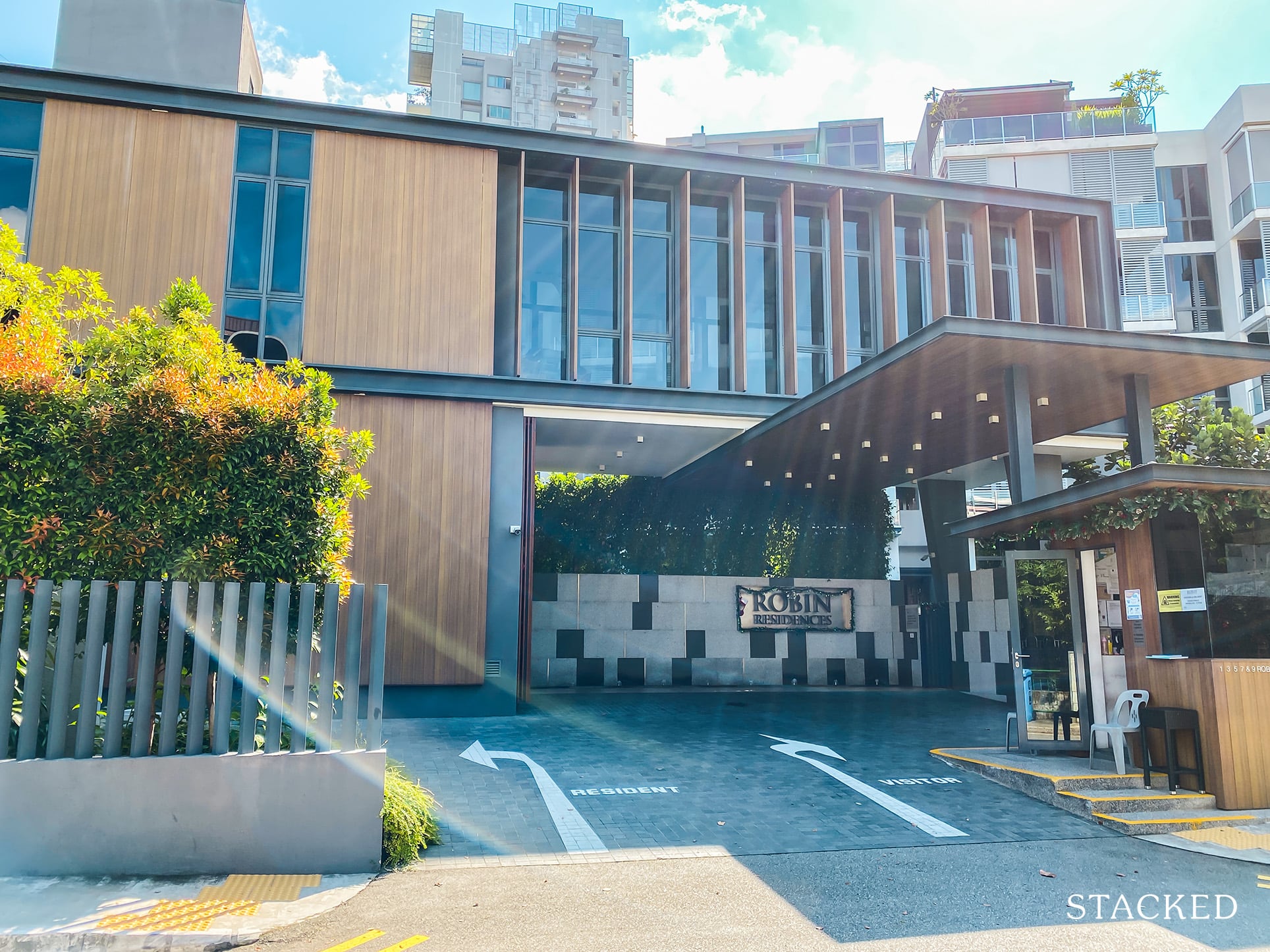 There is a nice sheltered drop off point, of which you get a nice view of the clubhouse situated above.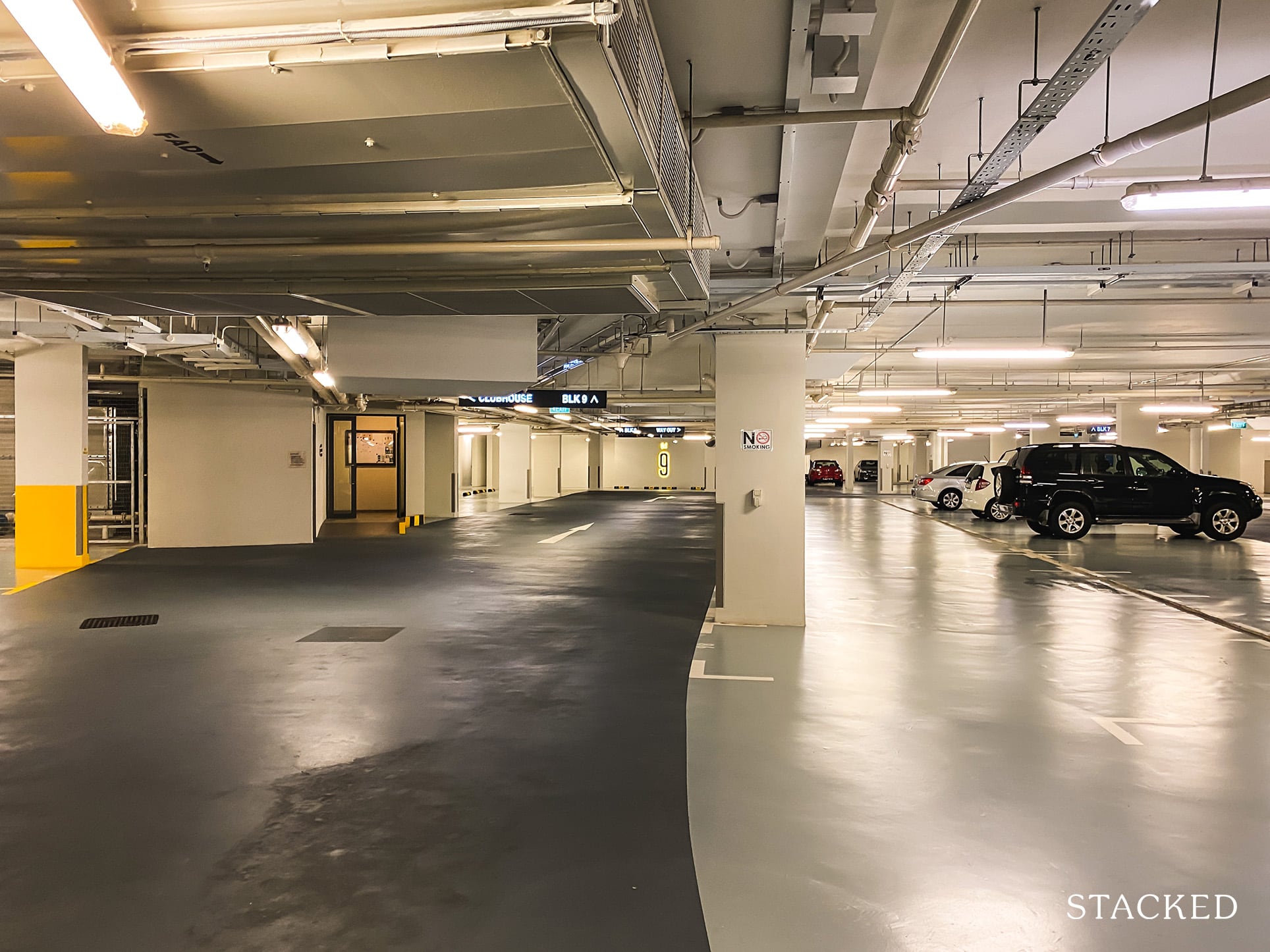 Let's take a look at the carpark first, it's bright and the smooth flooring makes it feel suitably high end. It's one carpark lot per unit, but there should be a high number of rentals here because of the location, so you don't have to worry too much about carpark space.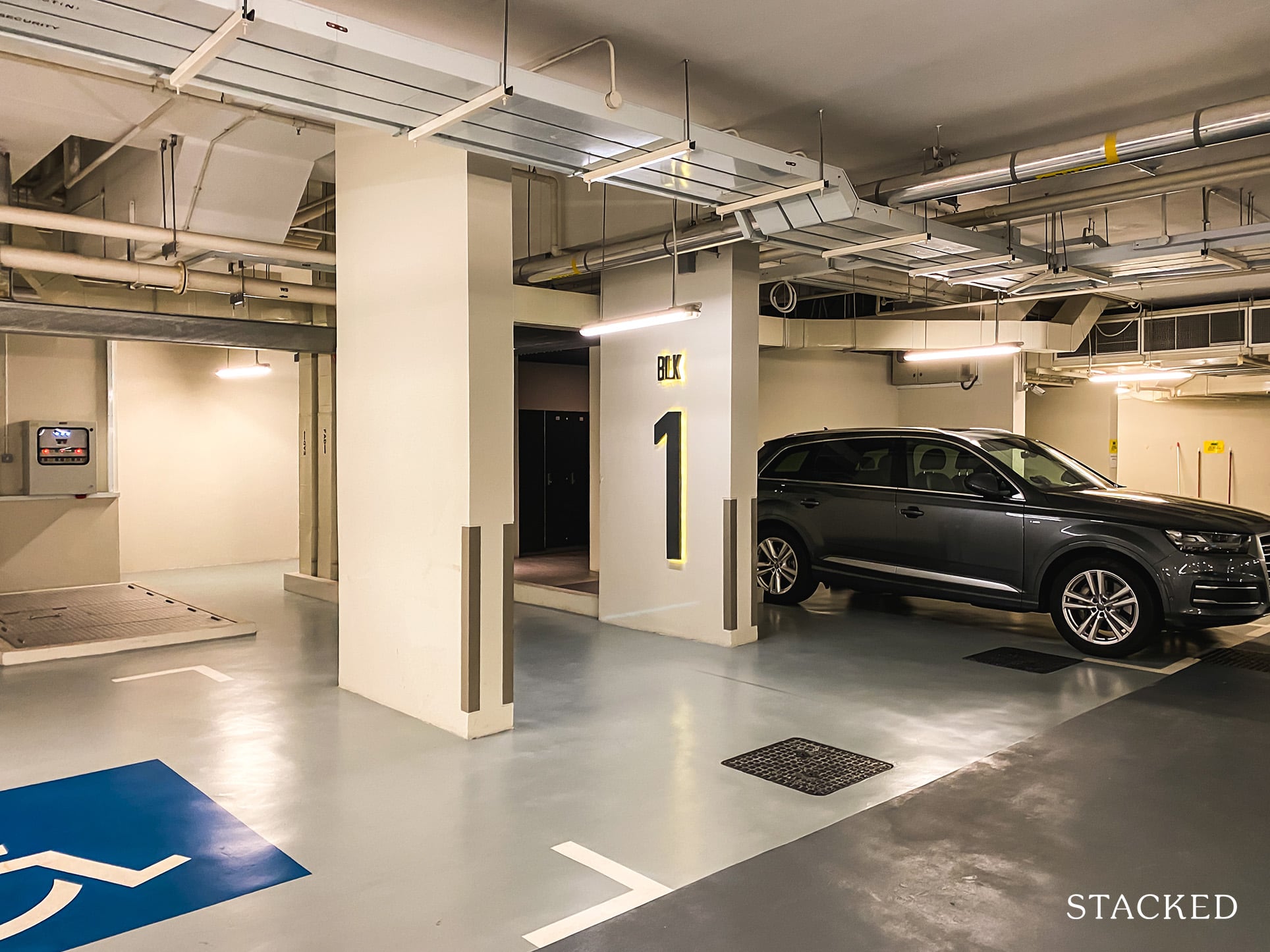 Each lot is also quite spacious, which is always good if you own a bigger car.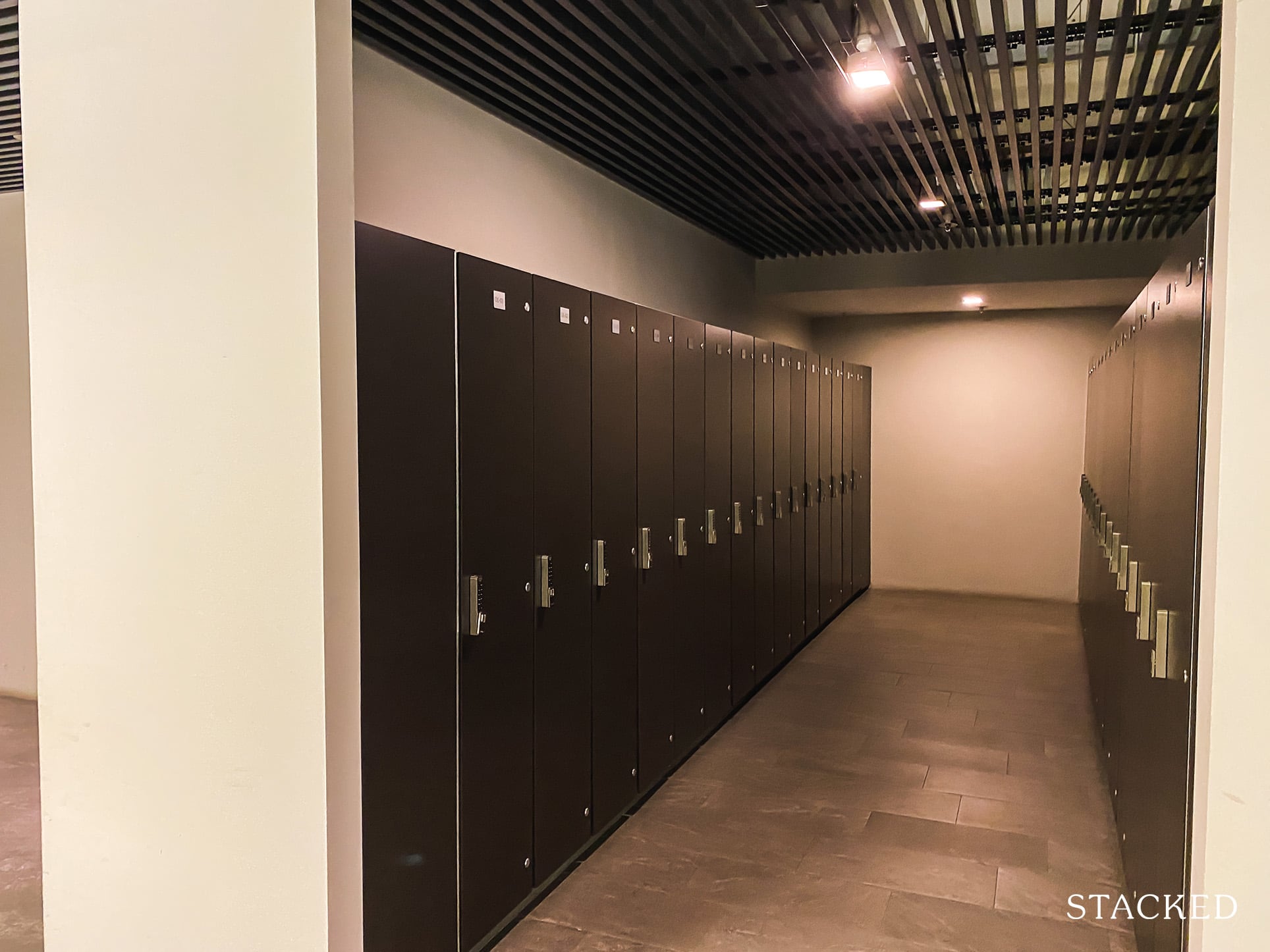 Each unit also has its own locker, which is located just at the entrance of each block. It's meant to be a golf bag locker, but with the way golf clubs are starting to be phased out, I highly doubt these will be used for its original intention. Instead, think of it as more flexible storage for yourself.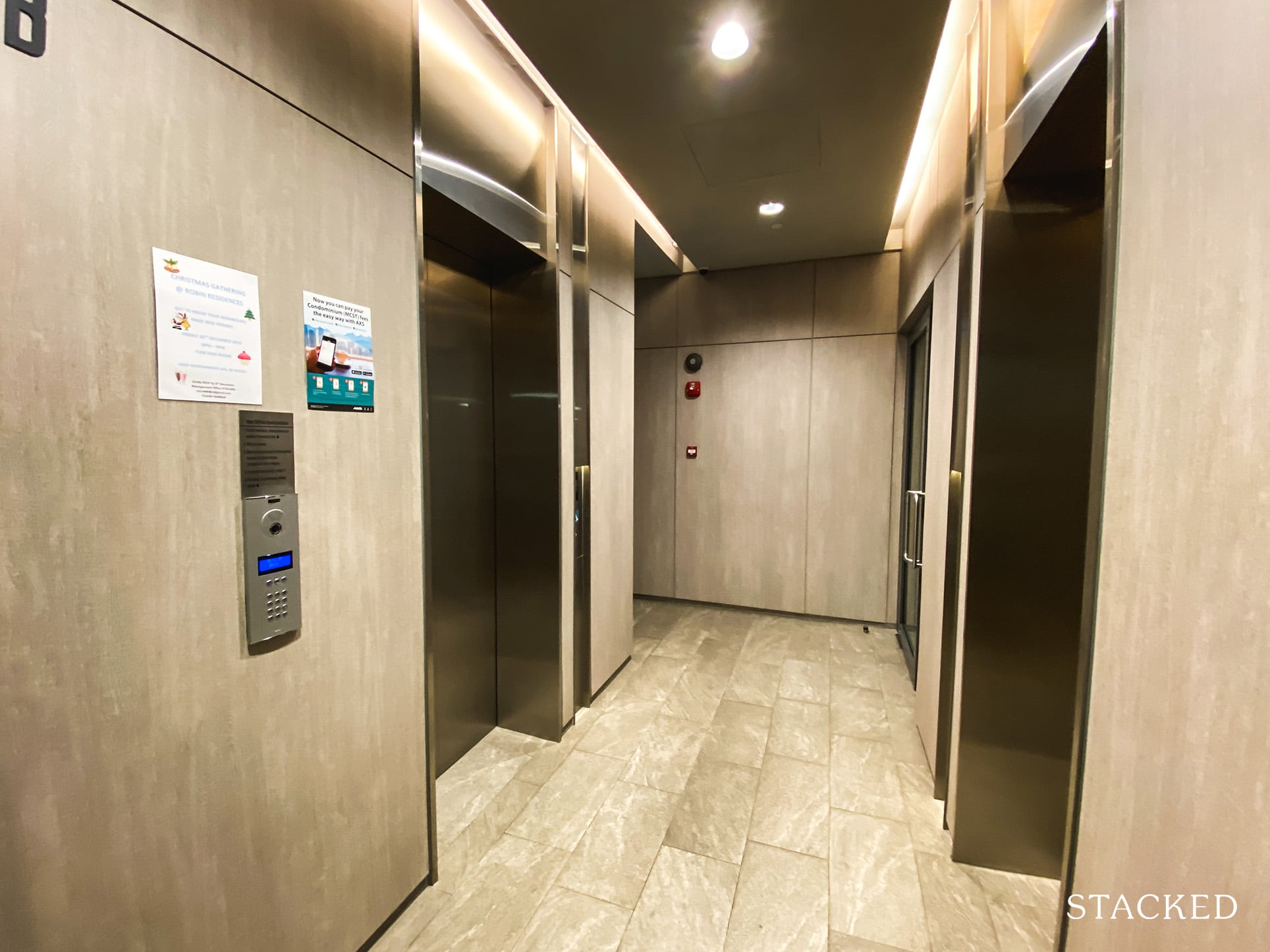 The lobby is very minimalist looking and it still looks almost brand new despite the nearly 3 years of age. There are no private lifts in this development, although you do get an air conditioned lobby. It's lovely during hot days that's for sure.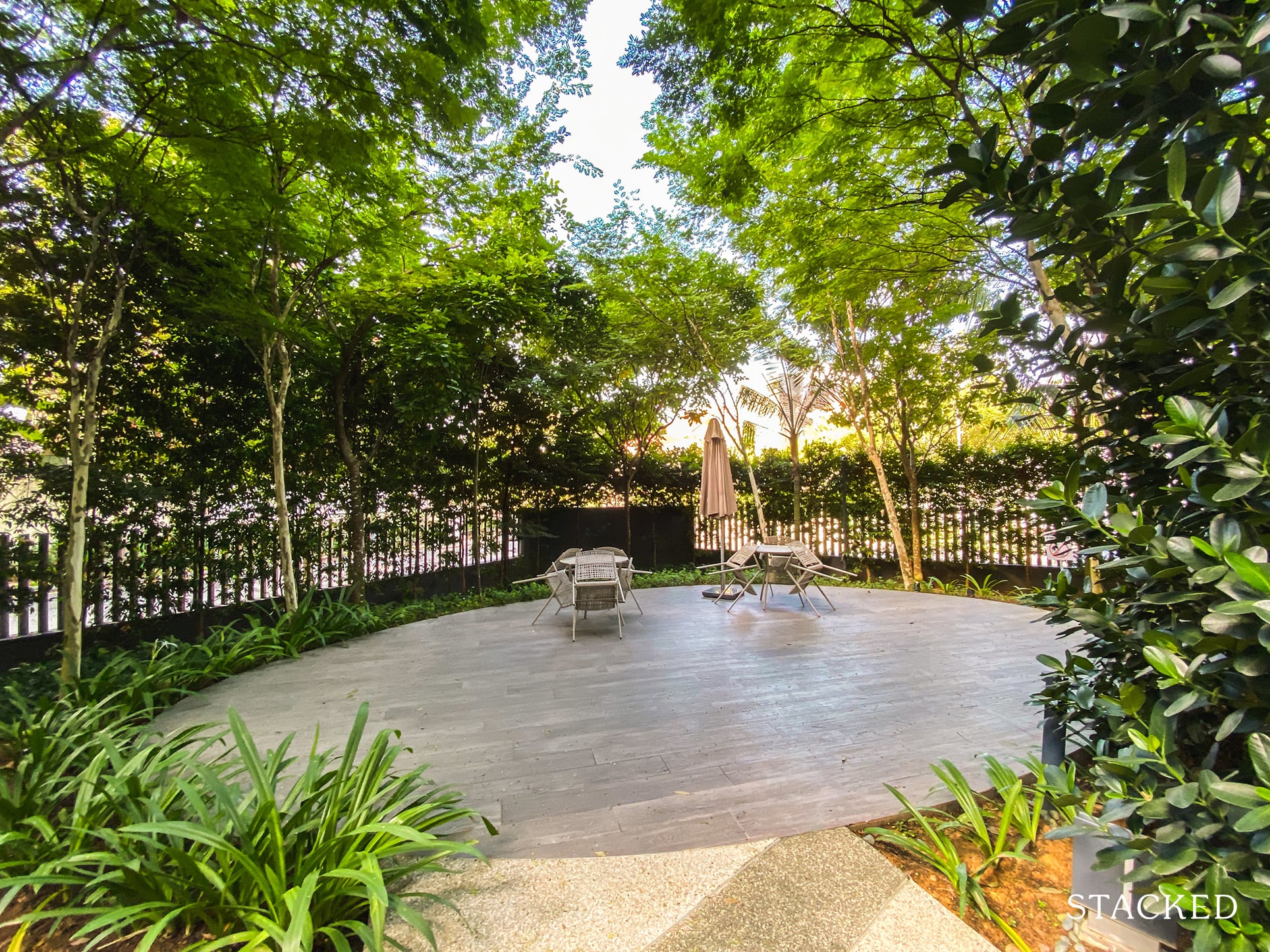 Once you get up to the first level, there is an open seating area that faces the back towards the landed houses in the Robin enclave. Bonus points goes to the privacy here because of the thick foliage surrounding it. Also, because of the landed houses, you don't get any high rise buildings looking directly in. This would actually be a great place for another barbecue area, even though there is already one on the roof.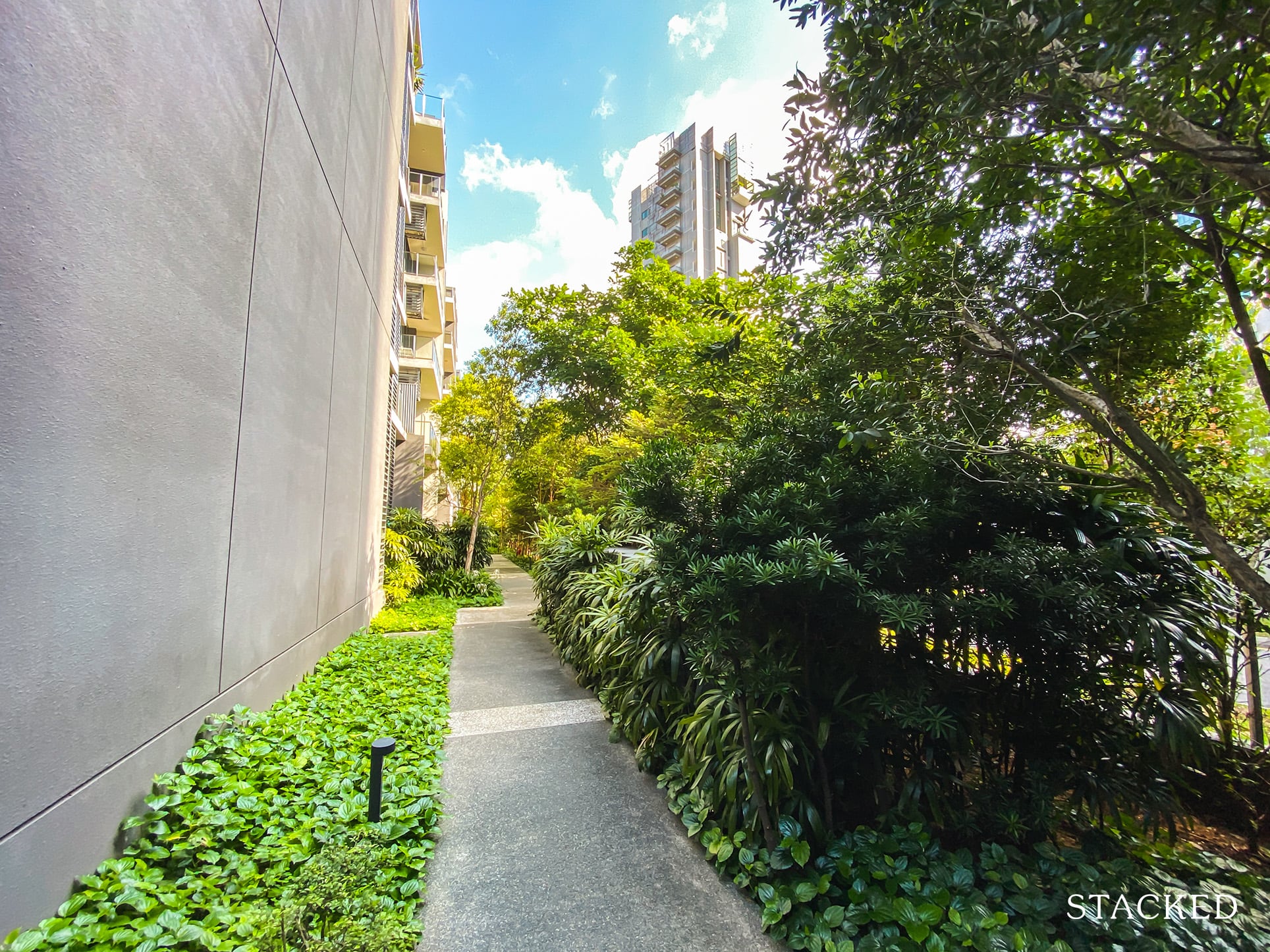 On the side facing Robin Road, there's a walking path that runs all the way down the development. Again, it's not a big project at all so don't expect to be walking your dog here (unless it's a tiny one). The good news? The Robin landed area is lovely to walk, it's peaceful and rather quiet.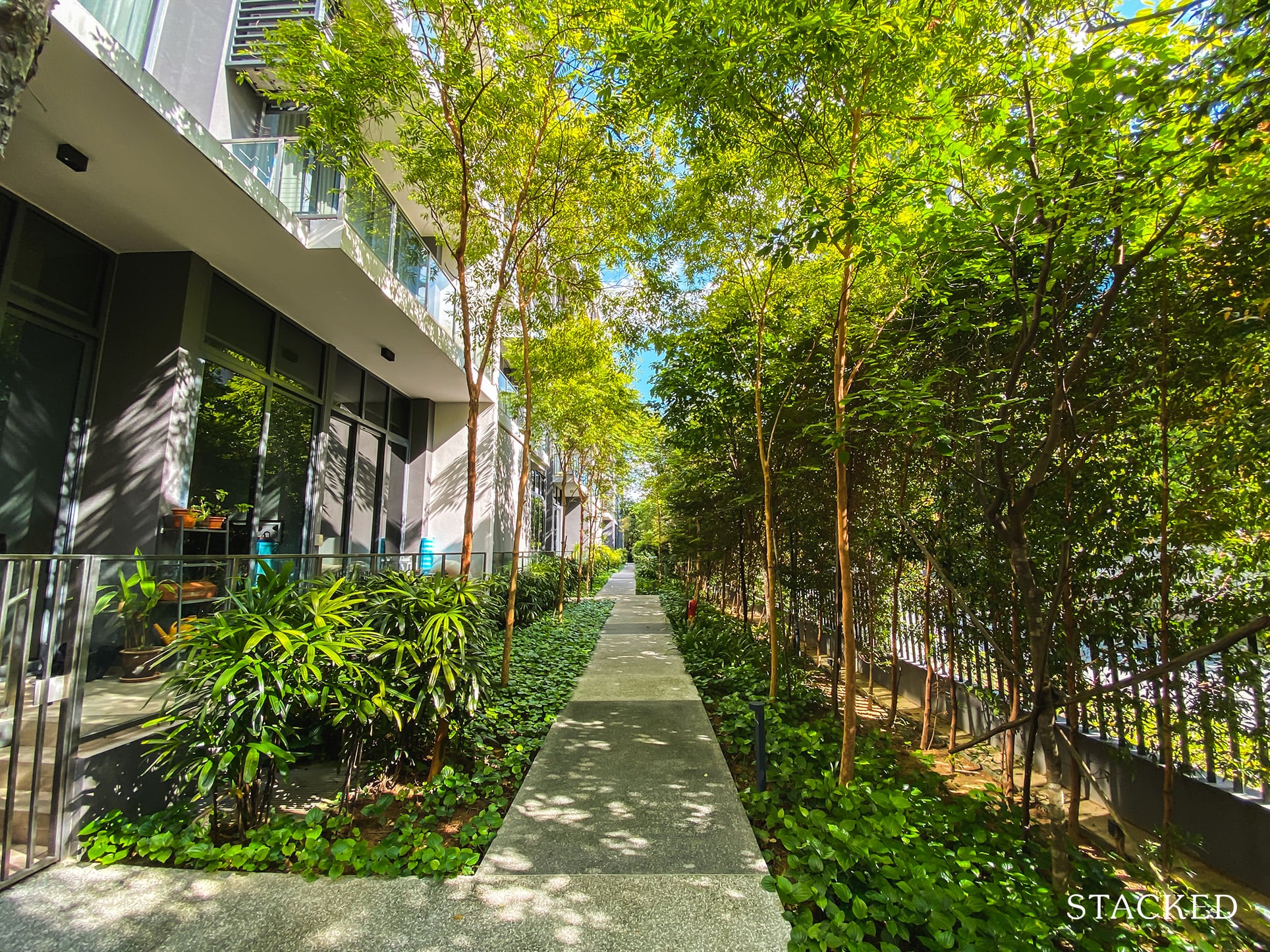 As you can see, even on a bright sunny day, the path is very well shaded by the landscaped trees.
Here's something you don't see very often – 3 side gates spread across a surprisingly small stretch along Robin Road.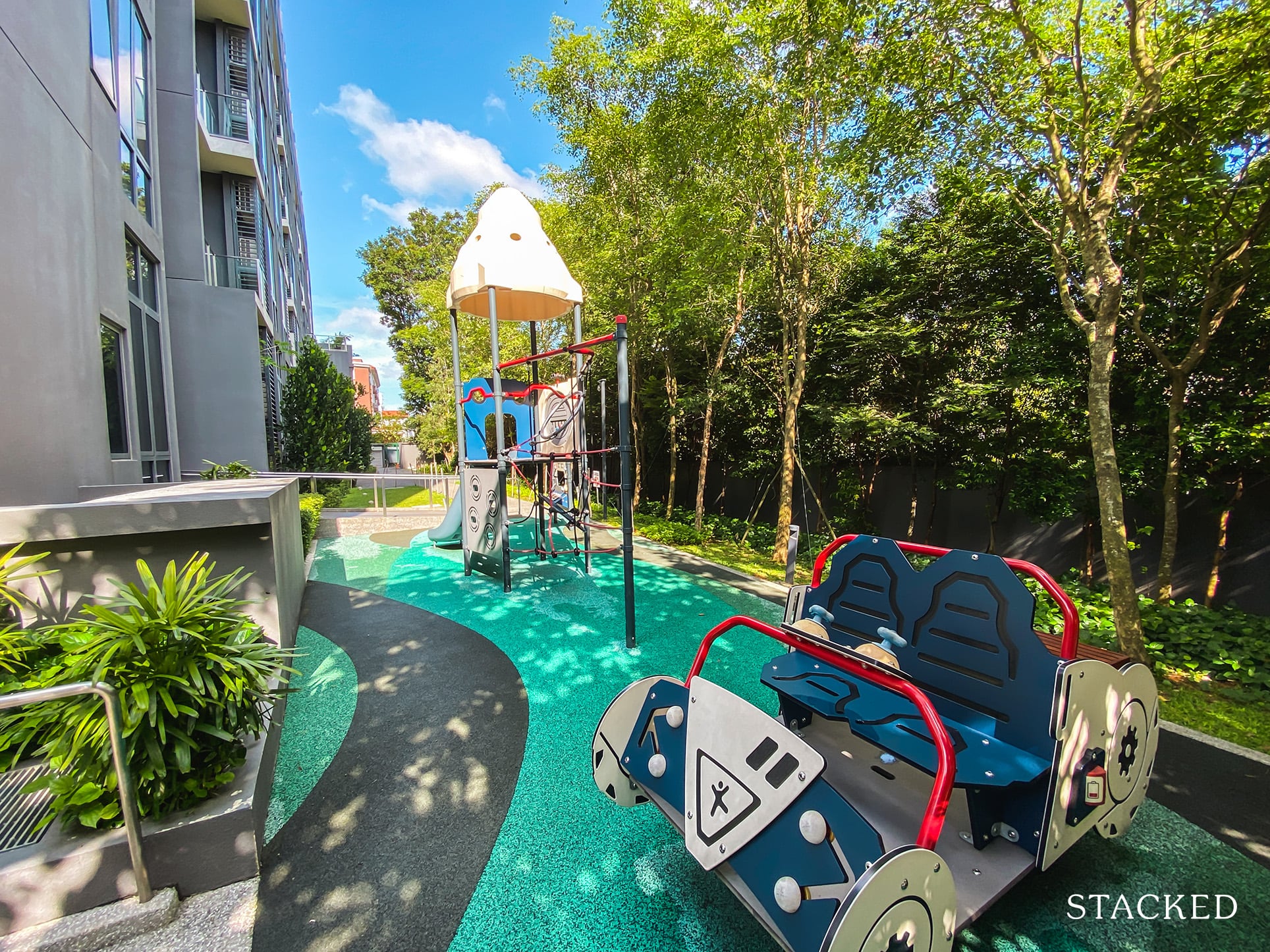 If you walk all the way to the front of the development, you'll find a small playground area for the kids. It'll be sheltered by the trees depending on the time of day – though it isn't the most conducive place given the spillover of traffic noise from Bukit Timah Road.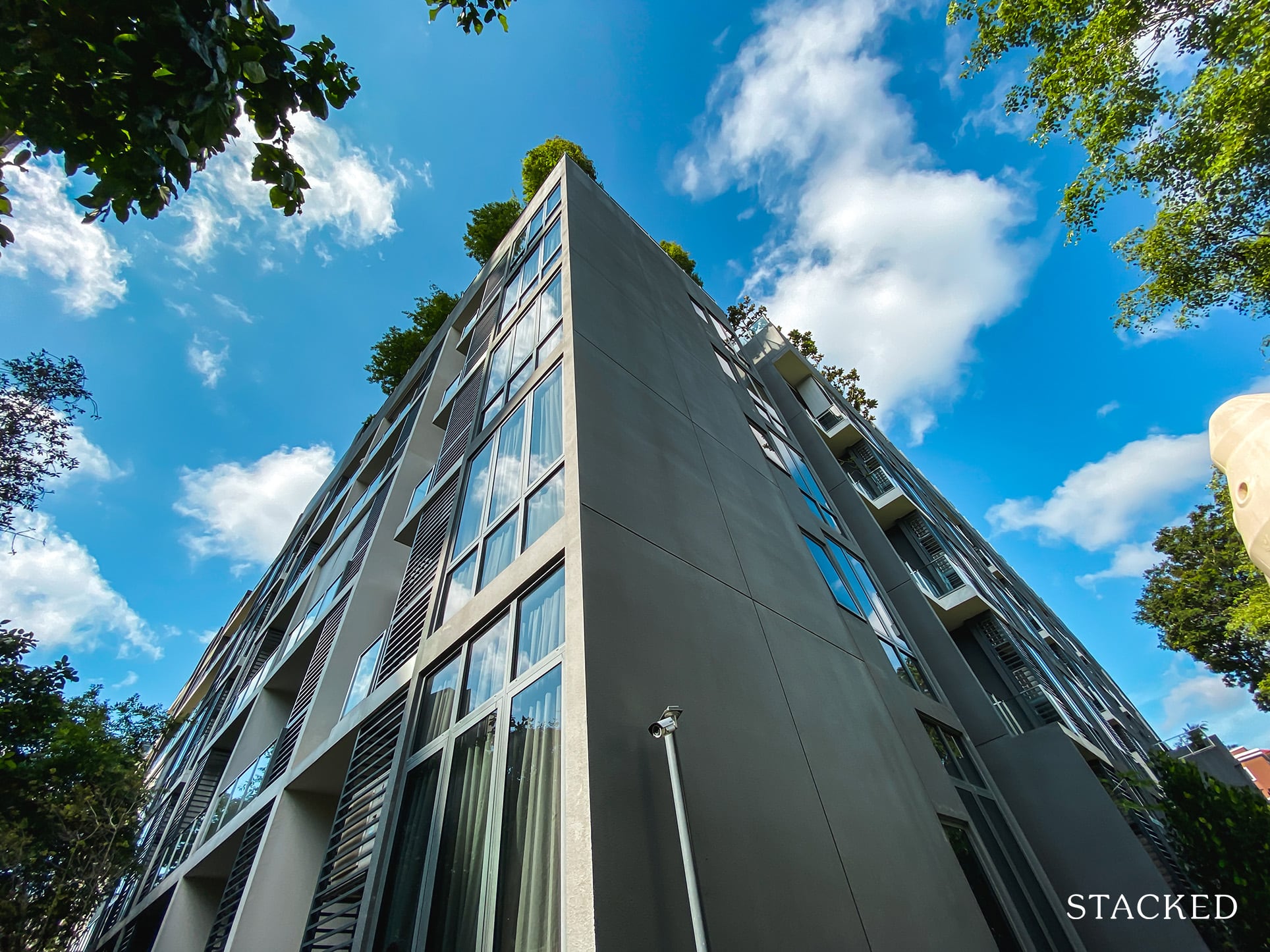 Up next: A peek at the peak!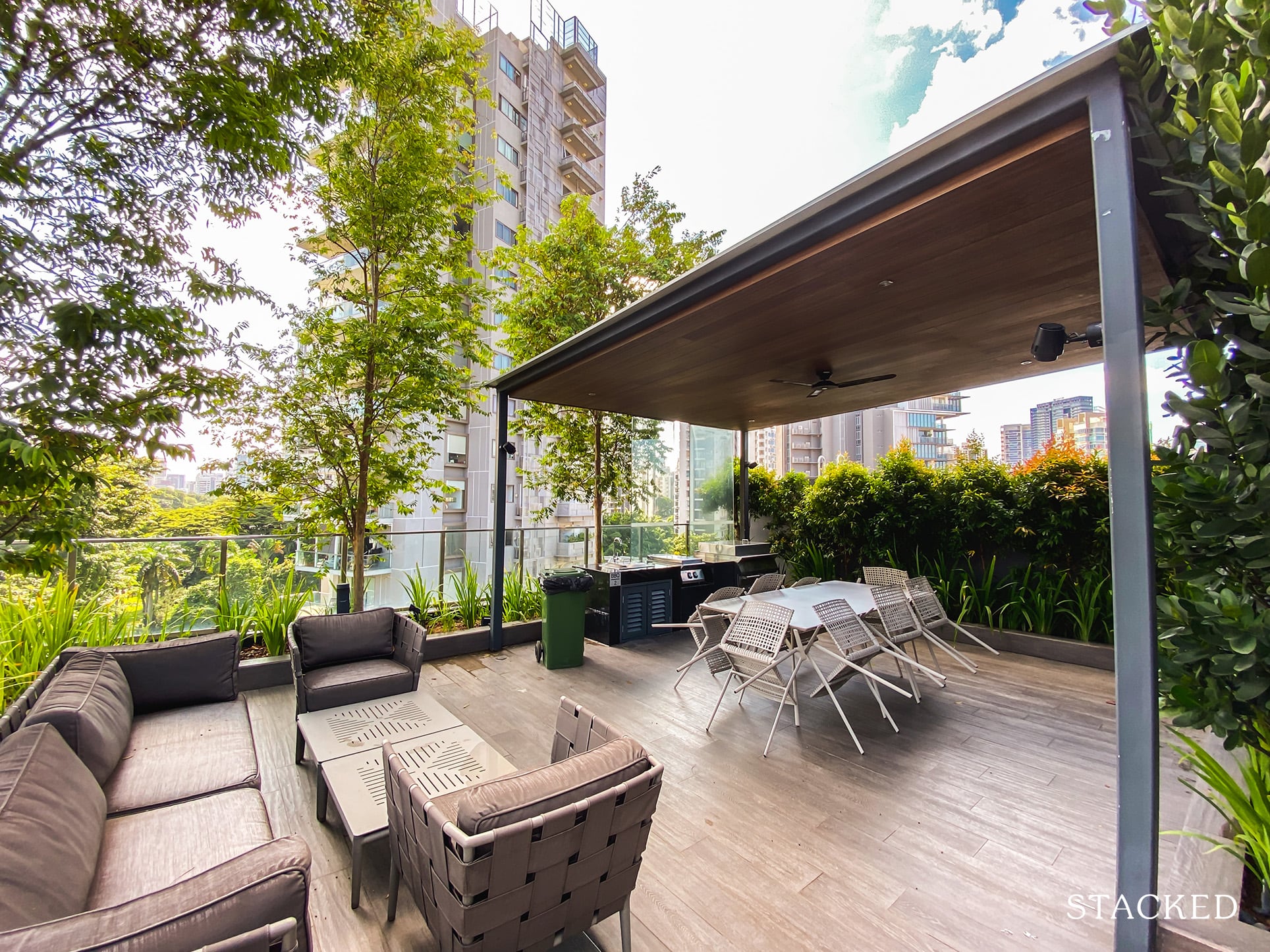 Located on the rooftop of the Robin Residences is the outdoor dining area. The design is very sleek and chic with adequate shelter and a good number of seats (ranging comfy and practical). While admittedly not very high up, the view over Bukit Timah is relatively scenic given the low-rise nature of developments here.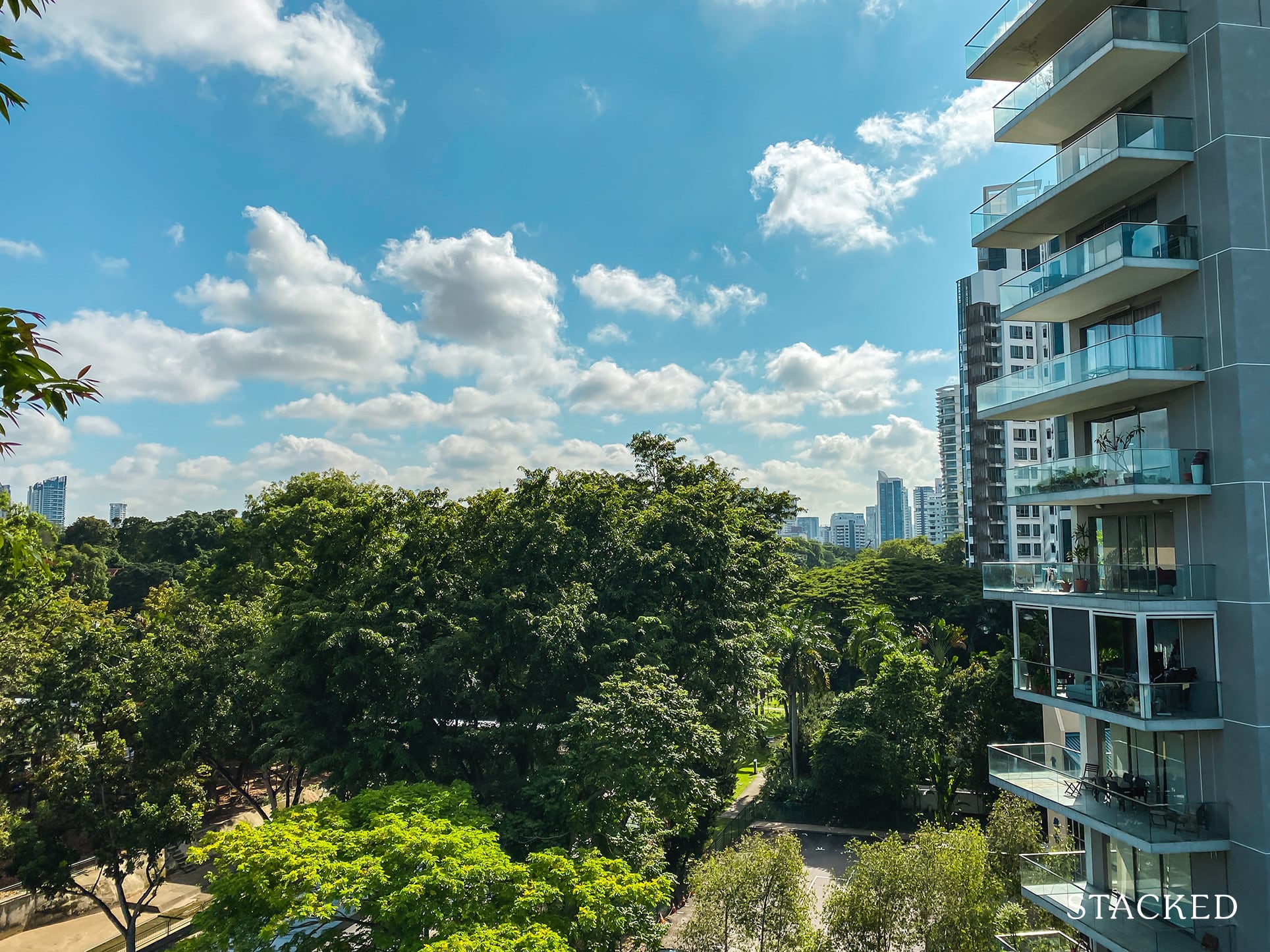 Even though you are in such a central location, it's still quite amazing to see this much greenery in this part of town.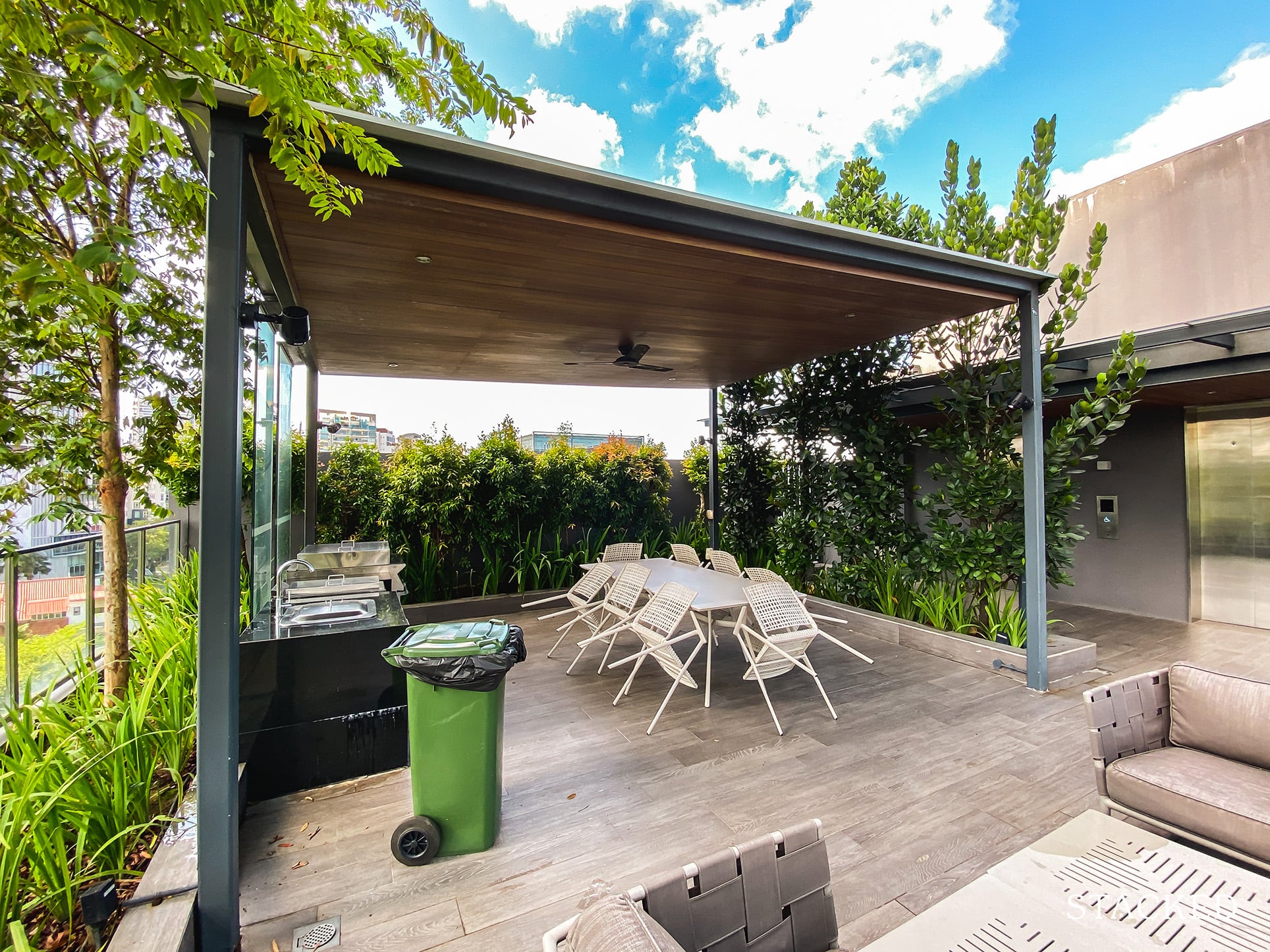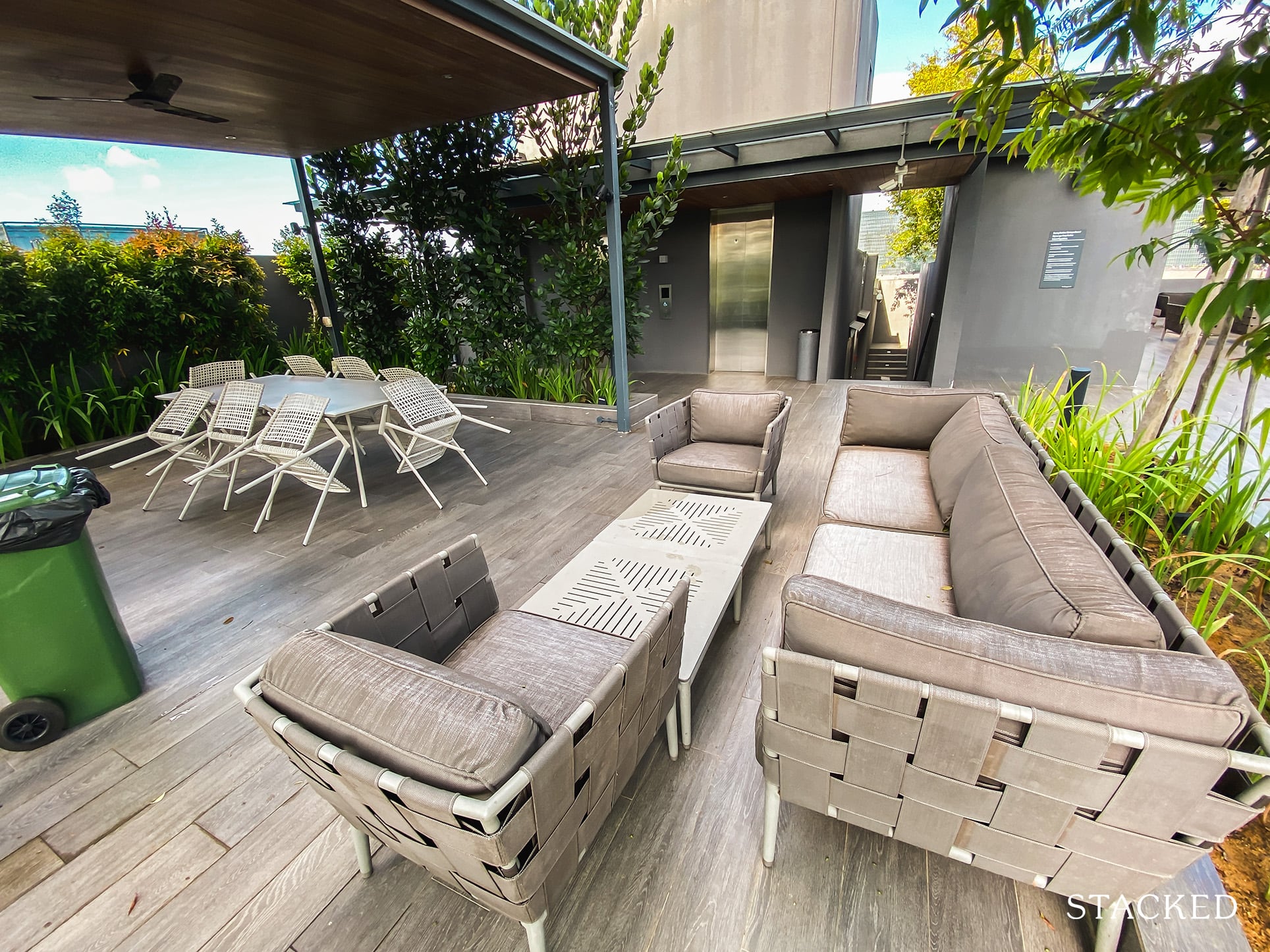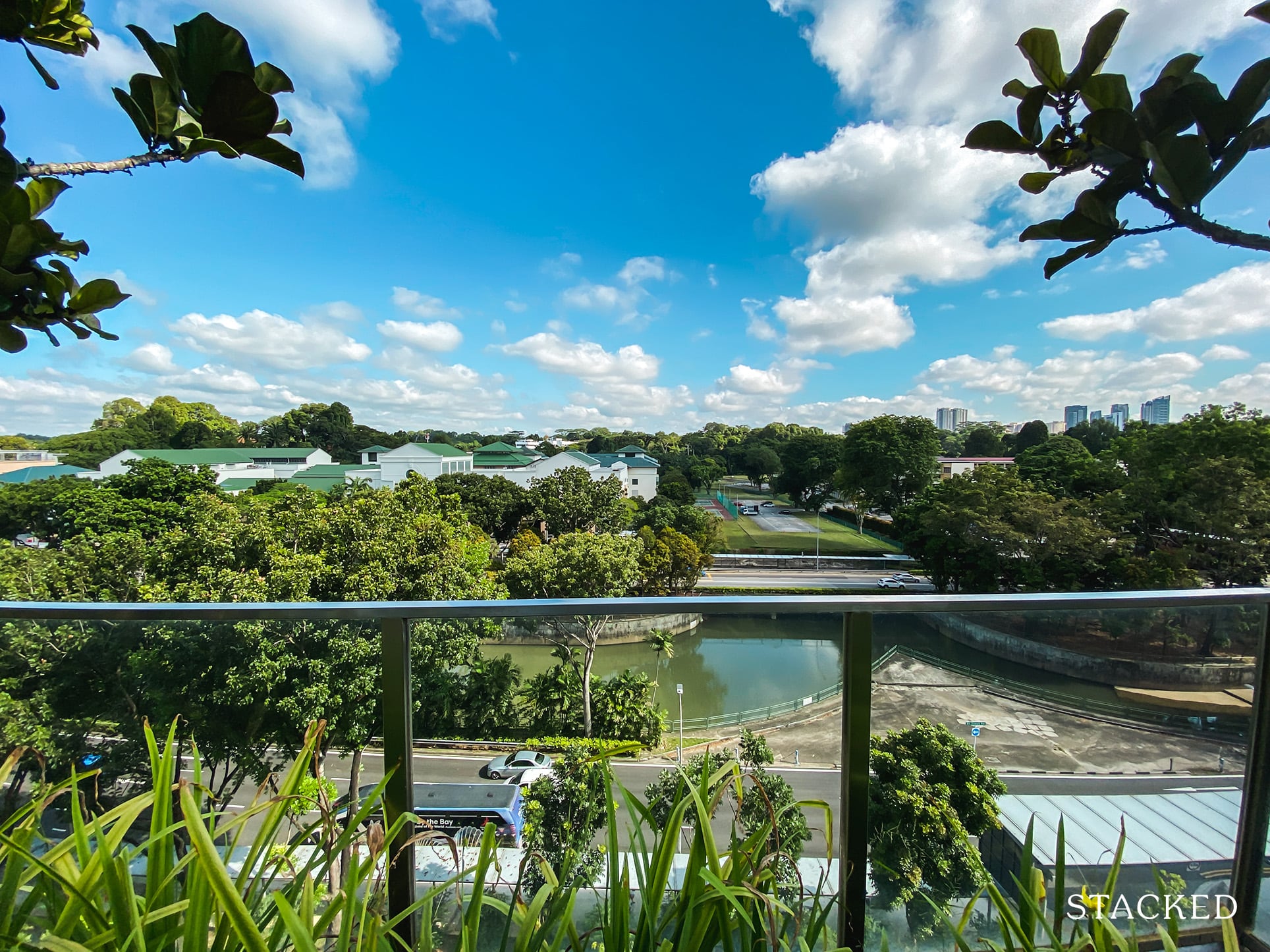 Over on the other side is the view of SCGS (Singapore Chinese Girl's School). In between the condo and the school lies an overhead bridge – so it really doesn't get much nearer (or safer) than this!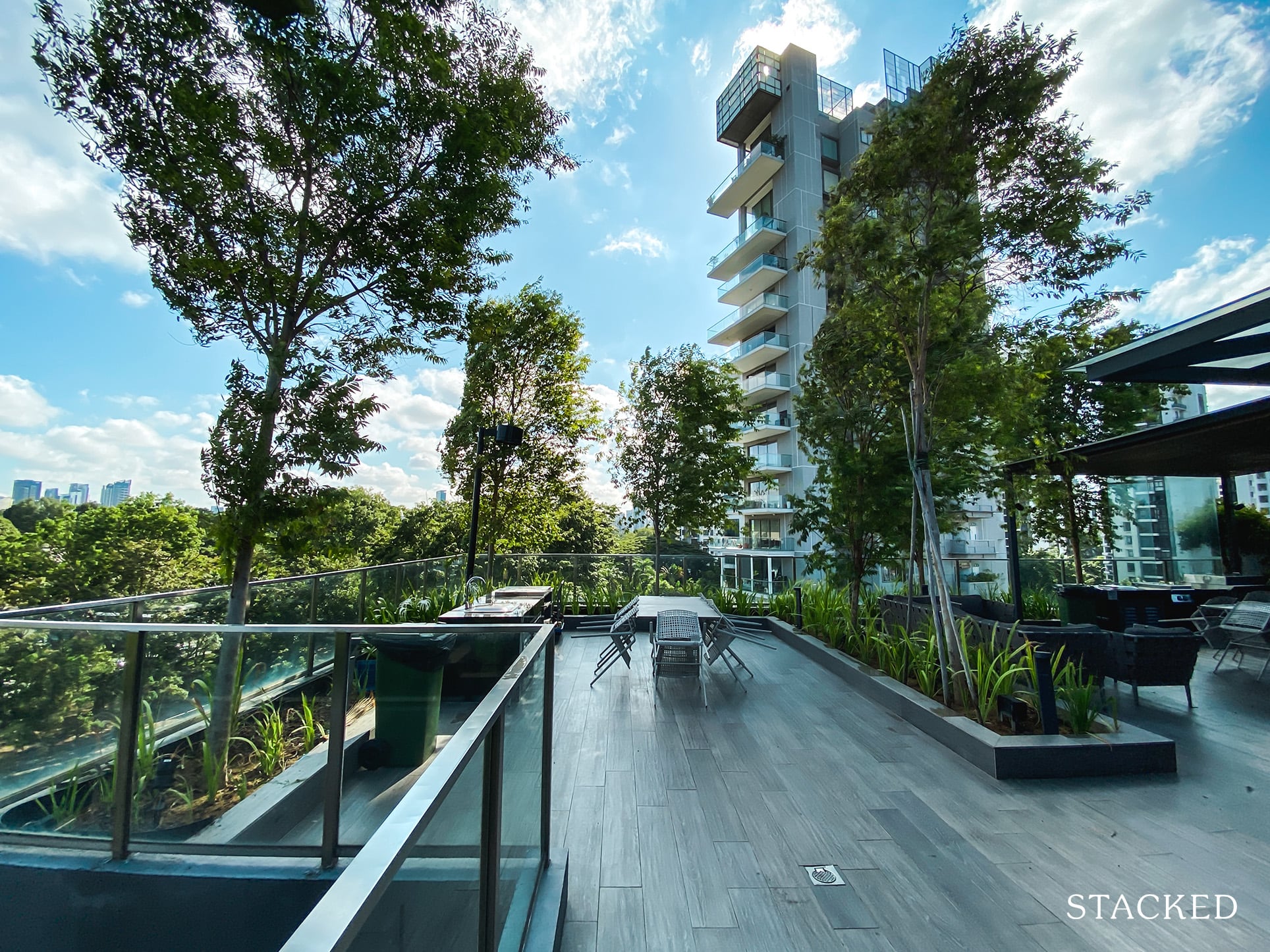 There is a barbecue pit over at the corner too. While this one isn't sheltered, this is definitely the best spot.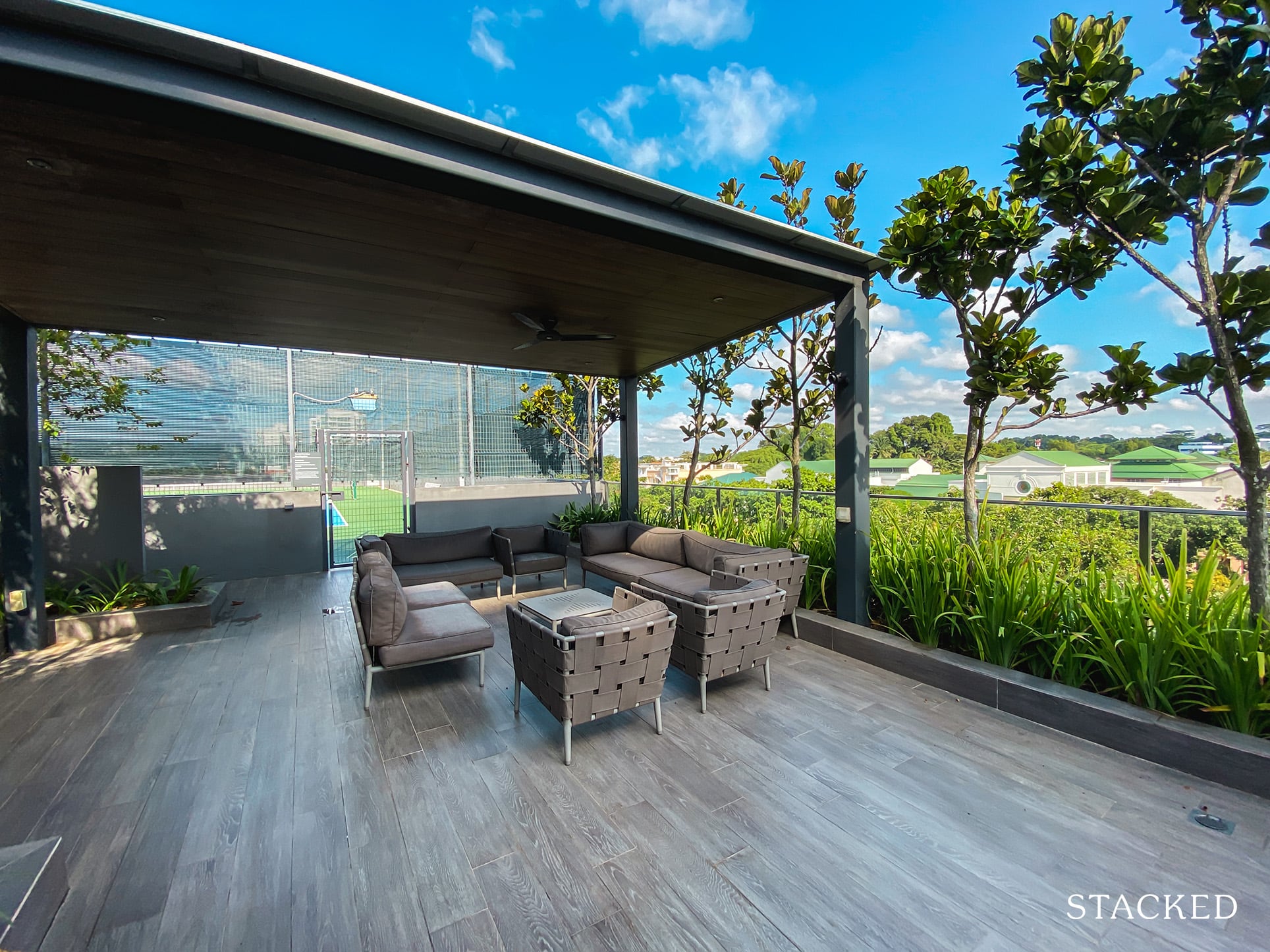 And if that's not enough, there is still even more sheltered outdoor seating at the back.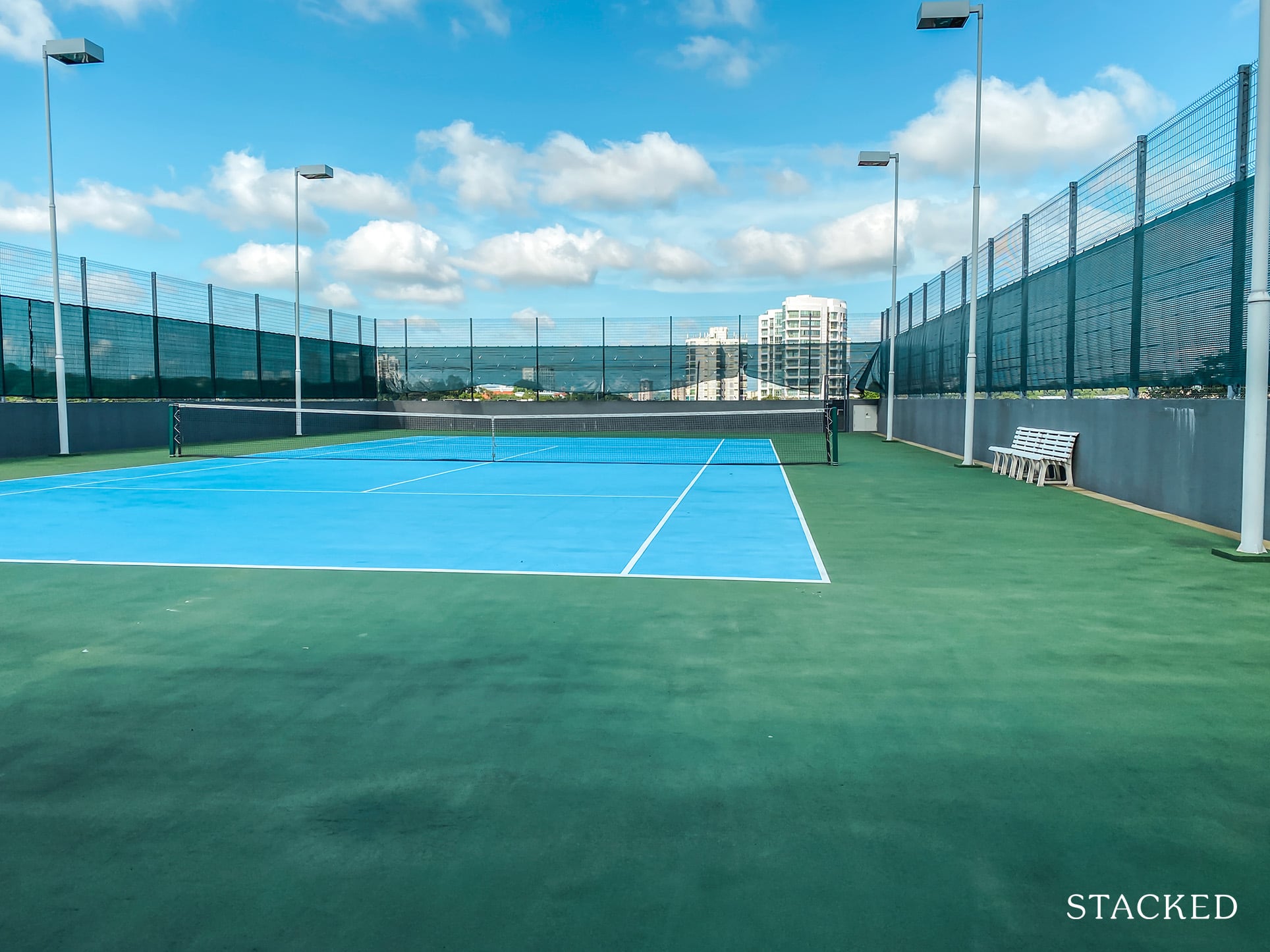 And yes, your eyes have not deceived you. There is actually a rooftop tennis court, although you have to be more careful about smacking the tennis balls too hard here! It's really impressive that they managed to include one, despite the small number of units. Plus, how many people can boast of having a rooftop tennis court in their development!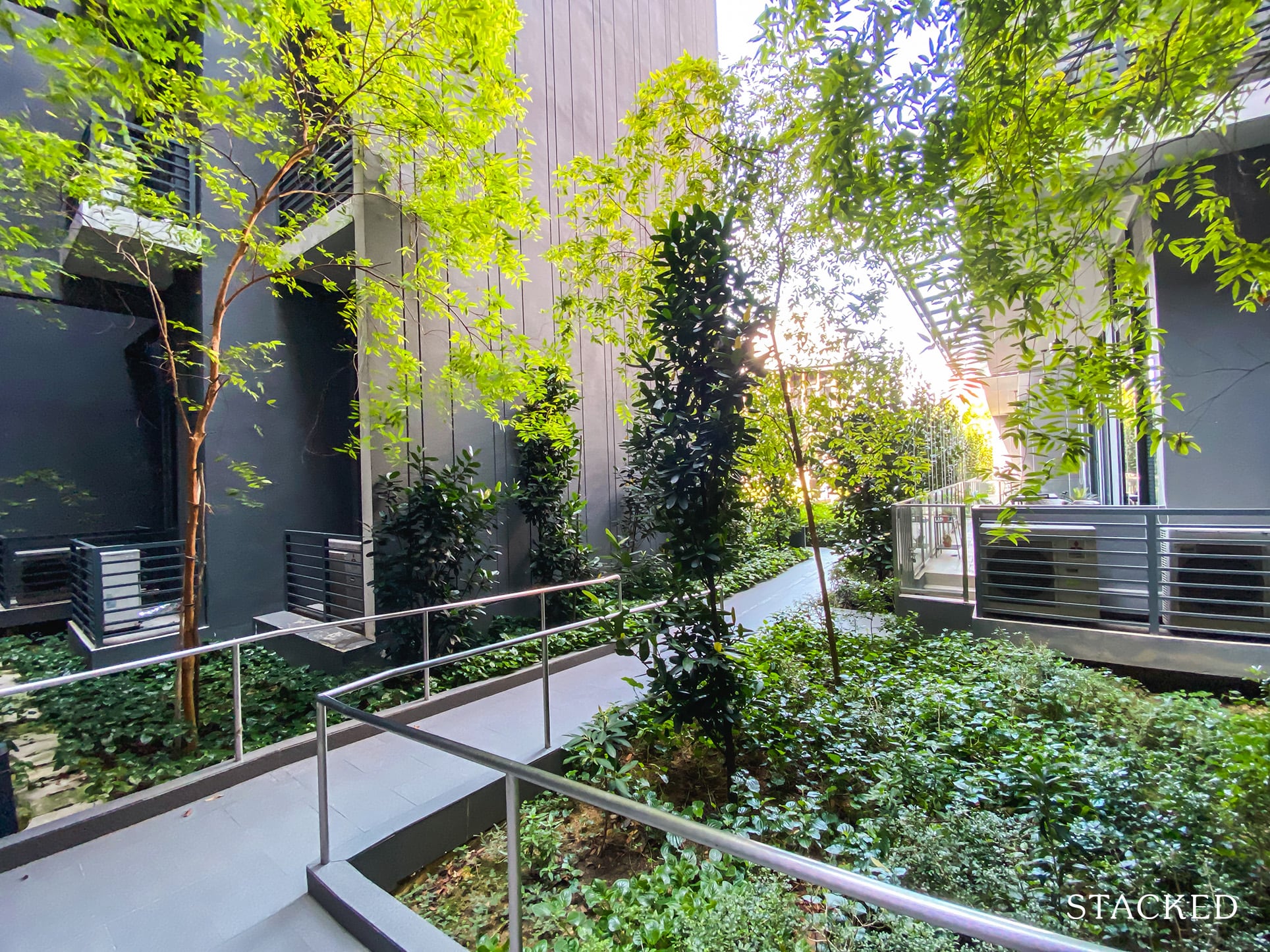 Next up is the swimming pool and clubhouse on the first level.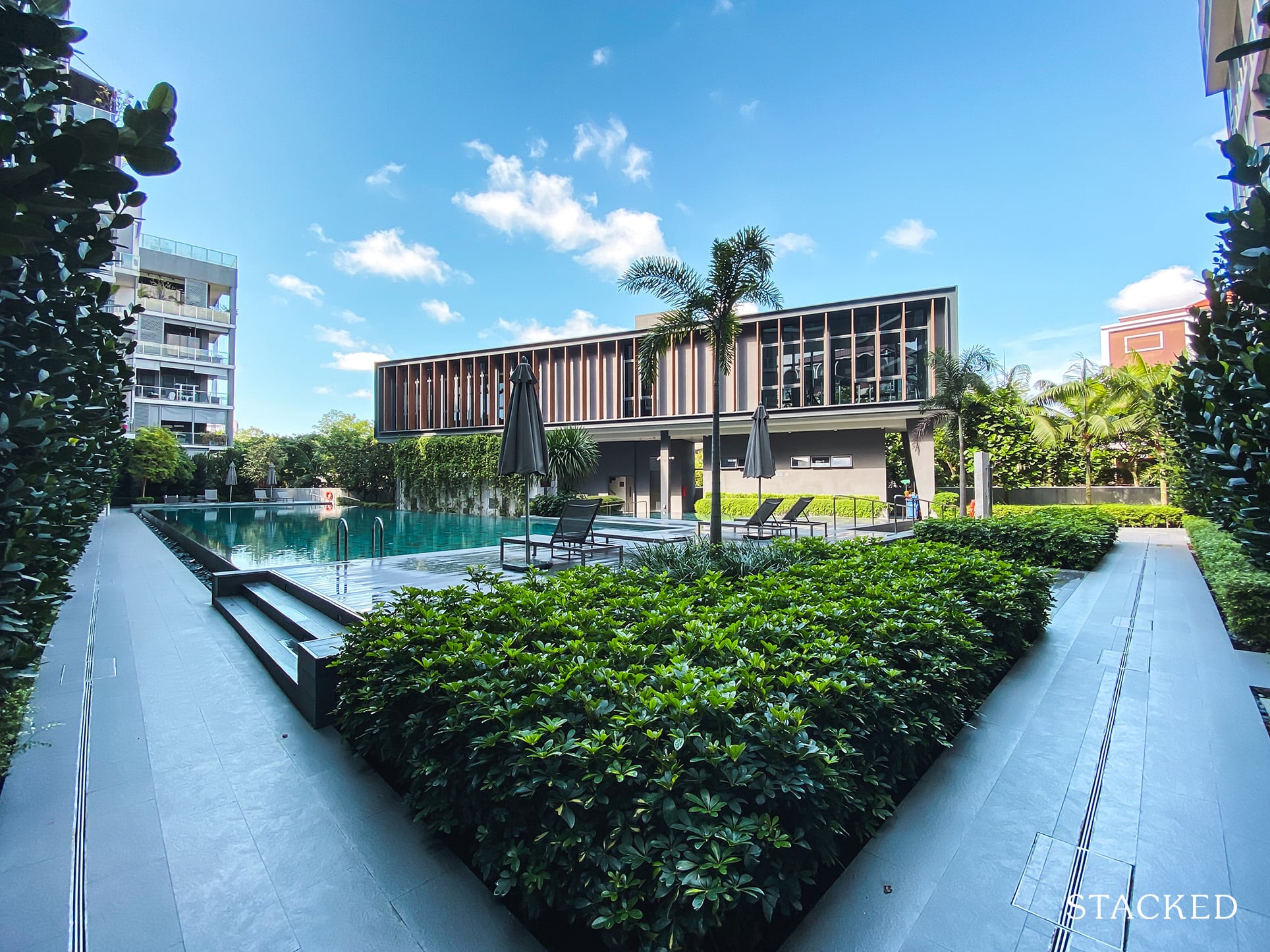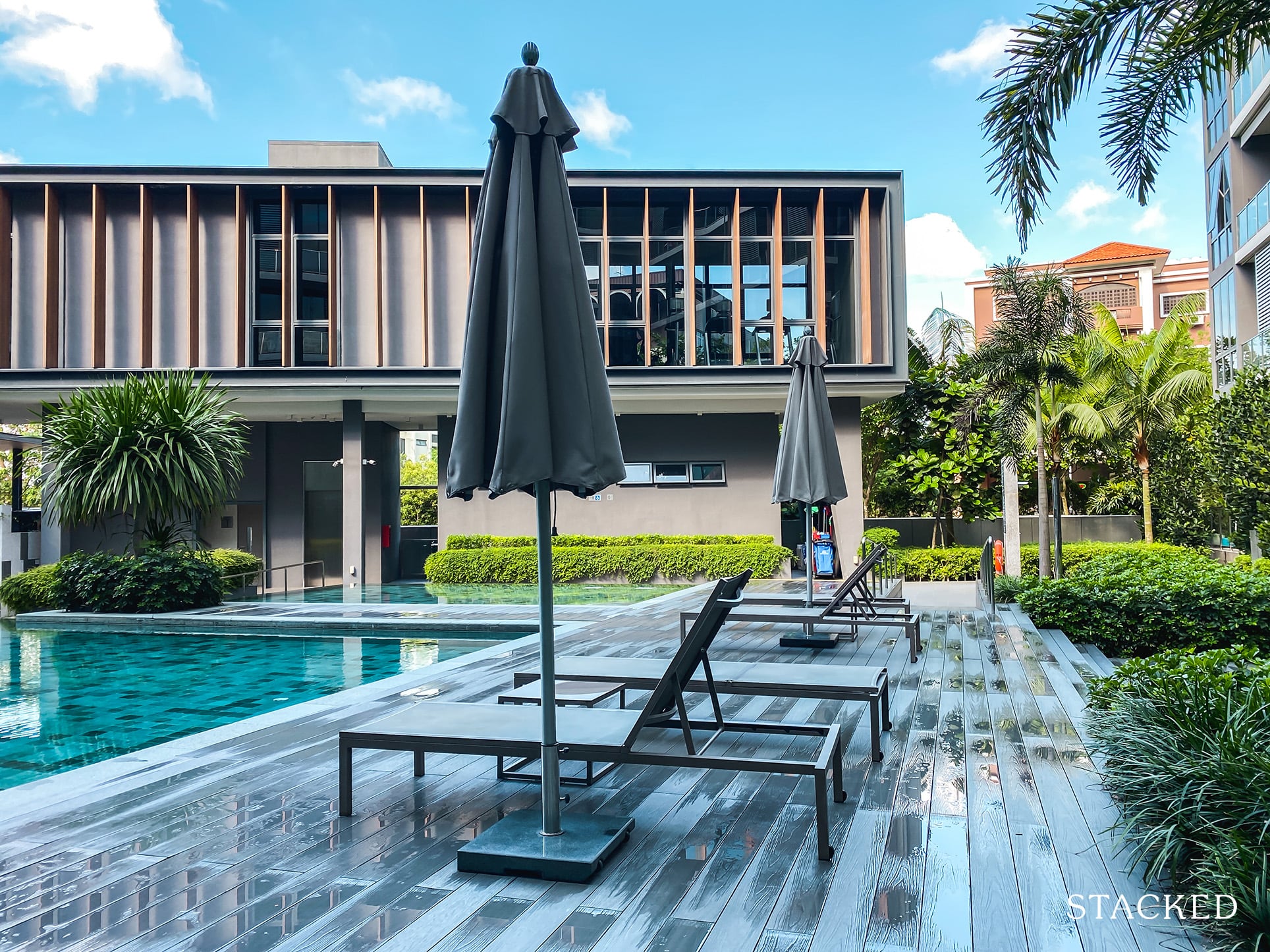 Both ends of the pool has wooden decking with a couple of deck chairs and umbrellas.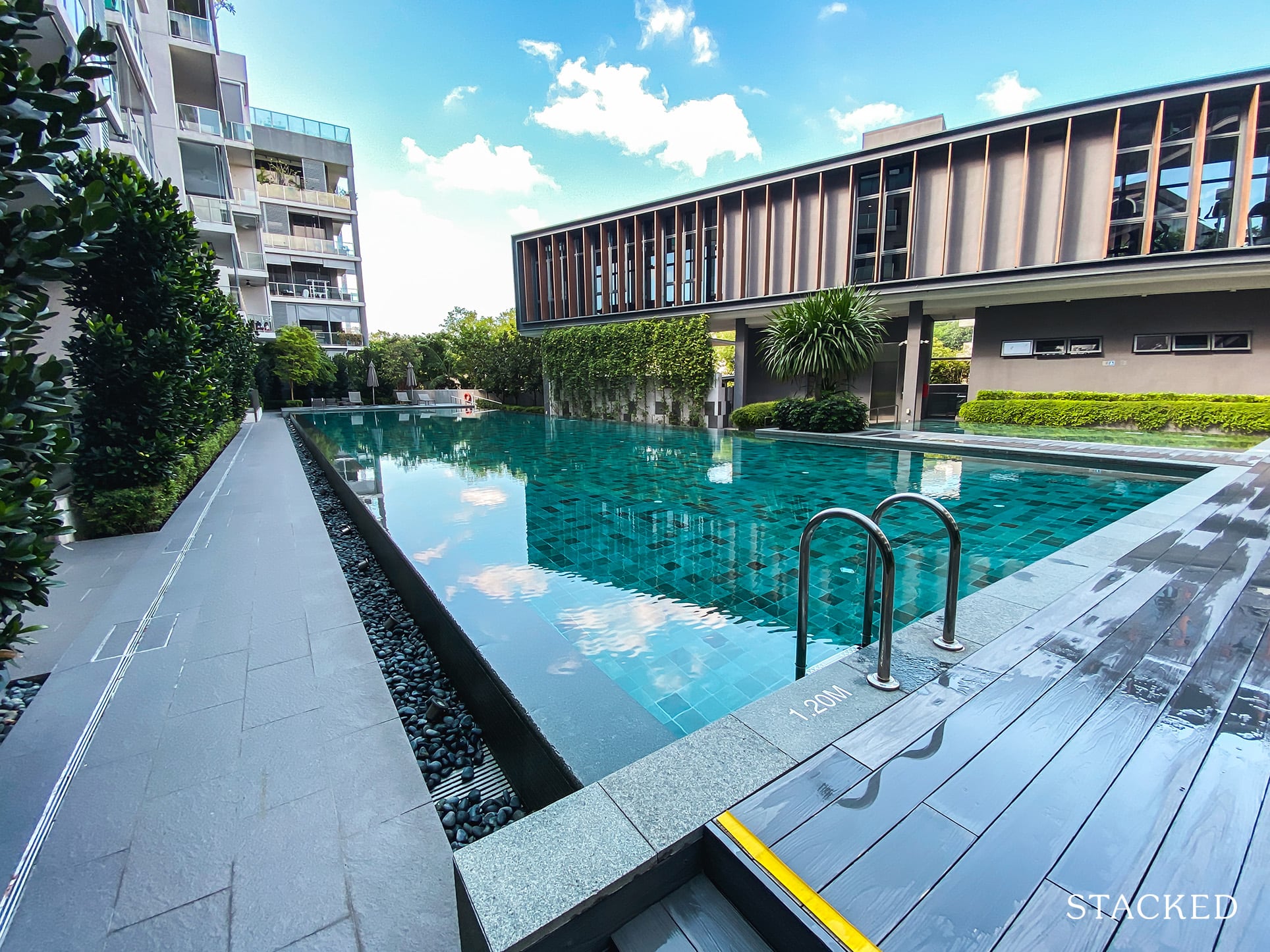 The pool itself is actually quite big considering the number of units.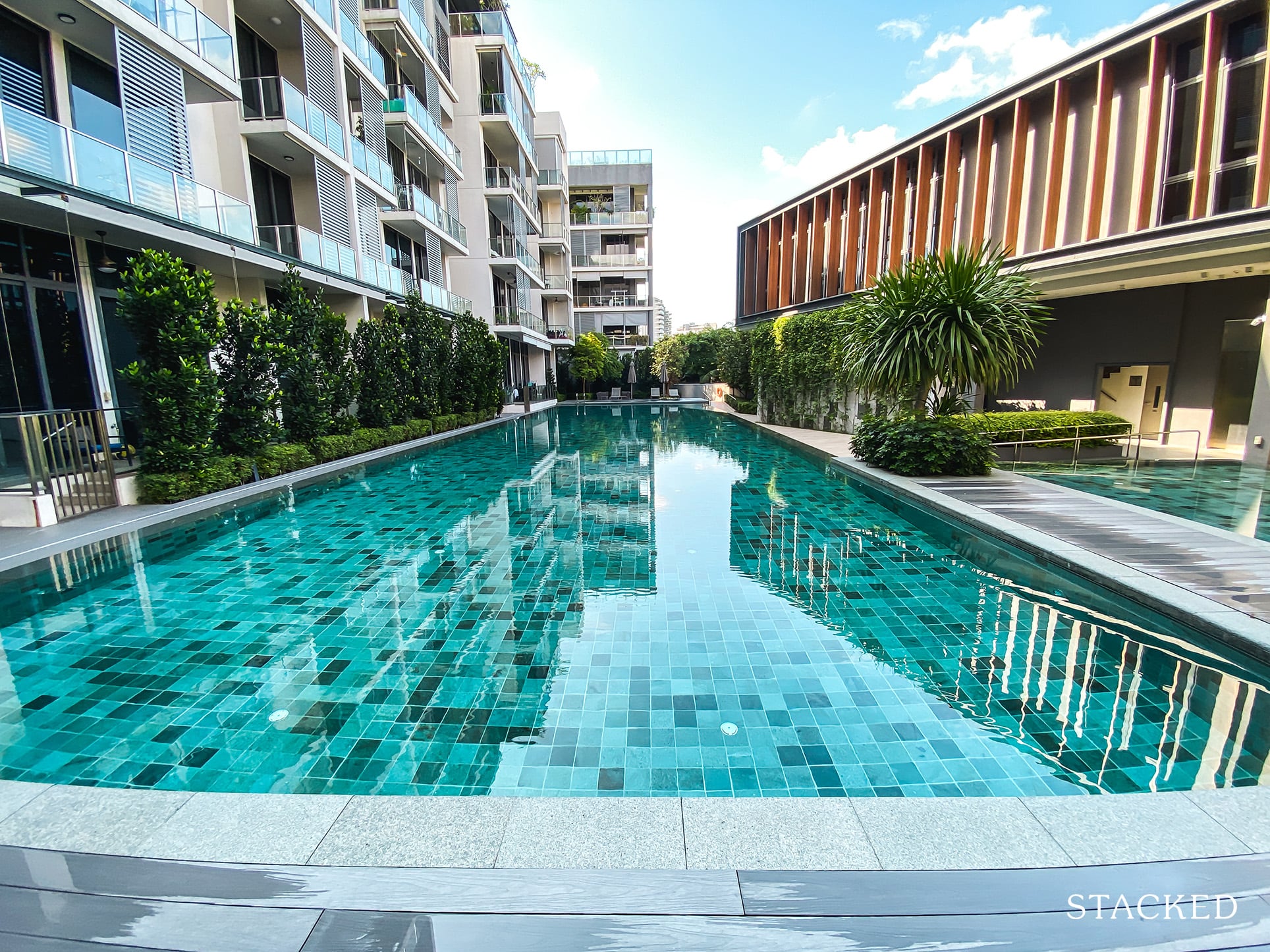 You can definitely do some serious laps here! One downside is the close proximity to the units on the left, though the planters do go some way in providing a touch of privacy. Given its status as a boutique development (with a swimming pool and tennis court) we've got no qualms.
They even managed to fit a wading pool over on the right!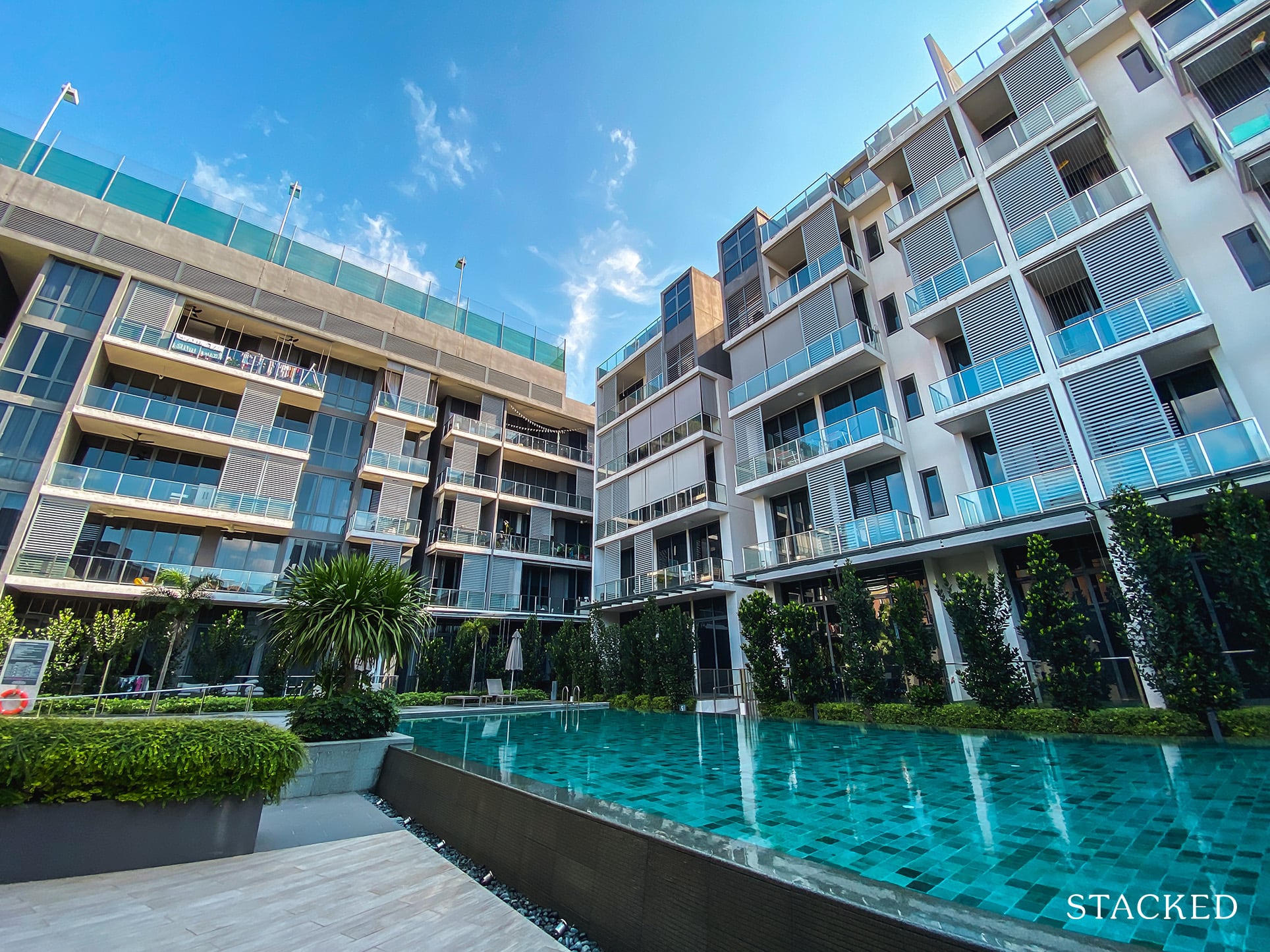 Just to give you an idea of how close the blocks are to the swimming pool.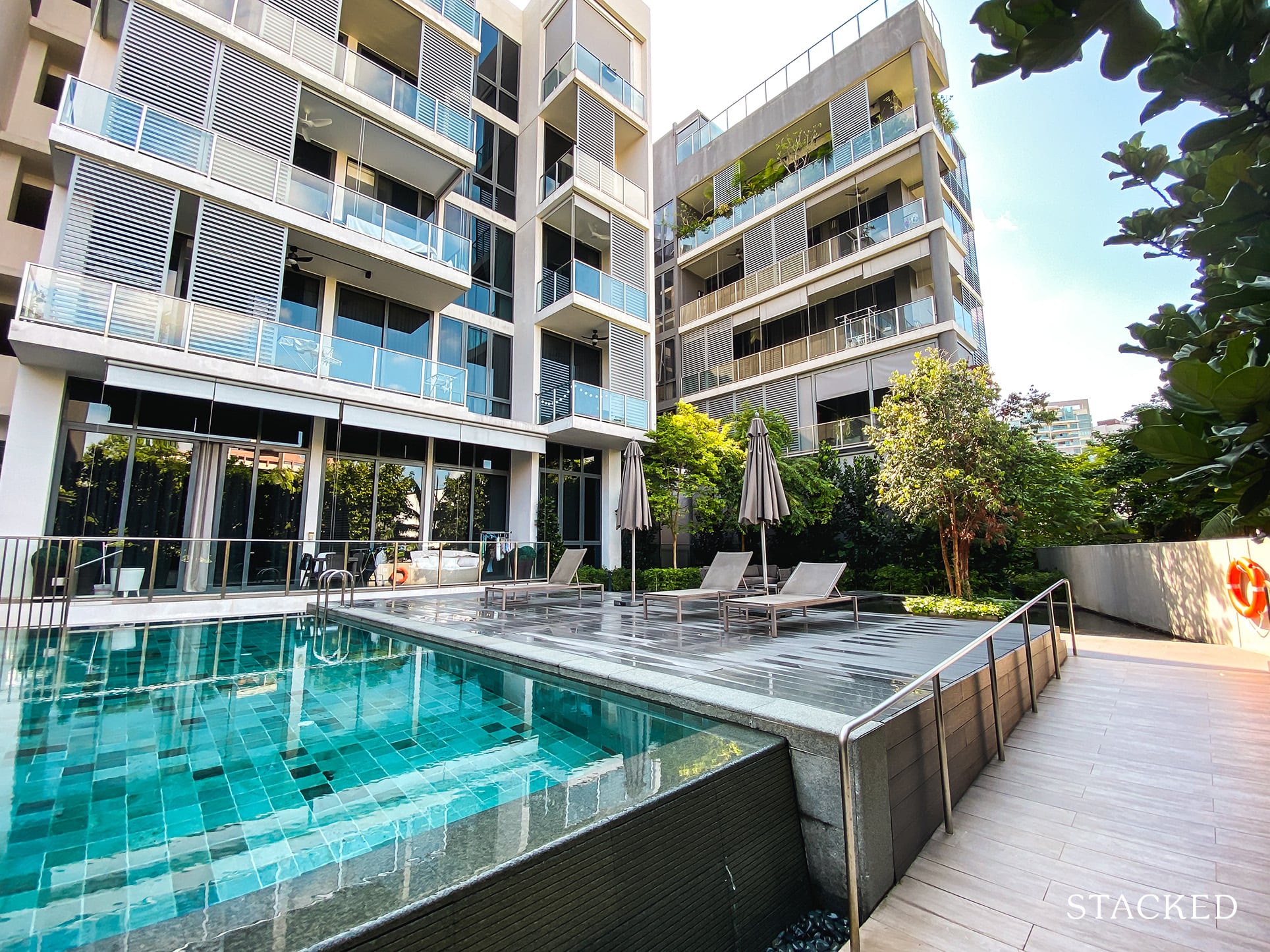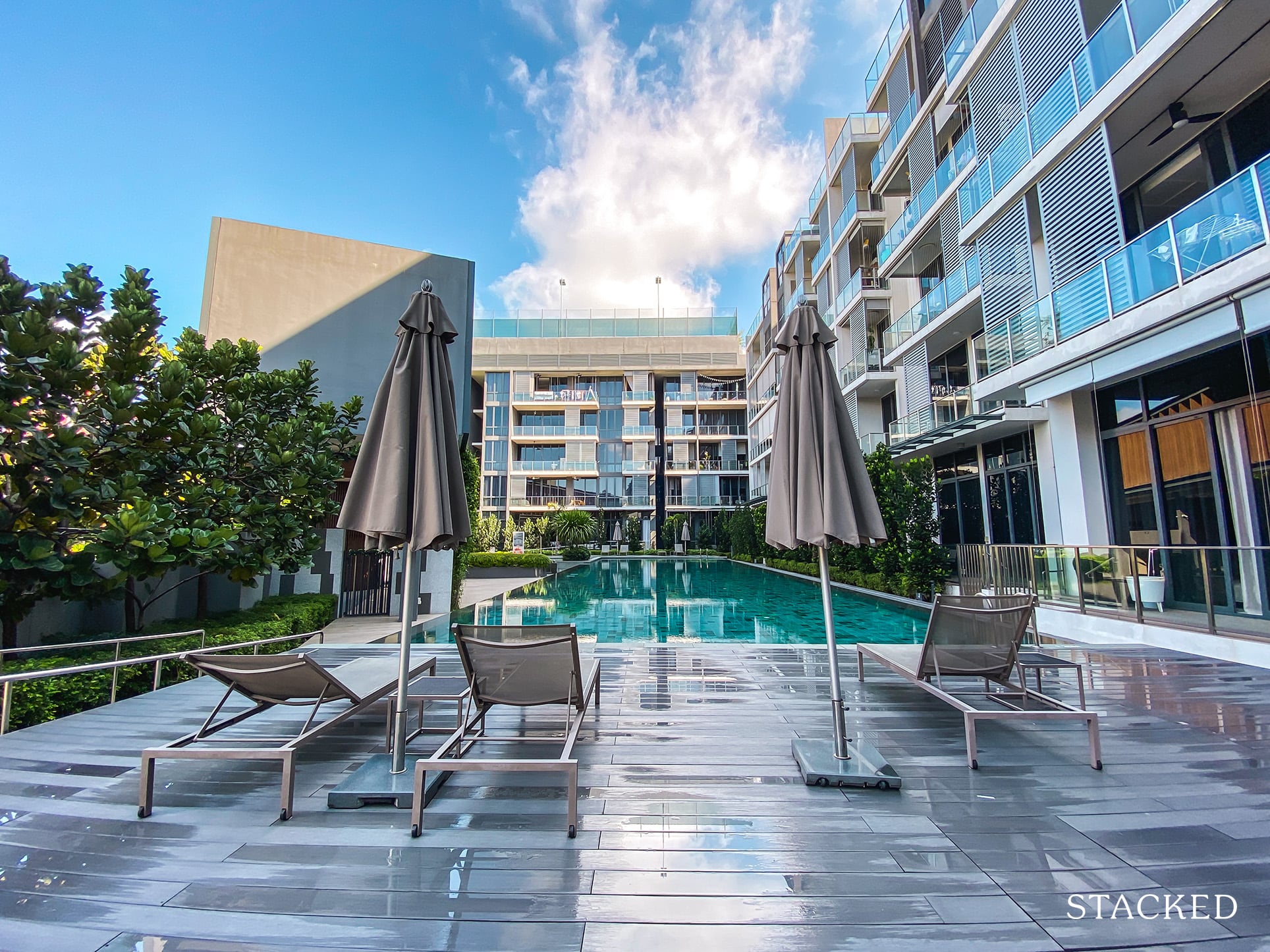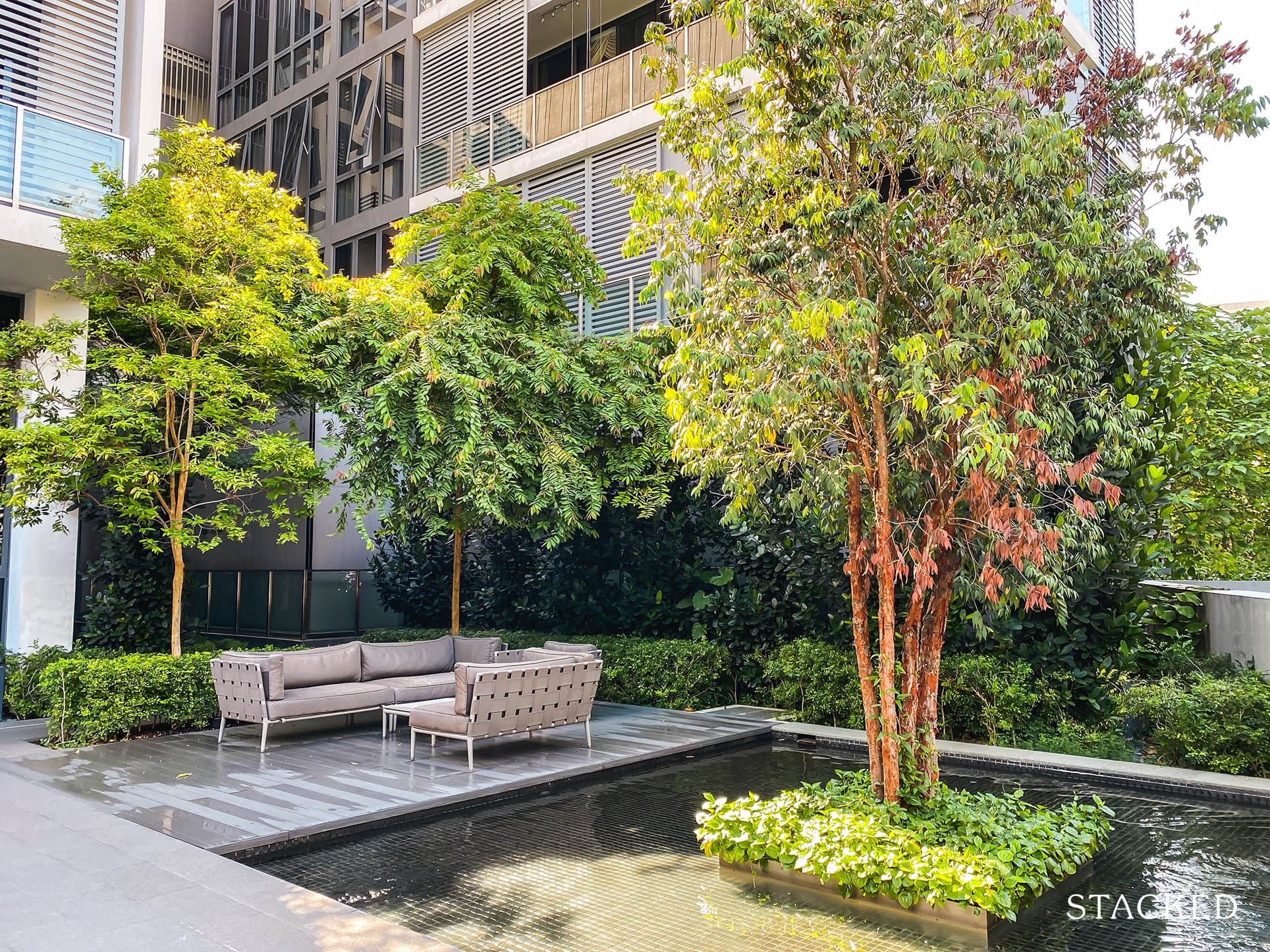 At the furthest end there is a little gathering of comfy (wet) looking outdoor couches adjacent to yet another water feature.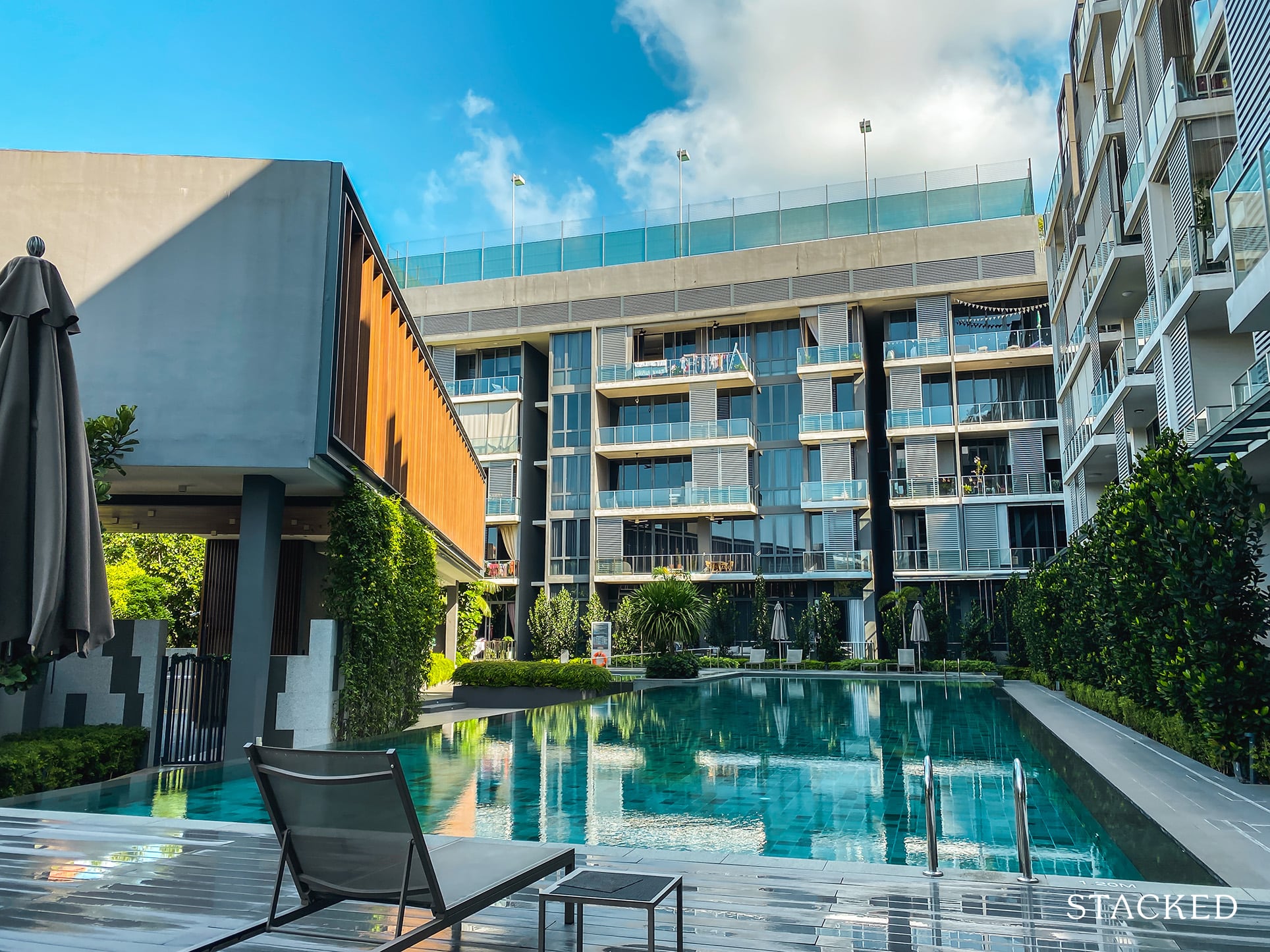 Let's take a look at the clubhouse next.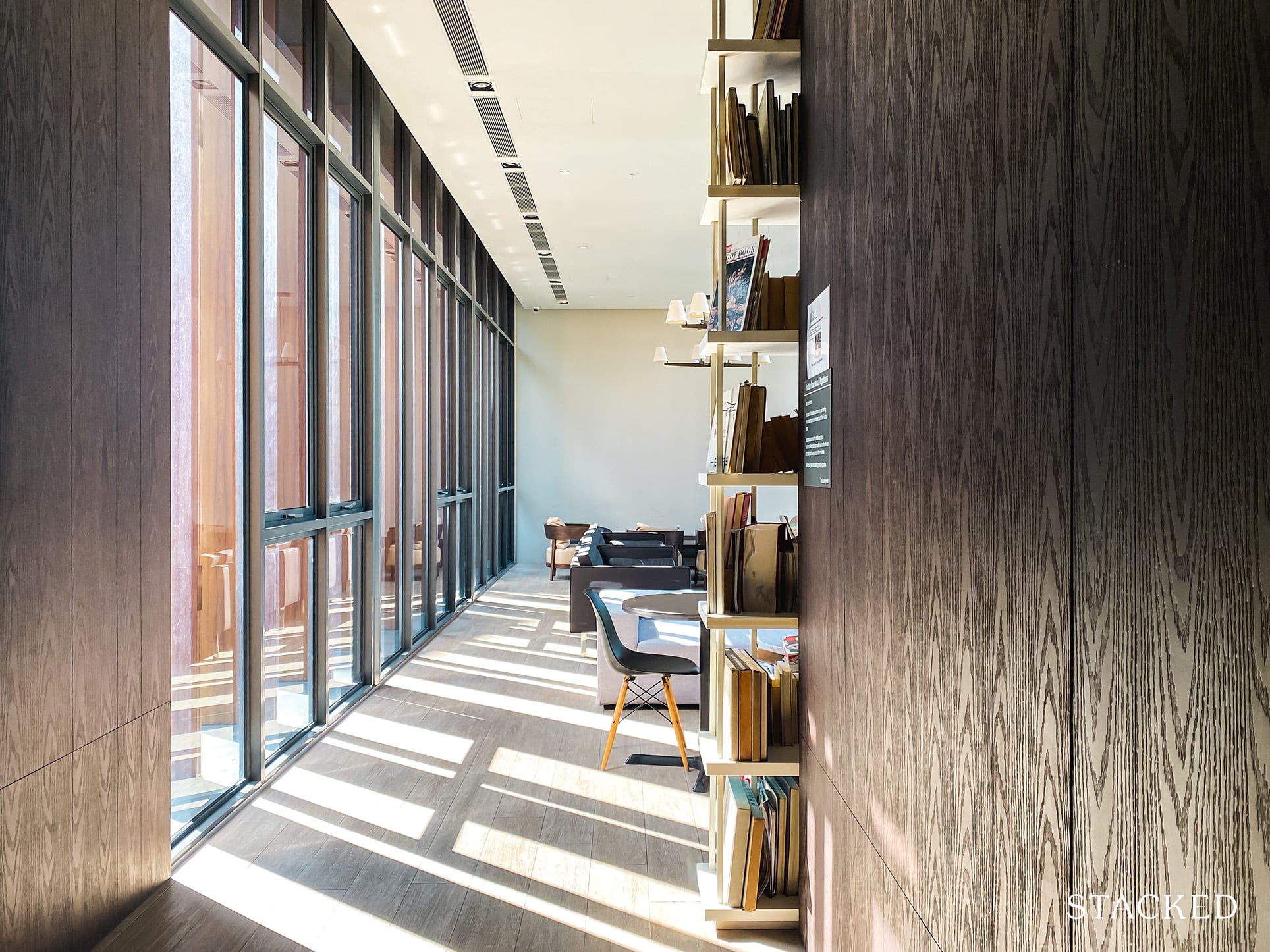 Once you take the lift up to the second level, you'll find quite a sizeable function/reading room on your right.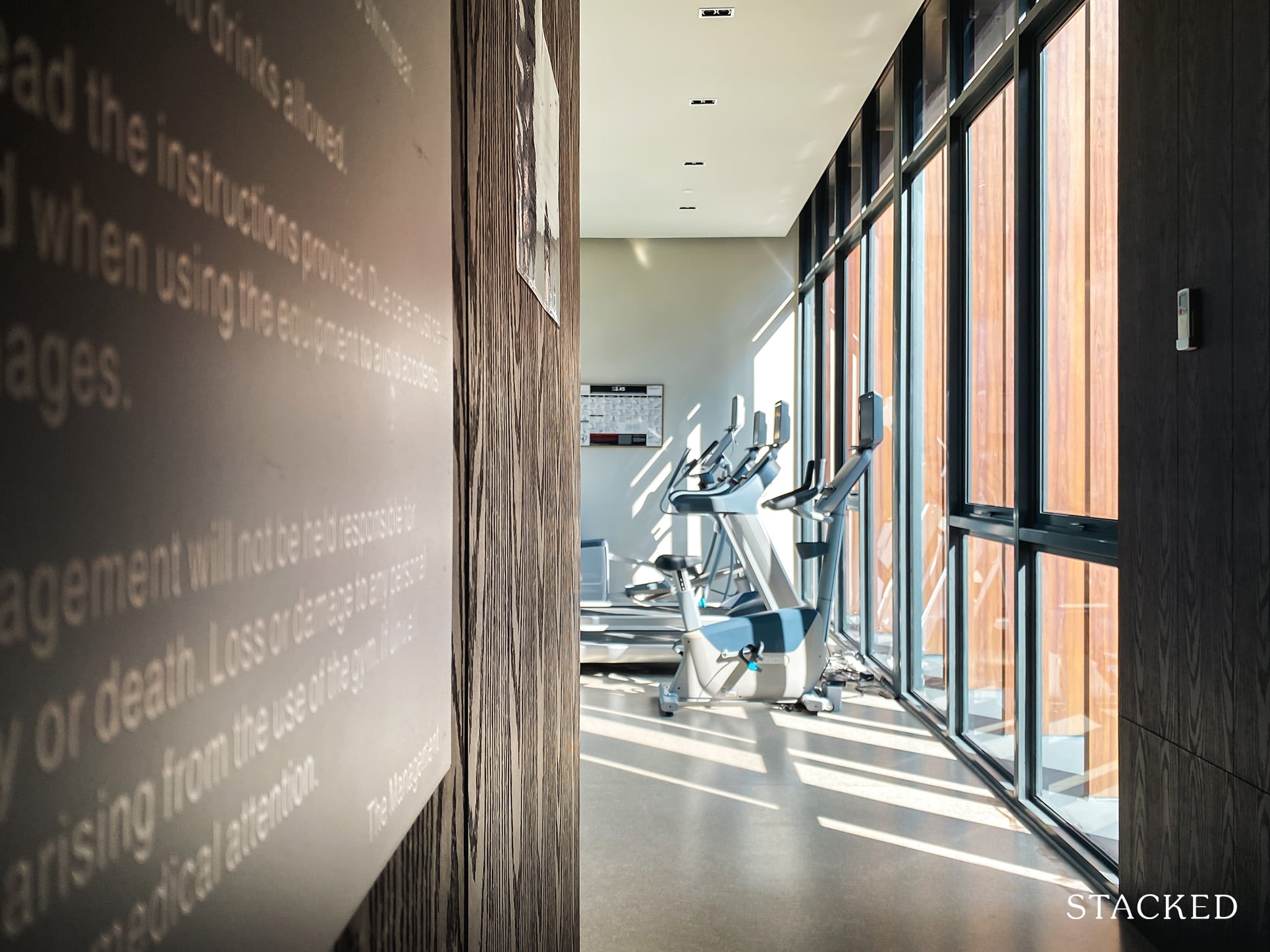 On the left is the gym at the Robin Residences. It overlooks part of the pool and is really a very decent gym for the size of the condo. There are a couple of aerobic machines, free weights and fitness machines too.
Location
Situated amongst a string of low-rise enclaves (as is usually the case in the Bukit Timah region), Robin Residences is positioned in prime region between both the (closer) Stevens and Newton MRT Stations.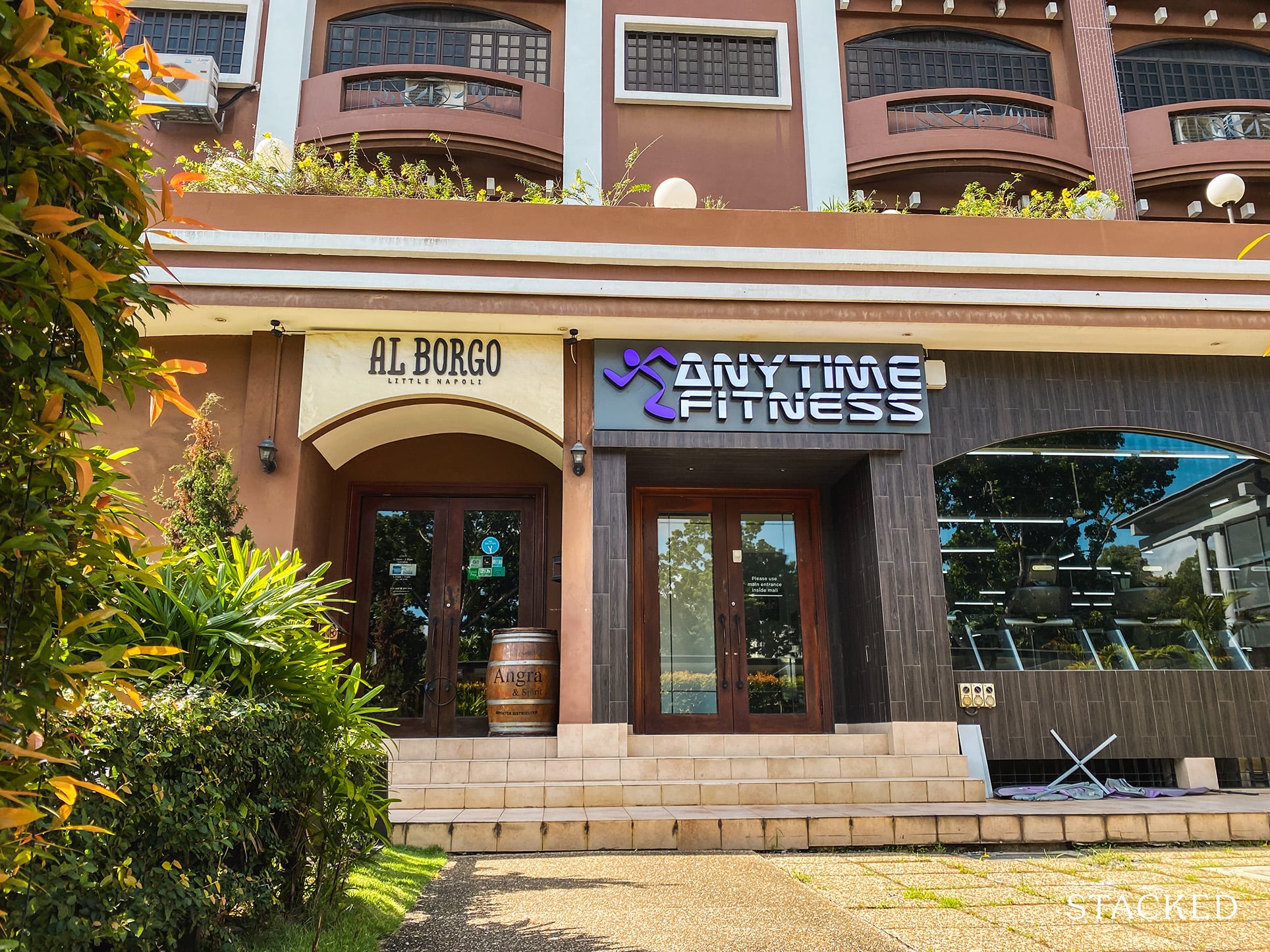 Flanked by the Alocassia Apartments (with its distinct Subway) and Leng Kwang Baptist Church on either side, there isn't anything incredibly distinct about its immediate position save for the esteemed Singapore Chinese Girls' school just opposite the project. 
Transport
| | | |
| --- | --- | --- |
| Bus Station | Buses Serviced | Distance From Condo (& Est. Walking Time) |
| 'Leng Kwang Baptist Ch' | 48, 66, 66B, 67, 170, 170A, 171, 700, 700A, 960, 960e | 80m, 1-min walk |
| 'Scgs Pr' | 48, 66, 66B, 67, 170, 171, 700, 700A, 960, 960e | 150m, 2-min walk |
Closest MRT: Stevens MRT – 250m, 3-min walk

Public transport offerings for Robin Residences' residents (excuse the play on words) is incredibly… resonating.
Having factored in the incredibly short walking times to all said stops/stations, owners/potential suitors of units here can take delight in the impending Thomson-East Line that will transform the current Stevens MRT into an interchange. Plus the sheltered walkway leads all the way from the development itself (although there is a short lapse from the side gate) which makes it wonderfully convenient.
More than that, the centrality of the condo's locale means that it is a stop (in either direction) to both the Circle and North-South line, 2 stops to the North-East line and 4 stops to the East-West line.
It is also just a short ride to both Orchard Road and the CBD.
| | |
| --- | --- |
| Highway/Major Road | Distance From Condo (& Est. Off-Peak Drive Time) |
| Adam/Farrer Road | 1.7km, 3-min drive |
| Orchard Road | 2.3km, 5-min drive |
| Holland Road | 2.7km, 5-min drive |
| Thomson Road | 2.8km, 4-min drive |
| Hill Street (Start of CBD) | 5.8km, 8-min drive |
| PIE | 1.2km, 3-min drive |
| CTE | 3.1km, 5-min drive |
| ECP | 6km, 8-min drive |
| BKE | 6.1km, 7-min drive |
| AYE | 6.3km, 7-min drive |
| KPE | 7.1km, 7-min drive |
| KJE | 11.1km, 10-min drive |
| SLE | 12km, 10-min drive |

Private transport accessibility: Excellent
Developments in Singapore don't really get more central than this – especially when you take into account the condo's proximity to key roads and highways.
Short drives to the CBD, Orchard Road shopping belt and numerous other key amenity points (including the Bukit Timah school belt) further adds to the allure and gives this condo one of the best private transport accessibility ratings on our site to date!
Add in the duo outlet routes through either Bukit Timah or Stevens Road as alternatives in the likely event of jams (we're all too familiar with traffic updates on the Steven Road exit) and we've got ourselves a winner.
Groceries
| | |
| --- | --- |
| Name of Grocery Shop | Distance From Condo (& Est. Off-Peak Drive Time) |
| Cold Storage – Alocassia | 170m, 2-min walk |
| Cold Storage – Cluny Court | 2km, 5-min drive |
| Cold Storage – Orchard Hotel | 2.3km, 6-min drive |
| FairPrice – Coronation Plaza | 2.2km, 6-min drive |
| FairPrice Finest – Scotts Square | 2.4km, 6-min drive |
Robin Residences' incredible convenience streak continues – though those who crave variety (or an immediate FairPrice for that matter) might be slightly disappointed.
With the Alocassia Cold Storage just next door, grocery runs should be a cinch (even for the kids and older folks) provided that it is the outlet of choice.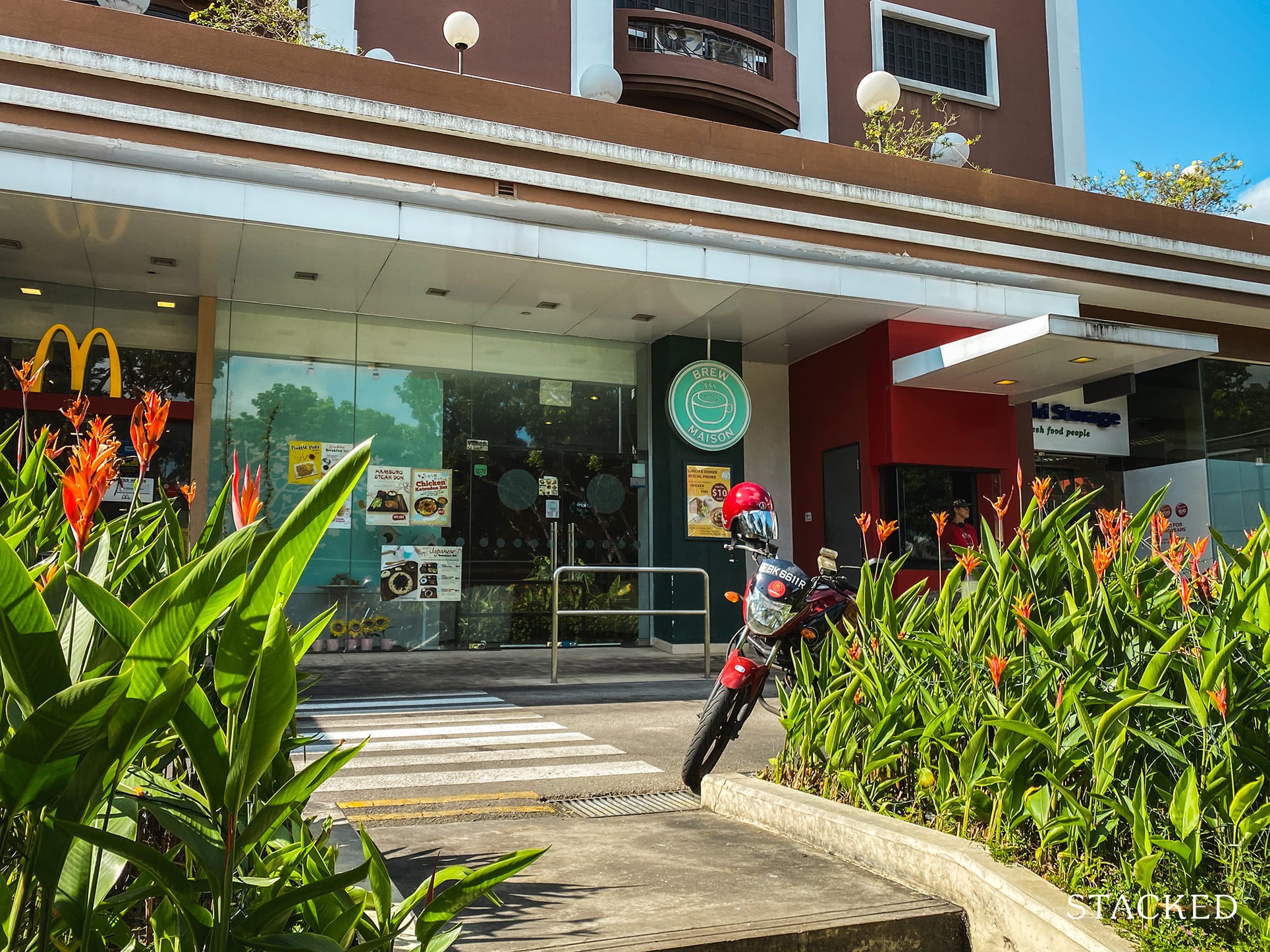 Shopping Malls
| | |
| --- | --- |
| Name of Shopping Mall | Distance From Condo (& Est. Off-Peak Drive Time) |
| Novena Square (Cluster) | 4.1km, 9-min drive |
| Cluny Court (Cluster) | 1.6km, 4-min drive |
| Ion Orchard (Cluster) | 4.1km, 12-min drive |
Being in a locale just outside of Singapore's biggest shopping district definitely has its perks. Relatively convenient access without all the chaos that comes with the glitz and glamour of the area.
It's location also allows it easy access to the Novena shopping mall and food joints as well as the Cluny Court mall cluster. The Toa Payoh heartlands are also a mere 7-min drive away.
Granted, these developments aren't exactly next to the condo – but if you take into consideration the variety of these top-end shopping/eating hotspots on a proximity ratio, it does seem rather astounding.
Schools
| | | |
| --- | --- | --- |
| Name of School | Education Level | Distance From Condo (Est. Off-Peak Drive Time) |
| Raffles House @ Robin Close | Preschool | 210m, 3-min walk |
| My World Preschool | Preschool | 800m, 3-min drive OR 500m, 7-min walk |
| Raffles House @ Goldhill | Preschool | 1.2km, 4-min drive OR 800m, 10-min walk |
| Camberley Preschool | Preschool | 2.2km, 6-min drive |
| Singapore Chinese Girls' Primary | Primary | 950m, 4-min drive OR 650m, 8-min walk |
| Anglo-Chinese Primary | Primary | 2.1km, 7-min drive |
| Nanyang Primary | Primary | 2.5km, 7-min drive |
| Raffles Girls' Primary | Primary | 4.1km, 7-min drive |
| Singapore Chinese Girls' School | Secondary | 1km, 4-min drive OR 700m, 9-min walk |
| Raffles Girls' School | Secondary | 1.7km, 4-min drive |
| ACS (Barker Road) | Secondary | 2.1km, 7-min drive |
| St. Margaret's Secondary | Secondary | 2.3km, 6-min drive |
| Hwa Chong Institution | Secondary | 3.3km, 7-min drive |
| Queensway Secondary | Secondary | 4.7km, 8-min drive |
| Catholic Junior College | Tertiary | 1.9km, 6-min drive |
| Hwa Chong Institution | Tertiary | 2.6km, 6-min drive |
| National Junior College | Tertiary | 4.4km, 9-min drive |
| Raffles Junior College | Tertiary | 5.9km, 13-min drive |
| Eunoia Junior College | Tertiary | 6.9km, 14-min drive |
| Anglo-Chinese Junior College | Tertiary | 7.2km, 14-min drive |
| St. Andrews' Junior College | Tertiary | 7.4km, 13-min drive |
| Ngee Ann Polytechnic | Tertiary | 7.1km, 14-min drive |
| Singapore Polytechnic | Tertiary | 7.7km, 15-min drive |
| UBS Business University | Tertiary | 1.5km, 5-min drive |
| NUS Law Faculty | Tertiary | 1.9km, 5-min drive |
| Curtin Singapore | Tertiary | 4.9km, 11-min drive |
| Embry-Riddle Aeronautical University | Tertiary | 5.1km, 12-min drive |
| SMU | Tertiary | 6.7km, 19-min drive |
| NUS | Tertiary | 8.9km, 16-min drive |
If you compare Robin Residences to the other developments further up Bukit Timah Road, you'll realise that it does partially lack in education offerings – especially in the primary school sector. For those willing to go out of the 10-min drive range however, there are a couple more options available that you can choose from. 
Of course, we're just nitpicking at this point given the obvious abundance of elite schools in the area as compared to most other districts.
What's more, Raffles and St. Andrews' Junior College are within much closer driving distances than most other central condos we've reviewed thus far.
Additional Pointers
Proximity to Singapore's only UNESCO Heritage Site
Located just 10 minutes by walk to the Botanic Gardens (or a 2-min drive), residents at Robin Residences have a wonderful strolling option that begins with the surrounding landed area enclave.
Further littered with both street lamps and substantial shade from surrounding trees in the neighbourhood, it really does make the area a wonderful and safe place to stroll in whether by day or by night.
Adjacent to Leng Kwang Baptist Church
We rarely touch on religious sites, unless there are literally next to the condo – which seems to be the case in this scenario. For those who frequent/maintain the establishment, having the church next door could be a massive bonus that serves as a source of community and spirituality.
Abundance of food options
Newton Food Centre, Adam Road Food Centre, the Novena food district, Toa Payoh heartlands and even the Little India enclaves are just some of the names that spring to mind on this one.
While the centrality of the condo makes it one of the best options for dining-in, it is not the only aspect worth mentioning. With these many food choices around, there is bound to be a stark increase in both food delivery varieties and efficiency here as well.
Robin Residences Development Site Review
What you might not observe here are the 3 side gates lining this small stretch of Robin Road – an easy entrance/exit theme that is present on-site despite the condo's boutique aspects.
Also worth noting is that the studio units here are all positioned closer to the road – so those who are interested in them should be aware of the traffic noises that will undoubtedly penetrate the unit (especially given the towers' low-rise nature).
Given the rooftop amenities (including a party pavilion), residents on the higher floors of towers 9 and 7 should note that there might be noise spillage and the occasional flying tennis ball popping down from above (keep a lookout for that one). Given the usual strictness from condo security however, we are sure that this shouldn't pose too much of an issue after dark.
Robin Residences Best Stacks
Let's head over to the unit mix:
| | | |
| --- | --- | --- |
| Unit Type | No. Of Units | Size of Units (sqft) |
| 1-bedroom | 13 | 409 sqft |
| 2-bedroom | 65 | 538 – 958 sqft |
| 3-bedroom | 26 | 926 – 1281 sqft |
| 4-bedroom | 13 | 1464 – 1593 sqft |
| 5-bedroom | 4 | 1830 – 2120 sqft |
| Penthouses | 13 | 1259 – 2939 sqft |
The incredibly elusive 5-bedder popping up in a boutique development such as this is a testament to the developer's confidence on the selling factor of the condo – this, despite its high quantum.
Add in the 6-bedded penthouse and you know that we are onto something.
With both variety of choice and above average unit spaces on the 2-bedders and above (the 1-bedders here really aren't the best in terms of sizing and position), residents really did have a ball of a time selecting from a plethora of unit options that already came equipped with branded appliances at launch.
The thing that makes everything more surprising is the fact that Robin Residences is still just a boutique development!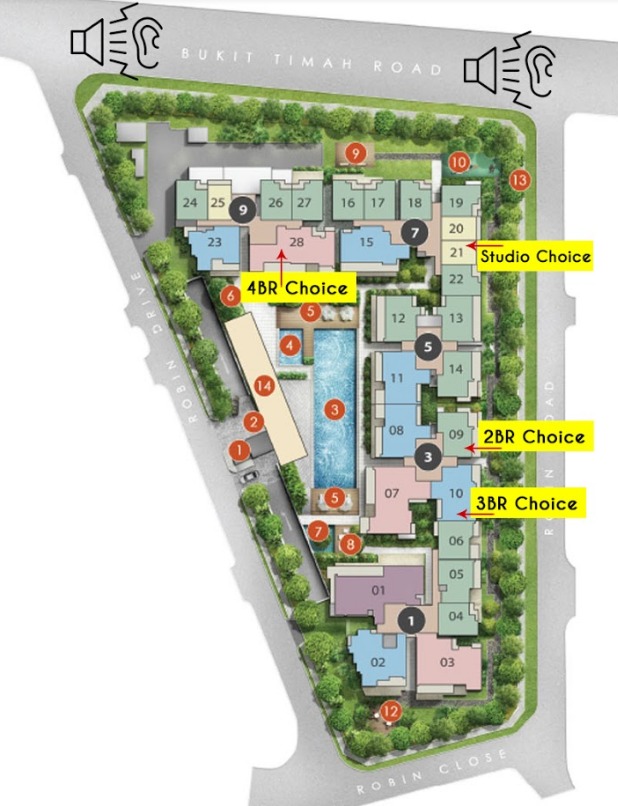 To be honest, most of the units here are quite well positioned. Of course as much as possible it would be good to avoid the stacks closest to Bukit Timah Road due to road noise. Then again, these also have the advantage of being the most convenient to get to the MRT or bus stop.
Our picks for a studio unit would be stacks 20 and 21.
For the 2 bedroom we think that stack 9 is your best bet as it almost overlooks Robin Road, avoiding viewing the landed homes directly. This follows for the 3 bedroom as well, with stack 10 being the one of choice.
If you are looking at the 4 bedroom, stack 28 can be a good choice facing the swimming pool for a change of pace. If not, stack 3 would also be ideal from a privacy standpoint.
Robin Residences Price Review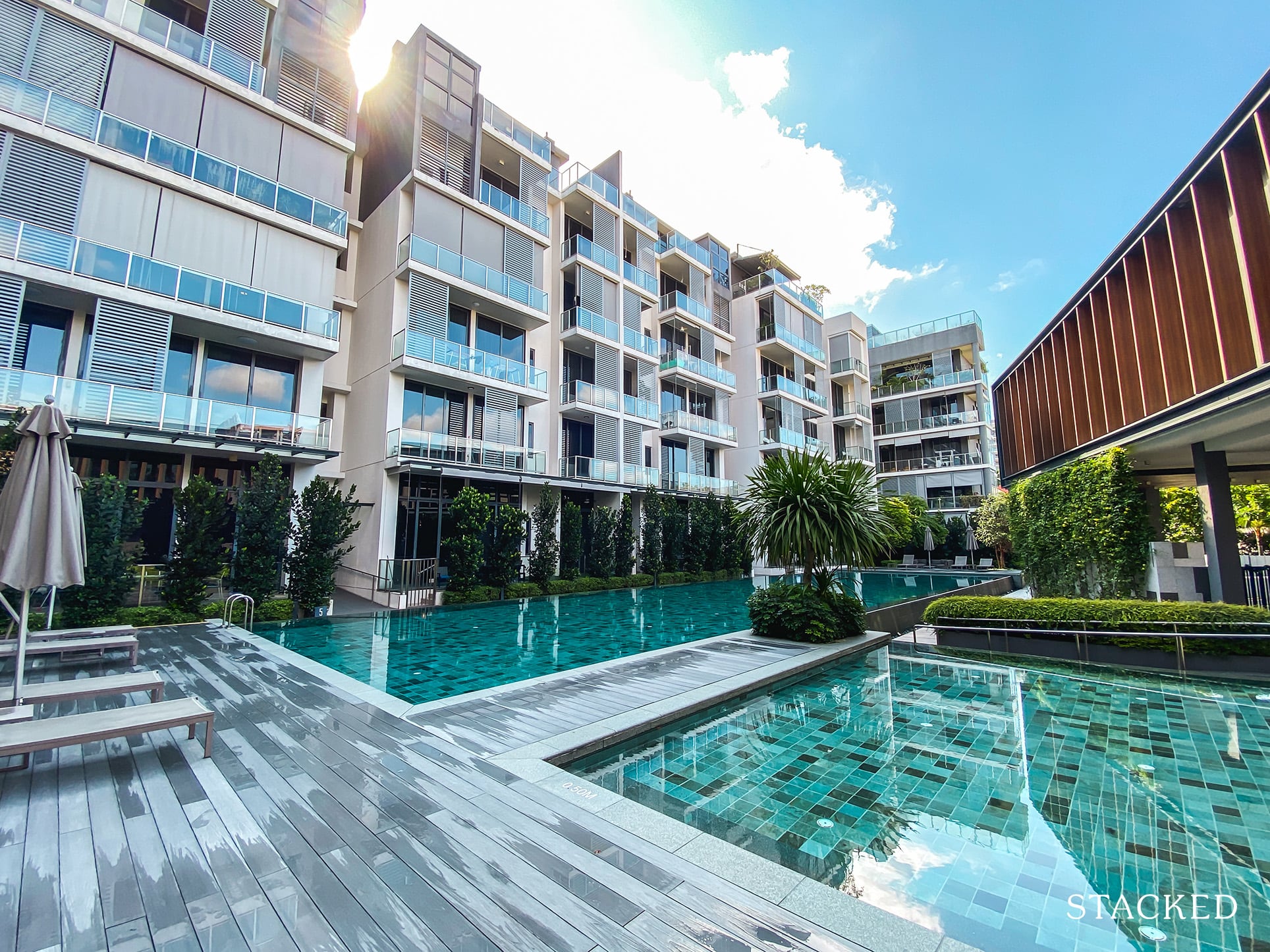 | | | | |
| --- | --- | --- | --- |
| Project Name | Tenure | TOP | Average Price (PSF) |
| Robin Residences | Freehold | 2016 | $2,540 |
| Chiverton | Freehold | 2004 | $990 |
| Château Le Fame | Freehold | 2001 | $1,501 |
| Three Three Robin | Freehold | 2006 | $2,012 |
| Loft @ Stevens | Freehold | 2014 | $2,017 |
| Robin Suites | Freehold | 2017 | $2,606 |
Due to the abundance of freehold condos in this area, we've decided to only list condos with more competitive quantum ranges when compared to Robin Residences along with the cheapest options in the immediate area (regardless of age). 
Given the condo's tenure and immaculate location (save for its noise factor), it is not surprising that Robin Residences commands the second highest quantum in the area just behind Robin Suites.
A factor that is somewhat surprising given the former's closer proximity to the MRT. Perhaps it is the latter's high-rise nature (one of the few in the area) and the noise factor that sets them, and their quantums apart.
For those looking at the 20-odd condos in the area, it is worth noting that prices are rather varied with the lowest (Chiverton) going for $990 psf. The follow-up price comes from Château Le Fame at a nearly doubled $1,501 psf and gradually increases to $2,606 for Robin Suites.
Don't forget the Cyan condo, if you are looking for something relatively newer in the area. Although it is located further away from Stevens MRT station.
Our Take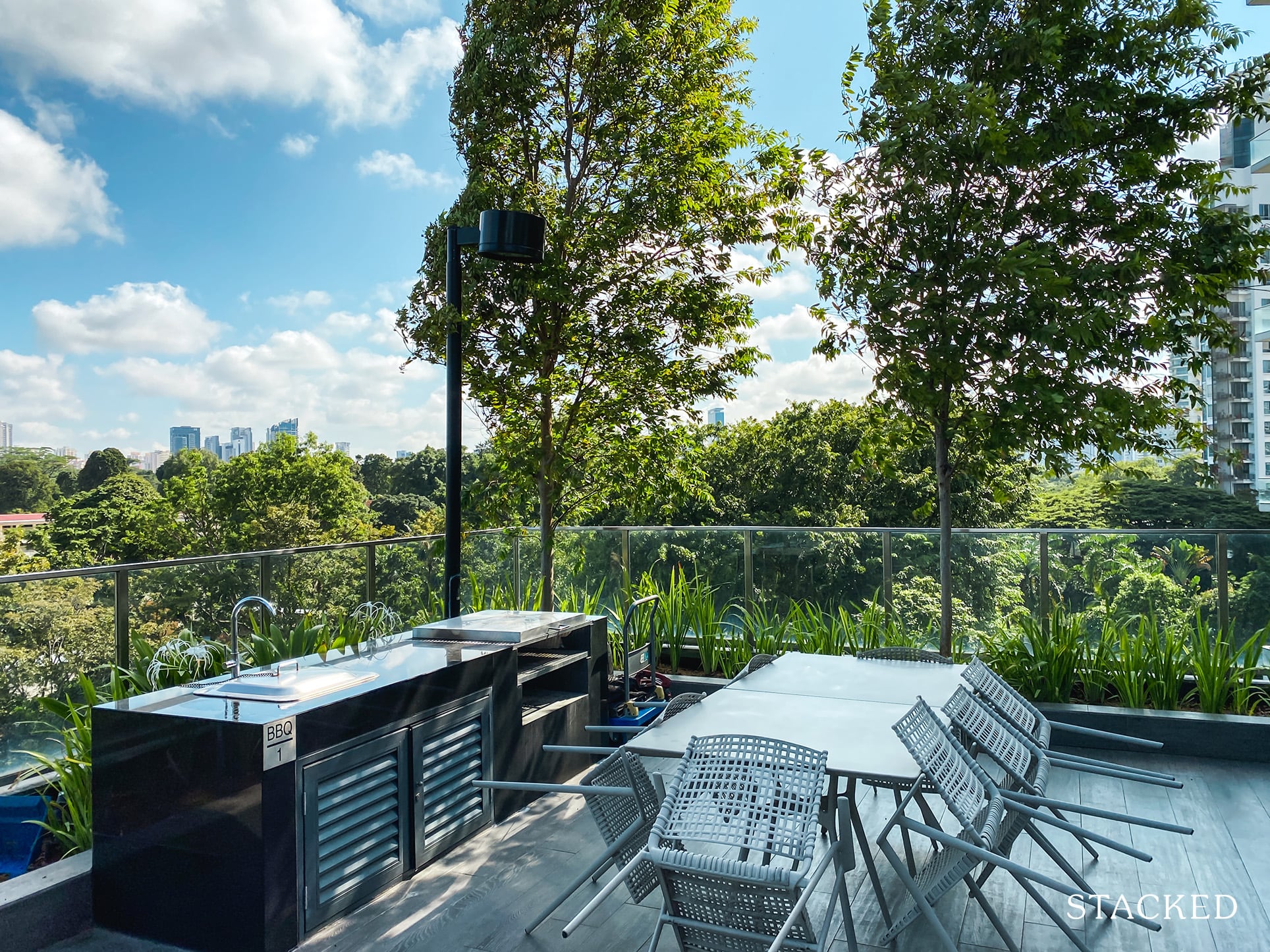 Robin Residences is one of the very few condos in Singapore that has an all-around allure. Not just in locale, but also in terms of unit offering varieties and architectural/facility-implementation prowess.
The biggest things that stand out for me personally would surprisingly be the novelty and architecture of the condo alongside the incredible convenience factor and an abundance of food options in the area – though this is also shared by the surrounding condos.
Of course, options nearly 3 times less in quantum are available in the immediate area so you will have to decide if this little extra bit of convenience coupled with the novelty and luxurious factor is something you are willing to fork out a substantial bit of cash for.
Just remember that traffic noise is the development's potential biggest downside – so be sure to pick a unit that is 'deeper in' if you have the opportunity.
What this means for you
You might like Robin Residences if you:
• Crave a modern establishment in a good locale:With numerous other condos in the area, the biggest selling point of Robin Residences is its novelty and luxurious architecture/unit layouts.
• Value incredible convenience:Few central condos can boast 1 to 2-minute walks to its nearby bus stops and MRT stations along with impeccable road/grocery/shopping mall/food diversity options and access.
You might not like Robin Residences if you:
• Are on a strict budget:Even for those with looser holds on their wallet, $2,540 psf is an incredible sum to pay up – especially when you take the unit sizes here into account.
• Prefer condos with more facilities:Despite the developer's best (and successful) efforts at incorporating both a lap pool and a rooftop tennis court, facility offerings might still be a tad limited when compared to larger condos.
End of Review