Condo Reviews

The Sixth Avenue Residences Review: A Freehold Low-Density Condo With Two 50m Pools
Matt K
March 23, 2022

27

min read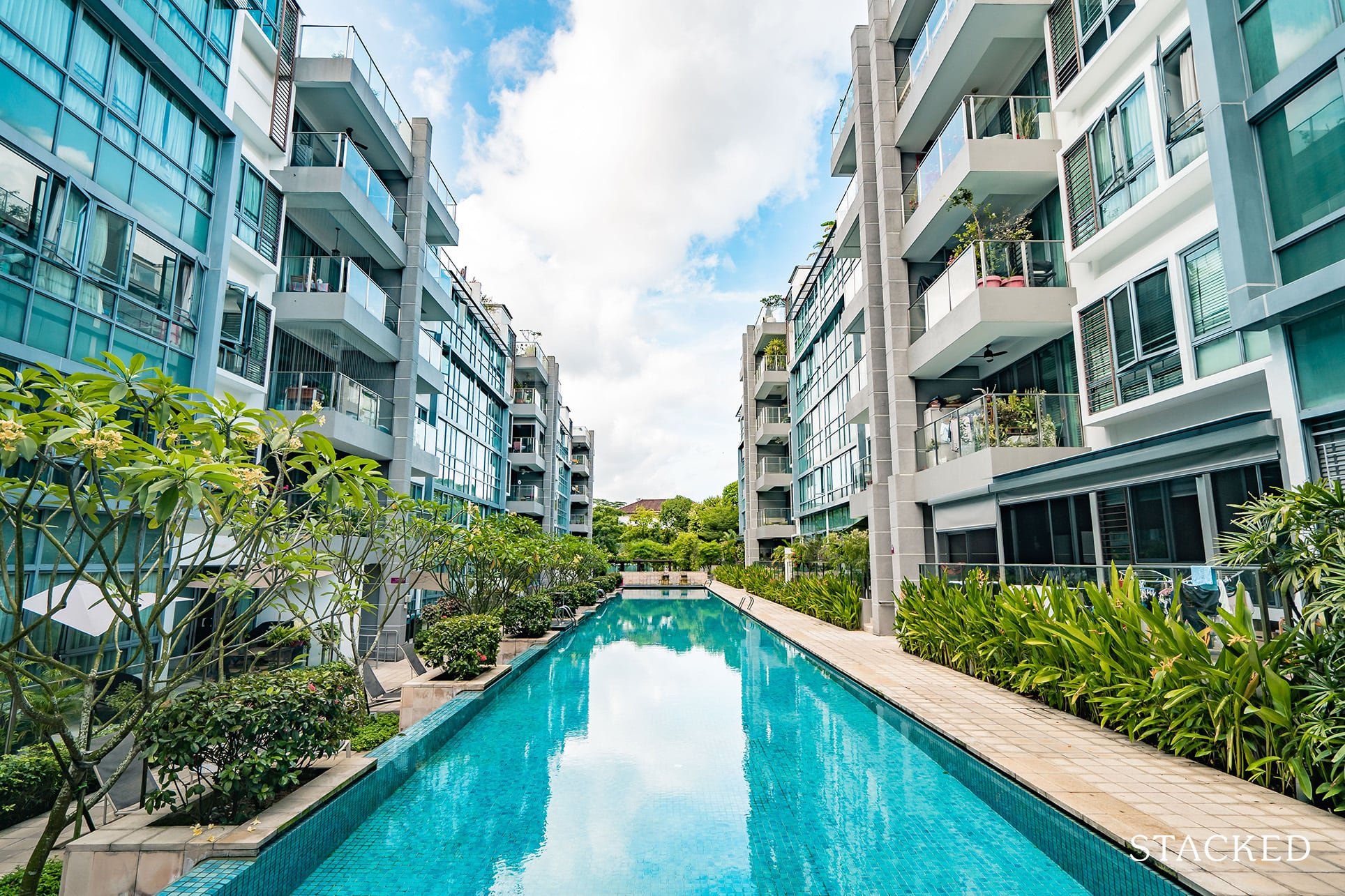 Our Verdict
The Sixth Avenue Residences offers the convenience of Bukit Timah Road and Holland Road while maintaining its exclusivity by being amidst a landed estate. With just 175 units on 172,000 sqft of land, the condo offers full facilities such as 2 50m lap pools and a tennis court that surpasses the offerings of any new launch in the vicinity. Its larger unit sizes (especially for its penthouses and ground floor units) also means that this is very much a family-friendly condo that still trades at a psf discount from its new launch peers. The only drawback is that it is further away from Sixth Avenue MRT compared to the other condos in the vicinity.
Reviewed by Matt K. on March 23, 2022
What we like
2 50m swimming pools

Tennis court for just 175 units

Can walk to the MRT
What we don't like
—

Traffic along Sixth Avenue

—

Some ground floor units face the wall of swimming pool
27
min read
| | |
| --- | --- |
| Project: | Sixth Avenue Residences |
| District: | 10 |
| Address: | 162 – 172 Sixth Avenue |
| Tenure: | Freehold |
| No. of Units: | 175 |
| Site Area: | 172,820 sqft |
| Developer: | JV between Keppel Land & Singapore Land |
| TOP: | 2009 |
Bukit Timah Road is one of the longest roads in Singapore and definitely one of the most prominent as well. We have covered a number of condos in this prestigious neighbourhood, from the ultra-luxurious Perfect Ten and Goodwood Residence to the relatively more affordable options in Cascadia and Mayfair Modern.
Today, we come to Sixth Avenue again, having previously reviewed Allgreen Properties' Fourth Avenue Residences and RoyalGreen and the resale Fifth Avenue Condo, all of which are within close proximity to the subject of this review, The Sixth Avenue Residences.
Just a little background – the numbered avenues system started way back in 1935 with First to Third Avenues before the others were added over the years, with the final extension from Sixth Avenue to Holland Road being completed in 1970. It is a predominantly landed estate with First to Sixth Avenues being home to many Good Class Bungalows. Unsurprisingly then, you can consider prominent Singaporeans such as one of our former Prime Ministers, beleaguered Hin Leong founder Lim Oon Kuin (since sold), and Razer CEO Tan Min-Liang as neighbours here.
As for Sixth Avenue, it is perhaps most famous among the older folks for its proximity to the Singapore Turf Club, which also comes with its associated congestion and illegal parking issues. Just check out these ancient articles published in the Straits Times speaking of its hazards for pedestrians and inconsiderate parking. Alas, the Singapore Turf Club finally shifted out in 1999, bringing respite to the residents in the area.
The Sixth Avenue Residences TOP-ed in 2009 but was originally an en-bloc sale of the 48-unit Avenue Park Condo back in 1996. What caused the long delay was the prolonged property downturn that came from a series of black swan events – including the 1997 Asian Financial Crisis, 2000 Dot Com Bubble Burst, 2001 Sept 11 Attacks, and the 2003 SARS Crisis. This led to the developer Keppel Land writing down its 52% stake in the property to just $366 psf in 2001. This compares to the $1,300 psf record achieved when the nearby Fifth Avenue Condo went on sale in 1996. The other 48% was originally held by Comfort DelGro before being sold to Singapore Land at $463 psf.
While a slew of property measures has been put in place to prevent significant declines in prices in the years thereafter, this is a cautionary tale for all of us. Eventually, The Sixth Avenue Residences was launched at $1,000 average psf and amazingly sold 90% of its 175 units during its first weekend in December 2006. For those buyers, they are definitely sitting on some pretty fat paper profits with the highest psf hitting $1,998 just 16 years later.
I can see the charm of this development, with generous full condo facilities from two 50m lap pools and a tennis court to a proper function room and BBQ pits – all for the exclusive use of 175 units. Its location along Sixth Avenue is also a highly desirable address for many and even its highest psf of $1,998 can still look like a bargain when compared to many other higher priced RCR and OCR alternatives. That said, it also comes with slightly larger unit sizes (2 Bedrooms at 969 sqft and 3 Bedrooms from 1,292 sqft for example) which requires you to have deeper pockets quantum wise.
As I'm more of an old-school property guy, I would very much prefer paying $2,000 psf for the traditionally popular areas such as District 9/10/11 over the allure of some RCR and OCR properties at the same psf prices. Of course, you can argue the growth and investment story of RCR/OCR properties but that's for a separate discussion altogether. 
Without waffling further, let's go straight to the Insider Tour and check out The Sixth Avenue Residences!
The Sixth Avenue Residences Insider Tour
The entrance to The Sixth Avenue Residences is located, surprise surprise, along Sixth Avenue. It is the longest of the "avenues" in Bukit Timah as it connects Bukit Timah Road and Holland Road – and the busiest – as the 5 other avenues (First to Fifth Avenue) are very residential and home to numerous Good Class Bungalows.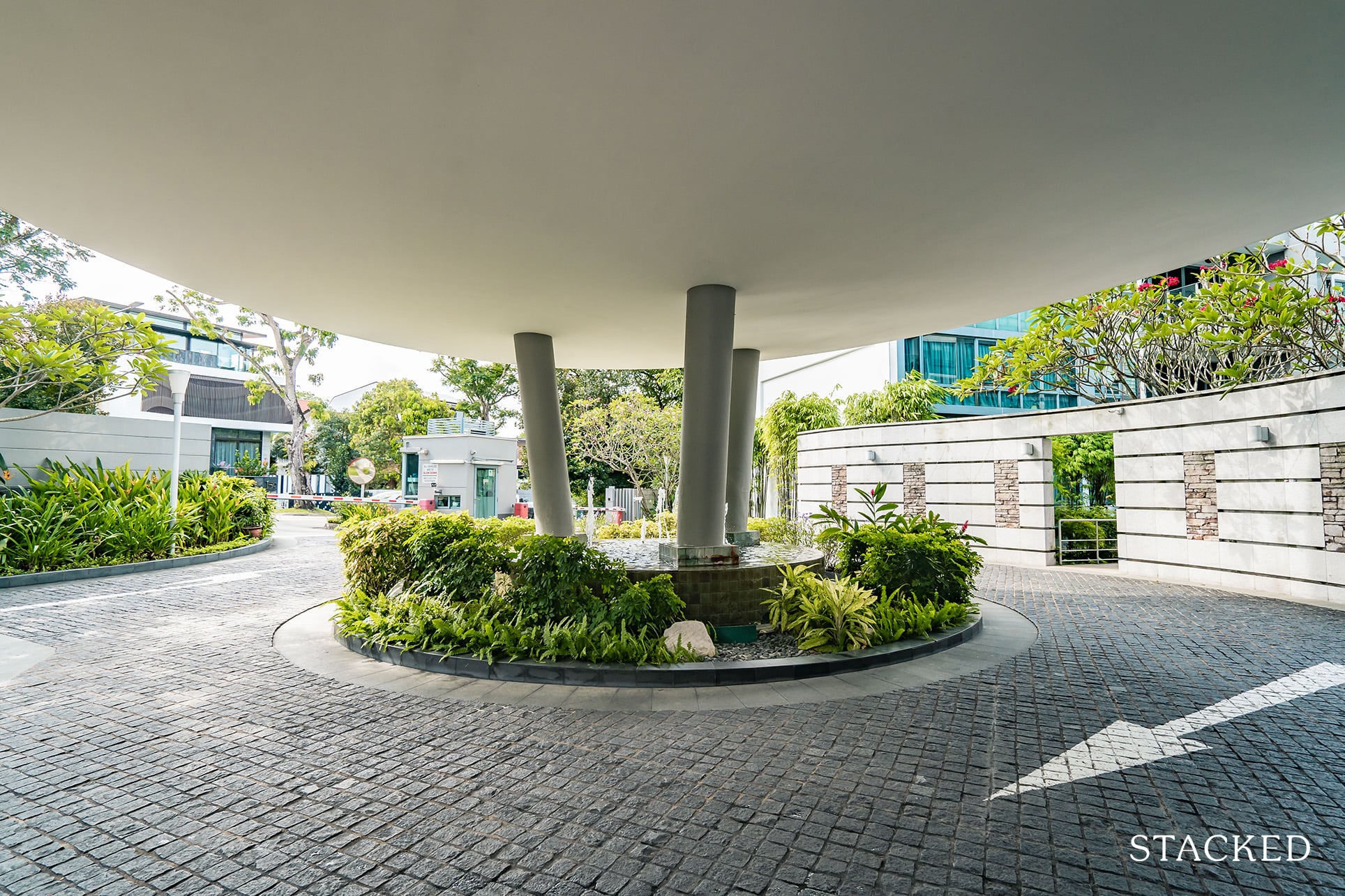 Then again, Sixth Avenue is only a 2 lane road (1 on each side) so for prospective buyers worried about road noise, units here will be quieter than those along the much wider and busier Bukit Timah Road. While the single-lane roads are good from a noise perspective, the same cannot be said about potential congestion issues. This has long been an issue of staying along Sixth Avenue as the single-laned road is a bus route as well. So during peak hours, it can really get quite jammed.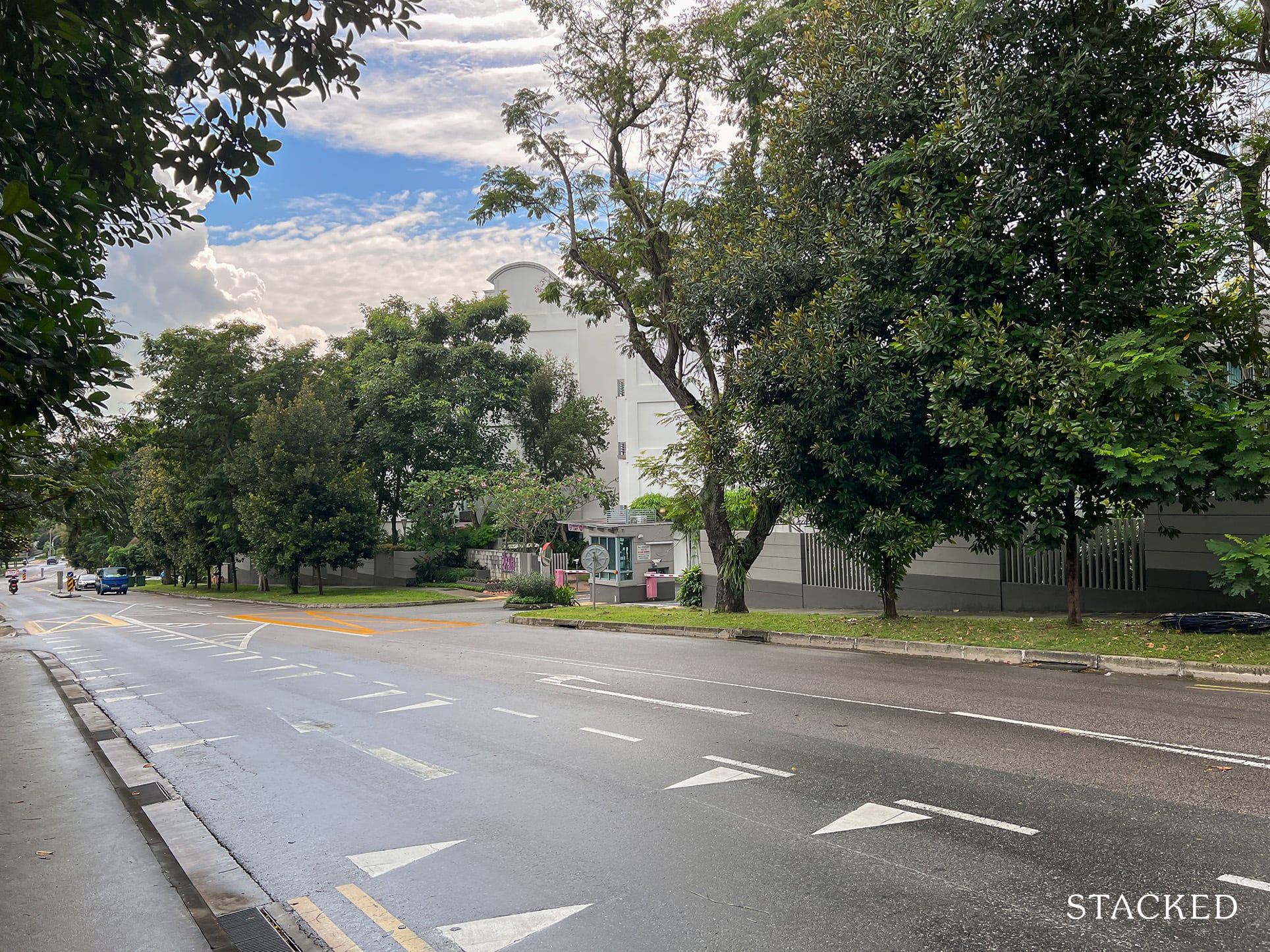 As such, there is a small lane carved out for drivers coming home from Bukit Timah Road so as not to jam up the traffic. Still, during peak periods the roads can get really clogged up, and this is definitely one of the downsides to be aware of.
There's a 2 lane ingress into The Sixth Avenue Residences, with 1 catering for residents and the other for visitors. To my understanding, the MCST has kept up with the times and upgraded the security systems to visual recognition of residents' car plates (instead of relying on proximity card access in the past). Regardless, there will be 24/7 security on standby to assist should residents have any issues or if your friends and family are visiting. There will only be one lane egress from the development, which is definitely sufficient considering the small number of units here.
There are 2 side gates to this condo, with one beside the guard post here at the entrance and the other at the corner of the development, which is the closest point to Sixth Avenue MRT.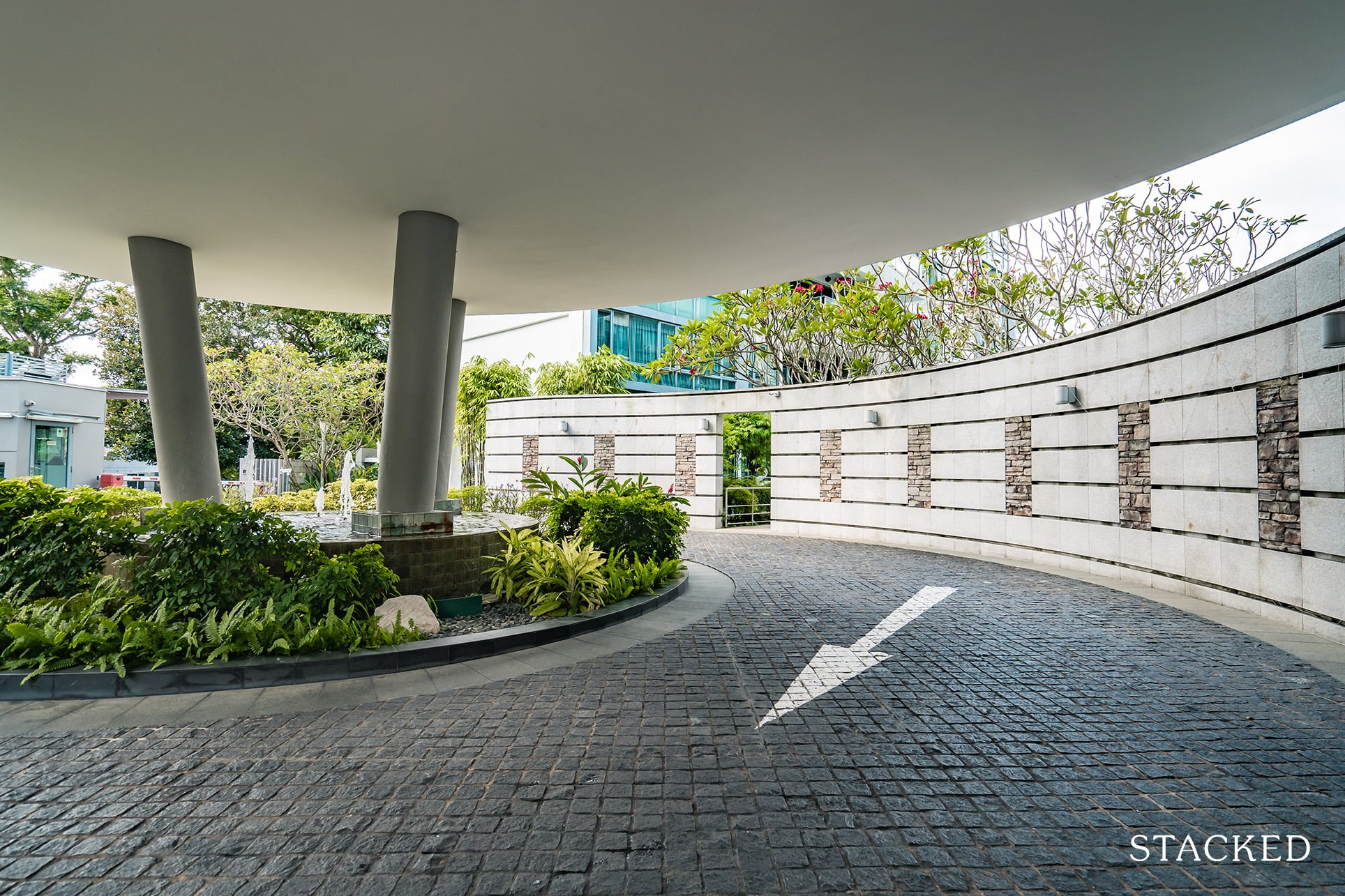 Driving into The Sixth Avenue Residences, you are greeted immediately by the drop-off point with the cobblestones lining the way. When measured against most new launches, I would say that the drop-off here is just average. Don't get me wrong, it's still practical and functional – it is well-sheltered and has some soothing plants and a water fountain as accompaniment. However, it only caters for 1 lane so you can't exactly 'overtake' the next car after hopping onto your ride.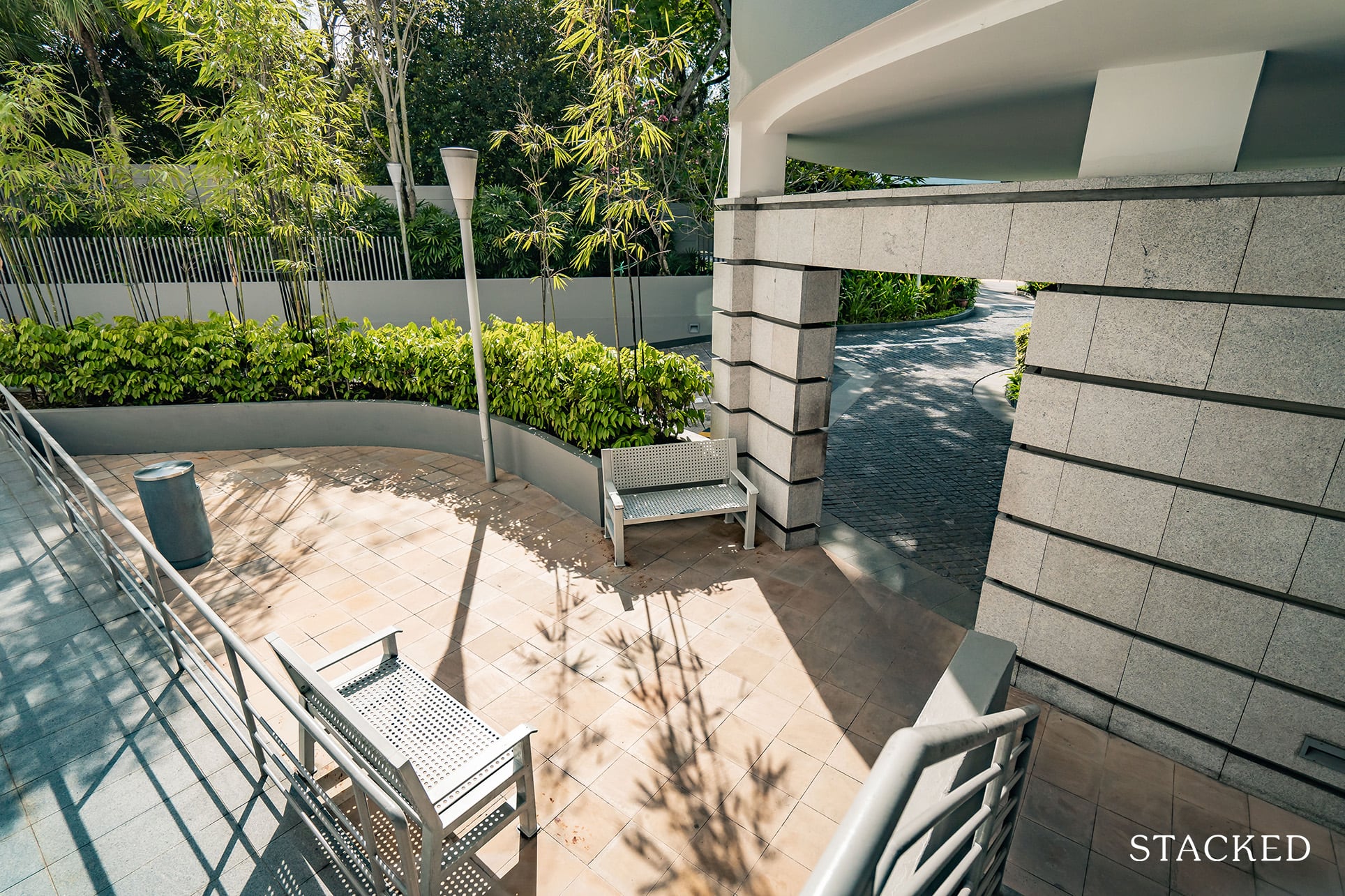 Additionally, you will notice that while there are benches provided, they are in the open, unsheltered part of the drop-off area. That means that getting a seat while waiting for your cab will not shield you from the rain or the sun. While I'm sure the developers and MCST were smart enough to figure that out, the slightly narrow drop-off might be the reason for the current arrangement.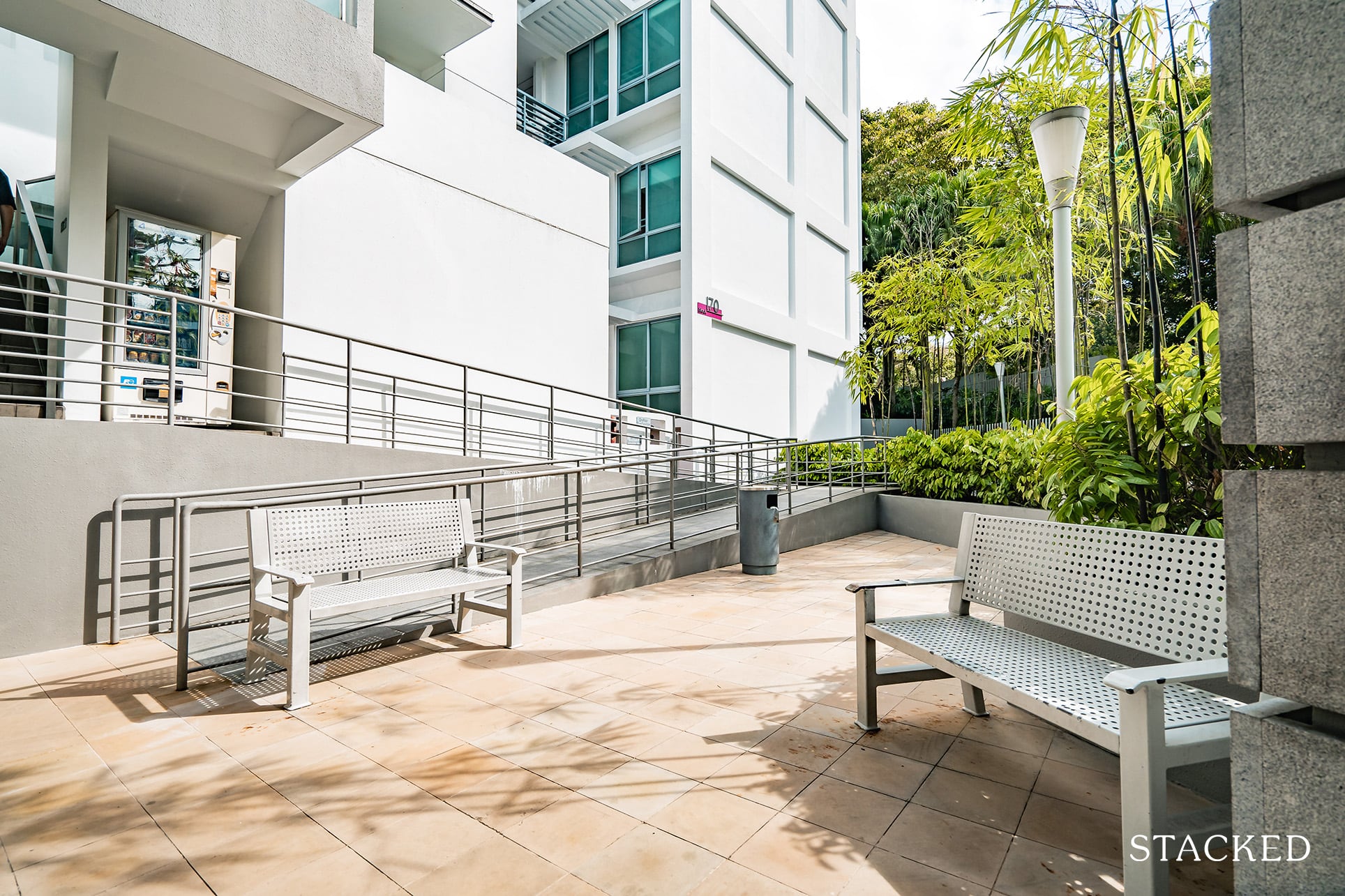 Of course, let's not forget that at 175 units, The Sixth Avenue Residences is a small and low-density condo by Singapore standards so we should not be applying the same standards as what we see in much larger developments. Therefore, nothing fancy here, just a plain and simple drop-off that serves its function.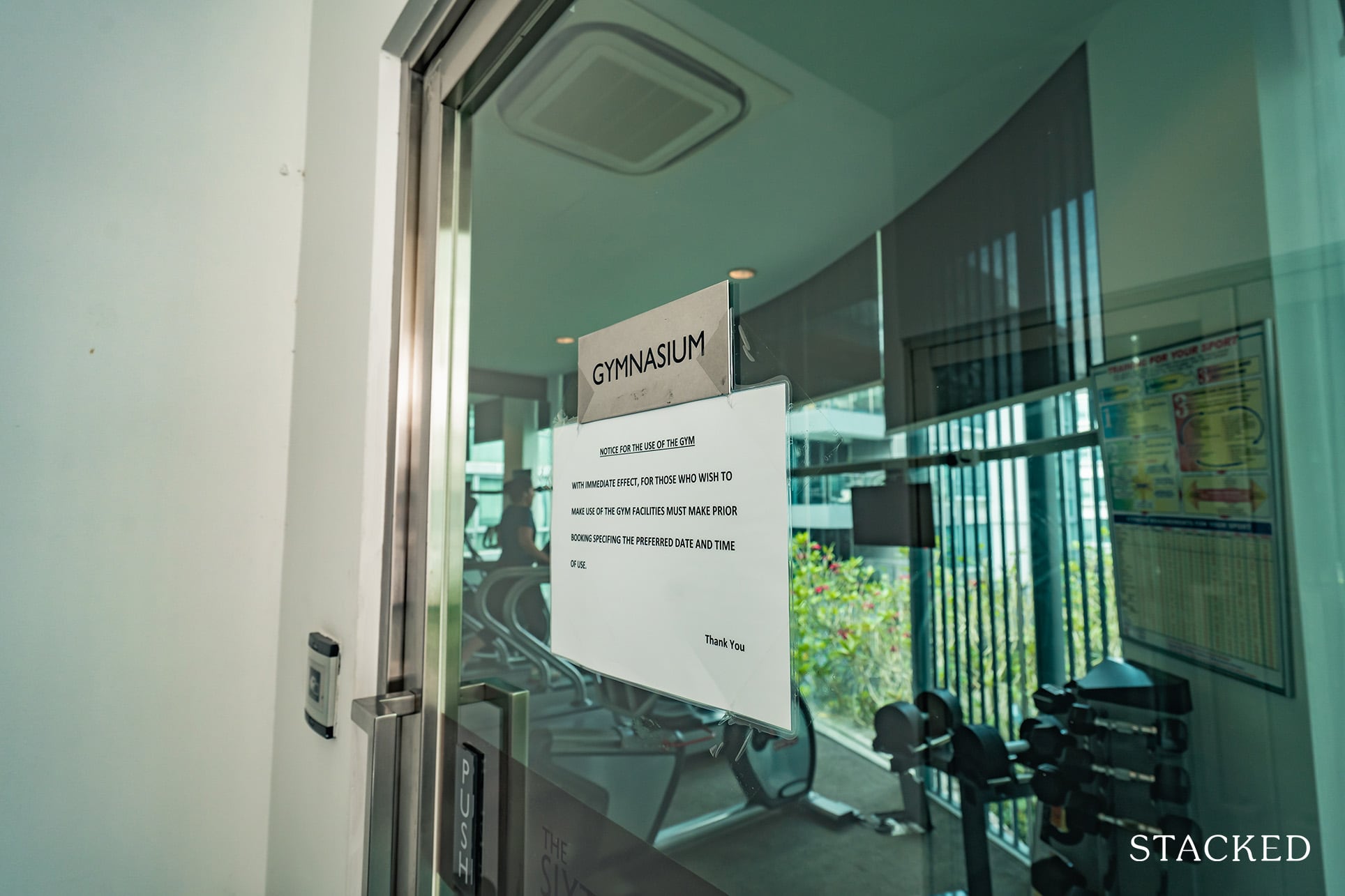 You might also have noticed the circular structure just above the drop-off point which is actually where the Clubhouse is located. The 2nd floor (with lift access) has a proper function room that can probably fit at least 15-20 people pre-pandemic and a decently sized gym complete with the standard weights and treadmill machine. The gym also gets views of the 50m lap pool, which can be rather inspiring as you watch others burn calories at the same time as you do. For 175 units, I would say that the facilities here are very generous. Wait till you see the rest of the development – I'll come to that later.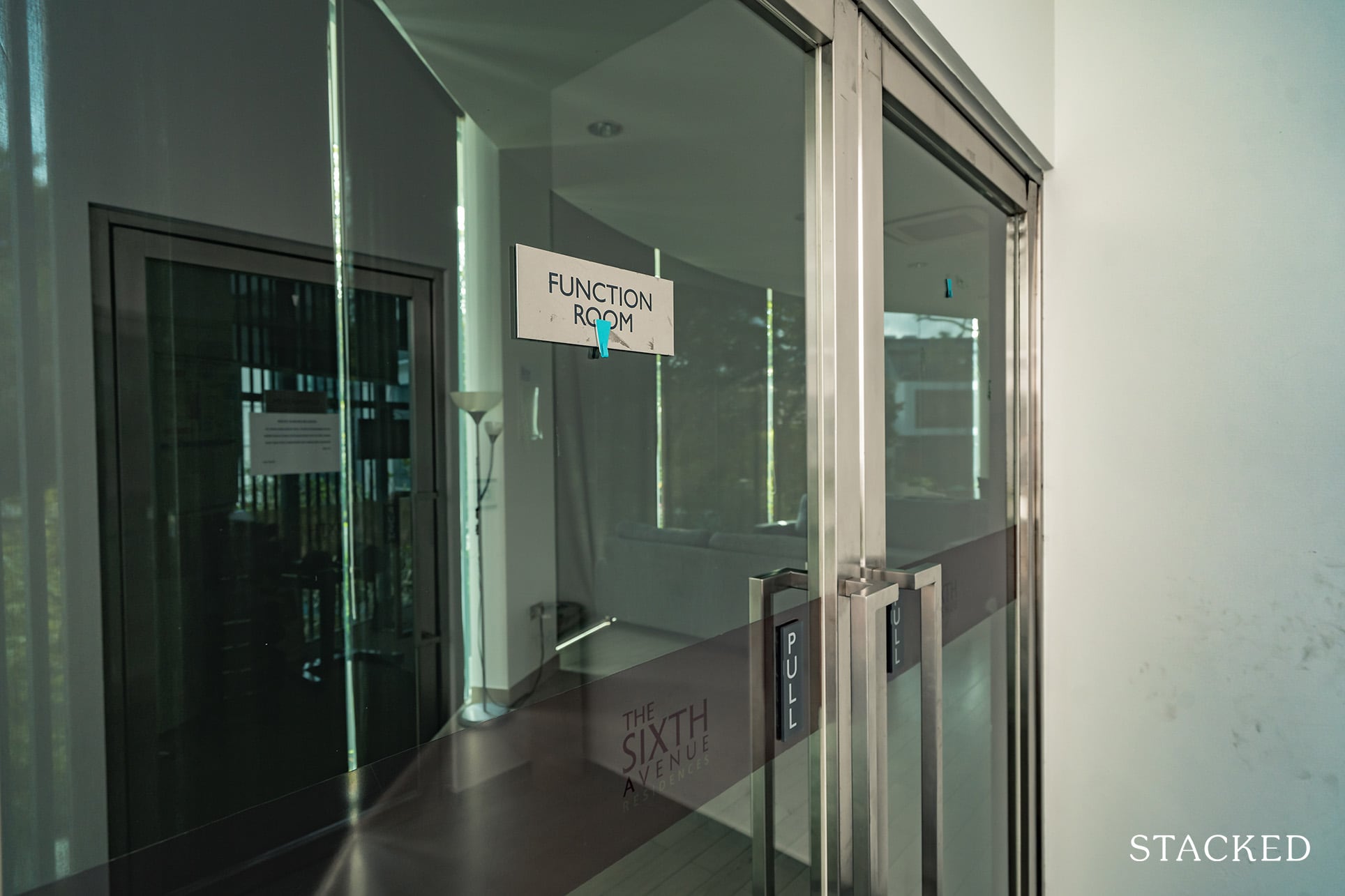 There's also an open roof terrace on the 3rd floor. It's a bit neither here nor there in terms of size, and the view isn't much to speak of either. While there is not much action happening here at the moment, it boasts of a slightly elevated view over the Namly Estate on 1 side and views of the 50m lap pool on the other. Perhaps they could take a leaf out of Parc Rosewood's book (not quite in the same segment but this condo happened to come to mind), where the developers there fitted the roof deck with moveable outdoor furniture. It could definitely serve as a nice chill spot for residents in my opinion!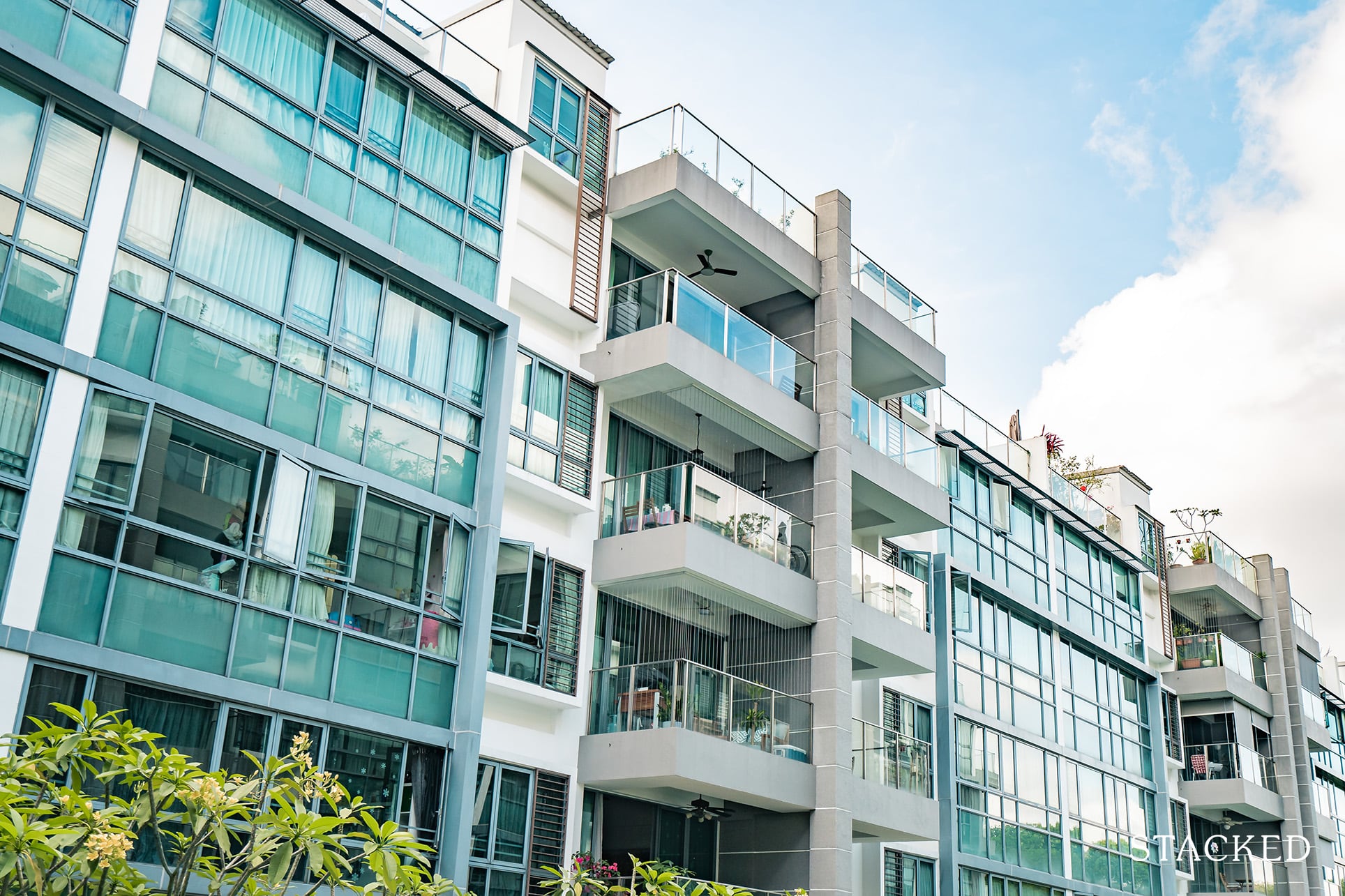 Design-wise, The Sixth Avenue Residences is pretty practical and utilitarian. Nothing fancy or offensive, with windows coming in with the greenish/blue tint, which perhaps would not be the colour of choice for developers today. It was a thing for condos in that generation though – just look at The Cascadia, which is close by and built just a year after. The architects here were Design Link Architects, who have a pretty long history dating back to 1988 and were behind some pretty recognisable yesteryear projects such as Bedok Court and Orchard Parksuites. More recently, they were also involved in Treasure at Tampines, Hillion Mall & Residences, and Robin Residences.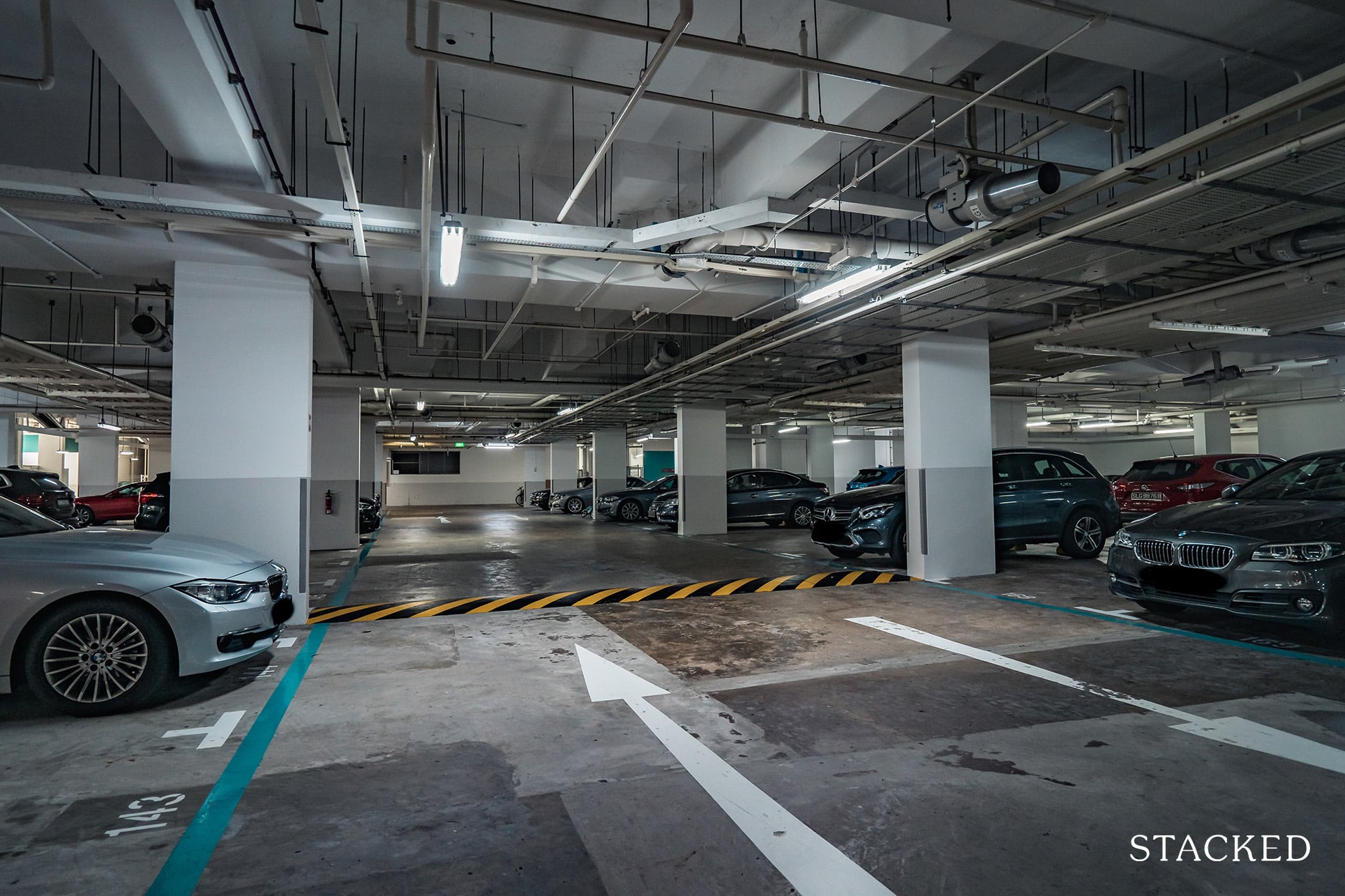 Coming to the car park, there are 2 levels of basement parking and from the number of times I have visited, car park lots are definitely more than enough. That's a common trend with resale condos and much appreciated by residents with more than 1 car. As the land plot of this condo is decently big for 175 units, the car park is also spacious and well-lit.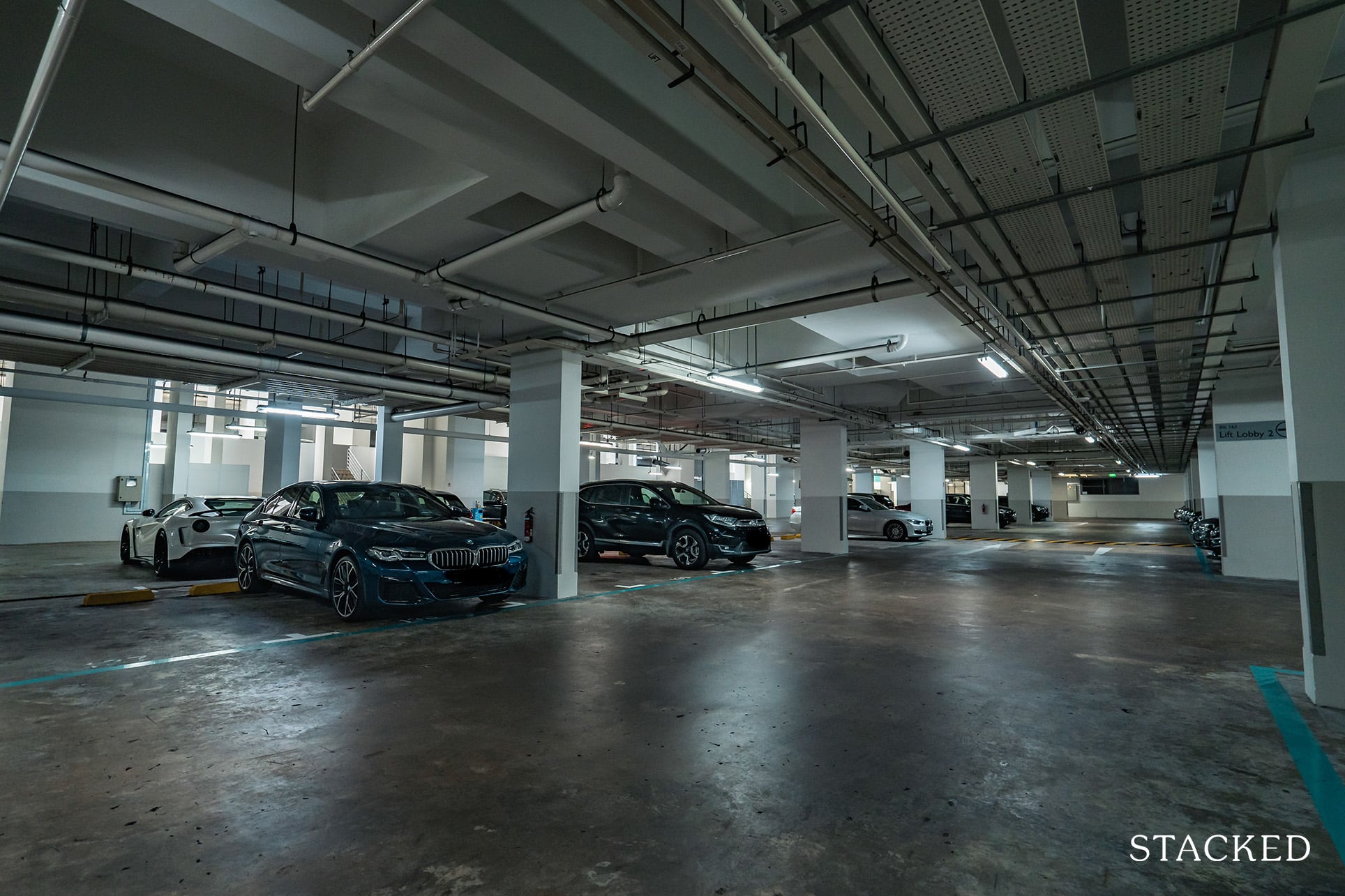 As for the overall condition of the carpark, it is certainly starting to show its age. It doesn't have the luxurious epoxy coating you might typically expect in a Bukit Timah development (think Cyan, for example) but that's definitely never going to be a dealbreaker for anyone.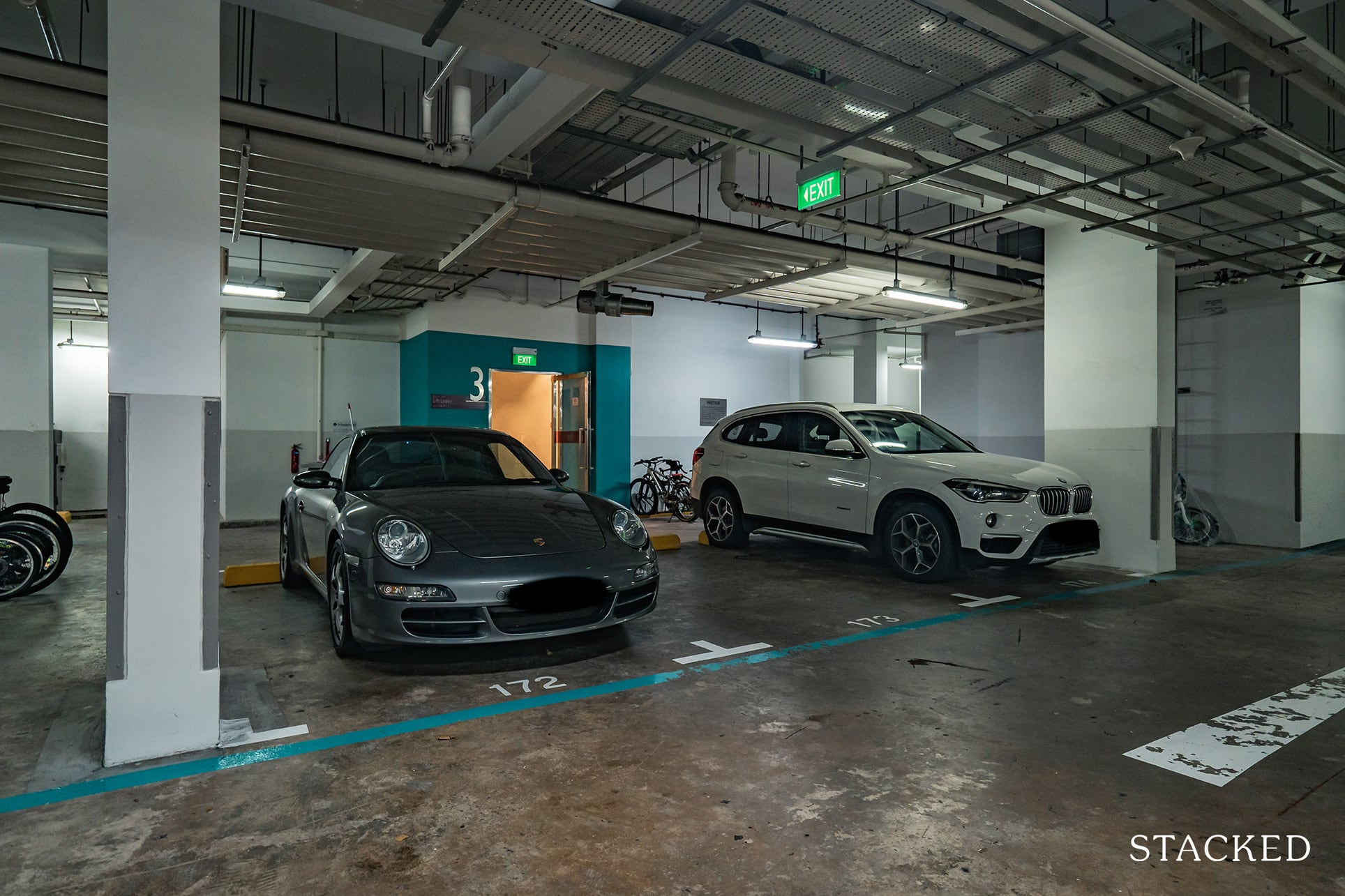 Be sure to park at the correct lift lobby though, as the lift lobbies are not connected to both floors of basement parking. With units now costing an average of $2.5 million (since they are mostly 3 Bedroom units), the choice of cars we spotted here was also unsurprisingly, slightly more upmarket with German cars seemingly the preferred choice.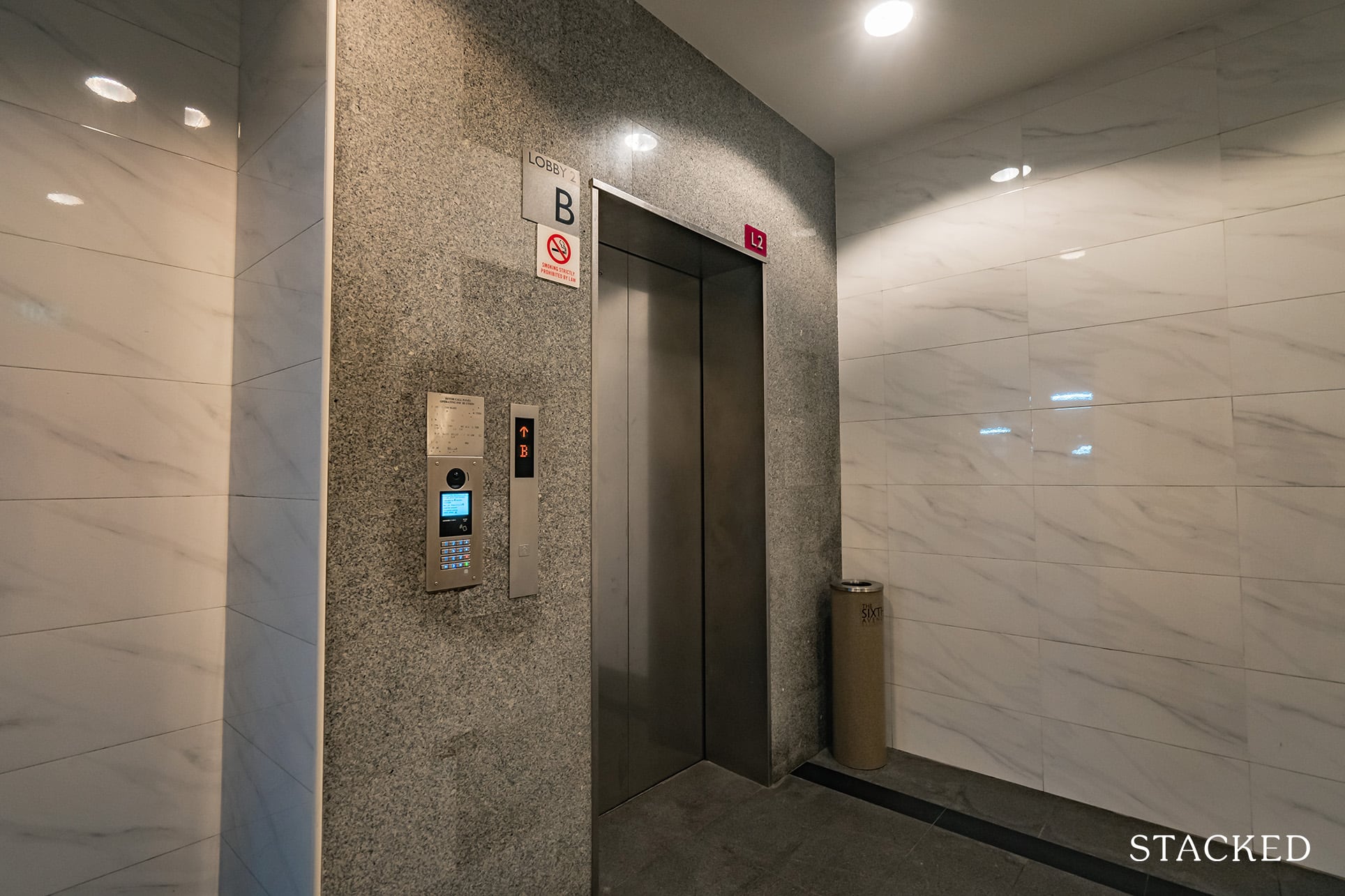 You don't need keycard access to get to the lift lobby but will require one to get to the floor you are visiting (save for the 1st floor). This is quite a simple lift lobby – no aircon to speak of and definitely will not rank anywhere close to the most luxurious lift lobby you will see. Of course, the upside to that simplicity is savings on the overall maintenance cost to be borne by just 175 units. Most of the lift lobbies serve 5 floors of residents with 4 units on each floor. If you're coming from a bigger development, you'd definitely appreciate not having to wait for the lift here. Sometimes, that time saved can almost feel like a significant perk!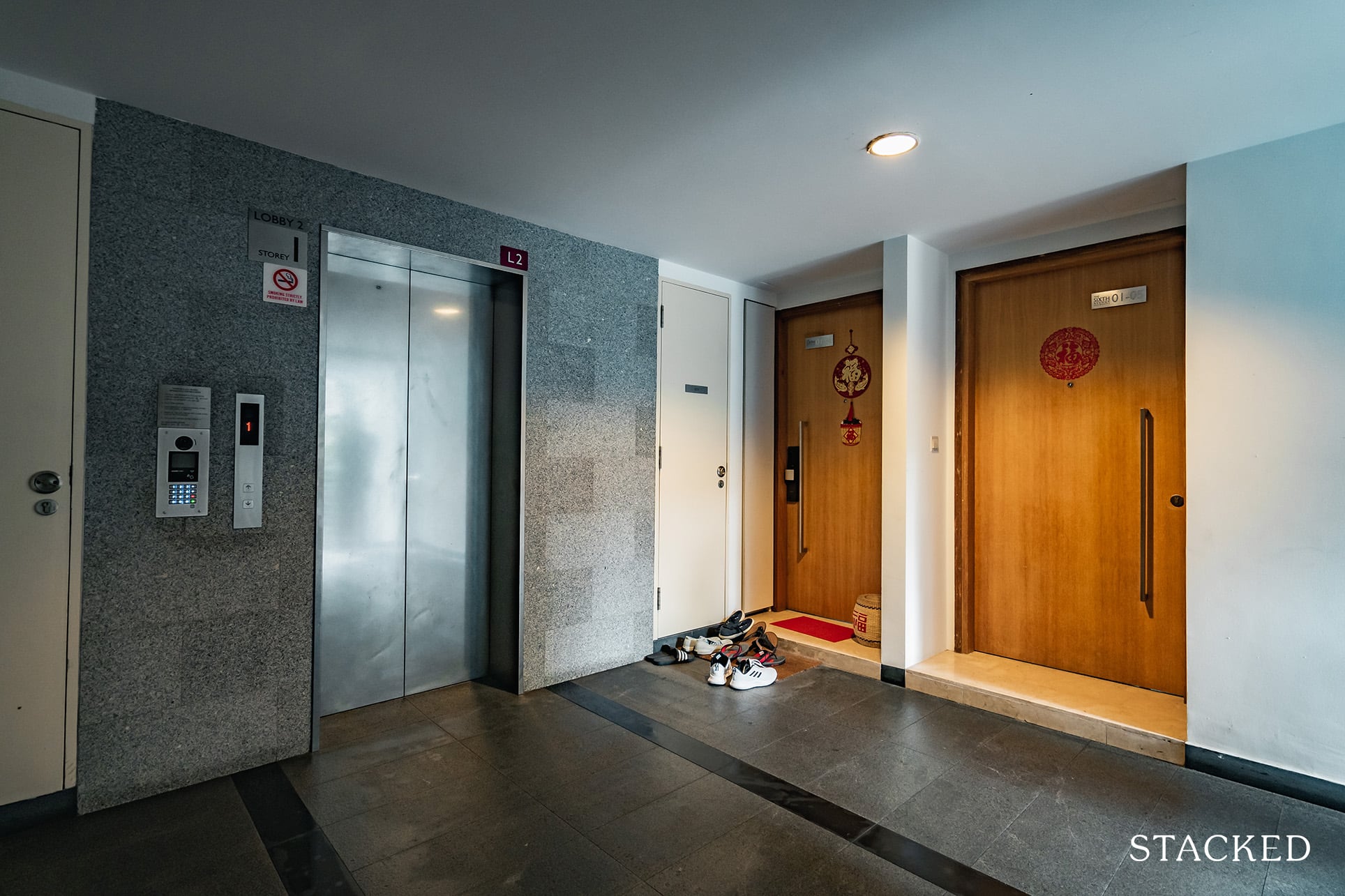 As you take the lift up to the 1st floor, you will notice how the 4 units are laid out with 2 on each side. You don't actually need to tap in or out to get to the lift lobby so some may find that a little less 'secure'. In my opinion, however, Singapore is probably a safe enough space to not require more gates in place, which can make the space look a little claustrophobic.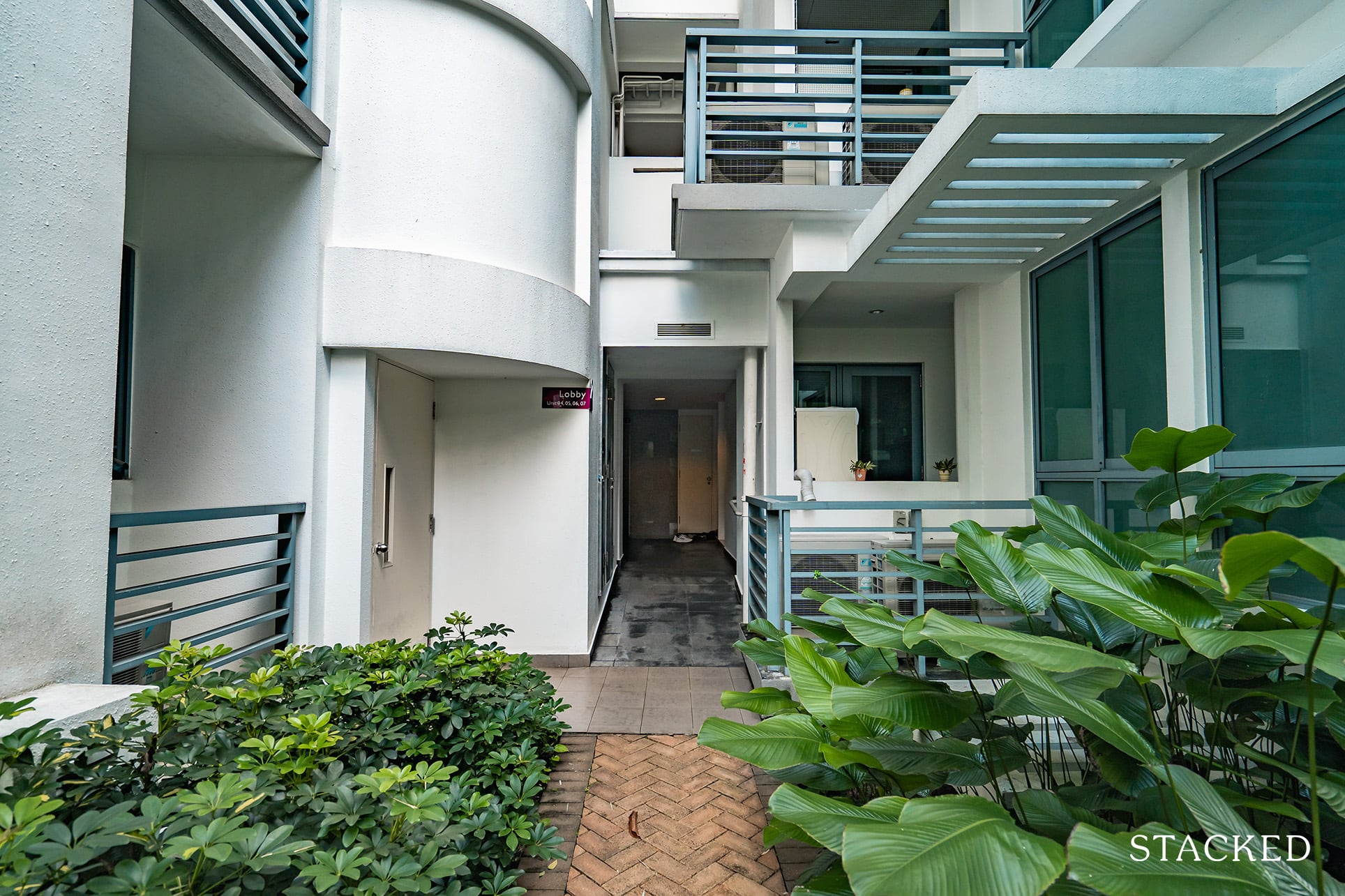 And so whilst it is not gated, the plus side is that the lobby we captured here is tucked away in a quiet corner so you get a fair bit of privacy here.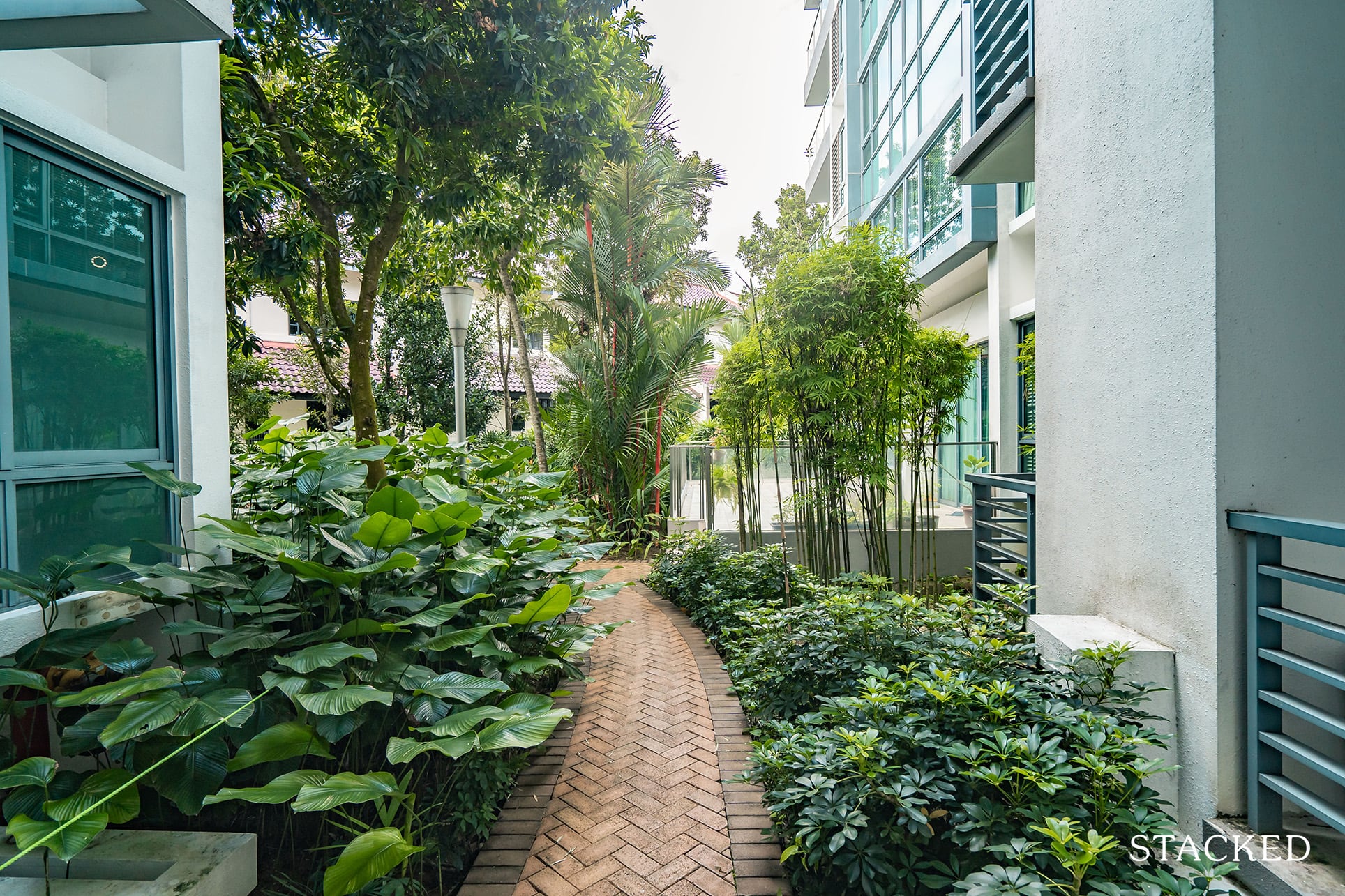 It's also nice that an abundance of greenery lines the way as you take a walkout from the lift. Overall, the common areas are pretty much no-frills, so you really don't get that welcoming luxuriousness that you might see in the newer developments today.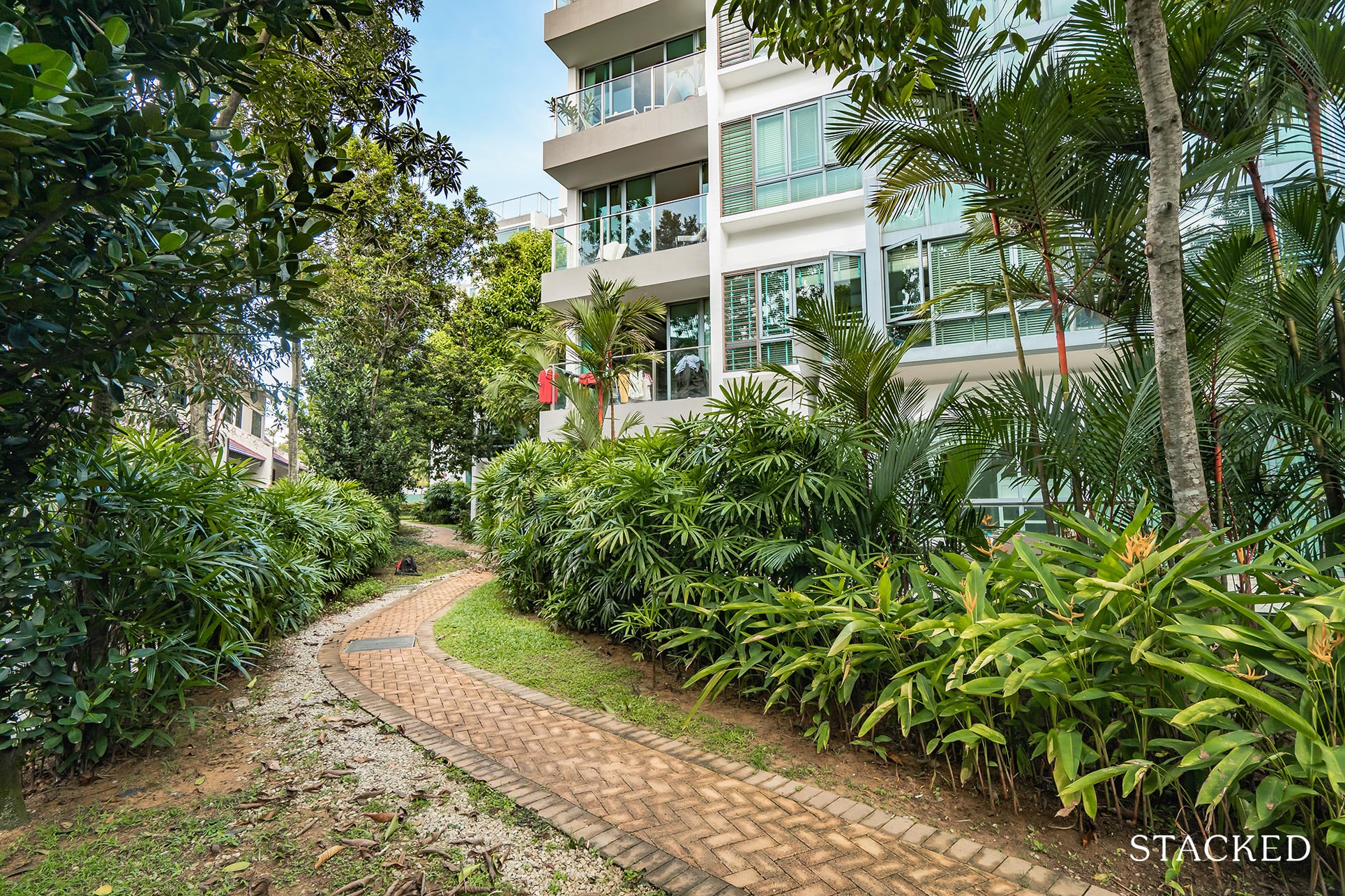 There is a footpath that treads the perimeter of the entire Sixth Avenue Residences, so you have the option of having a leisurely stroll or a jog after dinner. Having TOP-ed in 2009, this condo is now about 13 years old and you can see that the tiles are starting to show their age.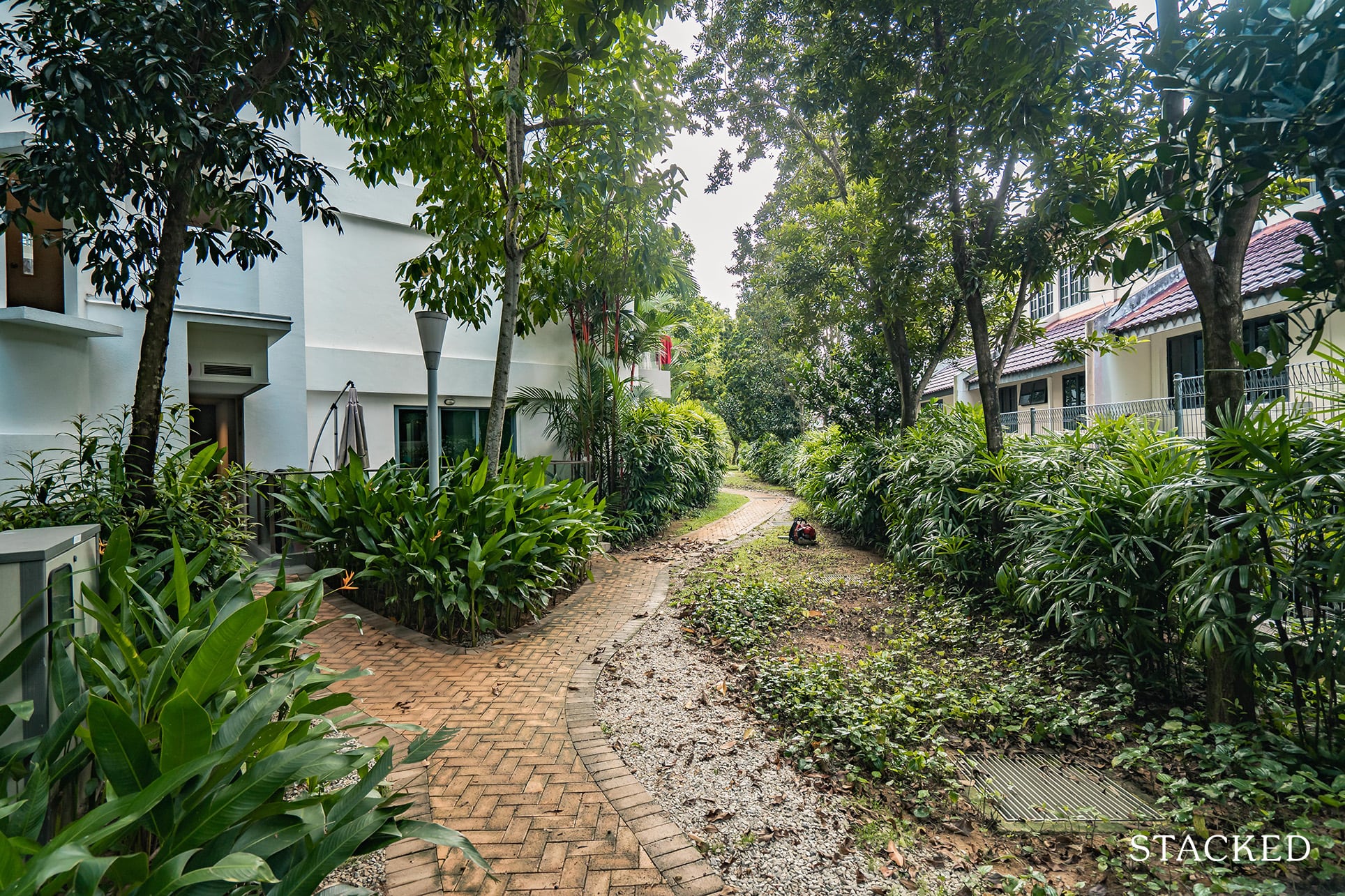 The footpaths aren't very wide too, so if you do intend to have a jog and there are other people on the path, a fair amount of sidestepping manoeuvres might be necessary.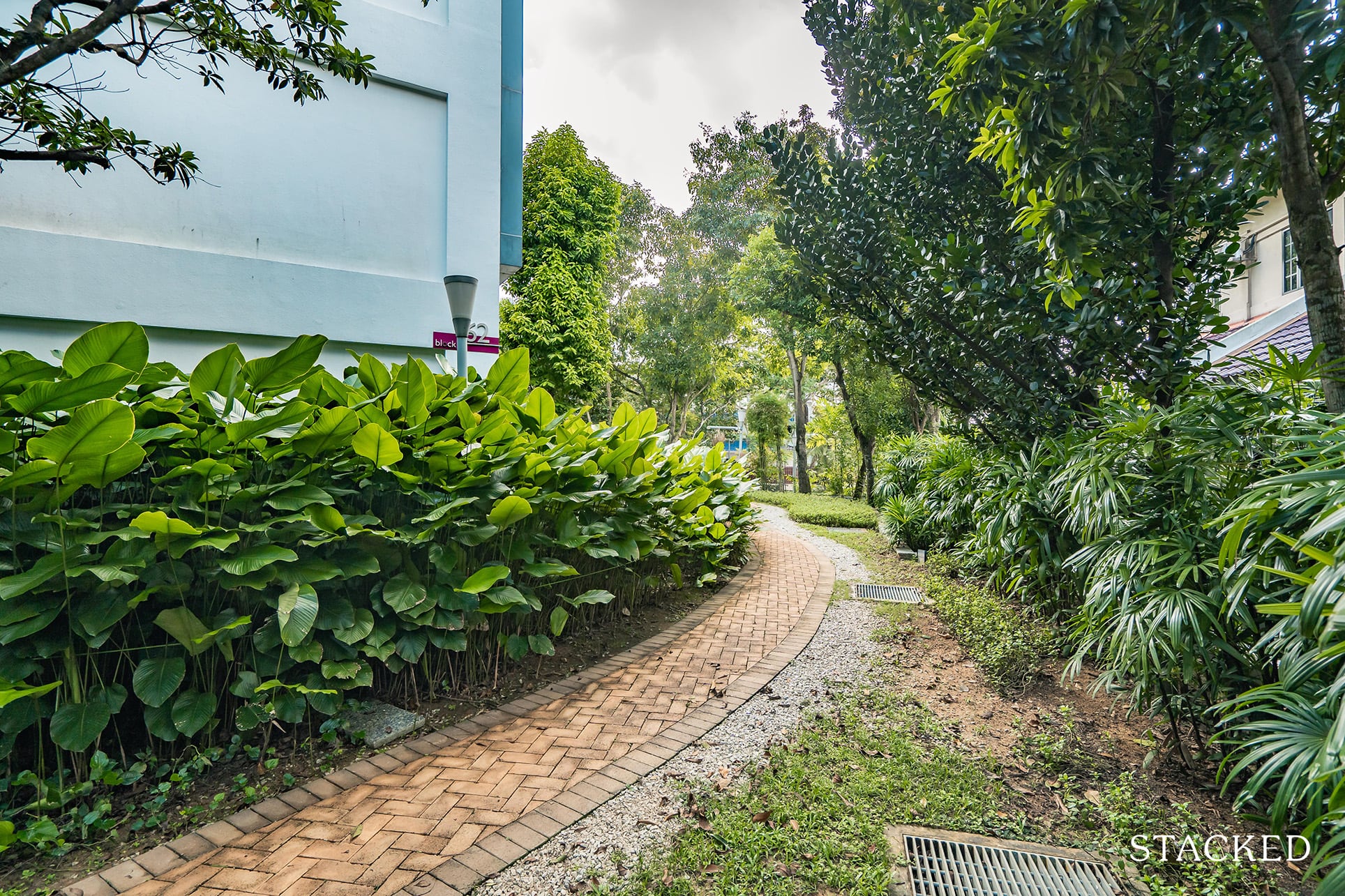 Nonetheless, I like that this condo is very low density with just 175 units, so you don't have to worry about common areas getting too busy. It's also nestled in the middle of a landed estate – in fact, if you take a walk along the footpath, you will notice the elevated Garlick Avenue Good Class Bungalow estate bordering the area close to the tennis court. It bodes well for residents as you can be sure that peace and tranquillity are also of utmost importance to your neighbours too. This exclusiveness is an attractive selling point to me – not so much in the 'atas' sense but more of the privacy you can enjoy in this development.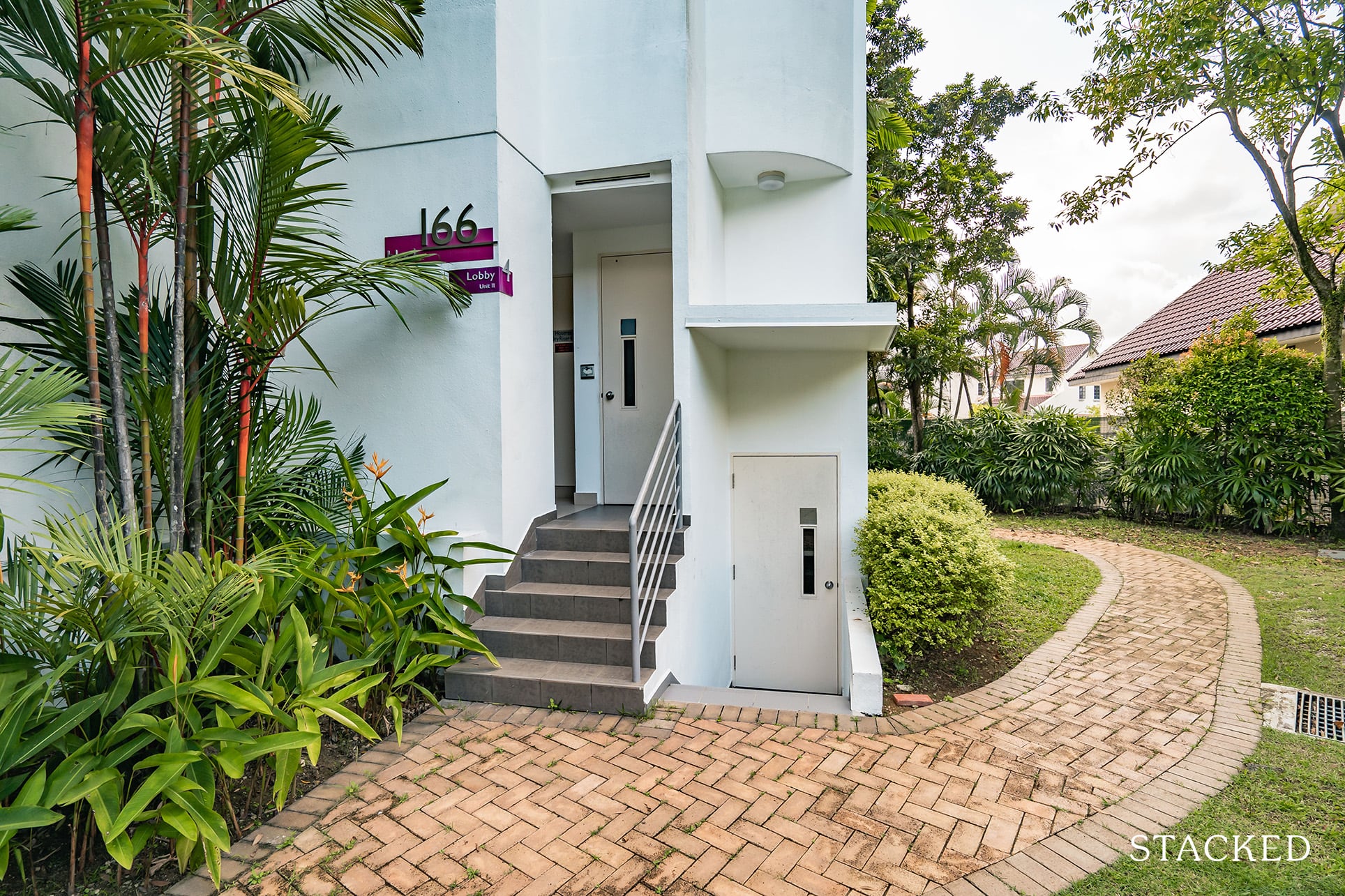 So the positive spin here is that because the surrounding areas are all low-lying, you don't get any tall buildings overlooking the estate. As such it helps with that private feel, and not feeling "bunched" in.
On the other hand, while there are just 175 units because the blocks are low and spread out, the land size doesn't quite feel as spacious as you might imagine.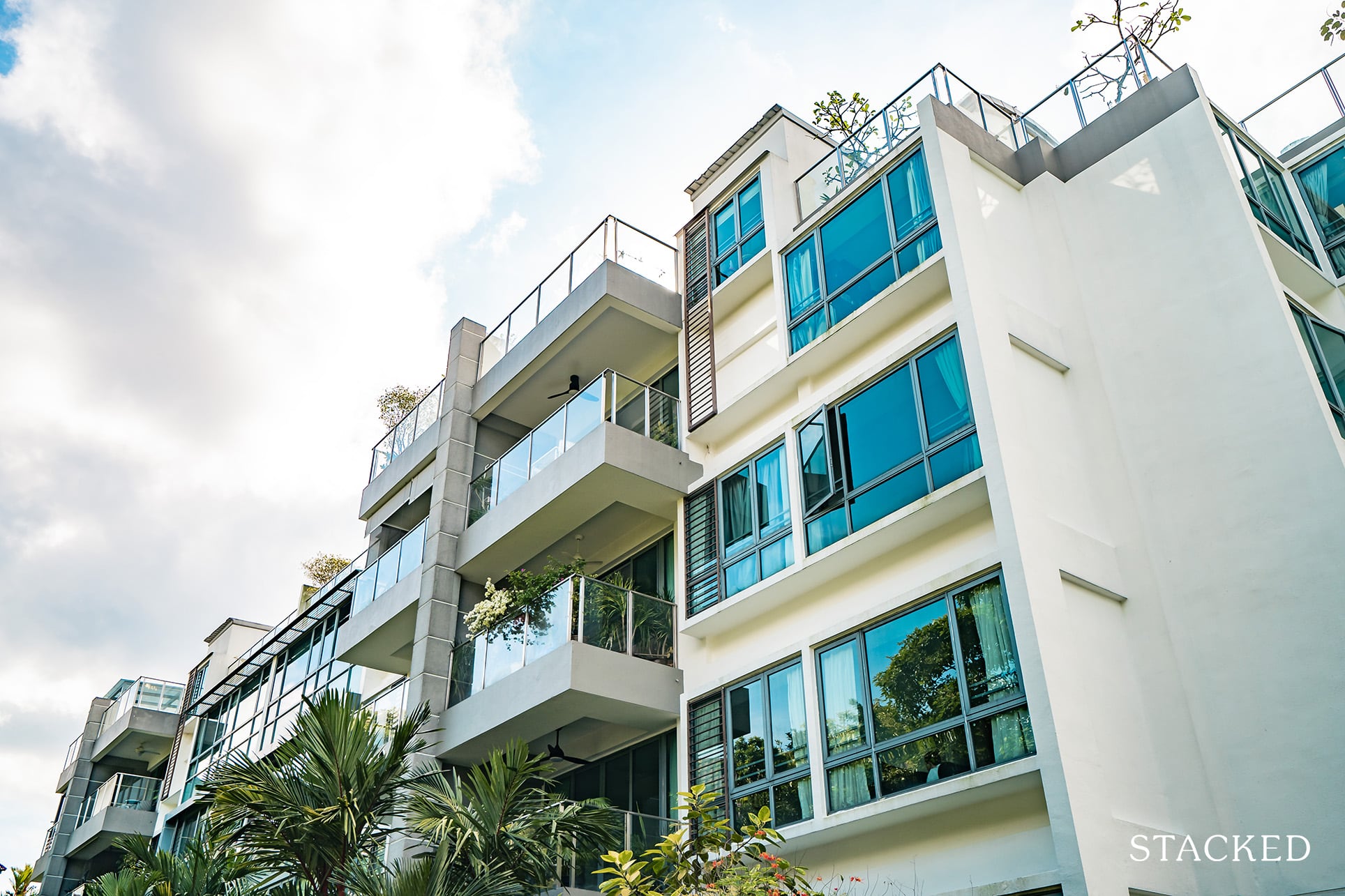 In general, the blocks are laid out in parallel fashion and tilted at an angle if you take Sixth Avenue as a reference. I'm sure part of the reason might have been to maximise the number of units but it's also helpful that they did that as they have angled practically all the blocks towards a North-South orientation.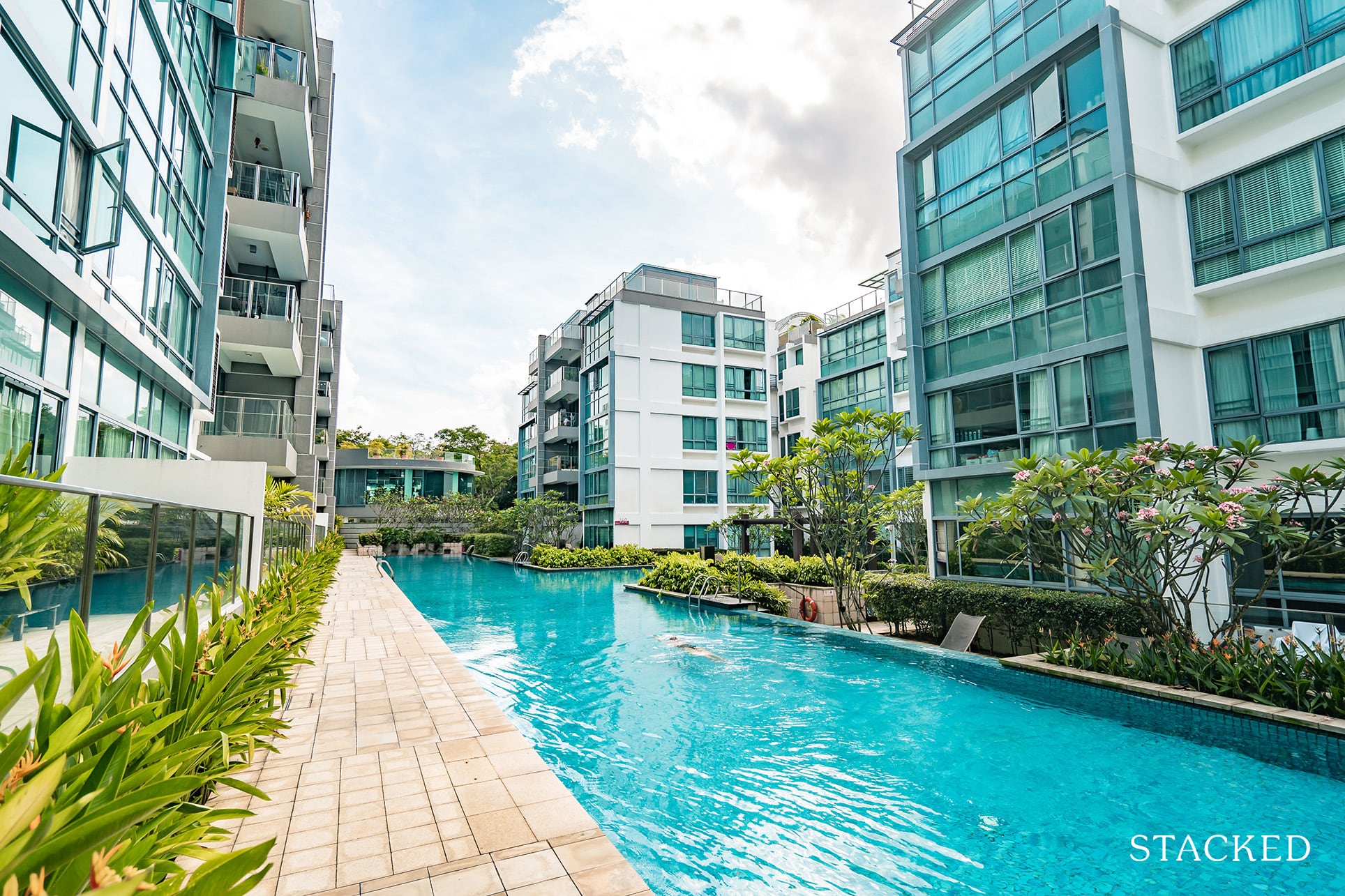 While many new condo launches will choose to go with more lawns or gardens, I'm happy that here at The Sixth Avenue Residences, there are two full-length 50m lap pools between the blocks instead. It's also pretty wide and looks to be able to accommodate about 3 people swimming laps concurrently. With just 175 units here, I would say having two 50m lap pools definitely makes this condo one of the most generous in Singapore.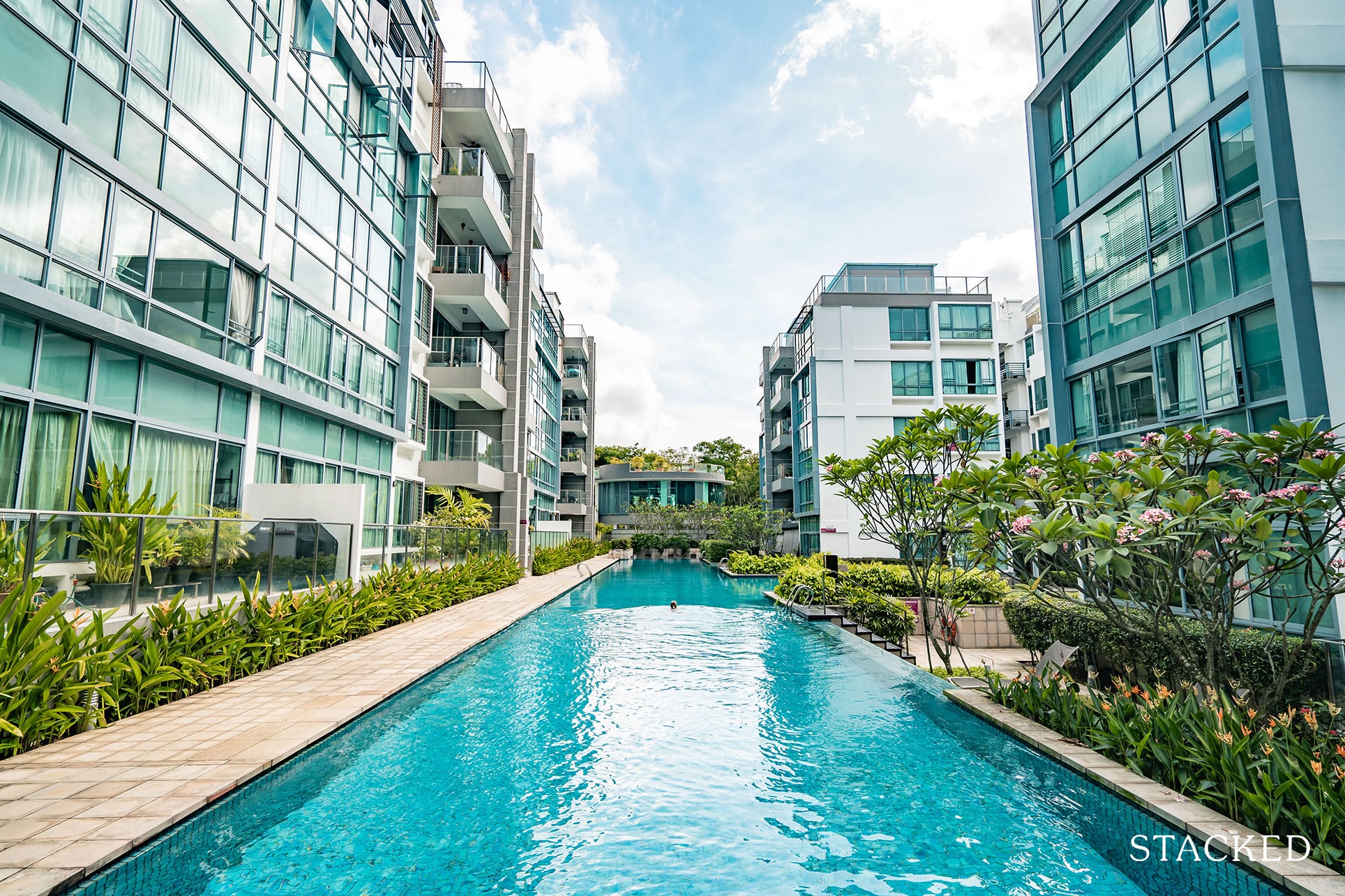 This also means that a significant number of units here will enjoy a pool-facing view. It's not going to be at the top of the list of priorities for everyone, but at least most views will be decent at The Sixth Avenue Residences.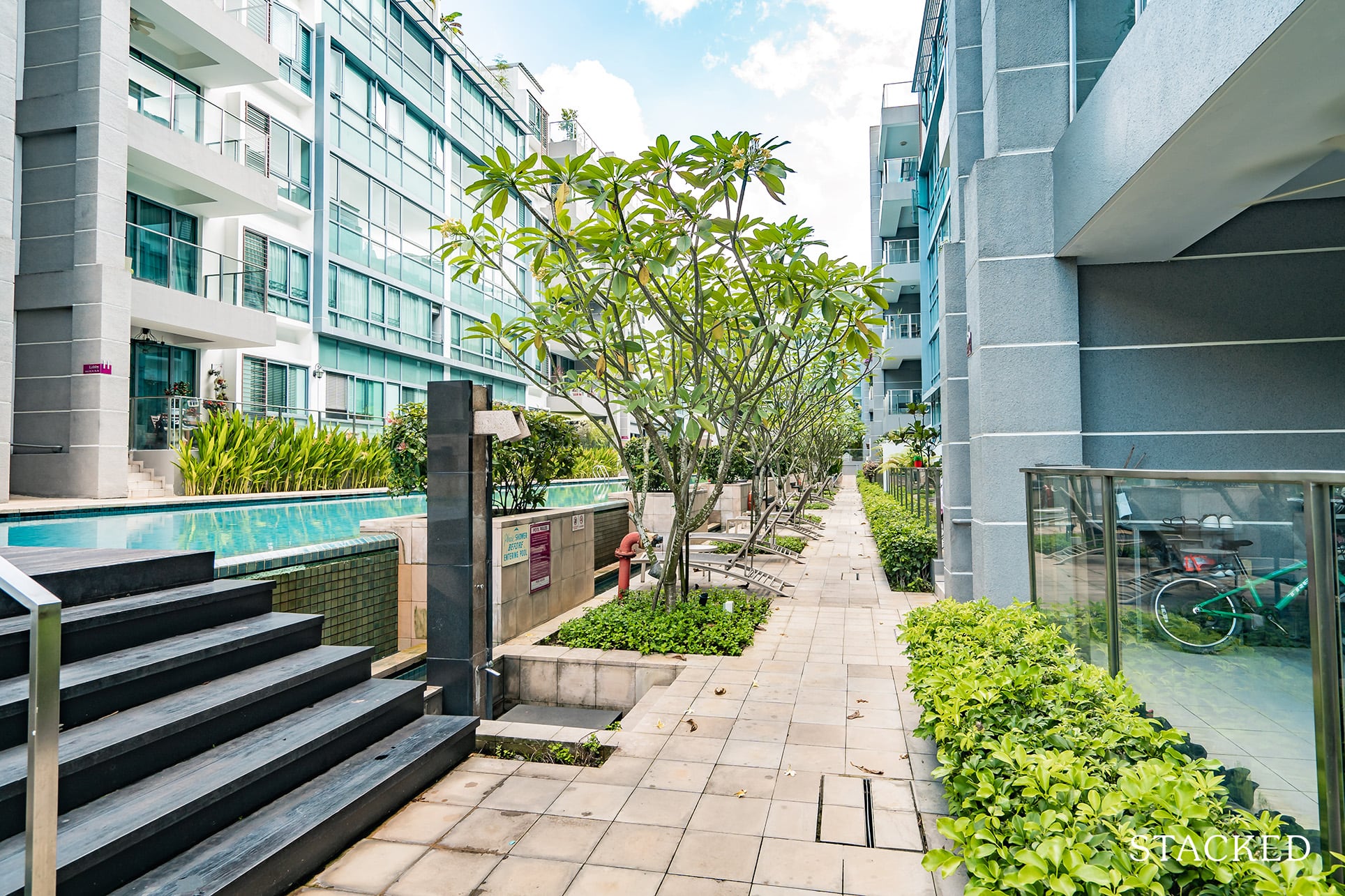 As the site is slightly undulating in terms of its terrain (you will notice this more while taking the footpath at the back of the development), there is also a pseudo infinity pool vibe of sorts with an edge on one side of the pool and you would actually have to take the steps up to the pool deck before entering it.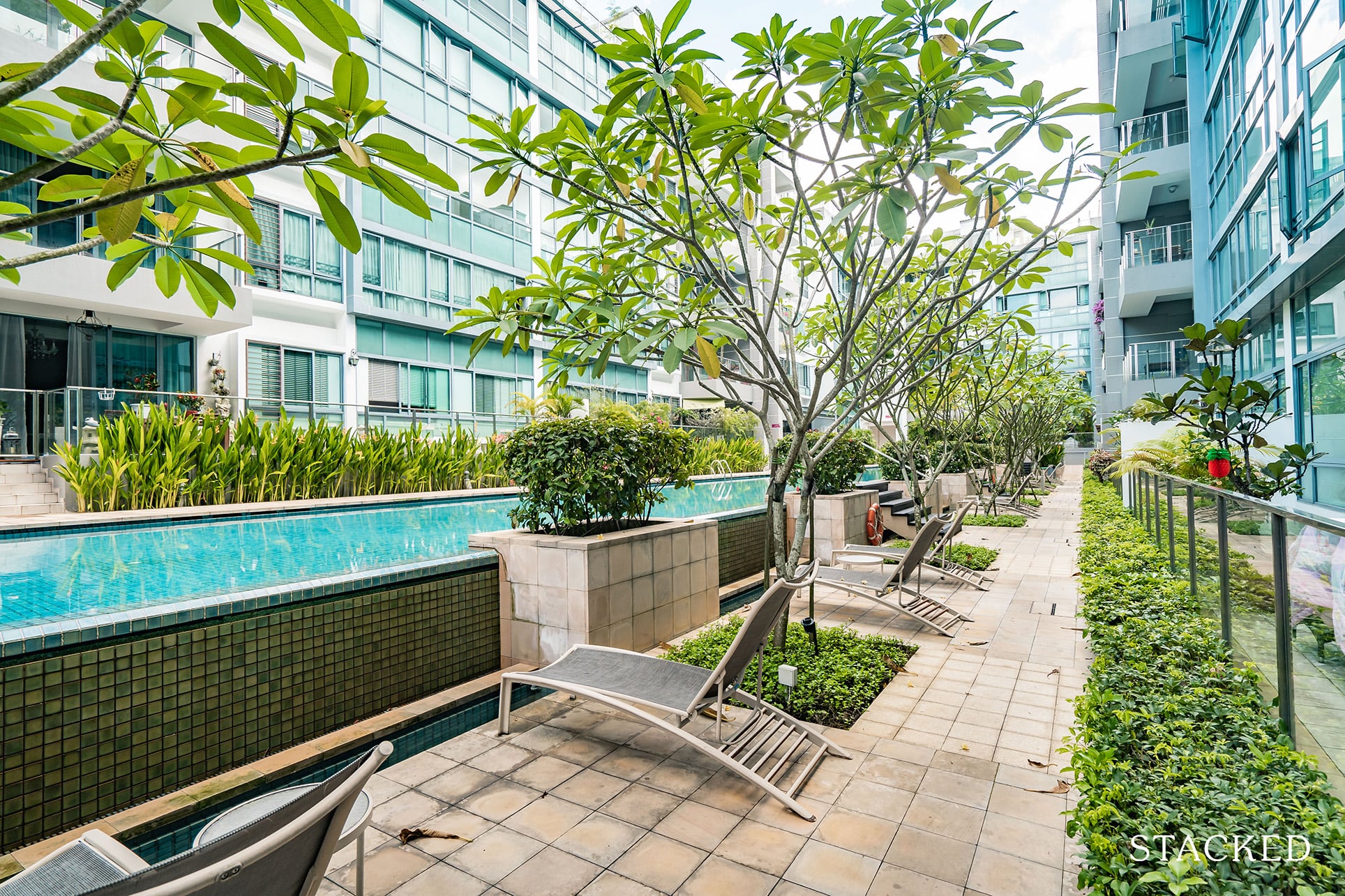 For sun-worshippers, the sun-tanning environment might not quite be up to standards though, as the pool deck chairs are placed along the length of the pool. As they are on lower ground, it's not a very ideal setup as you don't quite get views of the pool. Especially in lounge mode, you'd be essentially staring at a wall, which I can't say is what most people would be imagining when you say you are lounging by the swimming pool.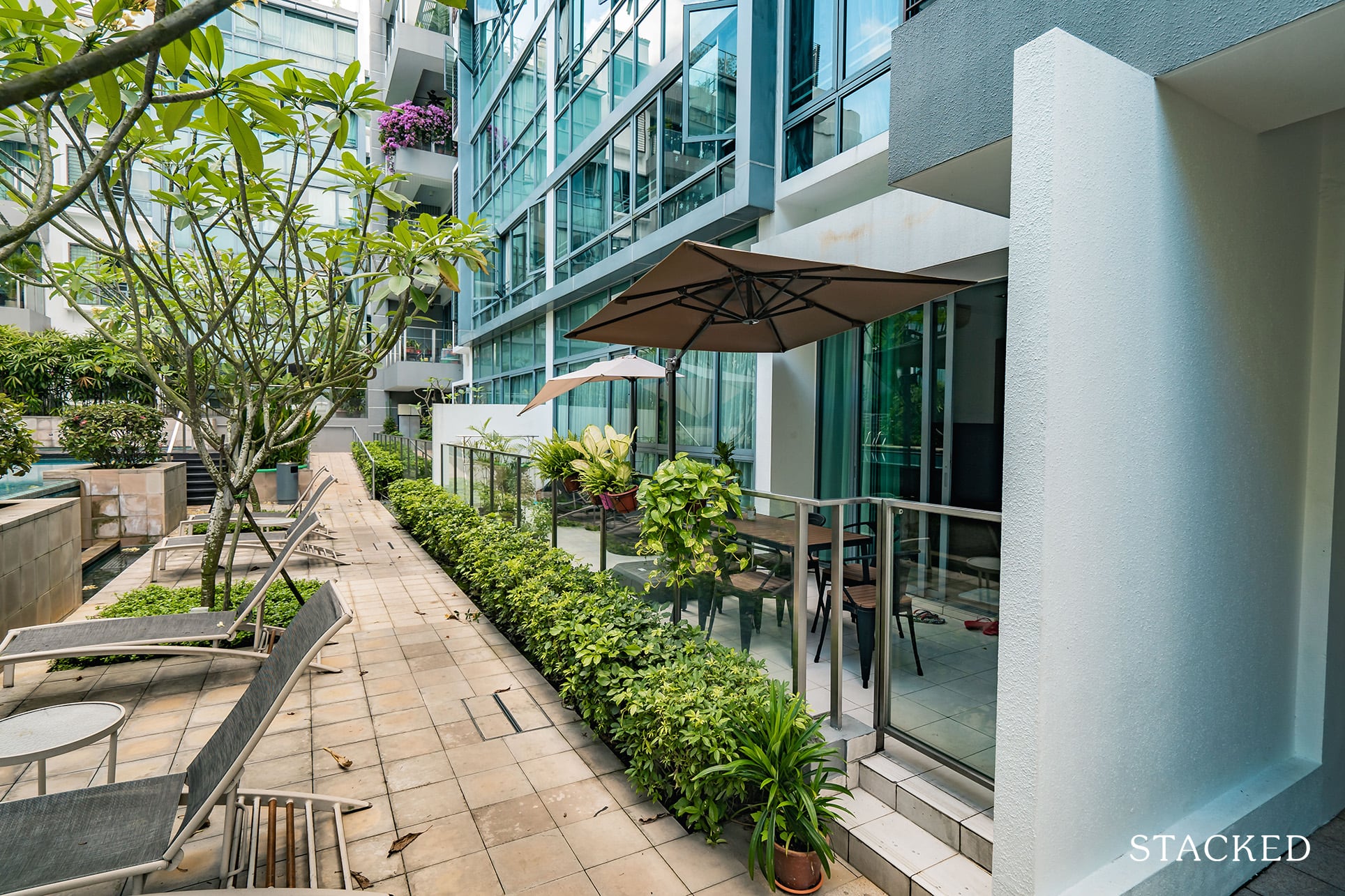 And while there is a walking path behind the deck chairs, you might have noticed that there are also ground floor units here.
Privacy could be an issue for them as their units are pretty close to the deck chairs here. Whether you are on the sun lounger or you are at relaxing on your own patio, it's unlikely you'd be able to have very private conversations given the proximity. The flip side is that they get immediate access to the pool, which can seem like a private pool given how under-utilised the pool seems to be, so you won't be getting a huge mass of crowds that you might see on the weekends in those mega-developments.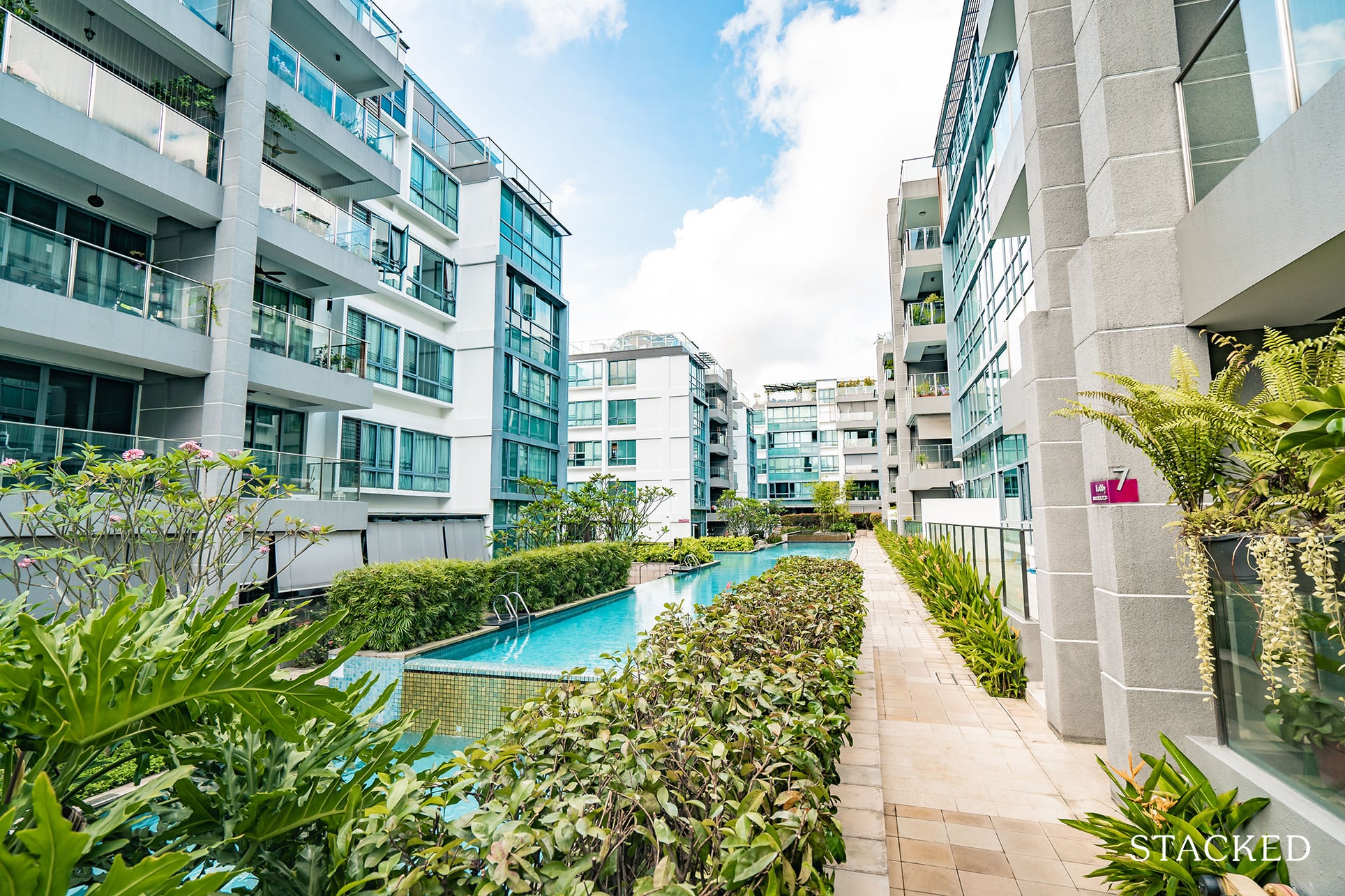 Still, I can't really find too much fault here as having two swimming pools of this size is very generous in today's context. It's also always going to be the downside of a lower-rise development, so you just have to pick which would be a more important criterion for you.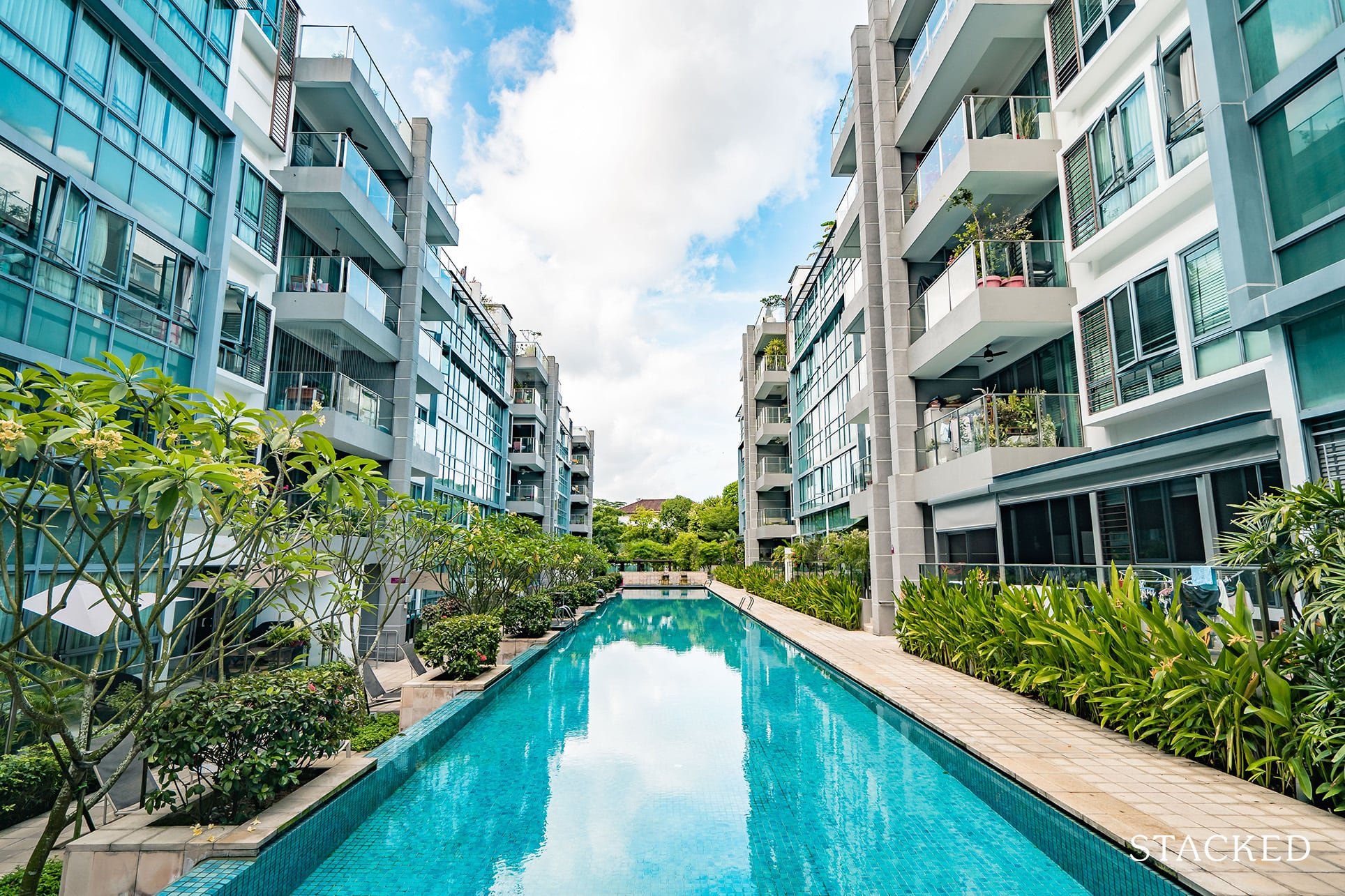 I do especially like the views towards the unblocked landed area. It does make you feel as if you are in a less dense area, which is part of the charm of living in this more premium area of Bukit Timah.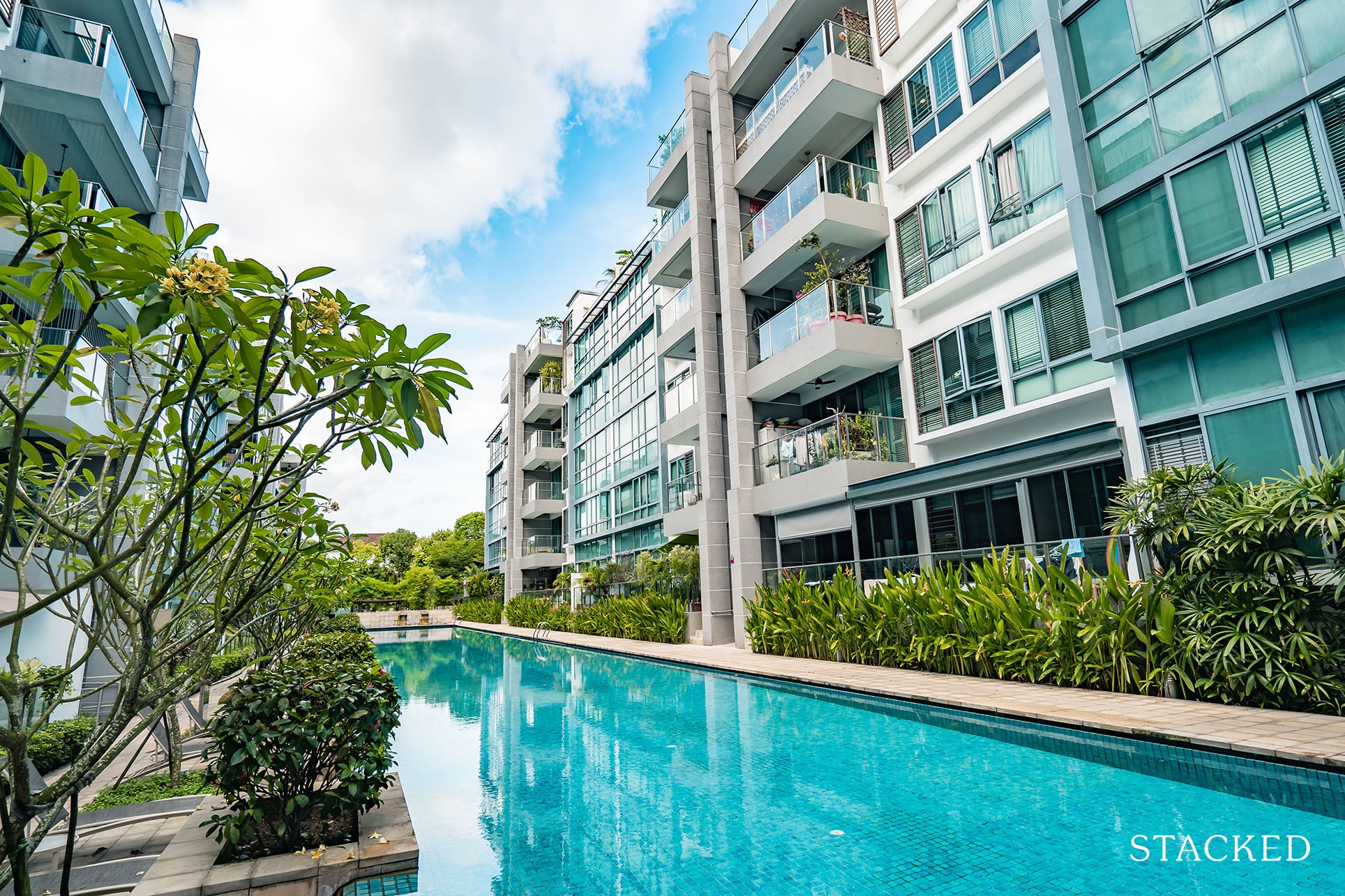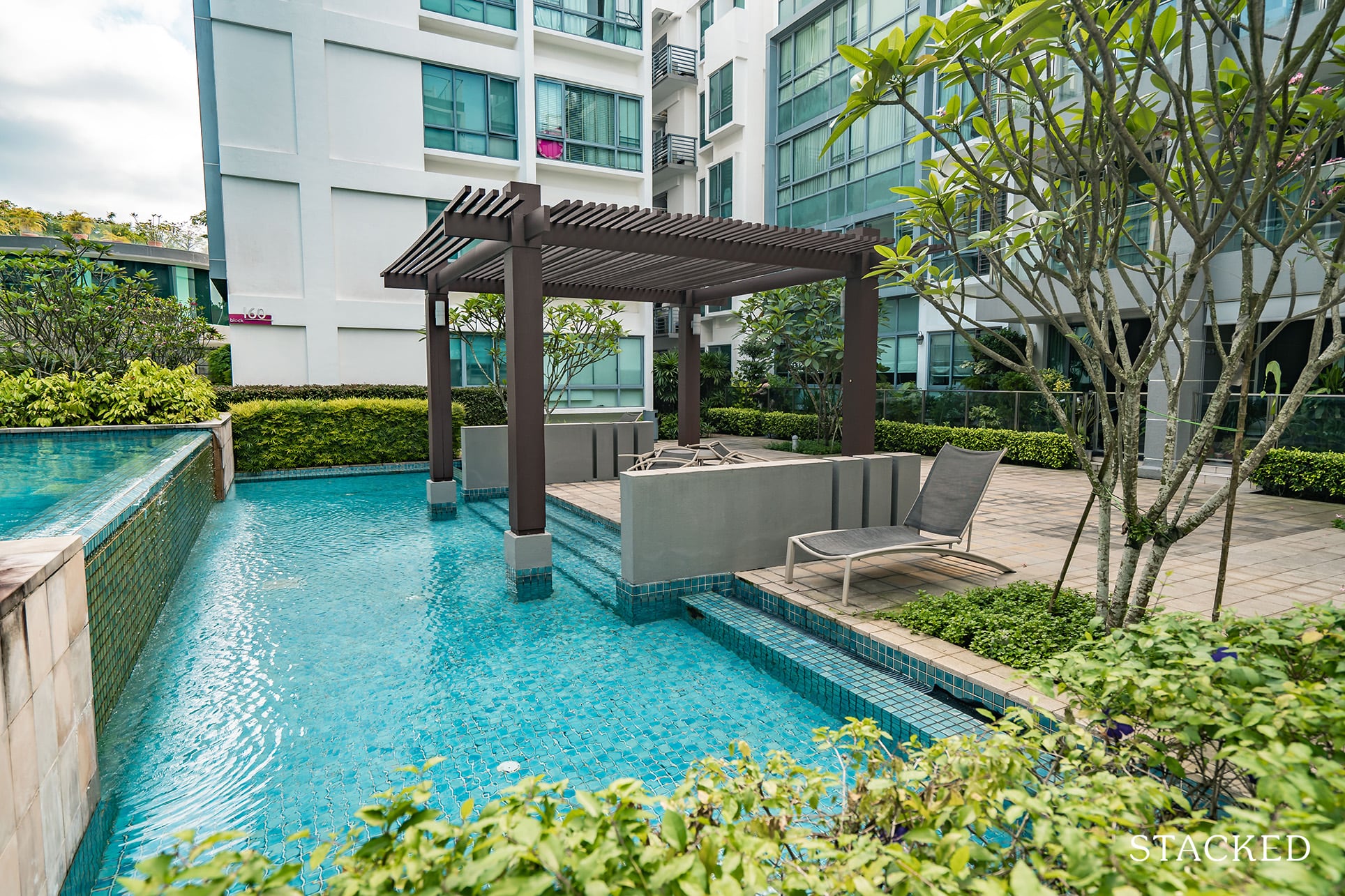 Besides the serious swimmers, let's not forget about the children! You've got 2 kids' pools – one beside each 50m lap pool – and while it's devoid of water guns or slides, it's good enough that there are segregated and more shallow areas for them. Having 2 kids' pools in a condo with 175 units might already mean instances where you could have the whole pool to yourself at times.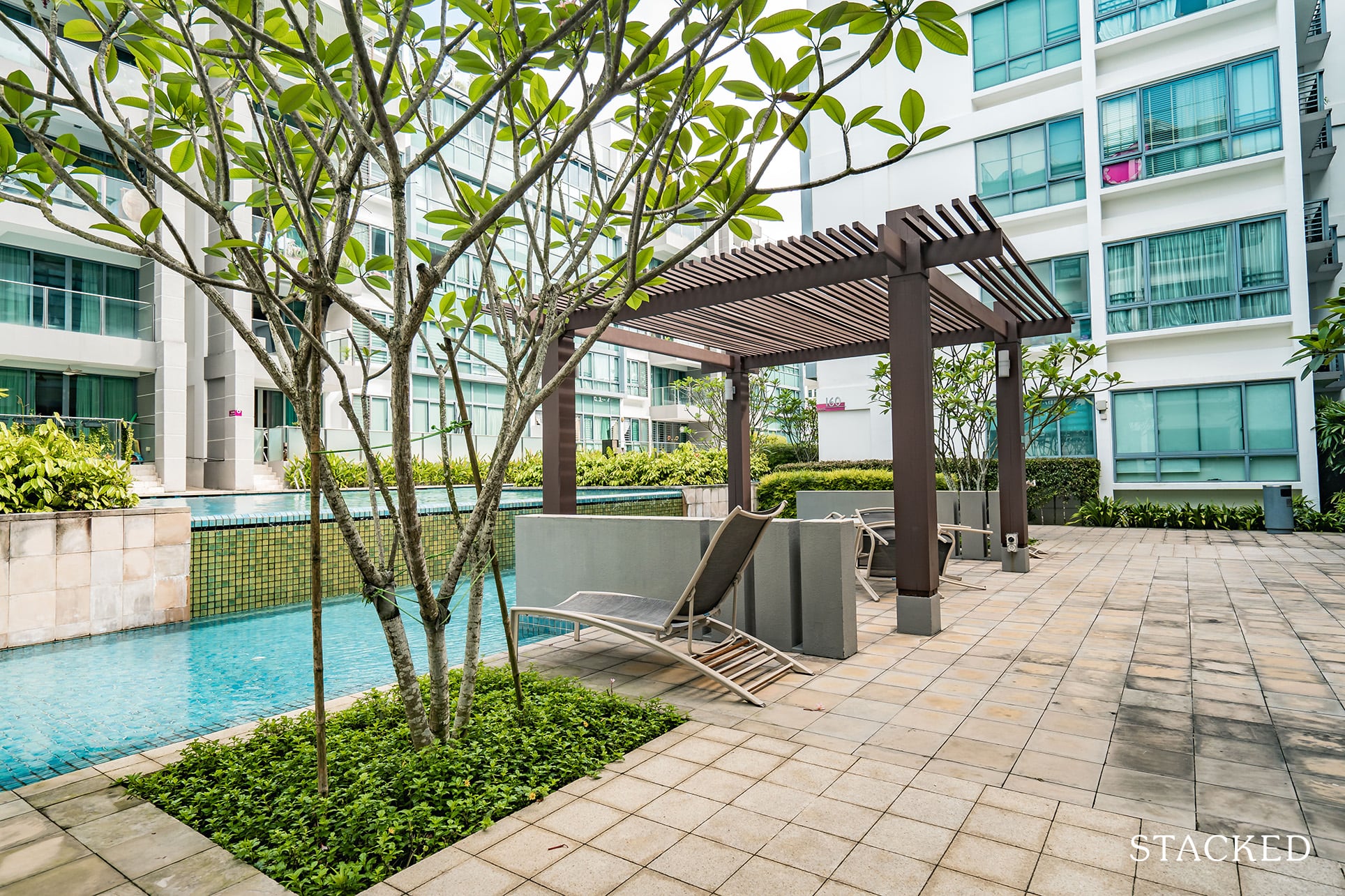 There are also 2 more bubble pools for residents who prefer a more chill spot without necessarily having to deal with either the kids shrieking in delight or the Joseph Schooling wannabes in the 50m lap pool.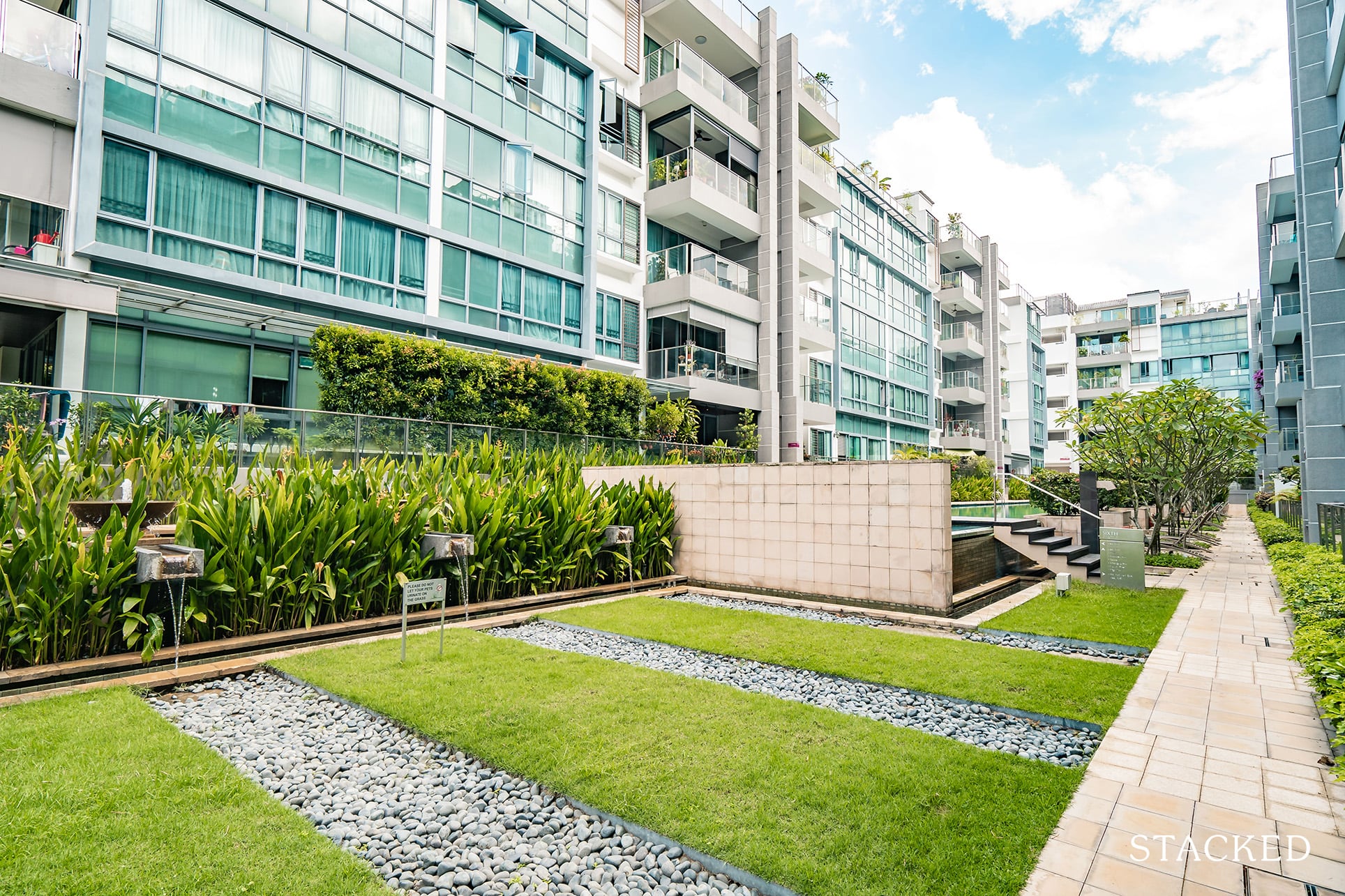 You do also have a small garden and trellis area beside the second swimming pool. I'd just like to take this point to commend the general upkeep of the landscaping. Almost everything is kept trim and tidy, and you don't get leaves strewn about the footpaths. Visually, there is more than enough green that it is attractive, but not so much that you fear for the continued upkeep in the future.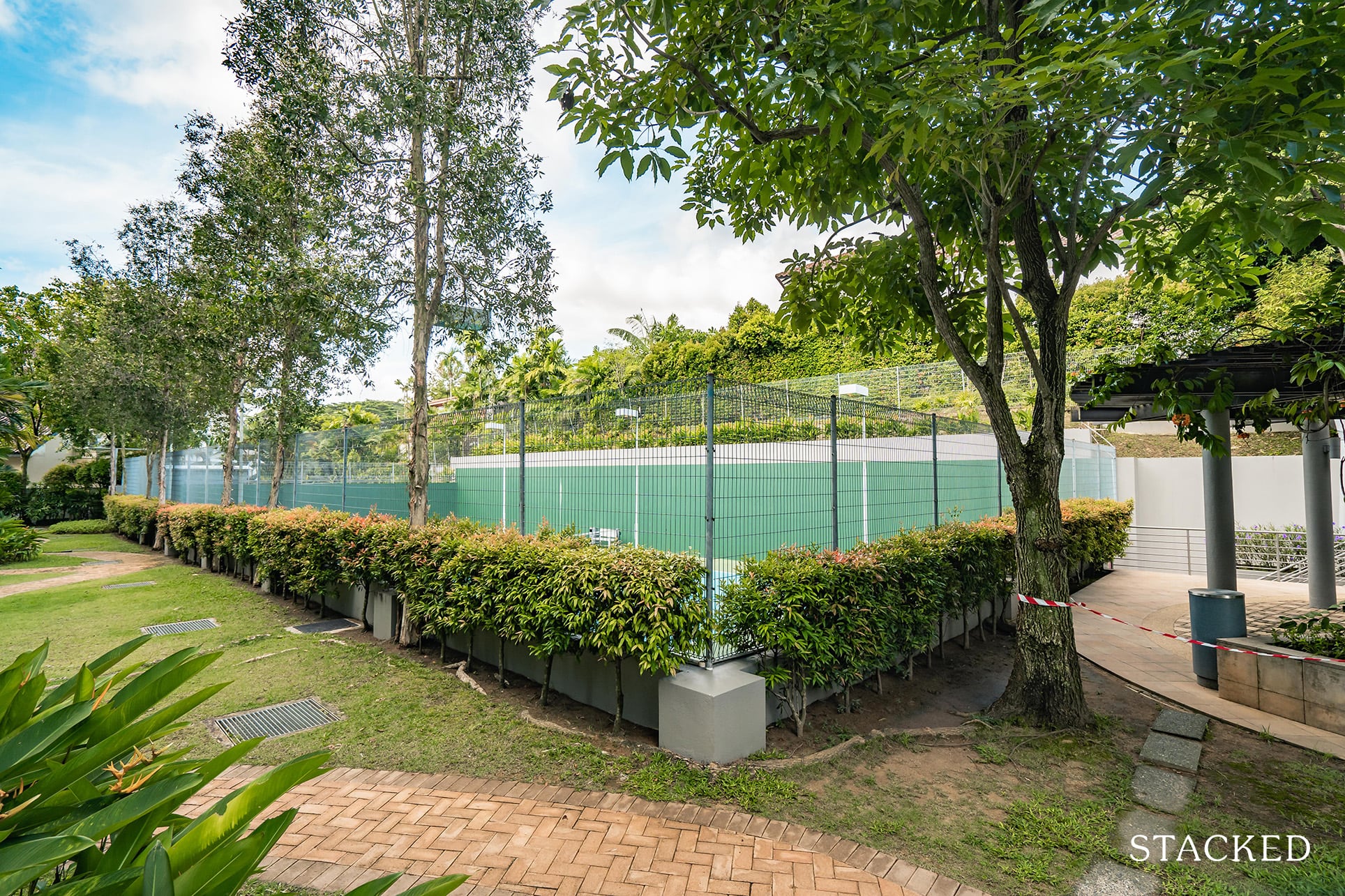 As we continue the tour, you will find 1 tennis court at the western corner of the development just beside Block 166. Once again, I have to compliment how extensive the facilities are here. I know I often raise the point about how mega-developments such as Treasure at Tampines and Parc Esta (with 2,202 and 1,399 units respectively) have just one tennis court, but it is quite a remarkable difference. And while some may point out that it's not a like-for-like comparison since they are arguably more mass-market condos, I don't think many would dispute that tennis courts are getting harder to find even in equal-sized luxury developments today.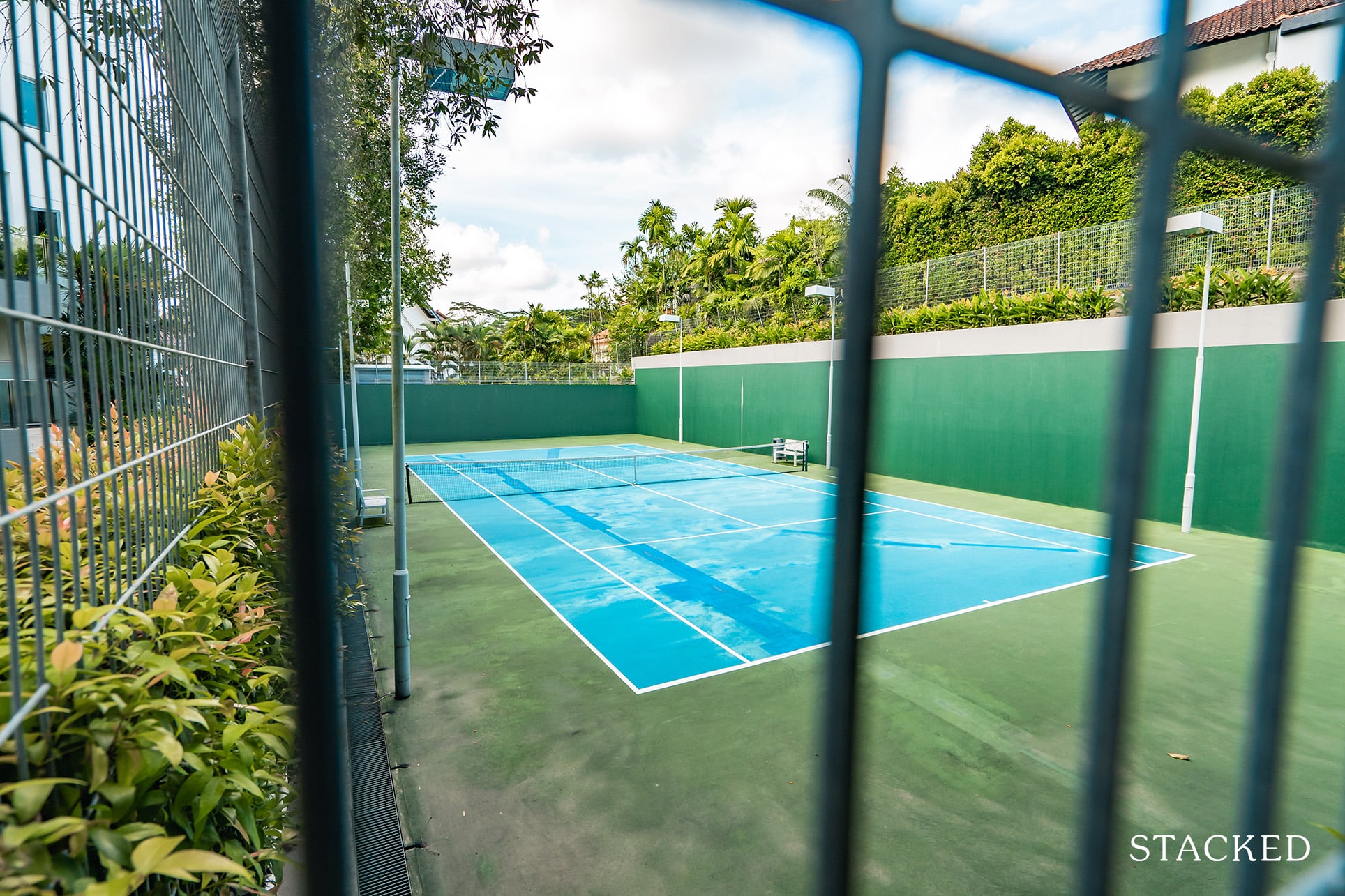 Let's take RoyalGreen as a point of reference then – it is the closest new launch condo and has a very similar sized land plot (172,000 sq ft for The Sixth Avenue Residences and 174,000 sq ft for RoyalGreen). While both have one tennis court each, the one at RoyalGreen is situated on the rooftop and highlights the denser nature of the development. Moreover, there is just one 50m pool for RoyalGreen (285 units) as opposed to 2 50m pools (175 units) here. Needless to say, this is where resale condos tend to triumph as the grounds are generally more spacious and less squeezy.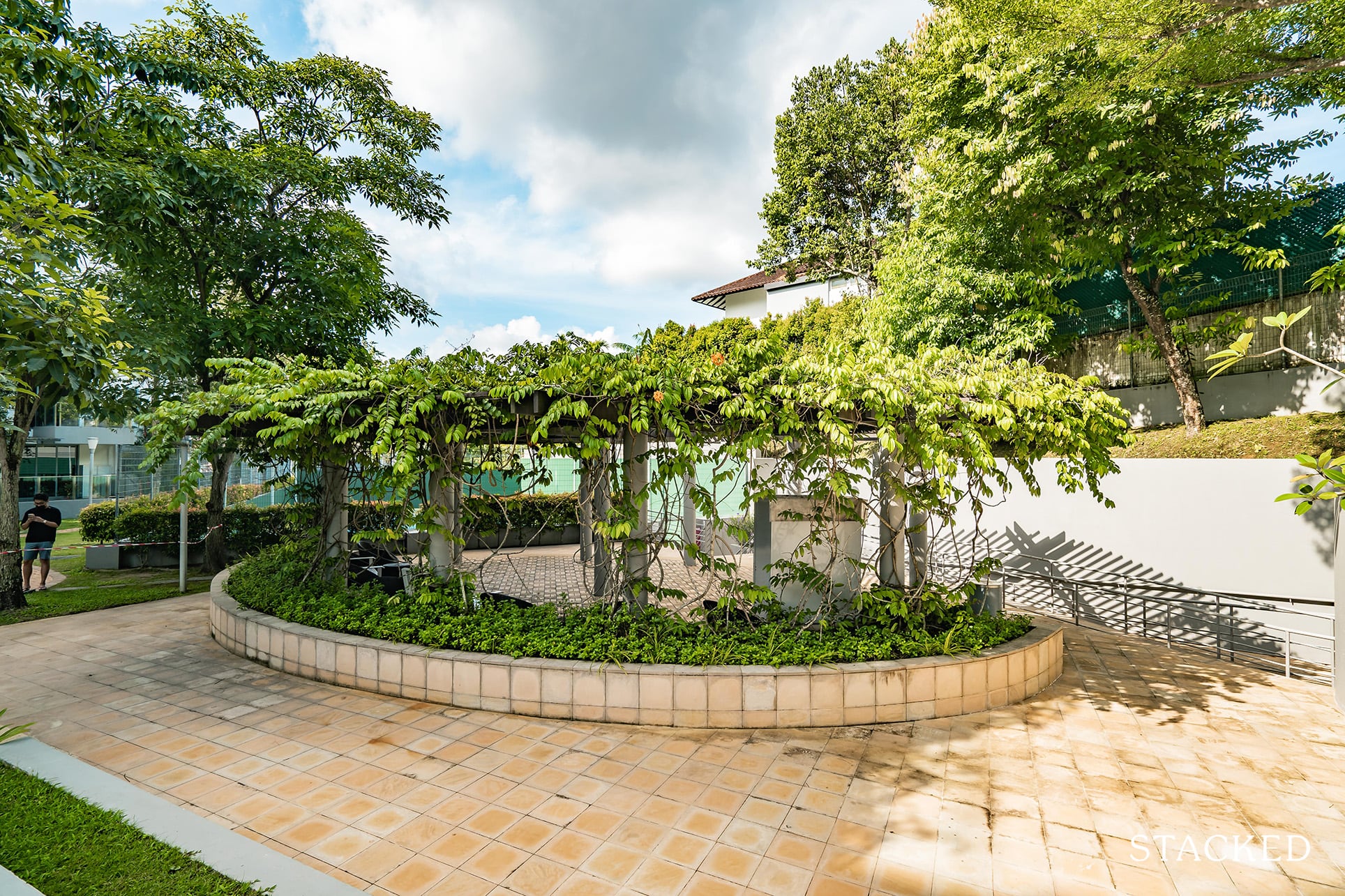 As you make your way around the back of the development, you get to the multi-purpose area with some outdoor furniture and a vending machine. Since it's also beside the single tennis court, the vending machine is presumably for those looking to quench their thirst after a game.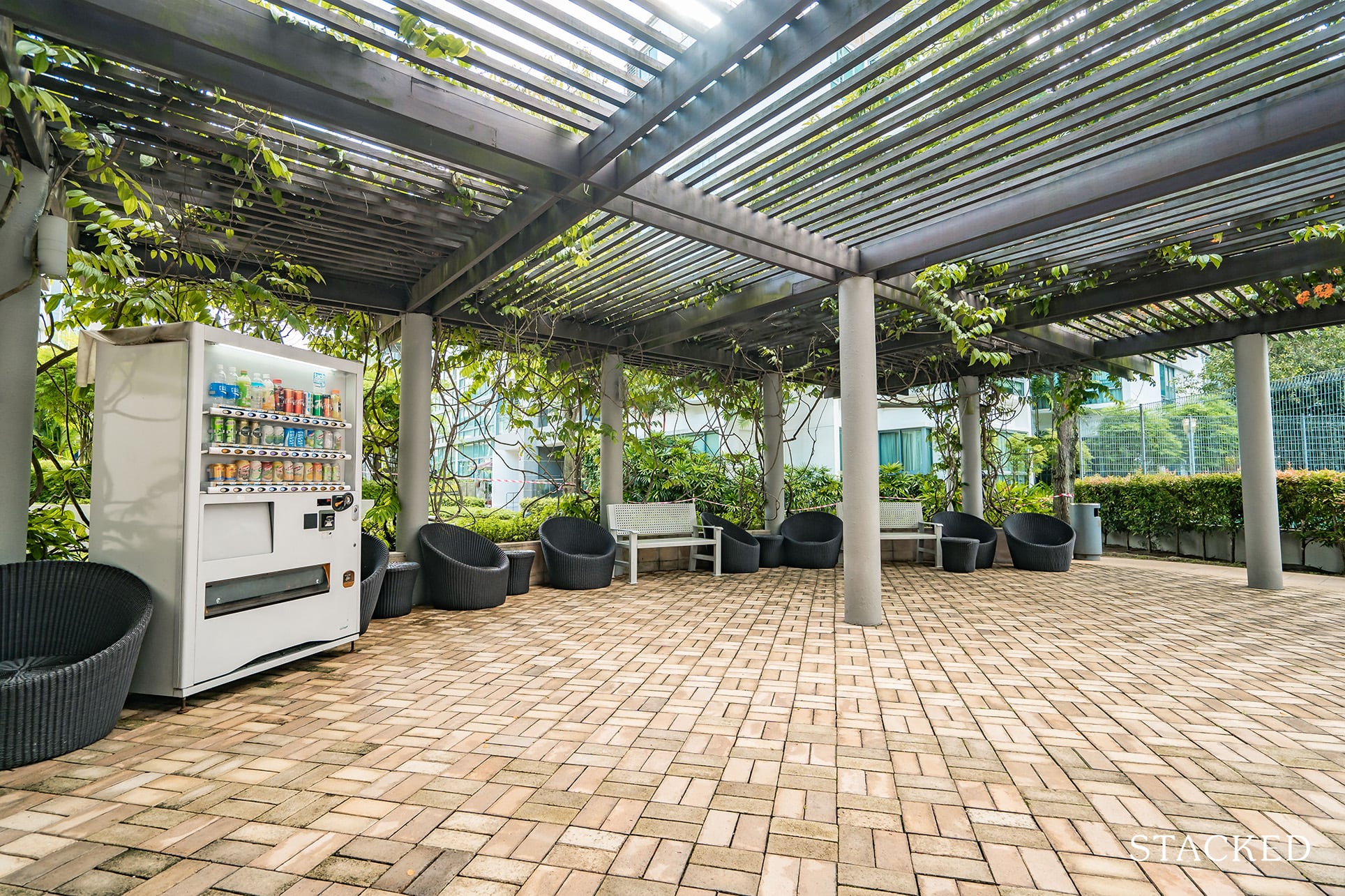 Like the rest of the common areas so far, I can't say that it's a very comfortable or well-appointed spot. The chairs are placed close to each other but if it were my choice, I would very much prefer having a couple of long tables and benches here instead. Seems to be more practical and conducive for group settings than the existing setup.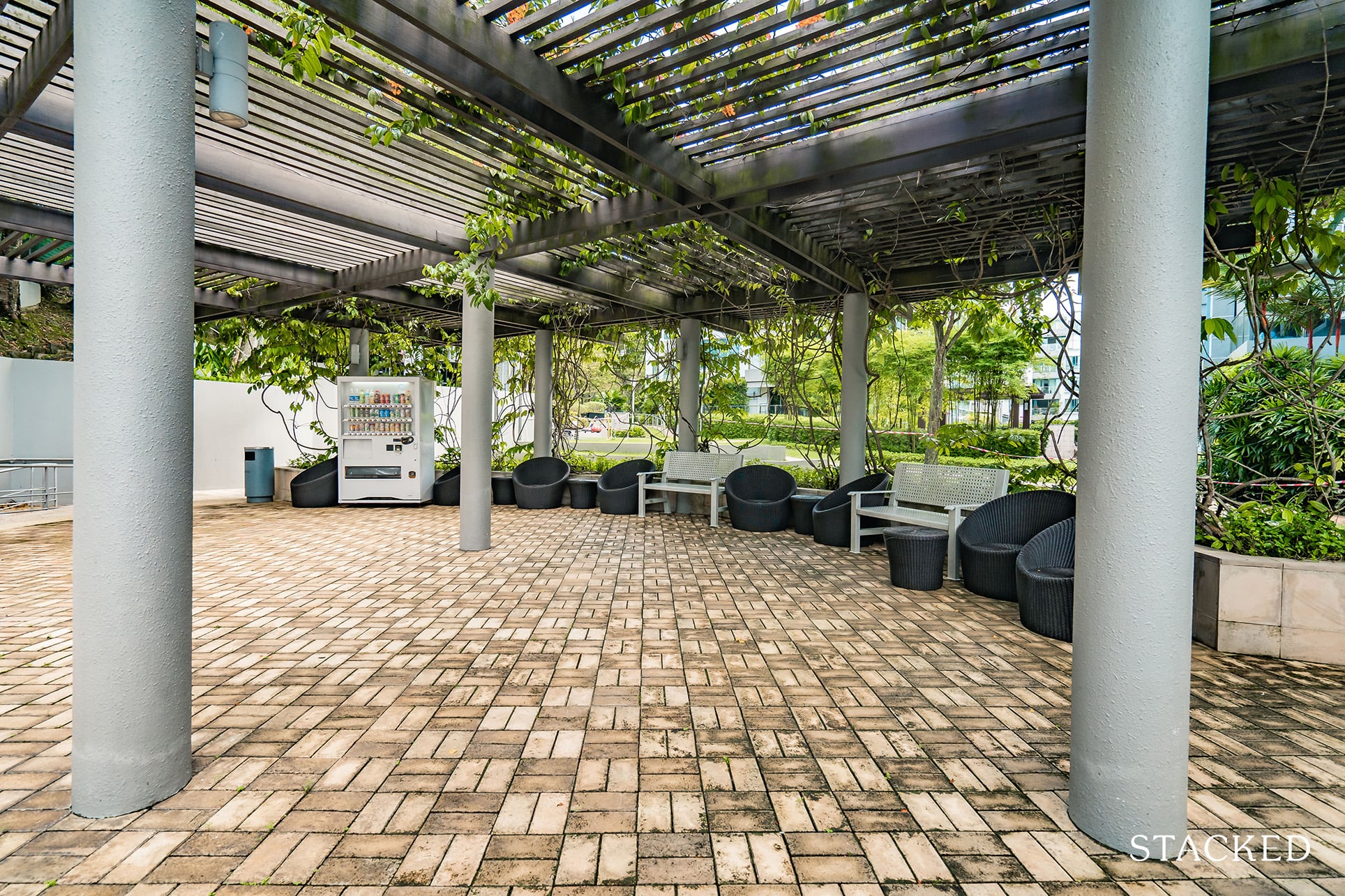 As I highlighted earlier, the tiles are starting to look their age now and could certainly do with some maintenance here. Sprucing up the place aesthetically here may not be that costly but will go a long way in ensuring that a good first impression is made.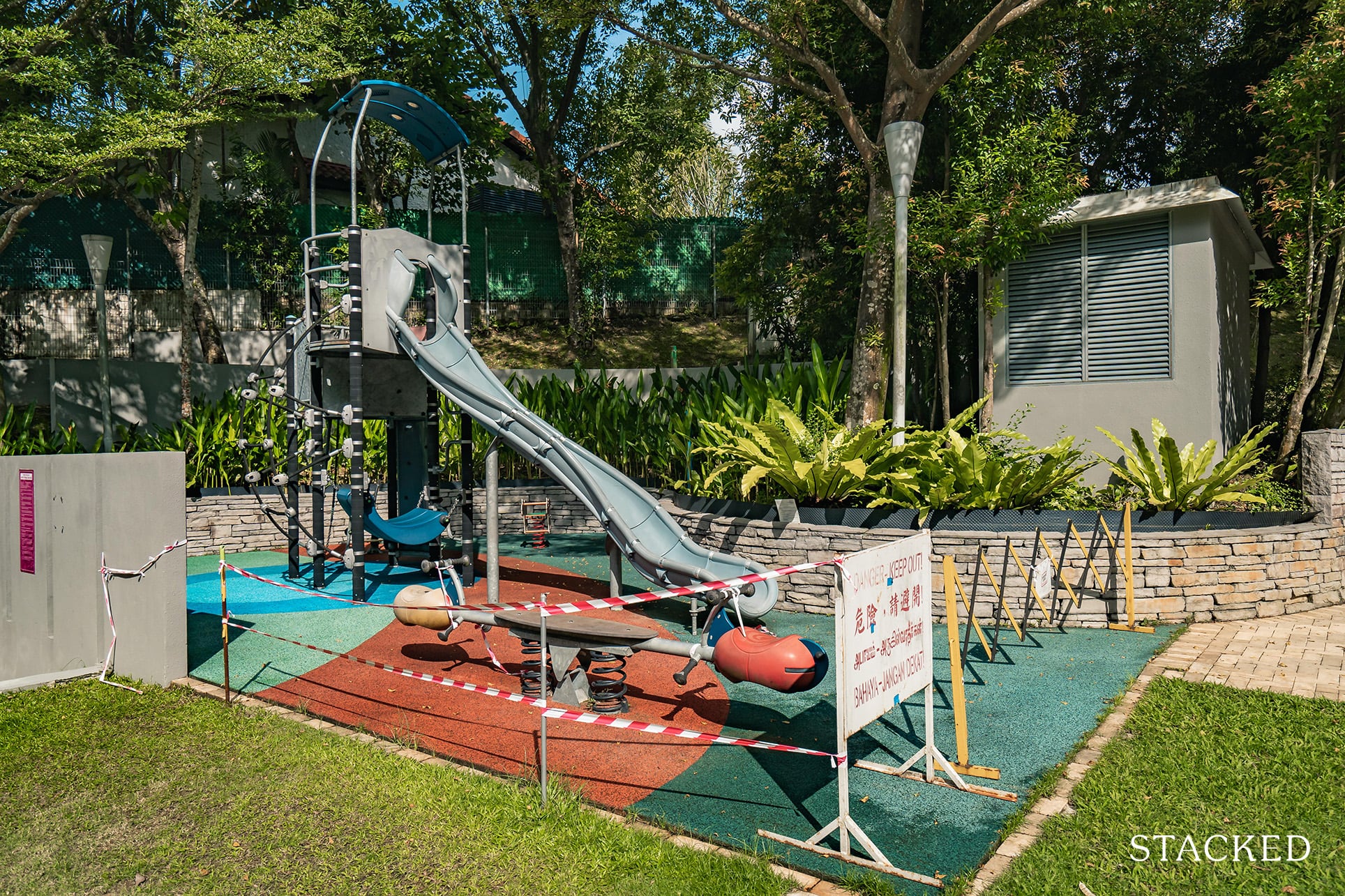 Further on, you will find a small kids playground, which has unfortunately been a victim of the pandemic and closed for the time being. Given how family-friendly this condo is to both locals and expatriates alike (just like the area), I do hope that it will reopen soon. Frankly speaking, it's strange that they've decided to close the playground area, as I don't see this issue in other developments around.
Covid issues aside, this playground complements the 2 existing kids' pools in terms of facilities for the little ones. I like that the playground is placed here as the back of the development feels more spacious and gives the kids more space to run around.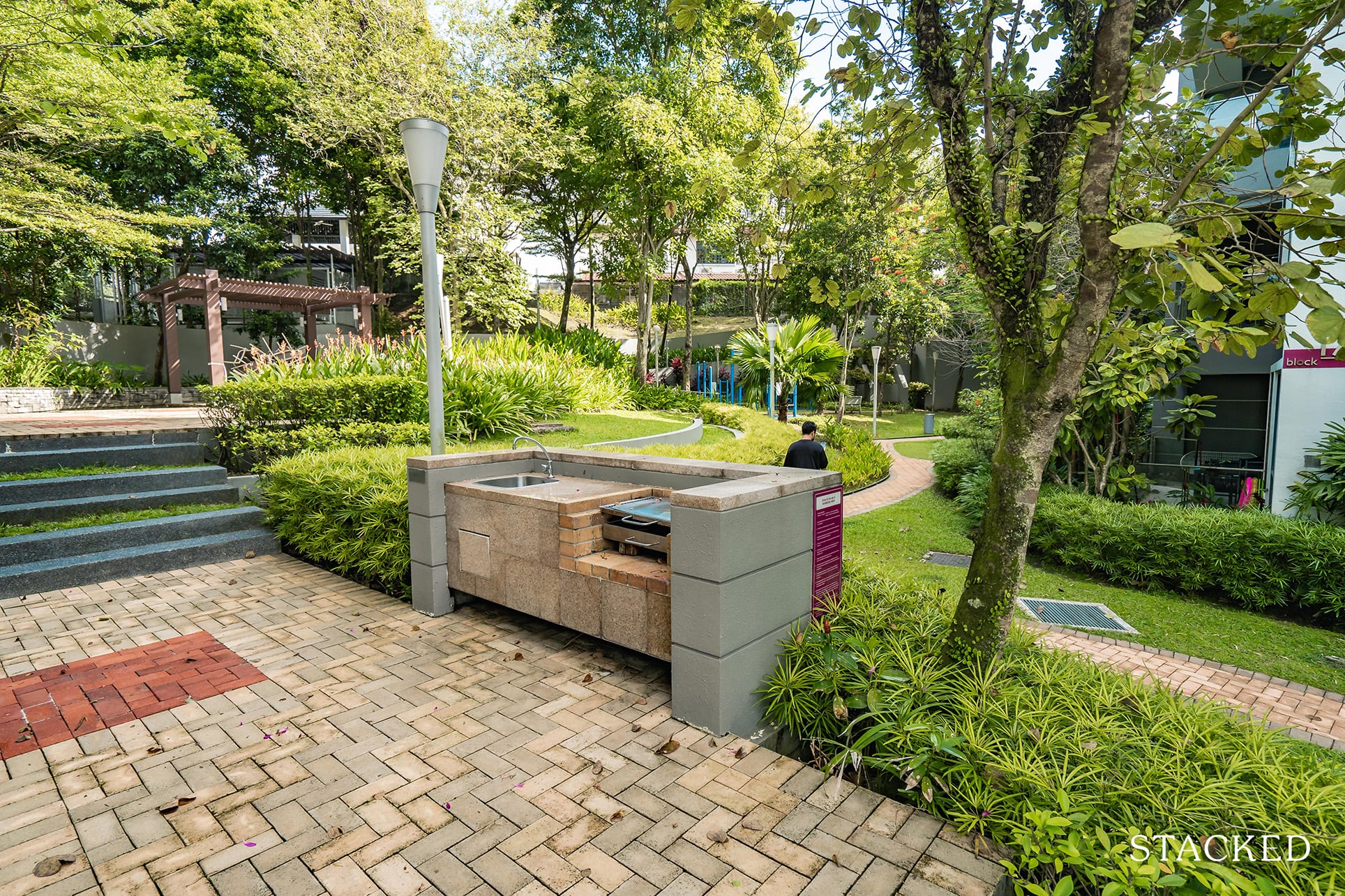 The 2 BBQ pits in this development can be found close by as well. Again, due to the undulating terrain, there are a couple of flights of stairs to scale and for 1 of the pits, the stove and seating area are actually separated.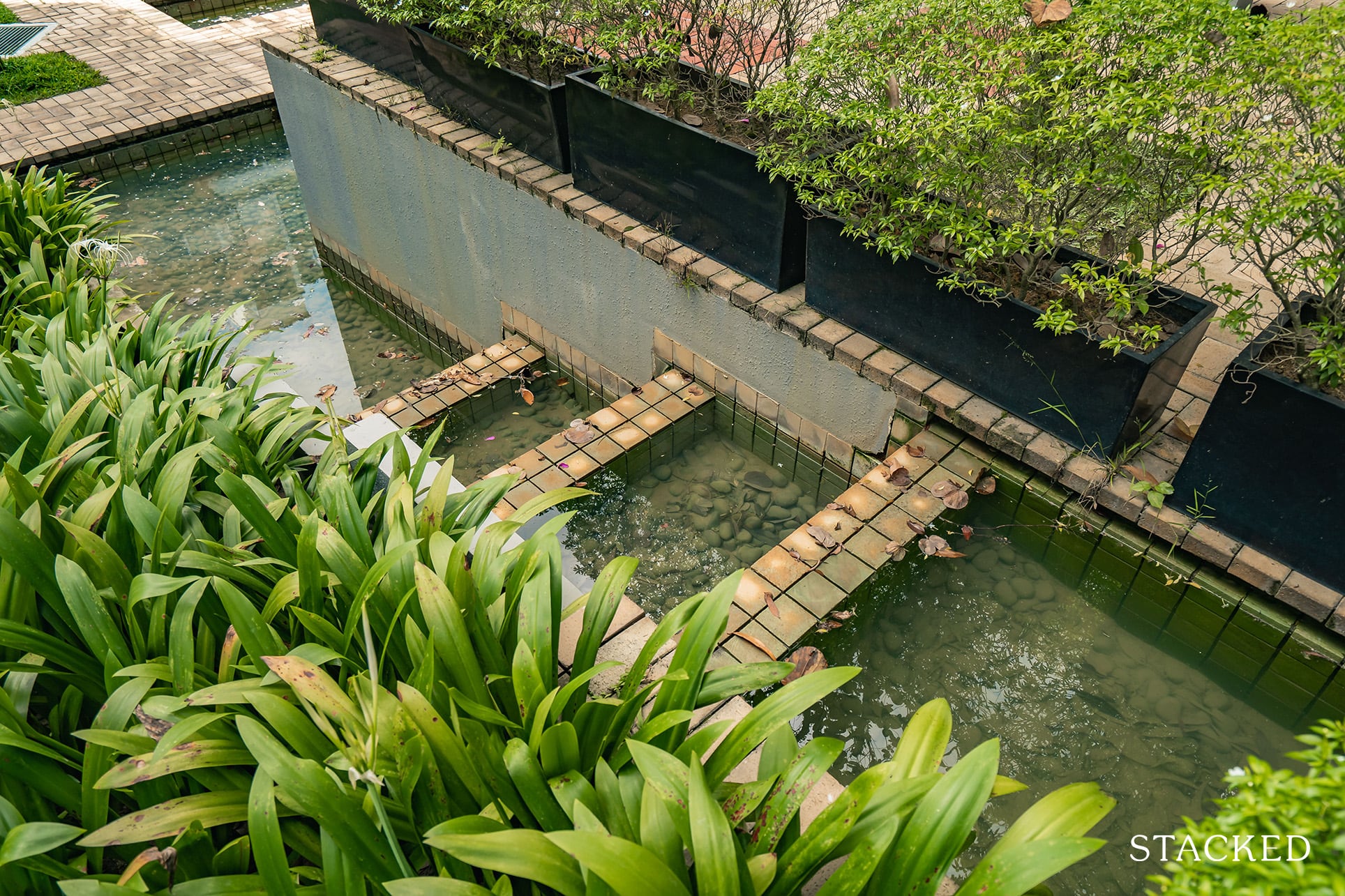 The water features here do look like they've seen better days though…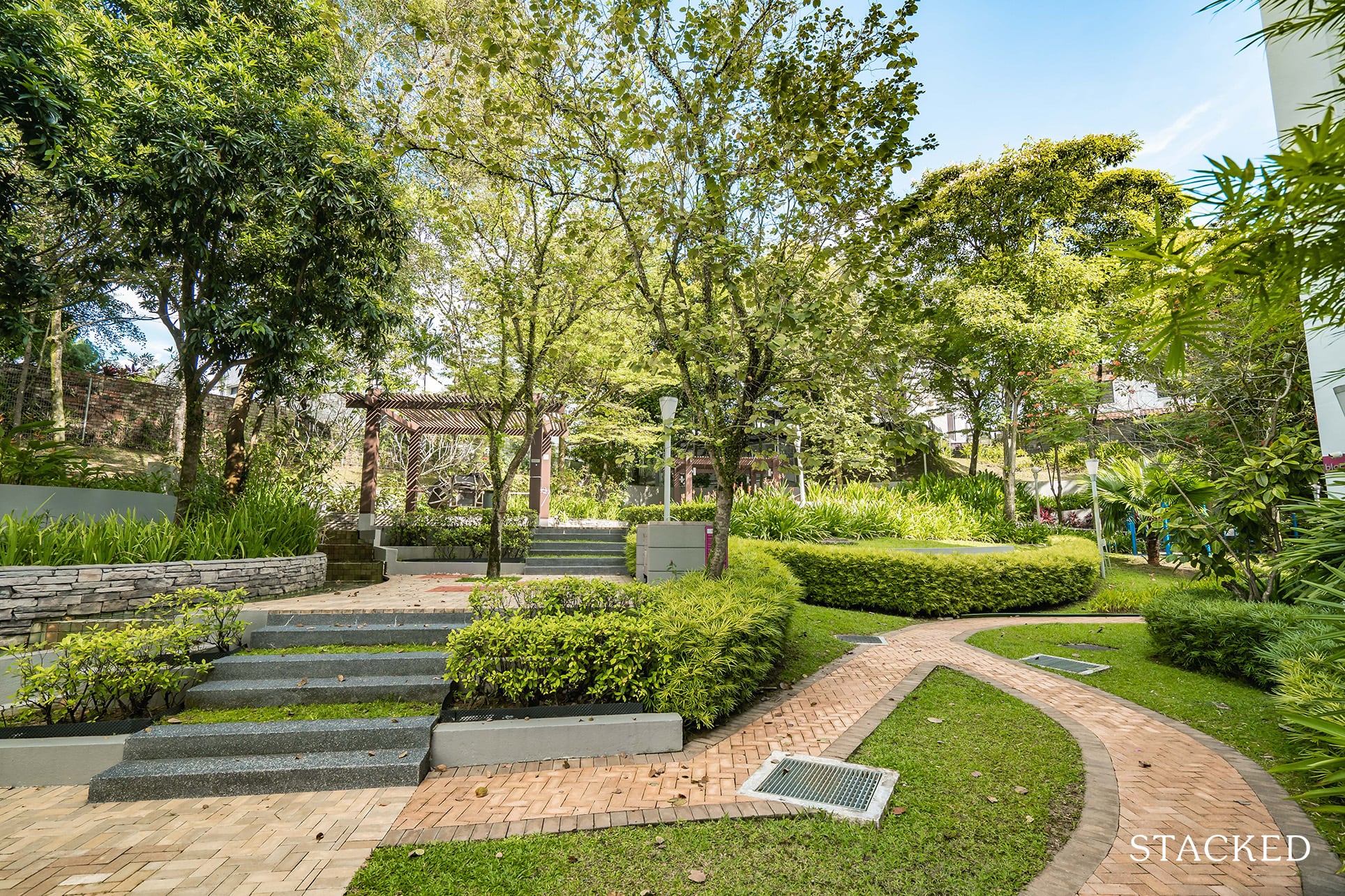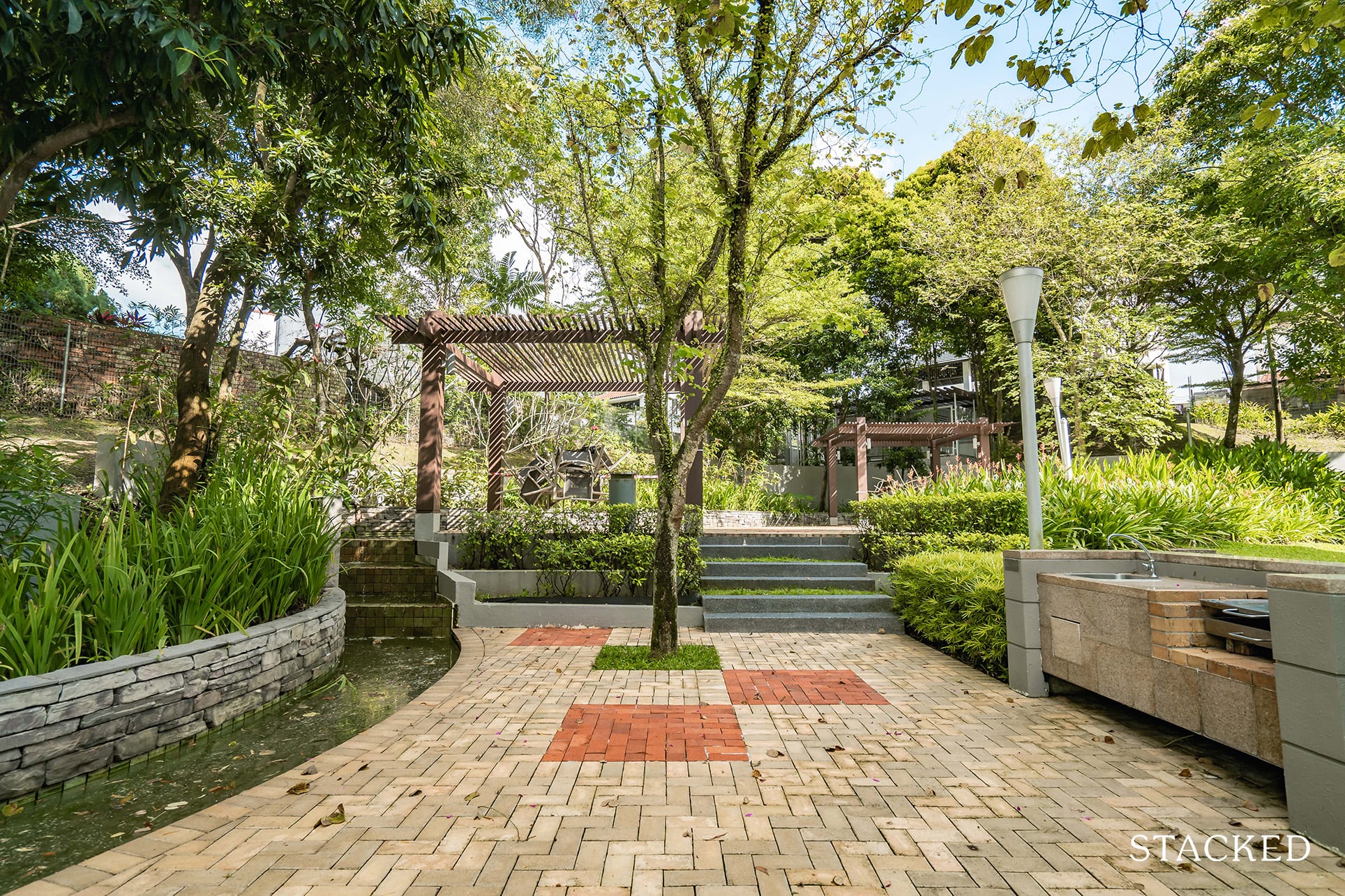 I like that the 2 BBQ pits are separated from each other as this is not a given for resale condos. Quite silly for them to be located side by side but it's not that uncommon in resale condos – just check out Parc Oasis, which I reviewed recently.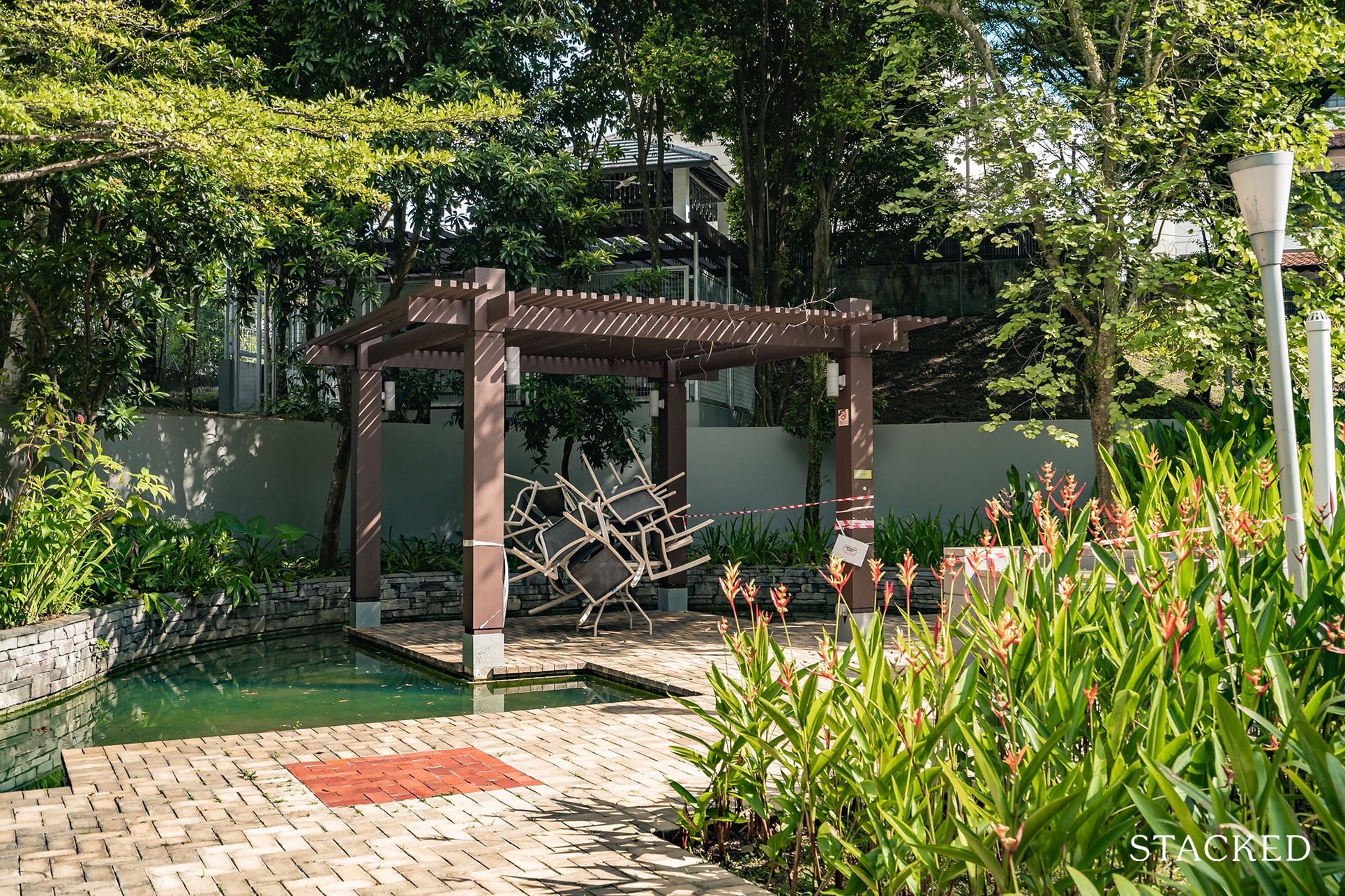 You can see how serious the MCST here is taking to Covid measures by (quite needlessly, I must add) tying up all the chairs. Nevertheless, the government has recently announced that BBQ pits will be able to be opened from March 18 and residents here were swift in requesting the MCST to do so in the resident's app. Cheers to better days ahead!
I suppose on the bright side you could see this as a good thing – having proactive management. On the other, having one that is a stickler for rules could also prove to be a suffocating one.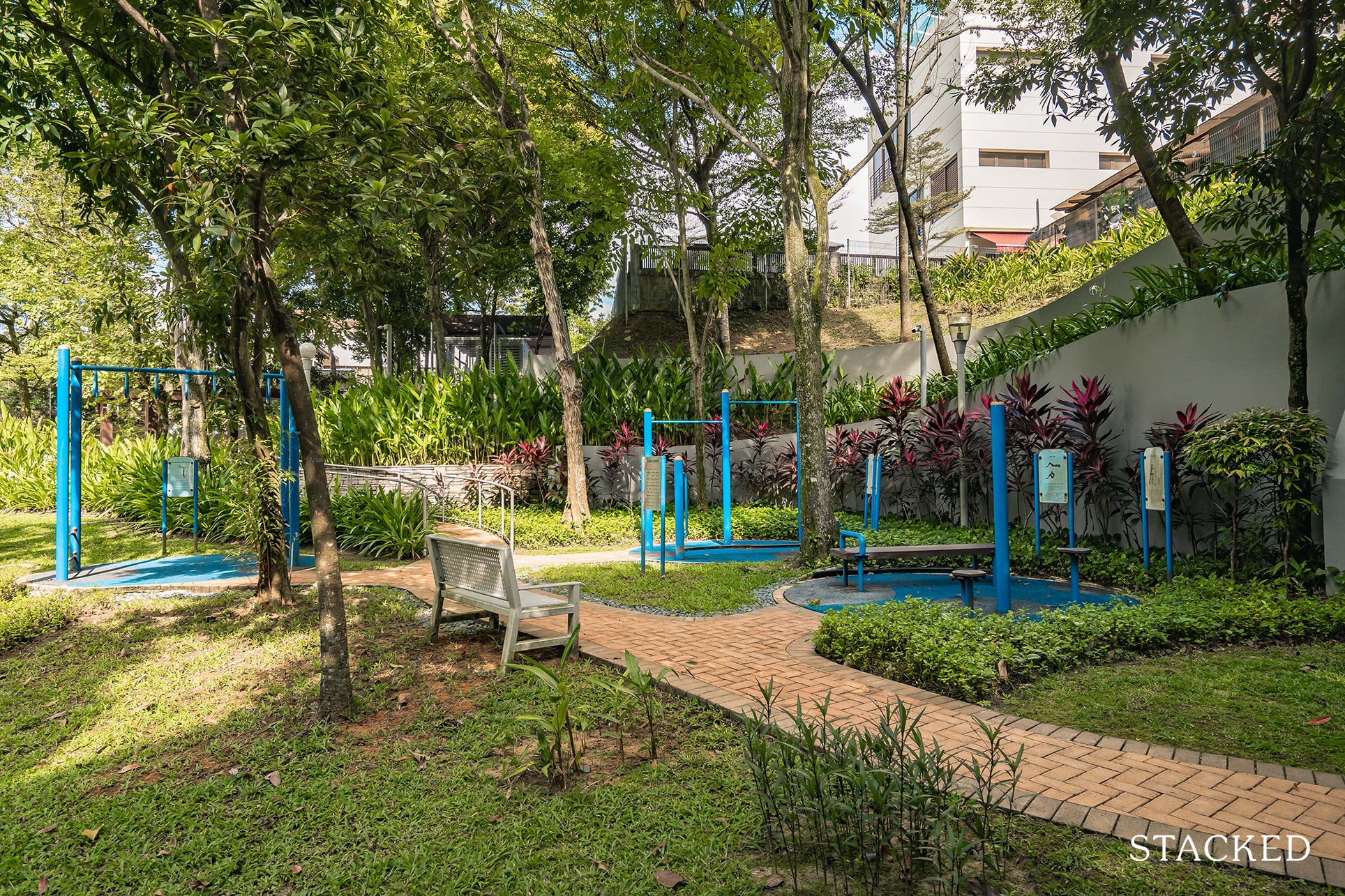 To end off the tour of the facilities at the back of the development, there's a small fitness corner for those who want to do some pull-ups/sit-ups so you can say The Sixth Avenue Residences has been quite the condo for sports enthusiasts.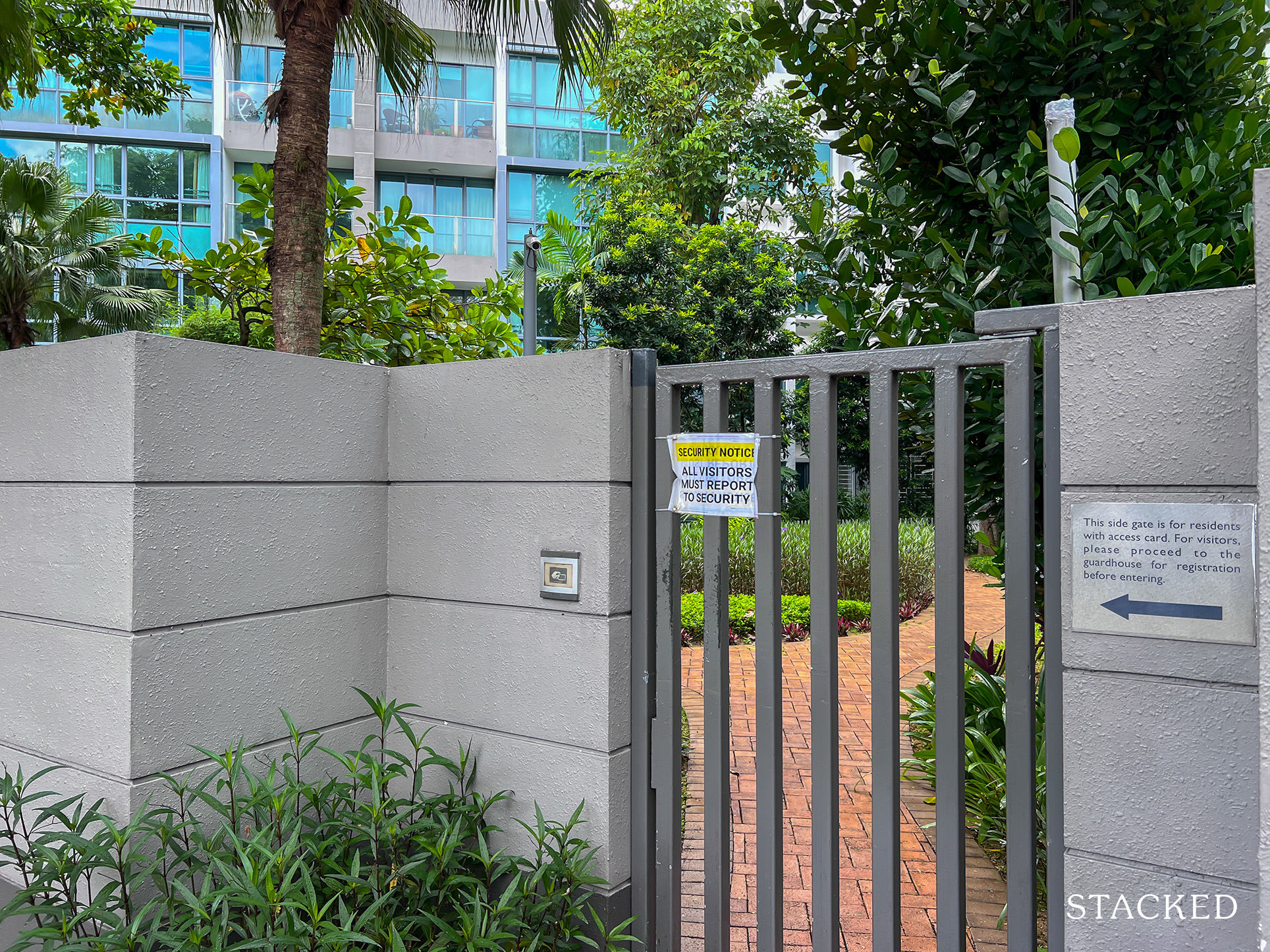 For those who rely on the MRT, there is also a side gate beside Block 170 that is the closest exit point to Sixth Avenue MRT and other amenities such as Cold Storage at Guthrie House. Getting to any of them should all take you 8 minutes or less by foot.
To summarise, The Sixth Avenue Residences boasts an enviable selection of condo facilities with a low density of residents. While it's not as luxurious looking as some of its Bukit Timah peers, it stands out because of its exclusive environment that does not compromise on lifestyle, amenities, and convenience.
With that, let's move on to chat a little more about its location.
Read this next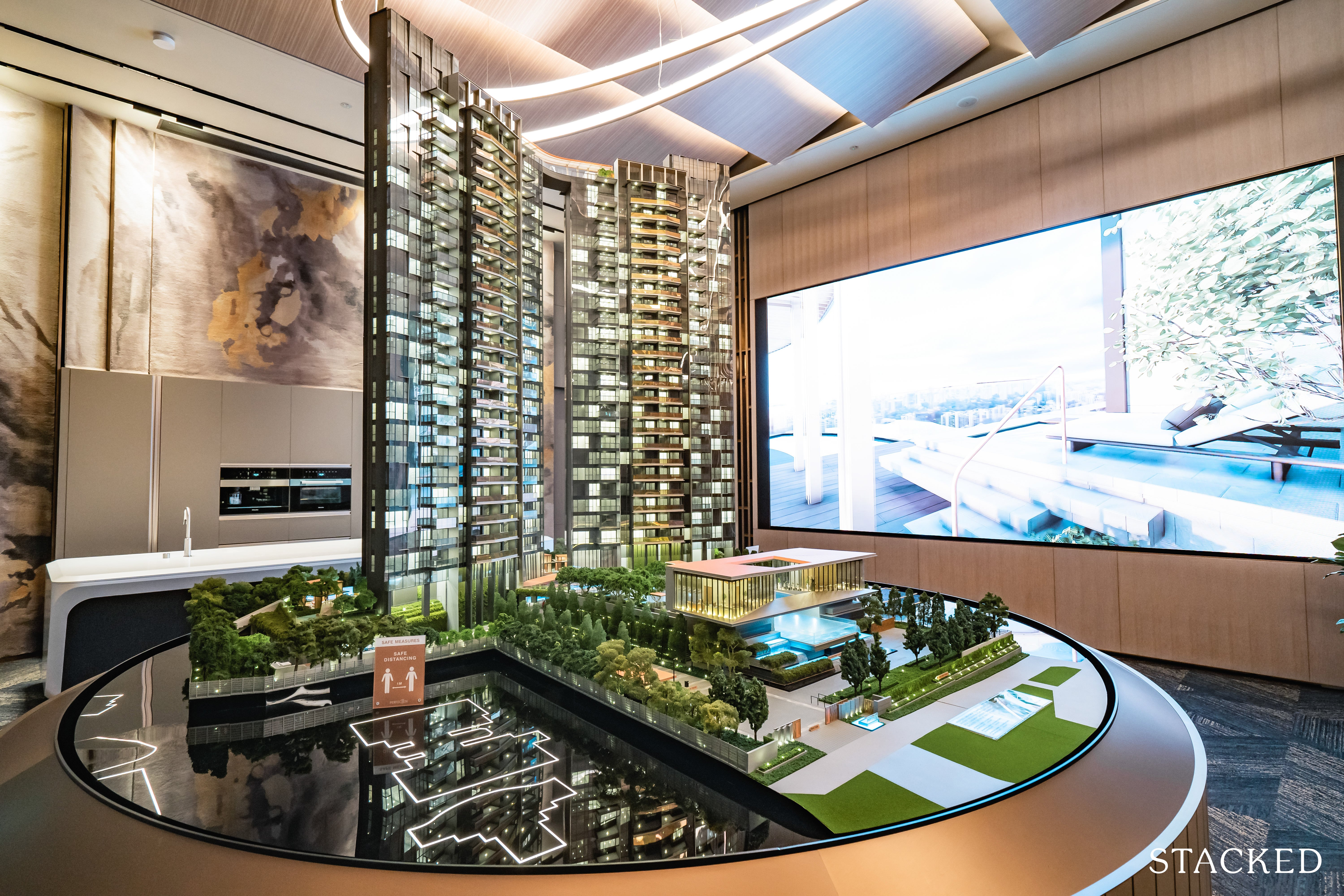 The Sixth Avenue Residences Location Review
Sixth Avenue is one of the more recognisable roads in Bukit Timah. The reason for this is multifold. First, it has traditionally been associated with the Singapore Turf Club, which used to be located just opposite and was the cause of congestion and annoyance to residents, especially during the weekend races. Thank God that this is now history.
Secondly, Sixth Avenue's proximity to numerous GCB estates including First to Fifth Avenue, Queen Astrid Park, Garlick Avenue, and Old Holland Road means that people often associate homes here with those who have done fairly well for themselves.
Thirdly, there are only a couple of major roads that link Bukit Timah Road to other major roads. Balmoral Road for instance links it to Orchard Road while Sixth Avenue links it to Holland Road which in turn, leads to places such as Holland Village and Dempsey.
Finally, Sixth Avenue is unique for having quite a number of food options at the start of it (Bukit Timah side). They range from budget options (there are at least 3 coffee shops and a Toastbox) to higher-priced options such as Pasta Fresca Da Salvatore and Lazy Lizard. It's not quite as refined as the options you might get at Cluny Court for example, but the more affordable coffee shop options here mean that they are a rare find in this part of Bukit Timah. For groceries, you can get a full-sized Cold Storage over at Guthrie House, which is about a 5 minutes walk from the condo. There's also the good ol' Bengawan Solo there which you can pop by for some kuehs for your house party.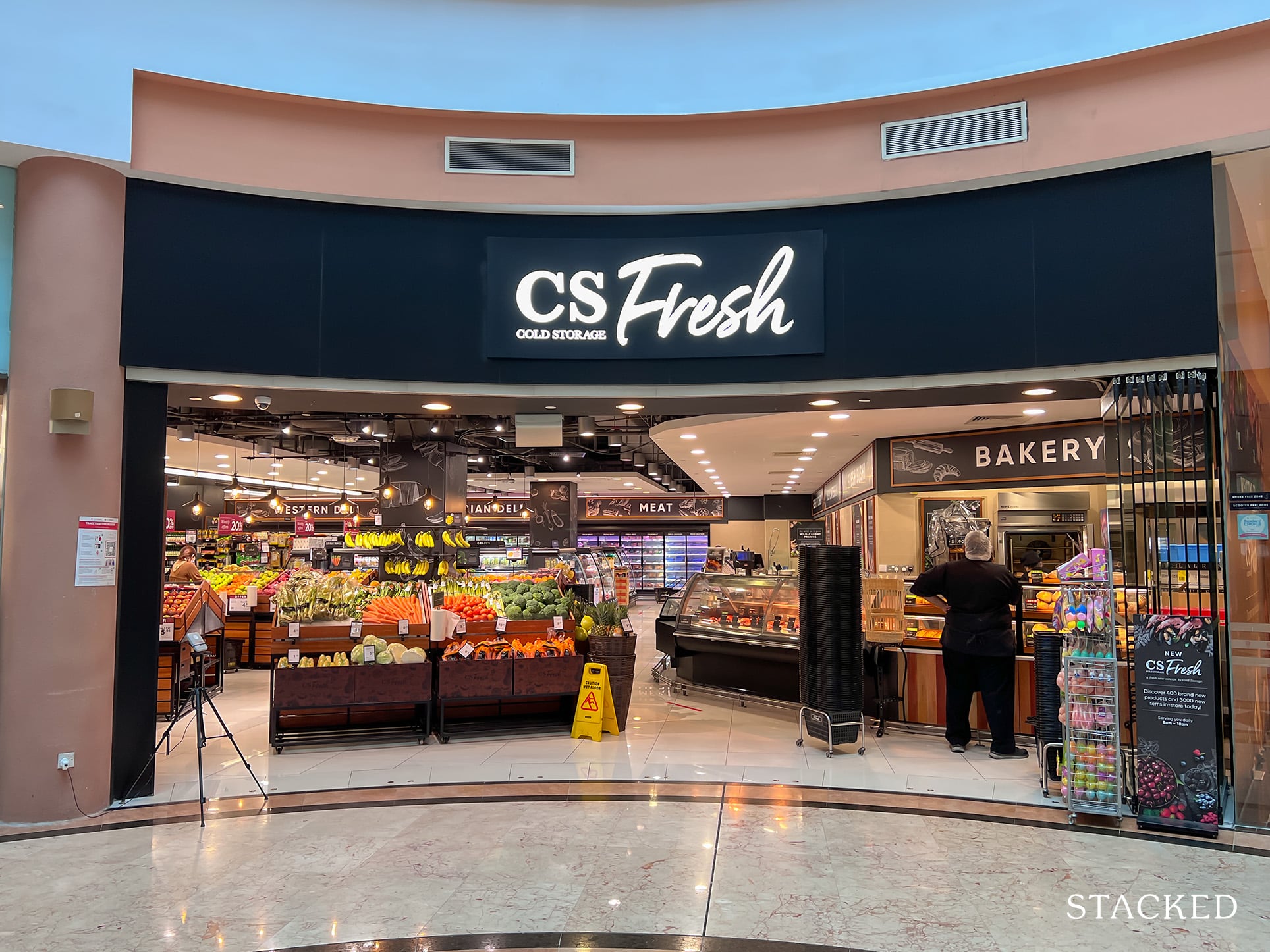 The Sixth Avenue Residences' exact location is a little unique in the sense that while most of the condos at Sixth Avenue are closer to Bukit Timah Road (e.g. Fifth Avenue Condo, Sixth Avenue Ville, Villa Azura), not to mention new launches Fourth Avenue Residences and RoyalGreen, this condo here is found more towards the middle of Sixth Avenue, opposite the Namly estate and close to Jalan Haji Alias. The reason for this is because this was actually an en-bloc site way back in 1996 (Avenue Park Condo in its previous life), where it was supposedly the largest en-bloc site then. This means that it is slightly further away from the MRT station whilst not necessarily having any upside compared to the other condos. 
Nevertheless, it is still walkable to the MRT in 8 minutes via the side gate. You should also note that most parts of the journey will be unsheltered so be sure to bring an umbrella along in case the weather turns south. Those familiar with the area should also know how flood-prone this stretch of Bukit Timah can be… rest assured though as The Sixth Avenue Residences is on slightly elevated ground.
We all know that Bukit Timah is an education belt and while The Sixth Avenue Residences is close to many top schools in the vicinity, it, unfortunately, is not within 1km to any of these schools (primary or otherwise). This means that if you want your children enrolled in any of them, you should ideally already be an alumnus to stand a better chance.
Nearest MRT: Sixth Avenue MRT (8 mins walk, 650m from side gate)
Public Transport
| | | |
| --- | --- | --- |
| Bus Station | Buses Serviced | Distance From Condo (& Est. Walking Time) |
| Opp Garlick VilleStop ID: 11349 | 77, 156, 970 | 140m, 1 min |
| Aft Lantana AveStop ID: 42131 | 77, 156, 970 | 230m, 3 mins |
Schools
| | |
| --- | --- |
| School | Distance From Condo (& Est. Walking Time) |
| Nanyang Girls High School | 1.1km |
| Methodist Girls School | 1.3km |
| National Junior College | 1.3km |
| Hwa Chong Institution | 1.3km |
| Henry Park Primary School | 1.5km |
| Nanyang Primary School | 1.5km |
| Raffles Girls Primary School | 1.5km |
Retail / Dining Options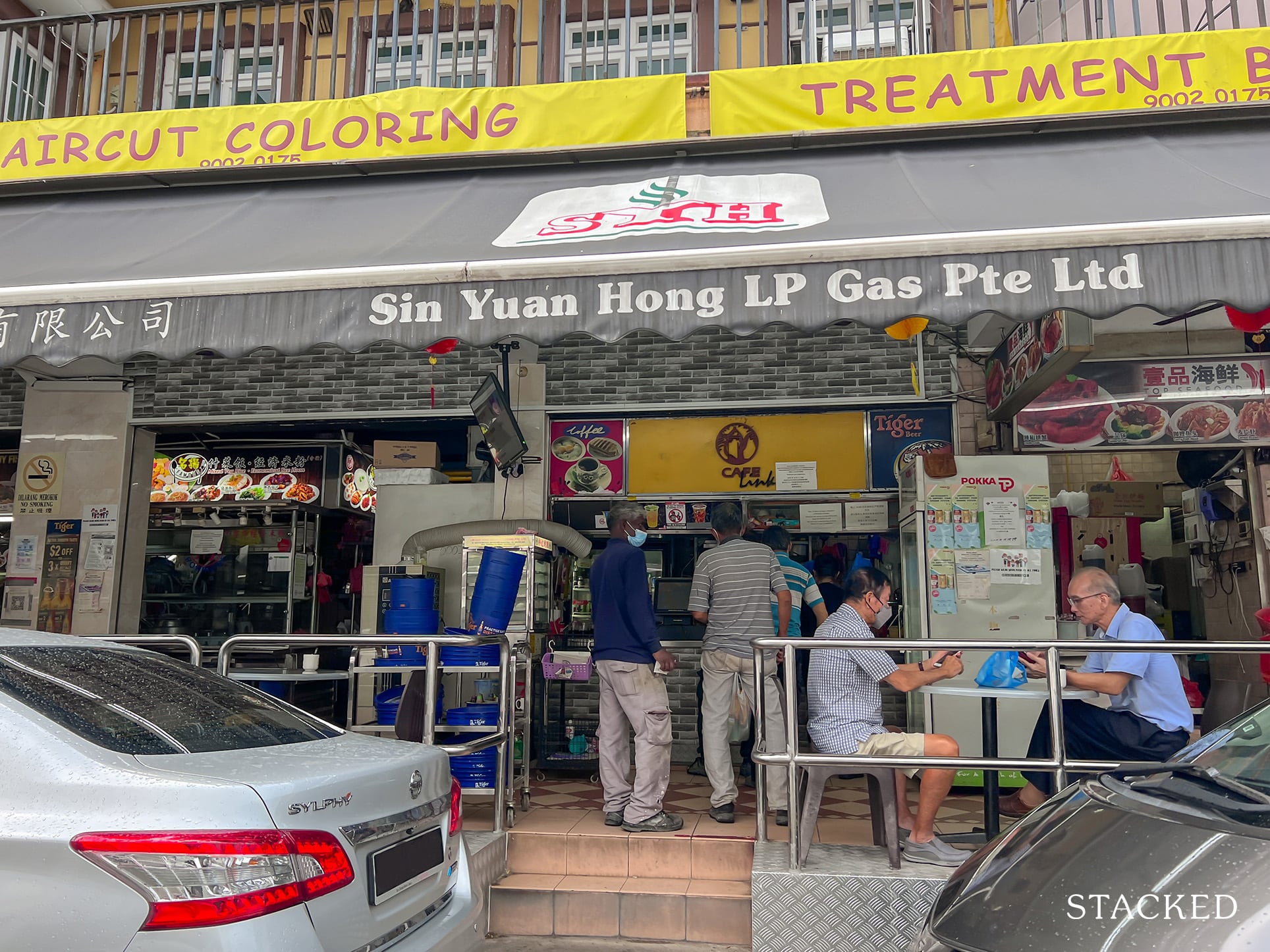 | | |
| --- | --- |
| Destination | Distance From Condo (& Est. Walking Time) |
| Cold Storage Guthrie House | 450m, 5 minutes |
| Restaurants at Sixth Avenue (Brazil Churrasco, Pasta Fresca, Lazy Lizard and coffee shops) | 450m, 6 minutes |
Private Transport
| | |
| --- | --- |
| Key Destinations | Distance From Condo (Average Time at Peak Hour [0830] Drive Time) |
| CBD (Raffles Place) | 13.8km, 28 mins |
| Orchard Road | 6.7km, 15 mins |
| Suntec City | 10.7km, 24 mins |
| Changi Airport | 24.4km, 27 mins |
| Tuas Port (By 2040) | 32.9km, 45 mins |
| Paya Lebar Quarters/Airbase (By 2030) | 14.0km, 21 mins |
| Mediapolis (and surroundings) | 4.7km, 14 mins |
| Mapletree Business City | 8.9km, 24 mins |
| Tuas Checkpoint | 22.2km, 30 mins |
| Woodlands Checkpoint | 15.8km, 19 mins |
| Jurong Cluster (JCube) | 8.1km 19 mins |
| Woodlands Cluster (Causeway Point) | 16.4km, 23 mins |
| HarbourFront Cluster (Vivo City) | 10.3km, 27 mins |
| Punggol Cluster (Waterway Point) | 23.2km, 30 mins |
Immediate Road Exits: 2 – both Sixth Avenue but turning left will lead you to Bukit Timah Road and the PIE while turning right brings you to Holland Road.
The Development Team
Keppel Land is the property arm of Keppel Corporation, a multi-sector conglomerate founded in 1968 to focus on offshore and marine activities. Its foray into the property market started in 1983 after acquiring the Straits Steamship Company, a shipping company with huge land banks in Singapore. They have transformed the Keppel precinct from a shipyard to a multitude of luxury projects, starting with the Caribbean at Keppel Bay (2004), Reflections at Keppel Bay (2011), and Corals at Keppel Bay (2016). Besides these, they are also currently marketing units for 19 Nassim and The Garden Residences. Their property expertise also crosses borders and they have completed numerous projects in Vietnam, China, Indonesia, and the USA among others. 
Singapore Land was incorporated in 1963 and was Singapore's first public-listed property developer. It was acquired in 1990 by United Industrial Corporation and are the developers behind some of Singapore's very recognisable buildings – including the Singapore Land Tower, Clifford Centre, SGX Centre 2, The Gateway, and Marina Square. They are substantially owned by the UOL Group, which in turn is closely tied to the billionaire Wee family of UOB fame. Their current stable of properties ranges from the UIC Building, Parkroyal Marina Bay, Pan Pacific Singapore, The Watergardens at Canberra, and Avenue South Residences.
Stack Analysis
Development Site Plan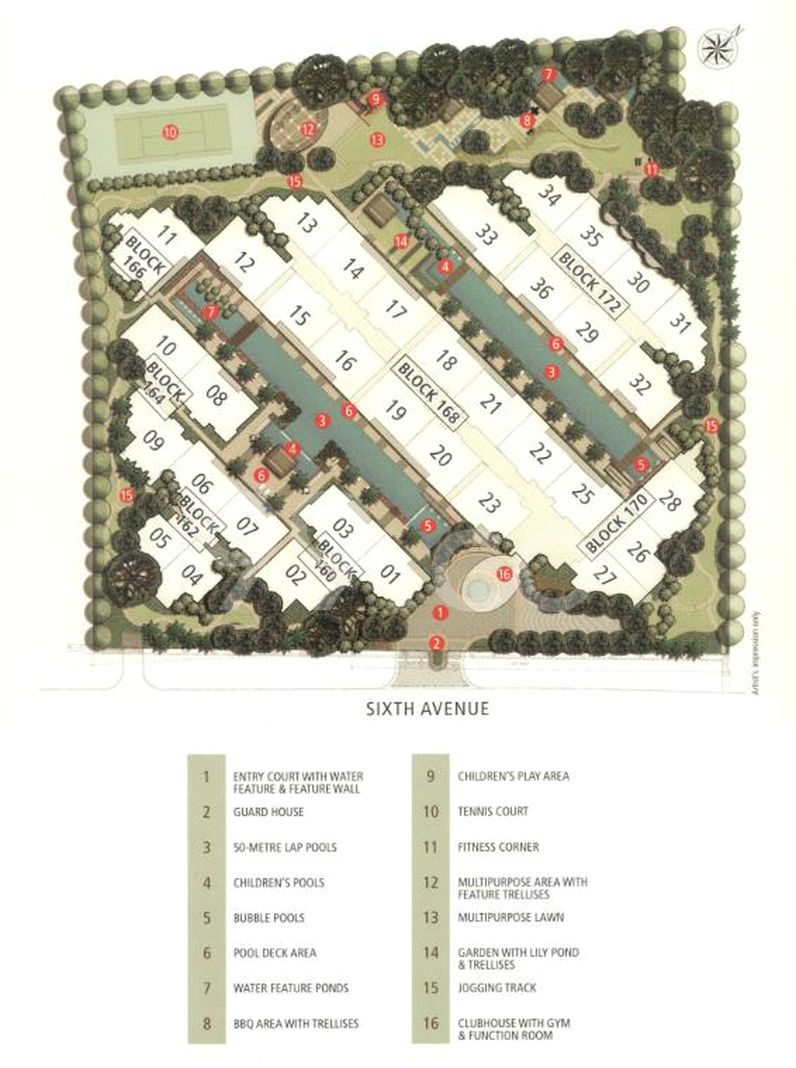 The Sixth Avenue Residences sits on a regular-shaped plot of land sized at 172,000 square feet. As you are currently nearly completely surrounded by landed housing, the roof terraces of the penthouse units on the top floor will be able to give you unblocked views given the height will clear the rooftops of the landed housing. The best part? These will be guaranteed as it's unlikely that these landed housing will be going away at any point.
Despite the sizeable plot for the number of units, because it is low-rise, you will find that most of the land space is still taken up by the residential blocks. So you don't really get an open feel, and also because there are two 50m swimming lap pools available – which may be a bit of an overkill for some.
The tennis court, playground, and barbecue pits are all located at the back of the development in a row. I would have preferred it to be located at the front, as this gives some allowance away from the main road. That said, traffic noise is definitely not going to be as bad as the main Bukit Timah Road (it is still a single-laned road), so you don't have to be too worried here.
Unit Mix
| | | |
| --- | --- | --- |
| Unit Type | Size | Number of Units |
| 2 Bedroom | 969 – 1,313 sqft | 22 |
| 3 Bedroom | 1,292 – 2,734 sqft | 118 |
| 4 Bedroom | 1,787 – 3,165 sqft | 30 |
| 5 Bedroom | 2,056 – 3,810 sqft | 5 |
At first glance, the unit sizes here at The Sixth Avenue Residences are quite mind-boggling, with the largest units for the 3, 4, and 5 Bedroom units close to or exceeding 3,000 sqft. However, those are the outliers – only the penthouses and ground floor units which either have a massive roof terrace or a huge patio.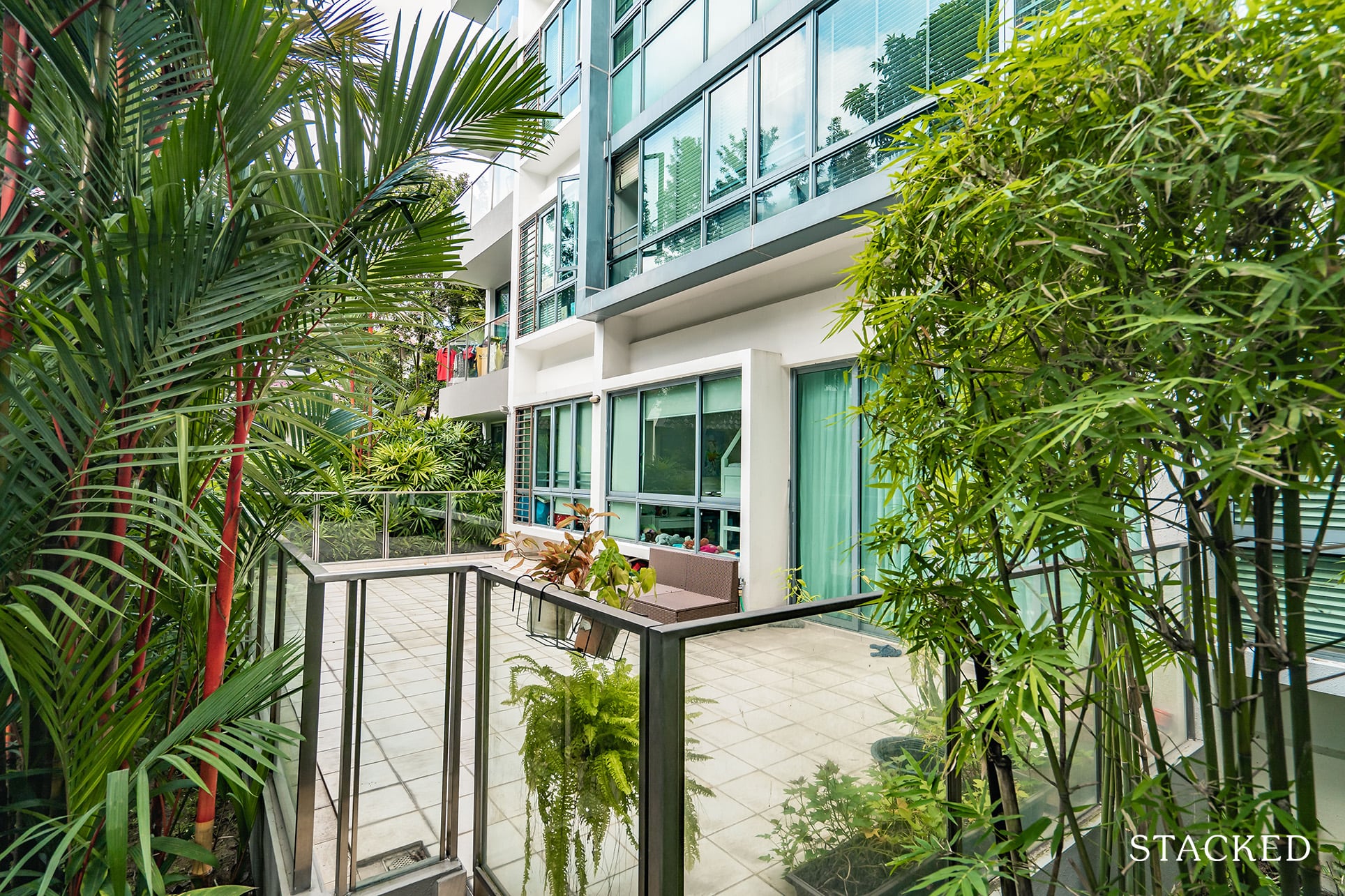 The average size of units comes in at the lower end of the spectrum. Nevertheless, those numbers are still generous sizes in today's context with the 2 Bedrooms here at 969 sqft versus 624 sqft at Fourth Avenue Residences and 635 sqft at RoyalGreen for example. It's pretty much the same story for the other bedroom types.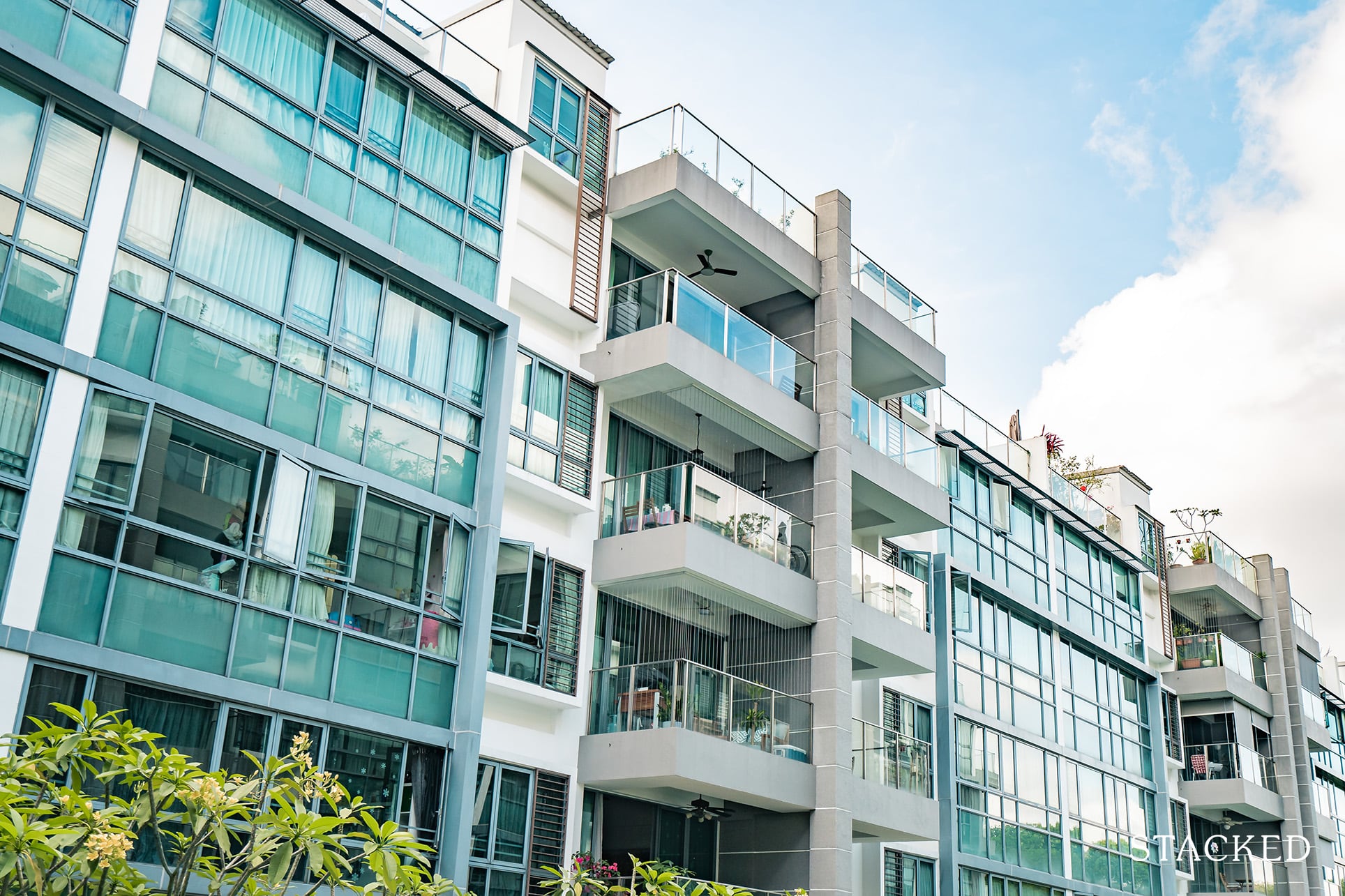 This does mean that you will need deeper pockets to gain entry into this development and with the bulk of the units being 3 Bedroom types, you will require almost $2.5m to get started. For owners though, this does mean that the owner mix is curated well for either serious owner-occupiers or tenants who might be professionals or successful entrepreneurs.
Best stacks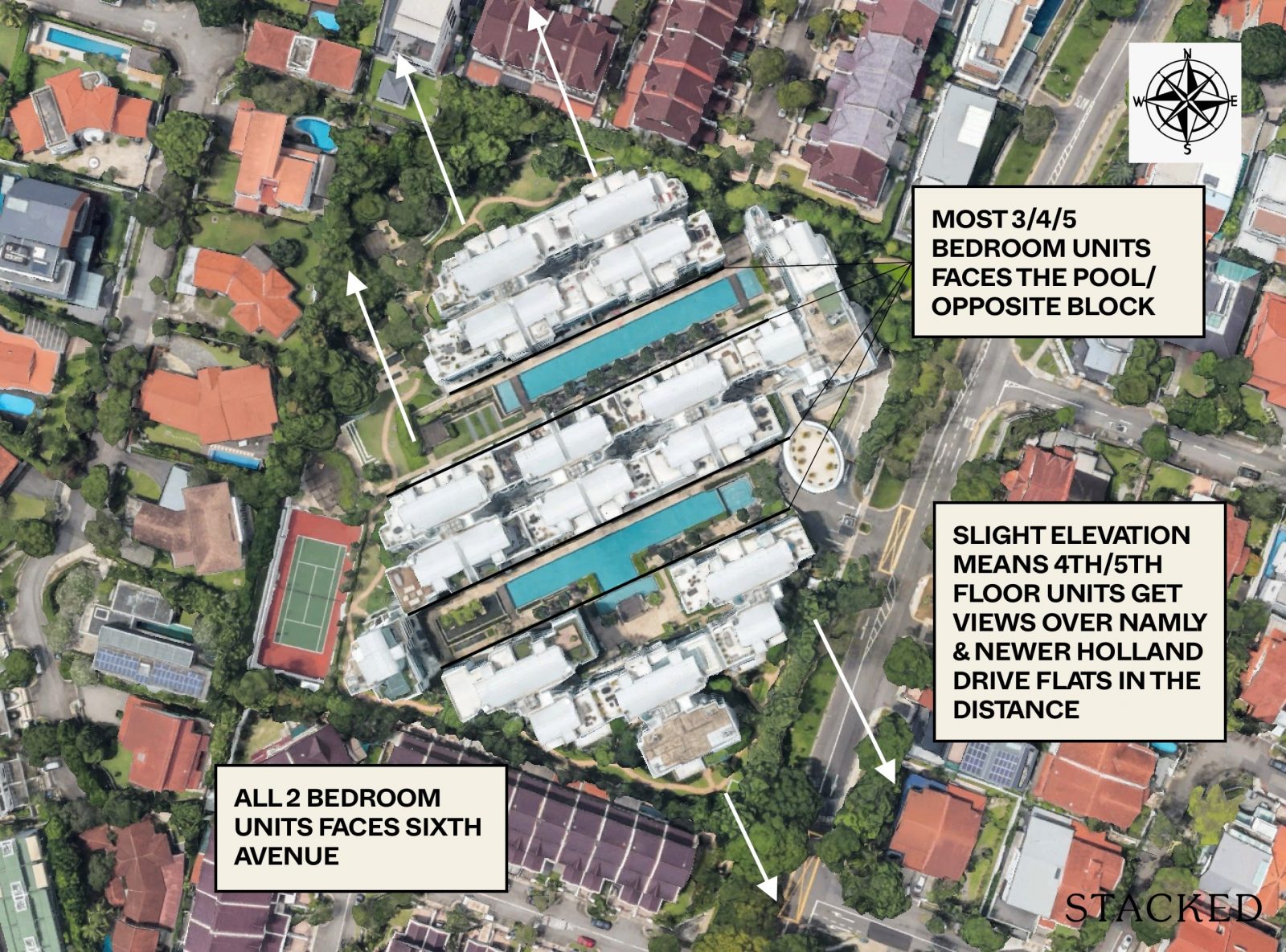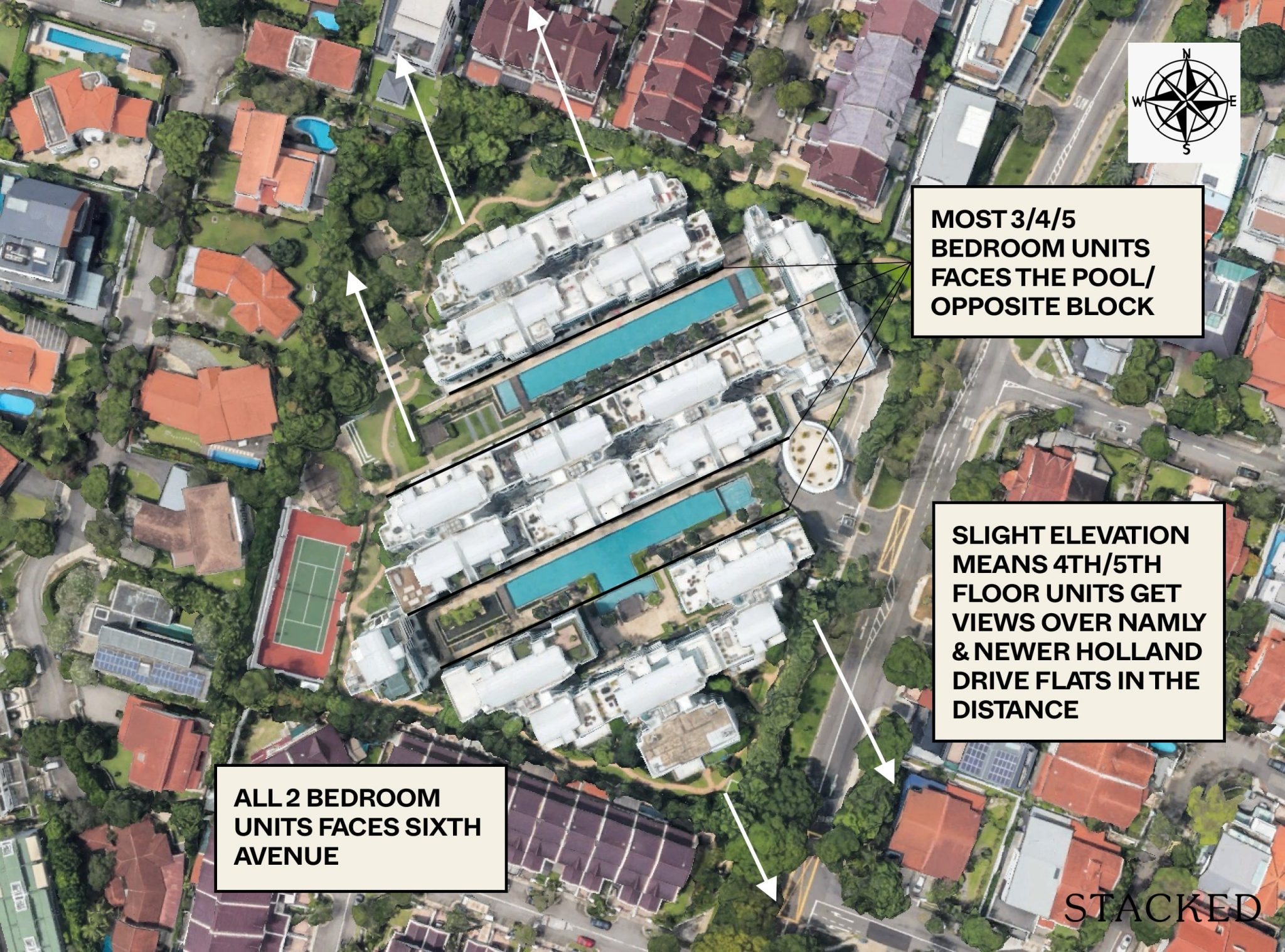 In general, the blocks are laid out in parallel fashion and tilted at an angle if you take Sixth Avenue as a reference. I'm sure part of the reason might have been to maximise the number of units but it's also helpful that they did that as they have angled practically all the blocks towards a North-South orientation.
I would say that most of the bedroom types do not have much of an option in terms of their facings. For 2 Bedroom units, all 4 stacks are outward-facing towards Sixth Avenue. While it has some road noise, it may appeal to you if you don't quite like the internal pool-facing view. As the land is slightly elevated, units on the 4th and 5th floor will be able to look towards the low-rise Namly Estate and the newer Holland Drive flats in the distance.
Most of the 3, 4, and 5 bedroom units have an internal pool facing, which also means that you face the other block as well. These units tend to have pretty generous balconies too. I don't have the exact distance between the blocks so it is best to check it out if you are considering a pool-facing unit here. There are, however, a couple of blocks that look out towards the Sixth Avenue Crescent or Lantana Avenue estates and I do find those to be slightly more desirable as they might be quieter than the pool-facing units.
And like I mentioned during the tour, because of the uneven nature of the land, some ground floor units may be facing the wall of the swimming pool as the pool is raised on one end. So if you don't fancy such a view do look out for these stacks as well.
Price Review
If you are considering The Sixth Avenue Residences, you will undoubtedly compare it against its neighbouring developments. So here is how it stacks up!
| | | | | | |
| --- | --- | --- | --- | --- | --- |
| Development | Units | Psf | TOP | Tenure | Price Gap |
| The Sixth Avenue Residences | 175 | $1,998 | 2009 | Freehold | |
| Fourth Avenue Residences | 476 | $2,477 | 2023 | 99 Years | 24% |
| RoyalGreen | 285 | $2,739 | 2022 | Freehold | 37% |
| Fifth Avenue Condo | 70 | $1,857 | 1998 | Freehold | (7%) |
| Sixth Avenue Ville | 49 | $1,741 | 1999 | Freehold | (13%) |
| The Tessarina | 443 | $1,925 | 2003 | Freehold | (4%) |
| Cascadia | 536 | $1,897 | 2010 | Freehold | (5%) |
| Maplewoods | 697 | $2,101 | 1997 | Freehold | 5% |
The Sixth Avenue Residences' actual average psf is about $1700+ at the time of writing (March 2022) but that is due to the wide range of unit sizes, with the ground floor and top floor penthouses skewing the overall psf due to its large patio and roof terrace spaces. It can skew the numbers quite a bit as well, as there are more than 30 stacks, of which these will have ground floor units with patio and penthouses with rooftop spaces. As such, with just 175 units, this can affect the average transaction psf a fair bit. I've taken the latest psf of the 'regular' unit, which by the way, is the record high for the development, to ensure a fair comparison.
Even at its record high psf, it is still 24% and 37% cheaper than its new launch peers Fourth Avenue Residences and RoyalGreen. While both new launches are closer to the MRT, with Fourth Avenue Residences being a real unique sell by being at the doorstep of the MRT, its limiting factor is its 99-year lease in a predominantly Freehold estate. Nevertheless, rental and sub-sale demand should continue to remain strong given its unique proposition.
I'm not quite as convinced by RoyalGreen though. It has a similar land size to The Sixth Avenue Residences but has 63% more units (175 vs 285) with the caveat being that RoyalGreen's unit mix has much smaller sizes. Nevertheless, RoyalGreen also has less extensive facilities (one 50m lap pool vs two 50m lap pool for fewer units). I'm also really not a fan of its location along Anamalai Avenue, which always seems to be congested each time I am there. Therefore, to me, The Sixth Avenue Residences' 37% cheaper psf makes more sense to me if you are someone who values more space and liveability both within and outside the development.
As for Fifth Avenue Condo and Sixth Avenue Ville, these are arguably much smaller developments that do not have as many facilities. They are, however, closer to the MRT and have sheltered access almost the entire way. Nevertheless, transaction volumes are thin and difficult to compare. Just a small interesting point – Fifth Avenue Condo set a benchmark psf when it was launched back in 1996, just before the 1997 Asian Financial Crisis at $1,300 psf.
Compare that to the average launch price of The Sixth Avenue Residences at $1,000 psf in 2006, a good 10 years later, which means that prices actually nosedived in that 'lost decade'. So as much as I want to be a perpetual bull about the property market, you should always do your sums and be prudent to ensure that you are not overly stretched financially.
The interesting comparisons will come when we bring the whole range of King Albert Park condos into play. They are arguably larger developments albeit in a less central location. They are also mostly located in District 21 (with the exception of The Tessarina in District 10), which is typically seen as slightly less prestigious than District 10. I have taken their latest transaction psfs as reference and you can see that they are very closely priced compared to The Sixth Avenue Residences.
In fact, Maplewoods, which is the oldest condo of the lot, has exceeded $2,000 psf while the historical highs of Cascadia (2013) and The Tessarina (2021) have also breached $2,000 psf. Personally, I find that this gives The Sixth Avenue Residences some room to run given its more desirable address and more central location. I am quietly hopeful that buyers will pay in excess of $2,000 psf for this development in the near future.
Appreciation Analysis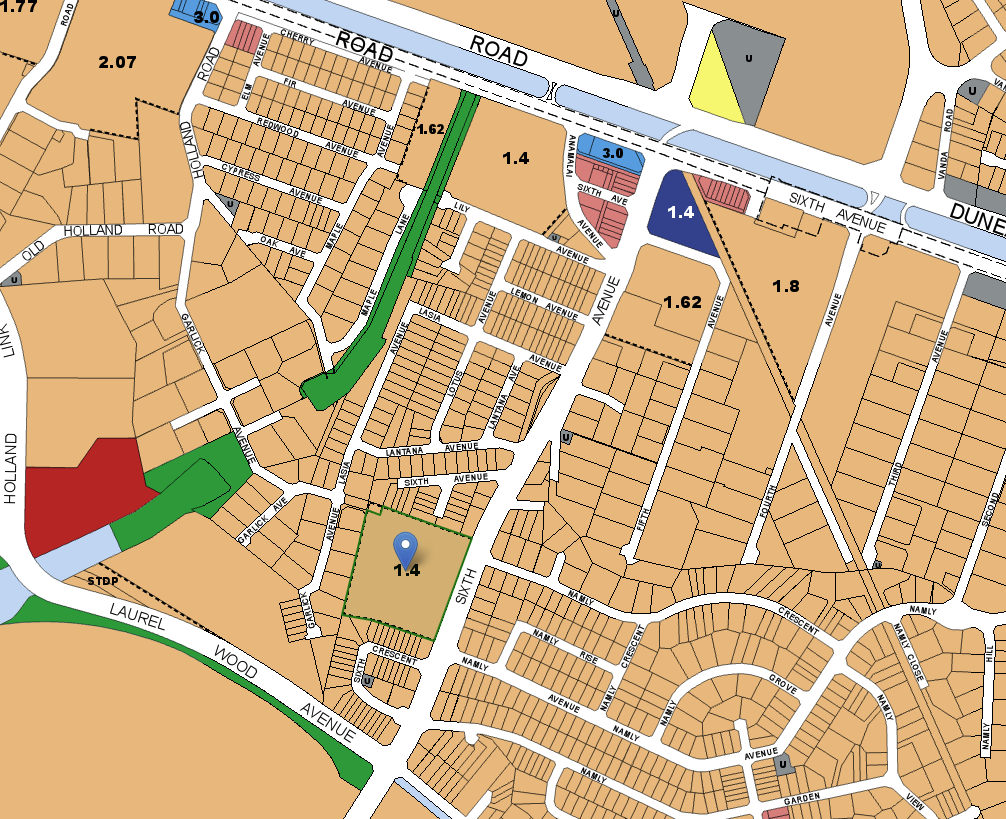 Beauty World Transformation
Every new development at Bukit Timah has been talking up the whole Beauty World transformation. Long story short, if you compare the URA Masterplans of 2014 and 2019, you will notice that there will be a 1 million sqft mixed-use development as part of a new integrated transport hub at Beauty World. Far East Organisation won the bid at $1.02Bn and looks set to launch this in the coming years. This will rejuvenate the neighbourhood that looks past its prime, with drab-looking buildings such as Beauty World Plaza still standing. We can hence expect added vibrancy and increased connectivity brought about by the new integrated transport hub. The Sixth Avenue Residences, whilst not at its doorstep, is relatively close to Beauty World is just 2 stops away, and should provide some form of support to the area. 
Turf Club Housing Developments
Turf Club is located close to The Sixth Avenue Residences and as you might know, is currently home to a number of retail, F&B, sports, and leisure facilities that include anything from futsal pitches to restaurants and childcare centres. That has been the case since the Singapore Turf Club vacated the massive plot of land in 1999. However, much to the disappointment of many in the neighbourhood, the final lease extension for all these tenants will be until end-2023 before the land is prepared for housing developments.
It is a massive plot that spans almost 200 football fields so the government will need to be very cautious in ensuring that there is no sudden influx of supply in the area. Being located adjacent to the GCB estates of Binjai Park, Swiss Club Road, Raffles Park, and Eng Neo Avenue, it will be interesting to see the eventual housing mix in the area. While this will undeniably add a massive ton of supply in this area, it is also exciting as it may turn the attention back to Bukit Timah when the land is eventually launched in phases. Moreover, they are all expected to be on 99-year leases so The Sixth Avenue Residences will have the distinct advantage of being a rare full facility Freehold condo in this area.
Holland Plain Redevelopment
There are many plans around the development of large land plots in the wider Bukit Timah region. Besides the massive Turf Club plot, you also have the Holland Plain field that will yield some 2,500 units and the expansion of the park connector. It is close to King Albert Park which will add further supply to the area. If managed well, these 99-year plots will help to set new benchmarks in the Bukit Timah region, which The Sixth Avenue Residences is poised to take advantage of given its Freehold status and more complete facilities. 
Our Take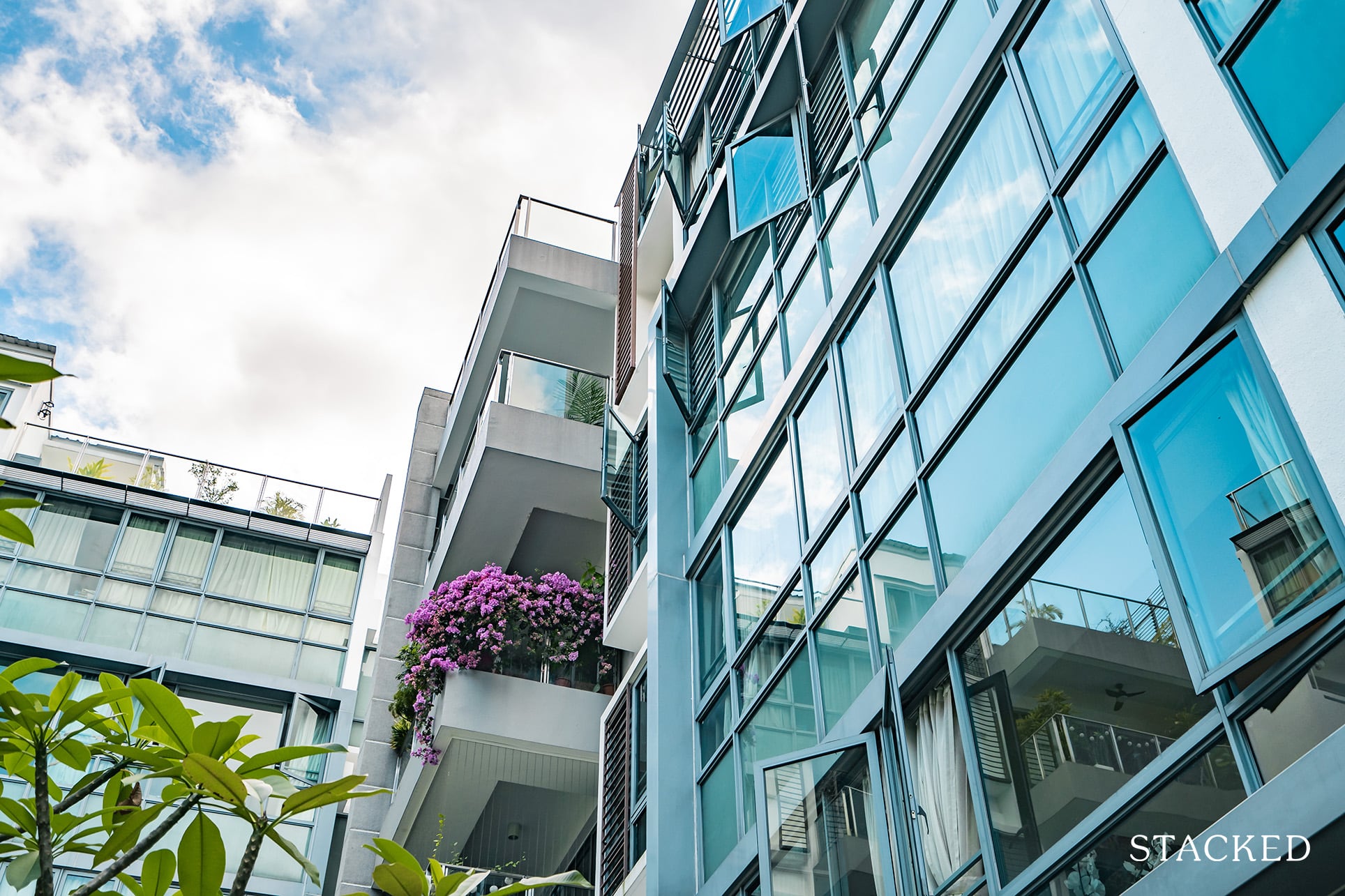 In some sense, The Sixth Avenue Residences can be considered quite a hidden find within walking distance to Sixth Avenue MRT. With the exception of the 2 new launches (Fourth Avenue Residences and RoyalGreen) and The Tessarina, there are no condos in the vicinity with full facilities such as a 50m lap pool and a tennis court. Moreover, it has the lowest density among these developments with just 175 units.
With most of its unit mix being 3 Bedroom types, this is a family-friendly condo that is close to many lifestyle and recreation retreats from the Botanic Gardens and the Rail Corridor to Holland Village and Dempsey Hill. If you are the sort that needs more privacy, but still wants to enjoy the full suite of condo facilities, this makes the offering at The Sixth Avenue Residences a pretty ideal one.
The record psf here stands at $1,998 (achieved in December 2021) and remains relatively reasonable in my opinion, especially when its peers at King Albert Park have all achieved psfs above $2,000. After all, this is a District 10 property in the heart of Bukit Timah. However, given the low number of units, they do not always come on the market, especially for the 2, 4, and 5 Bedroom types. It would be interesting to see if the psf here will sustain or climb further this year after the cooling measures in late 2021. I for one, remain quietly optimistic that The Sixth Avenue Residences represents a rare gem that promises an exclusive environment with generous facilities for its residents.  
What this means for you
You might like The Sixth Avenue Residences if you:
Want to live in a low density condo in a quiet estate:With just 175 units set amidst a landed estate, this is a small to mid-sized development where peace and privacy is assured
Desire full facilities without overcrowding:2 50m lap pools, 2 kids pools, 1 tennis court, a gym for a small number of units means you are unlikely to have to jostle for the facilities here.
Enjoy nature and lifestyle:Sixth Avenue living means proximity to Botanic Gardens, the Rail Corridor, Dempsey Hill and Holland Village, all of which are highly desired by both locals and expats alike.
You may not like The Sixth Avenue Residences if you:
Prefer an 'atas' condo with opulent finishes:Despite its location, The Sixth Avenue Residences is more of a practical condo in terms of its finishings that isn't quite as fancy as some of its District 10 peers such as Perfect Ten.
Need 1km access to a top primary school:While The Sixth Avenue Residences is close to a number of top schools such as NYPS, MGS and RGPS, they are only within 2km and will not grant parents any priority access.
End of Review