New Launch Reviews

Parc Esta Review: Opposite MRT, Close To Paya Lebar Quarter
Reuben
December 18, 2019

22

min read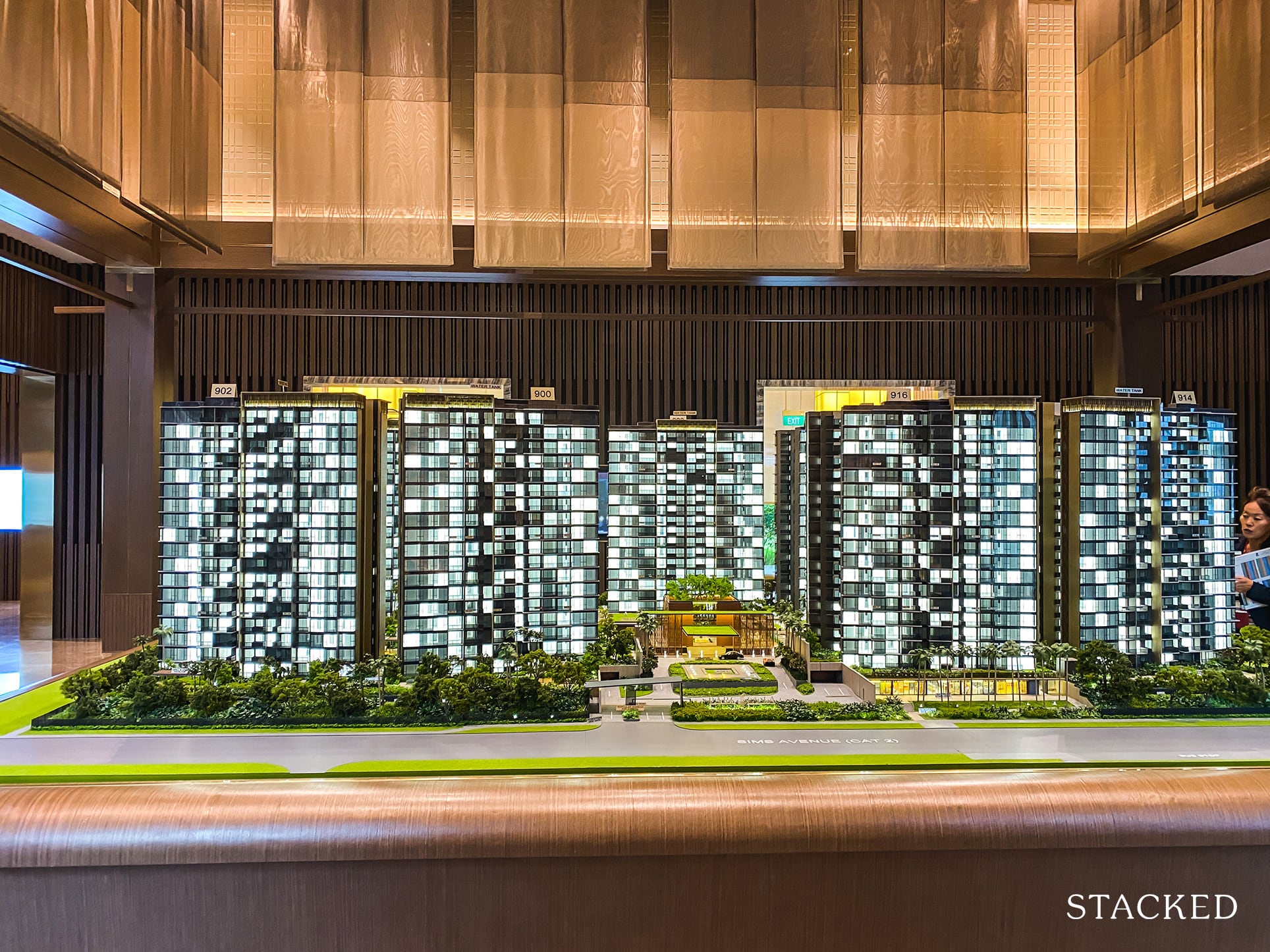 Parc Esta is great for families with young children due to the plethora of child facilities and schooling options. However being in a Mature estate, we think that for families who prefer quieter regions, it's best to look elsewhere.
Reviewed by Reuben on 18 December 2019
What we like
Opposite MRT

Small balconies for more indoor space
What we don't like
—

Limited facilities for number of units

—

Traffic on main road
About this condo

| | | | |
| --- | --- | --- | --- |
| Project: | Parc Esta | District: | 14 |
| Address: | Sims Avenue | Tenure: | 99 years |
| Site Area: | 376,716 sqft | No. of Units: | 1,399 |
| Developer: | MCL Land Limited | TOP: | 2022 |
With over 5,000 different faces turning up at the Parc Esta's launch on 17 November 2018, it isn't surprising that Parc Esta one-upped Parc Clematis' 324-unit launch day sale.
To date, more than 68% of its near 1,400 units have already been snapped up by – an incredible testament to the condo's warm affinity with the public.
Pieced together by a string of award-winning creators and luxury appliances (Smeg and Hansgrohe pop to mind), it's heartening to know that developers MCL Land are not just banking on the condo's incredible locale to make their mark.
Needless to say, however, living 3-minutes from the Eunos MRT might just come with some added perks. This, off the latest news of Paya Lebar's impending overhaul.
Adorned with 'full-height glass exteriors', future residents of Parc Esta eagerly await the completion of its nine 18-storeyed blocks come to the end of 2022. The promise of unbridled views over the low-rise eastern Singaporean landscape provides just one of many pulls to homeowners and investors alike.
Add in its incredibly reasonable quantum (against both neighbours and market) plus sizable room for appreciation growth, and Parc Esta seems to check all the boxes in the right departments.
Now let's see if its showroom will live up to its incredible hype and our (slightly overenthusiastic) expectations!
Insider Tour
Facilities in Parc Esta
Water Beds
Jacuzzi
Barbeque Pit
Kid's Water Playground
Pavilion
Lawn
Beanbag Lounge
Palm Pool
Fitness Pavilion
Aqua Gym
Herbs Garden
Children's Playground
Outdoor Multi Gym
Bicycle Lift
50m Lap Pool
Wi-Fi Pavilion
Clubhouse
Cabanas
Sun Beds
Fitness Suite
Changing Rooms
Hammock Park
Fern Garden
Tennis Court
Multipurpose Court
Jogging Trail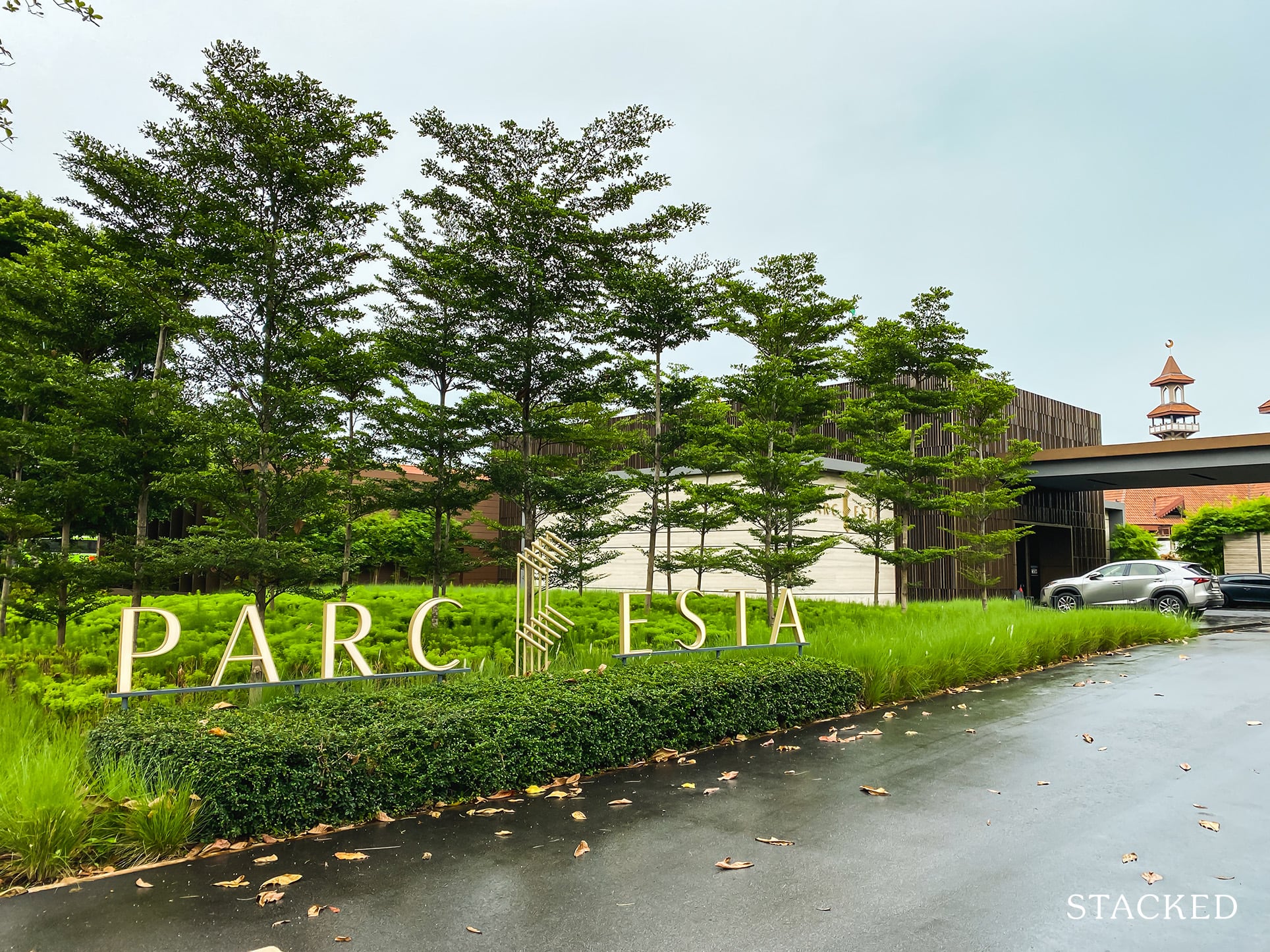 For those that like big sprawling developments with an entire spectrum of facilities, Parc Esta is probably one that is on your radar. It is quite similar to the recently reviewed Parc Clematis, with this one being the representative of the Eastern region of Singapore.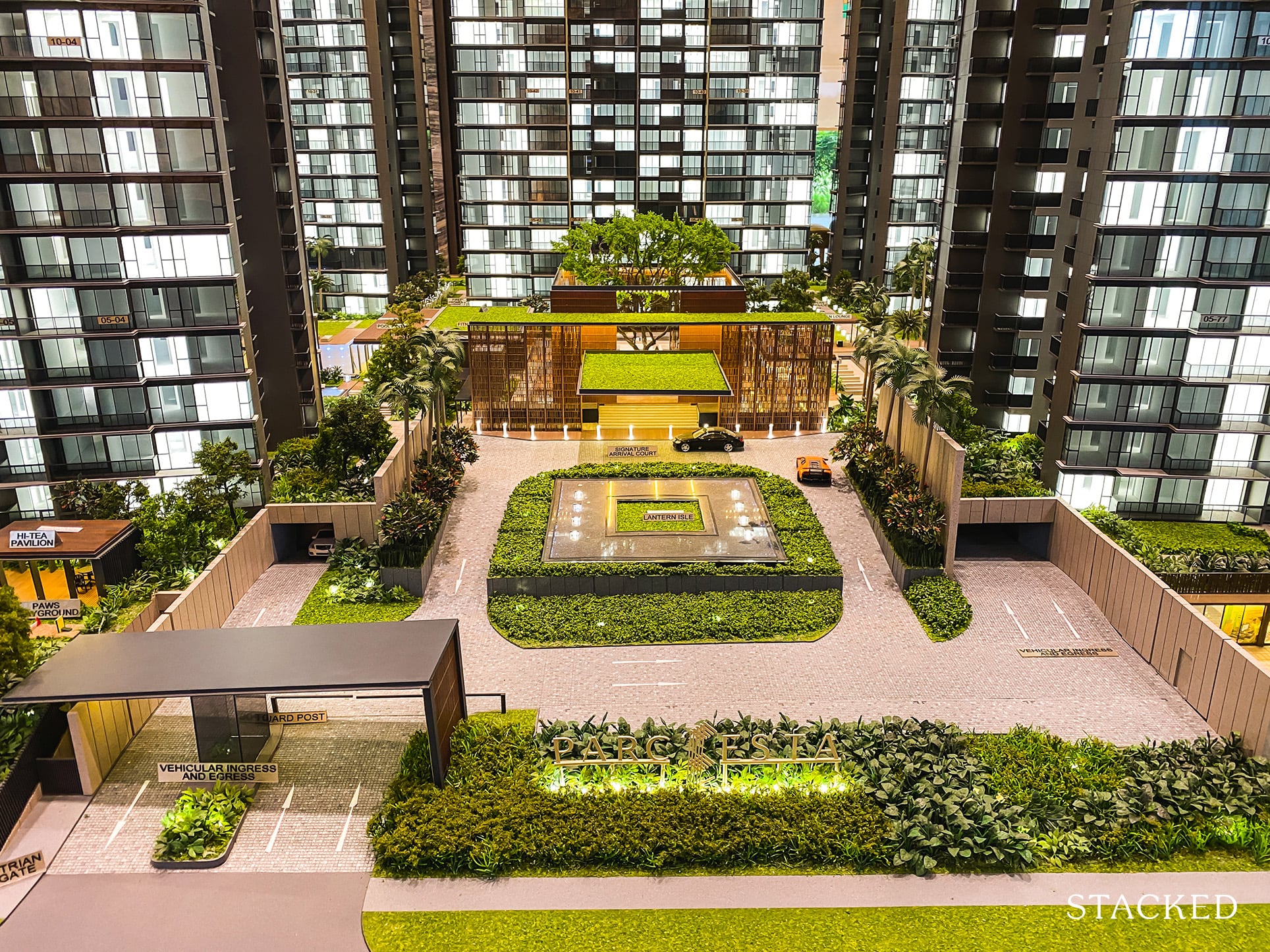 At 376,716 square feet of land size, the Parc Esta is quite a bit smaller than Parc Clematis but with an almost similar number of units (1,399 vs 1,478). So it is definitely denser and you can expect it to feel more crowded overall. On the flip side, Parc Esta is in an arguably better location (especially if you favour the East side).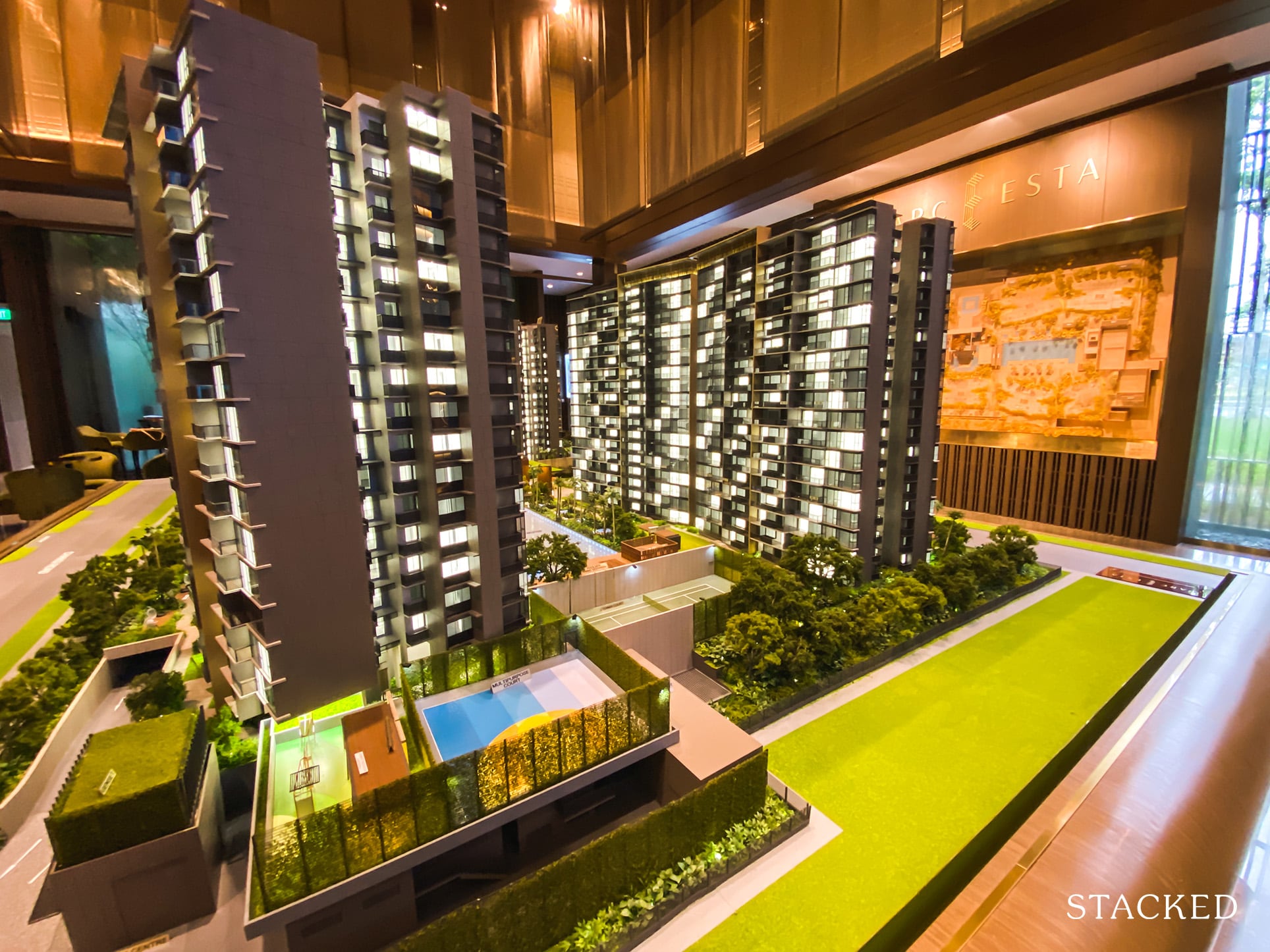 After scouring through the showflat model, it is immediately noticeable that there is just one multi-purpose court and tennis court. For a development with 1,399 units that is quite a cause for concern. If you are the sporty type that uses these facilities a lot you are going to face a ton of competition for those weekend slots.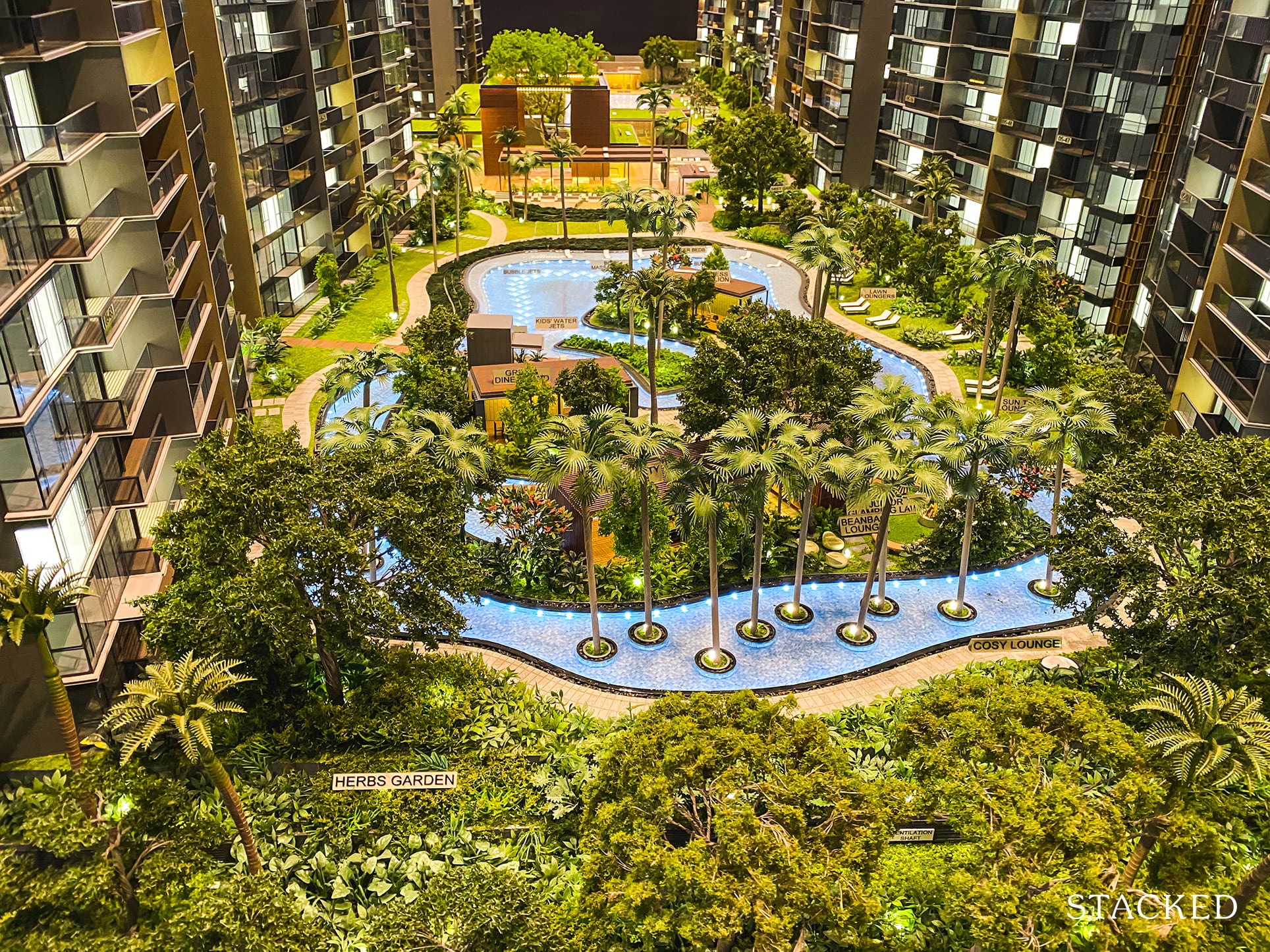 On the other hand, the 360-degree lagoon looks to be the hallmark of Parc Esta's facilities. Similar to the concept of the lagoon at the Clement Canopy, this one at the Parc Esta looks to be on an even bigger scale. I think with the right greenery and landscaping it will certainly be a very lush tropical place to relax in.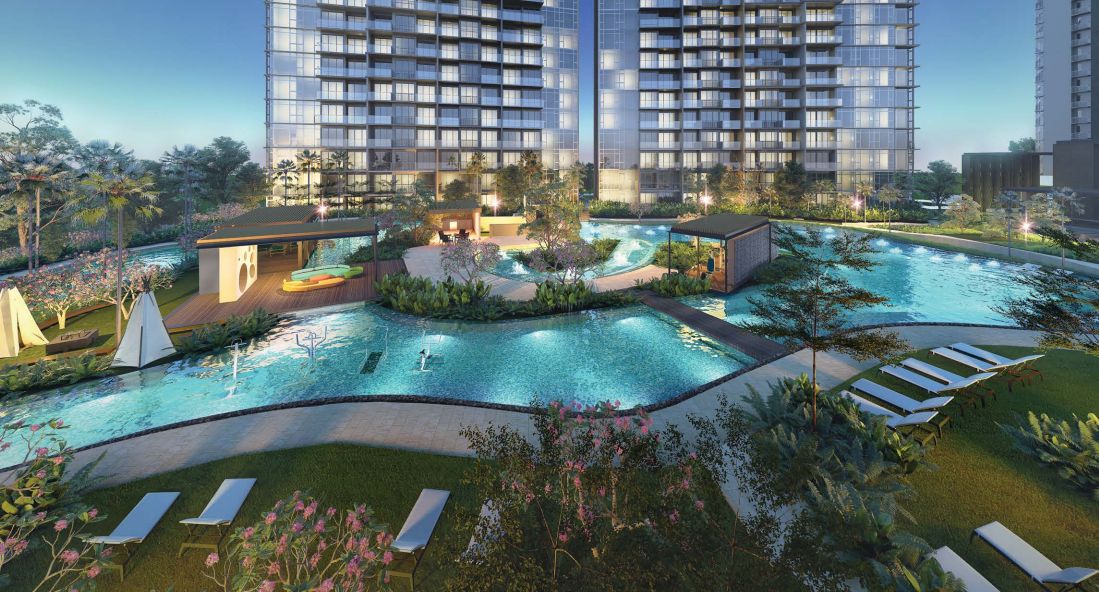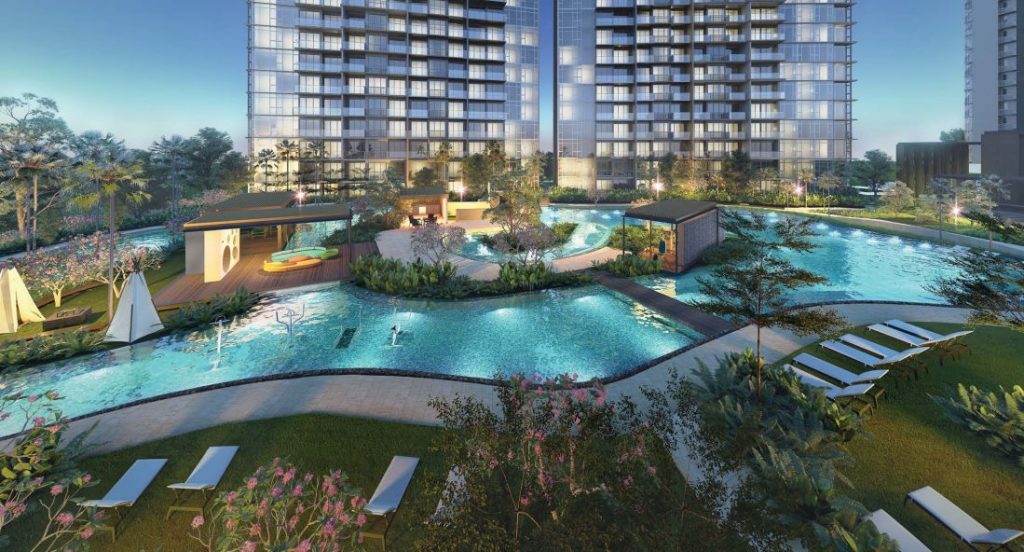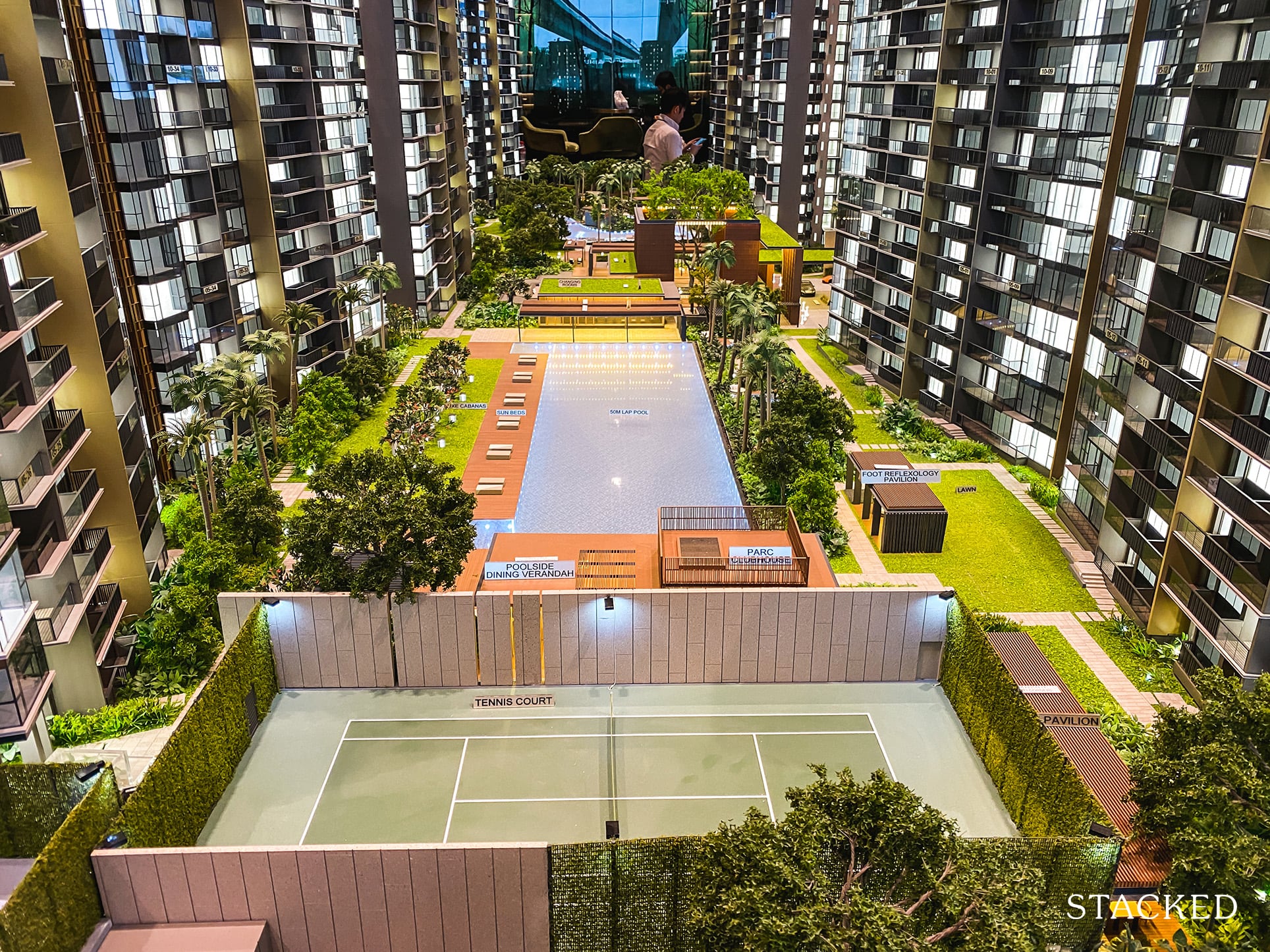 If you want to do some proper laps, there is still the regular rectangular shaped swimming pool. A 50m length is just about what you'd expect, but compared to the extravaganza of swimming pools at Parc Clematis, it seems a bit tame over here at the Parc Esta.
Parc Esta 1 Bedroom + Study Review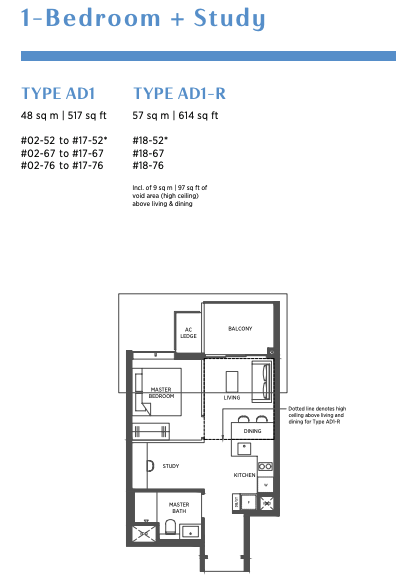 At 517 square feet, the 1 bedroom plus study unit at the Parc Esta is just about an average size as compared to most new launches today. The first thing you'd notice is the larger than usual kitchen as well as the big entranceway, which is never a good thing.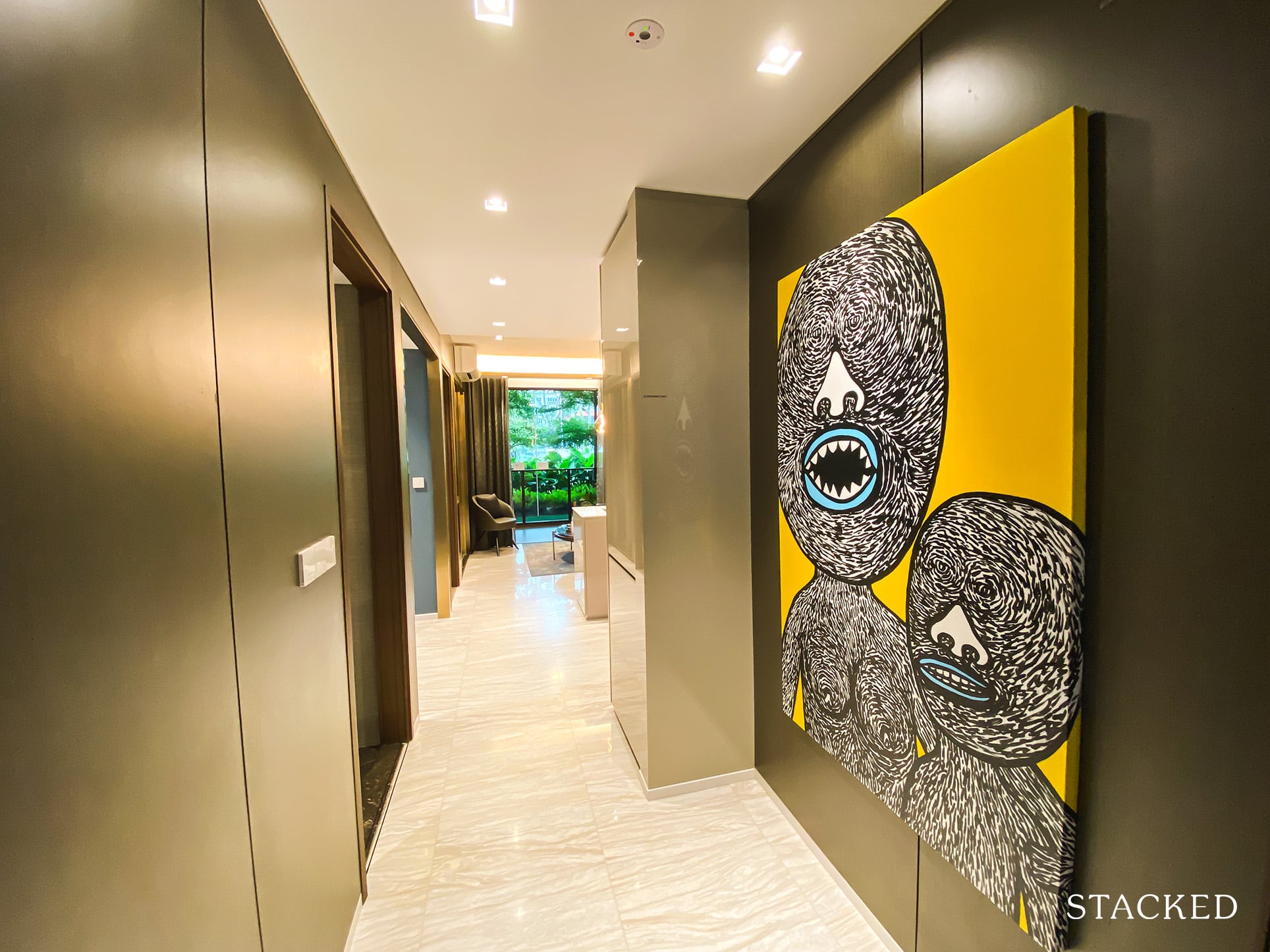 As mentioned, the entranceway to the 1 bedroom unit is really big. At this point, you'd be forgiven for thinking you have walked into a 4 or 5 bedroom apartment. It's very much unusable and inefficient use of space especially given that space is a premium in a 1 bedder unit.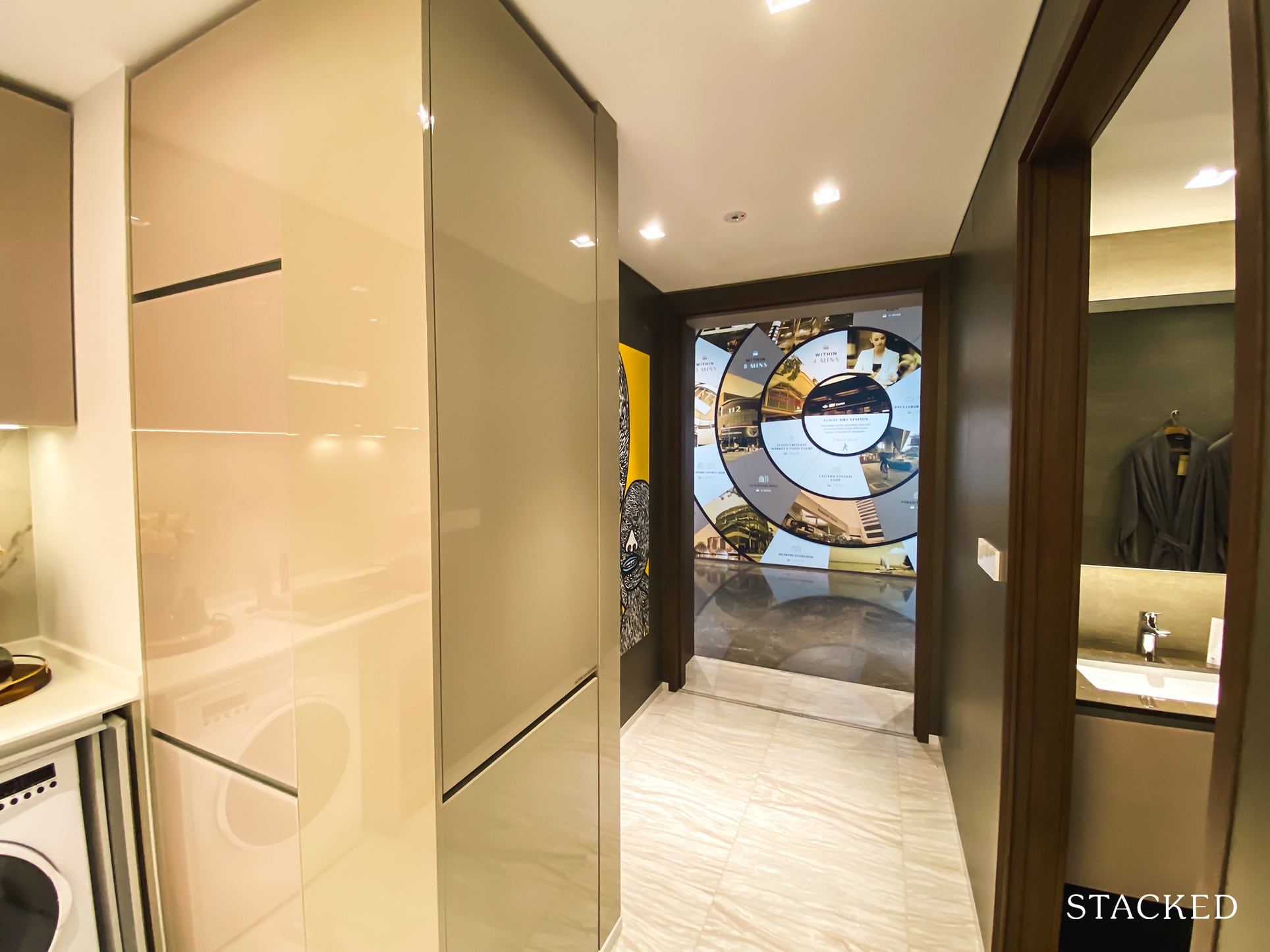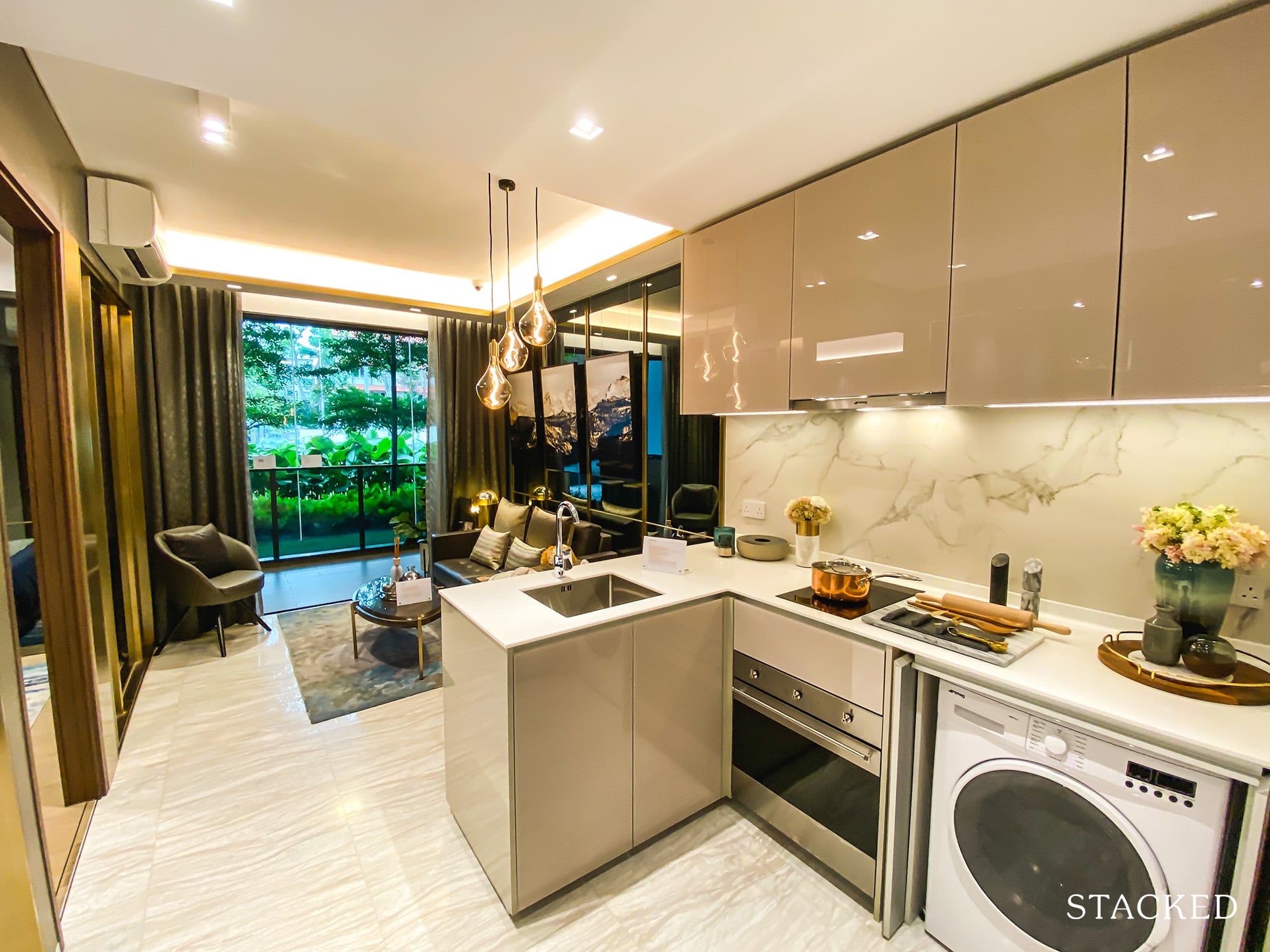 For a 1 bedroom unit, the kitchen is without a doubt a very well sized space. There's plenty of room to move around and the countertop plus storage space is generous. If cooking is important to you, this would be an ideal choice.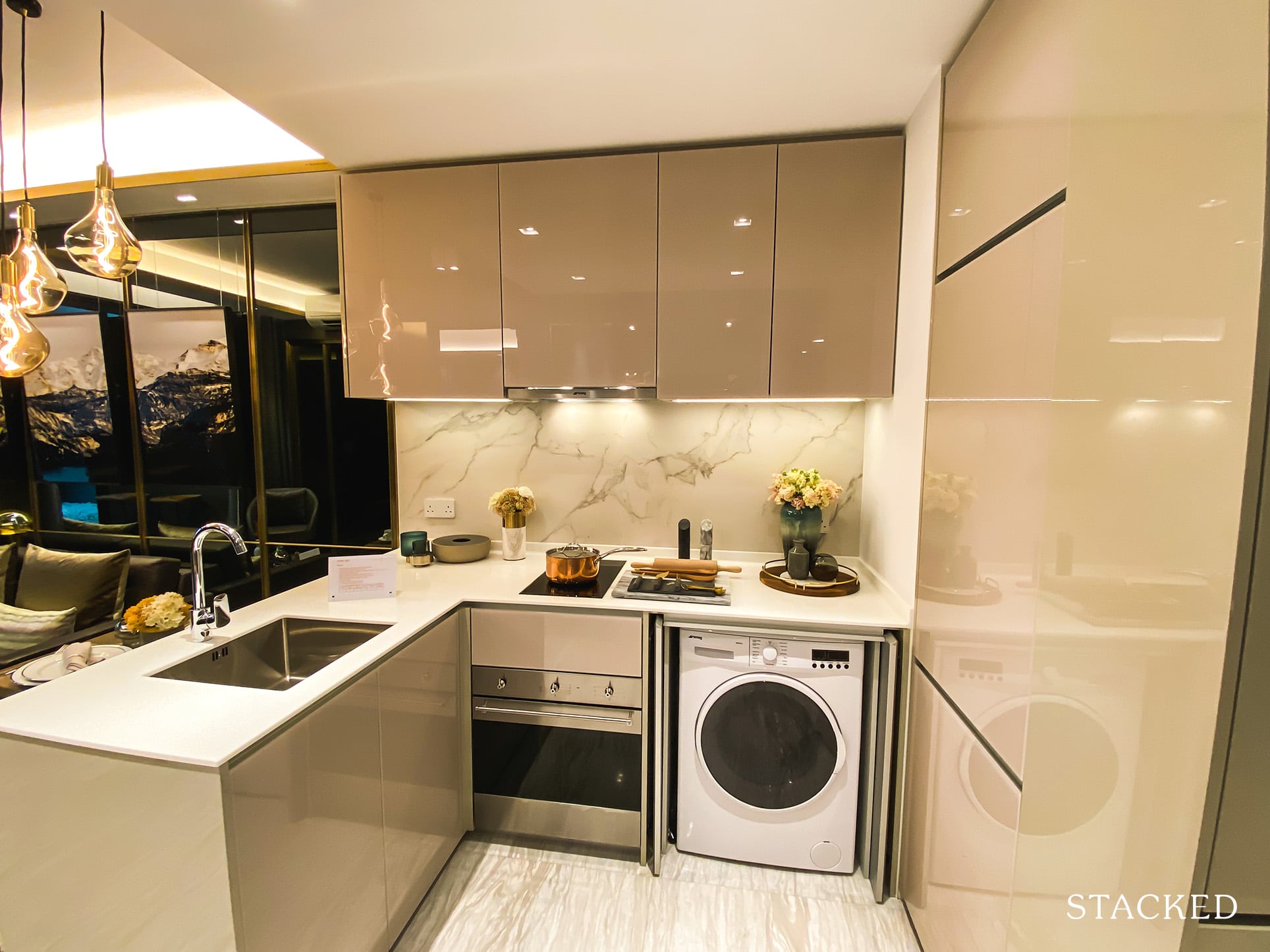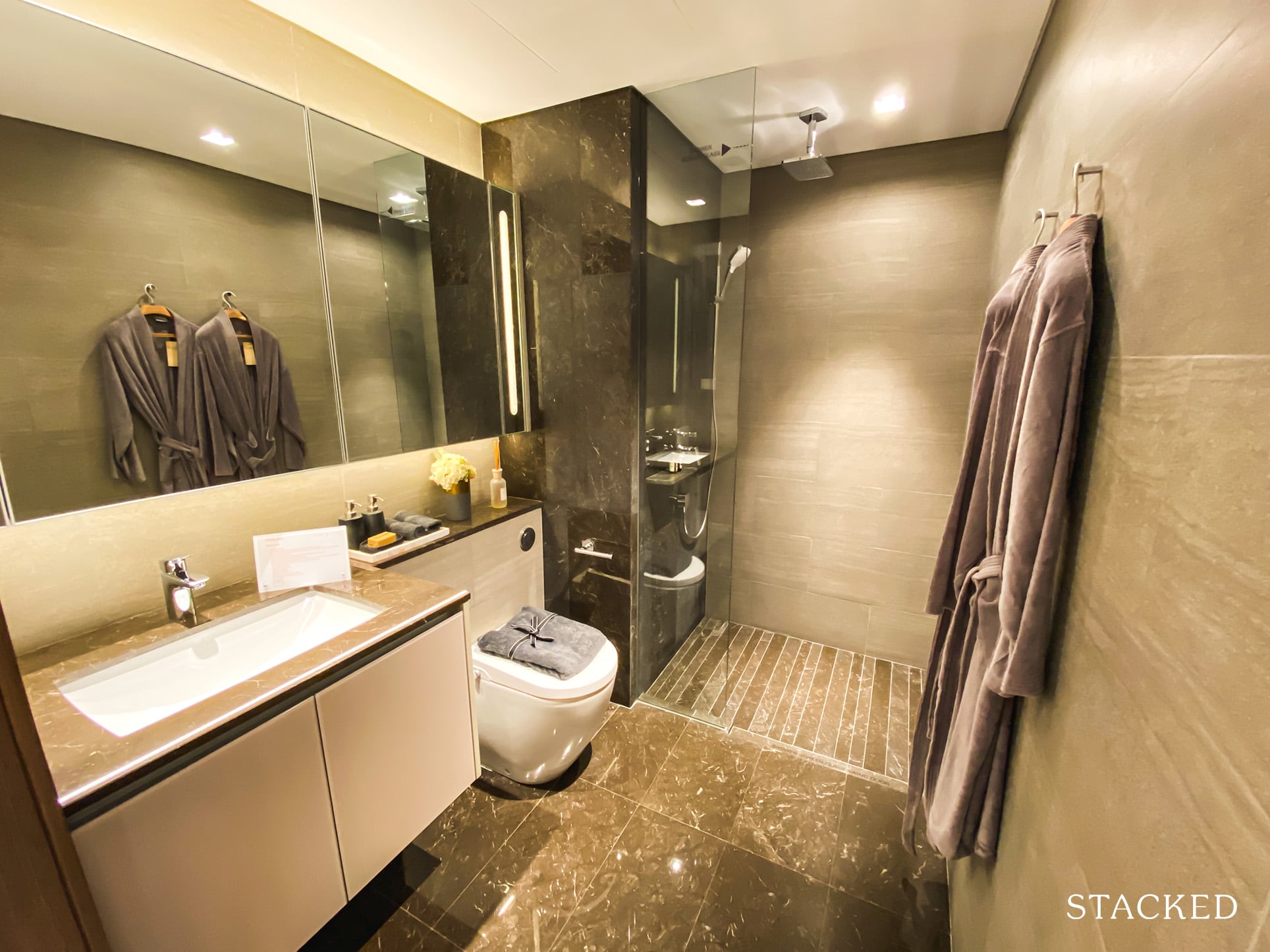 The bathroom is averagely sized and is in keeping with what you'd expect nowadays. Strangely enough, the bathroom is located opposite the kitchen (with the study in between the bathroom and master bedroom). This means you do not have direct access to the bathroom from your bedroom! I understand that if the bathroom is isolated it is better for when you have guests over, but unless you have guests over all the time I would very much prefer to have the bathroom right next to the bedroom instead.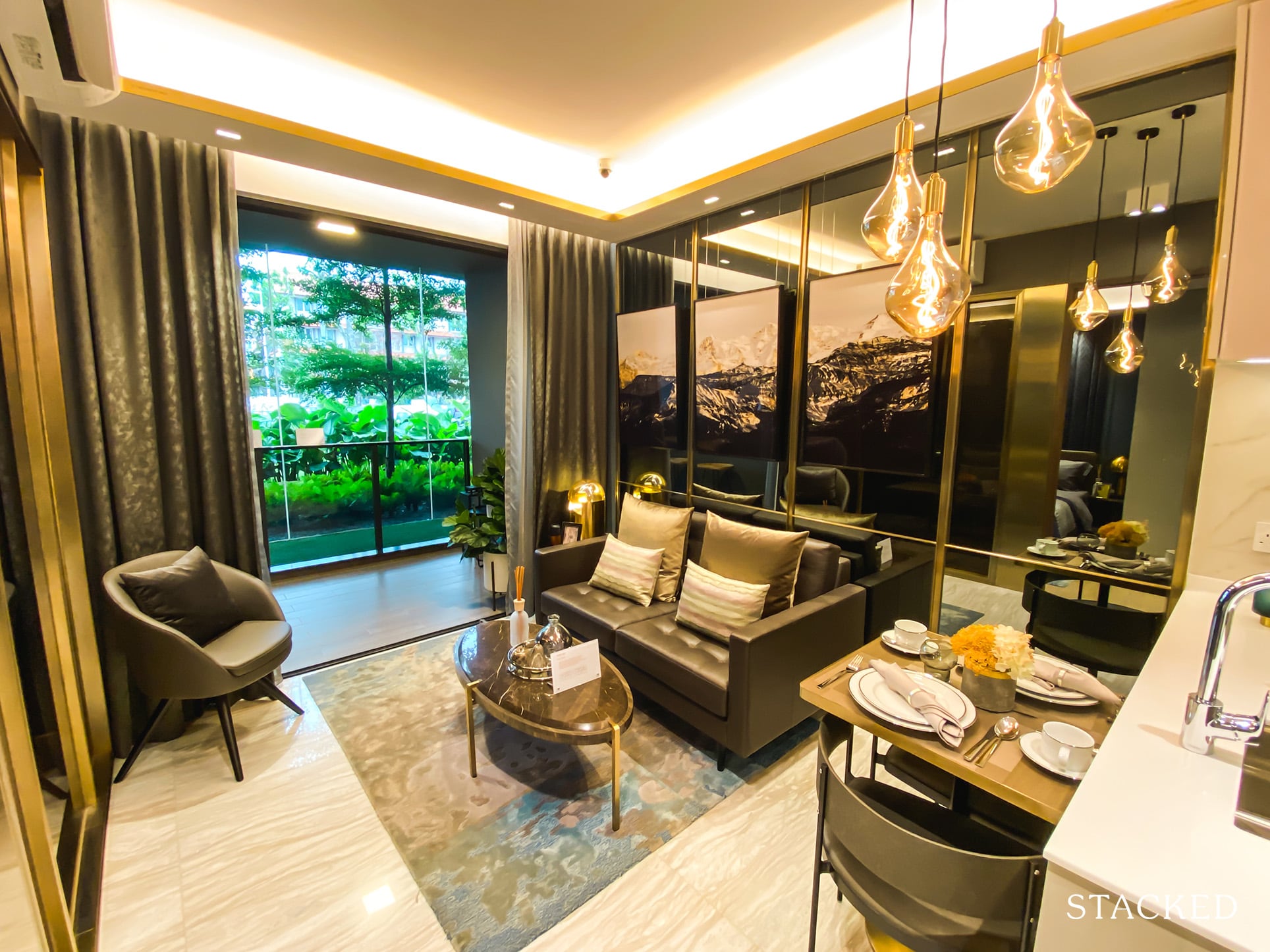 The biggest downside to the bigger kitchen space is that it has to come at the expense of somewhere else, which in this case is the dining room. From here you can see just how little space there is for it. It'll probably be better to try and extend the kitchen counter and use it as a dining table as well.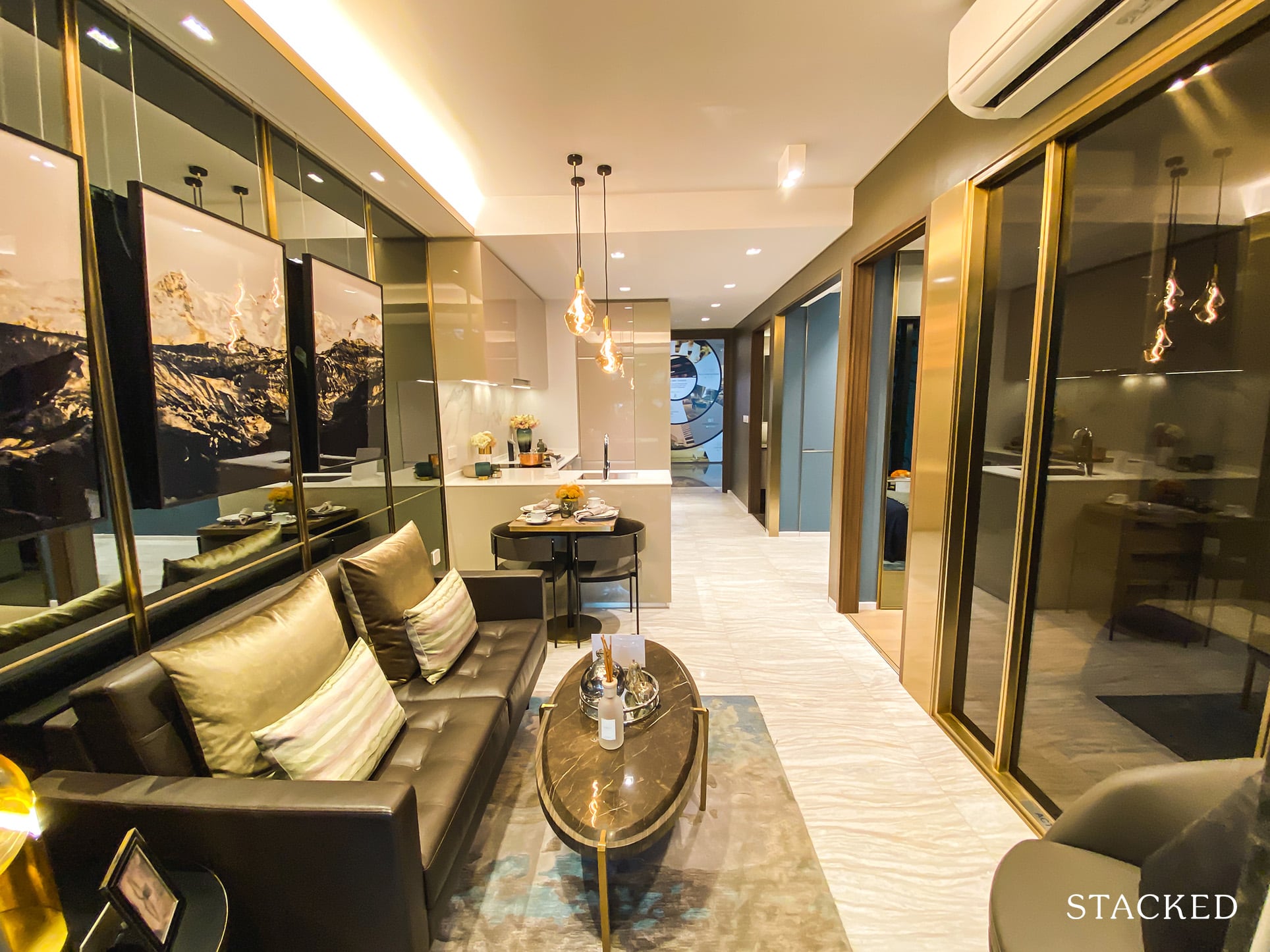 The living room space isn't terribly big as well, but it is adequate for the usual suspects like the couch, coffee table and (small) TV console.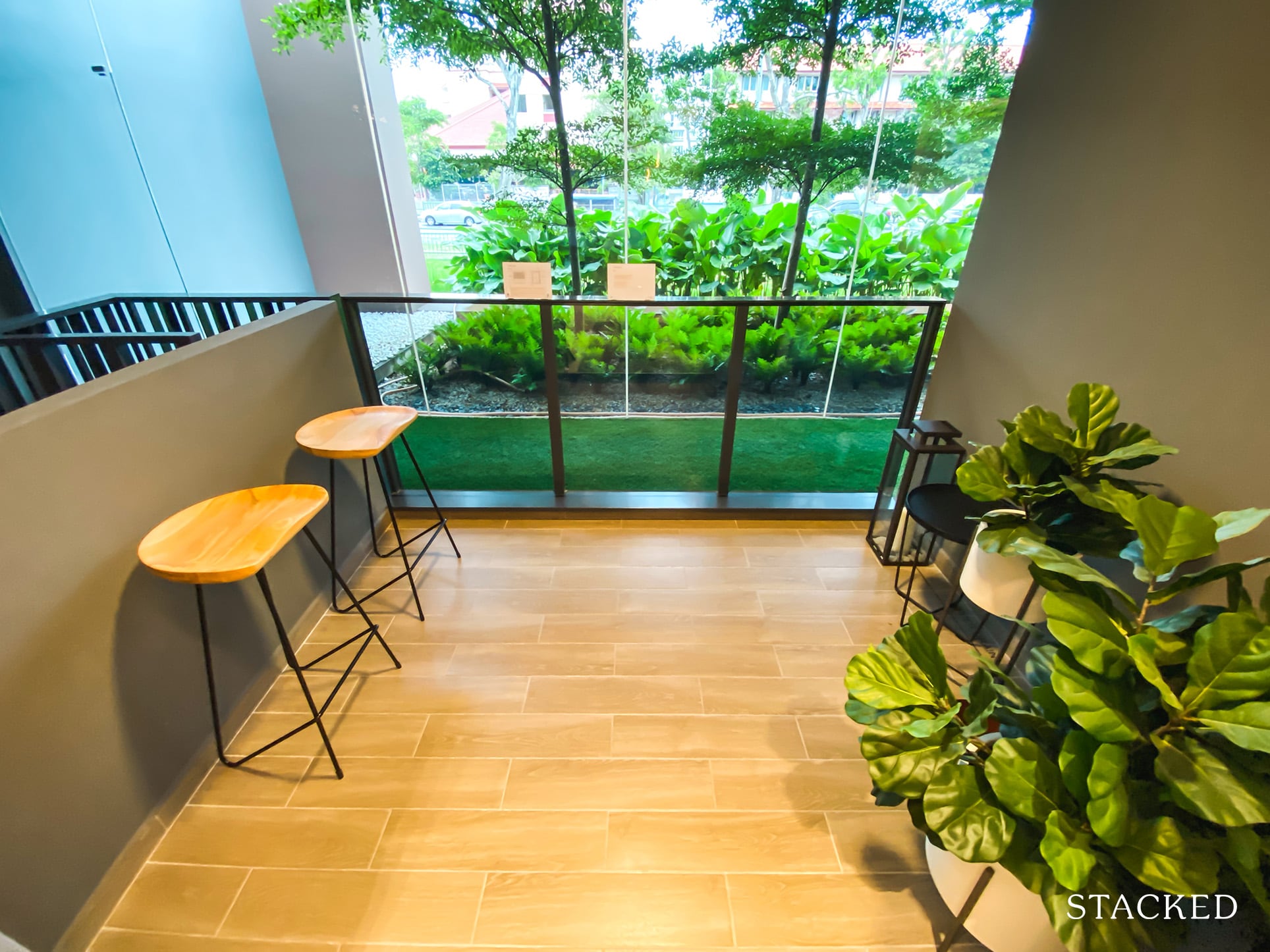 The balcony area is a good size, with space for some plants or a small table and chairs to chill on the weekends.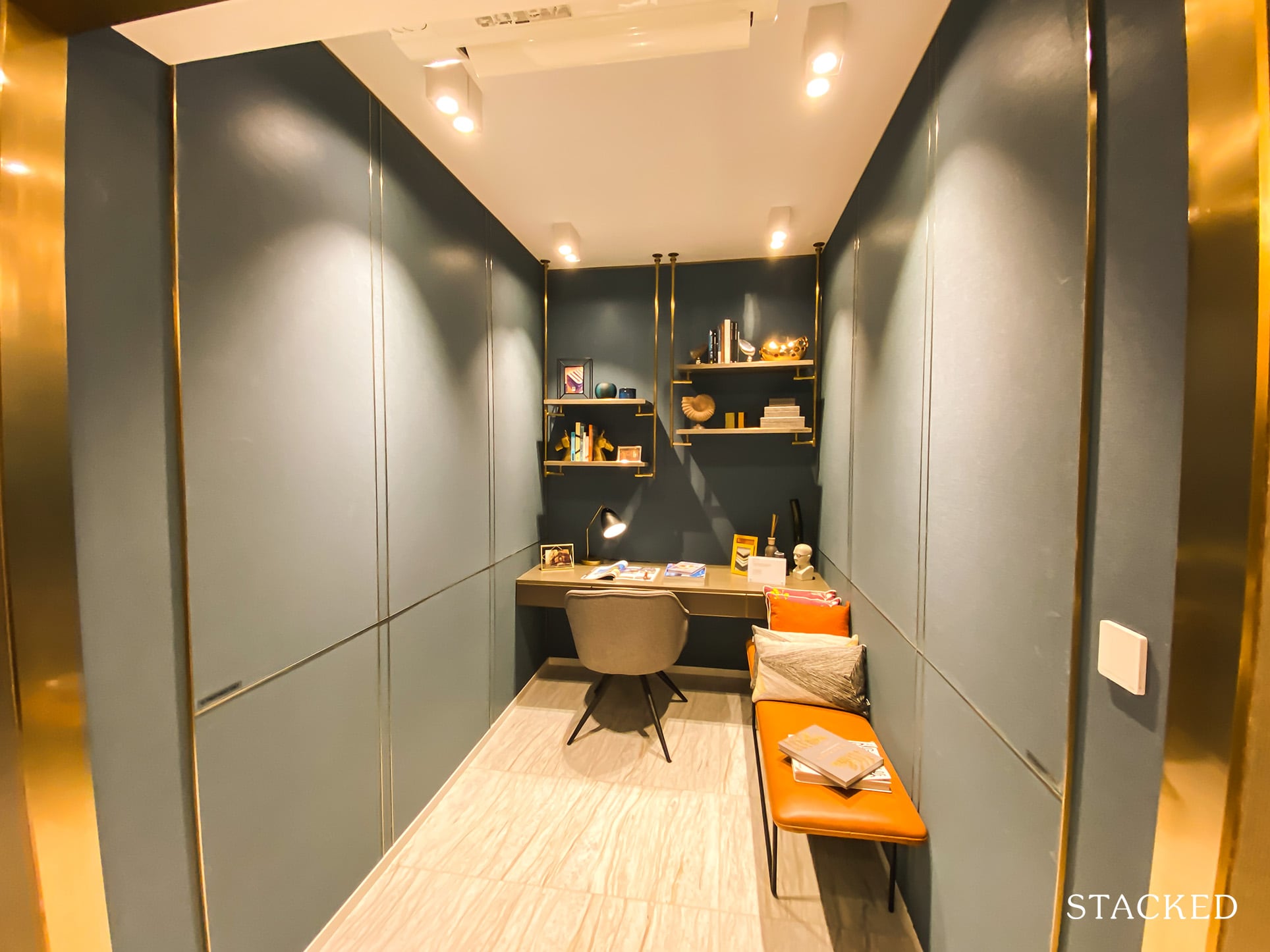 The study room is very decent if you were to use it as a study/home office. Alternatively, you could use it as a second (small) bedroom too.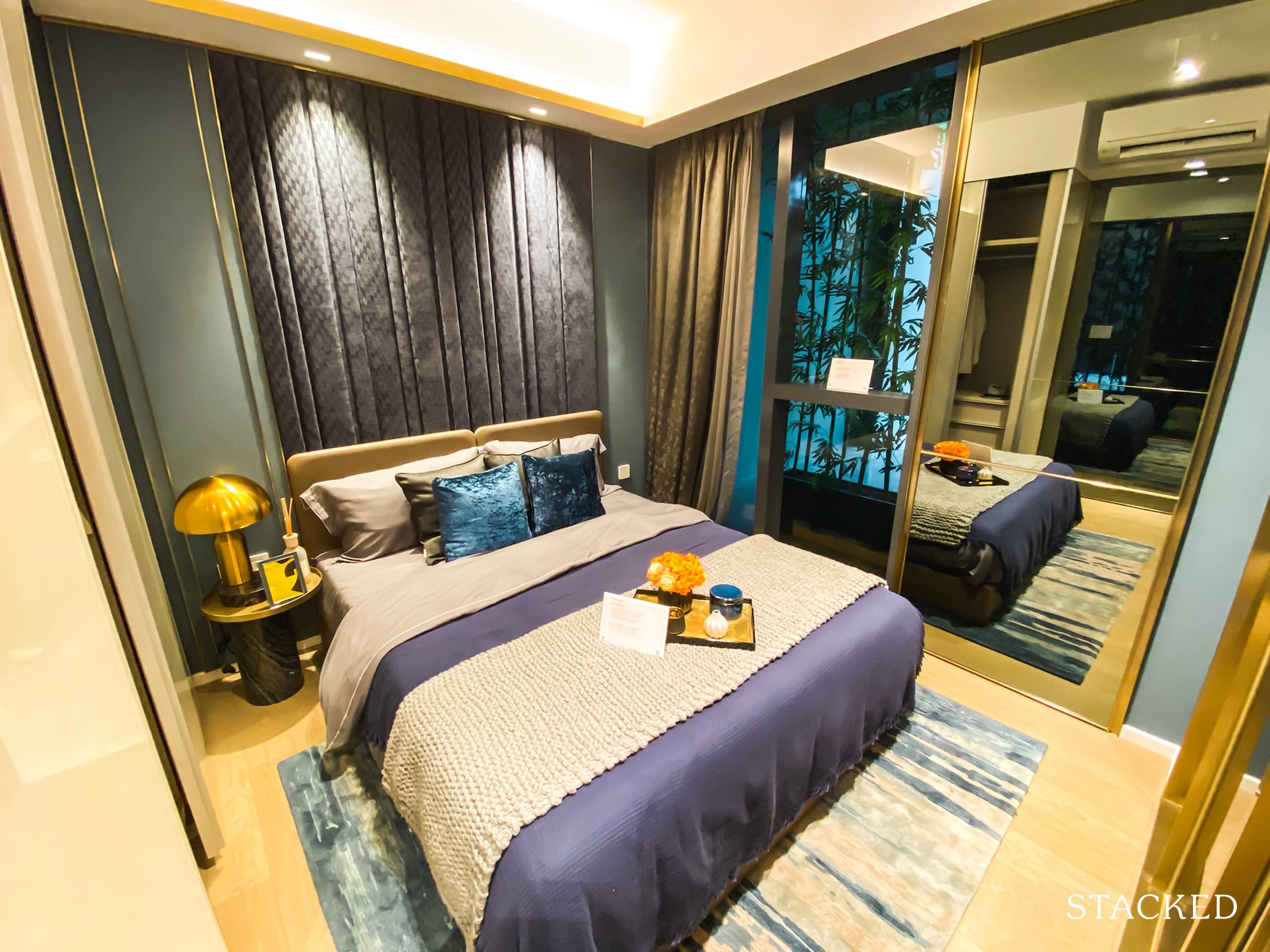 The bedroom is on the small side, with really only enough space for the queen-sized bed itself. The floor to ceiling window here is great but because of the AC ledge on the outside, it can't be extended all the way, unfortunately.
Parc Esta 2 Bedroom + Study Review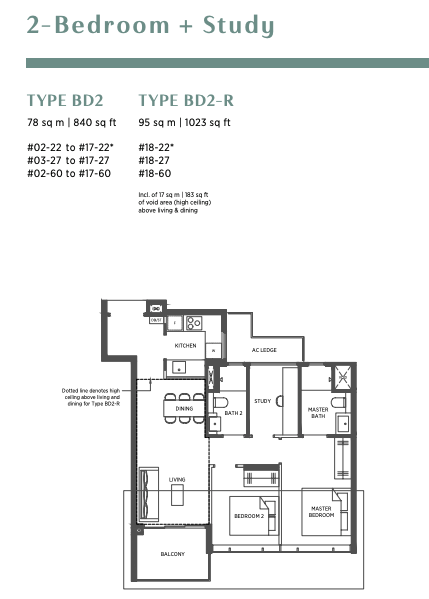 Size-wise, the 840 square foot 2 bedroom plus study unit is bigger than average for the unit type. Overall it is quite an efficient use of space, but the big entranceway is again really wasteful in my opinion.
The two plants here really emphasise how much of an excessive space the entranceway takes up. If only this was at some other location of the unit, it could be converted into something more useful. But at the entrance, it's tough to do anything else but more storage.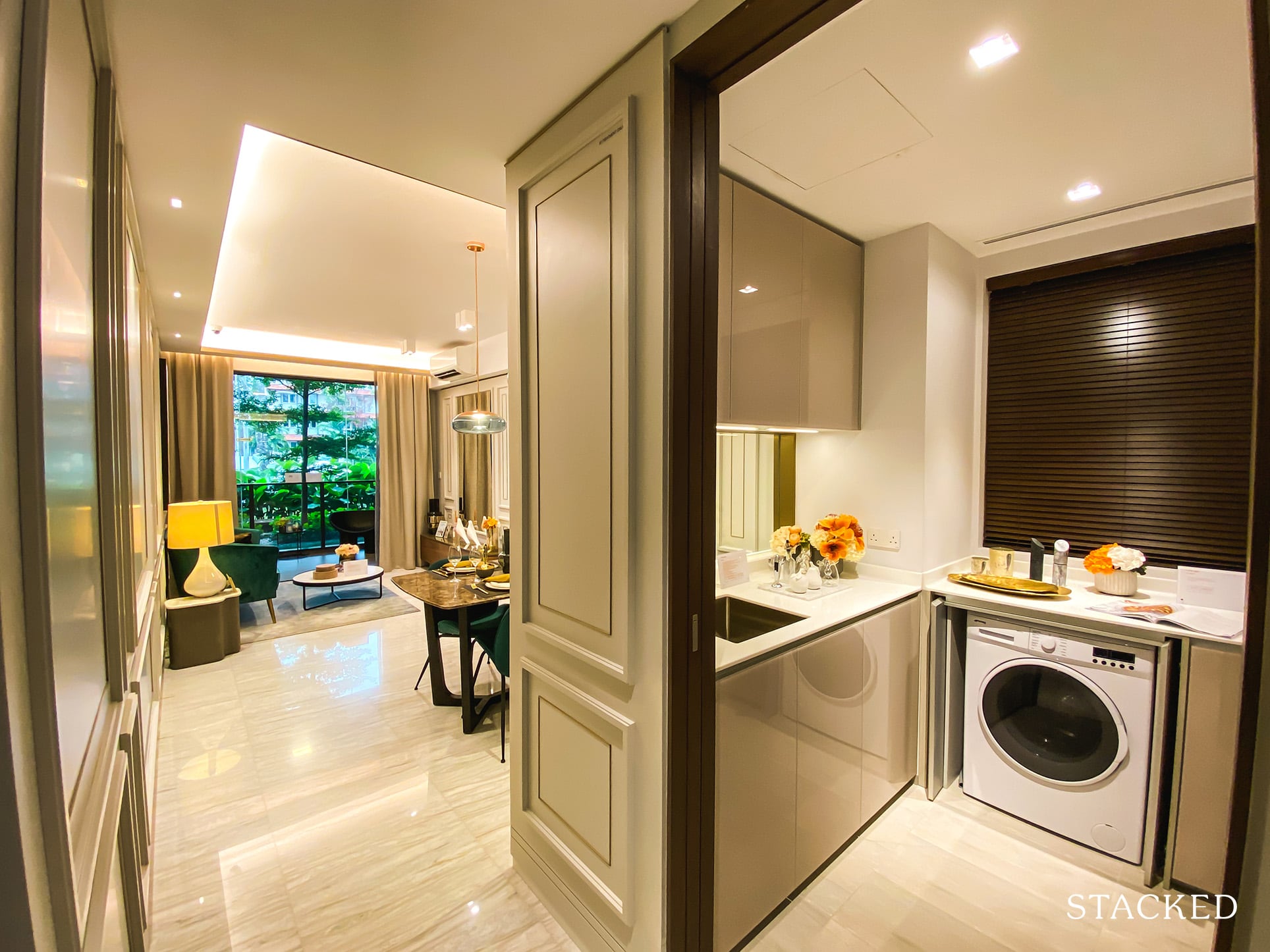 Once you get over the shock at how big the entranceway is, the next few steps will lead you to the kitchen and a view of the living/dining.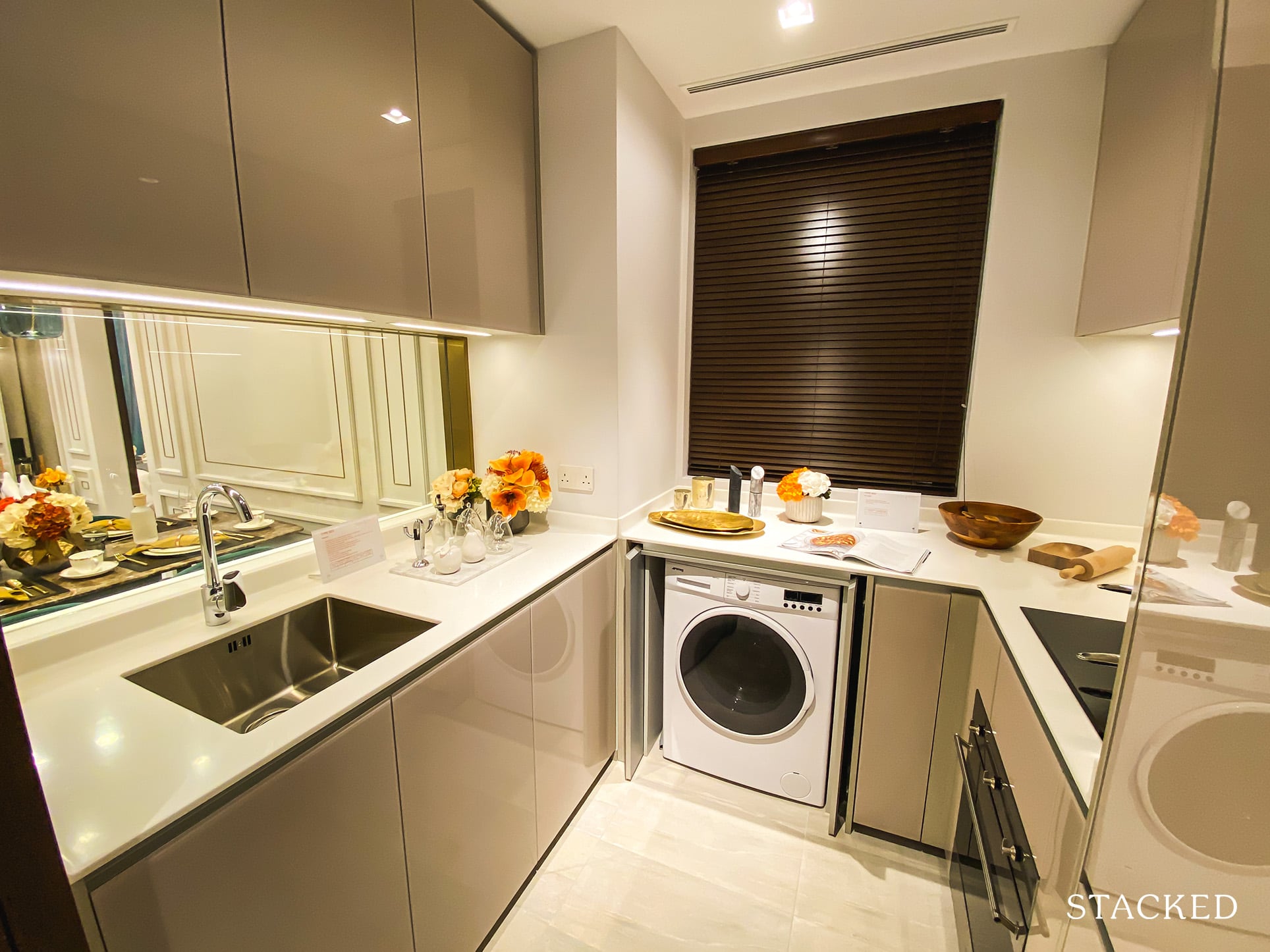 The kitchen is quite small for a 2 bedroom unit but the good news here is that it is an enclosed one.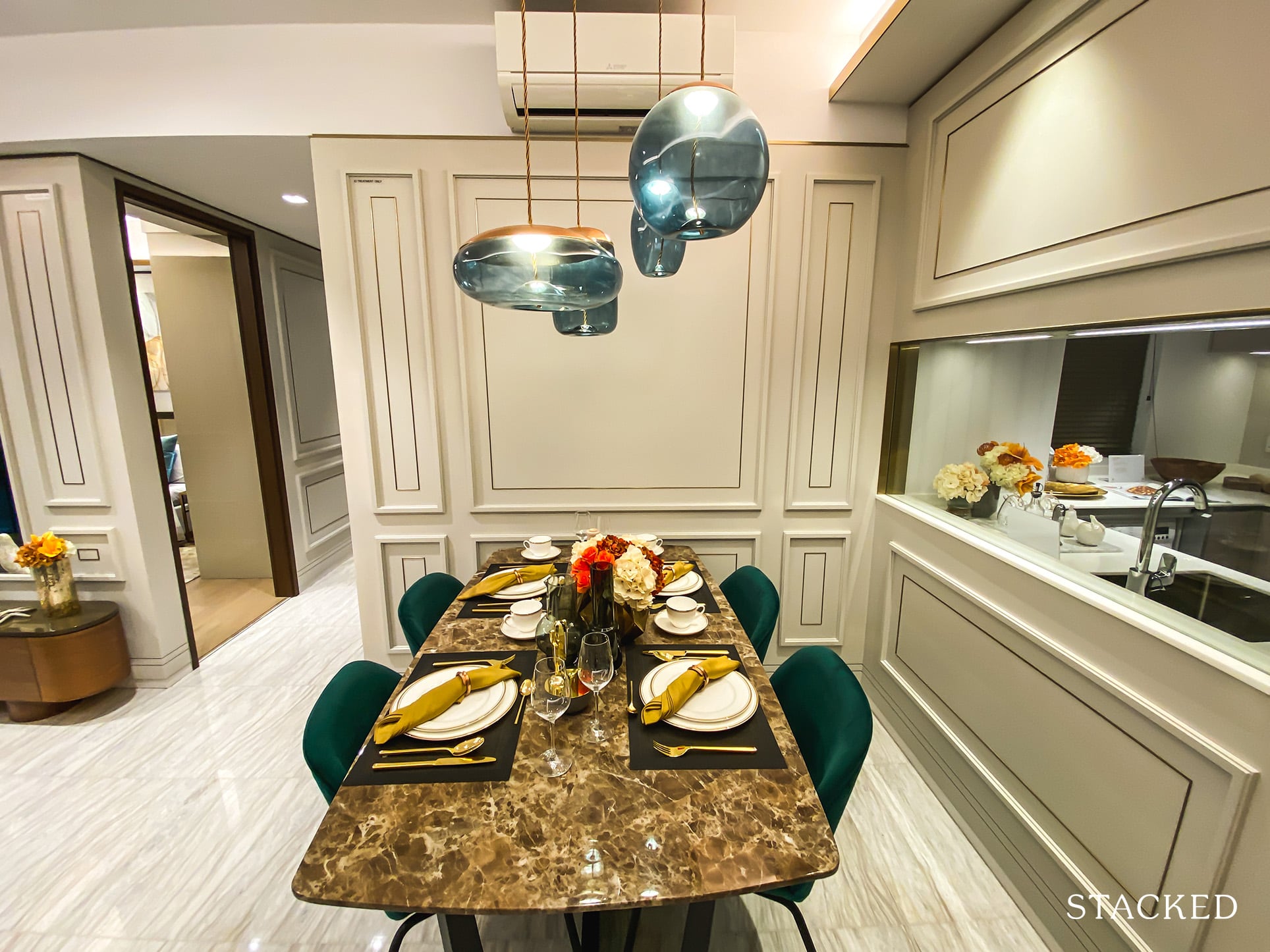 Next up, the dining area is quite well sized. You are definitely able to fit a proper dining table here without intruding into the living or entrance to the hallway.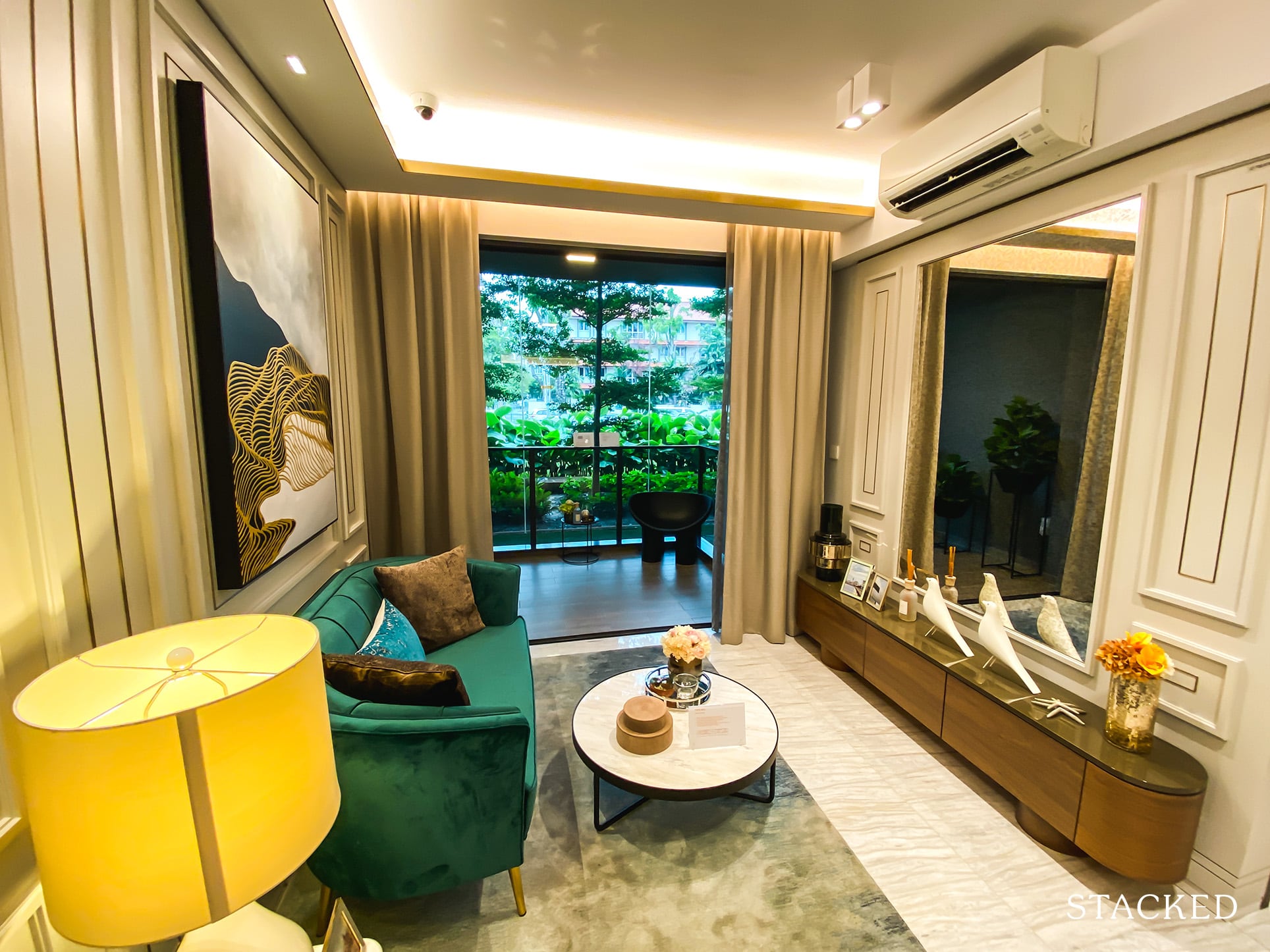 The living room is slightly narrow but it is quite long. So you can easily fit a good-sized TV console and a very large screened TV if you want to!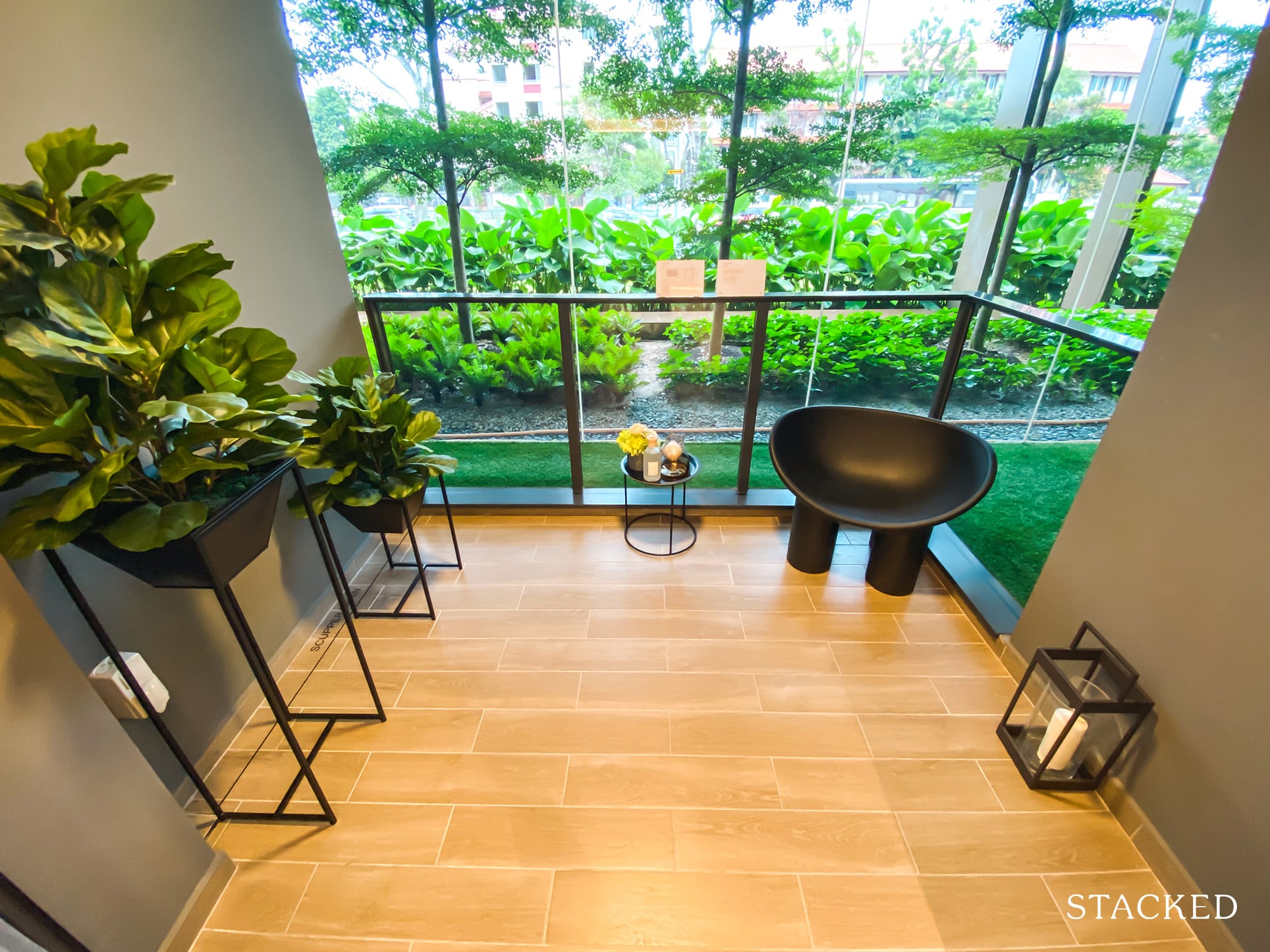 The balcony is not big in comparison to the rest of the unit. Still, it is adequate enough for some seating.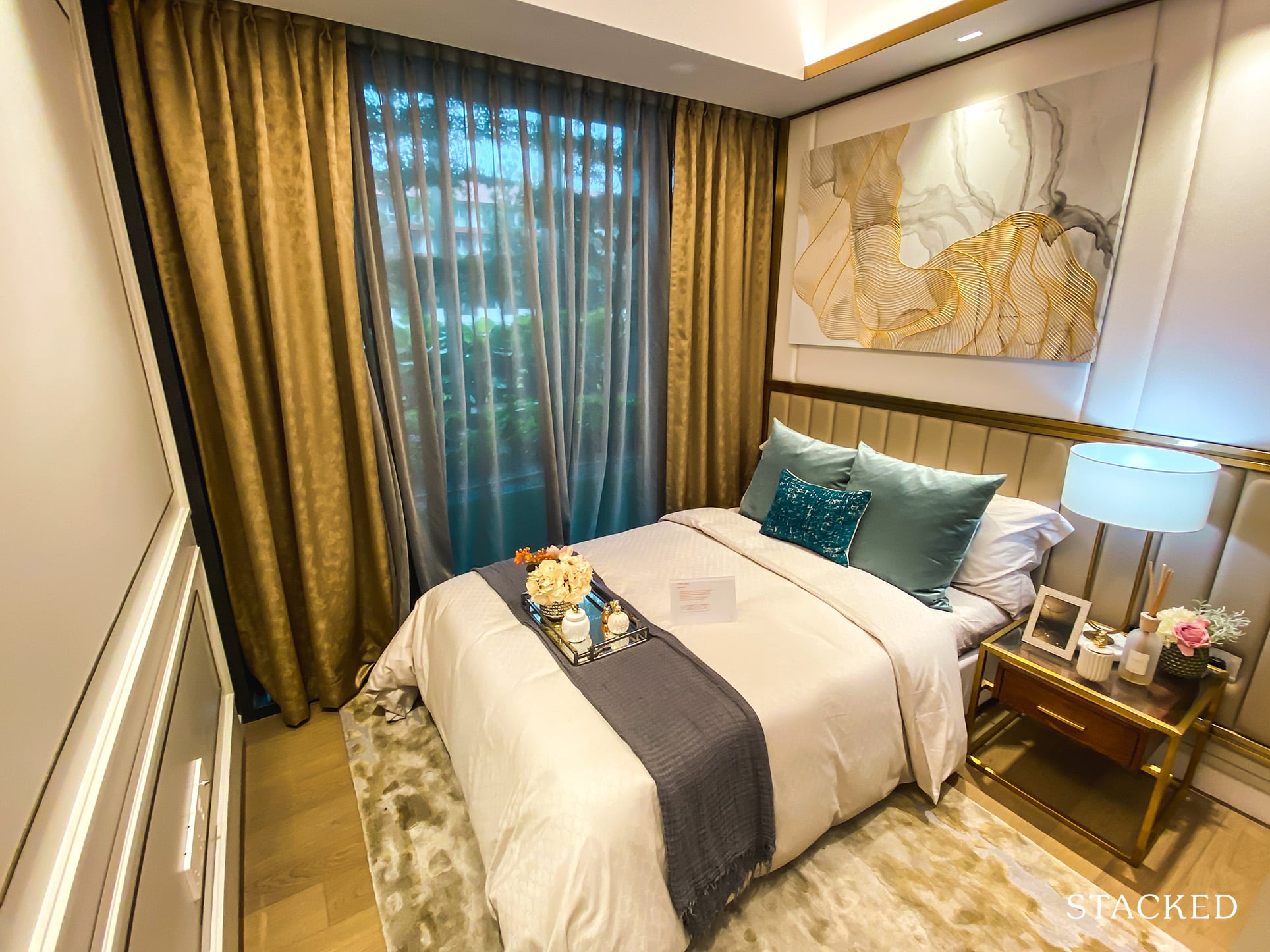 The common room is on the small side, but the big floor to ceiling windows make up for it.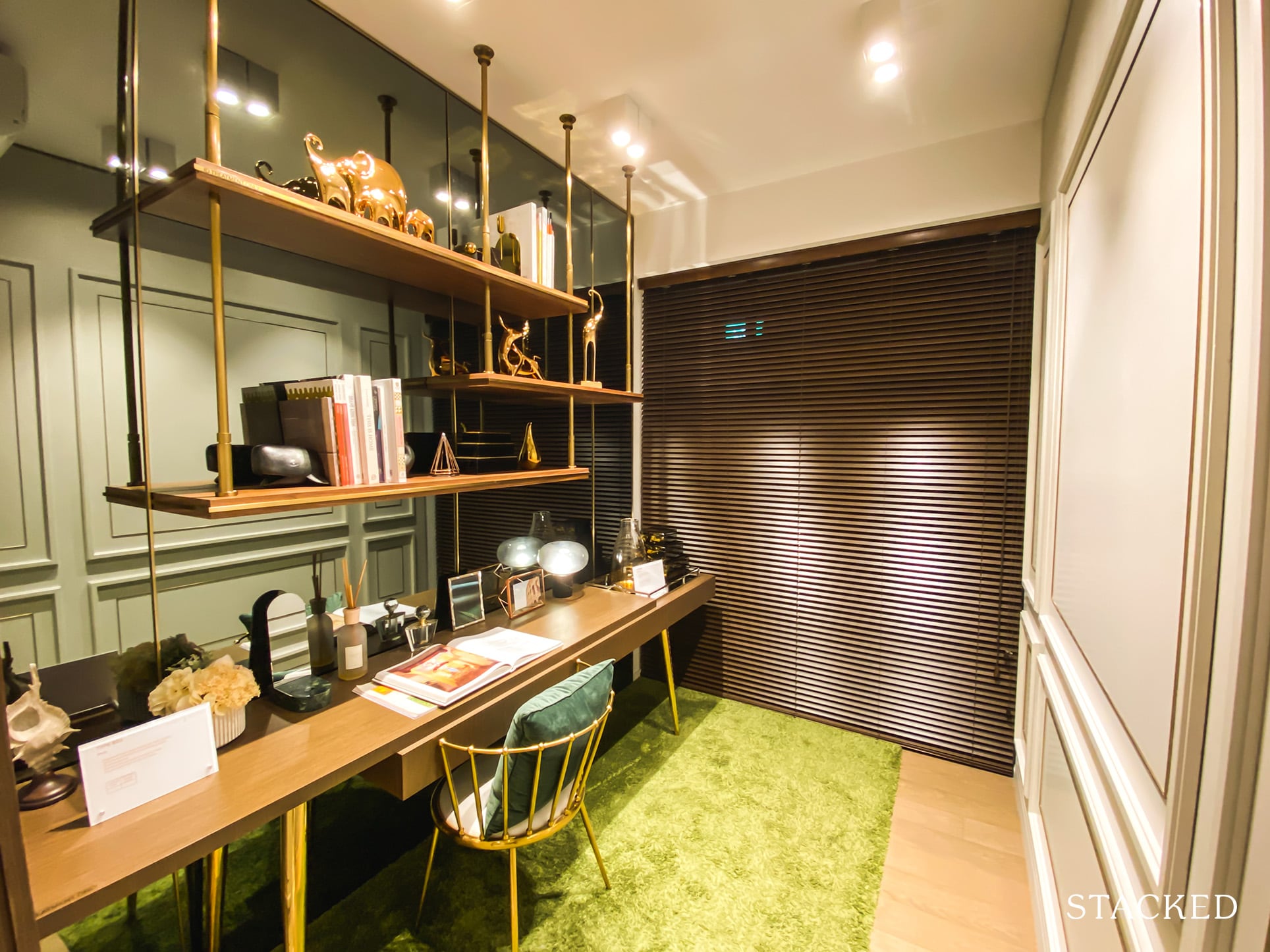 The study room is really impressive in size. This could almost be used as another bedroom (with a single bed).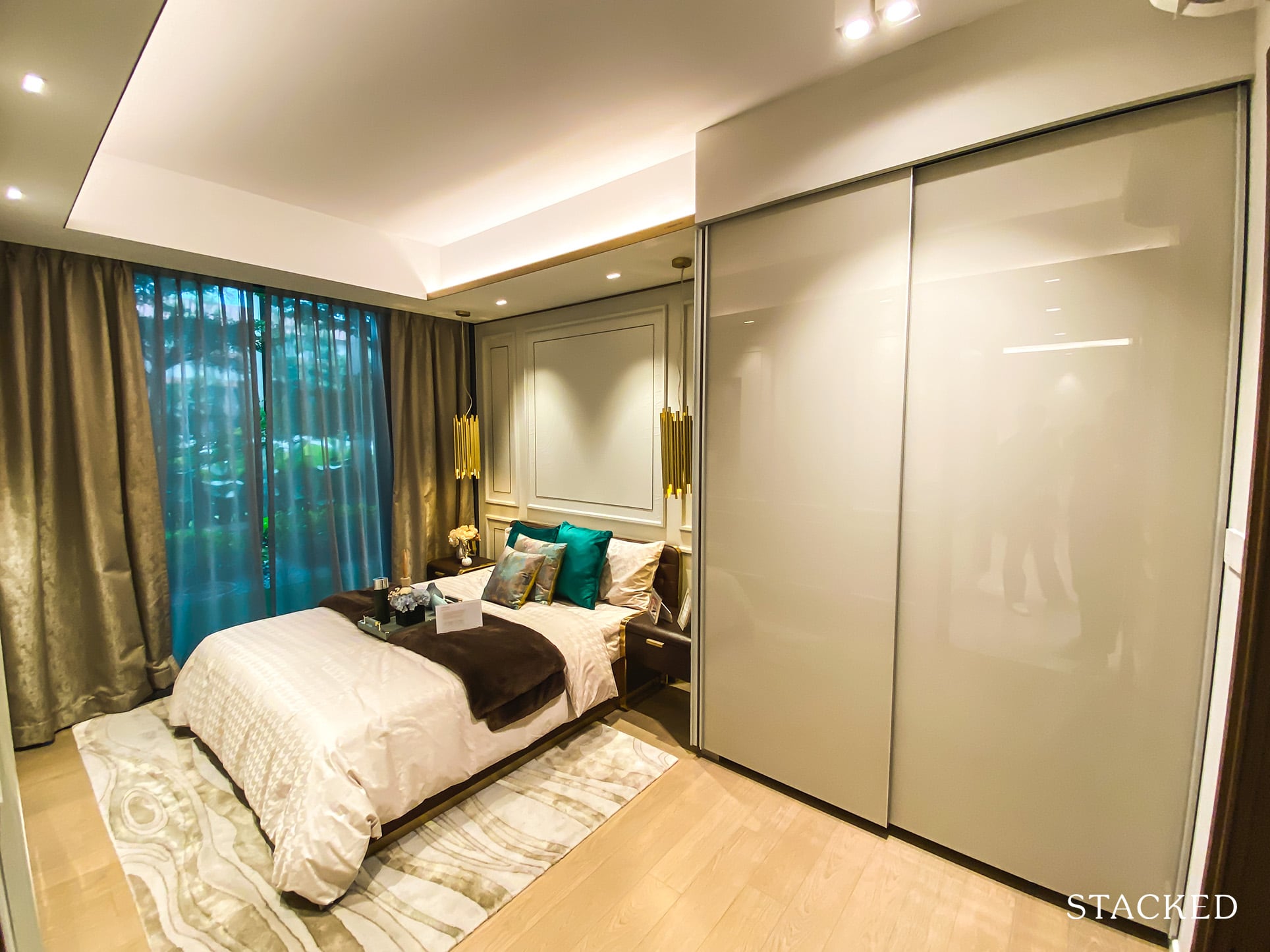 The master bedroom is top-notch too. With the large floor to ceiling windows and a "walk-in wardrobe," it is bigger than most equivalent 2 bedroom units that you'll come across.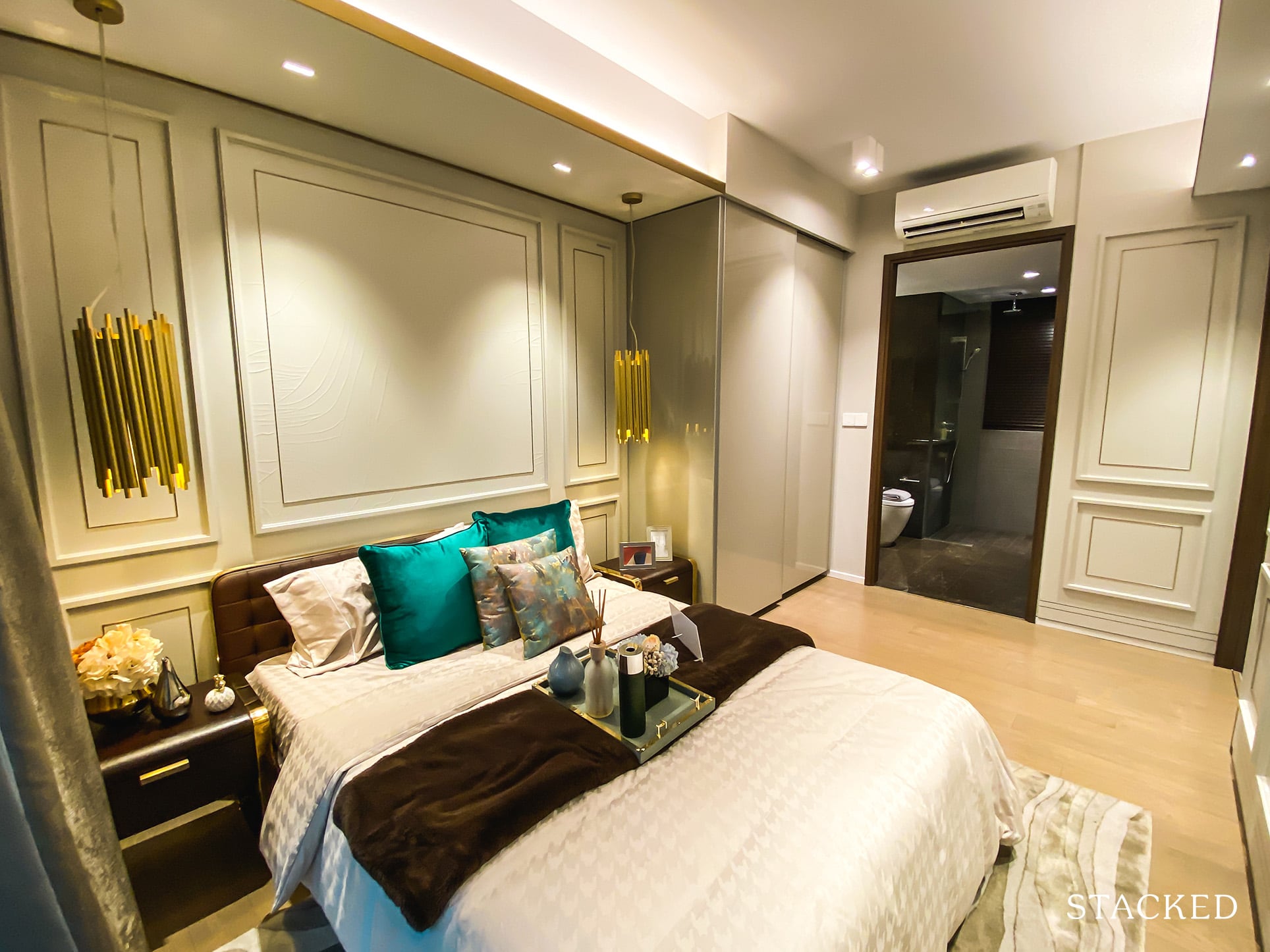 It's not a super gigantic size by any means, but that additional space by the wardrobe does wonders in making the space feel a lot more substantial.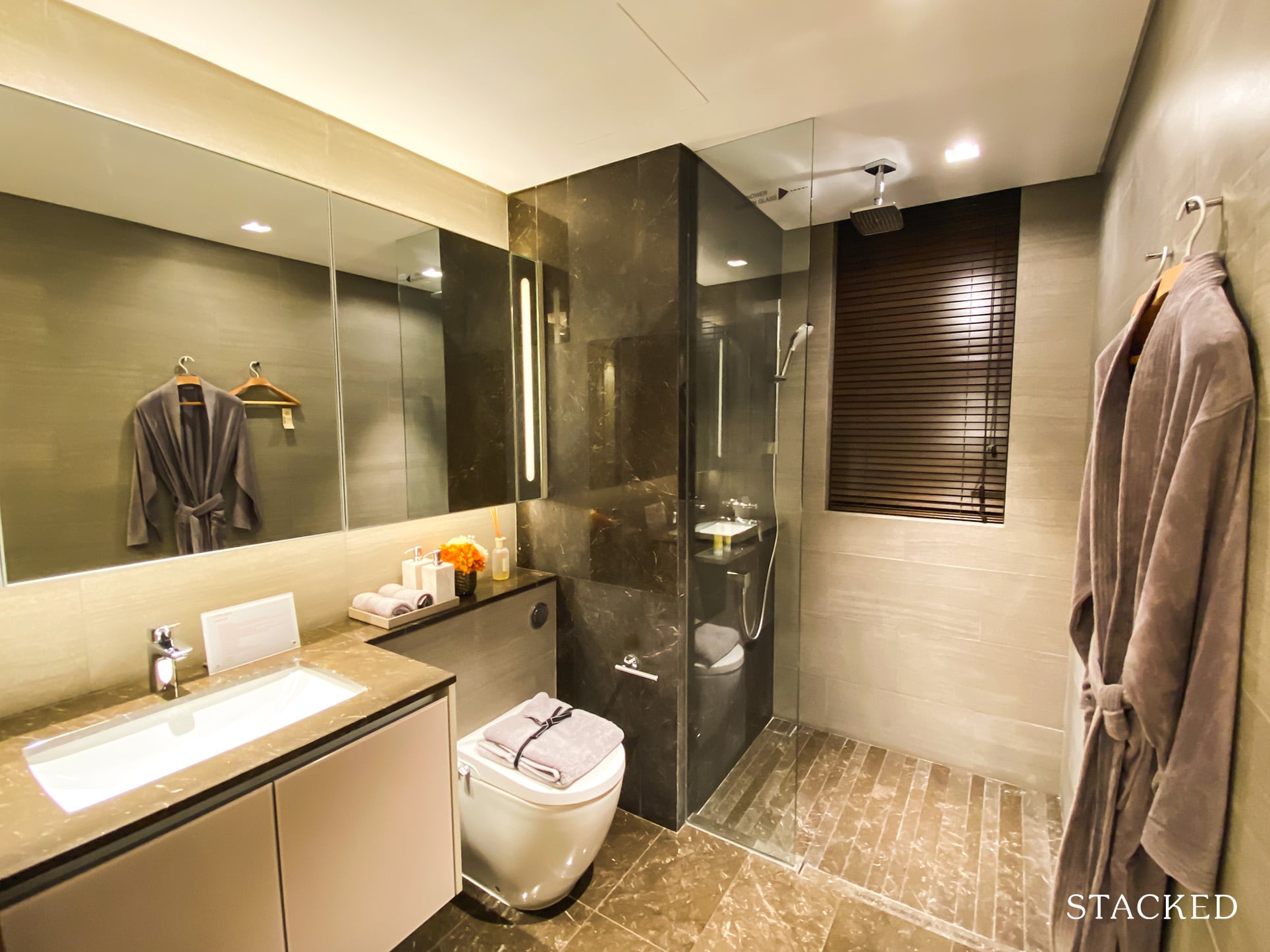 Finally, here is the master bathroom. It's average in size, and there is nothing to complain about here.
Parc Esta 3 Bedroom + Study Review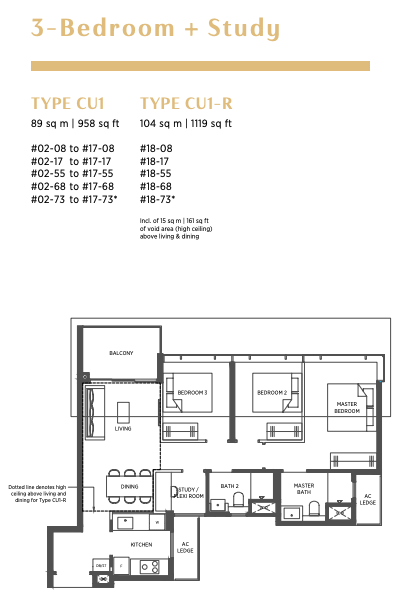 At 958 square feet, the 3 bedroom plus study unit at the Parc Esta is definitely on the small side. However, on a good note, it is very well laid out and makes use of the limited space well (other than the entrance, but what's new).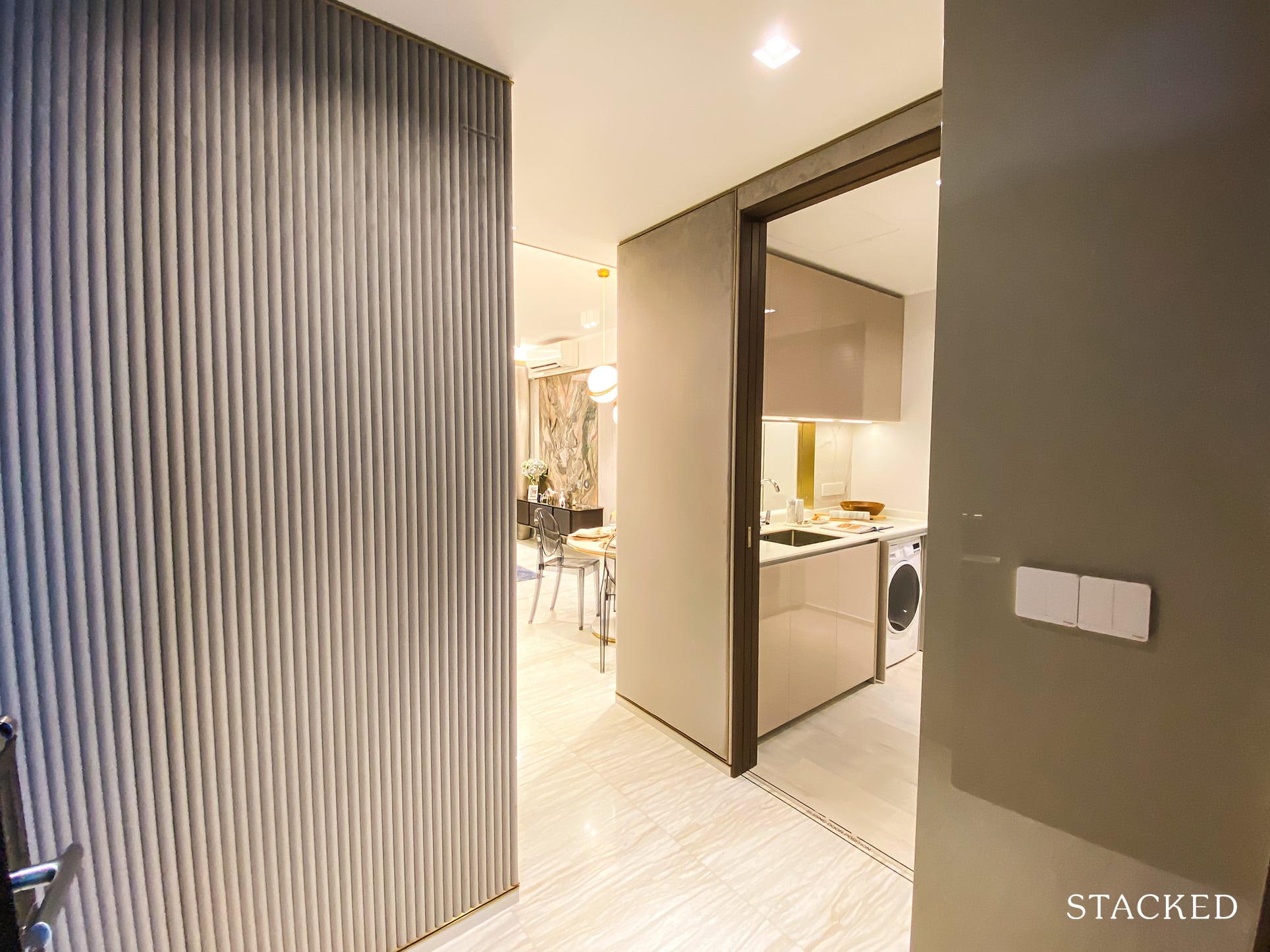 As with the other 2 units that you've seen previously, the 3 bedroom unit has a really redundant entranceway.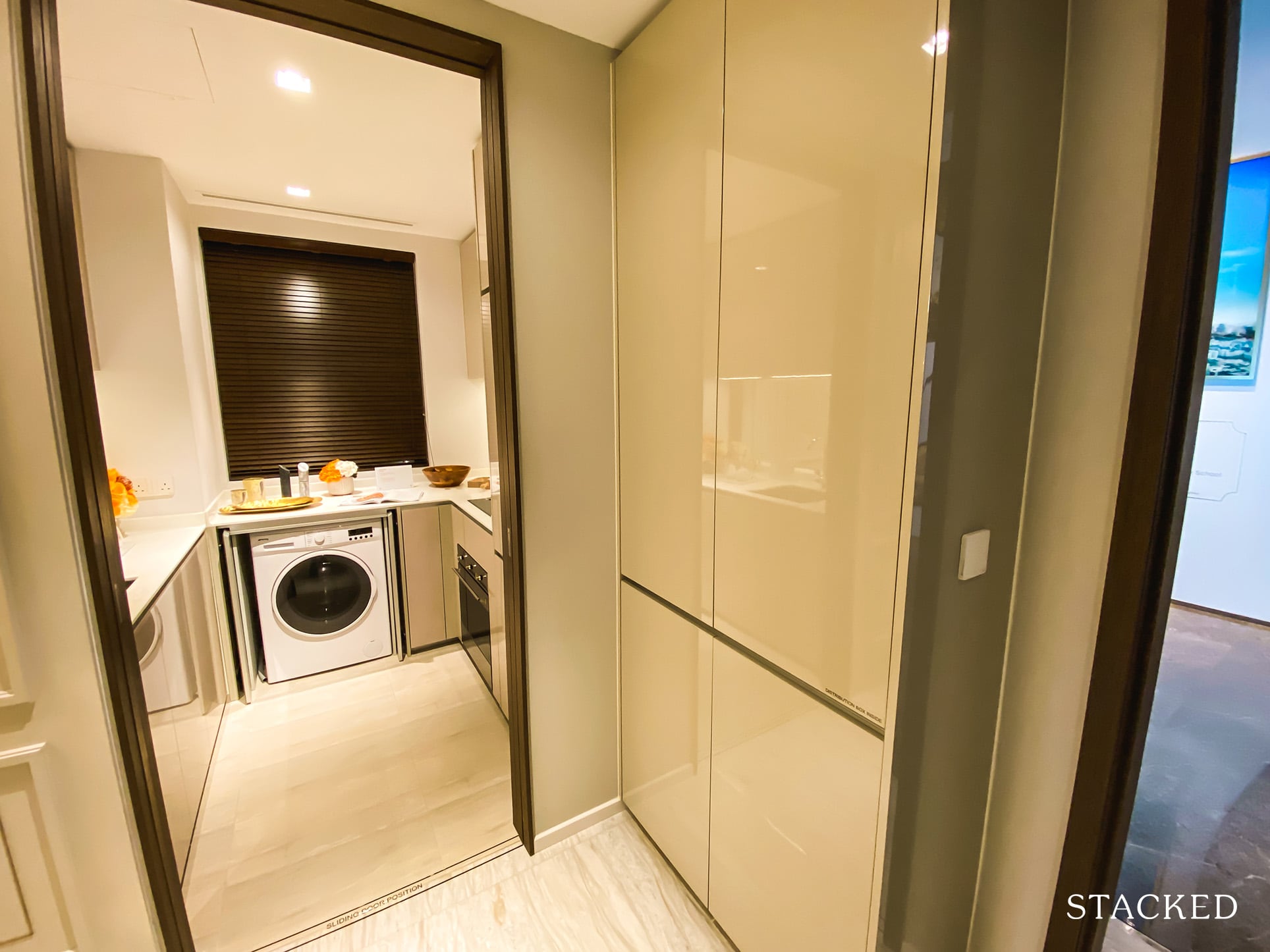 On the right, before you get to the kitchen there is some very useful cabinet space.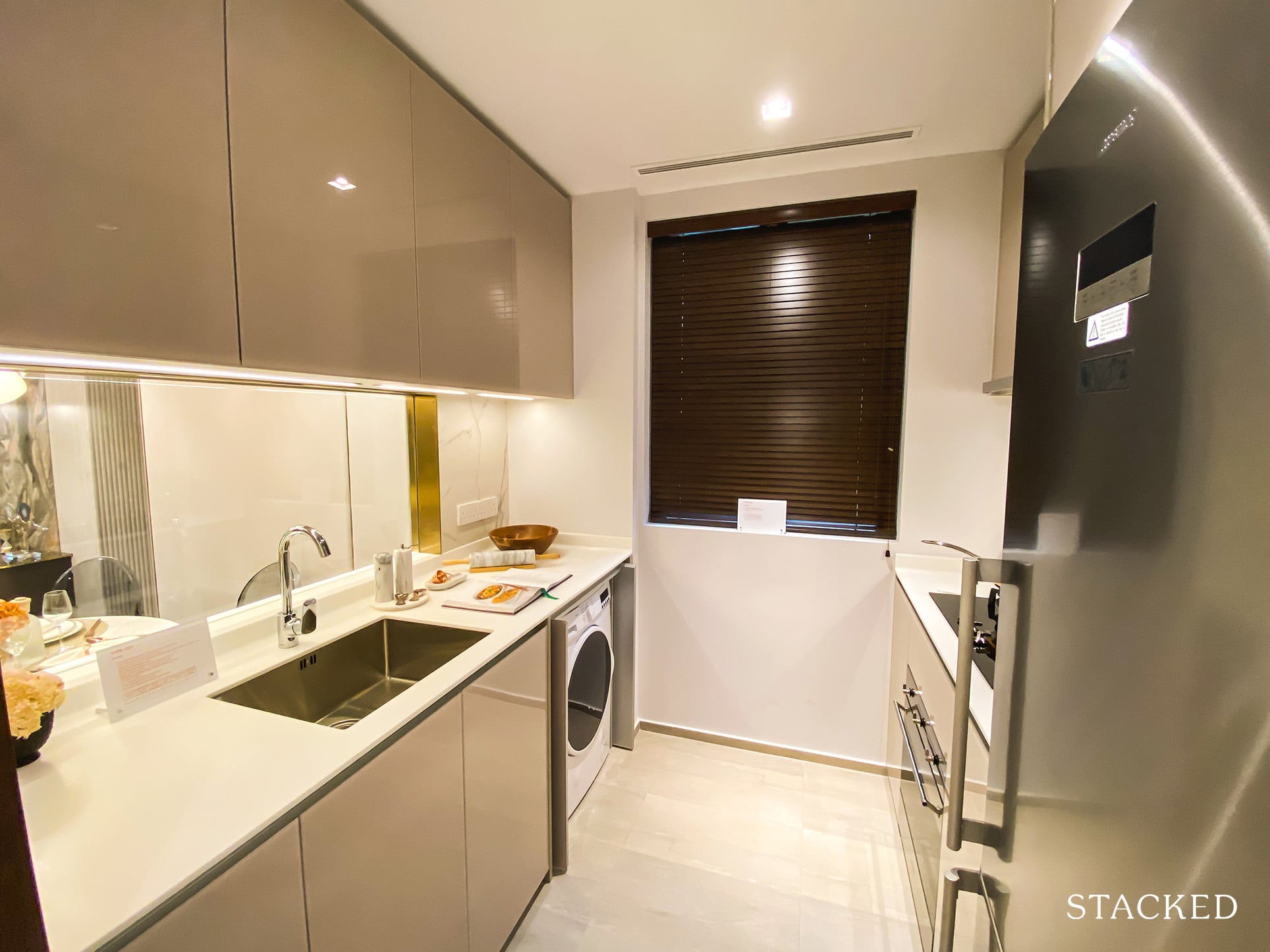 The kitchen is definitely small, especially for a 3 bedroom. It is enclosed, but there is no yard or wet kitchen here.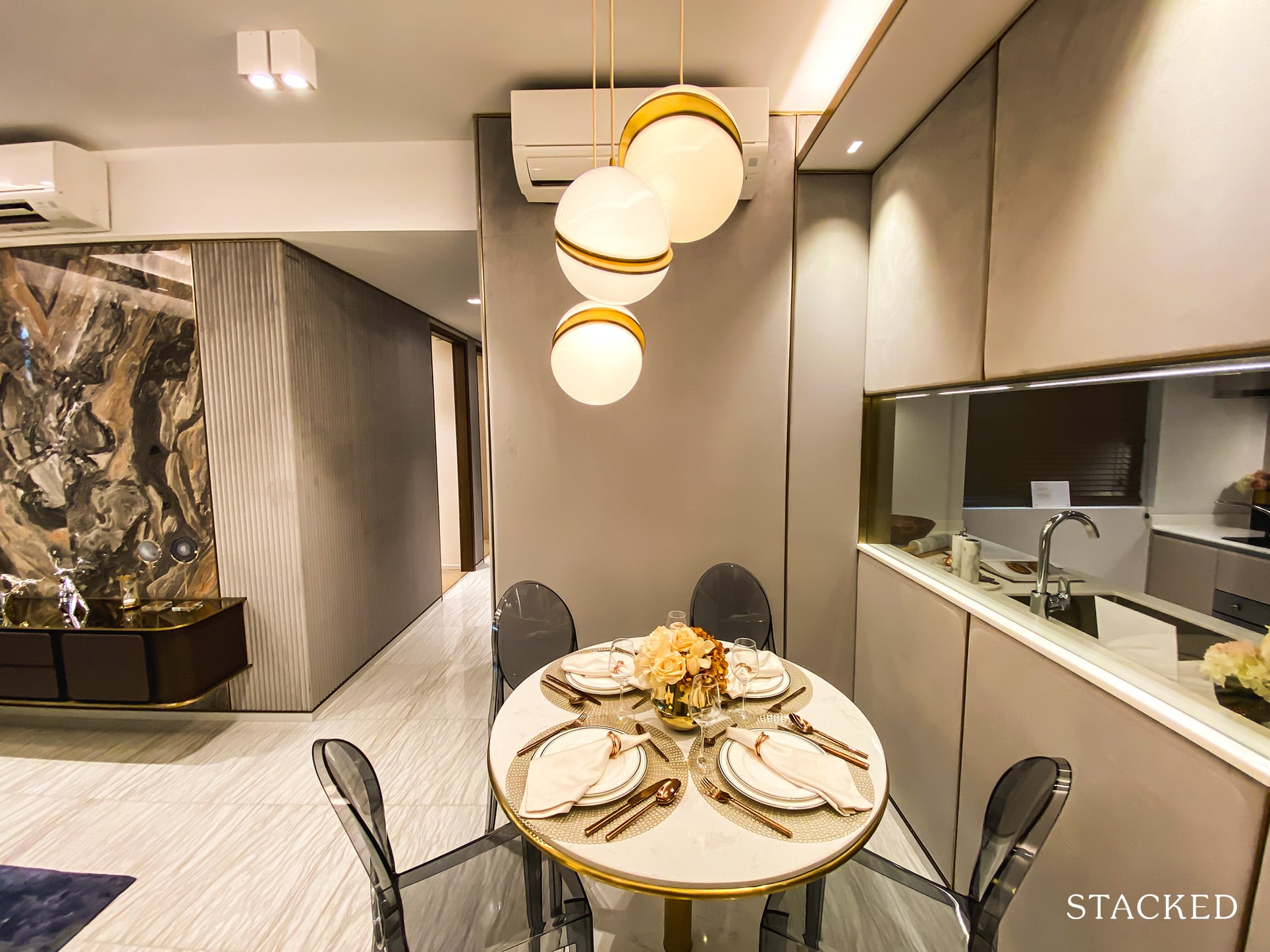 Although the layout is very similar to the 2 bedroom plus study unit, the dining room here falls short of the standards of the former. It'll be tough to fit any dining table beyond a 4 seater here.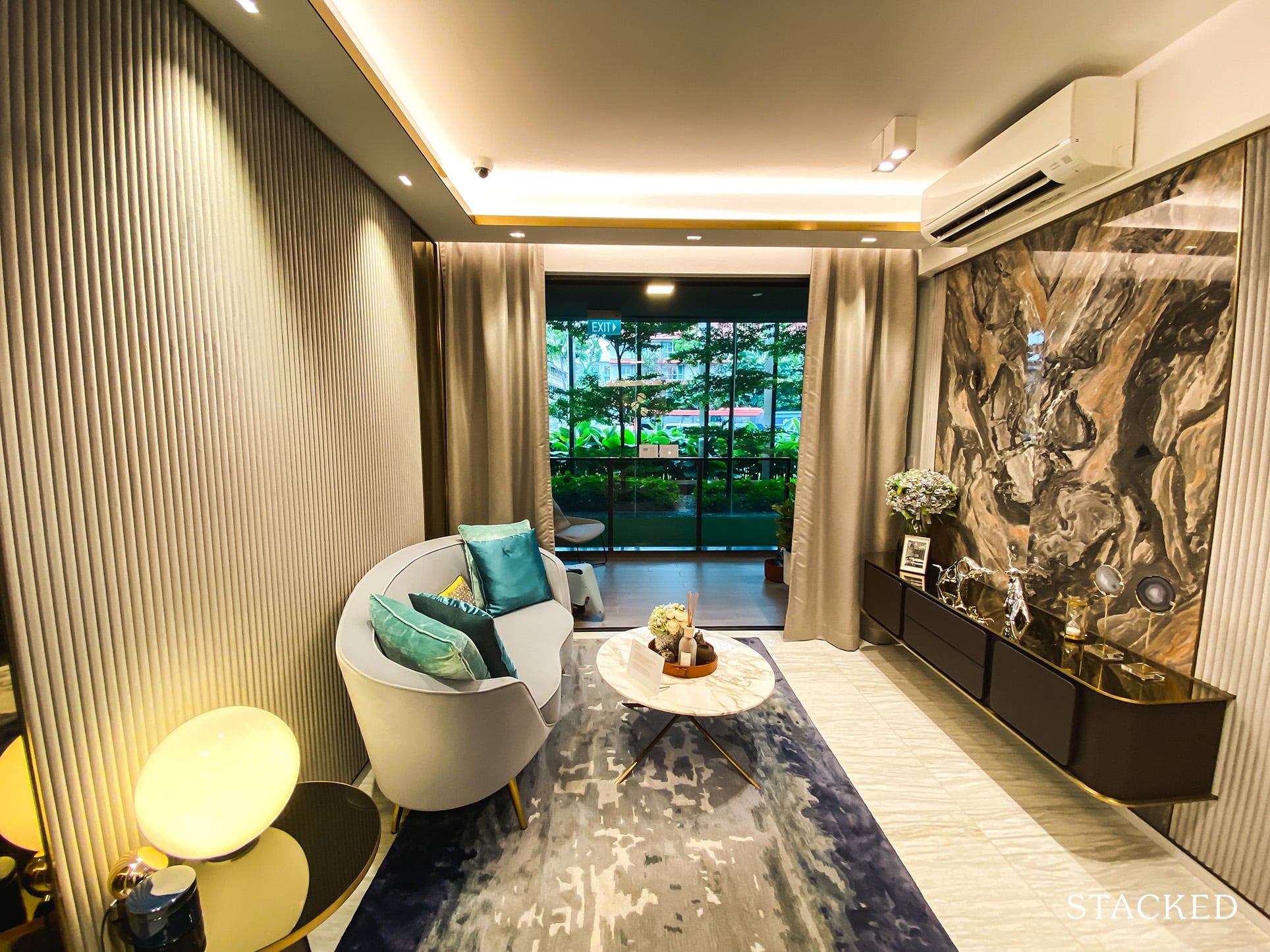 The living room is small too, it's really not a great space for a 3 bedroom unit. You can fit a small couch, coffee table and TV console but it will feel squeezy for 4 to 5 people to sit here.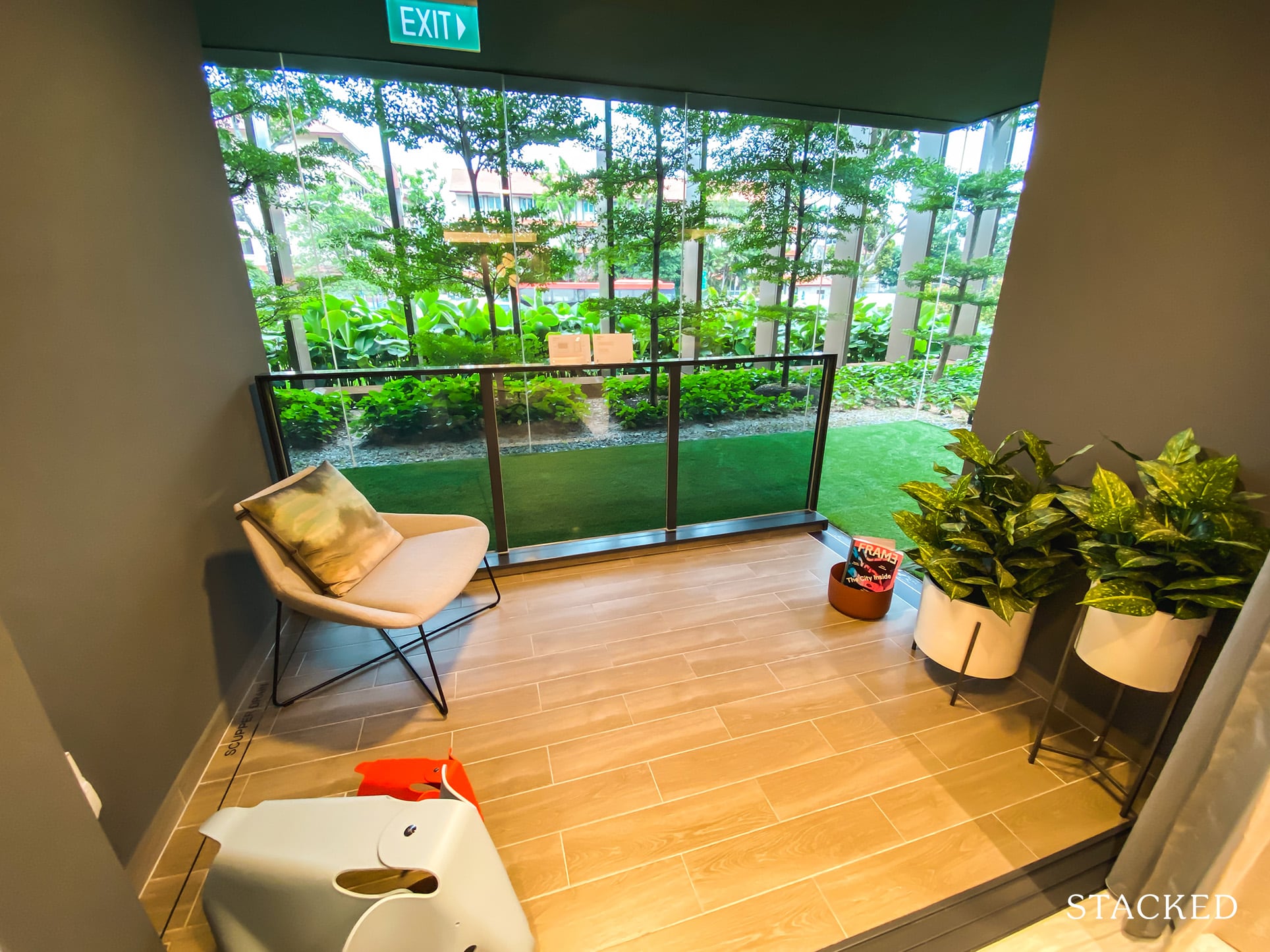 The balcony is small for a 3 bedroom unit, so most of the space is reserved for indoor living. Which is a good thing here considering how small the unit already is.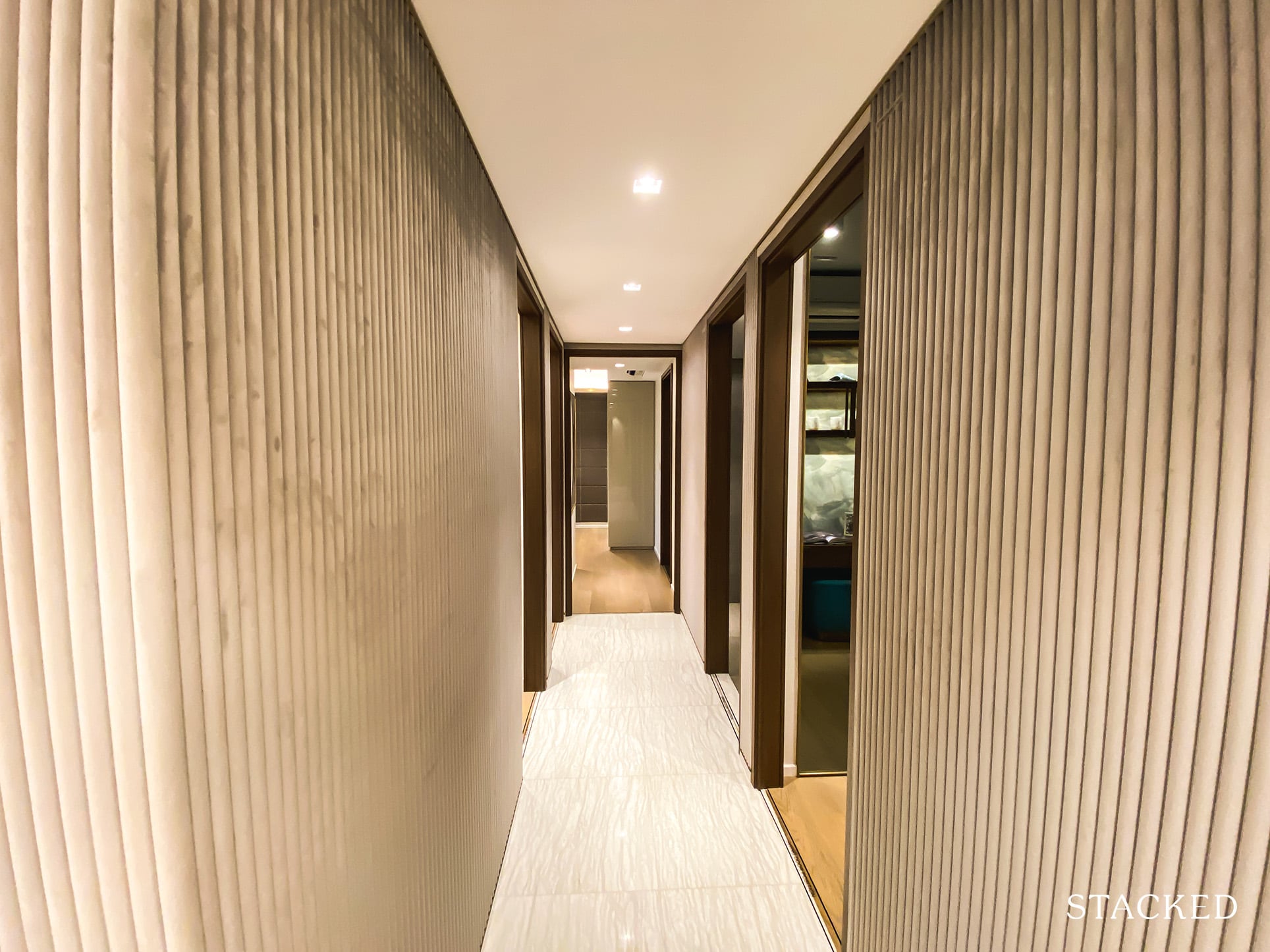 A dumbbell layout would have been more efficient here, as this long hallway does take up more wasted space.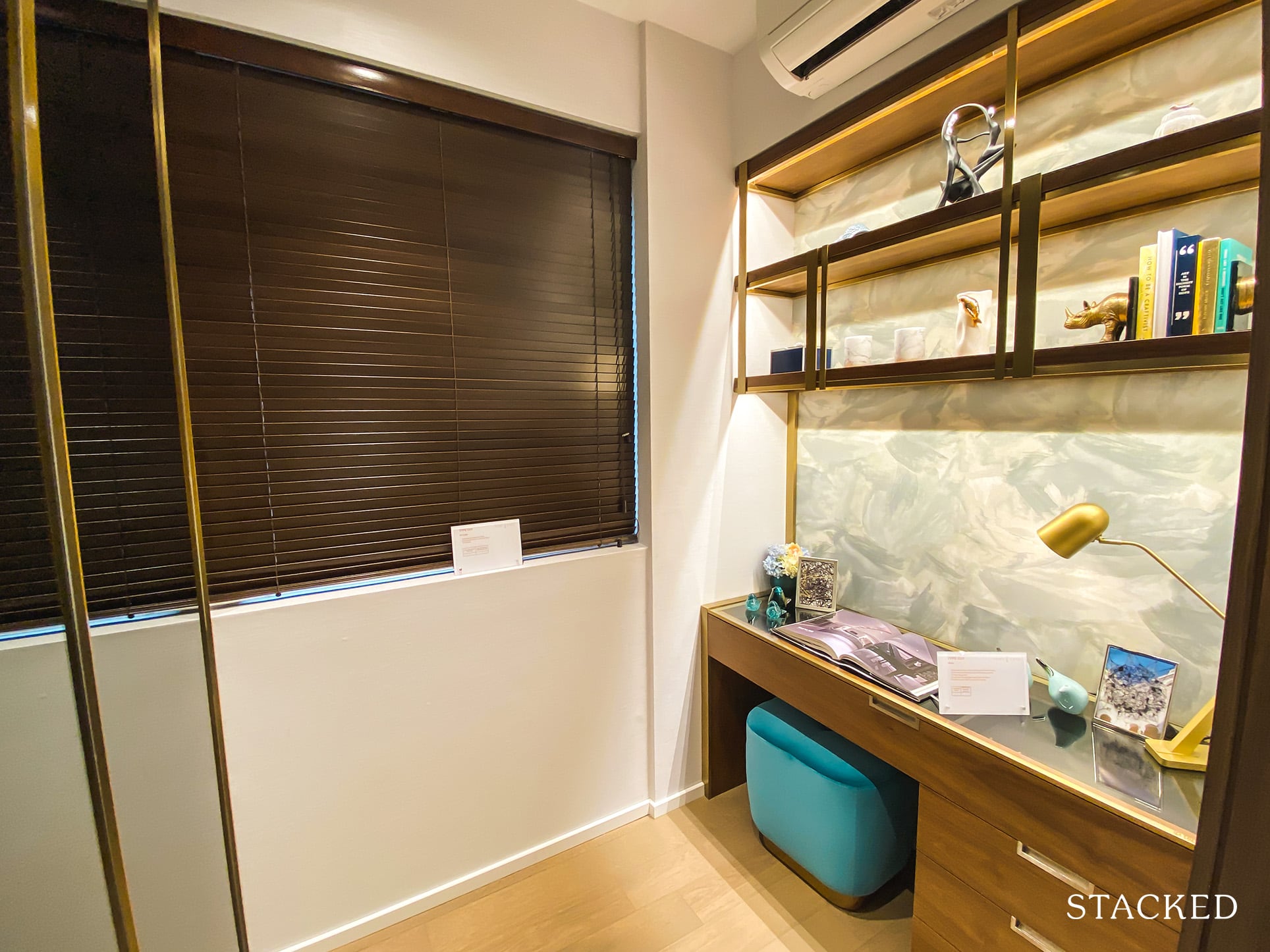 As compared to the 2 bedroom plus study, the study/flexi room here is small. Depending on your needs, this space could be better served if the walls were taken down to make room for a bigger living/dining area.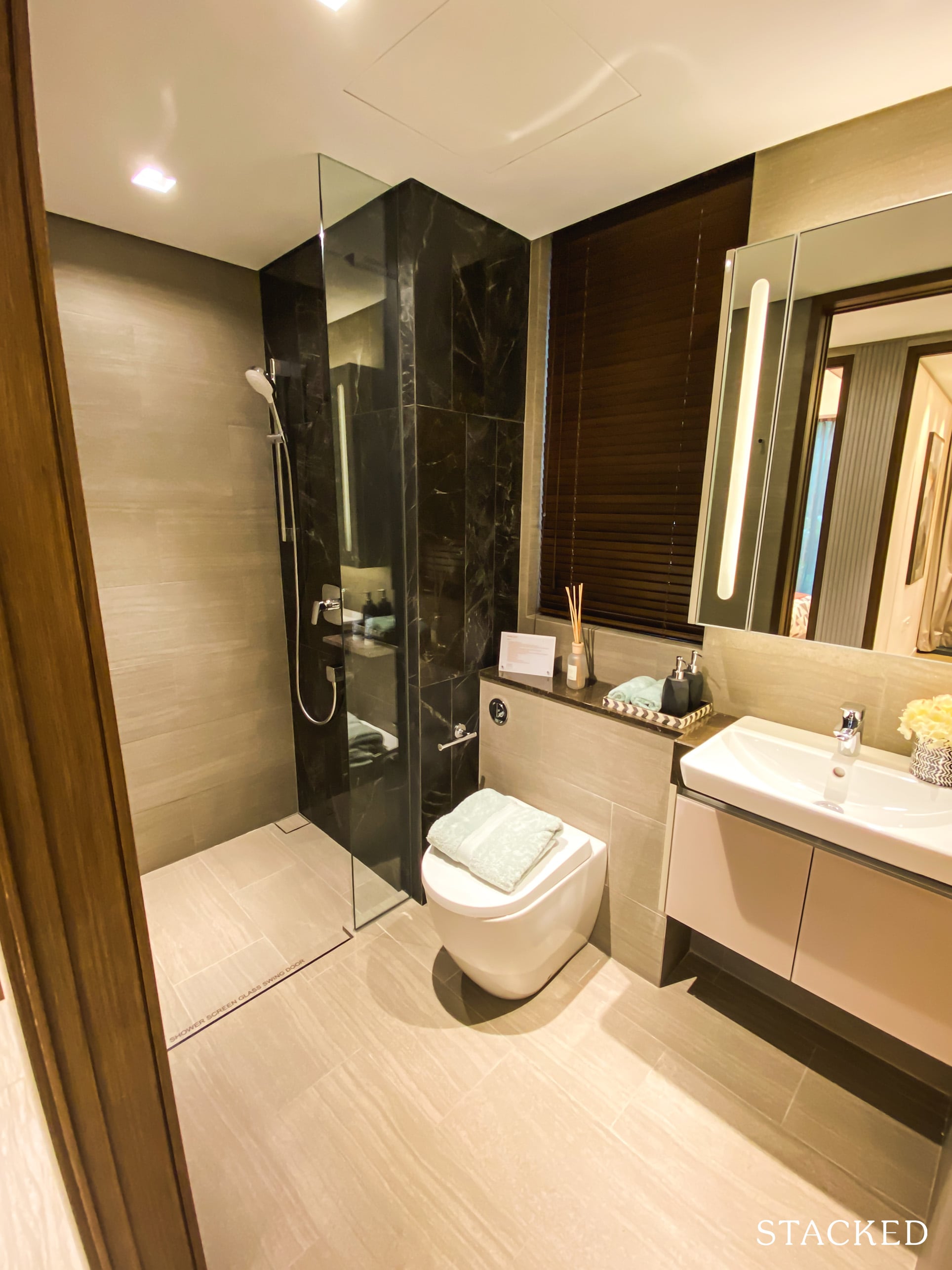 The common bathroom is of average size.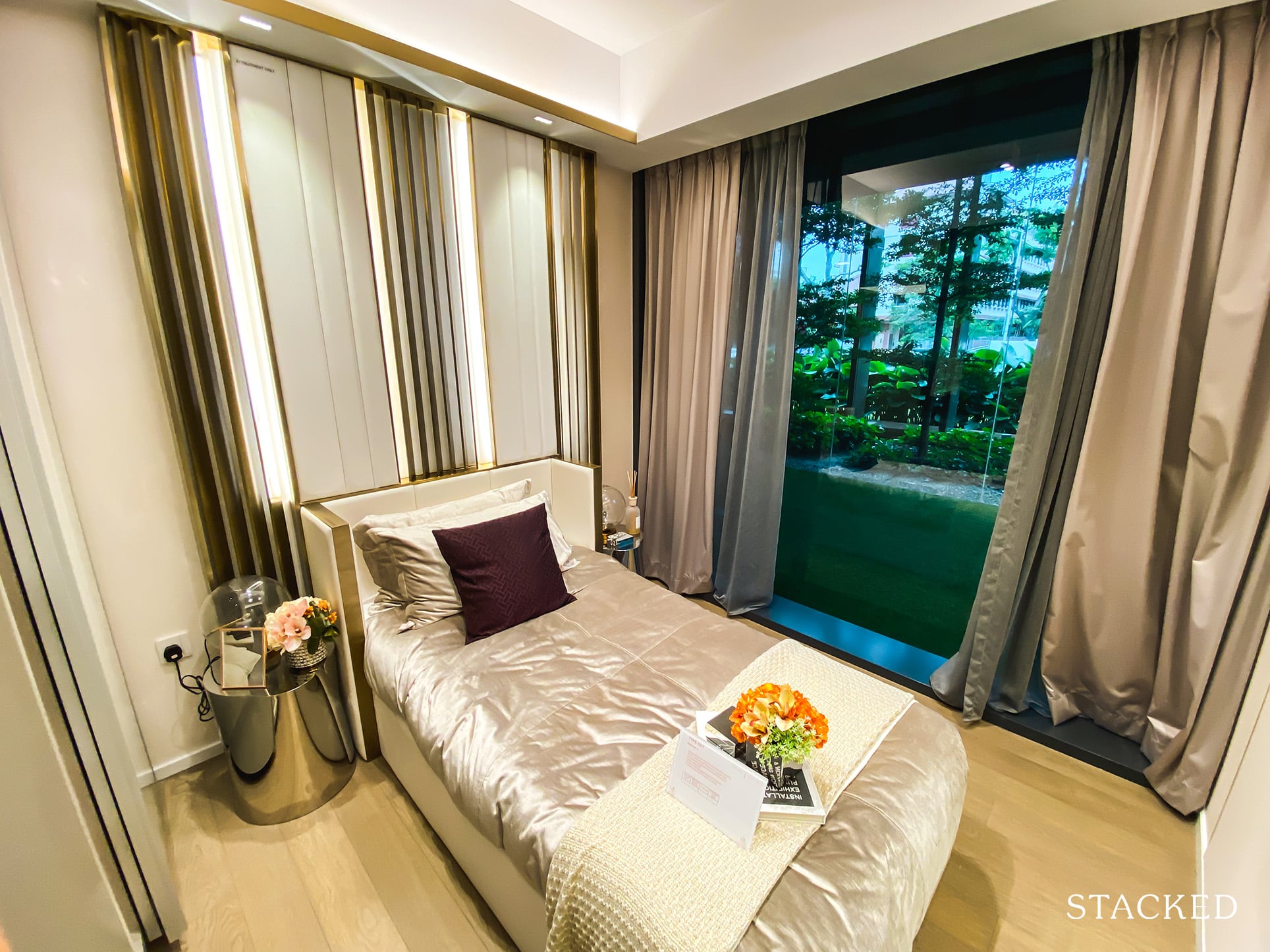 The bedrooms here are small, but at the very least you'll be able to fit a queen-sized bed. As with most of the rooms, the floor to ceiling windows is very welcome.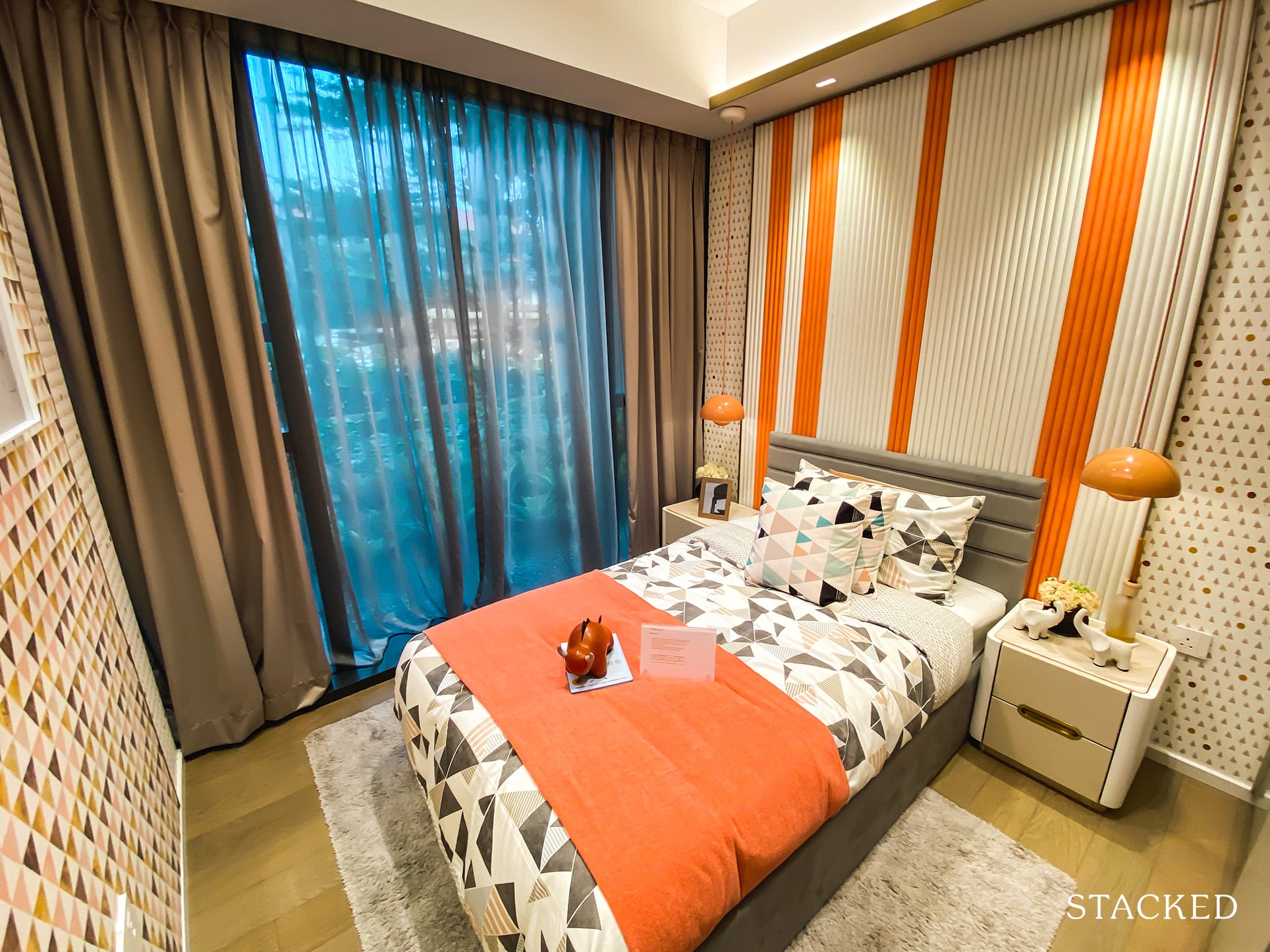 It's a similar story here, about the size of the bedroom. On a very nitpicky note, the design of this bedroom is really not to my taste.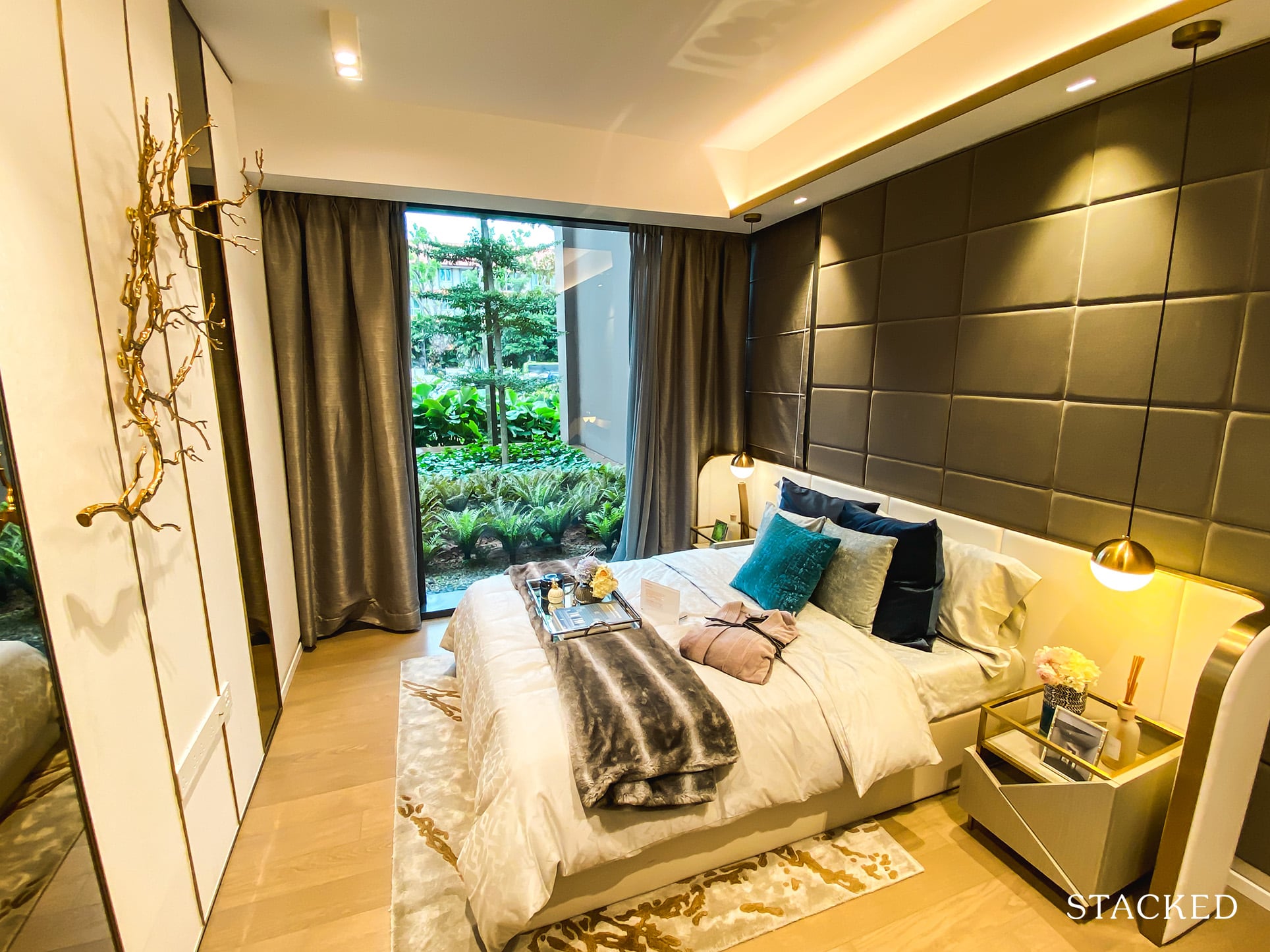 The most positive thing about this 3 bedroom unit is the master bedroom. It's quite a good size, just like the 2 bedroom unit.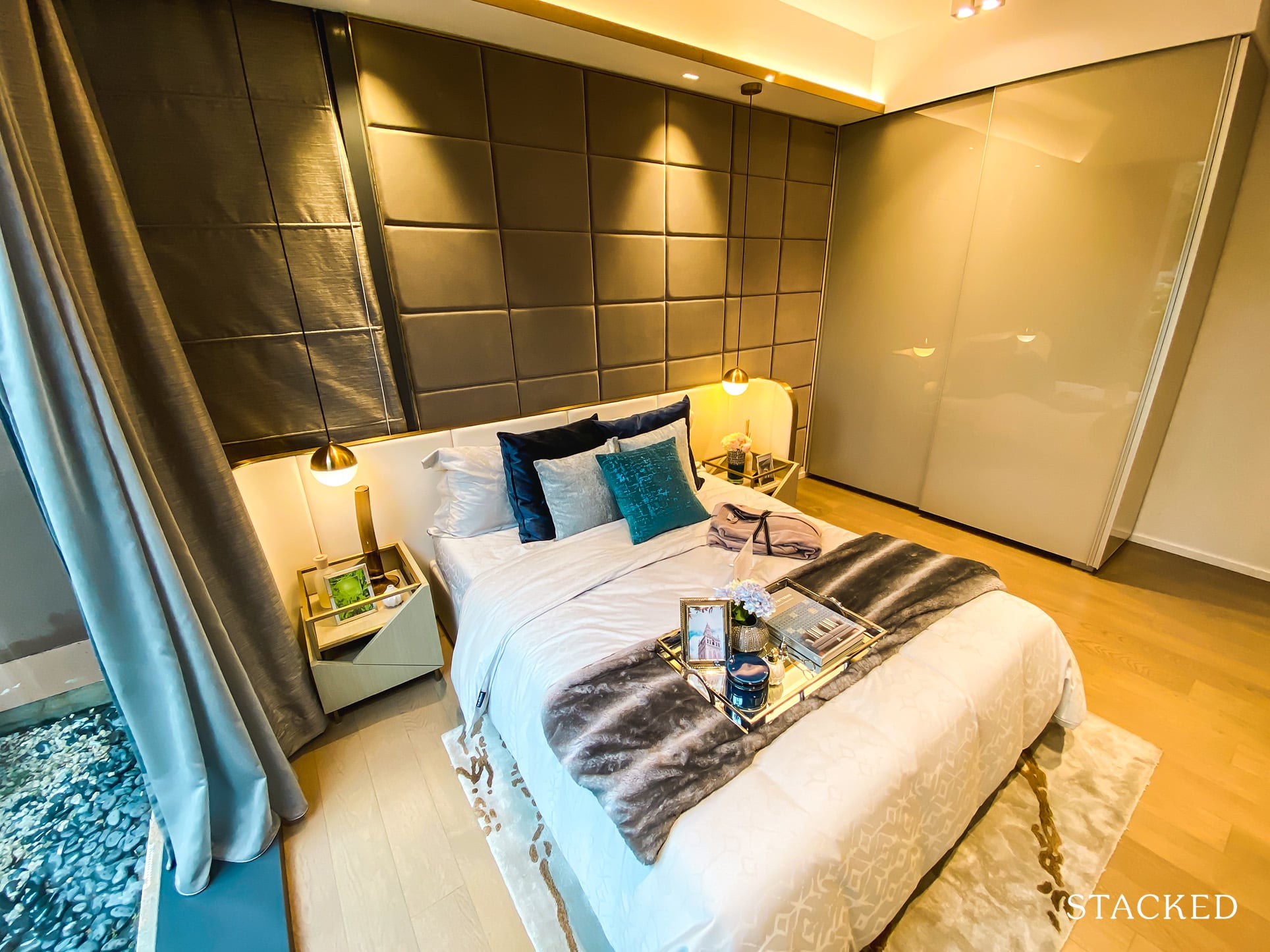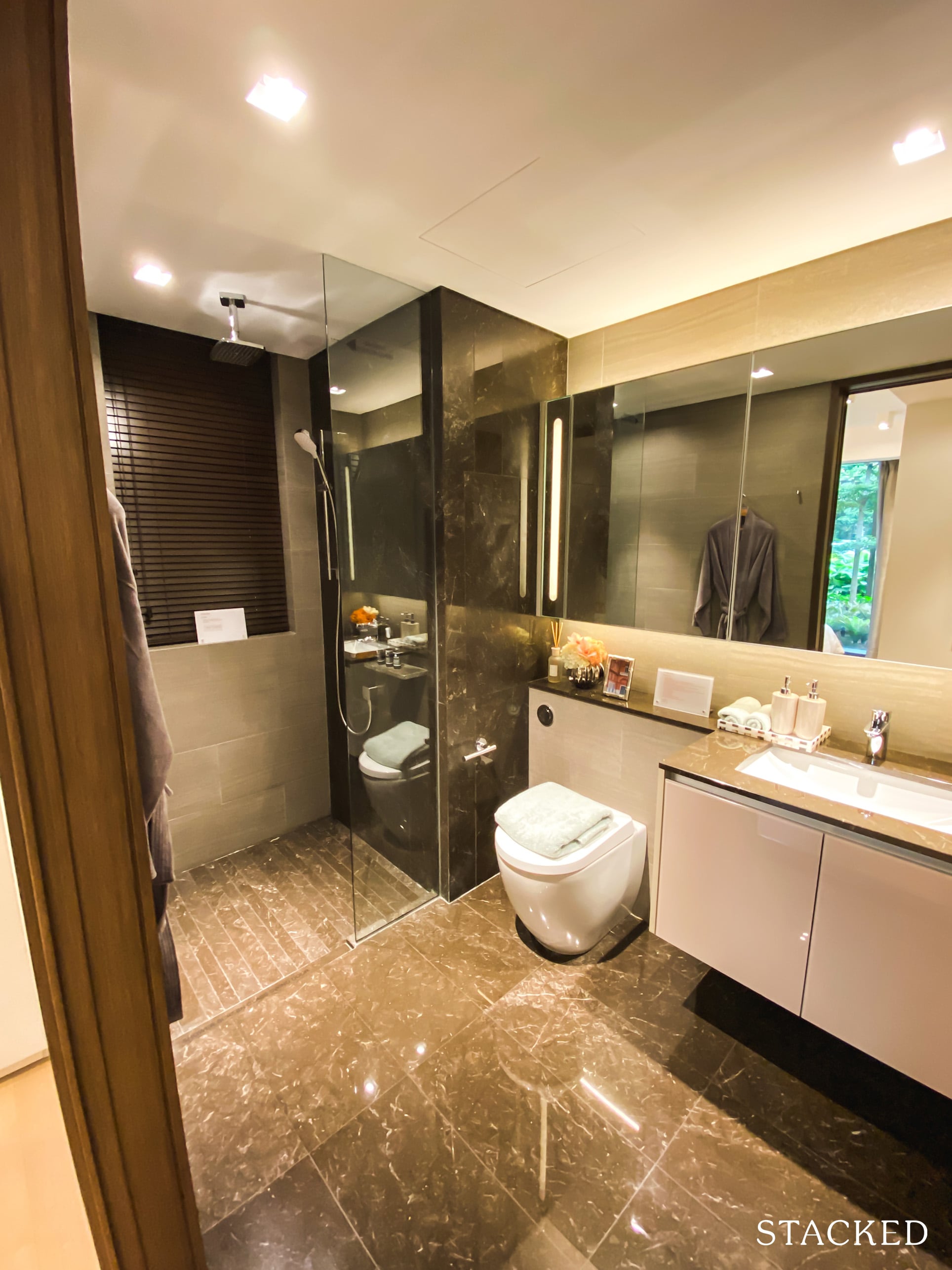 The master bathroom is not a bad size at all!
Parc Esta Location Review
Tucked away in the eastern reaches of Singapore, Parc Esta is set to rise up in a matured estate with incredible amenities.
Adjacent to the Eunos Fire Post and Mount Pleasant Veterinary Clinic, you can rest assured that both your fire and pet safety fears are now things of the past.
On a slightly more serious note however, the condo does boast easy access to a plethora of basic necessities.
Transport
| | | |
| --- | --- | --- |
| Bus Station | Buses Serviced | Distance From Condo (& Est. Walking Time) |
| 'Eunos Station' | 2, 2A, 7, 13, 21, 24, 26, 28, 30, 30E, 51, 60, 60A, 61, 63, 63M, 67, 93, 94, 94A, 150, 155 | 50m, 1-min walk |
| Eunos Interchange | 60, 60A, 61, 63, 63M, 76, 93, 94, 94A, 150, 154 | 150m, 2-min walk |
| 'Aft Lor 106 Changi' | 2, 7, 7A, 13, 21, 24, 26, 28, 30, 30e, 51, 60, 61, 63, 63M, 67, 67W, 93, 94, 150, 155 | 150m, 2-min walk |
| 'Kg Ubi CC' | 154, 76 | 240m, 3-min walk |
Closest MRT: Eunos MRT – 230m, 3-Min walk
As you'd already observed, Parc Esta has incredible public transport access on both fronts.
For those who frequent bus services, you'd have 3 bus stops at your disposal as well as an additional interchange to boot.
More than that, the Eunos MRT is a mere 3-min walk away. While it isn't the most central of stations, it does offer easy access to the Airport and is a single stop away from Paya Lebar MRT (Circle & East-West Line interchange).
Finally, it is important to note that while the entire pathway to both the MRT and Interchange is shaded, there will be a brief unsheltered section at the traffic light junction before that.
| | |
| --- | --- |
| Highway/Major Road | Distance From Condo (& Est. Off-Peak Drive Time) |
| Sims Ave | Immediate |
| Jalan Eunos | 150m, 1-min drive |
| Changi/Still Road | 500m, 2-min drive |
| East Coast Road | 1.6km, 2-min drive |
| Nicoll Highway | 3.9km, 5-min drive |
| MacPherson Road | 3.9km, 5-min drive |
| CTE | 6.1km, 5-min drive |
| AYE | 14.8km, 12-min drive |
| PIE | 1km, 2-min drive |
| ECP | 2.5km, 3-min drive |
| KPE | 2.7km, 4-min drive |
| BKE | 15.4km, 12-min drive |
| SLE | 13.7 km, 10-min drive |
| TPE | 8.4km, 7-min drive |
Private transport accessibility: Very Good
Despite its foundations in the eastern region of Singapore, Parc Esta is considerably central as compared to other 'east-sided' condominiums like The Jovell. In crux, it is perfect for the east-lover who craves a less 'extreme' locale or simply frequents the CBD (7-min drive). 
A 3-min drive to the ECP also means easy access to the recreational East Coast area. A great perk for families or those who appreciate the aura and string of activities that Singapore's most popular beach offers.
Groceries
| | |
| --- | --- |
| Name of Grocery Shop | Distance From Condo (& Est. Off-Peak Drive Time) |
| FairPrice Shop Eunos Crescent | 500m, 8-min walk |
| FairPrice Joo Chiat Complex | 1.3km, 4-min drive OR 650m, 10-min drive |
| Cold Storage – Katong Market Place | 2.5km, 9-min drive |
| Cold Storage – Parkway Parade | 4.3km 10-min drive |
As is expected from most heartland areas, the closest grocery options to Parc Esta are FairPrices. Expanding on that point, the closest (FairPrice Shop Eunos Crescent) is relatively smaller when compared to its counterpart at the nearby Joo Chiat Complex.
Be warned however that a major portion of the path to the latter is unsheltered (hint: grab an umbrella on the way out if it looks cloudy!)
Shopping Malls
| | |
| --- | --- |
| Name of Shopping Mall | Distance From Condo (& Est. Off-Peak Drive Time) |
| Joo Chiat complex | 1km, 3-min drive OR 700m, 10-min walk |
| KINEX/City Plaza/Tanjong Katong Complex | 1.6km, 5-min drive OR 1.2km, 16-min walk |
| Paya Lebar Square/PLQ Mall | 1.9km, 6-min drive |
| SingPost Centre | 2.5km, 8-min drive |
| 112 Katong | 2.8km, 11-min drive |
| Odeon Katong Complex | 3.4km, 10-min drive |
| Bedok Mall (Cluster) | 5.7km, 15-min drive |
With the Paya Lebar shopping mall cluster to its west, Bedok estate to its east and Katong heartland to its south, future residents of Parc Esta will not run out of both shopping centres and food-stops to patronise anytime soon.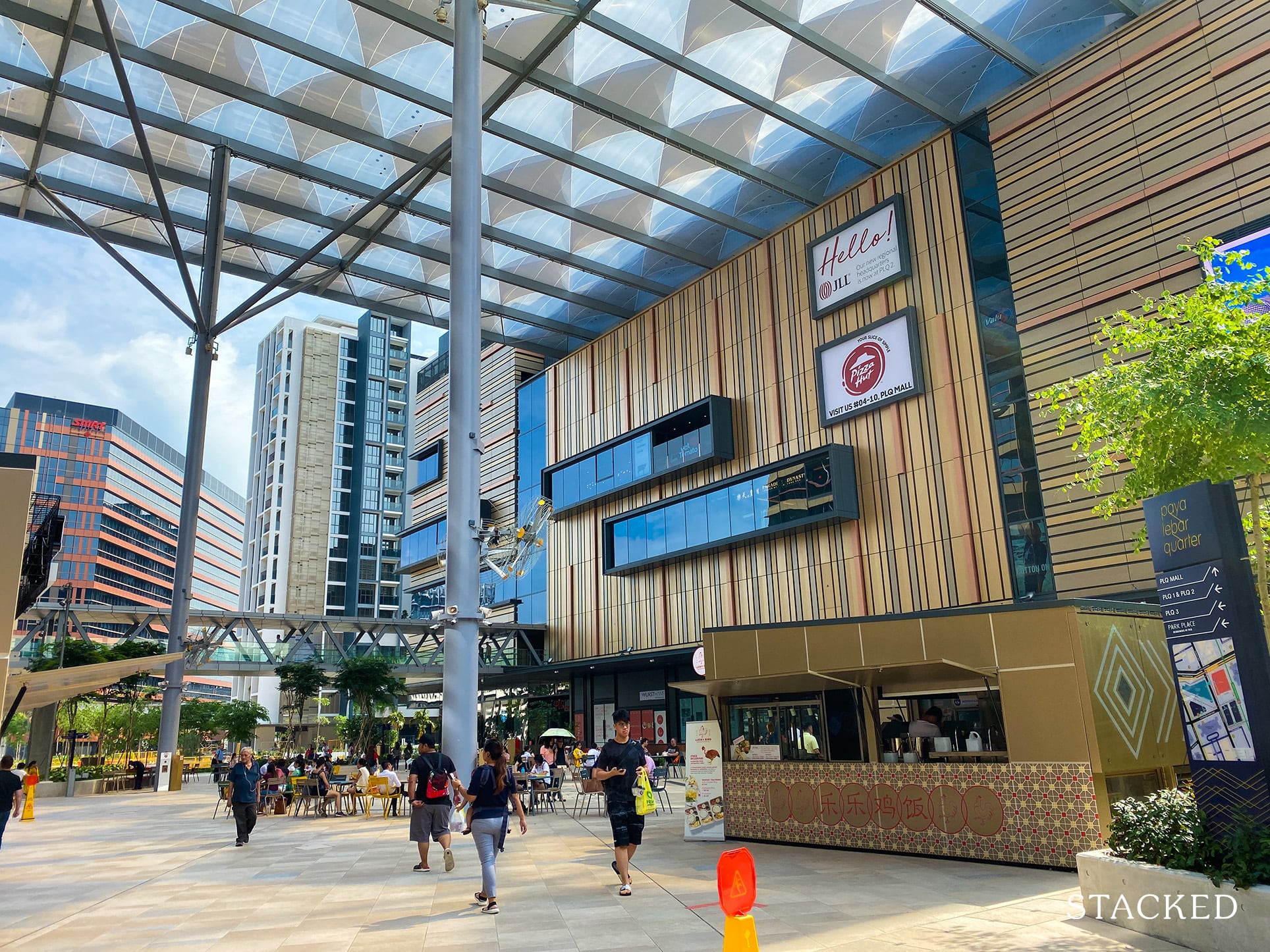 For those who lean toward more 'central' malls, the Bugis shopping cluster is a 15-min drive away from the condo, and the start of the Orchard shopping belt is just 5 minutes after that.
Perhaps more importantly, the implementation of Parc Esta is bound to inject new life into various businesses in the area – a huge boost for a majority of shop-owners in the area.
Schools
| | | |
| --- | --- | --- |
| Name of School | Education Level | Distance From Condo (Est. Off-Peak Drive Time) |
| Children's Vineyard Kindergarten | Preschool | 1.9km, 6-min drive |
| My Little Gems Preschool | Preschool | 700m, 1-min drive OR 500m, 8-min walk |
| Happy Kids Preschool | Preschool | 500m, 1-min drive OR 700m, 10-min walk |
| MindChamps PreSchool | Preschool | 1.4km, 4-min drive |
| Eunos Primary | Primary | 900m, 3-min drive |
| Maha Bodhi Primary | Primary | 2.2km, 6-min drive |
| Telok Kurau Primary | Primary | 2.3km, 7-min drive |
| East Coast Primary | Primary | 3km, 8-min drive |
| Geylang Methodist Primary | Primary | 3.7km, 9-min drive |
| Haig Girls' School | Primary | 1.5km, 5-min drive |
| Kong Hwa School | Primary | 2.6km, 7-min drive |
| CHIJ Katong Primary | Primary | 2km, 6-min drive |
| Ngee Ann Primary | Primary | 3km, 10-min drive |
| Tao Nan Primary | Primary | 2.1km, 7-min drive |
| Manjusri Secondary | Secondary | 2.7km, 8-min drive |
| Whampoa Secondary | Secondary | 2.8km, 9-min drive |
| Tanjong Katong Girls' School | Secondary | 2.4km, 8-min drive |
| Tanjong Katong Secondary | Secondary | 2.2km, 7-min drive |
| Broadrick Secondary | Secondary | 3.4km, 10-min drive |
| Presbyterian Recreation Secondary | Secondary | 2.3km, 7-min drive |
| Chung Cheng High | Secondary | 3.1km, 9-min drive |
| Temasek Polytechnic | Tertiary | 6.3km, 12-min drive |
| Victoria Junior College | Tertiary | 4.4km, 11-min drive |
| Temasek Junior College | Tertiary | 3.7km, 8-min drive |
| James Cook University | Tertiary | 4.8km, 12-min drive |
| Portman Business School | Tertiary | 2.6km, 8-min drive |
| SMU | Tertiary | 8km, 18-min drive |
| Curtin Singapore | Tertiary | 10.2km, 15-min drive |
As you'd observe, there is indeed a sizable group of both Primary and Secondary schools in the area (cue sighs of relief).
A slightly more unique factor to highlight, however, is the proximity of the esteemed Victoria and Temasek Junior College as well as Temasek Polytechnic to the condo. Students and lecturers of these institutions will no doubt benefit from the reduced travel time to their respective faculties.
Also worth noting is that morning/evening traffic in the immediate area is a tad less frenzied as compared to other major areas of Singapore.
Additional Pointers
Abundance of Recreational Escapes
We're all familiar with the (often ill-contextualised) phrase about a dull boy named Jack who bemoaned his lack of play.
Fortunately for all the Jacks (and company) living at Parc Esta, there is an abundance of recreational spots in the relative area. This includes the immediate Kampong Ubi Community Centre, Tanah Merah Country Club, a bunch of Rock-Climbing facilities and the East Coast Beach (to name a few).
Relocation of Paya Lebar Airbase
Based on details 'leaked' in the inaugural Master Plan 2019, most of us would be aware of Paya Lebar Airbase's impending move to both Changi Airbase east and Tengah Airbase (in the west). In its current spot will surface a business district filled with a majority of mixed-use developments.
What this means is new jobs, greater (region) tenant demand and a rise of new amenities in the area (10-min drive). More importantly, its proximity means access to all these factors without the noise that comes with it – pre and post-construction.
An incredibly attractive point to highlight based on the former point.
For those familiar with the Sims Avenue area, you'd understand that there is very little room for new developments to pop up (save for an elusive en bloc sale – *read all about its demise here*).
Essentially, that means (almost) no nearby construction plus the ability for developers MCL Land to leverage on the newly lifted height restrictions of the immediate area. Living in a 19-storeyed unit amongst a sea of low-rise buildings?
Yes, please.

Parc Esta Development Site
If you're familiar with larger developments, you'd understand the importance of having 2 separate vehicular exits.
In this instance, the double exits along both Sims Avenue and Changi Road will help not just to mitigate entrance/exit woes at peak hours, but also grant easier accessibility to the myriad of amenities along both adjacents (major) roads.
Unfortunately (and as mentioned earlier), Parc Esta's limited sports-related facility offerings do put a dampener on its brilliant streak. With the amount of space available, more could definitely have been done here to cater to the sports-inclined.
Still, the condo's blueprint does signal a range of recreational offerings with its numerous relaxation/nature-themed spots like the 'Luxe Cabanas' and 'Hammock Park' as well as its 'Mist Garden' and 'Firefly Promenade'.
Factor in the 3 distinct blocks separations in East, Grand, and West Parc and it certainly does feel like diversity-centred implementations were observed here (even if it isn't as pronounced as it is over at Parc Clematis).
The spacious and aptly named 'Signature Arrival Court' will also provide a solid first impression to visitors as will the various other facilities like the Kids' Water Playground and Junior Glamping Lawn provide much-needed energy-burning distractions for the kids. 
Unit mix
| | | |
| --- | --- | --- |
| Unit Type | No. Of Units | Size of Units (sqft) |
| 1-Bedroom | 216 | 420 – 529 sqft |
| 1-Bedroom + Study | 116 | 517 – 624 sqft |
| 2-Bedroom | 193 | 581 – 753 sqft |
| 2-Bedroom + Study | 124 | 829 – 1,023 sqft |
| 2-Bedroom Premium | 230 | 700 – 861 sqft |
| 3-Bedroom | 178 | 904 – 1,109 sqft |
| 3-Bedroom + Flexi | 126 | 958 – 1,119 sqft |
| 3-Bedroom Premium | 90 | 1,023 – 1,206 sqft |
| 4-Bedroom | 54 | 1,119 – 1,335 sqft |
| 4-Bedroom Premium | 54 | 1,227 – 1,410 sqft |
| 5-Bedroom | 18 | 1,399 – 1,604 sqft |
Despite the diagram, we've decided to set up the usual table to better categorise the unit numbers and sizes across the tiers.
As we've discussed in the tour, the 1-bedroom units here are averagely sized against most of their peers in newer condo developments. While the various entranceways of the units have been a tad disappointing in the space optimisation regard, the extra study areas are distinctively proportionate (and surprisingly well-spaced) across the various tiers.
Perhaps more pronounced in the unit mix is the availability of the highly-elusive 5-bedroom unit. Based on size alone, it does seem rather well-proportioned to the other tiers – meaning that the lucky 18 who opted for these units wouldn't be forced to fork out a much higher quantum (this despite a private lift of its own) – a usual case for most 'premium' units.
Yet another point worth highlighting is that the developers have spared no expense in fitting premium utilities into the units. This would include SMEG fridges, built-in gas hobs and washers as well as Franke stainless-steel sinks and Hansgrohe sanitary fittings to name a few.
Finally, given the expected total number of residents here, we expect maintenance fees here to be tilted towards the lower end of the scale.
Prices for Parc Esta
Price Breakdown (1st Property)
1-Bedroom
2-Bedroom
2-Bedroom Premium
3-Bedroom
3-Bedroom Premium
4-Bedroom
4-Bedroom Premium
Price
$799,260
$1,012,683
$1,210,300
$1,552,168
$1,580,535
$1,877,682
$2,023,323
25% Down Payment
$199,815
$253,171
$302,575
$388,042
$395,134
$469,421
$505,831
Additional Costs
Buyer Stamp Duty
$18,578
$25,107
$33,012
$46,687
$47,821
$59,707
$65,533
Legal Fees
$2,500
$2,500
$2,500
$2,500
$2,500
$2,500
$2,500
Valuation Fees
$300
$300
$300
$300
$300
$300
$300
Stamping Fees
$500
$500
$500
$500
$500
$500
$500
Total Price
$821,138
$1,041,090
$1,246,612
$1,602,155
$1,631,656
$1,940,689
$2,092,156
Initial Investment Amount
$221,693
$281,578
$338,887
$438,029
$446,255
$532,428
$574,664
Return on Investment
Expected Rental Price
$1,890
$2,615
$3,150
$3,616
$4,092
$4,476
$4,908
Rental Yield
2.76%
3.01%
3.03%
2.71%
3.01%
2.77%
2.82%
Price (2nd Property)
1-Bedroom
2-Bedroom
2-Bedroom Premium
3-Bedroom
3-Bedroom Premium
4-Bedroom
4-Bedroom Premium
Cost Without ABSD
$821,138
$1,041,090
$1,246,612
$1,602,155
$1,631,656
$1,940,689
$2,092,156
Plus: ABSD (12%)
$95,911
$121,522
$145,236
$186,260
$189,664
$225,322
$242,799
Total Price After ABSD
$917,049
$1,162,612
$1,391,848
$1,788,415
$1,821,321
$2,166,011
$2,334,955
Initial Investment Amount
$317,604
$403,100
$484,123
$624,289
$635,919
$757,750
$817,462
Return on Investment
Expected Rental Price
$1,890
$2,615
$3,150
$3,616
$4,092
$4,476
$4,908
Rental Yield
2.47%
2.70%
2.72%
2.43%
2.70%
2.48%
2.52%
Best Stacks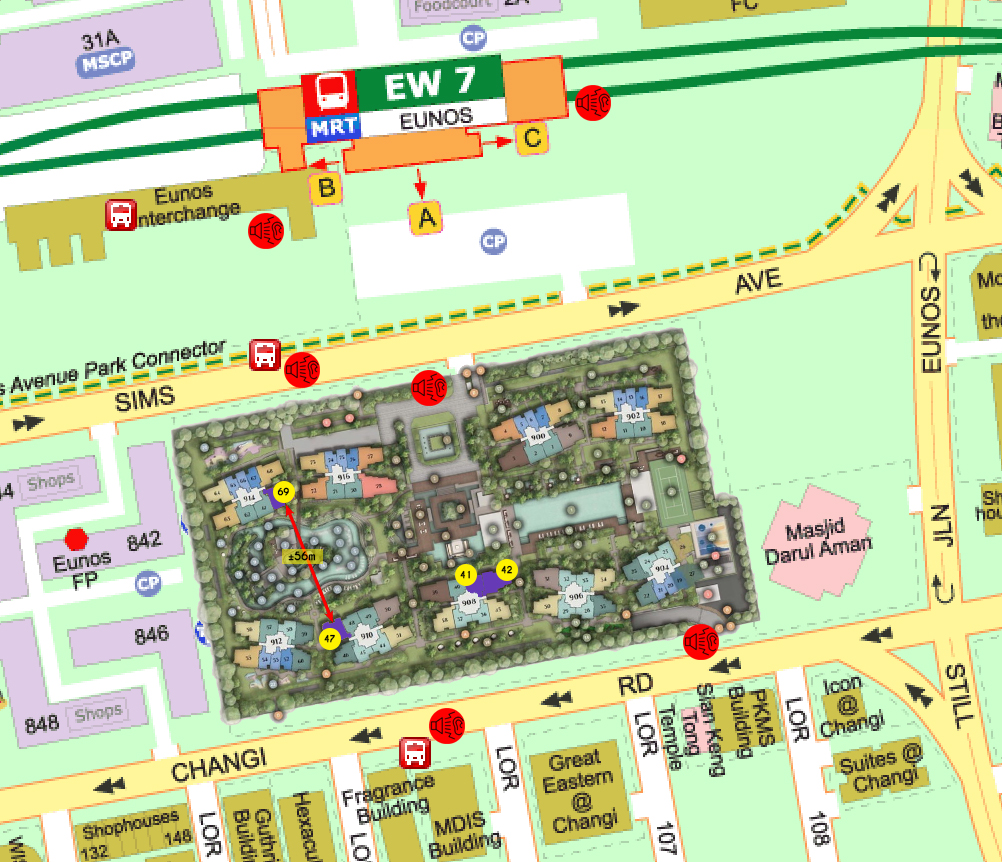 One consequence of the incredibly convenient location of the Parc Esta is the road noise. So because two major roads go right past it (Sims Ave/Changi Road), coupled with the number of buses that ply these routes, we thoroughly recommend the stacks facing inwards if you value more peace and quiet.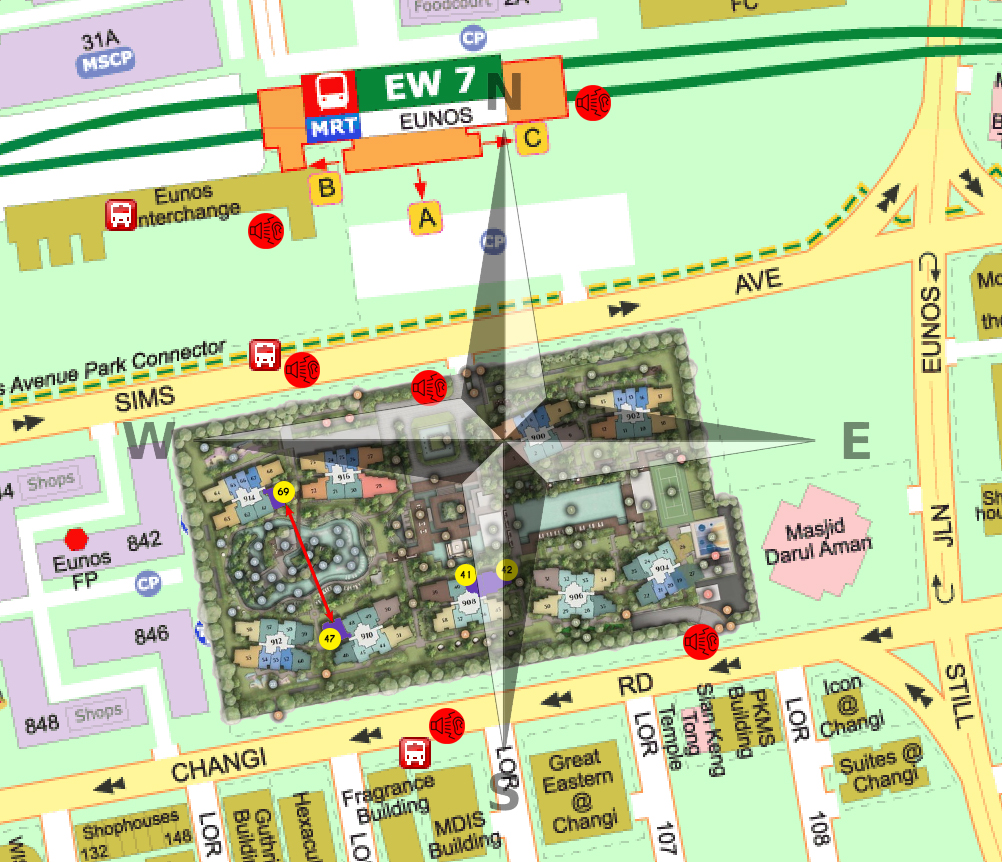 You really can't go wrong with the inner stacks 47 and 69 as these have a good distance apart with the added benefit of the lush lagoon as a view. Stacks 41 and 42 are good too as these practically face no other blocks directly.
Price Review
Due to the rarity of such a large development within the immediate proximity of a 'heartland' MRT station, we'll venture a little further to match prices against other developments next to their respective MRT stations in the general area.
We've also included the usual neighbouring suspects for better clarity of the immediate area's current price range.
Starting with the developments in the immediate area, you'd quickly realise that most of Parc Esta's neighbours are actually freehold condos. With the increasing popularity of the area due to various development revamps (including Parc Esta), a gradual quantum appreciation for these developments could be on the cards.
More importantly, we observe the appeal of a new large development that provides closer MRT proximity and bigger facility offerings through the stark quantum difference between the 99-year leasehold Parc Esta and the freehold Le Reve and Suites @ Changi.
Looking at Park Place and Bedok Residences, Parc Esta seems to sit in the middle of the price range. Bedok Residences is naturally the most 'affordable' given its novelty, while Park Place's higher quantum command is undoubtedly MRT location-related.
Thus given its novelty, it does seem that Parc Esta's quantum matches the market average.
Some might even go on to say that it is under market value given the other new launches of that time  (Park Colonial and Stirling residences come to mind) with unit quantum averaging $2,000 psf.
More so when you factor in a very likely quantum appreciation and well-touted high rental yield here as the years go by.
Our Take
Parc Esta serves as an incredibly attractive opportunity for investors and homeowners alike.
For homeowners, it provides solid transport and educational convenience in a matured estate, an admittedly large array of facilities offerings (even if it is lacking in certain regards) as well as a relatively attractive market quantum. A range of unit-tiers will also suit various family sizes and needs. Furthermore, a lack of potential construction in the immediate area also reassures those who are noise-sensitive.
Yes, it is definitely more expensive when compared to the neighbouring freehold condos, but the presence of both options only serves to enhance the buyers' choice. 
For investors, the revamp of the Greater Southern Waterfront and Paya Lebar area will undoubtedly lead to an increase in rental demands and possibly solid resales in the area (especially given the condo's proximity to the Eunos MRT station).
All in all, Parc Esta feels like an incredible development save for a couple of minor and negligible flaws. Definitely an option worth considering if you're currently delving into the property market.
Its current 68% take-up rate is a testament to this.
What this means for you
You might like Parc Esta if you:
• Have a Young Family:An abundance of child facilities and educational options in the area combined with various unit tiers would greatly suit those who have children.
• Are Looking to Resell:While the property market can be relatively unstable and appreciation stats are often limited to individual unit conditions, Parc Esta does have a high appreciation potential.
You might not like Parc Esta if you:
• Dislike Matured Estates:Matured estates bring with them a host of pros and cons. For new families who prefer quieter regions, it is best to look elsewhere.
• Are a Sports Fanatic:Limited swimming and recreational sport facilities could mean space competition over the weekends or public holidays.
End of Review
[optin-monster-shortcode id="gzivtlotizxfiuzqwtnx"]