Condo Reviews

Spanish Village Review: A Rustic Courtyard Retreat (With Road Noise)
Reuben
July 28, 2020

24

min read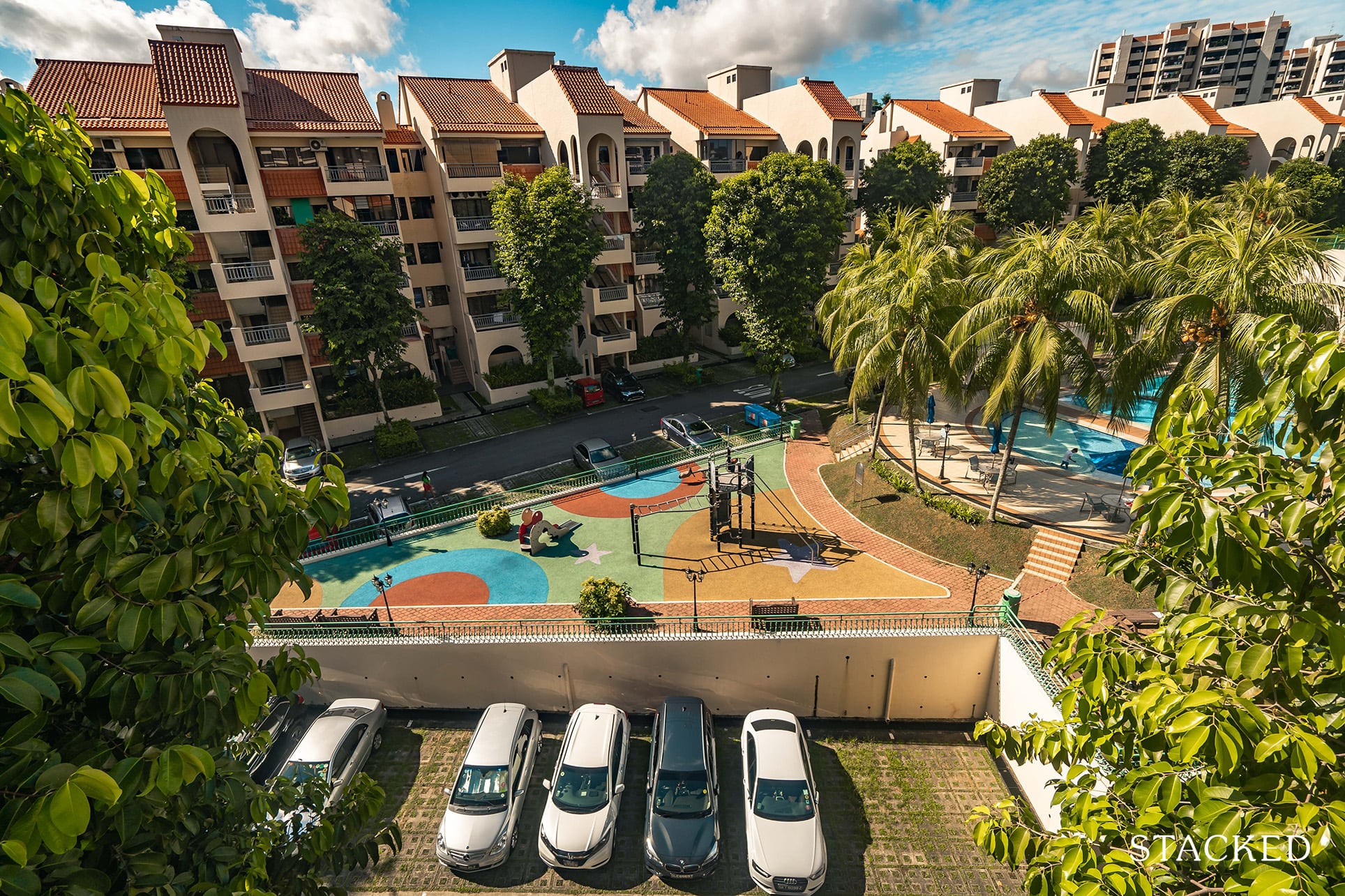 Spanish Village is a spacious development with an incredible opportunity for an (eventual) en bloc, however its location next to Farrer Road and Farrer Drive does result in some noise pollution.
Reviewed by Reuben on July 28, 2020
What we like
Central spacious courtyard

Hilly environment

Spacious units
What we don't like
—

Road noise from Farrer

—

Poor maintenance at parts

—

Driving out of the development
24
min read
| | |
| --- | --- |
| Project: | Spanish Village |
| District: | 10 |
| Address: | Farrer Road |
| Tenure: | Freehold |
| No. of Units: | 226 |
| Site Area: | 331,460 sqft |
| Developer: | Far East Organization |
| TOP: | 1987 |
As most of our veterans would know, it's often in the oldest developments that you'll find the best of stories.  

Truthfully, it's been some time since we last talked about a condo as 'matured' as Spanish Village.

That said, it's by no means a frail pushover, and going by numbers alone, its age might just turn out to be its biggest USP in the years to come.

A little bit of background about Spanish Village before we get into the meat of things – Spanish Village originally TOP-ed all the way back in 1987, and is situated in uptown District 10.

Its freehold status, combined with its age and location naturally makes it an ideal candidate for an en bloc deal – and with no less than 3 past (failed) attempts at a collective sale, you can see the lure that Spanish Village has on developers today. 

Of course, many are anticipating the next en bloc cycle to happen only 5-10 years down the road.

That, coupled with the current Covid-19 situation we find ourselves in, doesn't exactly point toward any en bloc action here in the near term, even if its eventual outlook does seem inevitable.

For those patient enough, however, this might just be a diamond in the rough worth waiting for.

Spacious grounds, incredible accessibility, and all-around convenience are some of the other key factors that continue to make the project as alluring as it is today.

Is old really gold? Time to find out.
Spanish Village Insider Tour
Facilities in Spanish Village

| | | |
| --- | --- | --- |
| Barbeque Area | Covered car park | Gymnasium room |
| Playground | Sauna | 24 hours security |
| Squash court | Swimming pool | Tennis courts |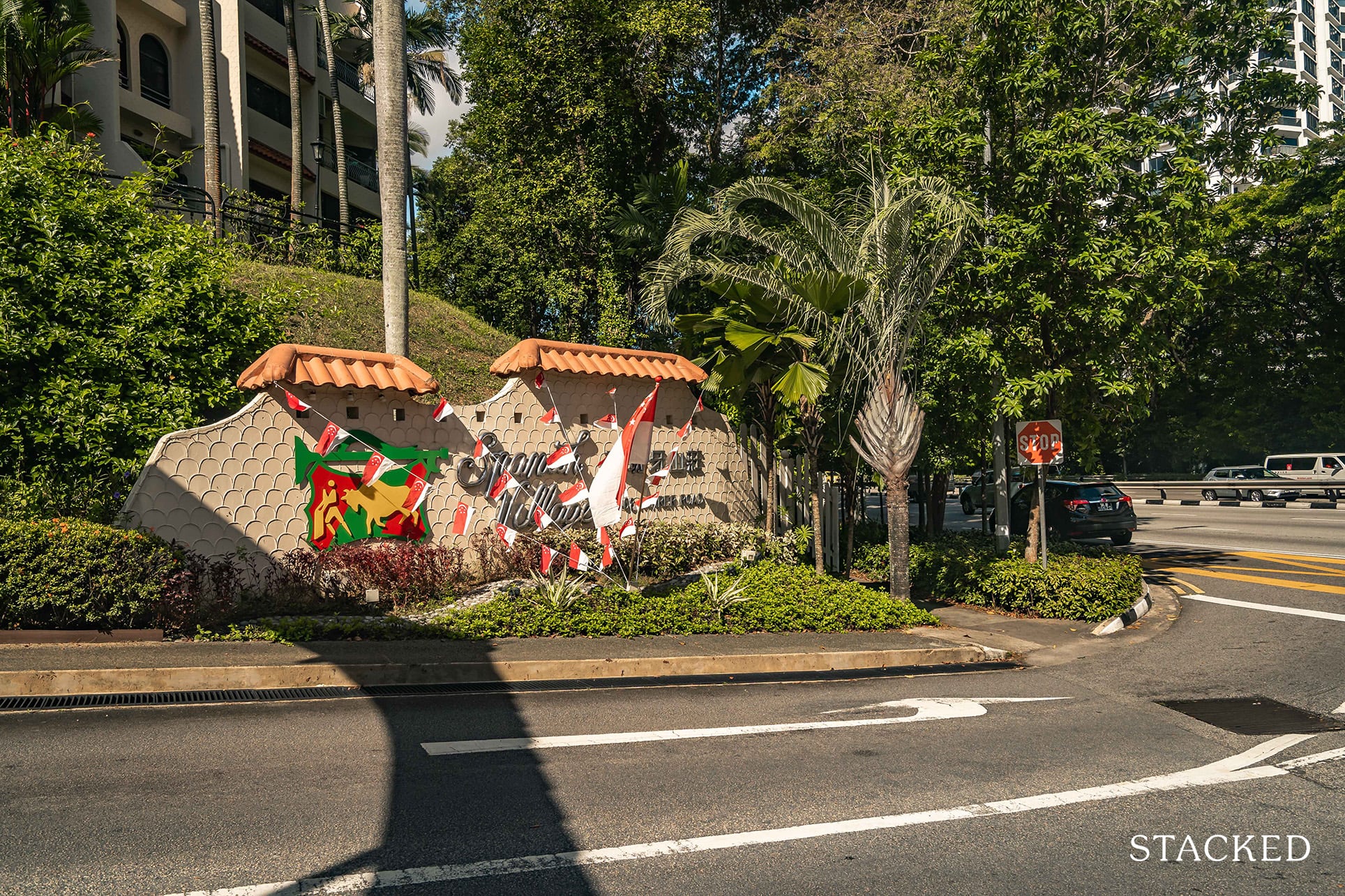 It's curious how Farrer Road has been split down the middle. On the Leedon side, it's all glass and modern architecture – D'Leedon, Leedon Residence, and the latest kid on the block, Leedon Green (upcoming). On this side, there's a plethora of old condos – Gallop Green, Gallop Gables, Sutton Court, Sommerville Park, and yours truly – Spanish Village.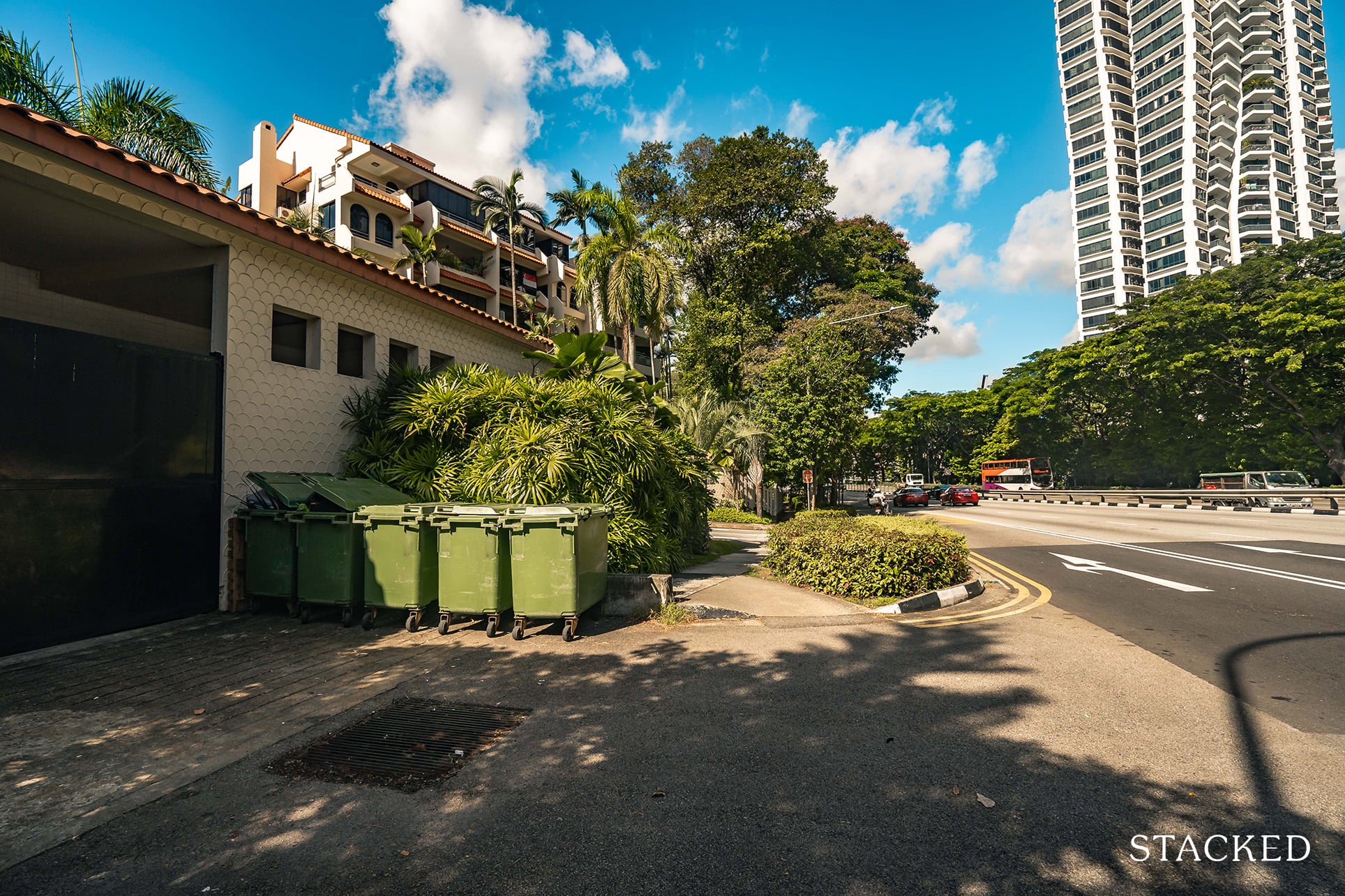 It's not often that I start a condo review with the refuse area, but the one at Spanish Village is just too prominent not to highlight. The problem is not really that it's located right at the entrance (as unsightly as it may seem), the main issue is its huge turning lane into it. For those who are visiting the first time and using Google Maps, or even taxi drivers, many have turned into this lane accidentally en route to Spanish Village.
Upon realising their mistake, some have tried to turn back out quickly – which is obviously a dangerous move – especially when the traffic on Farrer Road is so fast-moving.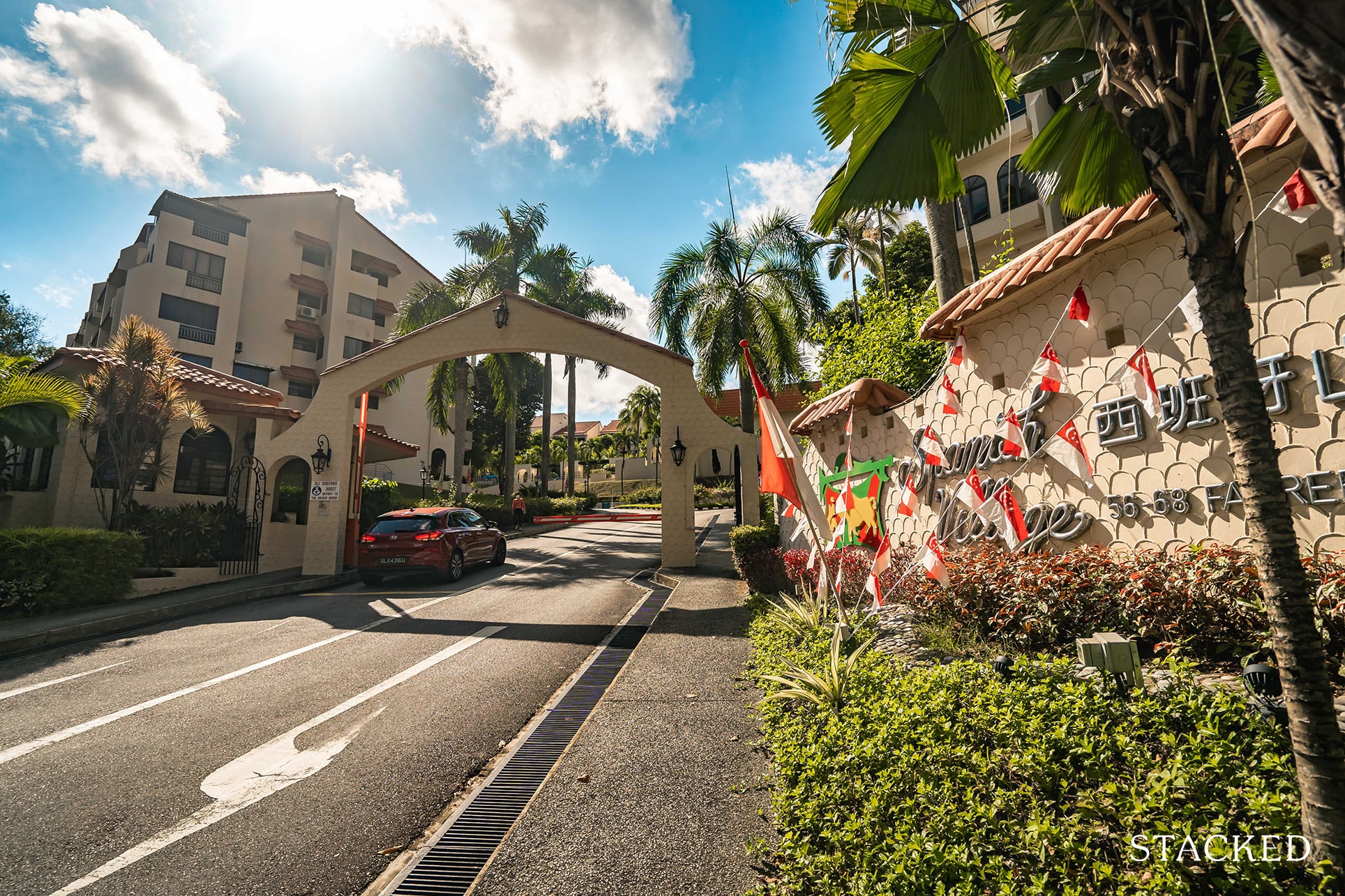 The entrance to Spanish Village is immediately on the next turn. Miss it and it's one long u-turn that you'll need to embark on to get back.
There's also only one entrance and exit to Spanish Village – you could see a line here during peak hours as the security will have to stop visitors/delivery drivers.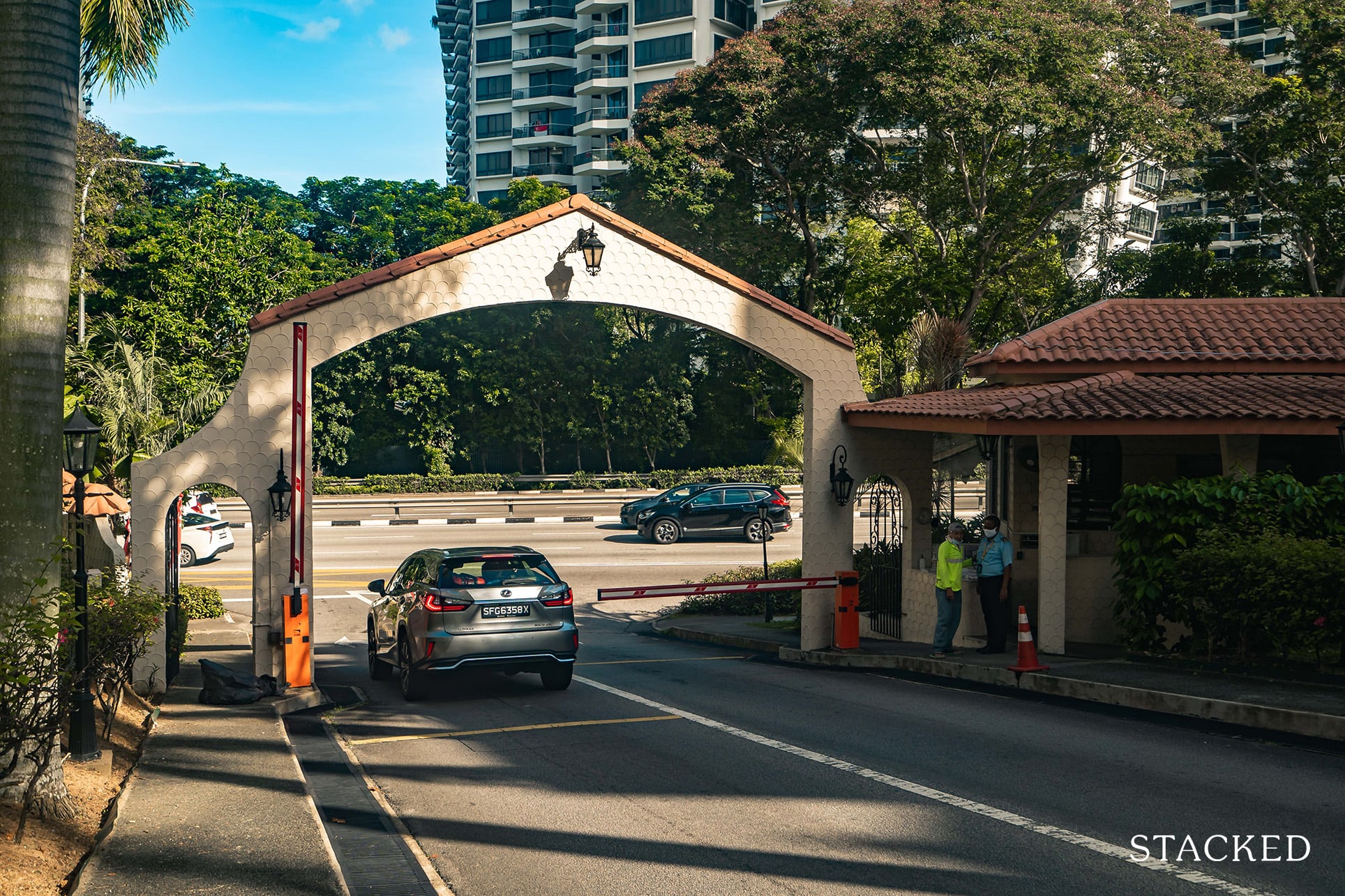 Also, given the steep decline down to exit, many a car have scraped the undercarriage of their car unwittingly – it's a wincing sound no driver likes to hear that's for sure.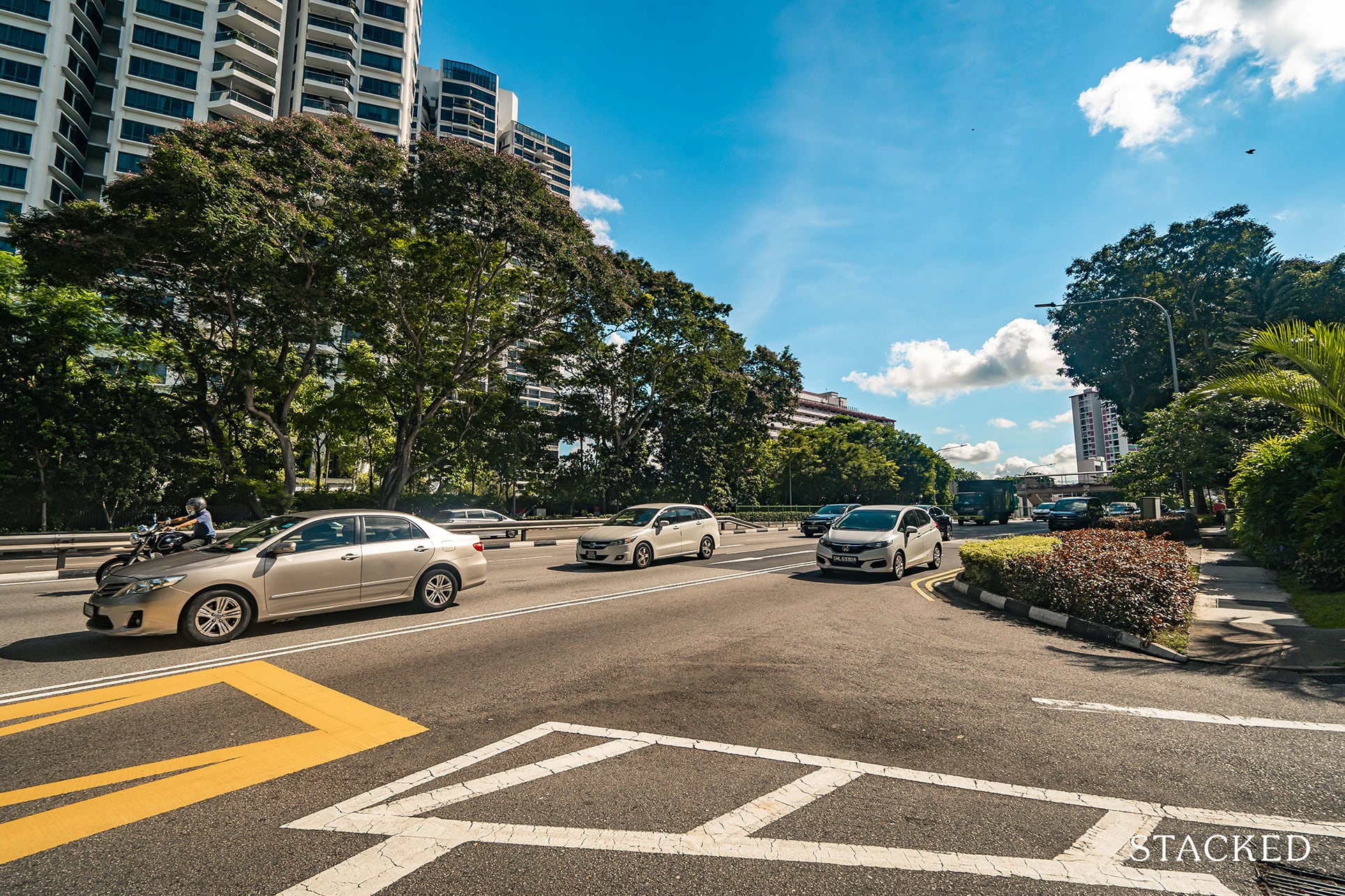 But here's probably one of the worst points of Spanish Village – the exit turning out to Farrer Road can be a nightmare for those who are less confident on the road. It's not so bad further up at the Levelz, but the combination of the slight downhill view plus shrubbery blockage plus fast-moving traffic makes it a tough spot to move out from.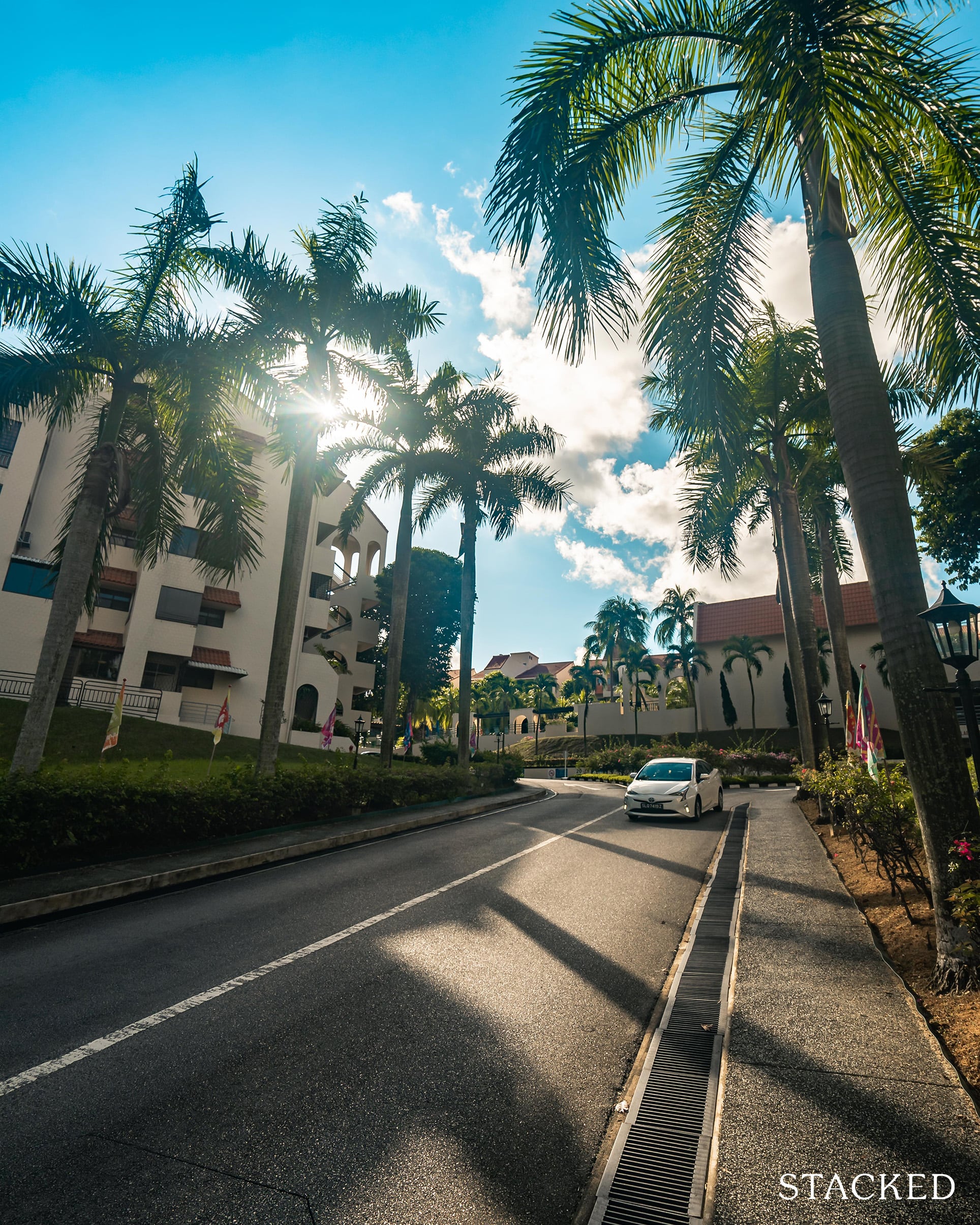 Now, because it's situated on a hilly plot of land, those walking in will face quite a steep uphill incline – not the best for the elderly!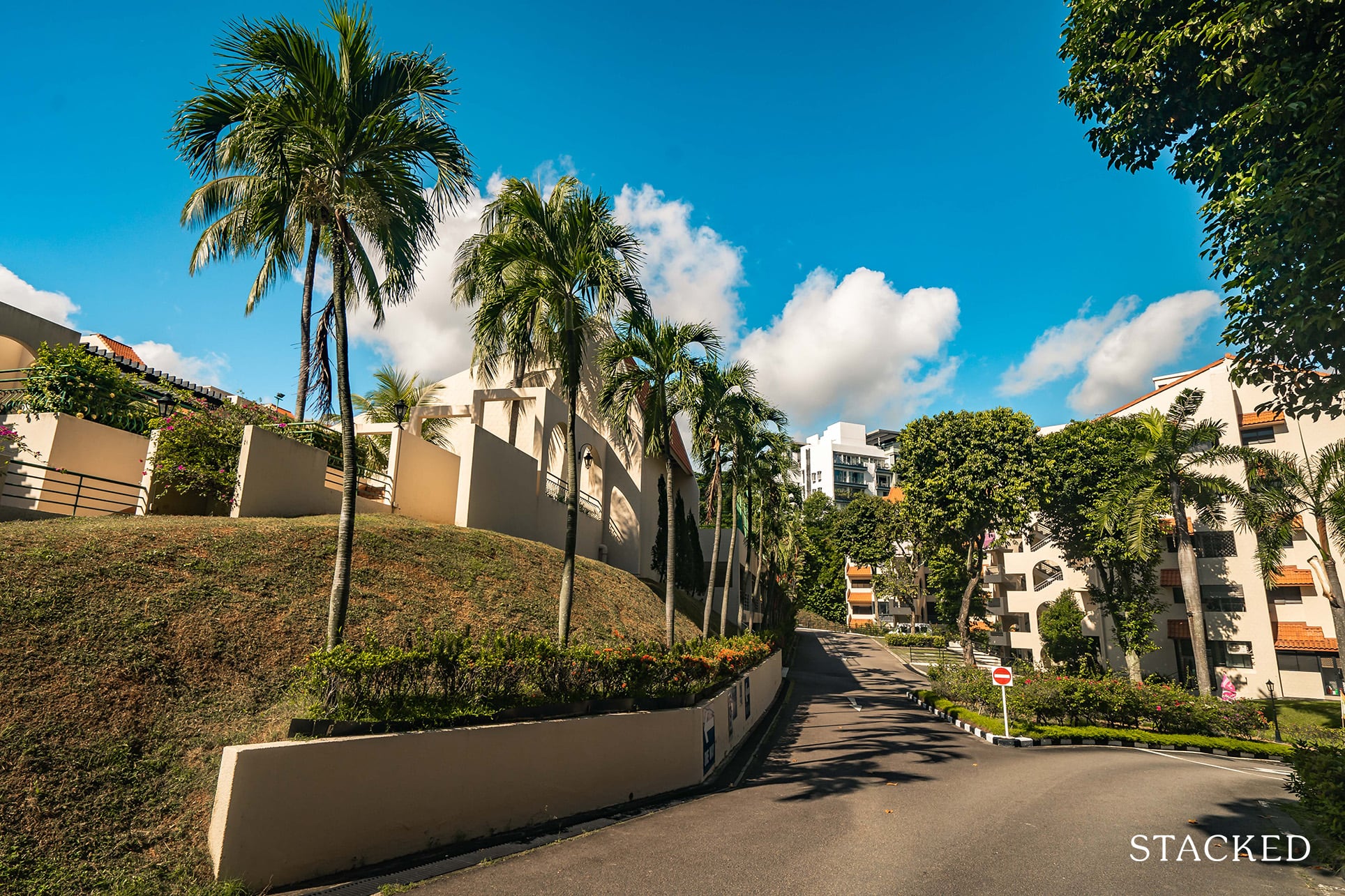 I know I may have started the review on a less than positive note, but once you are actually inside the development, it actually is pretty idyllic. For one, its hilly nature does make the place a lot more unique. Save for the traffic noise from Farrer Road, it feels like you are on an old school mountain resort – and I don't mean it in a bad way.
It's quite a juxtaposition, isn't it? With its sweeping lines and oh-so-high towers of D'Leedon, it could not be any more different from the low-lying Spanish influenced architecture of Spanish Village.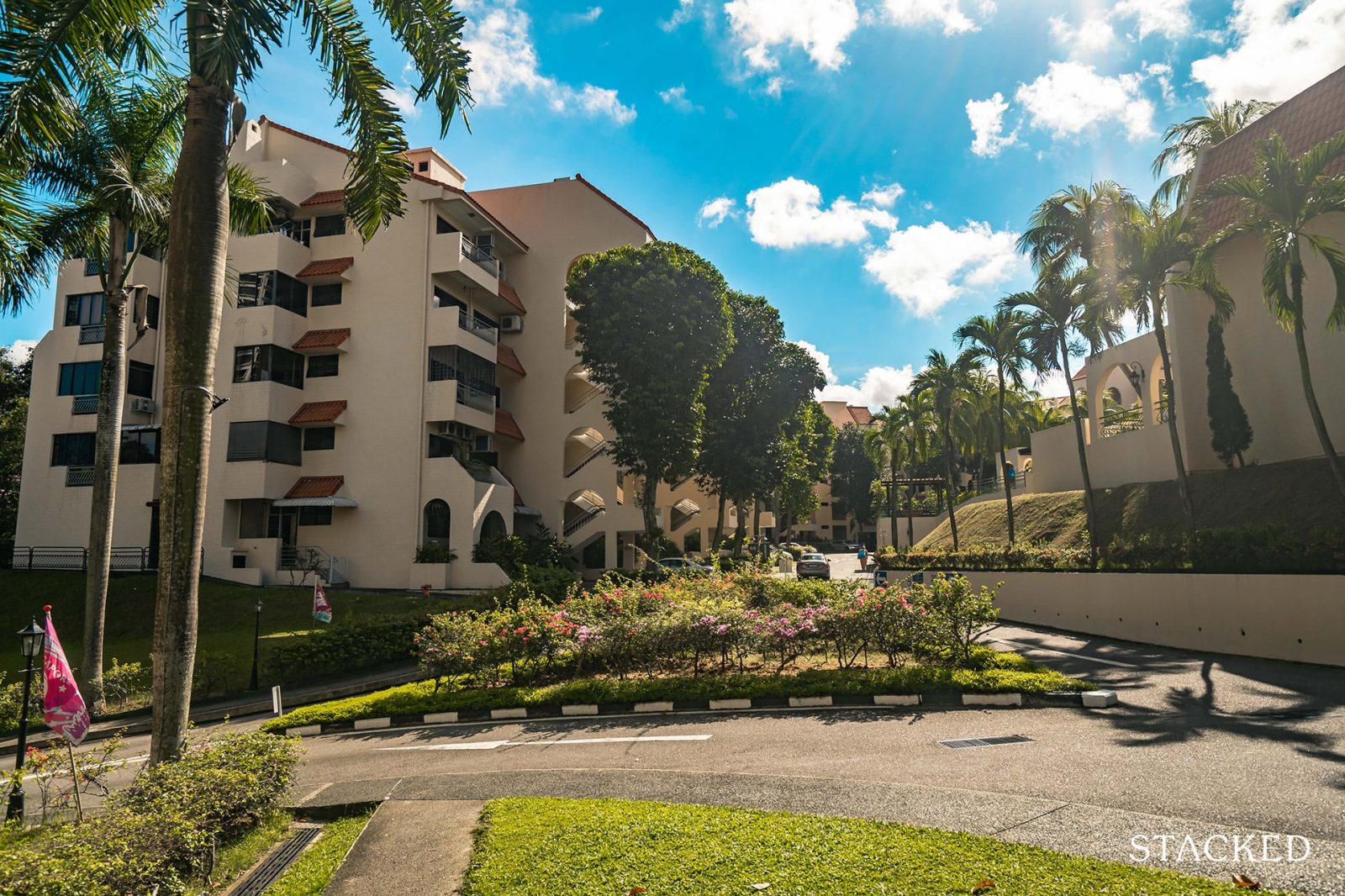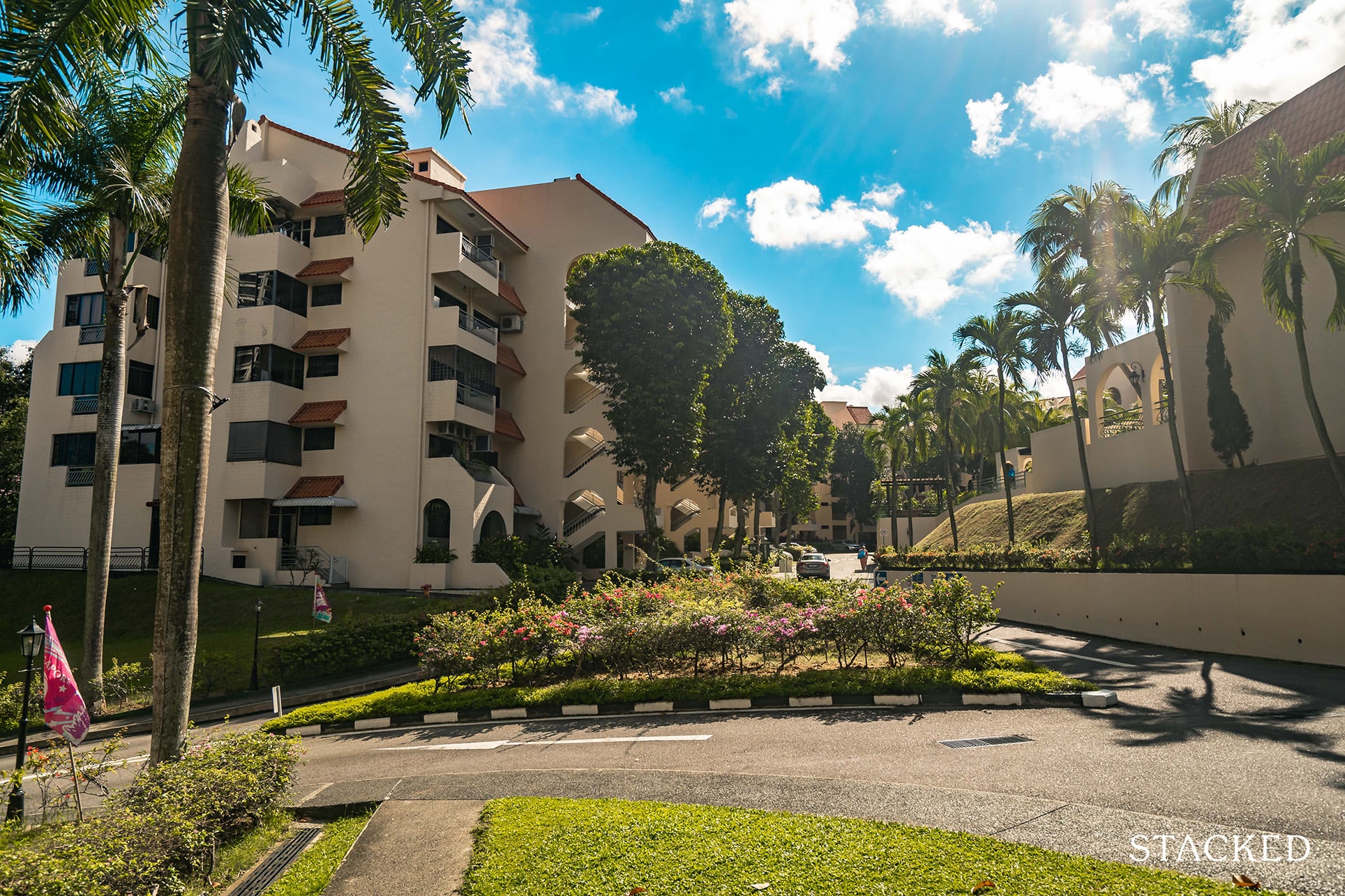 You might actually be wondering why there's even a Spanish focused condo in Singapore. Well, if you aren't familiar with the area, Spanish Village is very close to Holland Village – a place first established as a Dutch community in the early 1900s. In the 1950s and 1960s, it became home to members of the British Army and their families – thus recognising it as a home base for expats in Singapore.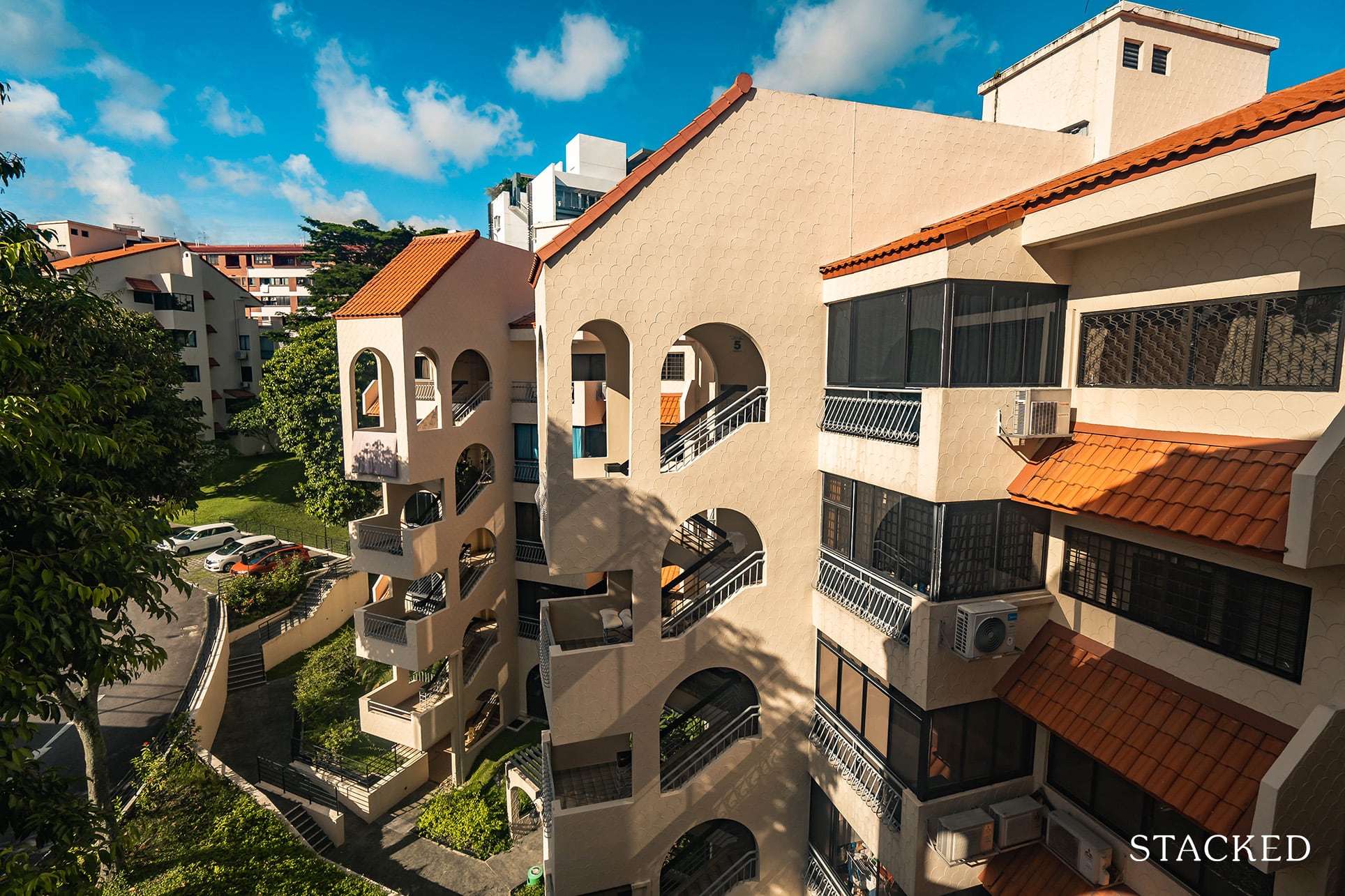 So there are a couple of things you should know about Spanish Village and its ties to Spanish architecture. One, it's exterior walls are finished in textured Spanish stucco with fish-scale patterns. And if you look closely, the unevenness of each "scale" actually means that these were applied manually. One-by-one.
Arches and buttresses are used at the common areas, while aluminum arched windows are used for the units – something you don't commonly see in condos in Singapore.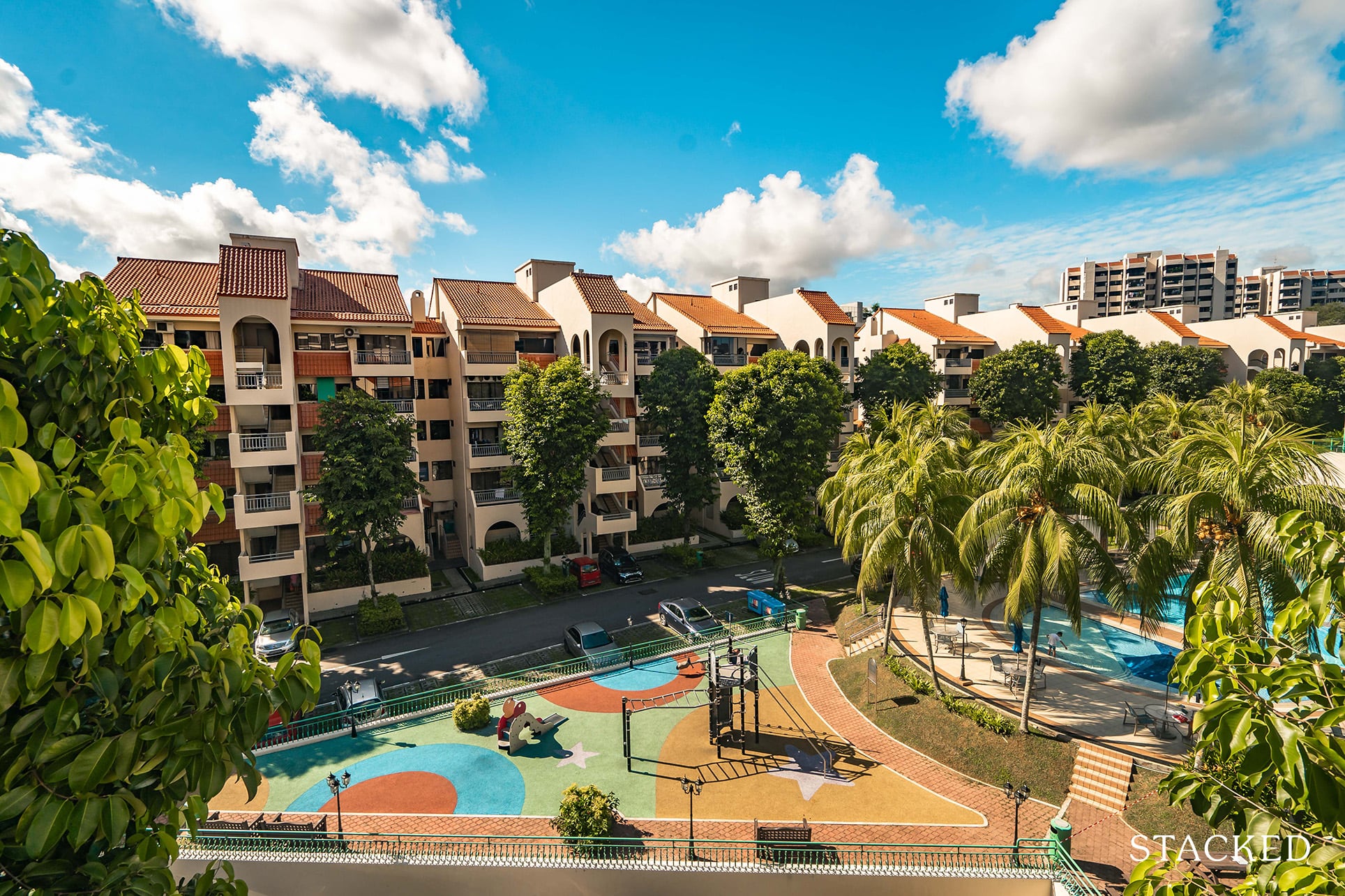 It also follows a traditional Spanish colonial town layout – where there's a main square and everything is located in the middle. And when I say everything, I literally mean everything. All the facilities in Spanish Village are congregated in the middle.
You will hardly ever see a layout like this in Singapore in today's context as this is considered to be quite an inefficient use of space.
But this does mean that you will enjoy one of the bigger attractions of Spanish Village – the expanse of space.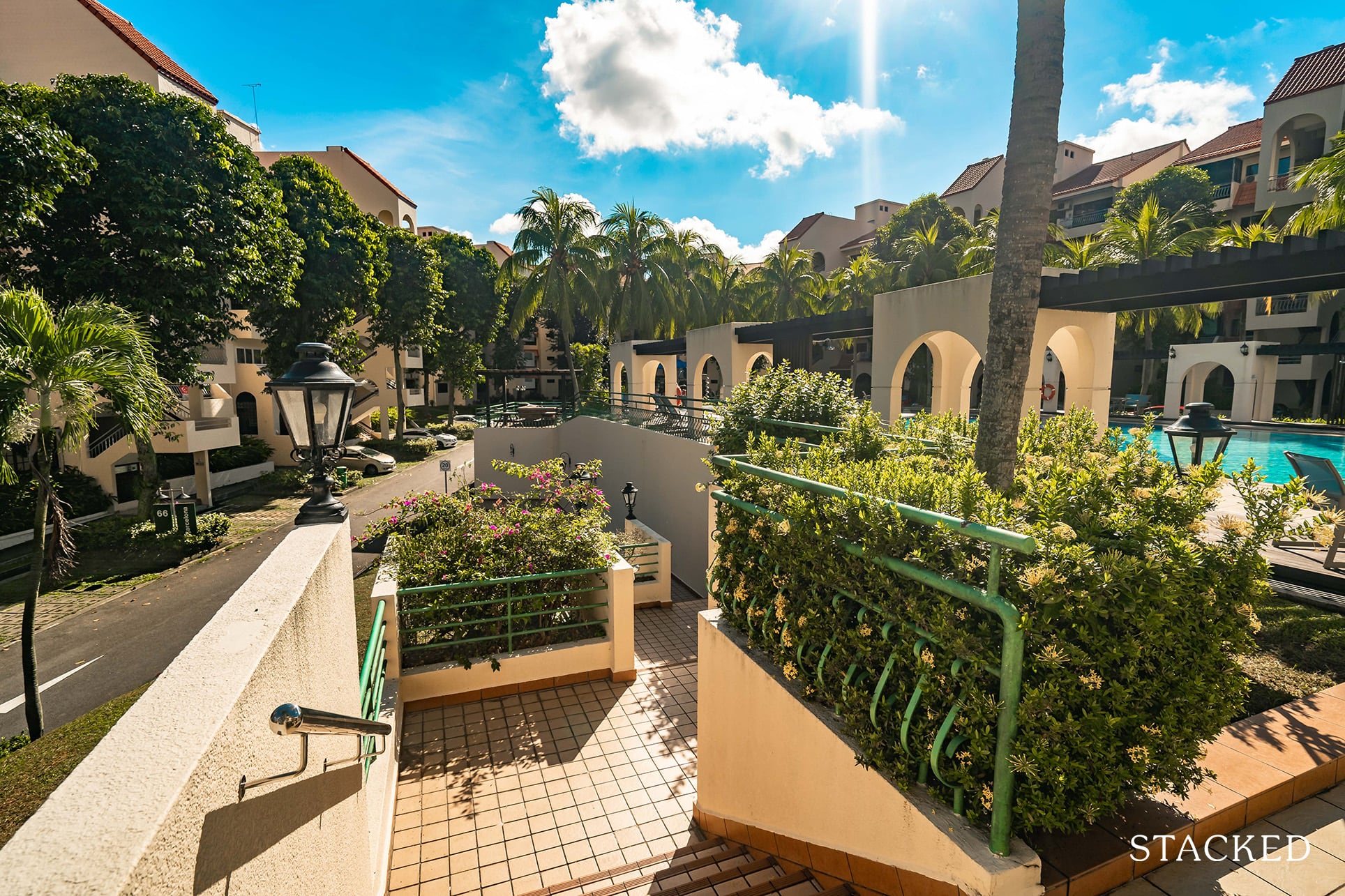 As mentioned above, its hilly terrain means that you will need to climb stairs to get to the pool if you live on the blocks facing Farrer Road. For those on the opposite end (the quieter stacks), it's a matter of just crossing the road.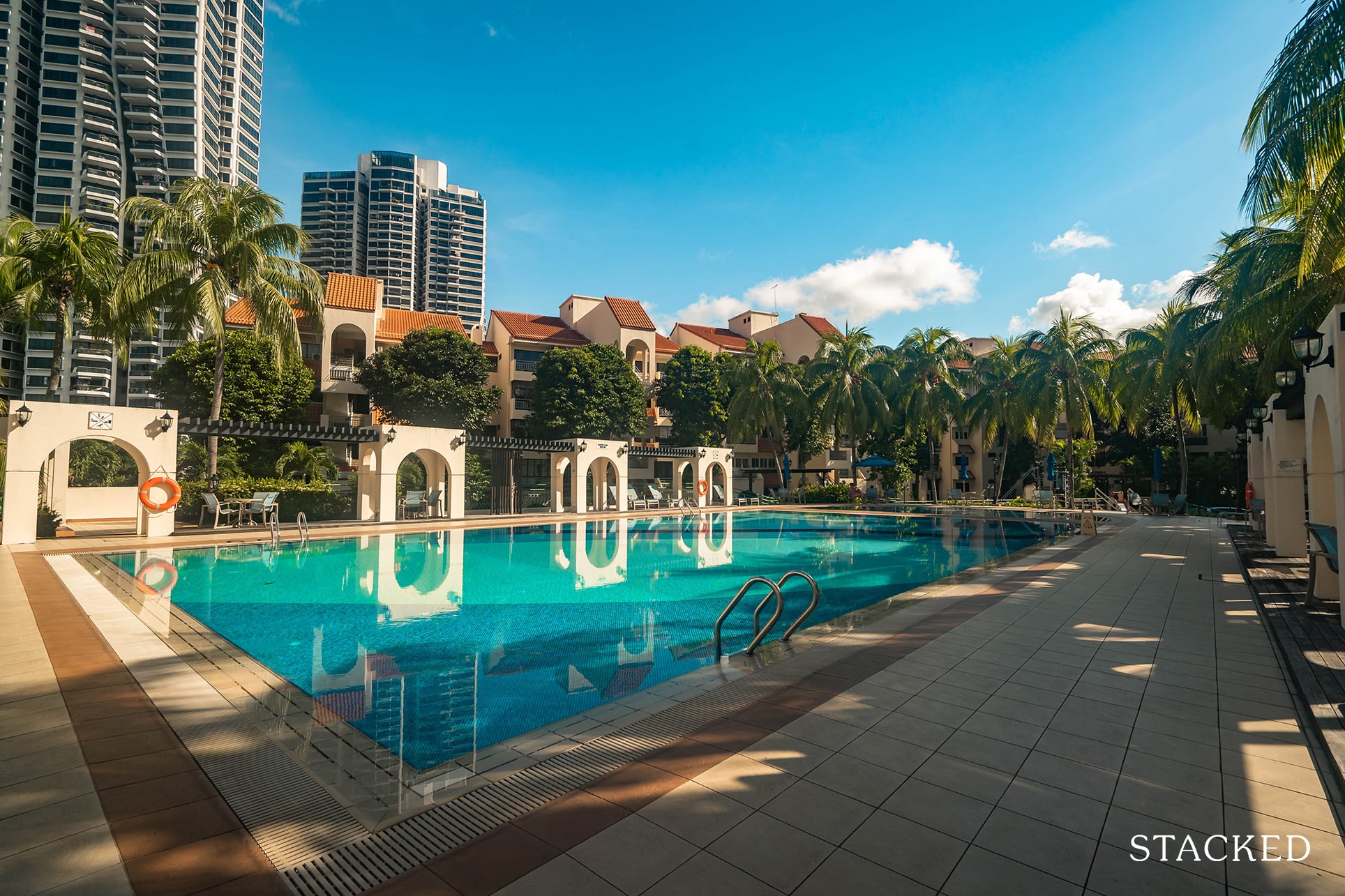 Not everyone will enjoy all the facilities being in a wide view of all the blocks – it definitely is a less private experience overall. On the other hand, it does promote a sense of community here – you get the feeling most people are quite well acquainted with each other.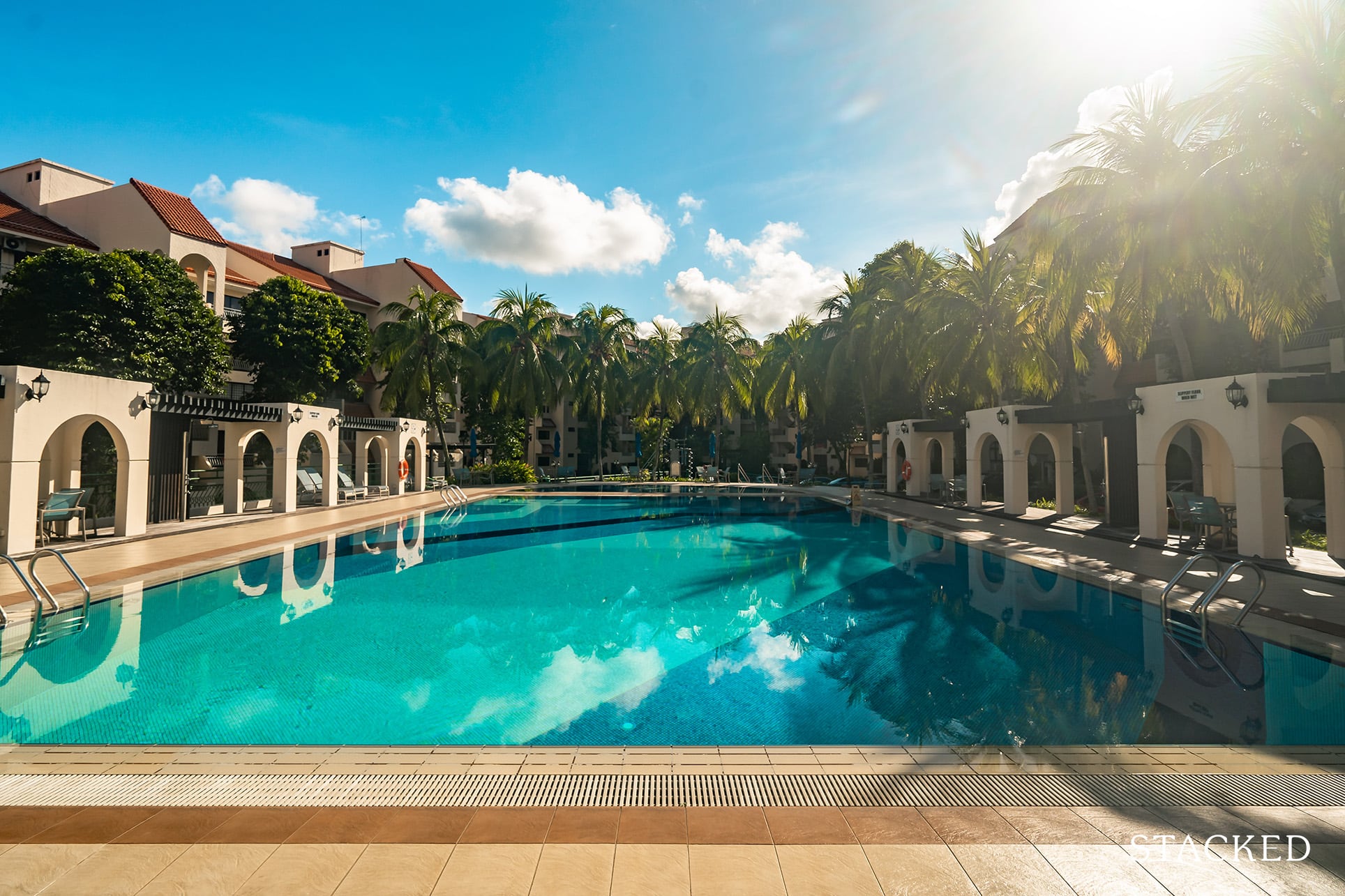 Without D'Leedon disturbing the view, it almost could pass off as a blissful afternoon in a rustic town in Spain.
The swimming pool here, however, barely passes the test in terms of its size. Considering the amount of land it sits on, it definitely is on the smaller side for a development with 226 units.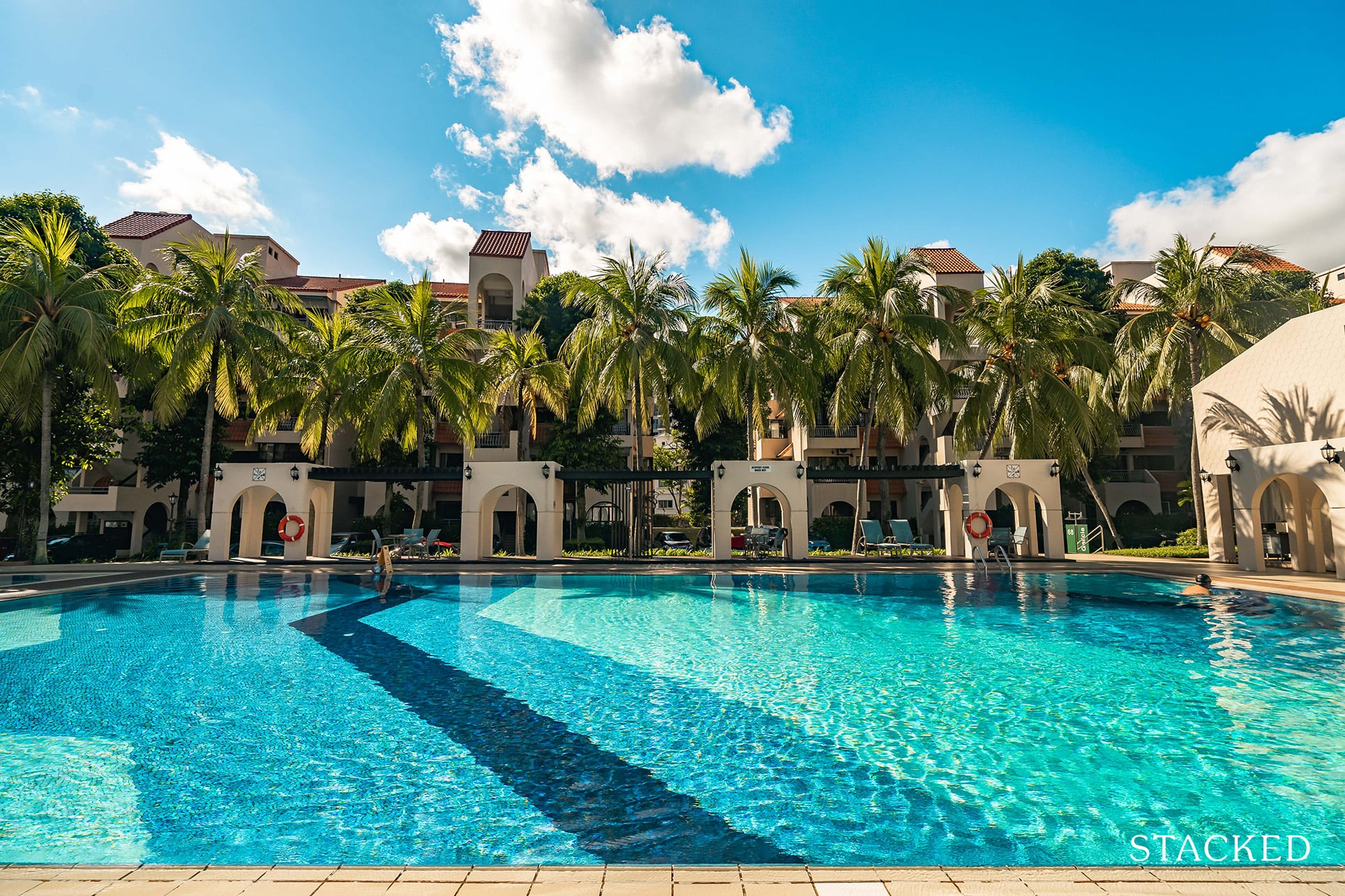 So while you can still swim laps in it (just multiple laps), its small size does mean that you can expect it to get crowded on weekends. There is also a small kids pool right at the end.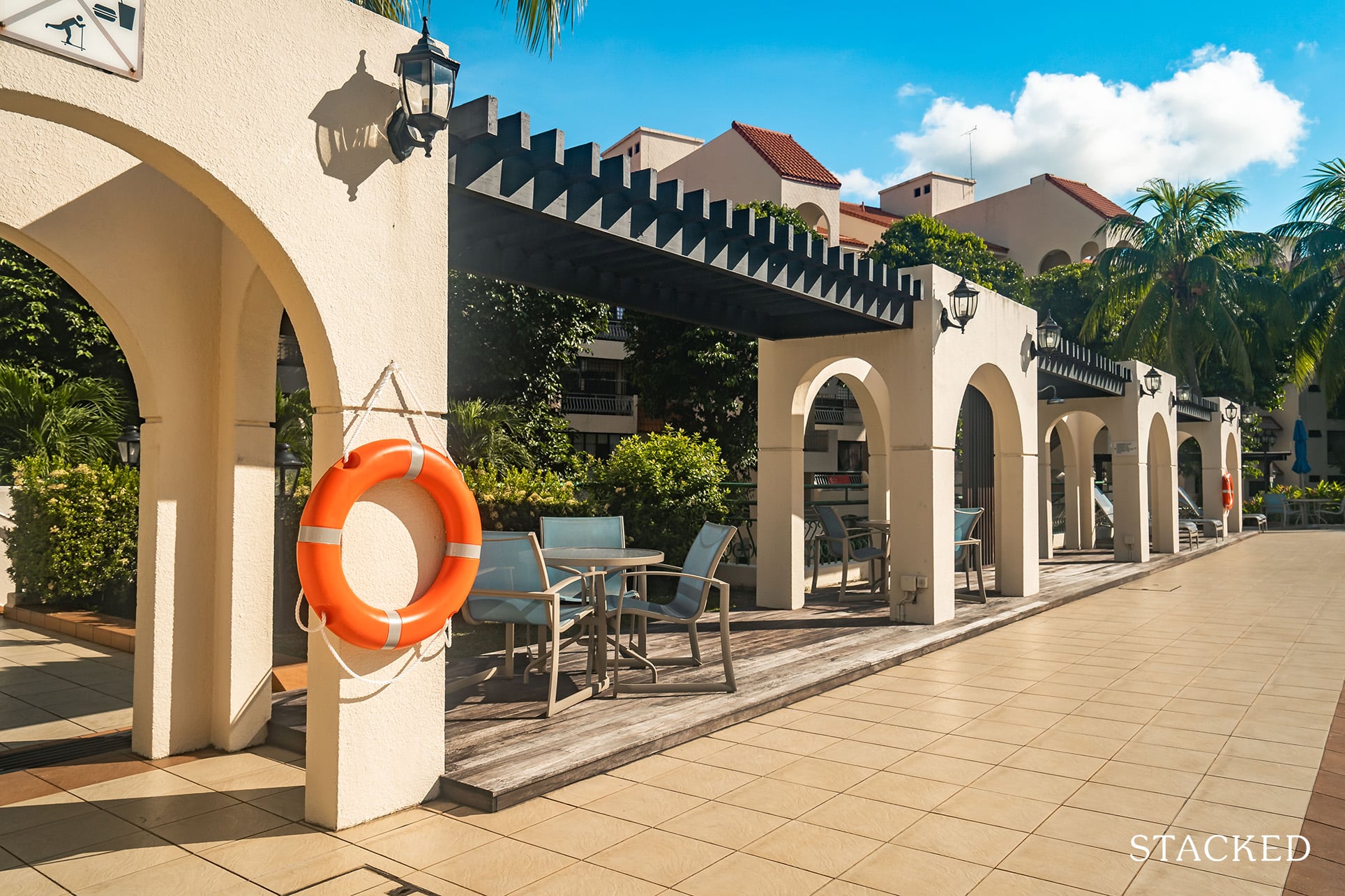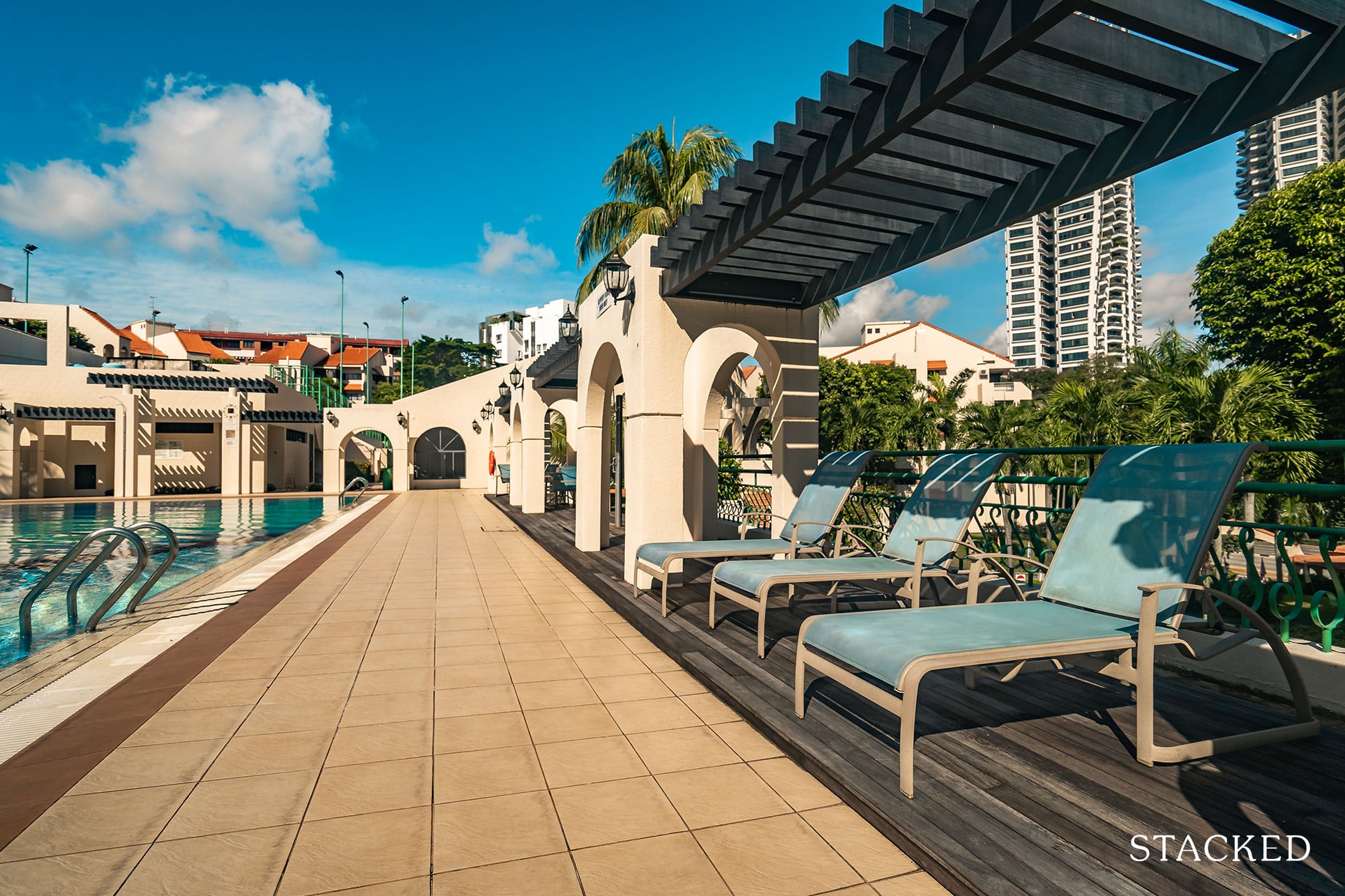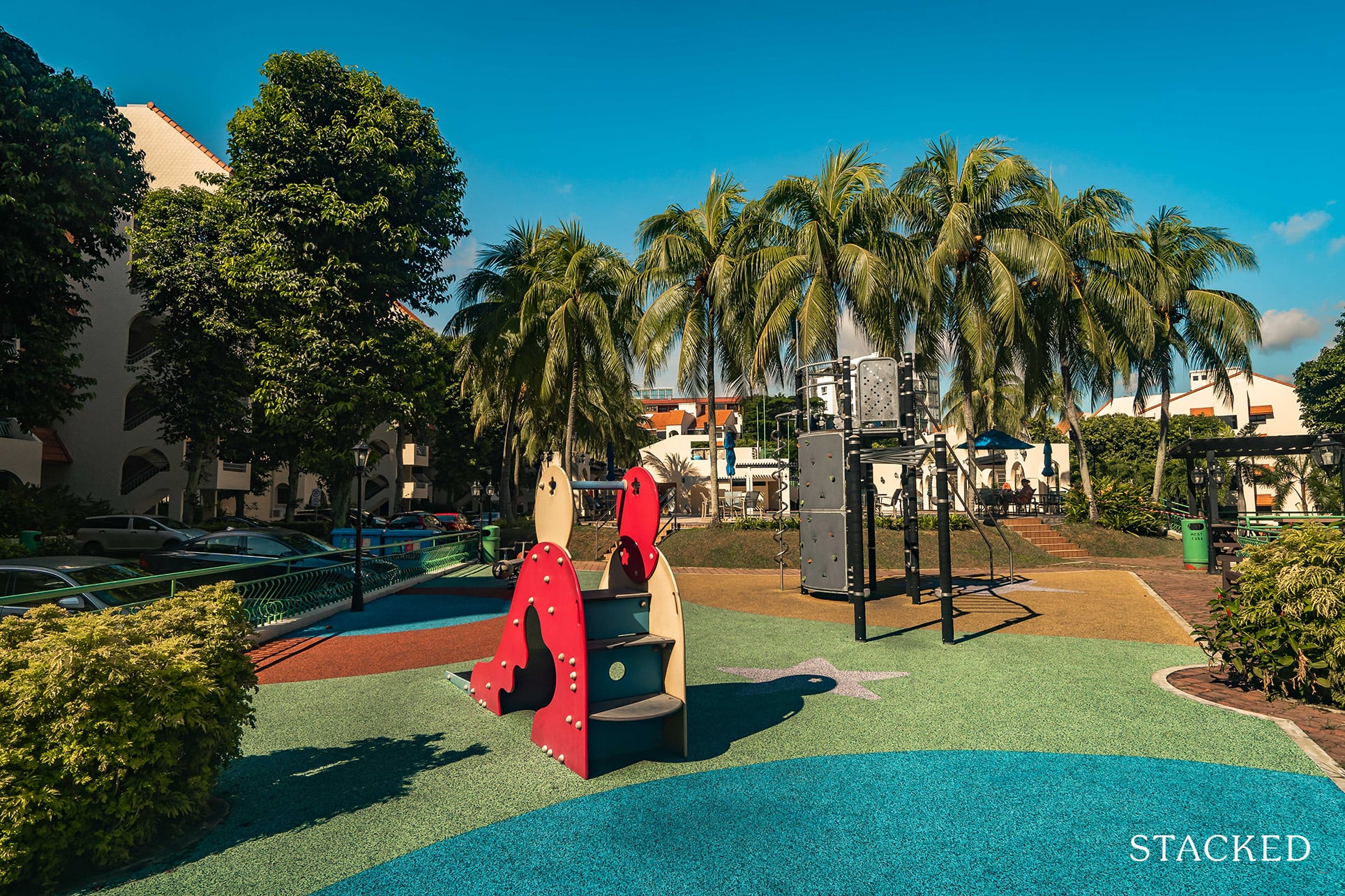 The playground at Spanish Village is huge.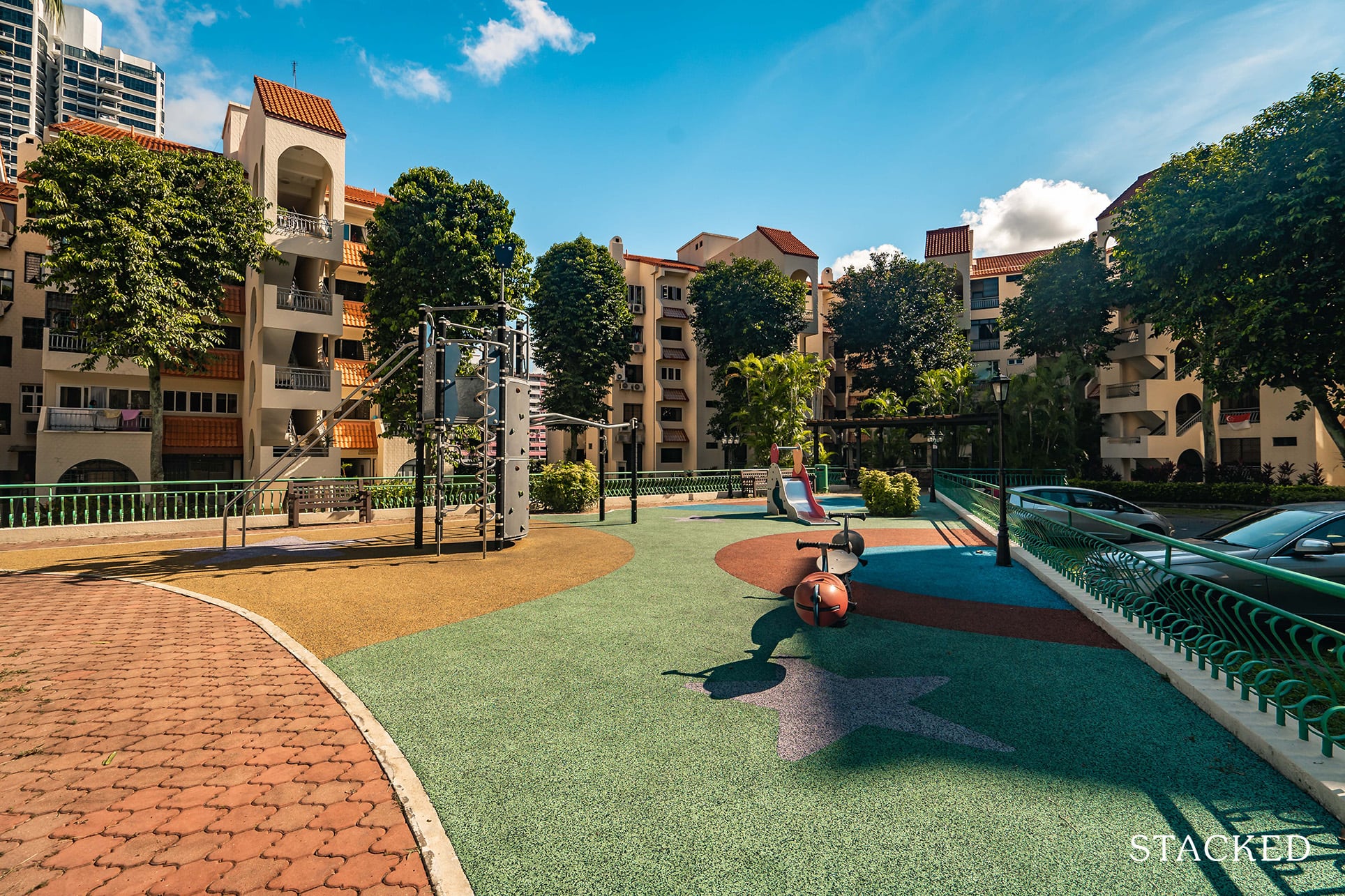 There's a ton of space for kids to run around, and thankfully, the rubberised area is pretty extensive as well.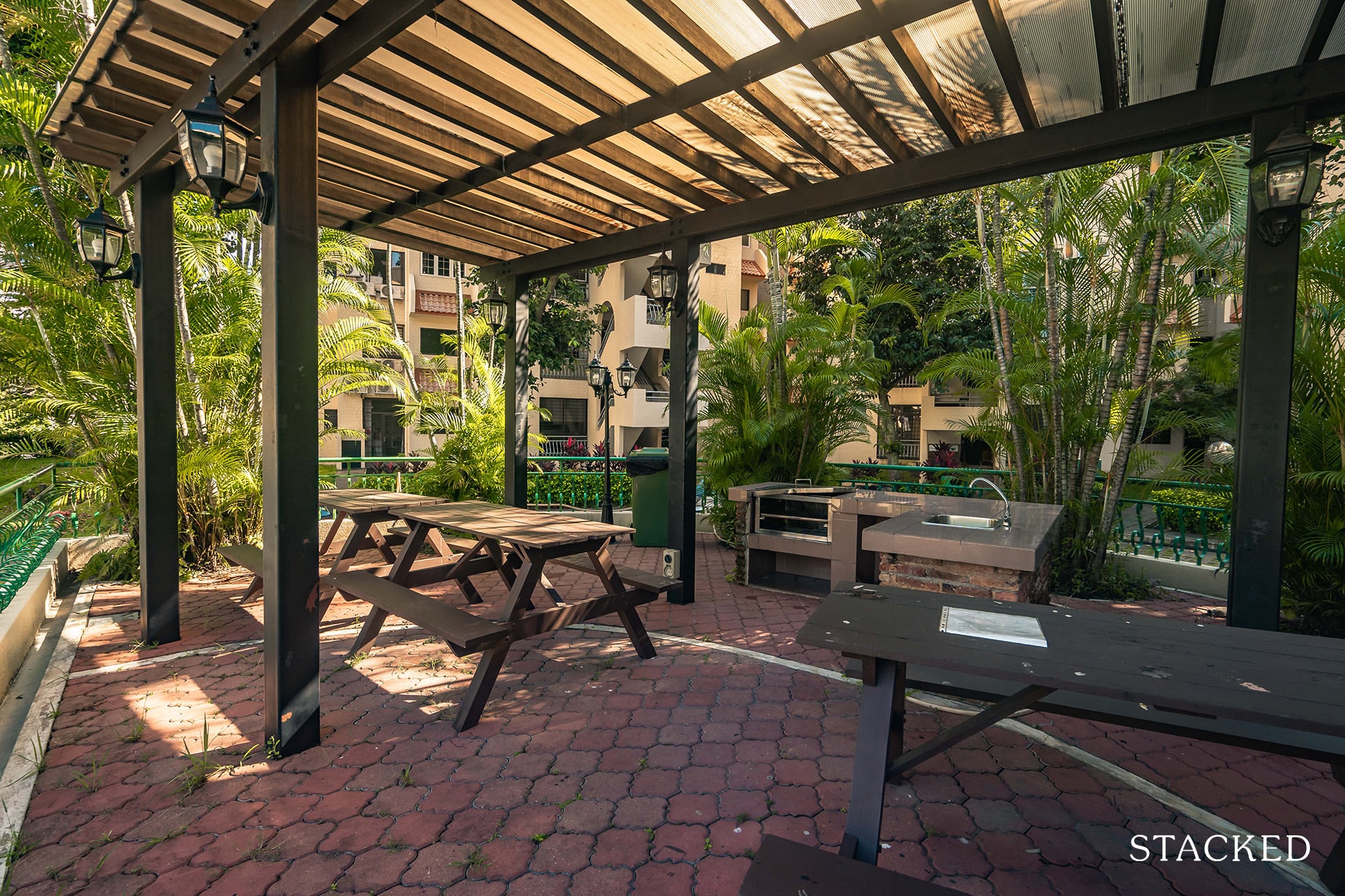 The barbecue pits are located between the pool and the playground. I like that it has a shelter, although you can say the ambiance of the space is a hit or miss. Needless to say, it gives off a very 90s chalet vibe, with its park bench style seating and red brick paver flooring.
Read this next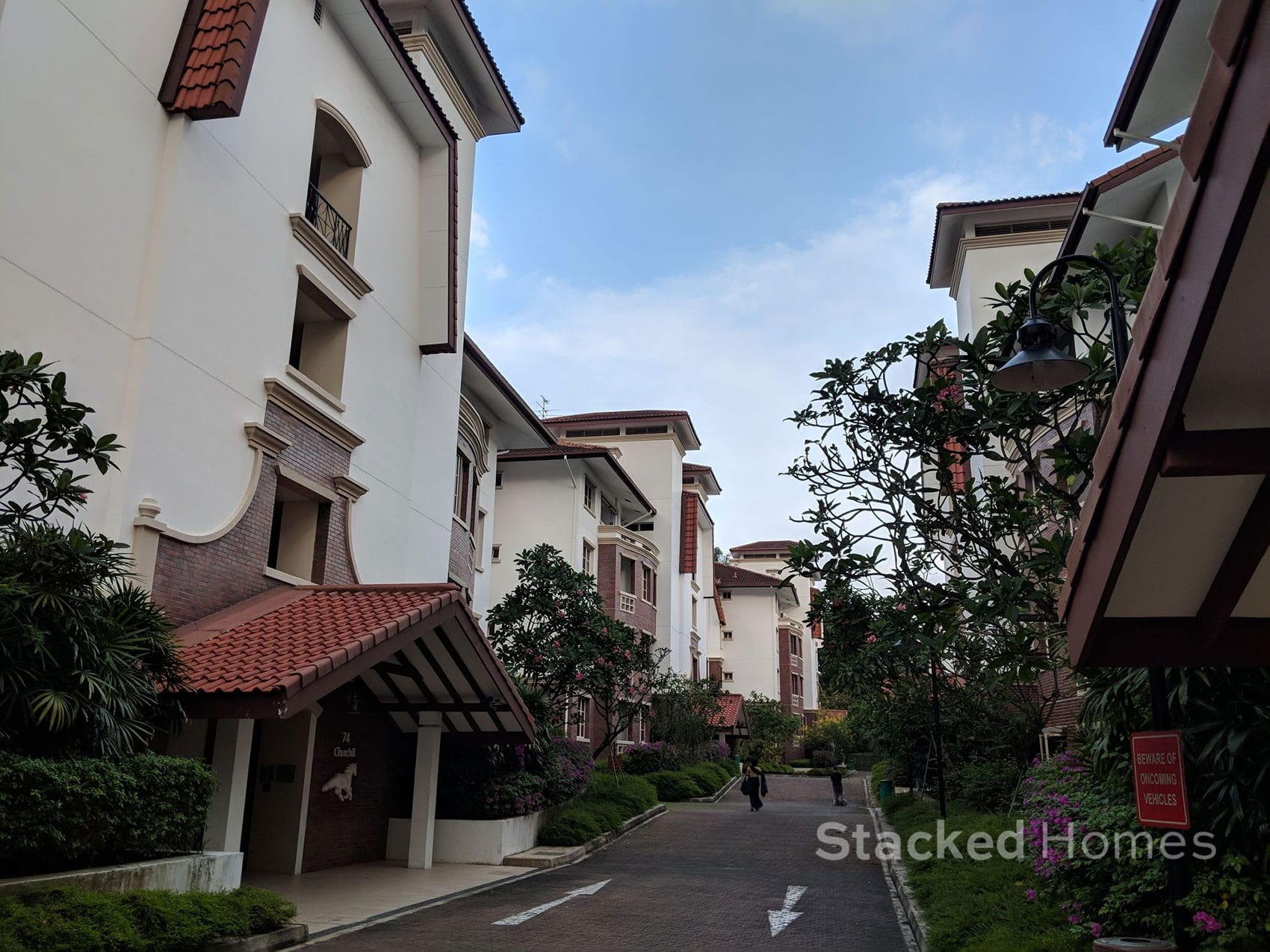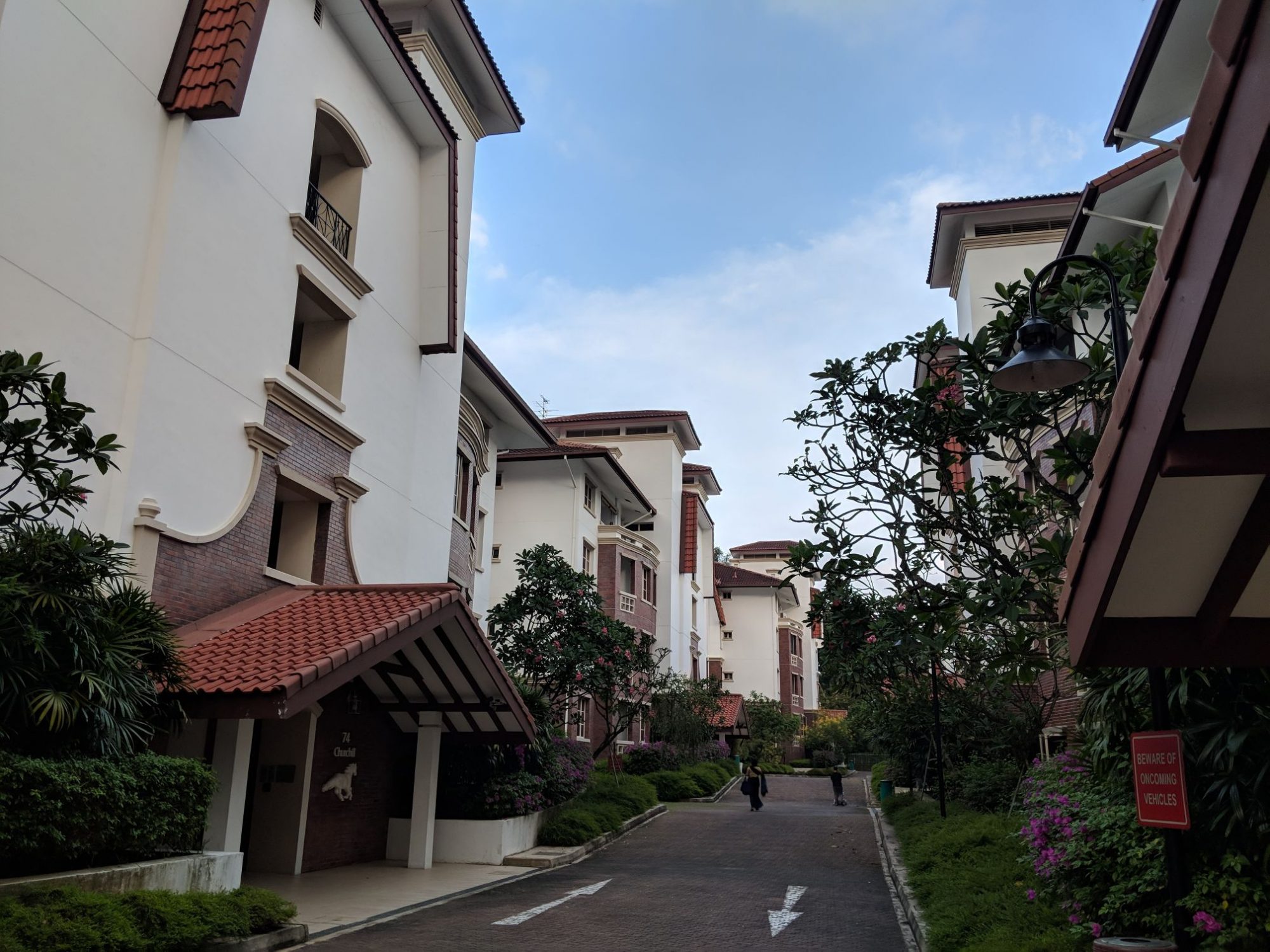 While there are trees here, you certainly don't get much in the way of privacy here as well. Any gathering you have here will be in full view of the surrounding blocks.
There are two tennis courts too, which is very very generous for the number of units. Even more so when you look at the new launches of today – Stirling Residences 1,259 units with just one tennis court!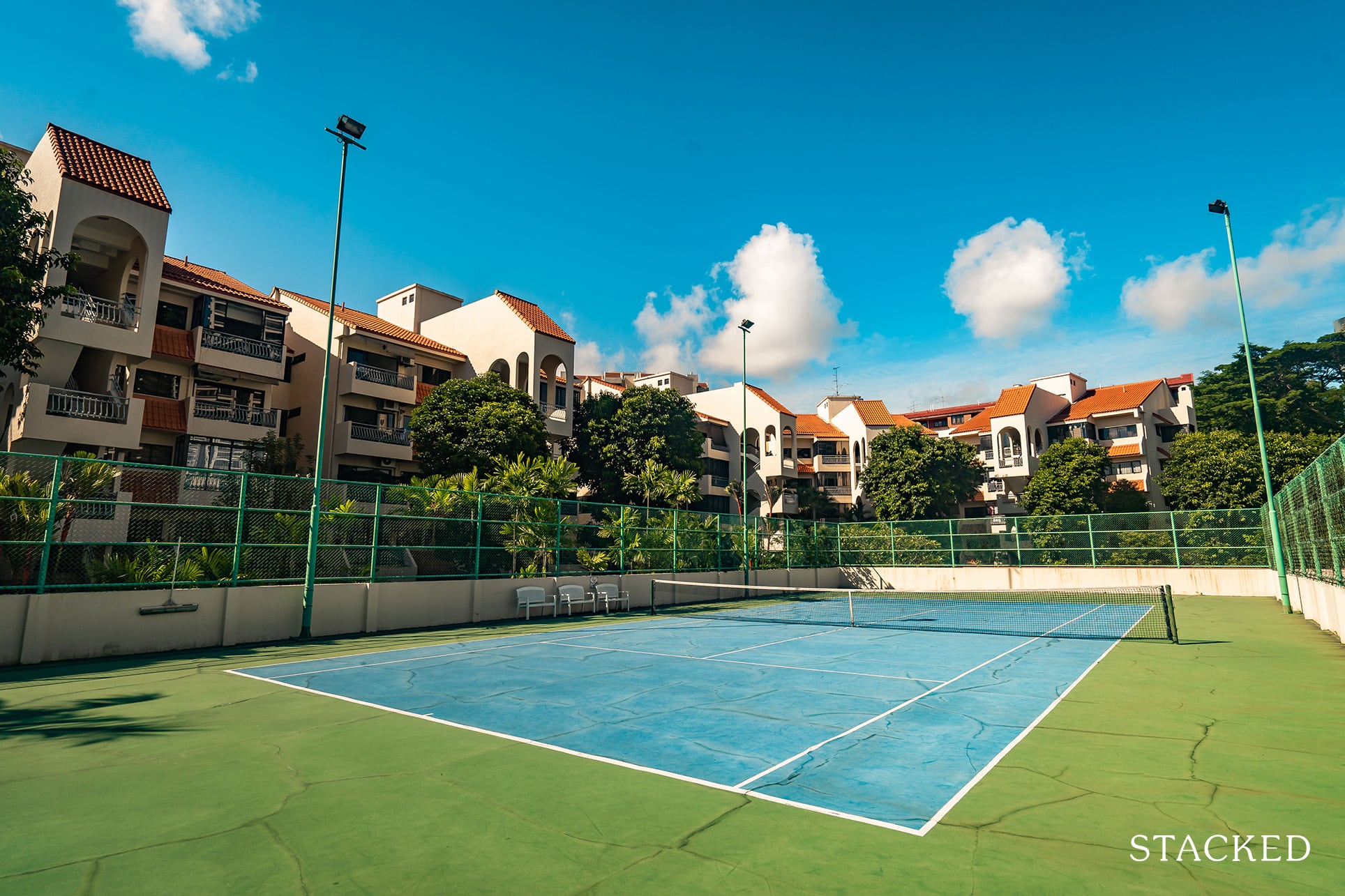 That said, one of the tennis courts here is quite badly maintained. There are cracks and areas where the surface has eroded off (this picture above is the better one).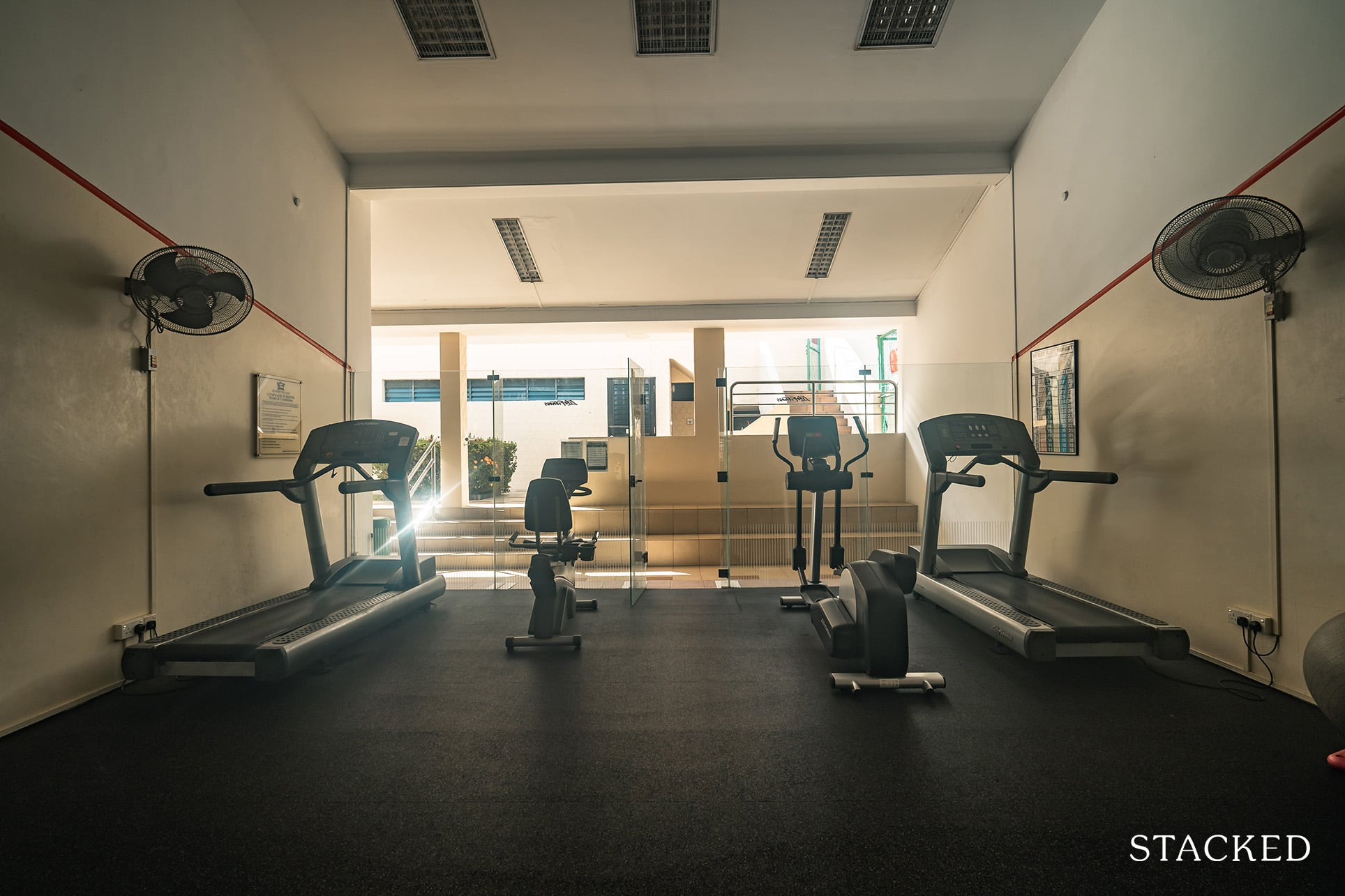 There're also two squash courts here, one of which has been turned into an open-air styled gym. There's actually a more than decent range of aerobic, weight training equipment, and weights. Of course, the downside here is the lack of air-con, but you do get a chance to sweat it out.
On a side note, it's quite interesting to observe how the different trends in Singapore have played out. There was a point in time in the 1970/80s that squash courts were all the rage, and it was a mainstay in any condo development (Sommerville Park, Pandan Valley). But now that it is seemingly a dying breed, condos have adapted to use the space as a gym, or even a table tennis area instead.
Any thoughts on which common facility you think would be a dead weight in the future?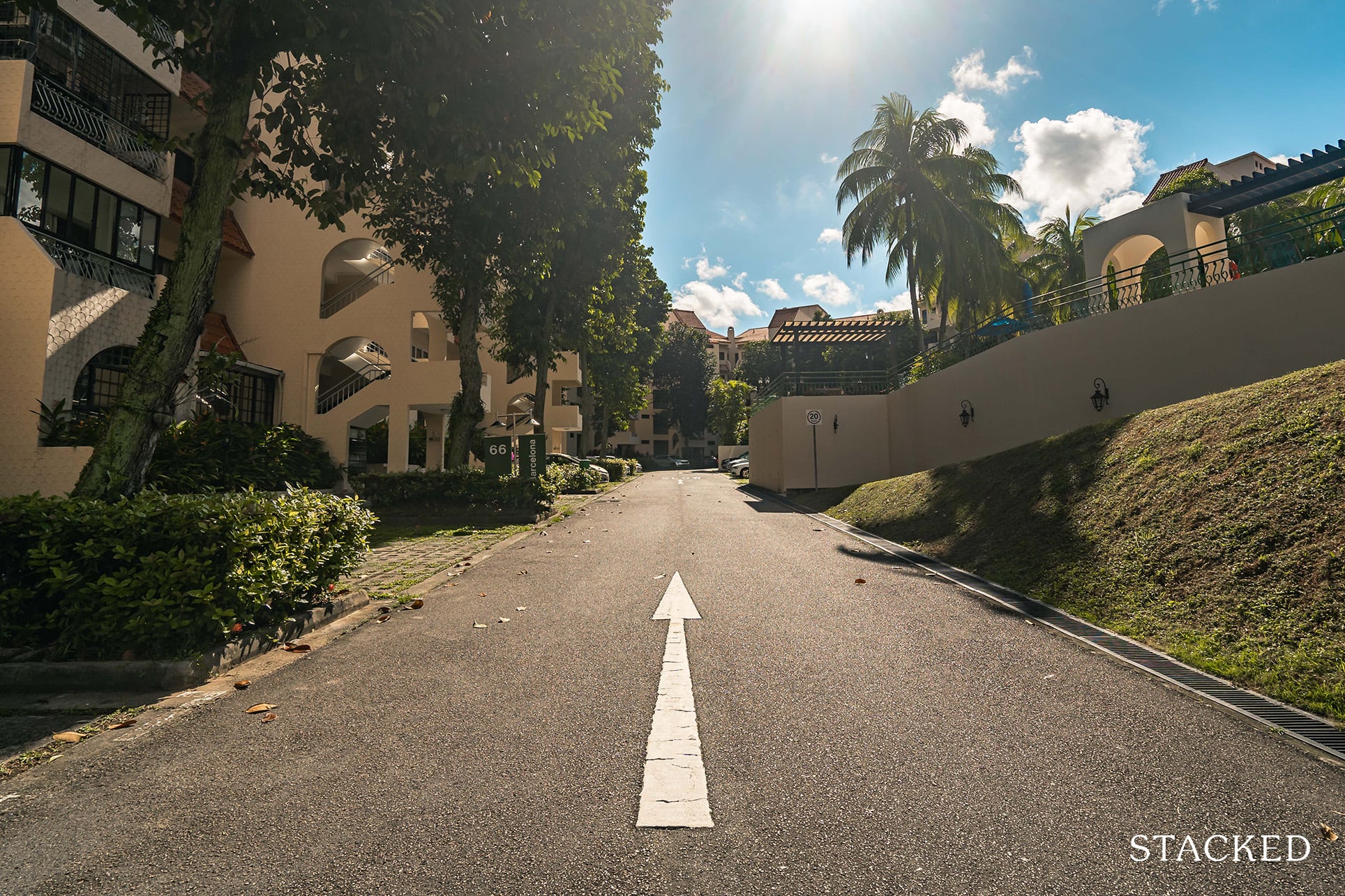 Surrounding the courtyard is a one-way road. It can be a bit inconvenient at times, as those who stay in the blocks by the entrance will always have to circle one round to drive out.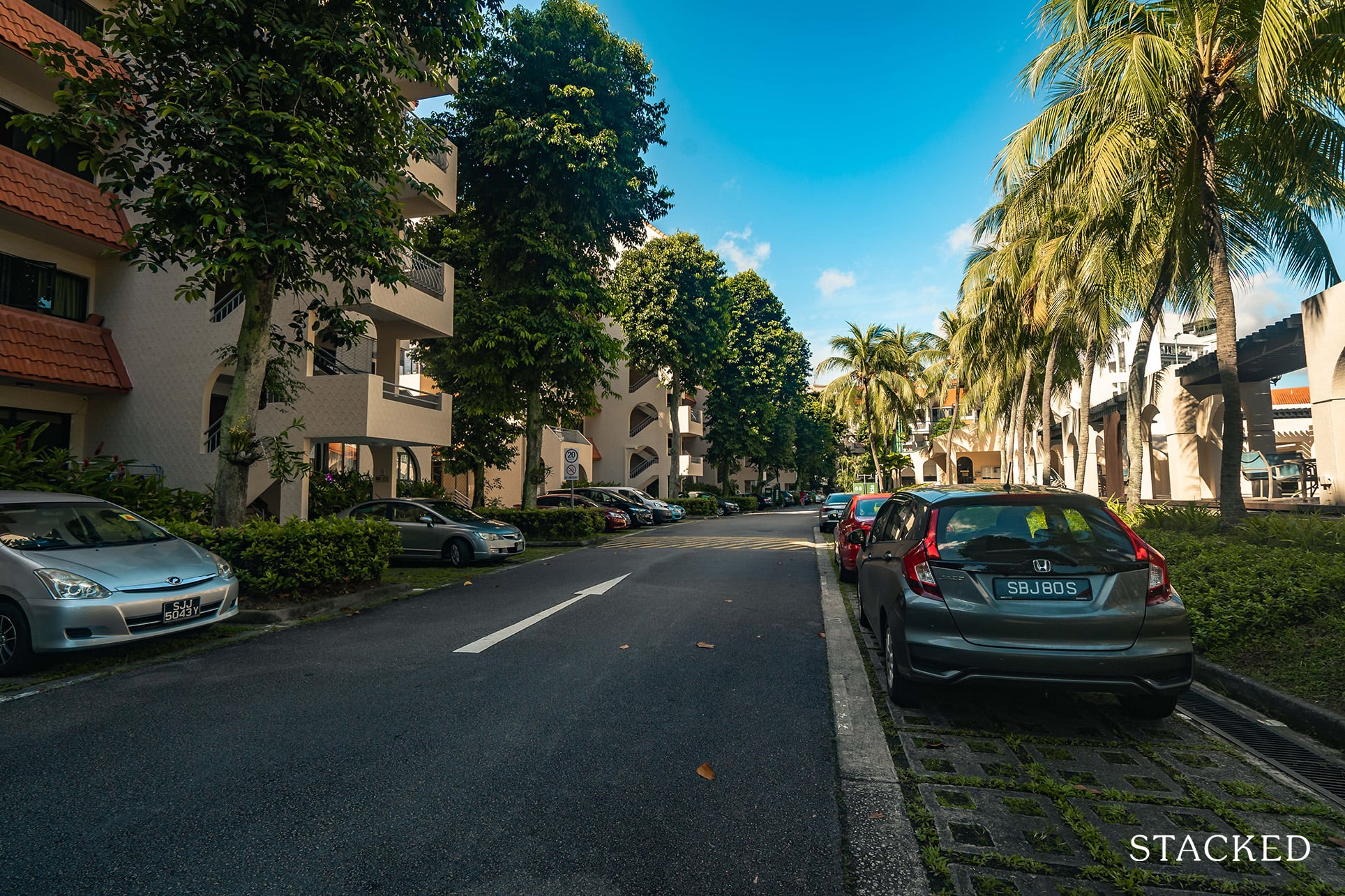 The roads are rather wide, however. So what this means is that it can double up as a jogging track of sorts for its residents – it does get quite popular during after-work hours!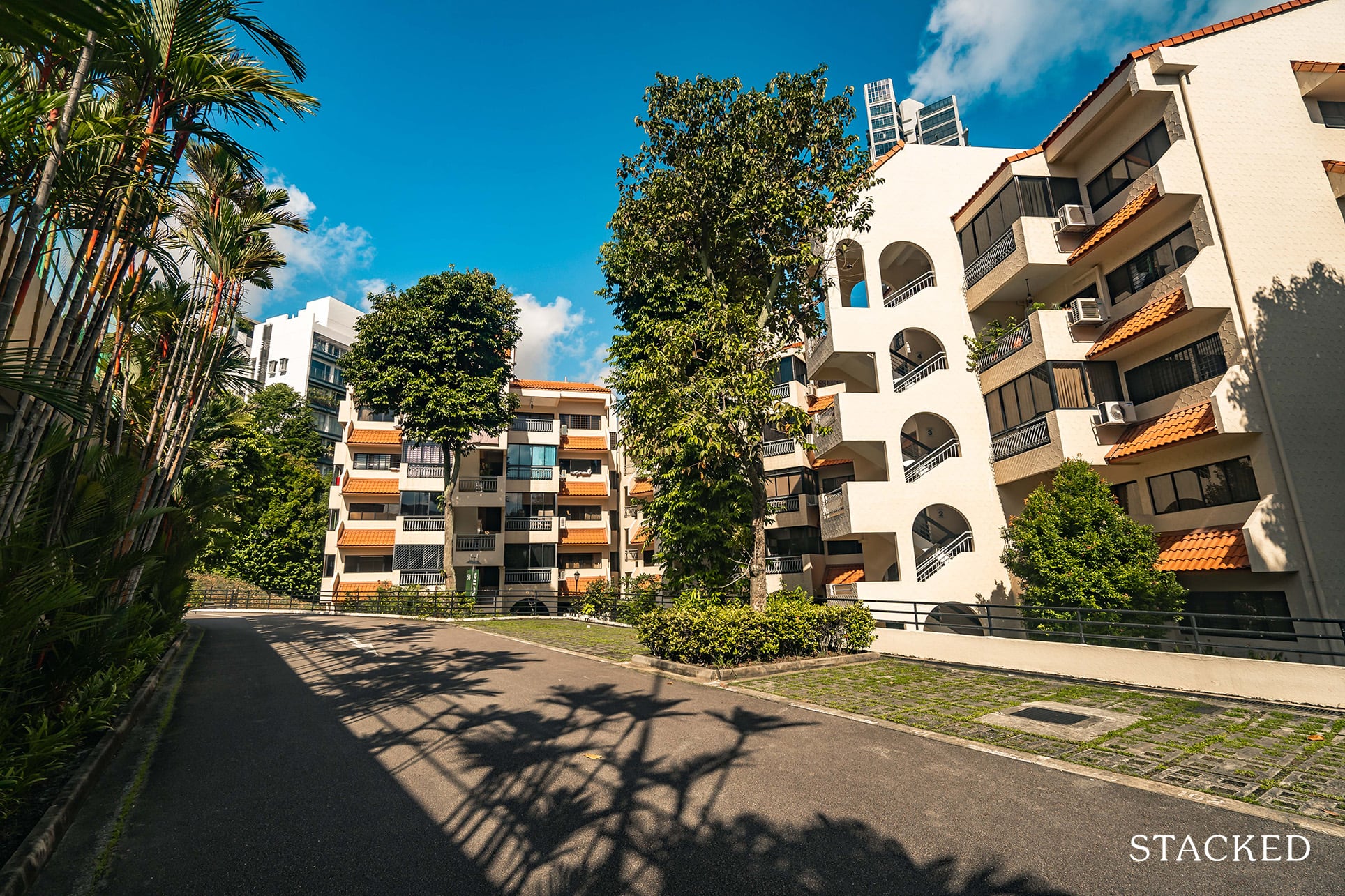 As with most other older developments, there are quite weird quirks that you will just have to contend with. In the case of Spanish Village, carpark space is plentiful – if you are at peace with leaving your car exposed to the weather.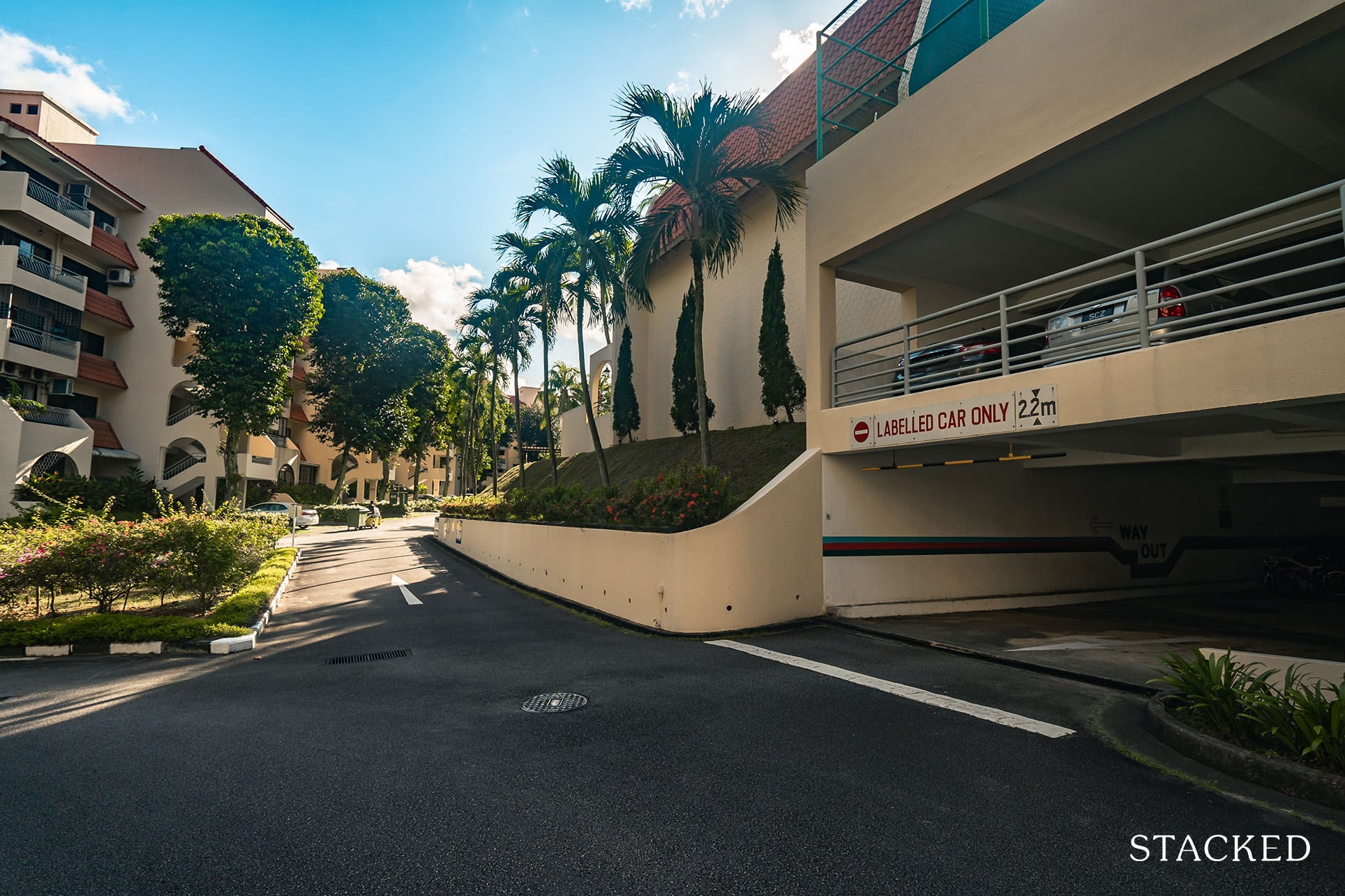 That's because the sheltered carpark is quite limited, which obviously most people would naturally gravitate towards.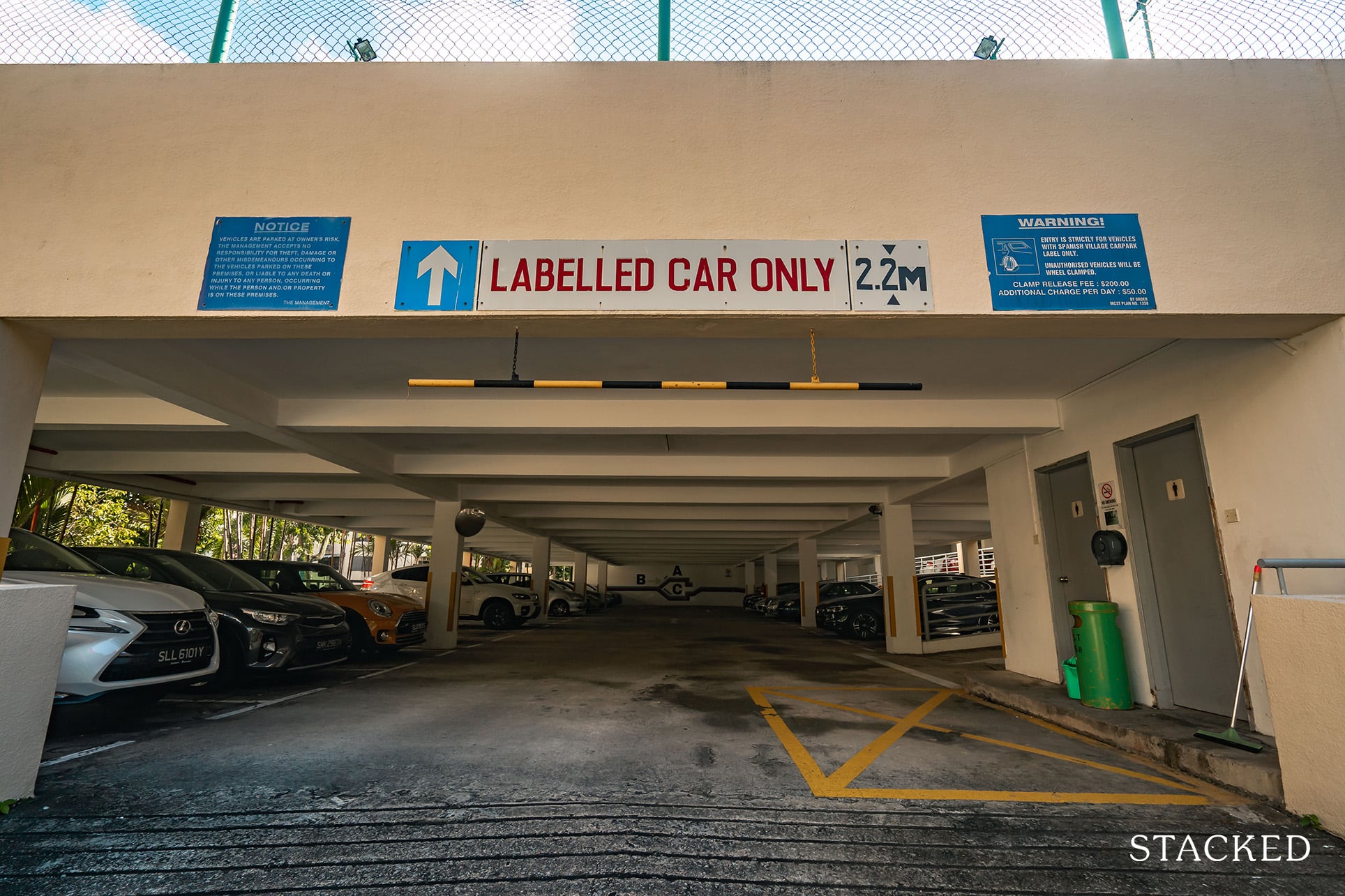 Another common problem of older carparks would be the tight spaces, especially around the ramps.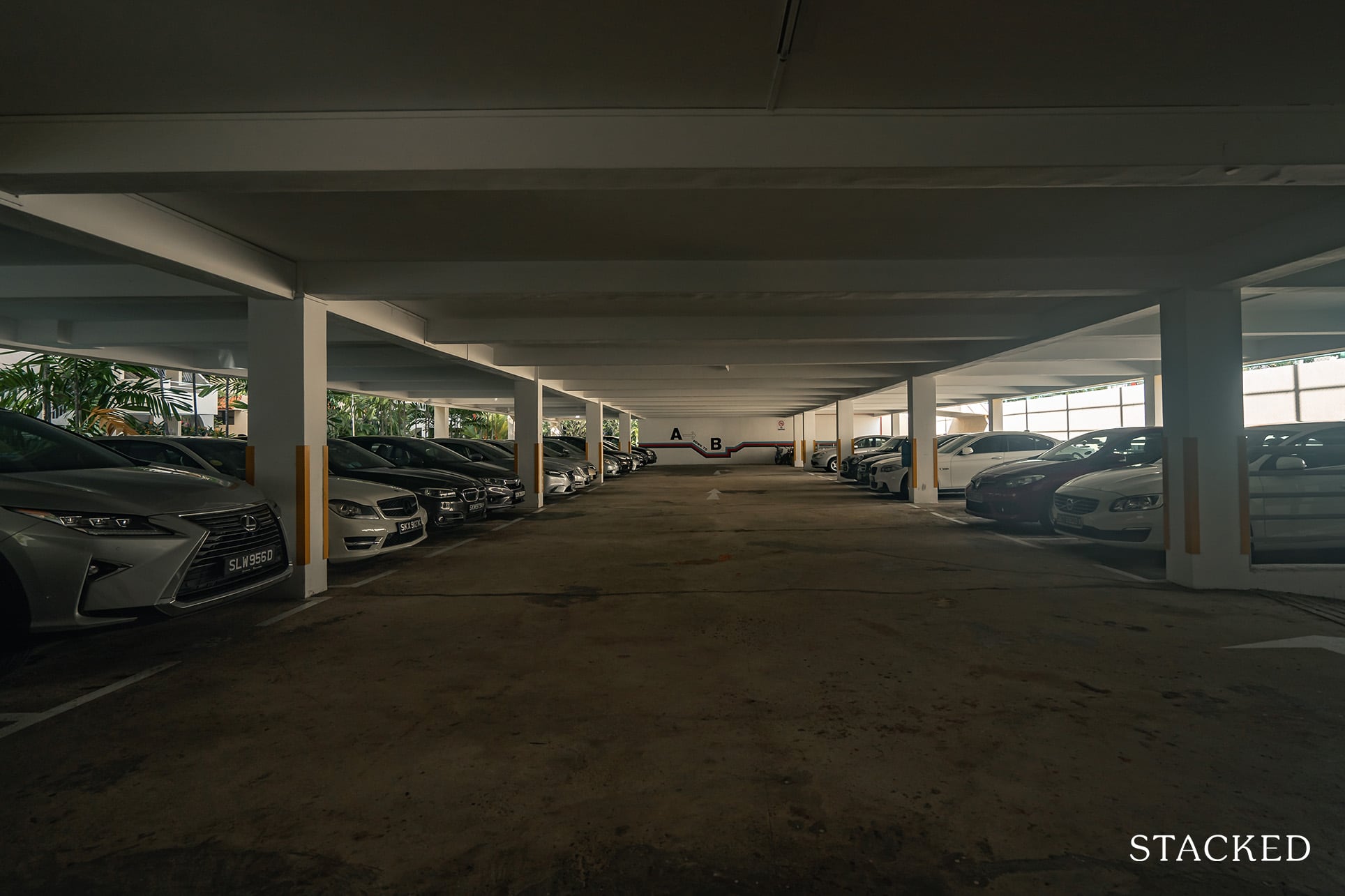 Thankfully, maneuverability in the carpark isn't a problem that you'd face here – it is relatively spacious. But here's my biggest issue with the space, there's just no shelter that connects it to the blocks. So although your car is sheltered, on a rainy day carrying groceries and an umbrella will not be a fun task at all.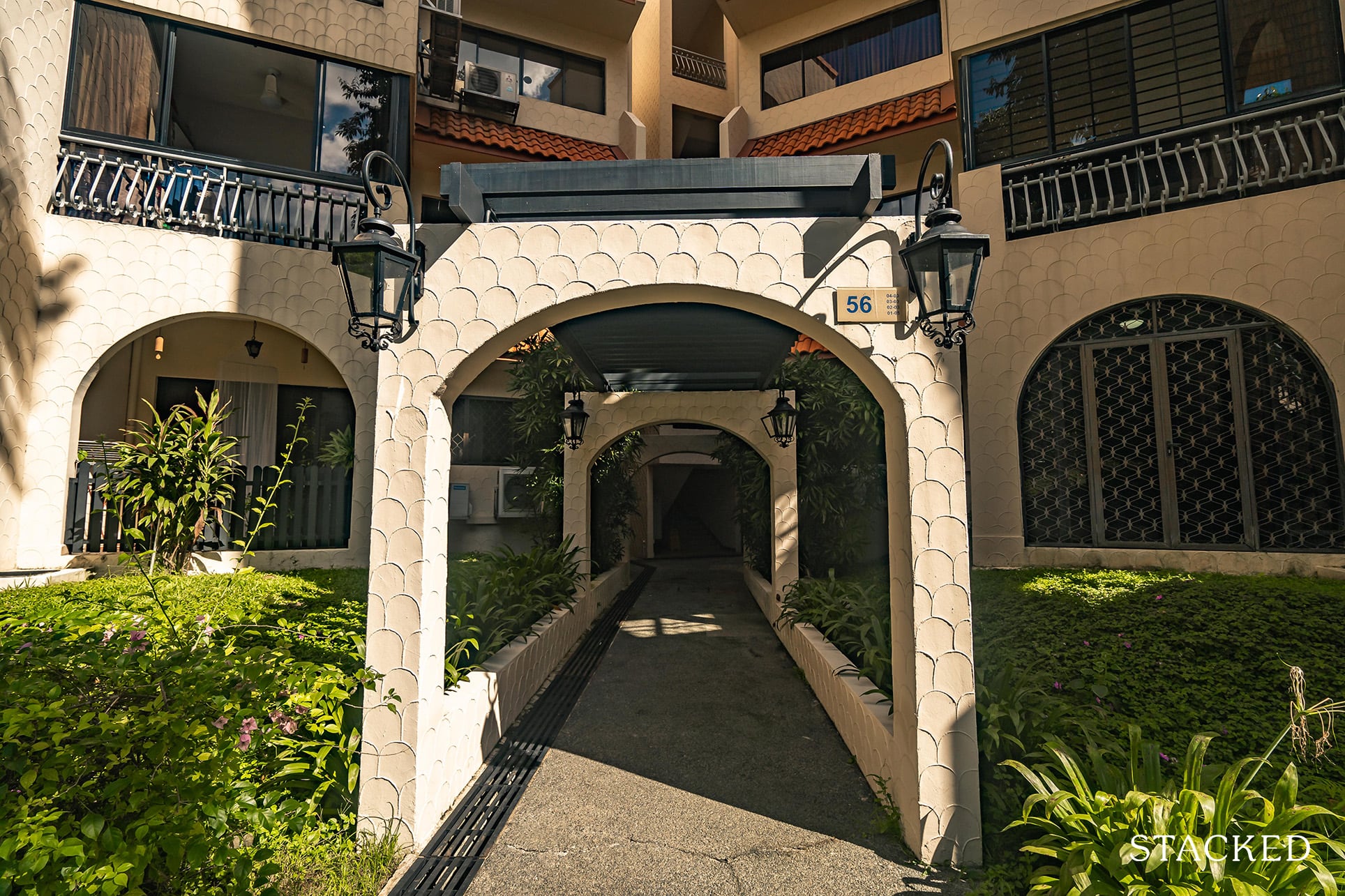 And it's a pervasive problem throughout the development – there isn't a way to get home without getting a little wet or having the need to bring an umbrella out all the time. There's no proper drop-off point with a shelter for all the blocks!
Spanish Village Location Review
Spanish Village is situated in the scenic District 10, sandwiched in between the Bukit Timah and Holland regions.

Apart from its close proximity to the CBD, District 10 boasts a number of exciting features – from Bukit Timah Hill's scenic views to a variety of popular foods and bars in Holland village.

If you ever fancy a serene and tranquil walk after a long day at work, the Singapore Botanical Gardens are a mere stone's throw away.

Spanish Village also shares fairly close proximity with a large number of educational institutes across all educational levels, including renowned schools like Anglo-Chinese School (International) and Hwa Chong Institution.

Grocery runs for fresh produce won't present much of a problem either, with Empress Road Market and Food Centre literally across the road from Spanish Village.

Additionally, if you feel like chomping down on some local delights or catching up with friends over drinks, Holland Village is just a few bus stops away.
Public Transport

| | | |
| --- | --- | --- |
| Bus Station | Buses Serviced | Distance From Condo (& Est. Walking Time) |
| 'Spanish Village' | 5N, 48, 93, 153, 165, 174, 186, 855, 961, 961M | 60m, <1-min walk |
| 'Farrer Rd Mkt' | 48, 93, 153, 165, 174, 186, 855, 961, 961M | 90m, 1-min walk |
Closest MRT: Farrer Road MRT – 400m, 5-min walk

As you would have immediately noticed, Spanish Village has pretty solid accessibility to public transport options with bus stations situated almost adjacent to the condo.

That said, the walk to Farrer Road is largely unsheltered. On the occasional rainy day, it may not turn out to be the best of journeys to the MRT.

For those who prefer taking public transport to the CBD, a single 18-min bus ride aboard Bus 186 (across 21 stops) would take you straight to Raffles Place MRT.

If your journey takes you onto the East-West Line, a 3-min ride aboard Buses 93, 156, 186, 855 or 961 (across 4 stops) would bring you straight to Commonwealth Station.

Private Transport

| | |
| --- | --- |
| Key Destinations | Distance From Condo (& Est. Peak Hour Drive Time) |
| CBD (Raffles Place) | 11.0km, 14-min drive |
| Orchard Road | 3.8km, 7-min drive |
| Suntec City | 13.1km, 20-min drive |
| Changi Airport | 27.1km, 28-min drive |
| Tuas Port (By 2040) | 30.0km, 35-min drive |
| Paya Lebar Quarters/Airbase (By 2030) | 19.6km, 21-min drive |
| Mediapolis (and surroundings) | 3.9km, 6-min drive |
| Mapletree Business City | 6.2km, 10-min drive |
| Tuas Checkpoint | 23.4km, 26-min drive |
| Woodlands Checkpoint | 18.5km, 20-min drive |
| Jurong Cluster (JCube) | 11.6km, 15-min drive |
| Woodlands Cluster (Causeway Point) | 19.3km, 21-min drive |
| HarbourFront Cluster (Vivo City) | 9.4km, 15-min drive |
| Punggol Cluster (Waterway Point) | 23.5km, 26-min drive |
*Note that Drive Times are calculated during Peak Hours

Immediate Road Exit(s): Single Exit along Farrer Road

Summary: The single-laned exit onto Farrer Road is prone to congestion during peak hours, plus traffic is quite frequently heavy on Farrer Road despite it being a 4-laned main road. A yellow-box has also been positioned here for easier exiting. Additionally, across the north and south ends of Farrer Road run Bukit Timah Road and Holland Road respectively in the direction of town. Getting to the PIE (located up north of Bukit Timah Road) is slightly less convenient though. Given the side on which Spanish Village is located, you'd have to make a U-turn at the Farrer/Holland Road intersection, before driving northward (through traffic) to the PIE.

Groceries

| | |
| --- | --- |
| Name of Grocery Shop | Distance From Condo (& Est. Walk Time) |
| Empress Market (String of Shops) | 280m, 4-min walk |
| Fairprice – Coronation Plaza | 1.5km, 19-min walk OR 2.9km, 4-min drive |
Schools

| | |
| --- | --- |
| Educational Tier | Number of Institutes |
| Preschool (within 1km walk) | 1 |
| Primary (3km-drive) | 3 |
| Secondary (5km-drive) | 9 |
| International School (5km-drive) | 7 |
| Junior College (5km-drive) | 3 |
| University (5km-drive) | 2 |
| Polytechnic (10km-drive) | 2 |
Additional Pointers

Higher Degree of Connectivity
Given the location of Spanish Village in central Singapore, residents have easy access to different regions across the country.

For starters, the nearby Farrer Road MRT Station sits on the Circle Line – perfect if you need to get to northern (Bishan MRT on the Circle and North-South Lines) or southern Singapore (Harbourfront MRT on the Circle and North-East Lines).

Getting to the East-West Line would not pose much of a problem either – Buona Vista MRT sits on both the Circle and East-West Lines, 2 stops away from Farrer Road MRT. Alternatively, a 3-min ride aboard Buses 93, 156, 186, 855 or 961 (across 4 stops) would bring you to Commonwealth Station.

Farrer Road, which lies adjacent to Spanish Village, also has exits onto Bukit Timah Road and Holland Road, with PIE and AYE a little further to the north and south respectively.

Bottom-line, no matter what your destination, you shouldn't experience too much difficulty getting there – thanks to Spanish Village's prime locale in central Singapore.

Shopping Opportunities…a Little Further Off
For those who go on regular grocery or shopping runs, Spanish Village is in relatively close proximity to quite a number of shopping malls – specifically a cluster of malls along Bukit Timah Road.

These malls include Serene Centre (nearest), King's Arcade Shopping Centre, and Coronation Plaza – featuring a platter of services and F&B outlets, and plenty of entertainment options.

They aren't exactly within a comfortable walking distance though.

The nearest Serene Centre is a 20-min walk away, so it is advisable to travel by public transport or car for your comfort's sake.

On top of that, the heart of Singapore's shopping scene, Orchard Road, is not too far away either – no more than a 10-min drive or bus-ride in the direction.

Location-wise, Spanish Village and its neighbours are winners in terms of surrounding opportunities, but perhaps less so when considering their immediate surroundings (ie. large roads and few amenities save for Empress Market).

Spanish Village Development Site Review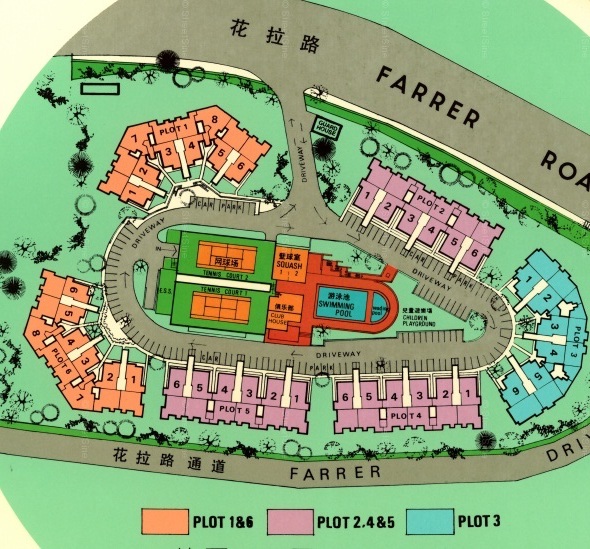 First off, do pardon the lack of detail in this Spanish Village site plan, I know it does look a tad outdated (read: ancient).

Spanish Village sits on a very broad site of 331,460 sq ft considering the mere 226 units you'd find here.

The residential blocks here are all low-rise buildings – giving the residence a very spacious touch (almost like that of a resort of yesteryears), unlike other densely-populated high-rise residences that you might find… like the D'Leedon just across the road for example.

Note that the project also sits on elevated land, and while this part of D10 isn't exactly a 'lowland' area, the feature will help stave off any potential flash floods during monsoon seasons.

Its Spanish-themed architecture and open spaces also give off a warm and nostalgic community-like atmosphere that makes it perfect for those looking for peace in their retirement years or perhaps looking to raise kids with an abundance of space nearby.

On the topic of spaciousness, the layout of the 5-storey blocks (or stacks), also contributes to the feel- all 6 stacks are neatly arranged around the residence's main facilities. If it weren't for the multiple units stacked in each plot, Spanish Village could very well be a cluster home development.

As mentioned earlier, being along Farrer Road does have its perks connectivity-wise, but it also has its disadvantages.

For instance, there are other residences near this road too, including upcoming ones like Leedon Green, One Holland Village Residences, and Wilshire Residences. Naturally, that means that the already-heavy traffic flow here is only going to get worse over time.

With both Farrer Road and double-laned Farrer Drive running adjacent to Spanish Village, few residents in this low-rise development are spared from the noise disturbances associated with heavy traffic flow.

As for the facilities, Spanish Village might not have as much variety as other larger or newer developments, but it certainly boasts the more 'essential' facilities – some of which include a sheltered car park, a swimming pool, a sauna, a gymnasium, and 24-hour security.

All things considered, despite its humble setting (and exposure to noise pollution), Spanish Village has much to offer in terms of livability – further expanded by its convenient location in District 10.

Best Stacks

Unit Mix

| | | |
| --- | --- | --- |
| Unit Type | No. Of Units | Size of Units (sqft) |
| 1-Bedroom | 40 | 700 – 786 sqft |
| 2-Bedroom | 33 | 1,109 – 1,163 sqft |
| 3-Bedroom | 153 | 1,528 – 2,368 sqft |
For a development this small, it is often typical to have a simple range of unit types, much like many other older developments.

Being a low-rise residence, Spanish Village does not offer units with spectacular views.

But these units do make up for that with unrivaled spaciousness – as you can see from the 3-bedders (which also happens to be the most abundant unit type).

Note that this will also contribute to larger overall quantum fees per unit even if PSF-values here might seem more affordable when compared to its new launch neighbours across the road.   

Best Stacks

Price Review
| | | | |
| --- | --- | --- | --- |
| Project Name | Tenure | TOP | Average Price (PSF) |
| Spanish Village | Freehold | 1987 | $1,633 psf |
| Sutton Place | Freehold | 1989 | $1,178 psf |
| The Levelz | Freehold | 2004 | $1,654 psf |
| Gallop Gables | Freehold | 1997 | $1,721 psf |
| Sommerville Park | Freehold | 1985 | $1,796 psf |
Here we have a price list of other freehold resale condos in the immediate vicinity of Spanish Village. I have left out D'Leedon and Pollen & Bleu, as well as the newer developments like Leedon Residence and Leedon Green, simply to keep this comparison within neighbouring (older) resale/freehold projects for would-be buyers/renters performing their research of the area.

To start things off, let's talk about the more pricey developments on this list – Sommerville Park and Gallop Gables.

Sommerville Park, the oldest residential on this list, features a wide range of facilities, shares close proximity with Farrer Road MRT, and is much closer to the intersection between Farrer Road and Holland Road (both main roads).

What further bumps up the average price PSF here, is likely to be Sommerville Park's quiet setting in the area – the main roads might be nearby, but the low-rise residence is 'tucked' away amidst surrounding mature foliage (which, unlikely as it might sound, actually does a fine job in curbing noise pollution here while adding to the 'seclusion' factor that we've come to treasure here in modern-day Singapore).

Gallop Gables is another aged residence with great long term en bloc potential. This condo sits on a 2.4-hectare site with a mere 140 units – adding a great degree of spaciousness to the residence. And similarly to Sommerville Park, Gallop Gables boasts a quiet and peaceful setting despite its proximity to Farrer Road.

On the other end of this price spectrum would be Sutton Place, another fairly-old development with a far smaller price tag compared to Spanish Village and Sommerville Park. You could attribute the residence's lower premiums to its smaller range in facilities compared to neighbouring condos, and less-elaborate exterior design.

Like Spanish Village and Gallop Gables, Sutton Place certainly has en bloc potential, although its past attempt at an en bloc sale back in mid-2018 was unsuccessful.

Interestingly enough, we find that the middle of the psf list is reserved for the youngest project on the list, The Levelz.

This condo not only features a set of full facilities that is more than enough for the residents of its 126 units but also some very promising appreciation potential – since its launch in 2001, The Levelz has appreciated from $829 psf to its current average of $1,633 psf (an increment by almost 100%).

Further given its smaller unit sizes, its overall unit quantum might be attractive to those who do not have an out-and-out preference for large unit spaces.
Spanish Village Appreciation Analysis


Despite its age and 'older' exterior design, Spanish Village has appreciated in tandem with the housing market and economy over the years – from prices as low as $726 psf back in July 2000, to $1,633psf currently.

There is little to suggest that Spanish Village will not continue on its gradual appreciation trend as housing market prices continue to grow post-pandemic save for its en bloc potential (which I'll touch on in a bit).  

It has a great degree of connectivity to town (as well as the rest of Singapore), and the fact that it shares close proximity to key amenities and public transportation options shouldn't go unnoticed as well.

Additionally, there is a huge number of New Launches popping up in not just the immediate vicinity of Spanish Village, but the entirety of District 10 – namely Fourth Avenue Residences, Leedon Green, 15 Holland Hill, Hyll on Holland, and One Holland Village Residences. 

With these New Launches and the possibility of redevelopment to older developments in the area, we can expect increased demand for the remaining condos here, as we've no doubt already seen with the implementation of One Holland Village Residences.

As many of you would know, a combination of these factors is always a huge driving force for gains in a property's capital appreciation.

That said, there is still a huge question mark on everyone's minds as we've ascertained earlier.

Given Spanish Village's enormous en bloc potential, and past 3 attempts at an en bloc sale, it is understandable that many homeowners here are reluctant to let go of their units in the hope of striking en bloc gold.

To give you a little more history of the previous bids, the first 2 attempts were made in mid/end-2018, during the later phases of the '17/'18 en bloc craze and the tail end of the property market stagnation post-2013 cooling measures. 

The third attempt was made a year after the 2018 revision to the cooling measures to no avail, once again showcasing the local community's hunger for a collective sale.

Judging from historic data, the next en bloc fever could happen in the next 10 years. But of course, Spanish Village could be collectively sold anytime before then, paving the way for a much higher-priced development here in the future.

(Do you feel Spanish Village will be sold en bloc any time soon? Let us know in the comments below!)

To conclude this analysis with something a little more definitive, let's pop on to the rental side of things.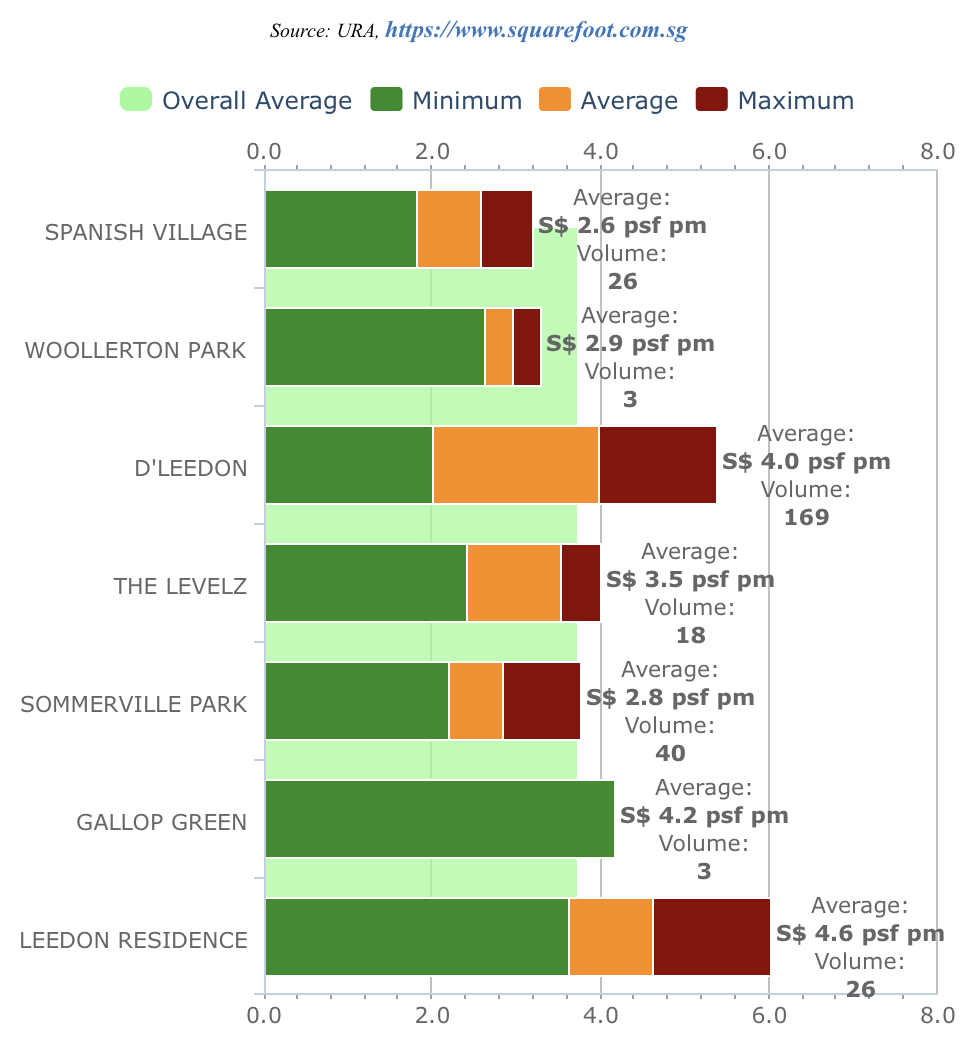 Compared to its neighbours, Spanish Village does not boast very high rental prices, making this condo a more affordable option for possible tenants.

However, I do need to add that the rental yield here is rather low – 1.89%. If you are an investor, you may be aware that rental yield even in the other residences surrounding Spanish Village is just about average – ranging between 2% to slightly under 3%.

In other words, the condo's a great rental option for tenants budget-wise, but perhaps not so much for current/would-be landlords.

Our Take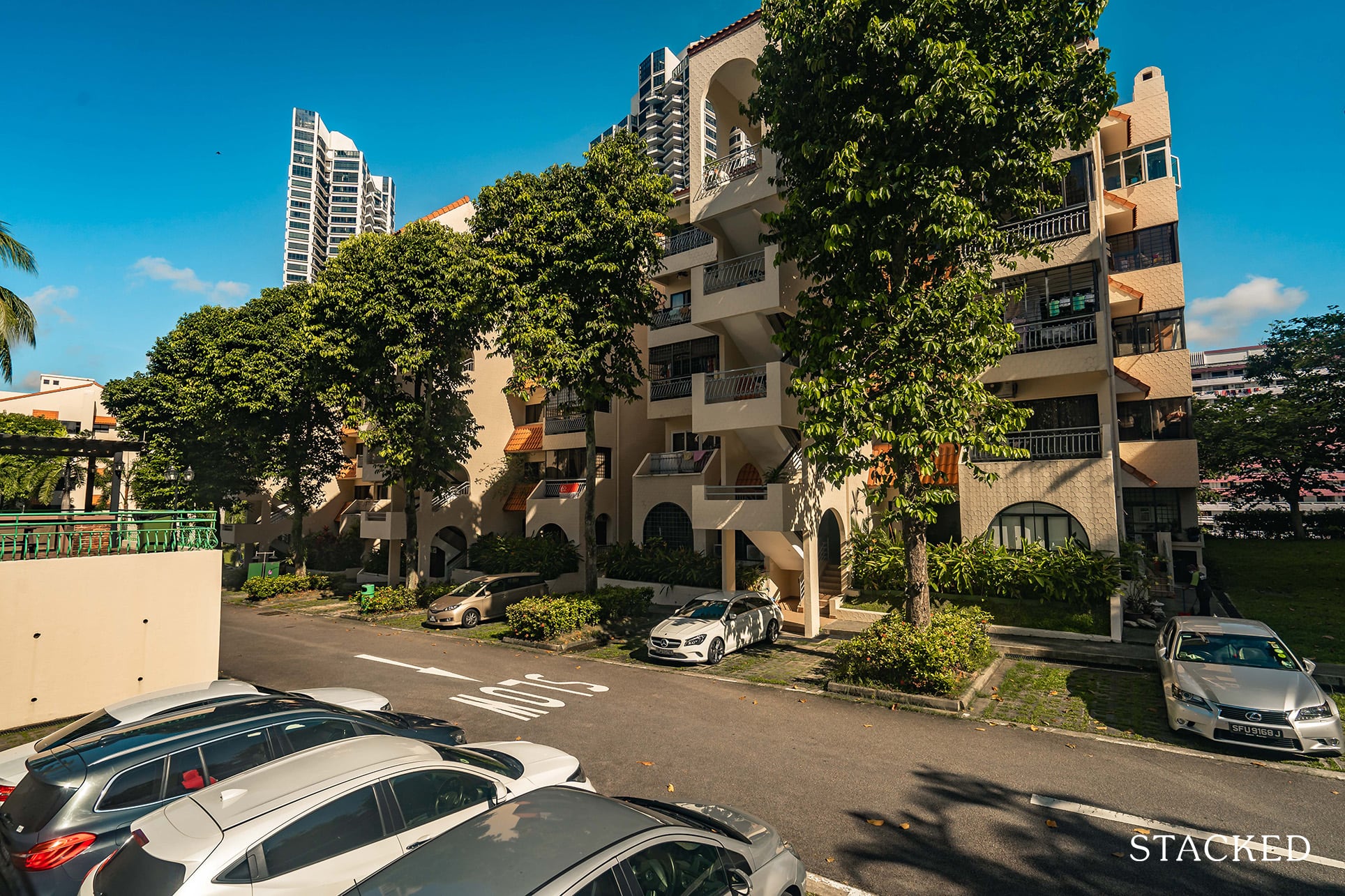 At the end of the day, the perks of staying in Spanish Village are clear for all to see.

The condo has good connectivity and close proximity to key amenities, but its biggest perk is really its livability aspect. The surrounding Spanish architecture and community-like feel that you get when stepping into the condo's grounds is something that few other projects in Singapore can replicate.

Additionally, there is also little to go against the idea that Spanish Village will continue making gradual gains in capital appreciation in the years to come if it isn't snapped up as part of an en bloc sale.

Further given its current rental fees, it does seem like a great option for tenants looking for a place in the area, provided that they do not mind a slightly older project at that.

For those looking for long-term options however, it would be safer to leave this as your last bet if you're seriously looking for a home to settle down in for the long haul.

After all, one of the last things any homeowner would want would be to move in right before the other owners agree to an en bloc sale.

Developer Notes:

Far East Organization is by far, the largest and one of the most successful private property developers in Singapore.

Unknowingly, most of us have already patronised some of their developments in one way or another through mall developments like Clarke Quay Central, Orchard Central, Junction 10, and even West Coast Plaza.

Founded in 1960 by the adored (late) Singapore entrepreneur Ng Teng Fong (yeah that's the guy who also has a Hospital named after him), Far East Organization has contributed extensively to the transformation of the country's urban landscape.

It boasts a portfolio of over 780 developments, including 55,000 private homes. Some of its incredible residential projects include Bullion Park and One Holland Village Residences – feel free to check out our past reviews on them!

Far East's subsidiaries include Far East Orchard Limited, Yeo Hiap Seng Limited, and Far East Hospitality Trust, which has made a name for itself on the Singapore Exchange Securities Trading Limited (SGX-ST) having been the only listed Singapore-focused hotel and serviced residence hospitality trust since its IPO in 2012.

Unsurprisingly, the developer's presence doesn't exist solely in Singapore (or even Asia, for that matter). To date, Far East has also established a growing portfolio of investment properties and development sites in locations across Australia, with investments in partnerships and acquisitions worth A$2 billion!

By venturing into a foreign market that operates to a different economic cycle from Asia, yet continually juggling top-notched real estate projects back on home turf, Far East Organization has proven time and again that their operations are both diverse and extremely well-organised.

Well-supported by quality values, vast experience, and strong leadership, this is a company that has both the respect of the public (an often underestimated factor in long-term appreciation trends) and promising potential in both their local ventures and current wares.
What this means for you
You might like Spanish Village if you:
• Prefer a Spacious ResidenceWith only six 5-storey blocks (or 226 units) sharing an expansive site area of 331,460 sqft, residents can expect to feel a great degree of spaciousness here.
• Are an En Bloc HunterAs mentioned earlier, Spanish Village has incredible opportunity for an (eventual) successful en bloc sale given its tenure, age, location and current population to land density.
You might not like Spanish Village if you:
• Prefer Residences with Less Noise PollutionSpanish Village may not be next to an MRT track, but residents are still prone to experiencing noise pollution from the adjacent Farrer Road and Farrer Drive.
• Are Planning to Stay for the Long TermAs mentioned, Spanish Village has great en bloc potential, and it may not be too long till it is purchased in a collective sale for redevelopment in the coming decade or so.
End of Review