New Launch Reviews

RoyalGreen Review: Luxury Freehold Condo in Sixth Avenue
Reuben
October 17, 2019

21

min read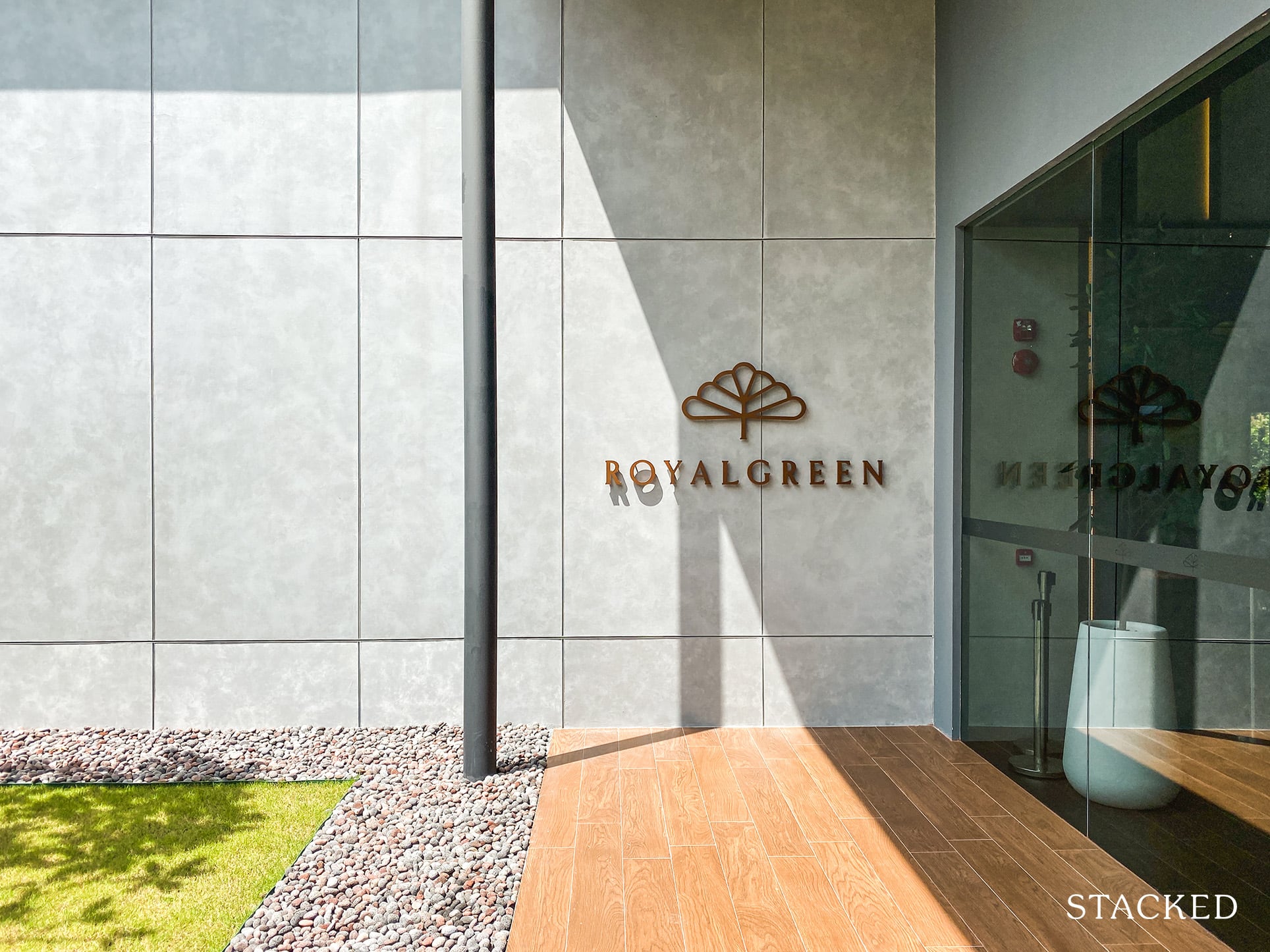 RoyalGreen represents an opportunity to own a luxury freehold condo in an incredible location. The plethora of education options make it especially attractive to families. However, traffic jams could be a concern here, and units are not generally huge compared to its predecessors.
Reviewed by Reuben on October 17, 2019
What we like
Freehold

Really near MRT

Close to food and amenities

Near good schools
What we don't like
—

Smallish units for the 3/4 bedroom

—

No. of parking lots
21
min read
About this condo

| | | | |
| --- | --- | --- | --- |
| Project: | RoyalGreen | District: | 10 |
| Address: | Anamalai Avenue | Tenure: | Freehold |
| Site Area: | 174,176 sqft | No. of Units: | 285 |
| Developer: | Allgreen Properties Limited | TOP: | 2022 |
District 10 is ready to welcome a royal addition to its already stunning lineup of glamourous condominiums come December 2022.
Plans for a one-of-a-kind bird's nest-like tennis court coupled with a scenic roof-top jogging path and an entire litter of sky decks have been set in motion as part of this multimillion-dollar luxury project.
Just 285 unique freehold apartments are set to be spread across 8 blocks of 5-storey flats – a solid mix of 2 to 4-bedroom units.
If you dig a little deeper, you'll also observe top-notch interior furnishings, floor to ceiling windows and well thought out unit layouts (maximised space-efficiency) – all courtesy of the RoyalGreen's luxurious allures.
Combined with the proposed Bukit-Timah-Rochor-Green corridor, Bukit Timah education belt and solid proximity to Sixth Avenue MRT, it does seem like one hell of a development.
For more useful tidbits as well as detailed pictures of its show flat units, be sure to check out our full analysis below!
Insider Tour
Facilities in RoyalGreen
Reflexology Deck
Meditation Pavilion
Outdoor Fitness Area
Recreational Tennis Court
Gourmet Pavilion
Hammock Garden Deck
Garden Pavilion
Swing Garden Deck
Play Deck
Playground
BBQ Pavilion
Poolside BBQ Pavilion
Spa Pool
Pool Deck
50m Lap Pool
Canopy Deck
Children's Pool
Clubhouse
Function Room
Party Room
Reading Room
Children's Indoor Play Area
Gym
Party Deck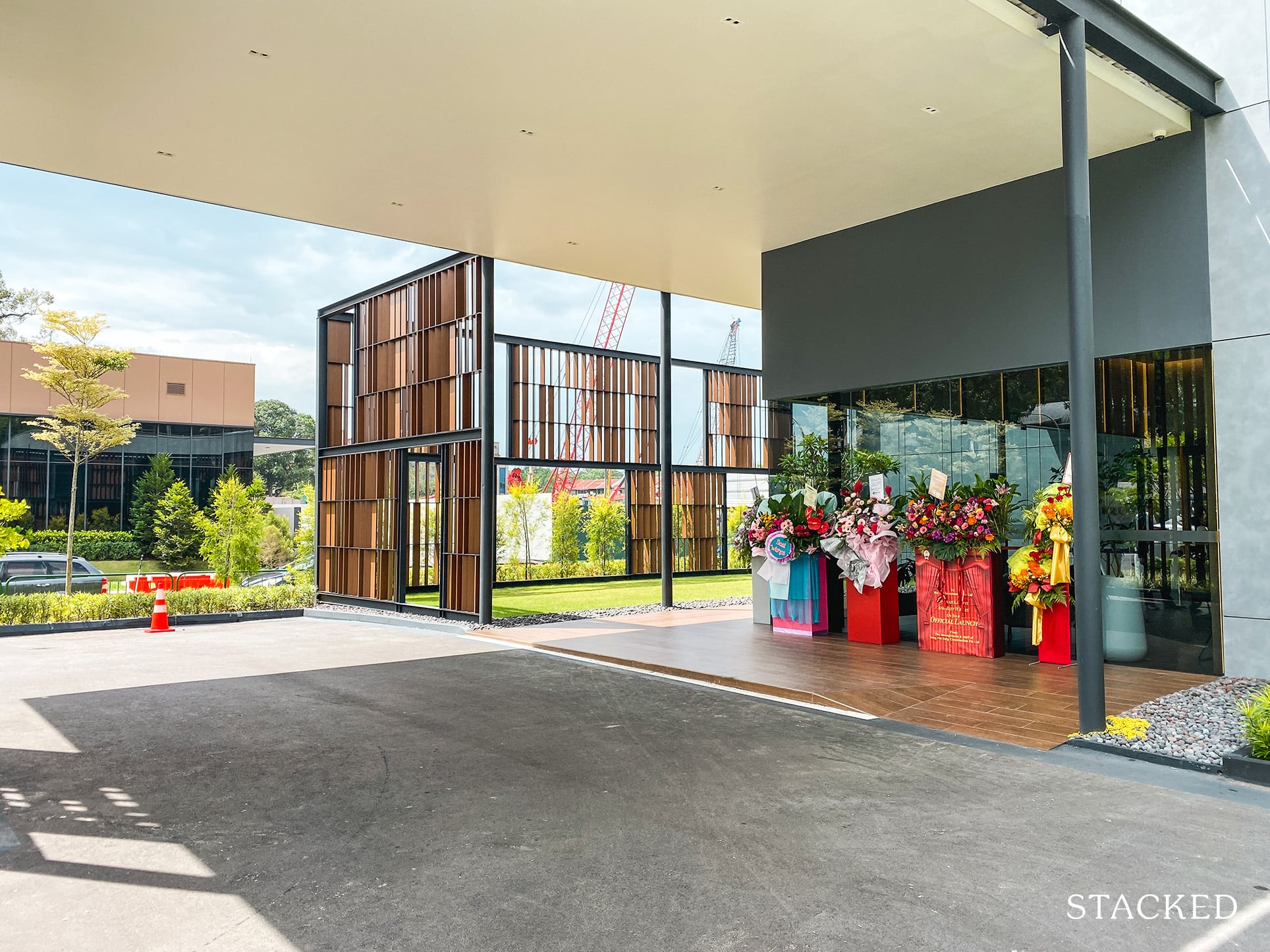 The RoyalGreen showflat is right opposite Fourth Avenue Residences (a 99-year leasehold project by Allgreen too). On first impression, it does look very similar in terms of colours and branding. I do think more could have been done to set the projects apart from the difference being leasehold and freehold.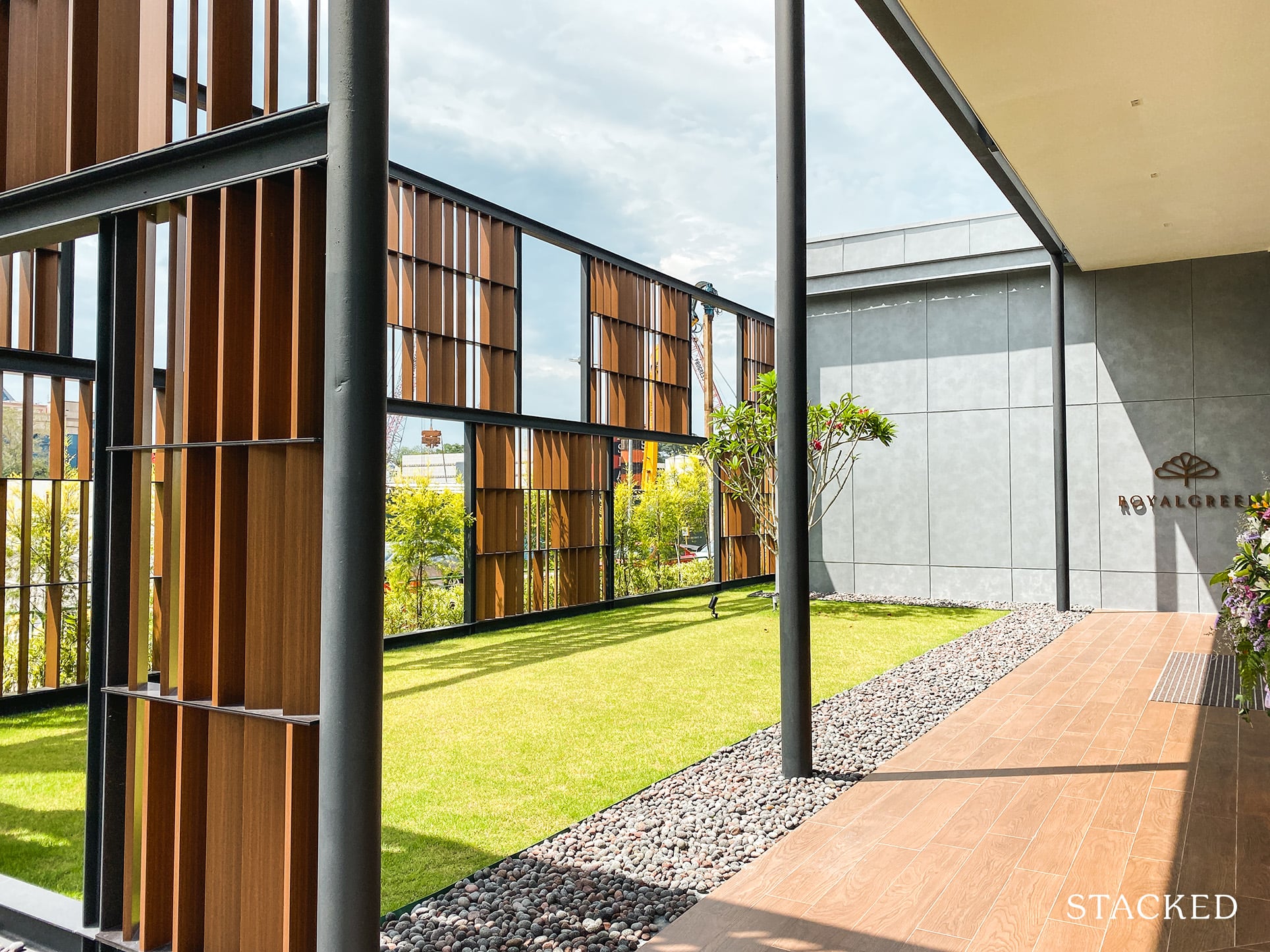 That's not to say that the branding of the development is bad. Sure, these colours are no different from many of the new luxury launches today, but there is a reason why everyone is sticking with them.
In case you aren't familiar, the former site (Royalville) had a very old-fashioned name so I'm glad they didn't stick with that. RoyalGreen does sound a lot more current and grand.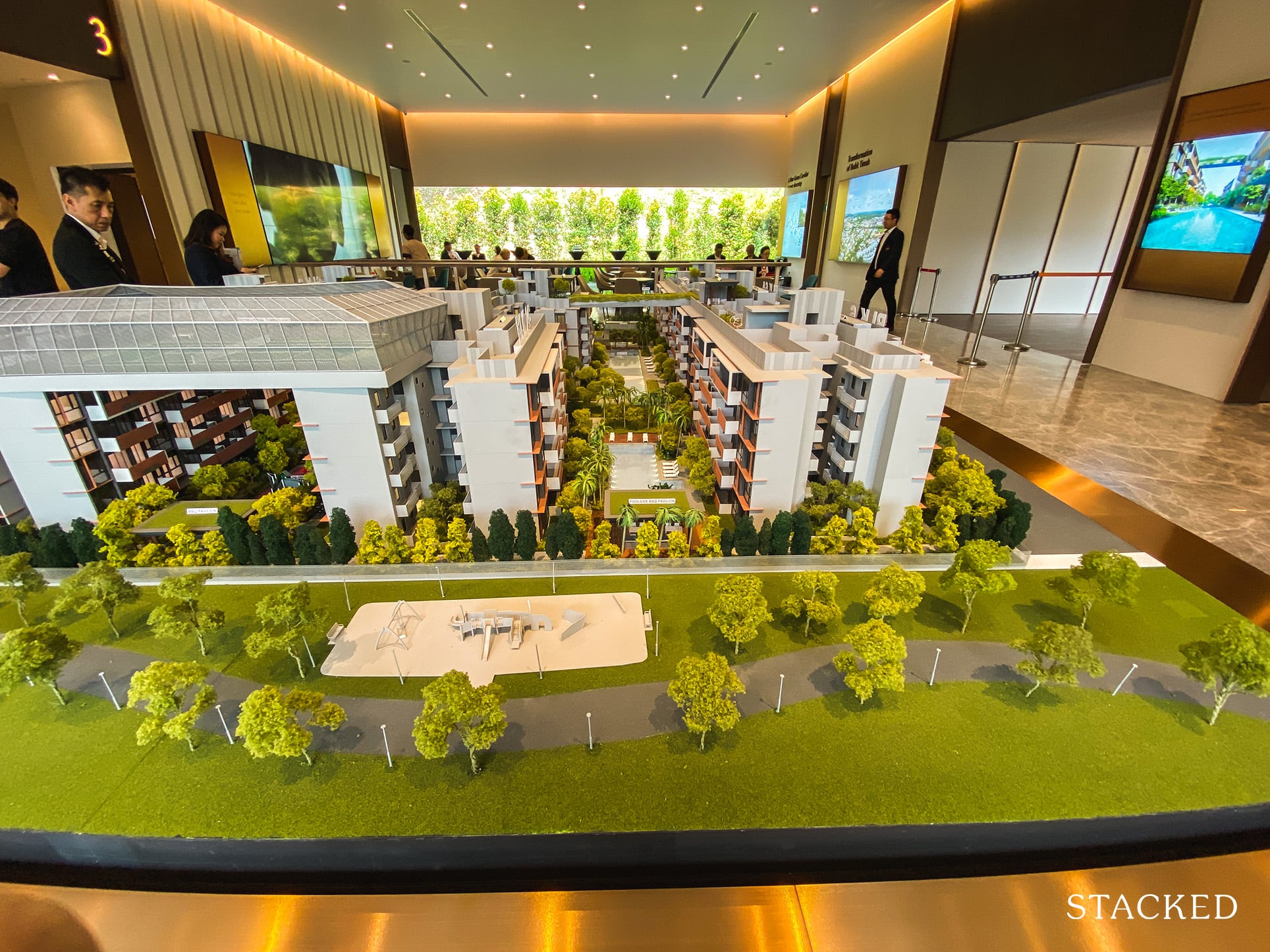 With 285 units on 174,000 square feet of land, the RoyalGreen is just about average when it comes to a project positioned to the higher end of the market.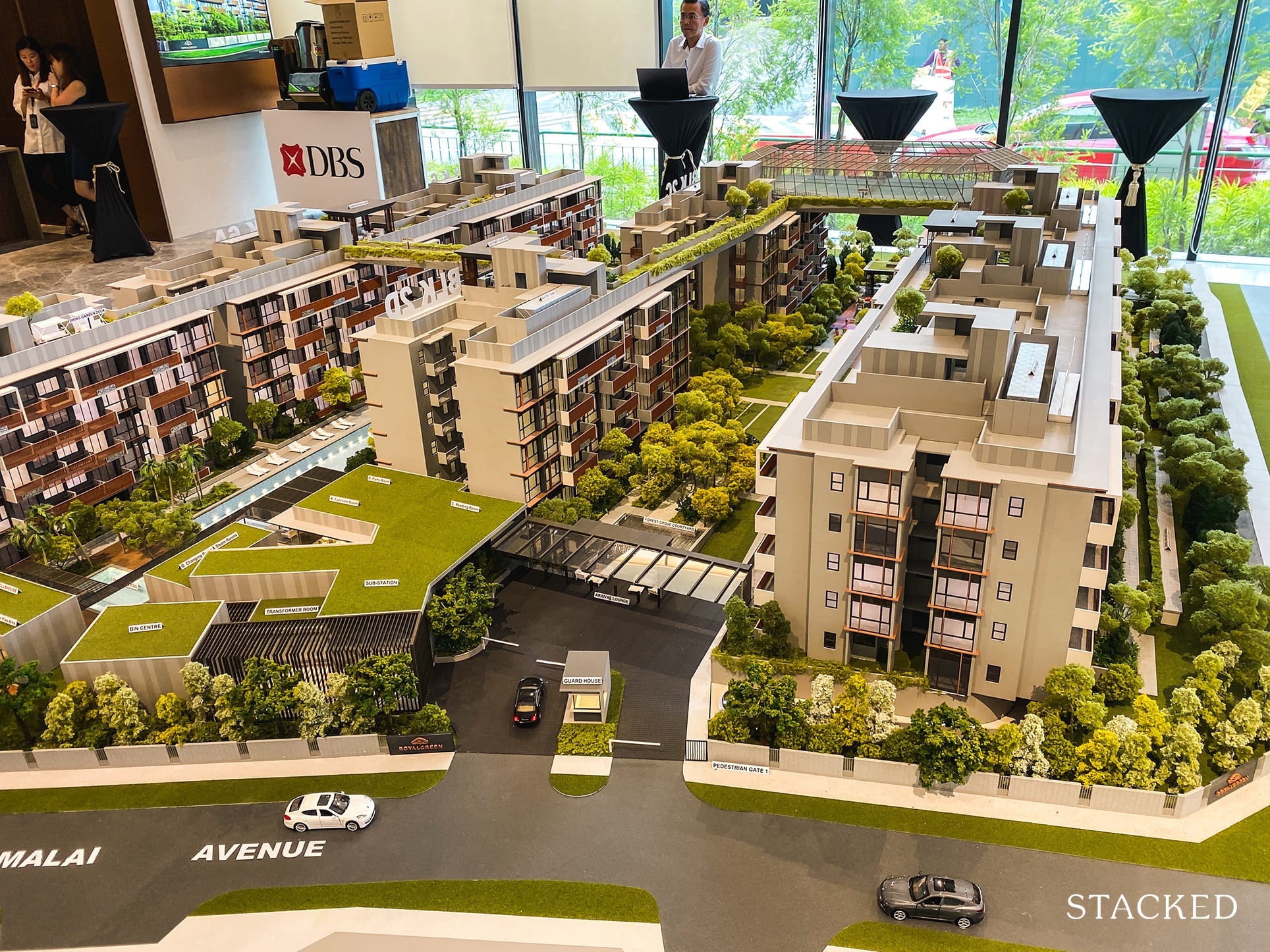 The main entrance is through Anamalai Avenue, which you can access from both Sixth Avenue and Bukit Timah Road. Based on first impressions, I do like the grey tones and pops of colour from the balconies.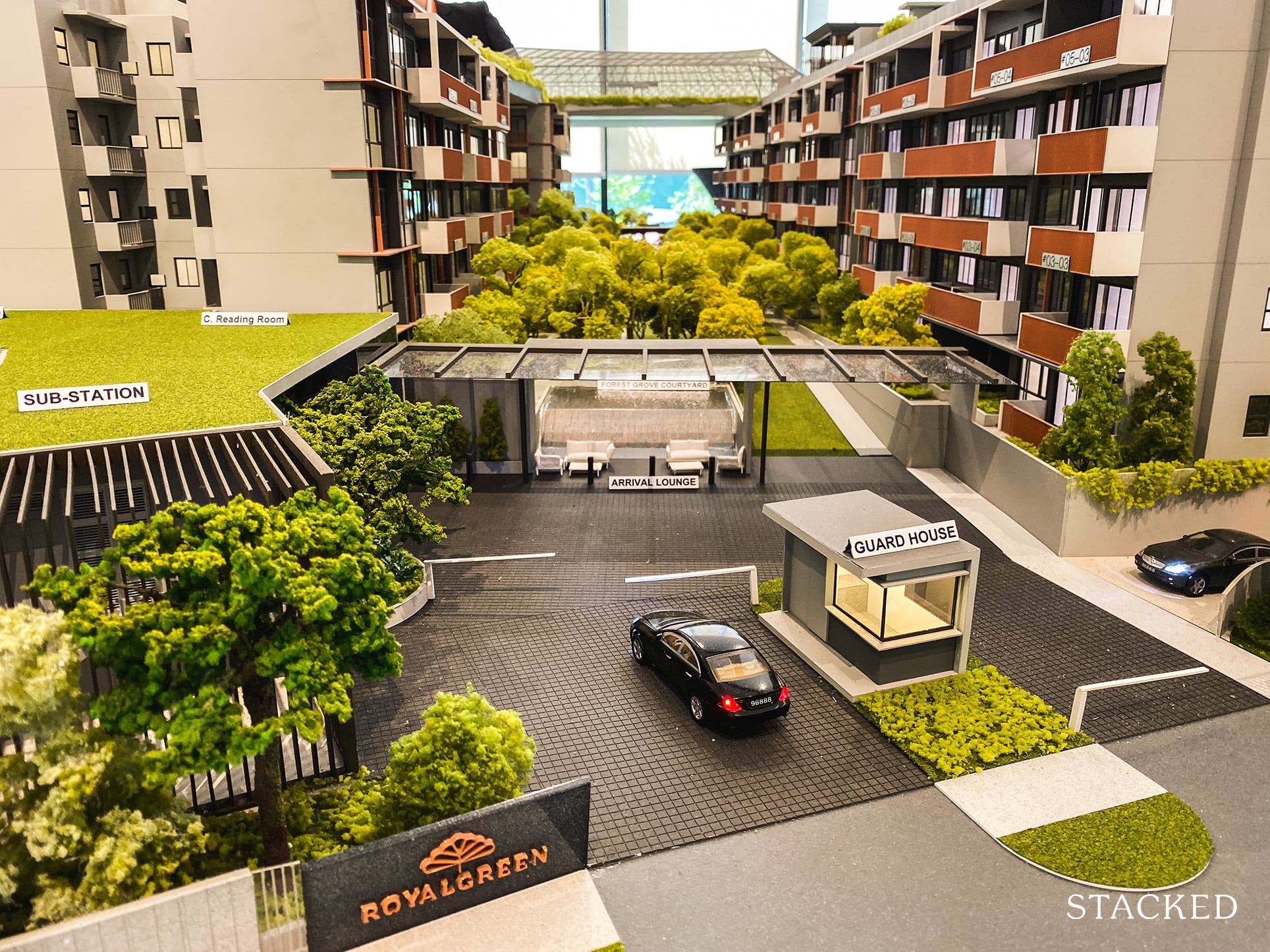 The entrance to RoyalGreen is nothing out of the ordinary. I can imagine it looking welcoming if the landscaping in the middle of the blocks is done right.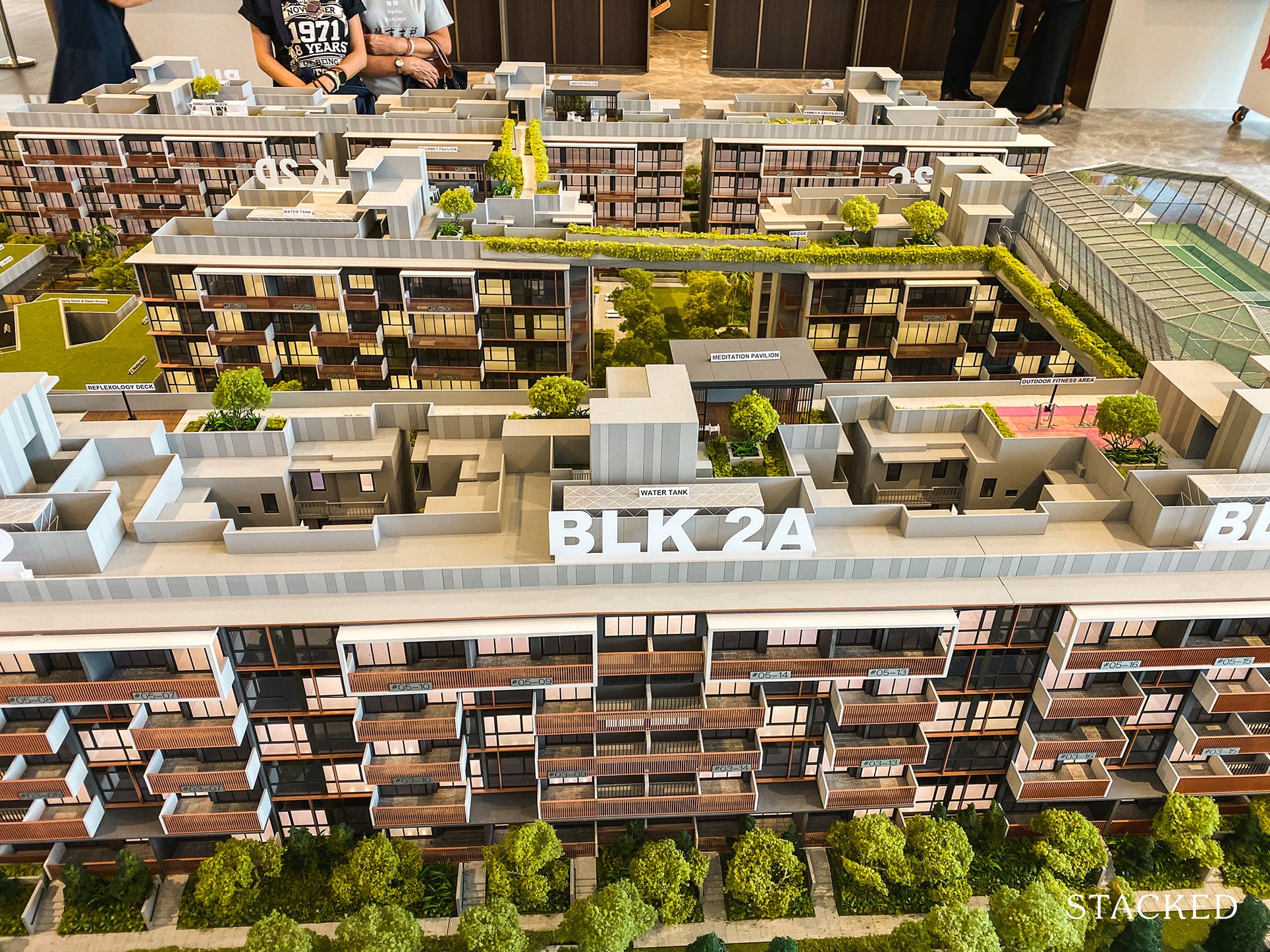 I'm not the biggest fan of most of the blocks having to face each other, but thankfully, the minimum distance is 20 metres with the widest gap going up to 25 metres.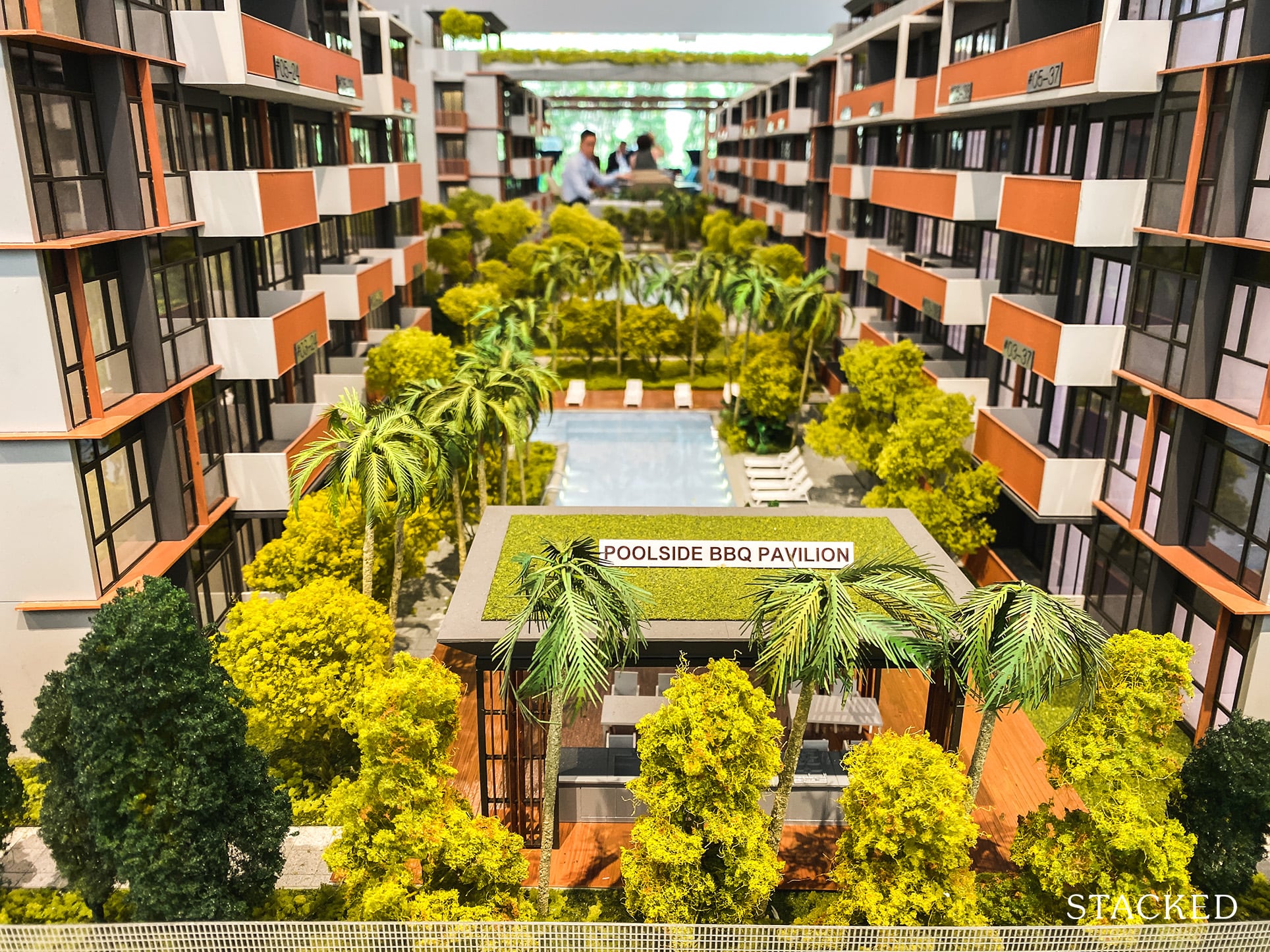 There is a nicely sized 50m lap pool that runs between the blocks.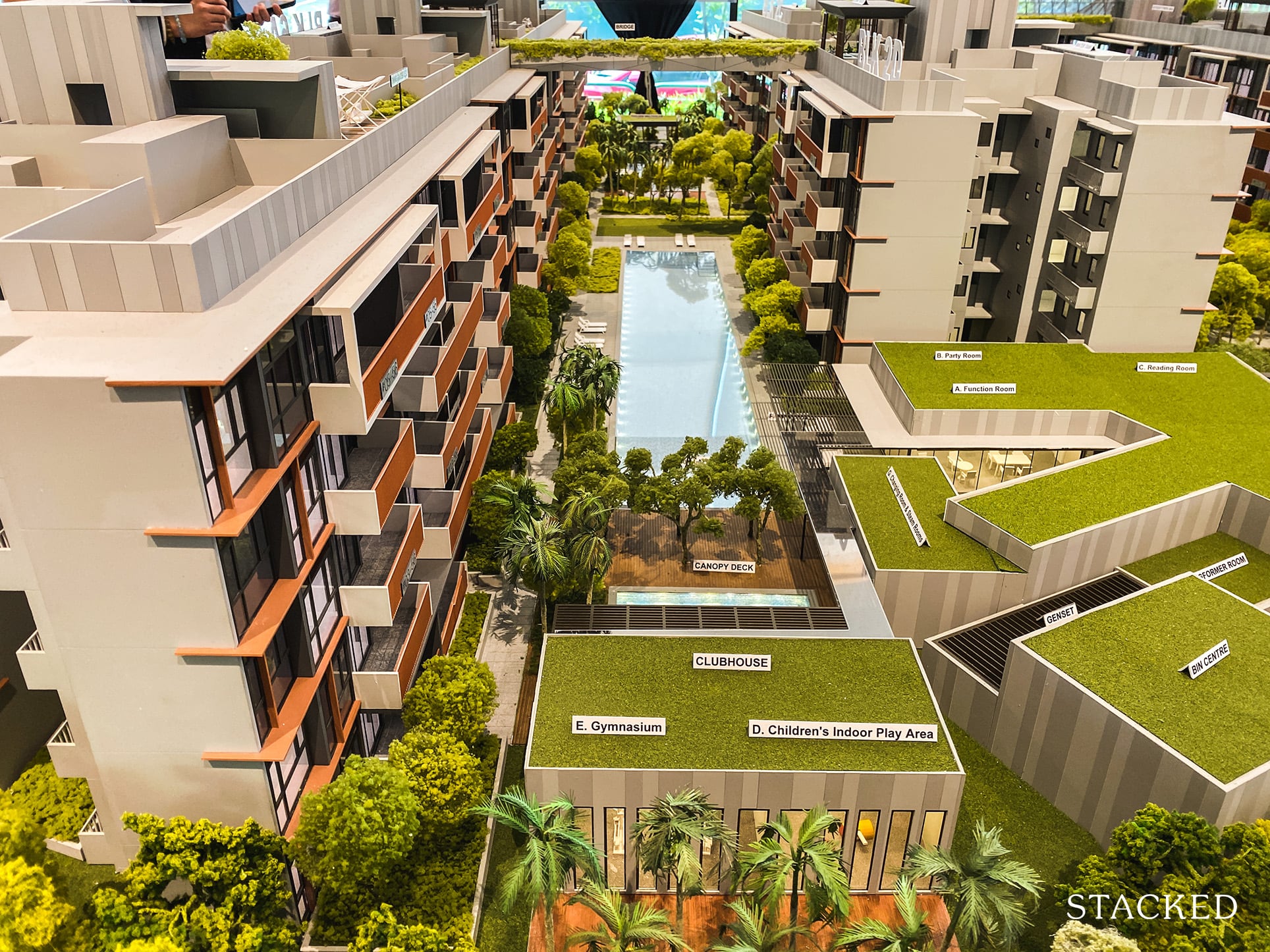 Some people might have concerns over noise from the swimming pool, of which you can choose the blocks which face the greenery instead. I know many people enjoy a pool view too so you do have some options available to you here.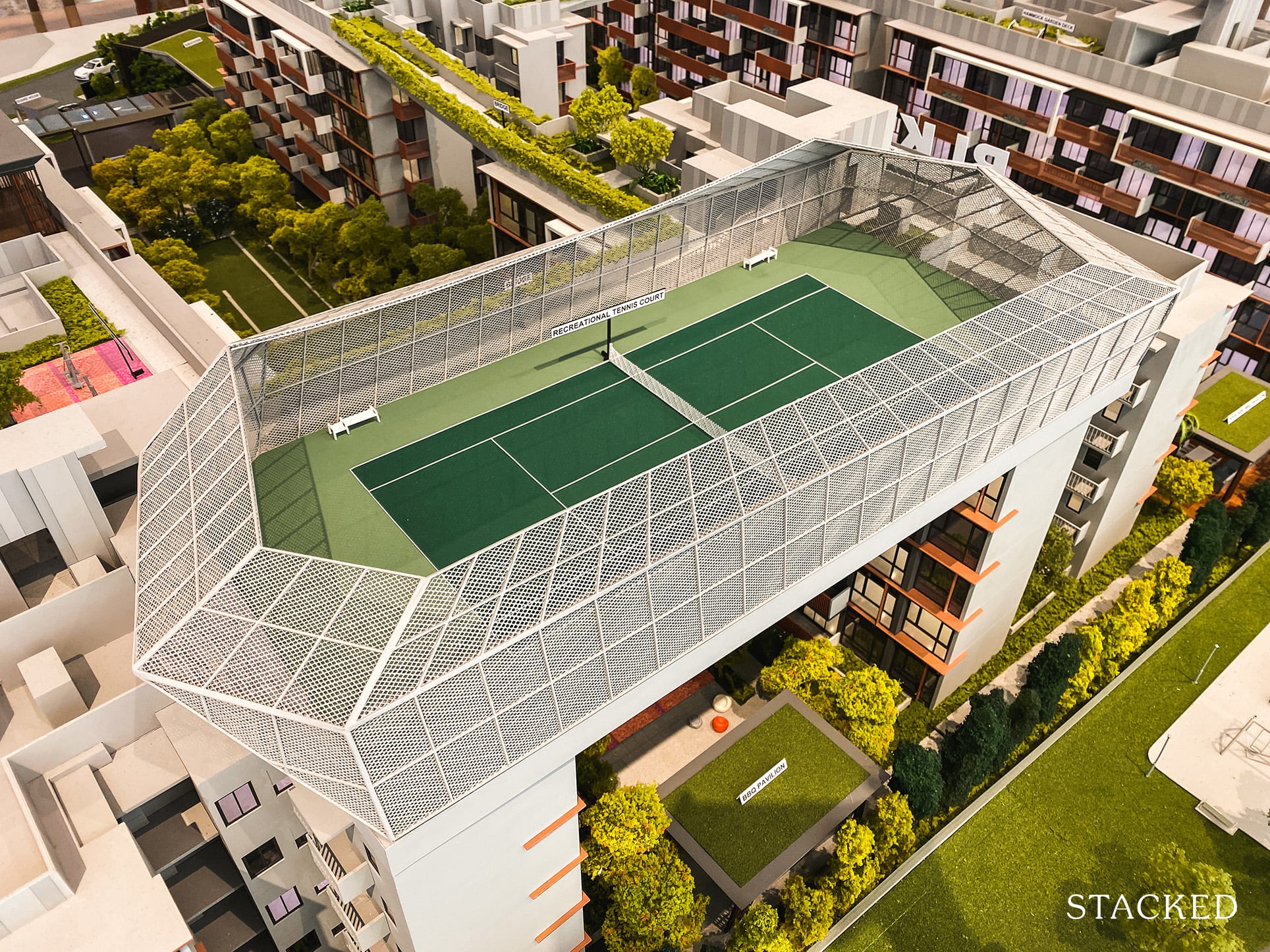 Something unique here is the rooftop tennis court that straddles across two blocks. It has a curved bird nest-like structure that certainly stands out the moment you enter the development. As far as uniqueness goes, you can be sure that facilities on rooftops will only get more common as developers find creative ways to make use of the limited land space available.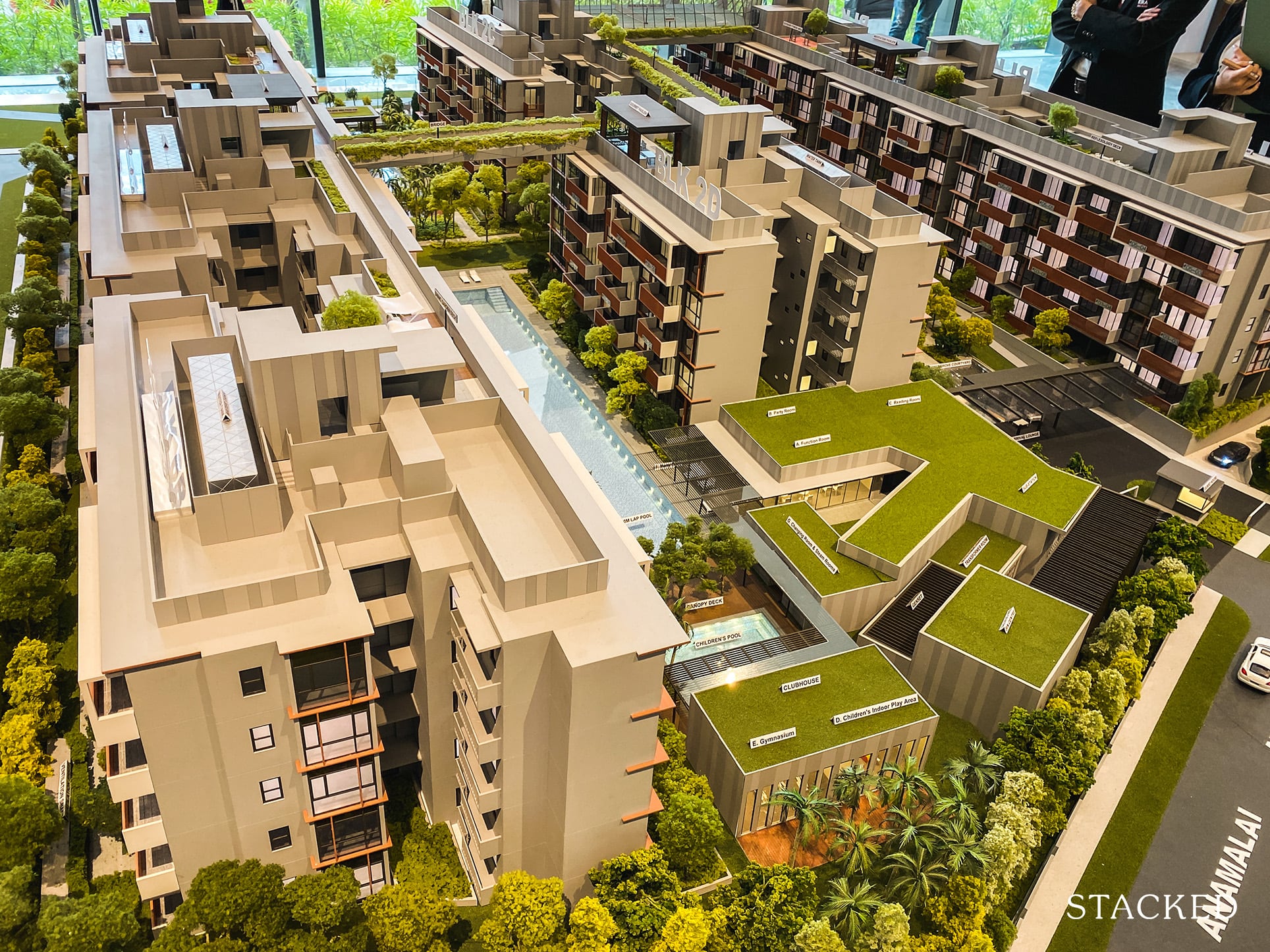 There are a couple more cool things about Royalgreen, mainly over the smart usage of the rooftop. All the blocks are connected by a bridge, which creates a walking/jogging path as well as creating an elegant architecture piece that looks great.
I like how there are different decks at the top (reflexology, hammock garden and swing garden), plus an outdoor fitness area and a dining pavilion too. It makes for a nice change of scenery, and although it is not on a very high vantage point, Bukit Timah is mainly low rise anyway so that isn't an issue here.
RoyalGreen 3 Bedroom + Study Review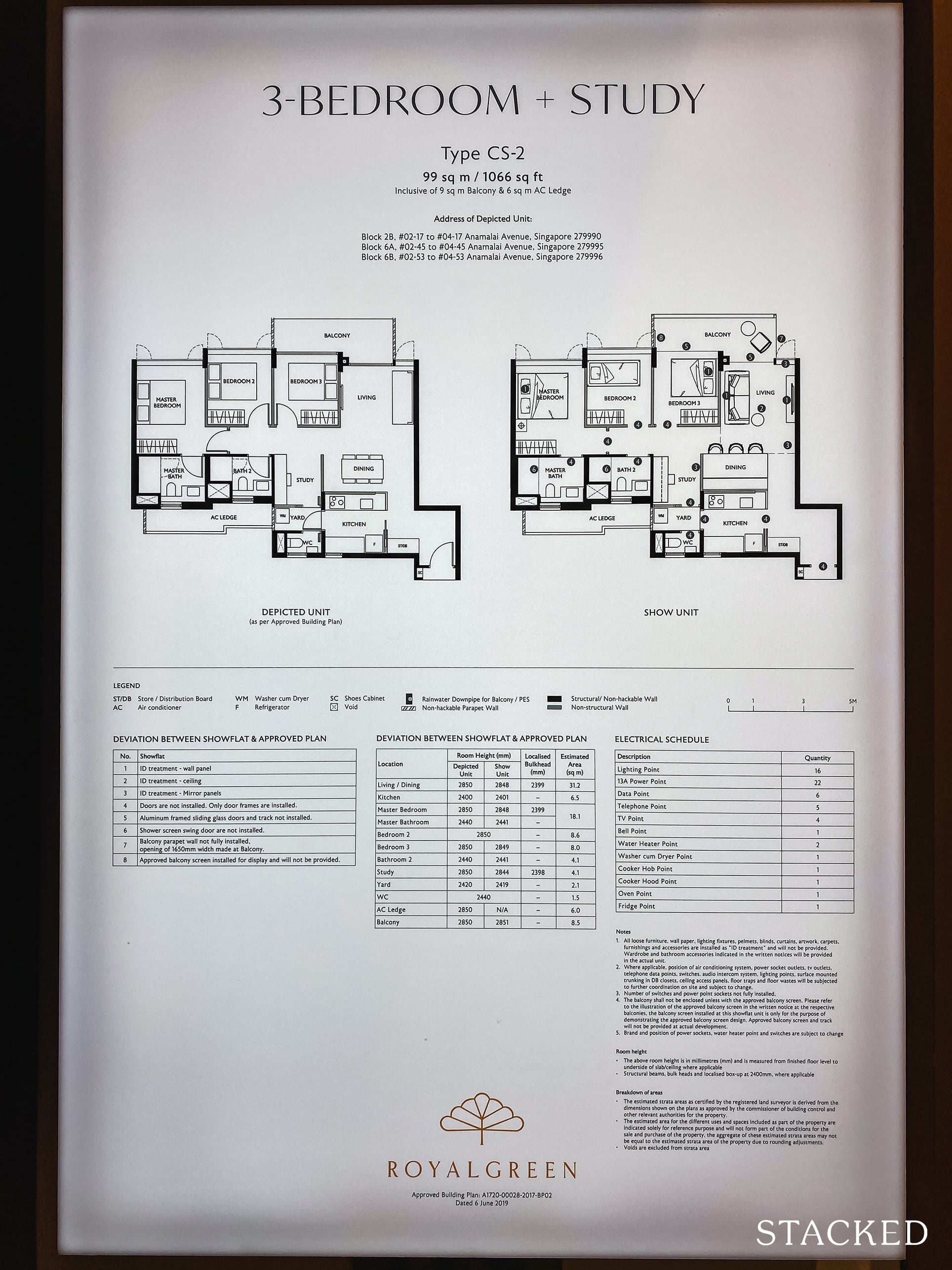 The 3-bedroom plus study unit at the RoyalGreen comes in at 1,066 square feet of space, which is not the biggest for a 3 bedroom unit. Although, I thought that the space was bigger than it is on paper, which shows how well planned it was. For a family of 4 to 5 people, I think this is more than sufficient and has all that you need.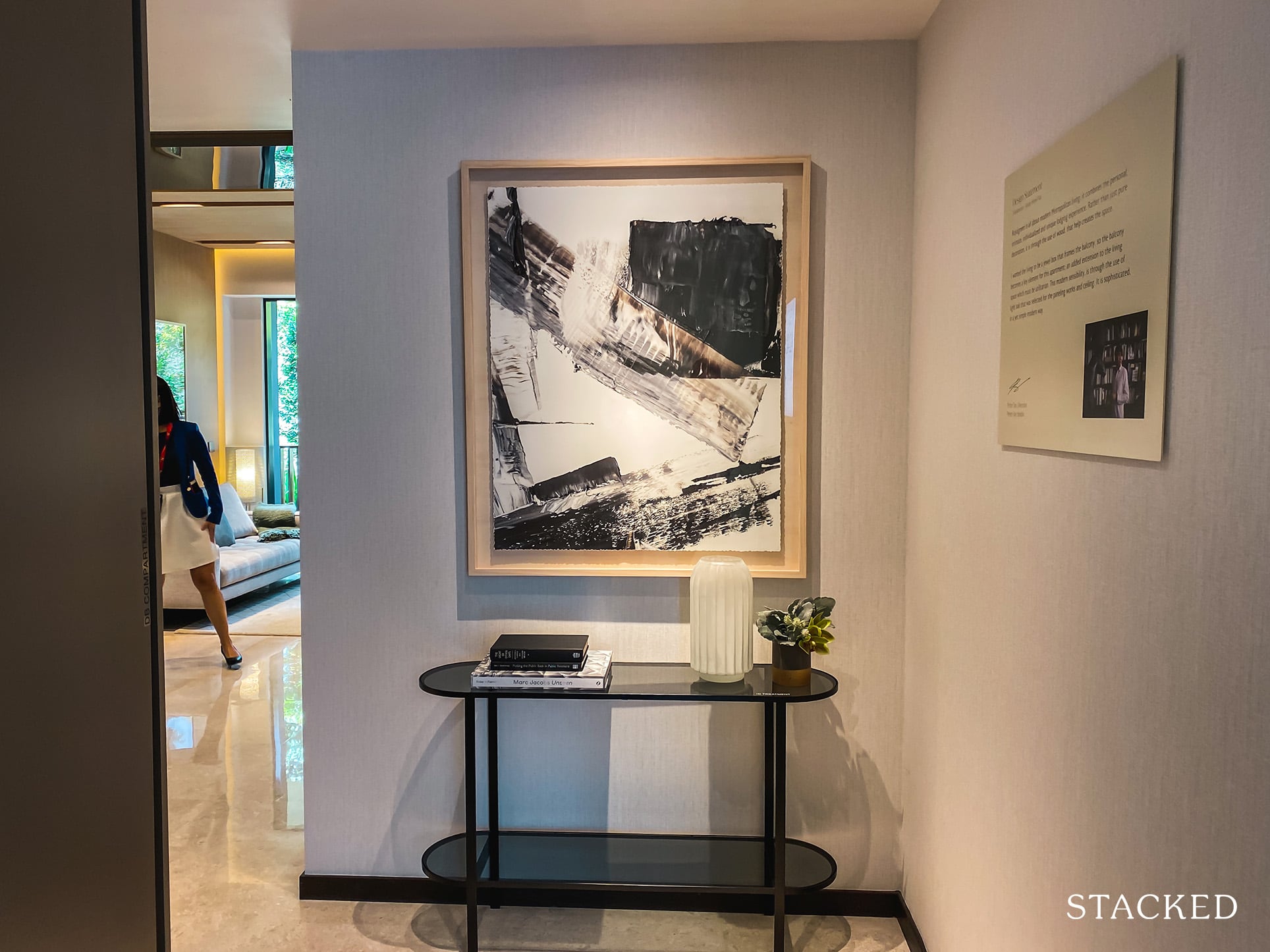 The entrance to the 3 bedroom unit is wide, it isn't long thankfully but it depends on whether you like having an entrance or you'd rather the main door open straight into the unit. For me personally, I think having these entrances should be reserved for bigger units. If you don't mind the space, it's good enough for a console table and some decorative pieces or storage cabinets.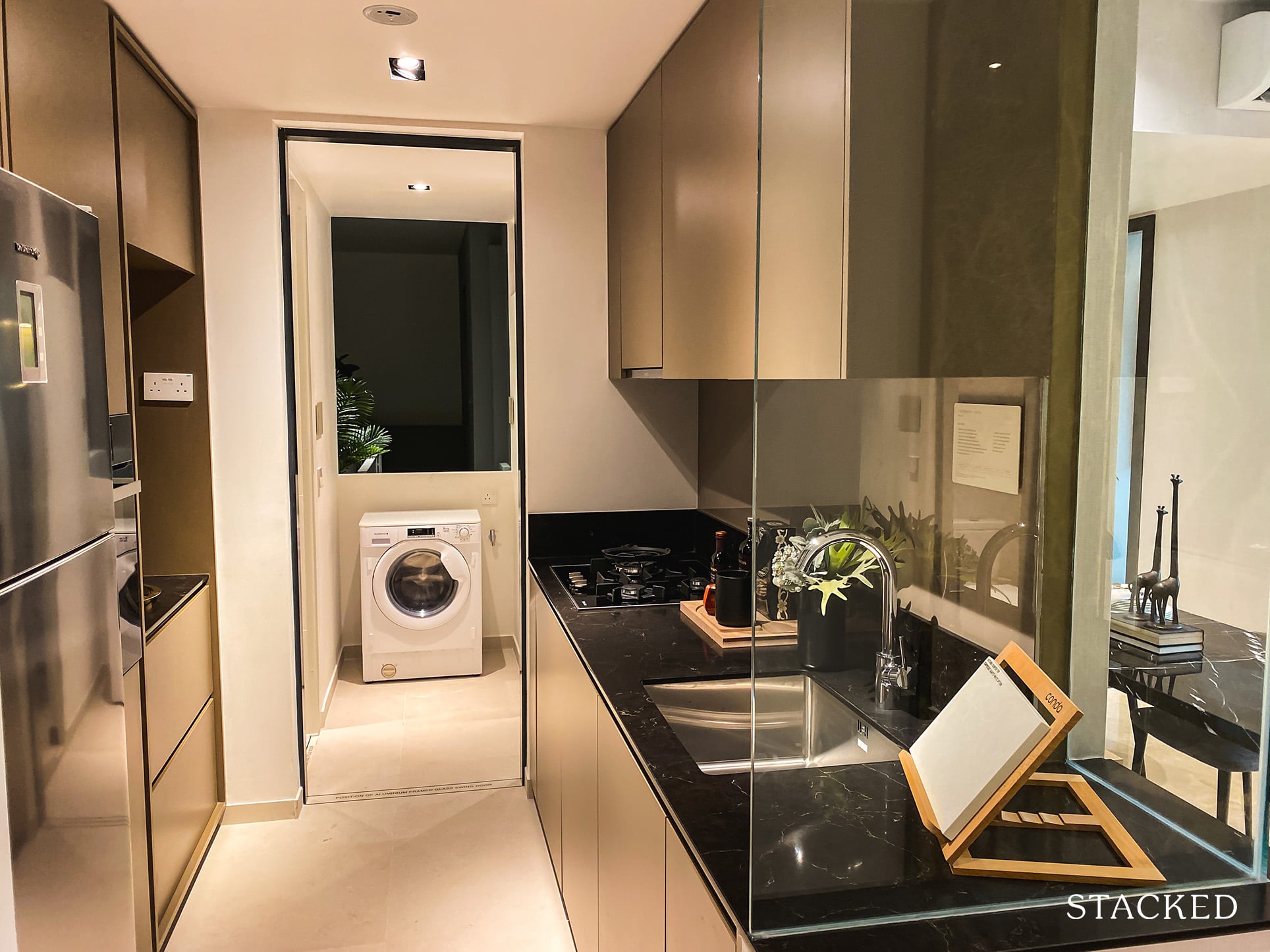 I like the size of the kitchen here. It is a good size and has sufficient space for storage. You could also choose to keep it as an enclosed one or an open concept if you like.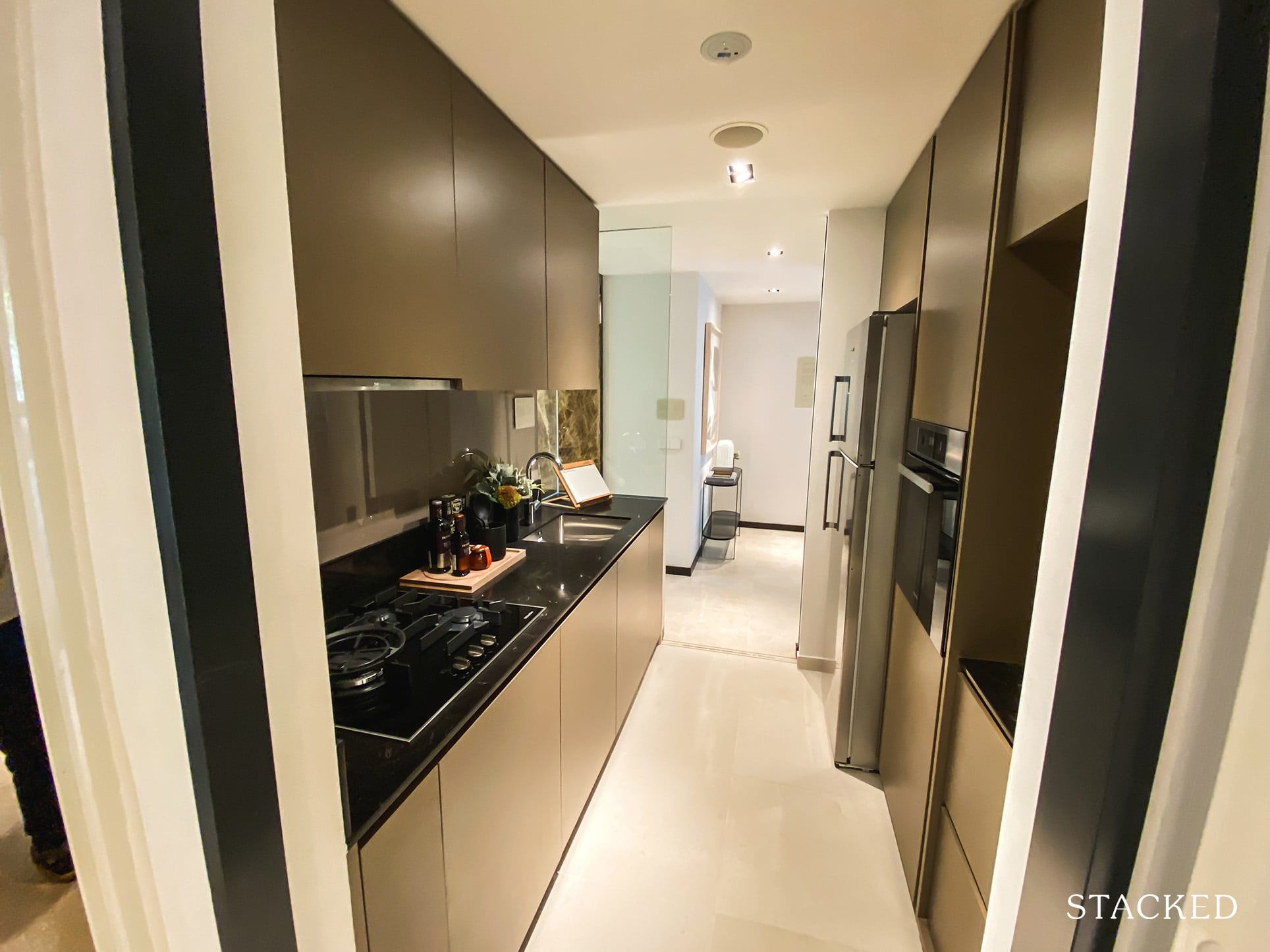 It is quite wide so you have enough room to move around even if there is more than one person.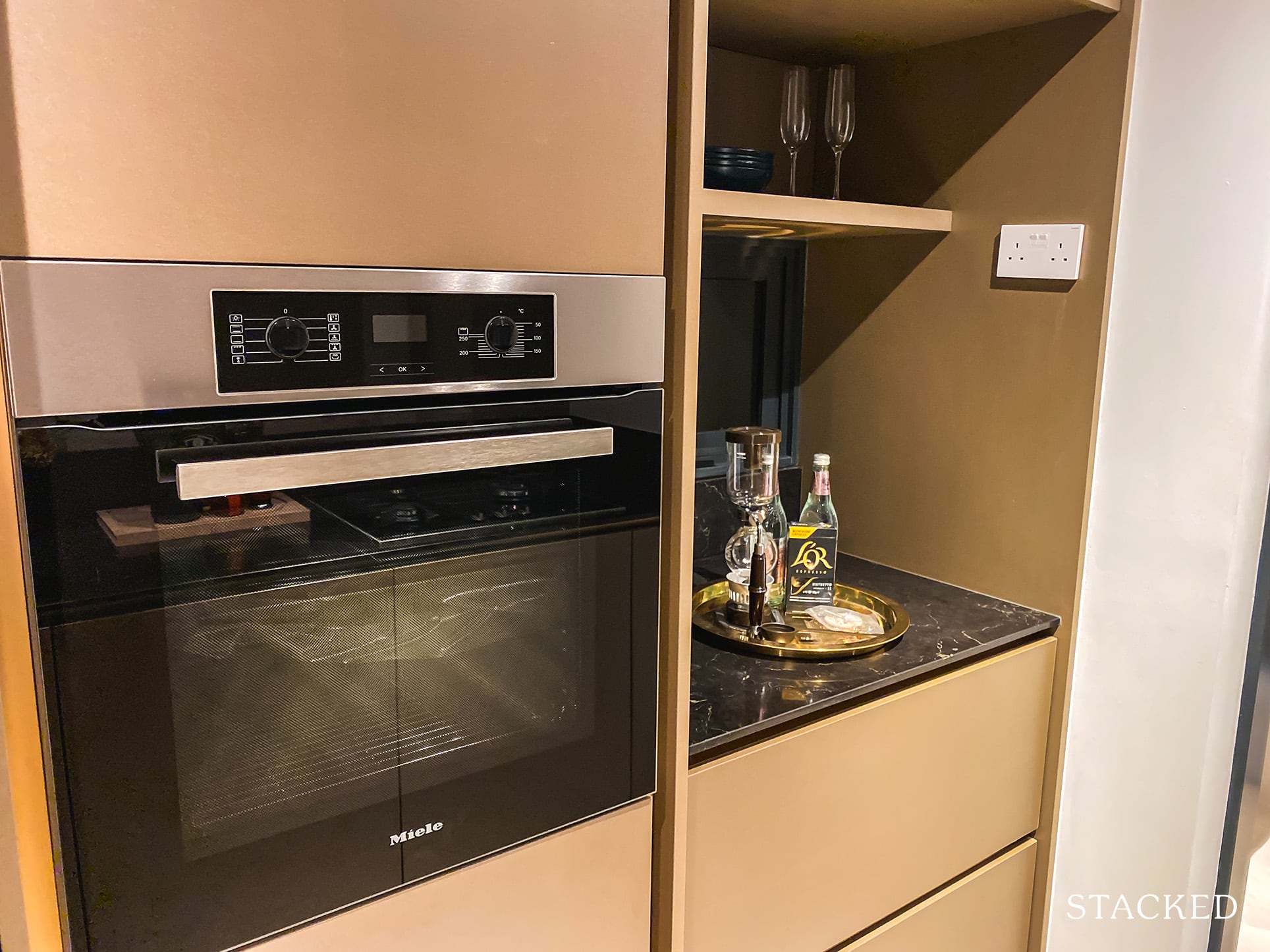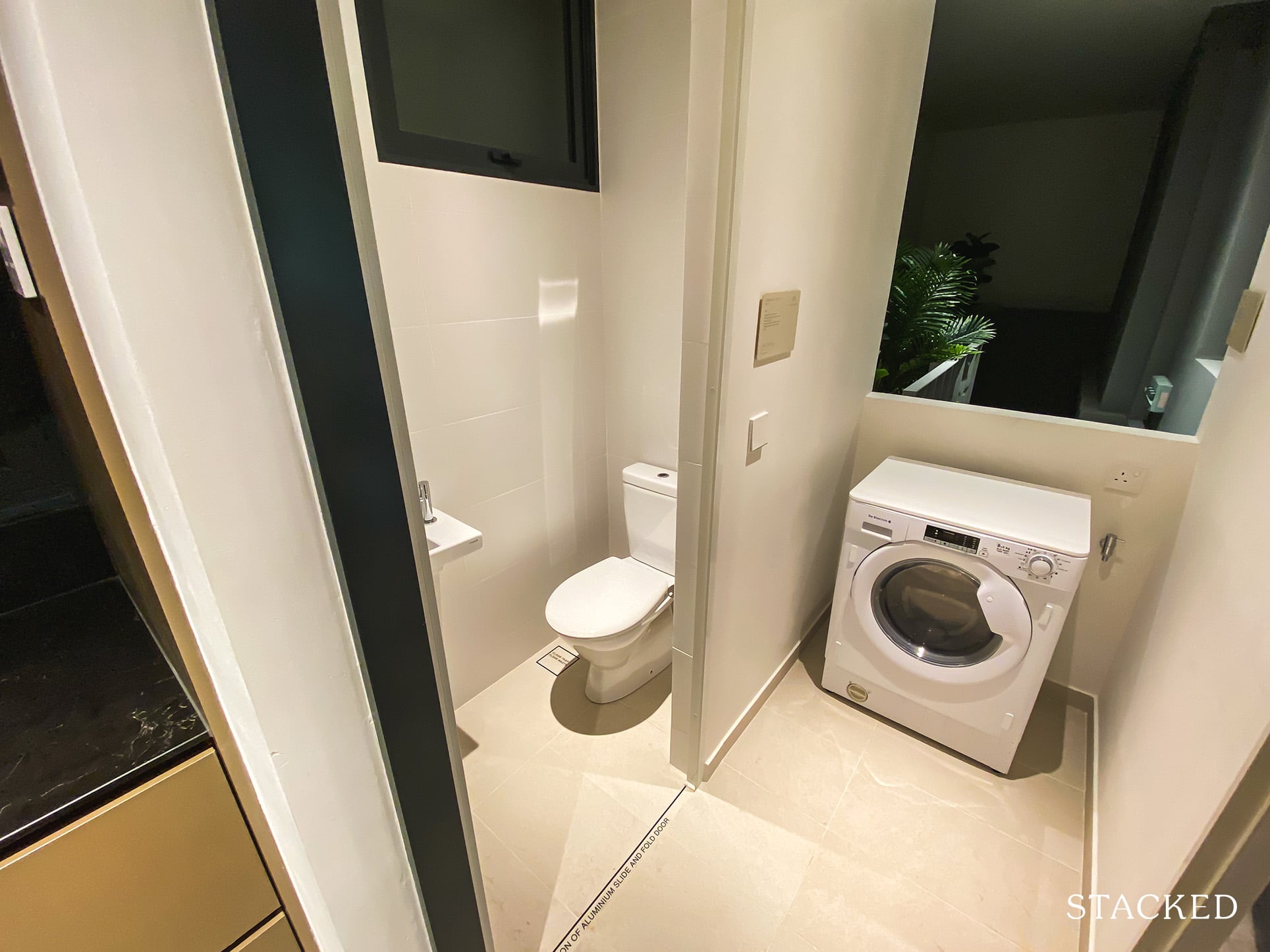 One thing great about this 3 bedroom layout is the yard space which a lot of smaller units nowadays tend to forgo. It's convenient to have a space for the washer and dryer or even just a place to hang your wet clothes.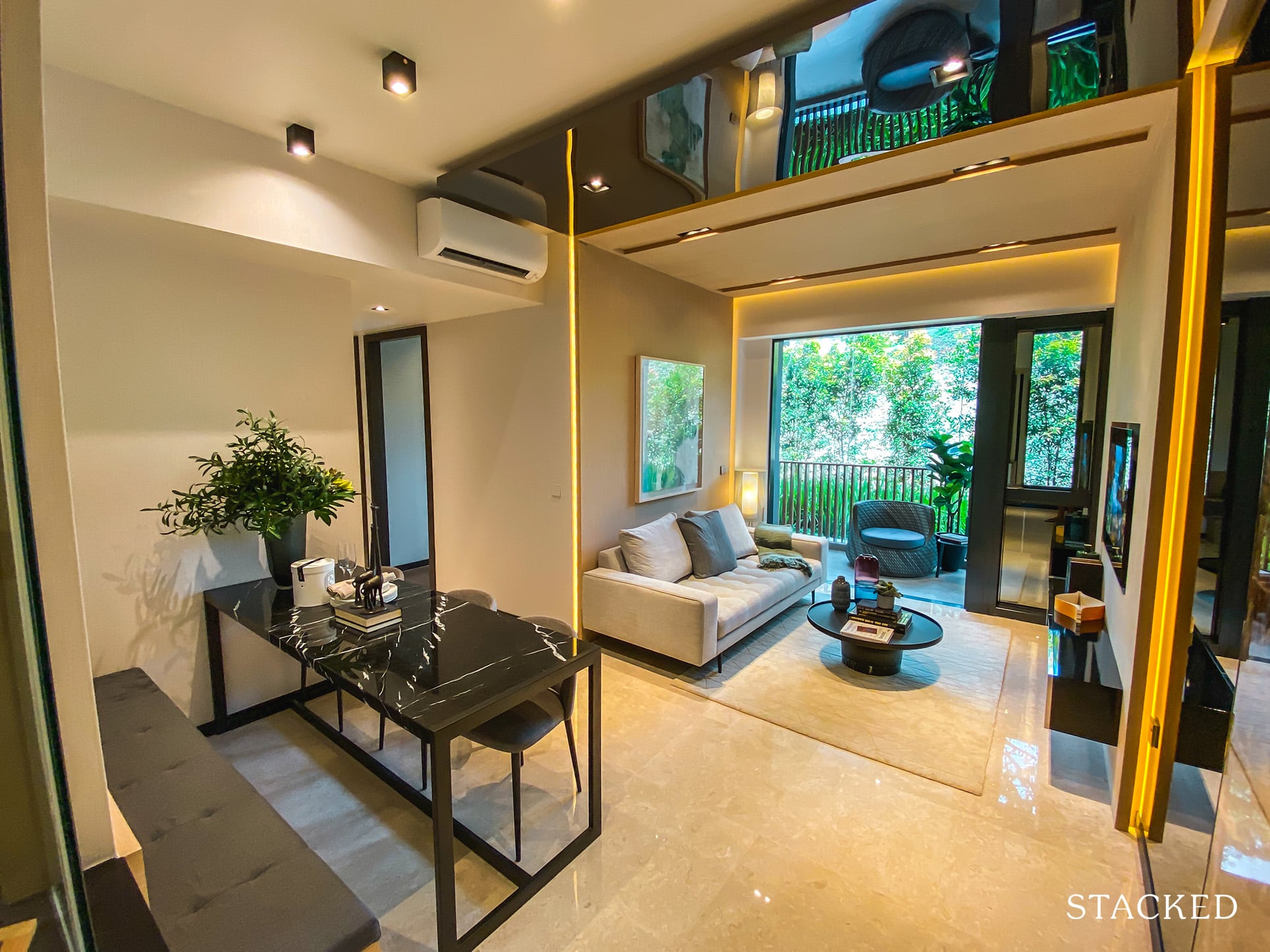 The living and dining room is not the biggest space, but if you plan it well it is still a very usable area.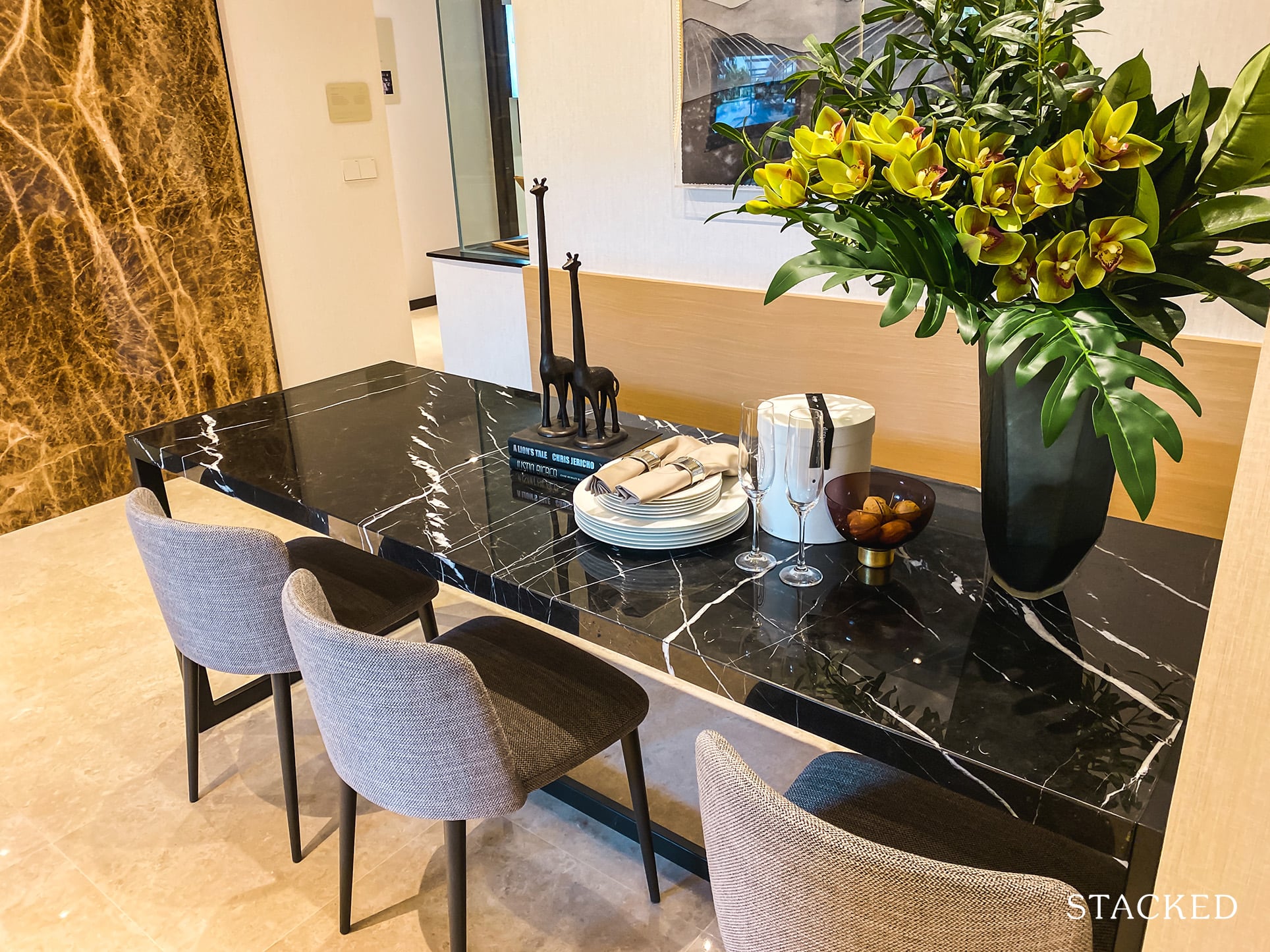 For example, having bench seating on one side to flush it all the way to the end creates more space to move around. If you'd like a regular dining table with 6 seats or even a circular one it will definitely make the space look more cramped.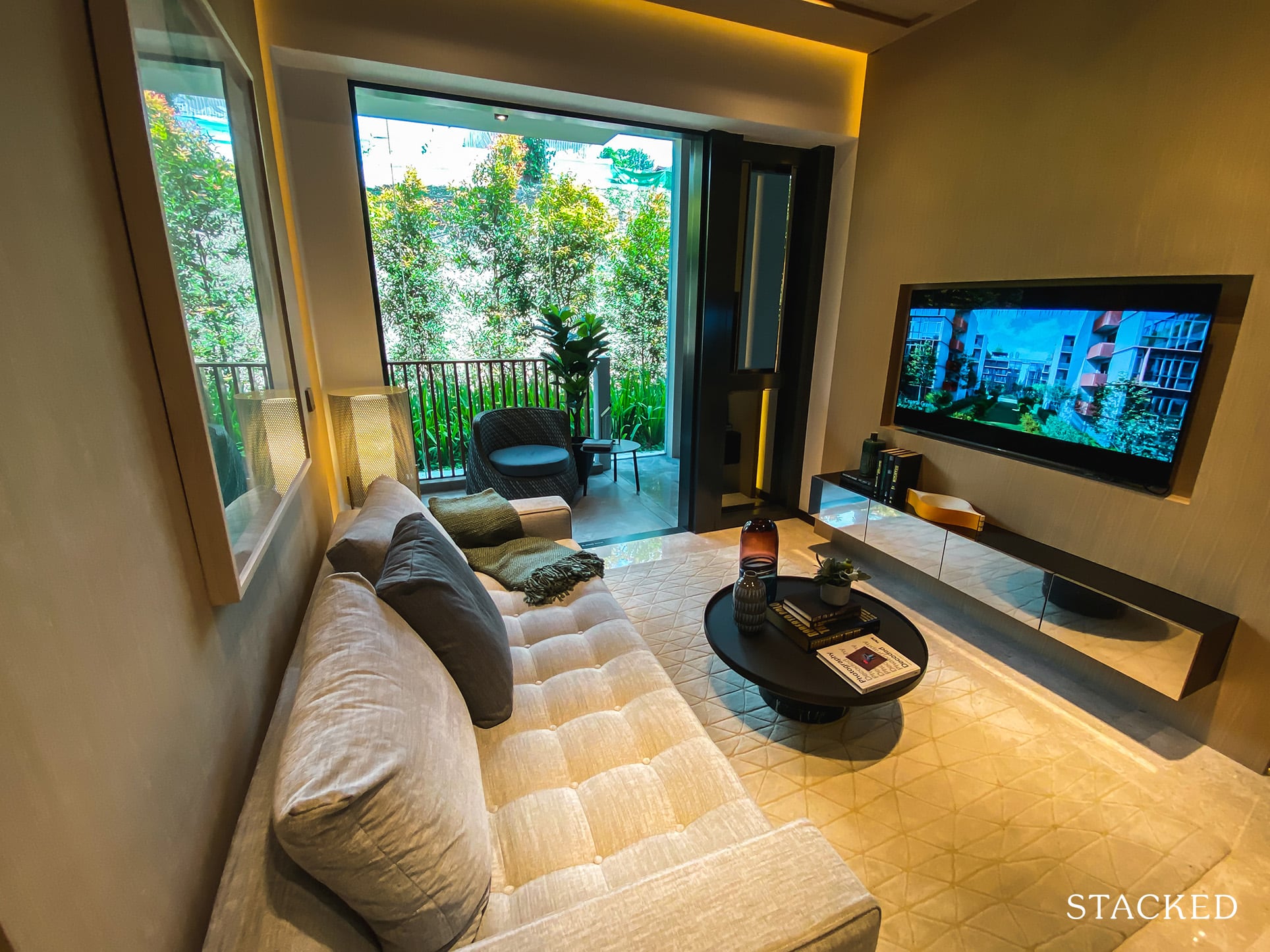 It is the same story with the living room, not the biggest of spaces so you will have to be careful with the type of sofa or seating that you put in here.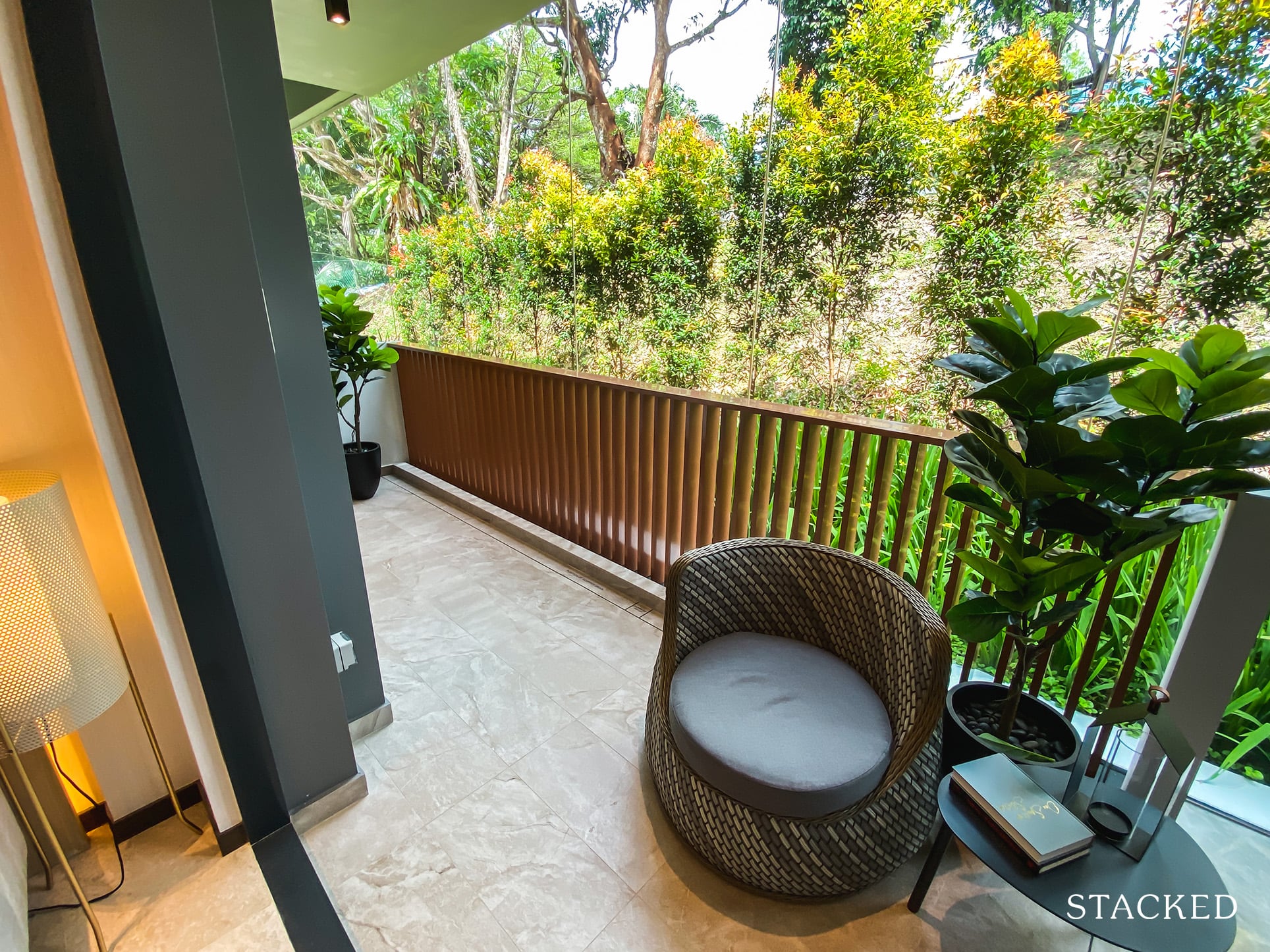 For those of you that prioritise indoor living areas, you'd be happy to know that the outdoor balcony is kept to a minimum. It stretches to the other common room and is still decent for having some seating and a small coffee table.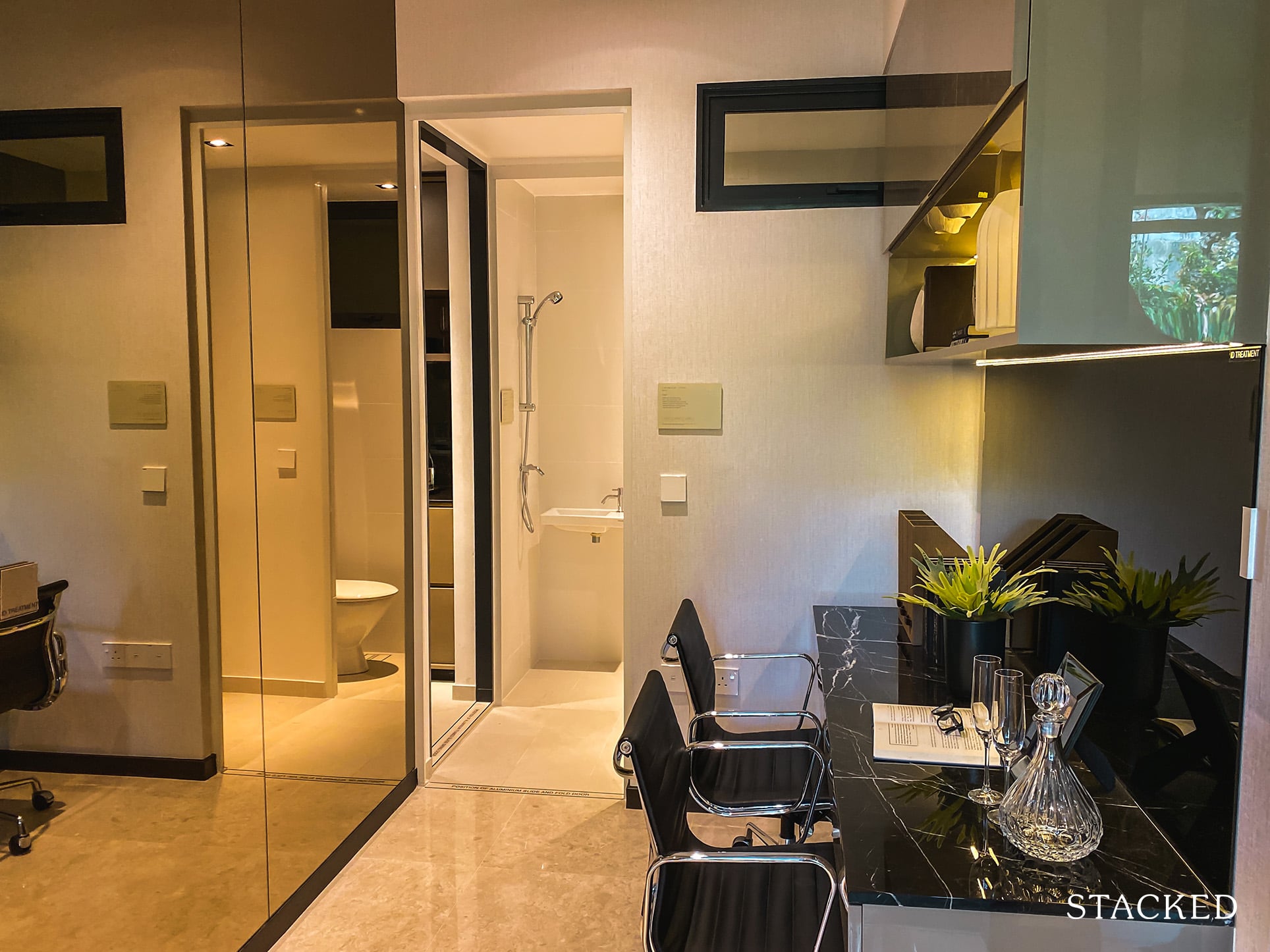 The study corner is quite a big space, and if you do need a home office it could come in very handy. It is accessible from the yard and the main corridor. You could also seal up the back entrance and create another small room if you should need it.
The common rooms in this layout are nothing to shout about in terms of their size. It is adequate for a queen-sized bed, but ideally, you'd want a single bed to allow for more space. Some people might say that this room is the most unique out of the 3, as you can access the balcony from here too.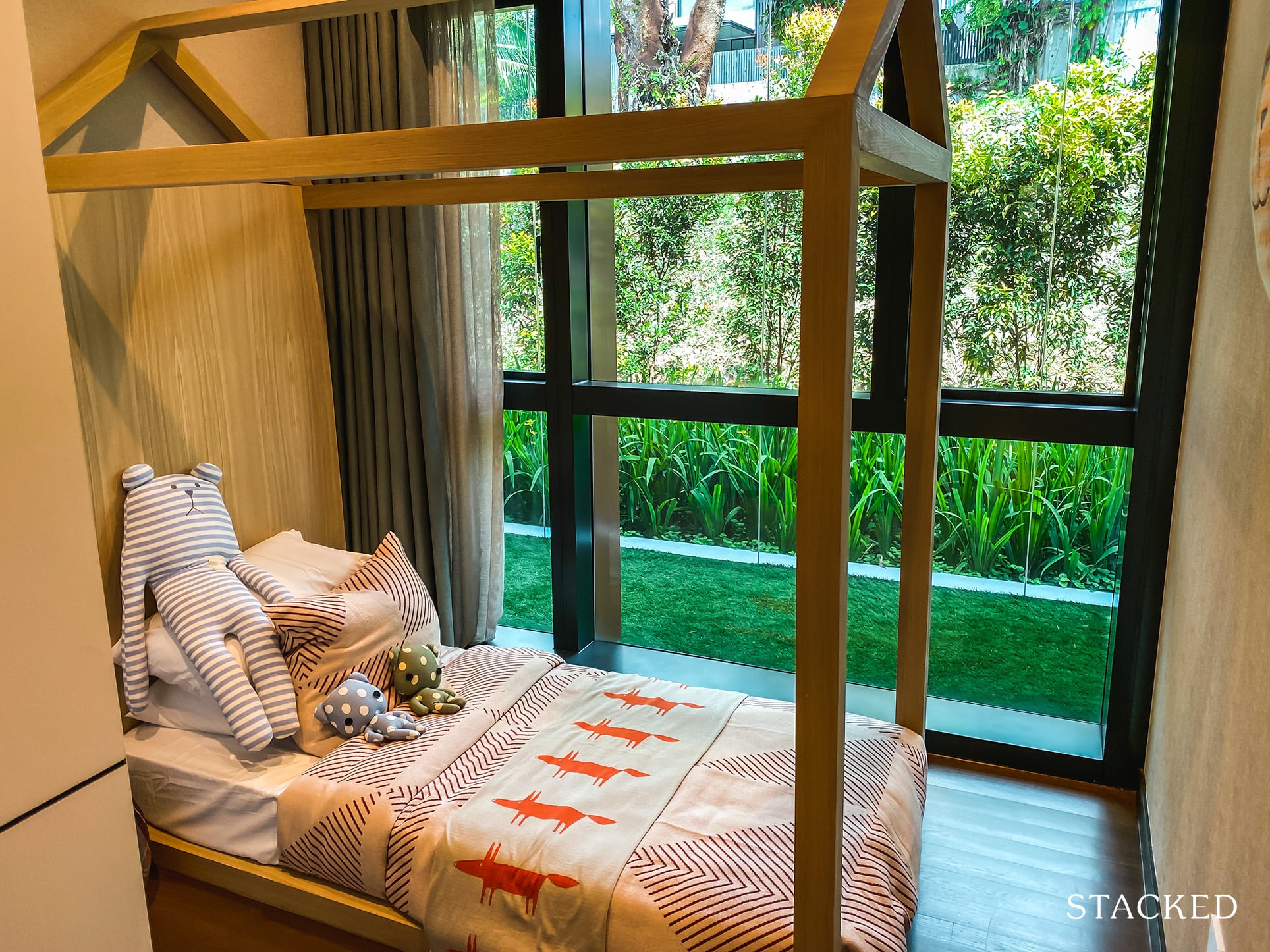 I do like the floor to ceiling windows as it allows for a lot more light to come in, making the room look a lot brighter and more open. Again, not the biggest of rooms, but it is definitely comfortable for children.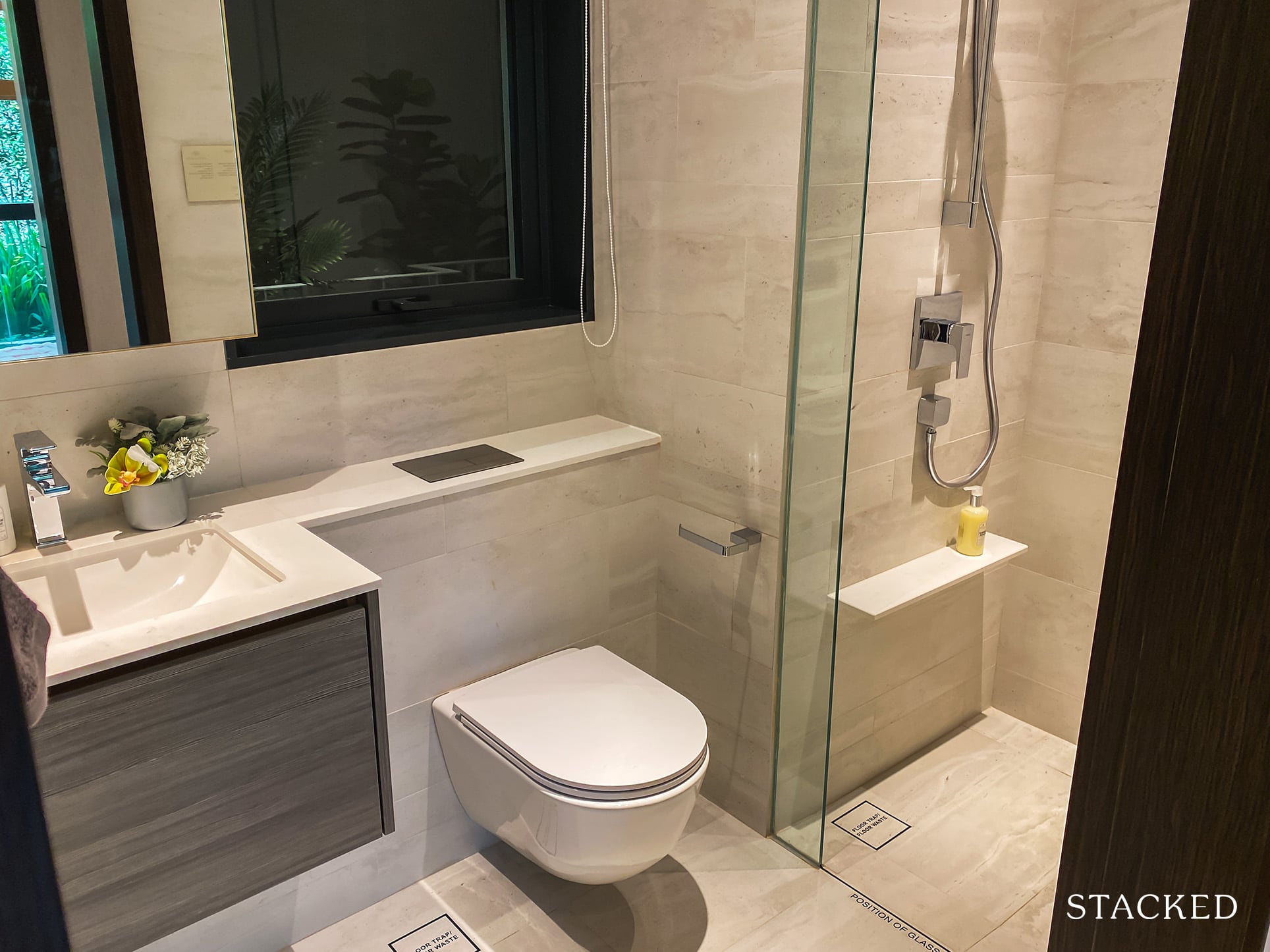 There is a common bathroom to be shared between the 2 common rooms, it is an average size and is about what you'd expect in a new launch project. The design here is on the safe side for sure, nothing fancy or different about it.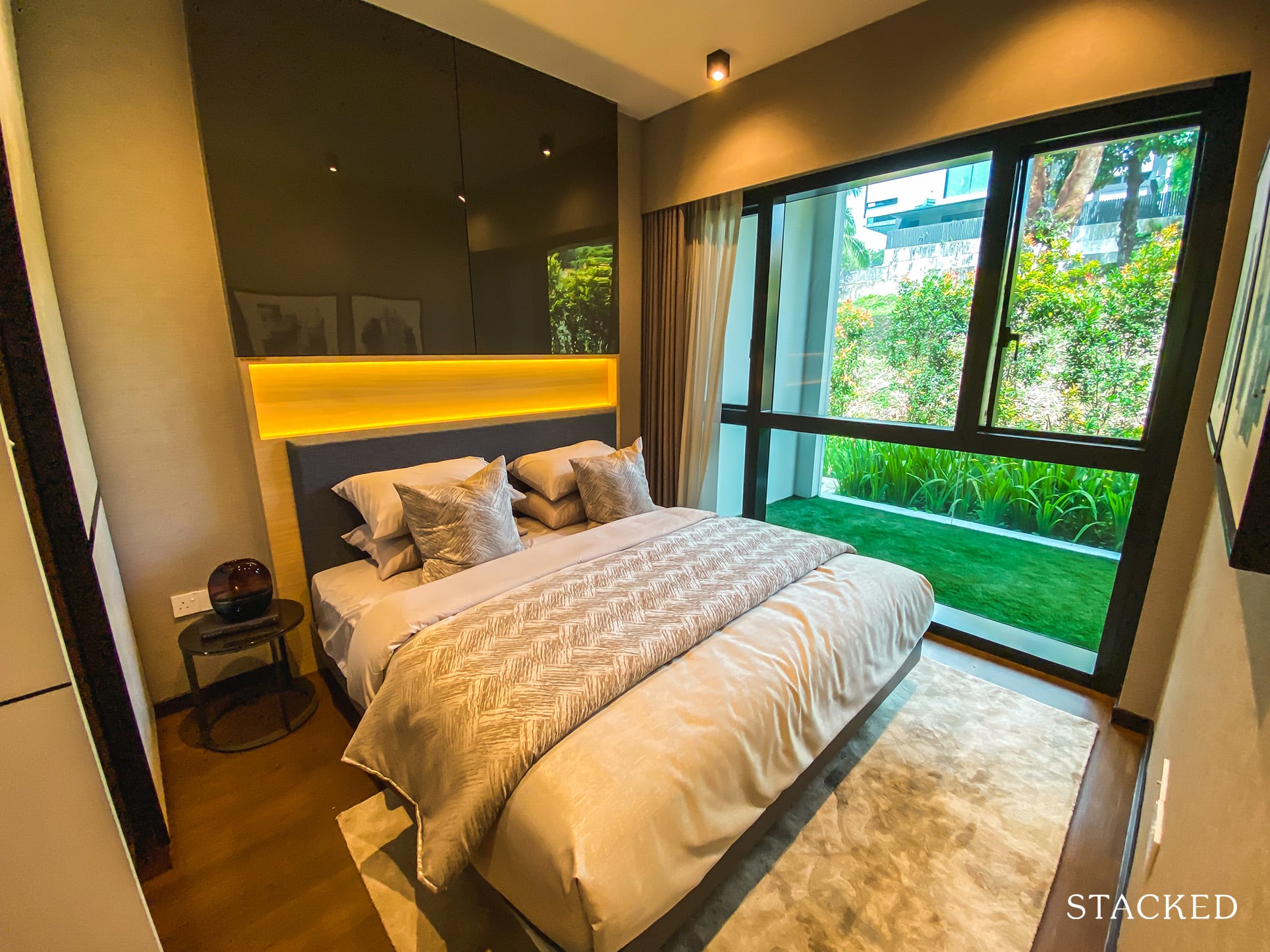 The master bedroom is an okay size as well. You can see with the bed fitted in, there isn't much space left for anything else. You could do a narrow dresser, but it will be tight.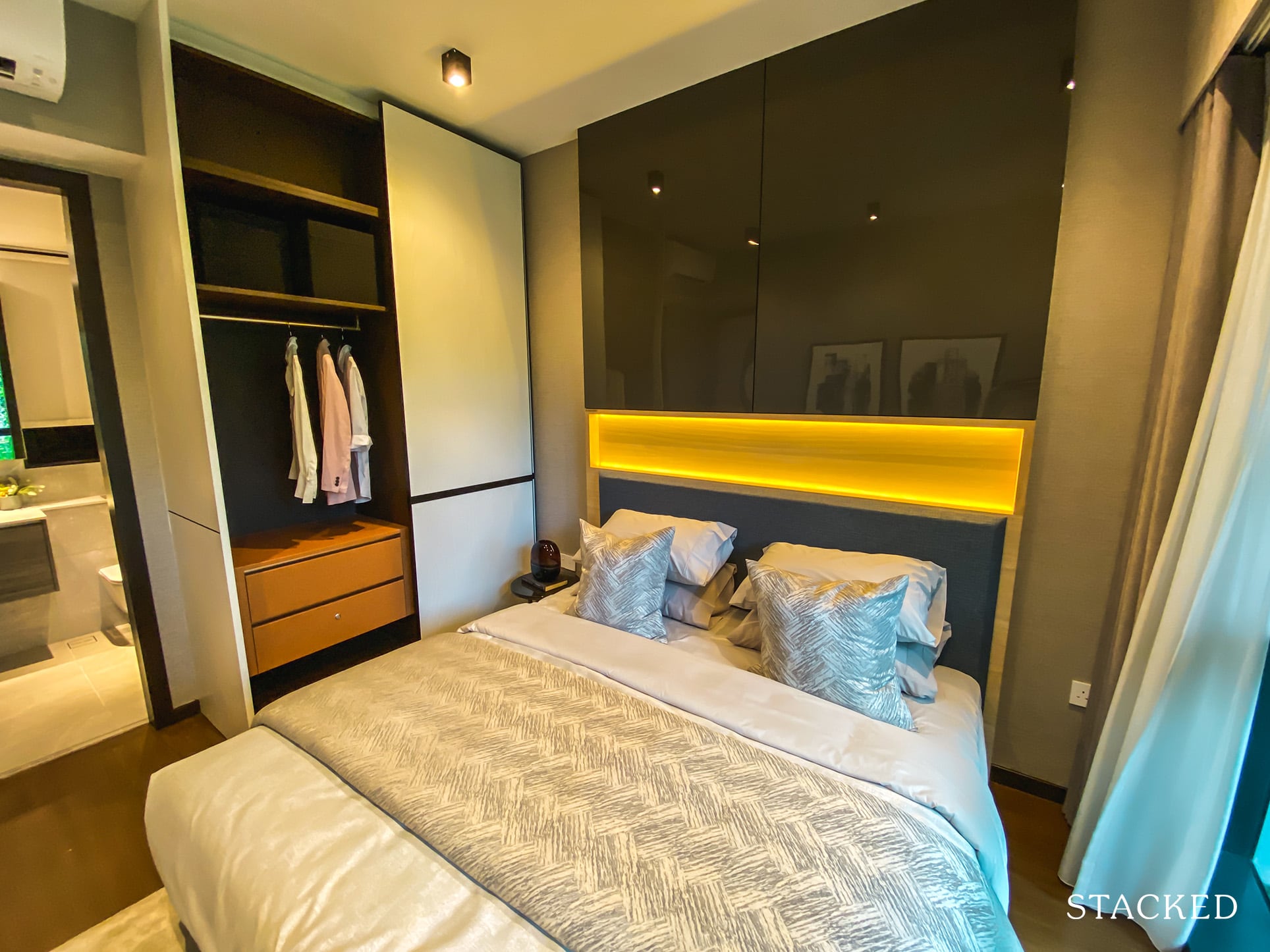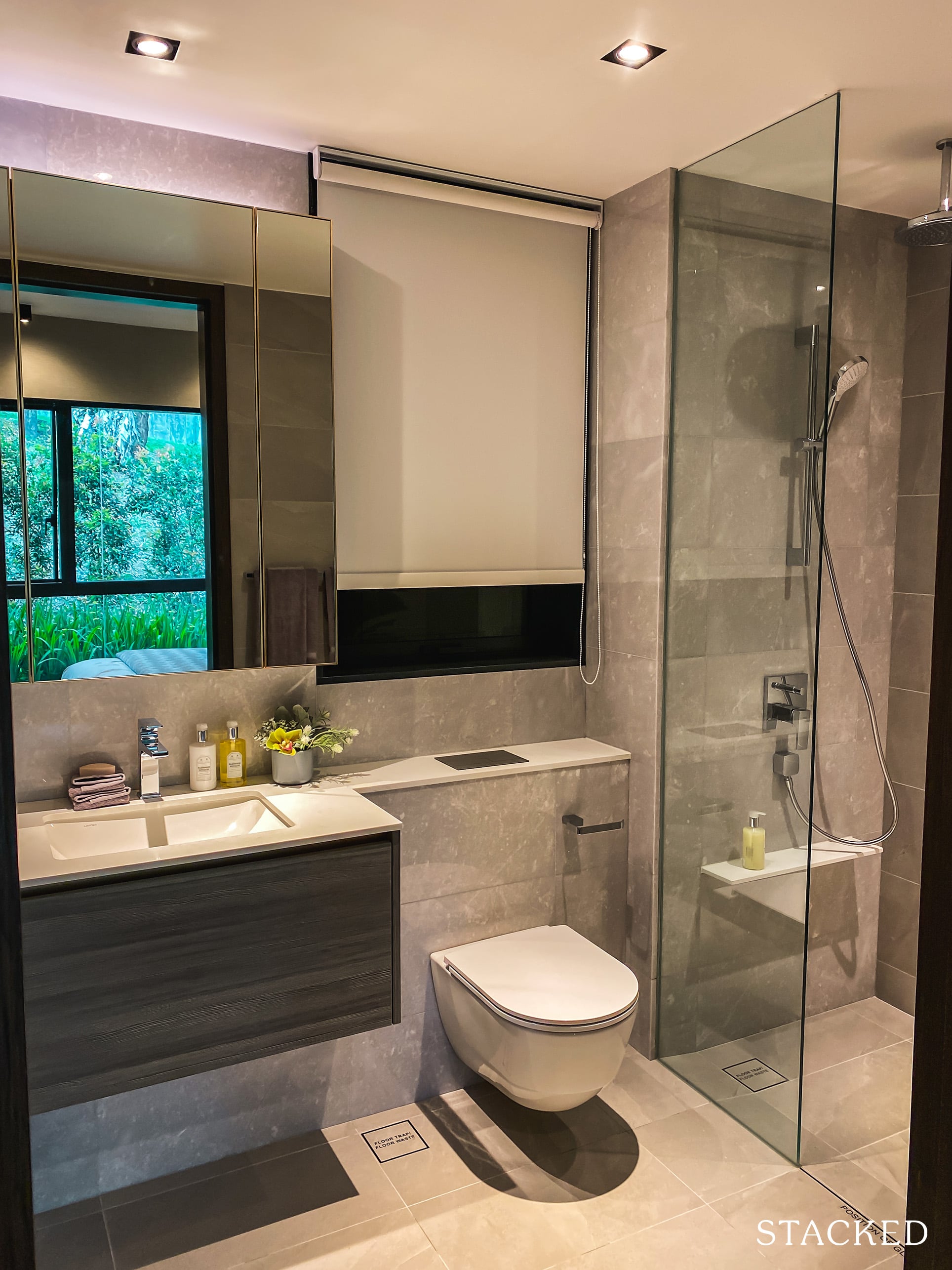 The master bathroom is bigger than the common bathroom and is of a very comfortable size even for two people.
RoyalGreen 2 Bedroom + Study Review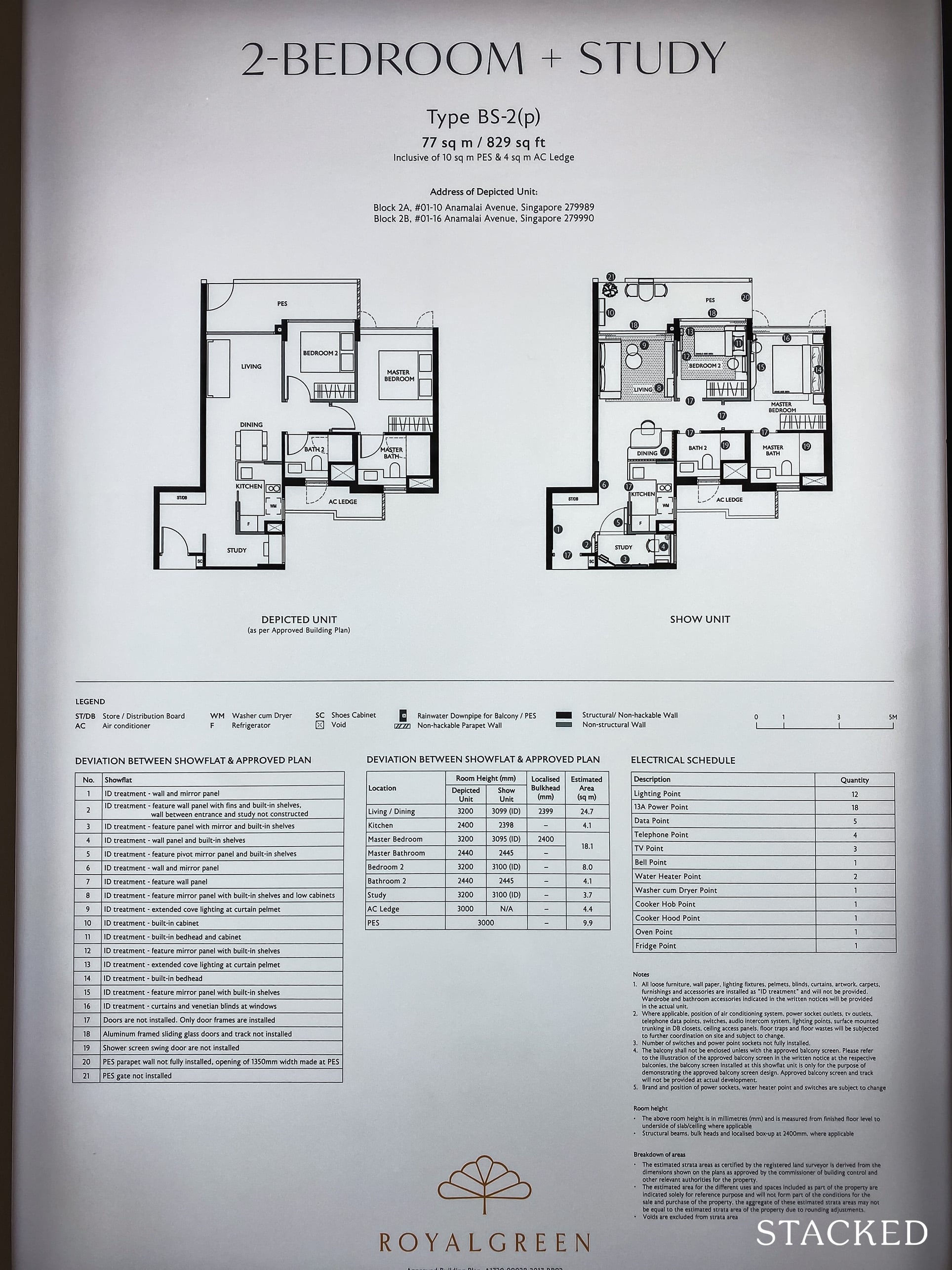 The 2 bedroom plus study showflat unit adopts the same-ish layout from the 3 bedroom, with the absence of 1 bedroom and an outdoor yard. At 829 square feet, it is quite a decent size, but I do think there are some inefficiencies with the layout. For starters, the entrance opens up to a small foyer, and on the right a small study corner is eked out, followed by a corridor into the living/dining area. This makes the kitchen even smaller than it has to be.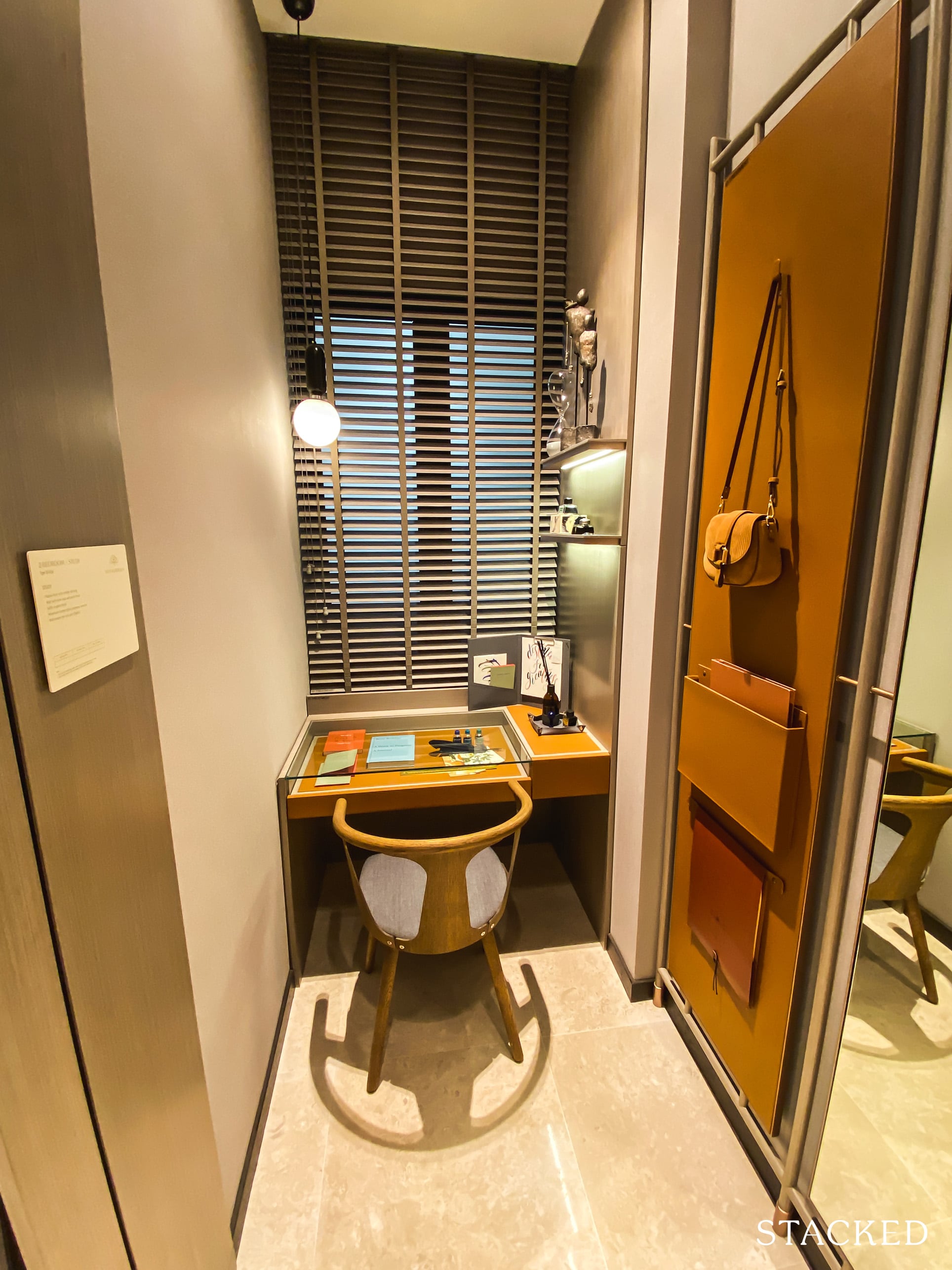 I do like the ID works for the study corner, it is well designed, looks very cosy and it even has a window to let some light in.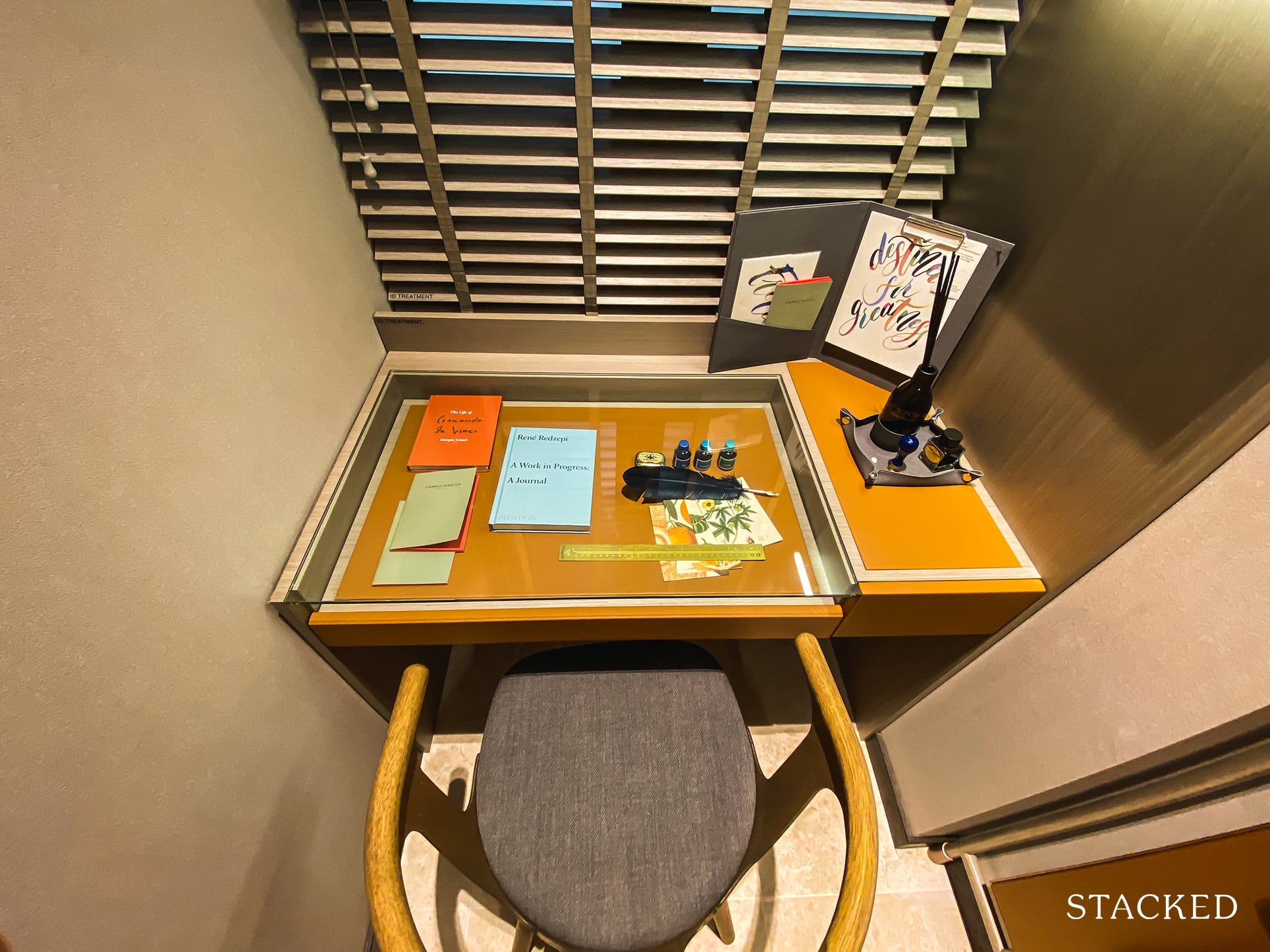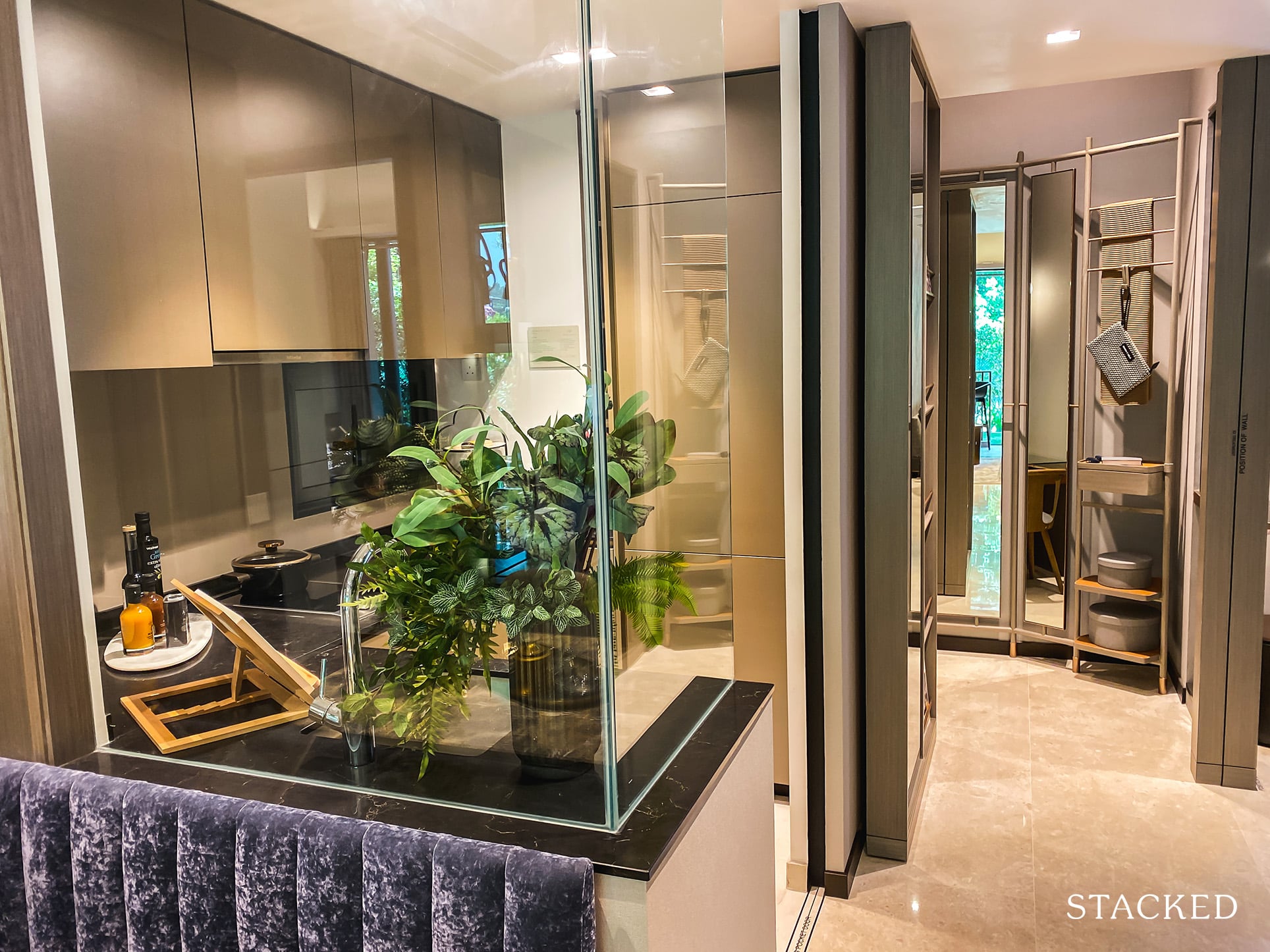 On the right, you can see the amount of space that is essentially wasted because of how this area is laid out. The kitchen is small for a 2 bedroom but has decent storage and countertop space. Having 2 people in here at one time could feel claustrophobic.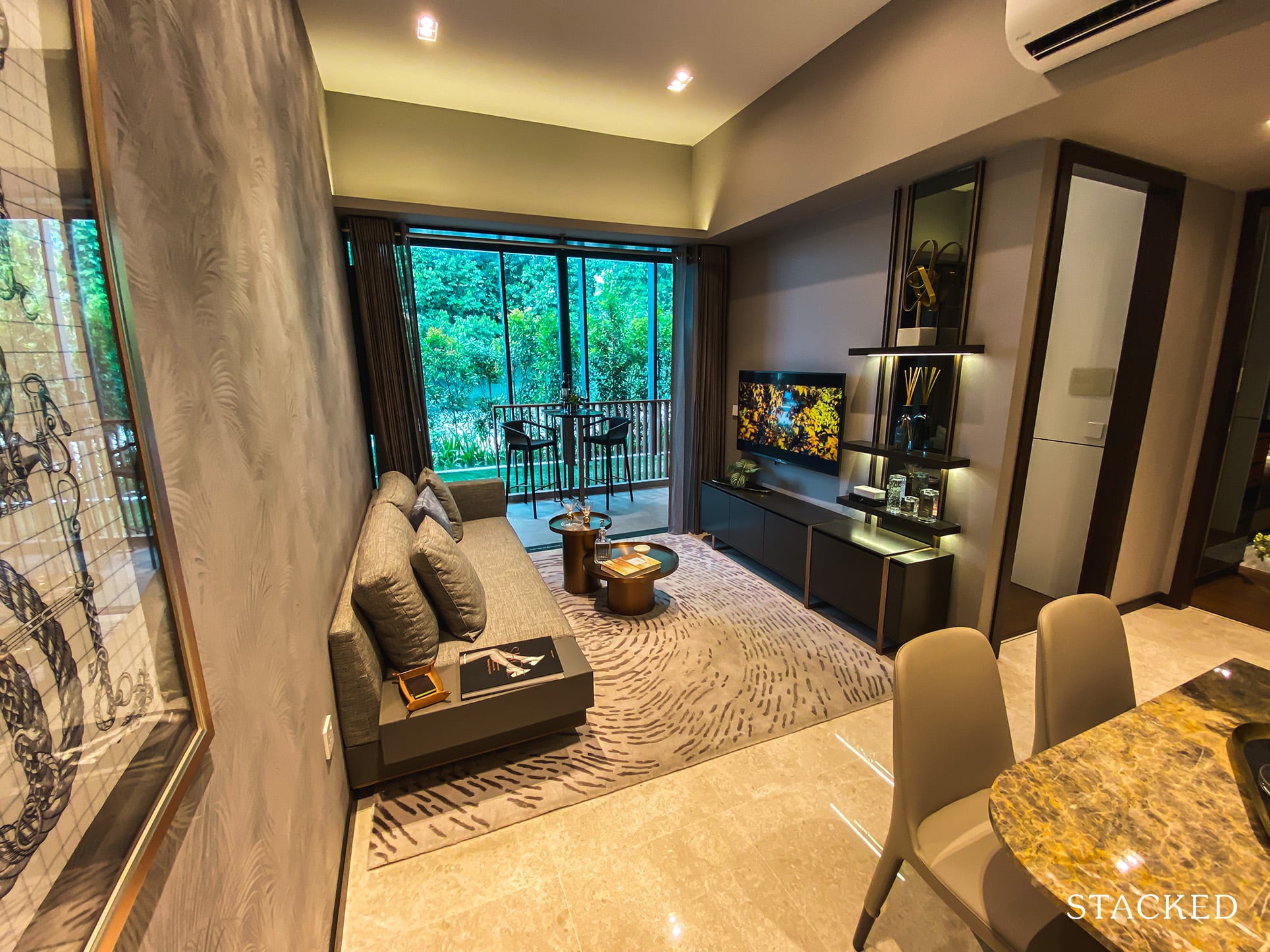 The living room is quite big, but again you'd have to watch the size of your sofa to make the space feel open.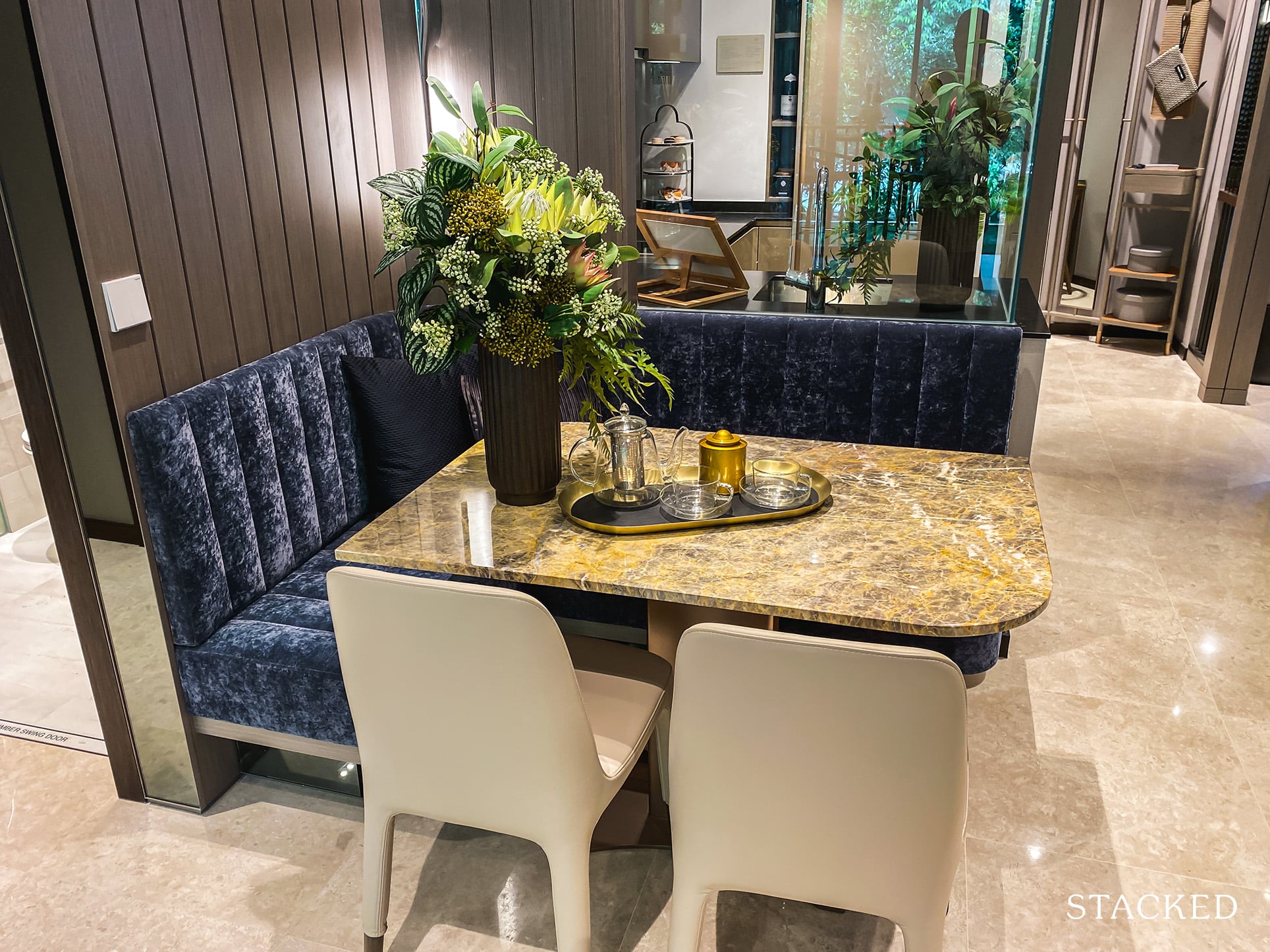 On the other hand, the dining area is small and cramped. If you can get by with a table for 2 it should be fine, but anything more than that and this bench seating is probably your best bet.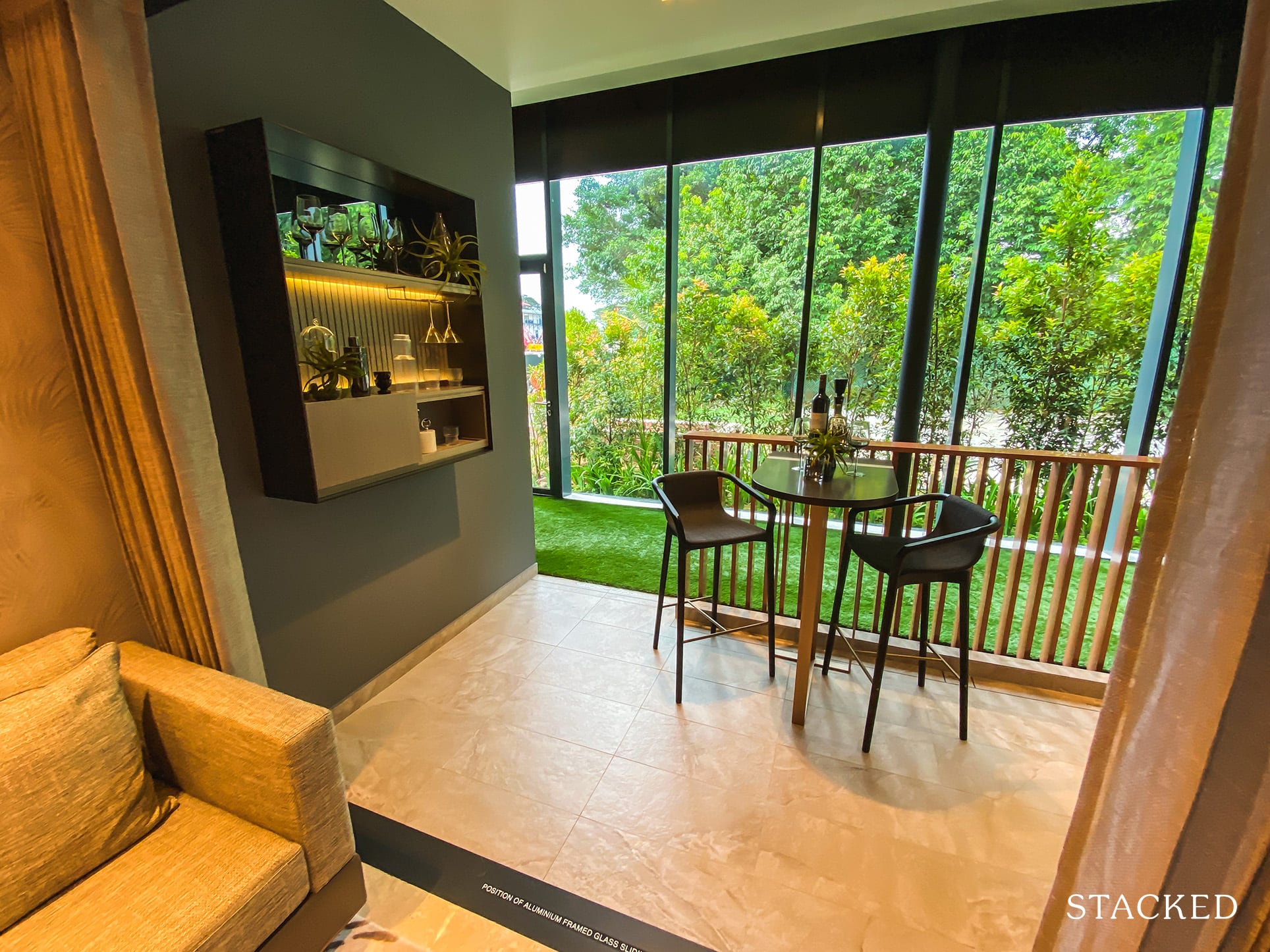 For a 2 bedroom unit, the balcony is big so if you like more outdoor space this would be perfect for you.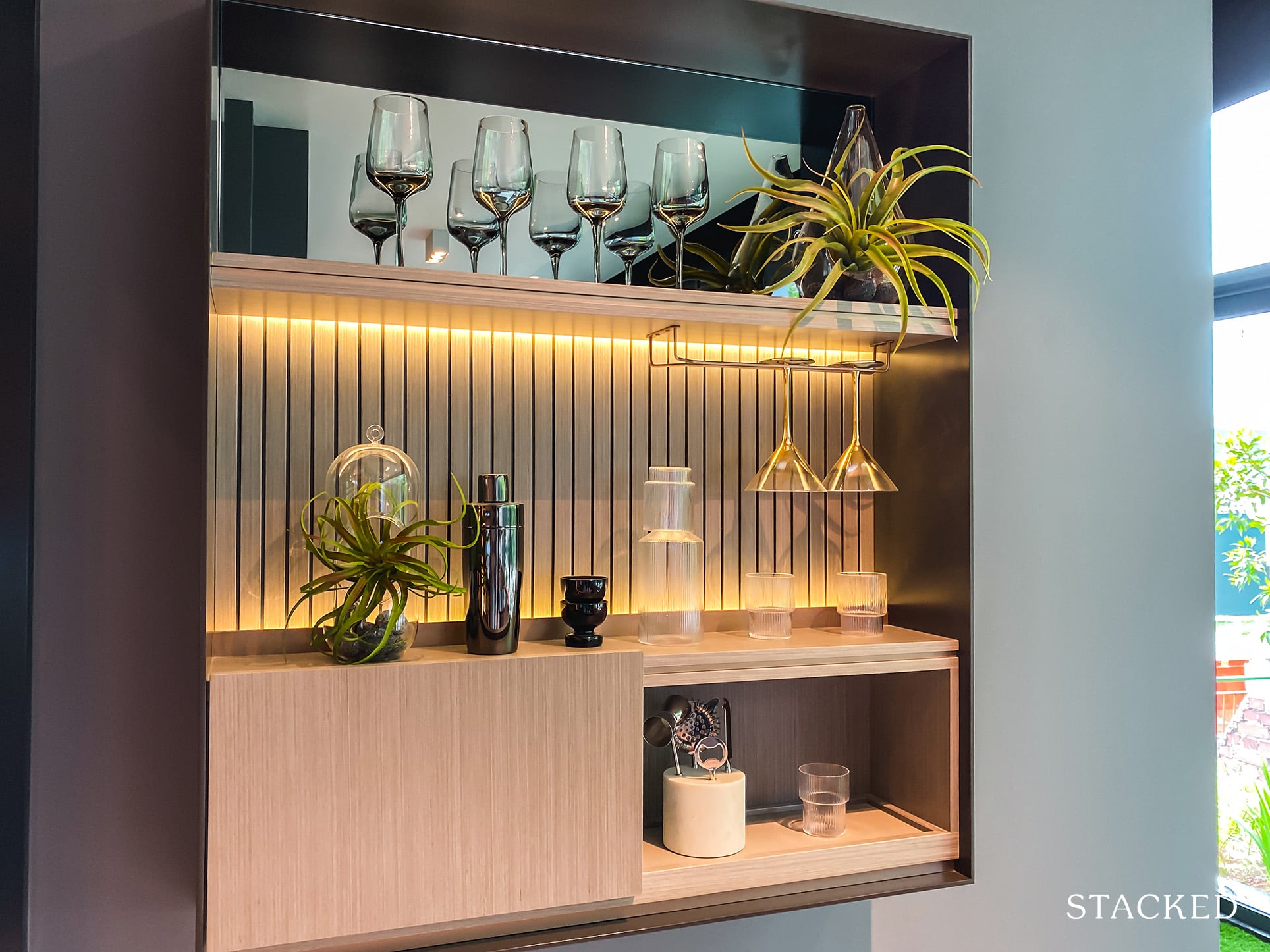 I like the concept of the balcony space too, where there is a small "bar" fixture. Think of it as your very own outdoor bar!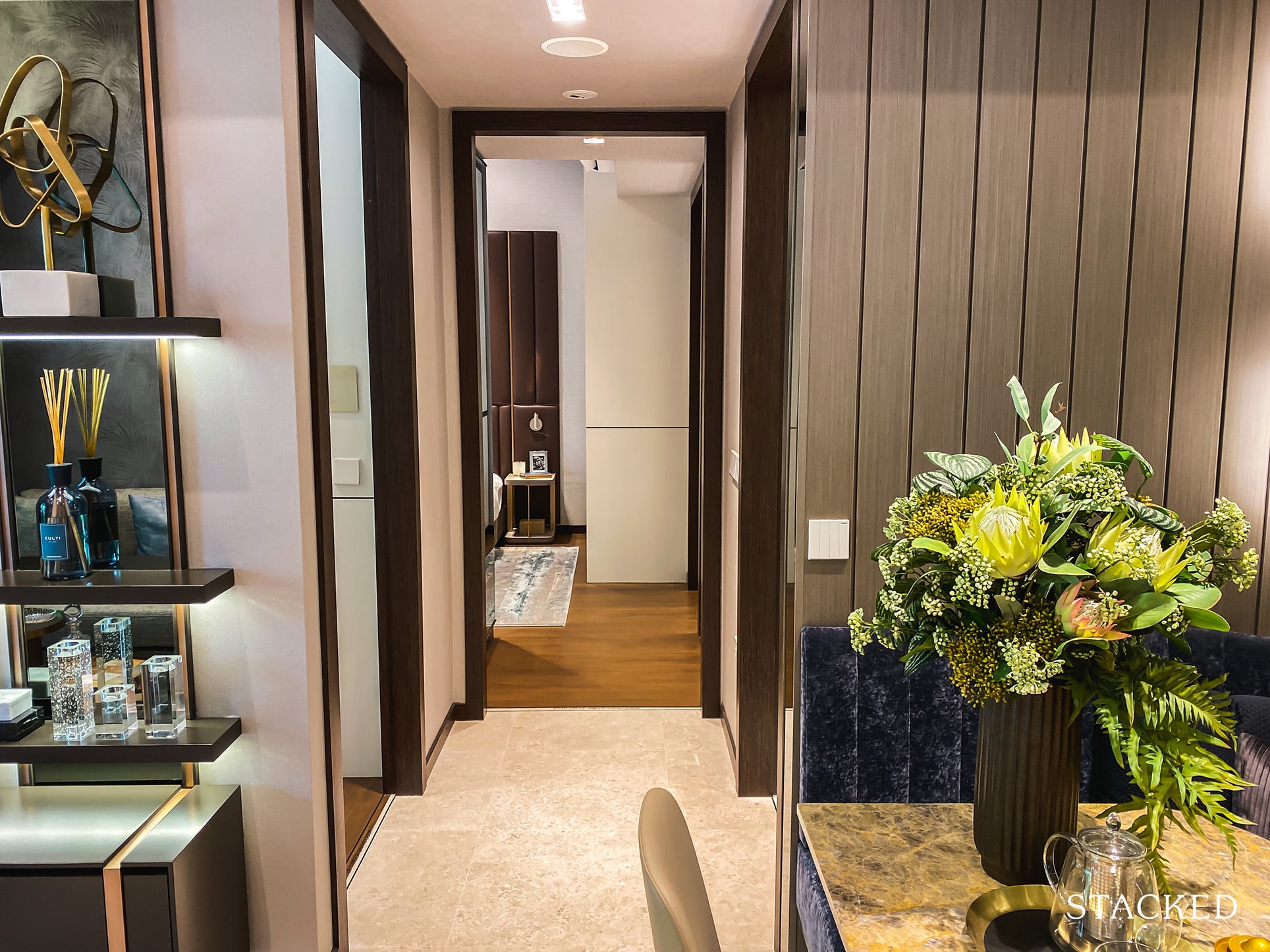 Back inside, the corridor is long and not the best use of space.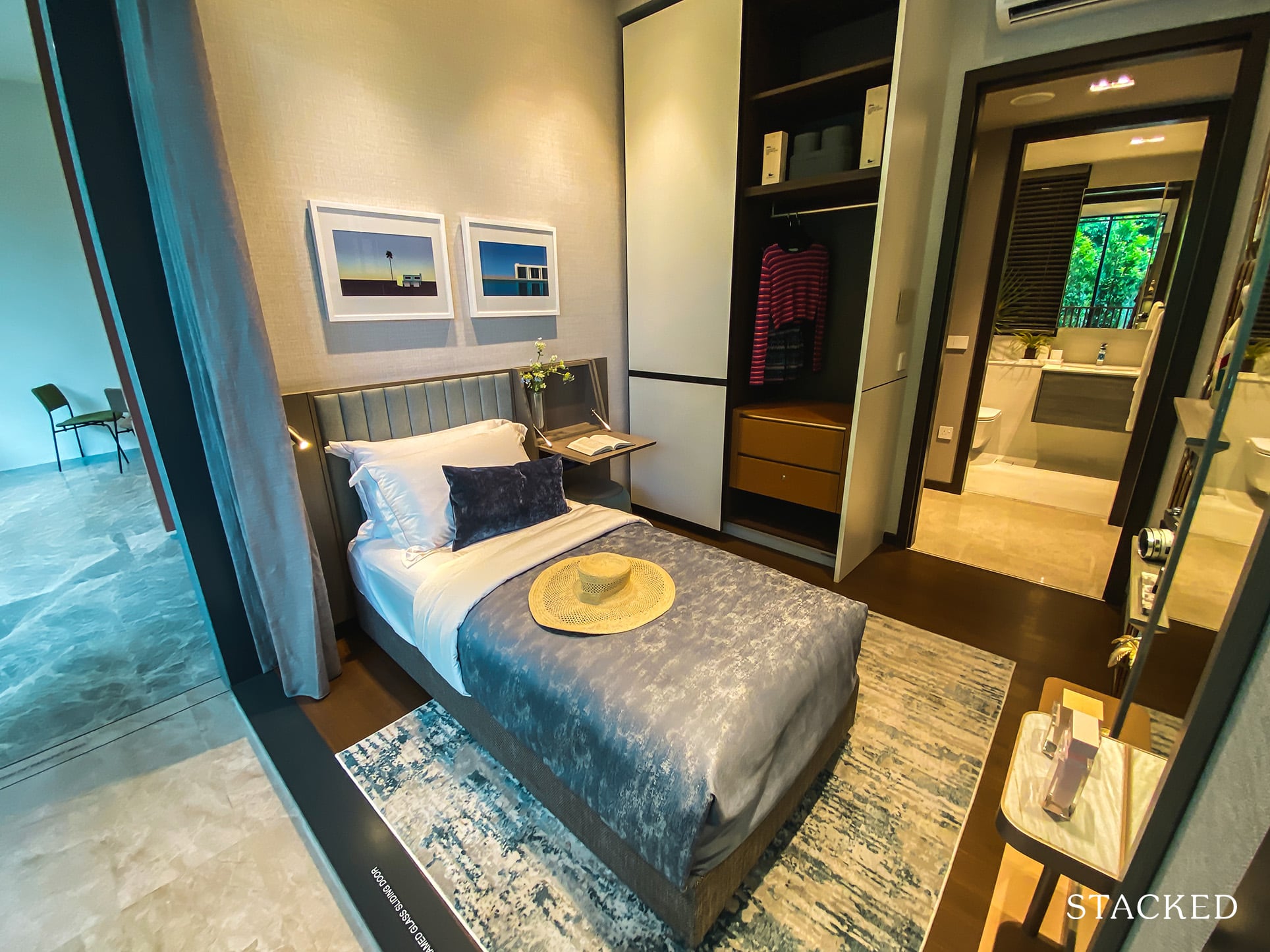 Similarly to the 3 bedroom unit, the common bedroom here is just okay in size. There is the added perk of access to the balcony from here!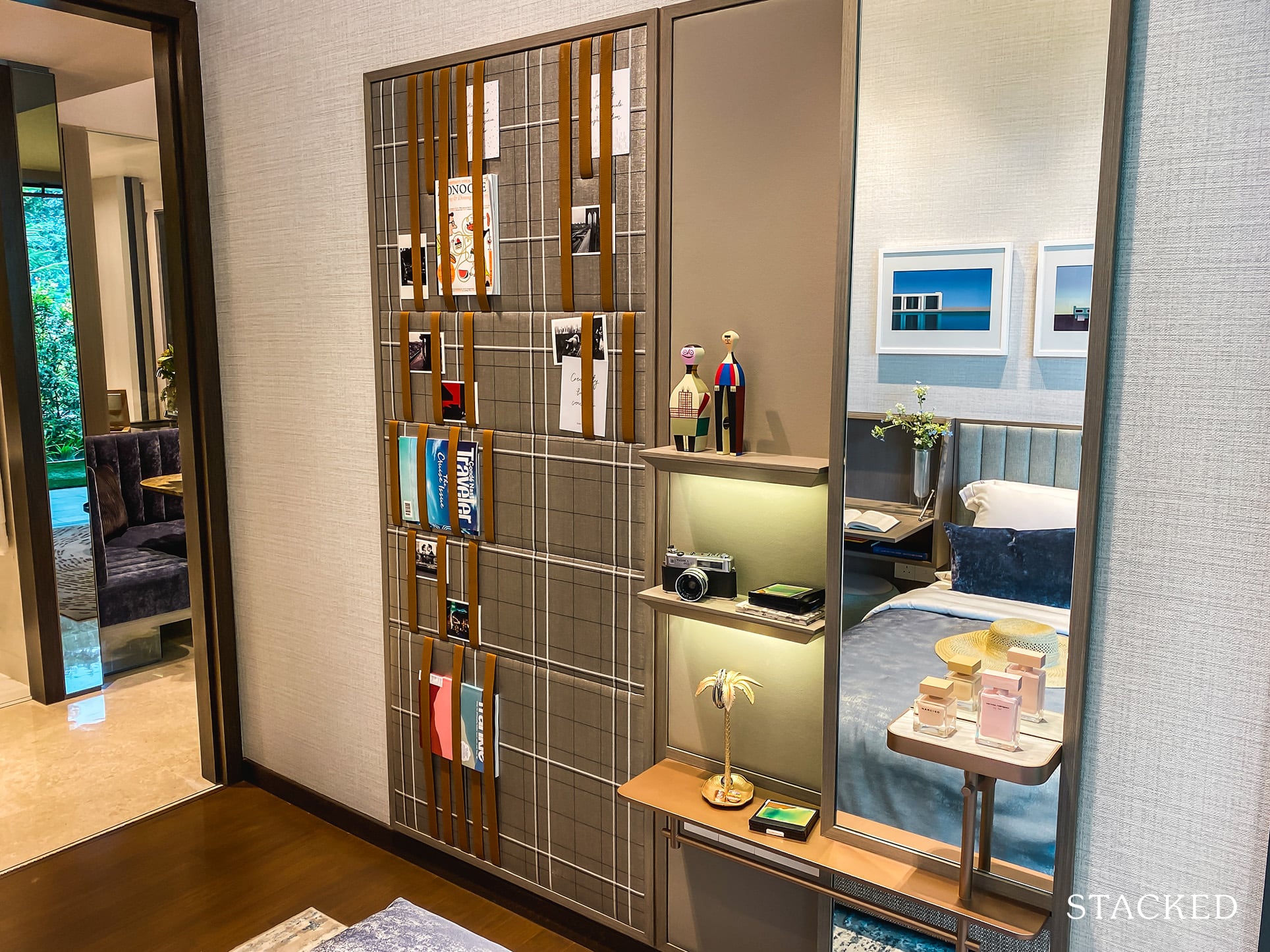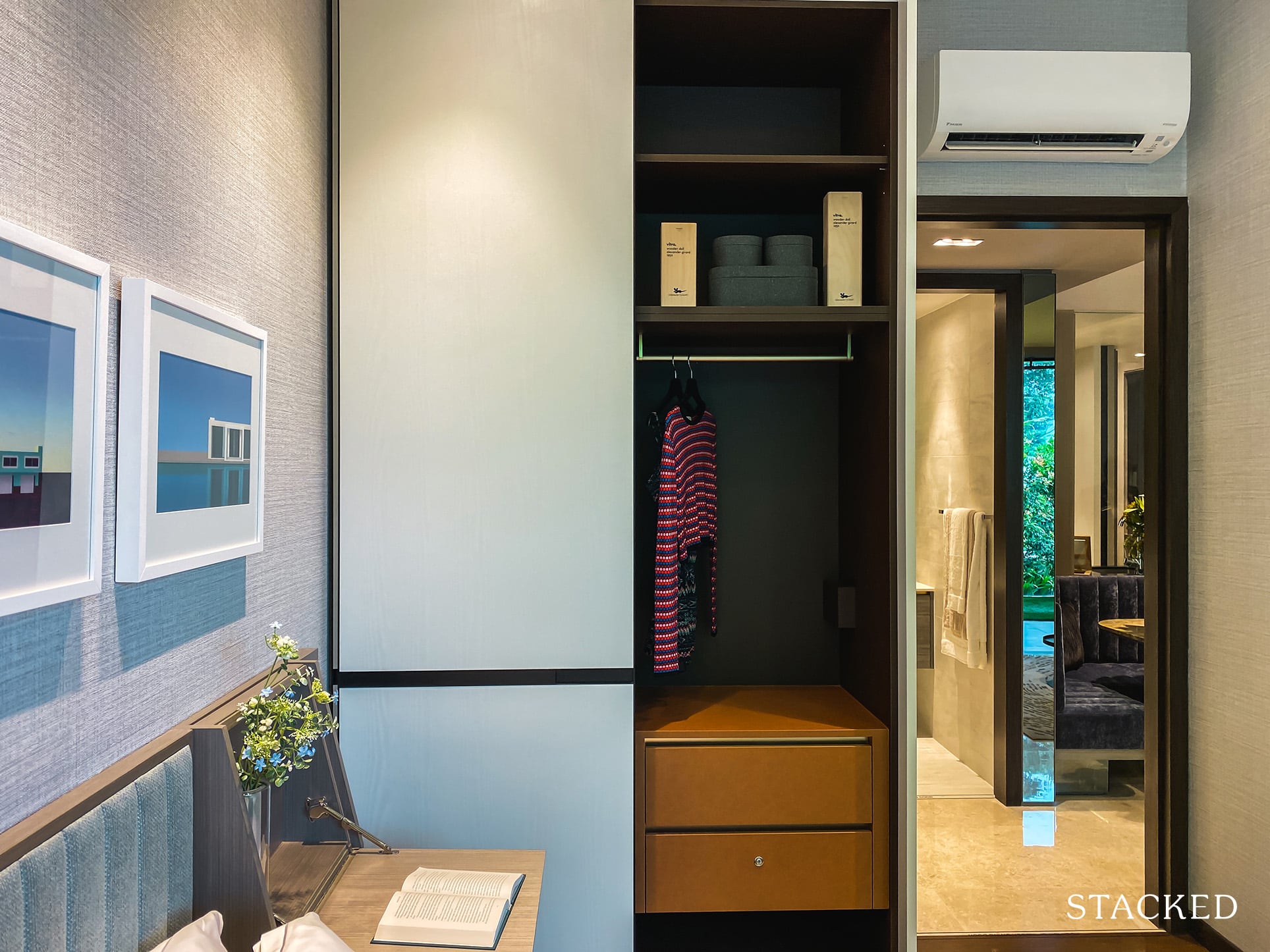 Storage space should be sufficient as it reaches almost all the way to the top.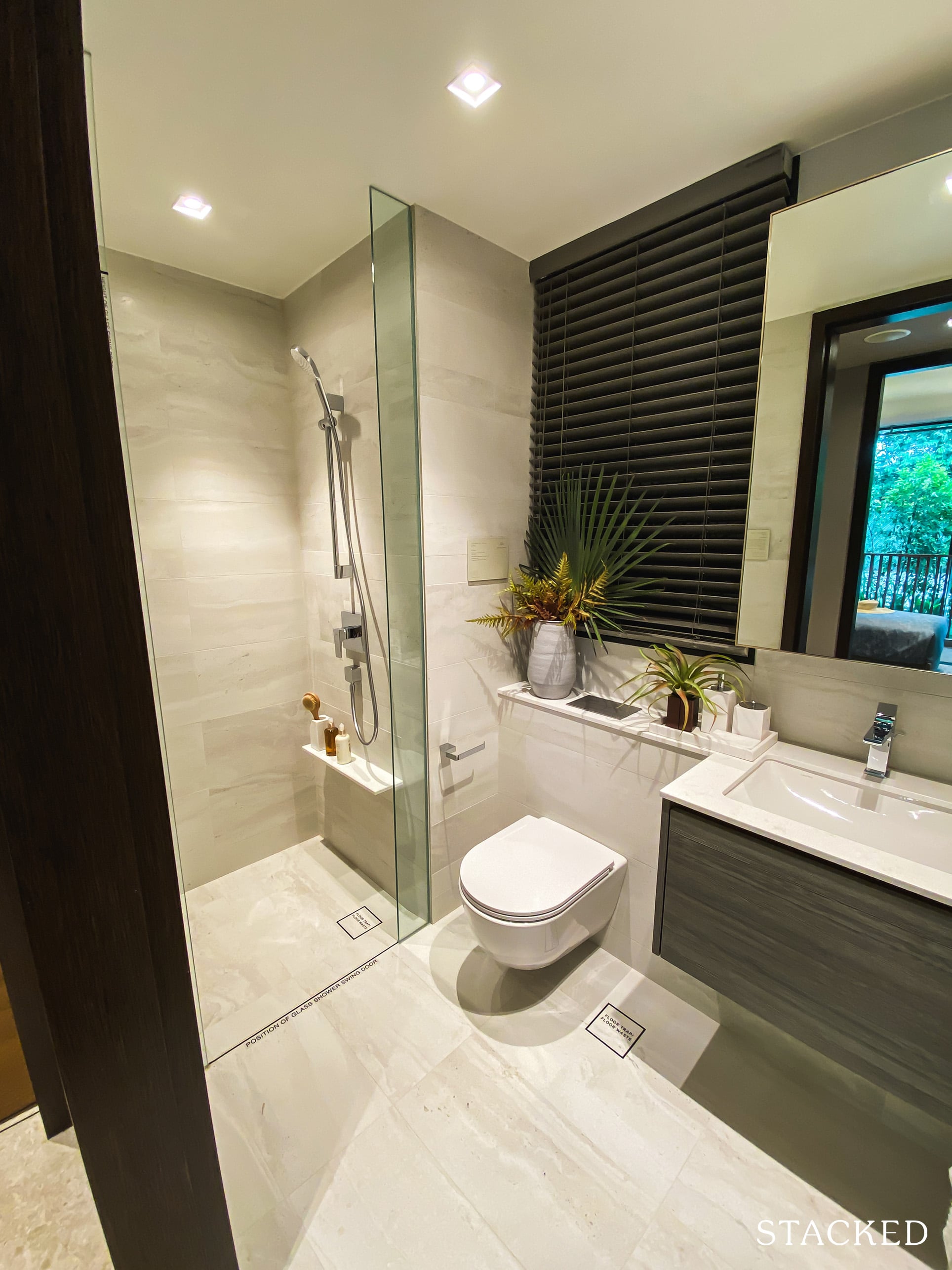 The common bathroom is simple in design, but it is quite roomy.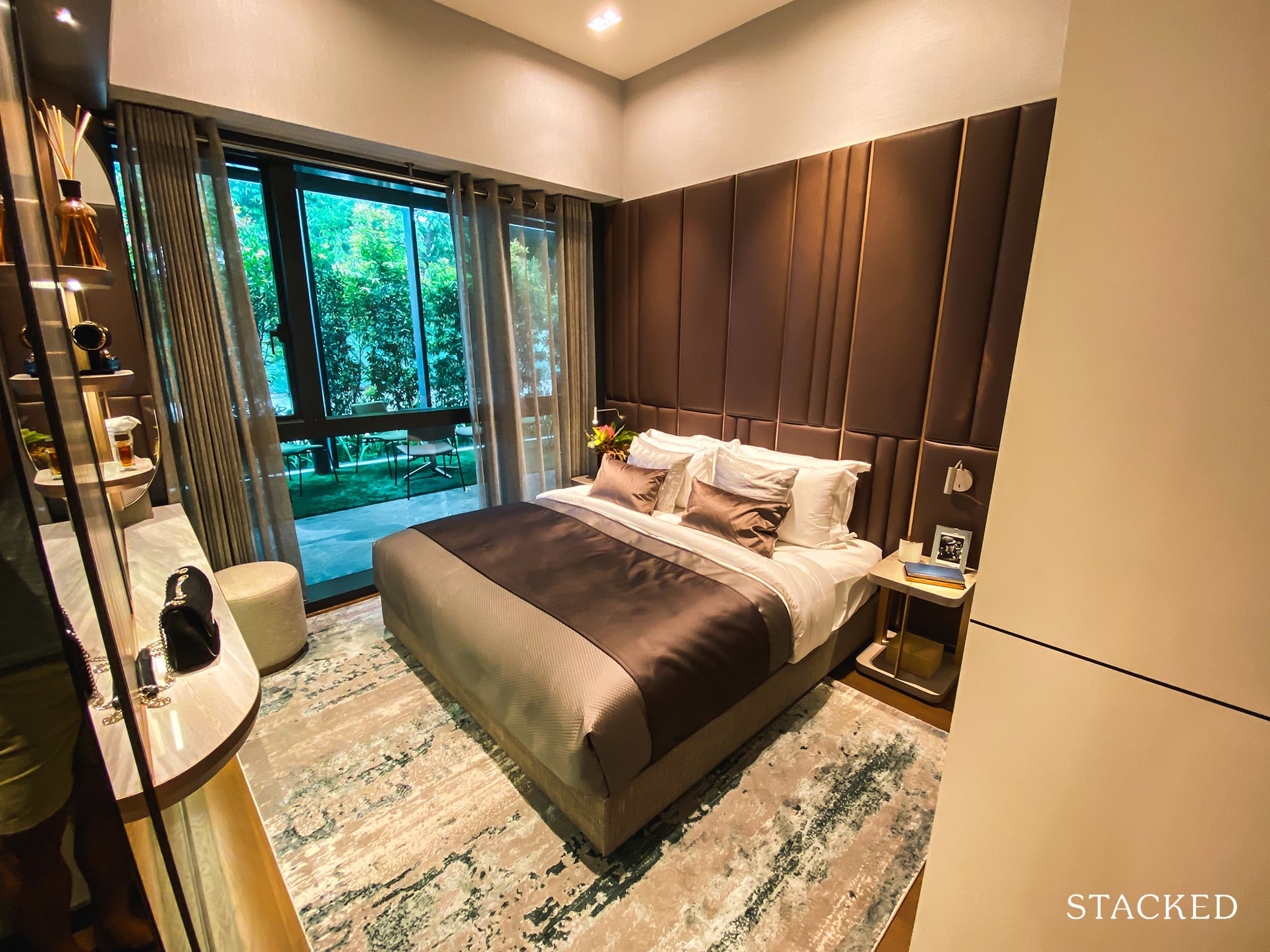 Finally, we come to the master bedroom.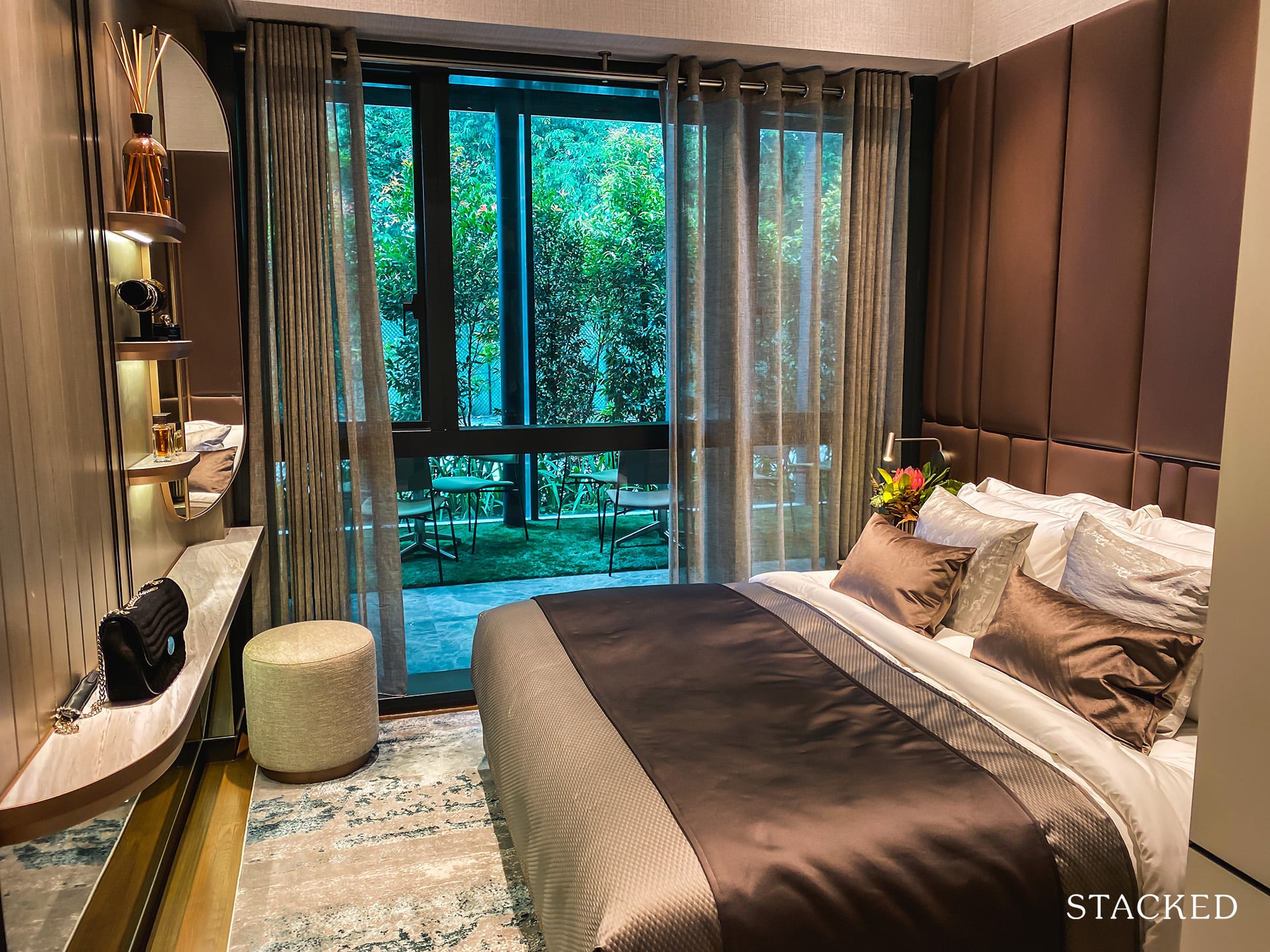 It could be my eyes playing tricks on me, but it does seem like there is slightly more space in front of the bed here than in the 3 bedroom unit.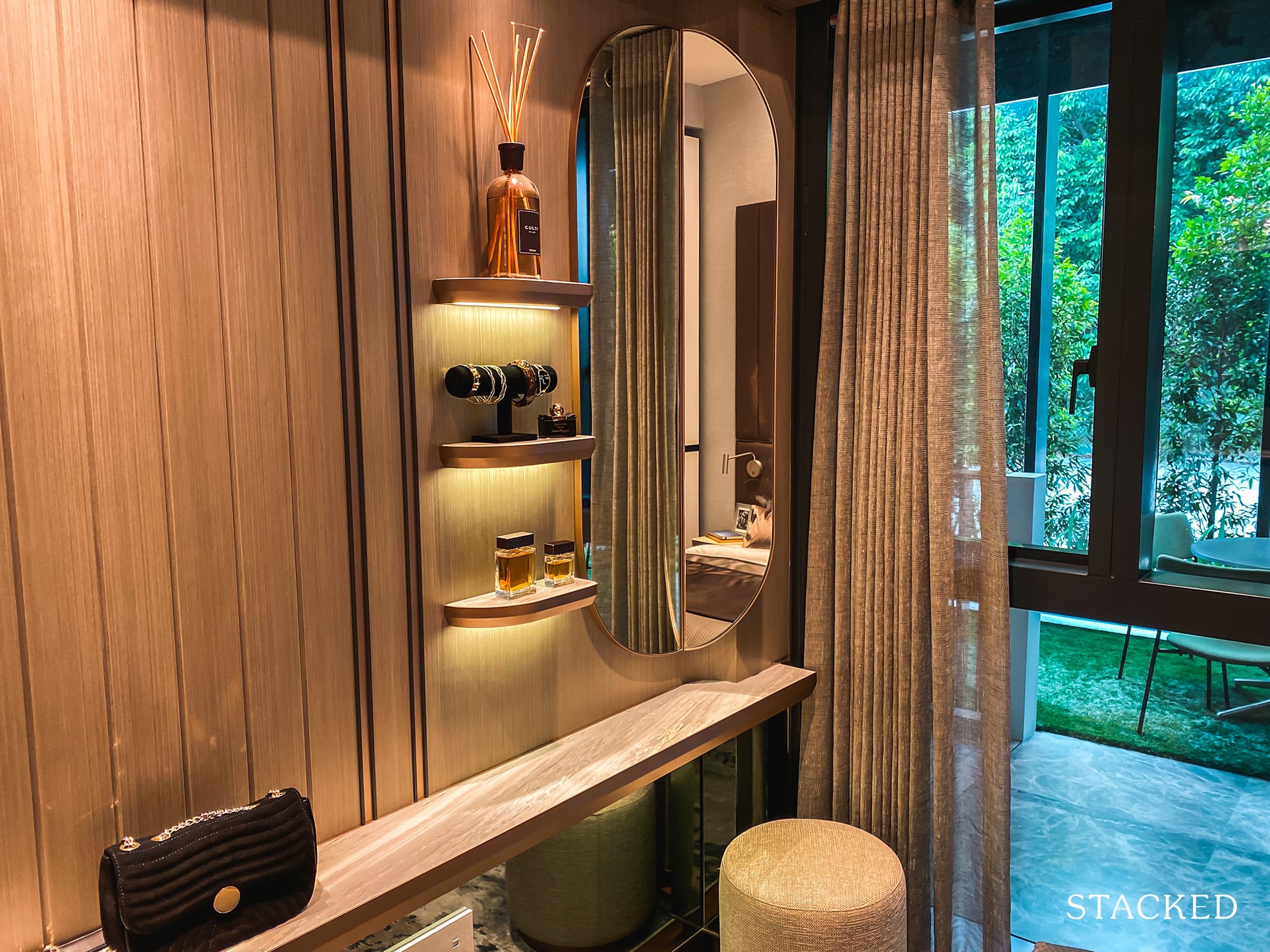 As shown in this ID unit, the space could be utilised as a dressing table area.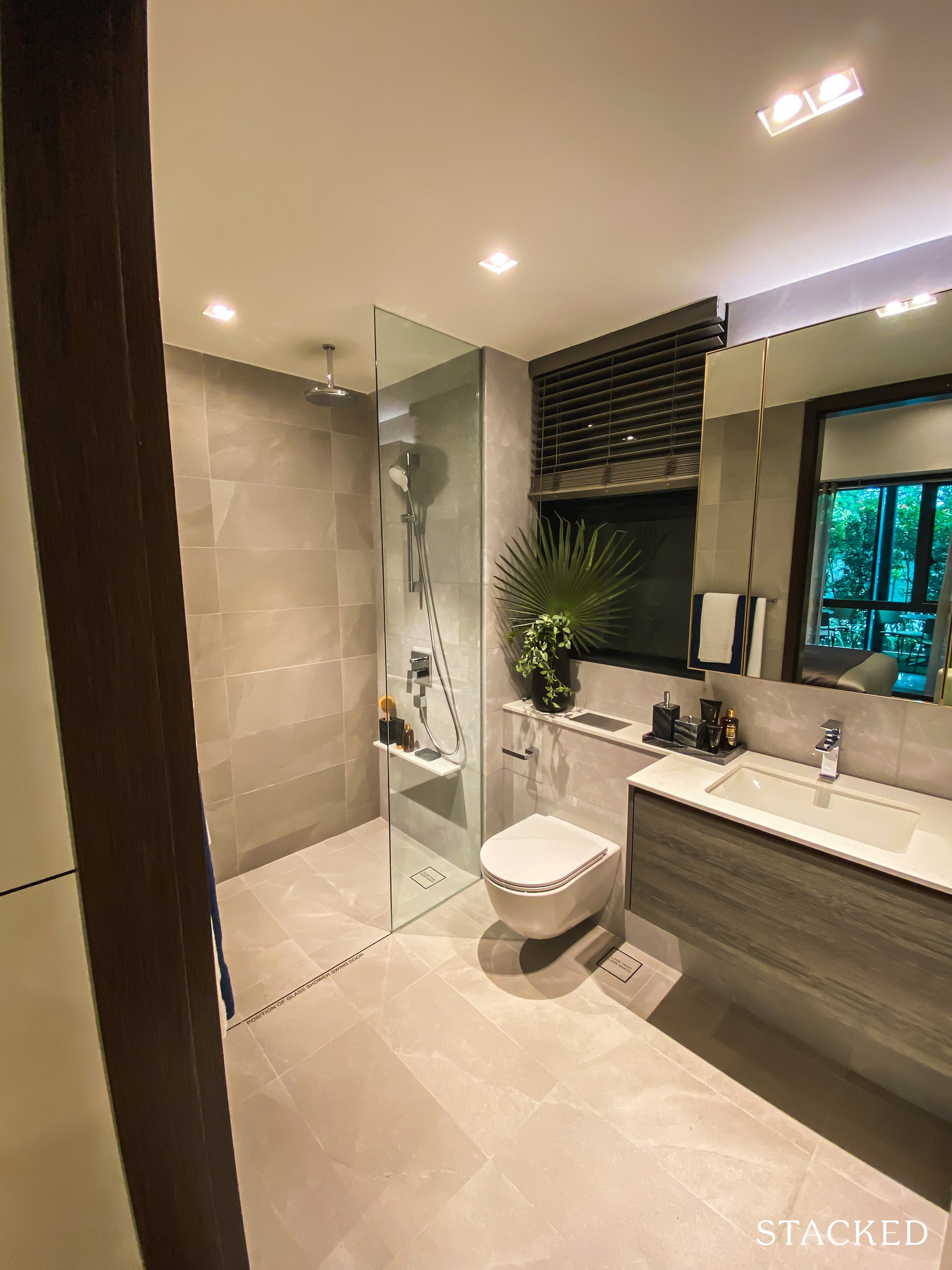 The master bathroom here is big and very generous in size.
RoyalGreen Location Review
Perhaps the biggest highlight for the RoyalGreen project is its locale.
Opening with the public transport sector, residents will find the Sixth Avenue MRT station located a mere 4-minutes' walk from the condo!
What's more, this station is just 2 stops from the circle line (Botanic Gardens MRT), 3 stops from the proposed Thomson east-coast line (Stevens MRT), 4 stops from the north-south line (Newton MRT), 5 stops from the north-east line (Rochor MRT) and finally 7 stops from the east-west line (Bugis MRT).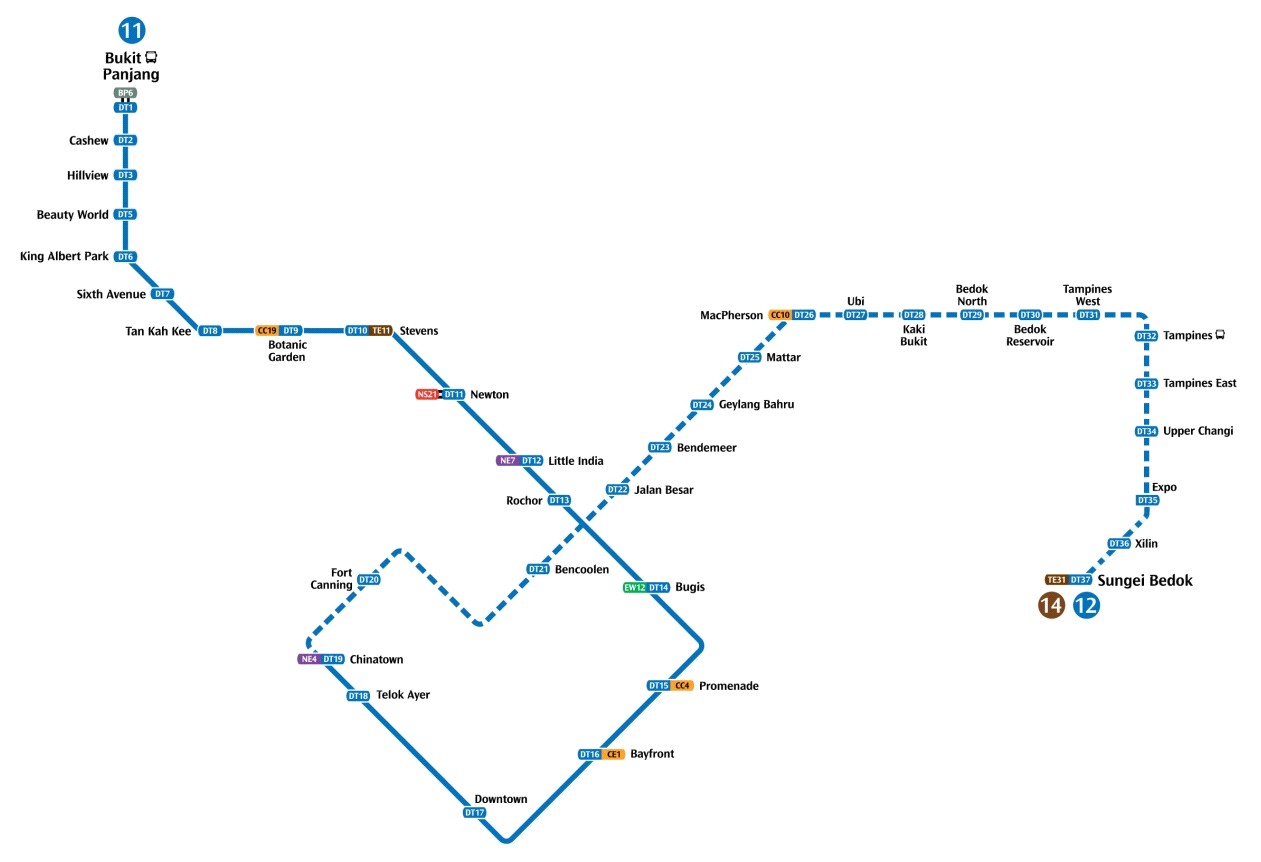 That's not all.
Pop-out of the RoyalGreen's gates for just a minute, and you'll arrive at the 'Sixth Avenue Ctr' bus stop (hint: you're in for a surprise).
While some might have made a rough estimate, few would have guessed that it offers 16 different bus services!
They include – 66, 66B, 67, 74, 77, 151, 154, 157, 170, 170A, 171, 174, 852, 961, 961M and 970. For the eagle-eyed who noticed and are familiar with buses 66, 154, 157, you'll realise that this bus stop also caters to people working/schooling in the west (the one convenience that Sixth Avenue MRT unfortunately lacks).
As for those who drive, you'll quickly understand that getting nearly anywhere from here is also going to be a cinch thanks to major connectors like Upper Bukit Timah, Clementi, Adam and Farrer Road as well as Lornie Road (and Highway), Eng Neo Avenue and the PIE.
(*Do note however, these roads are notorious for jams – so do your best to avoid them during the peak hours if you can)
For those worrying about noise levels from the nearby roads, rest assured that the immense amount of shrubbery in, and surrounding the condo should do their bits in concealing traffic noise.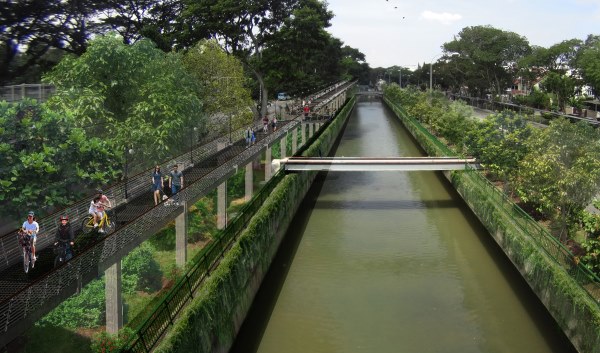 Factor in the proposed Bukit-Timah-Rochor-Green corridor running right outside (courtesy of draft master plan 2019), and you not only get better 'sound-absorbance' but also an entire 11-kilometre's worth of eco-trail at your doorstep!
Another bonus is that residents will have peace of mind even when it comes to matters of groceries.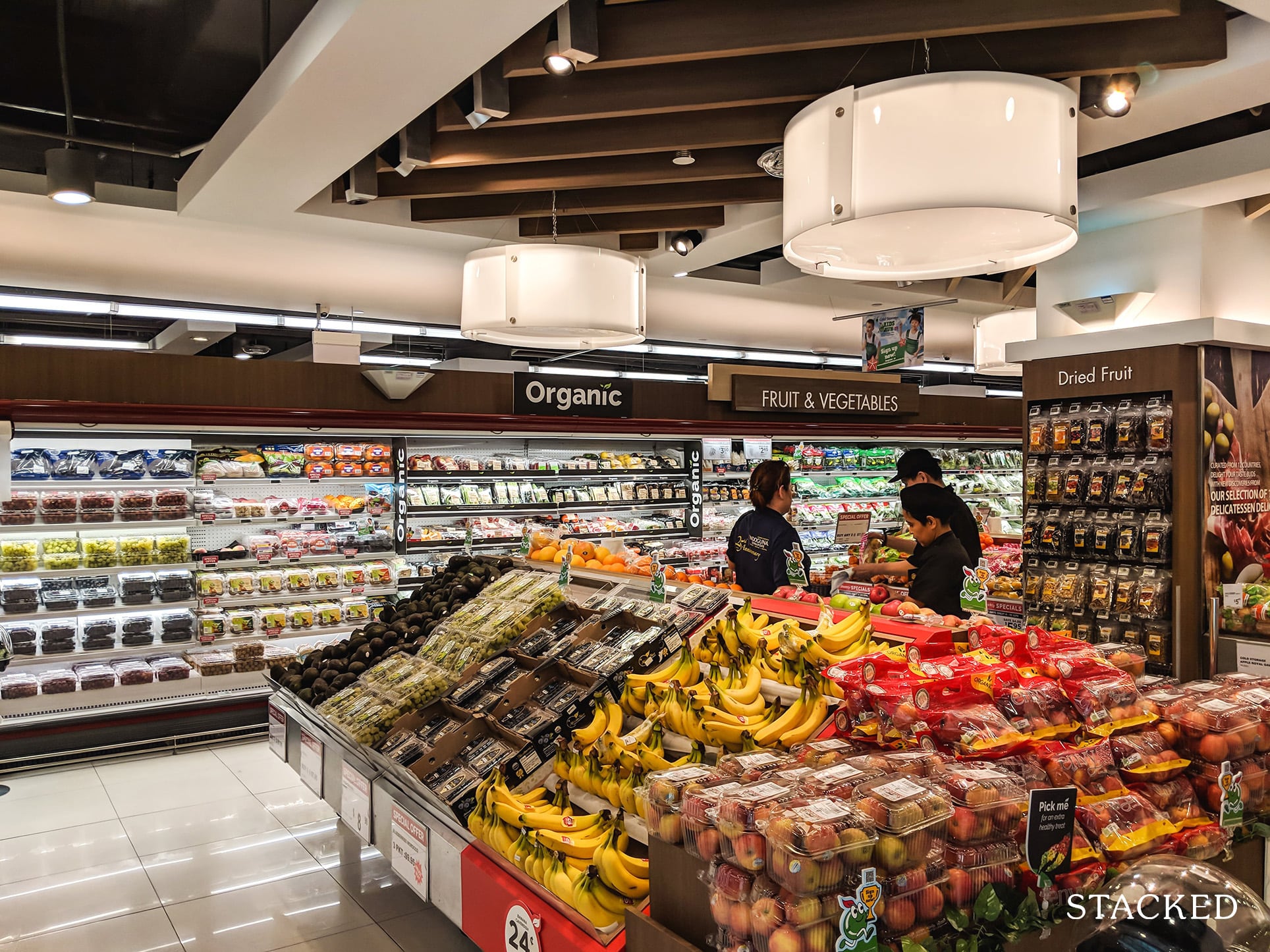 The Guthrie Cold Storage is simply a minutes' walk from the condo. Other nearby Cold Storages include the ones at Sime Darby (2-minute drive), Greenwood (4-minute drive) and Cluny Court (6-minute drive).
You will also find the closest FairPrices located at Bukit Timah and Coronation Plaza – both of which are a 4 and 6-minute drive away respectively.
Regarding shopping malls and food options, you can choose from a massive list of:
The Grandstand, Adam Road Food Centre, King Albert Park Mall, Beauty World Plaza and Centre, Cluny Court, Crown Centre, Star Vista Mall, Raffles Holland V Mall, Rochester Mall and Jelita Shopping Centre… as well as the entire Jurong East and Clementi food/shopping district – all within a 10-minute drive radius from the condo.
If that isn't enough to fulfil your desires (you might need to be concerned at this point), the Orchard Road and Queenstown shopping belts are just 12-14-minute drives away from the RoyalGreen!
A couple of other points worth mentioning before we have a look at the famous Bukit Timah Education belt.
Firstly, there are quite many hospitals (which is always useful) within a 15-minute drive radius. They include:
Mt. Alvernia, Concord International, Ng Teng Fong, National University, Gleneagles, Mount Elizabeth, Mount Elizabeth Novena, Tan Tock Seng and Farrer Park Hospital.
Secondly, nature lovers will revel in the variety of flora and fauna as well as the numerous parks in the vicinity. These include the Bukit Timah Nature Reserve, National Orchid Garden, Bougainville Park, the Green Corridor and the Maple Lane Park (right next to the condo).
Thirdly, ex-pats will take delight in a wide range of surrounding embassies to meet their individual needs.
Finally, residents can look forward to quite many food and retail options within immediate walking access of the condo (we covered that in greater detail during our review of the Fourth Avenue Residences).
By now, you must have heard of the Bukit Timah education belt (probably one of the biggest attractions of living in this area). Without further ado, let's find out what it entails.
Regarding pre-schools (less than a 5-minutes' drive), you have White Lodge Kindergarten, Odyssey Global Preschool, Blue House Nursery, Pegasus International Preschool, Little Paddington Preschool, Bright Path Preschool and ChildFirst @ King Albert Park.
As for primary schools within the 10-minute radius, we have Methodist Girls', Cambridge, Pei Hwa Presbyterian, Nanyang, Bukit Timah, Nan Hua, Pei Tong, Raffles Girls' and Henry Park Primary.
Moving on to secondary schools, you will find Hua Chong institute, St Margaret's Secondary, Nanyang Girls' High, Yusof Ishak Secondary, New Town Secondary, Nan Hua High and the NUS High School of Math and Science.
Concluding with an esteemed tertiary education list, we find the National, Eunoia, Hwa Chong, Raffles, Catholic and Anglo Chinese Junior Colleges bordering once again, a 10-minute drive from the condo.
Singapore and Ngee Ann Polytechnic, as well as the Singapore Institute of Technology, various faculties of the National University of Singapore, Singapore University of Social Sciences, MDIS campus, UBS business university and the University at Buffalo, round up the remaining polytechnics and universities in this diverse and highly sought-after Bukit Timah education belt.
RoyalGreen Development Site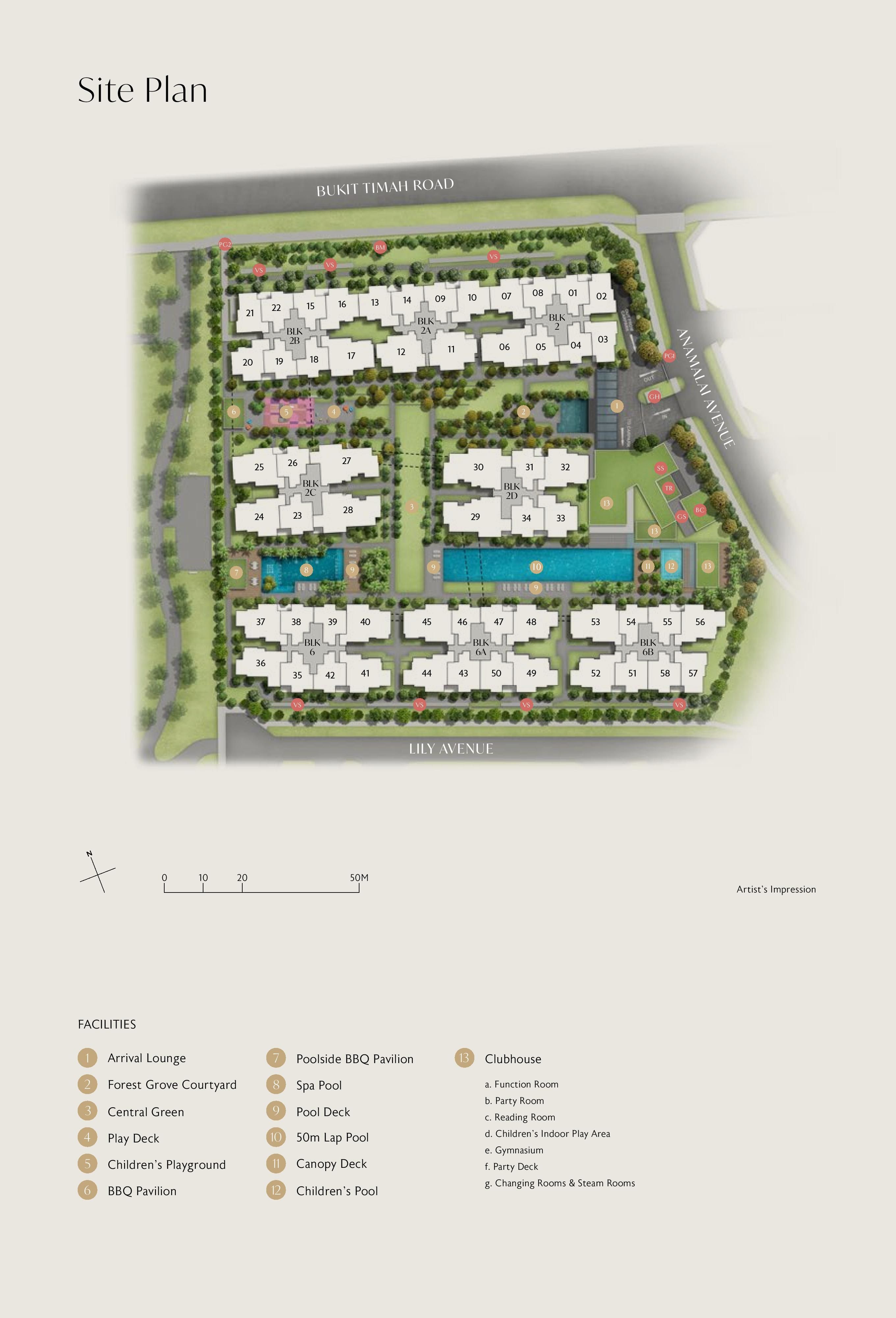 The reason we are seeing 8 blocks of 5-storey flats is due to the 1.4 allocated gross plot ratio that this 174,000 square feet plot of land currently abides by.
While this plot ratio does help to reduce the risk of overpopulation, the fact that blocks are generally facing each other (especially middle blocks 2C and 2D) might seem slightly off-putting to some.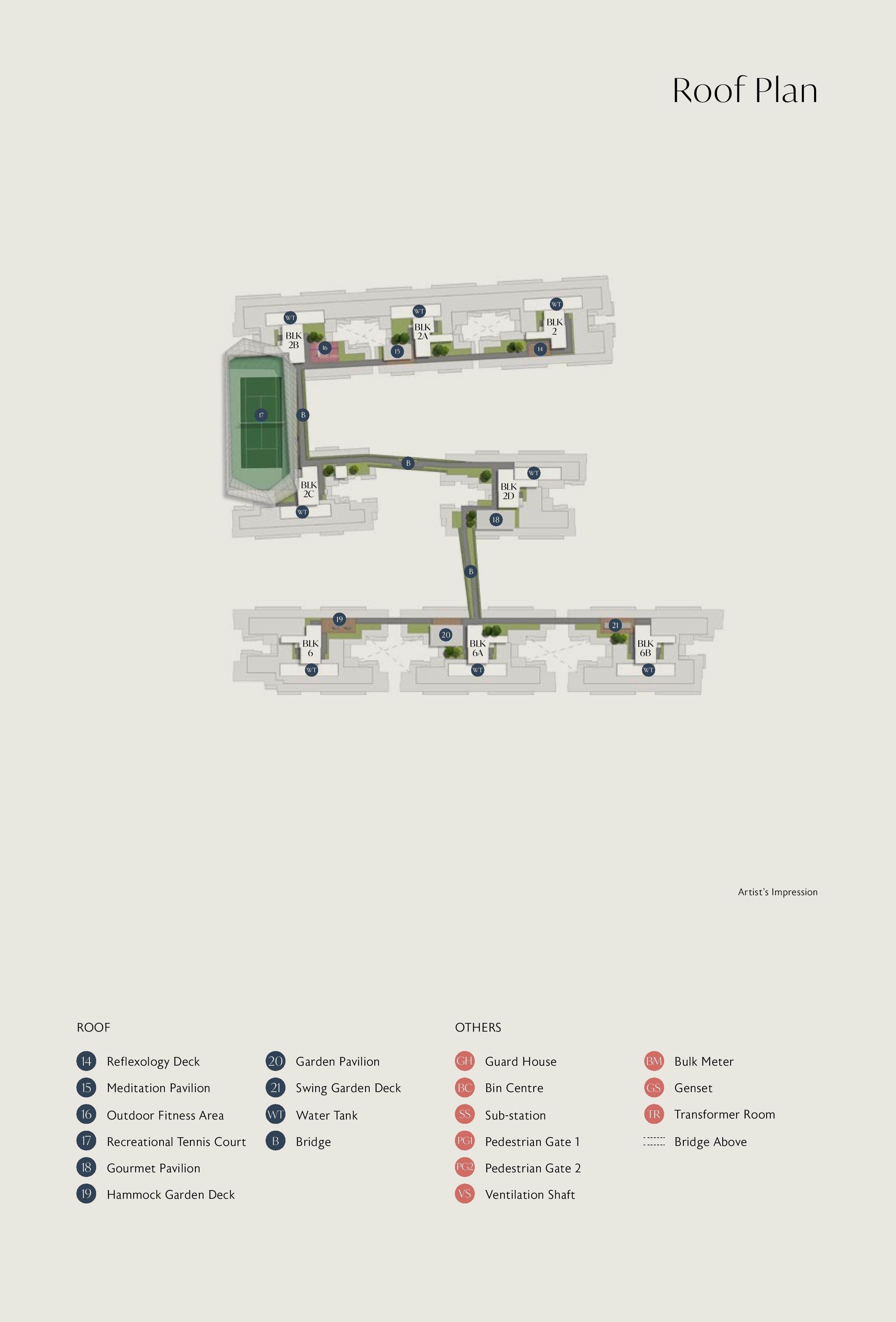 What's more, these low-rise units could potentially receive some noise disturbance from both the pools and roof-top facilities on weekends and public holidays. Blocks 2C and 2D, in particular, might receive some additional noise volumes from the condo's singular sky tennis court.
Finally, we do expect some peak hour traffic congestion given the RoyalGreen's narrow carpark entrance and the singular condo exit to Anamalai Avenue.
Furthermore, given the development's location at the Bukit Timah Road-end of Sixth Avenue, residents might also face some traffic difficulty in getting to Holland Road (on the other end of Sixth Avenue) should they decide to drive along this single-laned road at certain times of the day.
On to the unit mix:
Unit mix

| Unit Type | No. of Units | Size of Units (sqft) |
| --- | --- | --- |
| 2-Bedroom | 39 | 635 – 721 sqft |
| 2-Bedroom Premium | 75 | 667 – 721 sqft |
| 2-Bedroom + Study/Guest | 63 | 721 – 861 sqft |
| 3-Bedroom | 42 | 926 – 990 sqft |
| 3-Bedroom + Study | 44 | 1044 – 1076 sqft |
| 4-Bedroom Premium | 18 | 1,432 – 1,475 sqft |
| 4-Bedroom + Study | 4 | 1,259 sqft |
Once again, the omission of 1-bedroom units pops to mind (very much similar to the Clement Canopy). Let's briefly dissect the ideas behind this.
Firstly, a person who has the money to purchase a unit here would logically prefer a bigger space (also, we highly doubt that the price of a 1-bedder unit would be half that of a 2-bedder).
Secondly, investors looking to rent out units here would much prefer simultaneous cash flow from two rooms as opposed to one – especially given the expected condo's expat-rental demand.
Thirdly and most importantly, a 1-bedroom unit in a freehold establishment of this quality and location might not bode well with its general luxury allure especially given that Fourth Avenue Residences is already made up of 70% 1 and 2-bedder units.
Only time will tell if these factors combined could lead to the faster purchase of units as well as a generally increased revenue target for the developers. One thing is for sure though – Fourth Avenue Residence's 1-bedroom unit sales will stand to benefit from less competition.
Finally, with regards to unit sizes, the 2-bedders; while not extremely well laid out are relatively decent in size. The 3 and 4-bedders however, do seem a tad below average in size even if the spaces in the 3-bedder unit do seem rather well-planned out from our showroom tour.
(If you're curious about how you can differentiate a good unit from a bad one with just a showroom unit alone, be sure to check this out!)
Price Review
Surrounding developments

| | | | |
| --- | --- | --- | --- |
| Project Name | Tenure | TOP | Average Price (PSF) |
| RoyalGreen | Freehold | 2022 | $2,750 |
| Fourth Avenue Residences | 99 years | 2022 | $2,387 |
| Fifth Avenue Condo | Freehold | 1998 | $1,821 |
| Sixth Avenue Residences | Freehold | 2009 | $1,698 |
Based on the first launch weekend of RoyalGreen, 33 out of its 108 (31%) released units were sold with the 4-bedroom premiums generally receiving a higher demand given its short supply. The average PSF of units sold was $2,750.
At the time of our previous price analysis on Fourth Avenue Residences, there weren't any immediate competitors in terms of uniqueness, novelty and proximity to the Sixth Avenue MRT. Of course, the price was quite the premium especially considering it is a 99-year leasehold.
Still, it managed to fetch 70 unit sales out of the 168 (42%) released. If you were to crunch the numbers, that would mean 14.7% of Fourth Avenue Residence total units were sold on opening launch compared to the 11.5% of RoyalGreen units sold.
Why is this the case?
Well despite the argument that it is a 99-year leasehold and has a relatively larger number of units, it does seem that the Fourth Avenue Residence offers 1-bedroom units and is 'closer' to the MRT station (albeit not by a lot) as opposed to its counterpart.
Most importantly, however, it is 'cheaper'.
With units going at such a high premium, it does make sense for investors and homeowners to step warily and strike hastily – especially in light of the recent economic changes to the SGD.
One thing that is for sure though, developers Allgreen Properties are definitely gunning to secure full unit sales for both developments before the 5 years from the date of their respective land purchases are up.
Failing which, they will have to fork out an additional newly revised and incredibly hefty 25% ABSD fee.
It might be an incredible gamble, but if you think that not everyone is up to the price tag (aka predicting smaller-unit price falls), and you have a good inclination of the financial market trends, holding out a bit on your purchase could prove to be a very solid investment move (especially when you factor in the potential rental demand of units here from future ex-pats).
If you are looking for a bigger unit, are not sticky on the latest facilities, the Fifth Avenue condo does seem to provide incredible value at almost $1k PSF less.
Our Take
Let's be real. $2,750psf is probably a ridiculous sum to most people.
Even for those of us who could afford it with some reserves left, the idea of banking on a unit price fall is bound to cross your mind.
One thing to note though is the availability of only 18 premium 4-bedroom units – out of which 5 have already been snapped up. Furthermore, (as is arguably the biggest advantage of the early bird) choice units are bound to be taken off the market almost immediately.
Despite the high quantum, the fact that the biggest units have been snapped up first tells you a lot. One, that most of the purchases here would be for their own stay. Two, there are many people with deep pockets living in the surrounding landed area. So I can see RoyalGreen being an attractive proposition for those who are looking to retire to a smaller more manageable place (from a landed) or even a home for their children.
Regarding basic residential qualms, however, I believe that the location, investment value and generally peaceful and luscious residence will outweigh the cons of potential entry/exit traffic jams as well as the slight architectural distaste of the apartment blocks facing each other – especially when they can both be mitigated (you should purchase your unit early if you are concerned with the latter).
Granted, units might not be the biggest, but we'll just leave that part of the equation to our savvy interior designer eh?

And so if you ask me sincerely, I would tell you that I wouldn't think twice about snapping up a choice-view 4-bedroom premium unit immediately if I had that amount of cash.
All things considered, the RoyalGreen truly seems like a one-in-a-million Singaporean luxury freehold development.
What this means for you
You might like RoyalGreen if:
• You prioritise your kids' education careers:A diversity of Preschool right up to Tertiary options will spell massive convenience for the children.
• You are looking for a luxurious family heirloom:A luxury freehold condo in such an incredible location doesn't simply pop up every day.
You might not like RoyalGreen if:
• You value massive unit space:The units although well laid-out are not generally huge, especially when compared with predecessors 5th Avenue Condo and 6th Avenue Residences.
• You cannot stand traffic jams:All the roads around the estate are notorious for peak-hour jams due to their connectivity value and the number of schools and residences in the area.
End of Review
[optin-monster-shortcode id="gzivtlotizxfiuzqwtnx"]