Units Of The Week
5 Ground Floor Units With Lovely Greenery/Sea Views
Stacked
December 22, 2021

7

min read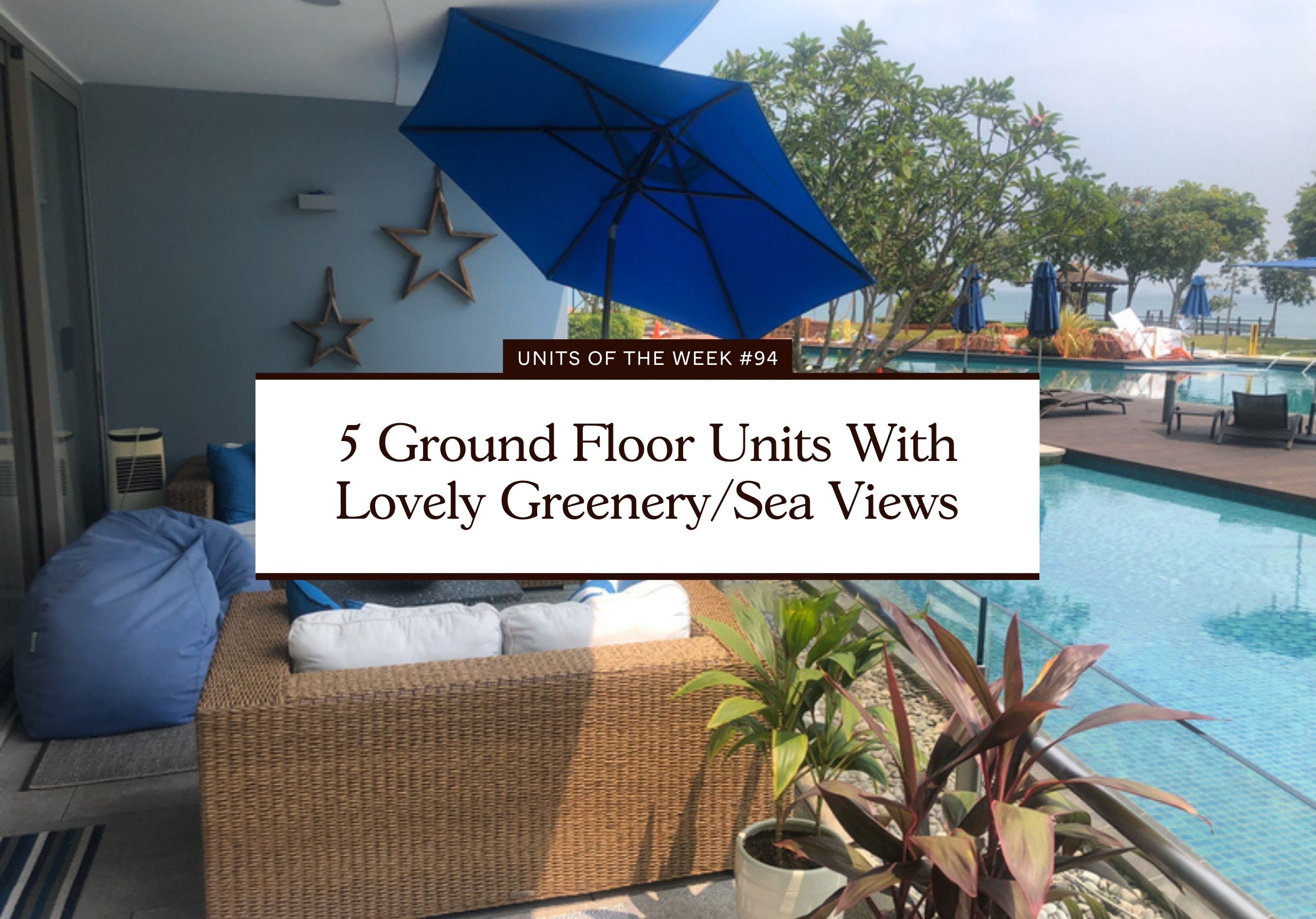 7
min read
As you may well have heard by now, the new cooling measures are upon us.
Some say it's about time, others lament that it is 2 months too late. Nevertheless, it has had some impact so far, with the developers of Perfect Ten choosing to go for a 5% discount instead of postponing the launch. It's expected that a few luxury new launches will follow suit, so it'll be intriguing to see what further developments happen in the high-end market.
So in light of that, this week, we take a look at some more pricey options available. But more specifically, ground floor units for those that like to be closer to nature. And as much as possible – a more private facing (or sea facing) as well.
Missed last week? You can view the previous issue here.
You can also join our free weekly newsletter so you stay up to date on our latest curations weekly.
Now let's get on with the list of curated units this week!

1

Botanika
$3,950,000
| | |
| --- | --- |
| Address: | Botanika |
| Tenure: | Freehold |
| Size: | 1,679 sqft |
| $PSF: | $2,352.59 PSF |
| Developer: | Tuan Sing Holdings Limited |
| TOP: | 2009 |
Why I like it
If my memory doesn't fail me, this isn't the first time we've covered a unit at the Botanika. For those of you who aren't as familiar with District 10, this is a small development with just 34 units. It sits on a narrow plot, and isn't one for those who are looking for family living as facilities wise it is rather sparse. It also isn't exactly near an MRT station, and so more ideal for those who drive (if you are looking around this area, this shouldn't be much of an issue anyway).

What this development is for is for those who love nature and greenery. This is a ground floor unit that has 3 bedrooms and 2 bathrooms sized at 1,679 square feet – so yes, it is very generously sized by today's standards. As with the exclusiveness and upscale demographic of the development, you do have private lift access here, but the real stunner is the facing into the lush and thick forest behind. Mind you, this is like a proper forrested area, quite unlike most areas that boast they have greenery. And beyond this, you are also close by to the Botanic Gardens, so again, this is one for the nature lovers without a doubt.

– Ryan

2

The Trizon
$4,800,000
| | |
| --- | --- |
| Address: | The Trizon |
| Tenure: | Freehold |
| Size: | 3,605 sqft |
| $PSF: | $1,331.48 PSF |
| Developer: | Ideal Homes Pte Ltd |
| TOP: | 2013 |
Why I like it
The Trizon is one of the newer developments in the area, having been built in 2013. And so with surroundings of older developments like Pine Grove and Pandan Valley, it really isn't too hard for it to stand out (the Pine Grove GLS would be an interesting one to watch out for too).

This unit itself is a fairly interesting one for ground floor lovers. It's big, 3,605 square feet to be exact. There's 4 bedrooms and 4 bathrooms. But as with most ground floor units, a sizeable part goes to the patio – and more uniquely, a private pool too. What's great is the amount of hedges and plants surrounding the unit as well, which adds a lot to the privacy of it. The final flourish here is the double volume ceiling in the master bedroom, but as a consequence of developments built during this era – you do have bay windows here to contend with.

– Druce

3

Clementi Park
$2,630,000
| | |
| --- | --- |
| Address: | Clementi Park |
| Tenure: | Freehold |
| Size: | 1,755 sqft |
| $PSF: | $1,498.58 PSF |
| Developer: | City Development Limited |
| TOP: | 1985 |
Why I like it
I've covered Clementi Park before, and this definitely wouldn't be the last time for me to pick this development. It isn't the best for those reliant on the train (it isn't near any), but for those that want some peace and quiet as they return home after a hard day at work.

So for those that are willing to put up with the lack of MRT access, what you get is a huge expanse of land with just 489 units. It is freehold too, so no worries on any lease decay here. This is a 3 bedroom 3 bathroom with a size of 1,755 square feet. It's really generously sized, but as with the selection this week, the ground floor does mean some space has been dedicated to an outdoor area.

The special thing about this unit is the facing, it's surrounded by greenery so it's as peaceful and tranquil as it is going to get. It's reminscent of landed living to me, just without the fuss of upkeep and the added bonus of facilities.

– Reuben

$1,600,000
| | |
| --- | --- |
| Address: | The Maylea |
| Tenure: | Freehold |
| Size: | 1,023 sqft |
| $PSF: | $1,564.03 PSF |
| Developer: | Hoi Hup J. V. Development Pte Ltd |
| TOP: | 2008 |
Why I like it
I was looking at more expensive options (in-line with the theme this week), but was quite attracted to this 2 bedroom unit at The Maylea. It's a freehold property (as with most of its neighbours) located in the West Coast/Pasir Panjang area. It is about 5/6 minutes away from Haw Par Villa MRT station on the Circle Line, so quite good in the transport aspects.

What I like about it though, is the high ceilings of the unit. Couple that with the tall windows, and the result is something a lot brighter and more open – which has a positive effect on the size of the unit too. I like the design of the space too, it certainly is a very trendy look. Layout wise, it does have 1,023 square feet of space (some will be taken up by the bay window), but it is ultimately still bigger than the average 2 bedroom unit out there.

– Stanley

$3,480,000
| | |
| --- | --- |
| Address: | The Coast at Sentosa Cove |
| Tenure: | 99-year Leasehold |
| Size: | 2,077 sqft |
| $PSF: | $1,675.49 PSF |
| Developer: | Ho Bee Land |
| TOP: | 2010 |
Why I like it
Sentosa is certainly not a place for everyone. Many people like the idea of living by the sea, but it does come with its own issues (one of which is a rust problem). While Sentosa is also rather exclusive, you do have to drive in and out of an island, so it isn't the most convenient place to live in.

But where it really sets itself apart is truly the sea views that you get. This 3 bedroom 2 bathroom unit is a very sizeable space at 2,077 square feet. As with the other ground floor units, a decent amount of space will be attributed to the patio space. That said, the view of the pool and the subsequent sea view beyond is quite magnificient. Especially since travel at this point is still a burdensome process, waking up to a view such as this every morning is still quite something!

– Sean