Units Of The Week
5 Sizeable 3 Bedroom Units That Are Stylish (Min 1,206 Sqft)
Stacked
December 15, 2021

7

min read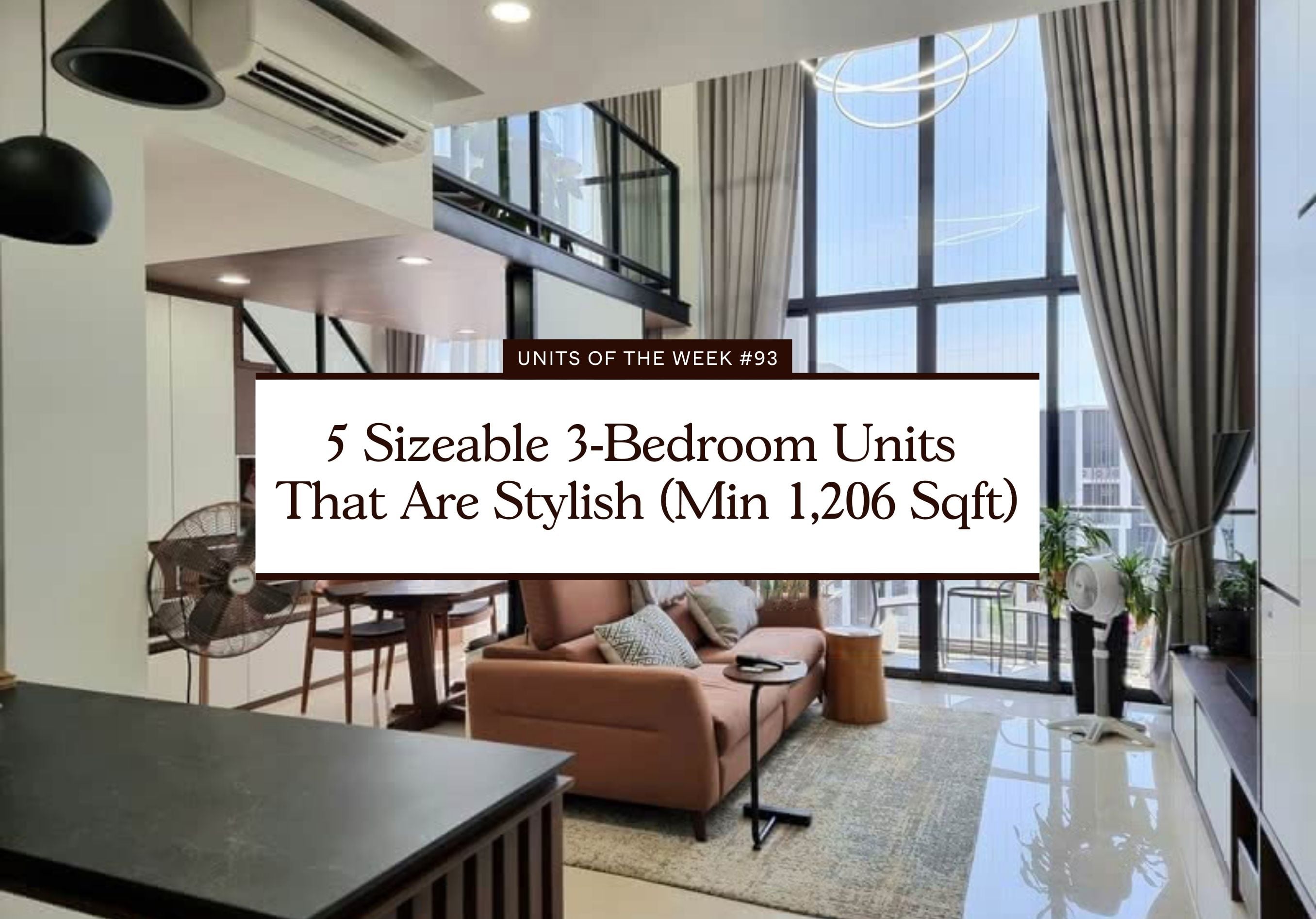 7
min read
It's the last month of 2021, and the year has just passed by in a blur.
Property prices have not let up since the start of the year, and as of today, the demand seems yet to be satisfied as prices are continuing to climb. So much so that the MAS has urged Singaporeans to exercise prudence when it comes to mortgage loans for their property purchases.
This week, we hunt for some of the better-designed resale HDB units out there, as there is increased demand out there for units there are ready to move in. Naturally, because of construction delays due to the pandemic (and people usually want to move in before Chinese New Year), these well-designed units will usually be the first to go.
Missed last week? You can view the previous issue here.
You can also join our free weekly newsletter so you stay up to date on our latest curations weekly.
Now let's get on with the list of curated units this week!

1

Palm Gardens
$1,200,000
| | |
| --- | --- |
| Address: | Palm Gardens |
| Tenure: | 99-year Leasehold |
| Size: | 1,206 sqft |
| $PSF: | $995.02 PSF |
| Developer: | Keppel Land Limited |
| TOP: | 2000 |
Why I like it
Palm Gardens is a pretty sizeable development of 694 units. Completed in 2000, it is 21 years old now (easy math), and still looks relatively decent considering its age.

This is a 3 bedroom unit that just about made the criteria at a size of 1,206 square feet. What's unique here is that it comes with a private lift (so it's more exclusive) that opens up directly into the living room. As with most developments in that era, the living and dining are two completely separate areas, and you have an enclosed kitchen, yard, and utility/helper's room as well. In other words, very usable for families.

I can't speak for everyone, but I like the dark sultry tones of the design of the unit. It looks upscale and mysterious and has a hotel-like quality to it. Location wise, it currently isn't great in terms of MRT access although the future Choa Chu Kang West MRT station will be built (still not as near as I would like). You are just outside Keat Hong LRT though, so that's a plus point.

– Ryan

2

Spazio @ Kovan
$1,695,000
| | |
| --- | --- |
| Address: | Spazio @ Kovan |
| Tenure: | Freehold |
| Size: | 1,442 sqft |
| $PSF: | $1,175.45 PSF |
| Developer: | Spazio Land Pte Ltd |
| TOP: | 2017 |
Why I like it
Spazio @ Kovan is a rather new development, having been built in 2017. It's a small one, just 48 units – but it's freehold status will be an attraction for those who are afraid of a leasehold decay in the future.

This is a 3 bedroom penthouse unit, and on paper it is sizeable at 1,442 square feet. Do note though, that because it is set over 2 levels, you will have some space dedicated to the stairs, as well as the open balcony outside the master bedroom on the second level. There's a junior master bedroom here too (with an attached bathroom), and so the common bedroom is rather small – so it's been knocked down to create a larger living area. kitchen island which can double up as a quick place to have meals too (there is a proper dining table).

What I like about this unit is the sloped skylight/roof above the living area. It's fresh, and the higher ceiling plus window brings in a lot of light making the space feel bigger and brighter.

– Druce

3

Stratum
$1,580,000
| | |
| --- | --- |
| Address: | Stratum |
| Tenure: | 99-year Leasehold |
| Size: | 1,402 sqft |
| $PSF: | $1,126.96 PSF |
| Developer: | Elitist Development Pte. Ltd |
| TOP: | 2016 |
Why I like it
Stratum is still considered to be pretty new, as it was just built in 2016. It's leasehold, and is a mid-sized development of 380 units. Location wise, it's certainly not fantastic from a connectivity level, as there isn't an MRT station in walking distance. That said, you are closeby to the Sungei Api river, and you can also walk along the park to reach Pasir Ris Park and the beach – which if you are into nature would definitely be an attraction.

This unit is a 3 bedroom patio unit at a size of 1,402 square feet. So yes, it sounds big but you do have to take note of the sizeable PES at the front and back of the unit. Good for those after a lifestyle element, but not so much for those that dislike the outdoors (you won't be looking at this area, if that's the case). That said, the owners have really made good use of the space, with a privacy screen installed as well as a swing set and dining space. It looks like a really cost setup! The interior is great too, it's modern and done in a style that most people would take a liking to.

– Reuben

4

Botanique at Bartley
$1,980,000
| | |
| --- | --- |
| Address: | Botanique at Bartley |
| Tenure: | 99-year Leasehold |
| Size: | 1,238 sqft |
| $PSF: | $1,599.35 PSF |
| Developer: | UOL Development (Bartley) Pte Ltd |
| TOP: | 2019 |
Why I like it
Botanique at Bartley is a very new project that just reached its TOP 2 years ago. Its position close to the Circle Line (Bartley MRT) makes it very convenient for those who need good access to public transportation.

This 3 bedroom loft unit at Botanique at Bartley could very well be a showflat piece, in my opinion. The choice of lighting and furnishing exudes a modern luxurious look, and the high ceiling here serves to open up the space and let a lot of natural light in.

The unit also features a dry kitchen that can double up as a breakfast counter as well as more countertop space for cooking. There is also a wet kitchen that can be fully-enclosed to prevent smells from wafting through the unit. The wet kitchen is also naturally ventilated and connected to a service yard – making it a very practical 3 bedroom unit!

Currently, the owners have designated the loft area as a lounge, however, I do think that this space could be very well utilised as an office/study space too!

– Stanley

5

Glasgow Residences
$1,650,000
| | |
| --- | --- |
| Address: | Glasgow Residences |
| Tenure: | 999-year Leasehold |
| Size: | 1,292 sqft |
| $PSF: | $1,277.09 PSF |
| Developer: | Unknown Developer |
| TOP: | 2013 |
Why I like it
If you're someone who love penthouses and having your very own private pool, then you might find this listing to be quite attractive. The unit has a nice squarish layout and its also very functional. First, it has a household shelter which doubles up as storage space, and it's tucked neatly beside the doorway so there are no structural elements getting in the way of the living quarters. Next, the layout managed to incorporate a study room into the home, making it very practical for families looking to have 1 separate room as an office/study.

I like that the owners here created an open kitchen concept that brings in more light. For those who prefer to enclose this, you would have to spend on renovations – but at least it's possible given that was the original configuration of the space!

Upstairs, you'll find the master bedroom, the open terrace as well as the private pool. The open terrace looks out over a landed home cluster, allowing for more natural ventilation and light given its unblocked nature. The private pool in the corner is great for soaking in, but if you're looking to do your laps, then perhaps heading down to the development's lap pool is better!

– Sean