Condo Reviews

Pandan Valley Review: Most Unique Condo in Singapore?
Sean
August 8, 2019

13

min read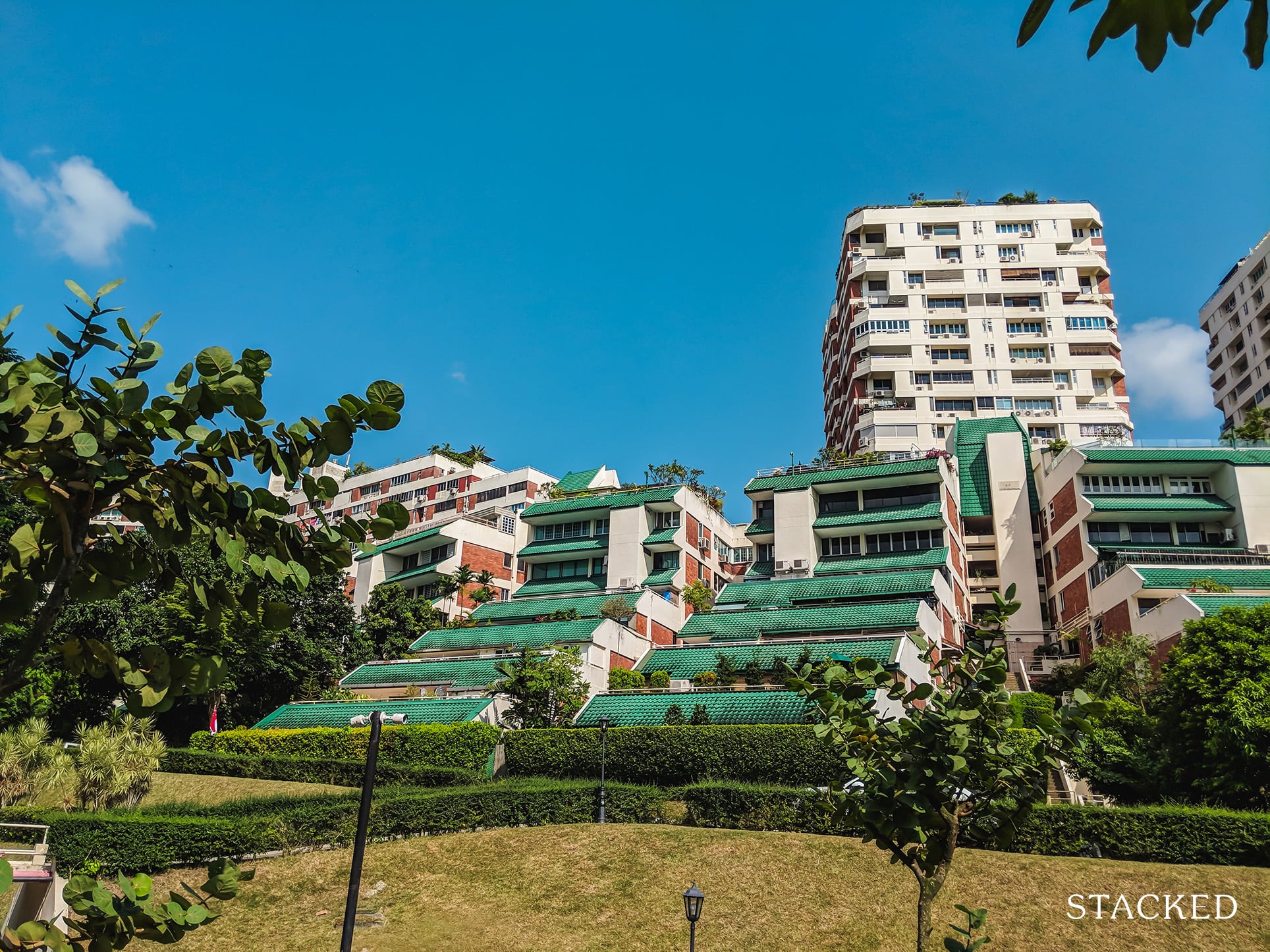 There is a certain beauty in the messiness of Pandan Valley, which is something that cannot be captured on camera but will have to be witnessed in person. The rolling hills, mismatched buildings and random roads that lead to a dead-end are just part of its charm. If you seek a development that's unique and comes with big units, then this is for you. But if you prioritise facilities then look elsewhere.
Reviewed by Sean on August 08, 2019
What we like
Different types of unit layouts

Valley landscaping

Lots of green open spaces

Variety of shops
What we don't like
—

Not near MRT

—

Swimming pool is too small

—

Non air-conditioned gym
13
min read
About this condo

| | | | |
| --- | --- | --- | --- |
| Project | Pandan Valley | District | 21 |
| Address | Pandan Valley | Tenure | Freehold |
| Site Area | 865,261 sqft | No. of Units | 605 |
| Developer | DBS Realty Pte Ltd | TOP | 1978 |
I'm not going to lie, I wasn't the most excited person when I found out we were going to review the Pandan Valley condo next. On the outside, the mix of red bricks and weird green-capped roofs was never the most visually stimulating to me. And don't even get me started on the giant mess of confusing blocks and layouts. But after spending some time at the Pandan Valley, it is quite clear that I have committed one of the most common sins when it comes to searching for a property: DON'T MAKE A JUDGEMENT BEFORE YOU VISIT ANY PLACE. Without giving too much away, let's get right into the review!
Insider Tour
Facilities in Pandan Valley
Swimming Pool
Barbeque Area
Playground
Wading Pool
Gym
Squash Courts
Tennis Court
Shops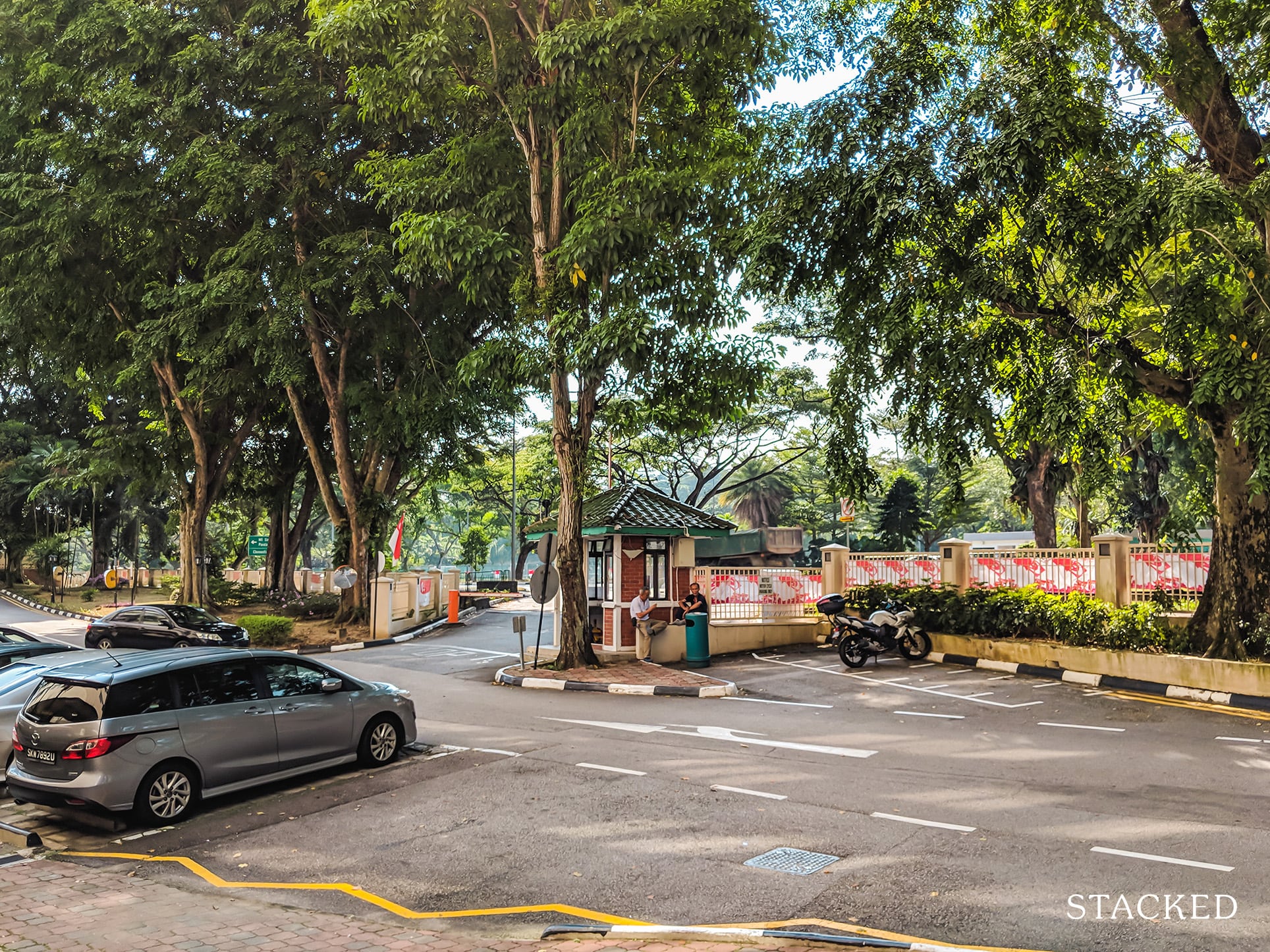 You are able to access Pandan Valley through Ulu Pandan Road and Pandan Valley, although the Pandan Valley entrance is only reserved for residents. Although it might be annoying for visitors that have to make another round to get in, I actually applaud this move because for bigger developments there might be a queue to get in during peak hours, as the security will have to do their checks for visitors. So this ensures a smoother flow of traffic for residents as they basically have an entrance purely reserved for them.
The bus stop is right outside the development, and there is even a sheltered overhead bridge to get to the other side of the road. Which is always handy as the traffic is quite fast-moving here. It's a pity there isn't any shelter whatsoever from the blocks to the bus stop itself.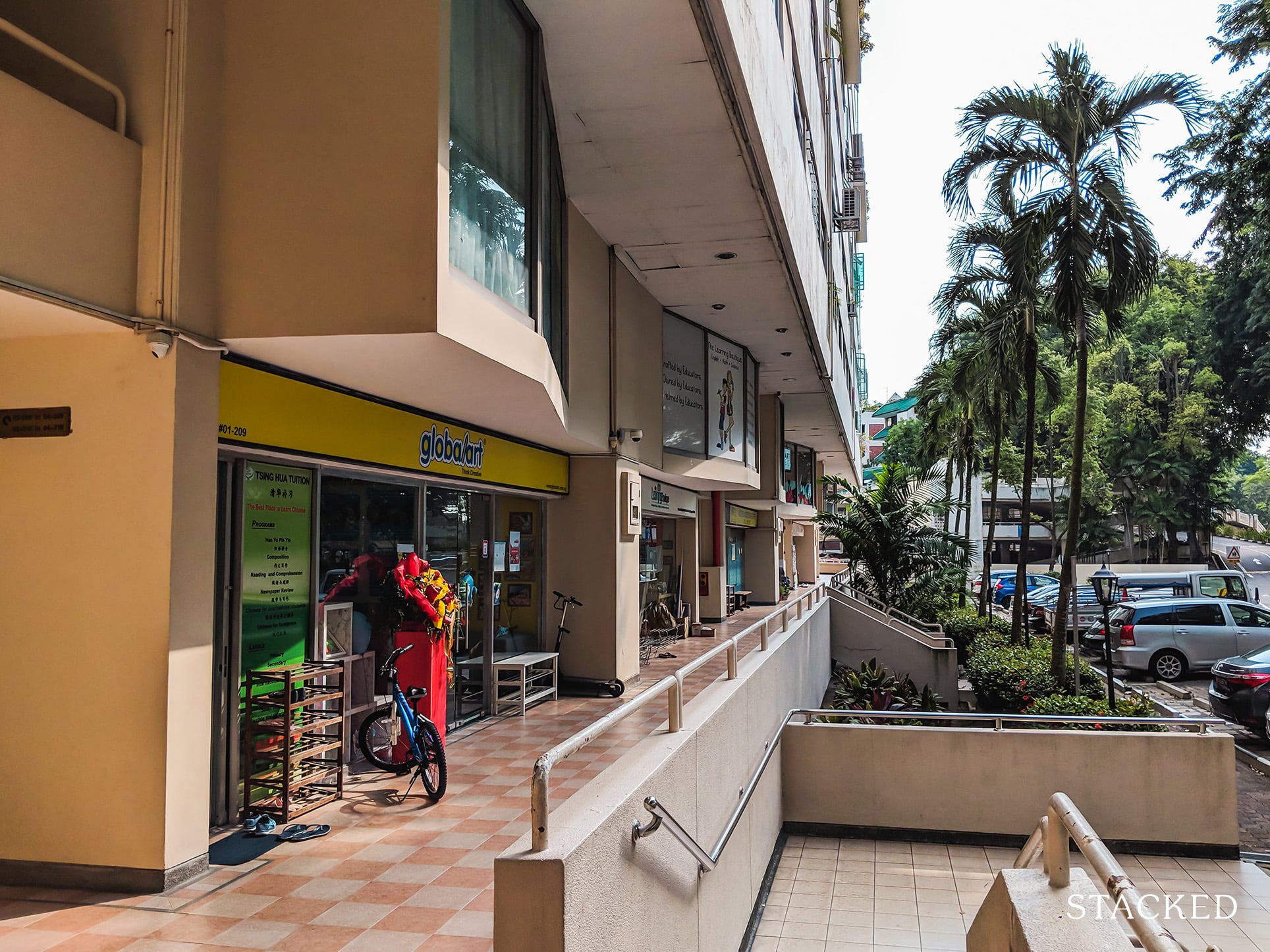 From block 2 (the one closest to the main road) you get a whole array of shops here.
There's a proper clinic (super handy for immediate MC to call in sick), a piano studio, tuition centre…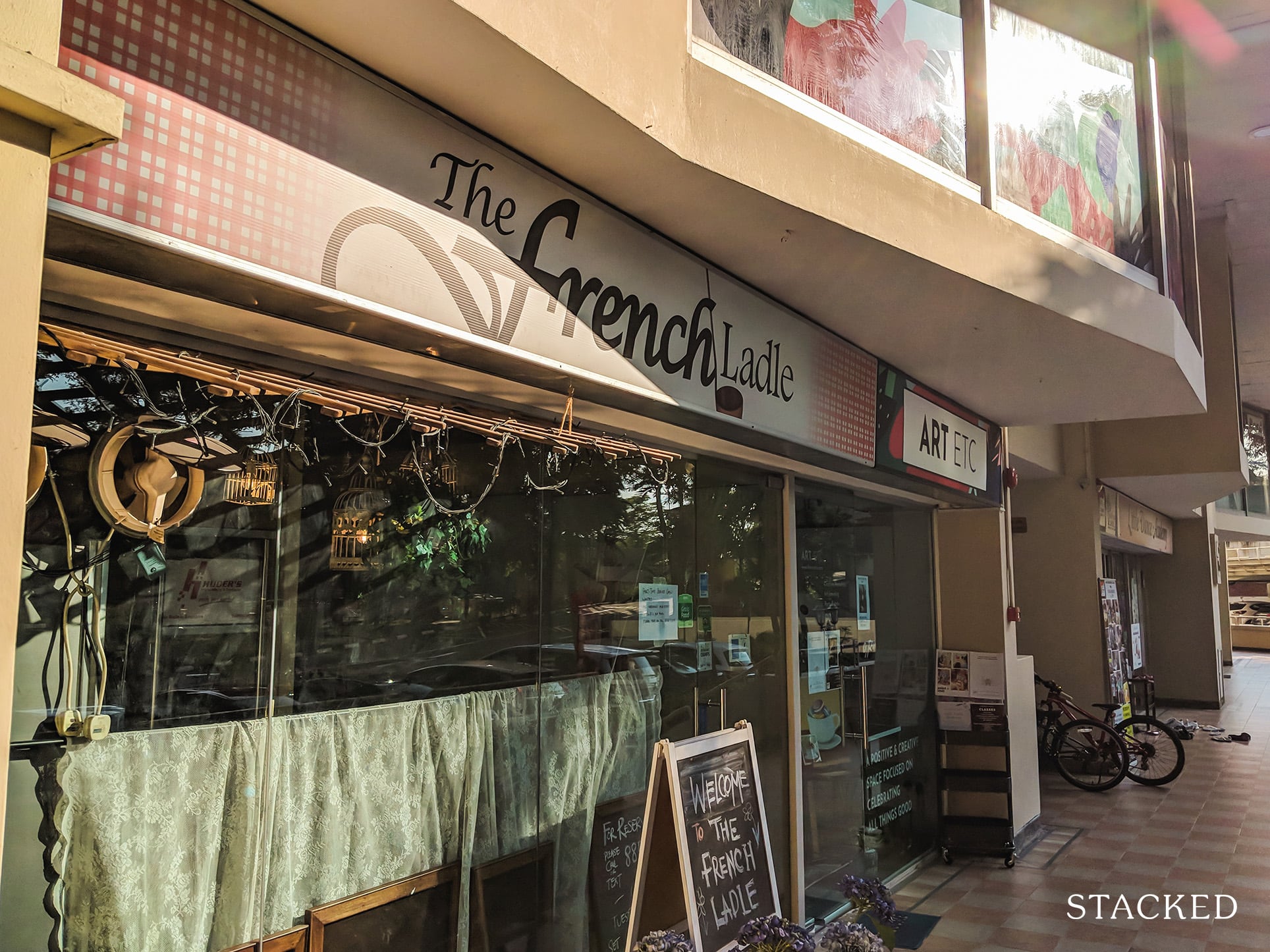 A very homely looking french restaurant, the French Ladle (that has garnered stellar reviews online), day care centre, ballet school, and other shops. And these are just those that are situated at the front.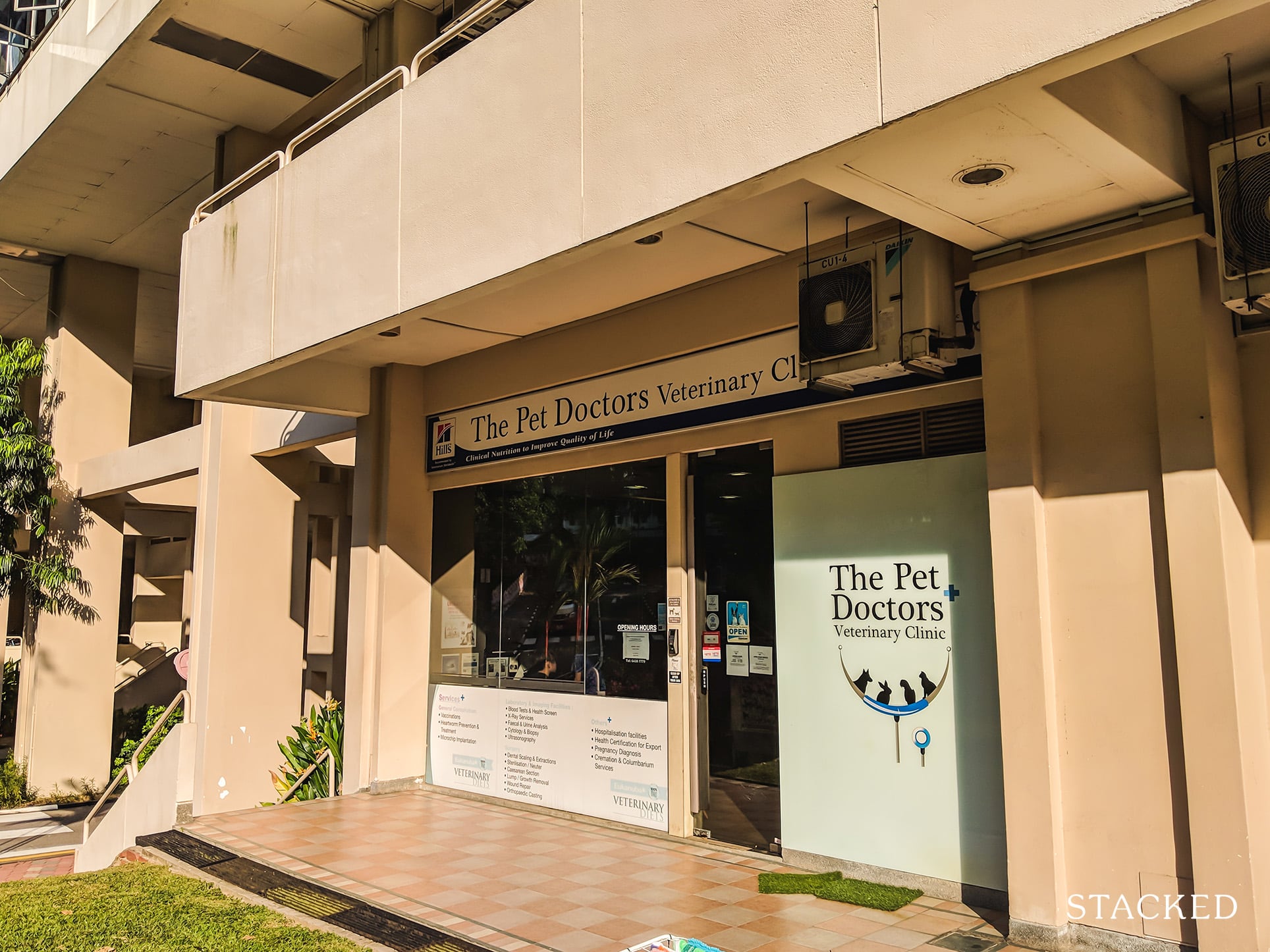 Round the back at the block behind, you have a Pet Doctors Veterinary Clinic. Which is perfect in a sprawling condo like this as many residents own pets here. So in case of any emergency, you can make sure your pets get immediate treatment! Some people are all about their pets, so I can see this being a minor plus point.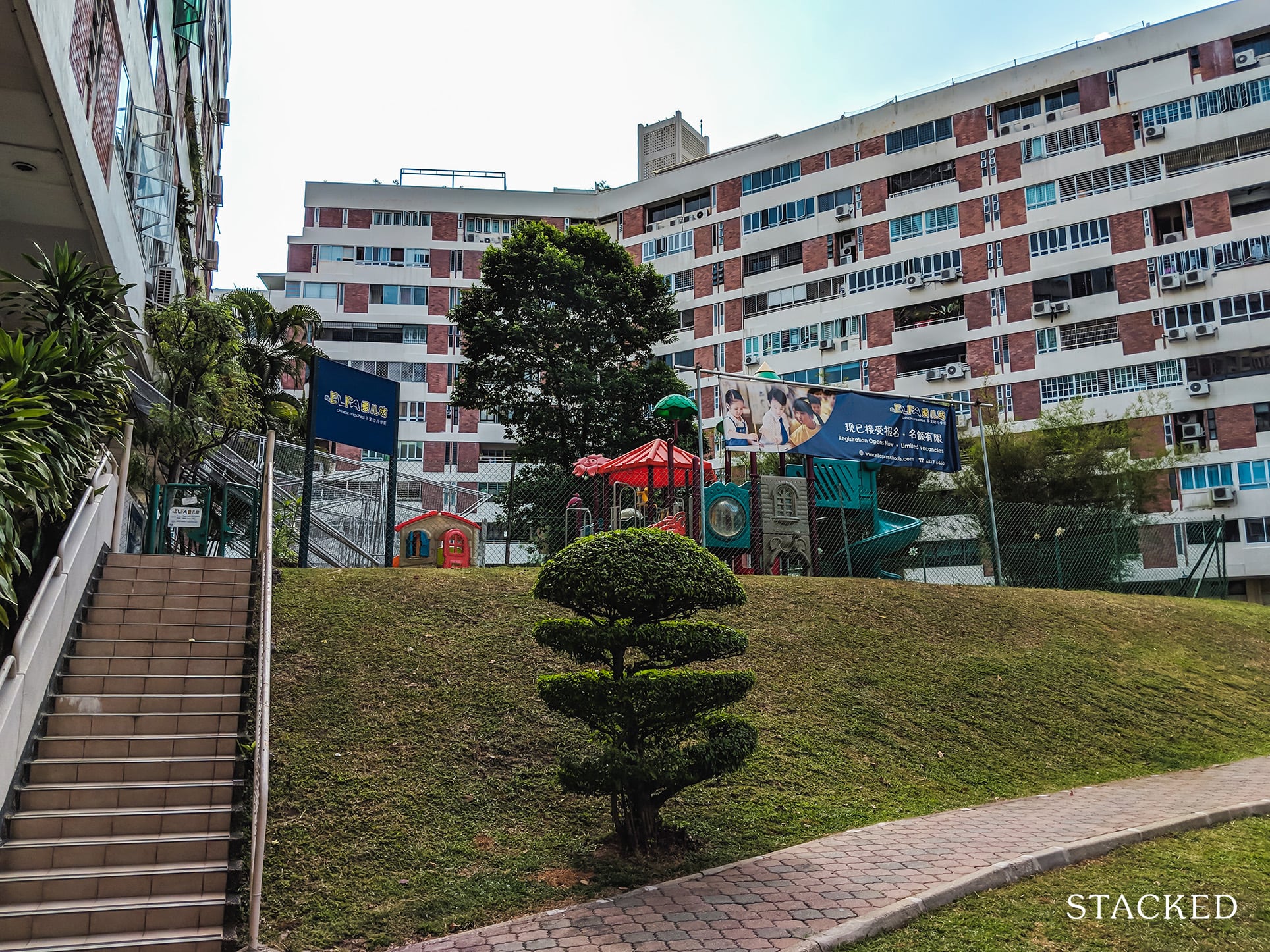 Amazingly, there is a Chinese preschool here too, that comes with its own private playground.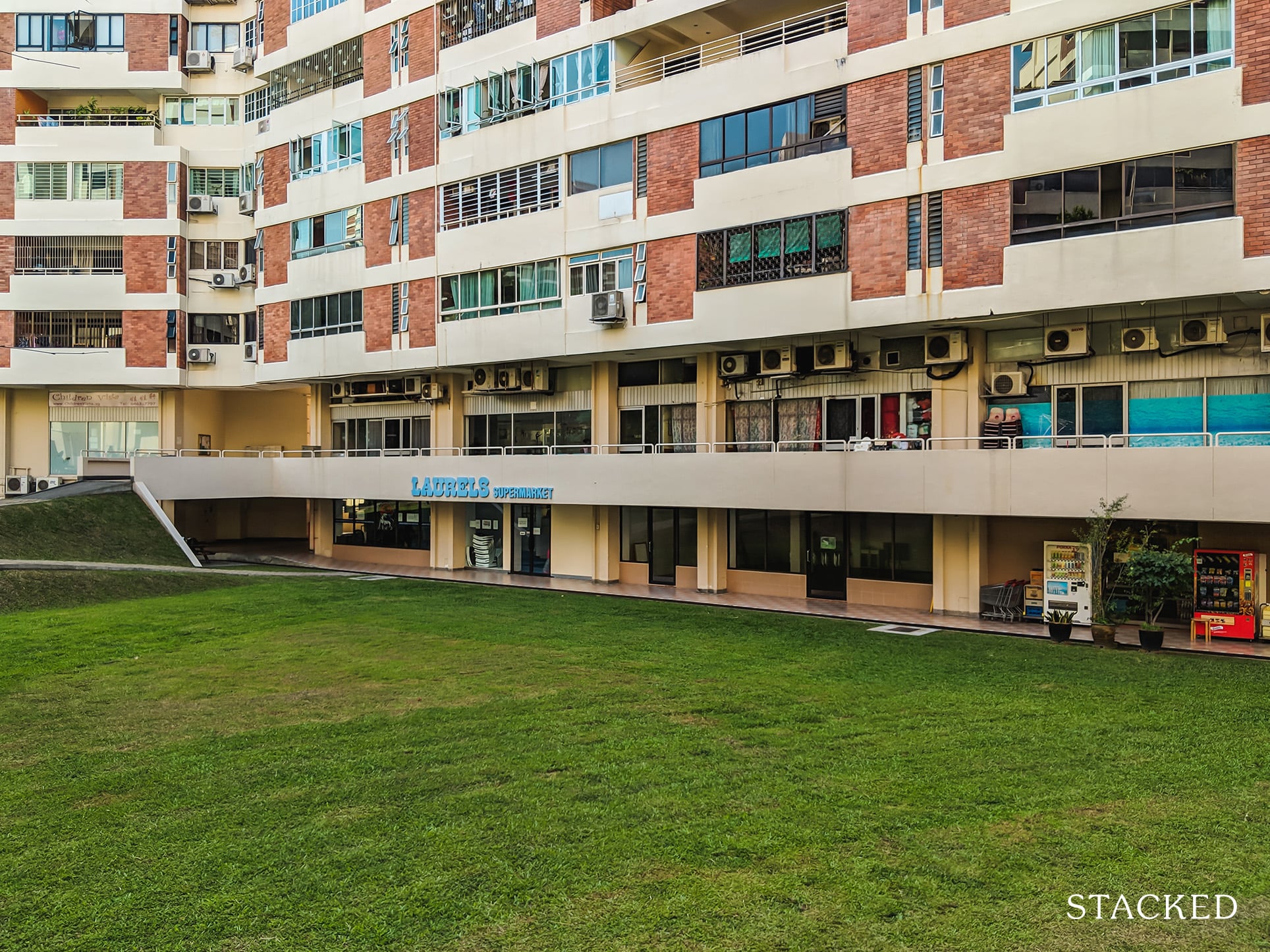 Last but not least, Pandan Valley boasts its very own supermarket. Which is just always an awesome amenity to have for convenience's sake.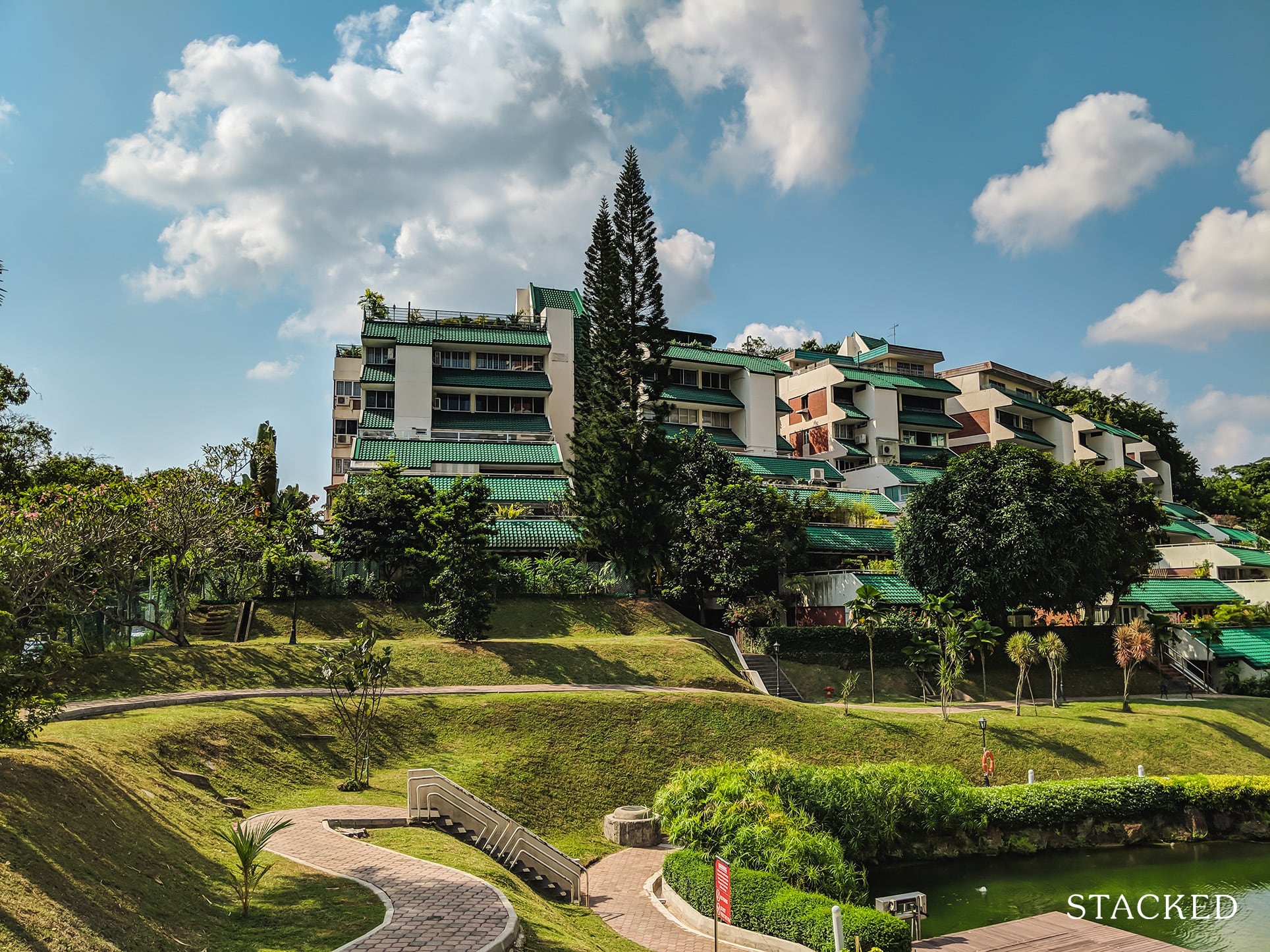 To properly put this review into perspective, I would like to draw your attention to what is the most standout feature of Pandan Valley that you won't be able to find anywhere else, which is basically the valley aspect of it. First, calling this development unique is more than just the architecture or the different unit layouts. But if we are putting a first-place prize on the most unique development in Singapore, it would be this- hands down. I've been to my fair share of different condominiums this year, and this is by far the most unique.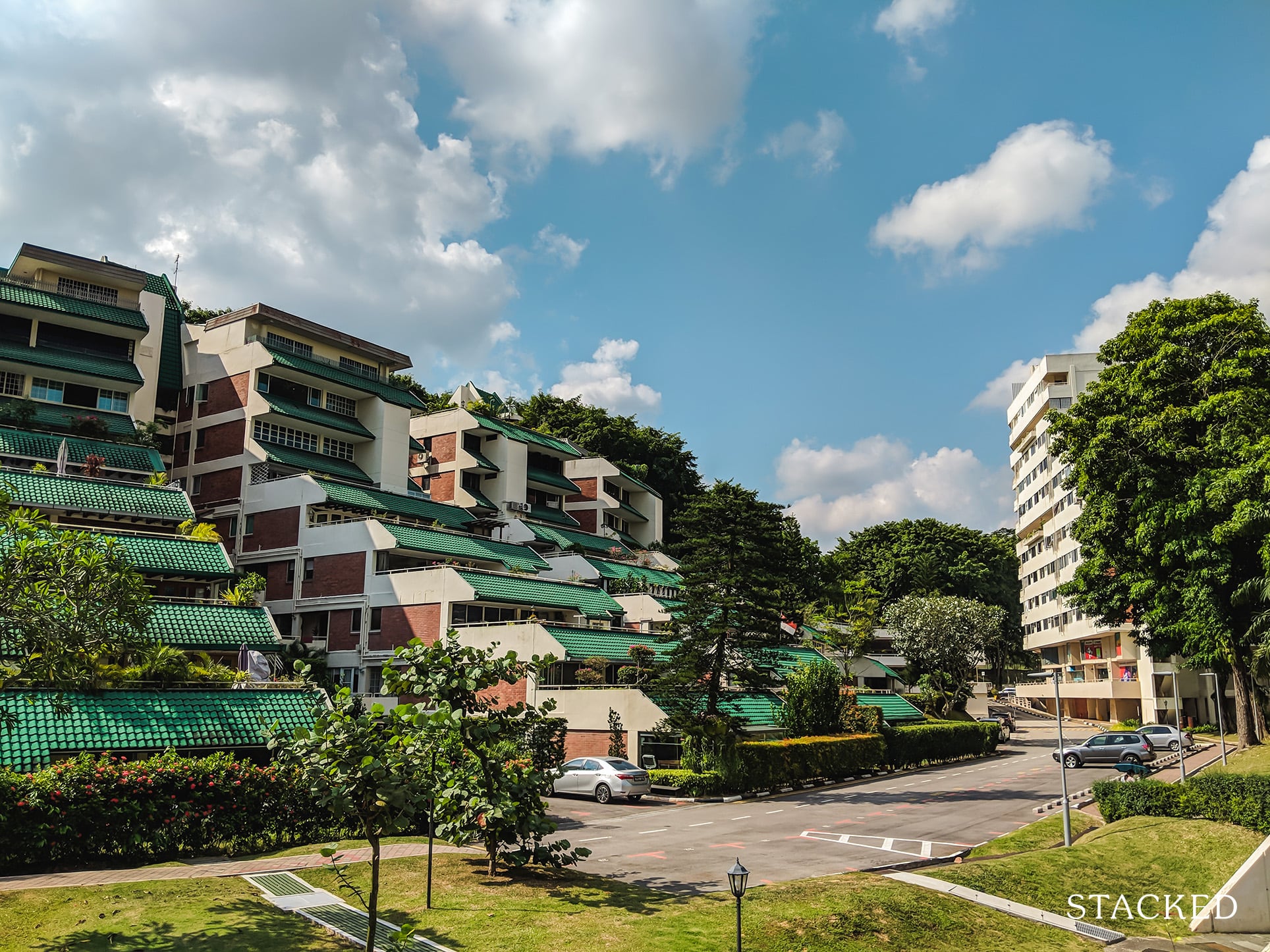 This step-down architecture is just so distinctive and totally adds to the charm of the place. Honestly, if I didn't know any better this could pass off as an old school resort on Cameron Highlands.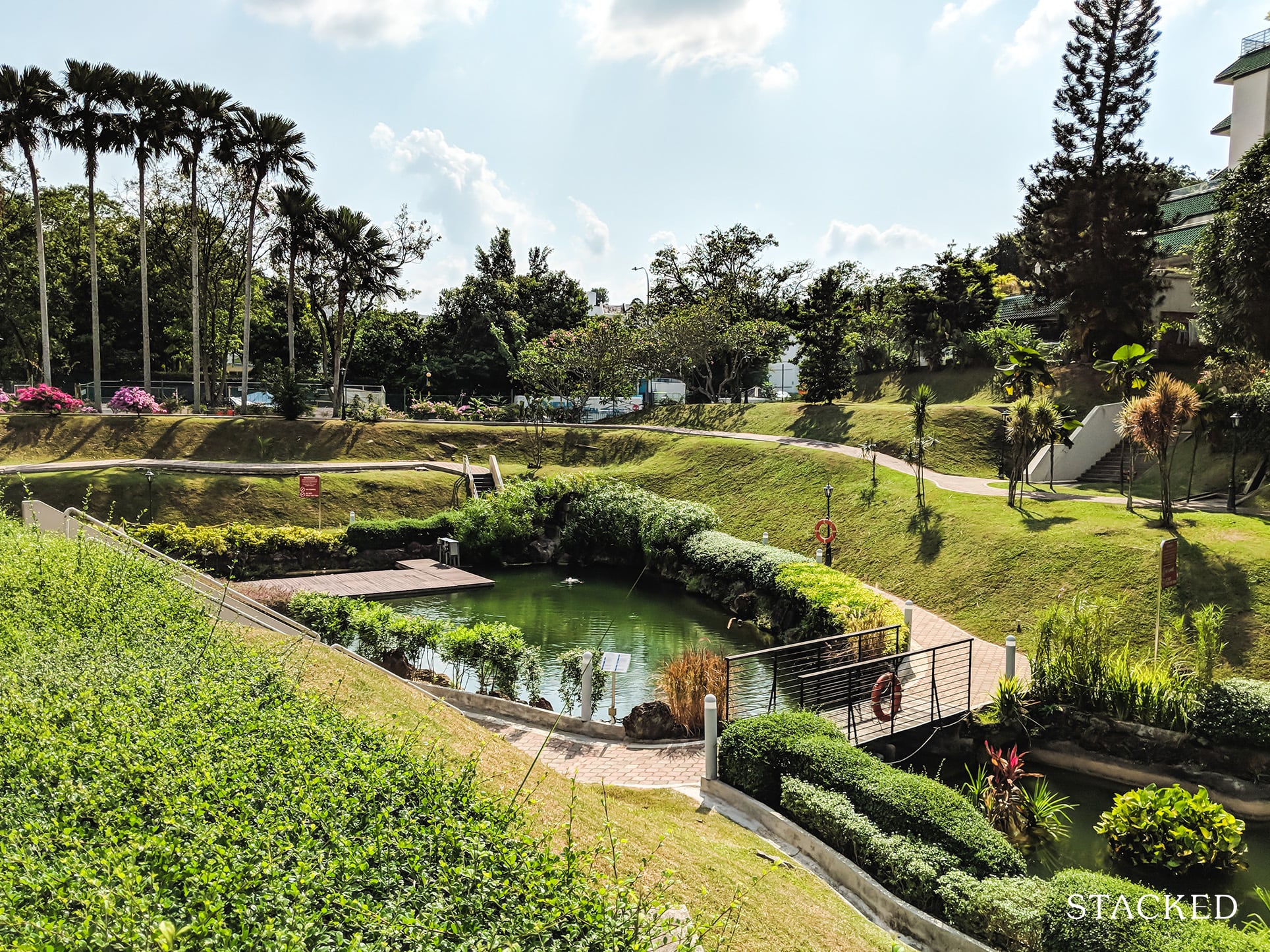 I really like this area, it's just undeniably peaceful and serene. It's basically just a large koi pond with a wooden bridge in the middle. Sounds basic but I can't say that many condos in Singapore would have something like this at all.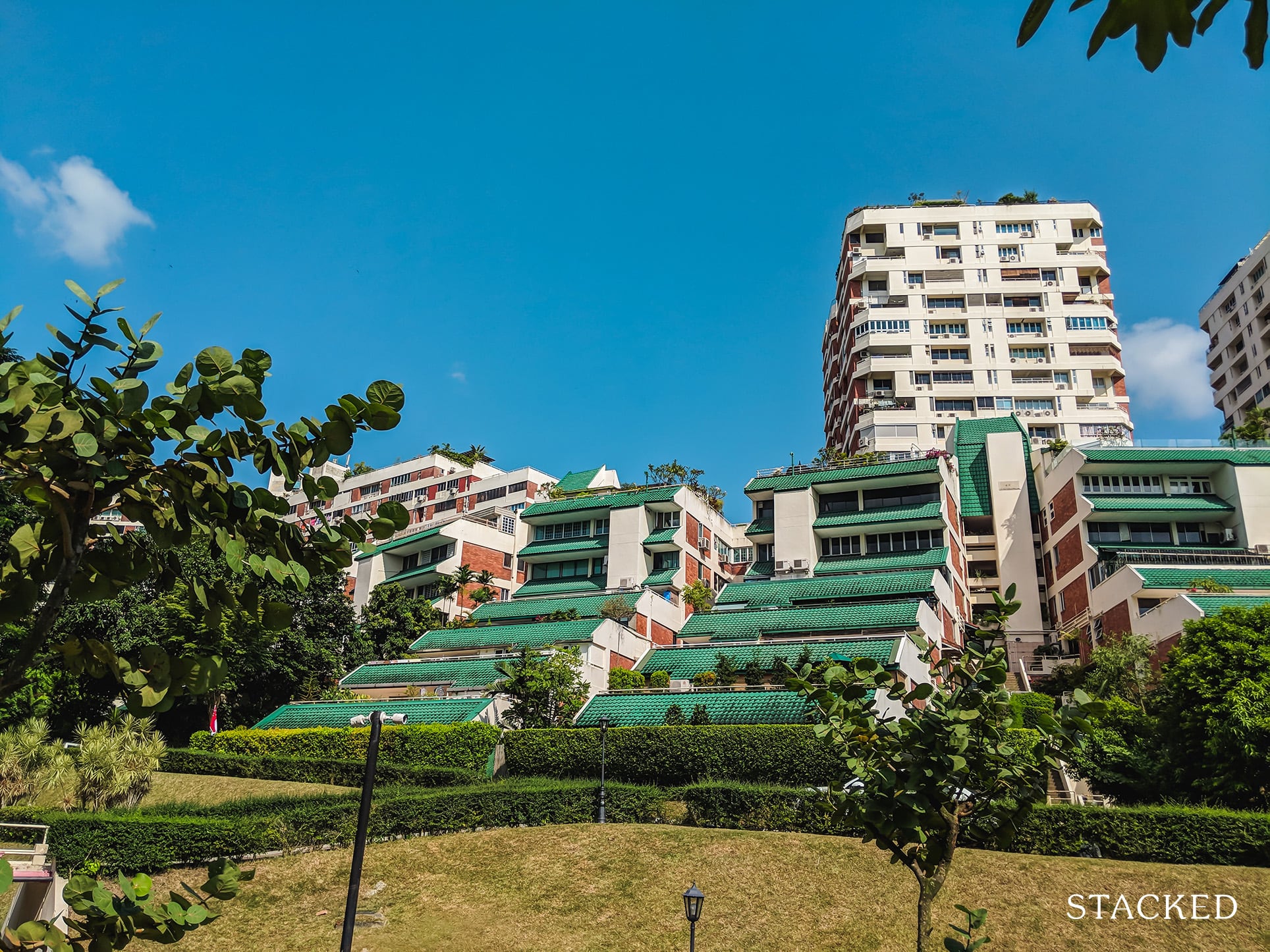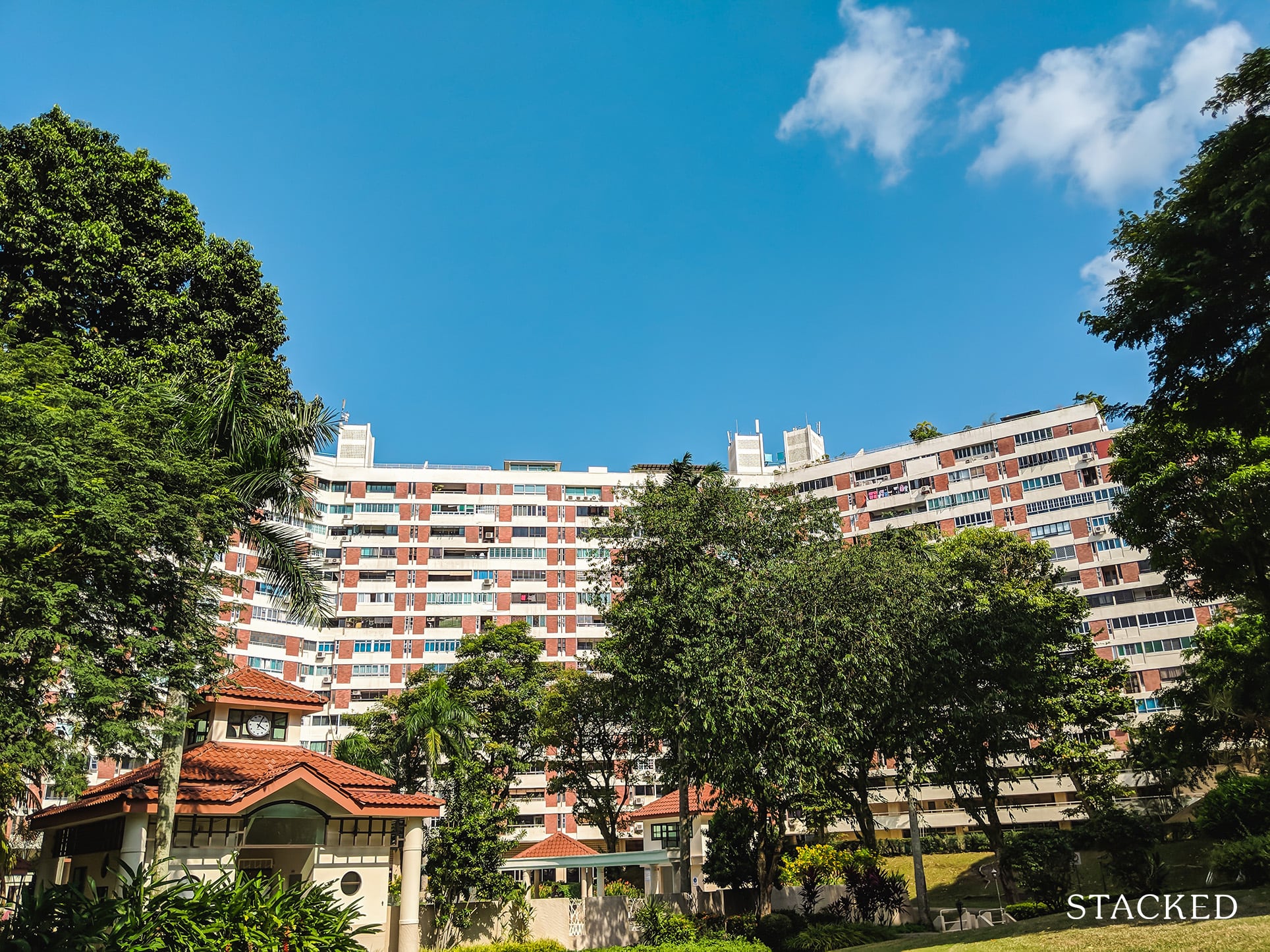 On the right of the pond, you get the same cascading blocks, only this time they are accompanied by the taller blocks behind.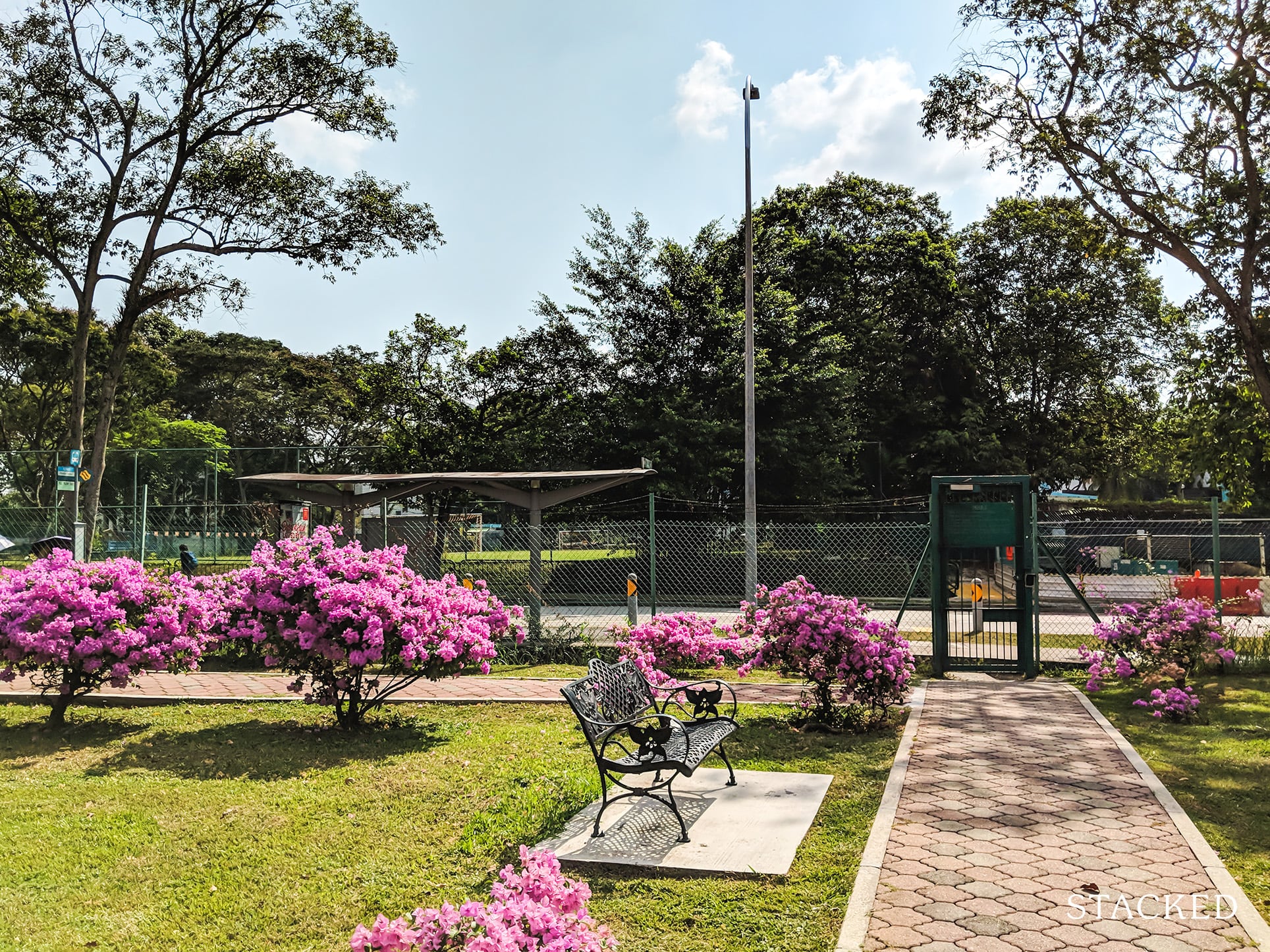 Surrounding the pond, you have some nice floral displays as well as bench seatings to just sit and relax. This way leads to the side gate and out to the bus stop that is along Pandan Valley Road. From here you can hop on bus 92 which will get you to Ghim Moh quite quickly.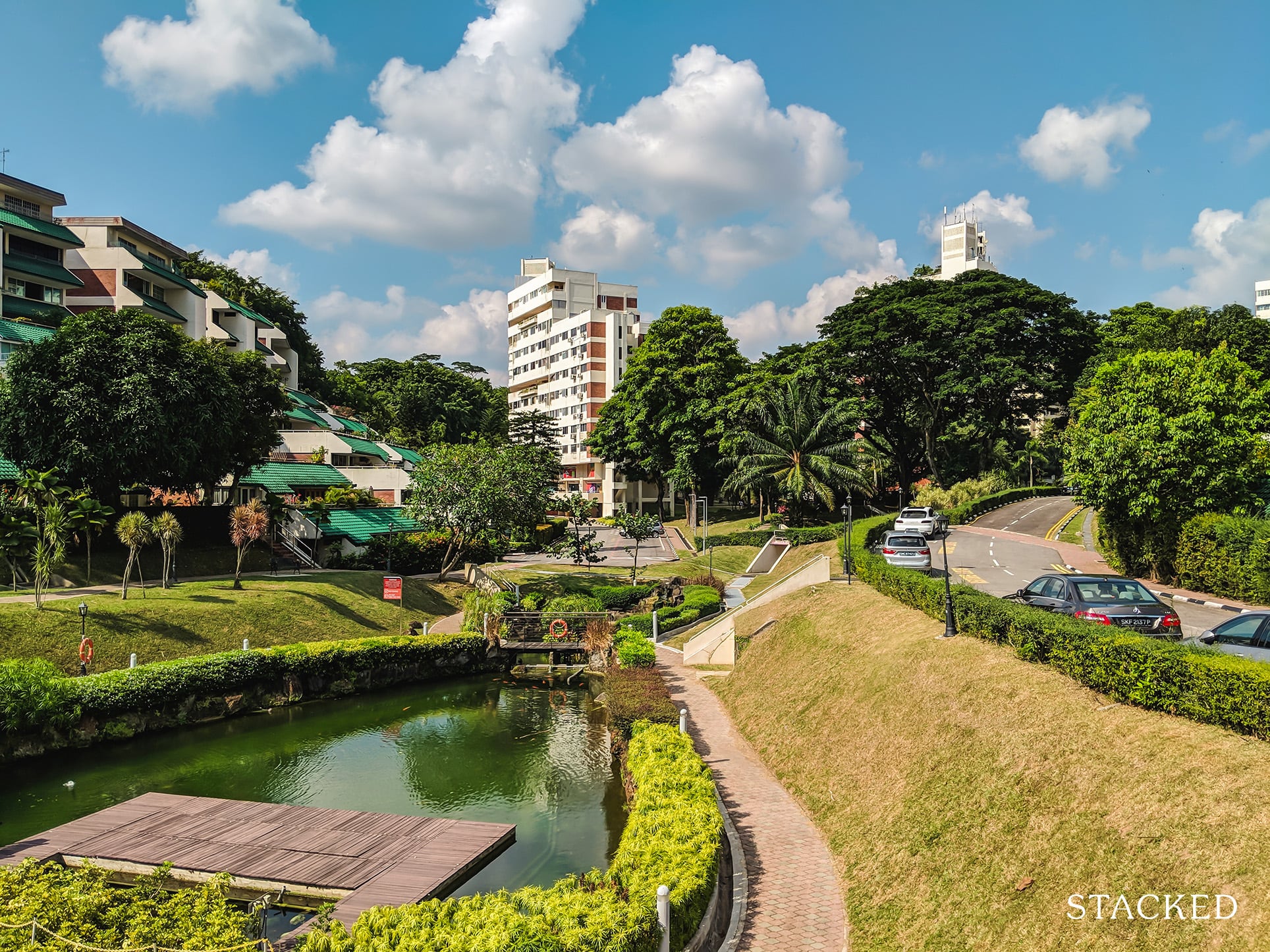 The slopes and curvy roads are really just one of a kind and are really exclusive only to Pandan Valley.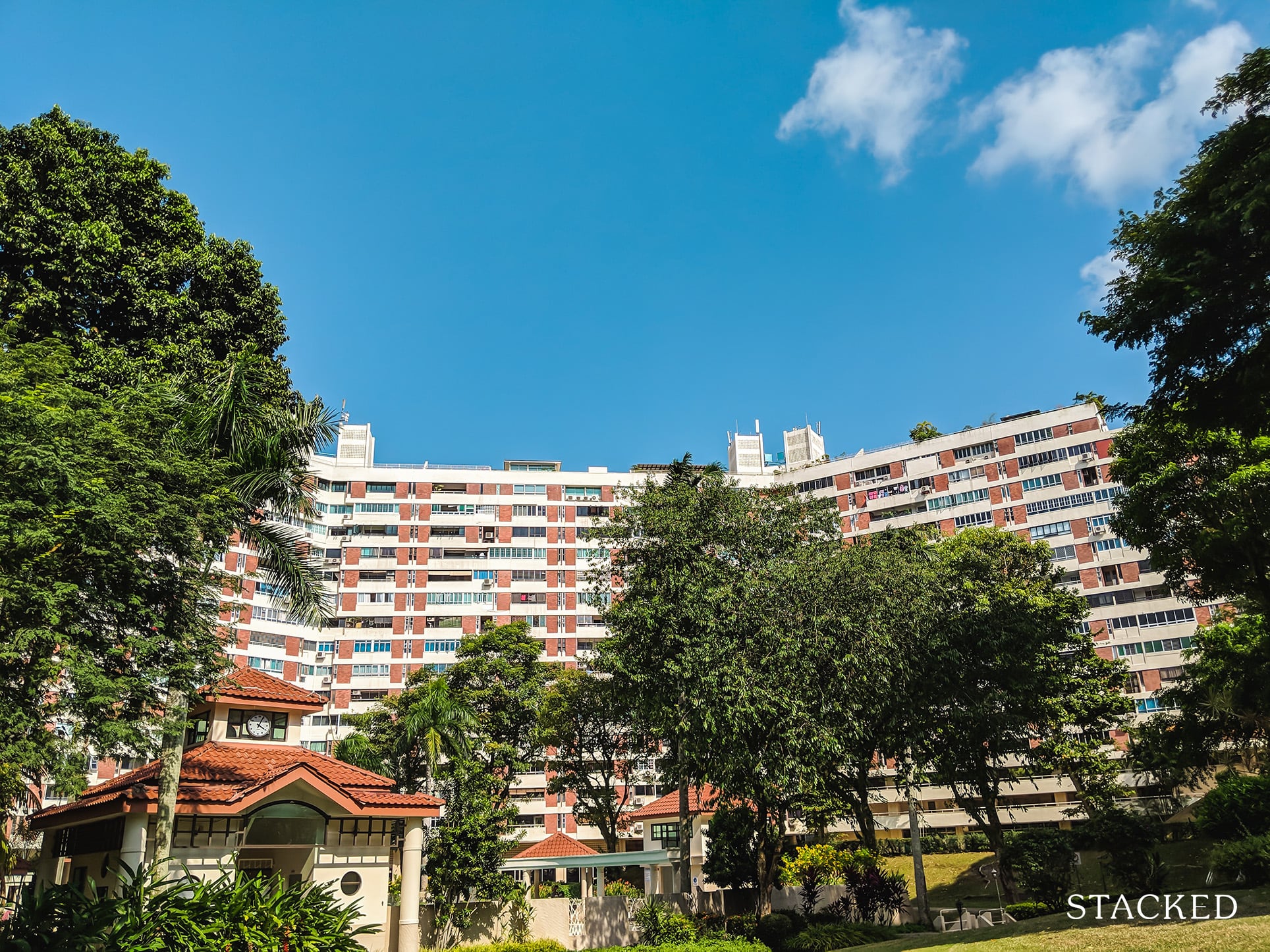 Coming back down to the main blocks, you get to look at the different mishmash of units in one long block. Which results in one of the longest corridors that you'll get. And although it isn't as pleasing on the eye on the outside, it is brilliant for those people that want to truly customise their home as you can be particular even down to the windows of your own home.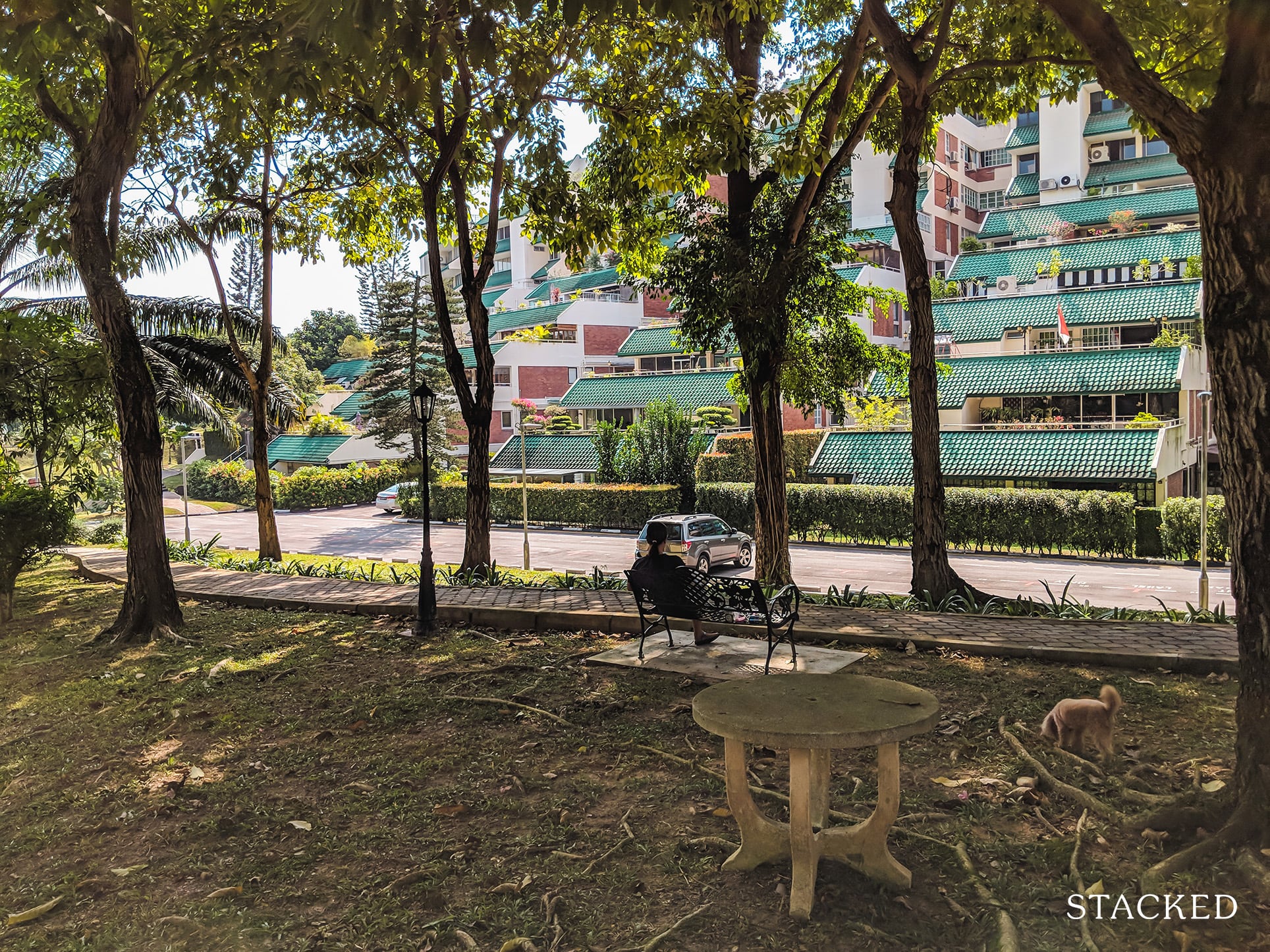 The trees in the middle are quite concentrated, which is great for shade during a scorching afternoon such as this.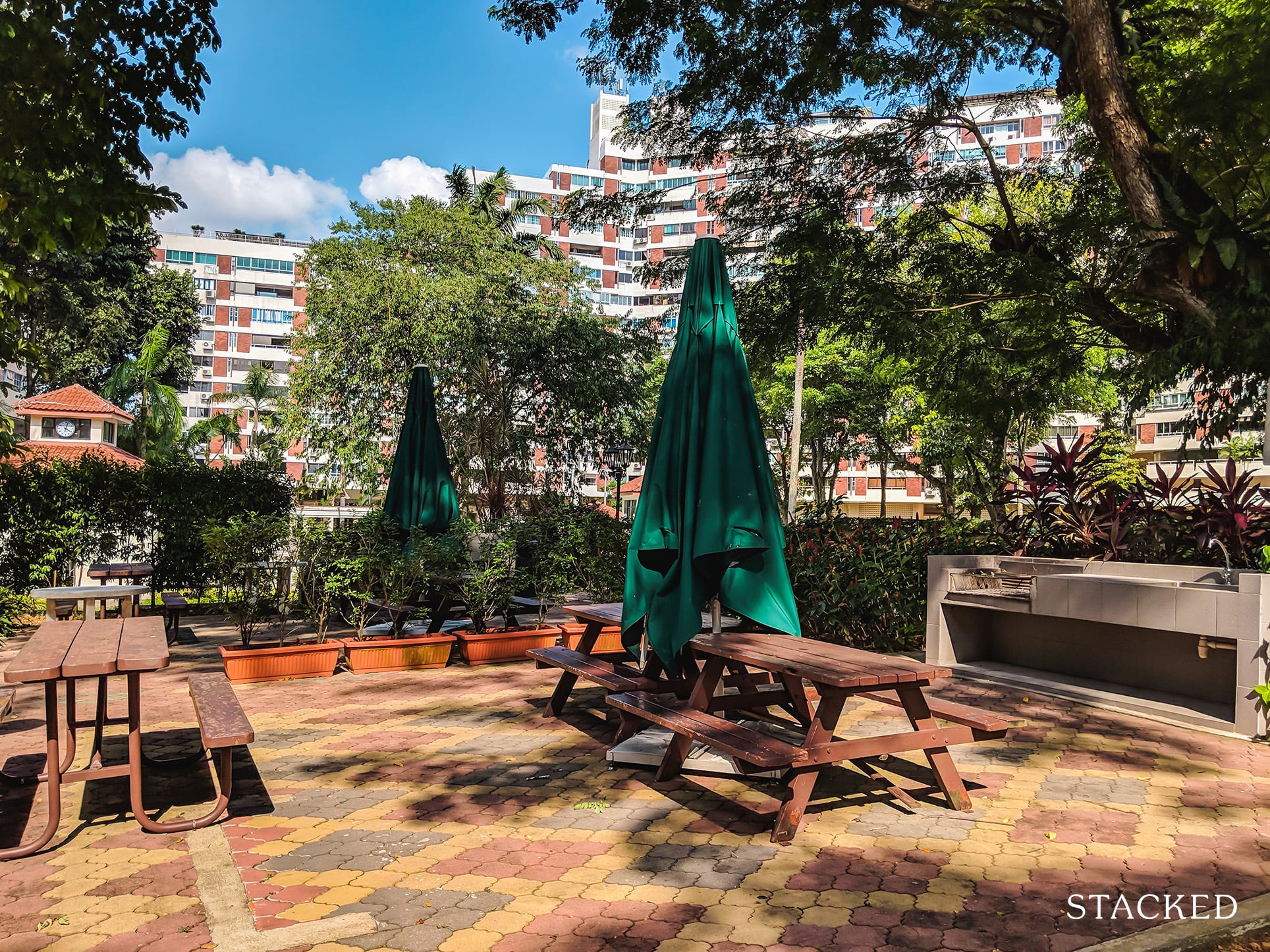 Which leads on to a barbeque pit area at the top of the valley. It's certainly not modern looking by any means, and there isn't much shelter other than the green umbrellas.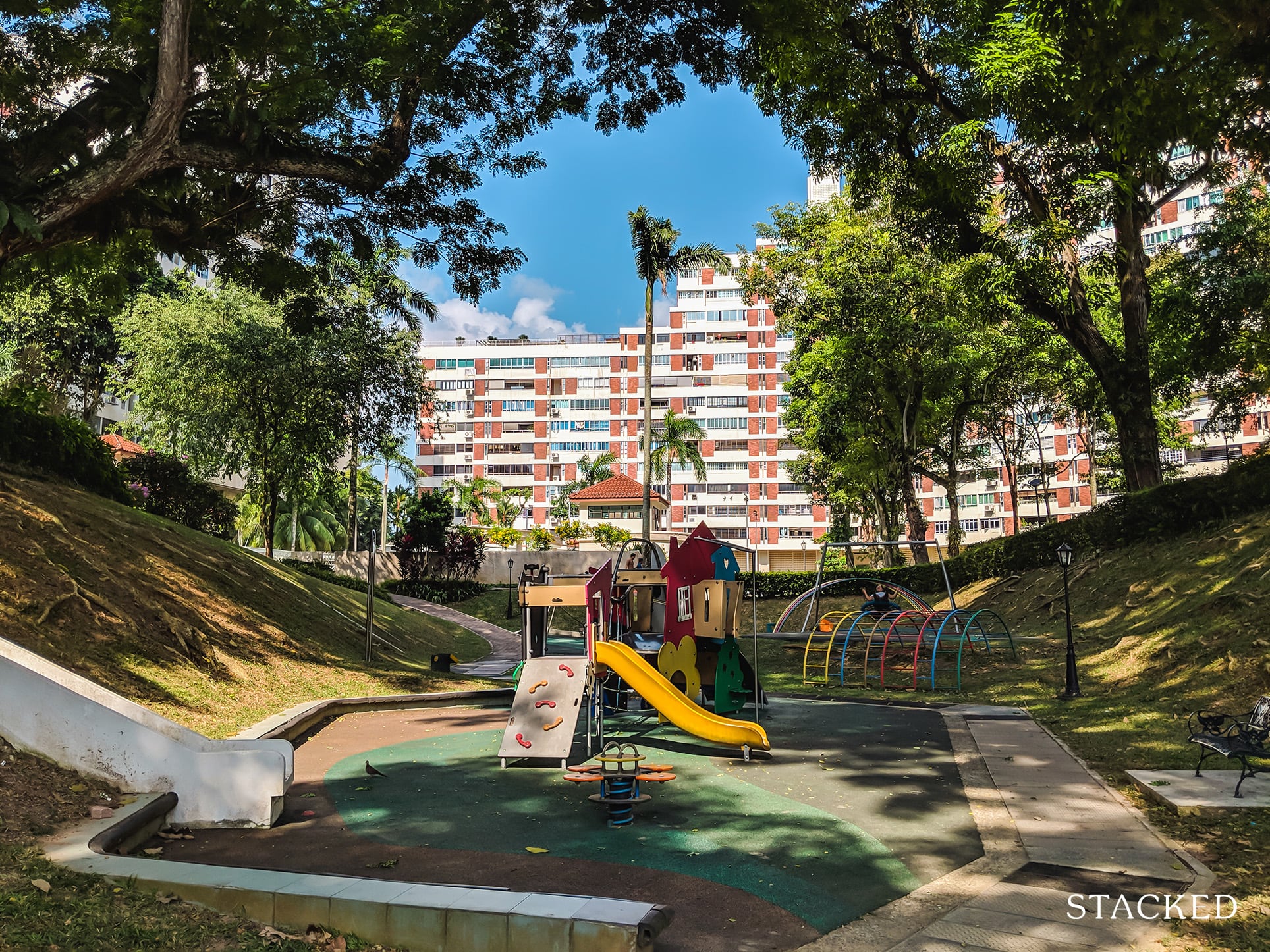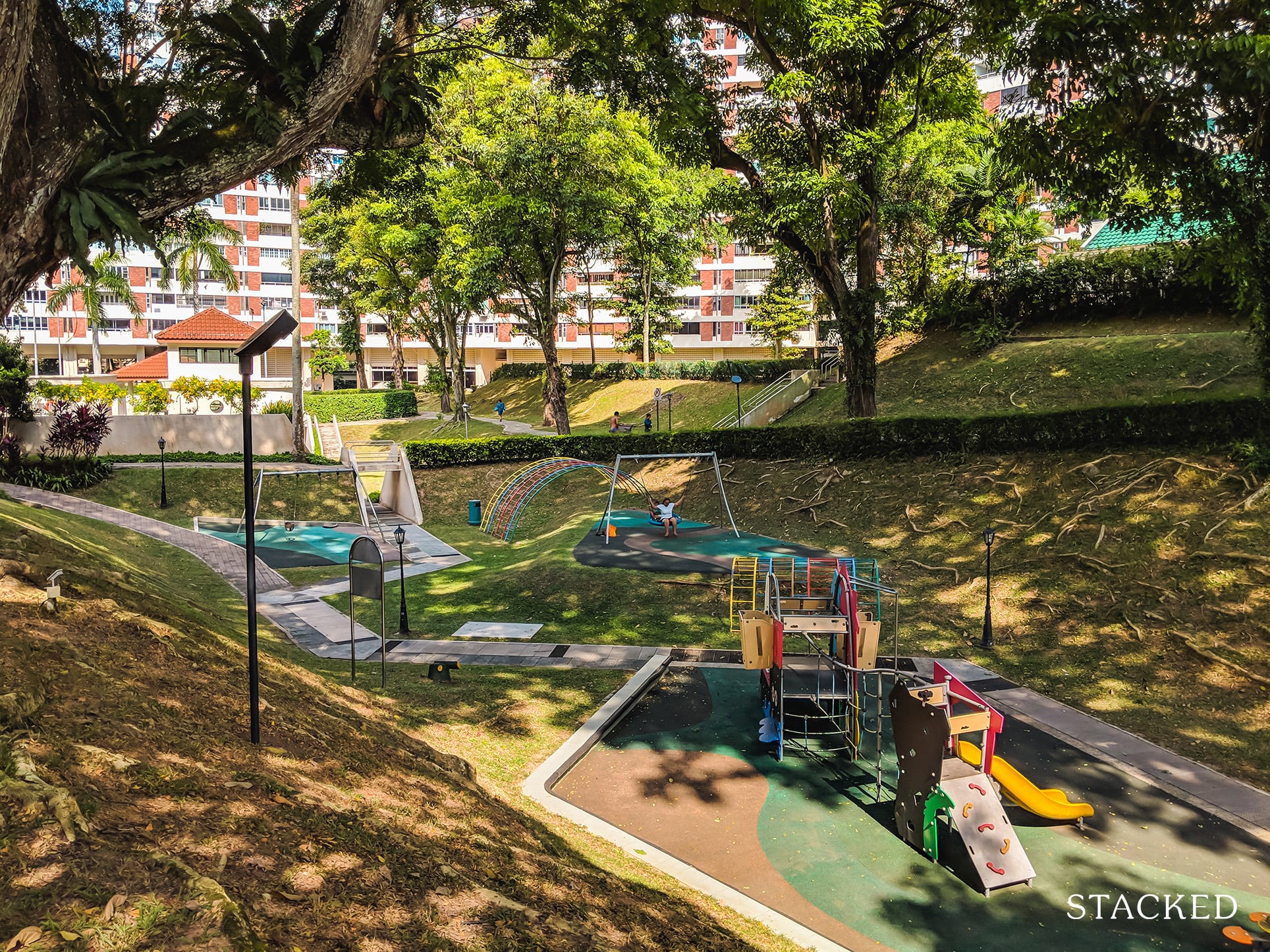 Over to the right of the barbeque pits, you have a mini-valley of sorts where you'll find swings, a curved bar, and a playground. This area just looks so old school, and almost like a sheltered park in some mountainous valley. I think it's a wonderful place for young kids to play and as the grounds are so expansive the freedom to roam around is just getting increasingly uncommon.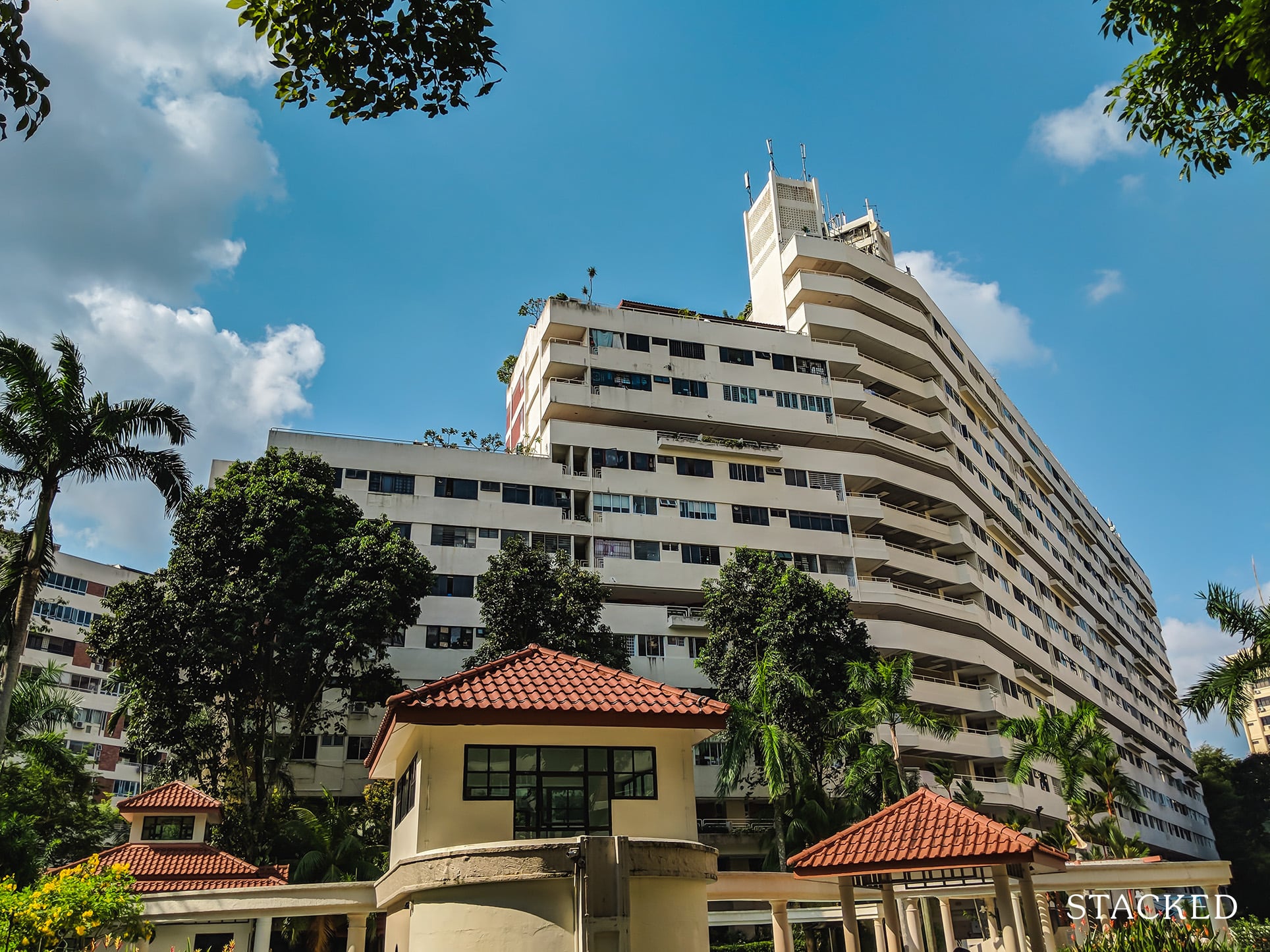 Moving on from that, you get to an enclosed clubhouse of sorts that contains the swimming pool.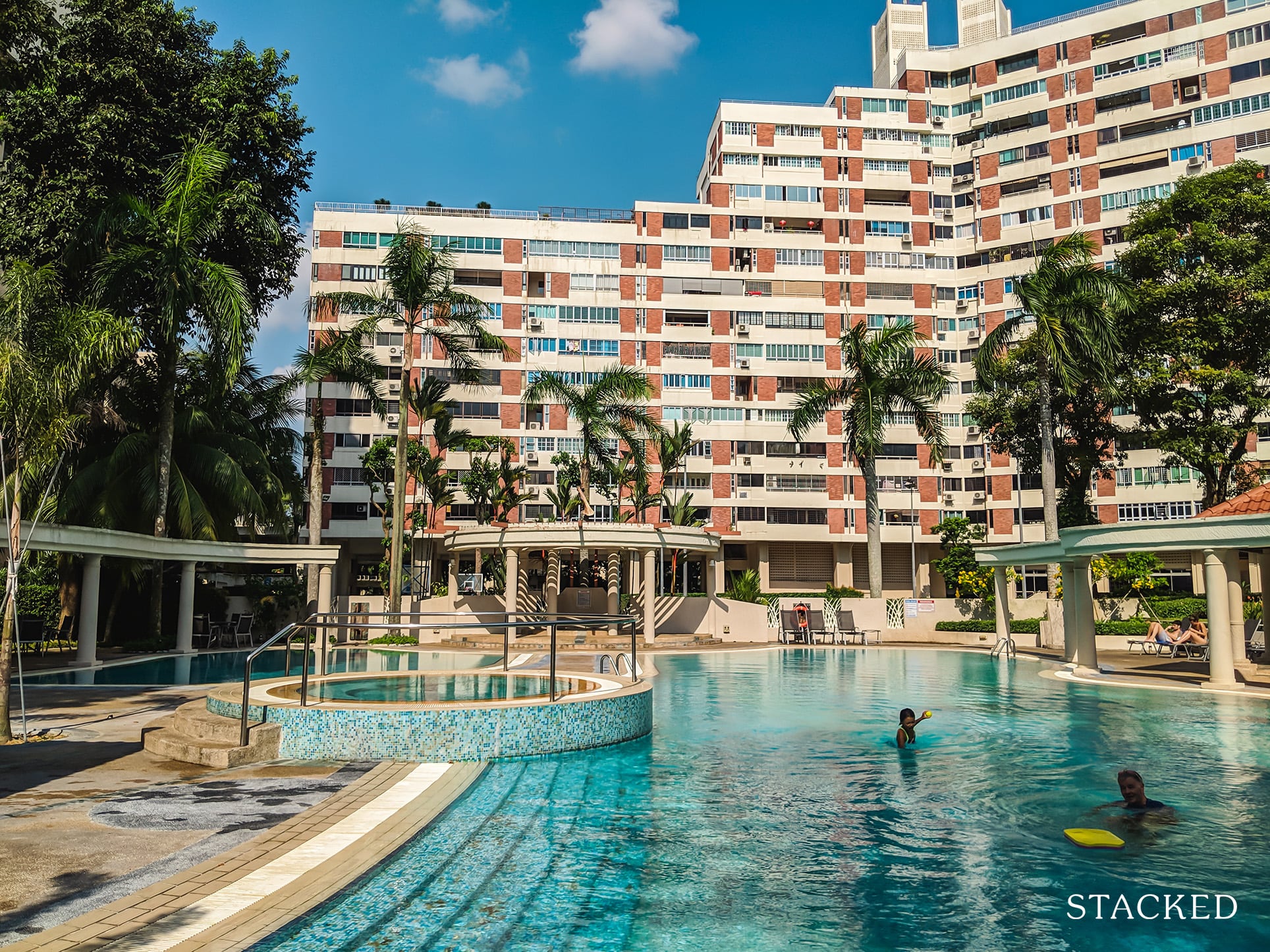 Which brings me to one of the letdowns of Pandan Valley. The swimming pool is a disappointment, while it's not small, it's certainly not big enough considering the number of units here. I can certainly see weekends being really packed and crowded with kids. Not to mention when you see the amount of land there is, they could easily build another swimming pool to cater to the residents.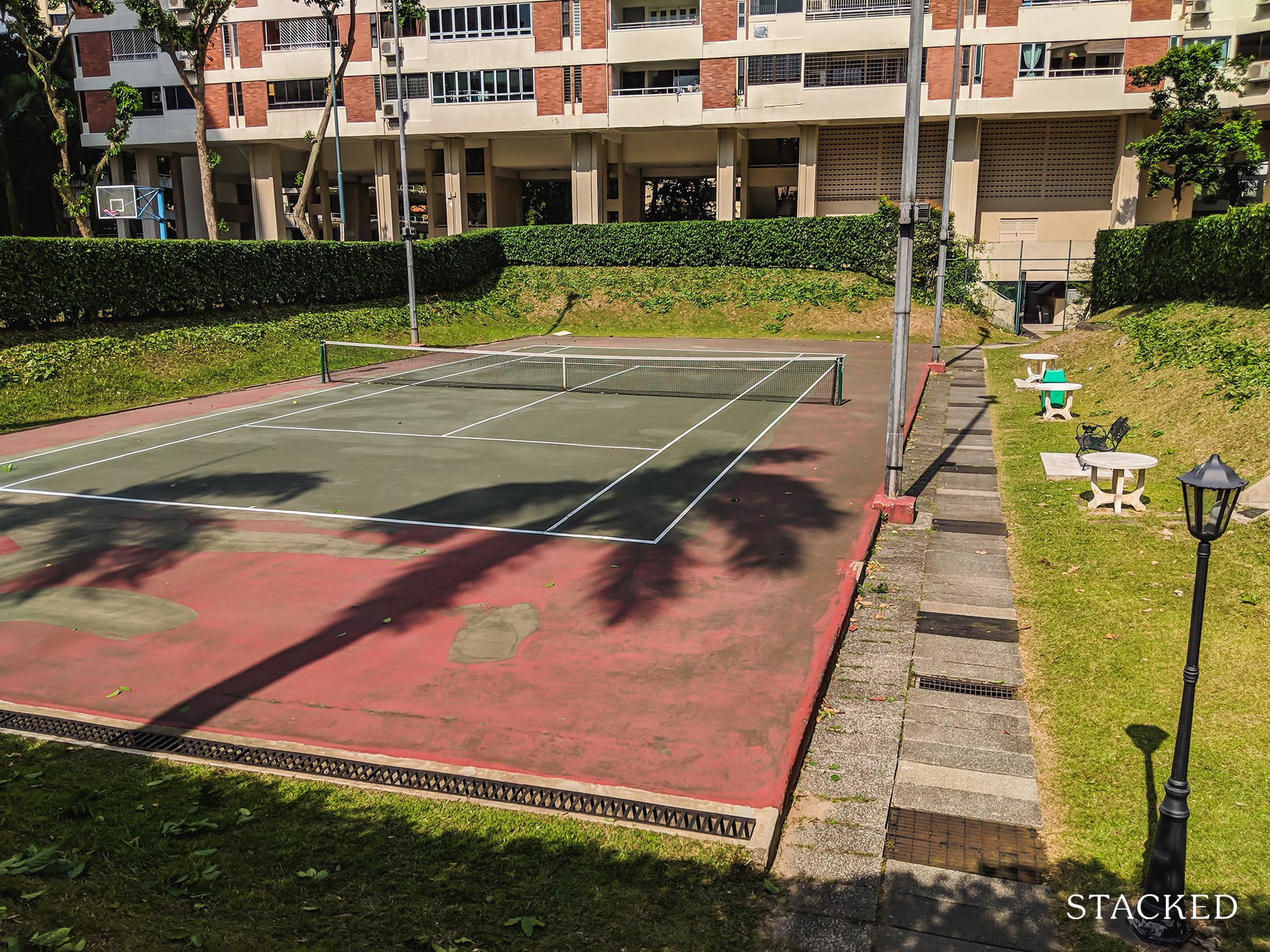 Likewise, further down from the swimming pool there is just the one tennis court, with the court clearly looking like it has seen better days. And is it me or are the surrounding hedges rather short? It looks as if you aren't as proficient in tennis, a lot of stray tennis balls will be flying out.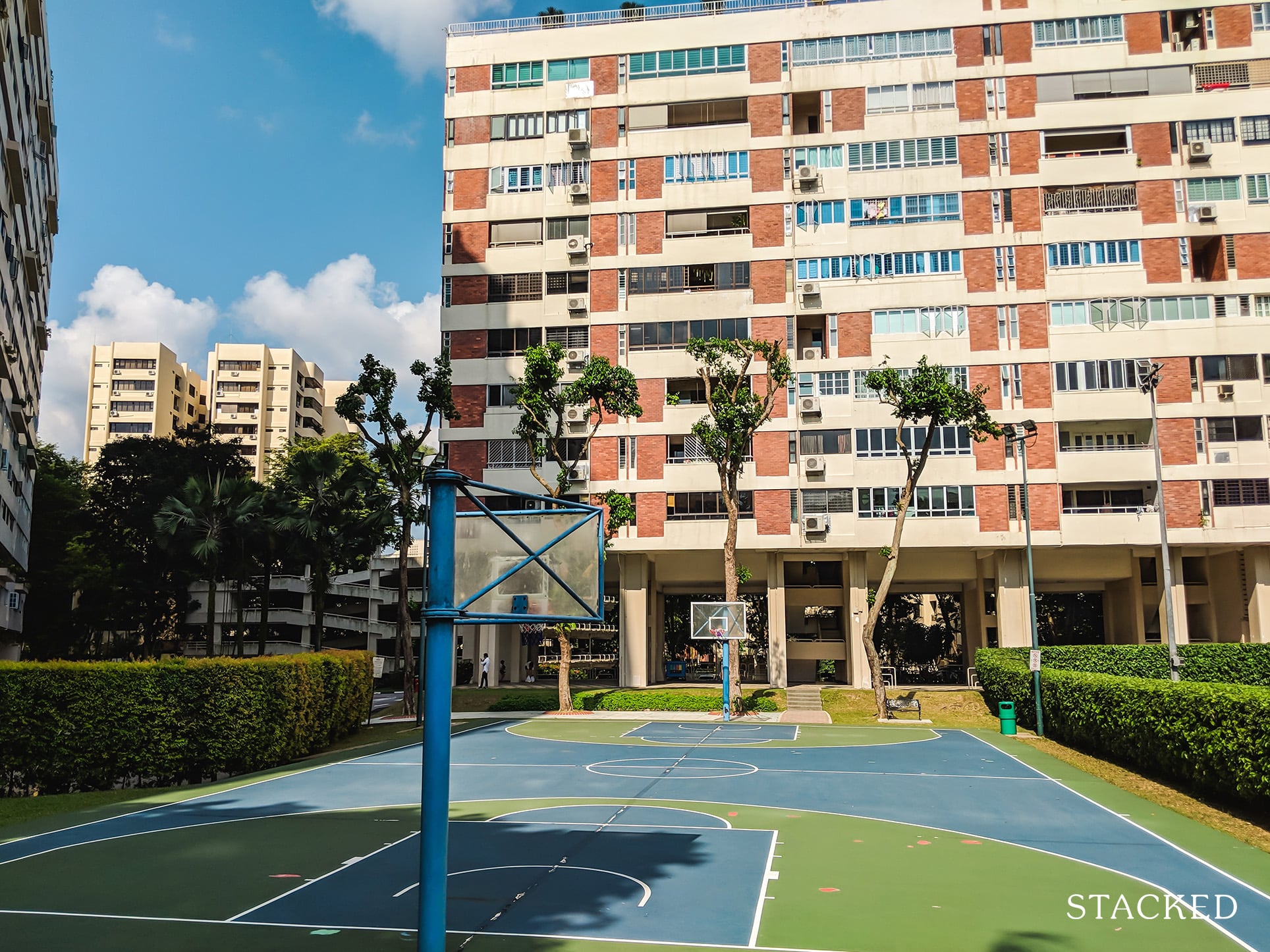 Next to the tennis court, you have a full-sized basketball court which strangely enough looks to be in much better condition than the tennis court.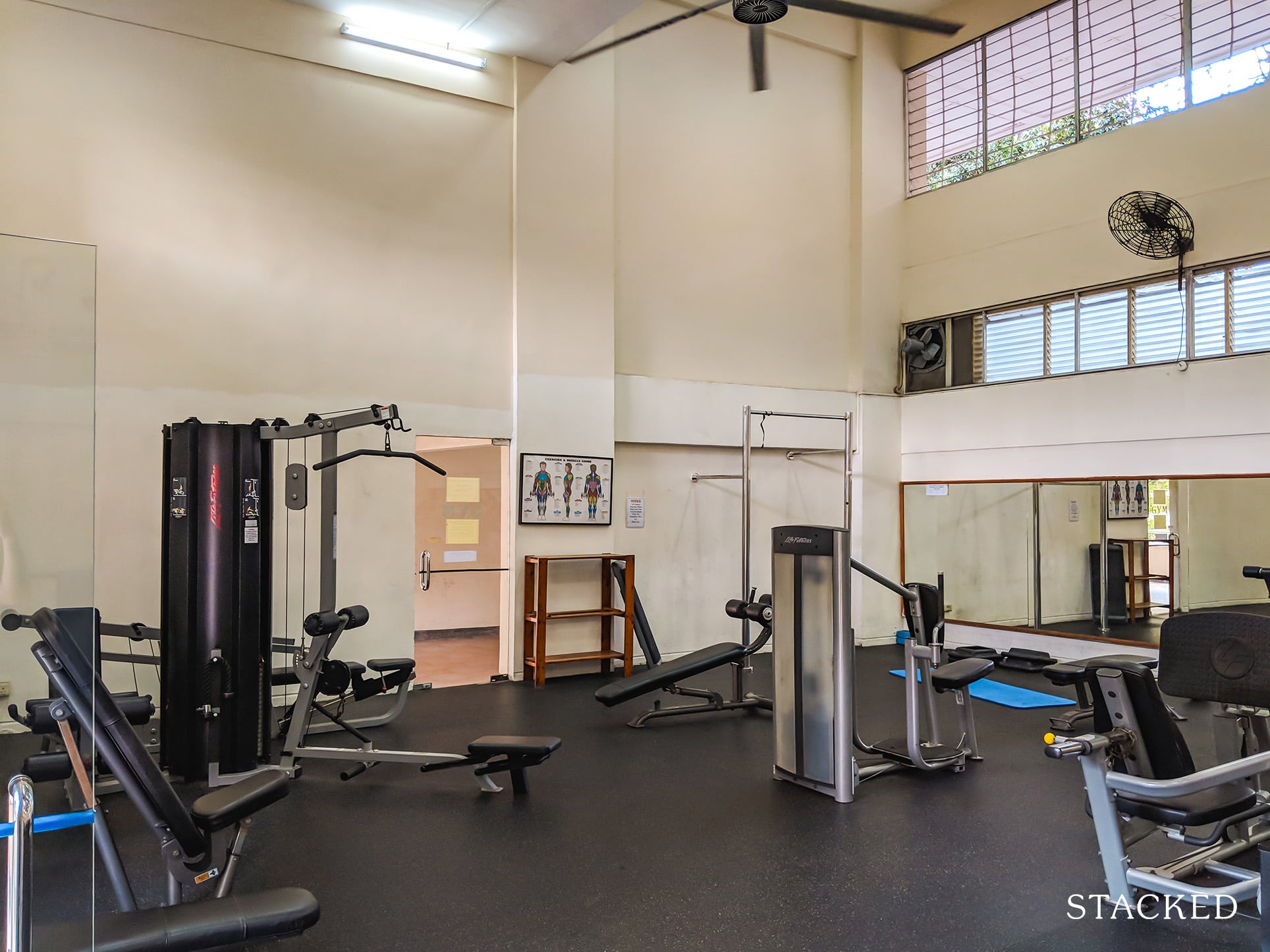 The gym at Pandan Valley has probably the highest ceiling of any condo gym I've been to in Singapore. It's pretty big and has all the machines and weights you need. The downsides are it looks like a gym you'd find in a school 20 years ago and it has no air conditioning. I think it's safe to say if gymming in air-conditioned comfort is important to you, you can just about strike Pandan Valley off your list.
Next to the gym, there are two indoor squash courts that unfortunately I was not able to capture an image of. But don't worry, you aren't missing out on much.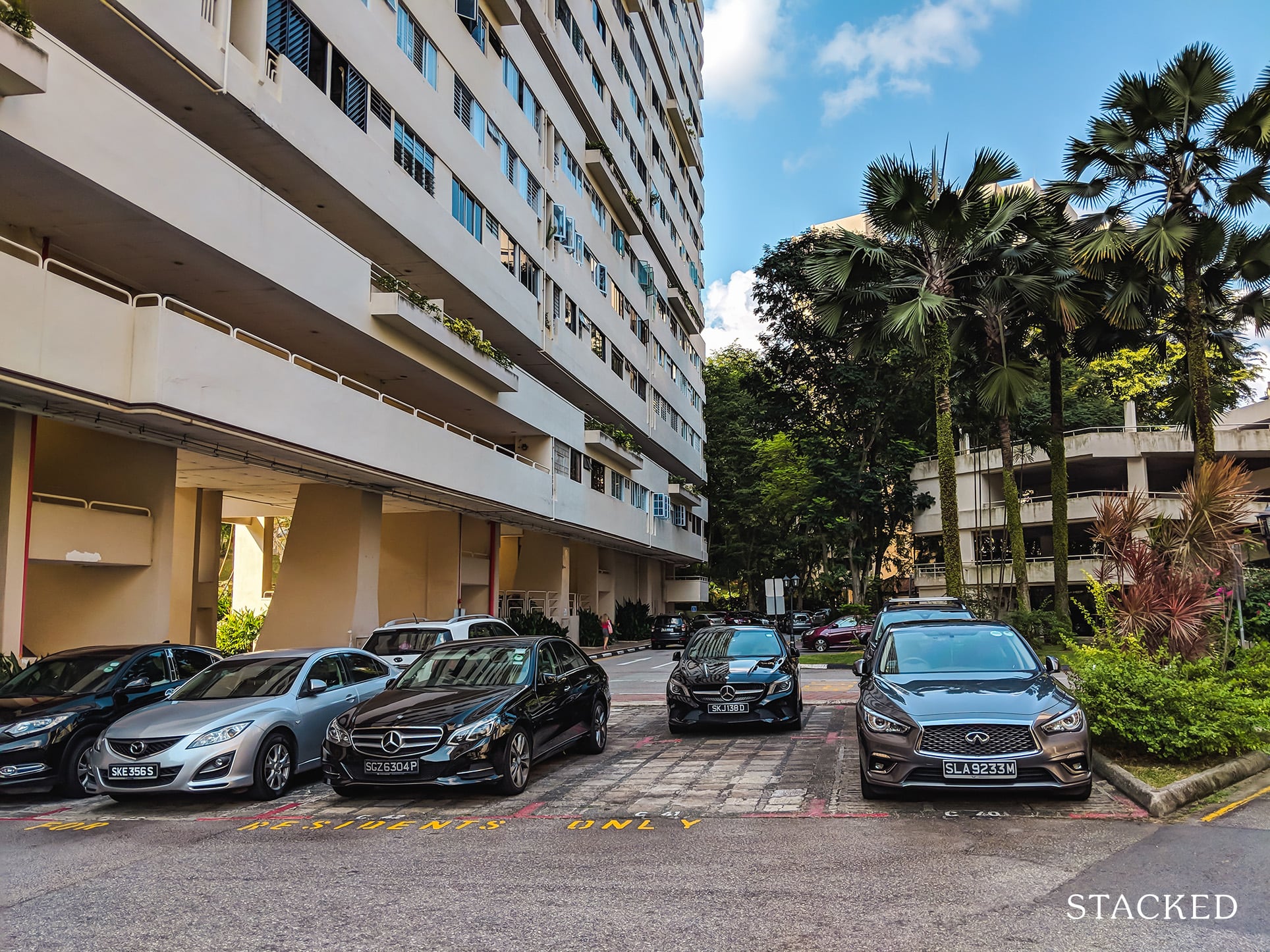 Parking in Pandan Valley is plentiful, and there are many different types of parking. Outdoor, vertical, parallel, multi-storey, you name it and they have it. I would very much prefer sheltered parking though, as the heat in Singapore can sometimes get quite unbearable. But this is just one of the downsides you have to live with when it comes to an older development.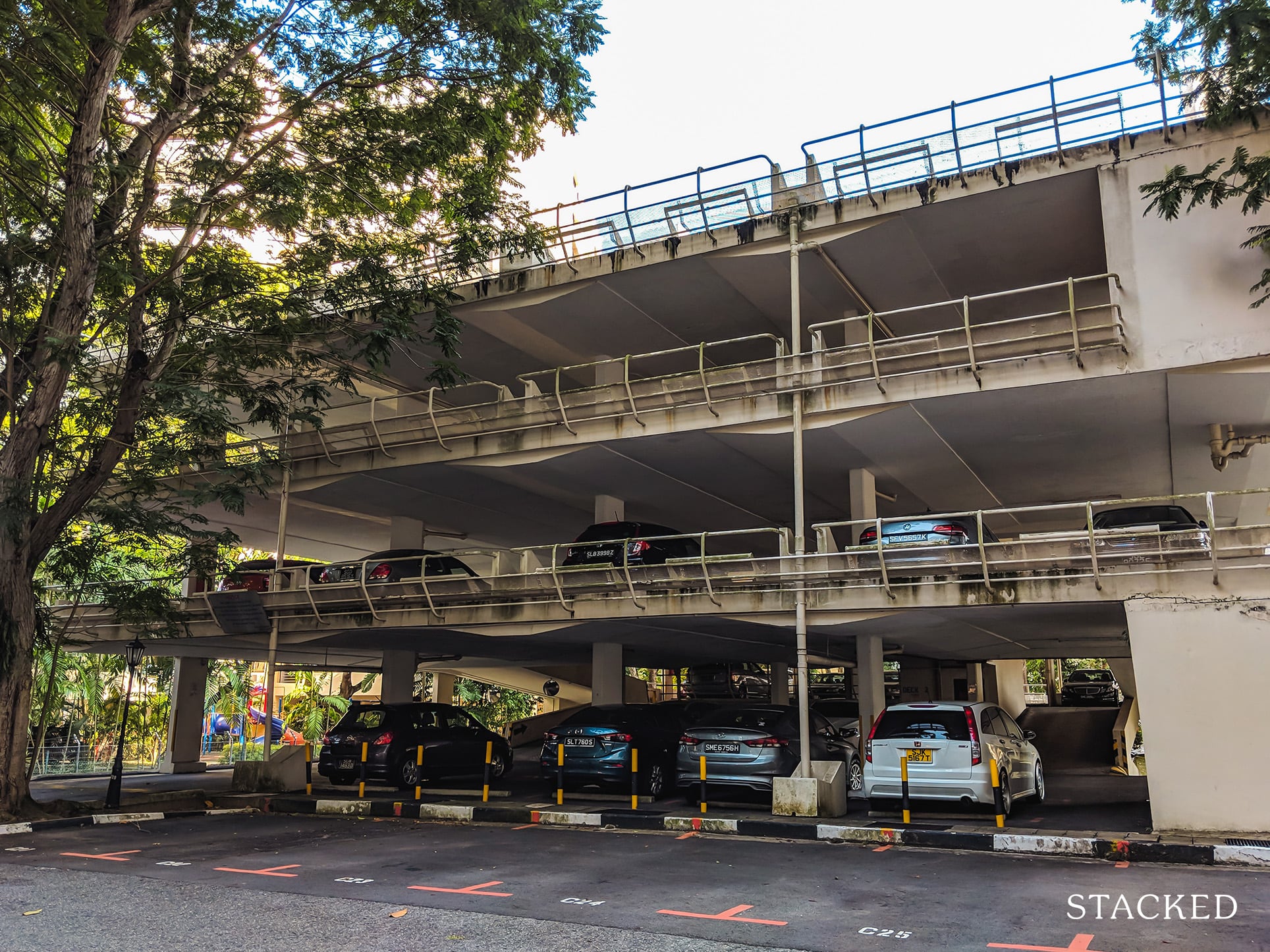 I was wondering why in that case the covered carpark doesn't see an overcrowding of cars until I saw it. The carpark is astoundingly cramped and narrow. It's no wonder it has appeared in multiple online sources voting it as one of the worst car park designs in Singapore. On the flip side, if you think about it, it could be an ingenious way of preventing everyone from fighting for lots here instead.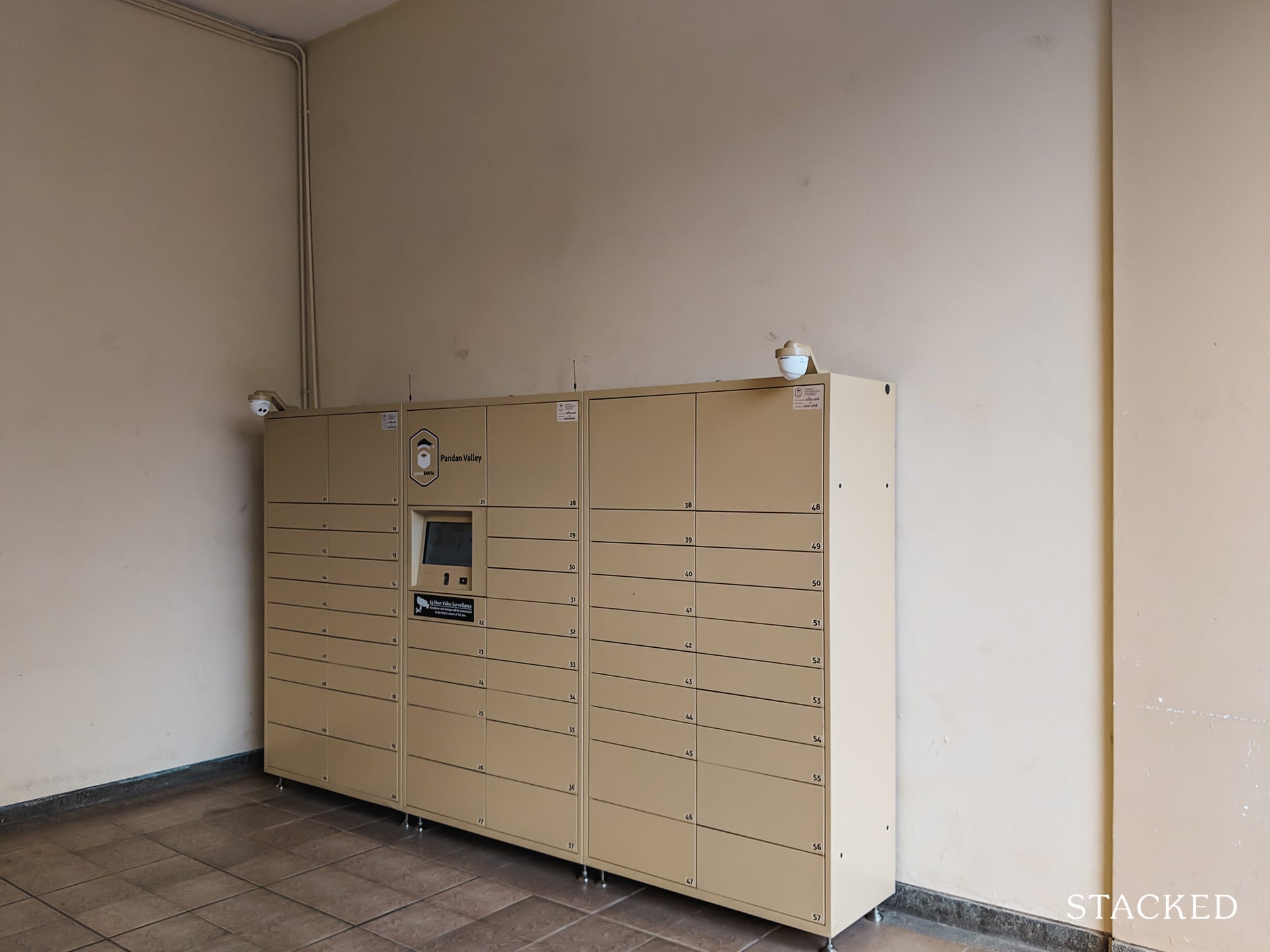 Found a Parcel Santa at the corner of the block, which is always useful to have in any condo.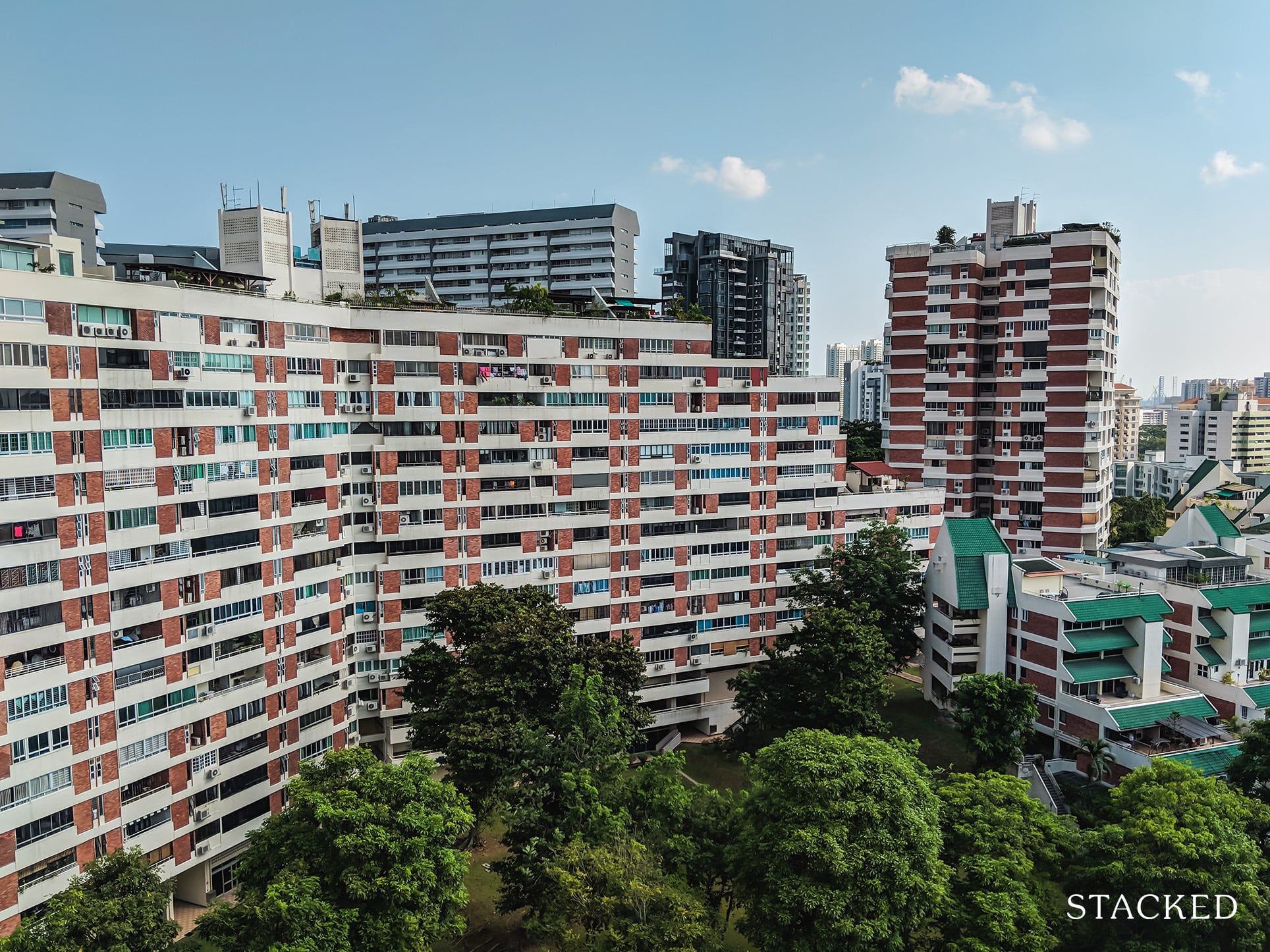 Once you get to the top of the blocks, the views are actually quite stunning.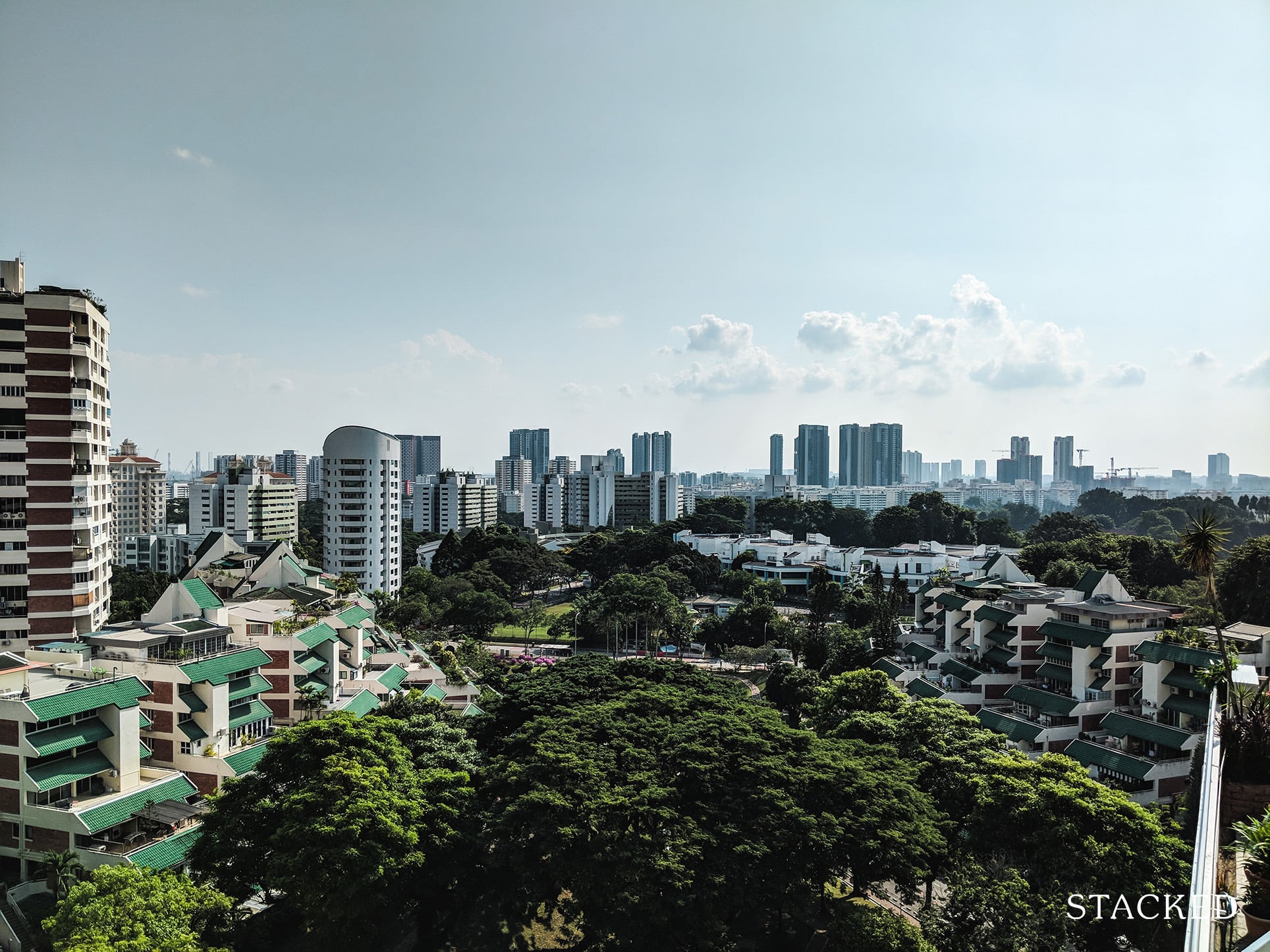 Mainly because there aren't as many high rise buildings around this area, so you can actually see quite far into the distance.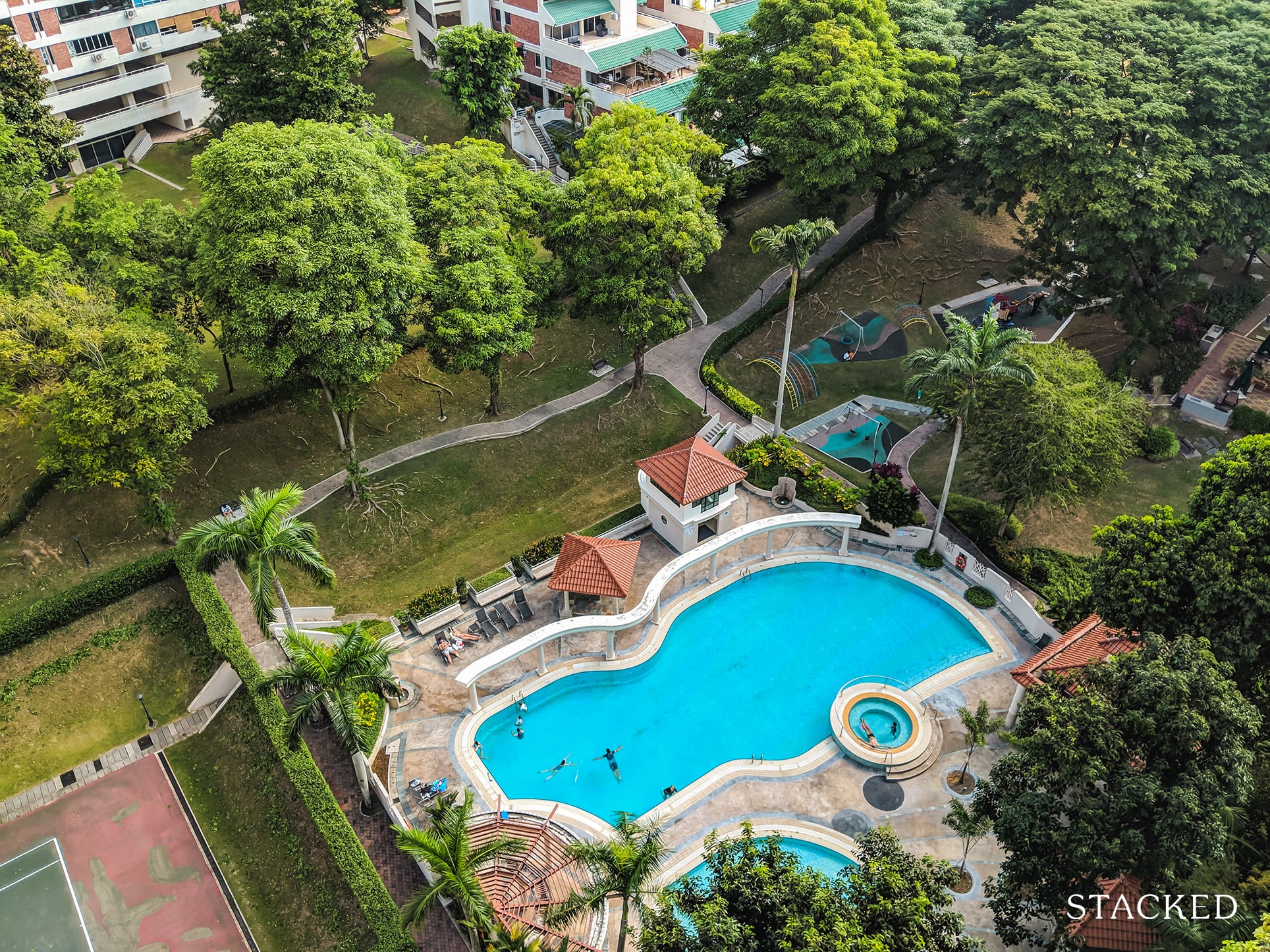 Just to show the full size of the swimming pool.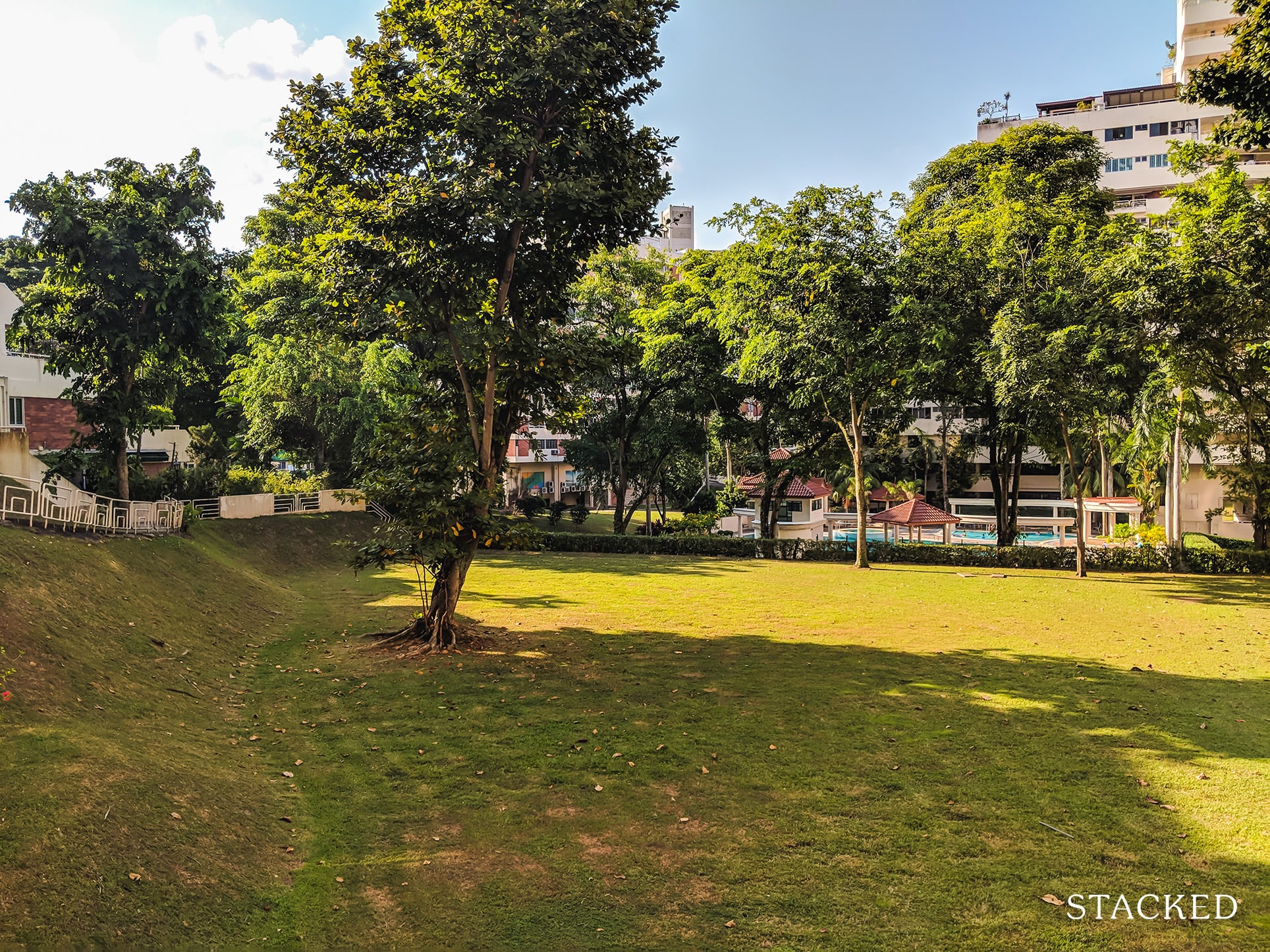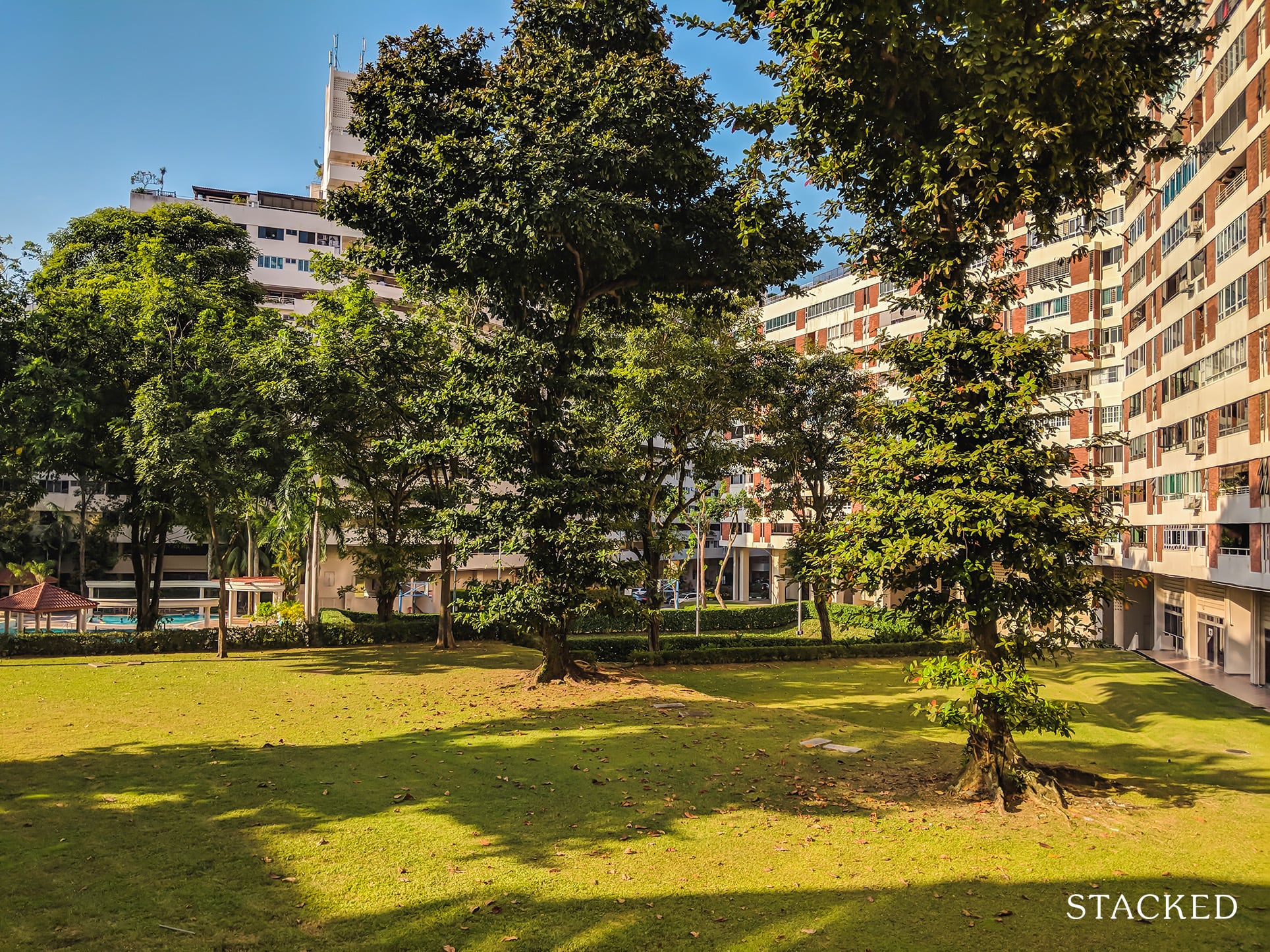 To end the review of the facilities, I think the shots here perfectly captures the upsides and downsides of staying in the Pandan Valley condo. If you like nature, space, and uniqueness of the high and low lands, this sight would be heaven to you. But if you like your facilities, probably all you can think about seeing this much land is, what wasted space.
Pandan Valley Location Review
Many people assume that Pandan Valley is located in District 10, for which I don't blame them as their neighbours like Allsworth Park and Ridgewood condominium are considered to be part of District 10. However, due to how the land was zoned, Pandan Valley actually falls under District 21! Not that District 21 is bad, it just does not have the same premium as the former. Which, in a way, is a good thing. You get the good location but not the premium pricing of the district.
To start it off, the location of Pandan Valley is good, but it would not be the first place I would pick if I had a choice to stay in this area. Perhaps I should preface this by saying that it is my own personal opinion based on my lifestyle. So the judgment of whether Pandan Valley is a good location to you is very much dependent on your lifestyle and the type of transport option that you mostly rely on. So if you take the bus or drive, Pandan Valley would be a fantastic choice as it is located close to most of the more popular attractions in the areas. However, if you are reliant on the MRT, Pandan Valley would not be as ideal as it is about a 20-minute walk to Dover MRT station.
So for those who drive, Pandan Valley is close to places like Ghim Moh, Clementi and Holland. All of which you can expect to get there with a 5 to 10-minute drive. Pandan Valley is also close to the Metropolis business district, which makes this a popular location for rent as well. As I said earlier, the bus stop is right outside the development and with Ulu Pandan Road being quite a major road, there are a substantial number of buses plying the route.
Pandan Valley is actually very similar to places like the Interlace, and D Leedon, in that it has enough shops and amenities that it can almost be self-sustaining. But, if you had to go out, you could take bus 92 to get to Ghim Moh. Just note that the bus ride itself isn't long, but the frequency of the bus is not the best.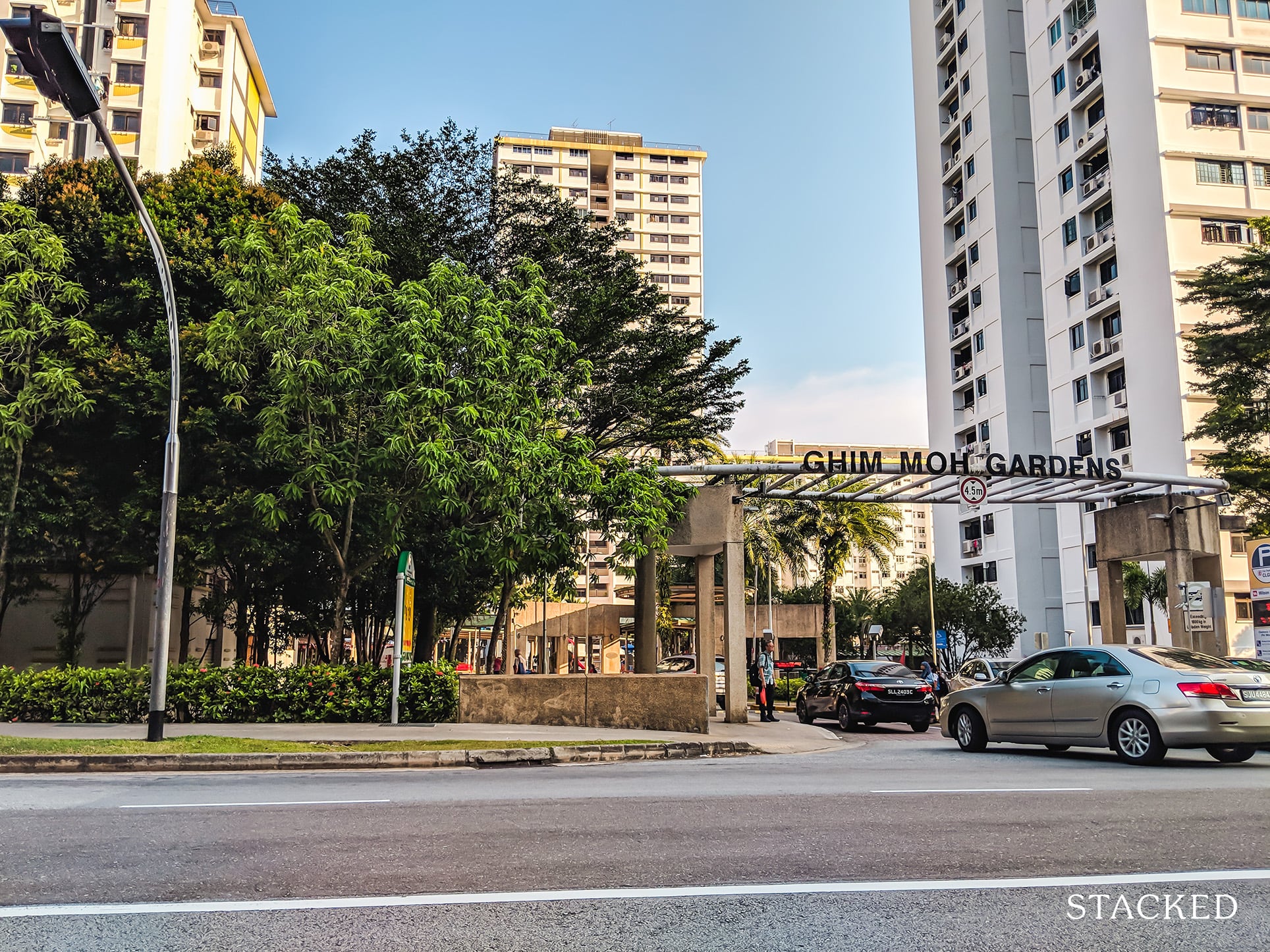 I think for most people, Ghim Moh is actually sufficient for all their needs. It has a recently revamped hawker centre and wet market, which has made it cleaner and more cooling to eat there on a hot day.
At the hawker centre itself, there is a myriad of options, with the only problem being the headache you might get trying to decide what to eat. For the sake of those that are less in the know, Guan Kee Fried Kway Teow, Jiu Jian Shao La, and Chuan Kee Boneless Braised Duck. Ghim Moh also contains a post office, medical clinics, neighbourhood mom and pop shops, and a 24 hour Giant mini-mart should you ever need anything at an odd hour of the night.
In terms of shopping options, Star Vista is very close by but I would mainly patronise for the food as the F&B variety is actually pretty good. There are new entrants like Le Shrimp Ramen and Beauty in the Pot from the Paradise Group that has really added to the attractiveness of the mall.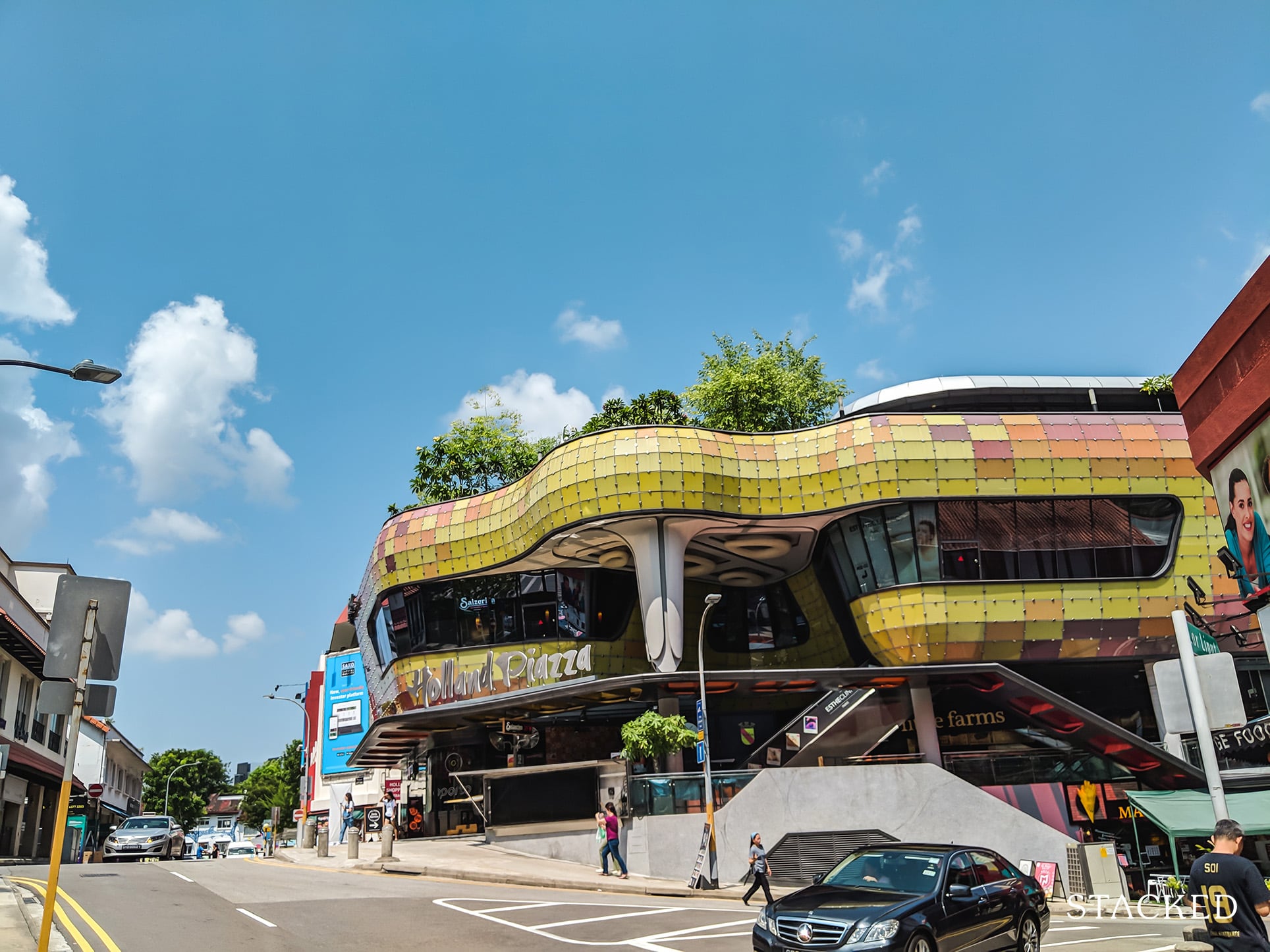 The most appealing place in this area still falls to Holland Village, despite the short term inconvenience of its parking options right now. Just to name a few, Oporto, Crystal Jade, and Tai Cheong Bakery are some of the popular restaurants that are worthwhile visiting.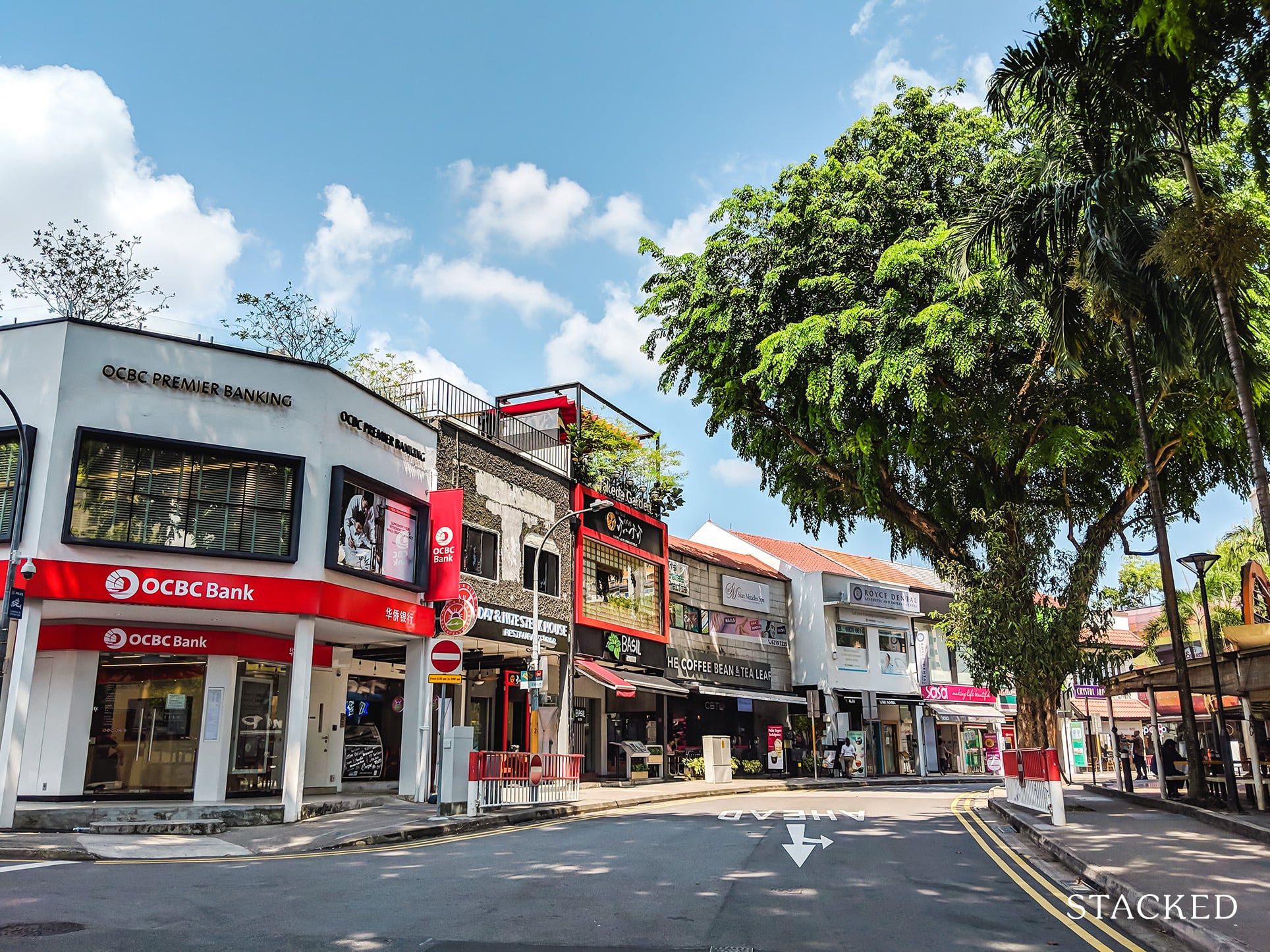 The area behind here is closed to vehicular traffic at night, and the bars and restaurants are allowed to place more seating that spills out to the street. Which is why this place is popular with expats for its nightlife.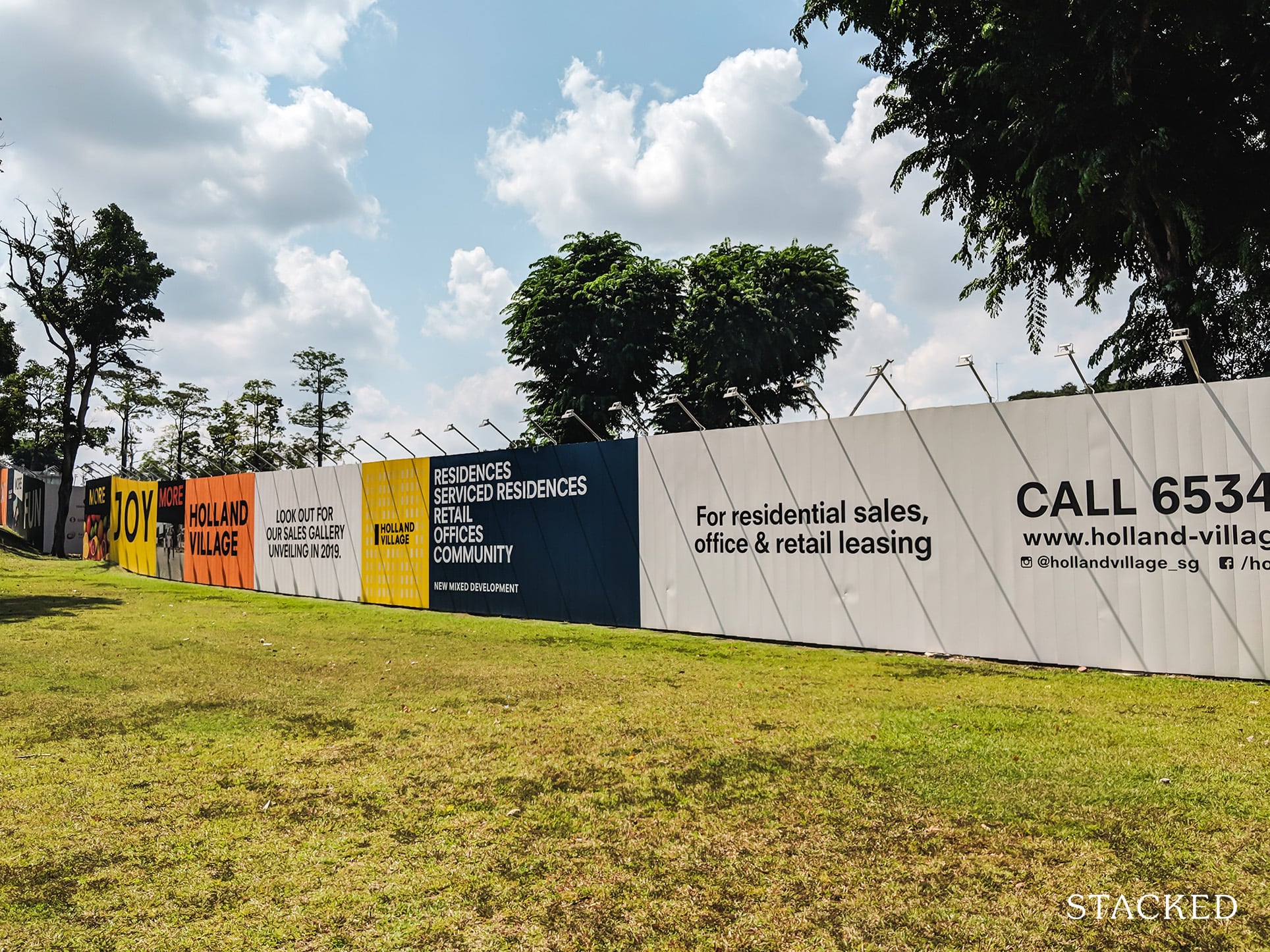 Holland Village is also undergoing a major revamp at the moment, and once completed, will provide even more retail options to the area.
Another place worth mentioning is Jelita, as it is only two bus stops or a minute drive away from Pandan Valley. There are a bookstore and toy store on the upper levels, but the main draw here is really the 24 hour Cold Storage. It is one of the bigger supermarkets around and as your first hour of parking is free, it is a convenient option for groceries in the area.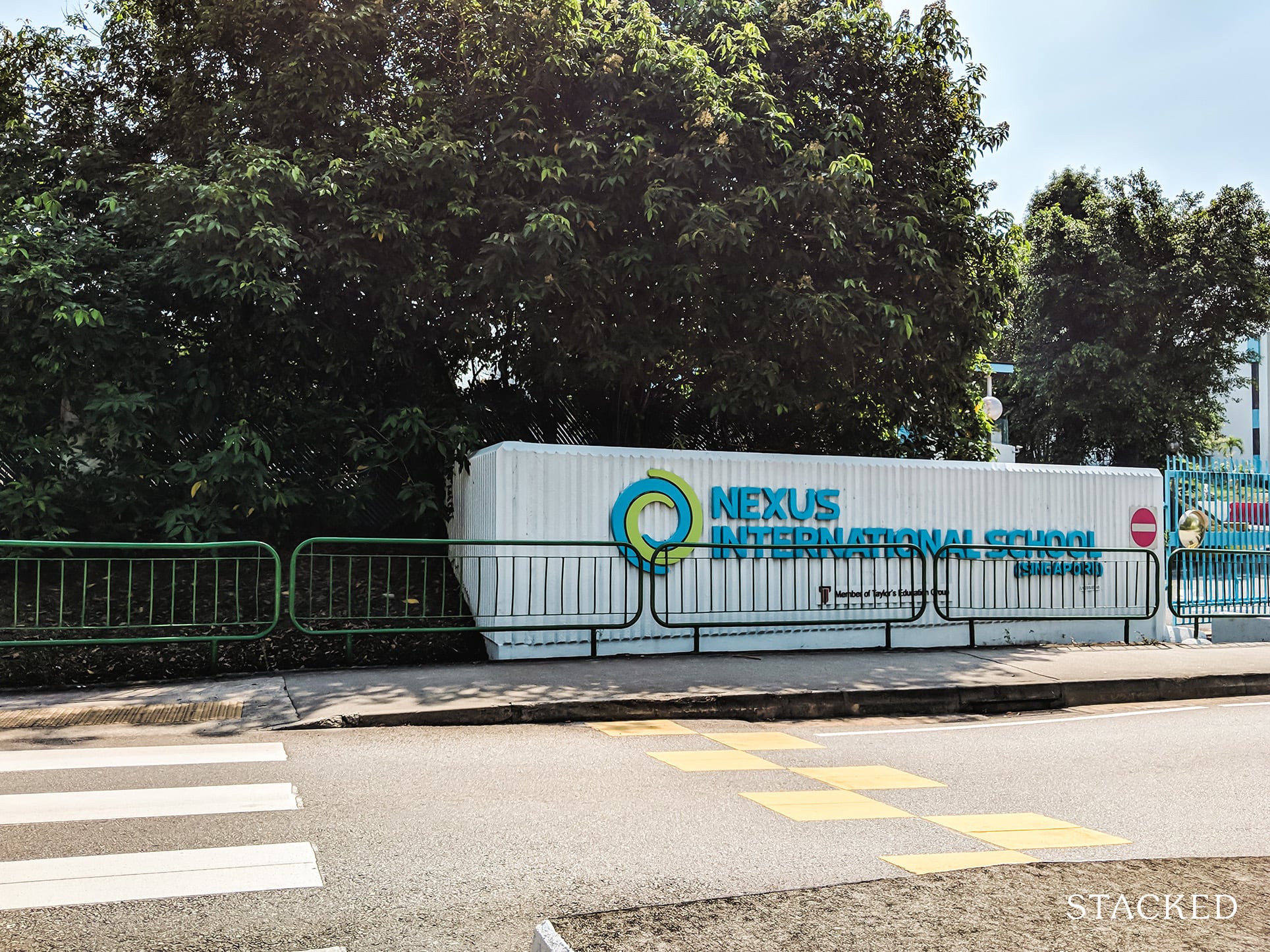 Probably the biggest draw of the Pandan Valley location is its proximity to schools. From the side gate beyond the pond, all you'll have to do is cross the road, and you will have arrived at the school. Understandably, this is a huge draw and a reason why Pandan Valley is a popular choice for expats to rent.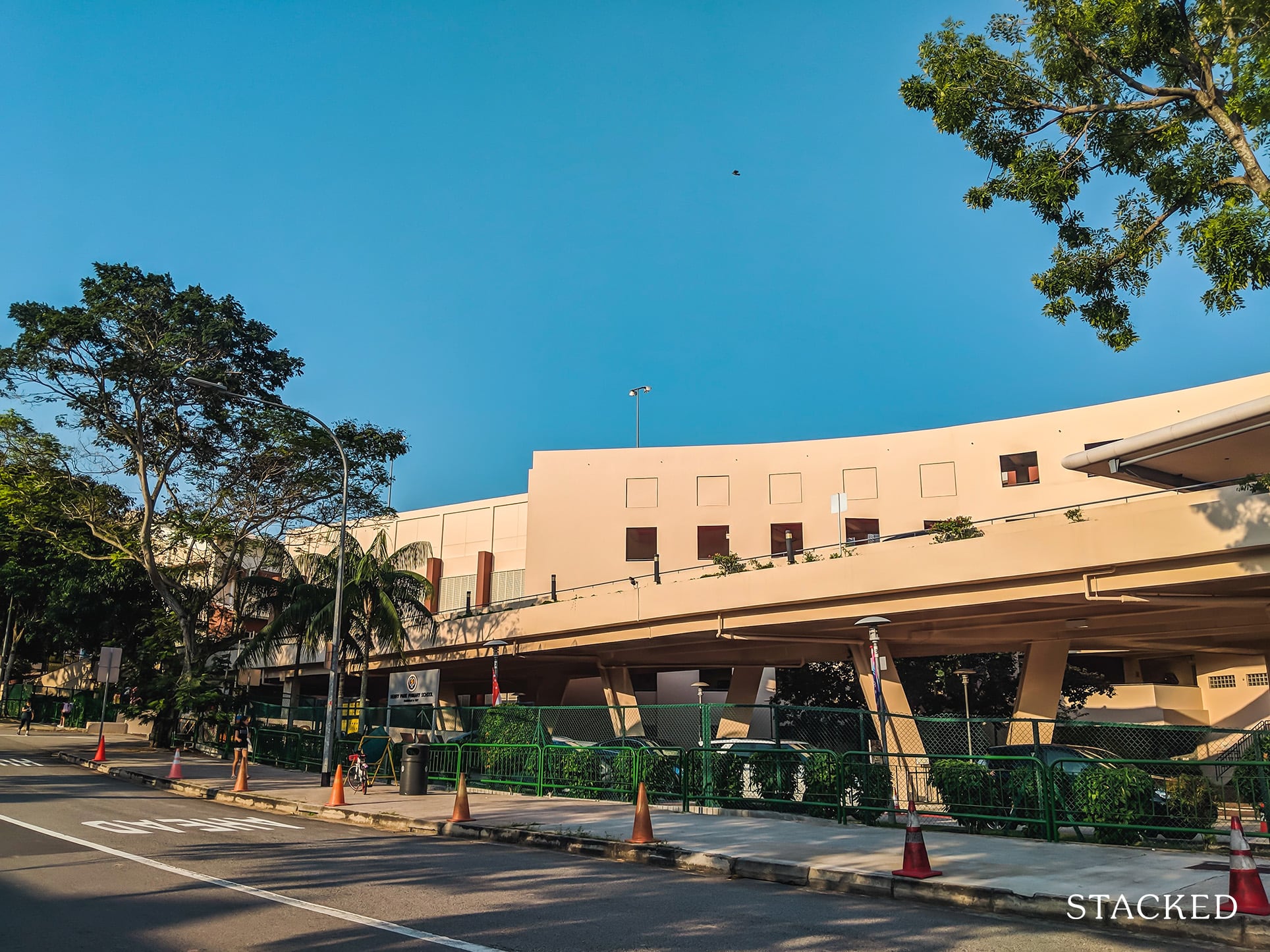 Henry Park Primary School is also within walking distance and there is a Pat's Schoolhouse located right outside the Pandan Valley resident's entrance. Other schools nearby include Pei Tong Primary School, School of Science and Technology, Eunoia Junior College, Singapore Polytechnic, Ngee Ann Polytechnic, National University of Singapore, Anglo Chinese School (Independent) and Anglo Chinese Junior College.
Pandan Valley Development Site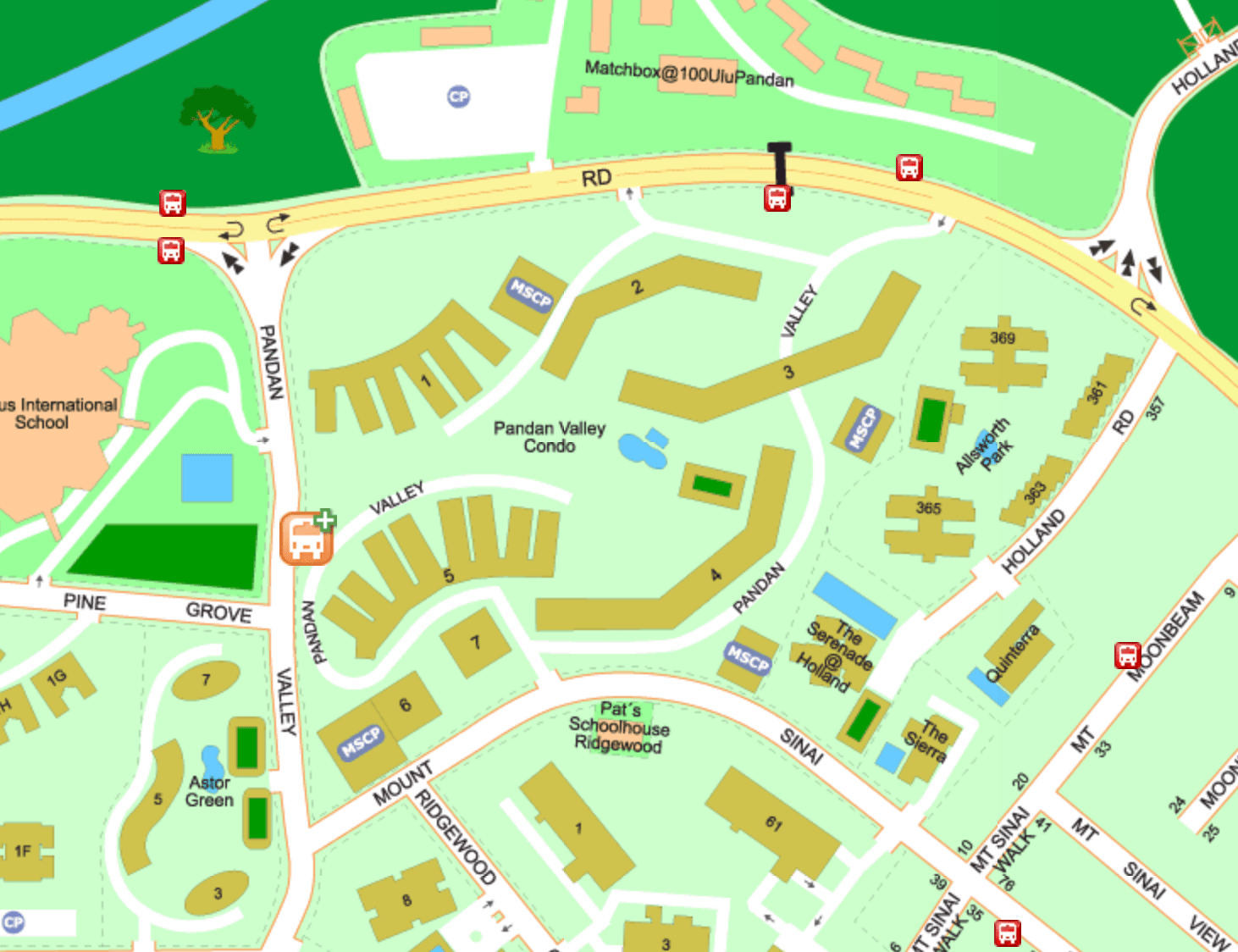 Pandan Valley is actually slightly smaller than Pine Grove, at 865,261 square feet. It does also have fewer units, so you should get a comparable amount of space here. Similarly, there are two entrances and exits to the condominium. One via the main Ulu Pandan Road, and the other along the smaller Mount Sinai Road. So if the main roads are ever jammed up you still have the option of coming home via Ghim Moh and Mount Sinai, which is always convenient to have.
I would love to be able to detail out the unit mix at Pandan Valley, but it would be almost impossible to do so due to the age of the development and the number of variations. At last count, there were 30 different types of units! Which brings me to my next point. Because there are so many variations, I think that this is quite a major selling point to any homeowner that wants a greater degree of control and uniqueness towards their home. For example, penthouse units come with a huge open terrace, some have a huge open stepped balcony, and garden units allow you to build a mini conservatory of sorts.
But as a general guide here goes:
Unit mix

| Unit Type | Size (sqft) |
| --- | --- |
| 2-bedroom | 1,173 sqft |
| 3-bedroom | 1,335 – 1,830 sqft |
| 4-bedroom | 1,873 – 3,197 sqft |
| 5-bedroom | 2,669 – 6,867 sqft |
What you can easily tell from here is that the unit sizes are massive, just look at the space that is available at the upper end of the 3 to 5 bedroom units.
Prices Review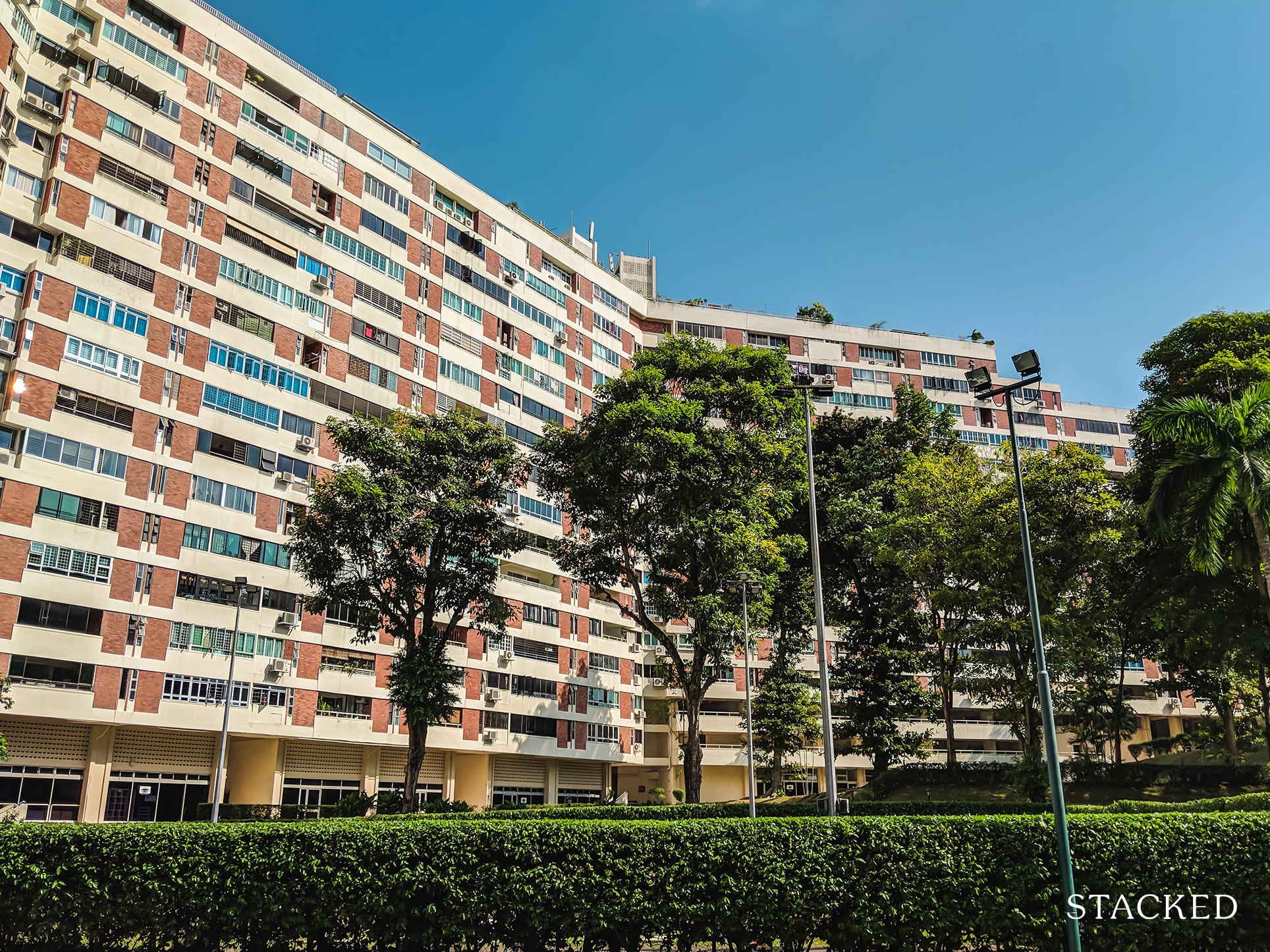 | Project Name | Tenure | TOP | Average Price (PSF) |
| --- | --- | --- | --- |
| Pandan Valley | Freehold | 1978 | $1,274 |
| Pine Grove | 99 years | 1984 | $1,013 |
| Cavendish Park | 99 years | 1996 | $1,074 |
| Astor Green | 99 years | 1995 | $1,138 |
| Ridgewood Condo | 999 years | 1981 | $1,092 |
In terms of prices, Pandan Valley actually attains the highest average price in terms of PSF despite being the oldest development as compared to the rest. Not to mention, it's average PSF price is even higher than the Ridgewood condo, which is classified under District 10. I do suppose some premium will have to be allocated towards its freehold status and very unique layout and units.
Our Take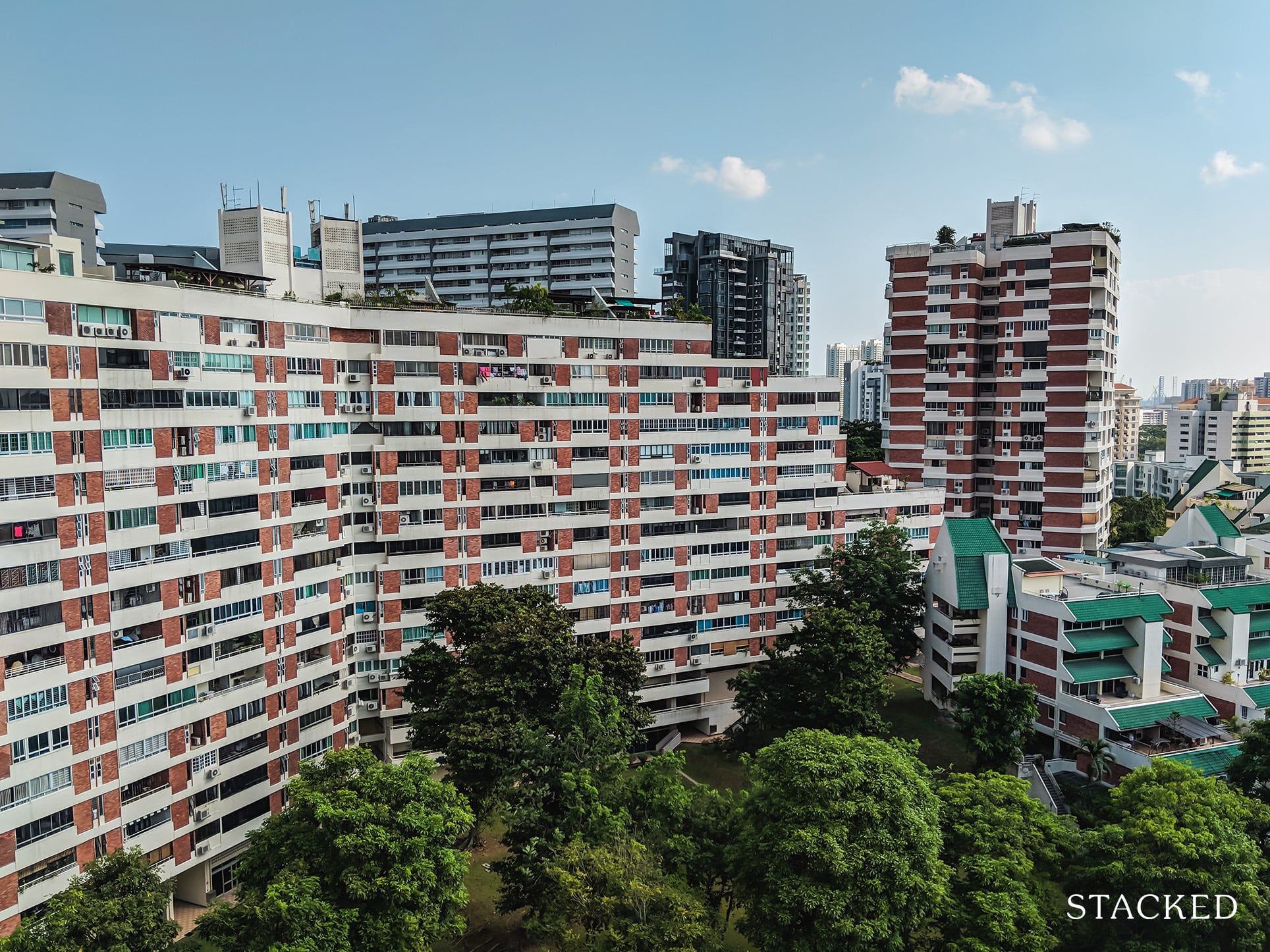 I think if you have already settled on this area as an ideal choice, one of the most common predicaments here would be choosing between Pandan Valley, Pine Grove, and Ridgewood condominium.
When I was writing up this review, a friend asked if I liked Pandan Valley or Pine Grove better, and I said it was tough to decide. In many ways, both developments are similar. Being almost next-door neighbours in District 21, you can just about flip a coin in terms of the location. Both are big, sprawling developments with lots of land and inadequate facilities.
But here in lies the differences, which are ultimately different strokes for different folks.
There is a certain beauty in the messiness of Pandan Valley, which is something that cannot be captured on camera but will have to be witnessed in person. The rolling hills, mismatched buildings and random roads that lead to a dead-end are just part of its charm.
I really like the Pandan Valley condo for what it is, if I were on the lookout for something truly customisable, space, and grounds that are totally unique this would be at the top of my list.
What this means for you
You might like the Pandan Valley if:
• You want something unique.If you are looking for something different, this place has it in spades.
• You want a big living space.For each unit classification, you can expect to have a ton of usable space.
You might not like the Pandan Valley condo if:
• You hate messiness.The design is a bit chaotic, and not the best planned and laid out.
• You prioritise facilities.There is a widespread of facilities, but a small pool and non-airconditioned gym might be a deal-breaker for some.
End of Review