Condo Reviews

Pine Grove Condo Review: Land, land and more land
Sean
August 2, 2019

13

min read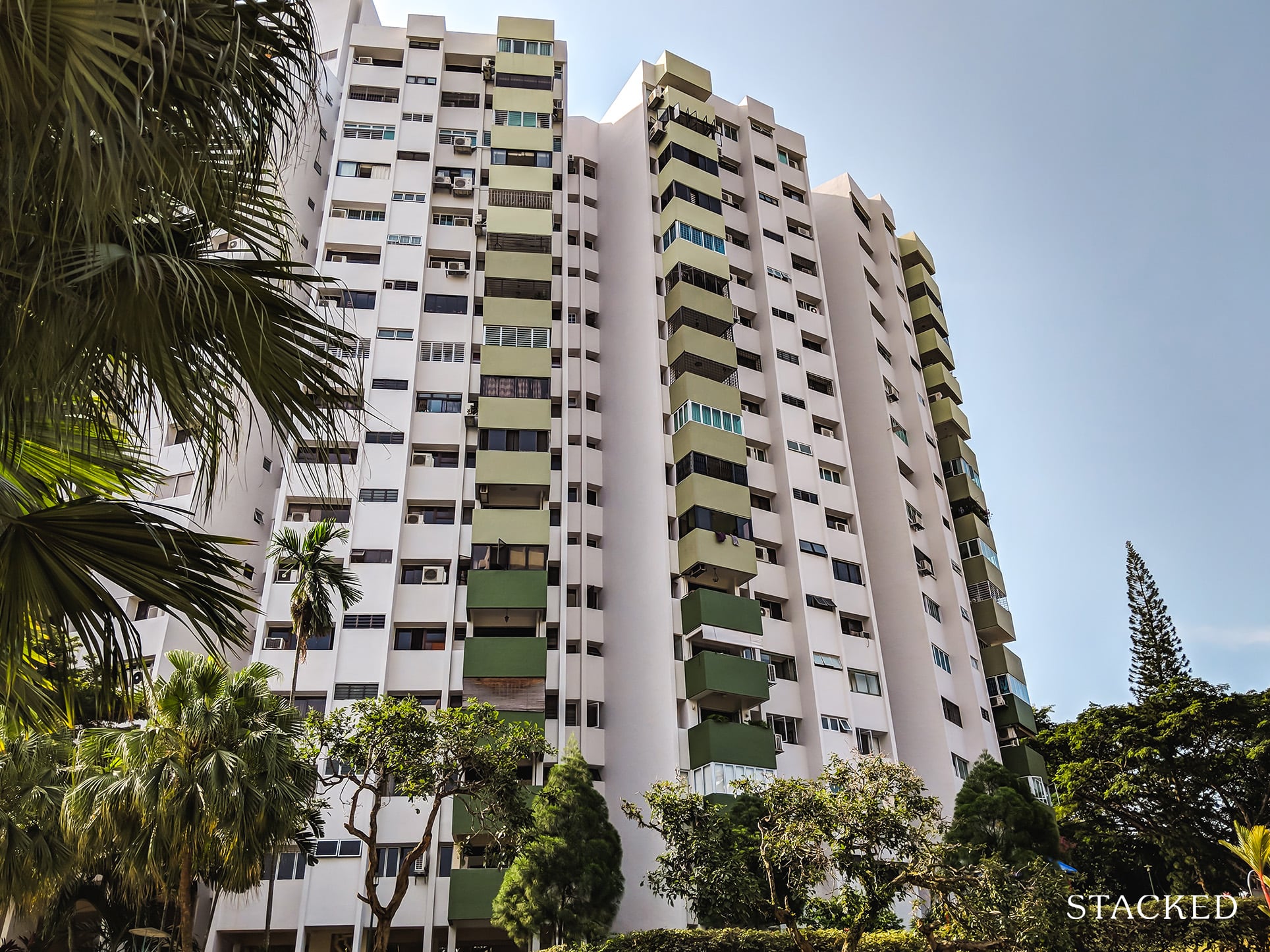 The Pine Grove condo has a lot of shortfalls that's for sure. It's not close to the MRT, the dated exterior, and its facilities are lacking to support the number of units. But its strengths of land and space are so evident that it outweighs all the shortcomings easily.
Reviewed by Sean on August 02, 2019
What we like
Big, big space

Lots of open spaces for kids

Carpark is plentiful
What we don't like
—

Not near MRT

—

Dated exterior

—

Facilities a little lacking to support units
13
min read
About this condo

| | | | |
| --- | --- | --- | --- |
| Project | Pine Grove Condo | District | 21 |
| Address | Pine Grove | Tenure | 99 Years |
| Site Area | 893,024 sqft | No. of Units | 660 |
| Developer | HUDC | TOP | 1984 |
In the past few years, the Pine Grove condo has almost been synonymous with the word en bloc. For some reason, it seems to be quite a keenly watched topic, with the phrase "pine grove en bloc" drawing 720 searches a month on Google! Impressive. I guess if you think about it logically, it does make some sense. People want to know about the big billion-dollar deals, and at $1.86 billion, the Pine Grove condo would break the previous record set by Farrer Court. The development is reportedly up for en bloc again, and understandably so as its lease is running down the clock. In the event there are no takers, aside from its future potential, is this a place worth looking at?
Insider Tour
Facilities in Pine Grove
Barbeque Area
Gym
Playground
Swimming Pool
Kids Pool
Clubhouse
Minimart
Tennis Court
Cafe
Function Room
Study Room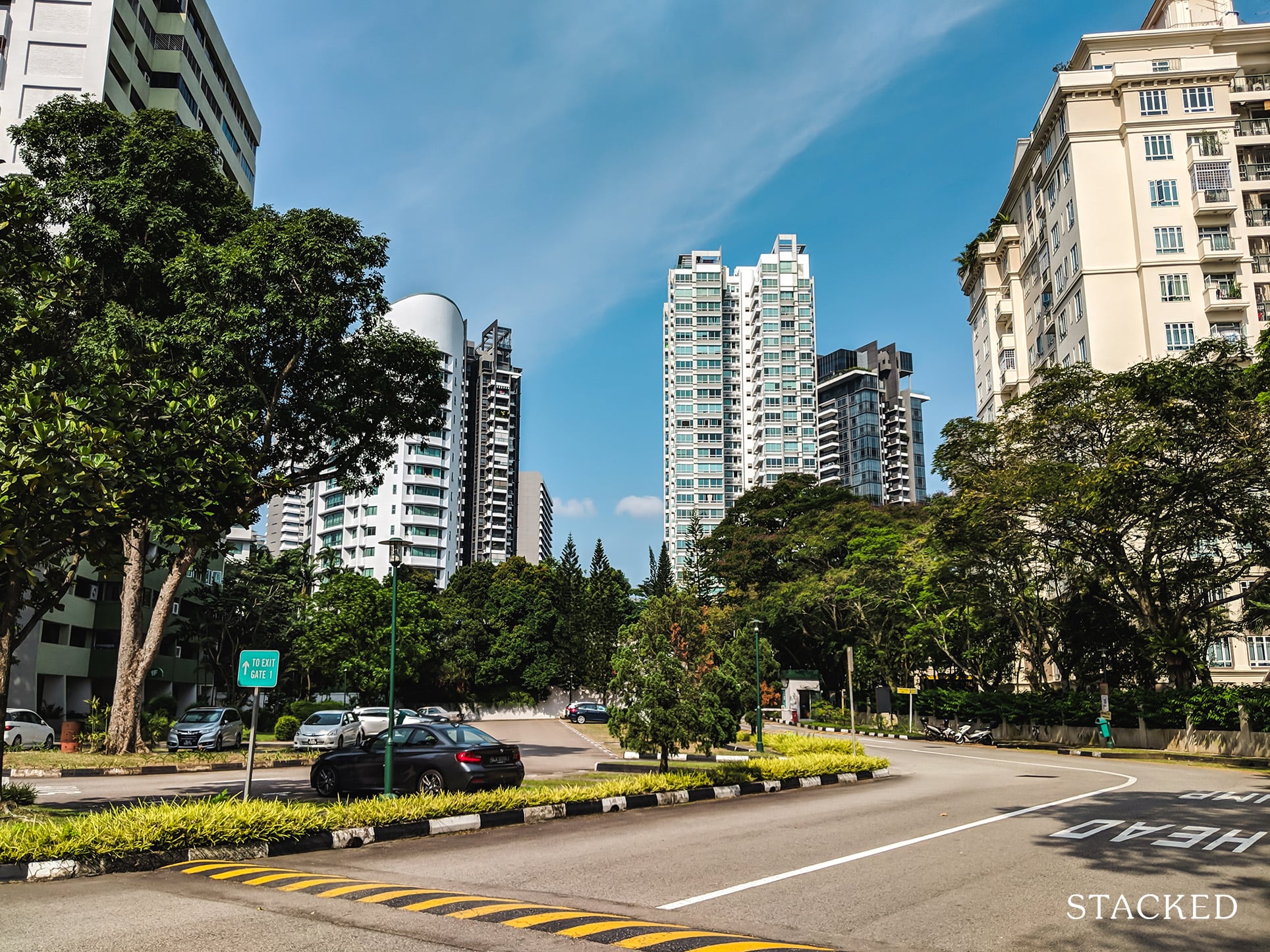 One of the things that will strike you upon your first arrival to the Pine Grove condo is just how much space there is. I have been to numerous condos in my time, but so far this and Sommerville Park has got to be the top 2 most spacious condos in Singapore. The amount of room you get is truly unrivalled and I can understand how hard it must be for some of the residents to agree to sign the en bloc papers.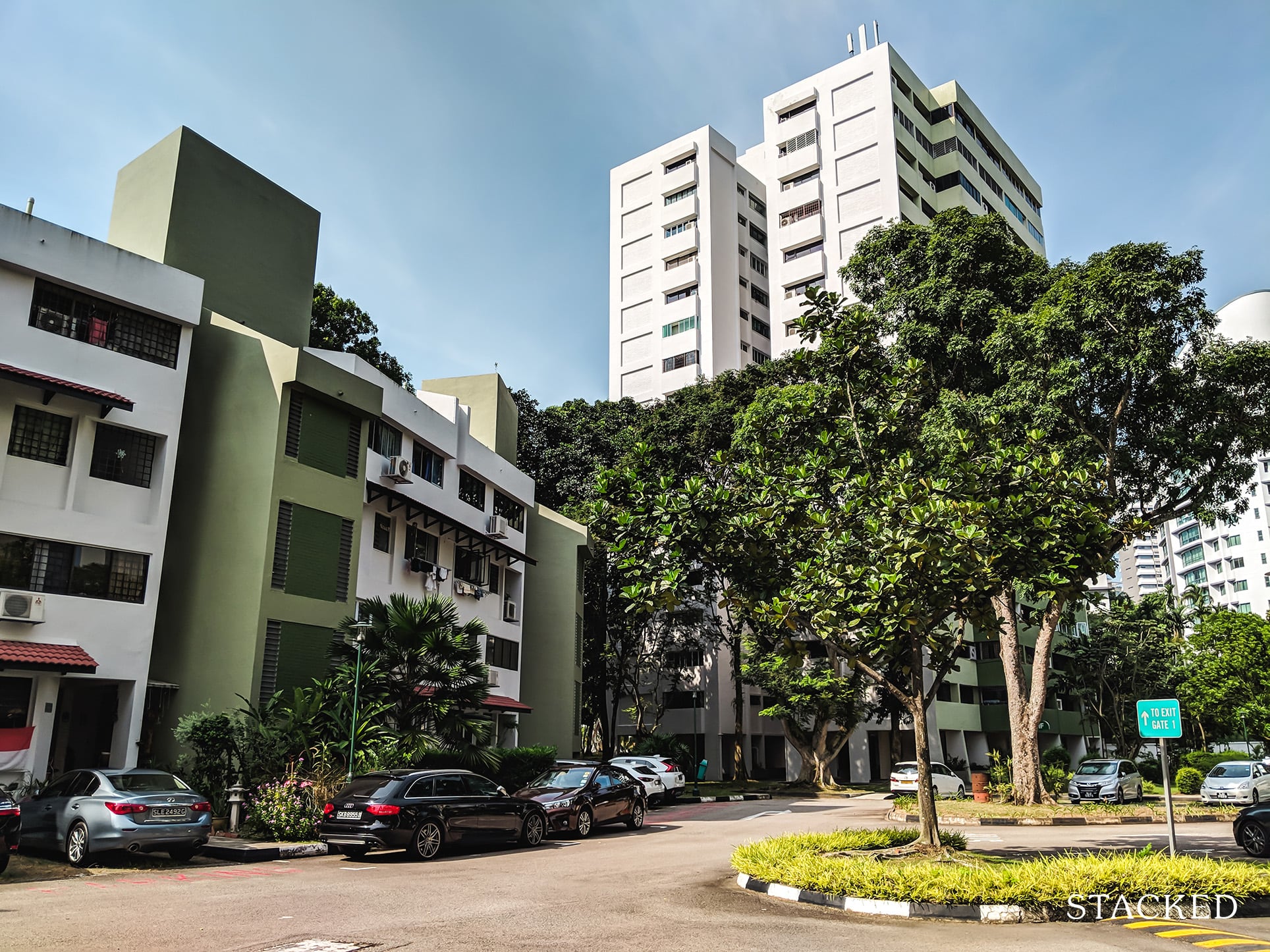 Once you are used to this amount of space, it must be tough to move to somewhere in the city, where units are getting smaller and common space in newer developments are nothing compared to this. If I had a choice of living here, I would definitely plunge for the maisonette units. They are really unique, have character and a car park lot right outside your house!
Note: There are no sheltered car park lots in the Pine Grove condo. Which to me is a huge inconvenience, especially with Singapore's unpredictable weather. I would hate to come home with my shopping during rainy weather and be stuck inside the car having to wait for the rain to stop. This would be a downside for fussy car owners too, as leaving their precious car to the mercy of the elements is not their dream scenario for sure. There is a silver lining though, with this much space and car park lots, there isn't any worry about fighting for lots!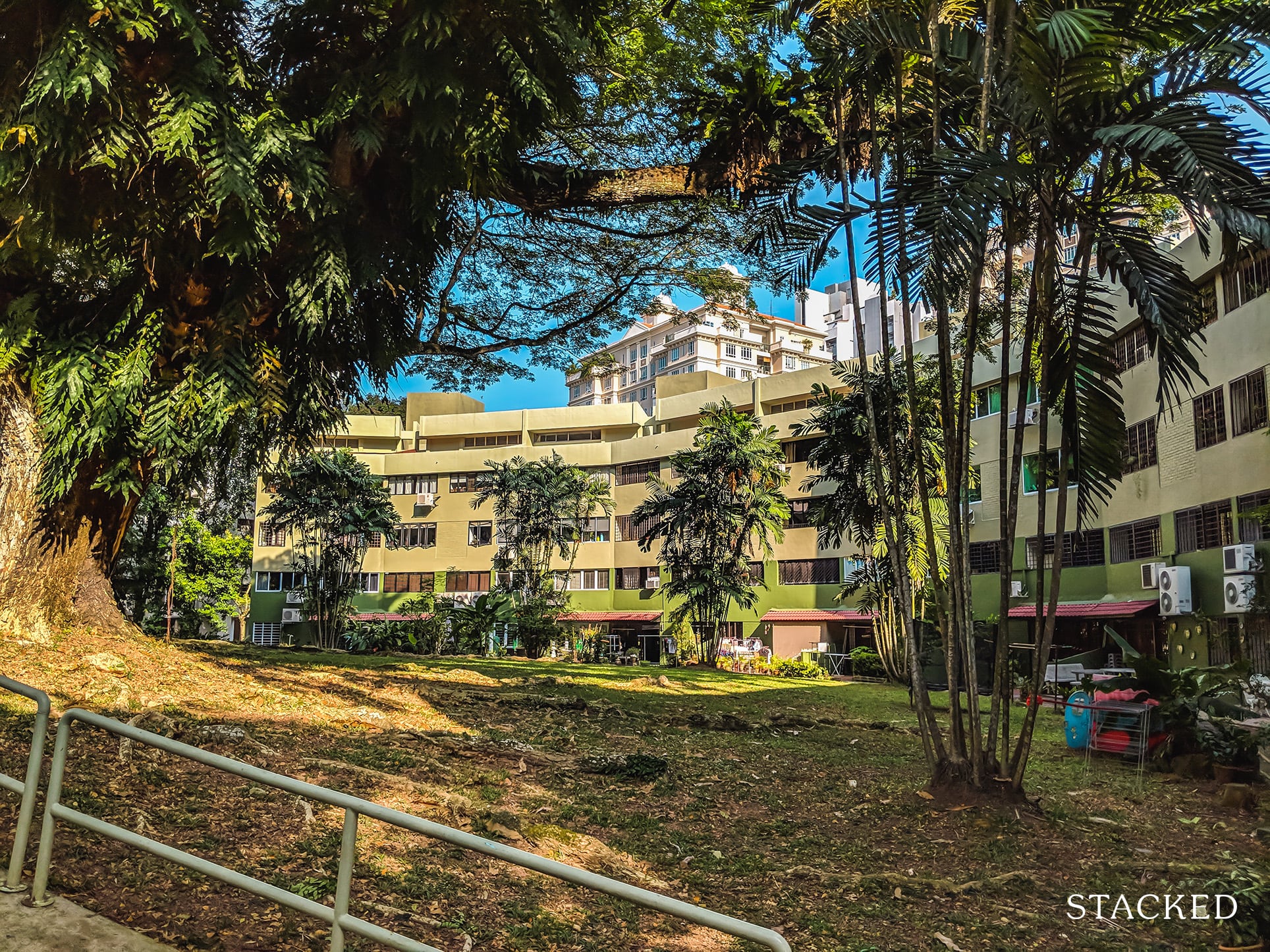 Round the back of some of the blocks, you have a really nice quiet area. Basically, like your own personal backyard. Of course, anyone can access these as it is an open space, but for the units that have this facing, it is certainly a rare view to have in Singapore. I think spaces like these are particularly great for kids to run around and play sports, and it really gives a huge sense of openness and freedom.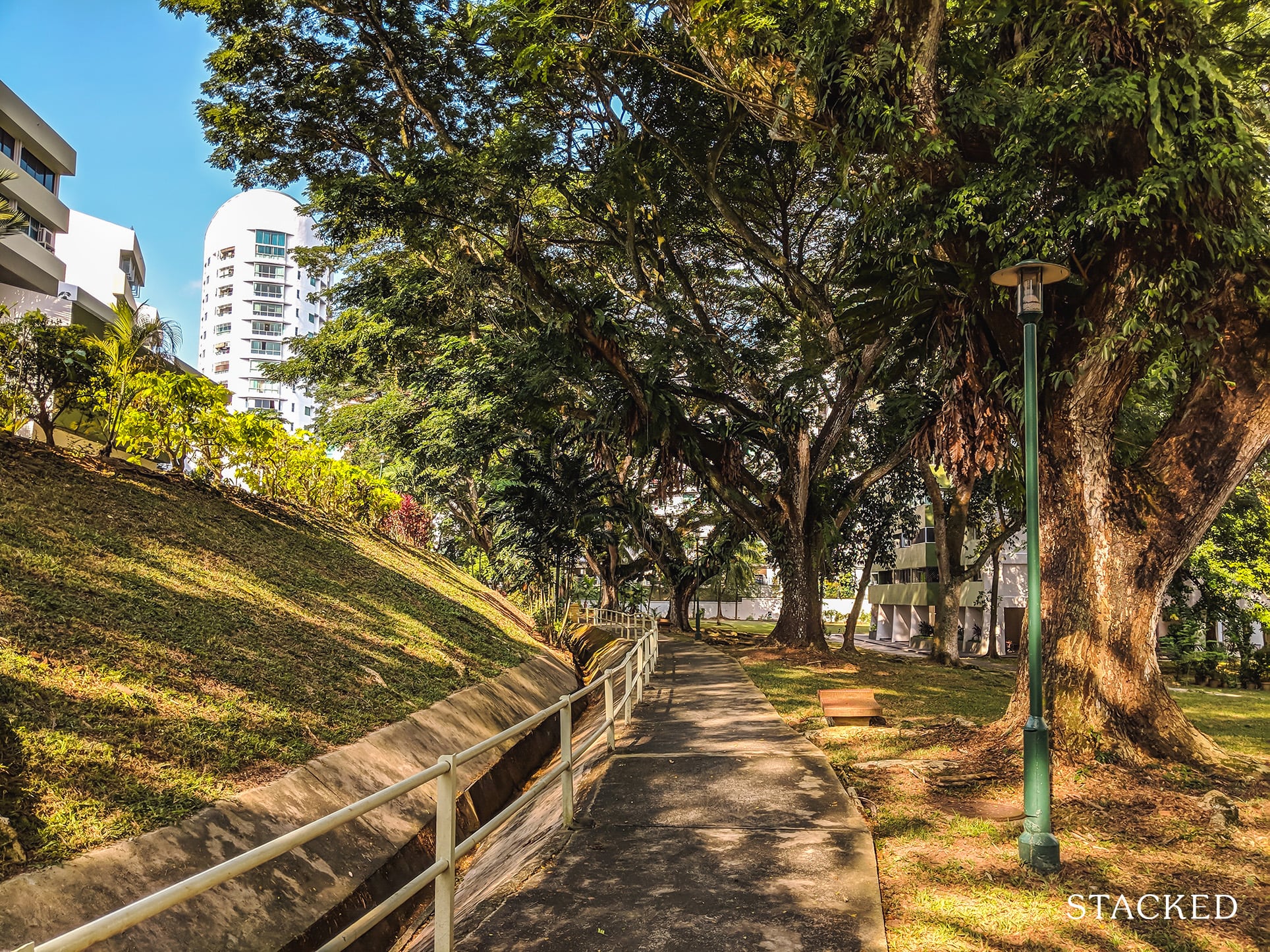 You really do not have to go out of the condo at all if you want to jog or take an evening stroll. If you own a dog too this would be absolutely ideal. At 893,000 square feet of land, this is probably the strongest suit of this development.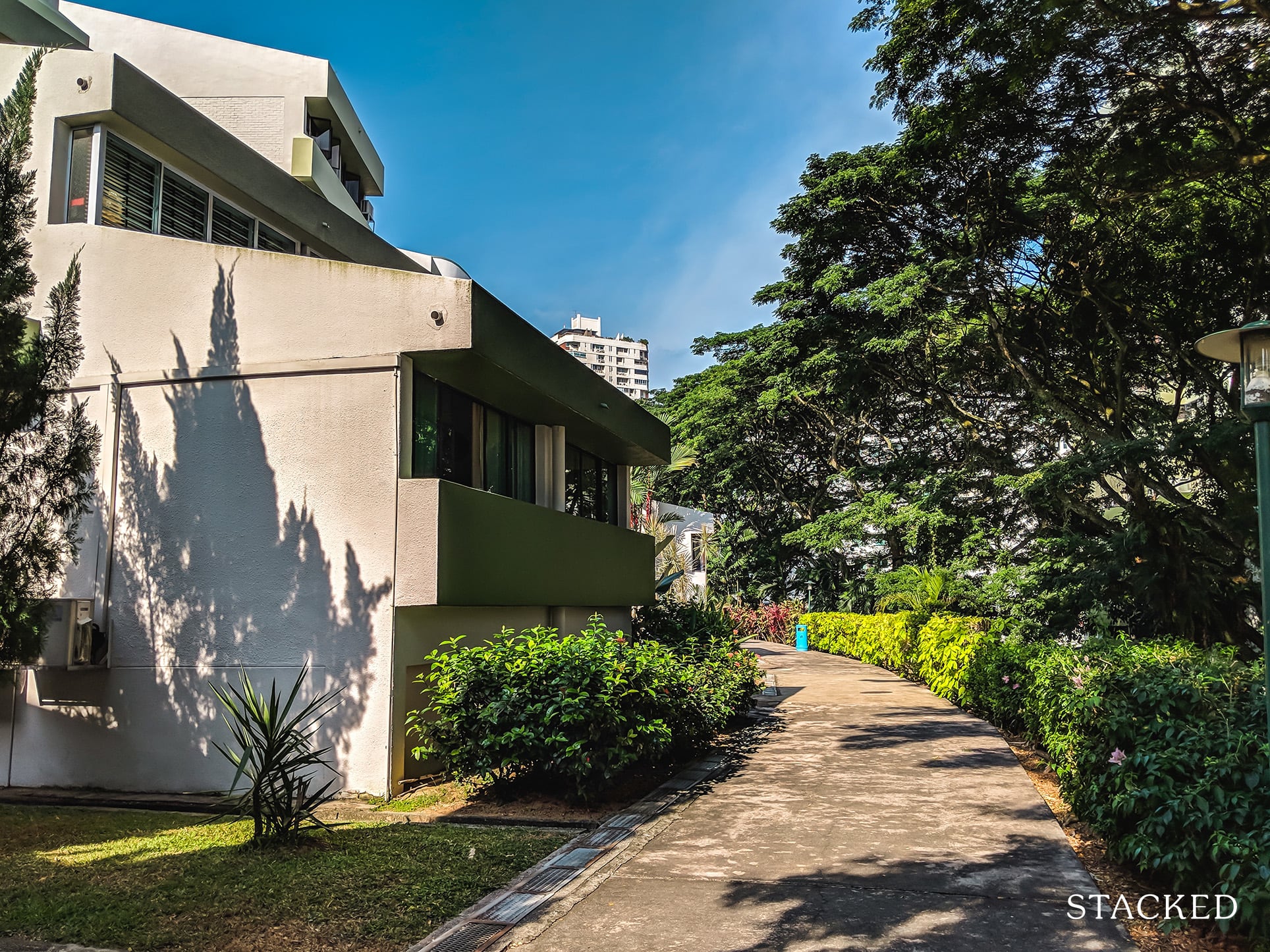 Just look at the number of pathways they have here, it's really a breath of fresh air.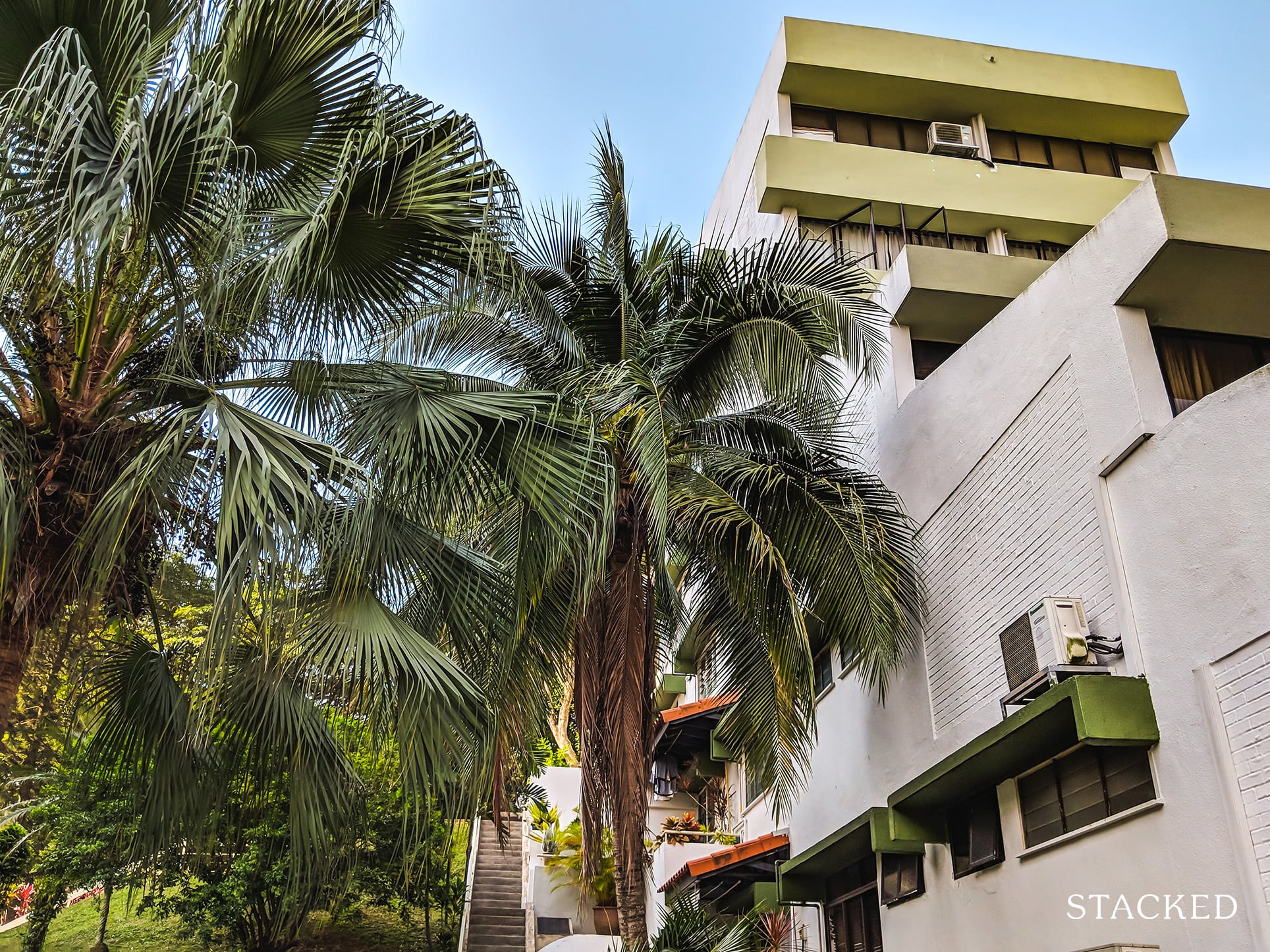 Not everyone will be fond of this old architecture. It is definitely very dated, and if I may say so, HDB like. Which is no surprise here given that the Pine Grove condo is actually an ex-HUDC. For more information on that, click here.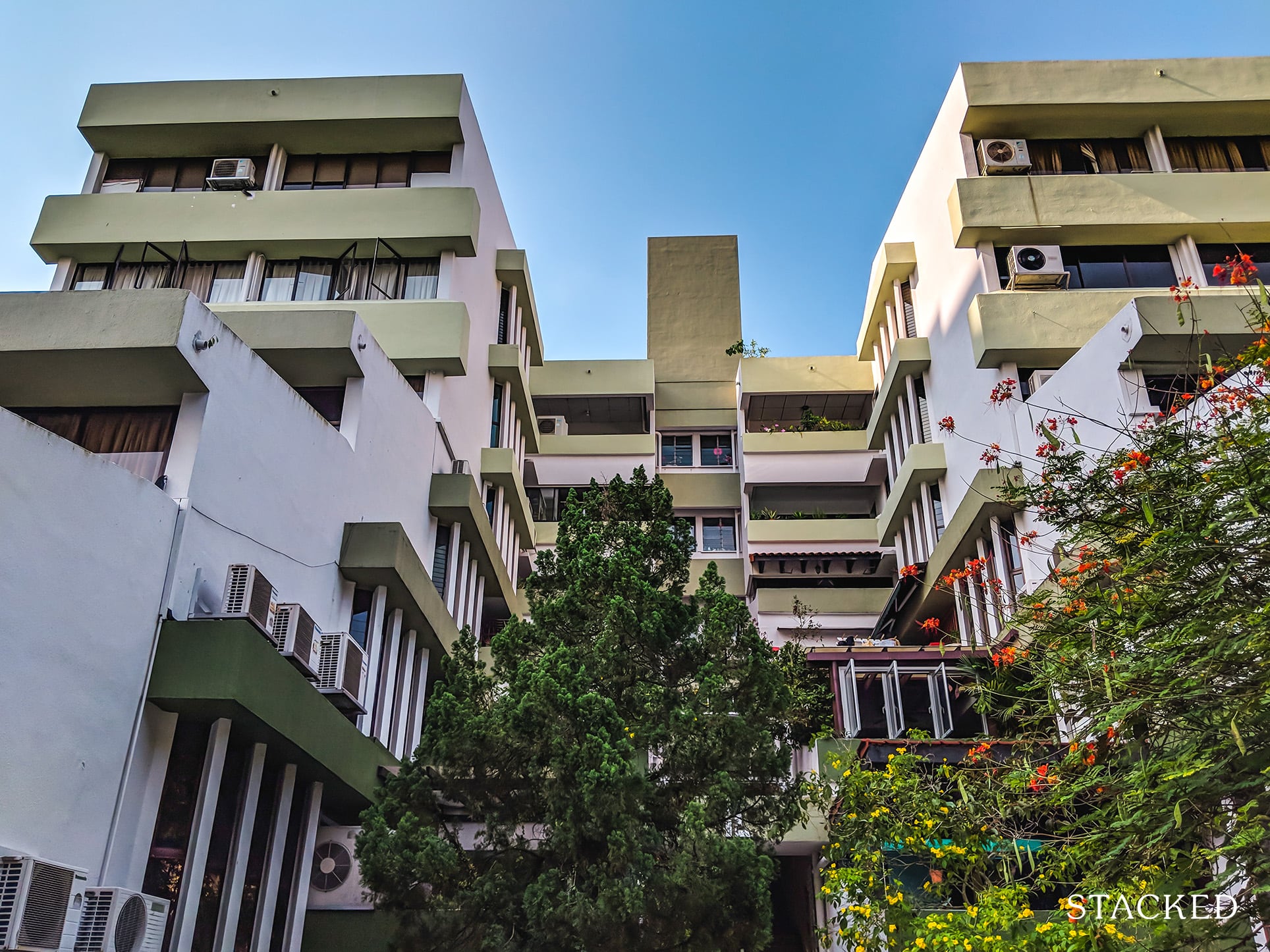 At the very least, the Pine Grove condo looks to have undergone a fresh coat of paint recently. Although I can't say I agree with the choice of colours, it does make the place look a lot brighter.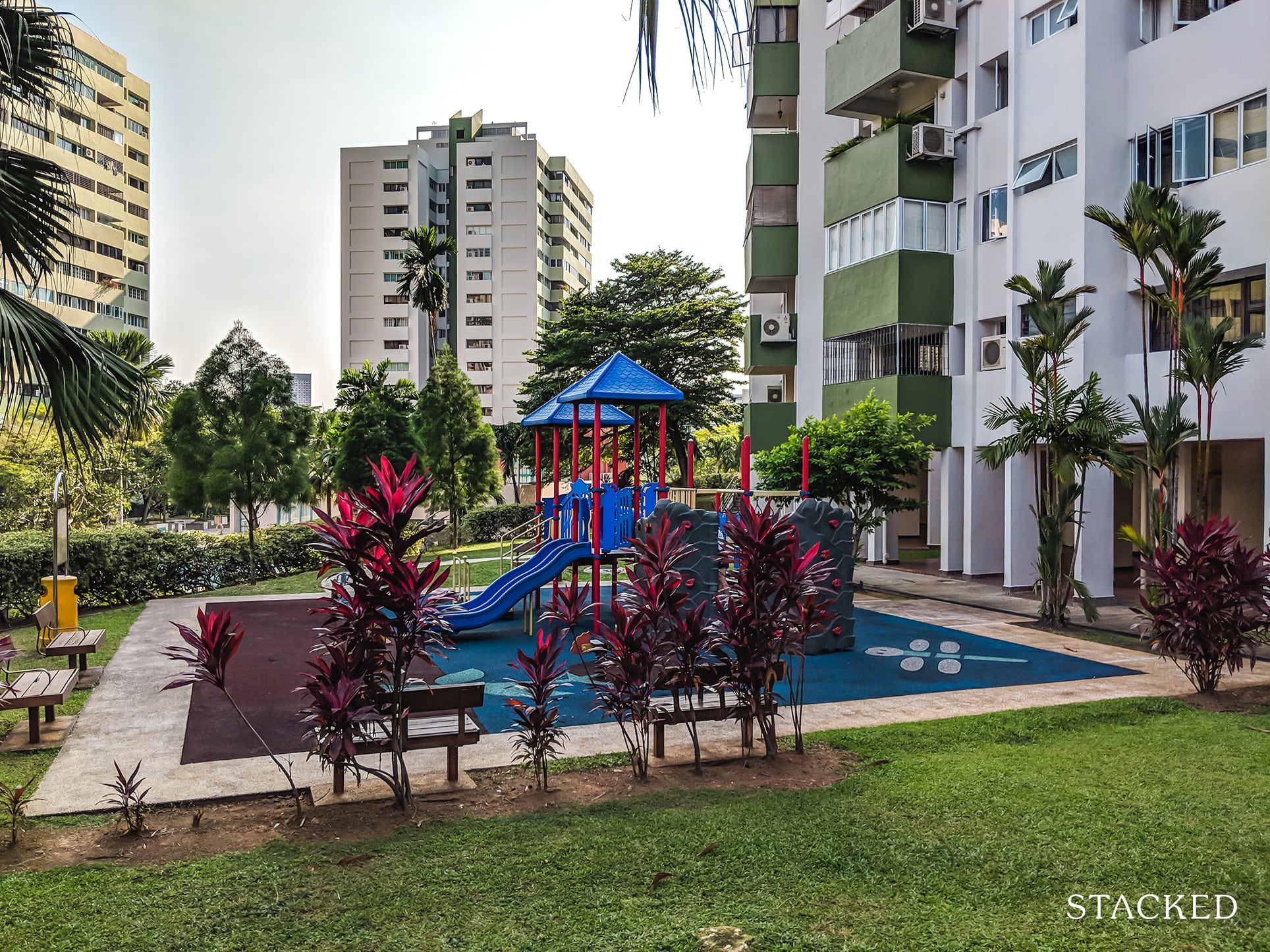 There is a playground at the top of the hill, but truthfully with the amount of land that the Pine Grove condo has, I think this place will not be as well utilised.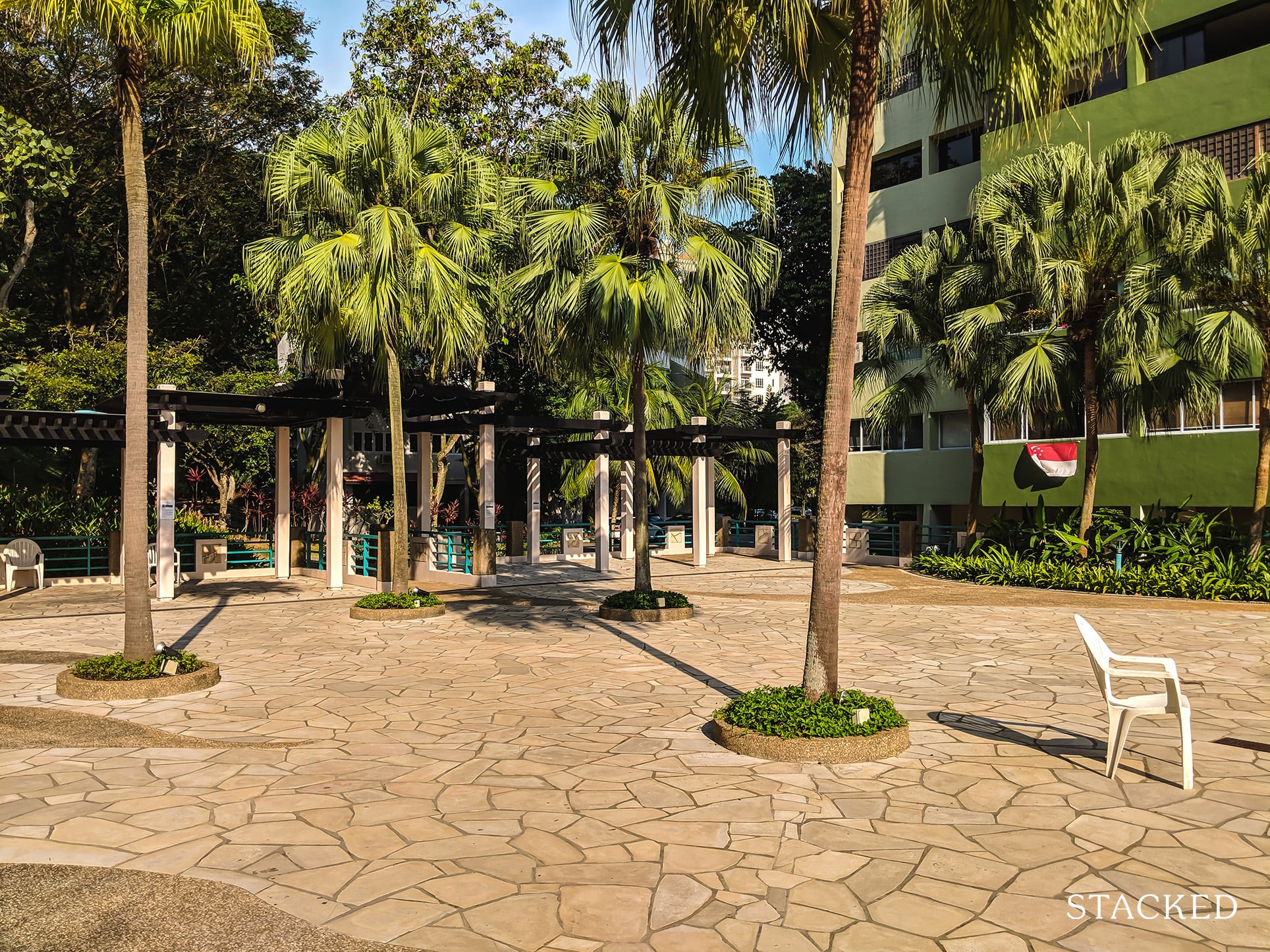 Below the playground, is a large open deck just before the swimming pools that is used as a barbeque area.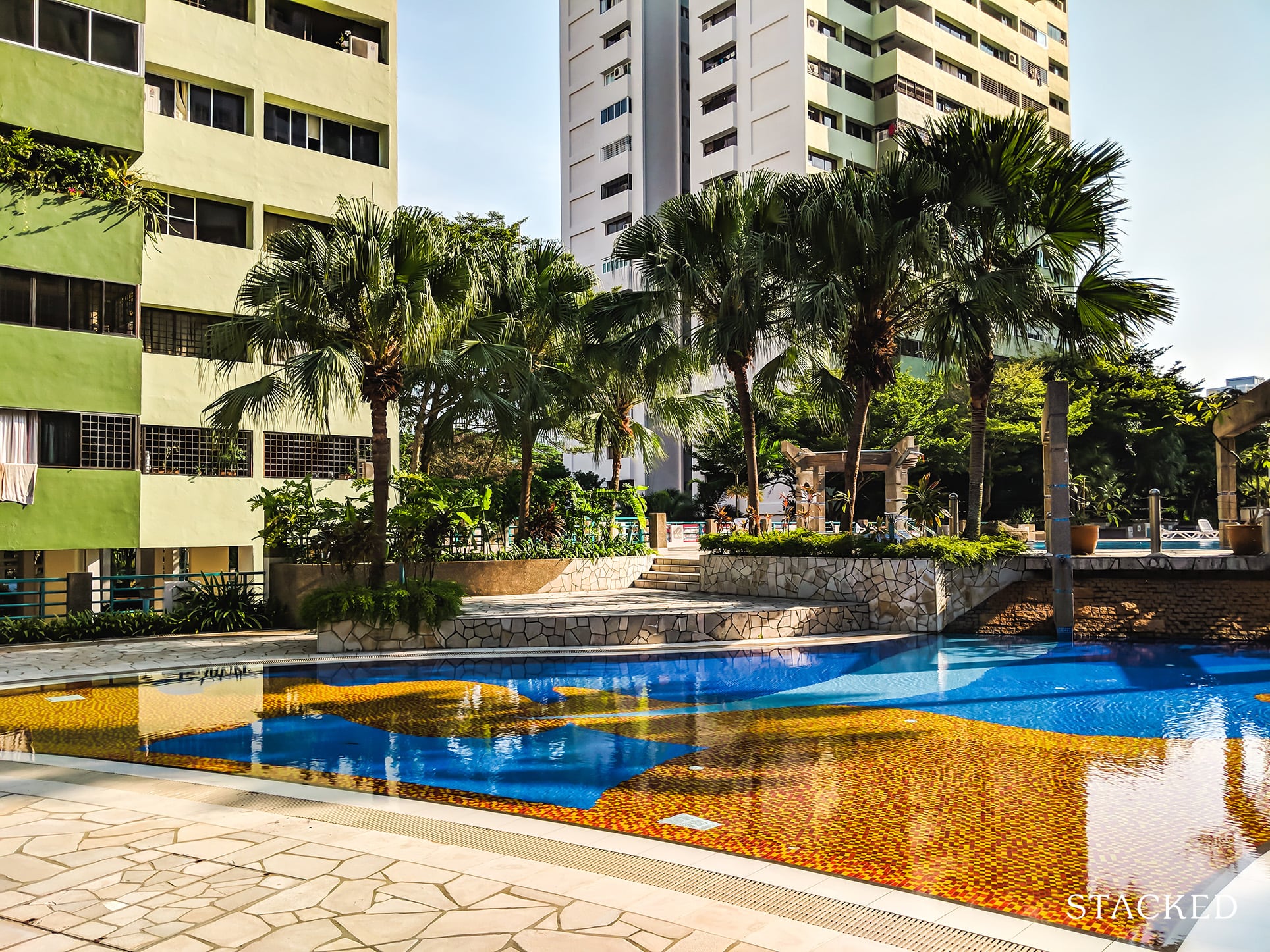 I like the children's swimming pool here. It may not be as modern as the infinity pools you see nowadays at most condominiums, but it invokes a sense of nostalgia and it does remind me of the old country club pools that you used to get. The brightly coloured tiles certainly help spruce up the place and make it more lively.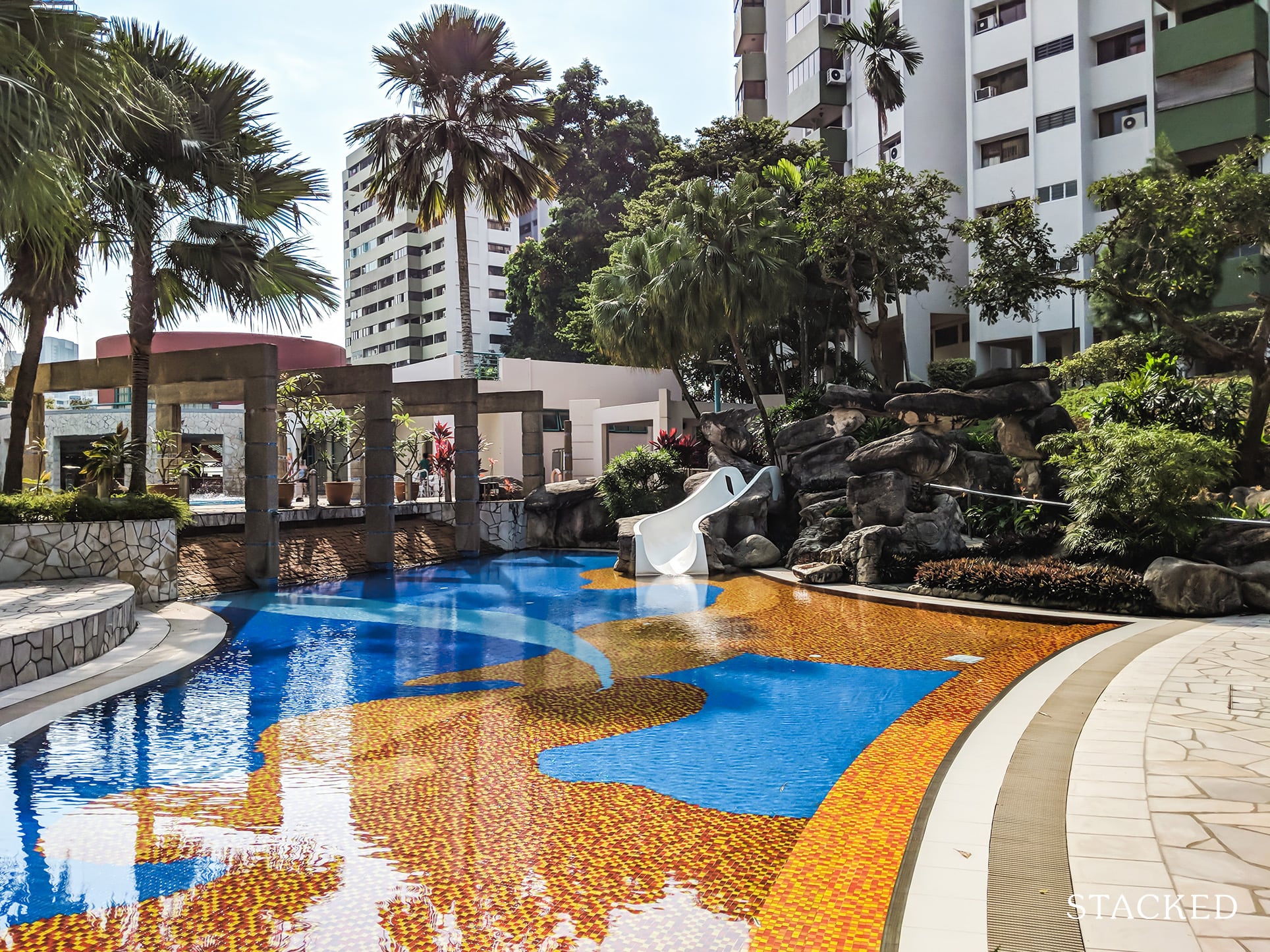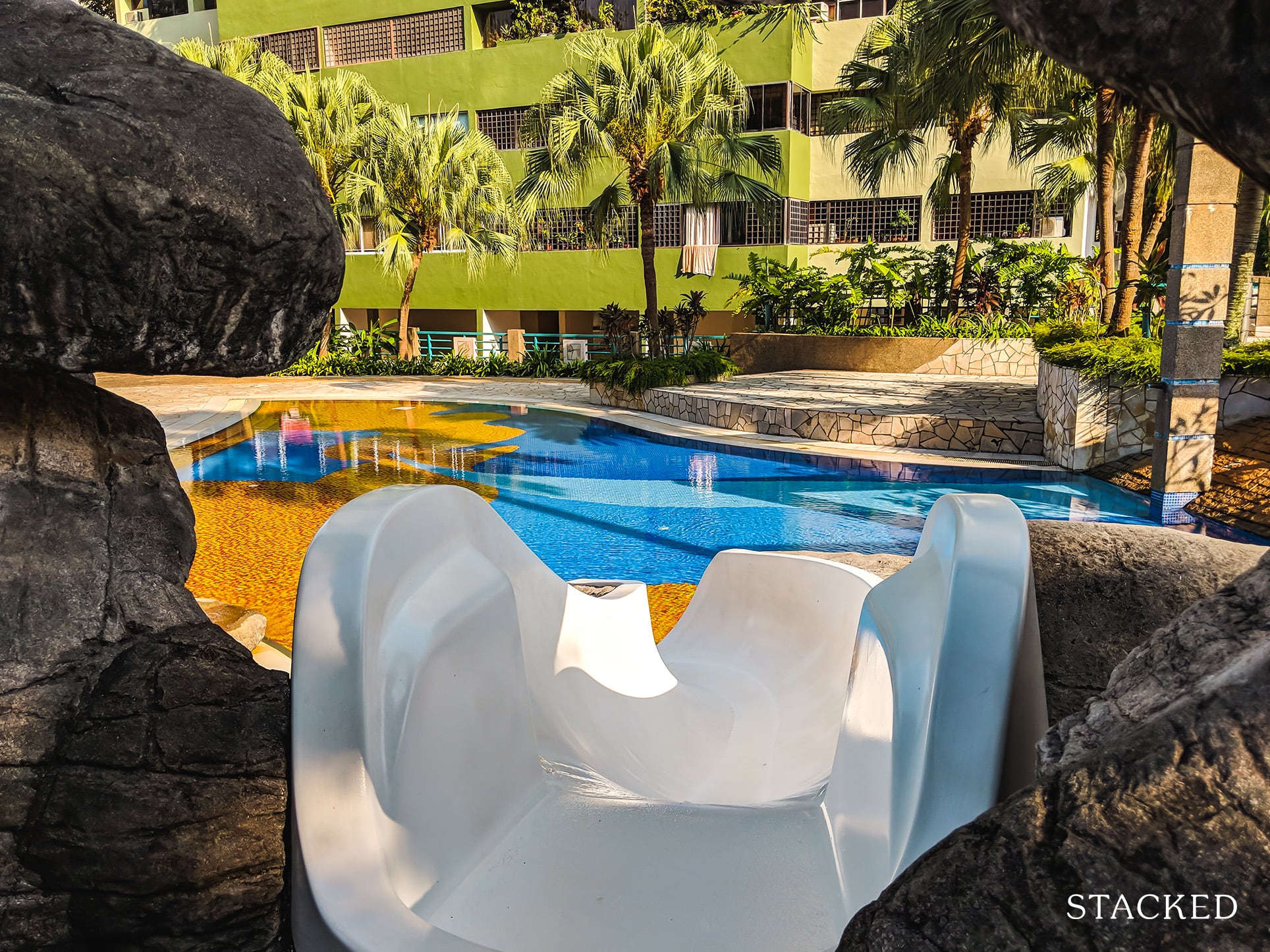 It even has a slide!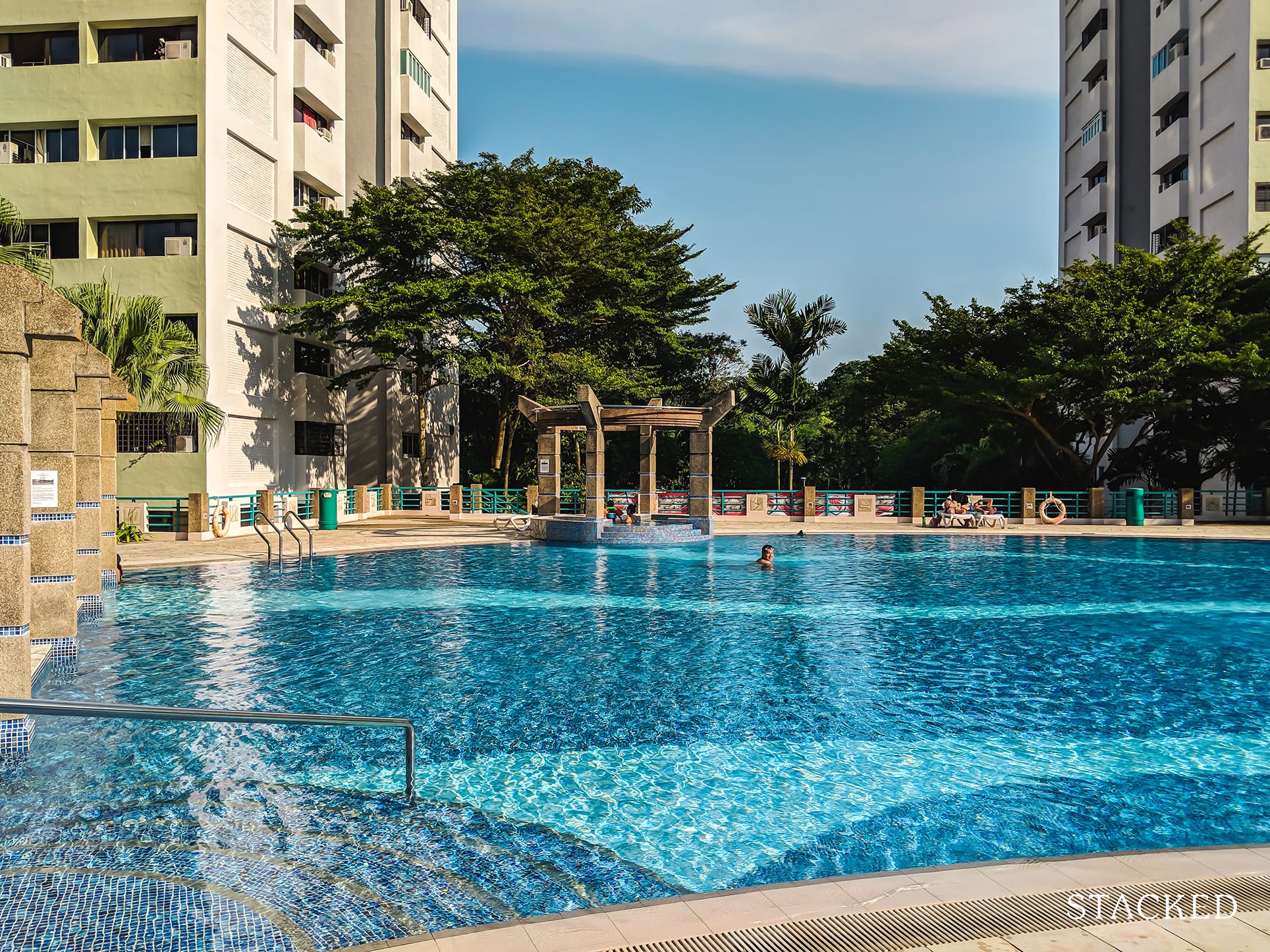 Once you go up the stairs, you do get a proper sized swimming pool. The little structure that you see at the far end is the jacuzzi.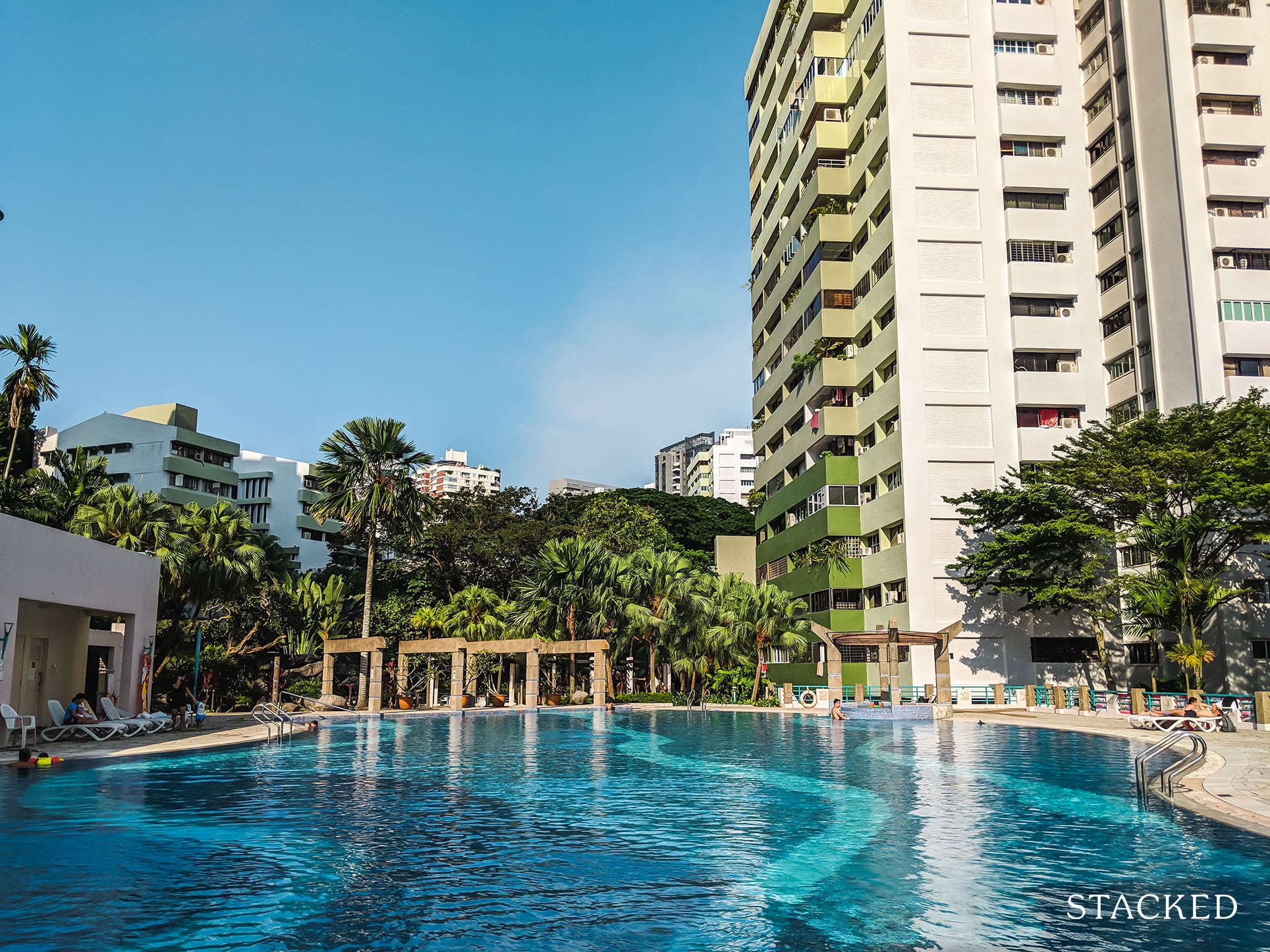 It's not the biggest pool that I've seen and for 660 units it could get a little too crowded for comfort during weekends. There are also some white plastic deck chairs scattered around, but again, it's way too few considering the number of units.
The clubhouse is right next to the swimming pool, and that is where it contains most of the facilities in the Pine Grove condo. The gym here is fairly big and has a surprising range of equipment. Again, you can expect it to get a little crowded during peak hours as it isn't the biggest gym.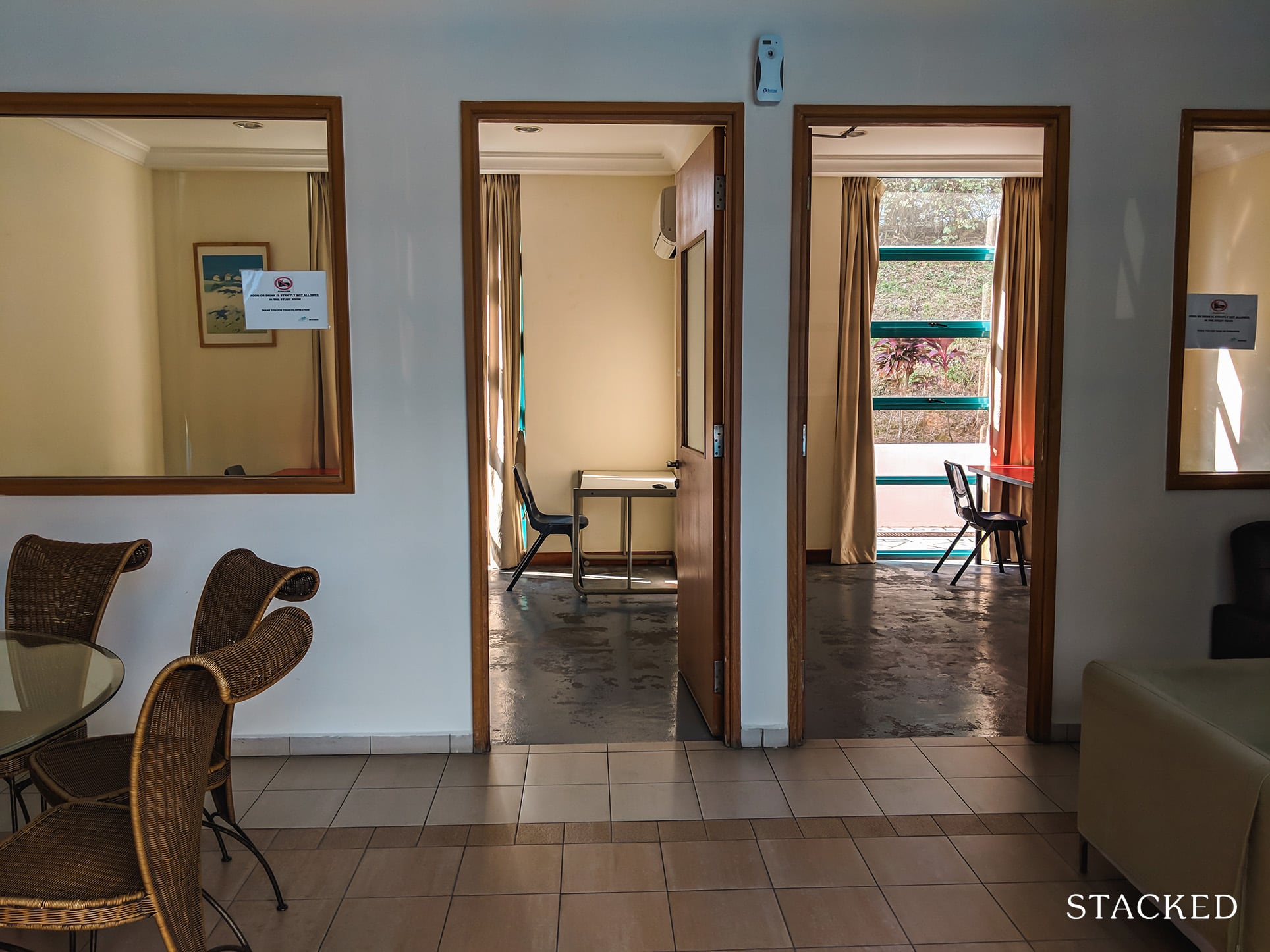 Next to the gym is a lounge area and two private study rooms.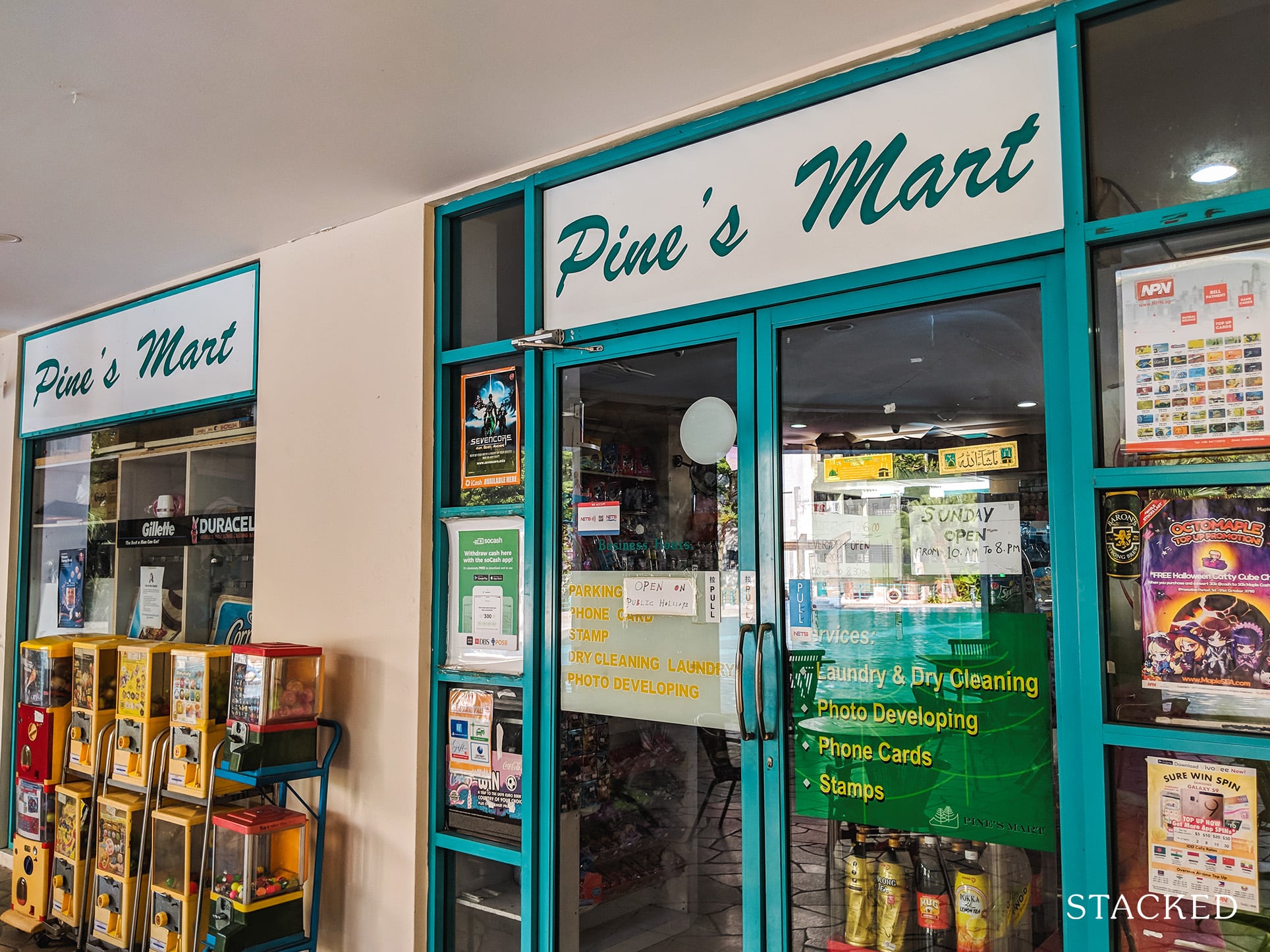 There is even a mini-mart for any items you might need urgently.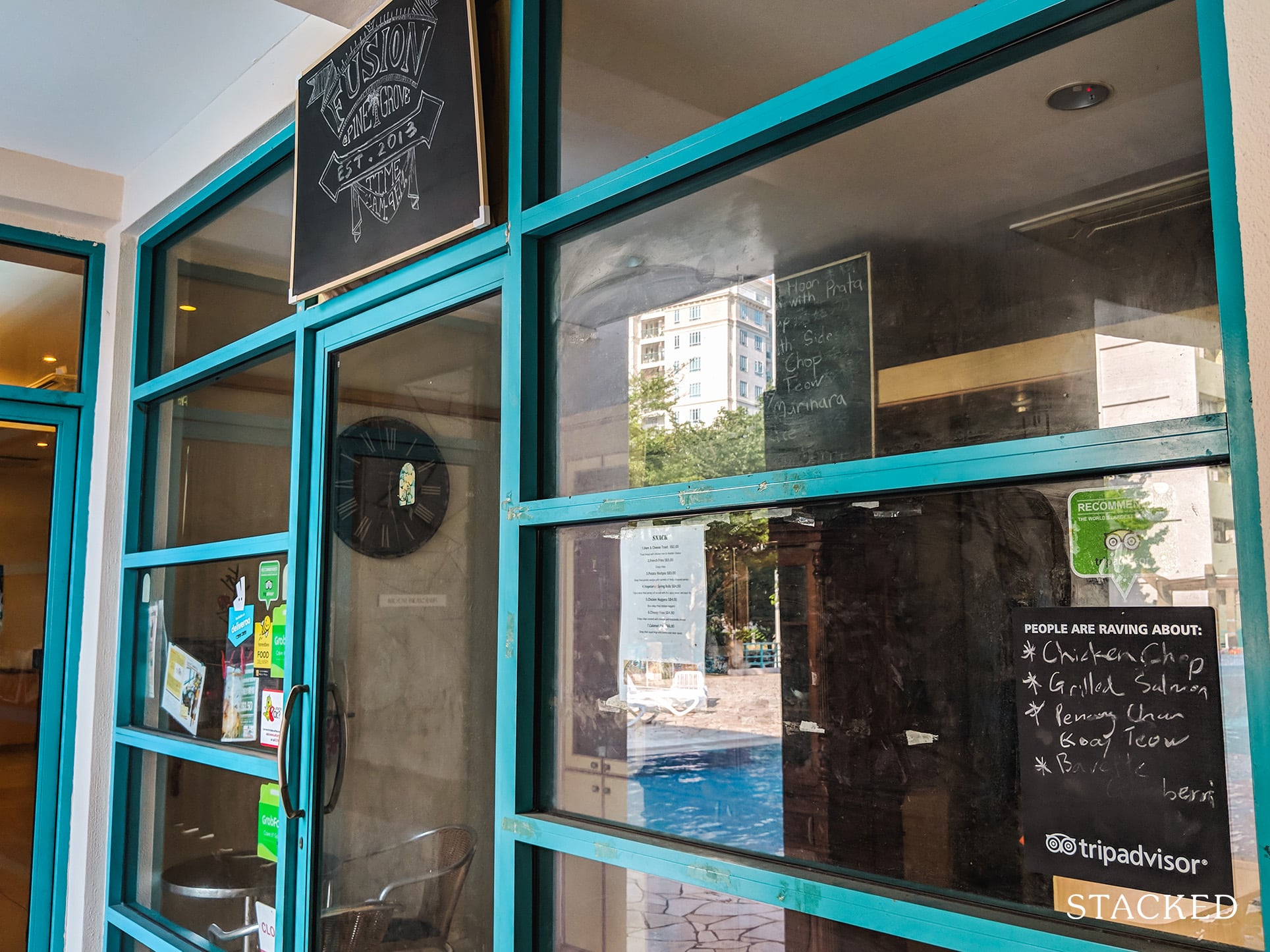 And even a cafe, called Fusion at Pine Grove. I know not many developments can support this, but I really like having a place where I know I can get a quick meal if necessary.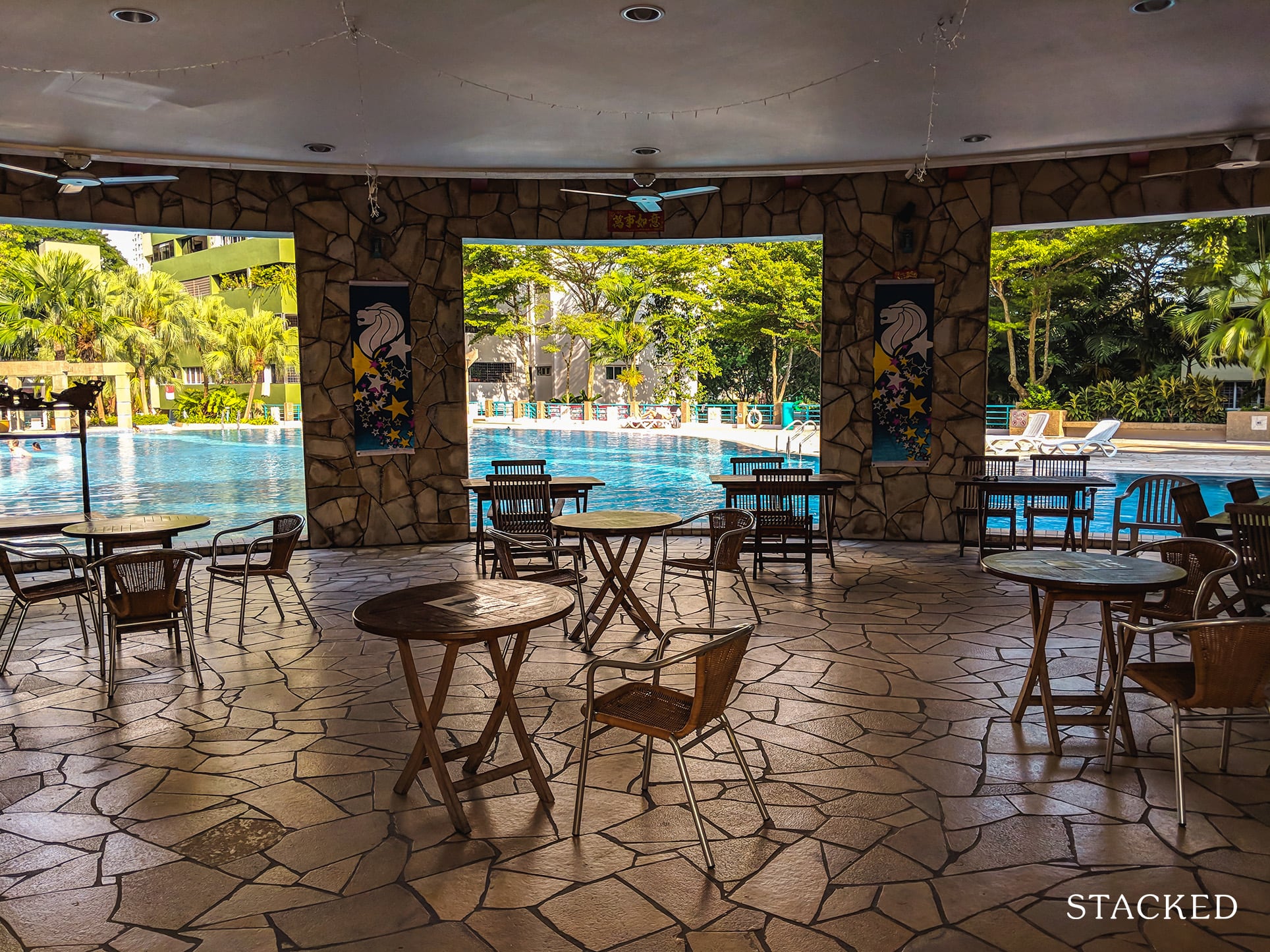 Immediately outside the cafe, you have some seating area that overlooks the swimming pool.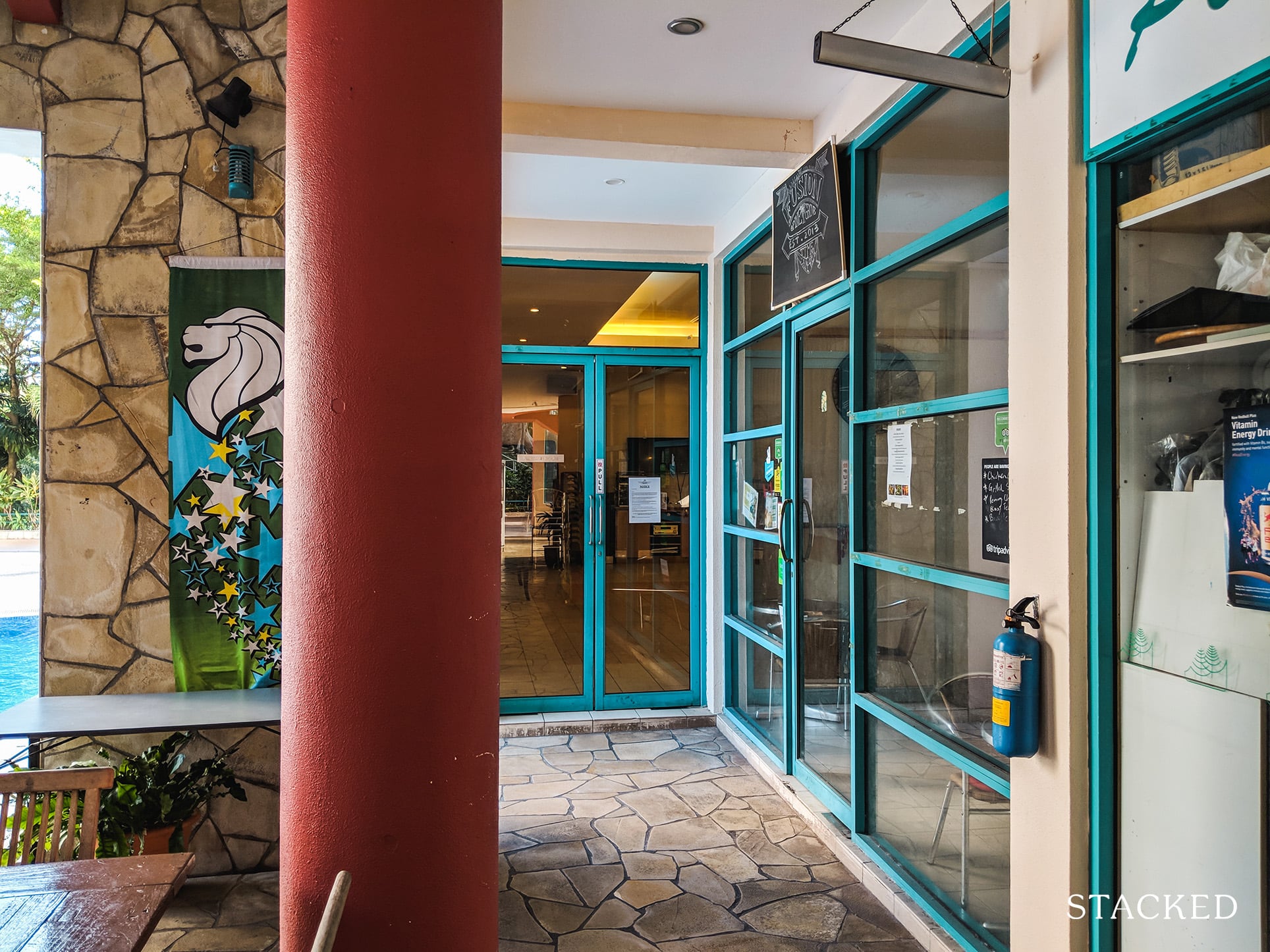 Finally, to round off the facilities in the clubhouse, there is a decent-sized function room that you can book to entertain guests.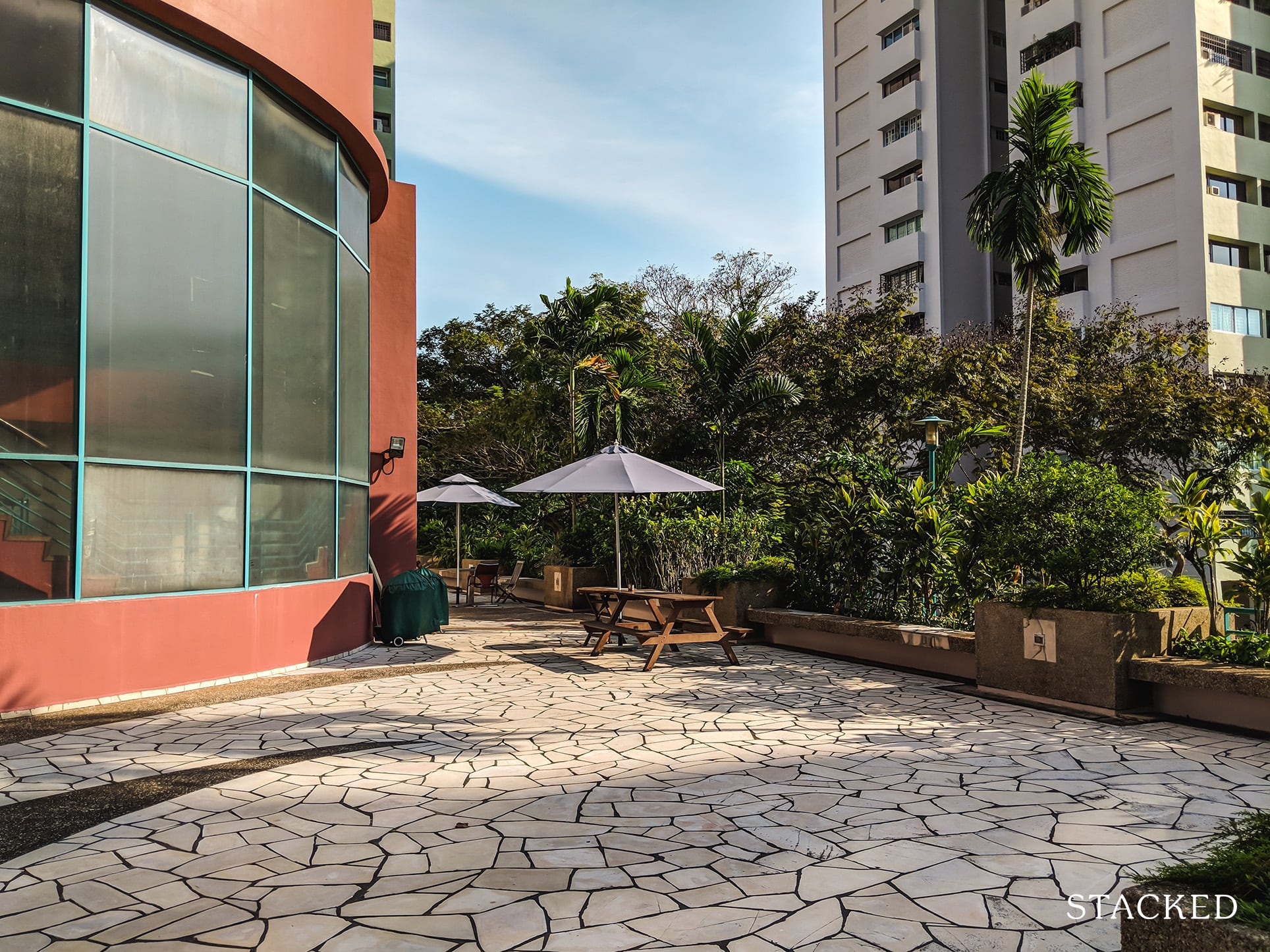 Round the back of the clubhouse, you do get some additional seating and another barbeque area as well.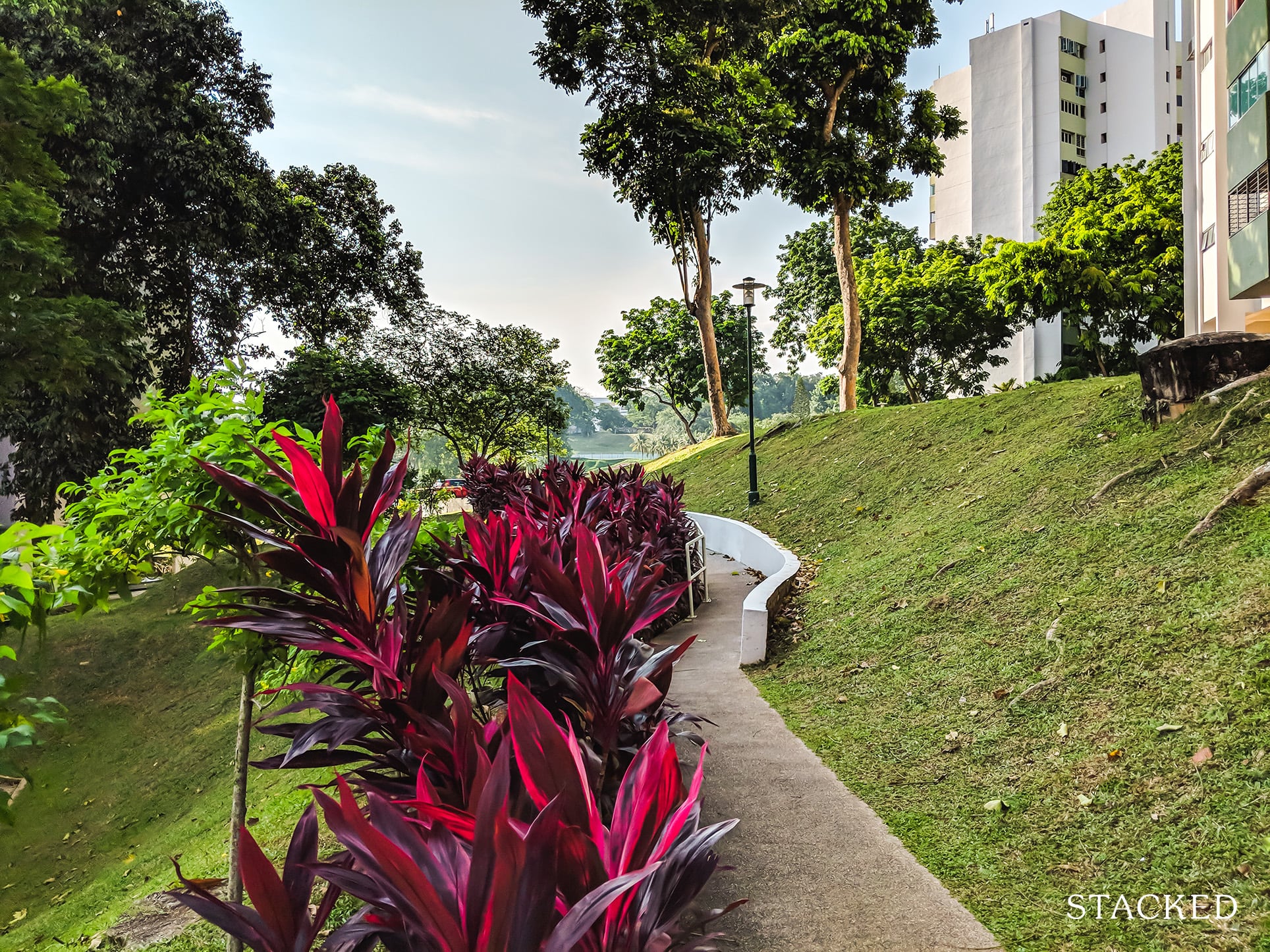 Once you exit the clubhouse, you get to a walking path that leads you to the second entrance of the Pine Grove condo. This will lead you to the tennis court as well as the bus stop that serves the condominium. If you are staying in one of the earlier blocks, due to the size of the land the walk to the bus stop is quite a distance. Keep in mind that there is no shelter bar the clubhouse, so its best to carry an umbrella with you at all times.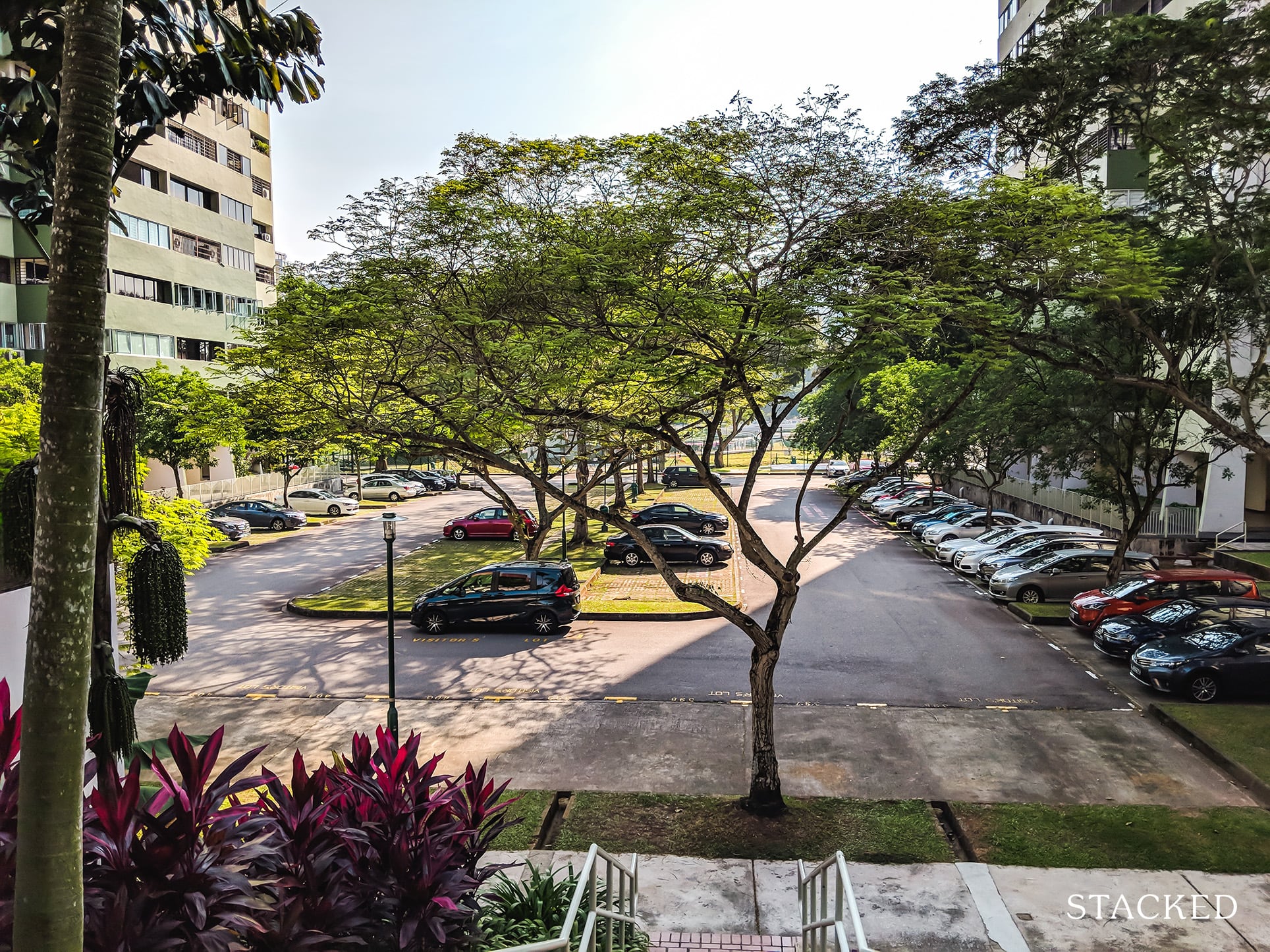 From the walking path, there are some stairs that lead down to the carpark and beyond to the basketball court.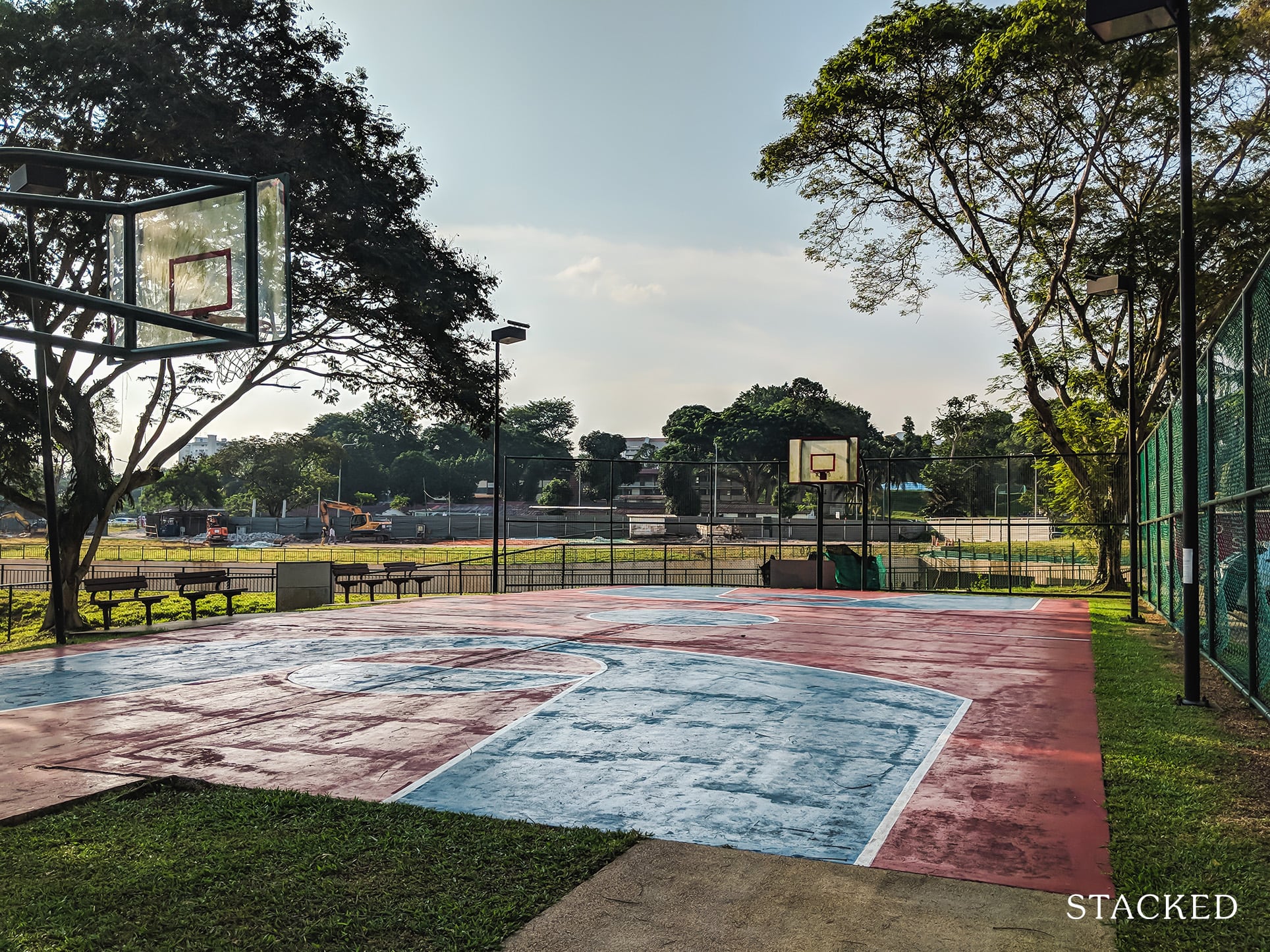 Admittedly, the basketball court has seen better days as the ground looks pretty worn out. Still, it is always nice to have a court like this for activities.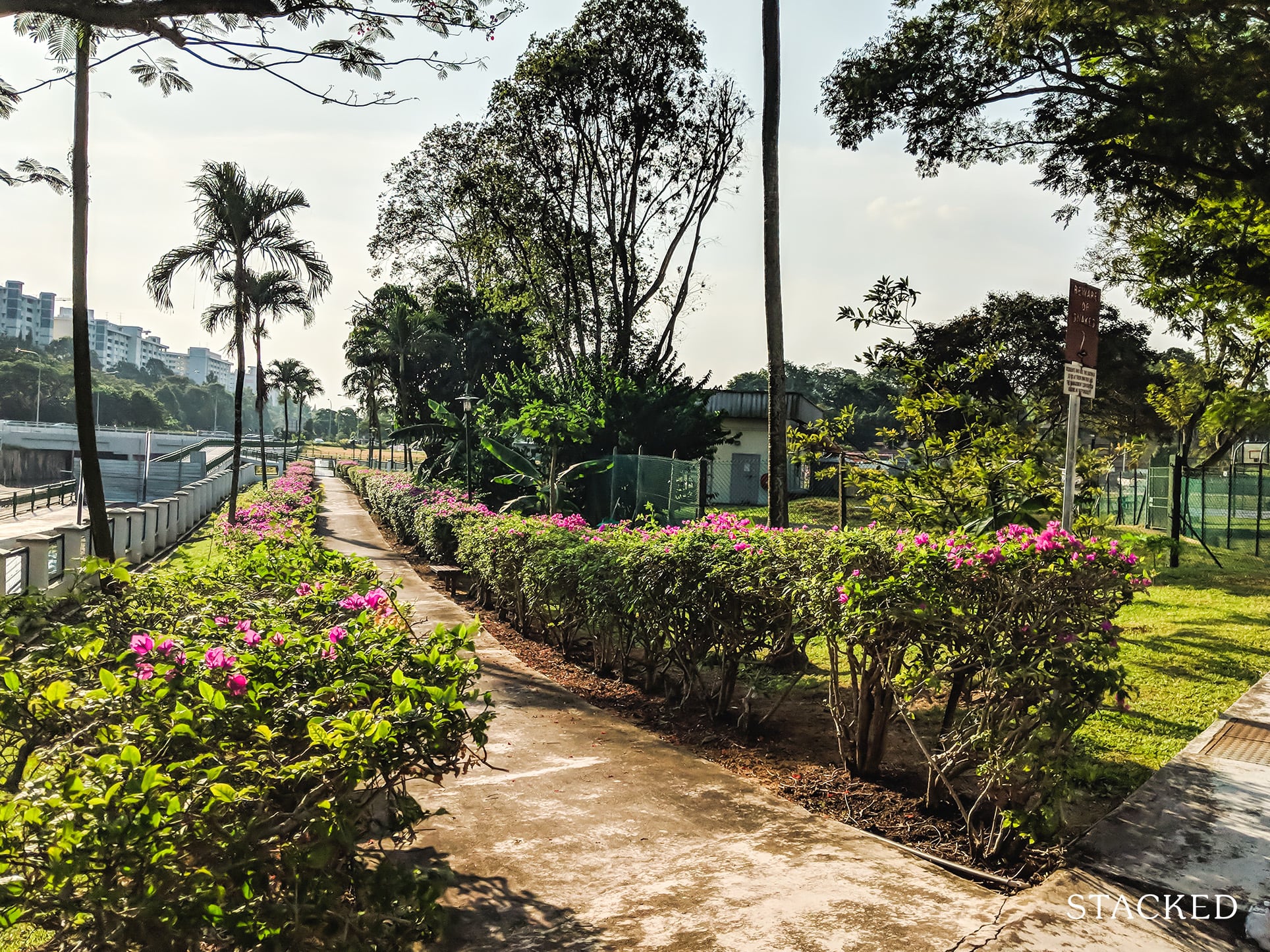 Just before the basketball court is a walking path that leads to the canals.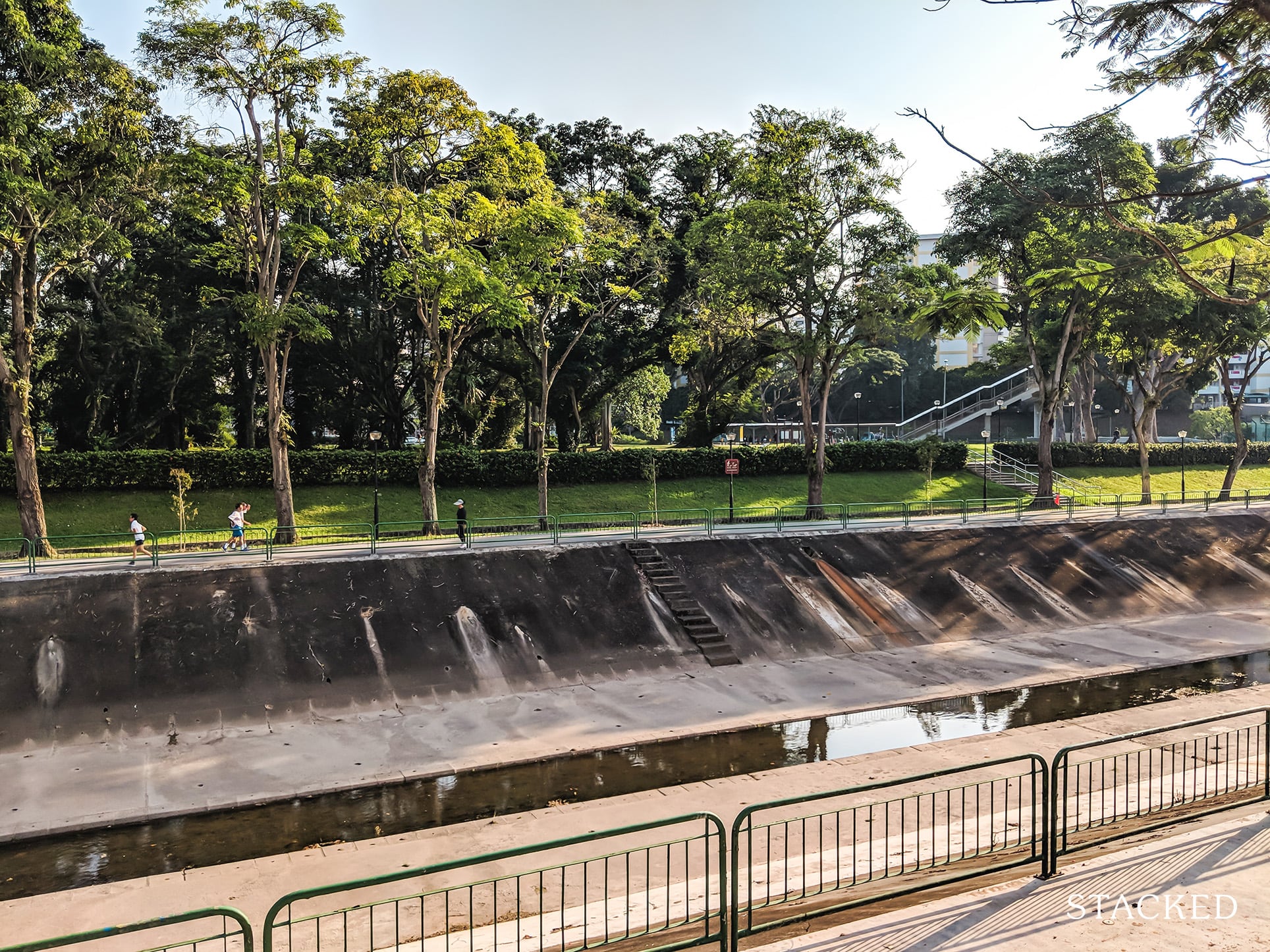 Which leads you to a walking/jogging route along the canal that is pretty scenic. If you're up for it, this actually goes all the way to Dover MRT station and Ghim Moh. It's nice to have an option for a change of scenery, but as I said, Pine Grove is so big that I'll be very much content with the area inside.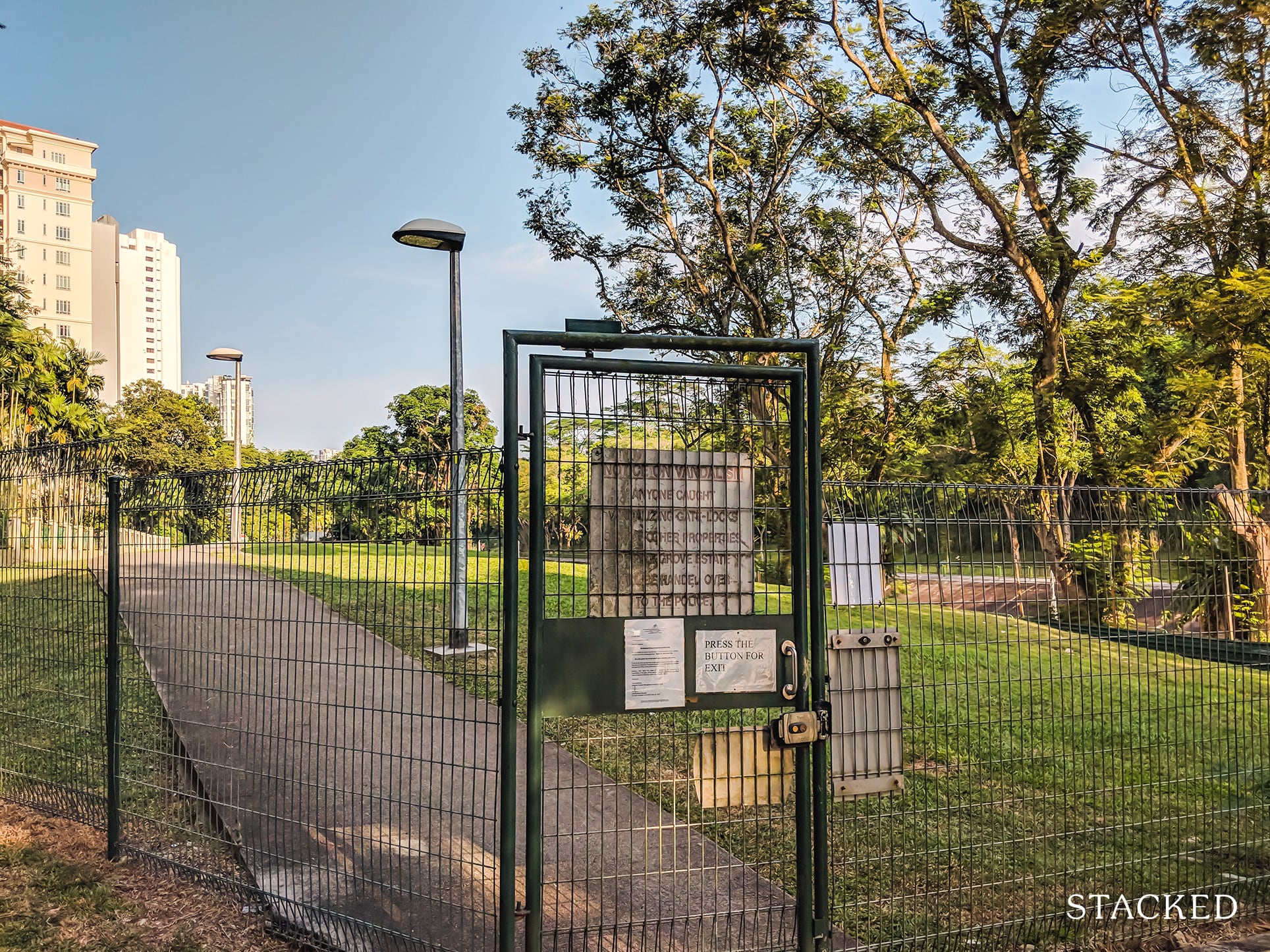 On that note, there is actually another side gate just further down that leads you onto another path on the Ulu Pandan Park Connector.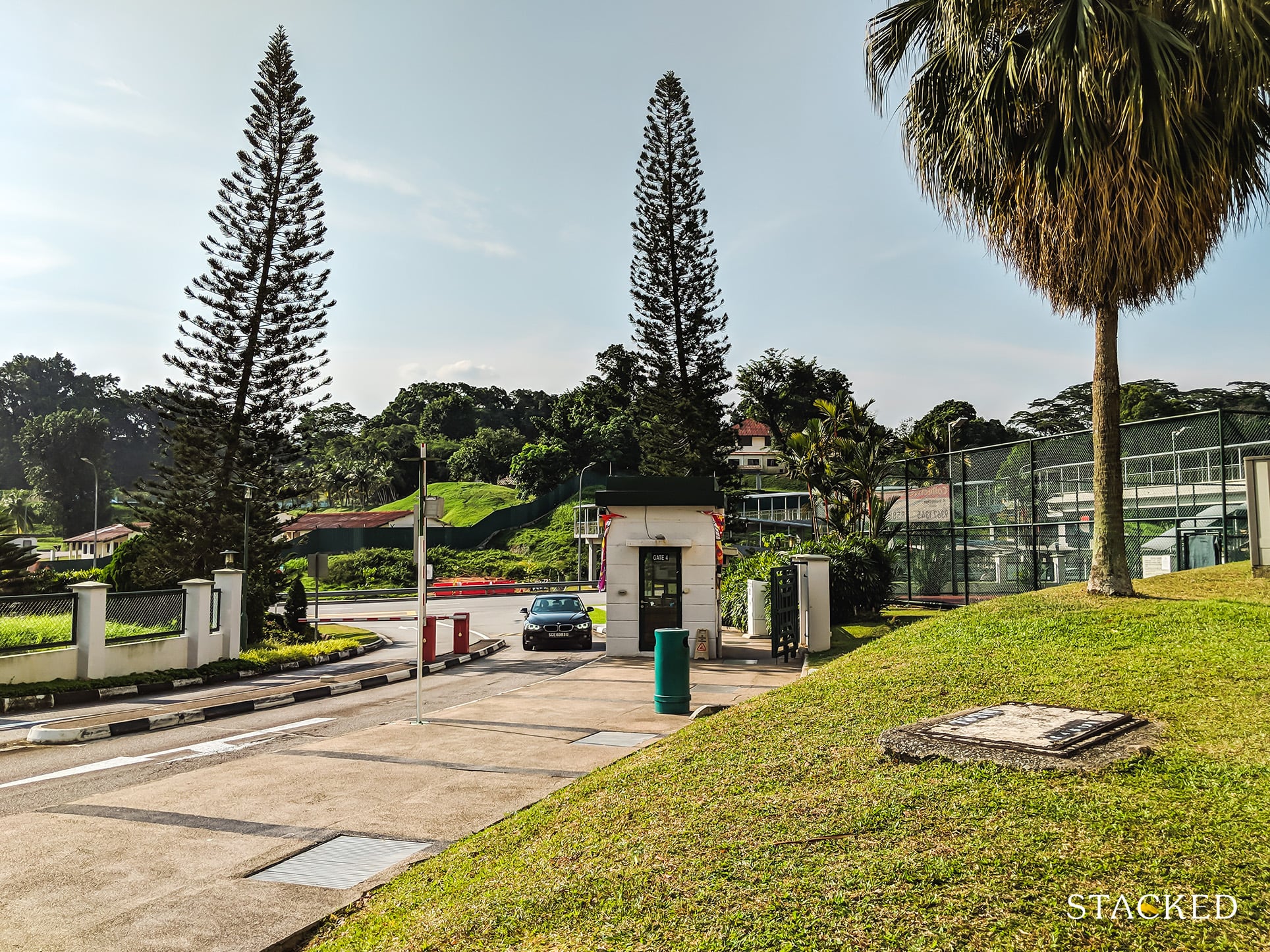 There are two entrances/exits to the Pine Grove condo, and this one leads you to the bus stop which is right outside the development.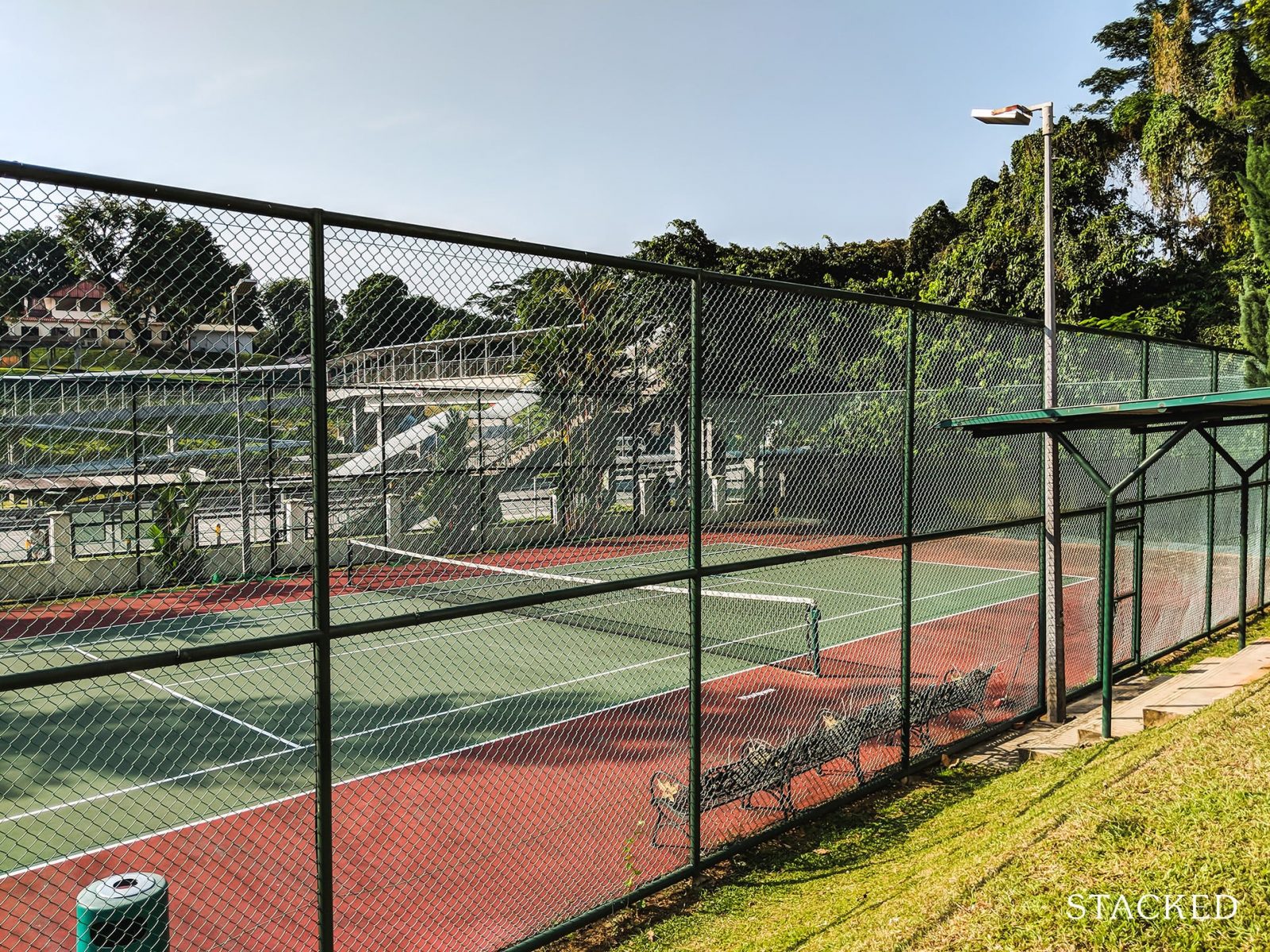 The tennis court is just next to the second entrance. Surprisingly, the condition of the tennis court is not too bad, and certainly better than the basketball court. However, with just one court for 660 units, it might be tough to book at popular times.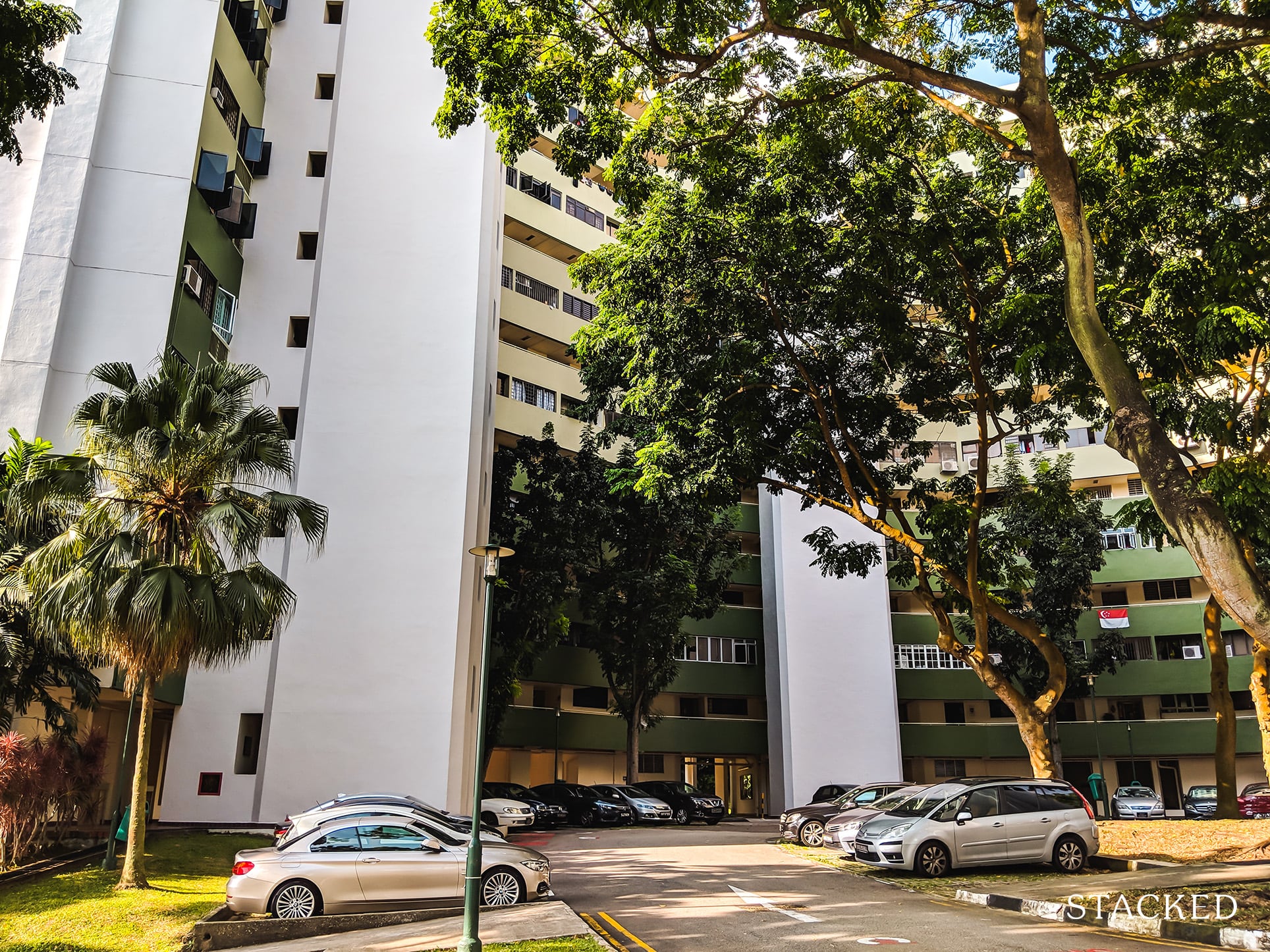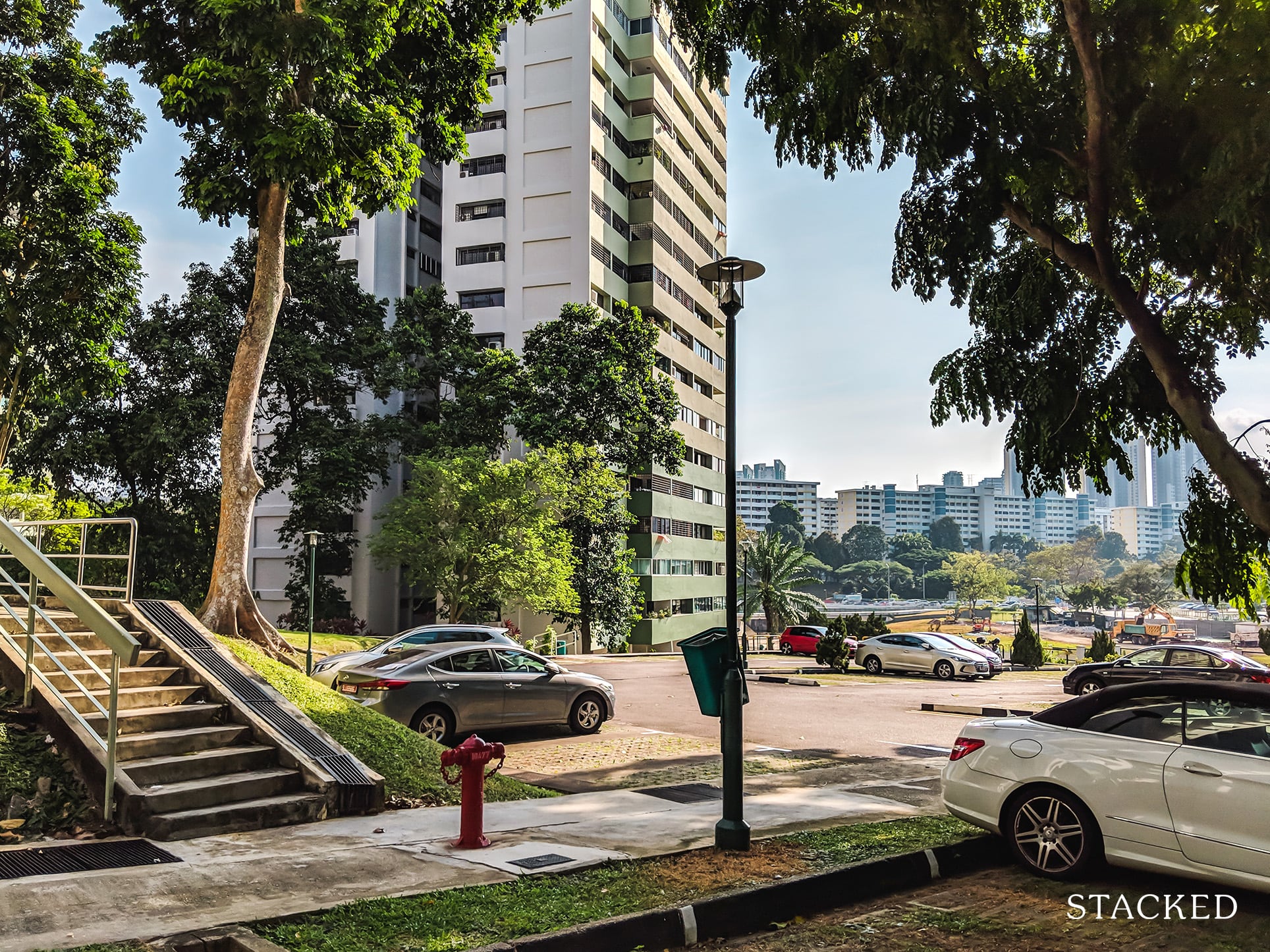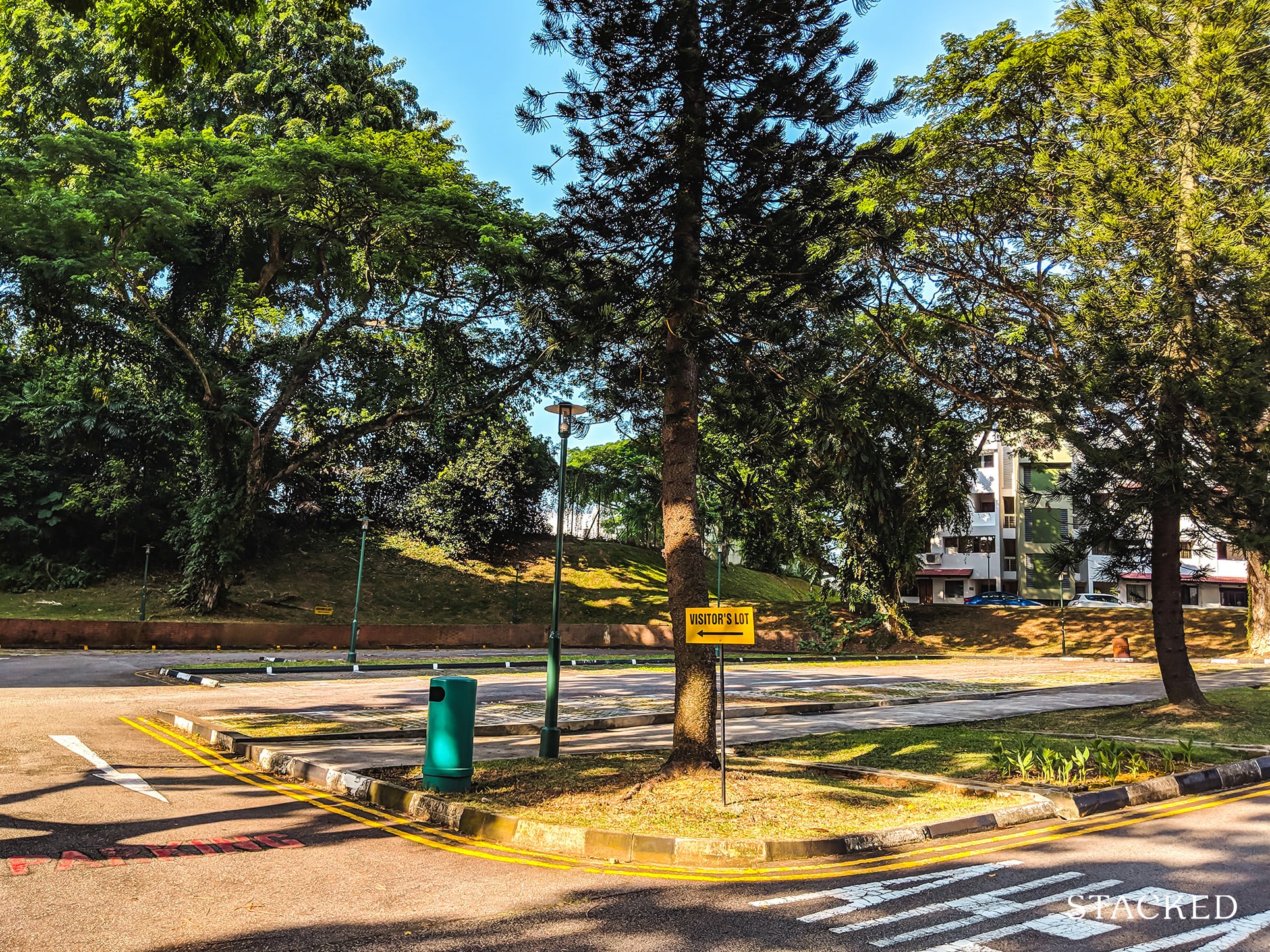 Just look at that amount of space!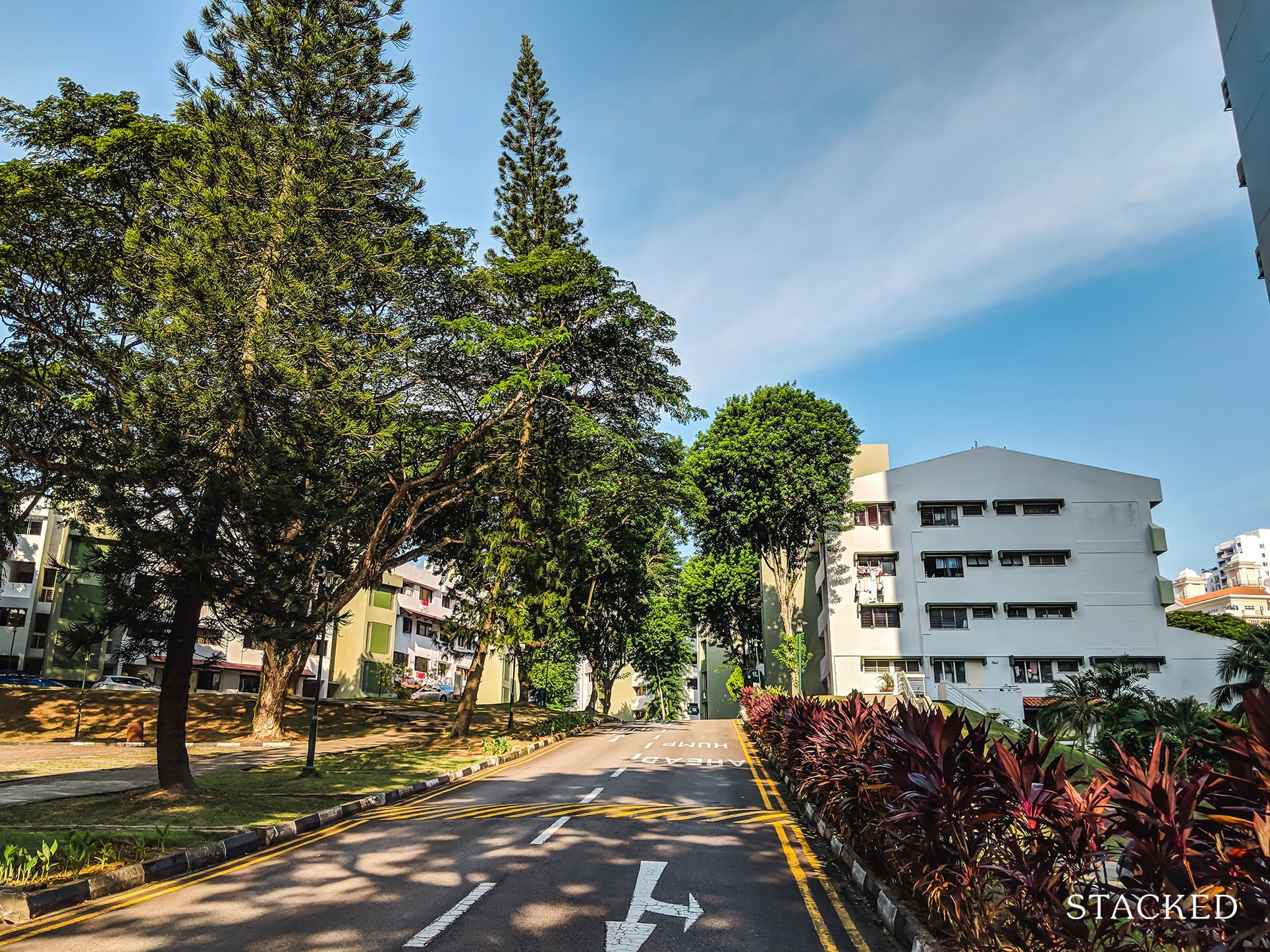 Further up the hill are even more of the lowrise blocks. This road uphill is quite steep, and thankfully there are stairs at the side to make the journey easier. For the most privacy, this little enclave at the top is the most ideal.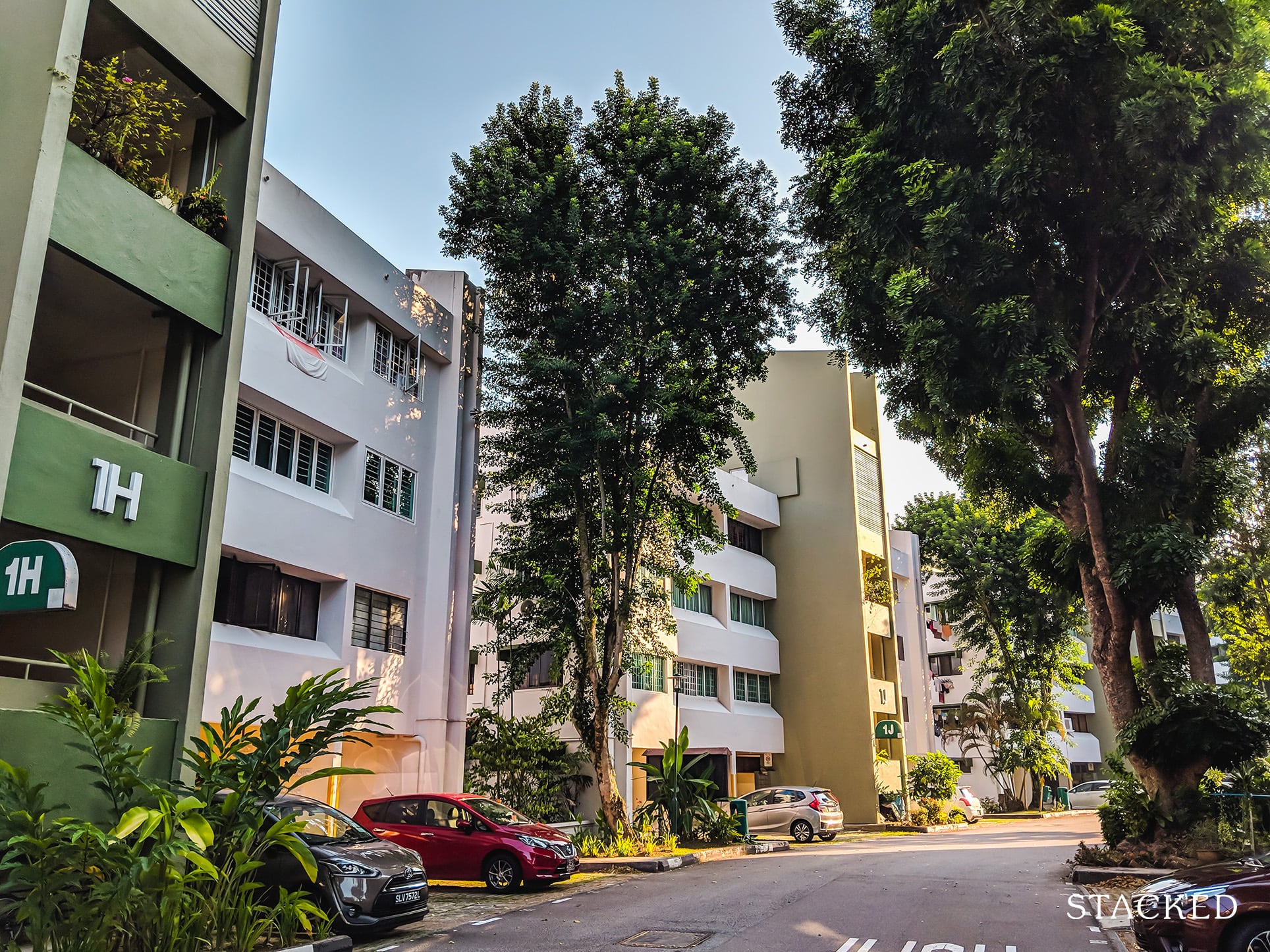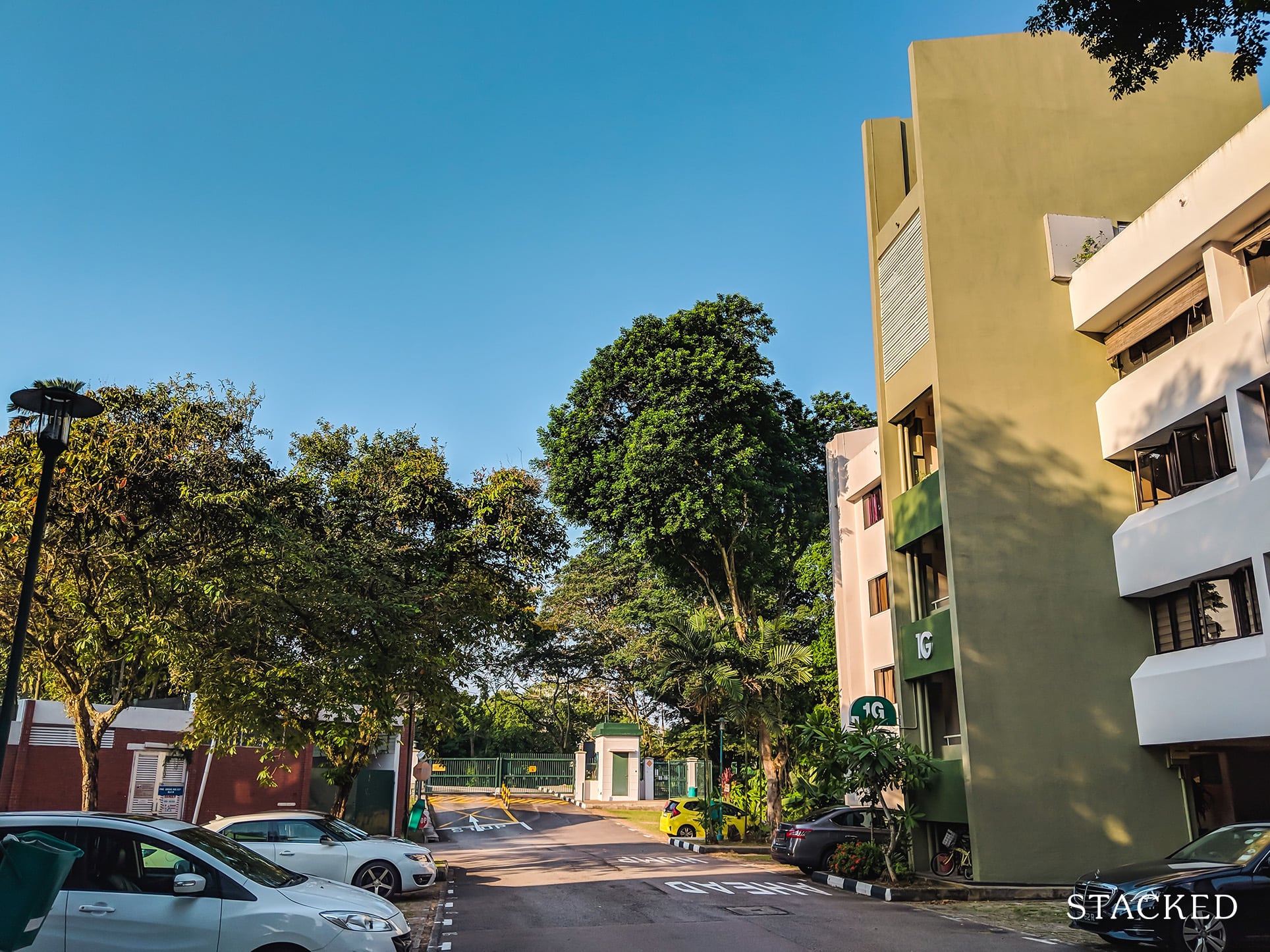 It is super quiet here, and you would really have all the privacy you'll ever need.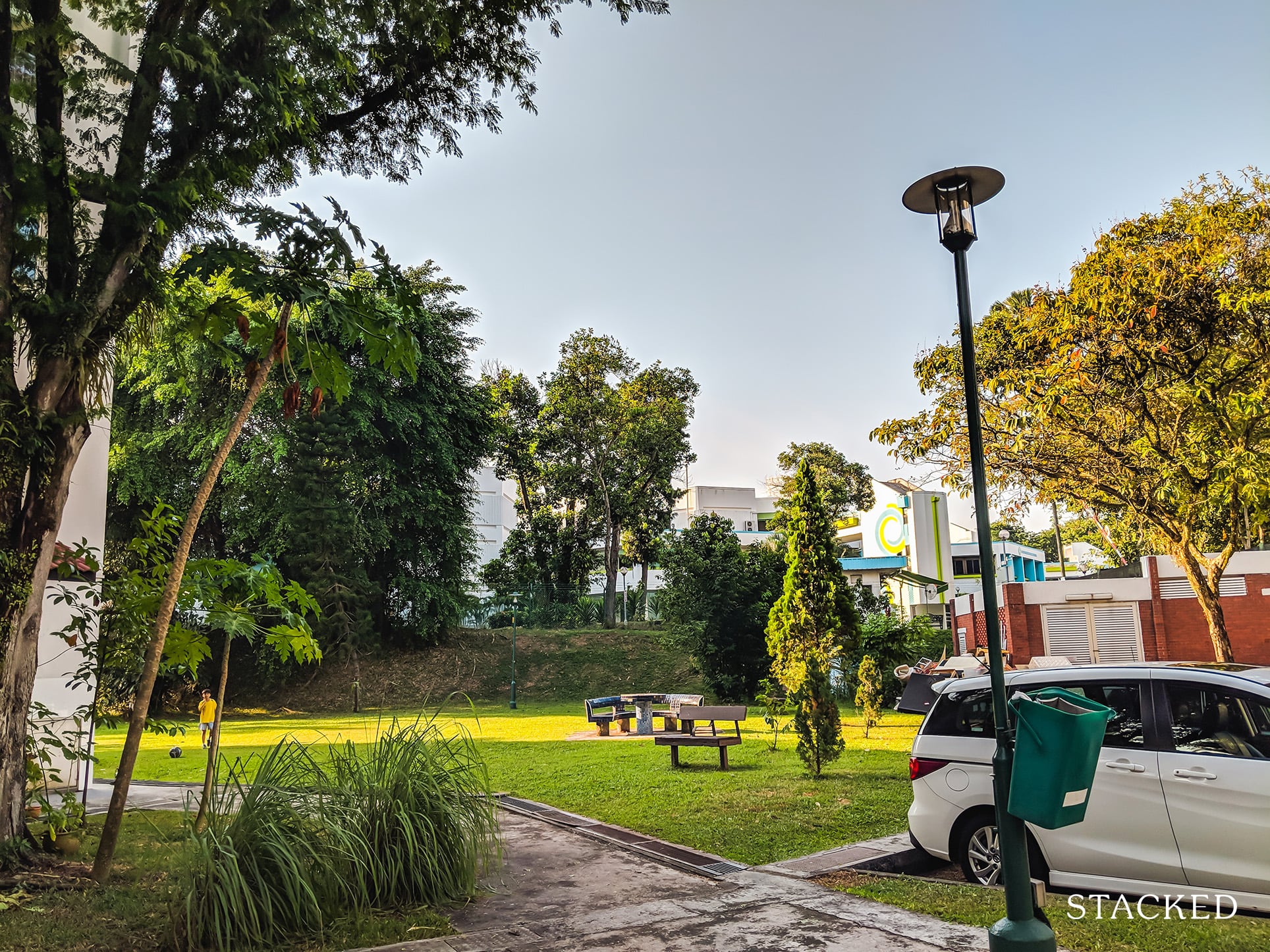 Another open patch of grass for kids to have a kickabout.
Pine Grove Condo Location Review
As a location itself, Pine Grove condo is actually quite well placed. If you drive, you can get to areas like Clementi, Ghim Moh, and Holland conveniently. And when I say conveniently, they are all within a 5 to 10-minute radius.
So the first place most residents would head to is definitely Ghim Moh market, which is about a 5-minute drive away. Alternatively, you could head to the bus stop located along Pandan Valley Road for bus 92. It's a super useful bus for residents staying in the condominiums in this area as well as all the landed houses along Mount Sinai and Holland Grove. You can also take the panoramic route along the Ulu Pandan Park Connector but I'd really only recommended it if you are young and fit or have access to a bicycle.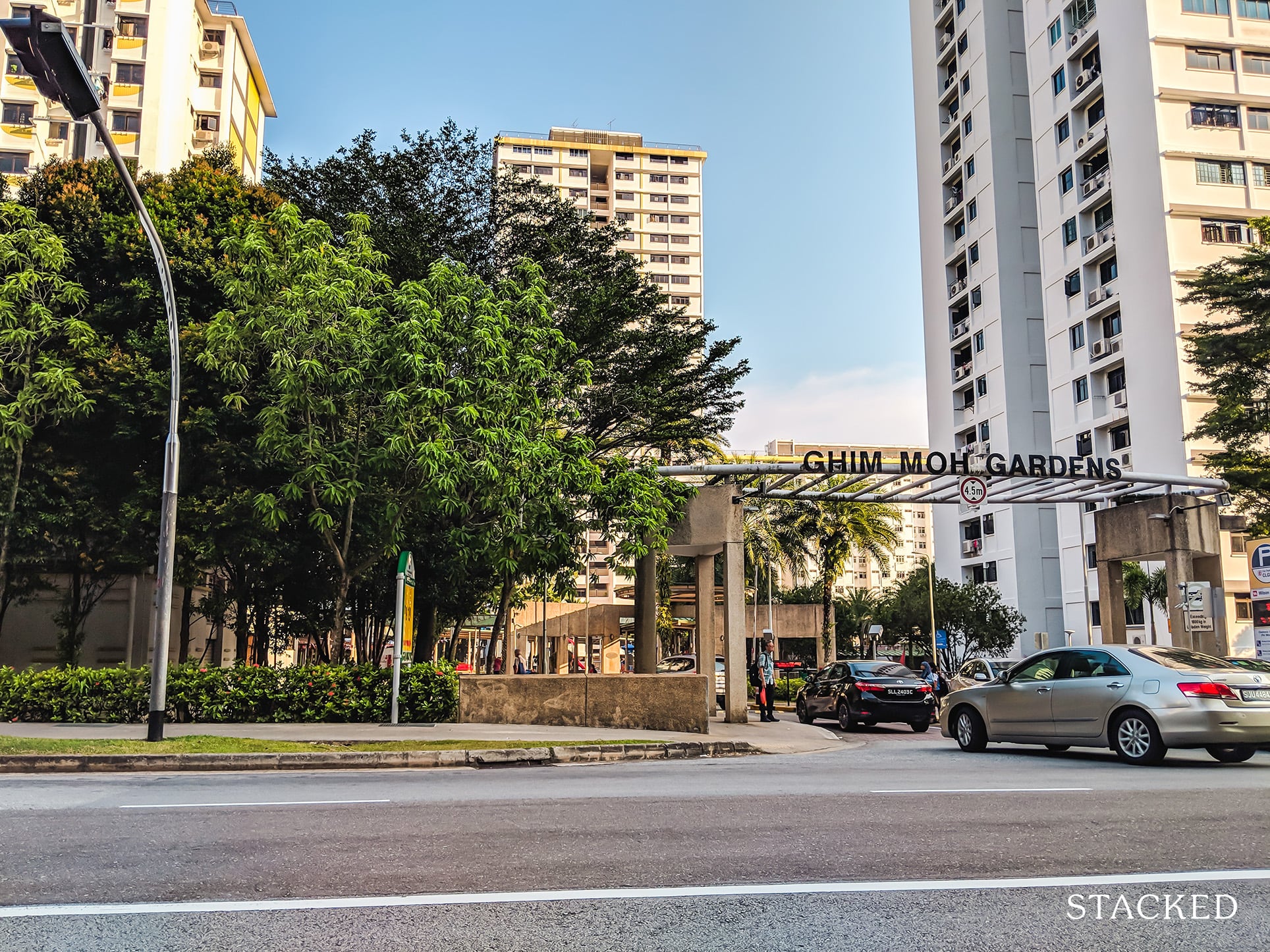 Ghim Moh market has actually been revamped not too long ago, and so the end result is it is a lot cleaner and airier in the hawker centre even on a hot day. I think Ghim Moh market is one of the better wet markets and hawker centre's around, and it shows as it is pretty crowded most of the day.
Go during lunchtime and you'll have a taste of just how crowded some stalls can get, as the mass of office workers from One North would spillover and pack the place. It's easy to spot which stalls are popular, just go by the length of the queue! To make things simple for you, let me point out some of the mainstays. Guan Kee Fried Kway Teow, Jiu Jian Shao La and Chuan Kee Boneless Braised Duck are the ones usually with the longest queue, but really, I think most of the food here is of a good standard.
At Ghim Moh itself, you do have quite a lot of other useful amenities. Several medical clinics, a post office, and a 24 hour Giant mini-mart should cover most of your needs.
Just across the road is the Star Vista, which is the closest mall to you other than the Clementi Mall. Star Vista isn't your typical heartland mall though, I wouldn't go there for shopping as the offerings are rather weak. But in terms of food outlets, it is quite attractive with new entrants like Le Shrimp Ramen and Beauty in the Pot (a very popular steamboat restaurant) boosting the popularity of the area.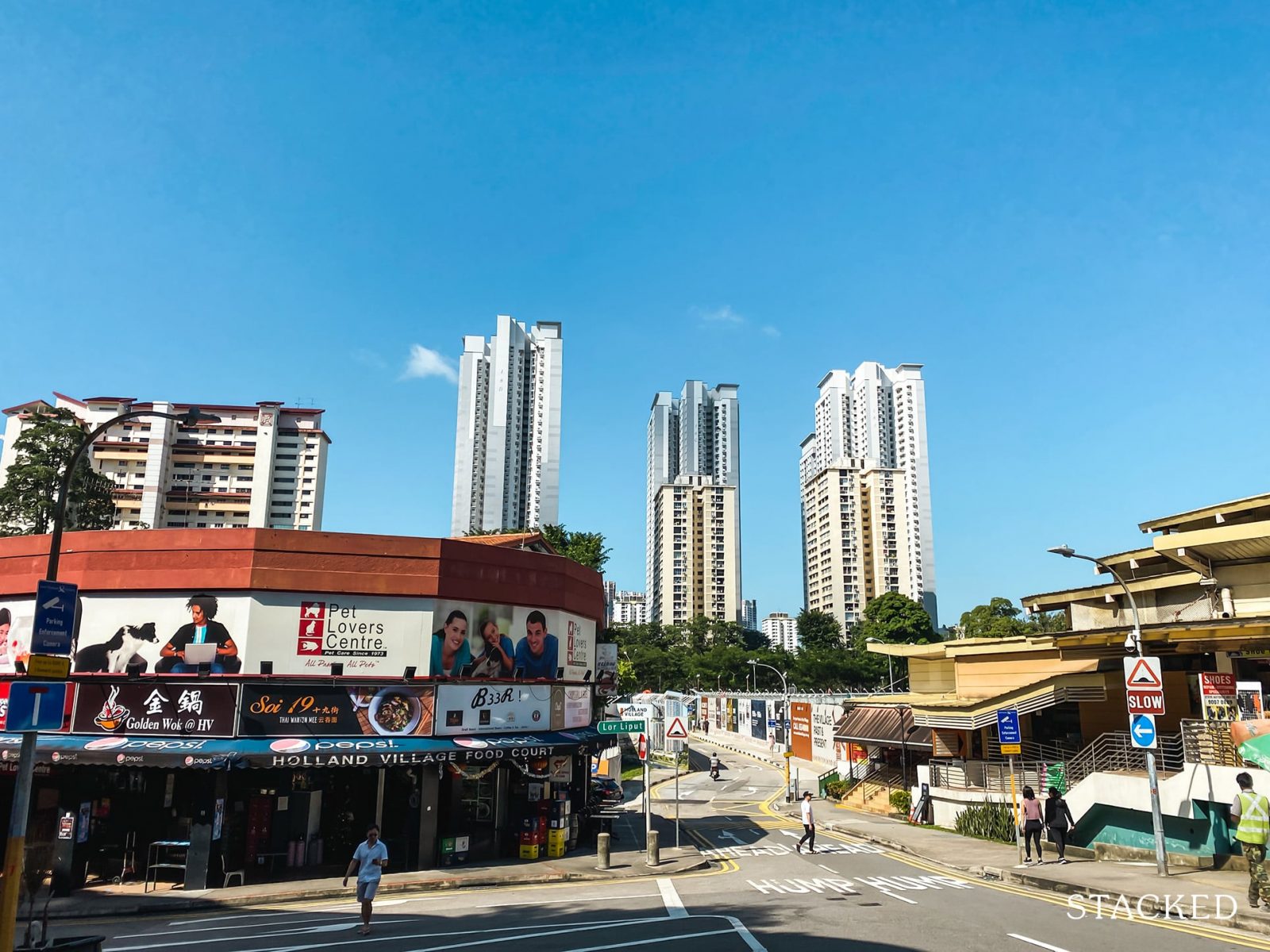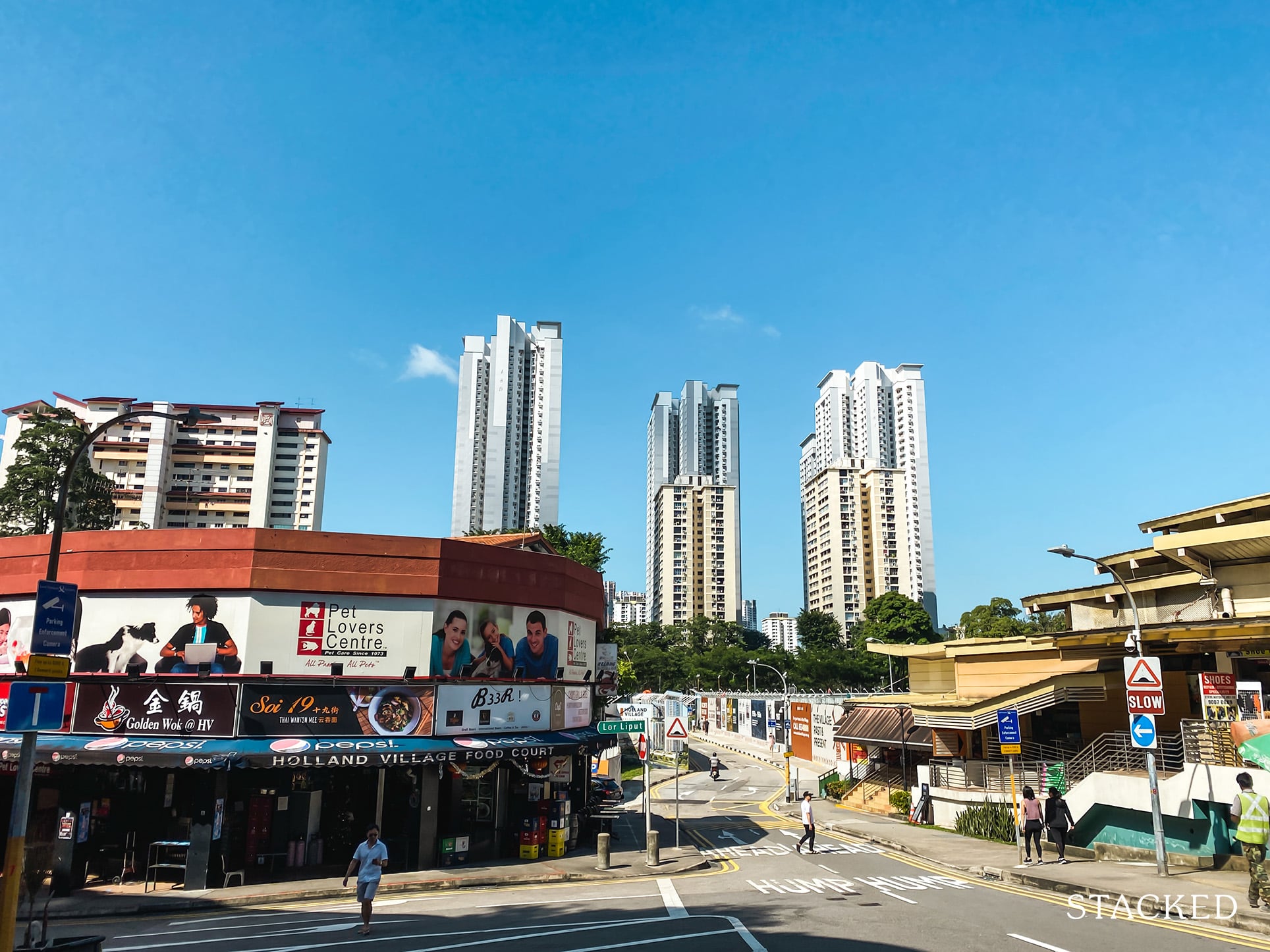 Another popular haunt would be Holland Village, and with the upcoming revamp, it looks to provide even more amenities and shops to the area. Holland Village has its own charms and will always draw the expat community. Not to mention, it is the closest area to have any kind of nightlife during the weekends. Which is why the Pine Grove condo will continue to remain an attraction for expats to rent, due to its location and spaciousness.
So in terms of amenities, other than Ghim Moh, the next best bet would be the Cold Storage at Jelita. Again, it's not near enough that you can walk but with your first hour of parking being free, it's a huge draw to all the residents in the area. It is one of the biggest Cold Storage supermarkets that you'll find, so it does have the hot and cold food counters, fresh food and even a Cedele bakery in-store. The best part? It is open 24 hours.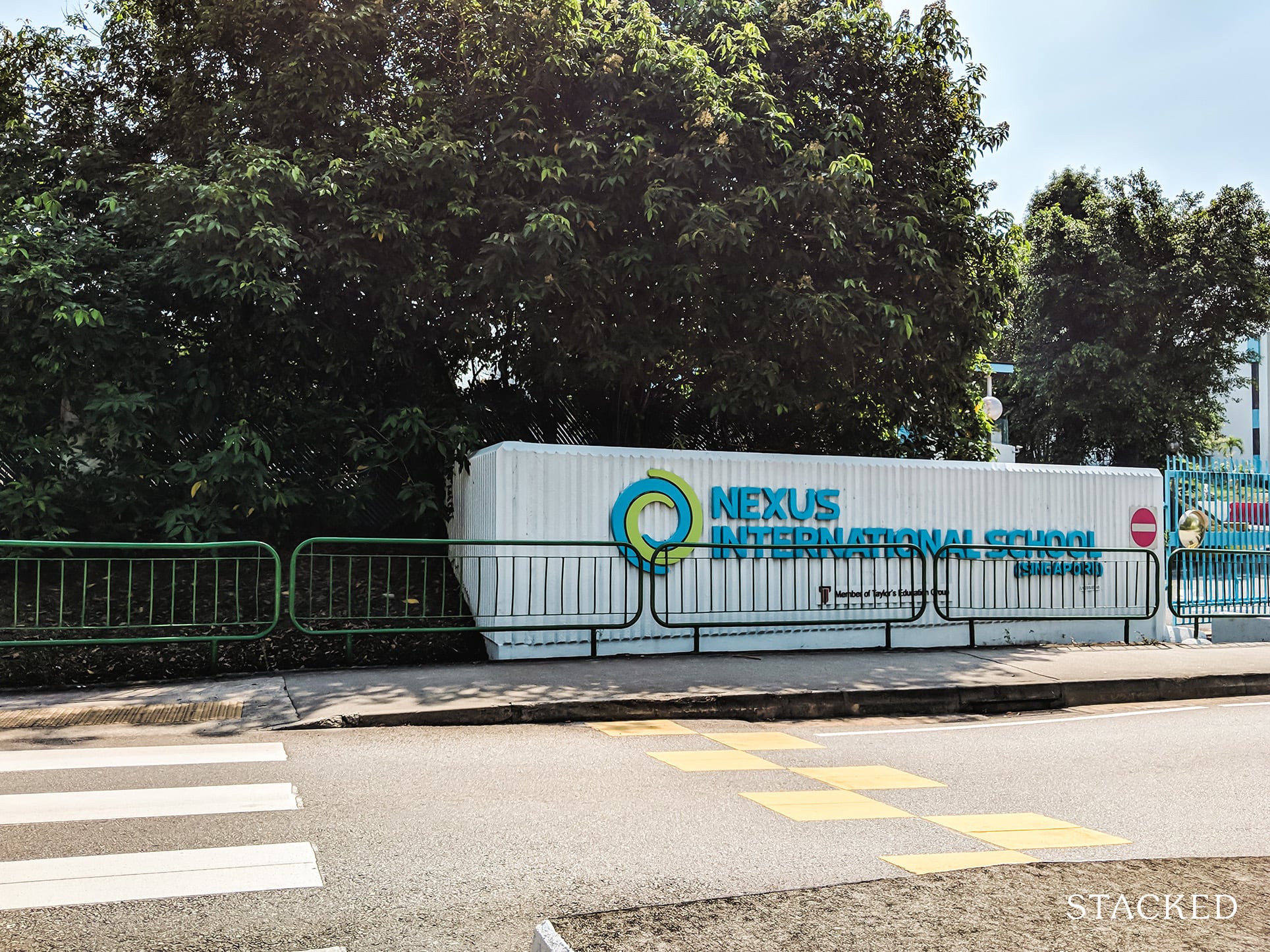 I think one of the best draws of living in the Pine Grove condo is really the closeness of lots of schools. First up, Nexus International School is literally right next to it. Again, another reason why this condo is popular with lots of expats. Another popular option is Henry Park Primary School, which is extremely sought after. It's actually near enough that your kids could walk to school every day!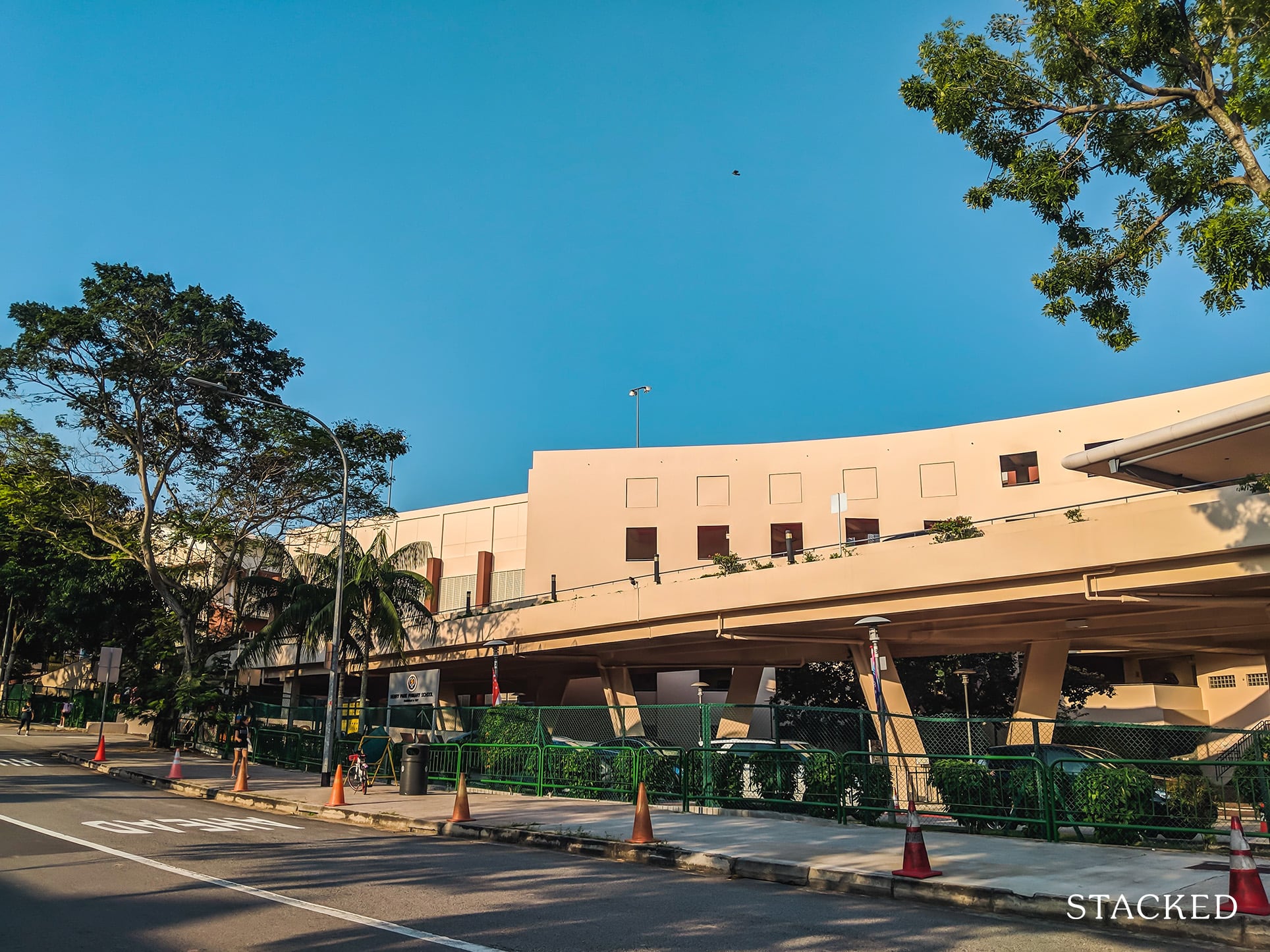 Other schools nearby include Pei Tong Primary School, School of Science and Technology, Eunoia Junior College, Singapore Polytechnic, Ngee Ann Polytechnic, National University of Singapore, Anglo Chinese School (Independent) and Anglo Chinese Junior College. Last but not least, there is a Pat's Schoolhouse a 5-minute walk in the Ridgewood area. You are basically covered for your child's education from kindergarten all the way till university level, so you can see why it is such a draw for families.
Putting all the good points aside however, the truth is that with regards to public transport (namely the MRT), the Pine Grove condo falls short of the mark. That's because the closest MRT station, Dover, is about a 15 to 20-minute walk away. So you are strictly reliant on the bus, taxi or by car.
You could take a bus to the train station, but personally, that is just an additional hassle for me and not an ideal situation at all. Not to mention, depending on which block you stay in, the walk out of the development can be quite a distance already.
Another point of contention for the location is that the Pine Grove condo is actually located in District 21, along with its neighbours like Astor Green and Pandan Valley. However, developments like The Trizon, Montview and Ridgewood Condominium are all considered to be District 10. Not that District 21 is bad by any means, but District 10 is still one of the more premium districts in Singapore. The saying "so close yet so far" comes to mind here, as the distinction here is really just separated by one road!
Pine Grove Condo Development Site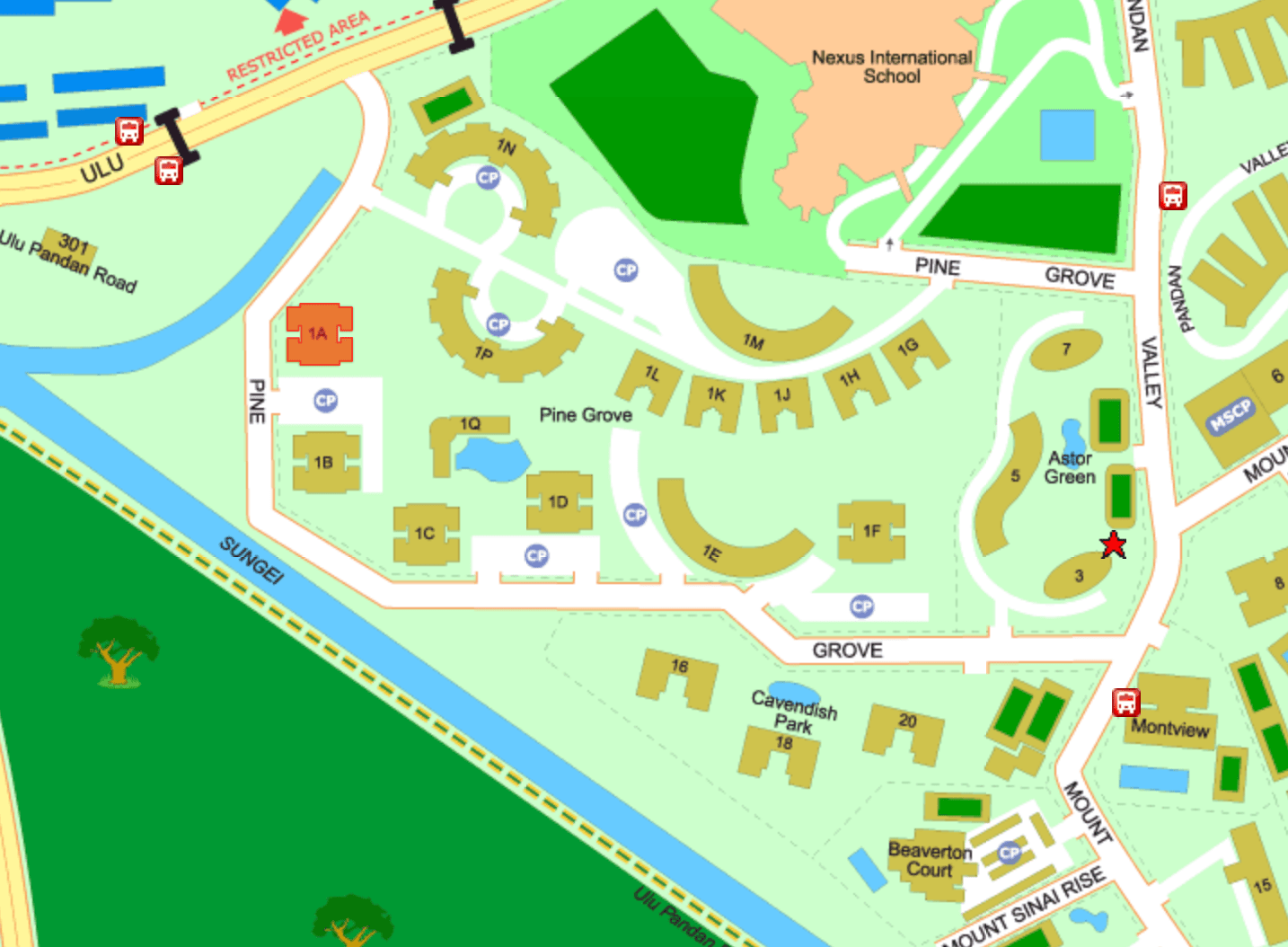 Just like the D Leedon condo, the land size of the Pine Grove condo is so large that it would be almost criminal to just have one entrance or exit to the development. In this case, you can access the condo from both Ulu Pandan Road or Pandan Valley/Mount Sinai, with the latter particularly useful as it leads from Ghim Moh all the way from Commonwealth Avenue West.
To give you an idea of just how big the land space Pine Grove occupies, at 893,024 square feet, it is even bigger than the D Leedon condo! Not to mention, it has almost a third of the units (660 units). Which is why you get so much greenery, openness and a wonderful sense of space in Pine Grove that is super rare to find in newer developments nowadays.
Here is the Pine Grove unit mix:
Unit mix

| Unit Type | Size (sqft) |
| --- | --- |
| 2-bedroom | 1,163 – 1,324 sqft |
| 3-bedroom | 1,668 – 1,938 sqft |
From here you can see that the unit sizes are really big, especially when you compare to units in new launches today. Also, it is clear that the Pine Grove condo is catered towards families given the absence of 1 bedroom units and the size of the units too.
Prices Review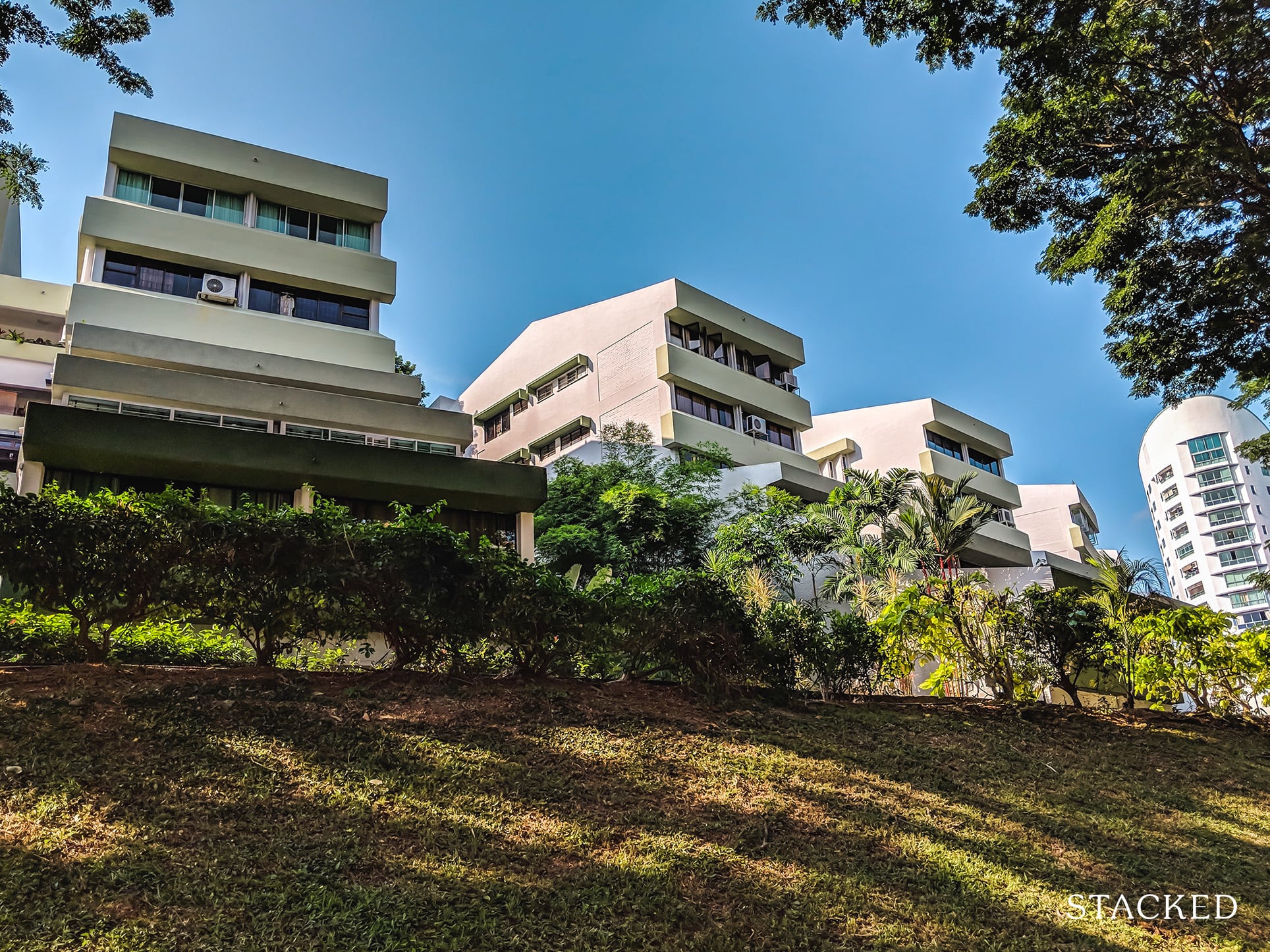 At a recent average price of $1,013 PSF, I think that it is very much reasonable given the size of the land and future potential as this plot can be rebuilt to easily more than 2,000 units. There is a tradeoff with regards to the convenience of public transport, but for those who are after space, it could be worth it.
Our Take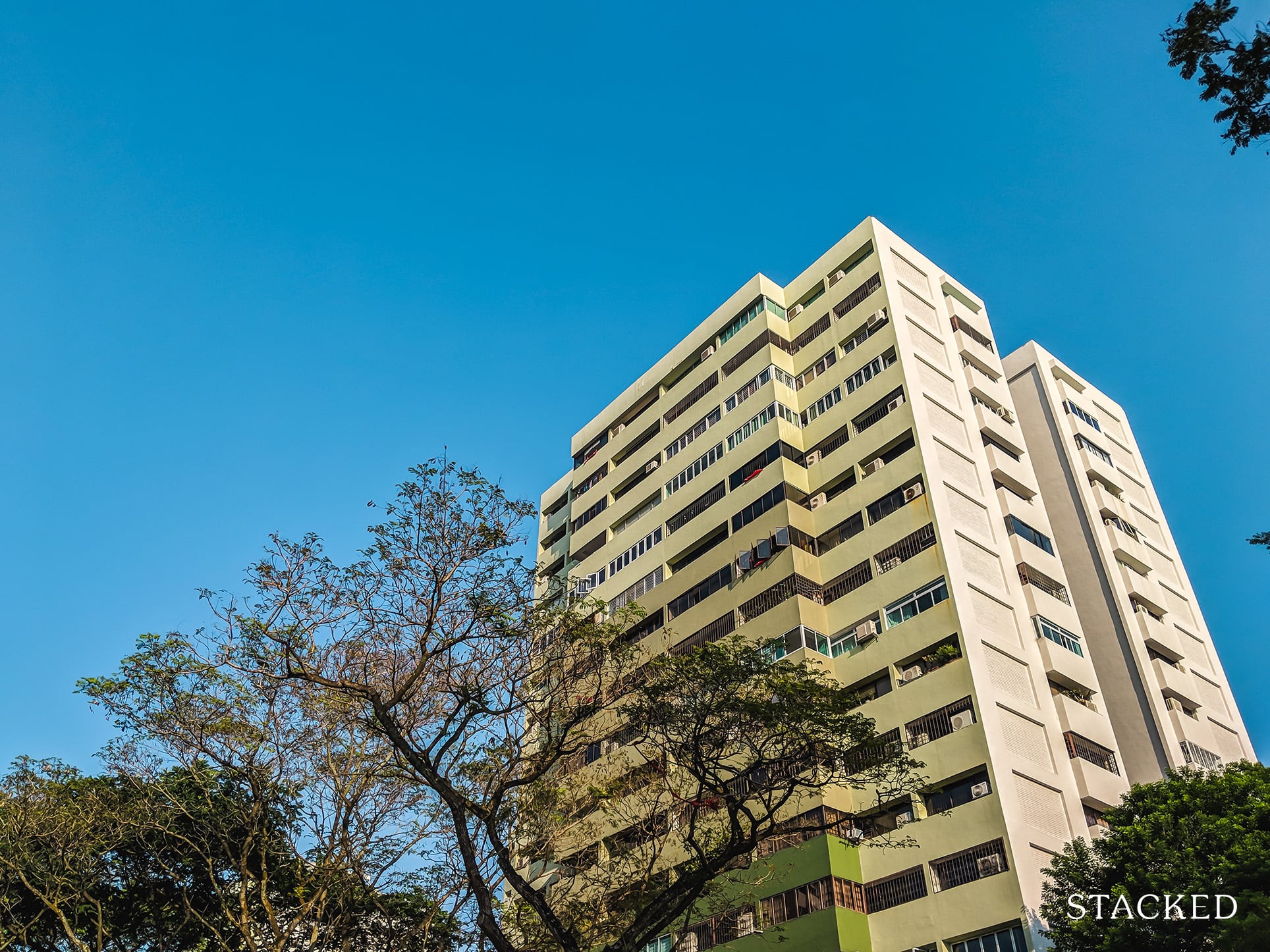 The Pine Grove condo has a lot of shortfalls that's for sure. It's not close to the MRT, the dated exterior, and its facilities are lacking to support the number of units. But its strengths of land and space are so evident that it outweighs all the shortcomings easily.
Frankly, all that en bloc talk has detracted away from what the Pine Grove condo still brings to the table in this day and age of the modern condominiums. I think when people think of Pine Grove now, all they think about is its future potential. Which is not wrong, but I think people are missing out from the fact that it is a rare dying breed. Other than Ivory Heights, this is one where you have a lot of land, greenery, and space. It's a great place to raise children, and a place where strong bonds have been formed because people have lived there for a long time. And as with other en bloc cases, the relationships that have been built and the memories are those that are the toughest to let go.
What this means for you
You might like the Pine Grove condo if:
• You want space.If you are looking for lots of space, this is probably one of the best out there.
• You want to be near schools.There is quite a wide range of schools that is closeby that would make it future proof.
You might not like the Pine Grove condo if:
• You do not have a car.With the nearest MRT being a distance away, this isn't the best place if you do not have a car.
• You are after something modern.The facilities are modern enough, but the exterior of the blocks are very dated for sure.
End of Review