26
min read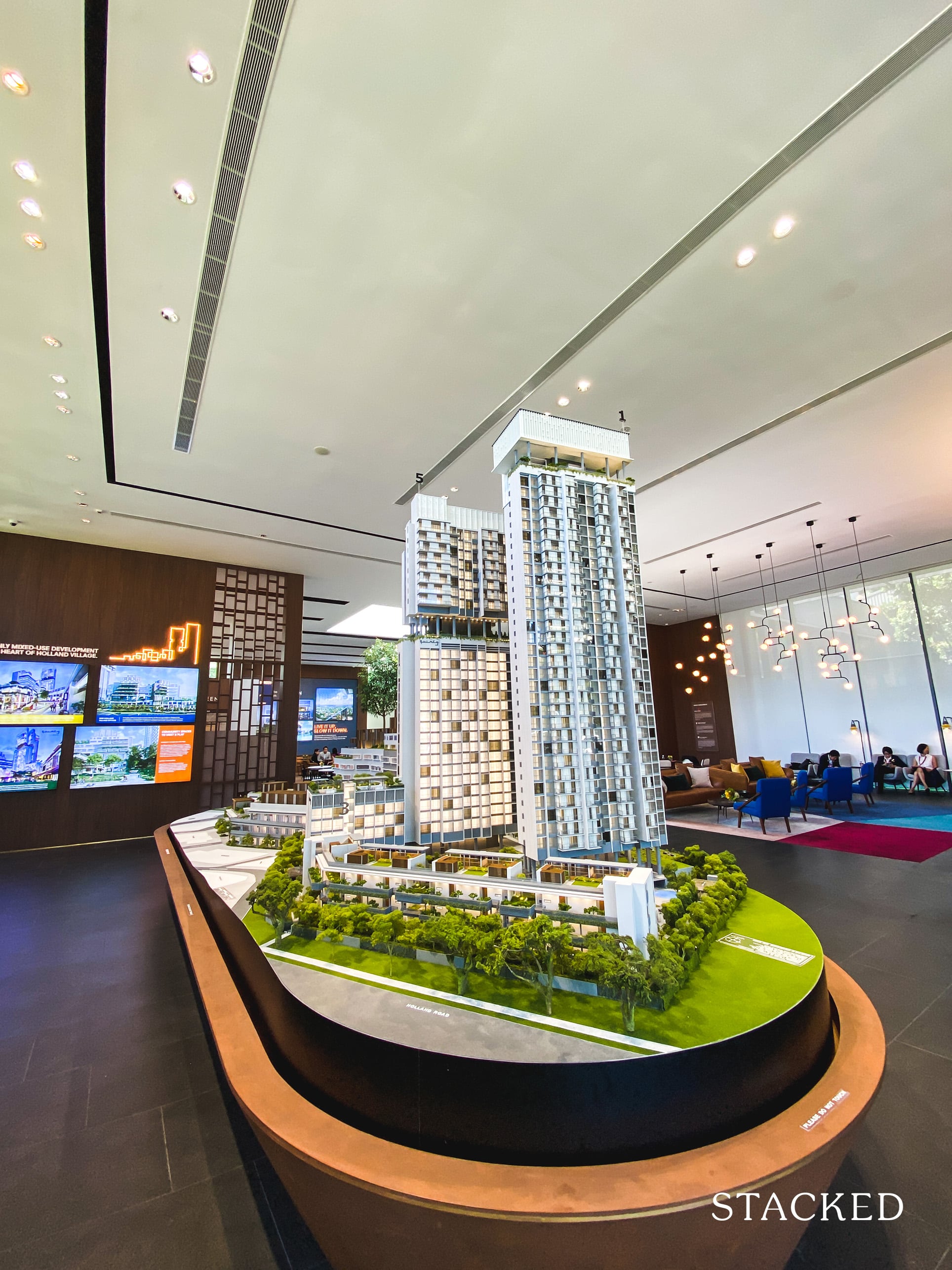 Unbridled convenience at your doorstep.
One Holland Village Residences offers unbridled convenience. There're also a huge multitude of retail/commercial offerings, public/communal spaces and an entire Bohemian-like district at your doorstep. However the commercial/retail sector may be an issue for those who value peace and quiet above all else, and at the current PSF it's trading at, there are more affordable freehold condos in this area.
| | | | |
| --- | --- | --- | --- |
| Project: | One Holland Village Residences | District: | 10 |
| Address: | 1 Holland Village Way | Tenure: | 99 years |
| Site Area: | 248,606 sqft | No. of Units: | 296 |
| Developer: | Far East Organization | TOP: | 2024 |
It's not often that you come across a 99-year leasehold property going for an outrageous $2,678 psf. In One Holland's case however, things are a little different… 
To date, we've already seen 124 out of its 296 units sold (that's 41.8%) since its launch on 30th November last year.
With over a third of its choice apartments snapped up less than 4 days since then, and a whopping 90% of those sold units going to Singaporeans, it's easy to see the crazy local demand for this mega-development.
For those new to this mixed-use development, one of its biggest draws comes from its status as an exclusive '3-tiered' multi-residential.
What do we mean by that?
Basically 3 separate residences with their own unique architecturals, facilities and unit types.
Think skyscraping towers with incredible rooftop views (and facilities – including a high-up tennis court), huge private luxury apartments, heritage-like units…
The list goes on.
Add in the top-notch Holland Village Residences developer consortium of Far East Organization, Sino Group & Sekisui House, and most would go on to say that the project is destined for success come TOP (end 2024).
Yet despite all that, there is one factor that sets One Holland apart from the rest.
And that's One holland Village Residences location.
We won't go too in-depth for now, but let's just say that you might just be having public transport stations, immediate home-to-work commutes and all-in-one shopping at your very doorstep.
…IF you manage to grasp one of the One Holland Village Residences units in time!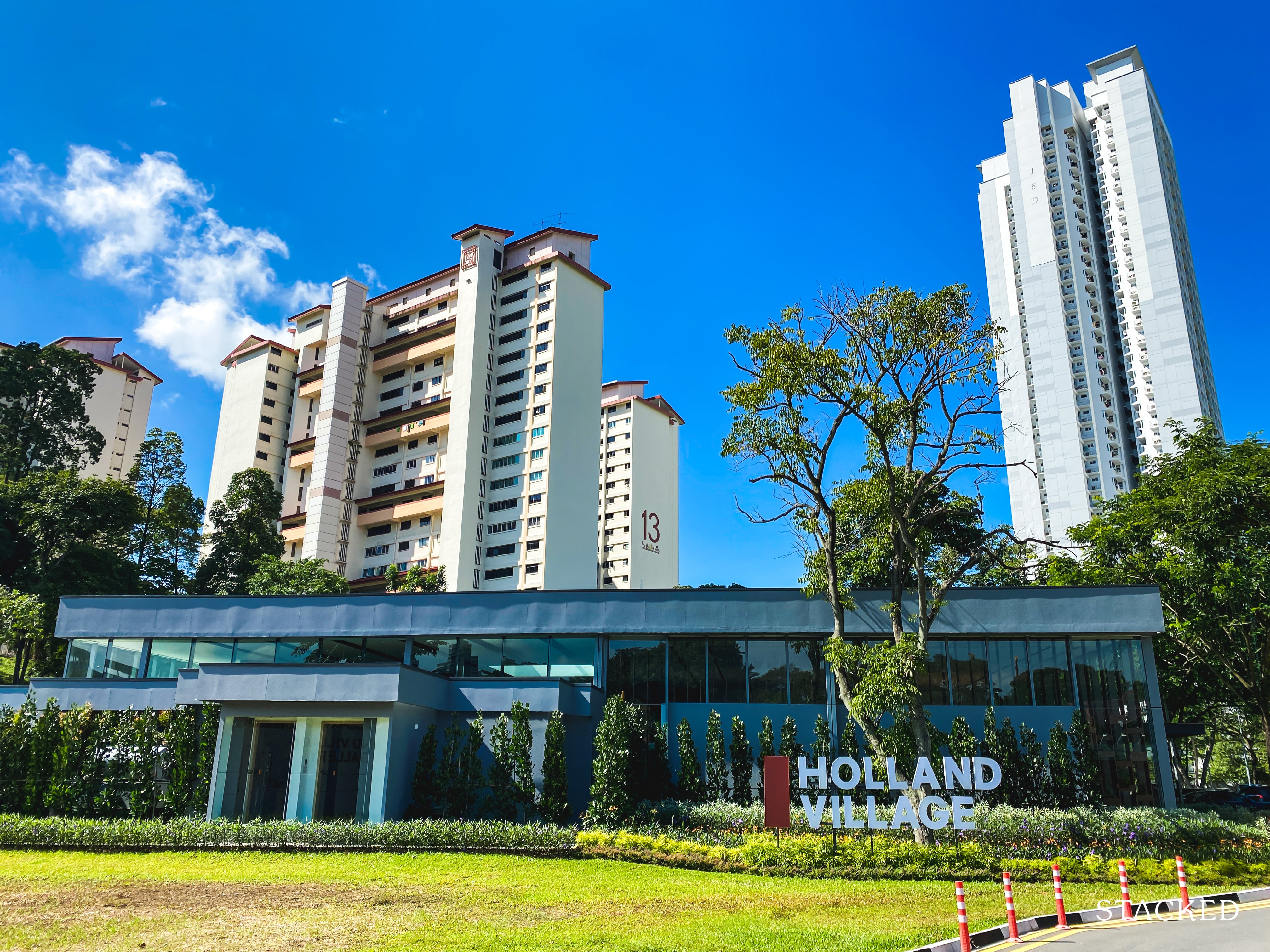 For those living in the Holland vicinity, One Holland Village Residences has to be one of, if not the most exciting update to the area in recent years. It's hard to think of any other area in Singapore that gives off quite the same vibe as Holland Village so there are definitely many people that will be interested in this new launch.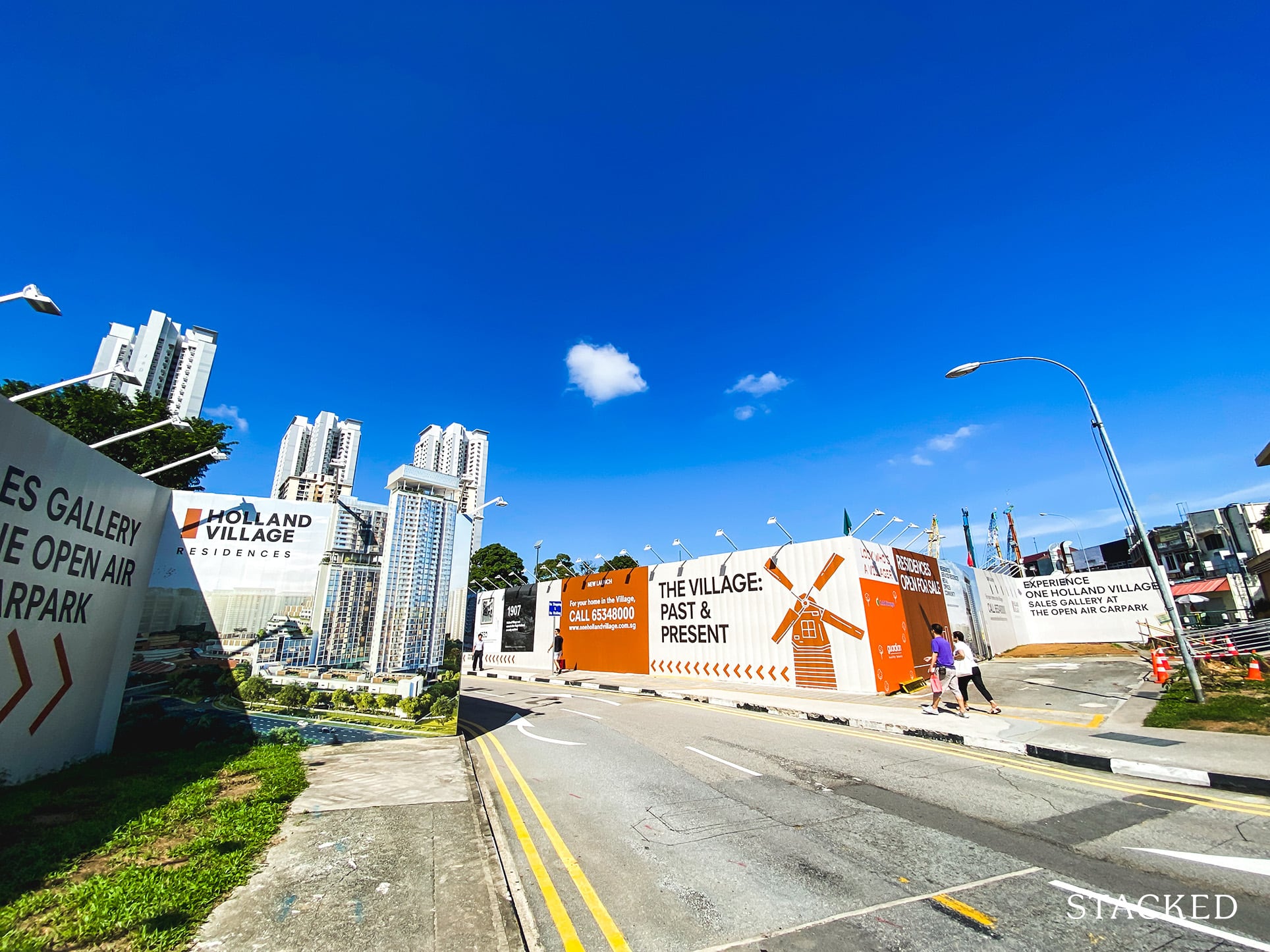 Located right where the old Holland Village public carpark used to be, the location of the One Holland Village Residences has to be its biggest asset.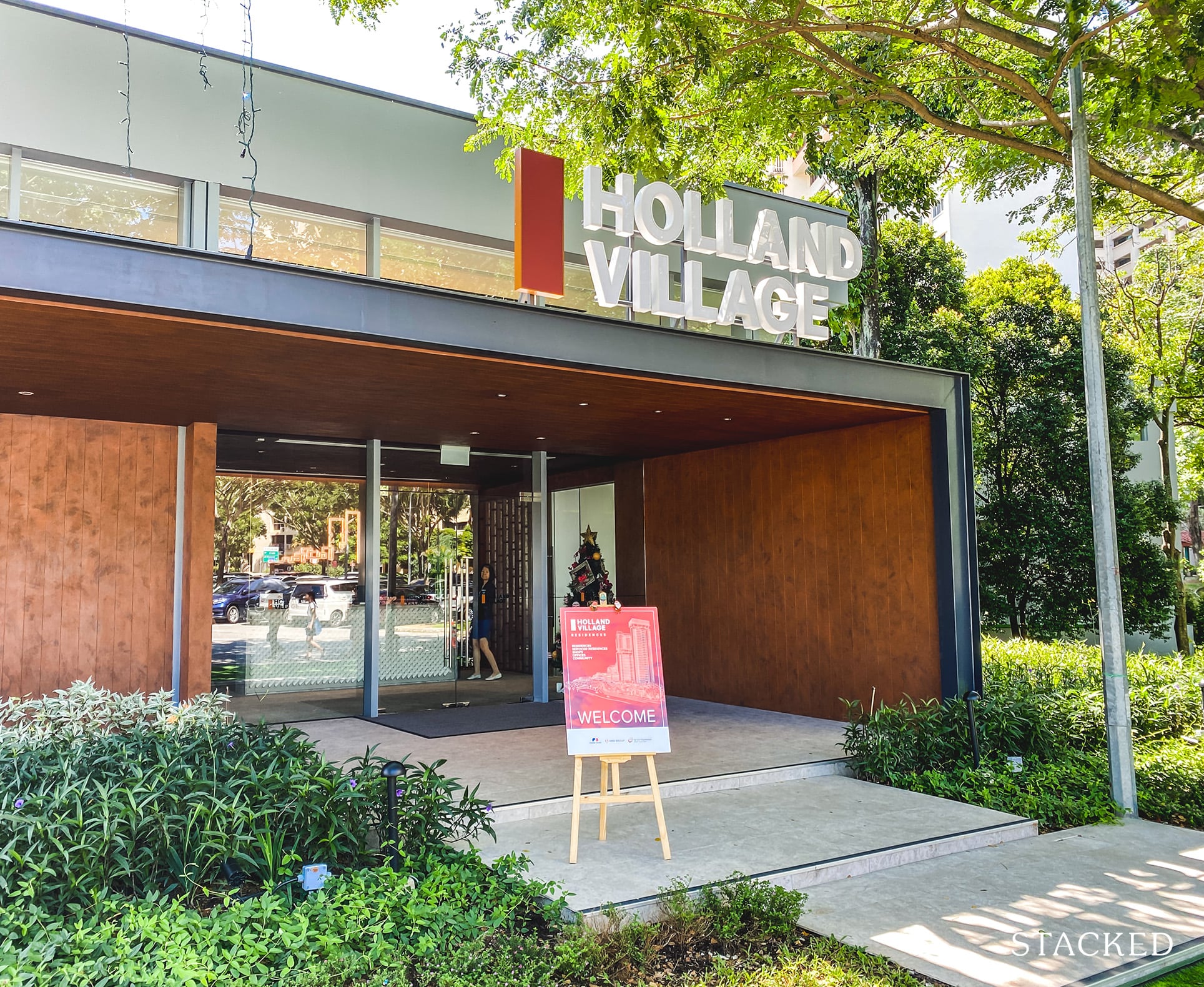 Model Tour
I have to say, this is probably the best showflat location possible. It's right where the future site would be and it's next to the main current carpark of Holland Village (where foot traffic would be the highest). Even if you haven't heard about the launch from the traditional media outlets, you would have definitely seen it on a trip to Holland Village.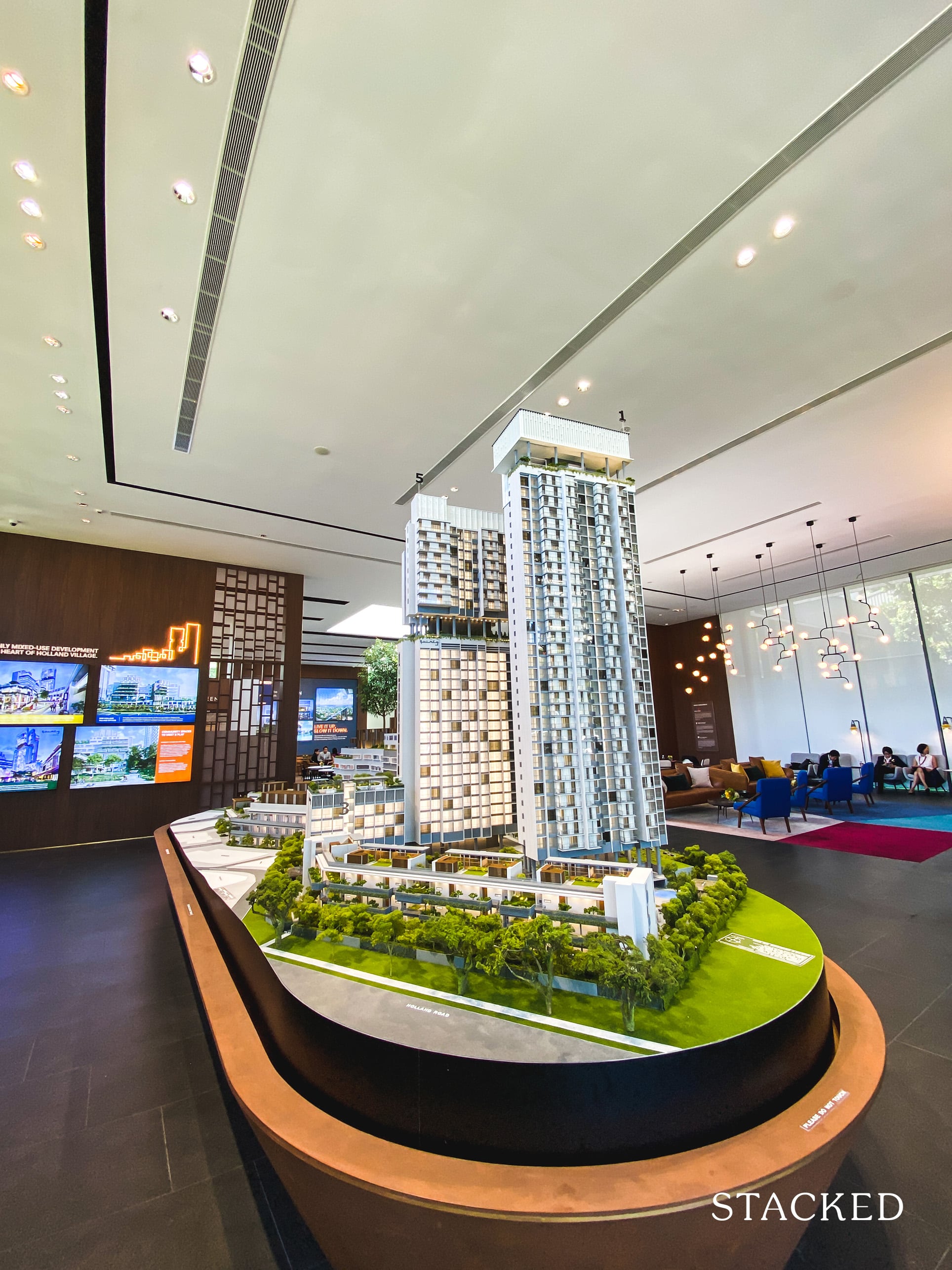 At this point, you may be wondering why I'm rambling on so much about the showflat and its location. Well, the truth is, you wouldn't be able to understand the hype around the place without understanding the significance to the area.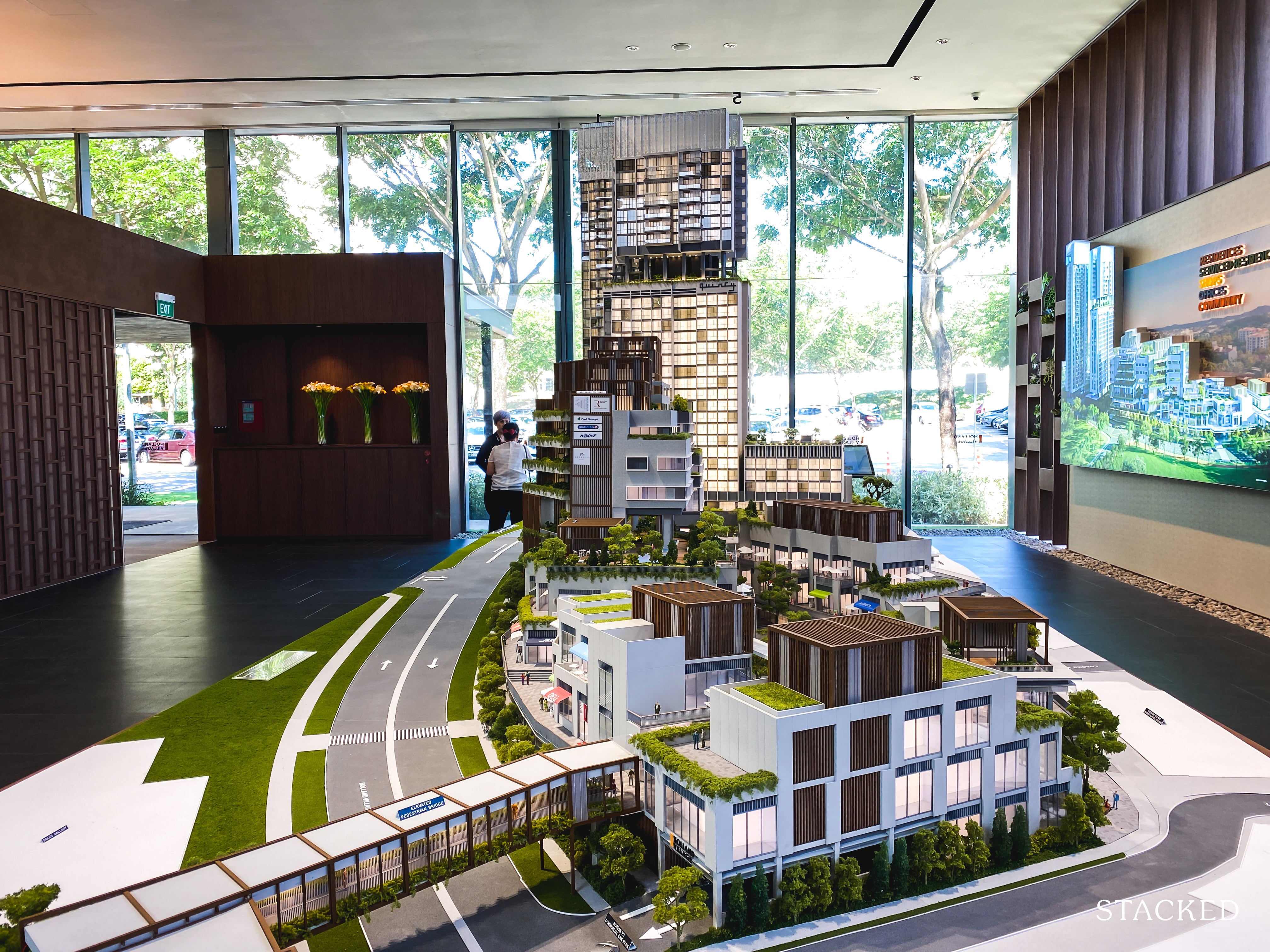 To be completely honest, when I first heard of the revitalisation of the Holland Village area, I had really high expectations of the outcome. After all, the bidding of this plum site was done under a dual-envelope concept.
The dual-envelope concept means that the concept proposals and tender prices have to be submitted in two separate envelopes. So concept proposals will be shortlisted first, and thereafter the proposal with the highest bid price will win. This basically means that there is some form of recognition given to the concept first without taking into account the price. Naturally, more thought would have to be undertaken in order to win.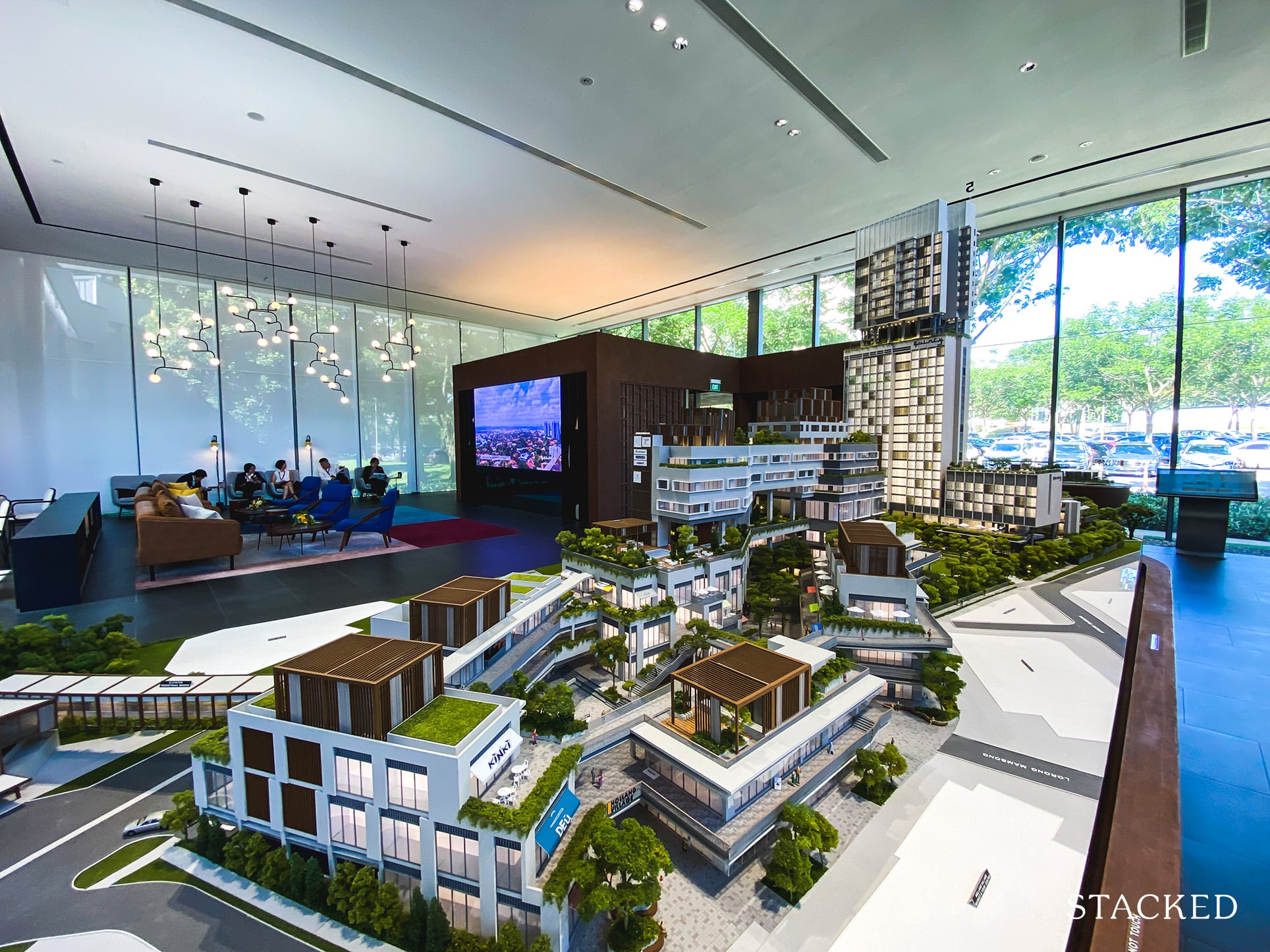 But the final product (retail side) is a little underwhelming for me. Don't get me wrong, it's not ugly or horrible by any means. It just looks slightly disjointed and I think more emphasis could have been given to enhancing that trendy heritage vibe. After all, that is a huge reason why Holland Village has been culturally popular and significant in Singapore.
I'm no designer, but something iconic like the Vessel in Hudson Yards would have been cool. Okay, maybe not as elaborate, but a focal point would have done wonders to make the place stand out. You get my point.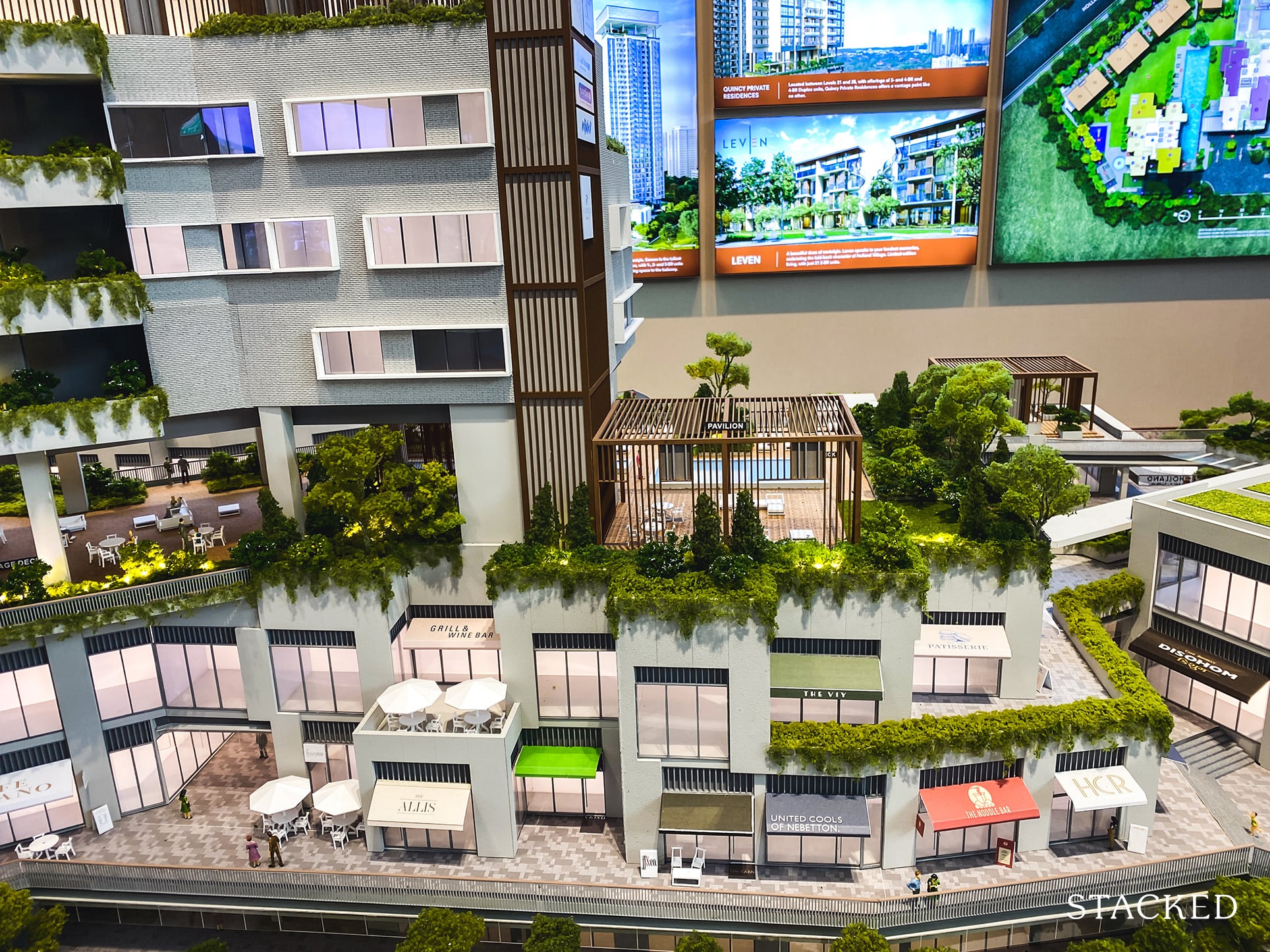 You can actually think of the One Holland Village Residences as an integrated development.
With Holland Village MRT right at its doorstep, plus 145,314 square feet of retail space and 80,730 square feet of office space, it definitely has a lot to offer to its residents in terms of convenience.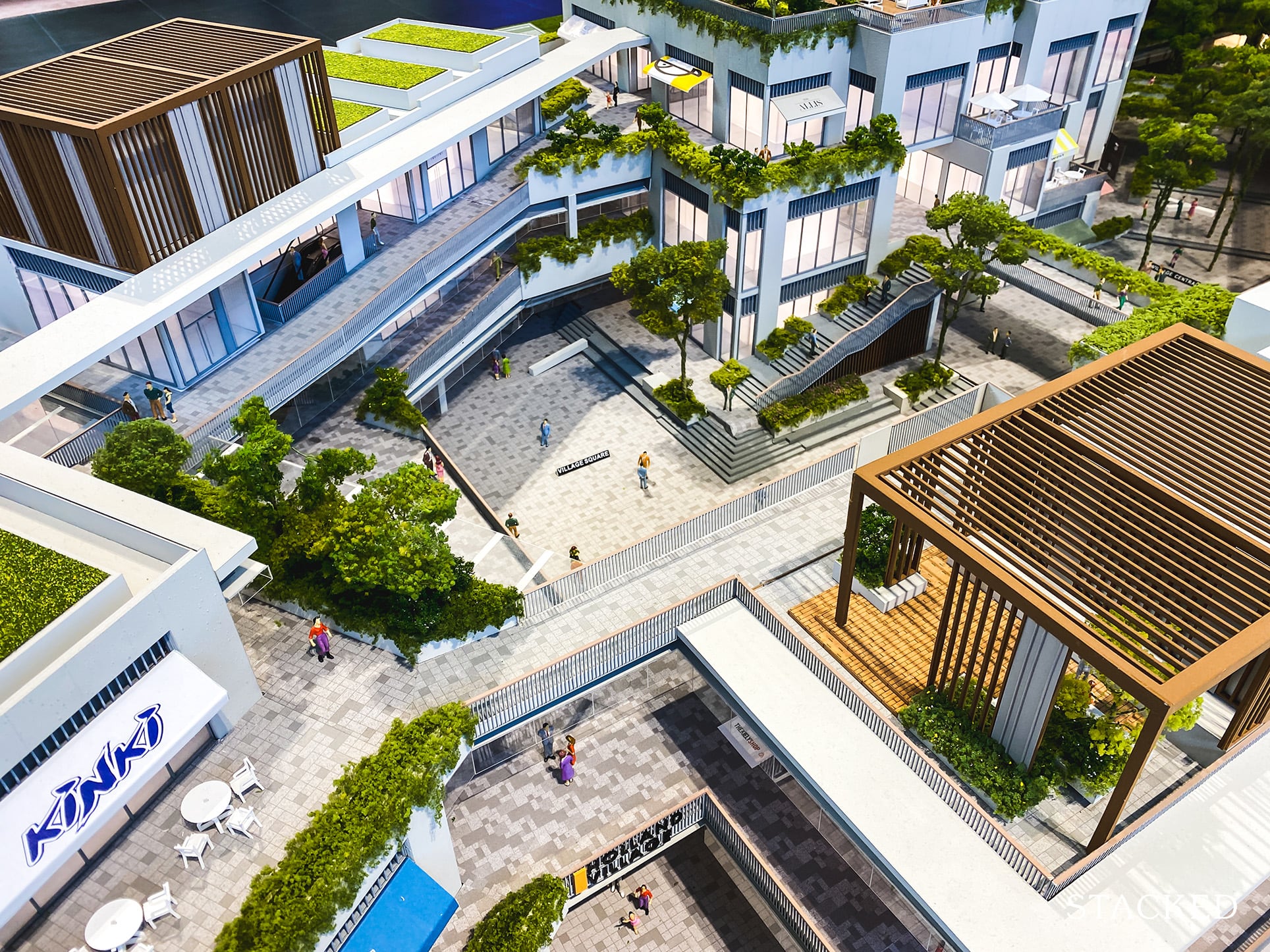 Currently, important anchor tenants like Cold Storage and the Guardian have been secured. Other tenants like the Projector (movie theatre) have also given the green light, which is pretty awesome. While having a good retail mix or focus is always important, I think most retailers can recognise the pull of Holland Village, so this should not be too much of an issue.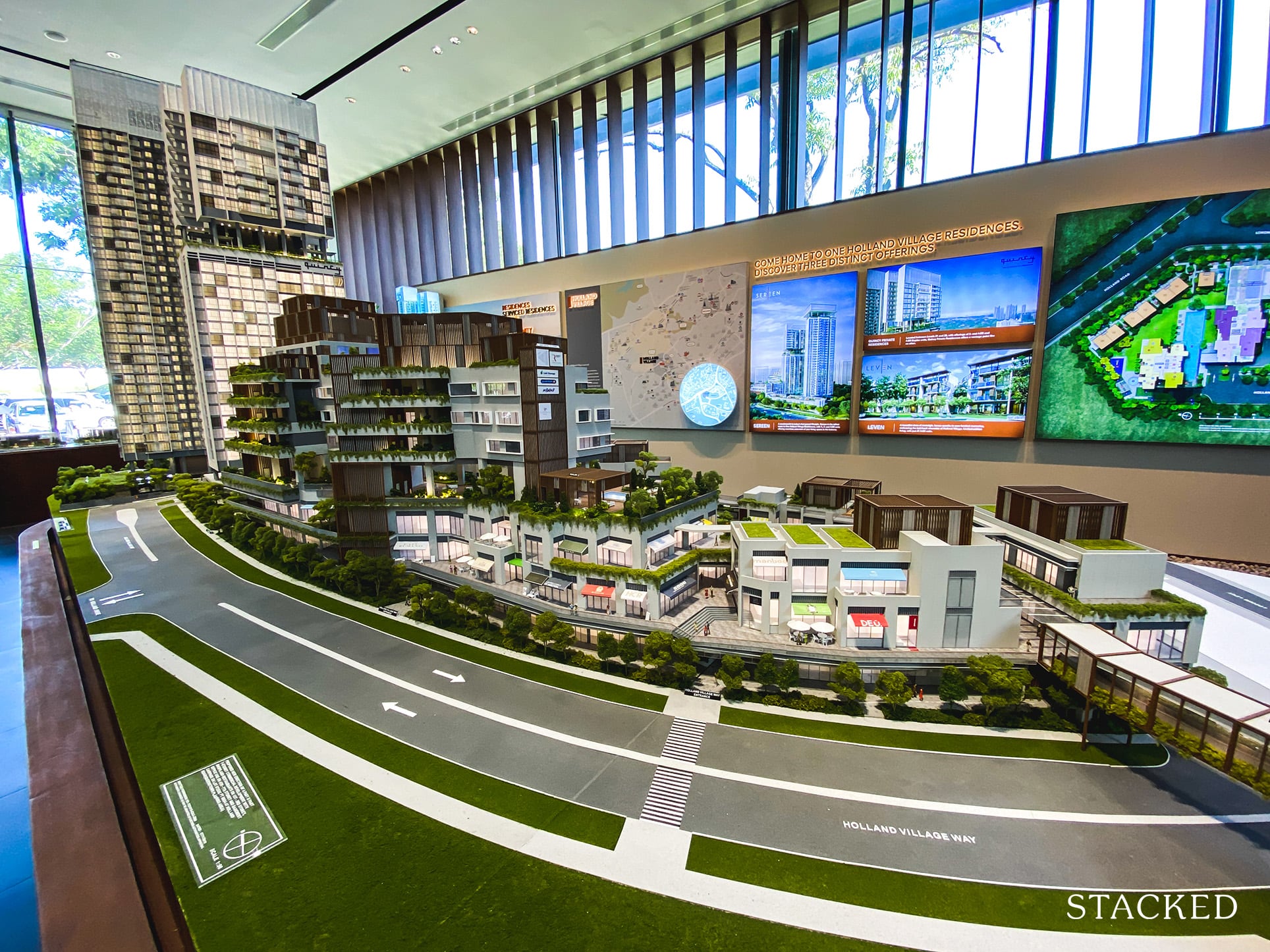 What they've done well is the planning of the public spaces at ground level. This will be divided into three spaces: Commons Square, Communal Green, and the Pocket Park. So you can expect weekend markets and outdoor performances to be held here, which will increase the overall vibe and community feel of the area.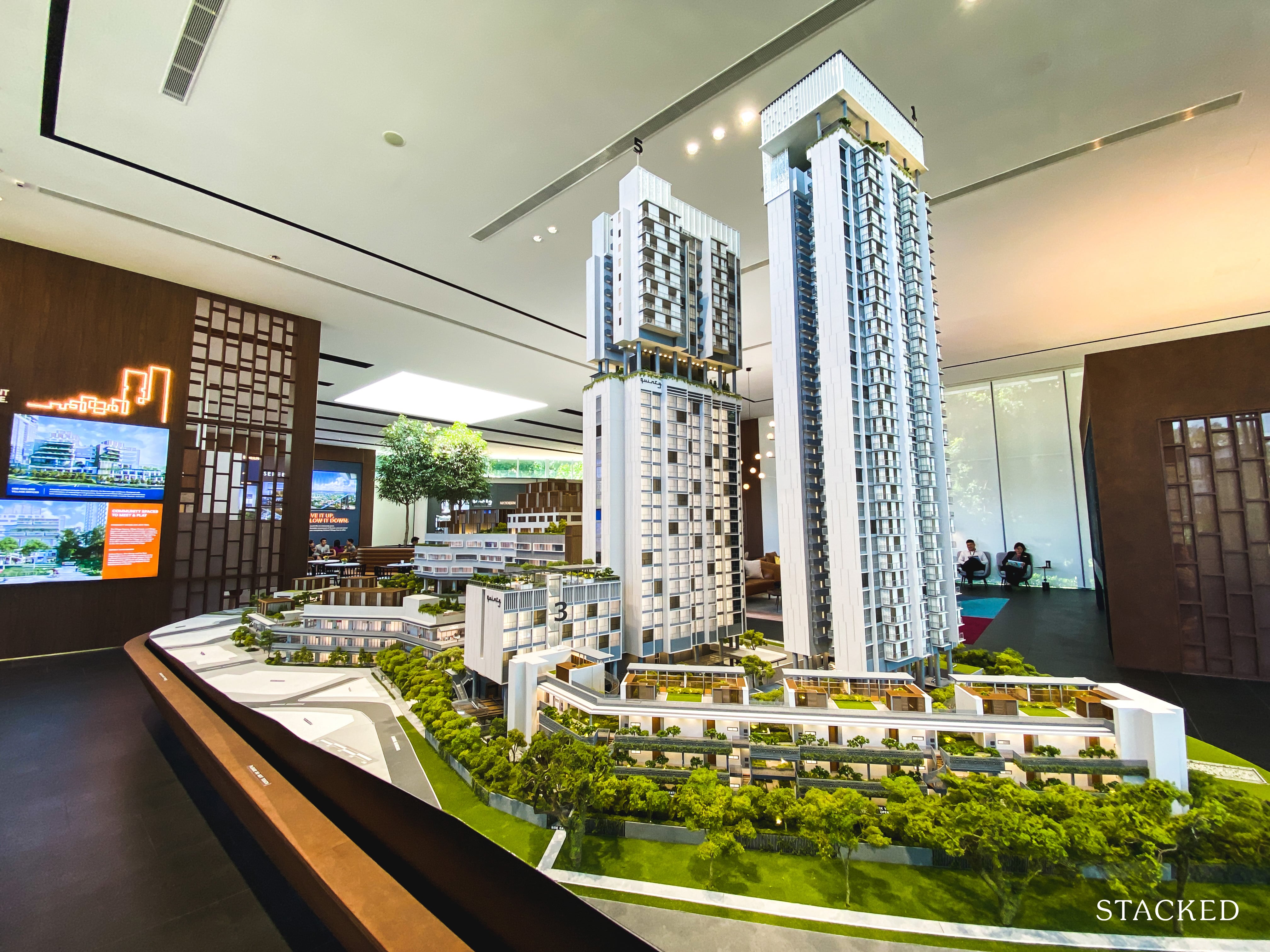 Let's move on to the residential side of things. One Holland Village condo has three different brackets – Sereen, Leven, and Quincy Private Residences – no prizes for guessing which of the three is the most exclusive. That's right – if you want the luxury of concierge services and private lift access, the 27 three and four-unit luxury apartments at the top of the Quincy Private Residences are the way to go. In addition, there are 225 serviced residences on the first through nineteenth floors.
It's interesting to note that despite there only being 296 units, the developers have taken the trouble to come up with three different concepts (similar to Parc Clematis).
Of the three concepts, the Leven is probably the most unique one as it was inspired by the heritage apartments in Chip Bee. These form the low-rise 3 storey blocks with a roof terrace (for certain units) that you see at the forefront of the picture. Given that there are only 21 units available it will be interesting to see the reception to these units from the public.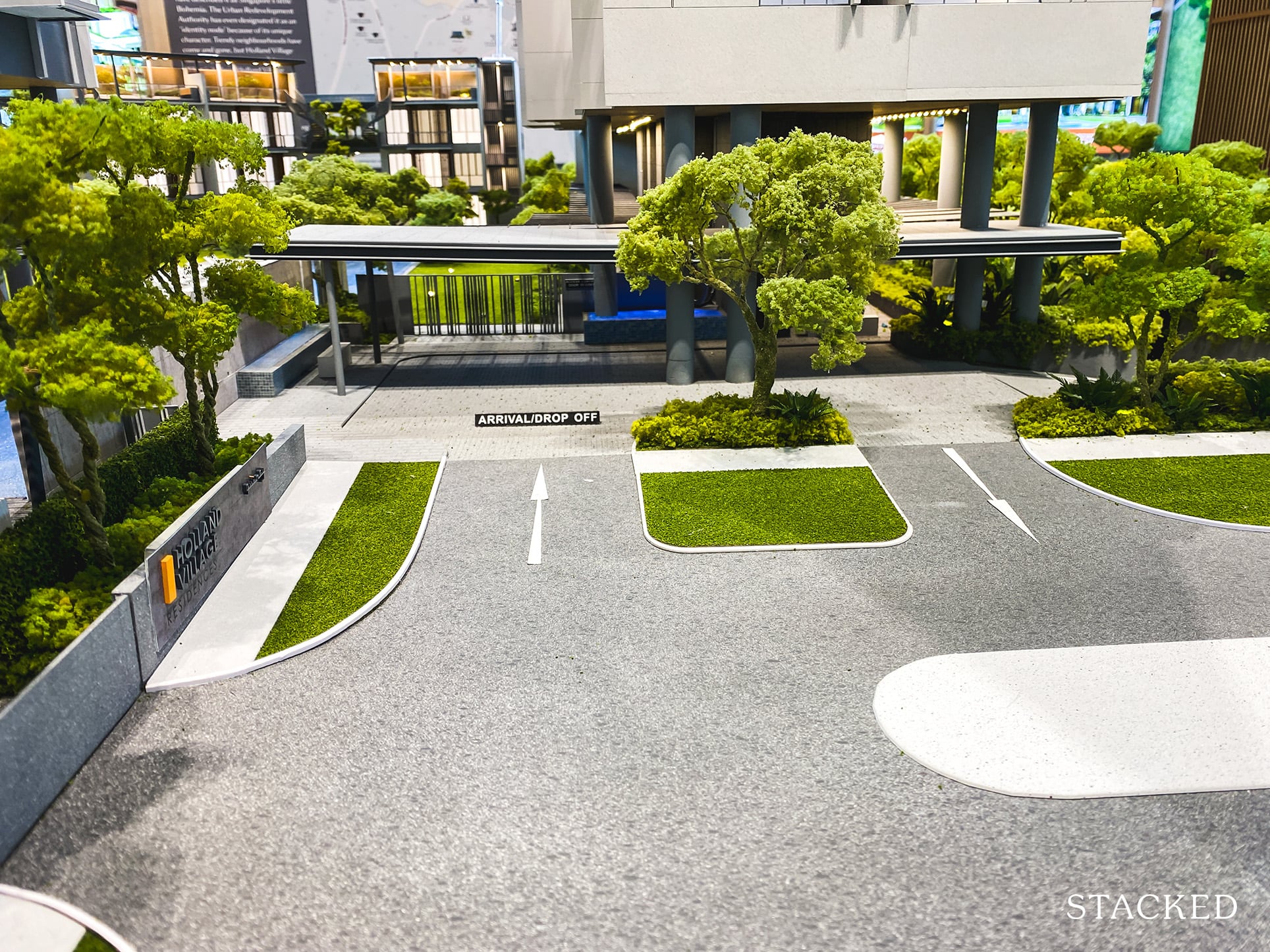 You get your usual 50m lap pool that comes along with a pool bar and pavilion.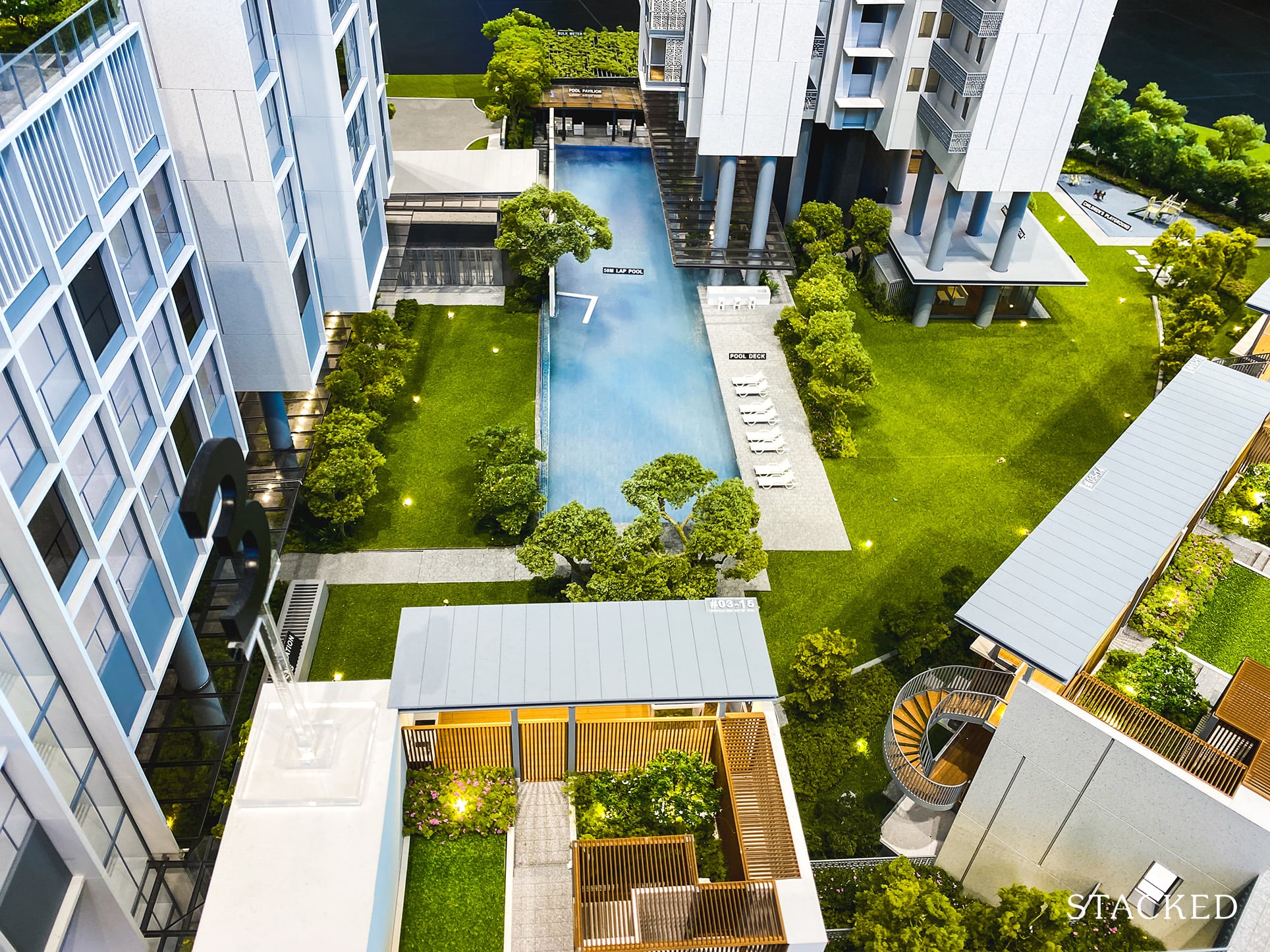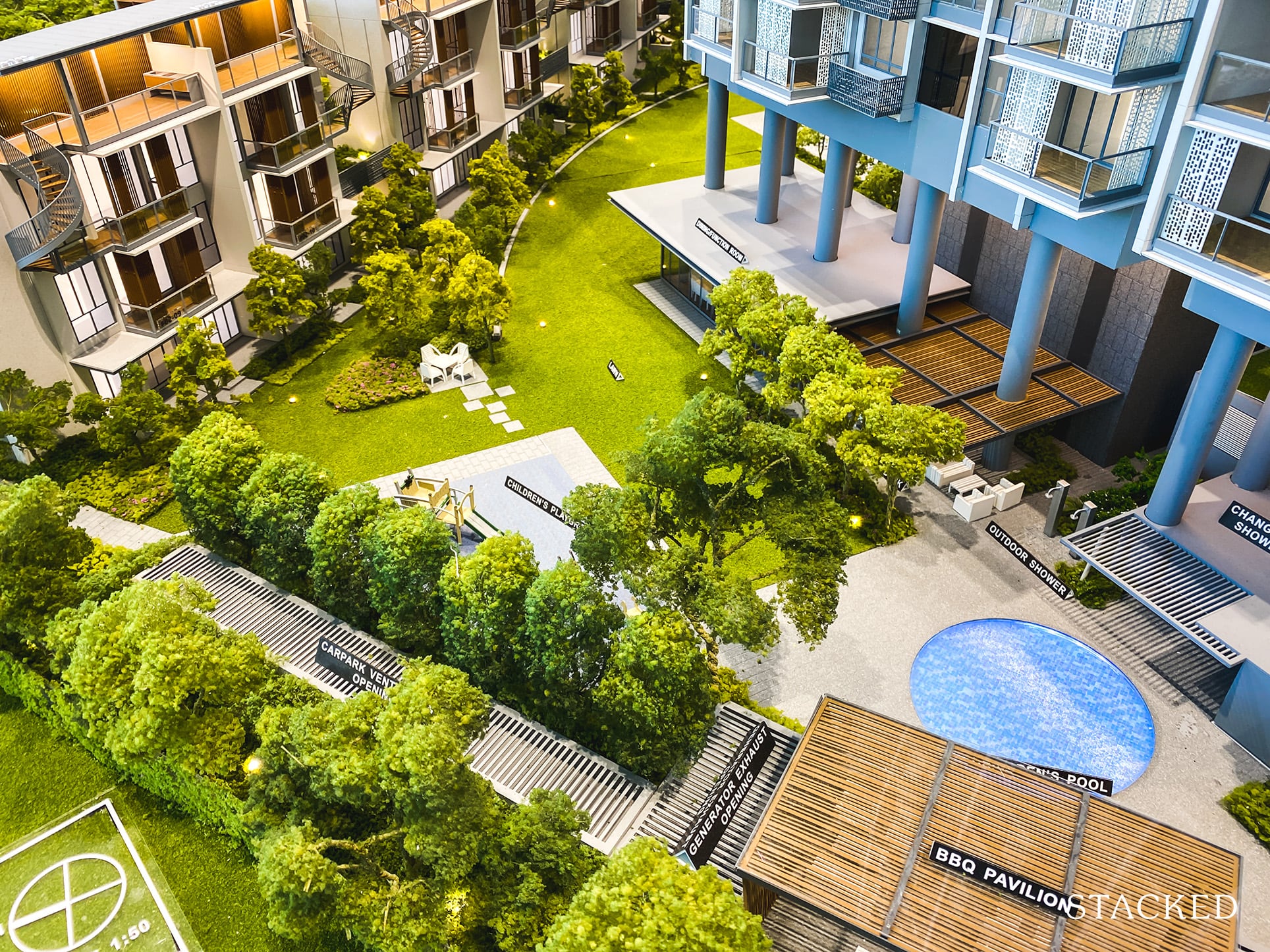 And the rest of the facilities are your usual standard fare – children's pool, playground, and BBQ pavilions. There isn't a tennis court on the ground, though residents of the Sereen will have access to one on the 34th floor – which is understandable given the premium cost of the land here. Works out well for me though, I would prefer the amazing views while playing tennis any day of the week!
One Holland Village Residences 1 Bedroom Review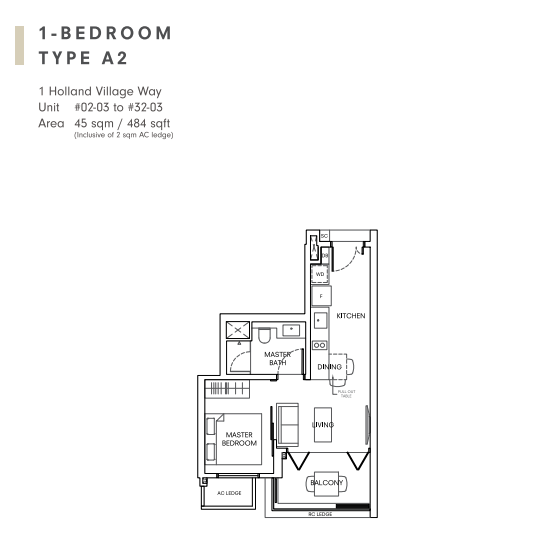 Coming in at 484 square feet, it is slightly smaller than the average 1 bedroom. As far as 1 bedroom units go, however, it is quite a standard layout.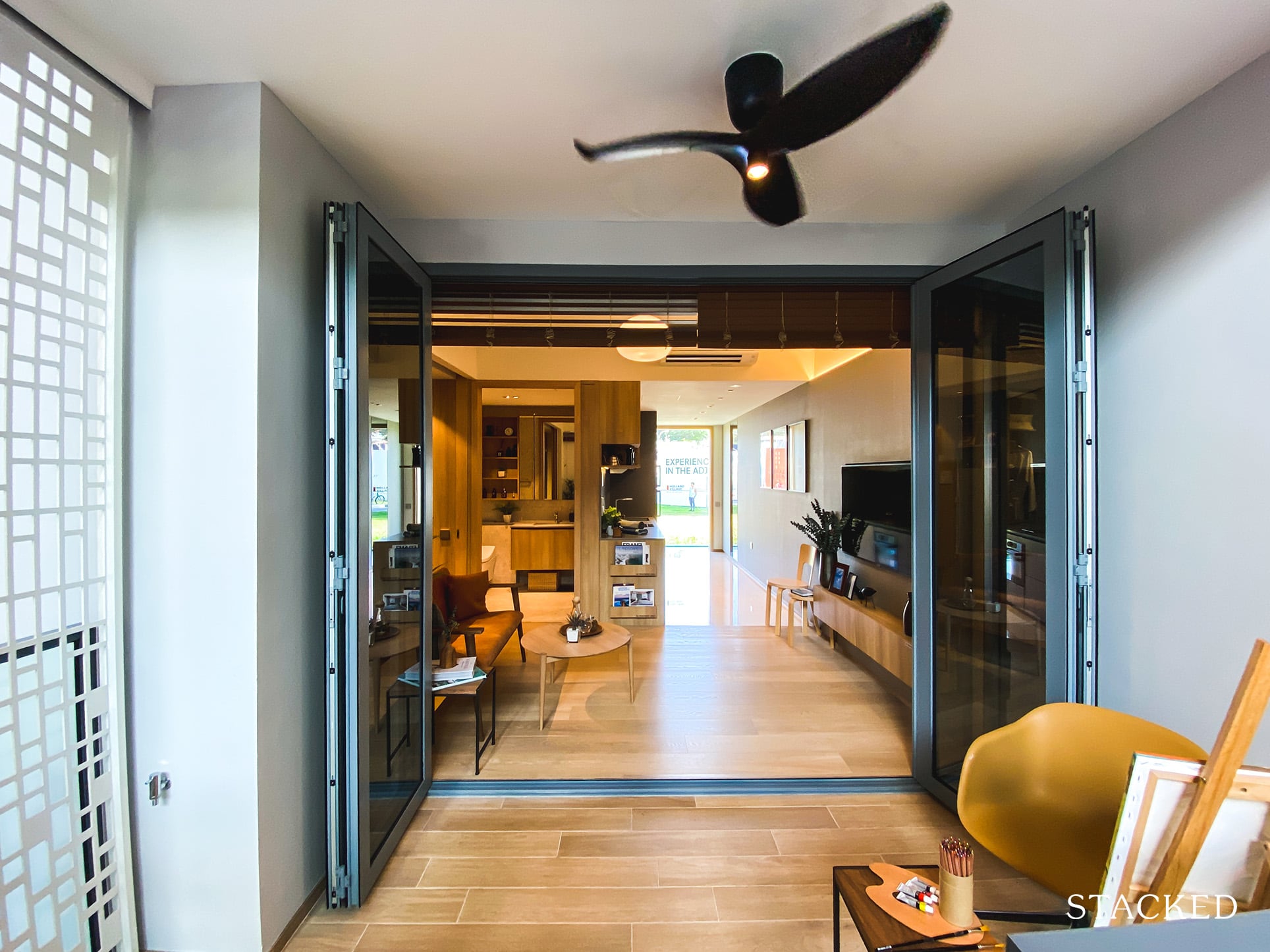 The balcony is definitely quite a big space, but it's suitable for the lifestyle that most people would be after especially given the nature of the Holland Village area. Furthermore, I really like the folding balcony doors as this allows you to completely open up the space – giving you an almost seamless extension of living space. You could also cover up the area with the balcony screen, so it makes it infinitely more usable during hot/rainy days.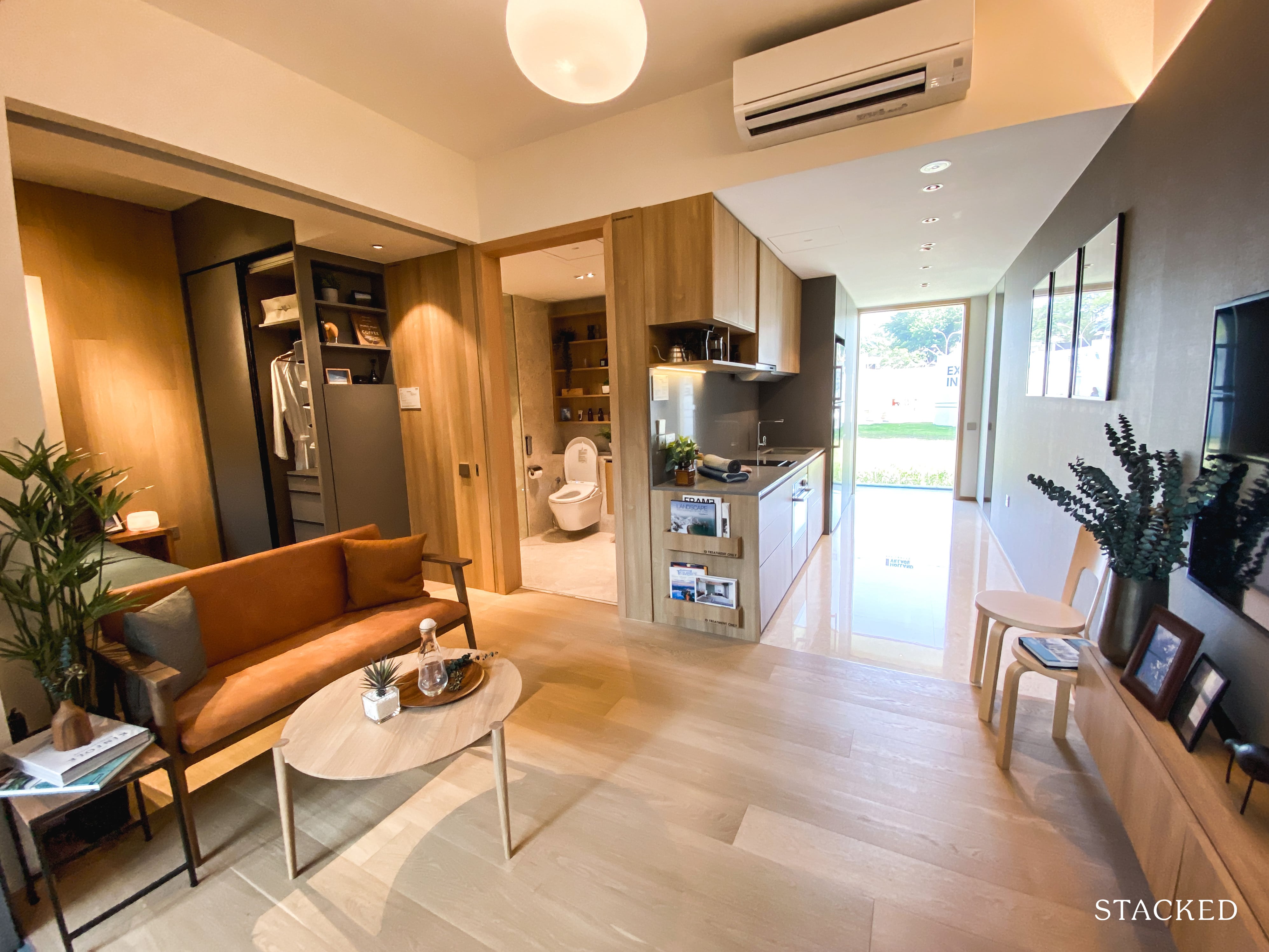 Generally speaking, you shouldn't be too taken in with the showflat ID design but I have to say that it is mostly very well done. The Muji/Monocle vibes are very apparent here and would definitely appeal to those sniffing around the Holland Village area. The living area does look quite spacious here but do take note that the sofa bench here is rather small.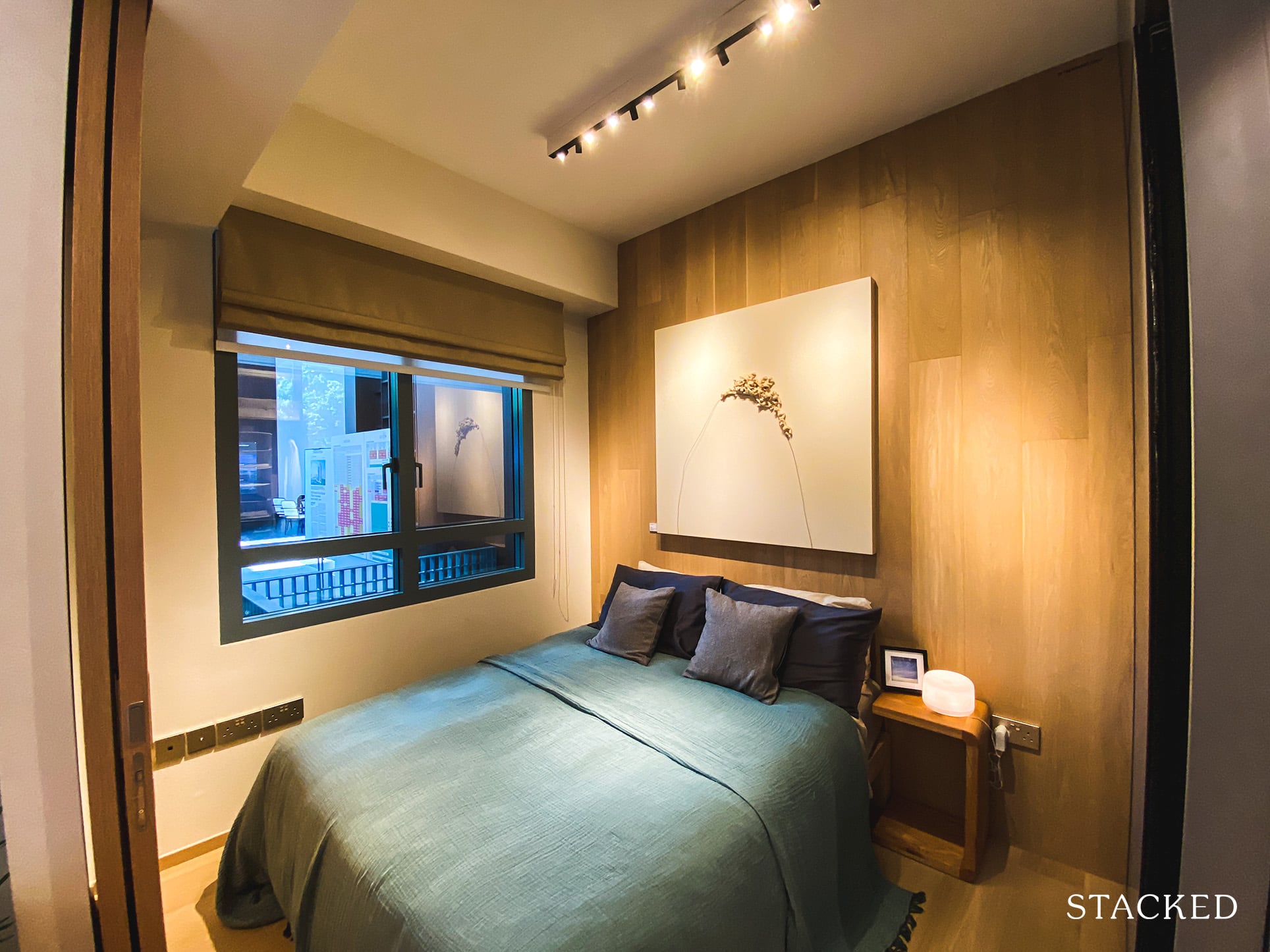 Given the below-average total living space, the bedroom is not a big space at all. You can still fit in a queen-sized bed but that's really about it. If you were wondering about the size of the windows, that's because of the AC ledge which is located right outside.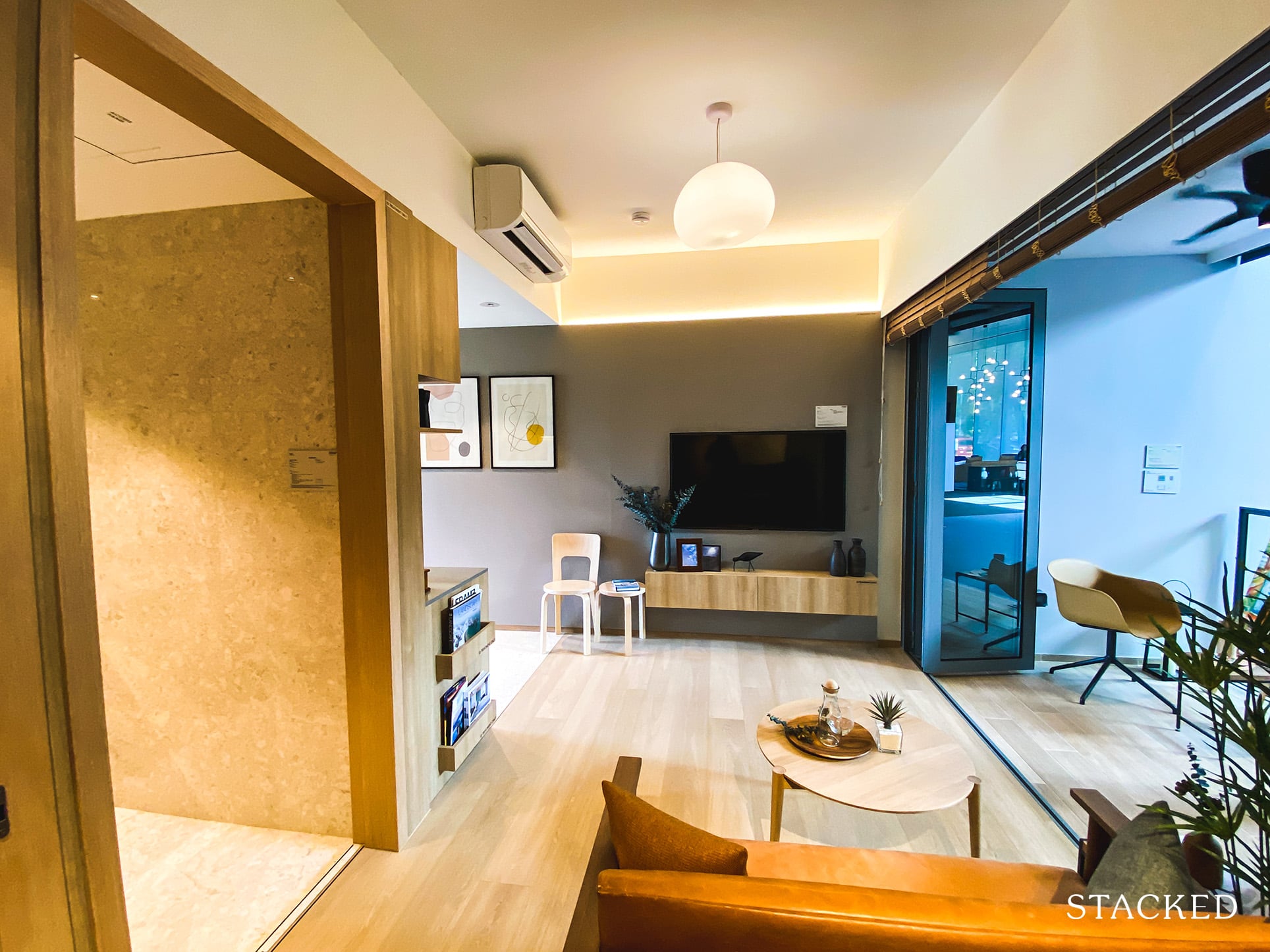 With a sliding door separating the living and bedroom areas, you can open it up to make the space feel a lot roomier. Also, if you do have a big enough TV or even a projector, it could make for very comfy movie sessions in bed!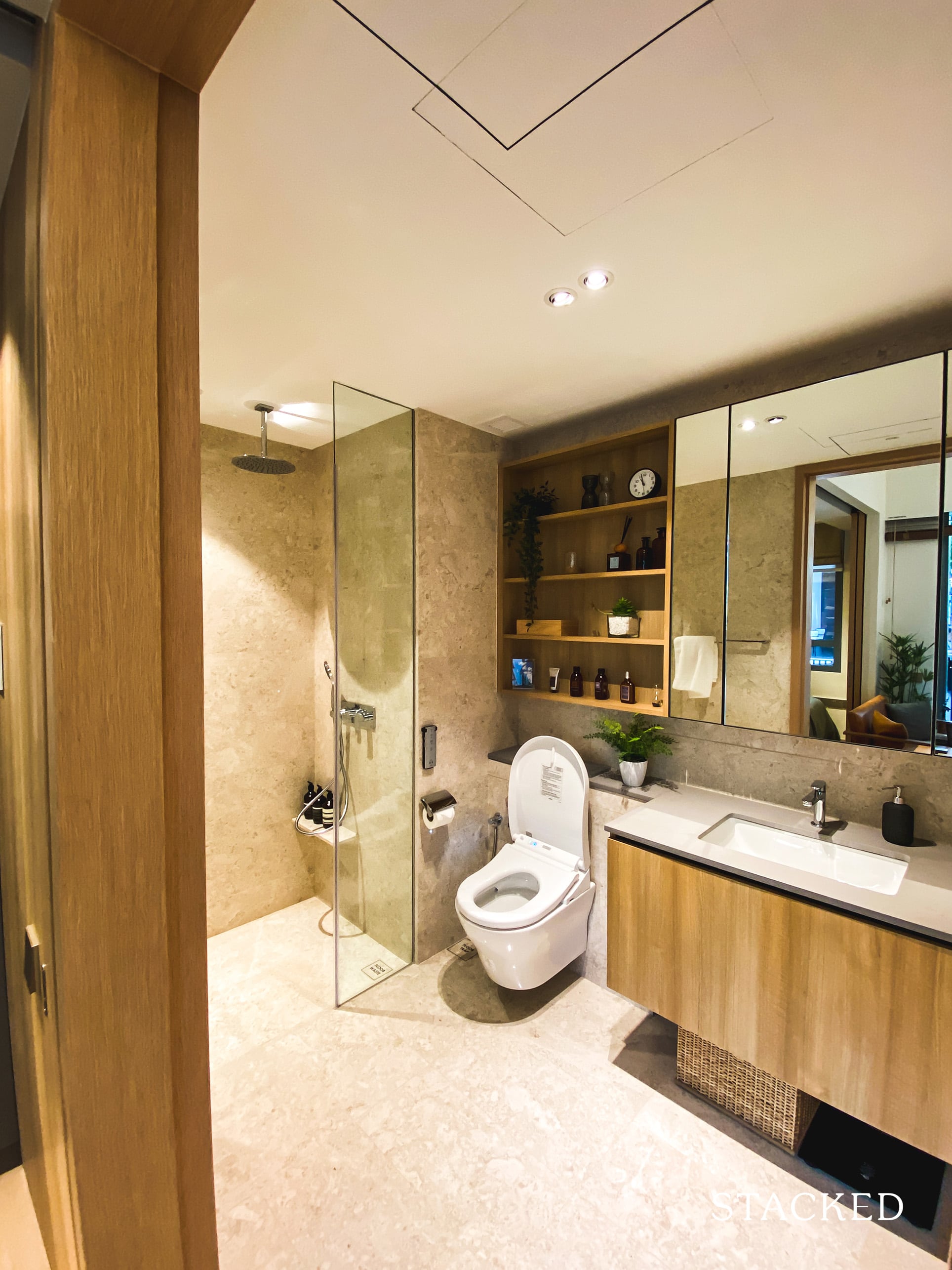 You can tell that the bathroom is a spacious one just by looking at it, so no complaints about it at all. The smart toilet is a very nice touch (which I'll highlight a little more in the other unit types).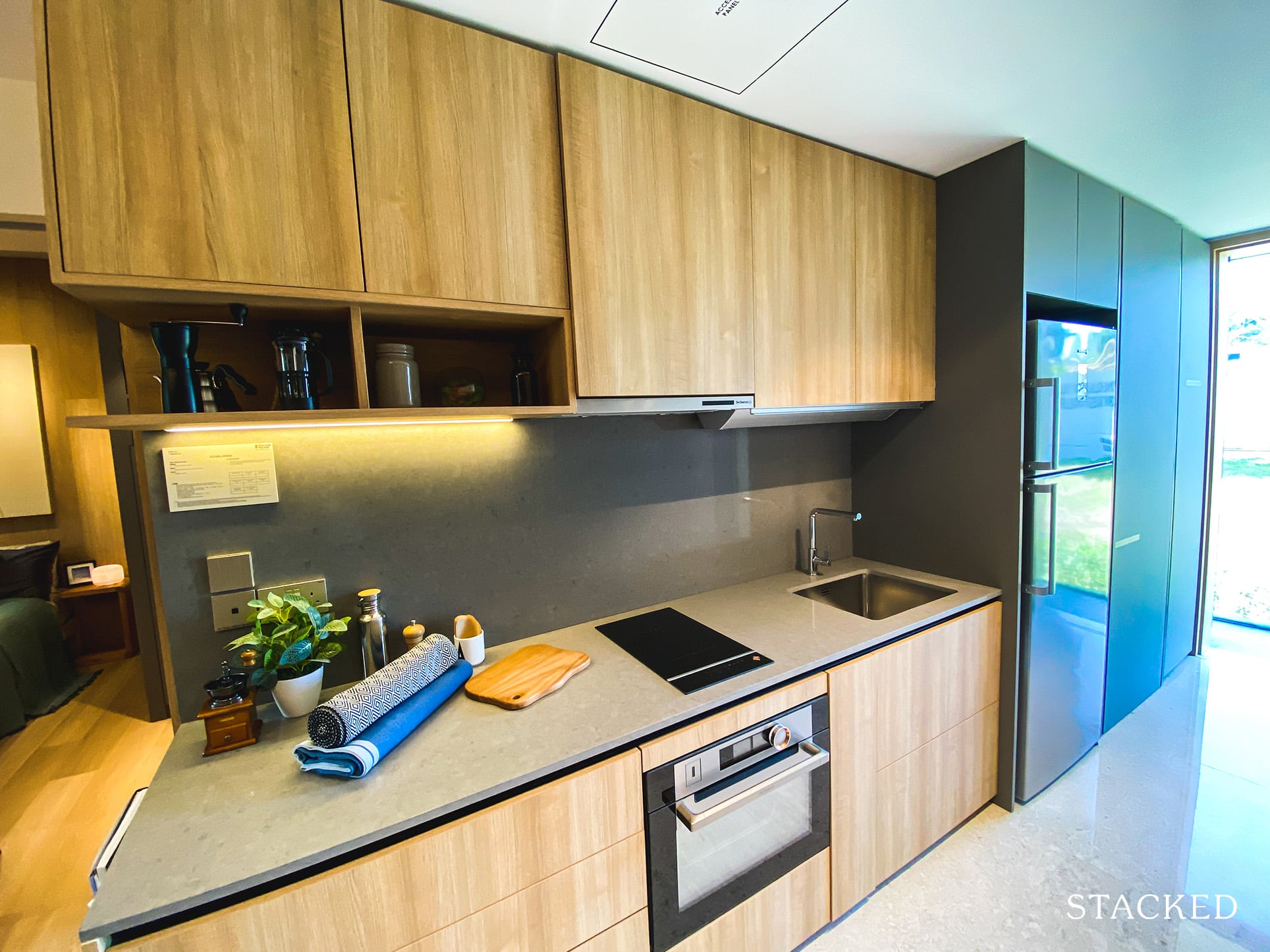 If you have been wondering where the dining space has gone, it's actually supposed to be right beside the kitchen counter – it's definitely quite a sad, small space. To be fair though, you could very easily just have a dining table out on the balcony instead and save on the indoor space.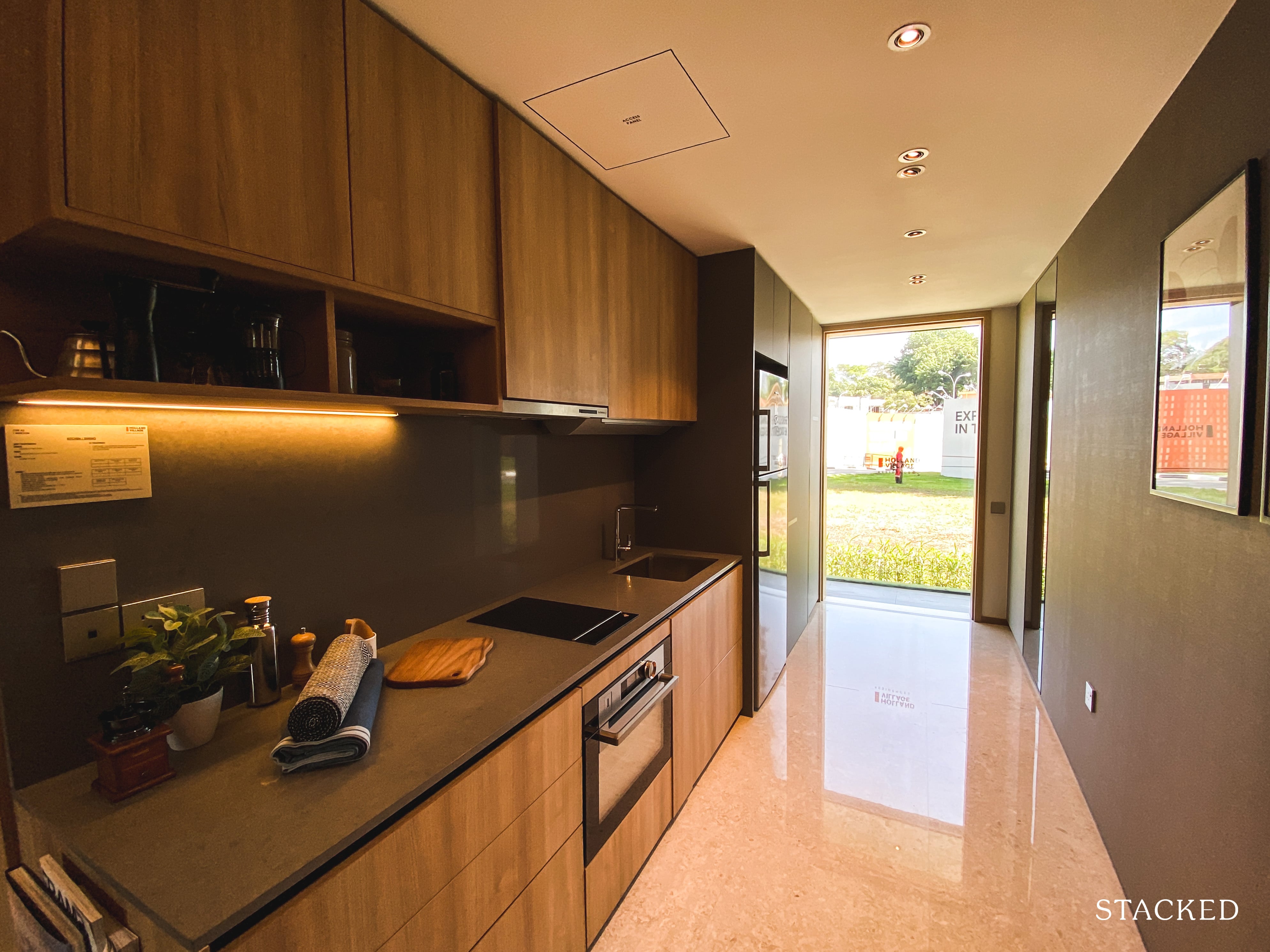 The kitchen is long, as it doubles up as the entranceway from the main door. This means a decent kitchen counter and storage space.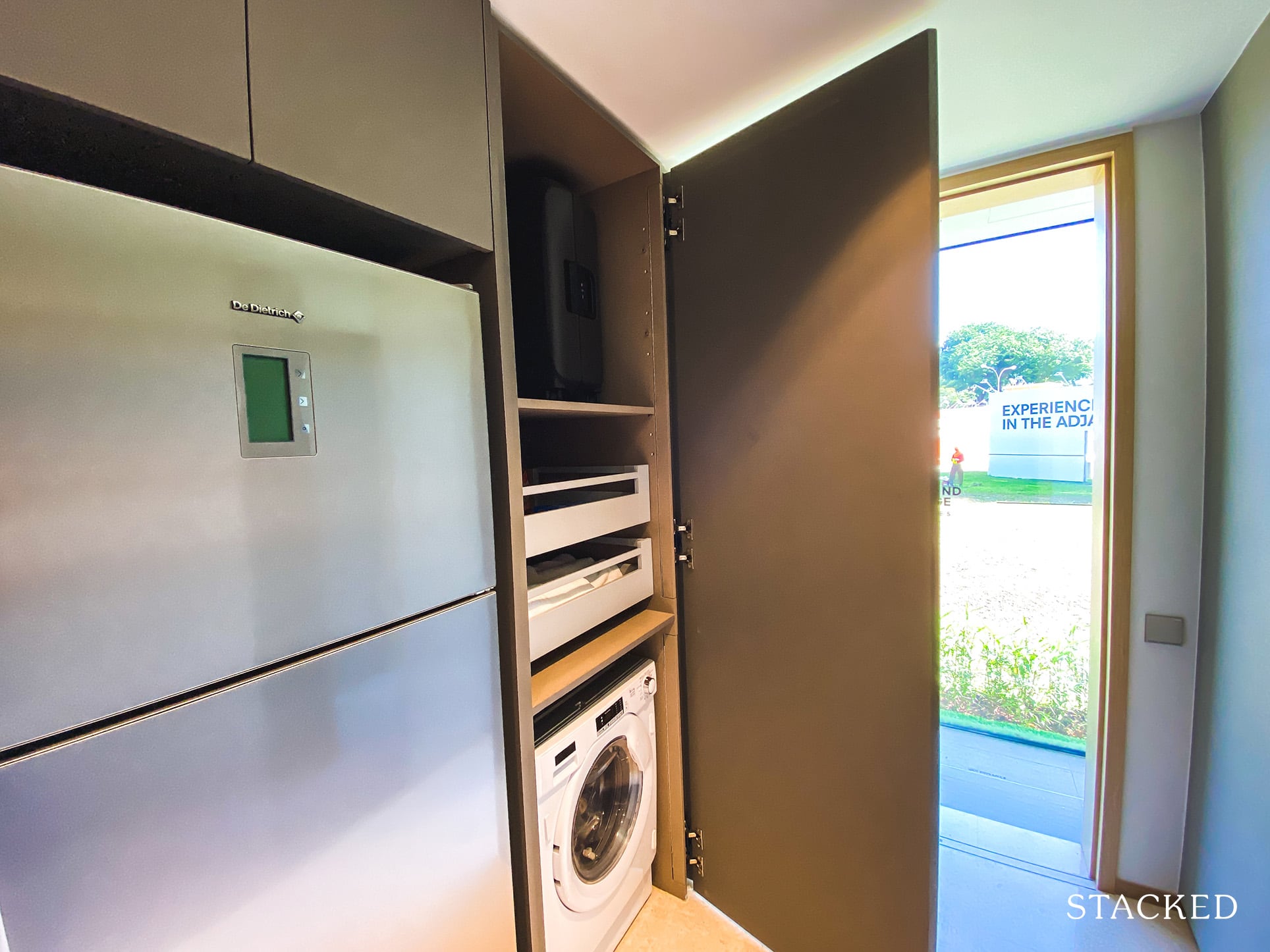 Going against the grain of most interior furnishings nowadays, the fridge is not a built-in one. The advantage here is that you are able to change the fridge in the future more easily, but it definitely does not look as sleek.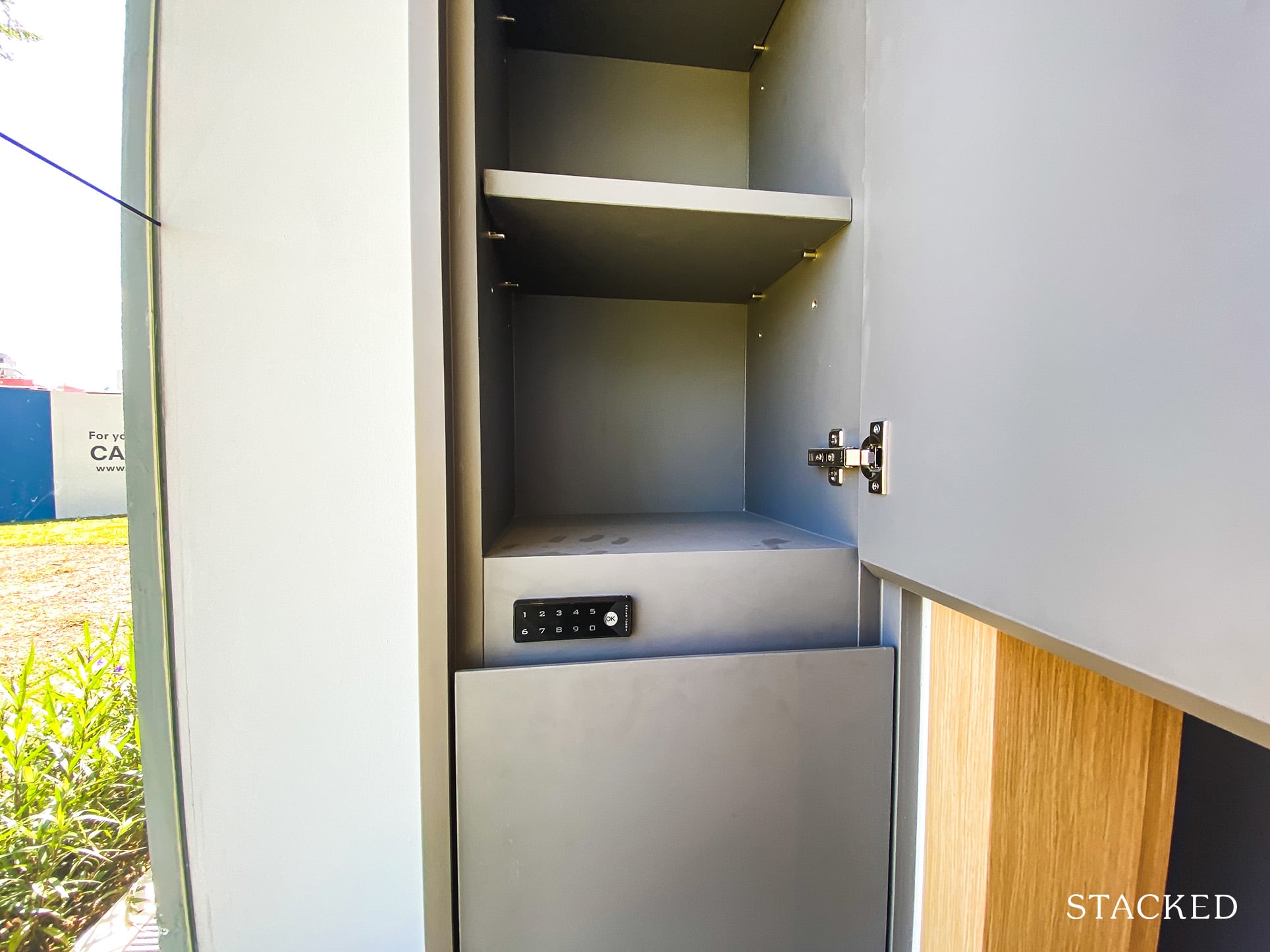 Lastly, each unit comes with a built-in locker right outside the main door. This is something that can come in really handy, so props to them for value-adding even in this minute scenario.
One Holland Village Residences 2 Bedroom Review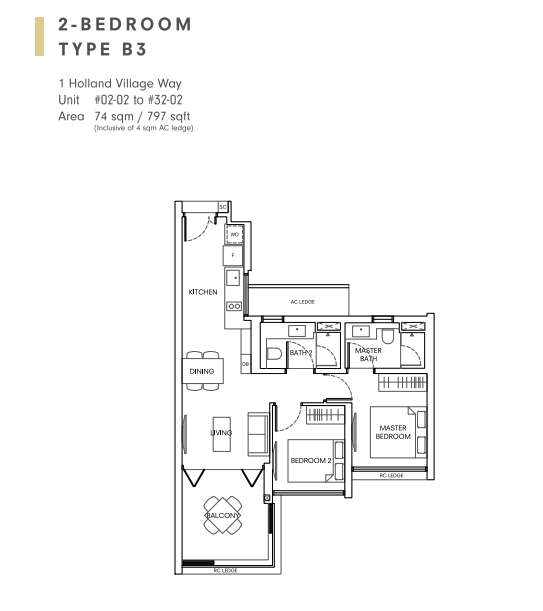 At 3 square feet shy of 800, the 2 bedroom unit is actually quite big if you were to compare it to most of its peers. You'll have to bear in mind again this is more about the lifestyle, so greater emphasis was given to the living spaces like the balcony and living room.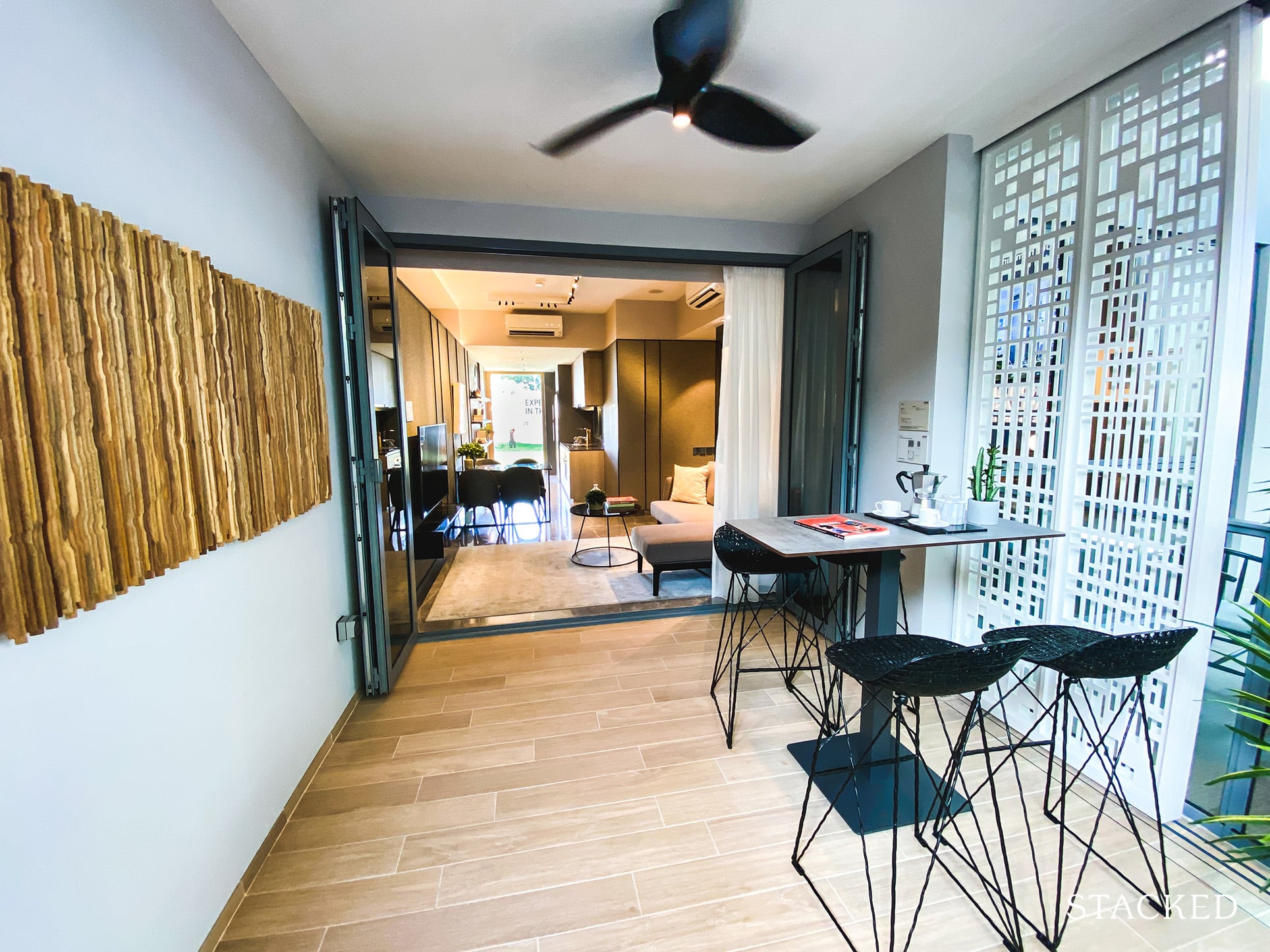 In a similar fashion to the 1 bedroom unit, the 2 bedroom balcony occupies substantial space. Depending on the unit, one side of it is walled up so you really only need to cover up the screen on that end, as well as the front for a 'bigger interior'.
This flexible, 'hybrid' alternative (if you will) is something that will probably resonate with most buyers.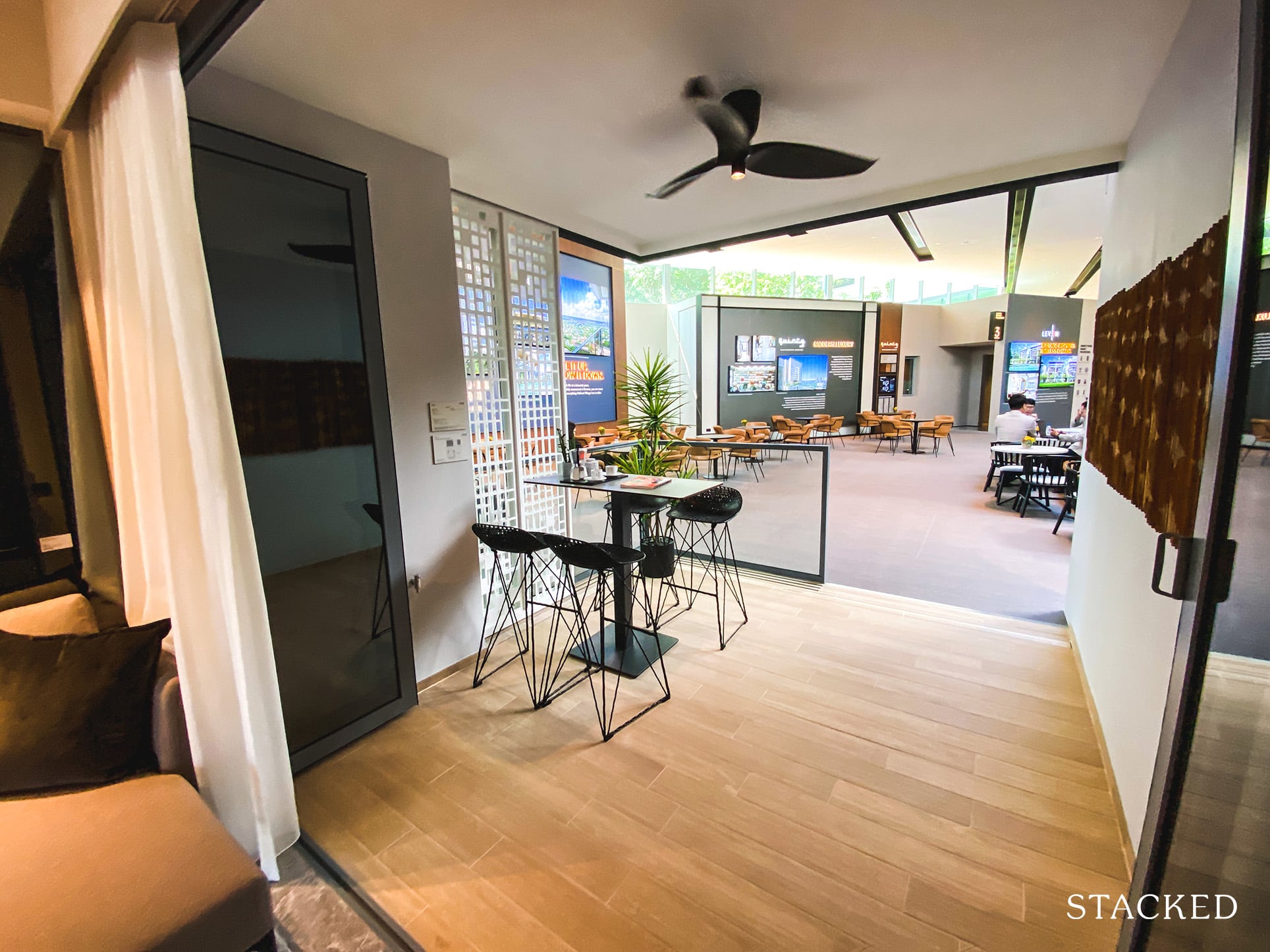 The fan is a nice touch, especially on days when it isn't as windy. With the way the balcony opens up, it really does look like an extension of your indoor living space. I would definitely consider moving my dining table here permanently to open up more space inside.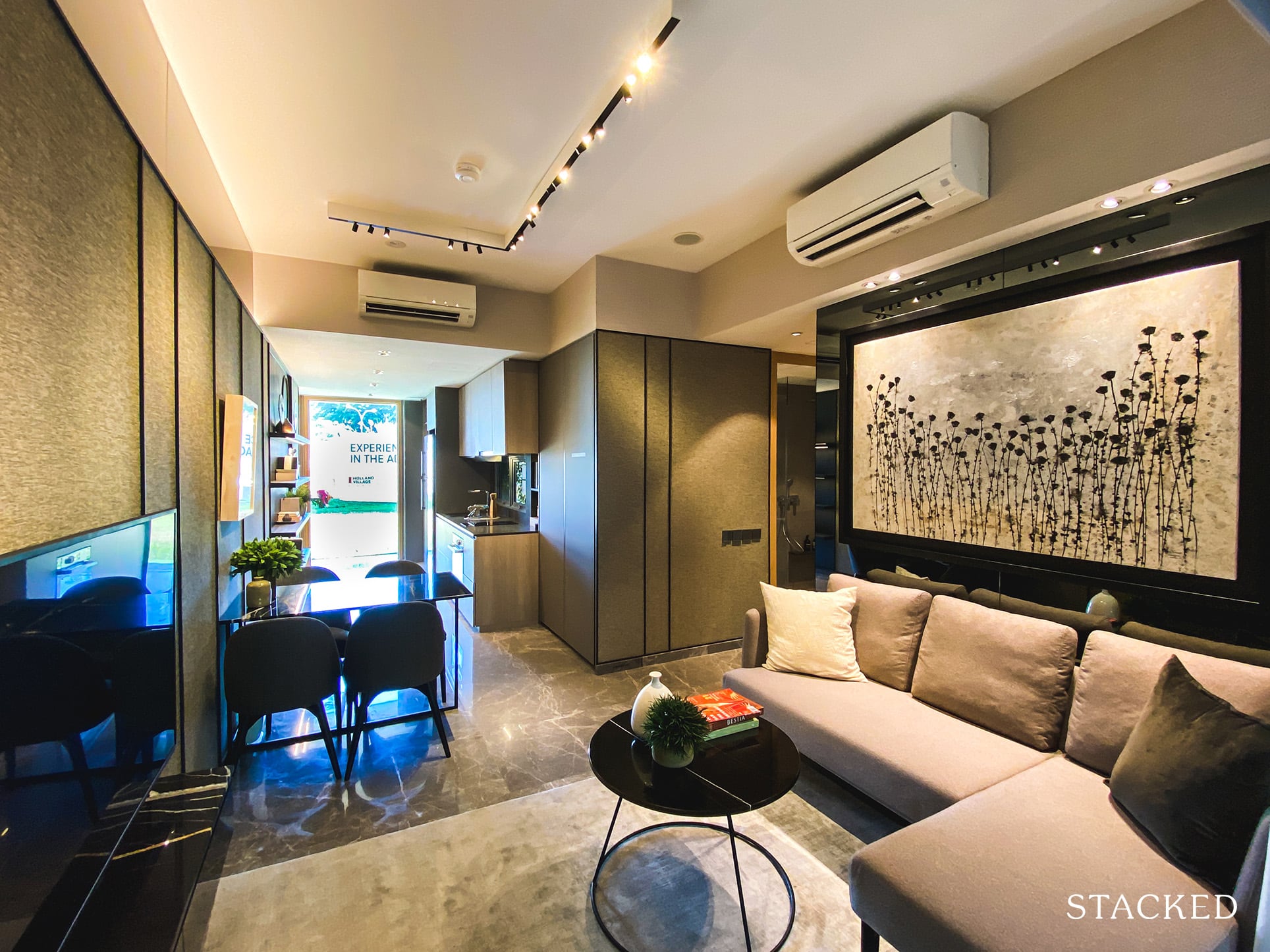 The living room is a good size, you can easily fit a proper couch along with a coffee table and TV console.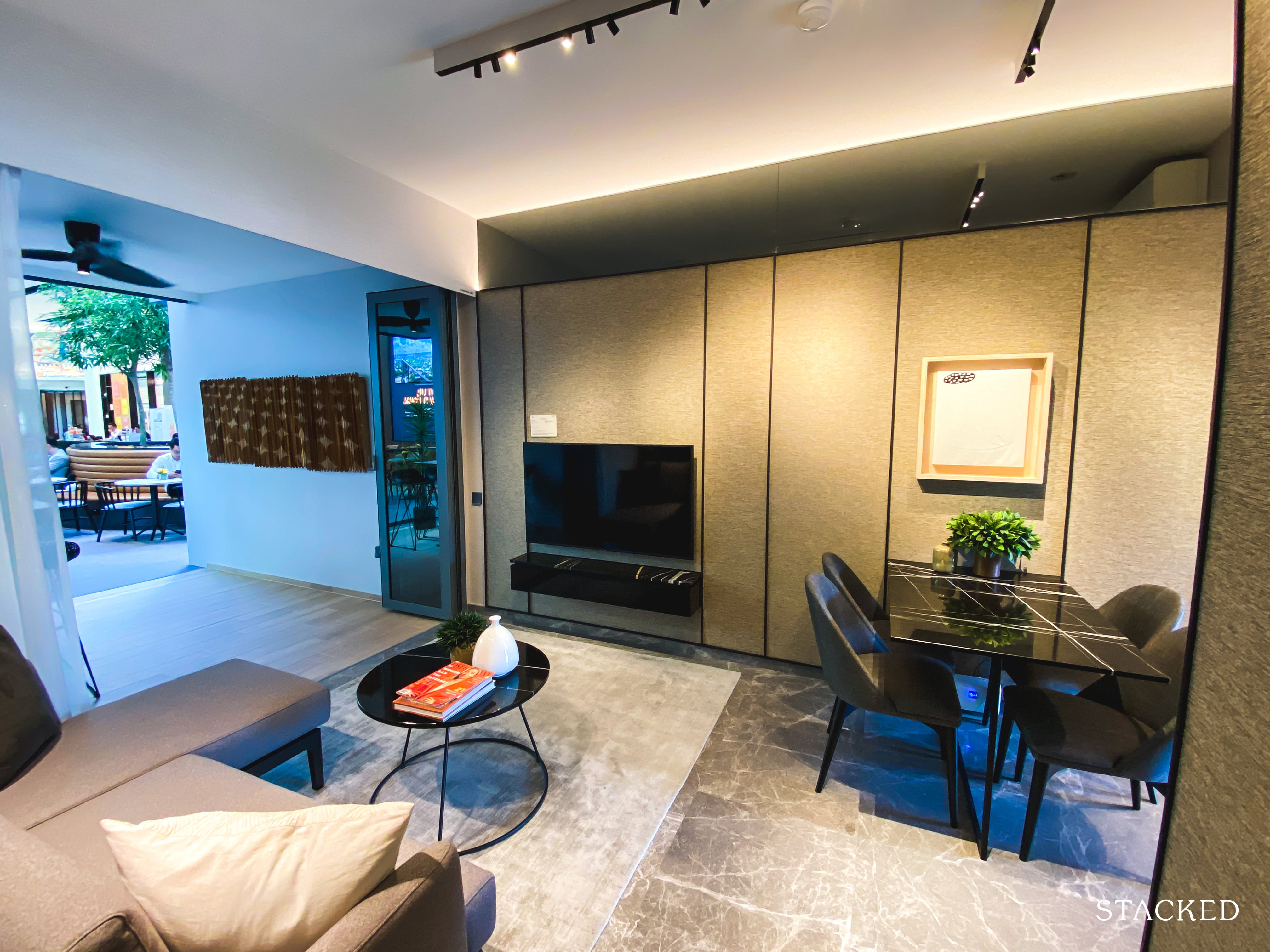 Apart from the layout similarity to the 1 bedroom, the next aspect worth noting for the 2 bedroom unit is how much wider the space feels.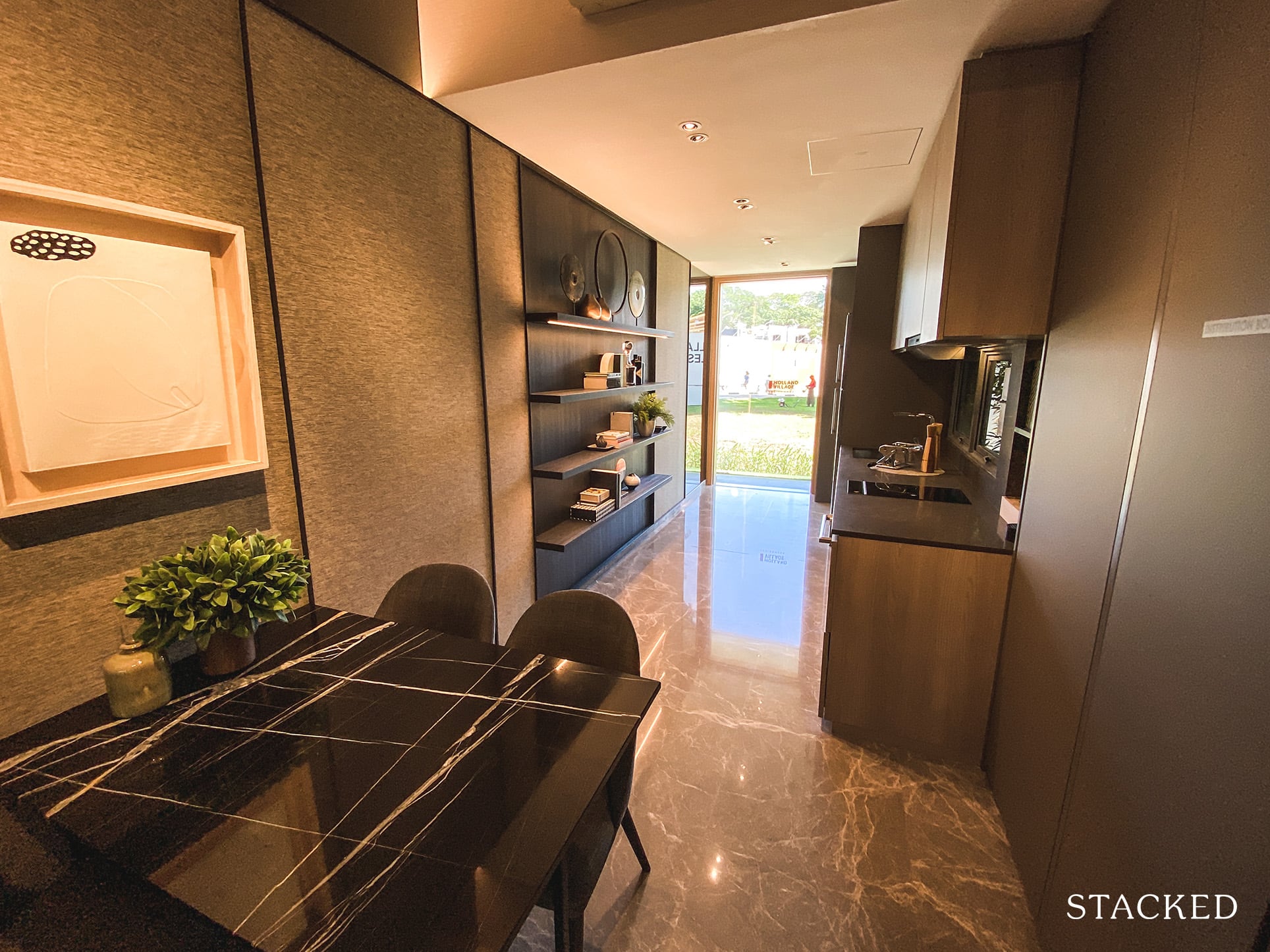 If you aren't keen on moving the dining table to the balcony, you'd have to remember that the space allocated for dining isn't too wide. So you'll have certain constraints on the length of the dining table as it could eat into the walkway space.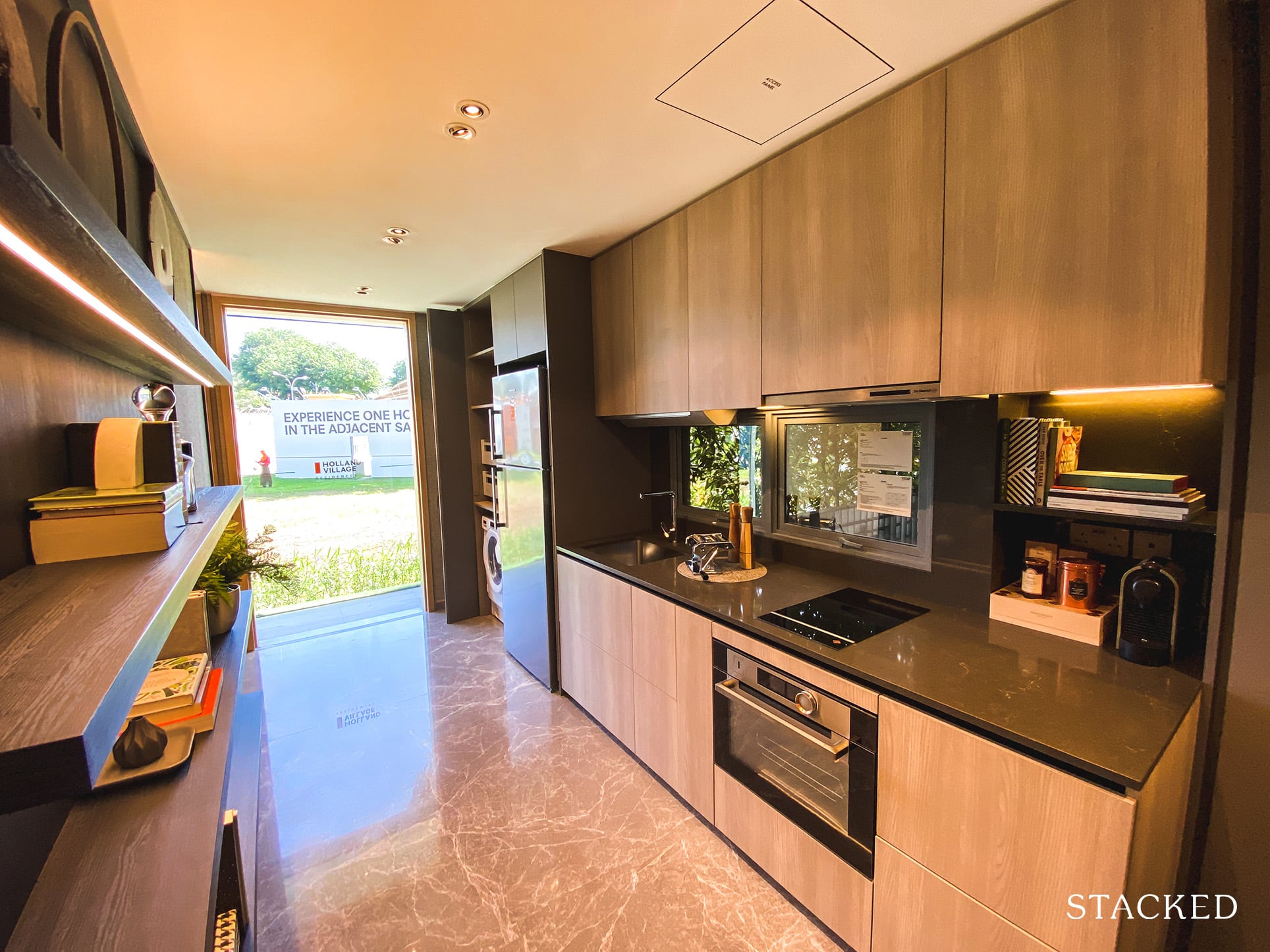 If you are an avid cook, you will revel in the space that this kitchen affords. The counter is long, and the storage space quite plentiful. Should you do any deep frying of sorts, the windows will come in very handy indeed.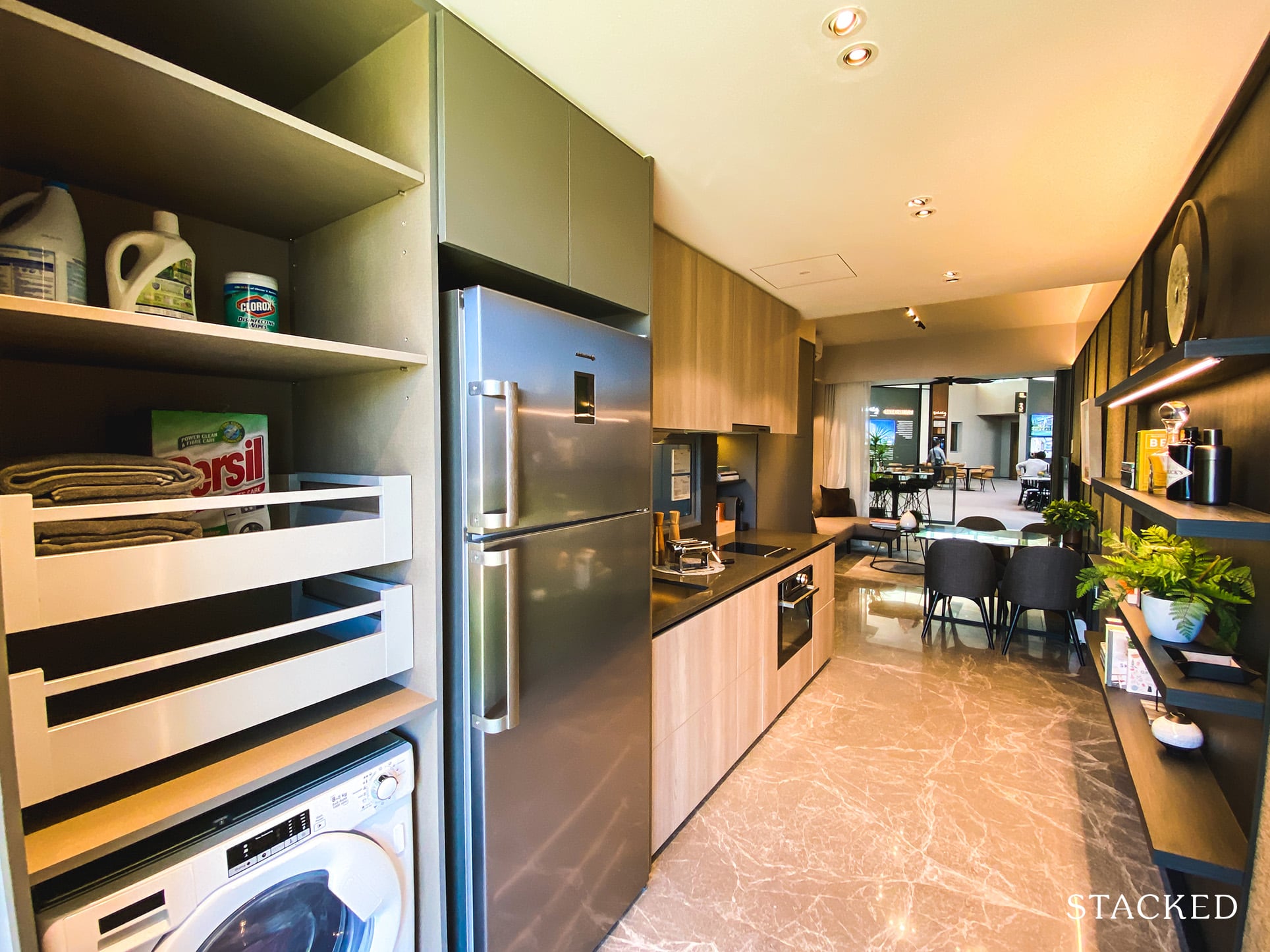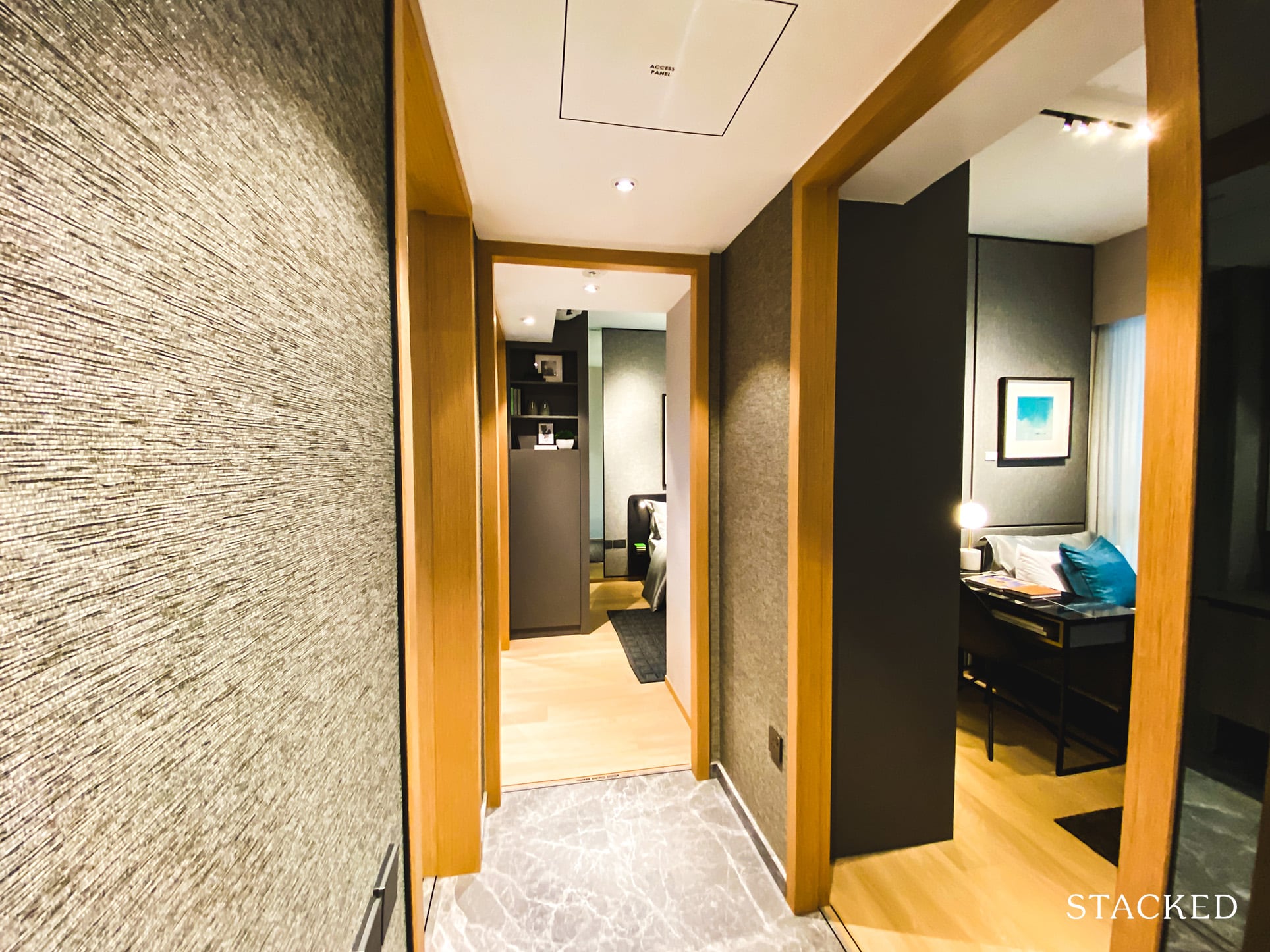 Let's take a look at the bedrooms!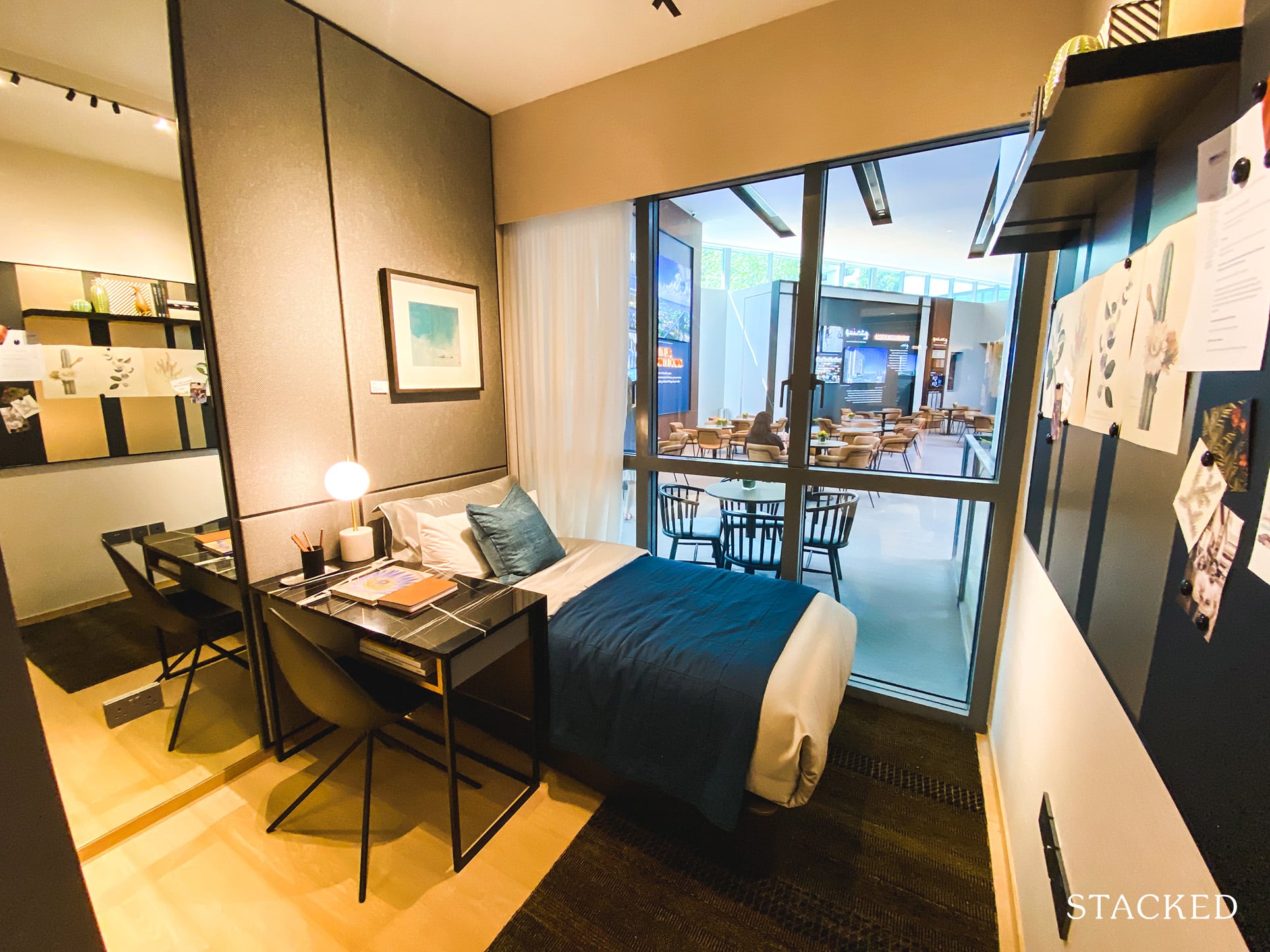 As mentioned earlier, the bedrooms do not enjoy as much space as the outside living area. That said, you will be able to fit in the usual. Also, let's not forget the big windows that help a lot with making the space feel brighter and roomier.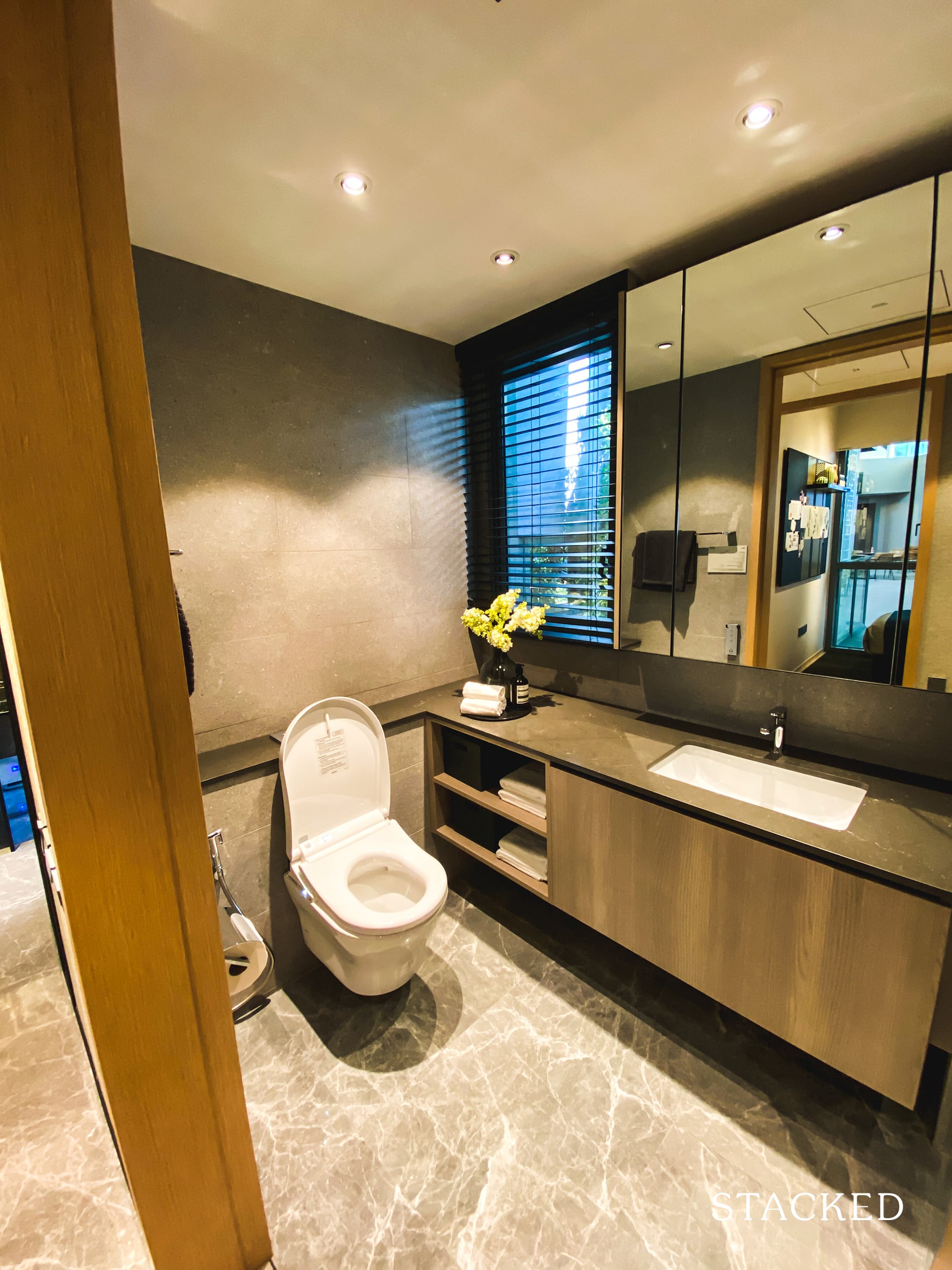 As you see, the common bathroom is a very generous space. It comes with the special smart toilet, and I especially like the wrap-around shelving that allows you to place things like your phone/tablet within easy reach while you go about your "other business".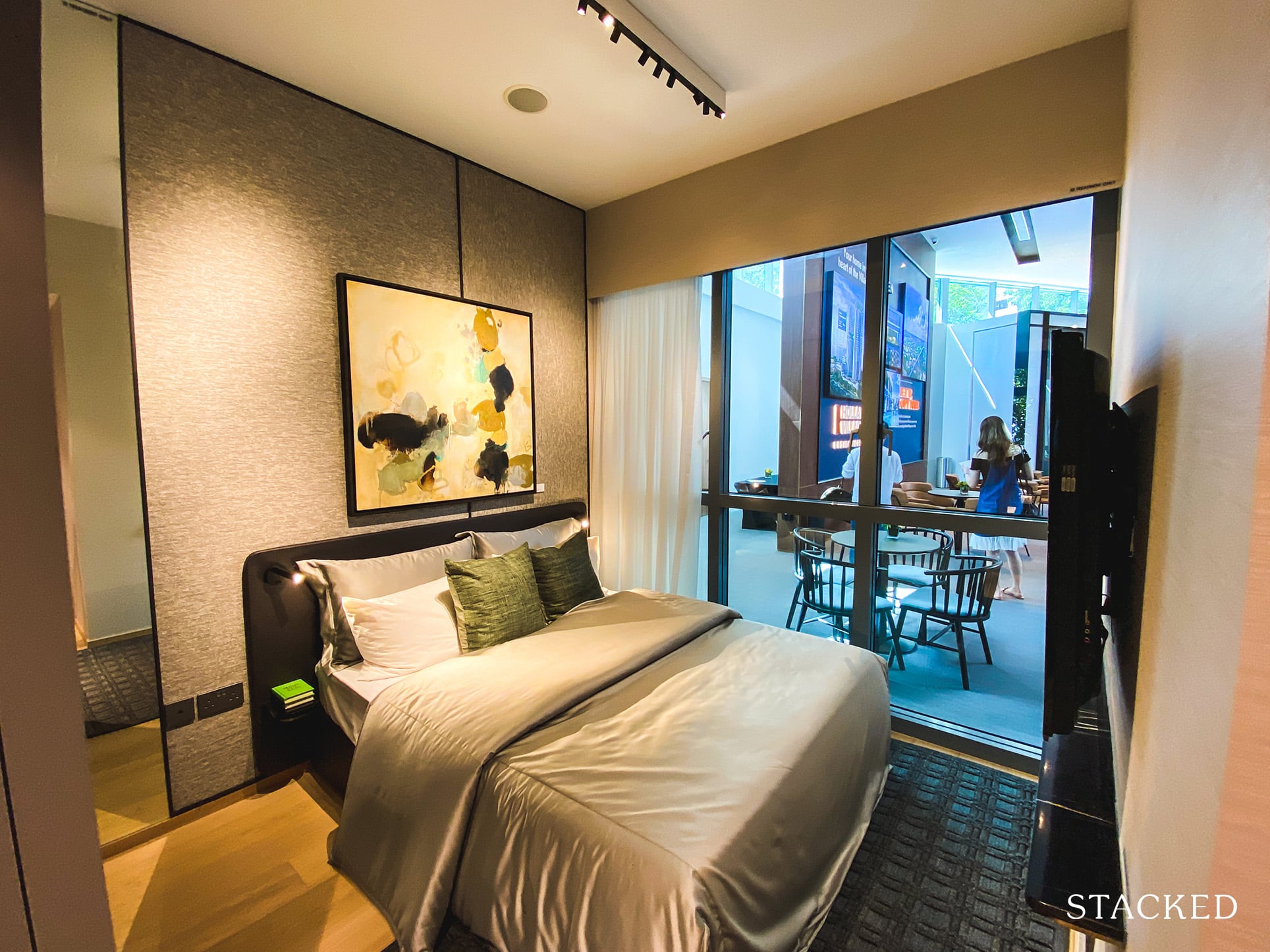 It's a similar story with the master bedroom. Don't expect a big living space to avoid disappointment.
Again, the master bathroom is of very similar proportions to the common bathroom. It's a good size, and although the design is quite standard it does look appealing overall.
One Holland Village Residences 3 Bedroom Review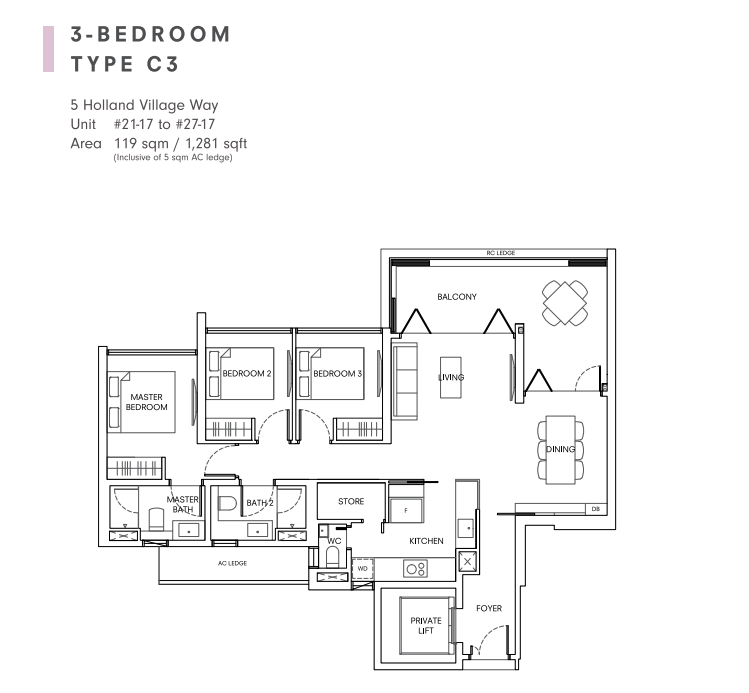 For those with deeper pockets, this 3 bedroom unit at the Quincy Private Residences will probably be of great interest to you. Coming in at 1,281 square feet, it's not big on paper, especially from a luxury standpoint, but I'd dare say that they have mostly succeeded in fitting everything of note in here.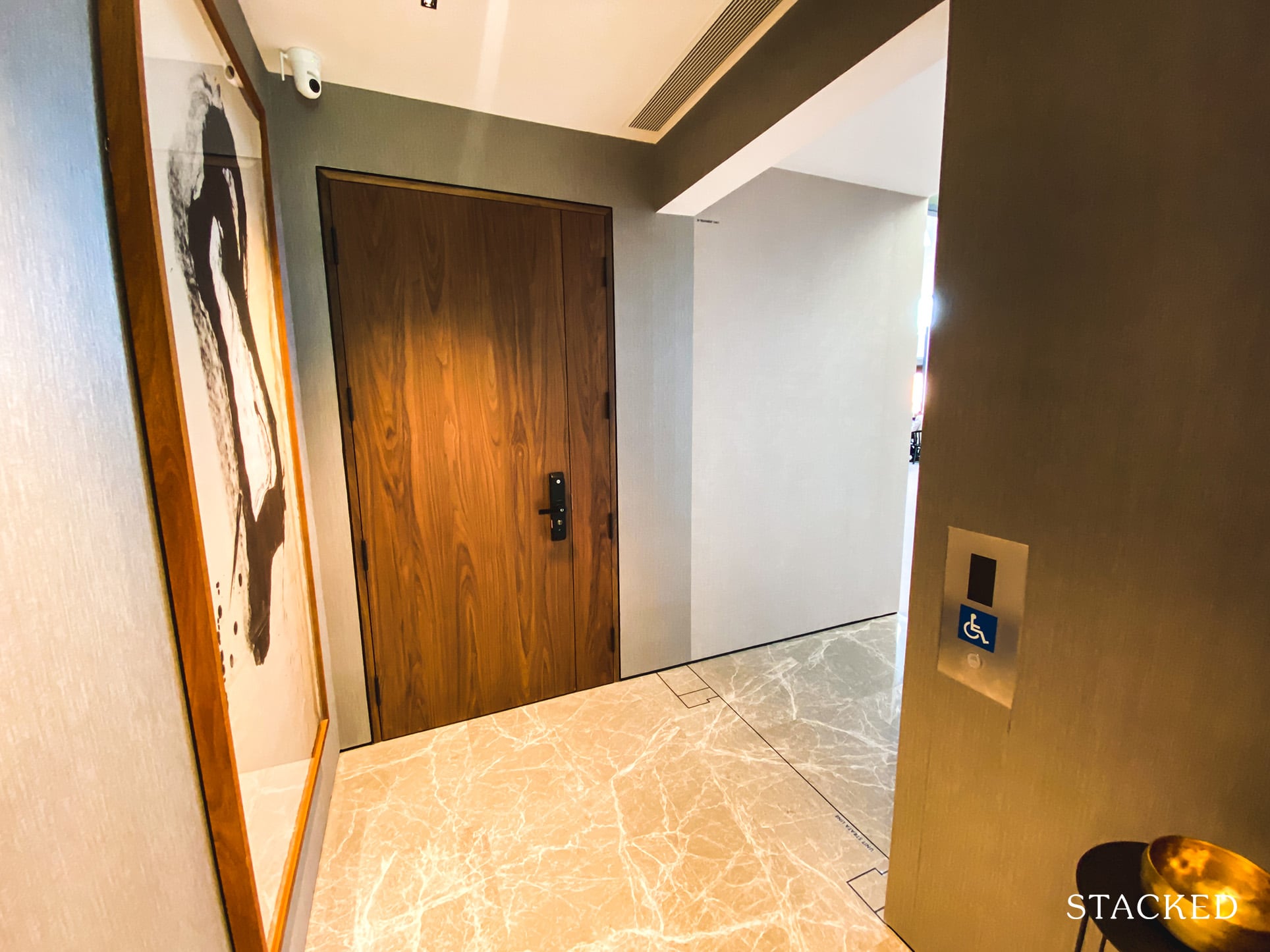 Seeing as there are only 27 of these units in this development, having a private lift certainly ups the oomph factor a notch.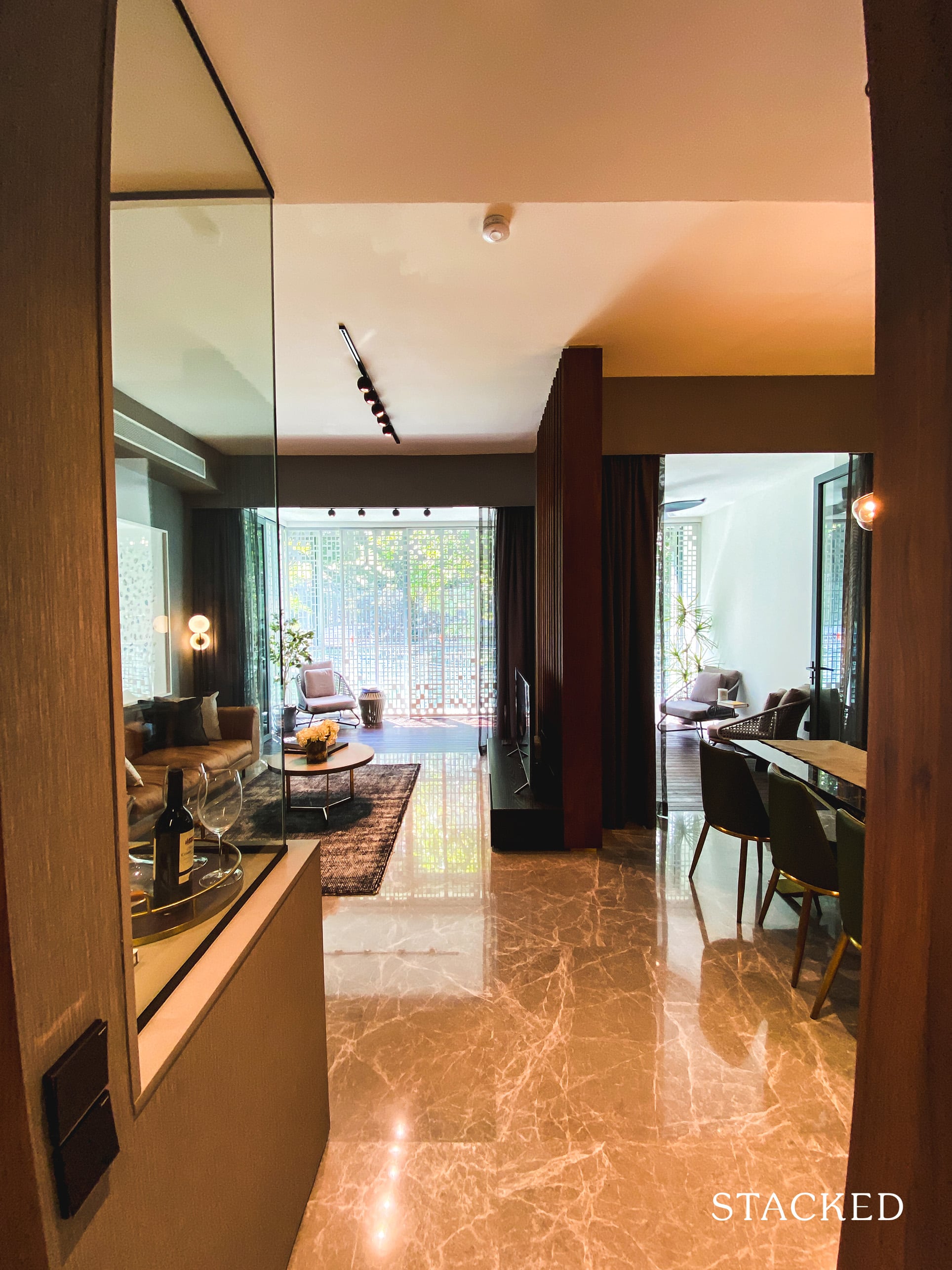 In most cases, I'd say that having an entranceway to the unit is wasted space. But given its luxury-oriented focus, it does help serve up some anticipation before you see the space itself.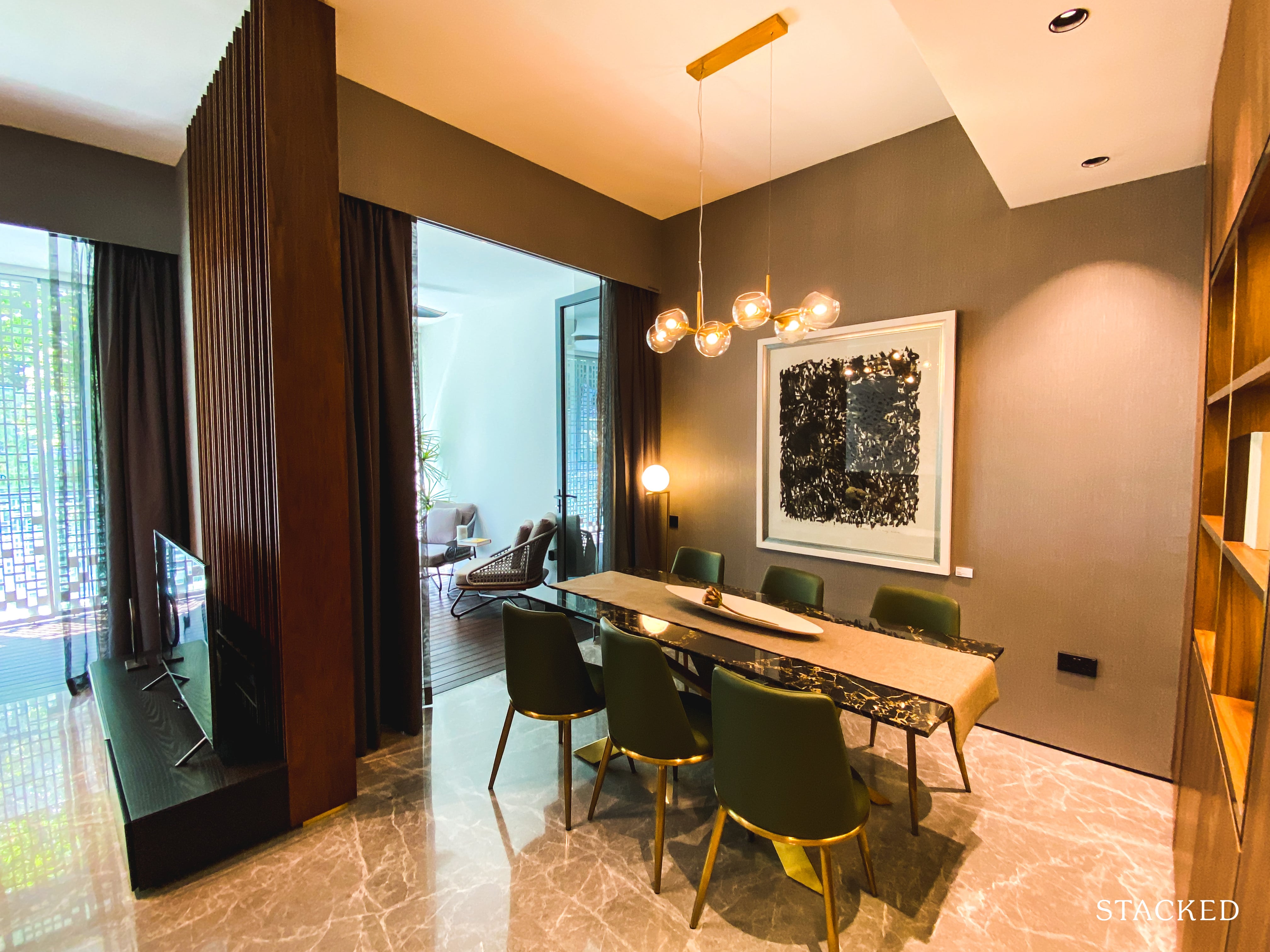 The ID here is exemplary. It feels suitably stylish and high-end, and the little touches here and there (which I'd elaborate on in a bit) really help accentuate the special feel of the unit.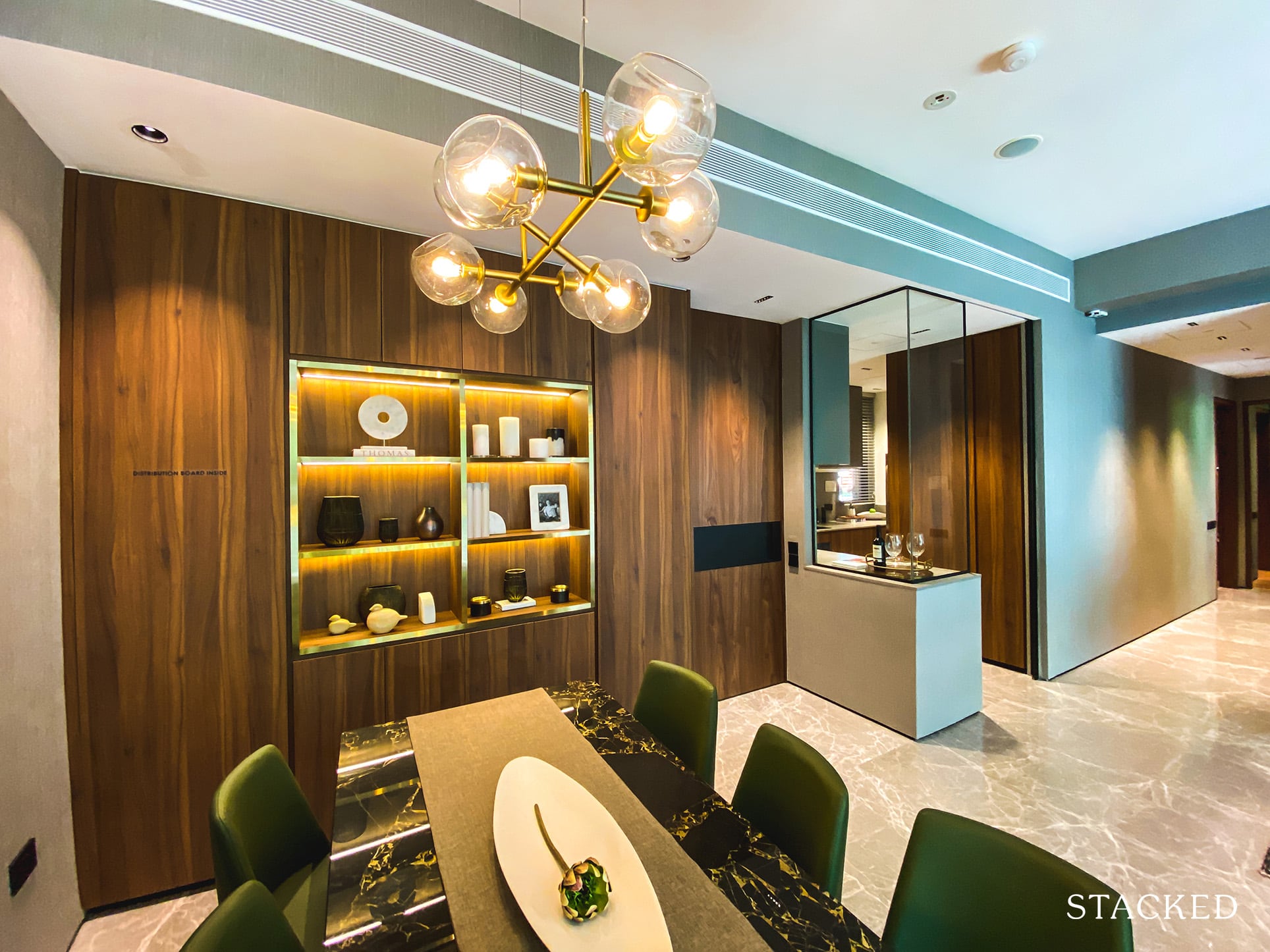 There is a sliding panel between the entrance and the main living area, which you can keep shut when you have dinner parties.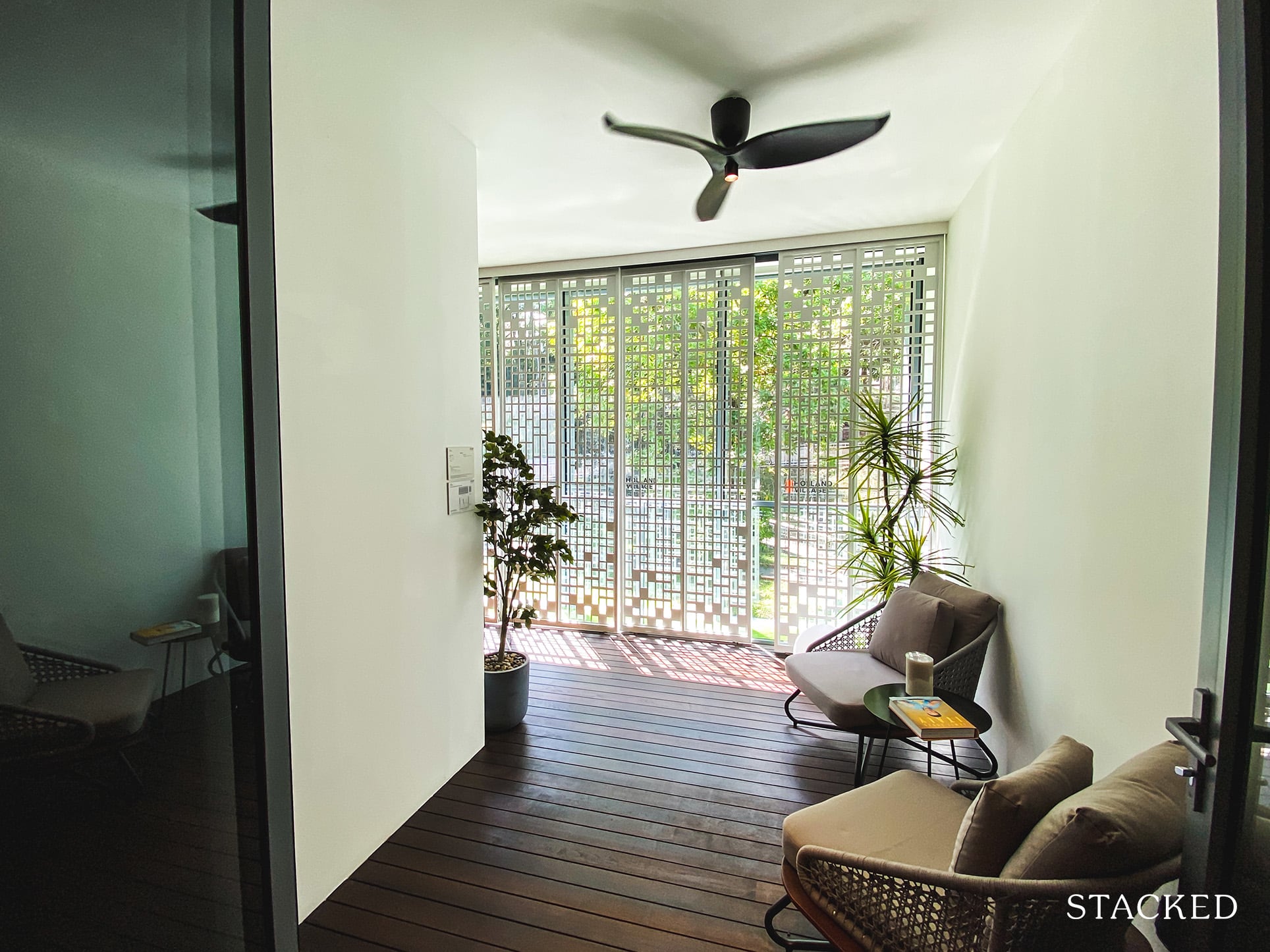 What's really unusual is this wrap-around balcony. Like the other units that you've seen, it does take up a lot of space. While on paper you might frown at the amount of space given, the usability is anything but.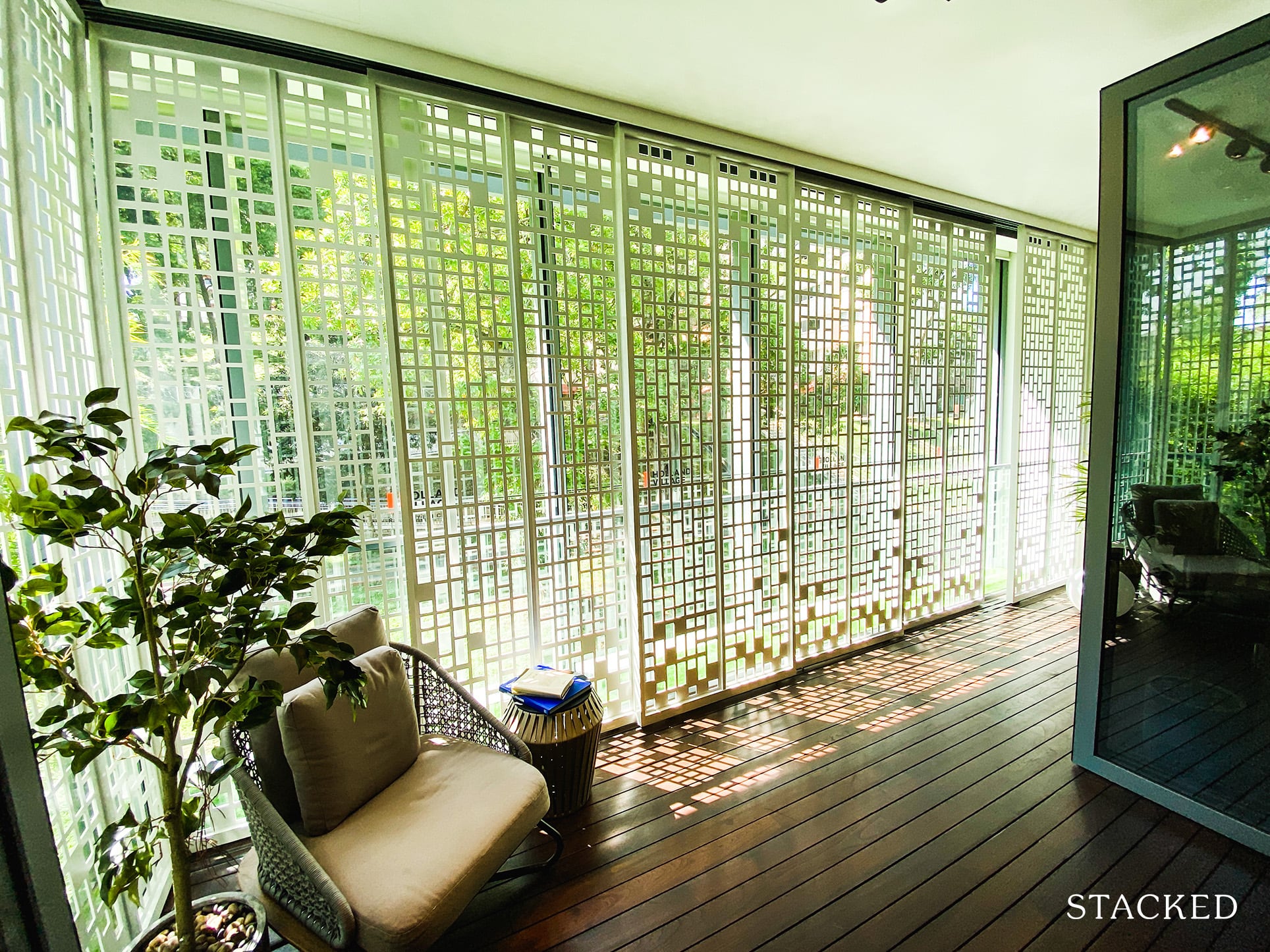 On both ends, you have the foldable doors which allow you to open both sides up – great for windy days. The balcony screens do provide some respite on hot days too. In my mind, this is a fantastic conception and is a truly flexible solution that eliminates the need to choose between indoor and outdoor space. You have the best of both worlds!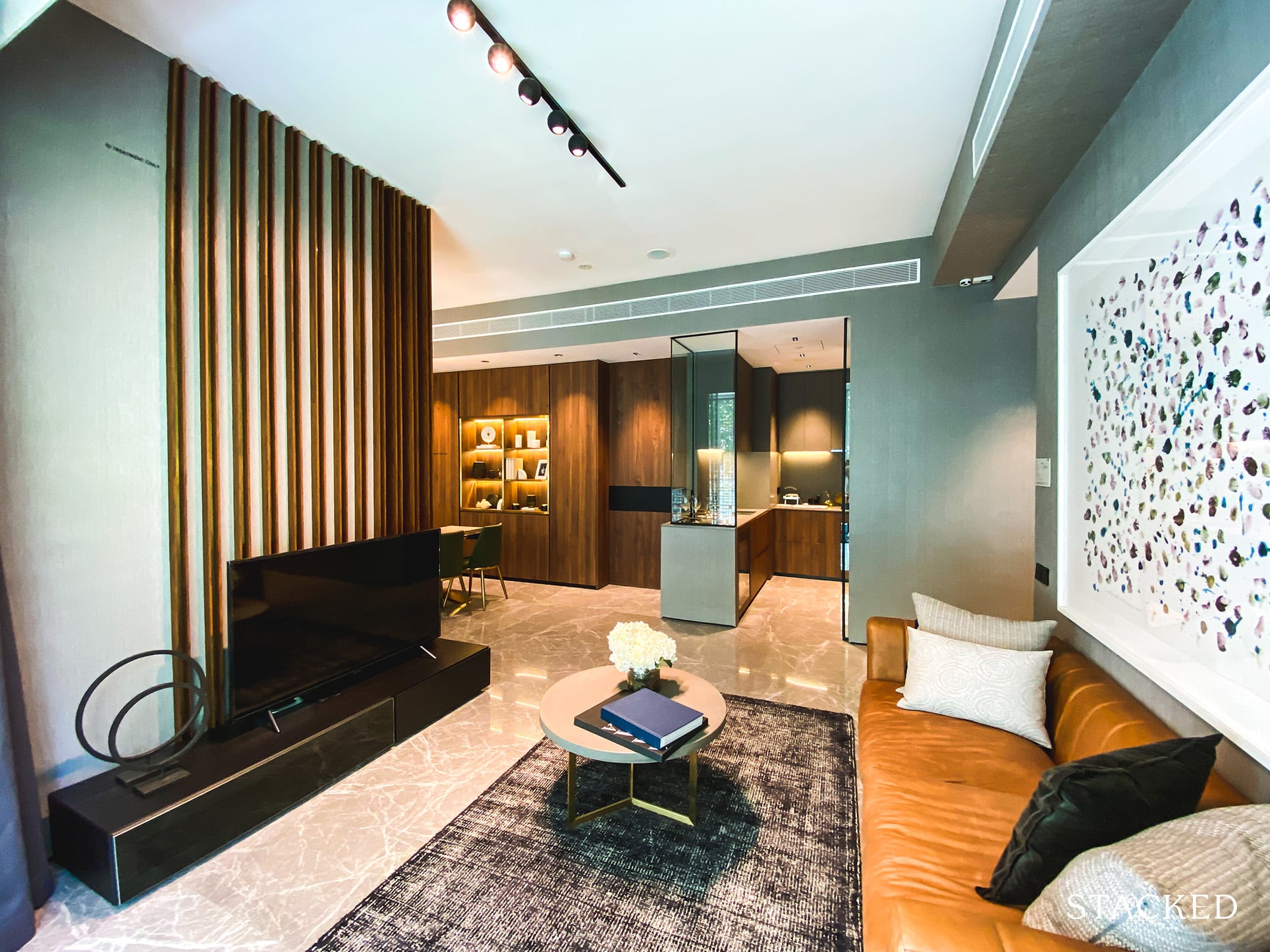 That brings us to the living room next. It's a well-sized space so you shouldn't have any issues fitting in the furniture you like.
The icing on the cake would have been a wet and dry kitchen – but I guess when you only have 1,200 plus square feet of space to play with, some things have to be sacrificed.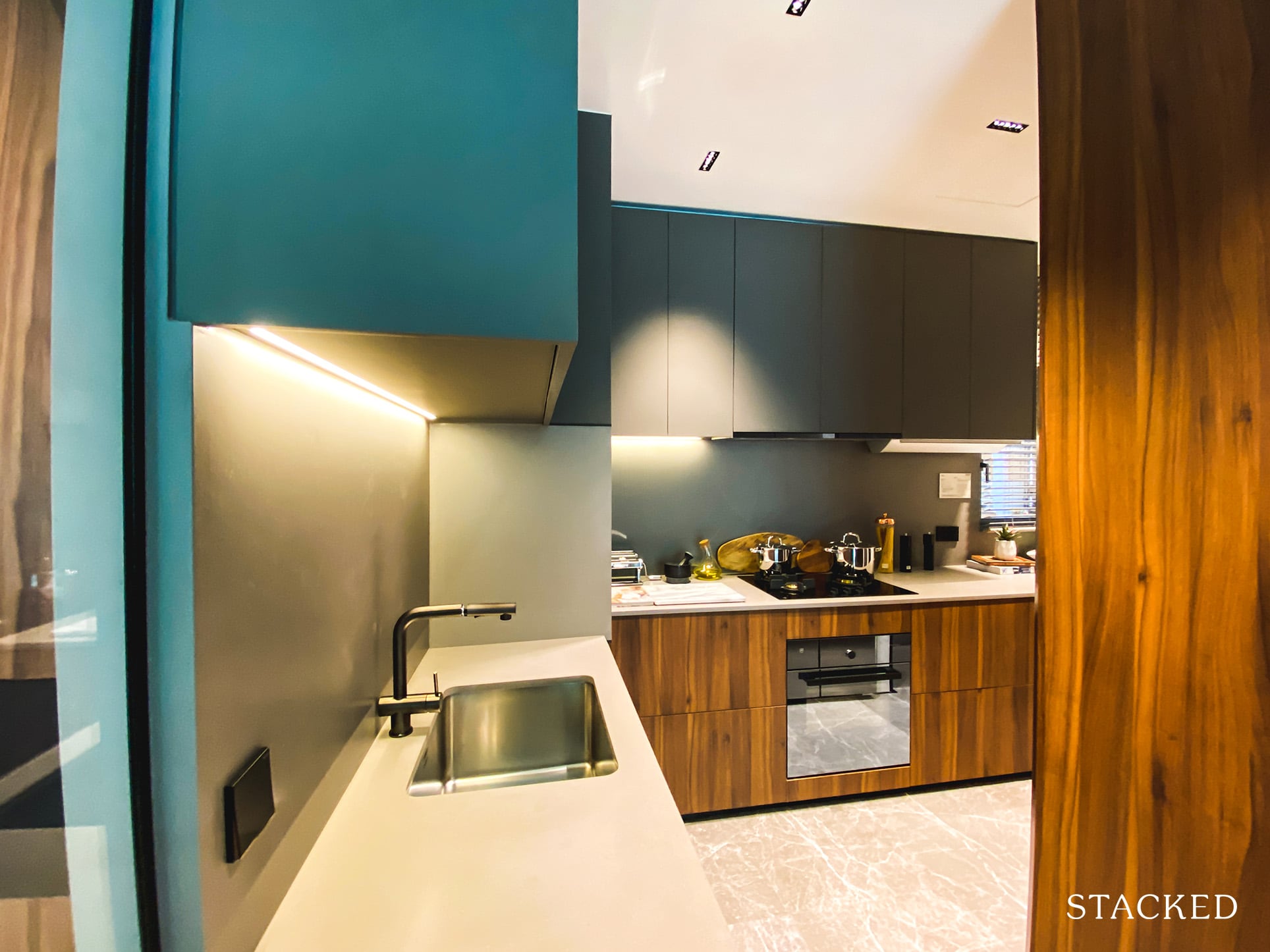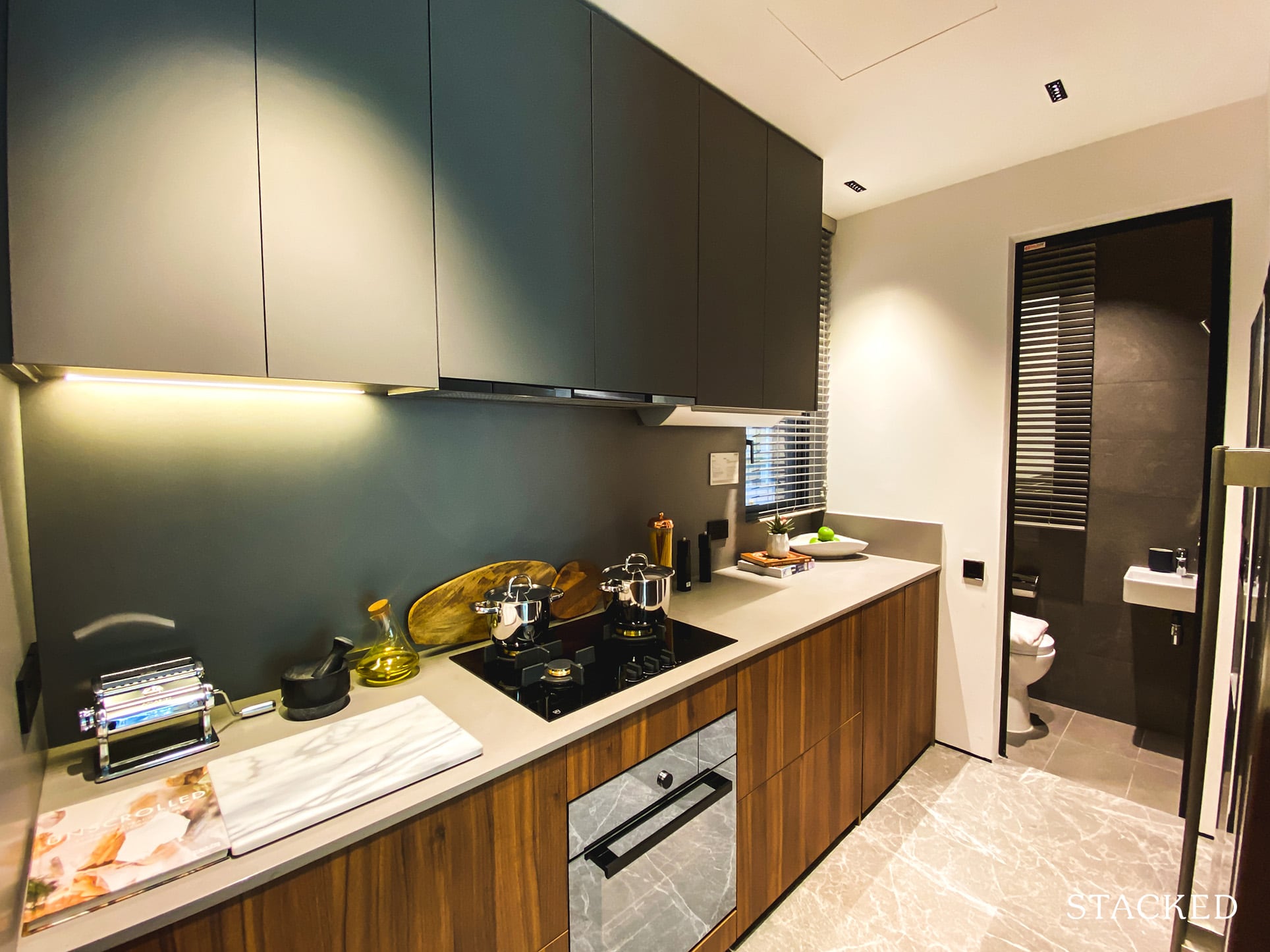 At the very least, the kitchen counter is long enough to store your appliances or just available space to work with when you cook.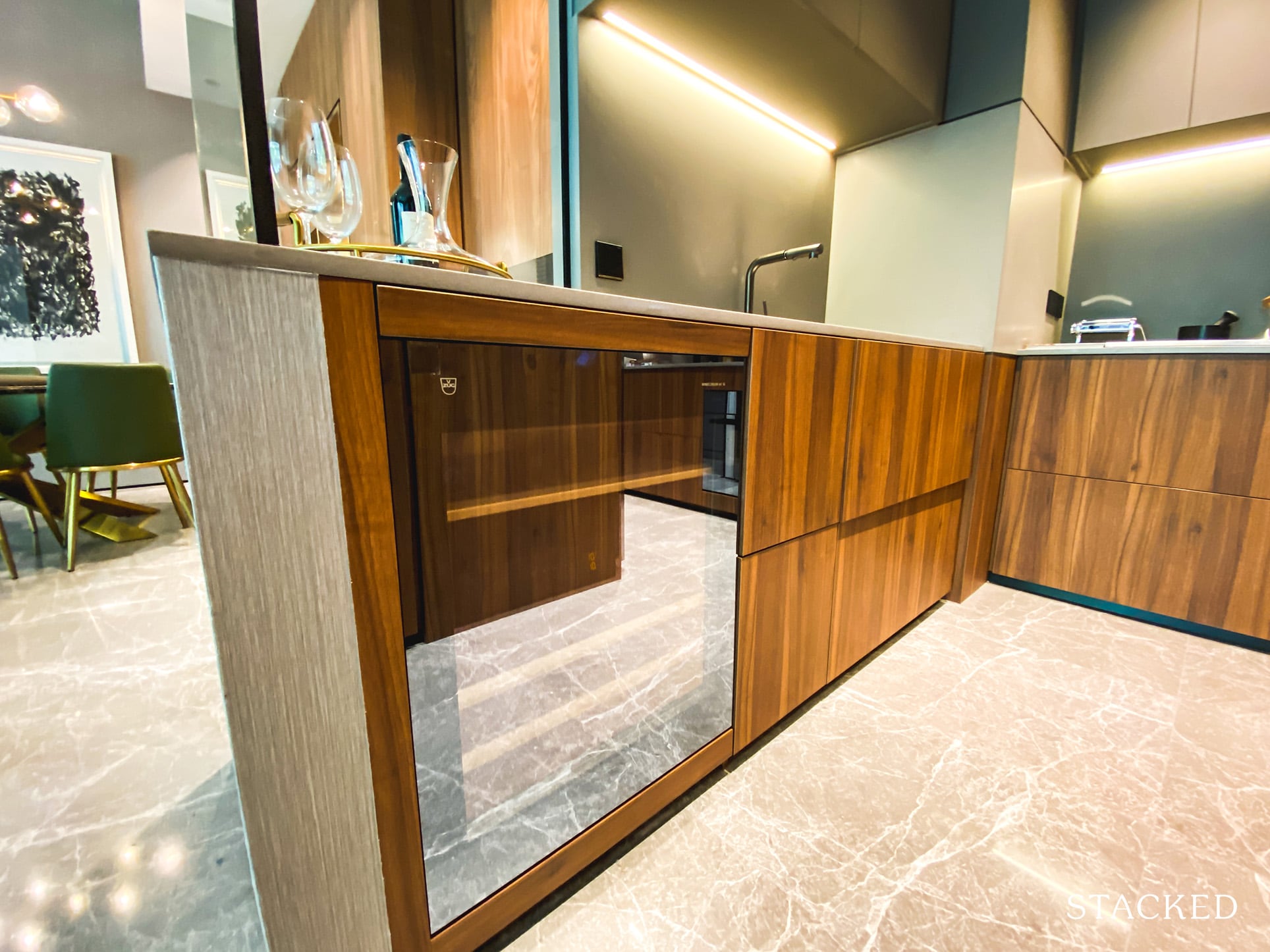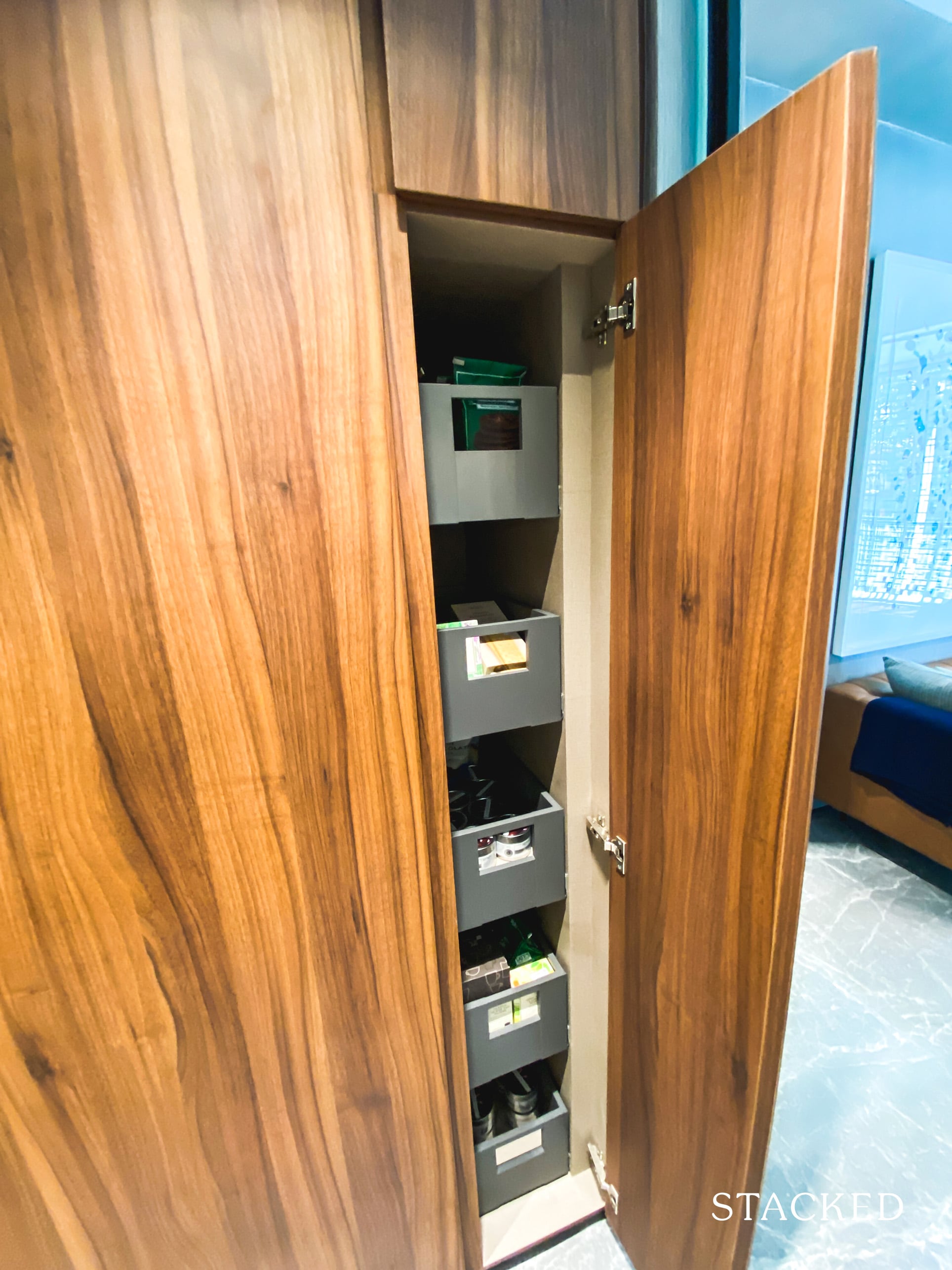 Storage space in the cupboards are well built and have useful pullout drawers for all your sauces and oils.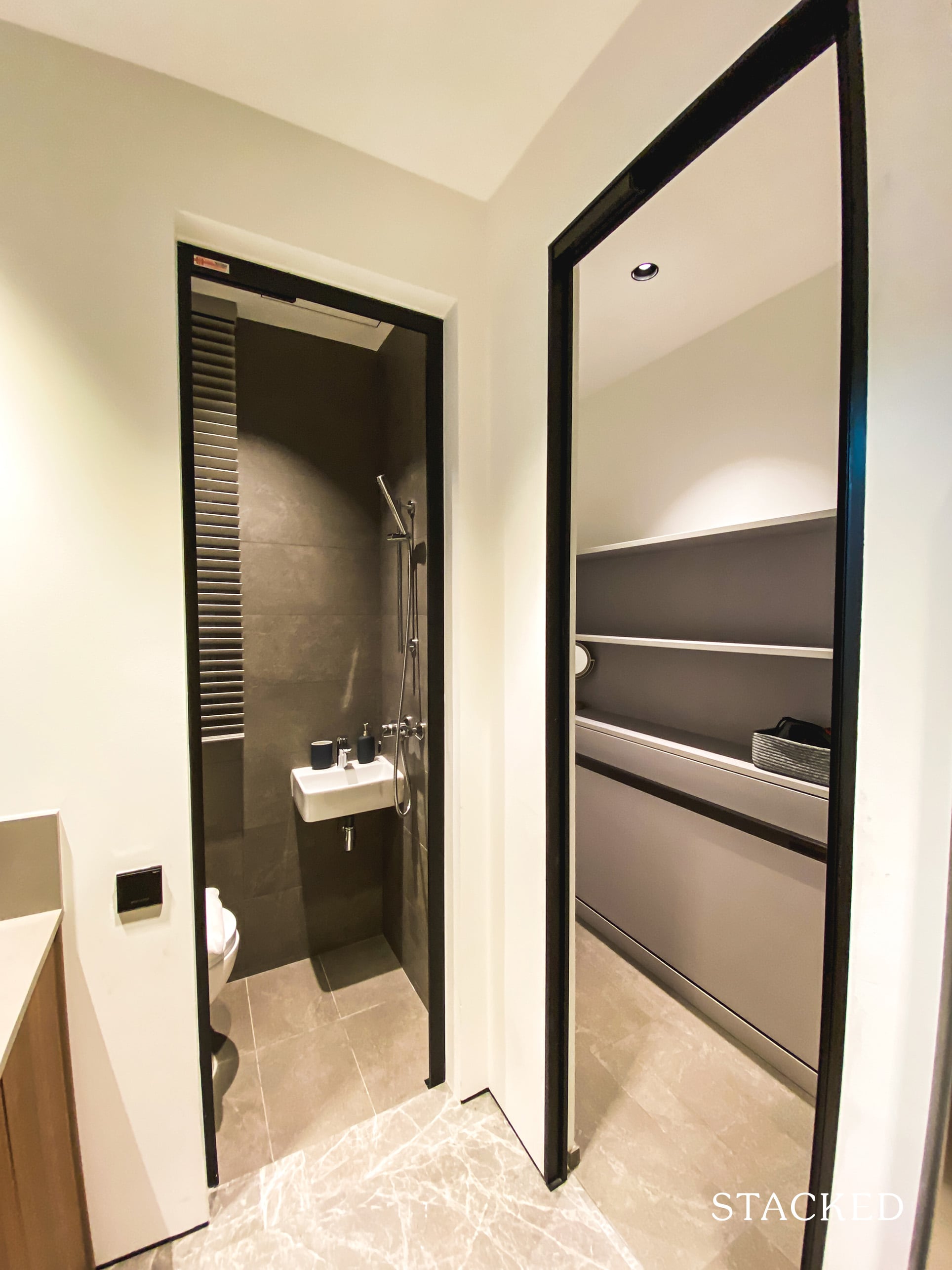 Round the back, there is even a storeroom and a small bathroom. Of course, the store could also always double up as a helper's room so it keeps things flexible.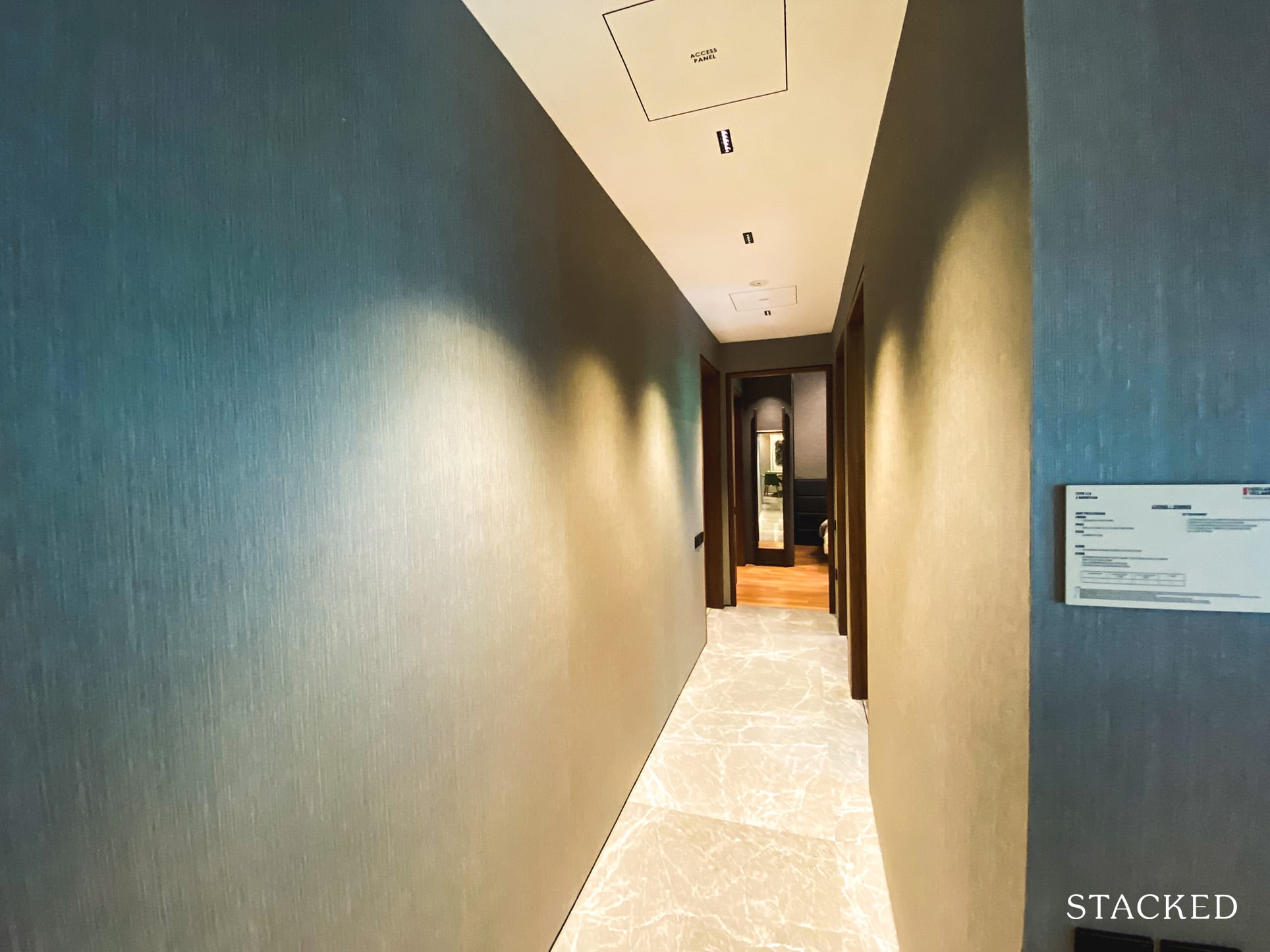 With how the unit is laid out, having a long hallway is inevitable. It's still quite wasted space, no matter which way you look at it.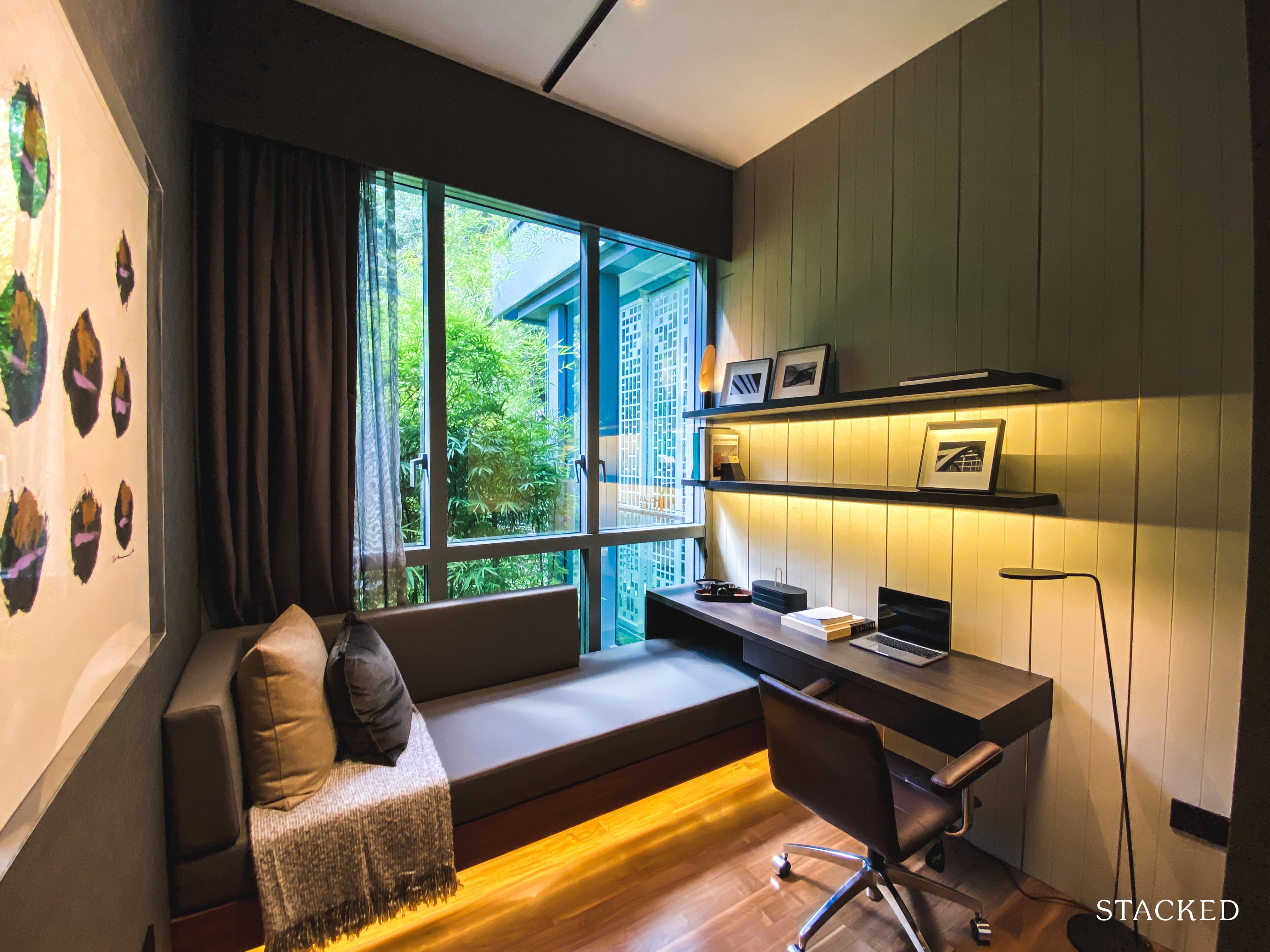 As you'd expect by now, the common bedrooms are small. So you really have to decide if the tradeoff of more living space is worth it to you.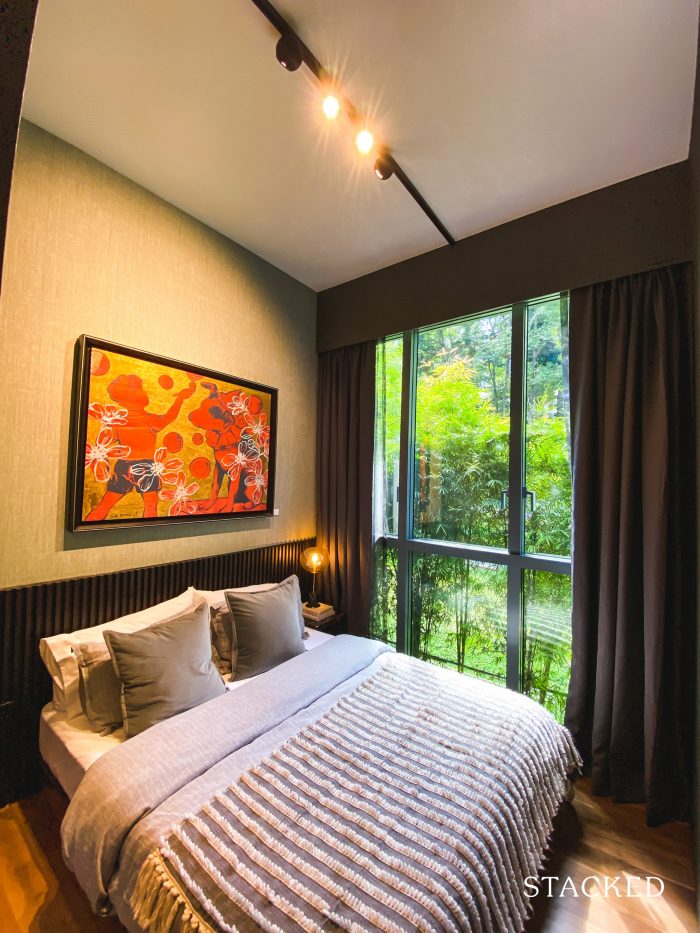 You can still fit queen-sized beds in the common rooms at the very least.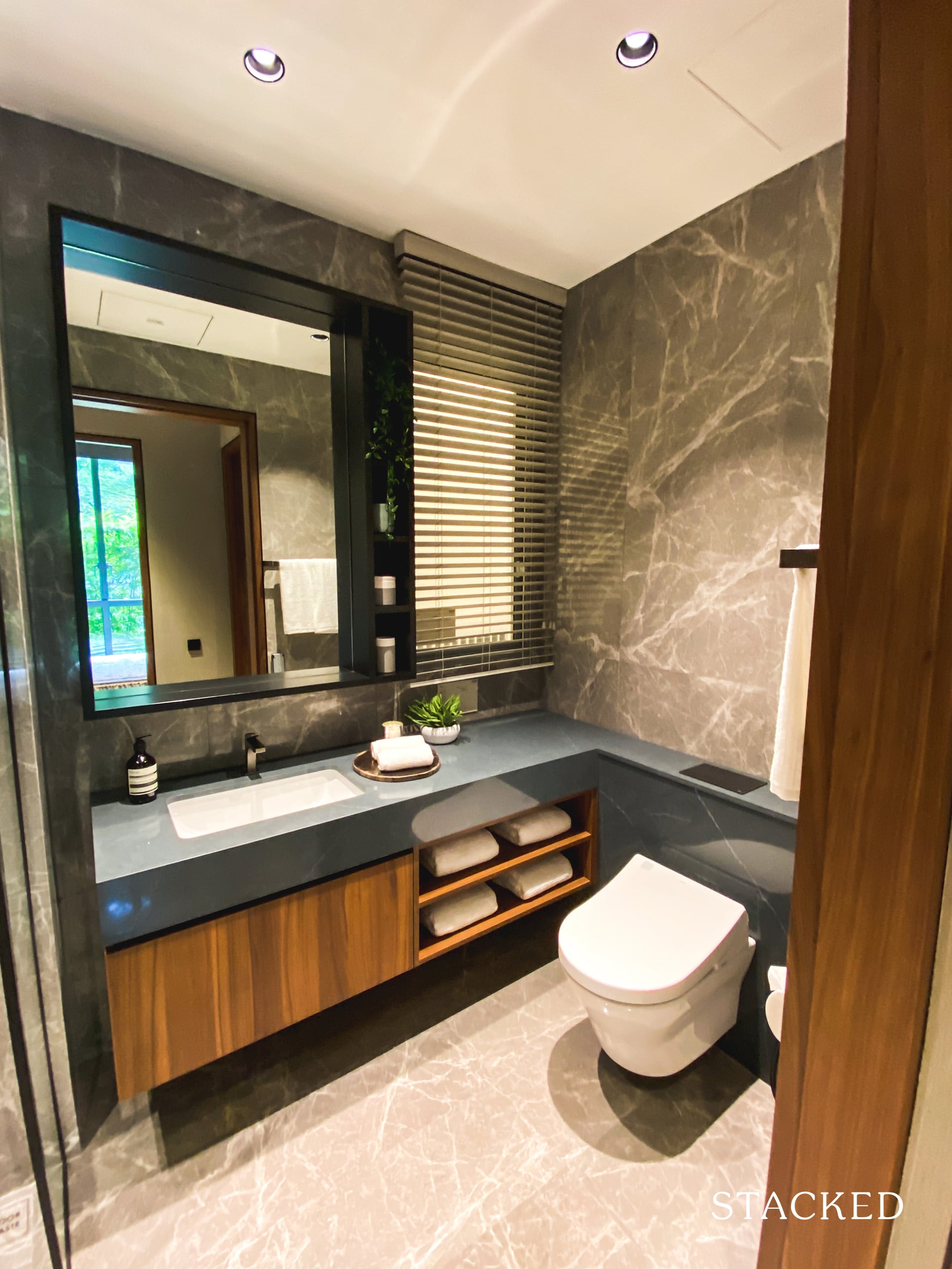 What really stands out are the black finishes on the taps and flat buttons for the toilet flush.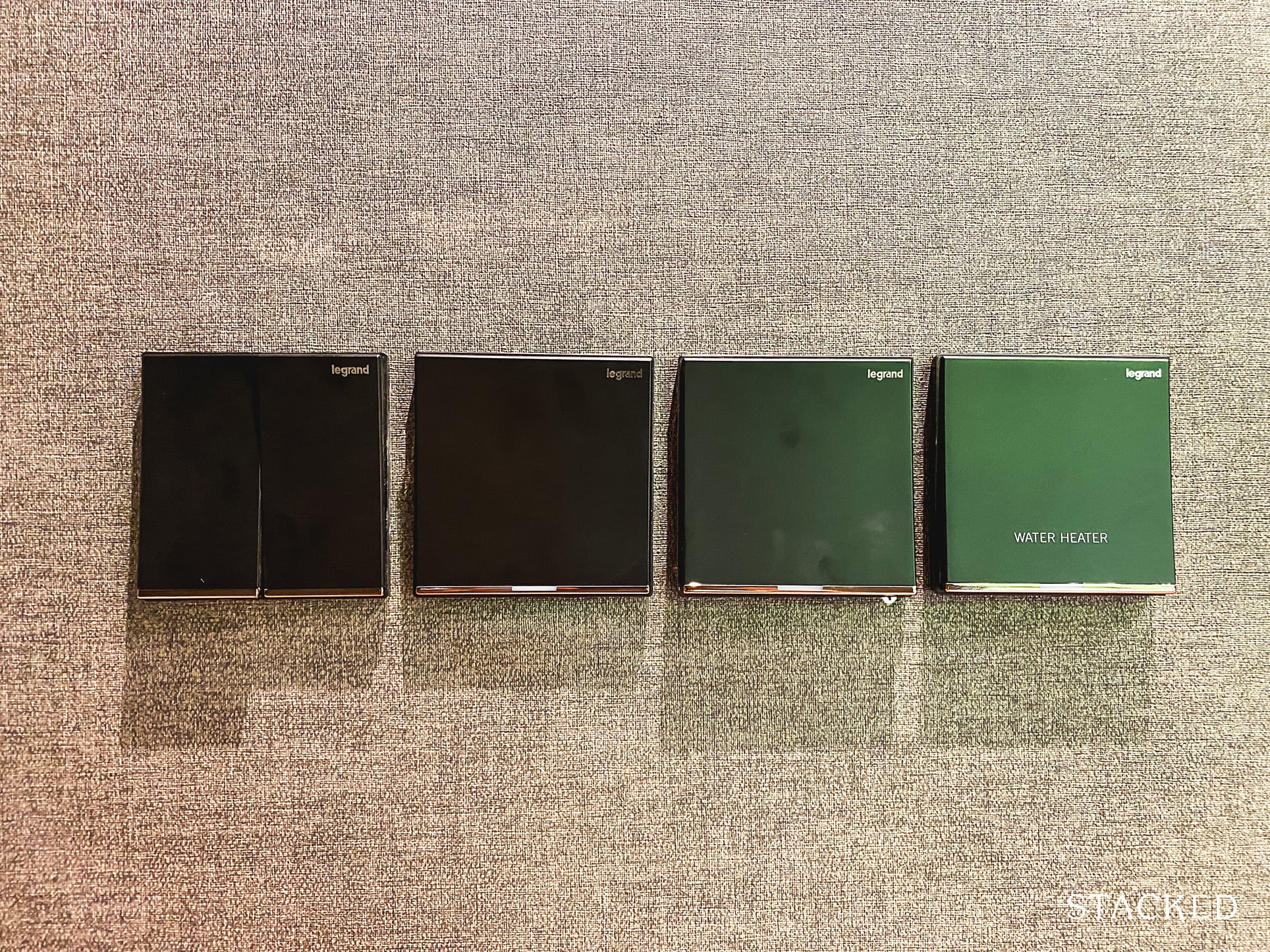 Not just in the bathroom but throughout the unit. The black smooth finished look has a robust feel to it. I'm not sure about the long term durability of it, but it definitely looks the part.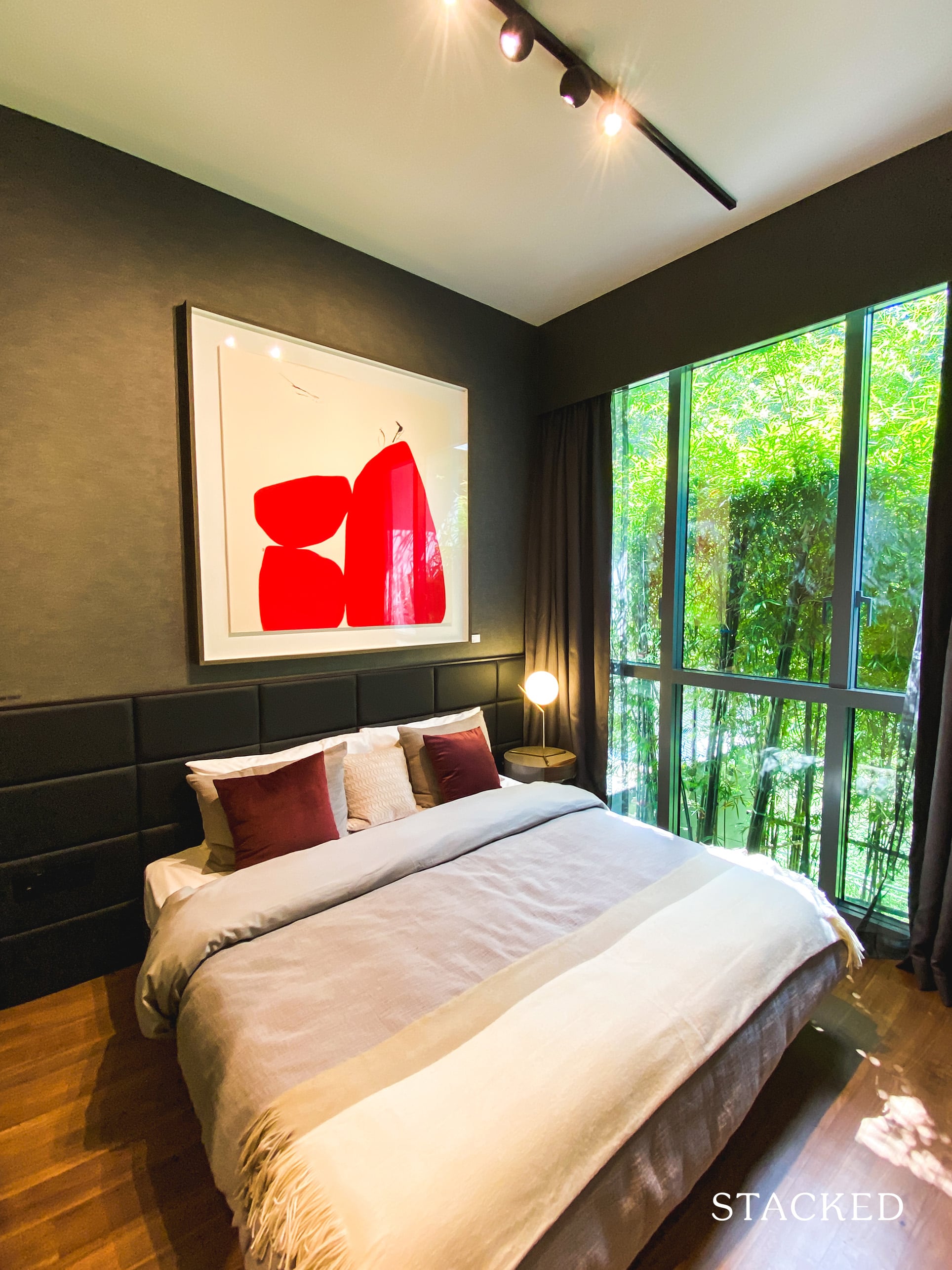 Lastly, the master bedroom isn't big (as with the rest of the rooms).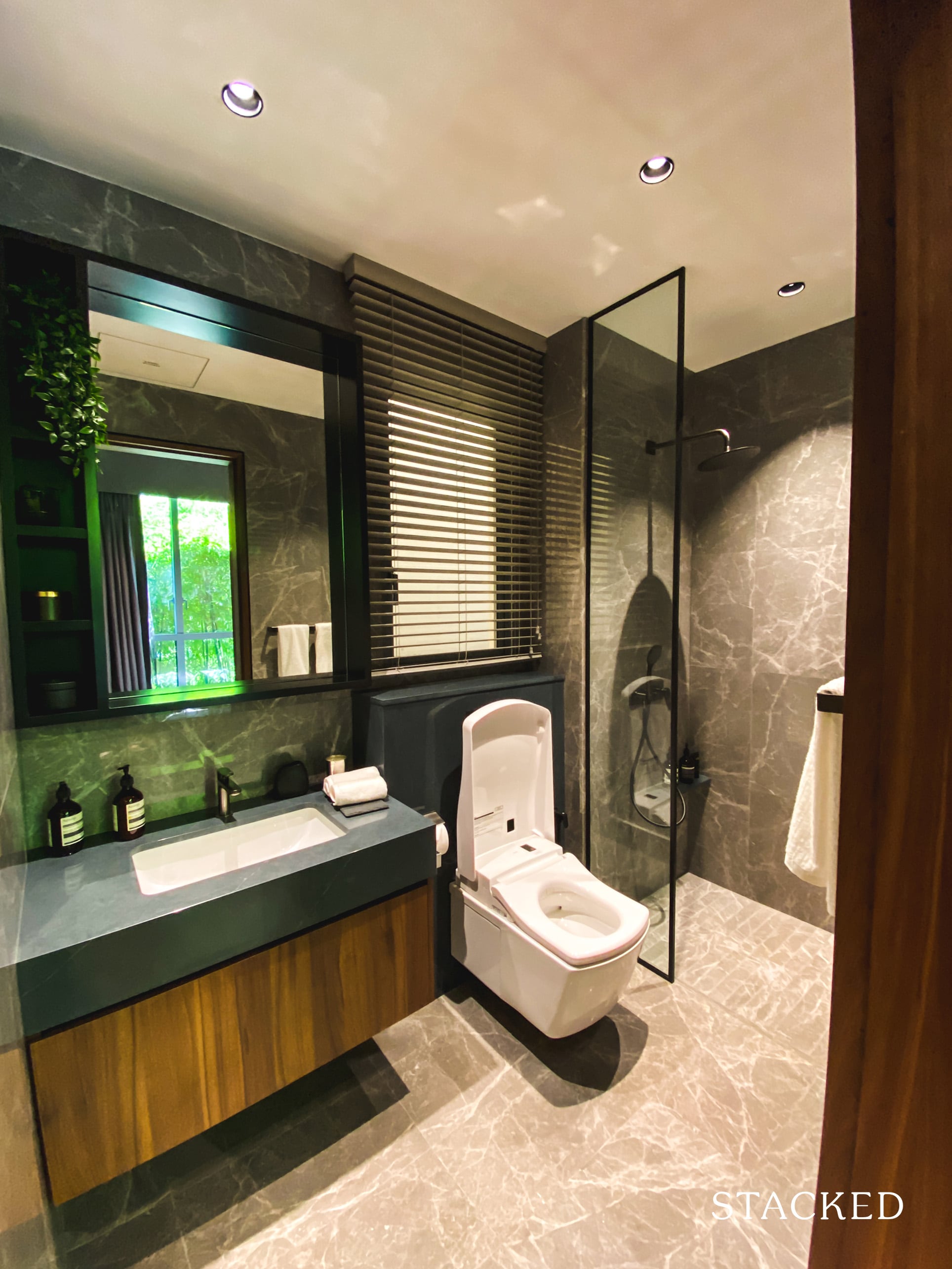 And while the master bathroom might not be massive, it is definitely functional.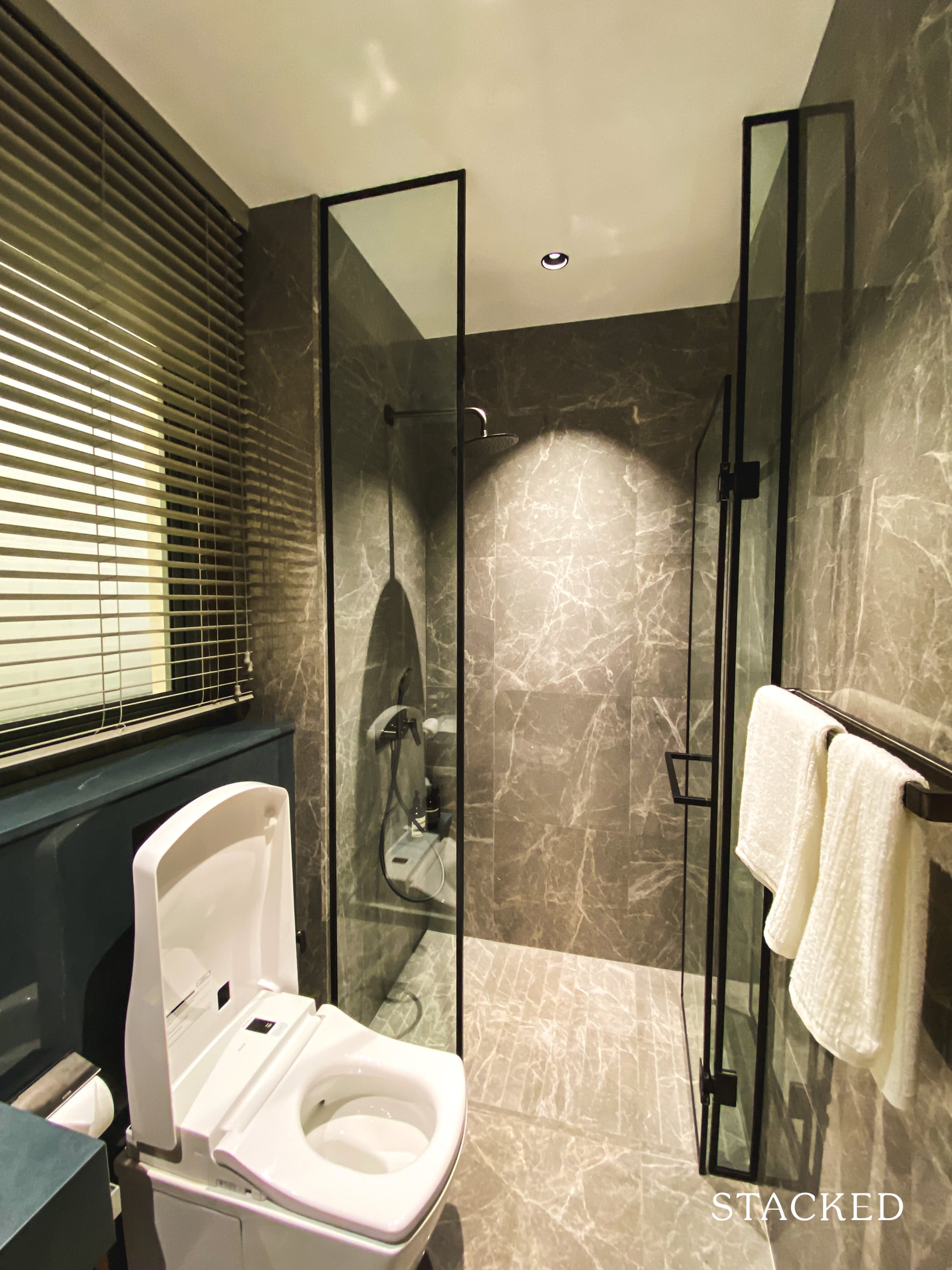 No bathtub in sight, which is a bit of a disappointment for a luxury-focused unit. But you do still get the cool automated toilet seat (it opens up when you are in immediate proximity!).
One Holland Village Residences Leven 2 Bedroom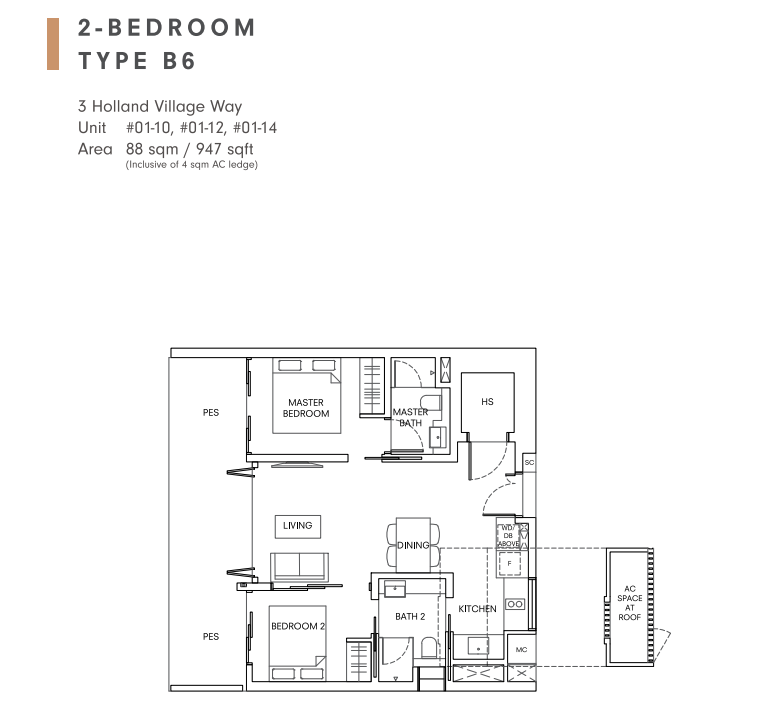 Now for arguably the most interesting unit of the One Holland Village Residences – the Leven 2 bedroom units. At 947 square feet, it is definitely bigger than an average new launch 2 bedroom unit.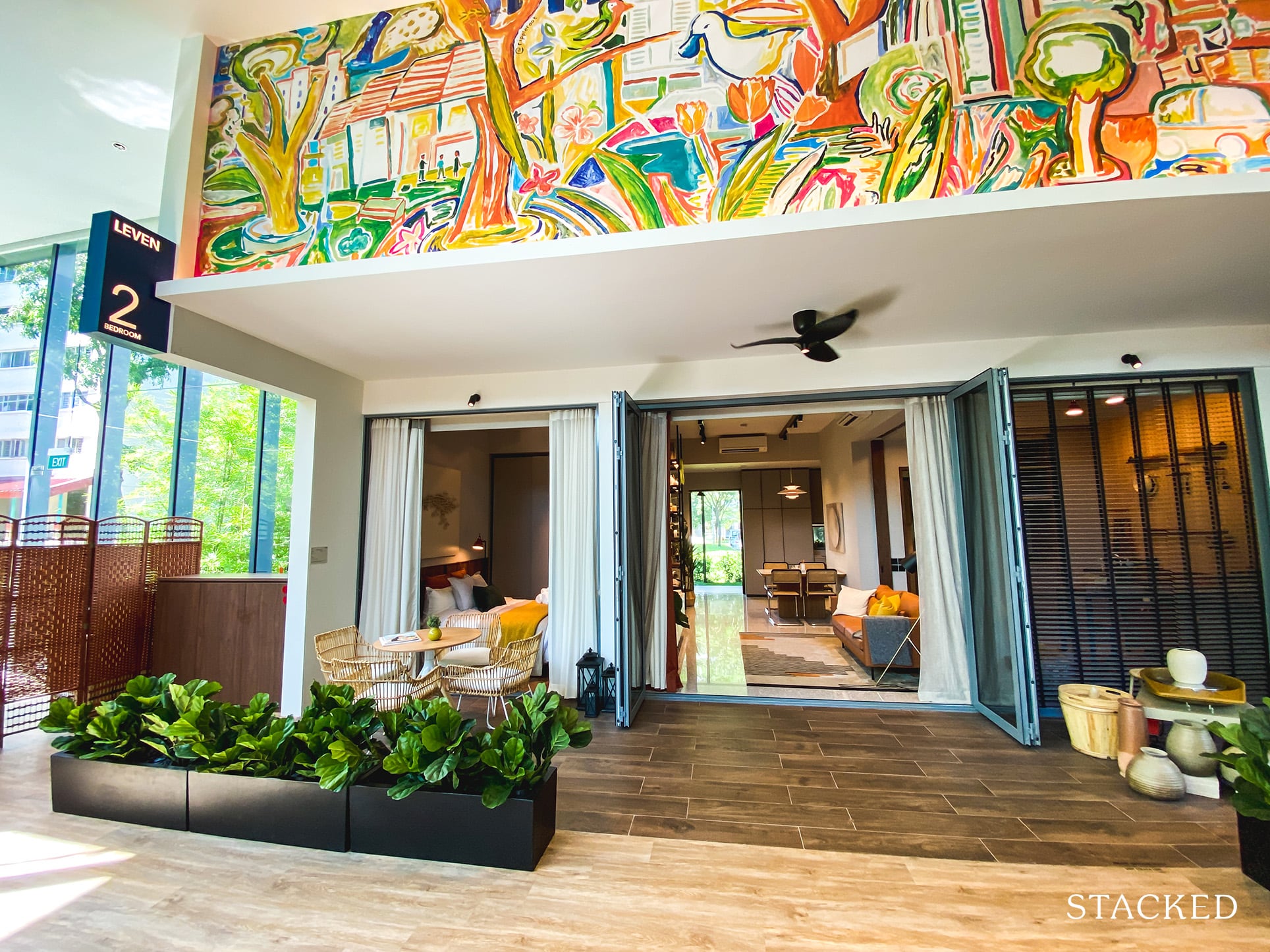 Given there are only 21 units, and you are strictly limited to 2 bedroom units as well, the Leven offerings are strictly for those willing to pay more for the low-rise heritage feel. Just look at how big the balcony is! If you are on the ground floor it will even have that landed living feel.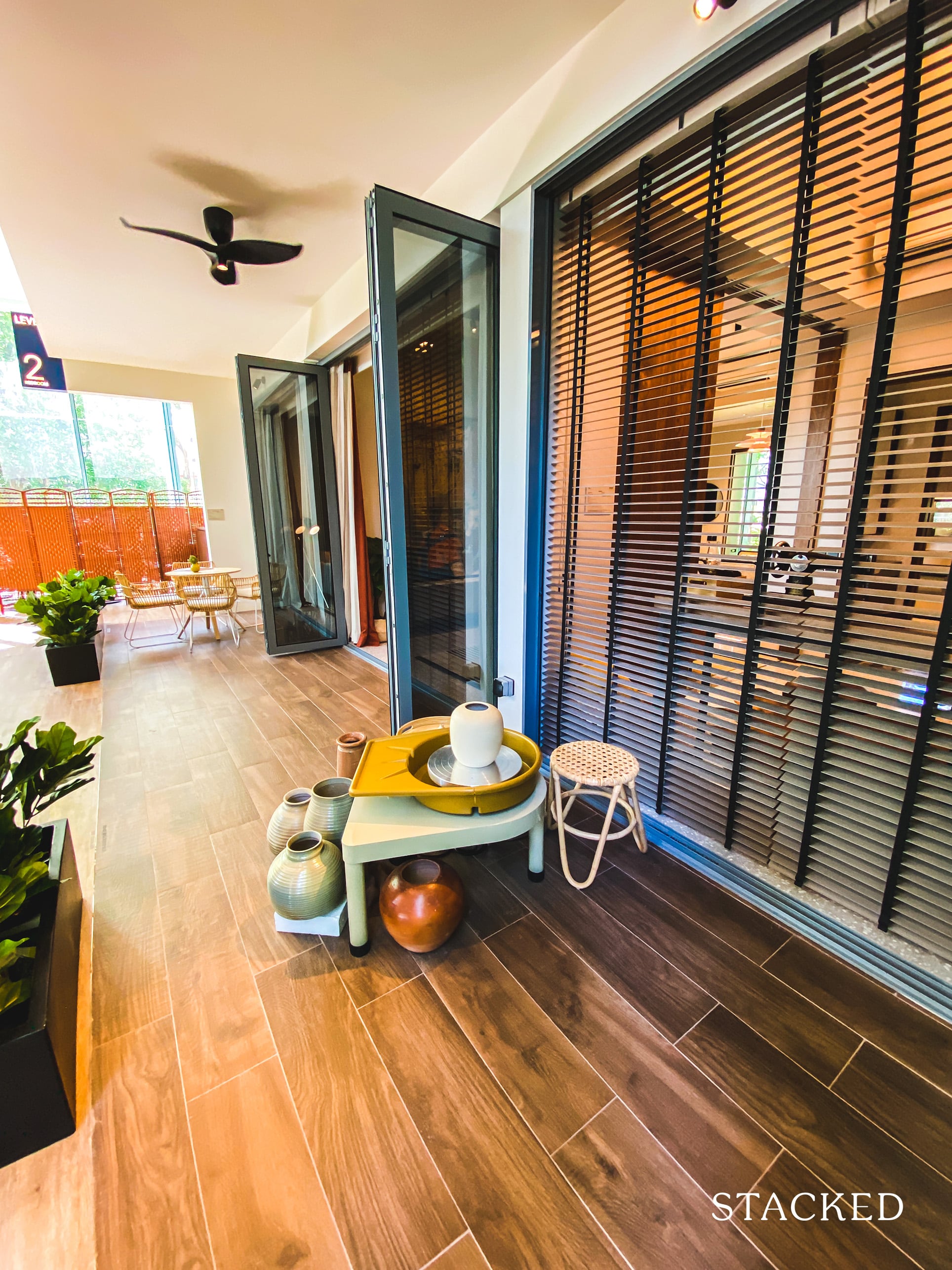 One of the bigger contentions for most people would probably be deciding if they need this much outdoor space. But if you've always wanted a big balcony, this would be a super easy decision for you. With such a big space, you could easily have a small garden area on one side, and various couches and chairs to dine and chill.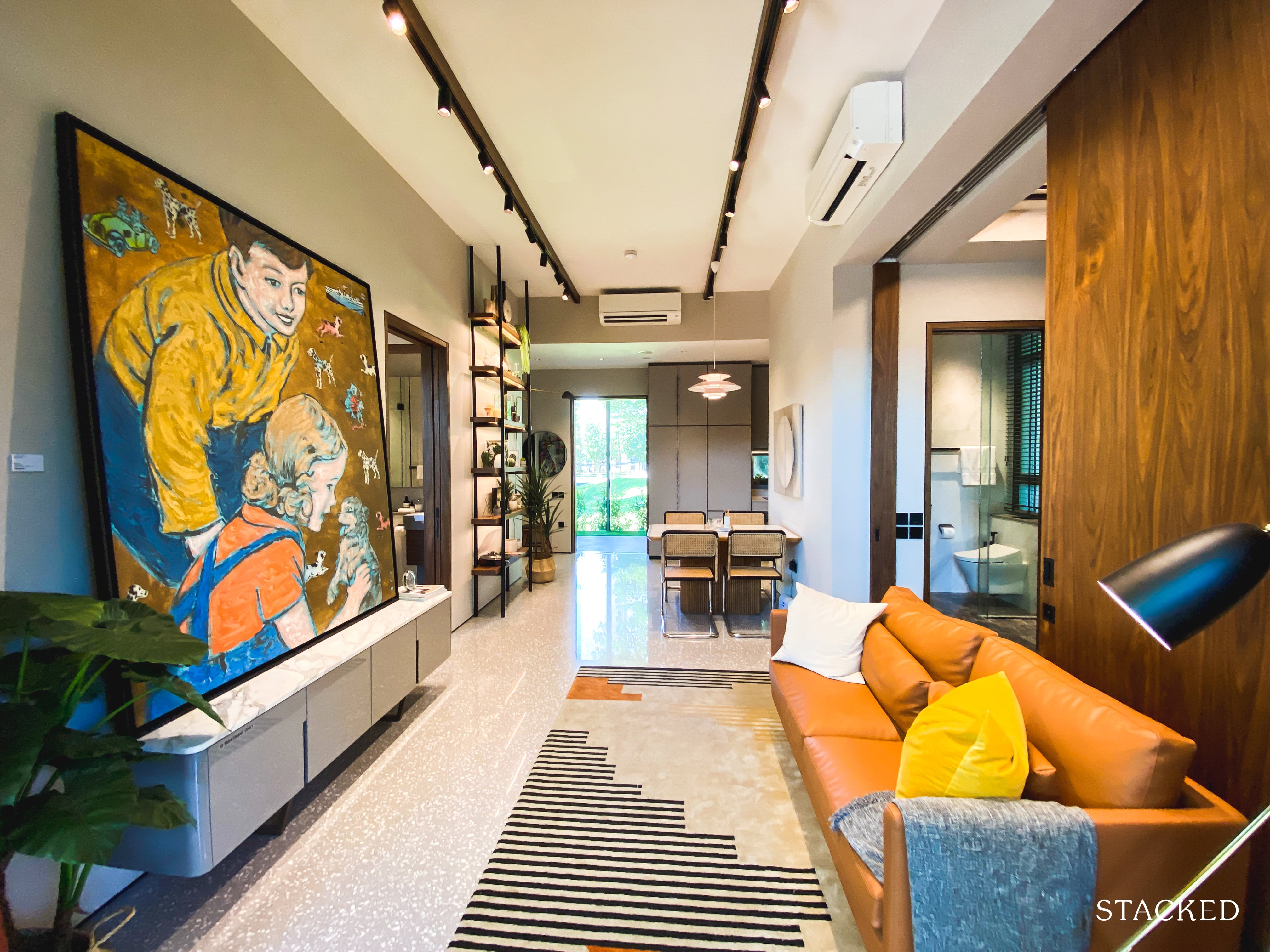 The high ceiling here really does elevate the sense of space, but in itself, the living room is actually quite spacious.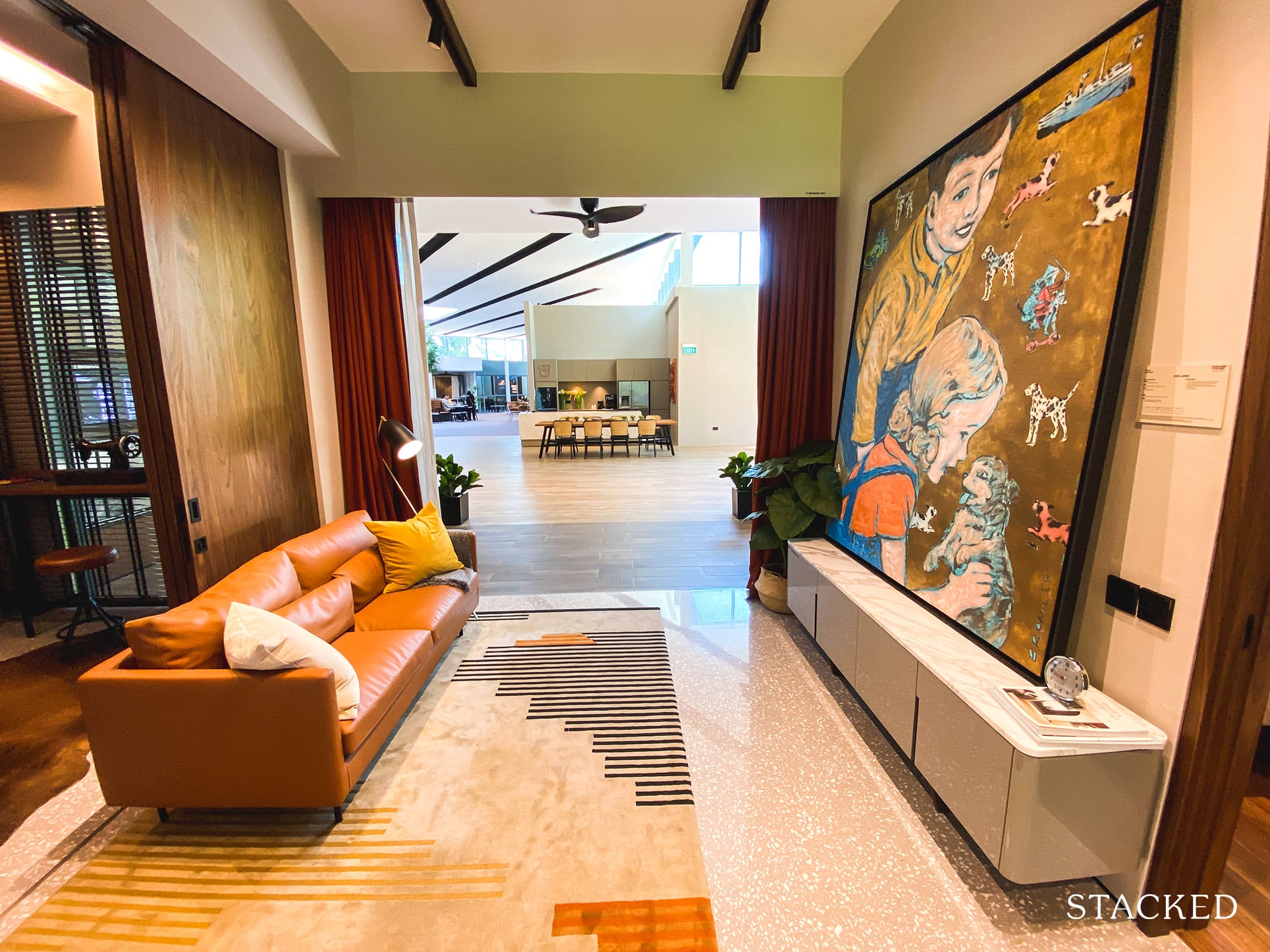 Bear in mind, it's all low-rise here, so the view wouldn't be great. That said, the openness that the folding balcony doors provide is certainly very alluring.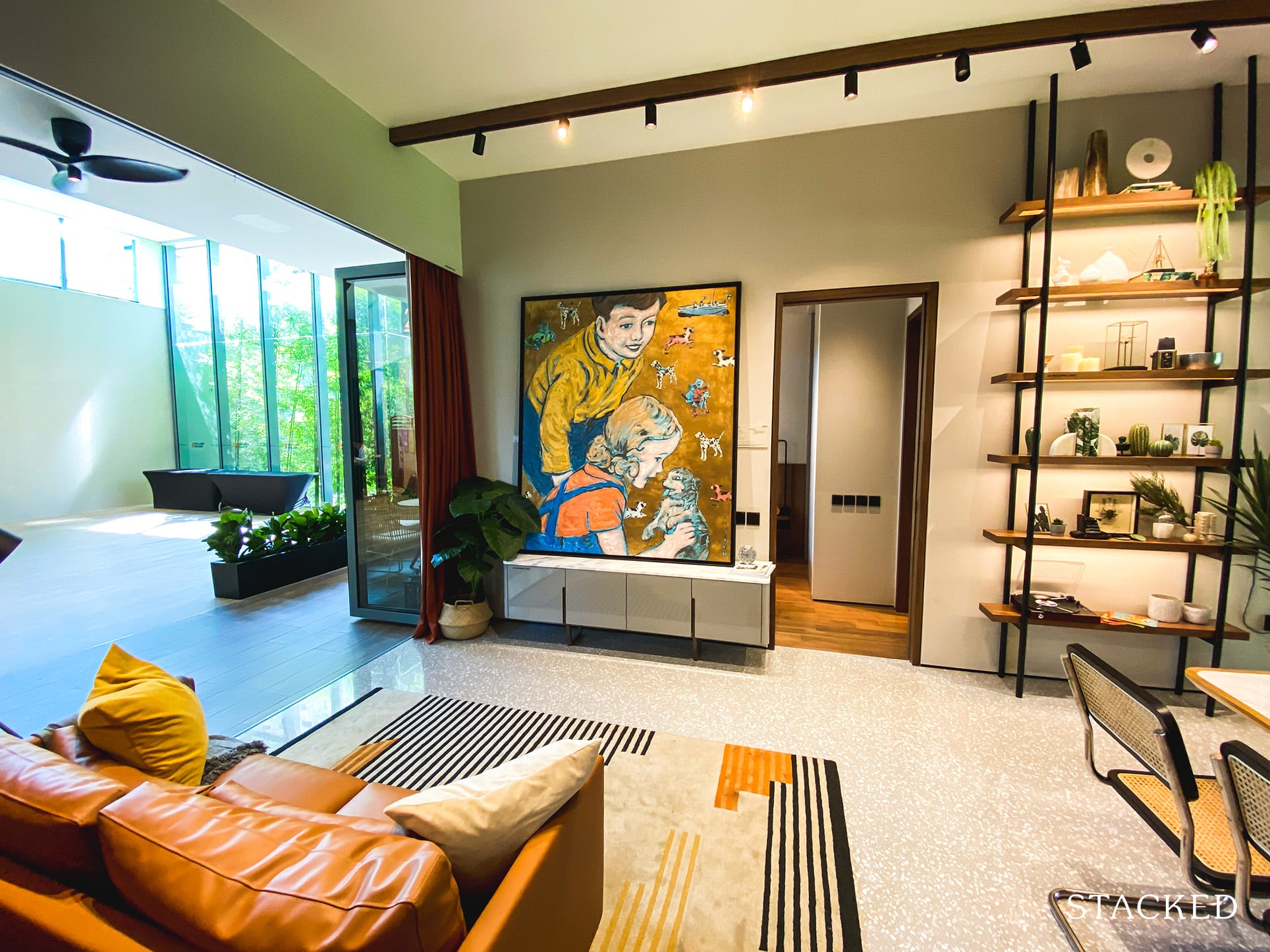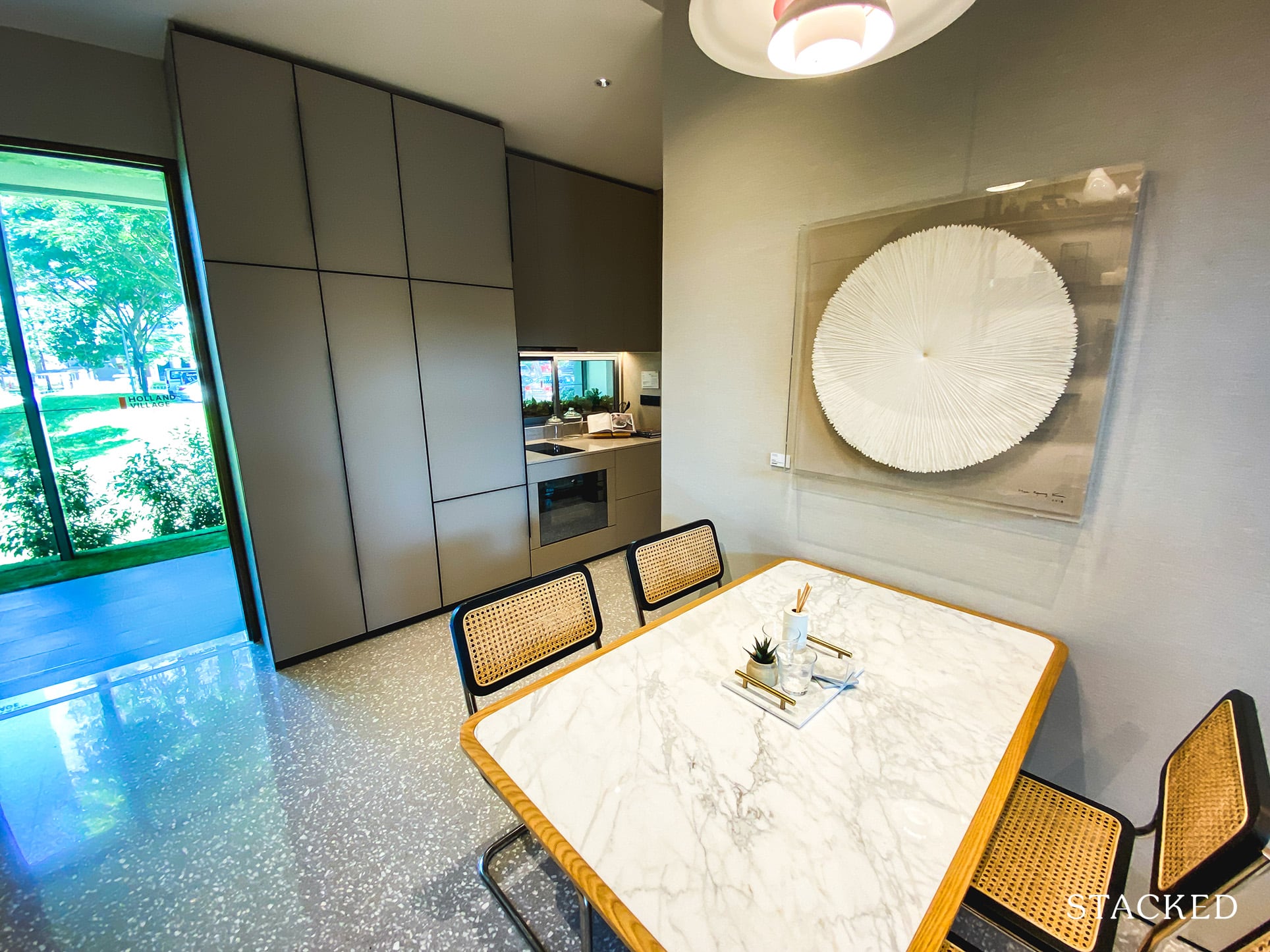 The dining area is well-sized, and because of how flexible the layout is, you could build a kitchen island here too that extends from the kitchen itself.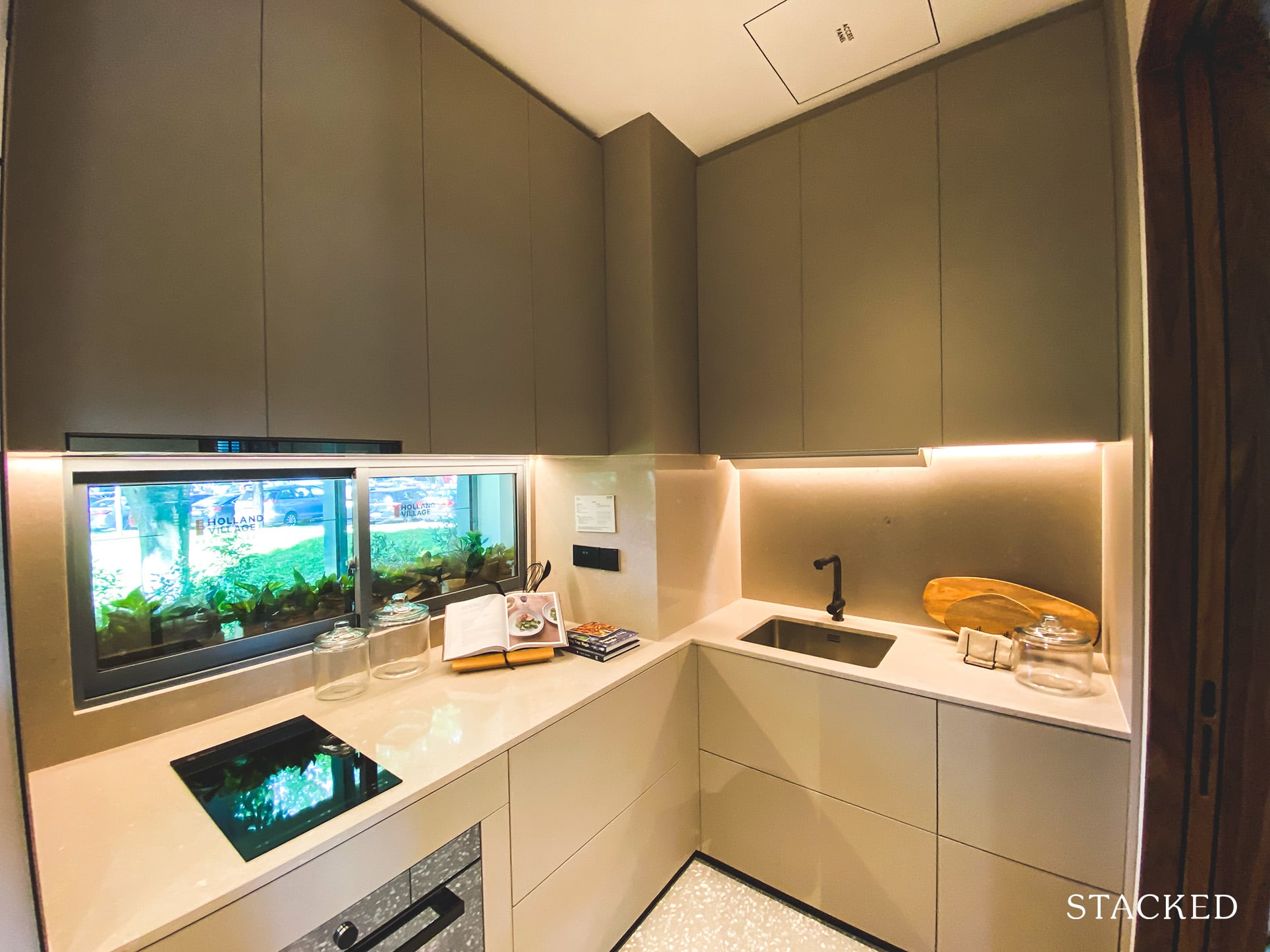 You could build an enclosed kitchen if you wish, but I think the windows positioned here would be sufficient. The kitchen is rather big for a 2 bedroom unit, and there should be more than enough storage too.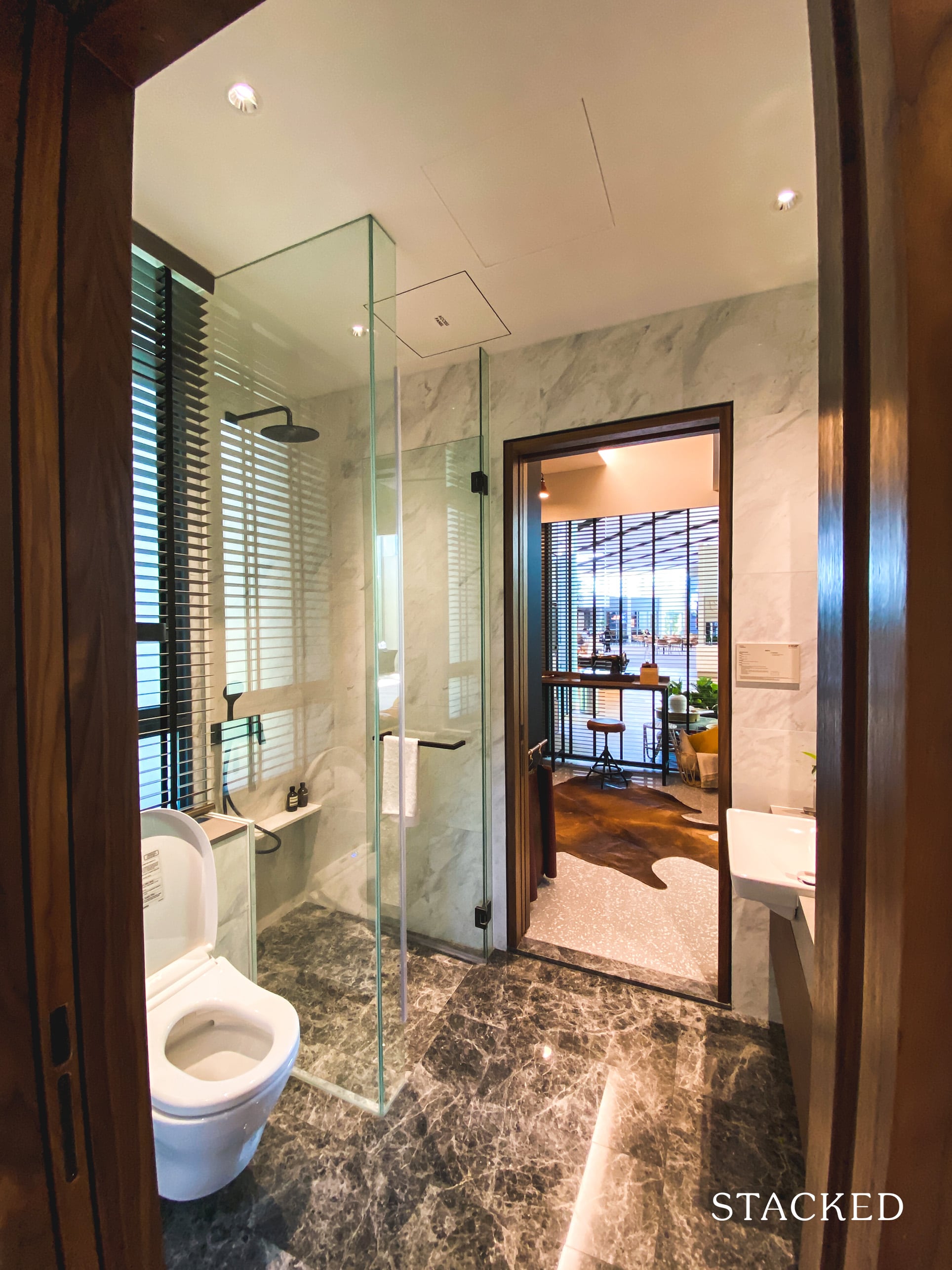 From the kitchen, it's a jack and jill bathroom situation – so you can enter or exit the bathroom from the common bedroom too. The common bathroom is actually very decently sized. In fact, it is strangely even bigger than the master bathroom.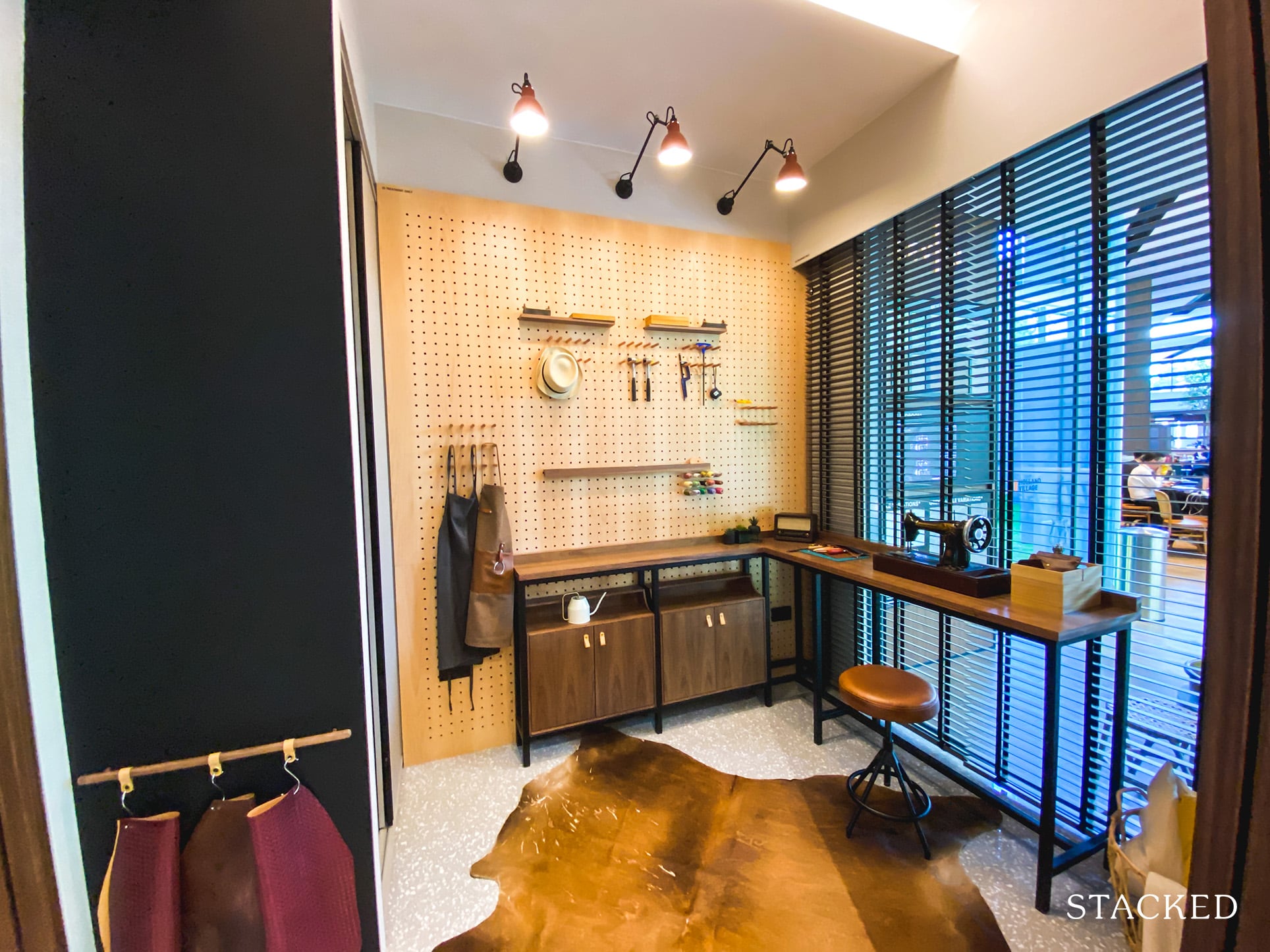 The ID here is meant to present a workshop, or rather, to show you what you can do with the space. Of course, if you can afford it, this would actually be a brilliant bachelor's pad.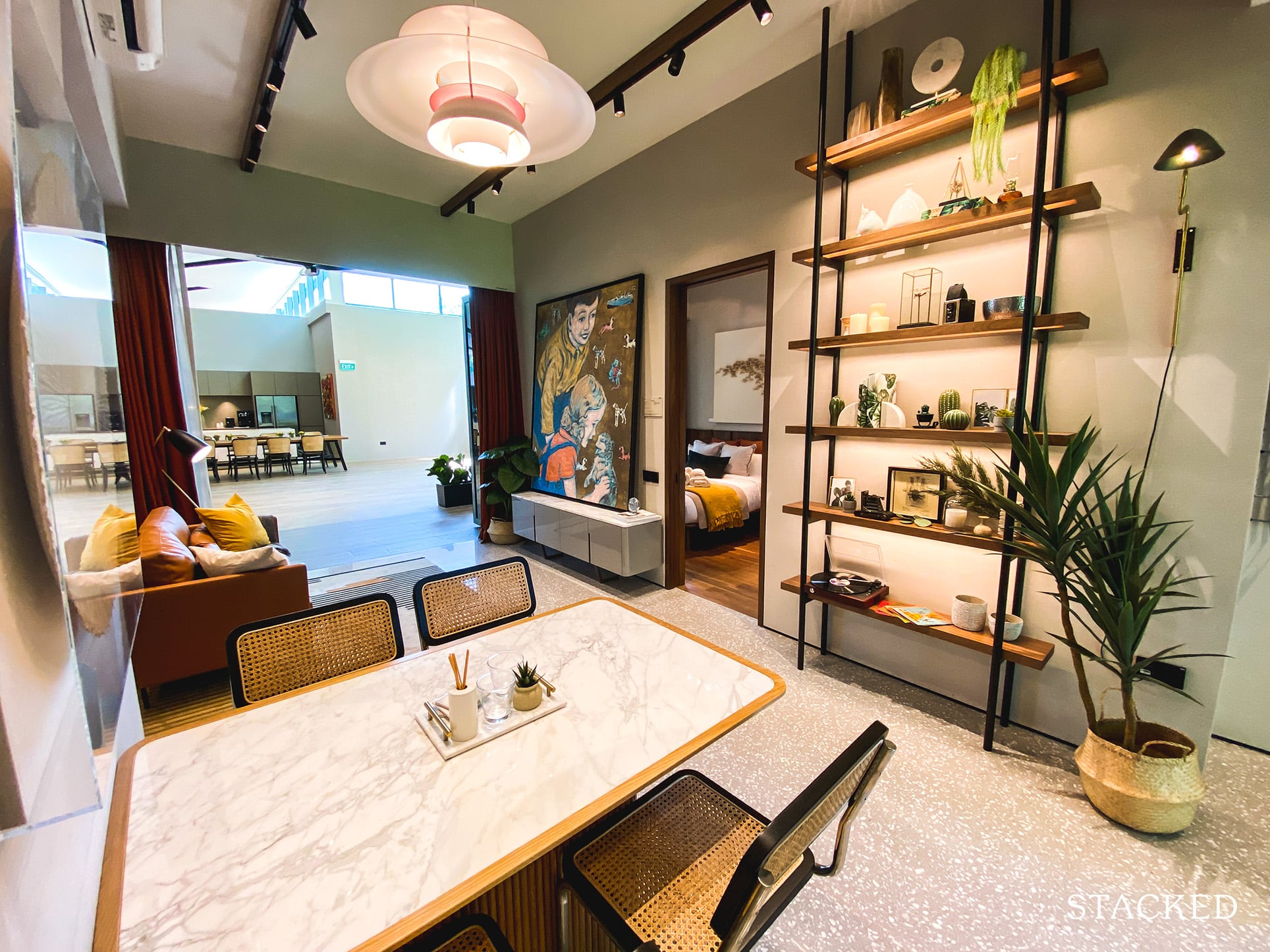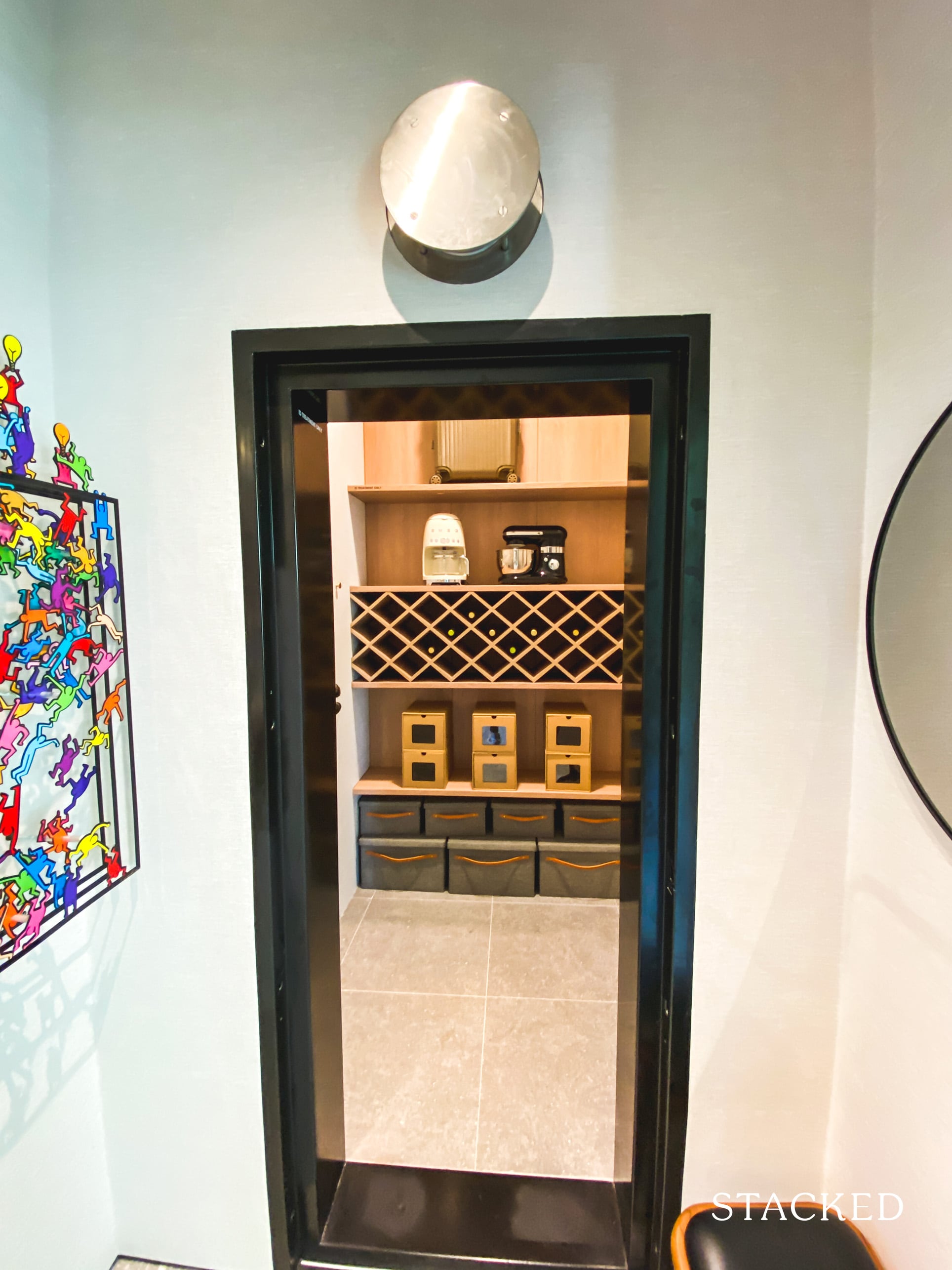 You hardly see these nowadays, but there is actually a bomb shelter right by the corner. This can be used as a storeroom or helpers room so that is still pretty flexible.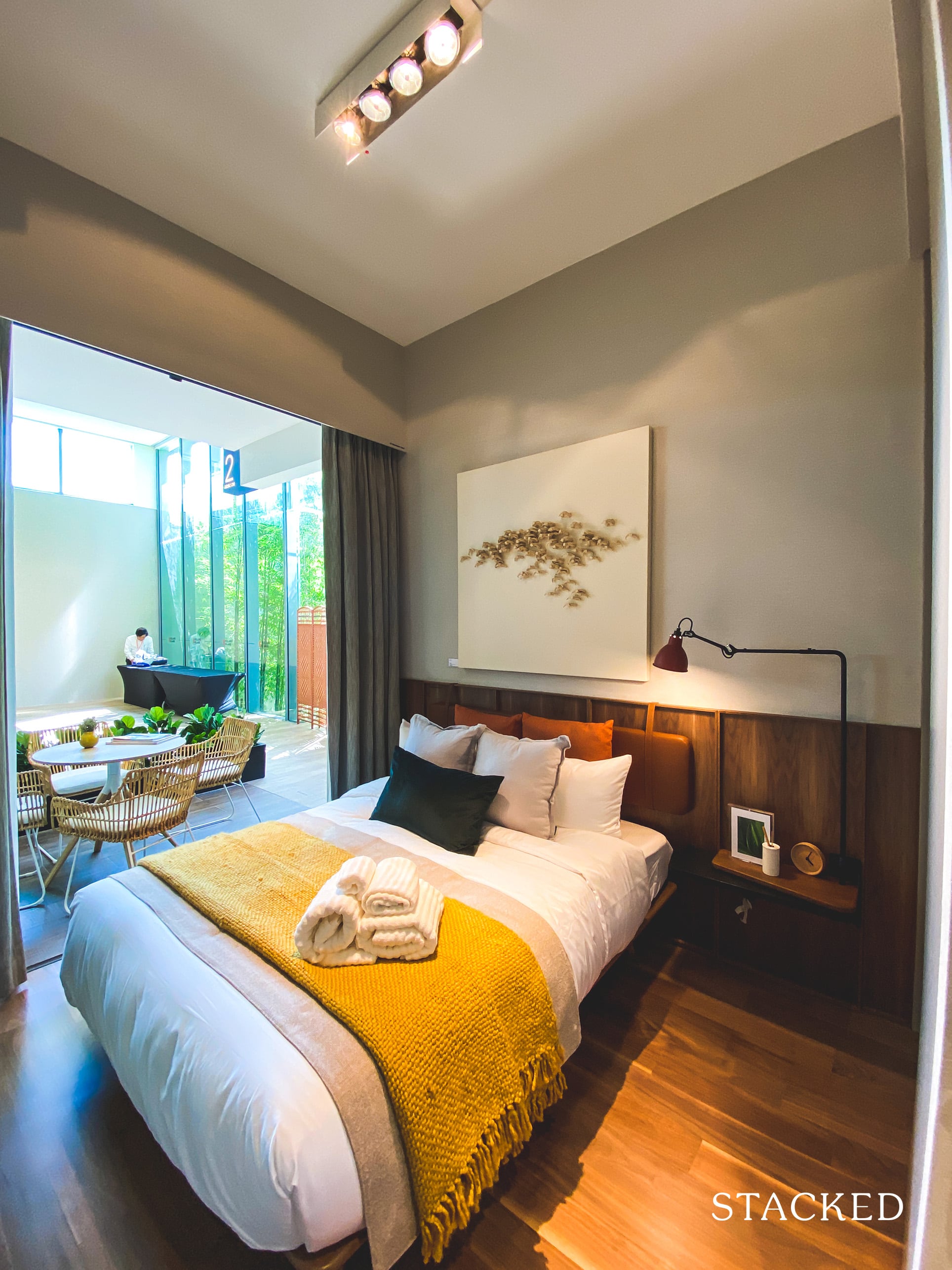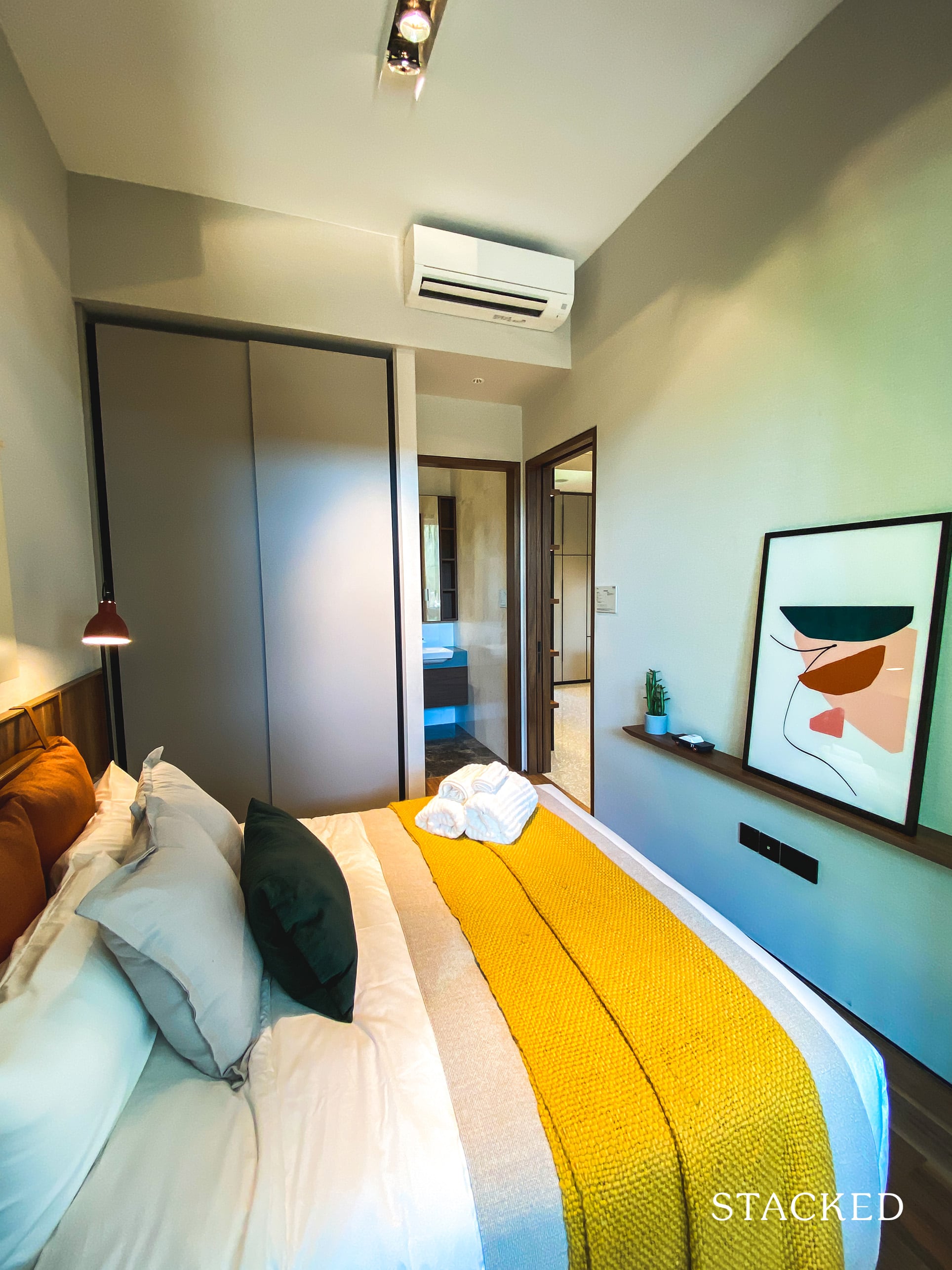 The biggest disappointment of this 2 bedroom unit is probably the master bedroom. It's really small – you can see the walkway between the foot of the bed and the wall is quite narrow.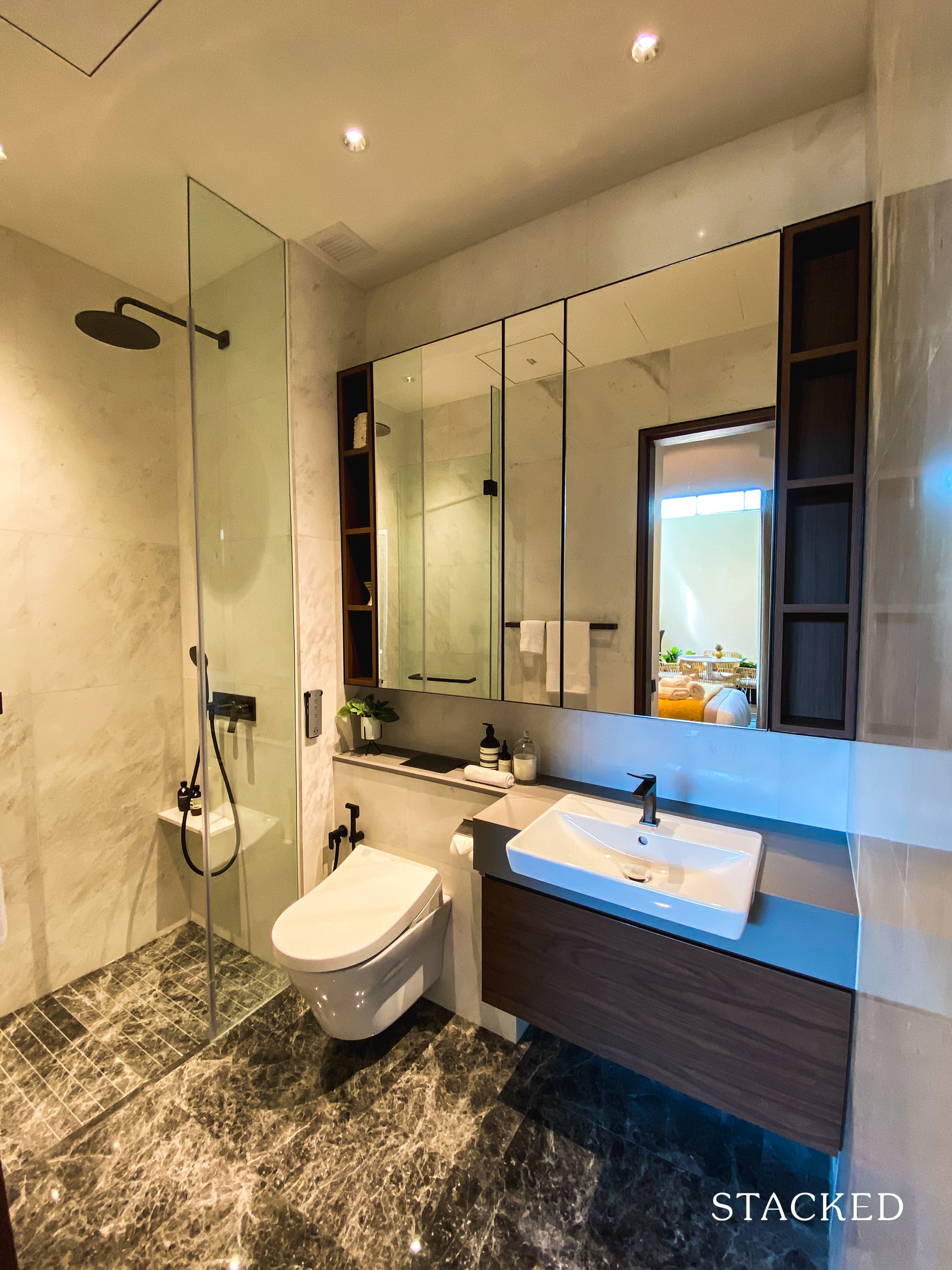 Finally, the master bathroom is actually a decent size if you were to judge it as a common bathroom.
Location

Hugh Holland, an English architect, gave his surname to the Holland Village estate during colonial times. Even in today's modern world Holland Village's charm still shines through.

Call it what you will. Pricey, Up-Class, Expat-Central even.

But at the end of the day, there is no denying its amenity-related convenience.

One Holland Village Residences is to be nestled in an entire enclave of its own along Lorong Mambong & Holland Village Way (currently under construction).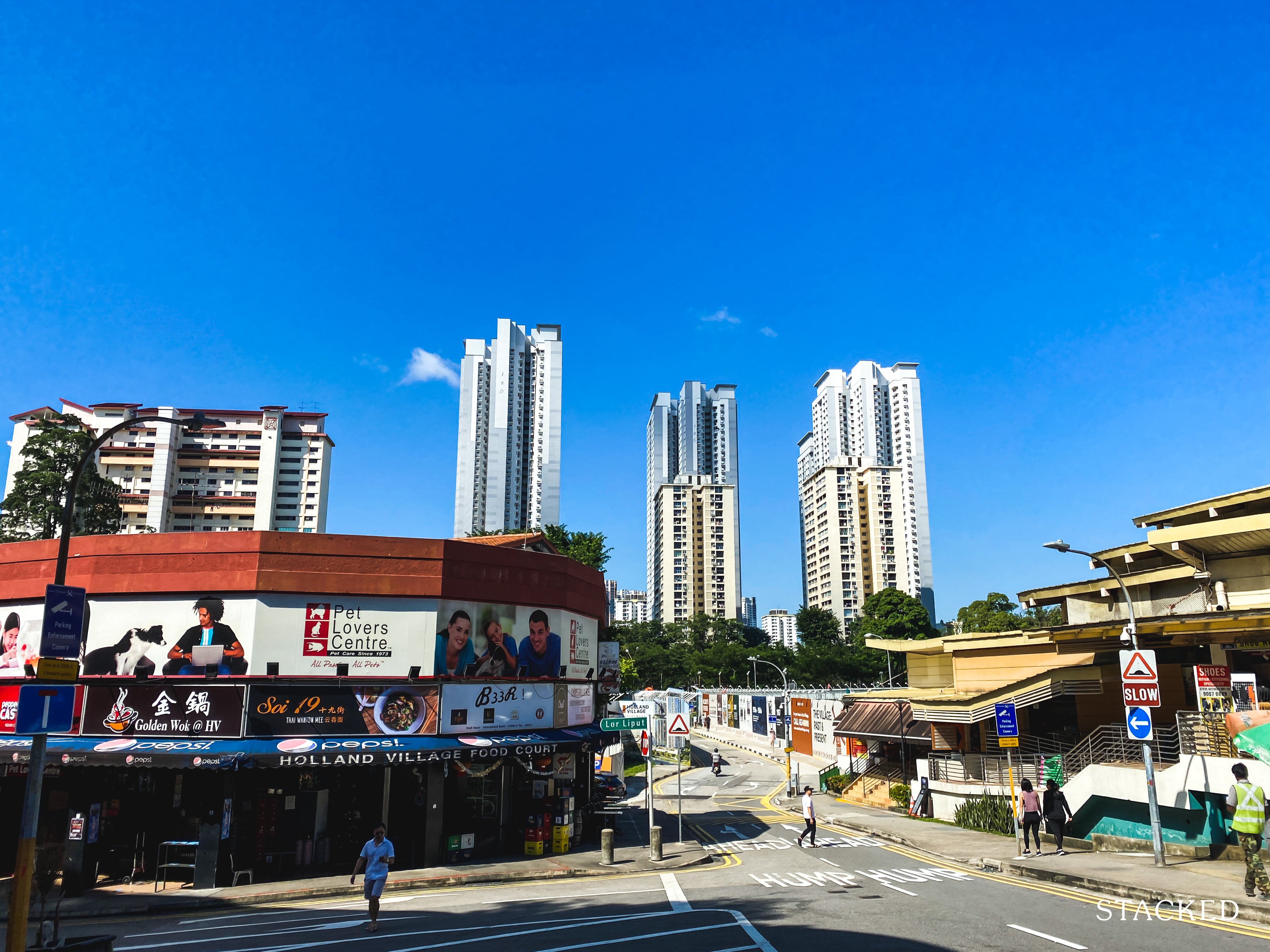 As the development spans a massive 247,215 square feet (including retail sections), the distance might vary slightly with regard to the various listed amenities below.

Public Transport

| | | |
| --- | --- | --- |
| Bus Station | Buses Serviced | Distance From Condo (& Est. Walking Time) |
| 'Opp Blk 21' | 95 | 150m, 2-min walk |
| 'Holland Village' | 5N, 7, 61, 75, 77, 95, 165, 970 | 450m, 6-min walk |
Closest MRT: Holland Village MRT – 290m, 4-min walk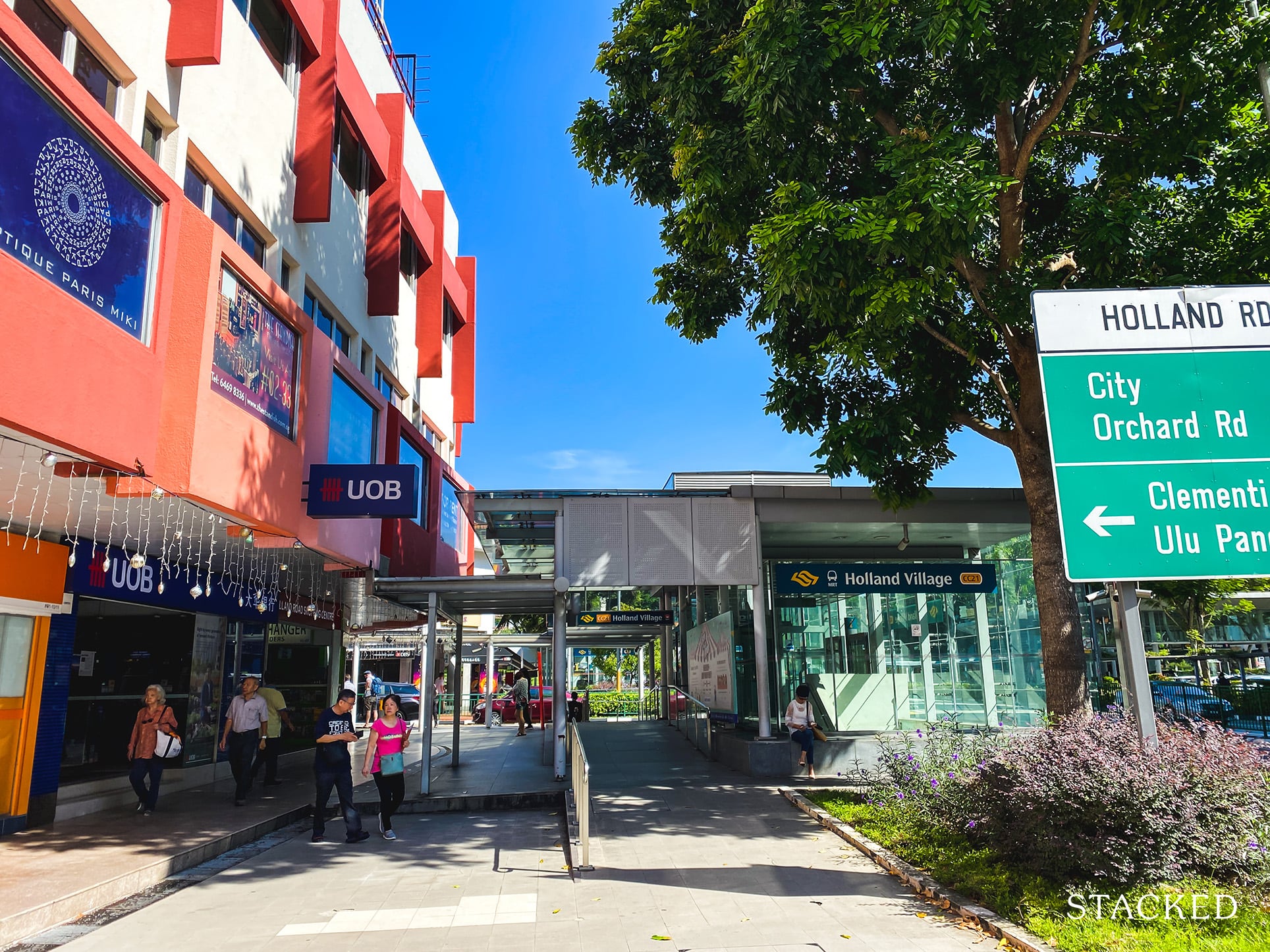 As far as MRT routes go, Holland Village MRT isn't the most central. It is 8 stops from the CBD/Raffles Place MRT (17 minutes ride), involving 2 line changes along the way.

Accessing the Orchard Road MRT station is admittedly a tad faster (10 minutes) across 5 MRT stops, even if it involves 3 line changes.

Holland Village MRT station is also on the 'Harbourfront-end' of the Circle Line, which means that both students and office workers who frequent the Kent Ridge/Labrador MRT stations are just 6 (3 stops) and 13-minute (6 stops) rides away respectively — excluding walking/waiting times.

The close proximity of these stations to the condo also goes some way in easing transport accessibility as does the presence of the 5N (initially meant for HV's late night goers) serve as a great means of saving on past midnight private-hire surcharges.
Private Transport

| | |
| --- | --- |
| Key Destinations | Distance From Condo (& Est. Peak Hour Drive Time) |
| CBD (Raffles Place) | 8km, 23-min drive |
| Orchard Road | 4.5km, 10-min drive |
| Suntec City | 12.6km, 25-min drive |
| Changi Airport | 26.5km, 31-min drive |
| Tuas Port (By 2040) | 32.9km, 42-min drive |
| Paya Lebar Quarters/Airbase (By 2030) | 16.4km, 25-min drive |
| Mediapolis (and surroundings) | 3km, 10-min drive |
| Mapletree Business City | 5.6km, 15-min drive |
| Tuas Checkpoint | 22.1km, 27-min drive |
| Woodlands Checkpoint | 18.7km, 30-min drive |
| Jurong Cluster (JCube) | 8.1km, 17-min drive |
| Woodlands Cluster (Causeway Point) | 19km, 27-min drive |
| HarbourFront Cluster (Vivo City) | 9.3km, 19-min drive |
| Punggol Cluster (Waterway Point) | 23.4km, 29-min drive |
*Note that Drive Times are calculated during Peak Hours

Immediate Road Exit(s): Holland Village Way (U/C)

Summary: Great for those Working/Studying in West/Central areas. Immediate roads are often clogged during peak hours with a high potential of getting worse upon completion of One Holland's commercial & residential sectors.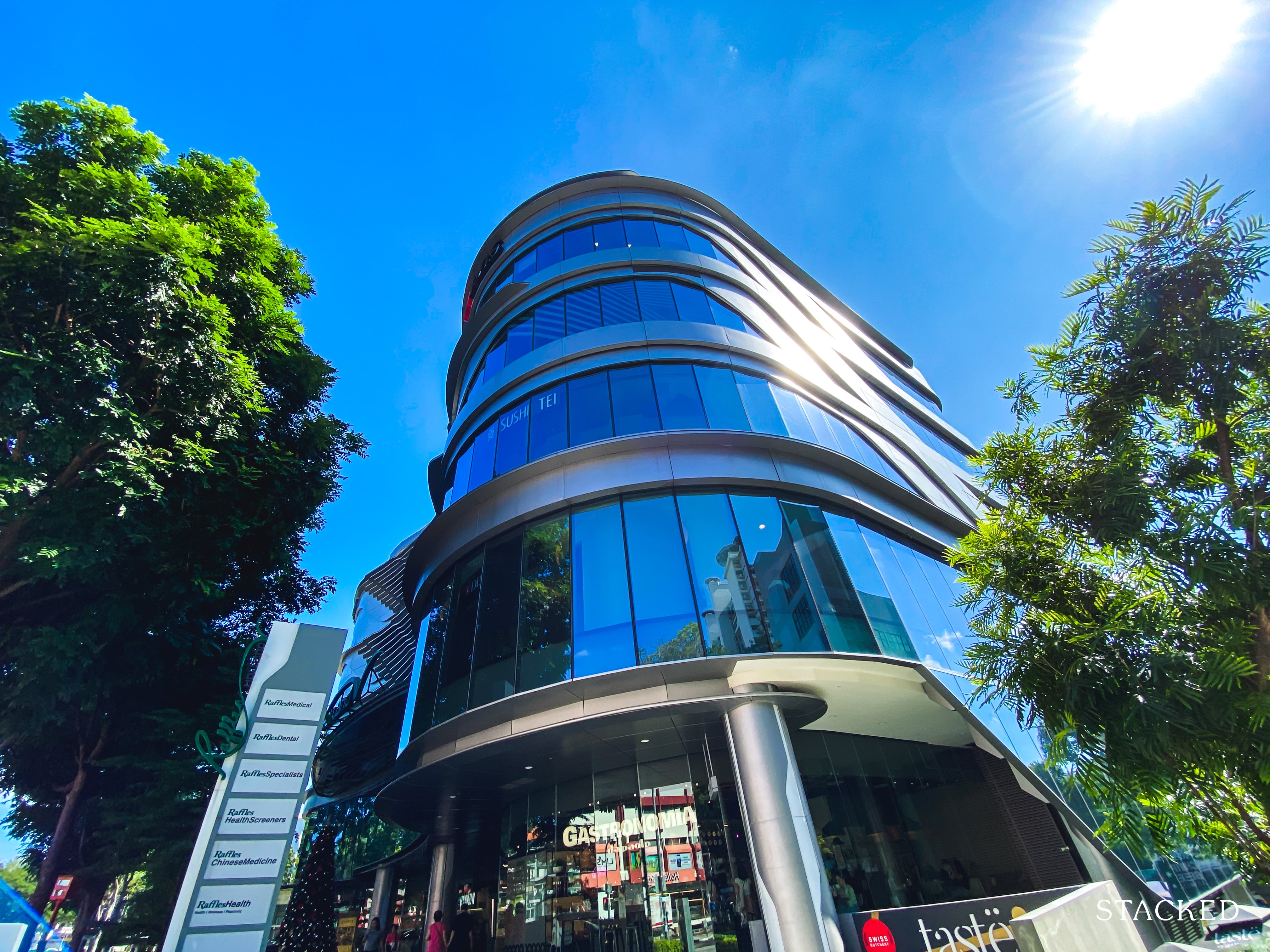 Groceries
| | |
| --- | --- |
| Name of Grocery Shop | Distance From Condo (& Est. Walk Time) |
| Cold Storage – Holland Village | 300m, 4-min walk |
| FairPrice – Holland Drive | 300m, 4-min walk |
| Giant Express – Ghim Moh Road | 900m, 12-min walk |
| Cold Storage – The Star Vista | 1.1km, 15-min walk |
| Sheng Siong – Ghim Moh Link | 1.4km, 17-min walk |
Schools
| | |
| --- | --- |
| Educational Tier | Number of Institutes |
| Preschool (within 1km walk) | 8 |
| Primary (3km-drive) | 5 |
| Secondary (3km-drive) | 5 |
| International School (3km-drive) | 3 |
| Junior College (5km-drive) | 3 |
| University (5km-drive) | 4 |
| Polytechnic (10km-drive) | 2 |
Additional Pointers
Holland Village's 'Bohemian-like' vibe makes for wonderful strolls and communal interactions. More than that, however, the Botanical Gardens and Kent Ridge Park are simply a 10-minutes drive in separate directions – each proving solid recreation options in their own regard.

In fact, with 21,528 square feet of developmental land already set aside for community spaces, residents will have even more communal offerings at their doorstep.
Frequent patrons of the Holland Village space will recognise the 'infamous' Lorong Mambong.

Loaded with pubs and restaurants, the area is a culinary extravaganza with a diverse amount of cuisine available at slightly steeper prices. More than that, the installation of the commercial spaces in the incoming village will no doubt add to the variety.

For those who crave more 'affordable' daily options, the Holland Village Market and Food Centre is right around the corner, and is easily accessible to residents of One Holland.
Top Tier Educational Institutes
Parents and children living in the One Holland Village Residences will have a couple of immediate top tier schools within immediate proximity to choose from. Nanyang and Fairfield Methodist primary come to mind, as does a couple of tertiary options with both Ngee Ann and Singapore Polytechnic as well as the National University of Singapore opening up options, less than 6km away from the residence.
Development Site
Facilities in One Holland Village Residences
50M Lap pool
Spa pool
Spa pool bar
Children's pool
Children's playground
outdoor deck
BBQ pavilion
Pool pavilion
lawn
deck
pool deck
dining / function room
outdoor lounge
garden
pet corner
changing room
shower facility
outdoor shower
arrival area
drop off point
bicycle parking space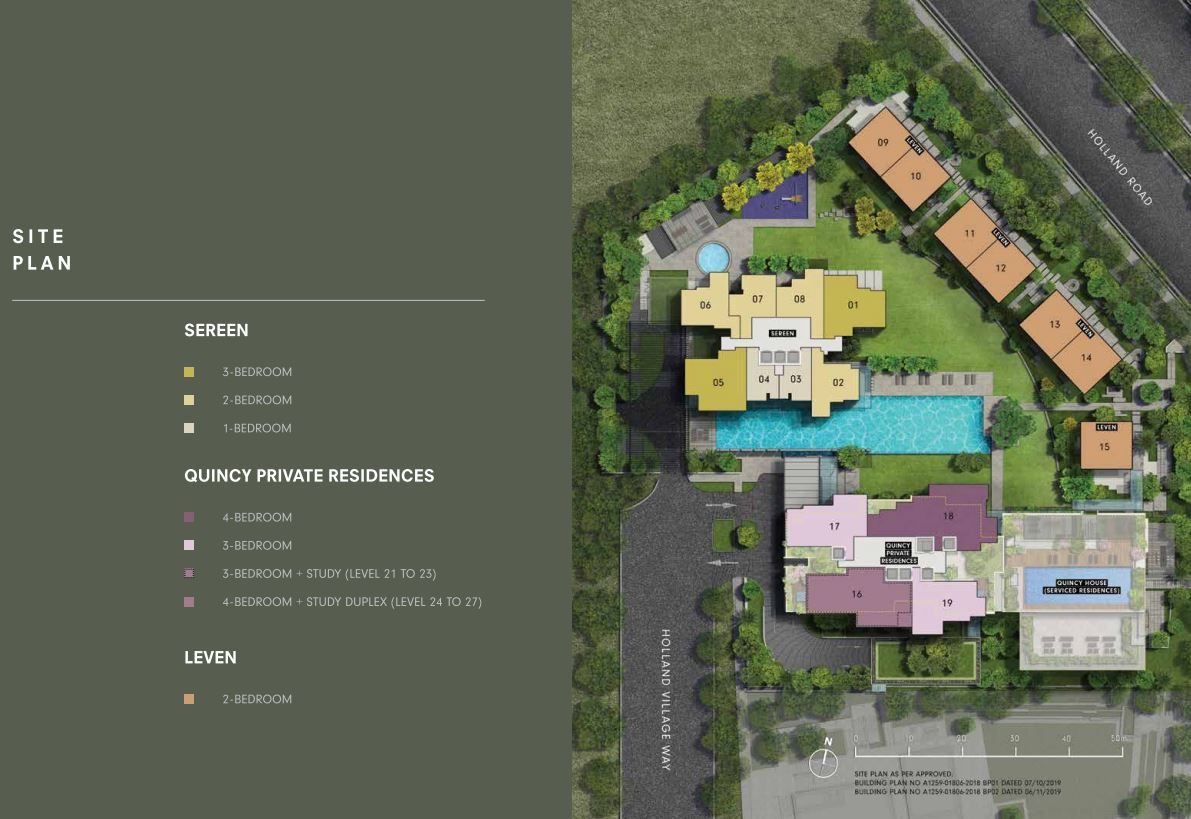 While it remains to be seen if there will be an entry/exit point onto Holland Road, the current exit onto Holland Village Way does seem a tad inconvenient. Note that the latter road first merges onto Holland Drive before splitting into either North Buona Vista Road or Holland Avenue.

Couple that with road competition from commercial visitors to the One Holland Village and the drive-through experience during peak hours might not be as pleasant as expected.

Furthermore, while it is an integrated development with incredible convenience, the lack of emphasis on facilities does feel apparent, very much unlike that of Sengkang Residences.

Yes, land demand/pricings are at a premium here, but so is the incredible quantum demand expected of its buyers.

For example, unlike our recently reviewed Boulevard 88, there isn't any mention of a rooftop pool despite its two massive skyscrapers. In fact, all 296 units will share a single ground-floored 50m pool for that matter.

The presence of the sky gym on the 33rd floor of the Sereen Tower is definitely worth mentioning, though we feel more could have been done to bolster the condo's immediate facilities.

One extremely positive condo offering is the wide-open spaces for the little ones to enjoy (and even for adults with an occasional picnic). Good maintenance and design of the green spaces will definitely go a long way in attracting families with kids.
Best Stacks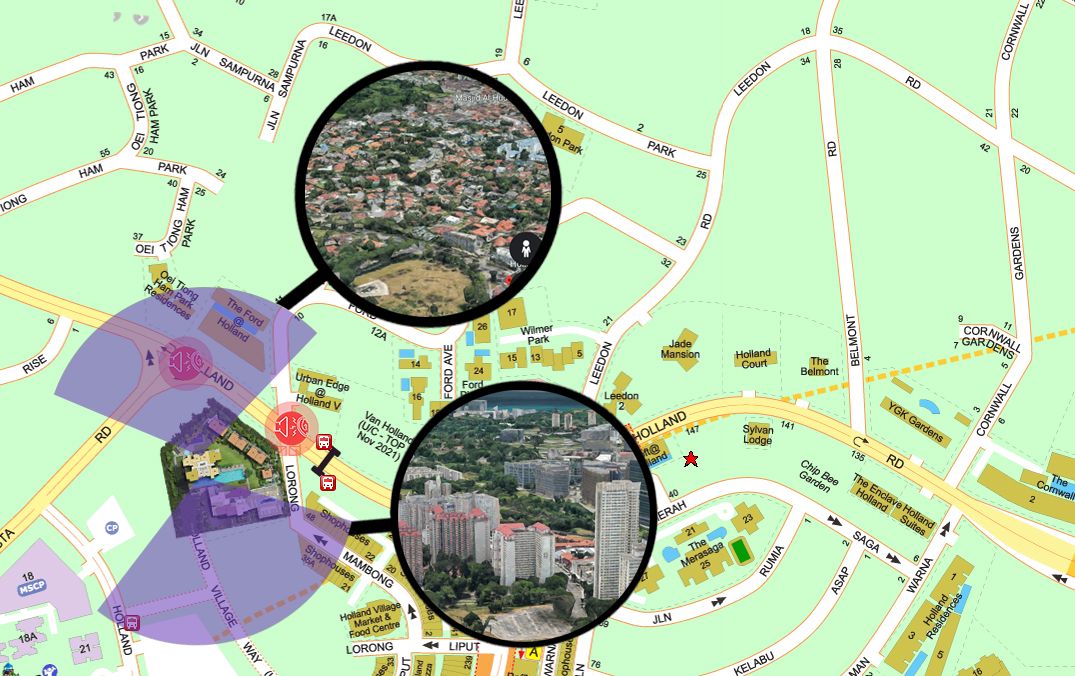 Let's look deeper into the three different concepts to see which are the ideal stacks you should be looking at.
Sereen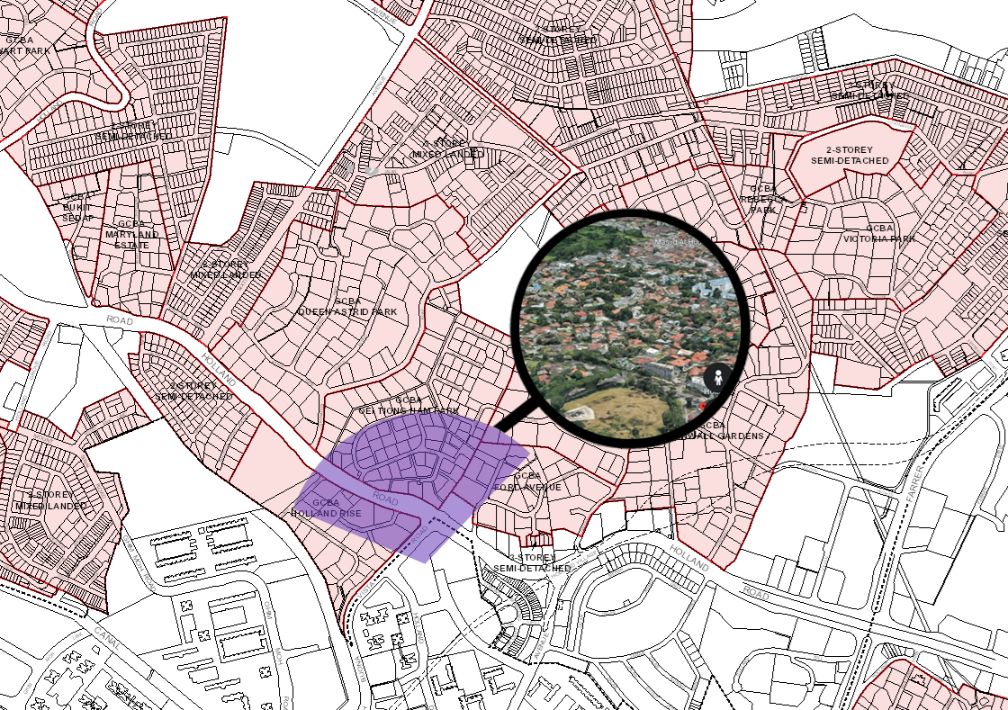 Most of the units are North-South facing, save for Stack 2 and 3. This means most stacks have pretty unblocked views (1,6,7,8). The views over the landed Holland estate should be fantastic – plus these are GCB zoned so the longevity of unblocked views will be safe.
As for Stacks 4 and 5 – these might have nice views throughout most of the block, but your high floor view will be disrupted by a few HDB blocks. So if you want a nice clear view, you'll be relegated to the top few high floor units. For certain units on the low-mid floors, you will overlook the new road "Holland Village Way" and the commercial site of the estate. Bear in mind though, you might have to deal with some traffic noise from there.
Leven

For the Leven blocks, it is South West facing but they are mostly blocked by the Sereen and Quincy stacks. Stacks 11, 12, 13, 14 will only get North West sun between a certain period.

Quincy

For the most prestigious units at the Qunicy Private Residences, views will be similar to the Sereen.
Stacks with the least afternoon sun
Stack 19 has the least afternoon sun, given it has a South-East orientation, avoiding any direct afternoon sun throughout the year.
Stacks 16 and 17 get the most afternoon sun throughout the year, but this is mitigated by the fact that both stack's shorter length of the unit is exposed to it.
Stack 6 is exposed to the afternoon sun for most of the year as well.
Stacks 9 – 14 (Leven) have some exposure to the afternoon sun all year round, except for the period of July to around September.
Unit Mix
Sereen (248 units)

| | | |
| --- | --- | --- |
| Unit Type | No. Of Units | Size of Units (sqft) |
| 1-Bedroom | 62 | 484 sqft |
| 2-Bedroom | 124 | 689 – 829 sqft |
| 3-Bedroom | 62 | 1098 sqft |
Leven (21 units)

| | | |
| --- | --- | --- |
| Unit Type | No. Of Units | Size of Units (sqft) |
| 2-Bedroom | 21 | 807 – 1,087 sqft |
Quincy Private Residences (27 luxury units)

| | | |
| --- | --- | --- |
| Unit Type | No. Of Units | Size of Units (sqft) |
| 3-Bedroom | 14 | 1,238 – 1,281 sqft |
| 3-Bedroom + Study | 3 | 1,615 sqft |
| 4-Bedroom | 7 | 2,088 sqft |
| 4-Bedroom + Study Duplex | 2 | 3,358 sqft |
| Penthouse | 1 | |
It's not often that we see 3 different residential architecturals in one development, much less in one that consists of only 296 units.

In brief, the Sereen is a singular 34-storeyed tower that has a couple of rooftop facilities (including that tennis court). It is made up of 1-3 bedroom units which aren't the biggest by far.

Given the hefty quantum of the development, the smaller unit spaces will go some way in 'reducing costs' for diehard buyers.

As for the Leven, it is a 3-storeyed heritage-like building (reminiscent of Avenue South Residence) that offers a roof terrace to some of its 21 units available.

It is also the residence closest to the busy Holland Road. Given the building's low-rise nature, we would expect some level of noise impact to units here, so let's hope that the experienced developers have put effort into fine-tuning the future 'noise-absorbancies' of the perimeter's shrubbery as well as units' walls, windows and doors.

Finally, the Quincy Private Residences will offer 27 'purchasable' luxury units (non-serviced apartments) spread across the 21st to 28th storey of the building. Each unit will come with its own private lift in tandem with concierge services.

To date, it seems like both the 4-bedroom + Study Duplex units on the 26th and 24th floors on the Quincy Private Residences have already been snapped up for 11.2 (3,363 psf) and 10.9 million SGD (3,270 psf) respectively.

The average psfs for those two units are almost $700psf above the project average of $2,684 (despite their bigger unit sizes), showing the pull/value of limited, high-floored/big-spaced units.
Price Review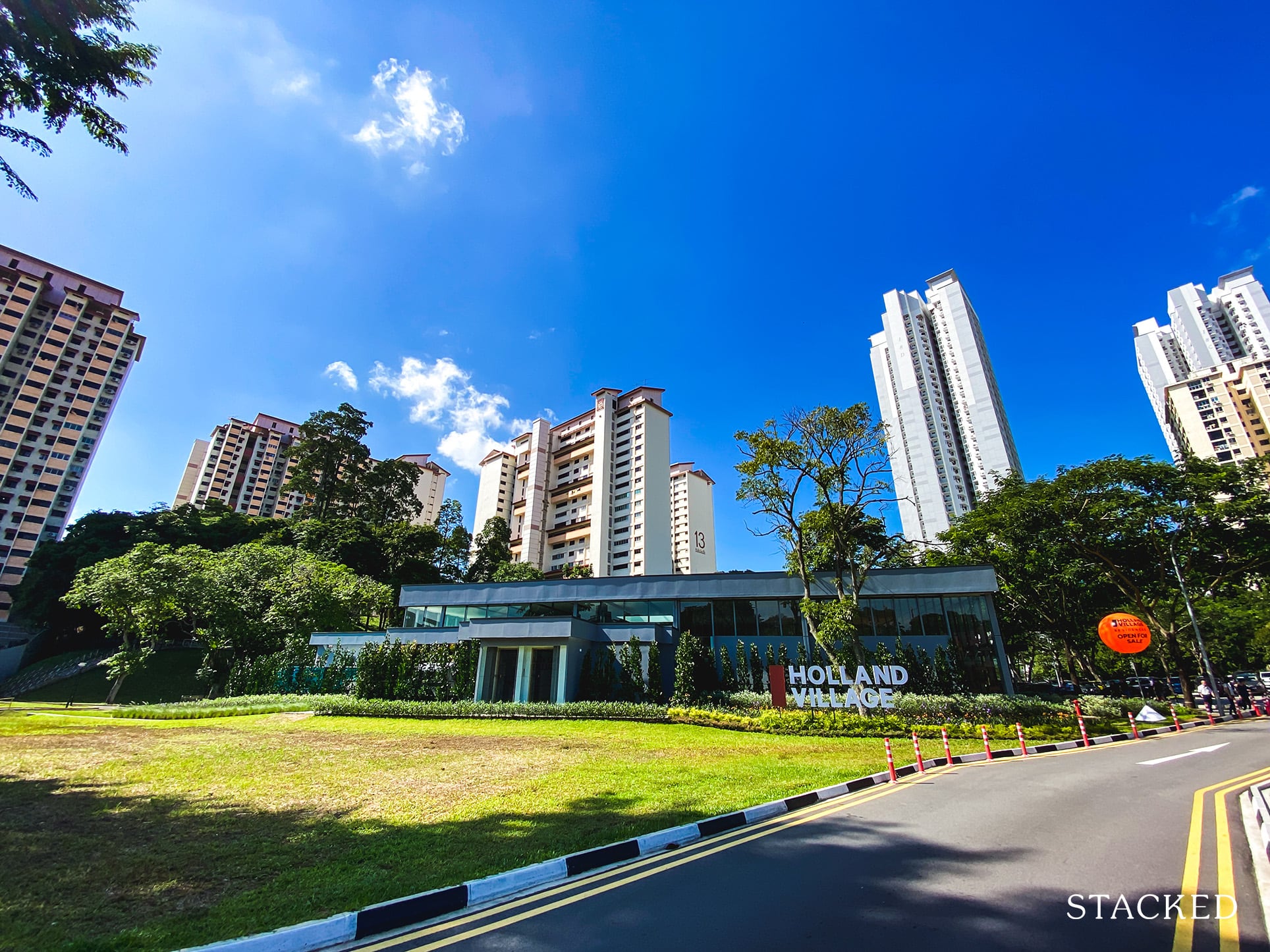 | | | | | |
| --- | --- | --- | --- | --- |
| Project Name | Tenure | TOP | Average Price (PSF) | Comparison Point |
| One Holland Village Residences | 99-years | 2024 | $2,684 | |
| Urban Edge @ Holland V | Freehold | 2007 | $1,565 | Immediate Proximity |
| The Ford @ Holland | Freehold | 2009 | $1,988 | Immediate Proximity |
| Duo Residences | 99-years | 2017 | $2,154 | Integrated Development – D7 |
| Marina One Residences | 99-years | 2017 | $2,402 | Integrated Development – D1 |
| Orchard Residences | 99-years | 2010 | $3,287 | Integrated Development -D9 |
| Wallich Residences | 99-years | 2017 | $3,292 | Integrated Development -D2 |
As mentioned earlier, it isn't often that we see a 99-year leasehold that commands such a massive PSF.

Not unless you consider other key integrated developments in 'hot' districts.

And so for today's price review, we're going to be comparing One Holland Village Residences with its immediate neighbours, as well as other key-location integrated development projects.

Let's begin with its immediate neighbours (which are just across the road, about 400metres away) – Urban Edge @ Holland V and The Ford @ Holland.

Most of you would realise that One Holland is almost $800 PSF above the average of these two condos. A grand testament that tenure alone is no match for novelty combined with doorstep convenience.

That being said, you can expect demand and prices of units here to rise in the coming years due to the added convenience of One Holland's impending commercial sector (without all the noise that comes with it).

As for the integrated developments, if you were to look at the historical sales of similar floored/sized units from their first launches to their current resales, there haven't been any major dips or peaks in quantum differences.

This is mostly due to the fact that the convenience factor that buyers are initially paying for will remain the same throughout the years. Any added convenience in the project's future is usually mitigated by the novelty wear-offs of these developments, hence the standard price stagnancies.

The same 'profit-related' trend cannot be said about rental yields/demand on integrated developments however (more on that in the next section).

And so if you were to compare One Holland Village Residences to its average street quantum, it ranks a lot higher. Something that all other integrated developments in Singapore lineate.

If,however, you did compare the project with the current list of CCR or OCR integrated developments, most of you would have realised that the average quantum of One Holland Residences is smack in the middle of this price range.

And while that is true, it is also extremely important to understand that the average PSF figure of the project here is based off past sales. Due to the diversity of residences/units (and their respective quantums) on offer here, prices tend to differ greatly based on uptake.

To paint a clearer picture, these are the average PSFs of the 3 residences present here:
| | |
| --- | --- |
| Residence Name | Average Price (PSF) |
| Sereen | $2,600 |
| Leven | $2,900 |
| Quincy Private Residences | $3,200 |
Given the majority sales of 'less exorbitant' units thus far, it is only natural that the average PSF on One Holland Village Residences is in the middle price range of the key-integrated development list despite its novelty and singularity in CCR District 10.

Do not be surprised to see the average quantum of One Holland Village jump once its bigger units are gradually snapped up.

TLDR: Don't look solely at the average PSF of the entire project, or its 'integrated development' PSF rankings for that matter. Go deeper into the particular residence and unit type that you are interested in before making quantum comparisons.
Appreciation Analysis
One important point for investors to note is the 'unique' revenue strategy for integrated developments.

Unlike some developments, most integrated developments almost never appreciate like mad overnight.

Due to the already present 'maxed-out' convenience offerings at launch (as mentioned earlier), it's therefore natural that quantum values in these developments don't see many major fluctuations (outside of external economic impacts).

What's more, integrated developments are already a highly sought-after development type in the Singaporean context, unlike how it was 20 years ago when Compass Heights (Sengkang) first launched (it has since appreciated by nearly 140%).

This gives developers the ability to price quantum figures in said projects at an exorbitant rate, which rarely results in any massive appreciation in the short term.

That being said, given the massive demand for convenience by well-heeled Singaporeans and expats, rental demand (not necessarily yield) of integrated developments are usually much higher than other residential developments.

More so when you consider that One Holland Village Residence is the only integrated development in CCR District 10 to date.

Main Investment Strategy: As such, one main strategy for investors who are looking to buy into a unit here is to capitalise on rental revenue for a number of years before 'exiting' (or selling the unit based on profitable market trends).

In essence, it should be viewed as a long-term investment strategy as opposed to a hot potato one.
Our Take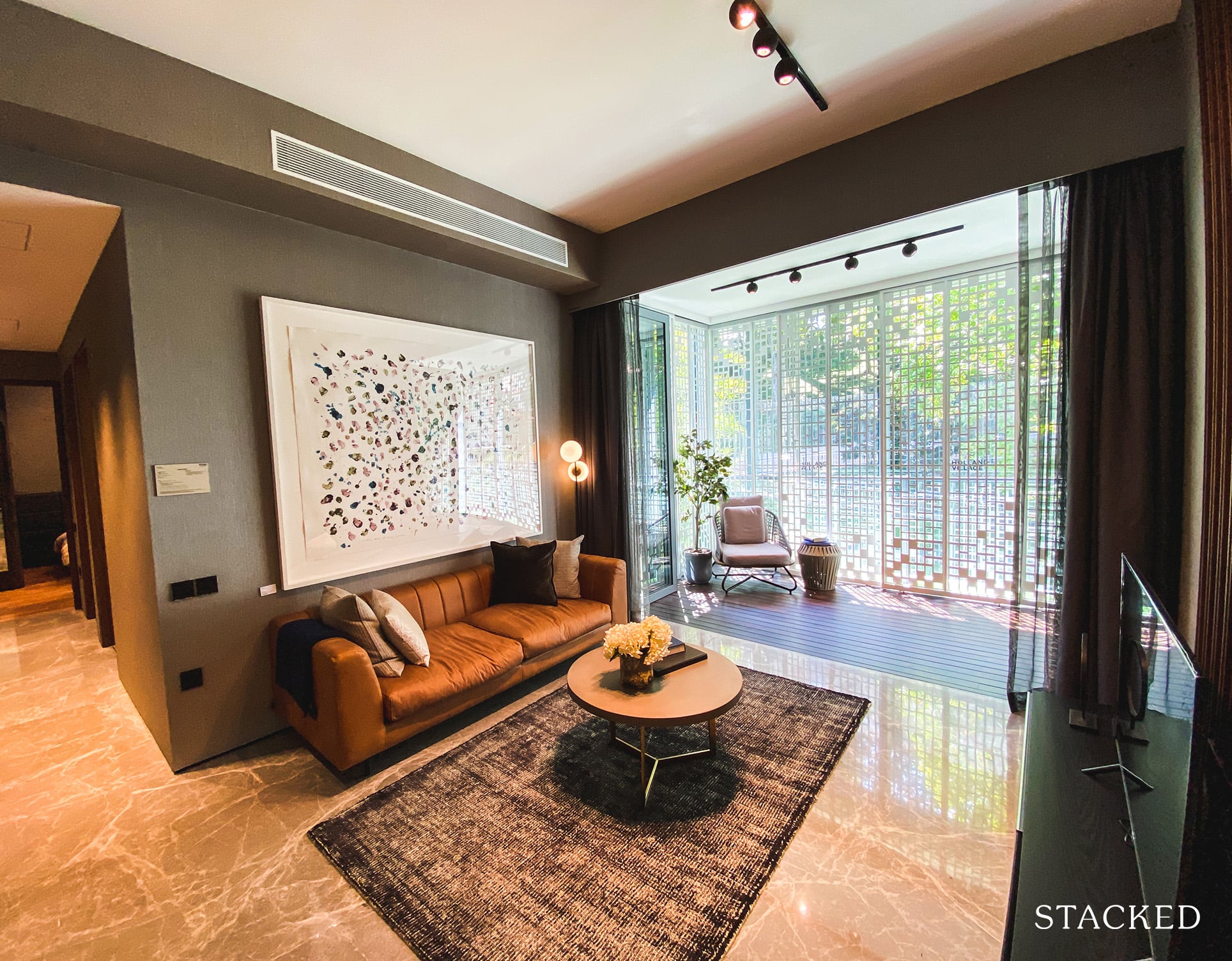 Similar to its varied price tag, it is a little hard to judge the Holland Village Residences as a whole without going into individual nuances in the various residentials.

At the end of the day, what resonates with me personally might not necessarily appeal to everyone.

That being said, I feel that potential buyers (myself included) have a lot more to analyse about the entire One Holland Village Residence before making a decision.

Some of the factors like potential road noise that the Leven might receive or generally higher public demands of the Sereen as a result of its price and rooftop facility offerings (despite unit sizes) can be seen from the get go.

But other points like development exits, specific commercial/retail sector offerings etc should also be taken into consideration closer to its completion date.

Of course, with the rate units are currently getting snapped up, the chances of securing a choice unit might not be a plausible option for very much longer.

In light of that, if you'd like a more comprehensive/personally tailored analysis, feel free to reach out to us at hello@stackedhomes.com

At the end of the day, One Holland Village Residences does present itself as a fulfilling opportunity for long-term investment, with all the convenience that an integrated development home can offer.

If you have the capital, this could be a lifestyle game-changer you've been waiting for.
What this means for you
You might like One Holland Village Residences if you:
Require Extreme Convenience:

Let's face it, an integrated development in District 10, and more specifically Holland Village is about as good as it gets.

Are a Fan of Diversity:

3 different residentials, a multitude of retail/commercial offerings, public/communal spaces and an entire Bohemian-like district at your doorstep screams variety.
You might not like One Holland Village Residences if you:
Require Low Noise Frequencies:

It isn't just the Leven that might suffer from noise pollution. Given the commercial/retail sector and centrality of the project, some level of unit noise flow is expected.

Are Budget Stringent:

With a range of cheaper freehold units in the area, One Holland Village Residence's exorbitant PSF will pose a deflection barrier – even to the well-heeled.
End of Review
Join our Telegram group for instant notifications
Join Now
Reuben