Units Of The Week

5 Freehold Walk-Up Apartments Close To An MRT Station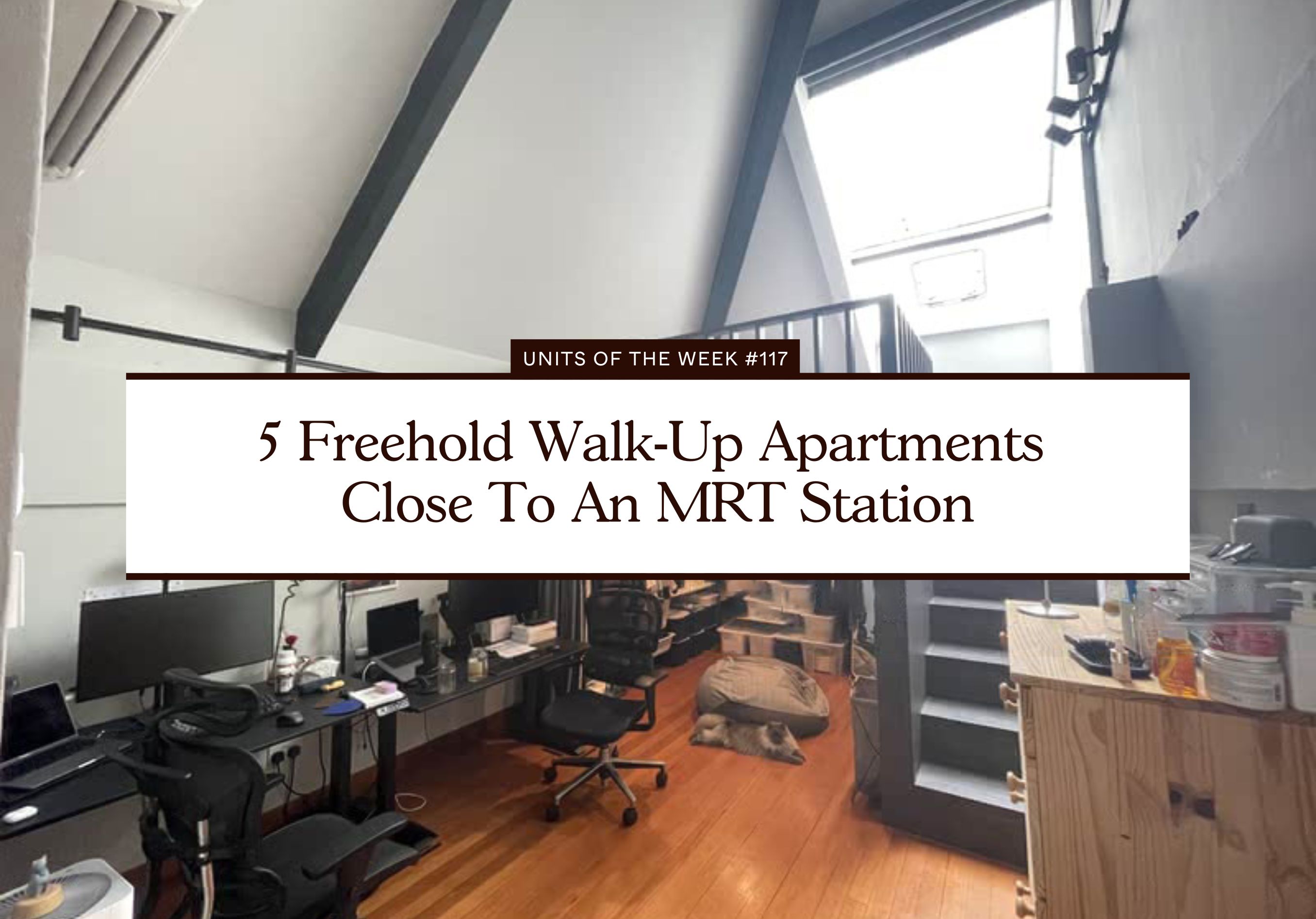 While shophouses are always going to be a popular aspirational type of property in Singapore due to their uniqueness, they also can generally be priced too high out of reach for most people.
An alternative to look at can be walk-up apartments. Although they don't have as differentiated a facade as shophouses, some of them can still have unique attributes like a higher ceiling or a pitched roof.
You may have to cough up more money for renovations though, but the upside here is the savings on monthly maintenance fees as compared to condos! Of course, there usually isn't security or any facilities for that matter, so that's a tradeoff that you will have to decide if it's worth it to you!
Missed last week? You can view the previous issue here.
You can also join our free weekly newsletter so you stay up to date on our latest curations weekly.
Now let's get on with the list of curated units this week!

$1,050,000
| | |
| --- | --- |
| Address: | 735 Mountbatten Road 437745 |
| Tenure: | Freehold |
| Size: | 657 sqft |
| $PSF: | $1,598.17 PSF |
| Developer: | Unknown Developer |
| TOP: | N1998A |
Why I like it
Unlike most walk-up apartments, this unit at Mountbatten Lodge is a fascinating one as it is actually a freehold conservation house that looks like a really cool bungalow. It's set just across the upcoming LIV@MB (so you will have to do with some construction noise for the time being), but you are within walkable distance to Katong Park MRT station on the Thomson East Coast line.

The unit is sized at 657 square feet, but it probably feels bigger than it seems on paper due to those really high ceilings. It's really a gorgeously unique space, with the living, bathroom, study, and walk-in wardrobe on one floor, and the bedroom on a loft, with a spiral staircase that takes you to the kitchen.

Above the bedroom (which is above the wardrobe space), is a really cool skylight as well which not only looks good but brings in a lot of light into the space. It's a genuinely well done and cosy setup, and is perfect for those looking for something different.

– Ryan

2

River Valley Walk-Up
$1,700,000
| | |
| --- | --- |
| Address: | River Valley Walk Up 248311 |
| Tenure: | 999-year Leasehold |
| Size: | 1,150 sqft |
| $PSF: | $1,478.26 PSF |
| Developer: | N/A |
| TOP: | N/A |
Why I like it
This is a 999-year leasehold walk up apartment, which is really as good as a freehold one. It's in the River Valley area, so you can get to the revamped Great World City shopping centre easily, and there is also the upcoming MRT to look forward to on the Thomson East Coast line.

As you can probably tell by the photos, the space really isn't much to look at right now – you'd definitely need to invest a good amount to do up the space. At 1,150 square feet for a 3 bedroom 2 bathroom unit, it is decently sized as compared to most new condos that you might see today.

– Druce

3

Binjai Park walk-up apartment
$1,700,000
| | |
| --- | --- |
| Address: | Binjai Park 589869 |
| Tenure: | 999-year Leasehold |
| Size: | 1,033 sqft |
| $PSF: | $1,645.69 PSF |
| Developer: | N/A |
| TOP: | N/A |
Why I like it
I do like the Binjai Park area as it is overall less crowded because it is in a landed zone, and just feels less dense as a result. Yet, you can still walk to the King Albert Park MRT station on the Downtown line, and to other shops and spaces like KAP Mall, and Bukit Timah Plaza. Not to mention, you do have food options at your doorstep too, like IVINS, Lino (an Italian restaurant), and Hup Choon (tze char place).

The unit is a sizeable 1,033 square feet for a 2 bedroom + 1 bathroom unit. It is simply furnished and decked out too. Nothing fancy, but doable should you have a limited budget.

– Reuben

4

Novena Court
$1,280,000
| | |
| --- | --- |
| Address: | 20 Jalan Novena Barat 308612 |
| Tenure: | Freehold |
| Size: | 861 sqft |
| $PSF: | $1,486.64 PSF |
| Developer: | Unknown Developer |
| TOP: | 1970 |
Why I like it
I remember eyeing a unit here in 2017, back when you could obtain a 3 bedroom unit here for under a million. Novena Court is a freehold walk up apartment that is only about a 5-minute walk to Novena MRT, and with that a host of food and retail options at Novena Square 1 and 2, Velocity, and Royal Square. Of course, you also have easy access to Mount Elizabeth and Tan Tock Seng Hospital. And if you venture a little further, United Square and Goldhill Plaza.

Because Novena Court faces the main road, you will definitely be faced with traffic noise – particularly so because Thomson Road is always such a busy and congested one. That said, the good thing about this unit is that it faces away from the main road and towards the back of the development instead. At 861 square feet in size, it's definitely not the most spacious. The current renovations are quite basic too, so you might want to think about a budget for doing some work here.

– Stanley

5

238C Serangoon Road
$1,100,000
| | |
| --- | --- |
| Address: | Serangoon Road 218085 |
| Tenure: | Freehold |
| Size: | 861 sqft |
| $PSF: | $1,277.58 PSF |
| Developer: | N/A |
| TOP: | N/A |
Why I like it
This area really is shophouse territory, with many unique facades along Serangoon Road. It's a freehold 3 bedroom 1 bathroom unit sized at 861 square feet. You definitely need to set aside a good sized renovation budget here, as you can see from the photos above.

The main attraction here is really the convenient location (although you should be warned that it is a very busy area). You are within walking distance to Farrer Park MRT station, and to shopping areas like City Square Mall and Centrium Square. There is also the upcoming Piccadilly Grand to look forward to, as there will be a commercial area to it as well.

– Sean