Our Verdict
Piccadilly Grand has the trappings of a good investment on paper. Its integrated nature means immediate connectivity to Farrer Park MRT and its city fringe location means that getting to Orchard or the CBD by car or MRT is both very convenient. Moreover, it is a melting pot of cultures, with abundant food options to be found within a short walking distance. As the first major launch of 2022, we are keen to find out if Piccadilly Grand is truly worth its salt.
45
min read
| | |
| --- | --- |
| Project: | Piccadilly Grand |
| District: | 8 |
| Address: | 1, 3 & 5 Northumberland Road |
| Tenure: | 99 Years from August 2021 |
| No. of Units: | 407 Residential with Retail/Child Care Centre |
| Site Area: | 94,000 sqft |
| Developer: | City Developments Limited & MCL Land Limited |
| TOP: | 2026 |
It's been some time since I reviewed a new launch condo – and that says a lot, or the lack thereof, about new launches in 2022. As the first major launch (excluding EC – North Gaia launched in early April) following December's cooling measures, expect Piccadilly Grand's reception to be closely watched by market observers. Will buyers be more selective in their purchases or will the red-hot demand continue into 2022?
This Northumberland site was won by first-time JV partners CDL and MCL via a Government Land Sales (GLS) tender in 2021 for $445.9 million ($1,129 psf). The tender was well sought after and attracted 10 bidders as new private residential supply ran thin and the winning margin over the second-highest bidder was a mere 5.7%. For comparison's sake, the last GLS (Uptown @ Farrer) in the vicinity was in 2017 at $1,001 psf, making Piccadilly Grand 13% more expensive on a land cost basis. Let's see how this plays out for the sale prices in our Price Review section. 
We have some indicative prices for Piccadilly Grand. 1 Bedroom units are expected to cost upwards of $1.058 million ($2,186 psf), 2 Bedrooms from $1.348 million ($2,086 psf), 3 Bedrooms from $1.788 million ($2,024 psf), 4 Bedrooms Dual Key from $2.738 million ($1,986 psf) and $3 million and up ($1,896 psf) for 5 Bedroom units. There's not too much of a surprise here, the prices are generally in line with analyst expectations based on the cost of land sold.  
Piccadilly Grand's main selling point lies in its integrated nature – with direct access to Farrer Park MRT, a retail component named Piccadilly Galleria downstairs, and a childcare centre for both residents and the neighbourhood. In particular, there's great appeal to direct MRT access as it really helps to save on travel time. The plus point of having an underground line at Farrer Park means you don't have to endure the noise pollution from the train tracks – that's definitely a big plus to me.
Since we're on the point about Farrer Park, let's chat more about this neighbourhood. Those familiar with the area will notice that many surrounding roads around Piccadilly Grand take on British-inspired names – Oxford, Cambridge, Durham, Gloucester, Dorset, and of course, Northumberland, where Piccadilly Grand is situated.
Consequently, the developers have taken advantage of the area's emphasis on its British roots to name this development Piccadilly Grand, after the synonymous Piccadilly Circus, one of London's iconic locations with its neon displays and bustling activity round the clock. While I won't go as far as to say that Farrer Park is the Piccadilly of Singapore, it is indeed one of the more bustling areas at night, with iconic late-night spots such as Mustafa and Swee Choon close by.
I'm sure you're excited to find out more about Piccadilly Grand so let's get right to the Insider Tour!
Piccadilly Grand Insider Tour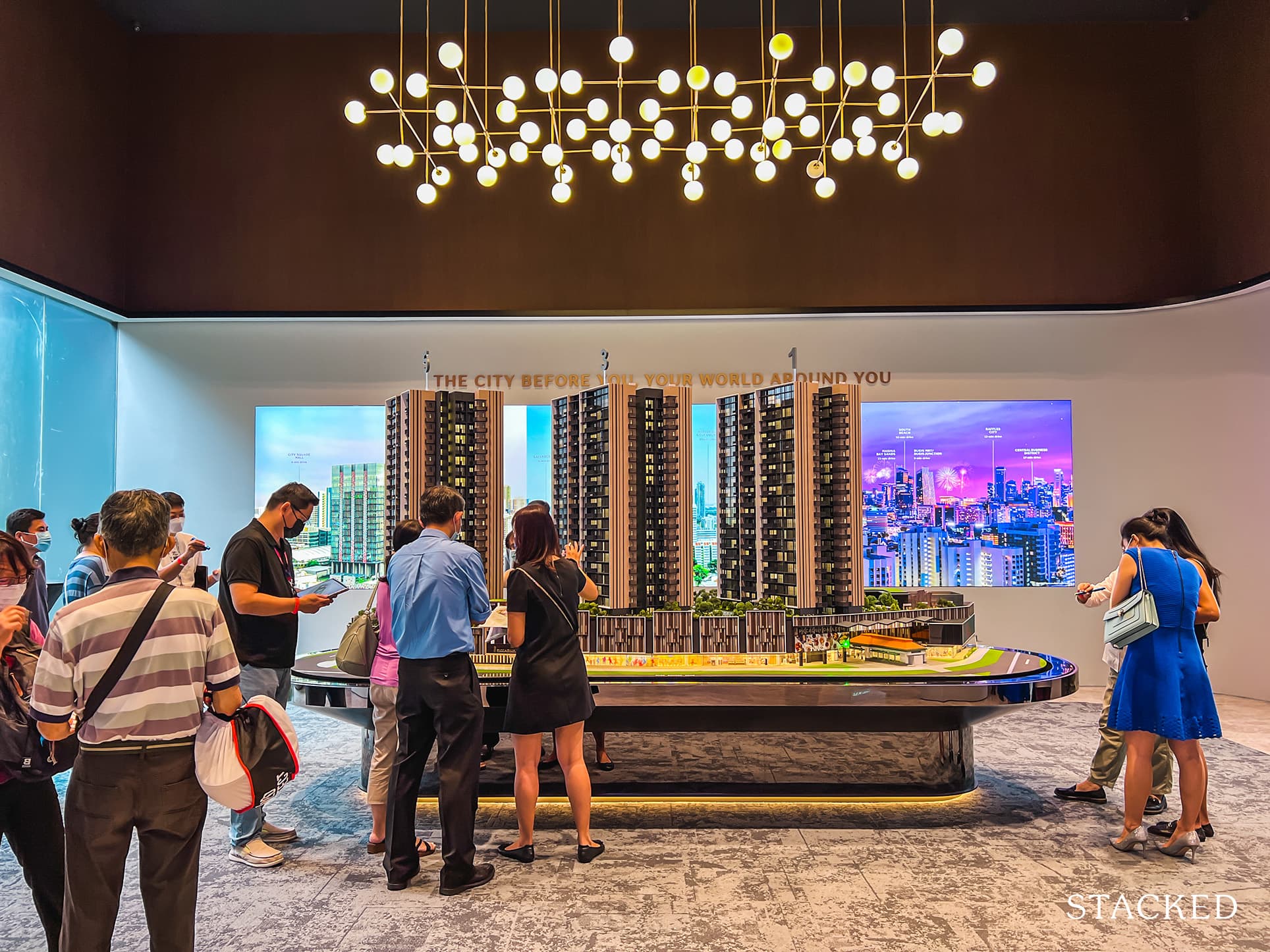 Piccadilly Grand comprises three 23-storey towers along Northumberland Road in the Farrer Park precinct, with a total of 407 residential units that range from 1 to 5 Bedroom types. Sizes vary from 484 sqft to 1,679 sqft and as usual, we will be checking out the units at the show flat later in this review. As far as new launches go this is considered to be a smaller mid-sized project, and you can say it is a good size for those looking for the right mix of facilities without it being too dense in nature as well.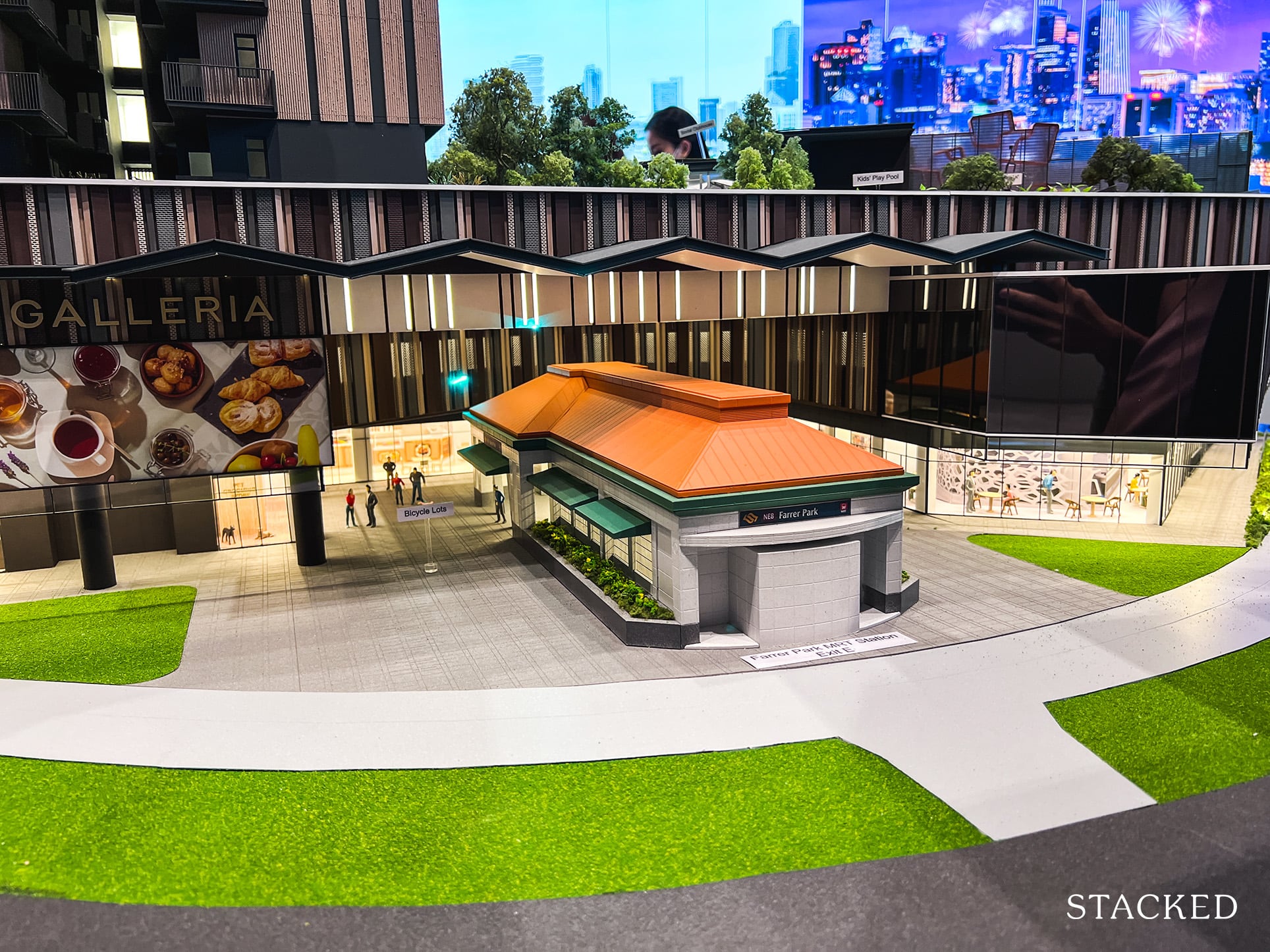 Piccadilly Grand has sheltered and direct access to Farrer Park MRT (built over the existing Exit E of Farrer Park MRT station) and a retail component named Piccadilly Galleria downstairs. The latter will make up more than 16,000 sqft of retail and F&B outlets, adding to the already plentiful supply of food options close by. If you need any further indication, just look opposite the actual site – at Race Course Road, you already have a number of F&B outlets including Muthu's Curry for your patronage.
Do note that there are 9 different exits at Farrer Park MRT station, so this can connect you quite easily to the surrounding areas.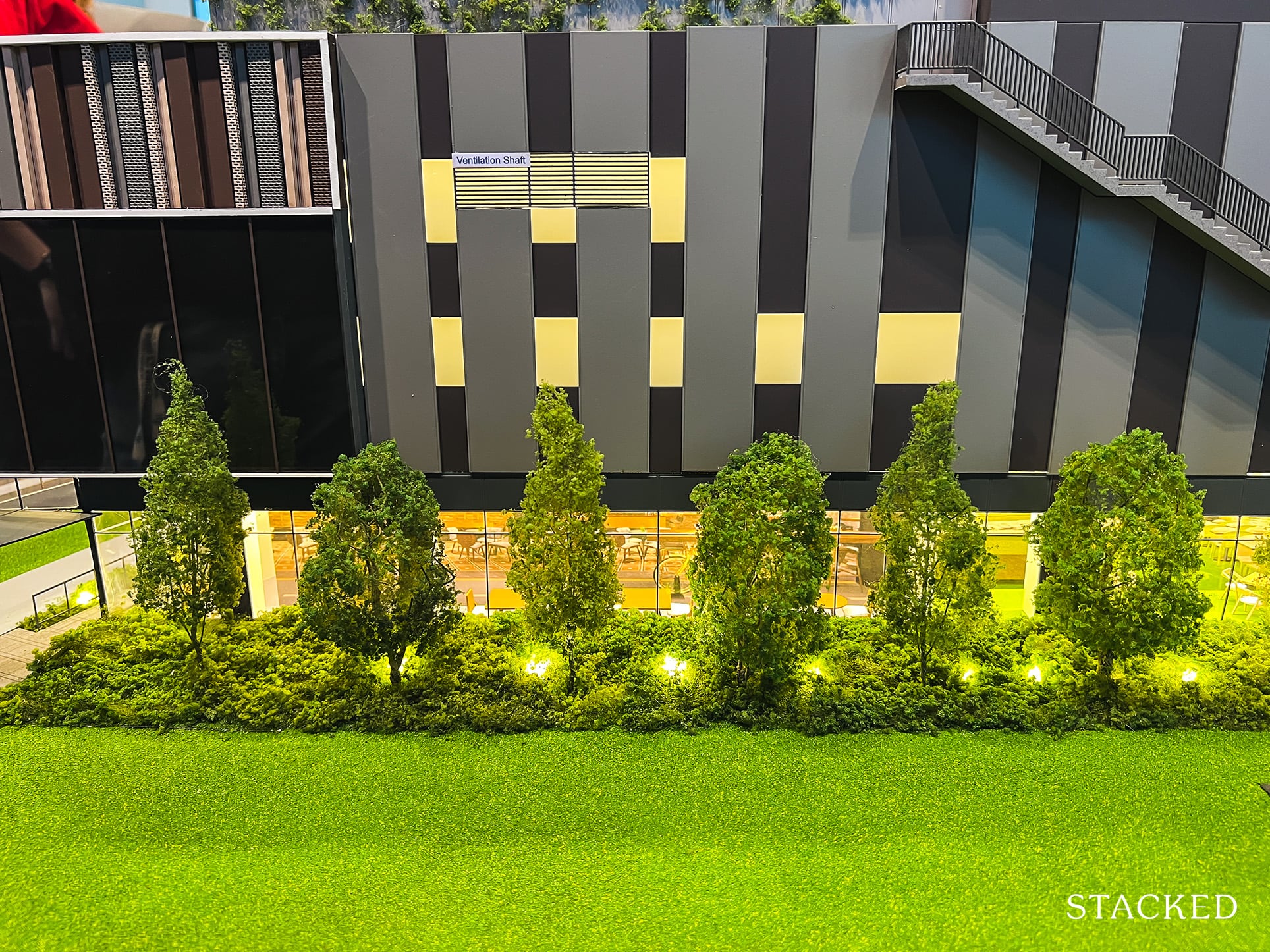 As for the retail space, it is only expected to augment the convenience you can find close by at City Square Mall and Mustafa – but don't expect it to replace them completely due to its smaller size. To give you a clue, City Square Mall (450,000 sqft of NLA and by the same developer CDL) and Mustafa (400,000 sqft of retail space) are almost 25 to 30 times larger than Piccadilly Galleria. The one here is only expected to house 14 shops, so it isn't going to be a retail/dining powerhouse by any means.
But the good thing here is that it will all be managed by CDL, so there should be some curation here in terms of the tenant mix.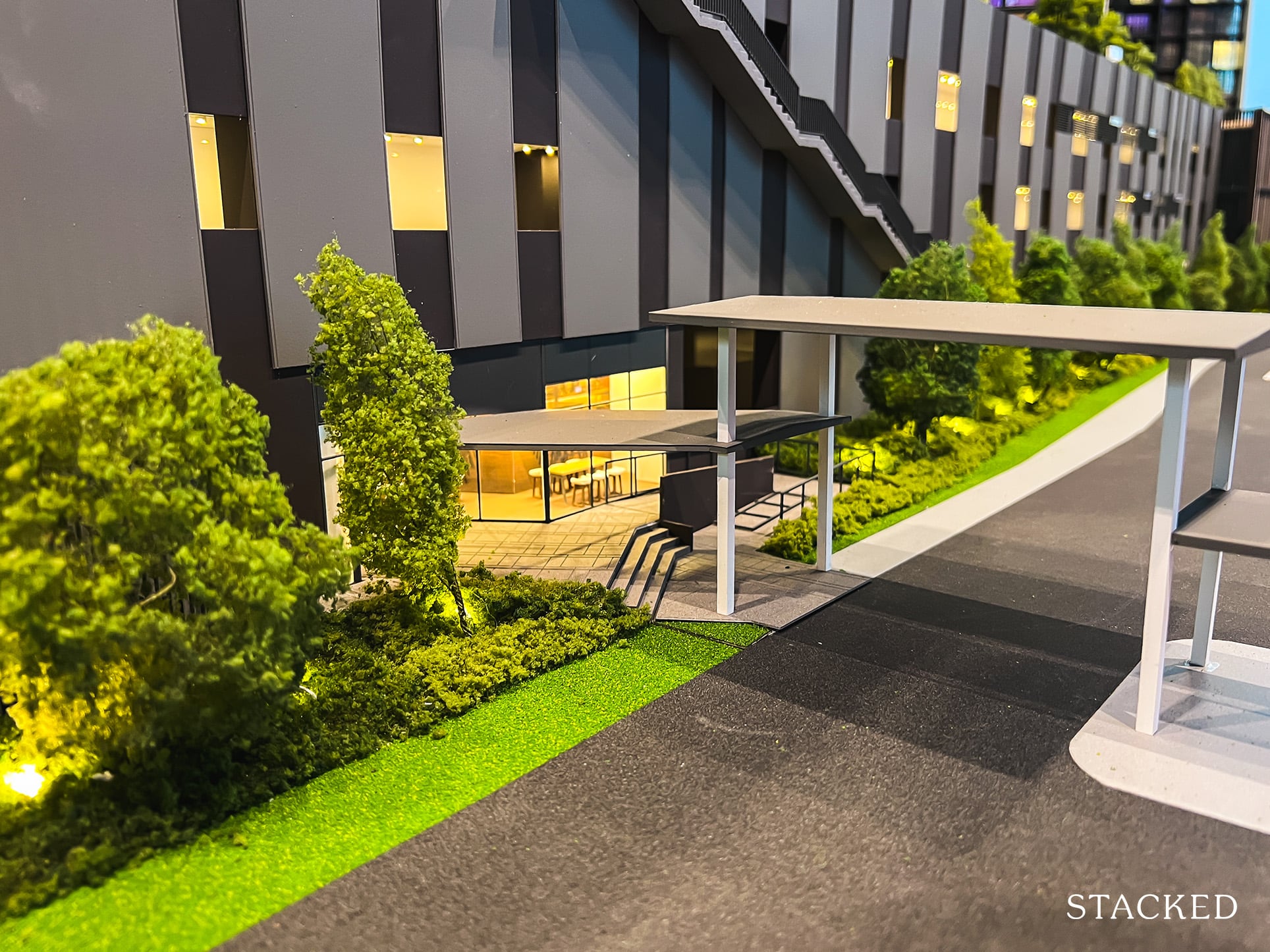 Beyond its retail and F&B spaces, there is also a 5,000+ sqft childcare centre here, which will come in handy for young parents staying at Piccadilly Grand or in the neighbourhood. I don't have the sizes of other childcare centres readily available but 5,000 sqft is a decent size. There will also be a covered linkway connecting the Farrer Park View HDB estate to Piccadilly Galleria and the MRT, providing further convenience to the residents nearby. 
You can already imagine how fuss-free life can be here – you get home via Farrer Park MRT, pick up some groceries at Piccadilly Galleria, and your kid from the childcare care – all done within a 5-minute walking radius or less. It's a convenient lifestyle that integrated developments sell, and so far it's been a hit with Singaporeans. Recent integrated developments such as Pasir Ris 8, Sengkang Grand Residences, and Midtown Modern are all close to selling out. So going by that trend, you'd expect Piccadilly Grand to do well here.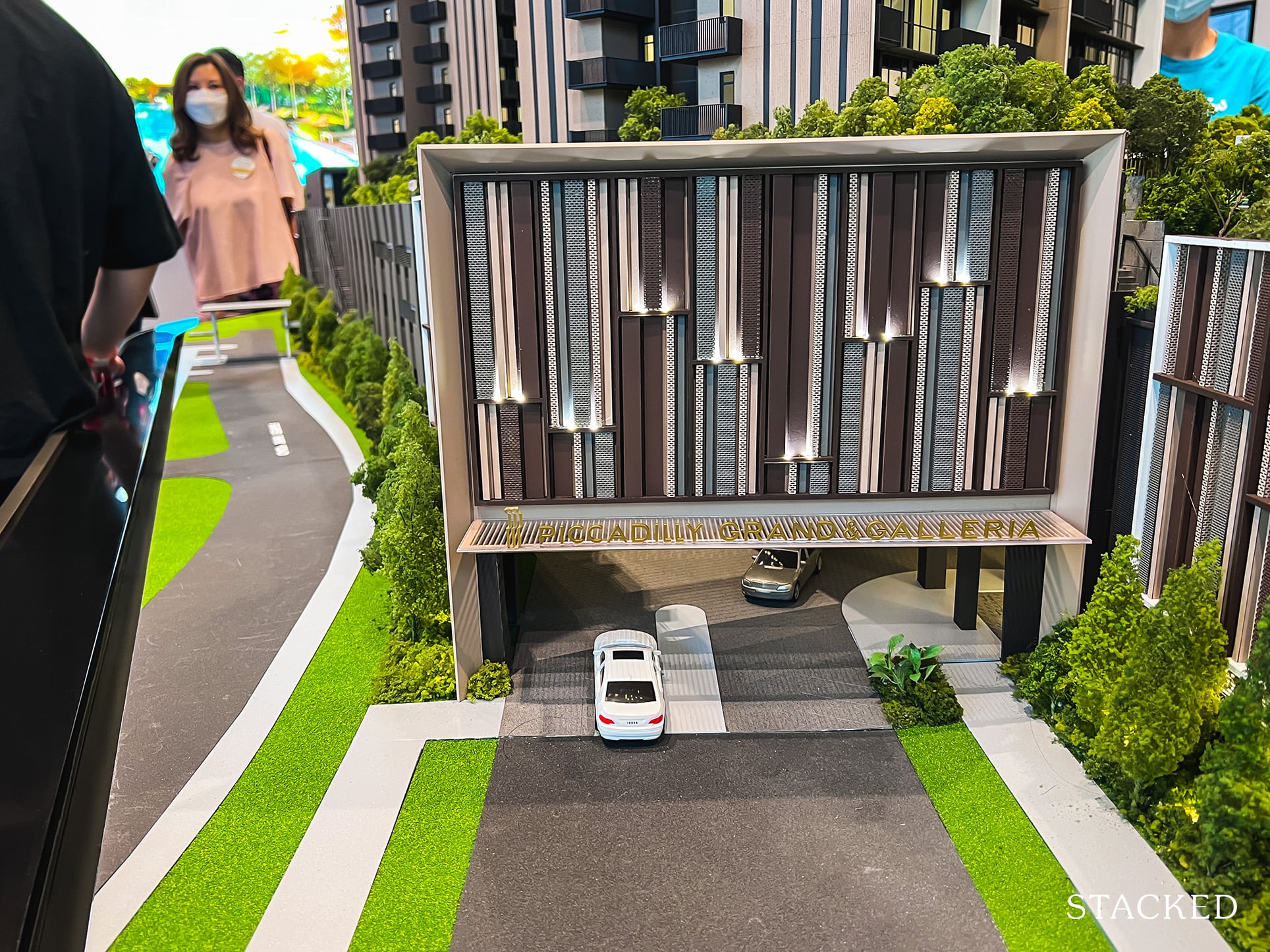 Arrival at Piccadilly Grand by car will be via Northumberland Road, off Race Course Road. This is where the Guardhouse will be located and where you and your guests will be dropped off. Given that the land plot excluding the retail, F&B, and childcare centre is not exactly huge, the residential drop-off point is not going to be some grand exercise. Instead, it will be tucked away inside the car park. There's not much fanfare here, so I don't expect it to be fantastic. I doubt anyone really minds anyway, as the main selling point here is not a luxurious lifestyle play.
As it is hidden from the show flat model, you might have to exercise some imagination here.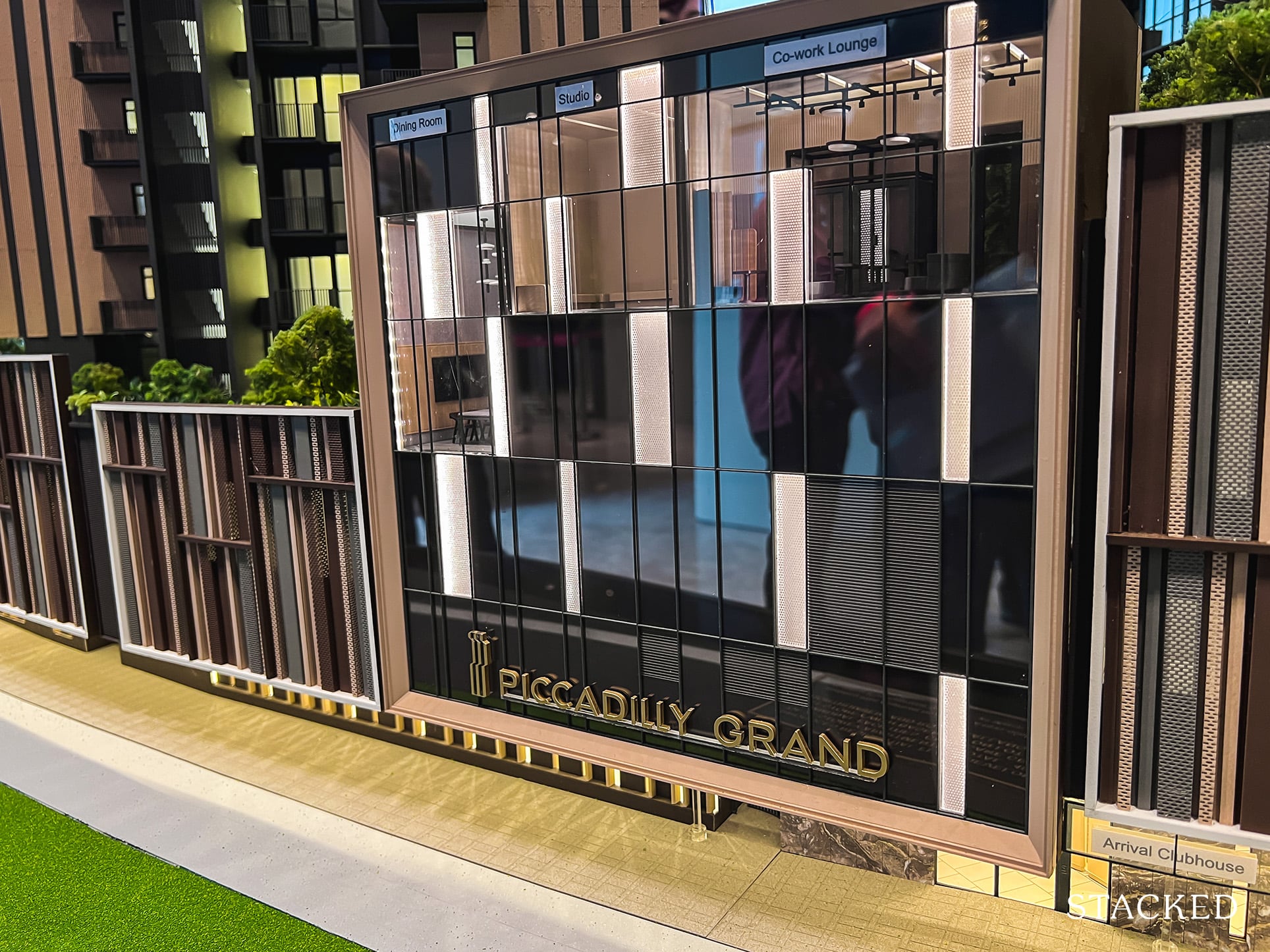 Well, at least you will arrive at the proper Arrival Clubhouse, ready to welcome you home on the 1st floor. The first of 3 'Clubhouses' will house the welcome reception, arrival lobby, and lounge. As with the trend of smart homes, there will also be a smart parcel feature for you to pick up your online orders when you get home. I do think that having more than one clubhouse makes sense to prevent too much overcrowding from happening in one place, particularly on a plot that is quite elongated in shape.
Depending on which block you live in, there will be 2 to 3 storeys of car park catering for 80% of units (330 car park lots, including 3 Electric Vehicle EV lots). I reckon that this will be more than sufficient given that Farrer Park MRT is directly connected to the development and there will be a number of tenants or residents who do not drive. Even without the MRT, its city-fringe location means getting around by other forms of public transport will also be a breeze. There will also be 14 commercial lots for those who visit Piccadilly Galleria, so there is some separation there.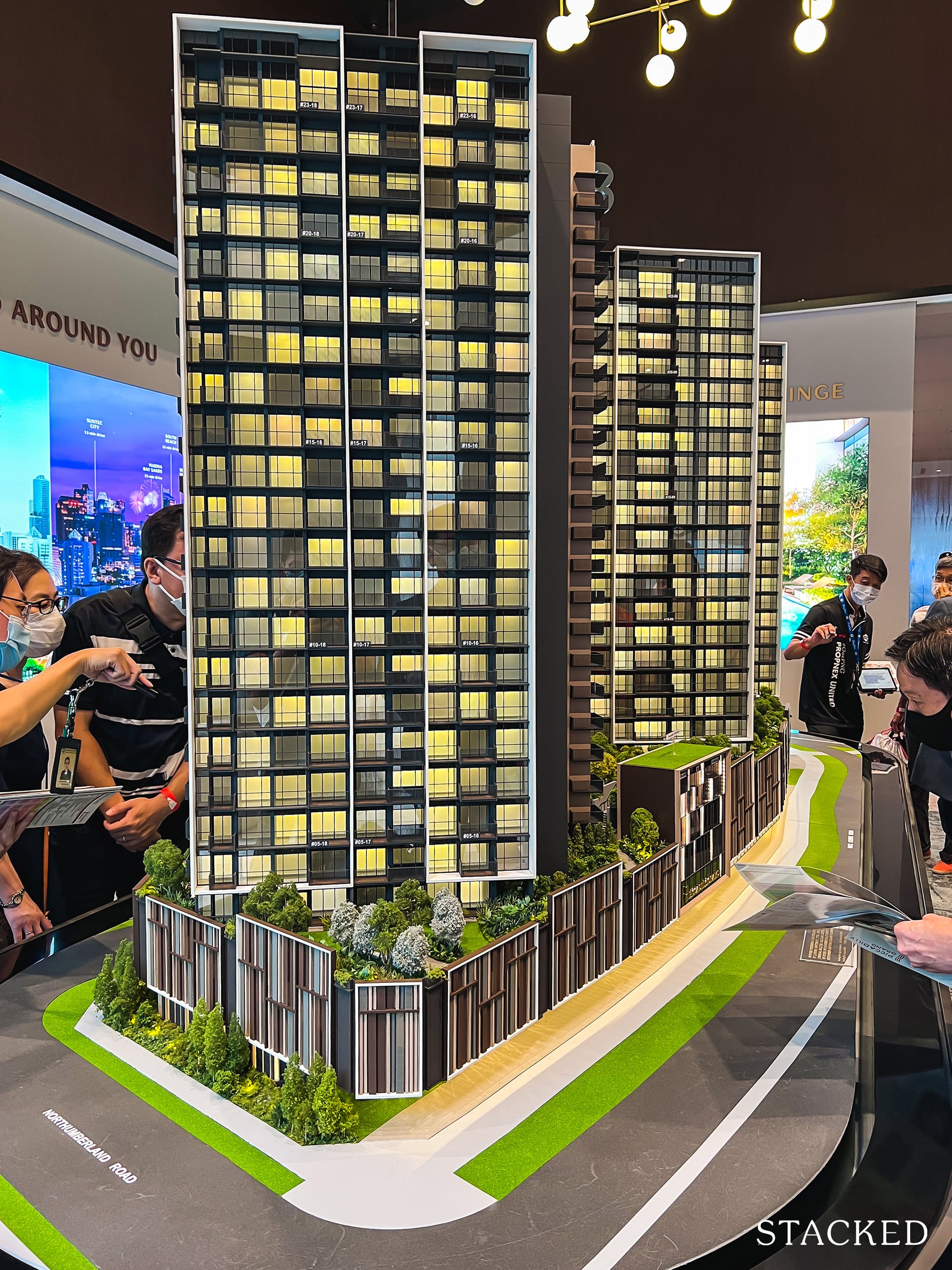 While the norm is usually basement parking, the one here will be above ground instead. It is a cost-saving technique used by developers while also ensuring that lower floor units have a buffer between their units and the road. This means that units at Piccadilly Grand will have a good ~12m between them and the road, ensuring that there is complete privacy from any prying eyes from the public. I'd still prefer an underground car park, but having that privacy here makes sense given the central and bustling location.
To further orientate you, Piccadilly Grand has 3 levels of facilities (1st, 3rd, and 4th) and a total of 5 zones to suit the different lifestyle needs of residents. Most of the facilities (3 zones) will be found on the 4th floor.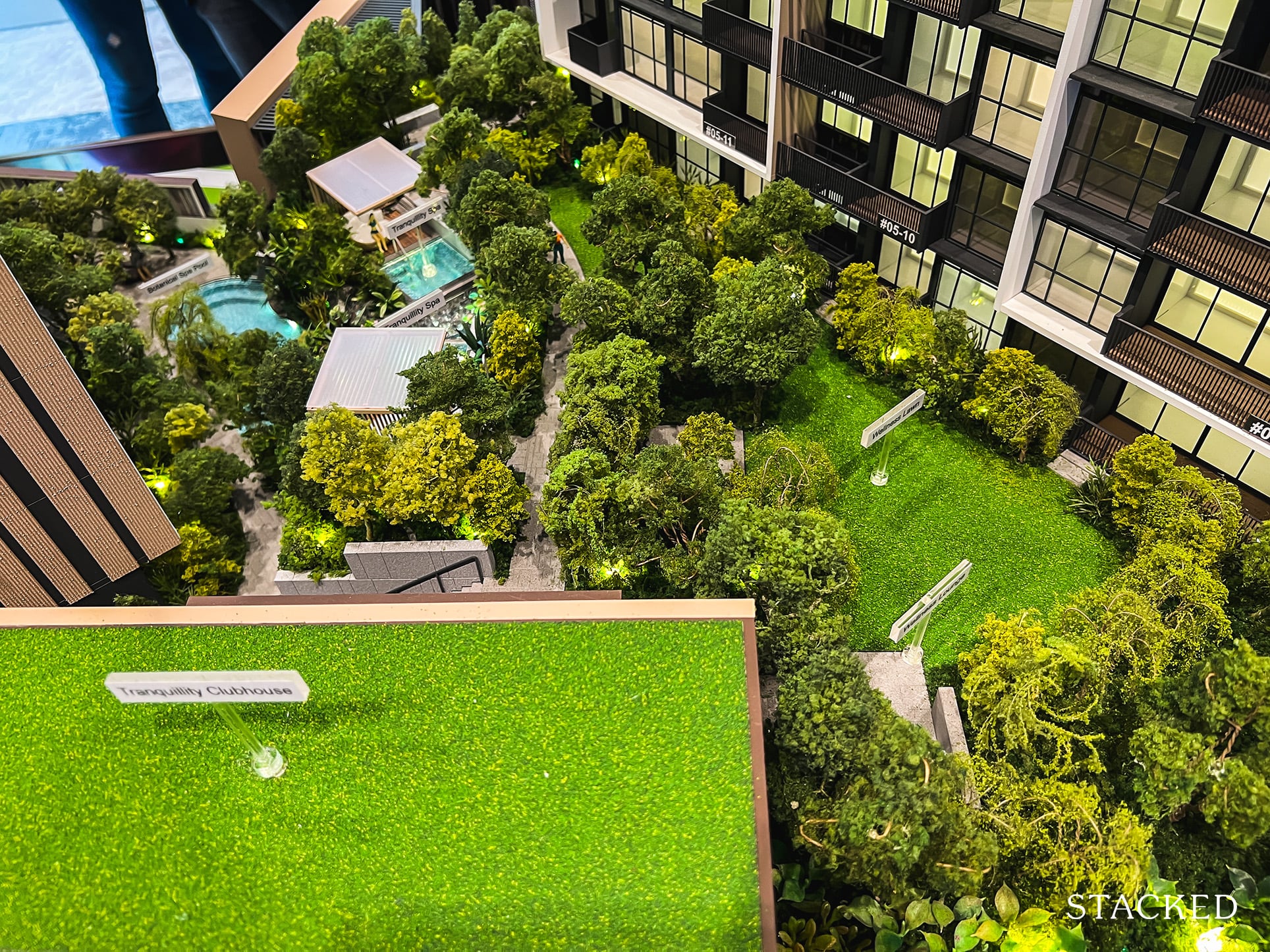 As Block 5 does not have a 3rd floor car park, this space will be home to the Botanical Zone instead. The Botanical Zone on level 3 is not a huge space and aspires to be exactly what it is named. Depending on your preference, the most functional space could be the Botanical Spa Pool, which can be a quiet spot for relaxation. Other areas include the Relaxation Courtyard, Secret Garden and Botanical Deck, all of which appear to be fancy terms describing various manicured spots on the floor. It's also worth noting here that Block 5 will be set on a level lower than the rest, so you'd need to climb a small flight of stairs to get to the rest of the facilities.
Additionally, in line with the theme of the zone, there is a tranquility spa, wellness lawn, and wellness lounge, all of which are presumably created to allow one to feel zen and at peace. I personally don't always find these provide that much value, but I suppose in a busy city location there could be some benefit here.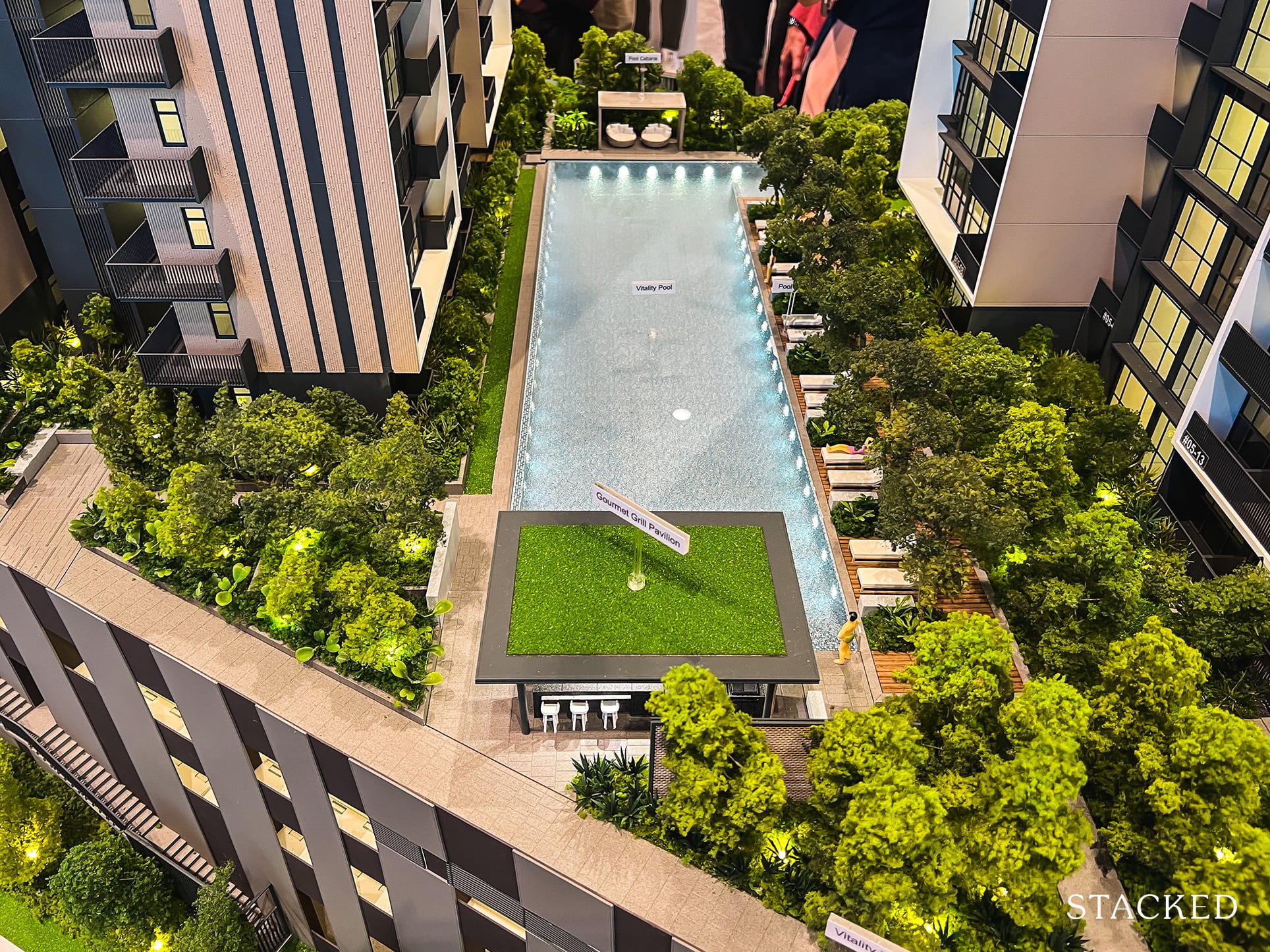 Moving on to the 4th floor, which is where you find the Tranquility, Vitality, and Social Zones. Starting first with the Vitality Zone, which is where the standard lap pool will be. However, unlike most new launches of this size, this is, rather disappointingly, not a 50m lap pool but a 35m one instead. For a development with 407 units on a decently sized land plot, I would expect a 50m pool to be a reasonable expectation, especially when it is the only main pool here. In any case, if it's any saving grace, the width of the pool is pretty good at 10m, which should accommodate between 4 to 5 people swimming at the same time.
You do have a kid's pool too, which will hopefully help with the crowds around the main pool. I'd expect weekends to be a packed feature here.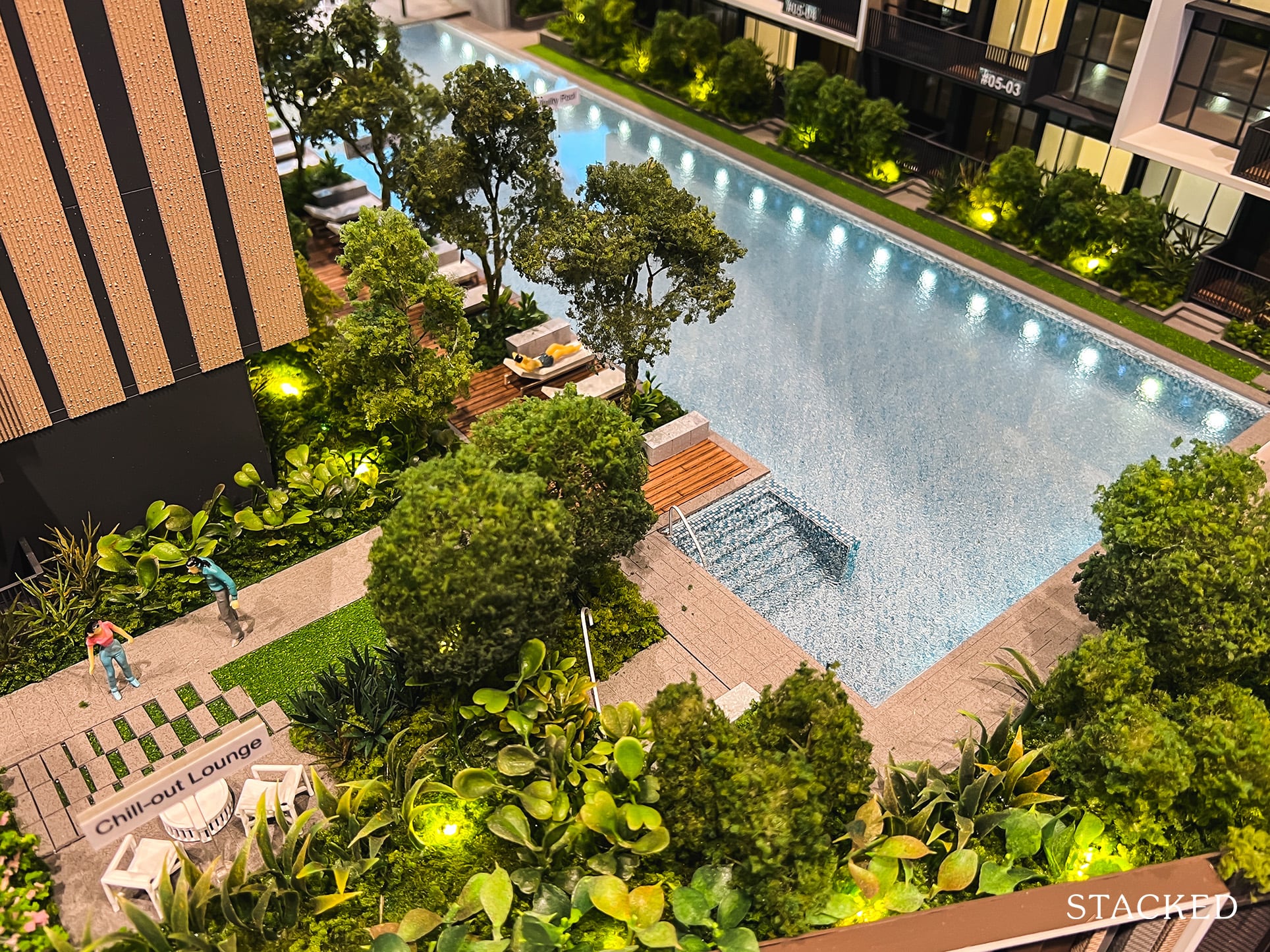 Pool Decks will line the length of the pool, which is always a nice touch for residents to laze around to read a book or get a tan, especially on the weekends. If you prefer a bit more shade, there's also a poolside cabana that fronts the entire length of the pool.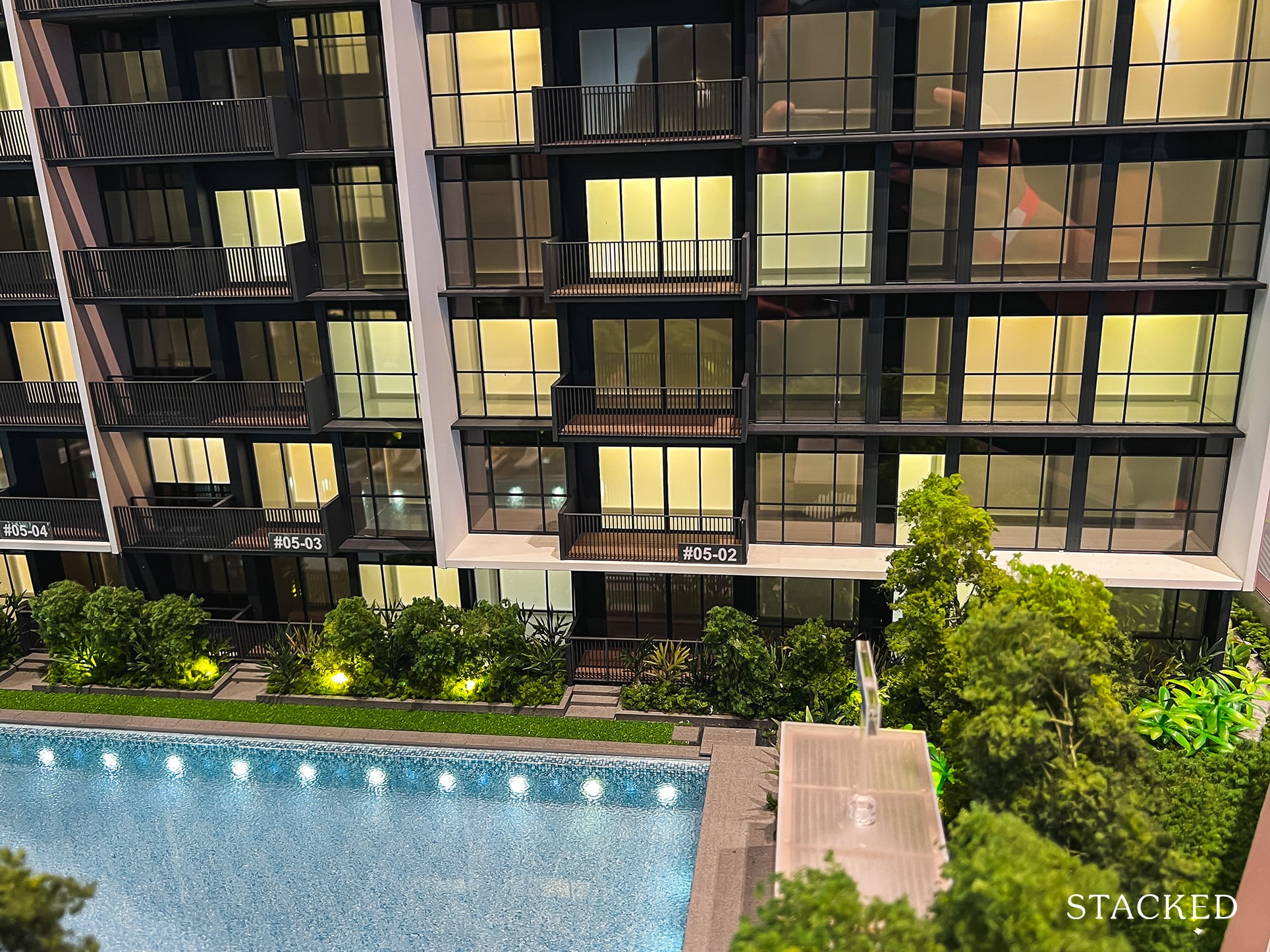 Ground floor units will have quick access to the pool. It's good for families with children who love to swim, but it does come with the usual downside of privacy.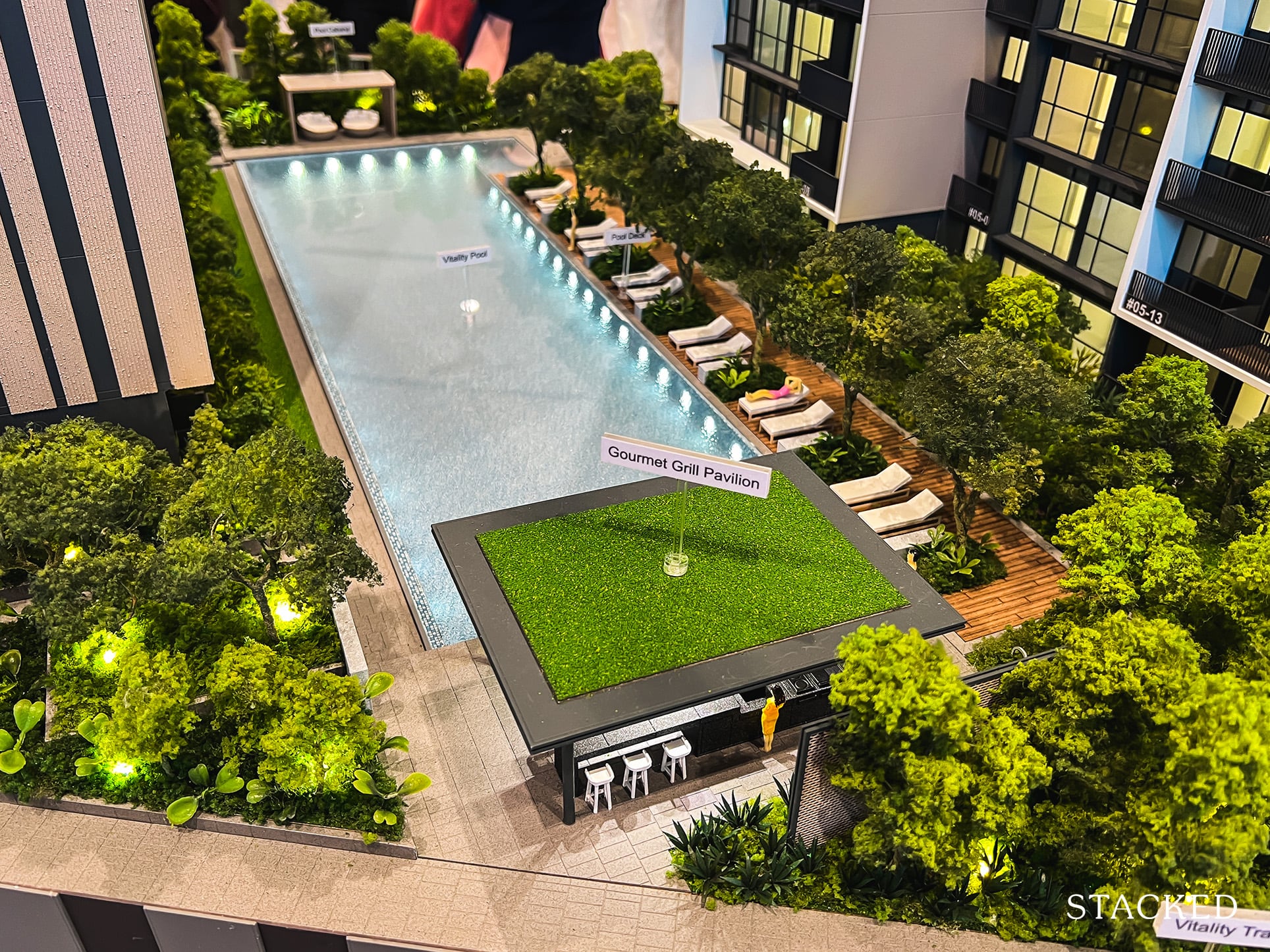 On the other hand, if you're more interested in the dining side of things, there is also a Gourmet Grill Pavilion with a similar view. Great for those who want to host with a view over the main pool!
Since I was on the topic of the lap pool earlier, let's move on to the Social Zone, which is at the corner of the development beside Stacks 1, 5, and 6. Expect this to be a quieter space and you have another pool here, although this is an even small one. It's somewhat triangular in shape, and measures about 16m by 13m and aptly named the Family Pool since you will probably not be doing many proper laps here. Nevertheless, the developers have still provided deck chairs here in case it's ever quiet, or for you to lie while watching your kids frolic in the pool.
For the children, you have a Kid's Play Pool close by, in addition to the Kids' Play area. The Multipurpose Court could also potentially be a play area when it is unoccupied.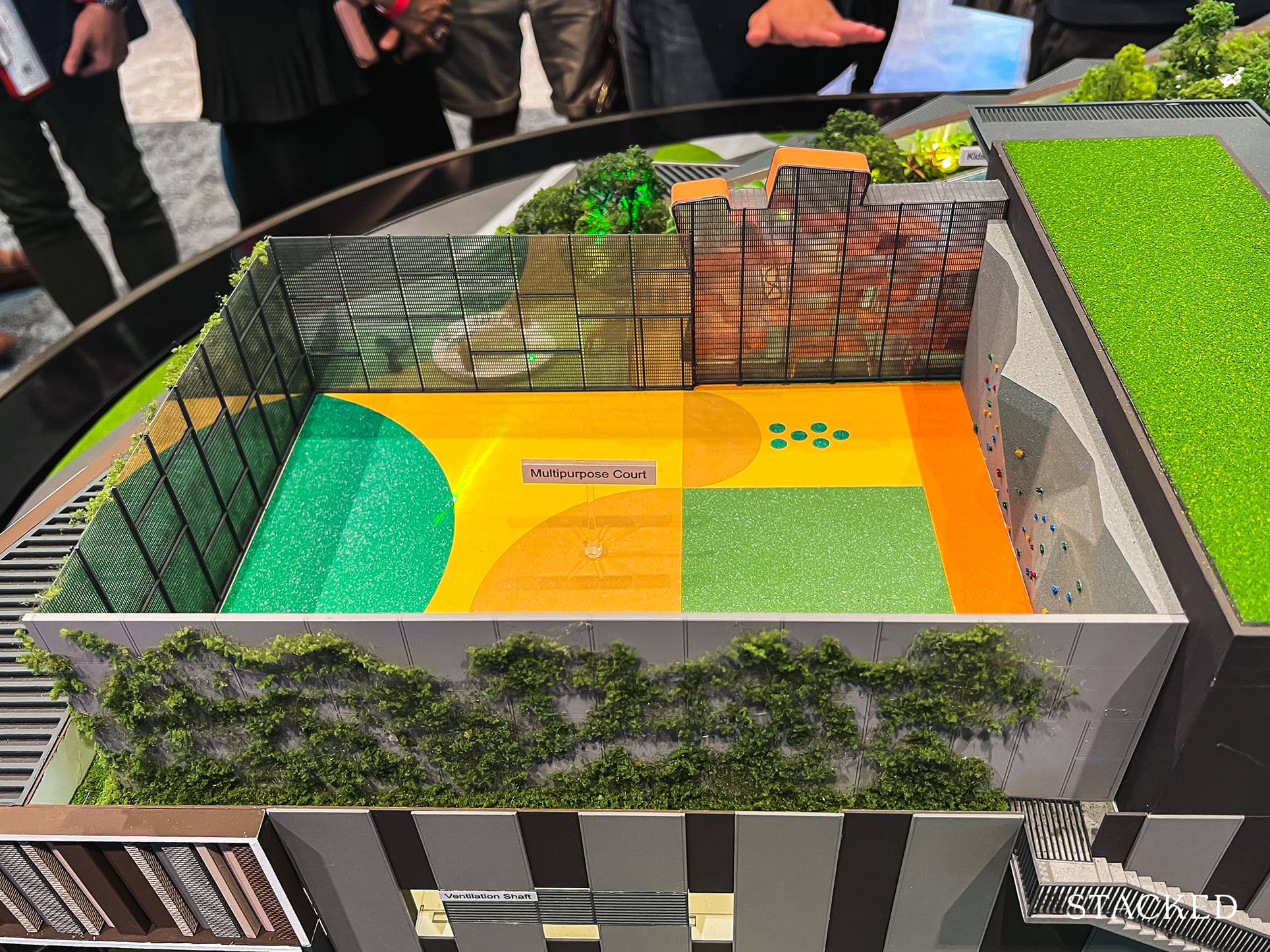 Otherwise, I spot a mini rock-climbing wall here so I'm guessing this is one of the many purposes this area could accommodate. There also look to be lines drawn for 2 half basketball courts, although I may have to be enlightened as to what sports the other lines might be drawn for.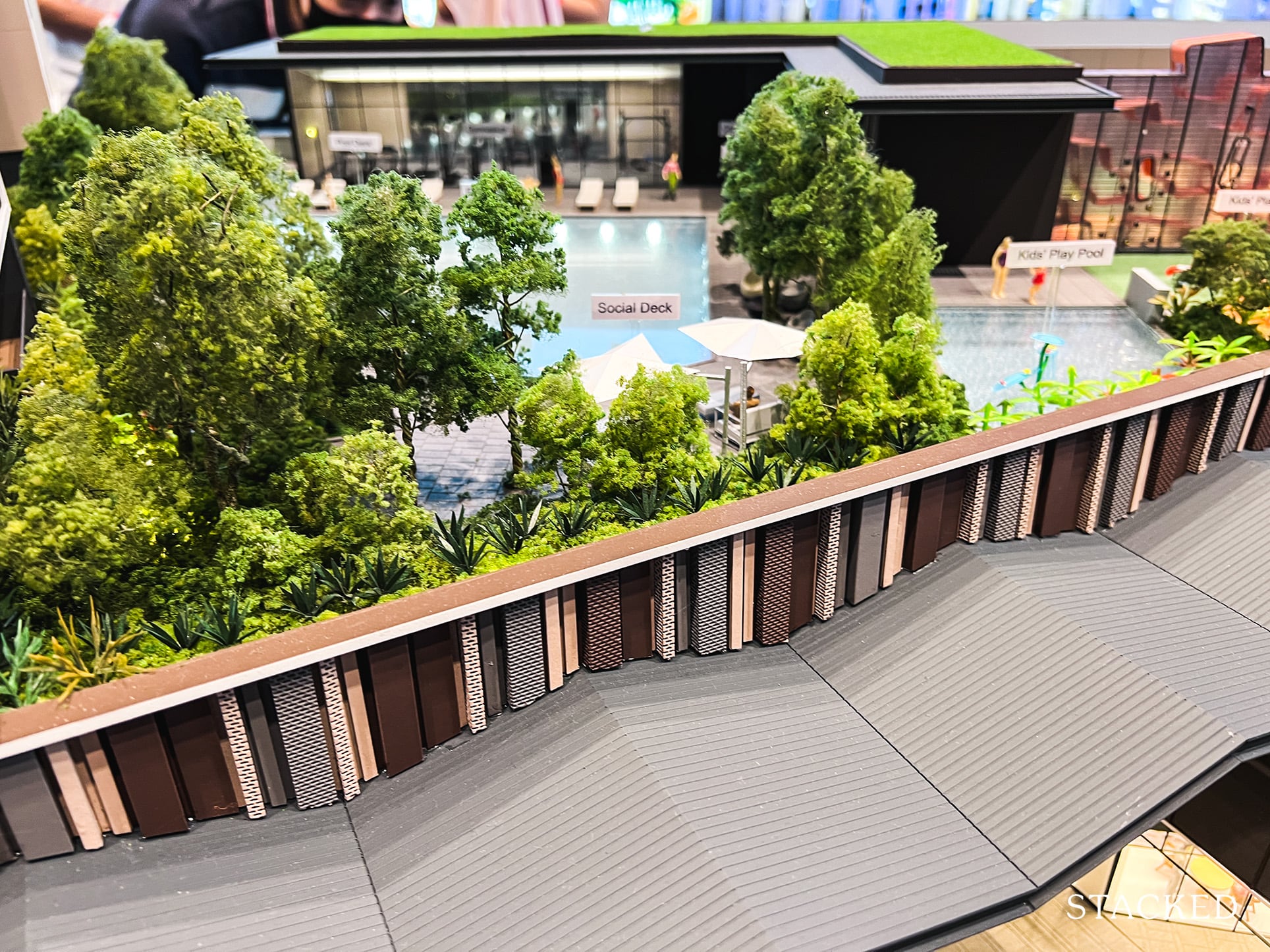 I'm glad that the developers have incorporated some play areas here, which is important given the decent number of 3 Bedroom and above units here. So you can tell, there is definitely a focus on attracting family units here.
For those with pets, there's even a Pets' Play area although it definitely doesn't look to be a huge space to run about for the furry ones. Well, you could say that having one is better than none of course.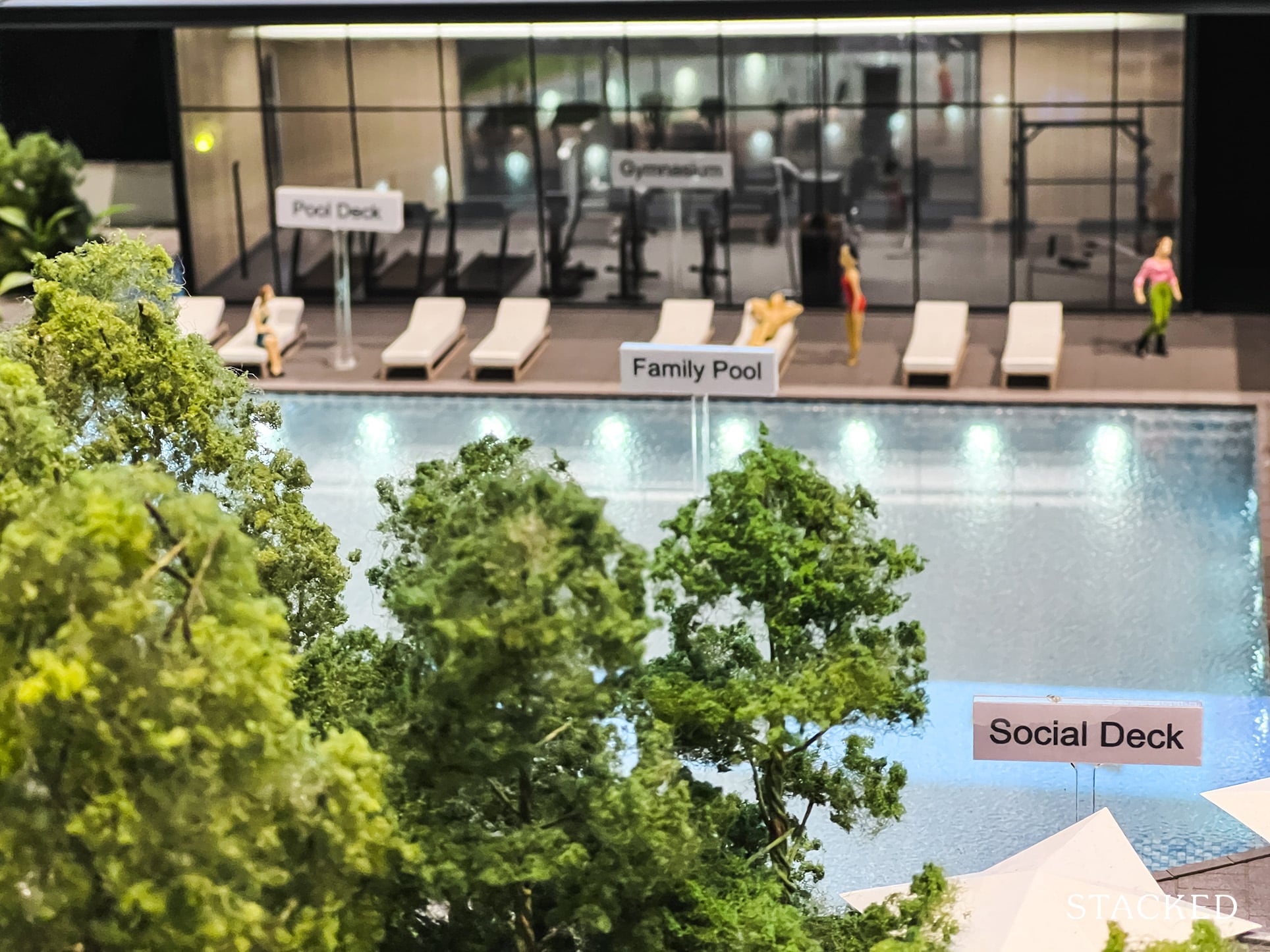 The Social Zone also has the 2nd of the 3 clubhouses at Piccadilly Grand. Here, you have 2 function rooms for any important meetings you may wish to conduct. In addition, you also have the Gym and Changing Room in this zone. The Gym fronts the pool deck and family pool, which is better than having no view at all.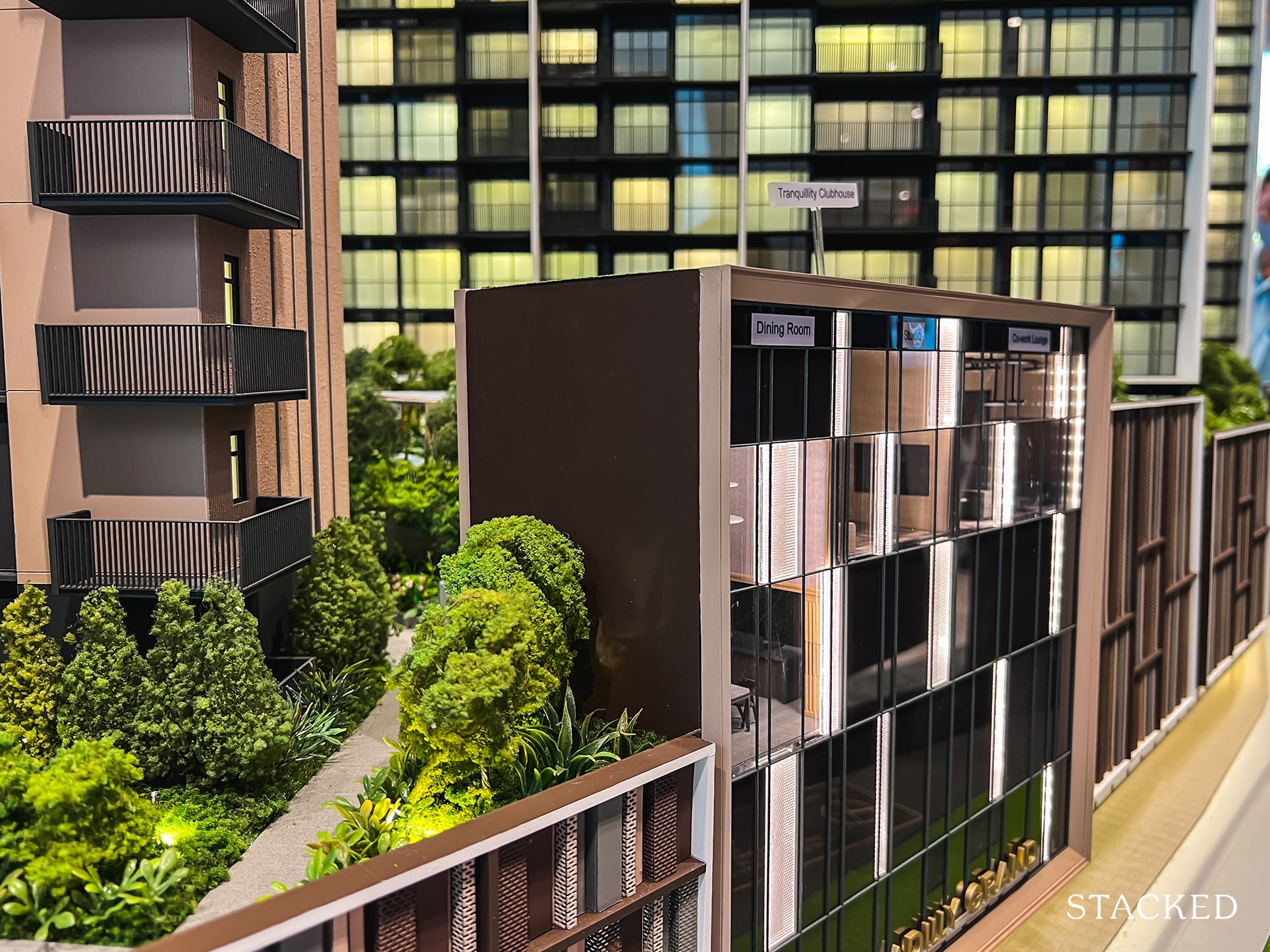 Finally, let's head to the Tranquility Zone, where you will find the final of the 3 clubhouses. The one here has a co-working lounge, which has become a trend for many COVID new launches, and is helpful for those who work in companies that continue adopting a hybrid work policy. Pity those who have had to go back completely though!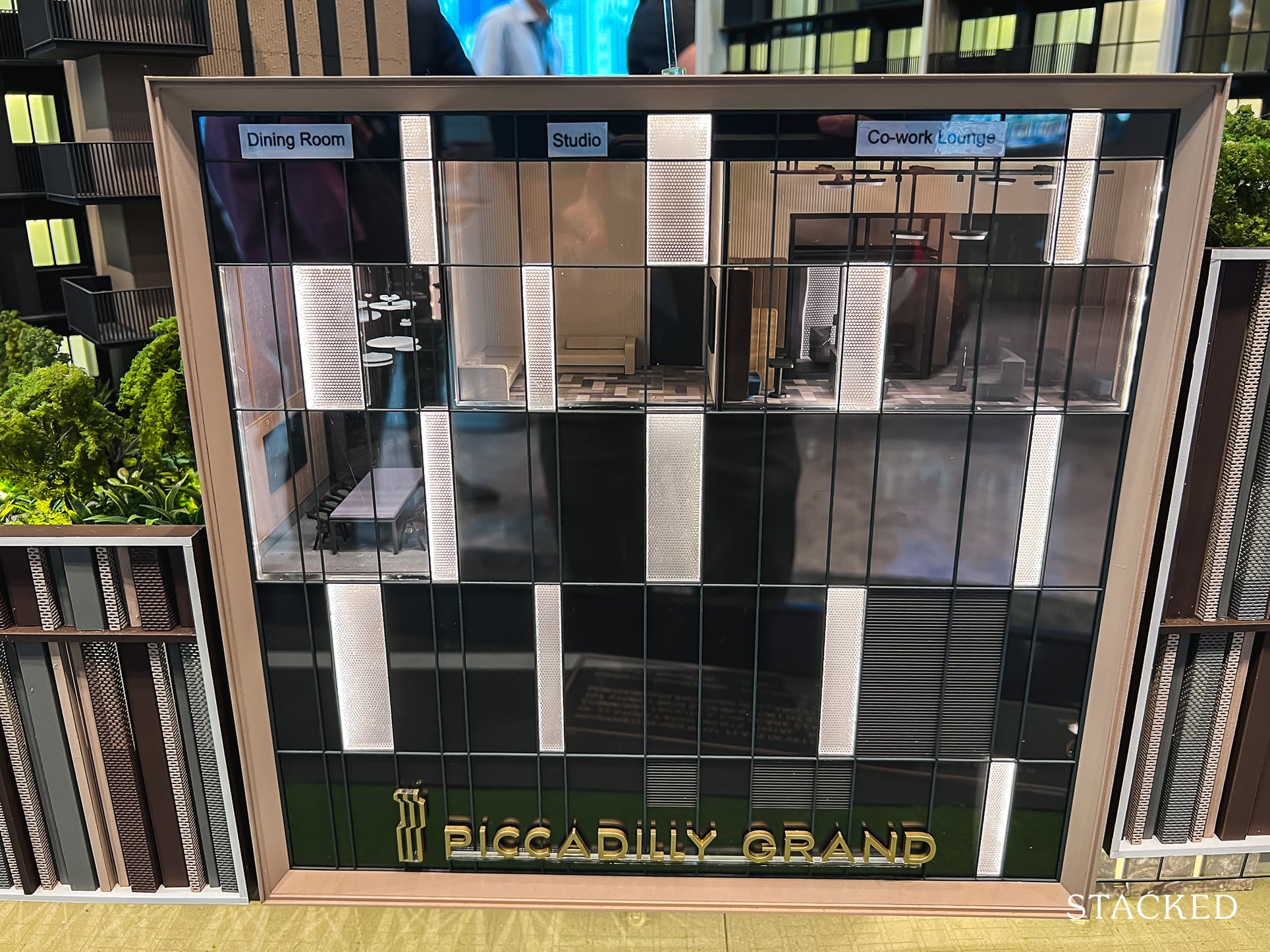 There's also a wellness studio and a dining room that is fully equipped with the kitchen appliances you require for entertaining when guests come over. With the pandemic (hopefully) behind us now, these facilities that we've been seeing in new launches over the past 2 years are seemingly now much more tantalising in prospect!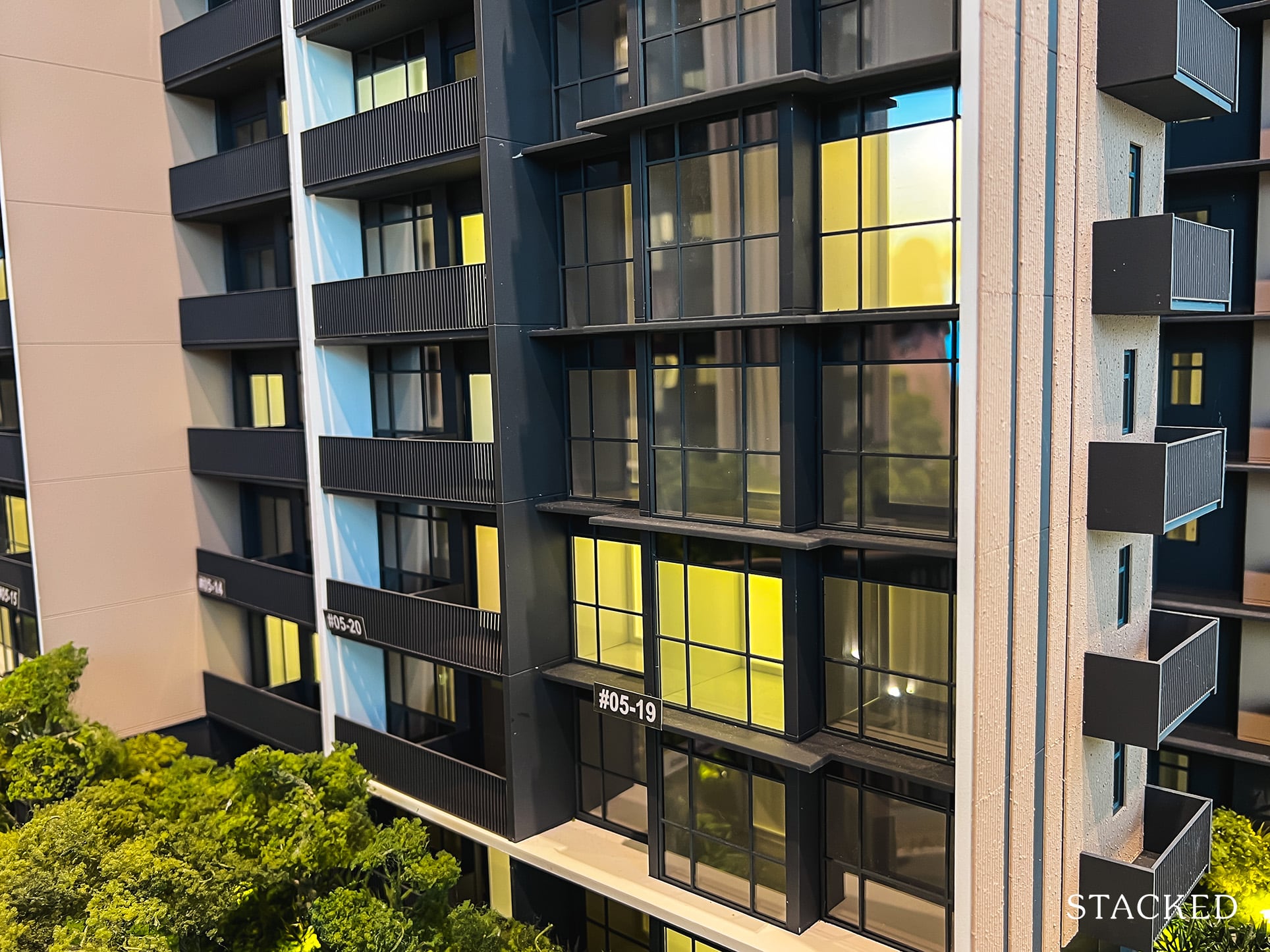 Finally, let me touch on a little of the design. As always design is a very subjective opinion, and I'm just providing a little more of my take. To start, while the facade looks modern, I did think that overall it was a little too dark for my liking. Overall, it's a solid, but unspectacular design.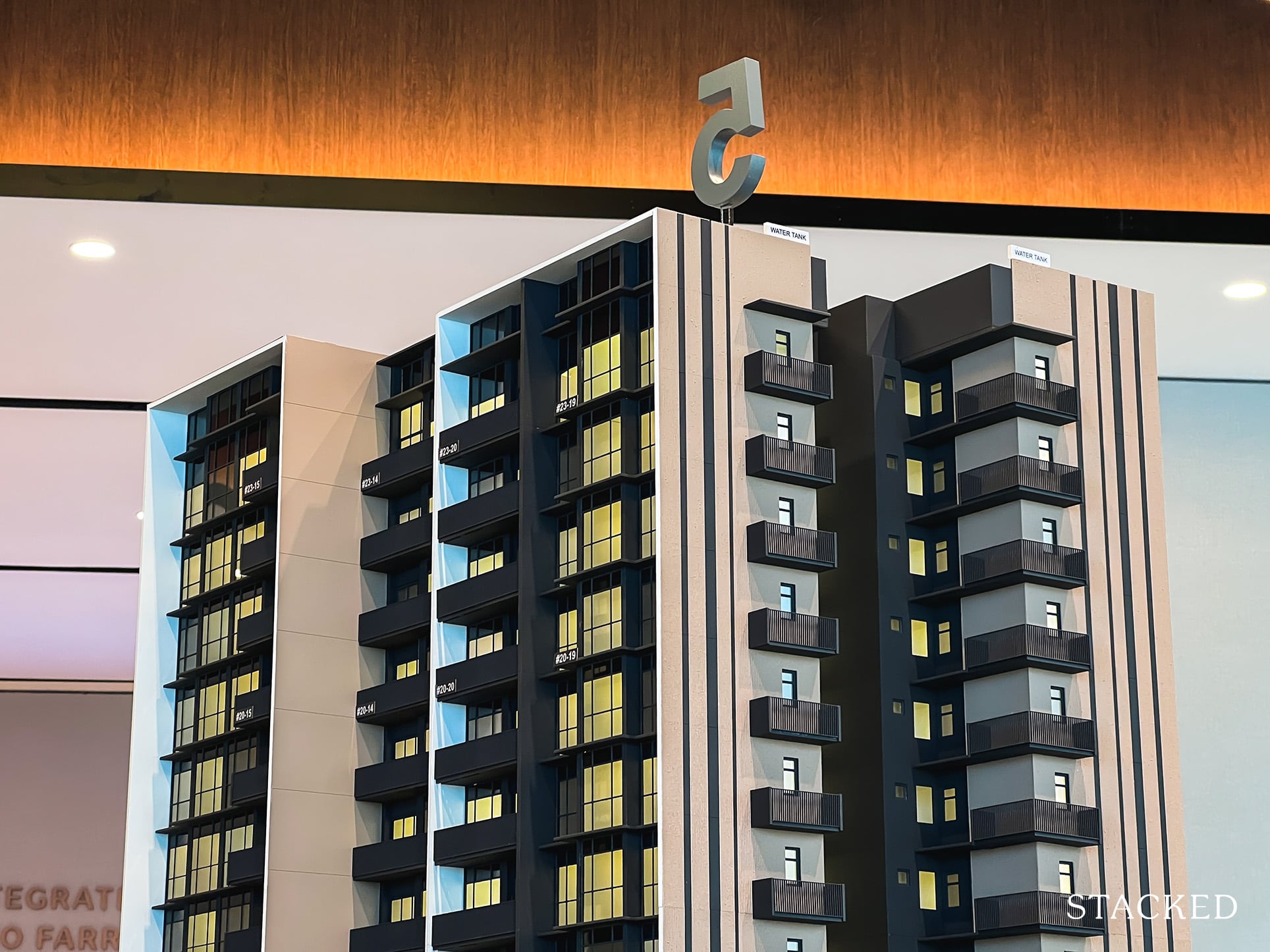 Somehow it seemed like something brighter and more vibrant would have melded better with the neighbourhood at Farrer Park. That said, I do think that this is in line with what their target audience is looking for, so perhaps I'm just not of the right fit here!
And so without further ado, let's head straight for the show flat units.
Piccadilly Grand – 2 Bedroom + Study Type B3S (66 sqm/710 sqft) Review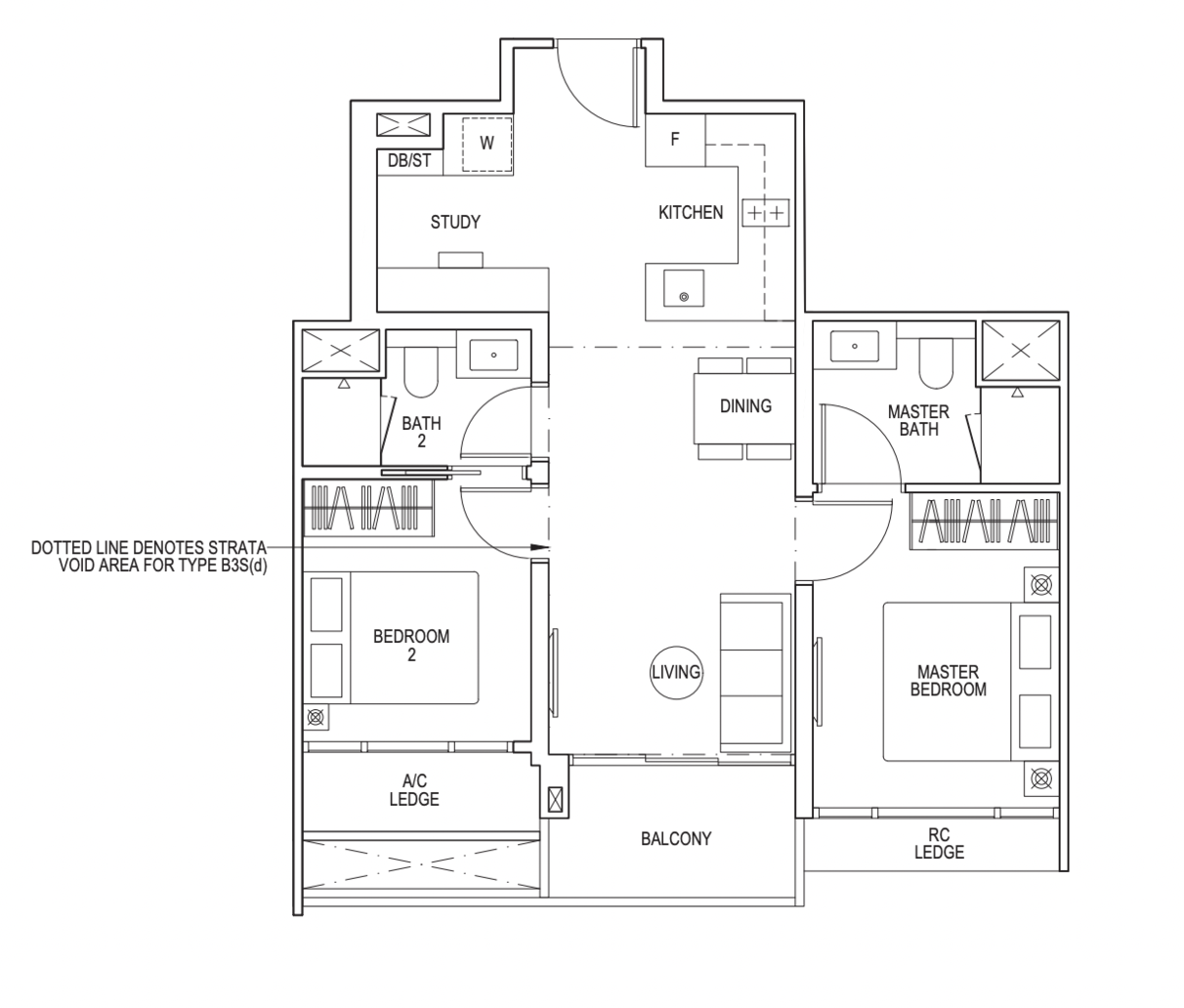 The 2 Bedroom format is the most predominant unit type at Piccadilly Grand and all of them come with 2 bathrooms, despite the smallest being just 646 sqft (the smaller types do not come with a balcony). At 710 sqft, this show flat unit is averagely sized among the new launches.
CDL and MCL Land are industry veterans they know exactly what Singapore buyers desire in a unit today. There are definitely plus points to this show flat layout, with a dumbbell layout, a study that doubles up as a storeroom, and a jack-and-jill bathroom for the common bedroom. It's as efficient as can be for a unit of this size, and most buyers should be pleased with such a layout.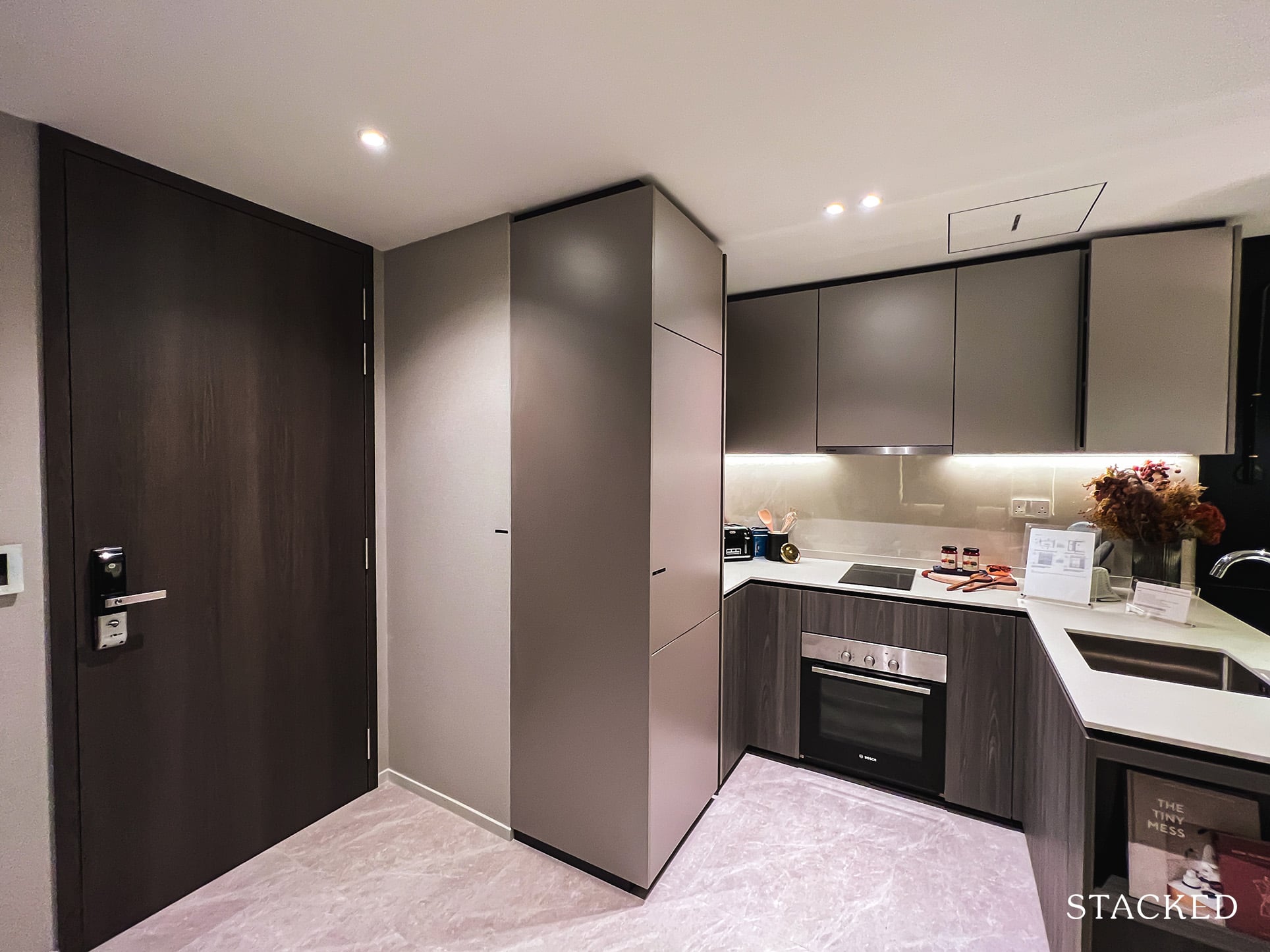 Starting first at the entrance, the flooring provided will be porcelain tiles for the living and dining rooms and engineered timber for the bedrooms. 4 and 5 Bedroom units will get imported marble, which is the more premium choice here, and the usual market practice to differentiate between the unit types. The ceiling height is very average at 2.8m, although top floor units will get higher ceilings (as usual, you have to pay for the void space as well).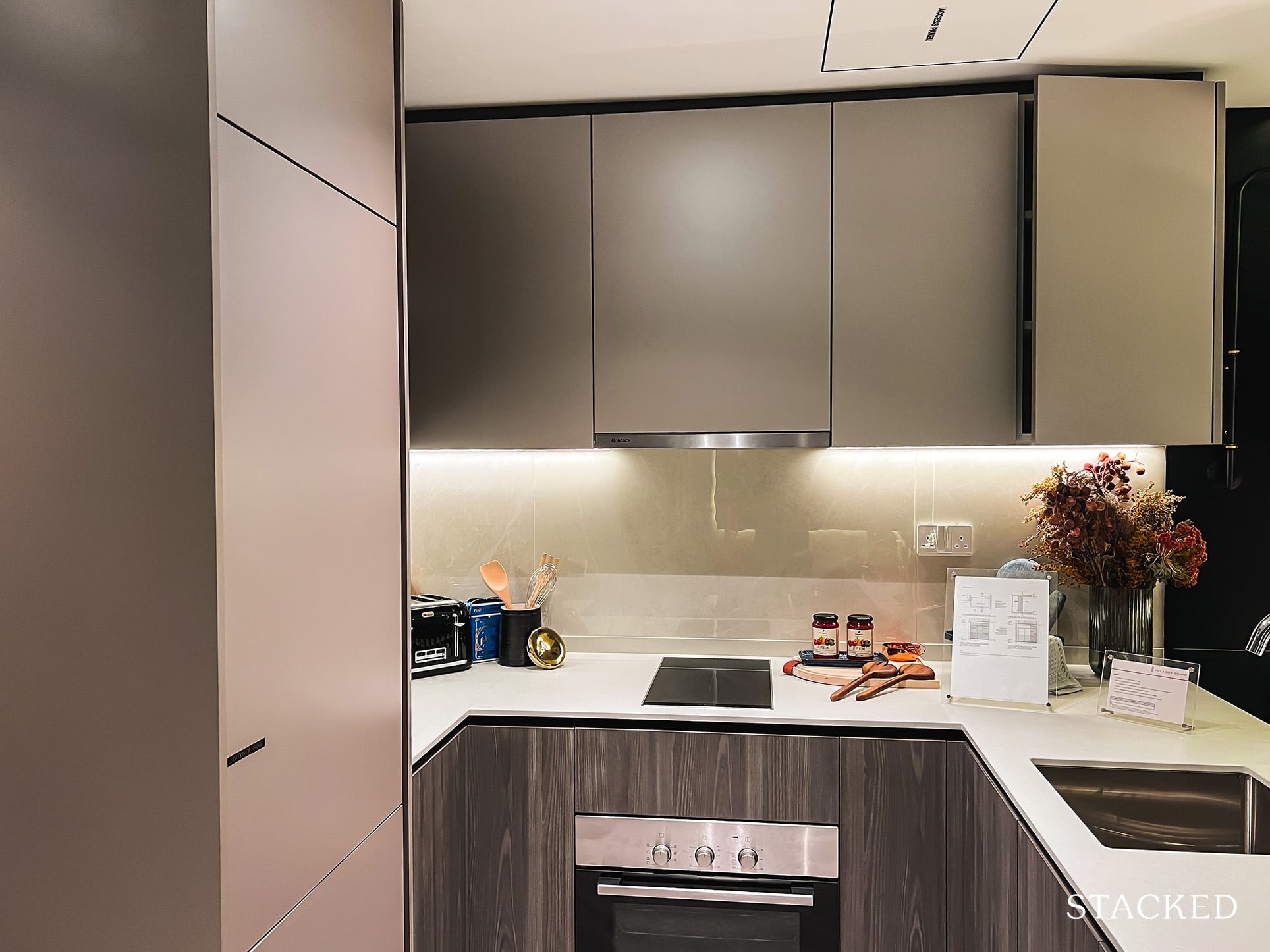 On the left, is the u-shaped open concept kitchen. This design is helpful as it segregates your space out well – 1 for preparation, 1 for washing up, etc. Given its shape, the countertop space is commendable for its size and large enough for a 2 Bedroom unit. The bottom half cabinets also feature space-efficient shelves for use. If I had to nitpick, the location of the tap means that there is no backsplash, so users will need to take heed or risk having water splashing over to their dining area adjacent to the tap. Alternatively, you can build up a glass backsplash if you prefer to make the area a little more enclosed.
With the layout provided, there is greater flexibility too. You could enclose the kitchen if you'd like (although you'd need to open the door for ventilation). You could even do away with the study for a bigger kitchen if you cook and bake a lot. Or, there is also the possibility of putting the dining area in place of the study and enjoy a bigger living area instead (it'd probably be counter-style dining though).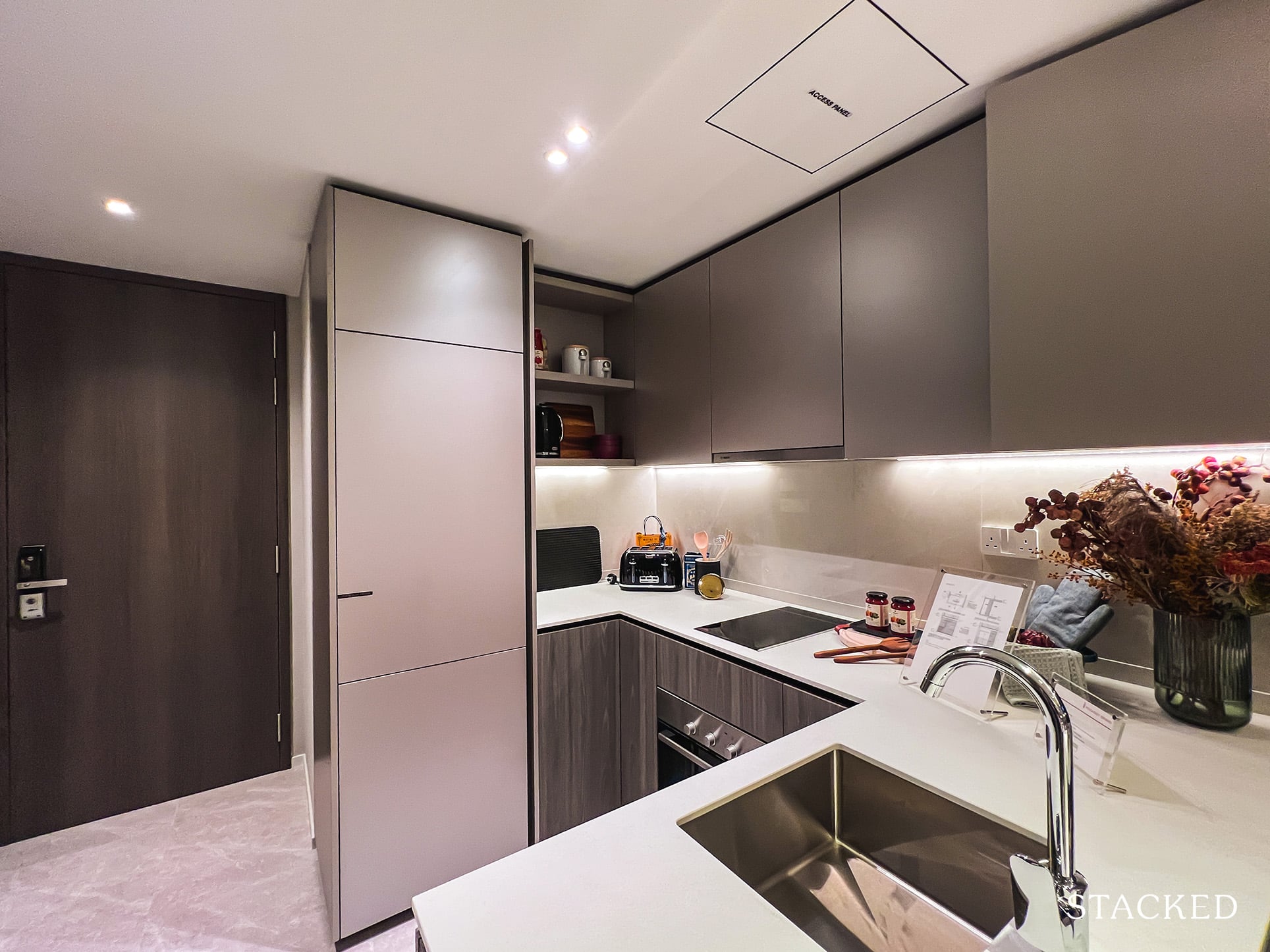 The developers will provide standard appliances such as the induction hob, fridge, washer/dryer by mass market German appliance maker Bosch. As this is a small unit, the default will be an induction hob but you can always consider the larger units (3 Bedrooms and above have a gas hob) at Piccadilly Grand should your budget permit. To round up, the mixer supplied is from Hansgrohe and the single bowl sink is from Franke.
For those who prefer a sleeker look for the fridge, the one here (all 1 and 2 Bedroom units) is integrated with the rest of the cabinets, giving it a cleaner look.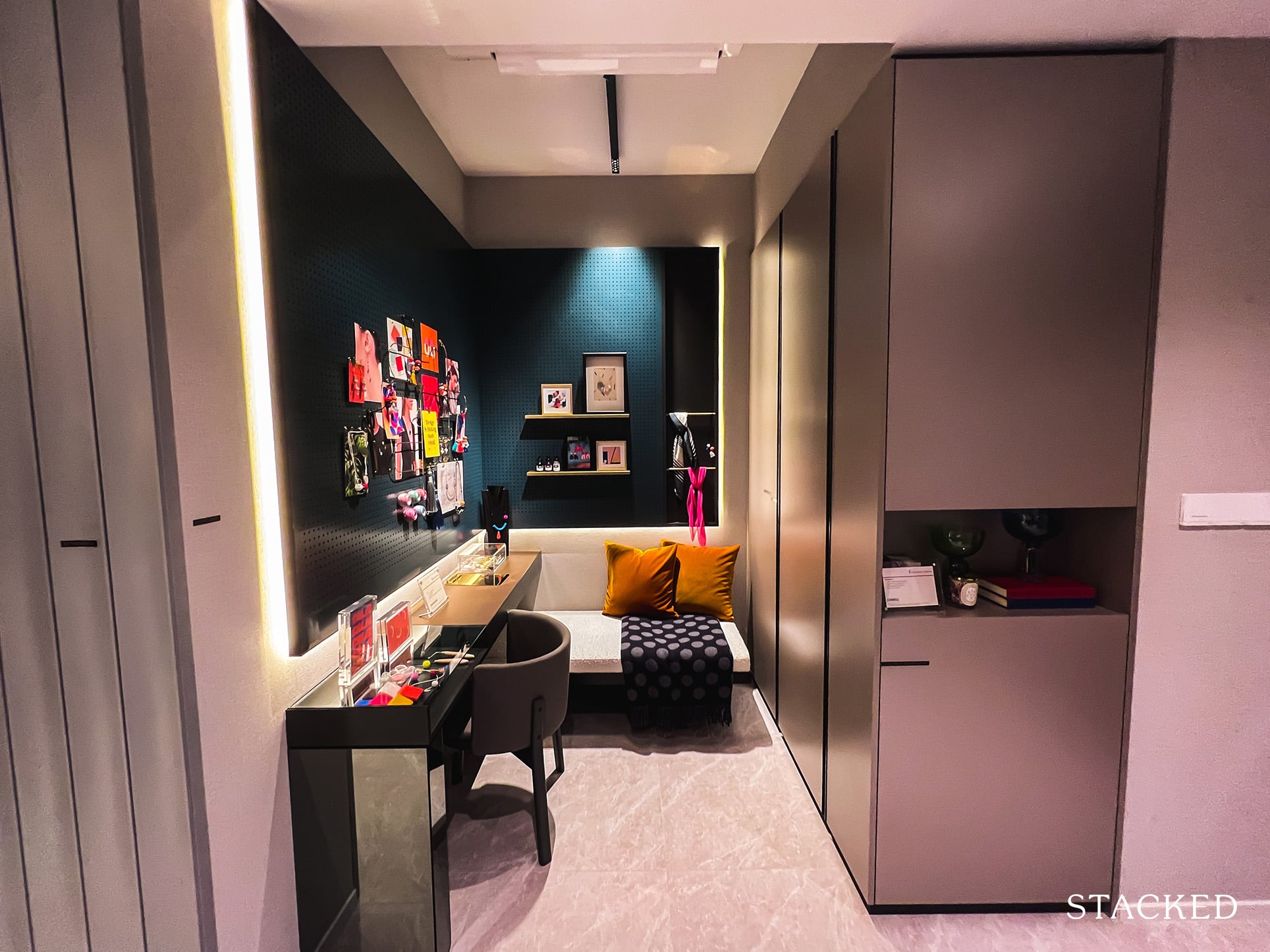 For those wondering where the washer would be, the washer-dryer will be located just across from the kitchen instead. That is also where the Study of this unit is situated. It's not as big as some of the study spaces I have seen in the past, so this might struggle to be another bedroom if you really needed it to be. The floorplan does not break down the exact size of this study, hence it will be difficult to make a numerical comparison.
Moreover, the DB box is located here and the cupboards open outwards, making this not the most practical of spaces overall. However, it will serve its function as a pure study well for 1 or 2 occupants. As we know, many units these days do not come with a storeroom, so if you wanted to convert this space into one, it could be an option as well.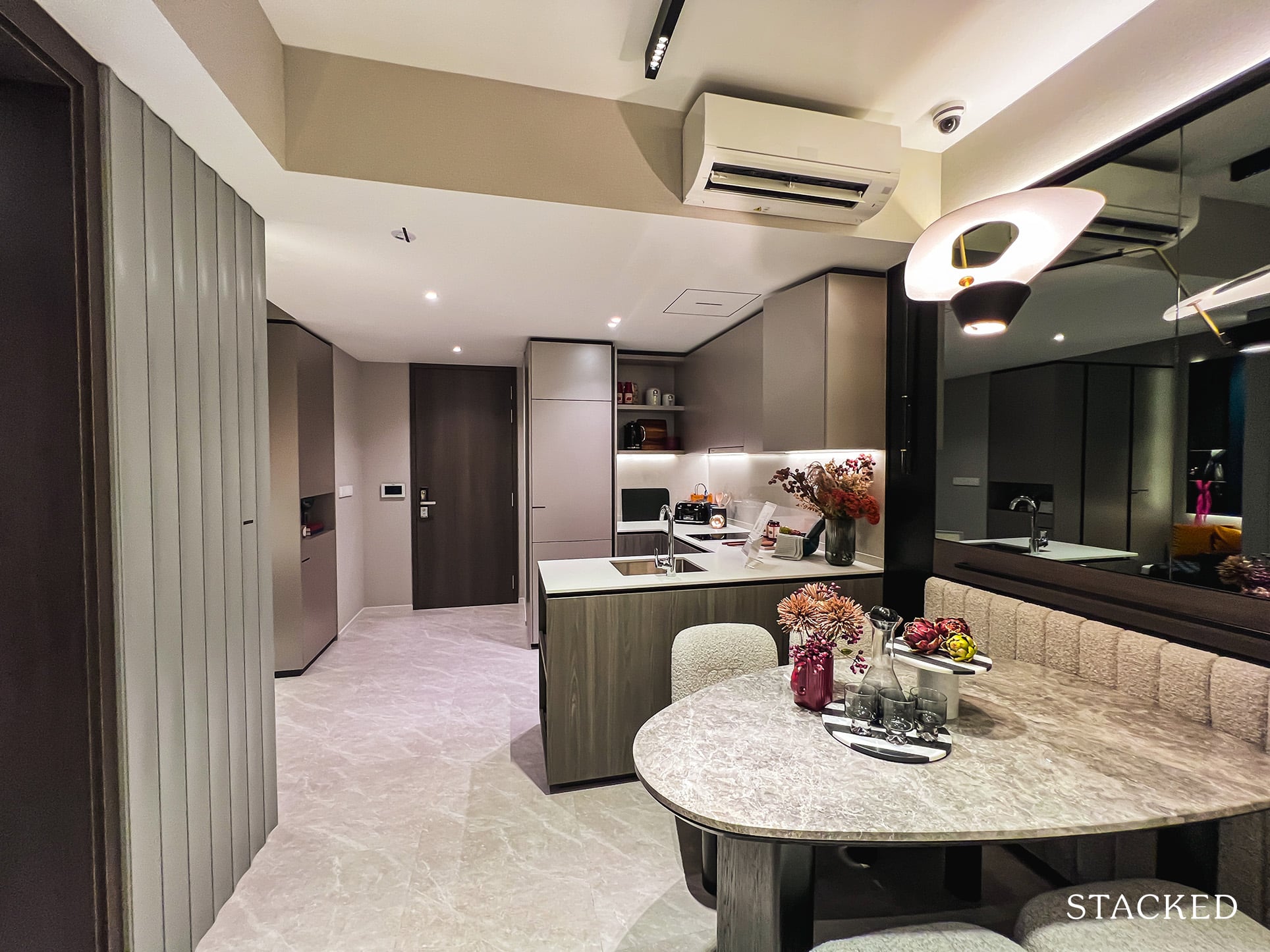 Moving on to the dining area and there is just about enough space to fit a 4-seater set here. It's not class-leading surely, but it is similar to the other new launches.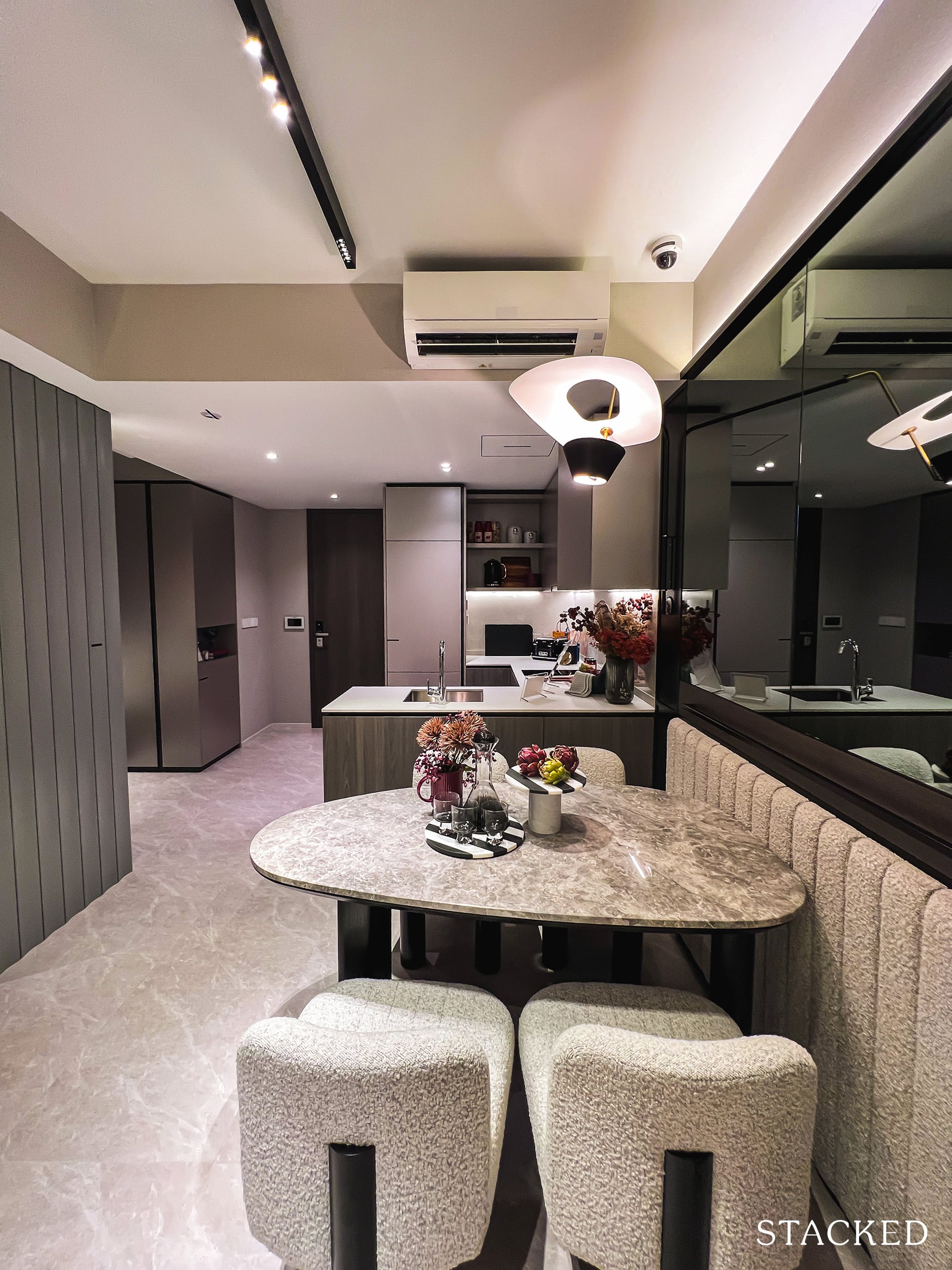 If you're having a bigger dinner party, you might have to get creative – I'm thinking of either an extendable table or even converting your living room into a dining area if you expect to host regularly. Alternatively, you will always be able to book your communal dining facilities – one of the many perks of living in a condo for sure.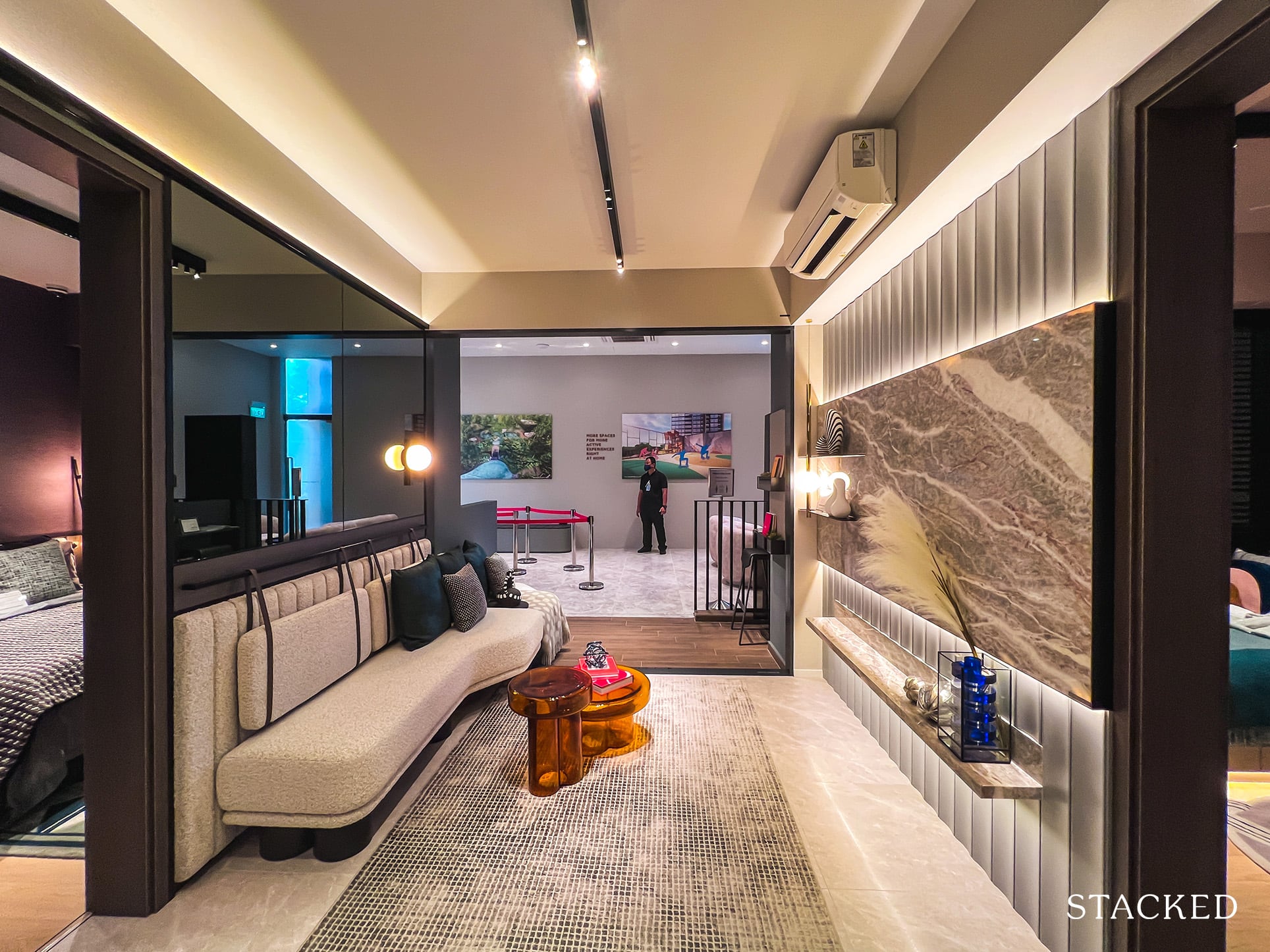 As for the living room, the width is once again in line with the market. For the visual effect, they have gone without a full-blown TV console, but you will be able to fit one for sure – albeit not leaving much walking room. You can also accommodate a coffee table and a 3-seater couch here, but be sure to take note of their respective dimensions – the sofa shown here definitely has quite a short seating area. If you prefer the lounging sort of sofa, you won't be enjoying such a large space as shown here.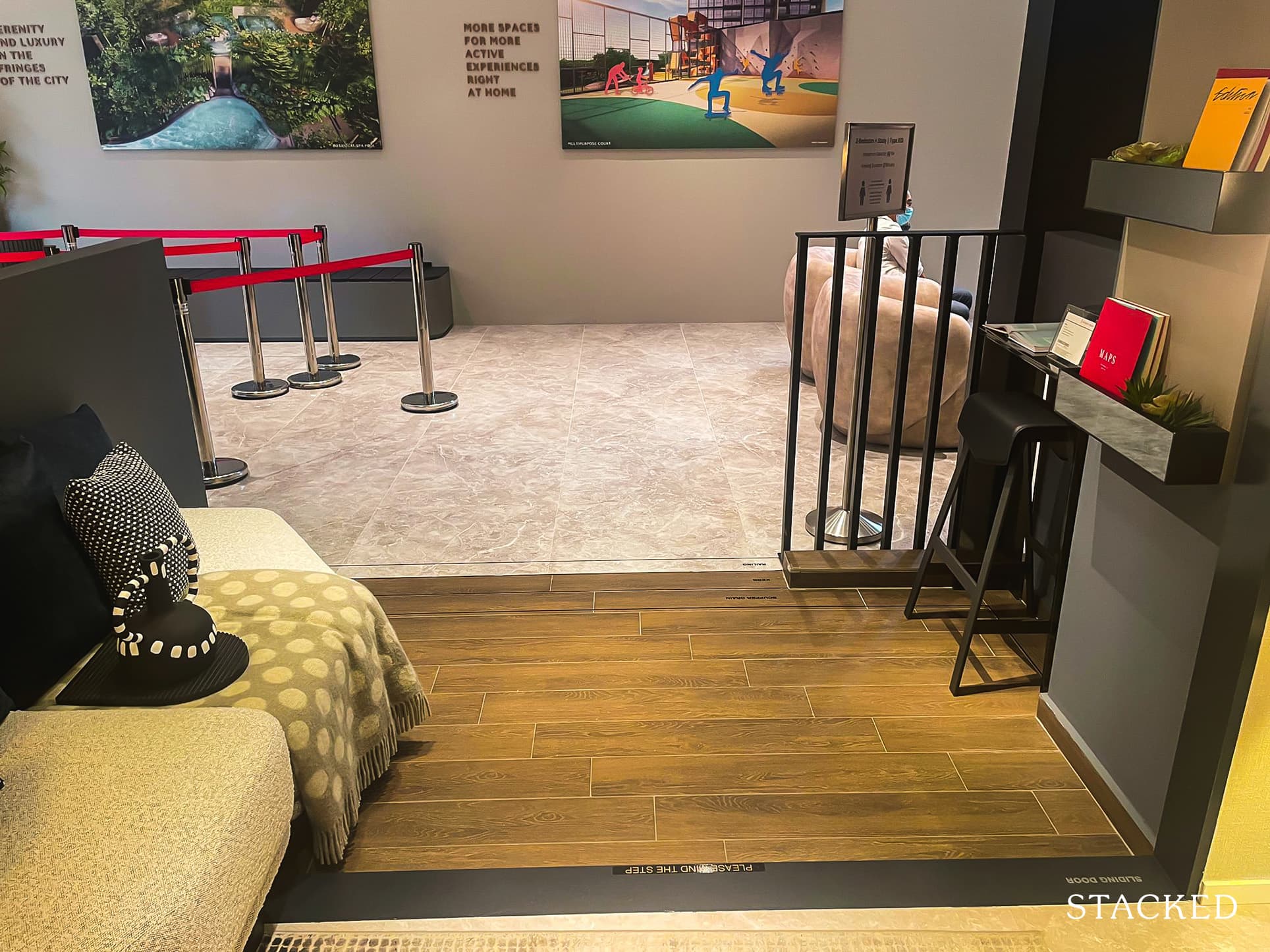 On the balcony, it is fairly well sized at 4.6 sqm. This is almost similar to the space you have in your dining area, except that you will be able to enjoy the full length of this space without having to worry about occupants constantly having to get past the area. That said, I don't think it is quite large enough to accommodate a proper dining set here. Some bar stools and a table should probably do fine though.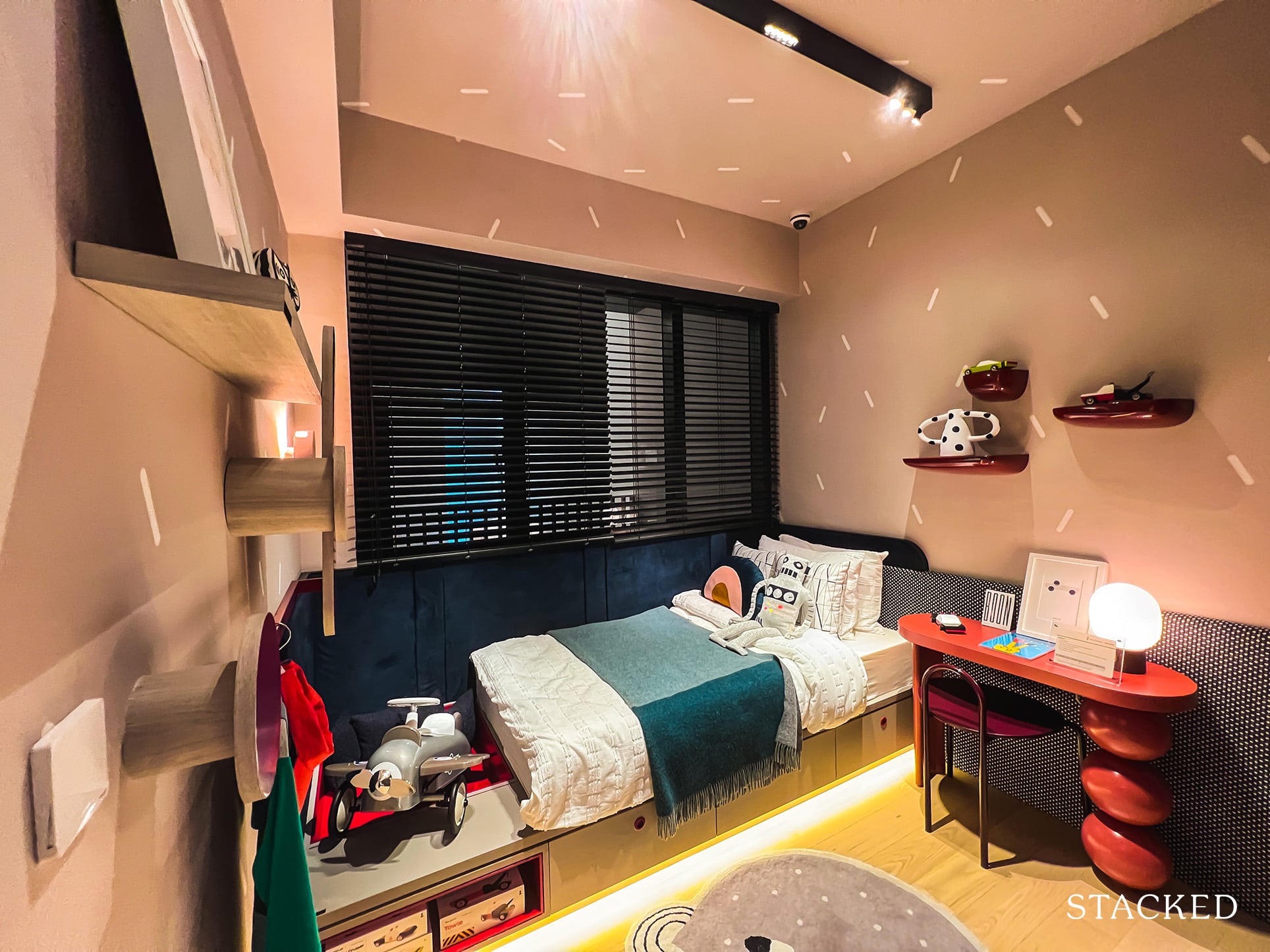 And we are off to the bedrooms – starting first with the Common Bedroom, which stands at 8.7 sqm. It is acceptably sized and comparable to the other new launches. This means that you have sufficient room for a Queen size bed and a small bedside table.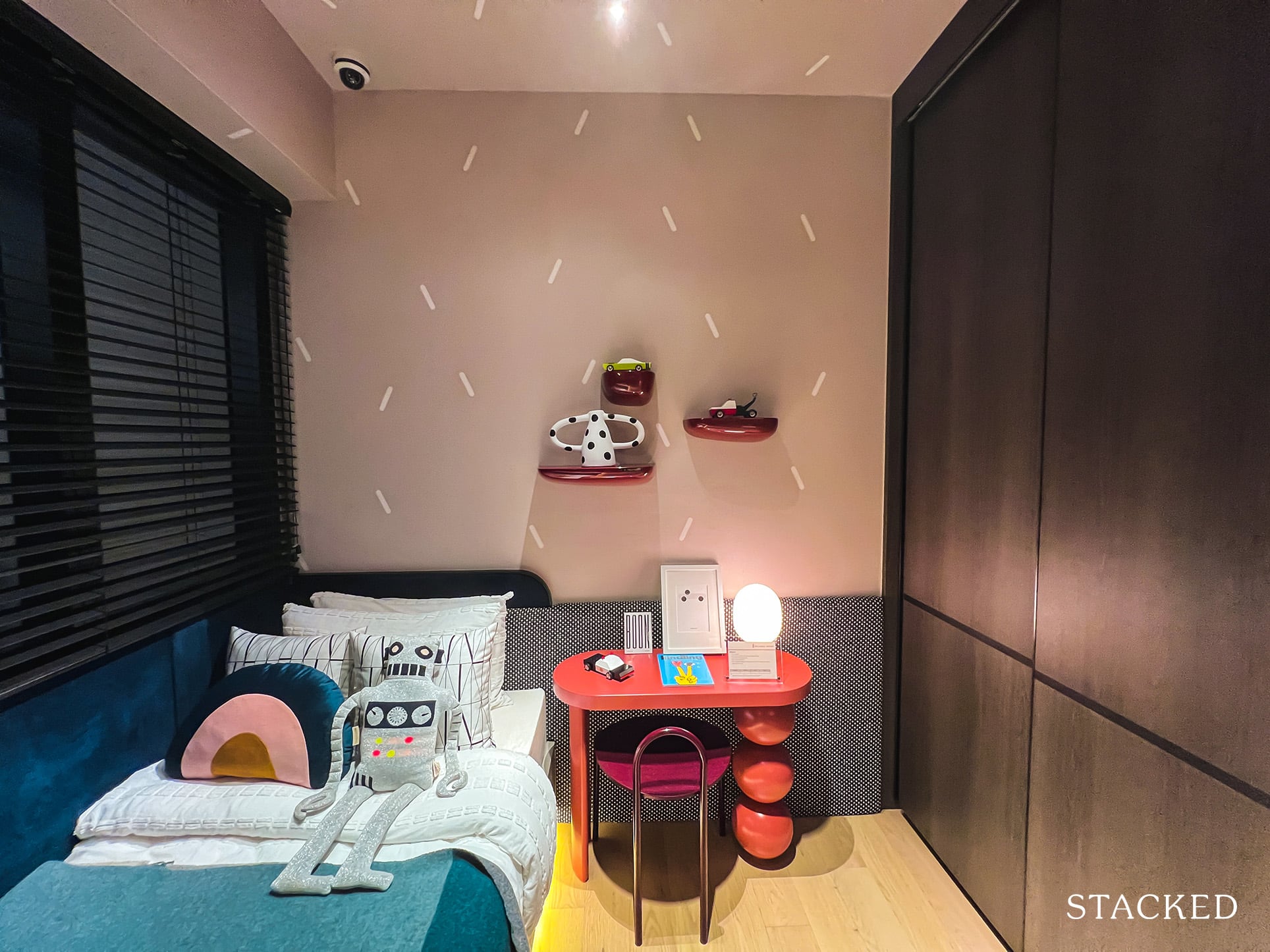 If you need more room for a study or dresser, you should consider a Single bed instead, which will help to free up some space. This is exactly what they have done here, leaving some room for you to access the wardrobe. You also get the full-length 2-panel built-in wardrobe in a wood-grain finish as standard while the windows are half-length as the aircon ledge is situated just outside.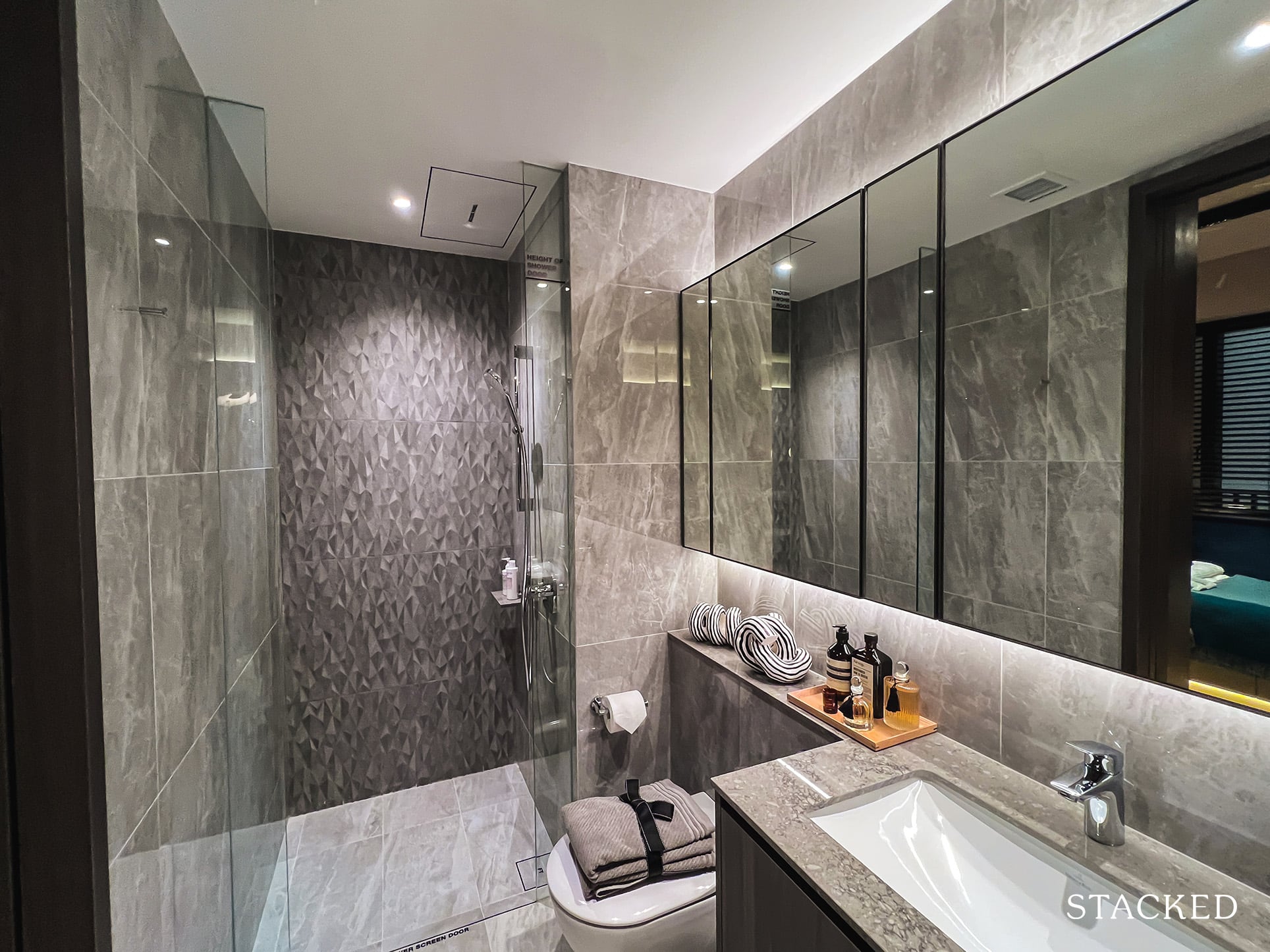 This room has direct access to the Common Bathroom, which makes this room effectively an ensuite. That's the beauty of jack-and-jill bathrooms – when guests come over, they can enter from the living room instead. Yet on a usual day, the occupant will also get to access it seamlessly from the bedroom. This bathroom is averagely sized at 4.3 sqm.
The standard provisions such as the washbasin, tap, hand-held shower, and wall-hung w/c are from European brands Villeroy & Boch and Hansgrohe, all of which are in a standard chrome polished finish. There's neither a rain shower nor windows for natural ventilation in the common bathroom, which is typical in most mass market new launch projects anyway.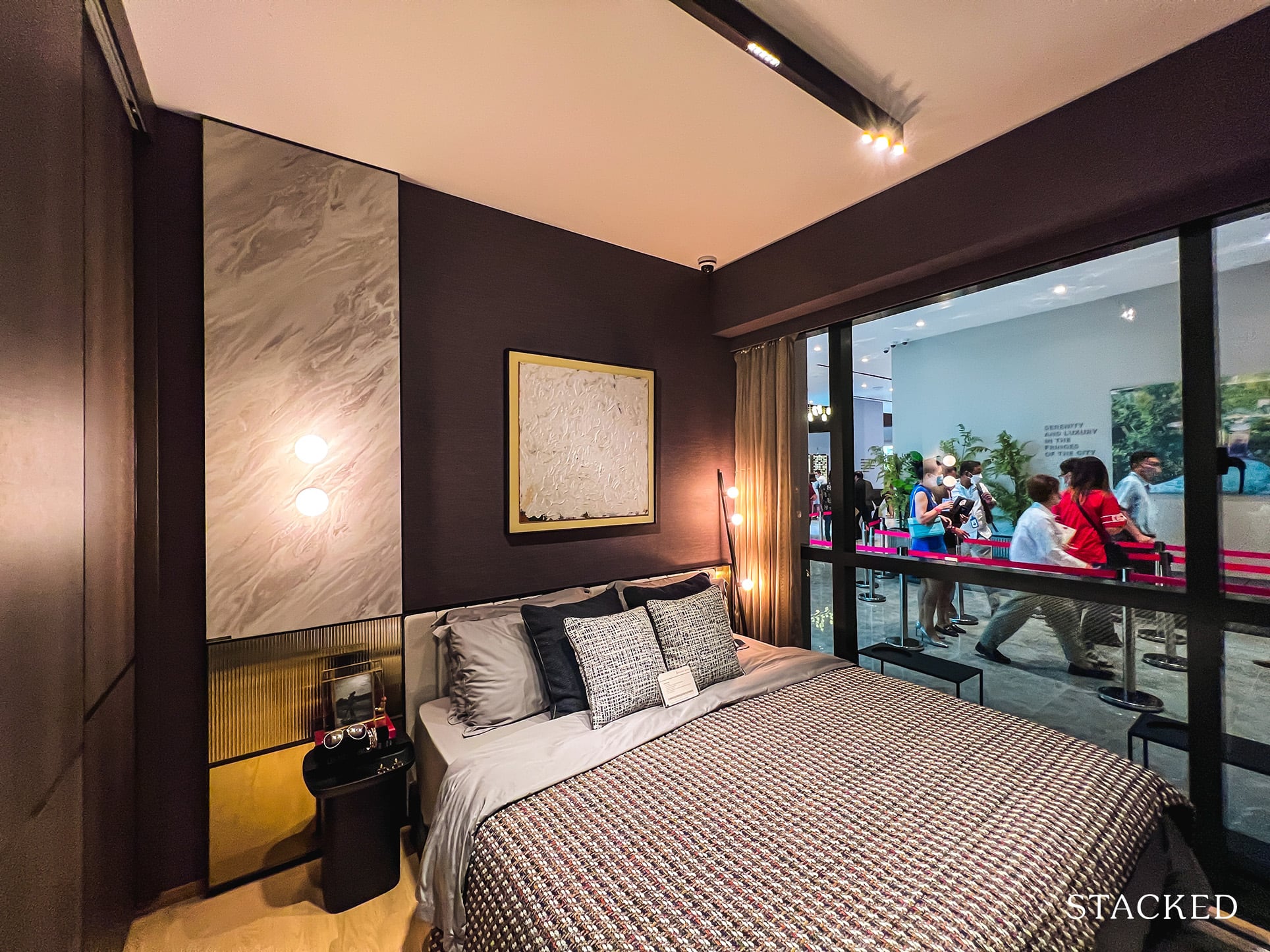 Moving next to the Master Bedroom, which stands at 16.6 sqm when compared with the Master Bath. It is expectedly more spacious than the Common Bedroom, both in terms of its size on paper and visually. The large frame windows definitely make a difference here.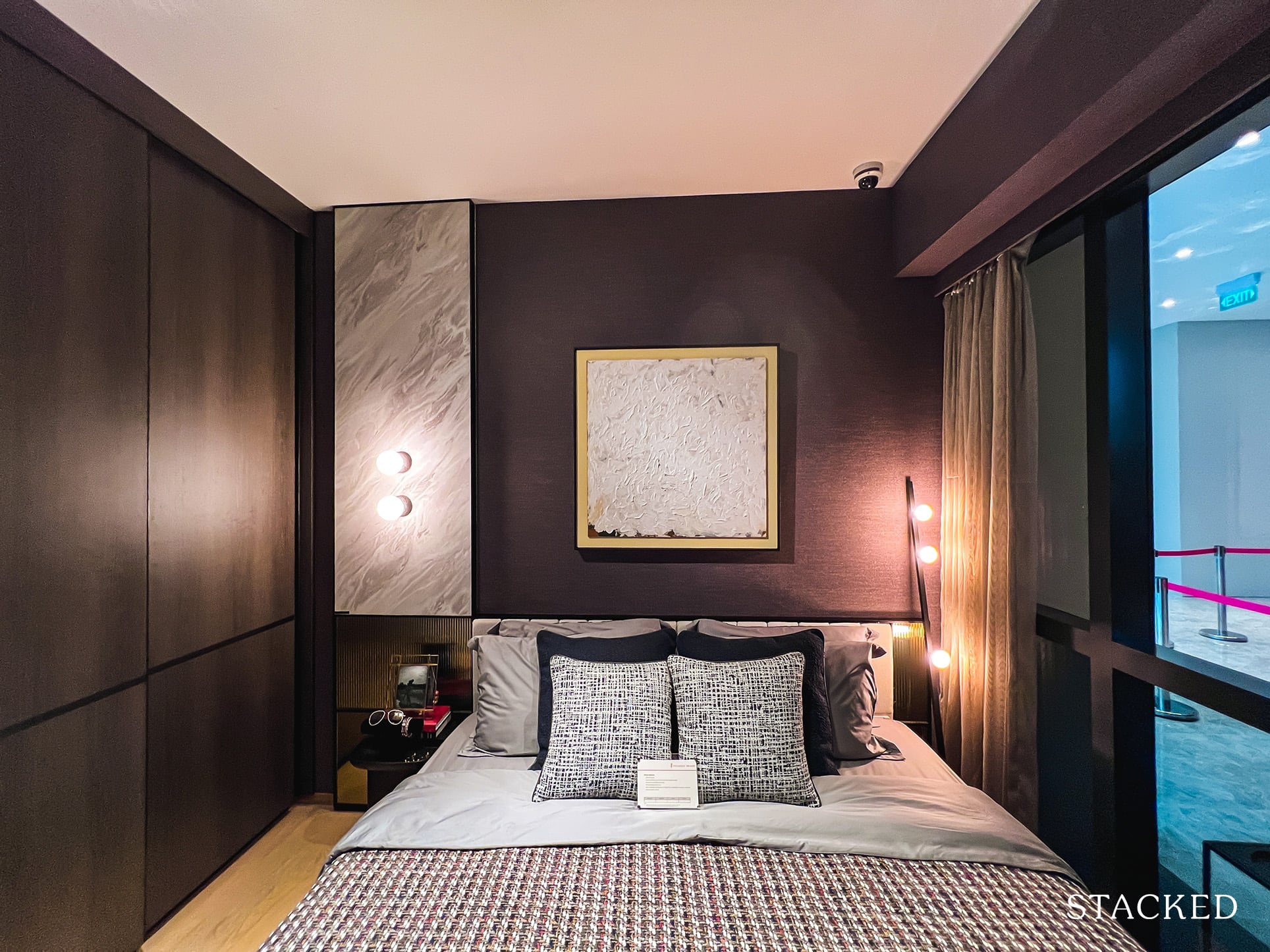 You will easily be able to fit a King size bed here, although placing a Queen will provide you with more utility – as you can make use of the additional space to place bedside tables or a dresser. You can see that there is still some decent walking room even with a King size bed here. The wardrobe provided will be similarly sized compared to the one in the common bedroom, although it includes the additional feature of an accessories compartment by the side.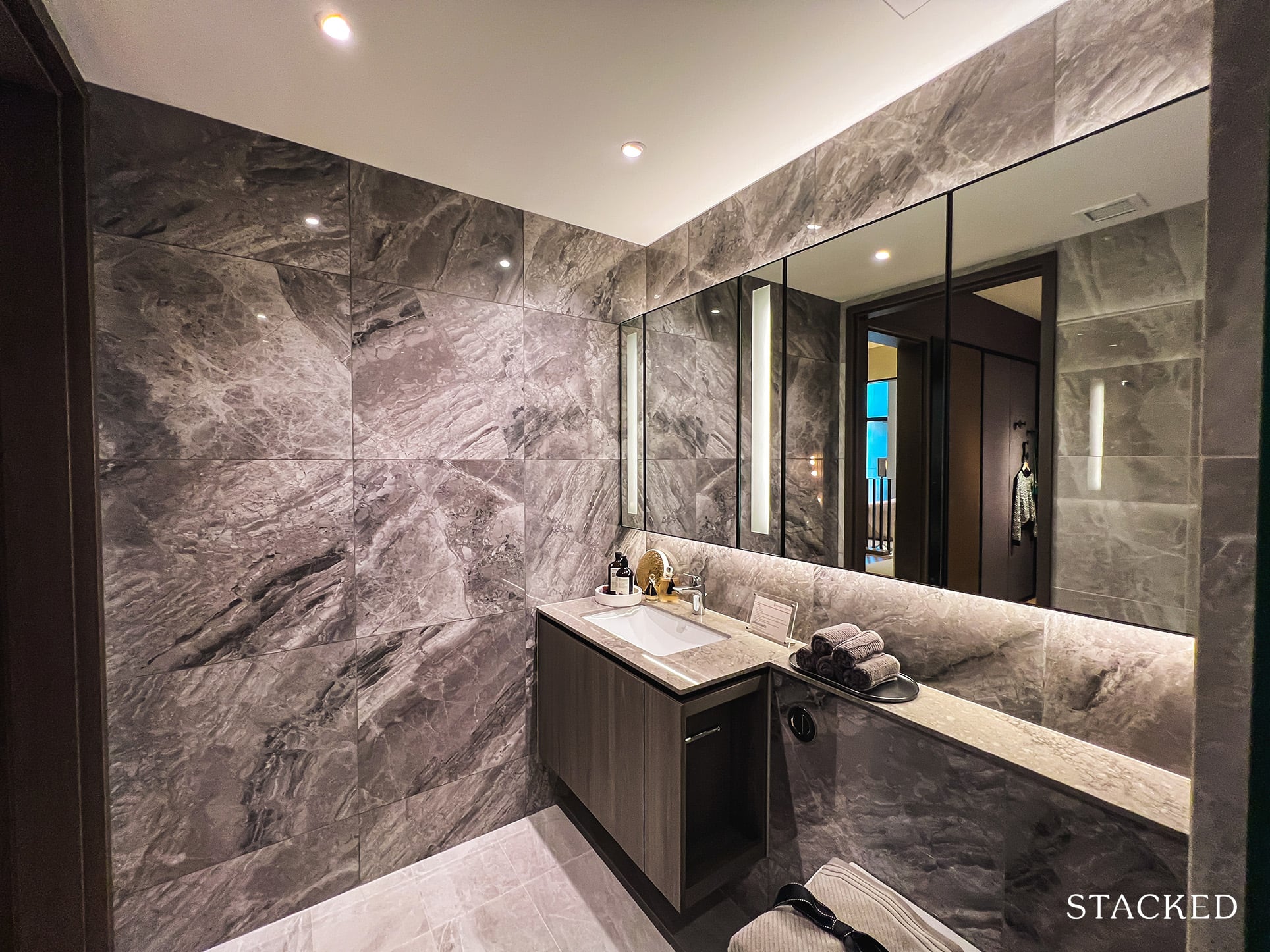 Finally, the Master Bath. You get the same quality fittings and wares from Hansgrohe and Villeroy & Boch, 2 established European brands which are commonly used in private residential units.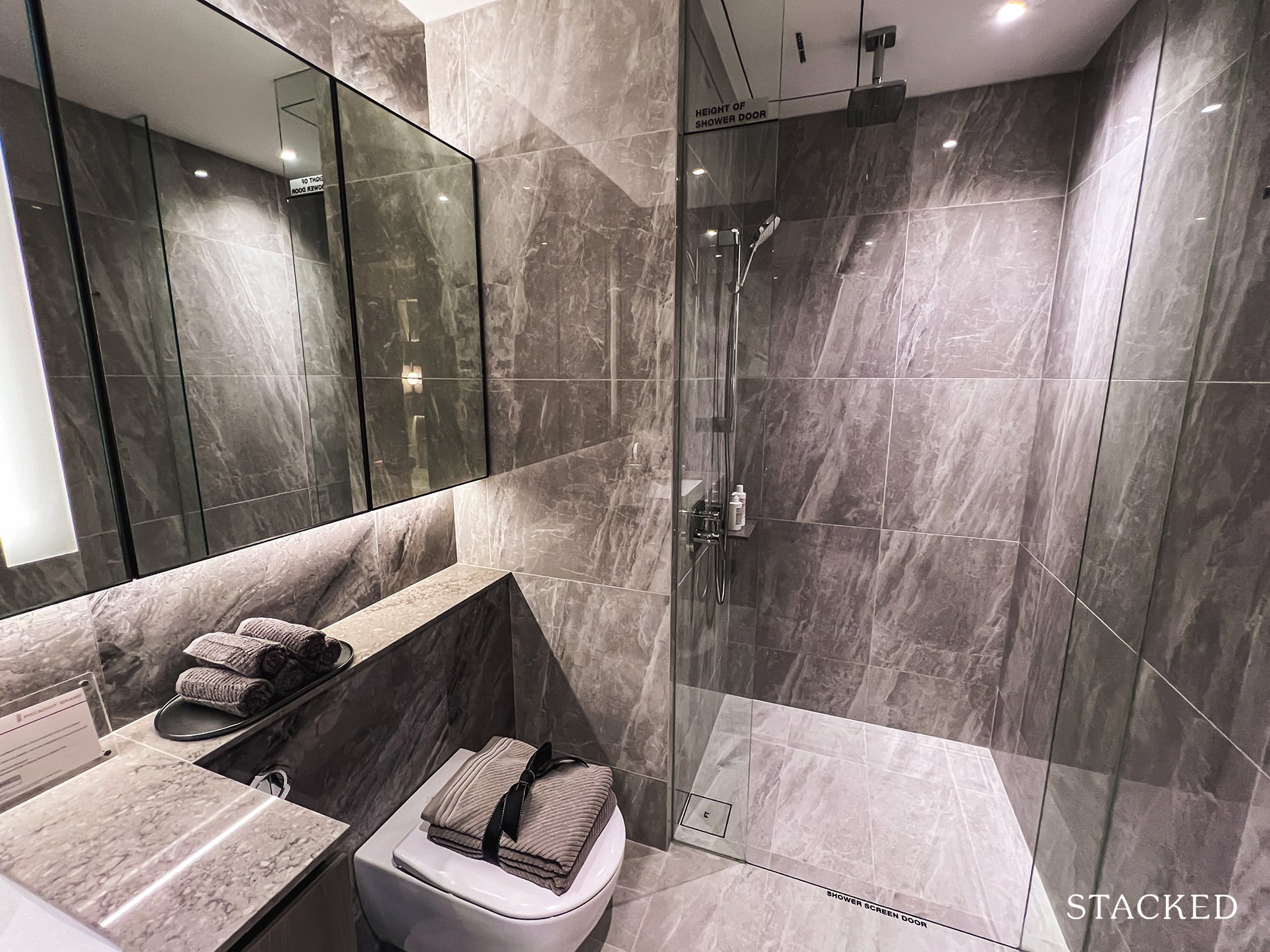 In addition though, you will get a rain shower, which is always a nice, premium touch, as with the wall-hung w/c that you get both in the common and master bathrooms. That said, you still have to rely on mechanical ventilation here though, as there are no windows available.
Piccadilly Grand – 4 Bedroom Dual Key Type D2DK (128 sqm/1,378 sqft) Review
We have not exactly seen a wave of dual-key units in recent years, but I believe that there continues to be a market for them, and even more so in light of the recent cooling measures. They offer a good solution to the "sell 1, buy 2" property advice that some agents have been propagating over the last couple of years. We wrote a no-nonsense guide on this topic here in case you are interested. In short, a dual key unit allows you to gain rental income with the smaller or larger unit while staying in the other. Alternatively, this can also be a multi-generational home where parents and children stay under one roof while maintaining some level of privacy of their own. There are 41 such unit types at Piccadilly Grand (1,378 sqft and 1,389 sqft), making up about 10% of all units here. There is also the option of a traditional 4 Bedroom unit at 1,410 sqft or 5 Bedroom units from 1,582 sqft. The biggest unit is a 5 Bedroom Premium (with a private lift) at 1,679 sqft.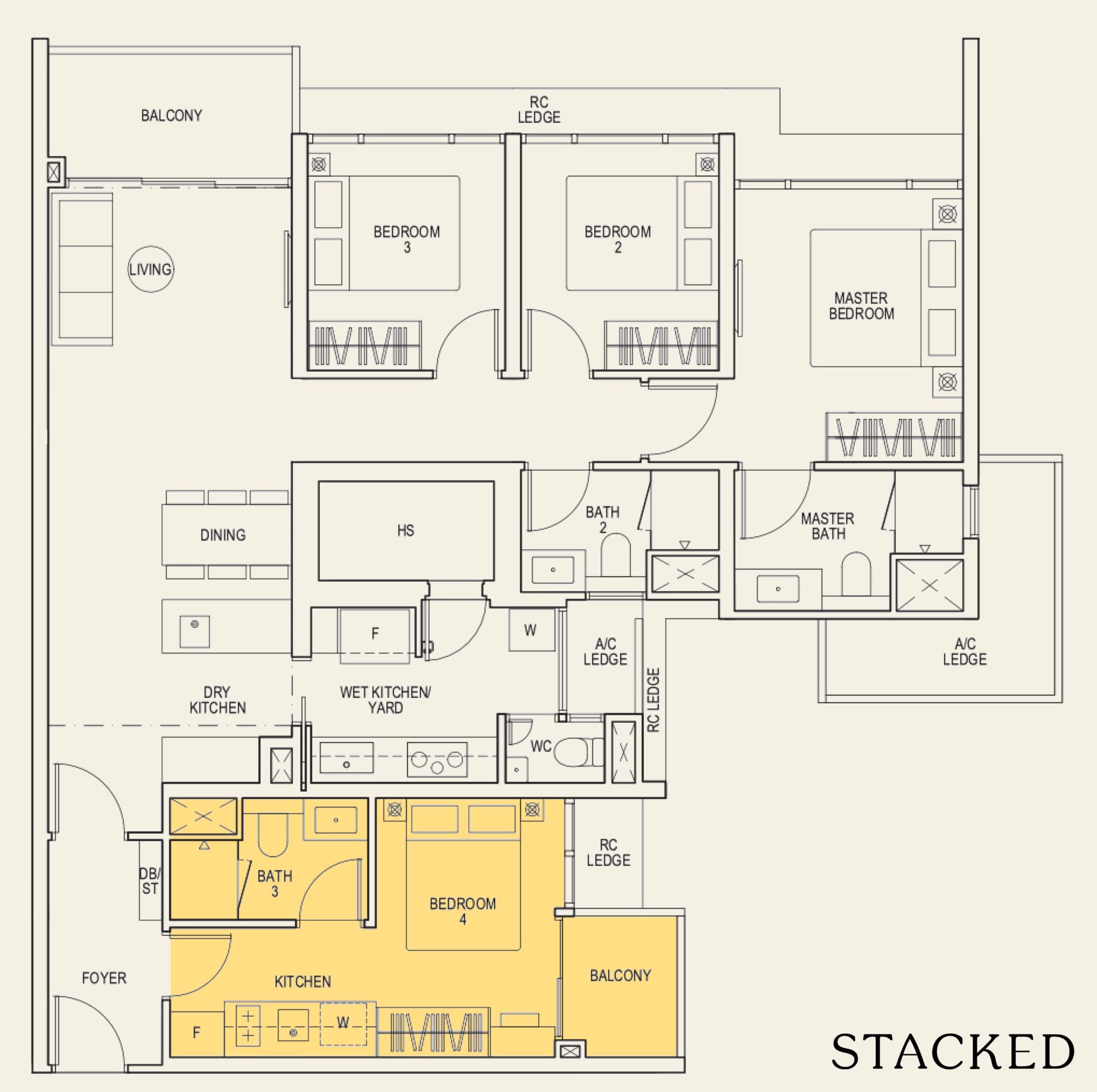 Breaking down the numbers a little before we delve into the unit. This 4 Bedroom Dual Key show flat unit is the combination of a studio (complete with an open kitchen, ensuite bath, and a balcony) and a 3 Bedroom apartment. The Studio is 13.8 sqm excluding the balcony, making the 3 Bedroom apartment slightly above 100 sqm (1,076 sqft) after factoring in the foyer and balcony areas. The 3 Bedroom unit is certainly well-sized and comes complete with a yard, home shelter, and a wet and dry kitchen for flexibility. The Studio could make sense for elderly parents or be flexible enough to be tenanted out, especially in the red hot rental market we are in today. The flooring provided will be marble for the common areas and engineered timber for the bedrooms. The ceiling height is standard at 2.8m but top floor units will get higher ceilings, although you do pay for the void space as well.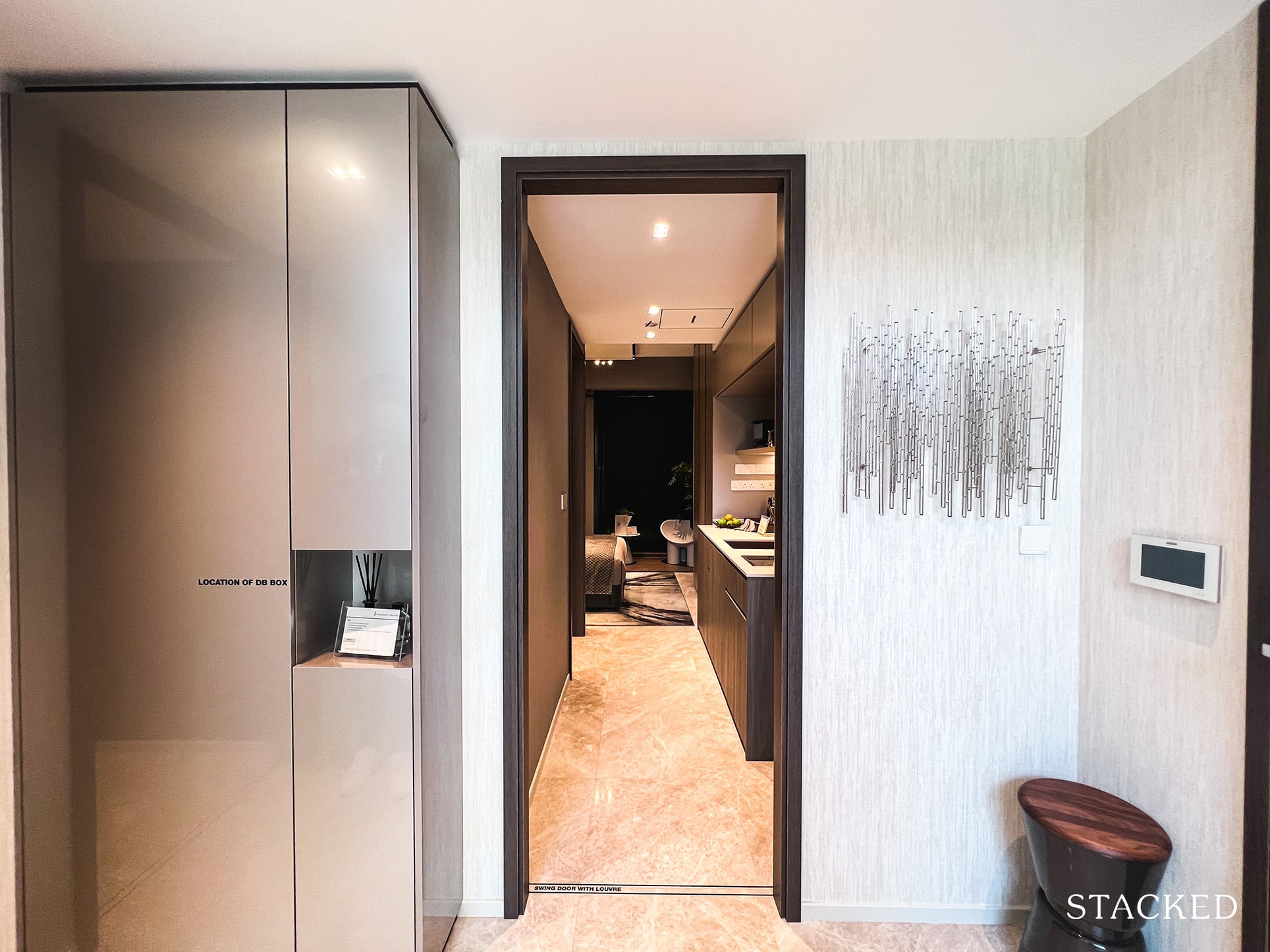 As you step out of the lift, you are greeted by the 5 sqm foyer that separates the Studio from the 3 Bedroom unit. They have separate entrances, granting occupants full privacy.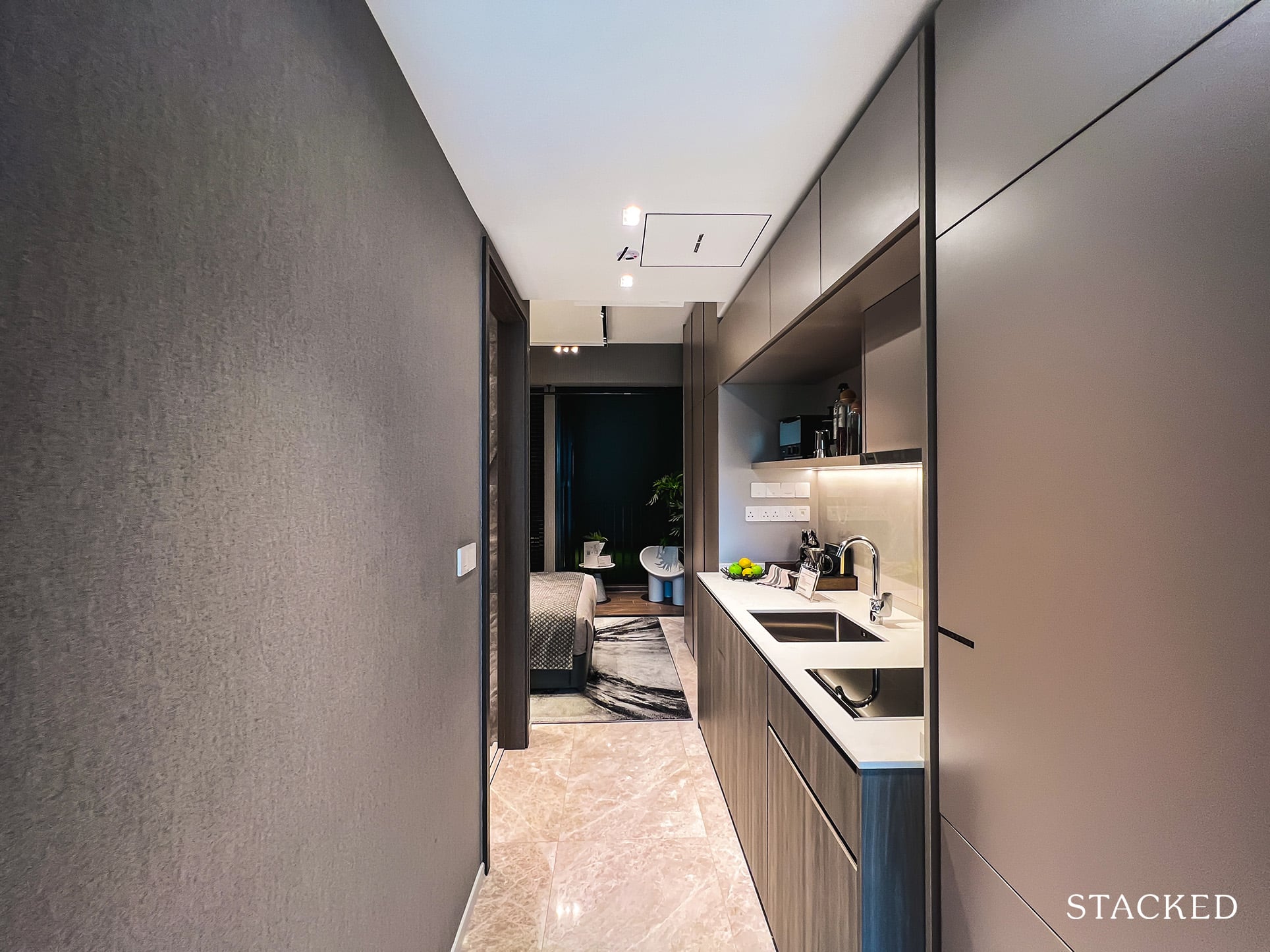 Let's start first with the Studio, which at 13.8 sqm is not the largest of spaces. For context, it is probably the size of the Master Bedroom in the 3 Bedroom unit. The Studio is packed with a kitchen, a bathroom, and a balcony so I must say that the developers have done a great job packing in so much with so little space to play with.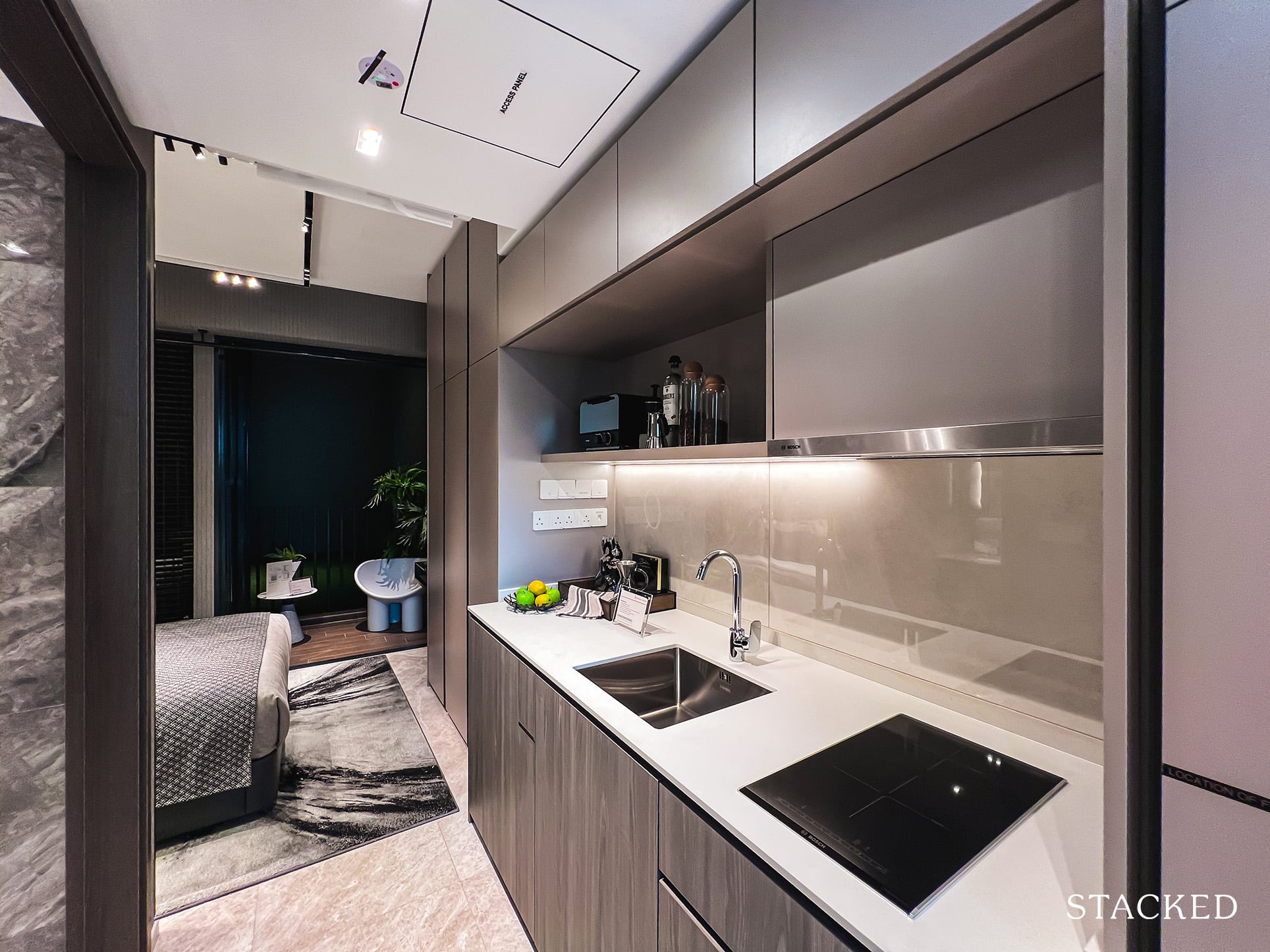 Stepping into the unit, it is a narrow walkway before you get to the bed. On the right, you have the open concept kitchen. What's great here is that it has a ton of overhead and bottom storage spaces and is well enough for any studio occupant.
Appliances that are provided include the hood, induction hob, washer, and integrated fridge, all of which will be from Bosch. Like the rest, of the unit, the mixer is from Hansgrohe and the single bowl sink is from Franke.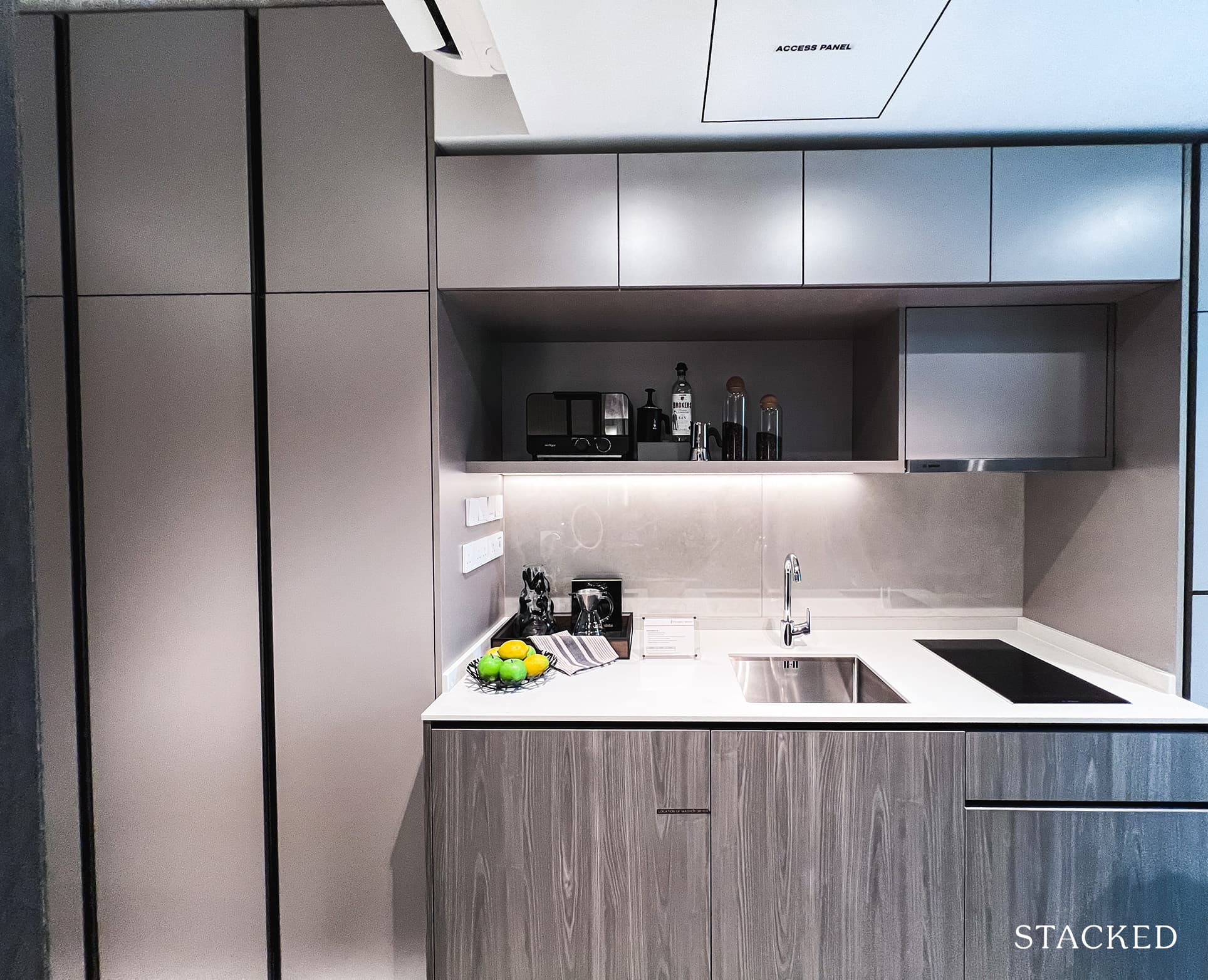 Do remember that a Studio is not to be confused with a 1 Bedroom unit, with the former having neither a dining/living room nor a clear demarcation of the bedroom. Some of us who have studied overseas may remember staying in Studio units where cooking up local delicacies such as curry will result in lingering smells throughout the room for a couple of days (not to mention the oil that might get around the area). But if you are still interested in doing heavy cooking here, at least you have a hood, a balcony to open up to air the smell, and possibly, install a mini curtain of sorts to separate the spaces.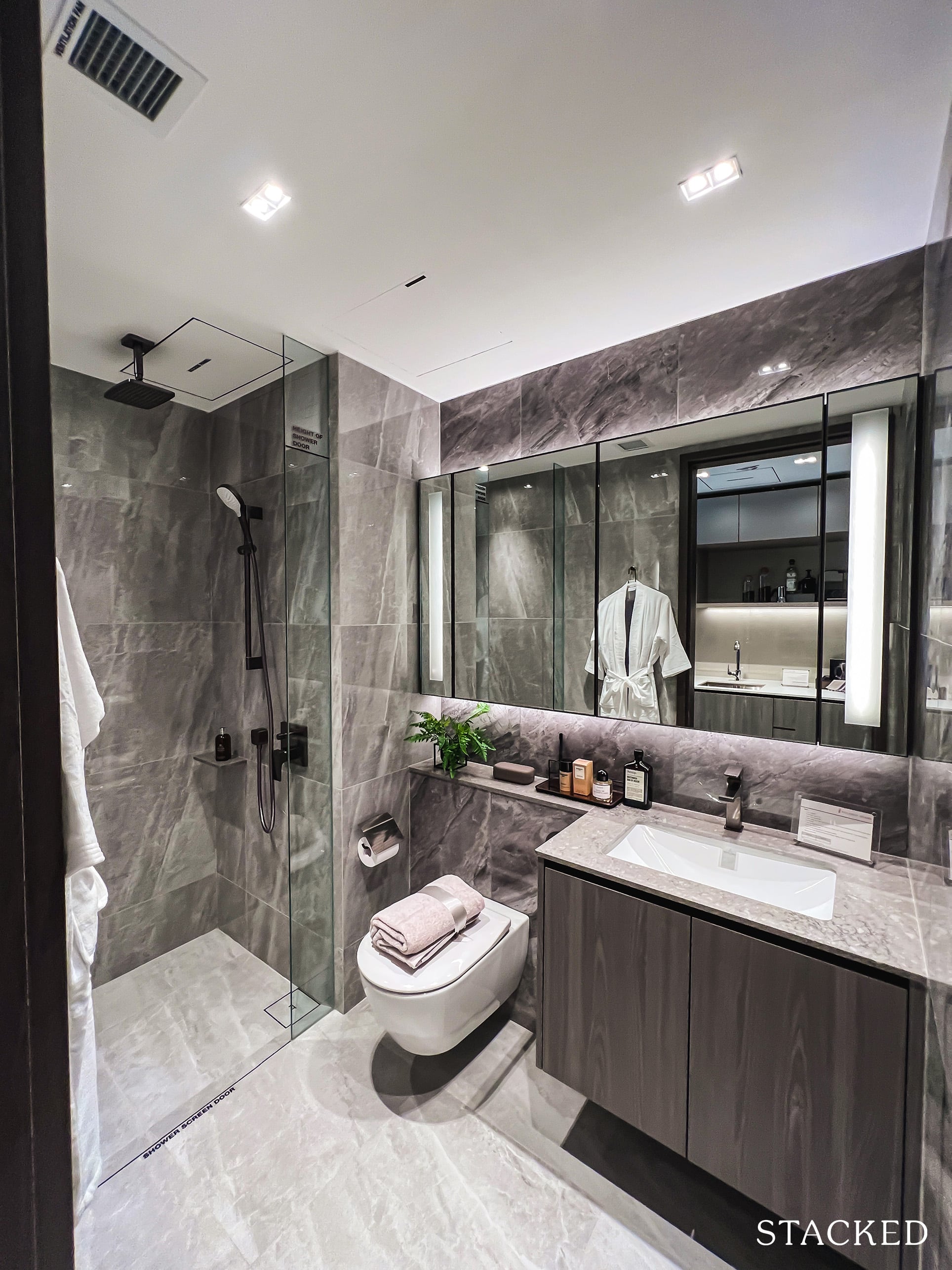 The ensuite bathroom is actually very well sized for such a small unit and doesn't give off any claustrophobic vibes at all. Fittings such as the paper holder, robe hook, and rain shower set are by Hansgrohe while the wall-hung w/c and basin are from Villeroy & Boch. The Hansgrohe fittings are of a darker, more modern tone compared to those provided in the 2 Bedroom and smaller units.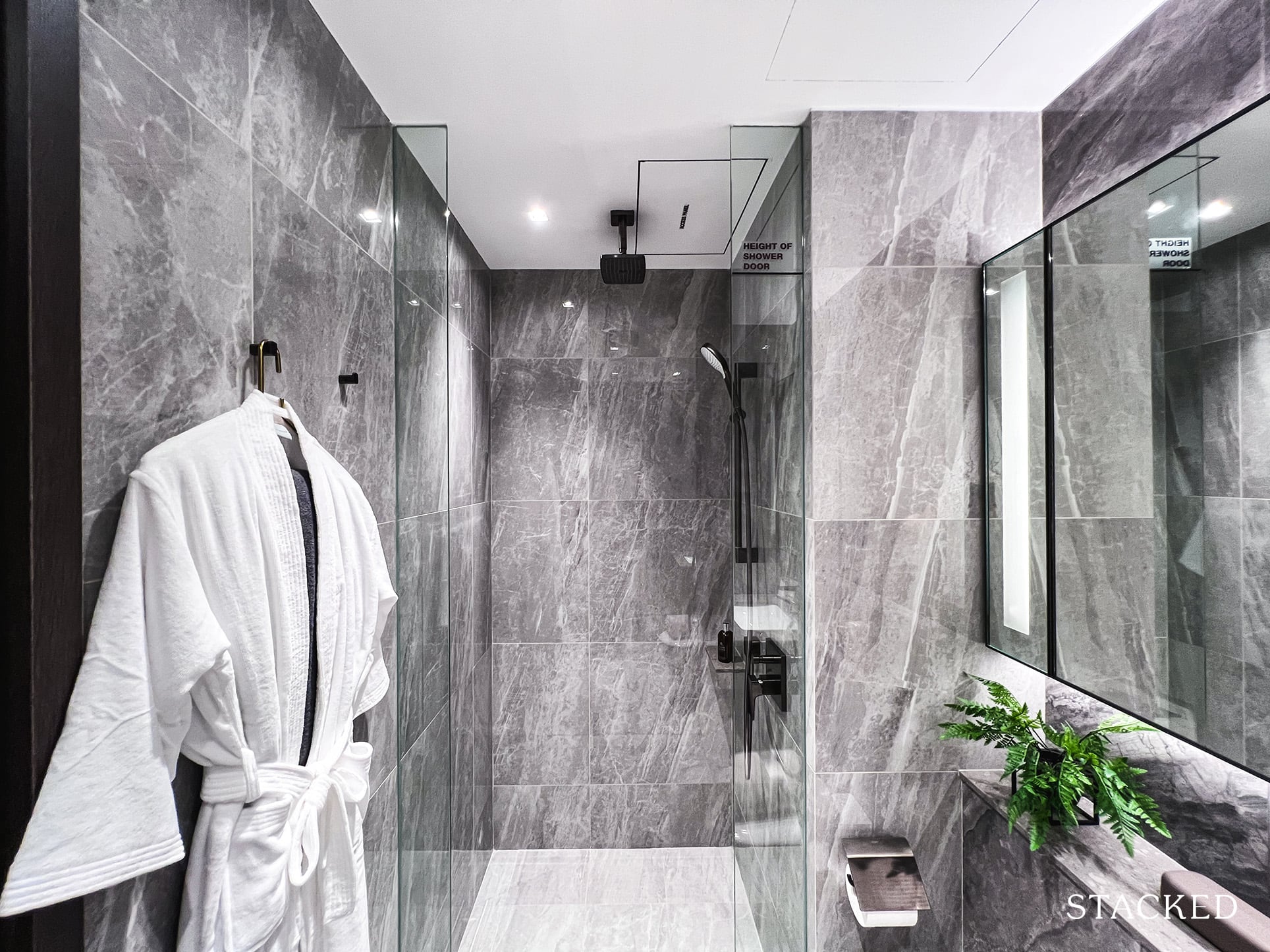 I must commend the developers for not cutting corners and insisting on the same quality European wares and features such as the wall-hung w/c and a rain shower even for the Studio unit. If I had one complaint about the bathroom, there's no window for natural ventilation, but that's always going to be the consequence of such a layout.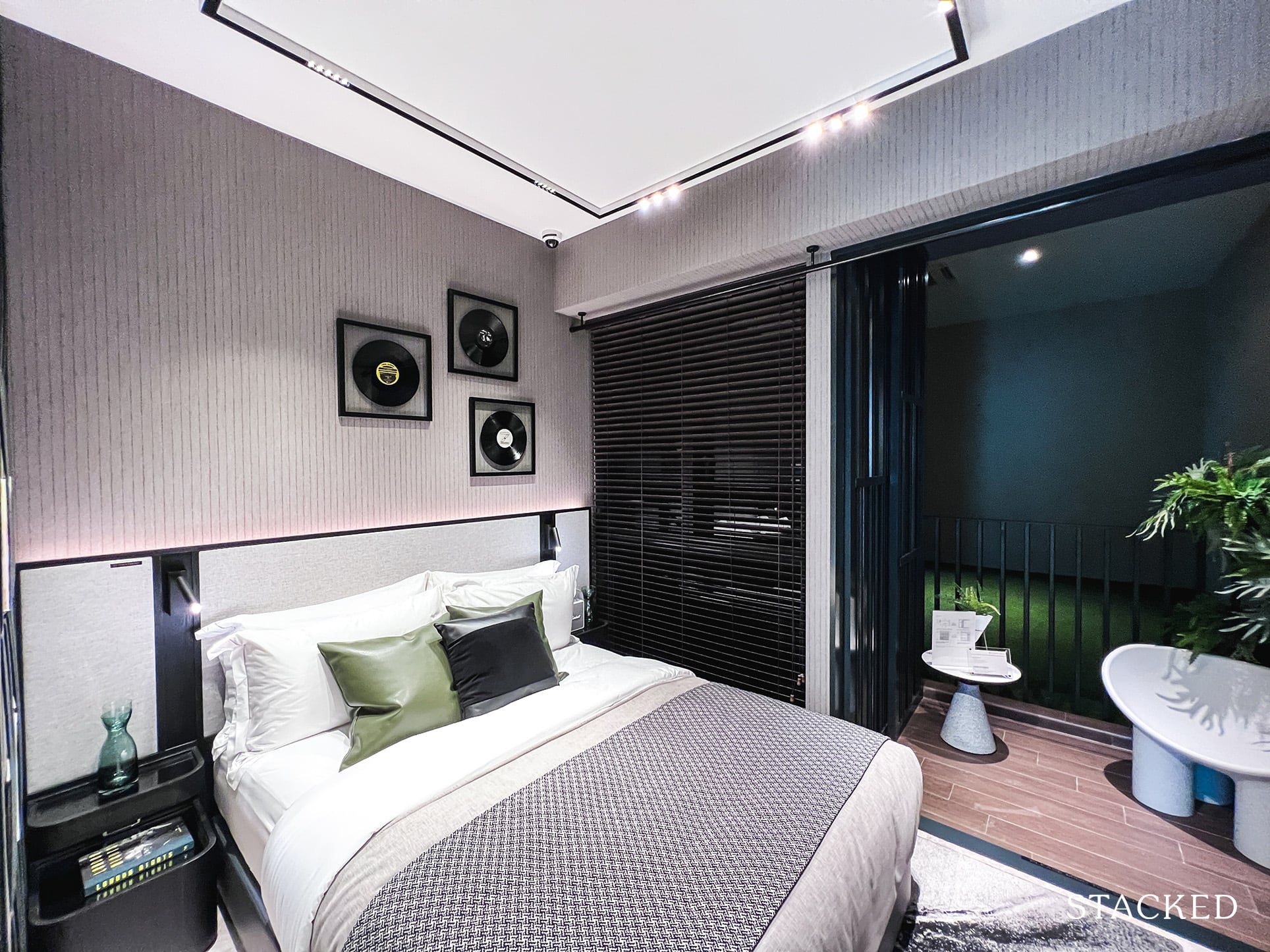 The bed is placed at the end of the unit and can comfortably fit a Queen size bed, as they have done here. It also comes complete with a 3-panel built-in wardrobe, which is similar in size to those that you find in the other bedrooms.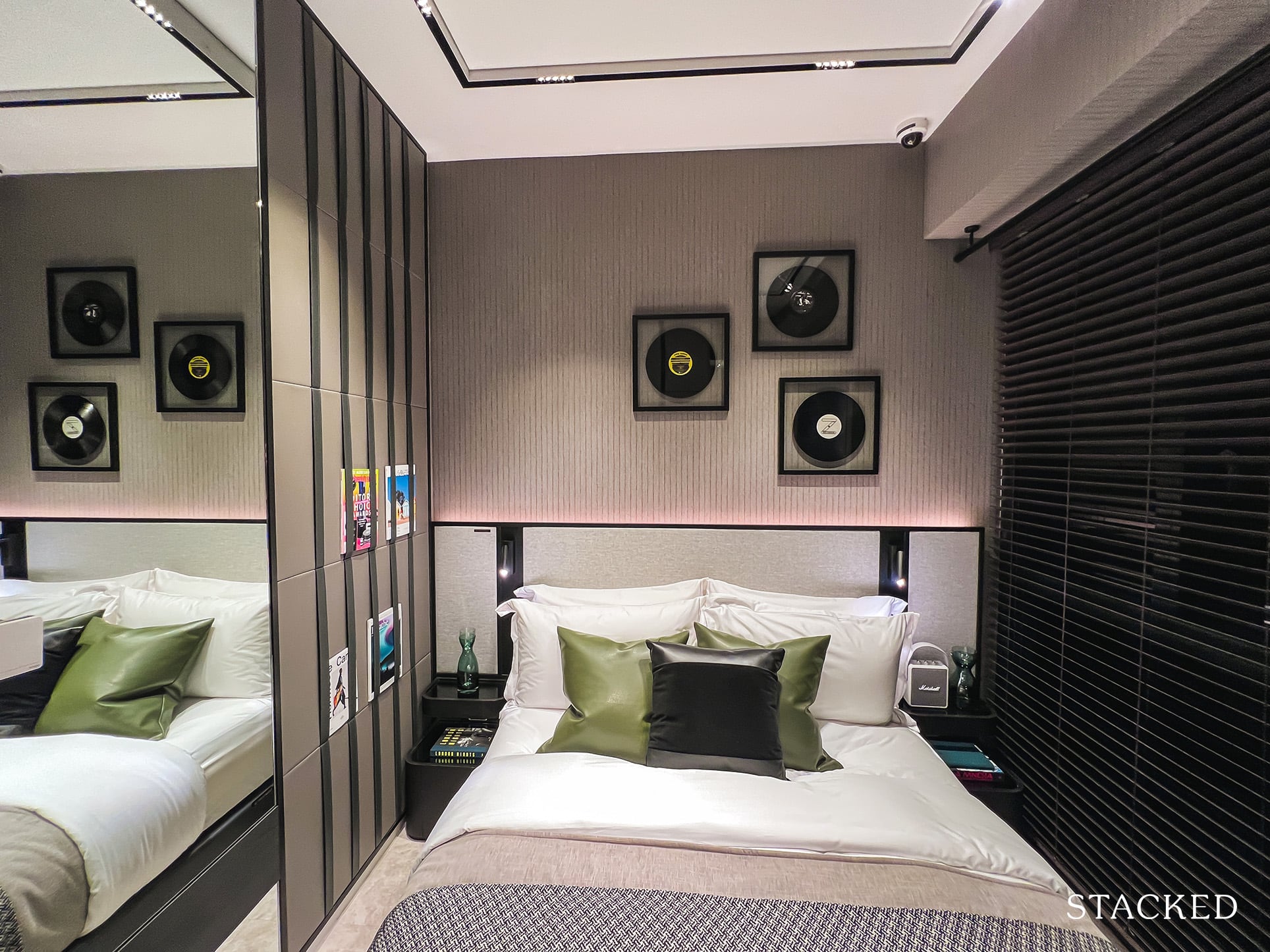 As the wardrobe is placed across from the bed, you have room for 2 small bedside tables if required. Space for a study has also been thoughtfully considered here, with a tiny corner beside the built-in wardrobe for your use.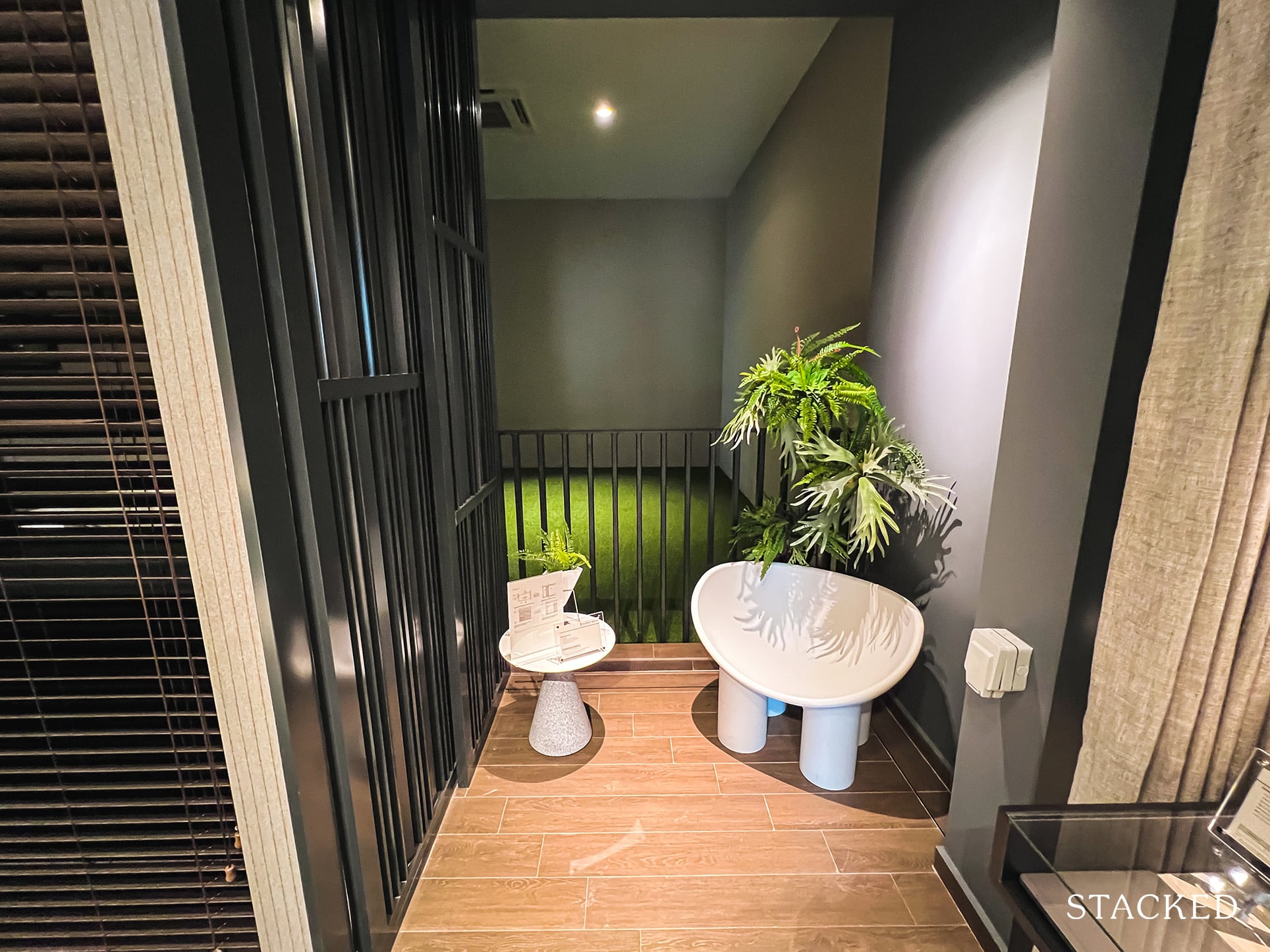 This space is also adjacent to the balcony. While it isn't a big space, I think it's great to have a balcony for the Studio. It's already a compact space, so the best thing you can do as a developer is to ensure that the space is well ventilated for its occupant. It can also double up as a small dining area given the lack of one in a Studio. Therefore, I must say it's great planning on the part of CDL and MCL.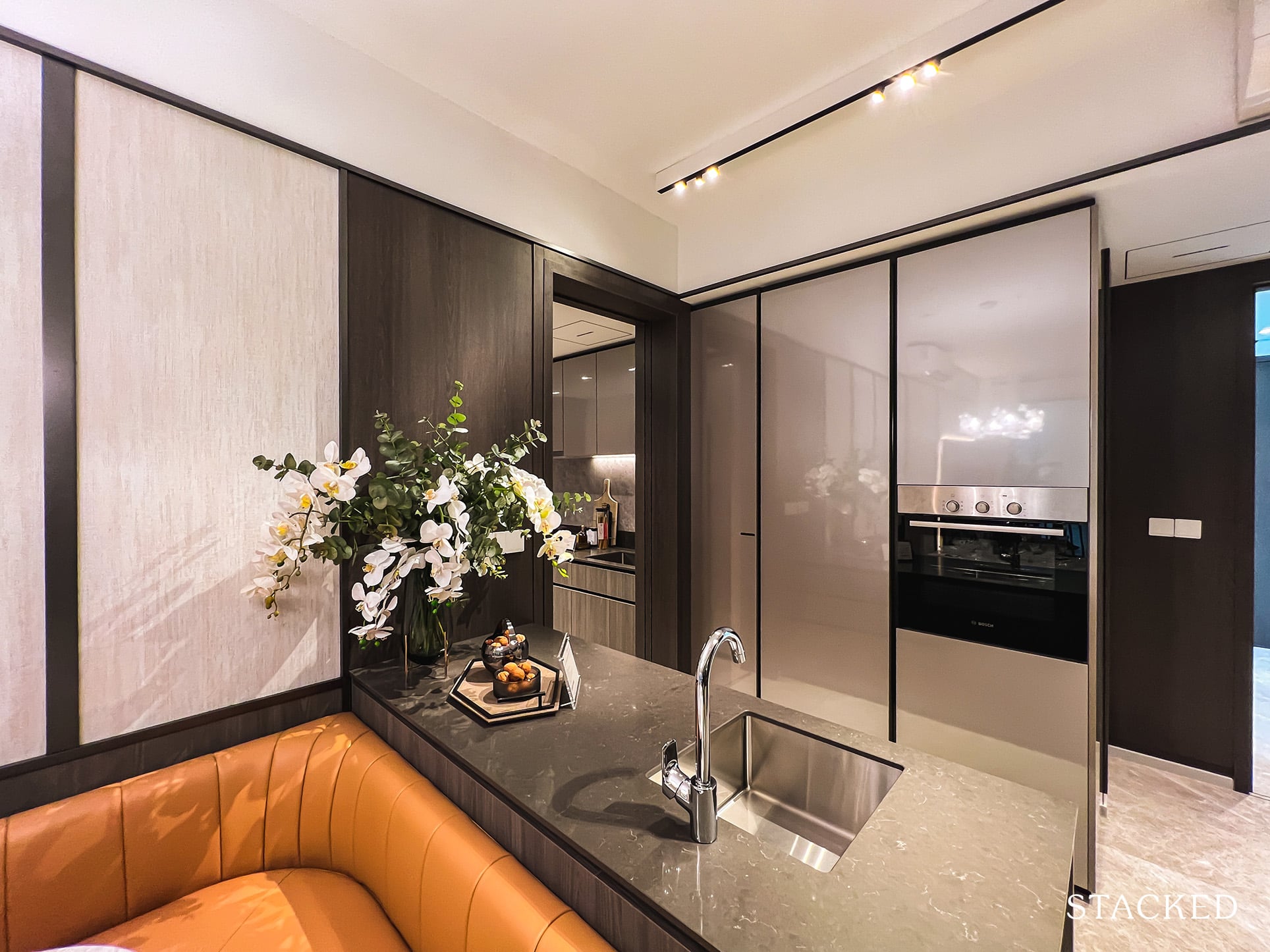 Moving on to the 3 Bedroom unit, which is of quite typical layout and design. As you enter the unit, you are greeted by the dry kitchen immediately to your right.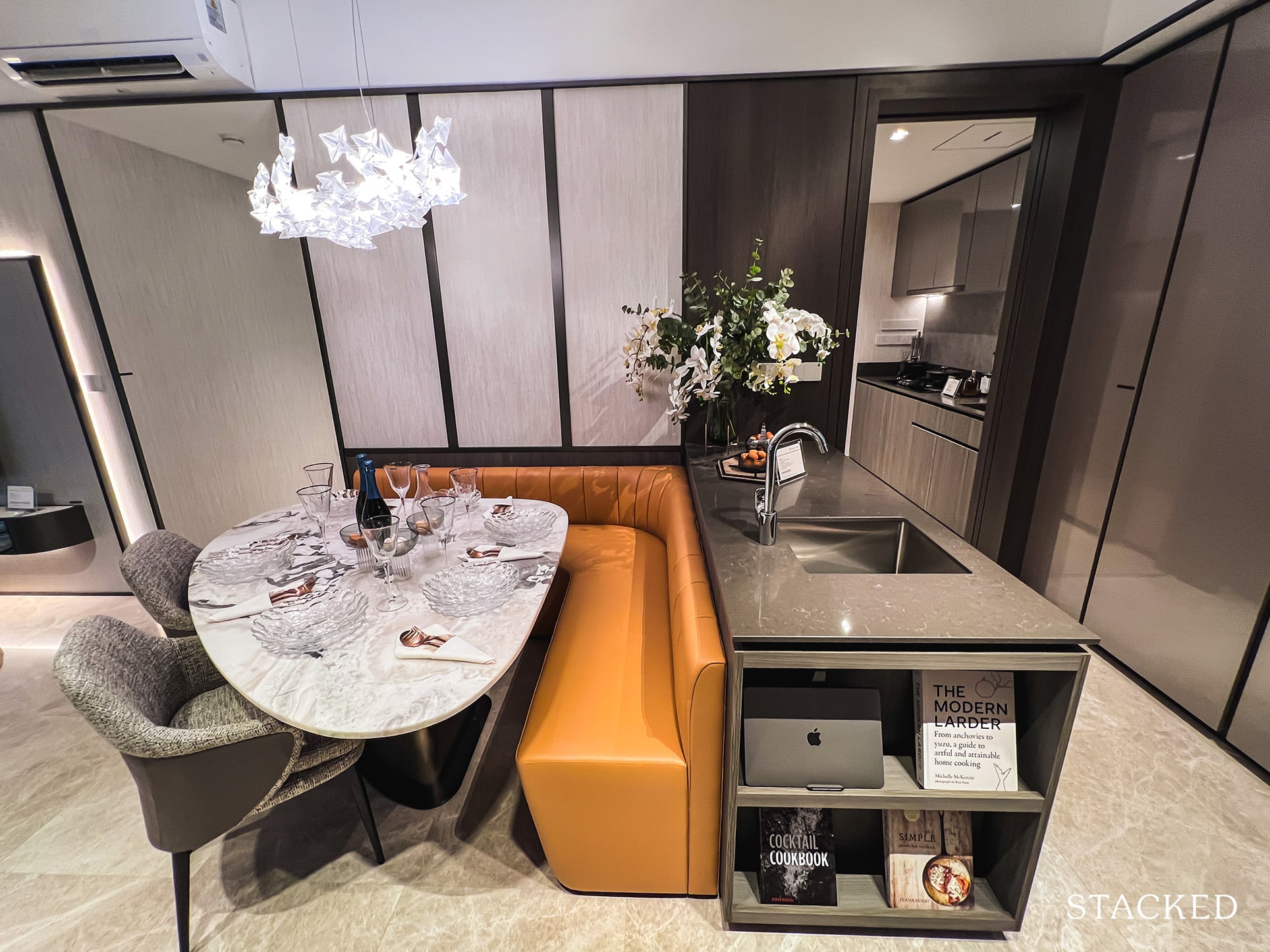 You have a dedicated Franke sink, Hansgrohe mixer, island countertop, a Bosch oven, and plenty of storage spaces on both sides to complement what you will already have in the wet kitchen. It ensures that you have more than sufficient storage space to store any dry goods you may have.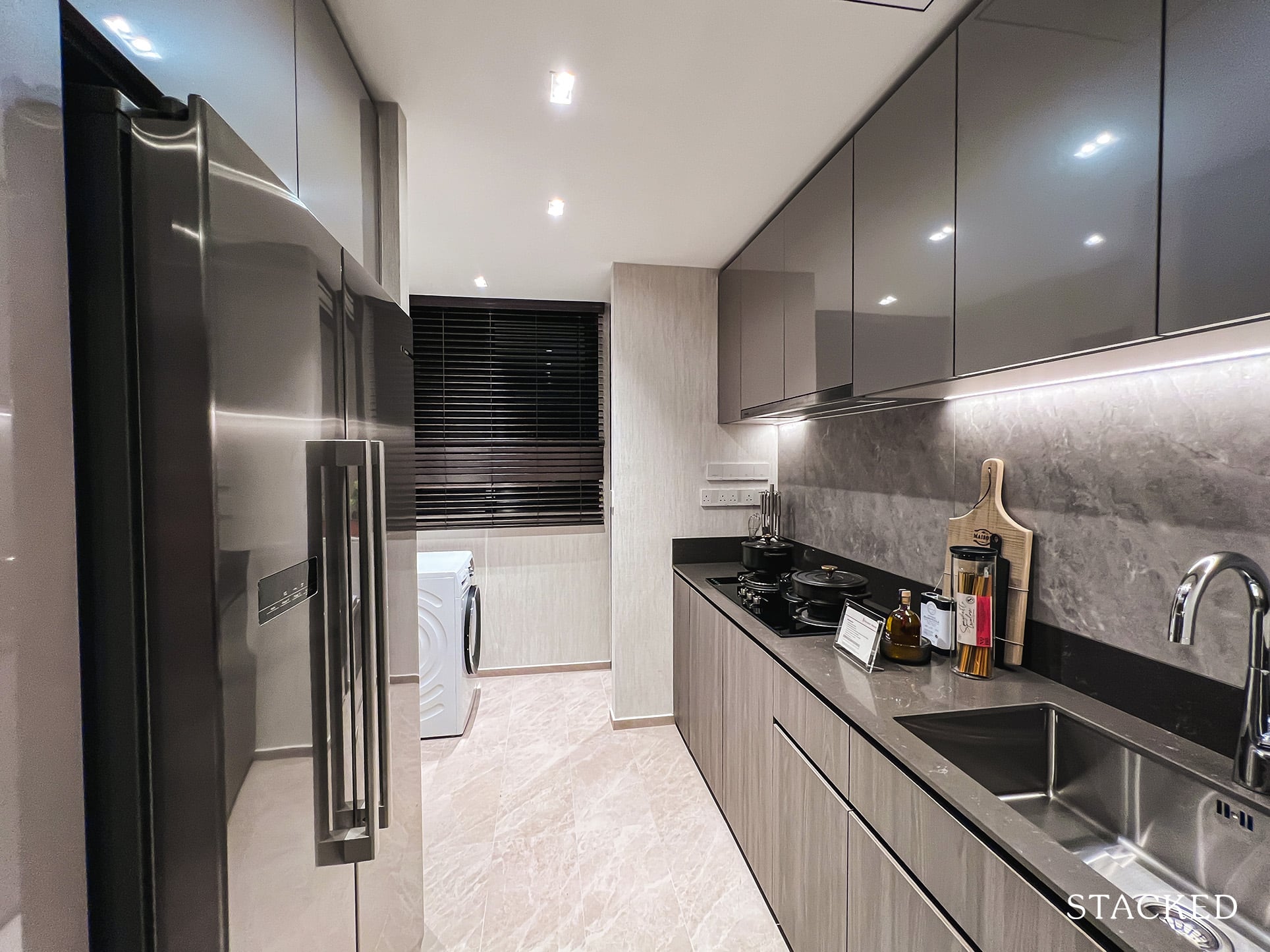 It complements your wet kitchen, where you get a 2-door Bosch fridge, alongside another sink and mixer from Franke and Hansgrohe respectively.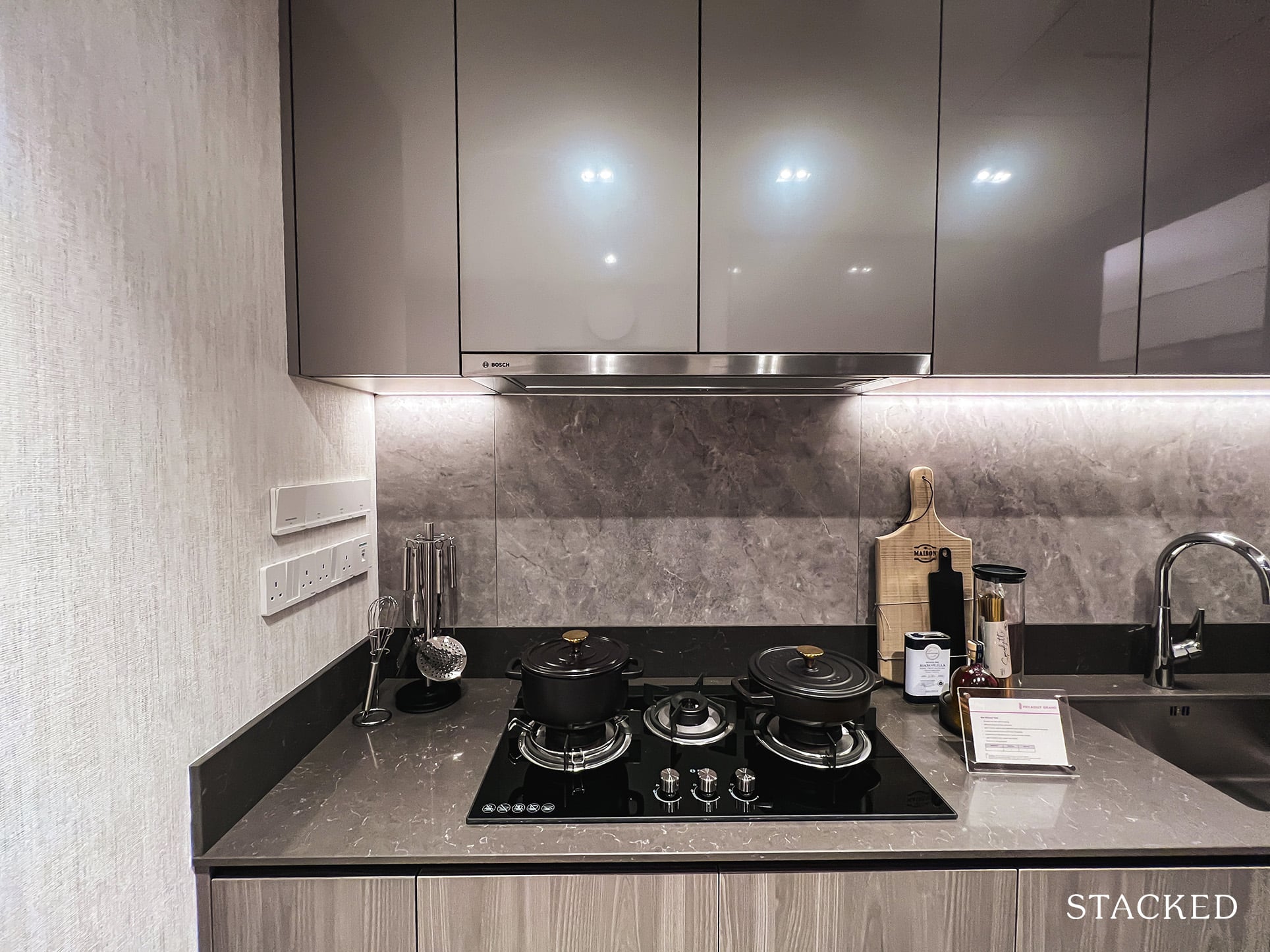 The larger units at Piccadilly Grand have a 3-burner hob and hood, which can accommodate heavy cooking better. It also helps that there is a window close by to allow any remnant smells to go out.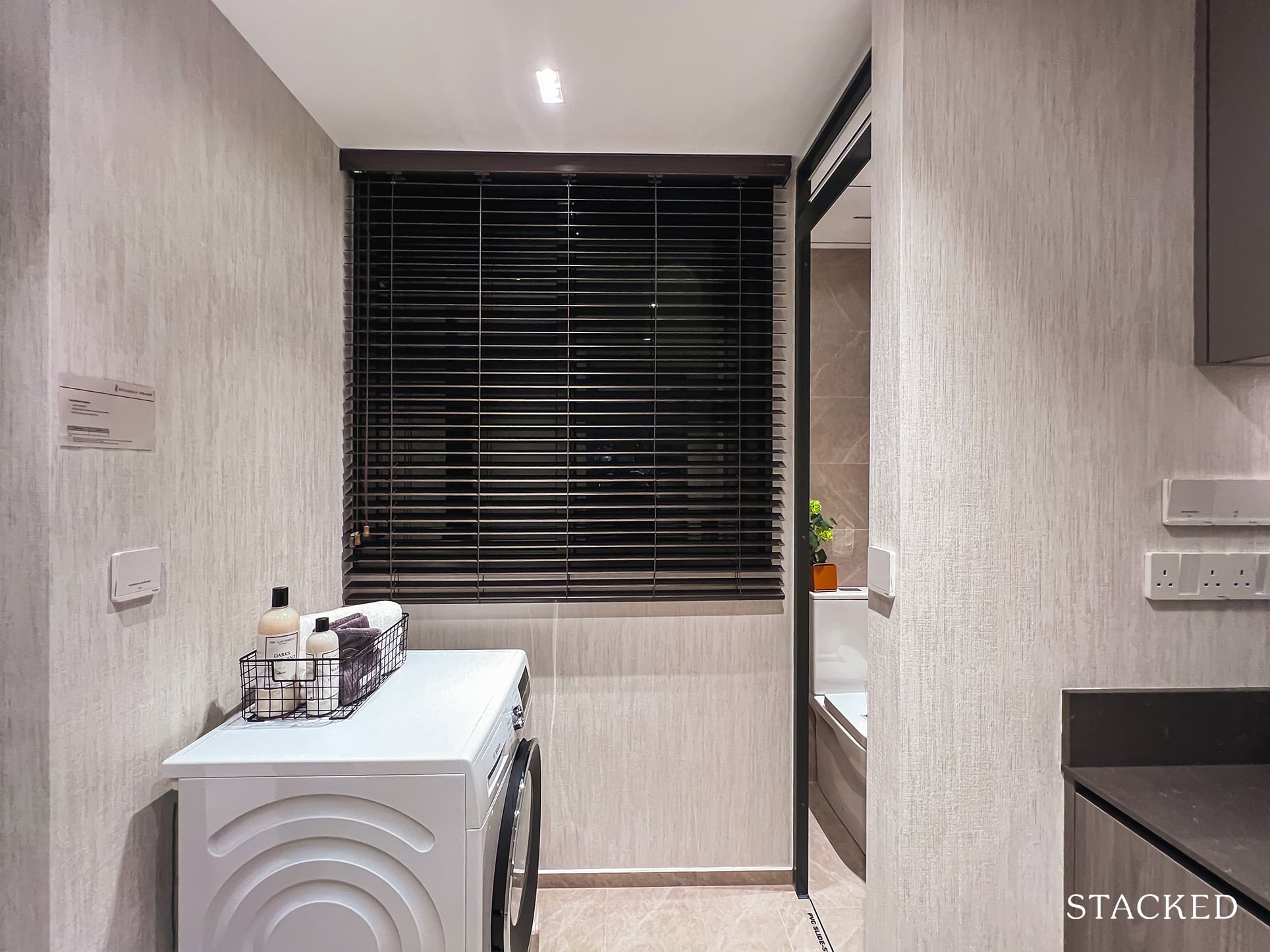 The wet kitchen has a supposed yard area as well, although it just seems like a small additional square by the window rather than a dedicated one. The washer/dryer will be placed here, and you could well install some racks if you prefer the natural drying method.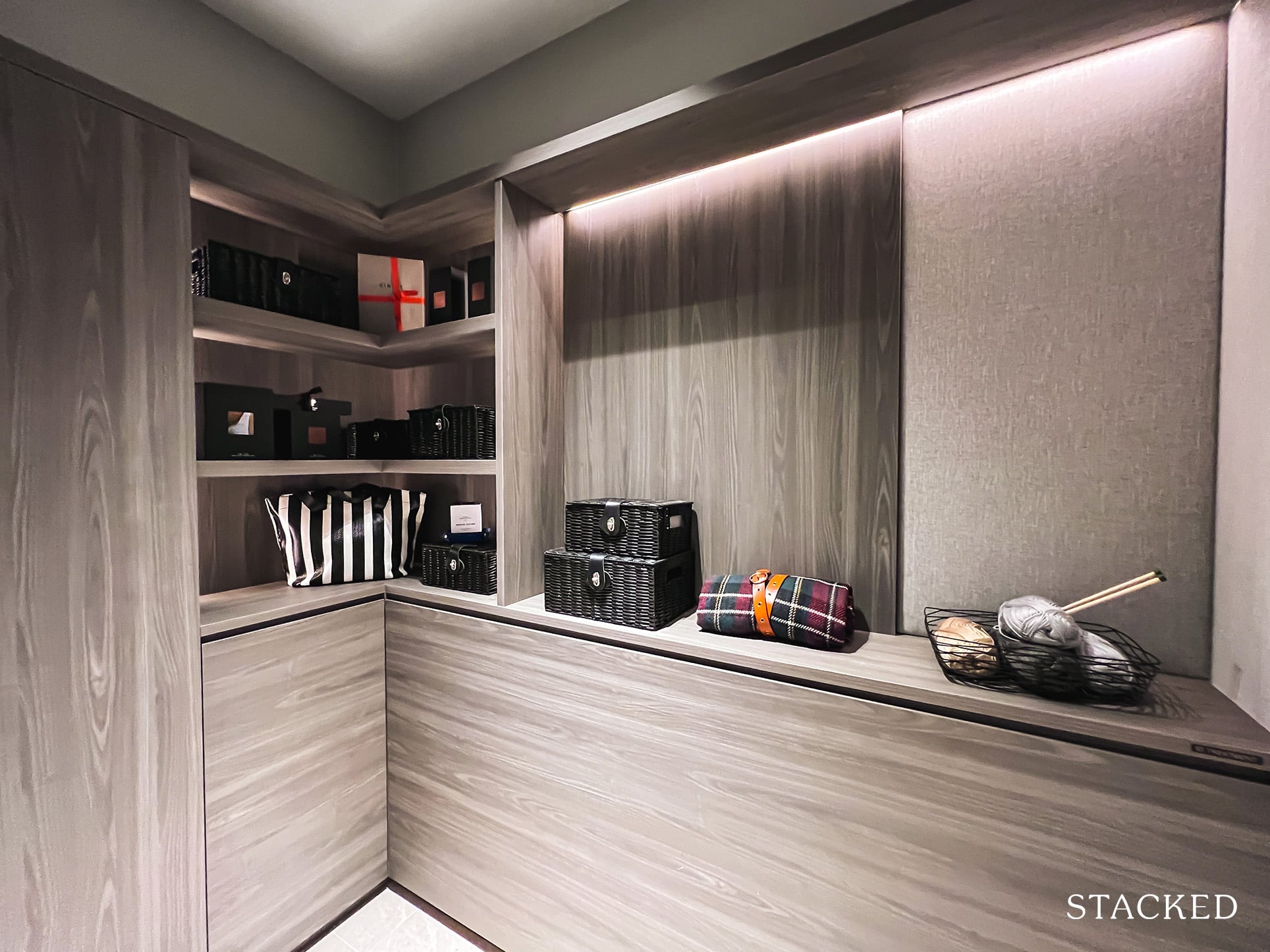 This unit has its practical aspects too, with a home shelter that can serve as a storeroom or a helper's room and a w/c (with window) here as well. You really can't take these things as a given for new condos these days, so I'm happy to see them here.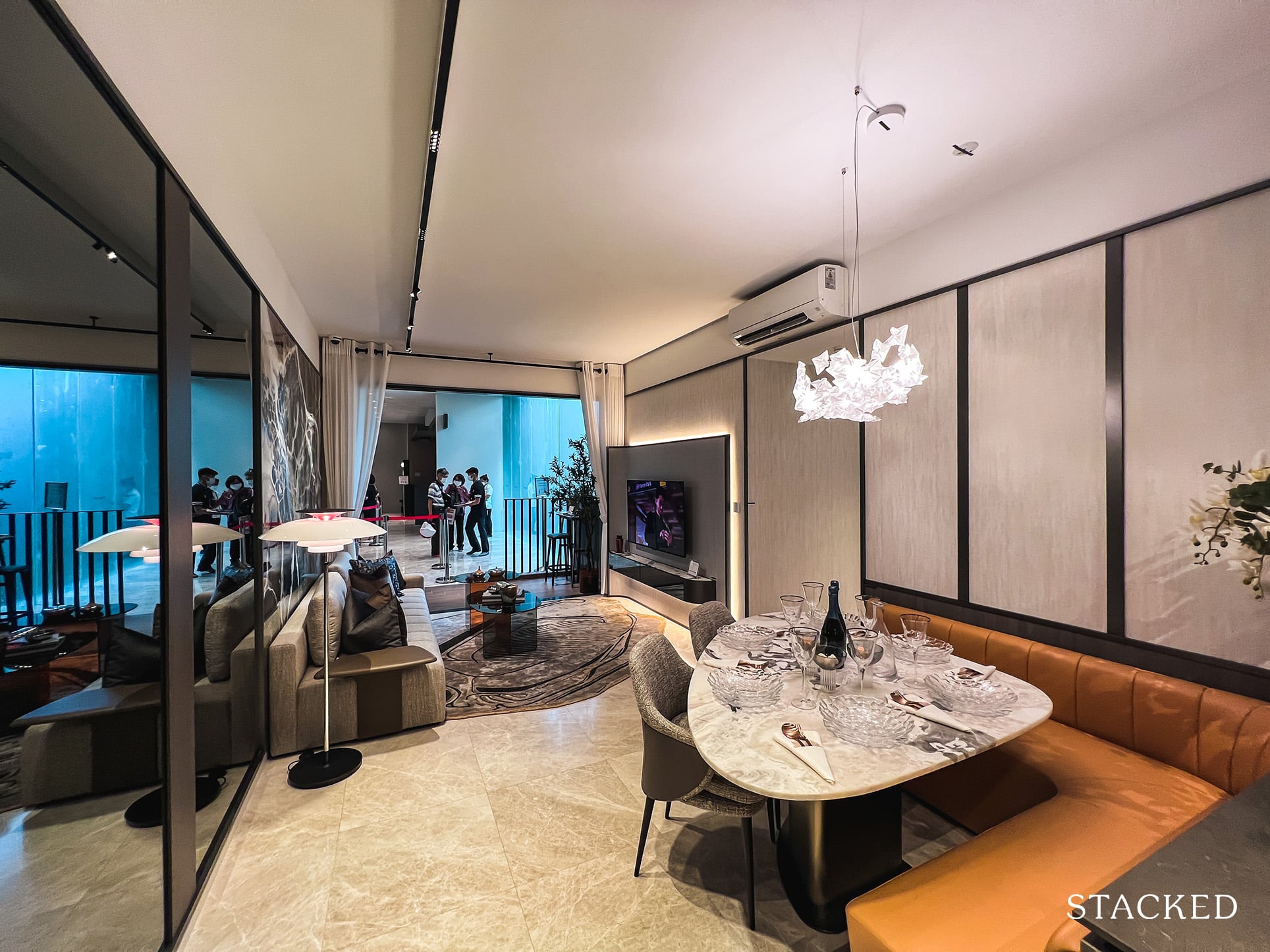 Moving to the dining area, and I would have to say that this is one of the more disappointing spaces. Even with the use of bench seating, the space seems barely sufficient to fit 5 or 6 (which is usually what you'd expect for a 3 bedroom unit).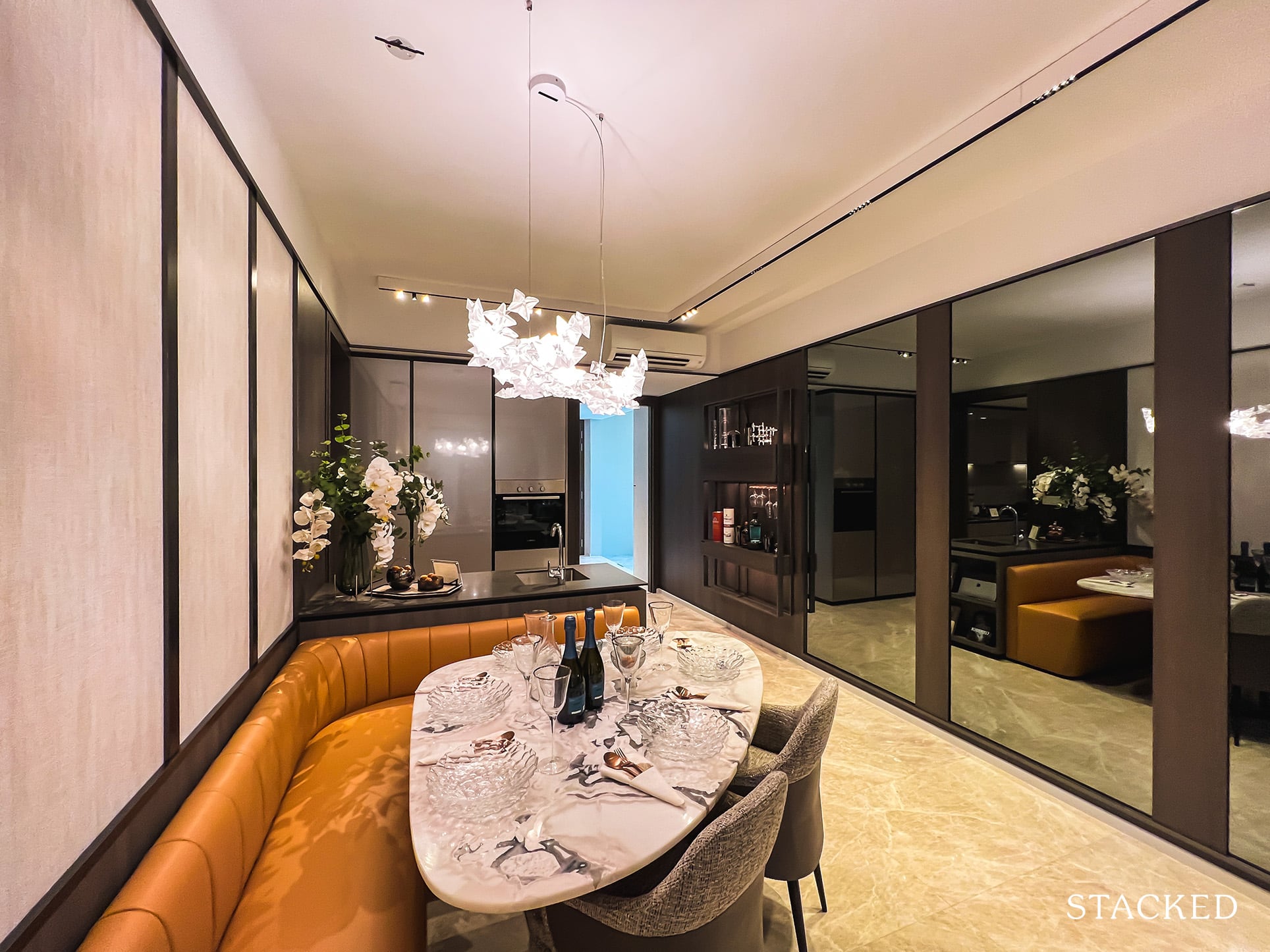 Personally, the issue is the kitchen island that is a good-to-have but may not be necessary, depending on the preferences of your family. If I were looking at this unit, I'd probably be seriously considering doing away with the kitchen island to open up the space. In that way, you should have enough space here for an 8-seater dining table – which would make more sense for a multi-gen family (if you are utilising the studio space as well).
Overall though, I'm really surprised at how the dining area here is not all too different from the one found in the 2 Bedroom show flat.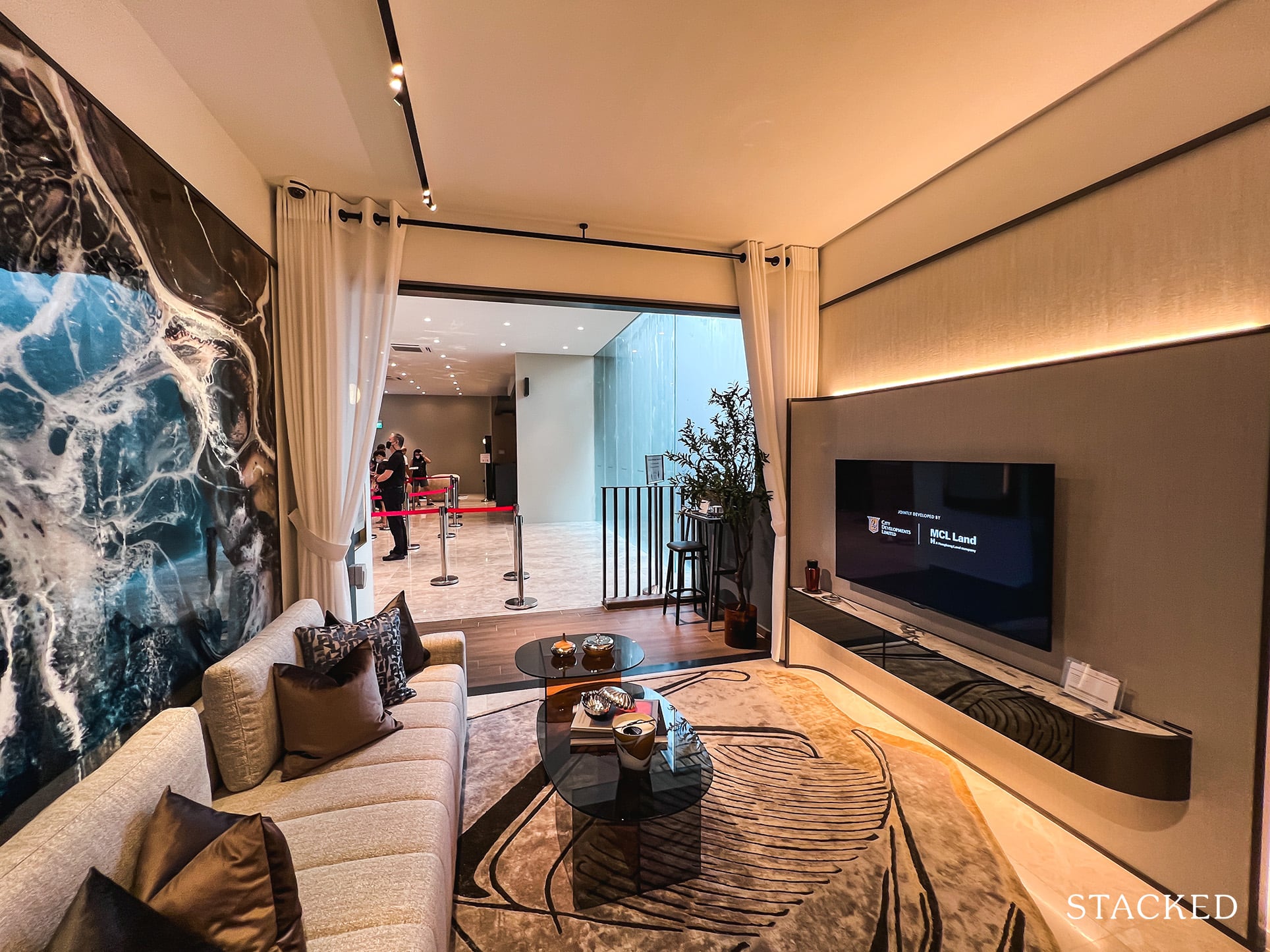 On to the living room and the width is slightly better than the one found in the 2 Bedroom show flat. It's about 3.2m from end to end here, allowing more room for a more decent-sized couch, coffee table, and TV console. Of course, when actually designing the space, you should still avoid bulky furniture to ensure that the area does not look too cluttered.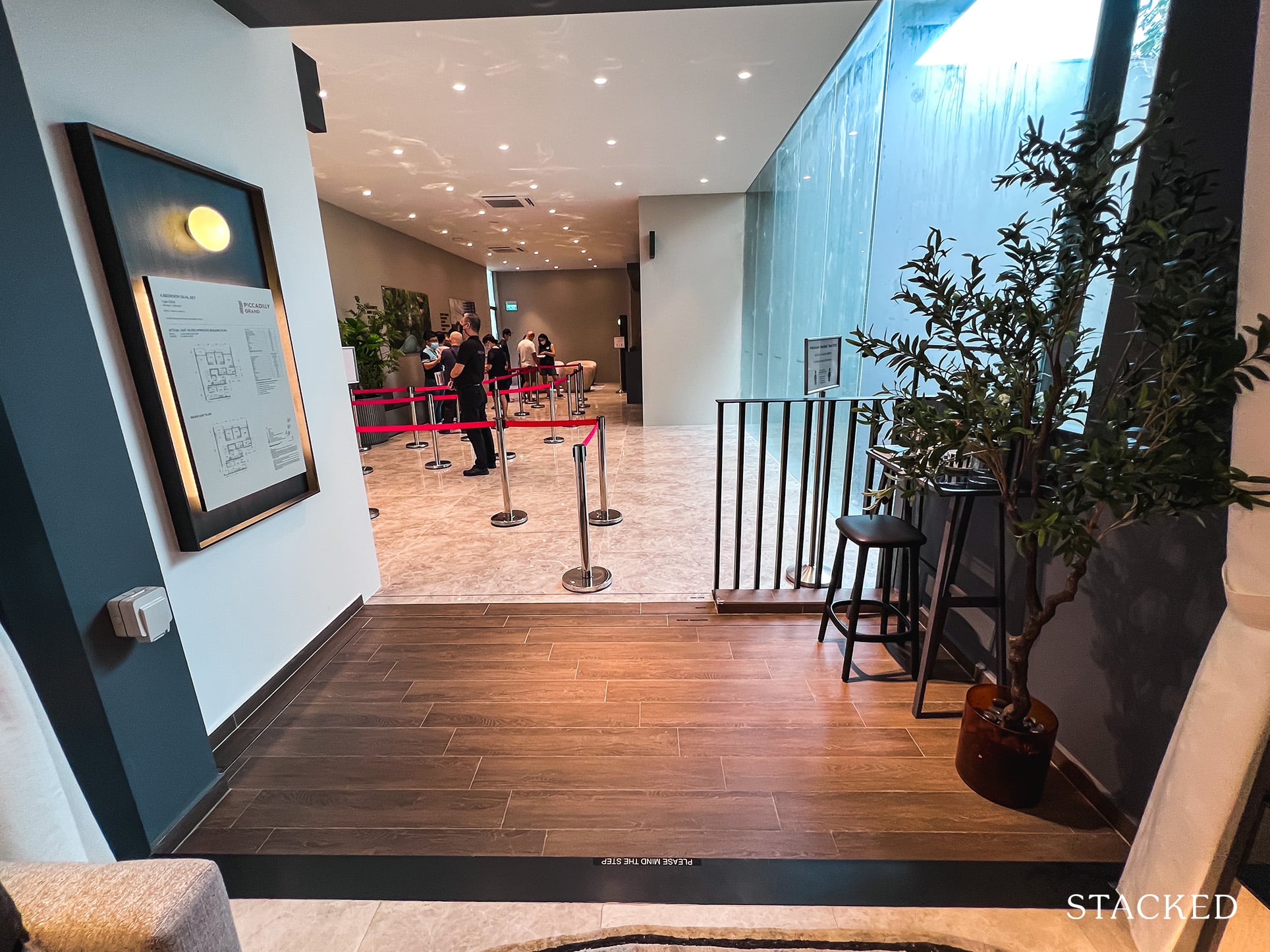 The balcony here, combined with the one found in the Studio, makes up 8.9 sqm of space. I am guessing that the one here is about 5.5 sqm? It's not the largest, especially for a 3 Bedroom unit, but this means that there is more usable space for the internal areas, which is a good thing considering the size of the unit here.
Again, it comes down to your preferences as some people prefer a large balcony to accommodate al-fresco dining. While you can still do it here, it will be more of a 3-person affair on high stools given the size of this space. Alternatively, you can always use this as a zone to nurture your green fingers or do some exercises here.
Off to the bedrooms, starting with Bedroom 3, which is closest to the living room. Sized at 8.8 sqm, it can accommodate a Queen bed quite comfortably, as they have shown here. The large panel windows let in more light, making this space feel more open and bright.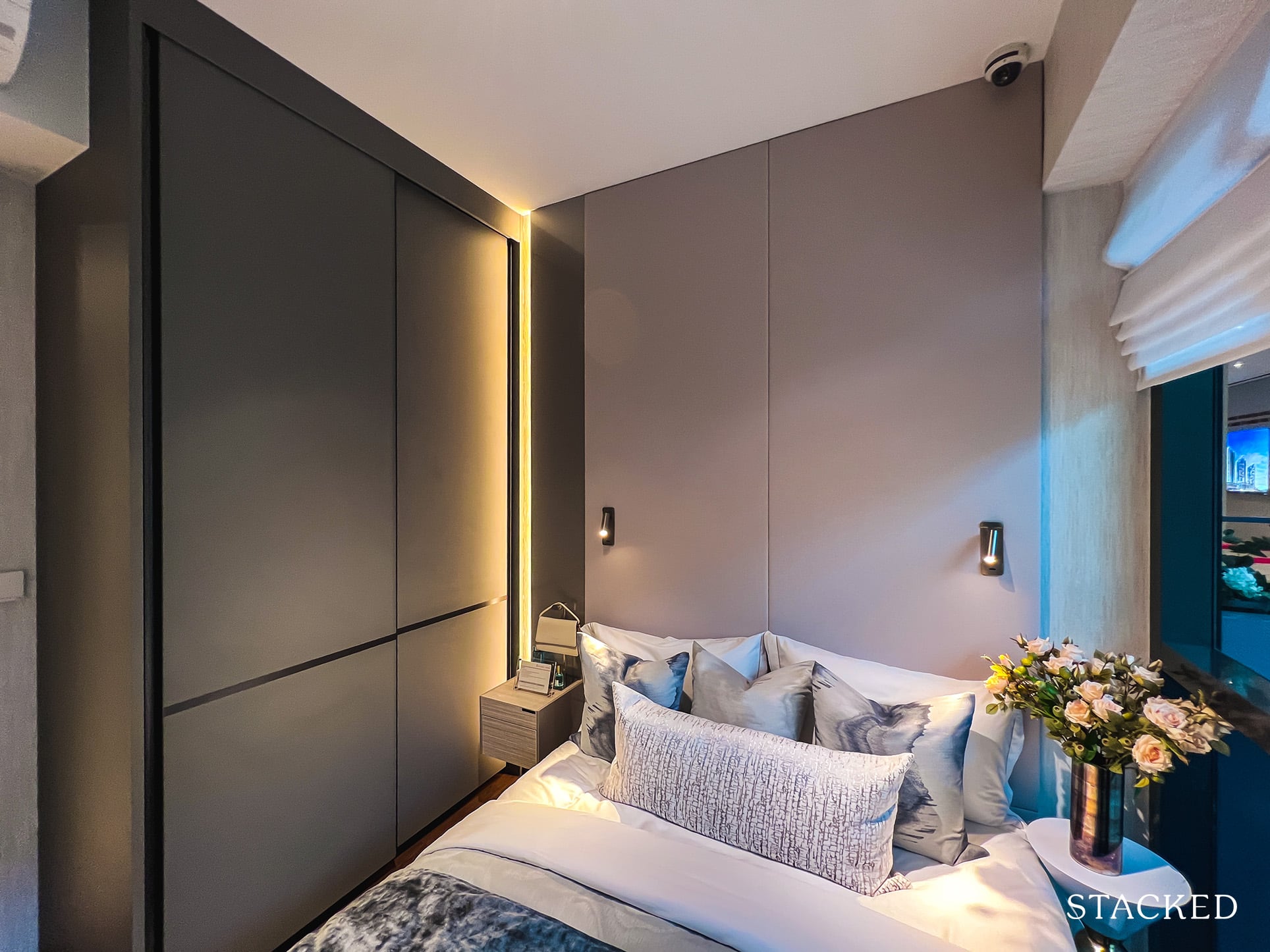 It also comes with the standard built-in wardrobe, which is of a different theme from the 2 Bedroom show flat. The one here takes on a greyish theme instead, and has more of a faux leather finish rather than the wood-like one found previously. There are 2 different design themes at Piccadilly Grand – for 1, 2, and 3 Bedroom units these will be generally lighter coloured, while the overall theme for the larger 4 and 5 will be darker (as with the fittings as well).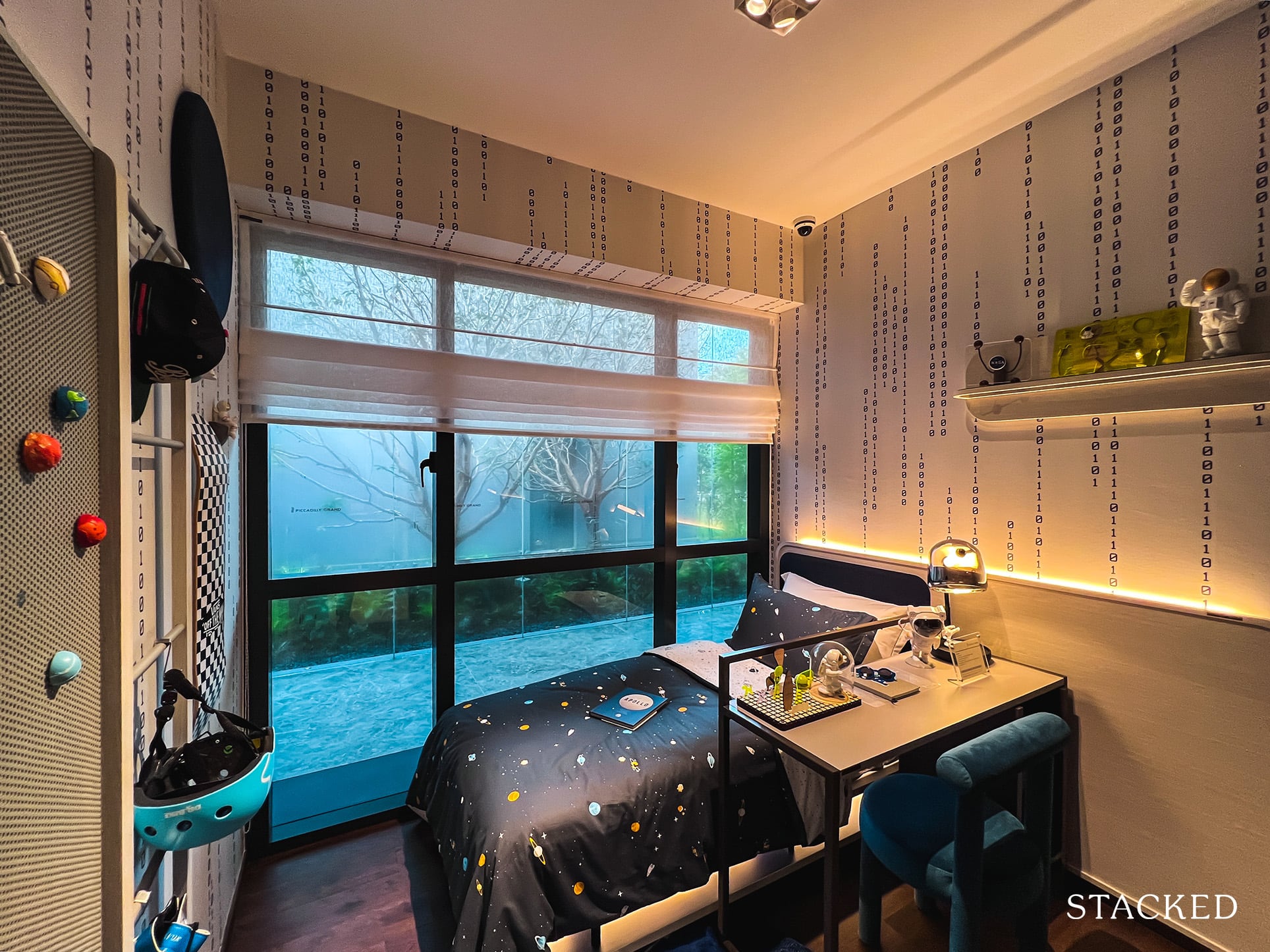 Moving on to Bedroom 2, which is sized similarly at 8.8 sqm. Here, they have gone with a Single bed instead, to showcase the various options you have with the bedroom.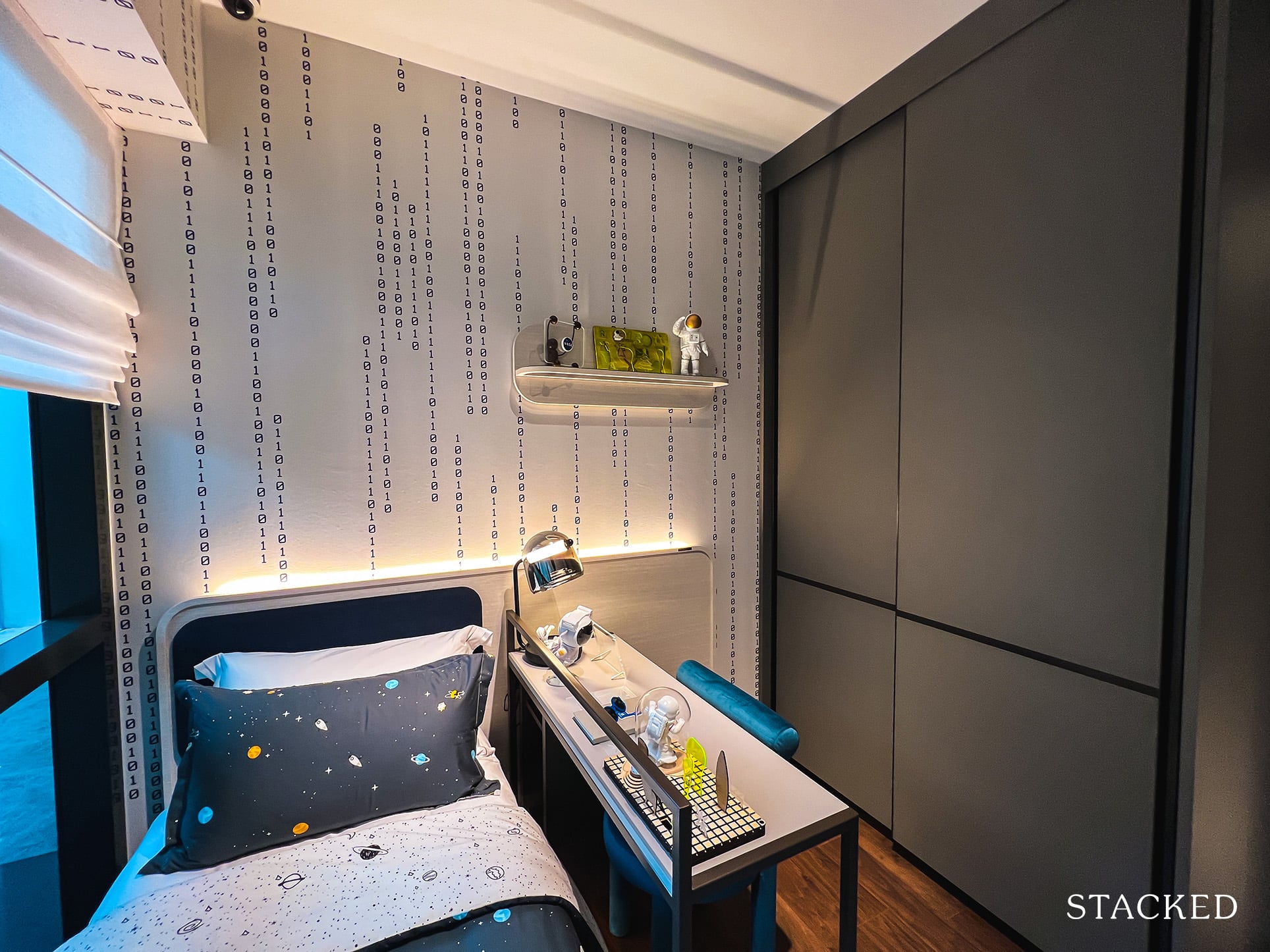 I actually prefer this layout, as it gives you more flexibility. They have gone with an additional study table and chair here, which is arguably more practical, especially for young children.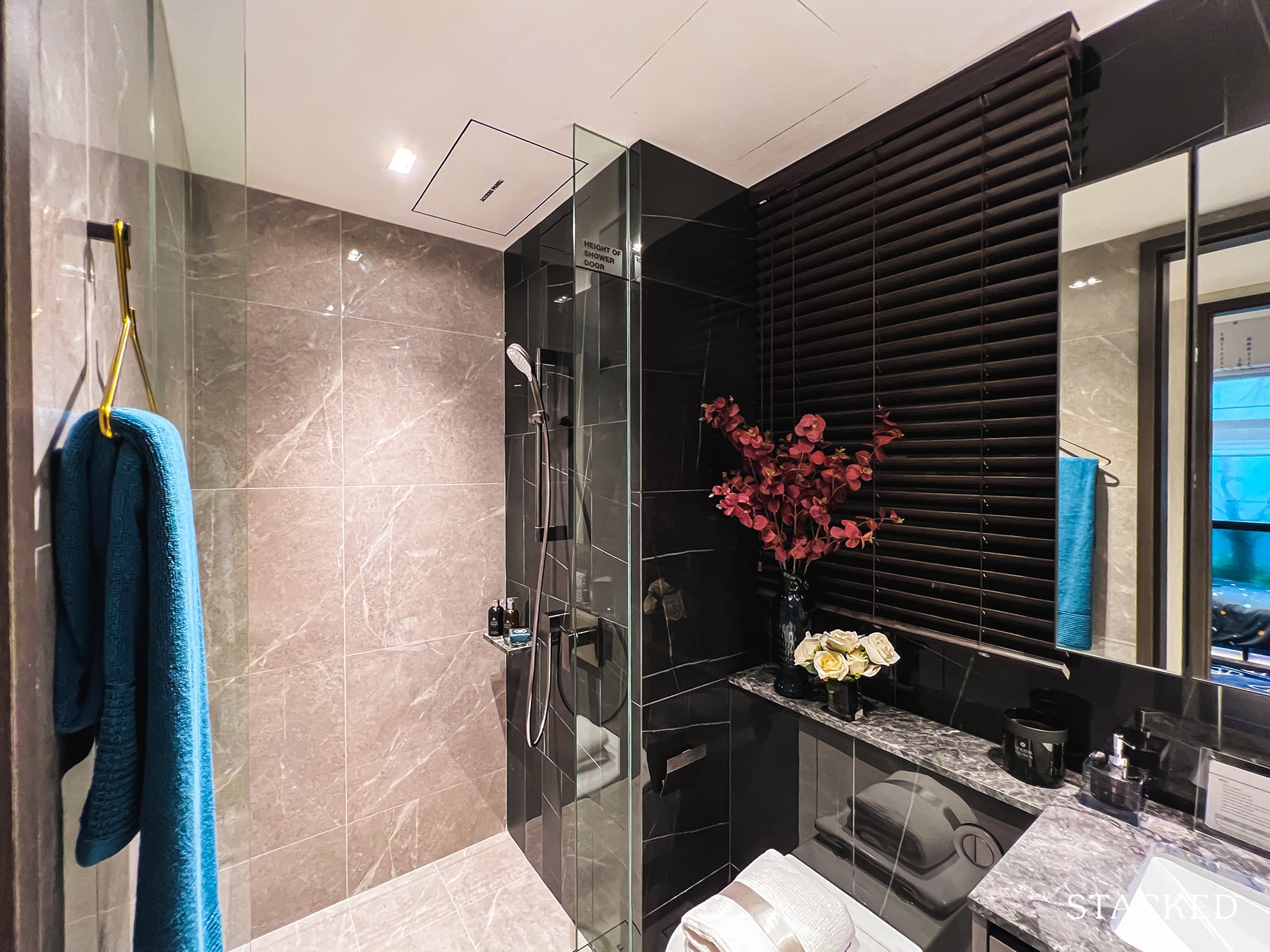 Both common bedrooms share the Common Bath (Bath 2), which at 4.4 sqm is rather average. The darker theme here does probably make it feel slightly smaller as a result. It comes with a washbasin, tap, hand-held shower, and wall-hung w/c from European brands Villeroy & Boch and Hansgrohe in a darker tone finish. No rain shower here though.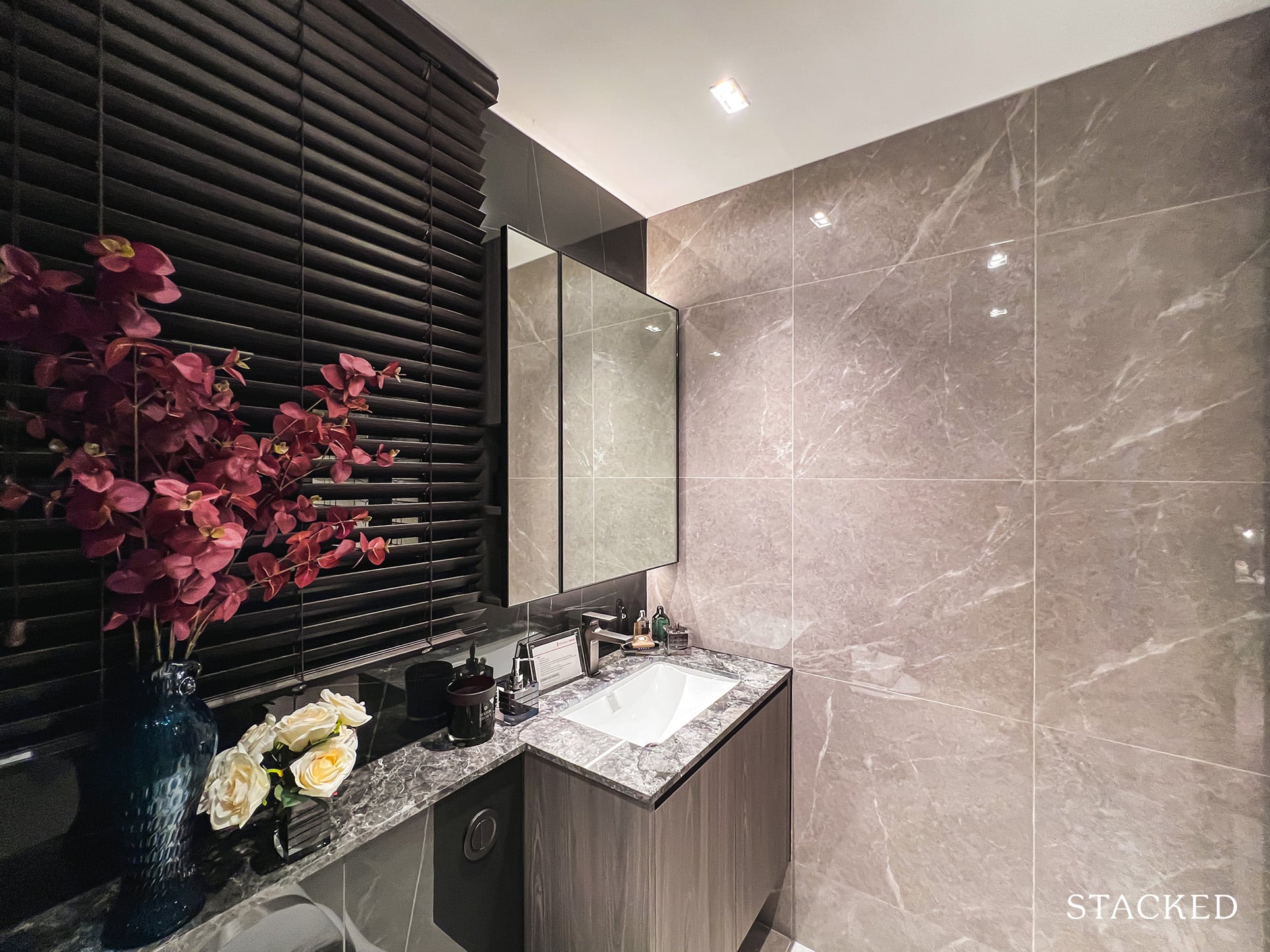 The surprise upside to this bathroom is the window that also leads to the aircon ledge, allowing for natural ventilation in this space.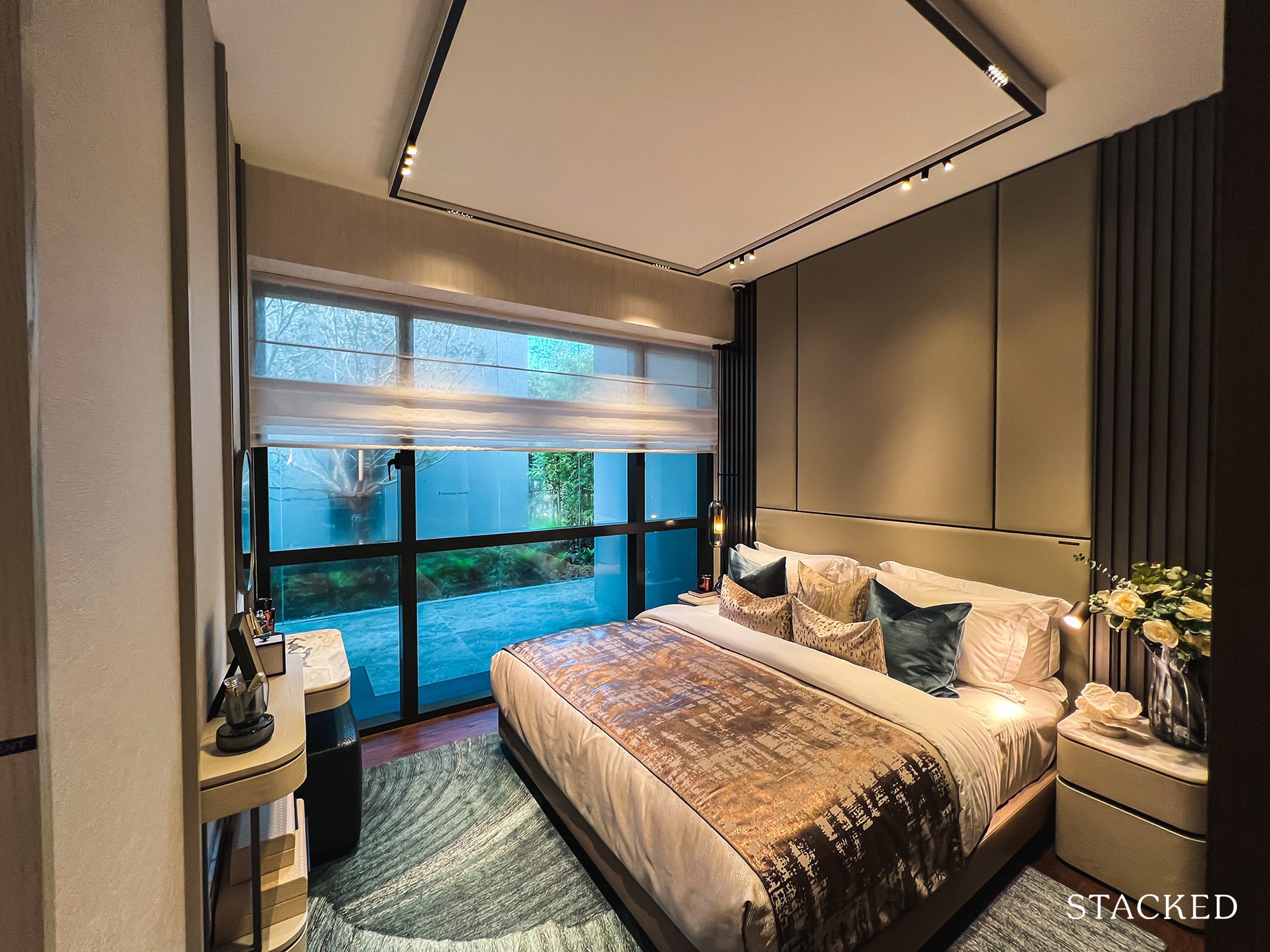 Moving finally to the Master Bedroom, which measures at 18.8 sqm when combined with the Master Bath. It's much more spacious than the other bedrooms and definitely feels that way when you head in as well.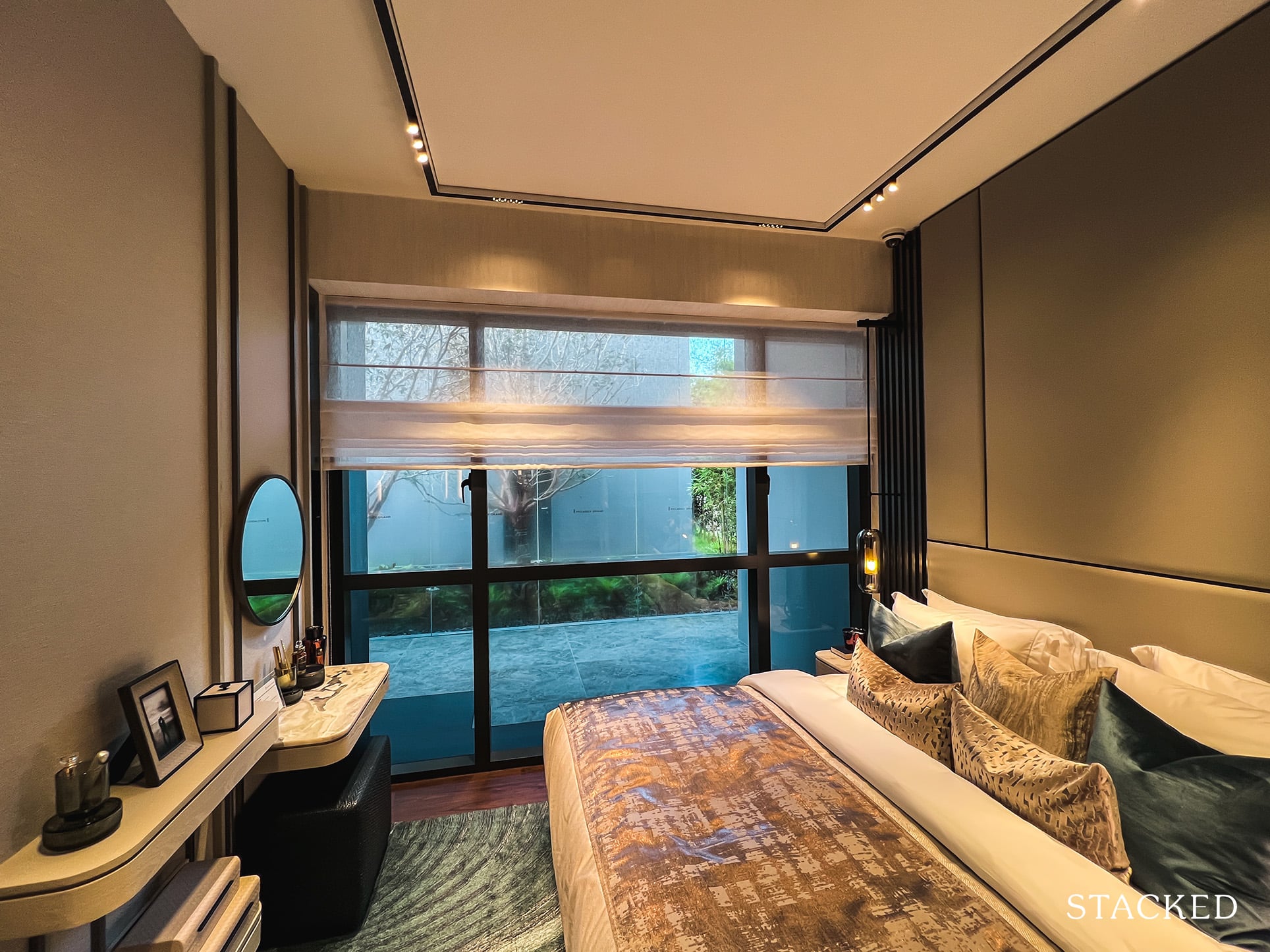 Having a King size bed still gives you sufficient width for a bedside table, while the length allows for a dresser to be placed by the window without issues.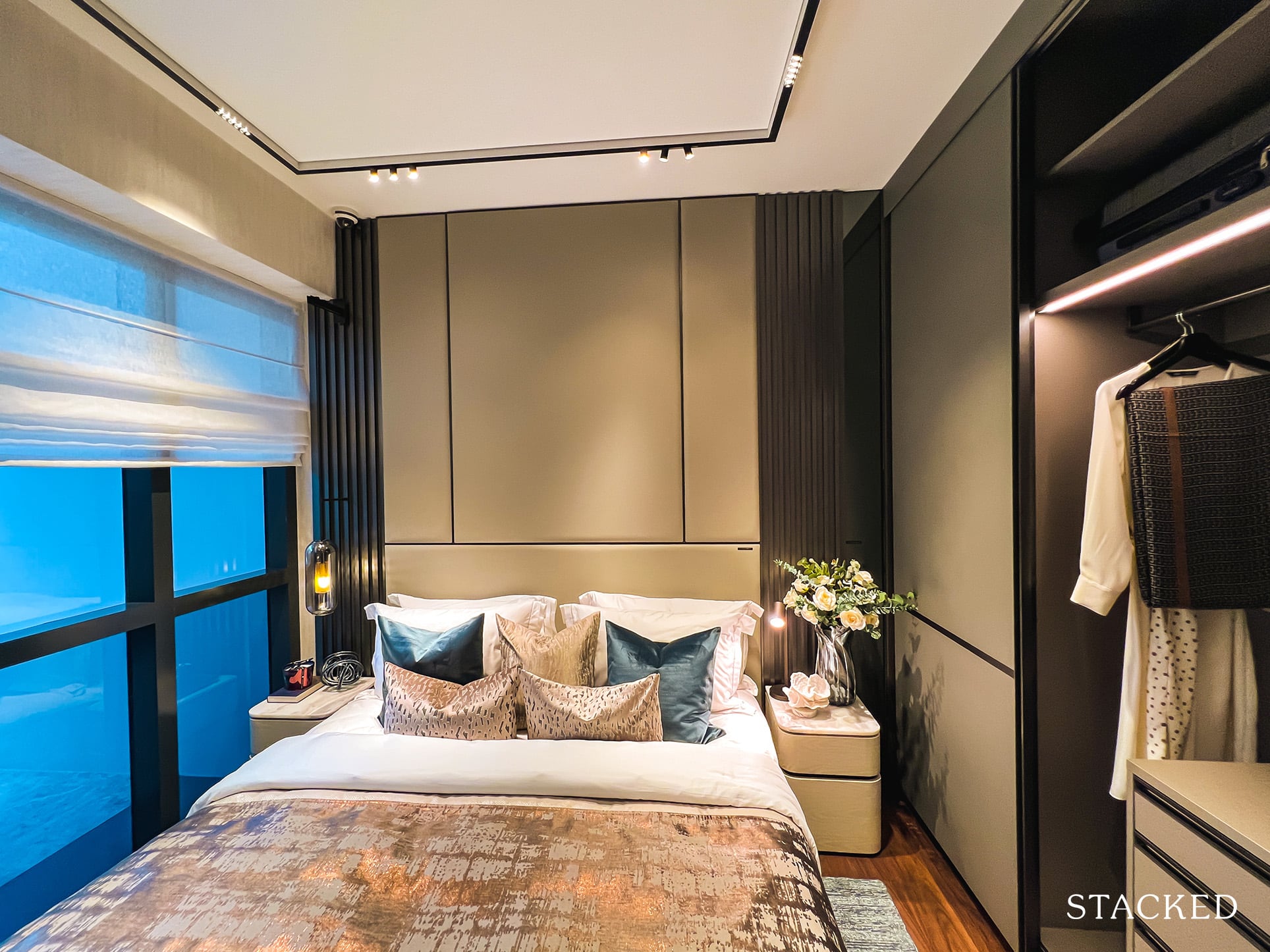 As usual, the wardrobe here is a 2-panel one that is bigger in size than the common bedrooms, but probably still not adequate for those who have more belongings. There are several highlights here, one is the automatic lighting accents as you open the wardrobe.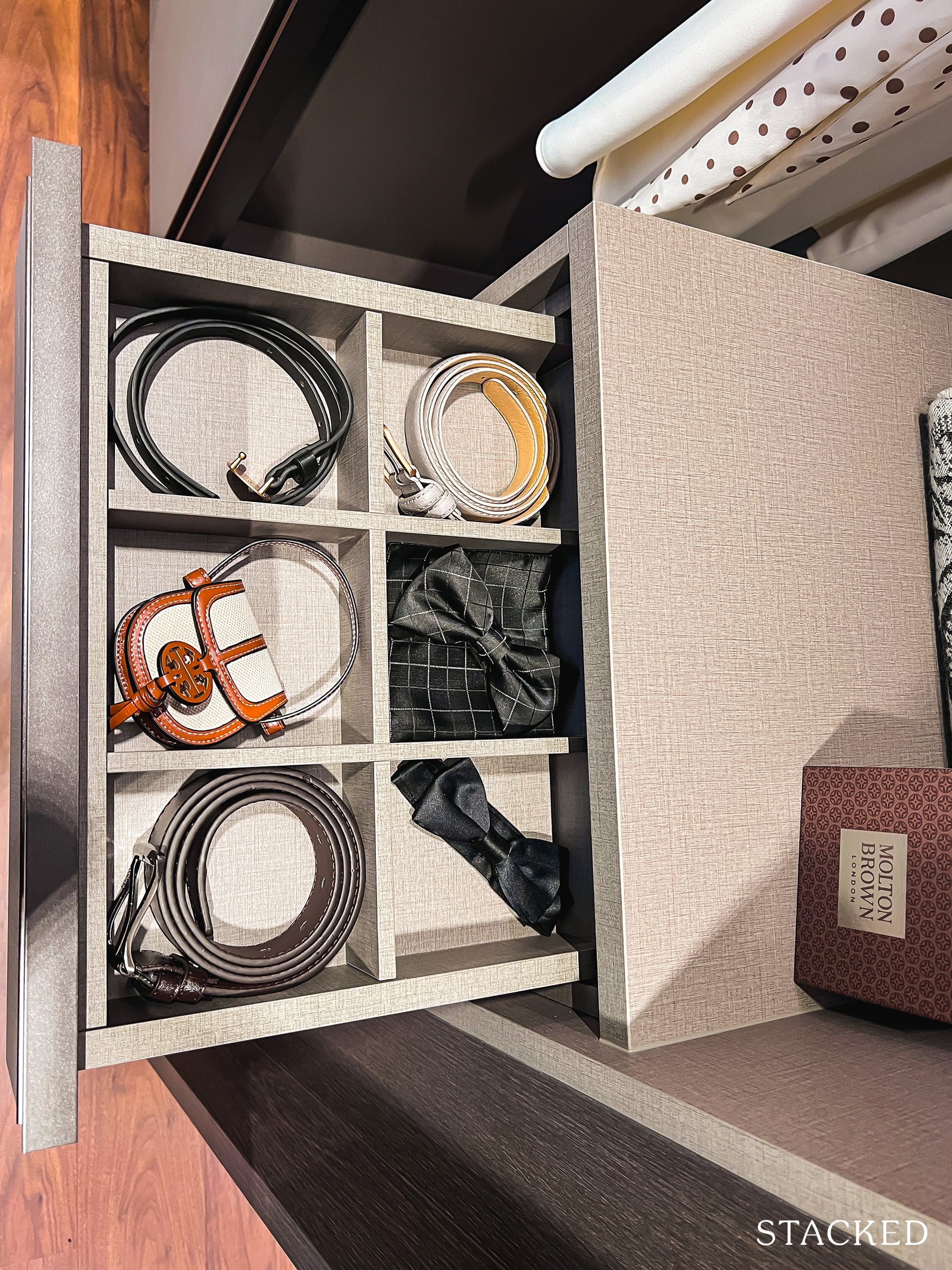 The built-in wardrobe here also comes with the accessories compartment, allowing the kings and queens of the house to store away their fancy adornments.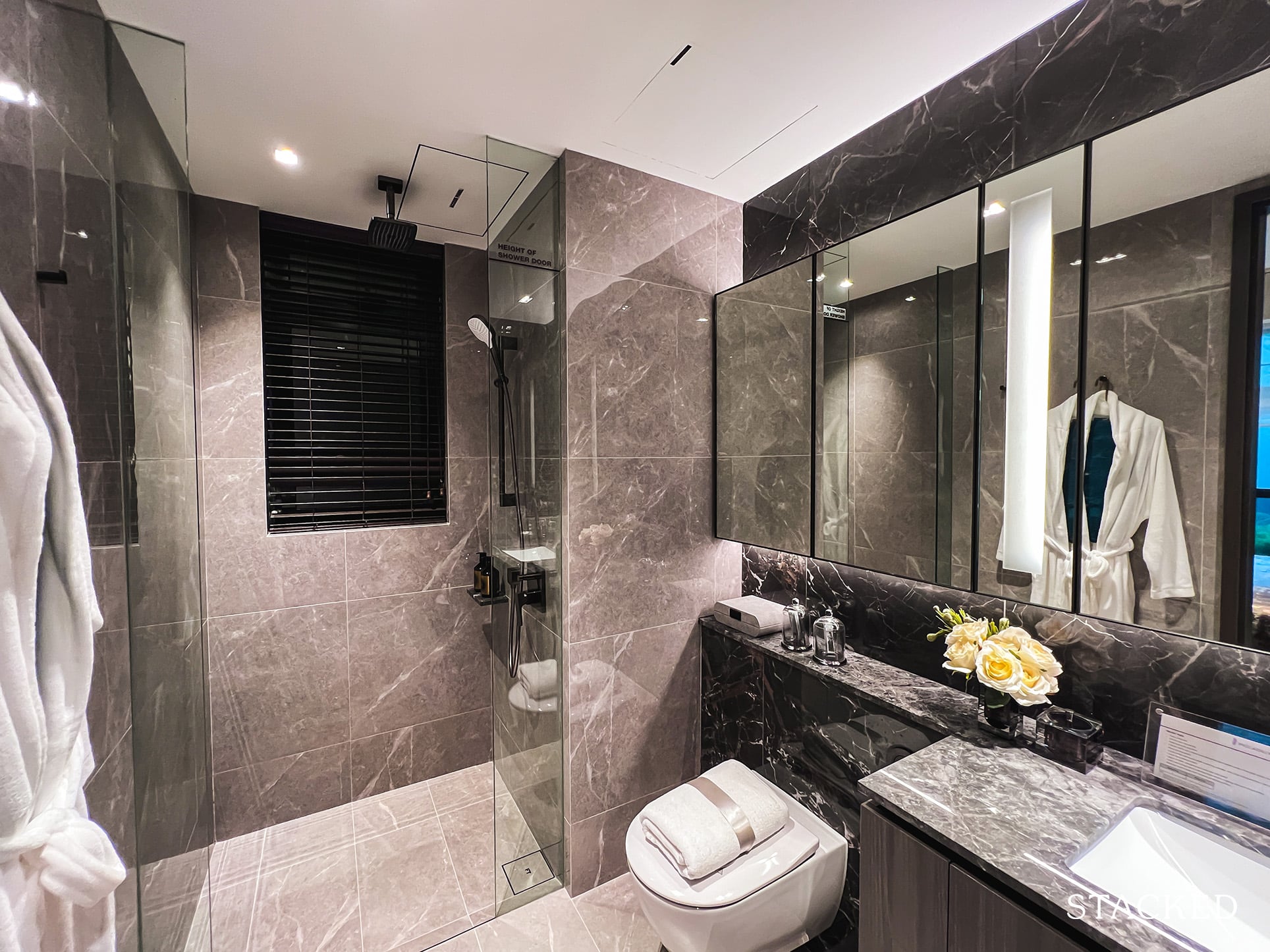 The Master Bath also feels roomier compared to the common bathrooms and has more of a black marble-inspired tiles on one side of the walls. The fittings and wares are from Hansgrohe and Villeroy & Boch, and include a rain shower, wall-hung w/c, and washbasin among others.
They are in a darker finish compared to those provided for in the 1 to 3 Bedroom units (I definitely prefer the darker-finished fittings in the bathrooms, it just looks more polished). This bathroom also comes with natural ventilation, as there is a large window just by the shower stall.
Piccadilly Grand Location Review
The biggest draw of Piccadilly Grand is definitely its direct access to Farrer Park MRT. It is a city fringe location that is undeniably convenient. You are 2 stops from Dhoby Ghaut, 3 from Orchard, 4 from Raffles Place, and 5 from Bayfront. Well, you get my point – there are plenty of perks to being at an RCR location such as Farrer Park.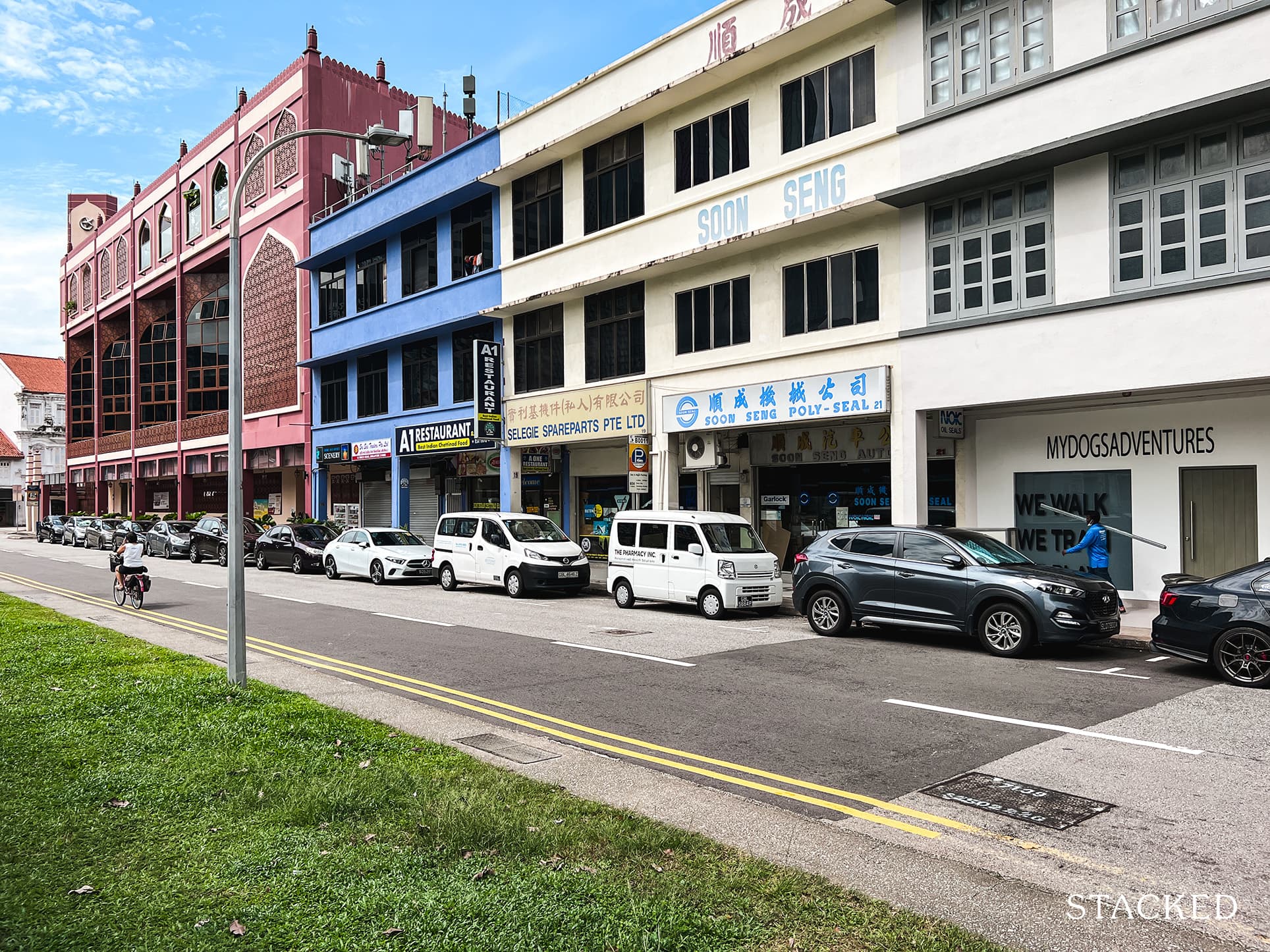 Farrer Park is a melting pot of cultures, buildings, and food options. If you needed any clue, look no further than Race Course Road just opposite, with Muthu's Curry, Gayatri Restaurant, and the diverse range of buildings that dot the road.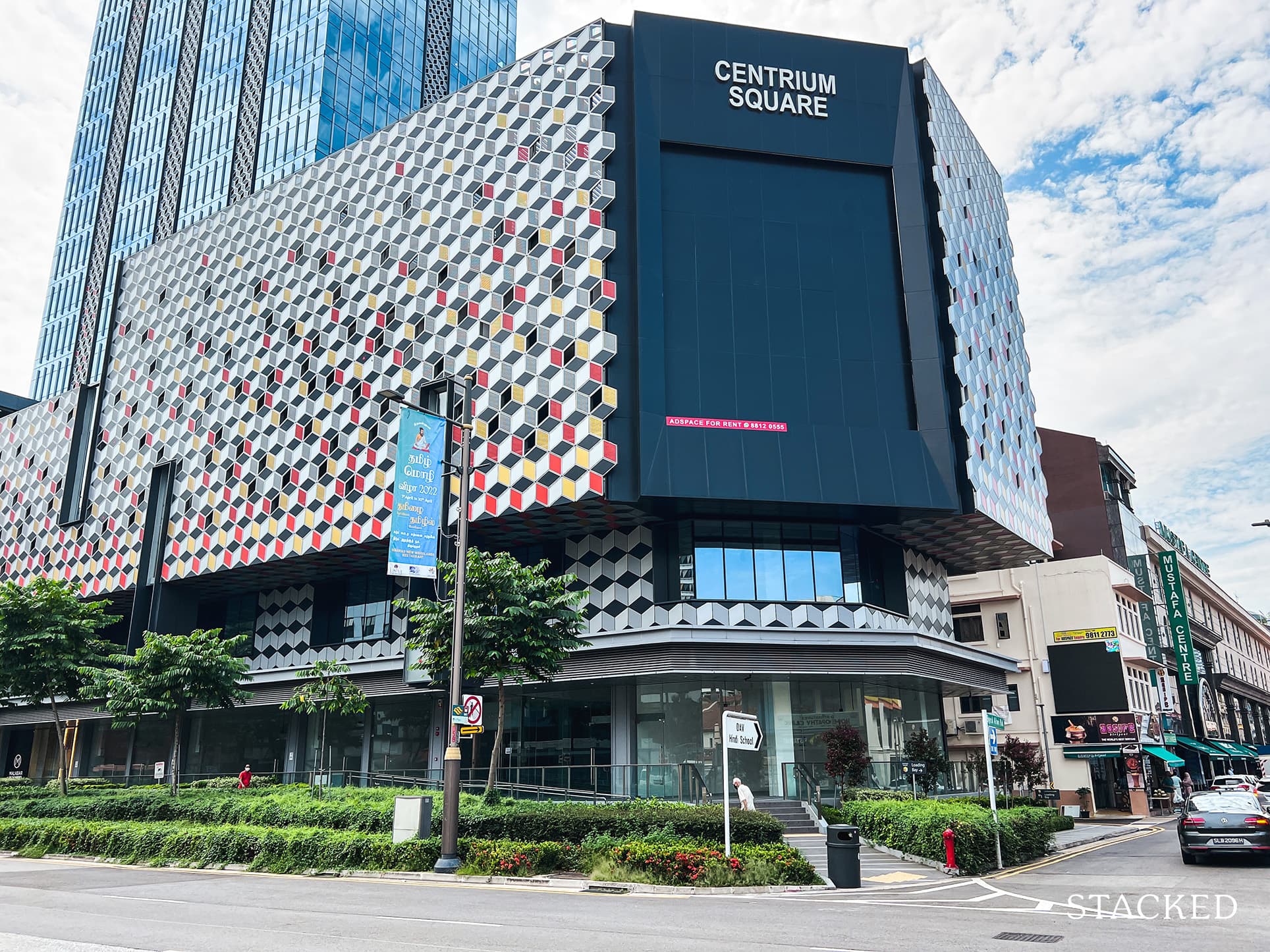 With the numerous exits at Farrer Park MRT itself, you already have enough amenities to keep you occupied and satisfied for the entire day. You have City Square Mall, which houses Singapore's largest Don Don Donki, NTUC, a movie theater (GV), educational centres, a gym, and plenty of eateries. There's Centrium Square nearby too, although it isn't the best in terms of offerings.
If you are a foodie, you will also know that this place is also a foodie haven from Swee Choon and Beach Road Scissors Cut Curry Rice to Socieaty (yes, I didn't spell that wrongly) and Komala Vilas Restaurant. You know you'll definitely not go hungry – regardless of the time of the day.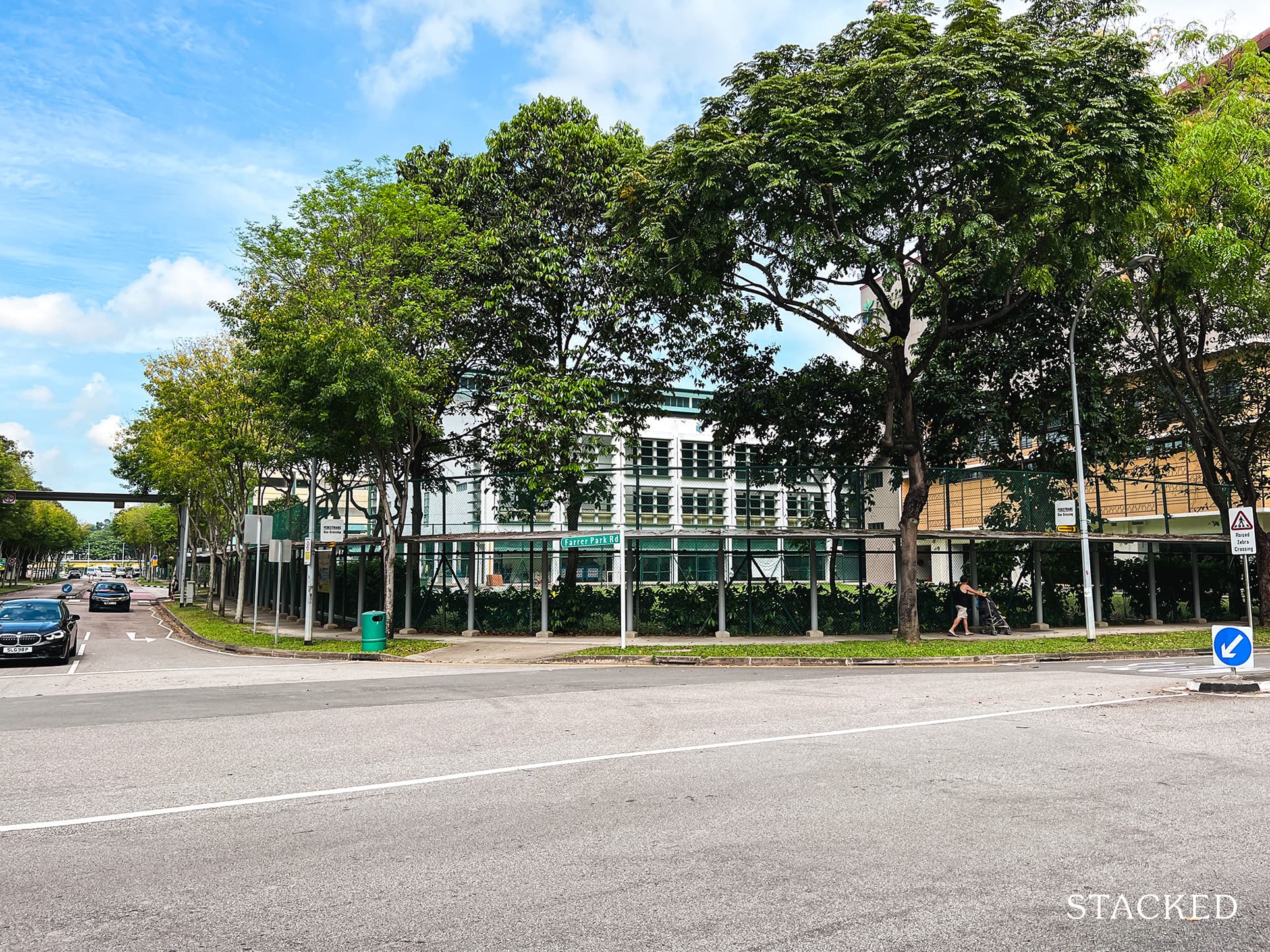 For parents with school-going children, Farrer Park Primary is just around the corner (<1km) while other top schools such as SJI Junior, ACS Junior, ACS Primary, St Margaret's Primary, and Hong Wen School are also within a 2 to 3 km radius.
If you are concerned about hospitals, Farrer Park has 2 notable ones to speak of.
If I may say this, Farrer Park is a bit of an oddity. It's not usually considered to be among the most prestigious areas to live in (in my personal opinion) and has traditionally not been the most expensive (City Square Residences already set a new benchmark for the area when it launched for $500-600 psf in 2005) but is incredibly convenient. Just pull out the map and you will know what I'm talking about.
5 MRT stops are practically all you need to get to anywhere important in Singapore and the mere fact that so many top schools that have traditionally been linked to prime districts 9 and 11 (SJI Junior, ACS Junior, etc, St Margaret's, etc) are in close proximity speaks volumes about the convenience of this area.
Nearest MRT: Farrer Park MRT (2 mins walk, 150m)
Public Transport
| | | |
| --- | --- | --- |
| Bus Station | Buses Serviced | Distance From Condo (& Est. Walking Time) |
| Farrer Pk Stn Exit DStop ID: 50279 | 141 | 190m, 2 mins |
| Broadway HotelStop ID: 07111 | 23, 63, 65, 67, 131, 139, 147, 857, NR6 | 330m, 5 mins |
Amenities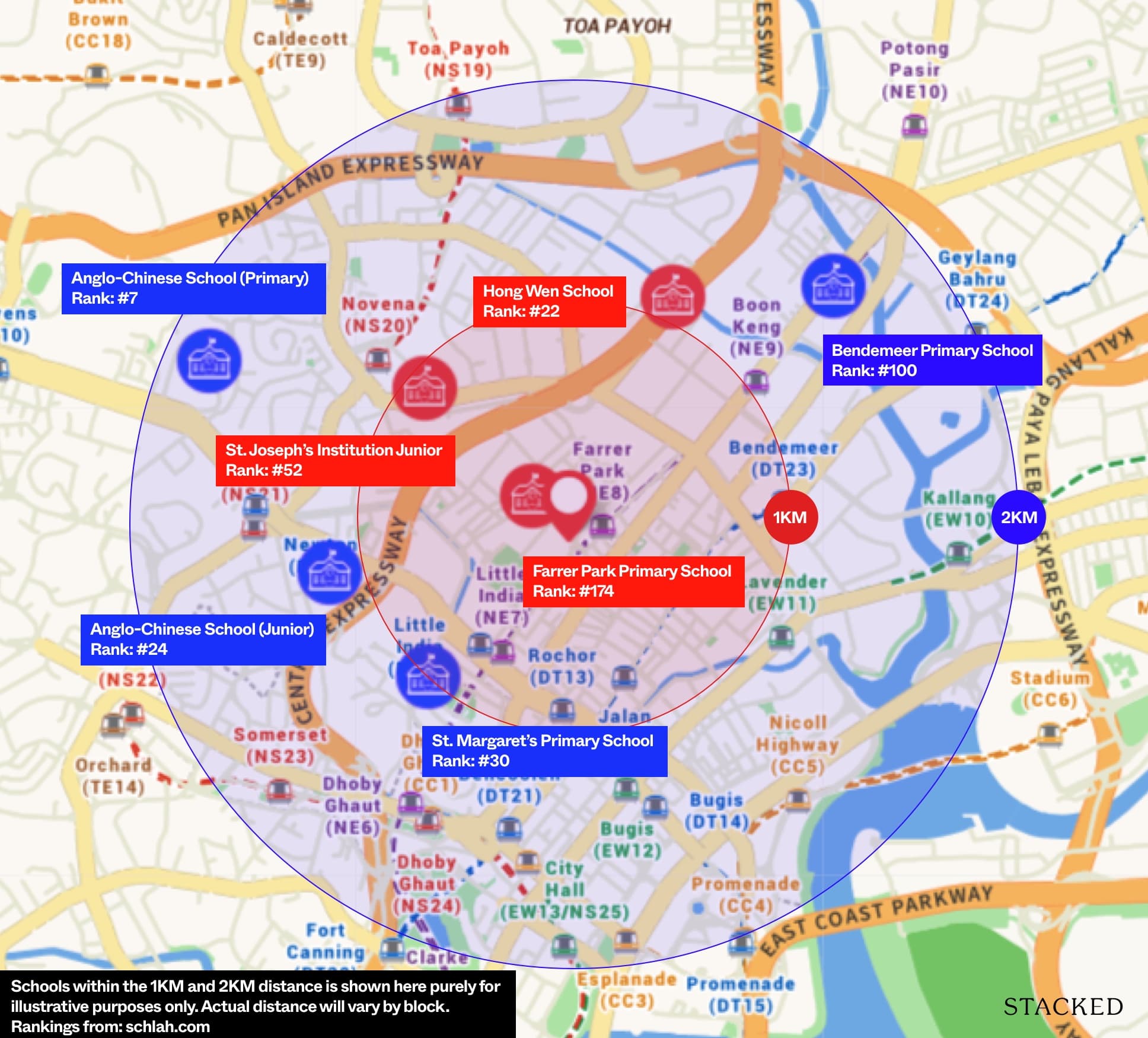 Schools
| | |
| --- | --- |
| School | Distance From Condo (& Est. Walking Time) |
| Farrer Park Primary School | <1km, 4 mins (350m) |
| St Joseph Institution Junior | <2km, 16 mins (1.3km) |
| ACS Junior | <2km, 26 mins (2.1km) |
Retail / Dining Options
| | |
| --- | --- |
| Destination | Distance From Condo (& Est. Walking Time) |
| City Square Mall | 600m, 8 minutes (fully sheltered) |
Private Transport
| | |
| --- | --- |
| Key Destinations | Distance From Condo (Shortest Time at Peak Hour [0830] Drive Time) |
| CBD (Raffles Place) | 7.8km, 10 mins |
| Orchard Road | 3.5km, 7 mins |
| Suntec City | 4.8km, 8 mins |
| Changi Airport | 19.0km, 16 mins |
| Tuas Port (By 2040) | 42.3km, 40 mins |
| Paya Lebar Quarters/Airbase (By 2030) | 5.8km, 9 mins |
| Mediapolis (and surroundings) | 13.5km, 14 mins |
| Mapletree Business City | 12.4km, 18 mins |
| Tuas Checkpoint | 32.1km, 28 mins |
| Woodlands Checkpoint | 20.8km, 20 mins |
| Jurong Cluster (JCube) | 20.2km 20 mins |
| Woodlands Cluster (Causeway Point) | 22.9km, 20 mins |
| HarbourFront Cluster (Vivo City) | 10.7km, 12 mins |
| Punggol Cluster (Waterway Point) | 17.4km, 16 mins |
Immediate Road Exits: 1 – onto Race Course Road, where you can subsequently get onto the CTE and Nicoll Highway by turning to either side of Balestier Road
Stack Analysis
Piccadilly Grand Site Plan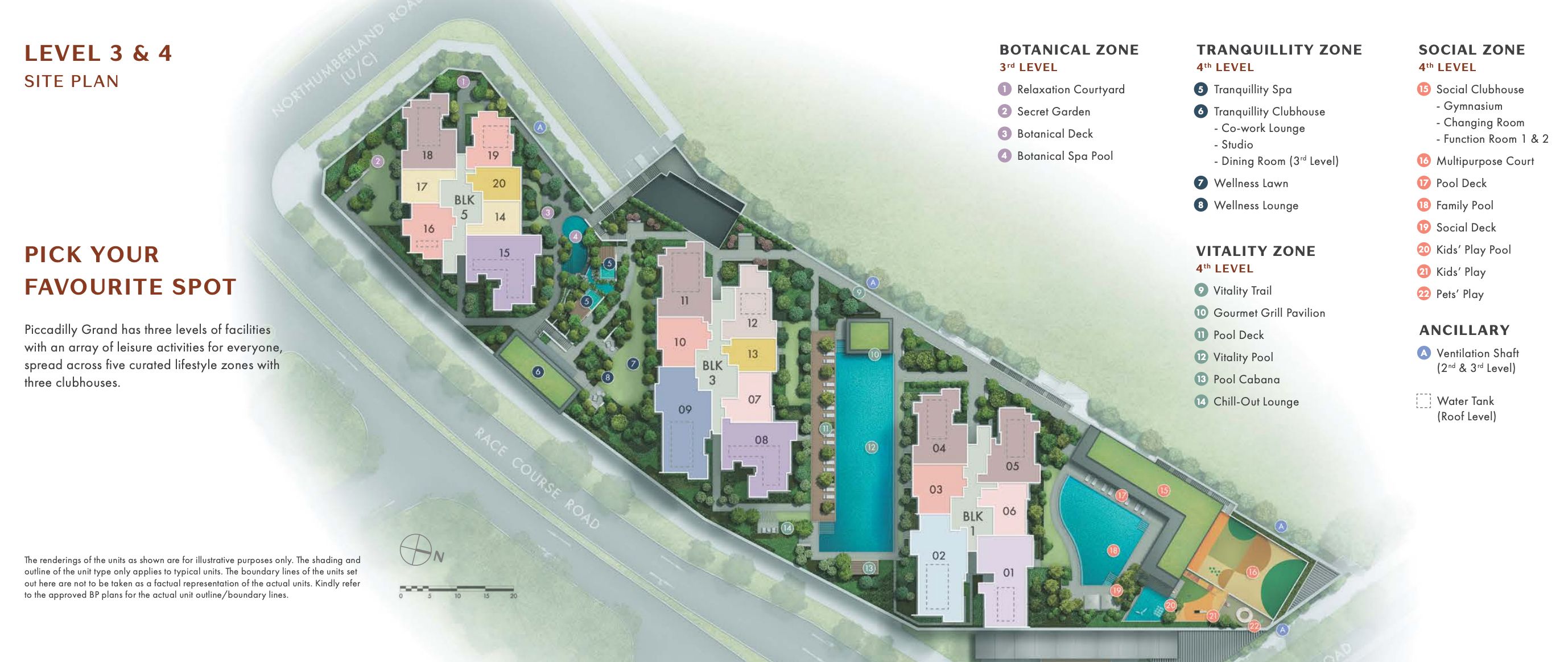 Sat on a land plot of 94,000 square feet, Piccadilly Grand is definitely not a big development. There are 3 residential blocks of 23-storeys in height that holds 407 units, so it isn't all too overcrowded either.
The plot is quite a long one (it used to be an open-air public car park), and so it isn't terribly wide. Longer plots also tend to look less spacious as a result.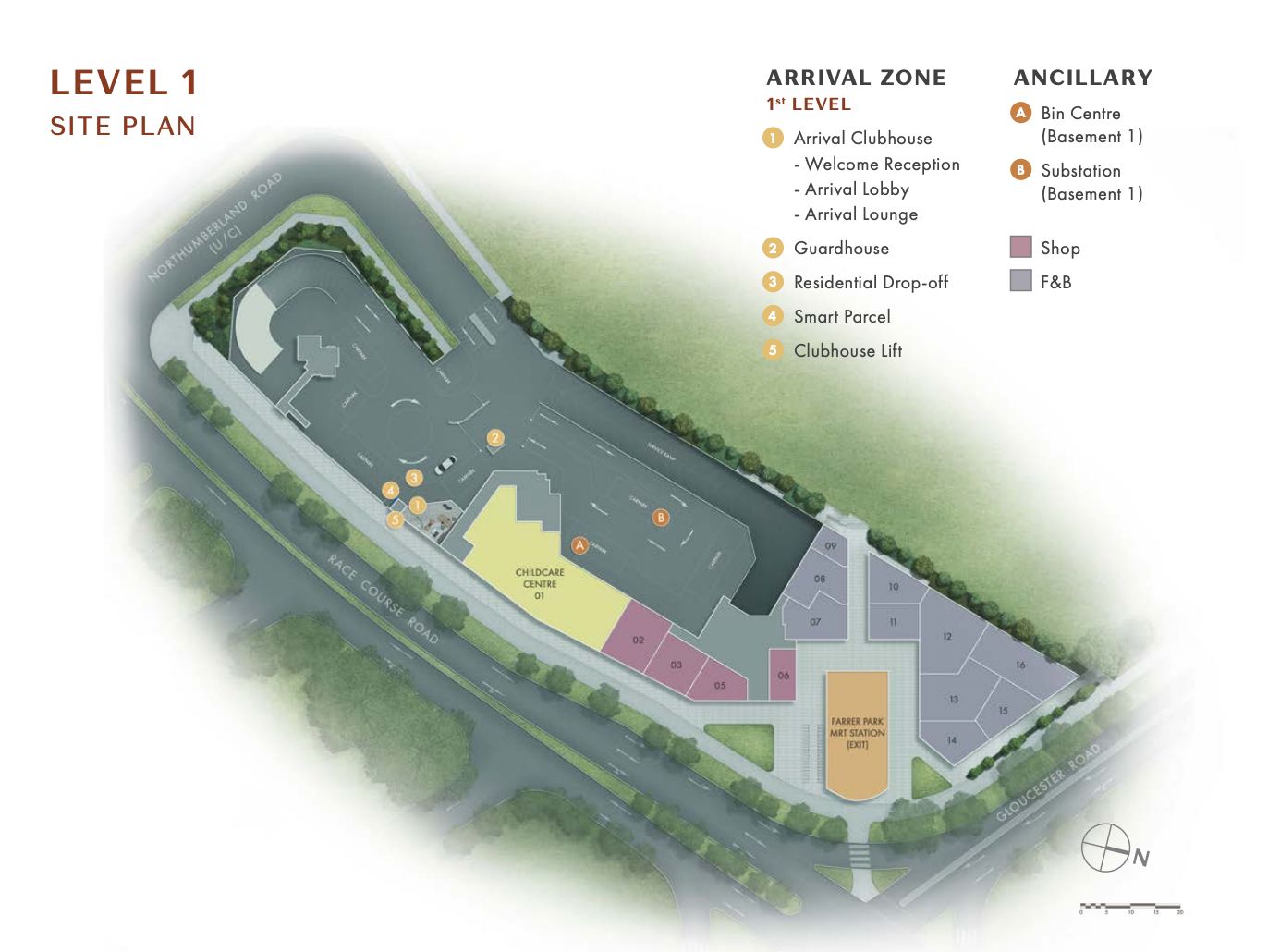 What's worth pointing out here is the layout of Piccadilly Grand on the ground floor. Typically integrated developments would require you to take 2 lifts to get to your unit. One lift to take you to the common areas, and another to the unit itself. While there is the benefit of additional security, it can also be a very cumbersome thing to do daily, or if you are in a rush.
Where Piccadilly Grand differs is that the lift access to the unit is directly from the first floor. So once you get out from the MRT station, or from the drop-off when taking a taxi, you can take the lift directly to your unit. It's a small detail, but I think one that busy people would appreciate.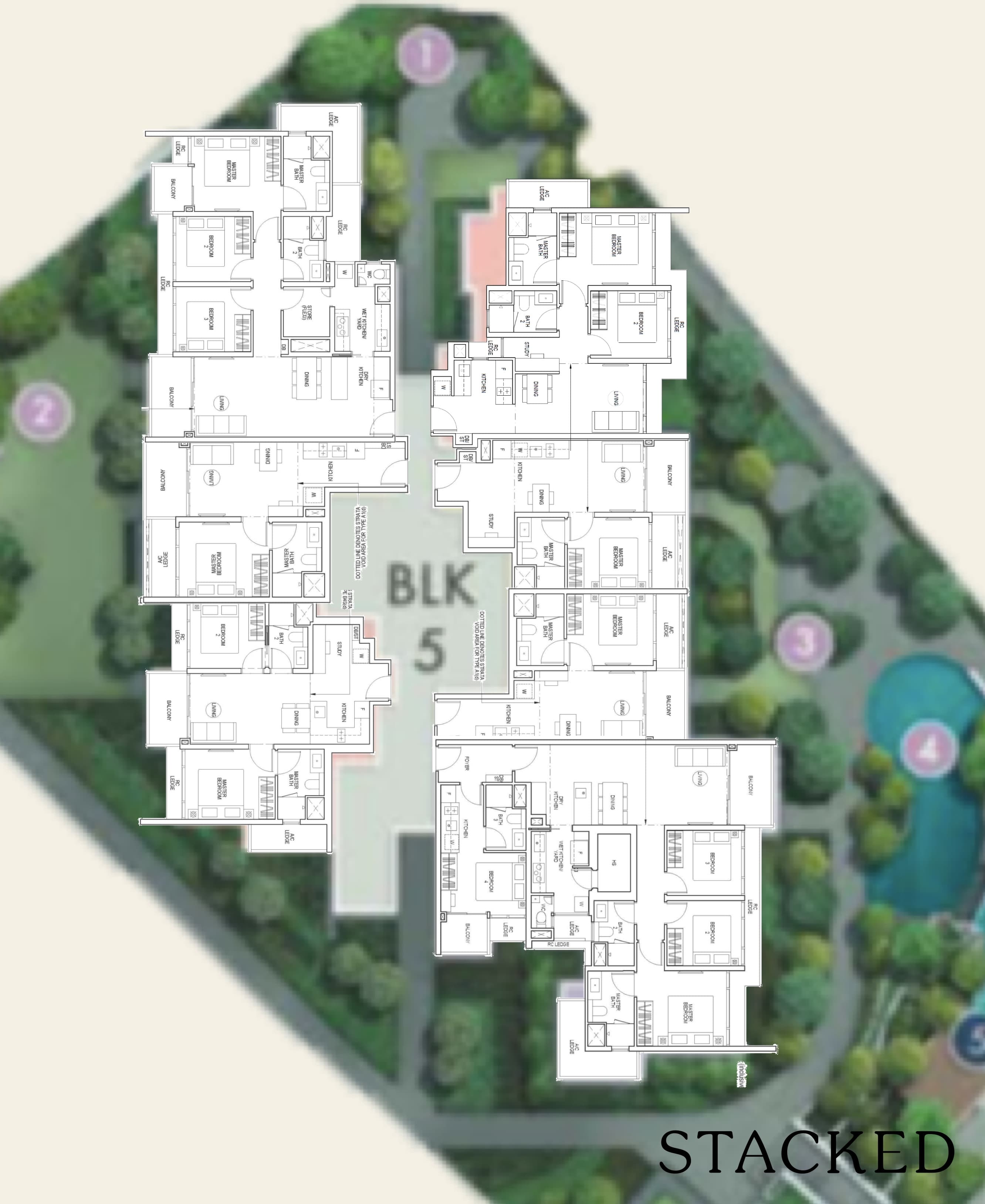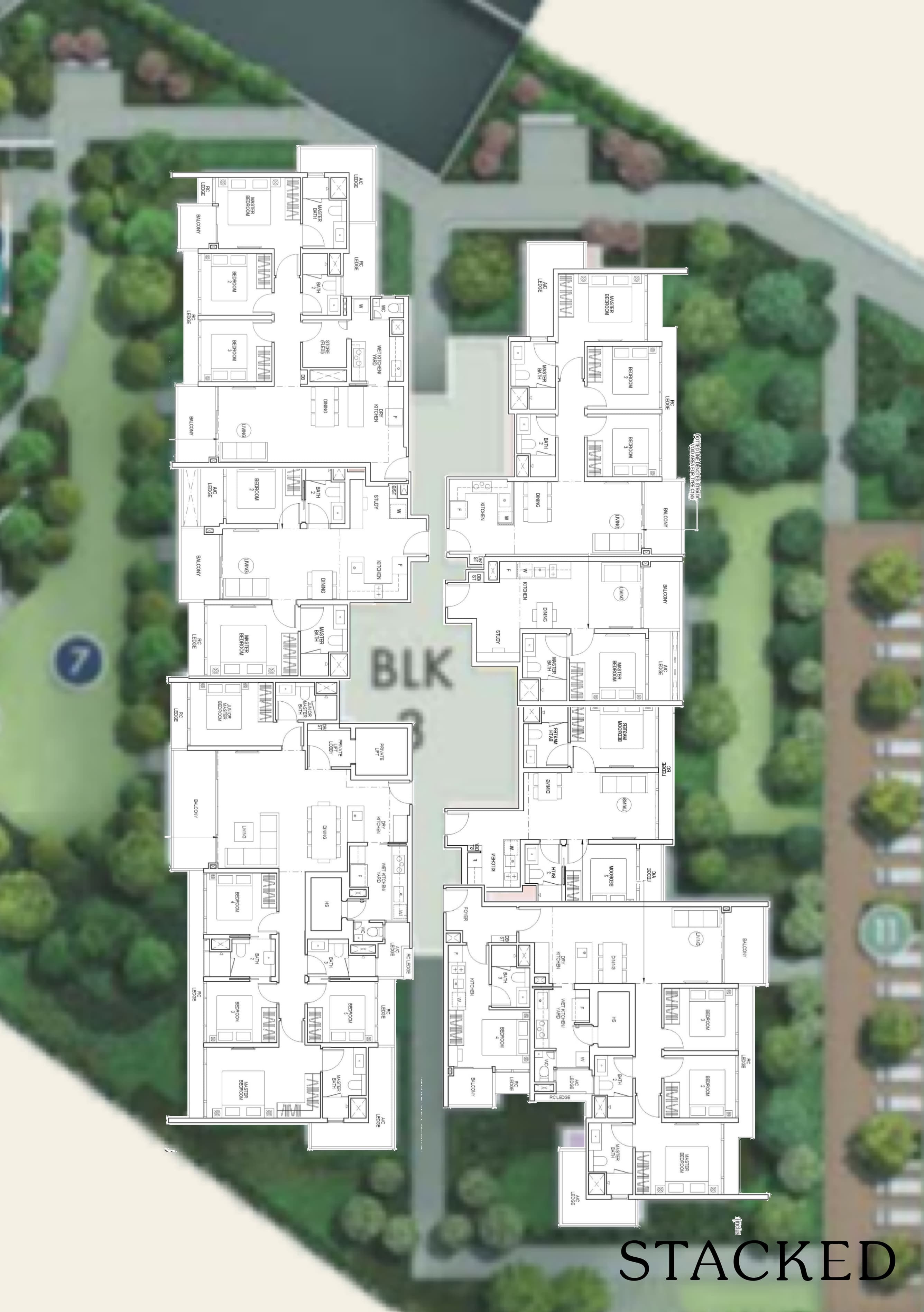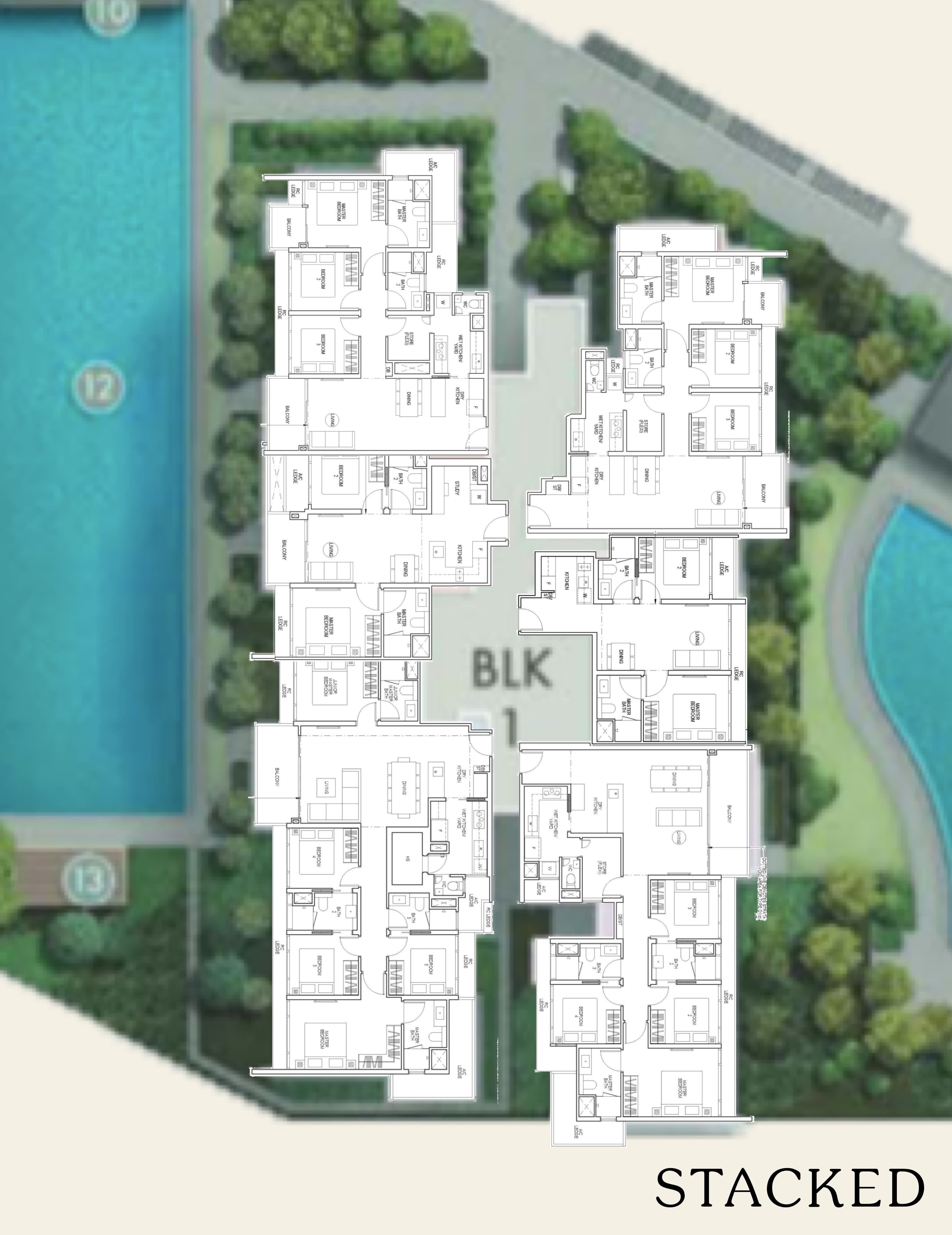 Unit Mix
| | | |
| --- | --- | --- |
| Unit Type | Size | No. of Units |
| 1 Bedroom / 1 + Study | 484 – 689 sqft | 85 |
| 2 Bedroom / 2 + Study | 646 – 872 sqft | 120 |
| 3 Bedroom / 3 + Flexi | 883 – 1,356 sqft | 101 |
| 4 Bedroom / 4 + Flexi | 1,378 – 1,744 sqft | 61 |
| 5 Bedroom / 5 + Flexi | 1,582 – 2,045 sqft | 40 |
Based on the unit mix, it's interesting to note that Piccadilly Grand is positioning itself to be a family-friendly condo, with the 2 most dominant unit types being the 2 and 3 Bedrooms.
Coupled with the fact that there are also 4 and 5 Bedroom options, both of which have a fairly significant number of units, and you get a development that has the elements of a family-focused condo that will appeal to both owner-occupiers and tenants with families.
Of course, having the MRT, a child care, retail, and F&B options at your doorstep will also go a long way in boosting its popularity among families. That said, there are also 1 Bedroom units that will occupy ~21% of all units for singles or couples.
Given that Farrer Park has a number of small, boutique apartments, it is good that the developers have chosen to focus on the larger units to capitalize on its more extensive land area, which allows the development to lure more families interested in this area to Piccadilly Grand.
Best stacks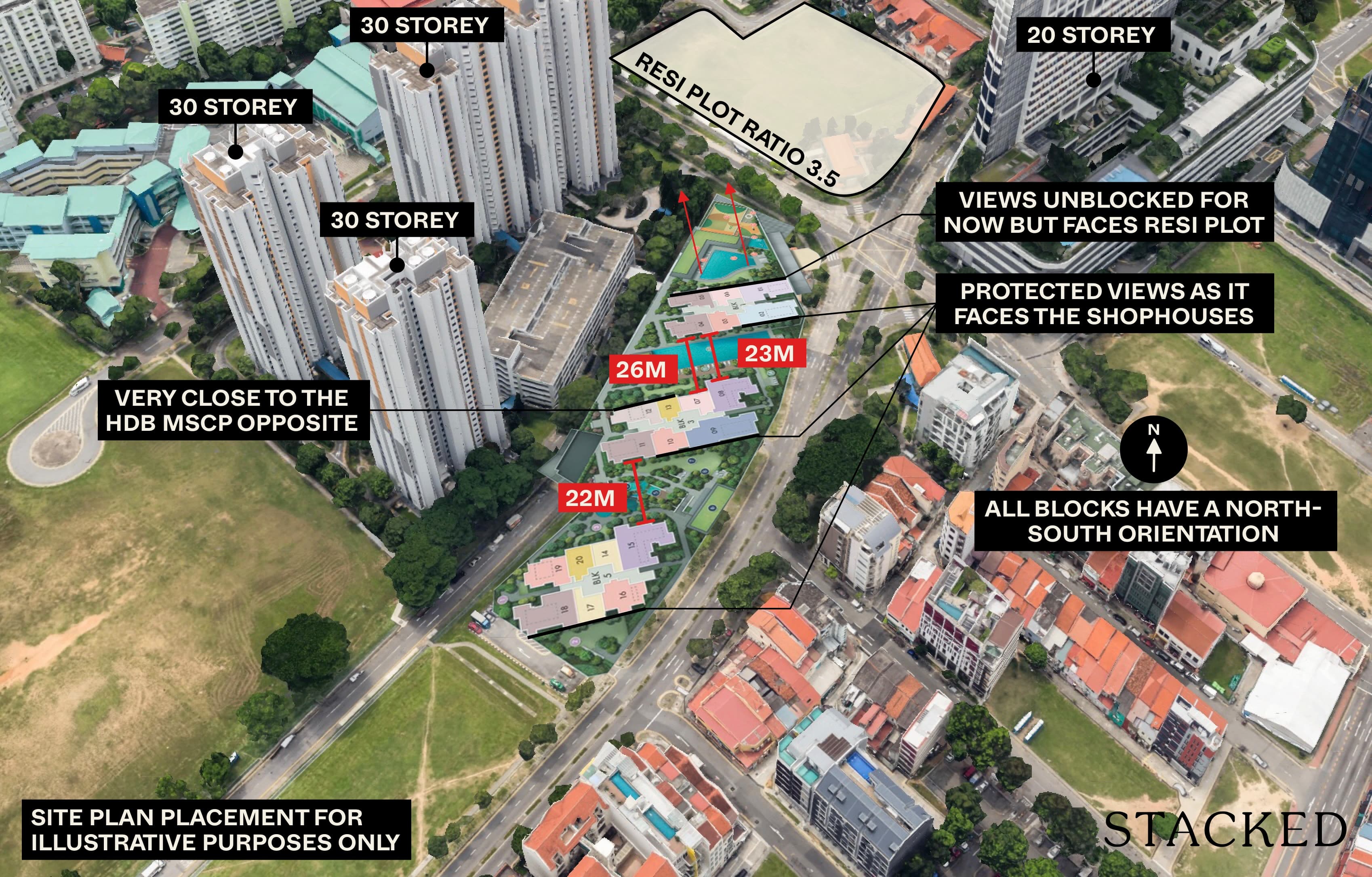 The blocks at Piccadilly Grand have been angled strategically to enable a North South facing for all units. I know that's an important consideration for many buyers, myself included as the west sun in Singapore can be unbearable at times. So from a directional-facing perspective, we are off to a good start. 
The blocks are between 22m to 26m apart from each other, which is average by new launch standards. However, do note that the Westernmost stacks will also be very close to the Farrer Park View HDB MSCP, at just a mere 10-12m distance which is always the downside of being in a densely populated area.
The South facing stacks get unblocked views of the nearby Farrer Park Fields and Orchard in the distance. However, do note that these views are unlikely to be permanent, as the fields have been earmarked for residential development in the future too.
On the other hand, East and North facing units have more unblocked views as there are a number of shophouses in the area. These are unlikely to be rezoned given their rarity so you can be sure of better cross ventilation on the higher floors. For East facing units, you will also get glimpses of the CBD in the distance, especially on the higher floors.
Afternoon Sun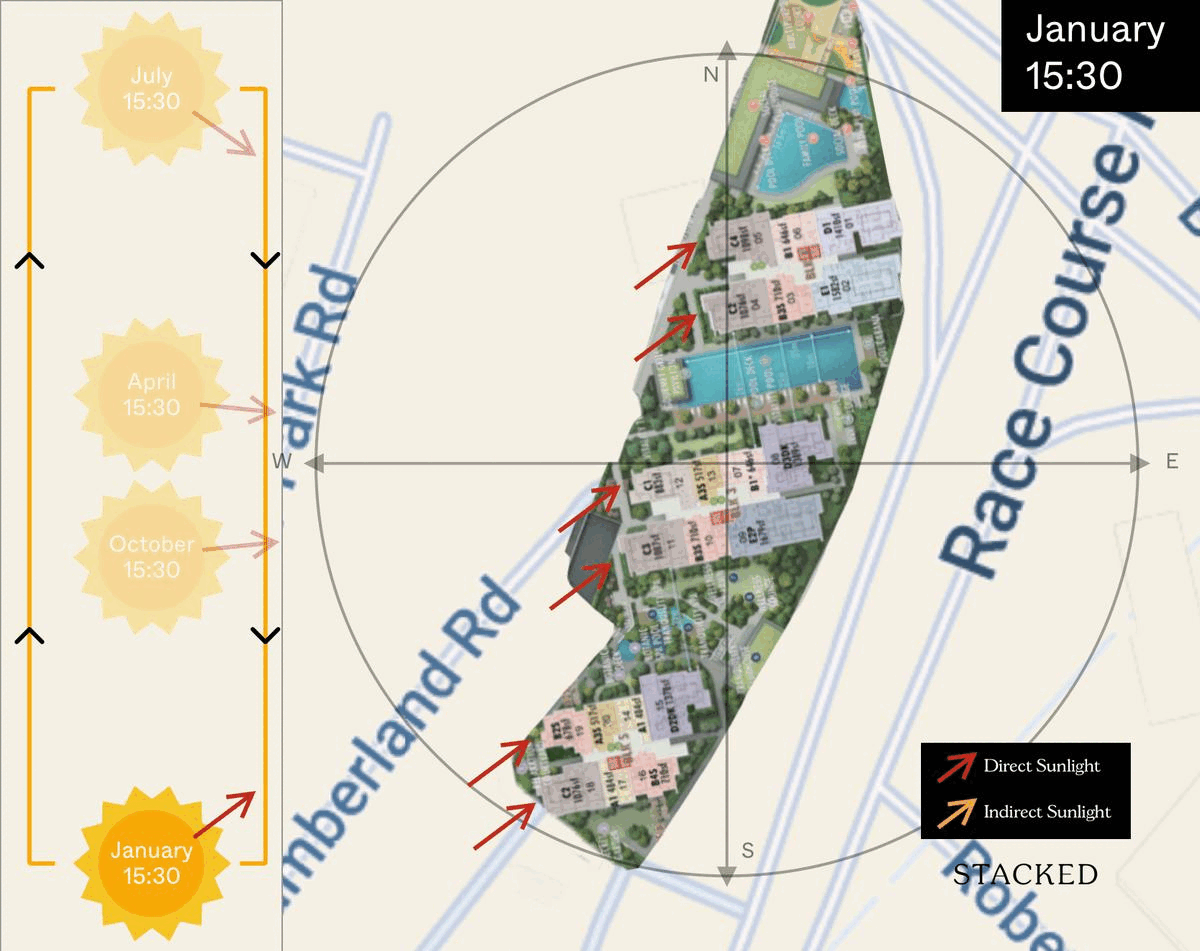 Given that most stacks are north-south facing, residents here wouldn't need to worry much about having much afternoon sun coming into their residence.
The Developer Team
City Developments Limited is one of Singapore's largest real estate developers and continues to play a significant role in the local real estate market. Besides CanningHill Piers, they currently have at least 8 other new launches in the market, including Sengkang Grand Residences (JV with Capitaland), Irwell Hill Residences, Haus on Handy, Amber Park, and Boulevard 88 among others. A member of the Hong Leong Group, CDL has a global footprint across 29 countries and has developed over 47,000 homes with over 23m of lettable floor area in residential, commercial, and hospitality assets globally. They are listed on the Singapore Exchange with a market capitalisation of $6.5Bn.
MCL Land is a member of the Jardine Matheson Group under Hongkong Land Holdings. It has built homes in Singapore and Malaysia for over 50 years. Among their new launches are Leedon Green, Parc Esta, and Margaret Ville. Going forward, MCL and CDL will continue their partnership with the upcoming launch of an EC at Tengah Garden Walk and a condo at Jalan Tembusu, after MCL acquired a 49% stake in the latter project in March 2022.
Architect Notes
ADDP is no stranger to the Singapore condo scene. Founded in 1986, they pioneered the pre-fabricated construction method in Singapore. ADDP's philosophy emphasizes vibrant growth through the production of innovative and quality designs. Among the projects which they have worked on include The Avenir, Martin Modern, Seaside Residences, Botanique at Bartley, and Cliveden at Grange amongst many others. 
Piccadilly Grand Price Review
If you are considering Piccadilly Grand, you will undoubtedly compare it against its neighbouring developments. So here is how it stacks up!
| | | | | | |
| --- | --- | --- | --- | --- | --- |
| Development | Units | Psf | TOP | Tenure | Price Gap |
| Piccadilly Grand | 407 | $2,100 | 2026 | 99 Years | |
| Uptown @ Farrer | 356 | $1,715 | 2021 | 99 Years | 22% |
| 1953 | 58 | $1,961 | 2023 | Freehold | 7% |
| Sturdee Residences | 305 | $1,866 | 2019 | 99 Years | 13% |
| City Square Residences | 910 | $1,784 | 2009 | Freehold | 18% |
| Kerrisdale | 481 | $1,264 | 2005 | 99 Years | 66% |
Among the projects chosen here are 2 fellow new launches – though they were launched a couple of years back – Uptown@Farrer and 1953, which we had also reviewed previously. I have assumed Piccadilly Grand's psf to average $2,100, though I suspect it might actually be slightly higher. This is especially so during the opening weekend, when the smaller units are expected to sell out more quickly. In any case, Piccadilly Grand is 7% higher than 1953 and 22% more than Uptown@Farrer.
At this juncture, it is important to point out the differences between the developments. 1953 is a true boutique development in all senses of the word – it is situated on a small land plot with a low number of units. Consequently, you don't get the standard facilities you might expect from a condo. Moreover, it is also further to the MRT at about 10 minutes walk, instead of being almost at your doorstep for both Uptown@Farrer and Piccadilly Grand. However, 1953 appeals to a niche group of buyers who appreciate being a part of a conserved shophouse residential project that is also Freehold, which is rather rare in Singapore. However, if that is something up your alley, I have also written on 16 other CCR developments you can consider. 
On the other hand, Uptown@Farrer is equally convenient as Piccadilly Grand in terms of its distance to the MRT. However, you would have noticed that the psf difference is even more significant. I'm attributing that to the layouts of the development. A number of the units at Uptown@Farrer feature loft concepts, thus skewing the psf pricing of the project. A quick check will show that despite being launched in 2019, its lowest and highest psf range from $1,529 psf to $2,189 psf, with the former being a loft unit. Therefore, in reality, the psf for the regular units will likely be more in line with what you will see at Piccadilly Grand.
Being the newest kid on the block, I would say that a 10% price differential for Piccadilly Grand is still acceptable, especially since one could also argue that CDL and MCL are developers with a longer history and reputation than the other 2 new launches.
The benchmark for the Farrer Park precinct certainly has to be City Square Residences. It is well maintained, extremely convenient (opposite City Square Mall and the MRT), has unique facilities like a bowling alley, and saw tremendous price appreciation from its sub-$600 psf launch price in 2005 to $1,784 psf average today. It is also a Freehold development. Unsurprisingly, it has also recently cracked the $2,100 psf mark in November last year. Personally, I prefer City Square Residences for its more extensive facilities, convenience, and price stability over the long term. Moreover, its 2 Bedroom (840-872 sqft) and 3 Bedroom (1,195-1,518 sqft) unit sizes are also still palatable, ensuring that the overall quantum is not especially high.
As for Sturdee Residences and Kerrisdale, they are both resale projects within close walking distance to City Square Residences, with the former being the significantly newer development. Kerrisdale's age and 99-year lease can be said to be the reason for the significant price disparity between it and the other entries on the list. Do also note that Farrer Park has never been viewed traditionally as an 'atas' area, with projects such as Kerrisdale launching at around $400 psf, which means that original owners who have kept their units already have significant paper profits.
Now let's take a deeper look at the prices of surrounding new launches and resale developments.
These are the indicative prices for Piccadilly Grand:
| | | | |
| --- | --- | --- | --- |
| Bedroom | Size | Indicative (From) | $PSF |
| 1 Bedroom | 484 | $1,058,000 | $2,186 |
| 2 Bedroom | 646 | $1,348,000 | $2,087 |
| 3 Bedroom | 883 | $1,788,000 | $2,025 |
| 4 Bedroom Dual Key | 1378 | $2,738,000 | $1,987 |
| 5 Bedroom | 1582 | $3,000,000 | $1,896 |
District 8's vs Other Districts (non-landed residential properties excluding Executive Condominiums):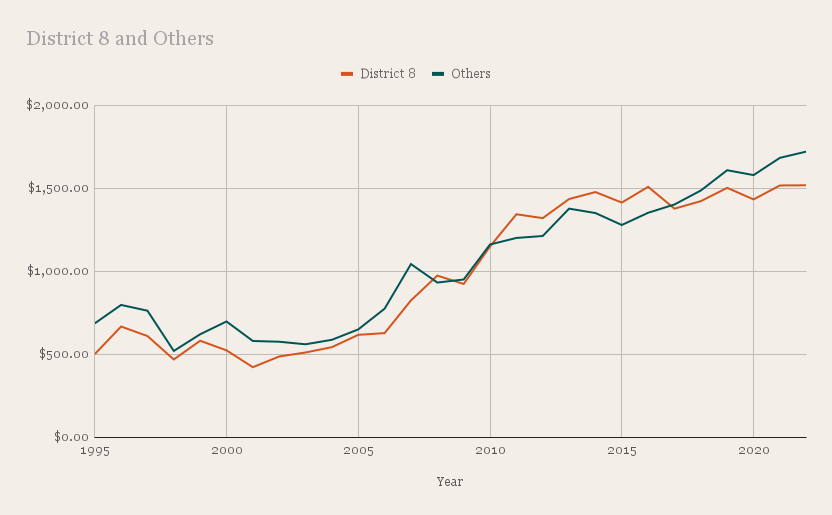 District has was mostly below the average $PSF in Singapore until the period of 2011 to 2017. The area did not see as much of a gain since then, with its $PSF being only 0.6% more than in 2015. This is in contrast to the overall market that saw a jump in 27.2% over the same period.
District 8 Vs. Rest of Central Region: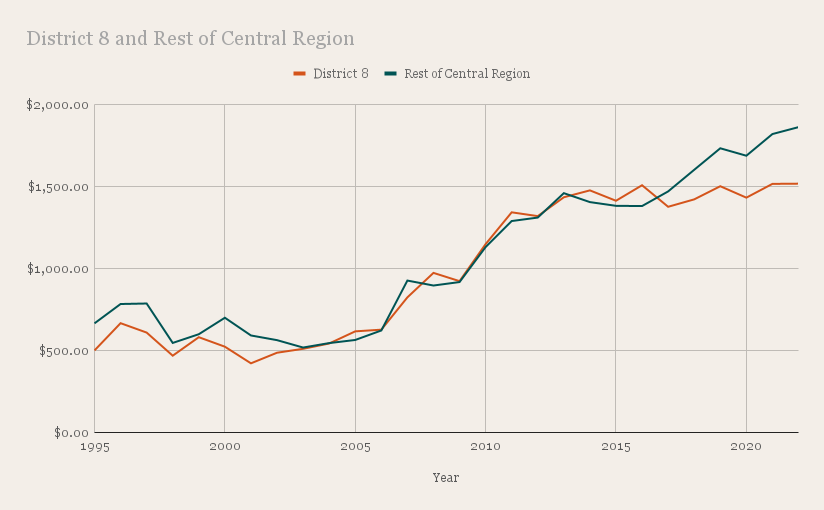 District 8's overall non-landed $PSF was below the RCR's $PSF up until 2005 when it started to mirror the average RCR's $PSF. However, like with the overall district comparison, district 8 lagged behind the growth of the RCR since 2016 – and by an even greater margin. The RCR saw $PSF increases of 34.8% as compared to district 8's 0.6%.
District 8 Vs. Rest of Central Region (Resale transactions only):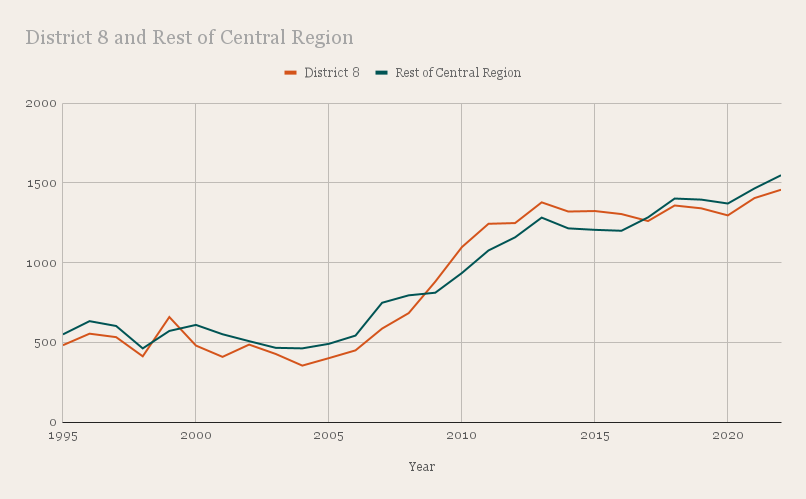 To remove the effects of new sales in other parts of the RCR apart from district 8, here's a look at the $PSF data from strictly resale transactions (no new sales or sub sales).
You'll notice that visually, district 8 appears to be a lot closer to the RCR's $PSF. However, do note that if we compare the performance between the same periods above (2015 vs 2022), district 8 gained 10.1% while other parts of RCR gained 28.4%.
This is still a huge difference in performance, suggesting that district 8 has lagged behind. Some possible reasons behind this include:
District 8 currently being quite well-developed which left lesser room for growth through urban transformation.
Neighbourhood restrictions such as height controls, conservation areas and urban design elements that had to be maintained could have contributed to this too due to the lack of interest in redevelopment of existing condominiums here.
District 8 is also relatively small. Between 2015 to 2022, it recorded just 583 new sales. The RCR as a whole had 25,115 new sales excluding district 8. This is due to the largely boutique nature of the developments here.
Piccadilly Grand price comparison with new launches in Singapore (average $PSF):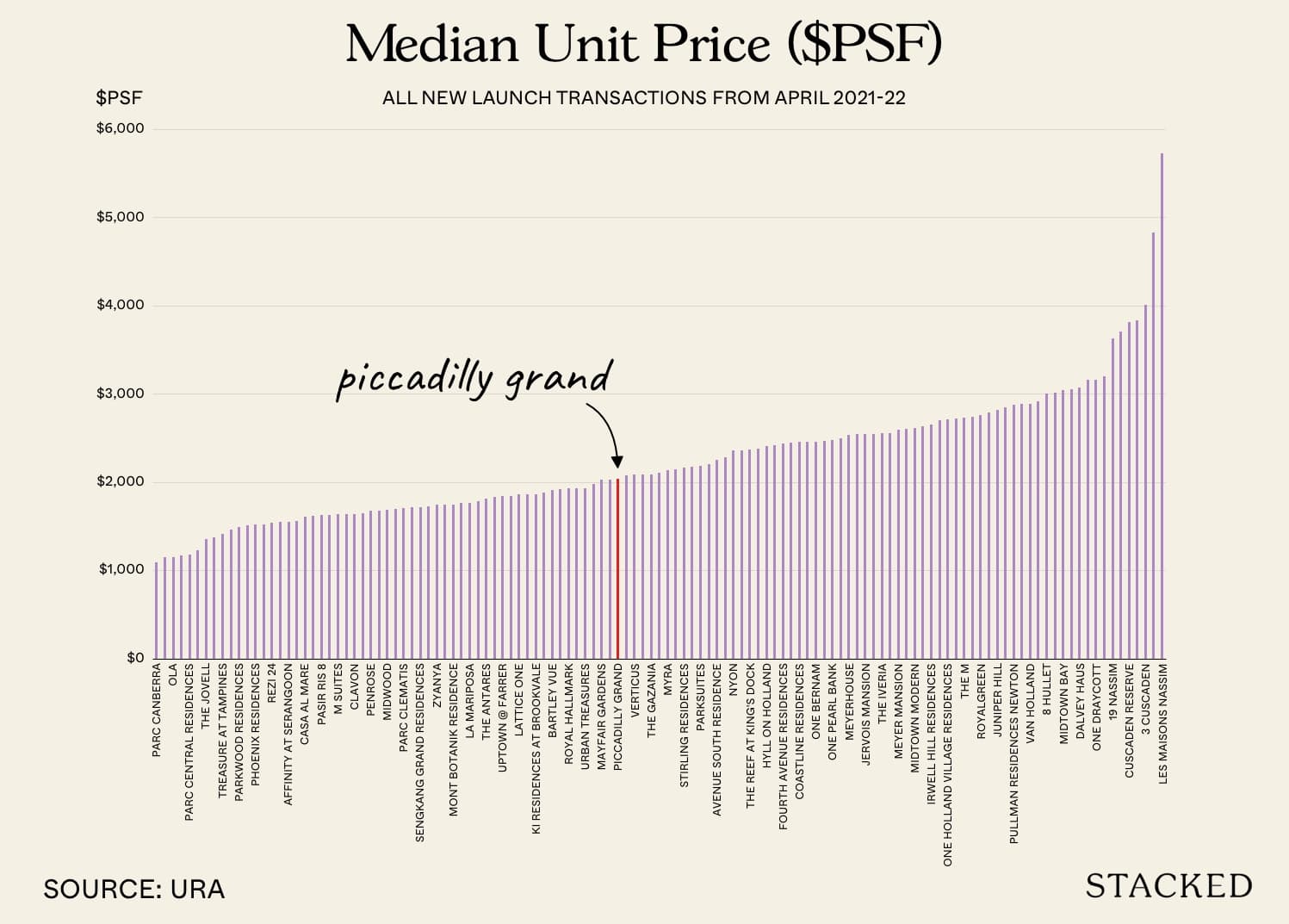 The chart above gives a visual representation of where the $PSF of the 2 and 3-bedrooms at Piccadily Grand stands. Due to the sheer number of projects it's compared against, some details are lost in the chart. As such, we present the table below to showcase the median $PSF of transactions for all new launches between April 2021 to 2022.
Note that the average $PSF for Piccadilly Grand is estimated to be ranked 57 out of 134 new launches, with 1 being the cheapest (Parc Canberra) and 134 being the most expensive (Les Maison Nassim).
Piccadilly Grand price comparison with new launches in the RCR only ($PSF)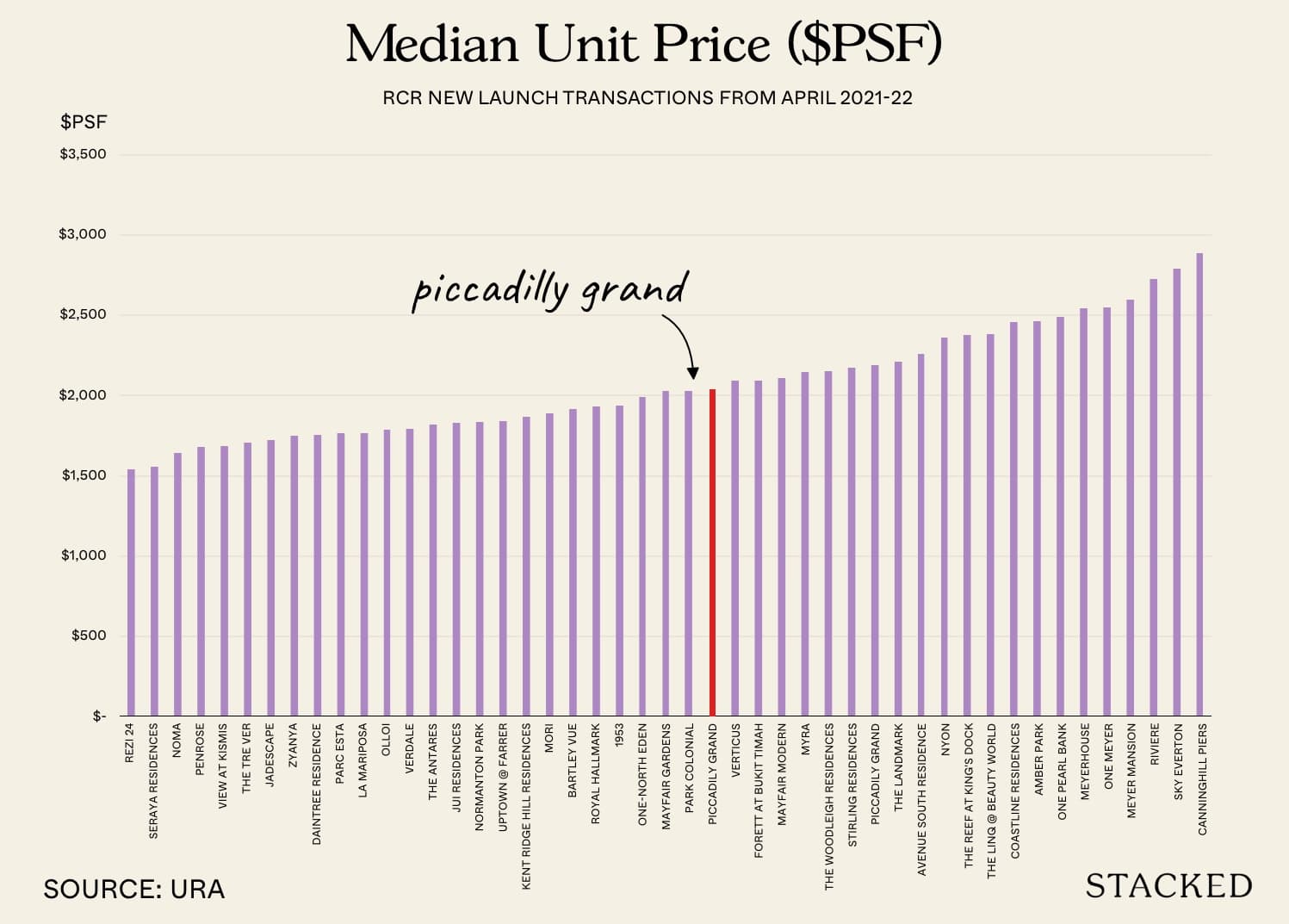 Out of the 46 RCR condos, it ranks 33rd cheapest, putting it somewhere around the 75th percentile. At where it ranks, it's quite a decent price point considering the abundant amenities, centrality and proximity to the MRT station.
While it appears Piccadilly Grand's pricing is a lot higher than other RCR condos, bear in mind that many are either further from amenities/MRT or located in the Geylang area which tend to have a lower price point. It's pricing is close to CBD-fringe developments like The Landmark/Avenue South Residence/One Pearl Bank or RCR condos located in more prestigious locations such as in the East Coast area (NYON/Amber Park).
Piccadilly Grand price comparison with new launches in the RCR (< 500 SQFT)
| | | | |
| --- | --- | --- | --- |
| Project Name | Median Unit Price ($ PSF) | Median Price ($) | March 2022 Take-Up |
| NOMA | $1,668 | $771,950 | 100.0% |
| VERDALE | $1,818 | $841,500 | 94.6% |
| NORMANTON PARK | $1,776 | $879,615 | 93.9% |
| ZYANYA | $1,999 | $882,000 | 17.6% |
| KENT RIDGE HILL RESIDENCES | $1,879 | $910,000 | 96.5% |
| PARC ESTA | $2,050 | $927,000 | 100.0% |
| MORI | $1,986 | $962,000 | 66.4% |
| PARK COLONIAL | $2,113 | $978,120 | 99.4% |
| VERTICUS | $2,167 | $1,003,000 | 67.9% |
| FORETT AT BUKIT TIMAH | $2,145 | $1,024,500 | 87.8% |
| MYRA | $2,177 | $1,030,900 | 49.4% |
| THE REEF AT KING'S DOCK | $2,134 | $1,033,700 | 89.5% |
| STIRLING RESIDENCES | $2,350 | $1,037,000 | 99.8% |
| PICCADILLY GRAND | $2,186 | $1,058,000 | 0.0% |
| THE LANDMARK | $2,256 | $1,117,000 | 37.4% |
| COASTLINE RESIDENCES | $2,504 | $1,132,000 | 97.2% |
| ONE PEARL BANK | $2,717 | $1,170,000 | 75.7% |
| AMBER PARK | $2,526 | $1,212,780 | 92.2% |
| NYON | $2,556 | $1,238,000 | 94.6% |
| CANNINGHILL PIERS | $2,998 | $1,341,000 | 86.5% |
| MEYER MANSION | $3,009 | $1,457,500 | 57.0% |
Source: URA
While the transaction data features prices from April 2021 onwards, many of the developments that Piccadilly Grand are compared to were launched a while ago when land costs and market conditions were different.
As such, its prices are higher than most recent RCR launches (even when compared to The Reef At King's Dock). Fortunately, Piccadilly Grand can justify this through its mixed-use development and very close proximity to the MRT.
Piccadilly Grand price comparison with new launches in the RCR (600 – 700 sqft)
| | | | |
| --- | --- | --- | --- |
| Project Name | Median Unit Price ($ PSF) | Median Price ($) | March 2022 Take-Up |
| VERDALE | $1,797 | $1,117,300 | 94.6% |
| NOMA | $1,648 | $1,153,187 | 100.0% |
| ZYANYA | $1,951 | $1,197,300 | 17.6% |
| 1953 | $1,956 | $1,200,000 | 75.9% |
| NORMANTON PARK | $1,822 | $1,209,000 | 93.9% |
| THE ANTARES | $1,831 | $1,237,005 | 99.6% |
| MAYFAIR GARDENS | $1,916 | $1,237,715 | 93.5% |
| VIEW AT KISMIS | $1,801 | $1,260,000 | 100.0% |
| BARTLEY VUE | $1,936 | $1,271,000 | 27.8% |
| UPTOWN @ FARRER | $1,885 | $1,319,000 | 97.4% |
| LA MARIPOSA | $1,935 | $1,333,000 | 76.5% |
| PARK COLONIAL | $1,980 | $1,343,000 | 99.4% |
| PICCADILLY GRAND | $2,087 | $1,348,000 | 0.0% |
| VERTICUS | $2,094 | $1,370,000 | 67.9% |
| PARC ESTA | $2,201 | $1,398,000 | 100.0% |
| ONE-NORTH EDEN | $2,030 | $1,398,500 | 100.0% |
| STIRLING RESIDENCES | $2,190 | $1,401,000 | 99.8% |
| THE WOODLEIGH RESIDENCES | $2,110 | $1,413,000 | 92.1% |
| MAYFAIR MODERN | $2,146 | $1,436,787 | 84.8% |
| FORETT AT BUKIT TIMAH | $2,140 | $1,466,000 | 87.8% |
| MYRA | $2,204 | $1,490,000 | 49.4% |
| AVENUE SOUTH RESIDENCE | $2,324 | $1,552,500 | 91.3% |
| ONE MEYER | $2,539 | $1,557,500 | 84.8% |
| THE LANDMARK | $2,417 | $1,639,000 | 37.4% |
| AMBER PARK | $2,552 | $1,752,240 | 92.2% |
| ONE PEARL BANK | $2,640 | $1,847,000 | 75.7% |
| MEYER MANSION | $2,850 | $1,963,350 | 57.0% |
Source: URA
There are only two new launches in district 8 that have transactions for units between 600-700 sqft: Uptown@Farrer and 1953.
Uptown@Farrer traded around 10% less than the indicative $PSF, but interestingly, its median price is not too far off from Piccadilly Grand's indicative starting price either. Both Piccadilly Grand and Uptown@Farrer are mixed-use developments, however, the former does offer residents closer proximity to the MRT.
While proximity to the MRT can justify some of its premium, it's likely that this premium is a function of both the land cost and the property market conditions that we are in today.
1953 is the only other new launch apart from Uptown@Farrer and traded around a 6.3% discount to Piccadilly Grand. Considering this narrow discount, Piccadilly Grand's pricing makes sense since it's a mixed-use development a much closer to the MRT compared to 1953 (7-minute walk).
Looking at the data, you'll also notice that quantum-wise, Piccadilly Grand is more affordable than One-North Eden despite its lower $PSF. This is because One-North Eden's 2 bedroom is slightly bigger – and this bodes well for Piccadilly Grand. While both the One North area and district 8 have good rental demand, Piccadilly Grand's lower quantum could mean a better return for investors. Its mixed-use status and proximity to the MRT could seem more important for tenants, and the tenant pool in the One North precinct is a limiting factor on its own unlike tenant demand for a city fringe condo.
It's also good news that Piccadilly Grand's indicative quantum is more affordable than Myra. While Myra is also close to Potong Pasir MRT which is on the same line as Farrer Park MRT, the latter is two stops closer to town.
Moreover, when compared to The Antares, it's just trading at around a 9% premium but has a lot more amenities and life around.
Piccadilly Grand price comparison with new launches in the RCR (850 – 950 sqft)
| | | | |
| --- | --- | --- | --- |
| Project Name | Median Unit Price ($ PSF) | Median Price ($) | March 2022 Take-Up |
| NOMA | 1,628 | 1,384,000 | 100.0% |
| STIRLING RESIDENCES | 1,690 | 1,528,500 | 99.8% |
| MORI | 1,755 | 1,549,000 | 66.4% |
| UPTOWN @ FARRER | 1,797 | 1,570,500 | 97.4% |
| MAYFAIR MODERN | 1,879 | 1,598,000 | 84.8% |
| JADESCAPE | 1,770 | 1,600,755 | 99.1% |
| ZYANYA | 1,798 | 1,606,750 | 17.6% |
| PARC ESTA | 1,741 | 1,612,000 | 100.0% |
| THE ANTARES | 1,826 | 1,612,000 | 99.6% |
| VERDALE | 1,741 | 1,649,300 | 94.6% |
| NORMANTON PARK | 1,782 | 1,653,500 | 93.9% |
| BARTLEY VUE | 1,777 | 1,683,000 | 27.8% |
| MAYFAIR GARDENS | 1,956 | 1,780,230 | 93.5% |
| PICCADILLY GRAND | 2,025 | 1,788,000 | 0.0% |
| THE WOODLEIGH RESIDENCES | 2,105 | 1,790,000 | 92.1% |
| MYRA | 2,107 | 1,837,000 | 49.4% |
| KENT RIDGE HILL RESIDENCES | 1,977 | 1,839,092 | 96.5% |
| ONE-NORTH EDEN | 1,962 | 1,858,000 | 100.0% |
| VERTICUS | 2,004 | 1,876,500 | 67.9% |
| FORETT AT BUKIT TIMAH | 1,994 | 1,889,000 | 87.8% |
| ONE PEARL BANK | 2,198 | 1,964,000 | 75.7% |
| ROYAL HALLMARK | 2,128 | 1,970,000 | 34.4% |
| NYON | 2,221 | 2,032,000 | 94.6% |
| AVENUE SOUTH RESIDENCE | 2,197 | 2,081,500 | 91.3% |
| THE REEF AT KING'S DOCK | 2,415 | 2,132,000 | 89.5% |
| AMBER PARK | 2,398 | 2,264,760 | 92.2% |
| ONE MEYER | 2,626 | 2,431,000 | 84.8% |
| SKY EVERTON | 2,774 | 2,538,000 | 96.2% |
| CANNINGHILL PIERS | 2,902 | 2,573,000 | 86.5% |
Source: URA
If we look at the 3-bedroom size, you'll find that Uptown@Farrer traded at around a 12% discount from Piccadilly Grand. I do believe that at this discount, Uptown@Farrer certainly had the upper hand as it's also a mixed-use development and not that much further from Farrer Park MRT.
Unfortunately, Piccadilly Grand can justify its pricing as Uptown@Farrer is almost fully-sold.
On a quantum and $PSF level, Piccadilly Grand's 3 bedroom is very close to The Woodleigh Residences (TWR) – an Integrated Development.
At this price point, The Woodleigh Residences could be seen as the better option if you don't like the bustle of the Farrer Park area considering the strong amenity offering and proximity to the MRT at The Woodleigh Residences. It may also be seen as a more family-friendly area considering it's more peaceful than the bustling area around Farrer Park.
The Woodleigh Residences is also closer to more primary schools than Piccadilly Grand – it is within 1-2KM of more primary schools than the latter. 1KM to 3 primary schools (4 as one falls just outside it, depending on the block) for The Woodleigh Residences, compared to 2 for Piccadilly Grand.
But like with Uptown@Farrer, there are few options left with TWR.
Interestingly, Royal Hallmark had one transactions for a 936 sqft unit which went for $1,970,000. Compared to Piccadilly Grand's 3 bedroom unit, this went for a 10% premium, and about a 5% premium over its $PSF.
Royal Hallmark's location is closer to the East Coast area which makes it more prestigious, however, it is lacking in terms of proximity to the MRT. It's in fact somewhere in the middle of 5 MRT stations, but not within walking distance of any. It's also surrounded by residential properties without direct access to amenities unlike at Piccadilly Grand. For families, I believe the amenities and proximity to the MRT are much more important.
Piccadilly Grand price comparison with new launches in the RCR (1,350 – 1,450 sqft)
| | | | |
| --- | --- | --- | --- |
| Project Name | Median Unit Price ($ PSF) | Median Price ($) | March 2022 Take-Up |
| PENROSE | 1,674 | 2,325,000 | 99.1% |
| THE ANTARES | 1,707 | 2,333,000 | 99.6% |
| BARTLEY VUE | 1,826 | 2,476,000 | 27.8% |
| FORETT AT BUKIT TIMAH | 1,861 | 2,524,000 | 87.8% |
| VERDALE | 1,796 | 2,532,200 | 94.6% |
| JADESCAPE | 1,793 | 2,547,500 | 99.1% |
| KENT RIDGE HILL RESIDENCES | 1,818 | 2,607,000 | 96.5% |
| ONE-NORTH EDEN | 1,860 | 2,615,075 | 100.0% |
| PICCADILLY GRAND | 1,987 | $2,738,000 | 0.0% |
| UPTOWN @ FARRER | 1,967 | 2,752,200 | 97.4% |
| NYON | 2,349 | 3,286,440 | 94.6% |
| ONE PEARL BANK | 2,365 | 3,367,000 | 75.7% |
| MEYER MANSION | 2,572 | 3,598,500 | 57.0% |
Source: URA
The 4-bedroom dual key unit is ideal for renting out while staying there, or using it as a multi-generational home.
In terms of price in the RCR, Piccadilly Grand is the 5th most expensive out of 13 developments with transactions of units in this size range.
Based on the price, it does look like those who missed out on Uptown @ Farrer's 4-bedroom units now have the opportunity to snag a unit at Piccadilly Grand instead. Uptown @ Farrer did have 4-bedroom dual key units (compact) at 1,033 sqft, and at that size, it went for an average of just $1,770,973 (considering all the 8 units sold). This may make Piccadilly Grand look a lot more expensive considering they're the same unit type.
However, a quick look at the floor plan shows that a lot of compromises would have to be made here when purchasing the compact dual-key unit at Uptown @ Farrer.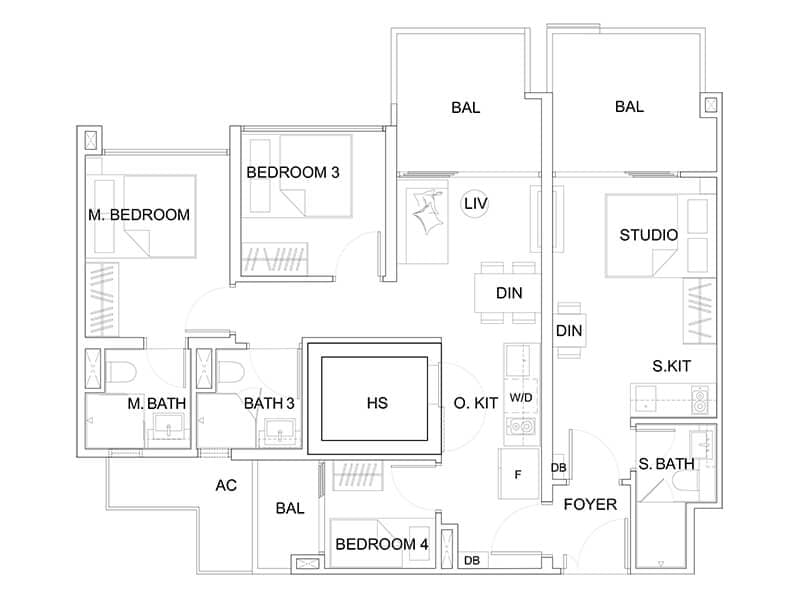 Note the size of bedroom 4 and the lack of a proper, enclosed kitchen. The dining area fits just four which is too small for a 3-bedder component. The living room also seems very narrow and there is a large household shelter relative to the liveable space here.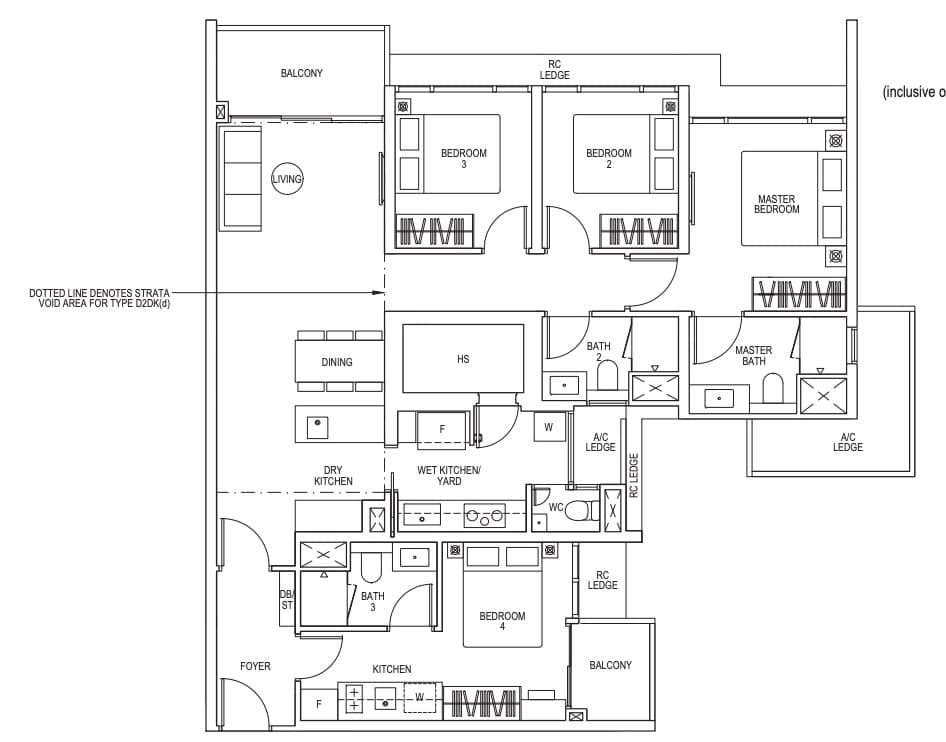 The larger 4-bedroom dual key at Piccadilly Grand actually looks like a proper 3 bedroom plus a 1 bedroom unit. Of course, they're both at very, very different price points and this example was only used to illustrate that both cannot be compared.
So the comparison to the 1,399 sqft 4 bedroom at Uptown @ Farrer would be fairer. Here's what it looks like: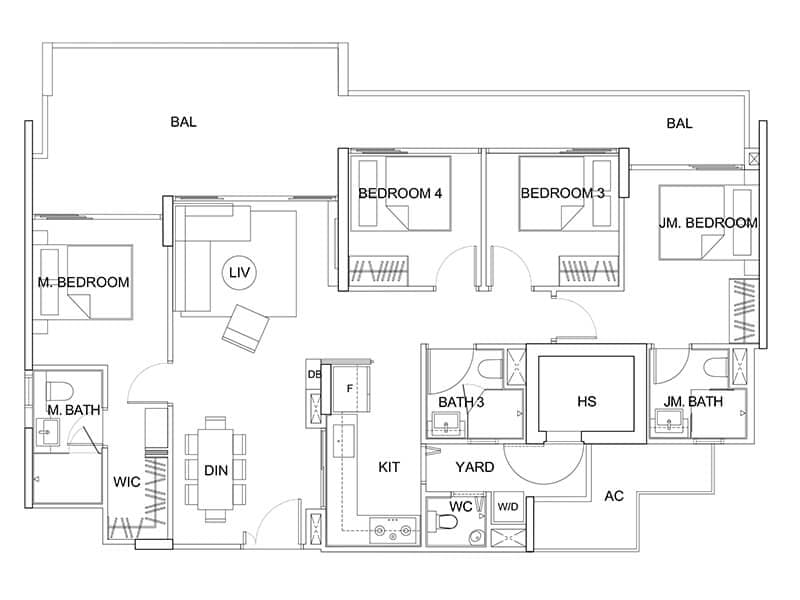 The unit opens right to the dining and living which lacks privacy. It does have a proper enclosed kitchen and the master bedroom features a walk-in closet. It also has a proper yard expected of a 4 bedroom unit. The biggest issue here is the oversized balcony. This can be a pro or a con, depending on whether you like outdoor spaces, but the huge balcony here could have gone instead to a larger bedroom which could have made this unit more practical.
In contrast, the 4-bedroom dual key unit at Piccadilly Grand seems more practical given its separation. If you're using it as a family home, then perhaps the additional kitchen is wasted space, but its space efficiency is there since it has a decently-sized balcony. The unit also comes with space for a dry kitchen area though this is more of a necessity given the lack of countertop space inside the wet kitchen.
Piccadilly Grand price comparison to mixed-use developments (City/City Fringe)
| | | | |
| --- | --- | --- | --- |
| Project Name | Median Unit Price ($ PSF) | Median Quantum | Take-Up Rate |
| PICCADILLY GRAND | $2,087 | $1,348,000 | 0.00% |
| THE WOODLEIGH RESIDENCES | $2,110 | $1,413,000 | 92.1% |
| AVENUE SOUTH RESIDENCE | $2,327 | $1,554,000 | 91.3% |
| THE M | $2,706 | $1,695,000 | 90.8% |
| MIDTOWN MODERN | $3,127 | $1,986,000 | 73.8% |
Those considering the 2-bedroom unit would be glad to know that for this size range, Piccadilly Grand's price is quite attractive. It's not just the lowest in $PSF but in absolute quantum if we compare it to the median prices of competing developments from April 2021 to 2022.
While it is not directly comparable due to their different locations, Piccadilly Grand is closer to an MRT compared to Avenue South Residence (even with the upcoming Cantonment MRT), which is around 15% more in absolute quantum and 11% more in $PSF.
Compared to The M, Piccadilly Grand actually looks very affordable as its indicative is 23% more affordable compared to the former. Its quantum is also around 20% more affordable too, and that does say a lot in today's market condition.
| | | | |
| --- | --- | --- | --- |
| Project Name | Median Unit Price ($ PSF) | Median Quantum | Take-Up Rate |
| PICCADILLY GRAND | $2,025 | $1,788,000 | 0.00% |
| THE WOODLEIGH RESIDENCES | $2,105 | $1,790,000 | 92.1% |
| THE M | $2,305 | $1,985,000 | 90.8% |
| AVENUE SOUTH RESIDENCE | $2,197 | $2,081,500 | 91.3% |
| MIDTOWN MODERN | $2,657 | $2,402,235 | 73.8% |
| CANNINGHILL PIERS | $2,902 | $2,573,000 | 86.5% |
For sizes 850 – 950 sqft
It's the same story when comparing both the $PSF and absolute quantum for sizes in Piccadilly Grand's 3 bedroom. Perhaps it's just due to the overall district 8's pricing condition, but if we consider the amenity offering that district 8 has to offer and the fact that it's a mixed-use development which trades at a significant discount to other new launch mixed-use developments in the city/city-fringe areas, then Piccadilly Grand's pricing is quite attractive – especially if you consider the high take-up rates of existing new launches today.
With the recent announcement of the new BTO to launch on the site next door, perhaps the increased focus on district 8's liveability coupled with the recent new launch of mixed-use developments nearby (1953 and Uptown @ Farrer), families looking for convenience in a city-fringe area without having to pay city-centre prices could help sustain Piccadilly Grand's pricing when it hits the secondary market.
Piccadilly Grand price comparison to surrounding resale condos within 500m
| | | | | |
| --- | --- | --- | --- | --- |
| Project Name | Median Unit Price ($ PSF) | Tenure | Built | Units |
| RACE COURSE MANSION | 910 | Freehold | 2004 | 16 |
| SOHO @ FARRER | 1,187 | Freehold | 2005 | 20 |
| R66 APARTMENTS | 1,229 | Freehold | 2007 | 34 |
| CITY STUDIOS | 1,249 | Freehold | 2013 | 28 |
| DORSET MANSIONS | 1,271 | Freehold | 1992 | 7 |
| THE BLISS | 1,356 | Freehold | 2013 | 7 |
| VOGX | 1,371 | Freehold | 2009 | 29 |
| SUITES @ OWEN | 1,439 | Freehold | 2009 | 20 |
| LOFT @ RANGOON | 1,454 | Freehold | 2013 | 27 |
| RITZ @ FARRER | 1,505 | Freehold | 2017 | 18 |
| URBAN LOFTS | 1,521 | Freehold | 2010 | 50 |
| RANGOON 88 | 1,560 | Freehold | 2014 | 48 |
| 28 RC SUITES | 1,570 | Freehold | 2016 | 45 |
| SOHO 188 | 1,626 | Freehold | 2008 | 53 |
| CITY SQUARE RESIDENCES | 1,765 | Freehold | 2009 | 910 |
| PICCADILLY GRAND | 2036 | 99-year Leasehold | 2026 (est) | 407 |
Prices of Piccadilly Grand is unsurprisingly the highest among all the resale developments within 500m of it. After all, it's launched with limited new launch competition in the area and at the high of the property market. It's also a mixed-use development and very close to MRT.
Its estimated indicative PSF is 15.3% higher than the highest-priced resale condo: City Square Residences. Moreover, all the other resale condos in the area are freehold in nature, making Piccadilly Grand the odd one out.
At a glance, it's easy to judge Piccadilly Grand to be outrageously priced, but we are comparing (with the exception of City Square Residences) a new mixed-use development to the multiple boutique developments around that do not have much to differentiate themselves by.
Some of these boutique developments may also consist of layouts that aren't as favourable: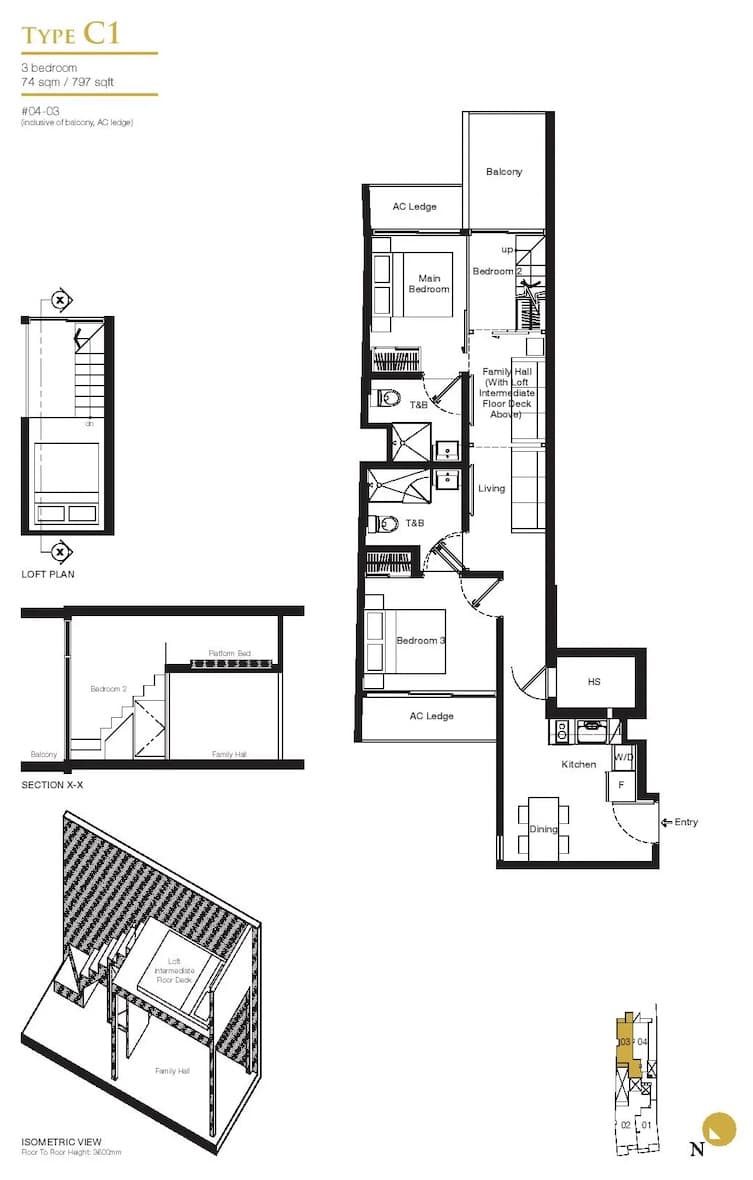 In addition, supply in the area is low. Over a period of 1 year from April 2021 – 2022, there were only 52 recorded transactions here of which 17 were from City Square Residences. This means that buyers really do not have much of a choice if they are looking for a unit here.
Compared to 2-bedroom units at City Square Residences
City Square Residences is of interest here given its attractive facilities and number of units on offer.
The smallest 2-bedroom unit here is 840 sqft: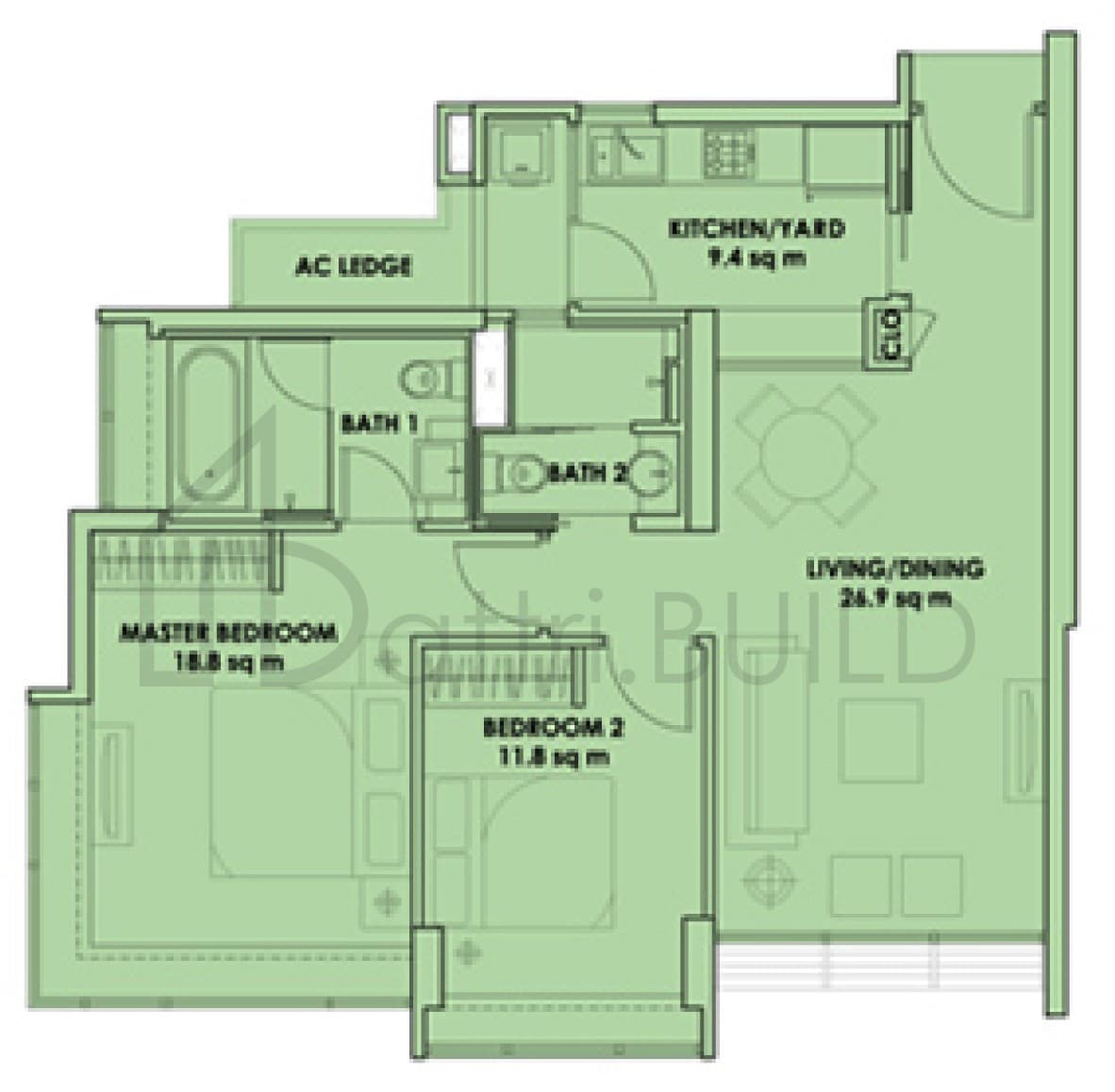 '
840 sqft is quite sizeable for a 2 bedroom by today's standards. It does not have a balcony though it has bay windows. Its bedroom is quite sizeable, and it even comes with a service yard on the other end so cross-ventilation is possible.
The last transacted unit here was on the 5th floor and went for $1,435,000 ($1,709 psf). Piccadilly Grand's indicative 2-bedroom starts from $1,348,000. This is 6.5% more than the indicative. Of course, this number is exaggerated given it is from the 5th floor.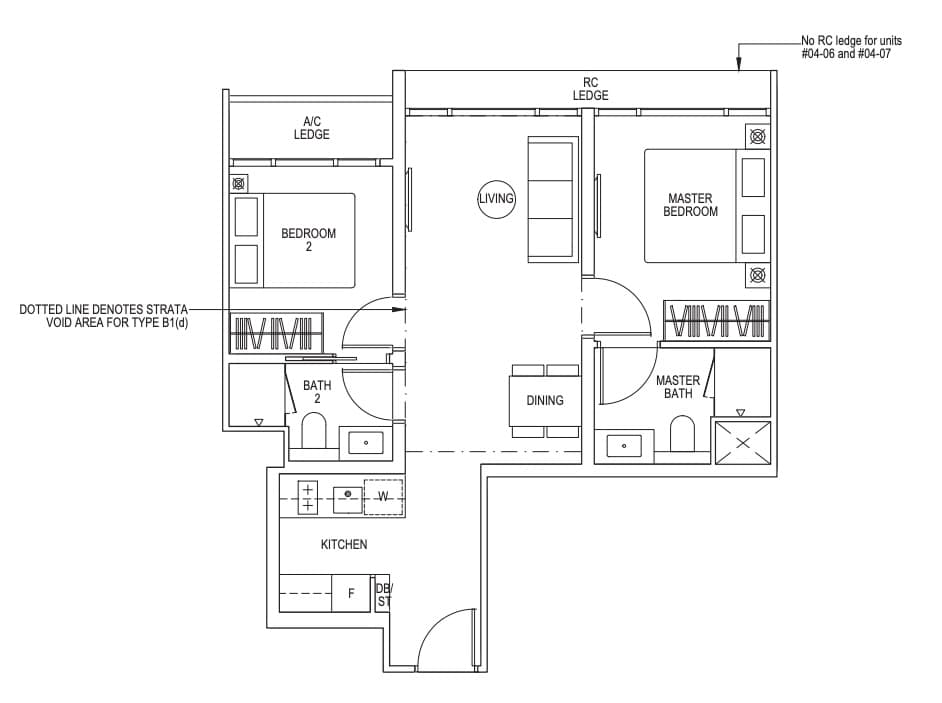 The 2 bedroom layout at Piccadilly Grand does not feature a balcony, so there is more internal space. However, it has a long walkway and a small kitchen. It features a dumbbell layout to reduce wasted walkway space. This layout does look more catered towards rental considering the practicalities of the dumbbell layout and lack of balcony, but there would be issues when it comes to drying clothes. Perhaps the dryer would need to be stacked in the kitchen.
A 5th floor 2-bedroom unit at City Square Residences went for $1,435,000 ($1,709 psf). Piccadilly Grand's indicative 2-bedroom starts from $1,348,000. This is 6.5% more than the indicative. Of course, this number is exaggerated given it is from the 5th floor.
Judging between both, it would seem that while City Square Residences is more expensive overall, the quantum could be worth it given the more family-friendly layout with its service yard. Both developments also have impressive facilities, but City Square Residences has better long-term retention value and while it is further from the MRT, the difference is not deal-breaking.
Piccadilly Grand Appreciation Analysis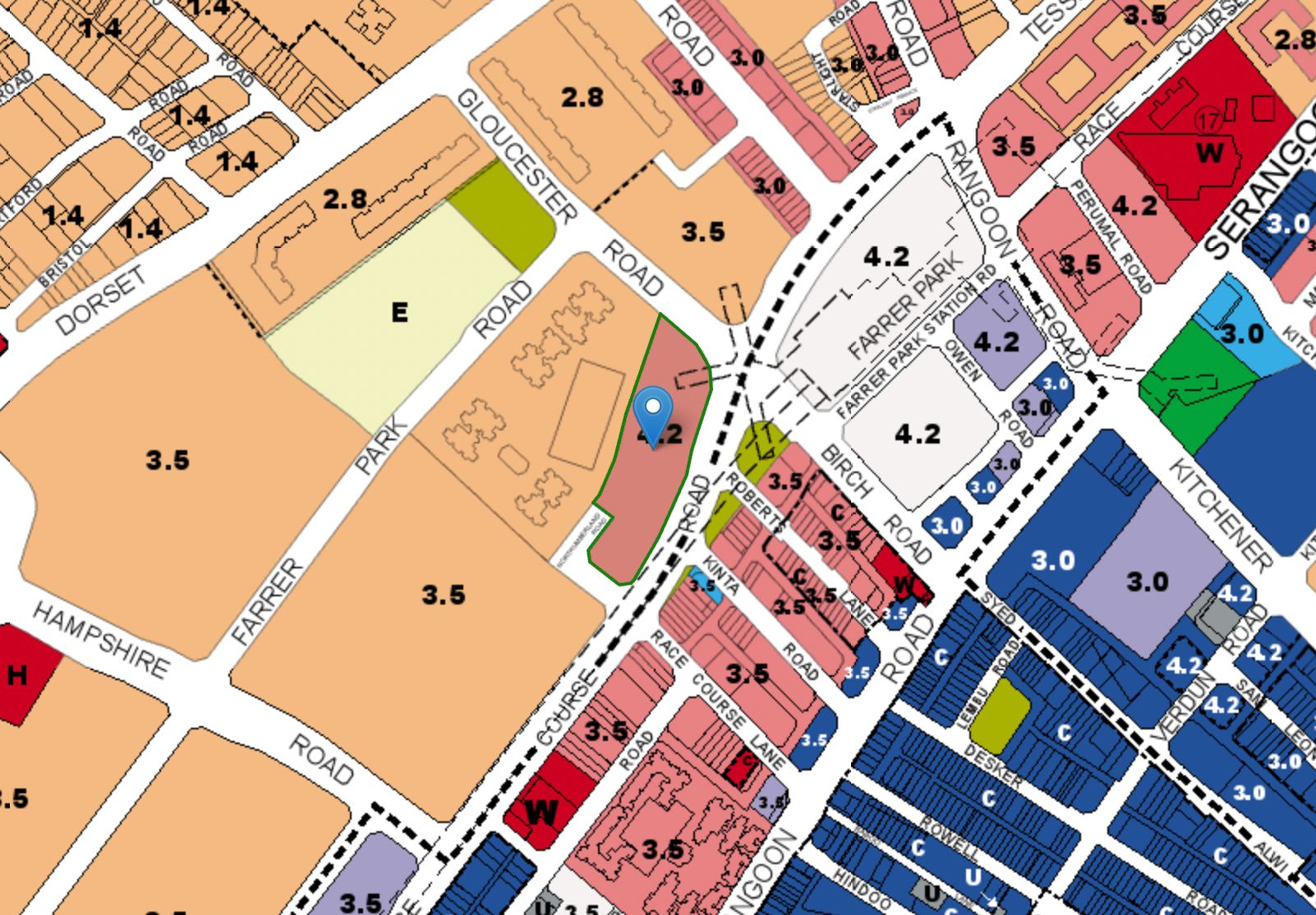 New Farrer Park HDB Site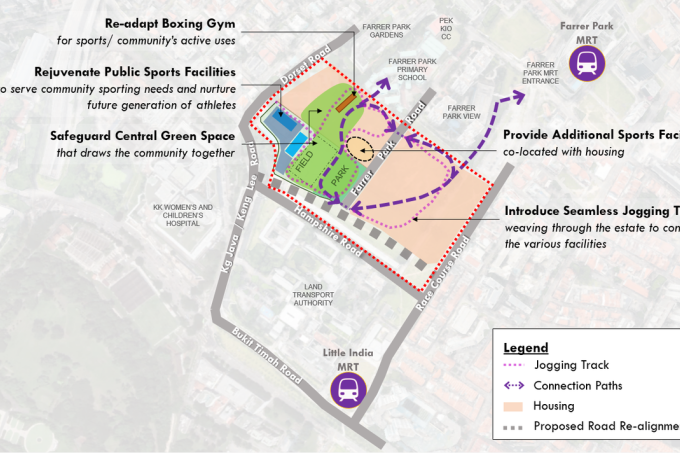 Just a couple of days after the preview launch of Piccadilly Grand, HDB announced that they will be developing 1,600 flats at the former Farrer Park Swimming Complex. In line with the history of Farrer Park as the home ground of some of Singapore's sporting elites, the project will be integrated with the redeveloped sports and recreational facilities. These HDB blocks are set to be almost next to Piccadilly Grand, bringing further pricing support to this project when these BTO buyers eventually choose to upgrade.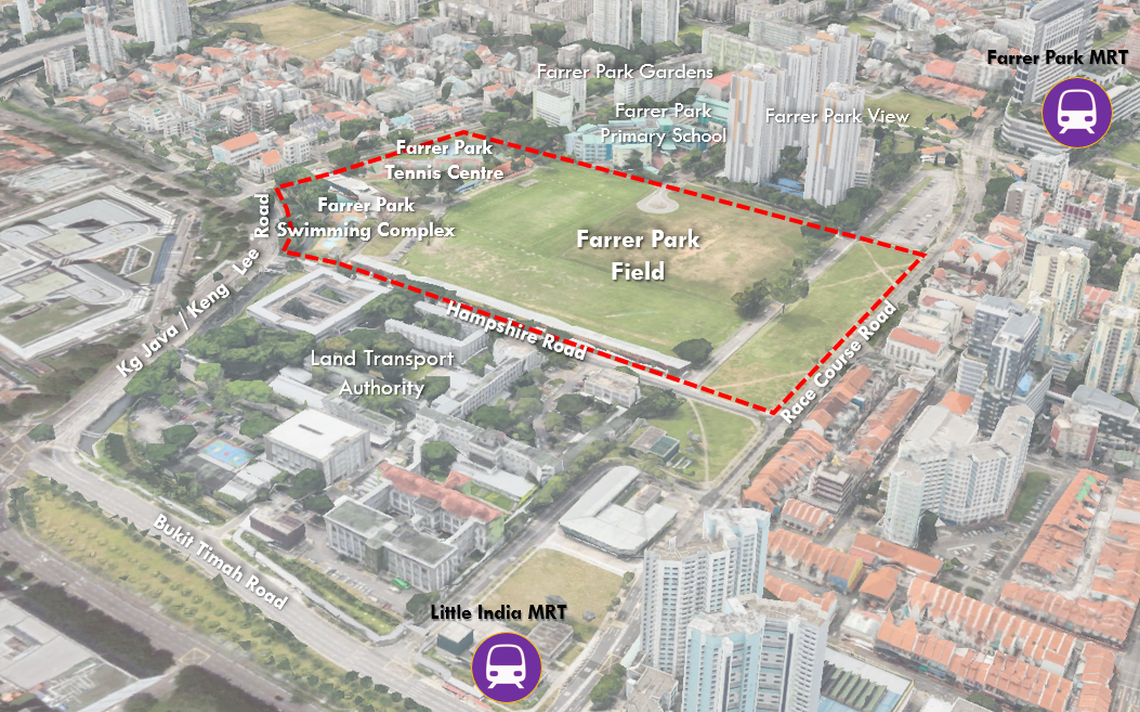 It was great timing for the launch of Piccadilly Grand. Free news coverage, and buyers here will be assured that there are future plans to revitalise the area further. There is also further support for future HDB upgraders from these flats, so all in all this is positive news.
Healthcare Corridor (Novena and Farrer Park)
You have Farrer Park Medical Centre just across the road, KK Hospital within a 3 minutes drive, and the Novena Health City within a 5-minute drive. Of course, the most exciting prospect is definitely the Novena Health City, which is set to be completed in 2030. The built-up area is set to increase 240% from its existing 250,000 sqm to link Tan Tock Seng Hospital, the medical school, and all public and volunteer healthcare facilities. As healthcare facilities grow in the area, we hope medical tourism will take off as well and consequently, the demand for short-term rental contracts from some of these patients. This can be a boon and bane from a resident's perspective and understandably, not everyone desires to stay opposite a hospital. Nevertheless, if this reason can help to sustain asset prices, why not?
Kampong Bugis Rejuvenation
For the longest time, the Kampong Bugis precinct was just a large empty patch. Even in recent years, the one and only prominent structure is the Kallang Riverside condo, which will be the only Freehold project in the vicinity. Adjacent to Kallang Basin with a prominent frontage towards the Kallang River and set within the park, the large 8+ hectare site is set to be a highly desirable residential estate envisioned to be car-lite, community-centre, and sustainable. Interestingly, while the plan for the site is now completely residential, the initial one in 2008 seems to have envisioned the site to also include offices, hotels, and retail/entertainment facilities as one of 3 commercial hubs outside of the city, with the other 2 being Jurong and Paya Lebar. Piccadilly Grand is definitely some distance away, but Farrer Park and Kampong Bugis are somewhat adjacent to each other if you interpret this more widely. With the rejuvenation of the area, I expect greater vibrancy in the vicinity and hopefully, more demand for nearby properties in the wider region. 
What we like
Direct Access to Farrer Park MRT

Close to dining and shopping options all day long

100m setback

New BTO launches at Farrer Park will bring further price support
What we don't like
–

Small commercial/retail podium means that it is unlikely to attract any marquee tenants

–

Smaller pool for 407 units
Our Take
Piccadilly Grand is the first major launch of 2022 and many market observers will be keen to note how the sales of this development will perform. They are launching at a very opportune time, with the announcement of the Farrer Park BTO flats, and the dearth of major new launches in 2022 so far. There's an argument to be made that if it was launched with a lot of new launch competition at the same time, Piccadilly Grand may not be getting as much attention as it would be today.
Stil, with direct access to Farrer Park MRT and an overall convenient city fringe location, this development makes lots of sense from both an own stay and investment perspective.
On the other hand, some have commented that Farrer Park can be a little 'messy' with the mish-mash of commercial buildings, shophouses, HDB flats, boutique condos, and City Square Mall all in the same precinct. It's certainly not one for those who value privacy and peace, given the immediate location and setup of the development.
The upside to that is that you get plenty of dining and shopping options within a 10-minute walking radius, so prospective buyers with a soft spot for supper should get exercising soon.
Overall, Piccadilly Grand has covered the bases of what homebuyers would be looking for in a new launch condo today. The developers have a successful blueprint of what works, and while there's nothing groundbreaking here, it is a solid option to consider.
What this means for you
You might like Piccadilly Grand if you:
• Desire to be close to the city:

Its city fringe location means super convenient access to important parts of Singapore whether by MRT or car.

• Love convenience at your doorstep:

From retail therapy, food options, and MRT access, Piccadilly Grand is able to meet all those needs almost at your doorstep.

• Prefer a larger development in Farrer Park:

With most private options being boutique apartments in the vicinity, Piccadilly Grand is one of the slightly larger developments packed with more facilities.
You may not like Piccadilly Grand if you:
• Find the area a little crowded:

A downside to being in the Farrer Park area is that there's often a lot going on around you and it's perhaps not for those prefer a less densely populated area.

• Desire a tranquil living environment:

With neighbouring plots being slated for residential development, be prepared for ongoing construction as and when the plots are launched for sale in the future .
End of Review
Documents
Join our Telegram group for instant notifications
Join Now
Matt K