53
min read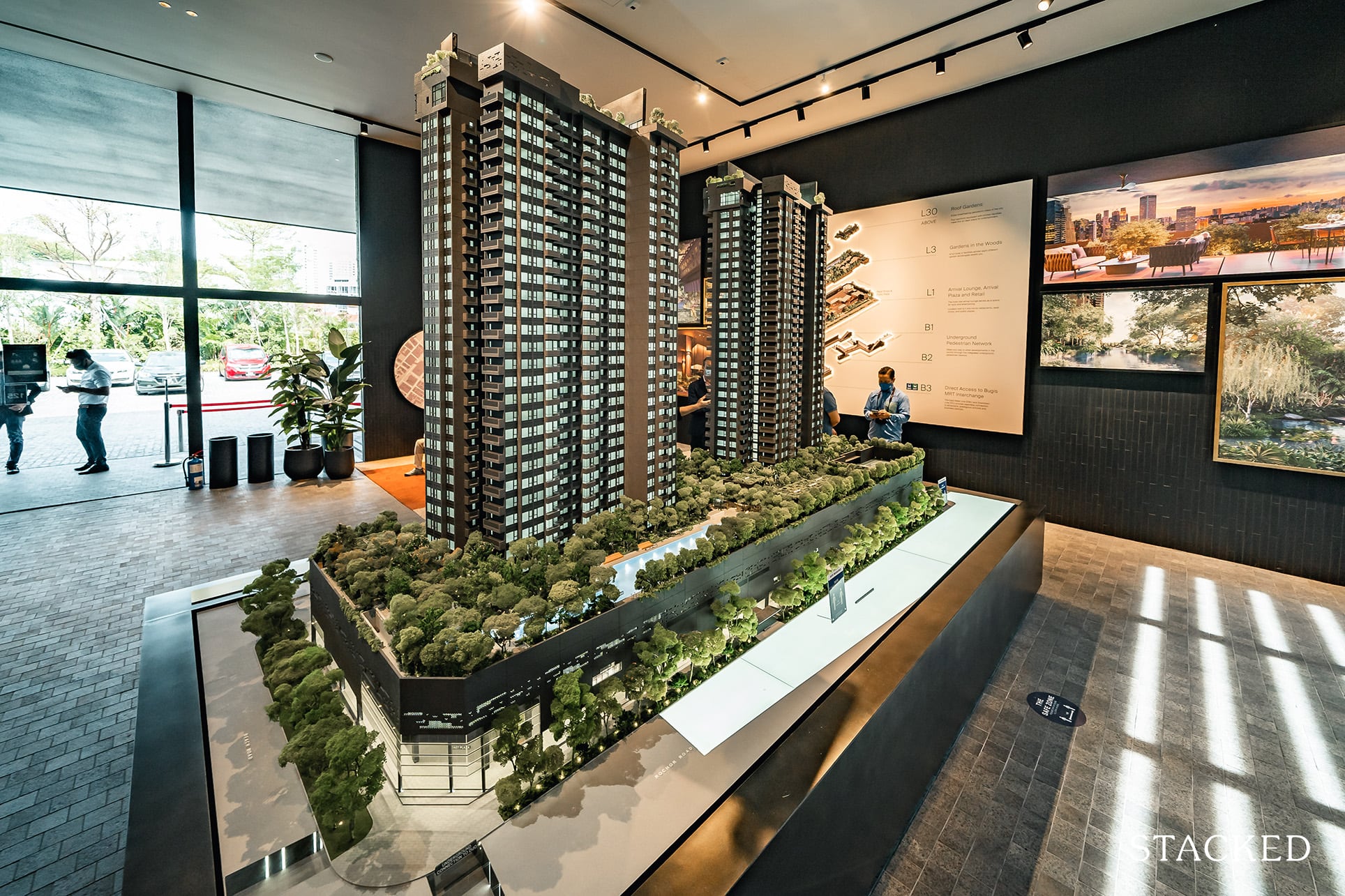 Greenery amidst the city
If you ever wanted an extremely central address with a lot of greenery, Midtown Modern may be the development for you. However, it does come at the cost of peace and tranquility.
| | |
| --- | --- |
| Project: | Midtown Modern |
| District: | 07 |
| Address: | 16-20 Tan Quee Lan Street S(188144-188107) |
| Tenure: | 99-year Leasehold commencing from 10 December 2019 |
| No. of Units: | 558 |
| Site Area: | 124,118 sqft |
| Developer: | JV between GuocoLand, Hong Leong Holdings and Hong Realty |
| TOP: | 3Q 2025 |
Transformation of an area seems to be GuocoLand's game plan for their latest developments. When their integrated development at Tanjong Pagar was completed in 2016, it brought new life to the precinct that started to look a little dated with buildings such as International Plaza (1976) and AXA Tower (1986). In the process, Guoco Tower became the tallest building in Singapore and a Wallich Residence penthouse was sold to billionaire James Dyson for $74m (now resold for $62m).
In the same way, GuocoLand hopes to bring new life to the Bugis area with its latest mega integrated development Guoco Midtown. Midtown Modern marks the second residential development here after Midtown Bay, which we reviewed previously. While Midtown Bay is catered towards 'business homes', Midtown Modern's focus will be on luxurious garden homes for families. I can't speak for everyone, but that's a pretty refreshing spin away from the stereotypical small, rental-focused units in CBD developments. Make no mistake, it is a bold move to stray away from the usual – so I applaud them for that. If anything, GuocoLand have created a reputation for themselves to be quite the forward thinkers.
Let there be no doubt that Bugis (and Singapore) has come a long way. Records from the 1860s show Tan Quee Lan Street (where Midtown Modern is located) as part of the Malay Street area (Bugis Junction today), which was widely regarded as the primary red-light district of that time. With the abolition of prostitution in 1920, traders started to populate the area and those who are of age would remember the iconic New 7th Storey Hotel, which was once the tallest structure in the Beach Road area and catered to immigrants and foreign businessmen.
Of course, nothing stands in the way of the URA Master Plan. In 2008, the hotel was demolished to make way for the new Downtown Line – Bugis Station. Consequently, Midtown Modern and its neighbouring Midtown Bay, are both the result of the wider Bugis transformation – but more on that later. 
While I do miss having the charcoal steamboat al-fresco on the grassy fields beside the now defunct 7th Storey Hotel, I am also incredibly proud of how far we have come.
Lest I bore you further with the history, let's move on to our customary insider tour!
Midtown Modern Insider Tour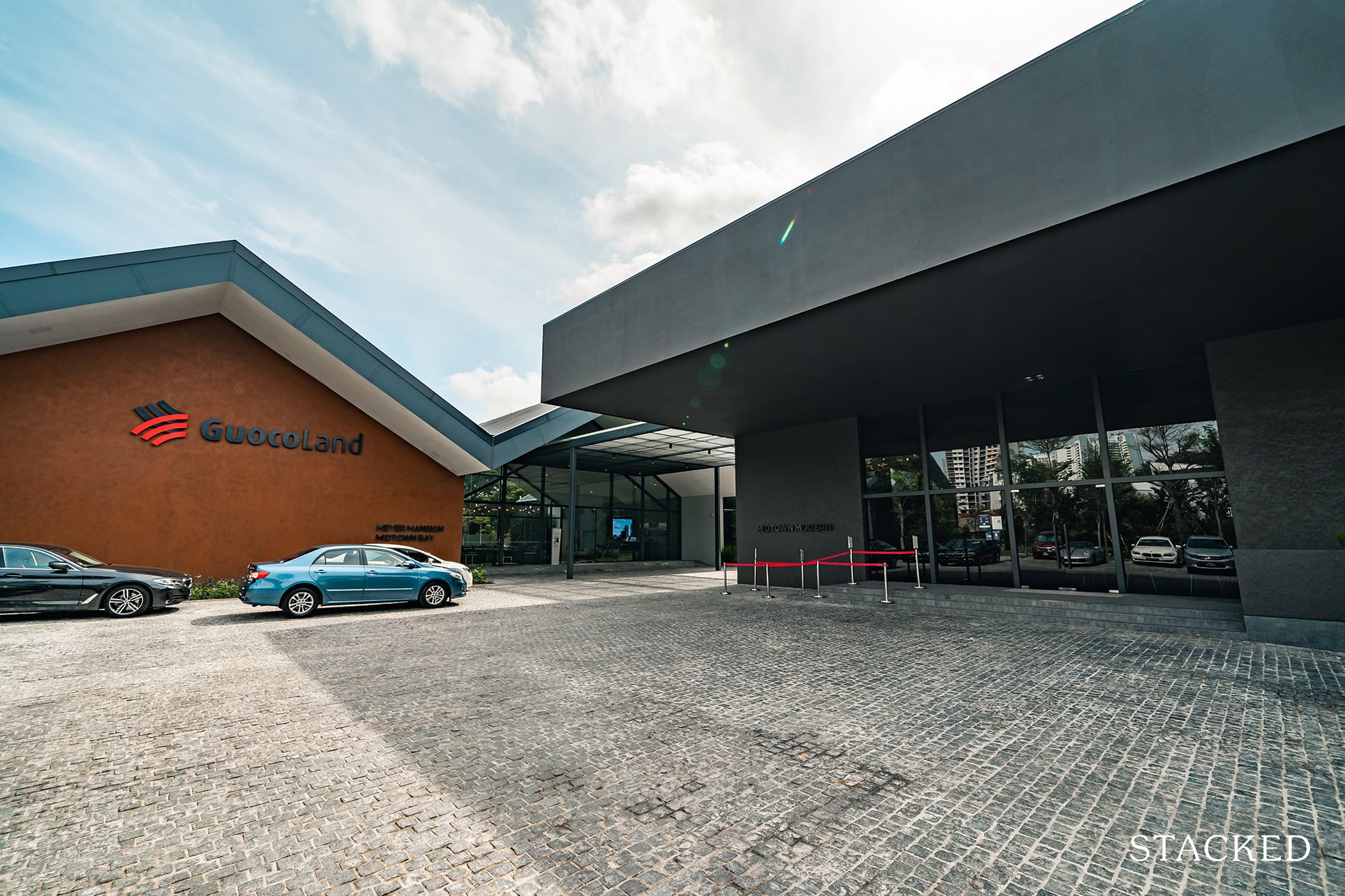 An aspiration to transform the district is Guocoland's goal for the Guoco Midtown integrated development. Spanning 3.2 hectares in total, they wanted to bring something new to the neighbourhood. They have good foundations to work on – Bugis is already vibrant, youthful and full of energy.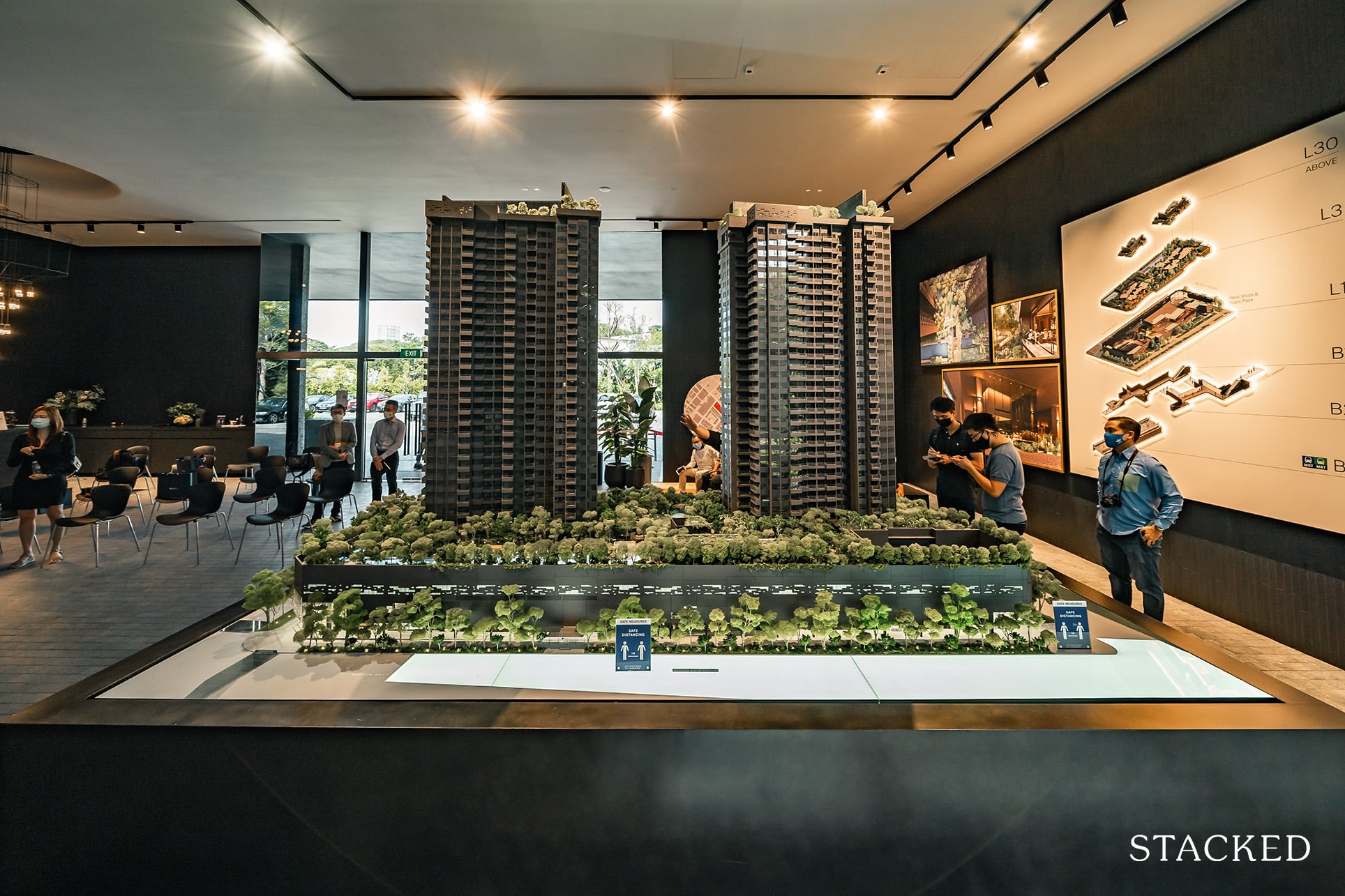 Upon seeing the project model, what first stuck me was how the entire Level 3 was just engulfed in greenery. Indeed, the statistics do not lie. Put together by landscape architect Chia Jui Siang of Ortus Design, the forest themed garden on Level 3, the first floor of the development, combined with the rooftop gardens of the 2 towers constitute more than 1 hectare of greens and will feature 186 species of plants.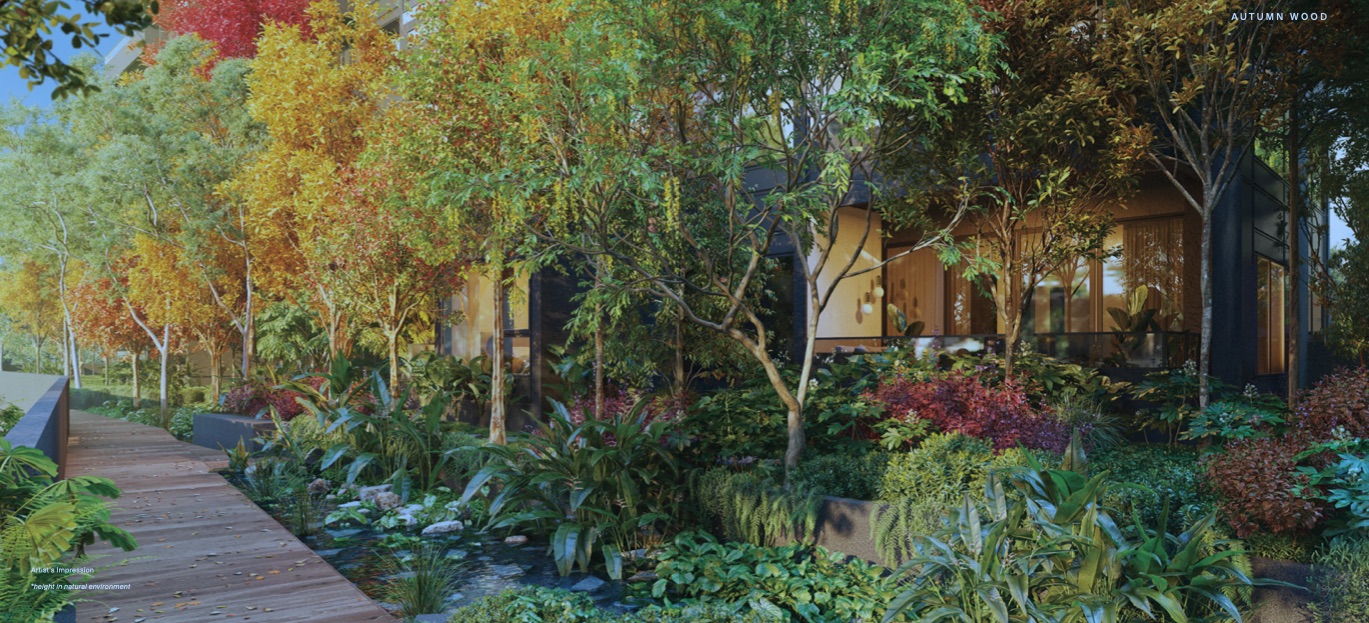 These will be divided into several zones – with flowering plants and trees such as the Common Pulai, Water Lily and Pickerel Weed in Spring and Summer Woods and while showcasing orange-hued plants such as the Flame Tree and Burma Bridelia at Autumn Wood. Which is pretty cool – so expect the different areas to feature pretty hues depending on the season. There's no Winter zone (for obvious reasons).
Jui Siang is also no stranger to GuocoLand, having previously helped with the (more curated) landscaping at Goodwood Residence and Martin Modern.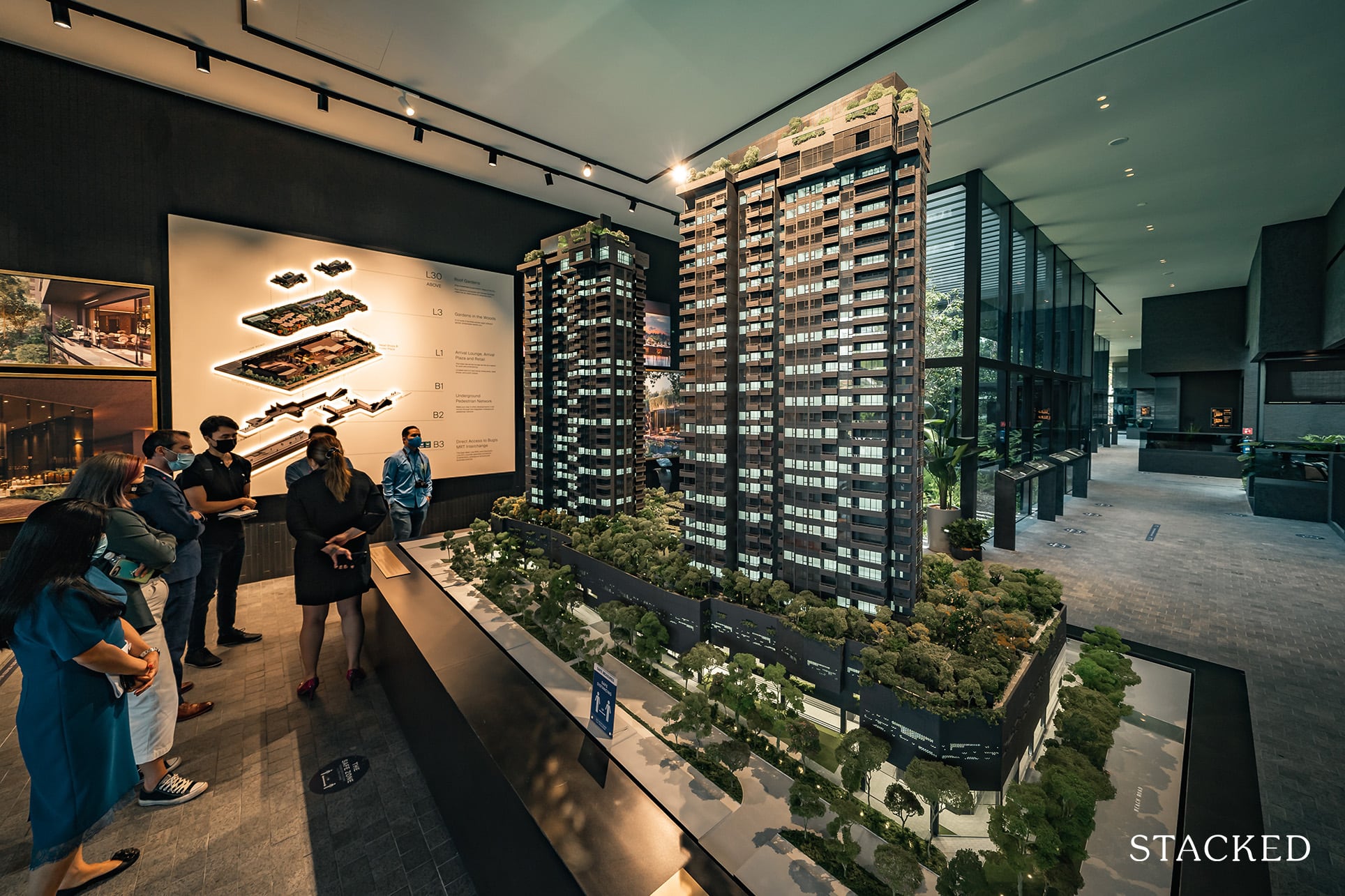 In terms of land size, Midtown Modern sits on a plot of 124,118 square feet in size housing a total of 558 units. That's a great size for a city development in my opinion, easily besting the M (522 units on 80,327 sqft) nearby.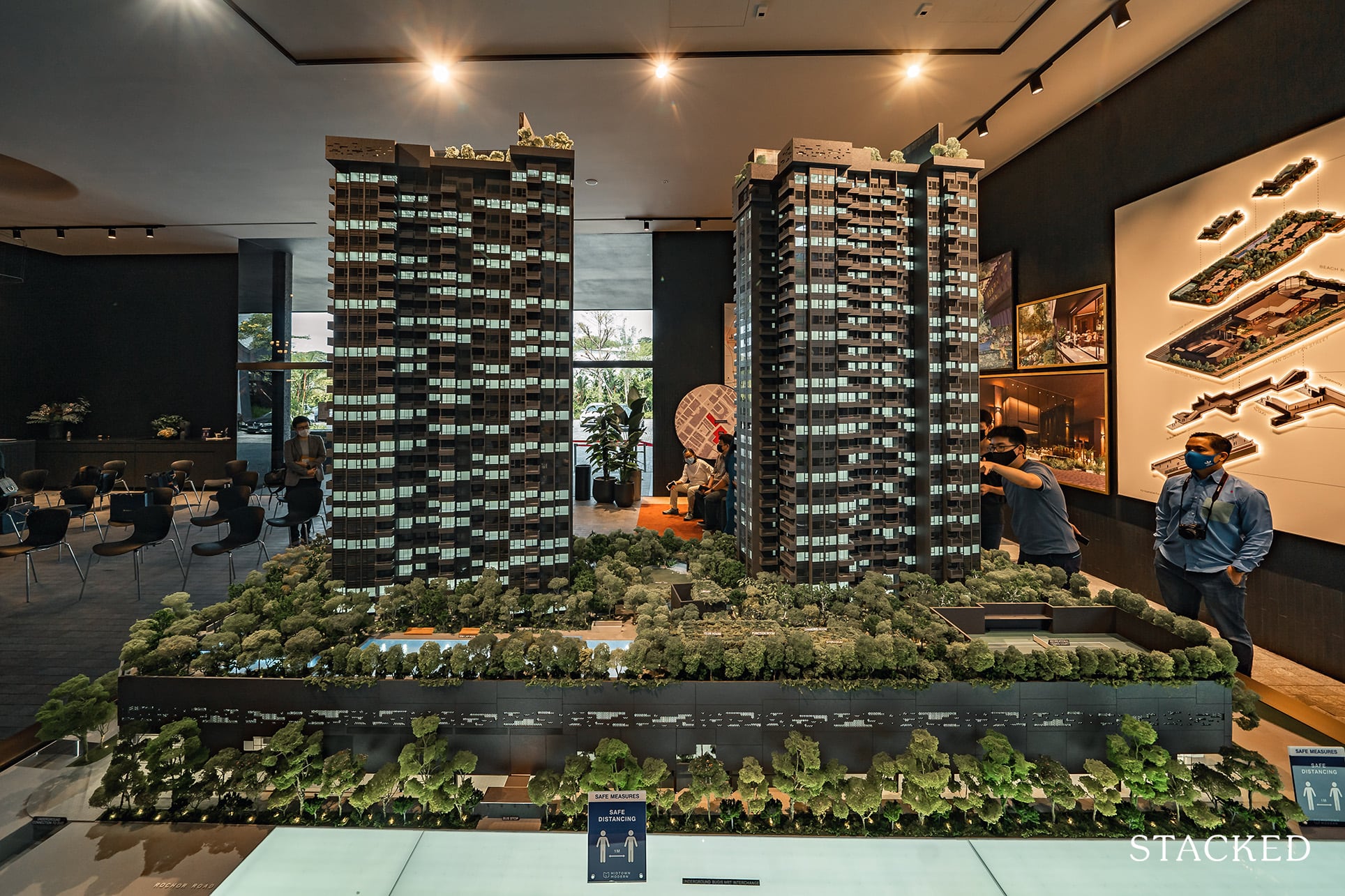 With that, let's get started on the facilities on Level 3 first.
Level 3 is where you will find most of Midtown Modern's facilities, 27 out of the 45 to be exact. A number of them are closely associated with the green landscaping, with Water Garden, Grand Lawn, Rain Garden and Lily Pond just to name a few.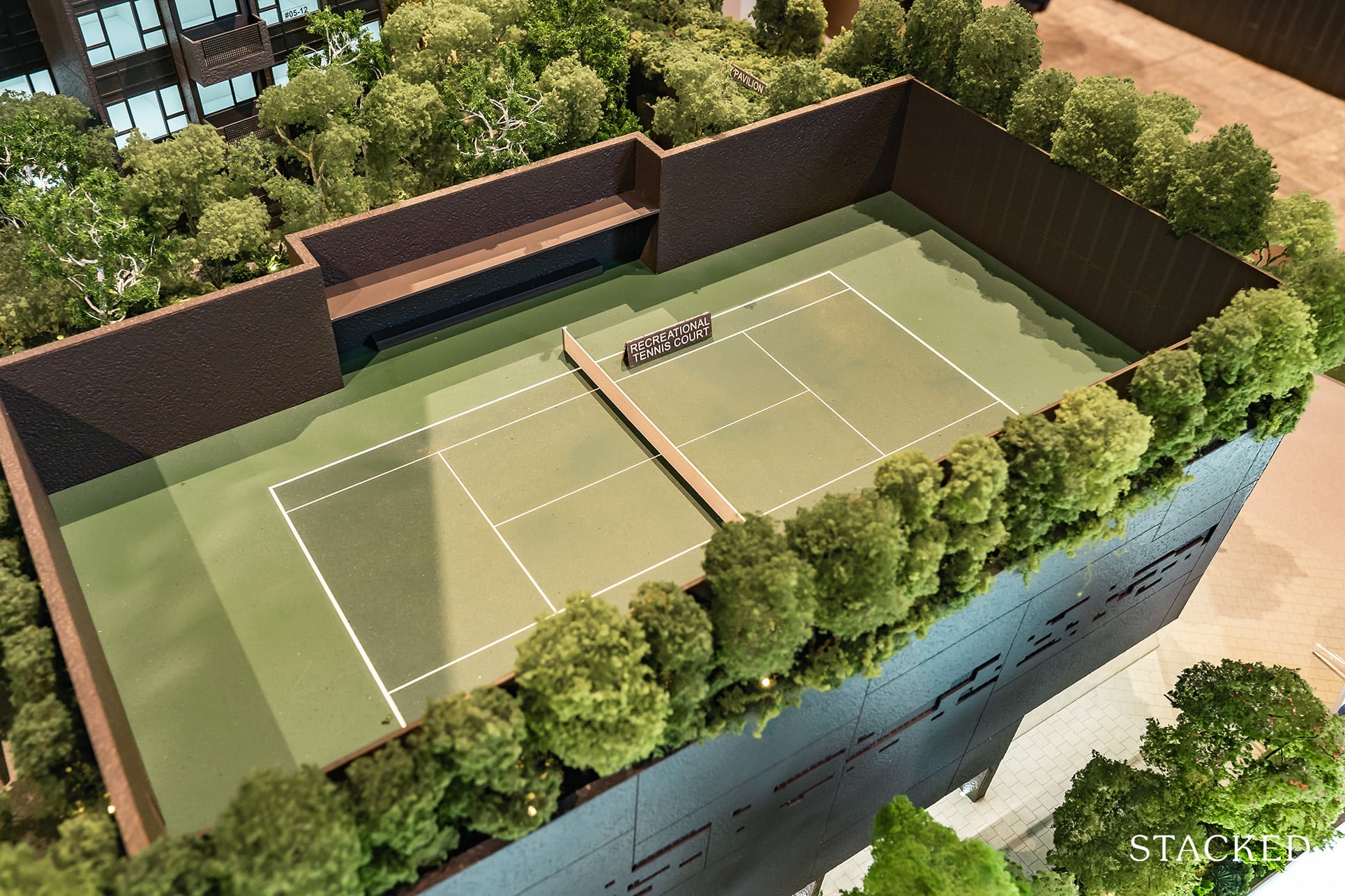 Rather impressively, Midtown Modern boasts of 1 tennis court for its 558 units. It is very much in line with Guocoland's goal of having Midtown Modern serve as one of the few family oriented developments in the CBD. To be clear, this is not the only CBD development with a tennis court – The Sail and The Clift come to mind off hand. That said, you can certainly classify it in rarefied territory – even the luxury South Beach Residences or Duo Residences aren't able to boast of one.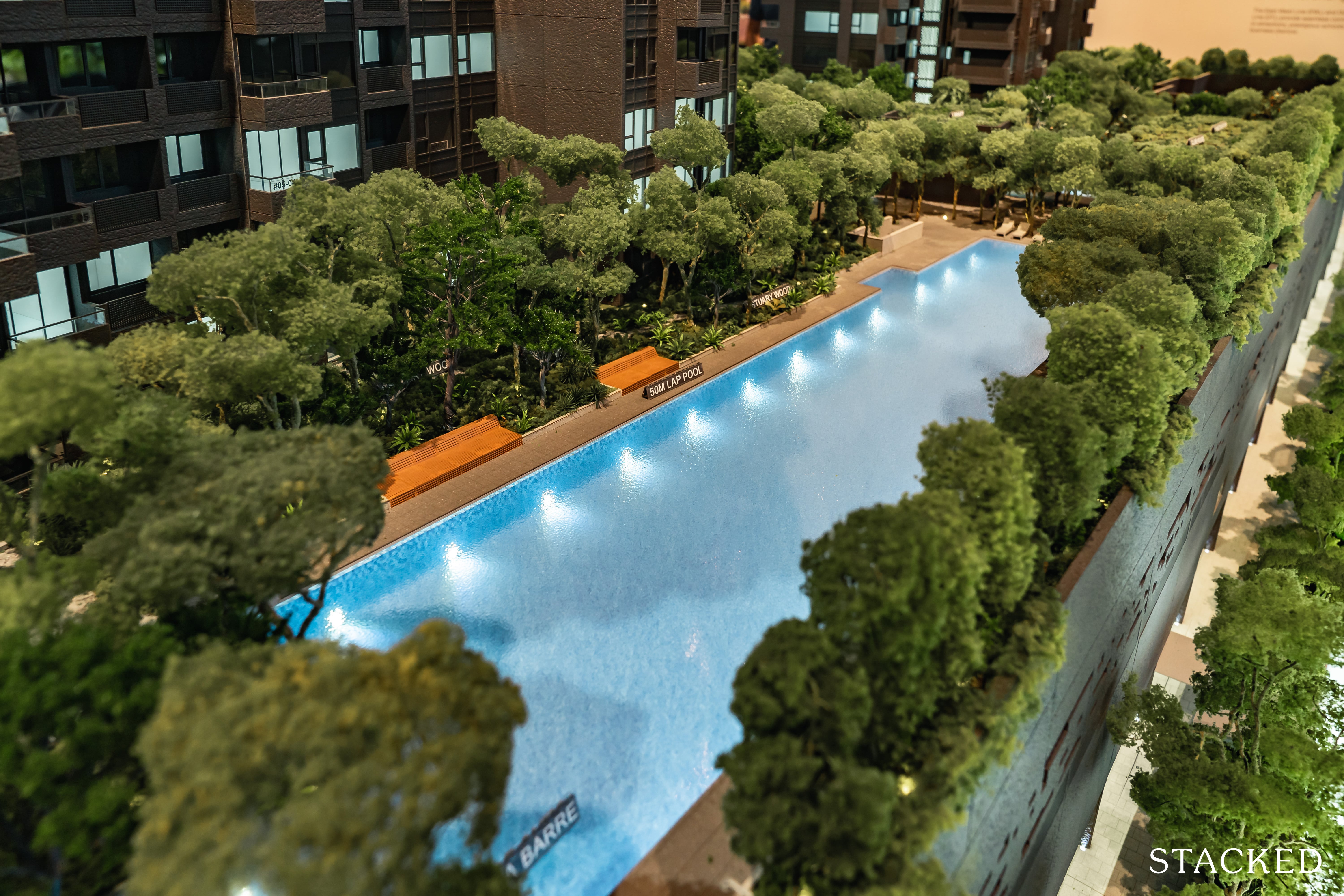 In a further boost to its family friendliness, Midtown Modern also boasts of a 50m Lap Pool with smaller pools such as the Leisure Pool, Estuary Pool and Hot Spring found close by.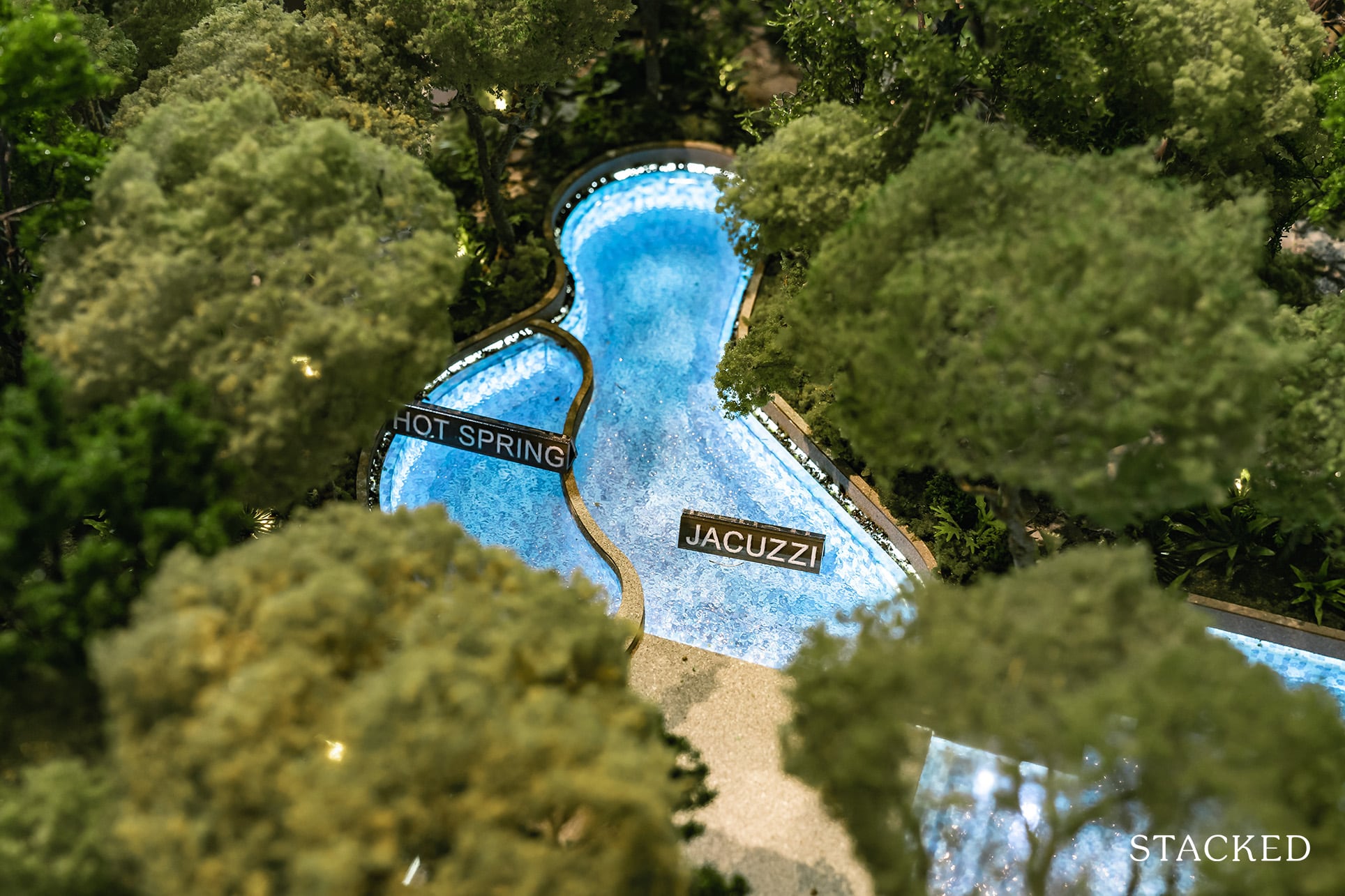 I do like the concept of the Estuary Pool, it's completely shrouded by the various lush greenery and it is connected to the 50m Lap Pool as well.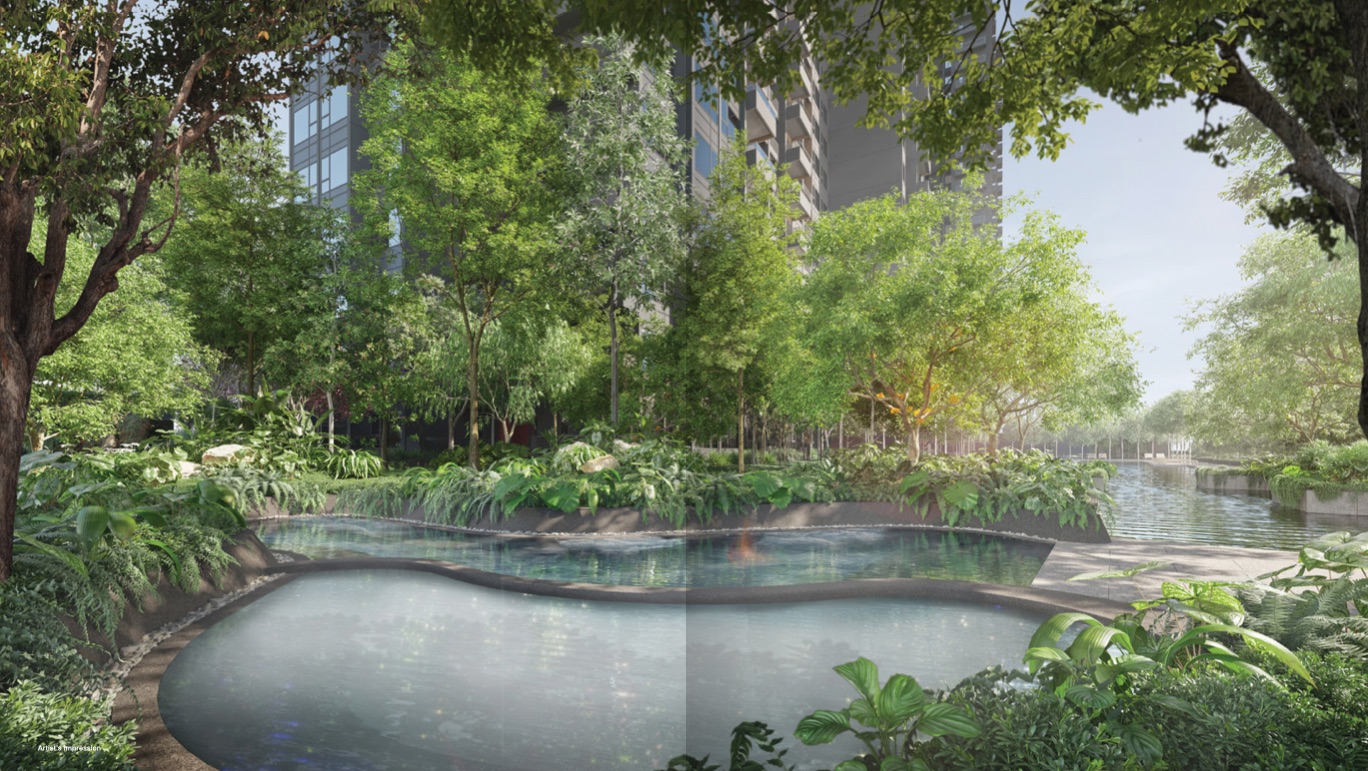 Based on the renders, it certainly doesn't give you the impression that you are right smack bang in the middle of the city – which is definitely a good thing. Now I know that you should never really come to a conclusion based on renders alone. But I daresay based on GuocoLand's track record (Leedon Residence, Goodwood Residence), I am quite inclined to believe that the reality would be as envisioned.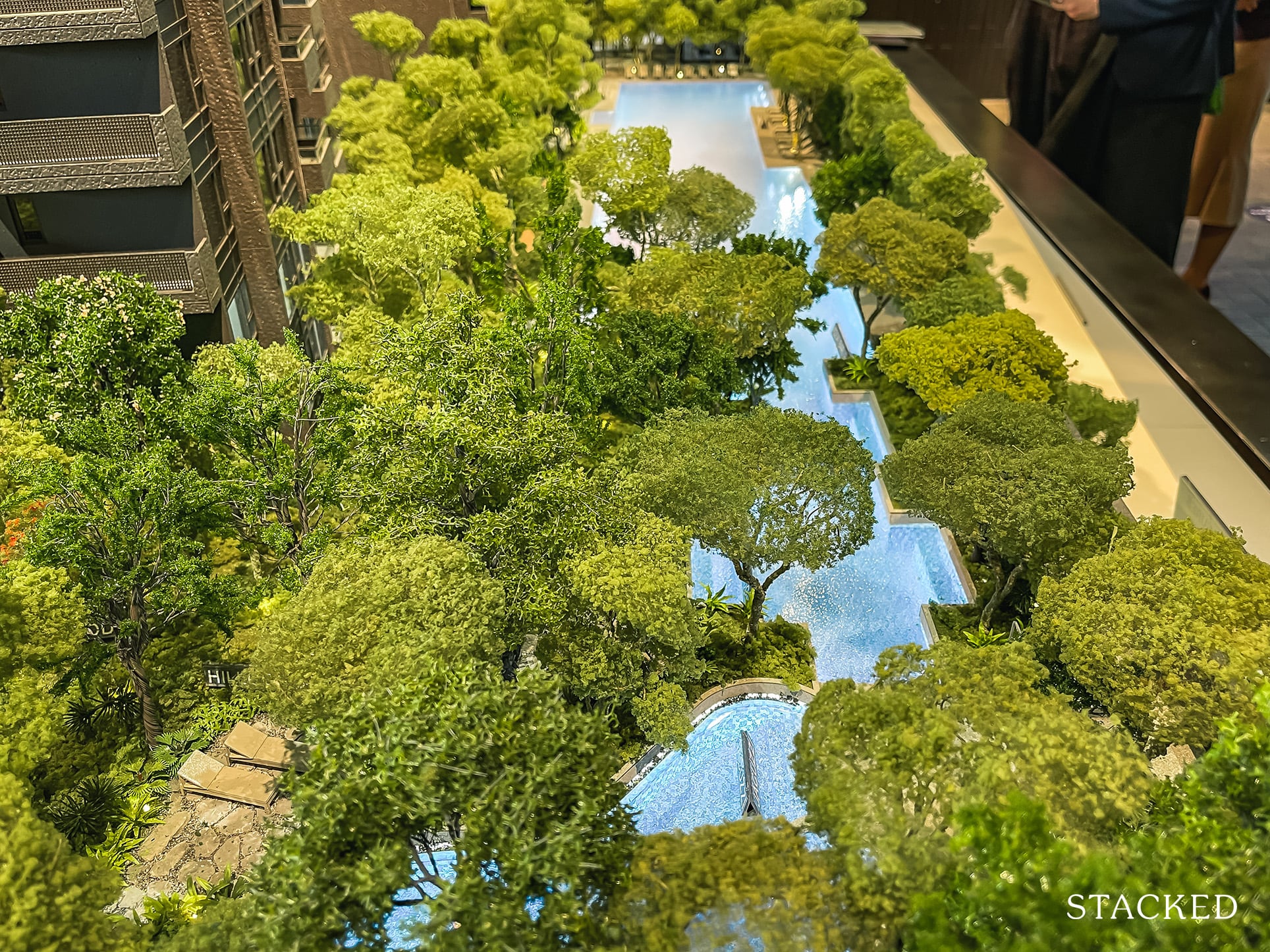 Either way you look at, these should be more than sufficient to meet the needs of 500+ units. Along one of these smaller pools, you will also find an abundance of greenery with the Hillock Grove boasting of plants such as the Breadfruit and Diamond Joey. Along the end of the lap pool, you will find the Yellow Saraca and Rose of Venezuela providing helpful shade for your afternoon swim.
As with the tennis court, the pools are located closest to the ever busy Rochor Road and allow the 2 towers to be set back further from the hustle and bustle, which I think is a good choice.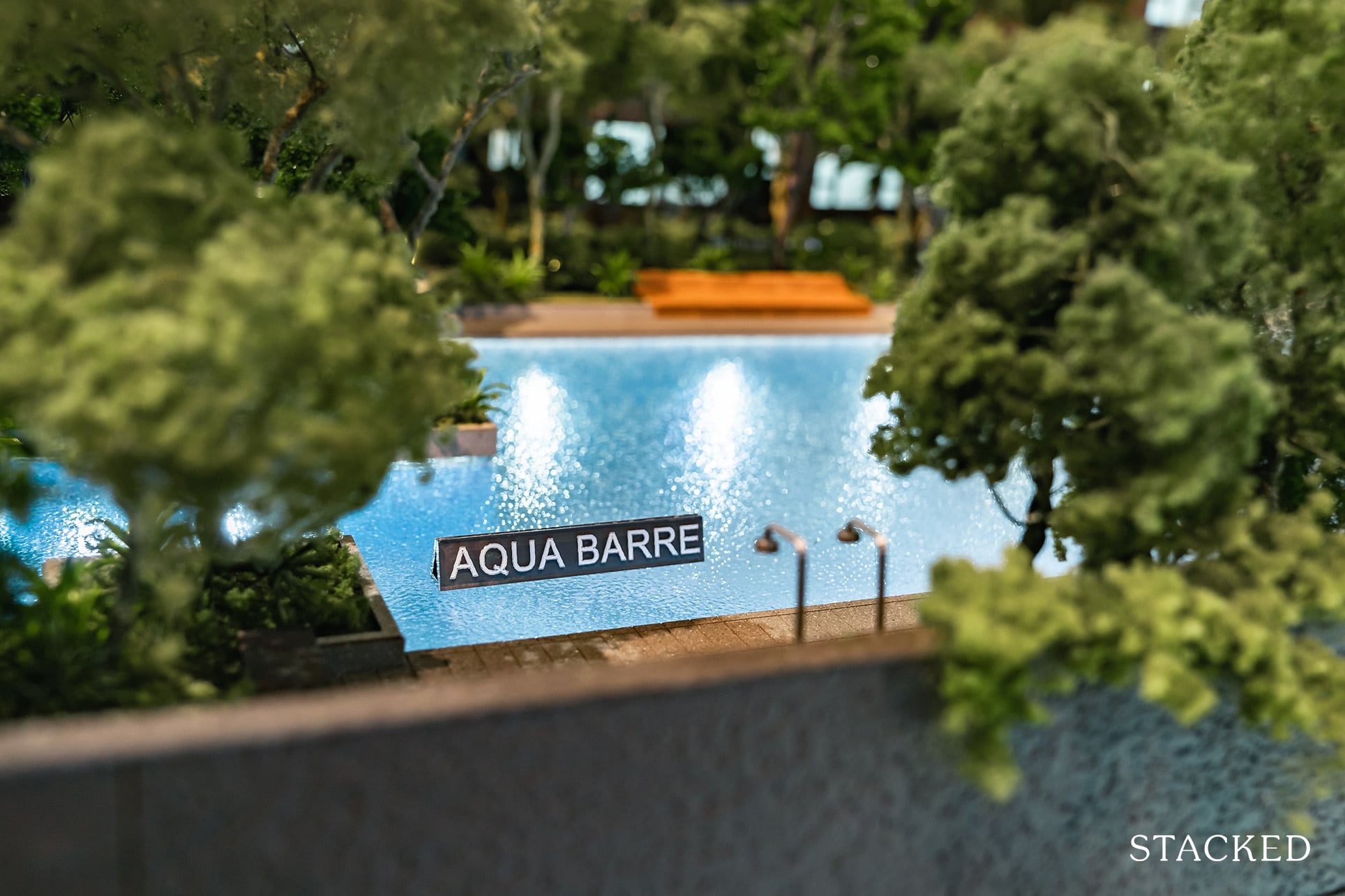 They certainly know how to cater to the younger generation too – I would say the word Barre would be lost on most of the older crowd.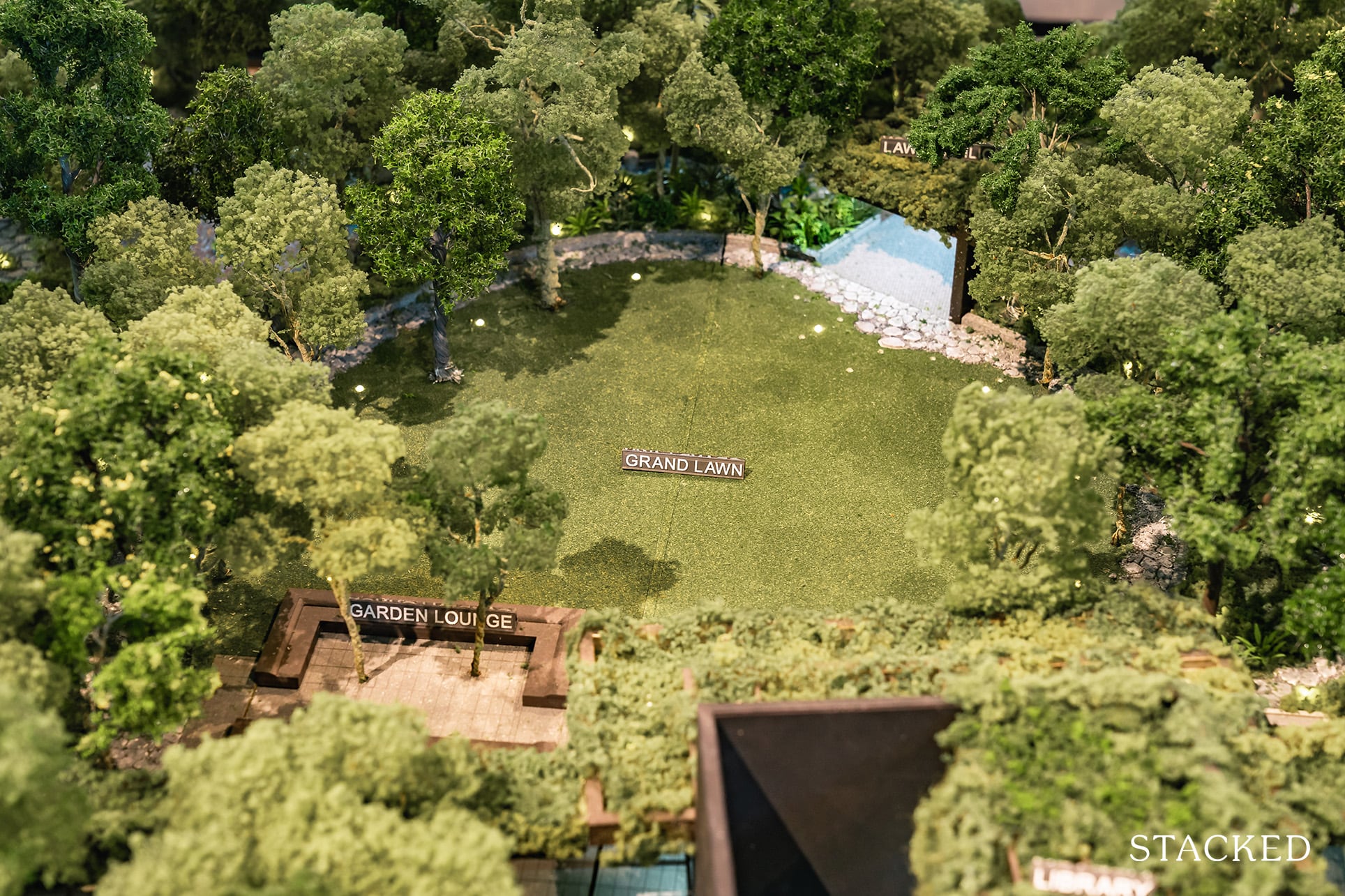 In keeping with the recent GuocoLand projects (Meyer Mansion, Avenir), there is a Grand Lawn featured at The Midtown Modern. I know most people might overlook such a feature as "an empty plot of land". But again, when the landscaping is this nice in the middle of the city – it is a strong attraction from my point of view.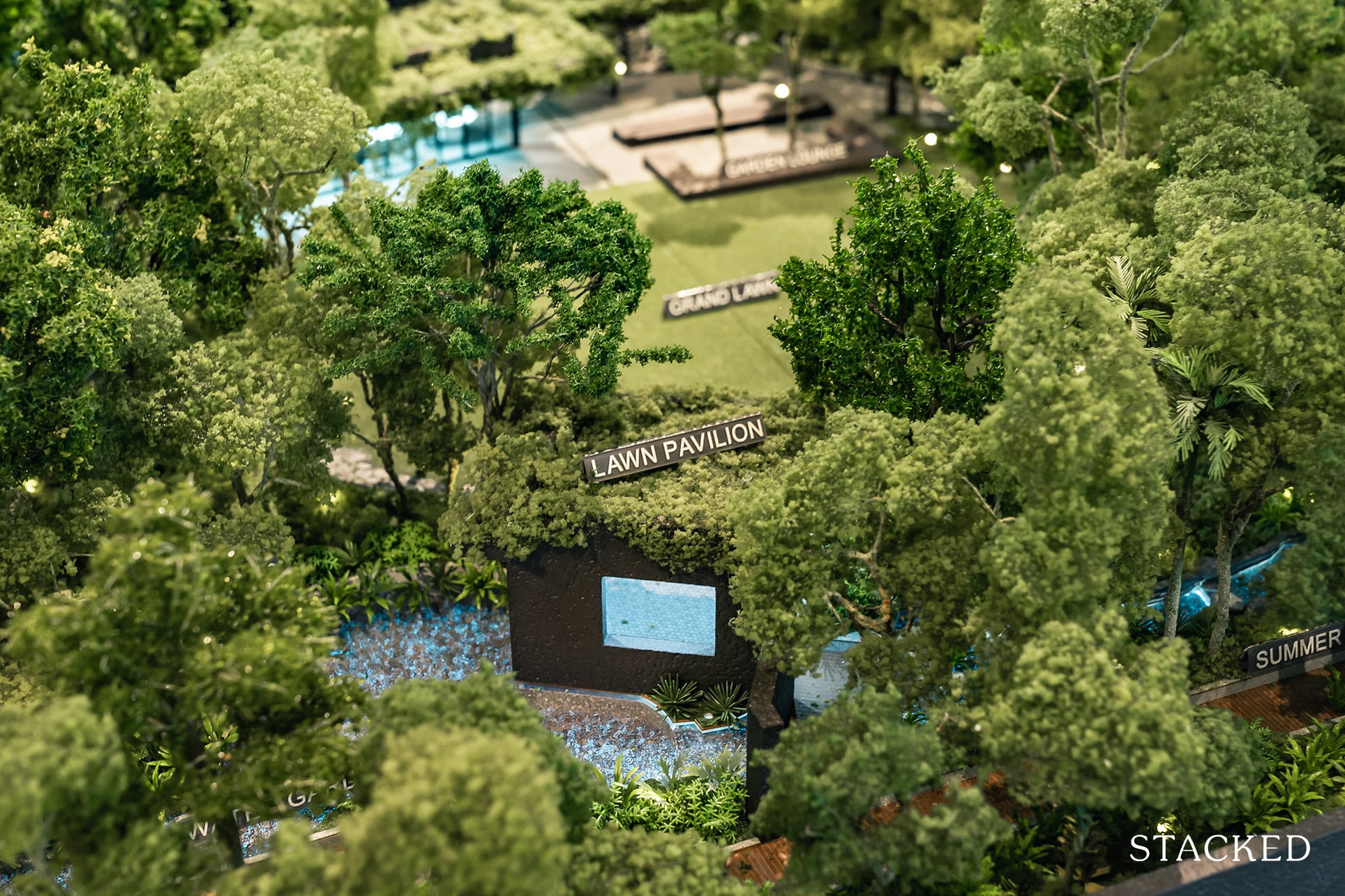 Do pardon me if you feel this is a repetition, but I do want to reiterate just how important having all these greenery actually is. Some may feel that it is an overkill, but I do think it goes a long way to making Midtown Modern an oasis in the middle of the city. As the mantra has recently been about live/work/play you can definitely see this concept taking off should the overall project prove to be a success.
And while I am definitely no plant expert, the wide variety of plants used for the different parts of this development only go to show the attention to detail and effort put into the landscaping of this project. If you consider yourself a plantsman, do consider getting your hands on the marketing brochure, which will go into further detail on the species chosen for this project.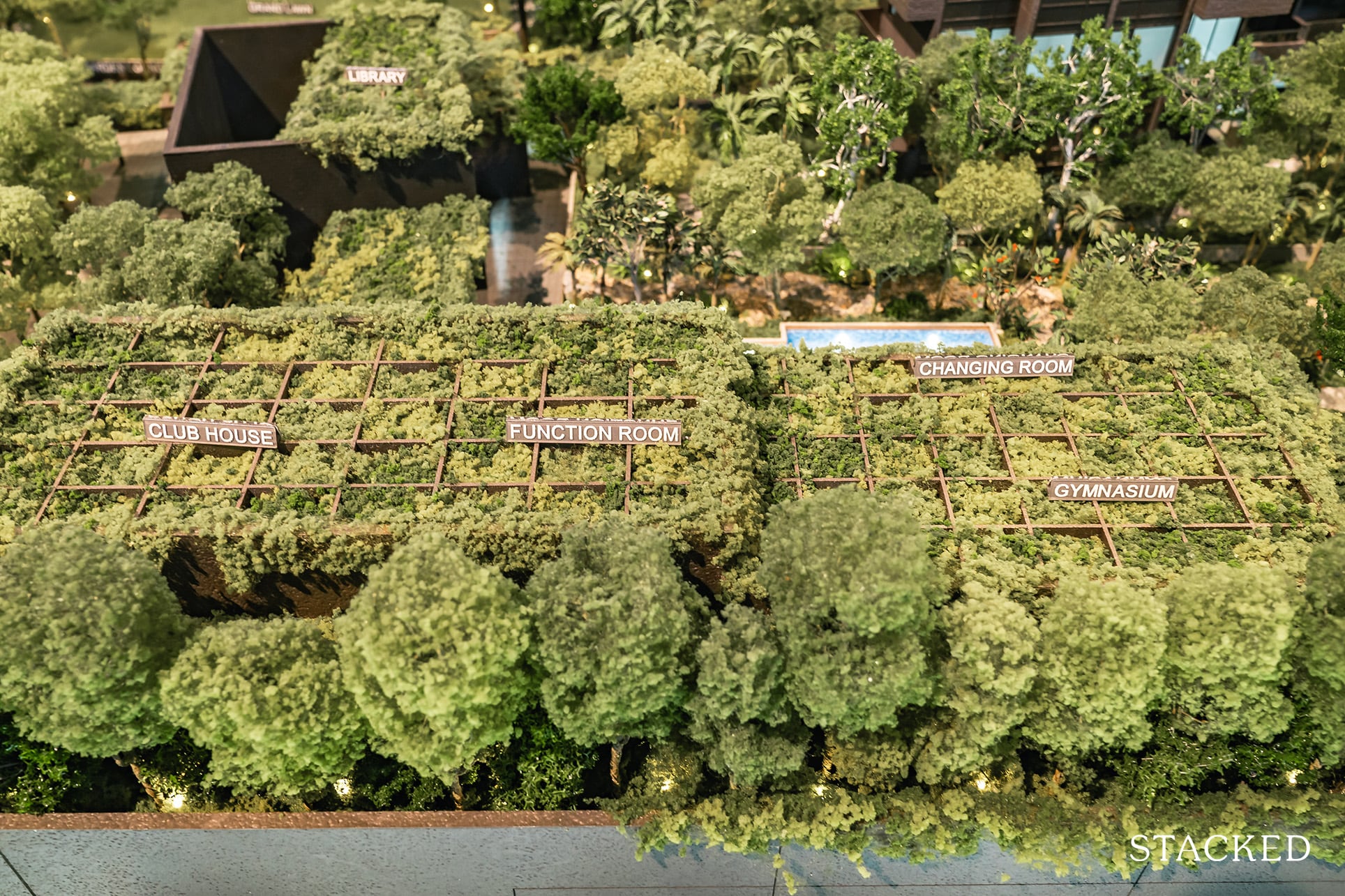 Besides the aforementioned sports facilities, there will also be a Gym and Clubhouse with 3 dining areas which can be amalgamated when required. You will also find children play areas near the Autumn Wood zone.
Again, this is completed covered by a blanket of greenery from the top. As you might already know, there is a method to this madness – not only does having a ton of plants result in cleaner air – it does provide a certain degree of sound insulation as well. It isn't foolproof, but in an area as dense as Bugis every little bit helps.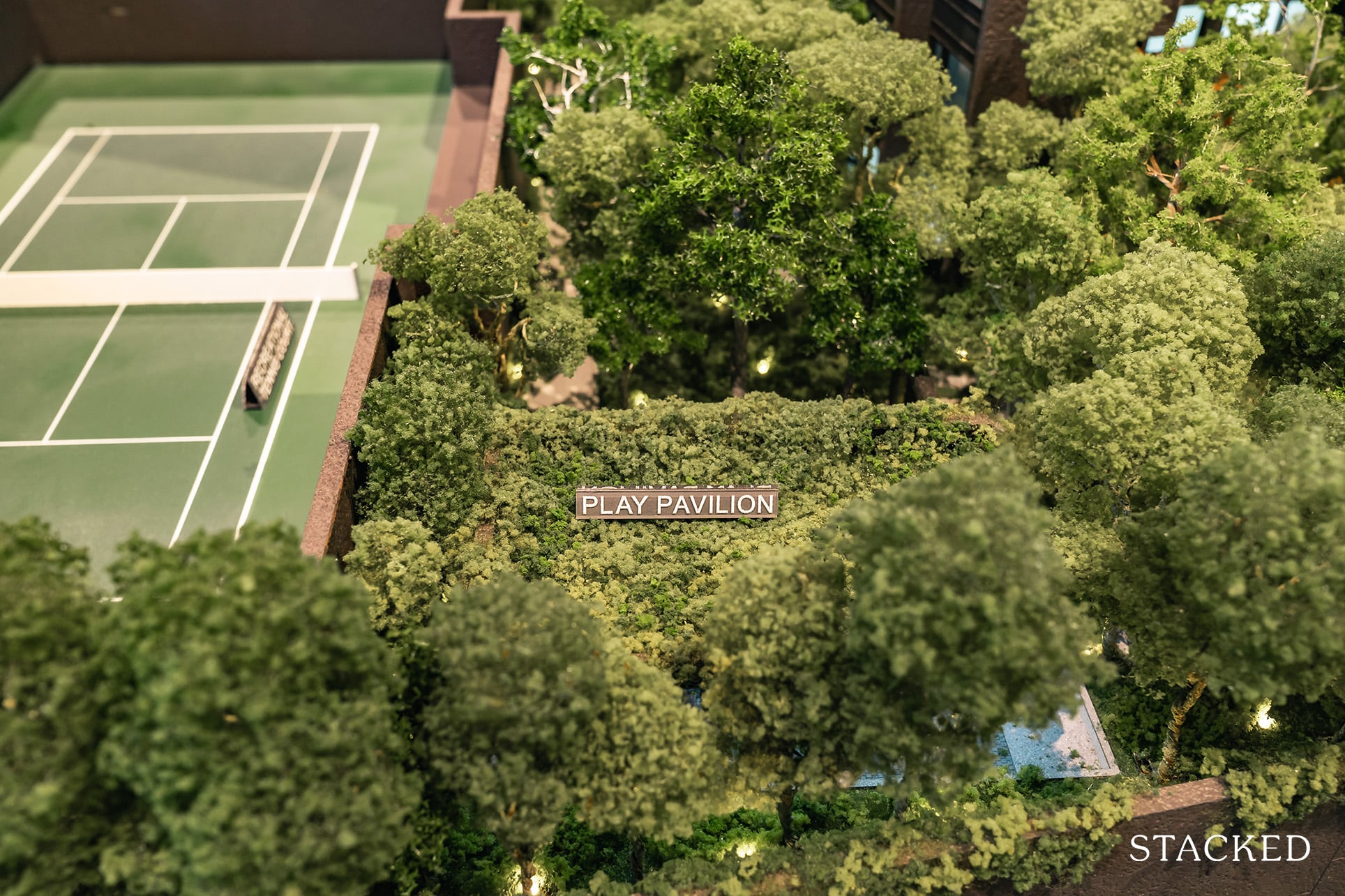 Rounding up the facilities on this deck, there are just 2 further ones I would like to point out. Over on the far corner (close to the South Tower) is the Tea House. This isn't your run of the mill pavilion with an interesting name and a sheltered top, hot water would actually be provided for tea sessions. It's a small provision, but a thoughtful one nonetheless.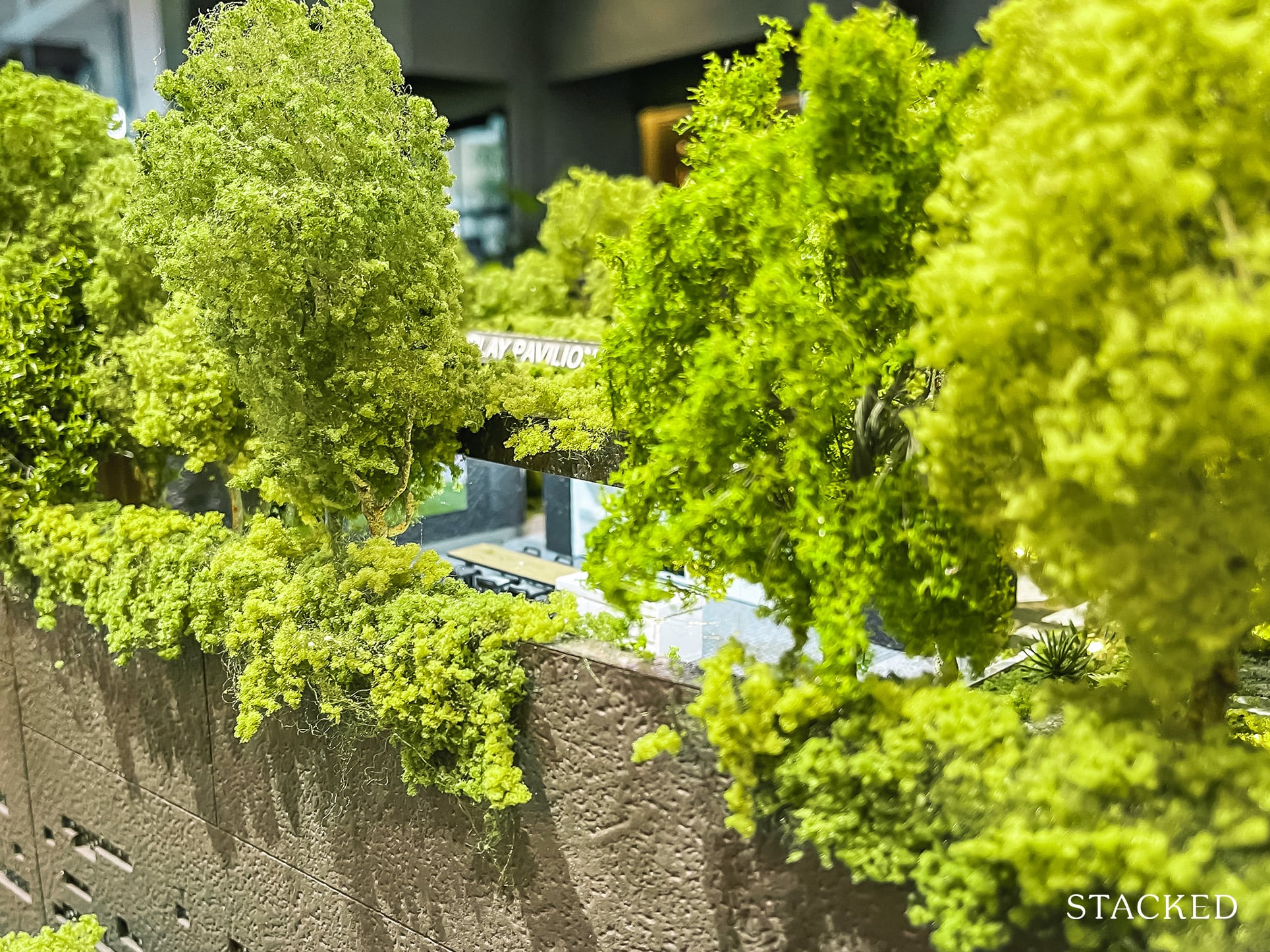 Next is the Play Pavilion. Again, this was almost completely swamped with plants so it was tough to get a proper shot of. But this is essentially a space with a ultra large television screen to watch sporting events from. I can certainly see this spot being a popular one when the World Cup comes around.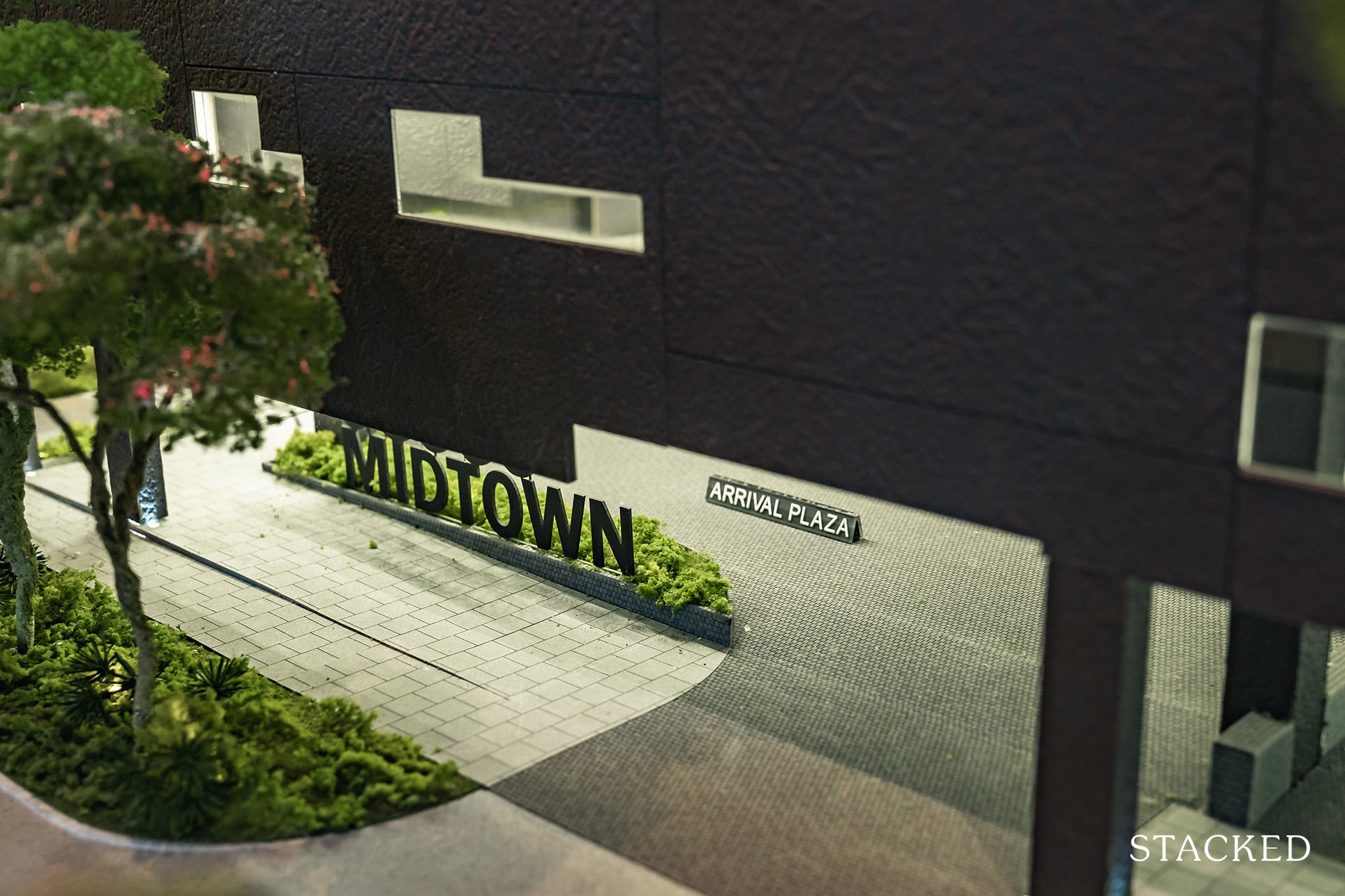 Moving down to Level 1 is where the main Arrival Plaza is via Tan Quee Lan Street. For guests visiting and residents taking the MRT, you will also be able to take the escalator straight to the Arrival Plaza, further showcasing how convenient Guoco Midtown is.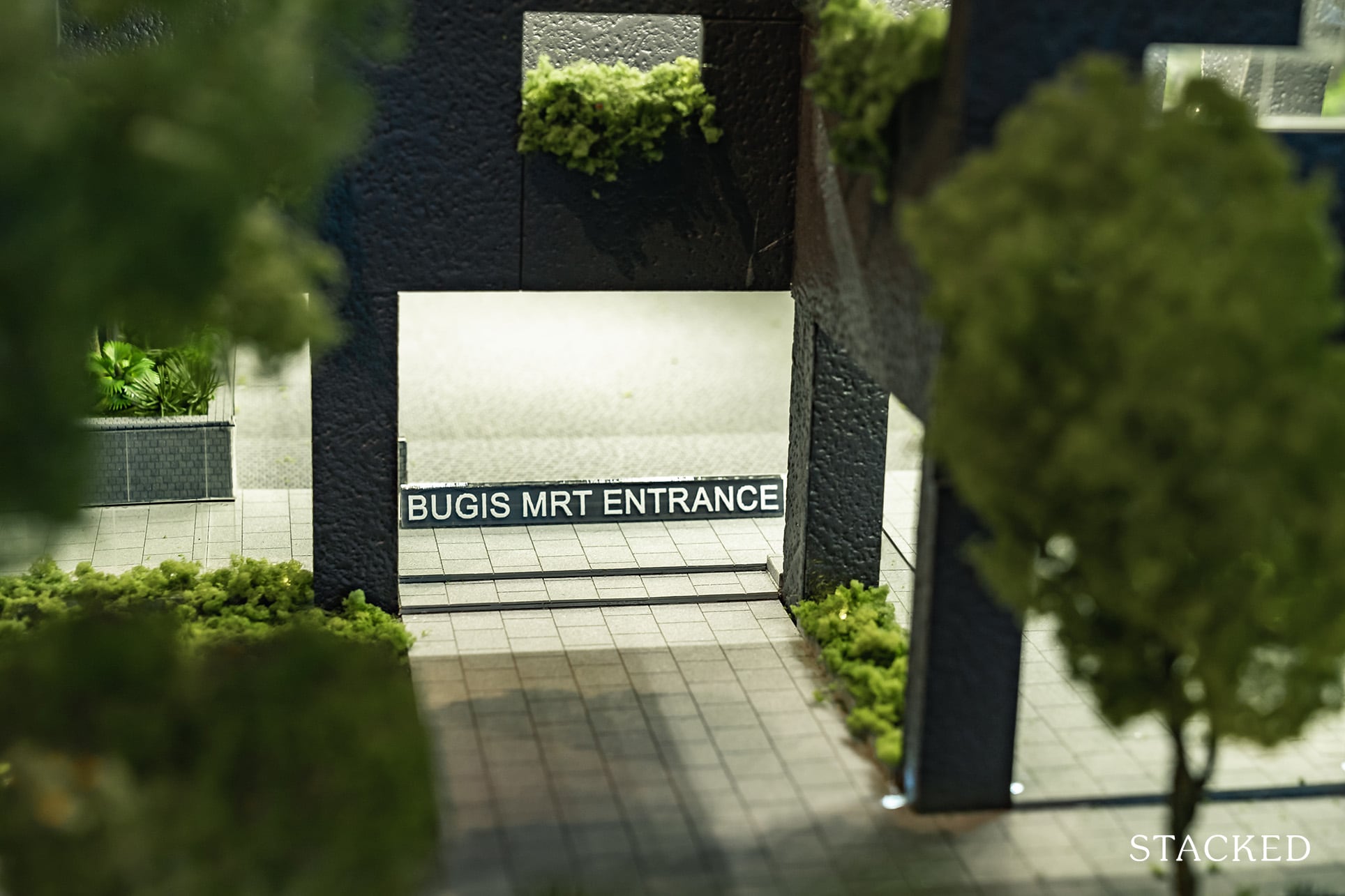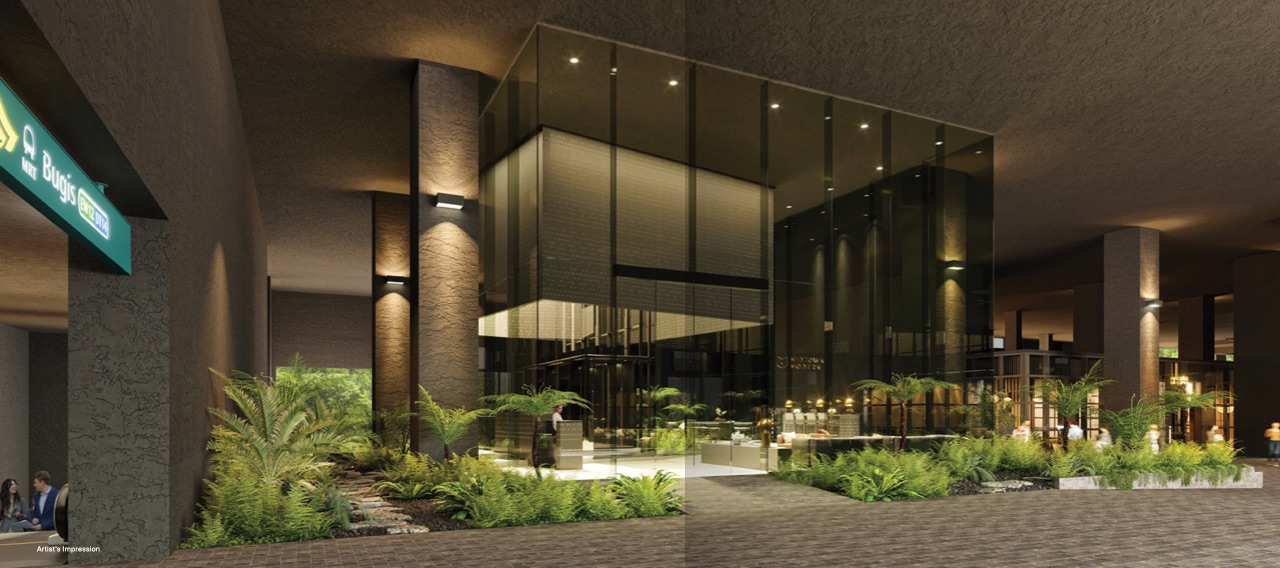 The Arrival Lounge is inspired by the luxurious hotel lobbies and it definitely does look the part on the marketing materials. In it, you will find small office spaces deliberately created to embrace the new normal of working from home.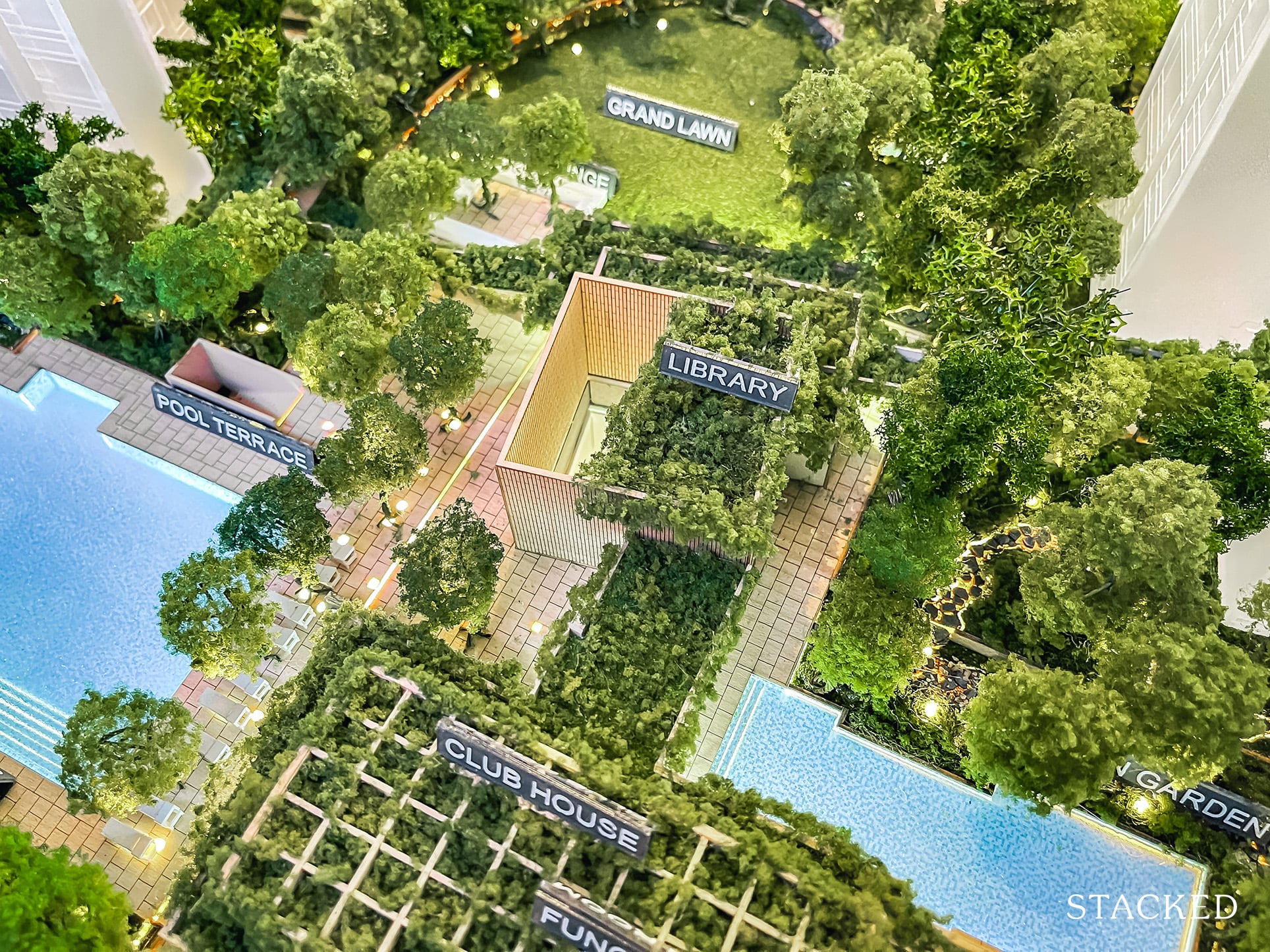 The lift here transports residents and visitors to Level 3 (where that skylight is essentially), where you will need to transfer to another lift to get to your unit. A little hassle but in the words of Dora Chng, General Manager of Residential at Guocoland, the lift is akin to a space shuttle that transports residents from the vibrancy of the CBD to the sanctuary of your home. My sentiments exactly.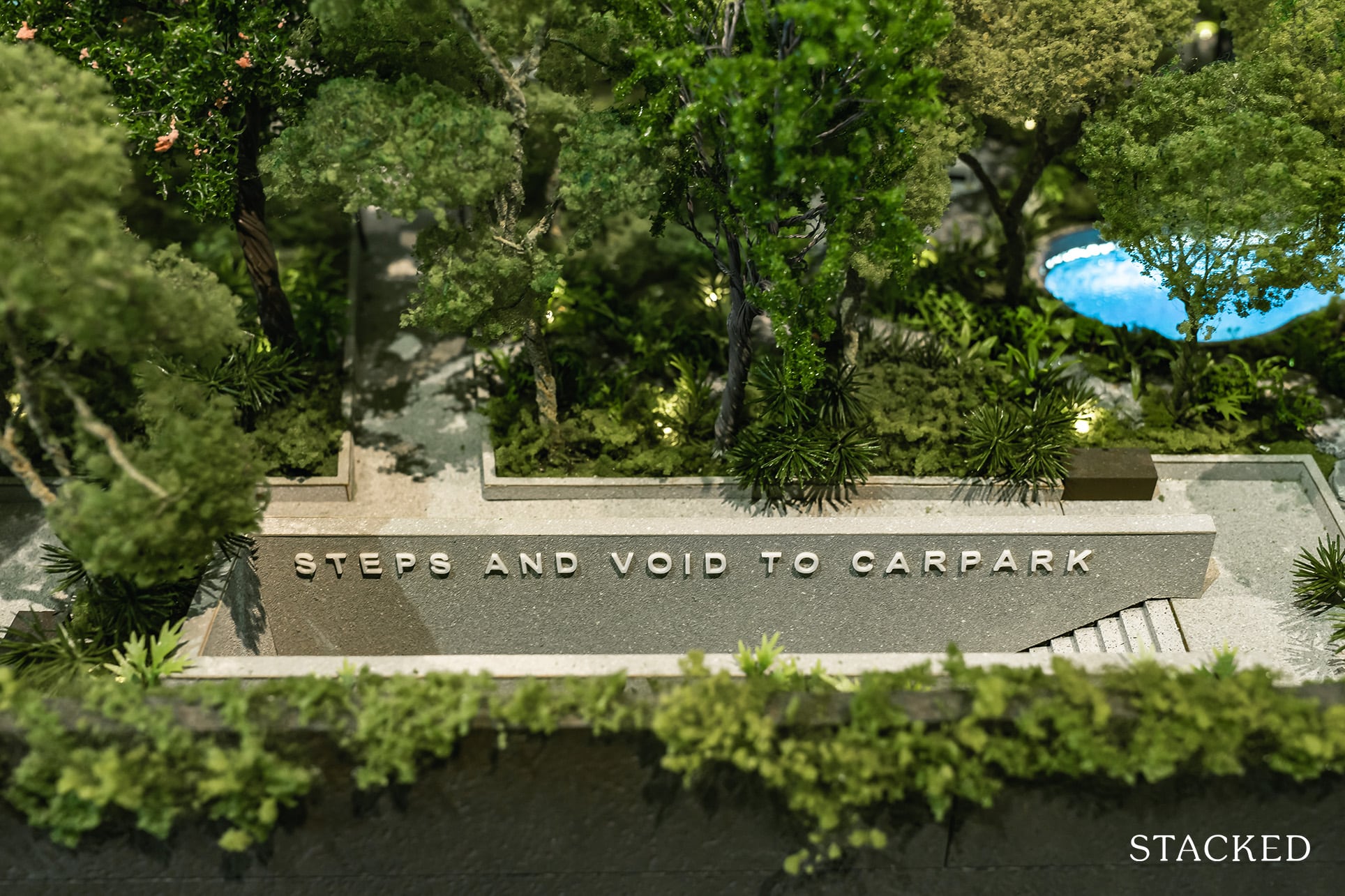 Given how close you are to the MRT station, there will only be 282 carpark lots, catering to about 50% of the units here. In line with our push towards more environmentally friendly choices, there will be EV charging points as well. Although many of the units here are expected to be tenanted, the family-oriented slant that the developers hope to have here may cause some inconvenience to buyers who have 2 or more cars as there are 251 3-Bedroom and larger units here at Midtown Modern.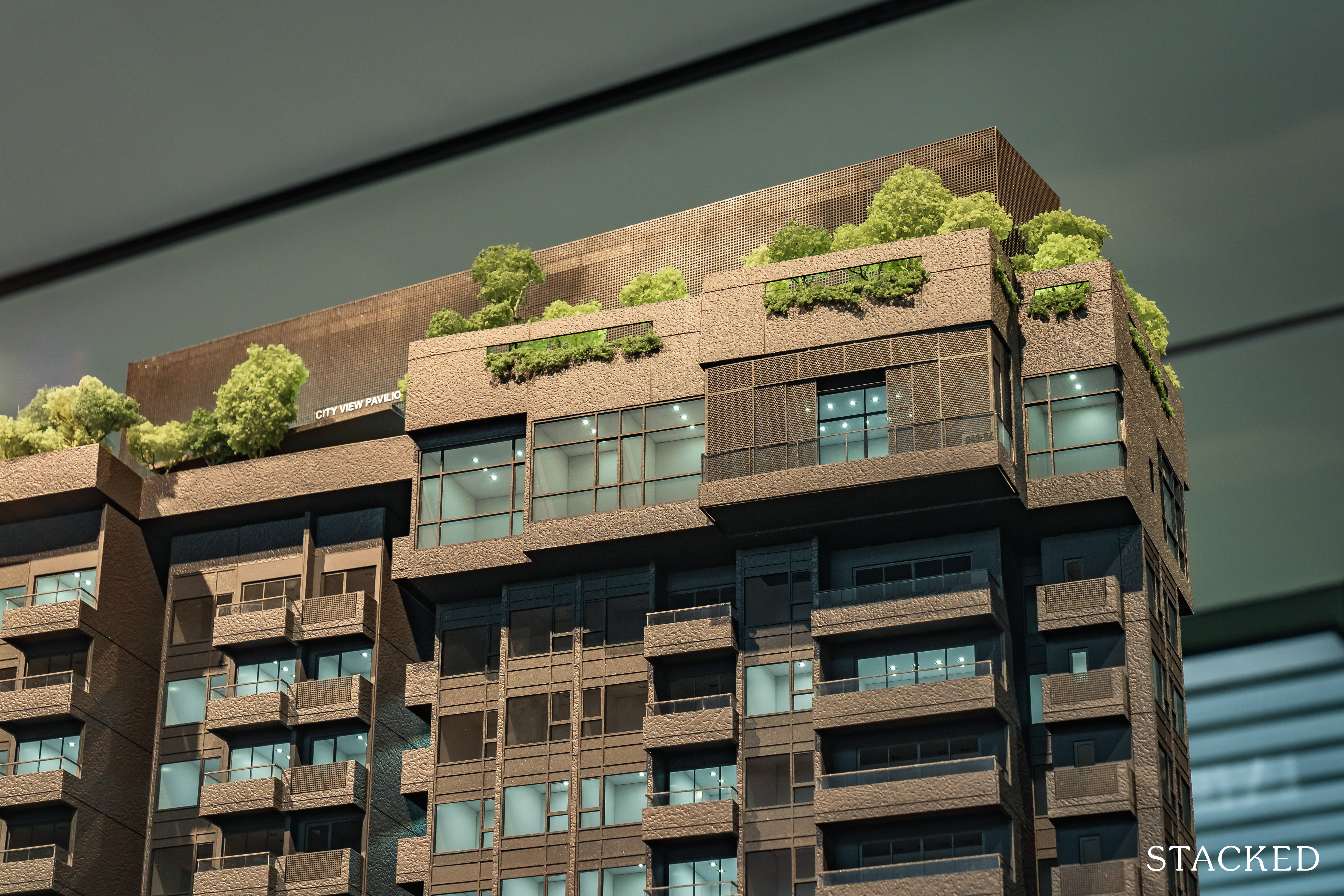 Finally, there are Roof Gardens on both of the 2 towers. Besides the different names accorded, I believe the facilities are more or less replicated. Essentially, you will be able to have your friends over for wine and dine while enjoying some pretty good views of Singapore. Given that Bugis MRT is literally at Midtown Modern's doorstep, your place would probably be the default meeting point for your friends.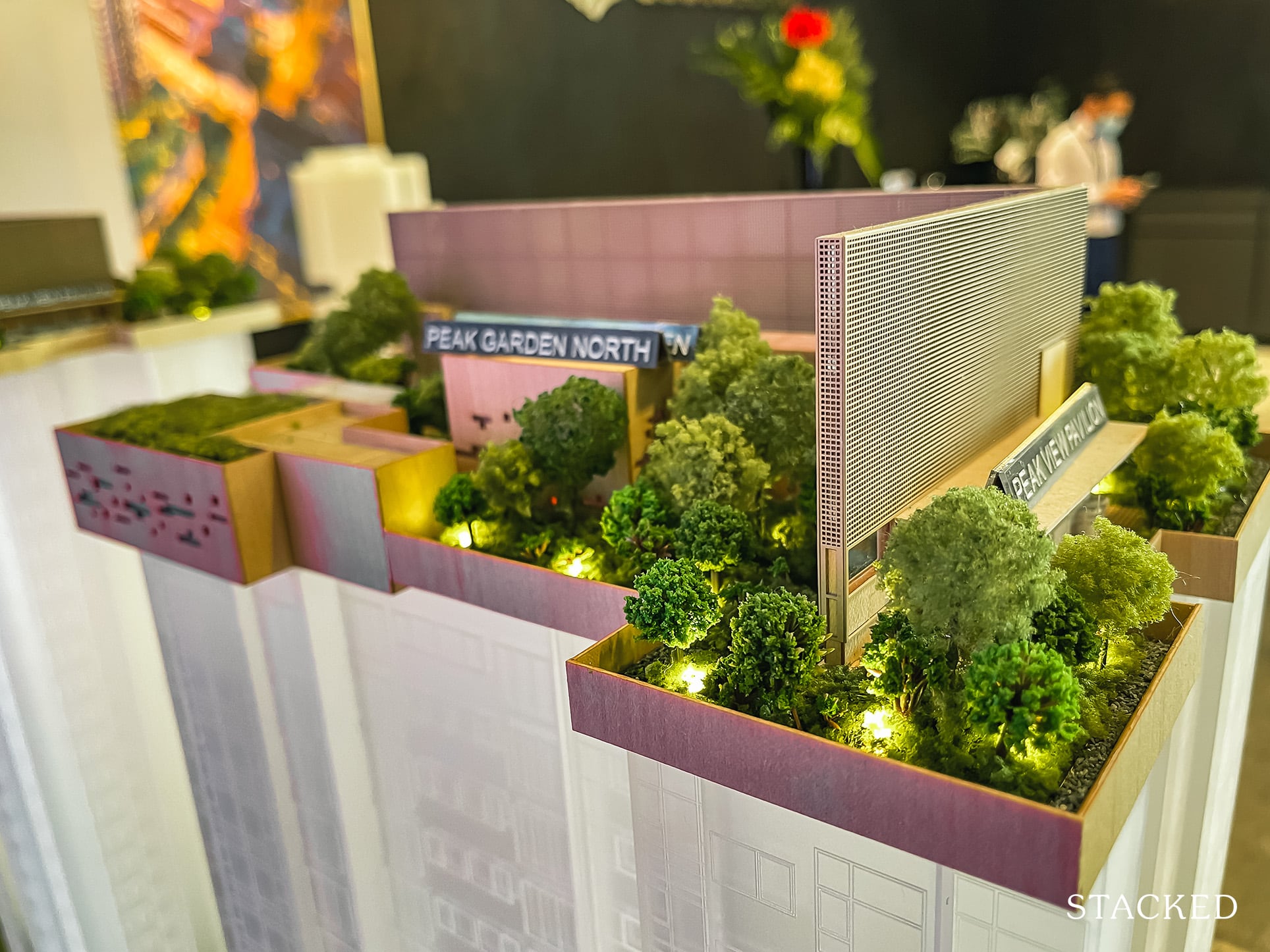 That attention to detail to the landscaping has also been carried over to the rooftop – as it mimics a mountain top peak where there would be less plants and more stones as a landscape feature.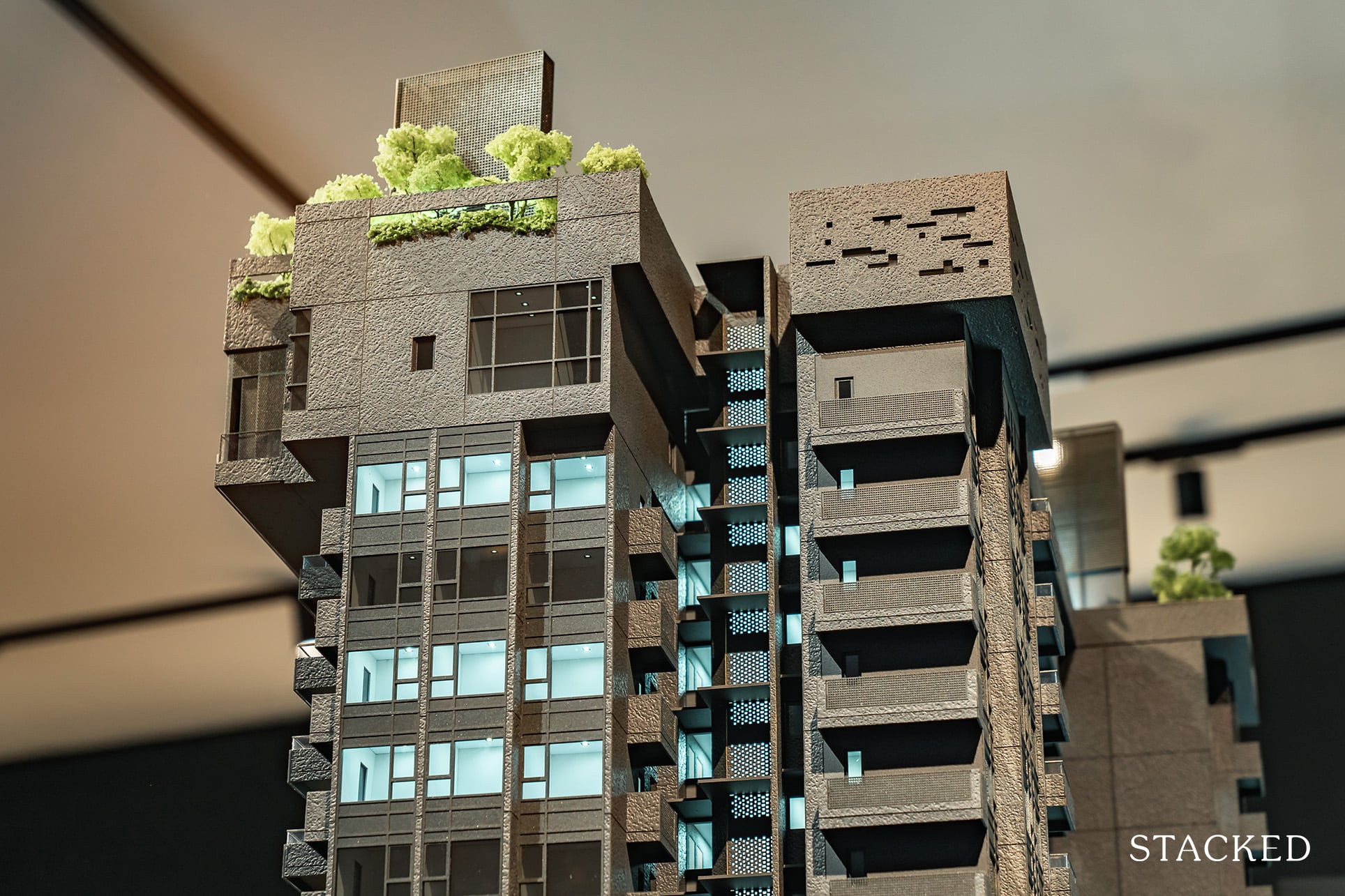 The last point I want to draw your attention to is the design. It's hard to not see the similarities between Midtown Modern and Martin Modern – and to most casual onlookers the design (and names) of both would be easy to mix up. It isn't the worst thing in the world by any means as it is still a handsome design overall. Still, the real intriguing parts of Martin Modern are in its facilities deck, rather than its overall design.
Enough about the facilities, let's head straight to the showflat units!
Read this next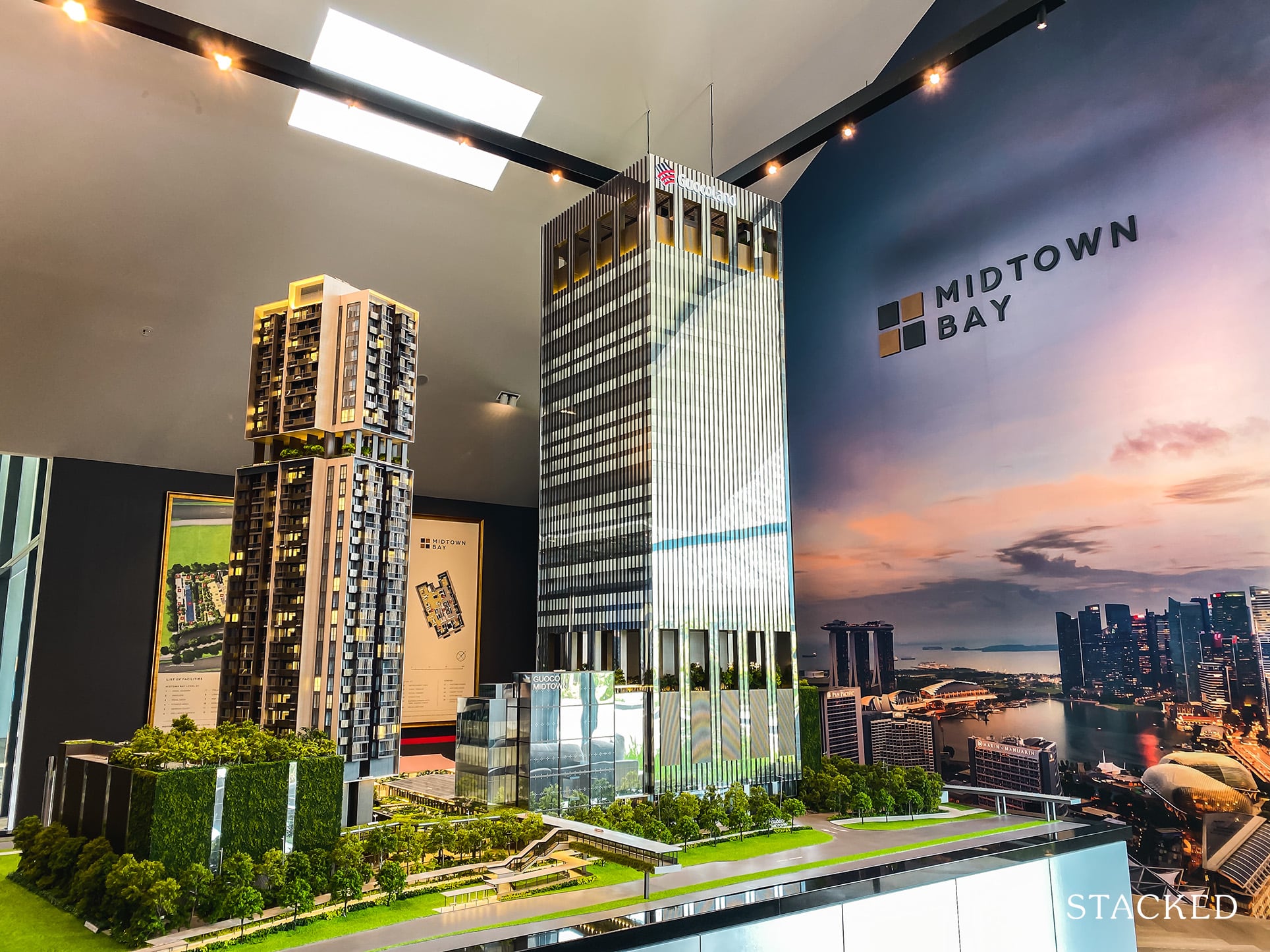 Midtown Modern 1 Bedroom Type A1 Review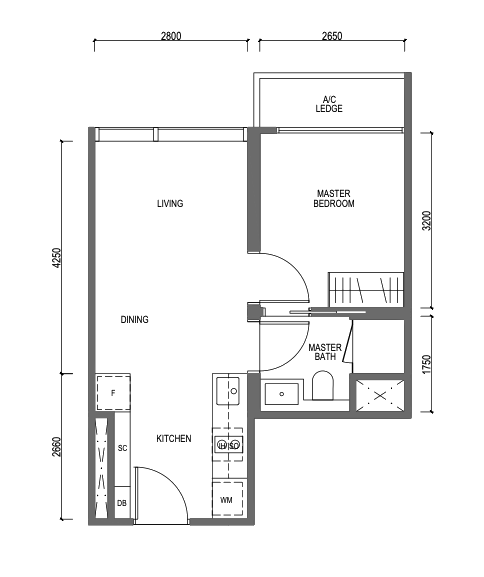 The 1 Bedroom unit displayed at the showflat is the smallest unit Midtown Modern has to offer and occupies Stacks 01, 11 and 13 of the development. At 409 sqft, this unit here is small even by 1 Bedroom standards. It may not look like much from the floor plan – but it is very efficiently laid out – there isn't a sign of any wasted space at all.
Flooring provided is porcelain for the common areas and engineered timber for the bedrooms. I'd admit that I would have expected marble to be the default (it only comes in 4 Bedroom units). But I understand that the current material was chosen for its aesthetics and easier maintenance. In comparison, its neighbour Midtown Bay has gone with marble as default.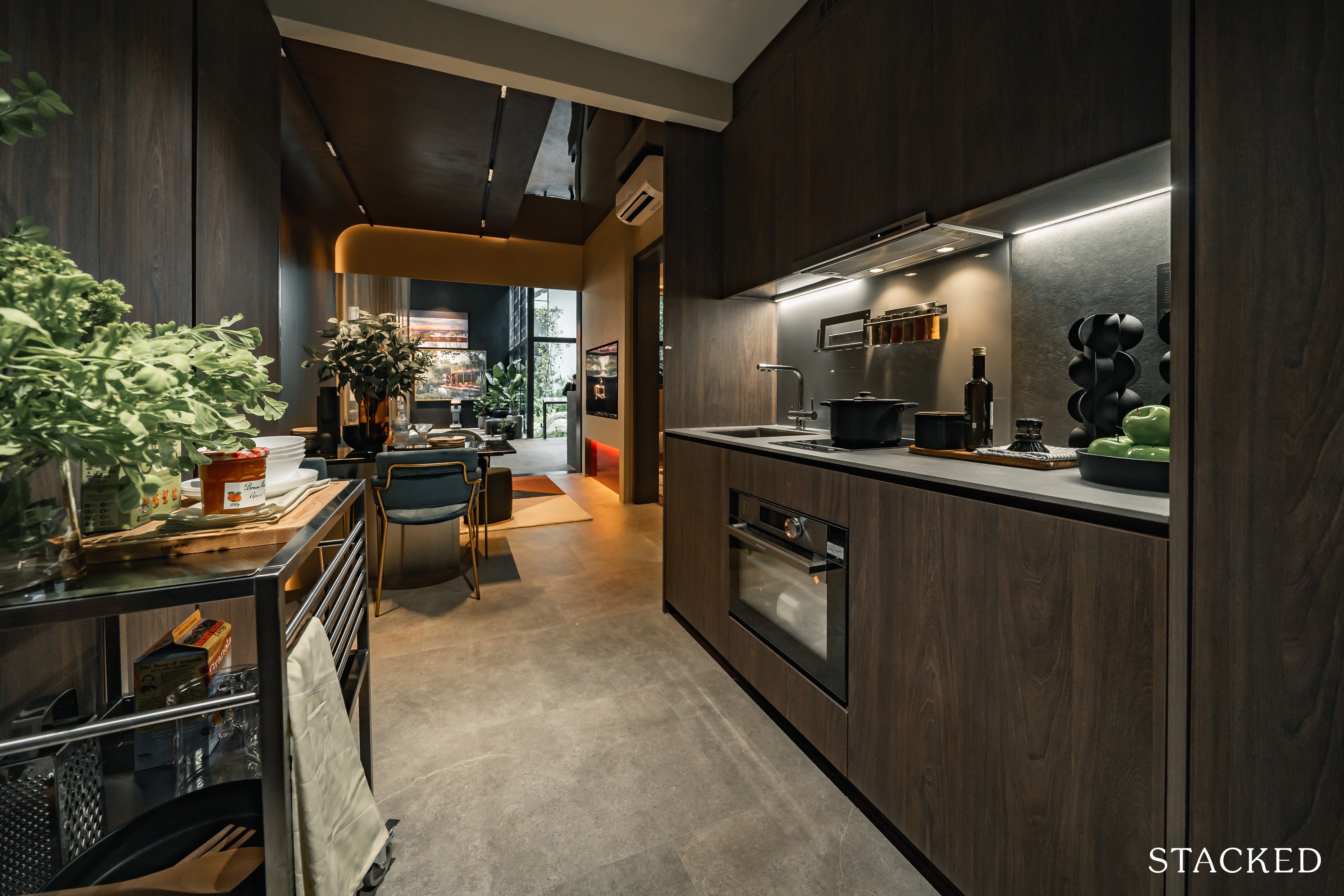 As far as first impressions go, I am impressed. I do think that this unit probably feels larger than it actually is and can hold its weight amongst its fellow sub-500 sqft peers. Ask most people and they would have probably guessed it was at least a 500 square feet sized unit. Perhaps some mention would have to go to the ceiling height – it is rather generous at 3m as standard.
Credit where credit is due, GuocoLand has absolutely nailed the layout of this 1 bedroom unit.
Once you step into the unit, you are greeted by cabinets and the open concept kitchen lining the 2 sides of the entranceway with no wasted walkway space at all.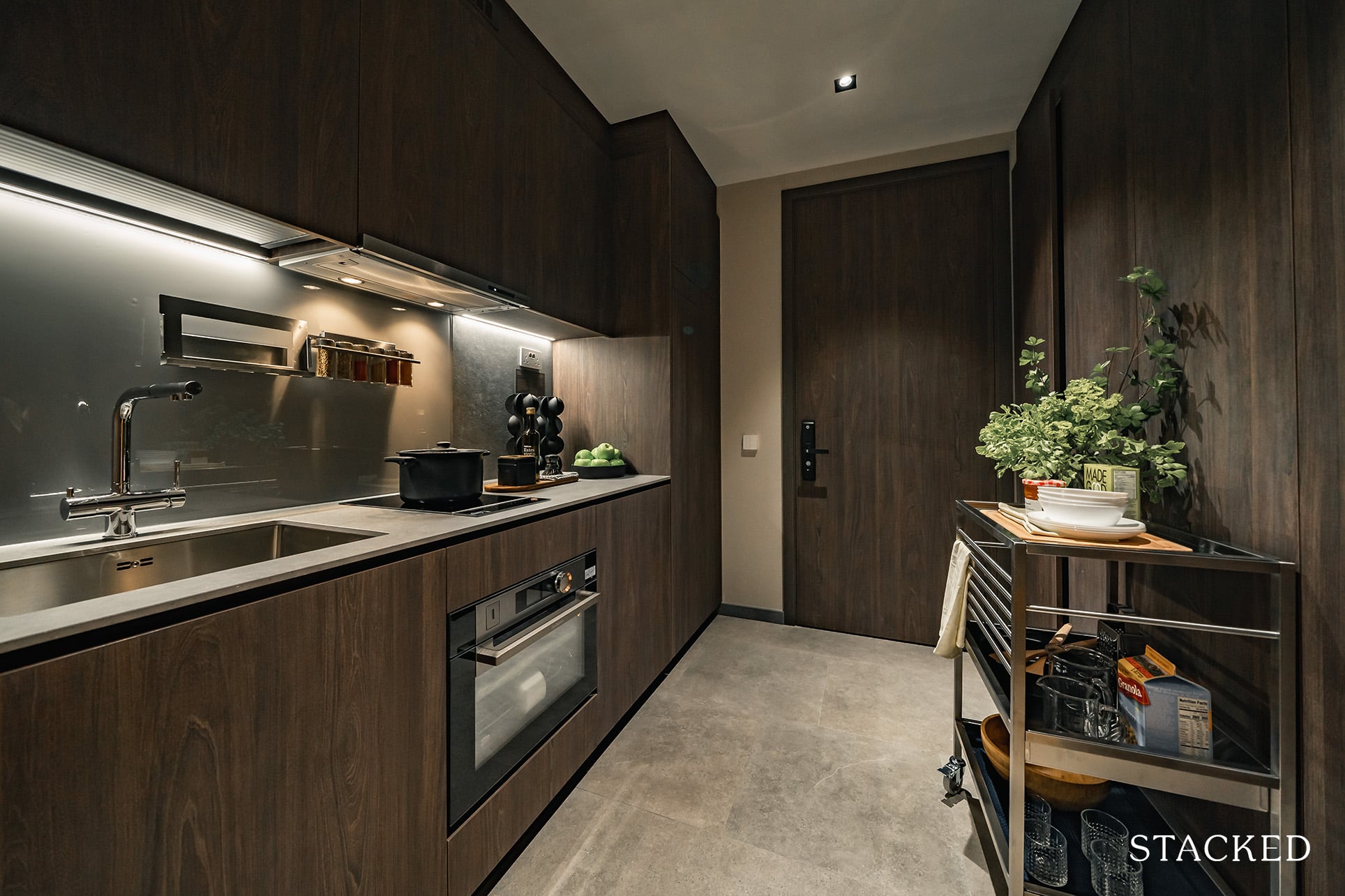 As you can tell, the theme is one of darker wood and the overall showflat ID has darker accents which does reflect the modern city vibes. It's just me but I'm not a real fan of the overall ID here as it would have the effect of making the space feel smaller. (Which again if you think about it, does play up how impressive the layout actually is).
The kitchen is equipped with appliances from De Dietrich, a premium French brand who were creators of the first induction hobs in 1990. As per the industry standard, 1 and 2 Bedroom units get induction hobs while the larger 3 and 4 Bedroom units get the gas hobs instead. Other De Dietrich appliances include the oven, integrated fridge and washer dryer while the sink comes from Blanco.
A smart feature they've included is a pull out laundry rack (although it isn't the most efficient spot for clothes drying). On the other side, the cabinets house the Distribution Board and serve as an additional storage stage for your shoes and other ancillary household items, a much needed commodity in shoebox units.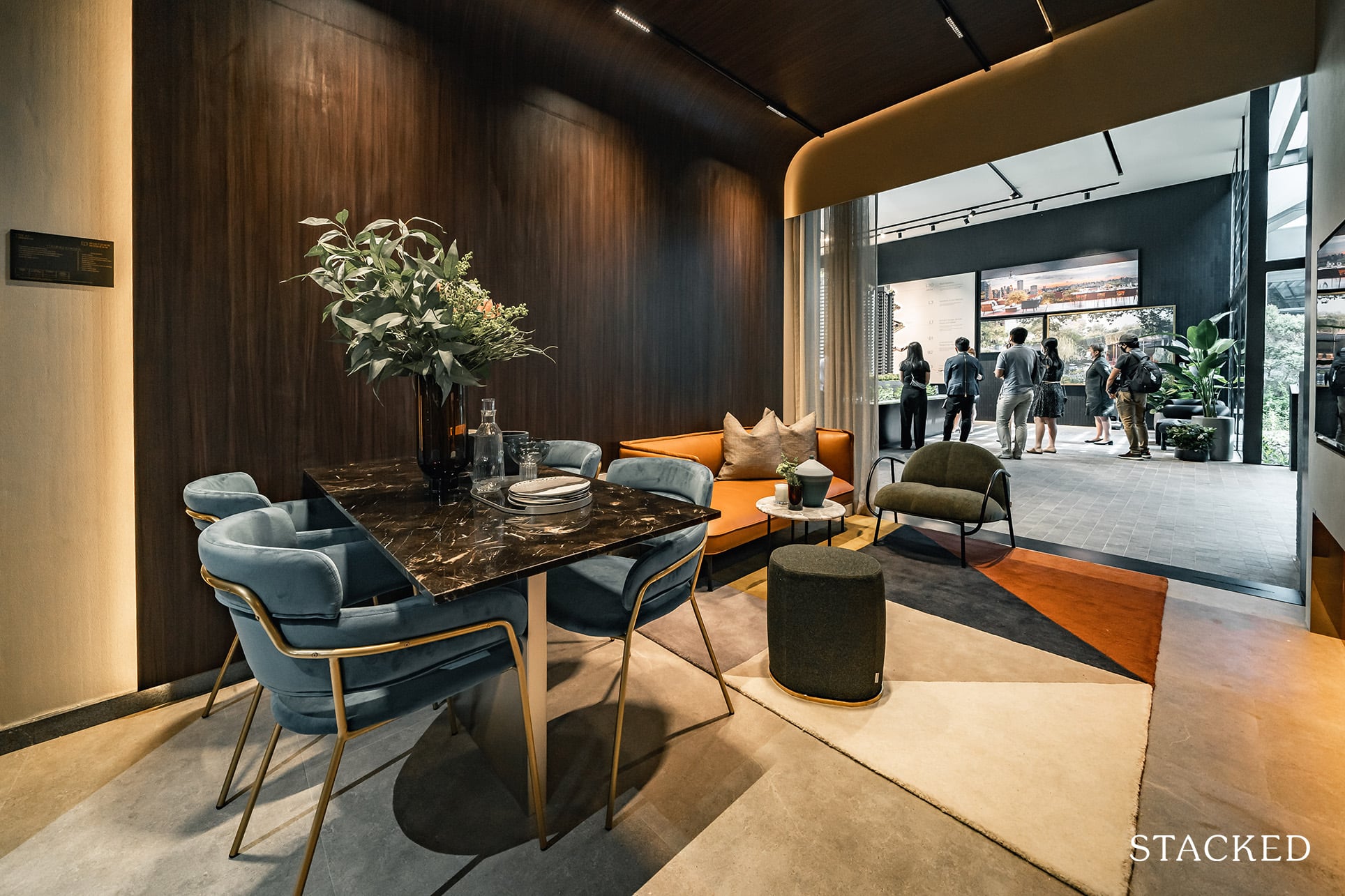 The developers were keen to emphasise that each of the unit types at Midtown Modern were able to fit a larger dining set than their equivalent peers. In this unit, they have gone with a 4-seater which doesn't infringe on the walkway space, which I do think is commendable given that the unit is only 409 sqft big.
Not everyone would have a need for a 4 seater dining space (given the variety of entertainment facilities below, and to a further extent, the rest of Bugis), so it does make for a generous dining space for 2.
Living room wise is rather tight as one would expect – you will have to be careful with your choice of furniture. They have placed a small 2-seater sofa with 2 additional 1-seaters. It's difficult to properly imagine the space without a coffee table, unless you do intend to go without one.
Take nothing away from the overall space though – remember it is after all 409 sqft.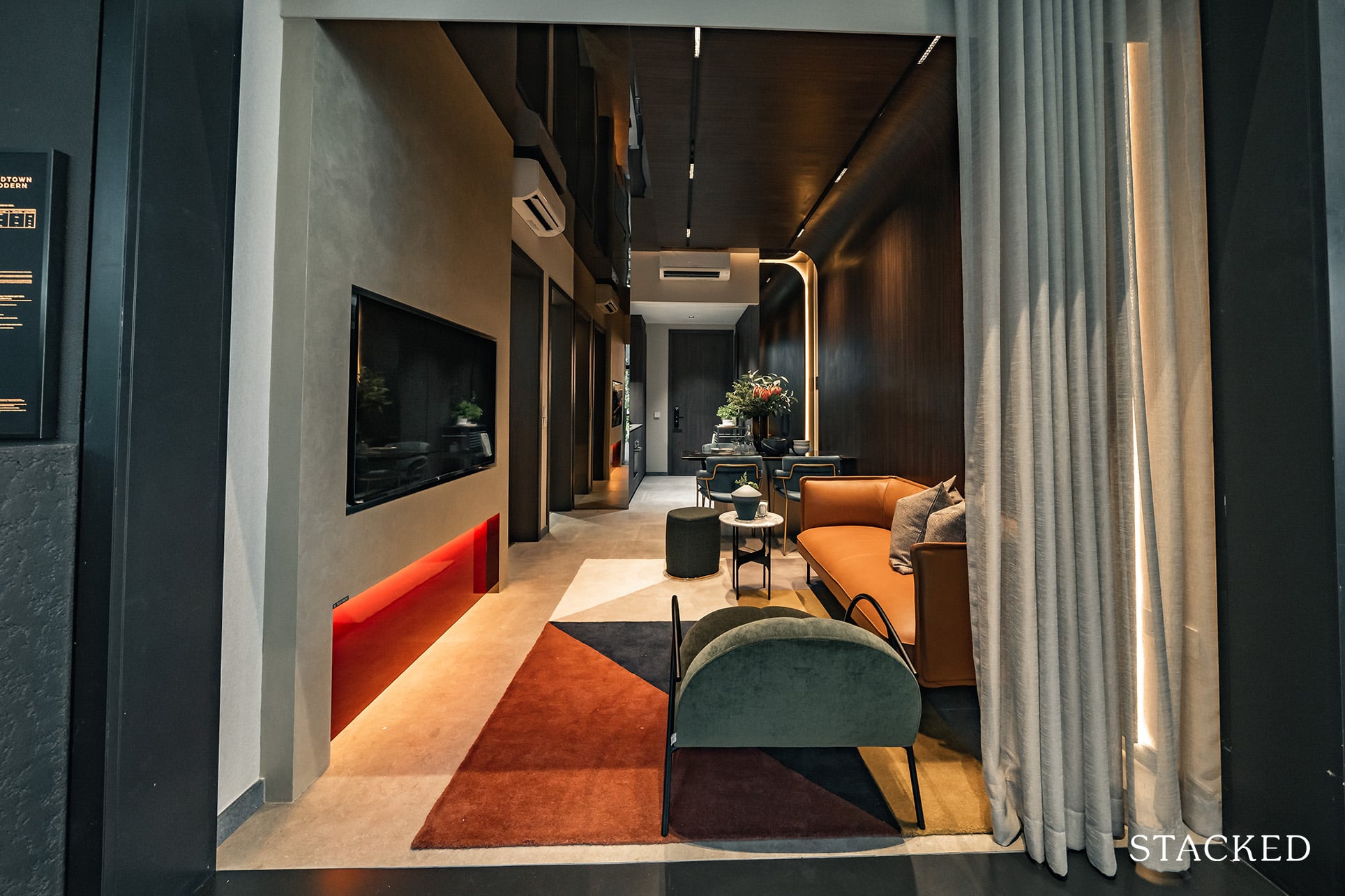 If you haven't already noticed, the 409 sqft for this unit feels comfortable enough because they have done away with the balcony, which usually takes up a good 40 – 60sqft on its own. For you al-fresco lovers, you do have the choice of other 1 Bedroom layouts which offer a balcony for your enjoyment (they are a larger 474 sqft).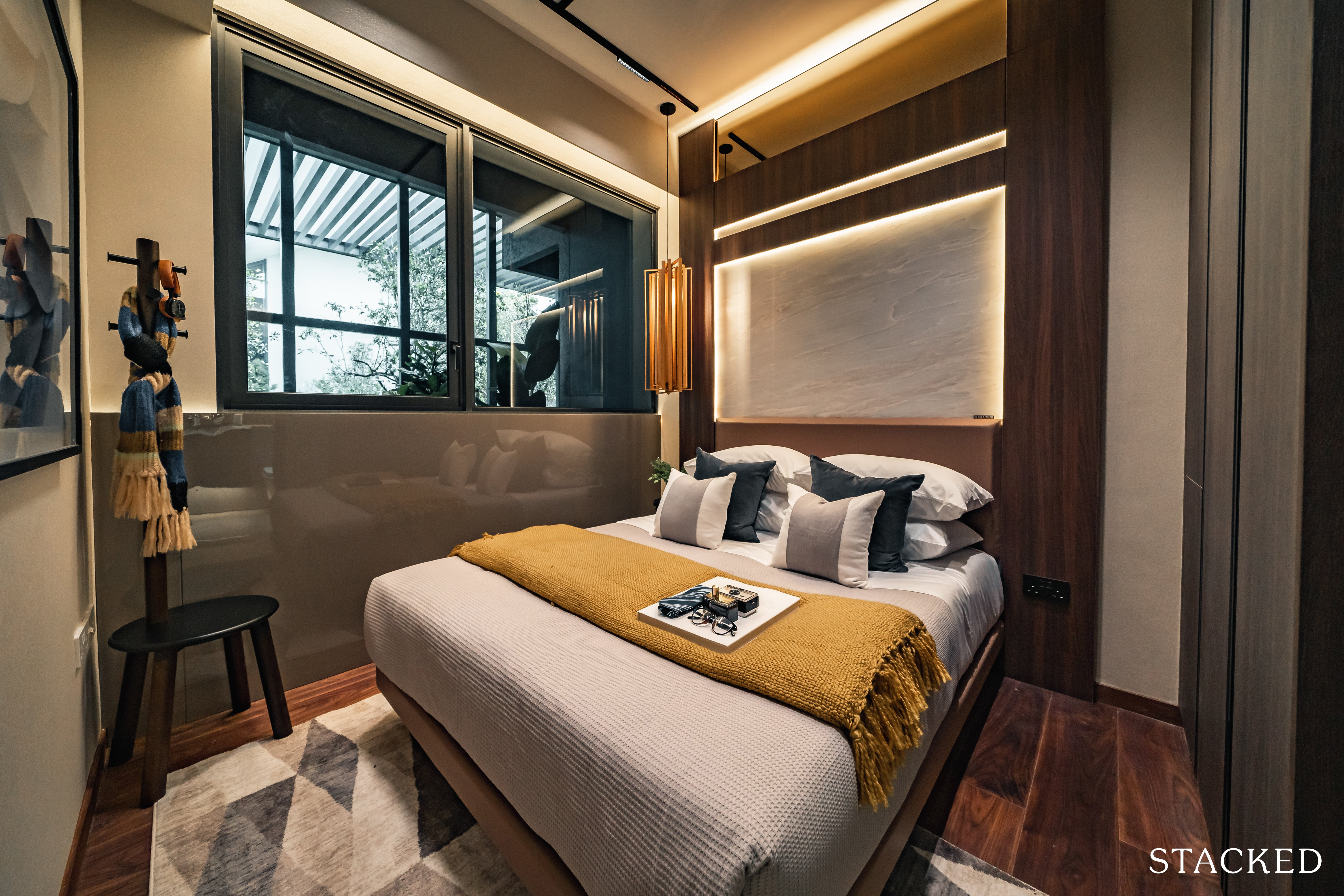 Moving on to the Master Bedroom, you will find it averagely sized, which is not a bad thing. It will fit a Queen bed and perhaps a small bedside table. You won't really have the luxury to place anything more than that though.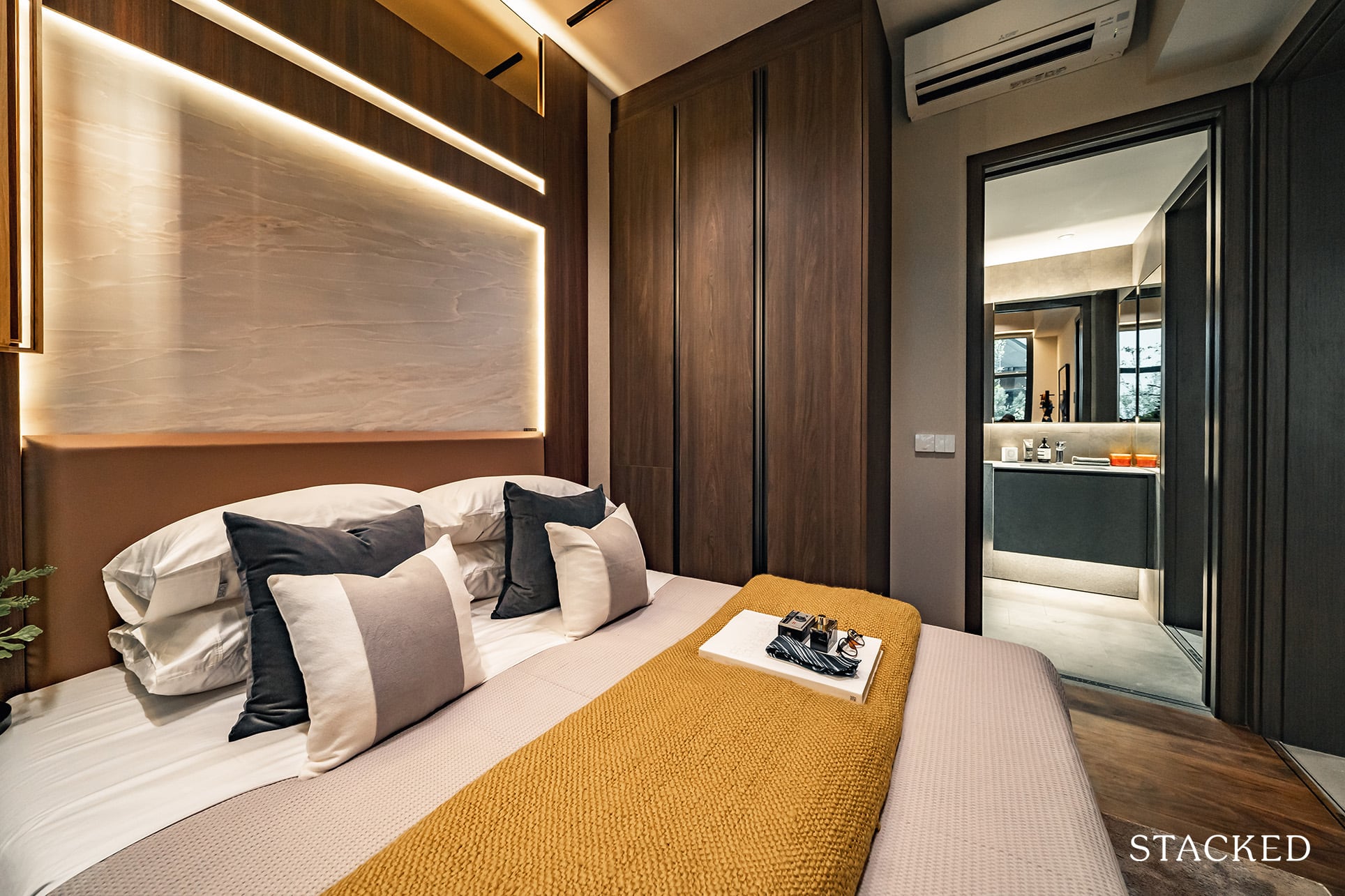 Unfortunately, windows are halved as it has to accommodate the aircon ledge outside. Notice that instead of the usual sliding doors, the built-in wardrobe here are swing ones instead and hence will infringe on more bedroom space when you open and close them. 
Note that an allowance was made at the corner of the wardrobe. So you can't actually open the lower half as the developers wanted to make sure that you can place a bedside table without disturbance.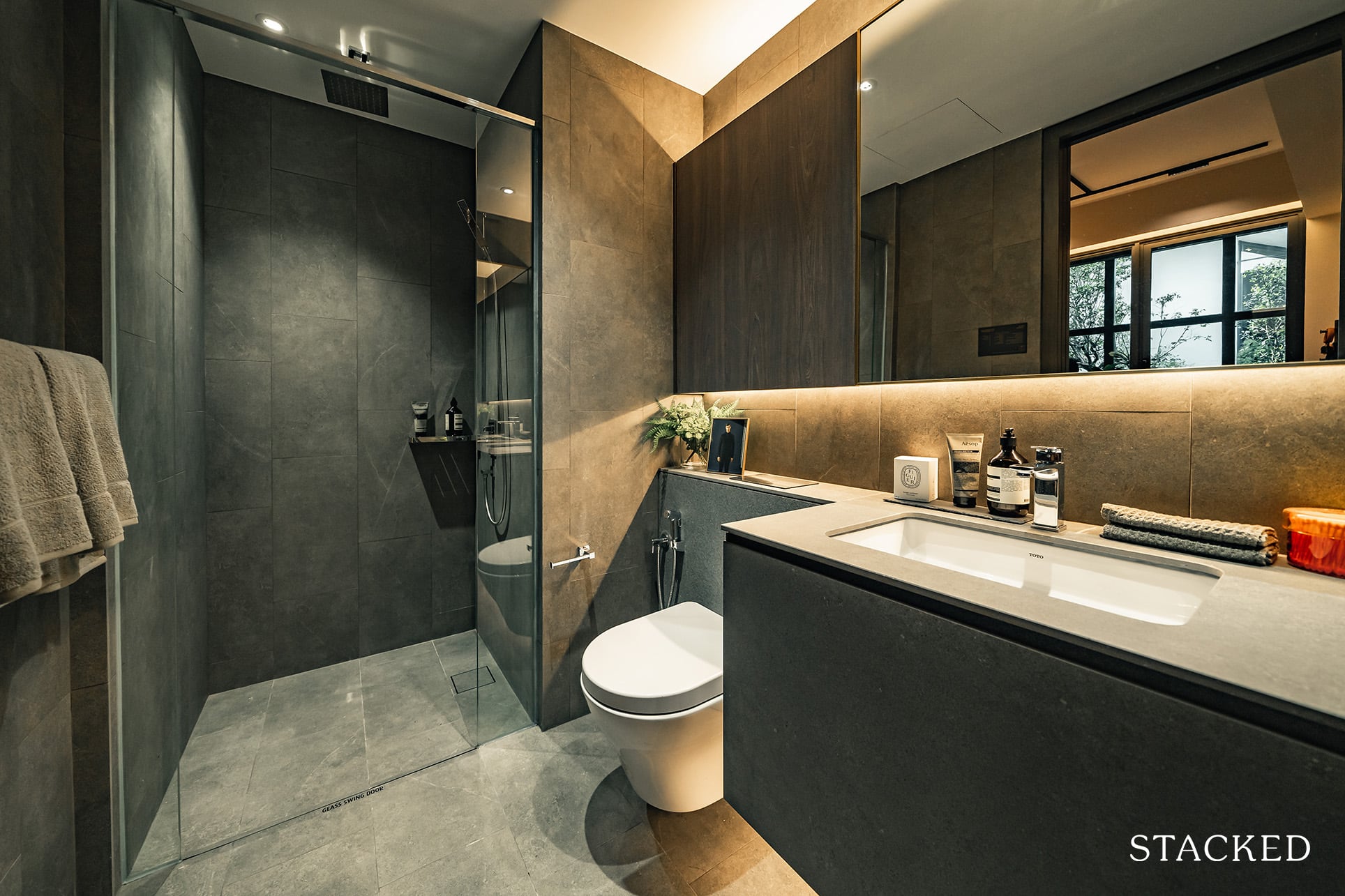 The Master Bedroom also leads to the jack-and-jill bathroom, which comes fitted with a rain shower, a bidet spray and a wall-hung water closet. It is of a pretty standard size so there is nothing much to shout about. There isn't a window here either so you'd have to open the doors up for proper ventilation.
Sanitary wares are from TOTO, the world's largest toilet manufacturer although I'm not too sure if that's a plus given the rather affluent clientele this project is targeting. Nevertheless, it is still a very reliable Japanese brand which all of us would have been acquainted with.
Midtown Modern 2 Bedroom Type B3 Review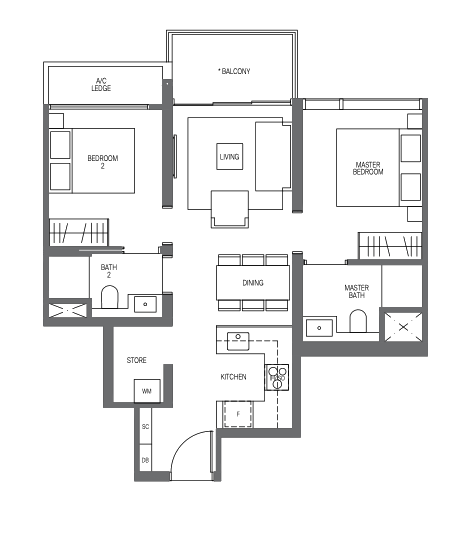 At 721 sqft, this 2 Bedroom unit is slightly above average size by current standards. It is also the largest 2 Bedroom layout available at Midtown Modern, with the others coming in at 592 sqft and 635 sqft. All 2 Bedroom types here get the dumbbell layout, which is a personal favourite of mine for its space efficiency.
Flooring provided here is porcelain tiles for the common areas and engineered timber for the bedrooms, which is a little disappointing since Midtown Bay provides marble as the default. Ceiling height is rather generous at 3 metres and a tad above average, and definitely a big contributing factor to the more spacious nature of the units so far.
Similar to the 1 Bedroom unit, you get no wasted space at the entranceway, leading almost straight into the U-shaped kitchen. While it doesn't have a door to make it enclosed per se, you can easily install a sliding door should you desire. Note that this is the only 2 bedroom layout with a kitchen arrangement such as this.
The cutout glass also helps to brighten up the space while ensuring that parents can keep an eye on their little ones as they entertain themselves.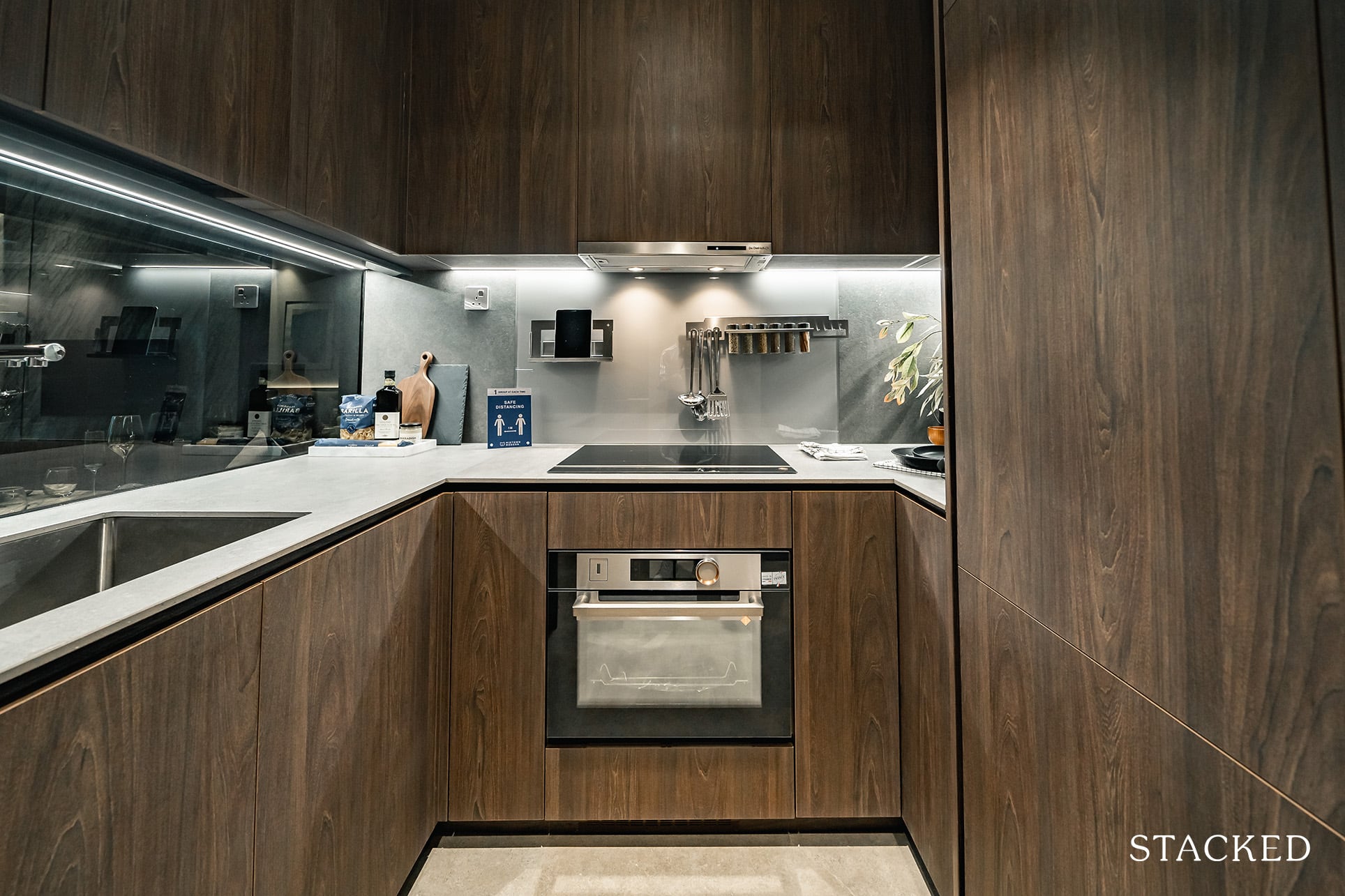 It isn't terribly big but two people can definitely work in here in relative comfort. You can also open the fridge (on the right) while someone else is at the sink so it isn't necessarily as small as you may think.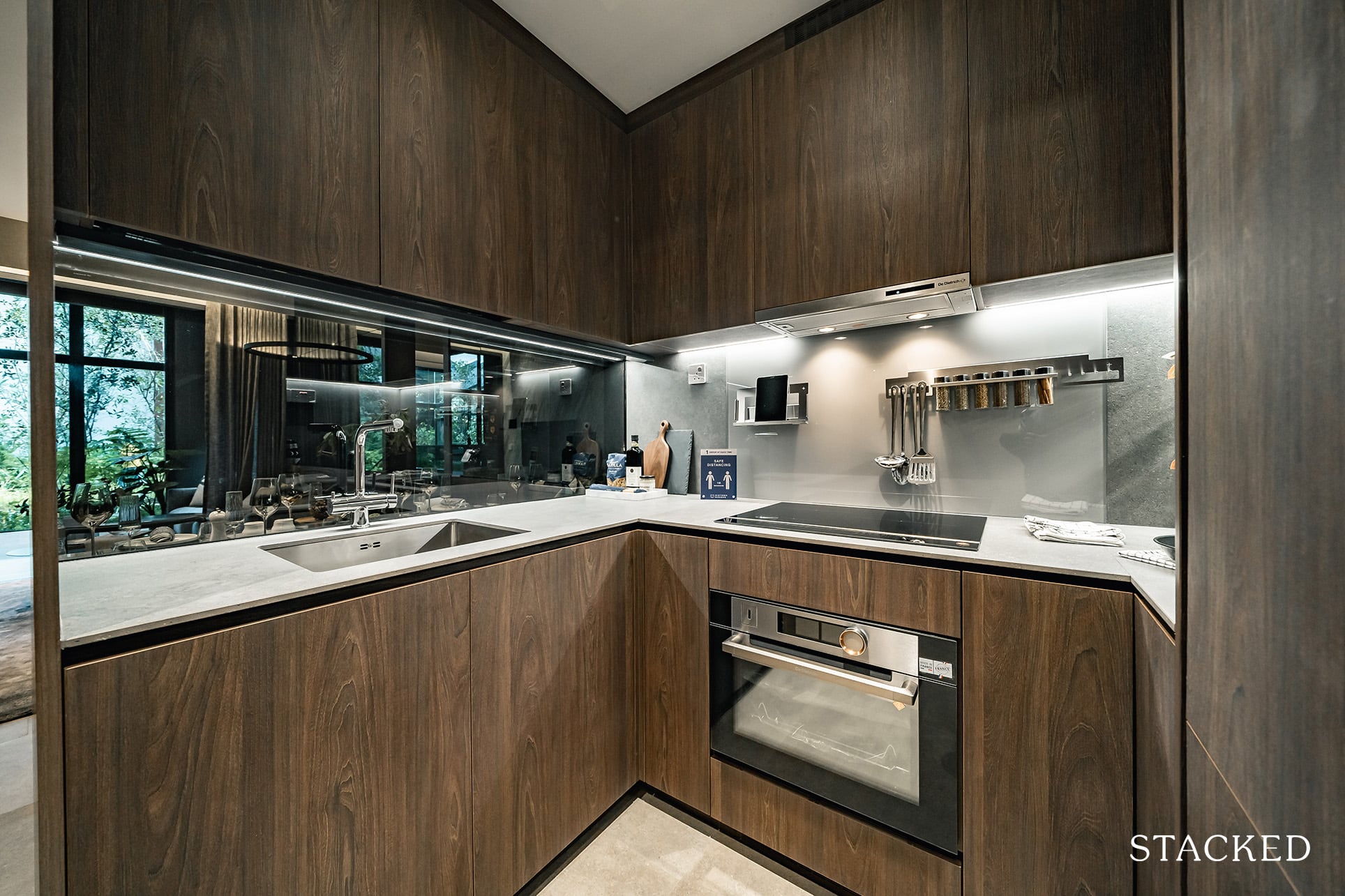 The kitchen is equipped with appliances from De Dietrich. As per the industry standard, 1 and 2 Bedroom units get induction hobs while the larger 3 and 4 Bedroom units get the gas hobs instead.
Other De Dietrich appliances include the oven, integrated fridge and washer dryer while the sink is from Blanco. You will still get the same dark toned wood panels as default for the cabinets. The backsplash at the back comes included as well (similar to the 1 bedroom).
Given its size, this layout is the most practical of the 2 Bedroom unit types as it comes with an additional store. For families, this is almost essential but yet is sorely lacking in many new developments. Therefore, it's a plus point for Midtown Modern here.
Not the largest of stores around but you really can't be complaining much if you want to enjoy the convenience of living in the city at palatable prices. Do note that the washer cum dryer will also be placed in this store.
Of course should you have no need for a store, this can be turned into a small home office too. But given most people looking at this location would be in view of the proximity to offices, I doubt this would really be used as such.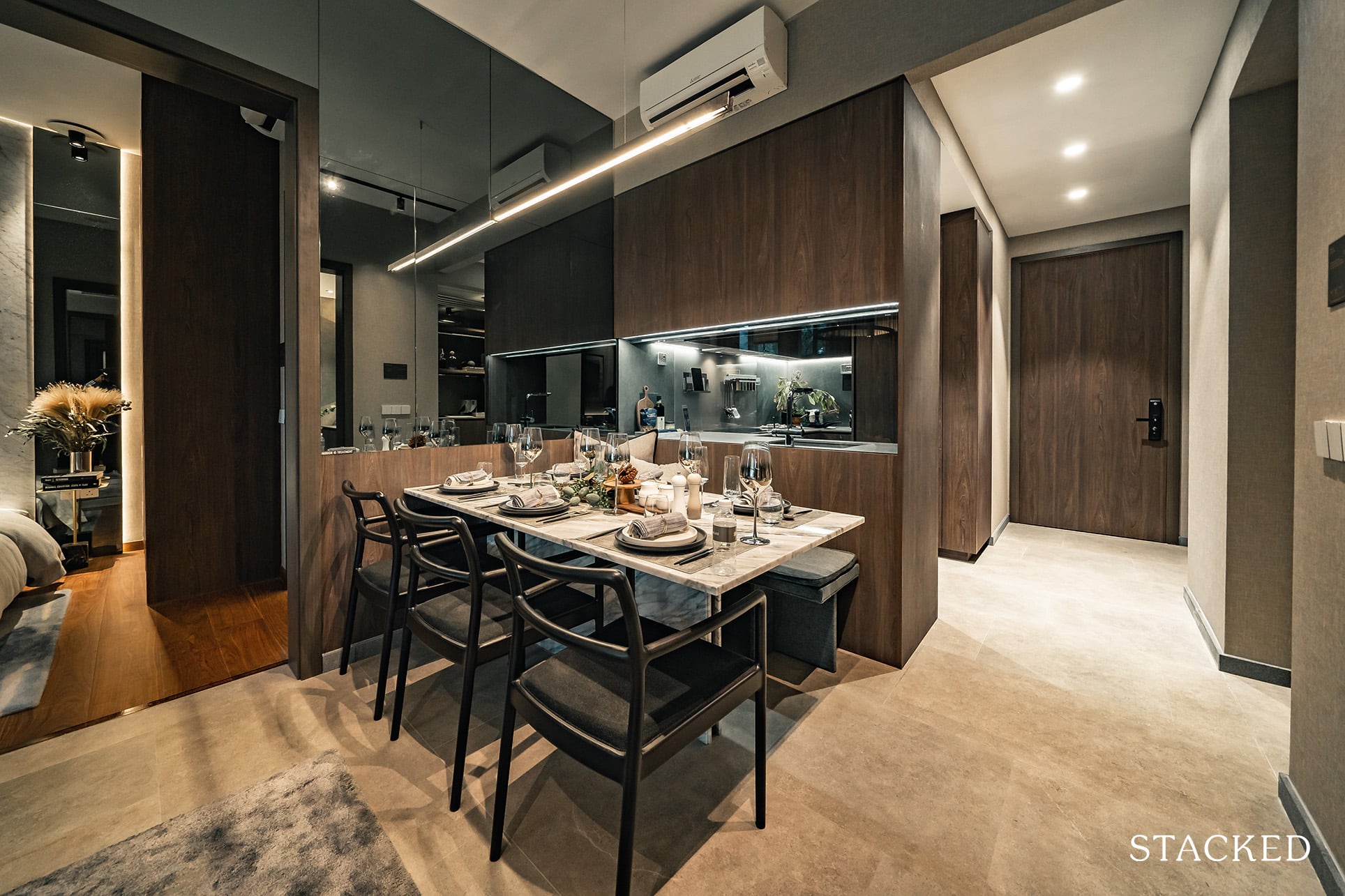 As with the 1 Bedroom unit, the developers were keen to sing the same tune of having a good sized dining area. In this unit, they have gone with a 6-seater which doesn't infringe on the walkway space. While this is laudable, you will notice that it is quite tight on the bench seating side and you will definitely be hoping you are not the person seated right inside. Overall, it will be a rather squeezy affair if you insist on having 6.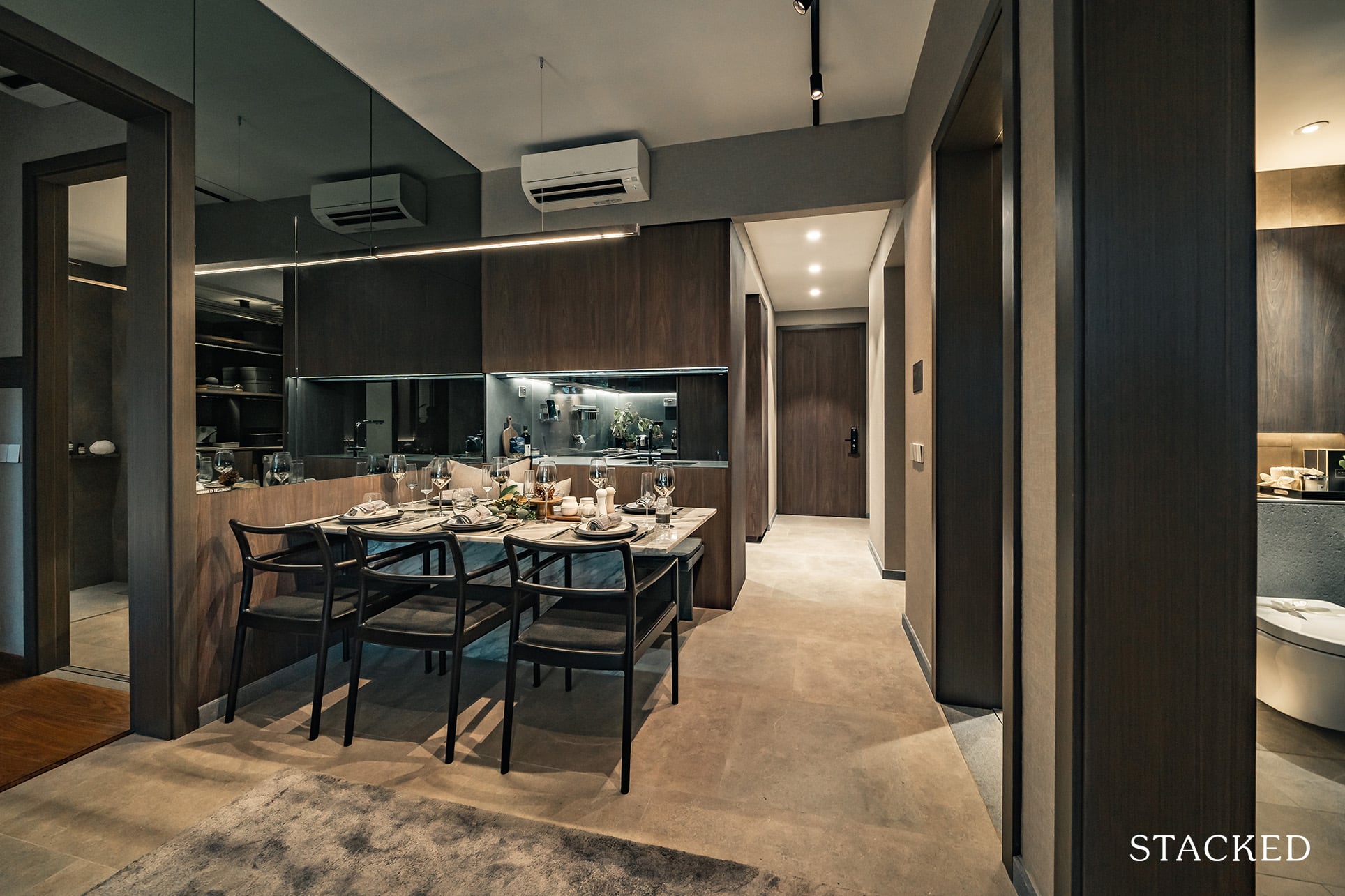 Again, given the wealth of dining options at your doorstep, I'd reckon having 6 people over wouldn't really be a point too high on your priority list. Just know that 4 people would easily be able to dine in comfort here.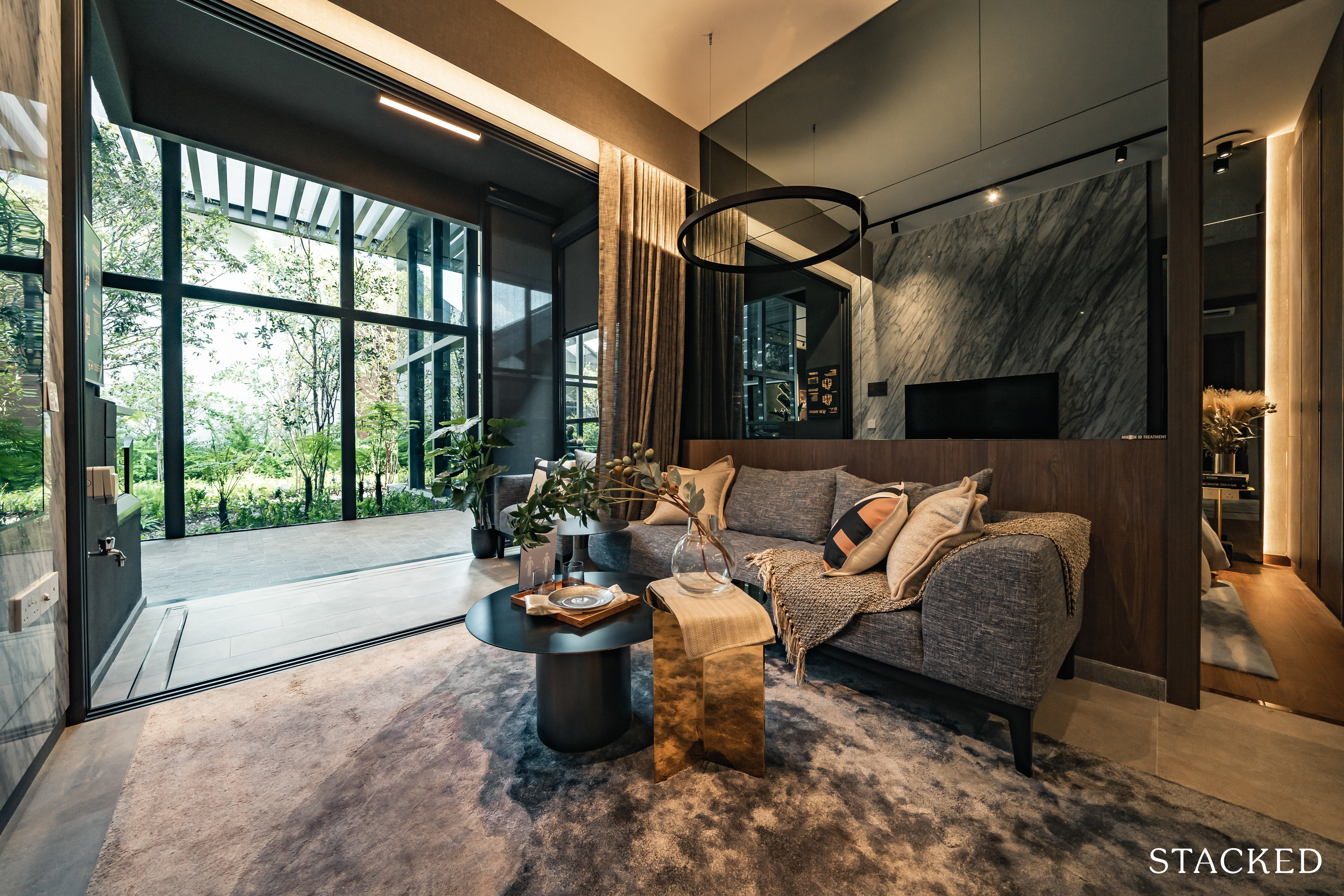 Living room space is average for 2 Bedroom units of today. You will of course be able to fit more than you could in the 1 Bedroom, but having a 3+1 seater sofa will probably be the maximum you should go for.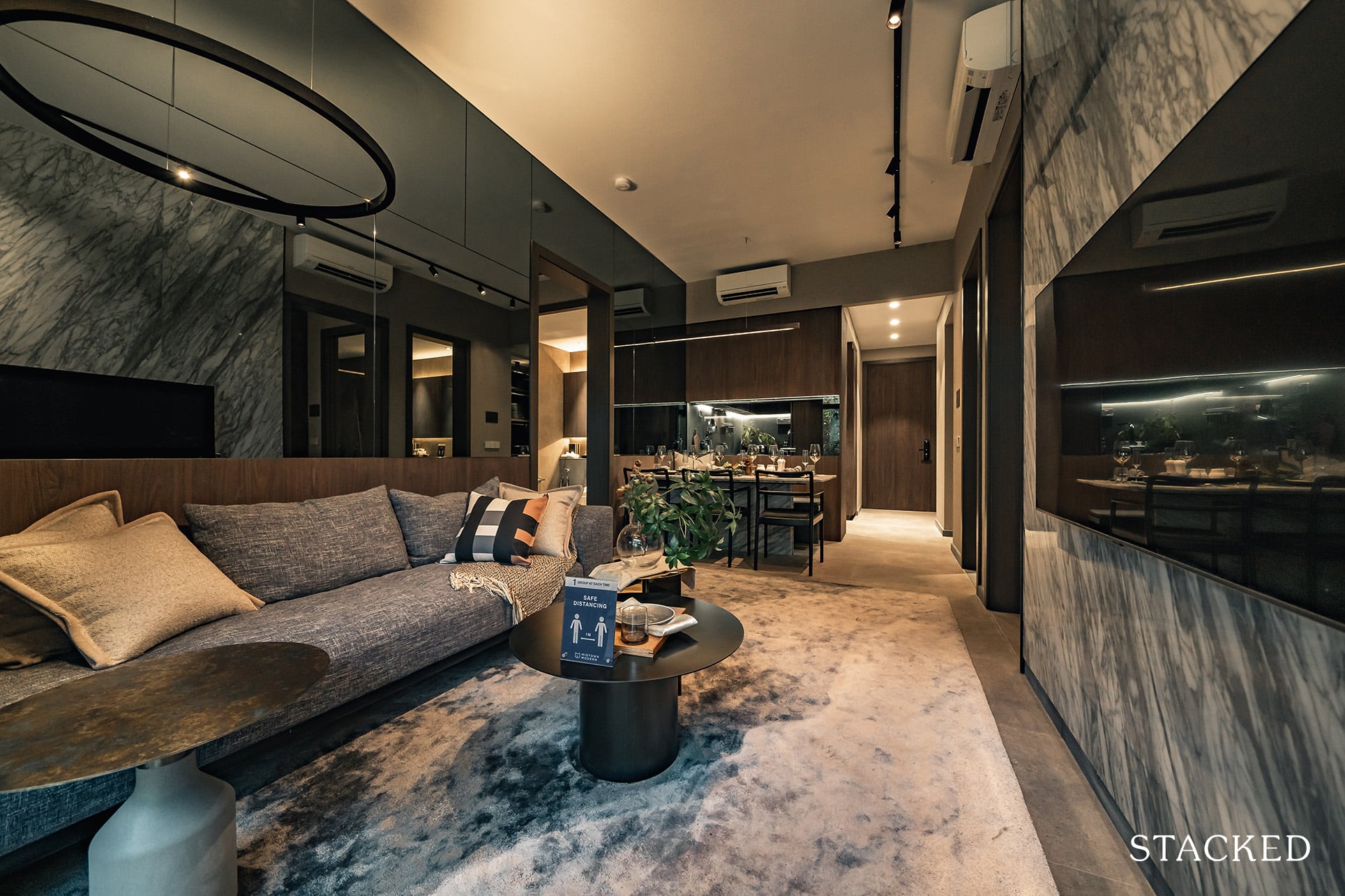 Do also note that these days, showflats go with an impractically (small) sized coffee table and do away with the TV console altogether. So unless you intend to do without them in your future home, you should try to incorporate that into your imagination when viewing the unit.
There is a good sized balcony at 5 sqm here, so for those of you who enjoy chilling outdoors, you could probably set up a bar table and some stools to enjoy the views of Tan Quee Lan Street and beyond. However, as with the 1 Bedroom unit, you have the option of going without the balcony with Stack 03.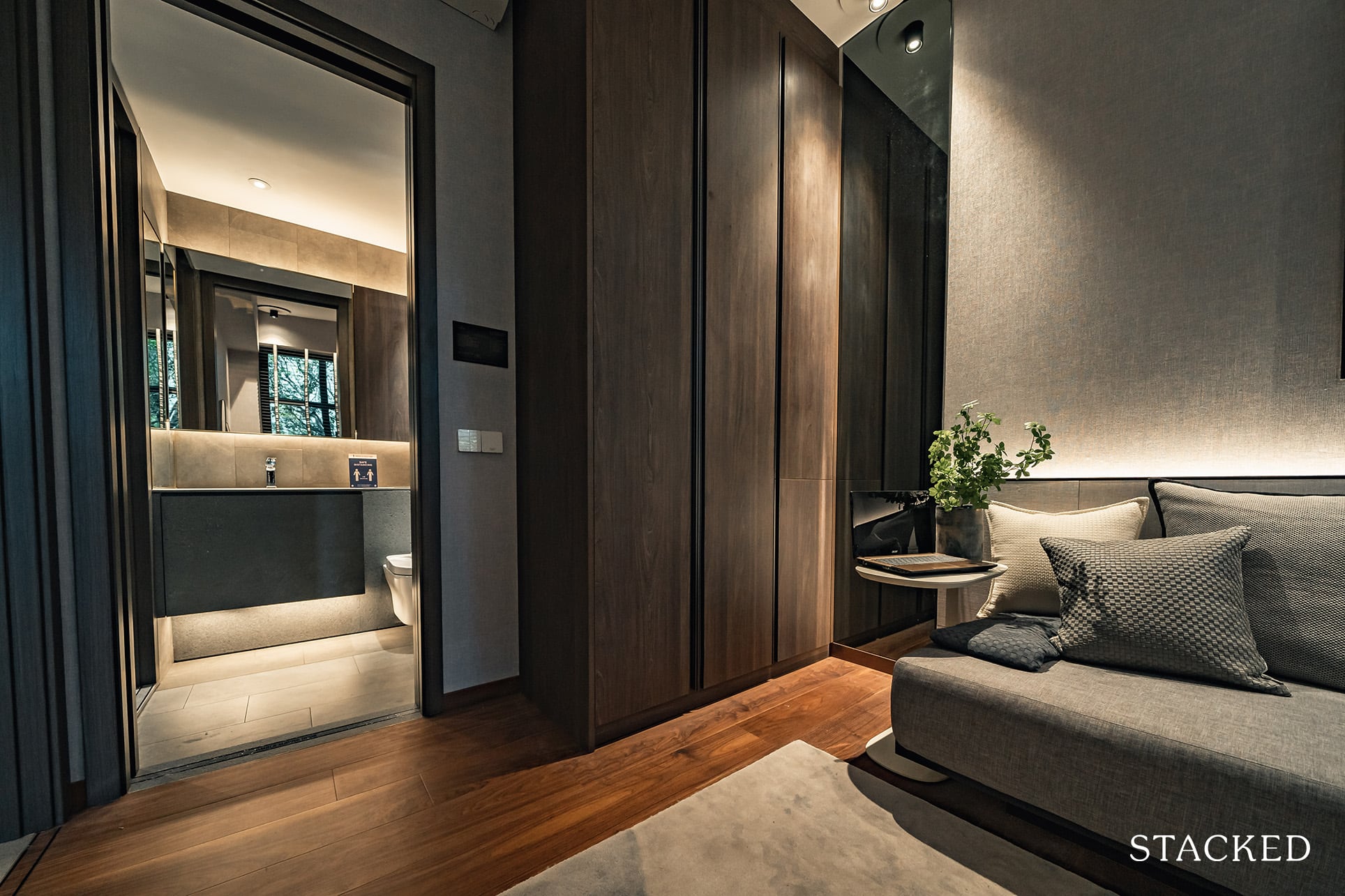 The Common Bathroom connects to the Bedroom via the jack-and-jill doors so that's a practical point to have.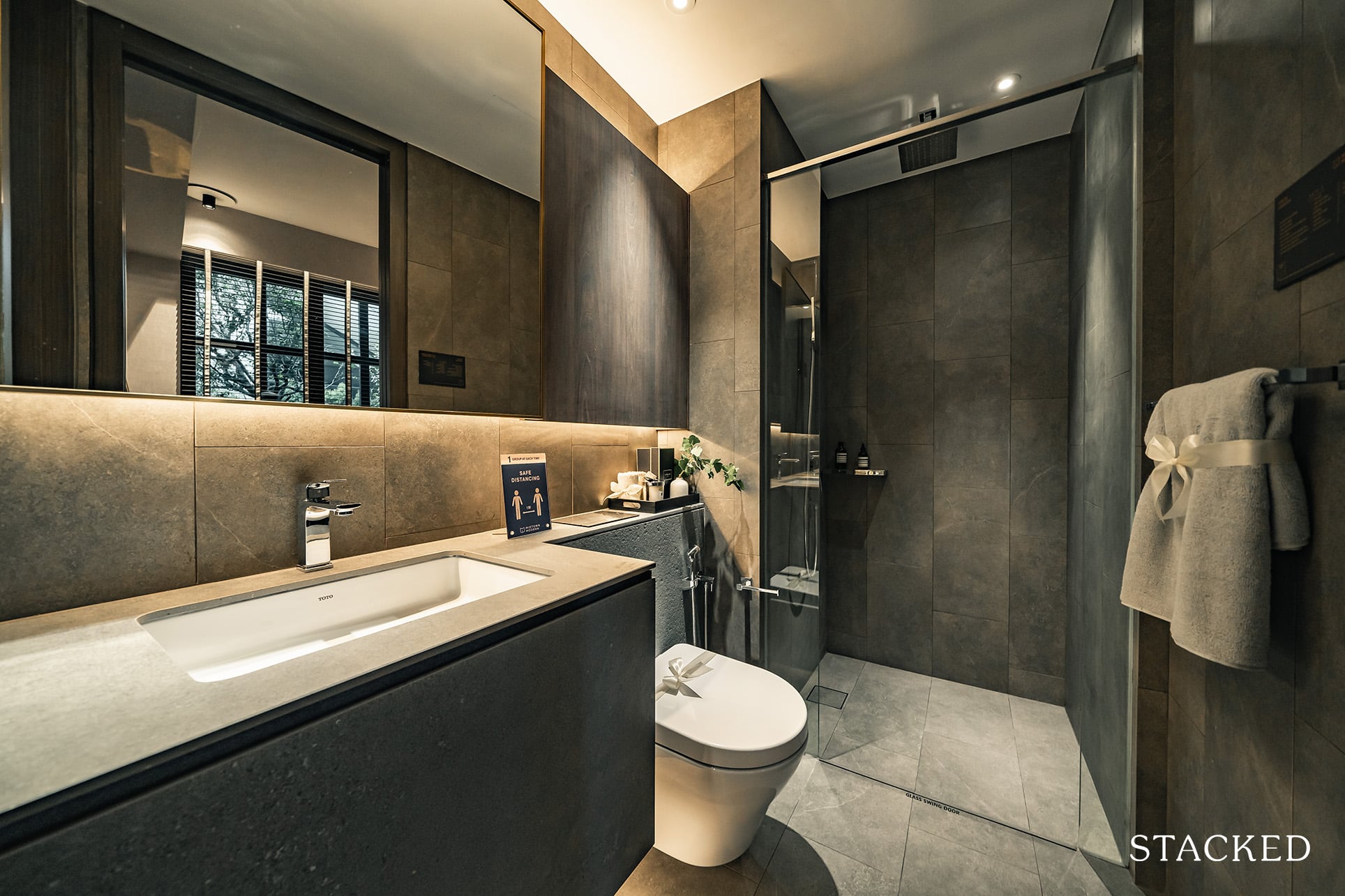 It's of a standard size but comes with rather premium features such as a rain shower and wall hung water closet. Sanitary wares are by TOTO and the Bathroom relies on mechanical ventilation as it lacks a window so you should pay attention to the moisture gathering if you choose such a unit.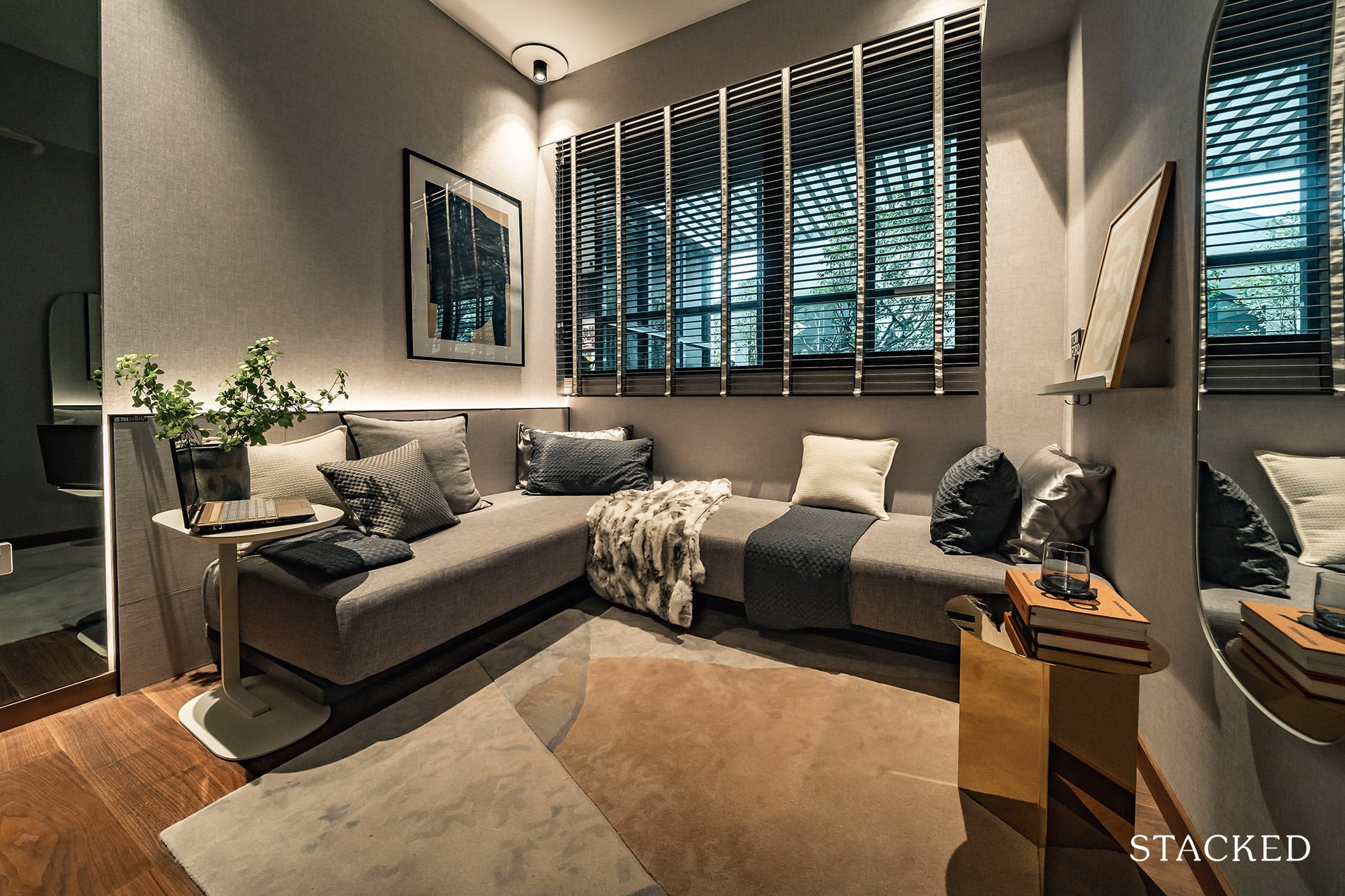 Moving on to the Common Bedroom, it's of an average size at 9.5 sqm. This means that you will be able to fit a Queen sized bed with a small bedside table. If it is going to be a kid's room instead, it's probably better to have a study table and a Single bed as it can better utilise the space.
Instead of the usual sliding doors, the built-in wardrobe here provides swing out ones instead, which I find more impractical as it will require additional space when you open and close them. Windows are half height as the aircon ledge will be placed just outside. It isn't ideal, but it is standard for most 2 bedroom layouts that you'd see on the market.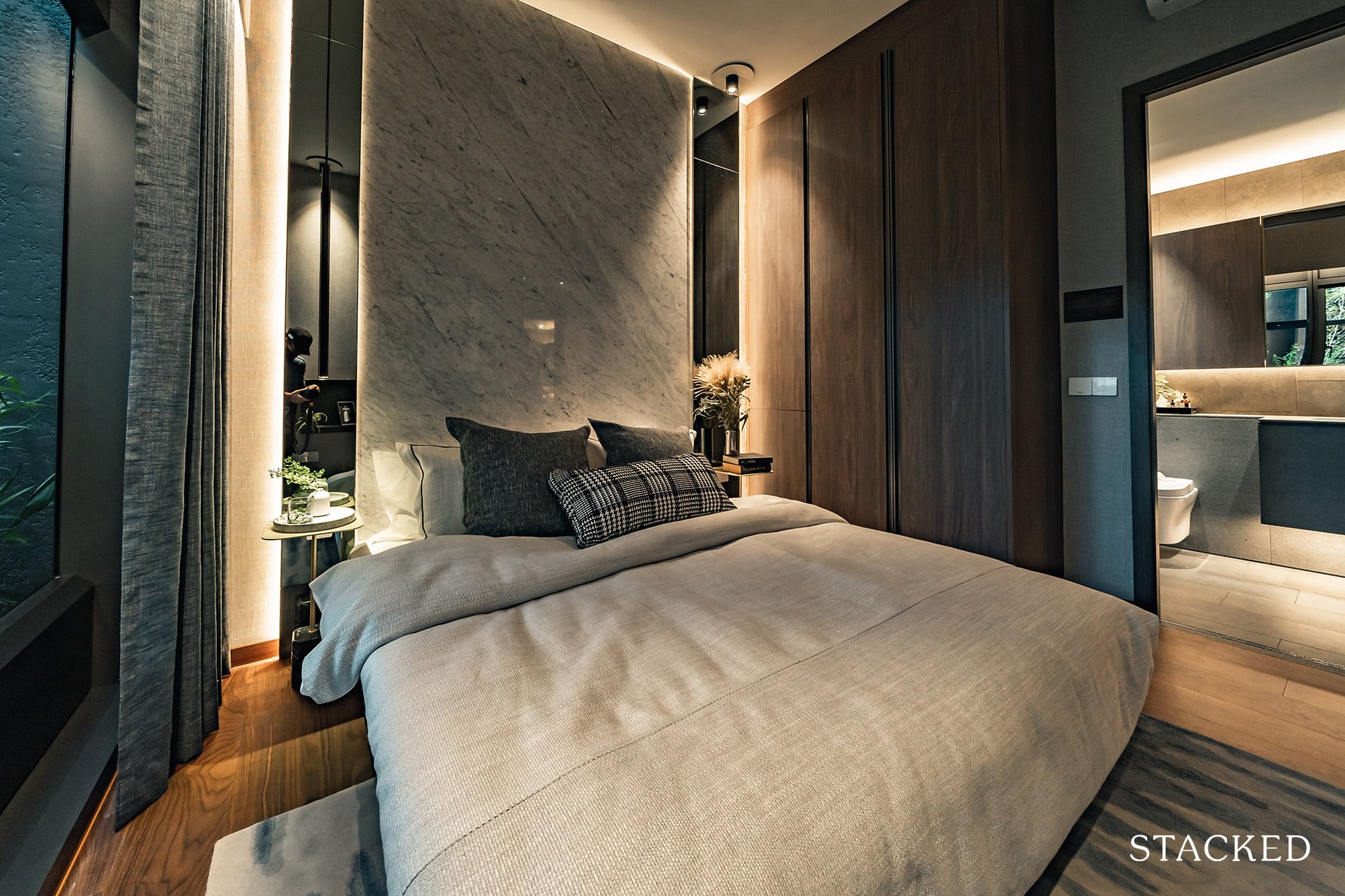 As for the Master Bedroom, it is slightly more spacious at 11.8 sqm. Like the 1 bedroom unit, they've catered for two bedside tables as the bottom ledge cannot be opened. To reach the storage space, you have to reach into the side from the middle cabinet.
As this is the first time you've seen a proper iteration of a bedroom window, let me take some time to explain why it is constructed as such instead of the usual full length one. Because this is set in a city environment, the developers wanted to create more privacy for residents – which is why that lower "lip" was created. This allows you to enjoy the view downwards, but bystanders on the ground would have a restricted view as they look upwards.
You may also have noticed that the bed here is set rather low. While beds won't be included, this could be something you adopt as it makes the space feel bigger. Plus if you have kids, it is an easy height for them to clamber up – and if they do happen to fall – that height wouldn't give you that heart-in-mouth feeling.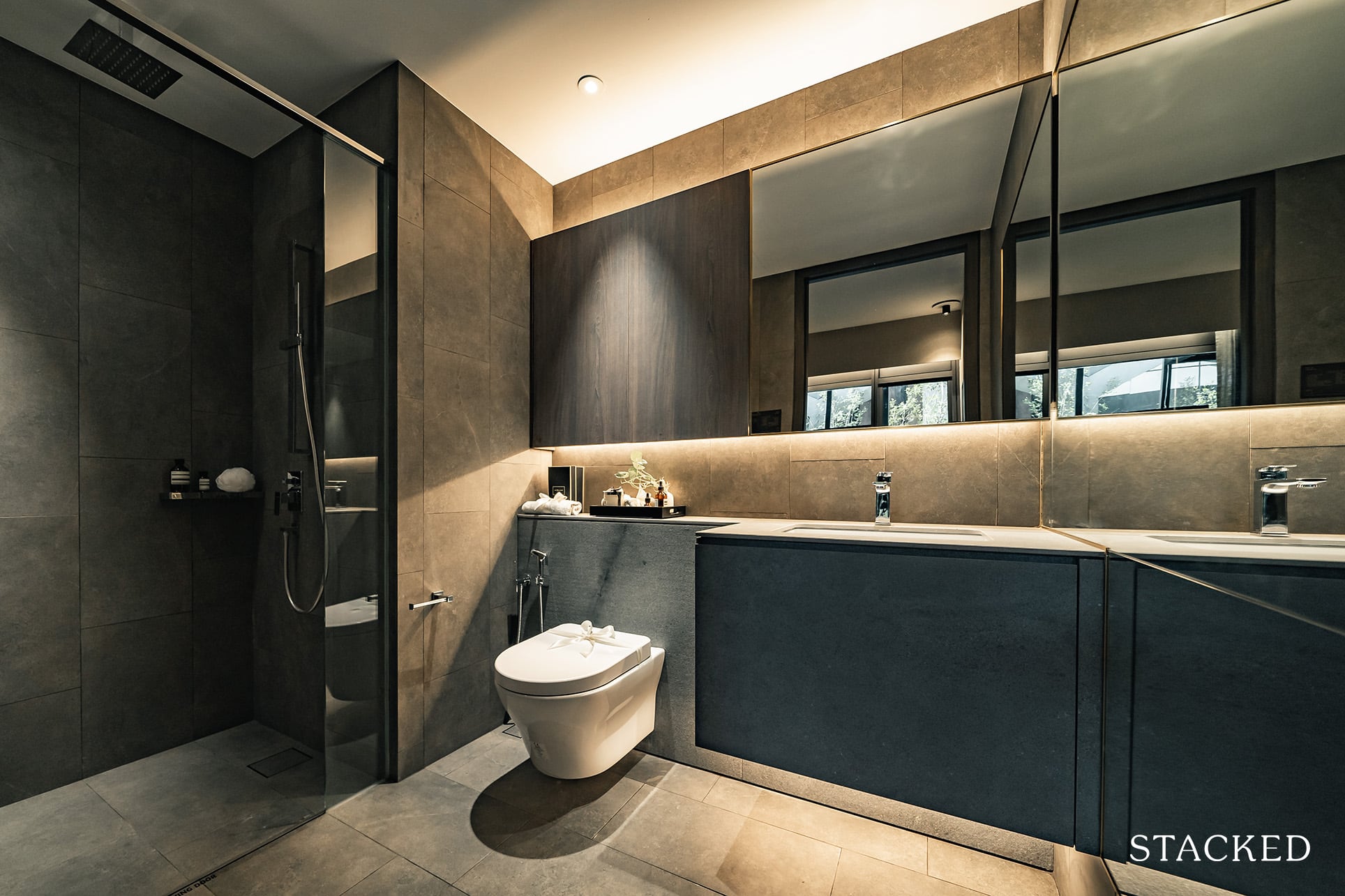 The Master Bathroom is larger than the Common one but will come with the same sanitary fittings from TOTO, including a rain shower, wall hung water closet and even a bidet spray! Again, you should note that there isn't a window for natural ventilation here.
Midtown Modern 3 Bedroom C2 Review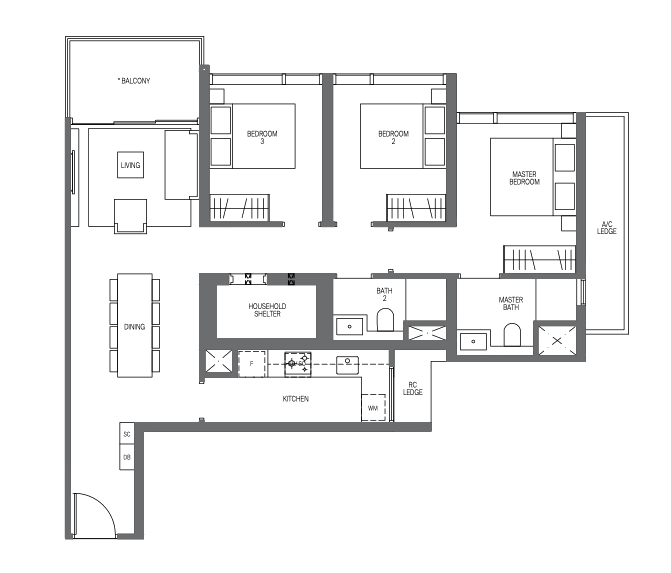 This 3 Bedroom unit featured here is the largest 3 Bedroom layout that Midtown Modern has to offer. At 1,066 sqft, it is generous by CBD standards and slightly above average among the other newer developments. As it occupies the corner stacks 06 and 16, you will find more windows for ventilation.
For those looking at 3 bedroom units, there is a smaller 904 sqft one available. These will come with a smaller dining as well as kitchen.
Flooring provided here is porcelain tiles for the common areas and engineered timber for the bedrooms. While I wished marble floors and solid timber came as standard, I do understand that the current material was chosen for its aesthetics and easier maintenance. As with the other units here so far, ceiling height is at a laudable 3m.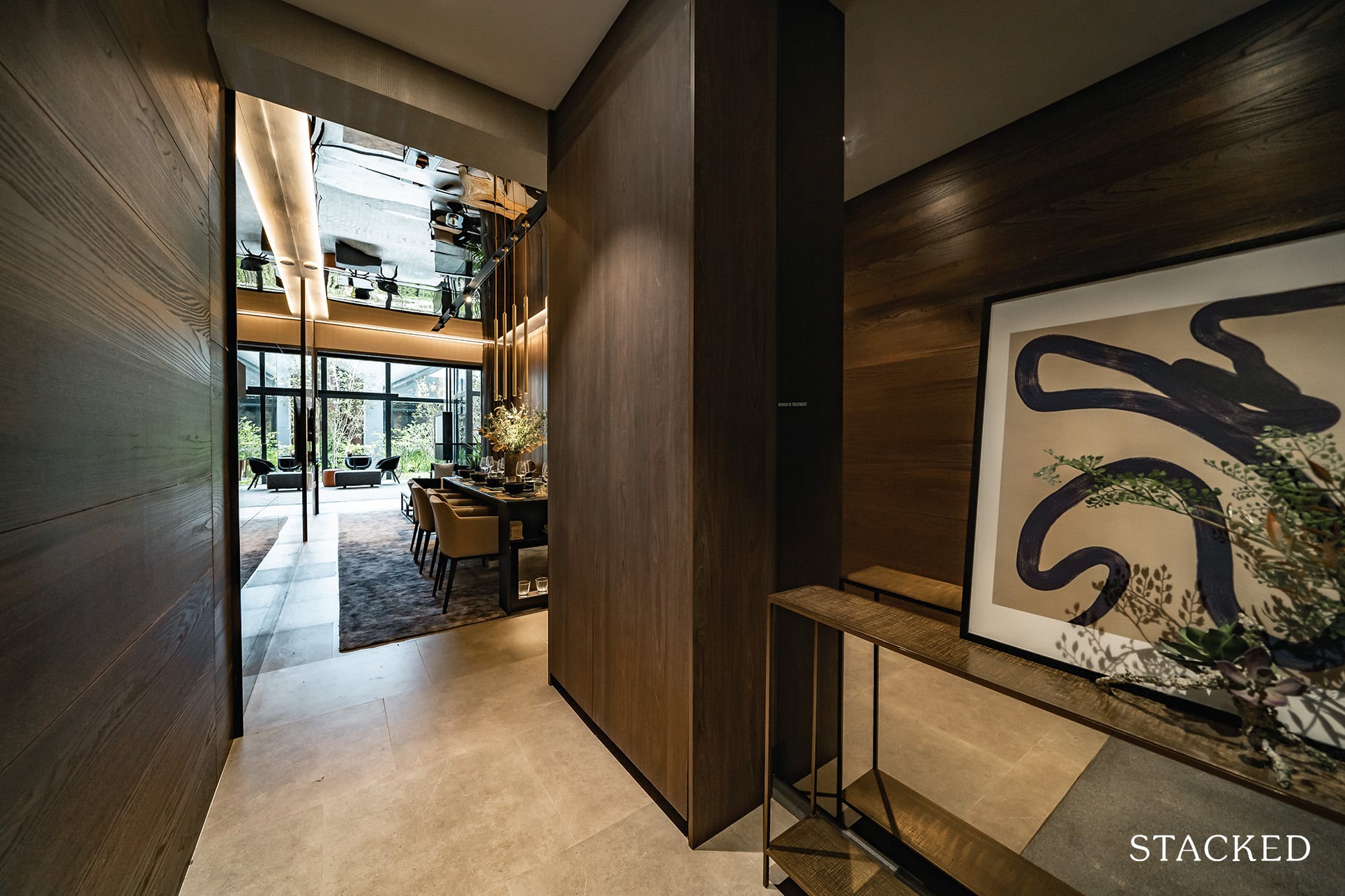 As you enter the unit, there is a bit of a walkway before leading to the dining area. You can fit in more in-built storage by the side if you wanted, or keep the space as is for a thin dresser.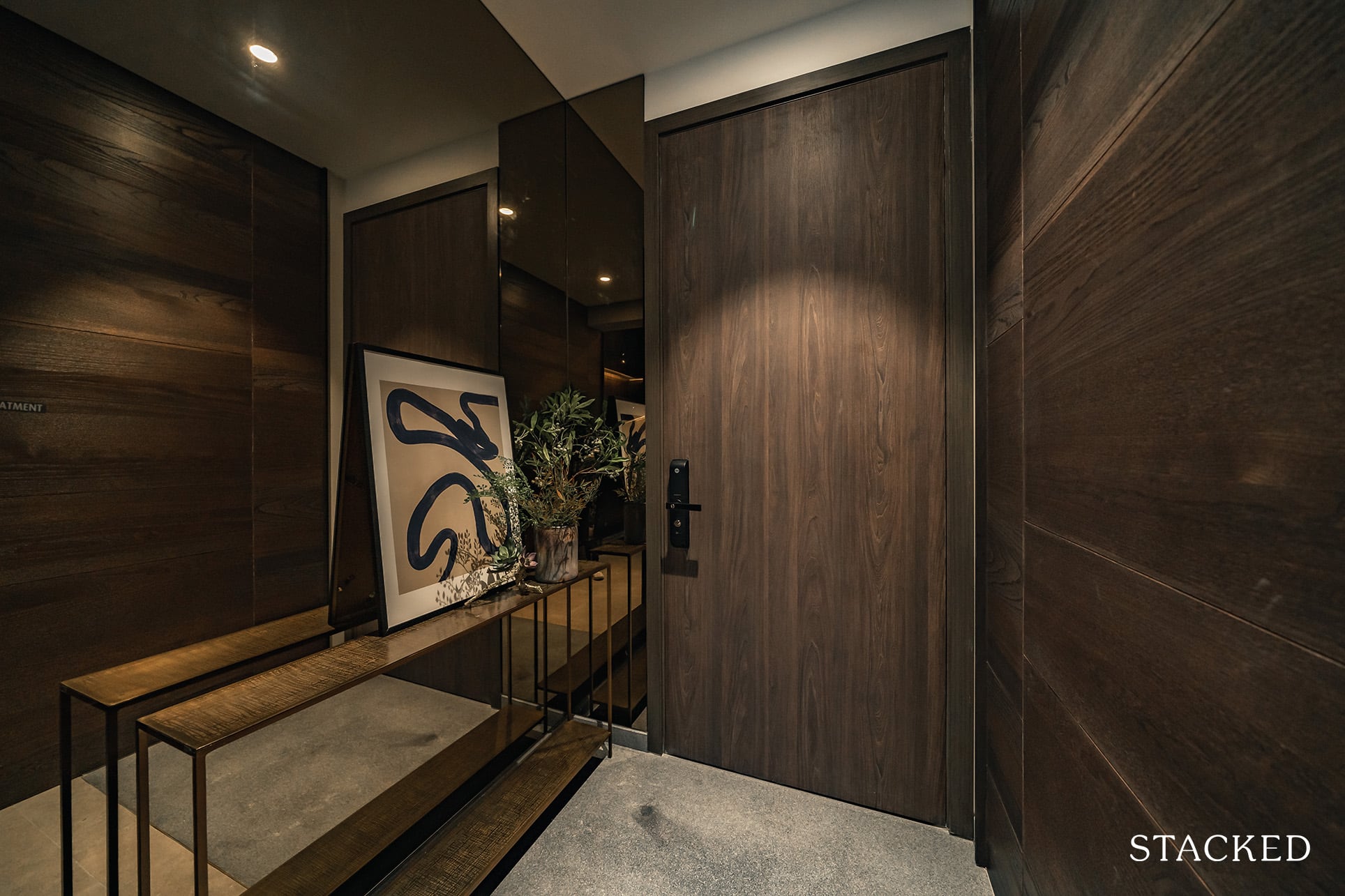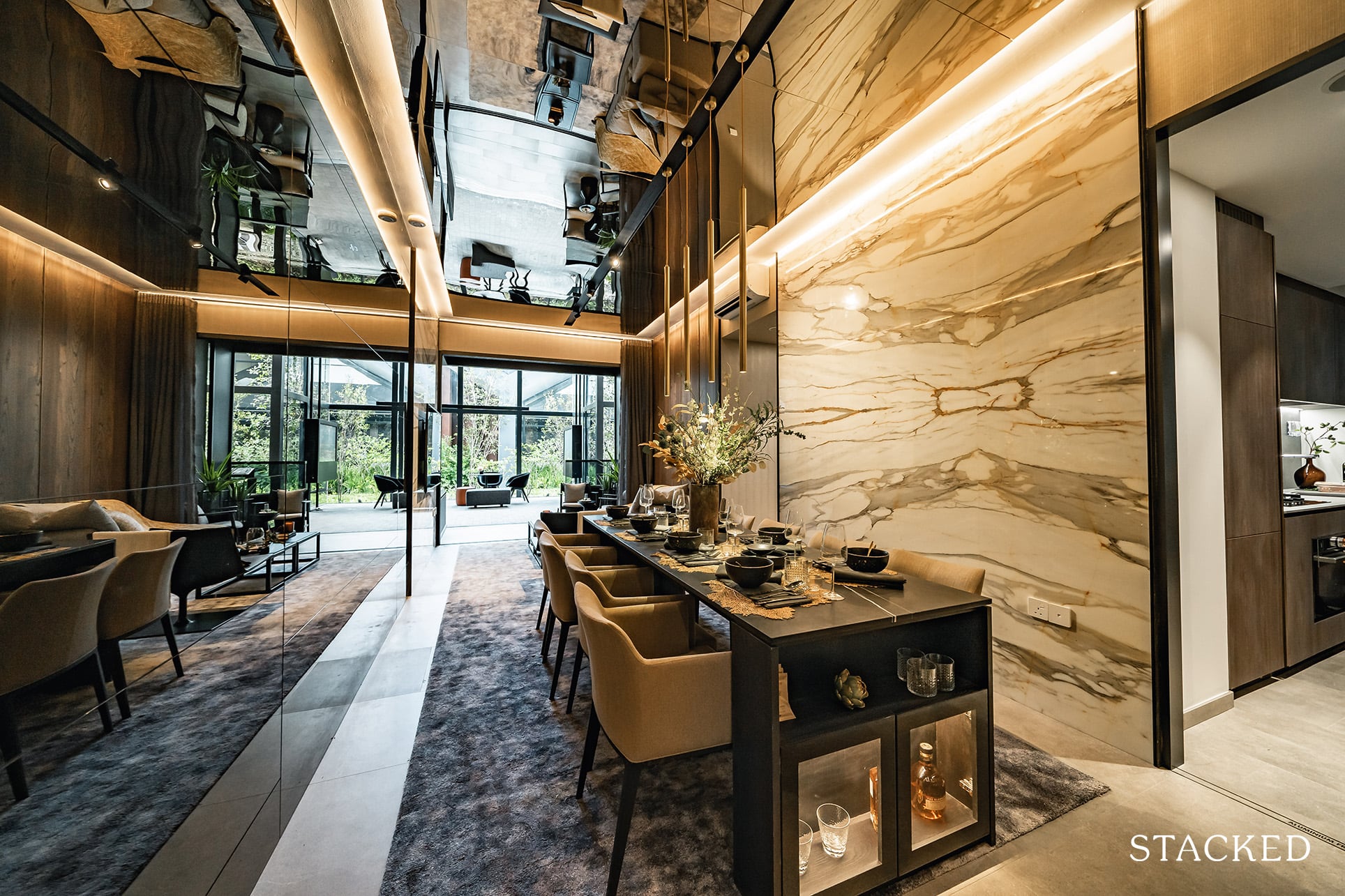 With a long, rectangular layout, they have managed to place an 8 seater dining set here, which I think is very impressive for a 3 Bedroom unit of this size.
I have seen my fair number of new launch units, but not one laid out such as this (at least, not in a normal 3 bedroom unit). It looks pretty spectacular to dine in such fashion, and refreshing, to say the least.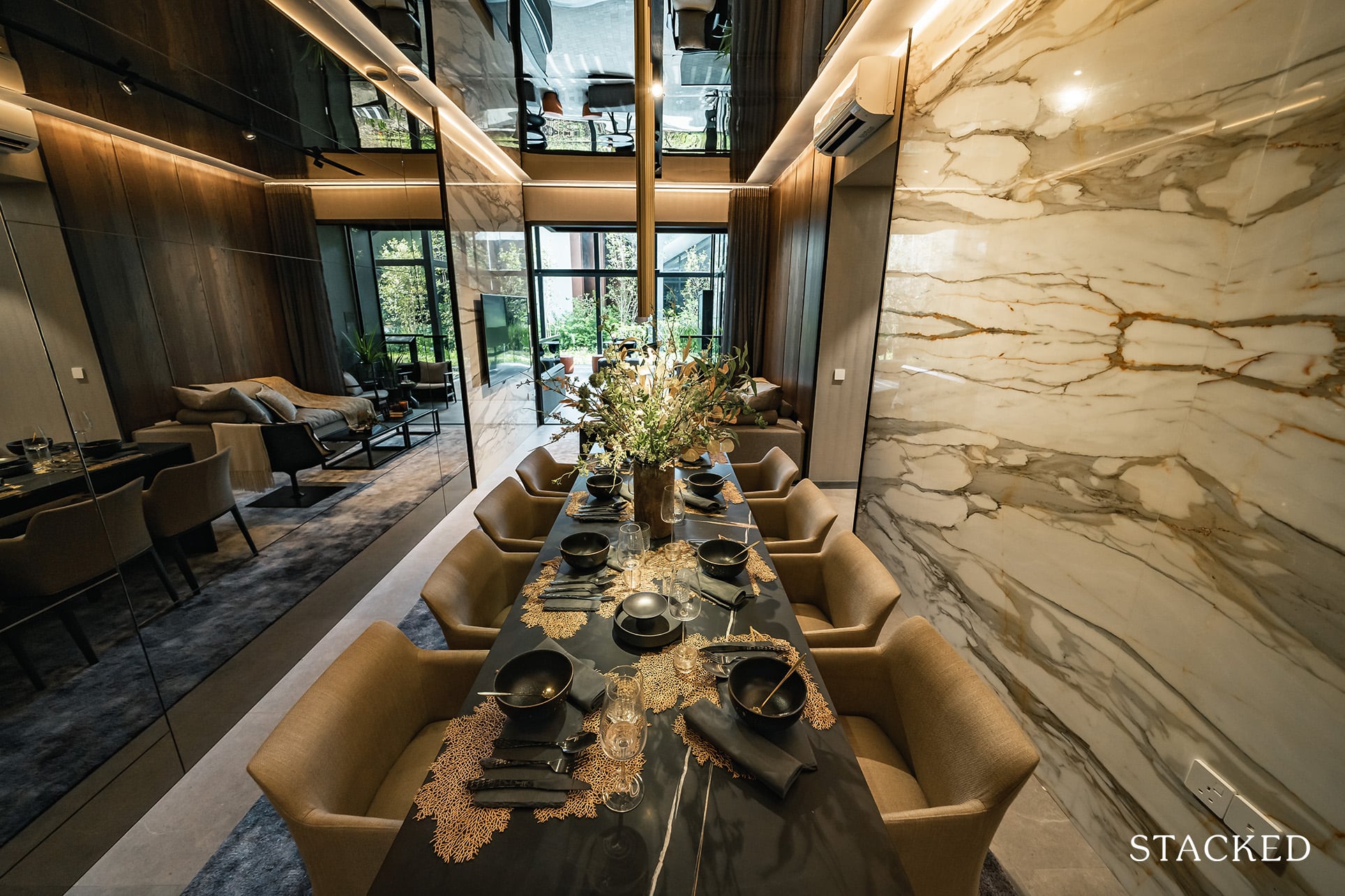 The dining set, if chosen correctly, can be the centrepiece of the unit for your friends and family. If you are in the know, you will realise that the interior designer here is award winning Nathan Yong, the founder of a popular furniture brand Folks Furniture and a retail-based company Grafunkt.
No doubt it does look like a really upmarket place to entertain.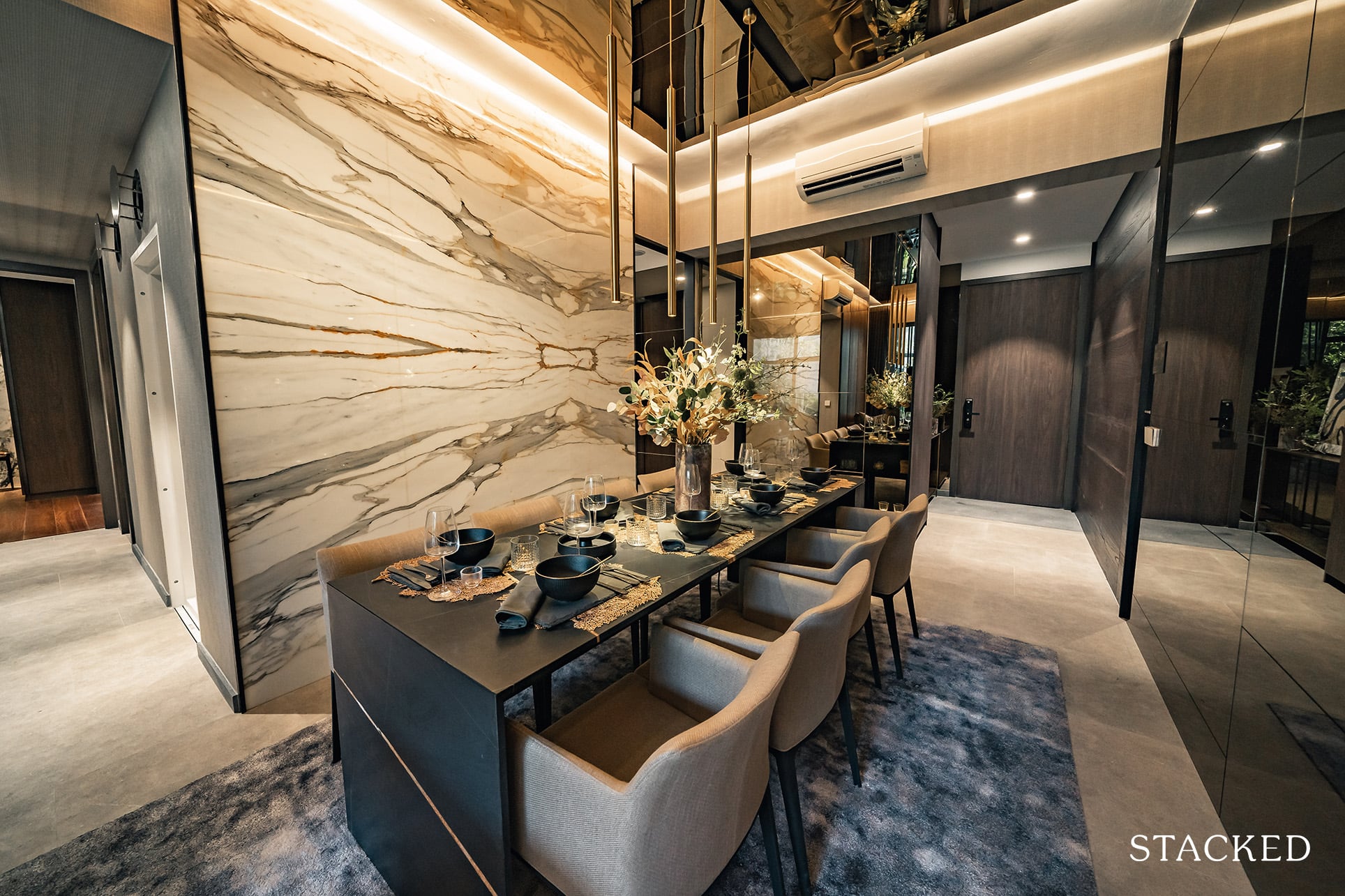 That large slab of marble on one end, and the mirror on the other certainly plays a role in adding to that premium feel. Yes it is an ID finish, and wouldn't be included in the unit, but you can definitely takeaway a lot of inspiration from this.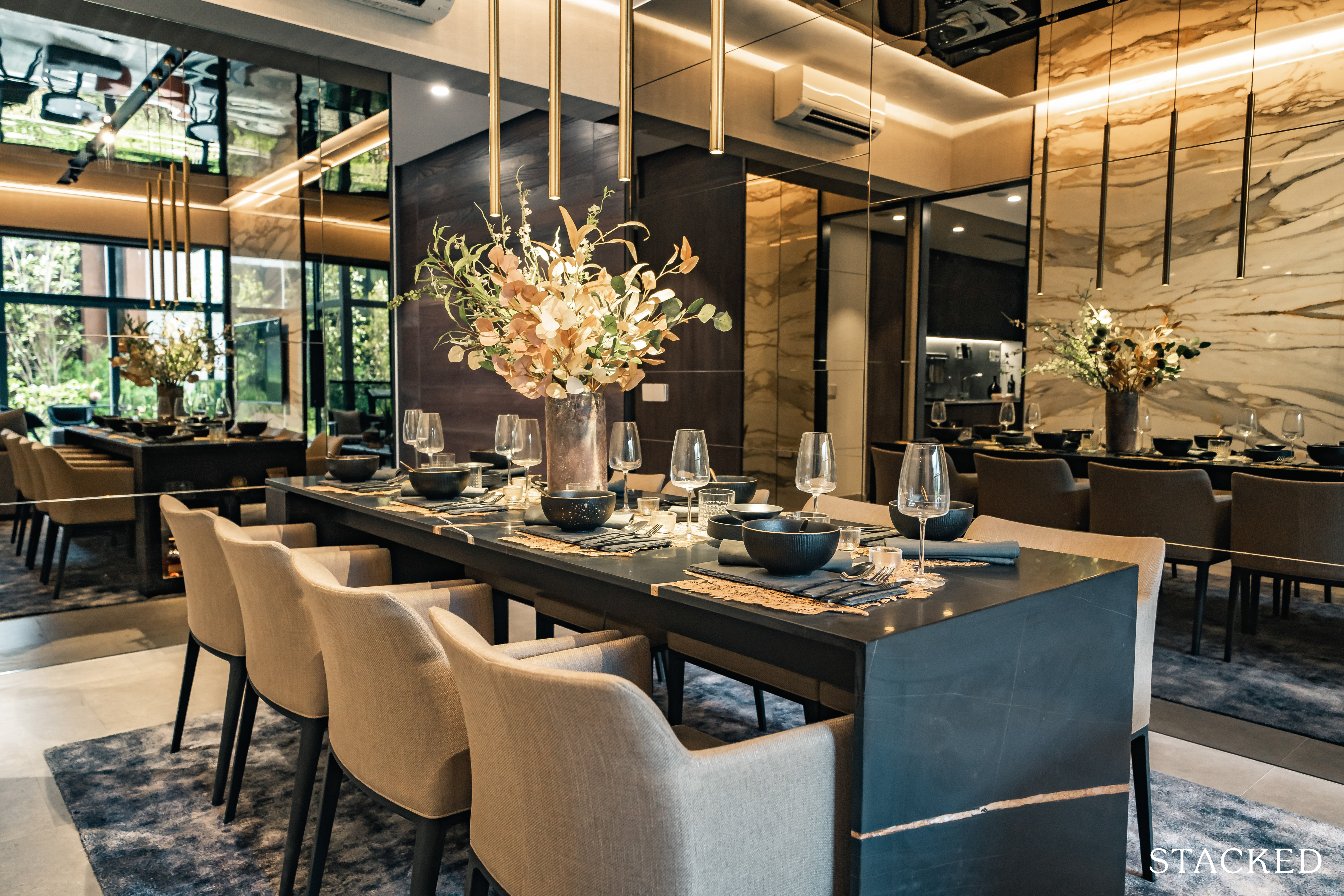 Safe to say, if you do wine and dine a lot, this set up would undoubtedly be a big selling point.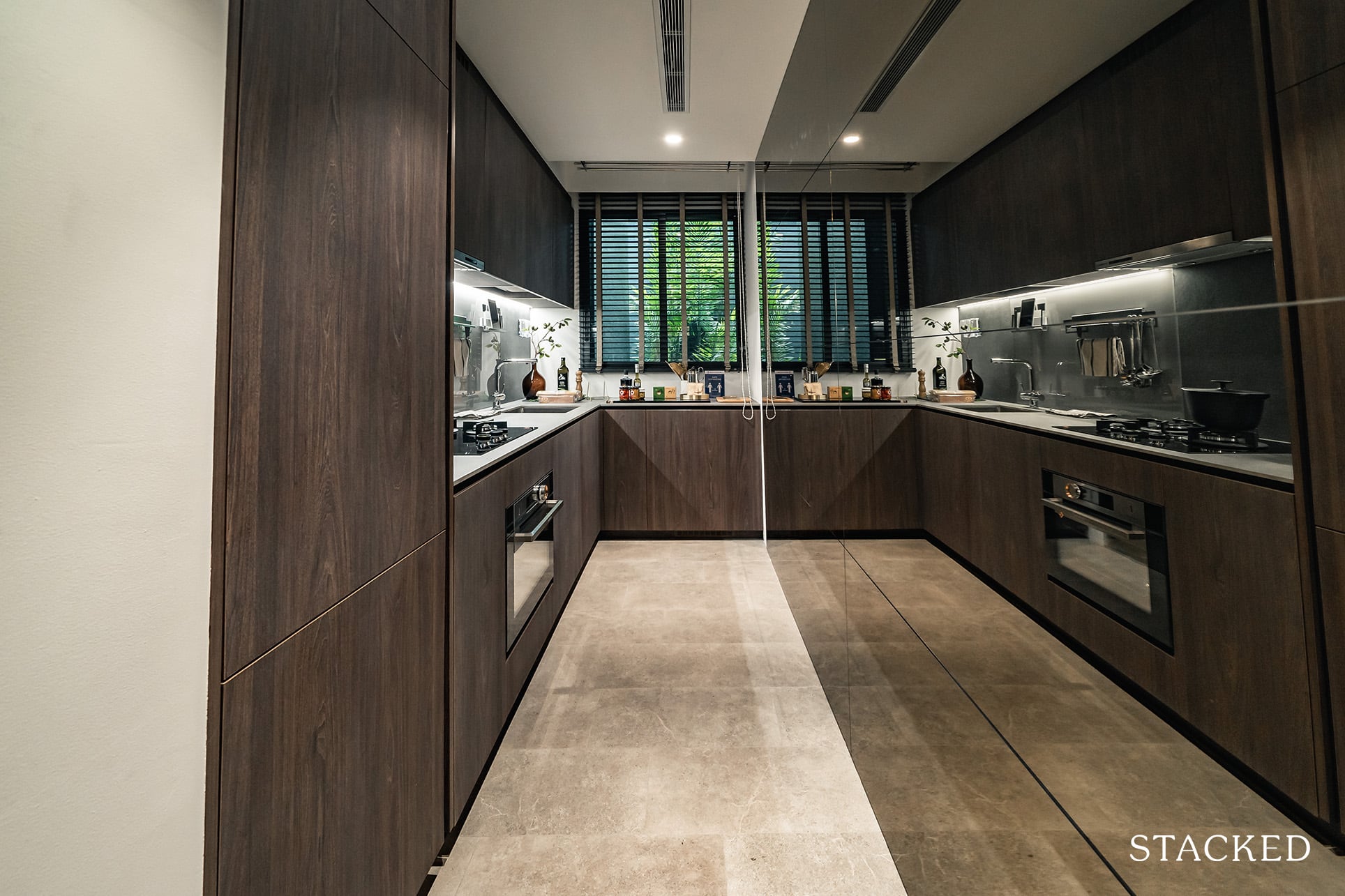 Moving on to the kitchen, it will be enclosed with windows, ensuring that those cooking up a storm will not have to worry about smells permeating the rest of the house. All the more important here, with that stunning dining setup on the outside.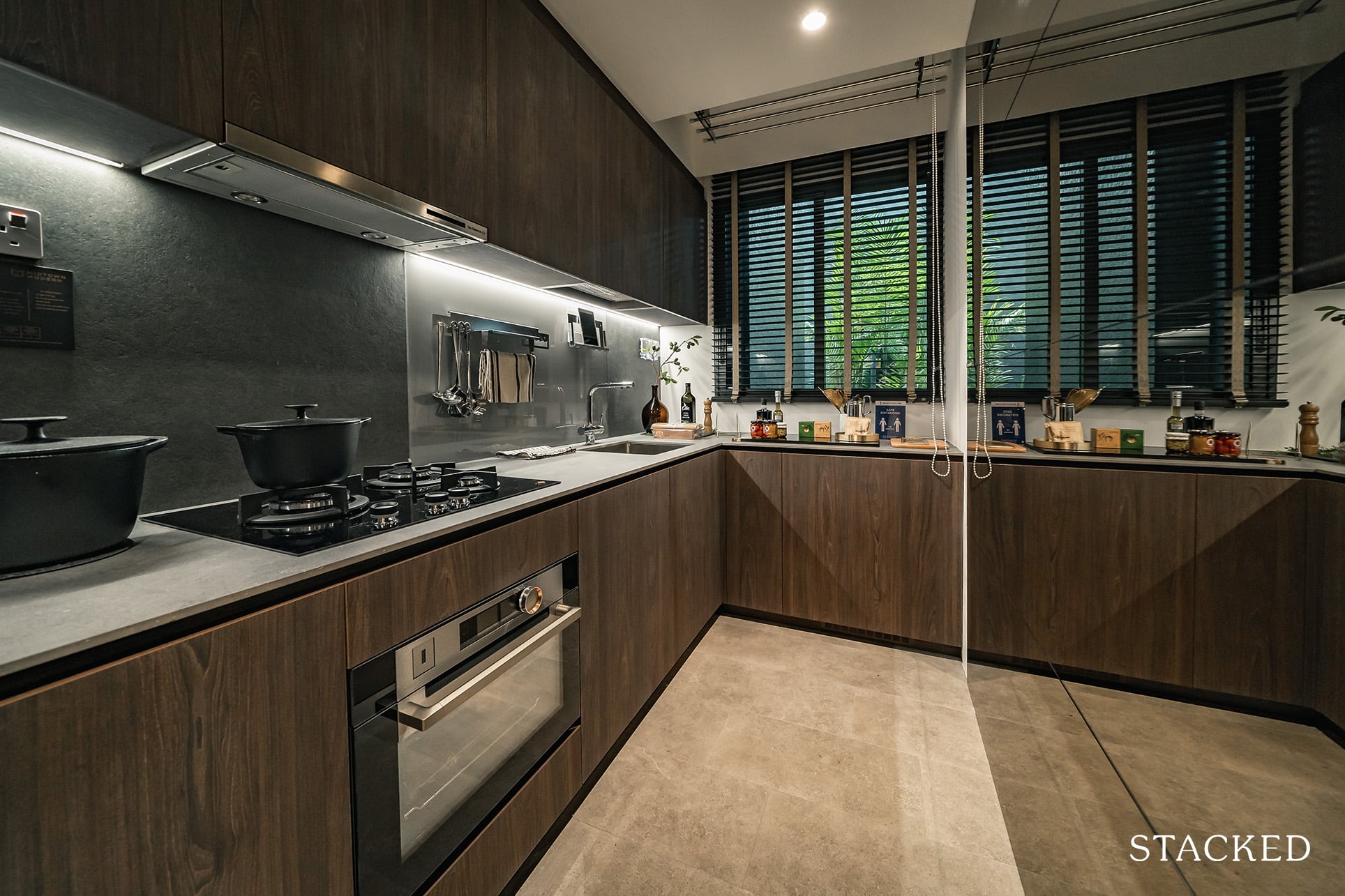 The rectangular kitchen is equipped with appliances from De Dietrich, a premium French brand with many centuries of history. As expected, 3 and 4 Bedroom units get gas hobs, 3 to be exact for 3 Bedroom units. Other De Dietrich appliances include the oven,washer dryer and an integrated fridge that has panels matching the rest of cabinets.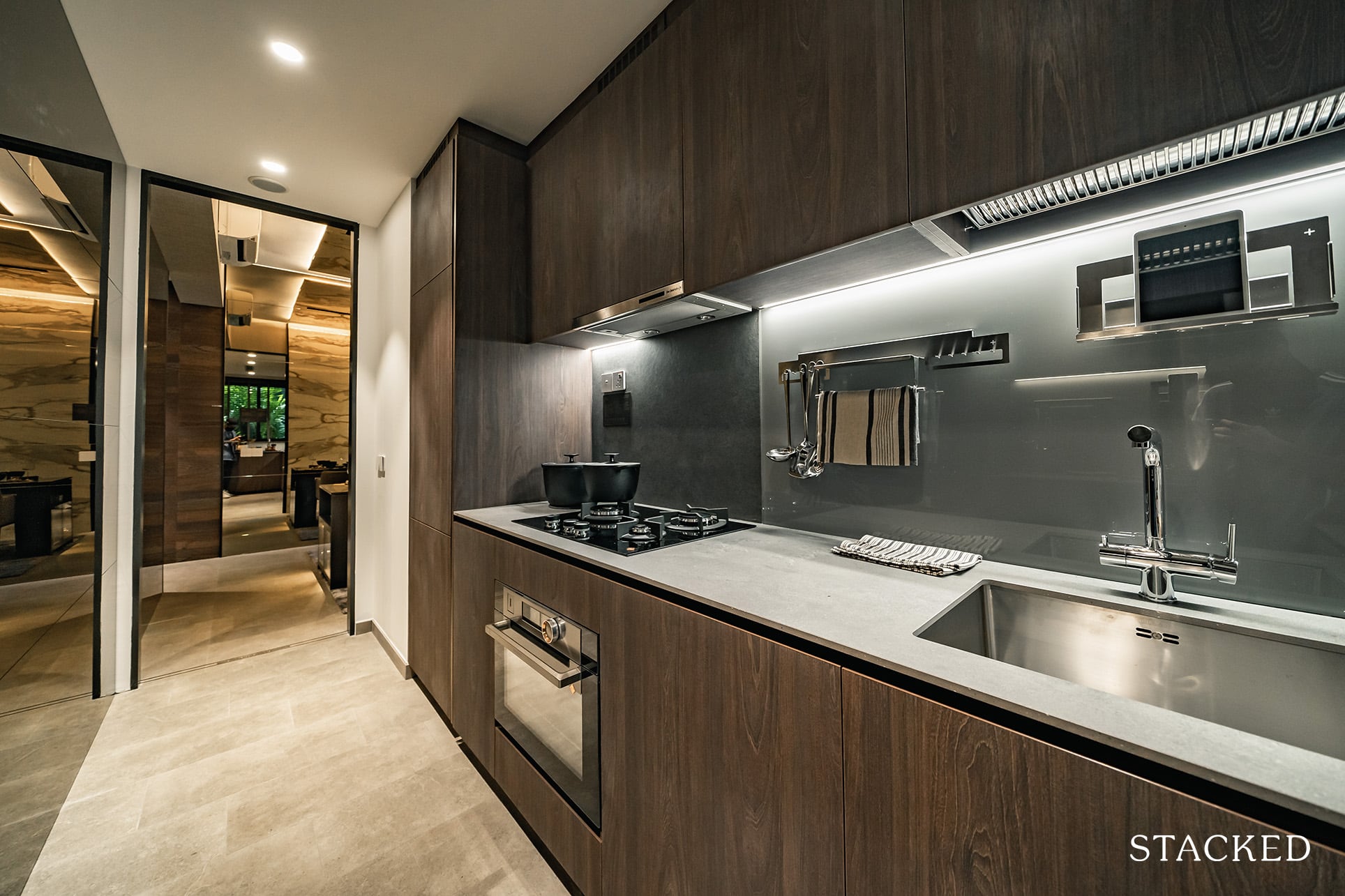 Like the rest of the units so far, the backsplash here is provided. The usual hangers that you see? Well, those are sadly, not provided for and will have to be purchased separately. Last I heard they do sell such nifty hangers and holders at IKEA.
Probably the biggest downside to such a layout would be the lack of a yard area. For families looking at such a unit, that could be a sore point for sure, you'd have to plunge for the bigger 4 bedroom units should that be a dealbreaker.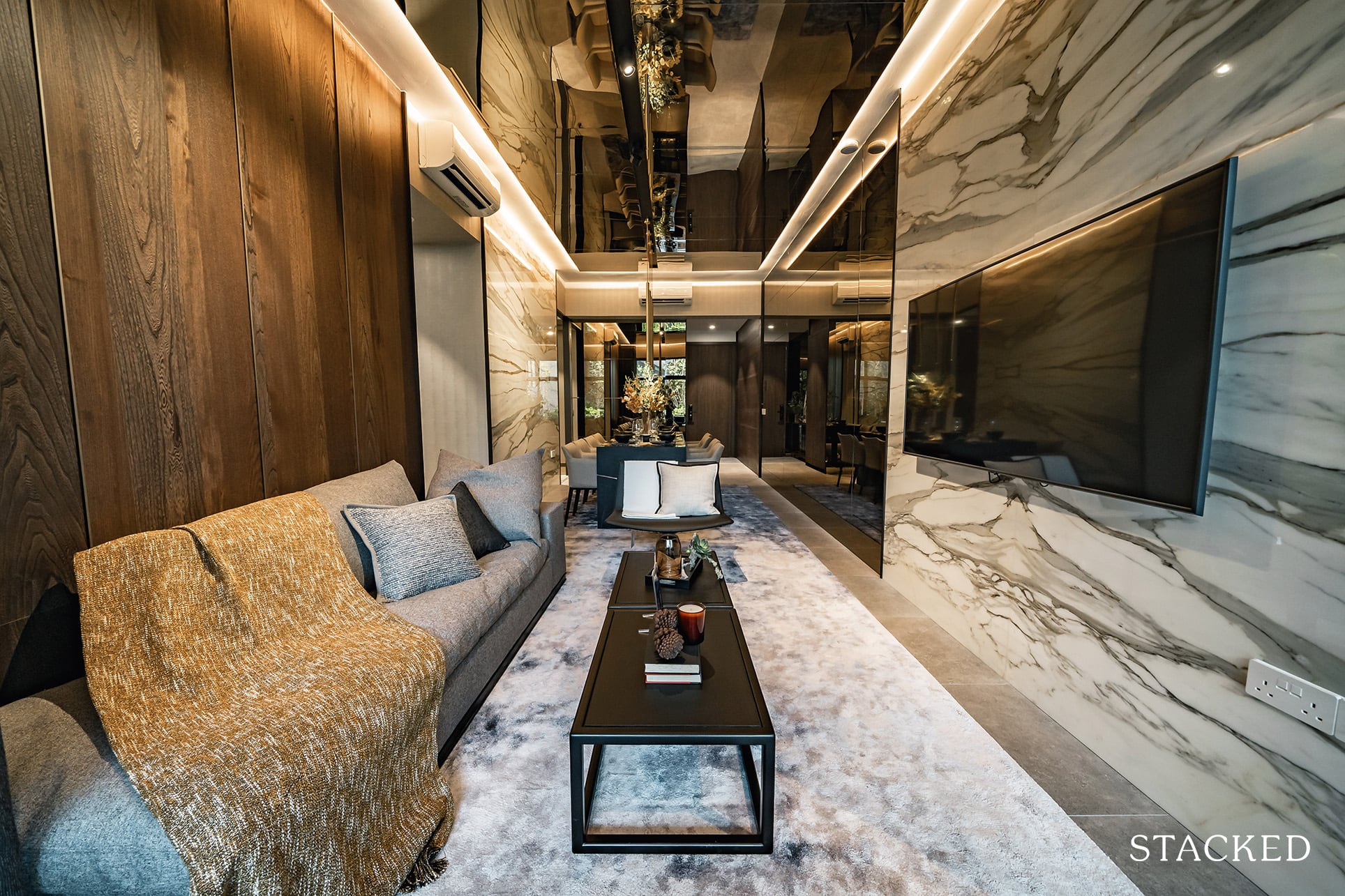 Because the unit is longish in nature, the width of the living room is impacted in a way. It is not the widest of 3 Bedroom units around and while it can fit a good sized 3-4 seater sofa set, room for a coffee table or TV console will be a bit of a struggle. It's probably a necessary sacrifice if you prefer a larger dining area.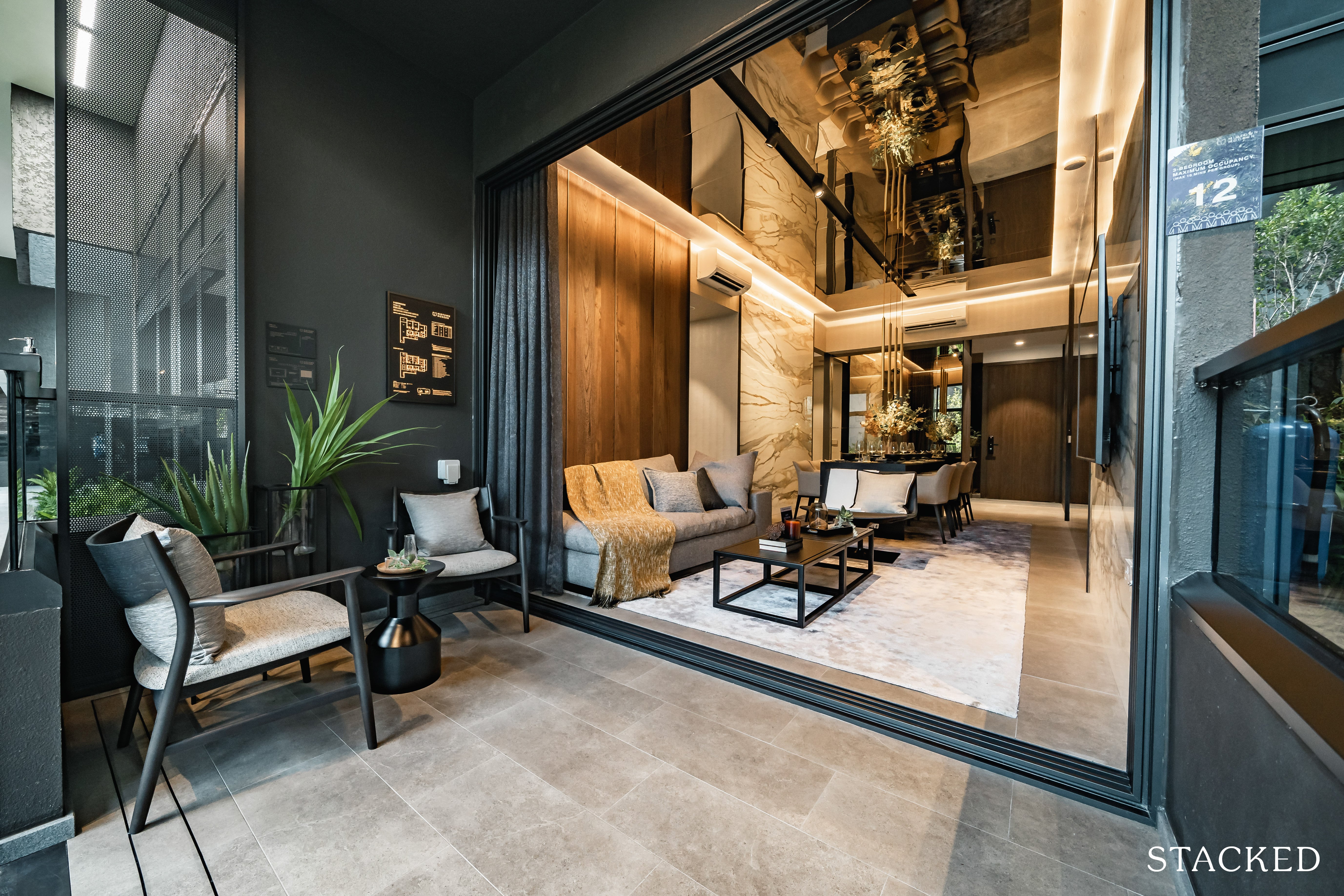 If required, the balcony here is actually pretty decent in size and can serve as an additional spot for your guests or for yourself to wind down.
It's also worth noting here that the balconies at Midtown Modern aren't the usual full glass variety. While it may not be as aesthetically pleasing, it does serve as a privacy barrier. Like what you saw in the bedrooms, it is really to prevent those on the ground from looking up – which to be fair is very much needed in a city environment.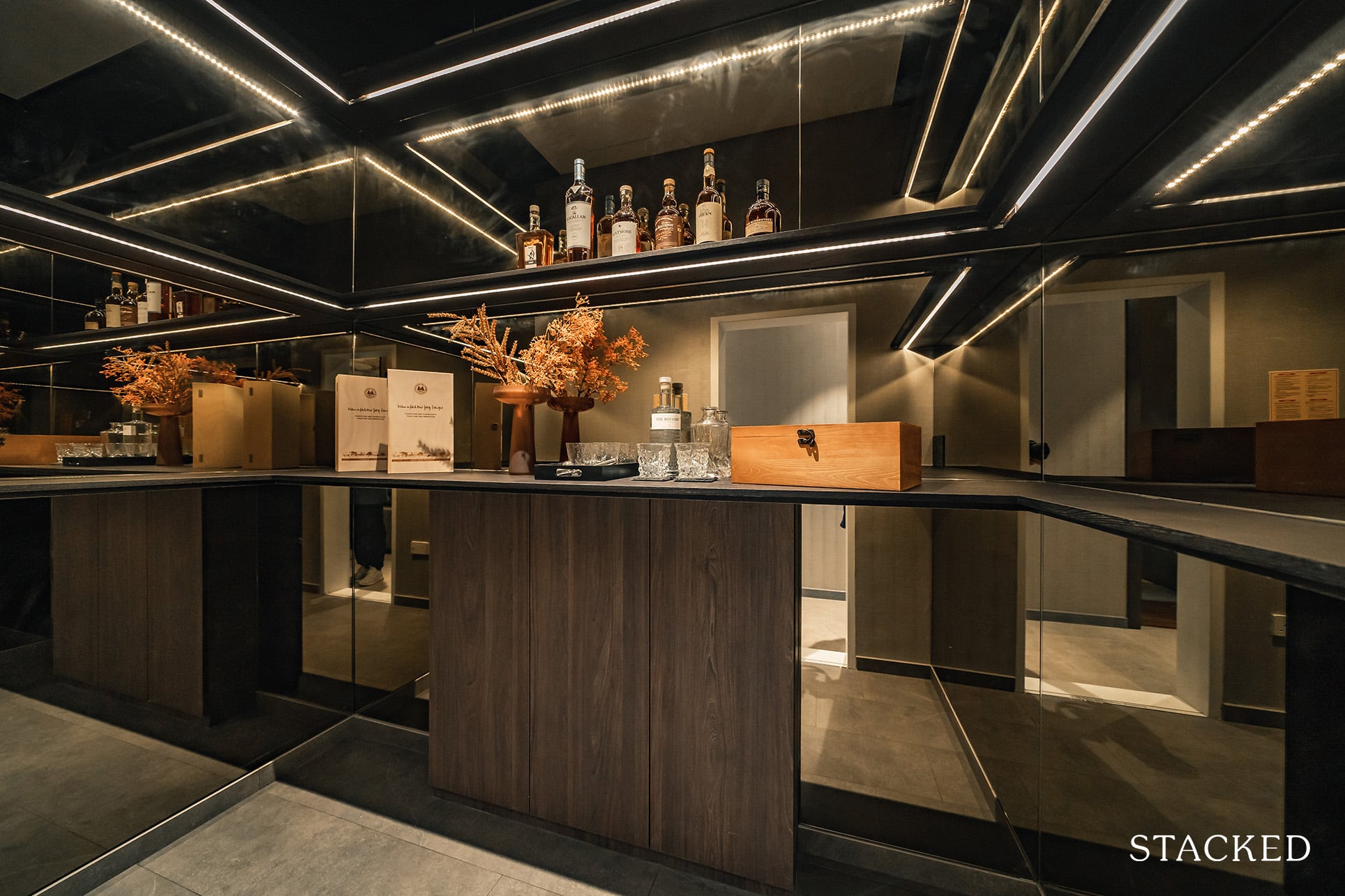 This unit also comes with a Household Shelter a.k.a storeroom for most families. This is absolutely necessary for units of this size catering to families. For those of us who have grown up in yesteryear >1,000 sqft apartments, we all know that additional space to store stuff away is always welcomed.
Alternatively, this would also most likely be used as a helper's room – again, almost a prerequisite for families with children today.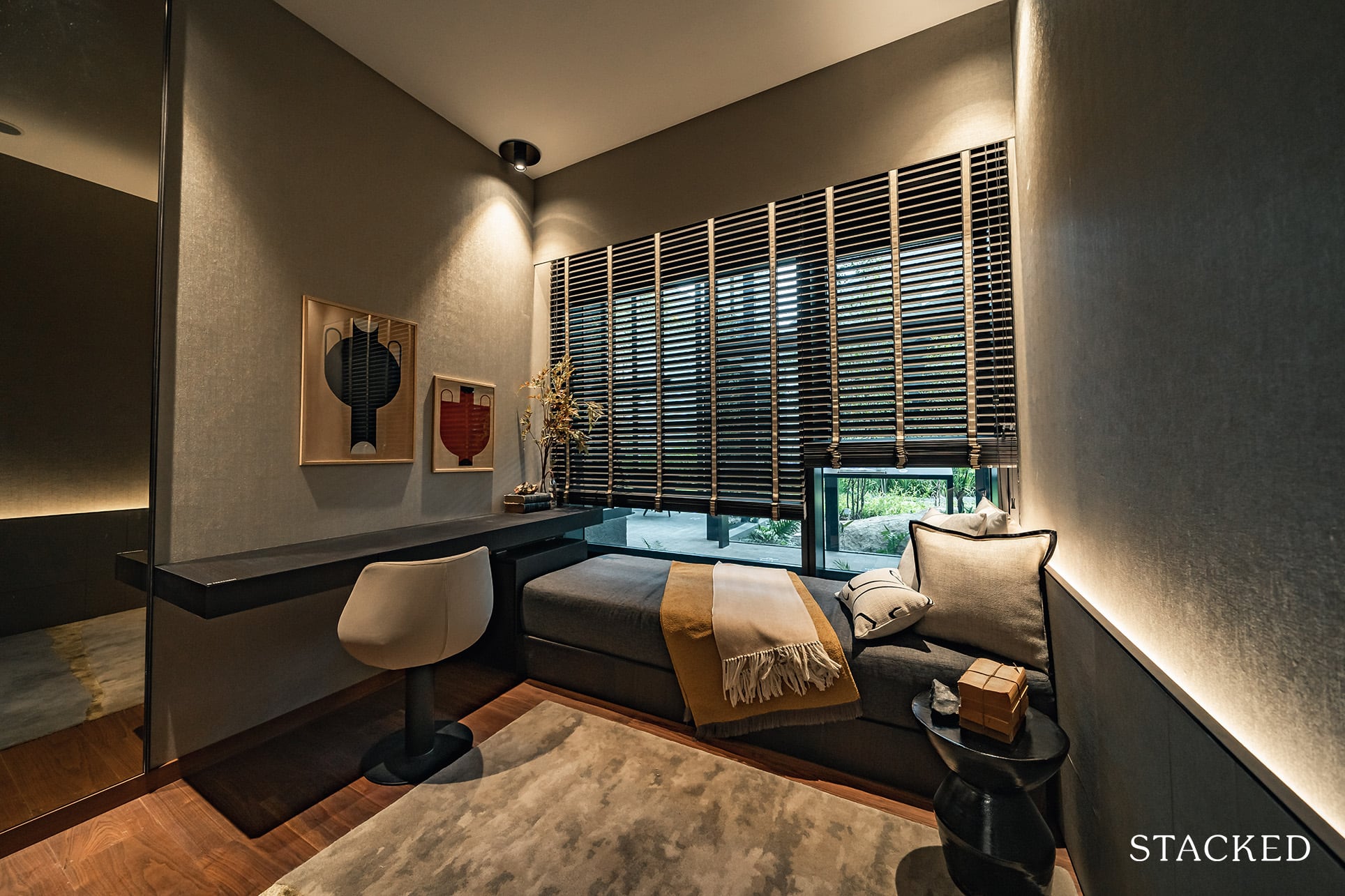 Bedroom 2 and 3 are a mirror image of each other and come in at 10 sqm, which is marginally larger than the 9 sqm average.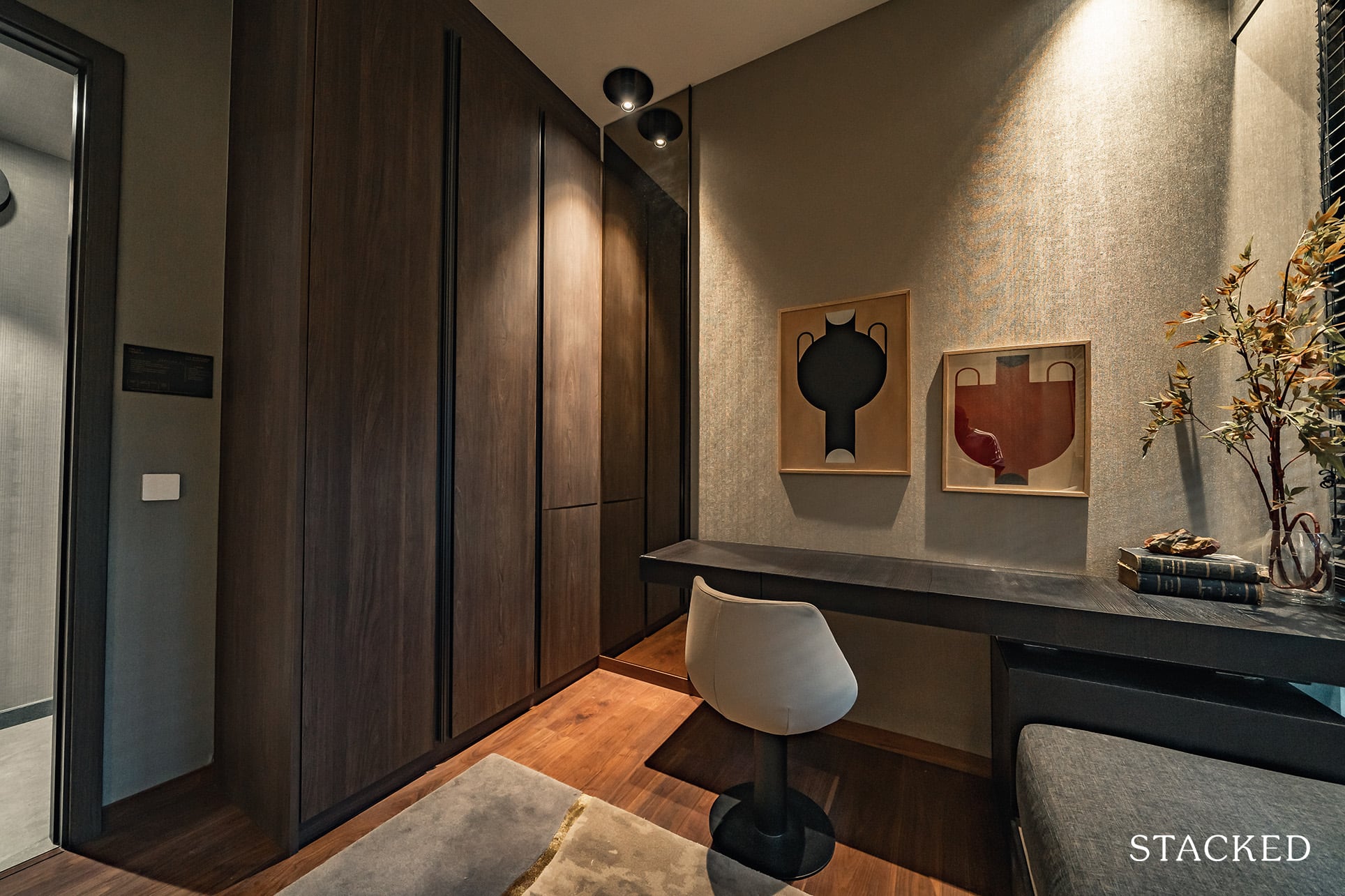 They have gone with a Single bed plus study in Bedroom 3, which is probably the more practical choice for children. As you can see, space has to be accommodated for the swing doors which the built-in wardrobes here have.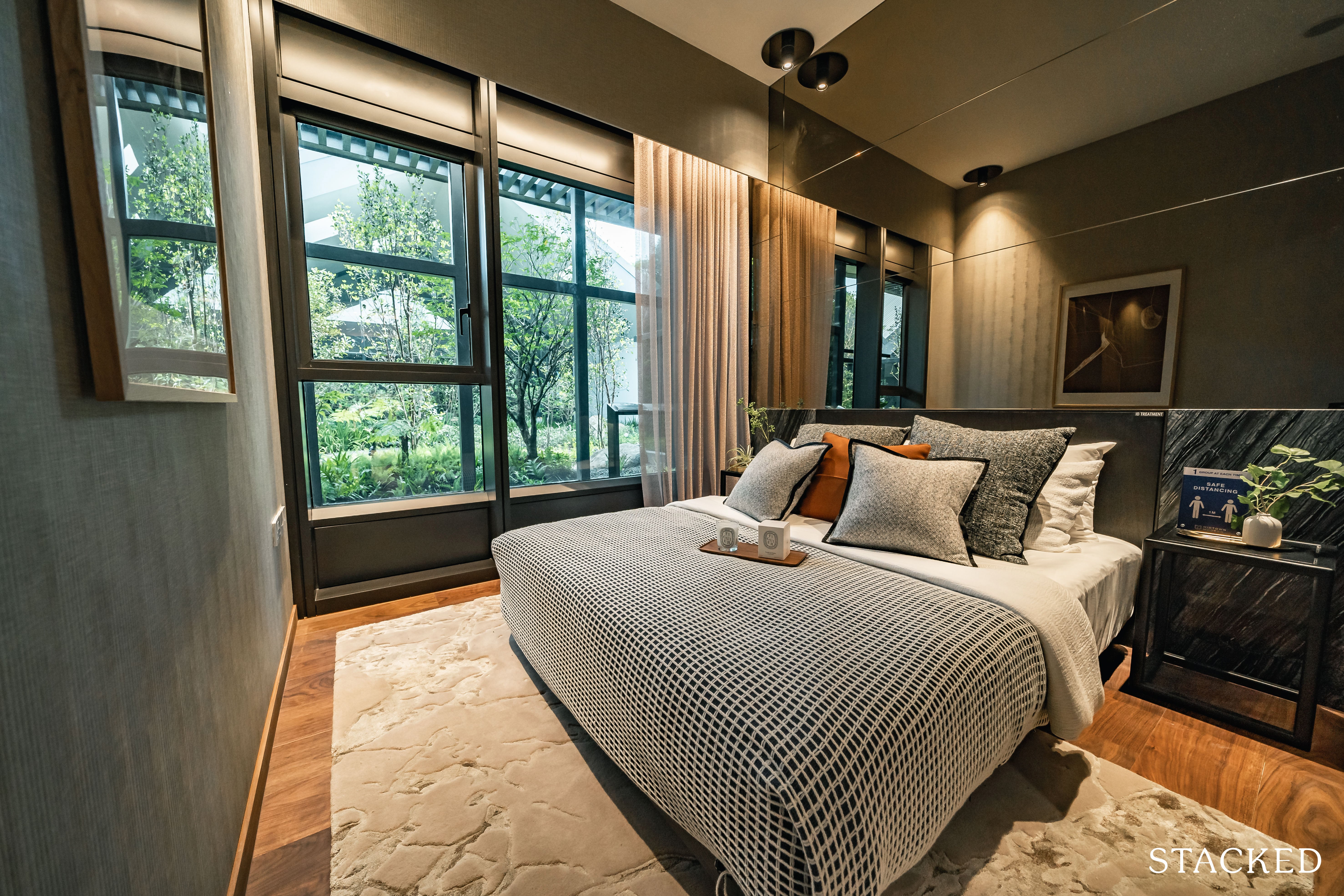 As for Bedroom 2, they have displayed it with a Queen bed instead, to showcase what the room will be able to fit. They were also able to place 2 sidetables with sufficient room to walk around. However, for parents with children, having a Queen bed would mean that you will need another space for their scholarly pursuits.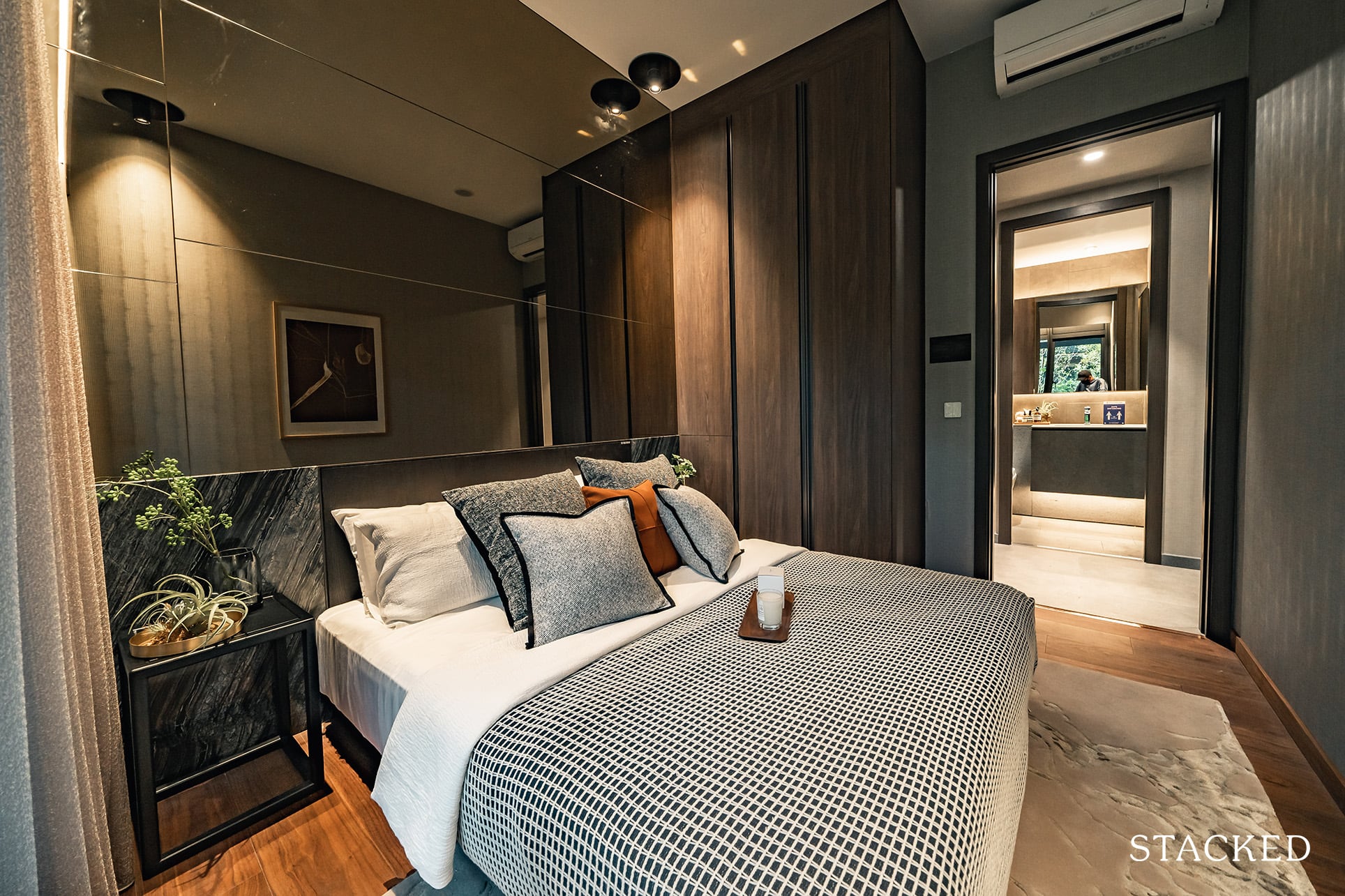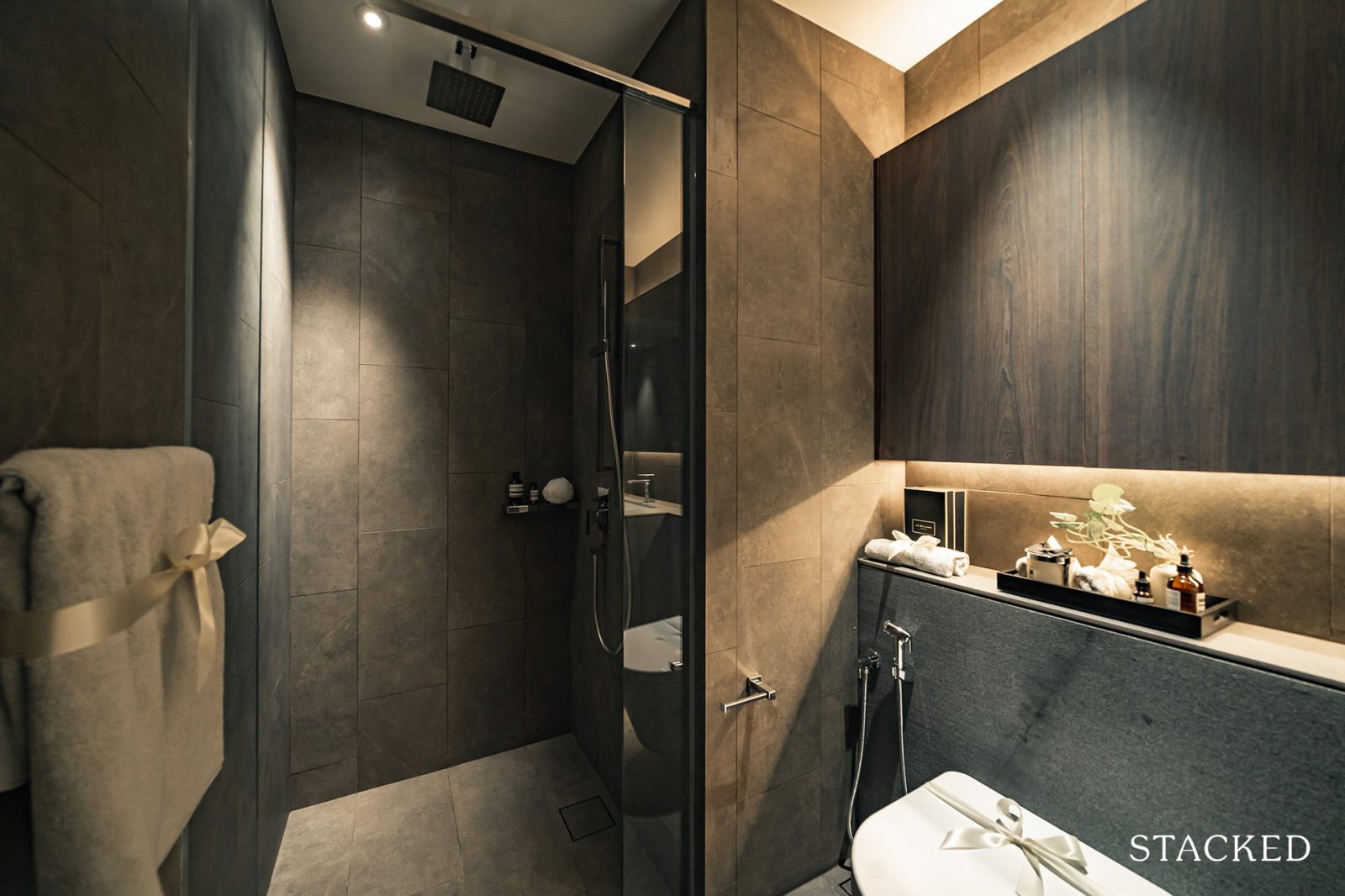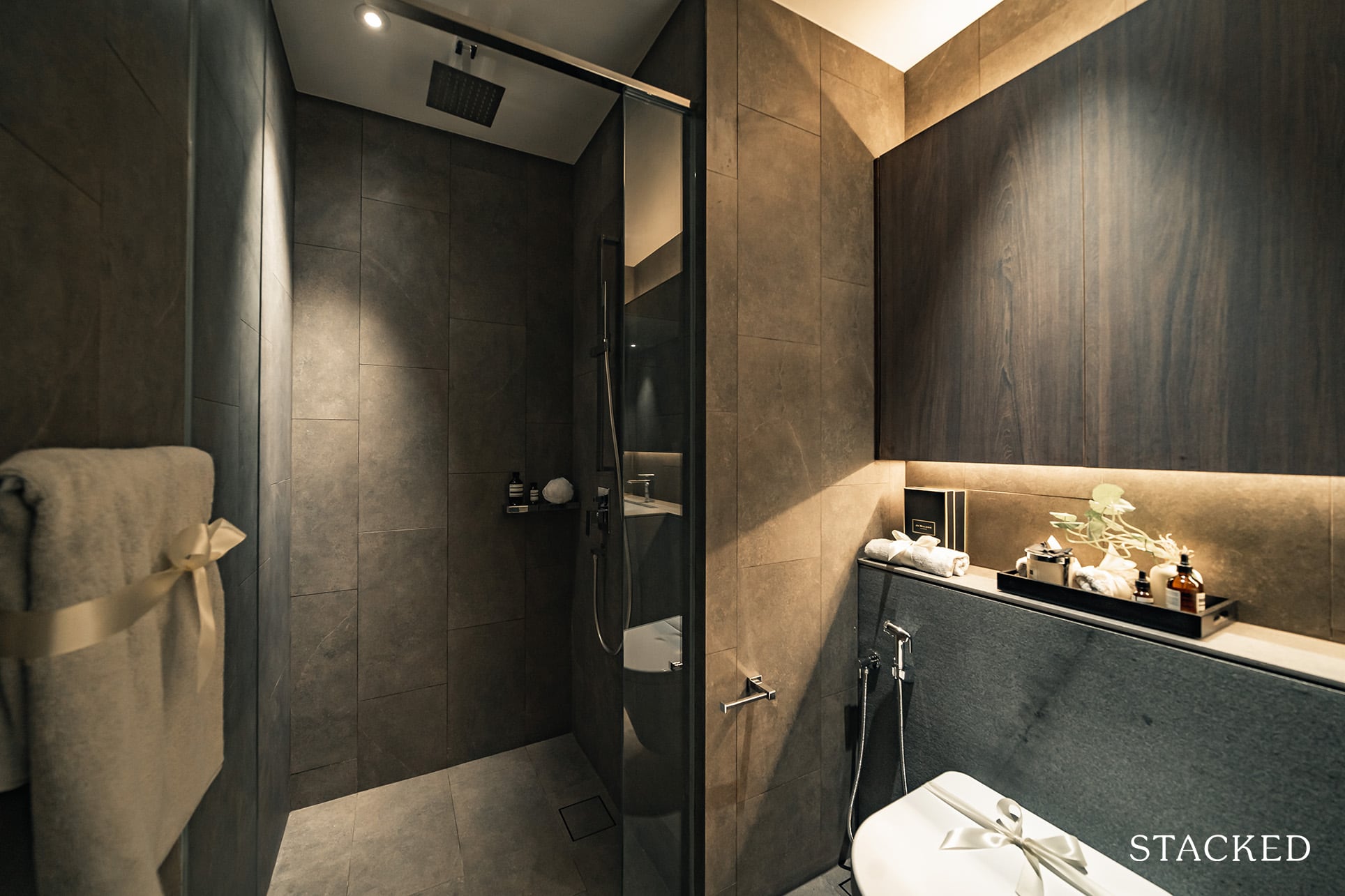 No jack-and-jill bathroom here, but both these bedrooms will share an average sized Common Bathroom. It's of a standard size but comes with rather premium features as a rain shower, wall hung water closet and even a bidet spray. Sanitary wares are by TOTO and the bathroom relies on mechanical ventilation as it lacks a window.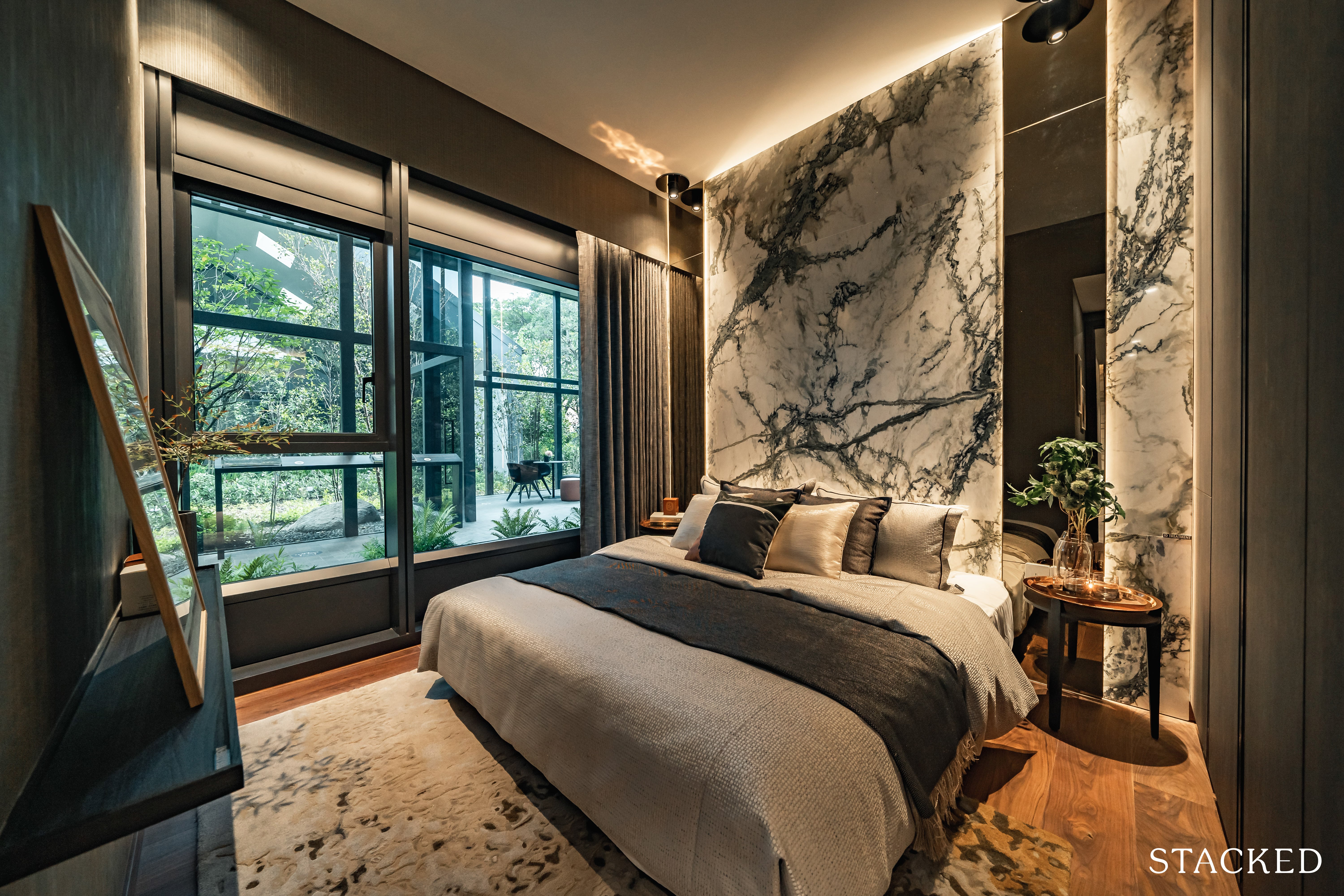 Moving on to the Master Bedroom, which is also slightly larger than average at 13.1 sqm. It can fit a King sized bed, although you will be able to do more – i.e. place bedside tables or a dresser if you opt for a Queen instead.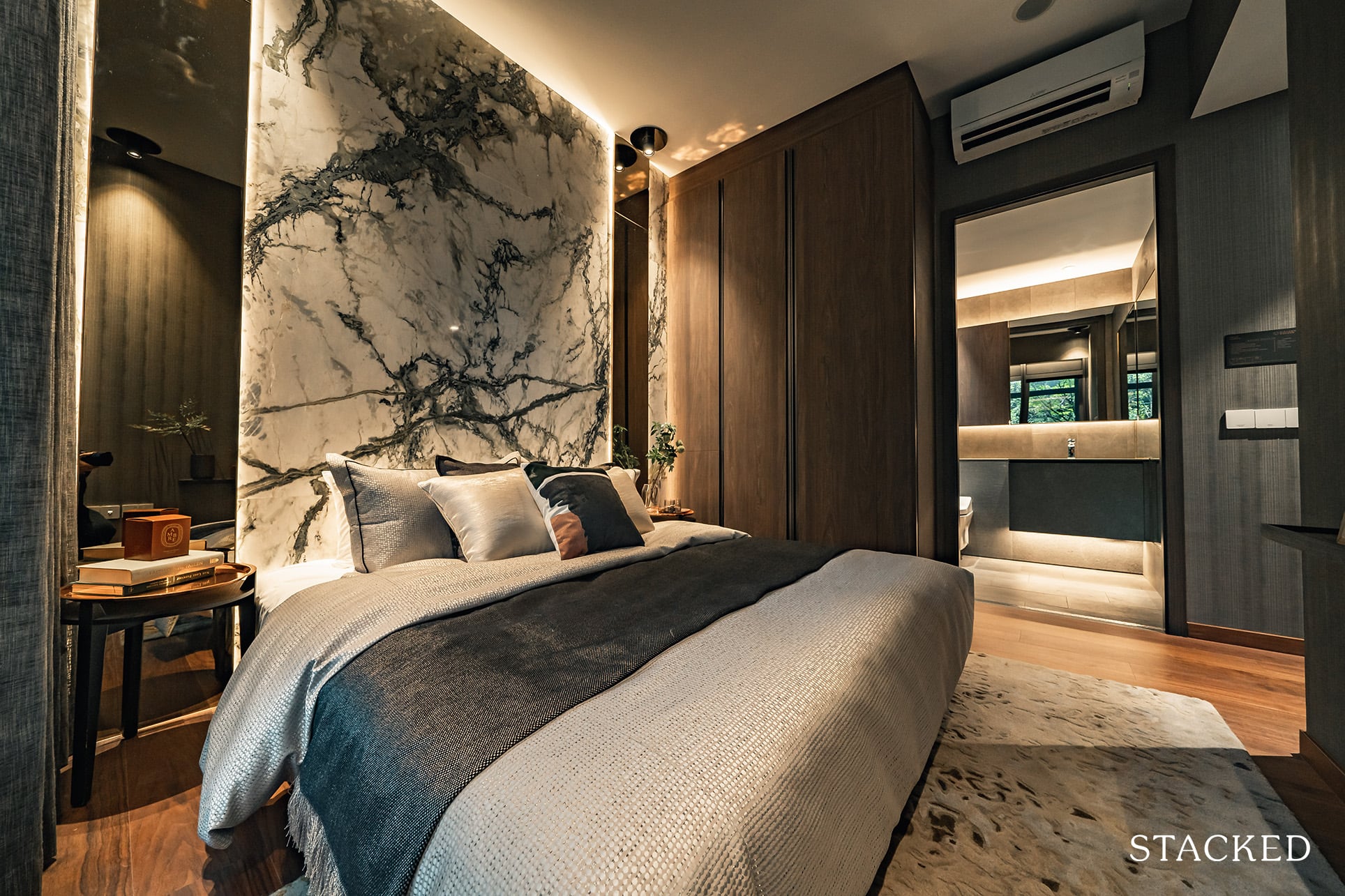 As usual, the wardrobes here swing out and will take up more bedroom space to open.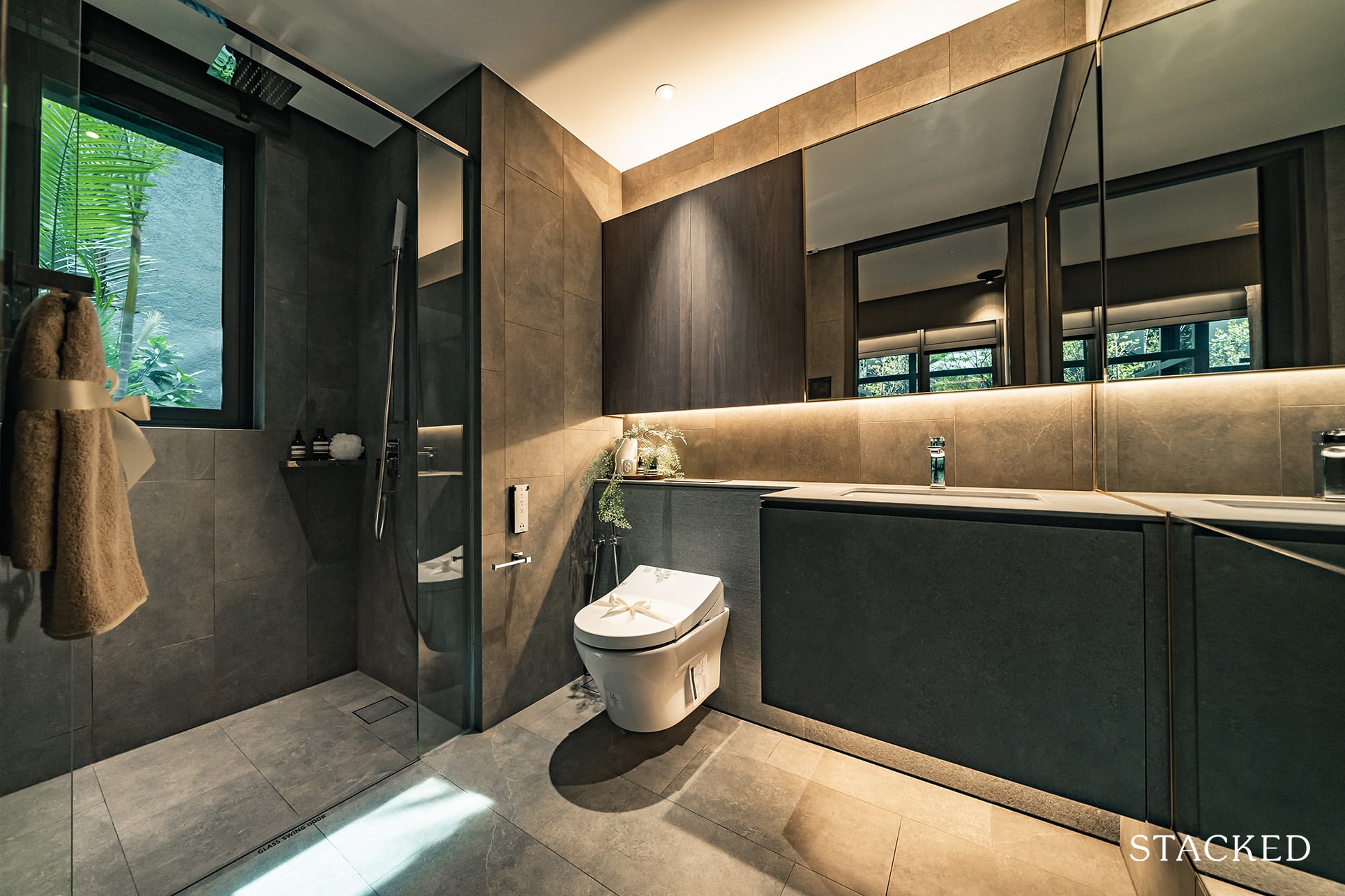 The Master Bathroom is marginally larger than the Common Bathroom. It will come with premium features as a rain shower, wall hung water closet and a bidet spray. Sanitary wares are from TOTO as well, but again, that is a slight surprise to see here – but that is by no means a big deal at all either.
On another note, I'm glad to see that the Master Bathroom comes with windows to ensure that moisture will not gather easily.
Midtown Modern 4 Bedroom Type D3P Review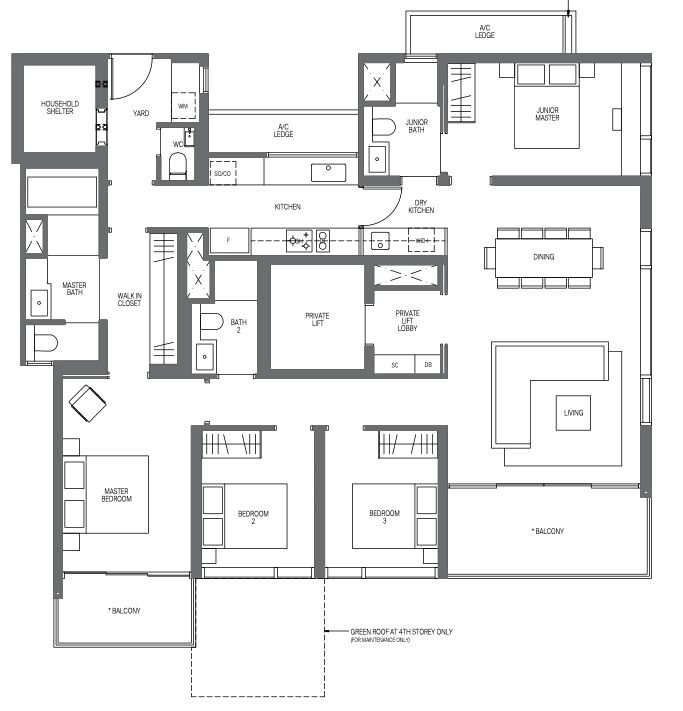 At 1,808 sqft for a 4 Bedroom unit, this is definitely a standout for bigger families looking to live in the District 7 area. You don't have too much new launch competition here when it comes to units of this size (Midtown Bay only offers up till 3 bedroom units, while South Beach Residences isn't really considered to be the same class). So it is here that you see where GuocoLand is trying to appeal to families that are looking to District 7 as a viable, liveable area but require a certain amount of living space.
For those looking for a more affordable quantum can look to the smaller 4 bedroom units that come up to 1,442 and 1,464 sqft in size.
Overall because of its squarish shape I would say that it is as efficient as can be. It doesn't have the usual long entryway because of the private lift entry – which is definitely a good thing.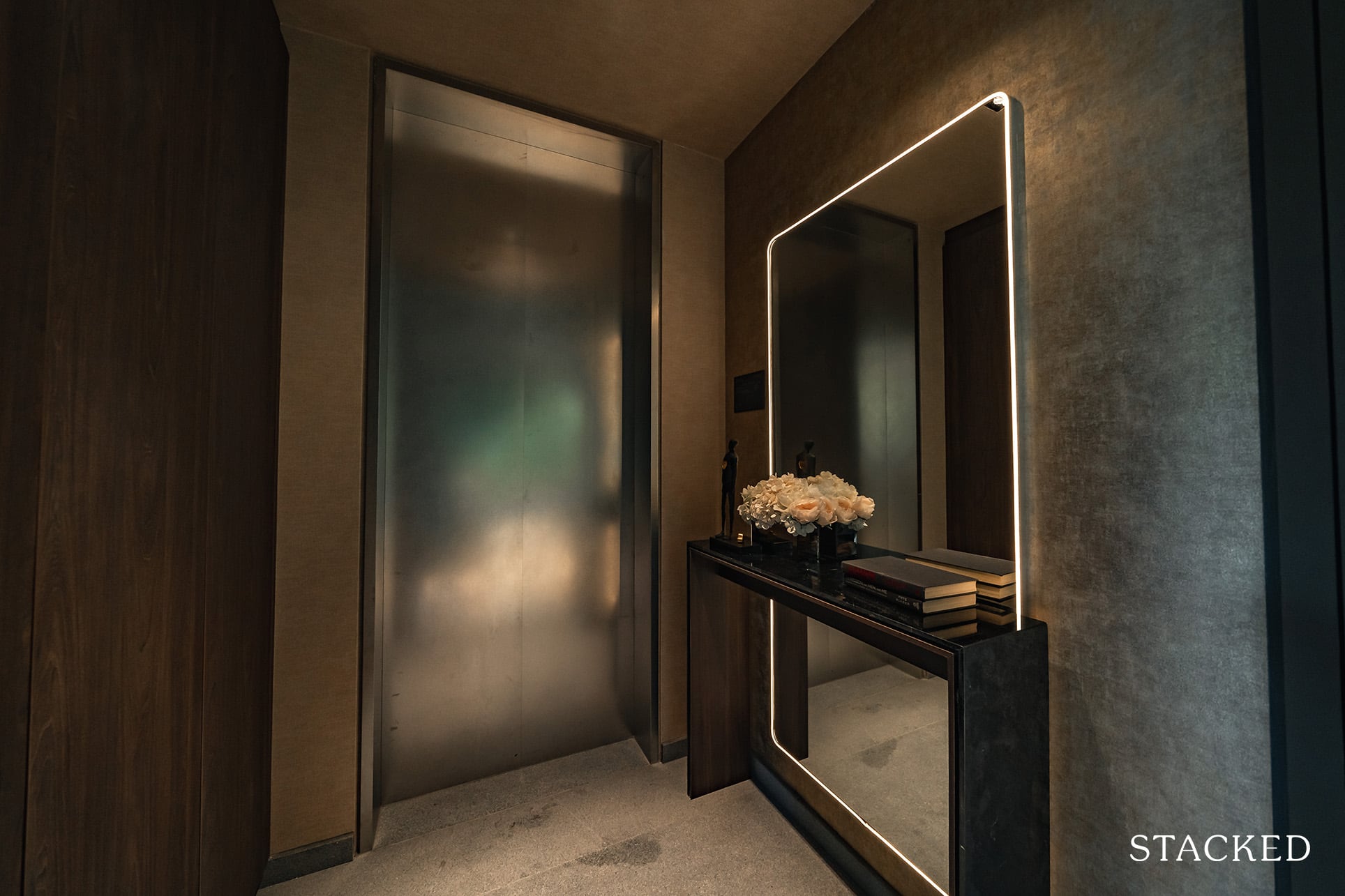 As one would expect from a unit of this stature, it comes with a Private Lift and a Private Lift Lobby, which allows residents additional privacy after stepping out of the lift. The Lift Lobby will also come with a built-in shoe cabinet.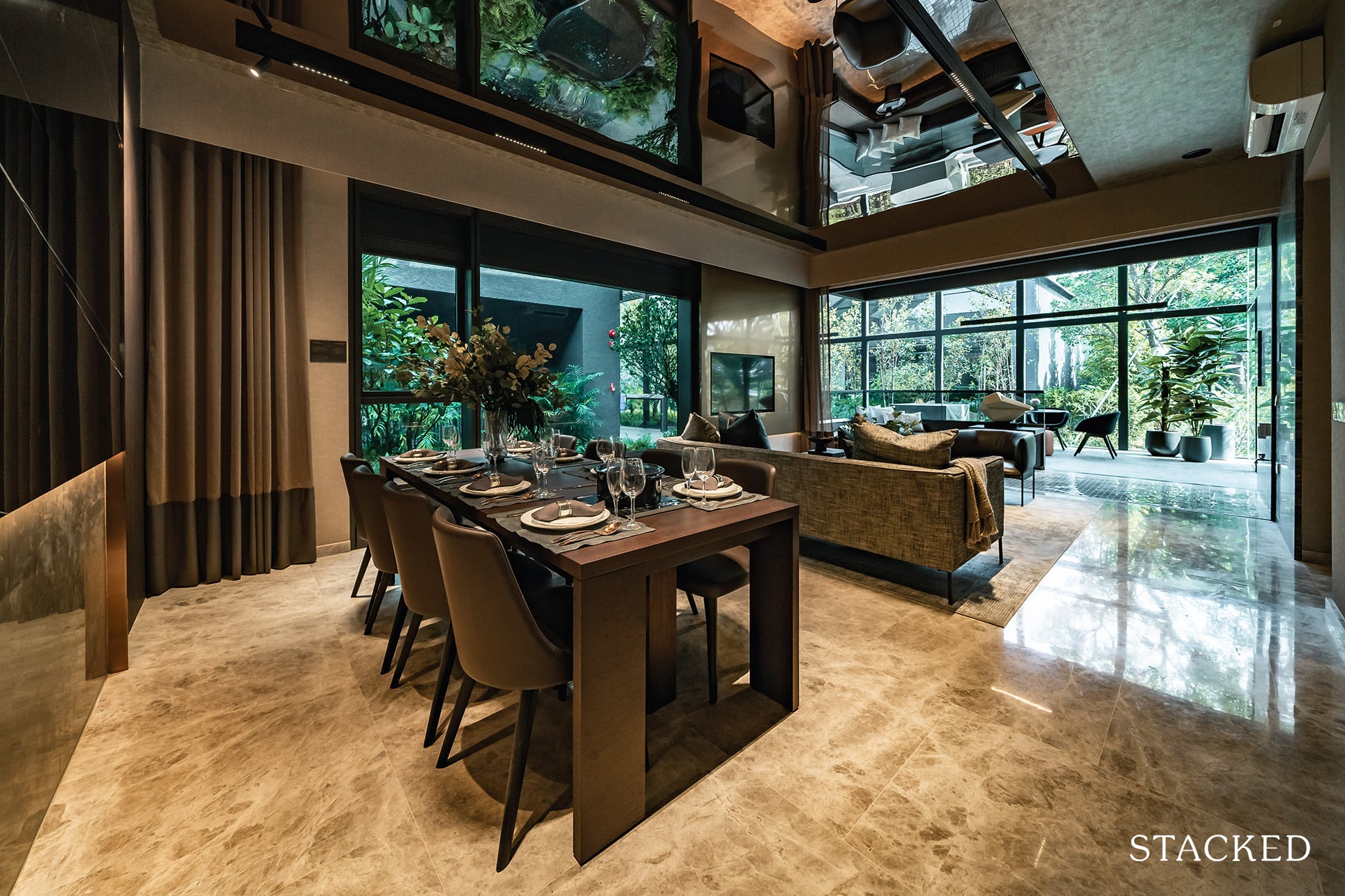 Stepping out from the Private Lift Lobby is where you will find a pretty large living and dining room. Expectedly, you will be able to fit a 10 seater dining set here rather comfortably.
For 4 Bedroom units, the flooring provided will be patterned natural marble and engineered timber for the bedrooms. The natural marble floor definitely gives off the luxe feeling that potential owners would probably expect.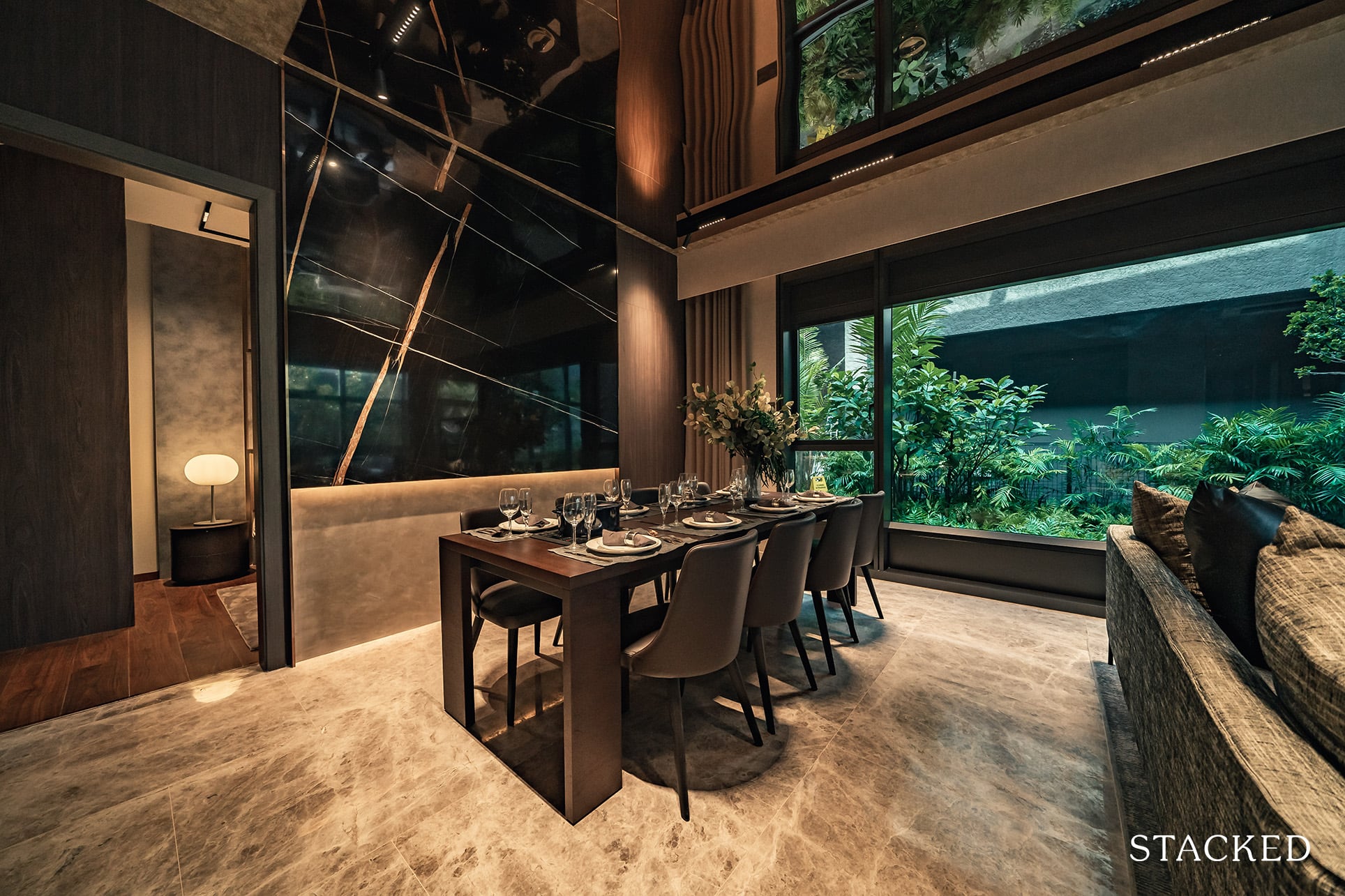 As you can tell from the pictures, natural light will not just come from the balcony but also from the sides of the living room – several large panels of it will let in light for both the dining and living areas and that's always a nice touch as it ensures that the unit stays bright throughout the day.
It was purposefully done to resemble a picture frame – so that view is "framed" in as you step out of the lift and into your home. If anything, it might even be worth going against convention to get the lower floor units because of that picturesque landscape view.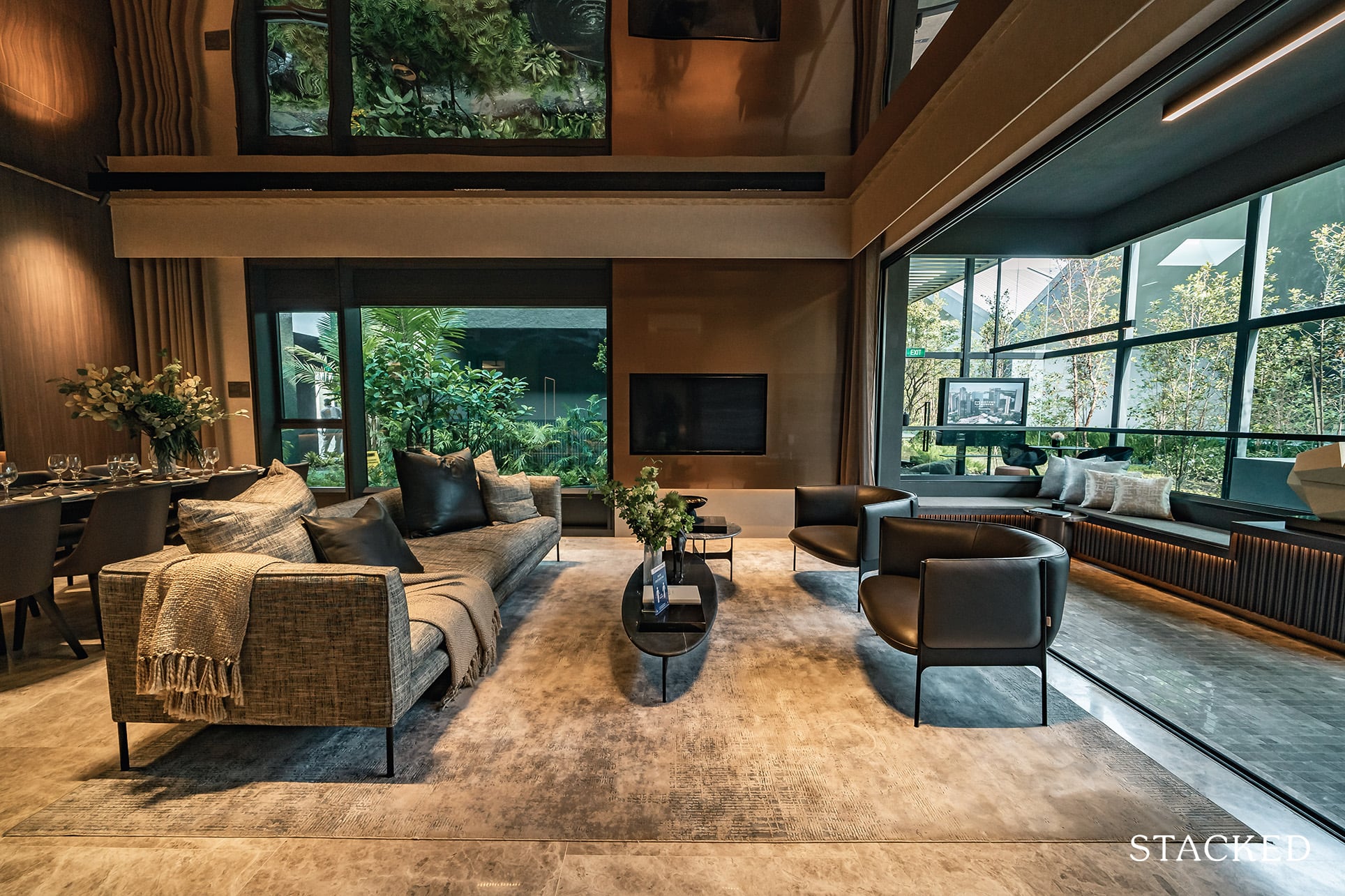 As for the living room, it is also significantly wider than the other units we have reviewed previously and can definitely fit in more seating, a coffee table with room for a TV console.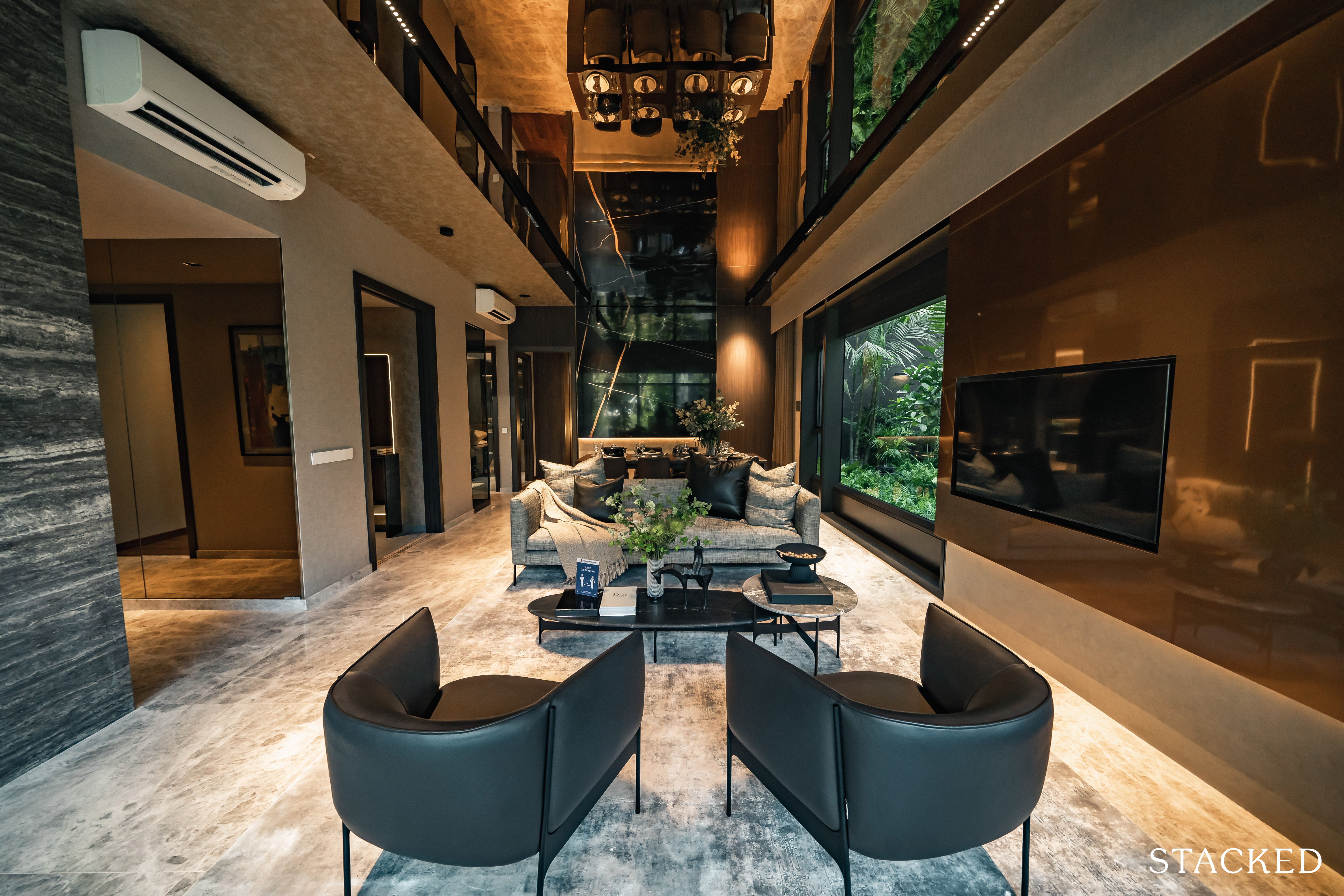 As with the 3 Bedroom unit, this is designed by award winning Nathan Yong, the founder of a popular furniture brand Folks Furniture and a retail-based company Grafunkt.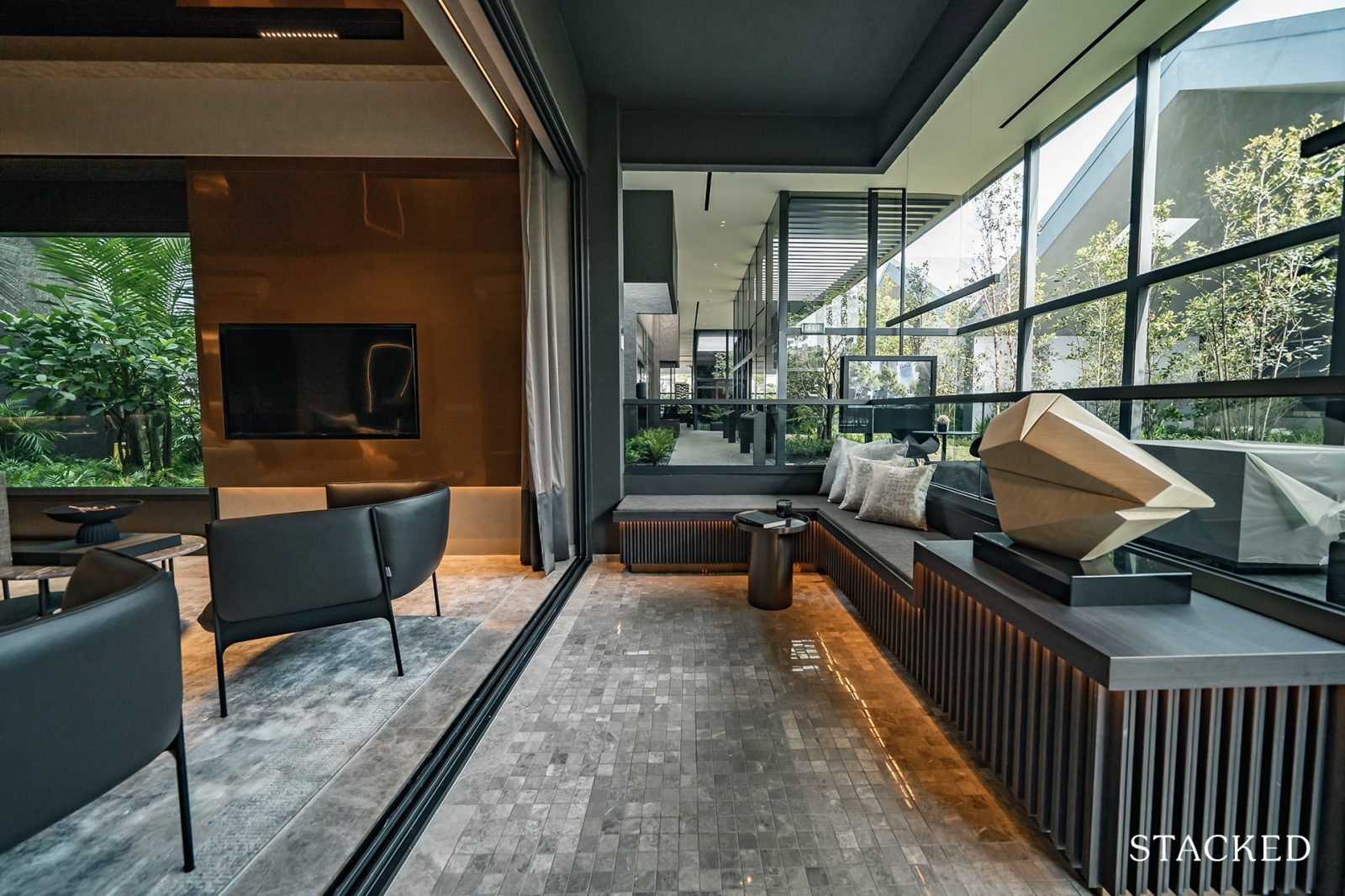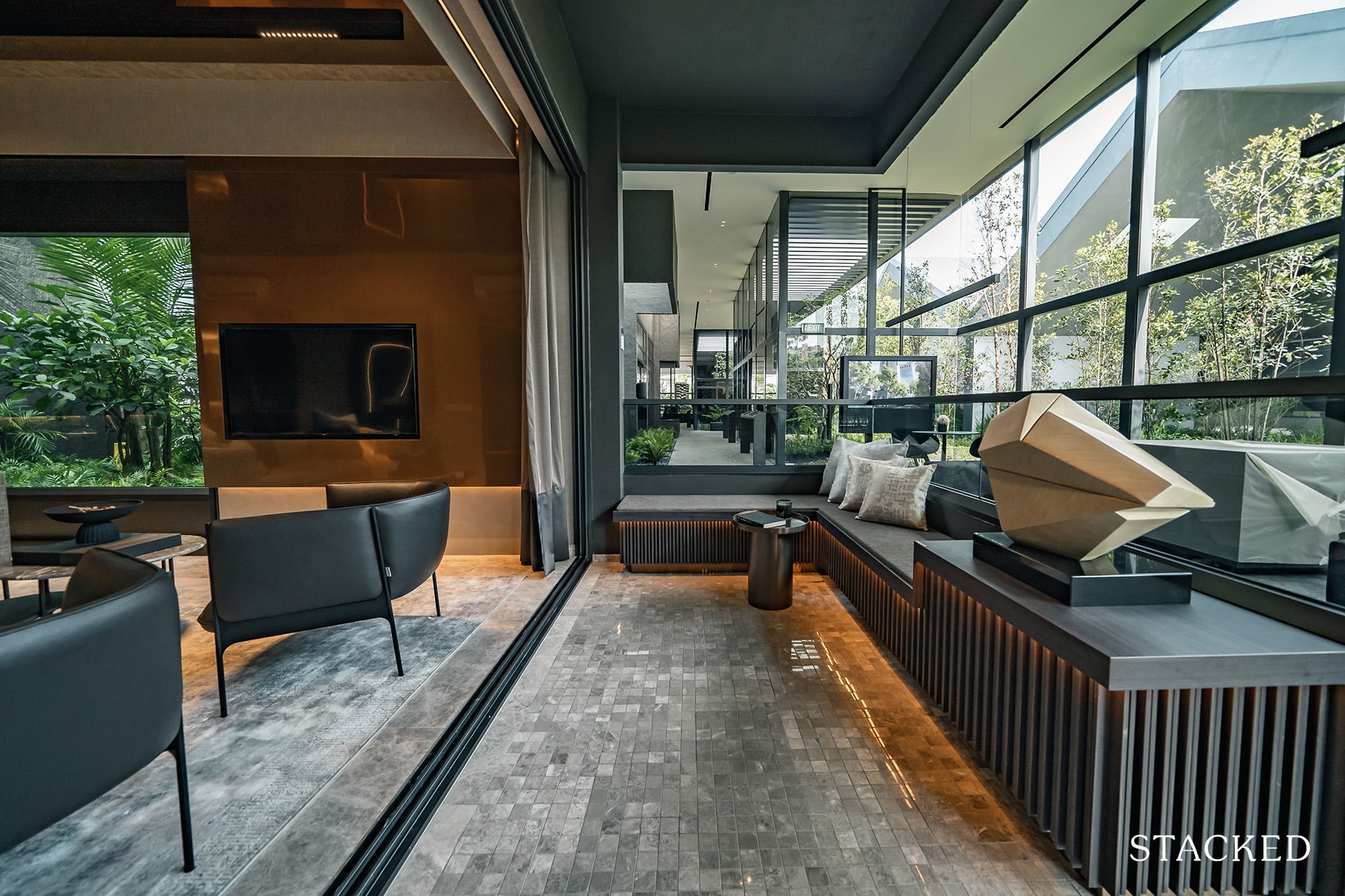 The balcony is rectangular and that luxe feel continues as it also comes with marble flooring. It is decently large and can accommodate an additional al fresco dining area if necessary.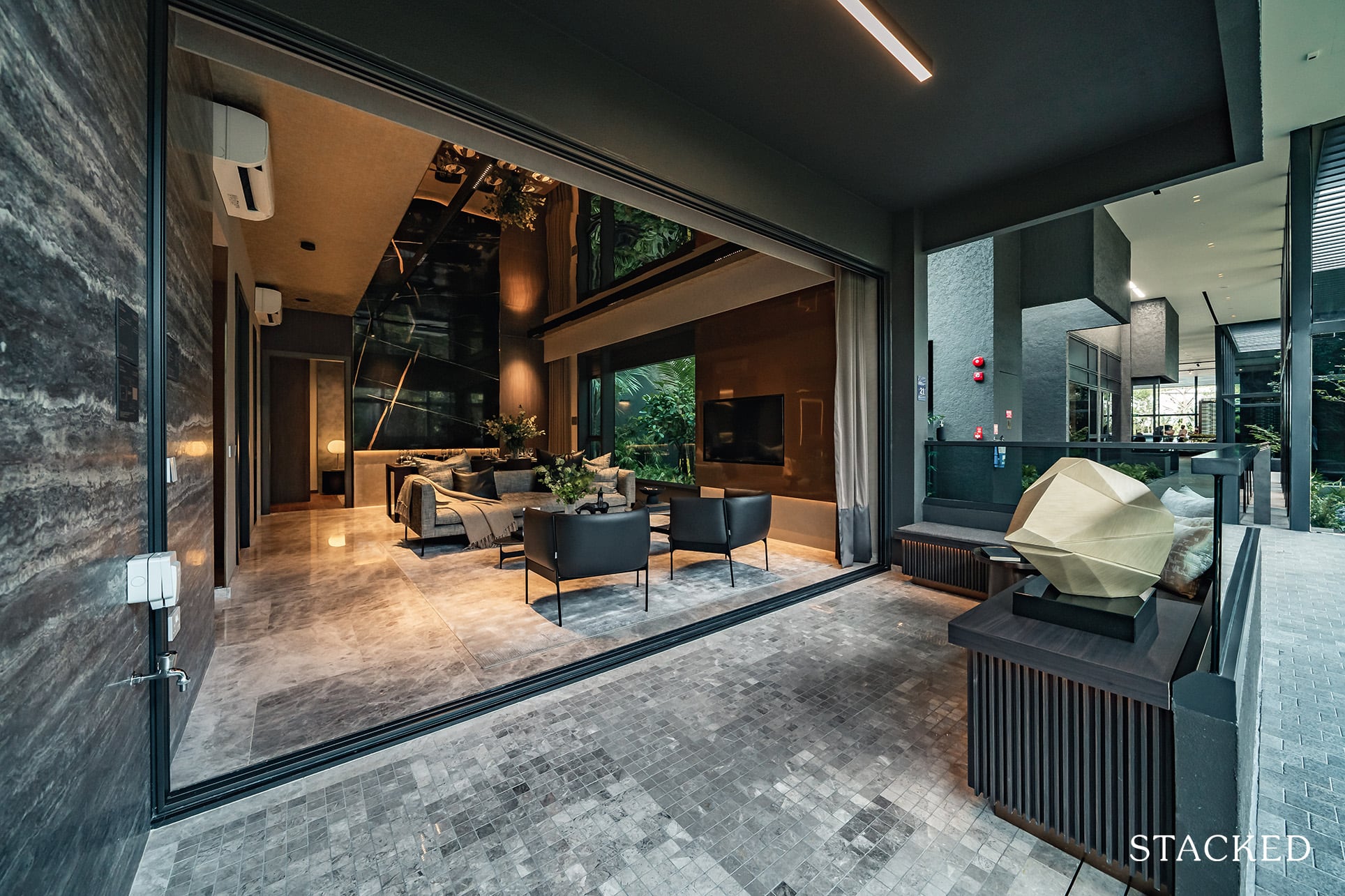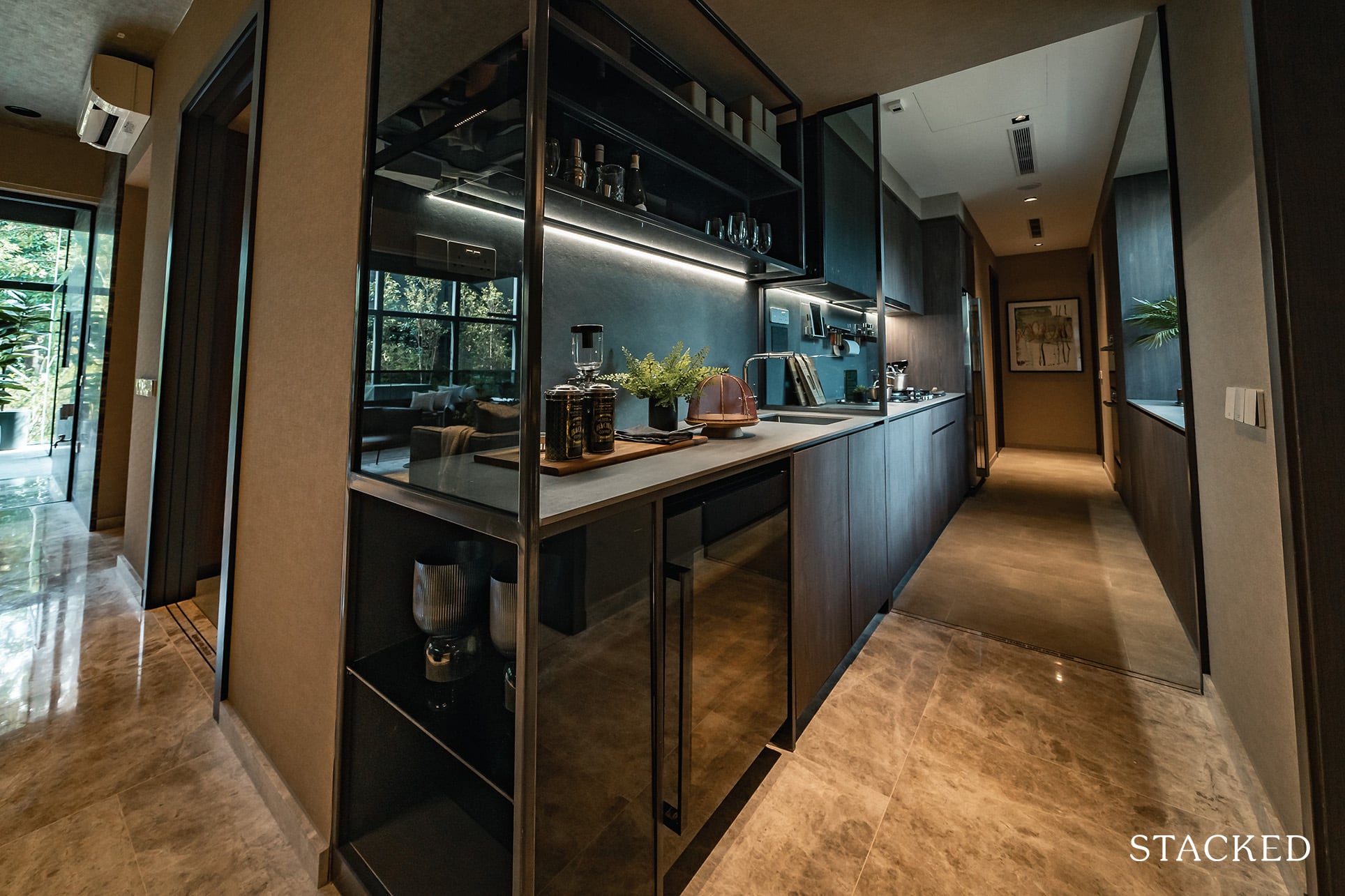 The kitchen comes with both an enclosed and an open one. It is located just beside the Junior Master, which comes with a jack-and-jill bathroom for guests.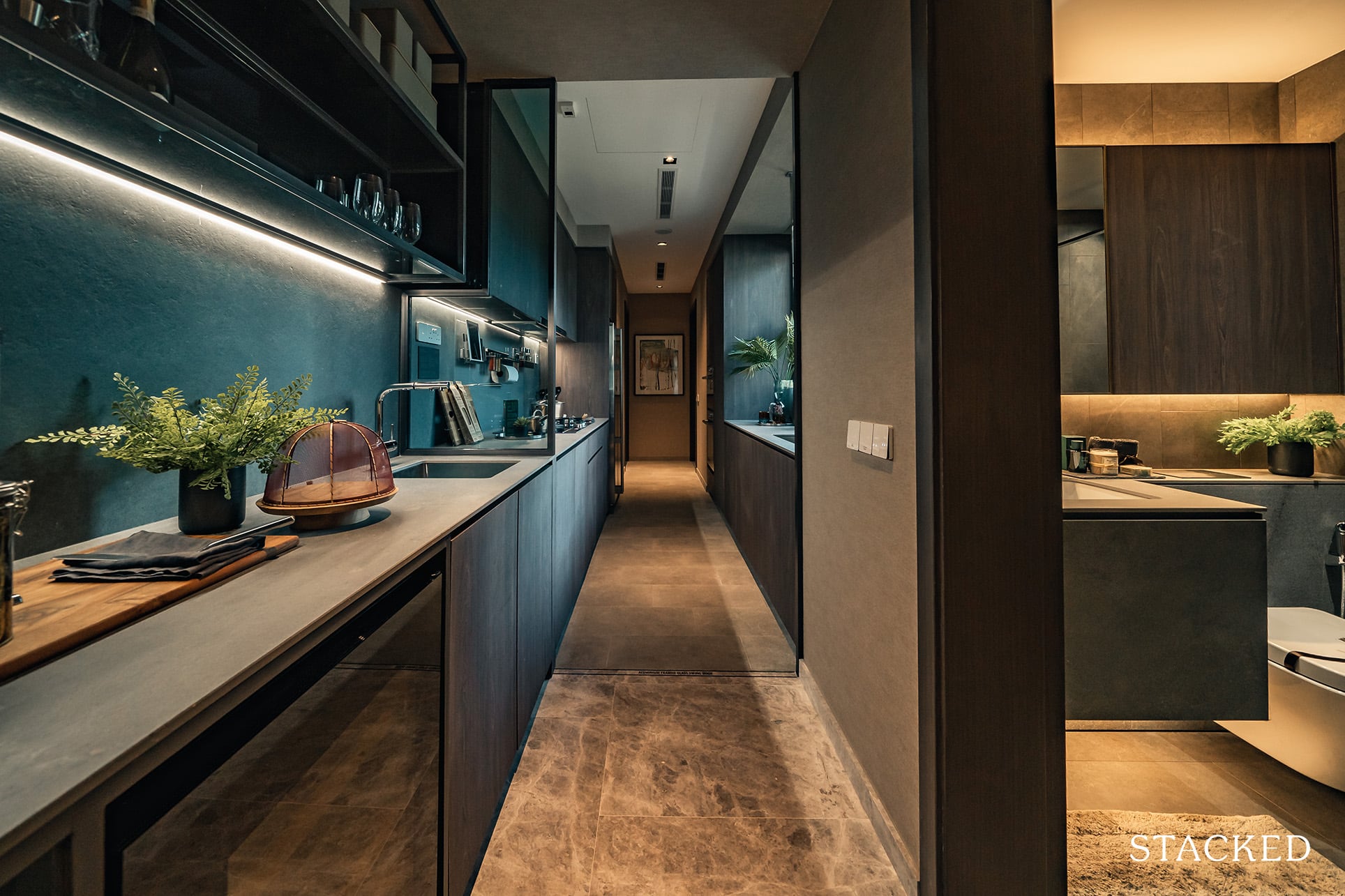 In the dry kitchen, it comes with a wine chiller, racks to place your wine and champagne glasses and a small sink. That's rather helpful in the event of a party where more dishes have to be cleared. I do like the look overall, it does look suitably polished.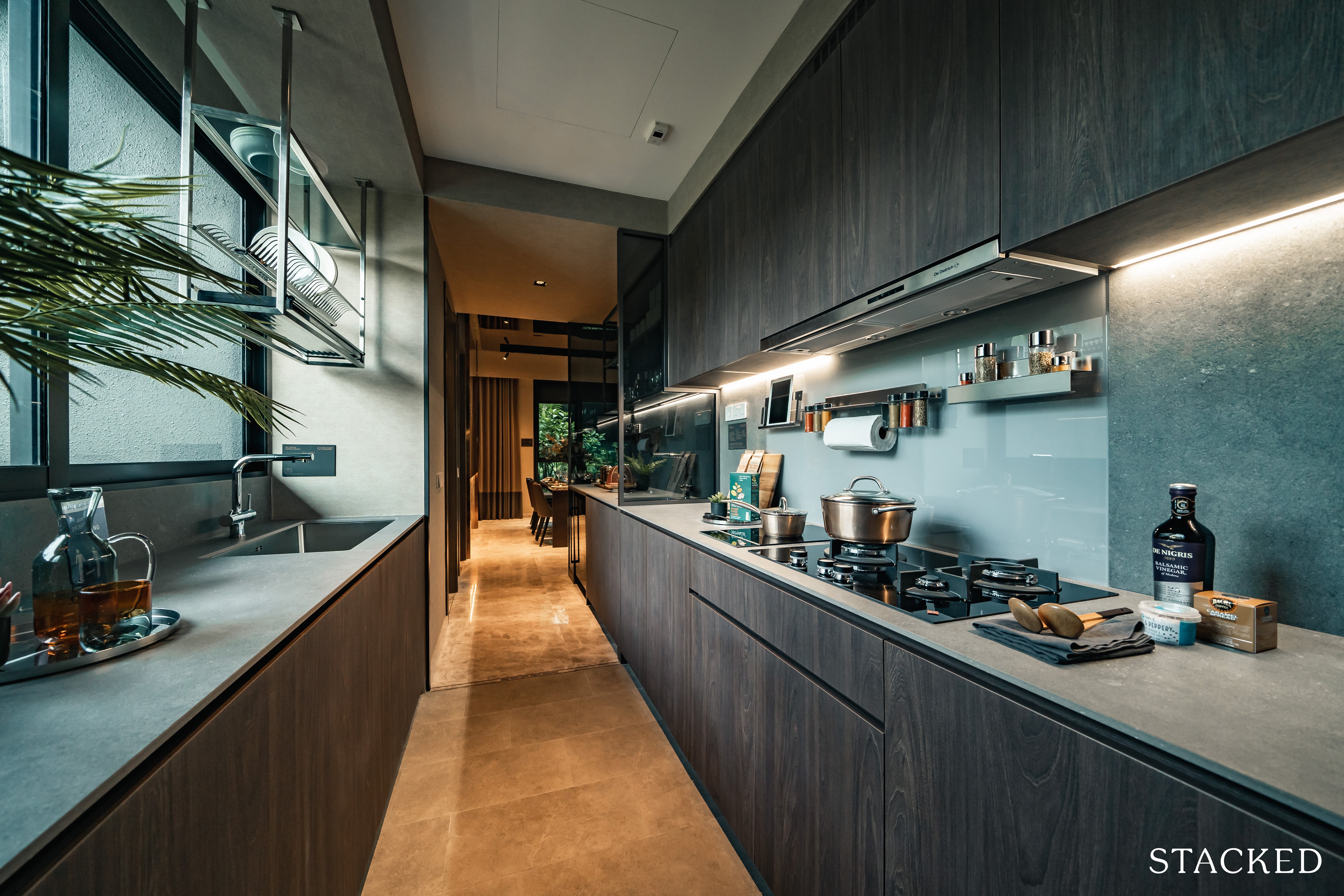 As for the enclosed kitchen, the space isn't the widest but it comes with 2 sides of countertop space. It also comes equipped with appliances from De Dietrich – a standard used throughout.
However, in this 4 Bedroom unit, you will not just get 1 induction cooker but 3 gas hobs as well. Other De Dietrich appliances include the oven and washer dryer while the sink is from Blanco. There is also a window in the kitchen to let in light and let out any unwanted smells from heavy cooking. These are pretty big as well, which is a plus point in my books.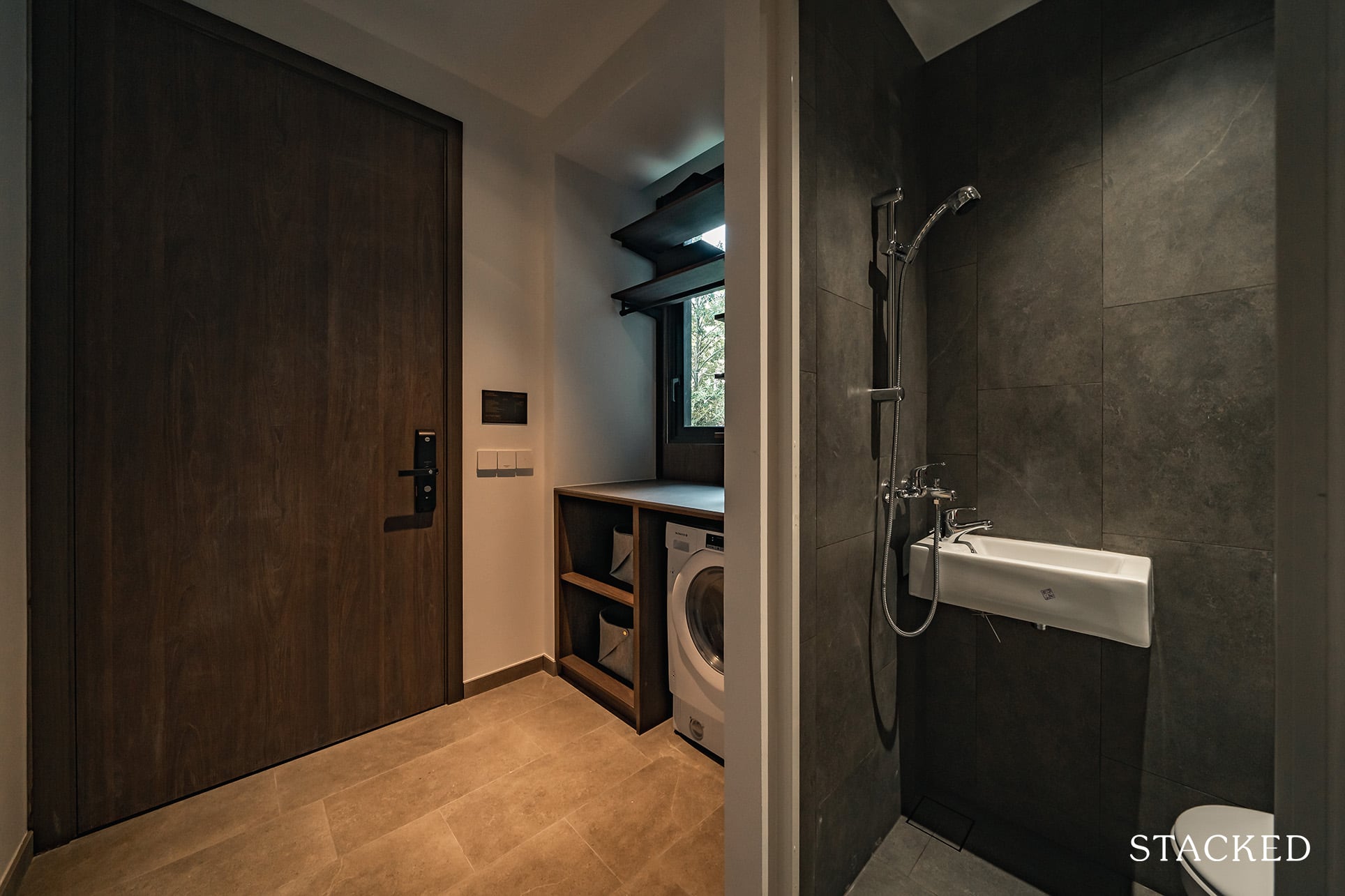 The kitchen leads on to the yard area, where there will also be a WC and Household Shelter that is rather sizeable. It can be your helper's living area if necessary. This will also be where the door to the common lift is located – and where you'd usually receive deliveries.
I am happy to see a yard included here, it might not be the prettiest of sights but it is especially important for functional family living.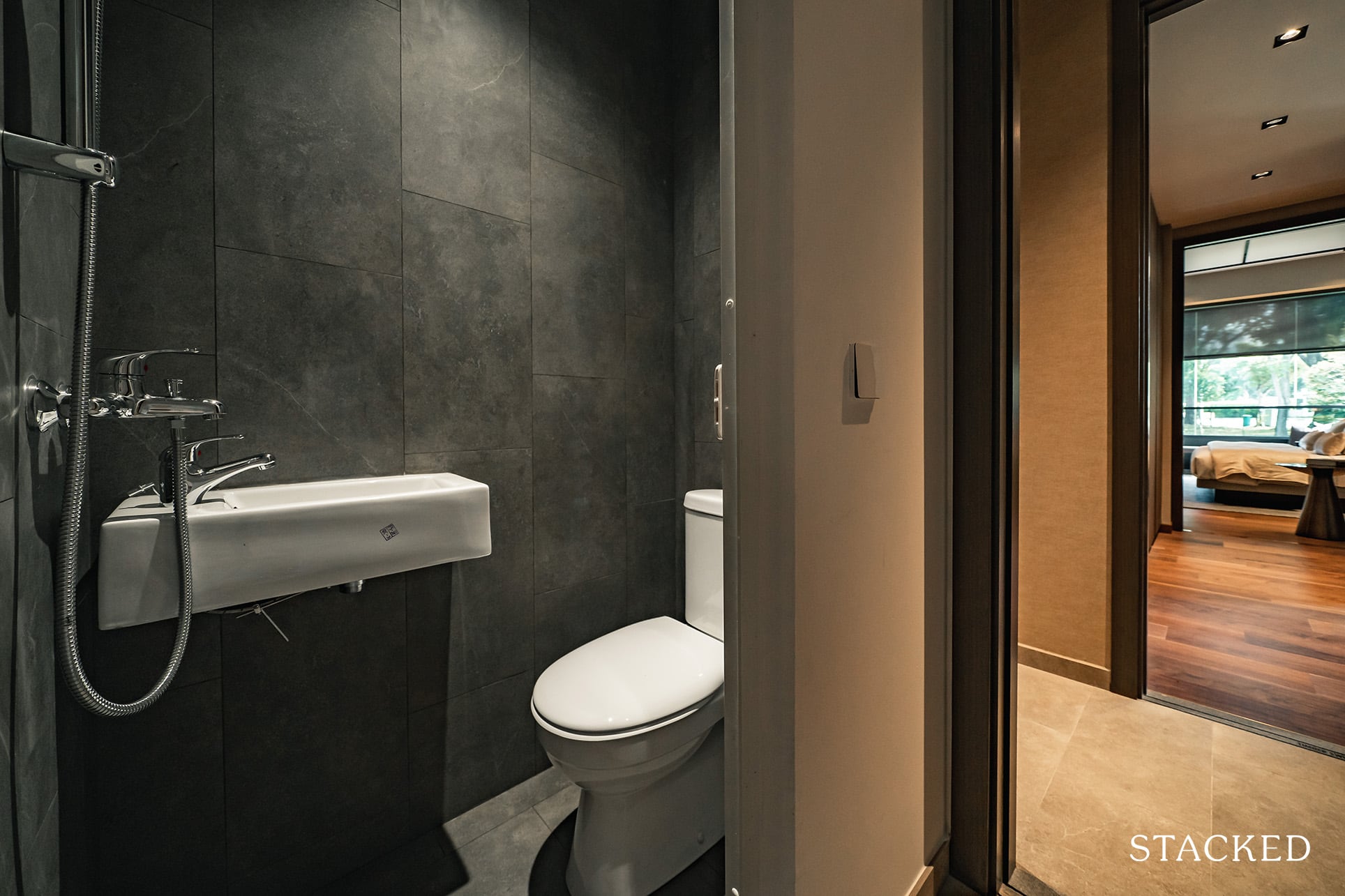 Interestingly, this space can also lead to the Walk-In Closet of the Master Bedroom. While it definitely provides more wardrobe space than usual, it would have been nice to have 2 sides of walk-in wardrobe space instead of 1.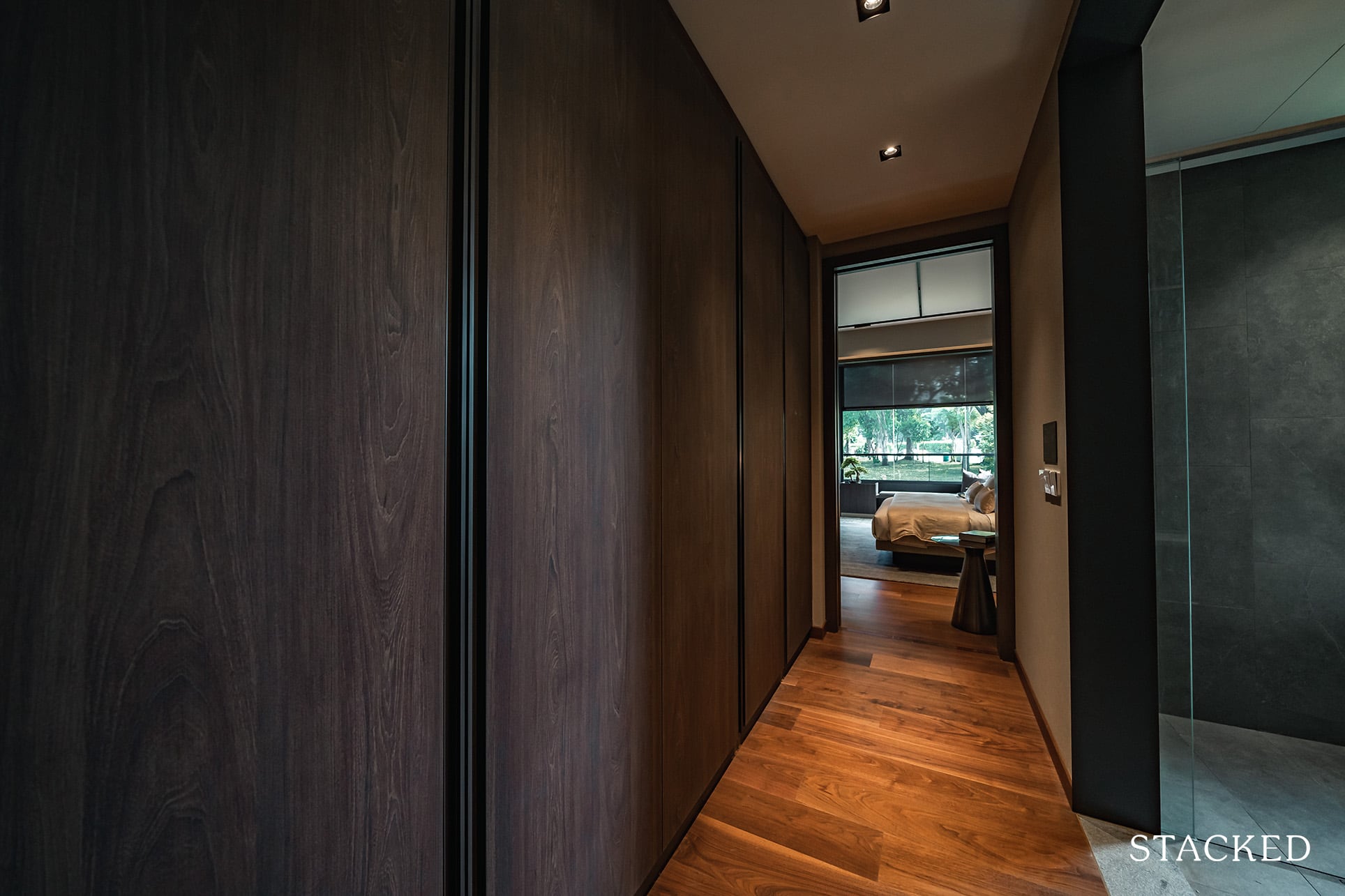 Still, I probably shouldn't complain too much given the state of storage that most new launches provide nowadays. Having a layout like this also allows you to creep into the kitchen for an easy midnight snack if you wished.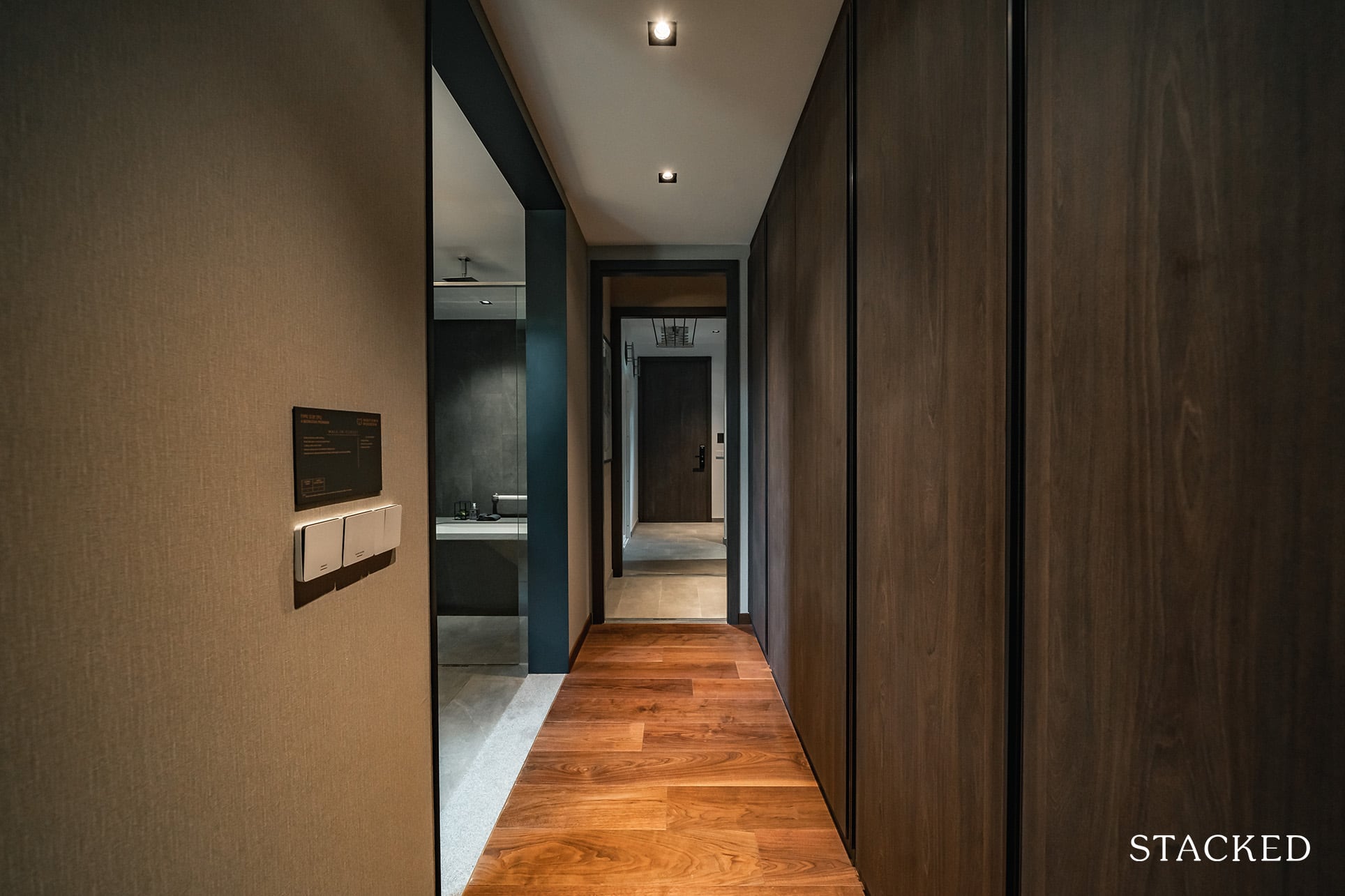 Do forgive me for the rather convoluted walkthrough, but have a look at the floor plan and you'd see that it is actually generally well executed.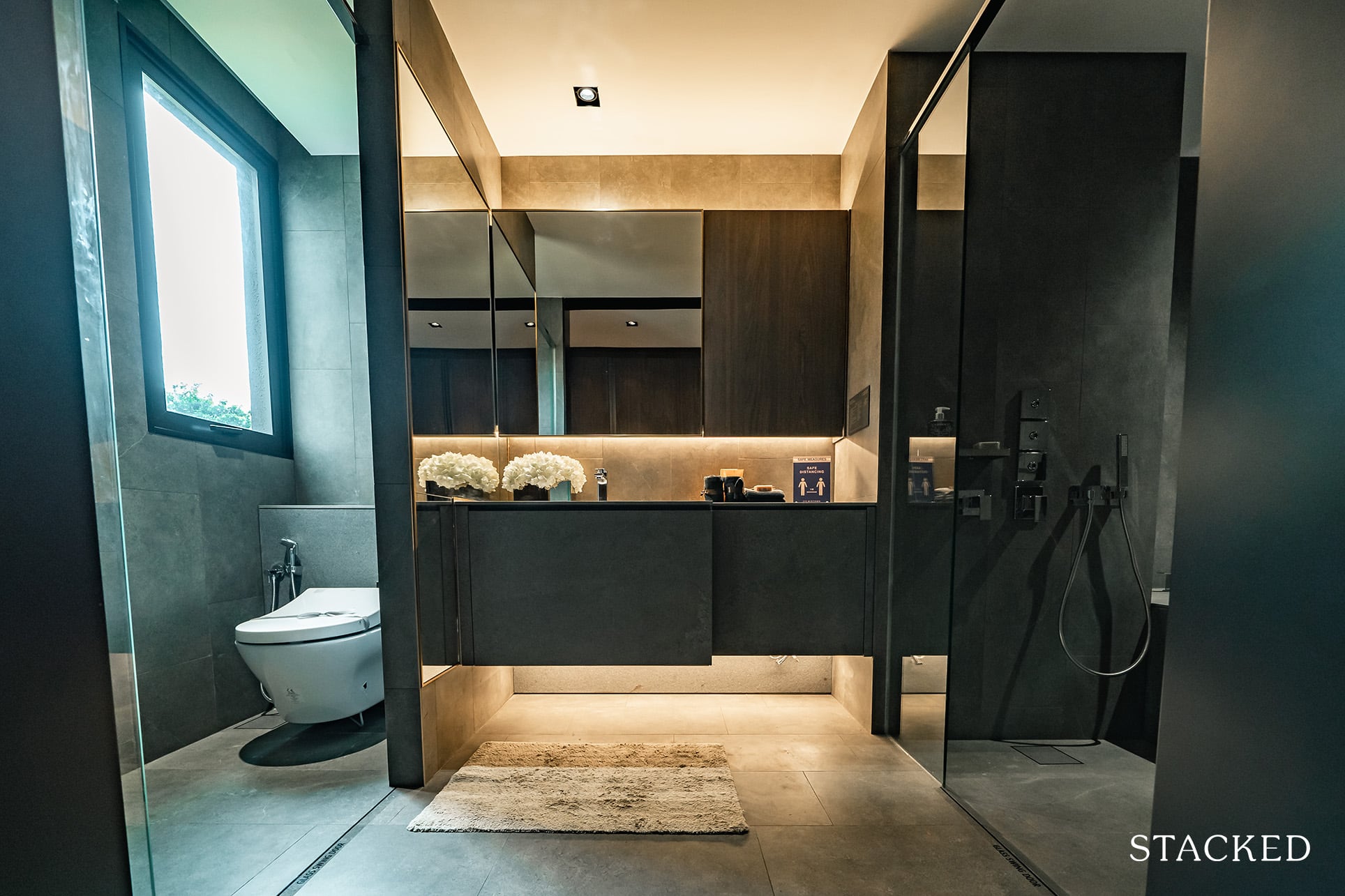 The Master Bathroom is definitely luxurious compared to those we have seen in the other show units here at Midtown Modern. The water closet is separated from the bathtub, allowing both to use them separately if required.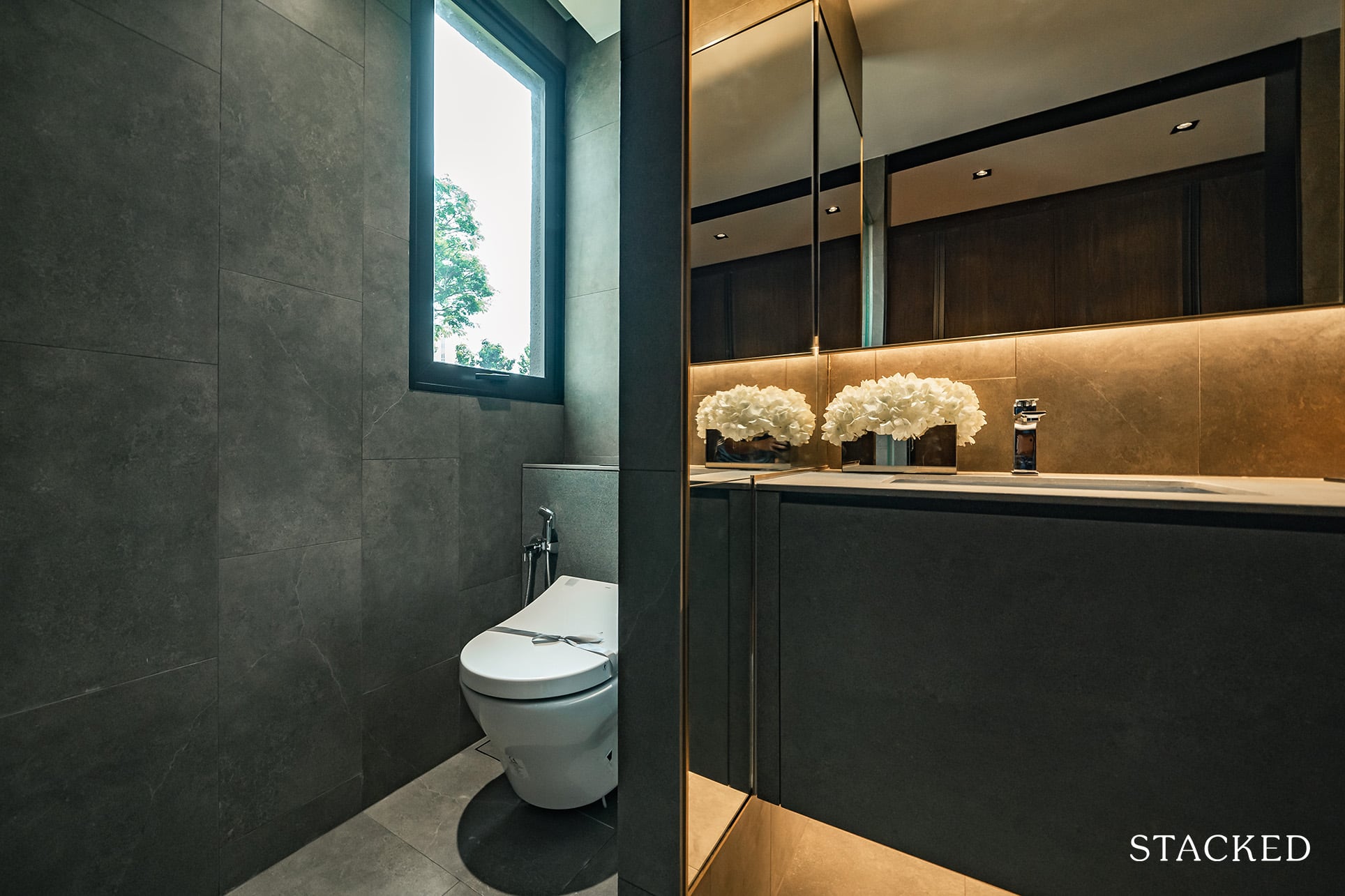 The elongated nature of the layout doesn't allow it to feel as spacious as it should, but from a usability perceptive it definitely makes sense. Here, the WC is quite special as it is the electronic variety (comes with a warming toilet seat). It also comes with a window for natural ventilation right here.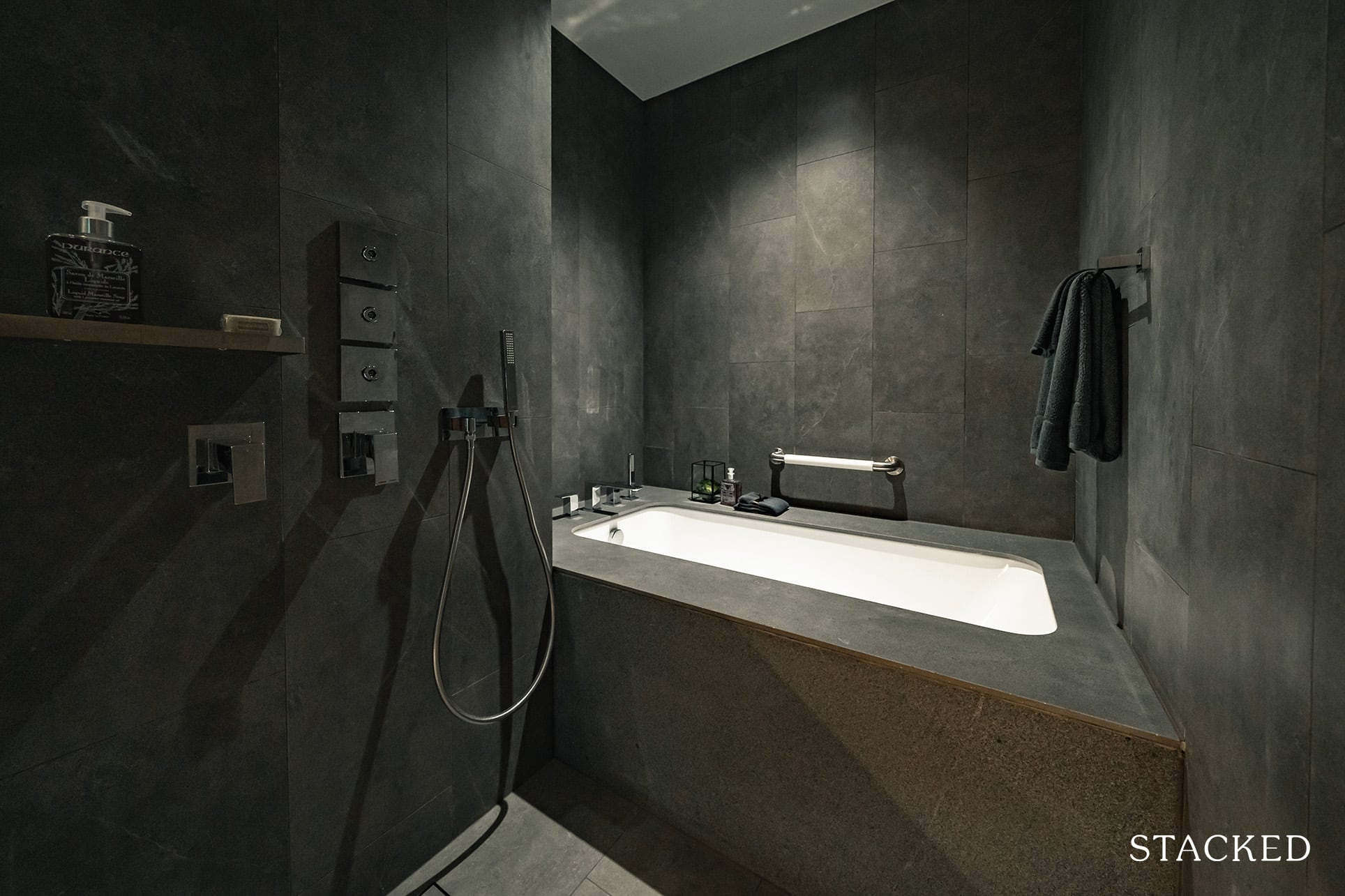 The bathtub area also comes with a hand shower (other than the rain shower) in case you are not in the mood for a long soak. Wares are from TOTO, but I do have to comment on the rather short length of the bathtub – it doesn't seem too great for a proper lie in if you are vertically blessed.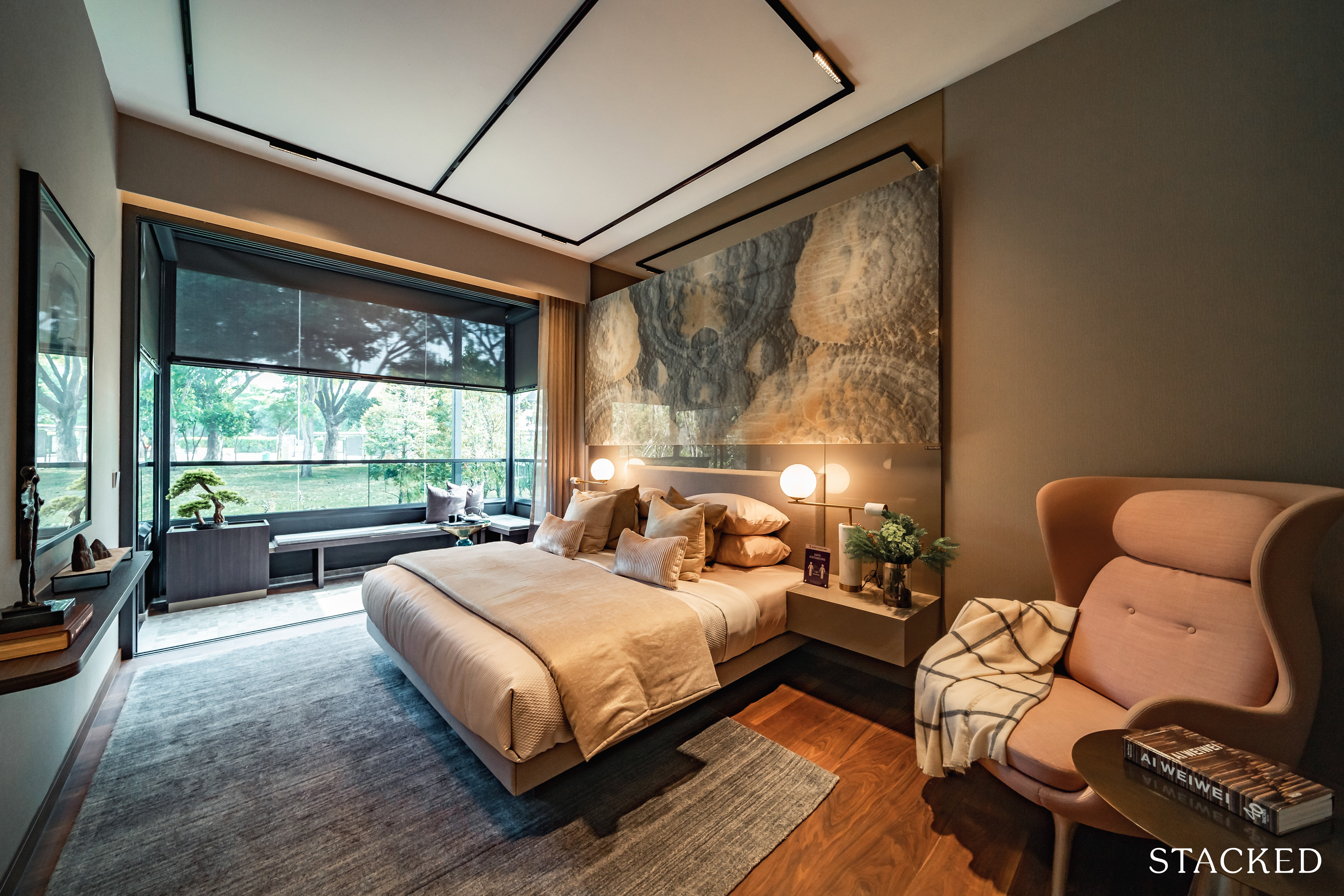 As for the Master Bedroom itself, it is of a good size at 15.2 sqm, 50% larger than the other common bedrooms. You will feel that spaciousness from the outset and can easily fit in a King sized bed and a dresser. It also comes with a balcony for you to enjoy a cup of coffee in your very own private sanctuary.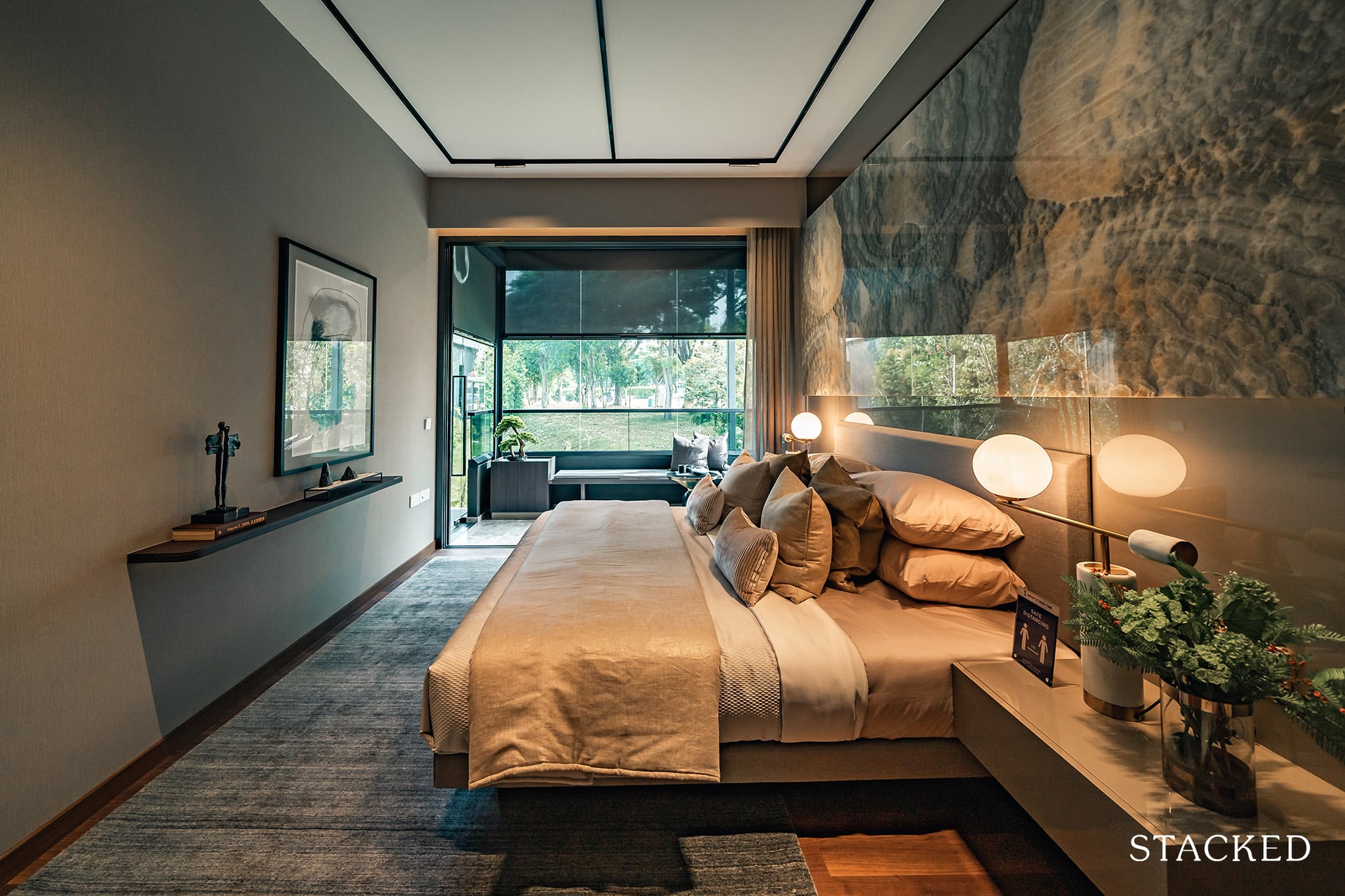 Even with the inclusion of the King sized bed, walkway space is undoubtedly exemplary.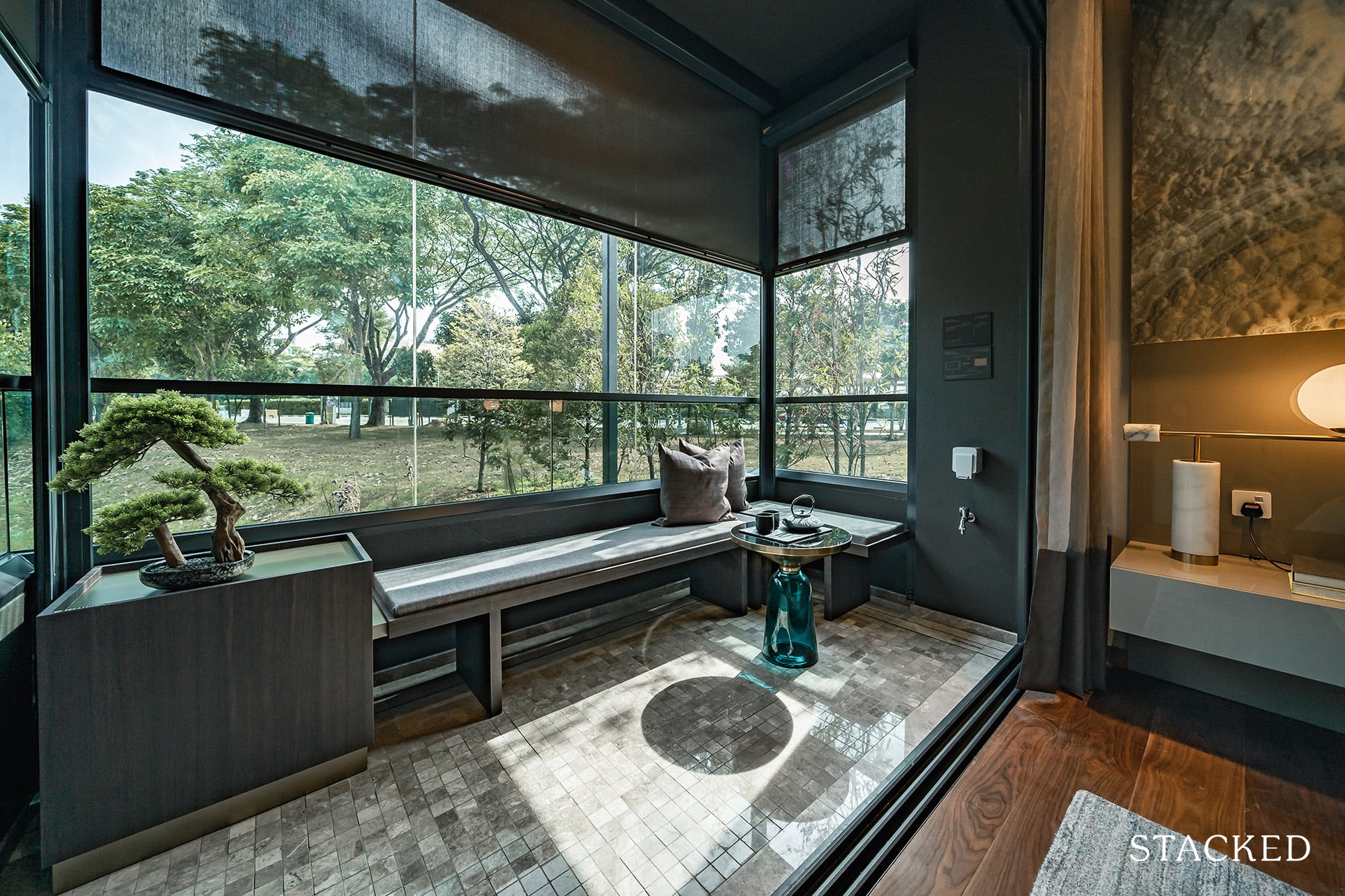 In the example here, it is shown with Ziptrack blinds (which isn't included). For those looking at this unit, I'm pretty sure this would be one of the first things you'd install.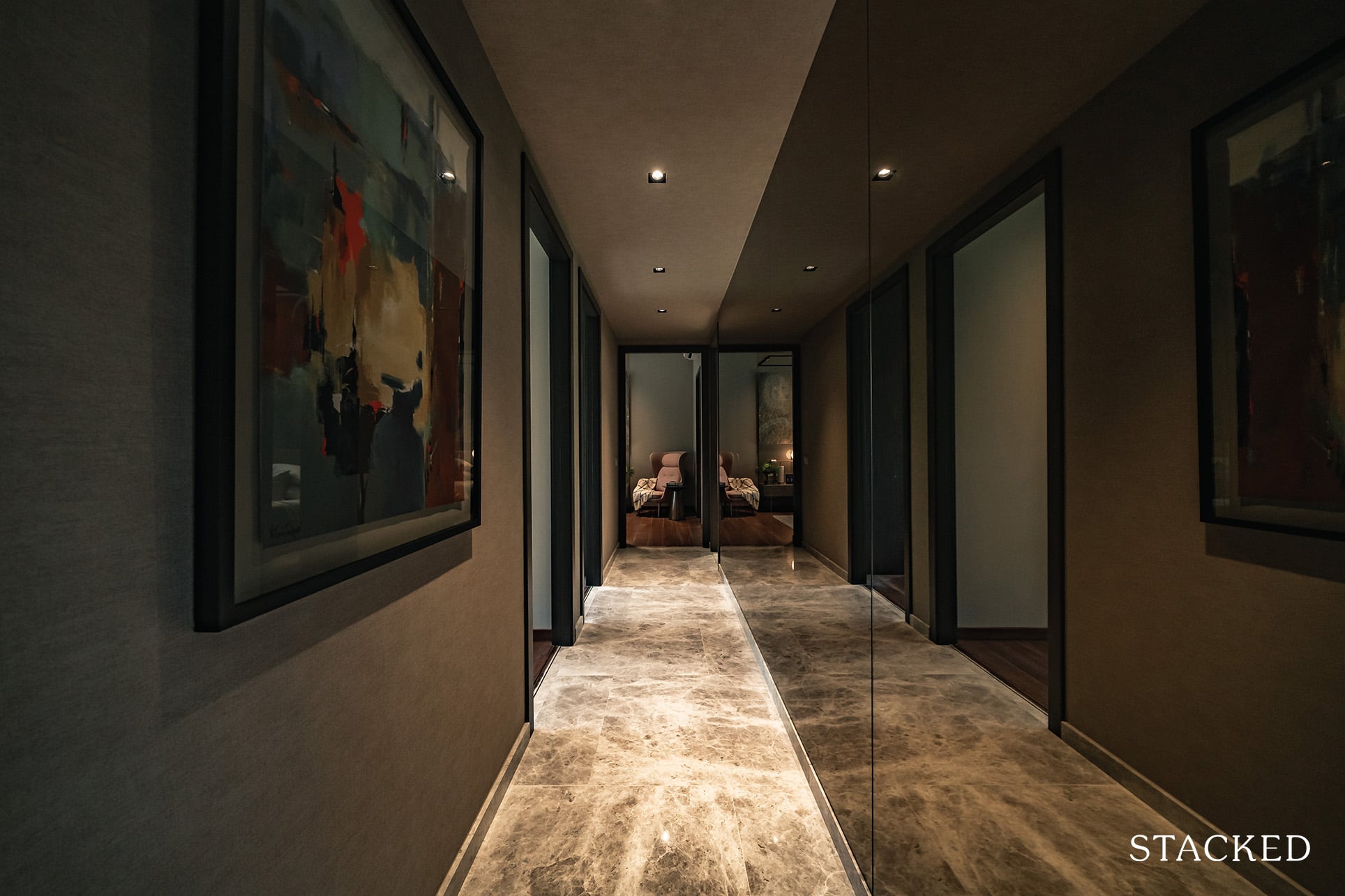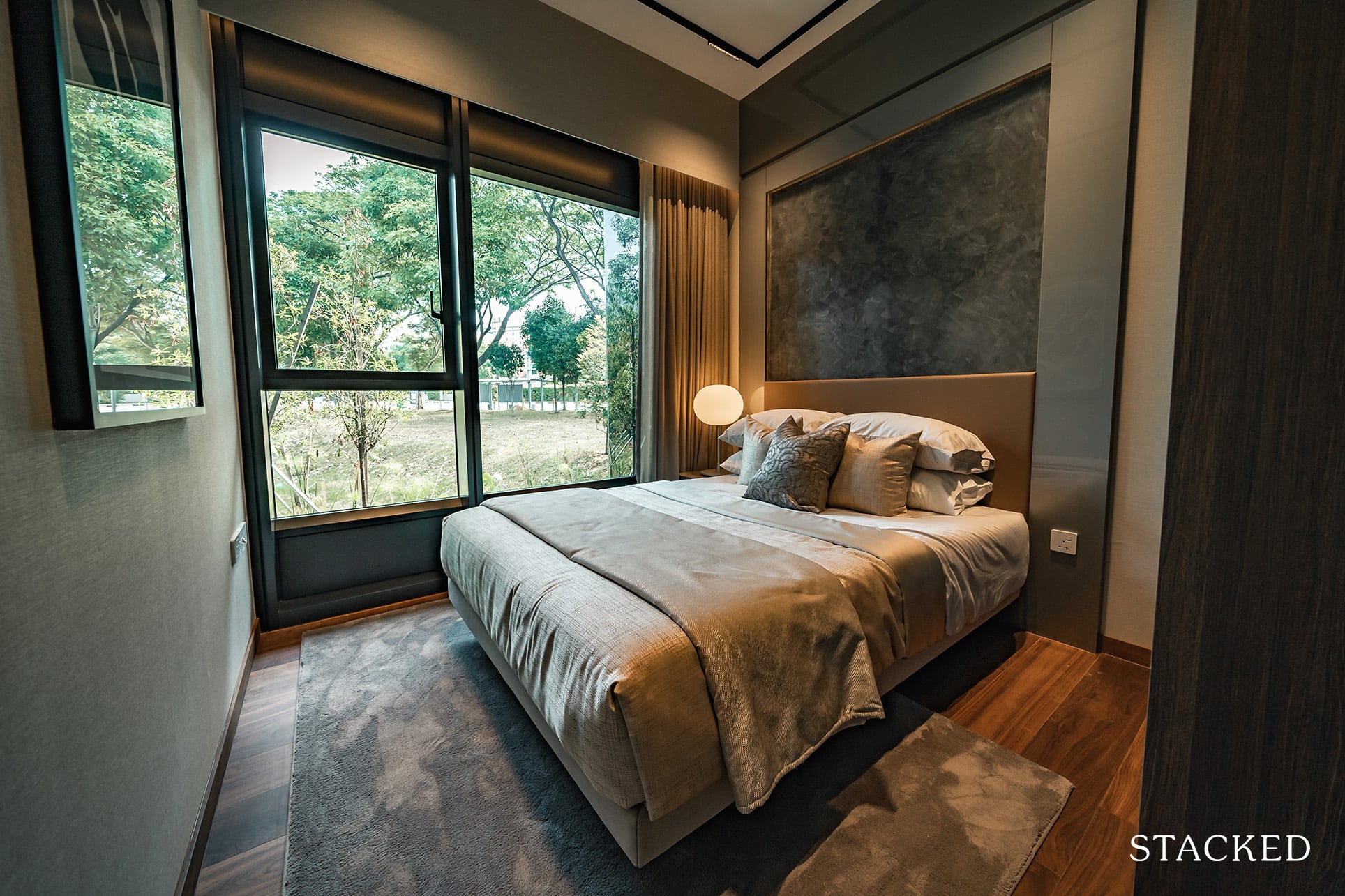 Bedrooms 2 and 3 are a mirror image of each other and come in at 10 sqm, which is marginally larger than the 9 sqm average. While it will fit a Queen bed comfortably, it would probably be more ideal to have a Single and study table instead if you have young children staying here as well.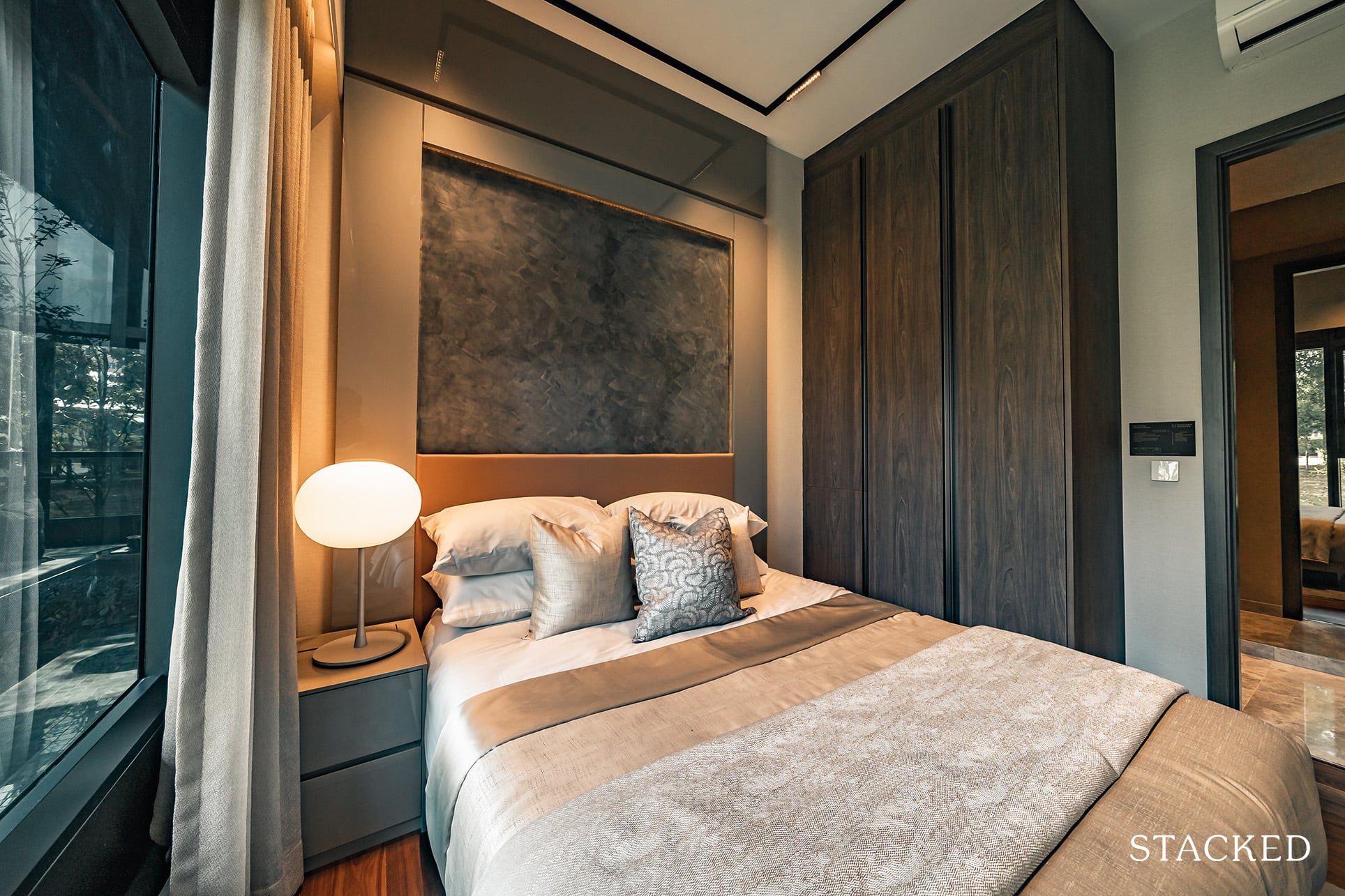 Instead of the usual sliding doors, the built-in wardrobe here are swing ones instead and hence will infringe on more bedroom space.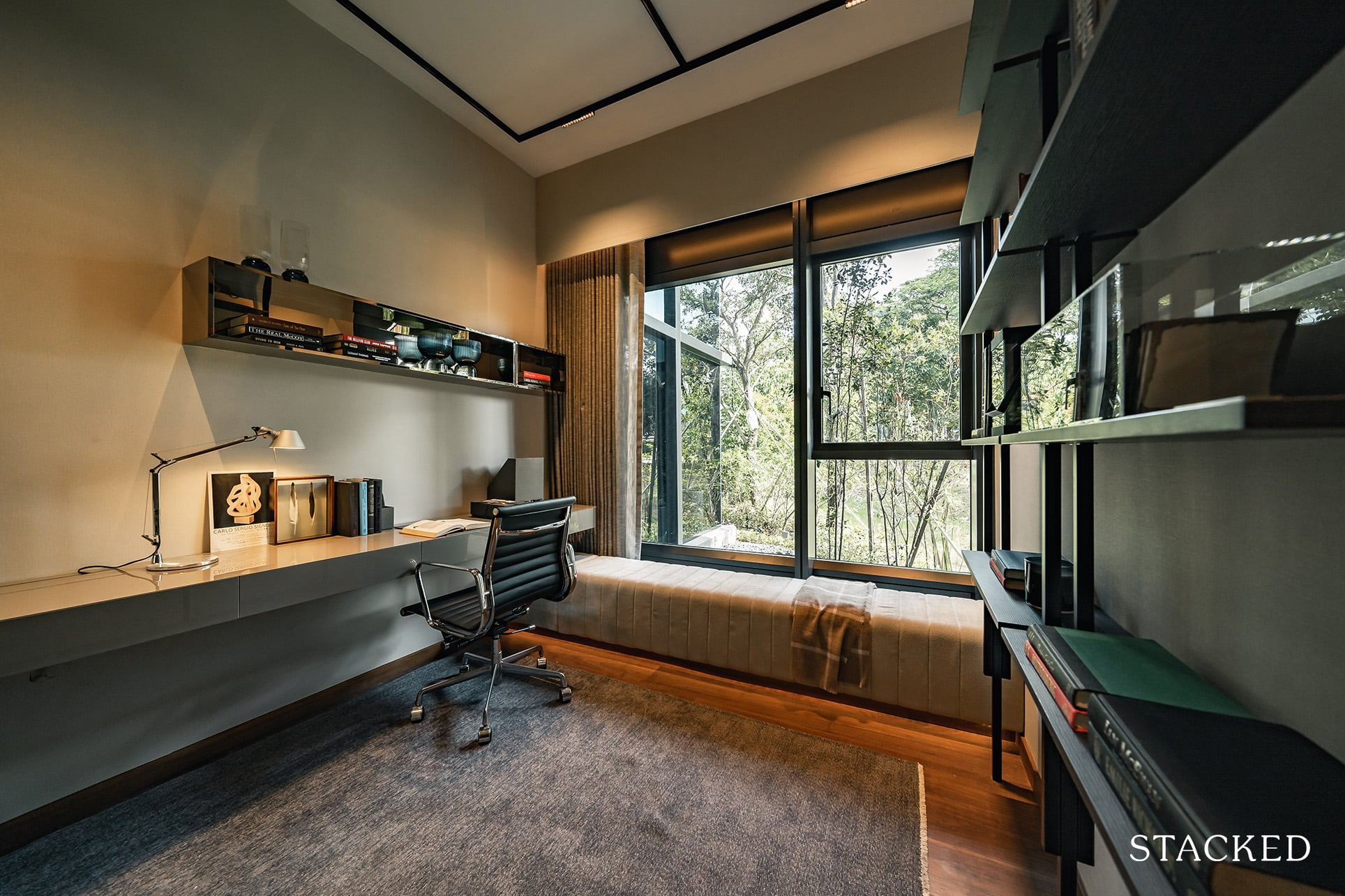 As per usual, one of the common bedrooms will be shown utilised in another fashion. This one is depicted as a study/office area instead.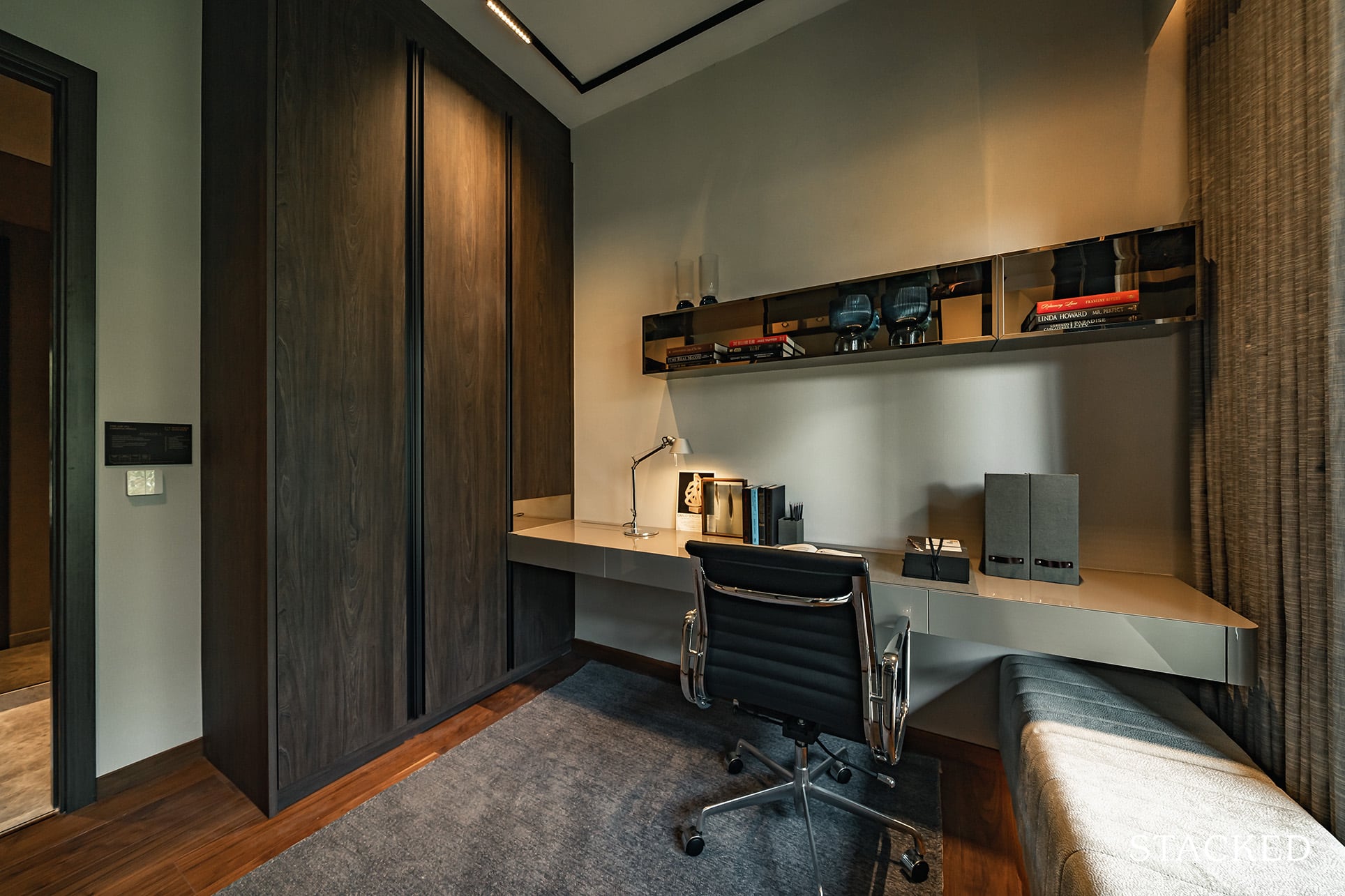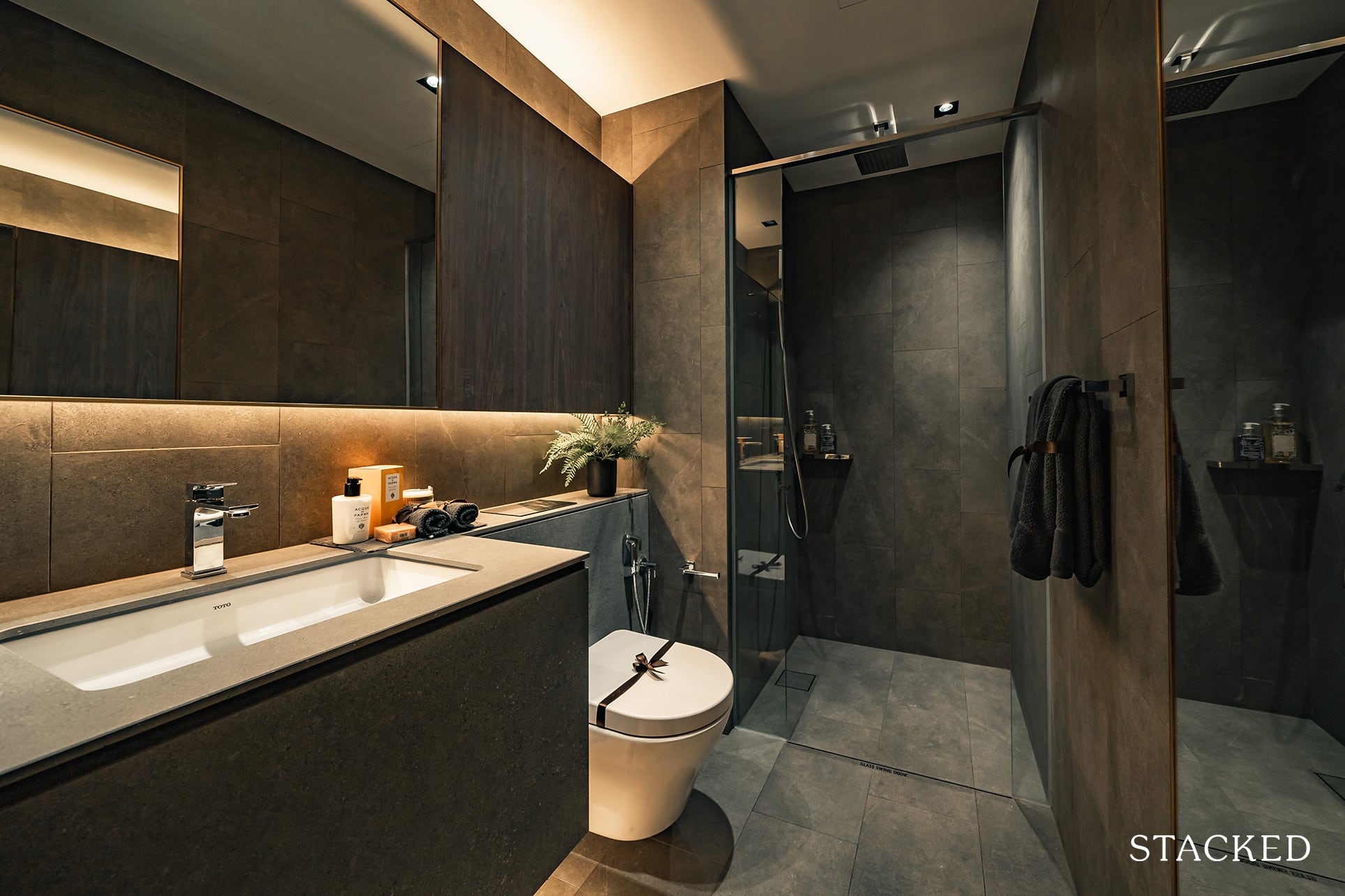 The Common Bathroom is rather average in standard size but comes with premium features as a rain shower, wall hung water closet and a bidet spray. Sanitary wares are by TOTO and you will notice that the Common Bathroom lacks a window for proper ventilation. Interestingly, the bathroom does come with an included nearly full length mirror to the right.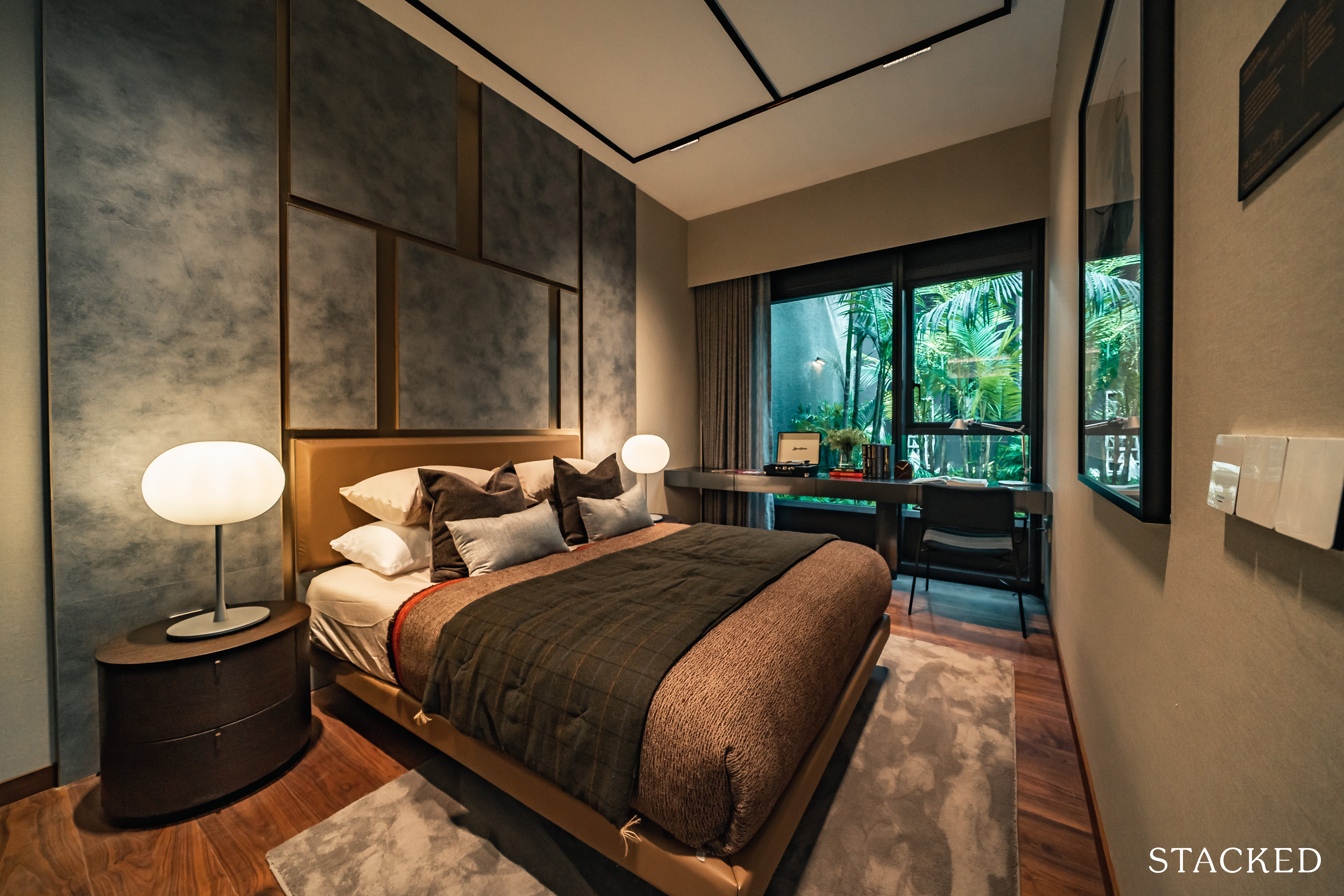 Finally, moving to the Junior Master, it stands at 13.7 sqm, which is still very comfortable and larger than most of the Master Bedrooms in the other unit types. This means that having a study together with a King or Queen bed should not be an issue at all, just as they have displayed in the show unit right here.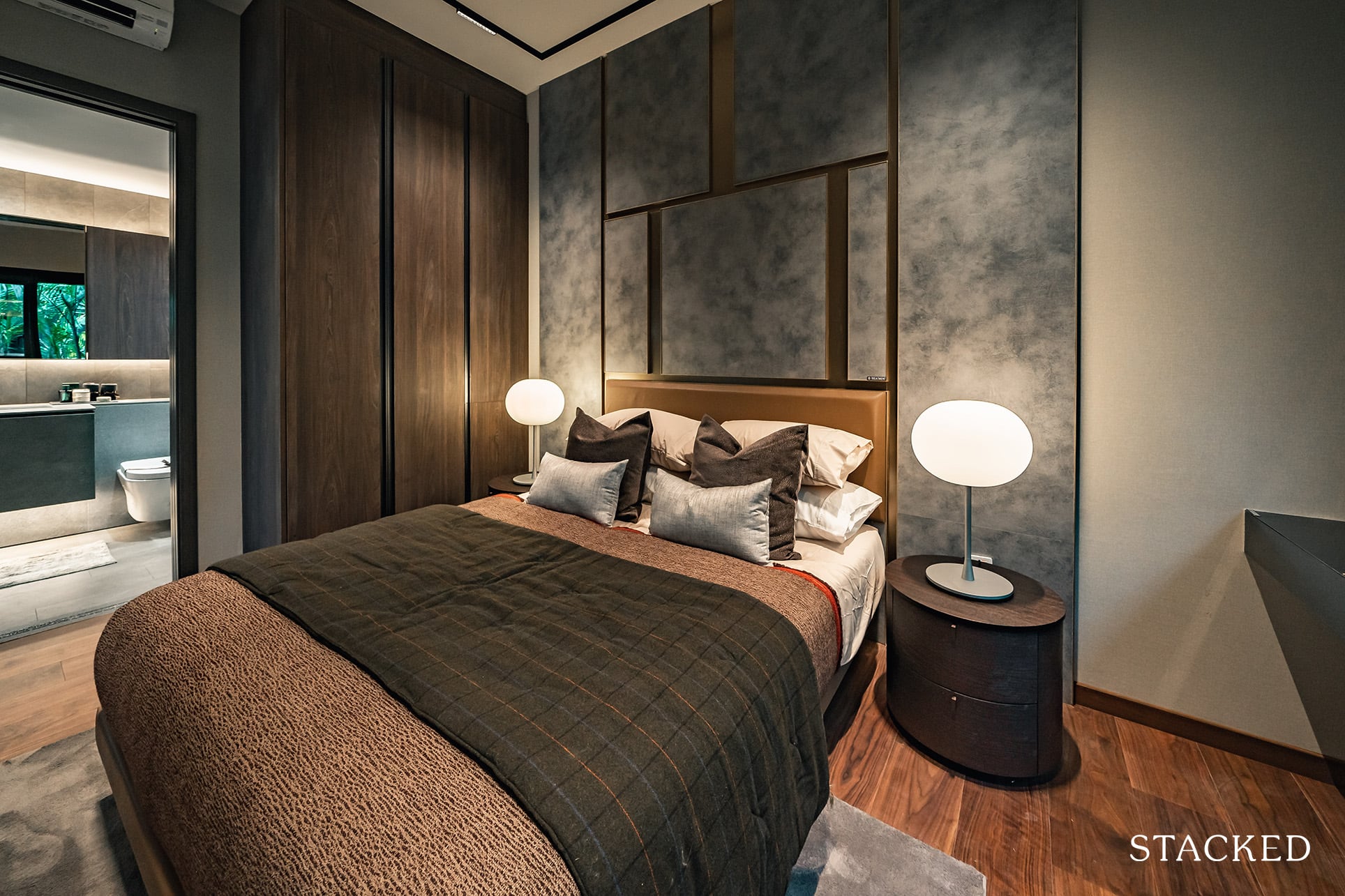 Having a layout such as this is also great for multi-generational families, as this bedroom is set aside from the other bedrooms – thus giving you more privacy.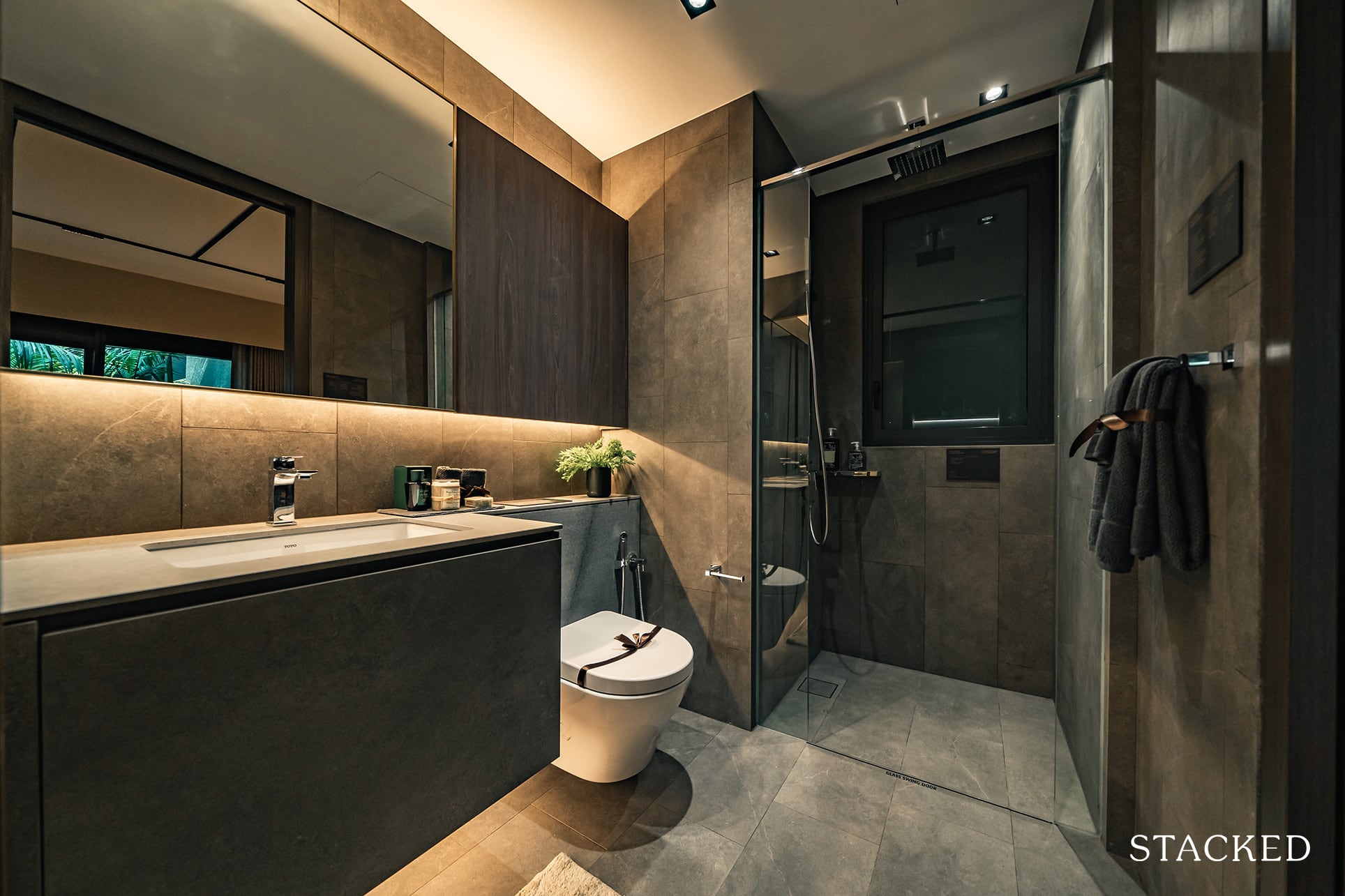 The Junior Master Bathroom is a jack-and-jill, meaning that while this is an ensuite bedroom, the bathroom will also have to be shared with guests in the house. While it may be less ideal for the occupant, it helps to free up an additional bathroom for your guests which comes in handy especially if you have many over in the future.
Midtown Modern Location Review
The Rochor Ophir corridor has been transformed significantly over the past 10 years. Gone are the sleazy hotels that used to populate Middle Road. Enter South Beach Residences and Duo Residences, both of which first brought spotlight to this area in the last decade. Guoco Midtown and The M will further bring new breath to District 7 upon their completion.
There is little doubt that Midtown Modern is unrivalled in its location. It has Bugis MRT at its doorstep, which is served by Downtown and East-West Lines. Just 1 stop away, you will find City Hall and Promenade, which allows one to get on the North-South and Circle Lines. That's 4 MRT lines in total, all of which will be less than 5 minutes away.
Given the developers' positioning of Midtown Modern as a family friendly project, they were keen to emphasise that even though no good schools can be found 1km away, the Bukit Timah Belt comprising of ACS, SJI, SCGS, RGPS, NYGH, NYPS among others can be found 5-7 stops away. Universities and Polytechnics can also be found about 10 stops away. While I am impressed by the uniqueness of Guocoland's positioning of its marketing materials, I am not entirely convinced as it requires the buyers to be alumni themselves as it falls out of the 1km radius.
Nevertheless, let's not take anything away from Midtown Modern. At Guoco Midtown, you already have everything you need – a grocer (unconfirmed), F&B and retail outlets. Add Bugis Junction and the precinct to the mix and you will probably take some time before you finish exploring the entire area.
Amenities
Groceries
| | |
| --- | --- |
| Name of Grocery Shop | Distance From Condo (& Est. Drive Time) |
| Cold Storage Bugis Junction | 650m, 3-min drive |
| Cold Storage Raffles City | 900m, 4-min drive |
| FairPrice French Road | 1.9km, 7-min drive |
| FairPrice Chinatown | 2.3km, 9-min drive |
| FairPrice Xpress Peace Centre | 2.5km, 9-min drive |
| FairPrice City Square Mall | 2.5km, 9-min drive |
Grocery options are also not a shortage with the closest being the Cold Storage at Bugis Junction (7-min walk) even if the cheaper alternatives in FairPrice(s) are situated a little further away from the condo.
Schools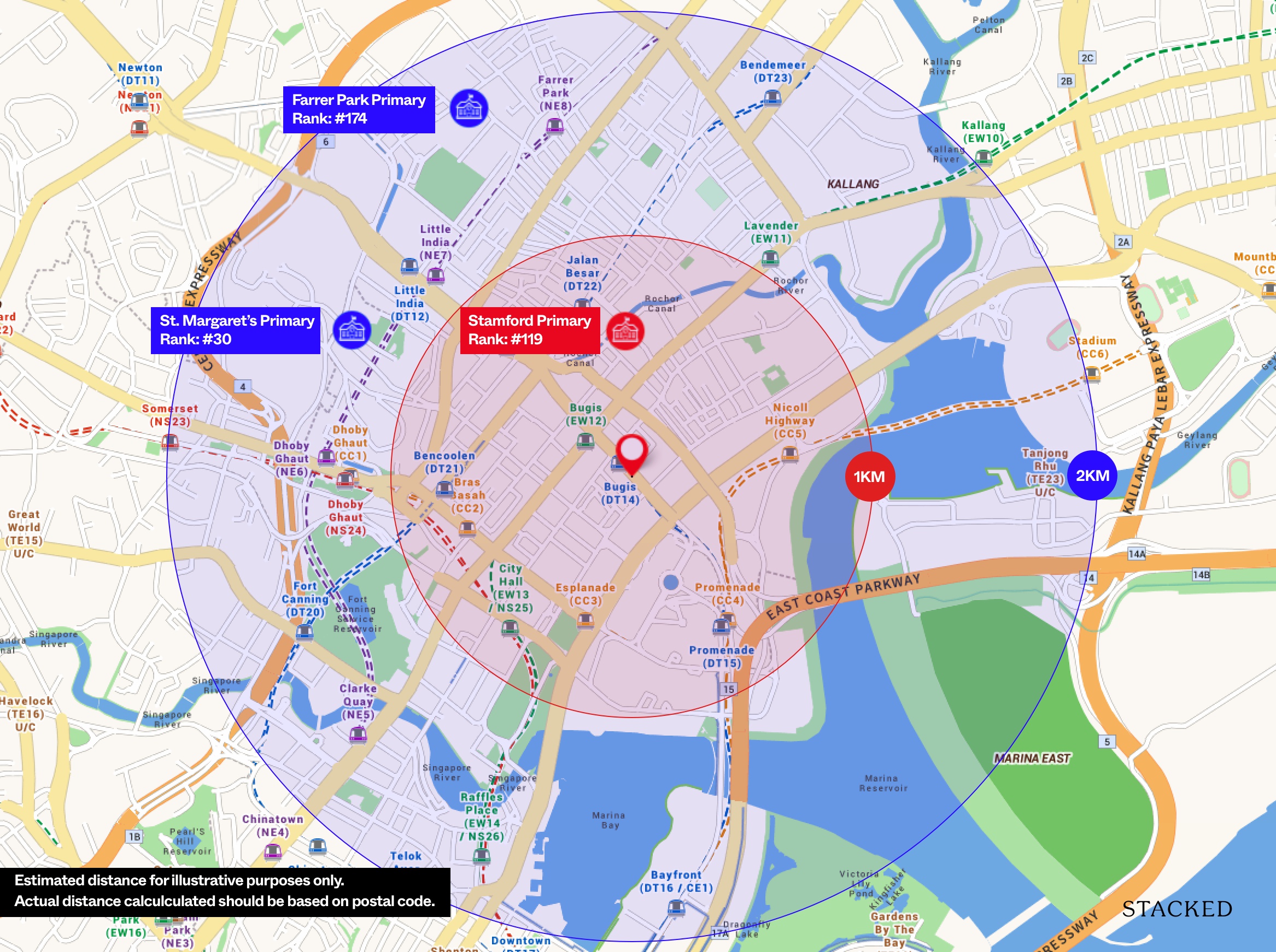 | | |
| --- | --- |
| Educational Tier | Number of Institutes |
| Preschool (within 1km walk) | 2 |
| Primary (3km-drive) | 2 |
| Secondary (3km-drive) | 2 |
| International School (3km-drive) | 0 |
| Junior College (5km-drive) | 0 |
| University (5km-drive) | 1 |
| Polytechnic (10km-drive) | 1 |
As mentioned, while you can get to many good schools due to the connectivity with the MRT station, primary school wise it is rather dismal. For parents looking for the 1km radius for primary school acceptance, there is only Stamford Primary School that fulfils that criteria.
Either ways, I reckon that Midtown Modern isn't really a place for those with young kids, and neither is the Bugis area in general. It is really best suited for those with older kids in secondary school and up as they are independent enough to take the train to school, and yet are old enough as well to enjoy the entertainment options in District 7.
Public Transport
| | | |
| --- | --- | --- |
| Bus Station | Buses Serviced | Distance From Condo (& Est. Walking Time) |
| 'Shaw Twrs' | 57, 100, 107, 107M, 961, 961M | 150m, 2-min walk |
| 'Bugis Stn Exit D' | 12e, 48, 57 | 150m, 2-min walk |
| 'Opp The Gateway' | 100, 107, 107M, 961, 961M, 980 | 180m, 3-min walk |
Closest MRT: Bugis MRT (Exit D) – 150m, 2-min walk
Midtown Modern's public transport options are extremely convenient, to say the least.
For those of you familiar with the MRT lines, you will know that Bugis MRT is situated on both the Downtown and East-West Line. More than that, it is a stop away from the Circle and North-South Line and 2 stops from the North-East line.
Factor in the proposed underground Condo-MRT linkway and you can just imagine how convenient it will be for residents here.
Private Transport
Private transport accessibility: Very Good
| | |
| --- | --- |
| Highway/Major Road | Distance From Condo (& Est. Off-Peak Drive Time) |
| Nicoll Highway | Immediate |
| Beach Road | Immediate |
| Rochor Road | 250m, 2-min drive (U-turn on Beach Road) |
| Ophir Road | 400m, 2-min drive |
| Victoria Street | 550m, 2-min drive |
| Selegie/Bukit Timah Road | 1.3km, 3-min drive |
| ECP | 1.4km, 3-min drive |
| CTE | 2.3km, 5-min drive |
| KPE | 2.9km, 3-min drive |
| MCE | 4km, 5-min drive |
| PIE | 4.8km, 5-min drive |
| AYE | 5.2km, 8-min drive |
To be frank, a car is by no means a necessity here given the convenience of Public Transport. Still, drivers have very good access to a list of major roads and highways in the city centre as seen from the chart.
The only thing that is holding the condo's private accessibility rating back from an 'excellent' is the fact that most of these roads will be heavily congested come peak hour – that and the amount of ERP gantries in the area that some could be troubled to avoid.
The Developer Team
Listed on the SGX since 1978, GuocoLand is a premier regional property company with operations in Singapore, China, Malaysia and Vietnam.
Headquartered in Singapore, the principal business activities of GuocoLand are property development, property investment, hotel operations and property management. As at 30 June 2020, the Group's total assets amounted to approximately $11.1 billion.
In Singapore, the Group has successfully developed 36 residential projects yielding ~11,000 homes. GuocoLand's flagship Guoco Tower at Tanjong Pagar integrates premium Grade A offices, F&B retail space, Wallich Residence, the 5* Sofitel Singapore City Centre and a landscaped urban park. It has also developed a sizeable portfolio of properties spanning across the major cities of Beijing, Shanghai, Nanjing and Tianjin.
Personnel wise, Cheng Hsing Yao is the Group Managing Director of Guocoland Singapore, having previously served with Singapore's public service, including a stint as a city planner with the URA. He is also a Nominated Member of Parliament. I actually think that this concept of nature in the city for Midtown Modern could have been inspired by his city planning days. As for the other important personnel, Co-Founder of Guocoland Quek Leng Chan is the 2nd richest man in Malaysia with an estimated $9.8Bn net worth. He is also the cousin of City Developments Chairman Kwek Leng Beng, who is also among Singapore's richest. Interestingly, both Leng Chan and Leng Beng are British educated lawyers, a distinction I am proud to associate myself with. 
Architect
ipli Architects was founded in 2001 by Yip Yuen Hong and his wife Lee Ee Lin. Yip Yuen Hong previously cut his teeth with HDB, William Lim & Associates, Akitek Tenggara before co-founding HYLA Architects. I have always associated Yip with GCBs and other landed homes where his design philosophy has always been to retain Singapore's architectural heritage. Nevertheless, he has also embarked on smaller boutique developments such as M5, 118 Killiney and Jervois Prive. 
ADDP is no stranger to Guocoland and the Singapore condo scene. Founded in 1986, they pioneered the prefabricated construction method in Singapore. ADDP's philosophy emphasizes vibrant growth through the production of innovative and quality designs. Among the projects which they have completed include Guocoland's The Avenir and Martin Modern, as well as Seaside Residences, Botanique at Bartley and Cliveden at Grange amongst many others. 
Stack Analysis
Development Site Plan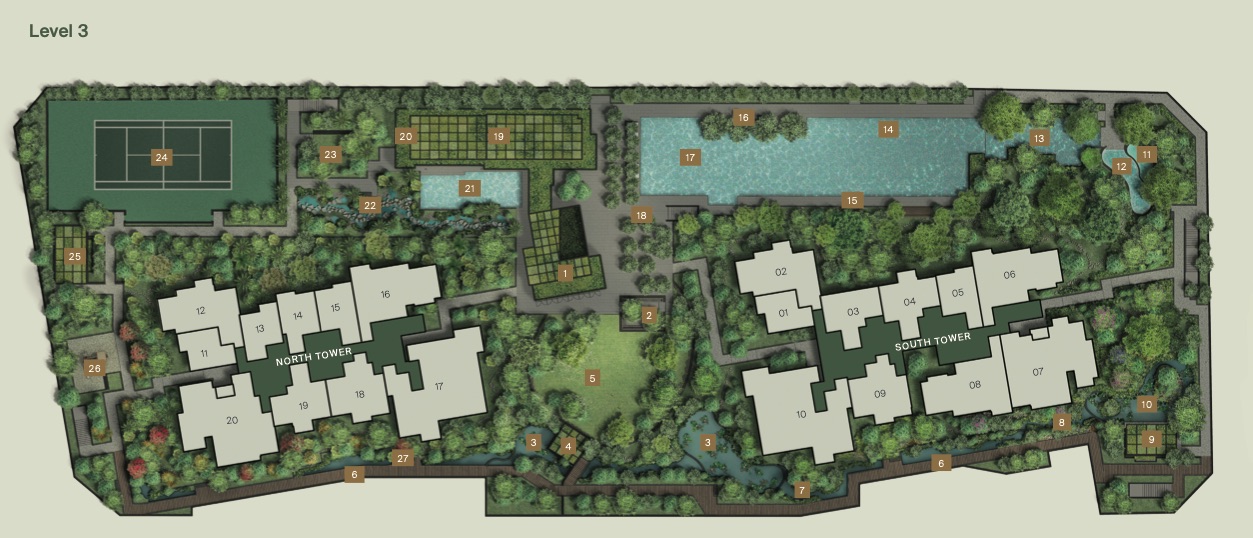 Facilities in Midtown Modern

| | | |
| --- | --- | --- |
| Library | Grand Lawn | Garden lounge |
| pool terrace | leisure pool | gym |
| changing room | club house | 50m lap pool |
| sun deck | aqua barre | estuary pool |
| jacuzzi | hot spring | Garden lounge |
| outdoor playground | pet corner | tennis court |
Since I've spoken enough about the facilities of Midtown Modern, it's time to turn our attention to the commercial aspect of it. If anything, it is probably one of the few developments that doesn't actually need to have a retail component given the sheer amount of options in the area from Midtown Bay, Bugis Junction, and the short walk to Raffles City, Suntec City and the like.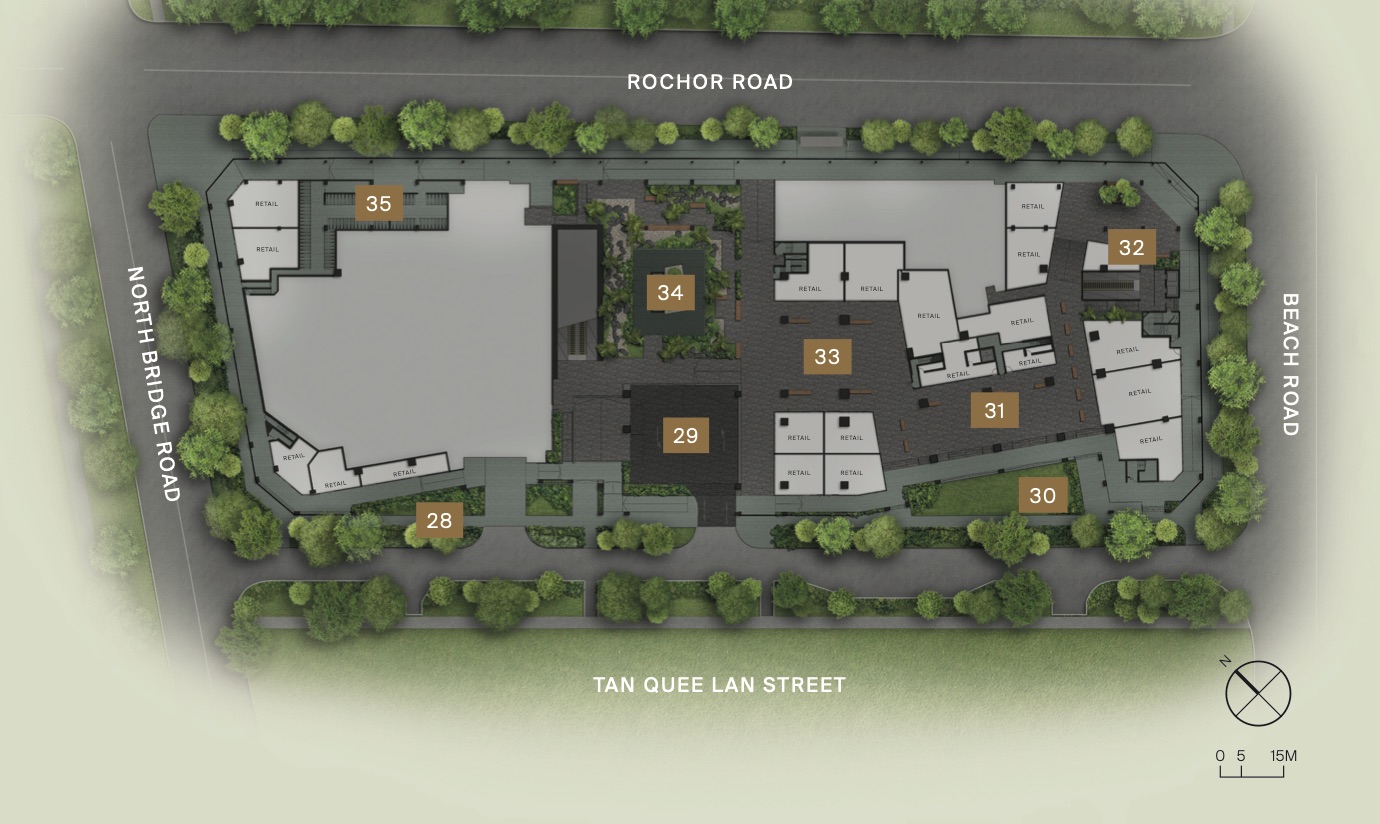 Still, that didn't stop GuocoLand from creating a walk-in concept to the retail portion of Midtown Modern. The layout is such to create interaction as you will have to walk into the development in order to peruse the shops.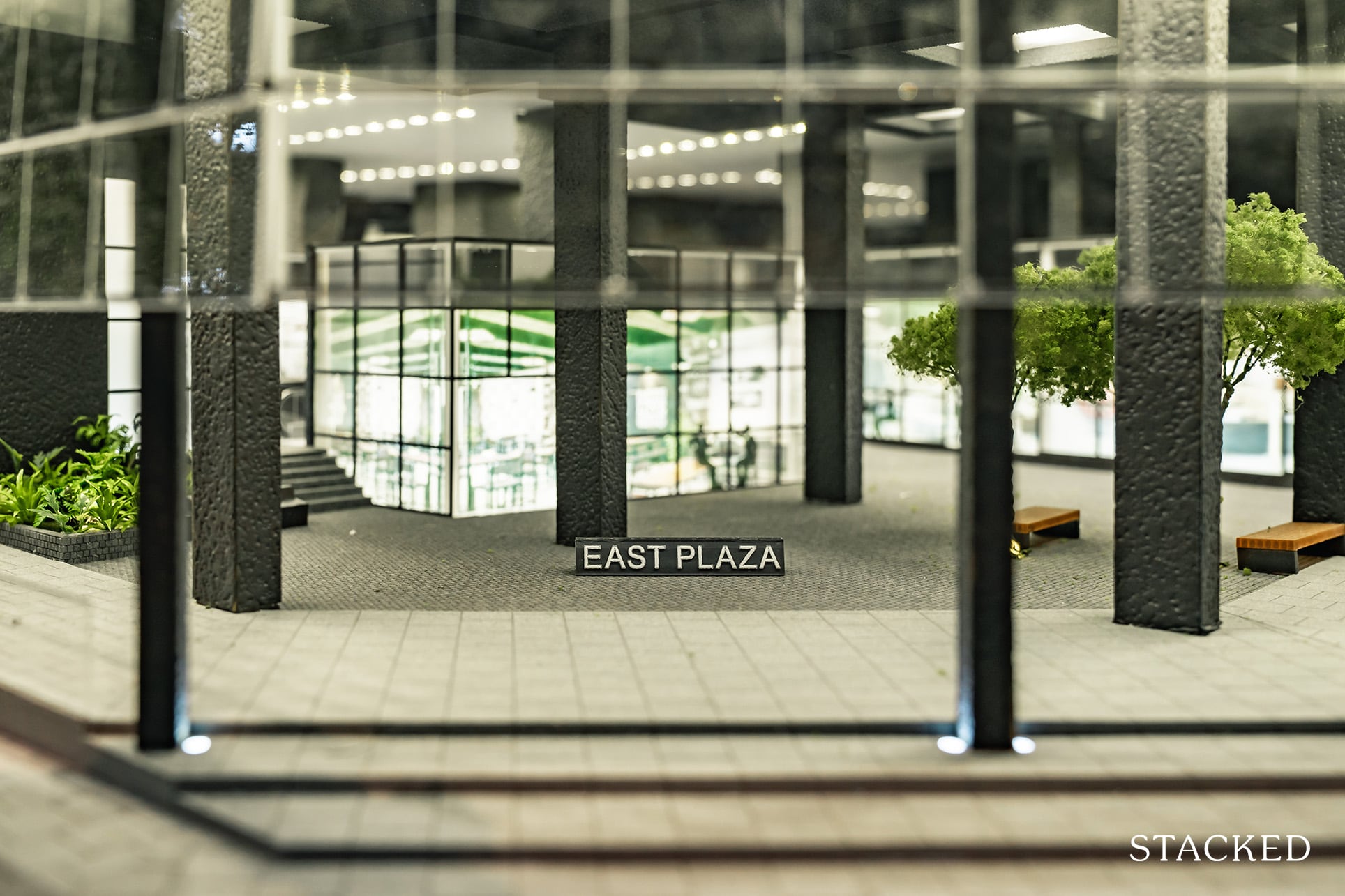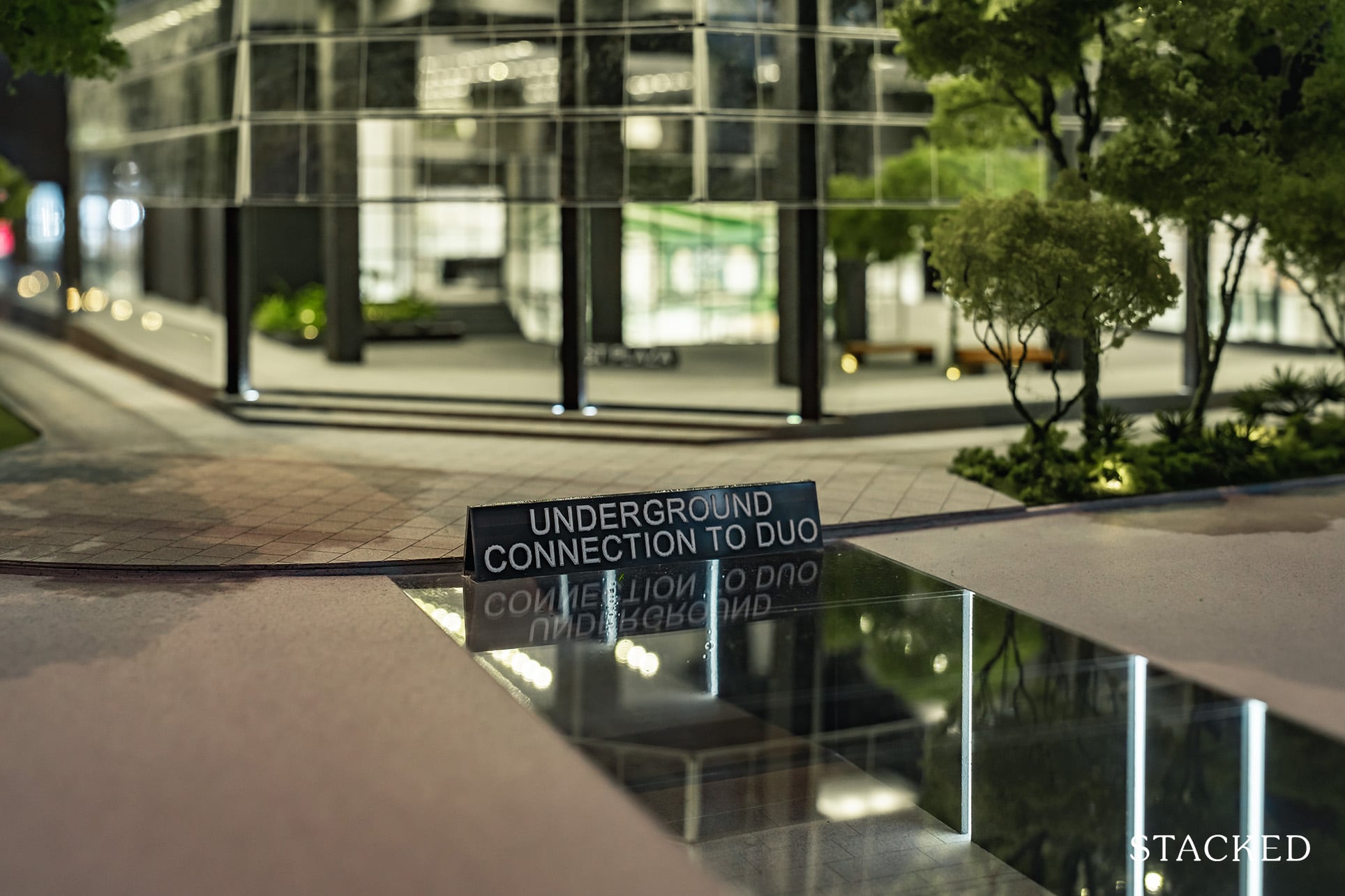 Perhaps most importantly of all, everything here would be interconnected. So you essentially would never get wet on a rainy day, or sweat on a hot day as you can walk from Midtown Modern to the MRT station, Duo Residences, Gateway, Guoco Midtown, and Bugis Junction.

Afternoon west sun analysis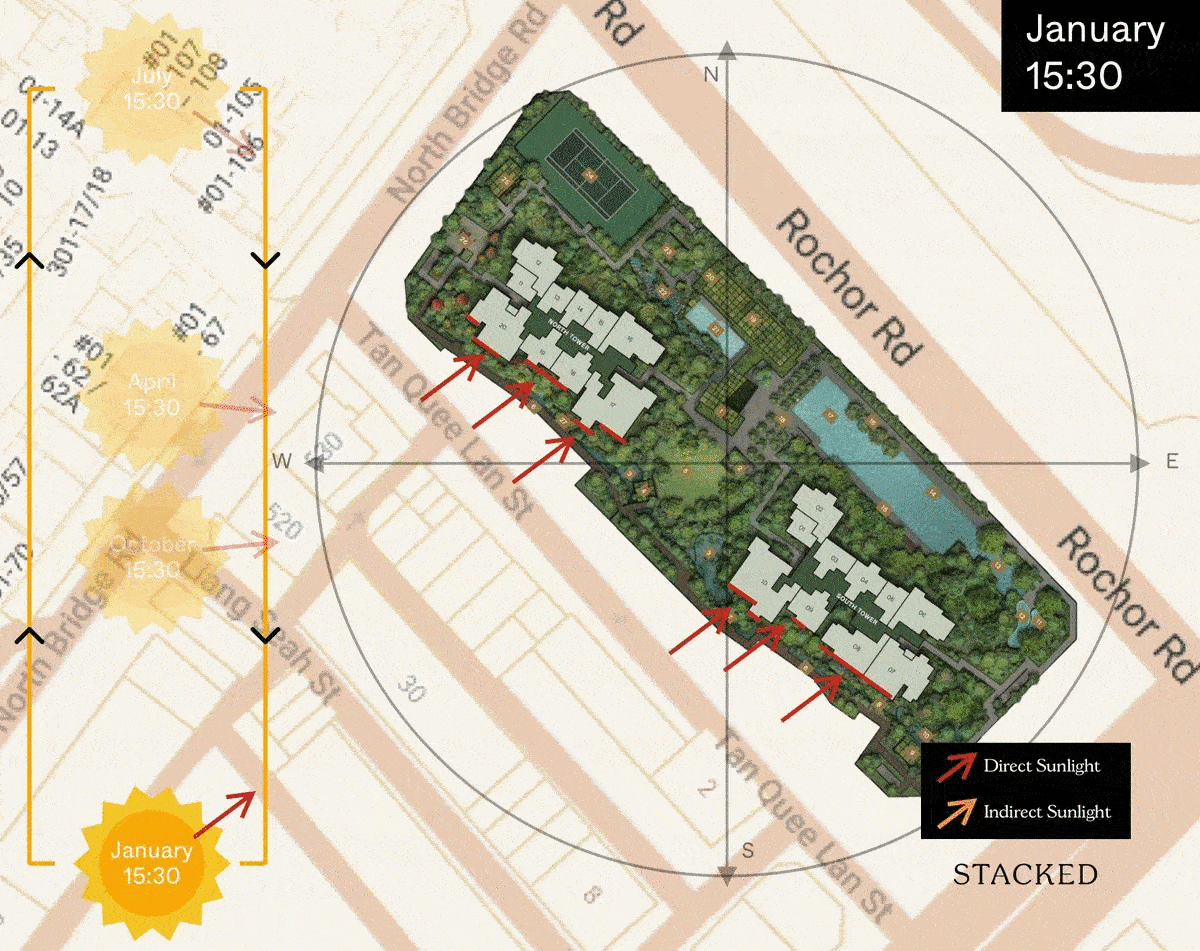 Given the south-west and north-east orientation of the site, it's clear that stacks 07-10 and 17-20 will be facing the brunt of the afternoon sun. The good news is that it's not direct facing, hence it should really only receive most of the afternoon sun for half the year.
Stacks with the least afternoon sun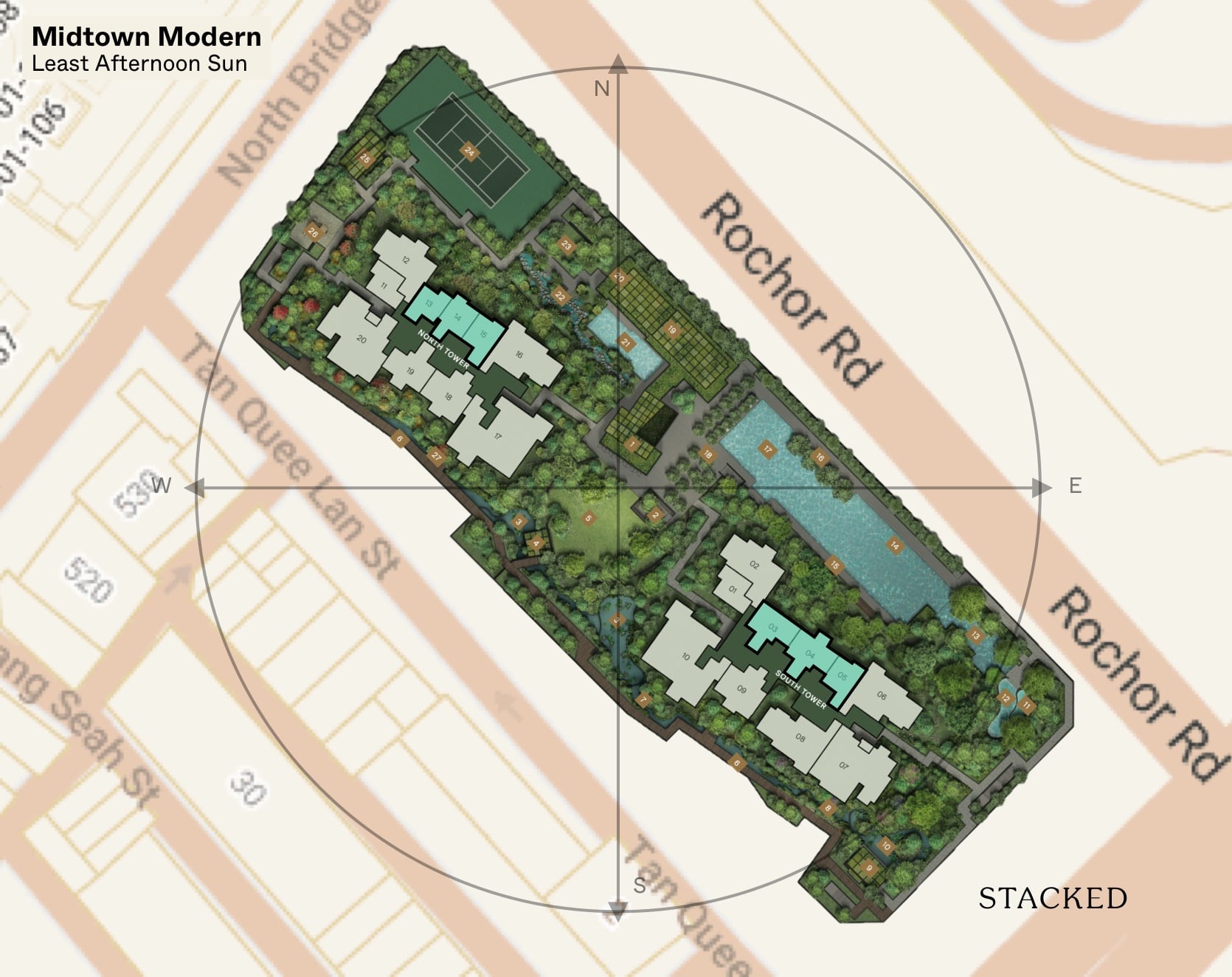 Stacks 13 – 15 and 03 – 05 face the least afternoon sun given it is sandwiched between adjacent units, and faces the north-east orientation. Stacks 06 and 16 should enjoy a nice morning sun over the Kallang river.
Unit Mix
| | | | |
| --- | --- | --- | --- |
| Unit Type | Size | No. of Units | Maintenance |
| 1BR | 409-474 sqft | 168 | $327.60 |
| 2BR | 592-721 sqft | 139 | $382.20 |
| 3BR | 904-1,066 sqft | 139 | $382.20 |
| 4BR | 1,432-1,808 sqft | 110 | $436.80/$491.40 |
| Penthouse | 3,272-3,520 sqft | 2 | $709.80 |
In a pleasant twist from the norm, Midtown Modern has veered away from predominantly shoebox units in a CBD development. Instead, they are betting on demand for larger units in this Bugis precinct. Their goal to be one of the few family-orientated condos in the CBD has resulted in a good number of 3 and 4 Bedroom units which do appear more generous than average, even compared to those found in the rest of Singapore. That's definitely a refreshing change and a welcomed one for those with deeper pockets. 
Maintenance fees are approximately what you'd expect for a higher-end city development with 500 plus units. In fact, I half expected it to possibly be more due to the sheer amount of landscaping that will have to be taken care of.
Best Stacks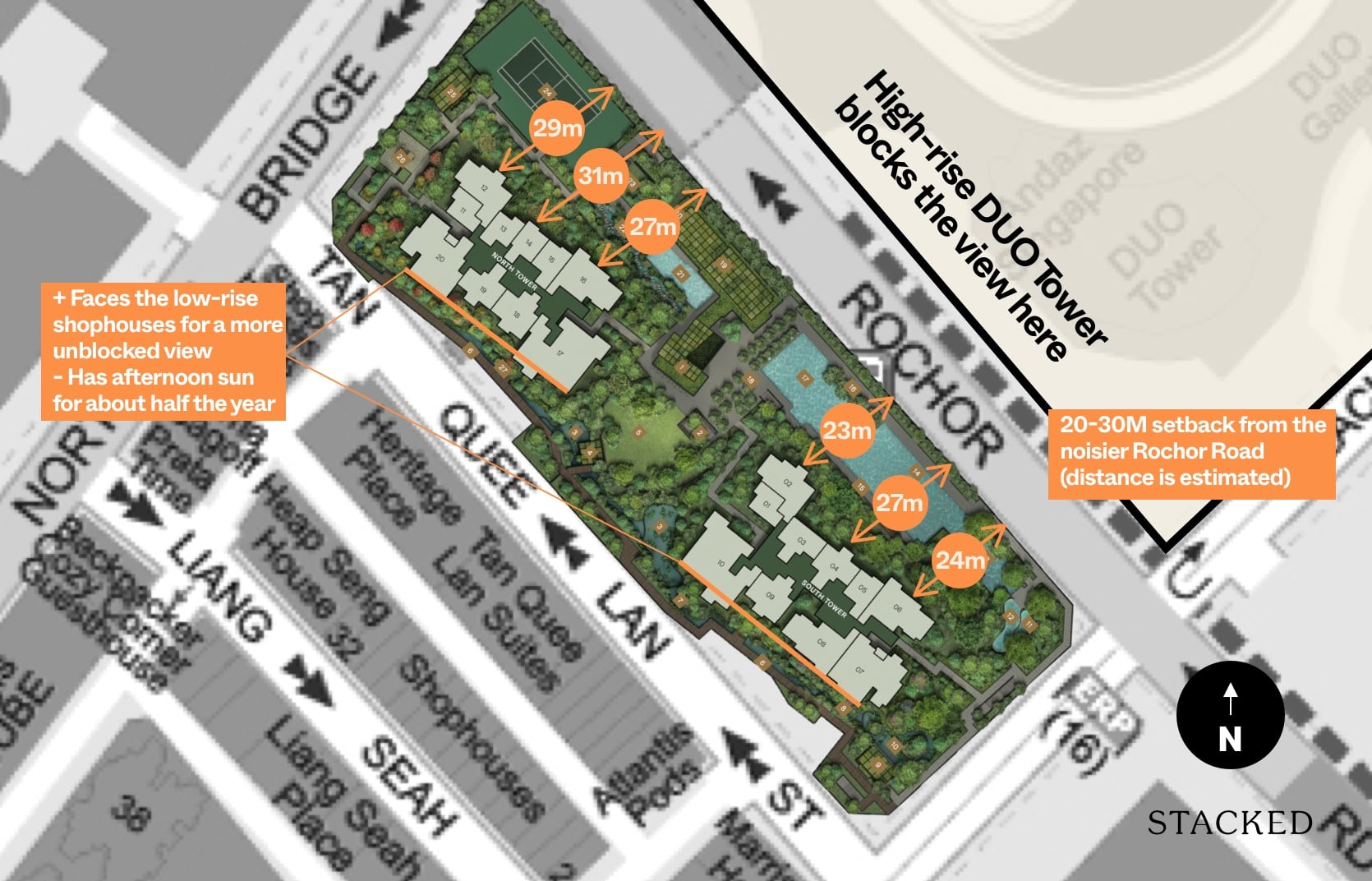 With just 2 towers and each comprising of 10 stacks to choose from, it really comes down to your unit of preference and budget. Essentially, there are only 2 main directions you face – North-East which fronts Rochor Road or South-West which fronts Tan Quee Lan Street.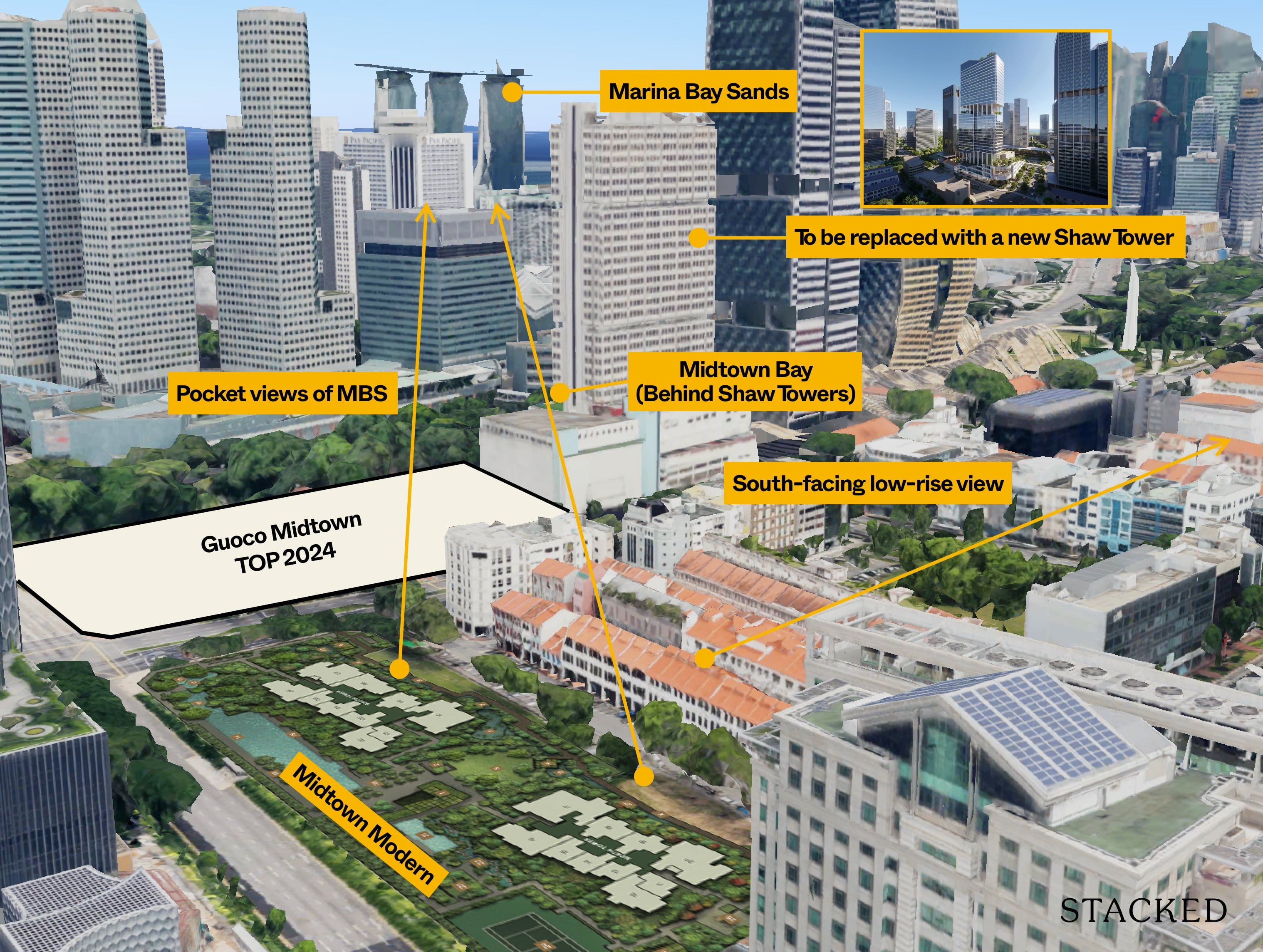 While I am no fan of Singapore's afternoon sun, the South-West view is my preferred choice as it ensures lesser blockage with the existing Tan Quee Lan shophouses offering some buffer.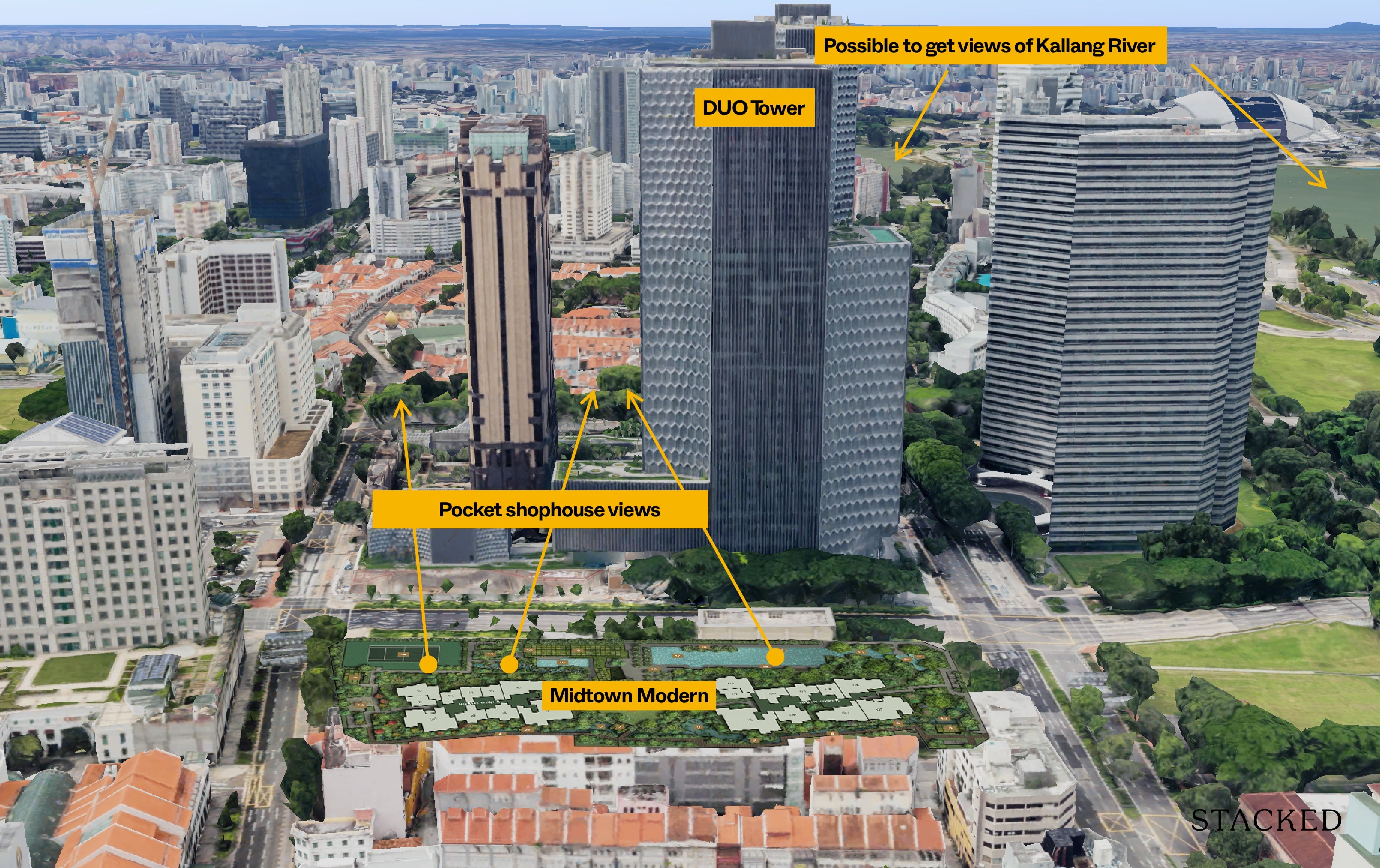 Some units will get pocket views of the Marina Bay area from the South, while the East also provides pocket views of Kallang River.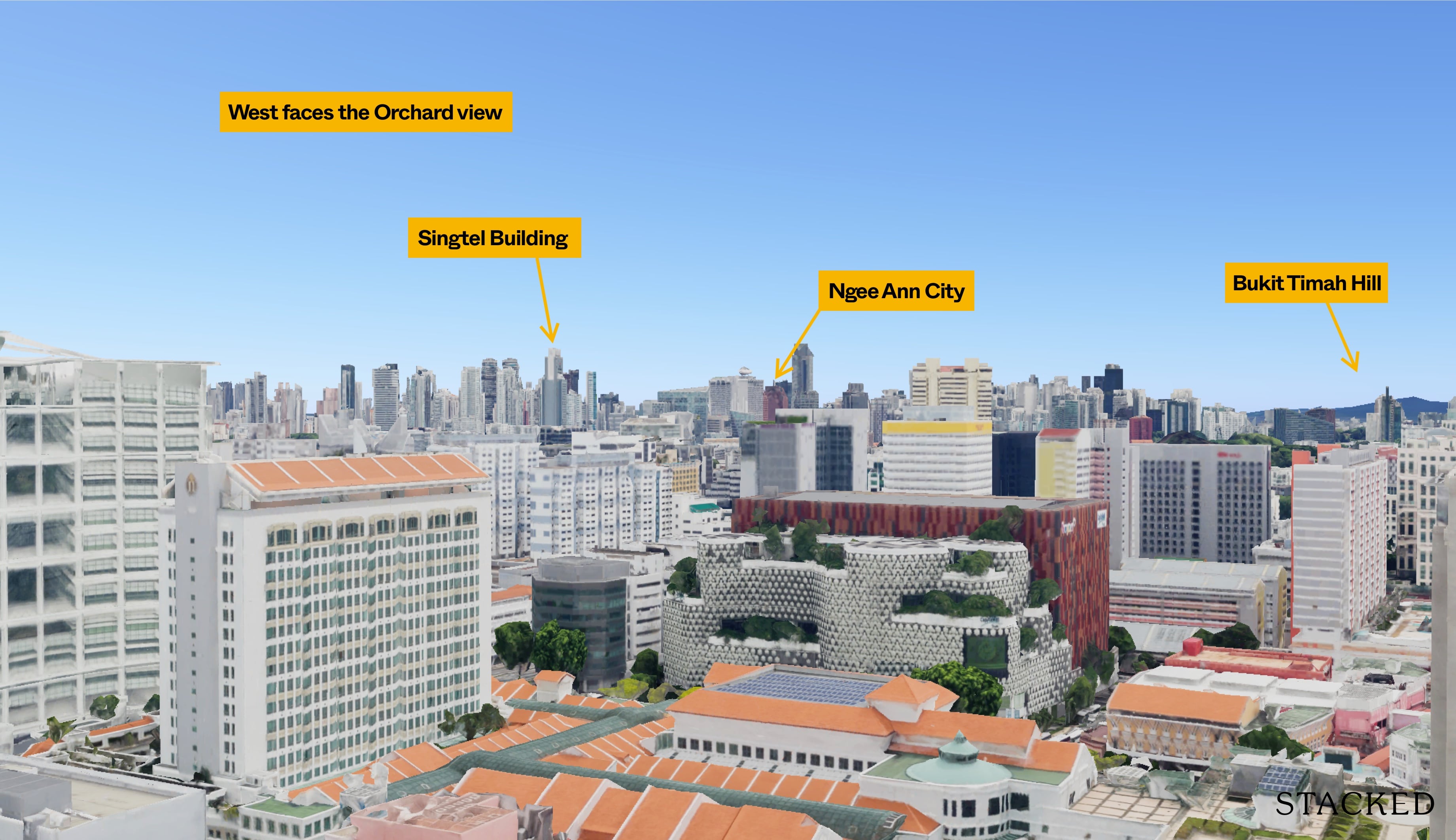 If your unit faces the West, you will be able to get views towards Orchard and Bukit Timah. Meanwhile, the units that face Rochor Road directly will get to face up against your direct neighbours Duo Residences instead.
Choice Unit Layout
1 Bedroom Unit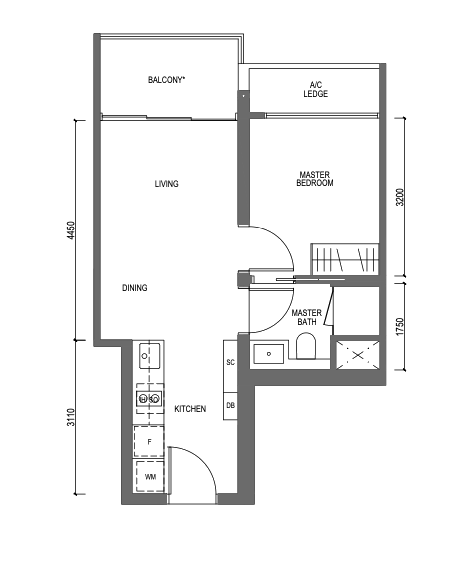 Despite me waxing lyrical about the 409 sqft floorplan, if I had a higher budget (depending on the launch prices), I would still plunge for the bigger 474 sqft unit.
Pros:
Efficient squarish layout
No wasted entryway space
Jack-and-jill bathroom layout
Balcony space
4 seater dining space
Cons:
2 Bedroom Unit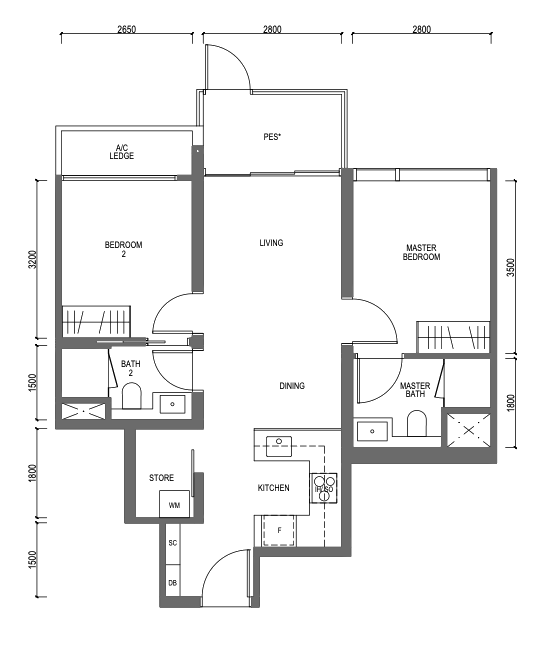 If you've read enough of my reviews previously, you'd know I can't resist a dumbbell layout, so this would still be my pick of the bunch.
Pros:
Efficient dumbbell layout
Option to enclose the kitchen
Storage room has hanging racks – can be used as laundry yard
Fit 6 seater dining
Storage cabinet at entryway
Common bedroom can fit queen sized bed

Cons:
No window at store and bathrooms
3 Bedroom Unit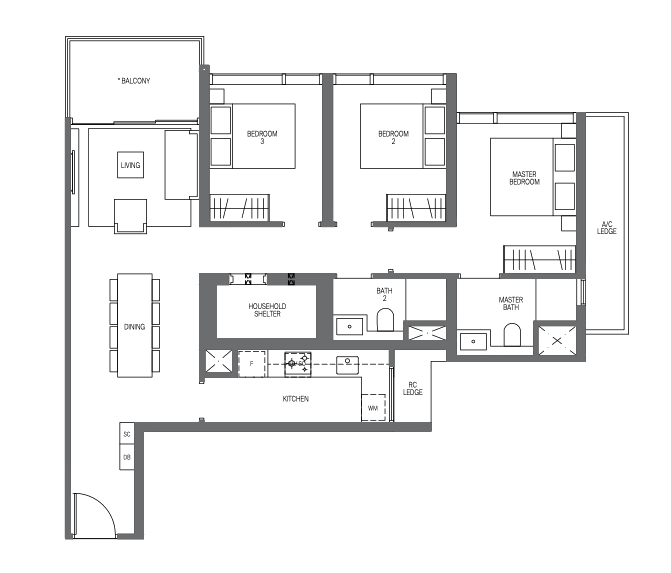 With that intriguing long dining arrangement, this layout was hard to resist as it was such a refreshing change.
Pros:
Regular layout
Well-sized dining area
Entryway comes with storage cabinet
Enclosed kitchen with windows
Bomb shelter for utility/helpers room
Master bathroom comes with window
AC ledge at the sides of the unit
Cons:
Price Review
If you are considering Midtown Modern, you will undoubtedly compare it against its neighbouring developments. So here is how it stacks up!
| | | | |
| --- | --- | --- | --- |
| Development | Units | Psf | TOP |
| Midtown Modern | 558 | TBC | 2024 |
| Midtown Bay | 219 | $3,001 | 2022 |
| The M | 522 | $2,589 | 2024 |
| Duo Residences | 660 | $1,990 | 2017 |
| South Beach Residences | 190 | $3,228 | 2016 |
While there are several older developments in District 7, I have omitted them as they are not exactly an apple to apple comparison with Midtown Modern. Instead, I have gone with the developments which are most closely associated with the Bugis / District 7 transformation.
Midtown Bay is of course, also part of the Guoco Midtown integrated development and serves as the best reference point. At $3,001 average psf, it is the most expensive for new launches in the Bugis area. South Beach is closer to Suntec City and an ultra luxury development so it is understandably priced slightly higher. I see Midtown Bay as having slightly more premium features in the units but less facilities in general. Hence, if Midtown Modern is able to achieve an average of $2,700-$2,900 psf, I would see it as a relatively decent entry, especially since its existing plot was bought at a higher price.
On the other hand, The M was a sell out success from day 1. It was launched when we first heard fears of the COVID 19 outbreak but the combination of strong marketing and great prices ensured that 70% of units were sold during the launch weekend, an amazing feat by 2020 standards.
However, do bear in mind that the majority of the units there are smaller units, with the largest at just 904 sqft. Midtown Modern is thus eyeing a very different set of buyers, with more family friendly facilities, bigger unit sizes, and a less congested layout overall. Hence, to enter at a slight premium over The M, would still be reasonable.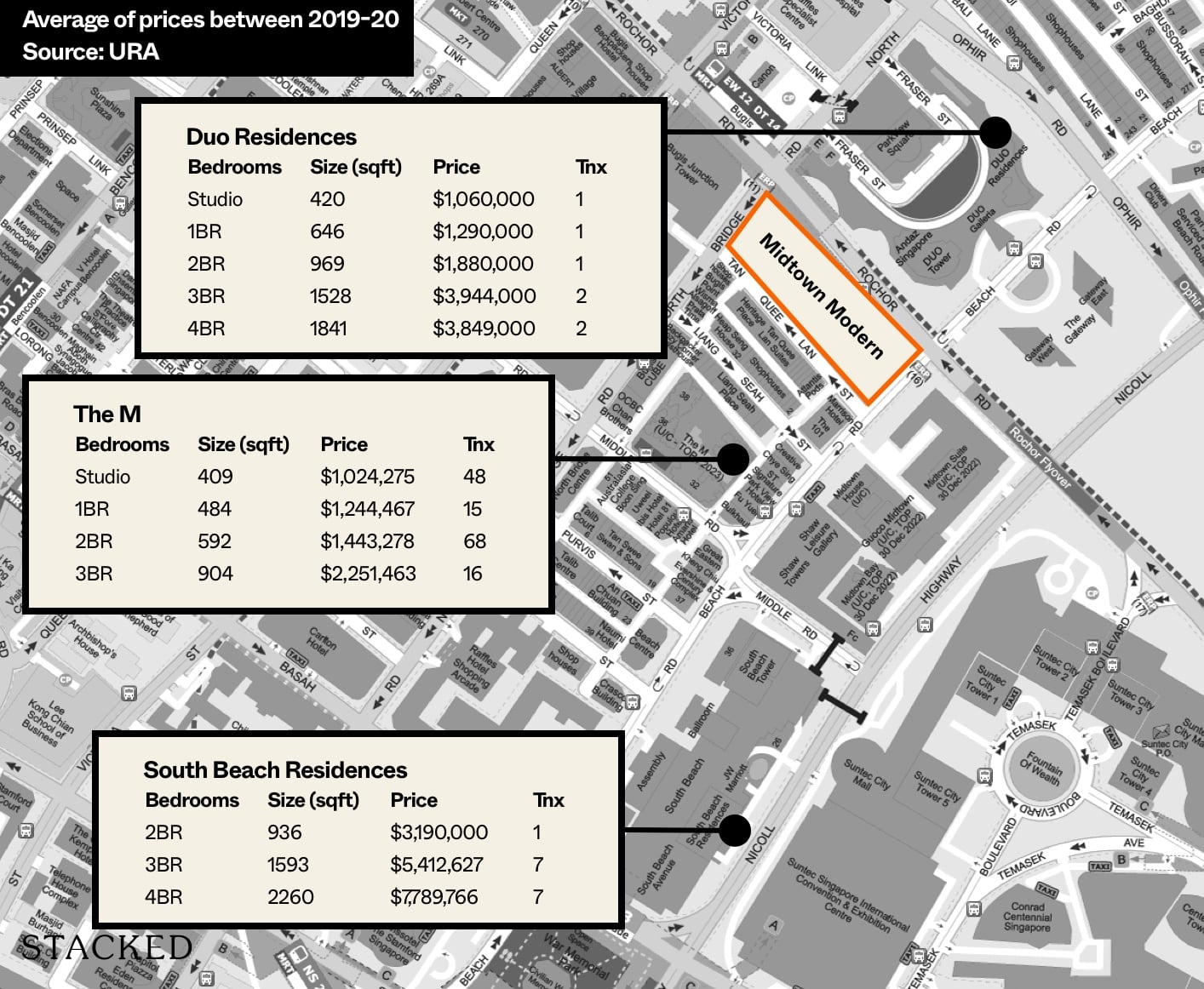 | | | | |
| --- | --- | --- | --- |
| Project | Bedroom | Size (sqft) | Price |
| Midtown Modern | 1BR | 409 | *$1.1x million |
| Midtown Modern | 2BR | 592 | *$1.4x million |
| Midtown Modern | 3BR | 904 | *$2.2x million |
| Midtown Modern | 4BR | 1,432 | *$3.6x million |
| Duo Residences | Studio | 420 | $1,060,000 |
| Duo Residences | 1BR | 646 | $1,290,000 |
| Duo Residences | 2BR | 969 | $1,880,000 |
| Duo Residences | 3BR | 1528 | $3,944,000 |
| Duo Residences | 4BR | 1841 | $3,849,000 |
| Midtown Bay | Studio | 409 | $1,318,113 |
| Midtown Bay | 1BR | 484 | $1,584,514 |
| Midtown Bay | 2BR | 732 | $2,288,340 |
| Midtown Bay | 3BR | 1324 | $3,610,267 |
| South Beach Residences | 2BR | 936 | $3,190,000 |
| South Beach Residences | 3BR | 1593 | $5,412,627 |
| South Beach Residences | 4BR | 2260 | $7,789,766 |
| The M | Studio | 409 | $1,024,275 |
| The M | 1BR | 484 | $1,244,467 |
| The M | 2BR | 592 | $1,443,278 |
| The M | 3BR | 904 | $2,251,463 |
*Official prices are not out yet, these are indicative
**Prices from other developments are based on transactions from 2020
Perhaps for easier comparison, let's look at it from an overall quantum perspective again – because ultimately the affordability is what matters the most. Especially with the efficient 1 bedroom unit at just 409 sqft, it does mean overall quantum would be more affordable. So you can understand why the showroom for Midtown Modern has been packed daily from the get go.
As of this moment, The M's smallest 1 bedroom units are all completely sold out – so any comparison would basically be a moot point. If you are looking for an affordable entryway into living in District 7, you are left with just Midtown Modern, Midtown Bay, and Duo Residences to choose from. Clearly, at the starting indicative price of $1.1x million, it is quite a significant gap from Midtown Bay – and unless you value the more premium units (more exclusive too with just 219 units), Midtown Modern will make a lot more sense with its great layout.
Duo Residences may still be cheaper, but it really isn't by much and that size difference is honestly negligible. It is a 99-year leasehold property too, so by the time Midtown Modern is completed, that age gap will be quite significant too. That said, Duo Residences itself isn't a slouch in terms of the design or convenience department – so its main selling point (if there is a unit available on the resale market) is that you can move in right away. 
Appreciation Analysis
I think its safe to say that District 7 has been a successful rejuvenation story, as in our piece on housing prices, you'd see that District 7 has recorded a 92.14% increase in average appreciation over the past 10 years.
(This percentage, made all the more astounding when you consider the high average quantum to begin with.)
But as with what GuocoLand has done with the addition of Wallich Residence and its surrounding amenities to the area, they look like they would be able to achieve the same thing with the entire Guoco Midtown project in the Bugis area.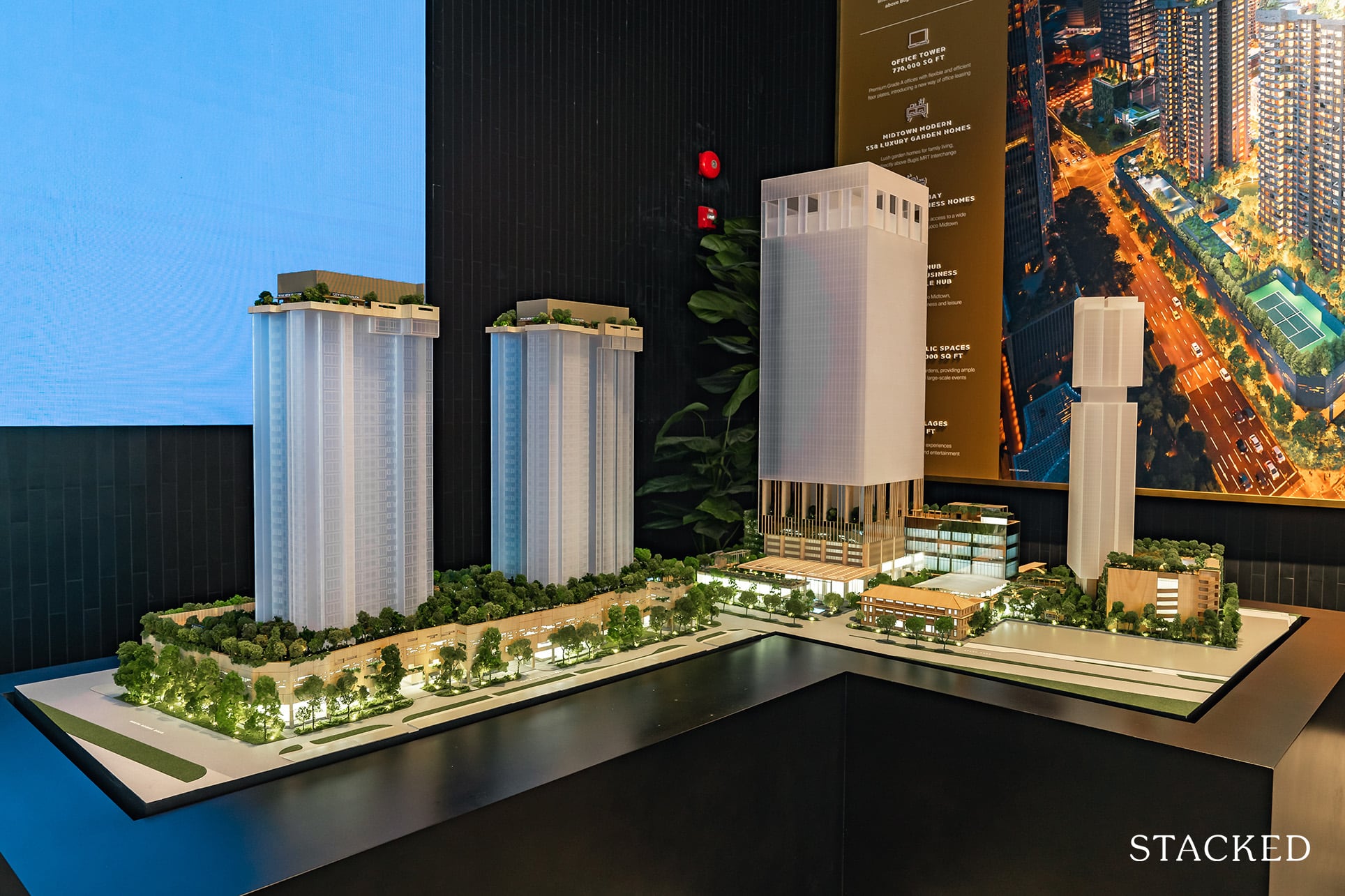 It is truly a massive undertaking, but they are taking all the right steps into contributing to what District 7 would be in the future. In itself, it really is almost an ecosystem on its own, where live/work/play is something real and not just a concept that the Government is dreaming about.
And that is probably the catalyst in what would transform this area into a truly liveable one. It's actually quite crazy to think (for those who are old enough) of the past before all these projects came about. Looking at it back then, it is nearly impossible to imagine what it is today and the transformation that has happened over time.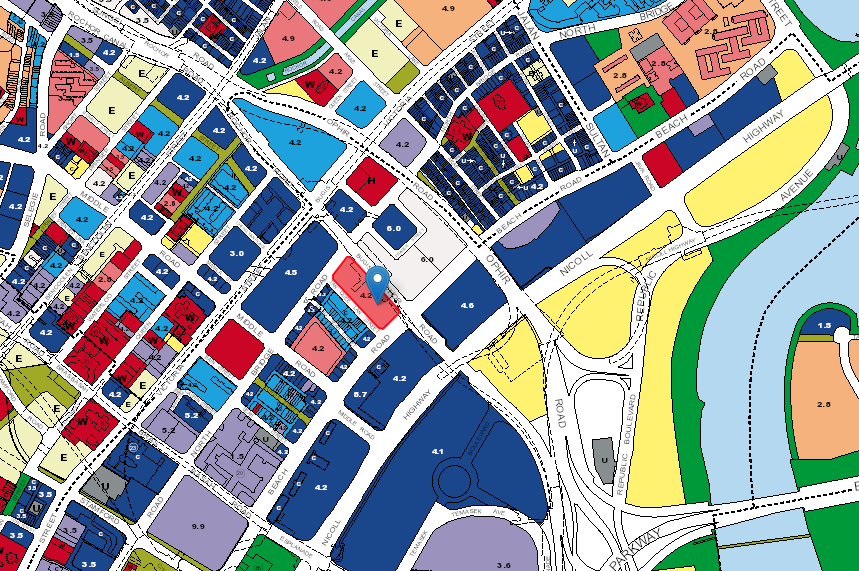 Now if you were to further look at the D7 reserve sites on Masterplan 2019, as well as the general redevelopment news of the area – you'll see that there isn't a lot of new developments that are going to pop up in the coming years here; save for some new park spaces and streetscape improvements.
Certainly not many residential developments, that's for sure!
With all those office spaces (which as much as WFH is a thing now, when the pandemic has settled you can be sure offices will still be around) from Midtown and the redevelopment of Shaw Tower to offices as well – there will definitely be rental demand from all these spaces.
Duo Tower: 568,000 sqft Grade-A office space
South Beach: 510,000 sqft Grade-A office space
Midtown Bay: 665,000 sqft Grade-A office space
New Shaw Tower: 400,000 sqft Grade-A office space
One other area worth taking note of is the Kampong Bugis precinct that is set to be rejuvenated.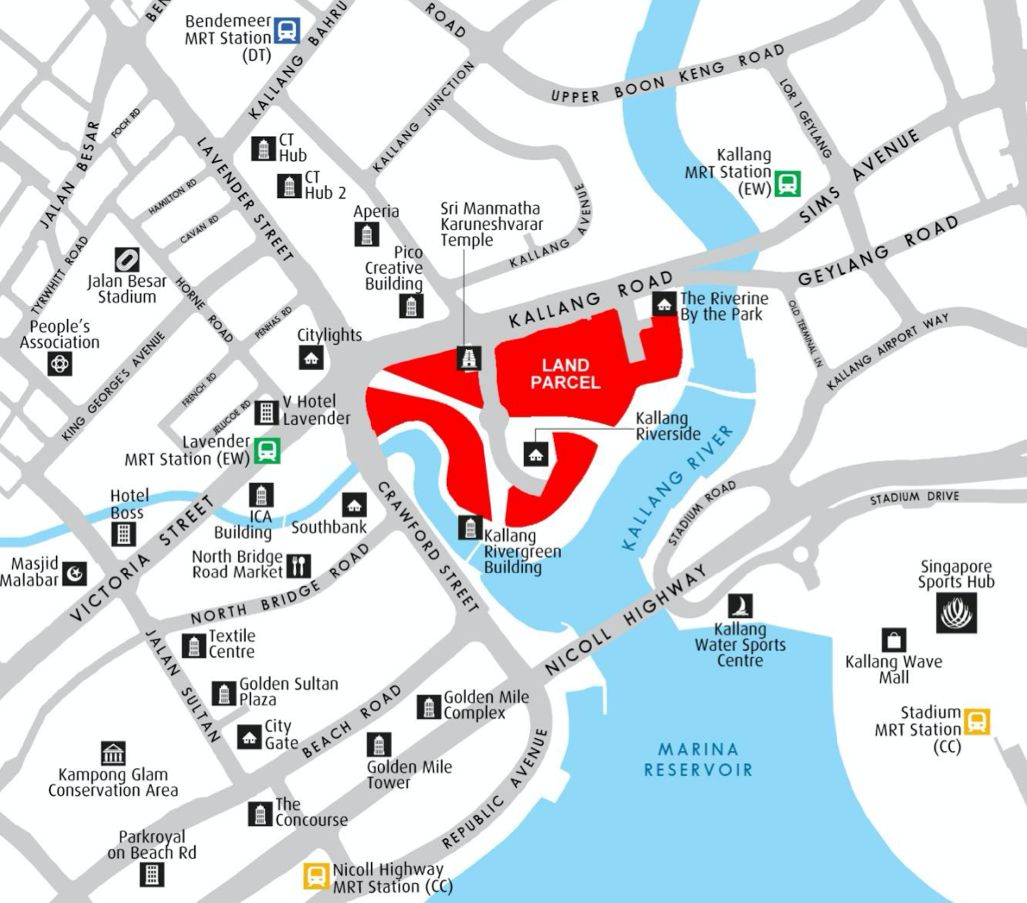 This 8.2 ha white site will be released for sale to a Master Developer, with plans that can potentially yield 4,000 homes as well as retail, serviced apartments, and offices.
So part of the Master Plan is to implement district-wide car-lite initiatives and development of the area, including parks, public spaces, roads, and precinct-level infrastructure systems. The whole development is expected to take up to 13 years, so it is quite another massive project – and you can see just how much transformation there is set to be in the area.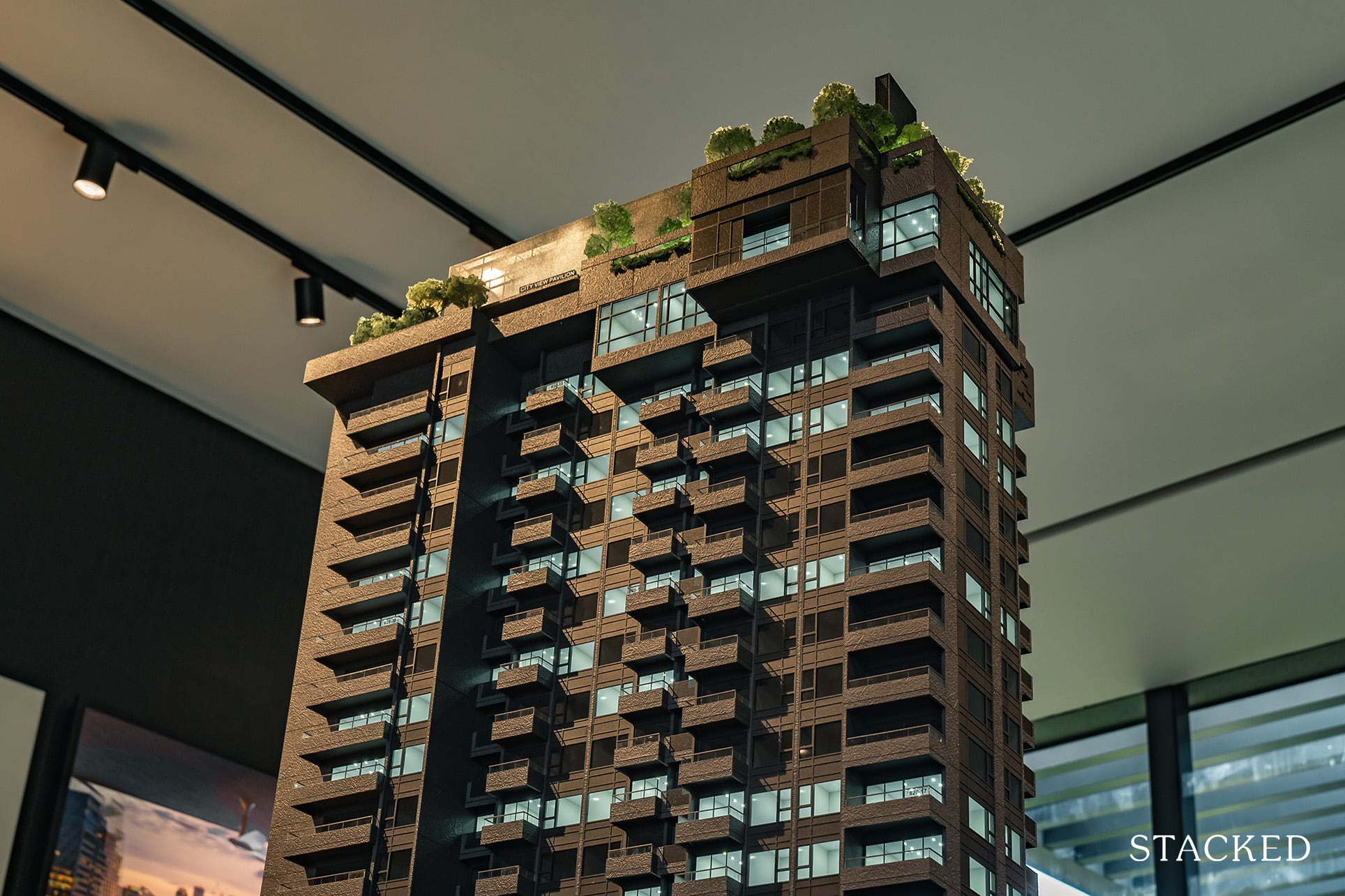 Our Take
What we like
Unique emphasis on nature in a CBD development

Doorstep MRT with other conveniences close by

Efficient layouts
What we don't like
–

Noise and busyness of Rochor / Bugis

–

No good schools within 1km

–

Could do with more carpark lots
Purchasing a unit at Midtown Modern may mean purchasing a part of Bugis' transformation and Singapore's growth story. Guoco Midtown will revitalise the already vibrant Bugis / Rochor area and set the gold standard for residential developments in the area. In my mind, DUO, Parkview Square and The Gateway are all iconic structures in District 7 and Guoco Midtown will join them upon its completion in 2025.
Ultimately, as a whole package, its hard not to like what GuocoLand has put out here with Midtown Modern. If you've ever been on the fence to wanting to live in the city because of the convenience it provides, but was hesitant at the liveability aspects of it, I think Midtown Modern has quite effectively plugged that gap.
Midtown Modern is not competing to be the cheapest new launch in District 7 – The M can take that crown – rather, it is targeting a select group of well heeled buyers who are able to appreciate the effort behind the thoughtful curation of forest and nature living right in the CBD. Moreover, its focus on slightly larger units coupled with full condo facilities will also help it differentiate itself from the rest of its peers in the market. 
The location needs no introduction and with Bugis MRT literally an escalator away, convenience is a given right here at Midtown Modern. My only gripe – the noise and the hustle and bustle of Bugis may not be for everyone.
You might like Midtown Modern if you:
What this means for you
You might like Midtown Modern if you:
• Want to stay in the City but like nature:

With how much focus there is on the garden aspects of Midtown Modern, those that love greenery but yet want the centrality of a good location will surely enjoy The Midtown Modern concept

• Work in Central Singapore:

District 7 will have many Grade A offices in the future, and is personally the much more liveable area as compared to CBD.
You might not like Midtown Modern if you:
• Have Young Kids:

A lack of primary schools in the immediate proximity of Midtown Modern puts the buyer focus on families with older children.

• Crave Peace and Tranquility:

Despite the thick canopy of greenery, there's only so much plants can do with regards to road noise. Also, not everyone likes to return home to hustle and bustle at their doorstep at all times.
End of Review
Join our Telegram group for instant notifications
Join Now
Matt K