22
min read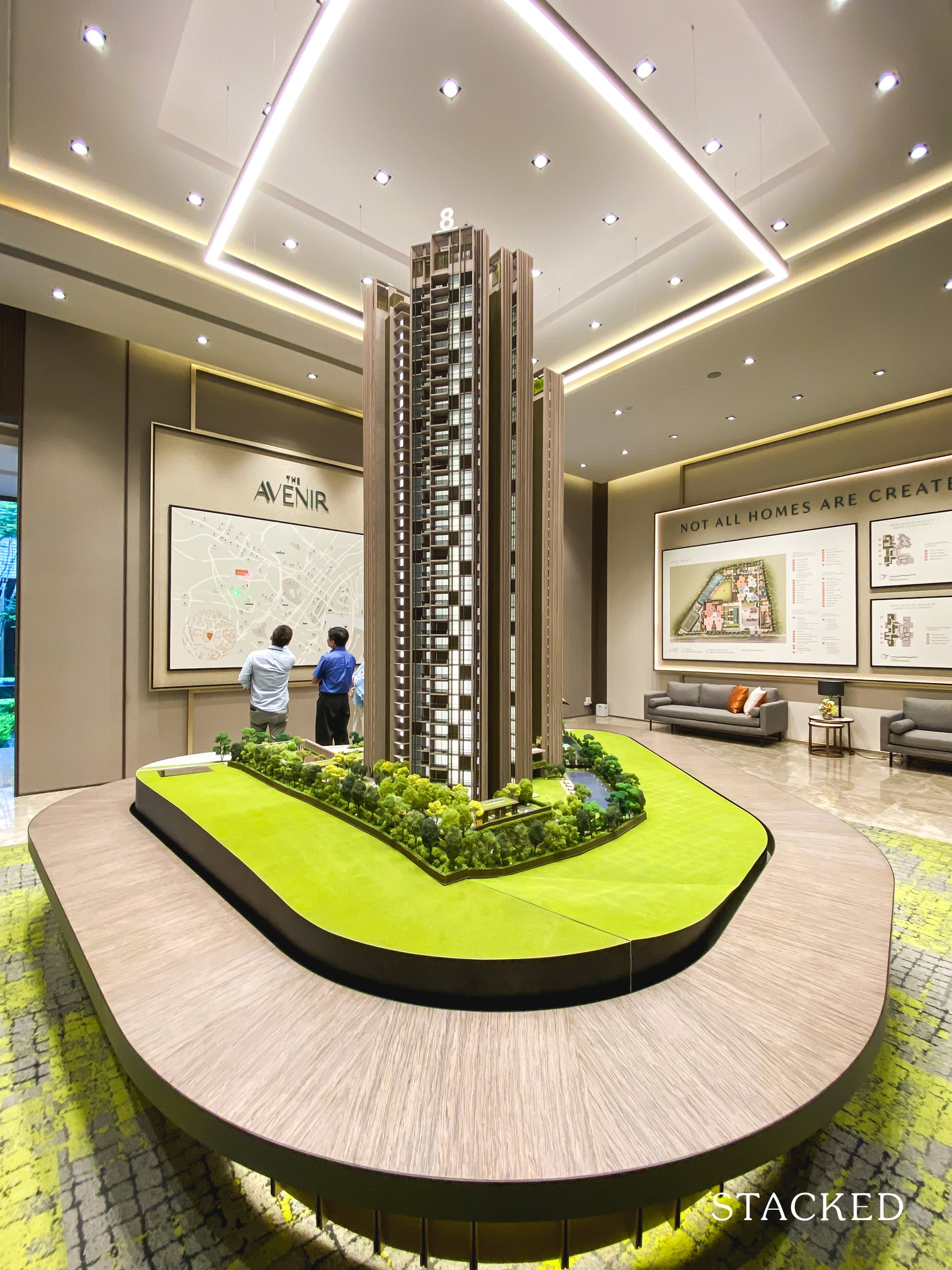 A luxury home for families
The Avenir is great for families seeking a luxury home given its 3 and 4-bedroom layouts are very practical. However, the 1-1 carpark lot ratio could be a concern as families who own more than 1 car may face some constraints.
| | | | |
| --- | --- | --- | --- |
| Project: | The Avenir | District: | 09 |
| Address: | River Valley Close | Tenure: | Freehold |
| Site Area: | 129,648 sqft | No. of Units: | 376 |
| Developer: | Carmel Development Pte Ltd | TOP: | 2025 |
It's safe to say whenever GuocoLand releases a project, people will sit up to take notice – such is the clout that they've built for themselves. Their very latest project is the Avenir, a luxury-focused freehold development located at River Valley. The plum site that they've acquired was, once upon a time, Pacific Mansion – a relic of the past that you just knew was going to be snapped up by one of the big boys. And snapped up it was, at a staggering $980 million, which to date is still the second biggest en bloc deal in Singapore (the first being Farrer Court).
But you have to give them credit – most of their projects are done to a high standard. And what I find particularly interesting is they often look much better than you can envisage from the showflat itself. But what I am even more curious about is – how they are going to segregate this project from a very similar one (from my viewpoint) in Martin Modern? Or is the fact that this is freehold going to be the major difference? Even for a developer of their size, the amount that they will be pouring into this is nothing to be sniffed at.
So as you can imagine – a lot will be riding on this project. Will this be another home run for them? Or will the price differential between this and Martin Modern be a little too much to bear?
Read on to find out!
The Avenir Insider Tour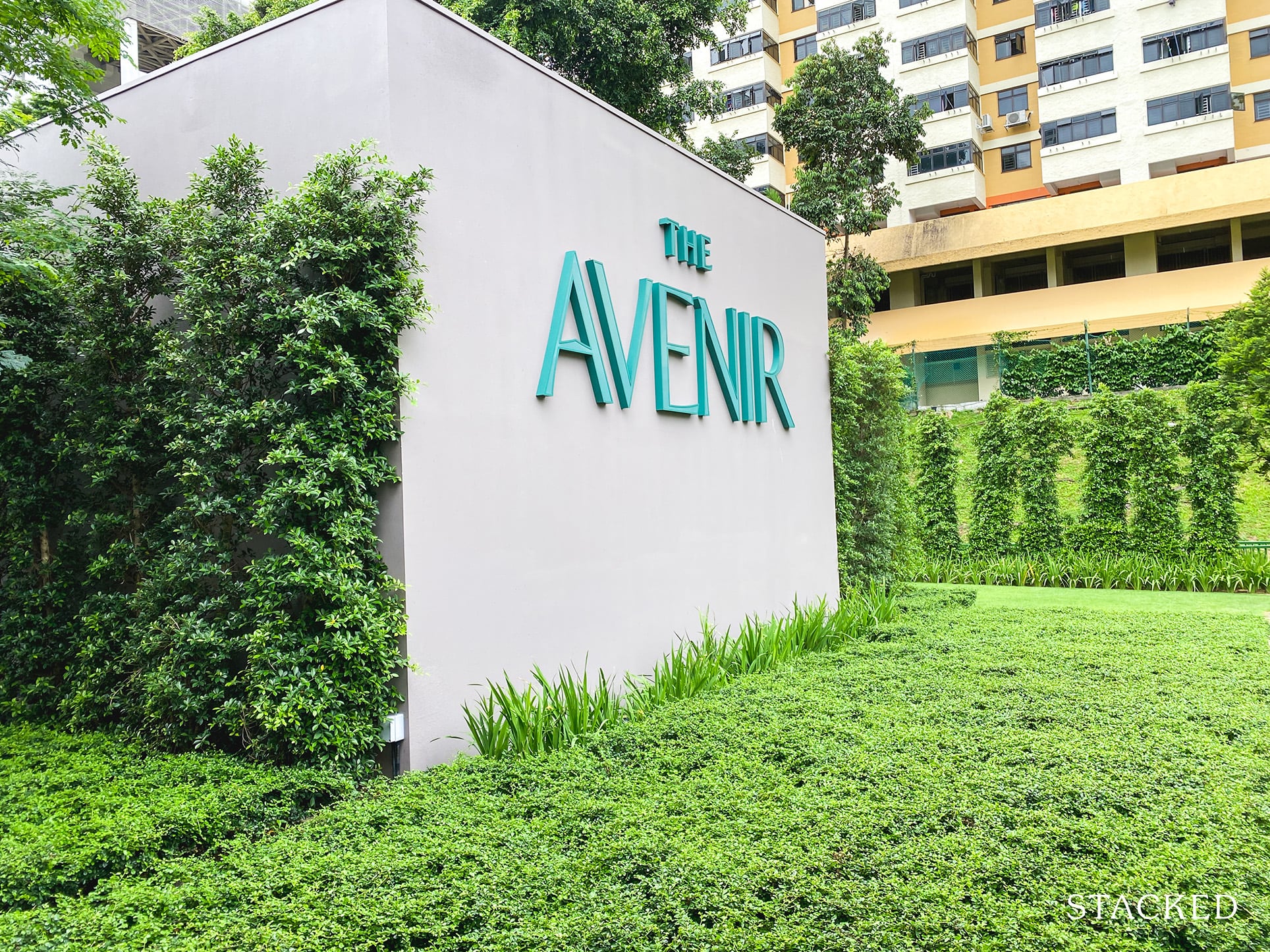 The Avenir showflat is not located at the actual site itself but along Upper Cross Street – some distance away from the old Pacific Mansion.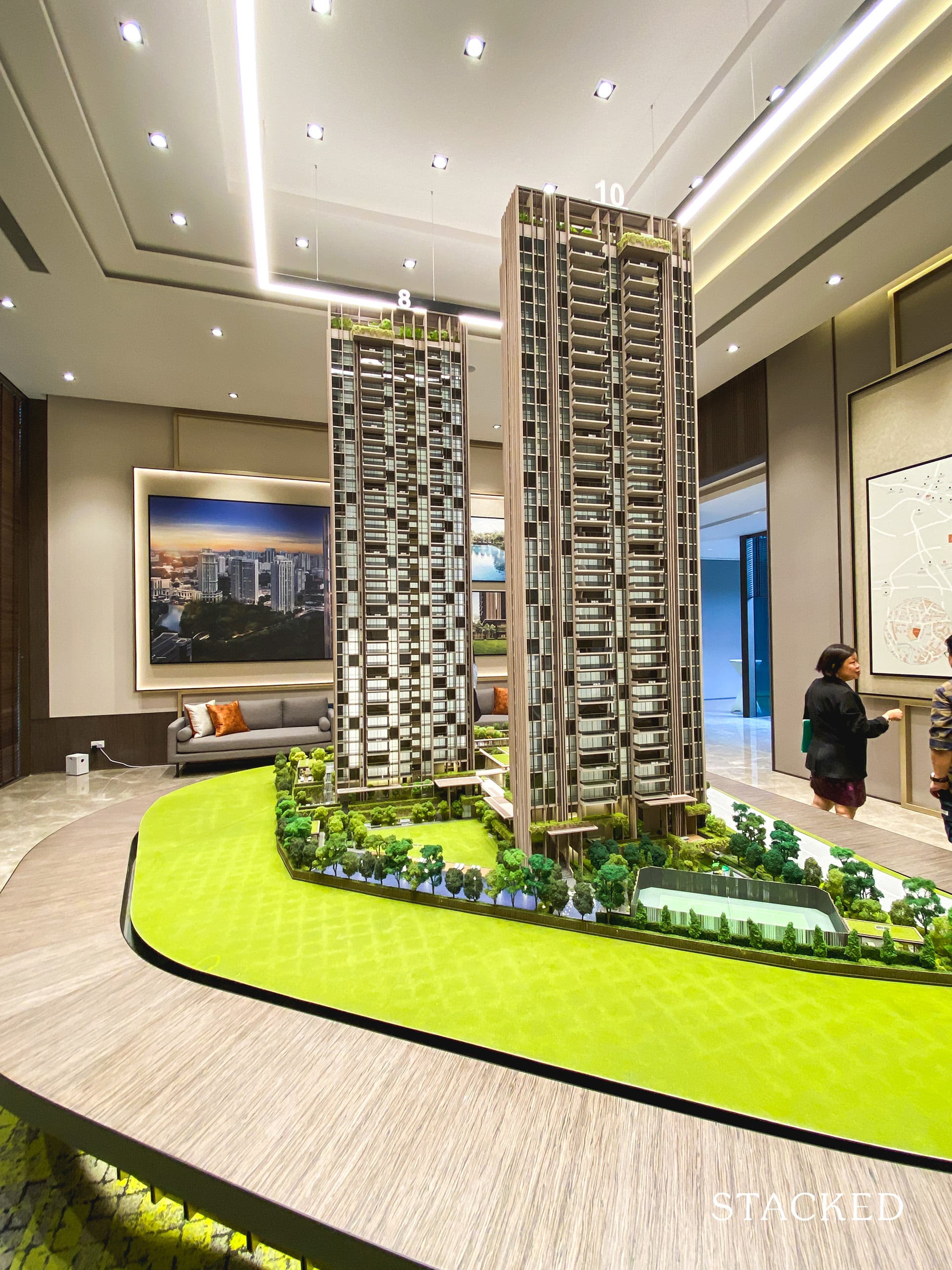 At risk of playing favourites, GuocoLand is one of the developers that I am actually quite partial to. They have a great track record, especially in the luxury department (Meyer Mansion, Leedon Residence, and Martin Modern come to mind). Needless to say, I had high expectations for this one for sure.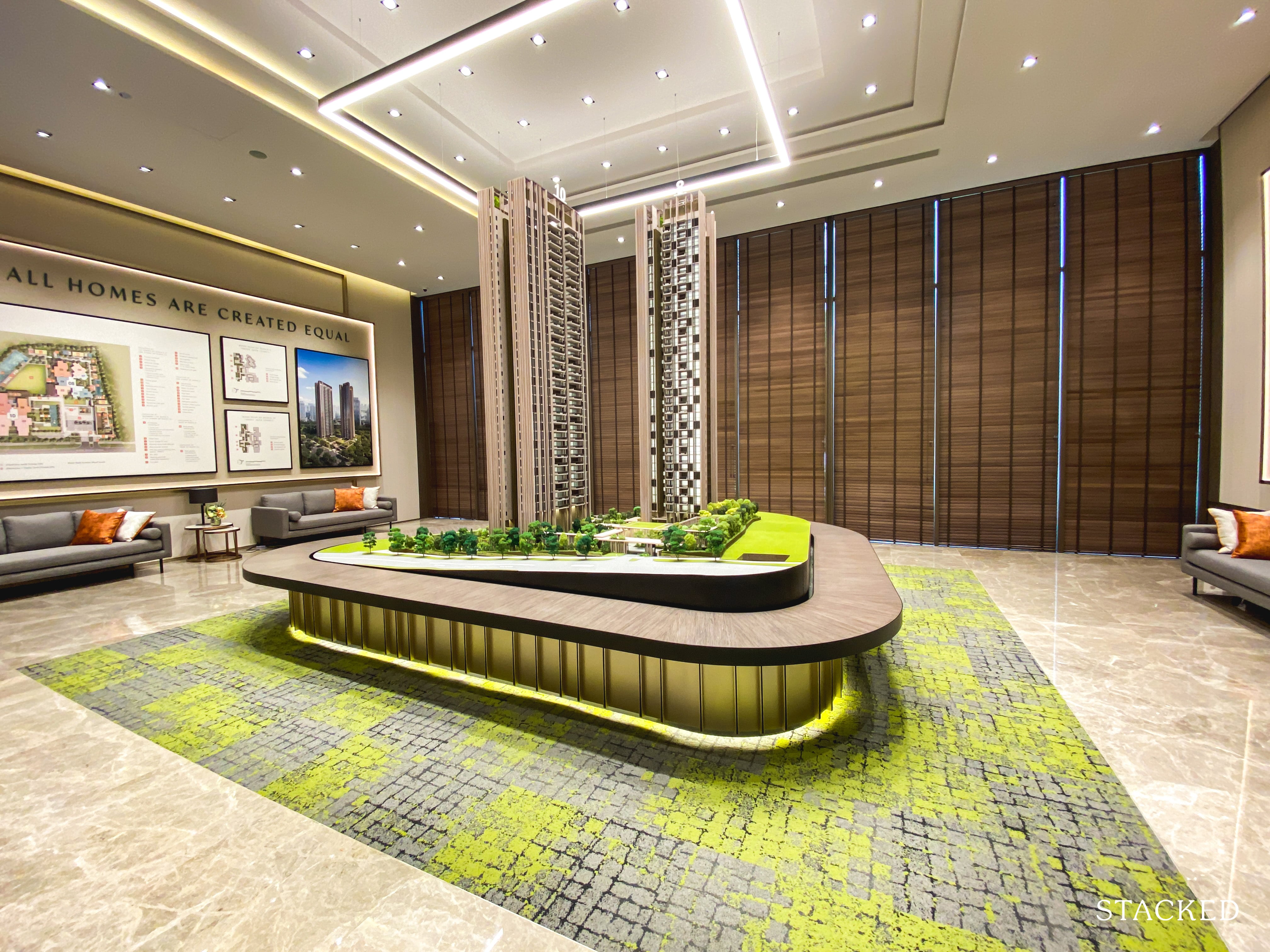 The Avenir sits on a land size of 129,648 square feet – it's a nice sized plot, not too big, neither is it too small. If you were on the hunt for en bloc properties a couple of years back, I'm sure you would have known about its existing site – Pacific Mansion. It was big news in 2018 as the plum freehold site had gone en bloc for $980 million.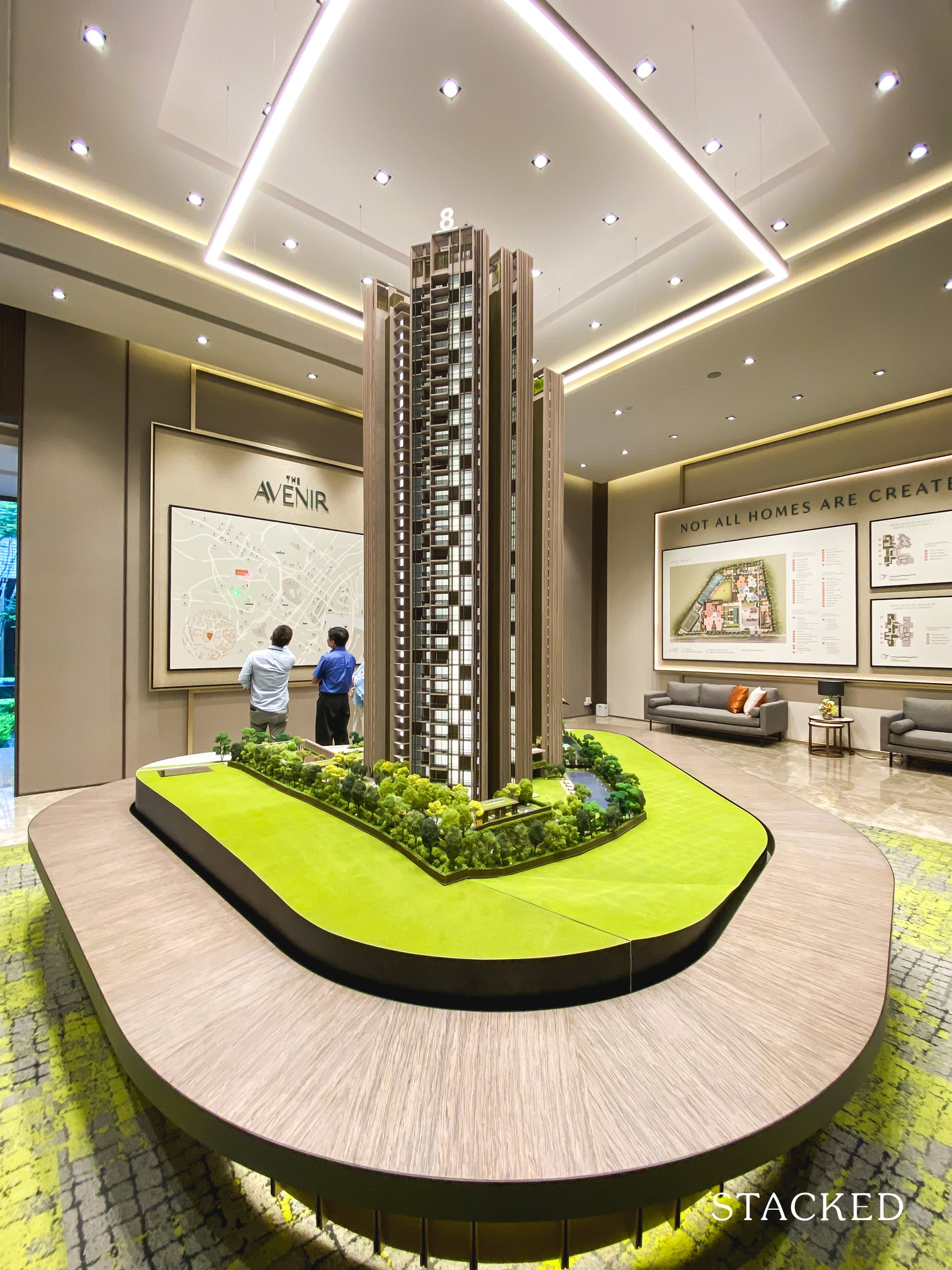 Its 376 units are housed in two 36-storey towers. To take advantage of the height, both towers feature a panoramic roof garden.
Clad in a handsome brown, the vertical lines go some way into emphasising the height of the building. I do like the design, it looks modern yet the colour does retain a more homely feel about it.
But to be completely honest, its design is reminiscent of their other project in the same vicinity – the Martin Modern. While I can't say that is a bad thing at all, it would have been better if they had differentiated both products more. From afar, you'll be hard-pressed to tell which is which.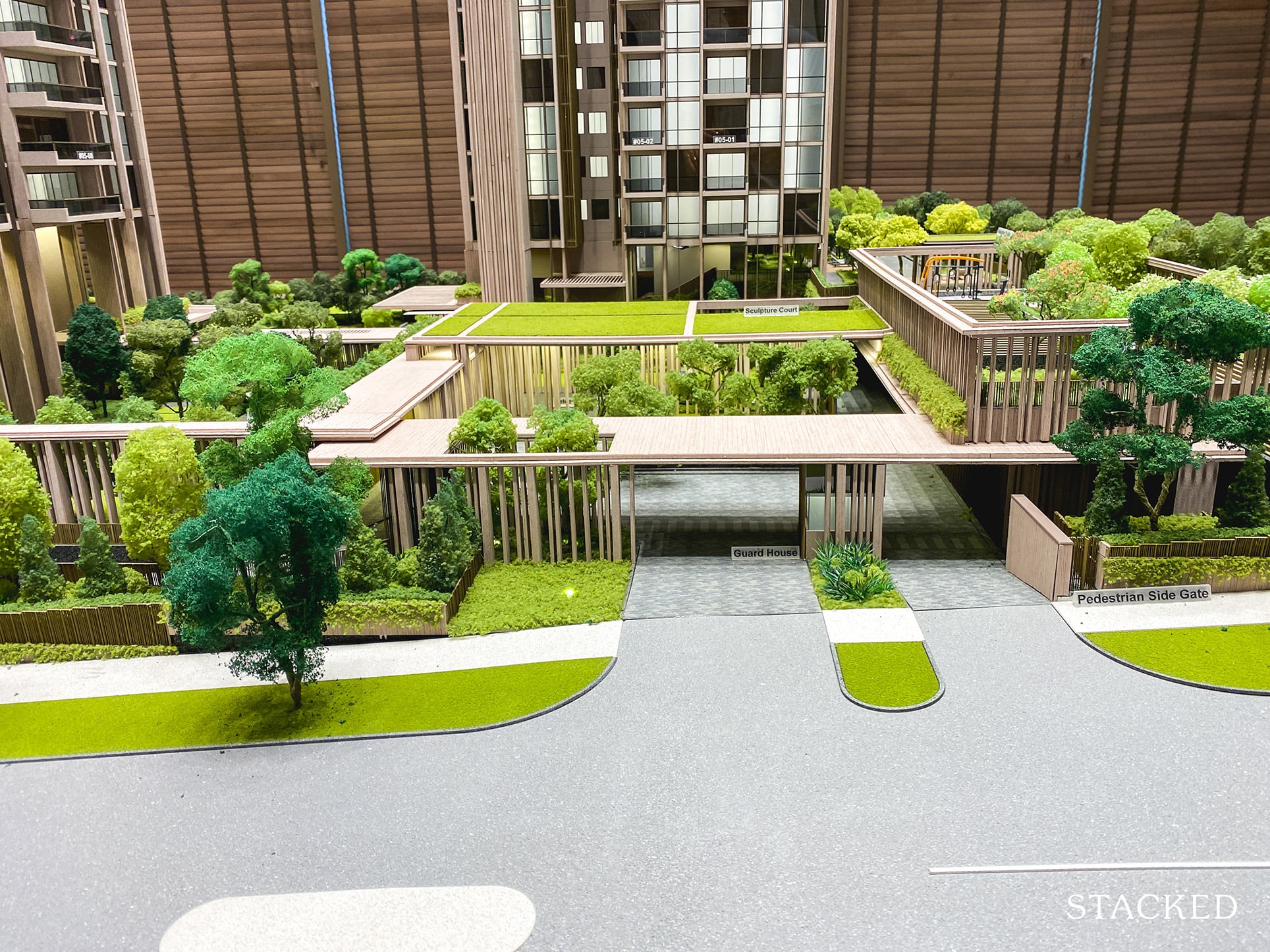 The entrance to the Avenir is along River Valley Close. It looks quite understated from the showflat model itself, but I wouldn't be too bothered about that. After all, GuocoLand does have an enviable habit of really delivering when it comes to the actual final product – Leedon Residence is a prime example of that.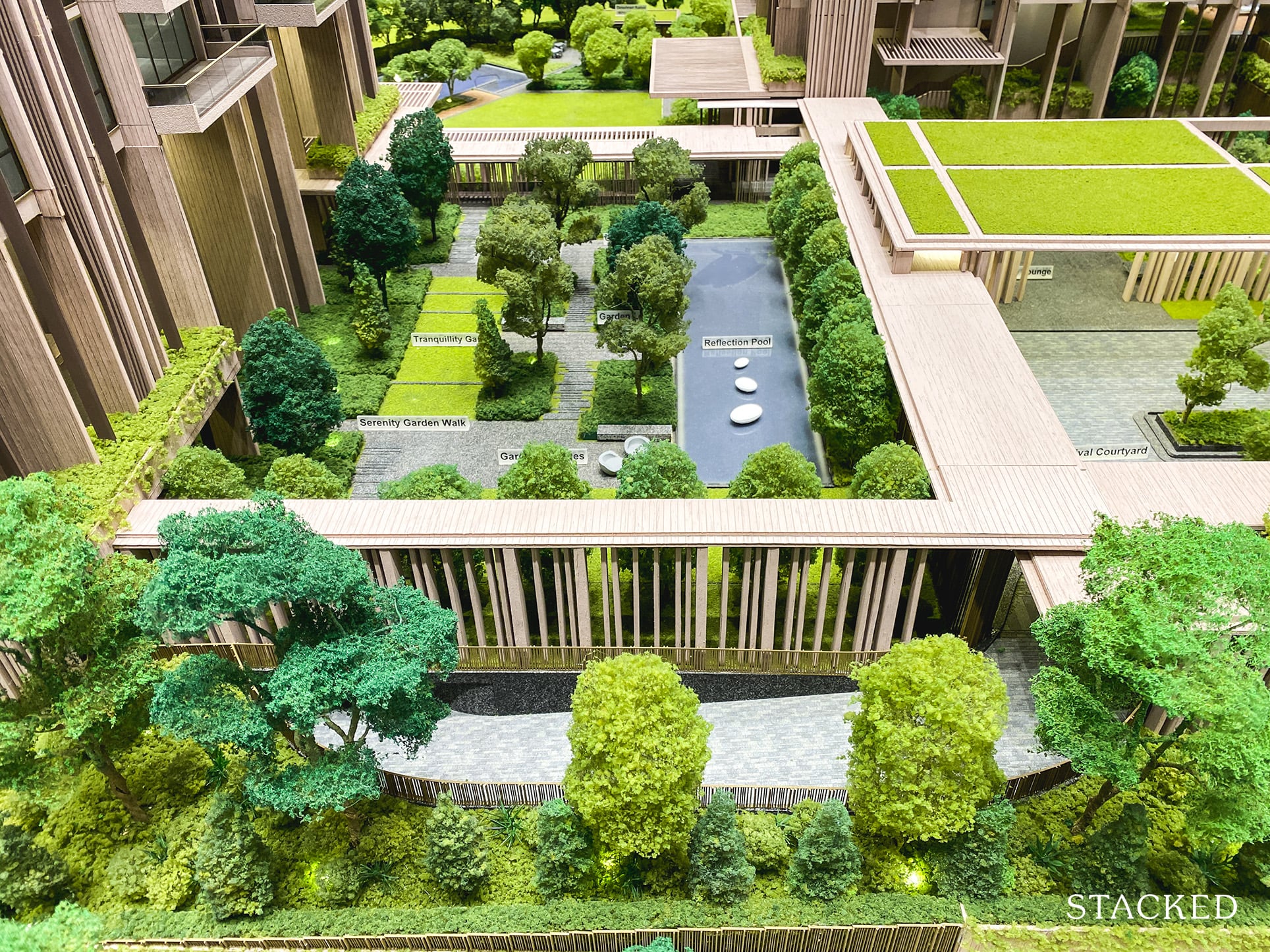 Based on first impressions, the arrival and common areas do look nice enough. Again, it's all done in a very understated luxurious tone, nothing gaudy and over the top. Some people might feel it is quite muted, but I do fancy the look.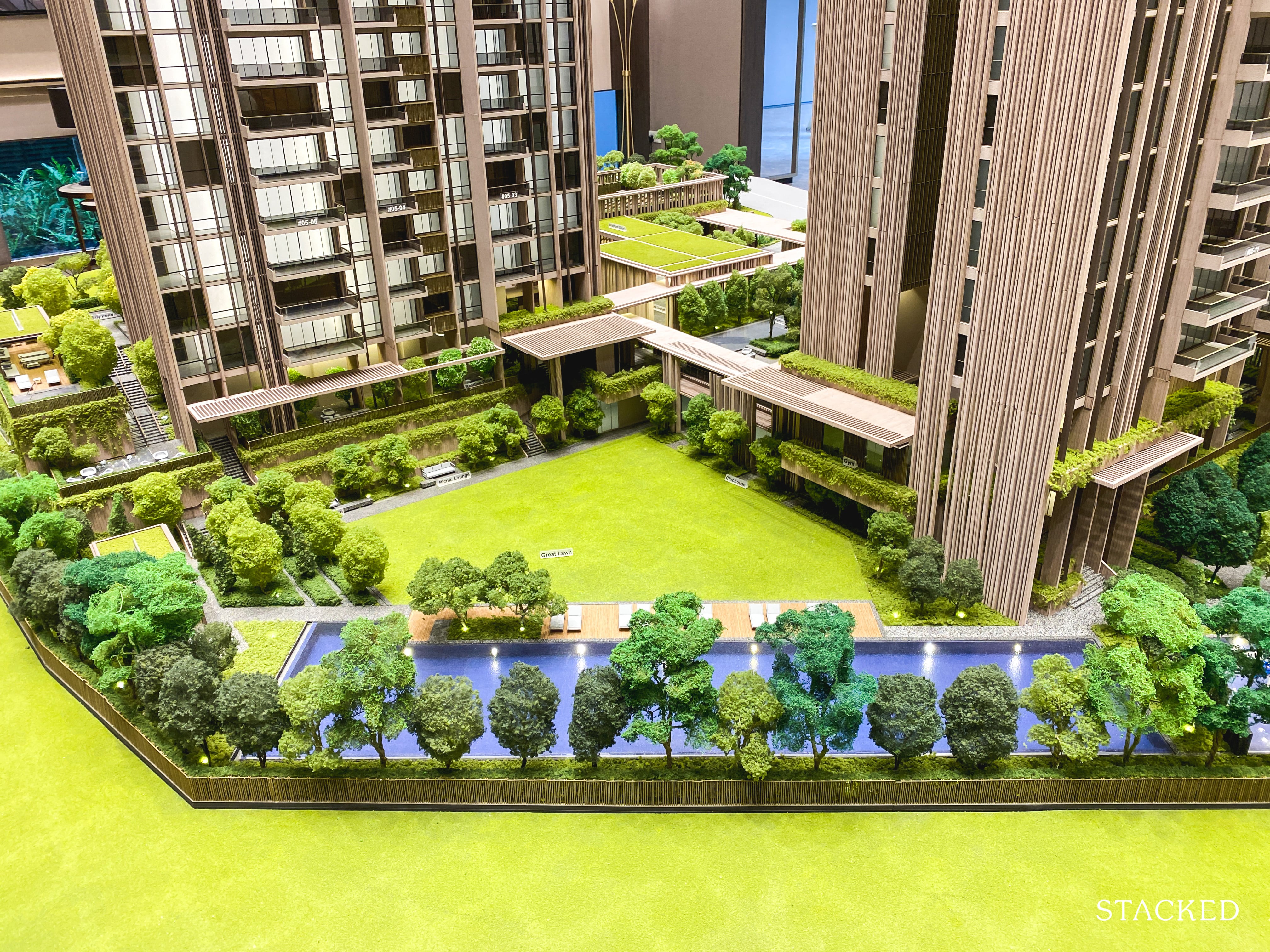 I do like a good swimming pool in any development, and I think the one at the Avenir is going to be a real show stopper. It's great that it is positioned at an angle from the towers, so you don't get that squashed claustrophobic feeling that you get with some smaller developments. On that note, the addition of the Great Lawn certainly helps communicate that open feeling further.
One more thing that really helps make the space feel bigger is the elevation of the residential towers. Both are at more than 10 metres above ground level – so you can truly enjoy the grounds in its entirety.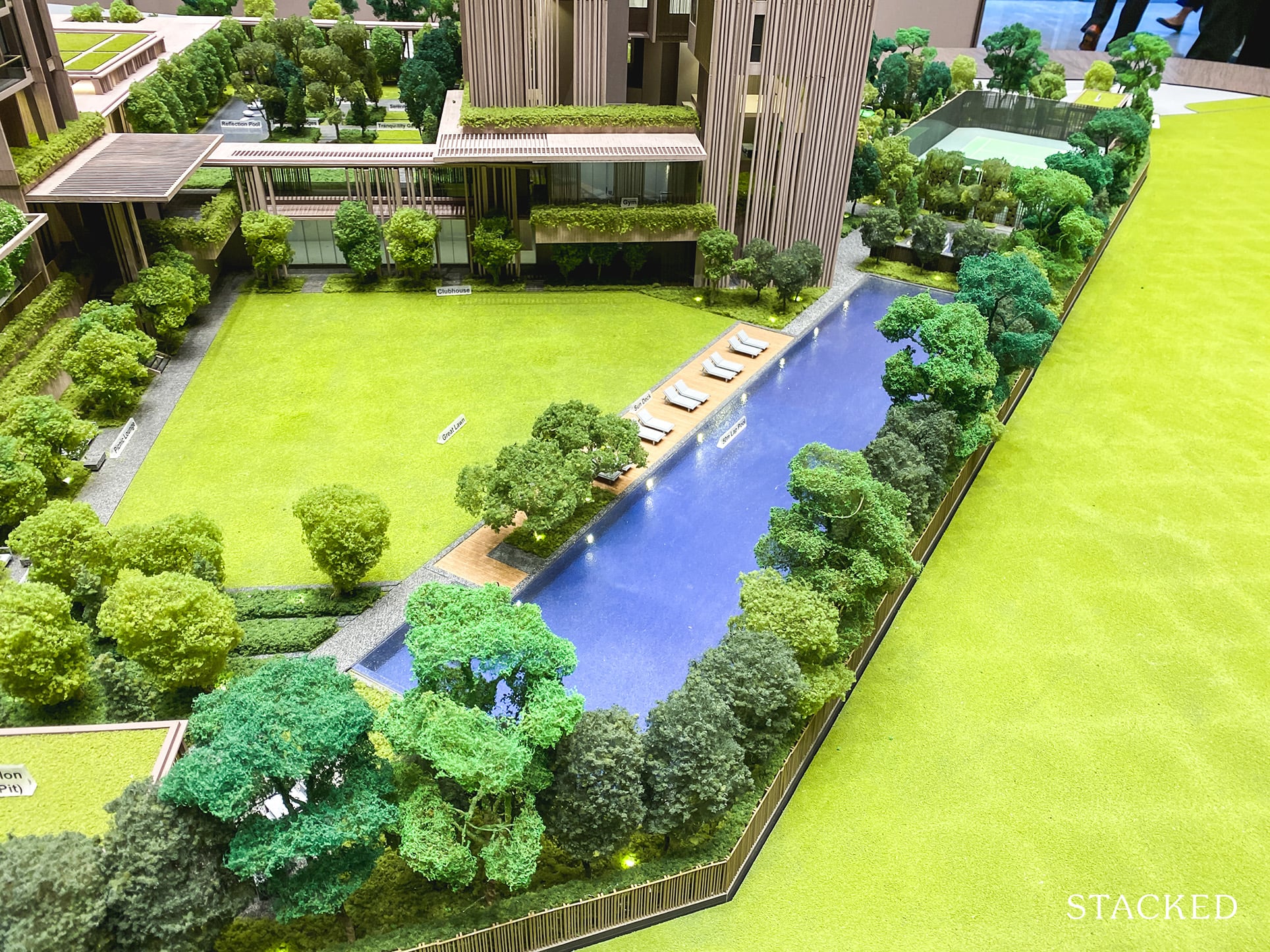 In a perfect world, the back of the swimming pool would have faced an open field of greenery – as shown in the model. But the sad reality is that River Valley Primary School actually borders the length of it. If you think about it, it is quite a strange juxtaposition here (between a primary school and luxury development).
On the bright side, however, you won't be getting any tall building peering into swimming time.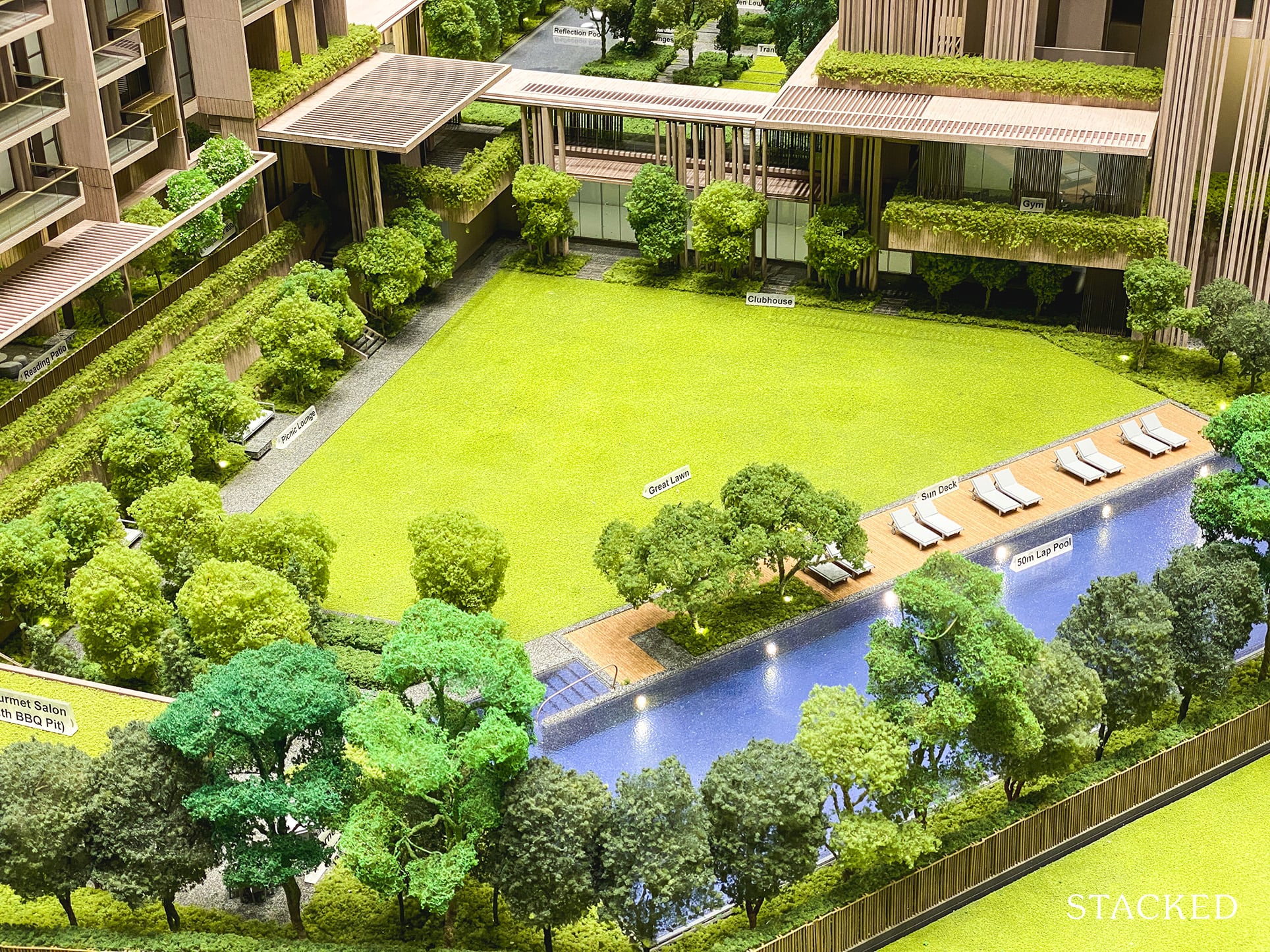 Some of you might find the Grand Lawn a waste of space. But in an age where developments are getting smaller and smaller, having an open space the size of this is a true luxury. It's a similar concept to the one at Meyer Mansion, albeit on a bigger scale.
Apparently, 75% of the land here has been reserved for landscaping and facilities – which is definitely a draw here considering the land size isn't the biggest. Which is why they could afford to have such a big open space like the Grand Lawn.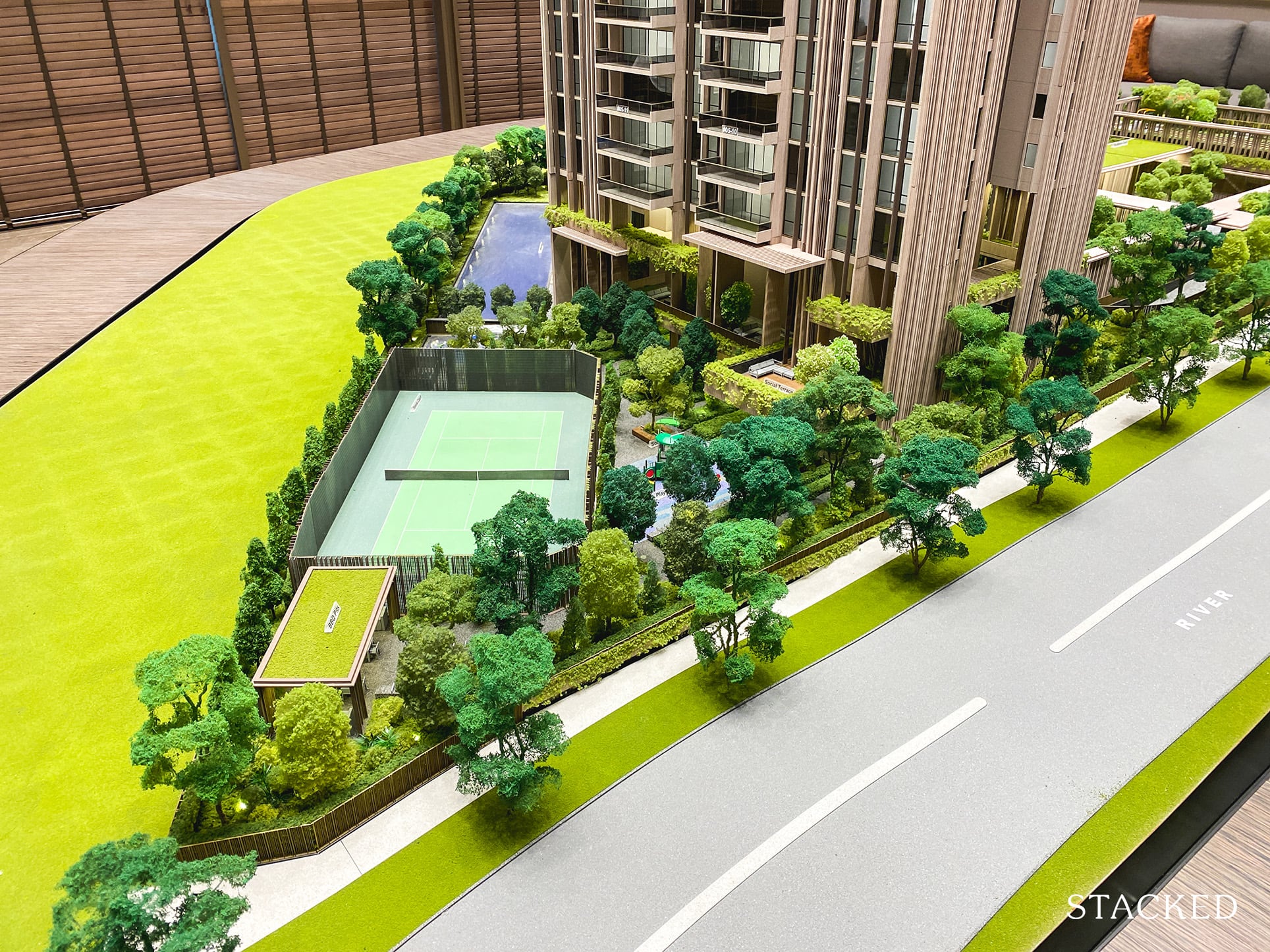 Lastly, you'll find a tennis court at the corner of the development. In today's context where tennis courts are increasingly harder to find in newer developments, having one for 376 units can be considered to be pretty good.
The Avenir 2 Bedroom Review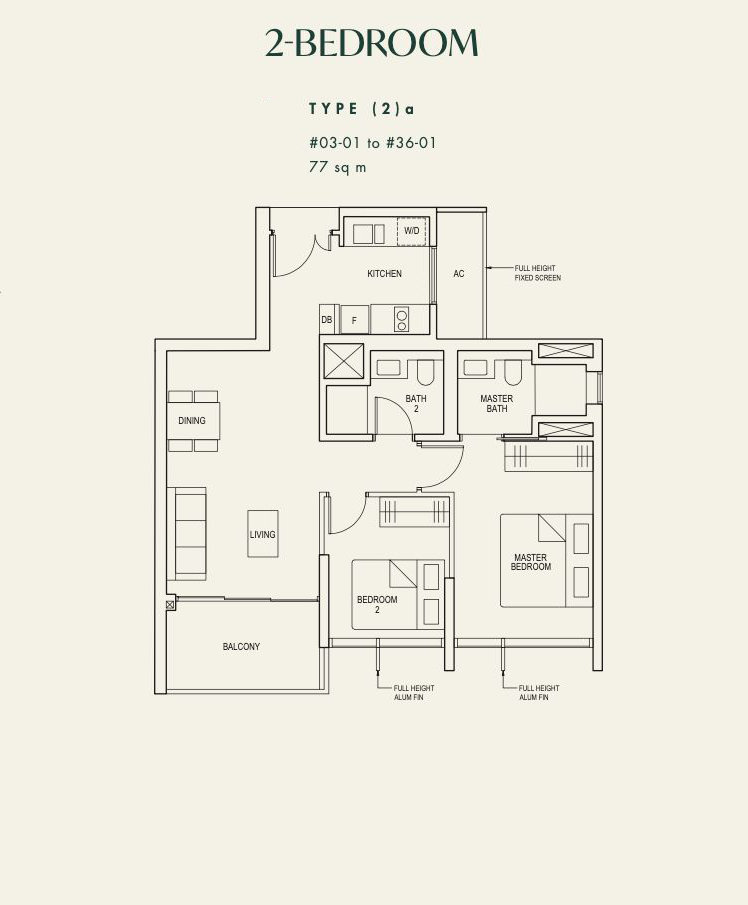 The floorplan
At 829 square feet, the 2 bedroom unit at the Avenir is quite big if you were to compare to most new launches today. Certainly can't be compared to the older developments in terms of space, but very doable in today's context.
There is some wasted space by the entrance and hallway – so if you don't require an enclosed kitchen the slightly smaller 2 bedroom unit would be better in that regard.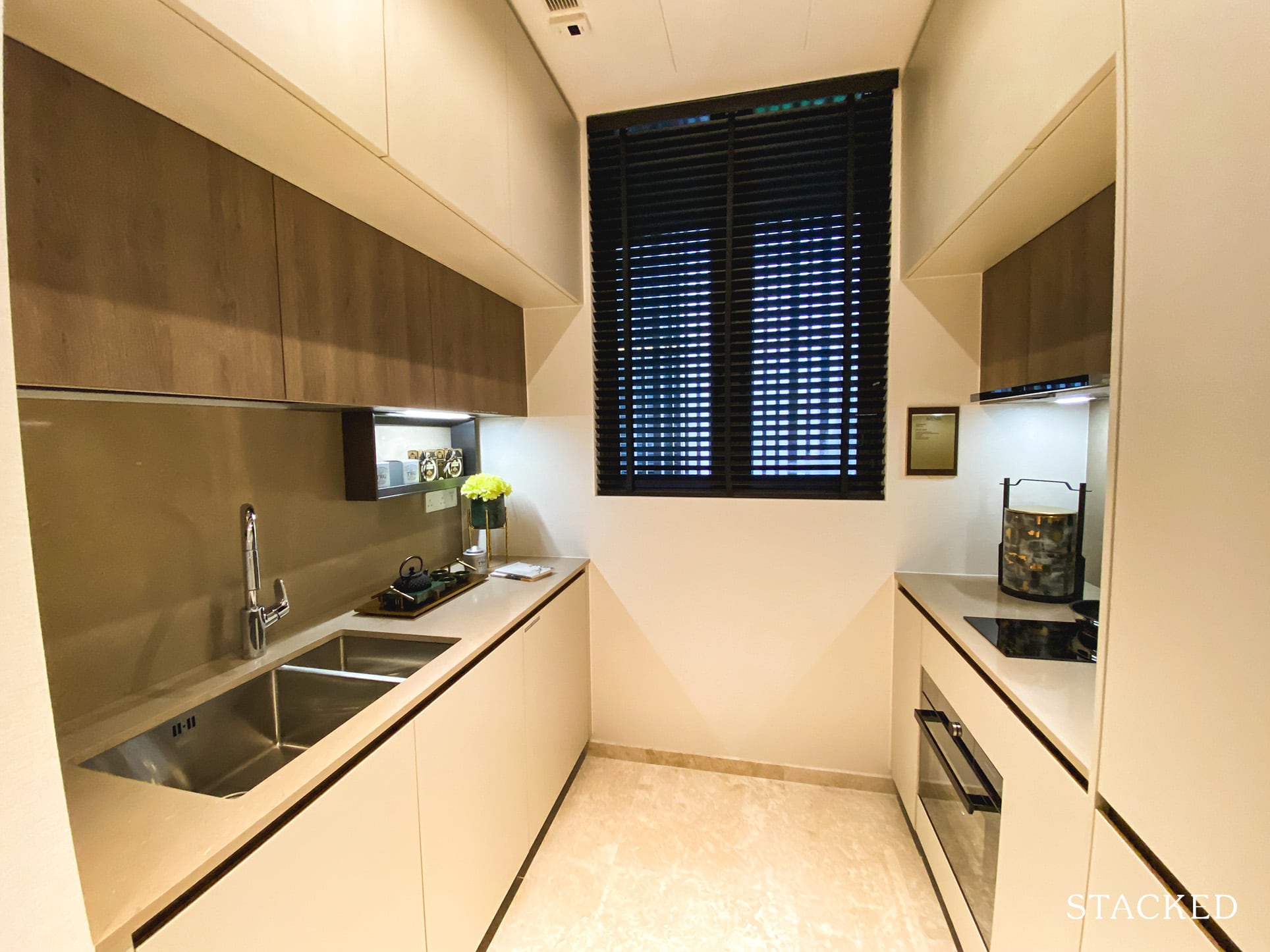 The best thing about this 2 bedroom unit to me is this enclosed kitchen space. You'll hardly find a dedicated kitchen unit in a 2 bedroom unit in today's market so if you cook a lot this would certainly appeal to you. While it can feel slightly squeezy in here, storage space looks to be quite commendable.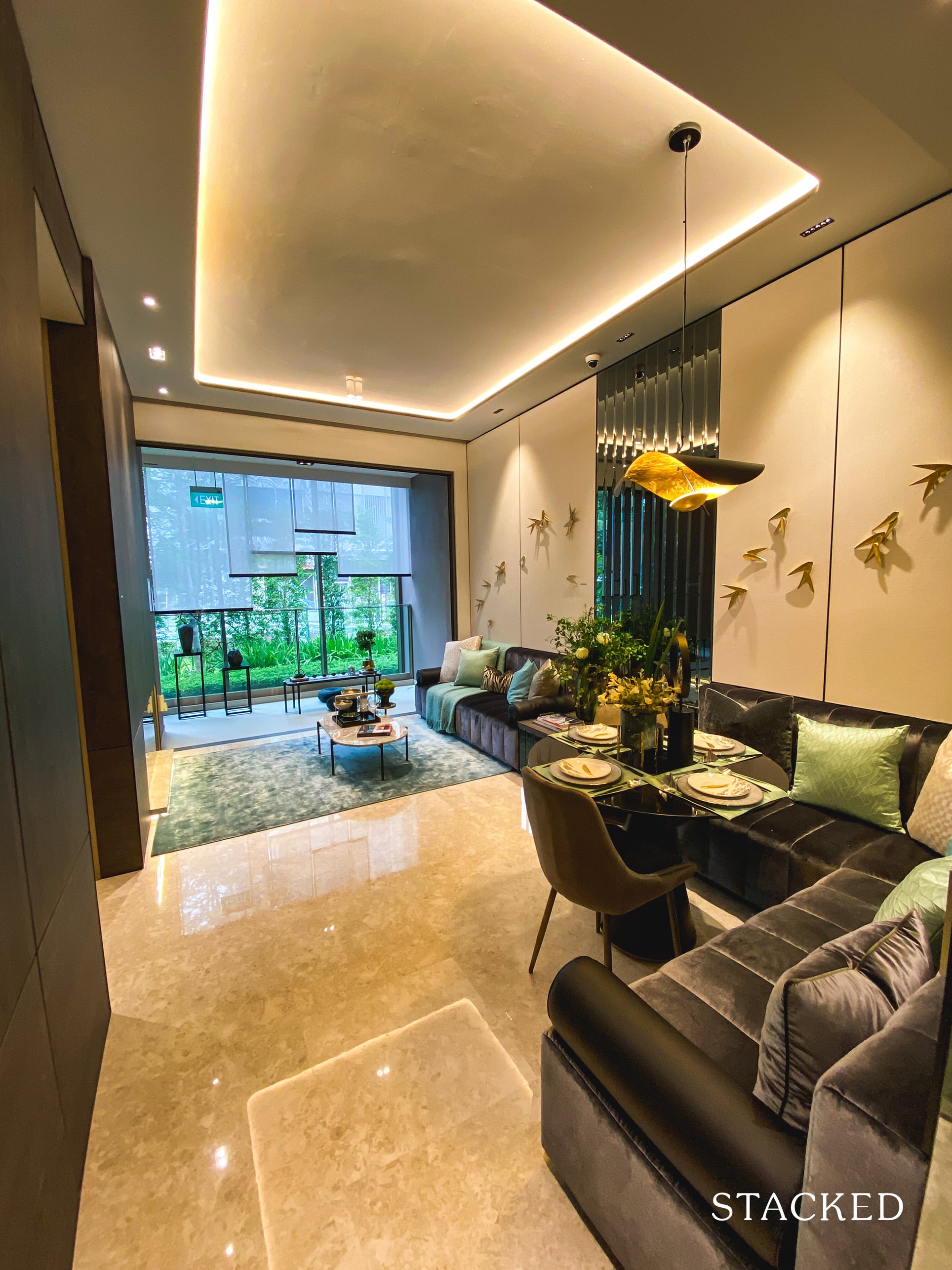 Beyond the kitchen, the living and dining rooms are placed in an efficient yet flexible arrangement. It's quite long and wide at the same time, which naturally makes the unit feel more spacious.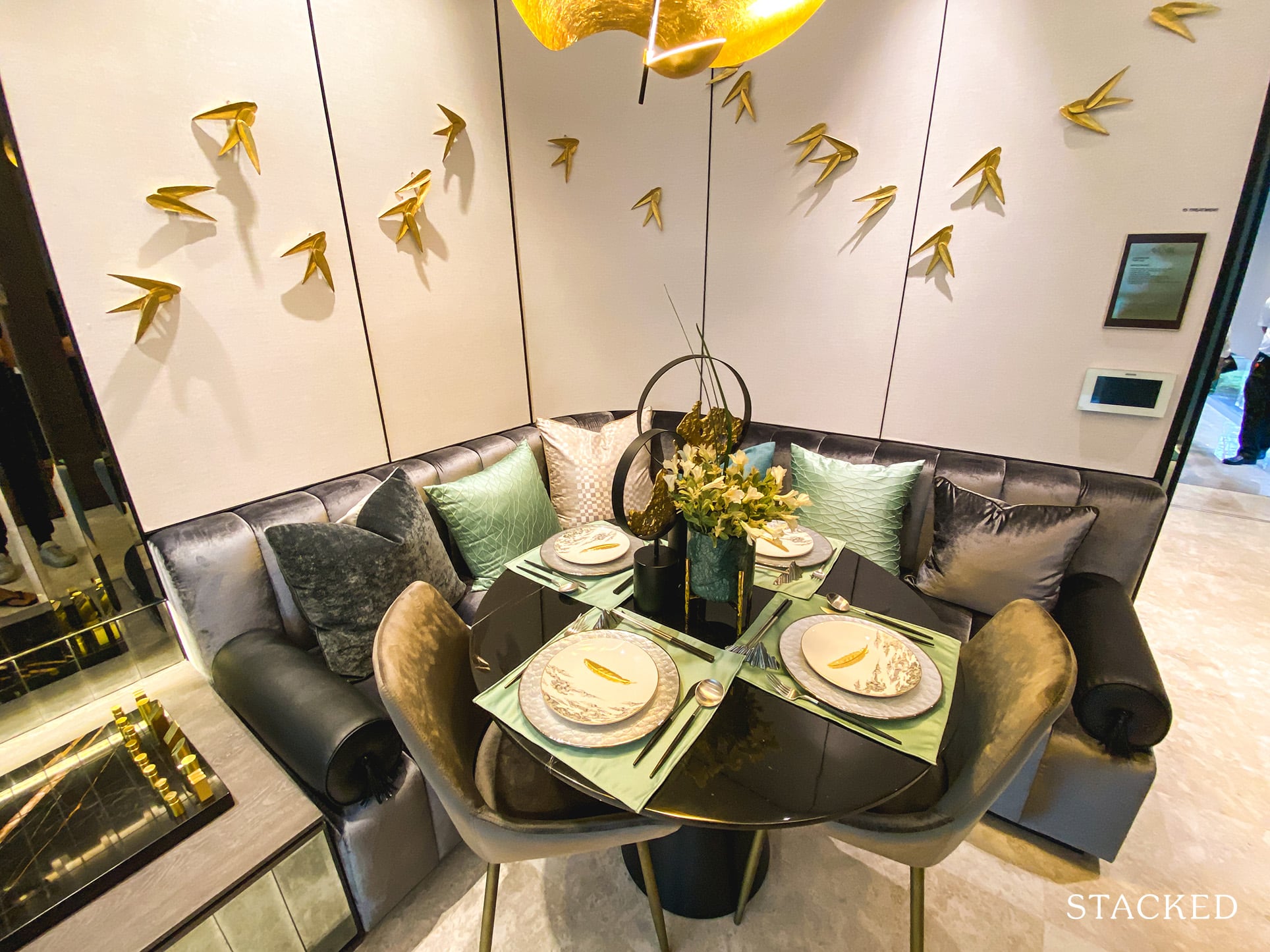 The bulging L-shaped sofa and cushions make the space look more cramped than it actually is.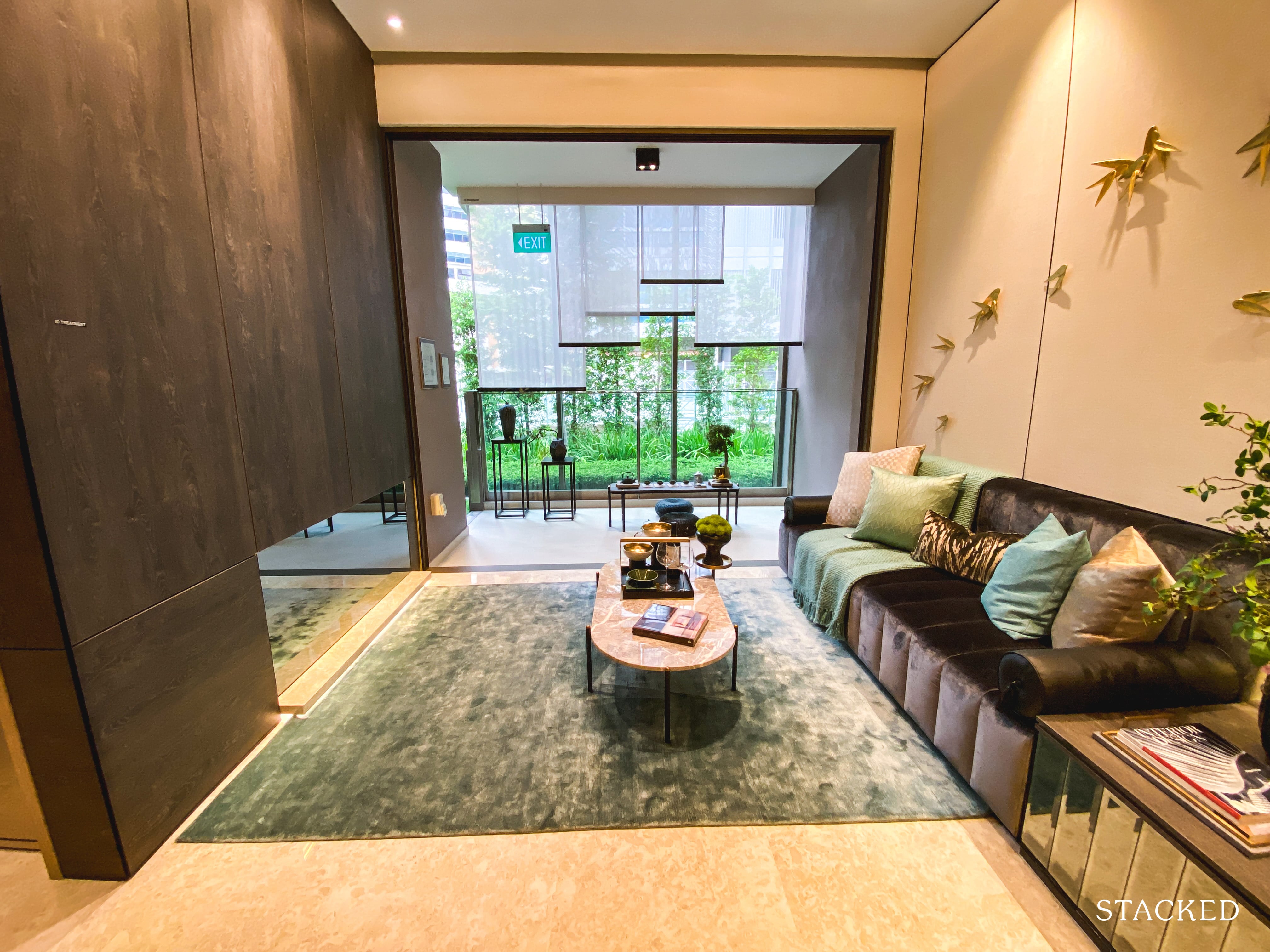 As you can see, the living room space is very decent. It's quite wide so you shouldn't have too much difficulty when it comes to selecting your furniture.
Balcony space is quite big too, so you do have the option of outdoor dining instead.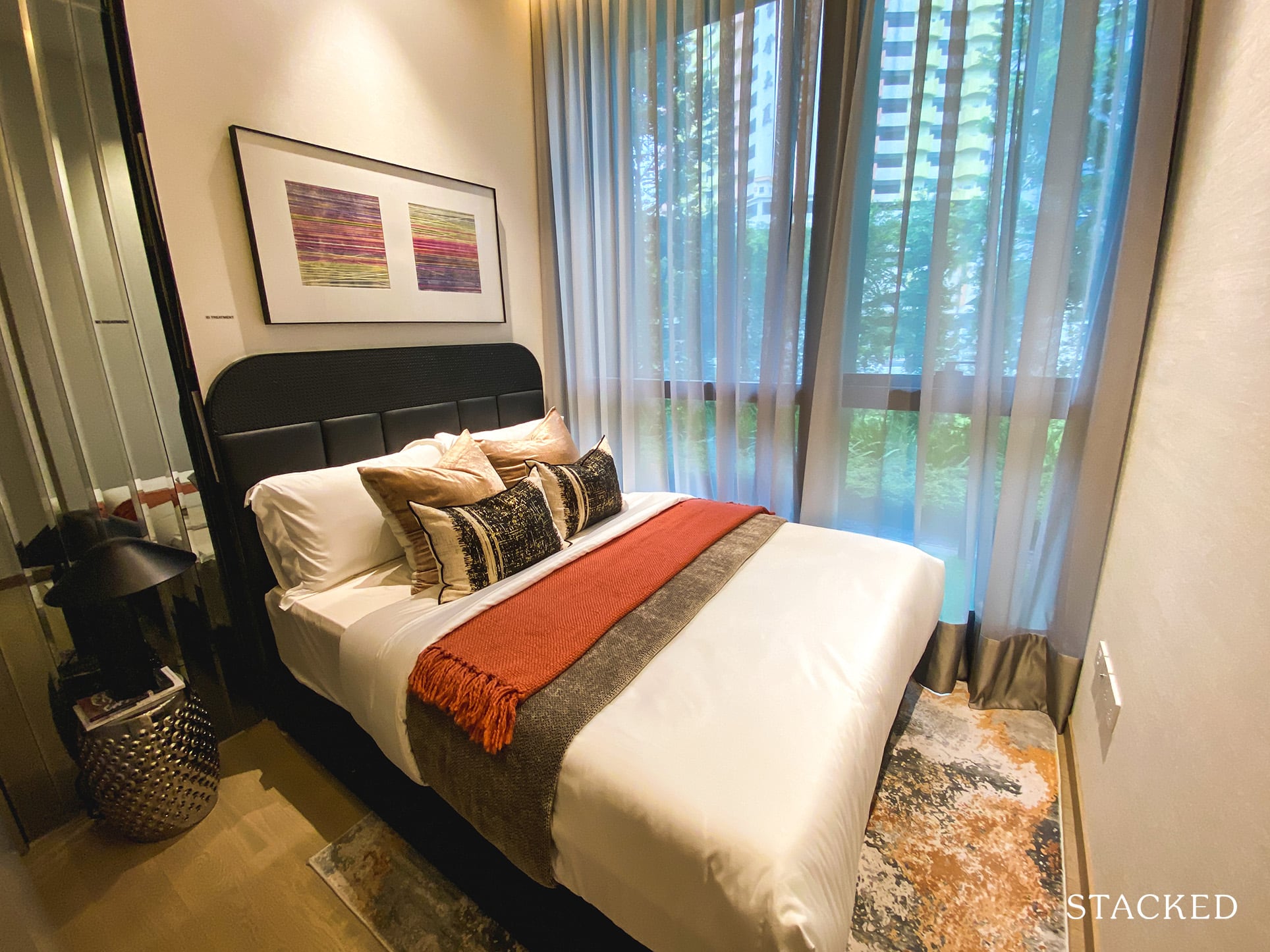 The common bedroom is just okay – there isn't much space at the foot of the bed. Neither are the other areas very remarkable.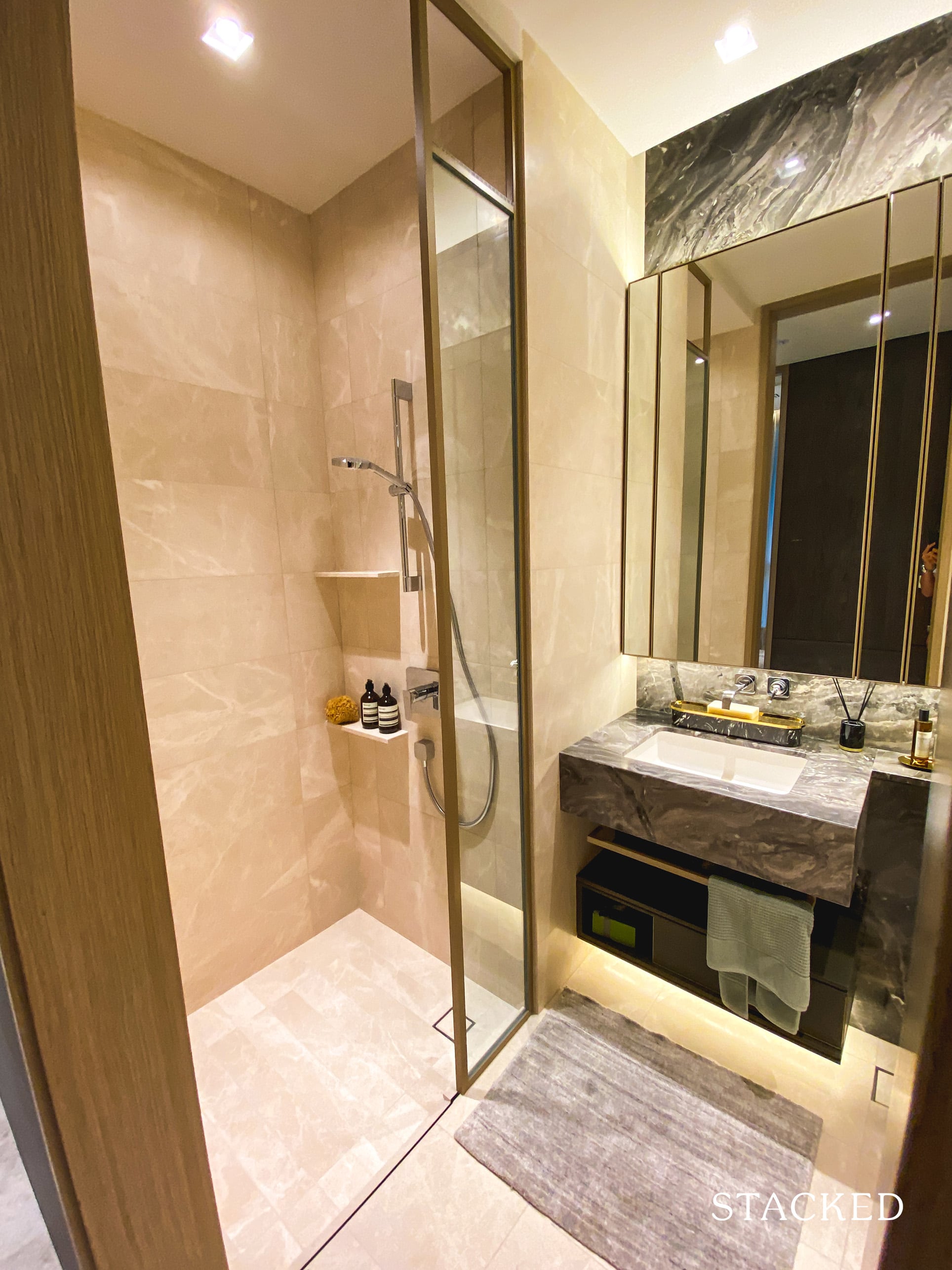 The common bathroom is nothing to boast about either in terms of size. But I have to say the look and finishings here are exemplary – it does look the part of a luxury development.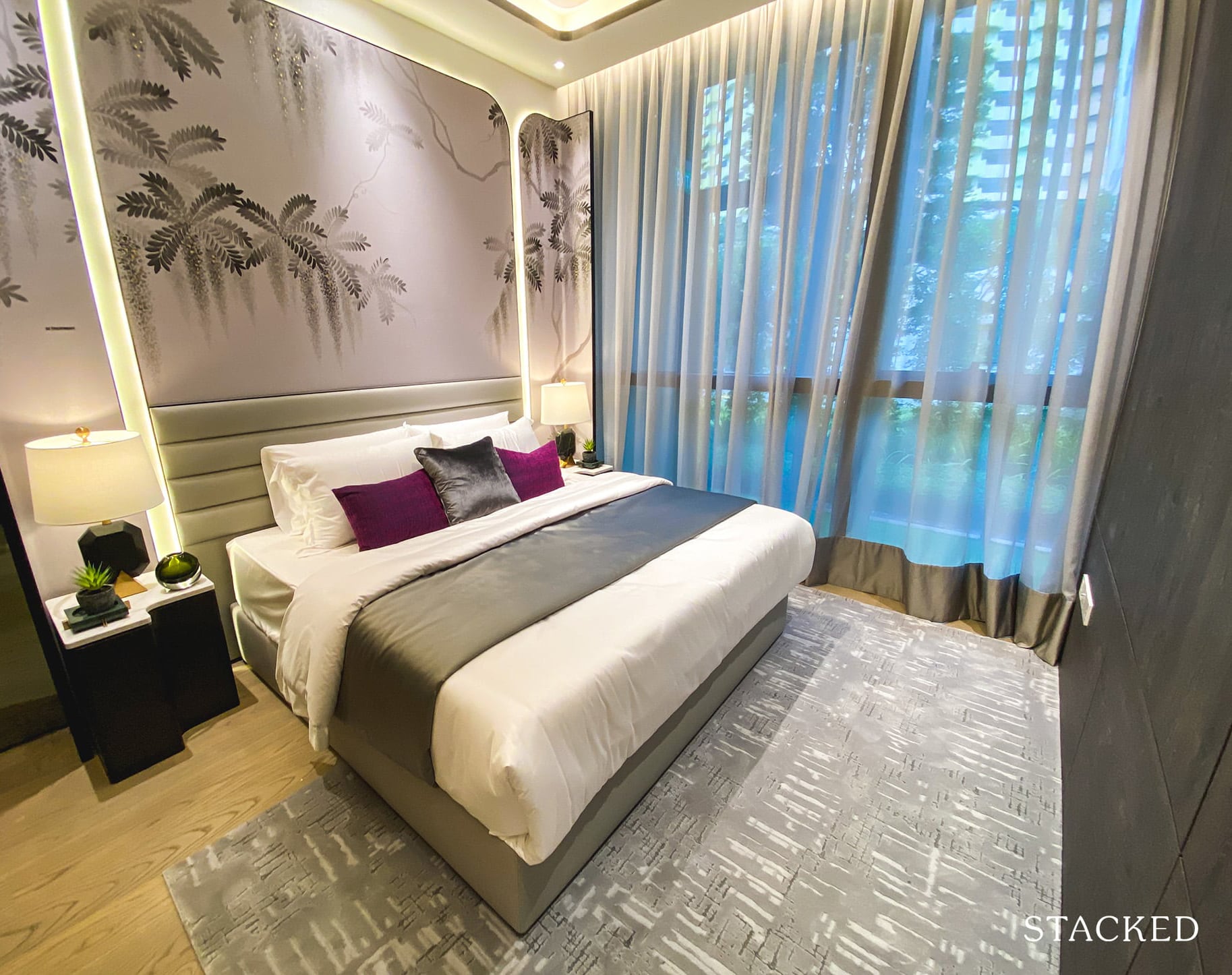 The size of the master bedroom was actually a surprise. It is quite spacious – you can fit a small study/dresser in here too.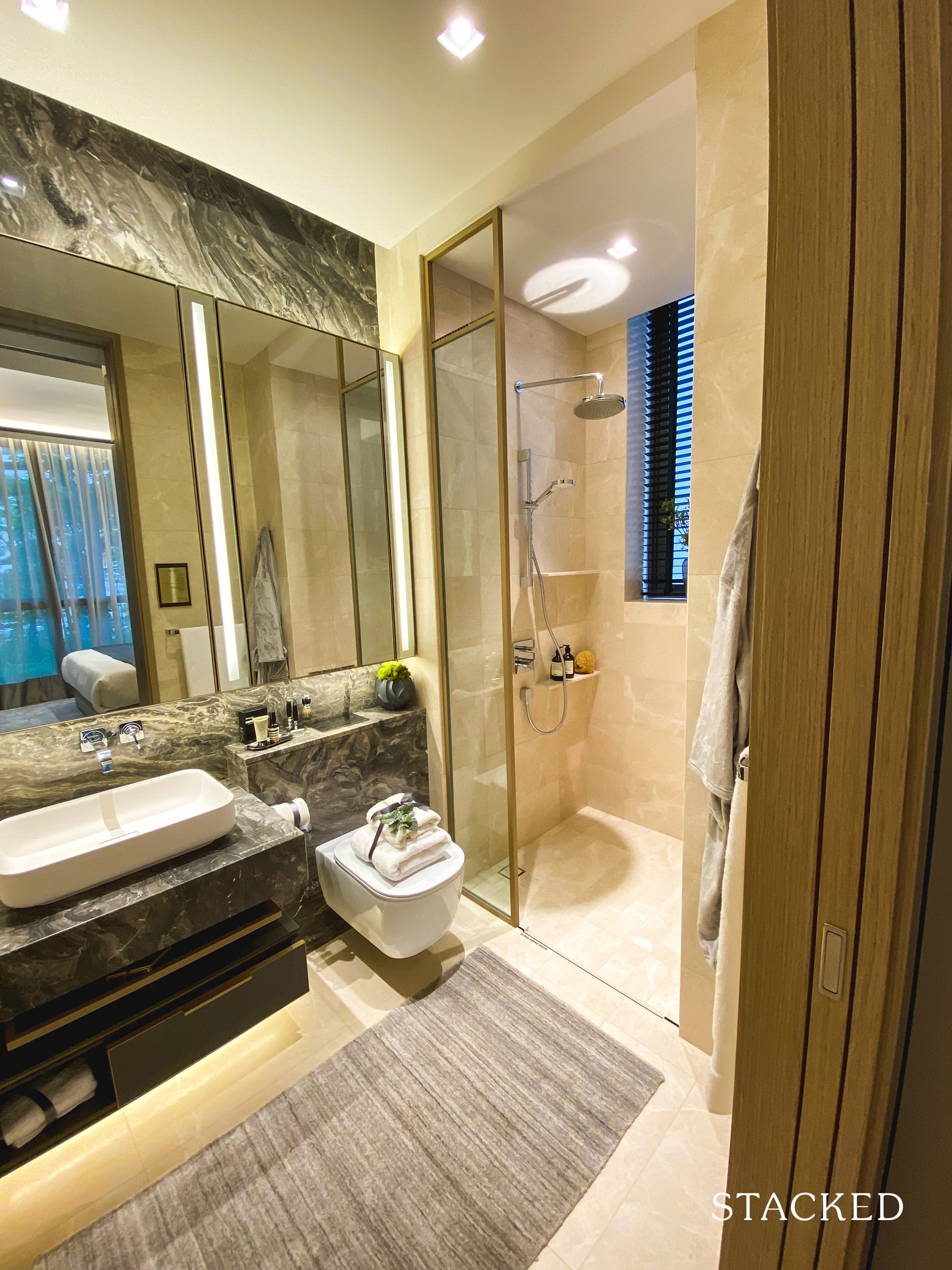 The Avenir 3 Bedroom (with Private Lift) Review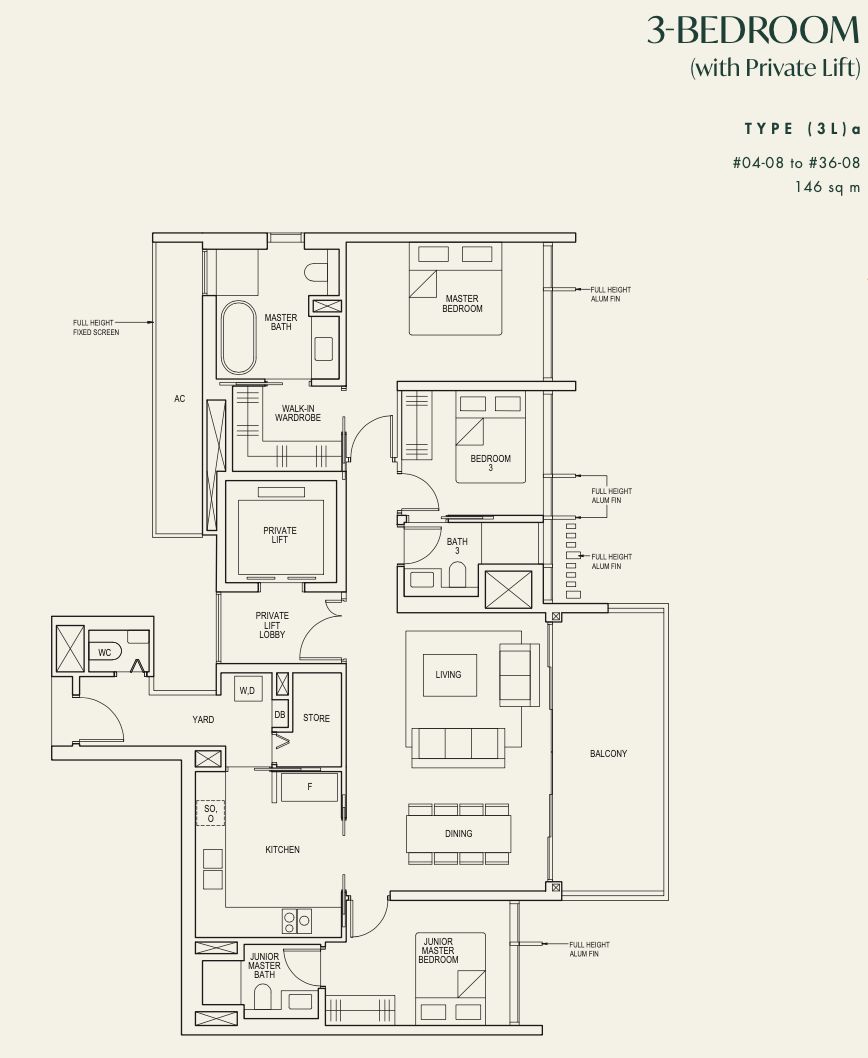 The floorplan
At 1,572 square feet, this isn't your regular 3 bedroom unit. If you are after something more well-appointed this is the one to go for, with its generous size and private lift access.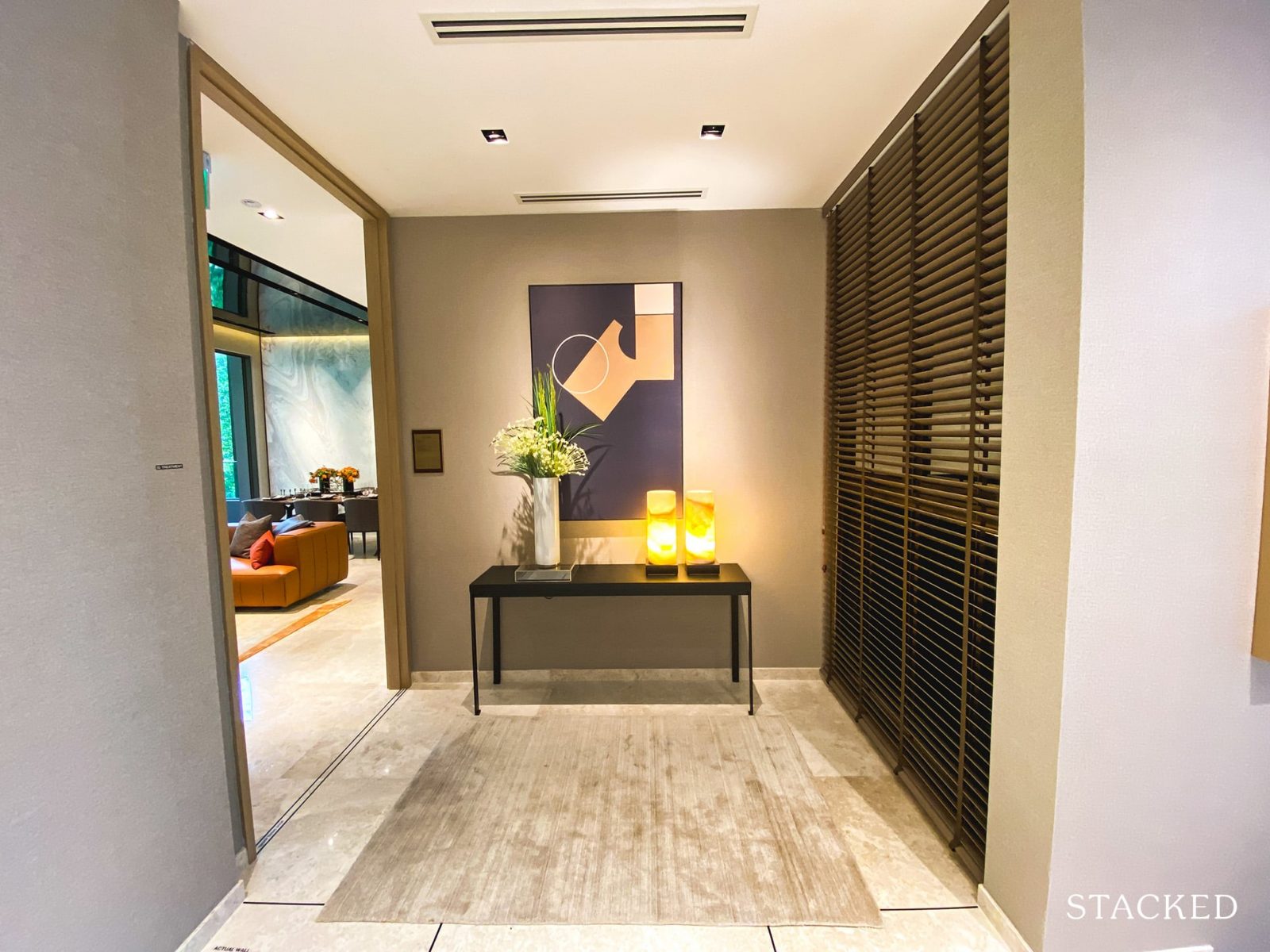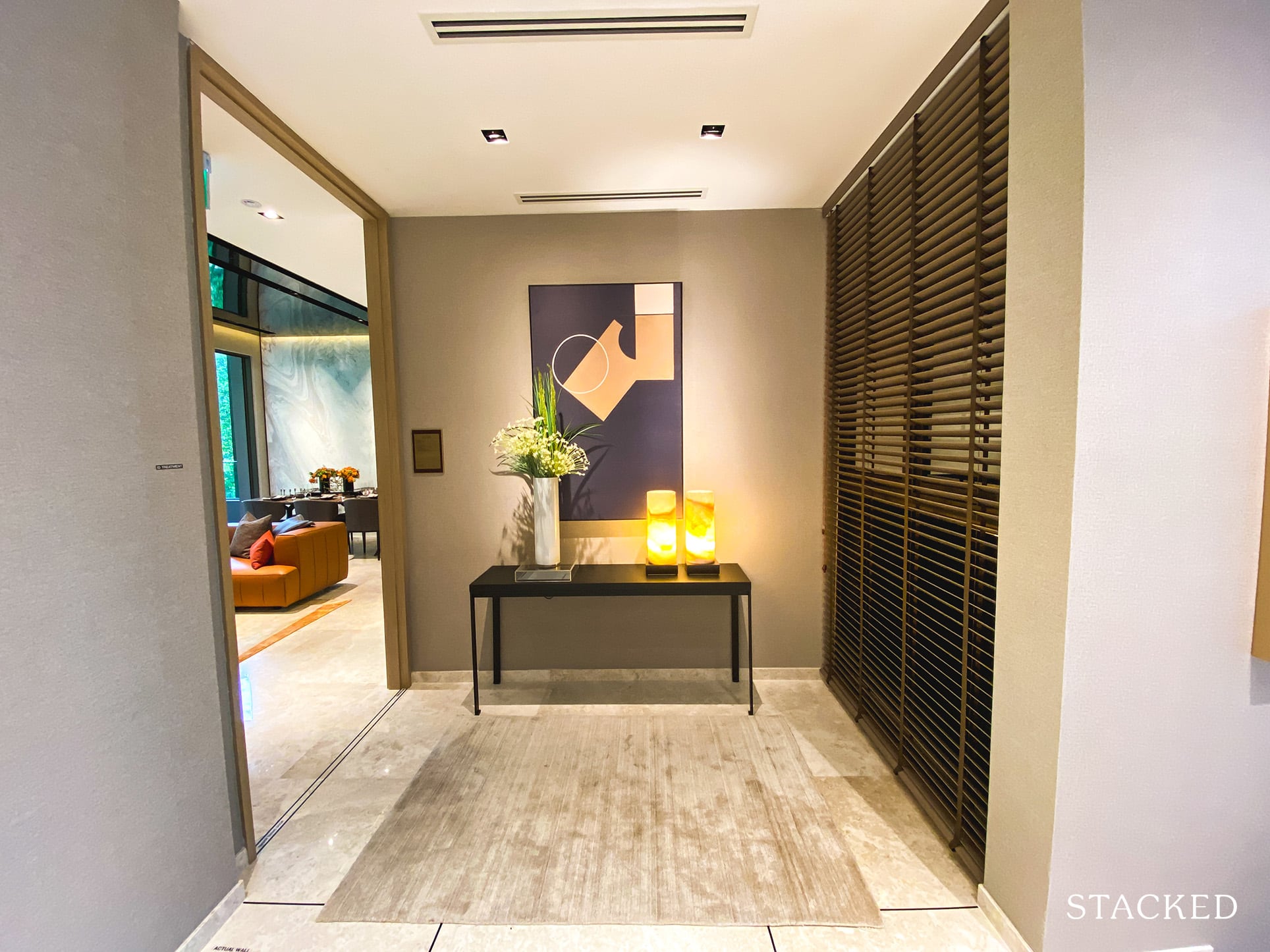 As mentioned, this 3 bedroom unit comes with private lift access – so this is the lobby view you'd see the second you step out of the lift.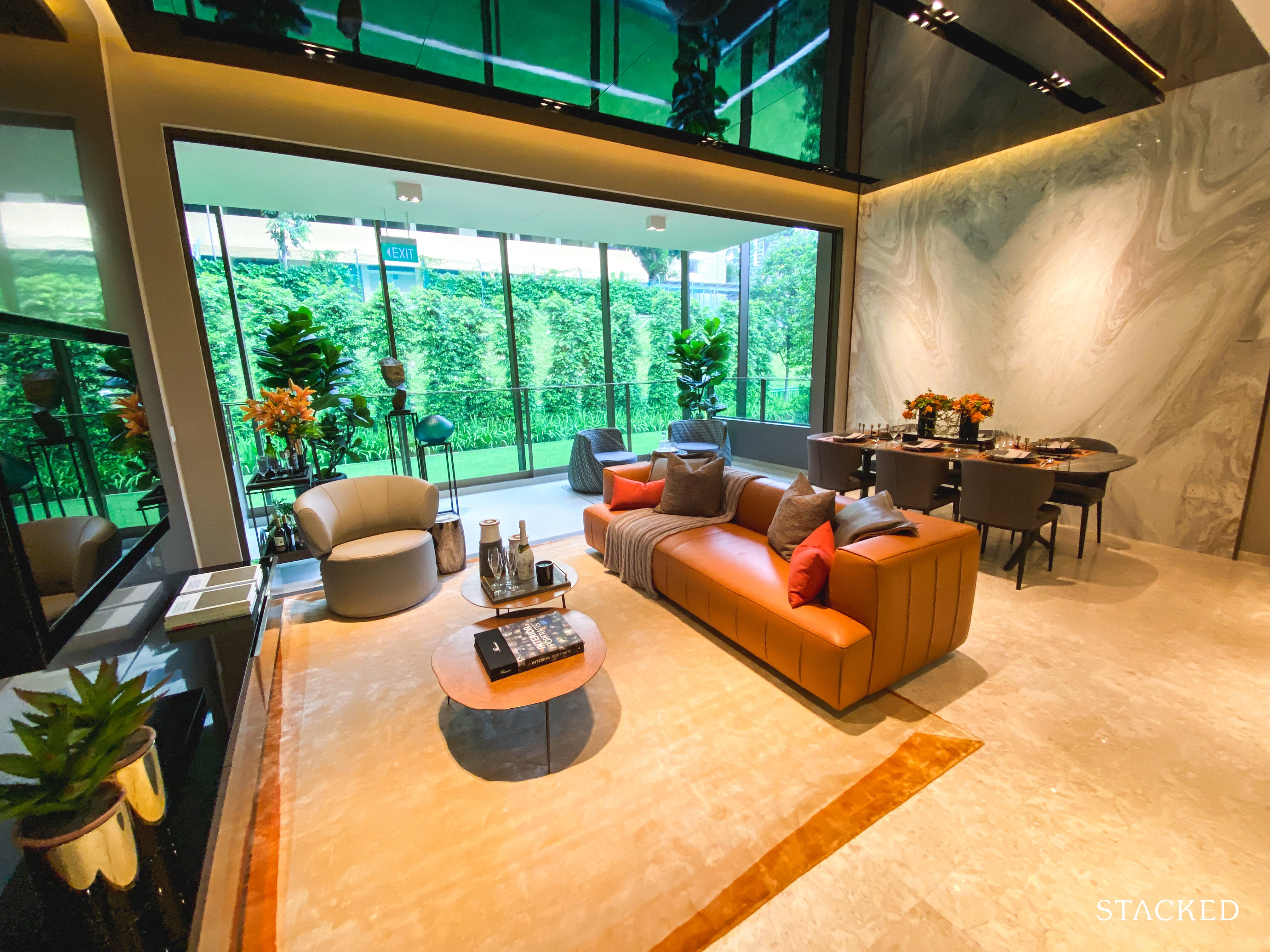 In terms of the physical space, it's as expansive of a space as you could want. The wide and long balcony really helps to frame and open up to make it look even bigger.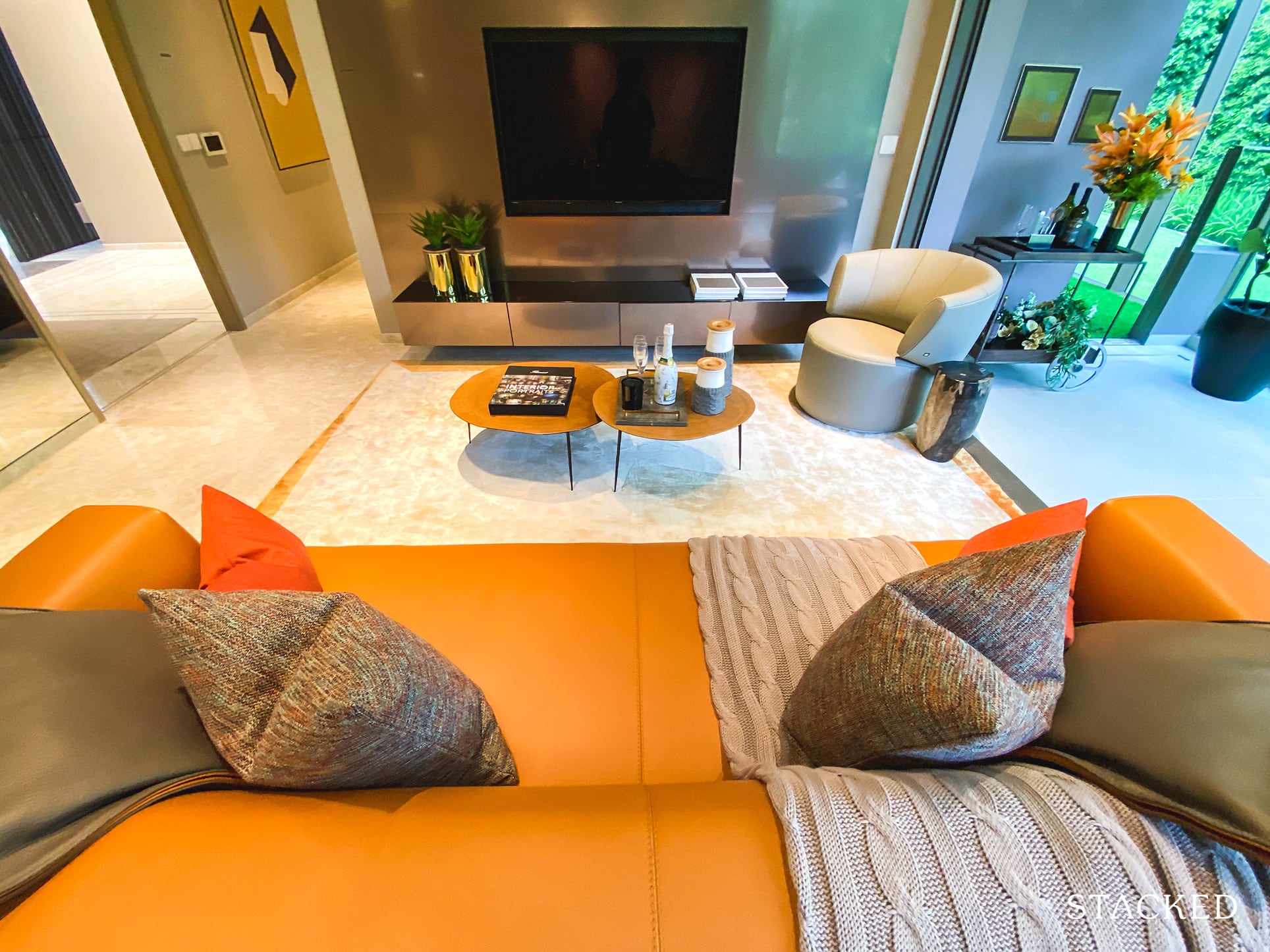 The living room has easily enough space for a good-sized couch along with a coffee and console table.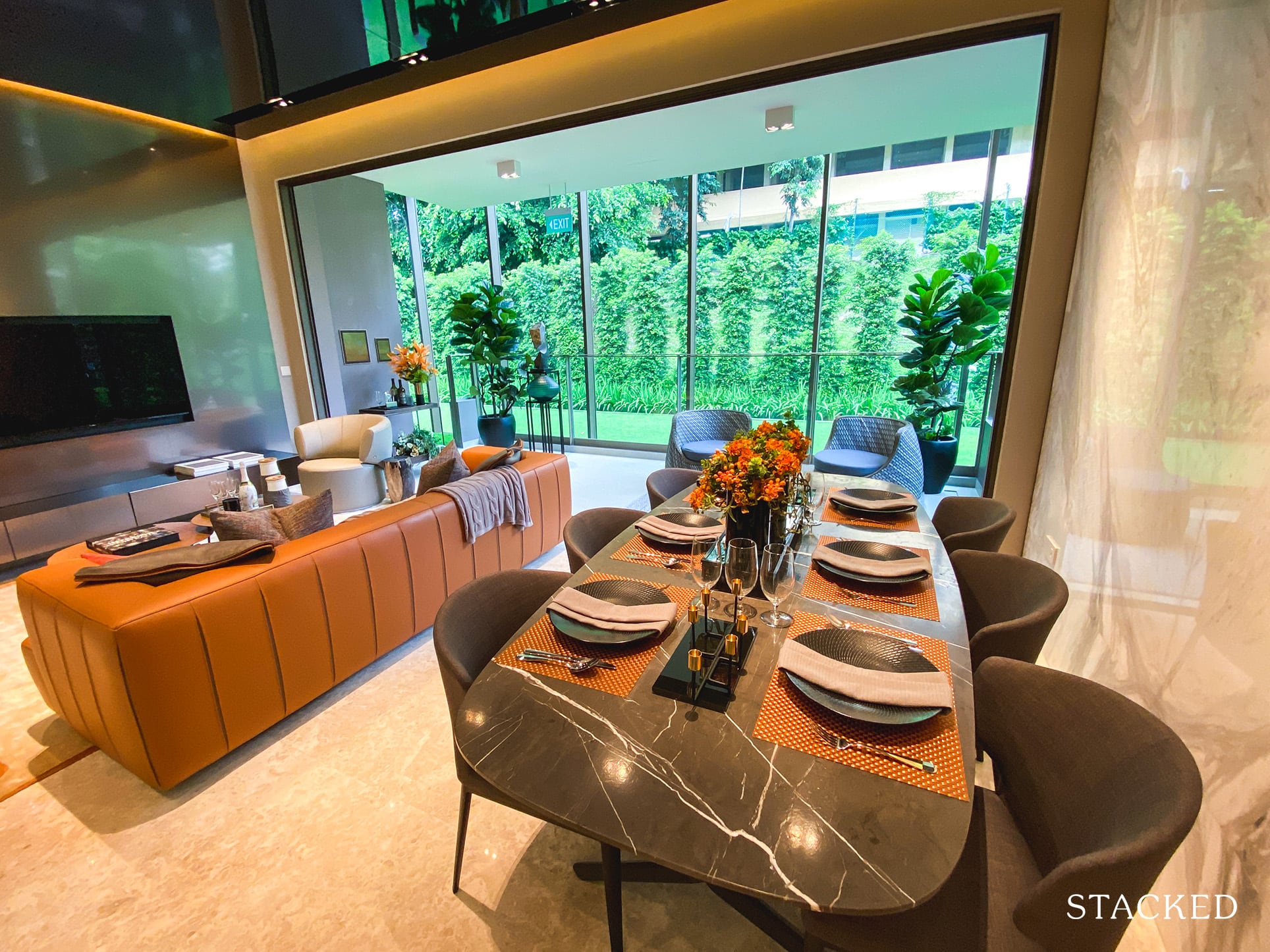 It's a similar story with the dining room – even with a proper 6 or even 8 seater, you still have adequate space to pass through to the balcony.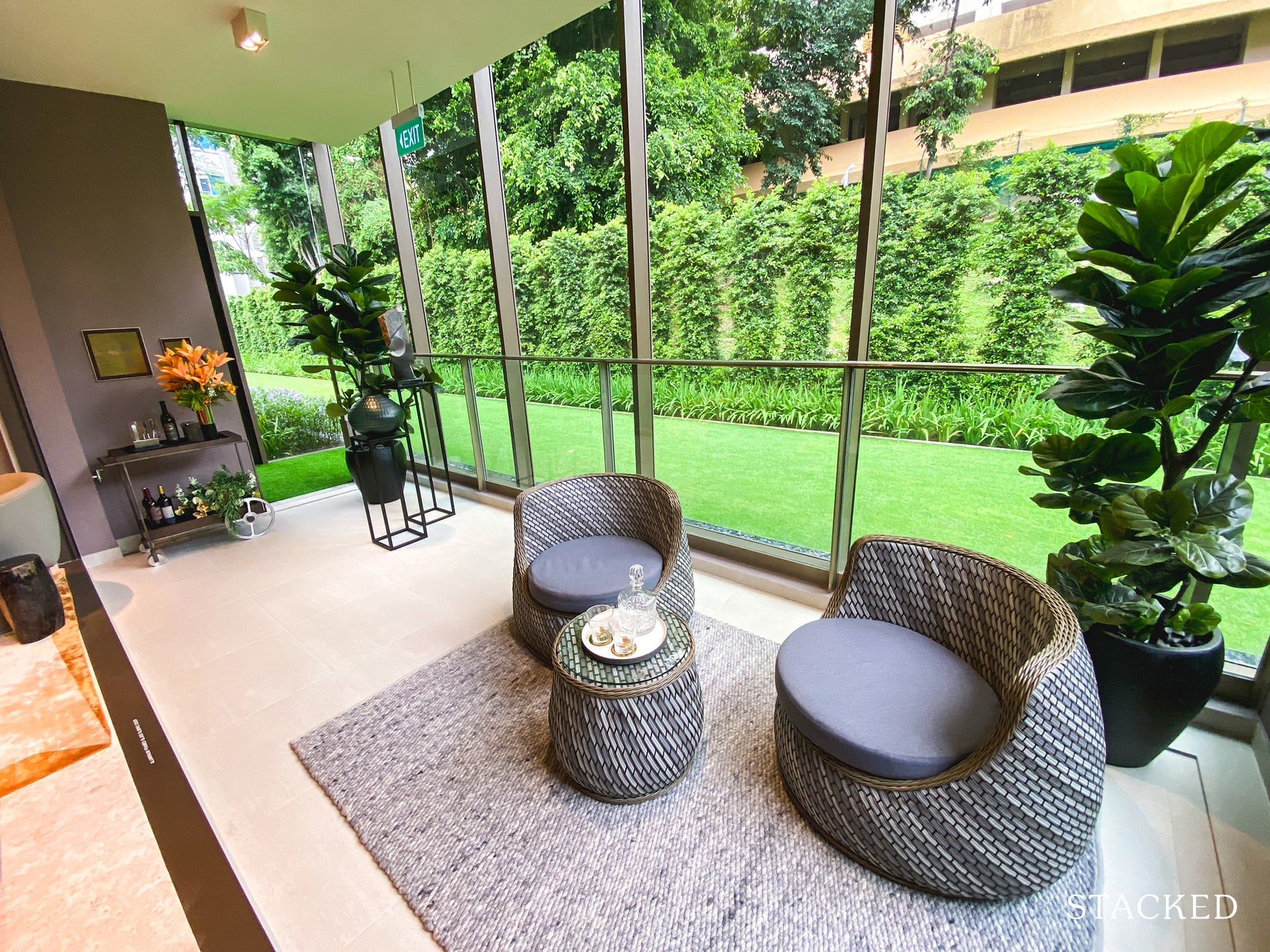 And if you so wished, you could easily place a big dining table here and still have balcony space left over. For outdoor lovers, you'll be more than happy with the space provided. For indoor lovers, well, there's good liveable space there too so I don't think anyone would be too unhappy with this arrangement.
Straying away from the traditional conventions of a kitchen island, the kitchen in this 3 bedroom unit has been combined to form a giant one. Frankly, the space in here is almost too much and I can't help but think that it would have been better with a small kitchen island still. Even though there is plenty of storage at this point, more counter space is always better.
In fact, I would actually still prefer the traditional layout of a wet and dry kitchen as it provides more flexibility for most people.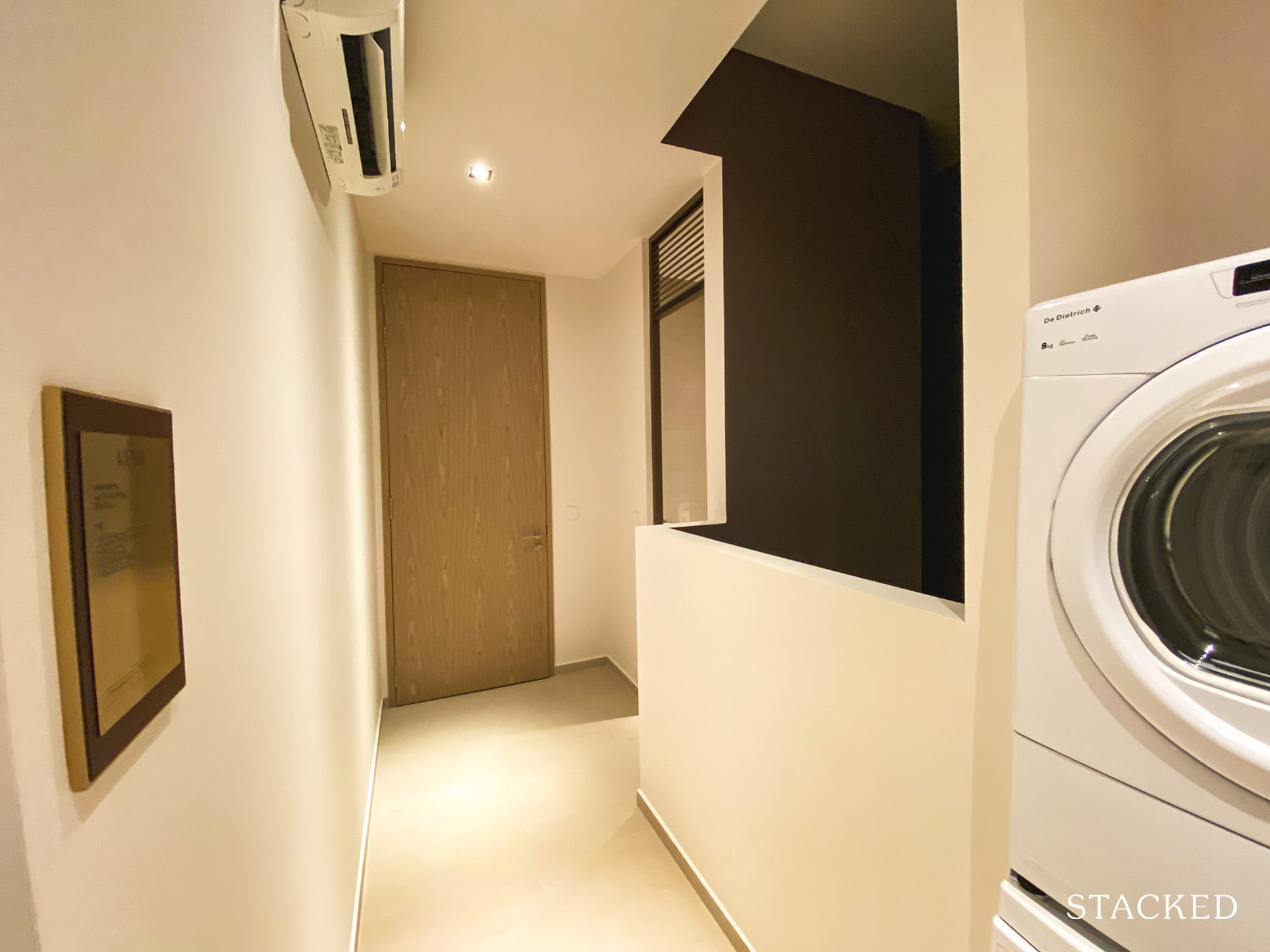 Behind the kitchen, you do get a yard space which is always super useful especially when it comes to family living. The second entrance is located here too, which is more commonly used for deliveries as it leads to the public lift.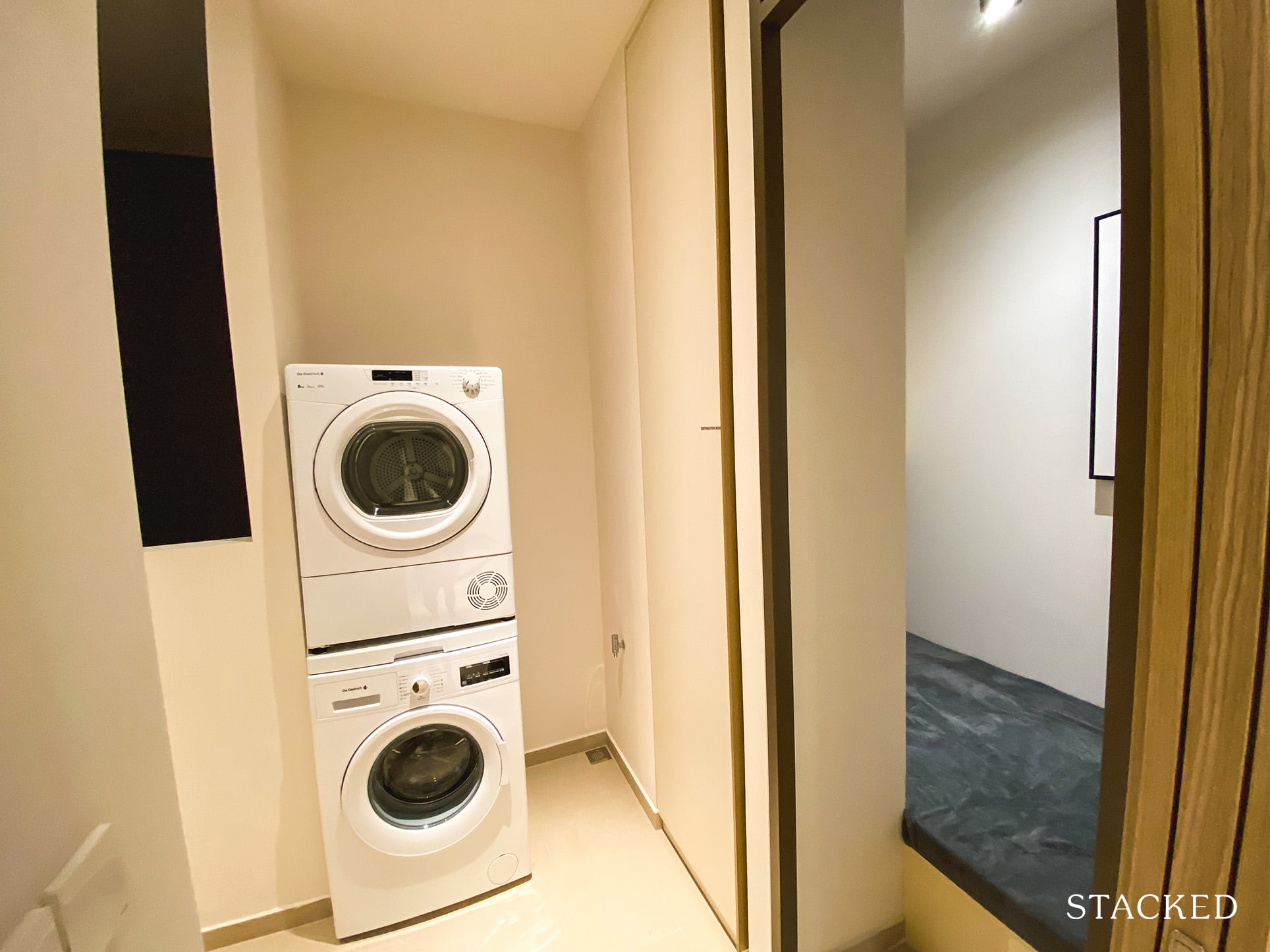 With space at the corner for your washer and dryer, you can use the corridor for drying clothes too. On the right is a small helper's or storage room.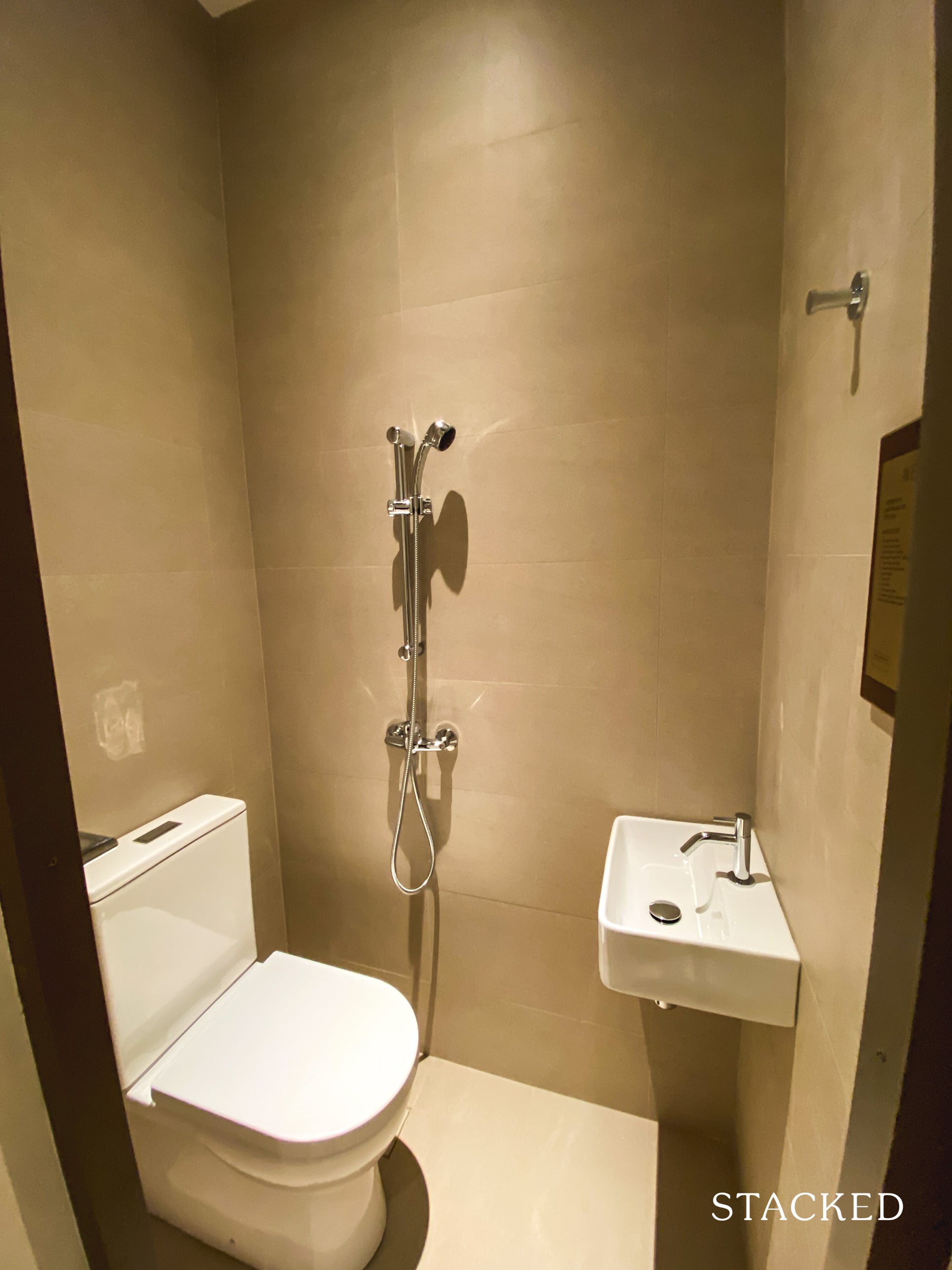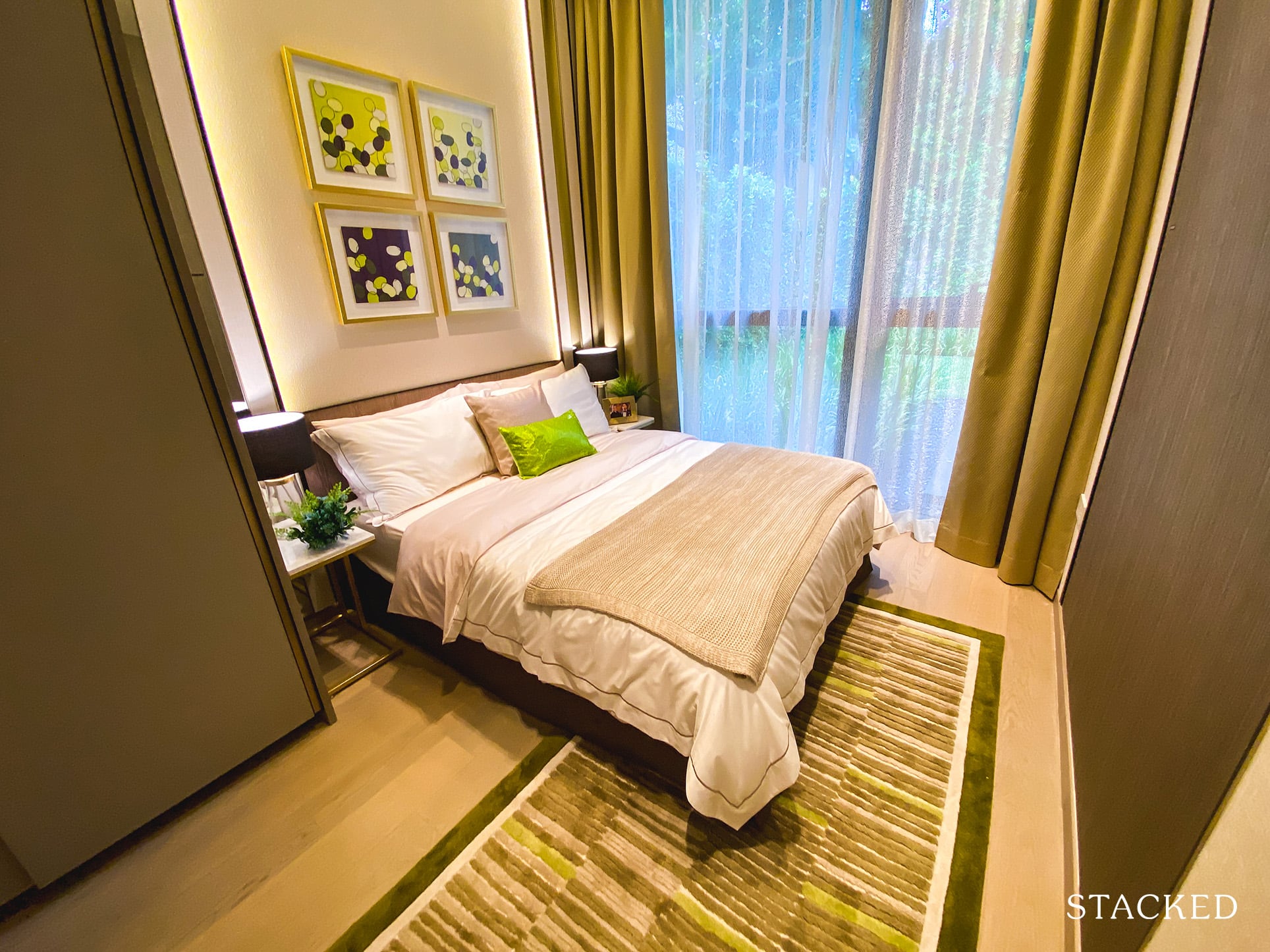 Just behind the dining room is the junior master bedroom. It's a generous size, with good space on the sides as well as the foot of the bed. I do like the location of it too as it is separated from the other bedrooms – which is great for privacy if you are considering this for multi-generational living.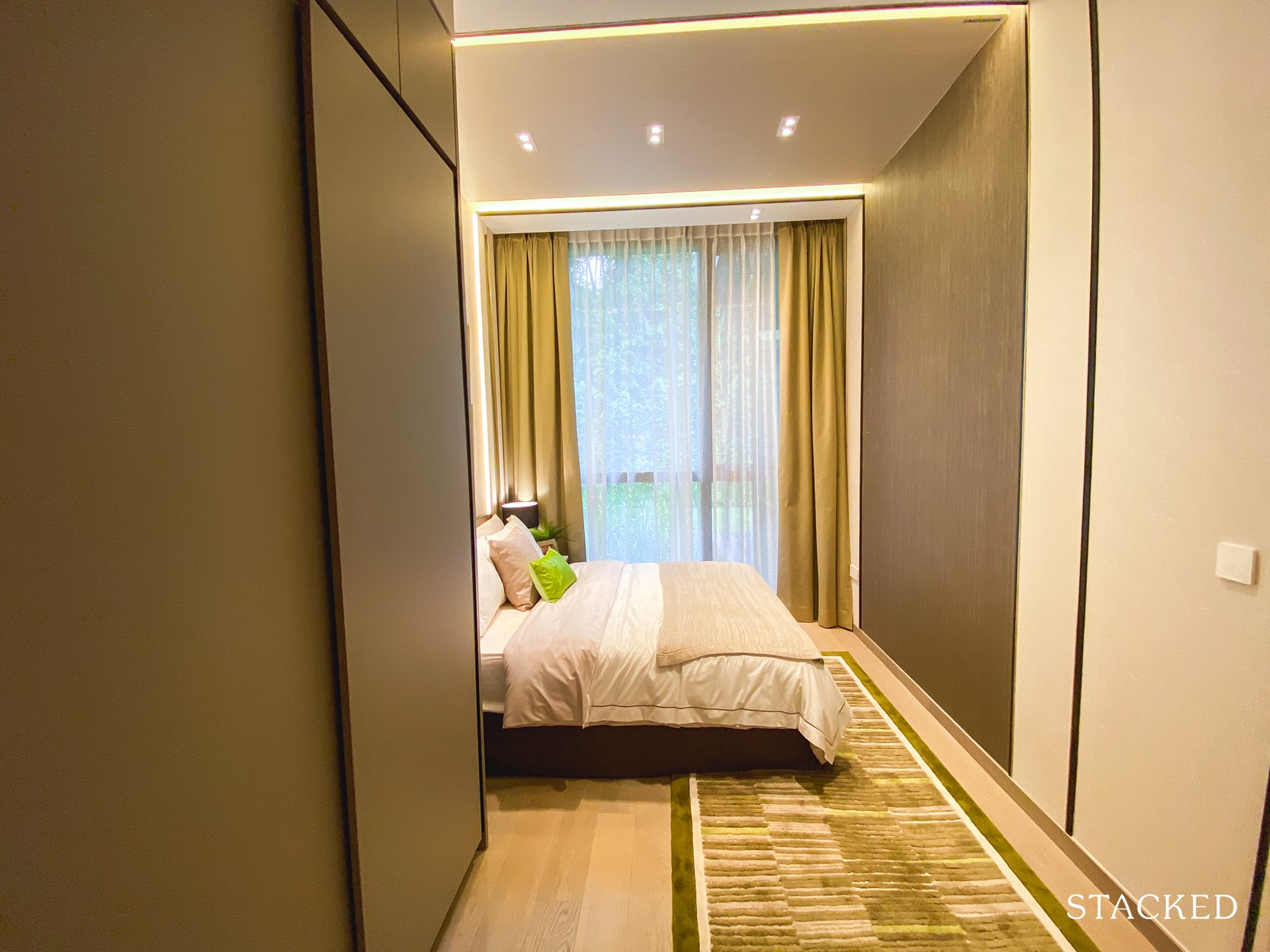 If you're anything like me, you'll like how the wardrobes are positioned here. Instead of the usual parallel position to the bed, you get a whole lot more space to move around.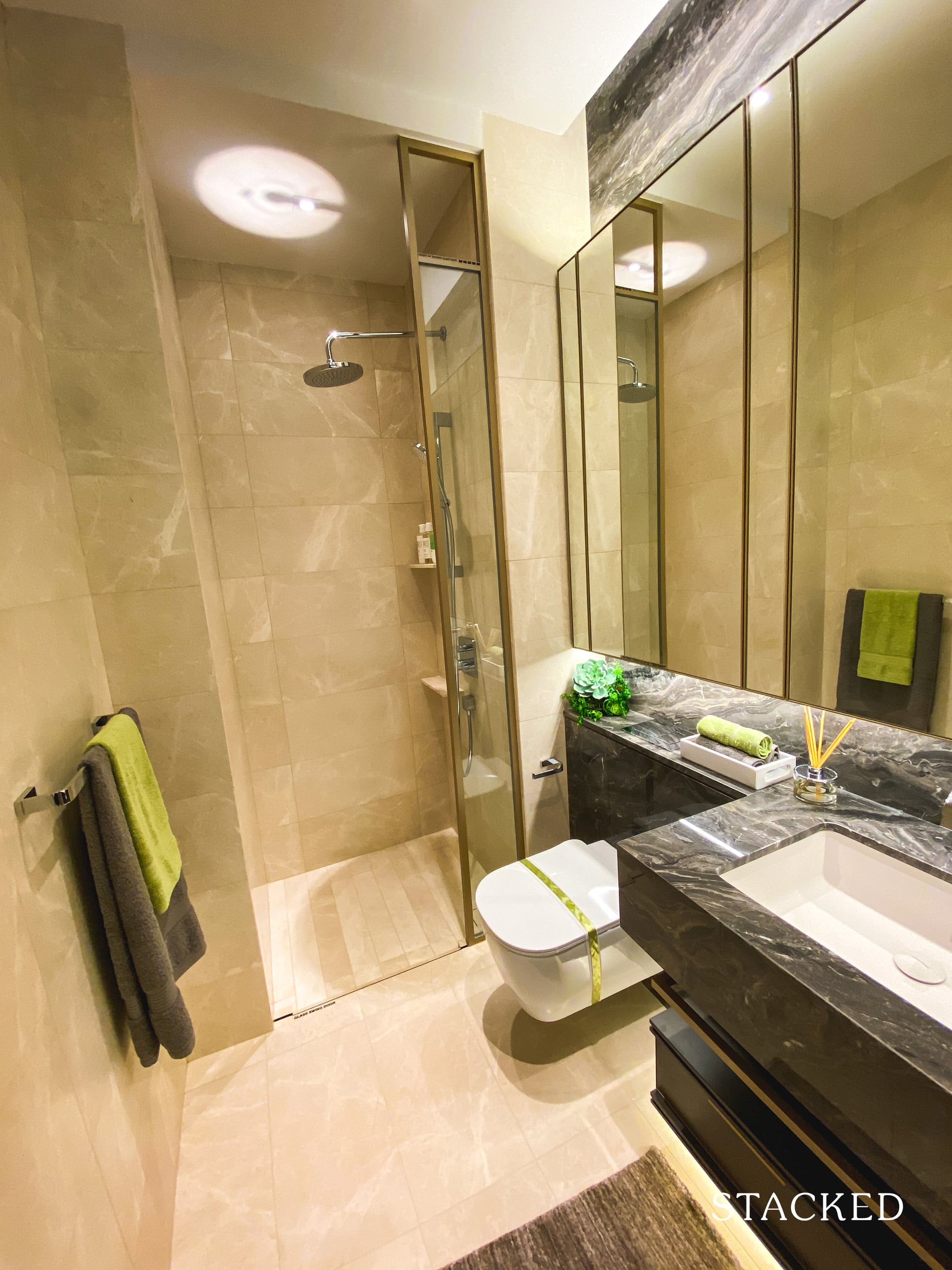 No bathtub for the junior master bathroom, but that's probably expecting too much already for a development – even if it's a luxury one.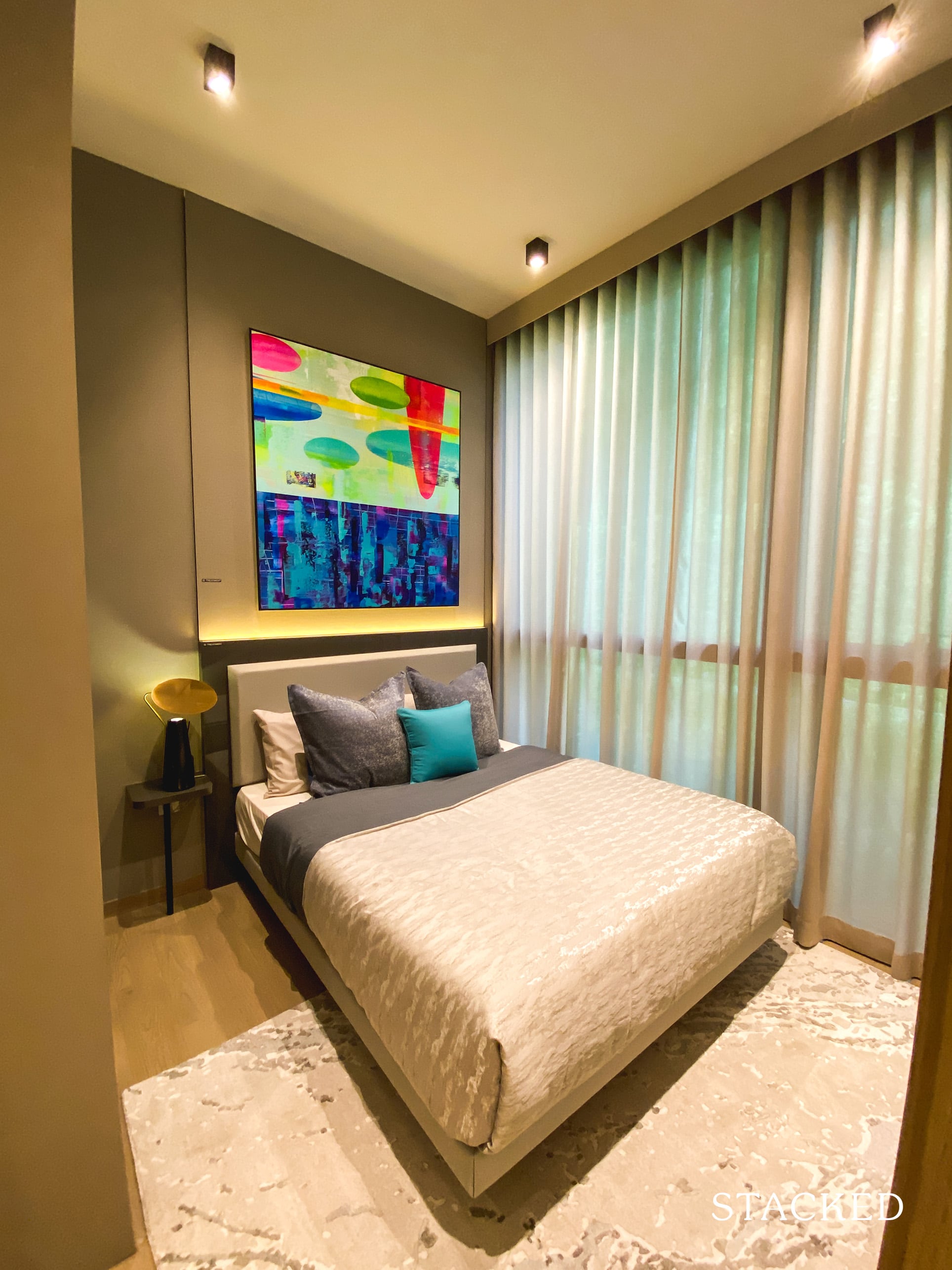 Moving back to the other bedrooms, the other bedroom here is back to the standard bedroom size that we've come to expect nowadays.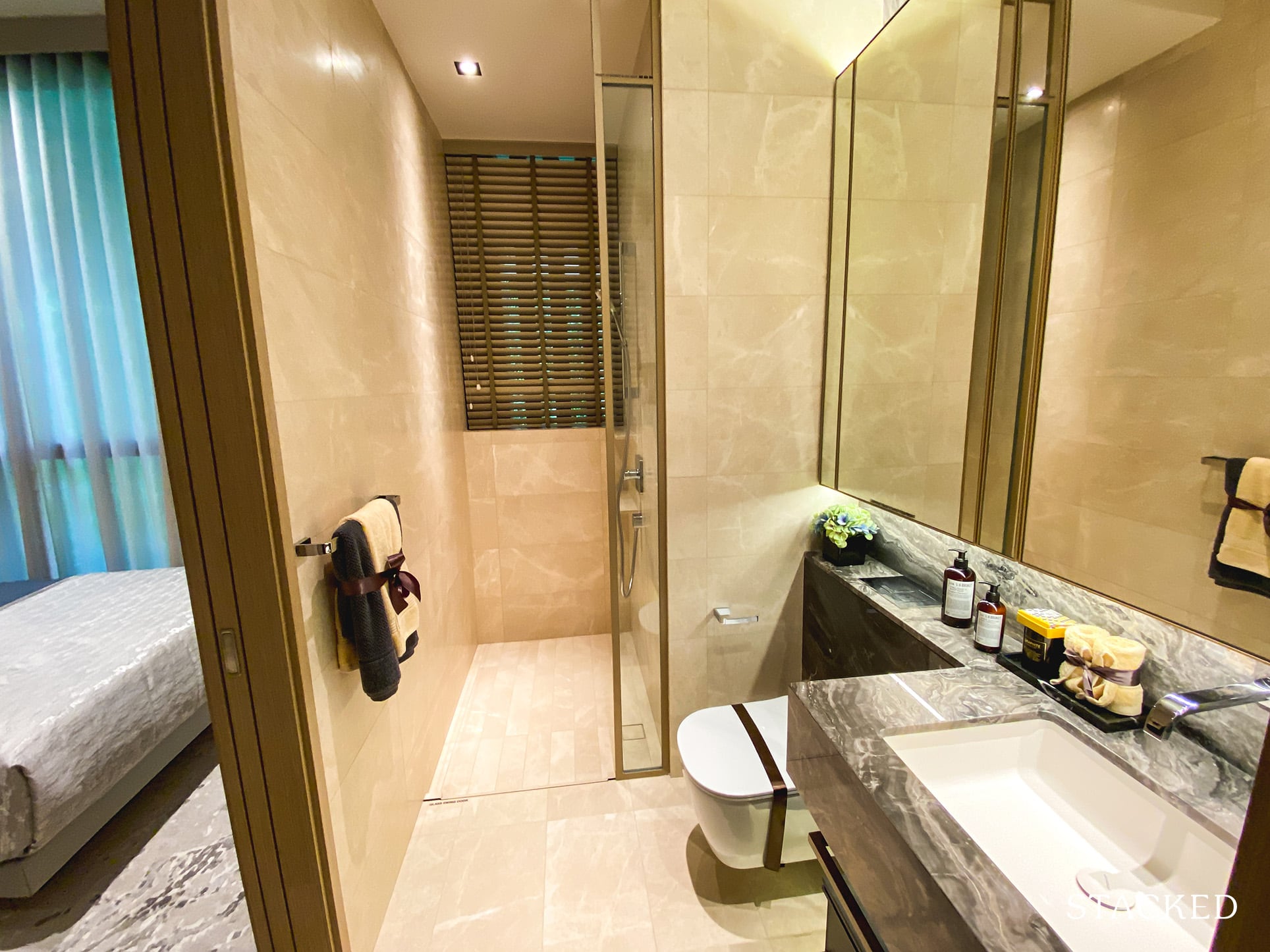 You could consider this bedroom to be an ensuite as it enjoys direct access to the bathroom. This is, however, a jack-and-jill one so guests that come over have access to it too from the living – it's a practical arrangement so thumbs up.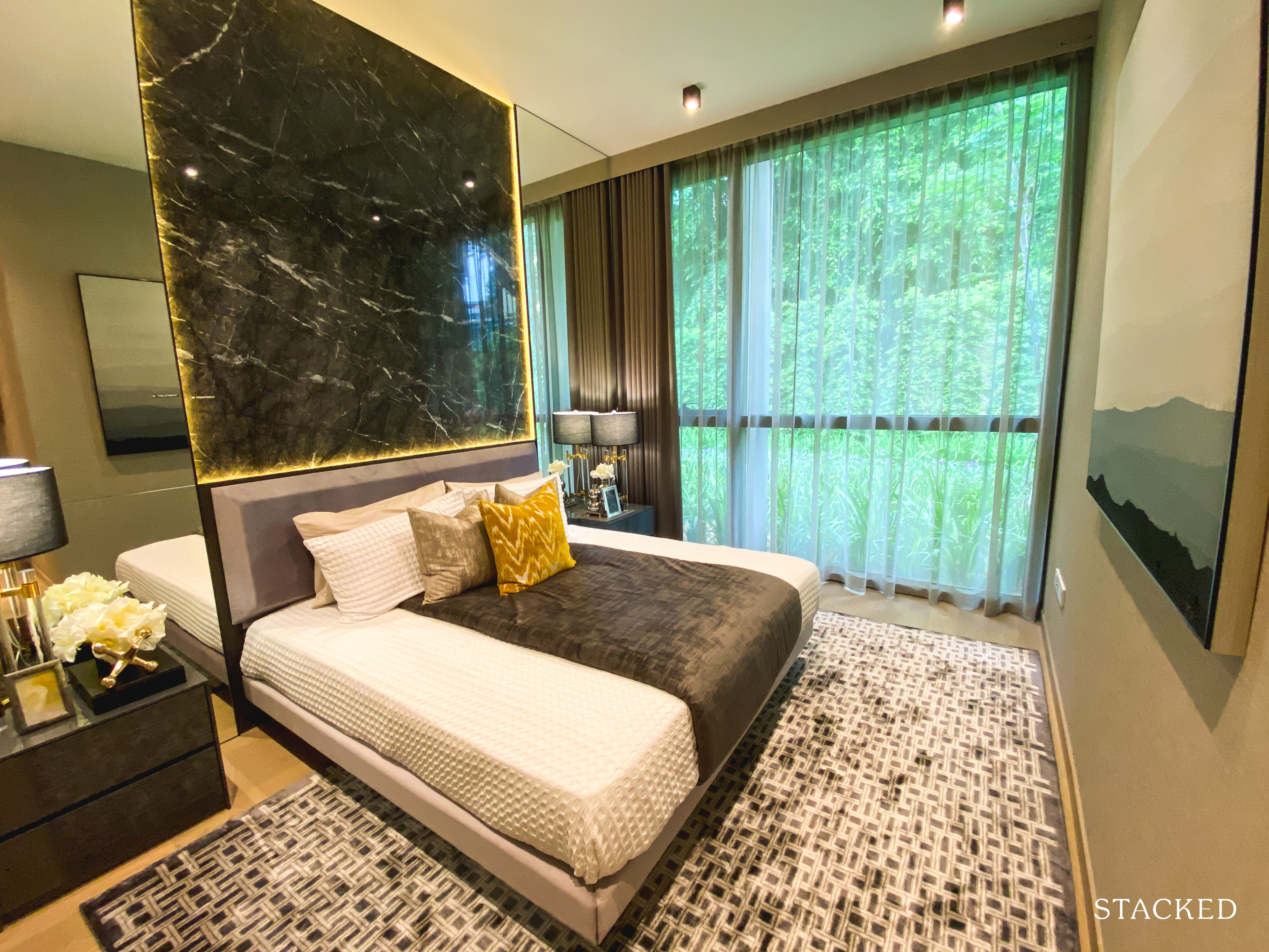 I think for most people, the junior master bedroom would have been sufficient. But needless to say after seeing that first, I had high expectations of this one – and I'm happy to report that it did not disappoint.
If you are after a luxurious living space, they've definitely pulled off all the stops with this one. It's a really substantial space, and I really like the large floor to ceiling windows here.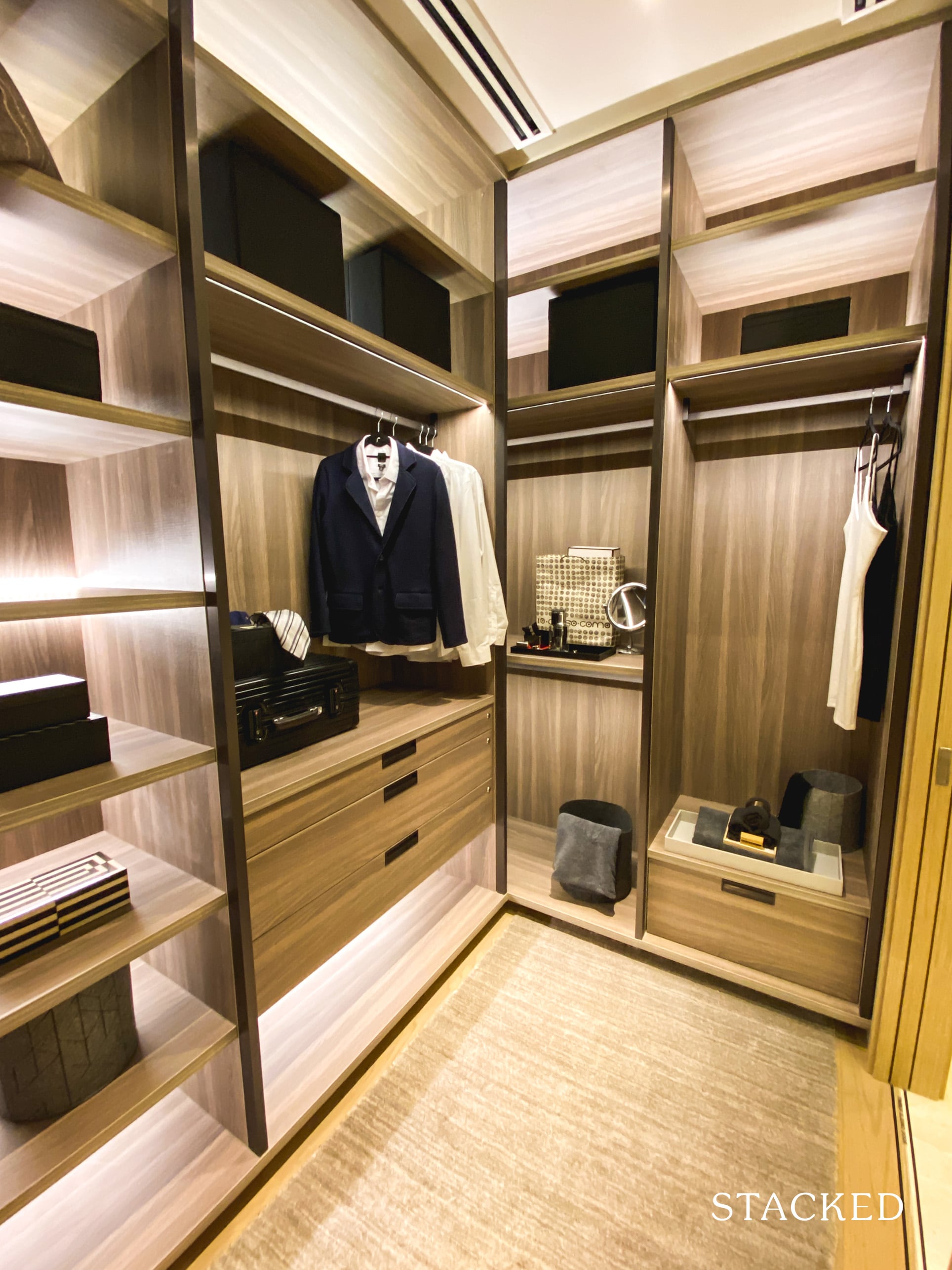 A problem for many new launches today is the lack of storage space – but that's clearly not a problem here. Having your own walk-in-wardrobe will always be a grand thing to have, which is even more so in today's climate.
The master bathroom is simply quite magnificent. It looks every bit like a high-end 5-star hotel bathroom, with its sleek matte sinks and bathtubs. I really like the whole look of it, it's a great addition to the entire master bedroom offering.
The Avenir 4 Bedroom + Family Review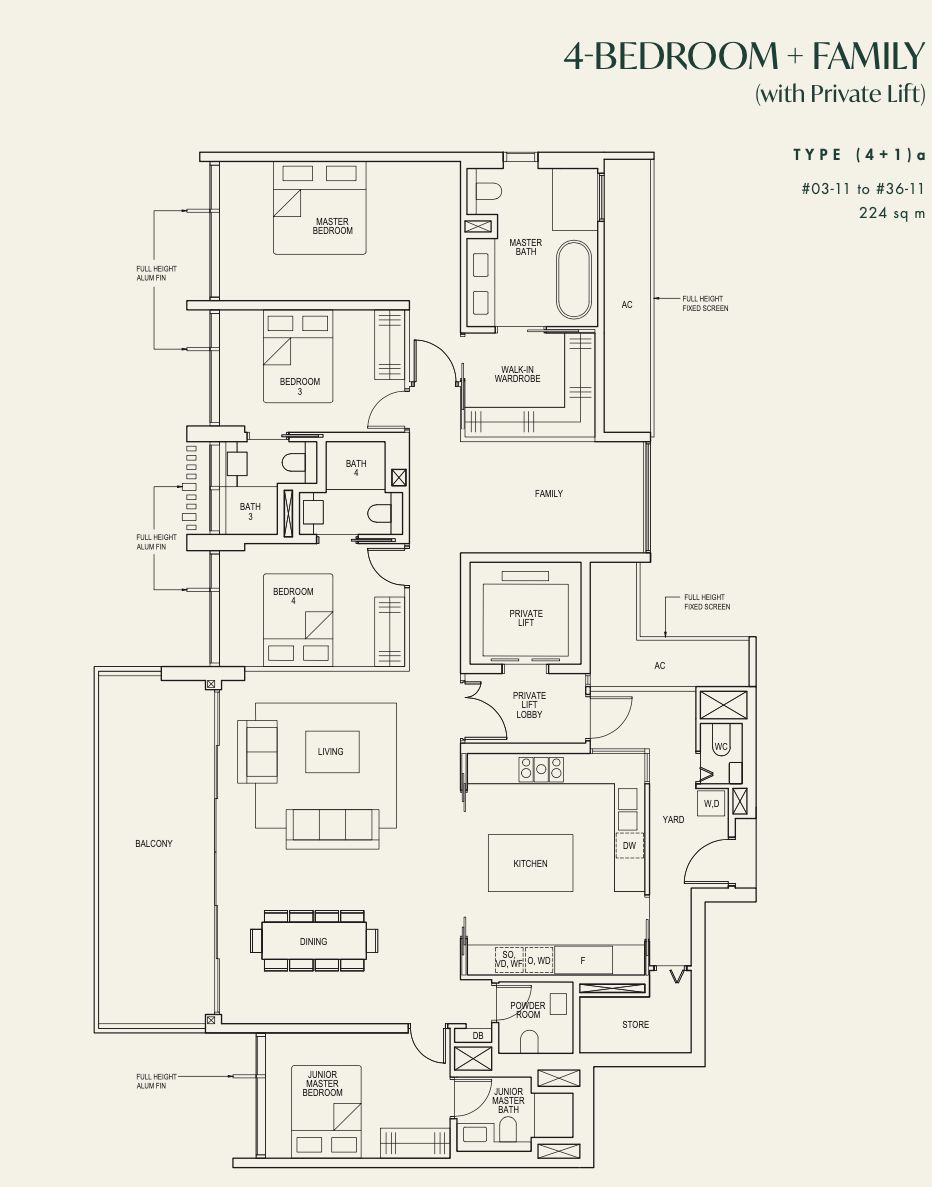 The floorplan
Finally, we get to the pièce de résistance of the Avenir, the 4 bedroom + family (with Private Lift) – it's certainly quite the mouthful! Coming in at 2,411 square feet, it's a stellar size for any family searching for an extensive space.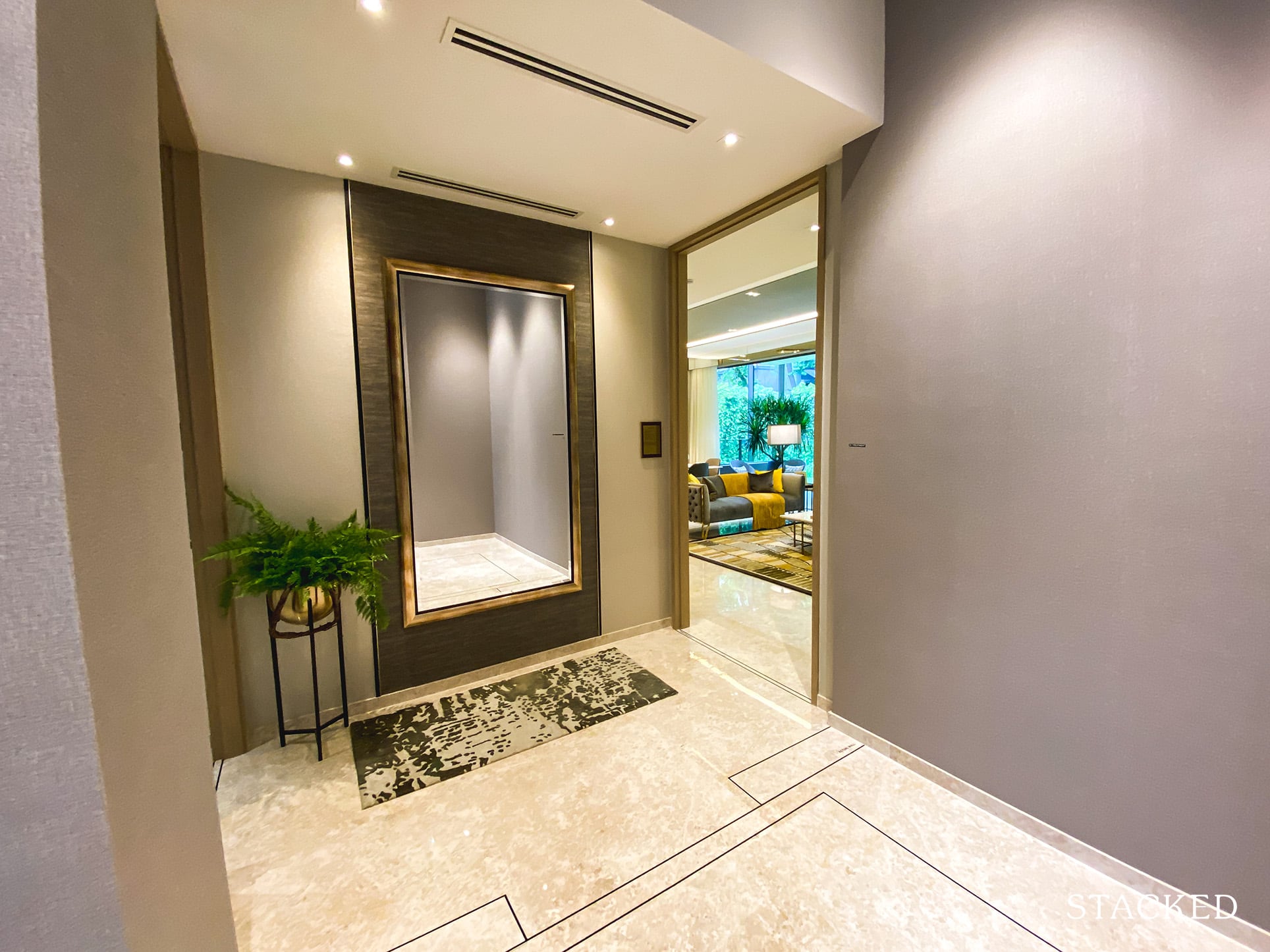 As you'd expect from the most premium unit in the Avenir, the 4 bedroom unit here comes with private lift access.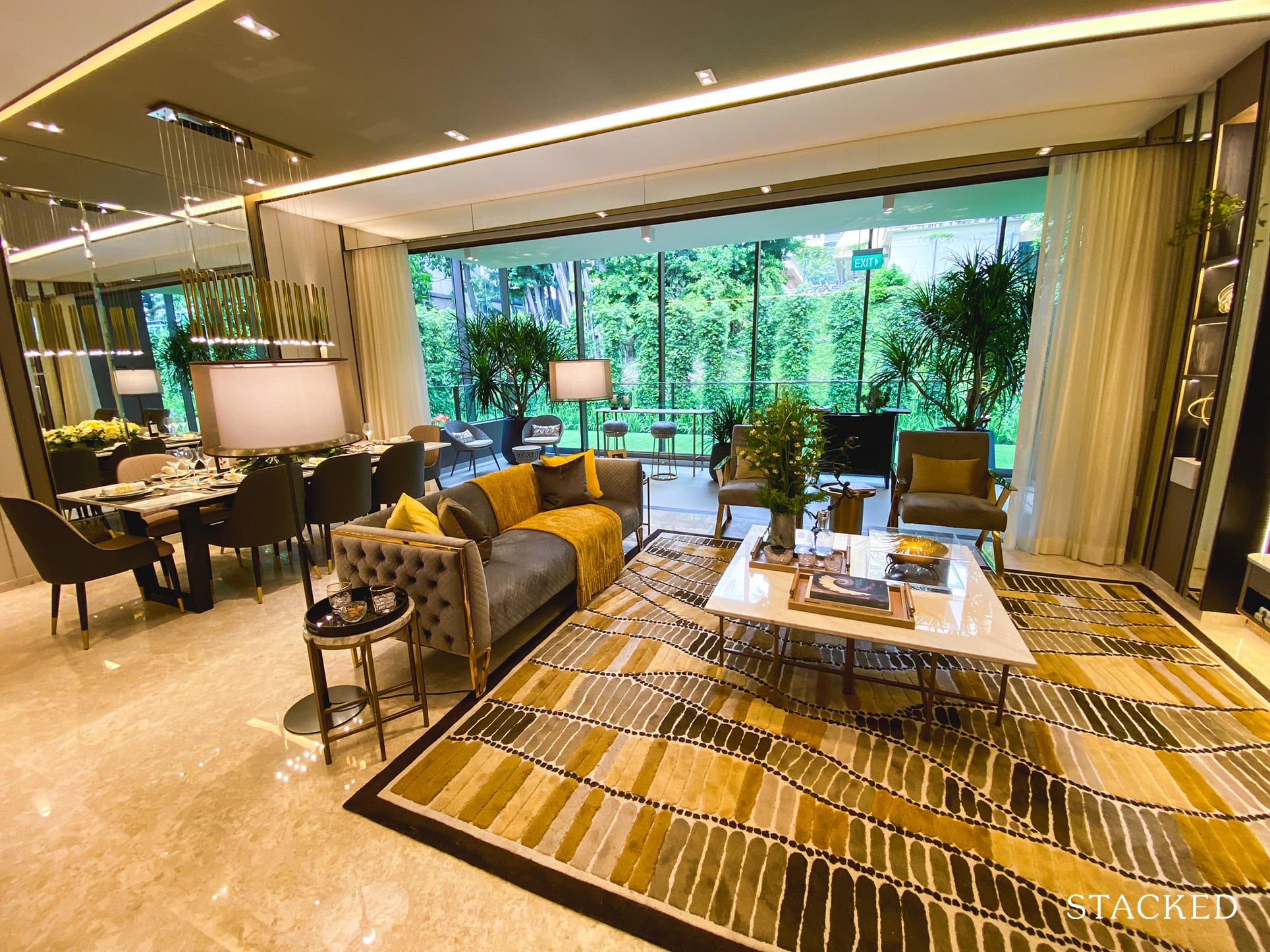 As far as first impressions go, the living and dining here feel positively palatial. It's quite similar to the Boulevard 88 unit, and you aren't going to be left wanting for more space here – unless you are coming from a landed home of course!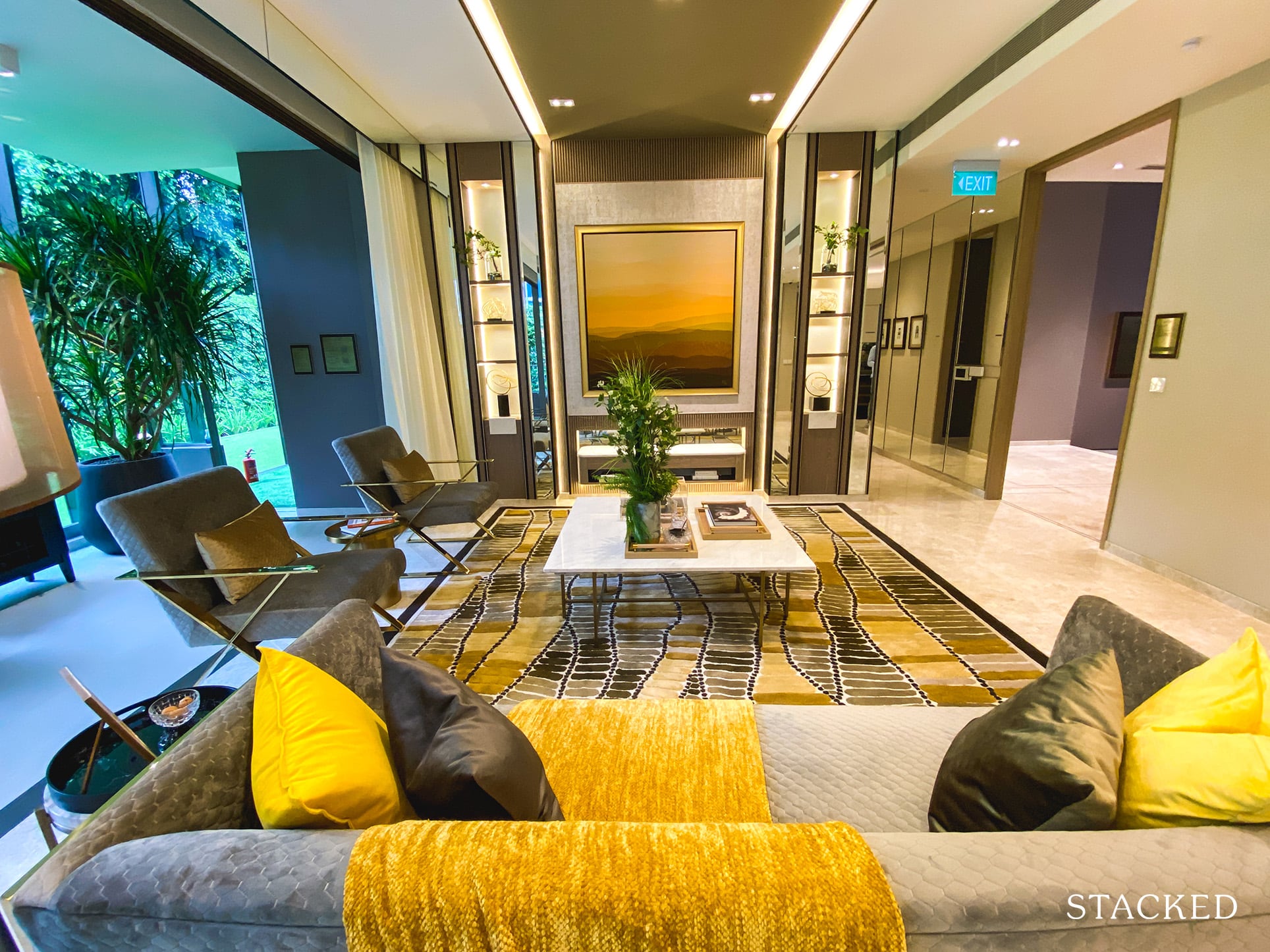 The living room is definitely a fantastic size – even with a big couch and side armchairs you are still left more than enough space to move around.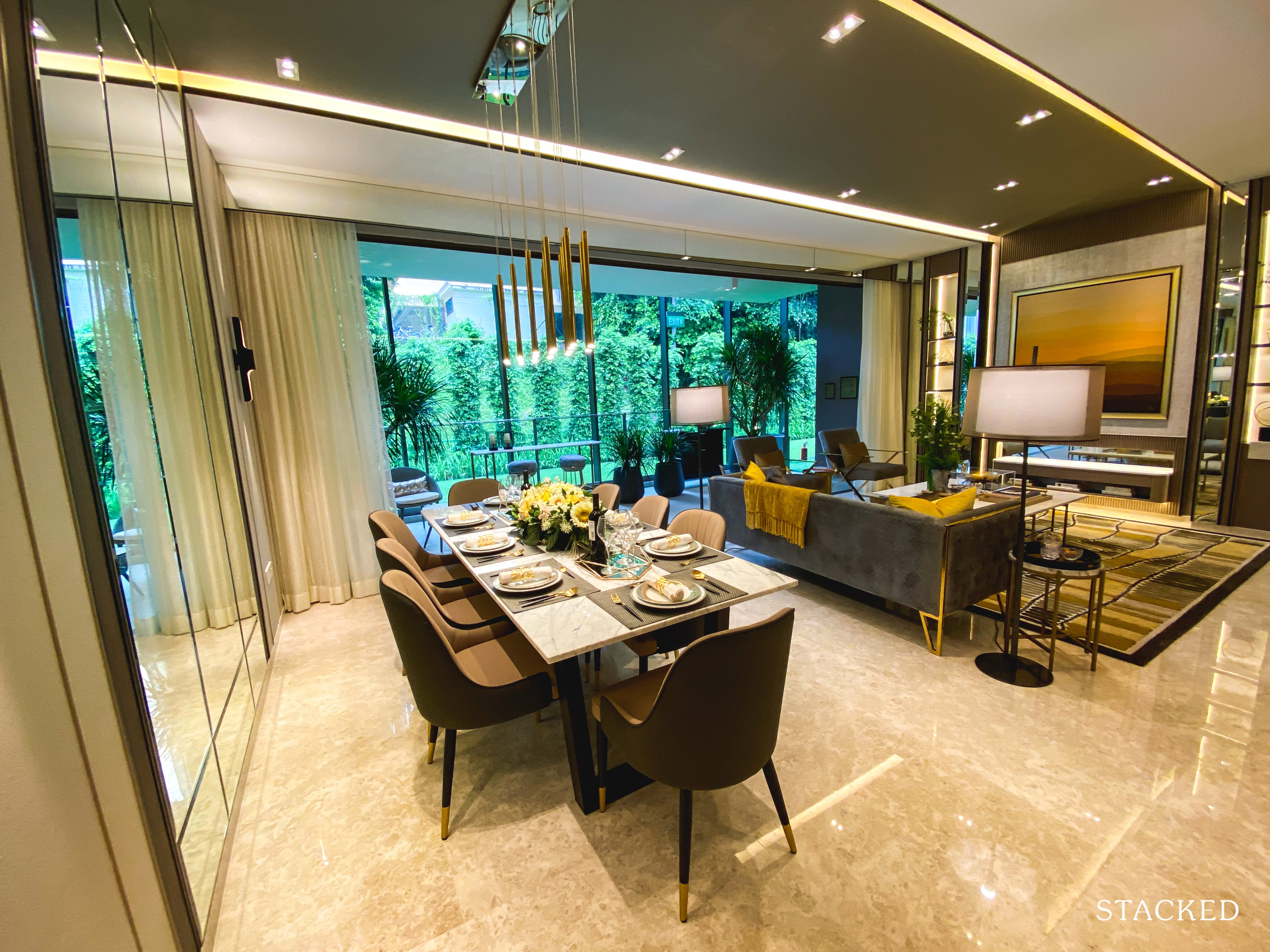 The same goes for the dining room, you could easily fit a ten-seater dining table here.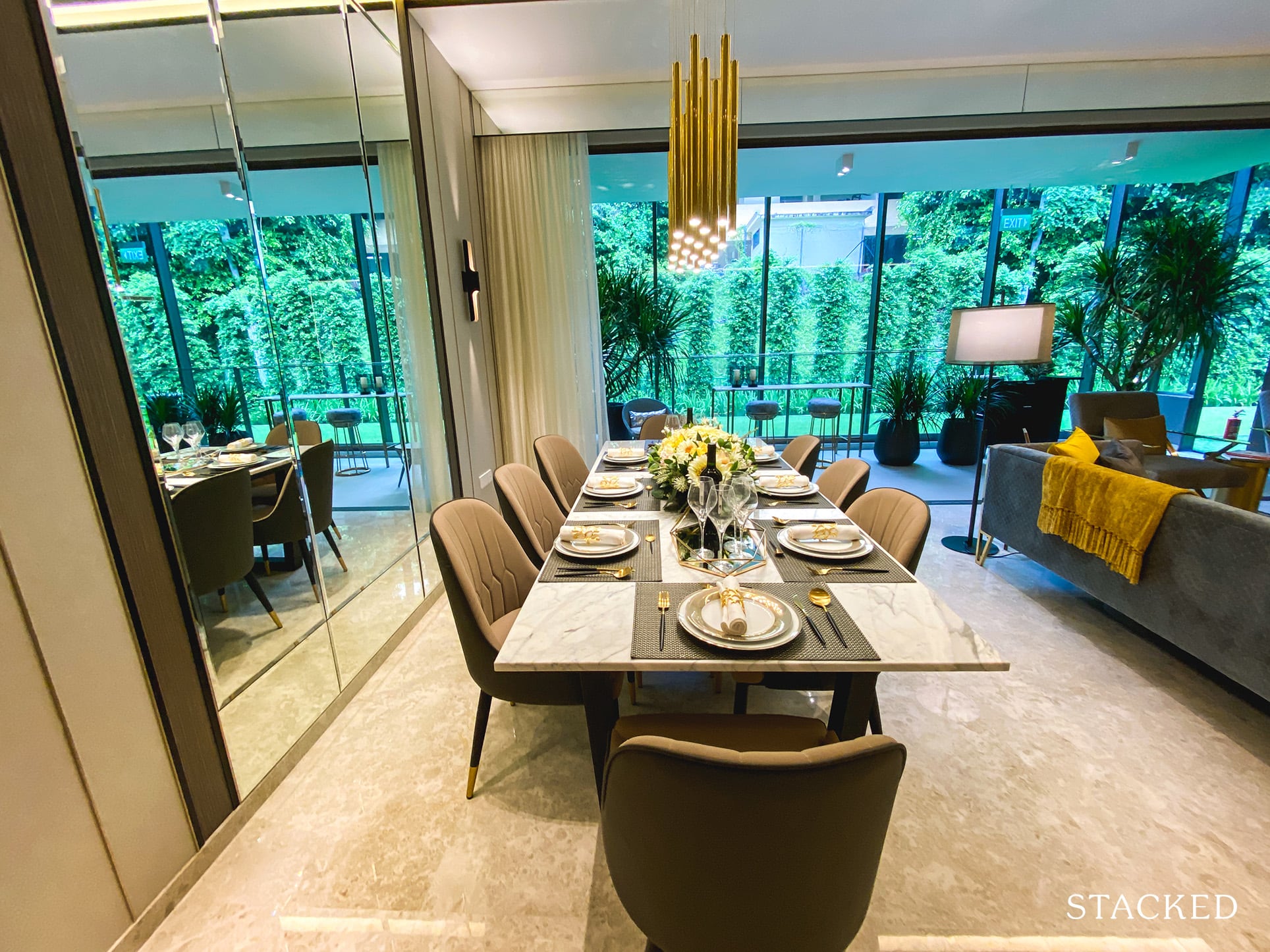 That said, a smaller one definitely gives you a better sense of space.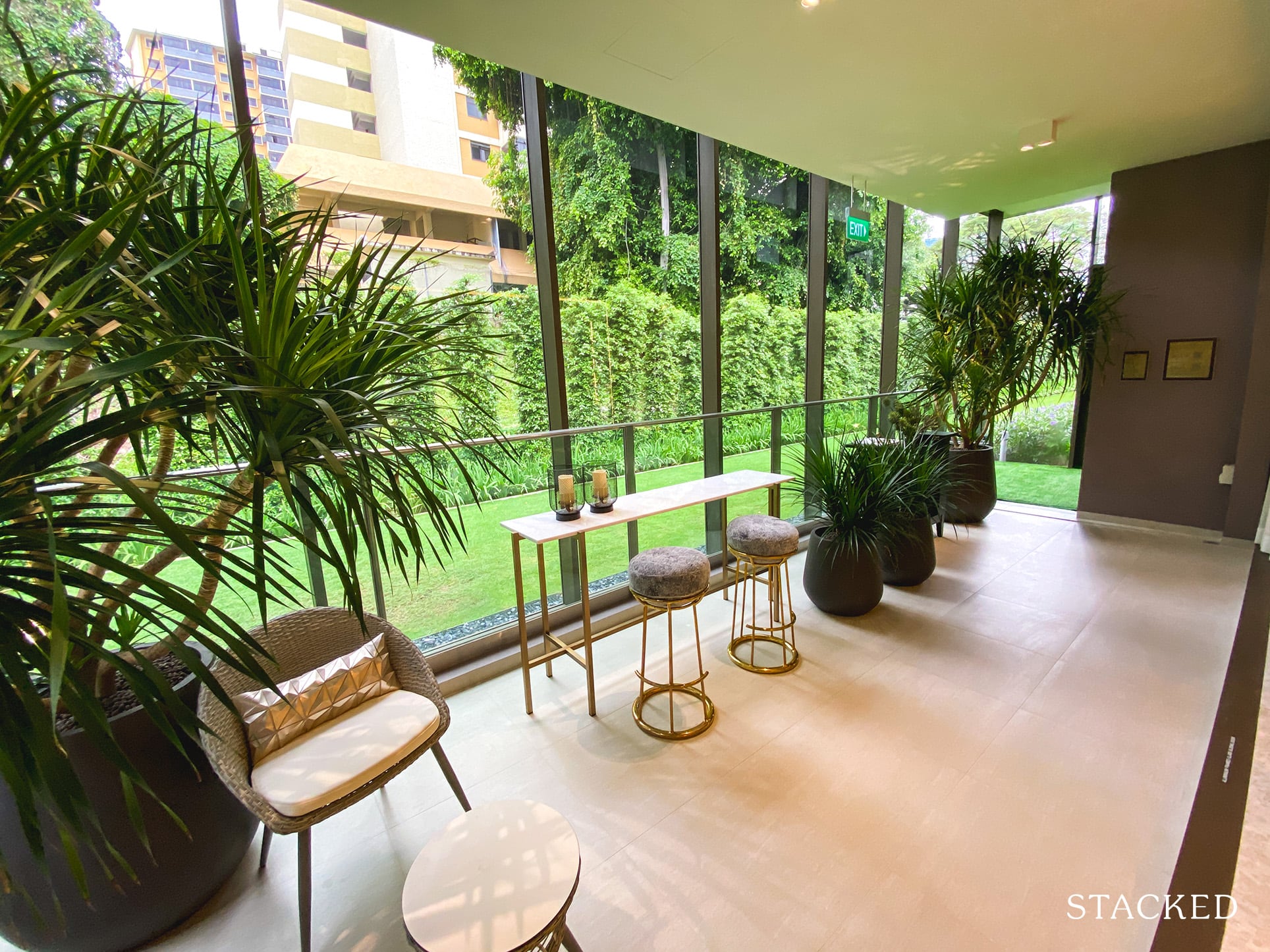 And if you're fond of entertaining, the balcony could easily double up as an alternative dining space too. It's both wide and long – so even if you want to dine and have a relaxation space it is entirely possible.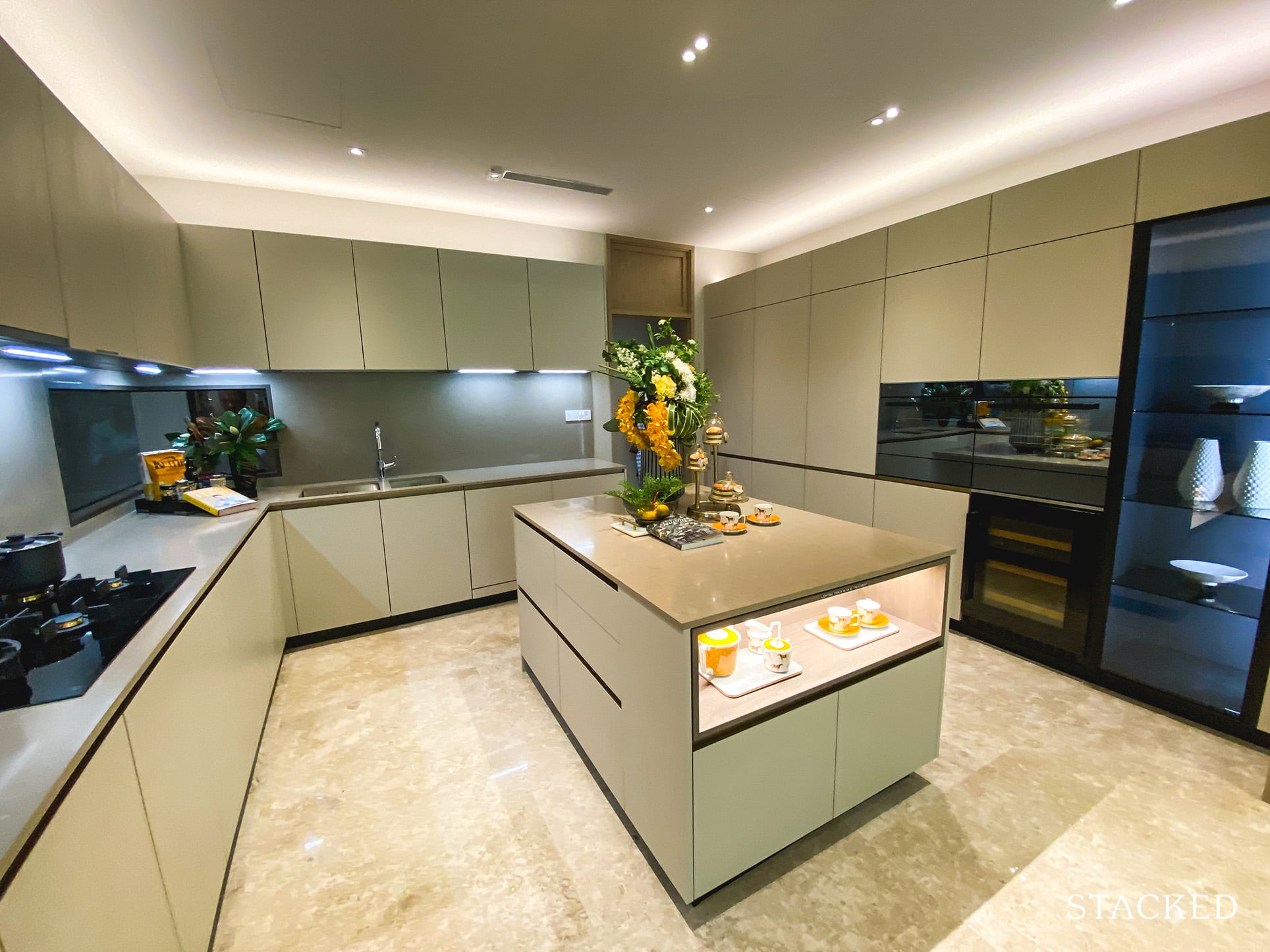 Moving on to the kitchen, it's easy to see just how massive it is. It improves on the kitchen from the 3 bedder, with a (not small) island kitchen in the middle. Kitchen appliances are expectedly premium, with brands like DeDietrich and V-Zug – the current hyped brand for high-end developments. This includes a vacuum-packing drawer (like the one in Meyer Mansion), and a cooker for sous vide cooking.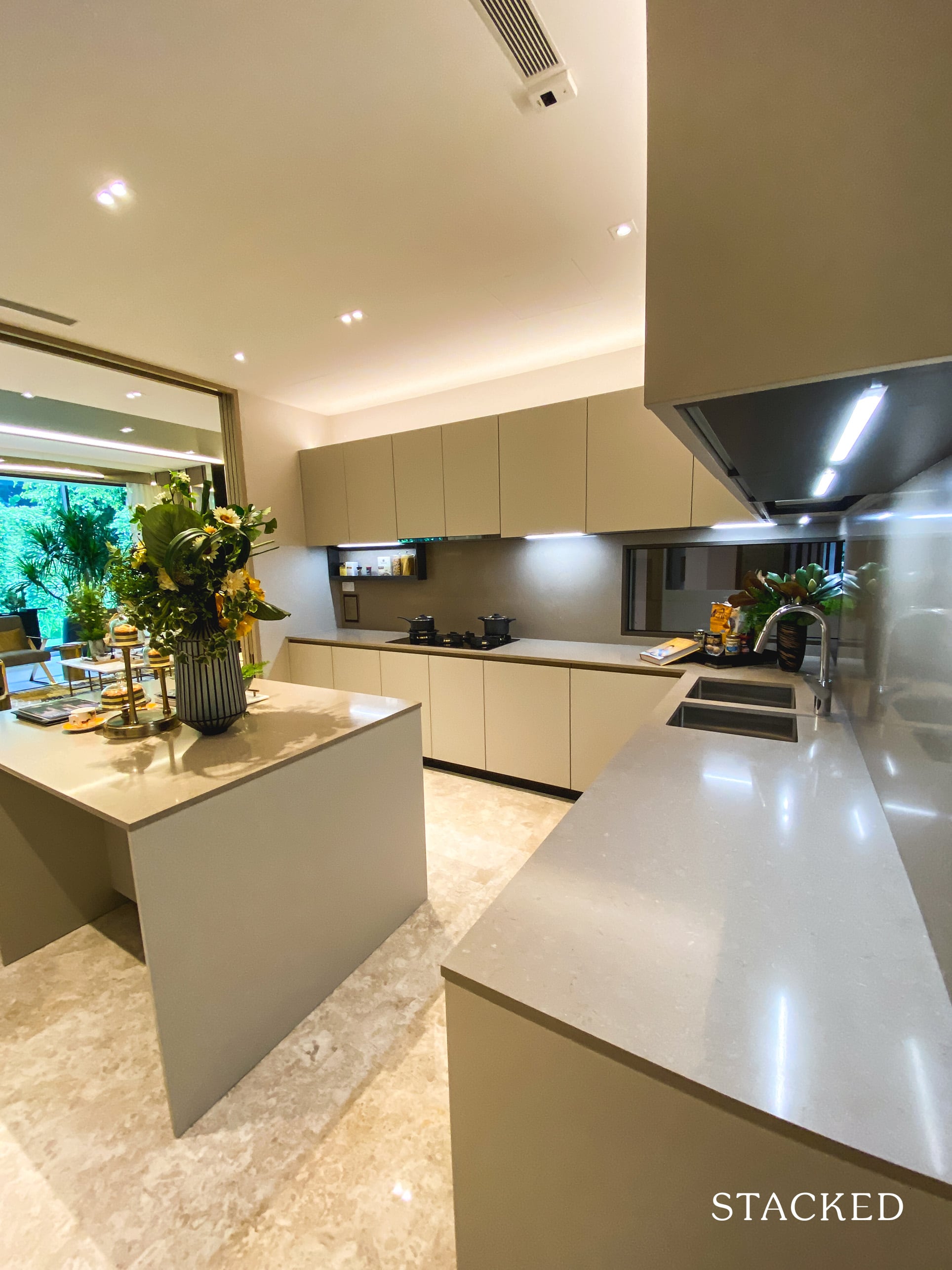 If you love to cook and you use the kitchen a lot, I'm confident you'll take a liking to this kitchen. There is a ton of storage and counter space – so unless you are running a mini bakery at home you should have space left over. That said, I do still prefer the wet and dry kitchen layout. Personally, it's just a lot more flexible – but I can see how this would be something really subjective to each individual.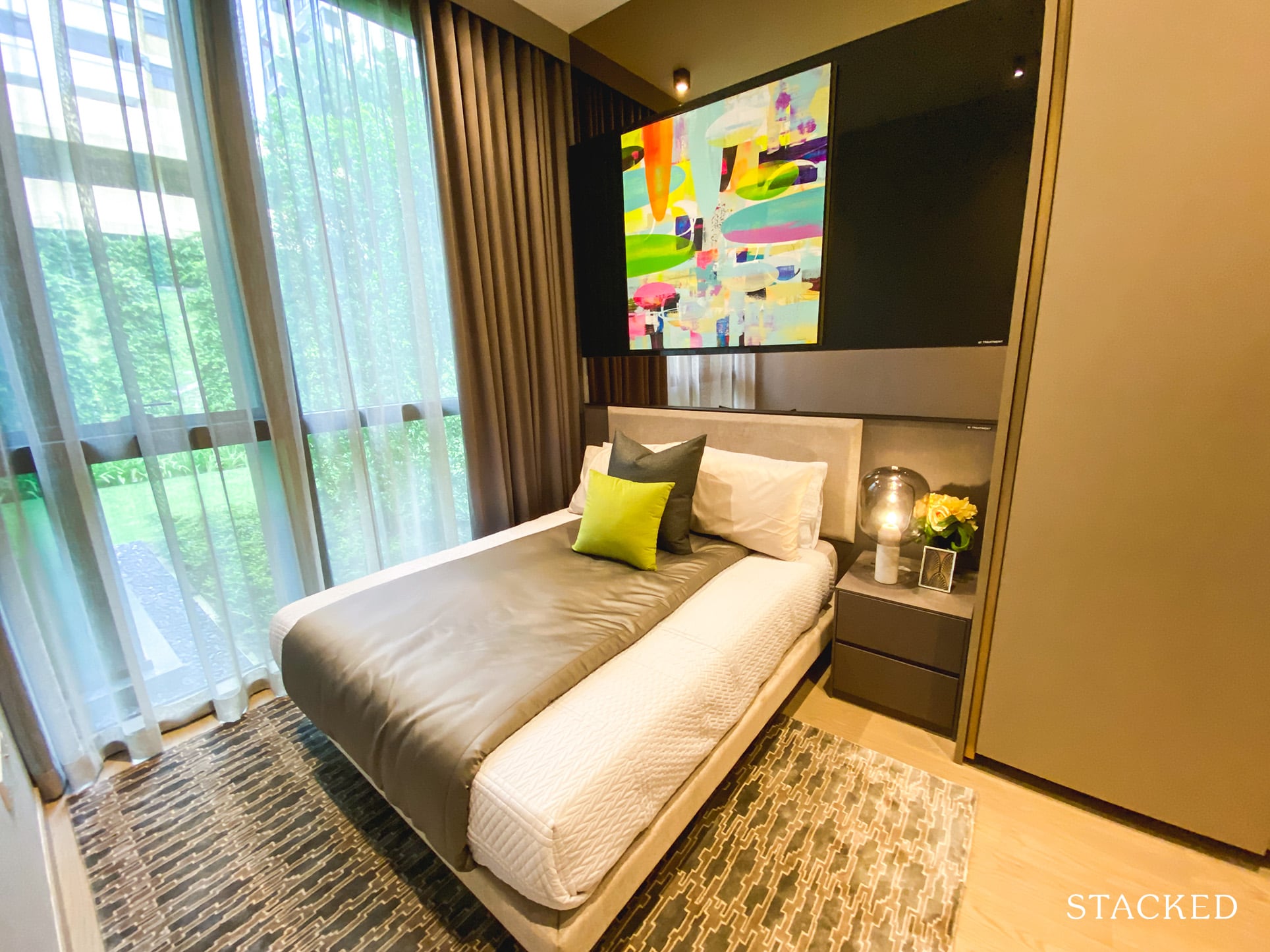 In a similar fashion to the 3 bedroom unit, the junior master is located just next to the dining room – away from all the other rooms.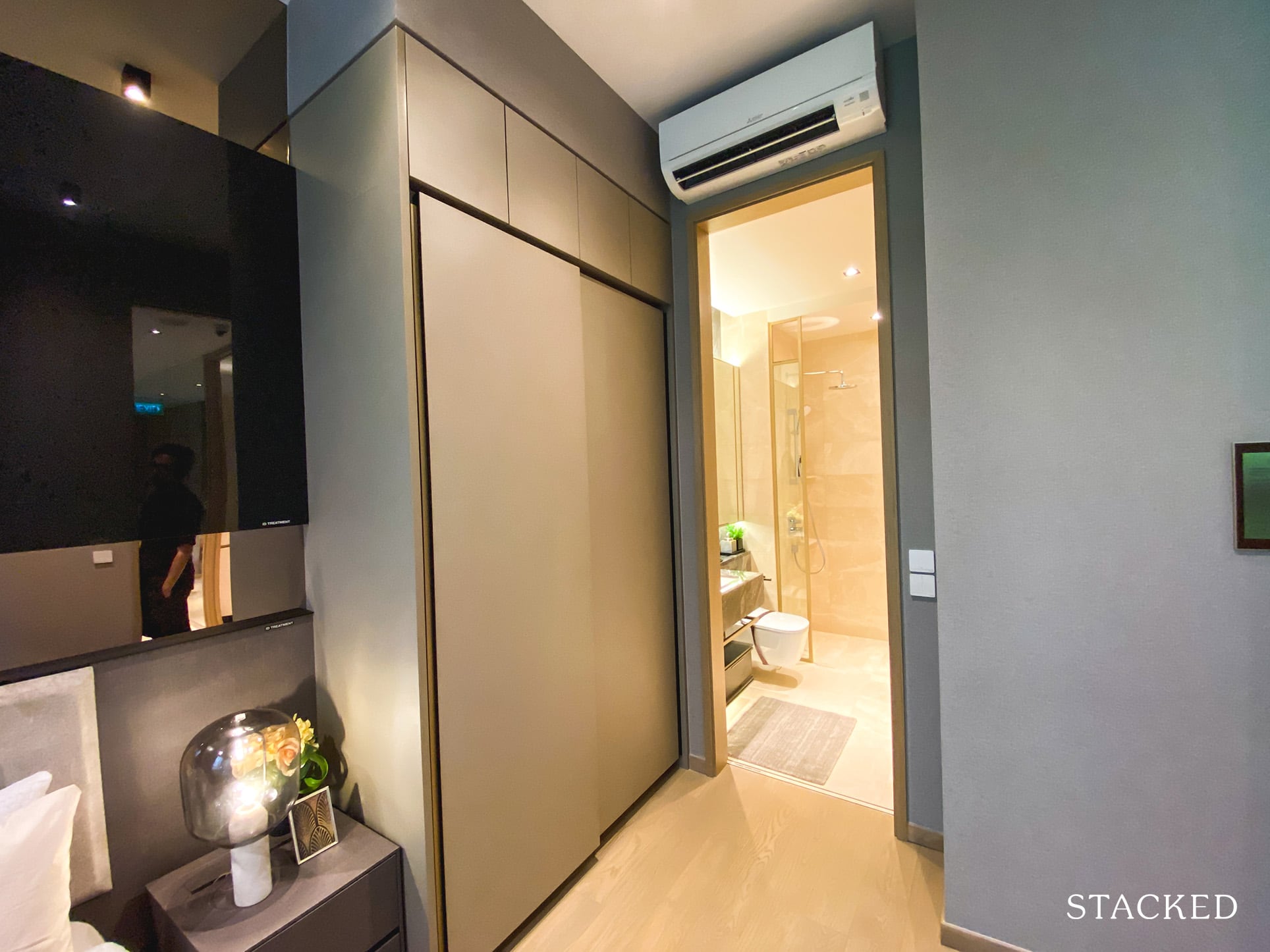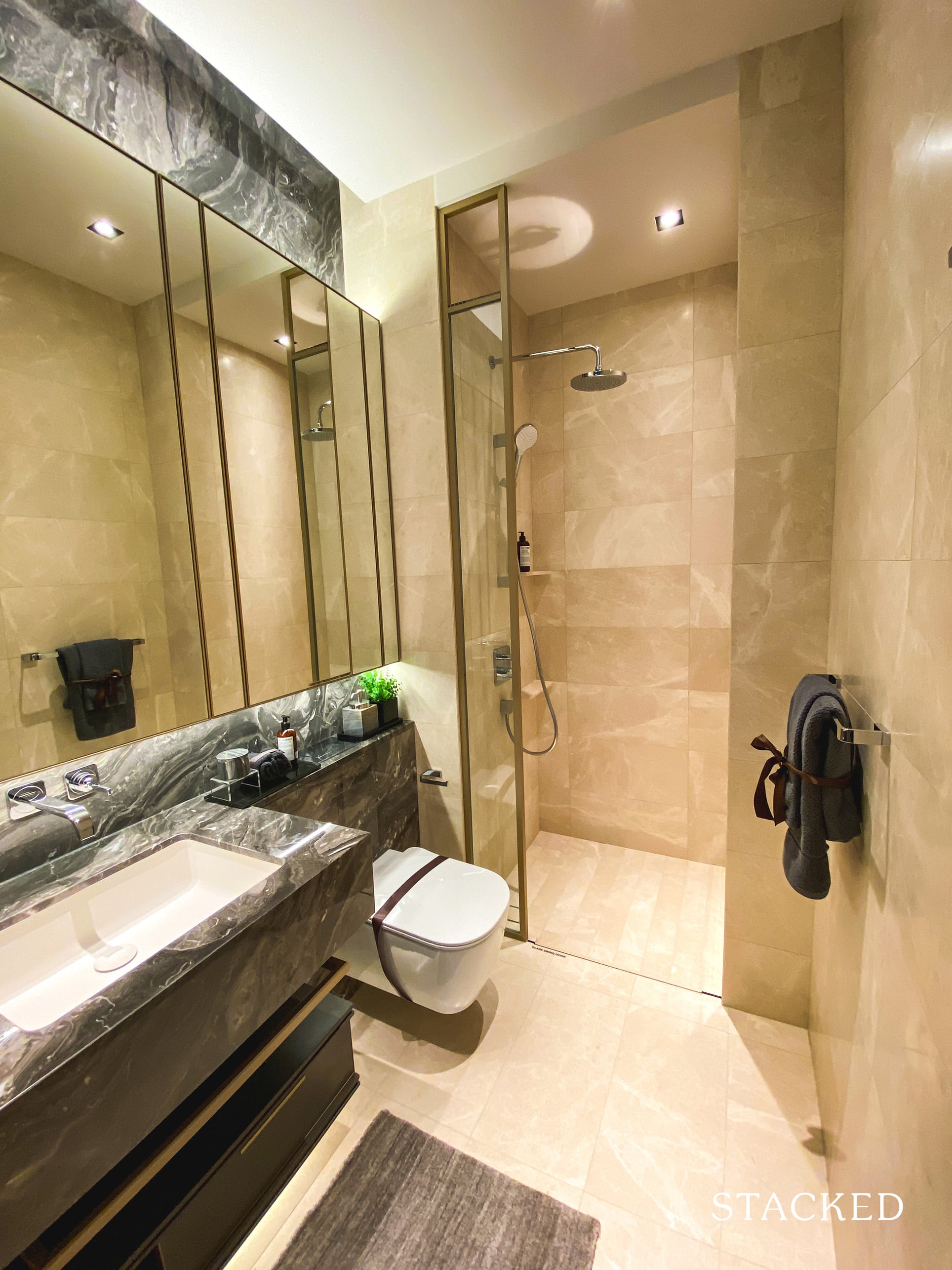 And of course, it comes with its own ensuite bathroom. In the case of this 4 bedroom unit, however, the distinction between each bedroom is a little less clear because they all come with an attached bathroom.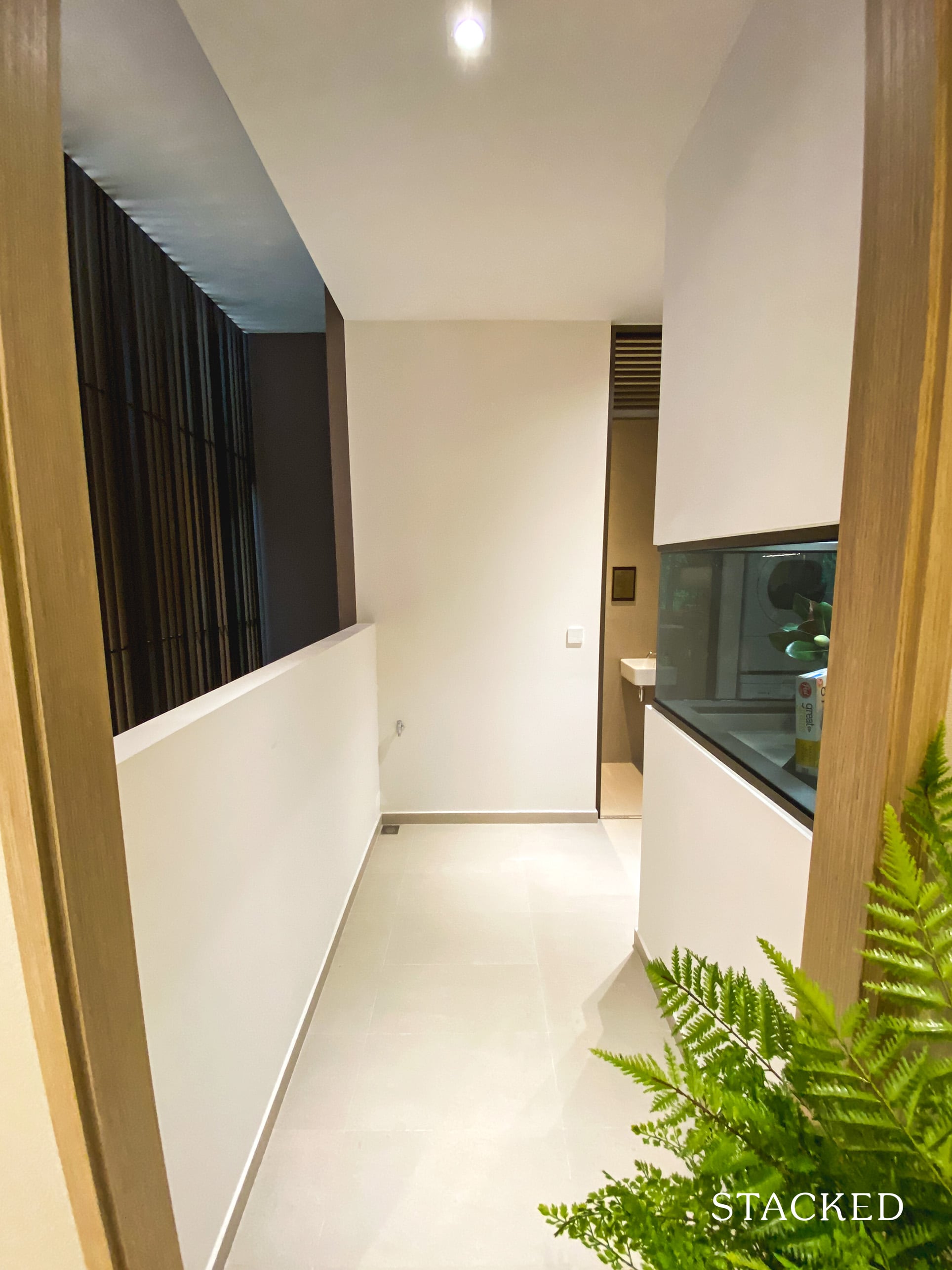 Winding back to the entrance of the unit, you can also access the yard area straight from here. It's a cracking amount of space for just the yard – making this one of the most practical units around. It's not all about luxury here!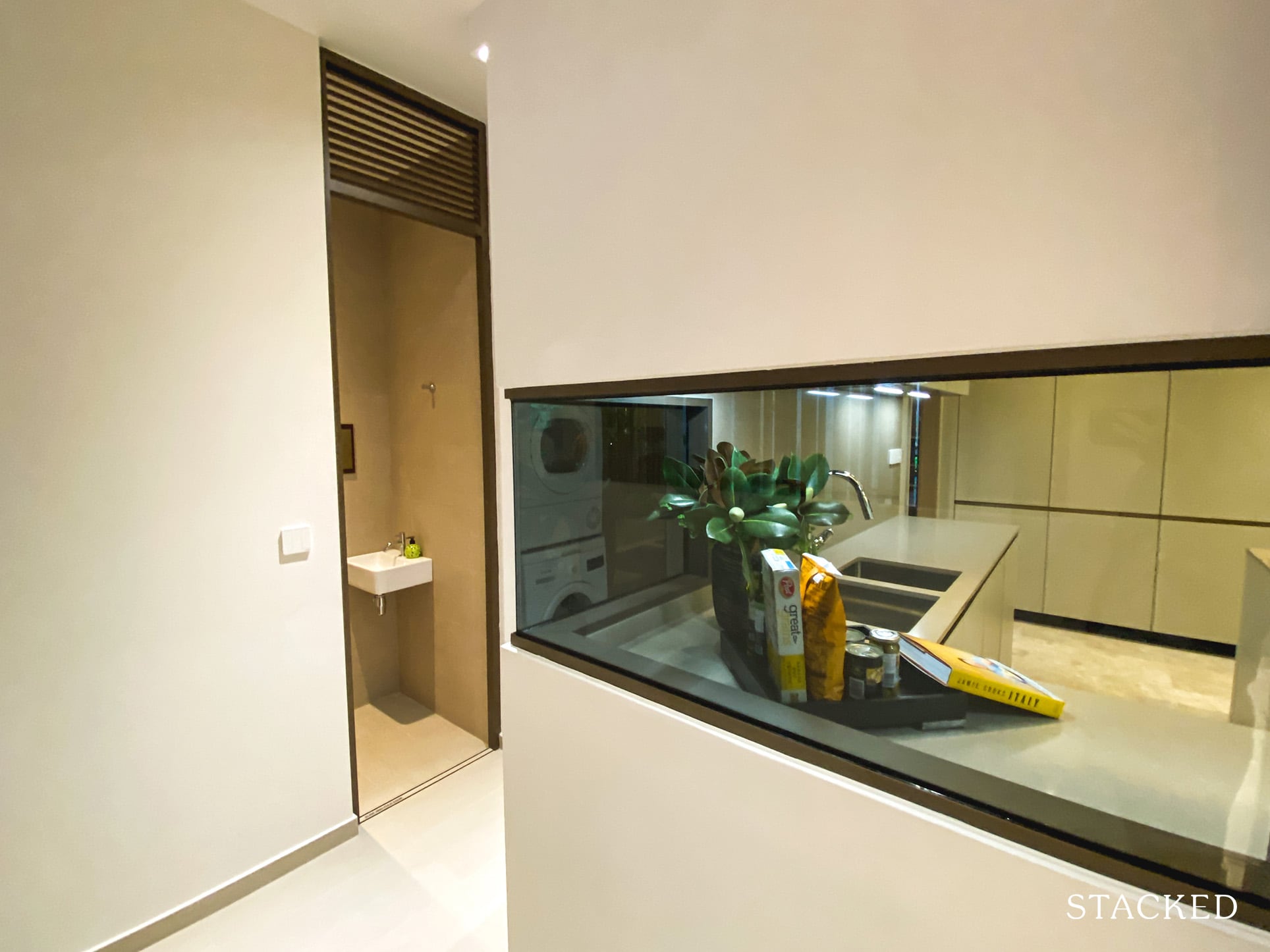 If you've taken a look at the layout, the yard area actually wraps around the kitchen. Okay, not the full circumference – about halfway. But given the size of the kitchen, it'll give you some idea of the space dedicated to the yard.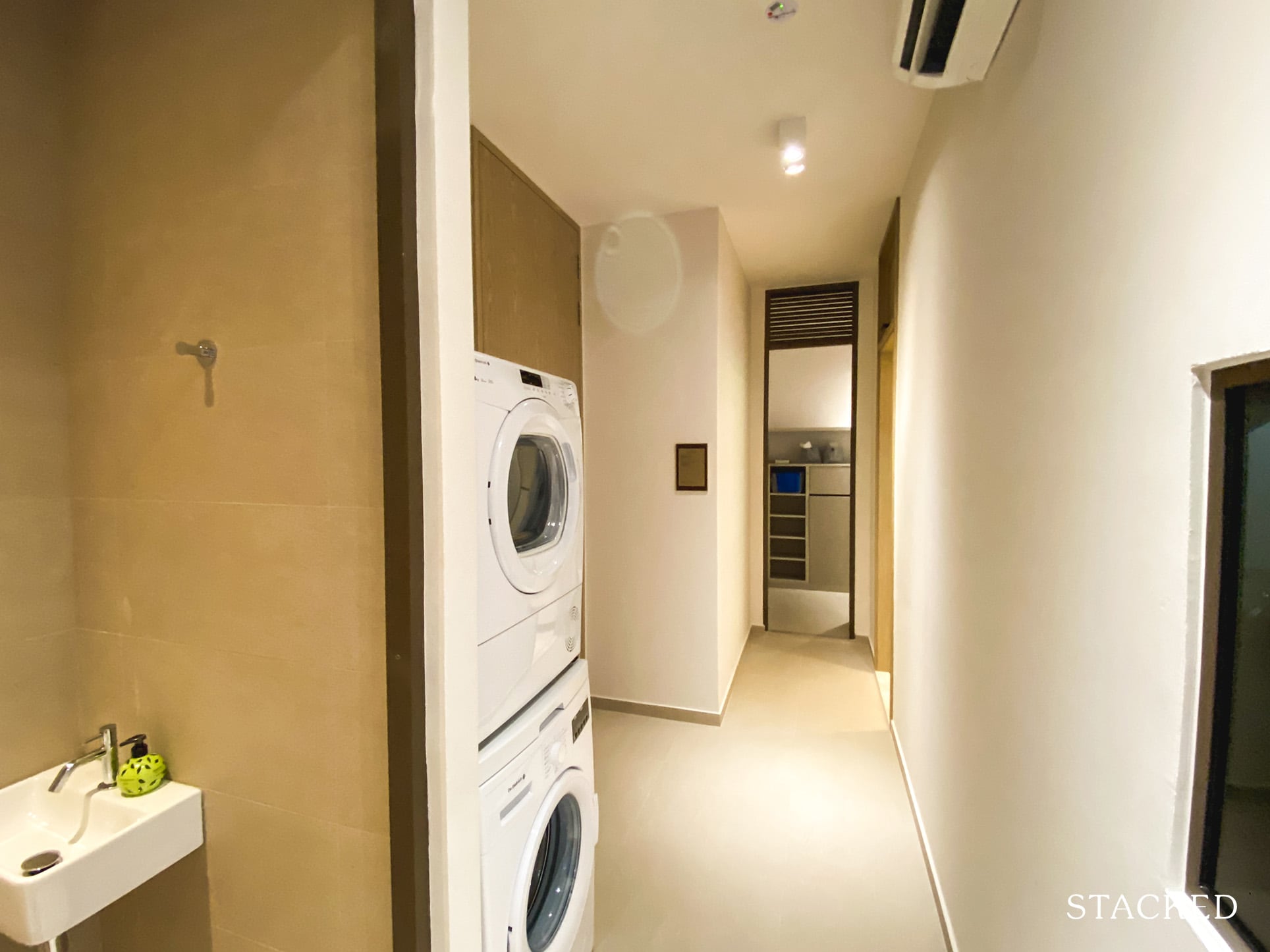 Beyond the bathroom is an exclusive space for your washer and dryer, plus more space to hang your laundry if needed too.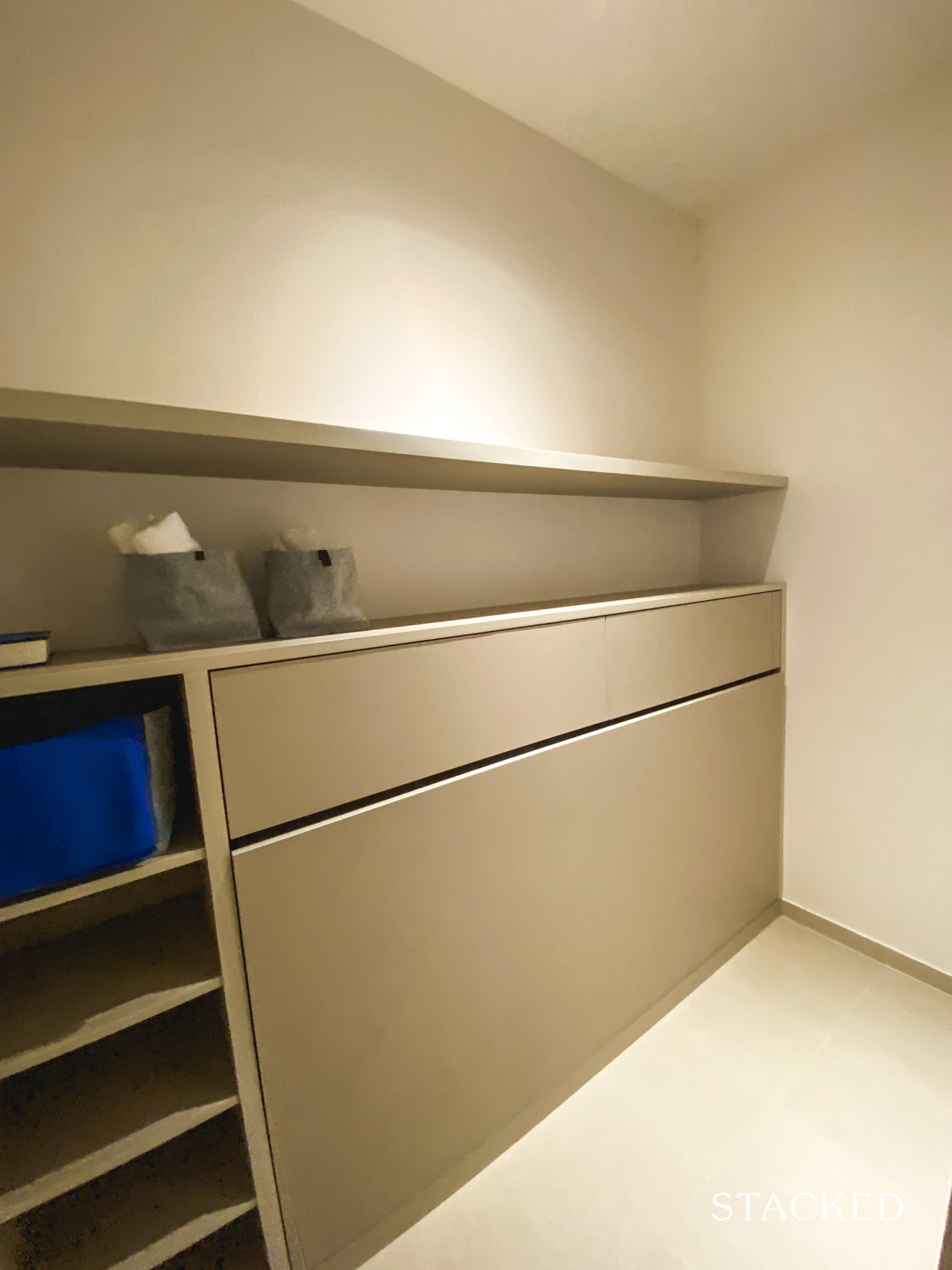 At the end is a small room that can double up as either a room for your helper or a storeroom.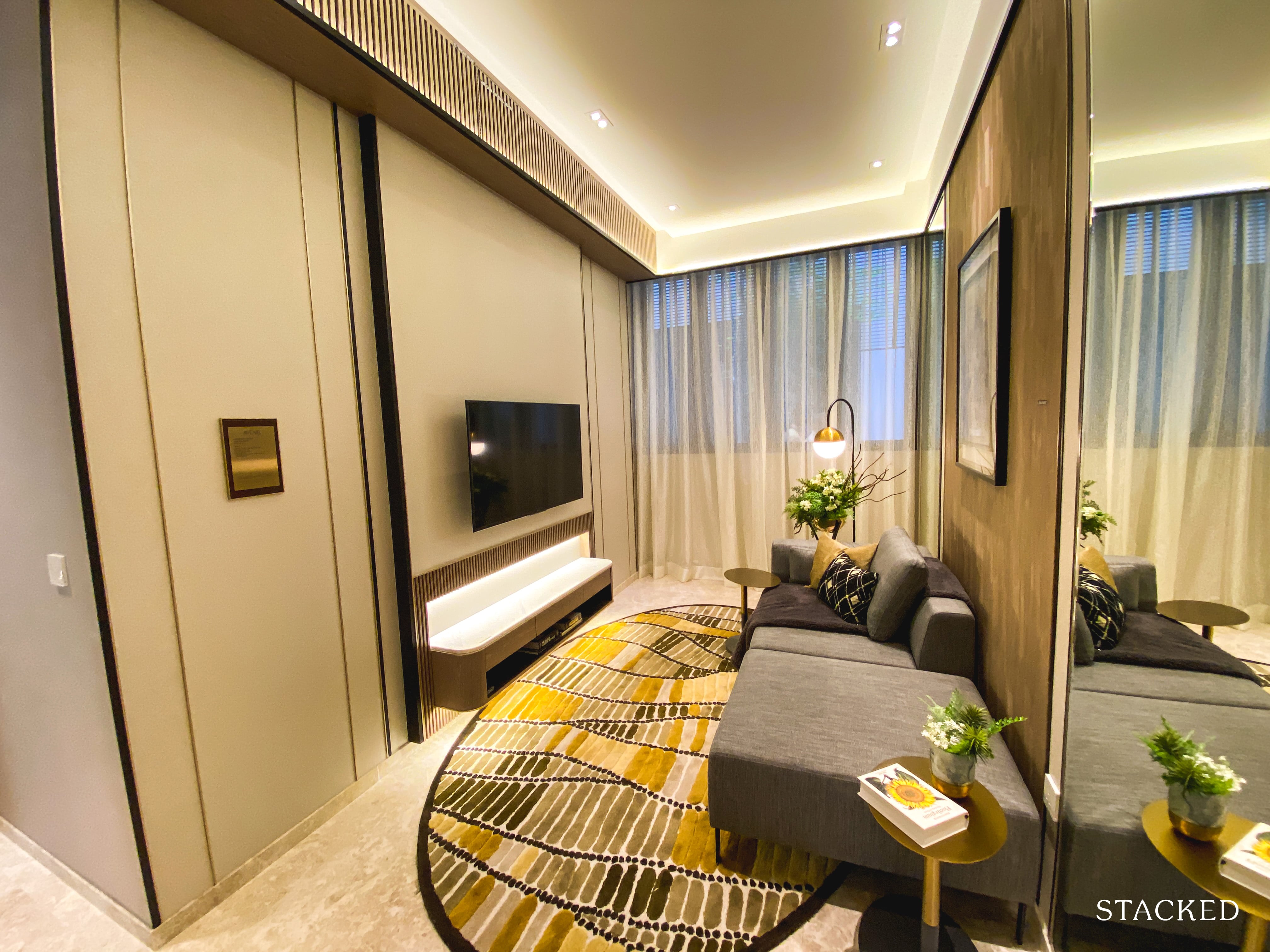 And if 4 bedrooms weren't enough for you, there is still another space that is customisable for your own needs. A family room? Study room? Additional bedroom? Mini home theatre? Just throwing some suggestions out there.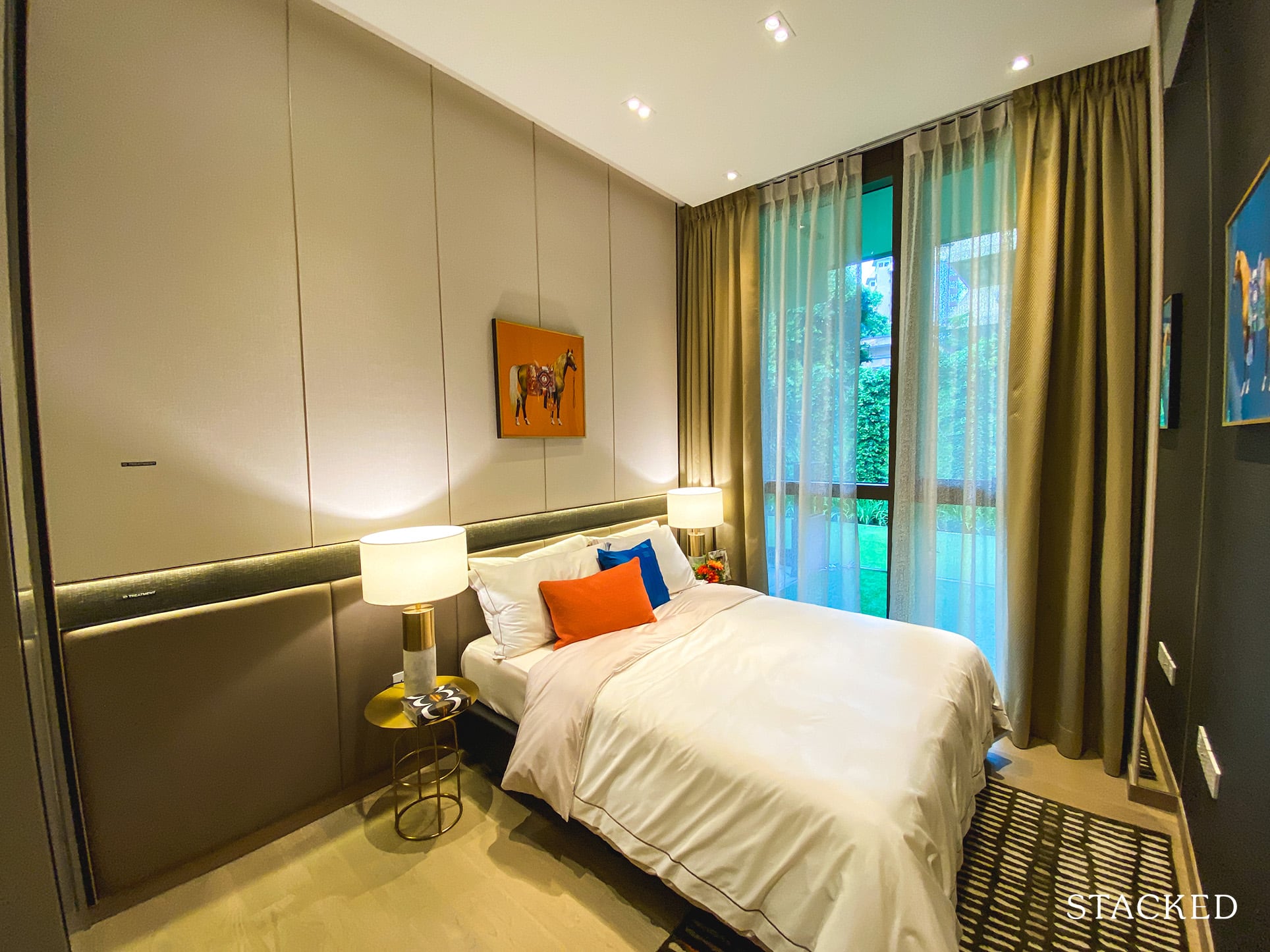 Both common bedrooms are equally sized. It's not particularly wide but it is quite long.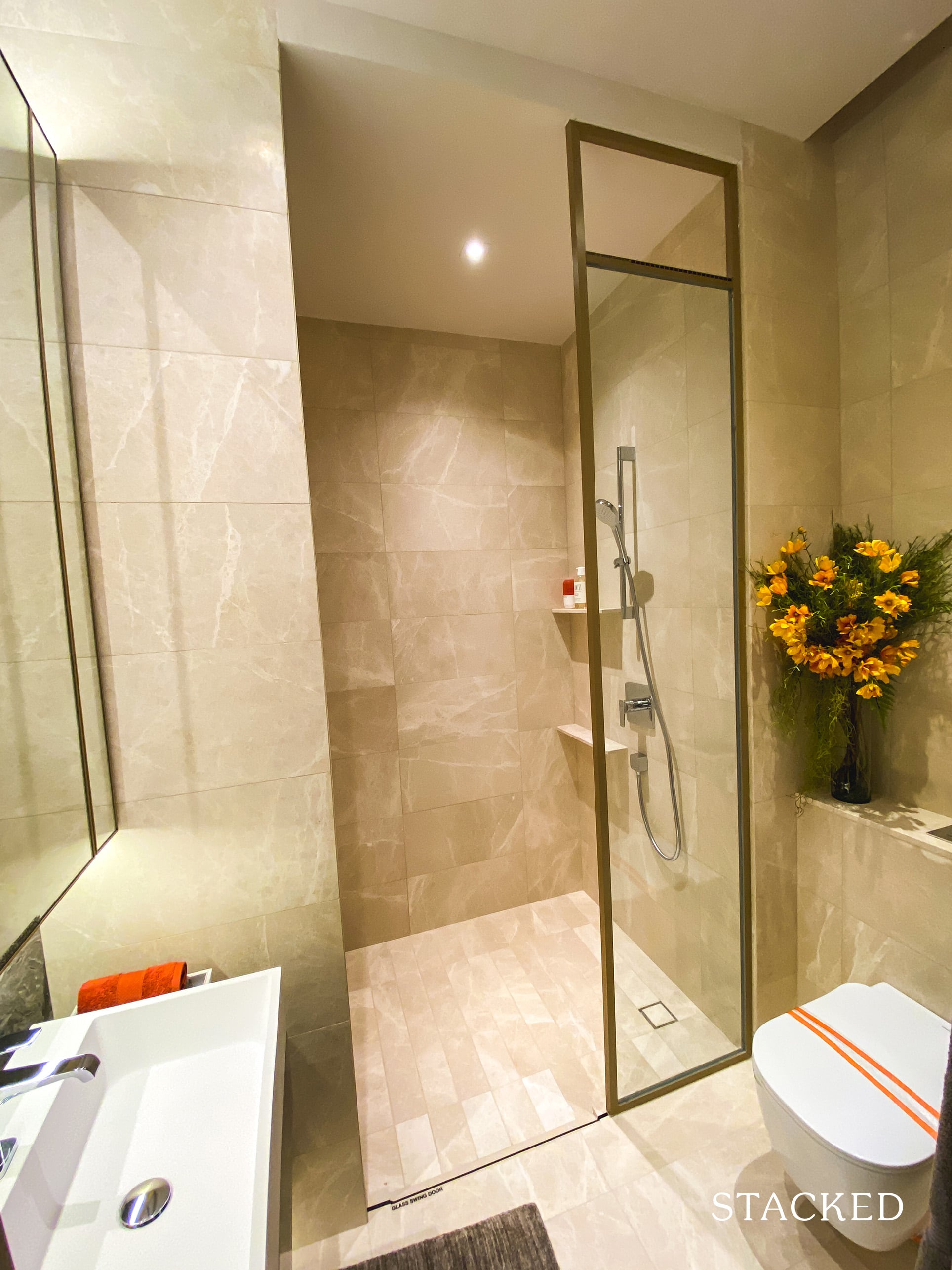 Not the biggest bathroom around, but hey, each bedroom has its own personal bathroom – what's not to like?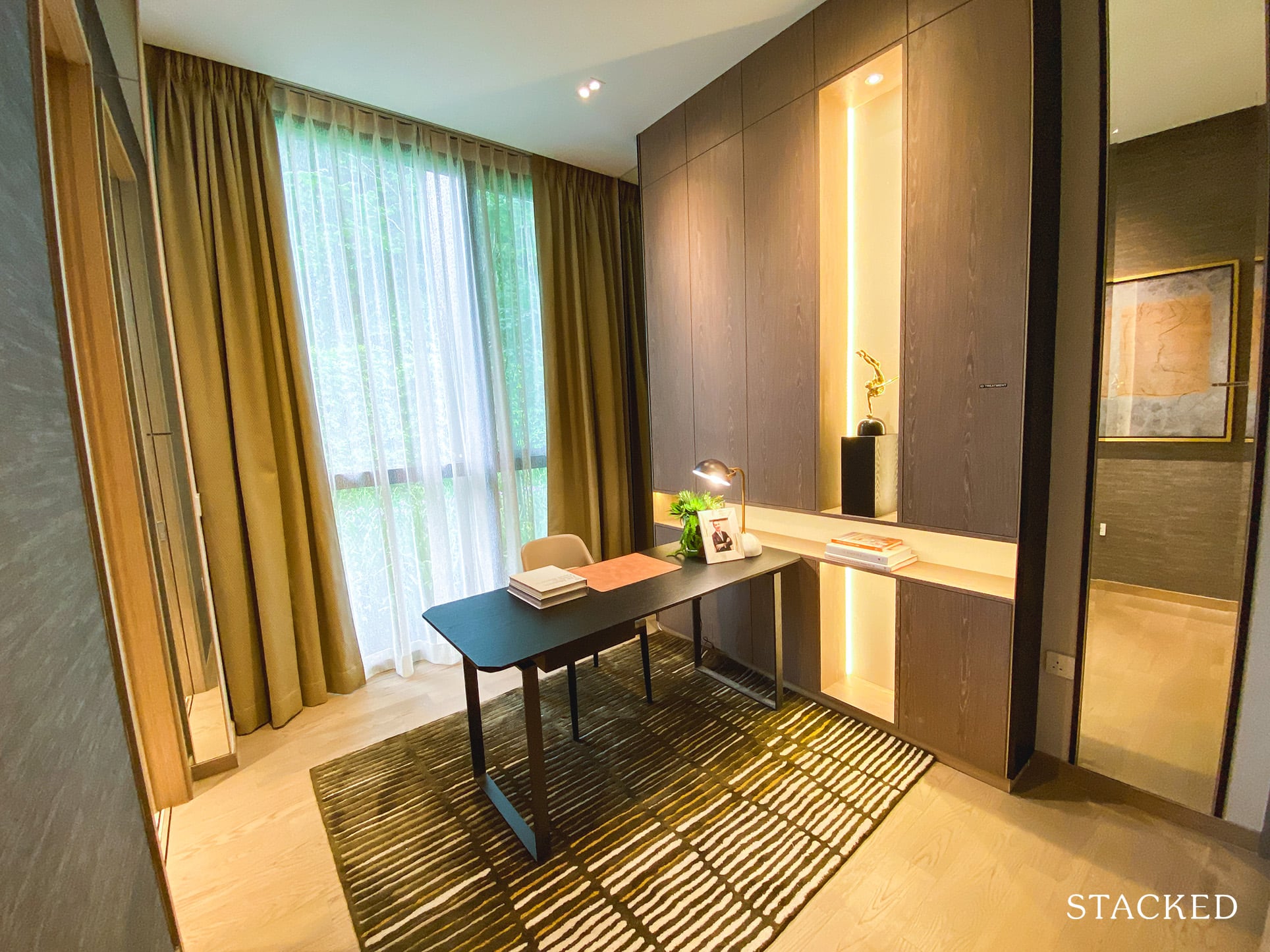 Given the similar nature of the second common bedroom, there isn't much to comment on here.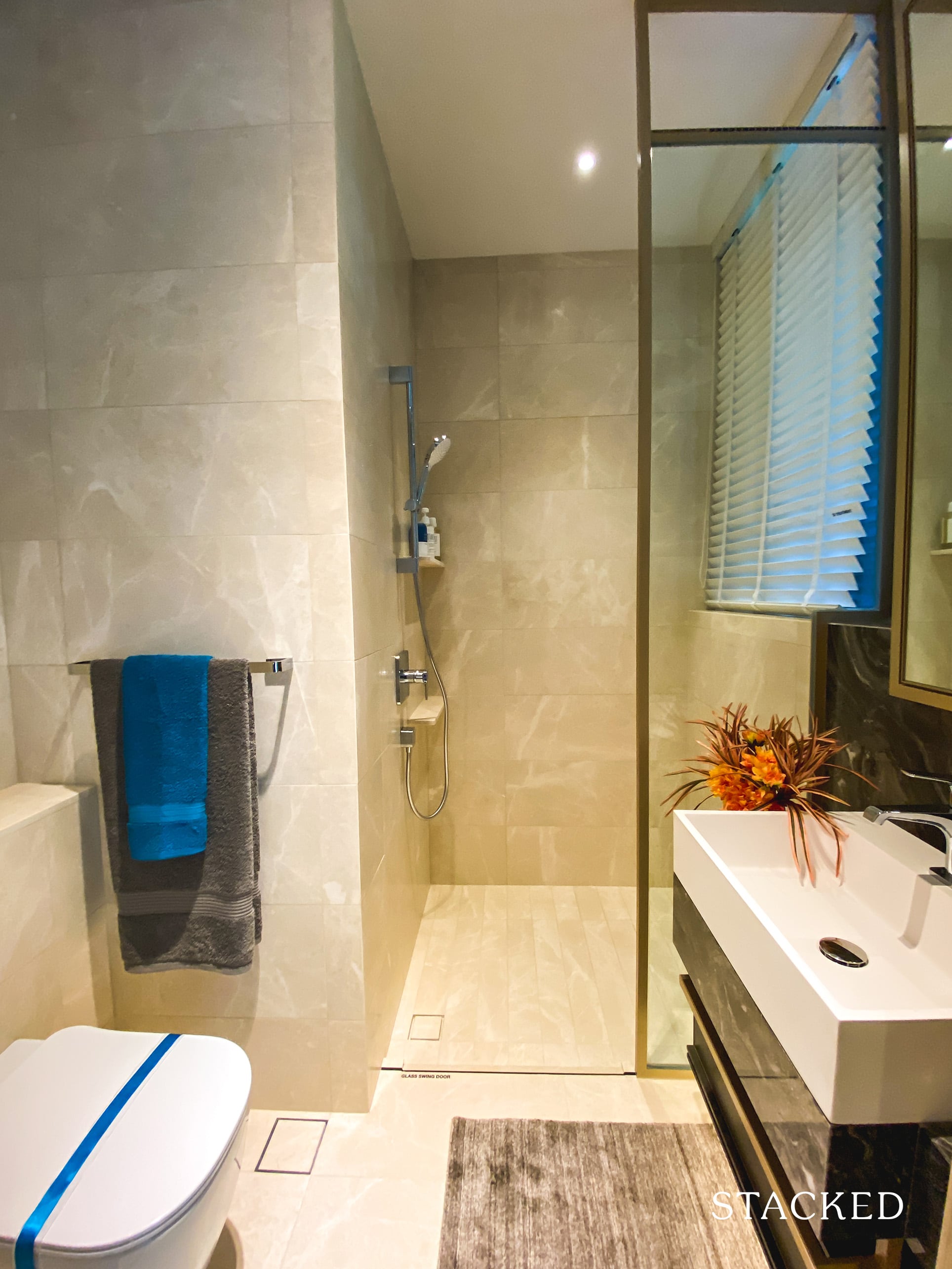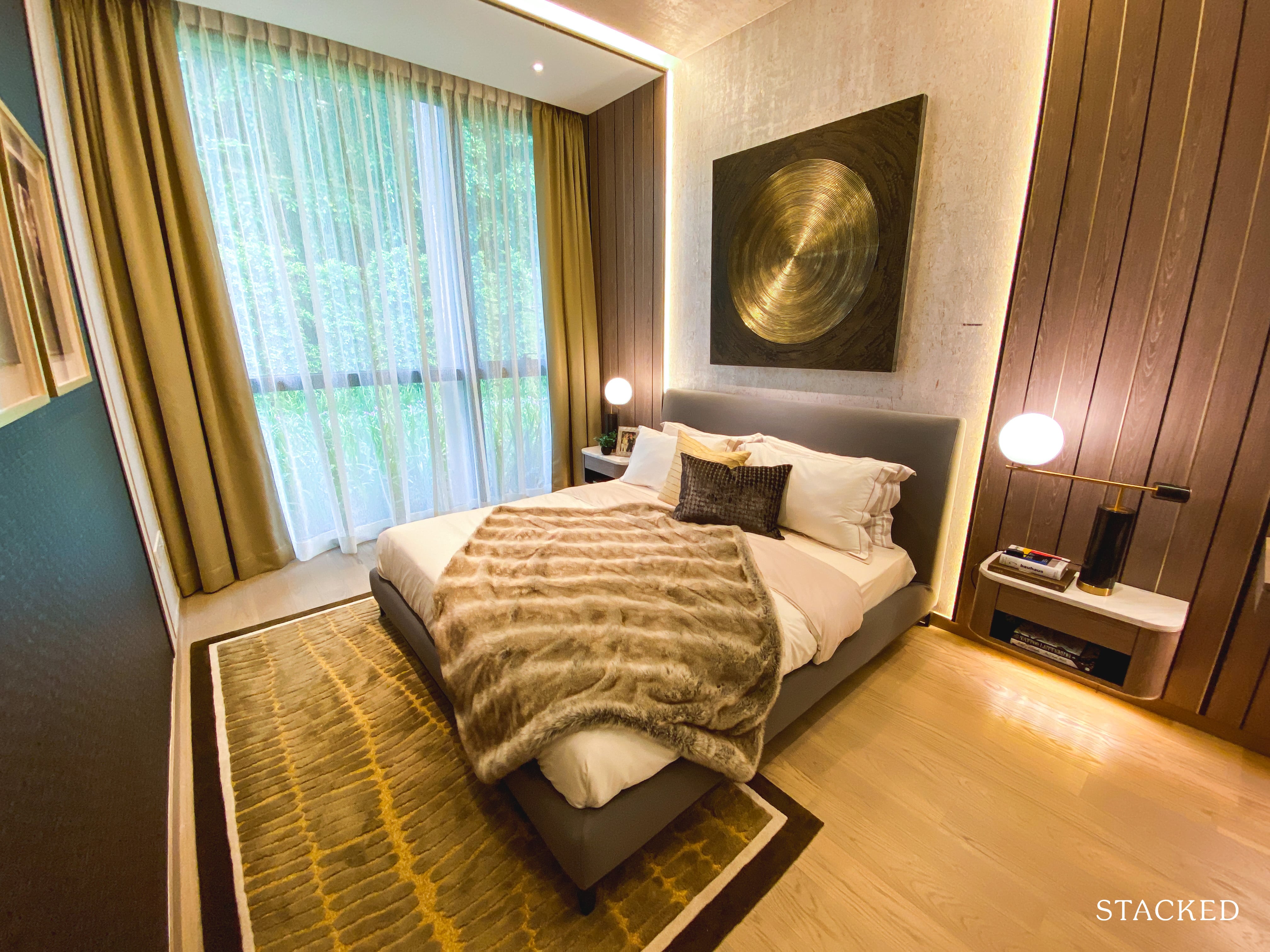 Finally, we get to the master bedroom. Like the 3 bedder, it offers an incredible amount of space.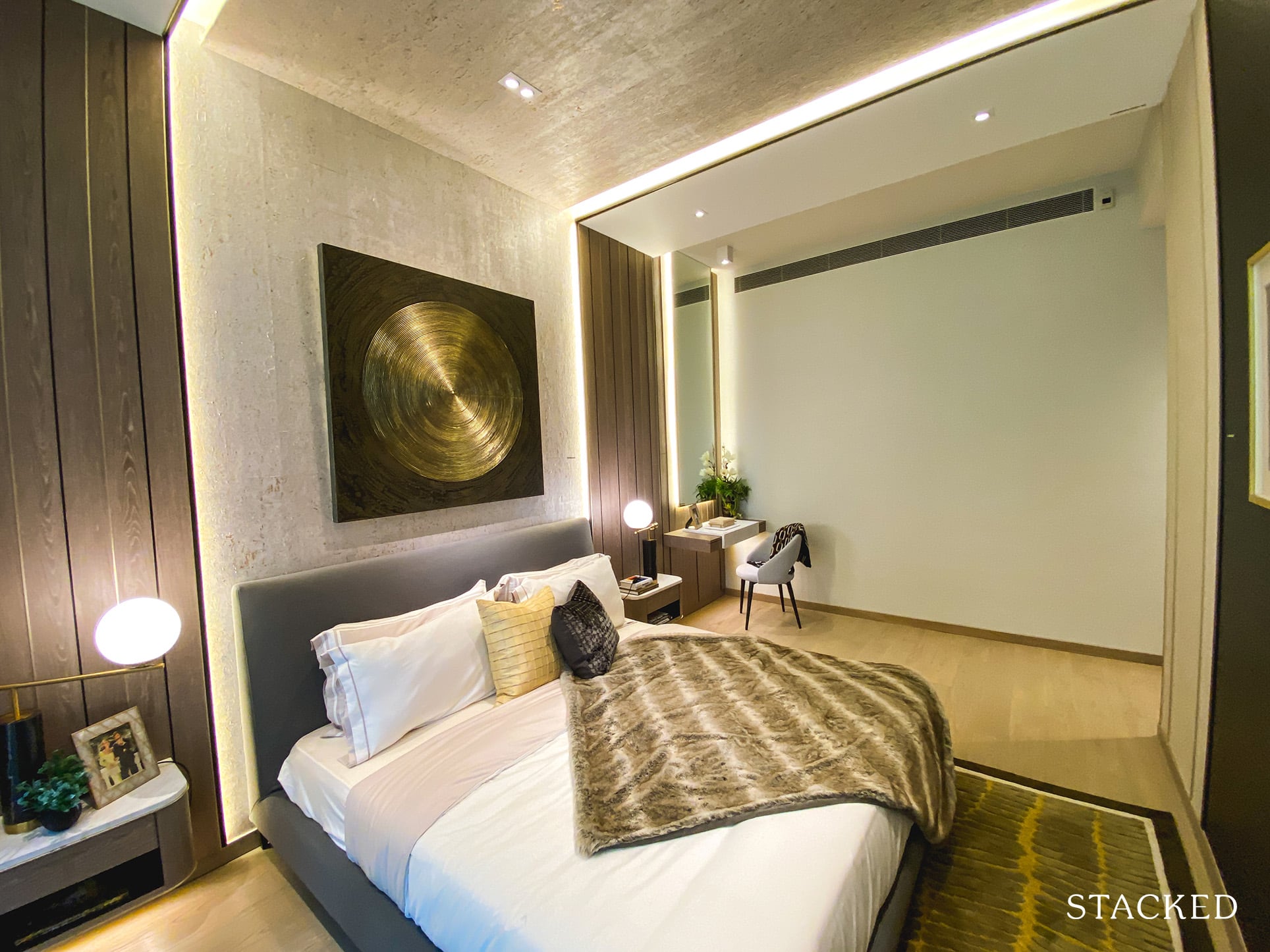 There's more than enough space for two side tables and a dresser.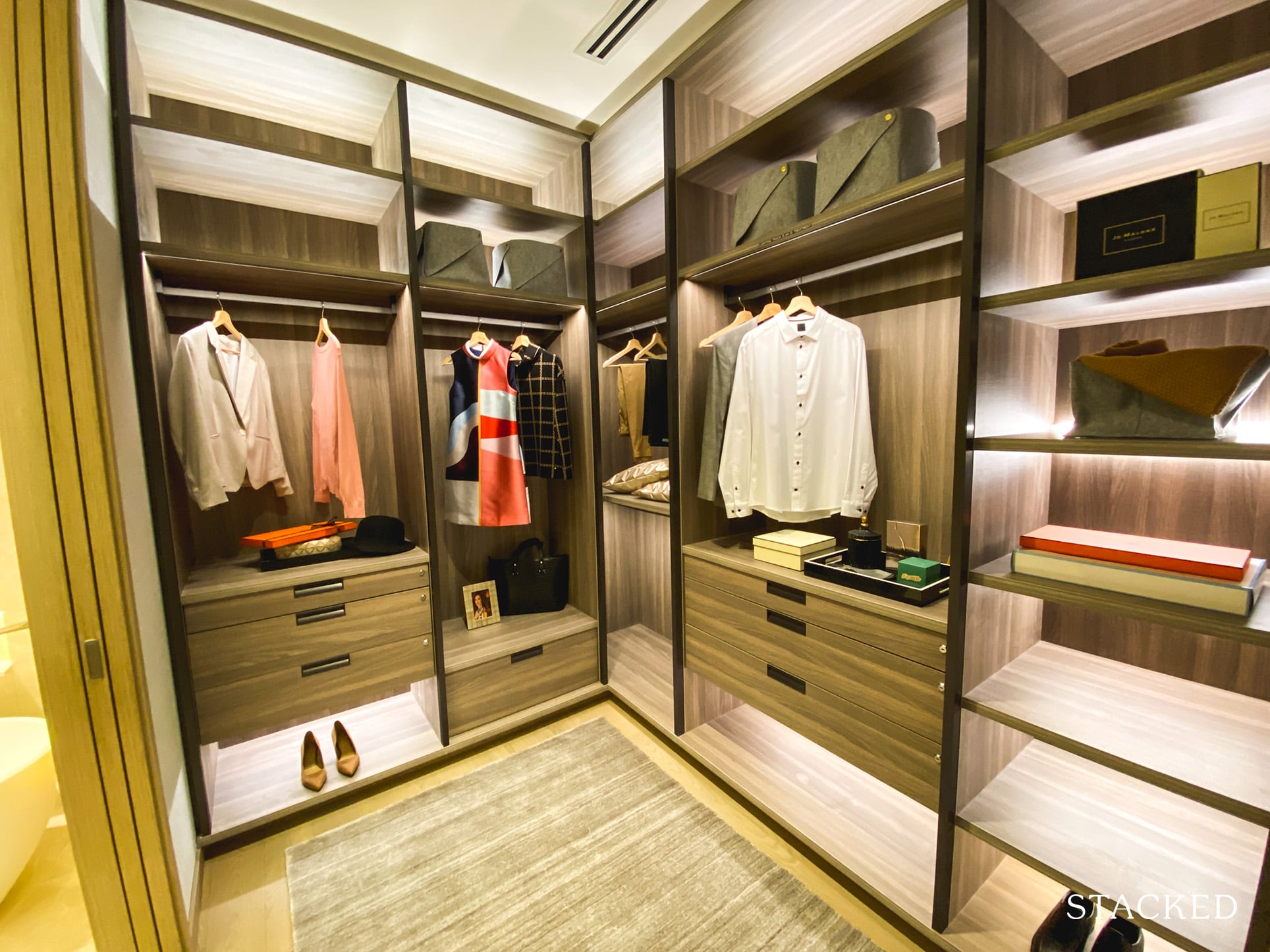 Upon entry to the master bedroom, you'll also find the walk-in wardrobe on the right.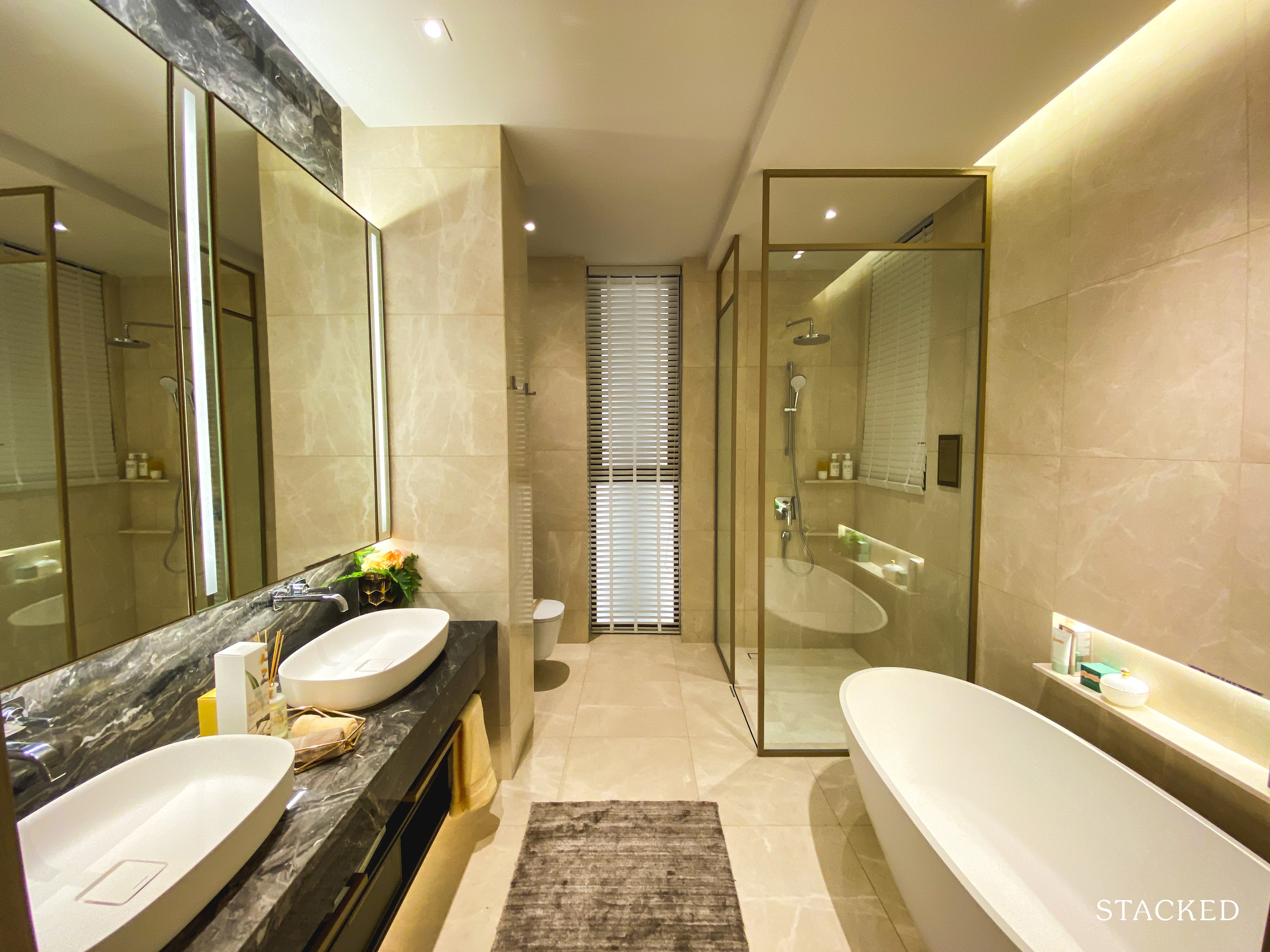 Again, the master bathroom is a work of art. You get his and hers sinks, a bathtub and standing shower.
The Avenir Location Review
If you are familiar with the River Valley locale, the Avenir sits on a top-notch spot along River Valley Close. It kind of straddles in between the Great World condos (Cosmopolitan, The Trillium, Centennia Suites) and those at Killiney (8 St Thomas, One Devonshire). This means it's not as convenient but enjoys a more enviable location in terms of space and privacy. This small part of River Valley is not as crowded as the rest – so it is more in line with the billing of the Avenir as a luxury condo.
That's not to say it's inconvenient at all, you'd just have to contend with a slightly longer walk – whether it is to the Robertson Quay area or to Somerset.
Those with young children will probably see the fact that River Valley Primary School is right next door. On the other hand, others might find it a nuisance as primary schools tend to get quite noisy in the mornings.
Public Transport

| | | |
| --- | --- | --- |
| Bus Station | Buses Serviced | Distance From Condo (& Est. Walking Time) |
| 'The Morningside' | 32, 54, 195, NR6, NR7, 139 | 350m, 5-min walk |
| '8 St Thomas' | 139, 54, 32, 195 | 300m, 4-min walk |
Closest MRT: Future Great World MRT – 470m, 5-min walk

At the present moment, the closest MRT station would be Somerset – but as mentioned it is still quite a walk away. MRT access will improve once the Great World MRT station is completed (slated 2021). It's a short and scenic walk, as halfway through the path you'll be cutting through Kim Seng Park.
Private Transport

| | |
| --- | --- |
| Key Destinations | Distance From Condo (& Est. Peak Hour Drive Time) |
| CBD (Raffles Place) | 2.6km, 10-min drive |
| Orchard Road | 2.4km, 10-min drive |
| Suntec City | 1.3km, 5-min drive |
| Changi Airport | 18.6km, 27-min drive |
| Tuas Port (By 2040) | 39.8km, 1hr drive |
| Paya Lebar Quarters/Airbase (By 2030) | 10.3km, 20-min drive |
| Mediapolis (and surroundings) | 9.8km, 21-min drive |
| Mapletree Business City | 11.8km, 25-min drive |
| Tuas Checkpoint | 55.5km, 1hr 10min drive |
| Woodlands Checkpoint | 35.4km, 1hr 10min drive |
| Jurong Cluster (JCube) | 17.4km, 30-min drive |
| Woodlands Cluster (Causeway Point) | 25.3km, 38-min drive |
| HarbourFront Cluster (Vivo City) | 9.2km, 18-min drive |
| Punggol Cluster (Waterway Point) | 18.8km, 25-min drive |
*Note that Drive Times are calculated during Peak Hours

For those who drive, the location of the Avenir is one of its strongest suits. River Valley Road is a major one, which connects to many other locations of interest. River Valley Close is especially connected, allowing you to get to River Valley Road, Havelock Road, and the CTE.
As it is located just off River Valley Close, you'll enjoy the benefits of convenience as well as the absence of road noise. Also because this small enclave is still relatively sparsely laid out (in terms of developments), you wouldn't encounter much traffic issues here.
Groceries

| | |
| --- | --- |
| Name of Grocery Shop | Distance From Condo (& Est. Walk Time) |
| NTUC Fairprice (Orchard Grand Court) | 400m, 5-min walk |
| Cold Storage Great World City | 400m, 5-min walk |
| Cold Storage UE Square | 1km, 12-min walk |
Schools

| | |
| --- | --- |
| Educational Tier | Number of Institutes |
| Preschool (within 1km walk) | 2 |
| Primary (3km-drive) | 4 |
| Secondary (3km-drive) | 1 |
| International School (3km-drive) | 5 |
| Junior College (5km-drive) | 0 |
| University (5km-drive) | > 3 |
| Polytechnic (10km-drive) | 0 |
Additional Pointers
One of the biggest reasons why anyone would consider living in this area is because of the lifestyle options that you have available to you. Robertson Quay is really just a short stroll away to weekend brunches or evening drinks by the river.
While not directly on the waterfront itself, not many places in Singapore can boast of such close proximity either.
If shopping is more of your thing, the whole Somerset stretch is also not too far away. With malls like 31 @ Somerset and Orchard Central, there is no need to walk too far to the older malls like Takashimaya and Paragon.
Green corridor at Orchard
A common complaint of the River Valley area is the mass influx of buildings and the concrete-ness of it all. To be fair, Fort Canning Park isn't too far away to enjoy some greenery – and it's set for further revitalisation in the future with a planned new play area for children that includes trampolines and climbing structures.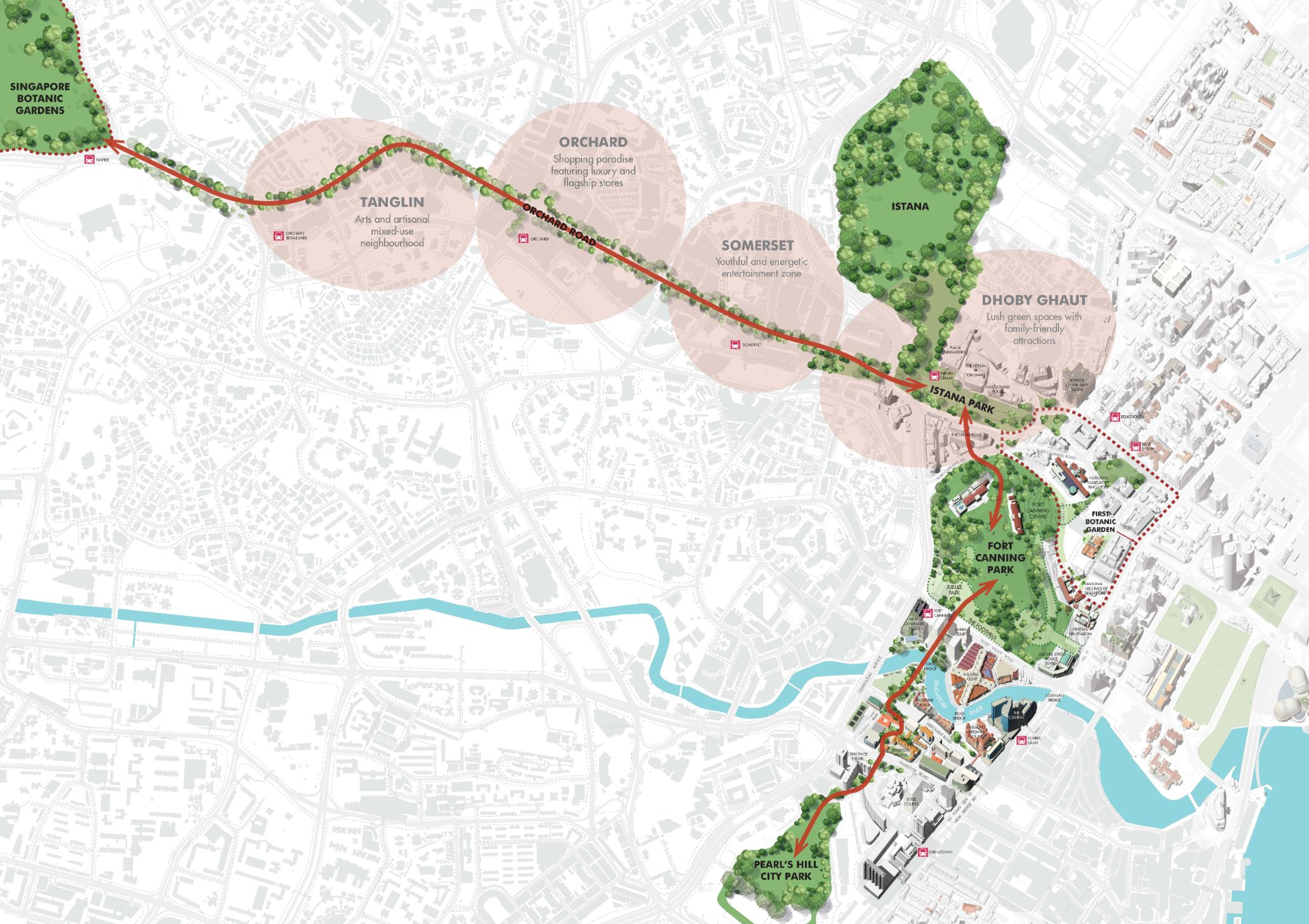 However, the more exciting news really lies in the planned 6 km green corridor of Orchard Road. The current Istana Park will be redesigned to combine with Dhoby Ghaut Green and Penang Road Open Space. This new space could then be used for pop-up stores and festivals – which will really bring about a new garden-like experience to the area.
Proximity to CBD and Bugis
With all the talk on District 7 and developments in the CBD, you'd be forgiven for thinking that those are the pick of the bunch to be living in. Don't get me wrong, they are great if you like the city lifestyle and to be in the thick of the action always. But I think we can all agree that they aren't the most conducive places to be bringing up a family.
So if you are looking for an upmarket residential area, you can't go wrong with staying in River Valley for that. Besides, with so many ways to drive into the CBD, you are near yet far away enough to enjoy some peace and quiet.
The Avenir Development Site
Facilities in The Avenir

| | | |
| --- | --- | --- |
| 50M Lap pool | Security | Garden |
| Reflecting Pool | Putting Green | Gym |
| 4 Reading Patios | Lounge | Bicycle Park |
| Clubhouse | Changing Room | Concierge |
| Grand Lawn | Gourmet Salon | Barbeque Pit |
| 50M Lap Pool | Sun Deck | Wading Pool |
| Social Corner | Children's Playground | Tennis Court |
| Spa Pavilion | Jacuzzi | Yoga Deck |
| Outdoor Fitness Corner | Urban Farm | Sky Lounge |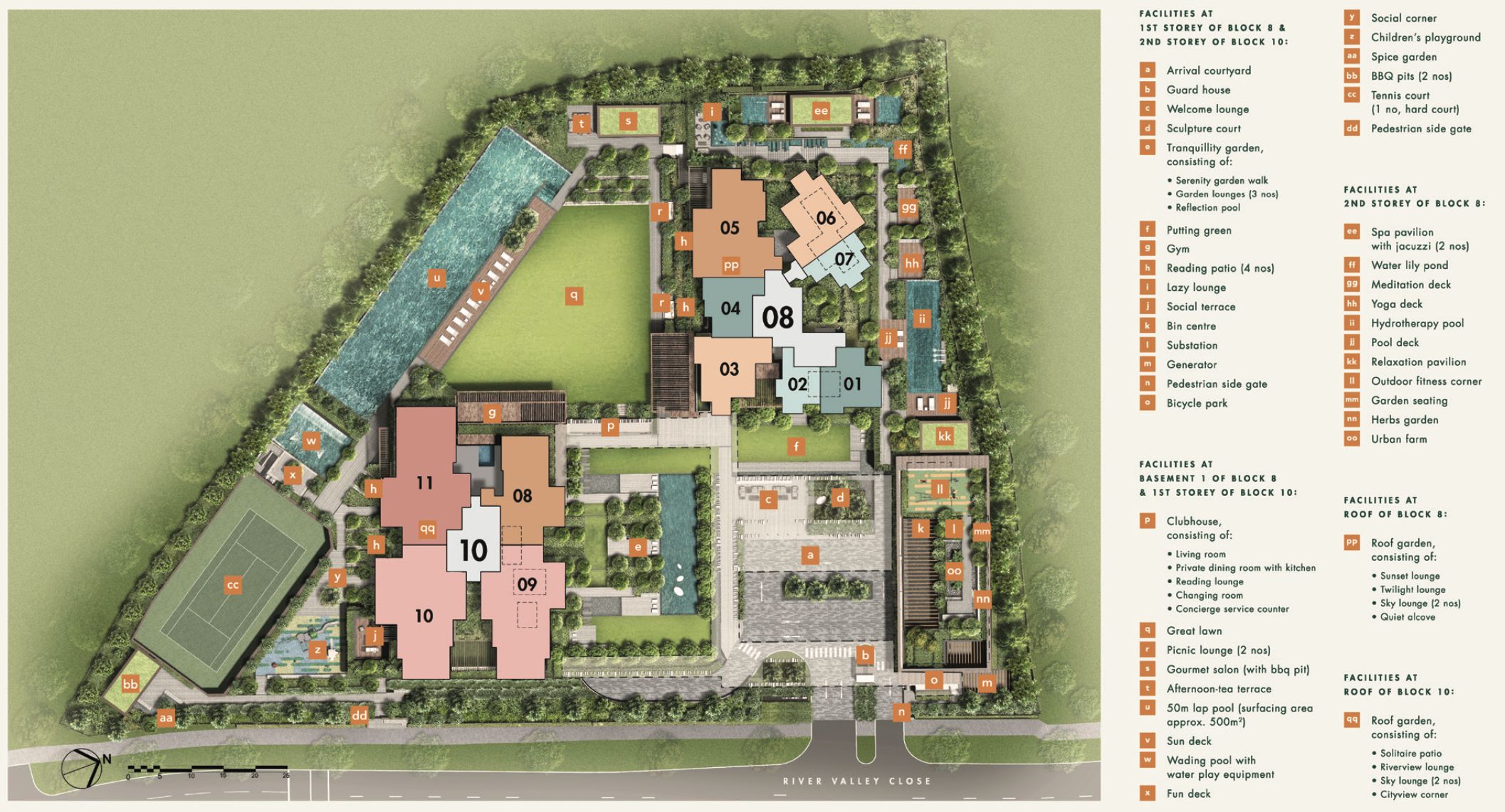 At 129,648 square feet, the Avenir sits on a rather odd-shaped piece of land. There's only one entrance to the development via River Valley Close. But as mentioned earlier, that isn't a problem at all given how connected it is.
The existing plot has a sloping nature to it, so GuocoLand has decided to create a stepped architecture – think cantilevered spaces and terraced levels. It makes for a more varied landscape, which will be interesting to see once built.
The blocks are also planned carefully such that you don't really face the issue of facing your neighbours much. While you can never guarantee with regards to land in Singapore, as long as the school remains you will be enjoying the unblocked views towards the Havelock area.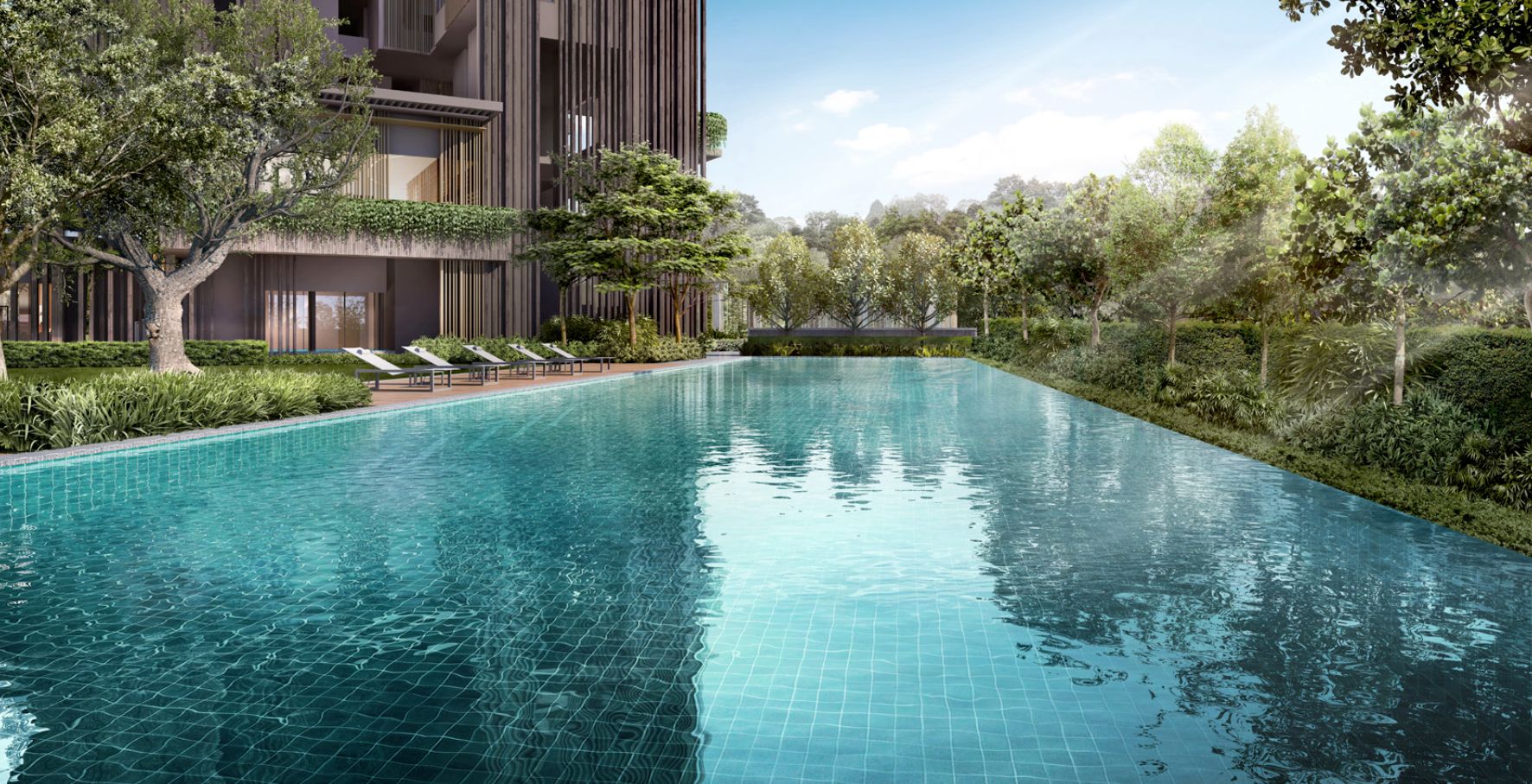 In terms of facilities, there is the main 50m lap pool, and a small hydrotherapy pool located further away. Some other standout features include the roof gardens located on the top of both blocks. These will be identical save for the views that you'll be treated to at the top.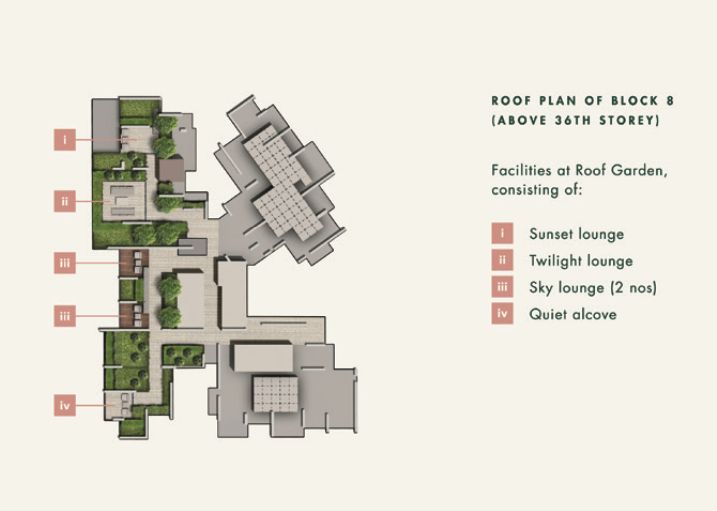 Along with the concept of luxury, there is also a concierge team on hand to cater to any needs that you might have. Some examples include – arranging for transport, laundry, housekeeping, and catering for parties. Of course, the arrangements will be part of the service rendered, but any other costs will be on you to bear.
A downside for me would be the number of carpark lots. At 376 that's basically a 1-1 ratio. Granted, almost 40% of the units are the 1 and 2 bedroom which are usually expected to be tenanted out. But for a luxury development, I would expect more in this case.
Unit Mix
| | | |
| --- | --- | --- |
| Unit Type | No. Of Units | Size of Units (sqft) |
| 1-Bedroom | 69 | 527 – 538 sqft |
| 2-Bedroom | 69 | 807 – 828 sqft |
| 3-Bedroom | 69 | 1,141 sqft |
| 3-Bedroom (with Private Lift) | 68 | 1,528 – 1,572 sqft |
| 4-Bedroom (with Private Lift) | 67 | 2,056 – 2,067 sqft |
| 4-Bedroom + Family (with Private Lift) | 34 | 2,411 sqft |
In terms of the unit mix, the Avenir does have the usual range of 1 – 4 bedroom units.
Given the luxury-focus, you'll find that most of the units are bigger than the average new launch project – save for the 1 bedroom units.
If you are looking for an own-stay unit for family, the 3 and 4 bedrooms will naturally be the pick of the bunch.
Prices for The Avenir
Price Breakdown (1st Property)
1-Bedroom
2-Bedroom
3-Bedroom
3-Bedroom + Private Lift
4-Bedroom + Private Lift
4-Bedroom + Family
Price
$1,878,228
$2,431,491
$3,577,035
$4,837,648
$7,035,632
$8,392,691
25% Down Payment
$469,557
$607,873
$894,259
$1,209,412
$1,758,908
$2,098,173
Additional Costs
Buyer Stamp Duty
$59,729
$81,860
$127,681
$178,106
$266,025
$320,308
Legal Fees
$2,500
$2,500
$2,500
$2,500
$2,500
$2,500
Valuation Fees
$300
$300
$300
$300
$300
$300
Stamping Fees
$500
$500
$500
$500
$500
$500
Total Price
$1,941,257
$2,516,651
$3,708,016
$5,019,054
$7,304,957
$8,716,299
Initial Investment Amount
$532,586
$693,032
$1,025,240
$1,390,818
$2,028,233
$2,421,780
Return on Investment
Expected Rental Price
$3,689
$5,649
$7,987
$10,696
$14,392
$16,877
Rental Yield
2.28%
2.69%
2.58%
2.56%
2.36%
2.32%
Price (2nd Property)
1-Bedroom
2-Bedroom
3-Bedroom
3-Bedroom + Private Lift
4-Bedroom + Private Lift
4-Bedroom + Family
Cost Without ABSD
$1,941,257
$2,516,651
$3,708,016
$5,019,054
$7,304,957
$8,716,299
Plus: ABSD (12%)
$225,387
$291,779
$429,244
$580,518
$844,276
$1,007,123
Total Price After ABSD
$2,166,644
$2,808,430
$4,137,261
$5,599,572
$8,149,233
$9,723,422
Initial Investment Amount
$757,973
$984,811
$1,454,484
$1,971,336
$2,872,509
$3,428,903
Return on Investment
Expected Rental Price
$3,689
$5,649
$7,987
$10,696
$14,392
$16,877
Rental Yield
2.04%
2.41%
2.32%
2.29%
2.12%
2.08%
Best Stacks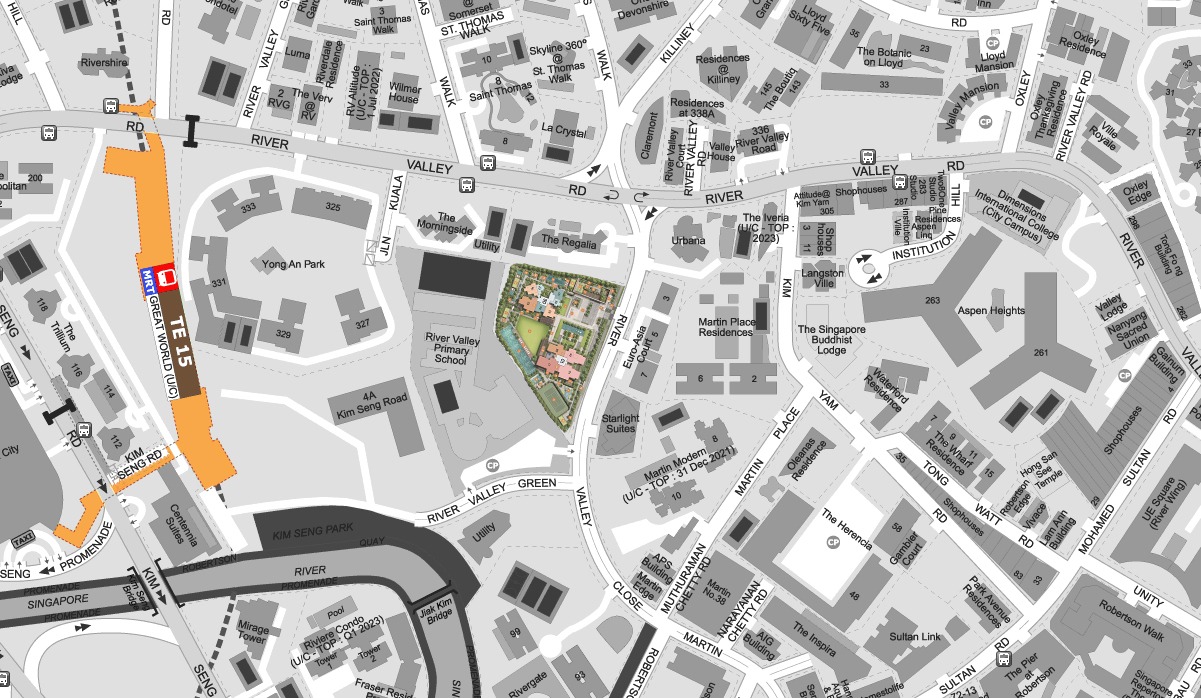 Some of the stacks worth highlighting are 3, 4, 5, and 11. These are the best mix of good views and quietness as they are located away from the main road and looking out beyond River Valley Primary School.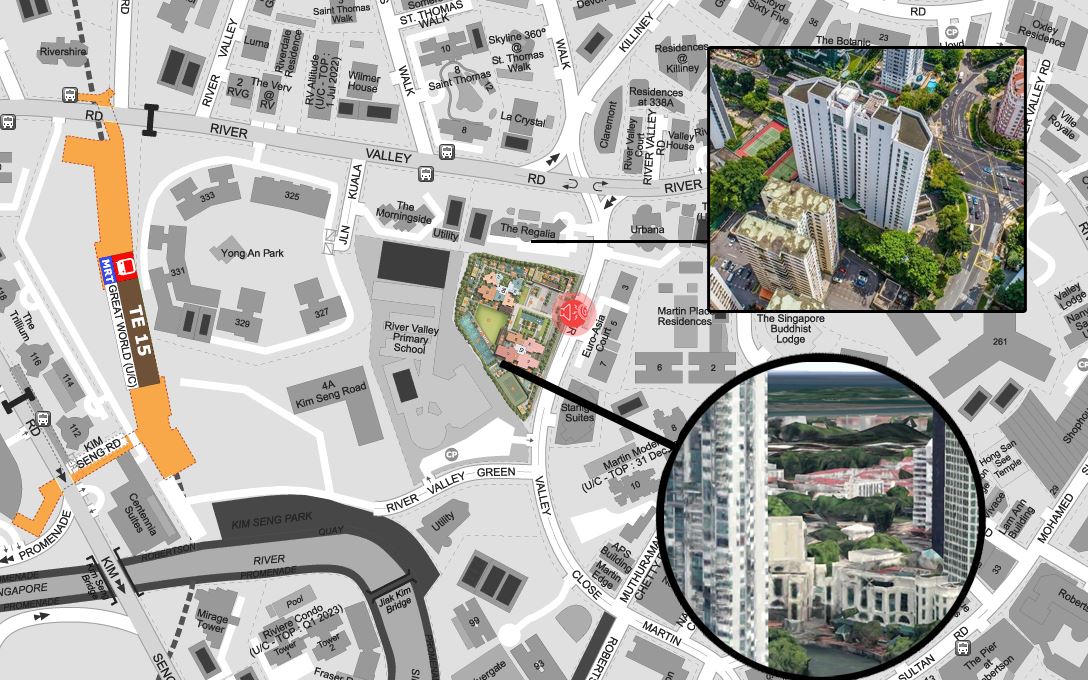 Just note that Stacks 8 and 9 will face The Regalia so your view will be hampered despite the quite wide distance between them.
Best stacks with the least afternoon sun
The afternoon sun comes in strongly all year round on both the south-west and north-west quadrant for blocks 11 and 5. Blocks 10, 8 and 6 get some afternoon sun in the period of October to February. The remaining blocks do not get any afternoon sun.
Price Review
No real surprises here – The Avenir is the most expensive on a PSF basis on this side of town. Couple that with its bigger than average unit sizes for the 3 and 4 bedrooms, and you can see how some units can cross the $8 million mark.
Those who managed to secure the Martin Modern at $2,000 PSF must be very pleased with themselves at this point – simply because if that more than $1,000 PSF price gap still remained it would be a no brainer at which one to go for. Unless you are real sticky for that freehold status, I would say that Martin Modern does offer a similar upscale lifestyle to the Avenir.
If you really want a waterfront property but require a new launch, there is always the option of the Riviere – but it's a tough ask at that price point too.
Alternatively, just looking at the price difference – Starlight Suites does seem to represent a good value just based on comparing by $PSF alone. But as you know, that isn't always the best way to judge the value of a property so you'll have to do the necessary due diligence to see if that would be a reasonable alternative. Based on surface value, however, it does seem viable if the location is your number one priority.
Appreciation Analysis
Let's take a look at District 9 as a whole to judge.
From 2010 to 2019, District 9 has appreciated by 17.21% – not mindblowing by any means, but it's a positive appreciation nonetheless.
But if we were to take the last 5 years into account, it drops to a lower 13.11%, from a $2,045 PSF average in January 2015 to $2,313 PSF average in December 2019.
You might be thinking those aren't fantastic figures. But you'll have to keep in mind District 9 is quite the mature district – it's as build up as they come already. With no big upgrades to the land or big redevelopments nearby – you usually would not expect a huge appreciation potential.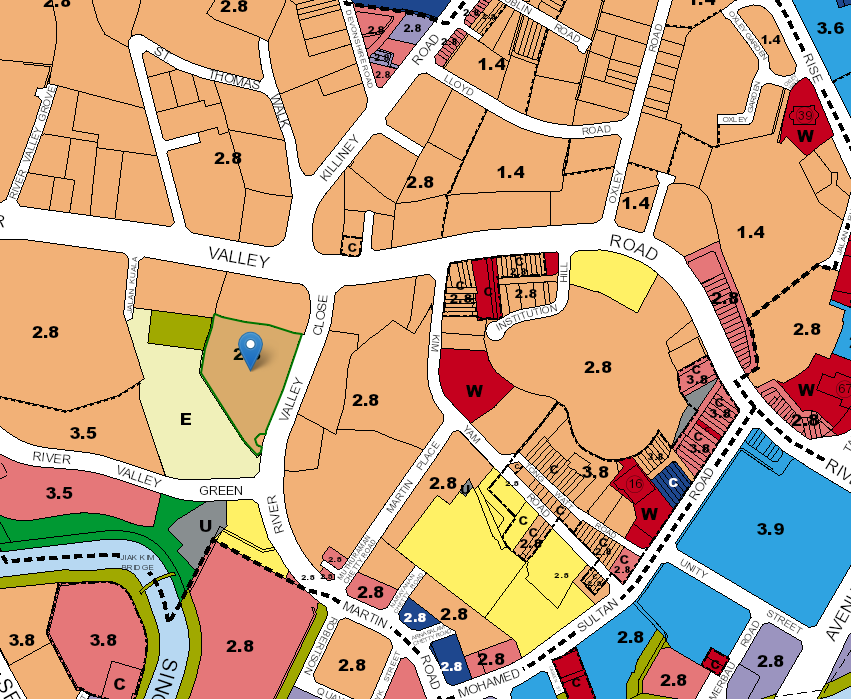 In terms of additional redevelopments to the land, just looking from the URA Masterplan 2019 there are a couple of plots that are up for future development. Keep in mind though, these aren't really major but they will still help.
The last point would be in 2021 when the Thomson-East Coast Line is realised at the Great World area. That would definitely go some way into pushing up prices around the immediate vicinity.
Our Take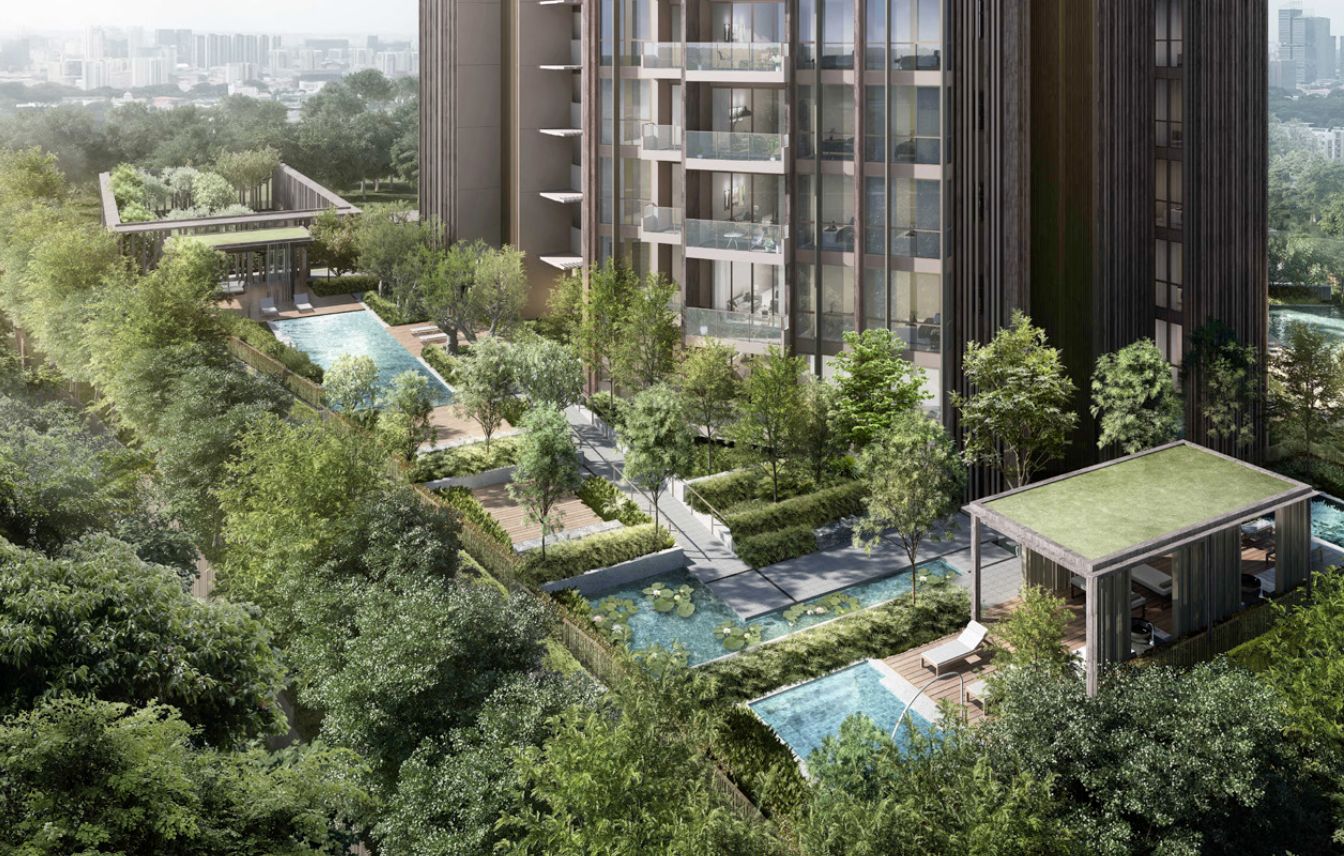 As far as a luxury development goes, you'd usually won't go wrong with a GuocoLand project.
They've locked in all the key ingredients of what would appeal to high-end buyers – the location, layouts, and facilities are mostly top-notch. If I had to level any criticism I would say that there is nothing truly jaw-dropping about it – it's a good project but it's safe. There really isn't an x-factor to it.
And that's really the issue for the Avenir, especially at some of the price quantums that they are asking for – buyers will have a lot of options to choose from in the vicinity. Unless you are planning to leave the property as a legacy for your children, it's also hard to ignore the lower price point of the Martin Modern.
But if you aren't on the lookout for immediate appreciation and ultimately are looking for a home for your family in a luxurious setting, the layout of the biggest 4 bedroom unit is a very appealing one – you just have to have very deep pockets to afford one.
What this means for you
You might like the Avenir if you:
• Are Looking for a Luxury Home For Family:

The 3 and 4 bedroom units have very practical yet luxurious layouts. For most families they will suit your lifestyle well.

• Work in Central Singapore:

It's extremely well connected in terms of roads to the CBD so getting to the office will be relatively easy.
You might not like the Avenir if you:
• Have a lot of cars:

At a 1-1 ratio for car park lots, bigger families with a car for each member of the household could face some constraints in this regard.

• Want ultimate convenience:

No doubt it's a very convenient location. But if you are the type that likes an MRT at your doorstep then this is not the development for you.
End of Review
Join our Telegram group for instant notifications
Join Now
Reuben