26
min read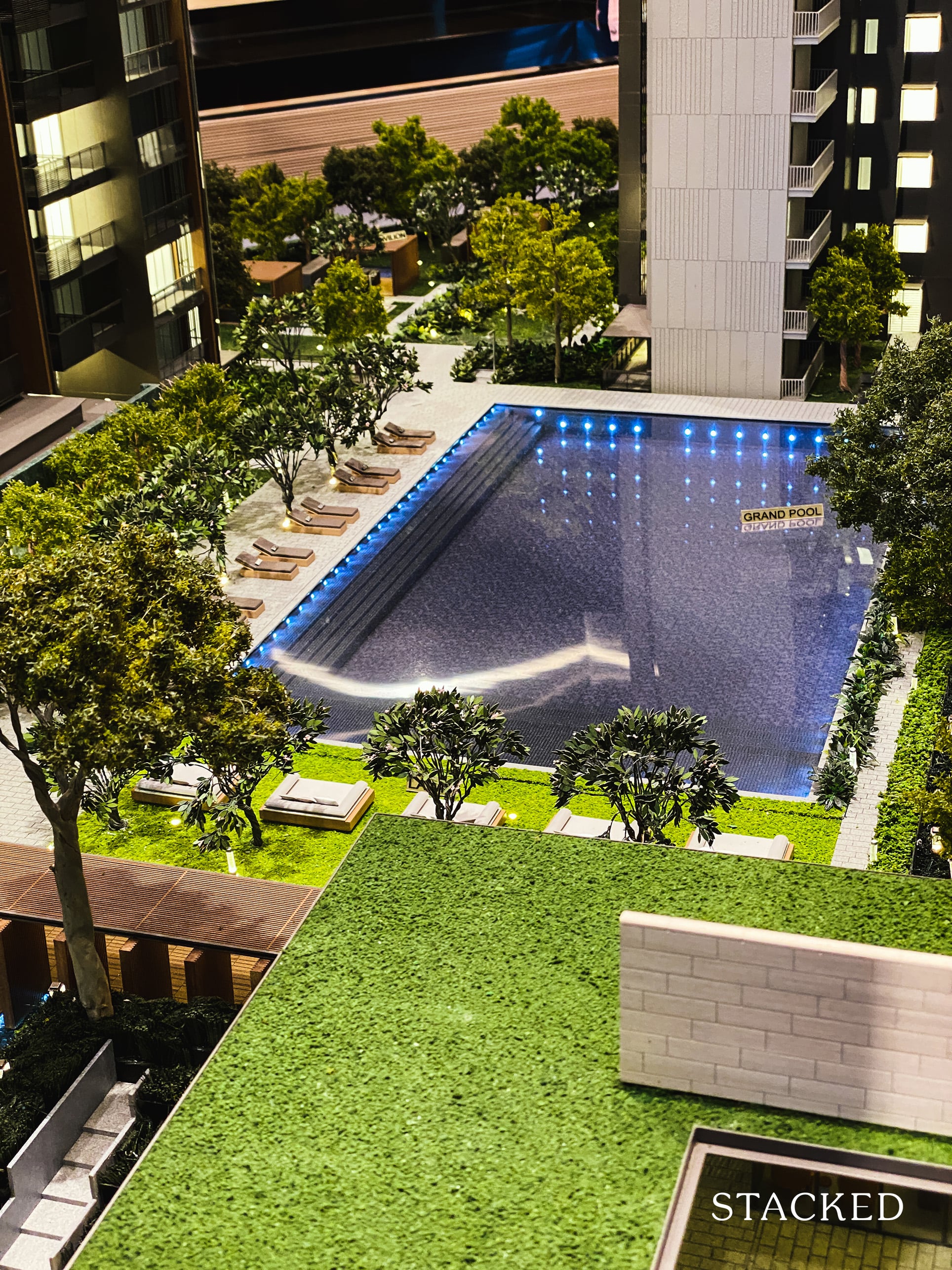 A perfect location for those who drive
Leedon Green is situated next to major roads and highways, making it very convenient for those with cars. Its stylish open grounds also sets it apart from other condos in Singapore. However, the Holland/Farrer road stretch is known to have traffic problems, and with a new development coming up here, it could only get worse.
| | | | |
| --- | --- | --- | --- |
| Project: | Leedon Green | District: | 10 |
| Address: | Leedon Heights | Tenure: | Freehold |
| Site Area: | 316,708 sqft | No. of Units: | 638 |
| Developer: | MCL Land and Yanlord Land | TOP: | 2023 |
I actually spent quite a substantial amount of time at Tulip Gardens (before it was torn down to make way for Leedon Green).

During that period, we were staying in one of the 3-storey mansionettes – and the development's biggest plus was really its incredible space offerings both in and outside the units.

In fact, with over 80% of the project dedicated to common free spaces and facilities, it was simply a joy to behold.

Now they say that no two developments are ever the same. And it couldn't be more true with the Tulip Gardens and Leedon Green saga.

Needless to say, Leedon Green is set to inspire with some pretty incredible perks of its own.

With 638 new units (ranging from 1-bedders to 4-bedders + Garden Villas) set to span across seven 12-storeyed blocks, it does seem however, that developers MCL & Yanlord Land are set to maximise space usage here.

What's way more appealing though, is the unique chic-like designs that its architects have implemented throughout the project.

Posh/exclusive-like colours and sleekly layered blocks will mean that the initial project model does vibe an entirely different aura from its predecessor.

A somewhat more 'up-town' feel with a stronger tinge of warmth and cosiness if you will.

What's more, when you consider that the area is surrounded mostly by GCB enclaves like Belmont/Leedon Park or Cornwall Gardens – you can be sure that future residents of the Leedon Green will be treated to incredible unspoilt views.

Without revealing too much of the others surprises, let's see what the showroom has installed for us!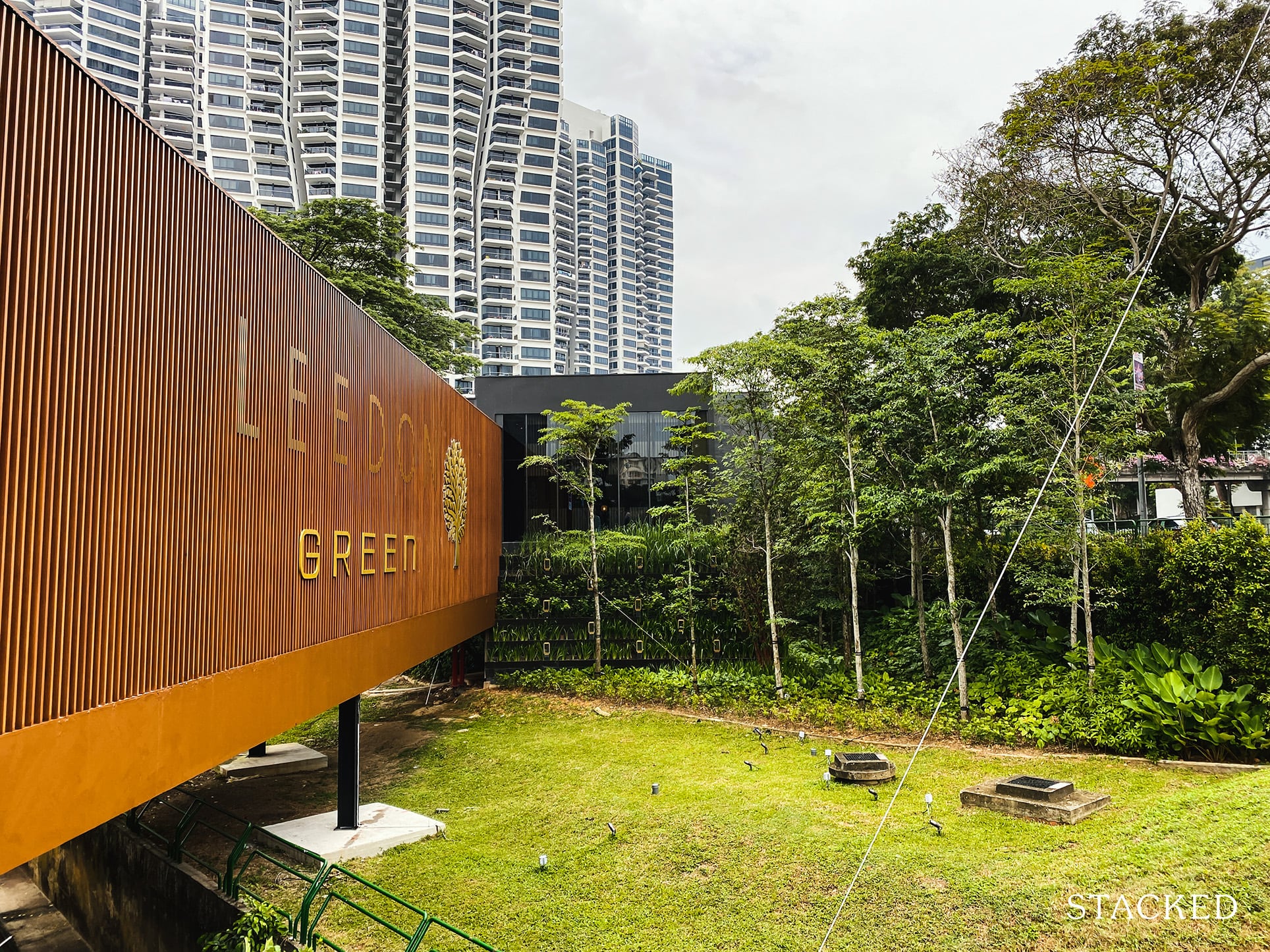 You can usually tell a great deal about a project by the effort that the developer has put into the showflat. In this case, after spending more than $900 million on the en bloc of Tulip Garden, you can be sure that priority will go to ensuring success of the project.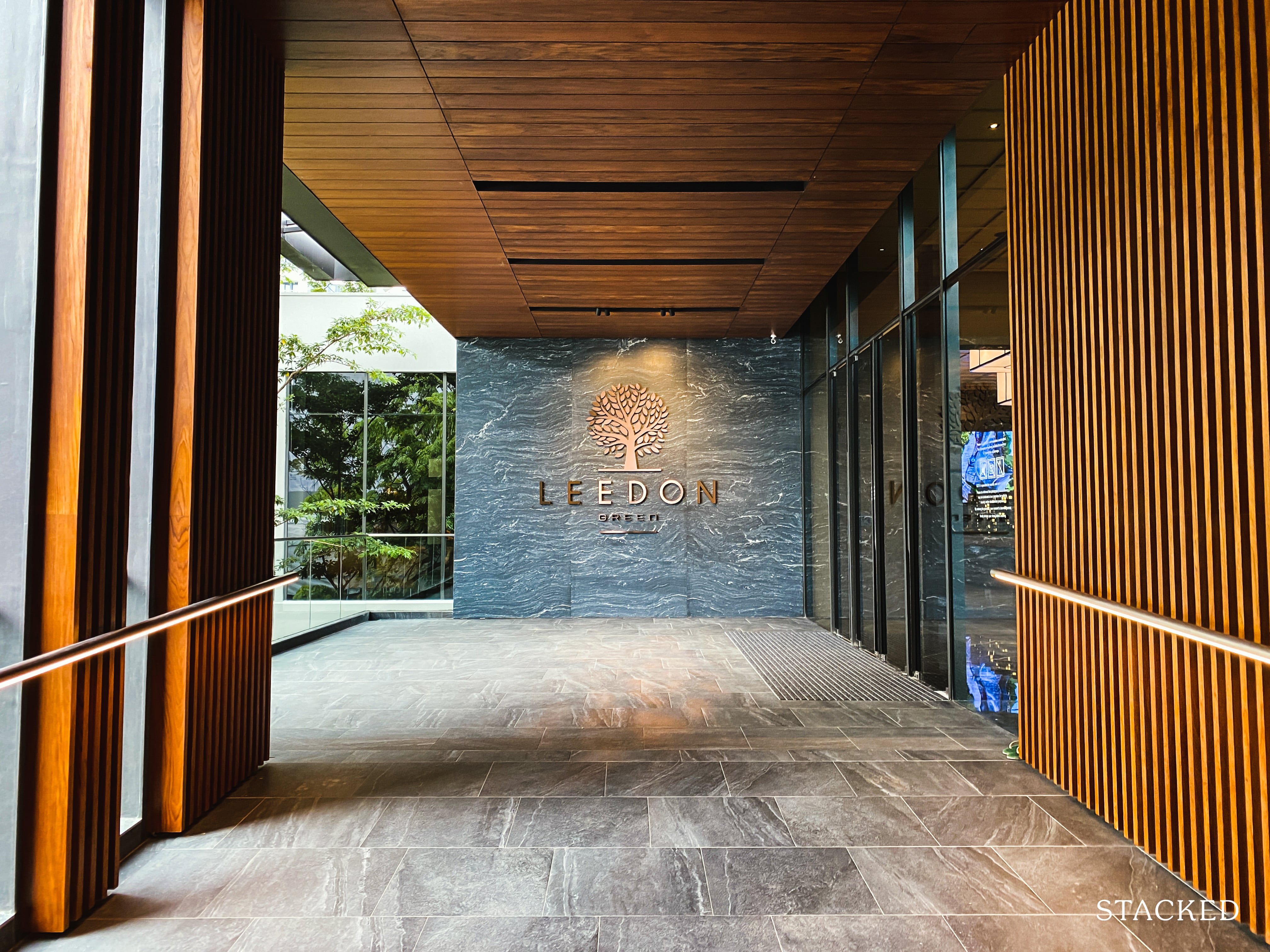 With that, the showflat has been done up to a high standard. The walkway to the entrance is a long one and gives off a good impression.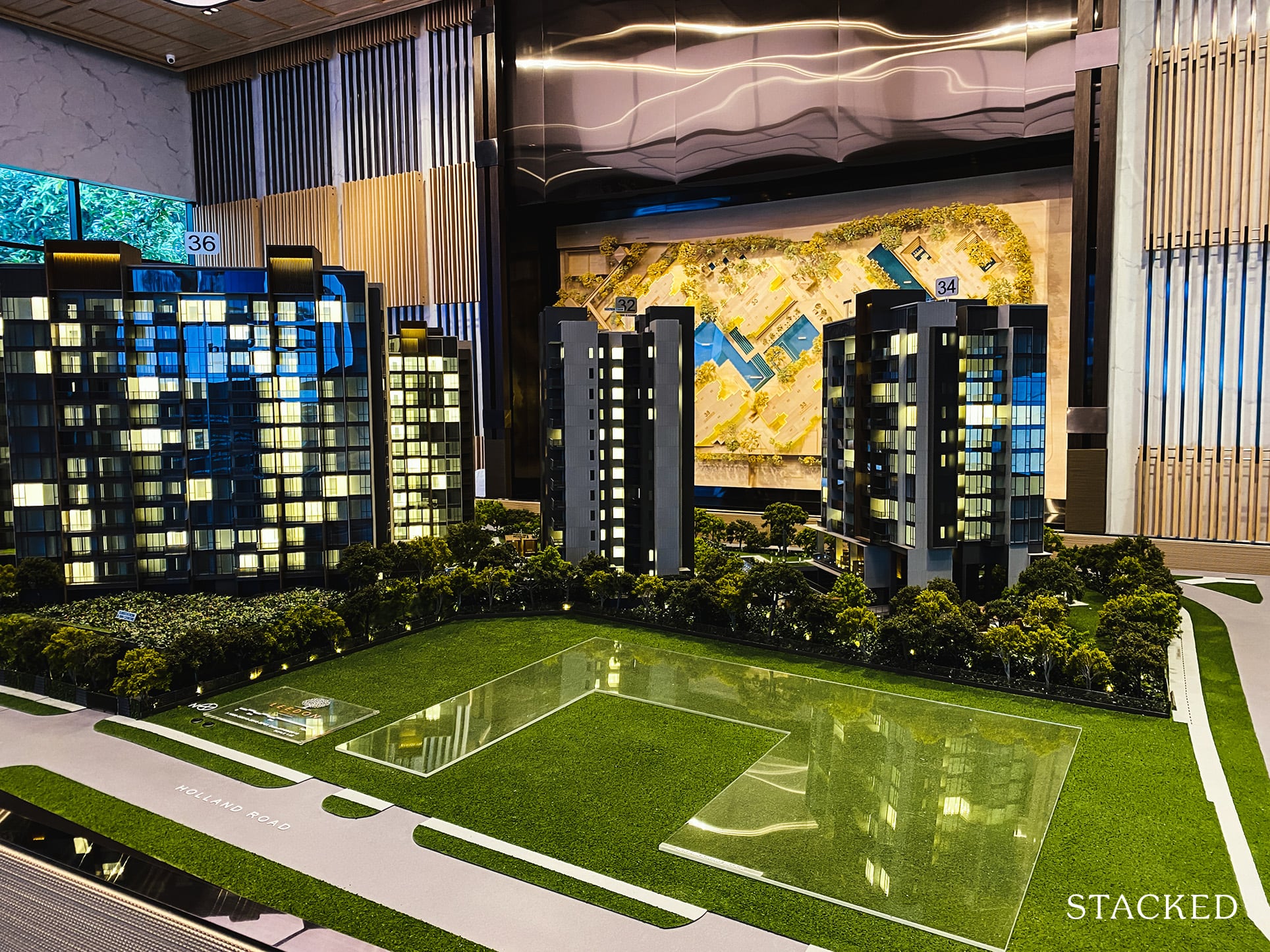 One might assume that the positioning of the project in a prime location together with experienced developers like MCL (the jury is still out on Yanlord) would make for an immediately attractive endeavor.
But this isn't always the case. Getting the right unit mixes, the right pricing, and the right offerings can be difficult.
Not to mention, it has two strong resale competitors in D'Leedon and Leedon Residence.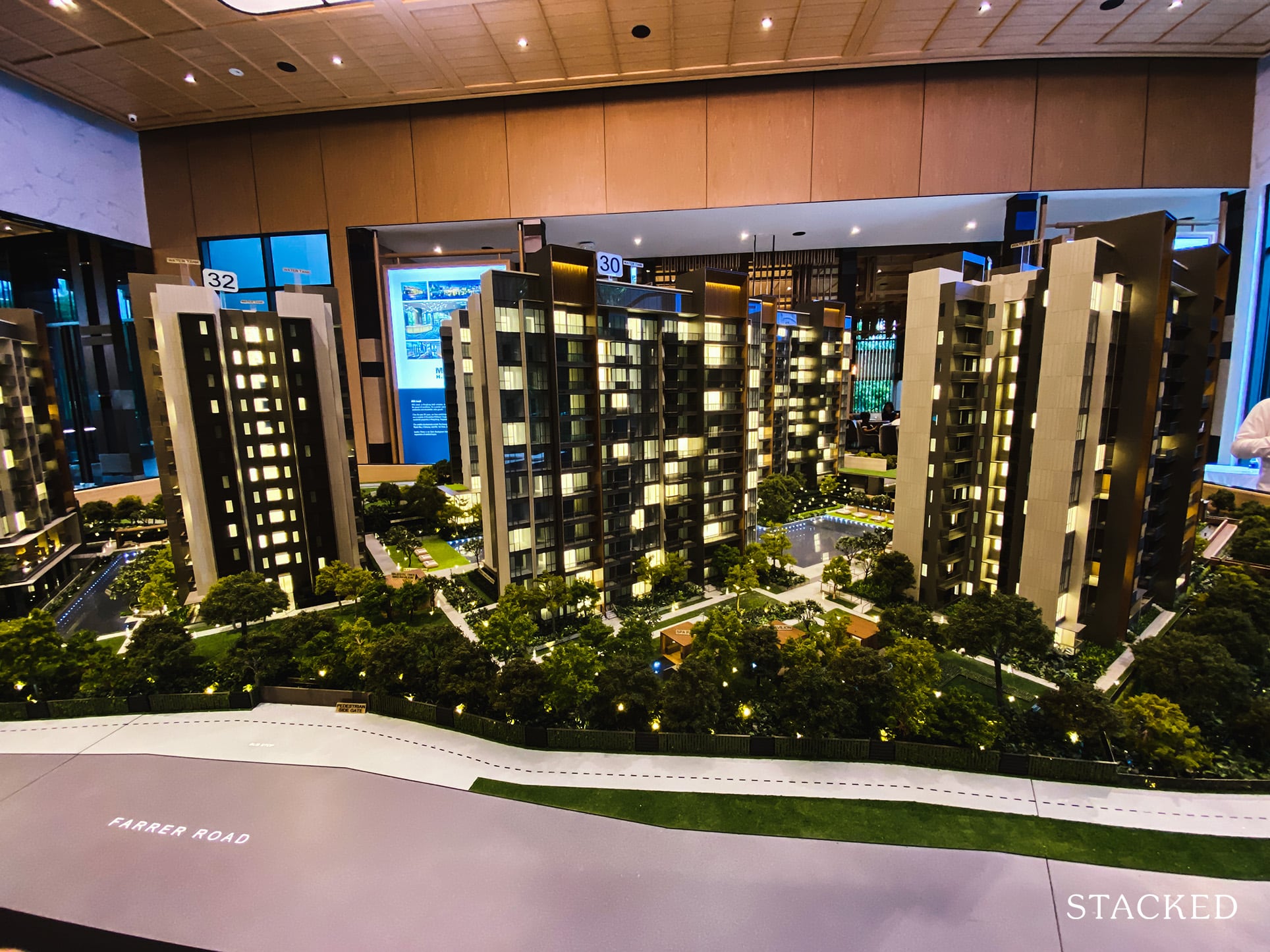 Based on first impressions, they have gotten the look mostly right. If I had to be critical, it scores low on originality given its similarities in design to Leedon Residence. Still, Leedon Residence does have one of the more outstanding designs in my book so fair enough.
It's quite clear that Leedon Green falls into the middle category between the 3 condos – it's not as upscale as Leedon Residence, but it's definitely more luxurious as compared to D'Leedon with much fewer units to boot.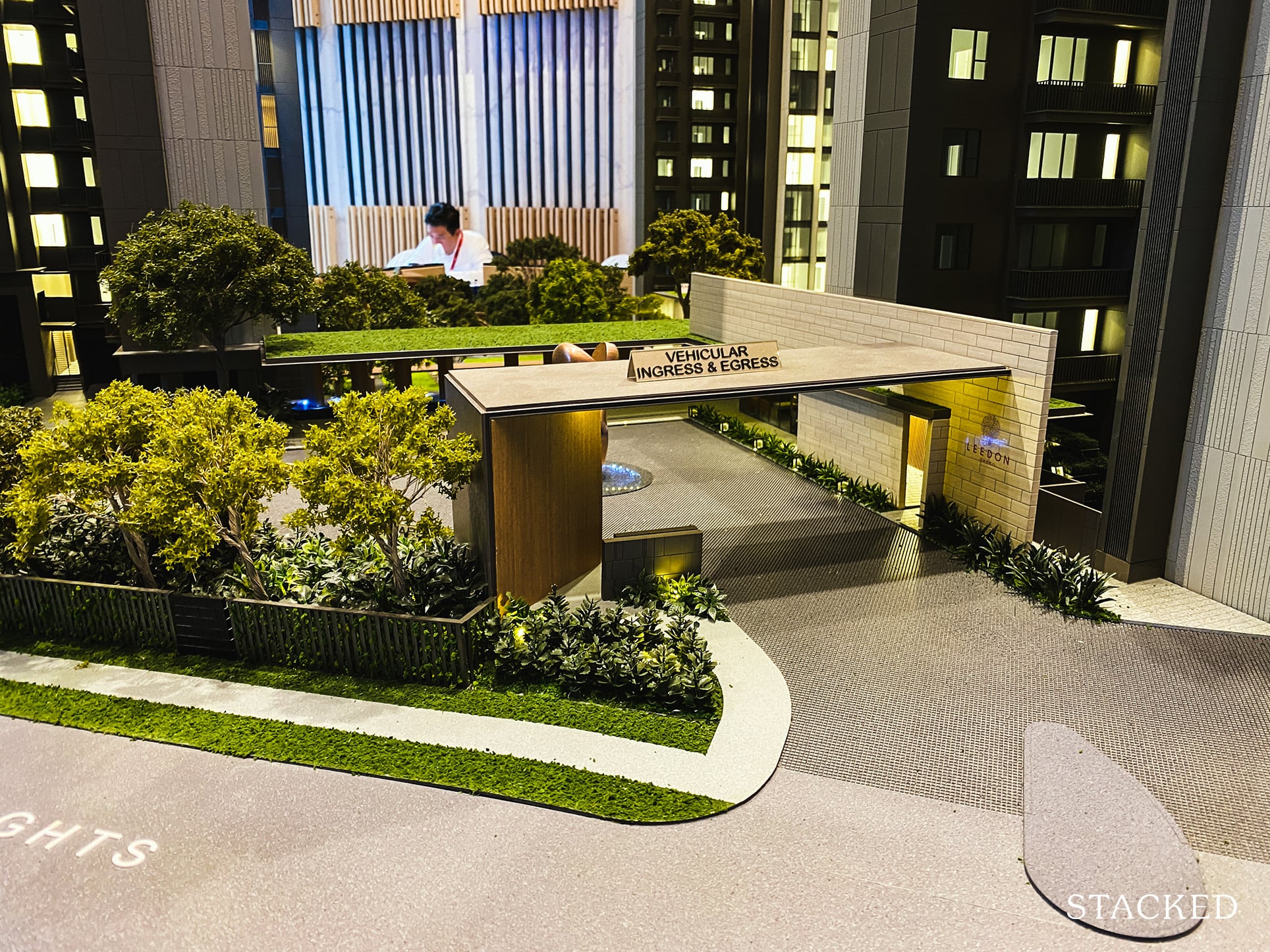 The main entrance of Leedon Green is located along Leedon Heights, which could pose a problem during peak hours as it is shared with Leedon Residence as well.
Thankfully, there is another entrance along Holland Road that will help to ease traffic. Either way, they are both much better located than the original Tulip Garden entrance along Farrer Road (it took ages to get out of there).
A definite smart move in my opinion.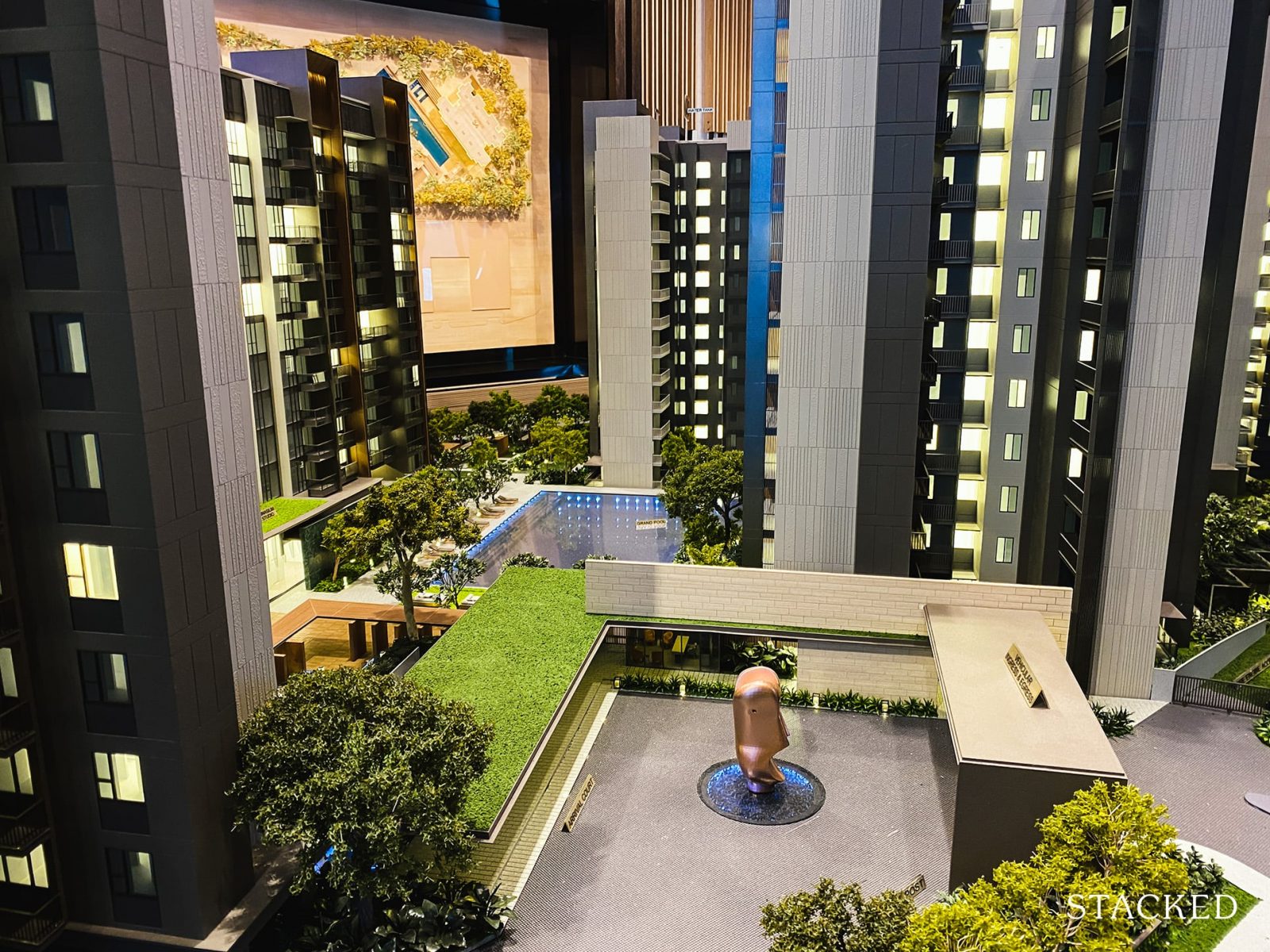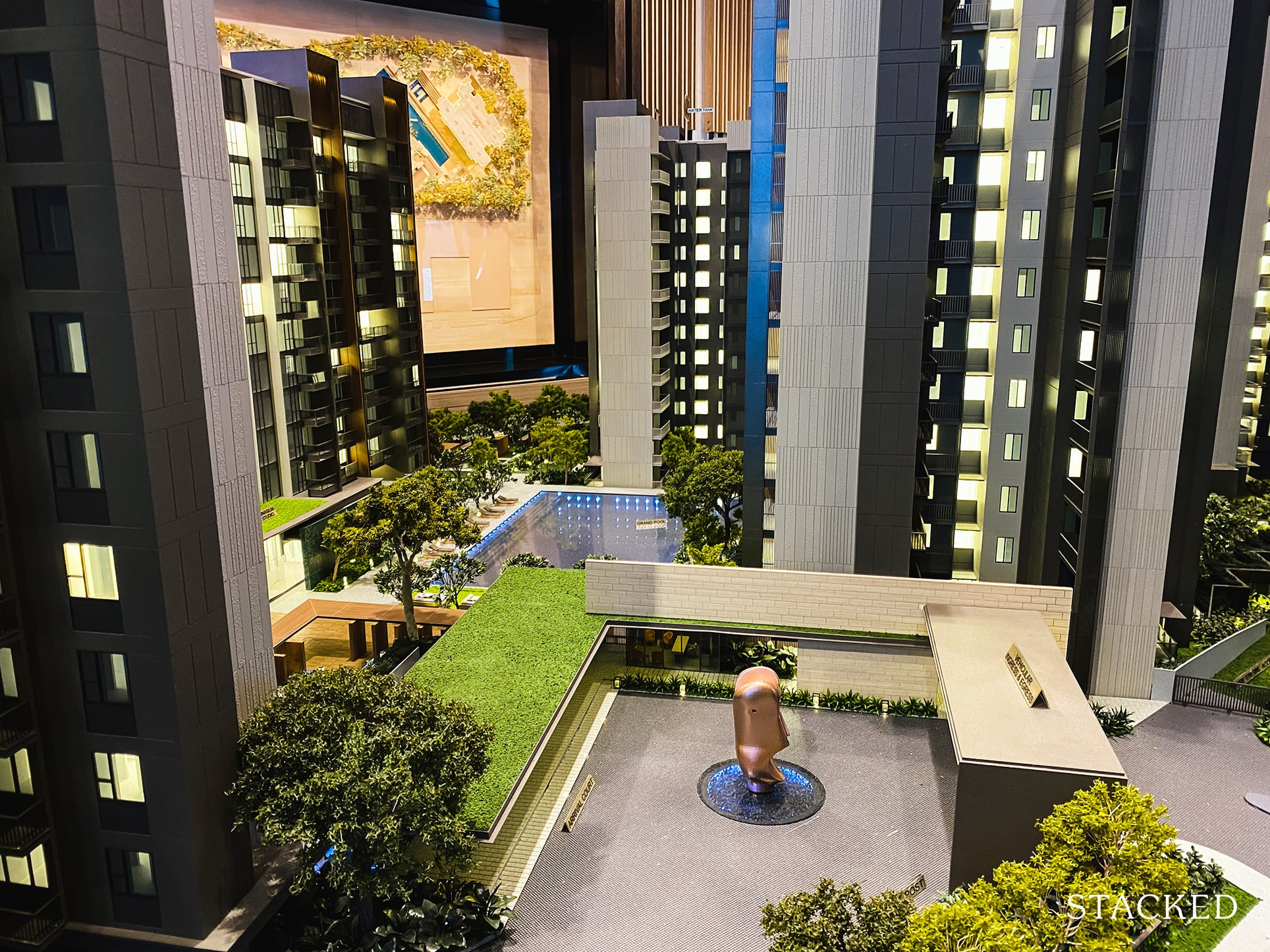 The arrival court looks suitably chic and is a good representation of what is on offer with the rest of the estate.
The land isn't as extensive as Leedon Residence, but it looks to be just as sleek and manicured as its neighbour.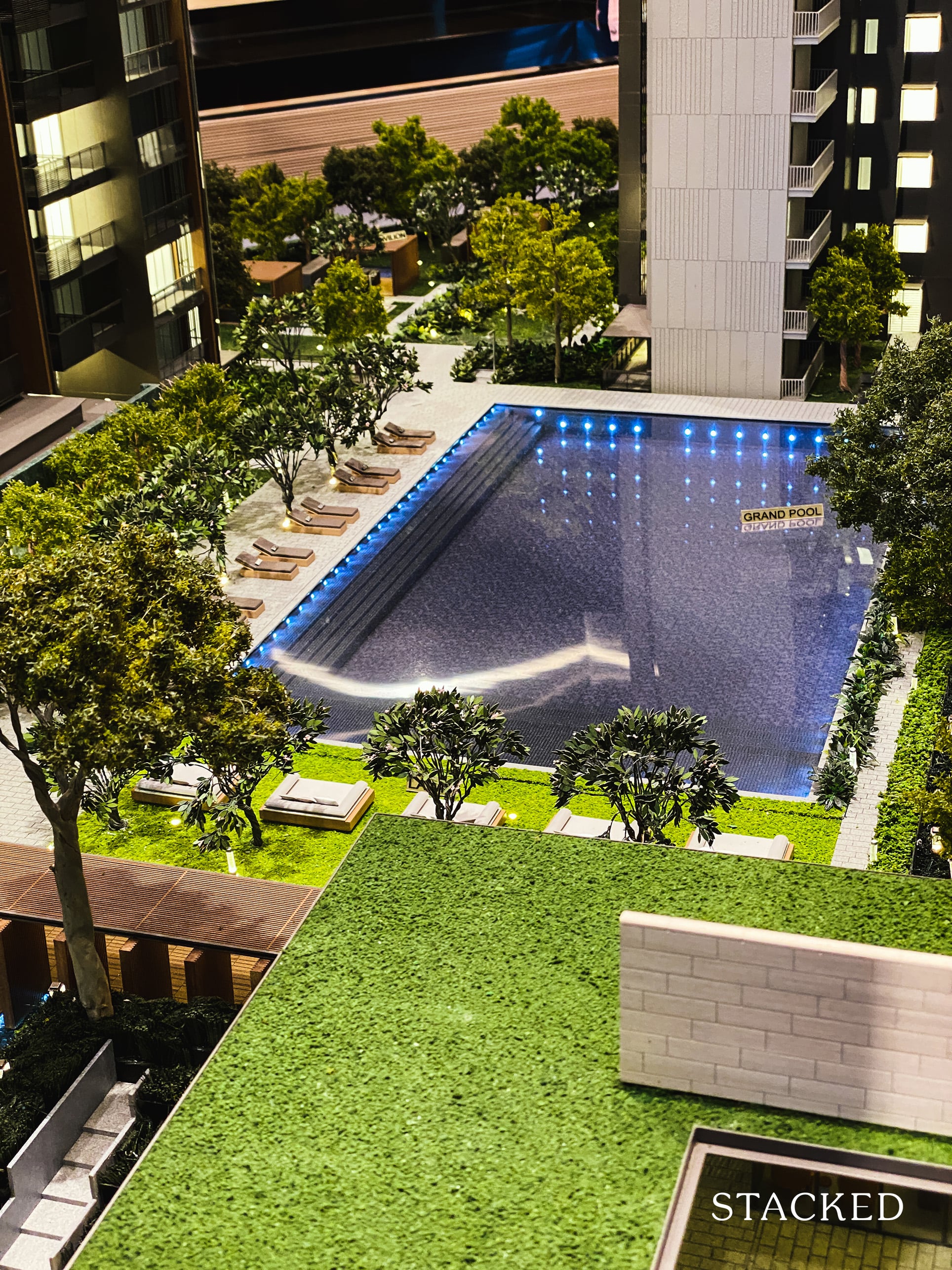 There are a total of 3 swimming pools at Leedon Green, with the 'Grand Pool' being the biggest of them all (being captain obvious here). With 638 units, I think that your pool needs should be more than adequately covered.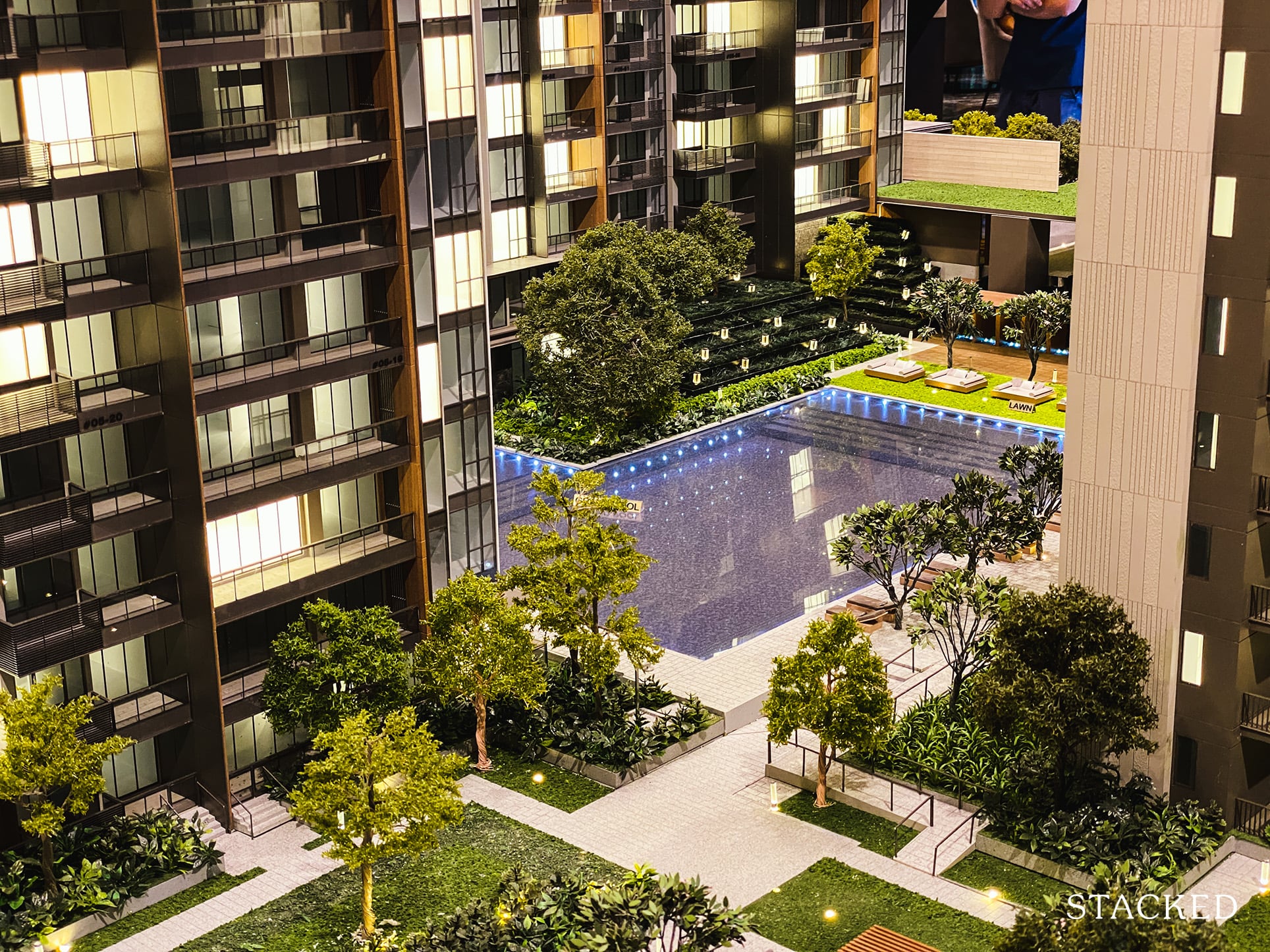 The Grand pool is actually L-shaped – or to put it more accurately (or crudely), drumstick-shaped.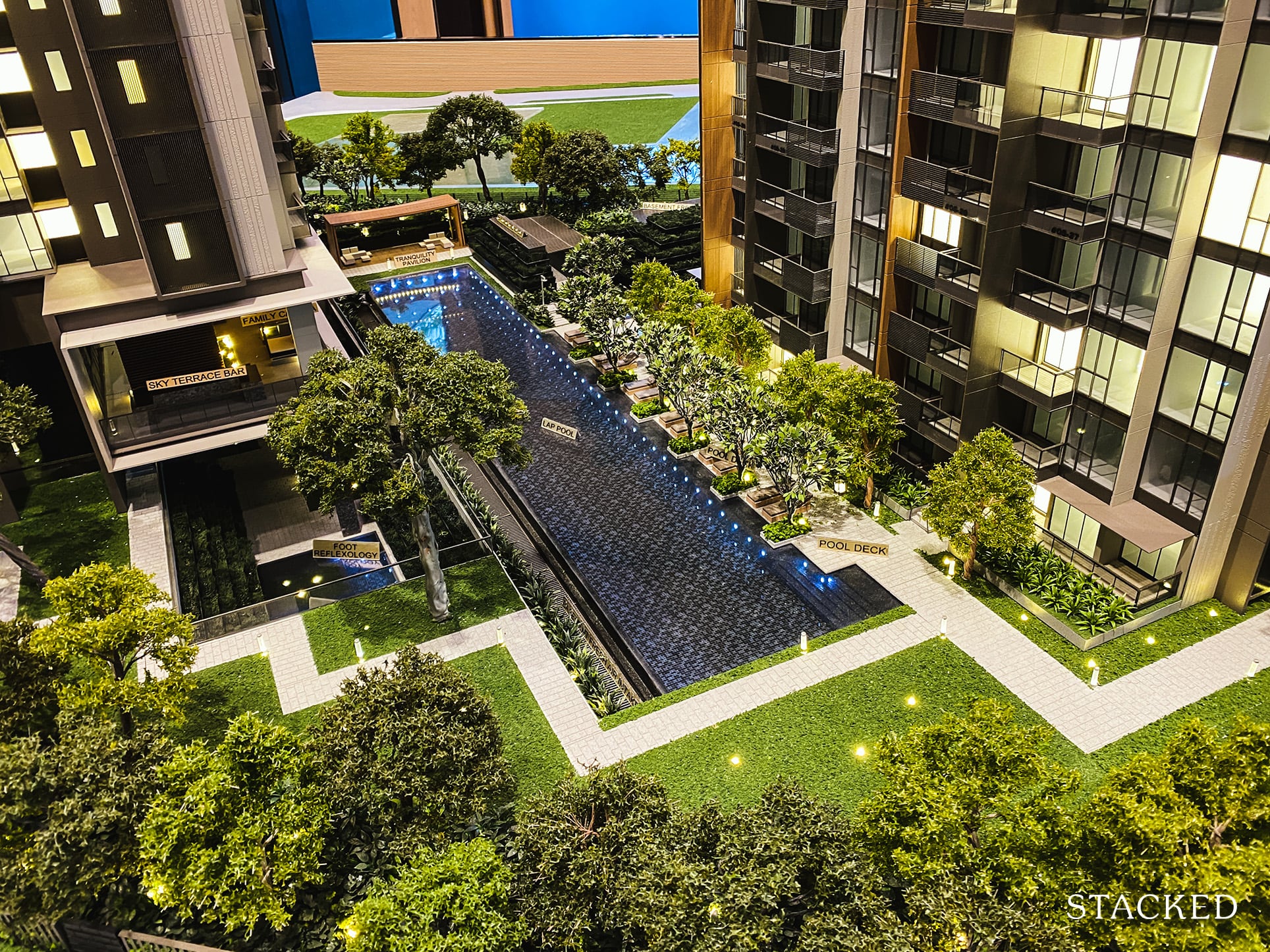 For the serious swimmers, the lap pool will probably be your most frequented destination.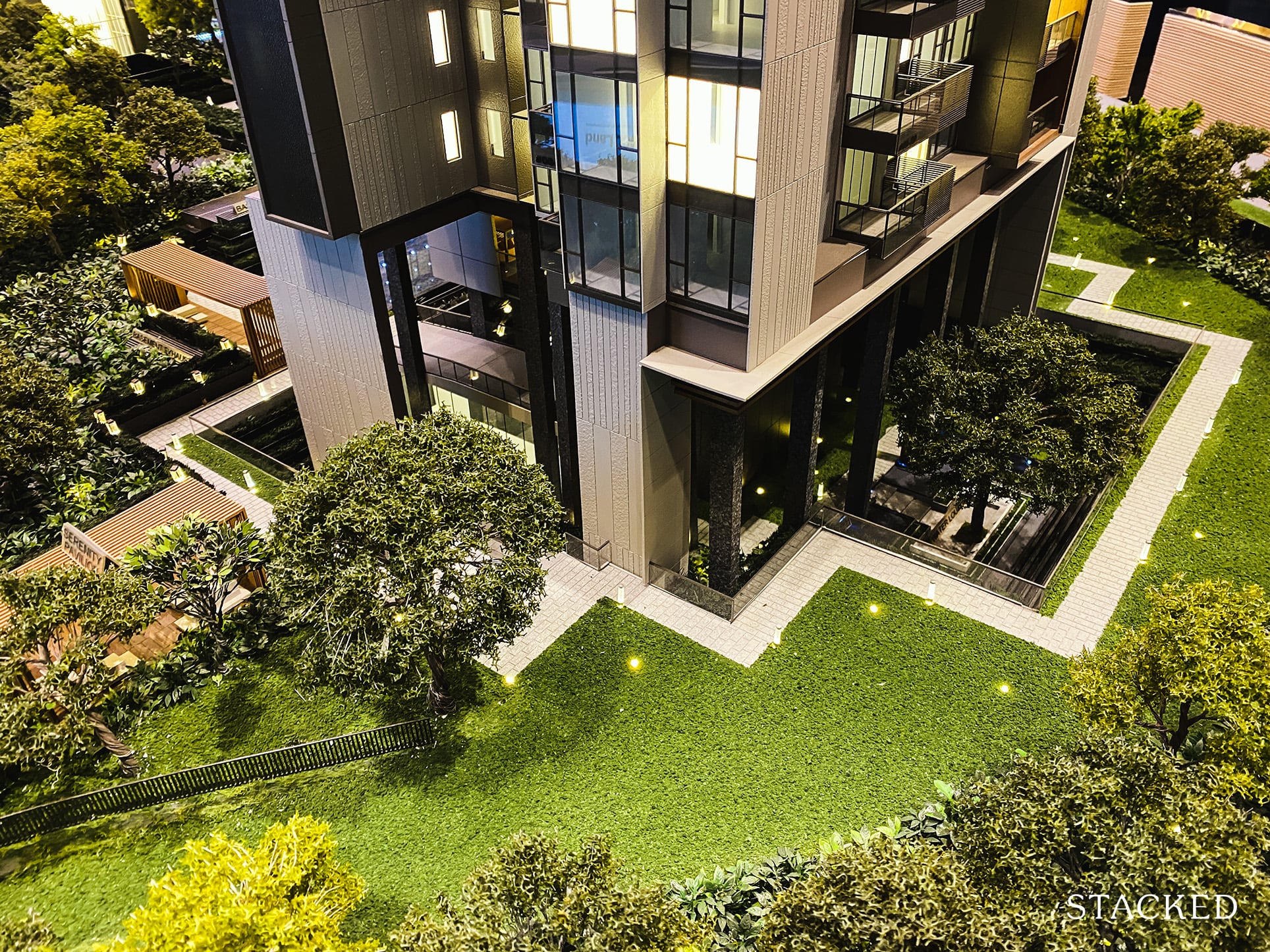 One of the unique aspects of Leedon Green is its cantilevered approach to design – mainly inspired by rice terraces.
You can see this design employed at the block next to the lap pool. While it isn't groundbreaking, it provides unique variation to the development.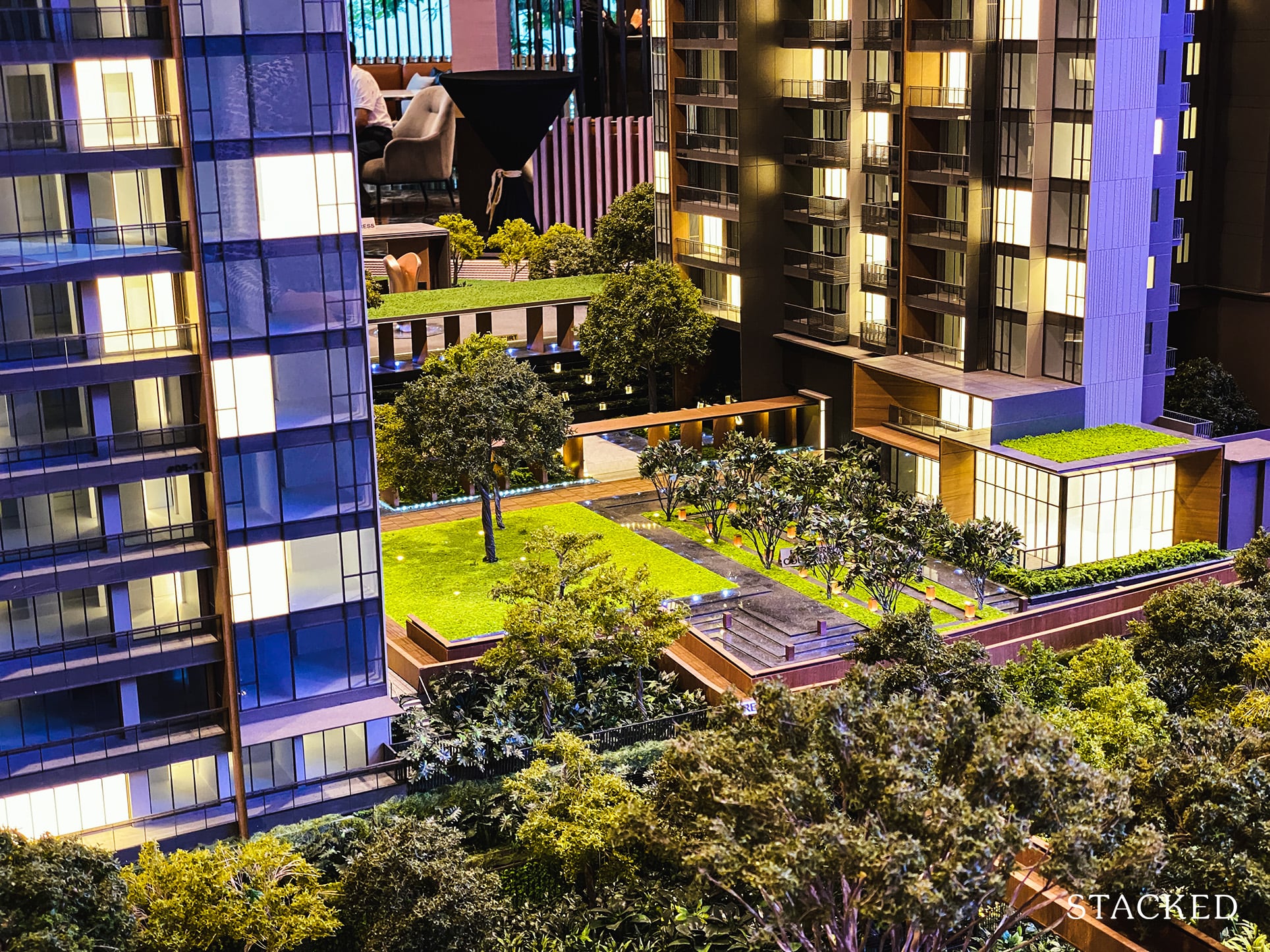 In my mind, the facilities and grounds are what sets Leedon Green apart from its competition.
It remains to be seen how the quality and execution will turn out, but from this early preview, it does look set to be quite the attractive proposition.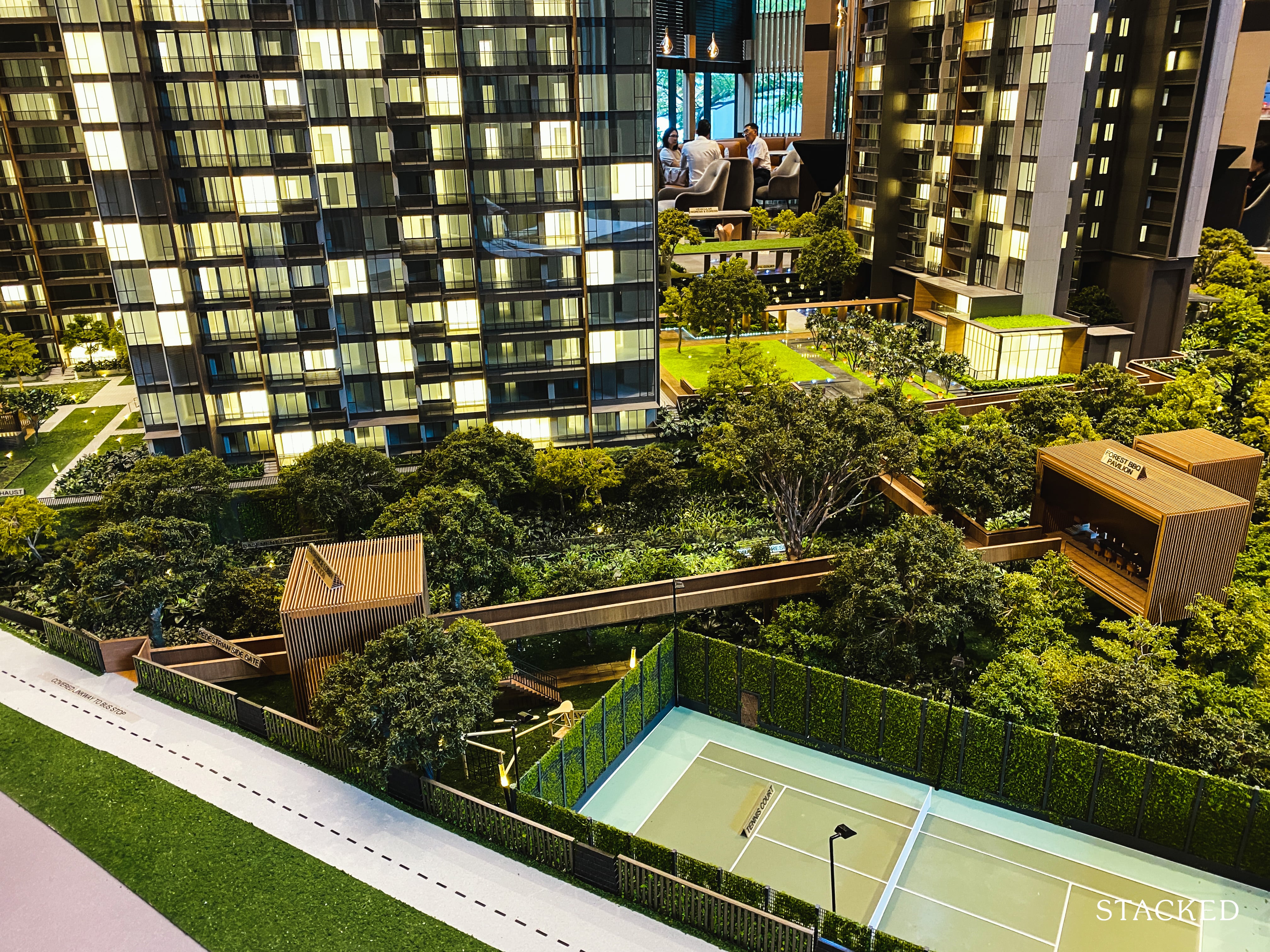 Towards the corner of the development is a forest walking trail, which leads to the condo's singular tennis court.
Leedon Green 1 Bedroom + Study Review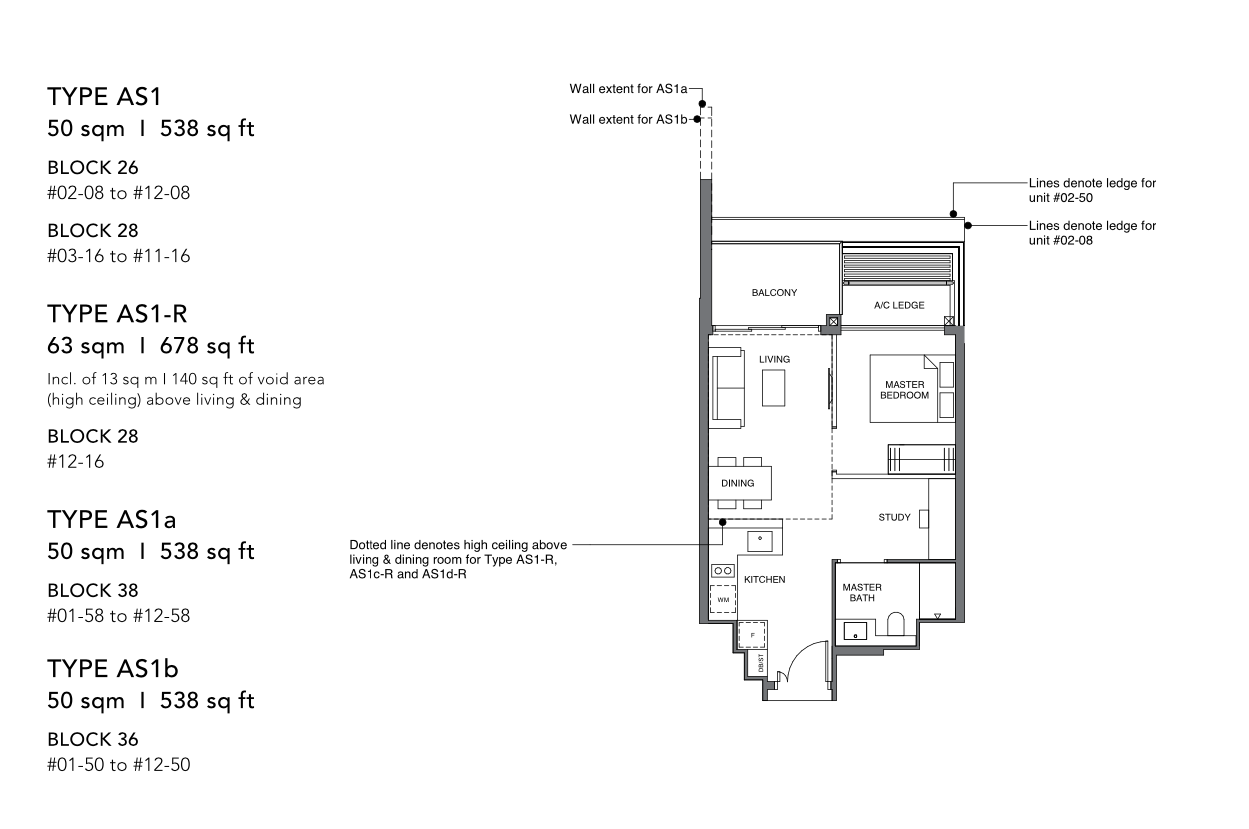 At 538 square feet, the 1 bedroom plus study unit at Leedon Green is above average in size. Generally, it's well laid out but those that prefer to have an adjacent bath to the bedroom should note that the study area comes in between.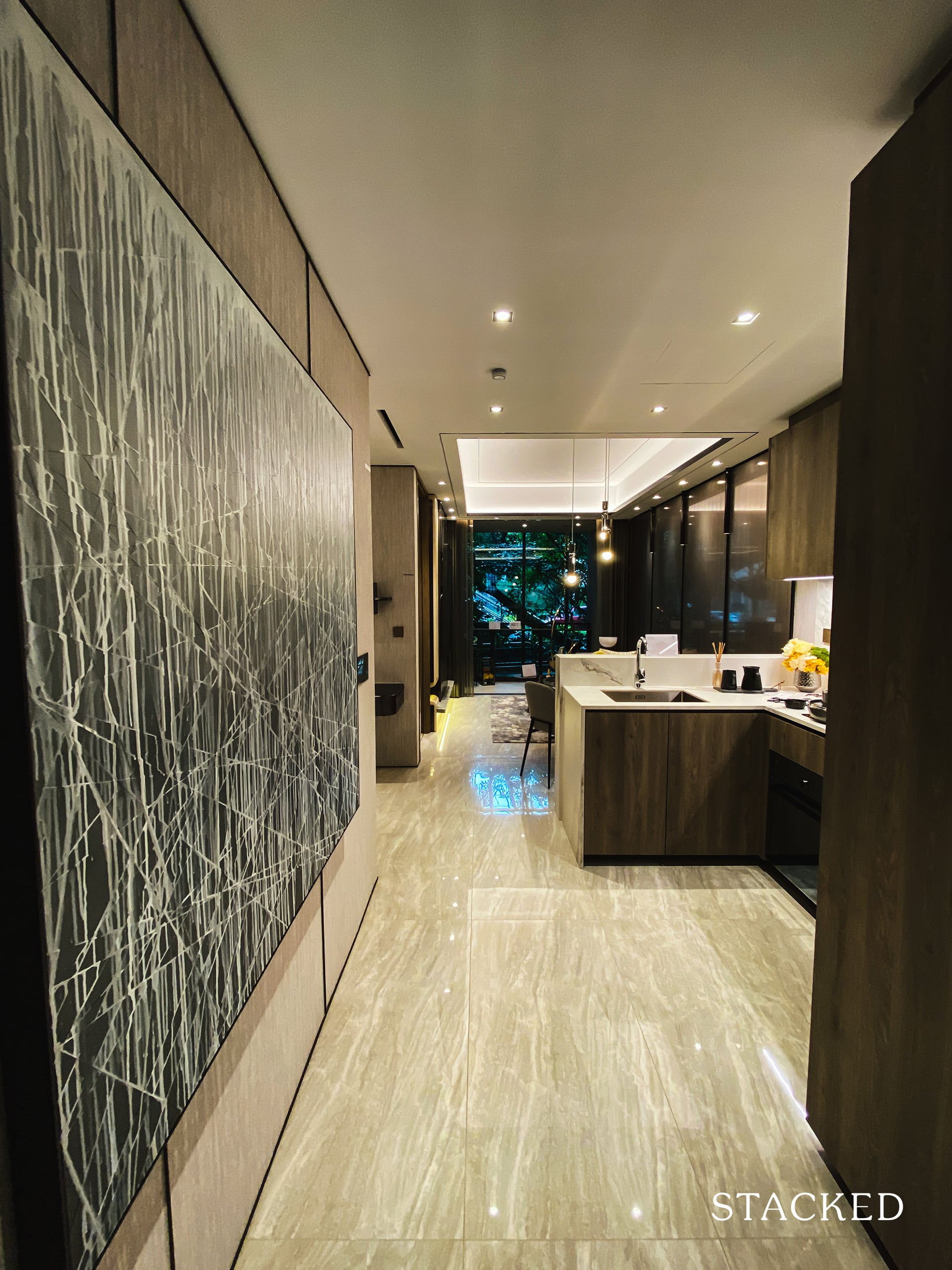 The entranceway is short and kept to a minimum to keep unnecessary space at bay.
The kitchen is really big for a 1 bedroom unit that's for sure. It's wide and has sufficient counter space so it remains comfortable even for 2 people to use the kitchen at the same time.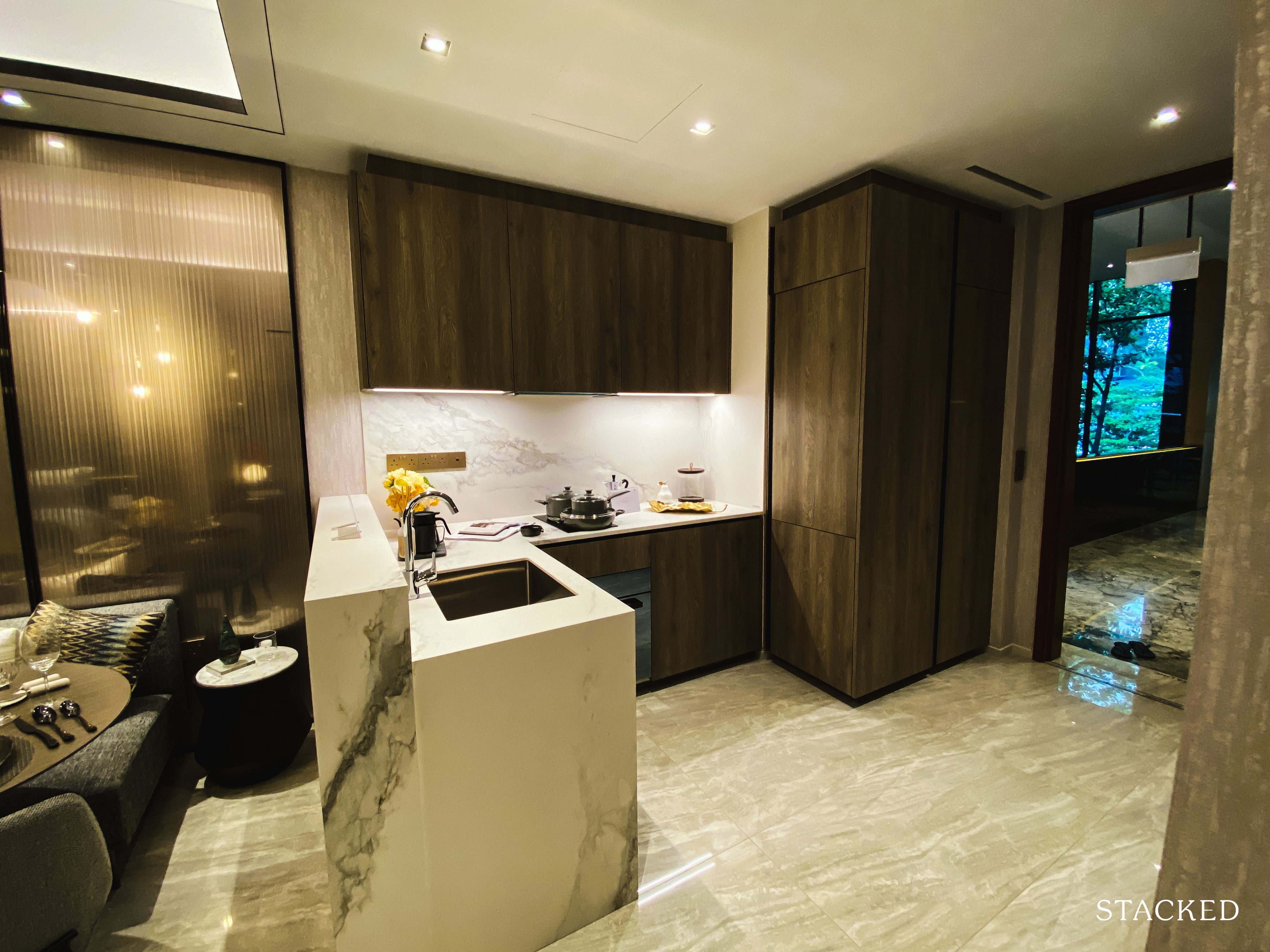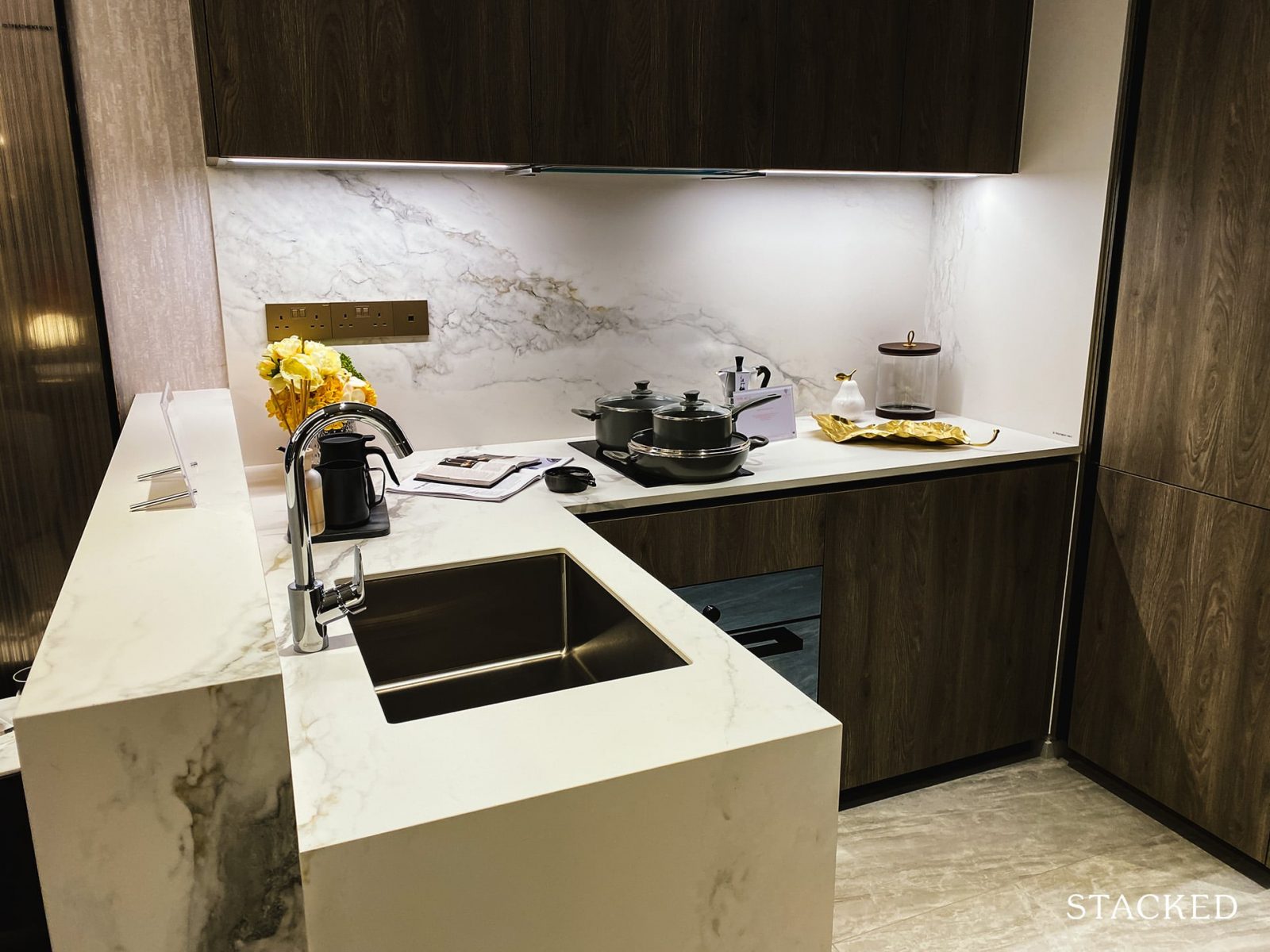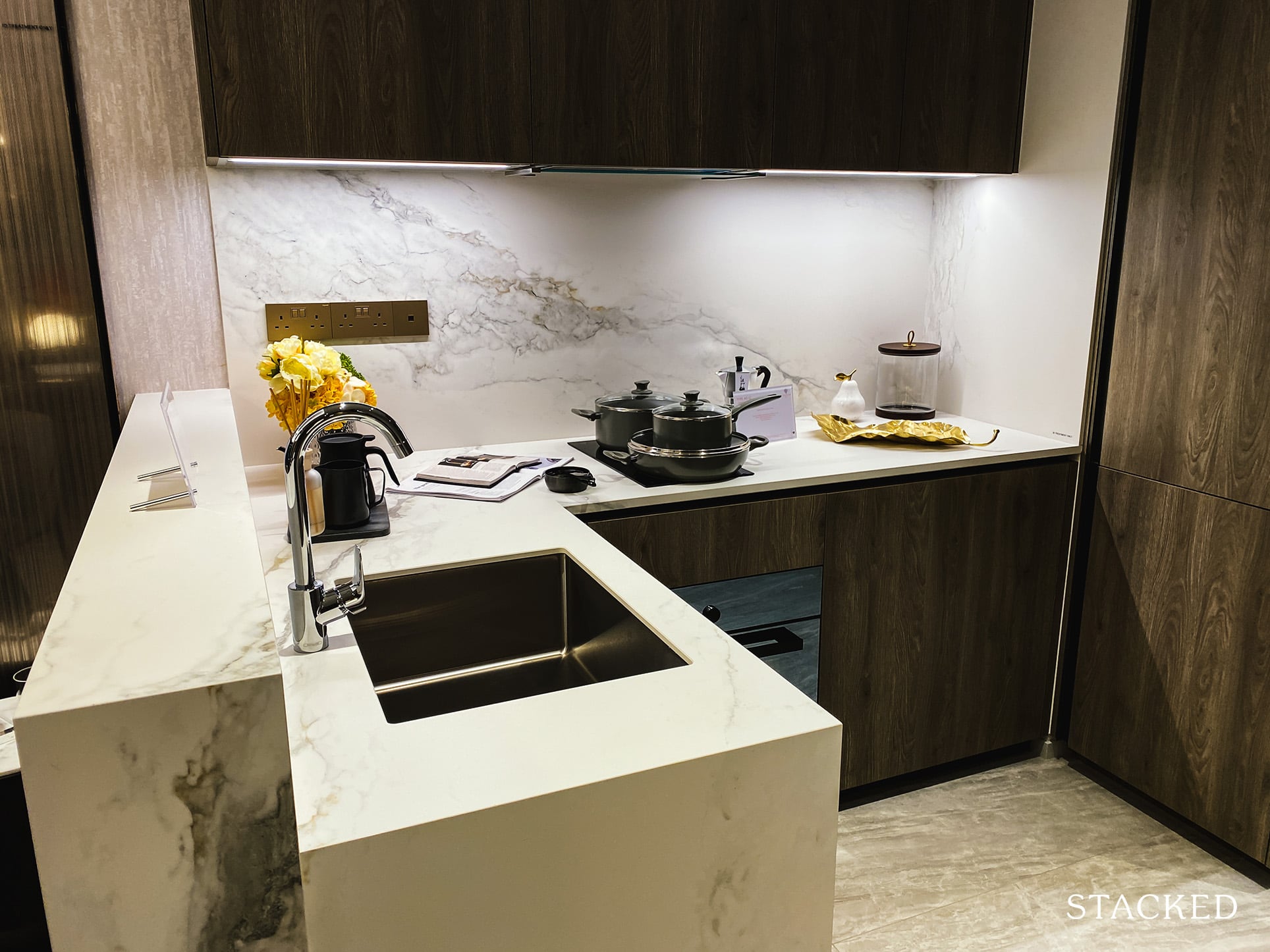 Overlooking the rest of the apartment, it certainly looks and feels very spacious. One point of contention for me, however, is the raised counter behind the sink. It's too narrow to be of use as a table fixture, and therefore comes across as a little pointless.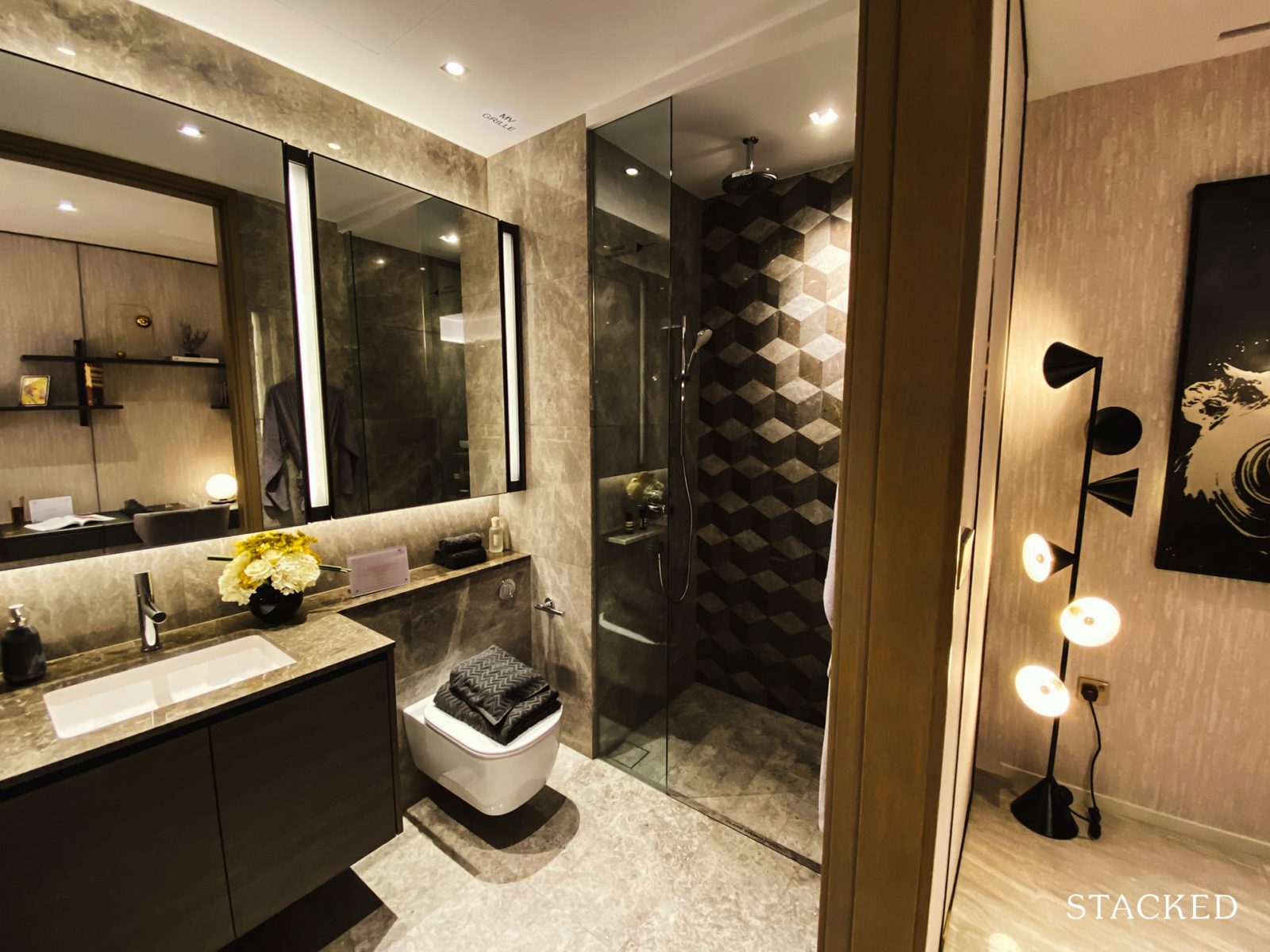 The bathroom is an average size, but the doorway takes up part of the study which is a bit awkward in my opinion. I would have preferred it at the side of the entranceway instead.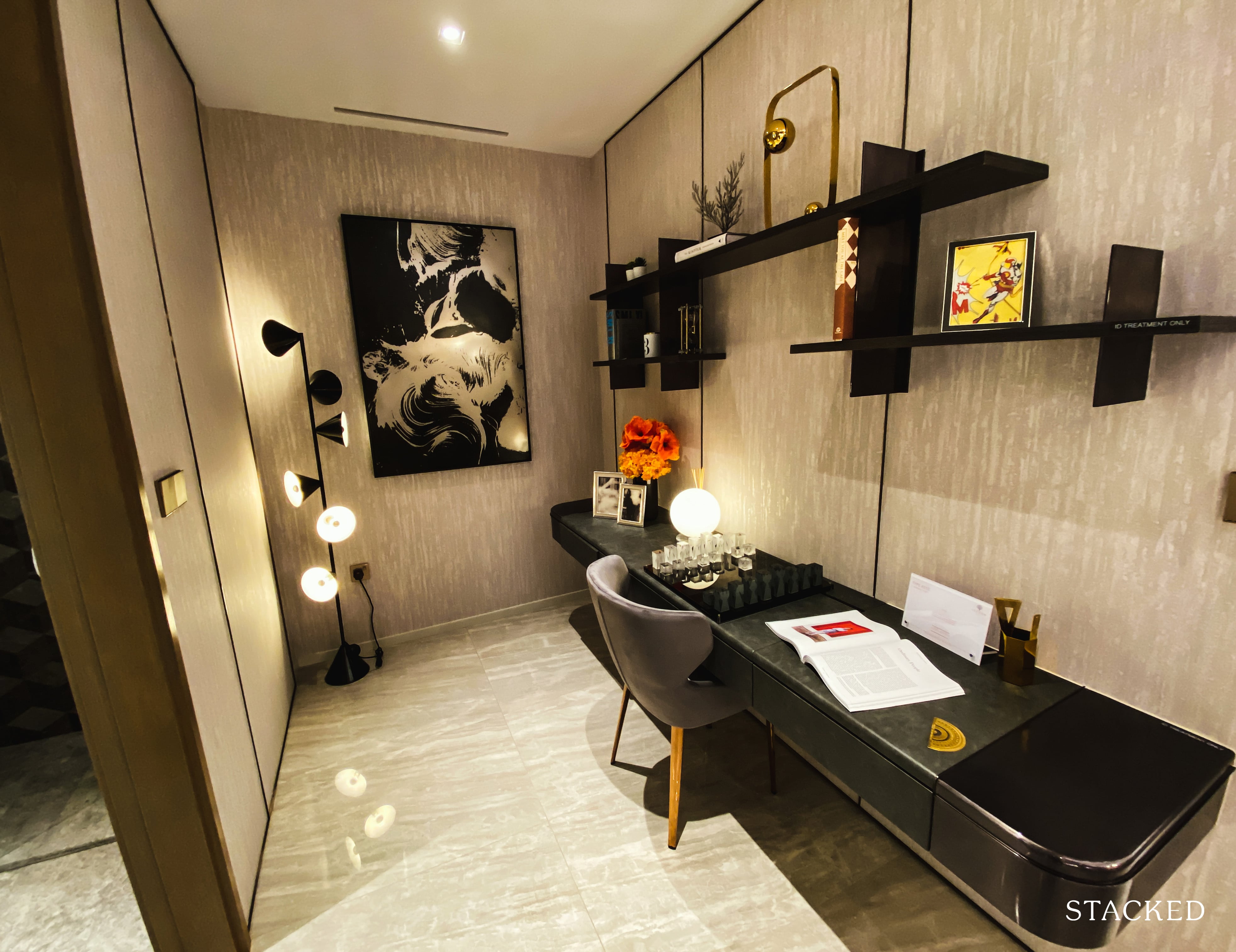 As mentioned earlier, the study room comes in between the master bedroom and master bath. So depending on your usage, you may (or not) find the location of the study to be a nuisance. Alternatively, you could extend the master bedroom into this space if you'd like a much bigger room for yourself.
The living and dining room is not a bad size at all – as long as your expectations don't go beyond a small dining table and couch.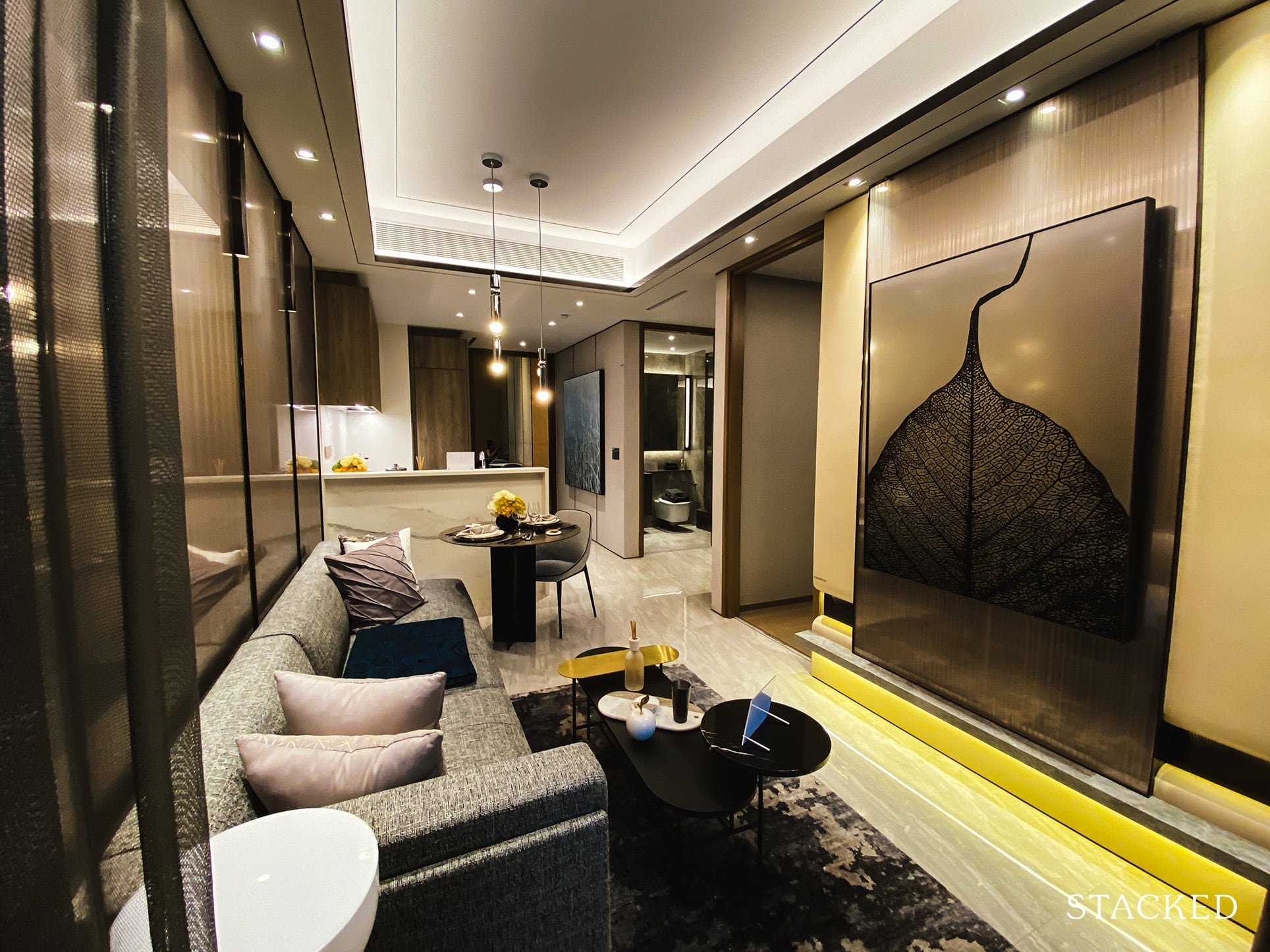 You might face some difficulty in placing a TV console, however, as the living area space is quite narrow.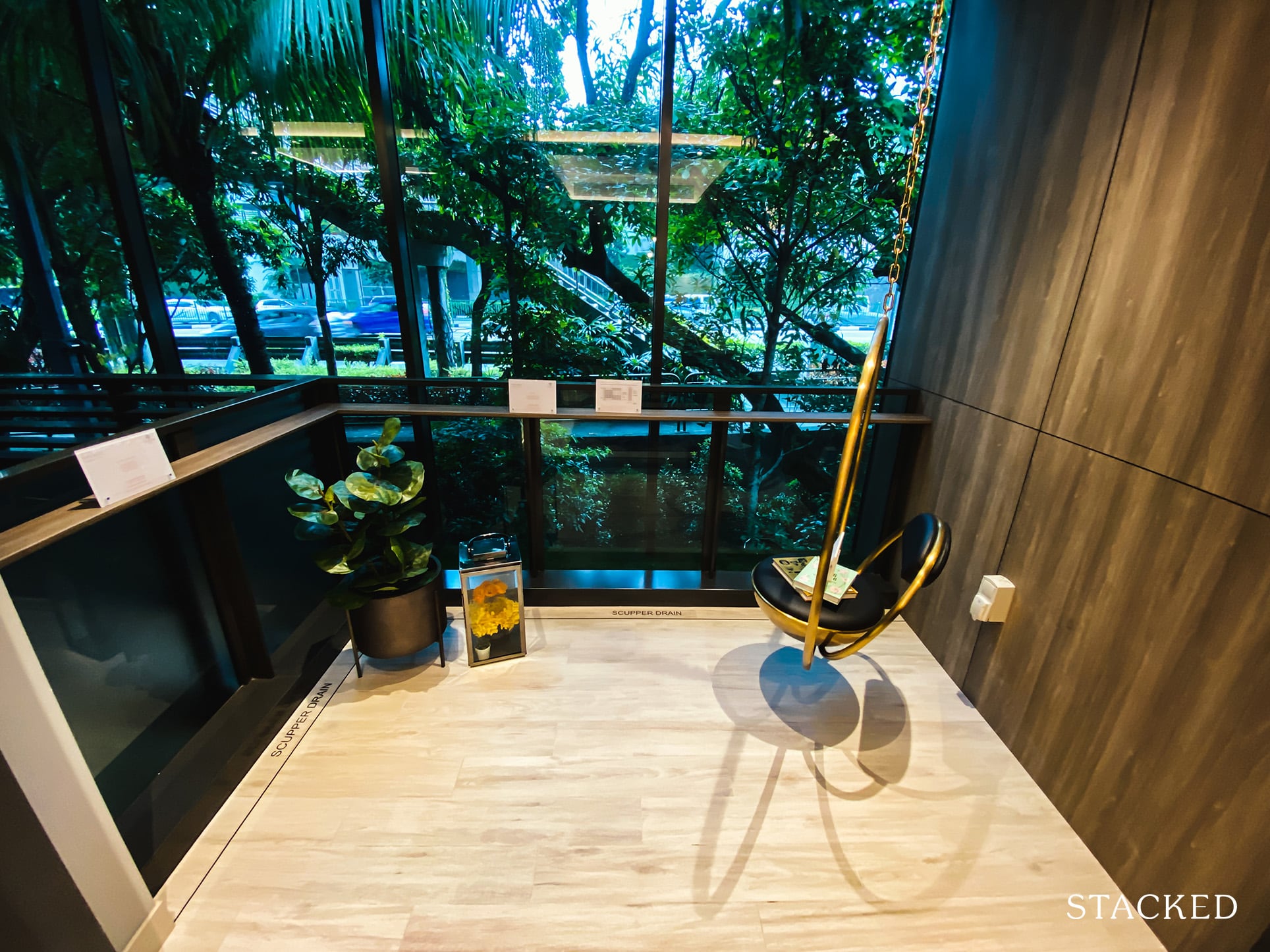 Balcony space is kept to a minimum – which will please the indoor lovers. At the very least, you will be able to place a small seating set here.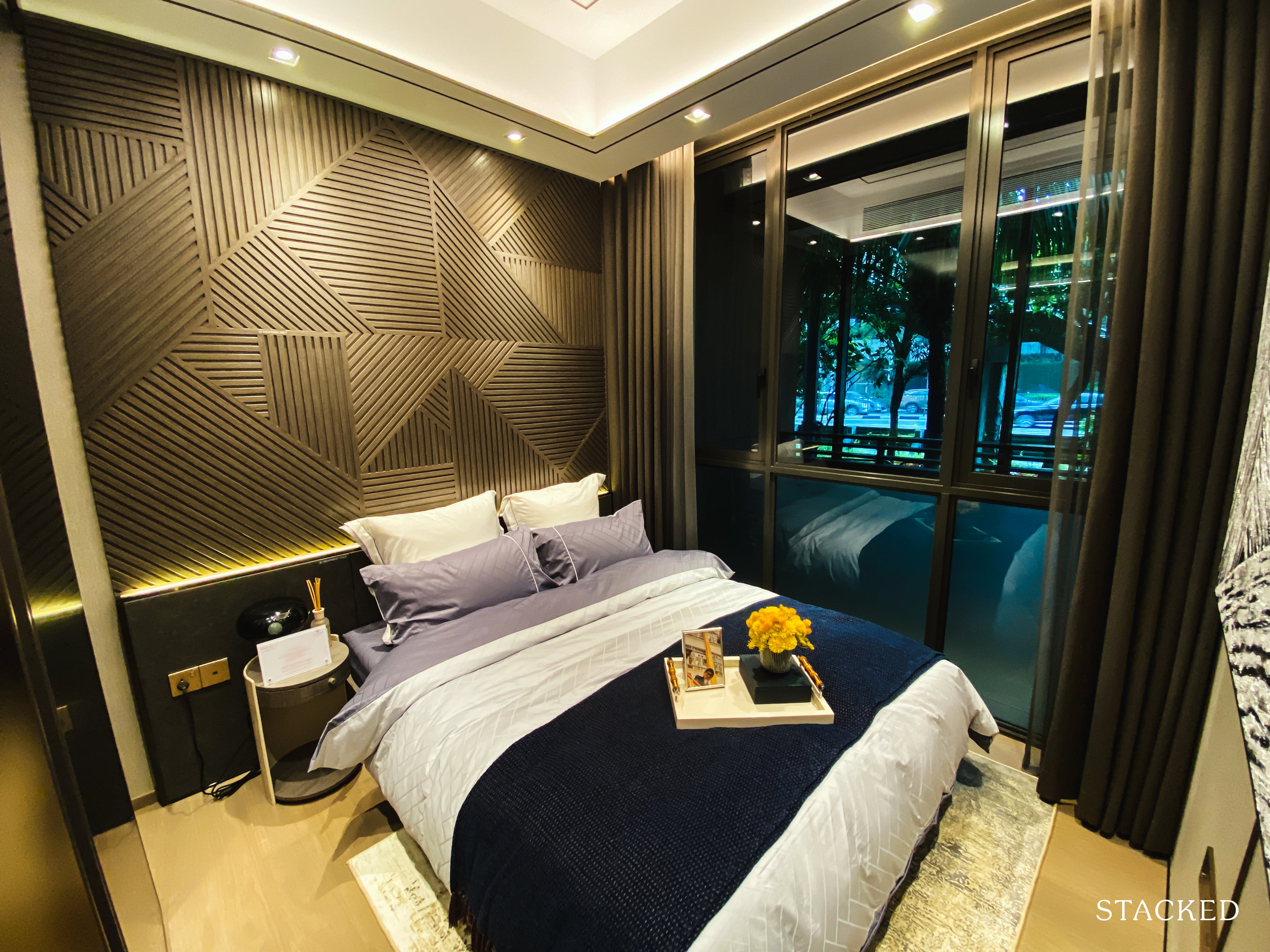 As with most new launches nowadays, the bedroom isn't a big space at all. Your window views are restricted to the top panels here too as the AC ledge is located right outside the bedroom.
Leedon Green 2 Bedroom + Study Review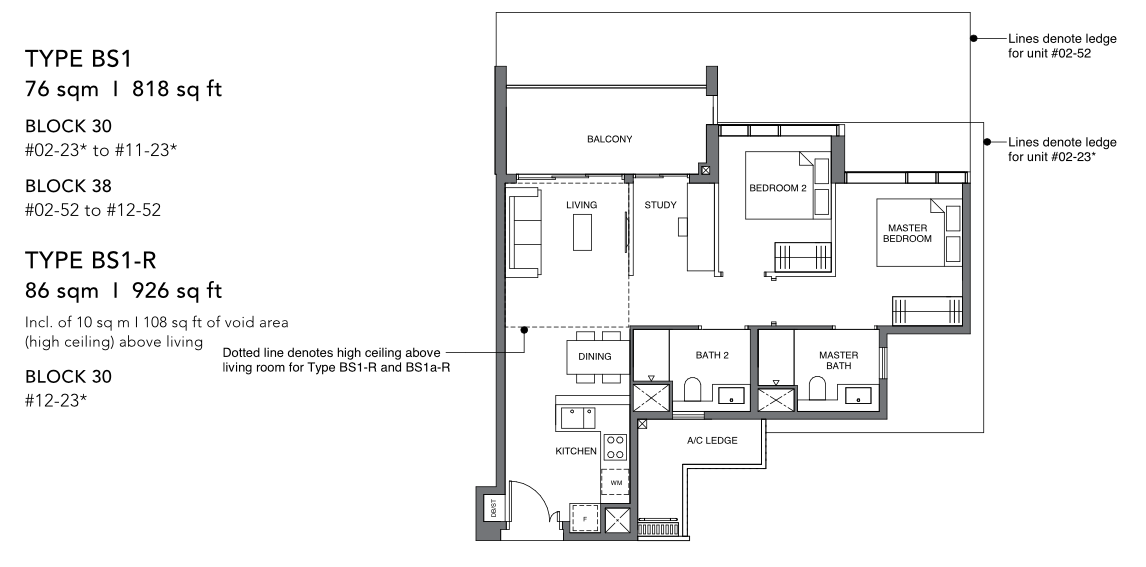 The Leedon Green 2 bedroom plus study unit comes in at 818 square feet, which is slightly larger compared to the average equivalent elsewhere. It's mostly usable space, save for a bigger balcony. The study area does compromise on your living and dining space, so that could be a point of contention.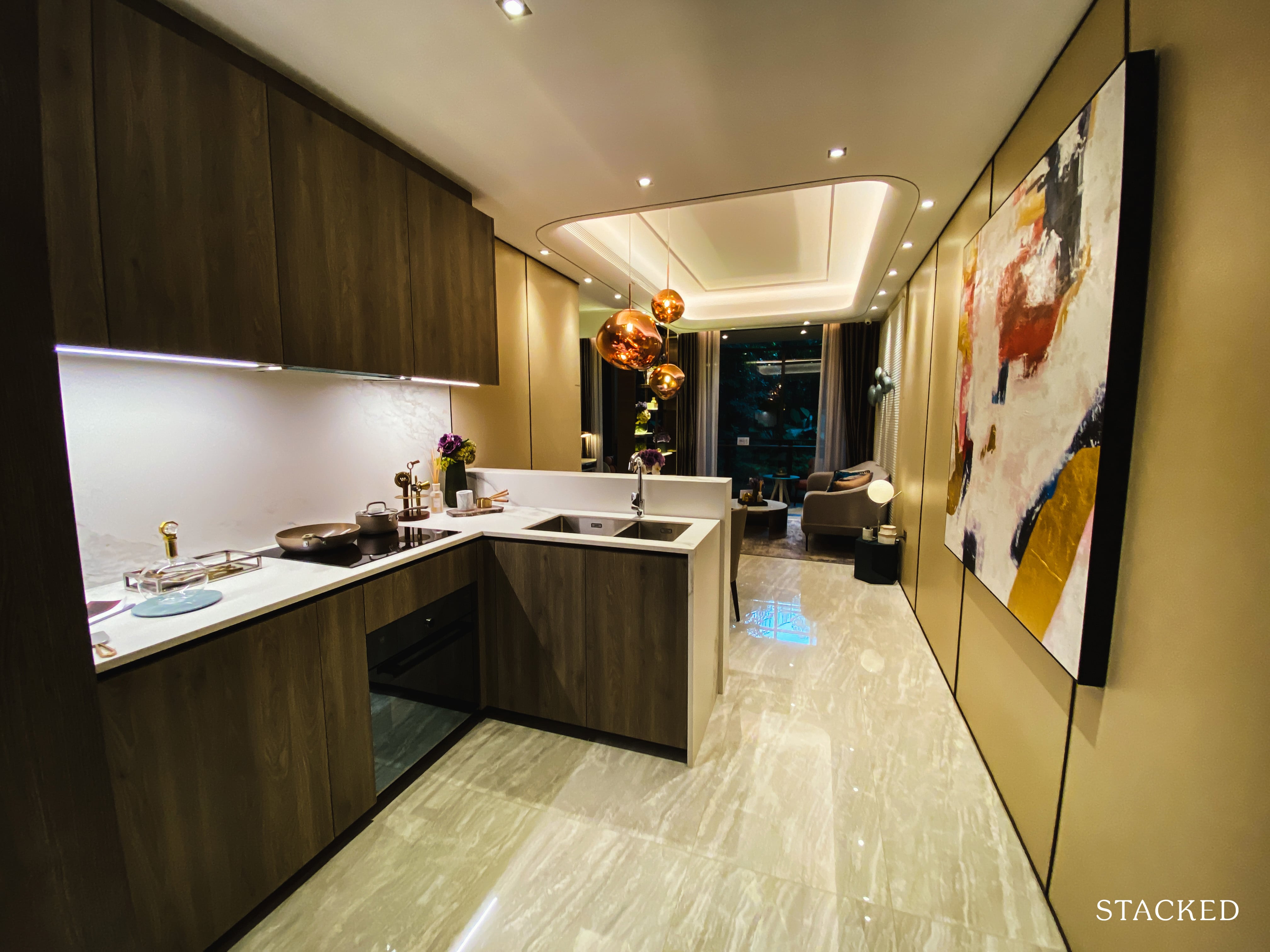 There isn't a real entranceway to the 2 bedroom unit. Instead, it opens up directly into the kitchen itself.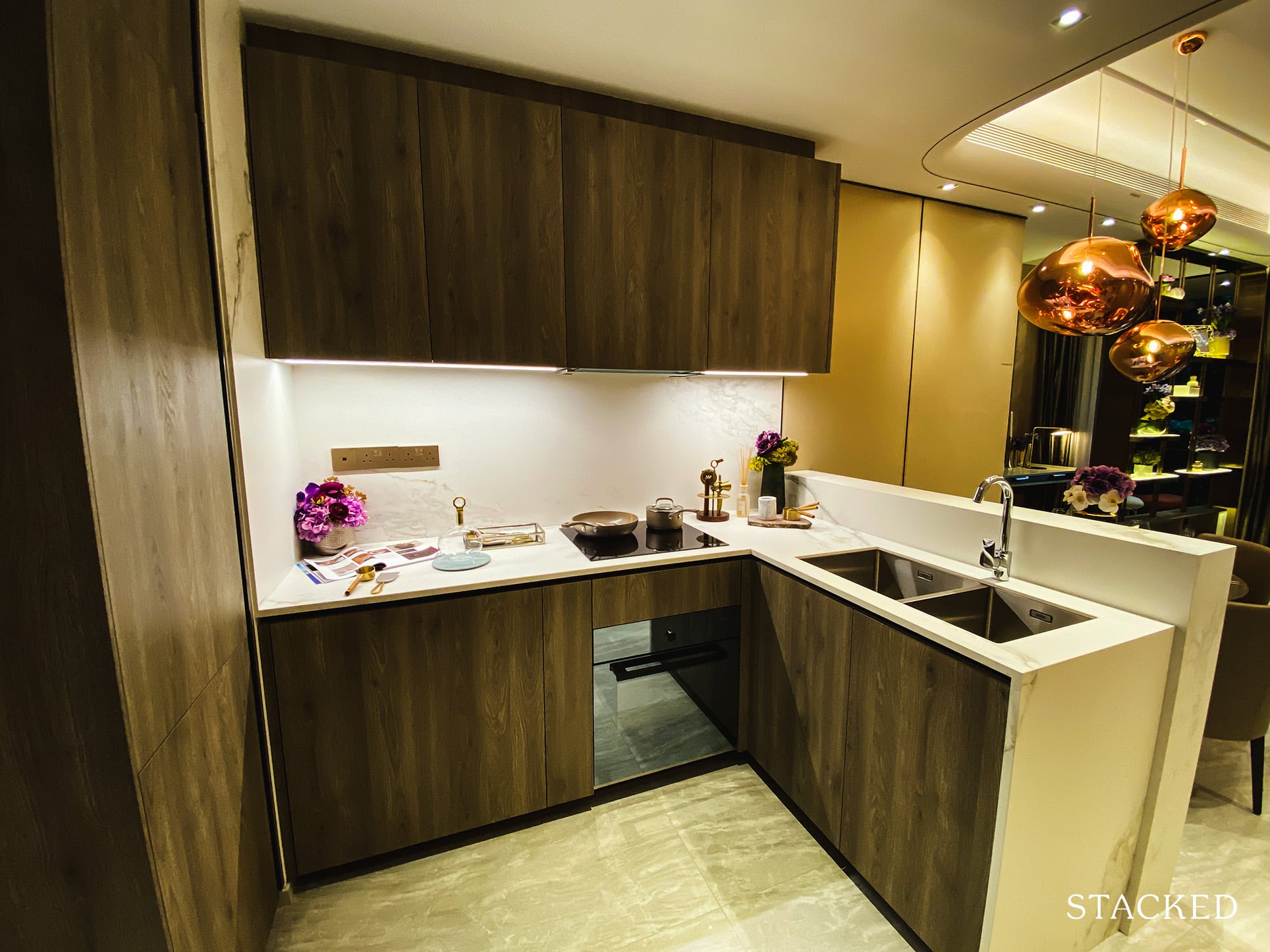 Similar to the 1 bedroom unit, the kitchen here is roomy with ample space to move around. However, the same problem surfaces here with the rectangular block behind the sink.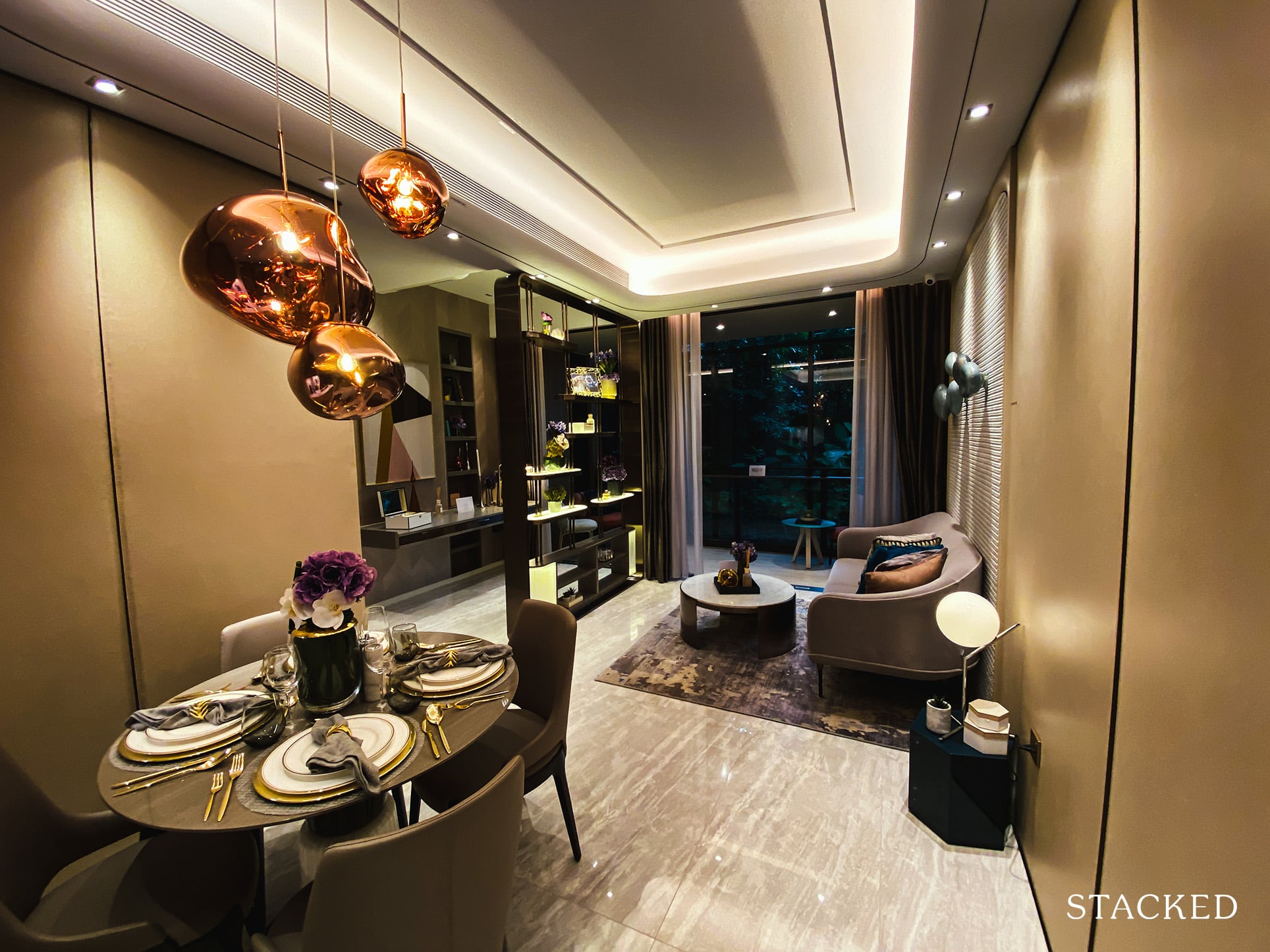 In this showflat example, the study area has been opened up so the space looks bigger than it really is. In truth, it really is quite constrained in terms of space in the dining room.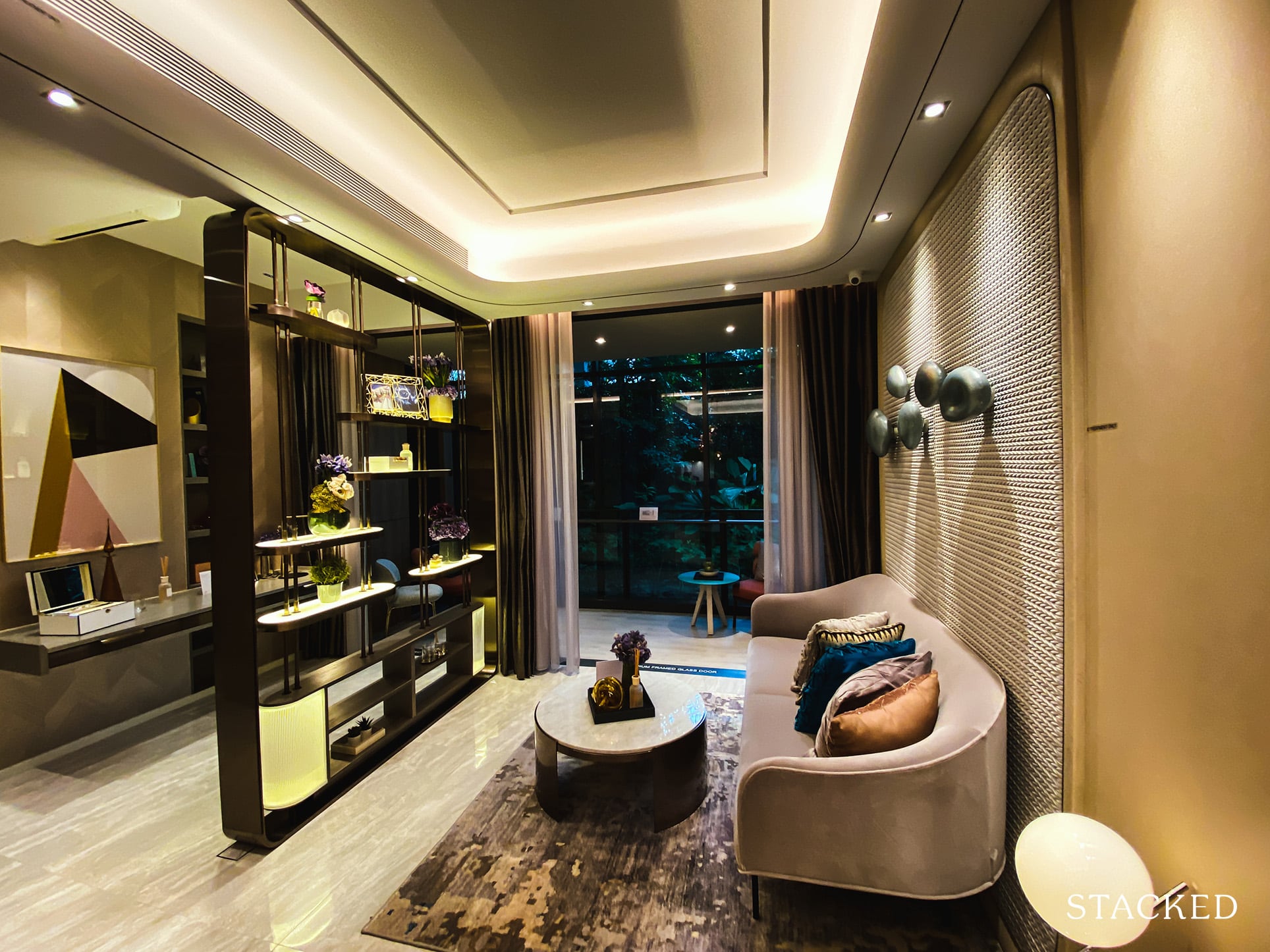 The living room does fare better, but it is quite narrow for my liking. An alternative solution would be to do away with the study area altogether to make for a much bigger living room space.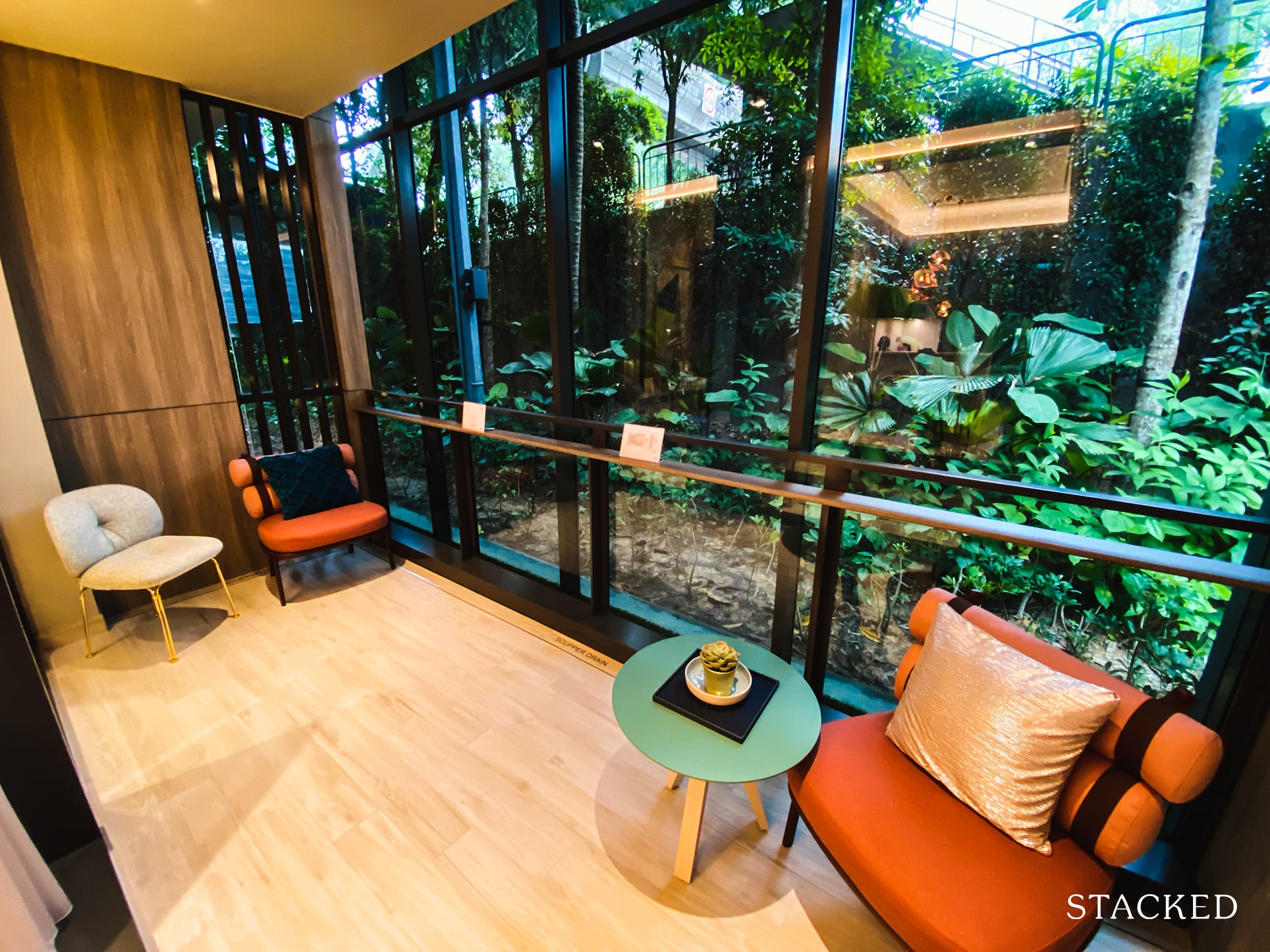 For those who treasure indoor space more, you'll be disappointed to find out that the balcony space here is quite large. In fact, it actually spans the width of the living and study room.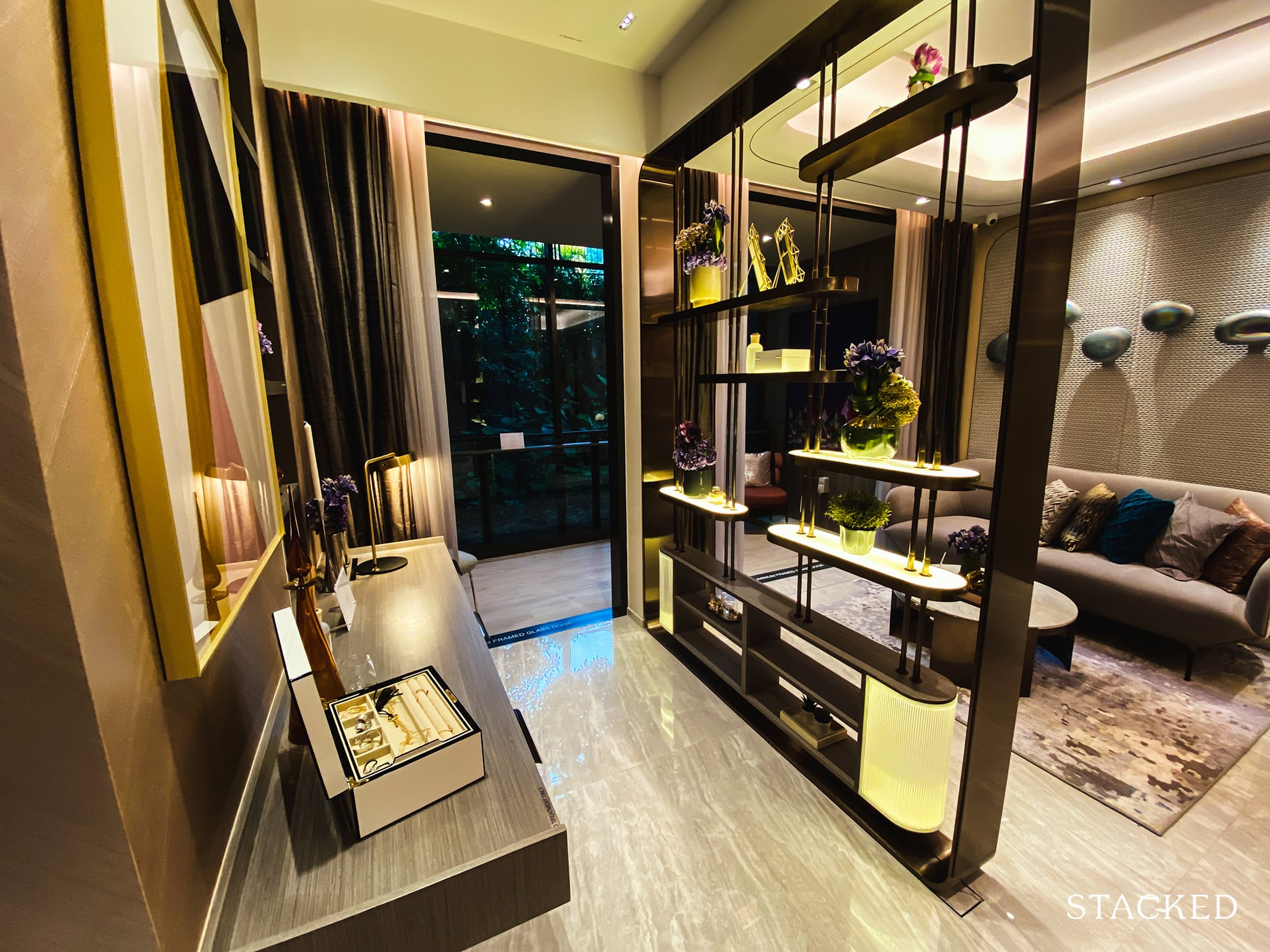 As study rooms go, this one here is decent and more than adequate if you require a separate study area.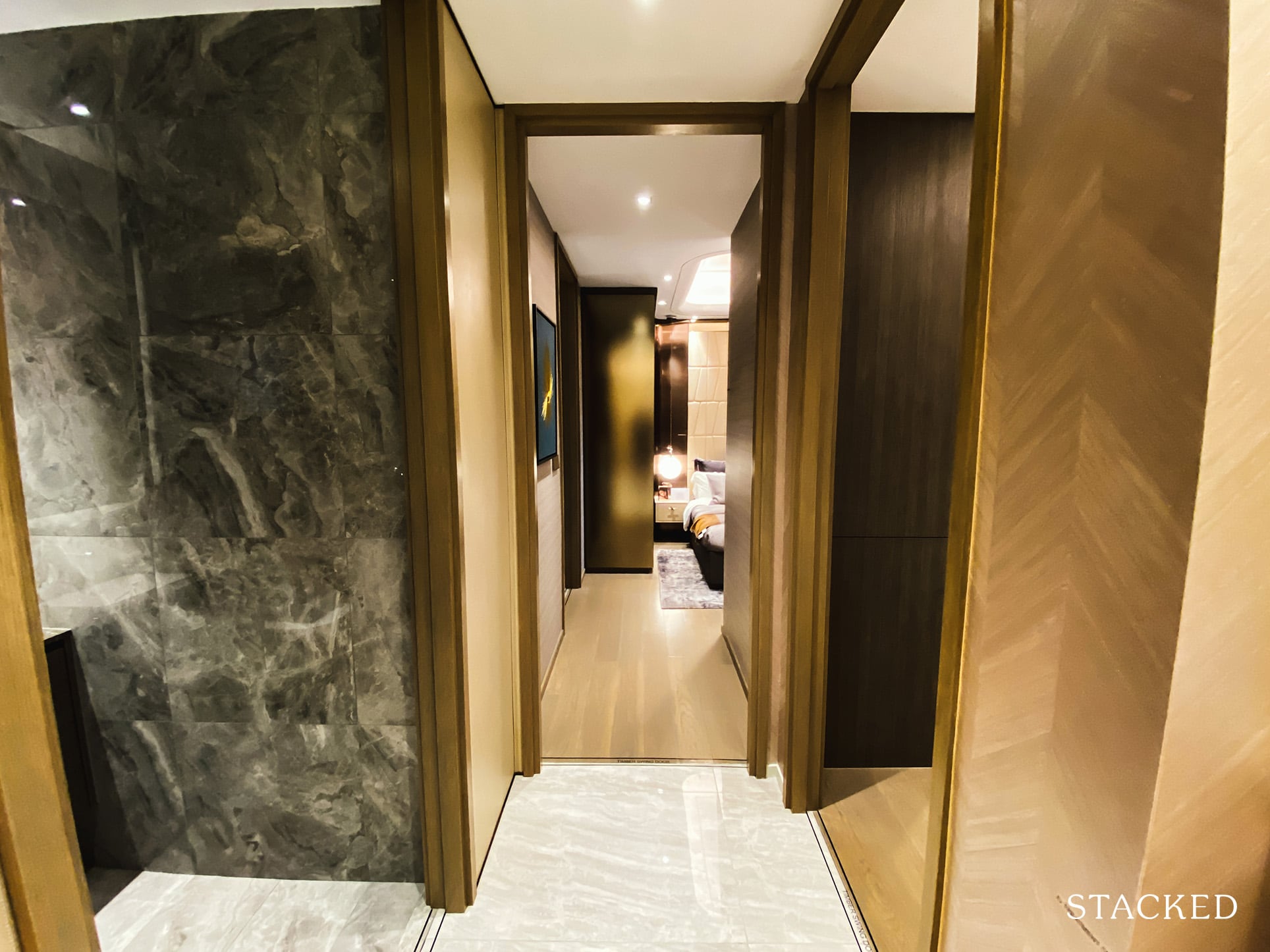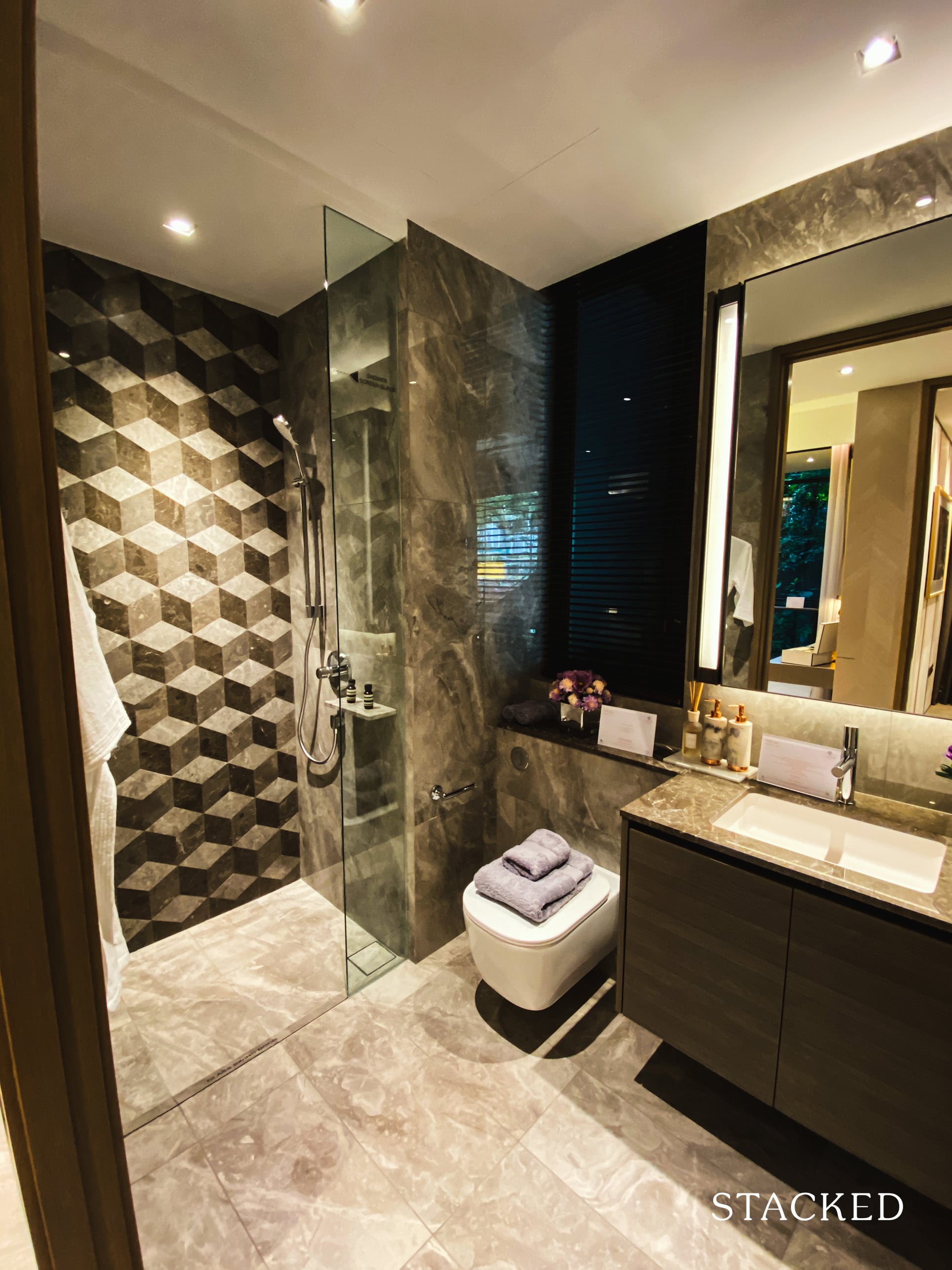 The common bathroom is a very decent size, most people should be quite happy with this.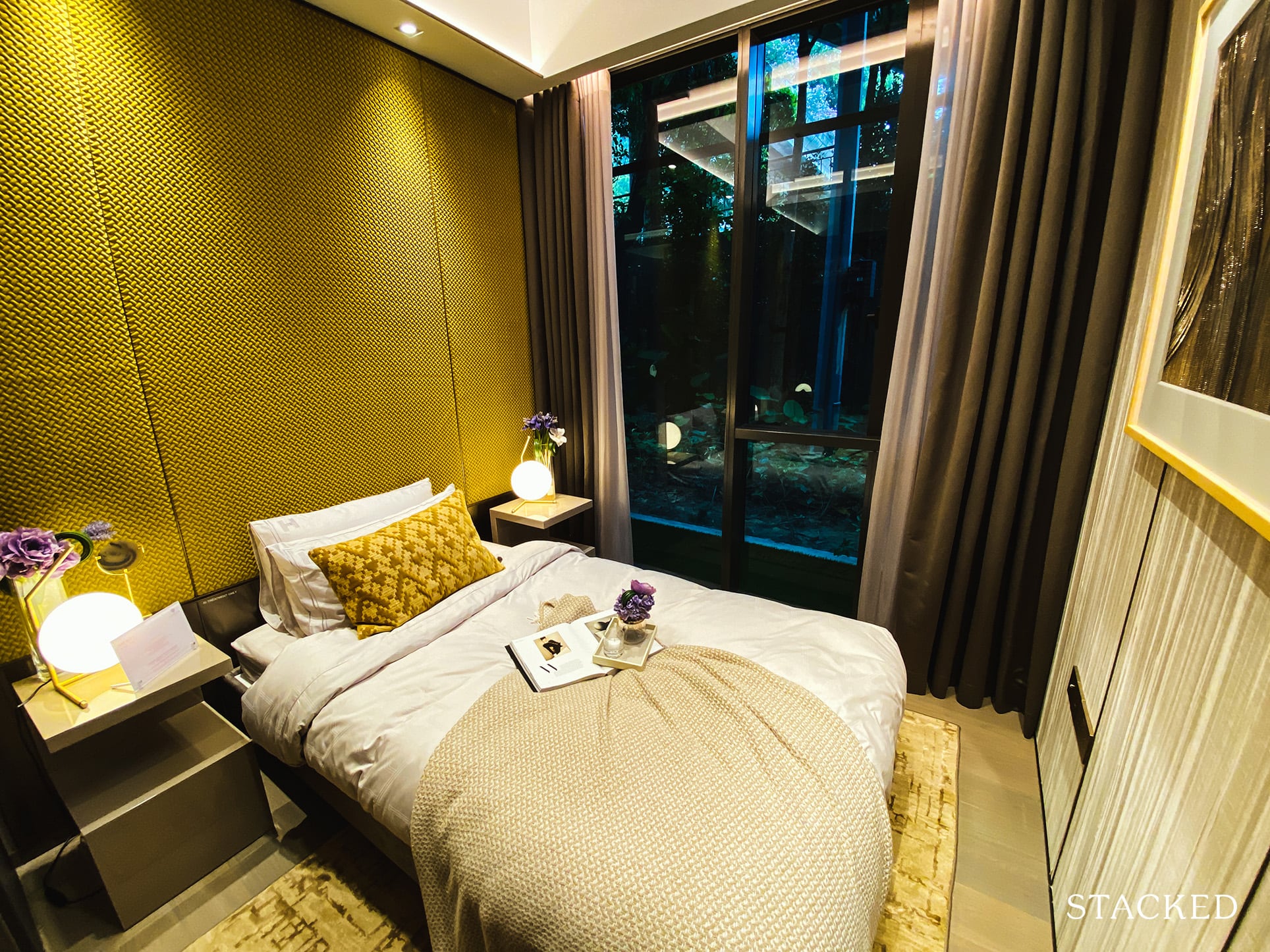 As you'd expect, the common bedroom is small with the only saving grace being the floor to ceiling windows.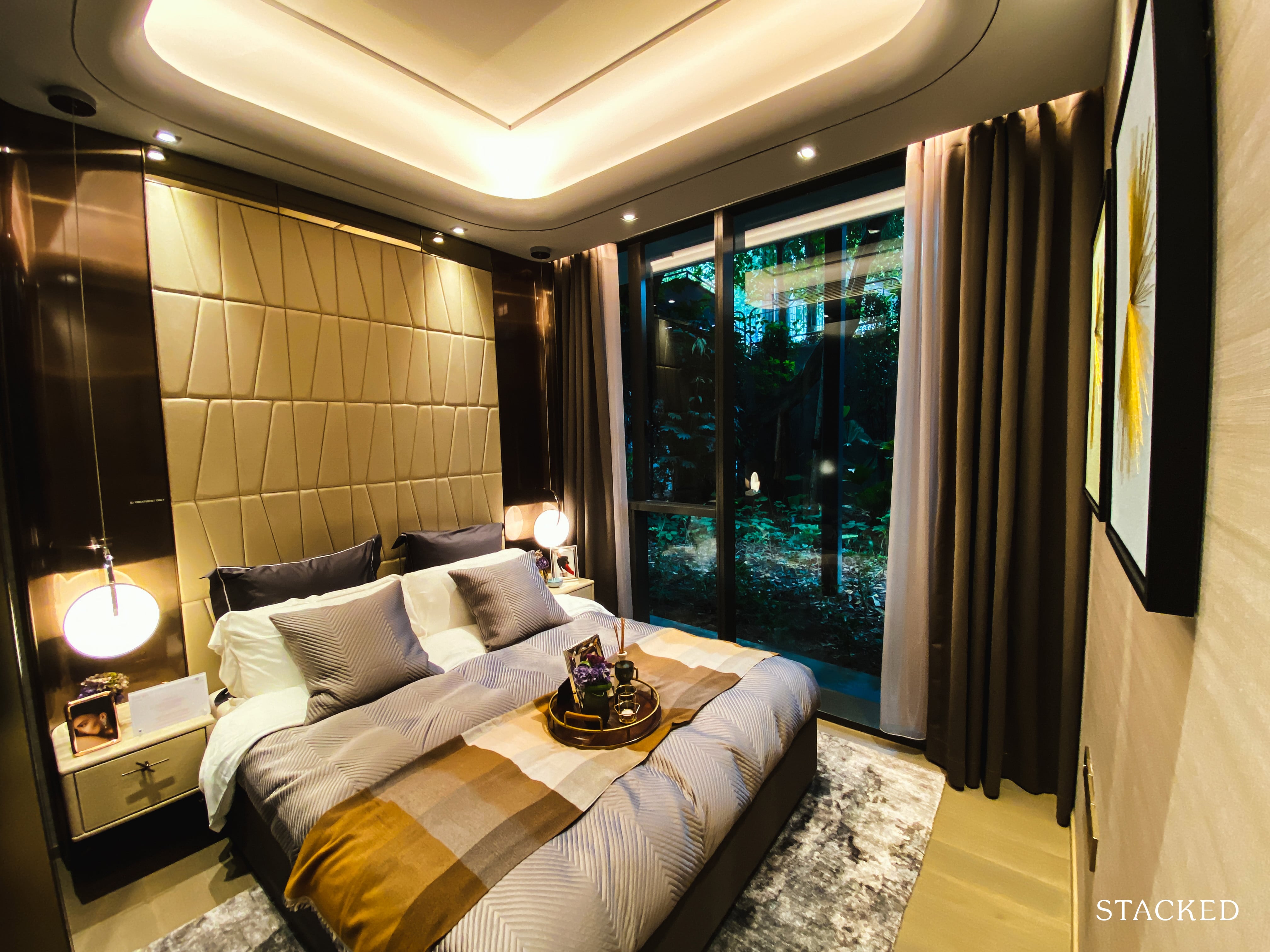 The master bedroom is actually decent, you could place a small dresser at the foot of the bed.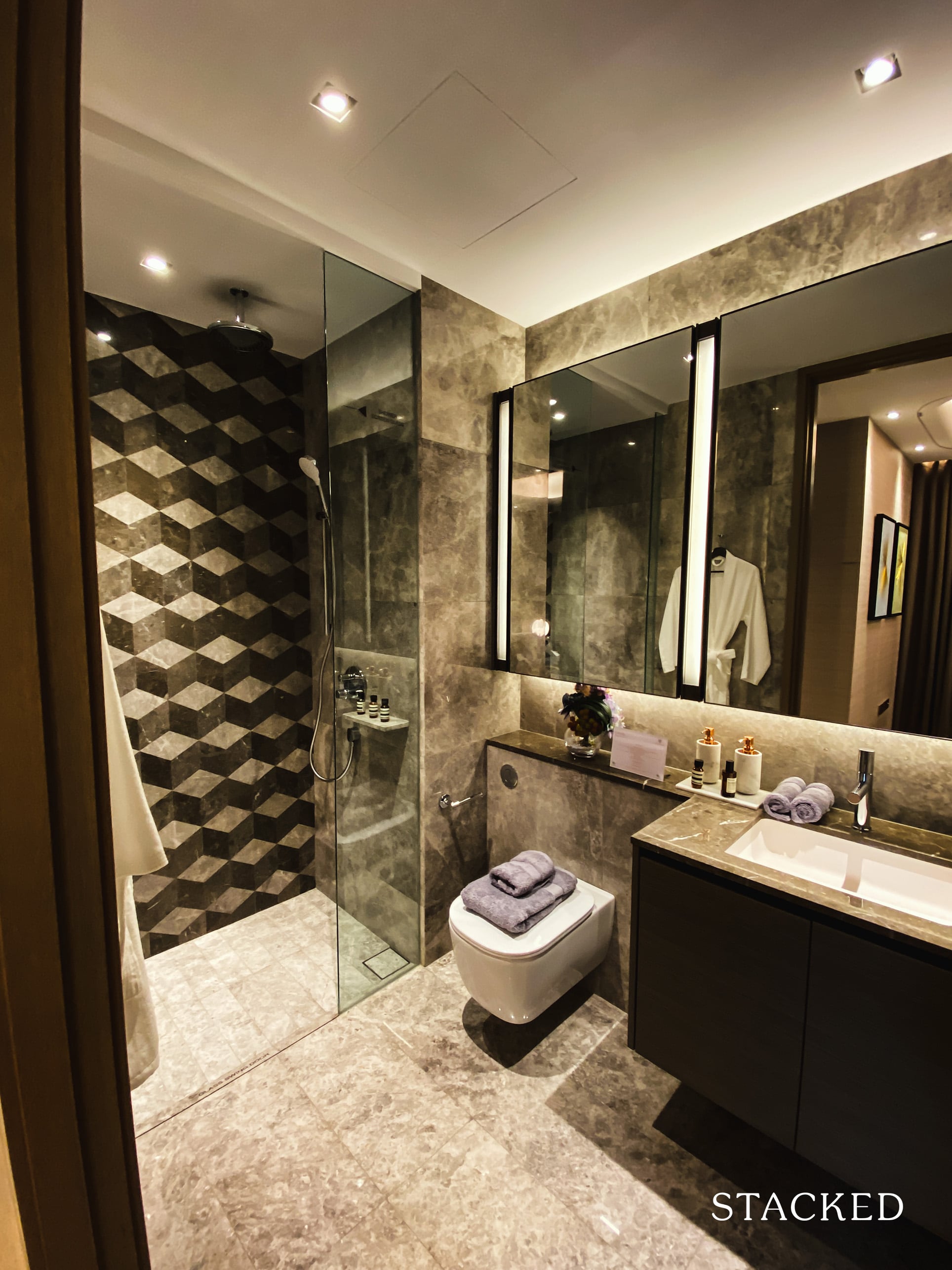 The master bathroom is slightly larger than the common bathroom. Everything is similar save for the extra storage space plus mirror instead of the window.
Leedon Green 3 Bedroom Exclusive Review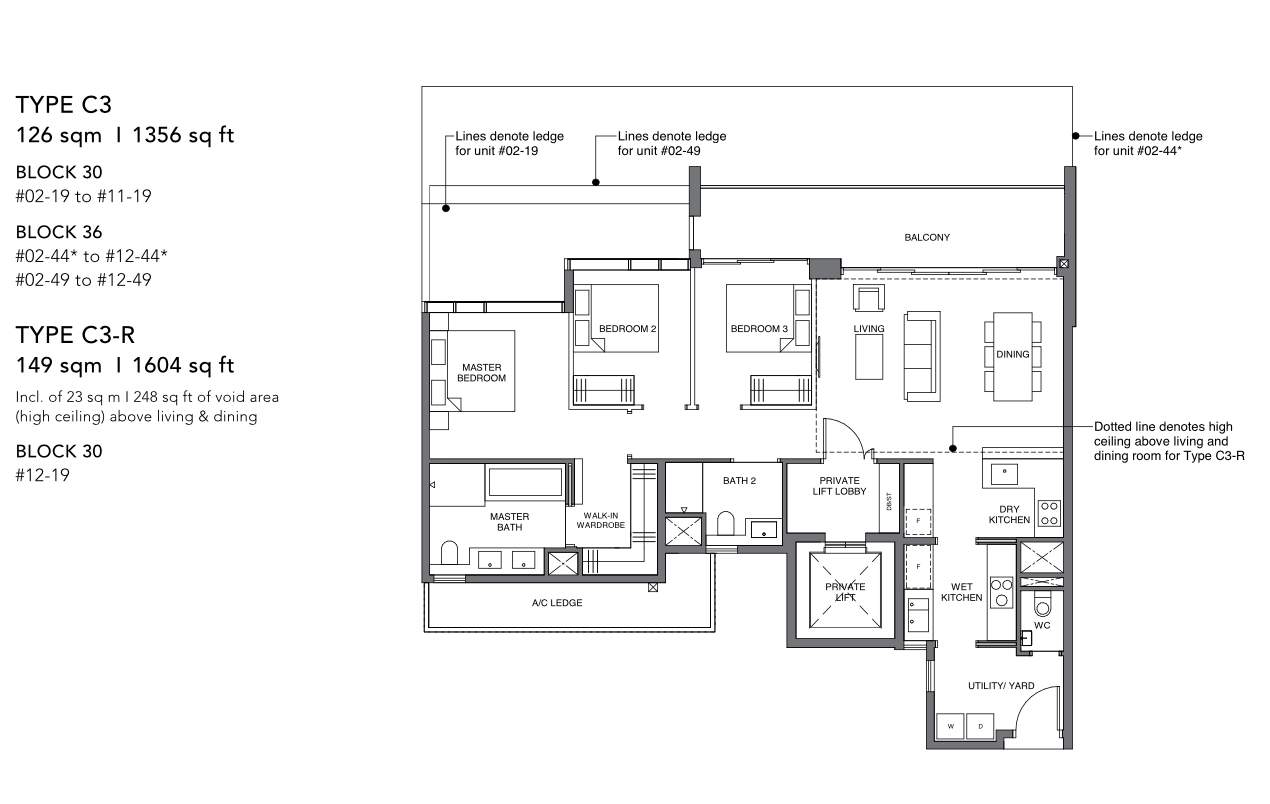 If you are looking for an ideal living space for your family, the Leedon Green 3 Bedroom Exclusive unit is the one to go for – provided you have the budget for it. At 1,356 square feet, it is generous if you were to compare to today's standards. In my opinion, it is well laid out with efficient space usage.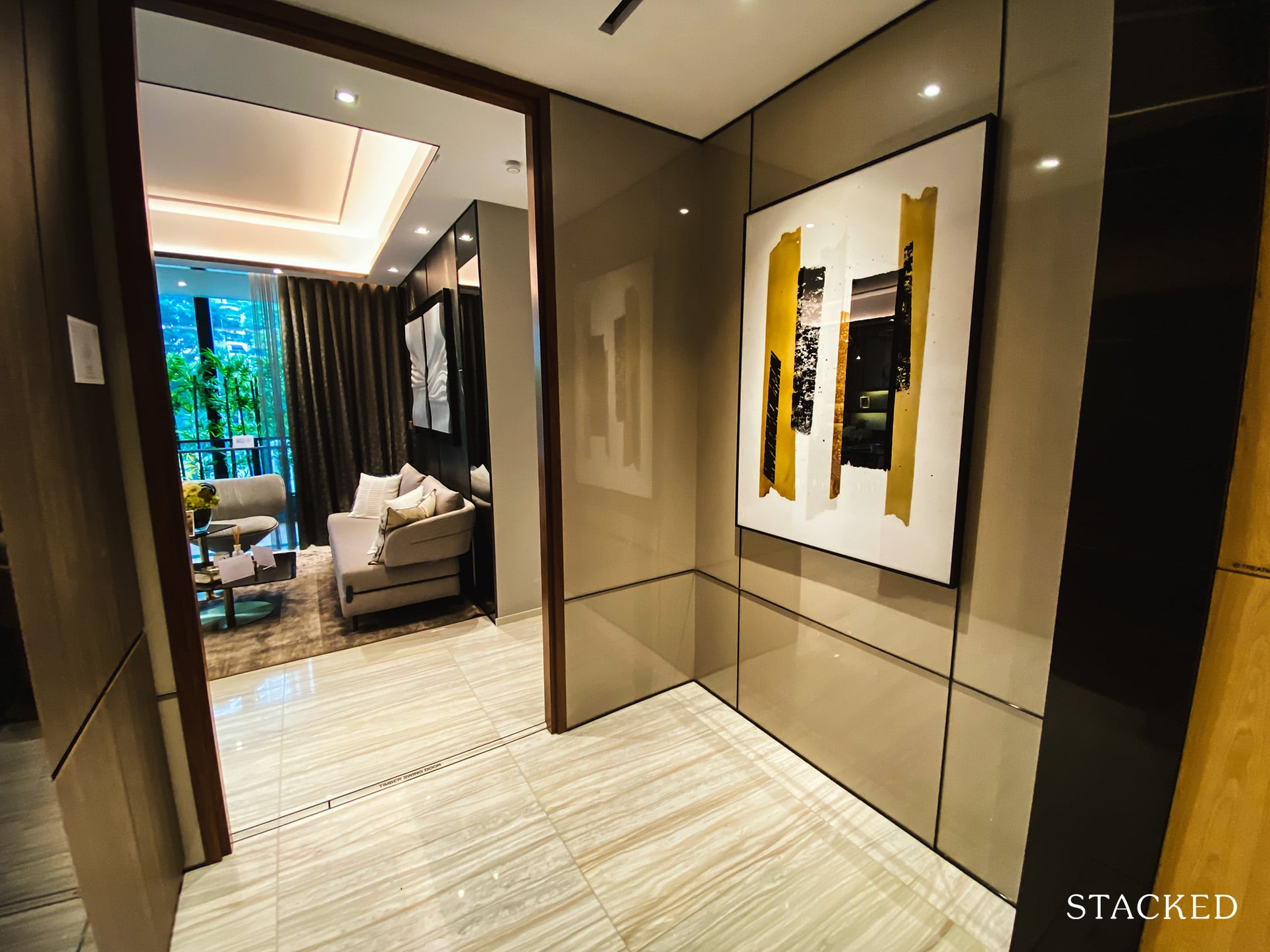 Entry to the 3 bedroom unit comes via a private lift – which is relatively unsurprisingly.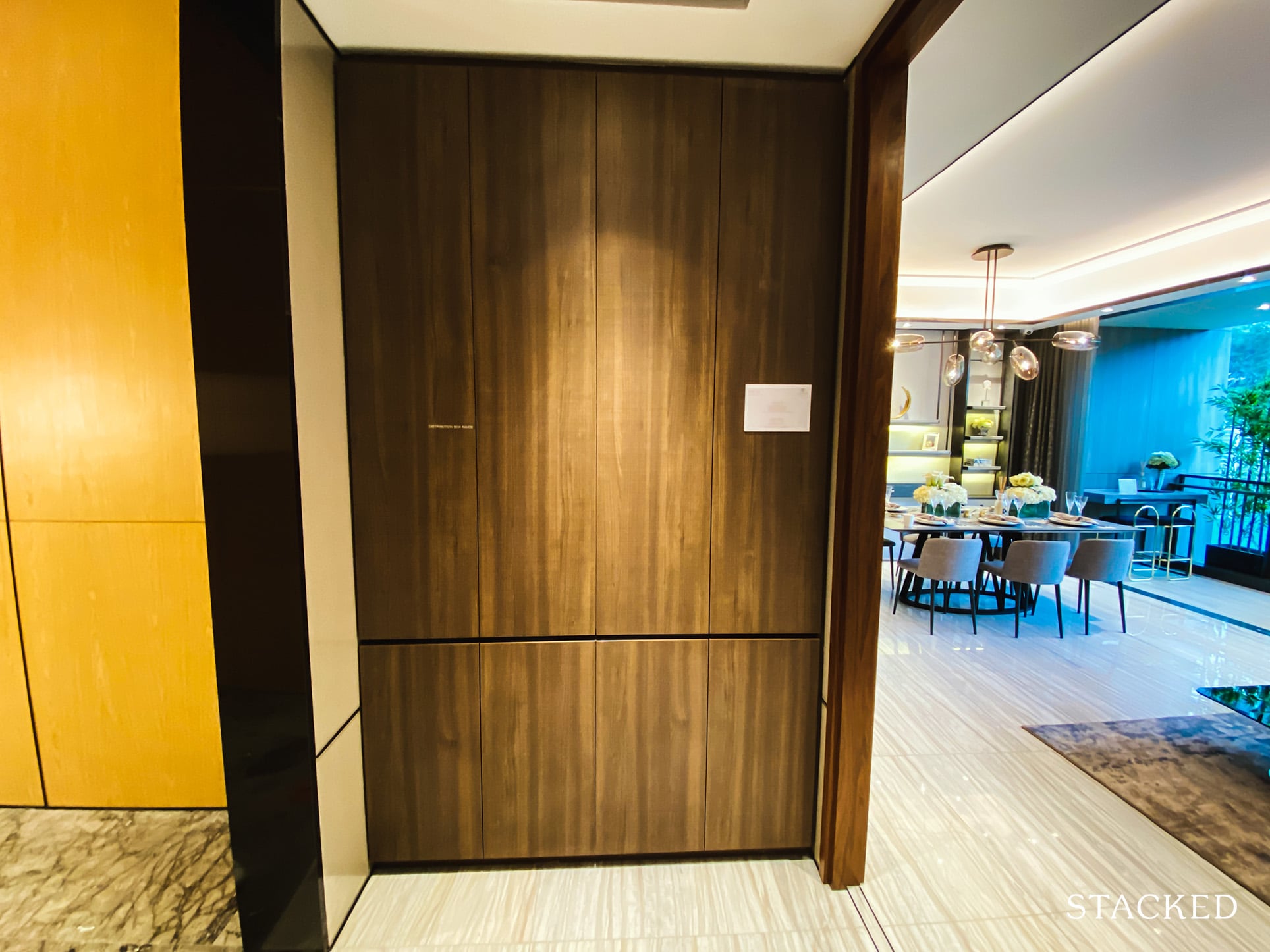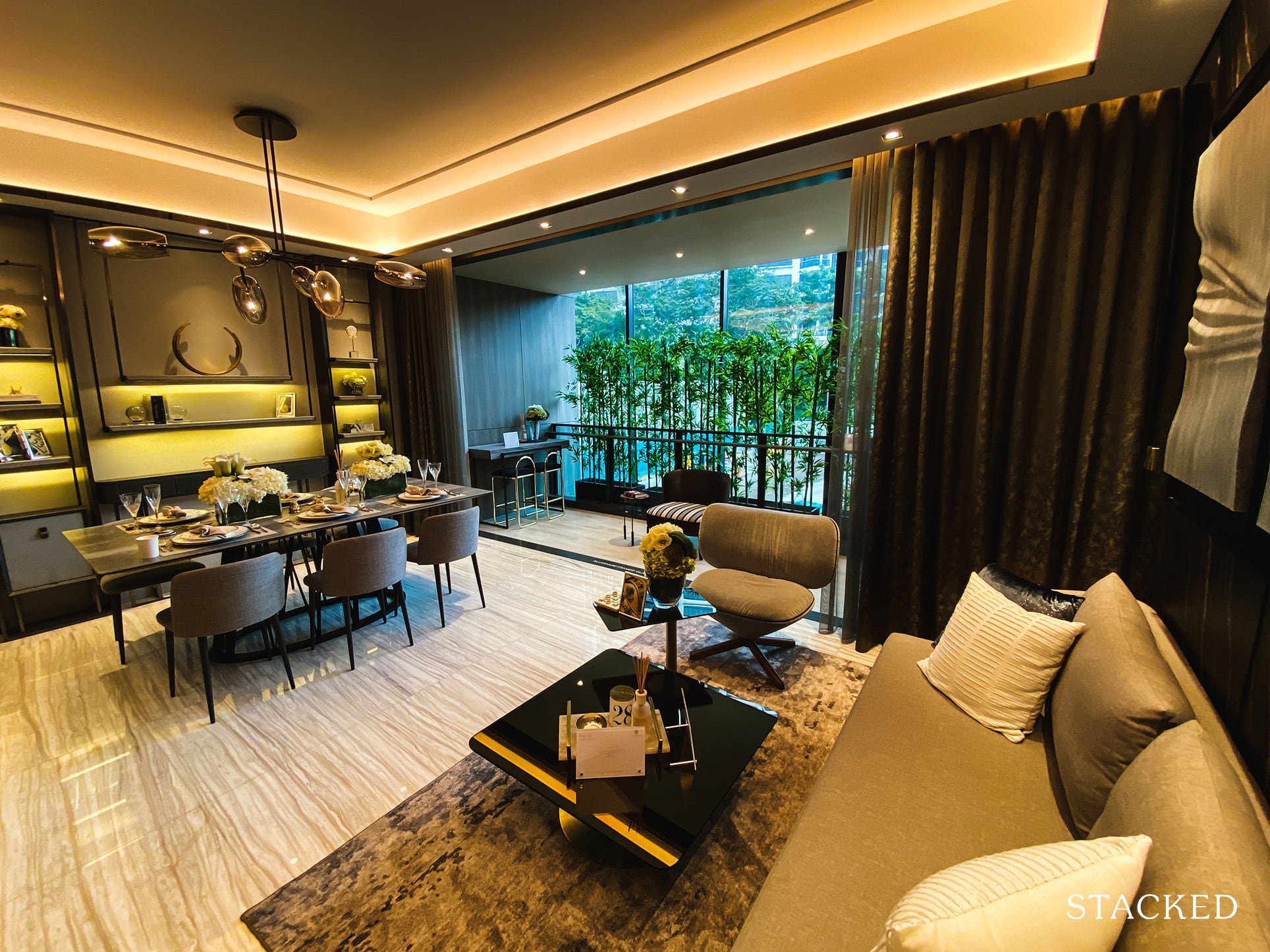 Living and dining areas are rather well-sized. So you can definitely fit in a big dining table along with a nice couch and accompanying seats.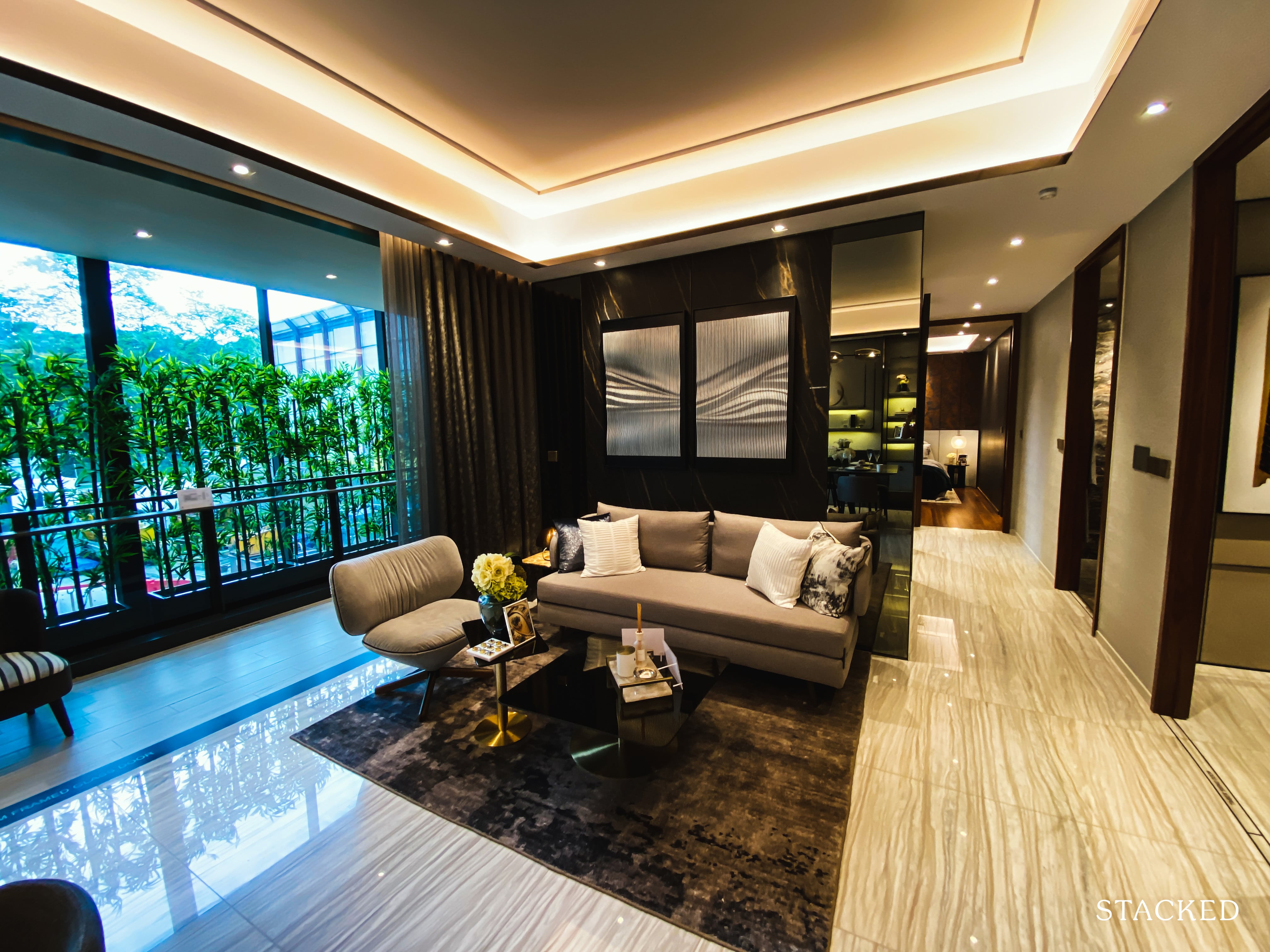 Both the living and dining open up into the huge expanse of the balcony.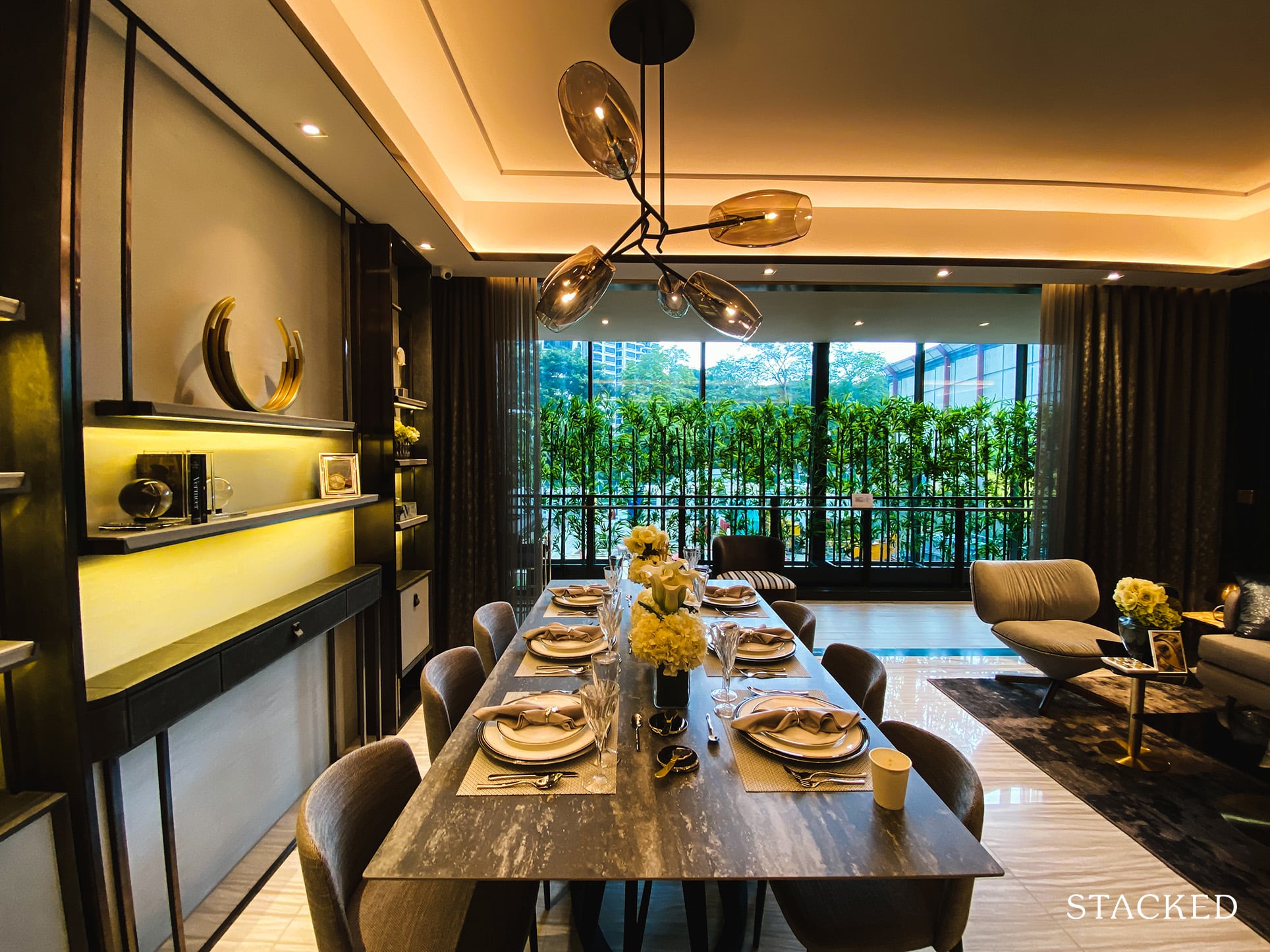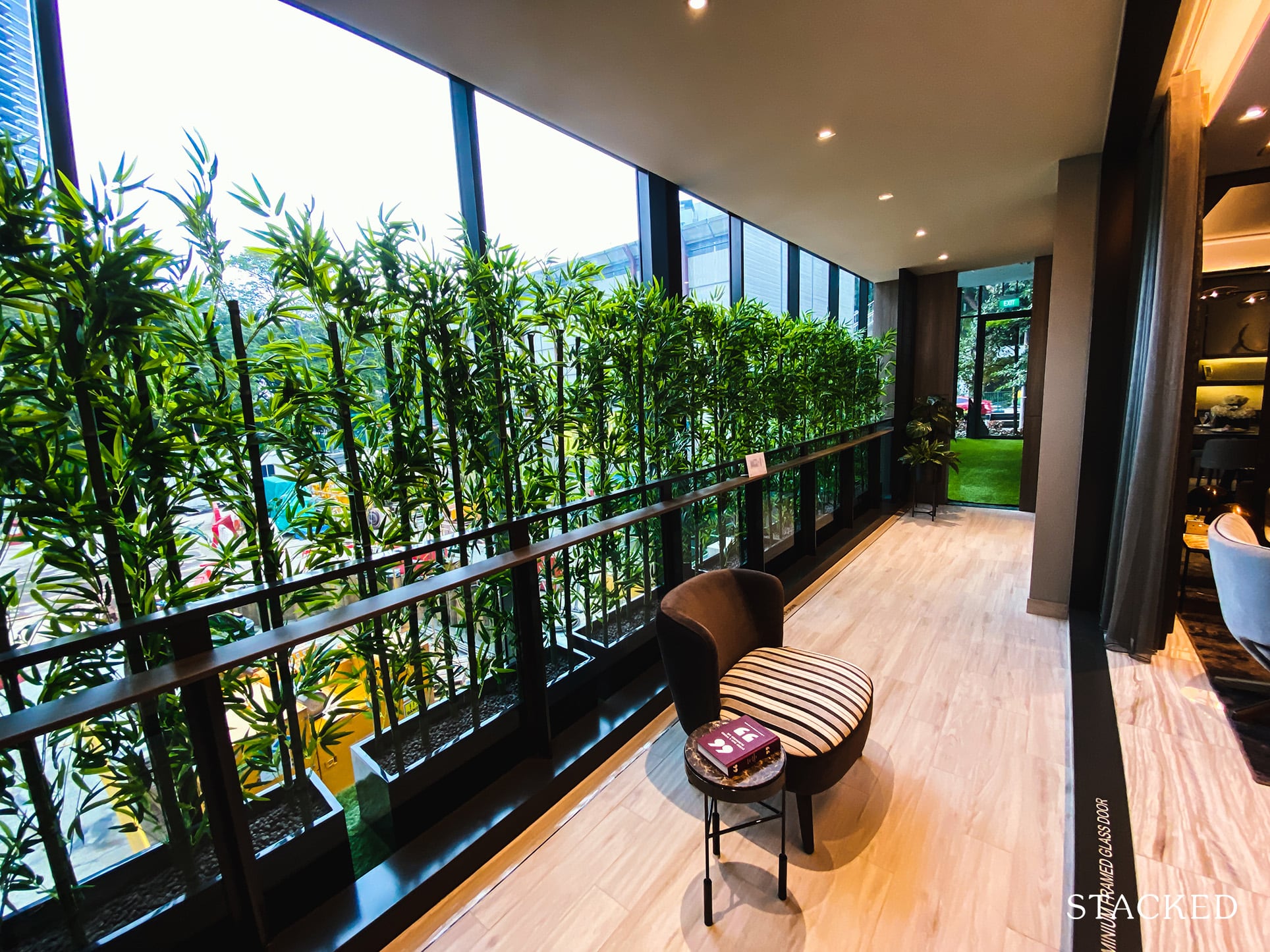 A factor that outdoor lovers will really enjoy, as the balcony spans quite the length from the dining all the way to the first bedroom. It's not very wide, but you'll certainly have ample space here.
Now comes the highlight of this 3 bedroom exclusive unit – the kitchen is simply massive. For those that use the kitchen a lot, this would undoubtedly be an easy sell.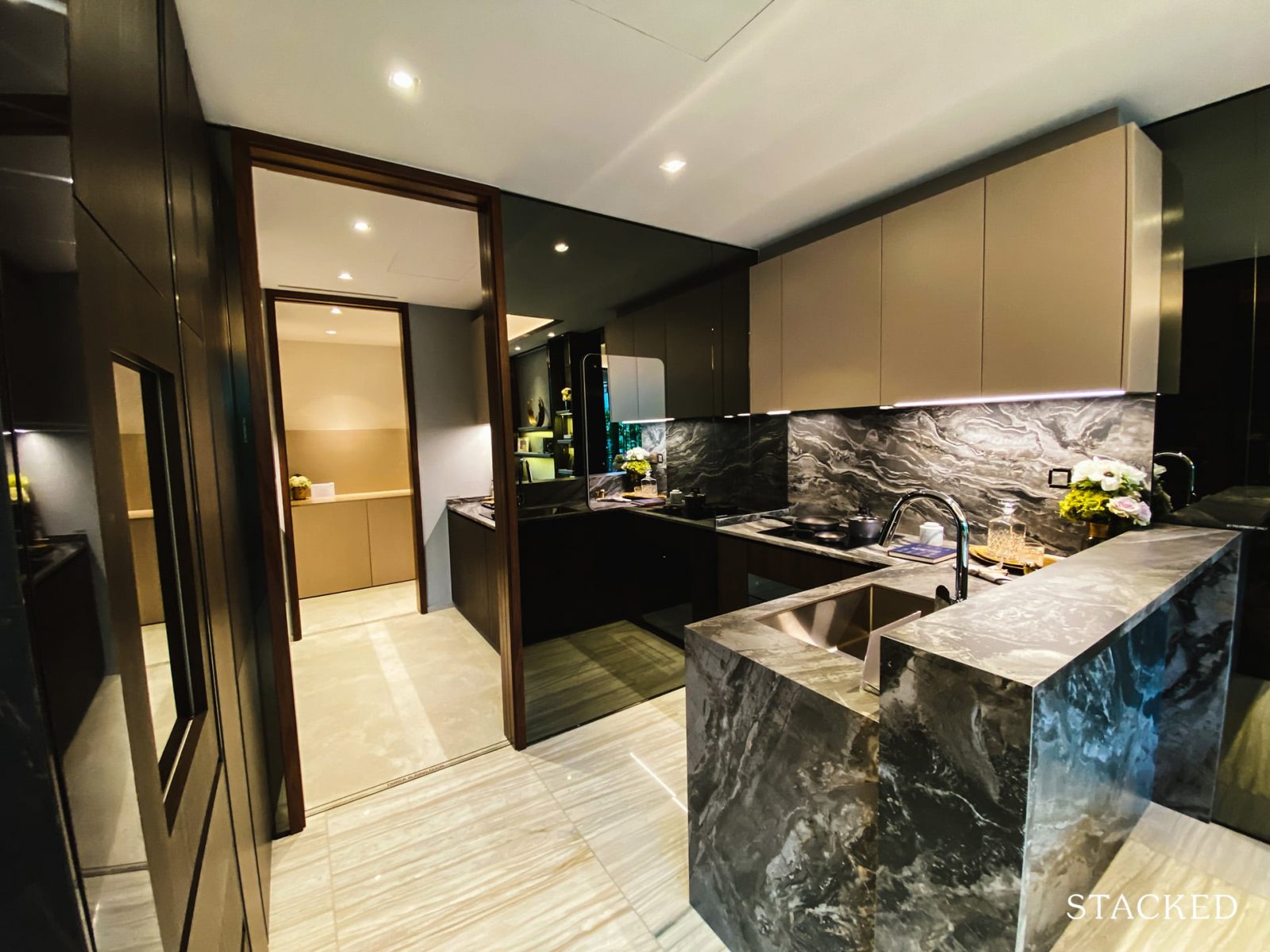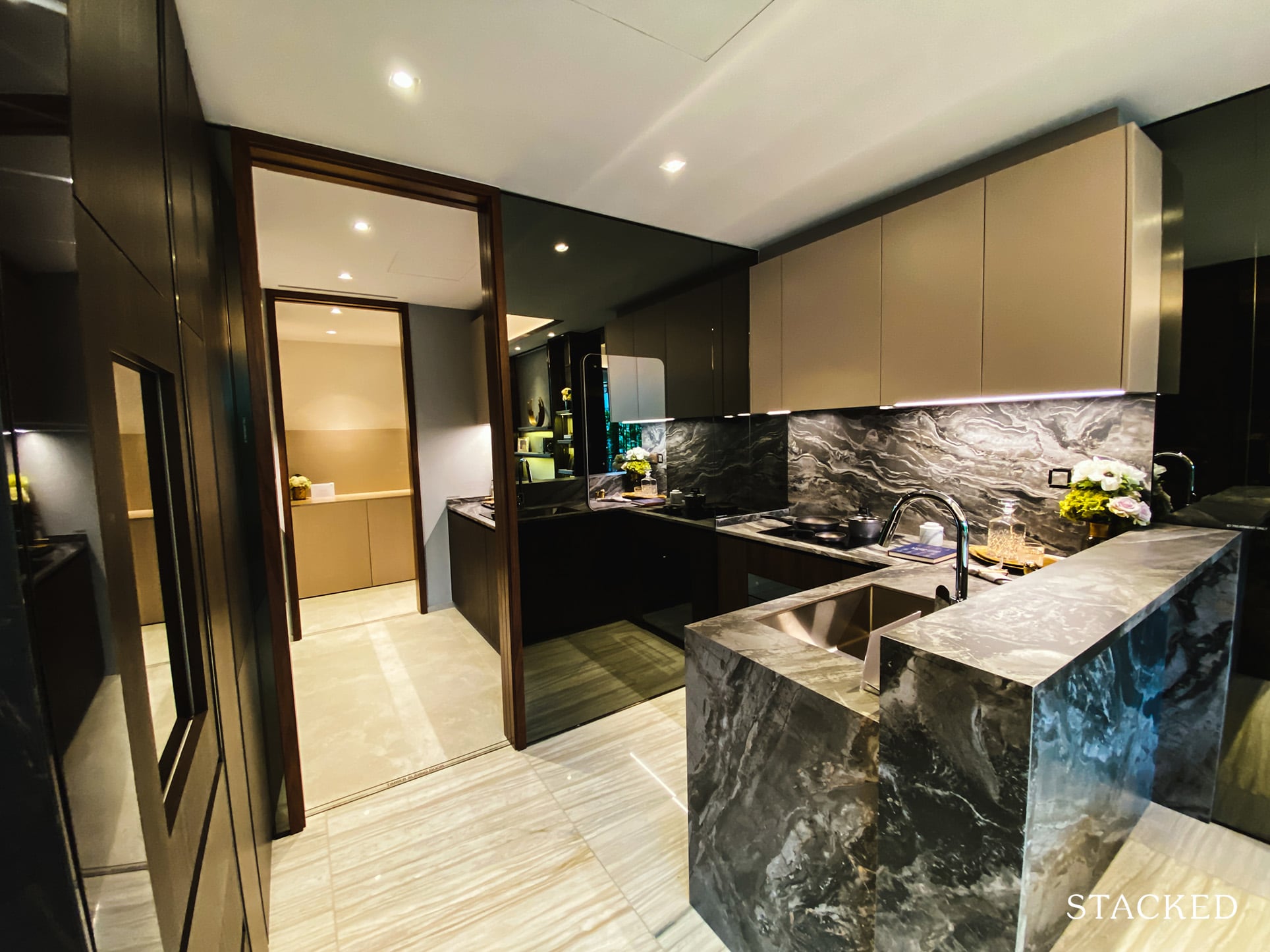 Most 3 bedder units nowadays do not come with a wet and dry kitchen, so to have both in this unit is fantastic. It's a pity this one too comes with that not-so-useful piece that juts out behind the sink.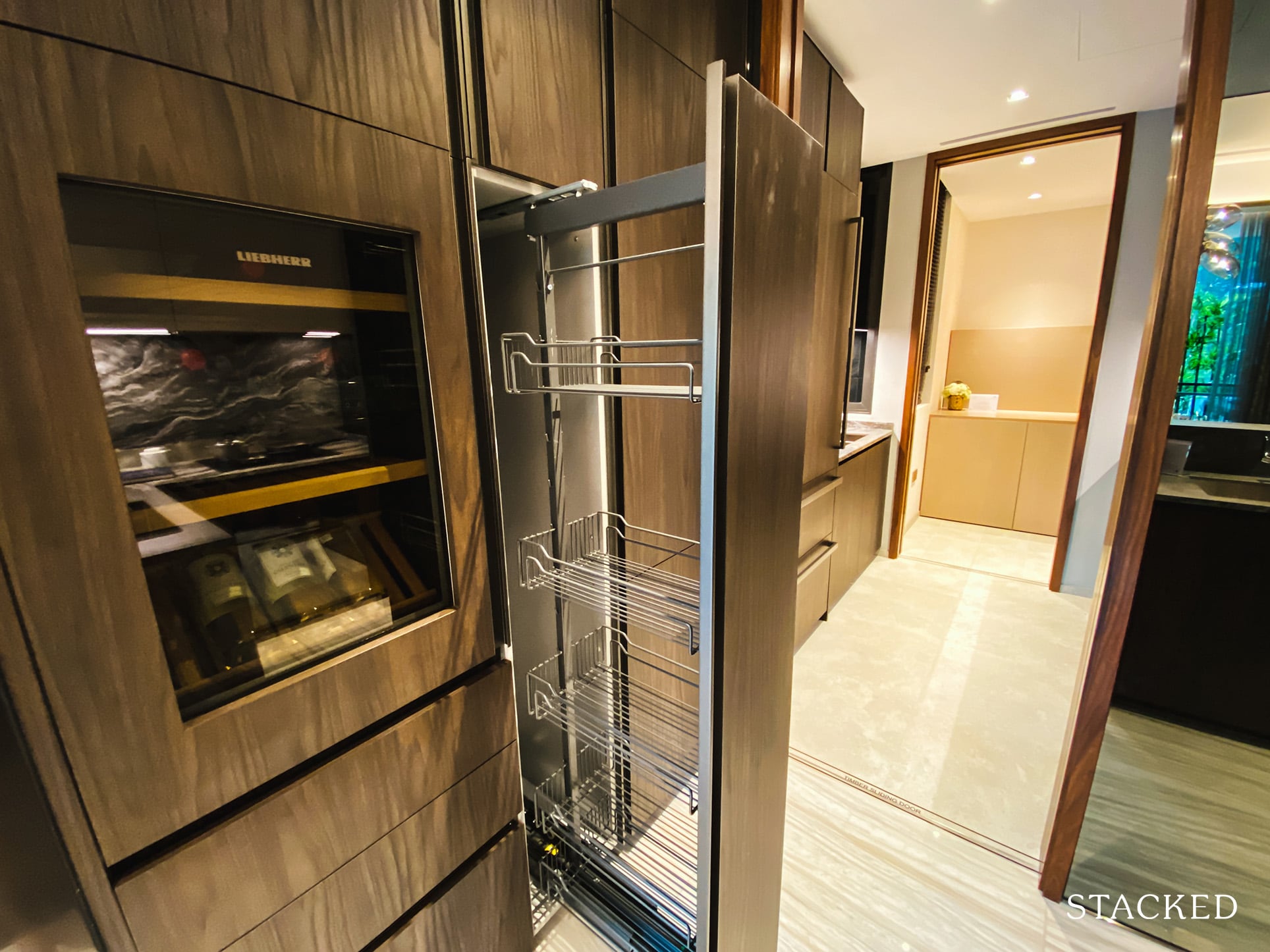 Within the cabinetry, there are also very useful pull-out kitchen racks that can be used for your sauces and dried goods. You also have a useful Liebherr wine fridge right next door.
The coolest part of the kitchen?
The mirror adjacent to this actually has a built-in touch screen display!
I can't comment on the usefulness just yet, but being able to play YouTube videos on your mirror in the kitchen definitely amps up the cool factor by a notch.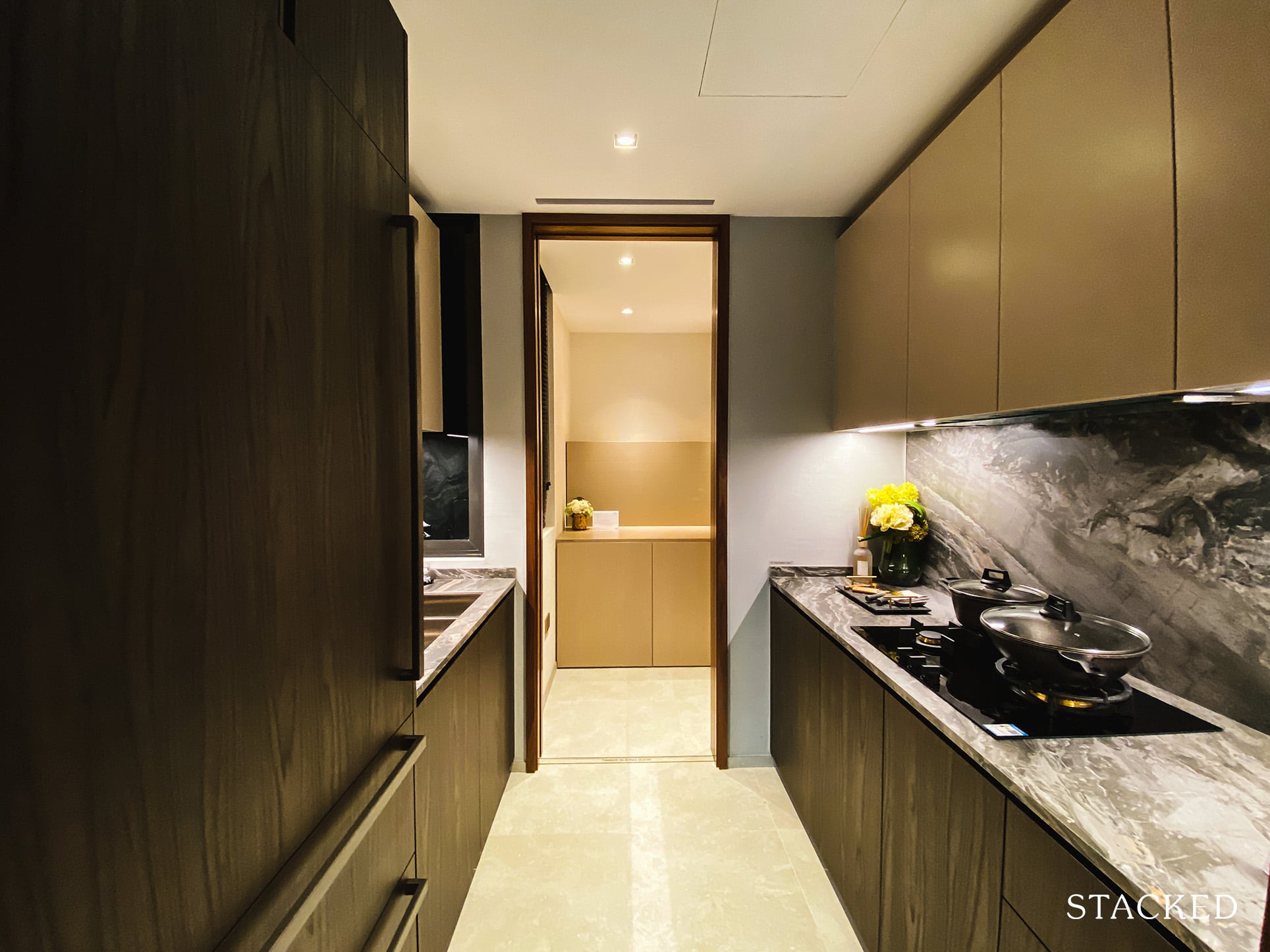 The wet kitchen is usually where the real action is, and with the space available you won't be running out of kitchen counter space anytime soon.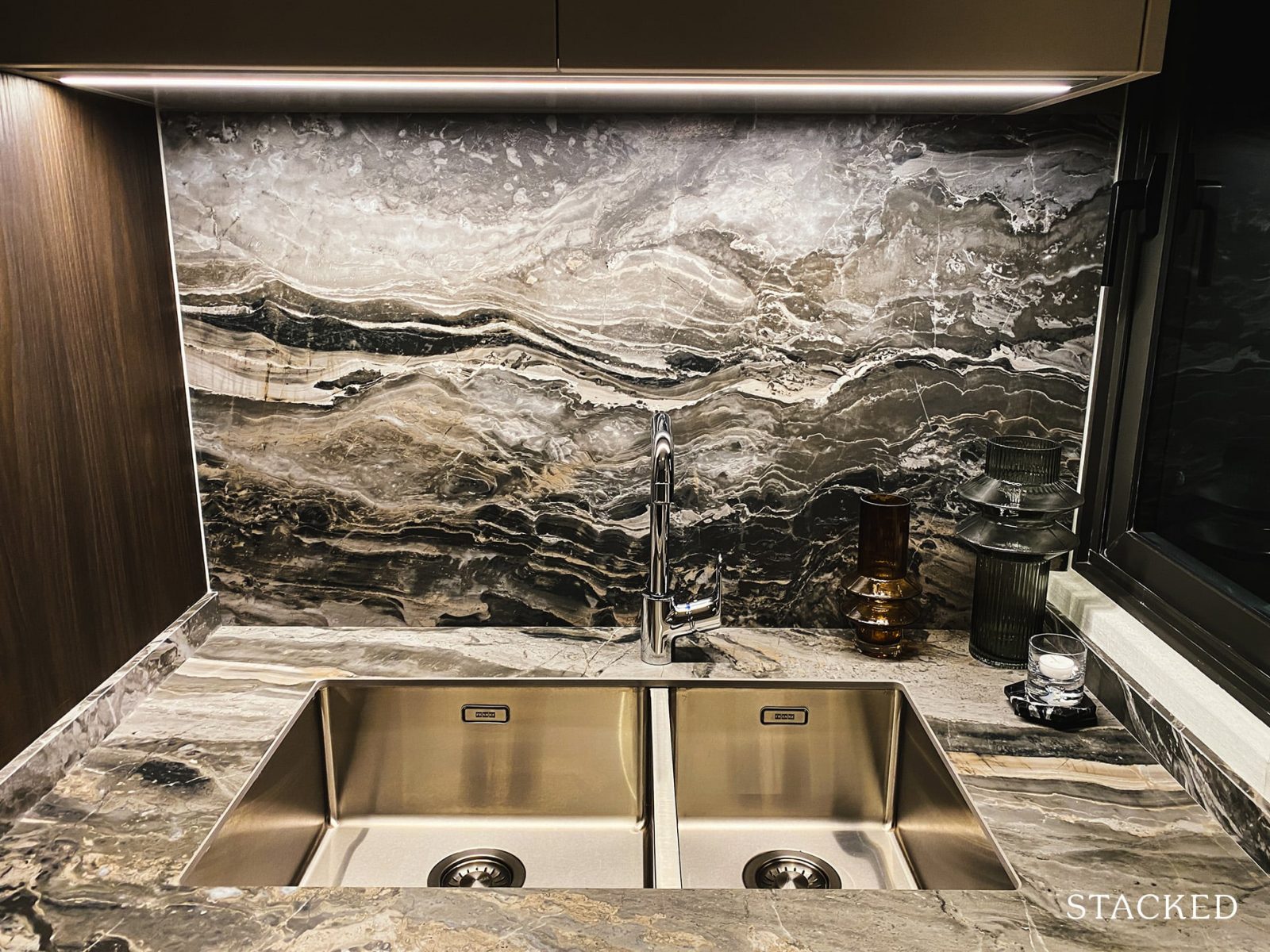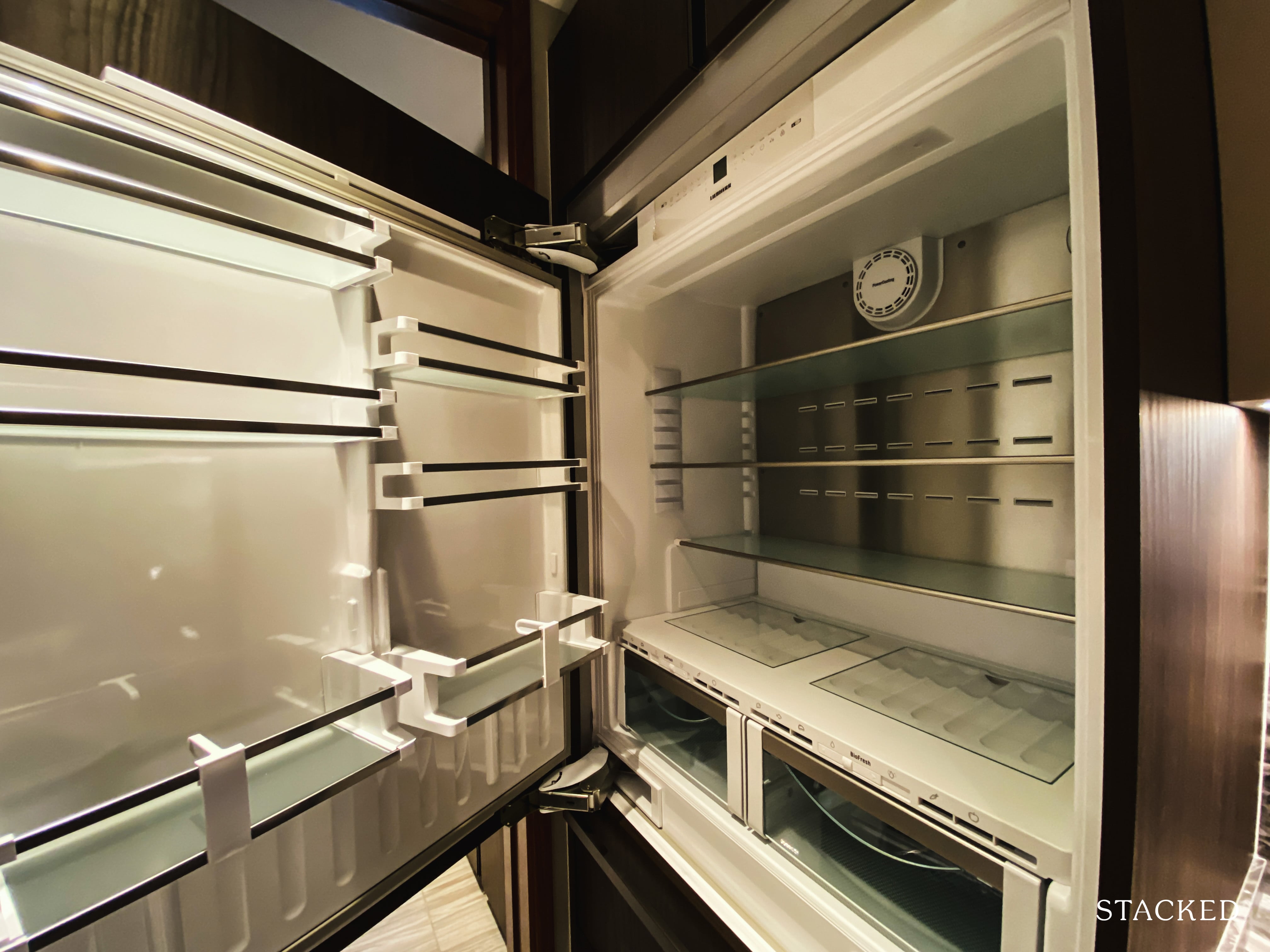 The fridge is something worth mentioning too, it's really wide so you won't have to reach too far back to look for stuff. It also helps prevent the usual overlook on expiring foods given that those are usually hidden at the back.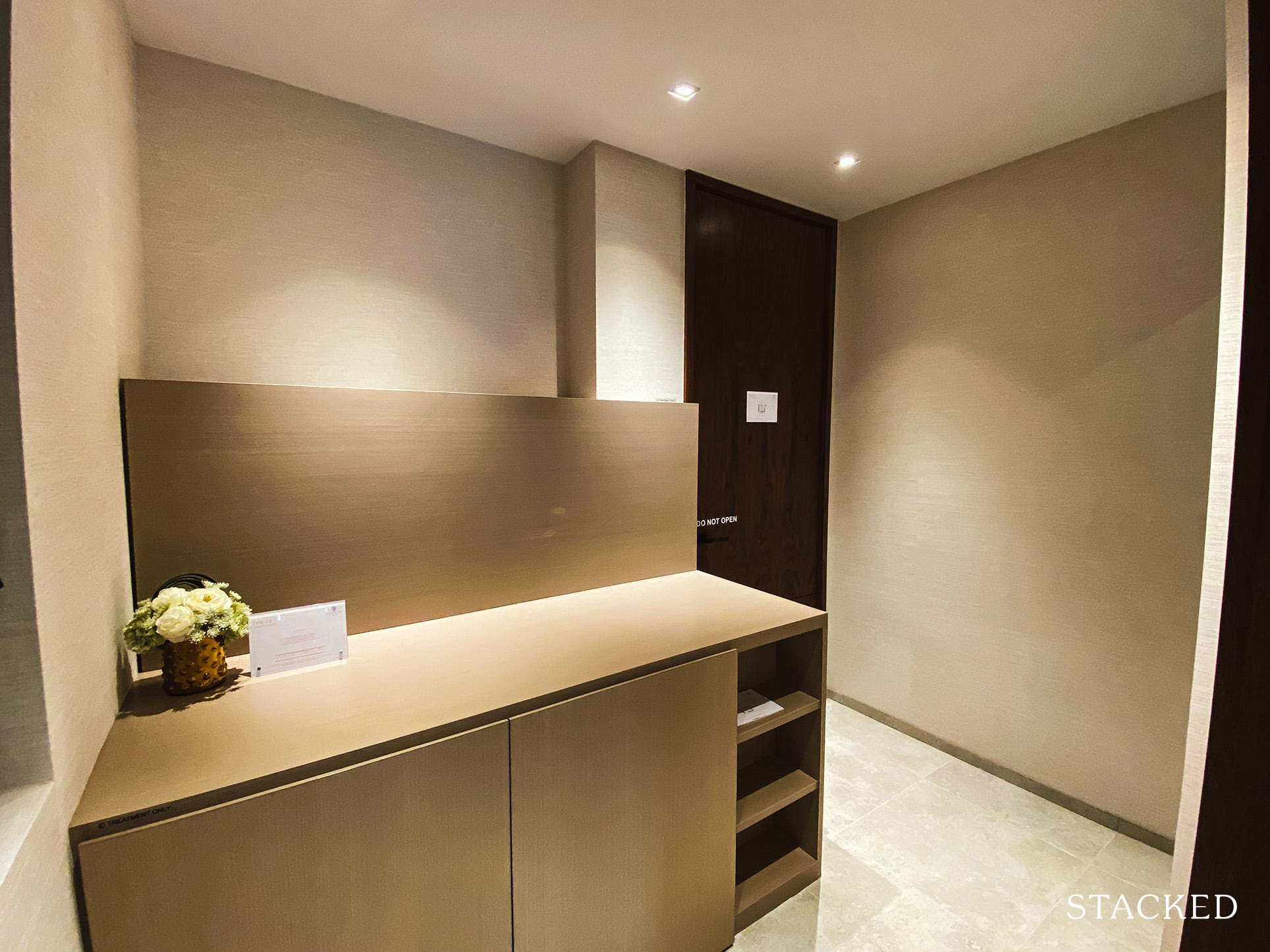 That's not quite the end of the usefulness yet. Right at the back, you'll find a utility/yard/store/helper's room along with a small washroom too. This is also the service entrance – where you let the delivery/service guys access your unit.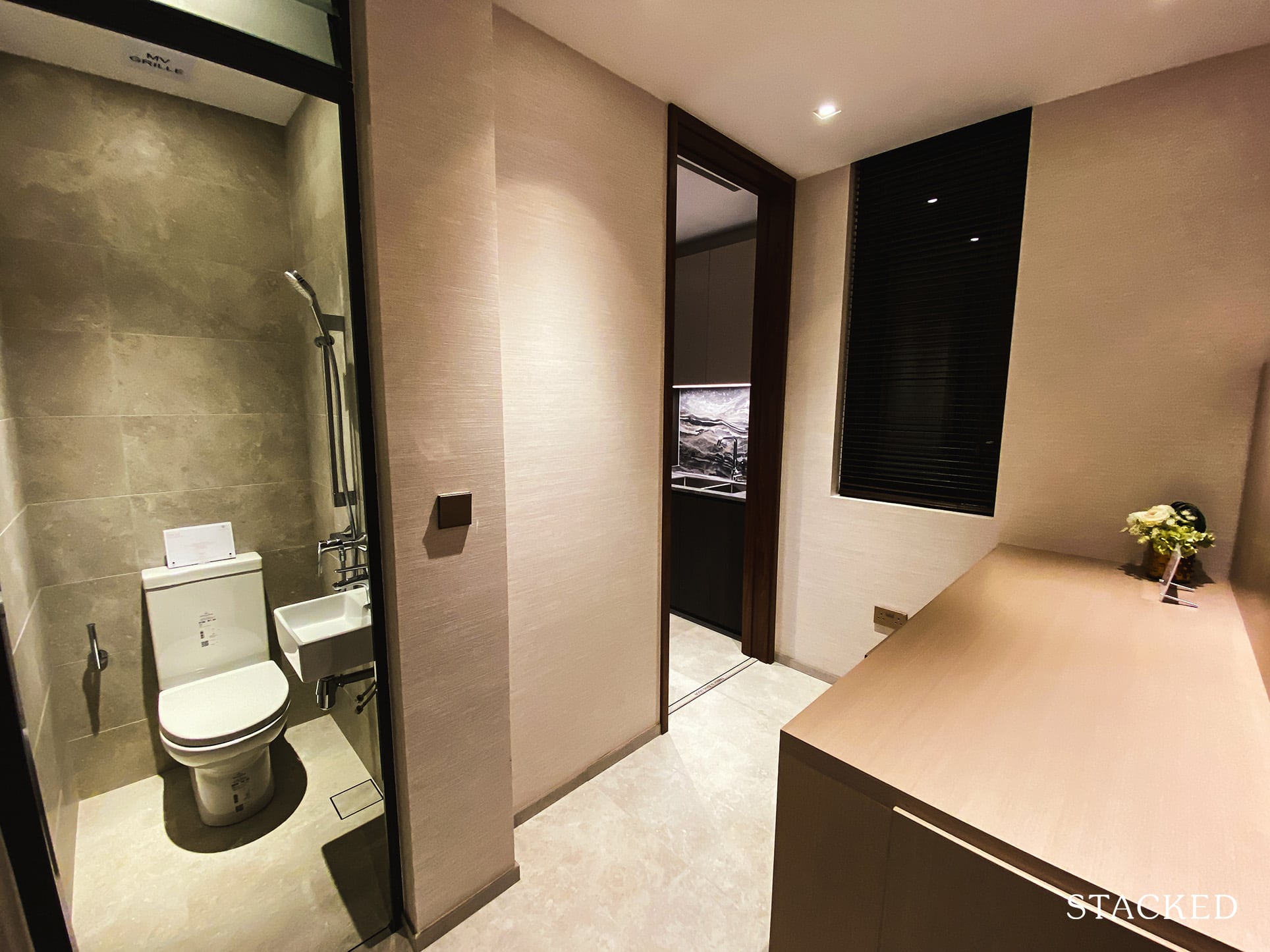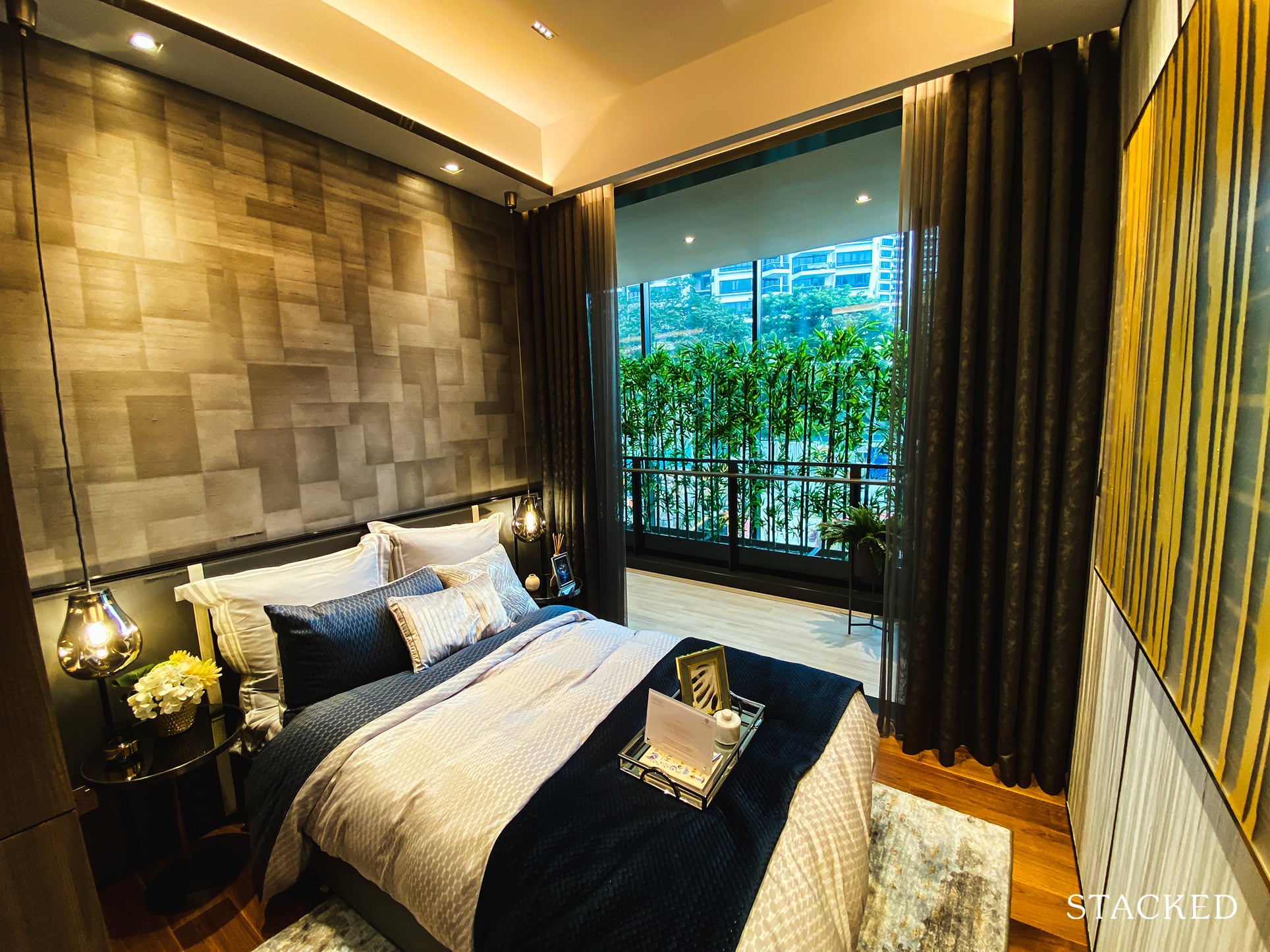 Given the size of the unit, I can't expect the bedrooms to be big at all. So it's really just the standard size that we've all come to expect. At the very least, this is the only bedroom that leads out to the balcony.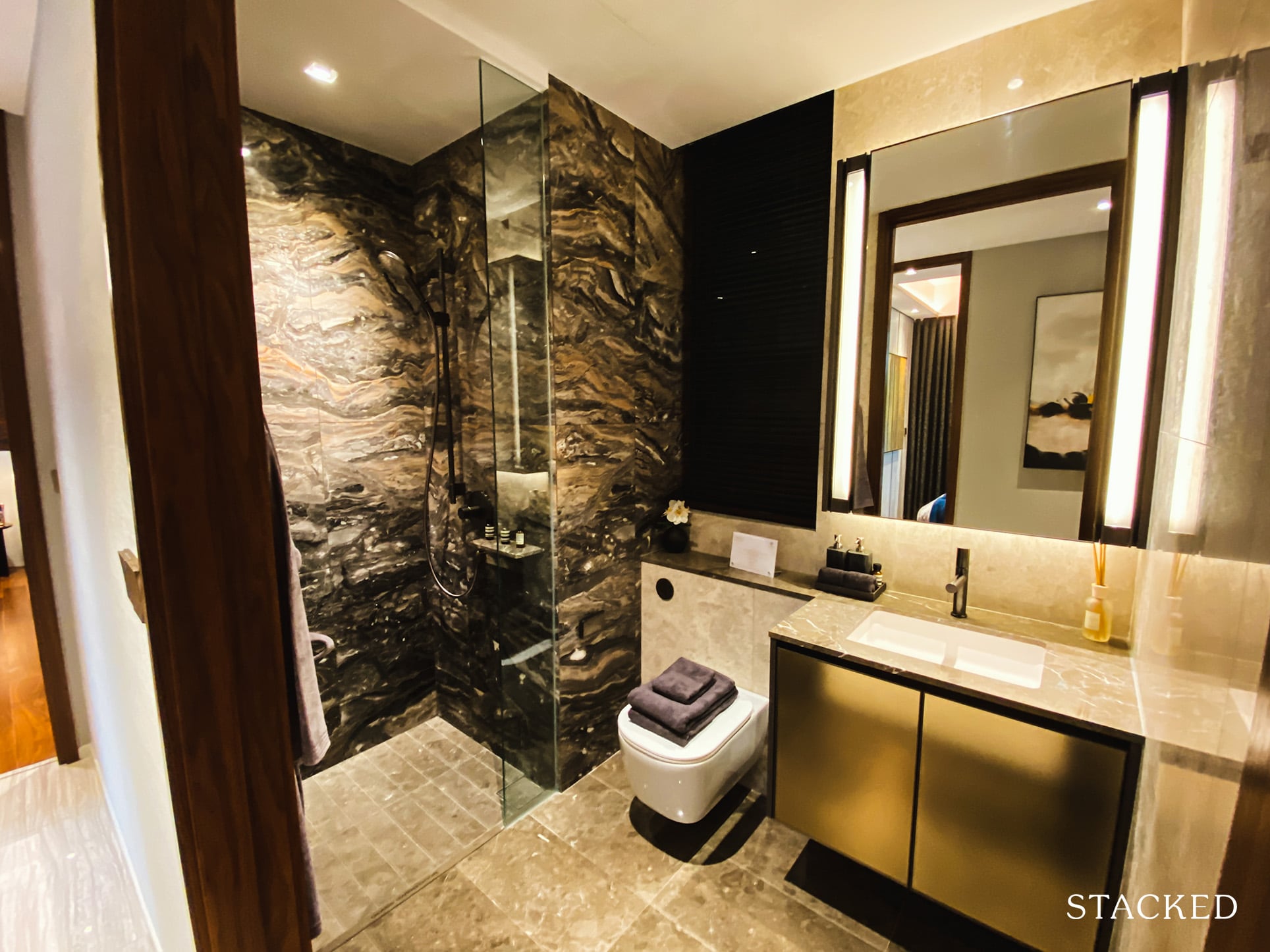 The common bathroom is a good size – neither of the common bedrooms is ensuite so this will be well utilised.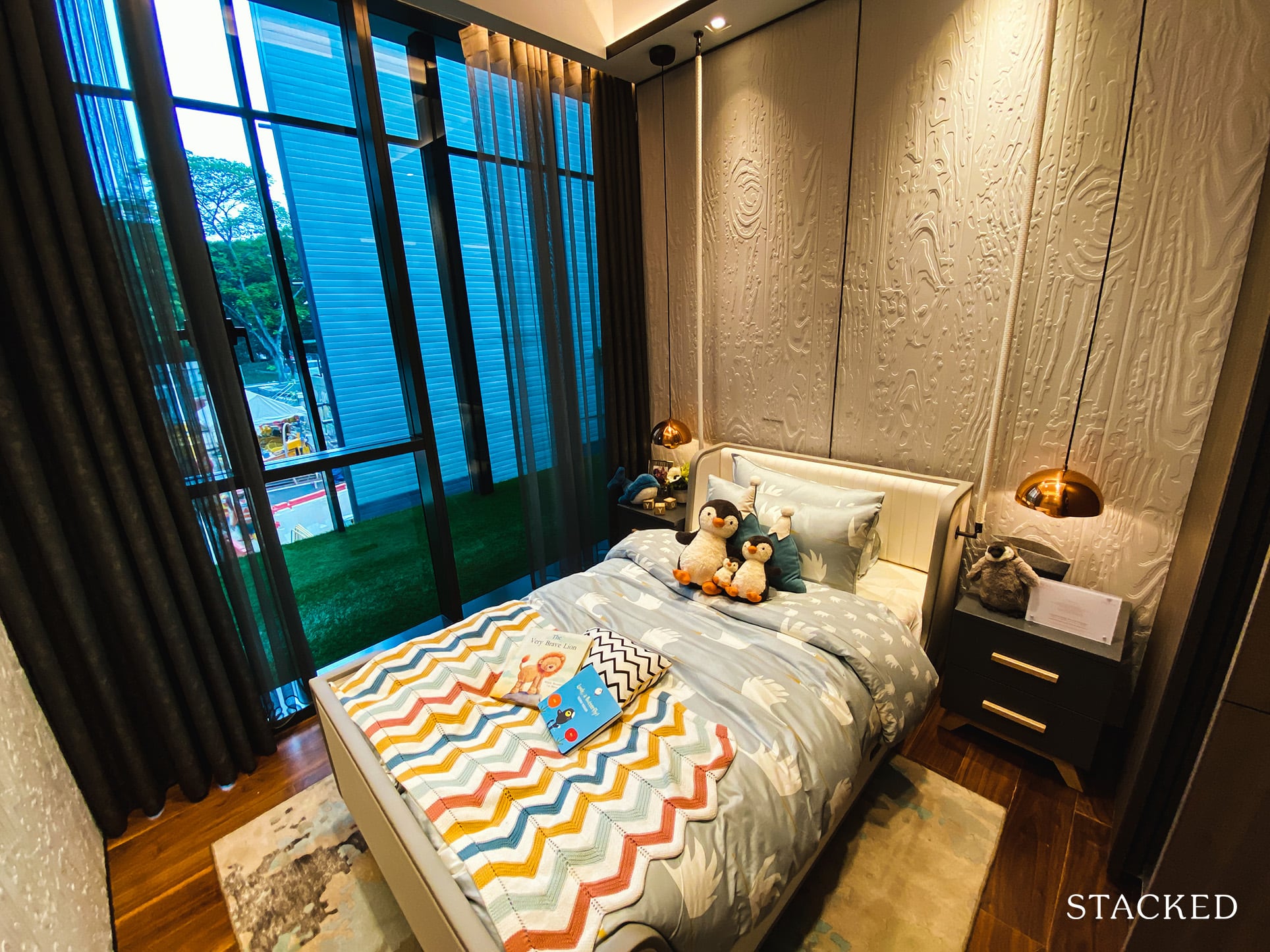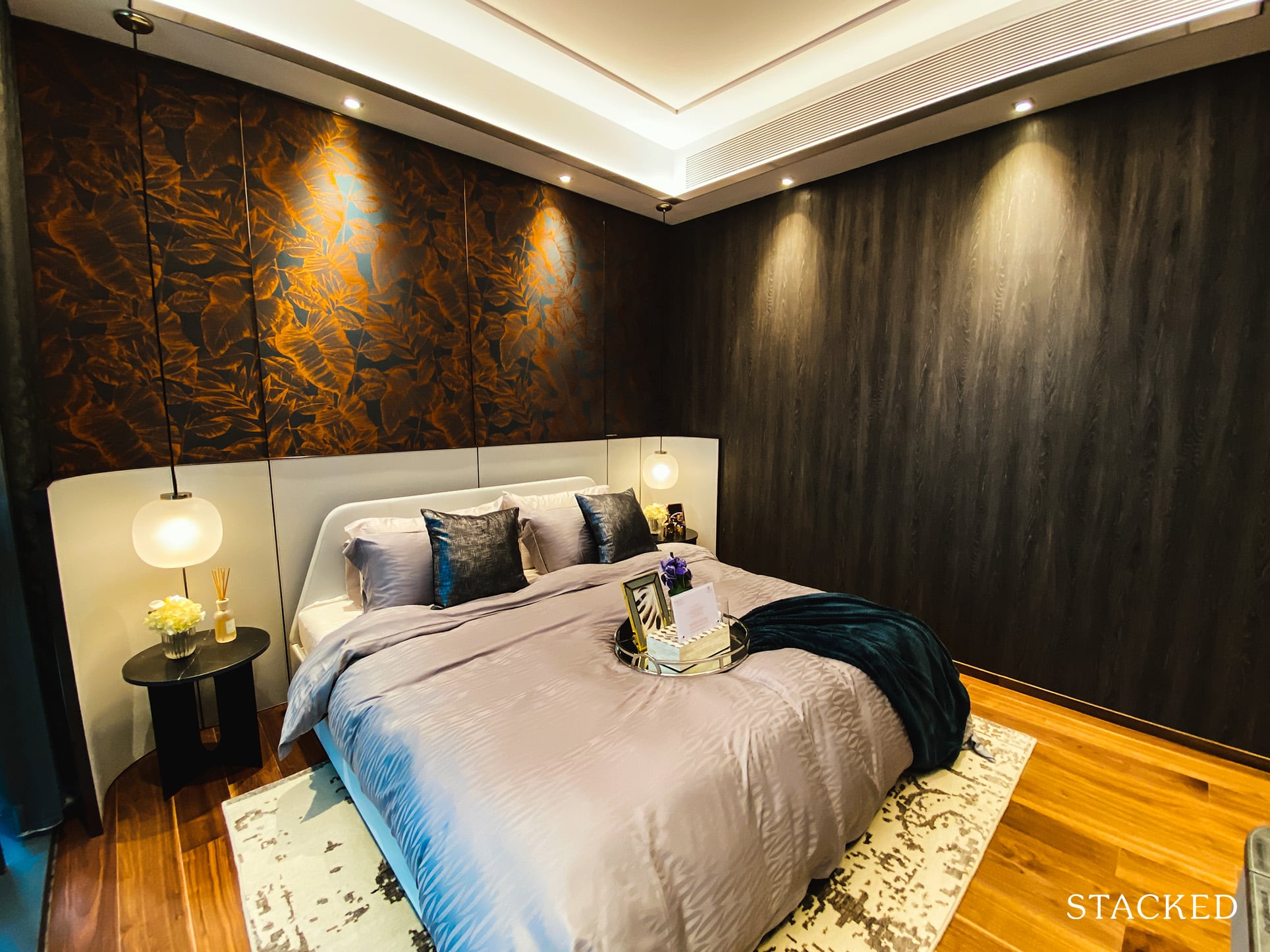 To end off on a very positive note, the master bedroom here is very impressive. It's wide and long and the sense of space you get here is certainly very welcome.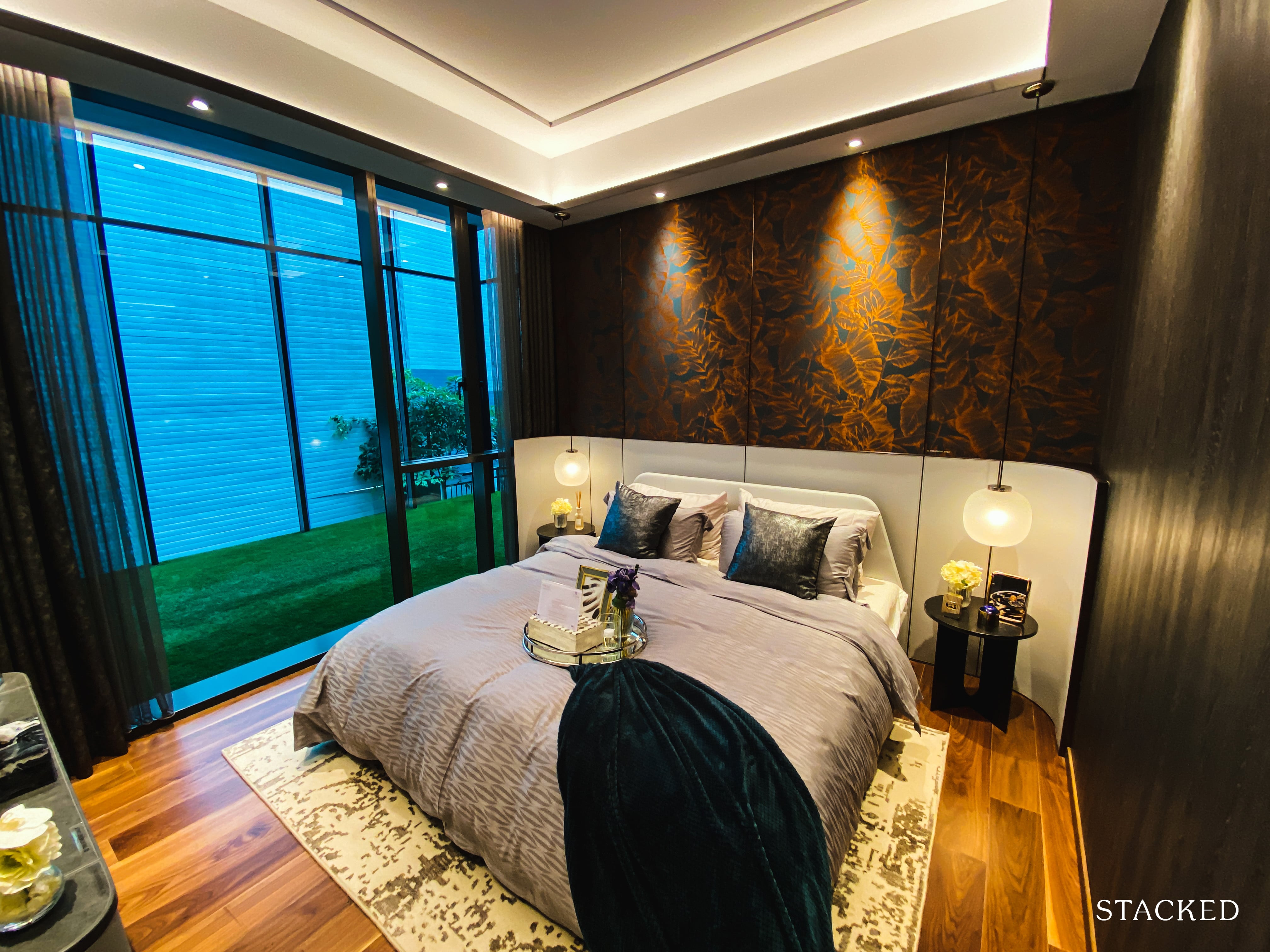 And it actually gets better – there is a really sizeable walk-in wardrobe to your right when you enter the room. Unless you are in the fashion industry, storage space should not be a problem at all.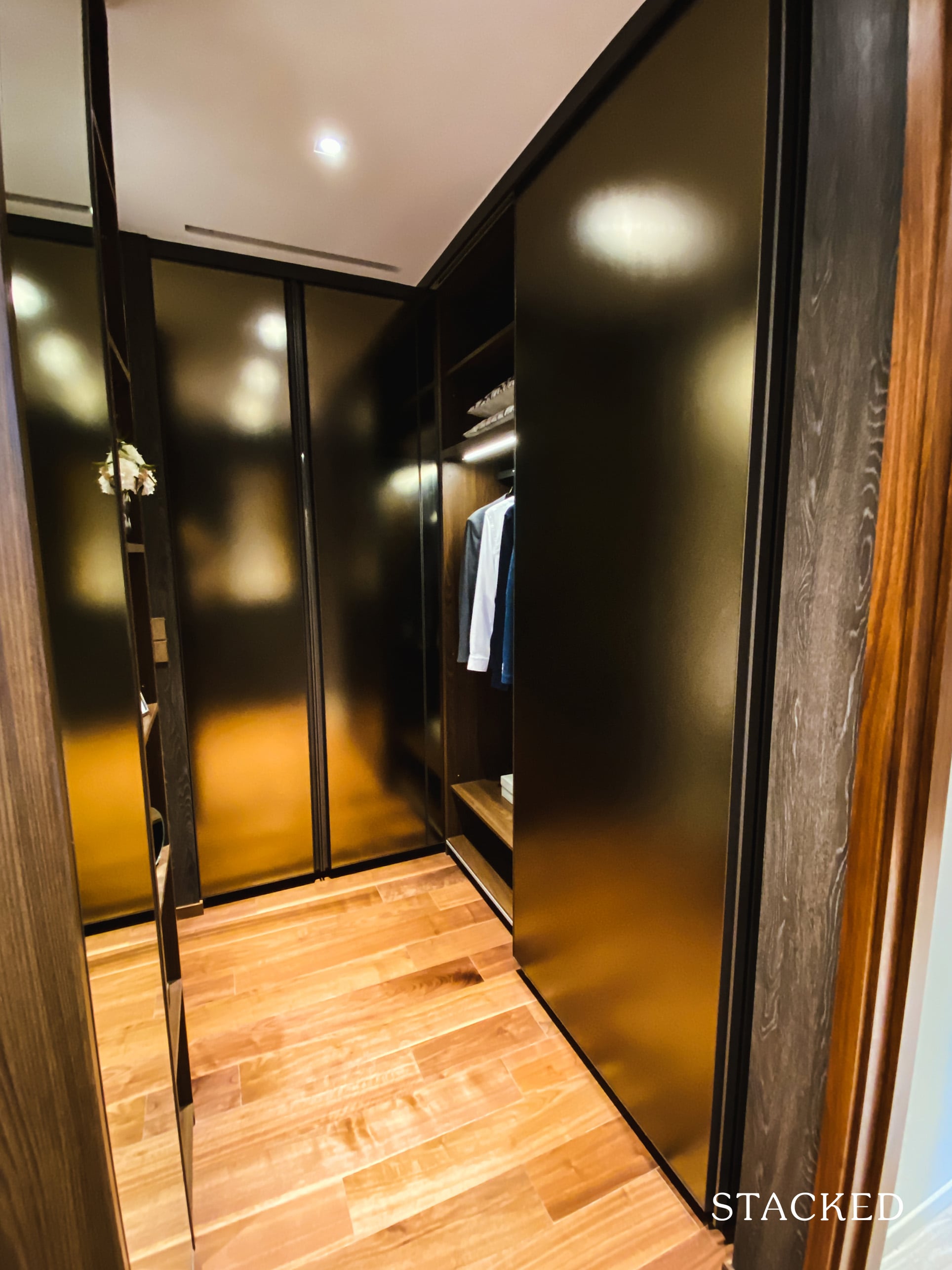 The master bathroom packs a real surprise too. It's a great size that includes both a bathtub and rain shower.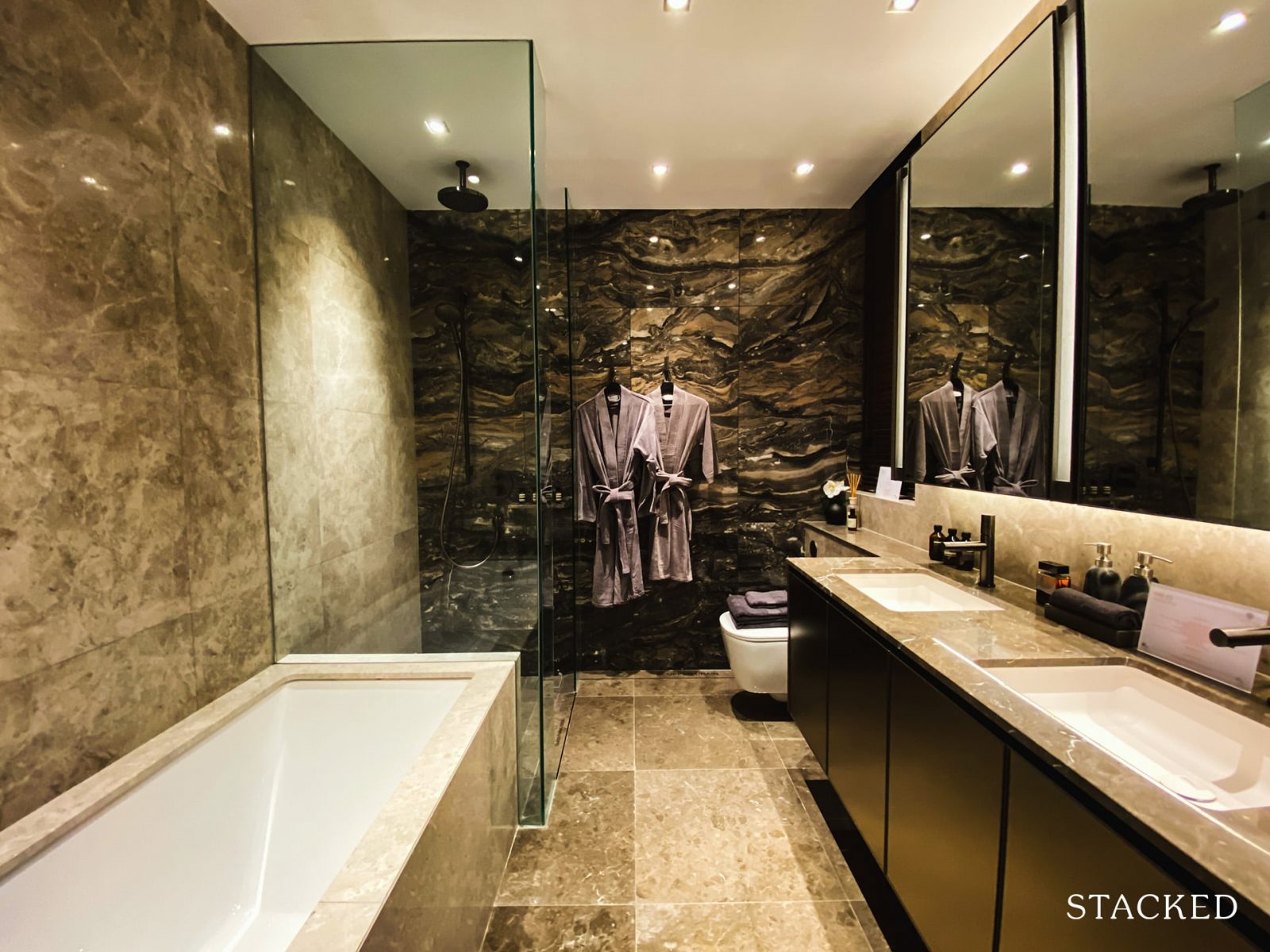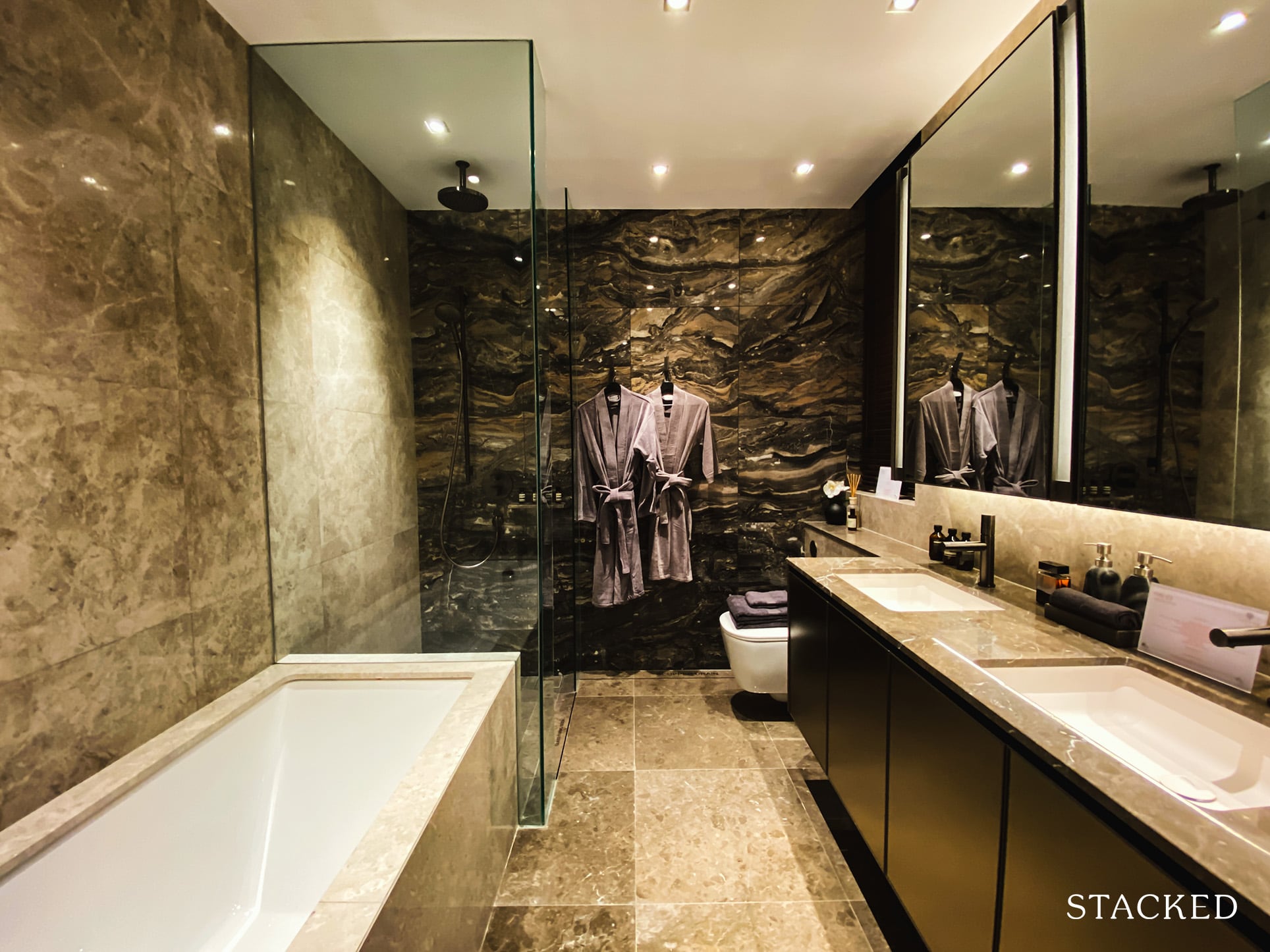 Best of all, they've even managed to fit in his and hers sinks. Something that is usually reserved only for luxury hotels.
Leedon Green Location Review

Leedon Green is set to occupy approximately 316,708 square feet of land alongside one of Singapore's busiest junctions.

Nestled into the corner where Holland and Farrer Road dissect, you can just imagine the volume of cars that will pass by the development throughout the day.

More so when you consider the presence of the Holland flyover and the Farrer Underpass above and under that same junction.
A double-edged sword no doubt, but also a defiant testament to the popularity of the project's locale.

Public Transport

| | | |
| --- | --- | --- |
| Bus Station | Buses Serviced | Distance From Condo (& Est. Walking Time) |
| 'Tulip Garden' | 48, 93, 153, 165, 174, 186, 855, 961, 961M | 140m, 2-min walk |
| 'Opp Tulip Garden' | 5N, 48, 93, 153, 165, 174, 186, 855, 961, 961M | 240m, 3-min walk |
| 'Fairlodge' | 7, 7B, 48, 75, 77, 106, 165 | 300m, 4-min walk |
| 'Aft Estoril Mansions' | 5N, 7, 48, 75, 77, 106, 165, NR8 | 450m, 5-min walk |
Closest MRT: Farrer Road/Holland Village MRT – 1km, 12-min walk

If you'd read our previous review on Leedon Residences, you'd have a rough idea of the condo's distance to the Farrer Road MRT station.

Yes, it'll take a tad longer to get there from Leedon Green due to its position, but accessibility to the Holland Village MRT also opens up in that regard.

As far as MRT routes go, both Farrer Road & Holland Village MRT aren't the most central stations.

Assuming you take the shorter MRT route on both occasions, the Holland Village MRT is 8 stops from the CBD/Raffles Place MRT (17 minutes ride), involving 2 line changes along the way.

Accessing the Orchard Road MRT station from Farrer Road MRT takes about 8-9 minutes across 4 MRT stops, but with 3 line changes.

To access the buses to Orchard Rd & Holland Village, you will have to either cross either the overhead bridge or Holland road.

Also, note that Bus 174 provides a faster alternative if you want to skip on the MRT line changes. It takes 11-minutes from the 'Opp Tulip Gdn' bus stop to get to the 'Royal Thai Embassy' just before Orchard Road.

Finally, students and office workers who frequent the Kent Ridge/Labrador MRT stations are also just 6 (3 stops) and 13-minute (6 stops) rides away, excluding walking/waiting times.

Private Transport
| | |
| --- | --- |
| Key Destinations | Distance From Condo (& Est. Peak Hour Drive Time) |
| CBD (Raffles Place) | 8.6km, 23-min drive |
| Orchard Road | 5.3km, 13-min drive |
| Suntec City | 9.6km, 21-min drive |
| Changi Airport | 23.4km, 27-min drive |
| Tuas Port (By 2040) | 34.7km, 42-min drive |
| Paya Lebar Quarters/Airbase (By 2030) | 13.4km, 21-min drive |
| Mediapolis (and surroundings) | 4.4km, 12-min drive |
| Mapletree Business City | 5.9km, 15-min drive |
| Tuas Checkpoint (Friday evenings) | 24km, 30-min drive |
| Woodlands Checkpoint (Friday evenings) | 17.8km, 30-min drive |
| Jurong Cluster (JCube) | 11.4km, 17-min drive |
| Woodlands Cluster (Causeway Point) | 18.1km, 23-min drive |
| HarbourFront Cluster (Vivo City) | 9.4km, 19-min drive |
| Punggol Cluster (Waterway Point) | 20.4km, 23-min drive |
*Note that Drive Times are calculated during Peak Hours

Immediate Road Exit(s): 2 separate ends of Leedon Green. One leads to Holland Road, while the other leads to Leedon Heights (shared with Leedon Residences).

Summary: Leedon Heights might get crowded during peak hours, but Leedon Residences' multi exit points onto different parts of the road will help ease congestion. Residents also have an alternative onto Holland Road and are able to easily access the Orchard, Bukit Timah, Holland Village, One-North and Alexandra nodes. The number of highways and major roads close by also make for smooth non-peak vehicular movements.

Groceries

| | |
| --- | --- |
| Name of Grocery Shop | Distance From Condo (& Est. Walk Time) |
| Empress Market (Convenience Stores) | 500m, 1-min drive OR 6-min walk |
| Cold Storage – Holland Village | 1.8km, 5-min drive OR 1.1km, 14-min walk |
| FairPrice – Holland Drive | 1.9km, 6-min drive OR 1.5km, 20-min walk |
Schools

| | |
| --- | --- |
| Educational Tier | Number of Institutes |
| Preschool (within 1km walk) | 1 |
| Primary (3km-drive) | 1 |
| Secondary (3km-drive) | 3 |
| International School (3km-drive) | 0 |
| Junior College (5km-drive) | 3 |
| University (5km-drive) | 3 |
| Polytechnic (10km-drive) | 2 |
Additional Pointers

Unique Food/Grocery Points
Leedon Green's strategic location along Holland Road means that its residents will have easy access to the nearby 'up-town' enclaves that include Holland Village, Dempsey Hill, and Tanglin Road.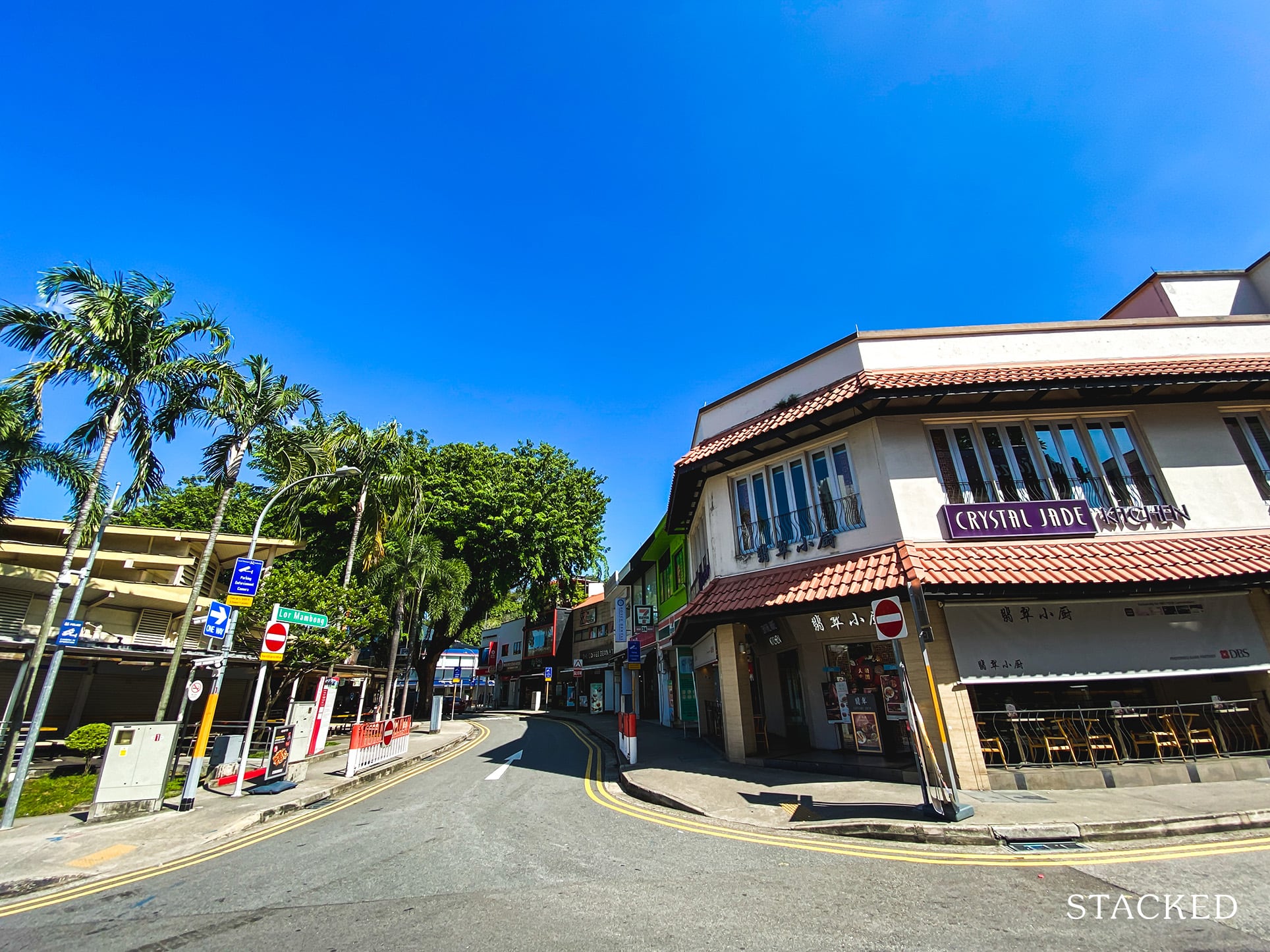 For those who've patronised these areas, you'll understand when I say that the number of posh cafes, curious hole-in-the-wall like shops and independent grocery outlets make it a joy to simply walk through these enclaves (let alone partake in them).

Nature Offerings (Botanical Gardens)
Singapore's Botanical Gardens offers itself as one of the most prominent 'nature-esque' places in the Lion City. Dubbed as Singapore's only Unesco Heritage site, residents at Leedon Green are simply a 3-minute drive away and can indulge in a range of recreational activities here from picnics to the occasional jog/cycle.

'Top Tiered' Educational Institutes
Although Leedon Green is technically located on the 'southern-end' of Farrer Road, it is still relatively close to the Bukit Timah Education Belt. There, parents will find top-tiered schools like Hwa Chong Institute and Nanyang Girls' High amongst others.

Further given its location, the Kent Ridge Education Belt also opens up with a range of incredible schooling options within relatively close proximity to the development. 

Leedon Green Development Site
Facilities in Leedon Green

| | | |
| --- | --- | --- |
| Arrival court | Feature courtyard | Lawn |
| Tree top walk | BBQ Pavilion | Lobby Pavilion |
| Grand dining room | Gym & Studio | Spa pavilion |
| Pool deck | Grand pool | Play pool deck |
| Play pool deck | Play pool lawn | Lap pool |
| 24 hour security | Tennis court | Playground |
| Aqua Fitness pool | foot reflexology | jacuzzi |
| water lounge | Sky terrace bar | family cabana |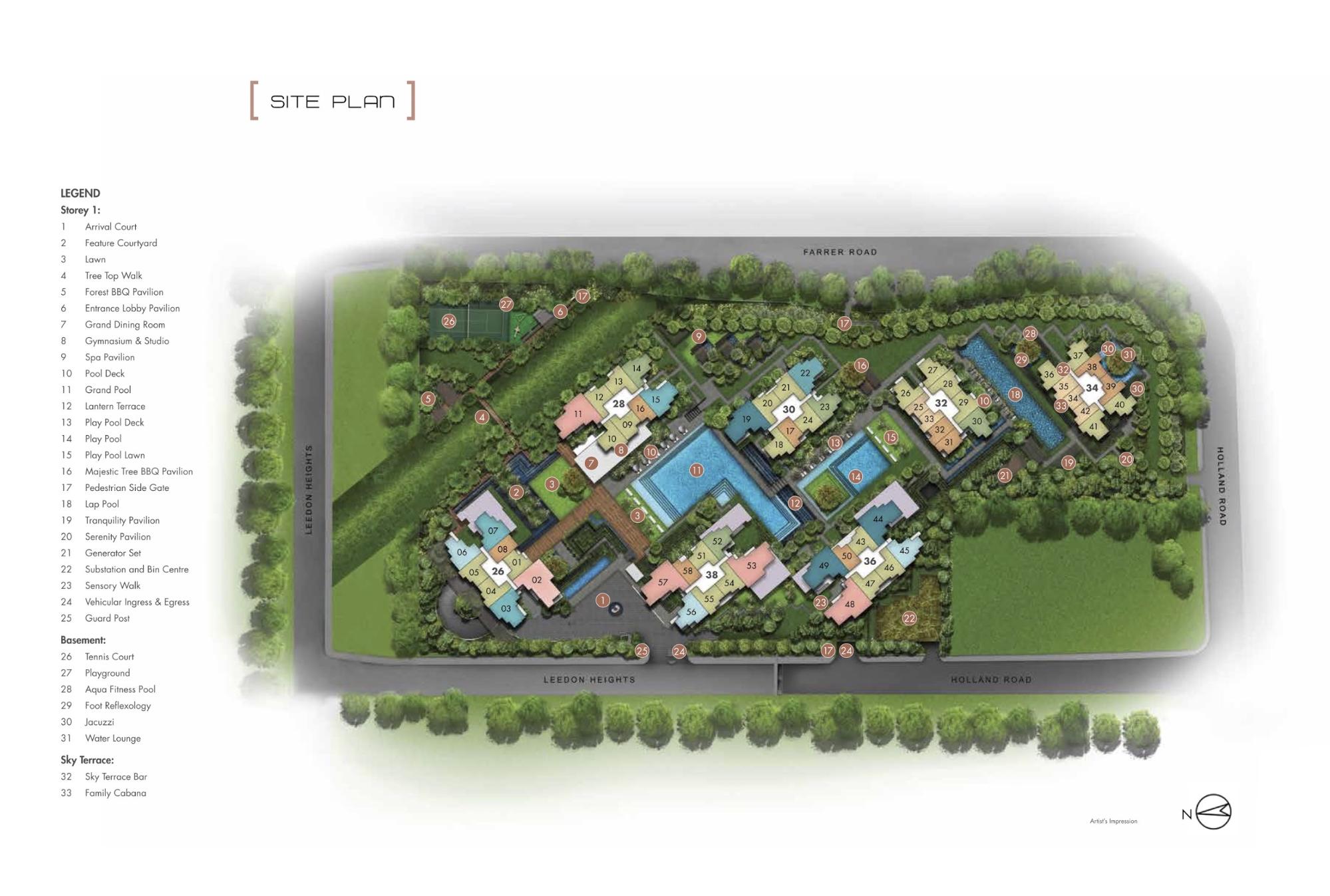 Perhaps the biggest bonus for vehicle users here is the fact that Leedon Green will have an entire 'private' entrance/exit path onto the main Holland Road.

The flip side is that it won't have immediate access to Farrer Road like the former Tulip Gardens did, apart from the fact that residents will have to also compete with those staying at Leedon Residences to get out (or in) of Leedon Heights onto Farrer Road during peak hours.
There are also a number of Side Gates (17) that have been spread out and labeled on the site map. This will definitely help with easing pedestrian timings given the highly varied destination points (bus stops, grocery outlets etc.).

As for the inner grounds of the condo, note that the Lap Pool (18), Aqua Fitness Pool (28) and Feet Reflexology (29) are relatively closer to the Farrer/Holland Road junction, so a slight bit of noise disturbance here is a possibility.

Also, note the location of the Substation and Bin Centre (22). The developers have done well to seclude it as much as possible, though it is possible that windy/extremely hot days might result in a bit of a scent to residents residing on the lower floors of Block 36, as well as those visiting the 'Sensory Walk' (23).

Still, kudos to them for including this, as well as the location of the Generator Set (21) in the site map for referential purposes.

Finally, observe the location of the playground and tennis court at the far end of the condo (a bit like that of Leedon Residences). The fact that they have been placed together could minutely affect those looking forward to a quiet evening on the court.

The fact that they are located right next to the singular exit of Leedon Heights onto Farrer Road could also mean a certain level of noise and air pollution here, so it is imperative that the 'shrubbery barrier' is well constructed.

Best Stacks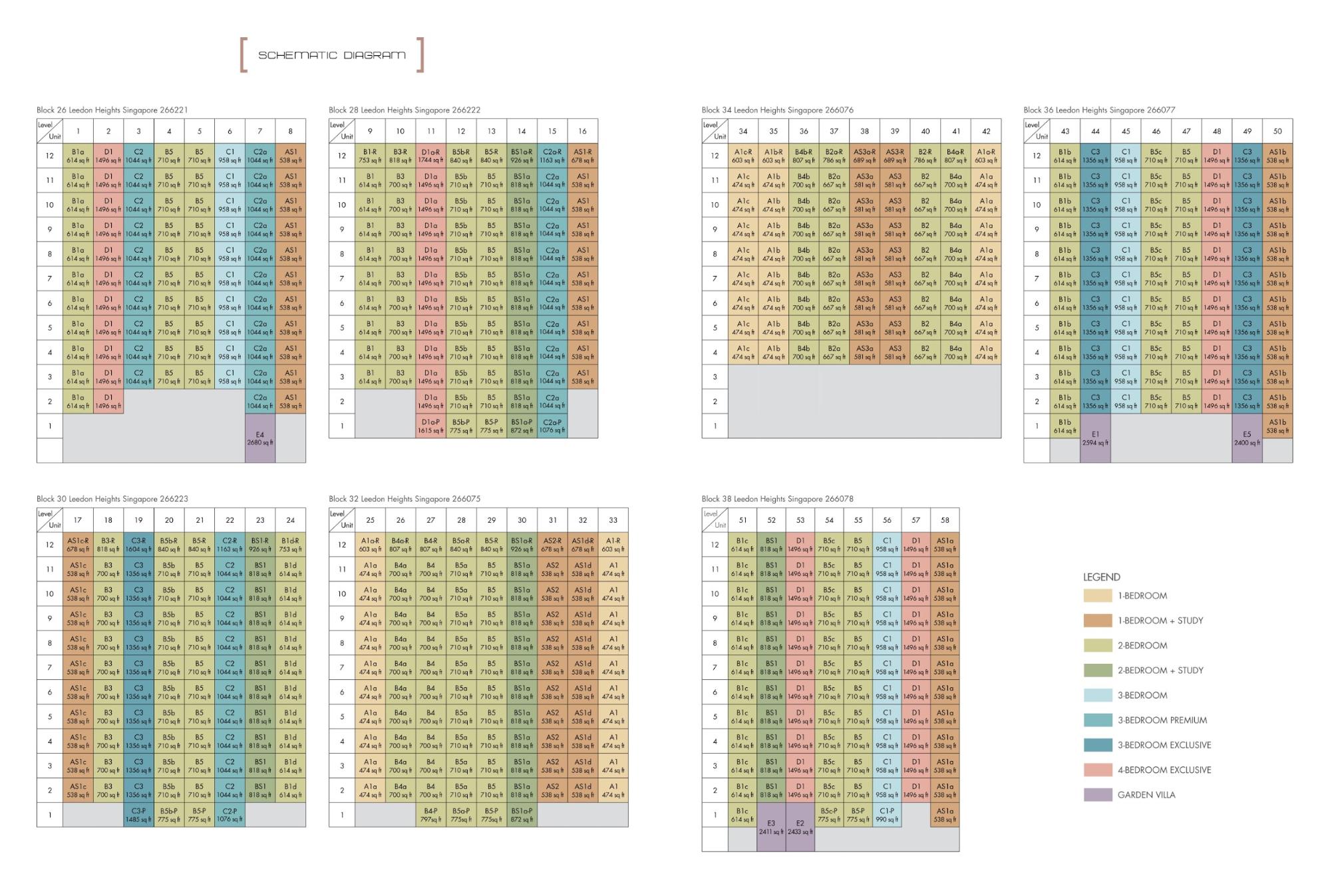 Unit Mix

| | | |
| --- | --- | --- |
| Unit Type | No. Of Units | Size of Units (sqft) |
| 1-Bedroom | 49 | 474 – 603 sqft |
| 1-Bedroom + Study | 96 | 538 – 689 sqft |
| 2-Bedroom (1 Bathrooms) | 74 | 614 – 786 sqft |
| 2-Bedroom (2 Bathrooms) | 200 | 700 – 840 sqft |
| 2-Bedroom + Study | 46 | 818 – 926 sqft |
| 3-Bedroom | 33 | 958 – 990 sqft |
| 3-Bedroom + Utility | 45 | 1,044 – 1,163 sqft |
| 3-Bedroom + Private Lift | 34 | 1,356 – 1,604 sqft |
| 4-Bedroom + Utility/Private Lift | 56 | 1,496 – 1,744 sqft |
| 4-Bedroom Garden Villa | 5 | 2,400 – 2,680 sqft |
At first glance, Leedon Green looks like it has a wonderful diversity of units with a number of layout variations across the larger-tiered units.

However, if you were to observe closely, a large concentration of these units are actually 2-bedders (just over 50% of total unit volume).

What this means is that 1.) We could see an increased amount of units being rented out and 2.) A lower volume of larger-sized units (especially of the 4-bedder premium variety) that would naturally increase their value over time.

To date, 4 of the Garden Villas have already been snapped up at an average of $2,491psf ($6,124,750), leaving just one final unit for the taking.

The most expensive (PSF) unit sold thus far was a 1-bedroom + Study unit on the 8th floor (note there are 12 floors in total) at $2,878 PSF for an approximate total of $1,549,000.

As of today, 36 units have been sold since its launch early last month – that's about 5.6% of the total units available (further establishing the point of high demand regarding the larger premium tiered unit).
Prices for Leedon Green
Price Breakdown (1st Property)
1-Bedroom
2-Bedroom (2 Bath)
2-Bedroom + Study
3-Bedroom
3-Bedroom + Utility
3-Bedroom + Private Lift
4-Bedroom + Private Lift
Price
$1,327,200
$1,883,700
$2,269,950
$2,618,214
$2,945,124
$3,784,596
$4,190,296
25% Down Payment
$331,800
$470,925
$567,488
$654,554
$736,281
$946,149
$1,047,574
Additional Costs
Buyer Stamp Duty
$37,688
$59,948
$75,398
$89,329
$102,405
$135,984
$152,212
Legal Fees
$2,500
$2,500
$2,500
$2,500
$2,500
$2,500
$2,500
Valuation Fees
$300
$300
$300
$300
$300
$300
$300
Stamping Fees
$500
$500
$500
$500
$500
$500
$500
Total Price
$1,368,188
$1,946,948
$2,348,648
$2,710,843
$3,050,829
$3,923,880
$4,345,808
Initial Investment Amount
$372,788
$534,173
$646,186
$747,182
$841,986
$1,085,433
$1,203,086
Return on Investment
Expected Rental Price
$2,844
$4,200
$4,908
$5,748
$6,264
$8,136
$8,976
Rental Yield
2.49%
2.59%
2.51%
2.54%
2.46%
2.49%
2.48%
Price (2nd Property)
1-Bedroom
2-Bedroom (2 Bath)
2-Bedroom + Study
3-Bedroom
3-Bedroom + Utility
3-Bedroom + Private Lift
4-Bedroom + Private Lift
Cost Without ABSD
$1,368,188
$1,946,948
$2,348,648
$2,710,843
$3,050,829
$3,923,880
$4,345,808
Plus: ABSD (12%)
$159,264
$226,044
$272,394
$314,186
$353,415
$454,152
$502,836
Total Price After ABSD
$1,527,452
$2,172,992
$2,621,042
$3,025,028
$3,404,244
$4,378,031
$4,848,643
Initial Investment Amount
$532,052
$760,217
$918,580
$1,061,368
$1,195,401
$1,539,584
$1,705,921
Return on Investment
Expected Rental Price
$2,844
$4,200
$4,908
$5,748
$6,264
$8,136
$8,976
Rental Yield
2.23%
2.32%
2.25%
2.28%
2.21%
2.23%
2.22%
Best Stacks with the least afternoon sun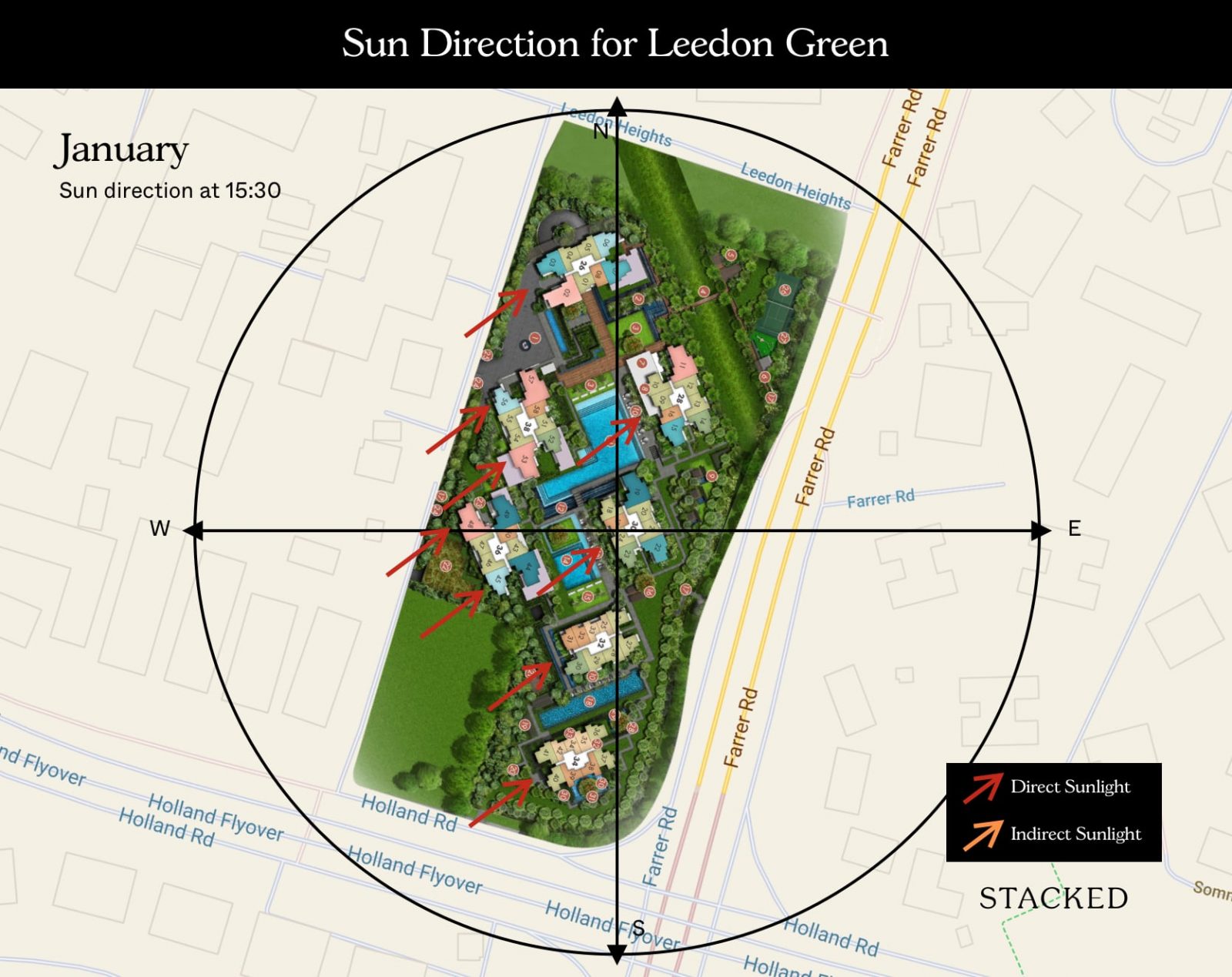 Stacks 1, 7, 8, 11, 12, 13, 14, 20 21, 22, 27, 28, 29, 37, 38, 39, 43, 44, 50, 51, 52, and 58 get very little afternoon sun as the face the south-east or north-east orientation.
The stacks with the most exposure to the afternoon sun all year round are 3, 18, 19, 23, 31, 41, 45, 48, 56 as they not only face the south-west and north-west direction, but they aren't flanked by any neighbouring units to shield if from the direct heat.
Leedon Green's Competitor(s):

| | | | | |
| --- | --- | --- | --- | --- |
| Project Name | Tenure | TOP | Average Price (PSF) | Comparison Point |
| Leedon Green | Freehold | 2022 | $2,723 | |
| Leedon Residences | Freehold | 2015 | $2,225 | Immediate Neighbour |
| RoyalGreen | Freehold | 2022 | $2,742 | Size/Tenure/TOP |
There are few other condominium developments in district 10 that can match Leedon Green in terms of size, let alone tenure and proximity. Of course, Leedon Residences checks all the boxes in that regard.

More interestingly, however, a condo we reviewed just a couple of months back also makes the cut (and not just because they both share the same last name). It might not be within immediate proximity, but its size, D10 locale, TOP date, and tenure definitely makes RoyalGreen a unique and worthwhile comparison.
Competitor Unit Comparison

2-Bedroom Unit (smallest unit-type variation of the same tier)
| | | | | |
| --- | --- | --- | --- | --- |
| Project | Unit-Size | Total 2-Bedroom Units' As Percentage of Total Unit Volume | Average Unit Cost (PSF) | Est. Total Unit Cost (Based on Smallest Unit Size) |
| Leedon Green | 614 – 786 sqft | 50% | $2,773 | $1,702,622 |
| Leedon Residences | 1,044 sqft | 14% | $2,682 | $2,800,000 |
| RoyalGreen | 635 – 721 sqft | 62% | $2,730 | $1,733,550 |
3-Bedroom Unit (smallest unit-type variation of the same tier)
| | | | | |
| --- | --- | --- | --- | --- |
| Project | Unit-Size | Total 3-Bedroom Units' As Percentage of Total Unit Volume | Average Unit Cost (PSF) | Est. Total Unit Cost (Based on Smallest Unit Size) |
| Leedon Green | 958 – 990 sqft | 18% | $2,733 | $2,618,214 |
| Leedon Residences | 2,088 – 4,047 sqft | 34% | $2,290 | $4,781,520 |
| RoyalGreen | 926 – 990 sqft | 30% | $2,729 | $2,527,054 |
(Note that smaller units usually have higher PSFs, hence the est. total unit cost is simply a constant ballpark for comparison between projects)

As you can see, Leedon Residences' incredible unit sizes greatly outweighs its lower average PSFs across both unit tiers, resulting in much more exorbitant units than both Leedon Green and RoyalGreen. 

If you greatly appreciate space alongside tranquil facilities and have the budget for it, then Leedon Residences is for you.

What about Leedon Green & RoyalGreen then?

If you were to further compare the immediate location of both these projects, you'd realise that Leedon Green is much closer to more 'shopping/entertainment' nodes (Holland/Dempsey/Tanglin) and has relatively easier accessibility to other core regions given its closer proximity to the CBD and the numerous highways around.

Royal Green on the other hand, provides more serenity and seclusion.

They both have relatively similar unit sizes and total unit costs for now (6 February 2020).

Appreciation Analysis

In more aspects than one, Leedon Green does seem to be headed for gradual appreciation over the years (outside of the touted Singapore property market/economy rise). 

This is due in part to the current and potential amenity/development upgrades we can expect to see in the near future in District 10.

For example, for those who read our One Holland review, you'd understand that major improvement works are currently taking place along that stretch of Holland Village.

Improvement works that would naturally result in better amenity offerings and hence more convenience/entertainment value on offer for those staying at the condo.

If you also consider the presence of numerous older private residential development enclaves like Gallop Gables and Sutton Place (opposite Leedon Green, along Farrer Road), the word 'en bloc' might pop to mind. 

Of course, the en bloc craze of 17/18' is well and truly behind us – but if you consider the prime value of this stretch of land here (alongside possible upcoming mini en bloc cycles), residential redevelopment in the near future is truly a distinct possibility.

Naturally, that would drive up prices for Leedon Green.

For now, it does seem like there is also a bit of uncertainty of Leedon Green's final product, given that it is Yanlord Land's first developmental project here in Singapore.

Once that is cleared up upon completion (and assuming the finishing qualities are up to par), we could again see a slight surge in appreciation trends for the project.

Our Take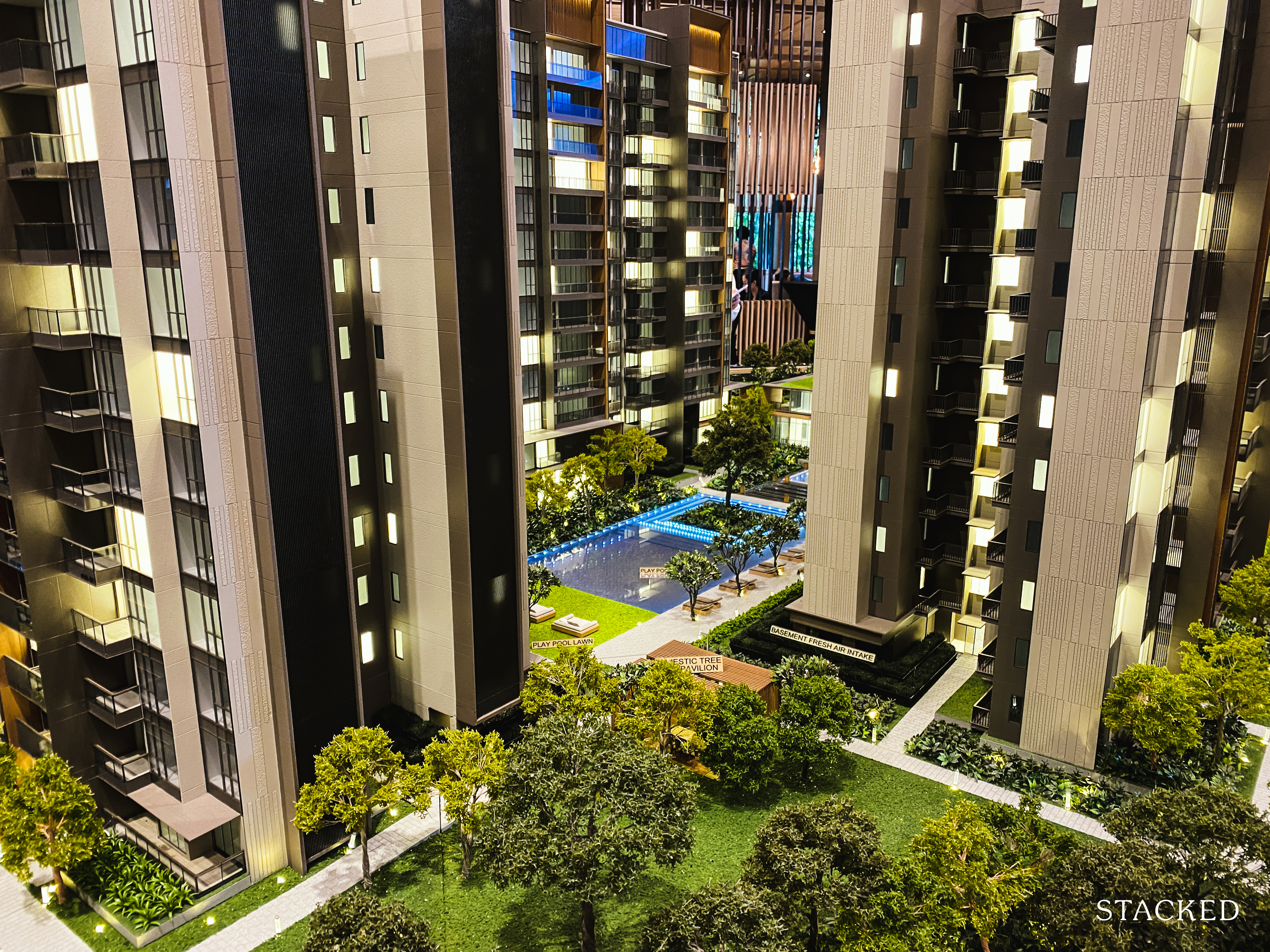 At the end of the day, Leedon Green does seem like a potential option for those who crave convenience and luxury.

It is smack in the middle of one of Singapore's most happening lifestyle districts in Holland Road, featuring posh enclaves like Holland Village and Dempsey Hill.

It also provides easy vehicular access to other central nodes due to its numerous adjacent major roads and highways.

On that similar note, however, it might not be the quietest condo in the region. Hence, picking the right unit here is extremely important in the long run.

What's more, given the en bloc potential of the private residentials across the road (as mentioned earlier), residents should also be prepared for possible construction noise disturbances in the future.

Given that it is also esteemed developer Yanlord Land's maiden project in Singapore, it admittedly remains to be seen how the final furnishings/architecture will turn out – though the presence of MCL co-spearheading the project should set most buyers' fears at ease.

Finally, given the high potential of the surrounding land, Leedon Green does seem like a viable option for long-term investors, even if rental yield in the area might be a tad competitive due to the numerous units stemming from D'Leedon and Leedon Residences.

What this means for you
You might like Leedon Green if you:
• Have a Vehicle:

Leedon Green is a tad further away from its closest MRT stations than expected, but its location next to major roads and highways make it a peach for those who drive.

• Appreciate stylish open grounds:

The common grounds with its terrace-like features plus 3 swimming pools are something that looks set to define Leedon Green apart.
You might not like Leedon Green if you:
• Prefer Larger Unit Sizes:

Leedon Green does pale in comparison to Leedon Residences' immense unit sizes – especially when you consider the limited number of 'larger-tiered' units available here.

• Are Concerned About Traffic Jams:

It's old news that the Farrer/Holland Road stretch is notorious for vehicle congestions (peak hour or not). Considering possible new developments popping up, the traffic here is only going to get heavier without external intervention.
End of Review
Join our Telegram group for instant notifications
Join Now
Reuben