19
min read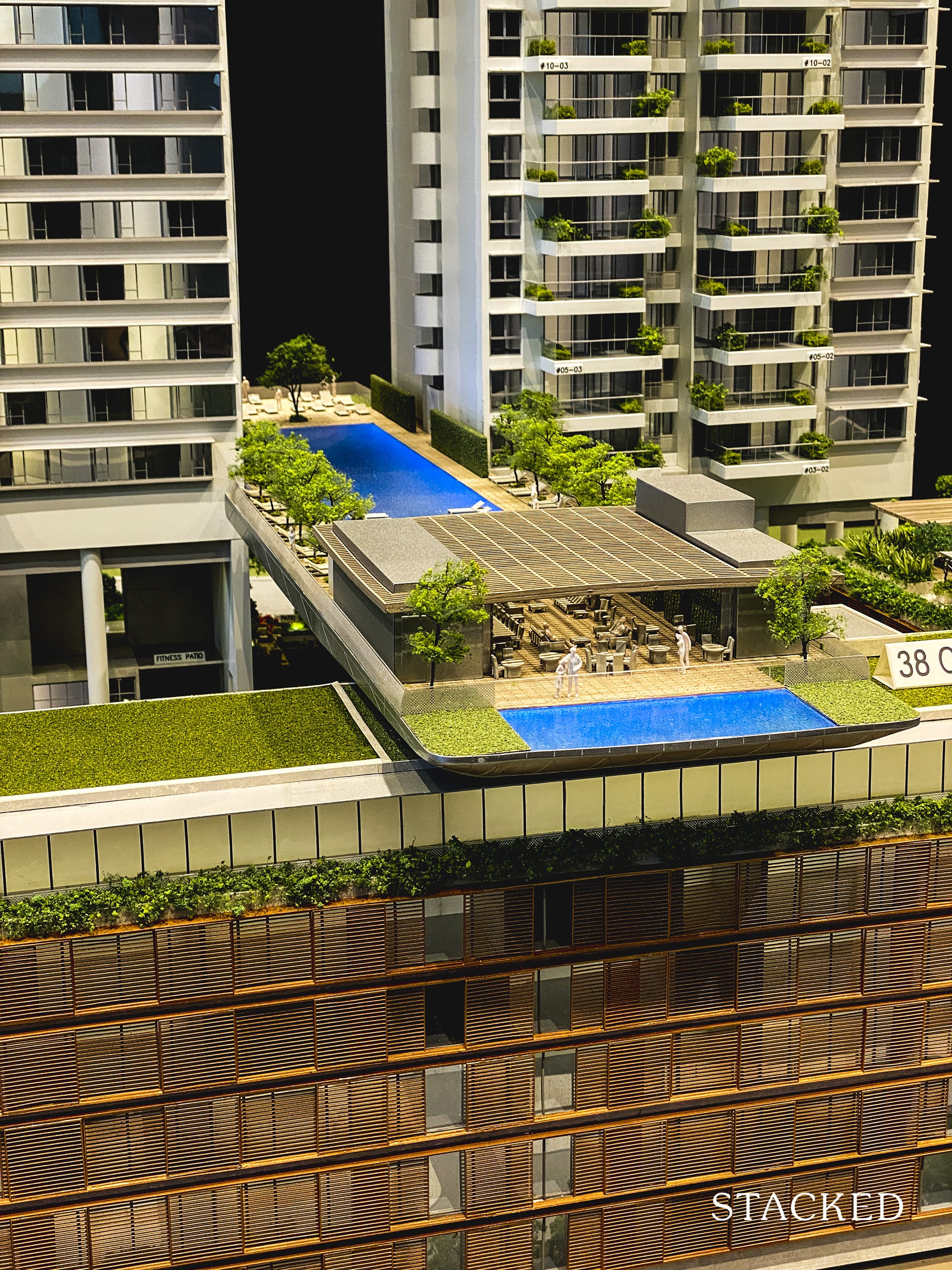 Luxury meets prime location
Boulevard 88 is perfect for those looking at large unit spaces in a new development, with the average 2-bedroom unit here exceeding that of 3-bedroom units in Singapore as a whole. However this comes at a huge price due to the quantum, and may not be optimal even to the wealthy who choose to invest in other aspects of their lives.
| | | | |
| --- | --- | --- | --- |
| Project: | Boulevard 88 | District: | 10 |
| Address: | 86 & 88 Orchard Boulevard | Tenure: | Freehold |
| Site Area: | 130,537 sqft | No. of Units: | 154 |
| Developer: | City Developments Limited | TOP: | 2023 |
Boulevard 88 was probably 2019's hottest property launch, and it's not difficult to understand why.
It's located on a super prime plot along Orchard Boulevard and built by the reputable CDL – who is well known for their luxury projects.
It's designed by Moshe Safdie (designer of Marina Bay Sands and the Jewel), with the addition of the stylish Edition hotels adding a certain amount of glamour to the development.
Getting excited now?
The addition of the number 88 is a stroke of genius as well, and it seems to have paid off handsomely – with half of the 4 penthouses sold to Chinese buyers. Some people might think it is coincidental, but the Chinese ingrained belief in luck isn't one that should be underestimated.
Model Tour
I don't normally talk about the design of the showflat itself, but the one at Boulevard 88 was deeply impressive. The moment you step in, you are immediately greeted by service staff with a hot towel (a first for me in Singapore).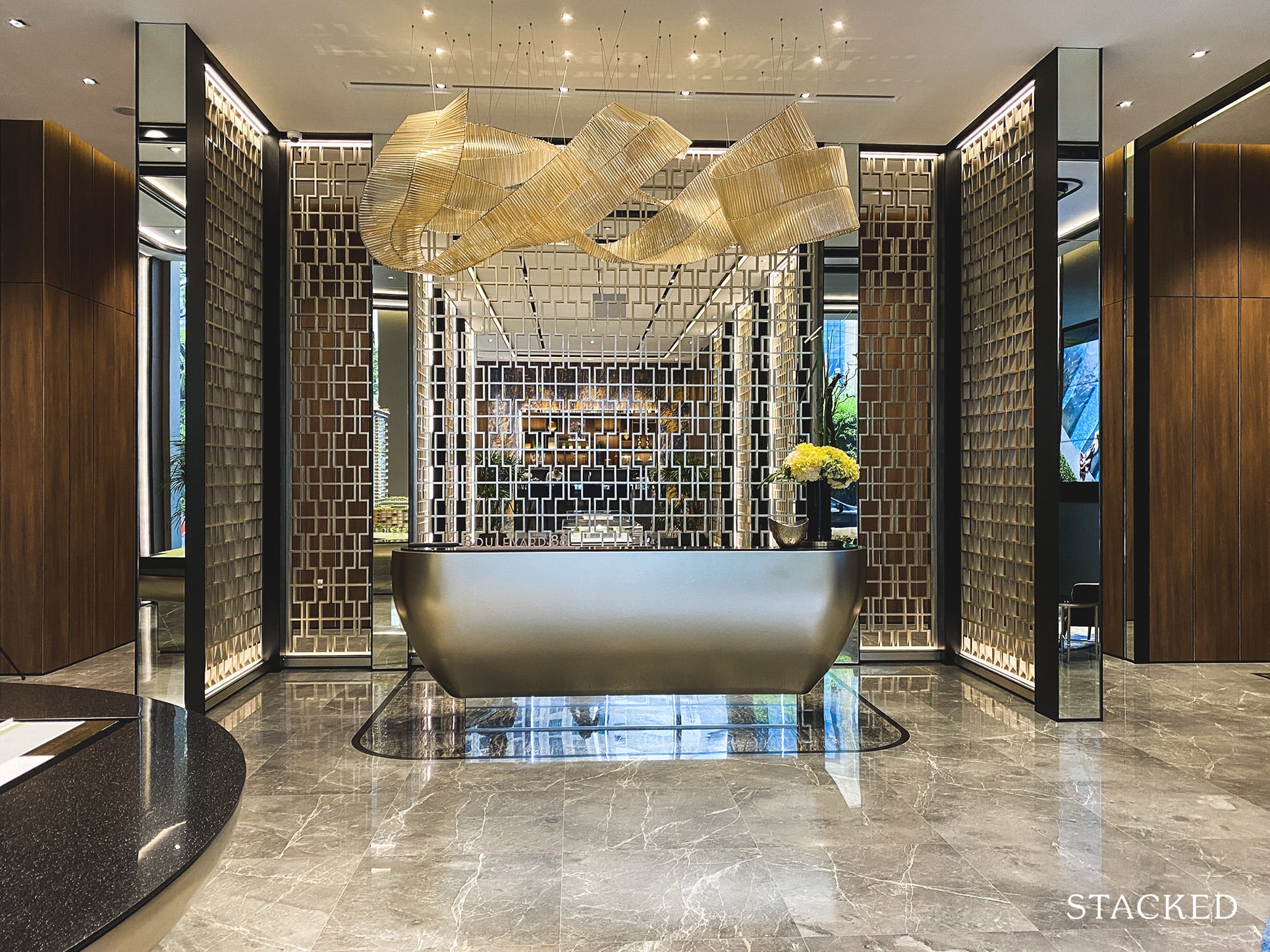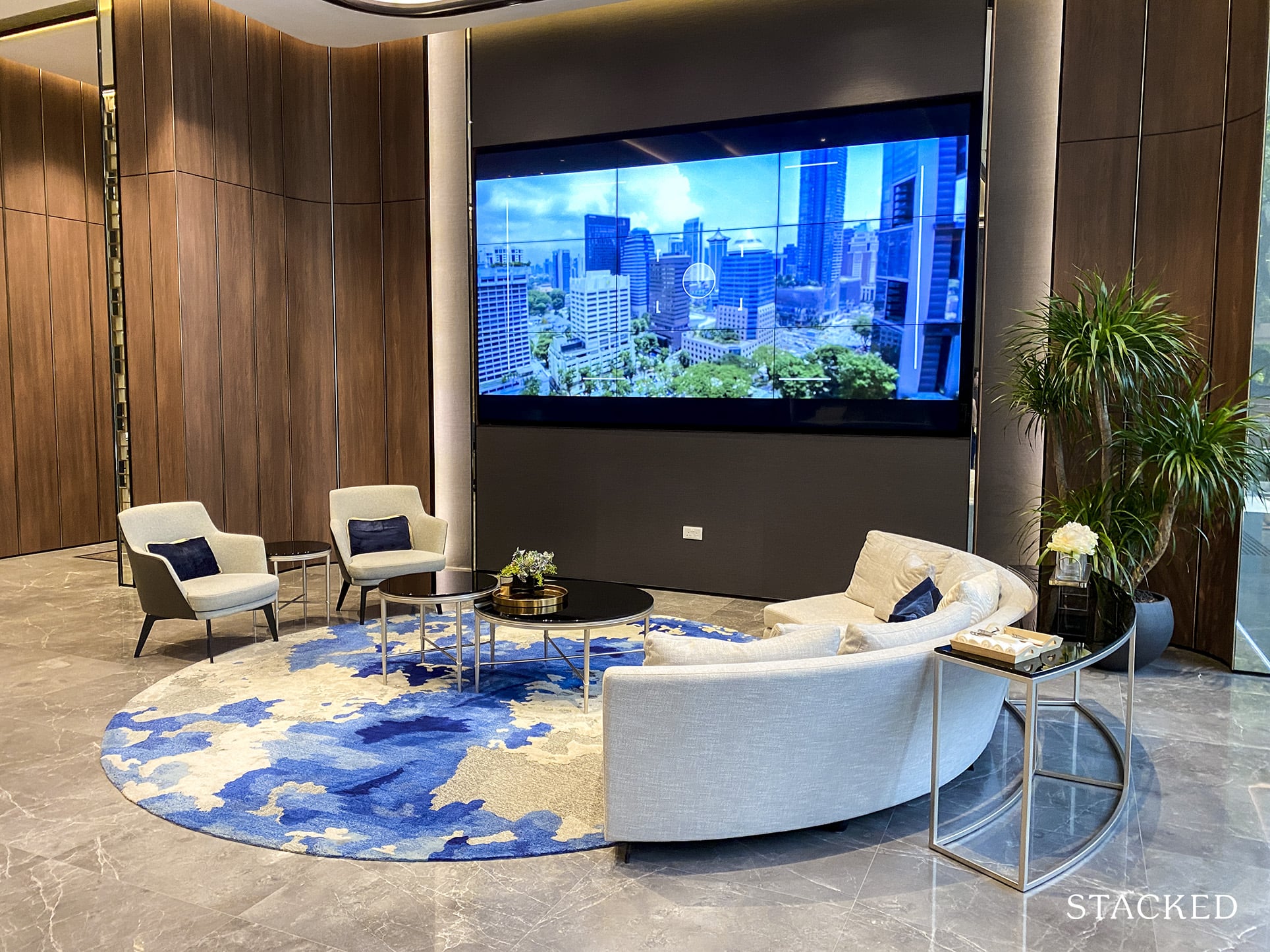 The opulence and swankiness of the place are unmistakable, there is no doubt at all that you are in the higher echelons of luxury here. Knowing the prices that are being asked here, you'd expect to be suitably wowed and the showflat here has certainly delivered on that front.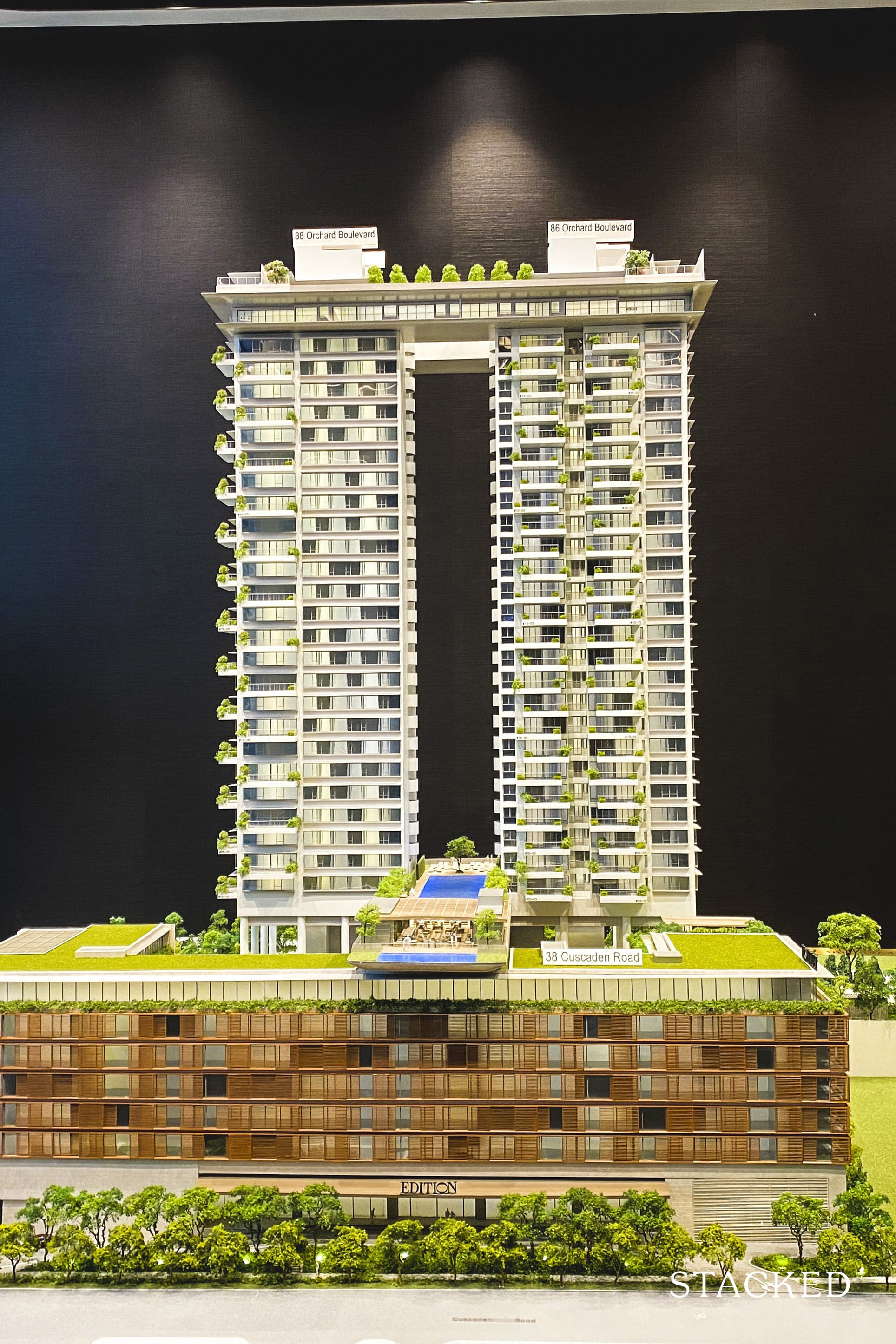 A familiar icon
Does the showflat model ring any bells? If I haven't give it away enough in the opening paragraph, the Boulevard 88 is really a mini Marina Bay Sands.
It seems appropriate to insert the saying, "imitation is the greatest form of flattery" here, until you find out that it is designed by the same guy. Which is no shame at all, given how Marina Bay Sands has remarkably become an icon in itself around the world.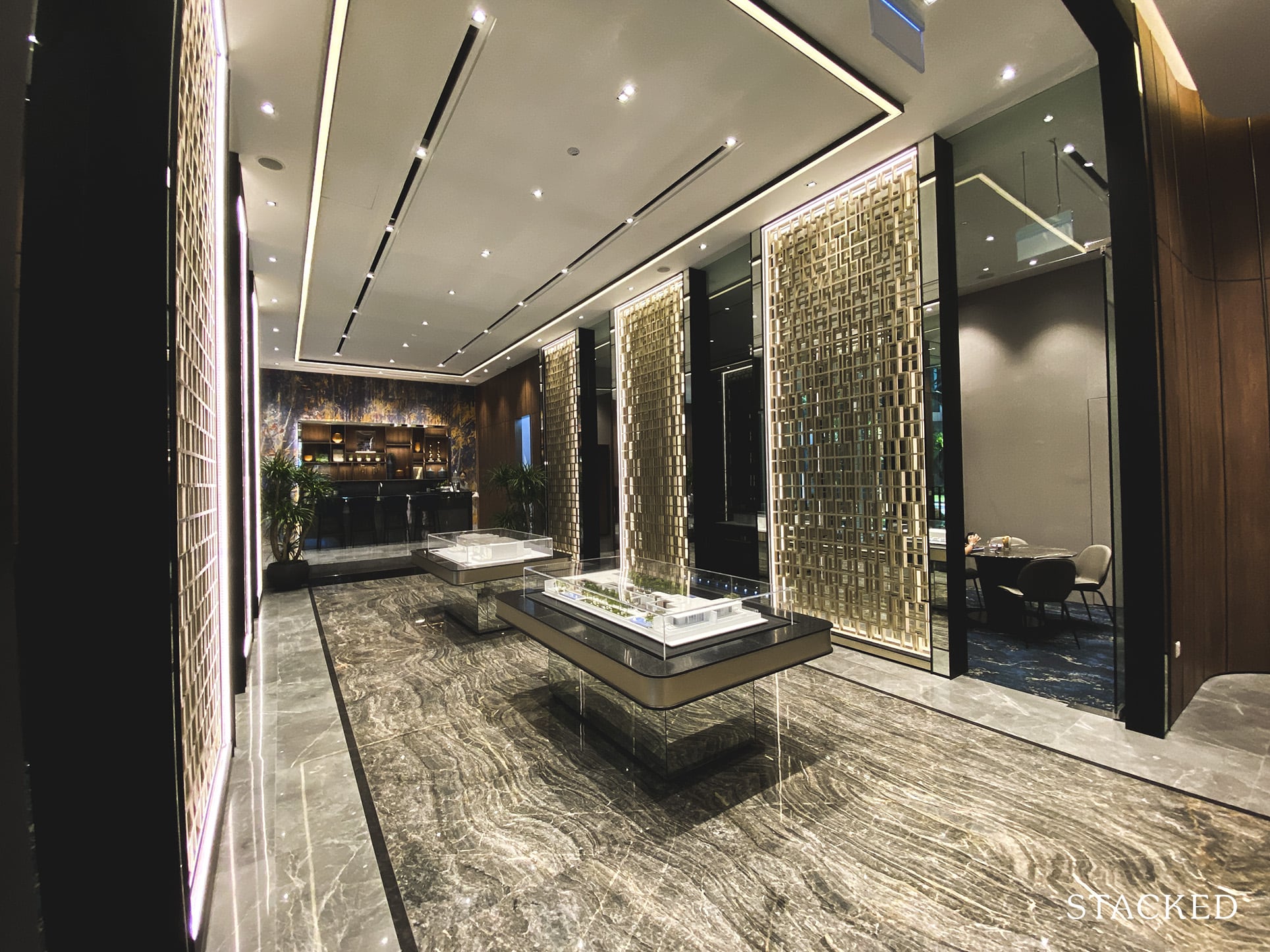 If you've had the opportunity to check out the infinity rooftop pool at the Marina Bay Sands, it's easy to imagine the one here, albeit on a smaller scale. Nevertheless, I would expect the views here to be absolutely stellar, possibly even eclipsing the one at our current favourite – the Scotts Square condo.
Other than the sky pool, the top of the condo contains the sky club, sky kitchen and indoor dining rooms. For entertaining your guests, this private area would easily be one of the best places in town to wine and dine with a view.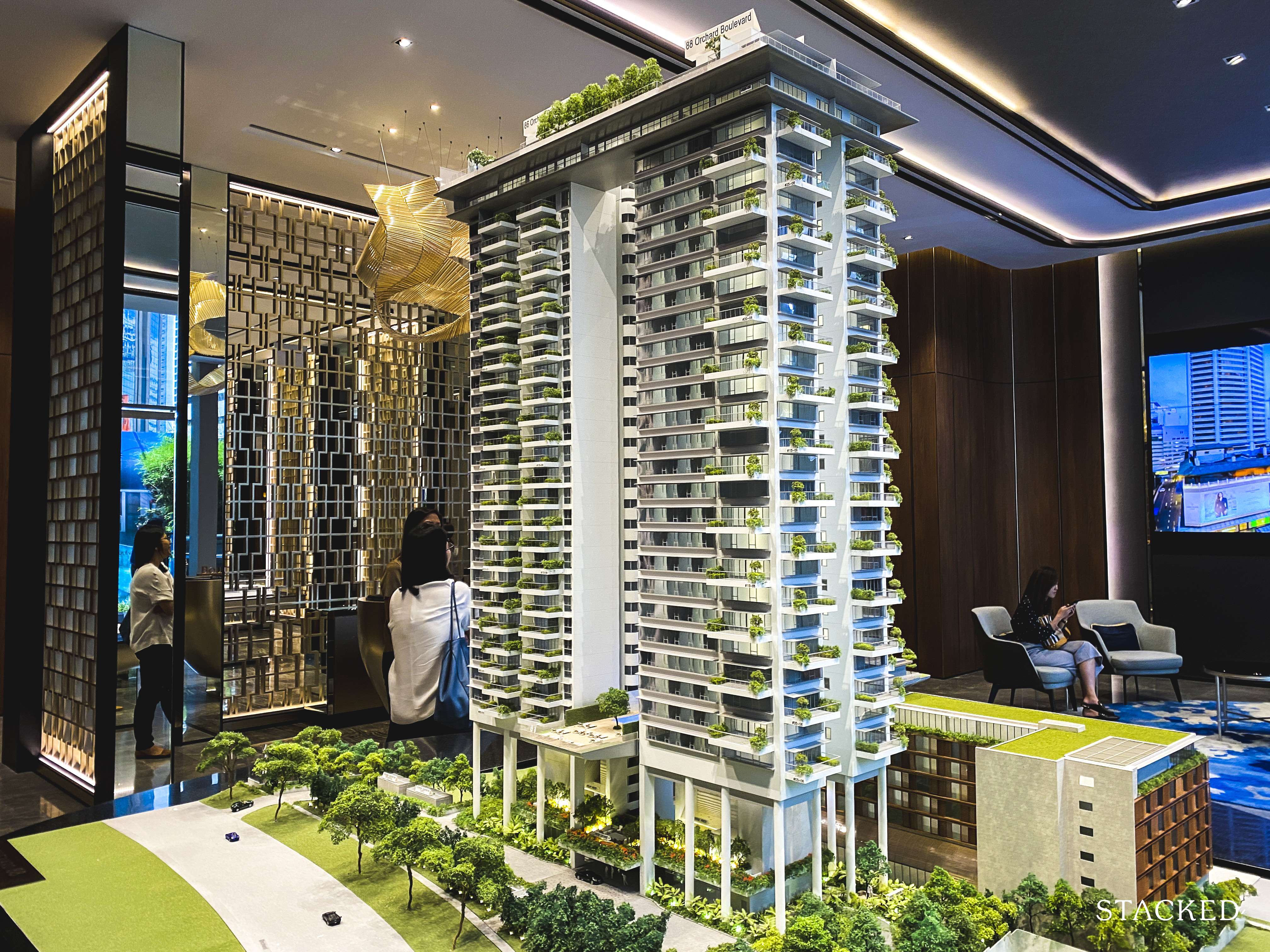 Because of the pillars at the bottom (and to clear the Edition hotel), even the bottom-most unit will enjoy an elevated position. Unfortunately, the units facing Orchard Boulevard are on the same level as the hotel pool, so those looking at these units will have to be aware of some of the noise potentially from hotel guests.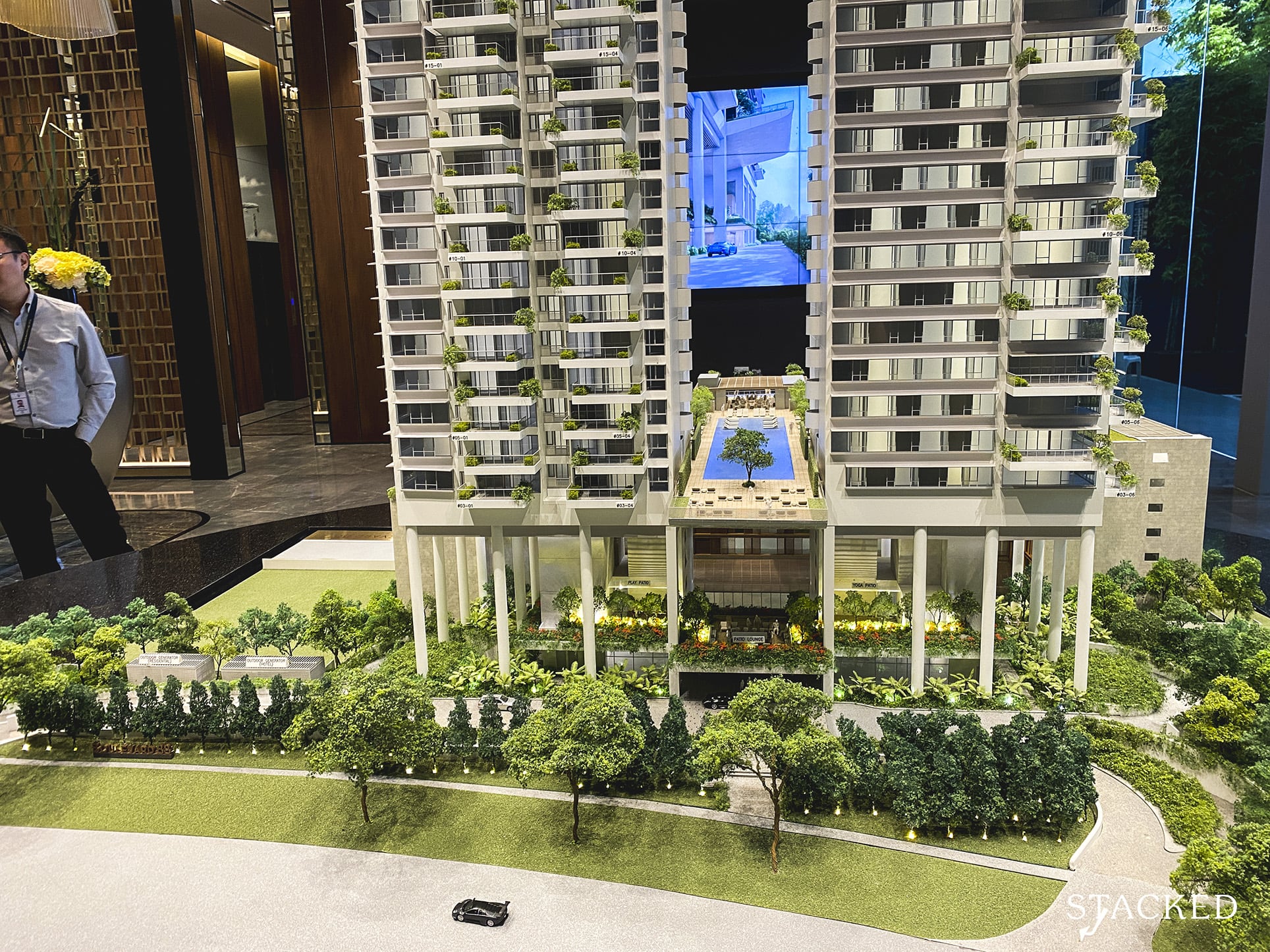 The main entrance to Boulevard 88 is via Orchard Boulevard, while the entrance to the Edition hotel will be on the other side at Cuscaden Road. Each block will also have its own dedicated arrival and dropoff.
One thing worth pointing out here is the patio lounge – while it definitely doesn't boast as great a view as the sky lounge, the high ceilings make it a very lofty and grand place to dine.

Reuben Dhanaraj
Boulevard 88 4-Bedroom Review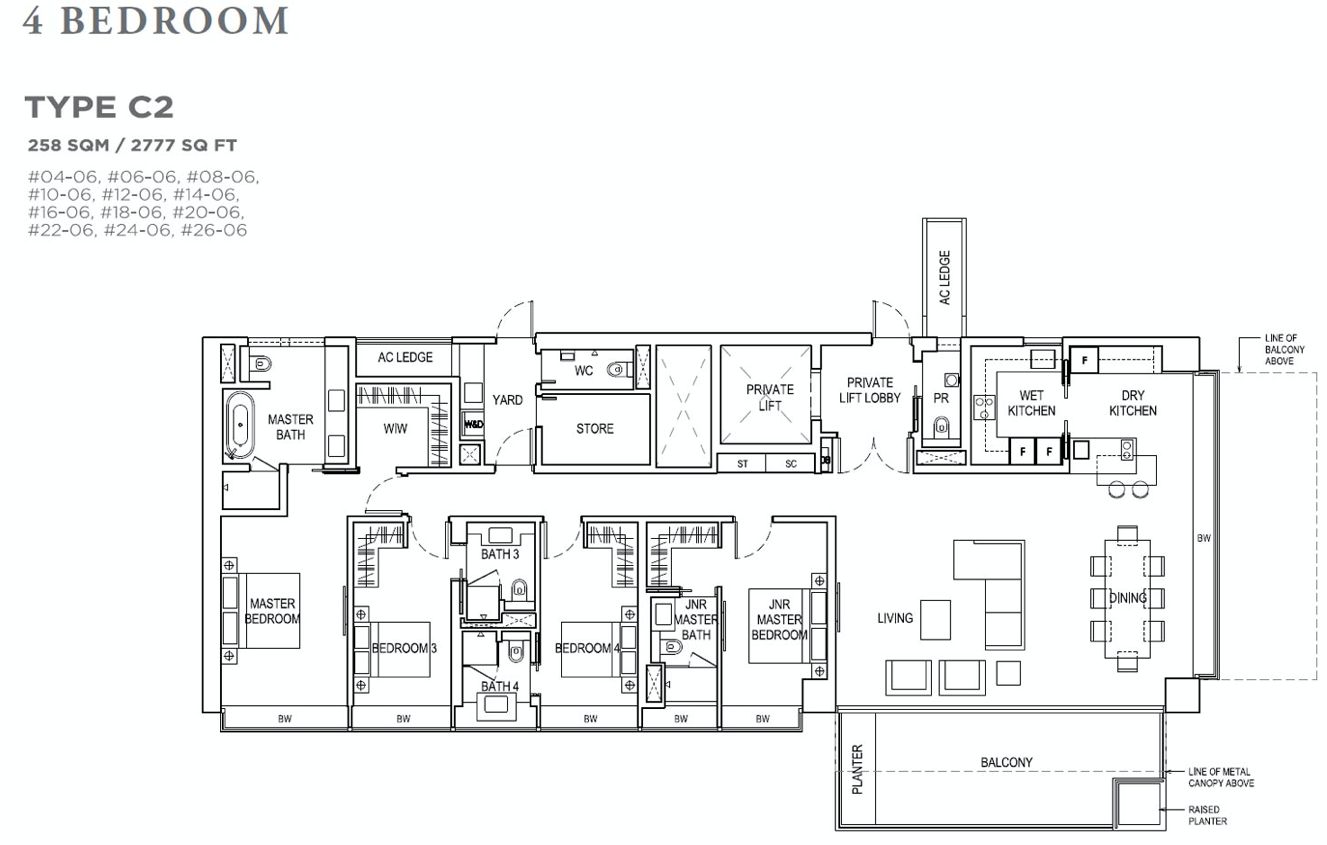 At 2,777 square feet of space, the 4-bedroom unit is generous, to say the least. With most new launches today averaging about 1,400 to 1,500 for a 4-bedroom unit, this one at the Boulevard 88 is nearly double. At first glance, the regular rectangular shaped layout is mostly efficient, save for the very long hallway that leads to all the bedrooms.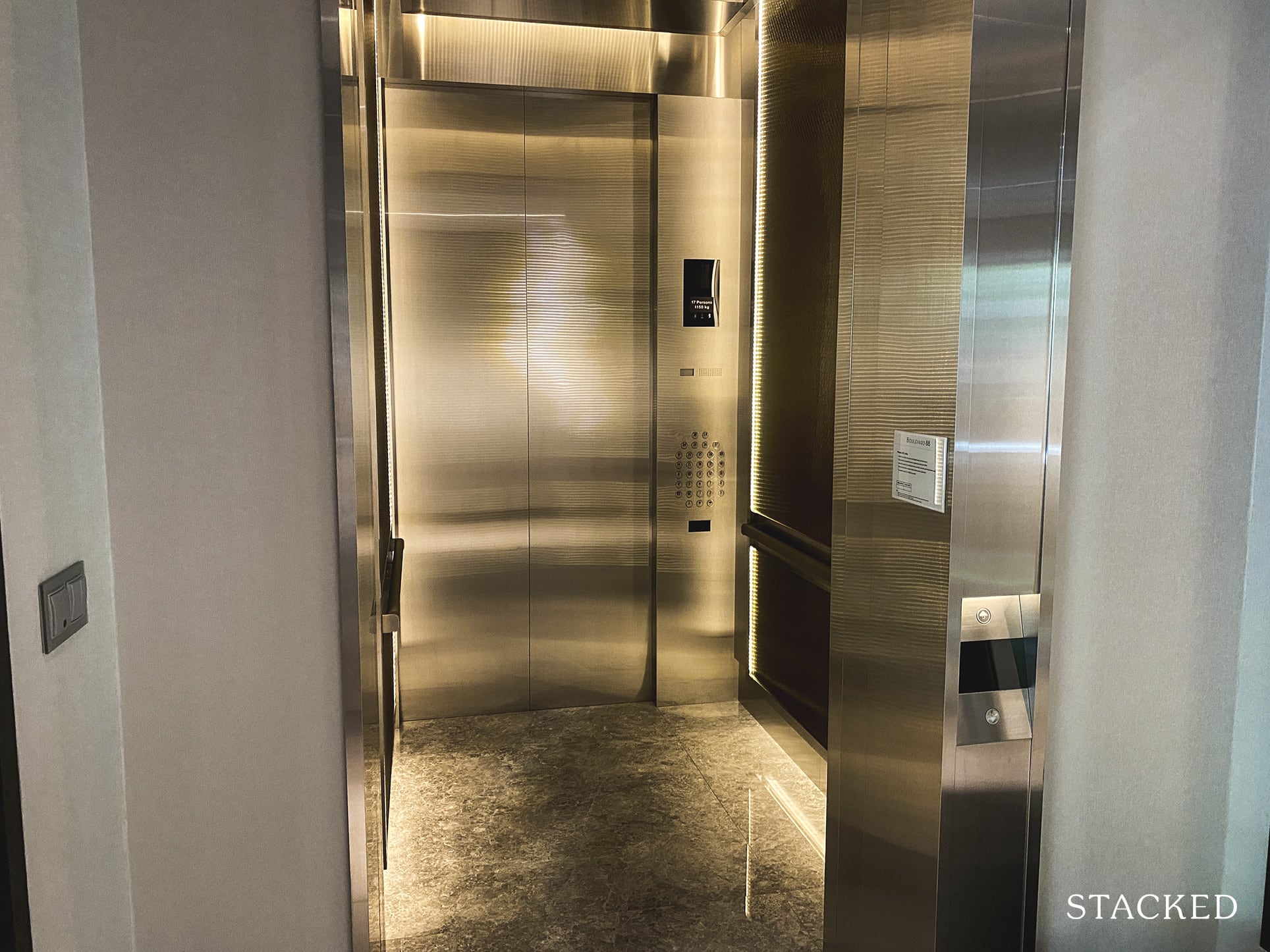 As expected, every 4-bedroom unit at the Boulevard 88 is accessible via a private lift. However, this special treatment is only reserved for the 4-bedroom and penthouse units. So the 2 and 3-bedrooms miss out on this, which is quite strange considering its ultra-luxe status.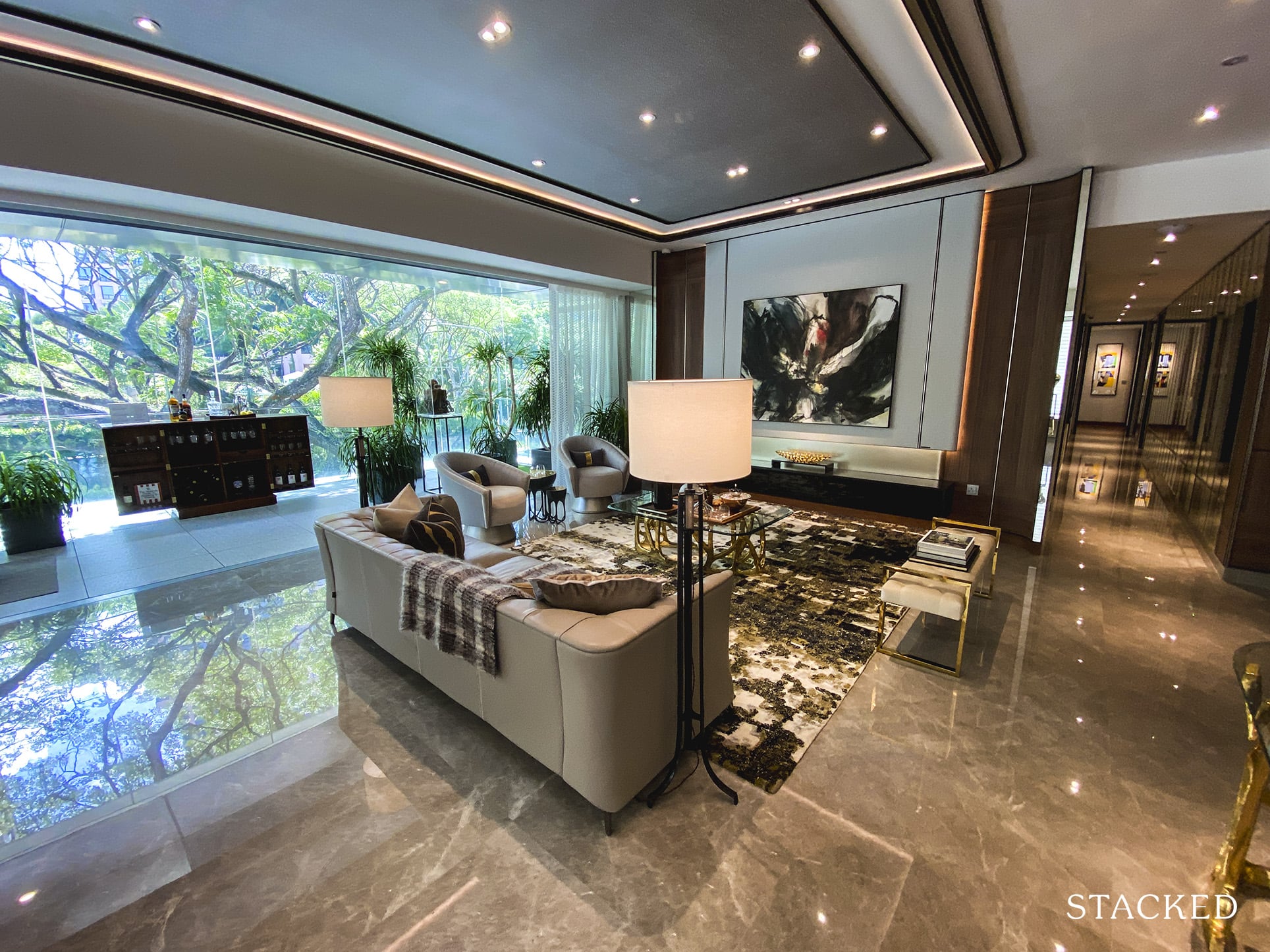 Seeing as how a 4-bedroom unit at the Boulevard 88 starts from $9 million-plus, it's fair to say that most buyers would have heavy expectations of the unit.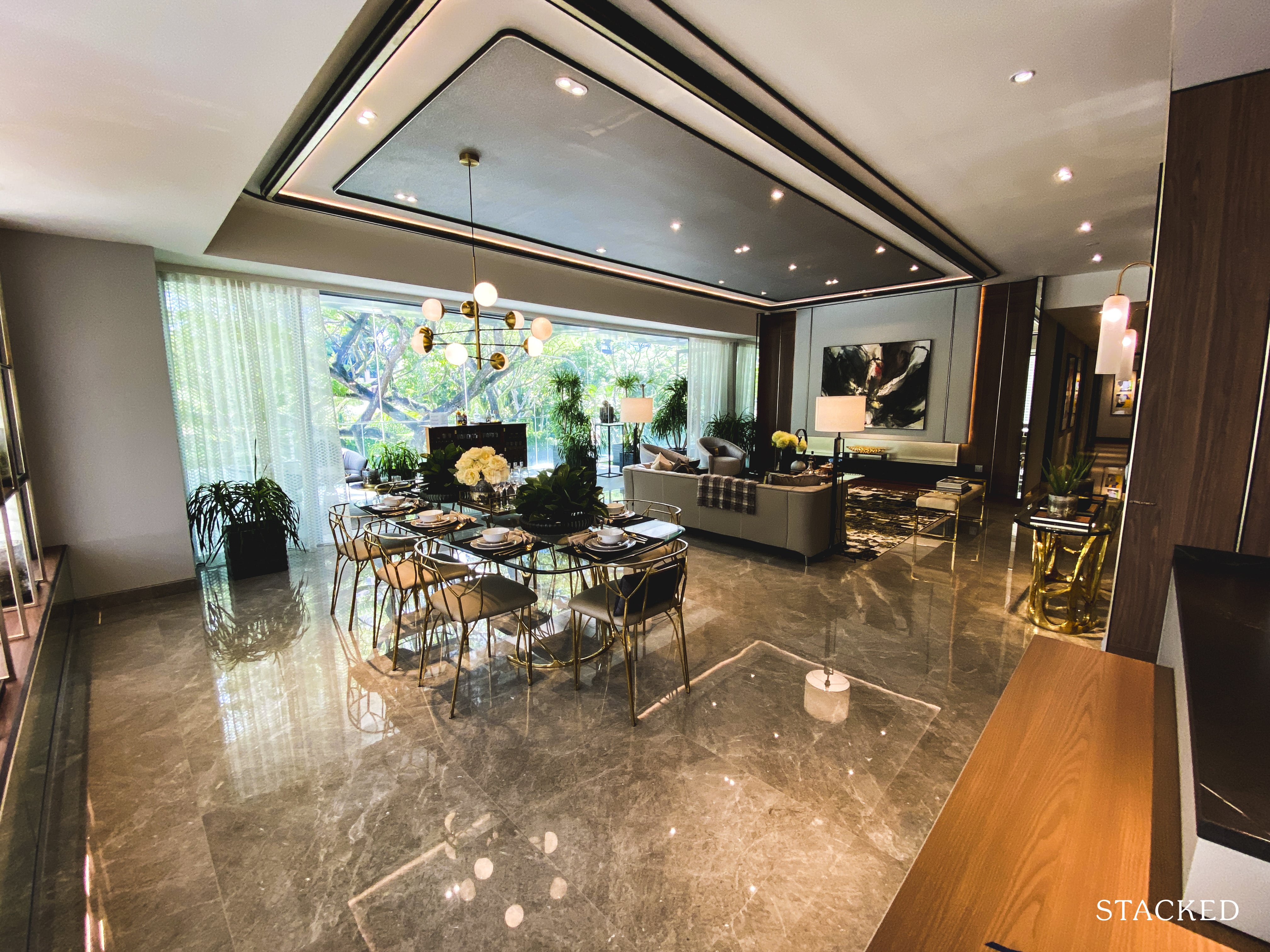 And based on first impressions – it mostly delivers. The living and dining room is a substantial space as it is both long and wide. As new launches go, this is surely one of, if not the biggest showflat unit on offer.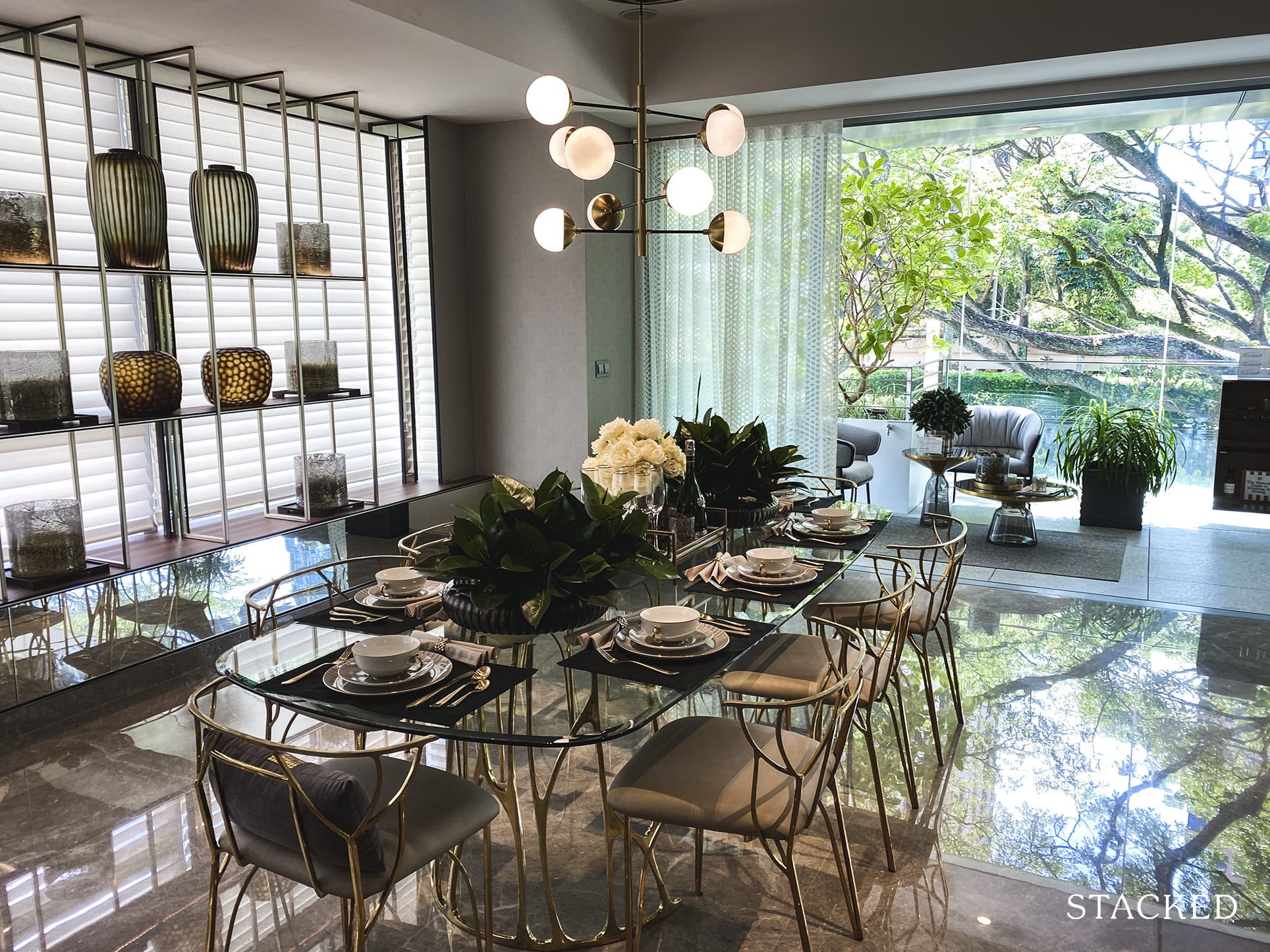 Because of the large windows on the side, it allows the space to feel even more voluminous. From here you can see how much room you have in the dining area even if you were to fit in a 10 seater one.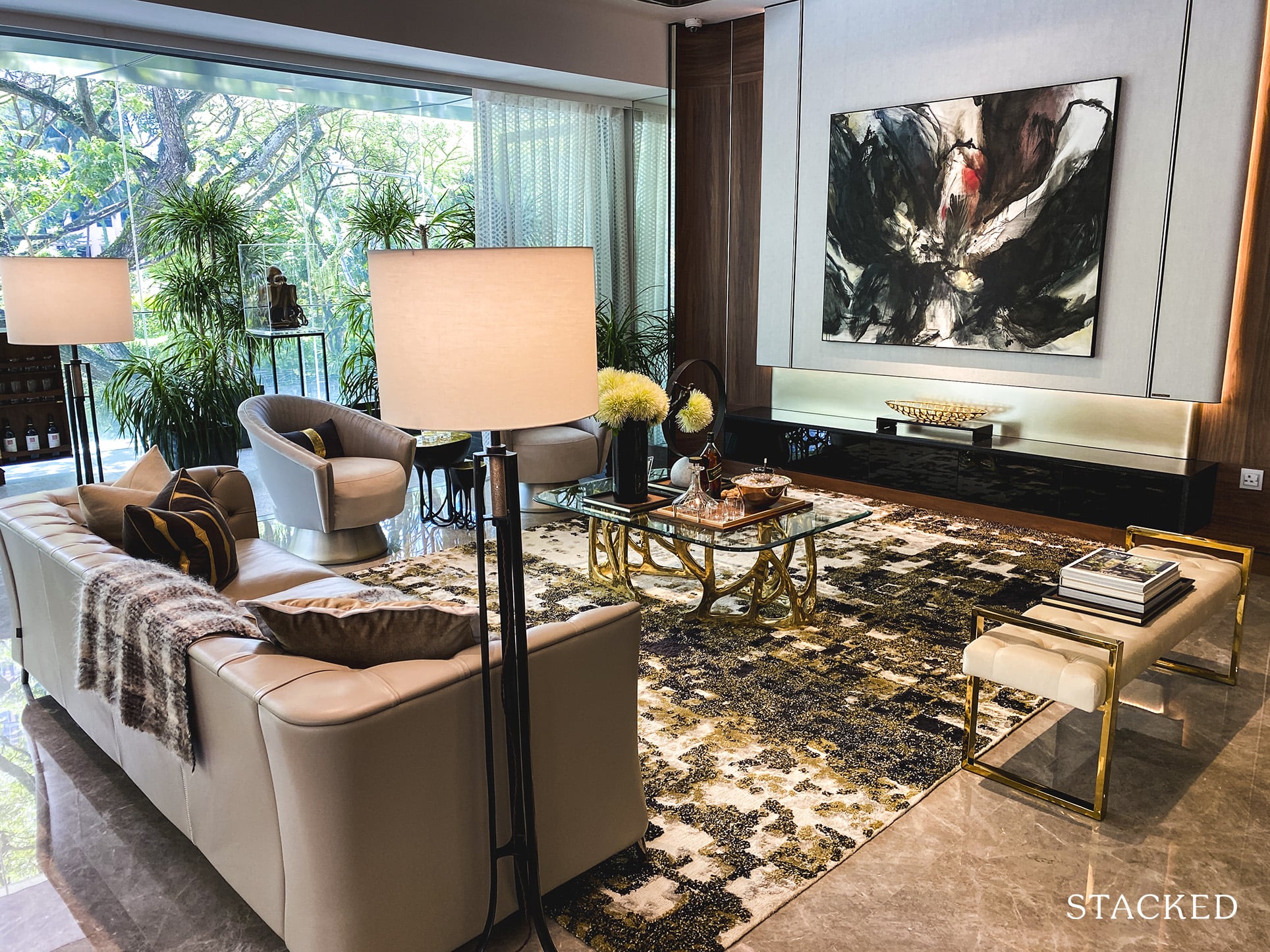 As you can see, you can fit a good-sized couch here, along with a bench and other smaller chairs without the place looking cluttered at all.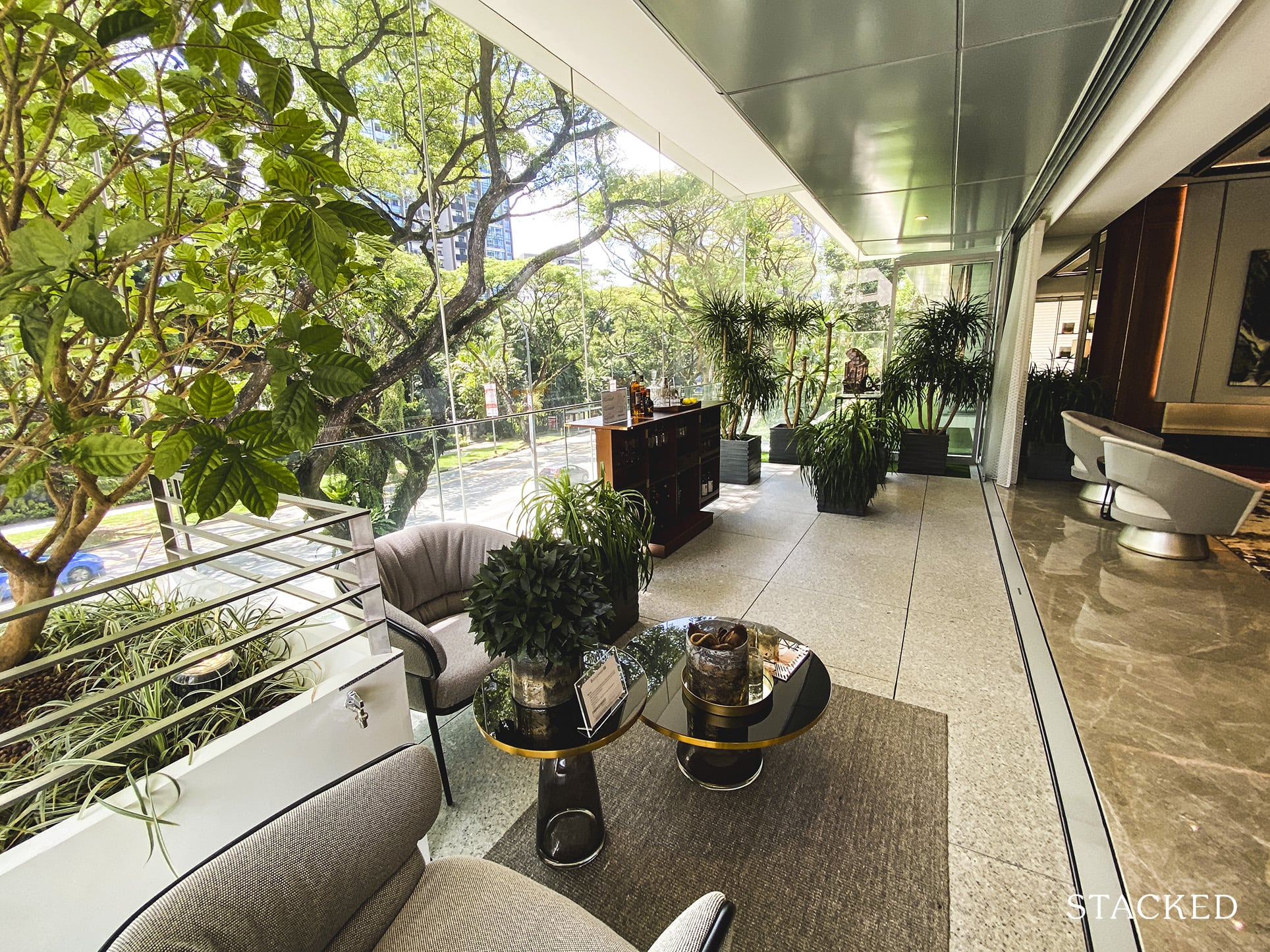 The balcony space is clearly a large one, but seeing as there is more than enough indoor space, I think most buyers would be happy with this one. For the higher floors that look out beyond Orchard Boulevard or Cuscaden, sitting outside overlooking the view will surely be a treat for the eyes.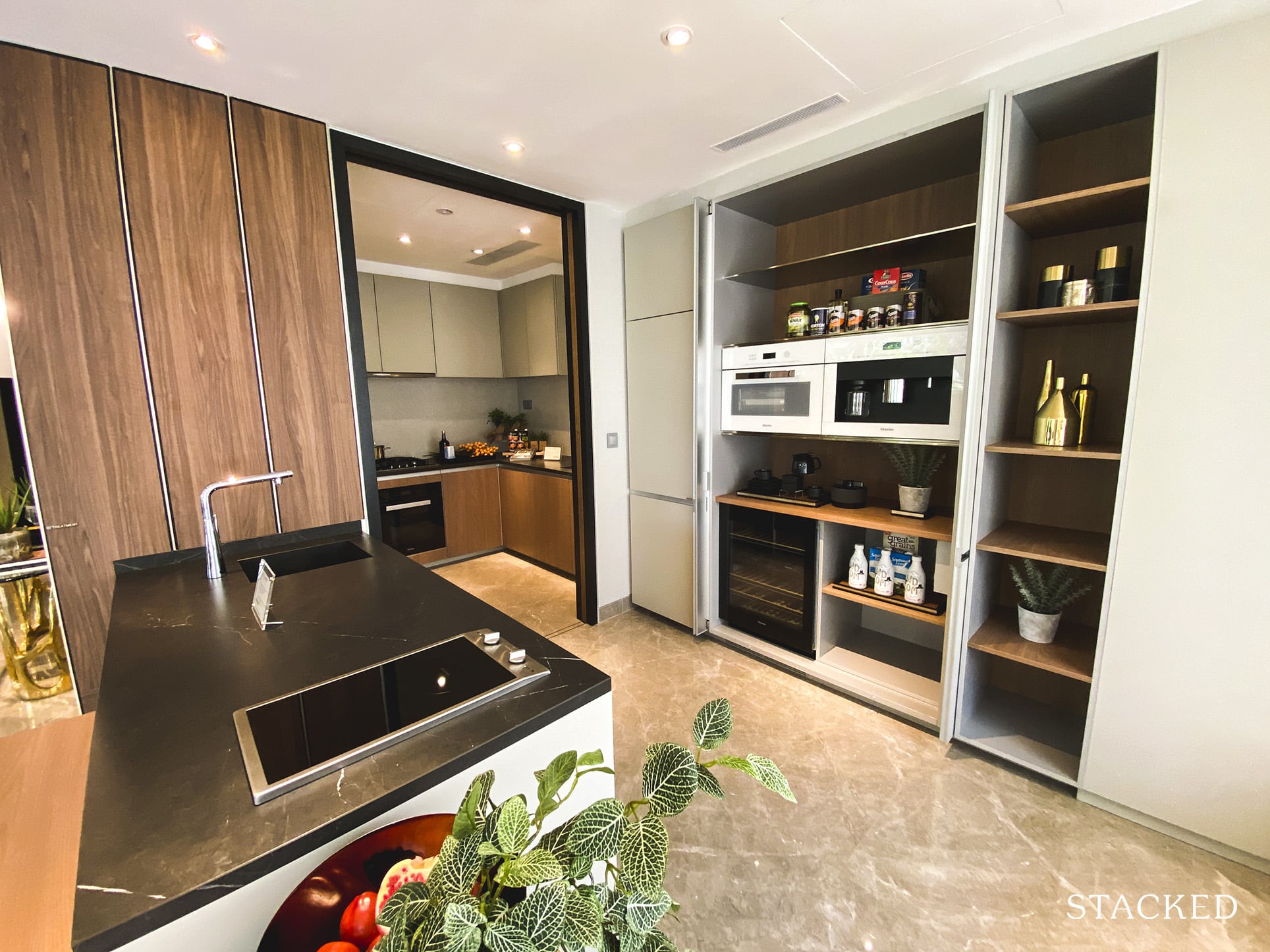 The dry kitchen is very spacious, with the kitchen cabinetry from the Ernestomeda Icon series. The result is a very sleek and stylish kitchen, but more importantly, it feels solidly built to the touch. A neat feature here is a pullout table that can be extended from the kitchen island itself.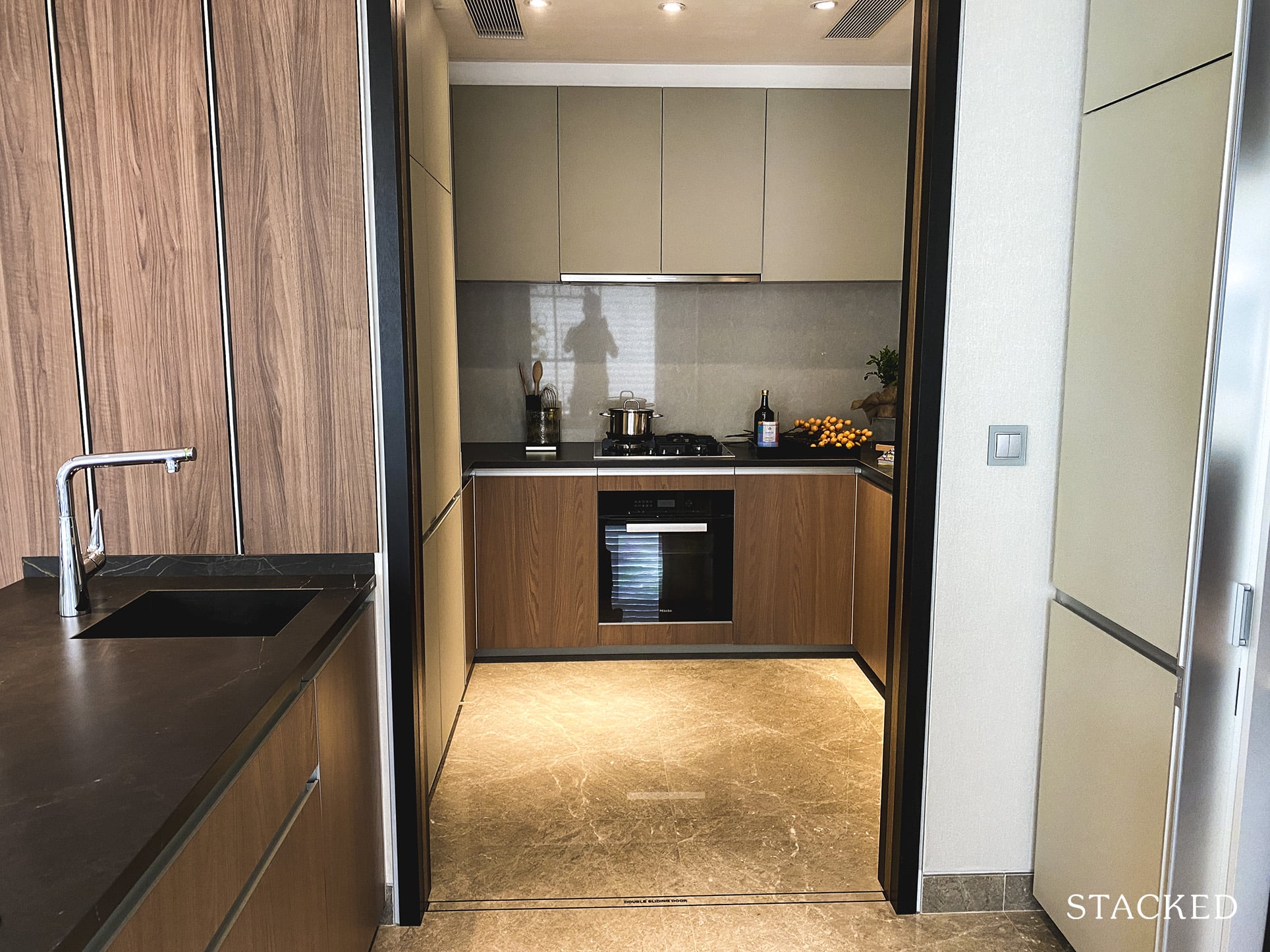 The wet kitchen retains the solid build quality and colour scheme from the outside. Probably the strangest part is the lack of a yard and outdoor area – it's actually located further down the hallway. Some people might like the separation of the two spaces, but I find it to be rather awkward.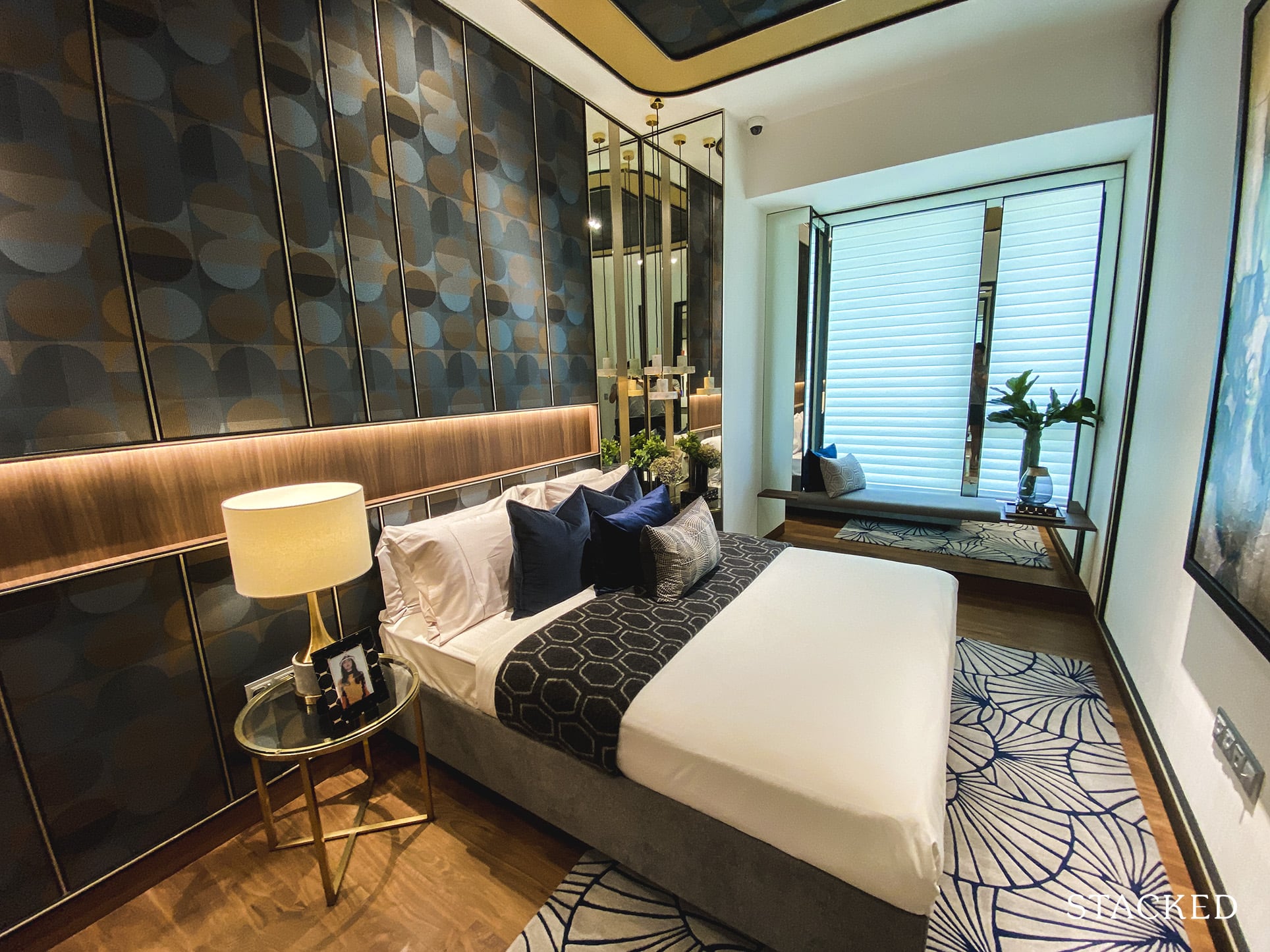 The advantage of the big unit size is especially obvious in the bedrooms, as they are all larger than average. I'm usually not the greatest fan of bay windows, but when the room is spacious enough it can be a good place to sit and watch the city go by.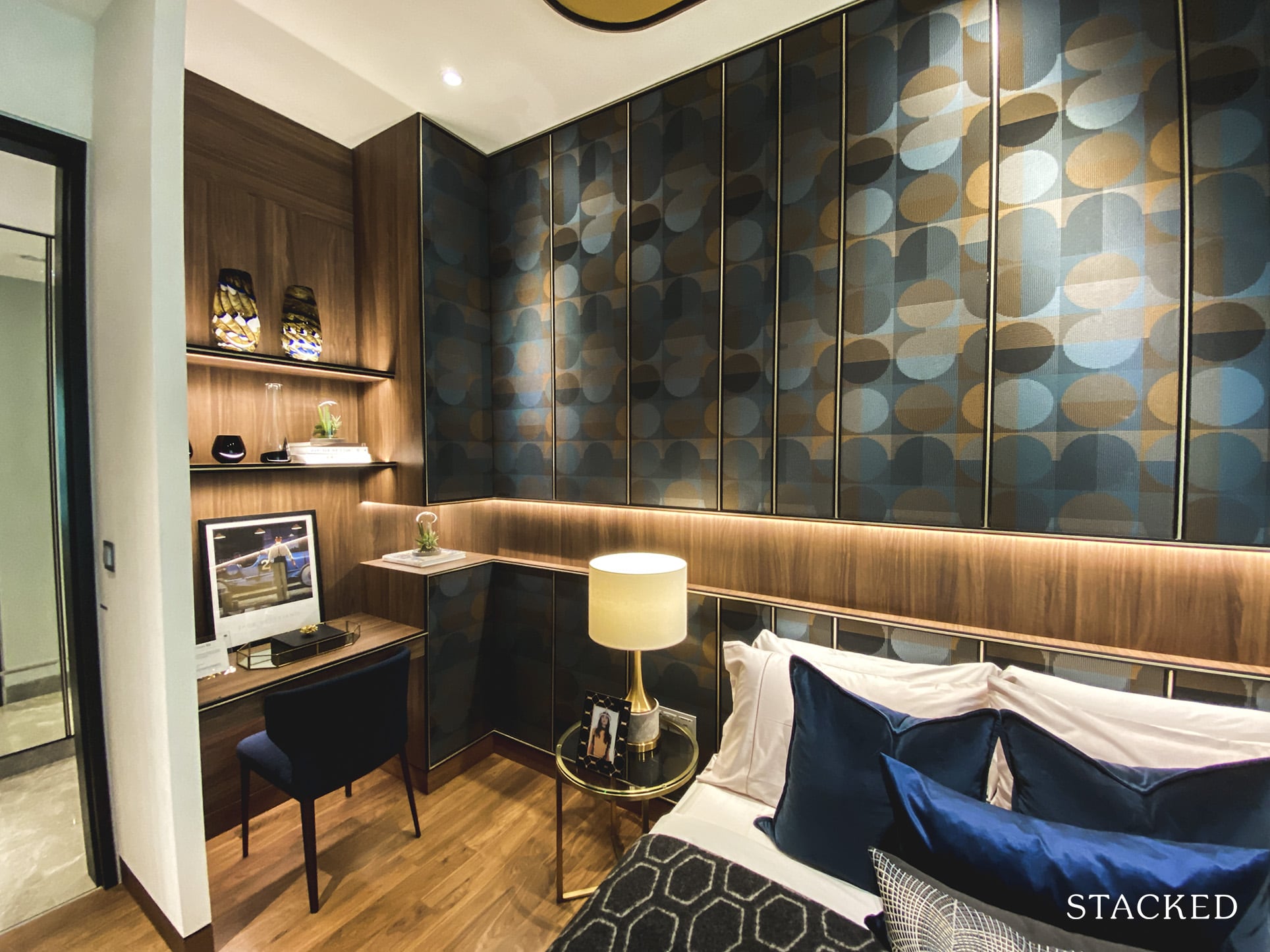 This is actually the junior master bedroom which is a little bigger than the other common bedrooms. The extra space is cleverly used to become a study area.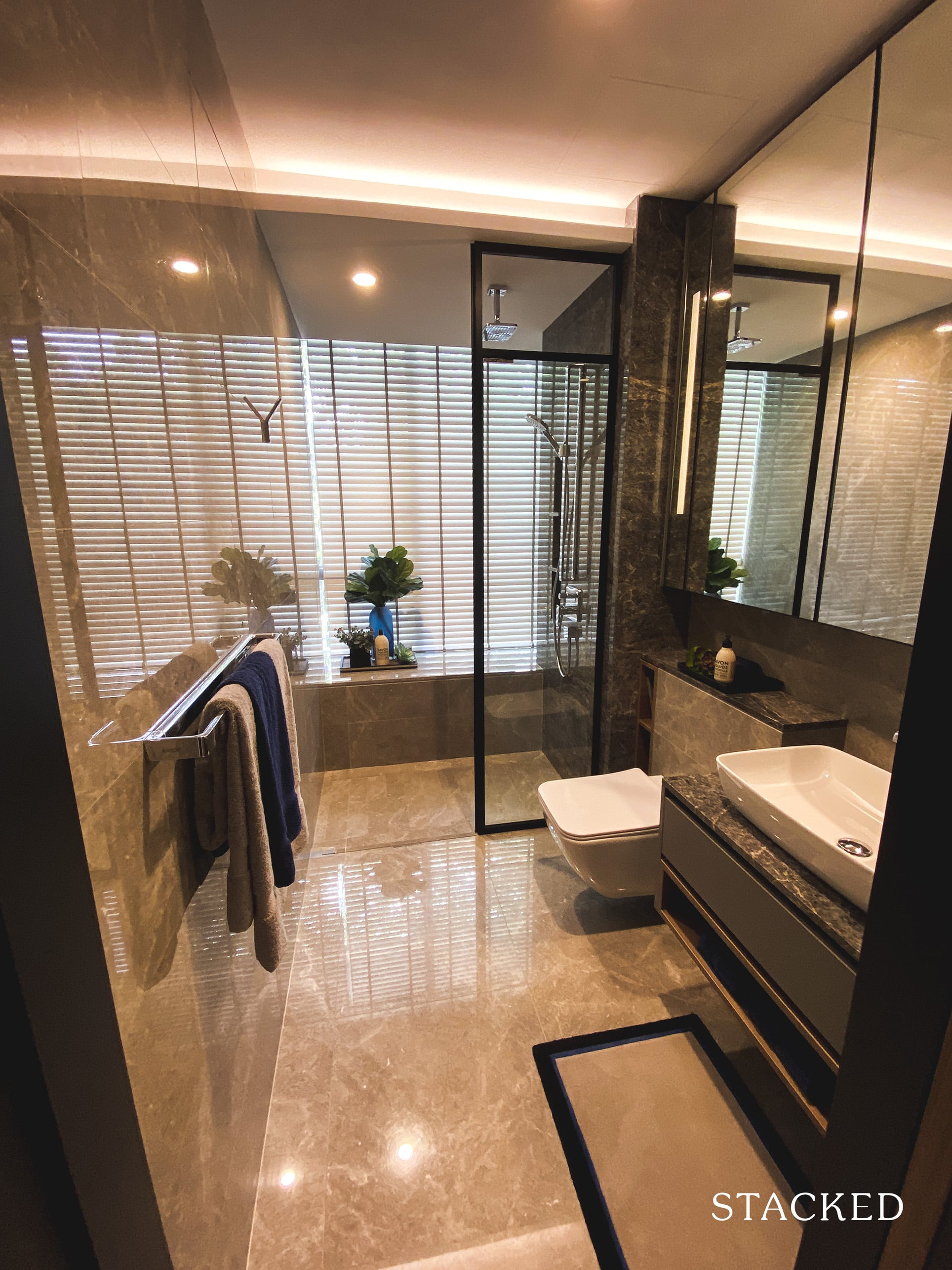 The junior master bathroom is a really good size, with the fit and finish looking exemplary.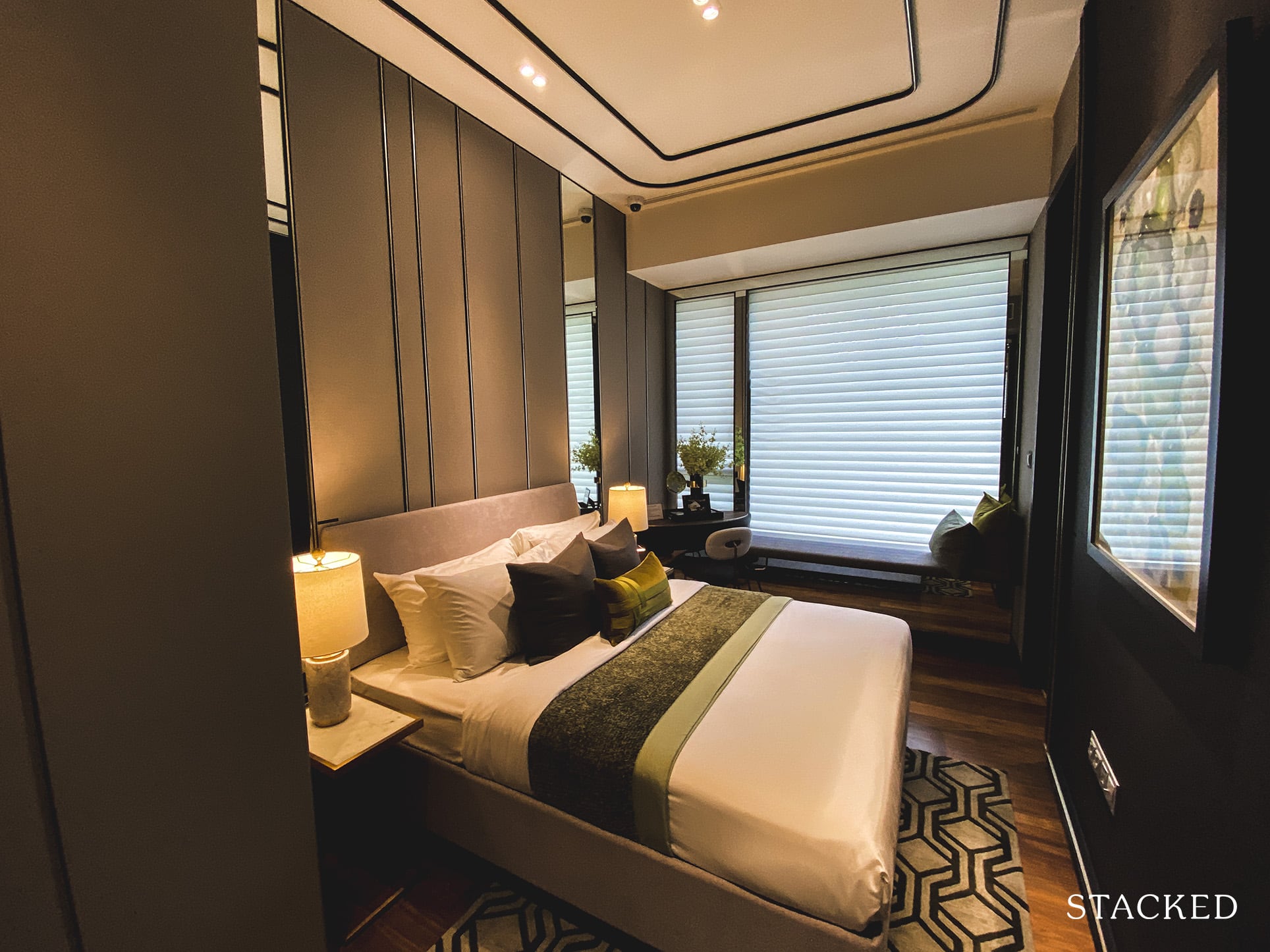 Both the common bedrooms are equal in size and are definitely spacious enough. It might come across a little smaller here because of the darker colours and sultry lighting, but it really is a very comfortable size.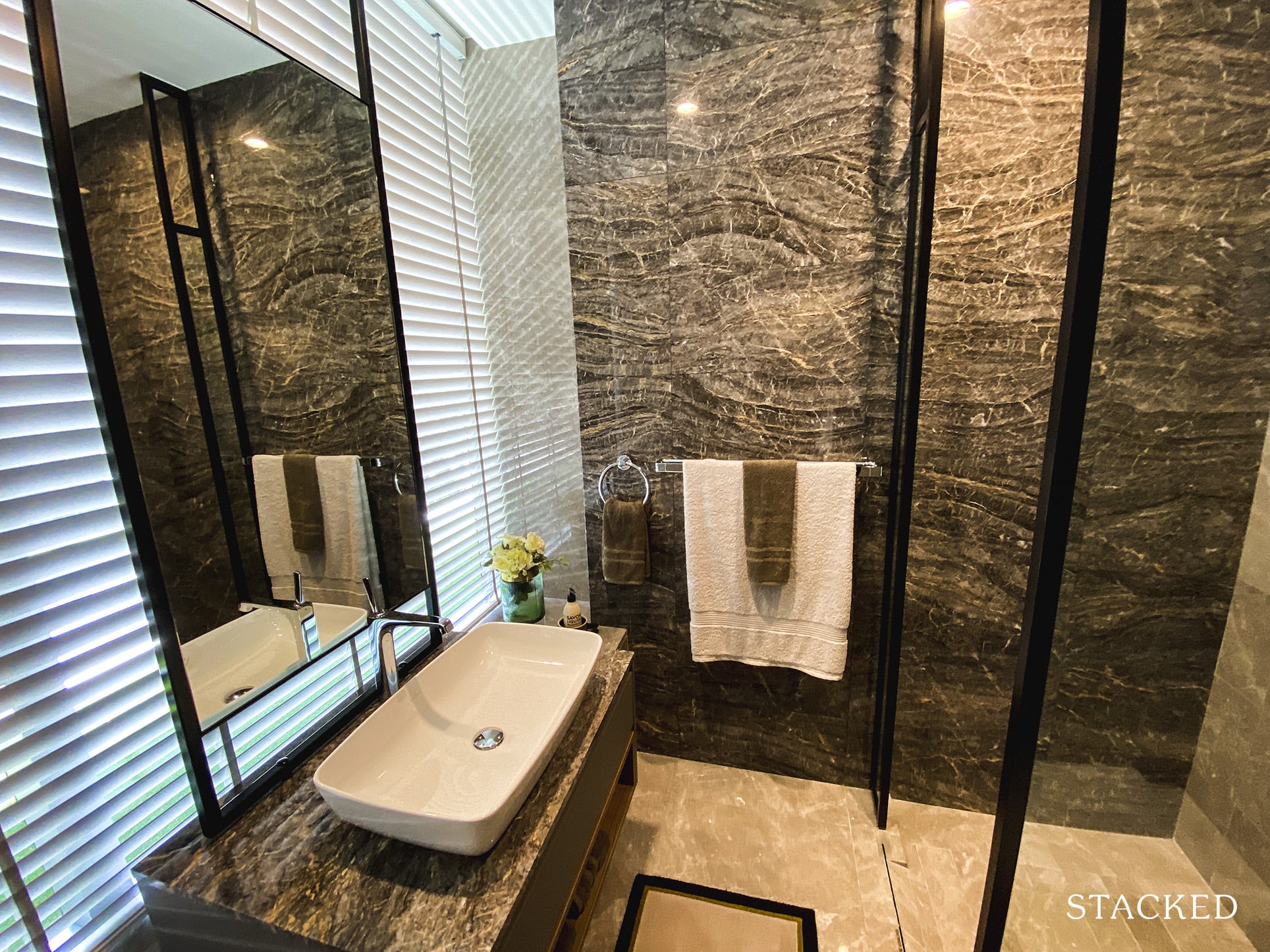 While the bathroom here is not as big as the junior master bathroom, it's still a comfortable enough space. The best part? Because of how big the unit is, all bedrooms are ensuite!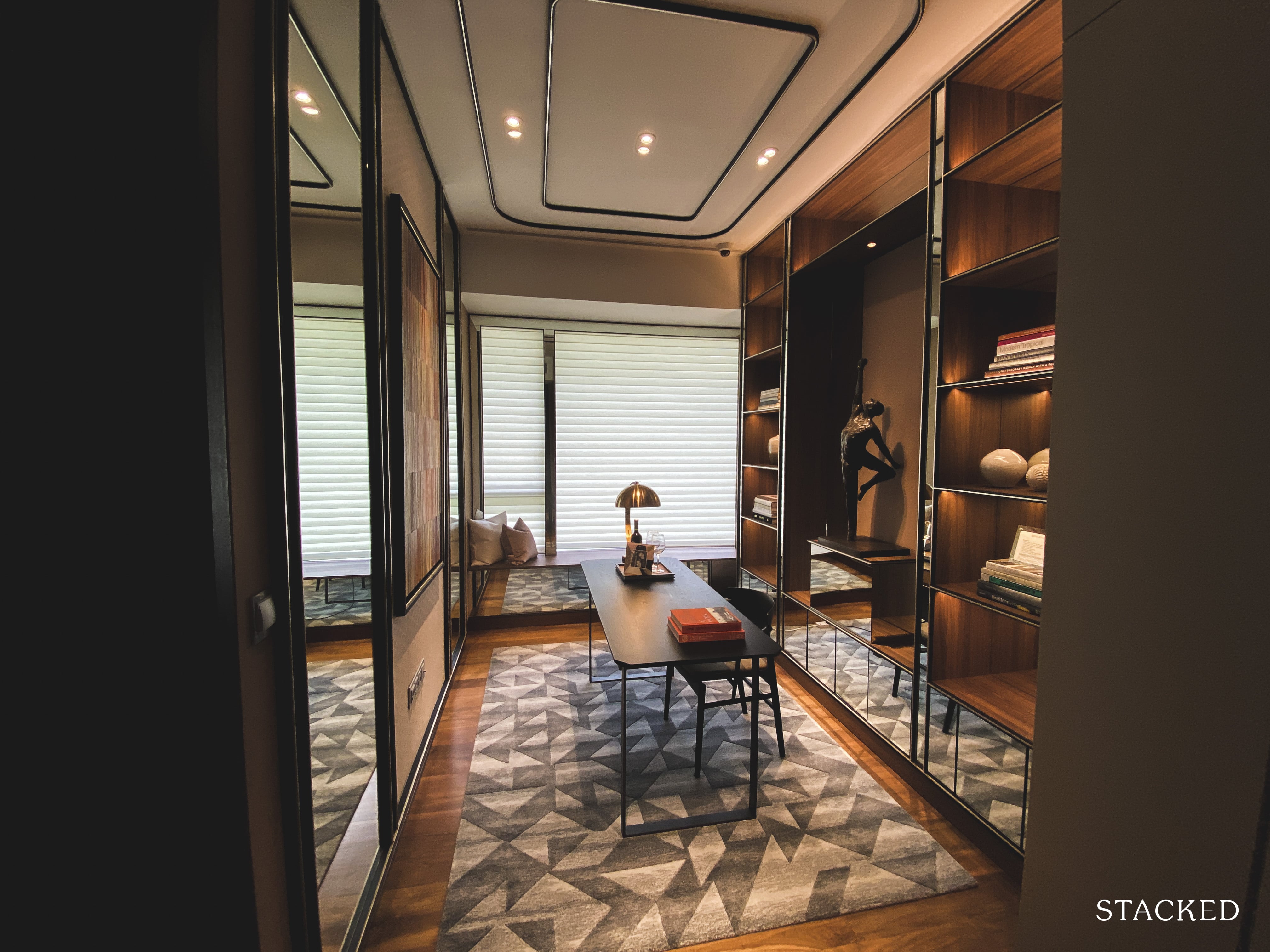 This is actually the third common bedroom but was shown here to be a study instead. Again, with this much space available everything can be tailored according to your needs without having to compromise on space.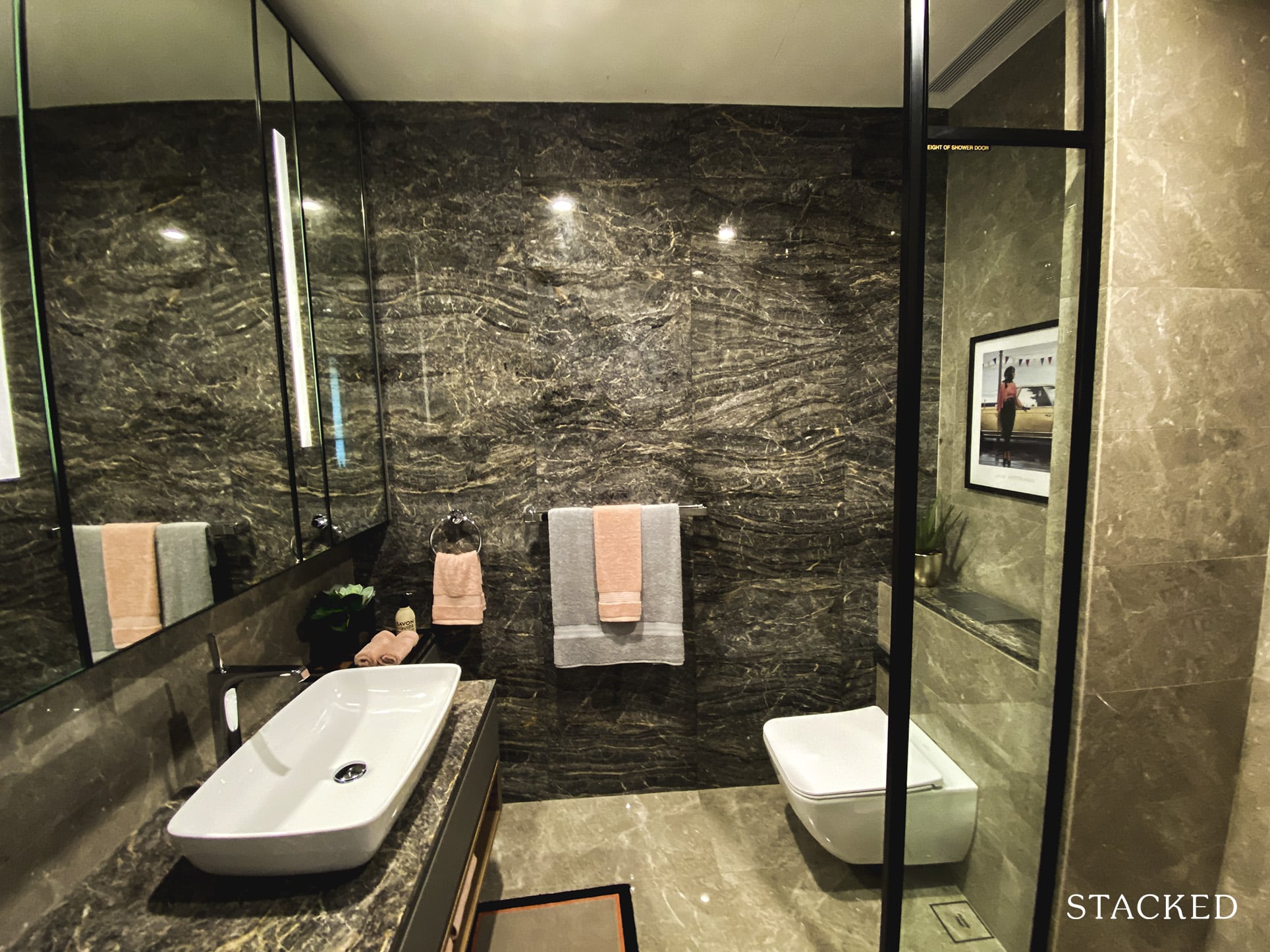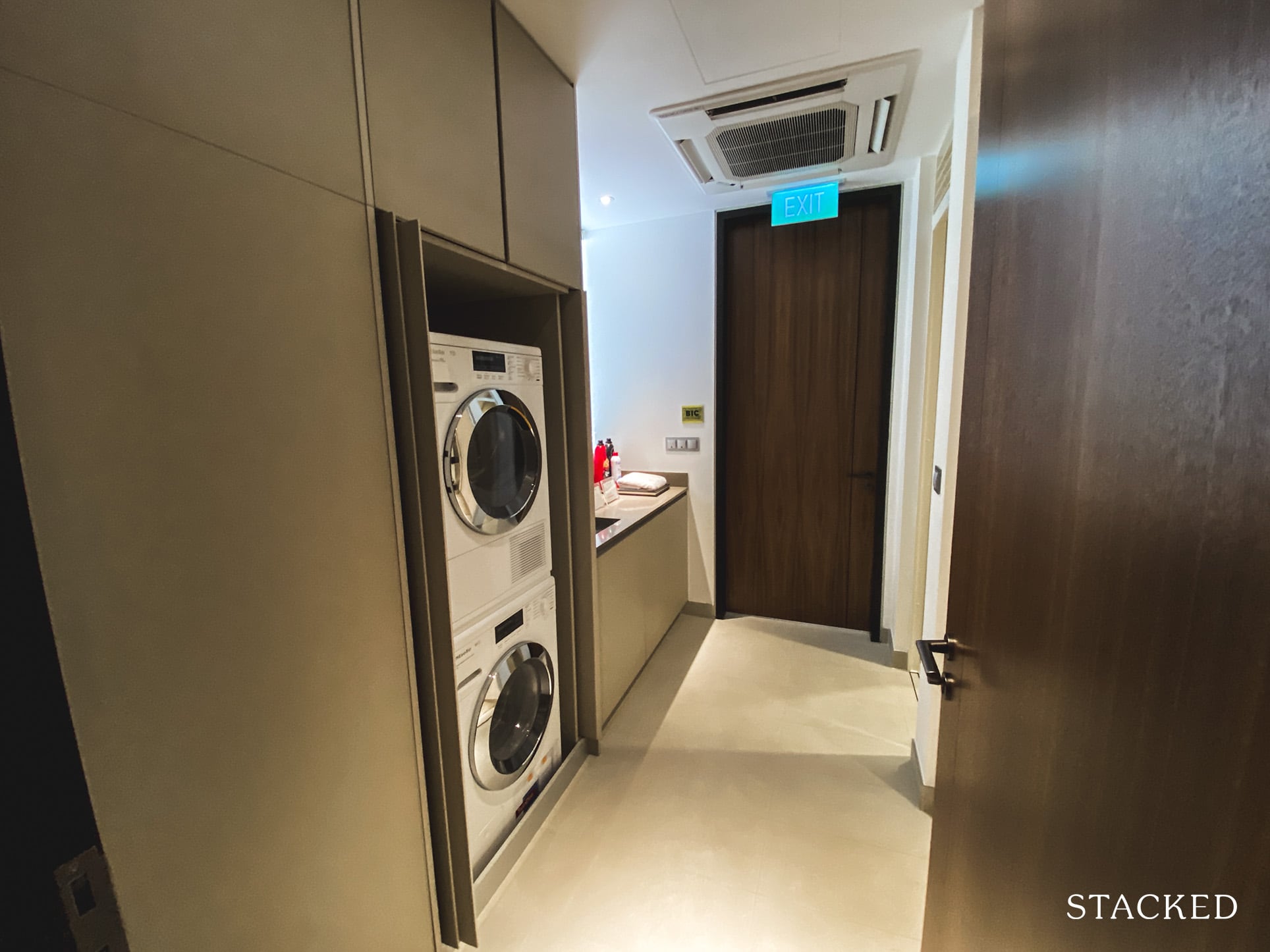 Across the bedrooms, you'll find the laundry and yard area. As with everything else in this showflat, it's an ample space to do your laundry and miscellaneous activities. This is also the location of the other entrance which is more commonly used for your food deliveries/couriers.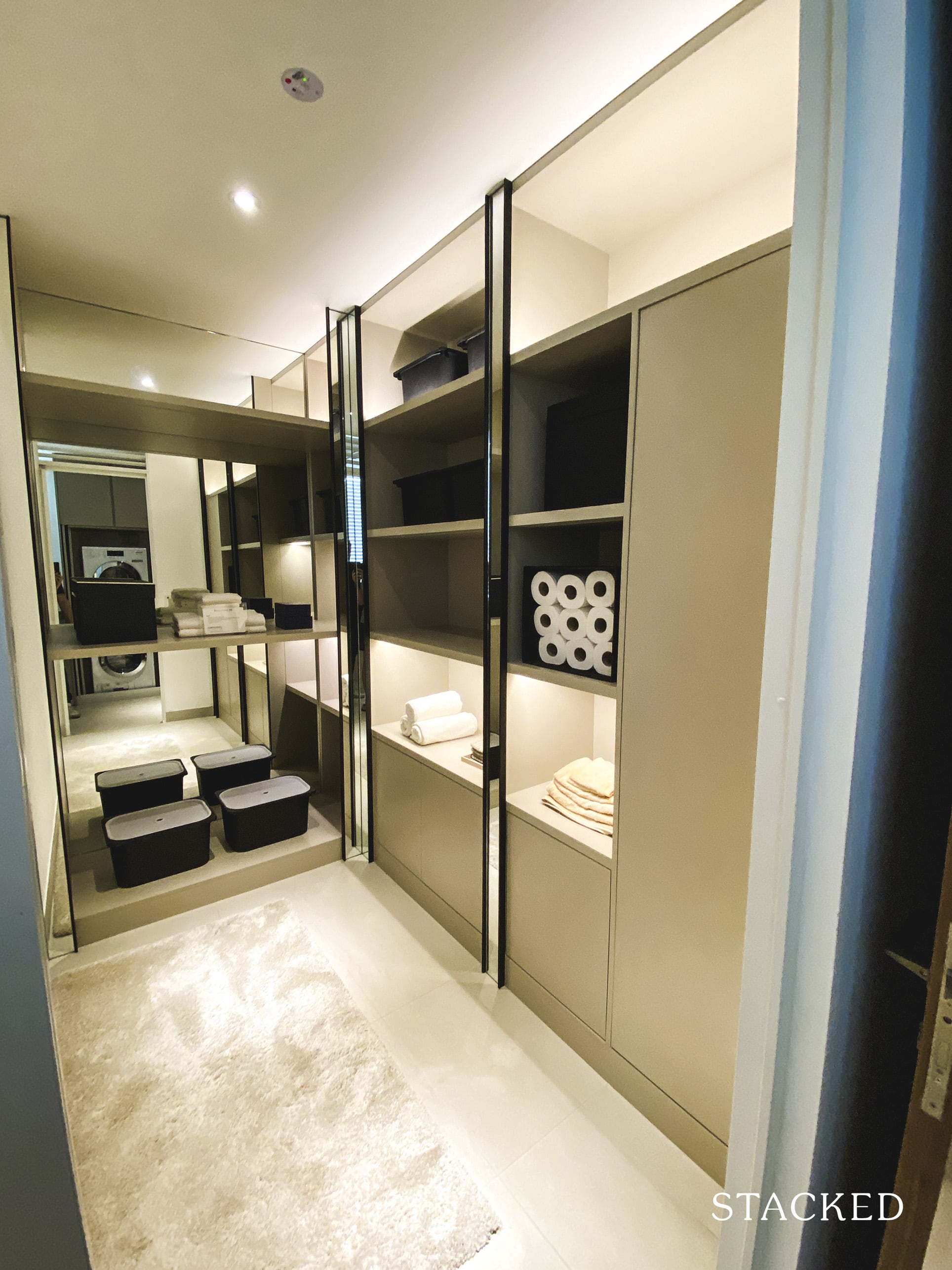 The store/helper's room is located here too. As mentioned earlier, I don't think that this is the best-suited place, particularly if you have a helper as it is pretty close to the master bedroom – so privacy might be an issue.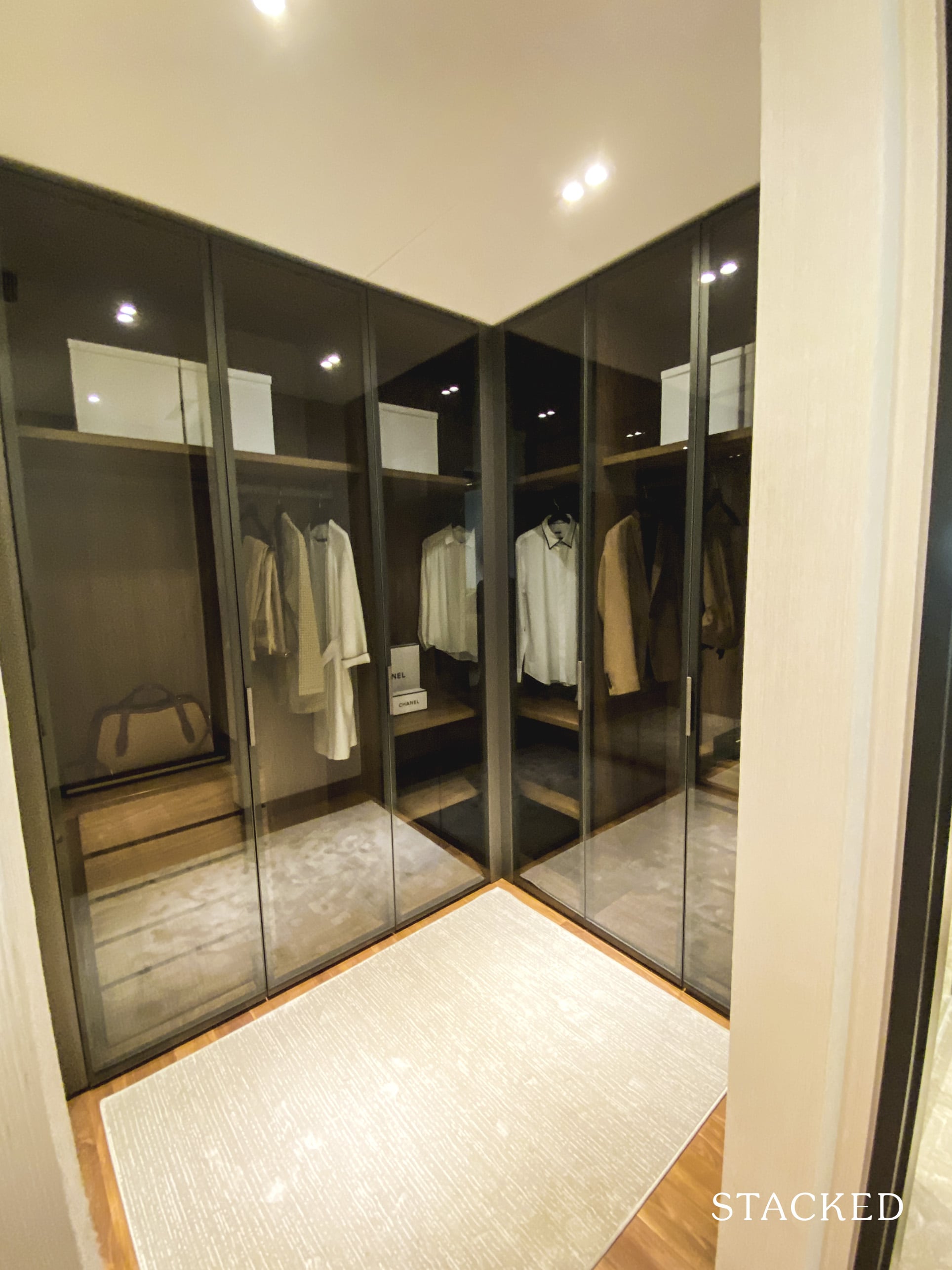 Before you get into the master bedroom, on the right is a walk-in wardrobe.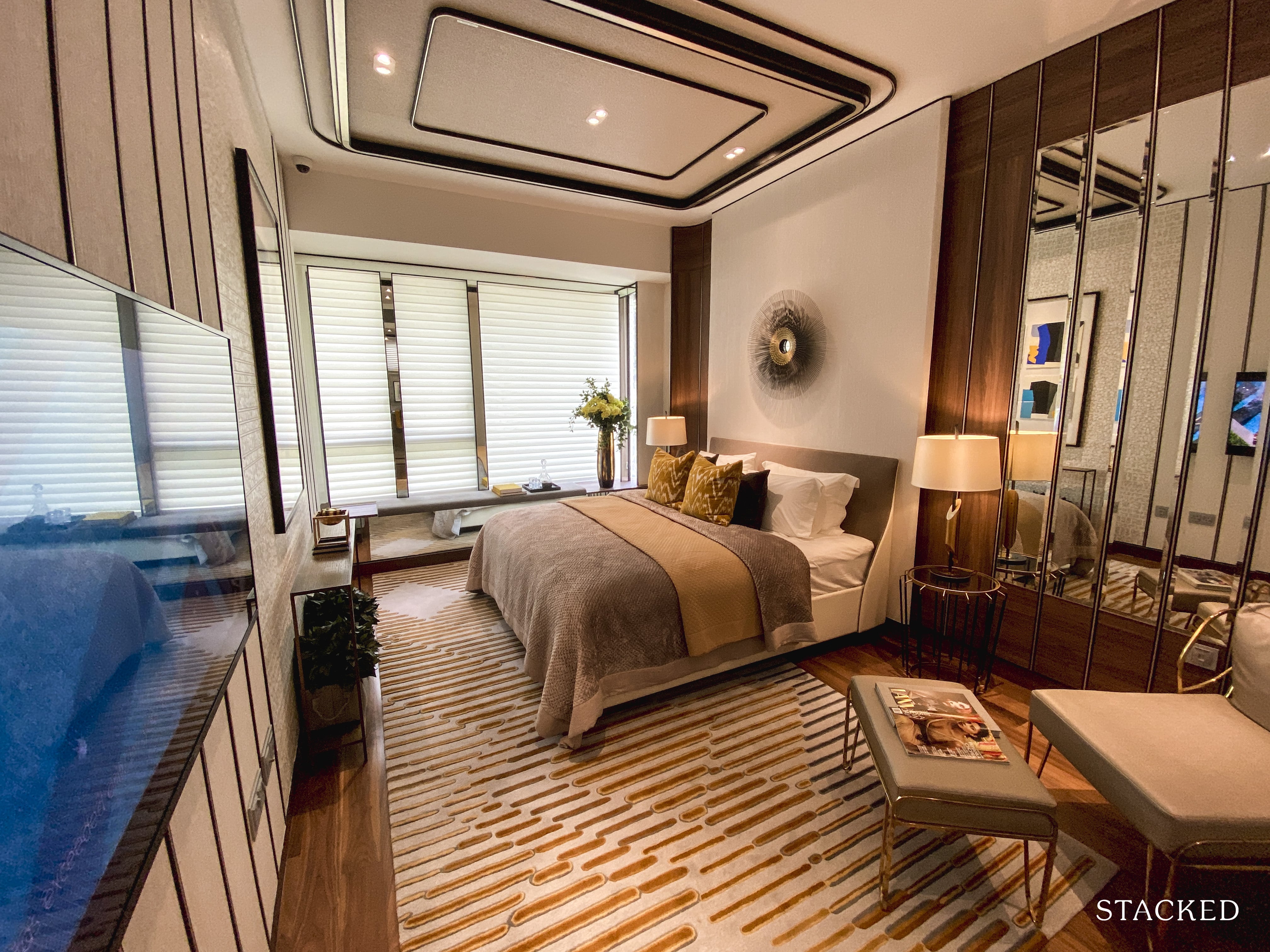 And here is the star of the show – the ginormous master bedroom. It's super spacious and palatial, and with even enough space for a small seating area.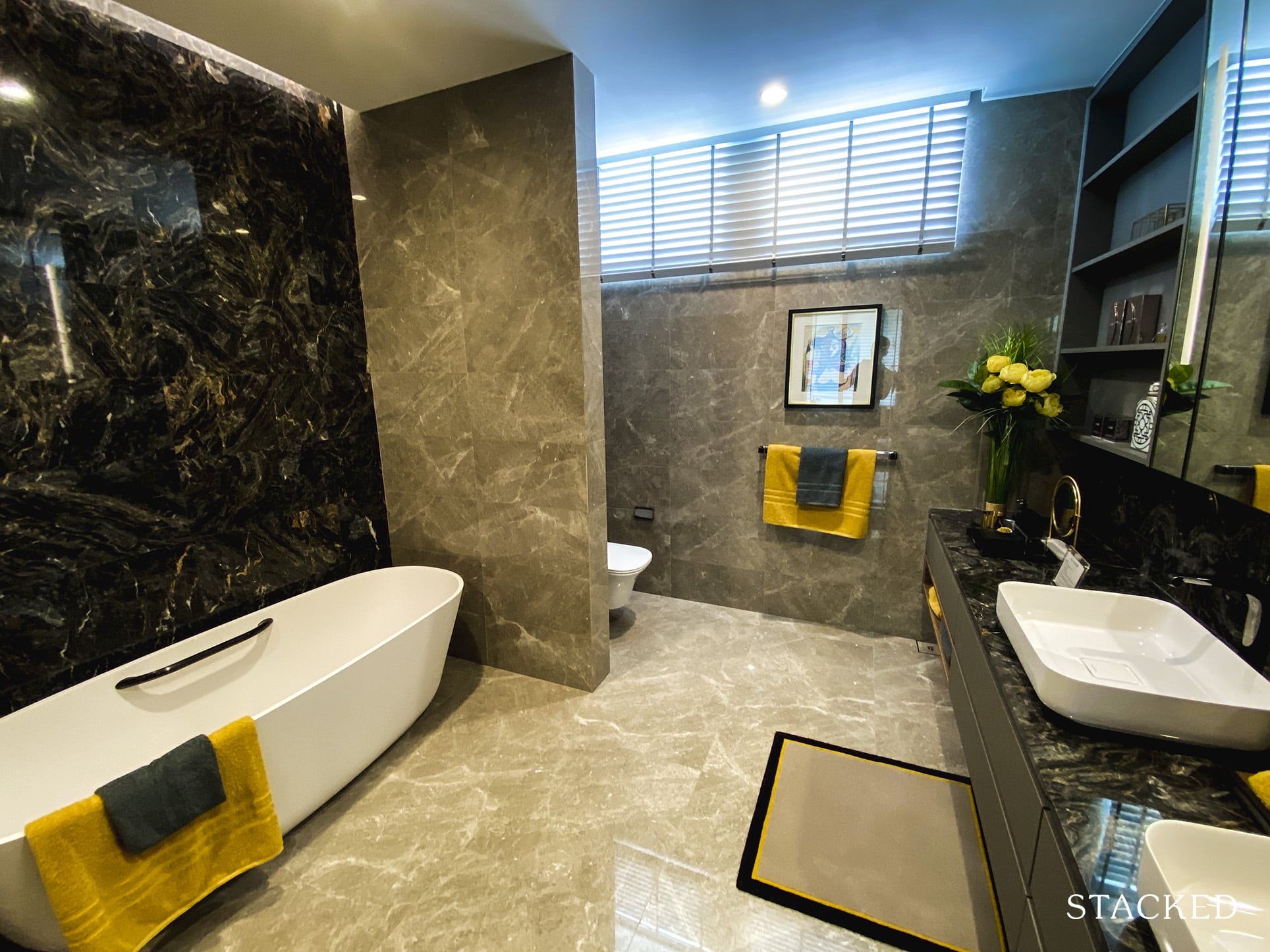 The same story continues inside the master bathroom. It is absolutely generous in size!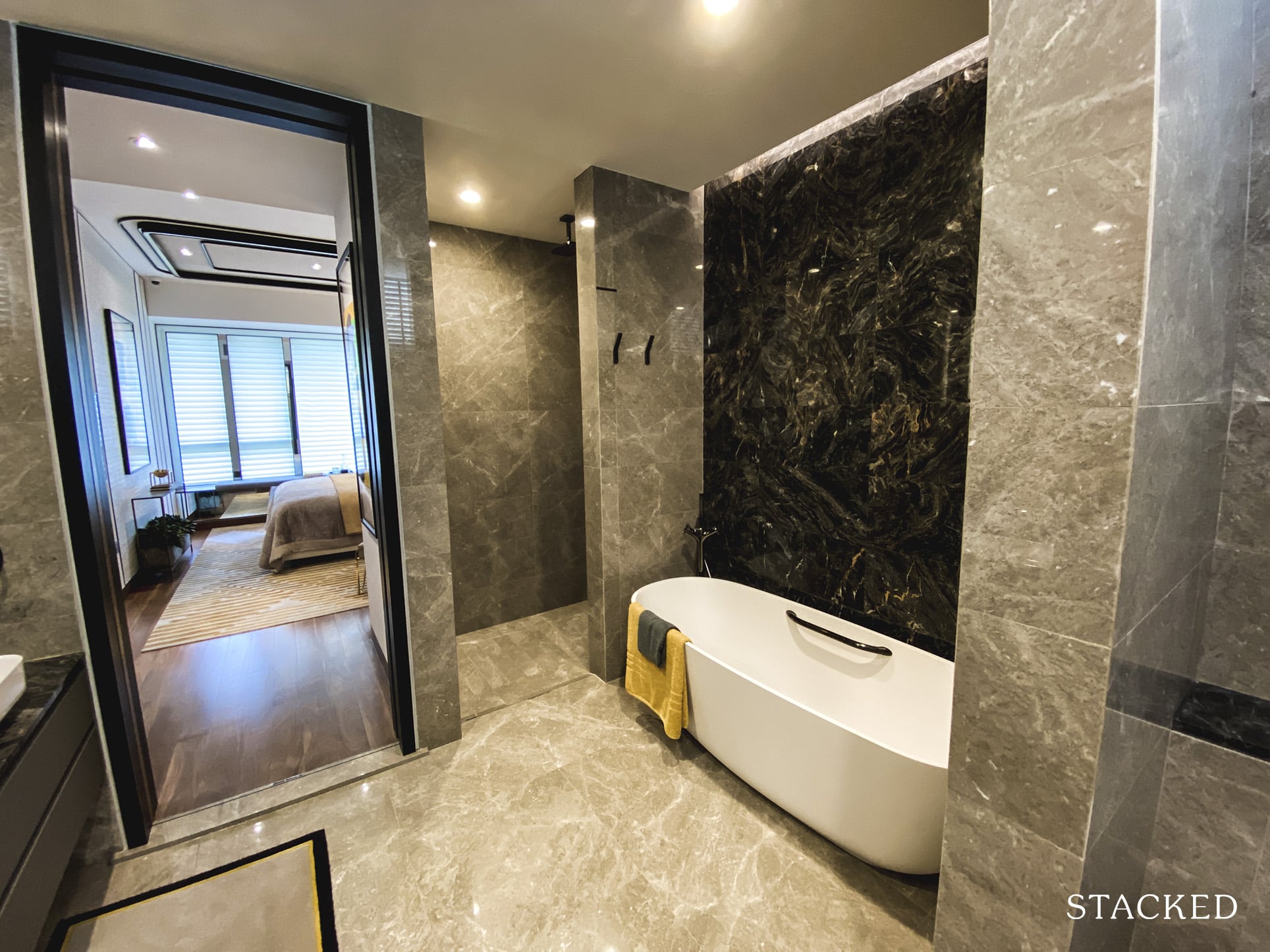 Location
Set in the middle of Singapore's glitziest district, Boulevard 88 is flanked by the celebrated Four Seasons to its east and the unmistakable Cuscaden Residences to its west. 
Not the worst neighbours to have in the least – though its situation alongside the single-way Orchard Boulevard could have posed more problems than one.
Transport
| | | |
| --- | --- | --- |
| Bus Station | Buses Serviced | Distance From Condo (& Est. Walking Time) |
| 'Bef Tomlinson Rd' | 7, 77, 105, 106, 111, 123, 132, 174, 174e, NR8 | 110m, 1-min walk |
| 'Opp Four Seasons Hotel' | 7, 36, 36A, 36B, 77, 105, 106, 111, 123, 132, 174, 174e, NR8 | 160m, 2-min walk |
| 'The Regent S'pore' | 36, 36B | 400m, 4-min walk |
Closest MRT: Orchard Boulevard MRT – 450m, 6-min walk
As with most central-based developments, a diversity of public transport services which provide easy access to other parts of Singapore isn't the issue.
And Boulevard 88 is exceptional in that it's conveniently sandwiched between 2 MRT stations on different lines – the North-East and Thomson-East Coast line.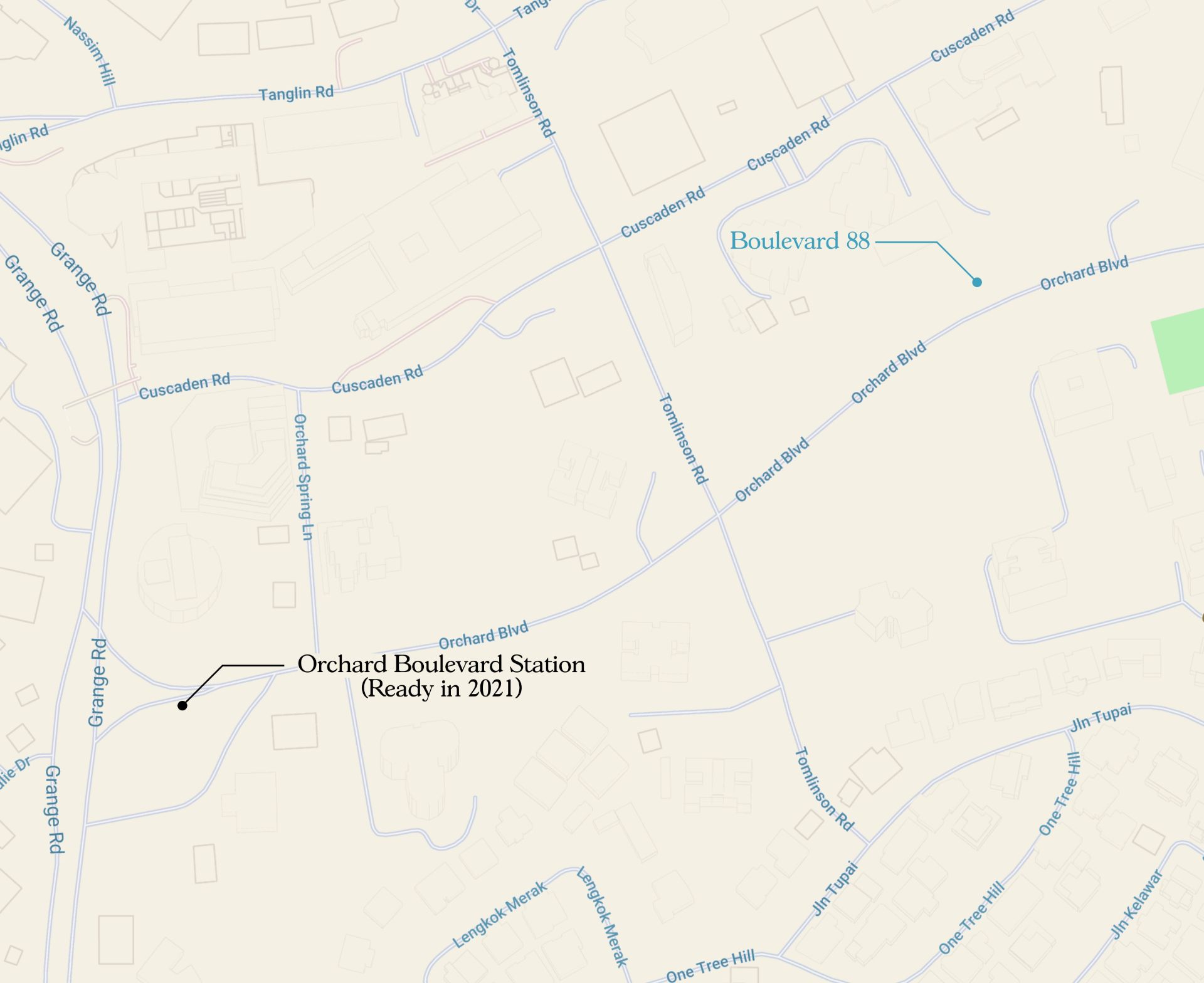 The first is Orchard Boulevard MRT (TE13), just a 6-minute walk away which is just at the junction of Grange Road and Orchard Boulevard. It's only 2 stations away from the Downtown line (Stevens MRT) and 5 stations from the East-West line (Outram MRT).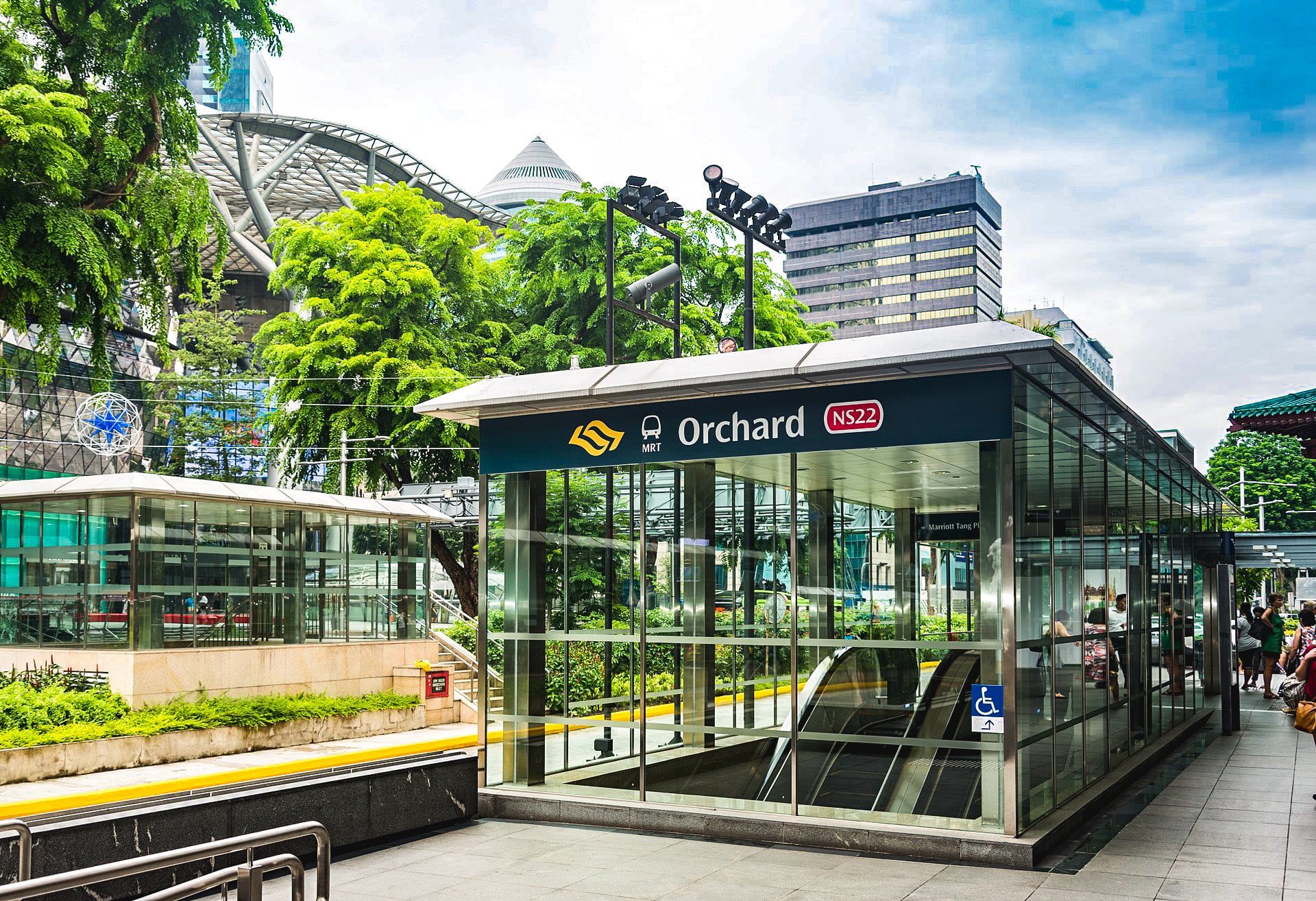 Secondly, the further Orchard MRT is only one station from the Downtown Line (Newton MRT), 2 stations from the North-East & Circle Line (Dhoby Ghaut MRT) and 3 stations from the East-West Line (City Hall MRT) is testament to this.
This puts Boulevard 88 within 3 stations from 4 lines.
Yet the one inconvenience that residents in the surroundings often face, is accessibility to these services.
The downside of an unsheltered walkway is immediately obvious when residents consider the walk to Orchard Boulevard Station.
A 6-minute walk can be rather unforgiving in the pouring rain, so residents would be better off walking 2-minutes to the bus stop opposite to catch the mobile shelter instead!
The good news is that the road along Orchard Boulevard is well-shaded which provides some form of cover.
It's the same for the walk to Orchard MRT, being just a 5-7 minute (shaded) walk from the condo. This means you'll be sheltered by shrubbery from the moment you exit the condo till the time you duck into the bustling underground extravaganza that is Orchard station.
Finally, the presence of a Night Rider (8) will cater to our local night owls or for those returning from the fortnightly nights-out.
| | |
| --- | --- |
| Highway/Major Road | Distance From Condo (& Est. Off-Peak Drive Time) |
| Grange Road | 550m, 2-min drive |
| Orchard Road | 800m, 3-min drive |
| Newton Circus/Bukit Timah Road Exit | 2.4km, 4-min drive |
| Farrer Road/Queensway Junction | 3.1km, 3-min drive |
| Eu Tong Sen Street | 4km, 5-min drive |
| CTE | 3.1km, 5-min drive |
| PIE | 3.7km, 5-min drive |
| AYE | 4.8km, 6-min drive |
| ECP | 5.9km, 9-min drive |
| BKE | 8.2km, 9-min drive |
| KPE | 9.4km, 9-min drive |
| KJE | 13.4km, 12-min drive |
| TPE | 14.3km, 12-min drive |
| SLE | 15km, 14-min drive |
Private transport accessibility: Very Good
Despite the 'centrality', most vehicle-owning residents in the area will attest to the inconvenience of jams in the Orchard section and how they do their best to avoid them.
While that might also be the case here, there could have been one other major problem that the developers have thankfully mitigated.
If you had followed our previous review on Sloane Residences, you'd understand the gift of having double exit points onto two different roads.
Not necessarily two exits mind you, but an exit point that simply branches in either direction (having major roads at the end of these roads is, of course, a bonus).
Now as we've inconveniently learnt (maybe once too often for some), Orchard Boulevard – though huge, is actually a one-way road.
Which naturally means that for those who wanted to backtrack to Wheelock Place (for example) by car would have to first undergo a right-turn at the often clogged Tomlinson Road/Orchard Boulevard junction.
Multiply this over the period of residency and you'll realise that it isn't the nicest scenario by a mile.
Thankfully, the hotel exit along the 2-way Cuscaden Road is to be made accessible to residents here – and in the process, easing a sizable catastrophe.
Groceries
| | |
| --- | --- |
| Name of Grocery Shop | Distance From Condo (& Est. Off-Peak Drive Time) |
| Cold Storage – Tanglin Market Place | 900m, 3-min drive OR 650m, 8-min walk |
| Cold Storage – Orchard Hotel | 1km, 4-min drive OR 750m, 9-min walk |
| FairPrice Finest – Scotts Square | 2.4km, 7-min drive |
| FairPrice Finest – Valley Point | 2.6km, 6-min drive |
Another perk of living in the centre of Orchard is the ease with which you can access the closeby malls and hence grocery points.
Given the abundance of Cold Storages in the area, diversity or distance to them shouldn't be an issue.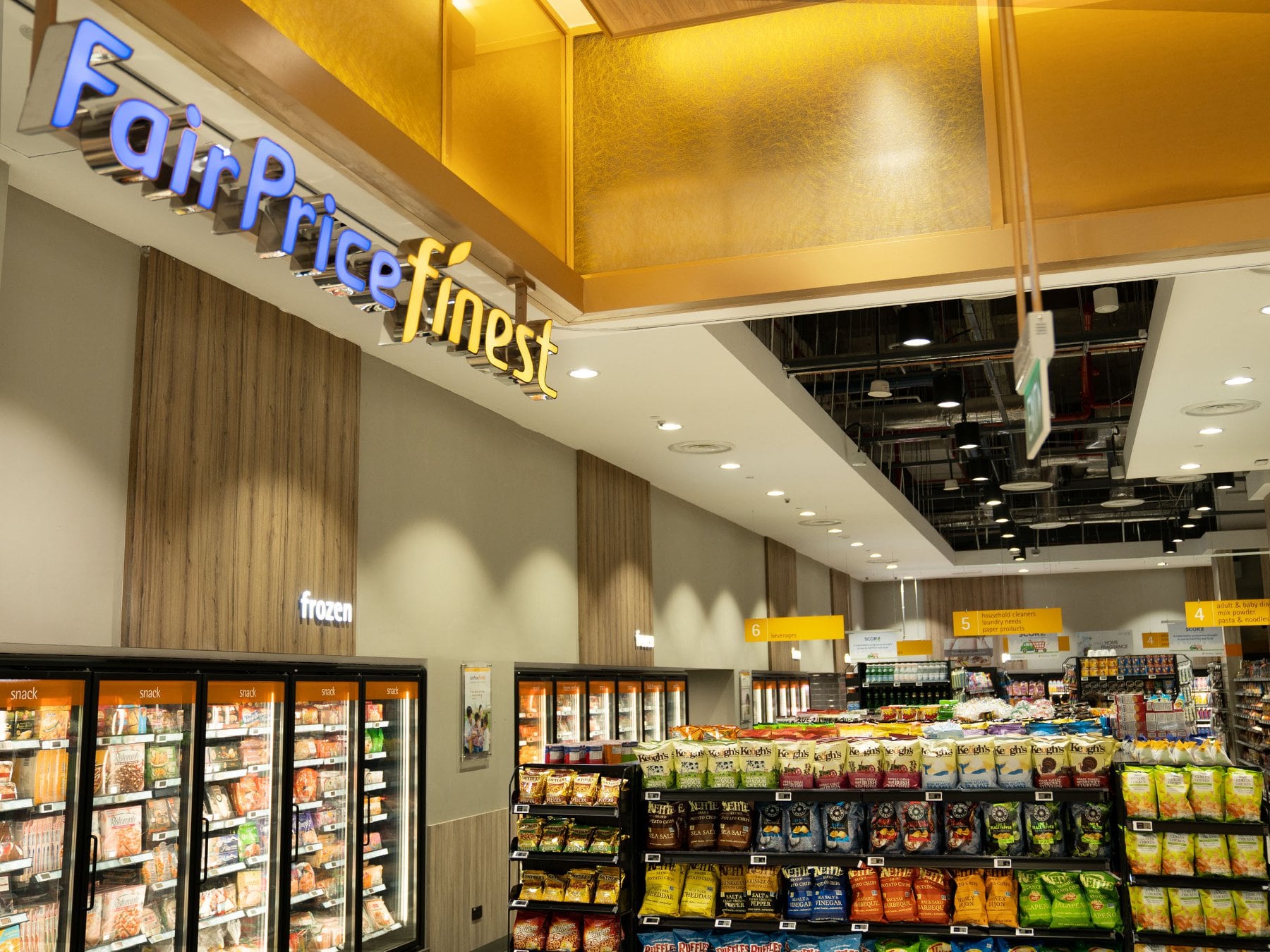 FairPrice outlets, on the other hand, are a little rarer find in the Orchard district.
That being said, there are actually 5 of them bordering the same distance – two along River Valley Road, one at 111 somerset and the other at Orchard Grand Court.
Of course, online delivery is picking up pace in Singapore, and for residences here, hiring private chefs isn't out of the equation.
Think of this section as more of a 'good-to-know', if you will.
Shopping Malls
| | |
| --- | --- |
| Name of Shopping Mall | Distance From Condo (& Est. Off-Peak Drive Time) |
| Start of Orchard Cluster (Tanglin Mall) | 1km, 3-min drive |
| End of Orchard Cluster (Plaza Singapura) | 2.8km, 7-min drive |
| Great World City | 2.1km, 6-min drive |
| Clarke Quay Cluster | 4.3km, 5-min drive |
| Bugis Cluster | 5.2km, 8-min drive |
| Novena Cluster | 3.4km, 5-min drive |
| Queensway Cluster (IKEA) | 3.9km, 5-min drive |
Interestingly enough, it takes an almost equal timeframe to get to the Novena and Queensway shopping malls from Boulevard 88 as it does to get to the end of the Orchard Cluster.
Yet another perk of living in central areas – apart from the fact that Orchard Road actually spans quite the distance!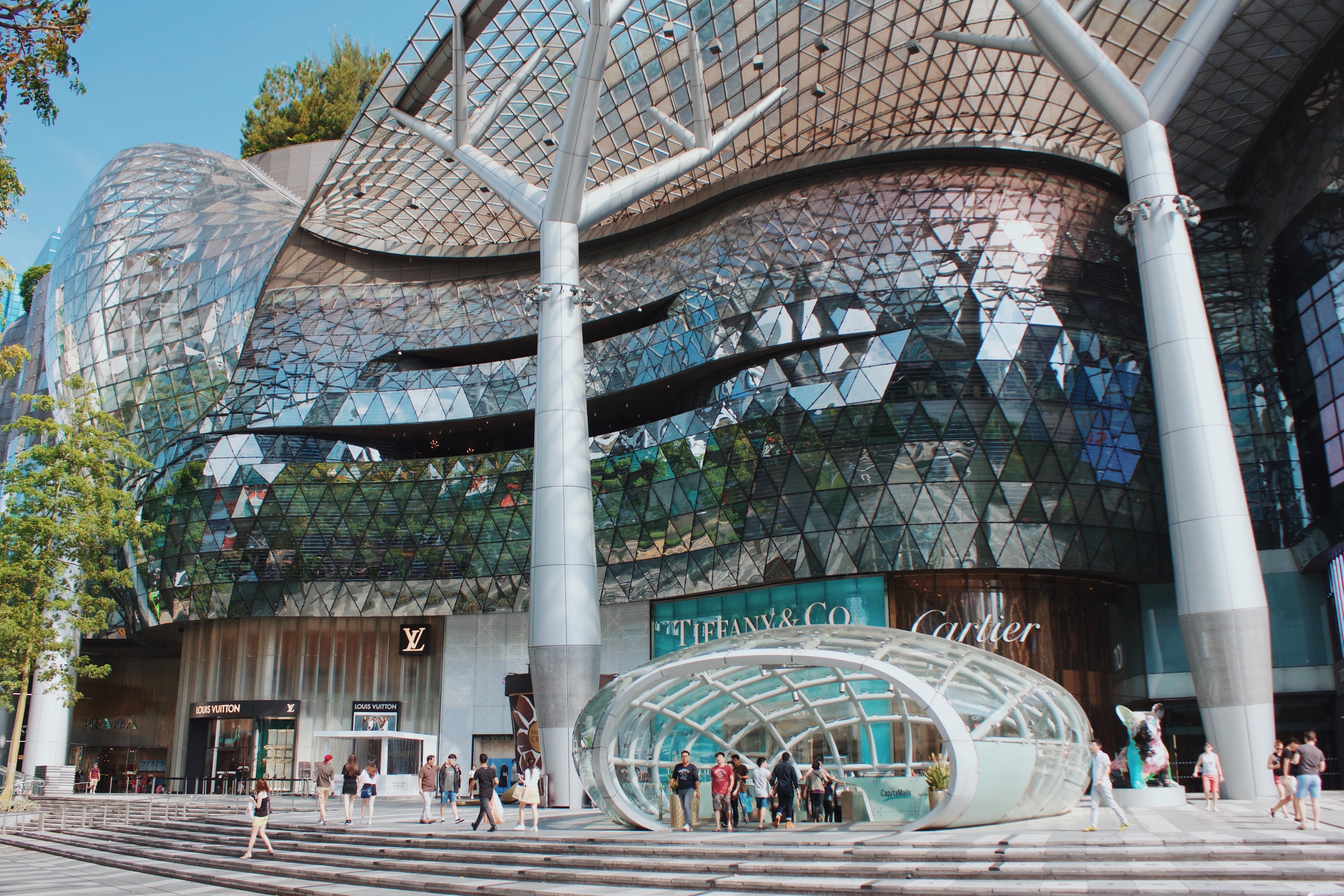 On that note, parking fees and jams are quite the hassle in central areas so it wouldn't come as a surprise if most residents here would prefer to make the journeys to the malls on foot.
It is, after all, one of the biggest perks of living in Orchard itself!
Schools
| | | |
| --- | --- | --- |
| Name of School | Education Level | Distance From Condo (Est. Off-Peak Drive Time) |
| Happy Kids Club | Preschool | 350m, 4-min walk |
| EtonHouse International School (Orchard) | Preschool | 650m, 7-min walk |
| Chiltern House | Preschool | 650m, 8-min walk |
| The Thinking Box (Tanglin) | Preschool | 750m, 9-min walk |
| River Valley Primary | Primary | 2.9km, 7-min drive |
| Singapore Chinese Girls' School | Primary | 3.2km, 8-min drive |
| Alexandra Primary | Primary | 3.5km, 8-min drive |
| Anglo-Chinese School (Junior) | Primary | 3.7km, 10-min drive |
| St. Joseph's Institution (Junior) | Primary | 3.7km, 10-min drive |
| Zhangde Primary | Primary | 3.8km, 10-min drive |
| ACS Primary (Barker) | Primary | 4.3km, 10-min drive |
| Nanyang Primary | Primary | 4.8km, 10-min drive |
| Crescent Girls' School | Secondary | 2.9km, 8-min drive |
| Singapore Chinese Girls' School | Secondary | 3.2km, 8-min drive |
| Queenstown Secondary | Secondary | 3.5km, 9-min drive |
| Bukit Merah Secondary | Secondary | 3.5km, 10-min drive |
| Gan Eng Seng School | Secondary | 3.6km, 8-min drive |
| Outram Secondary | Secondary | 3.9km, 9-min drive |
| ACS Secondary (Barker) | Secondary | 4.3km, 10-min drive |
| St. Margaret's Secondary | Secondary | 4.7km, 10-min drive |
| CHIJ Secondary | Secondary | 6km, 10-min drive |
| Catholic Junior College | Tertiary | 4.1km, 10-min drive |
| Hwa Chong Institution | Tertiary | 5km, 11-min drive |
| ACS Junior College | Tertiary | 6.1km, 12-min drive |
| National Junior College | Tertiary | 6.7km, 14-min drive |
| Raffles Junior College | Tertiary | 8km, 17-min drive |
| Singapore Polytechnic | Tertiary | 7.2km, 16-min drive |
| Ngee Ann Polytechnic | Tertiary | 9.2km, 17-min drive |
| Victoria University of Technology | Tertiary | 2km, 6-min drive |
| Boston Business School | Tertiary | 2.6km, 7-min drive |
| NUS Faculty Of Law/Public Policy | Tertiary | 3.2km, 9-min drive |
| SMU | Tertiary | 3.4km, 11-min drive |
| UBS Business University | Tertiary | 3.7km, 10-min drive |
| Curtin Singapore | Tertiary | 5.8km, 16-min drive |
| SIT | Tertiary | 6.9km, 14-min drive |
| NUS | Tertiary | 7.7km, 17-min drive |
| SIM | Tertiary | 8.5km, 15-min drive |
| Furen International School | International | 1.4km, 5-min drive |
| ISS International School | International | 1.6km, 6-min drive |
| Chatsworth International School (Orchard Campus) | International | 3km, 9-min drive |
Once again, walking triumphs vehicular transport in the Preschool department.
What's more, young families will be spoilt for choice with an entire list of Preschools (stemming from the nearby shopping centres) to choose from.
A host of Primary and Secondary schools in the Bukit Timah education belt and surrounding districts are also relatively accessible – even if they might just be outside of the desired 10-minute drive radius.
On that note, there is a solid list of top-tiered Junior Colleges in the general area alongside a couple of International School options that present themselves for the foreign families who are looking to take up residency at Boulevard 88.
Additional Pointers
We've seen this one before. And perhaps we will again.
Still, the importance of easy access to embassies cannot be emphasised enough – especially for foreigners who take up residency in the area. Ranging from unforeseen circumstances (in either country) to daily offerings (employment for example), having an embassy from your home country closeby will prove comforting knowledge in the least.
Medical/Miscellaneous Care
While the topic of aid briefly lingers, a range of top medical offerings that include Gleneagles and Mount Elizabeth hospital are available just below the 10-minute drive radius. This proves useful for either professionals working in these sectors, those with existing conditions or even for families with young children and the elderly.
What's more, Orchard is famous for its niche cosmetic and 'pampering' (think massage and spas) services. Having them at your doorstep is a luxury that comes with the high quantum the area commands.
Speaking of pampering, we also find an entire array of Singapore's finest hotels scattered just a stone's throw from the condo.
This, ranging from the Four Seasons to The Hilton to St. Regis – all less than a 5-minute walk away from the condo.
Of course, this would also include the Singapore EDITION hotel once it opens its doors come 2021.
Cue lavish high-teas and unparalleled elegance at the heart of Singapore's most happening district.
Now that doesn't mean that every meal has to border fancy or expensive for that matter. One of Orchard's biggest appeals actually comes in its range of gastronomic offerings.
Regardless of culinary or price diversity, residents in the centre will find a host of options. Some of the nearer 'food centre' options that serve up affordable and diverse fare include the Asian Food Mall (Lucky Plaza) as well as Food Opera (ION Orchard) – which is about a 5-minute walk from the condo.
For the youth of Singapore who enjoys indulging in a variety of entertainment options, *SCAPE ranks up there as a one-stop-shop for a myriad of shopping, fashion, hobby and communal needs – basically teen culture servings at its finest.
Add in the allure of nearby 'Insta-worthy' cafes and it suffices to say that the kids will love their new neighbourhood.
Development Site
Facilities in Boulevard 88

| | | |
| --- | --- | --- |
| Arrival lobby | Guard House | Residential lobby |
| Play patio | Patio lounge | Fitness patio |
| Yoga patio | Infinity sky pool | Cabanas |
| Concierge | Lawn | Kitchen |
| Lounge | Changing room & steam room | Play pool |
| Spa | Gym | Clubhouse |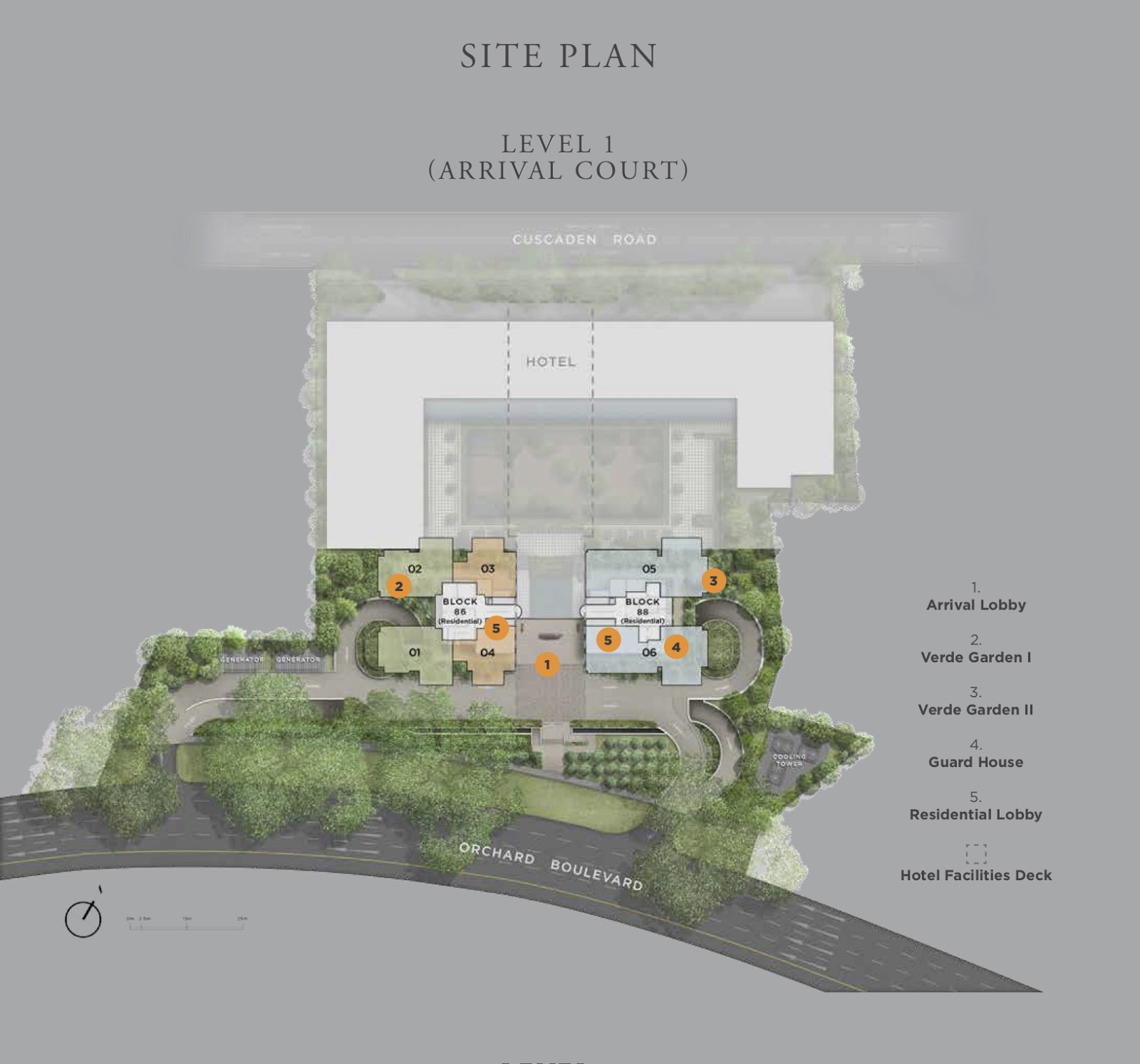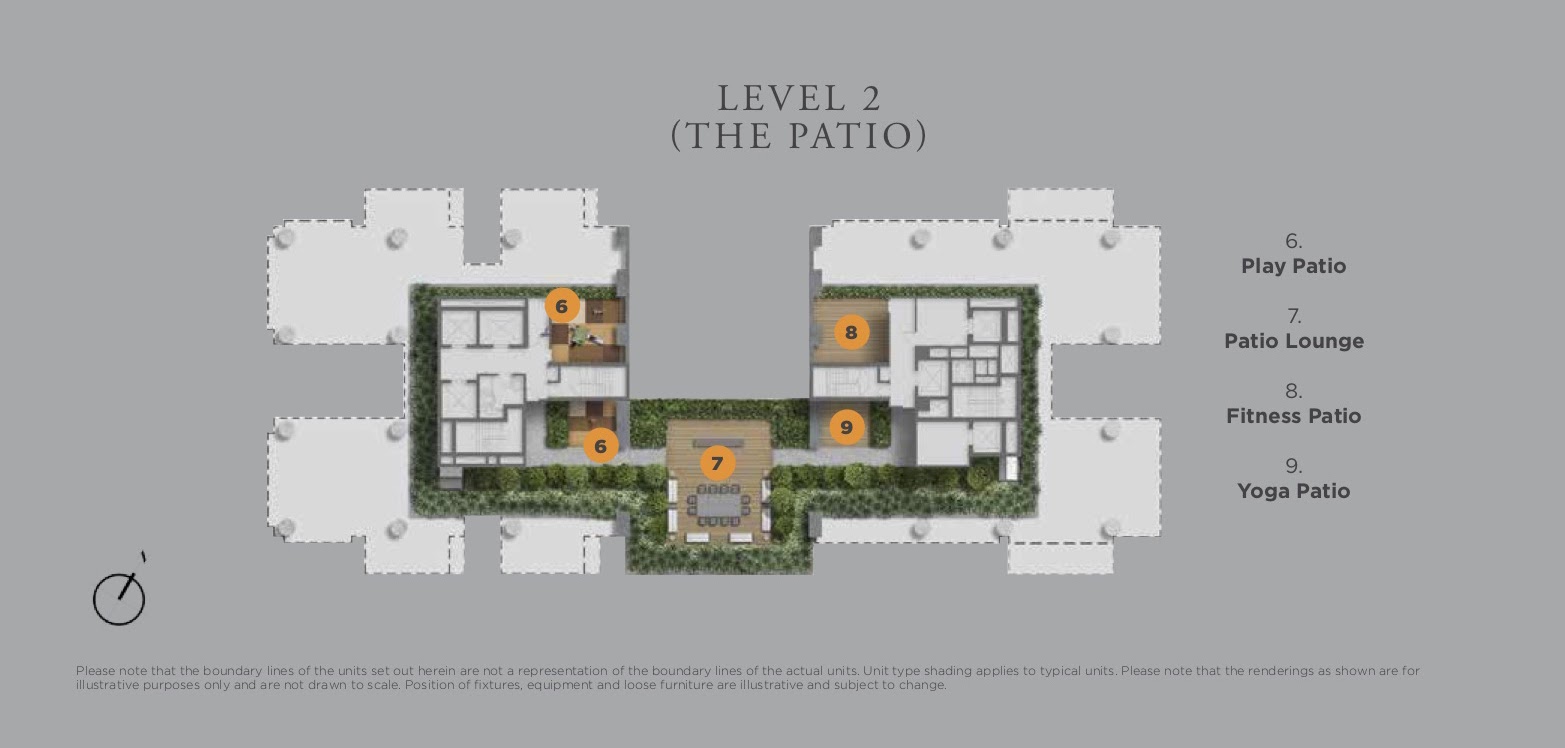 Perhaps the first thing you'll notice is the lack of facilities on the ground floor of Boulevard 88 – which when considering its luxe status, comes with little surprise to most.
More interestingly, however, the presence of 'the patio' (lounge) is something we don't see very often in most condos.
With most 2nd floors either reserved for car parks or simply 2nd-floored units, it is heartening to see a change of scenery here. In fact, fitting a recreation space beneath its soaring pillars (which by the way might just remind you of Principal Gardens) is quite the ingenious touch in itself.
Possibly the only slight downside to this would be the noise carryovers from the hotel pool and adjacent Orchard Boulevard – though they should be minimal at best.
Another testament of great layout planning brings us all the way up to the 29th floor.
If you were to observe the floor plans here, you'll realise that the kid's pool is actually secluded from the other facility offerings.
Not only does this prevent the possibility of noise disturbance to residents enjoying the facilities, its strategic position next to the function room (Sky Club) further allows parents to keep a watchful eye over their little ones without missing too much of the fun!
Also, (trust us when we say this) having unlimited access to a sky gym with views over the incredible night cityscape might just be the biggest perk for fitness junkies taking up residency here!
Unit Mix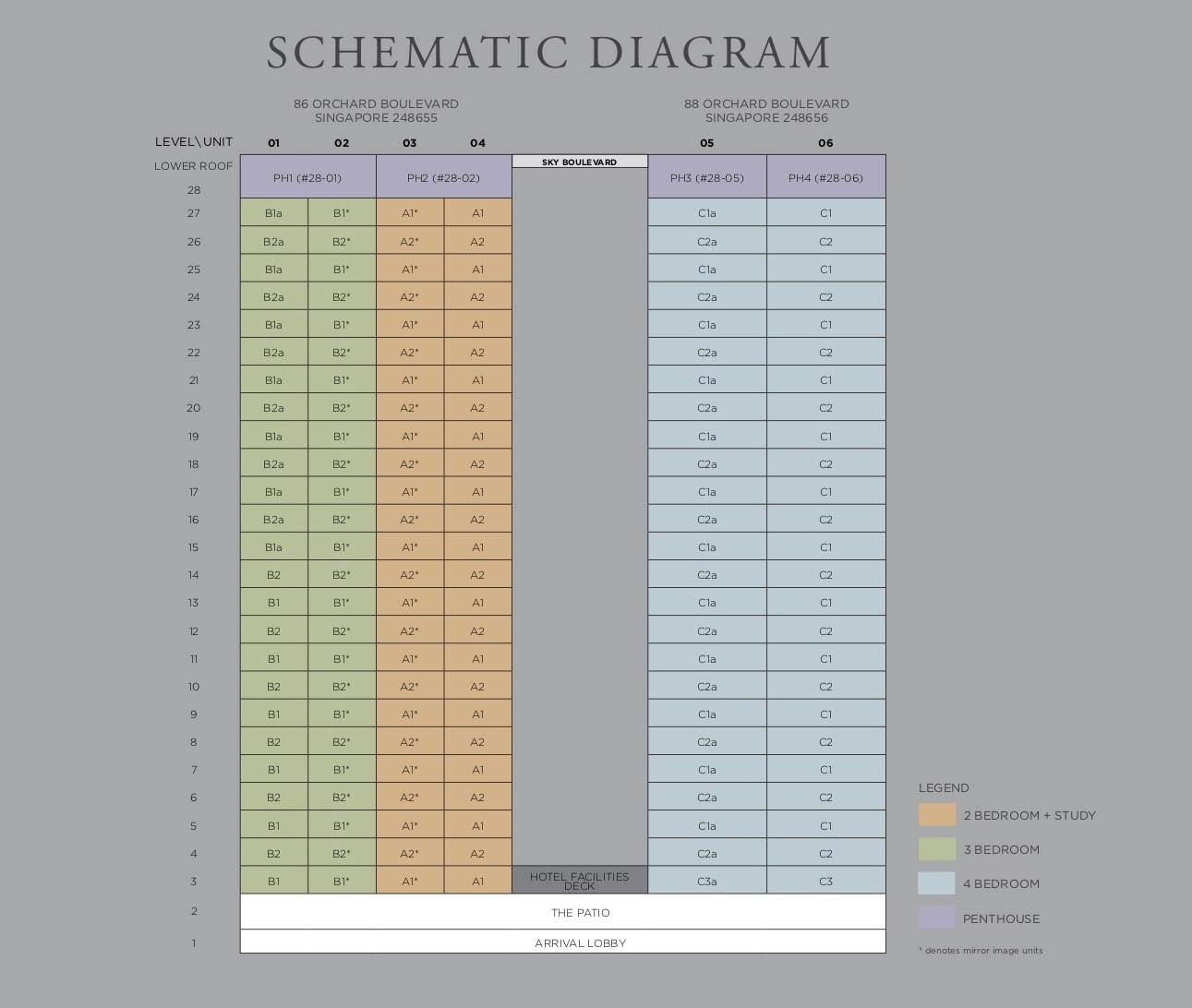 | | | |
| --- | --- | --- |
| Unit Type | No. Of Units | Size of Units (sqft) |
| 2-Bedroom + Study | 50 | 1,313 sqft |
| 3-Bedroom | 50 | 1,776 sqft |
| 4-Bedroom | 50 | 2,766 – 2,799 sqft |
| Penthouse | 4 | 5,673 – 6,049 sqft |
Honestly, it's been quite some time since we last saw a 4-bedroom unit that spans over 2,500 square feet in total surface area.
In fact, at 1,313 square feet, the 2-bedroom units here are actually matching (and even exceeding) many a 3-bedroom condo unit across Singapore!
That being said, larger units = high prices on the PSF price scale. Given the condo's target audience, however, we doubt that the size of the quantum here would very much impact buyers' choice – as such let's focus a little more on the perks and drawbacks of the units based on the schematic.
For starters, highest-floored units of developments with rooftop facilities quite often receive some form of noise pollution. Given the presence of the 4 'double-storeyed' penthouses in that position however, it is needless to say that the units from the 27th floor will avoid this issue altogether. 
Still (and as mentioned earlier), potential suitors of the inner-cornered 2 and 4-bedder units on the lower floors should note the possibility of sound carryovers both from Orchard Boulevard as well as the hotel facilities deck.
Perhaps another point that will help buyers is the consistency (or reduced diversity) of unit-tiers and layout across the board. Naturally, this would help with reducing choice fatigue and hence the emphasised priority on 'well-floored' units.
Best Stacks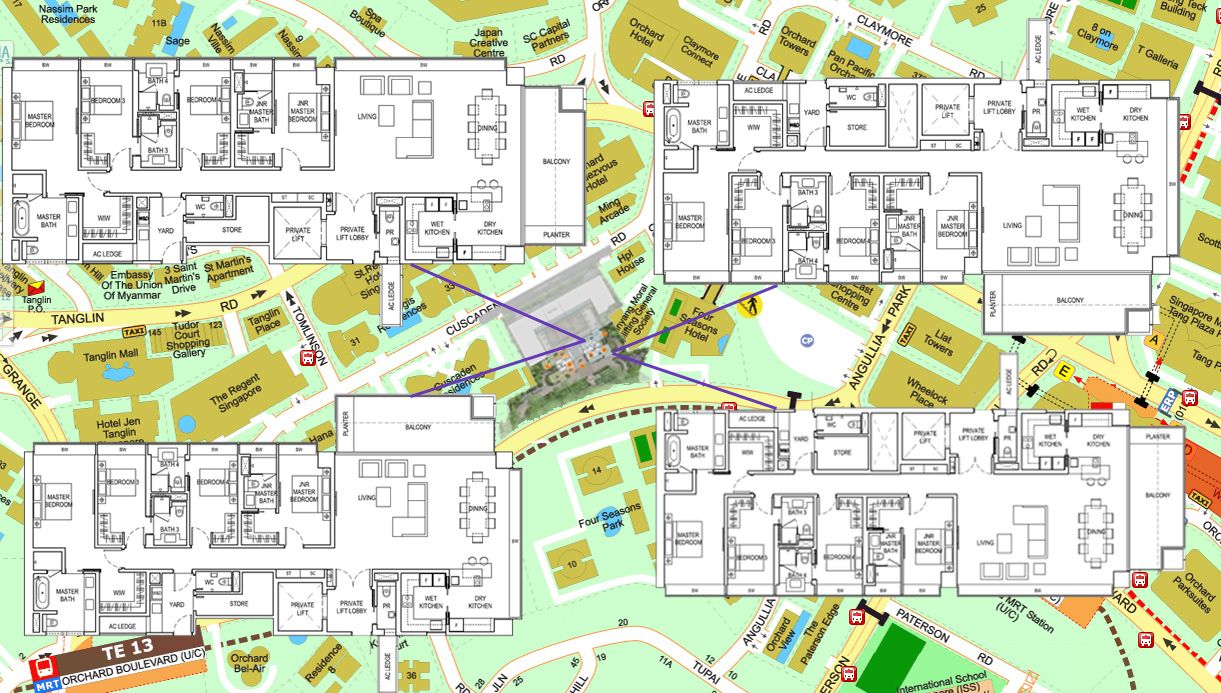 To be honest, there isn't much of a choice in terms of best stacks as there are really only two towers with the supposedly better views going to the bigger units.
At this point of writing, all the 4 bedrooms facing Orchard Boulevard have been sold. So if you still want a 4 bedder you will have to make do with a view facing Cuscaden instead.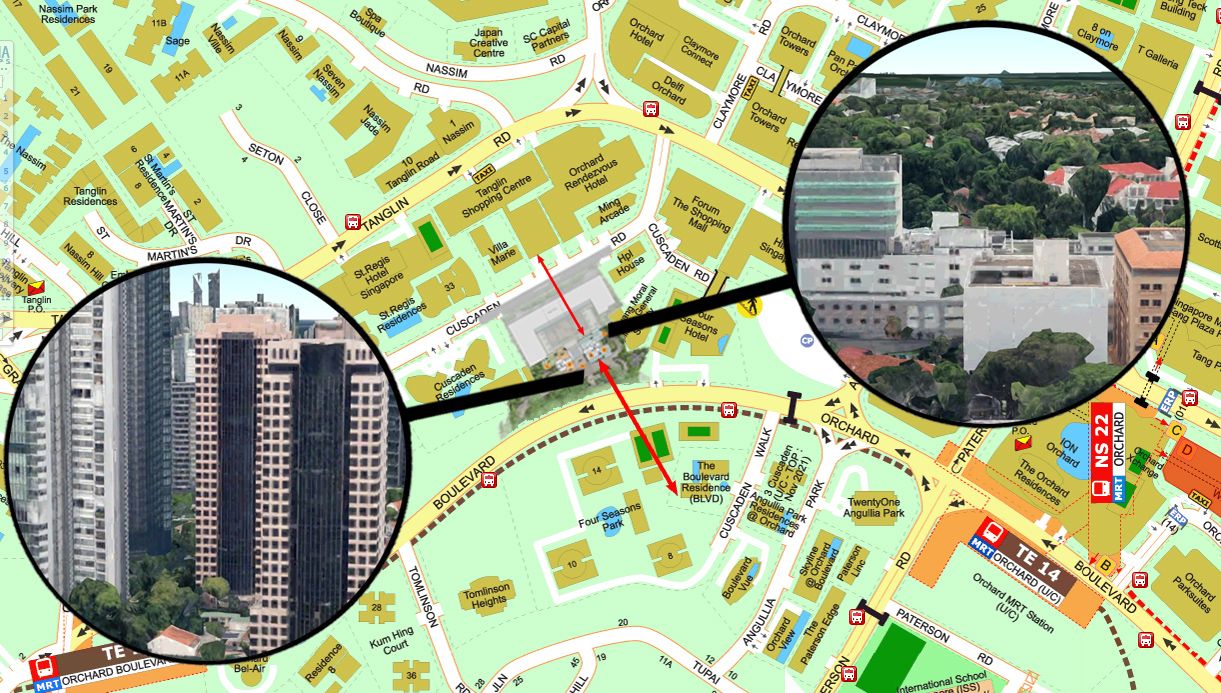 We do prefer the view towards the Cuscaden side actually, but you'd really want a high enough floor to take advantage of that. As we said earlier in the review, the lower floors have to contend with noise from the hotel pool as well as Orchard Boulevard so that could be something you'd want to take note of.
Stacks with the least afternoon sun
Stack 4 gets the least afternoon sun throughout the year as its windows face the north-east and south-east direction. It is also protected by the afternoon sun by stacks 1, 2 and 3 throughout the year.
Stacks 1 and 2 however, have to bear the afternoon sun throughout the year and is most direct in July and January.
It's also noted that while stacks 5 and 6 bear some afternoon sun, stacks 3 and 4 does provide some shade to lower-floor units in the afternoon.
Price Review
| | | | | |
| --- | --- | --- | --- | --- |
| Project Name | Tenure | TOP | Average Price (PSF) | Comparison Point |
| Boulevard 88 | Freehold | 2023 | $3,644 | – |
| Cuscaden Residences | Freehold | 2002 | $2,232 | Immediate Proximity |
| St. Regis Residences | 999 years | 2008 | $2,323 | Immediate Proximity |
| New Futara | Freehold | 2017 | $3,916 | Ultra-Luxury Status |
To help us better understand Boulevard 88's quantum standings, we've brought in its immediate neighbours as well as some of the recently TOP-ed closeby luxury developments for comparison.
Considering that nearly all the condos in the immediate area are freehold (save for that 1 999-year leasehold), let's first learn about the quantum history of its immediate neighbours and fellow luxury developments before placing it on the area's quantum range and analysing its possible appreciation trends .
When Cuscaden Residences made their first sales back in 1999, the average psf was $1,471. Through the years, and with the gradually increasing economy and status of living in Orchard, the figure naturally rose.
Prices began to spike soon after its neighbour – St. Regis Residences, came into the market in May 2006. It has since price-matched the economic situation, resulting in dips and hikes before its current average of $2,323 psf.
St. Regis Residences, on the other hand, has retained a relatively similar average psf range through the years with its current $2,323 psf average just short of the $2,512 psf initial sales 13 years back – with possible increases following the launch of Boulevard 88.
As for New Futara, its initial sales were actually averaging at $3,195 psf – a relative $400psf or so less than the current prices at Boulevard 88. (Considering the larger unit sizes in these two developments, this figure naturally makes a more substantial impact).
The development's quantum has since (steadily) risen to $3,916 – which is the highest quantum demand by the project thus far.
And so based off these statistics, the added price of 'novelty', 'choice unit selection' and 'first-owners bonus' alongside its key luxury status prices Boulevard 88 at almost a third more than its immediate neighbours.
But if you were to look at other luxury developments like Skyline @ Orchard Boulevard (which current averages $3,879 psf), you'll realise that Boulevard 88 might actually be priced below the current Orchard 'ultra luxury' development quantum list. 
Appreciation Analysis
Now if you consider New Futara's quantum increase over the 2 years (this following a surge in property market sentiment of course), as well as the 30% more office space that has been set aside for Marina Bay and its surroundings (which naturally increases closeby employment and hence residential demand), the future price prospects for Boulevard 88 does seem rather healthy.
More so when you realise that the Orchard Boulevard station of the Thomson East Line (5-minute walk from the condo) is set to open in 2021 – right before, or possibly even in tandem with Boulevard 88.
Naturally, that added convenience without all the 'construction pollution' headache could lead to an increase in its short-term quantum.
That being said, there are some cons that might affect its medium to long-term appreciation trends even if they might not have as much impact as the current economy of that timeframe.
As we know, luxury developments tend to fade with age – even if its freehold status (and novelty for the coming years) should put a huge slow on this 'depreciation'.
The other slightly more concerning aspect is the level of hotel-related interference that residences here will face when it comes to move-in time. While this might just be a whisper in the wind, heavy disturbance could potentially result in a significant price drop.
Afterall, what is a luxury development without exclusivity and peace?
TLDR: Boulevard 88's short-term appreciation trends look highly promising – though its medium and long-term trends might be marred by smaller factors preceding the economical/property market sentiment of that time.
Our Take
On a personal level, we were blown away by the showflat offerings at Boulevard 88. It was a fine showcase of splendour steeped with incredible design-related installations.
Zooming in on the showroom unit, the increased space offering meant that space constraints was no longer a concern (at the expense of a higher quantum of course), and unsurprisingly, the increasingly prioritised layouts (balcony included) and luxury furnishings delivered on all fronts.
Safe to say, the unit itself was a peach to behold.
Zooming out to the project archetype itself however, the potential effects of the adjacent hotel remains to be seen, even if the facilities on offer here might rank as one of the best in Singapore.
Perhaps one additional thing to add is that unlike The Loft, Paterson Suites or even the earlier mentioned Sloane Residences for that matter, Boulevard 88's position at the centre of the Orchard area means it won't always have the easiest of access to the outer districts due to periodical traffic congestions.
The only possible mitigation to that would, therefore, be planning around these journeys in advance.
All in all, Boulevard 88 looks like a once in a lifetime project that is befitting of its ultra-luxury crown. Minute nuances might skew some experiences, but with wise unit choices, the splendour that comes with living in the heart of Singapore's glitziest district might have just been increased twofold.
What this means for you
You might like Boulevard 88 if you:
• Appreciate Massive Unit Spaces:

With its 2-bedroom units already exceeding the size of most 3-bedroom units around Singapore, you can be sure that Boulevard 88 offers unparalleled unit spaces.

• Desire a Luxurious Family Heirloom:

A freehold luxury development of this class and location brings a kind of status that is matched by few others.
You might not like Boulevard 88 if you:
• Prioritise the Budget:

Needless to say, the exorbitant quantum demand here will turn away many wealthy buyers who would choose to invest in other aspects of life.

• Crave Ultimate Privacy:

Unfortunately, visitors of the adjacent Singapore EDITION Hotel might provide some interference to the residents of Boulevard 88 – though this remains to be seen.
End of Review
Join our Telegram group for instant notifications
Join Now
Reuben