Our Verdict
CanningHill Piers is certainly a standout development in our books. Its iconic design is truly a huge addition to revitalising the Singapore River and would probably remain an icon in the area for a long time to come. Its strong locational offering makes this development a very attractive one, too, with direct access to Fort Canning MRT and the large retail mall just below. Given these reasons, we believe CanningHill Piers to be an attractive development for both investors and those looking to stay in the central area.
52
min read
| | |
| --- | --- |
| Project: | CanningHill Piers |
| District: | 06 |
| Address: | 1 & 5 Clarke Quay |
| Tenure: | 99 Years |
| No. of Units: | 696 |
| Site Area: | 139,128 sqft (including retail and hospitality components) |
| Developer: | Capitaland and City Developments Limited |
| TOP: | 2025 |
CanningHill Piers traces its recent history back to Liang Court, which is named after its developer, Singapore's richest local-born citizen, Goh Cheng Liang. Since its opening in 1984, it has been the haven for the Japanese expatriate community in Singapore. As the first major mall in the River Valley precinct, Liang Court was iconic both for its two orange-candle-like towers and its tenants, which included the popular Japanese departmental chain Daimaru, Kinokuniya, and in the later years, Novotel Clarke Quay. Yet, as many of us would know, towards the turn of the century, Liang Court's footfall started to decline due to its inability to keep up with the competition.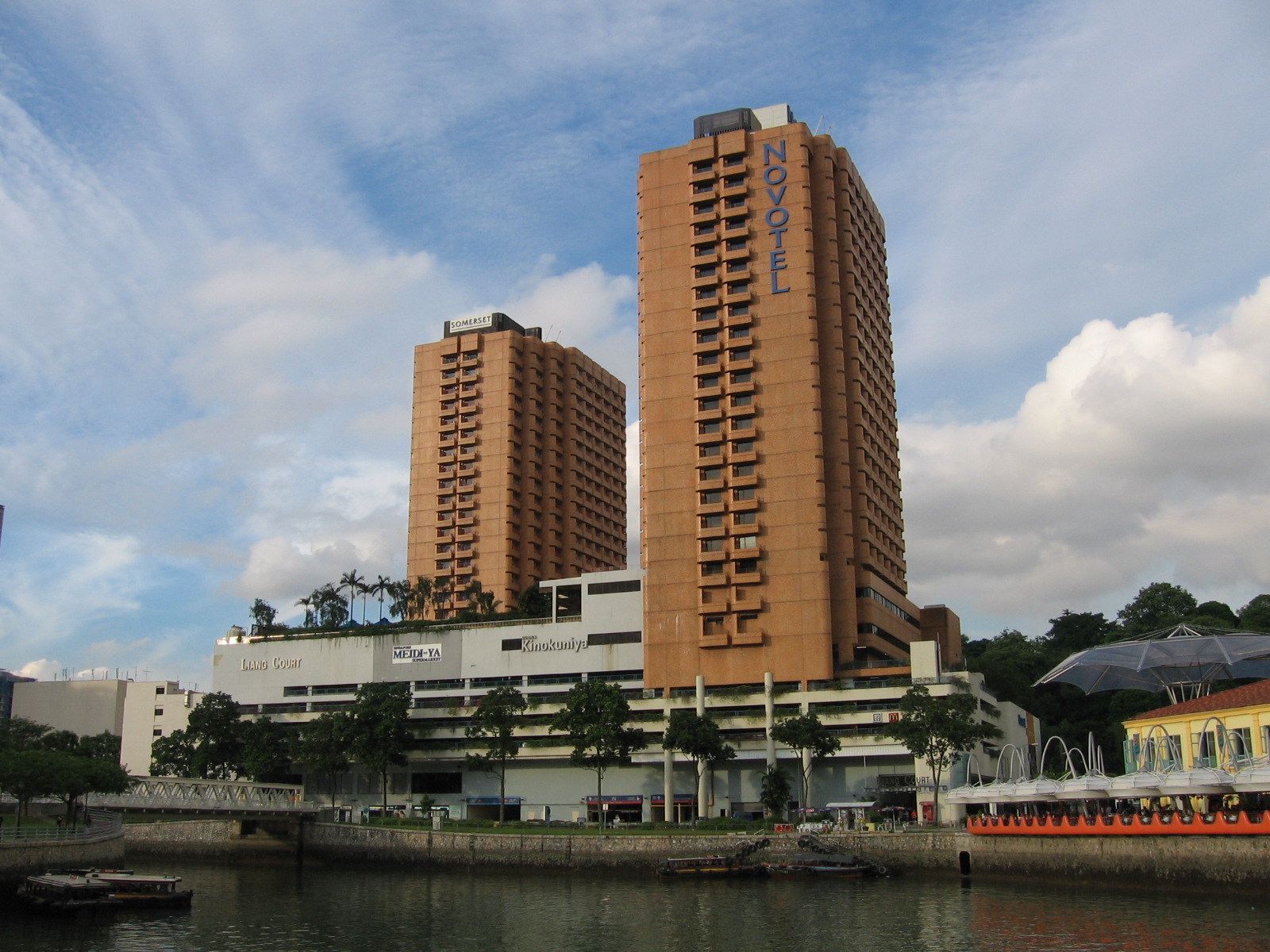 Ultimately, it was a wise decision to redevelop this plum plot of land that is blessed geographically with both a hill to its back and a river to its front. While I know nothing about fengshui, I hear that this site represents the best of both worlds. Even the development's name, CanningHill Piers, seems to incorporate both of these elements. Other than how apt the name is, I must say it does also exude an upmarket vibe – and I like how it's a unique name that not many others can copy, given the location next to the river.
When completed in 2025, CanningHill Piers condo will be the tallest residential development along the Singapore River, with 696 units spread across one tower standing at 48 storeys tall (180m) and another at 24 storeys overlooking Fort Canning Hill. Indicative prices start from $1.16m to an eye-popping $50m for the Super Penthouse unit.
Besides the 696 residences, the integrated development will also boast a 475-room hotel operated under Marriott's Moxy brand and 192 serviced apartments by Somerset Ascott. Most excitingly, this new development will include CanningHill Square, an 80,000 sqft 2-storey shopping mall that will be managed by CapitaLand. The level of convenience is elevated even further for residents, who will have direct, underground access to Fort Canning MRT station. The rarity of such characteristics, especially in central Singapore, will certainly be a major selling point for CanningHill Piers and should attract numerous future residents.
Without further ado, let's dive straight into what CanningHill Piers residential and commercial units have to offer!
CanningHill Piers Insider Tour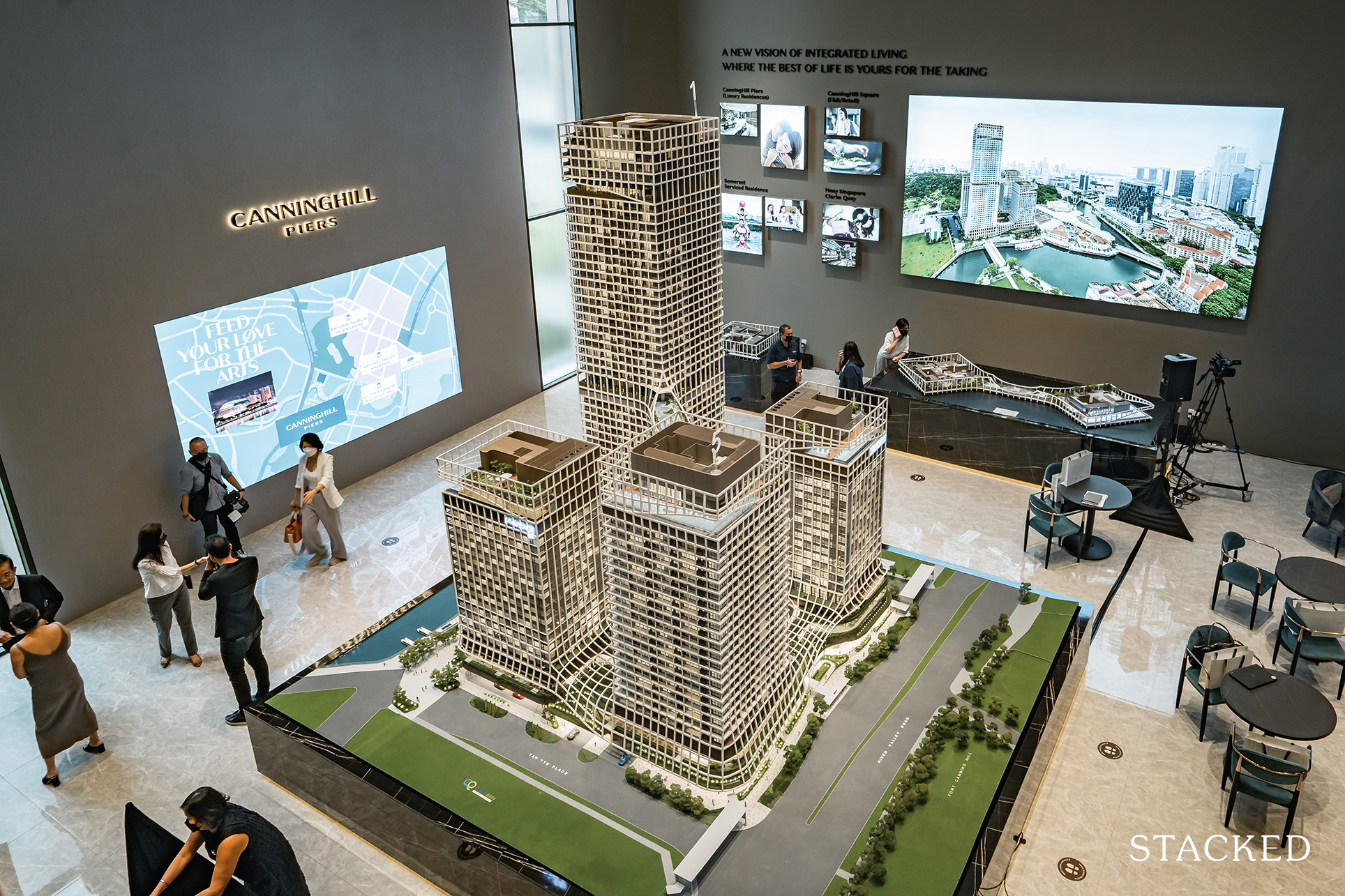 A big part of the iconic nature of CanningHill Piers is undoubtedly due to its exterior design. In the words of Bjarke Ingels Group (BIG), CanningHill Piers's Copenhagen-based architects, the development has been designed to "place community first, with a porous and multilayered realm at its heart that restores the connection between historic Fort Canning Hill and the Singapore River and creates a cascading green oasis in the birthplace of modern Singapore".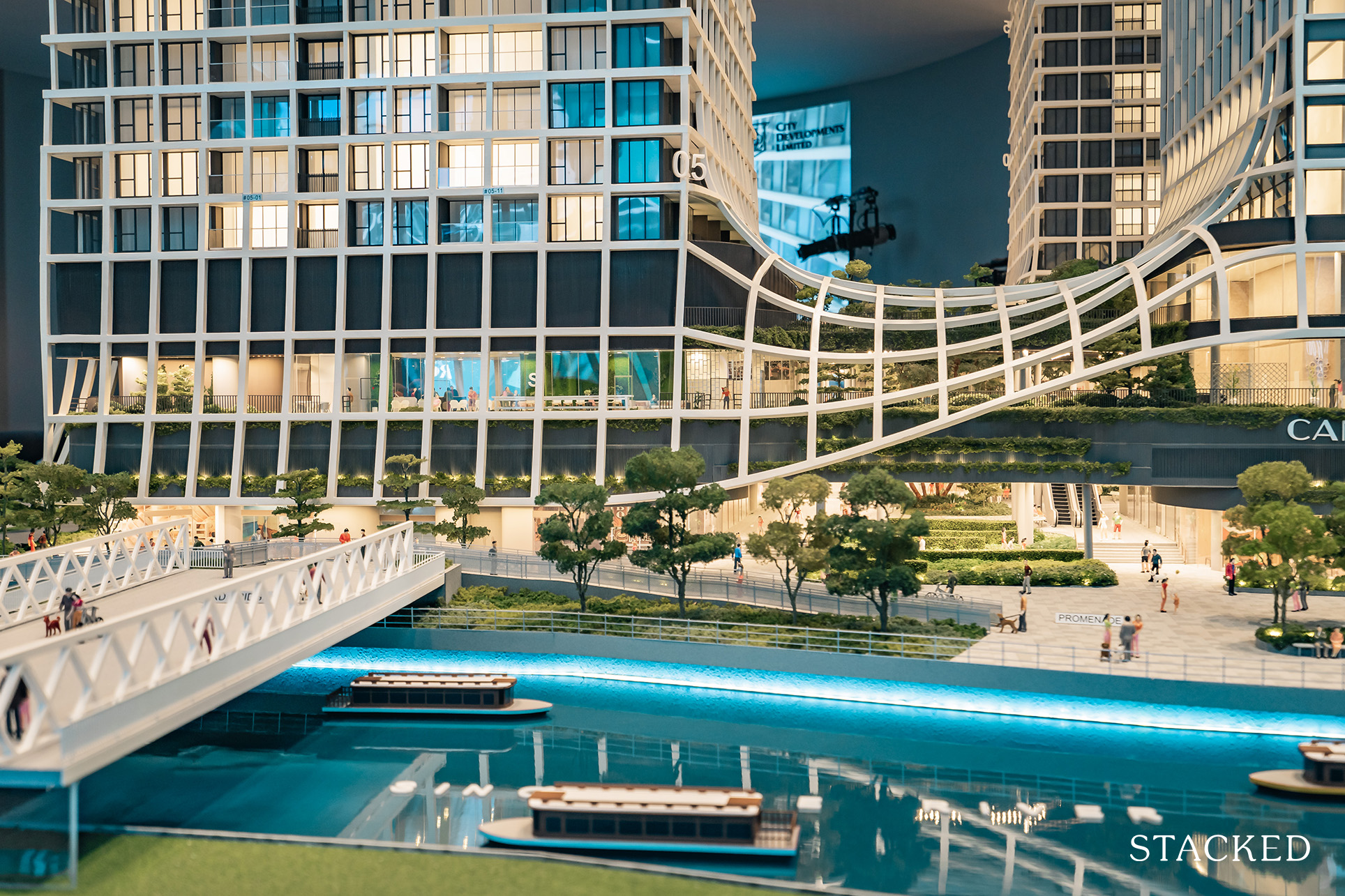 Indeed, as part of the redevelopment, the existing road leading to the entrance of the old Liang Court will be sealed off to form a seamless promenade connecting CanningHill Square to Singapore River and the rest of Clarke Quay. If you noticed, the four distinctive towers of varying heights are also "unified under a facade that is conceived as a single continuous drape tying together the various components of the development into an iconic and sculptural whole". I don't know about you, but the architecture here does remind me a little of Le Nouvel Ardmore and the iconic 432 Park Avenue as well. And that's not to say it's a bad thing at all, as both developments are pretty evocative in their own right.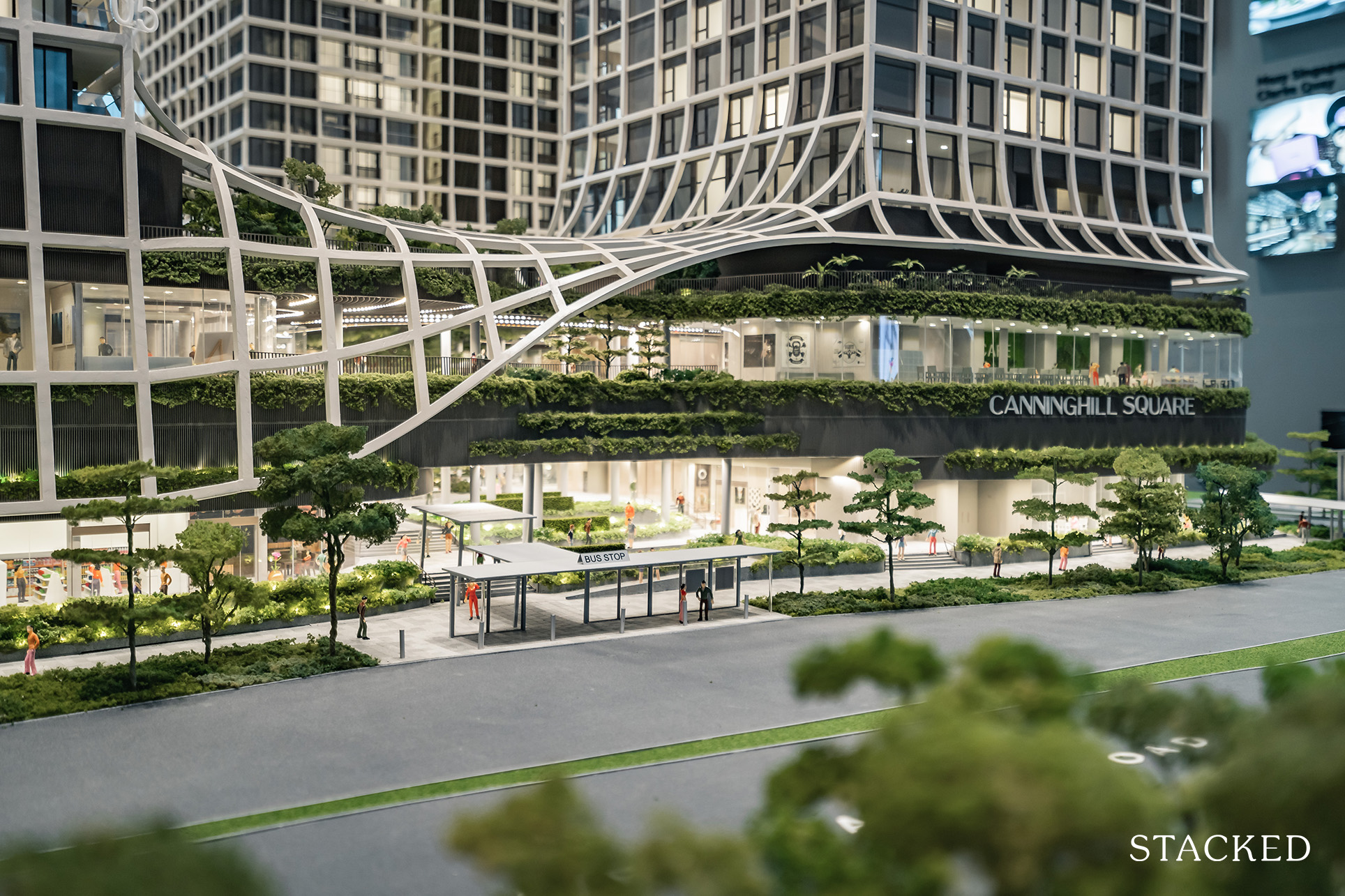 And you'd notice how that drape will contour depending on which part of the facade should be revealed to the world. Whether it be to show Canninghill Square as shown above…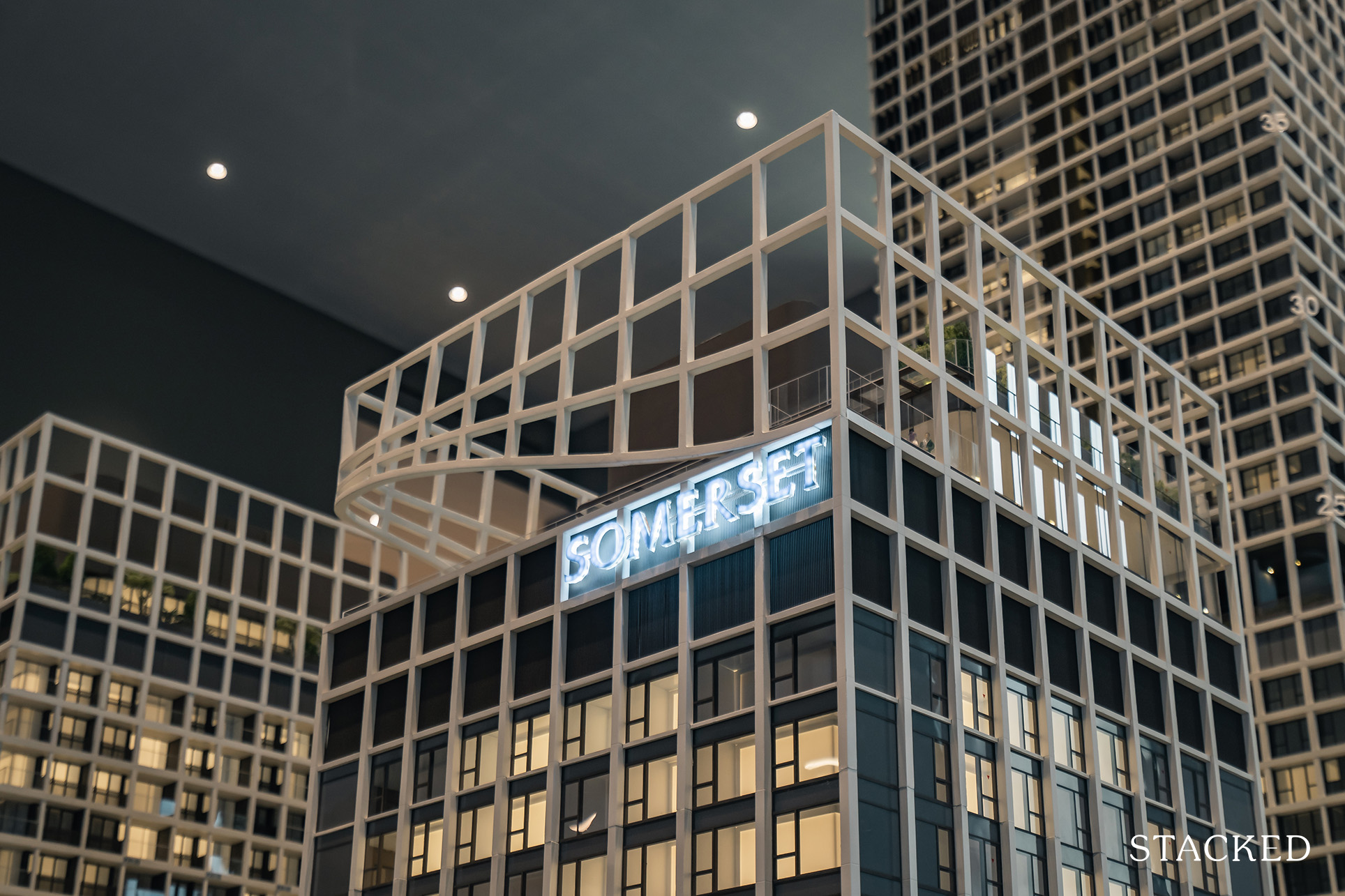 …Or to show off the facilities on the different levels of the building as well (giving you a "peek" of the views around). It of course remains to be seen just how immaculate they can keep the white lines looking even after a long period of time – but I do like the variety that this brings to the surrounding landscape. It has a very clean yet intricate design, which certainly looks upmarket as well. In fact, its similar-looking peers like Le Nouvel Ardmore and 432 Park Avenue are in an even more expensive stratosphere of property prices.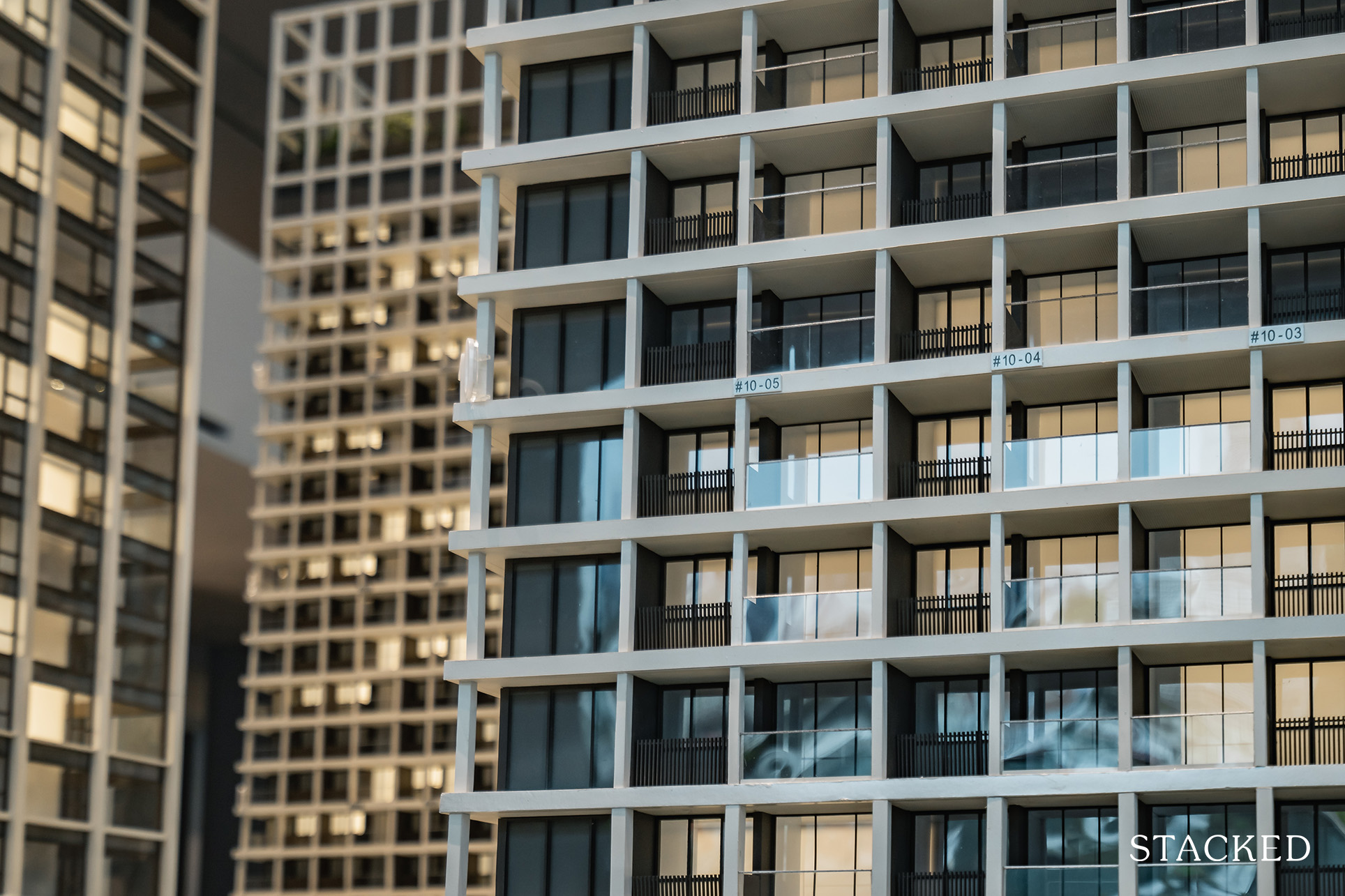 And of course, the way it is designed means that the balcony and aircon ledges are all unified, so it's a very neat look altogether.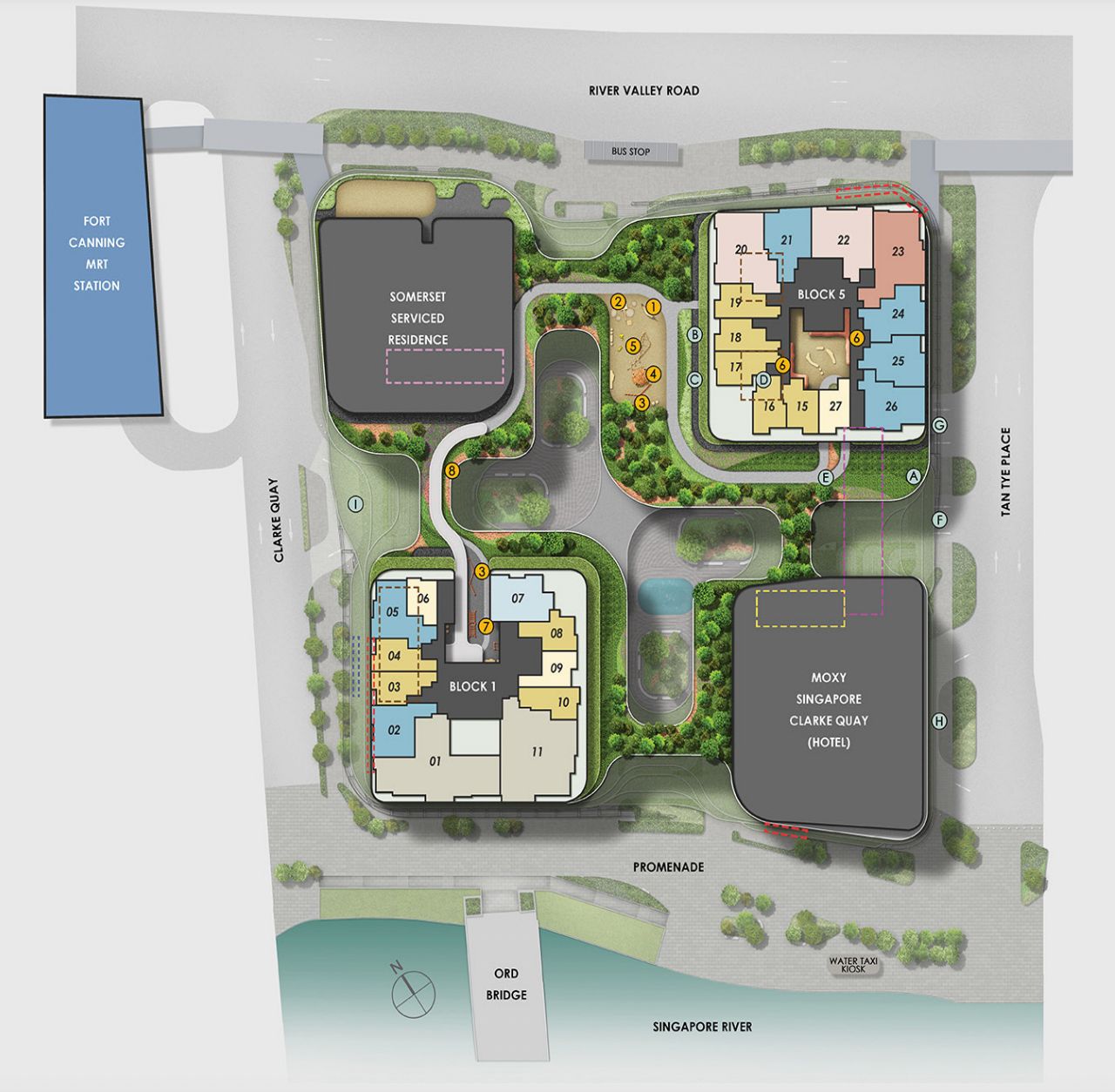 I'll just touch briefly on the overall development before going into the residential portion proper. As mentioned in the introduction, this is an integrated development with a shopping mall and direct, sheltered access to Fort Canning MRT. CapitaLand will be managing the 80,000 sqft of NLA here, and with shopping malls such as ION Orchard, Jewel Changi Airport, Raffles City, and Clarke Quay under its belt, you can be assured that the tenant mix will be well-curated for the needs of the shopper profile here. Moreover, with CapitaLand also managing the wider Clarke Quay shophouse scene, it is in their best interest to ensure that footfall is strong and well-integrated.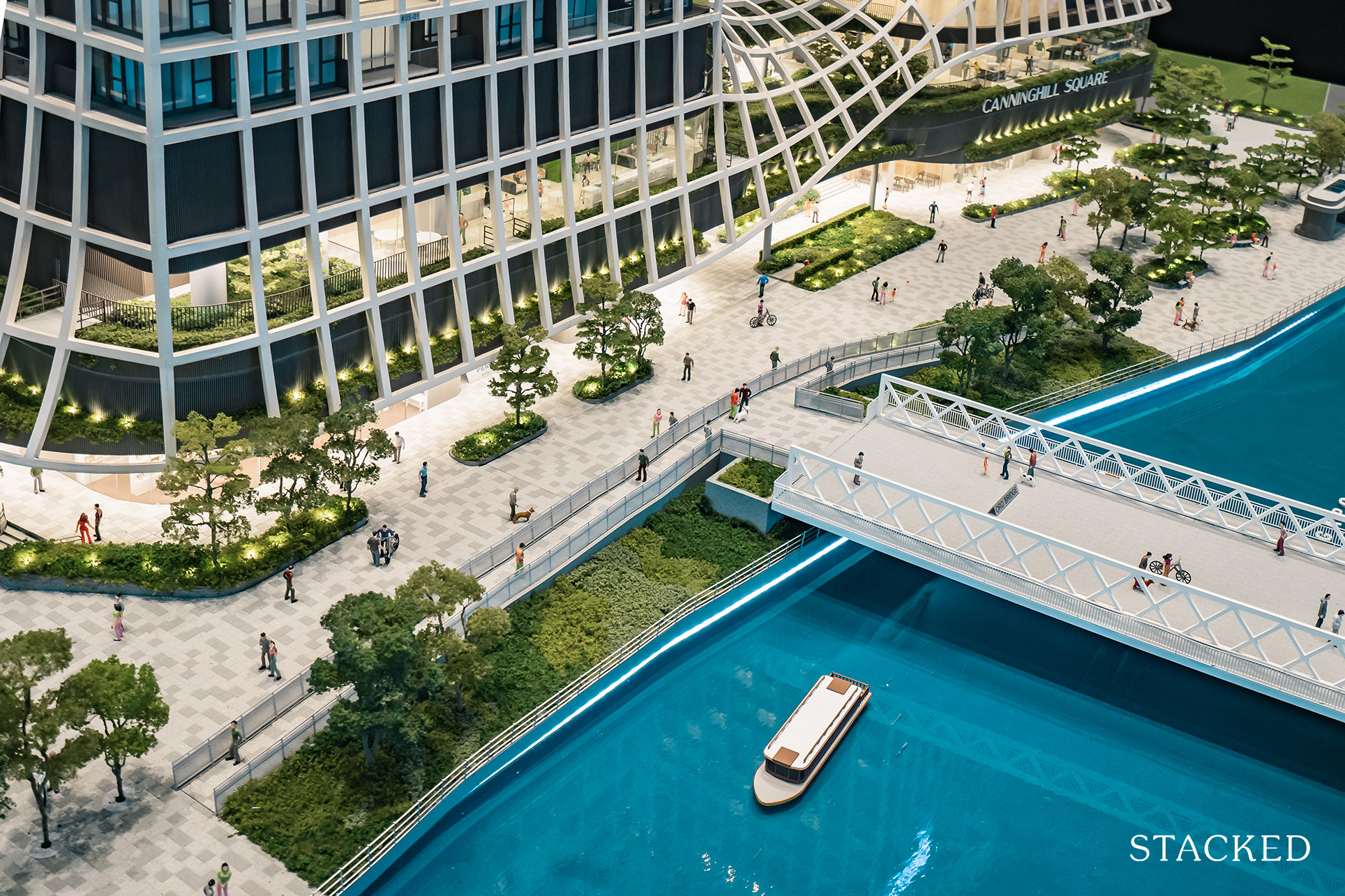 Something I really like about the mall is how seamless visitors will gain easy and convenient access via the newly constructed promenade along the Singapore River in the future. There is also a water taxi kiosk and ORD Bridge that are situated just outside the mall, providing more streams of visitors here.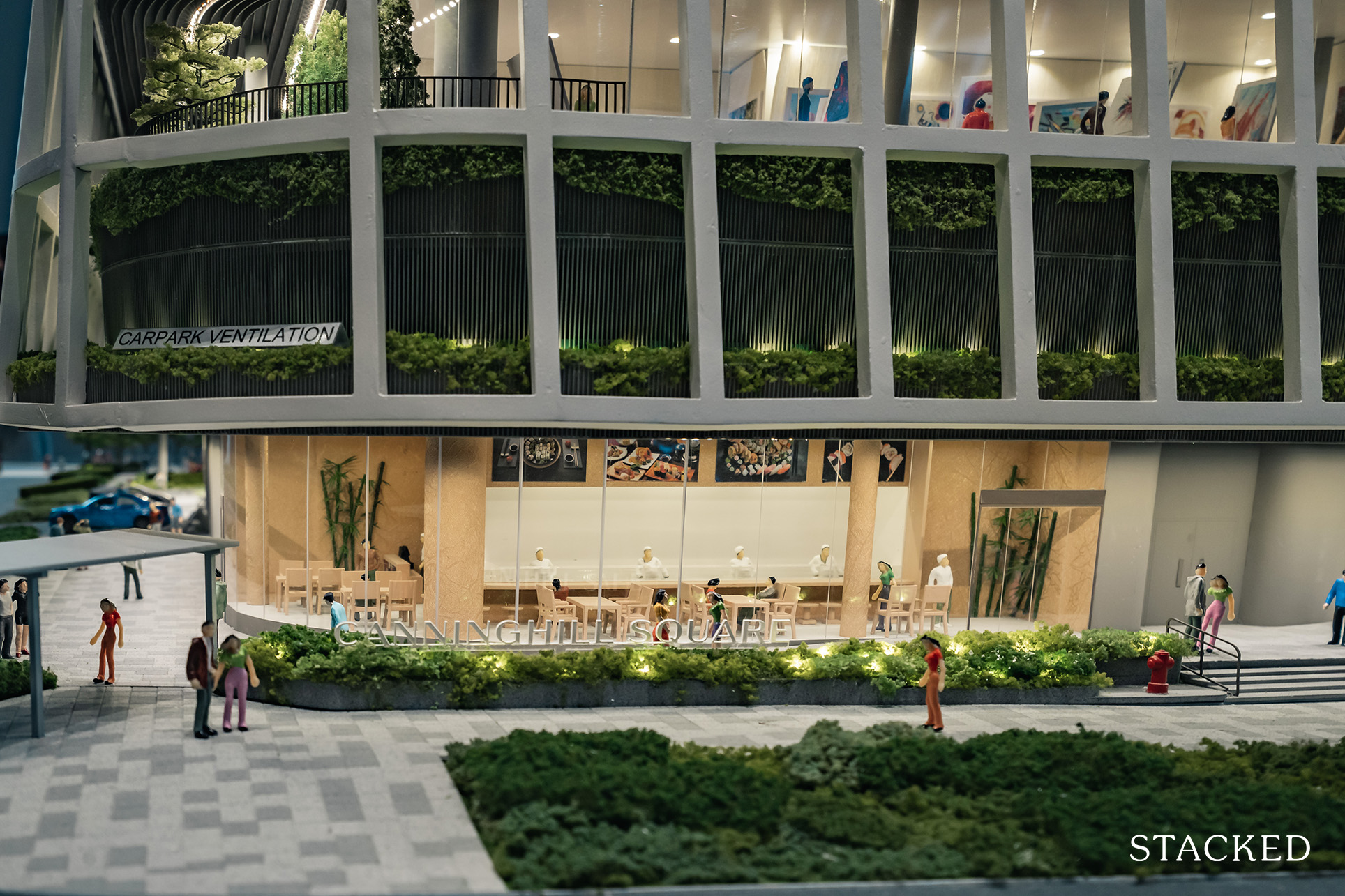 It could not be more different as compared to the old Liang Court, where everything was just more closed up and shut off from the rest of Clarke Quay. With the new design here, you can see how the unfolding of the drapes and the full height glass nature of the shops really creates a much more inviting look. And because it's so much more seamless, you understand how that integration of the shops here along with the planned revitalisation of Clarke Quay that is also managed by CapitaLand is so important.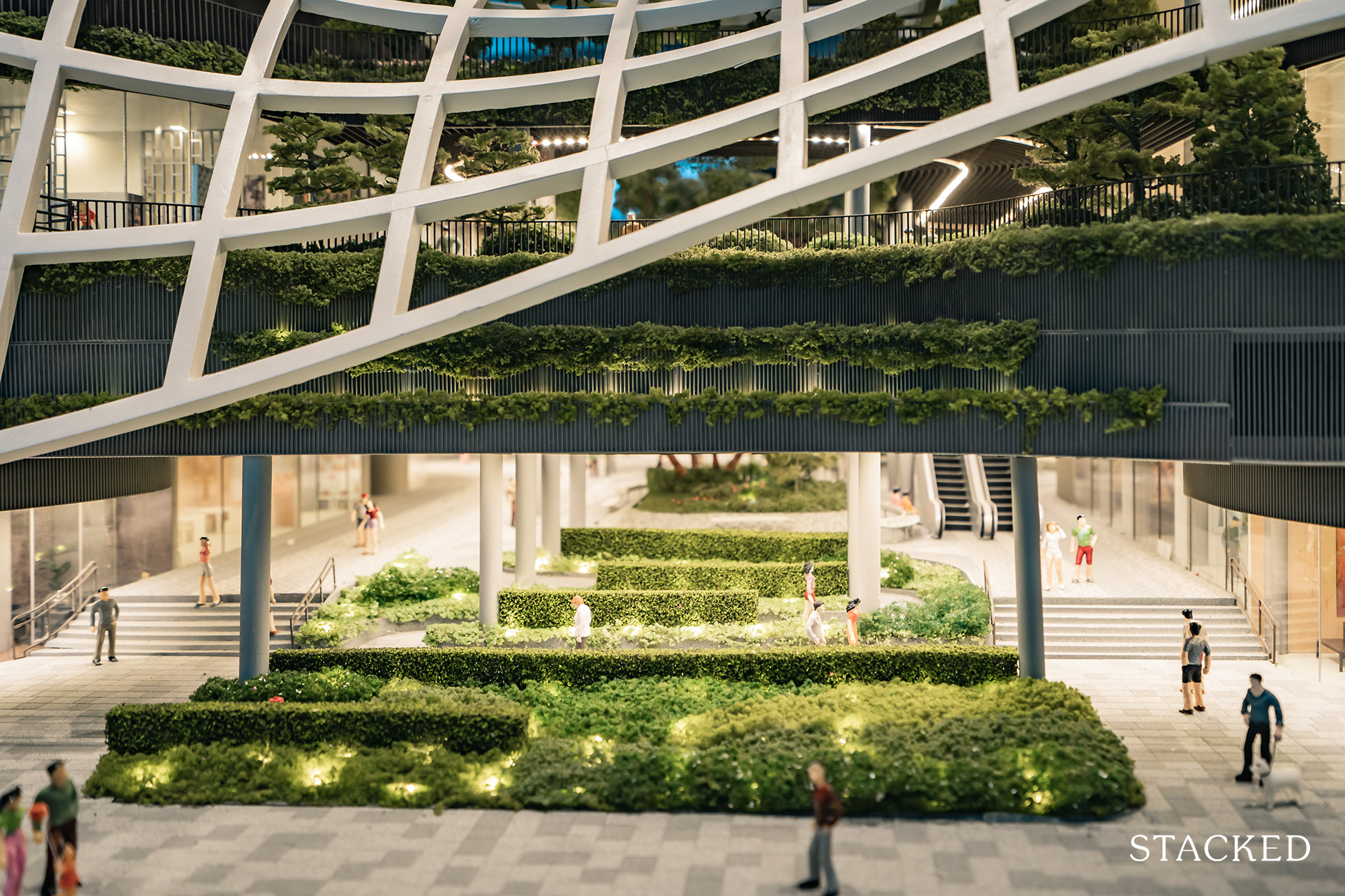 I can envision that riverside lifestyle here, and it is frankly quite exciting. It's a pity the nightlife industry at Clarke Quay has been disrupted by the pandemic, but I'm sure it will be a roaring trade again once things open up.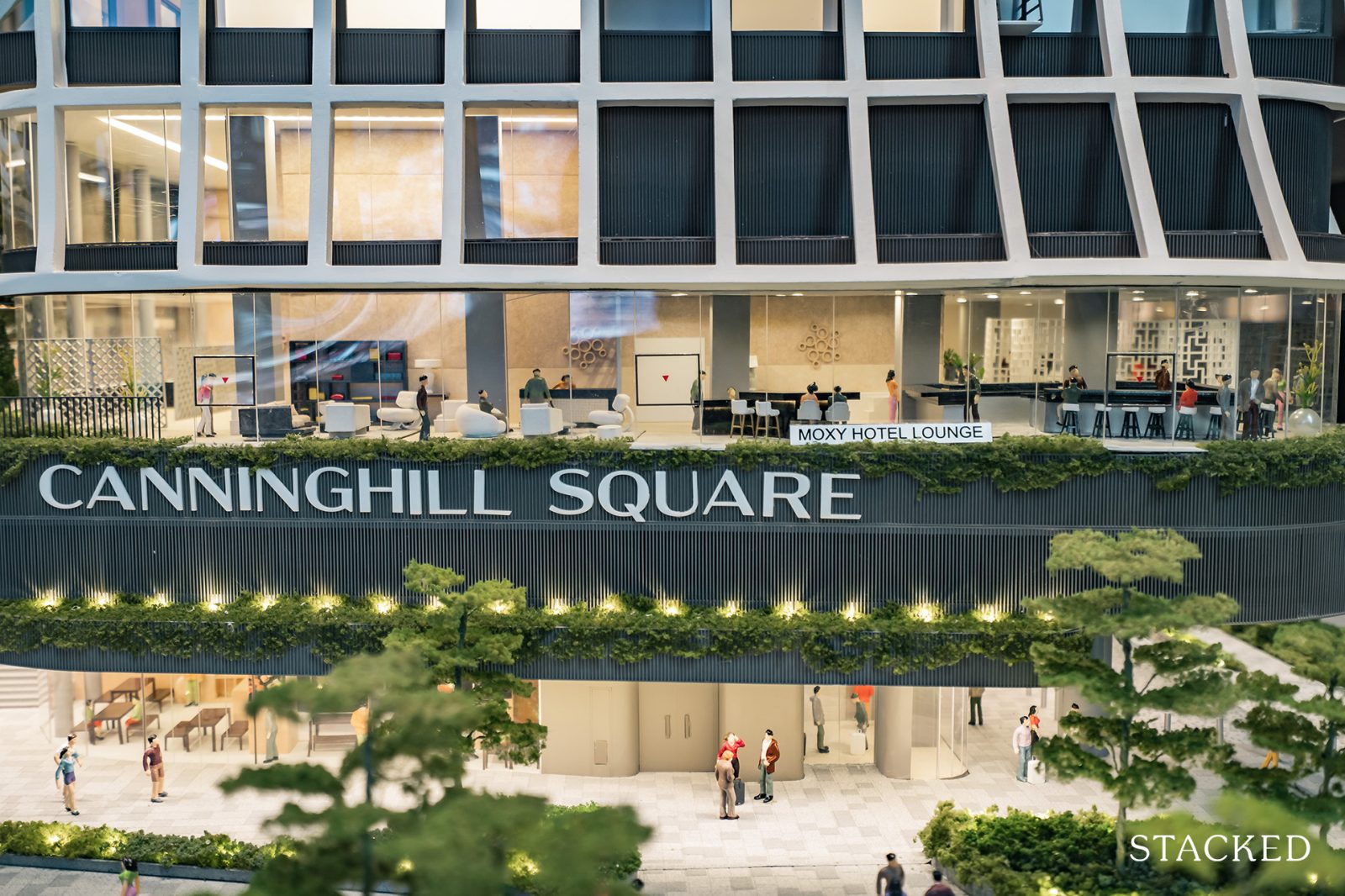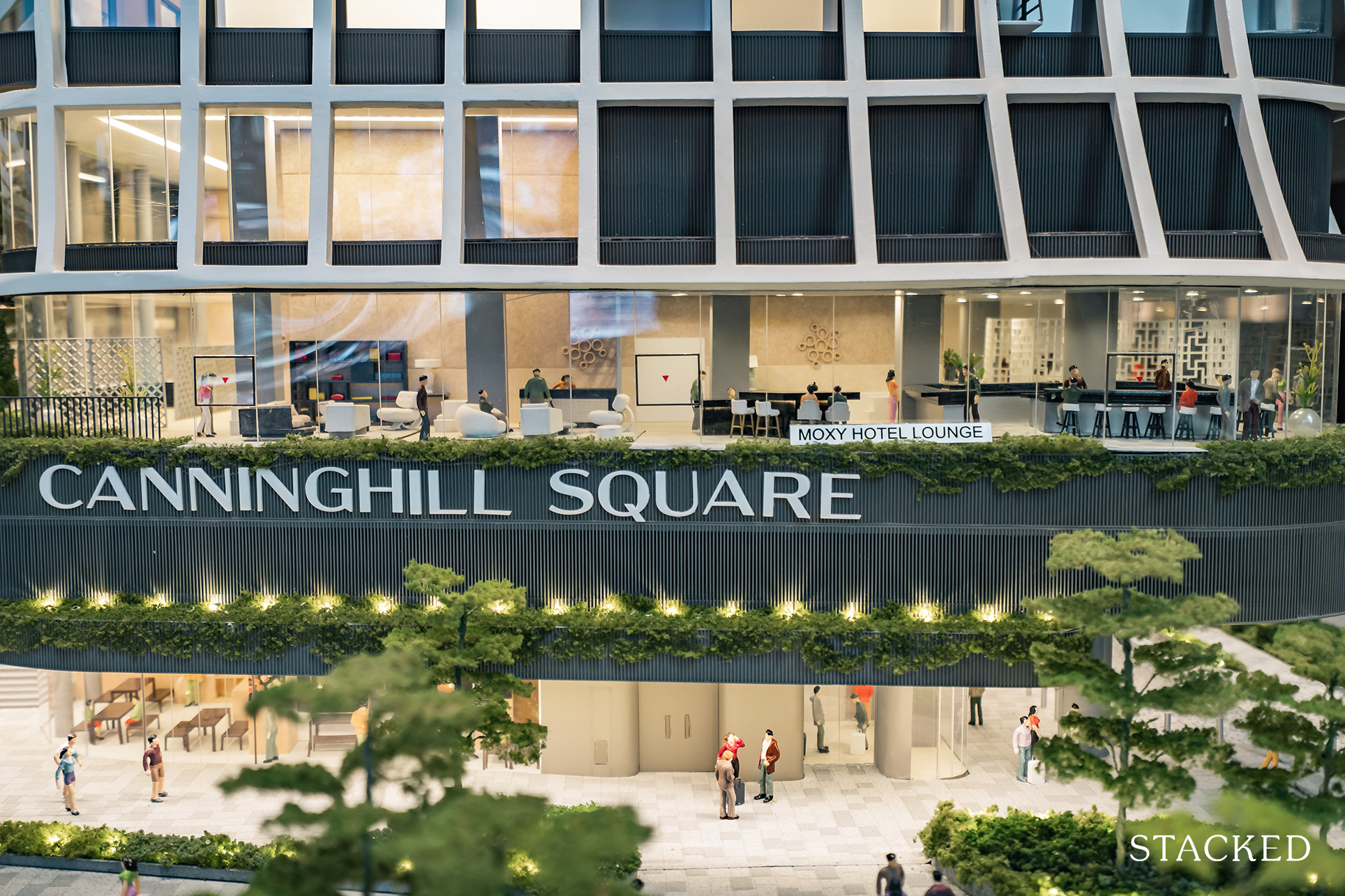 The mall will be named CanningHill Square, which as mentioned above will span 2 levels as well as a basement. Here's the breakdown of the retail components:
Supermarket / Food Shop B1
F&B/Restaurant L1, L2
Retail Shops/Gym/Schools/Services B1, L1, L2
All in all, unless you are looking for high-end luxury labels, you'd probably have no need to even venture too far out.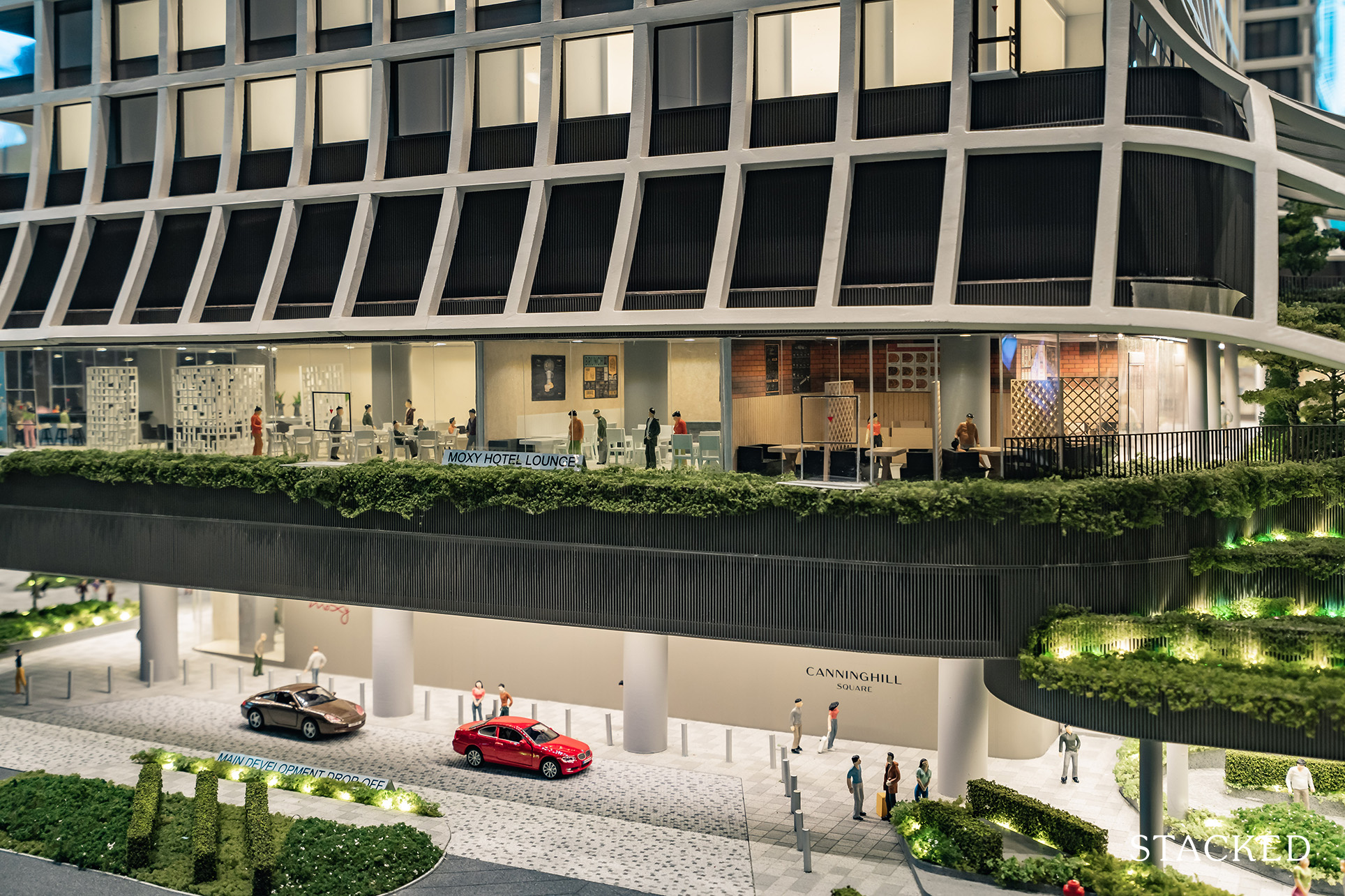 Beyond the mall, which is named CanningHill Square, there are also the hotel (Moxy by Marriott International) and serviced apartment (Somerset by Ascott) components. This will be Moxy's first hotel in Singapore, and for the unacquainted, it is Marriott's youthful brand that embraces a playful and stylish concept. Its trademark? Checking in at the Bar, which fits in perfectly with the overall Clarke Quay vibe.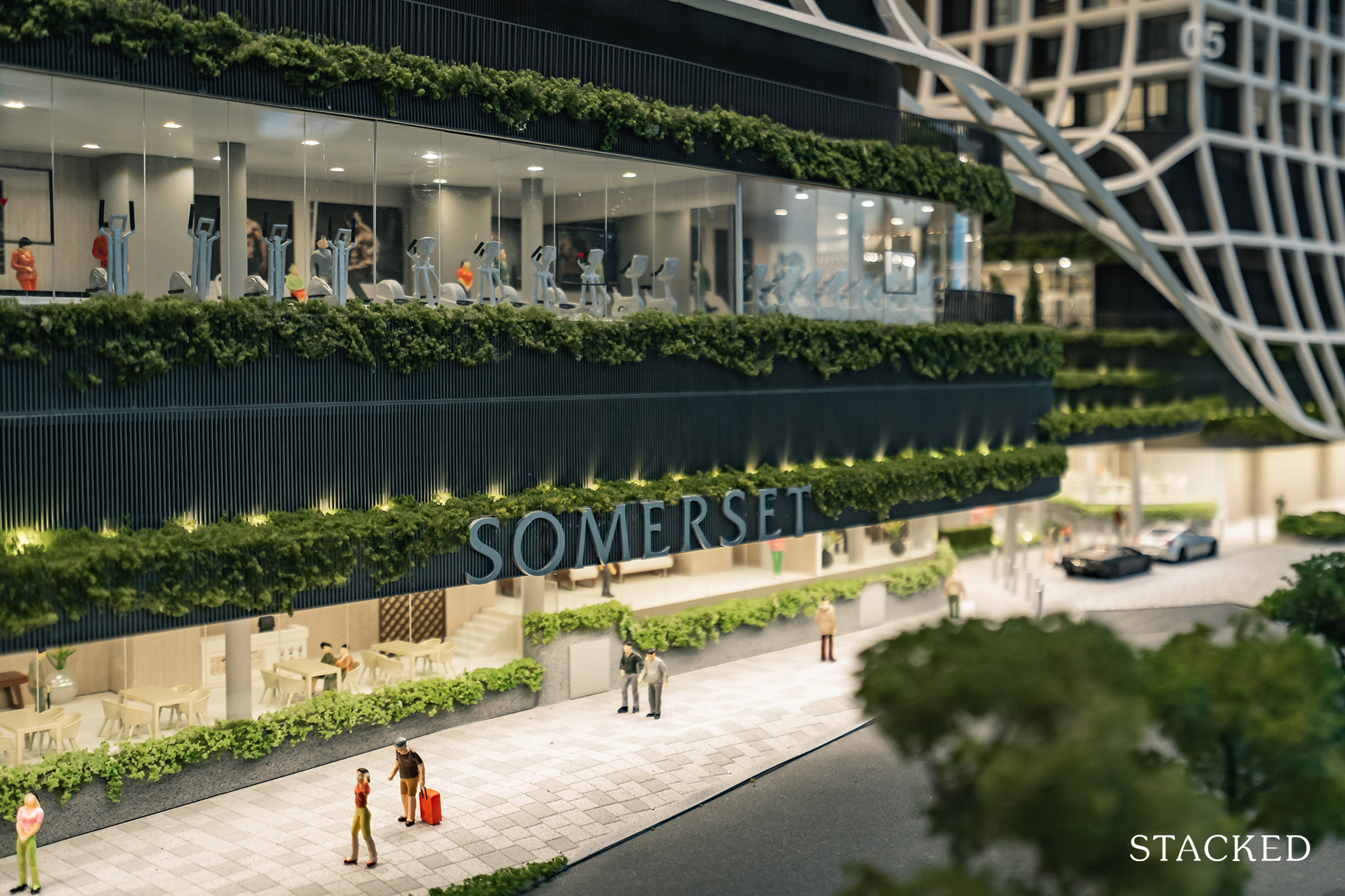 Having these entities are important too, as the additional traffic and visibility to the development is great for the competitiveness of its retail offerings.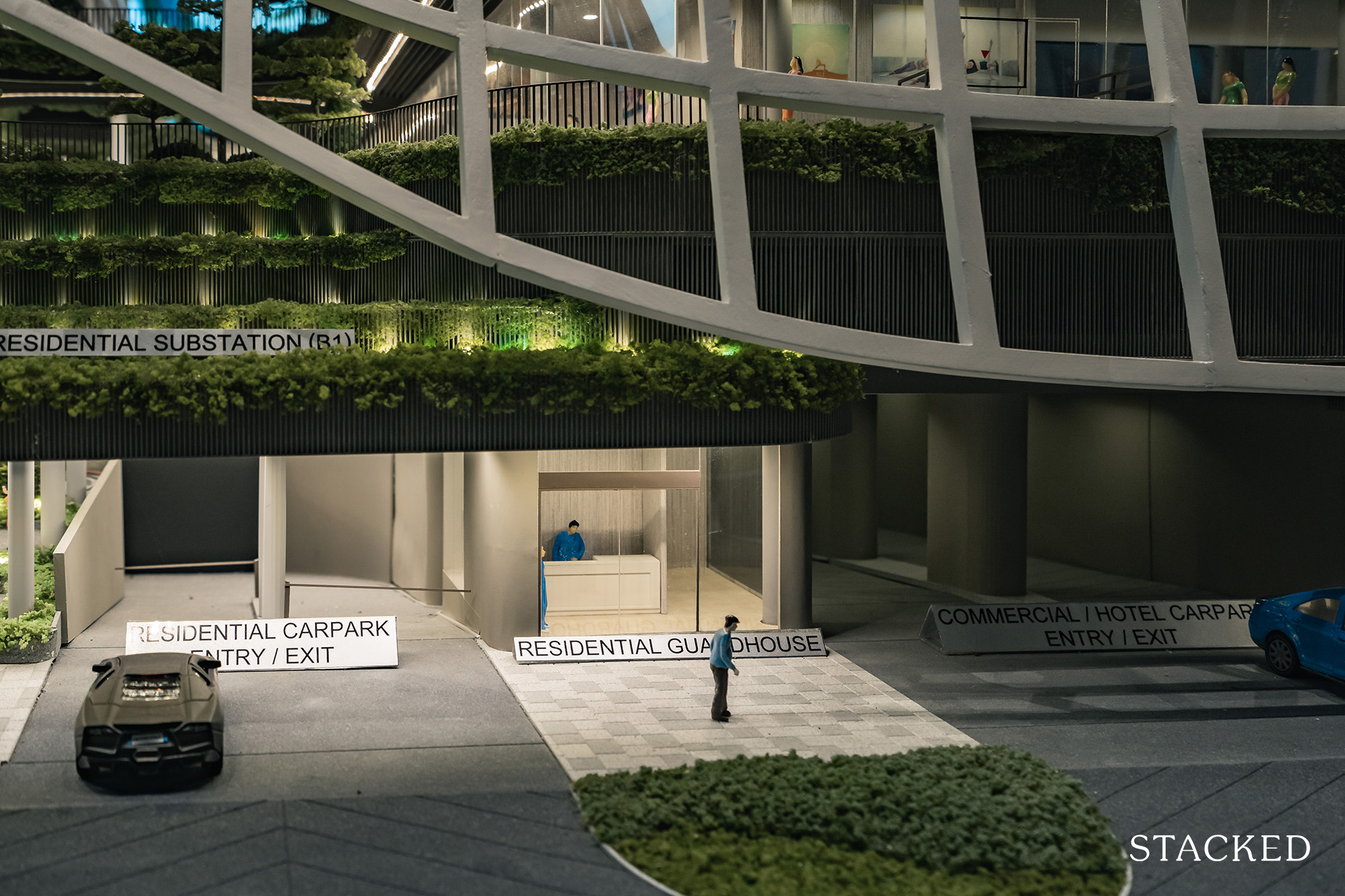 For residents and visitors to the mall, the vehicular entrance will be via Tan Tye Place off River Valley Road. A total of 97 commercial car park lots will be available for shoppers at B2, while 373 lots will be dedicated to residents at B3 and B4. This represents just 54% of the 696 units at CanningHill Piers.
With 75% of units being 2 Bedrooms or smaller, and with direct underground access to Fort Canning MRT, it is a decent ratio in today's context. Anyhow, this is part of the Government's move towards a car-lite society, and in a location, as central as this, it is to be expected today. Do note that the indicative maintenance fees do not include a parking lot, and there are no dedicated parking lots for any unit, including the Super Penthouse, which has an asking price of $50m.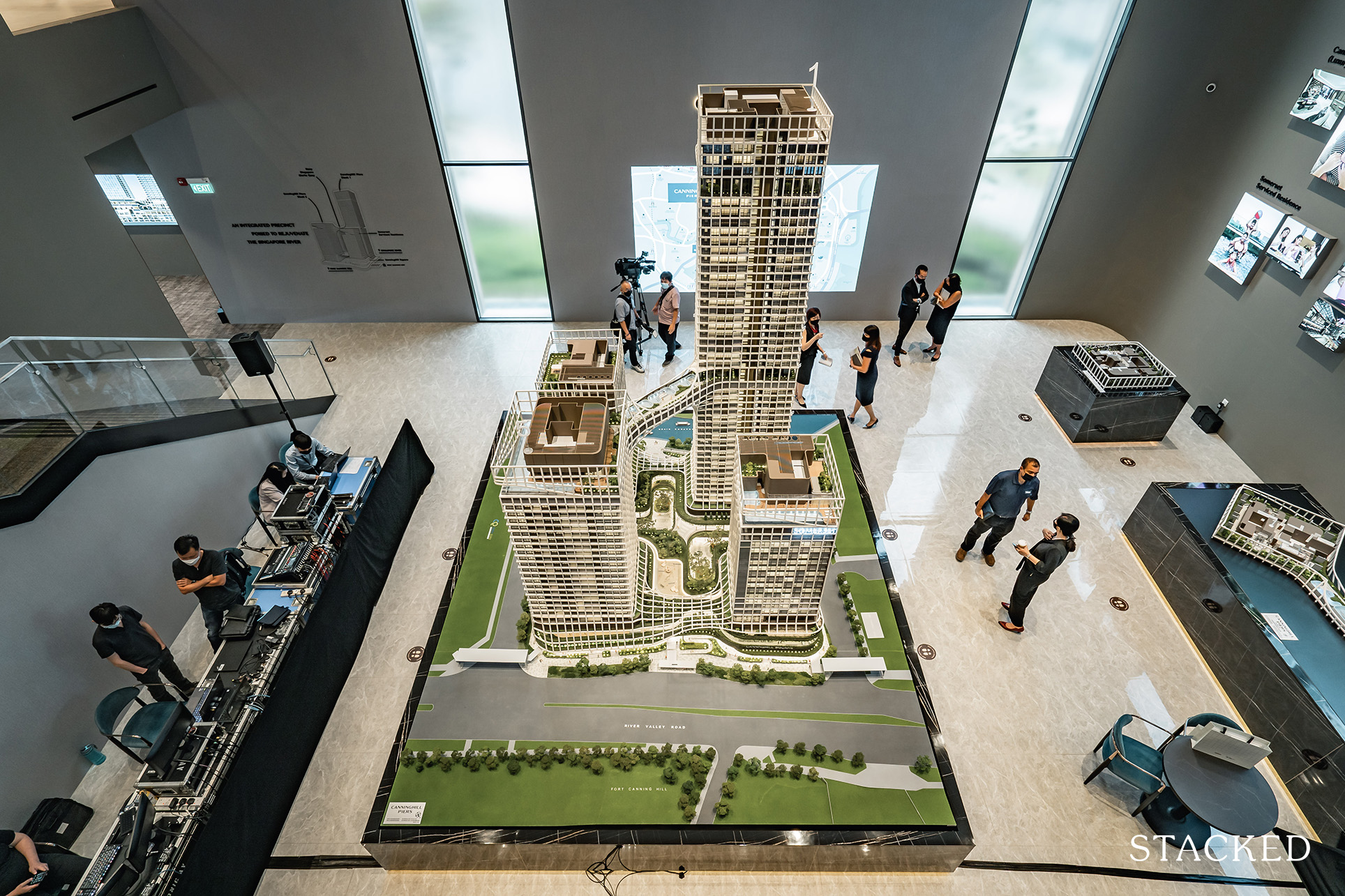 Now comes the more exciting part for most condo reviews, the facilities. When it comes to the Canninghill Piers condominium, these are spread across three floors, on the 45th, 24th, and 3rd floors.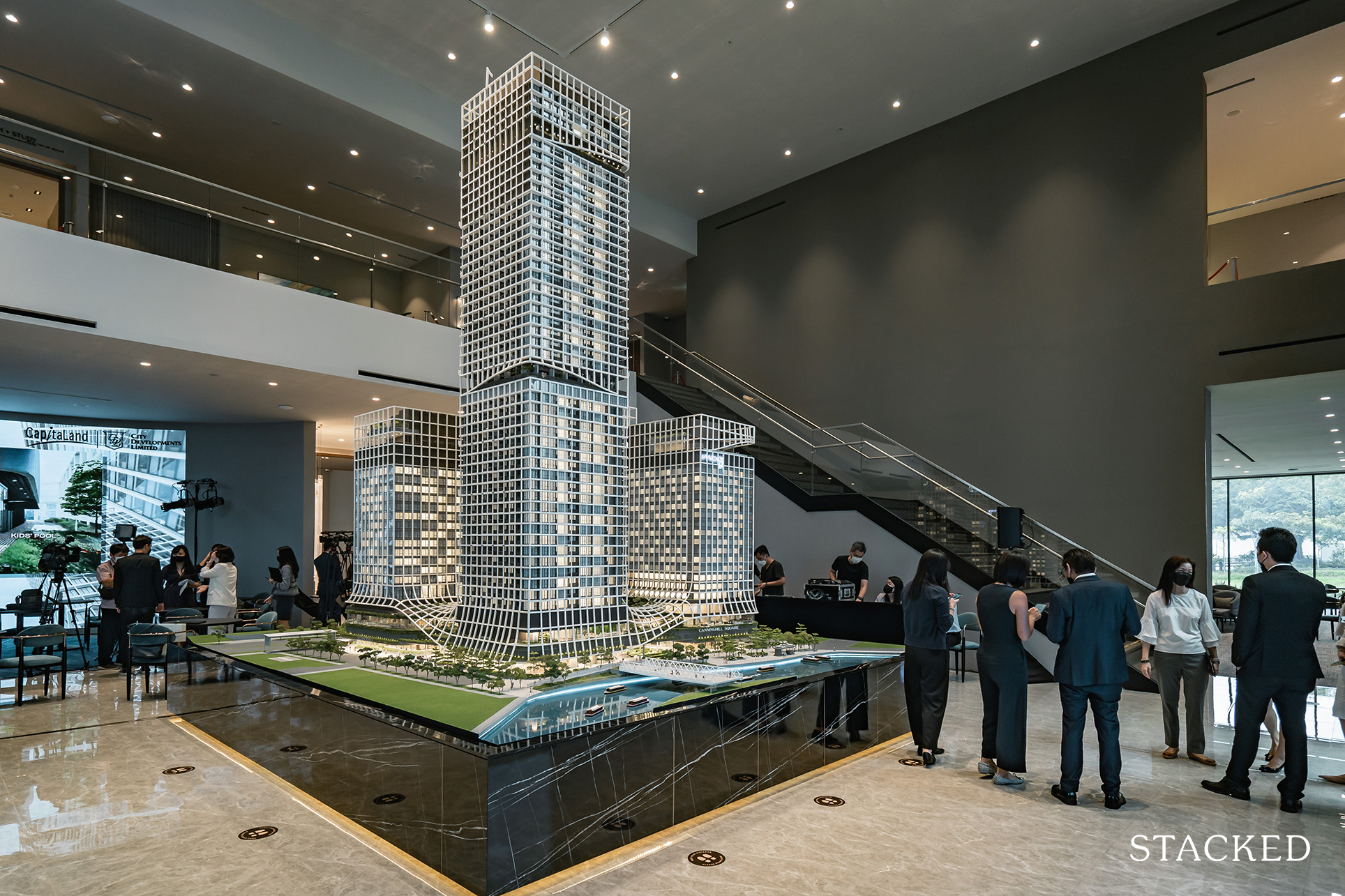 I'll start with the one offering the most spectacular views – CanningHill Sky on the 45th floor of Block 1, which is the tallest residential tower in the vicinity at 48 storeys high. On this floor, the most stunning facility would certainly be the Sky Club, comprising two Club Lounges spanning over 1,900 sqft for Canninghill Piers residents to host their family and friends for a nice dinner party.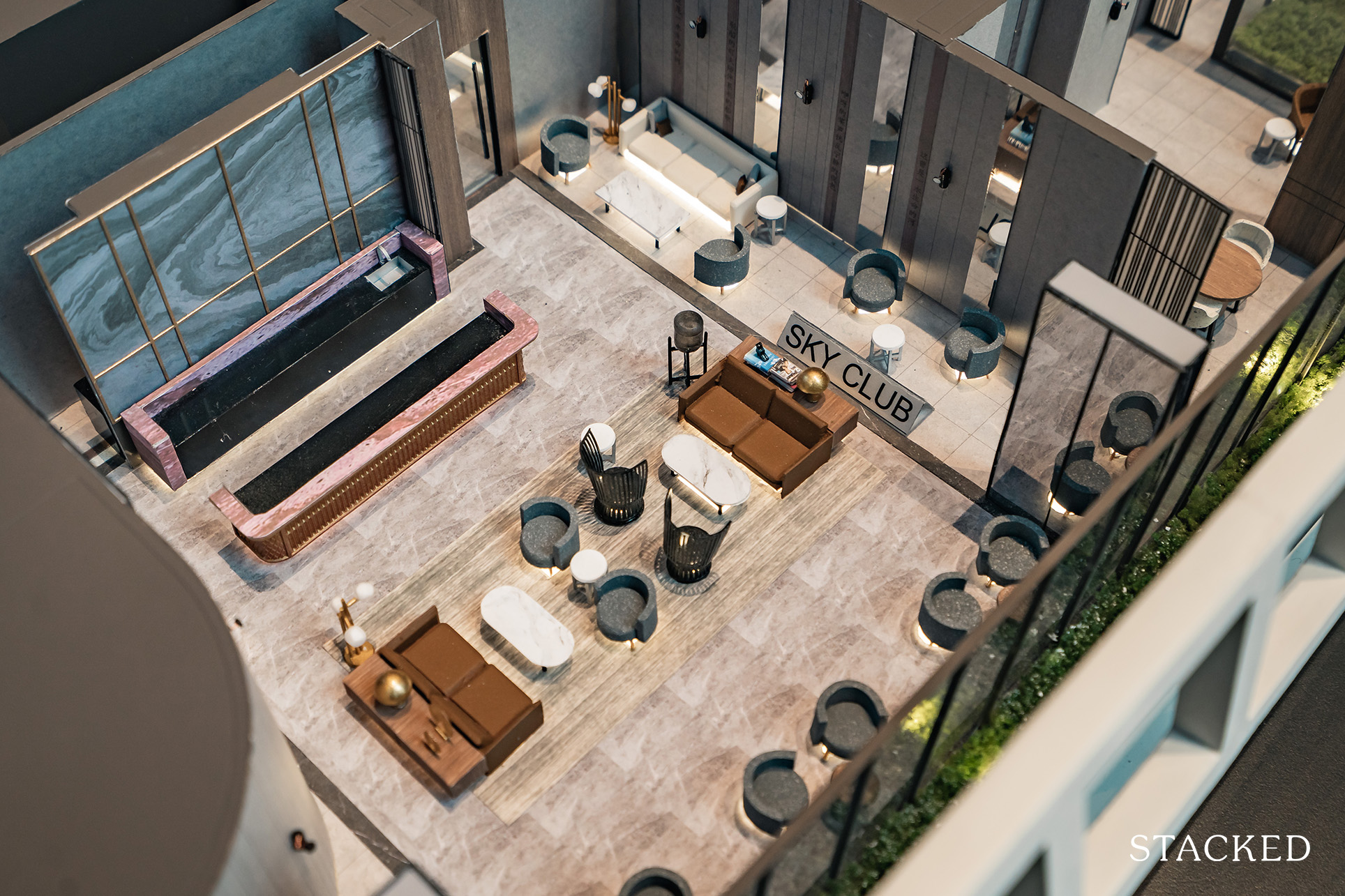 You get panoramic views of Marina Bay, the CBD (Central Business District), and beyond and those visiting will certainly be very impressed. Having these communal sky facilities is a great feature, as residents on the lower floors will get the opportunity to enjoy the views as well.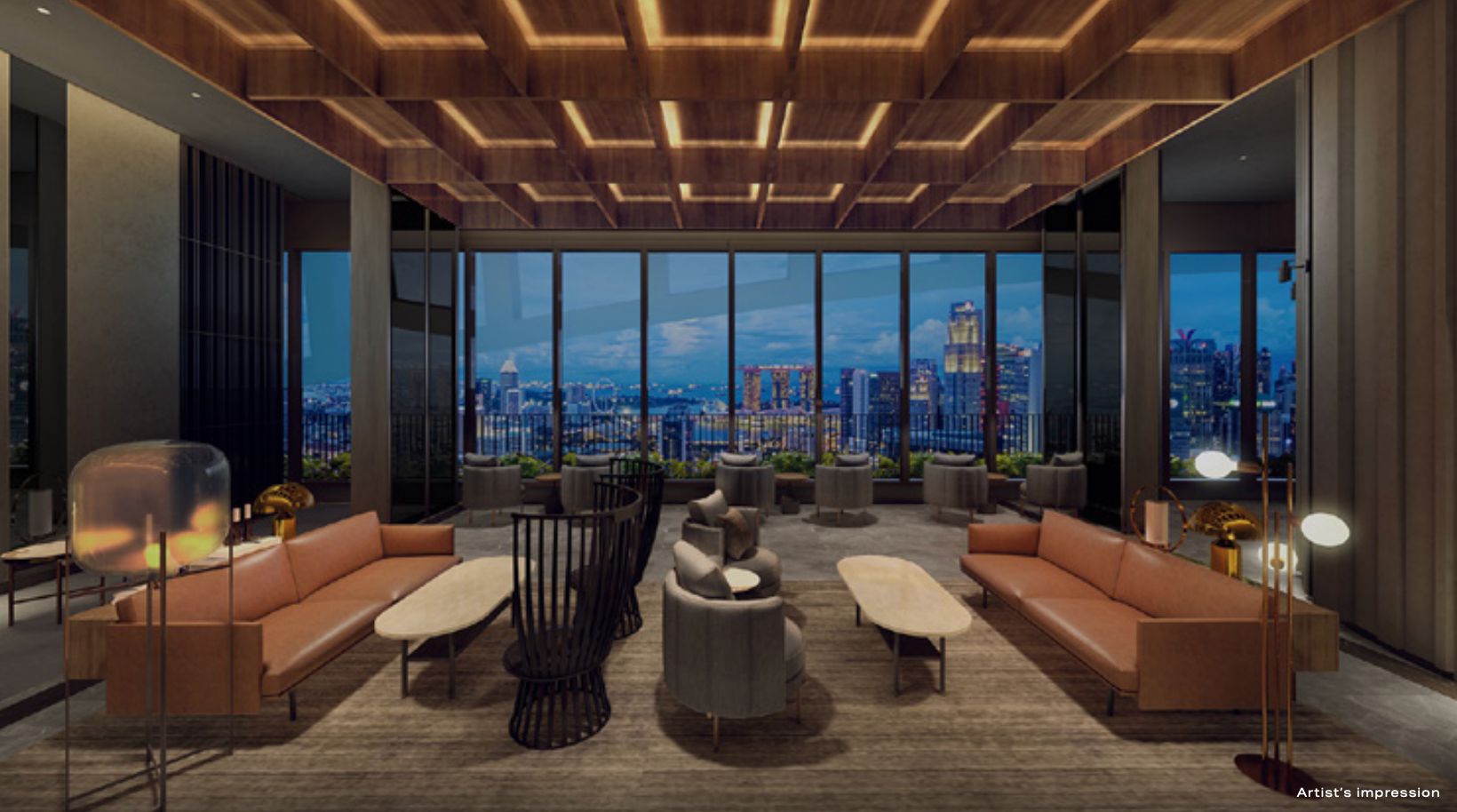 From the renders, it does look like a part of a luxury hotel setting. And I, for one, can certainly imagine the cityscape views to be pretty spectacular when lighted up at night.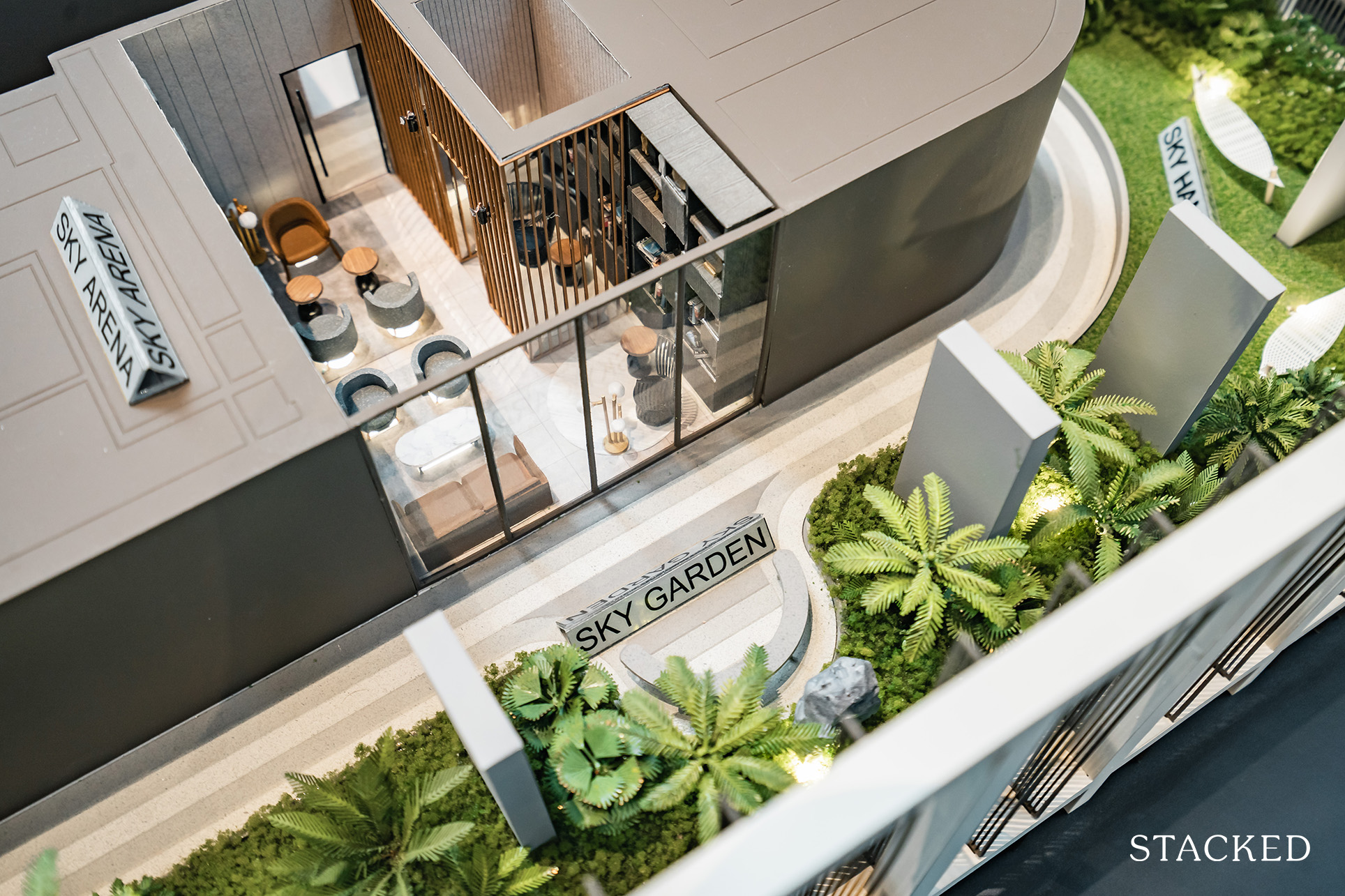 Besides the Sky Club, there is also a small lounge called the Sky Arena. The one here doesn't seem to have a kitchen and will instead be a place for quiet indoor reading or work. Other than that, the facilities on the 45th floor are rather simple, with an area for hammocks and another with a couple of deck chairs.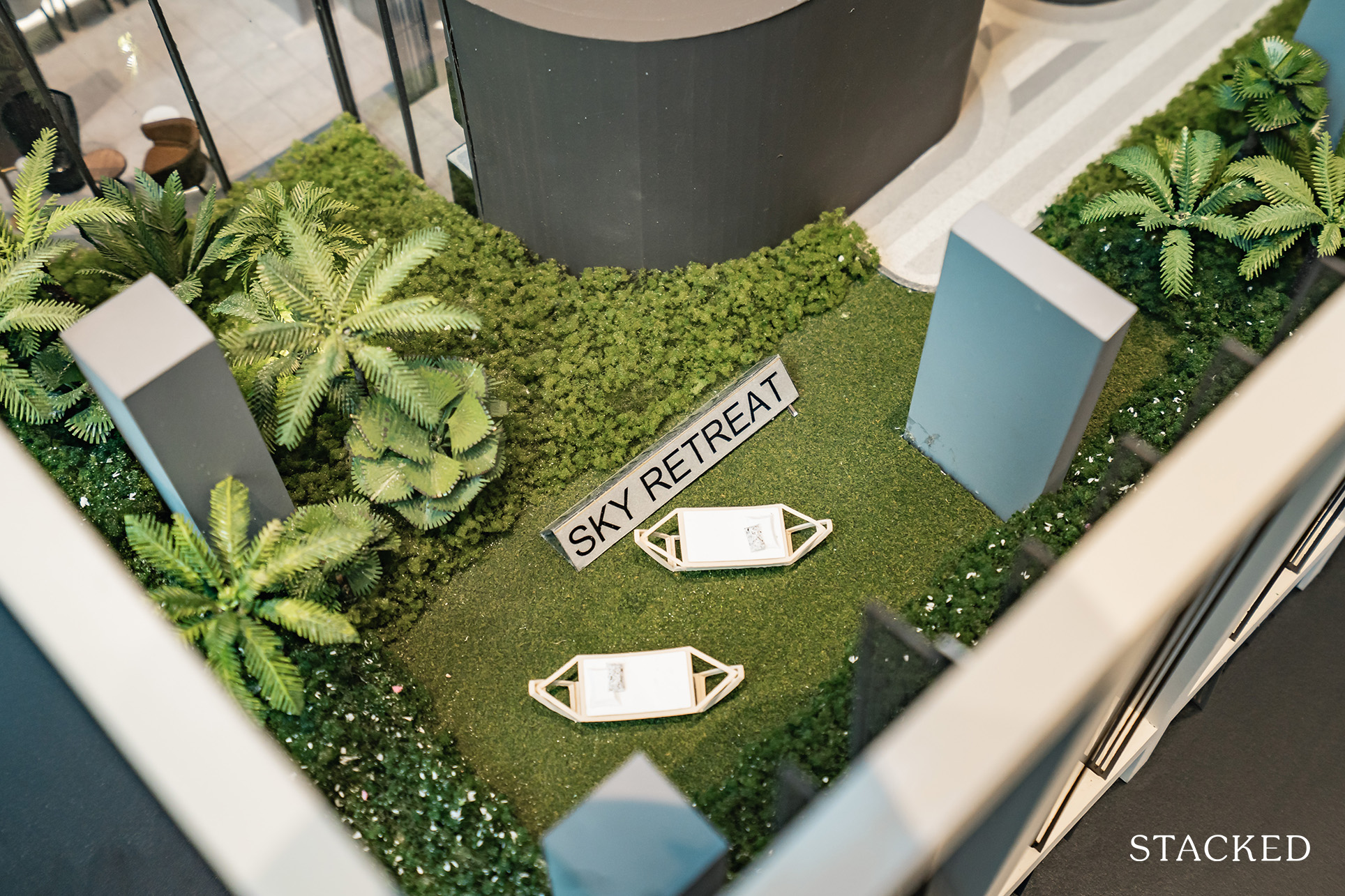 As the facilities on the 45th floor only occupy a single tower, the number of facilities is also restricted by the size of the floor area available.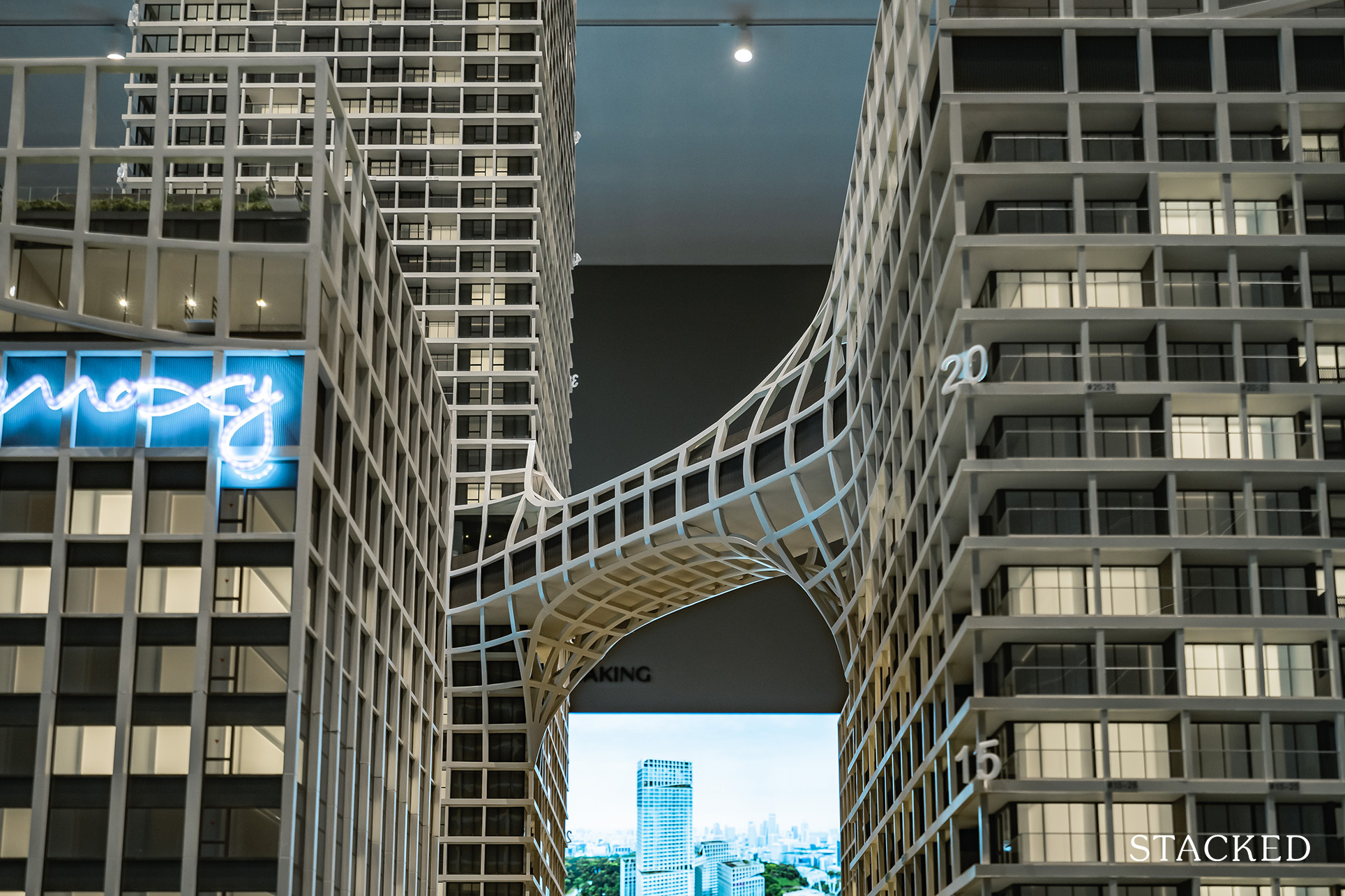 Onto Level 24, and this will be what most onlookers will first notice about CanningHill Piers when they drive past. It has a stunning sky bridge that connects the two residential towers, Blocks 1 and 5. Named CanningHill Club, its focus is on wellness and relaxation for residents.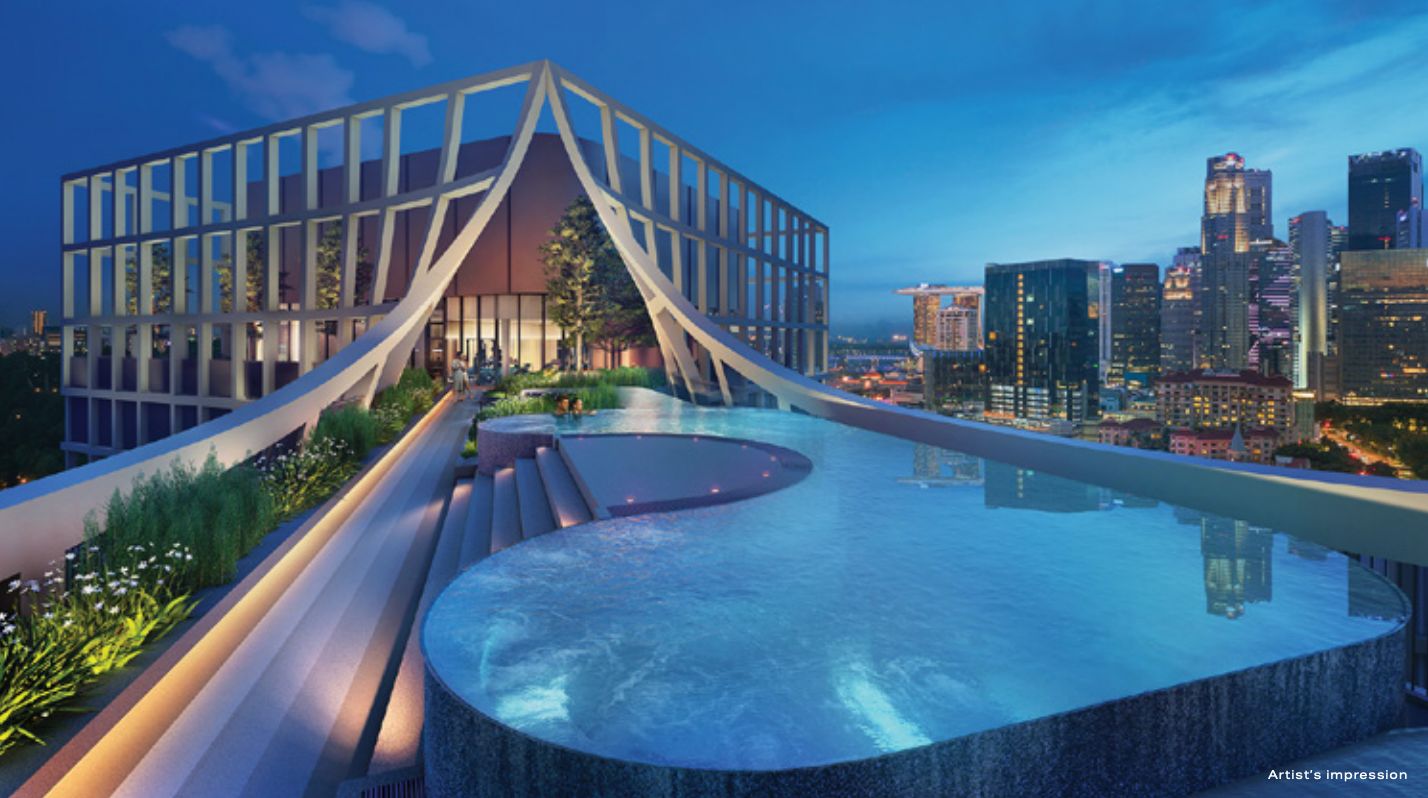 If I had to be completely honest, when I first saw the photo renders for the sky bridge at CanningHill Piers, I had high expectations, envisioning an actual lap pool stretching the entire distance. What I had in mind was something similar to the lap pool at Sky Habitat, or perhaps as outrageous as the clear-bottomed pool connecting two blocks at Embassy Garden, London.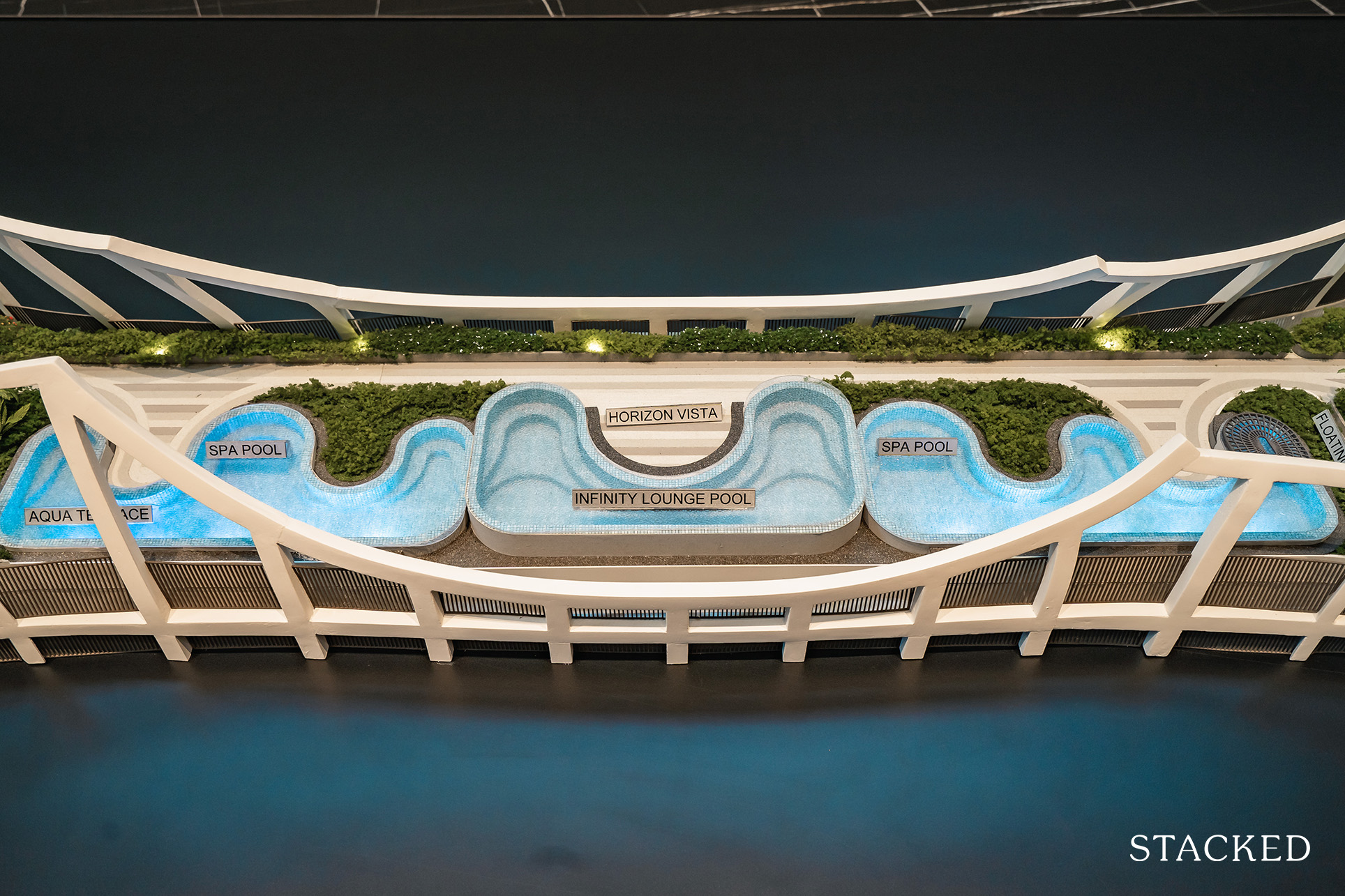 Instead, the connecting sky bridge held three cove-like areas, collectively known as the Sky Oasis. It's still a very nice spot, don't get me wrong, it just seems that it would have been more spectacular if they were all connected in one long pool.
I do understand the thought behind this, though – as, from a privacy standpoint, this does make more sense. These small pools will allow residents to chill out in the individual coves while enjoying the great views of Singapore's River.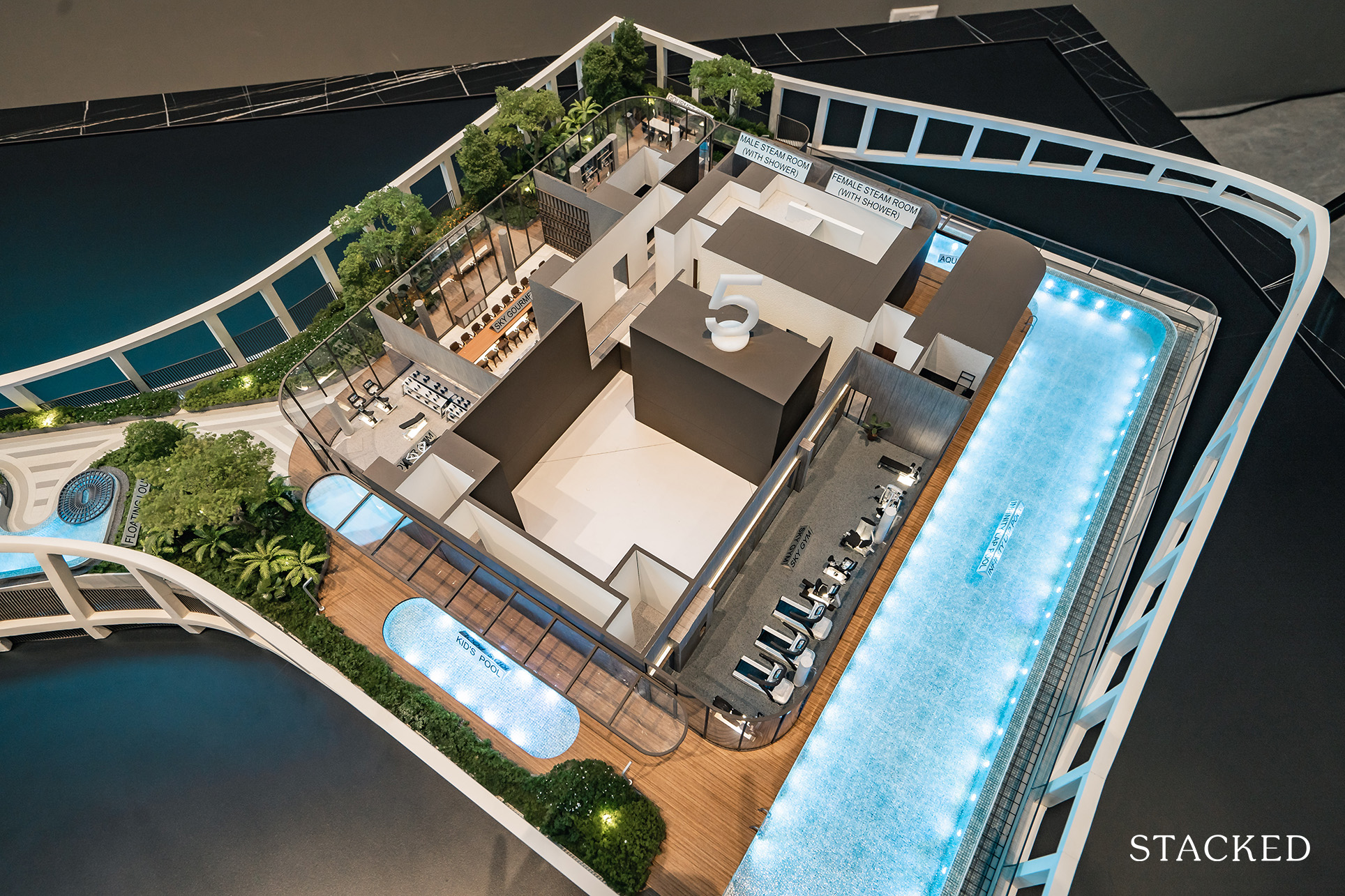 The actual 50m lap pool for CanningHill Piers is located on the same floor, at the corner of Block 5. It's not a regular-shaped 50m lap pool but is instead of an L-shape due to land constraints. That said, I must commend the developers and architects for their effort in insisting on incorporating a 50m lap pool, which is becoming a standard these days for any decent-sized development. Furthermore, this is an infinity pool looking out towards some pretty views, so it's definitely one of the highlights of CanningHill Piers.
We have to remember that CanningHill Piers is no ordinary development but one that is right in the heart of Singapore with a mall downstairs and direct connectivity to the MRT. Therefore, to have a 50m lap pool on the 24th floor is already no easy feat, so credit to them on that.
Note: The 50m spans the entire pool, including the wrapped portion.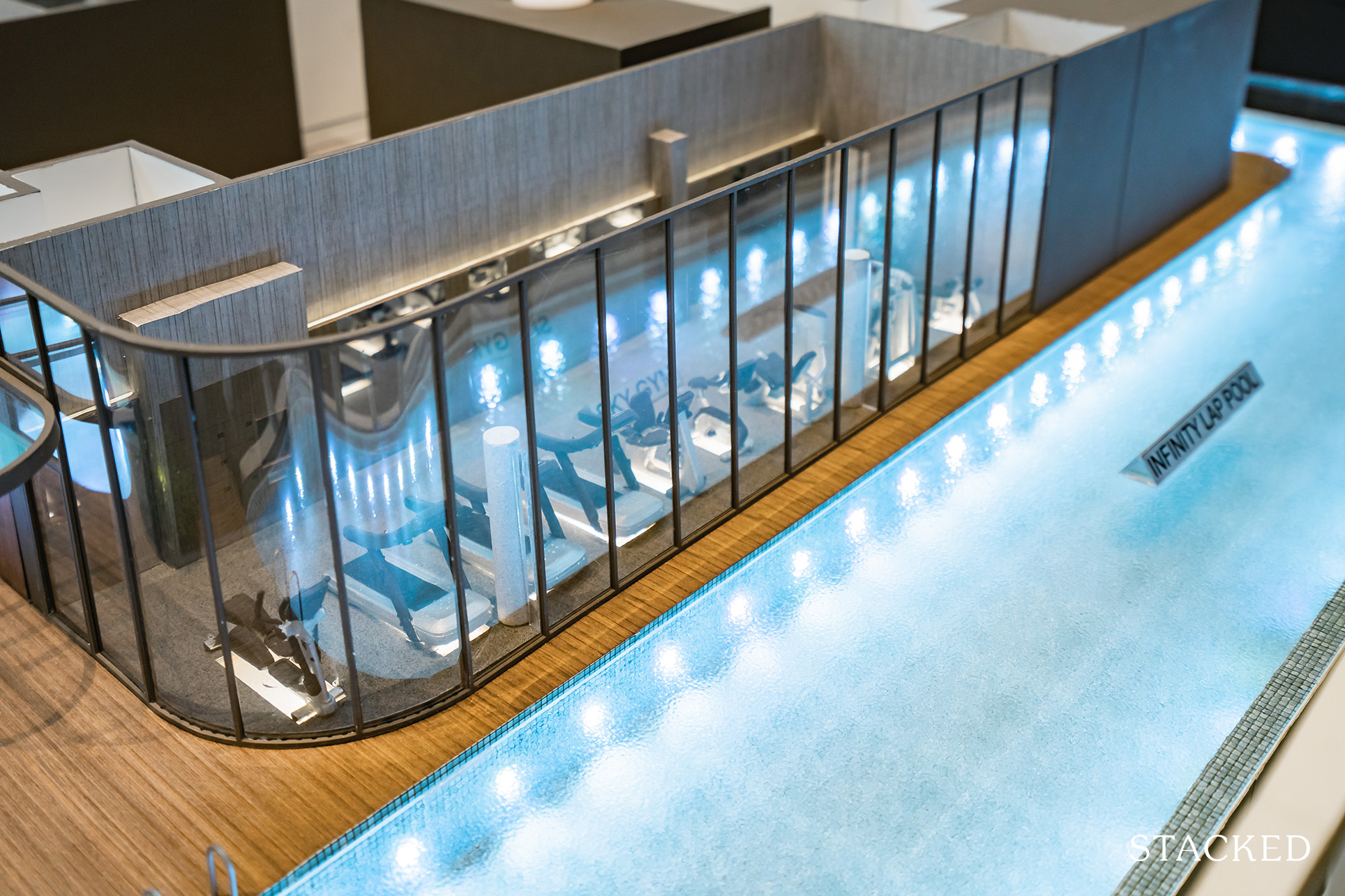 Since we are on the topic of sports facilities, you also have two separate gyms – the larger Sky Gym that fronts the infinity pool (so that you have enviable views while you work out) and the smaller Power Gym, presumably focusing on weights. For yoga practitioners, there is also a yoga deck and other spots carved out for your sessions. 
Personally, the best feature here to me, though, is the towel service at the pool and gym – just like the service you'd receive at a luxury hotel.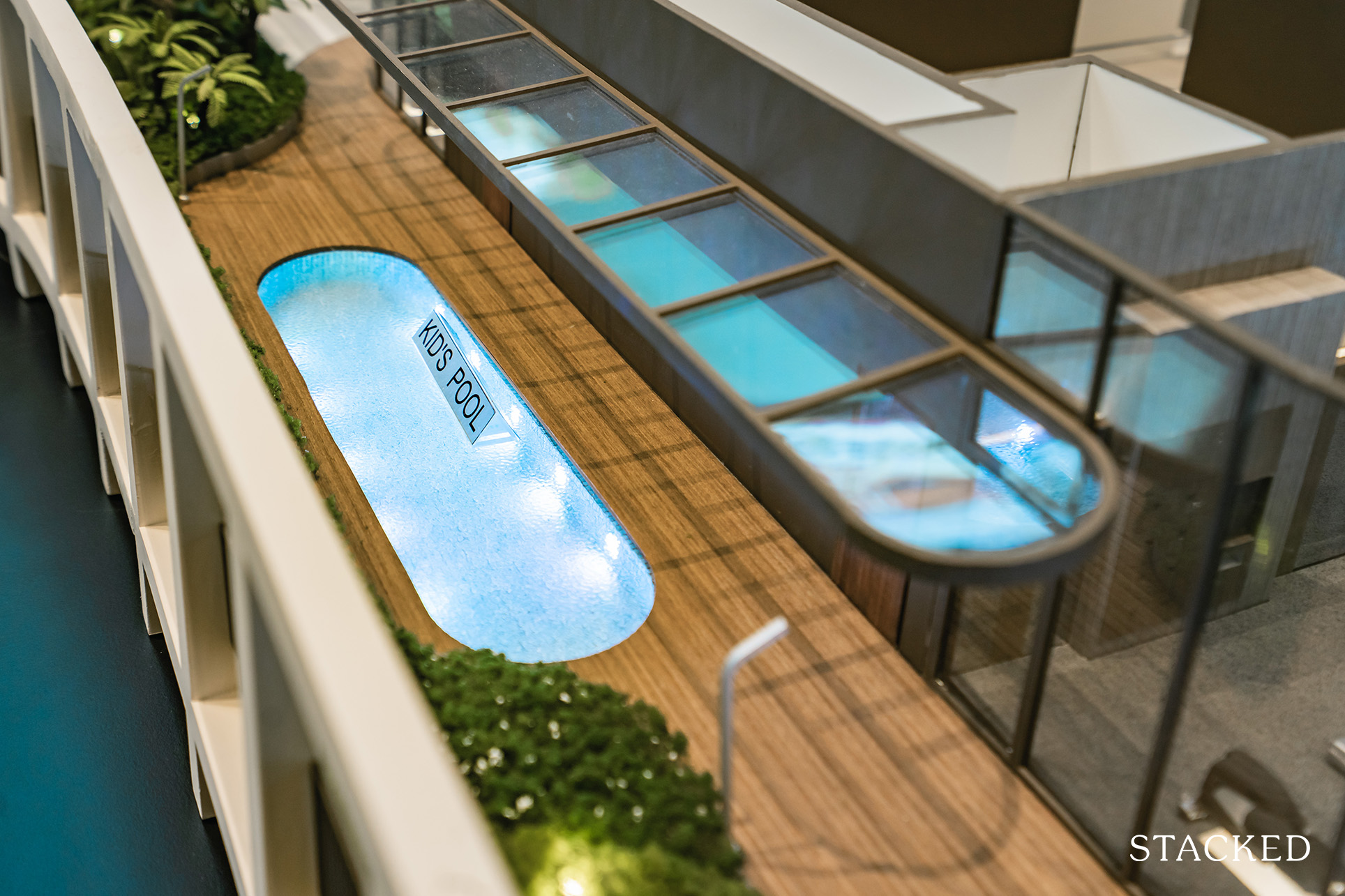 There is also a small kid's pool located by the side. While this seems more like an afterthought than anything – I don't expect many families with young children to be considering CanningHill Piers anyway. With the number of small units and the lack of a primary school within a 1 km radius, it's clear that isn't the focus here.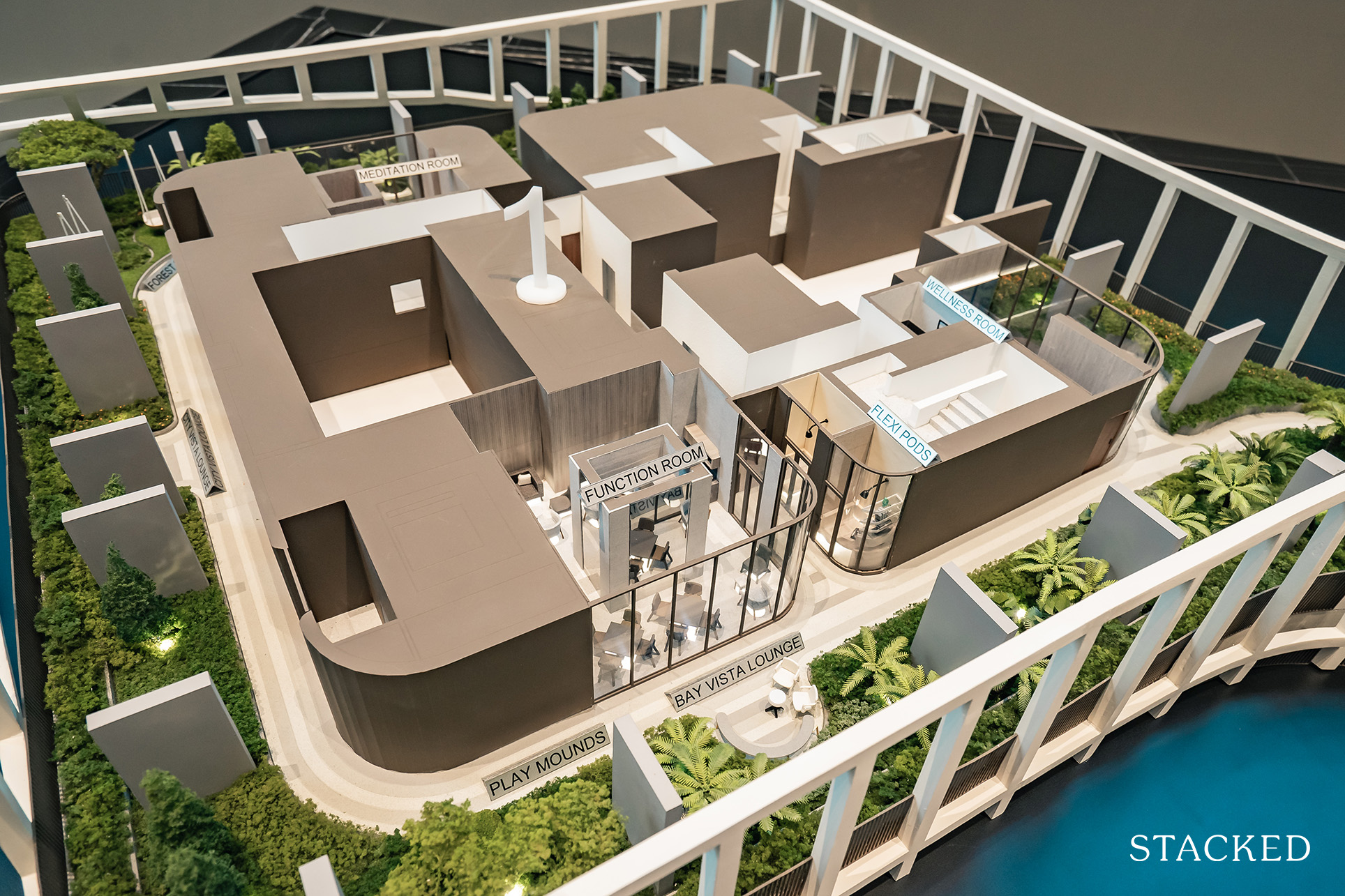 In line with the current Work From Home arrangements, the developers have incorporated Flexi Lounges and Flexi Pods with both having WiFi access and charging points. If you needed a spot outside your home to carry out your work, this could be the place to do so. The Flexi Pod is a more private space for individual meetings, while the Flexi Lounge serves more as a co-working space.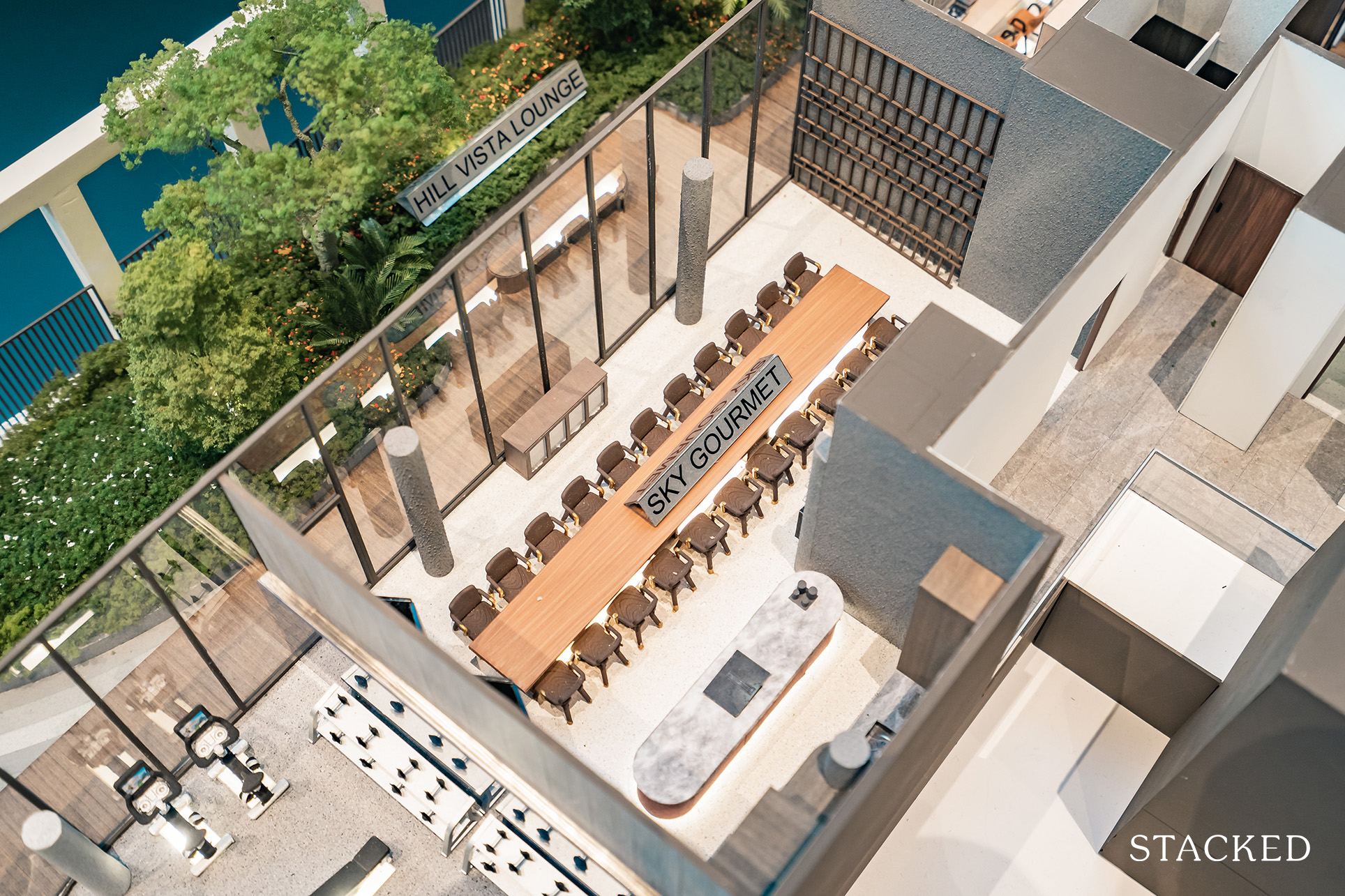 In addition to the ones found on the 45th floor, the 24th floor also has a Sky Gourmet dining room fully equipped with an induction hob, oven, fridge, and wine chiller for a party of up to 20. This is a great addition, especially since 75% of the units at CanningHill Piers will be small units – so having a big space for entertaining will be useful.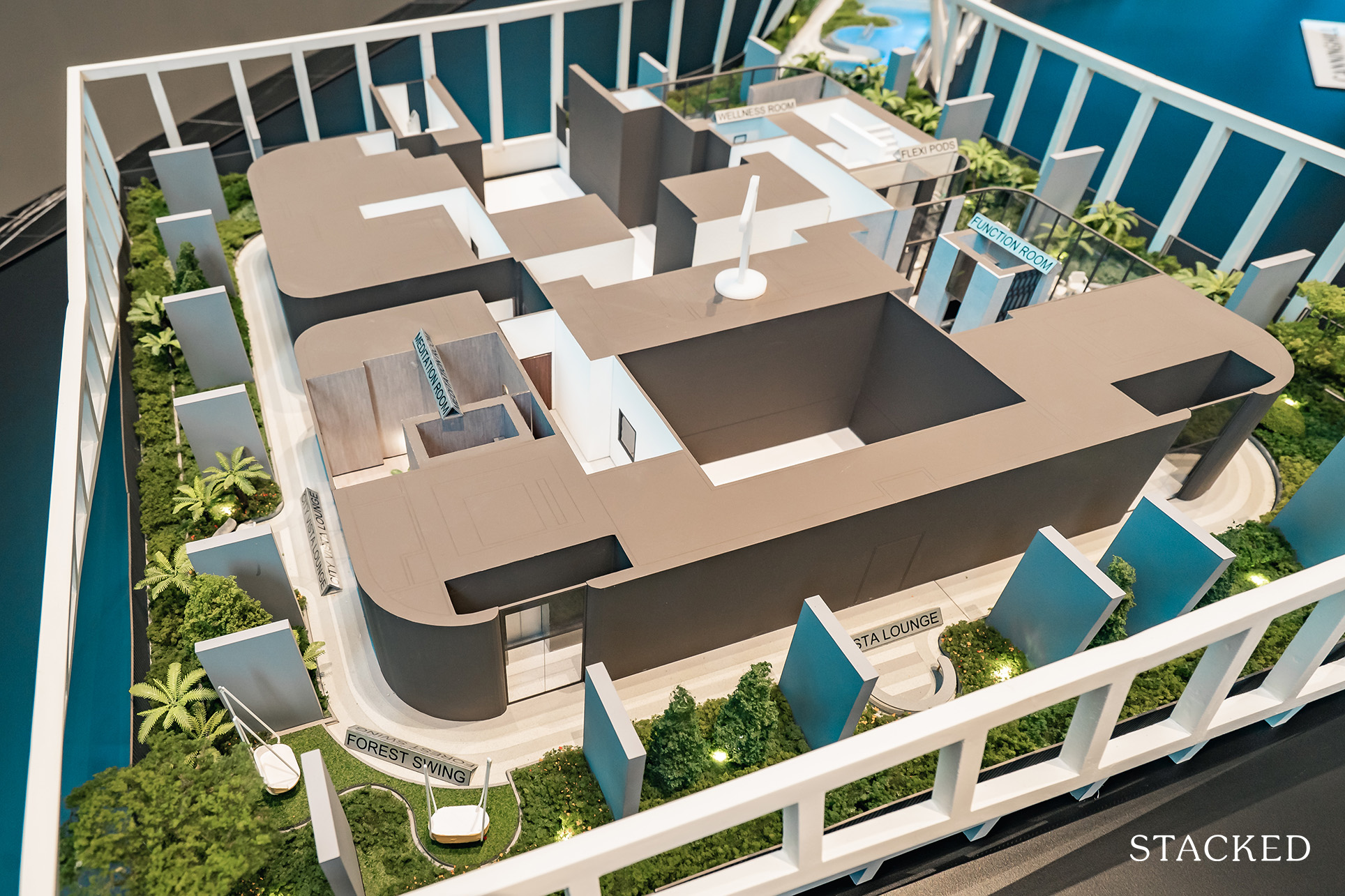 The Residential Services Reception will also be located on Level 24, which is essentially your concierge desk. They are able to provide you with help on anything from general inquiries, transport arrangements, wheelchair loans, to other services such as housekeeping or restaurant reservations.
Finally, there is also a Meditation Room that features a couple of massage chairs should you feel you need to catch a break while doing work nearby.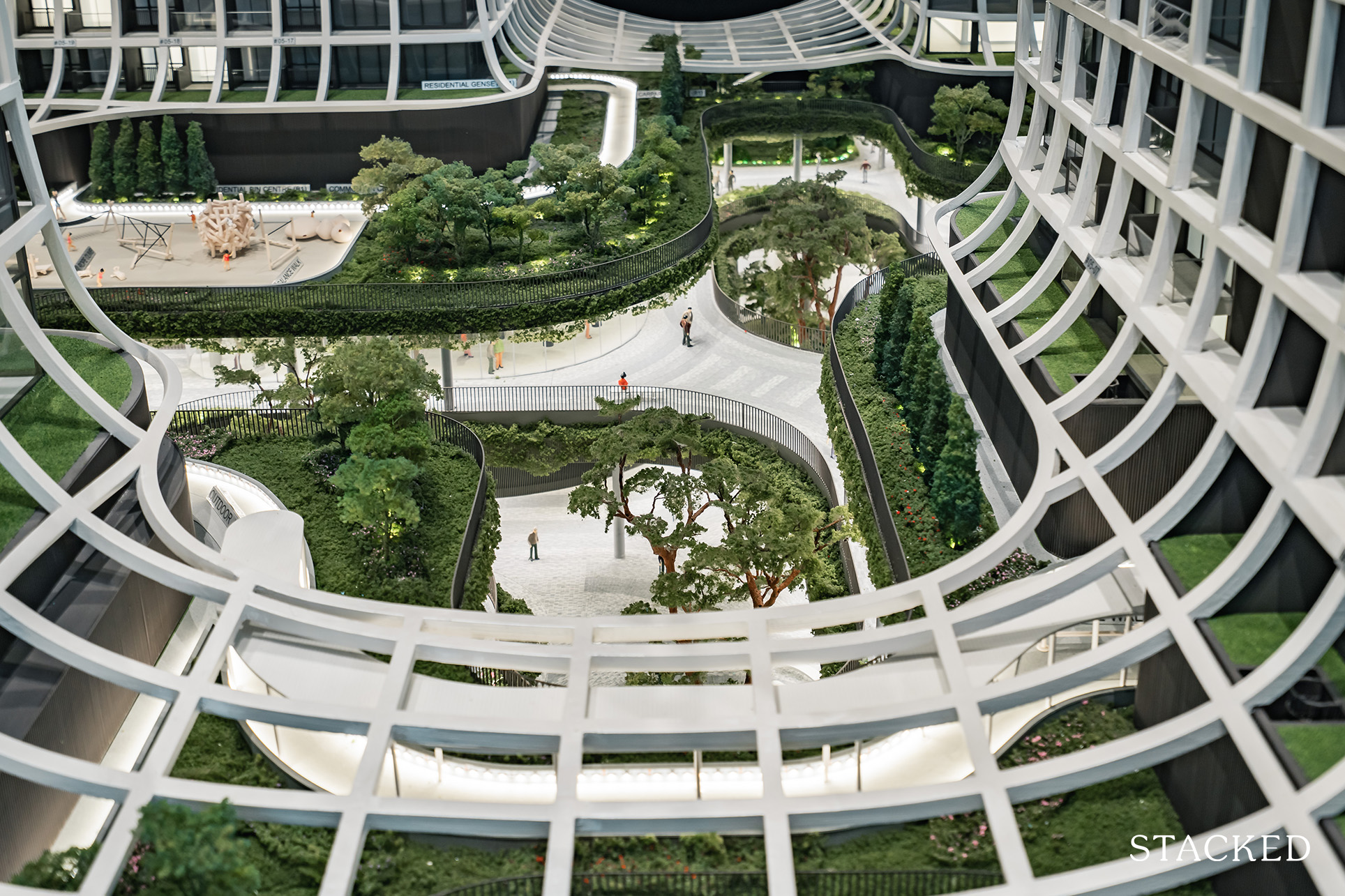 Finally, on to Level 3, and you will find some unique facilities here, especially considering the locale the development is situated in. You get a 300m jogging track, bouldering wall, and rope climb, among other sporty facilities. It's certainly not going to be better than the nearby natural outdoors at Fort Canning Park, but there's also something about incorporating greenery in a built environment that's always fascinating to look at. And with the landscaping done by the renowned Ramboll Studio Dreiseitl (the same guys behind 15 Holland Hill and Meyerhouse), I'm certain this would turn out stellar.
There's no dedicated play area for the children, but there is a splash play area that they will probably have some fun with.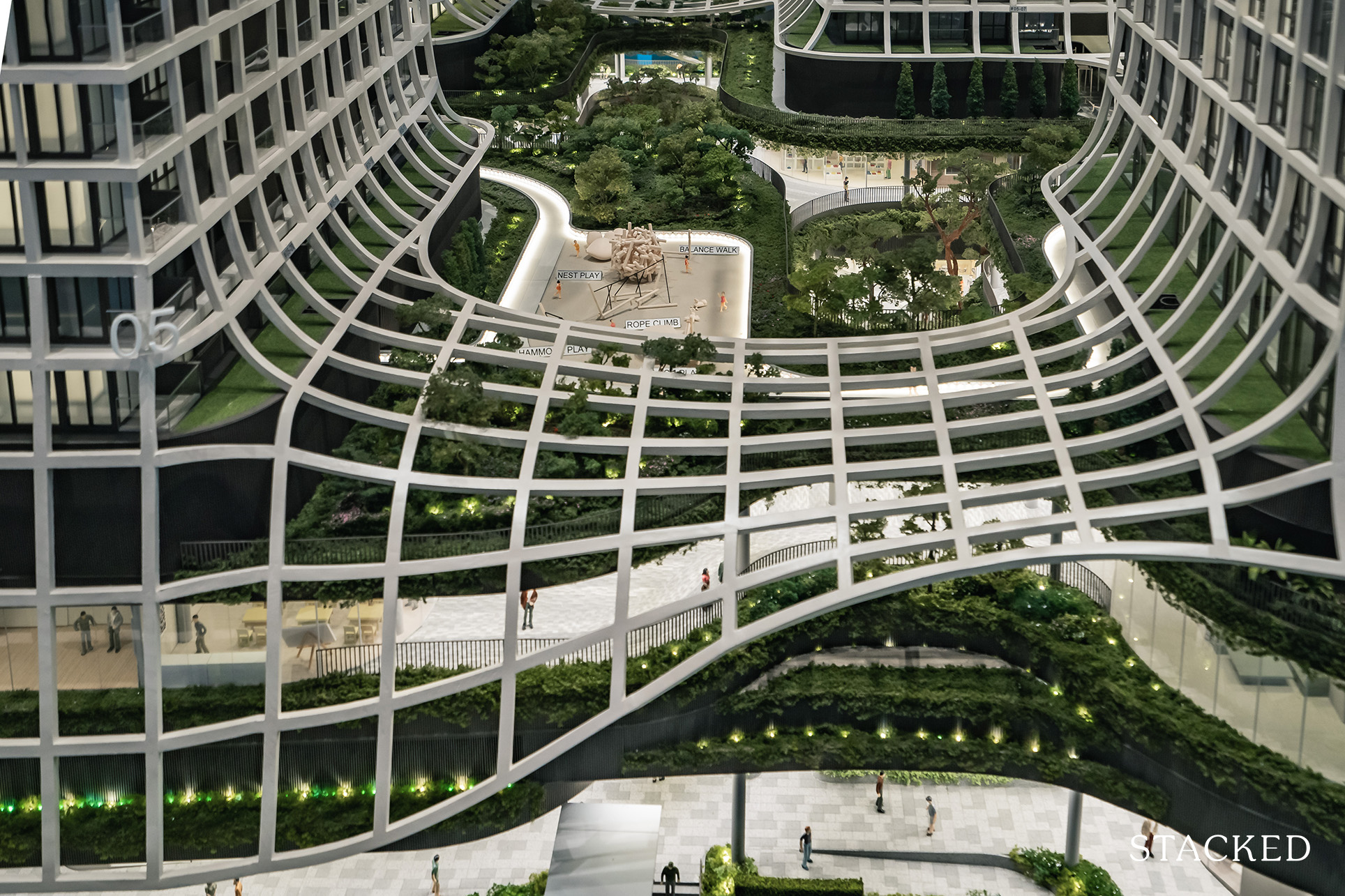 What's worth highlighting here is that the entire level 3 plate is dedicated to the residents of CanningHill Piers. So you are assured of privacy and exclusivity here.
It's been a long tour, so now let's head straight for the show flat units that await future River Valley residents!
CanningHill Piers – 1 Bedroom + Study Type AS2a (538 sqft) Review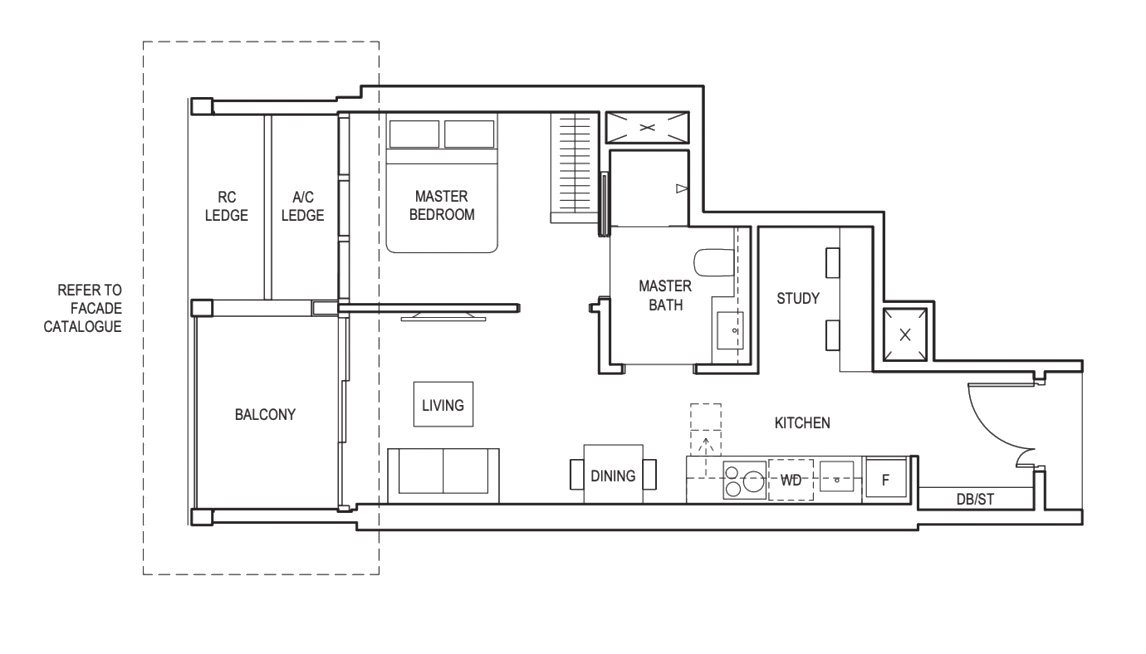 1 Bedroom units (including those with a Study) are the most predominant unit type at CanningHill Piers, making up 47% of total units. At 538 sq ft, this show flat unit is one of the larger 1 Bedrooms on offer, with 560 sqft being the largest layout available. The variations between all the layouts are the inclusion of a balcony and/or a study. With its size, it just clears the definition of a shoebox unit (sub-500 sqft).
The joint developers CDL and Capitaland shared during their media briefing that CanningHill Piers took into account the changing needs of buyers following the pandemic. One might point out that if so, there should be a greater proportion of 2/3 Bedroom units instead. Yet those among us may not have accounted for the single professionals, who may desire greater personal space during the pandemic.
Still, you could say that this is part of the decentralisation of everything. And I can see the appeal for single professionals to prefer to live here instead of the CBD. After all, you are still close and easily connected to the CBD – but the park, river, and lifestyle elements that this area offers are just much more attractive.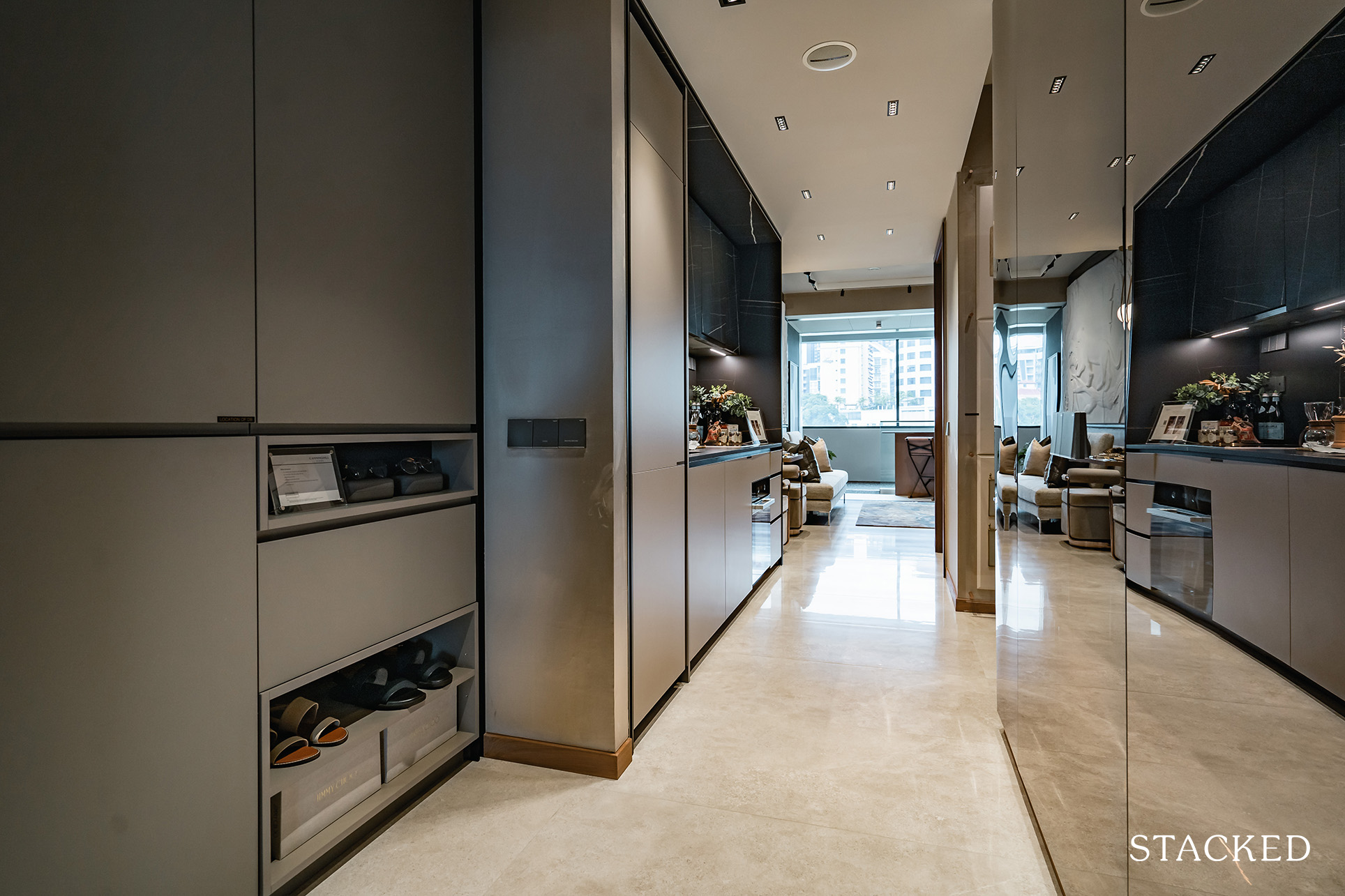 Back to the show flat unit and all units will come with a 2.85m ceiling, which is a tad above average. Porcelain tiles are used in both the living/dining and bedrooms, with the larger units getting marble and timber floors instead. Thus, you do get some quality differentiation between smaller and larger units.
The first thing that struck me when I entered the unit was how long the entrance foyer was. For a 1 Bedroom unit, it is important to ensure that every square foot is fully maximised, and I do think that they could have done better here. The ideal 1 + Study layout I have in mind would be the one seen at Midwood, which is of a relatively similar size and developed by Hong Leong, a company closely associated with CDL.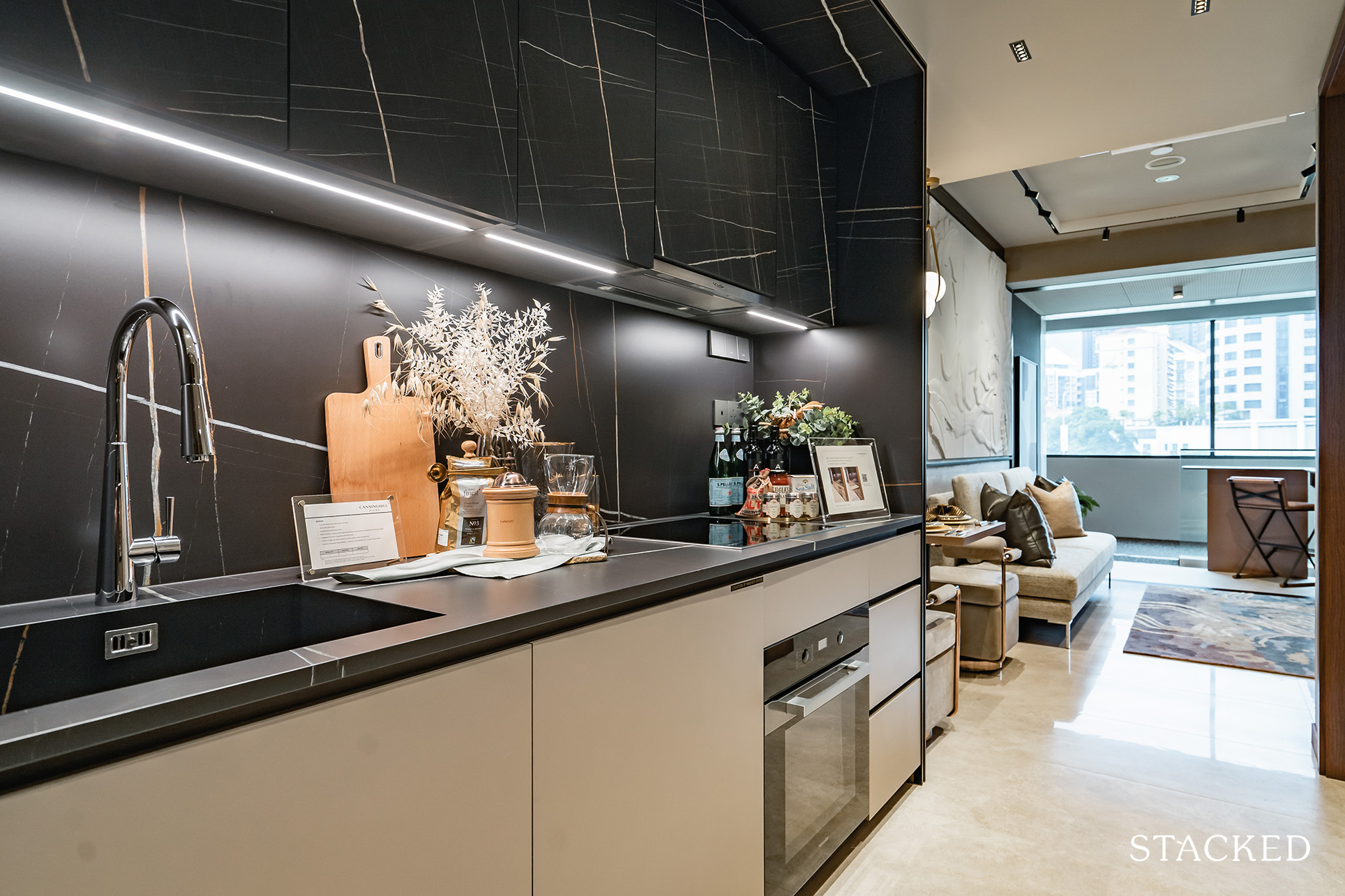 To the left of the entrance would be the open concept kitchen. The kitchen system is by Ernestomeda, an Italian designer kitchen brand, which was also used in Capitaland's One Pearl Bank project. This is the start of the quality fittings you find here, with an integrated sink (more costly in general) and Miele/De Dietrich appliances in the form of an integrated fridge, induction hob, oven, and hood.
For 1 and 2 Bedroom units, you have the option of 'Cool White' or 'Mystic Black' for your kitchen cabinets. No prizes for guessing which one this 1 Bedroom show flat is fitted with – the 2 Bedroom show flat will display the 'Cool White' theme instead.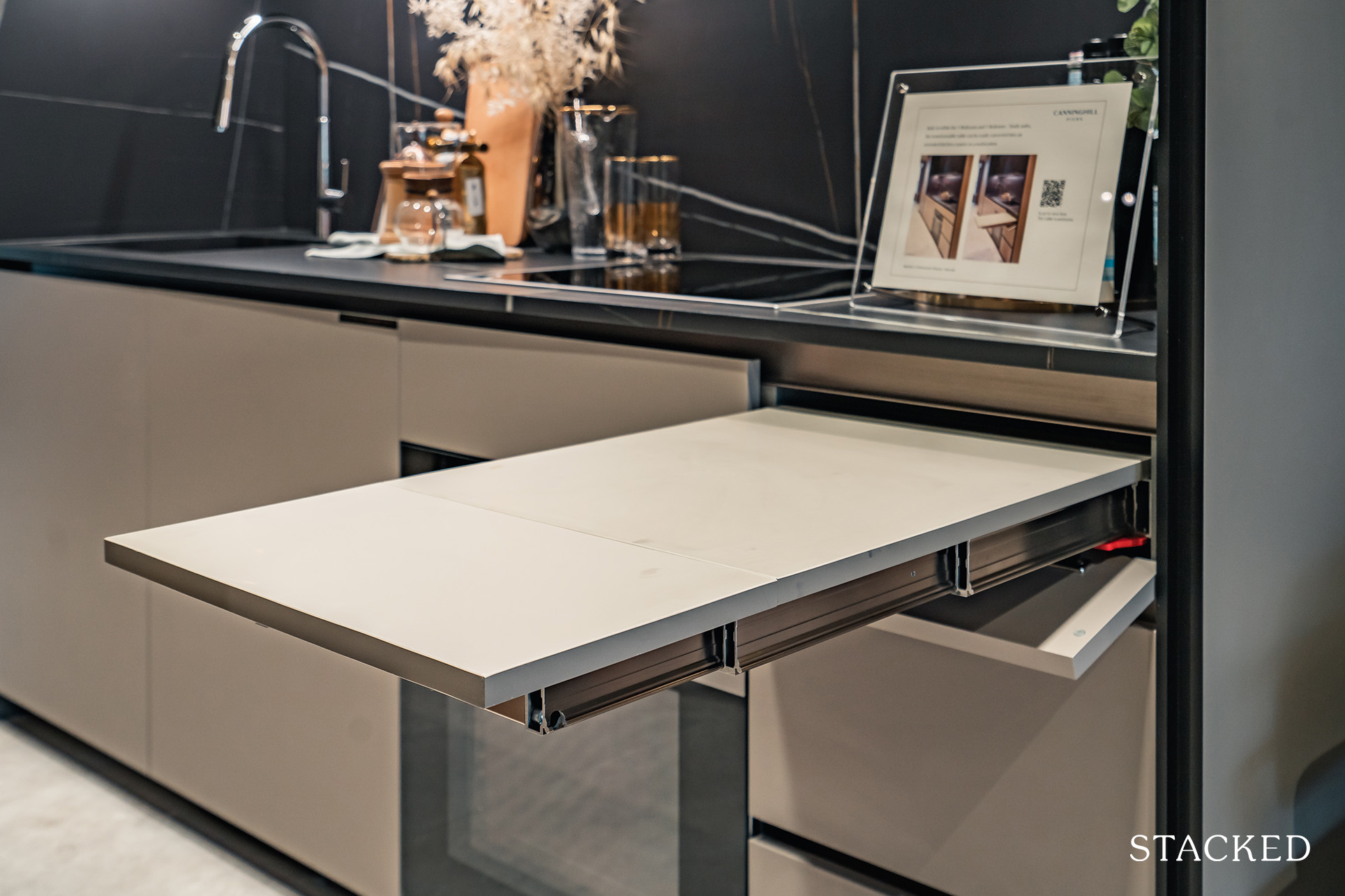 The kitchen also comes with a pull-out table that comes in handy if you need additional countertop space or as an extended dining table. It's similar to the one at Irwell Hill Residences, and these small touches do show the developer's attention to detail.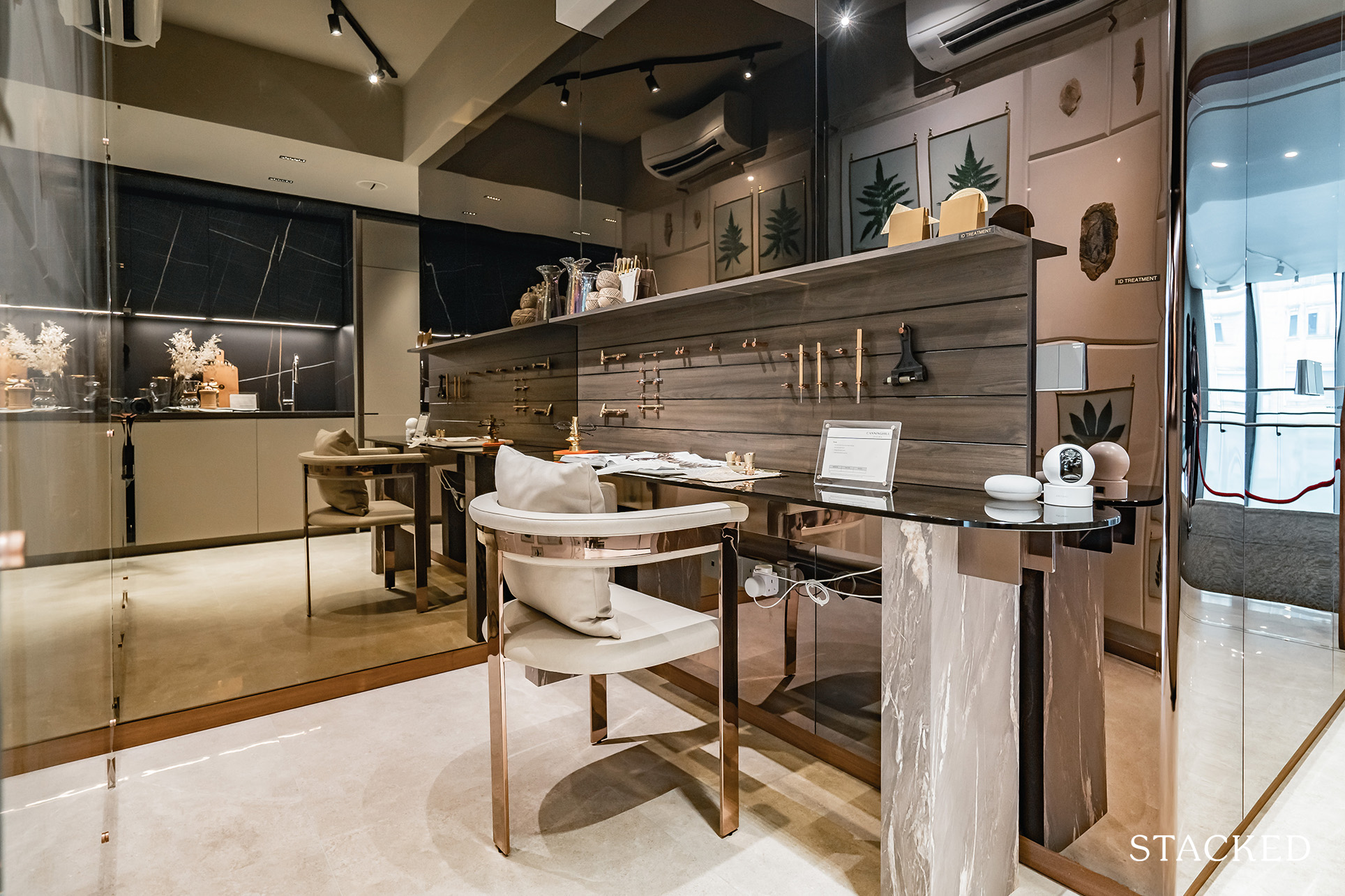 Moving on to the Study, which at 3.5 sqm, is not a huge space. It's a lot of mirrors being used here, so it may seem bigger than you'd think. Nonetheless, the one here at CanningHill Piers will work just fine for its original purpose – a Study. In fact, it even comes with air conditioning, so you don't have to worry even on warmer days. As with most other Study rooms in small units, this space does not come with a window.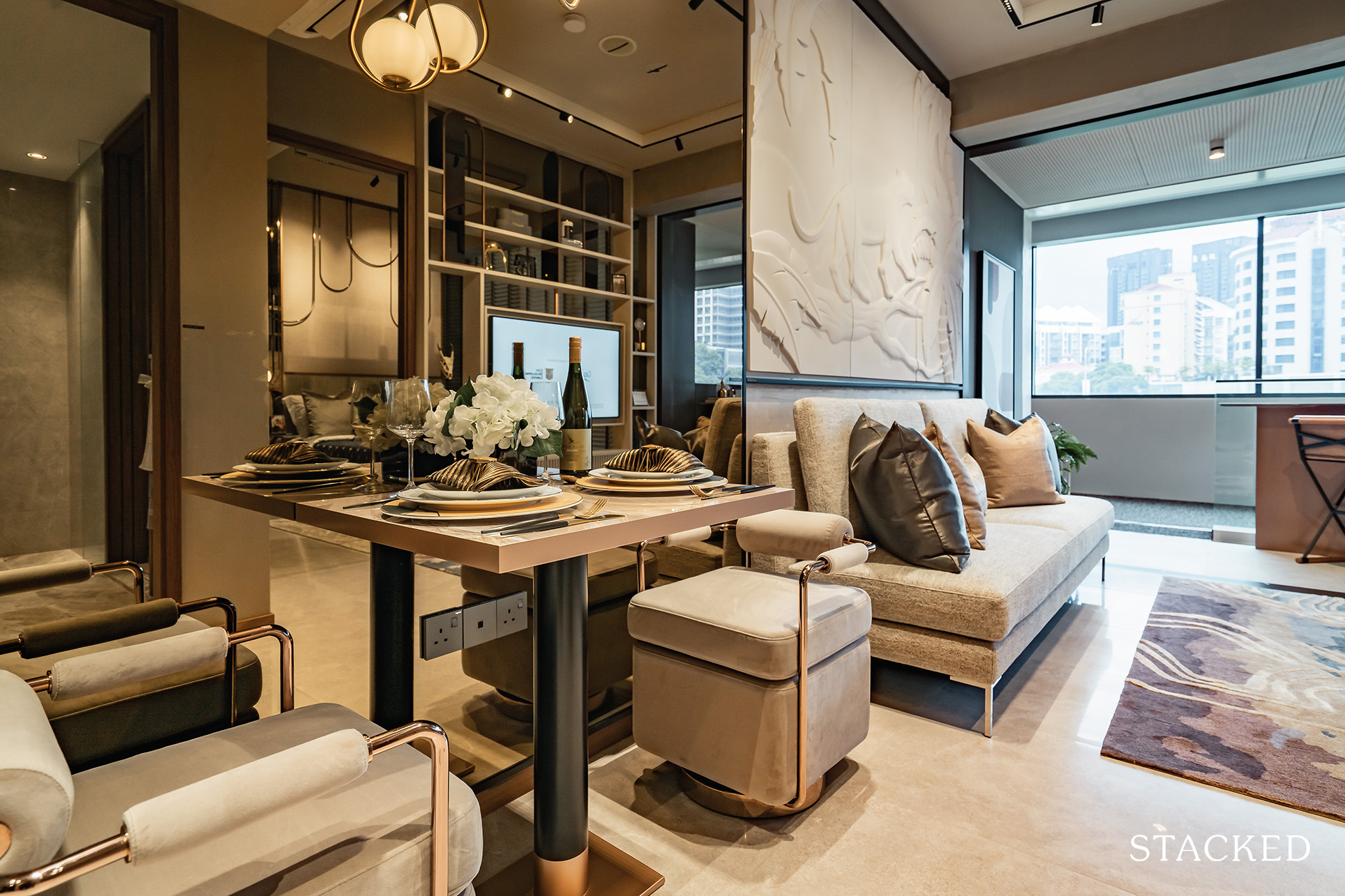 Over to the dining area, and it is in line with what one would expect from a 1 Bedroom unit. It fits 2 well enough and can potentially go up to 4 if you don't mind encroaching on your corridor space.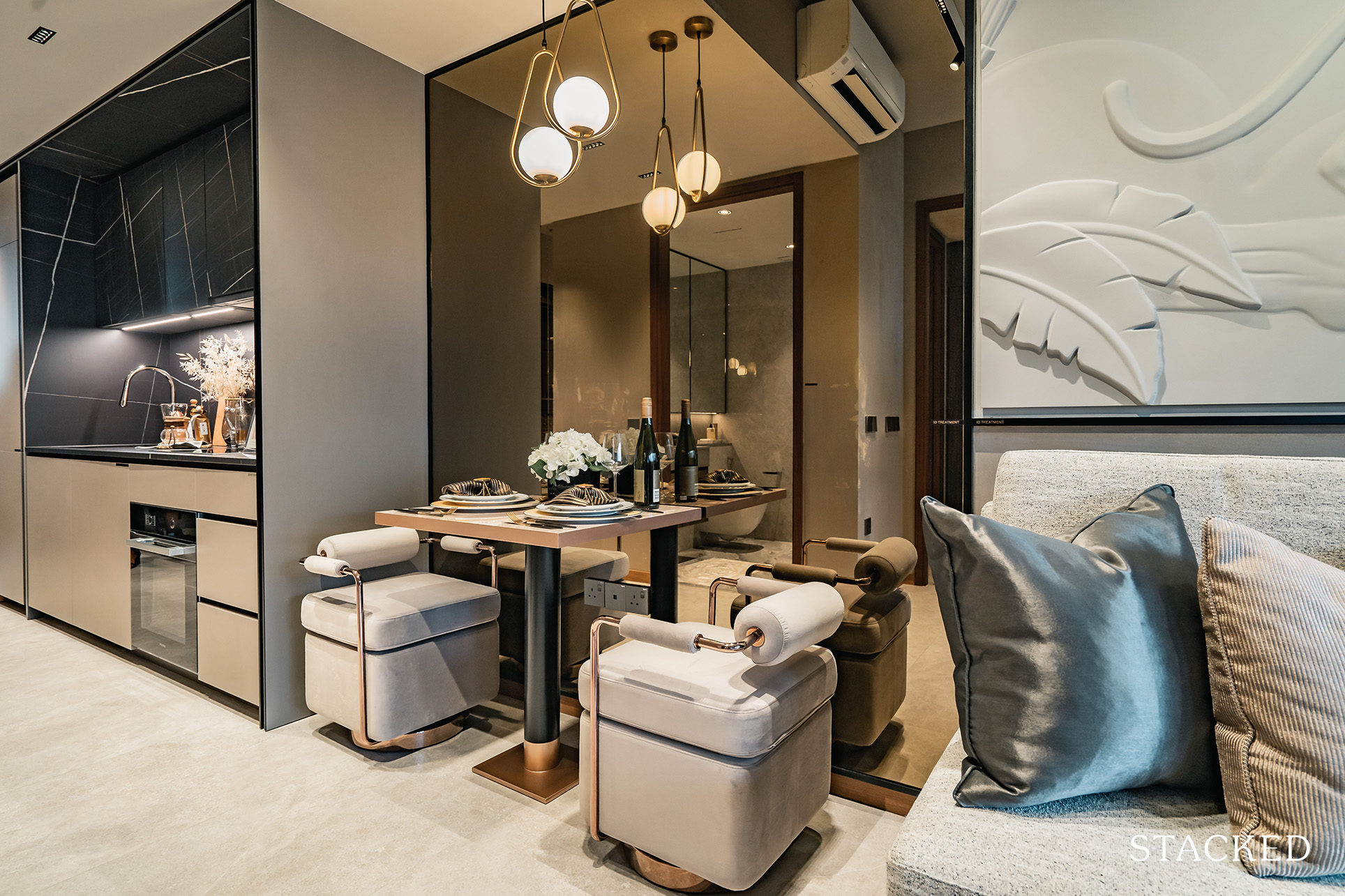 Since you do have the additional pull-out table that can help ease the space crunch if required, I'm thinking that it might even be best to do away with the dining table altogether and have a bigger living area instead. With the availability of function rooms and gourmet dining rooms for entertainment and the myriad of food options at your doorstep, I think that would be how most people looking to live here for that lifestyle would use the space anyway.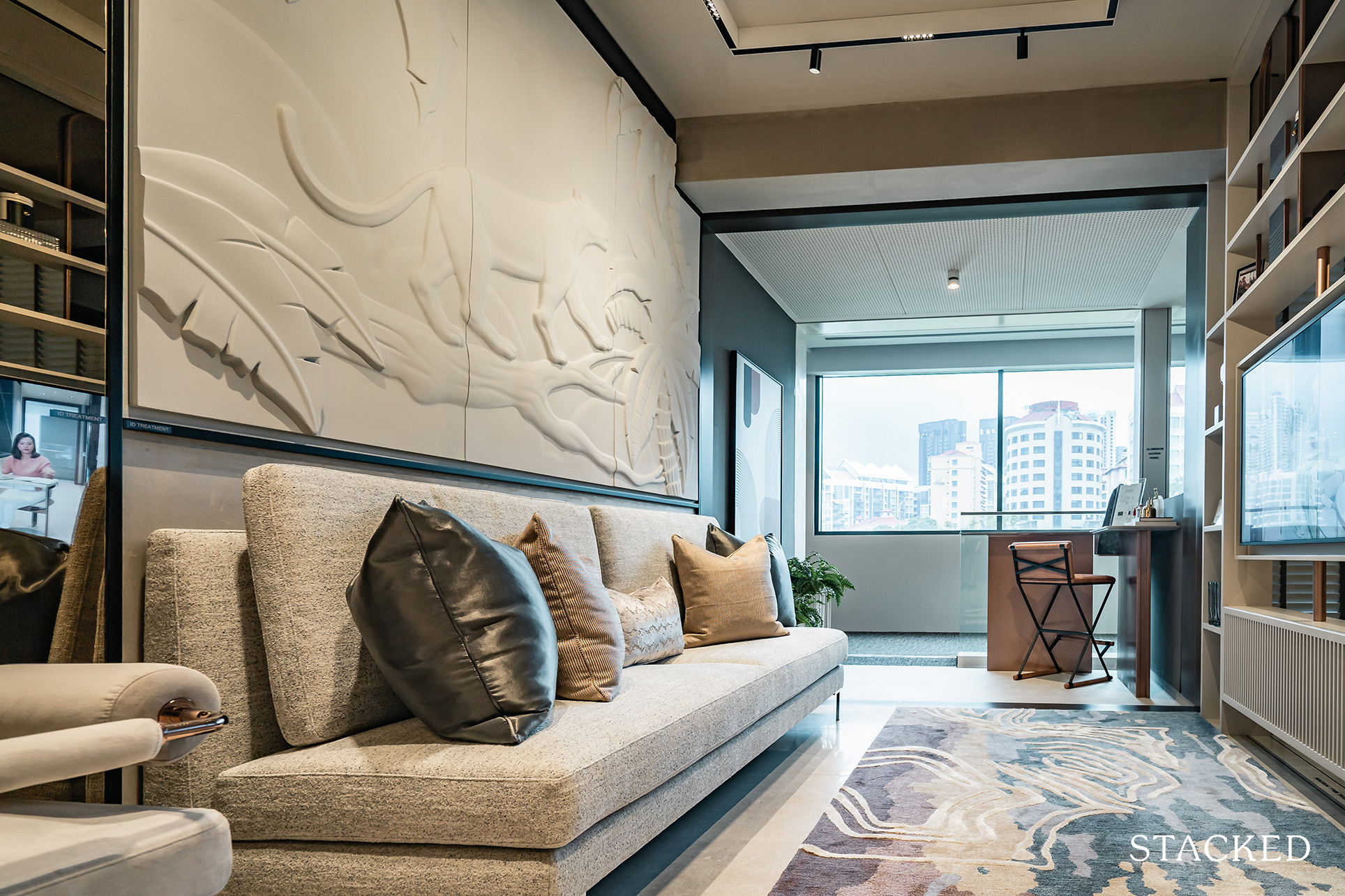 It is very much the same story in the living room. It does feel rather spacious here, but I do think it's because of how this space was designed – no coffee table or TV console – so that has helped to save some precious space. If you absolutely need the 2 above, you would probably need to be smart about the choice. That said, it is very much the same as what you will find in every other new launch out there so the one here at CanningHill Piers is not atypical.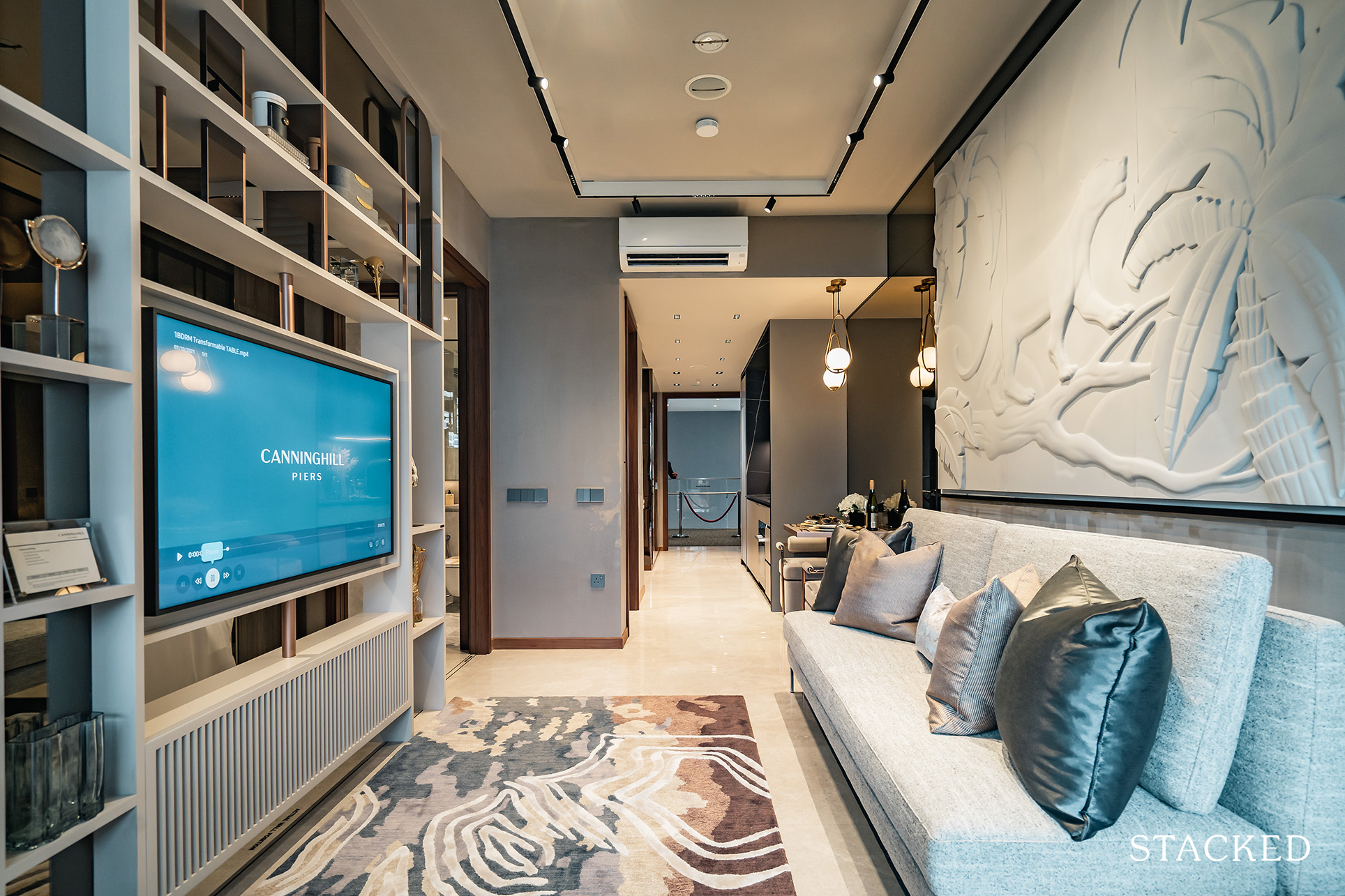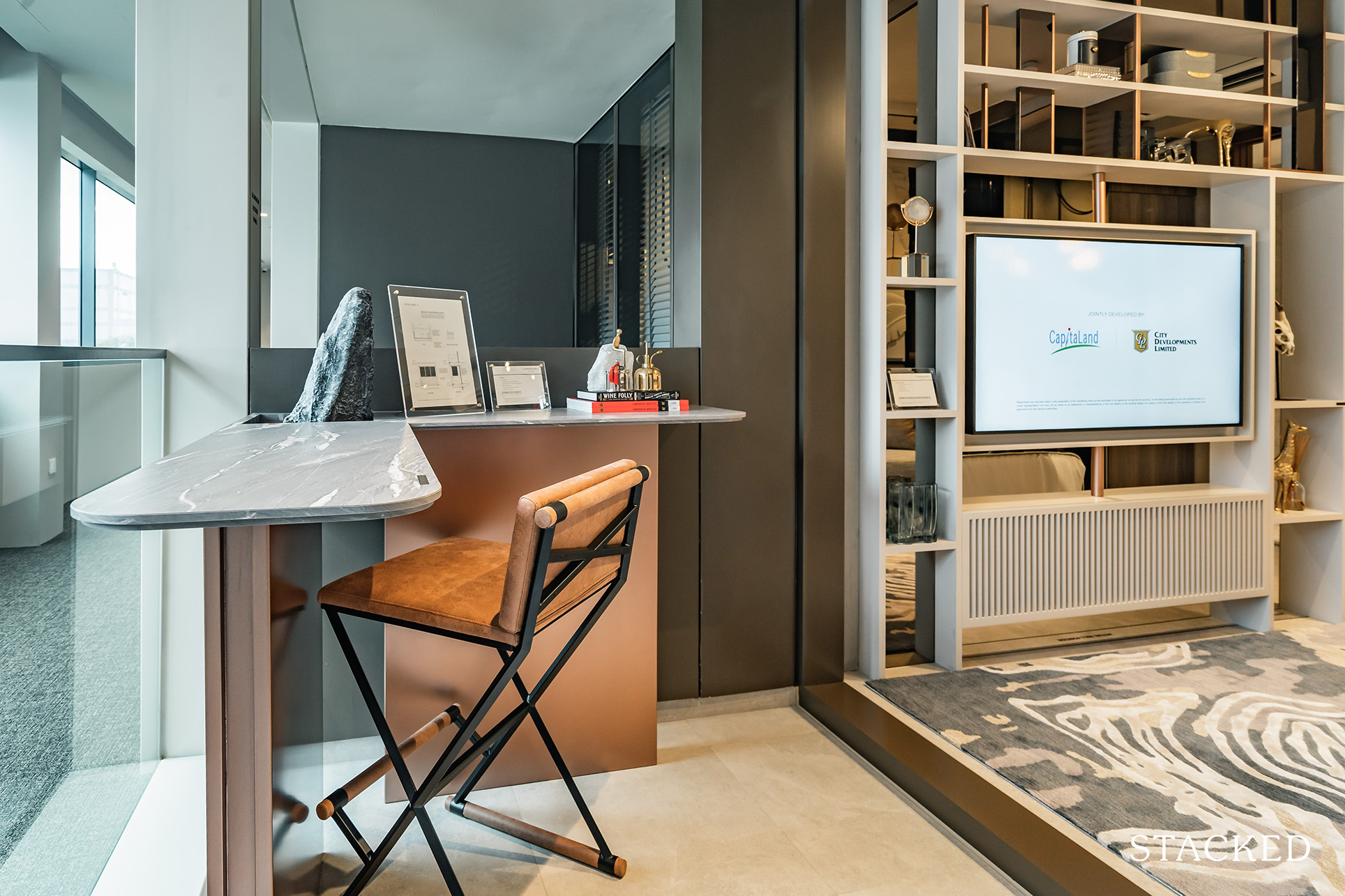 The balcony here at 5.7 sqm is one of the more spacious ones in its class. This means that you will be able to do marginally more with the space, either for work, dining, or some home gardening. Some stacks will also feature noise-absorbing acoustic panels and this particular show flat stack will include them. Additionally, not all 1 Bedroom units have balconies, so you do have an option if you don't happen to enjoy the outdoors much!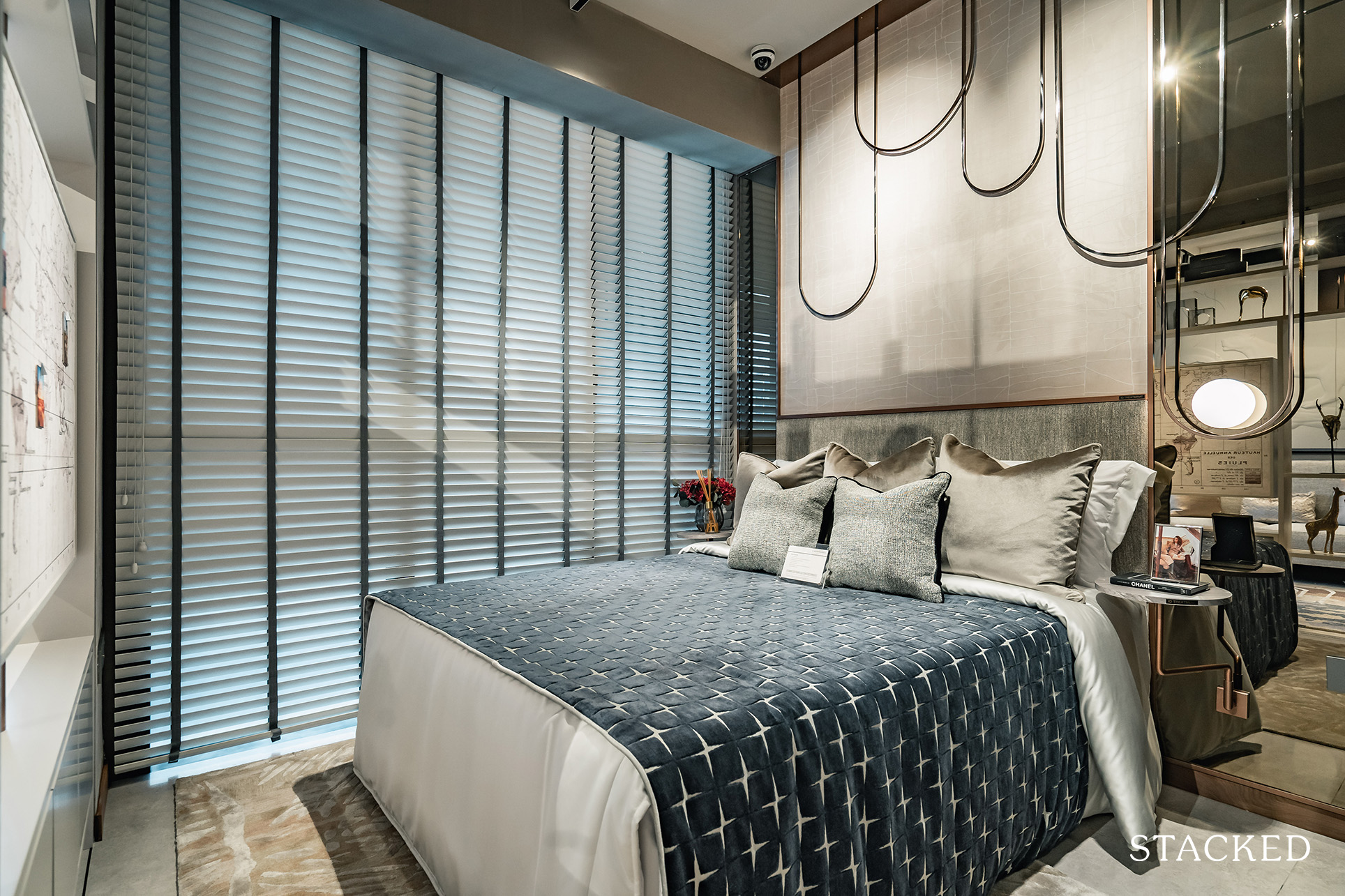 Moving on to the Master Bedroom, this space occupies 10.1 sqm, which is average for a 1 Bedroom unit. A Queen-sized bed will fit comfortably here with a couple of small bedside tables. It might be a struggle if you need to place a dresser here.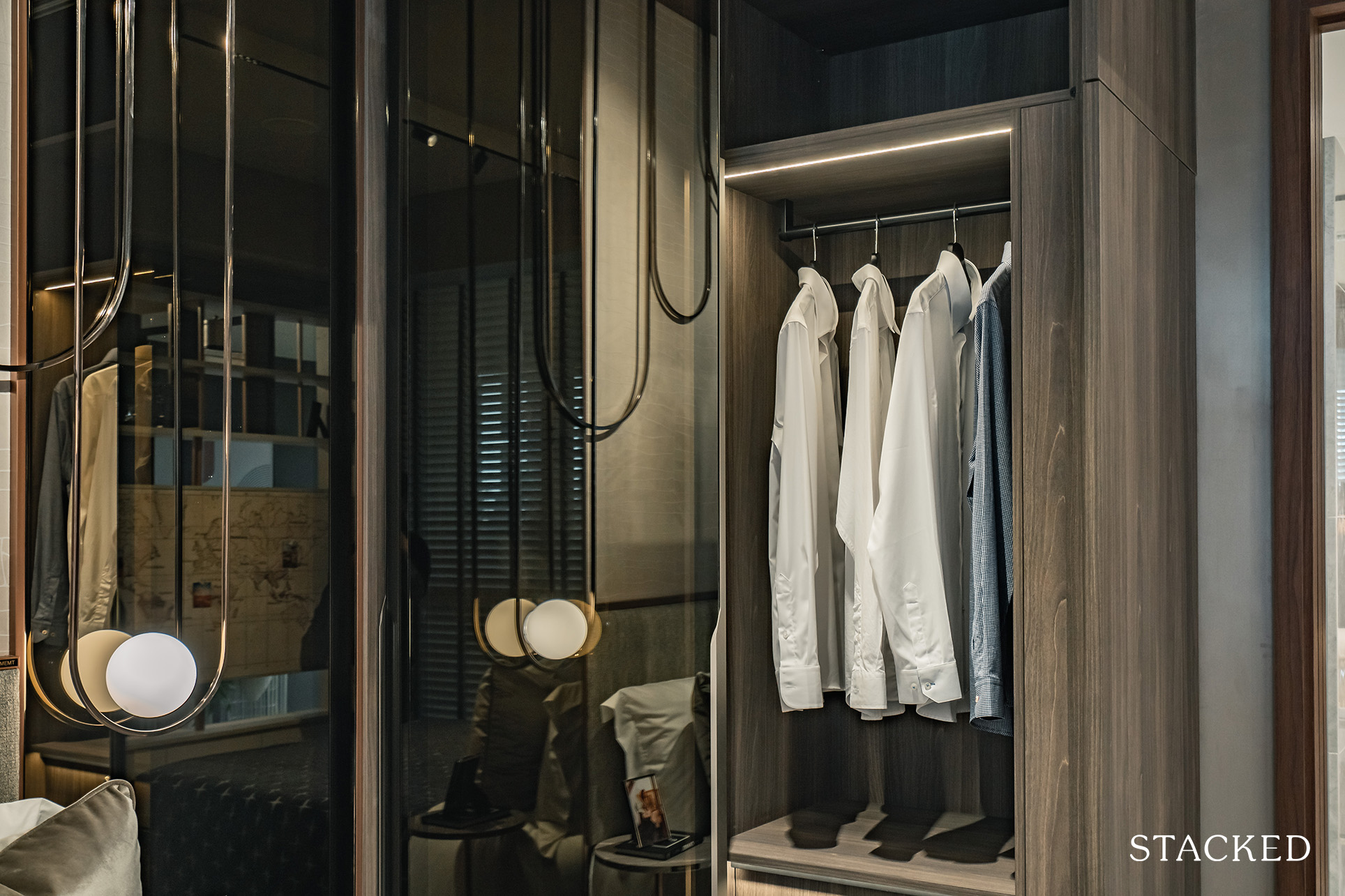 As for the built-in wardrobe, I really like the design of this one. It's in a modern smoke glass finish, and the quality feels good as well. It's a classy look, and it also comes with an accessories rack by the side for added functionality.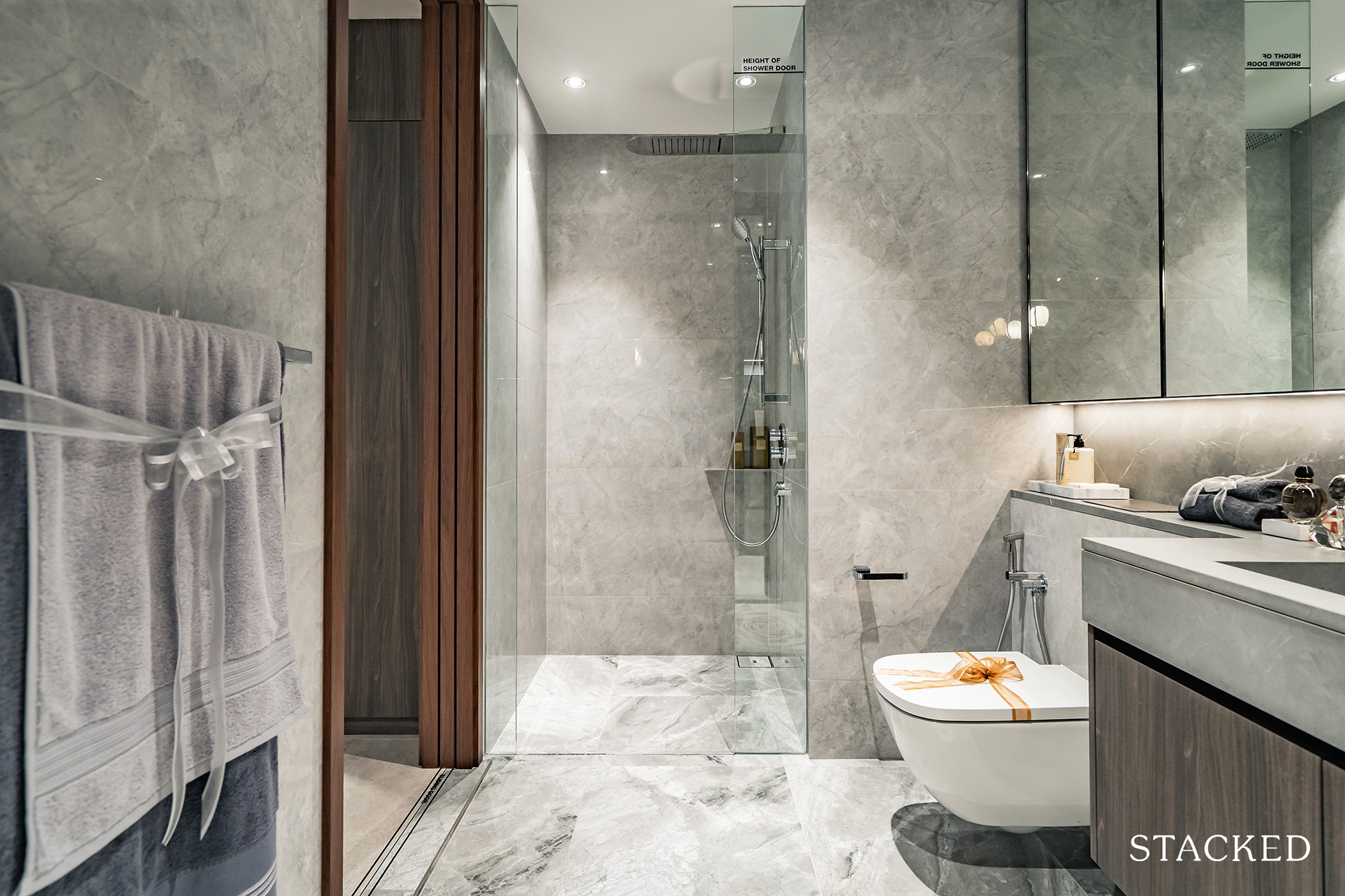 Finally to the Master Bath, which is above average in size at 5.3 sqm. It has a Jack and Jill entrance both from the Master Bedroom and the living room, making it easy for both the occupant and guests to access.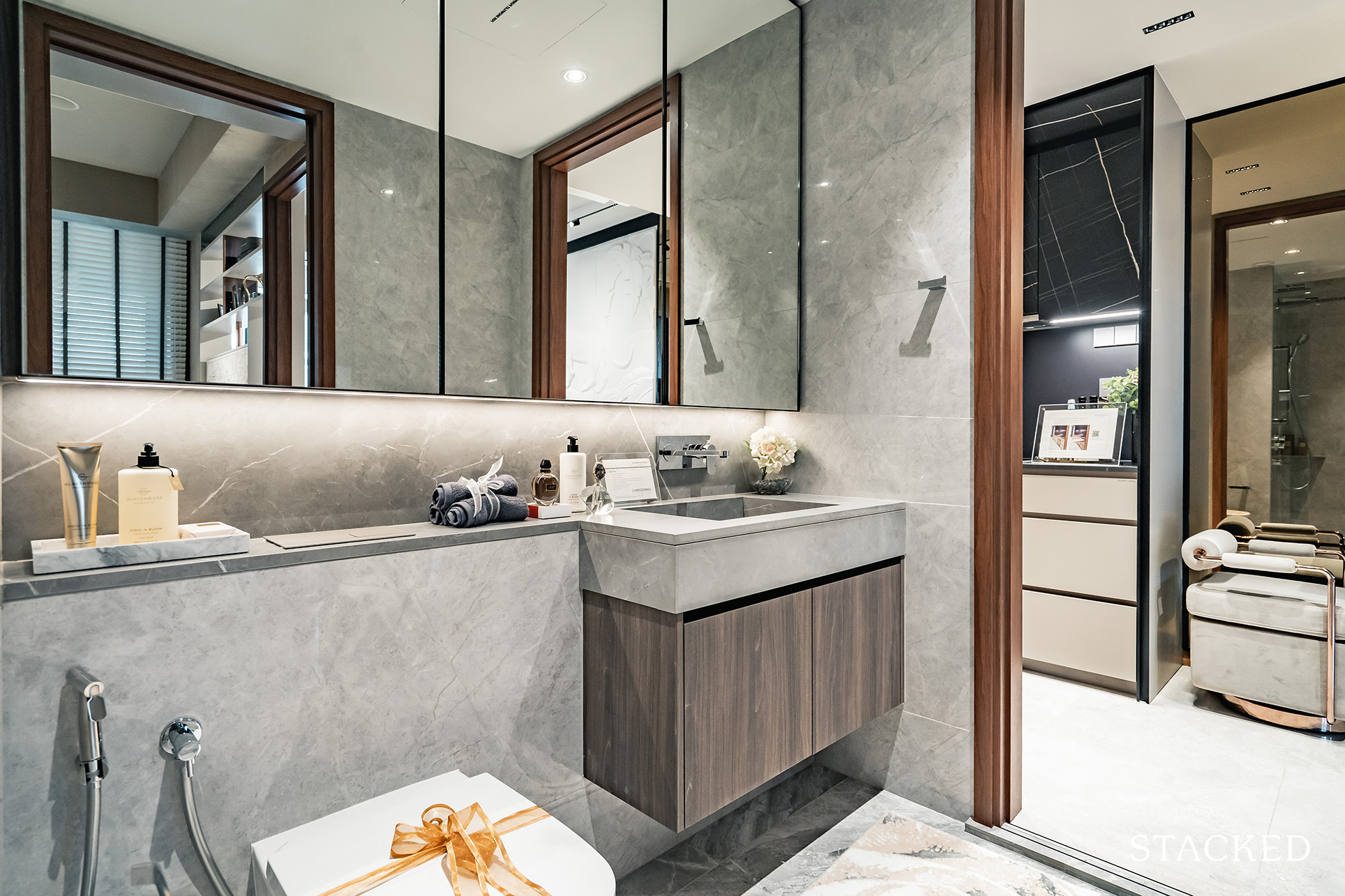 This bathroom comes with an integrated sink and does look rather similar to the one at One Pearl Bank. You get top-notch European brands here, including Laufen for the wall-hung WC, Tece flush plates, and other bathroom fittings by Gessi, including the tap and integrated rain shower. As with many other new launches, it does not come with a window, and you will have to rely on mechanical ventilation.
CanningHill Piers – 2 Bedroom + Study Type BS5 (861 sqft) Review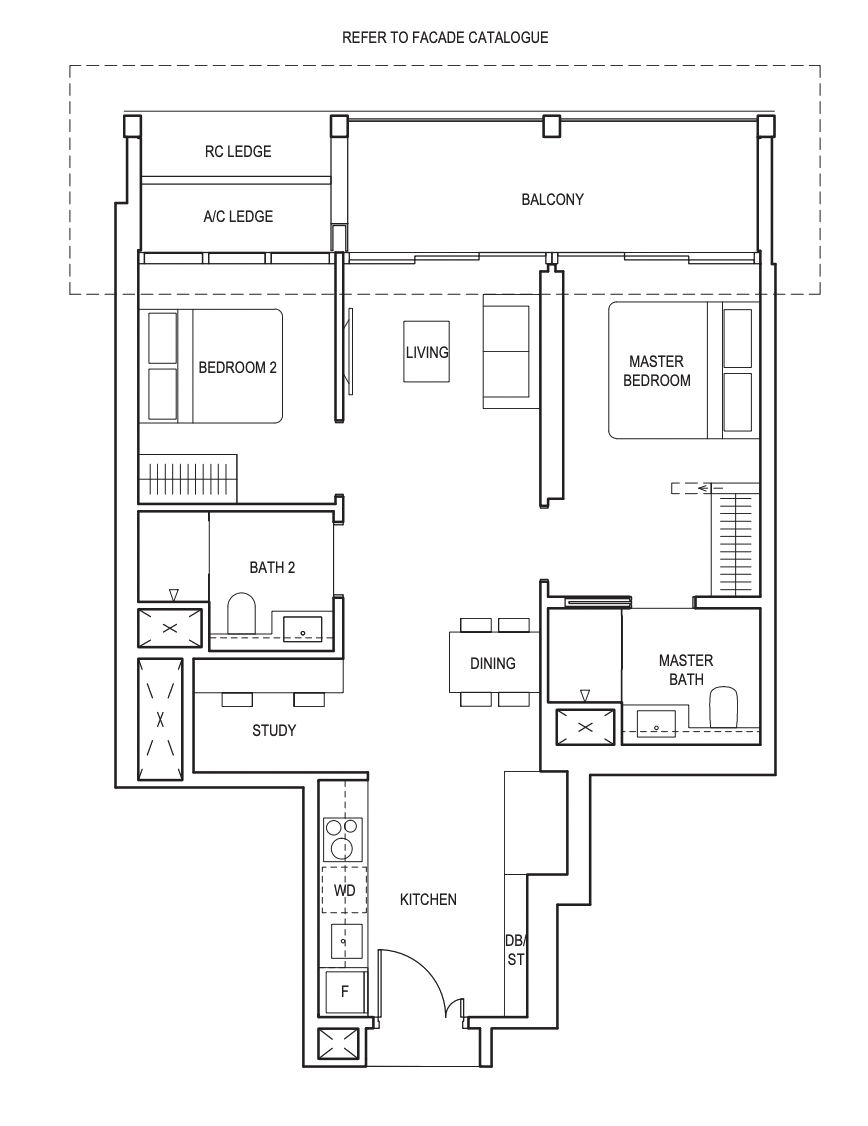 2 Bedroom units make up almost 30% of the unit mix and are the second most predominant type after the 1 Bedroom unit. They range from 732 to 883 sqft, with this 861 sq ft unit layout being the 2nd largest. At 861 sq ft, this is also larger than the new launch average and comes with a dumbbell layout. All 10 of the 2 Bedroom unit types come with 2 Bathrooms, which is a plus point as it is the more versatile option.
The layouts vary from dumbbell to the usual corridor options, and none of the layouts offers an enclosed kitchen. This is in line with expectations of the likely clientele, who will have a myriad of food options in their vicinity.
Units come with a 2.85m ceiling height in general, and the flooring provided will be porcelain in the living and dining areas and solid timber (an upgrade from the 1 Bedroom unit) in the bedrooms.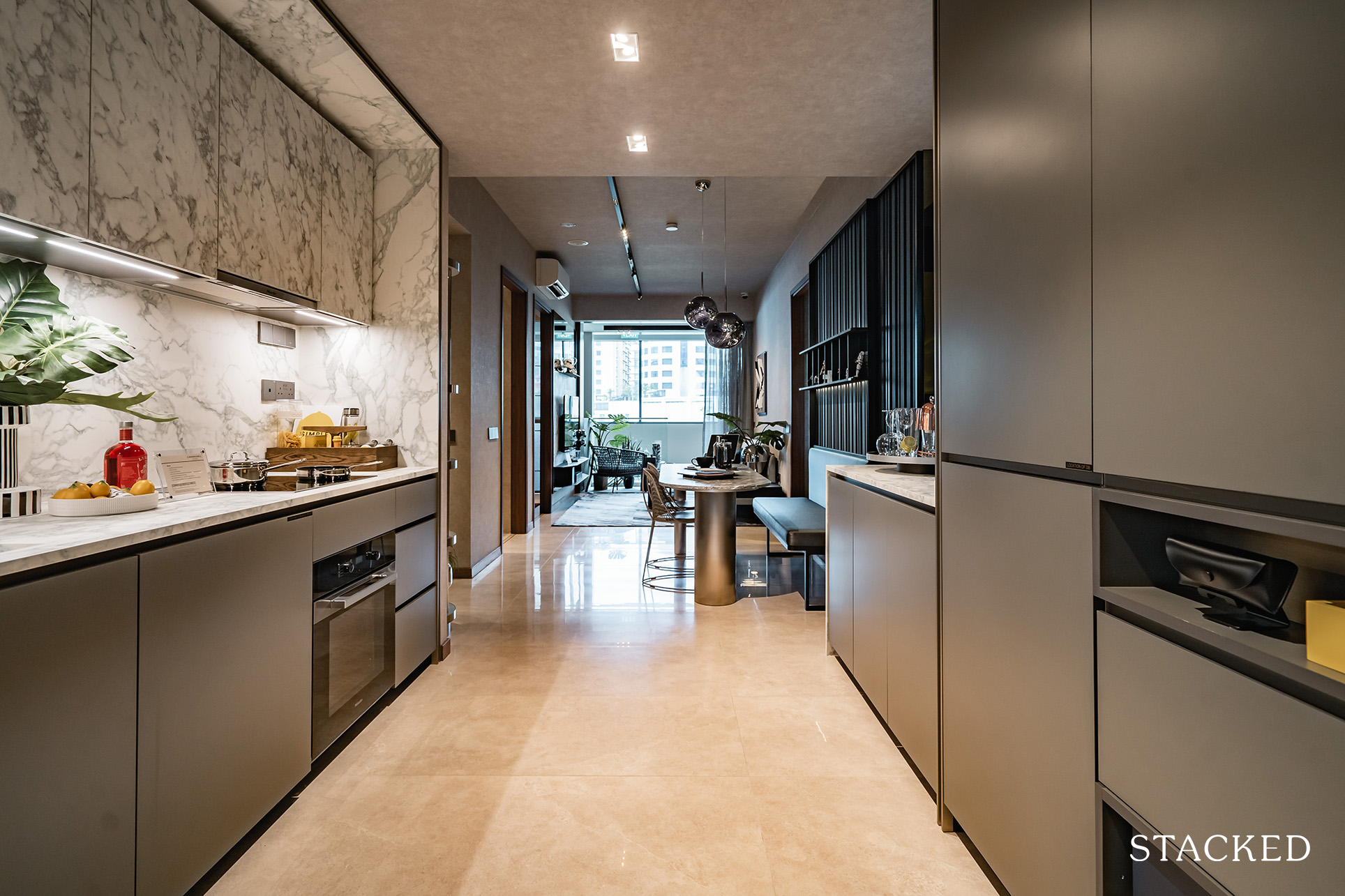 As you step into the unit, you are greeted immediately by the open concept kitchen on your left and a sizeable amount of built-in cabinets on your right.
And although I was aware of the size of the unit before stepping in, I was still pleasantly surprised at how wide the space was. Even with 2 or 3 people in the kitchen, it would still be easy enough to move around.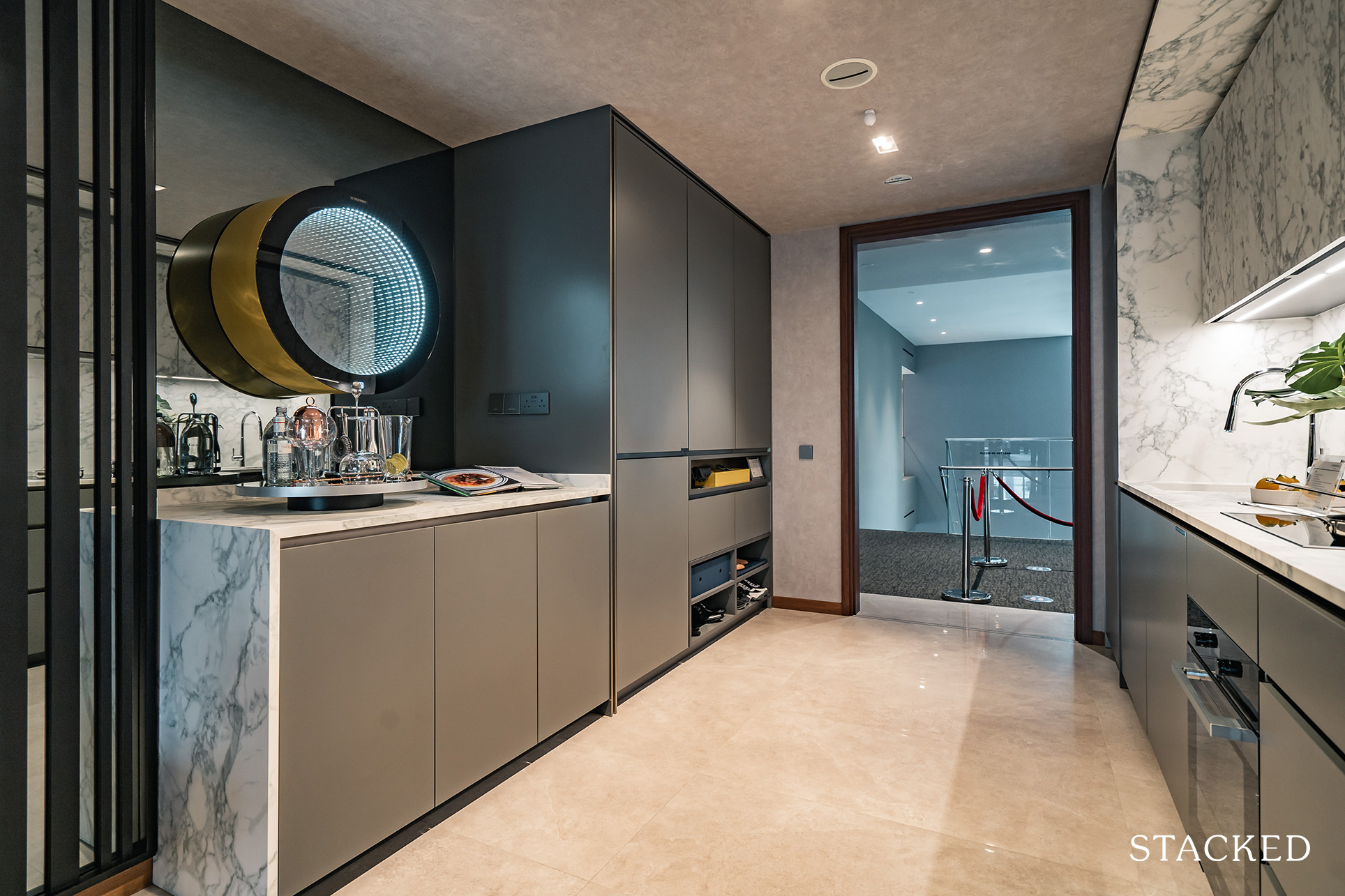 Even though this unit is larger than the new launch average at 861 sq ft, it does not come with a utility/store, so it was thoughtful of the developers to include the abundant storage spaces on the right. They stretch all the way to the end of the kitchen, ending with a half-height countertop.
As for the open concept kitchen on the left, you will notice that this comes in the Cool White finish, and you also have the option of Mystic Black (check out the 1 Bedroom above) for your kitchen cabinets and backsplash.
Appliances are top-quality and will be supplied by high-end German brand Miele and French brand De Dietrich. This includes the integrated fridge, induction hob, hood, and oven. The kitchen system is also branded, by Italian designer brand Ernestomeda, putting CanningHill Piers in the exclusive category of condos with branded kitchens.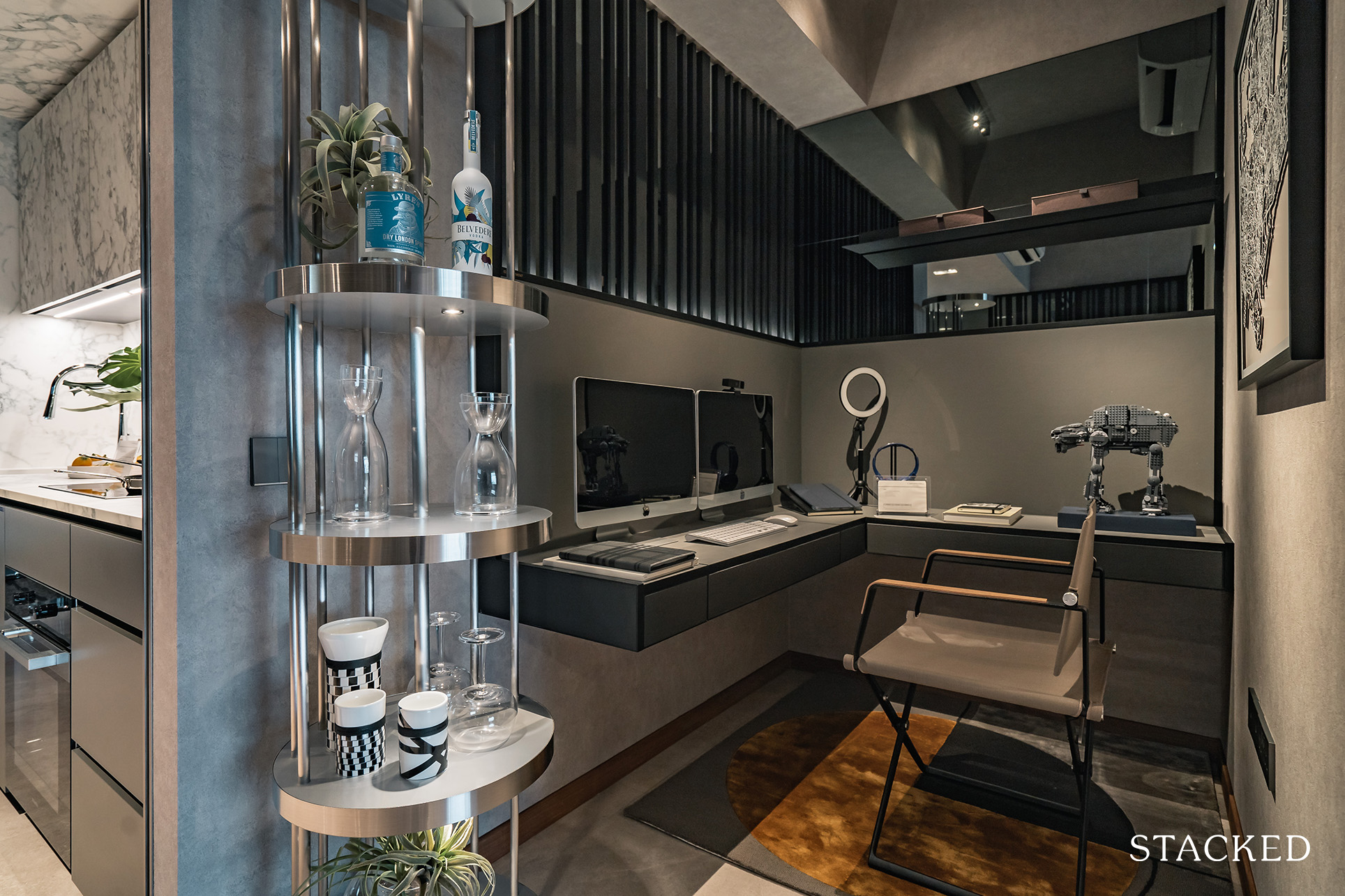 Adjacent to the kitchen is the Study, which is about the same size as the one found in the 1 Bedroom show flat at 3.4 sqm.
It can probably just about squeeze in a Single bed, but that should really be for makeshift purposes instead of a permanent fixture. This Study does not have windows but thankfully will come with air conditioning for a more comfortable space.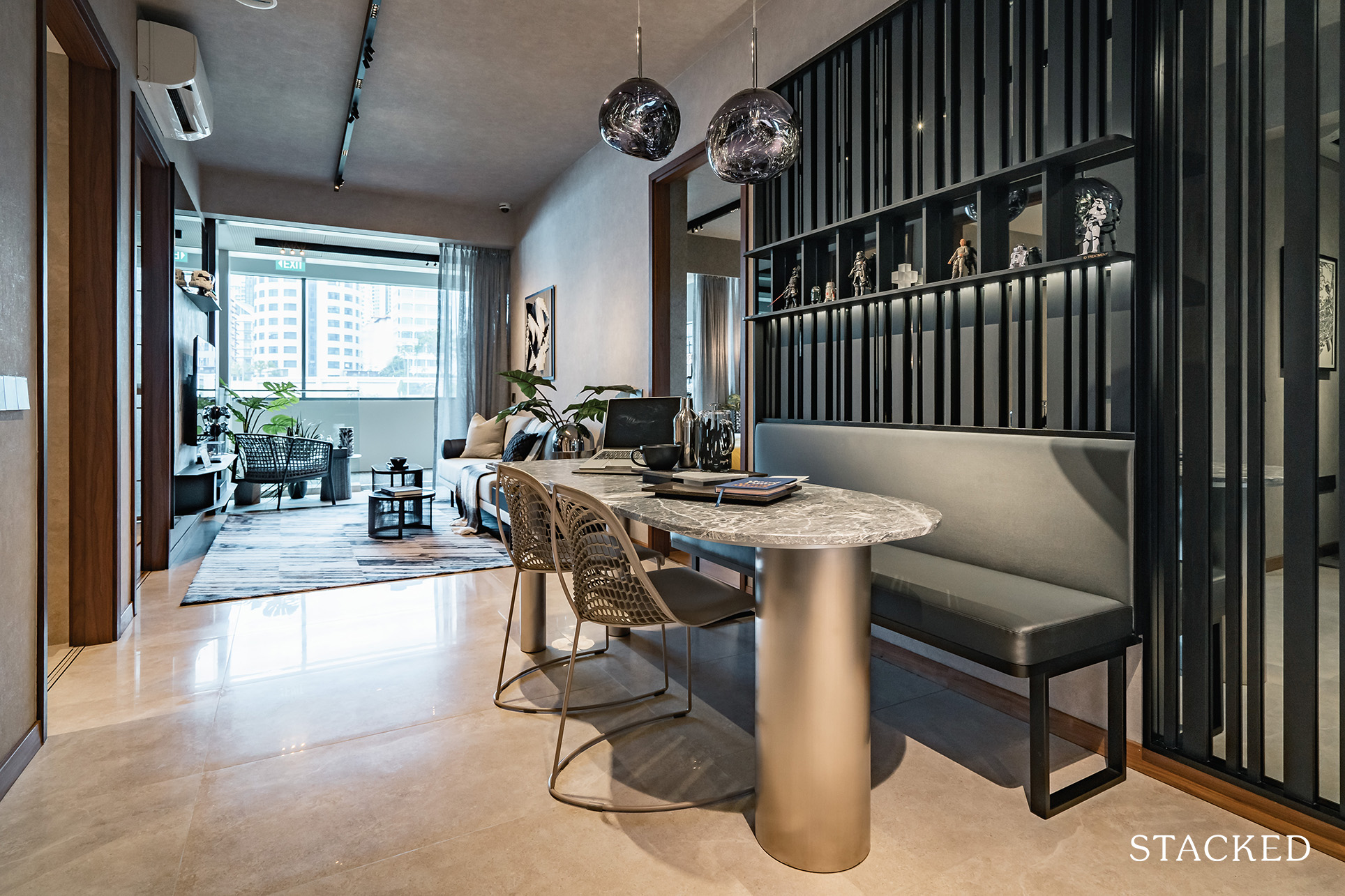 Just opposite the Study is where your dining area will be. As this 2 Bedroom unit is slightly larger than your typical launch, the 4 seater dining set feels quite comfortable here. I like that the dining area is a continuous space leading to the living room and not a 'nook' per se. This means that if you really needed to extend the dining table when you have friends over, you could, albeit at the expense of blocking your Master Bedroom entrance.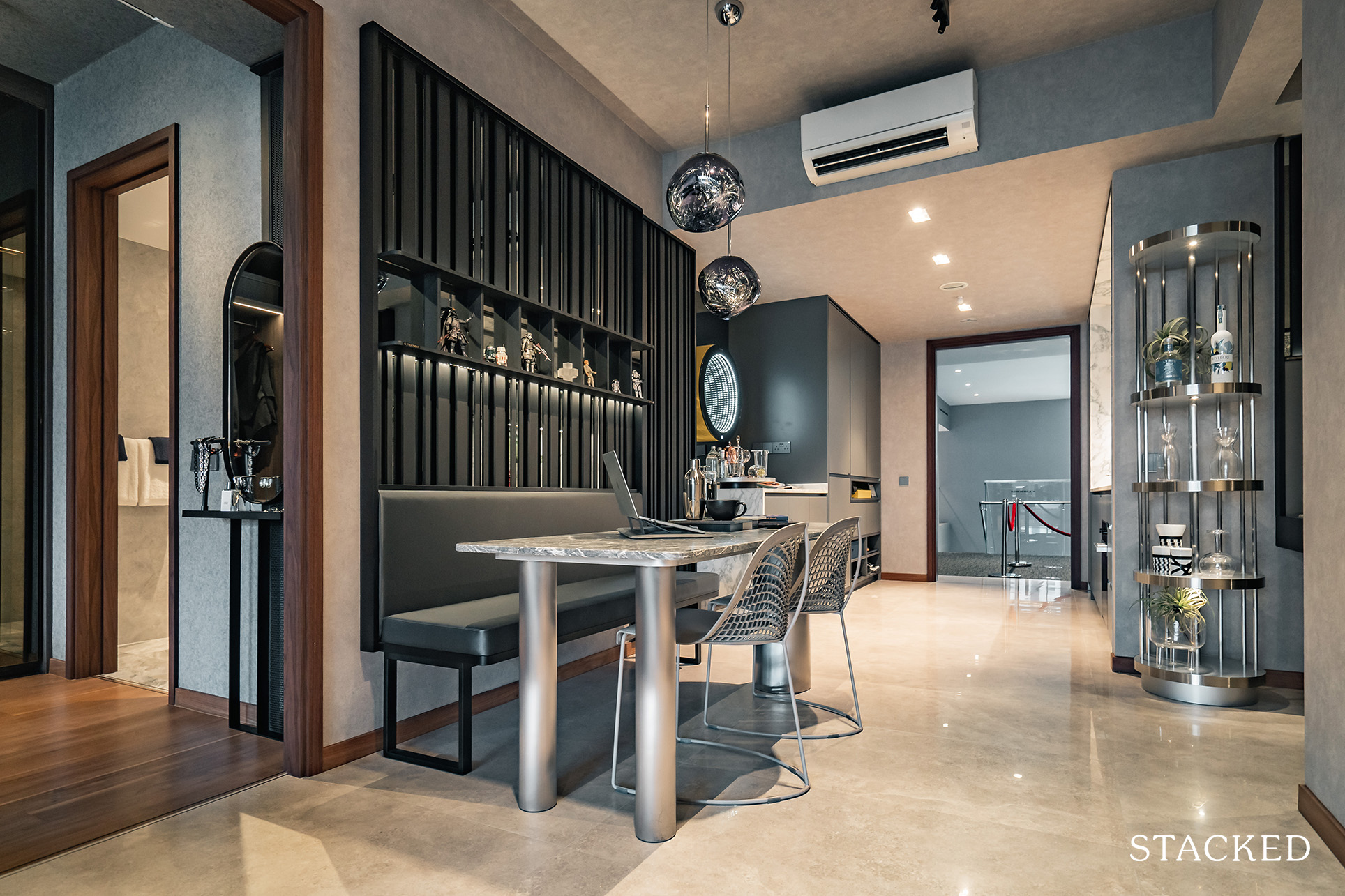 Of course, the bench seating and the slimmer than usual dining table will give the impression of more open space here. But even with a proper dining setup, you should still have enough space to move around comfortably enough.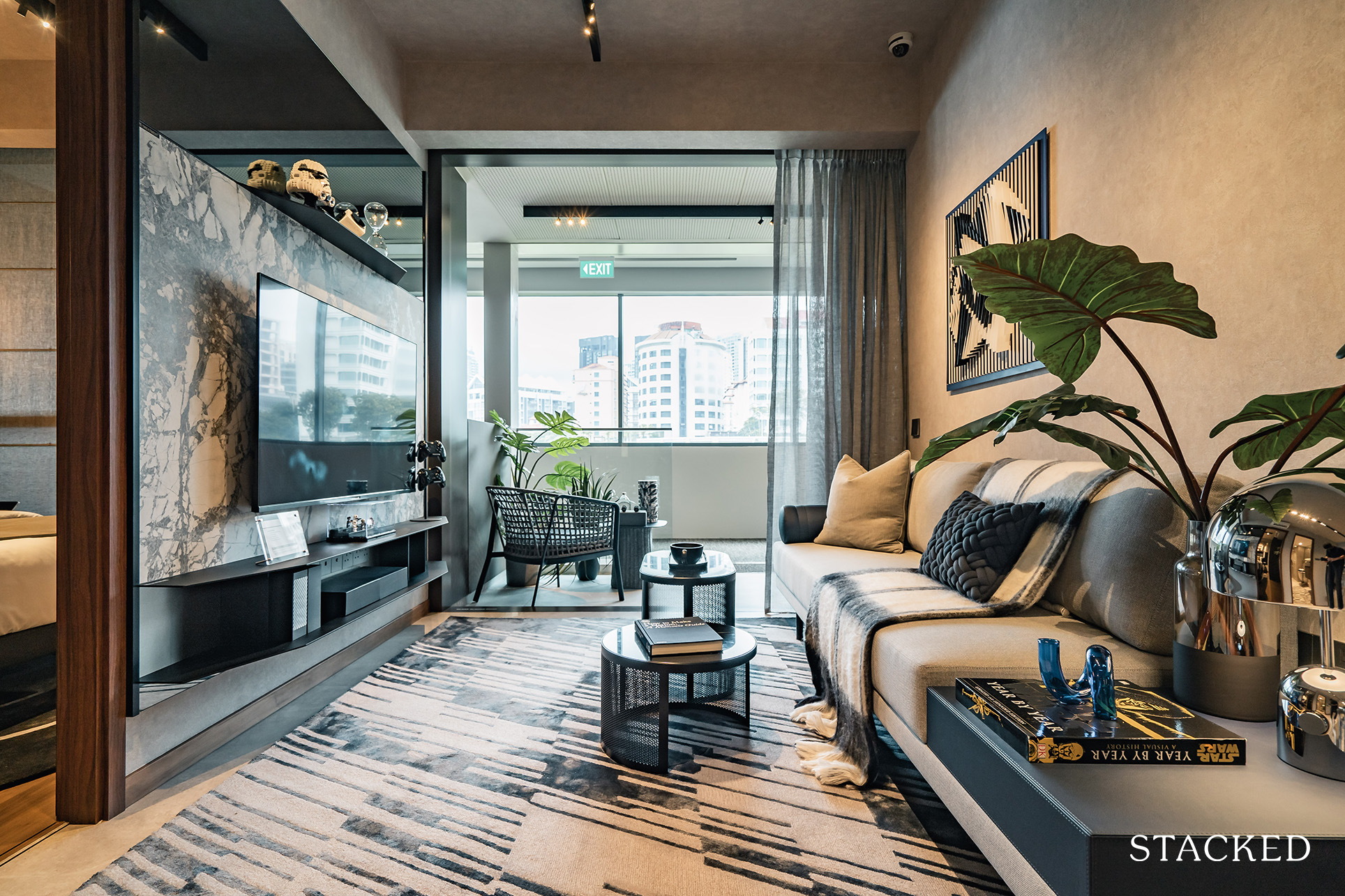 As for the living room, the width is perhaps marginally wider than average but still remains a compact space. They have fitted a 3 seater sofa, 2 small coffee tables, and a tiny TV console with sufficient walkway to get through to your balcony.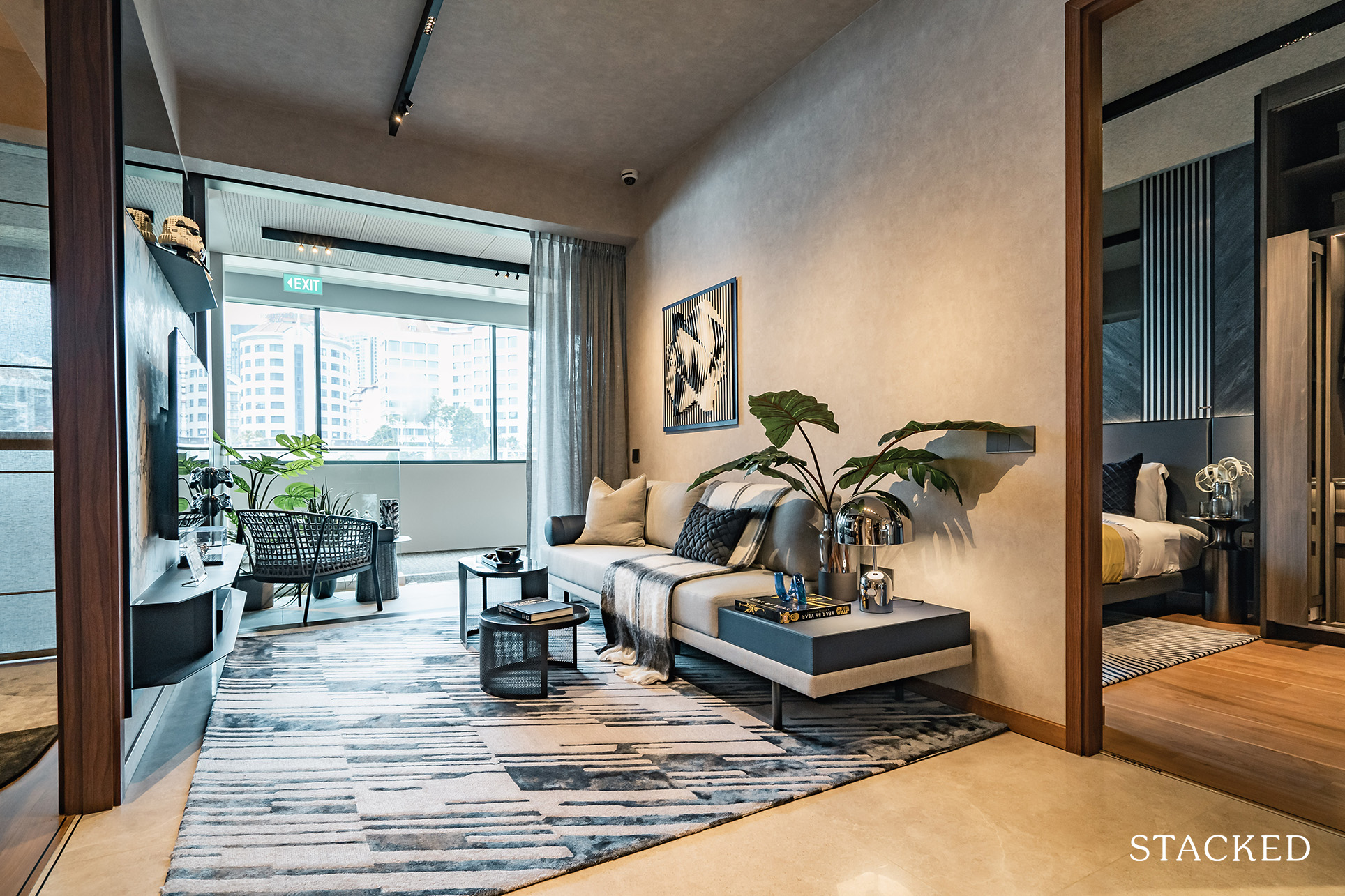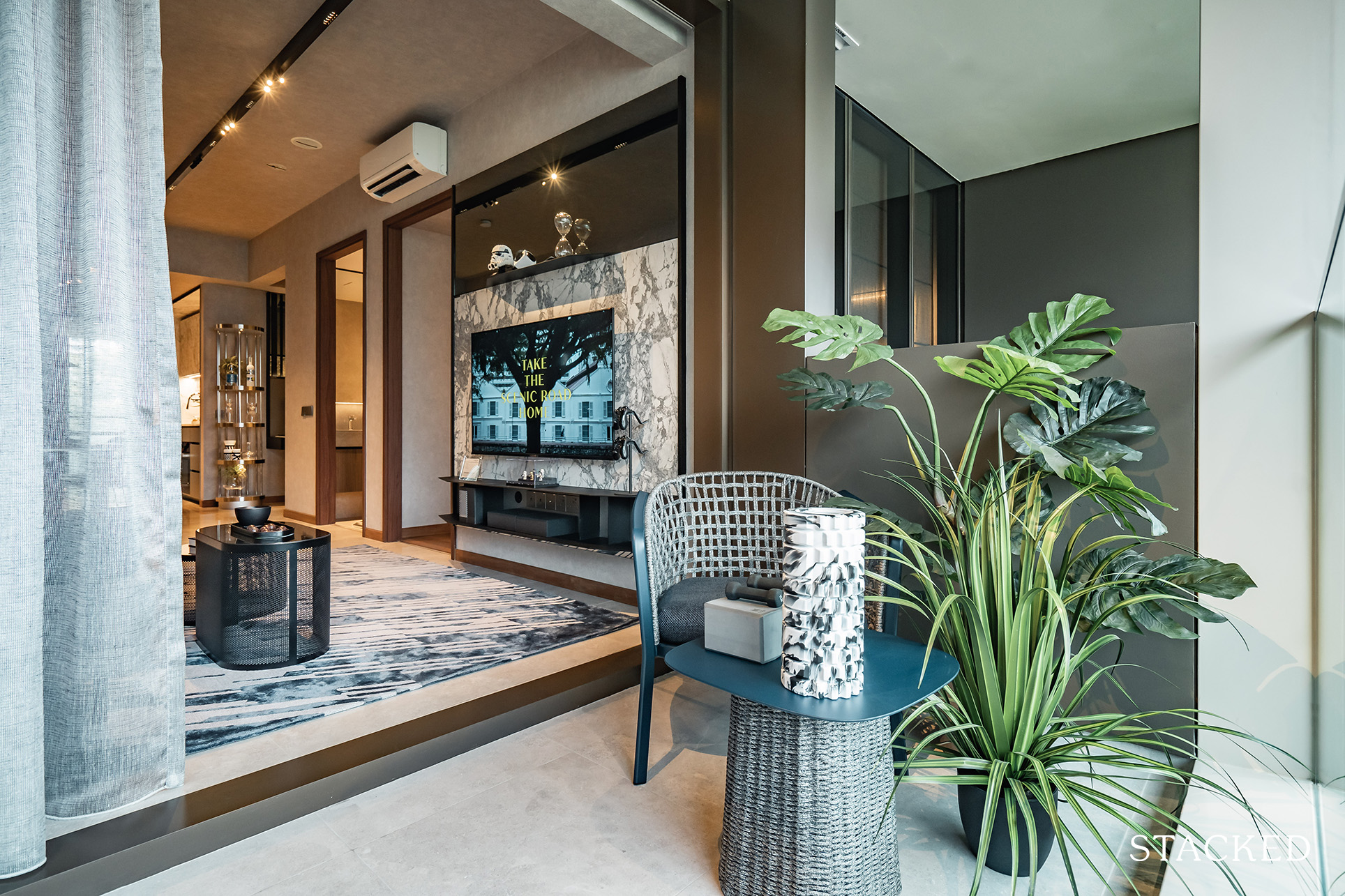 Where this unit absolutely excels is the balcony. At 10.3 sqm, this is huge by 2 Bedroom standards and is actually the same size as the one found in the 1,313 sq ft 3 Bedroom show flat. If you were wondering if you really needed this space, just think about the views – this stack fronts Fort Canning Hill and to have a vast expanse of green spaces in the heart of Singapore is truly a rare find. This balcony is not squarish but rectangular in shape, extending to your Master Bedroom.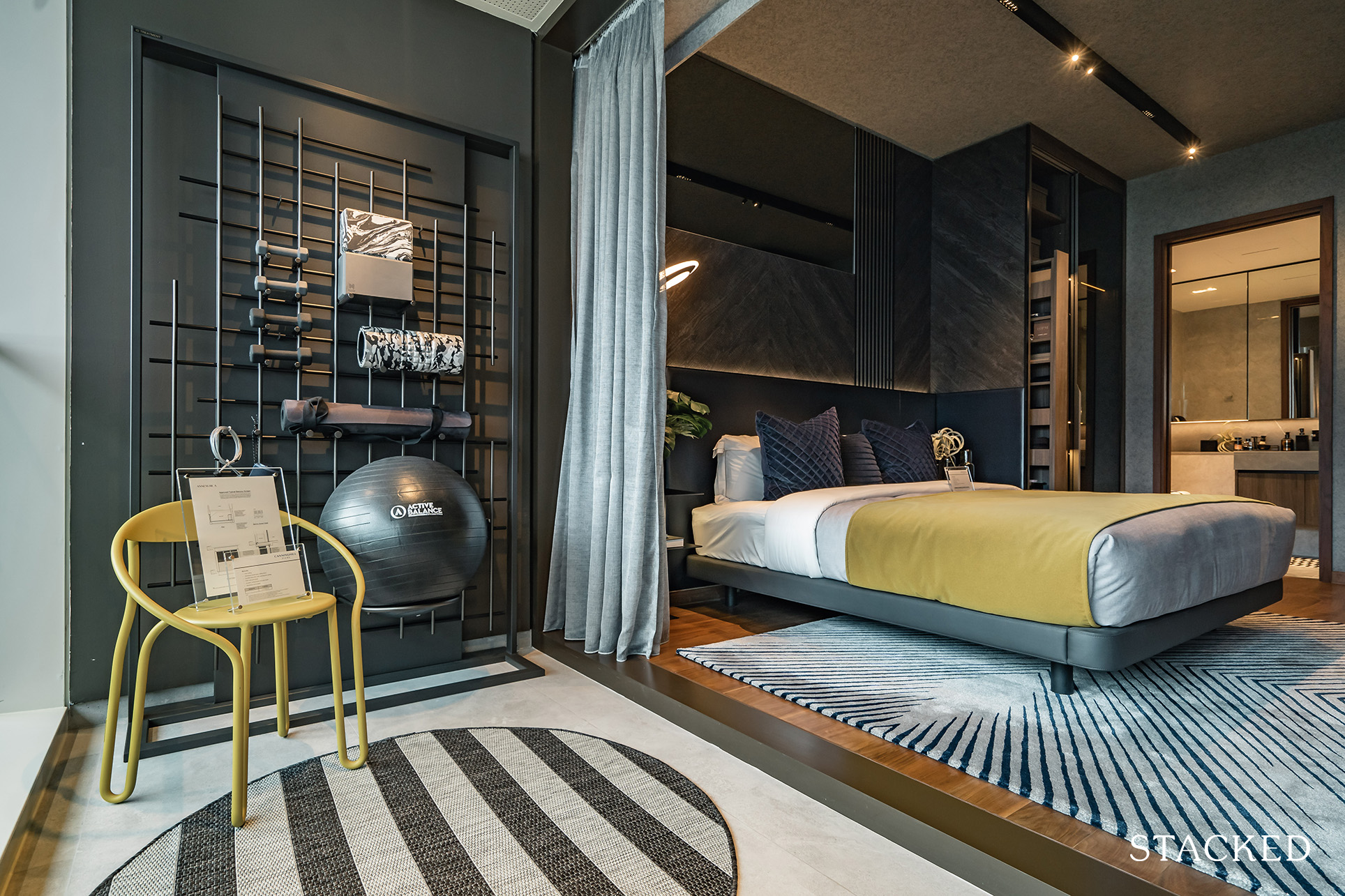 It's a pro and a con – on the one hand, this means that the width is not quite big enough for a proper dining table. On the other, it gives the Master Bedroom occupant a breath of fresh air every single day. Nevertheless, at 10.3 sqm, it is still a substantial amount of space, and you could still have your bar stools and table, exercise, or gardening corner, whichever your preference is. At this juncture, it is also important to take note that the balcony at CanningHill Piers will seem more 'closed-up', as the building façade of white columns will take precedence.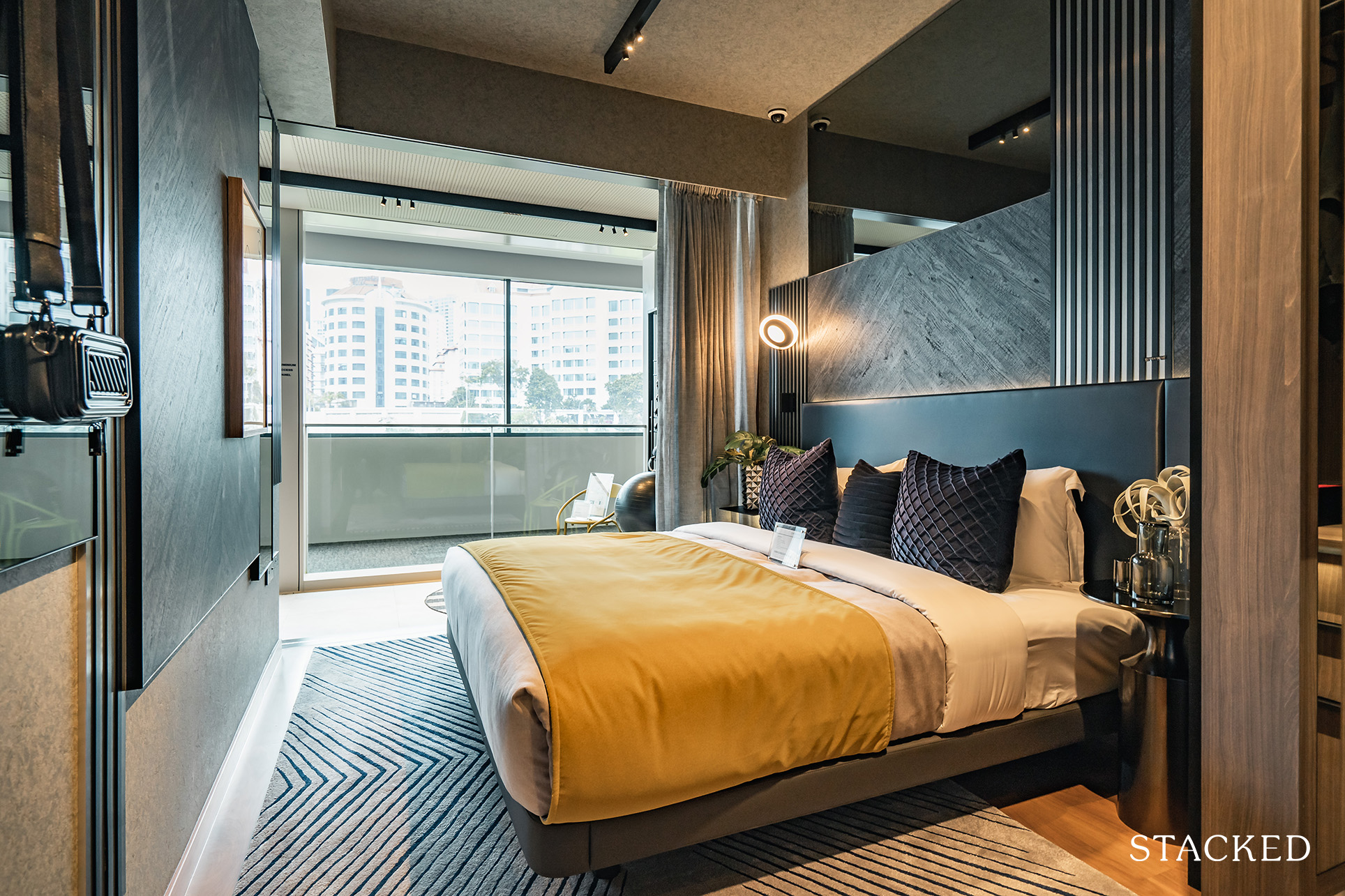 Moving on then to the Master Bedroom, which stands at 13.1 sqm and some 30% larger than the one found in the 1 Bedroom unit earlier. The room does feel larger, especially when you come in through its entrance (as opposed to the balcony) as the built-in wardrobe is laid in parallel, giving you a nice squarish space outside your Master Bath.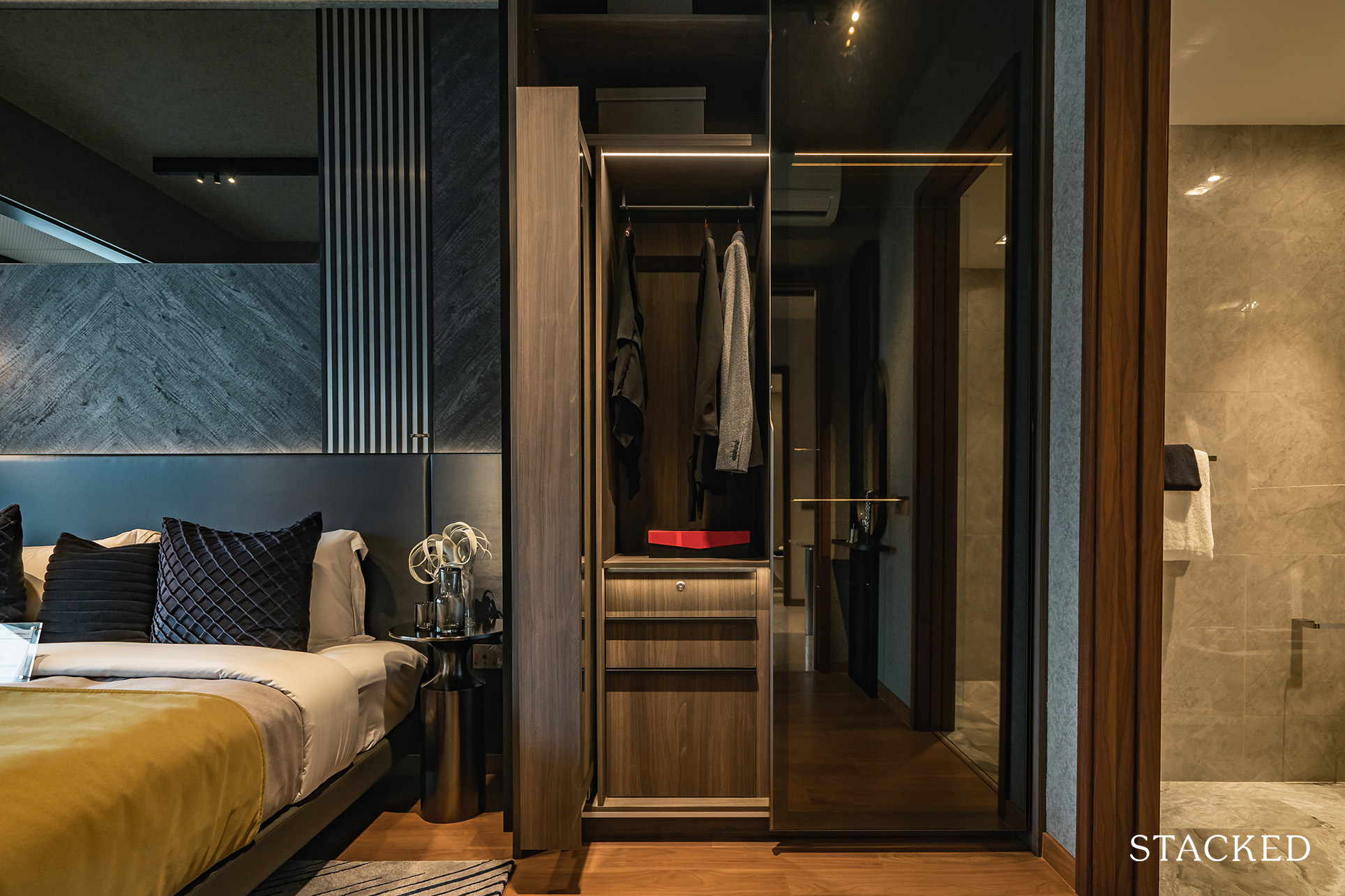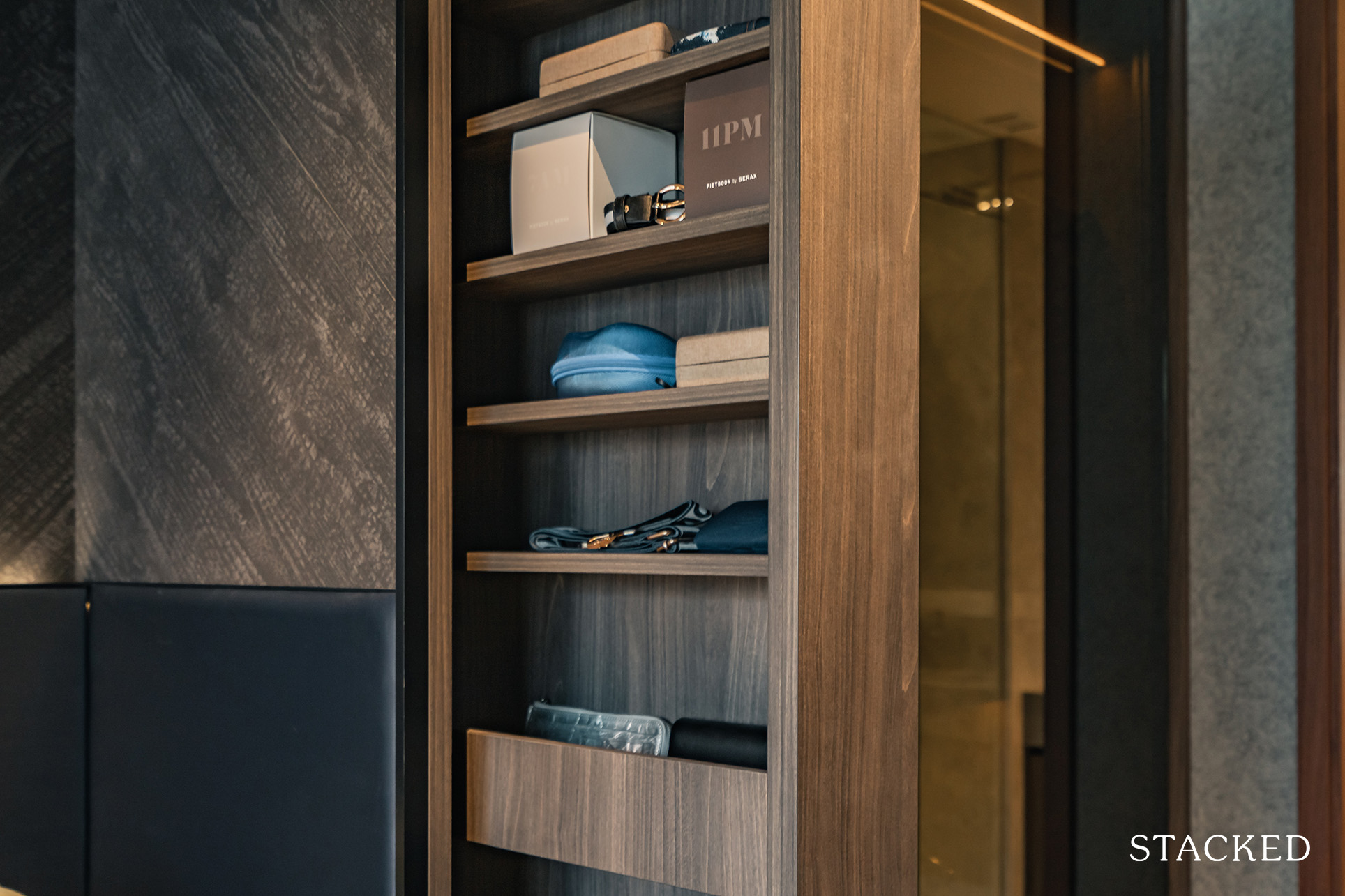 I really like the wardrobe here – it's not larger than normal, but its design is modern with a smoked glass finish, and the quality feels right up there as well. Plus, you get the added bonus of a pull-out accessory cabinet with a mirror. As for room for the bed, it comfortably fits a Queen as expected.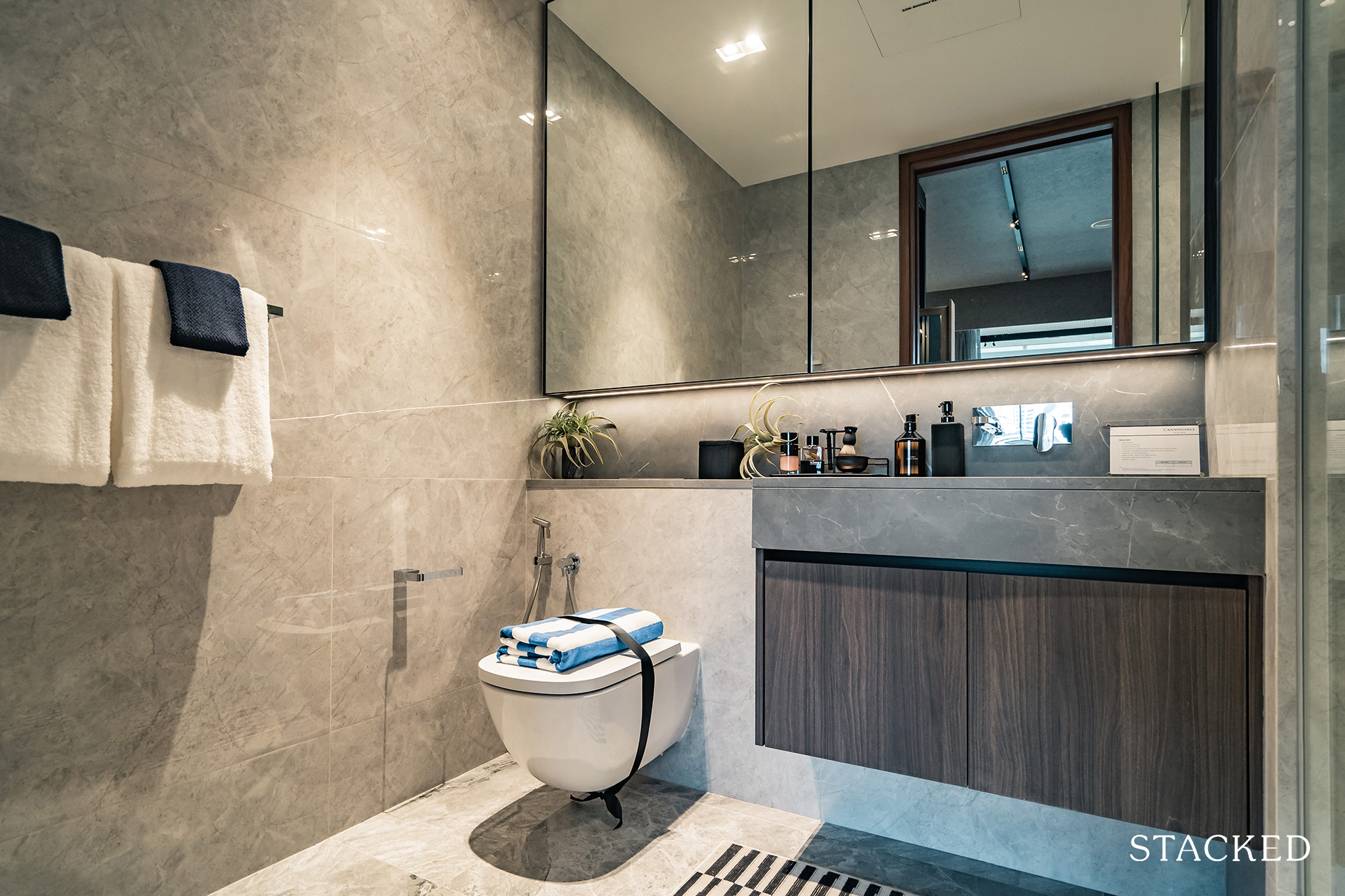 The Master Bath, at 5.5 sqm, is also comfortably sized. This bathroom is in a greyish finish that is quite sleek and simple. It comes with an integrated sink that resembles the one at One Pearl Bank, which may not be a surprise given that Capitaland is the developer for both.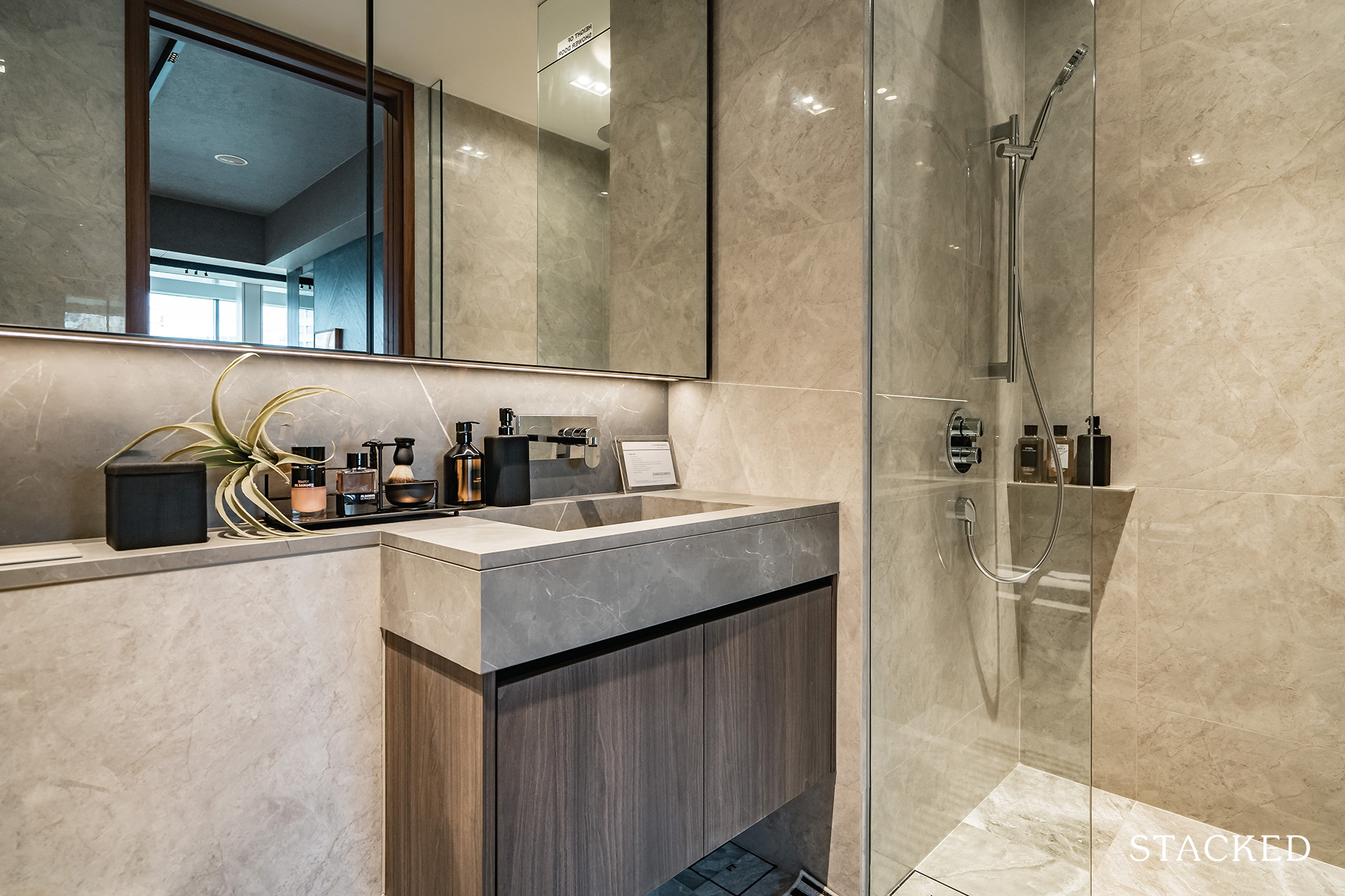 Besides, you will also get high-end European fittings here, including Laufen for the wall-hung WC, Tece flush plates and other bathroom fittings by Gessi, including the tap and integrated rain shower. That said, do note that this bathroom does not come with a window and relies on mechanical ventilation.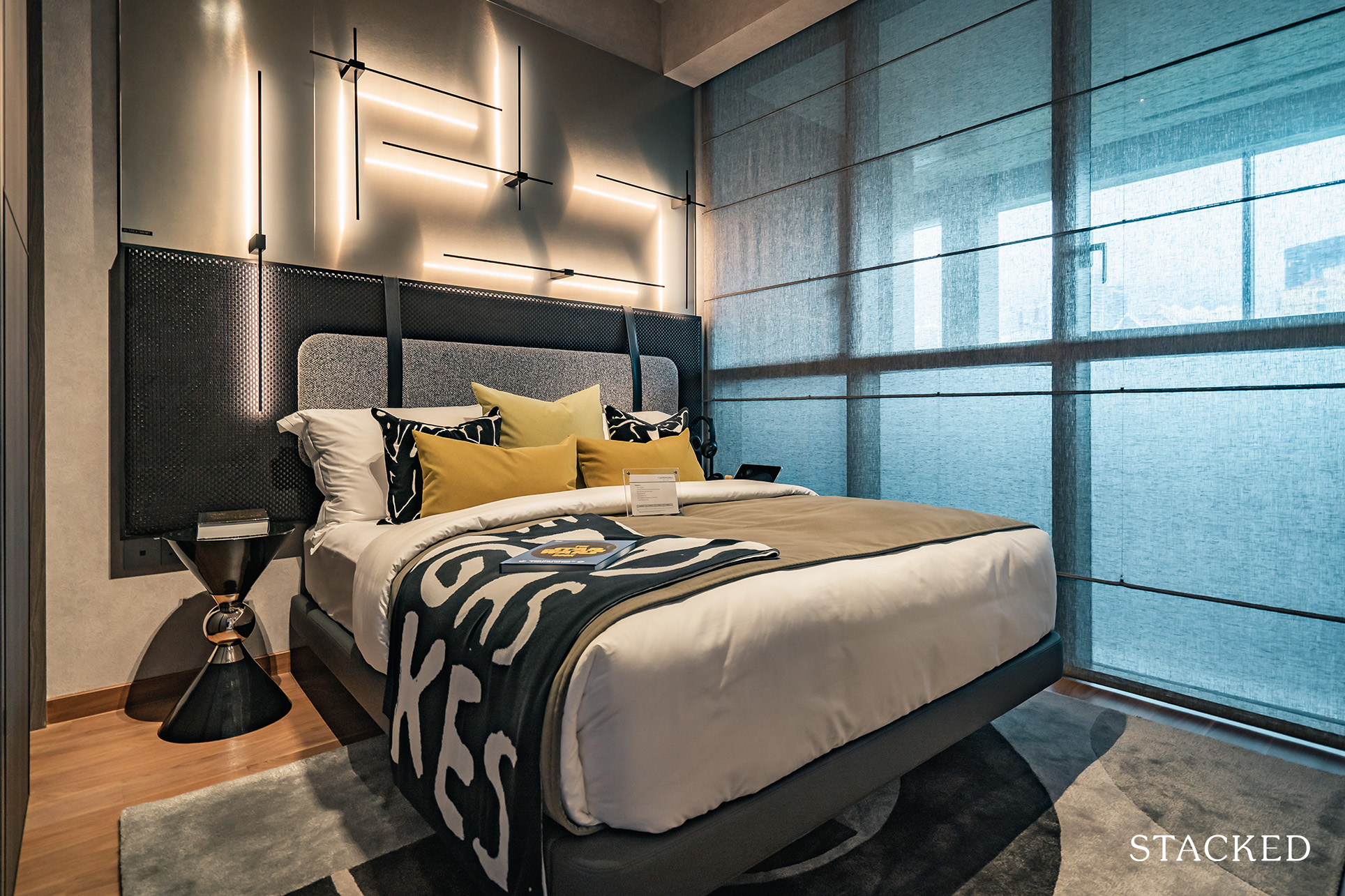 We now move to the Common Bedroom, which stands at 9.4 sqm. This is about average for new launches, and as shown here, you can fit a Queen sized bed in this room. However, if you require a study table either for work or your children, you'd probably want to place a single bed here instead.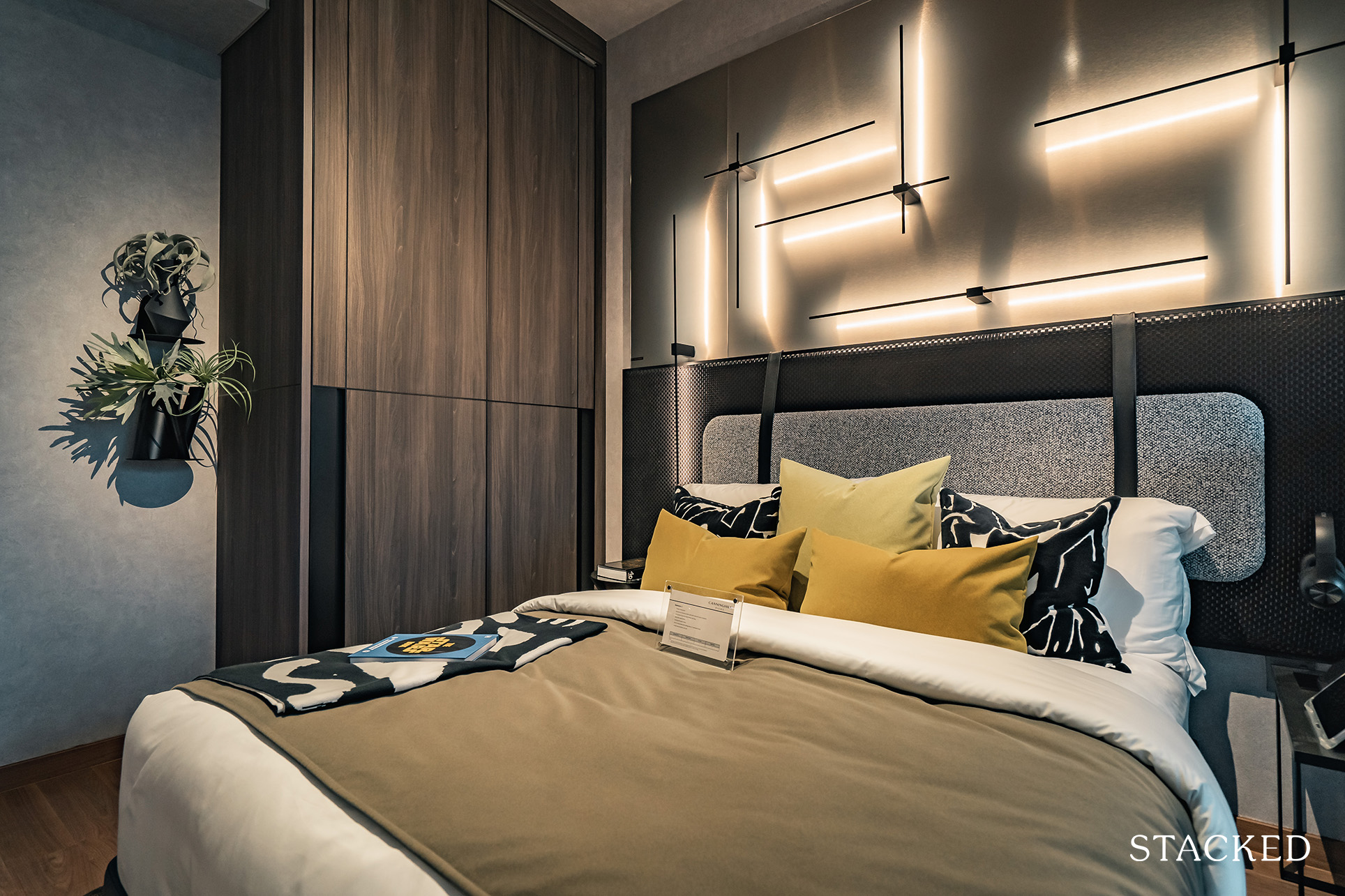 As the aircon ledge is located just outside this room, windows will be half-lengthed – which is a pity given the nice sweeping views you get over Fort Canning Hill, especially when you are on a high floor. The built-in wardrobe here will be of a simpler design compared to the smoke glass finish found in the Master Bedroom.
You can see that there is still some space next to the wardrobe, so if you need more storage space, you can add more cabinetry here.
Finally, the Common Bath is averagely sized at 4.7 sqm. Once again, there are no windows, so you will have to rely on mechanical ventilation. The key difference here is the lack of a rain shower. Otherwise, you get similar integrated sink and appliances from Laufen and Gessi.
CanningHill Piers – 3 Bedroom Premium Type CP1 (1,313 sqft) Review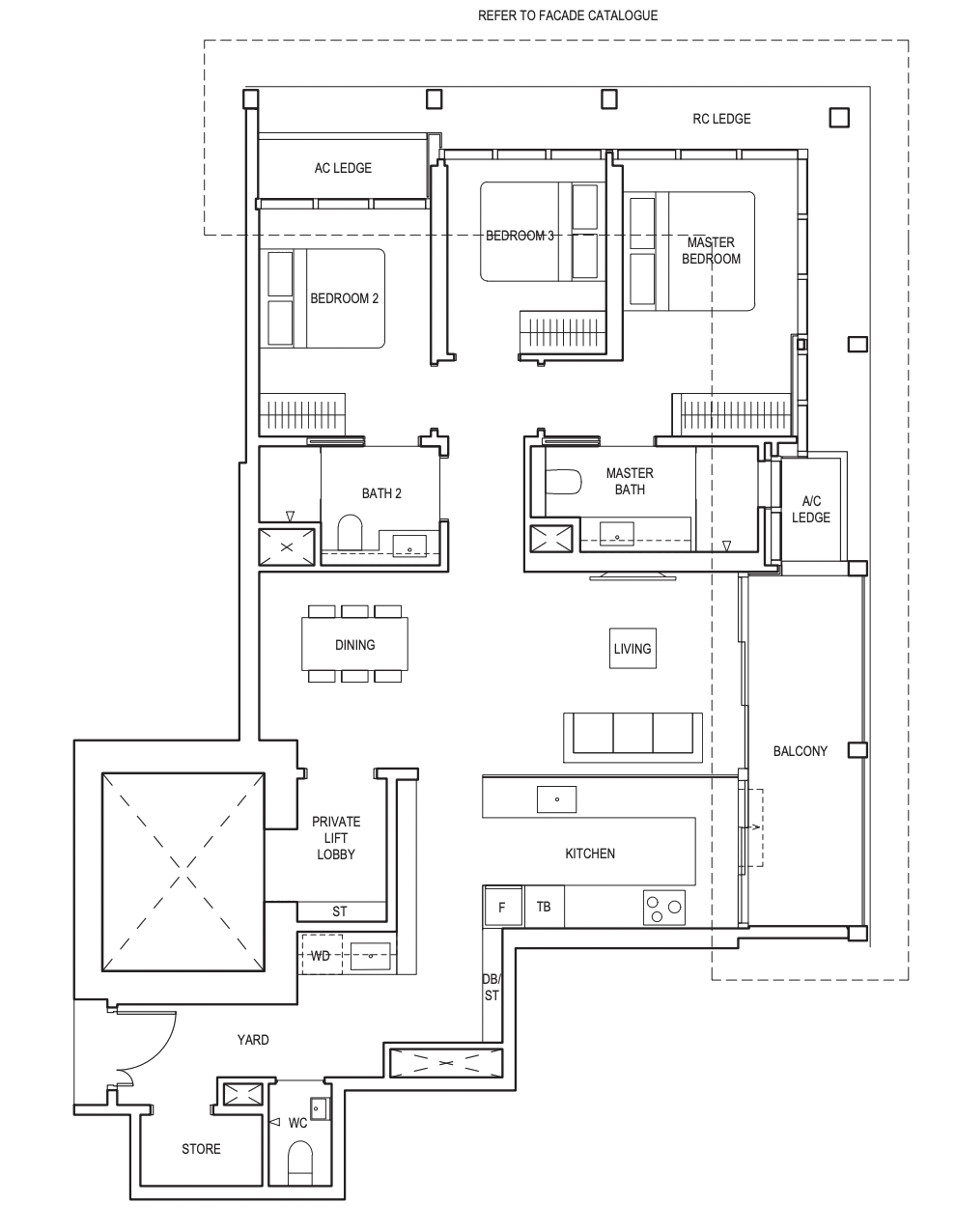 3 Bedroom units make up 11% of all units at CanningHill Piers and start from just 893 sq ft. This is the only 3 Bedroom Premium stack, boasting a private lift and is the largest unit available. The other 3 Bedroom units do not have enclosed kitchens, although some do come with windows, as does this showflat, which opens up to the balcony.
At 1,313 sq ft, this 3 Bedroom unit is very generous by today's new launch standards. In terms of views, all bedrooms will front Fort Canning Hill, with the living room, kitchen and Master Bedroom getting views of Clarke Quay, Singapore Flyer and Marina Bay. As standard, units here come with a 2.85m ceiling height and marble floors (an upgrade from the smaller units) in the living and dining areas. Lastly, the bedrooms will have solid timber floors.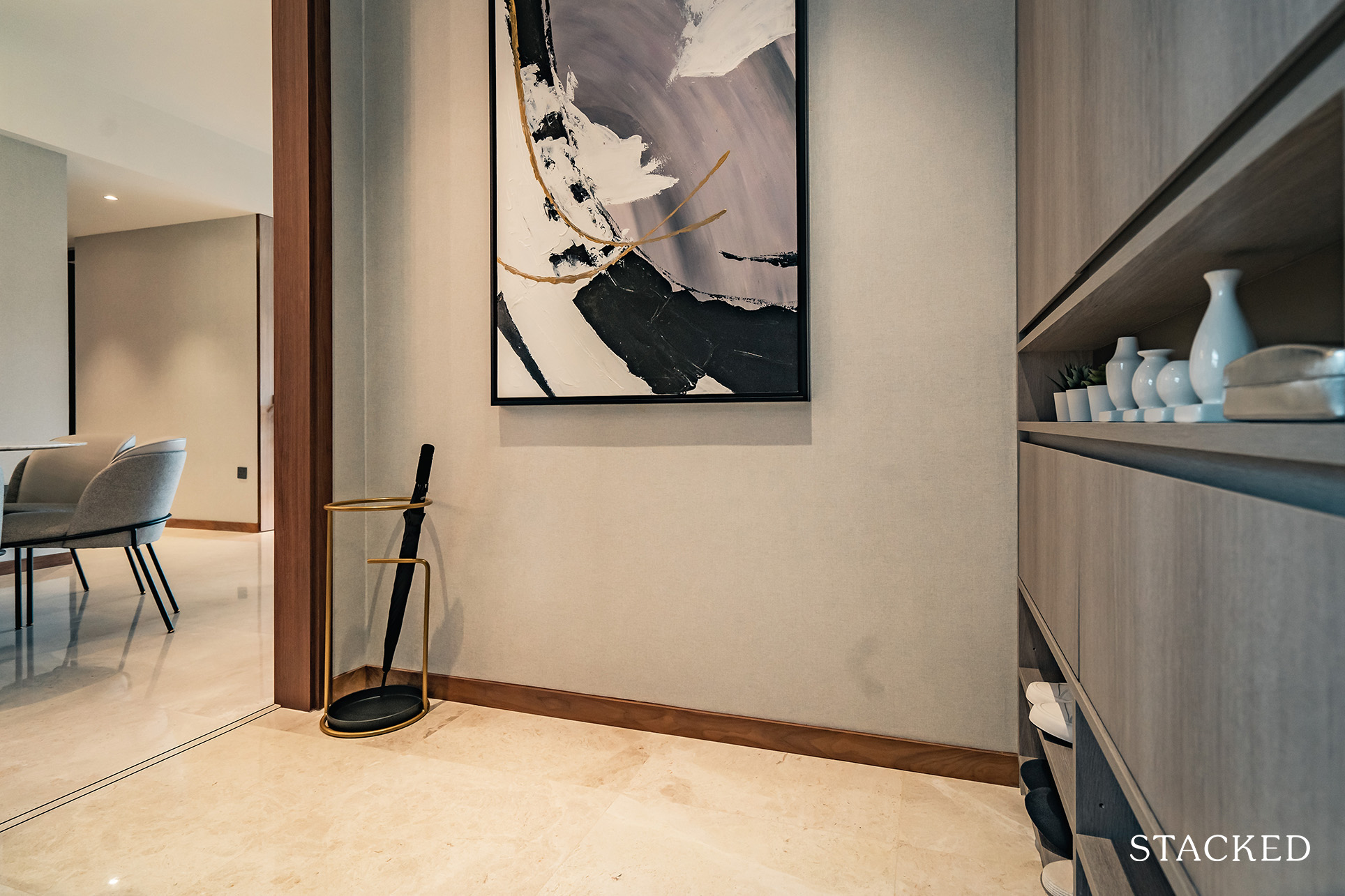 As you come out from your private lift, you are greeted by the private lift lobby, which measures 4.5 sqm. There are built-in shoe racks for your just by the side too, which comes in very handy and saves you the trouble of having to customise one. You will also notice that the main door by the left is not exactly visible when the lift doors open, giving you a desirable touch of privacy.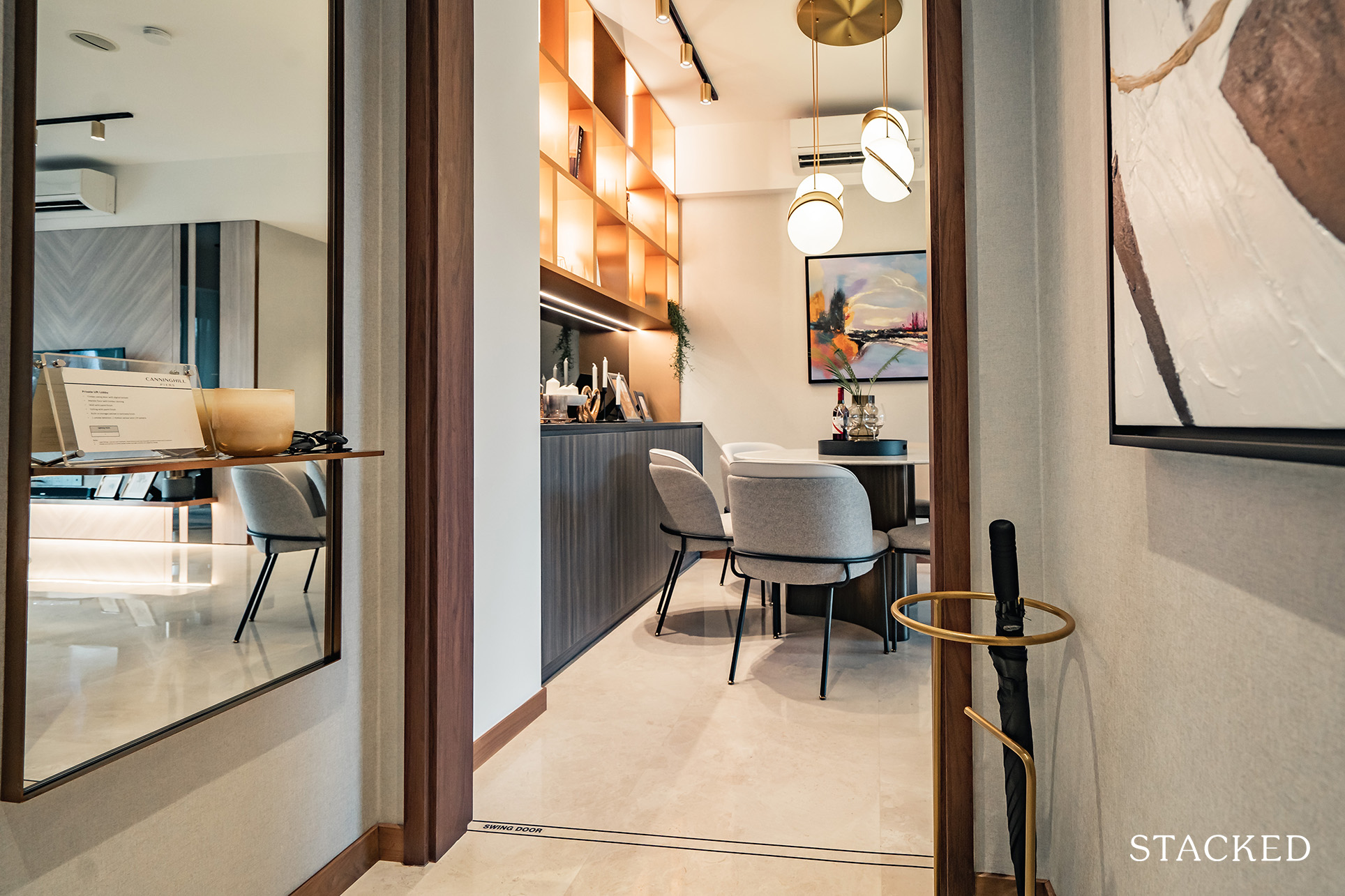 When you come through the entrance, you are greeted immediately by the 6 seater dining set. They have gone with a round table here, and you should be able to accommodate the same if you prefer to have a rectangular table instead.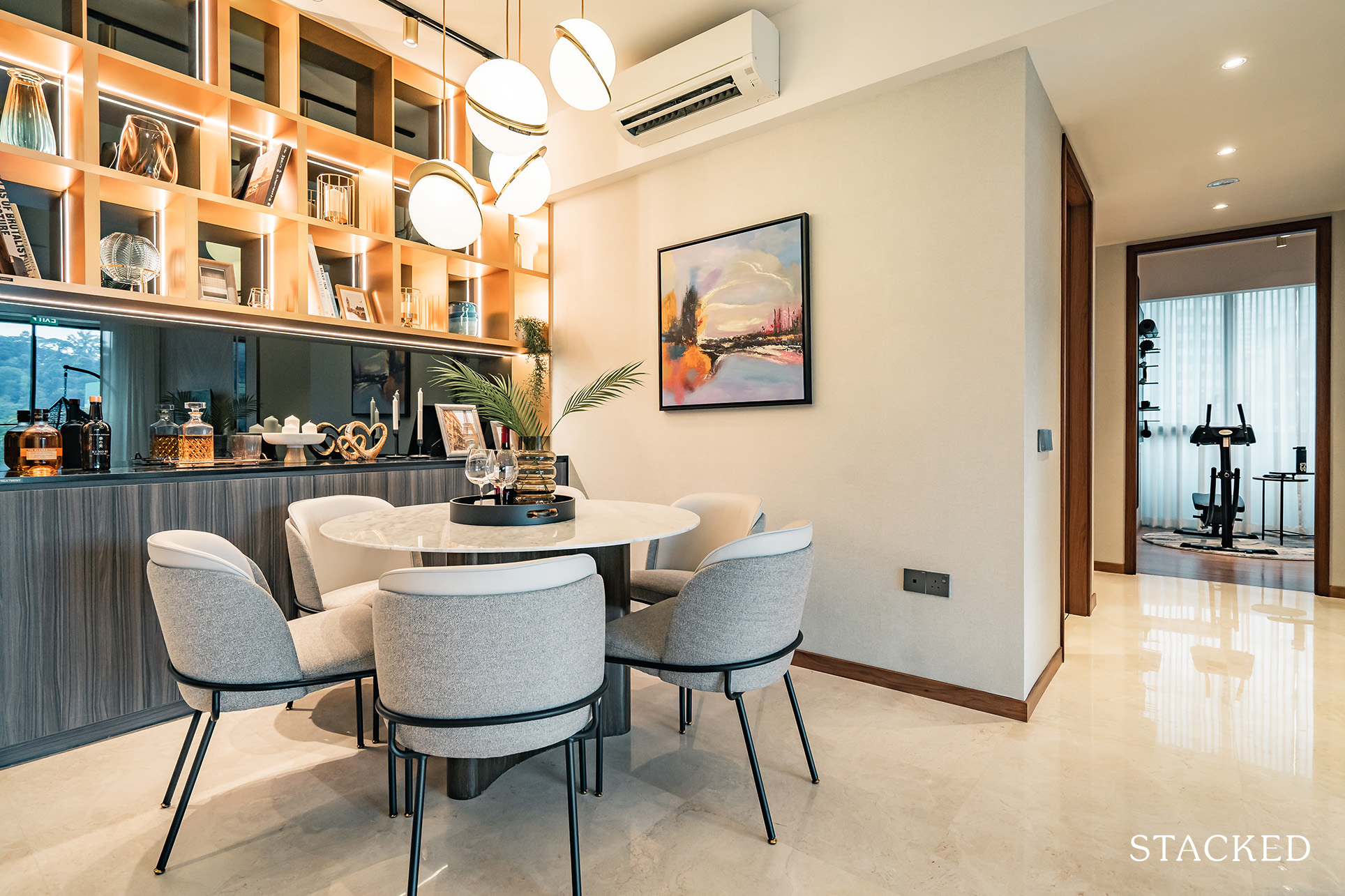 Just by the dining area are cabinets and shelves where you can place your photos and candles just as they have done here. However, the storage spaces will be at your own expense as they will not be provided by the developer. At this point, I would like to say that opening up straight to the dining area is very efficient from a space optimisation perspective and while I would ordinarily lament its lack of privacy, it is mitigated here given the private lift convenient access.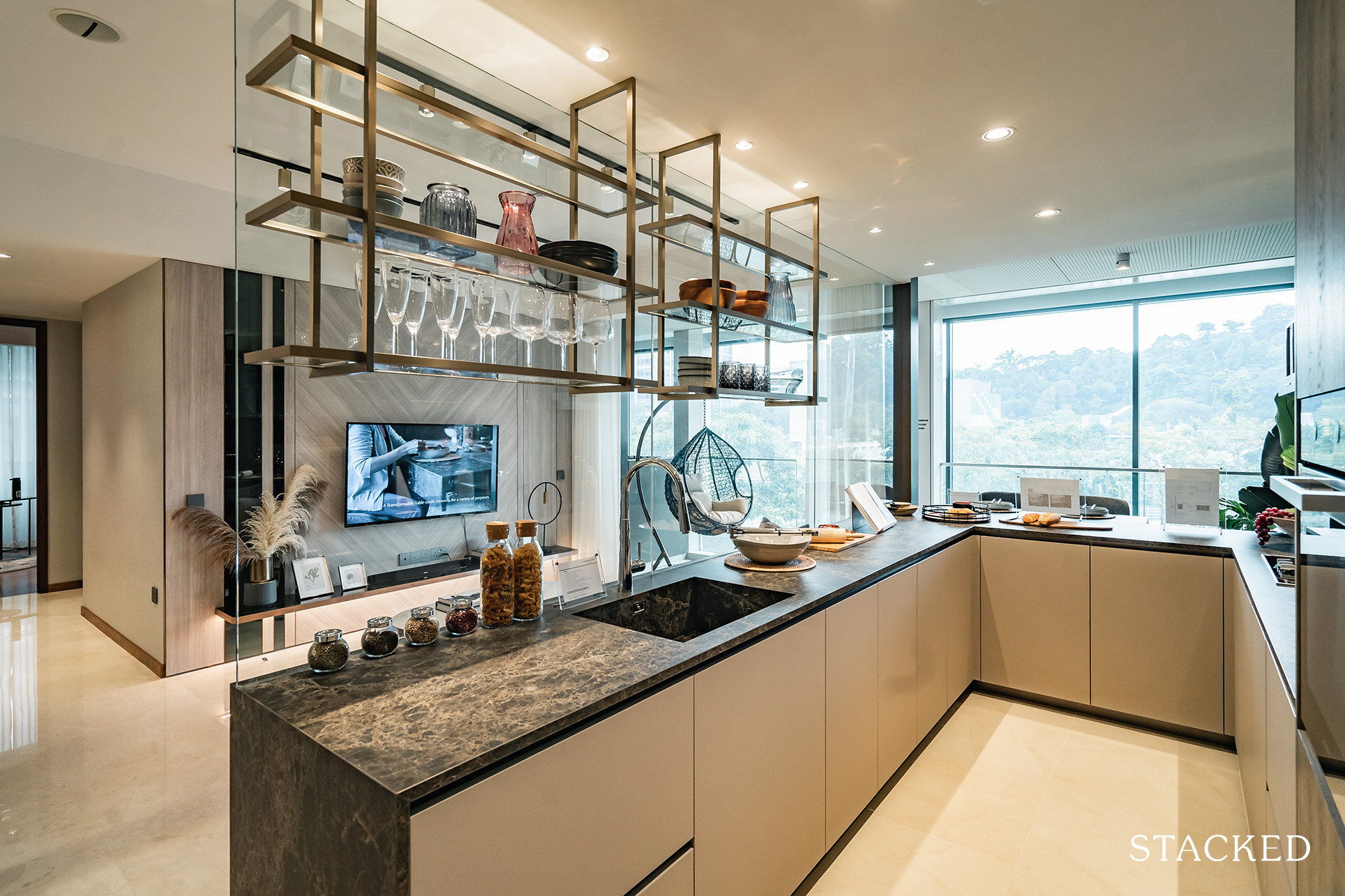 Adjacent to the dining area is the kitchen and living areas, which are laid out in parallel. It's not a layout that is often seen in new launches these days, although Ki Residences 3 Bedroom show flat did feature a similar one too. Perhaps in part due to the novelty factor, but I really do like such a layout, especially when the kitchen also features a full glass design which helps to accentuate the spaciousness of the unit. There will also be a glass swing door that helps to enclose the kitchen.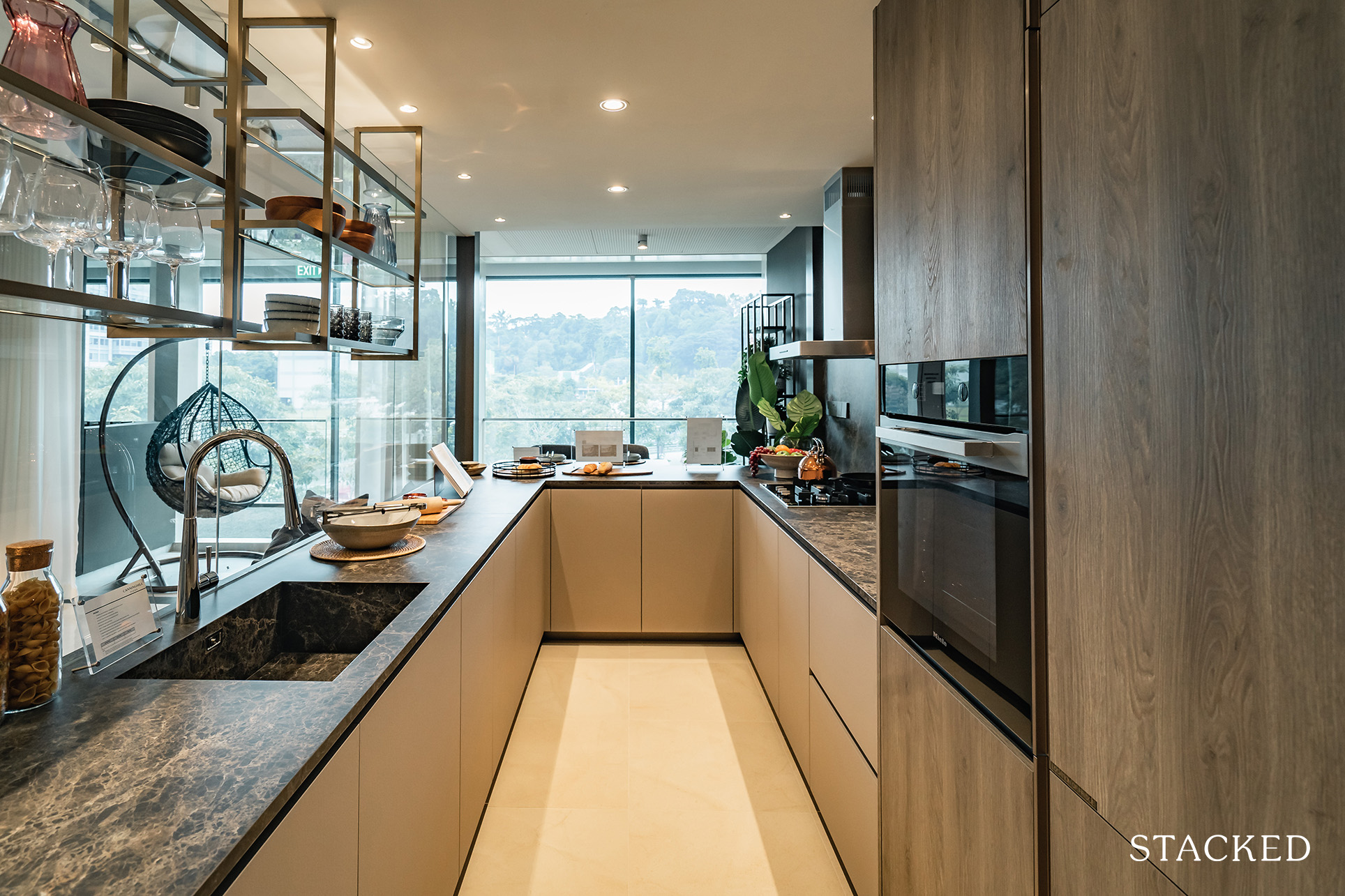 While the floor plan does not indicate the specific size breakdown of the kitchen, you can tell that this is truly one spacious kitchen the very moment you enter. There is plenty of countertop space as it stretches the full length of the living room and forms a U-shape overall. You will also notice that the colour scheme here is a lot more toned down compared to the 1 and 2 Bedroom show flats and it is certainly a design that I prefer.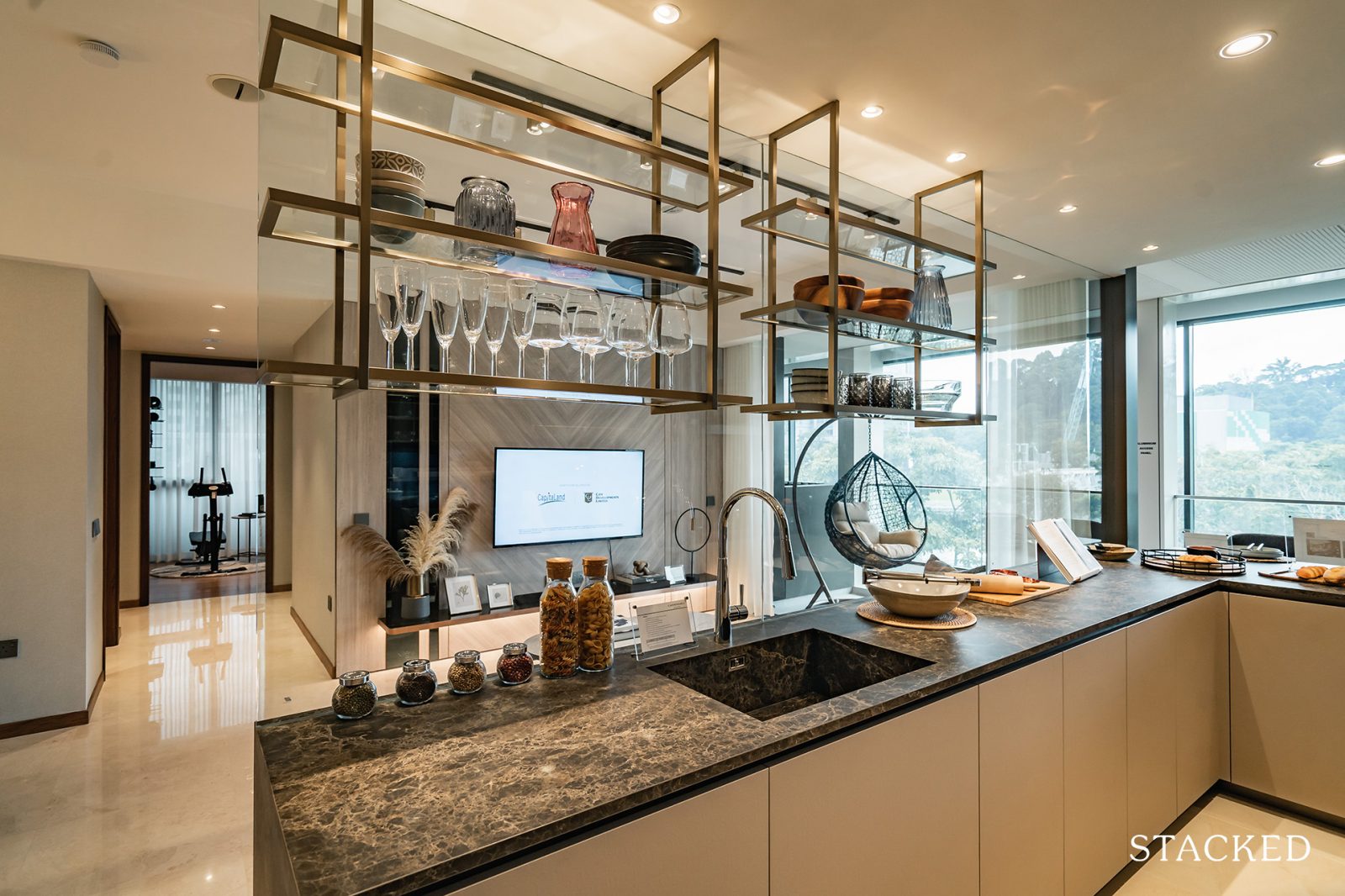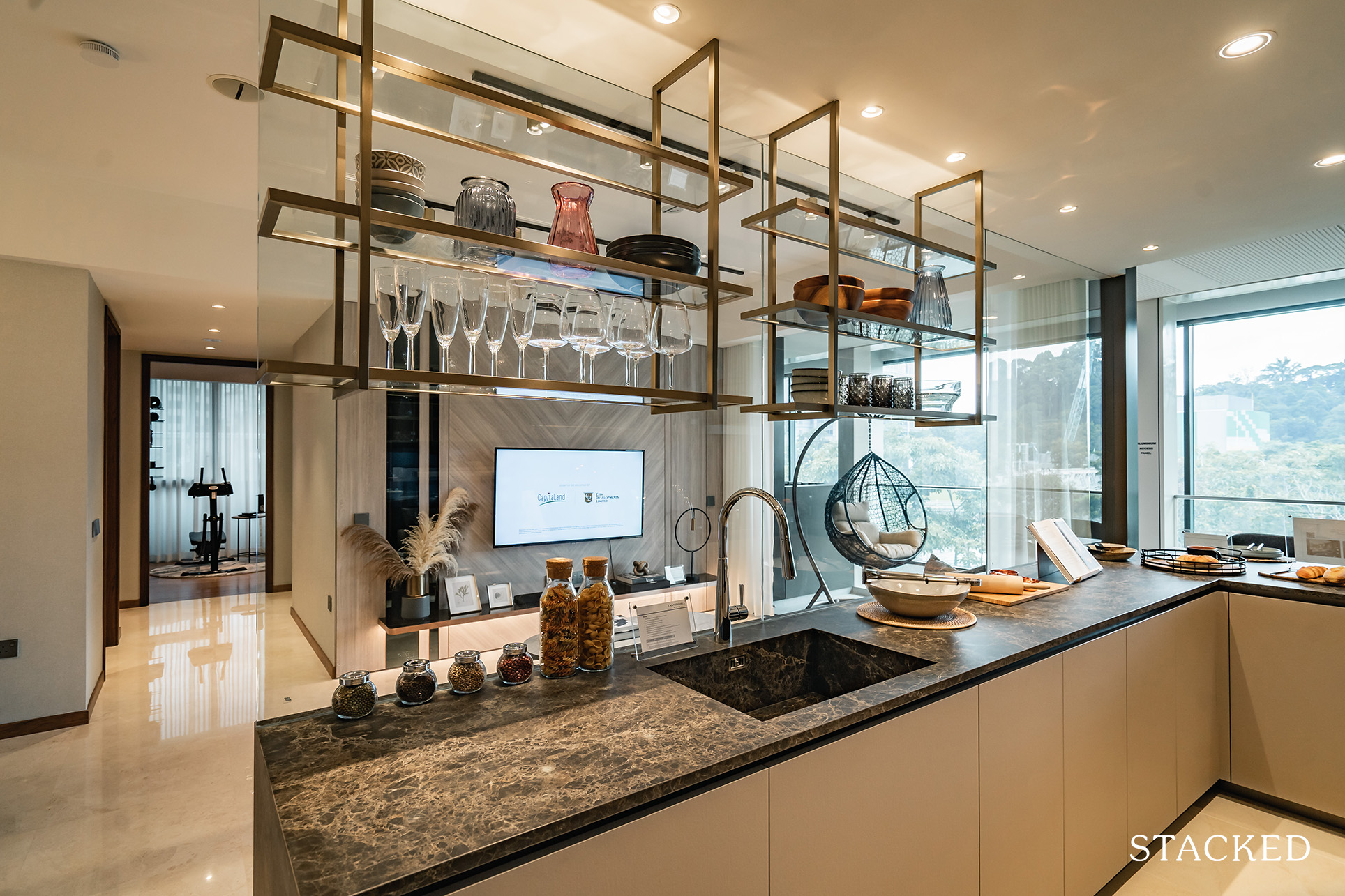 The kitchen comes with an integrated sink, as with all other units here at CanningHill Piers, and gives it a sleeker overall look. You get plenty of bottom cabinets that extend the full distance of the kitchen. There is also a gas hob and hood given it is an enclosed kitchen, with the windows leading to the balcony just beside. Branded goods are provided through the kitchen, including the Ernestomeda kitchen system, Miele hob, hood and oven, and De Dietrich washer/dryer and integrated fridge.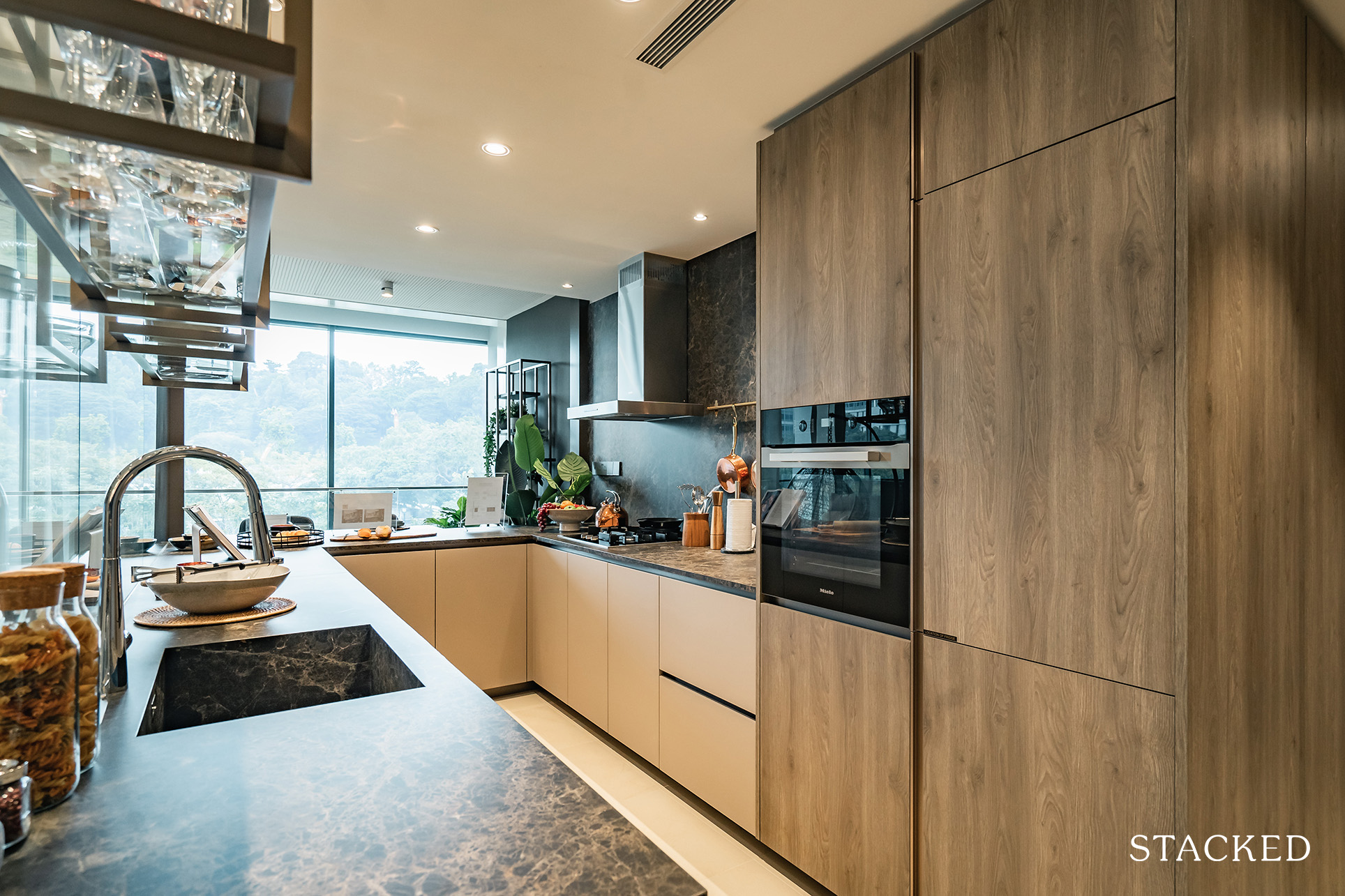 While the kitchen does 'open up' to the balcony, you cannot actually access the balcony from the kitchen. What the developers have creatively done, however, was to create a pull-out breakfast countertop.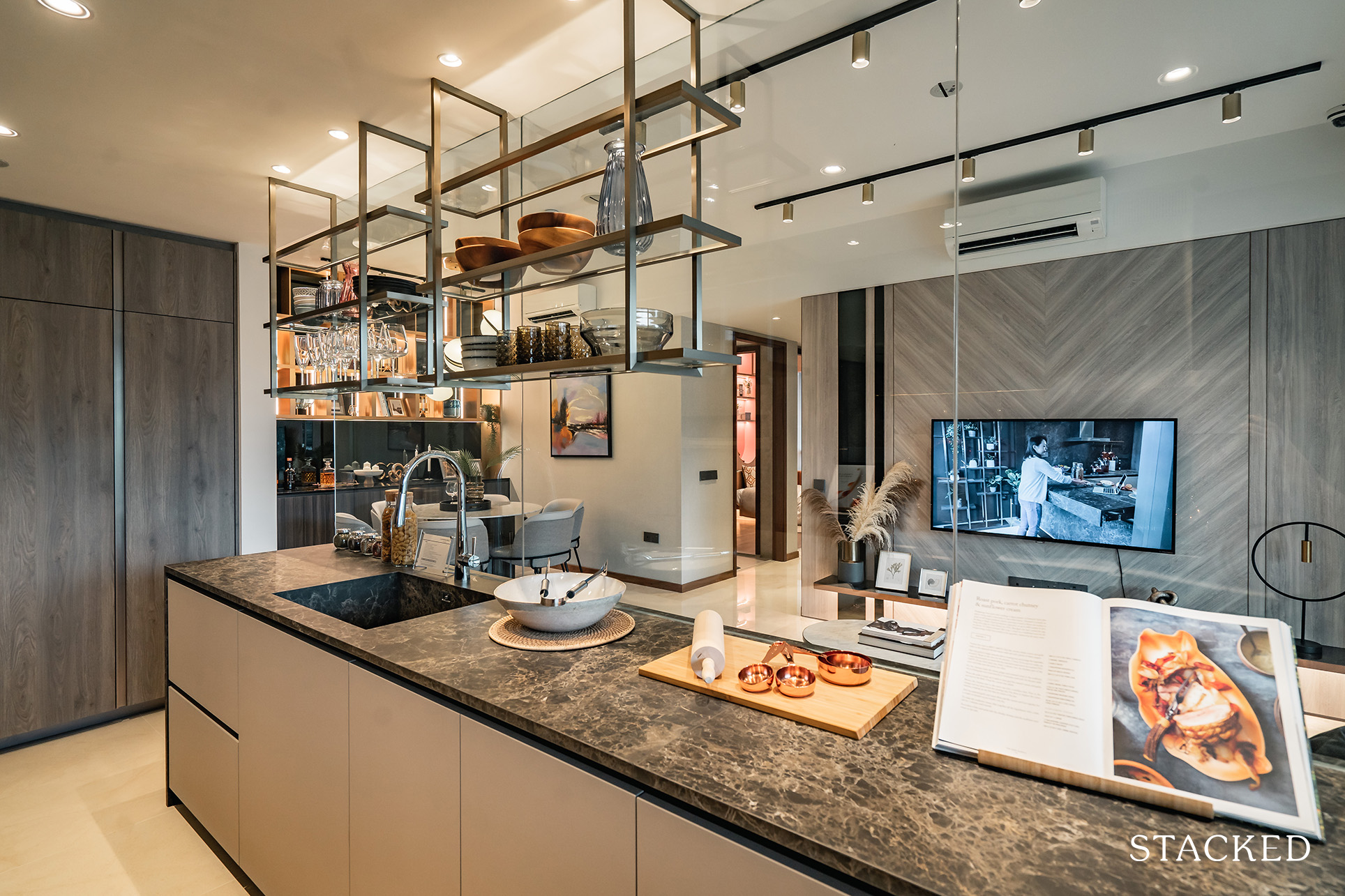 There's no doubt that if you are an aspiring chef or an avid baker, this kitchen setup will be a huge draw. It's open, bright, and even affords you some views as it is right next to the balcony.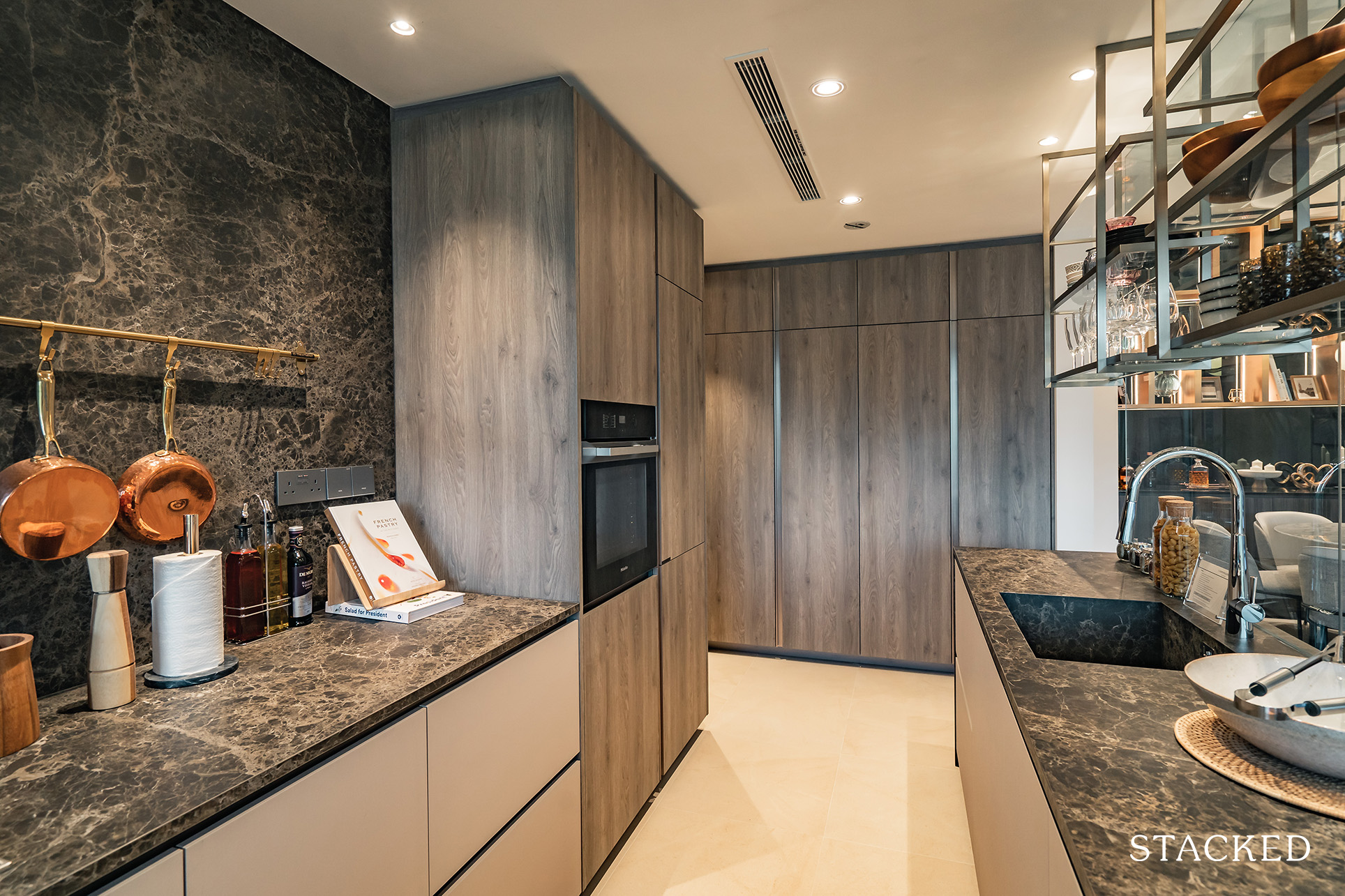 On a side note, the cabinetry at the back has quite an odd way of opening and closing. You can only open up the left side by opening the right – which can be a bit cumbersome.
Behind the actual kitchen area is a rather long L-shaped yard area, where the De Dietrich washer/dryer can be found. There is also another integrated sink with top and bottom shelves built-in. If you think about it, it is actually really helpful and practical to have another washing area, especially if you have many friends over. The thing about the yard, however, is the lack of any windows, which means that you will probably have to rely on the washer/dryer entirely for your laundry. There is, however, a back door that leads you to the common lift lobby.
Just beside the back door is the Store, which is absolutely necessary for a unit of this size. They have done this up as a helper's room, but at 2.5 sqm in size, it is a little too tiny for helpers, in my opinion. As usual, you will also get an additional WC here.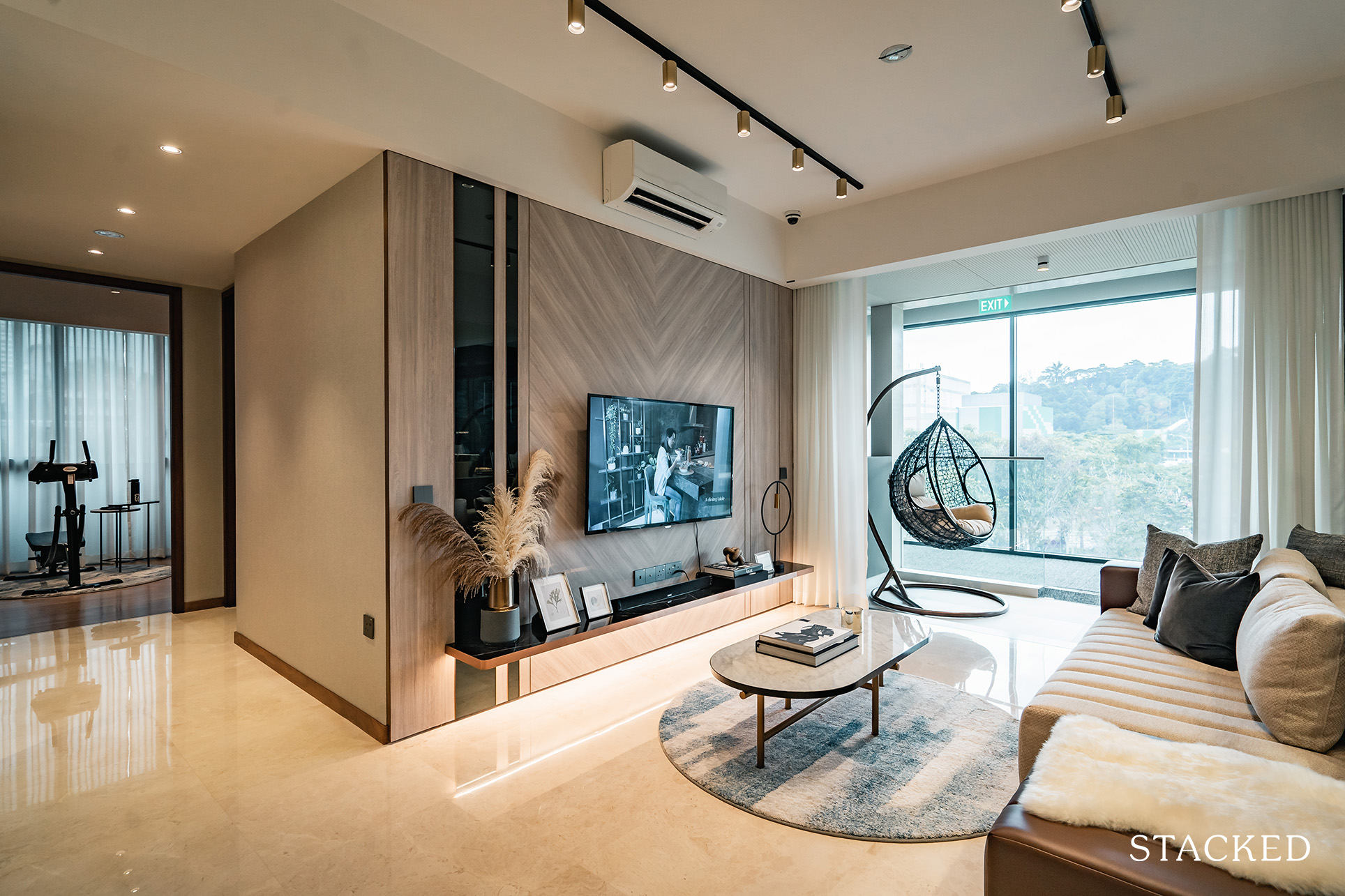 Moving back to the living area, this is expectedly a wider space compared to the smaller units. This means that you have more flexibility around the size of the couch, coffee table, and TV console. Regardless, impressions do matter for guests, so having a larger unit such as this will always come across as more impressive. The combined area of the living, dining, and kitchen stands at 44.3 sqm.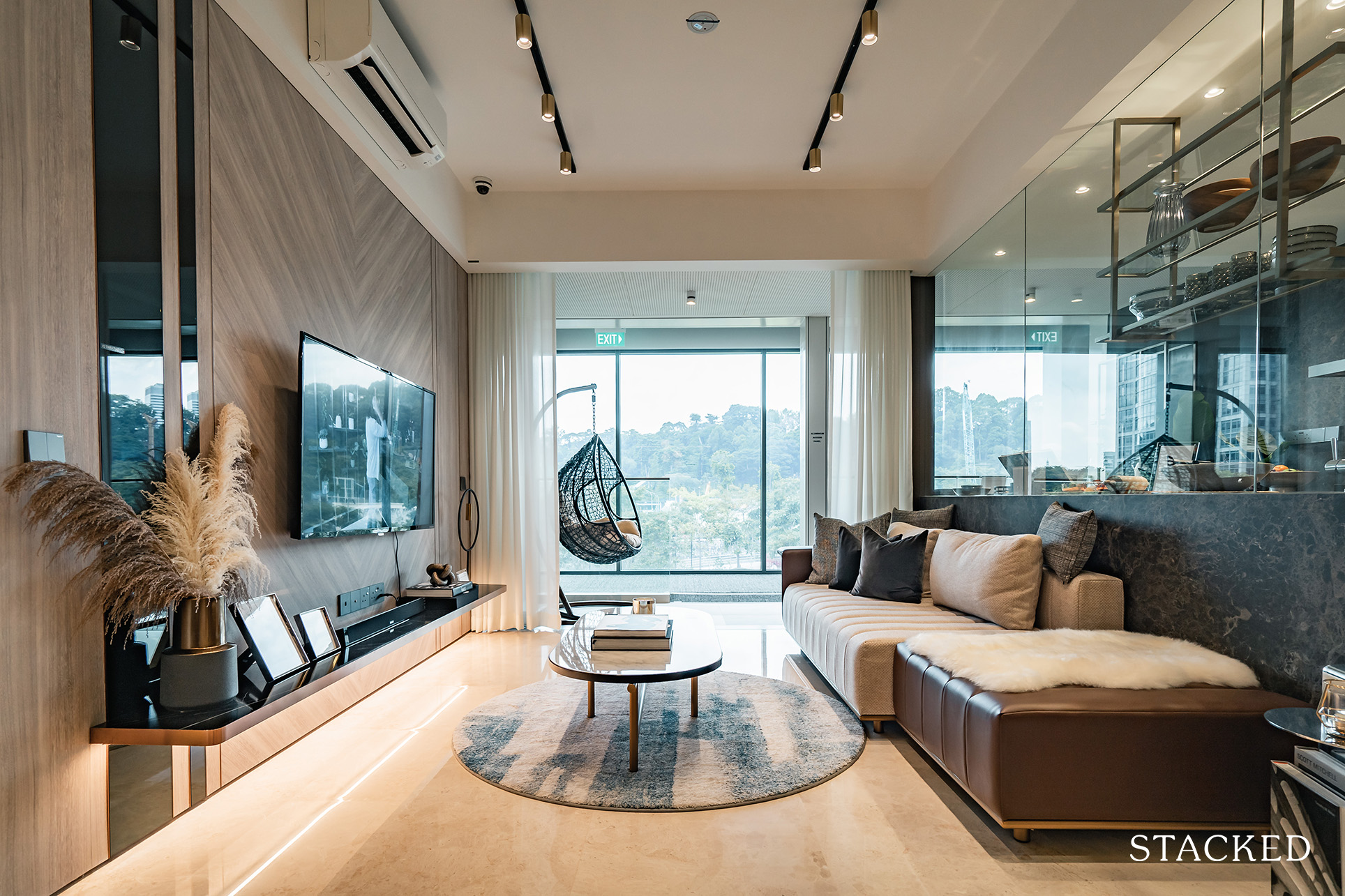 Of course, with the glass panels behind, you'd need to be aware of the height of your sofa – but I don't think too many people would have issues with this. In any case, for me, the pros of such a layout do far outweigh any such inconveniences.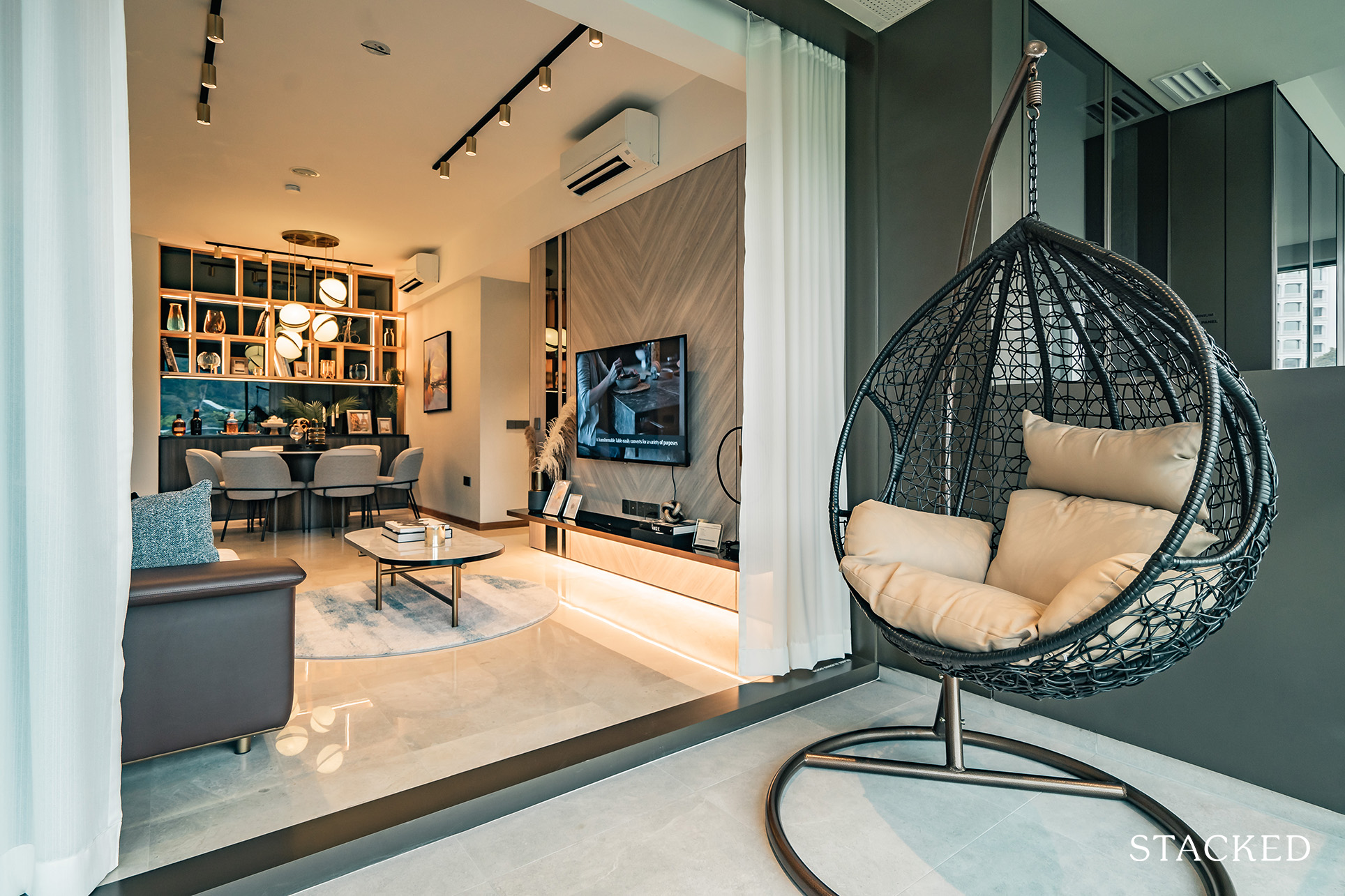 As for the balcony, this occupies 10.3 sqm of space and stretches from the living room to the balcony. Once again, it is a rectangular-shaped balcony, meaning that while you cannot afford to place a large squarish dining set, you still have options. They range from a mini home garden, a spot to wind down over a book or an exercise corner.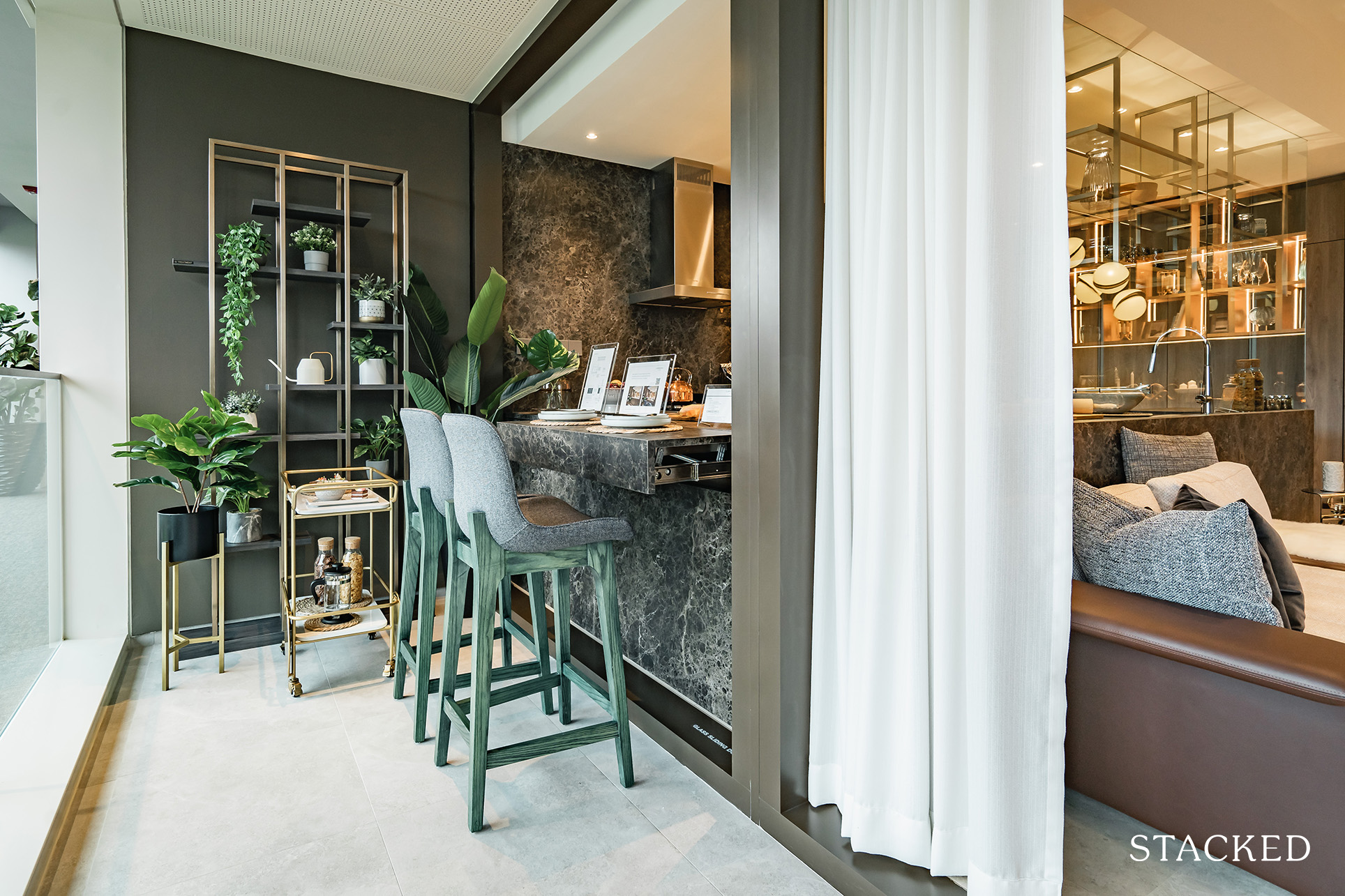 As mentioned previously, you will also notice a pull-out breakfast counter here, and CanningHill Piers might just be the only new launch condo with such a feature.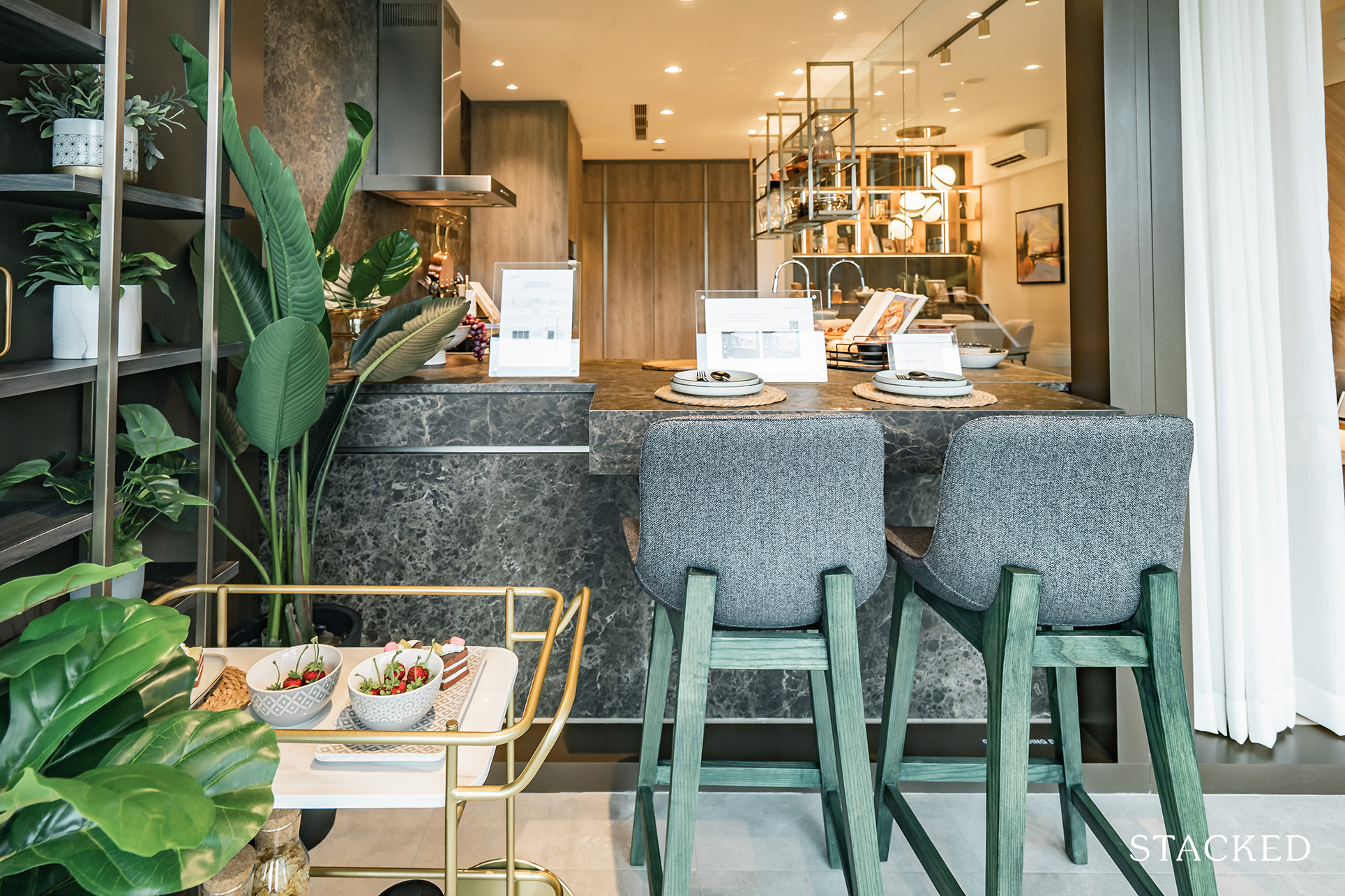 I find this to be a great feature, and it also maintains the consistent design as the rest of the kitchen. It would have been perfect if the counter faced outwards, though.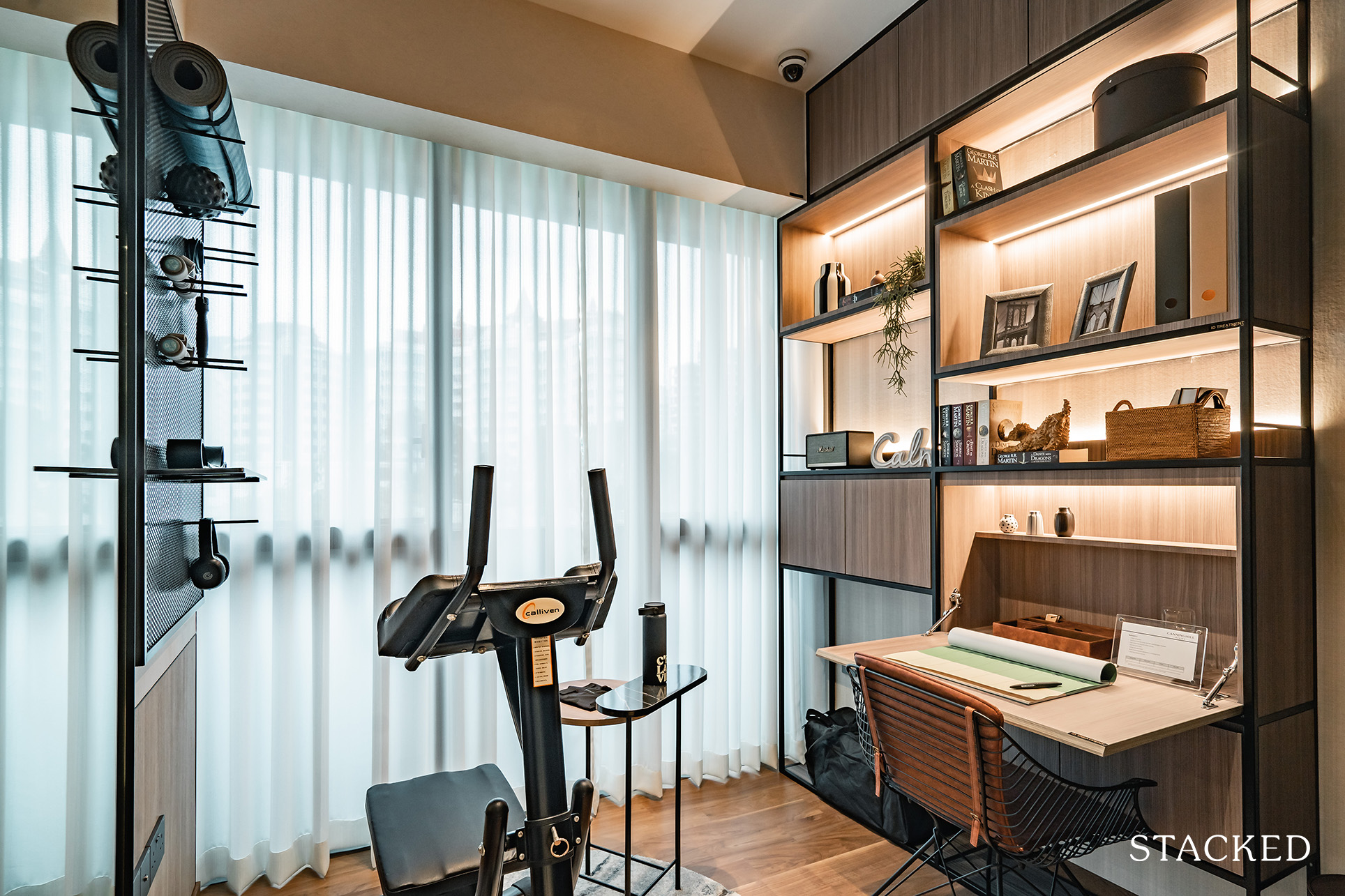 Moving to the first of the three bedrooms, I'll start with the smallest – Bedroom 3, which is situated at the end of the corridor. This room measures 8.2 sqm, which is average by new launch standards.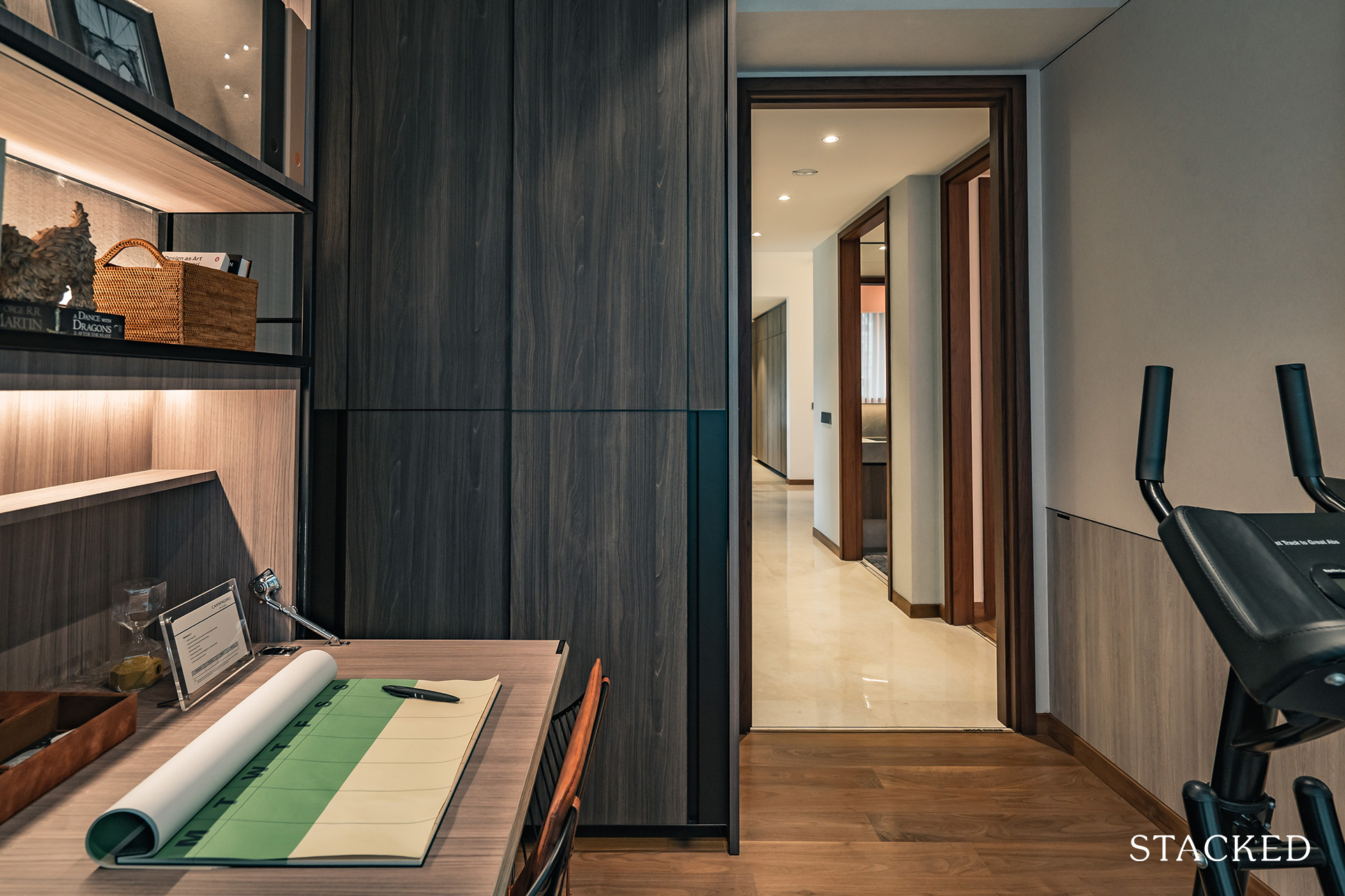 They have kept this room sparse in the interior design here and made it into an exercise room cum study. Nevertheless, this room will still come with a built-in wardrobe and will fit a Queen-sized bed if required.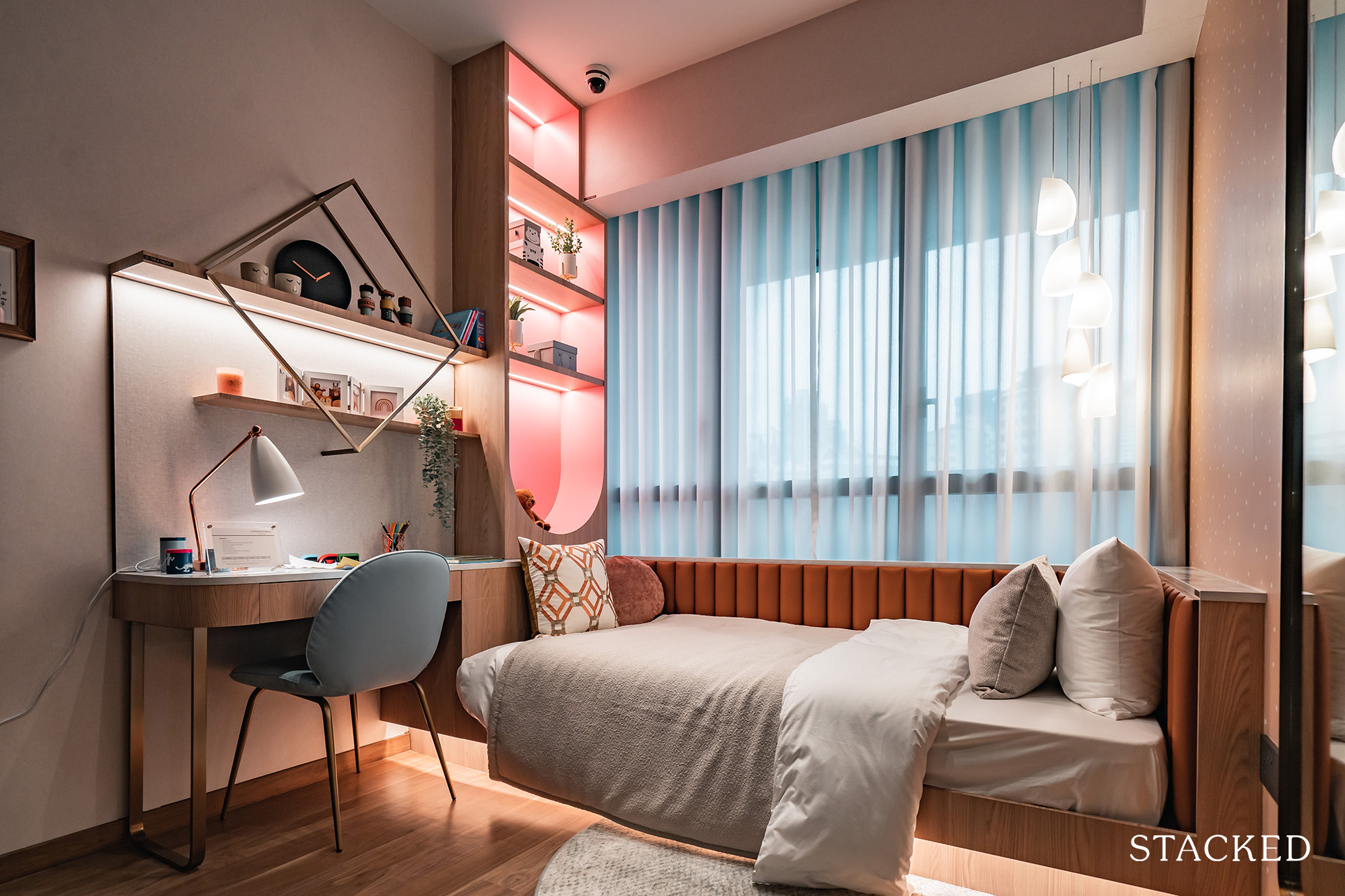 As for Bedroom 2, the other common bedroom, it is sized at a more generous 10.3 sqm. For context, this is the size of the Master Bedroom in the 1 Bedroom show flat reviewed earlier. Unsurprisingly then, you will notice how spacious this room feels, which is also aided by clever interior design. They have chosen to go with a Single bed and a small study here, leaving plenty of space in the rest of the room. This room also has jack-and-jill access to Bath 2, making this room ensuite as well.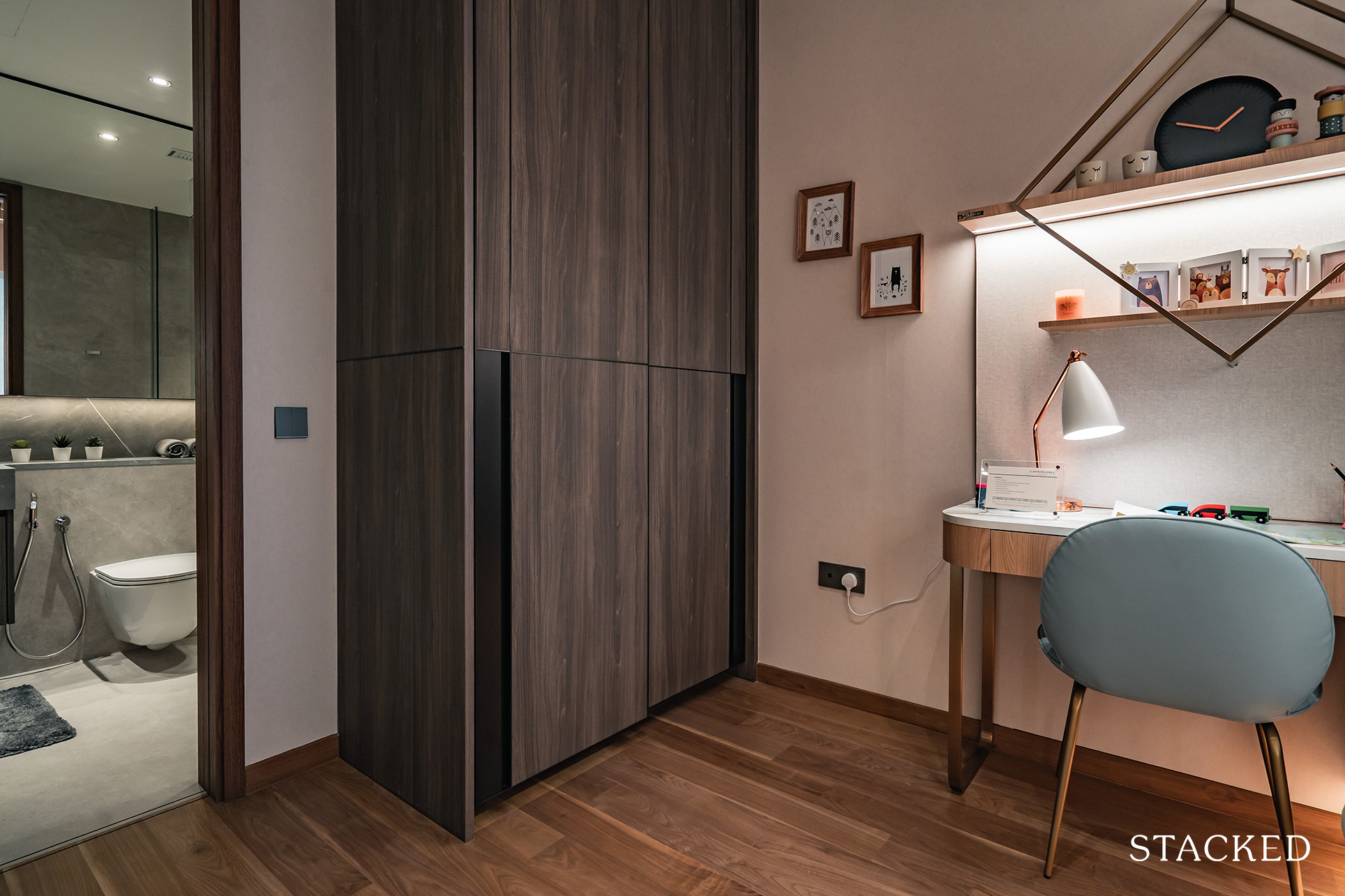 Note that because the AC ledge is placed on the outside, you will not enjoy full-length windows for this bedroom.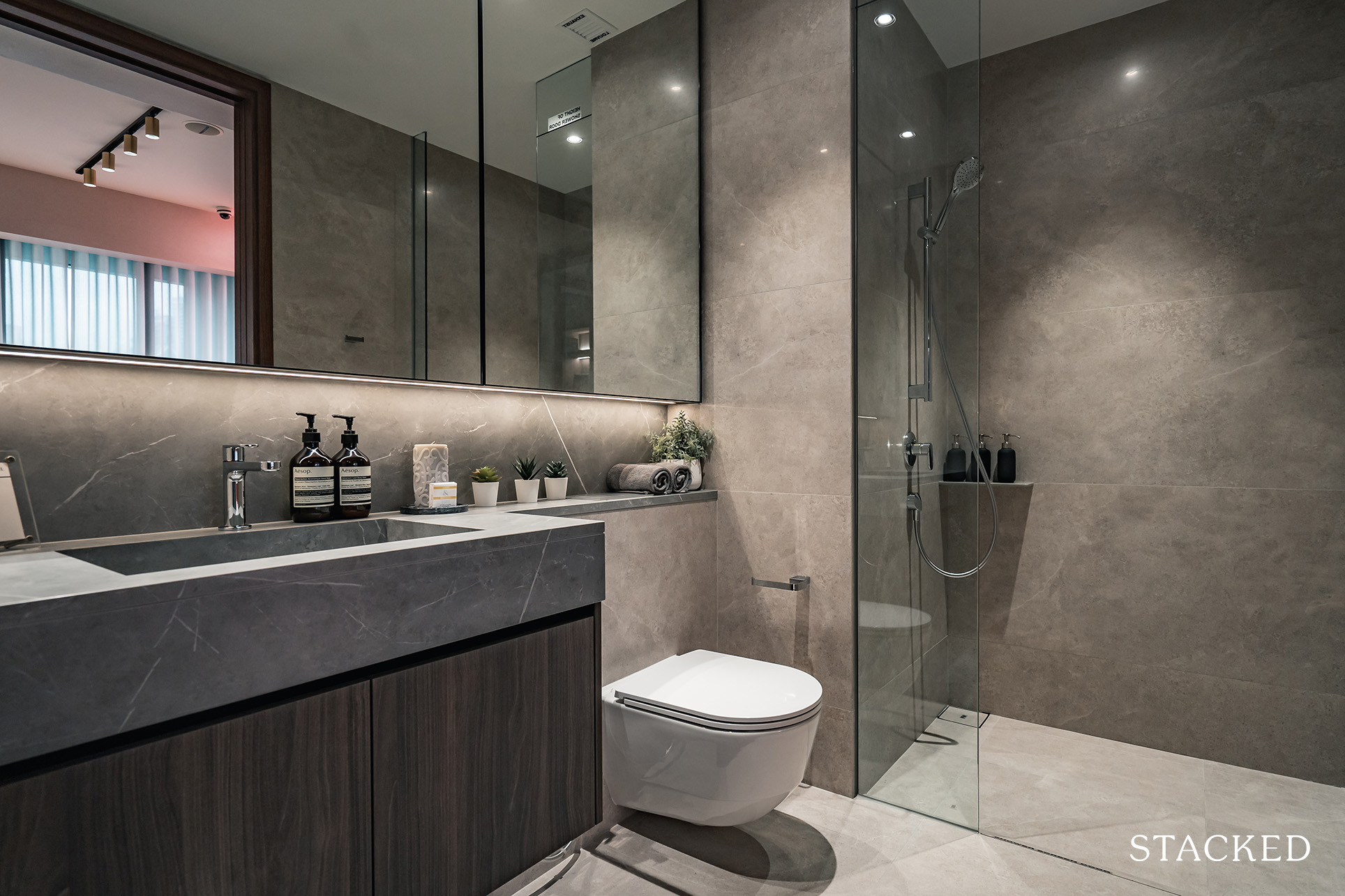 Moving on then to Bath 2, which is averagely sized at 5 sqm. As you can see, the colour scheme here is neutral and does look upmarket enough. Nevertheless, it features an integrated sink and fittings from high-end European brands Laufen and Gessi. I did wish they provided a rain shower here though. There are also no windows in this bathroom, so it's not the best ventilation-wise.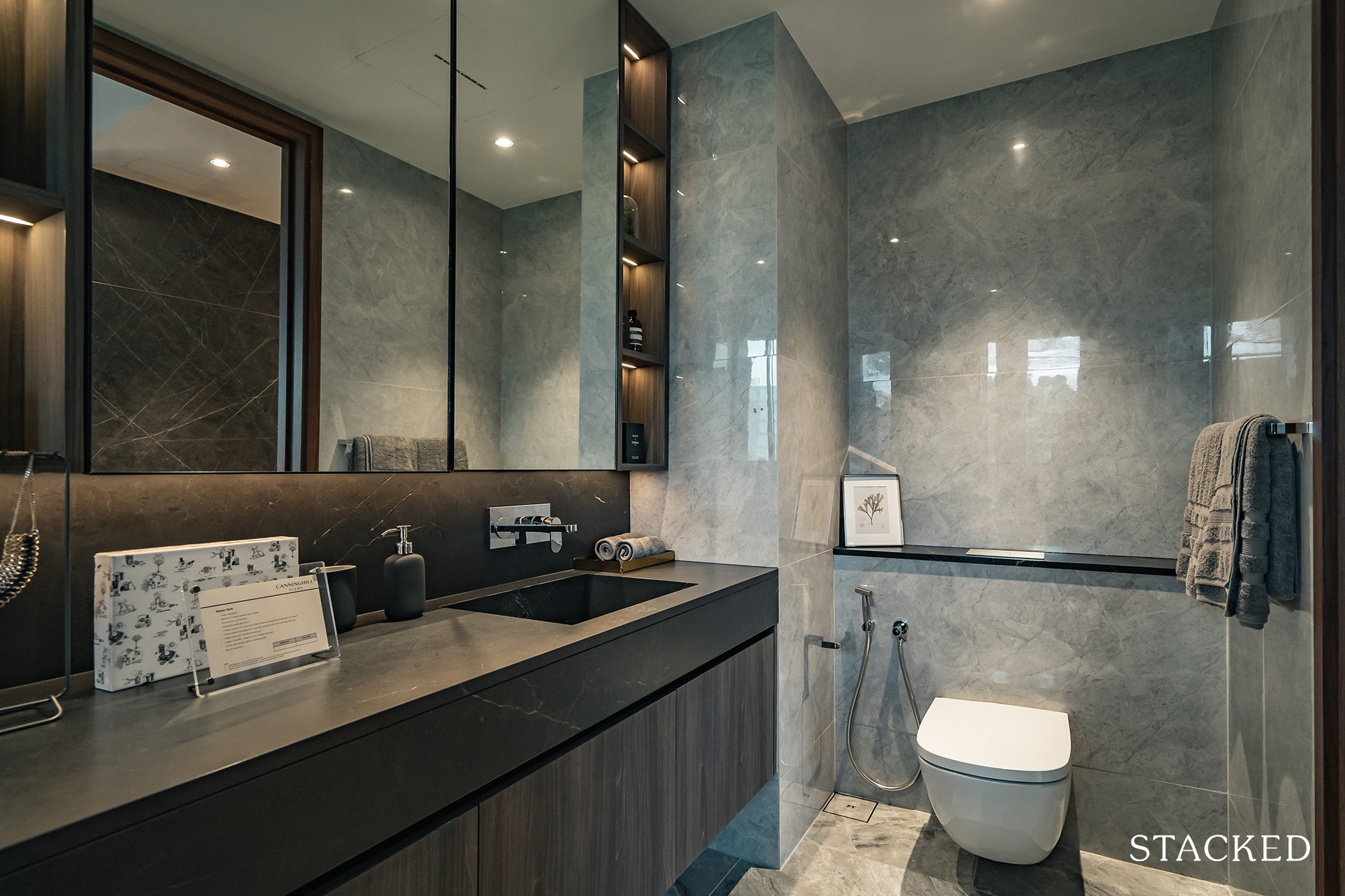 Since we are on the topic of bathrooms, let's move now to the Master Bathroom. This is a much larger bathroom at 6.6 sqm and features a more striking design. It has more modern black accents, including that for the countertop and shower glass. I much prefer the black-framed showers and do wish that look would have been consistent throughout the unit instead.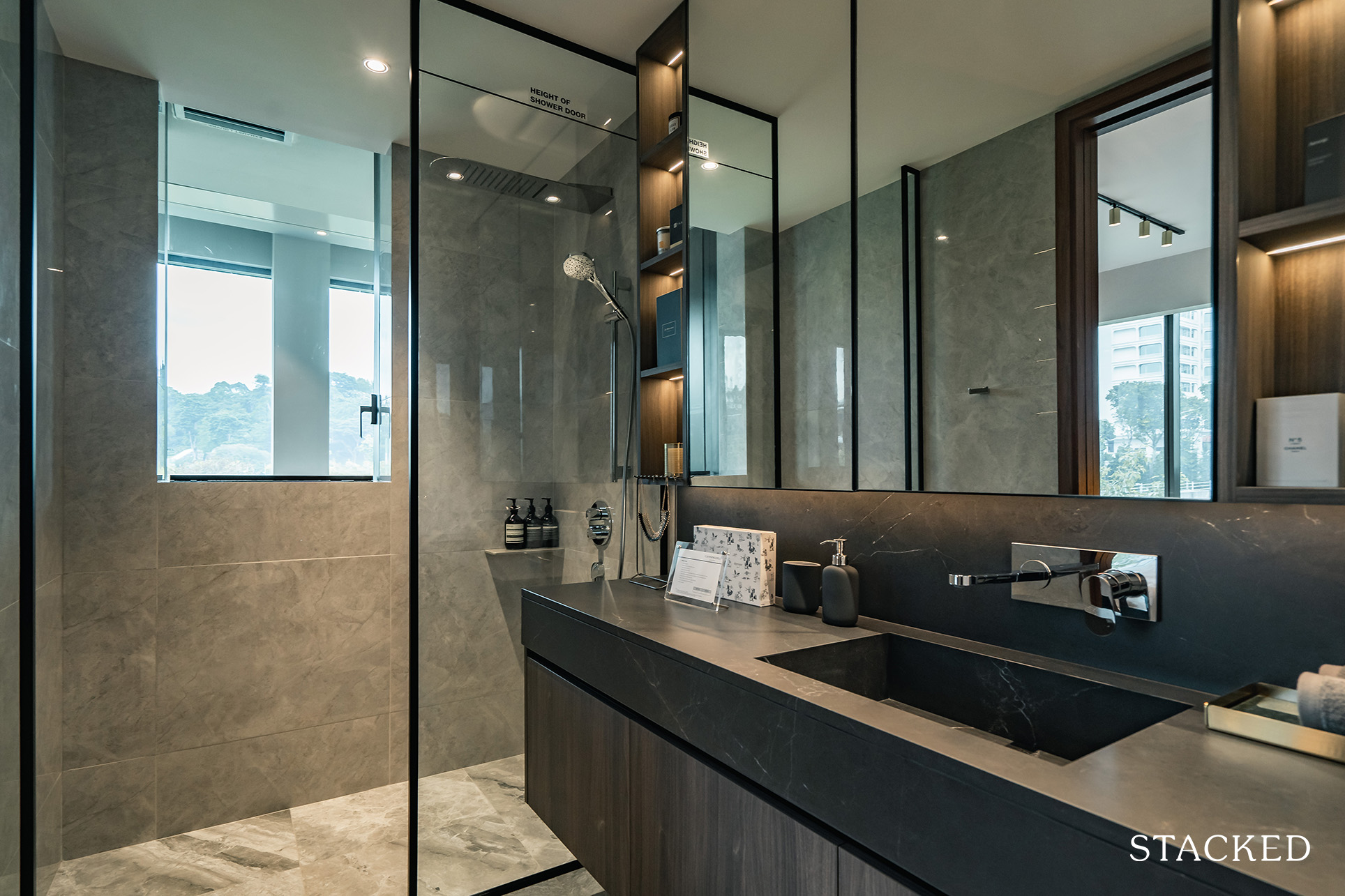 The Master Bath's main differences from the Common Bath are the presence of a rain shower from Gessi and windows to provide natural ventilation. Otherwise, you get the same wall-hung WC from Swiss brand Laufen and mixer from Gessi.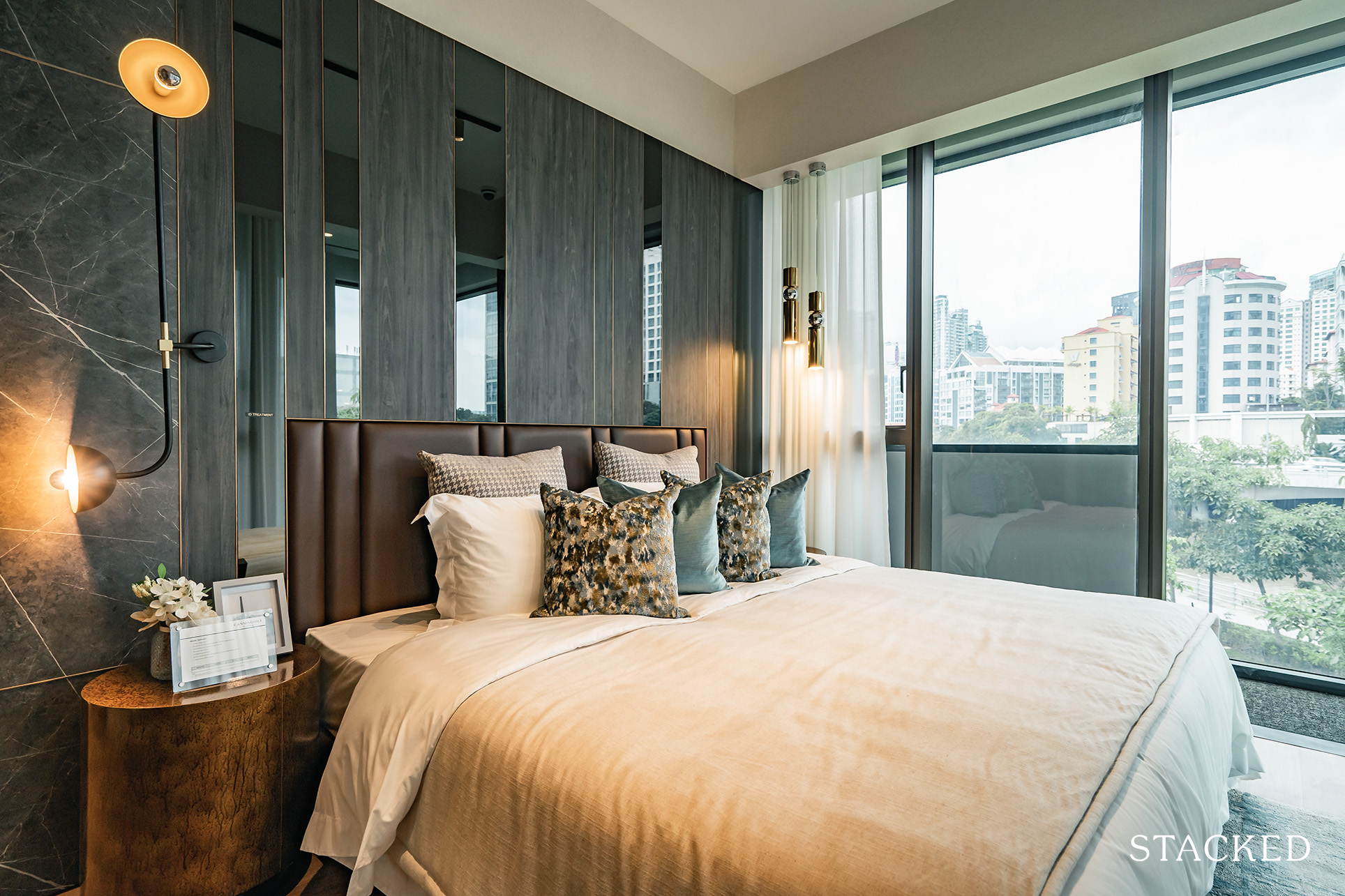 The Master Bedroom is sized at 14.4 sqm. It has a bit of a walkway leading into the room, but you will notice that this room is not just bigger but much brighter as well. As this show flat unit occupies a corner stack, you get windows on two sides, which really helps to brighten the space. If given a choice, I would definitely prefer the unit with more windows! Otherwise, this room is large enough for a King and a dresser to be placed somewhere by the side.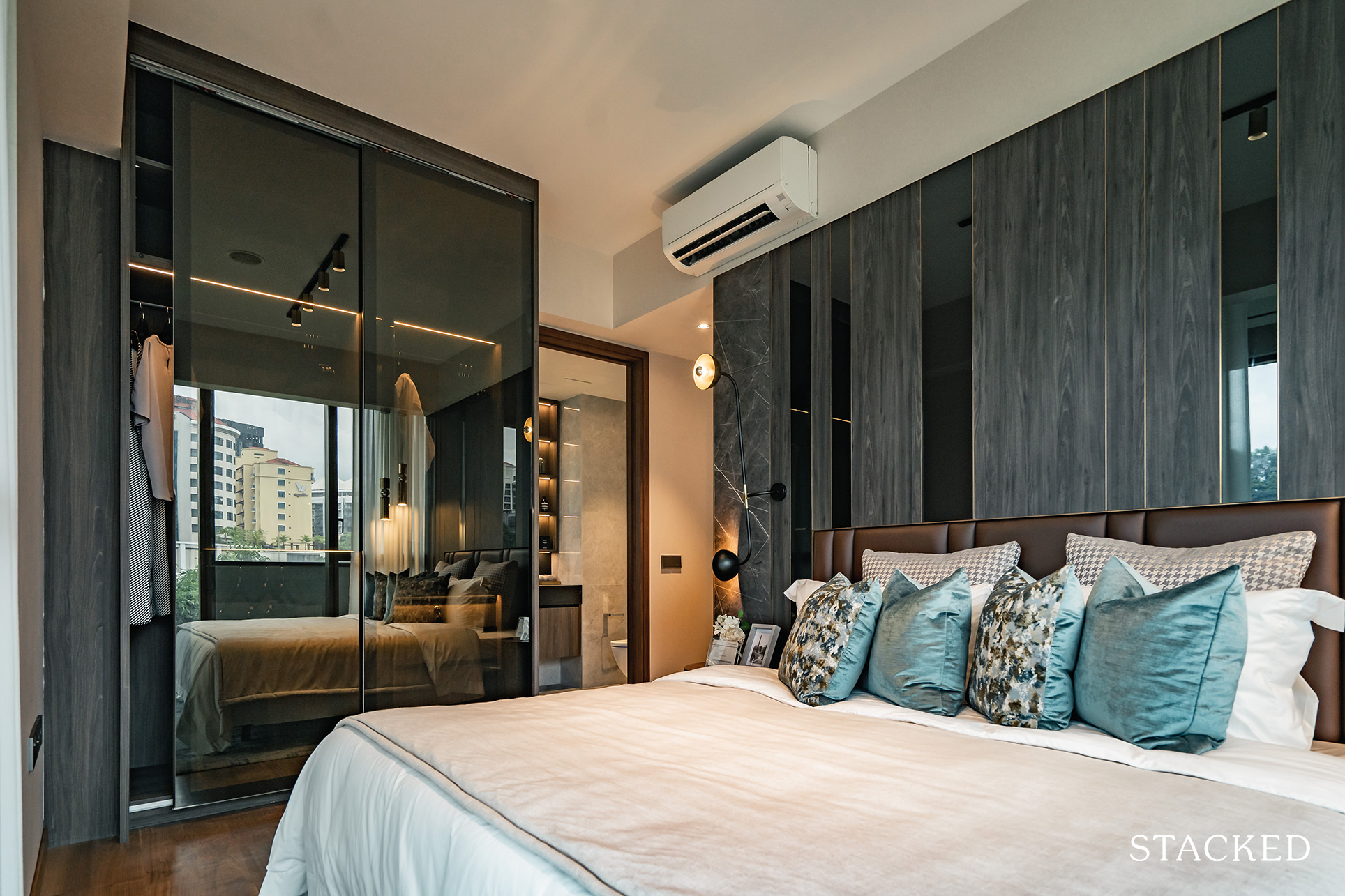 Consistent with everything you've seen so far, the Master Bedroom has a much classier form of wardrobe design with a smoked glass mirror finish. You will have the additional accessories cabinetry as well as an automatic light setup as you open the wardrobe. It feels pretty high quality as you slide it open, although as always, the amount of storage will be limiting for some.
CanningHill Piers – 4 Bedroom – Type DP1 (1,755 sq ft) Review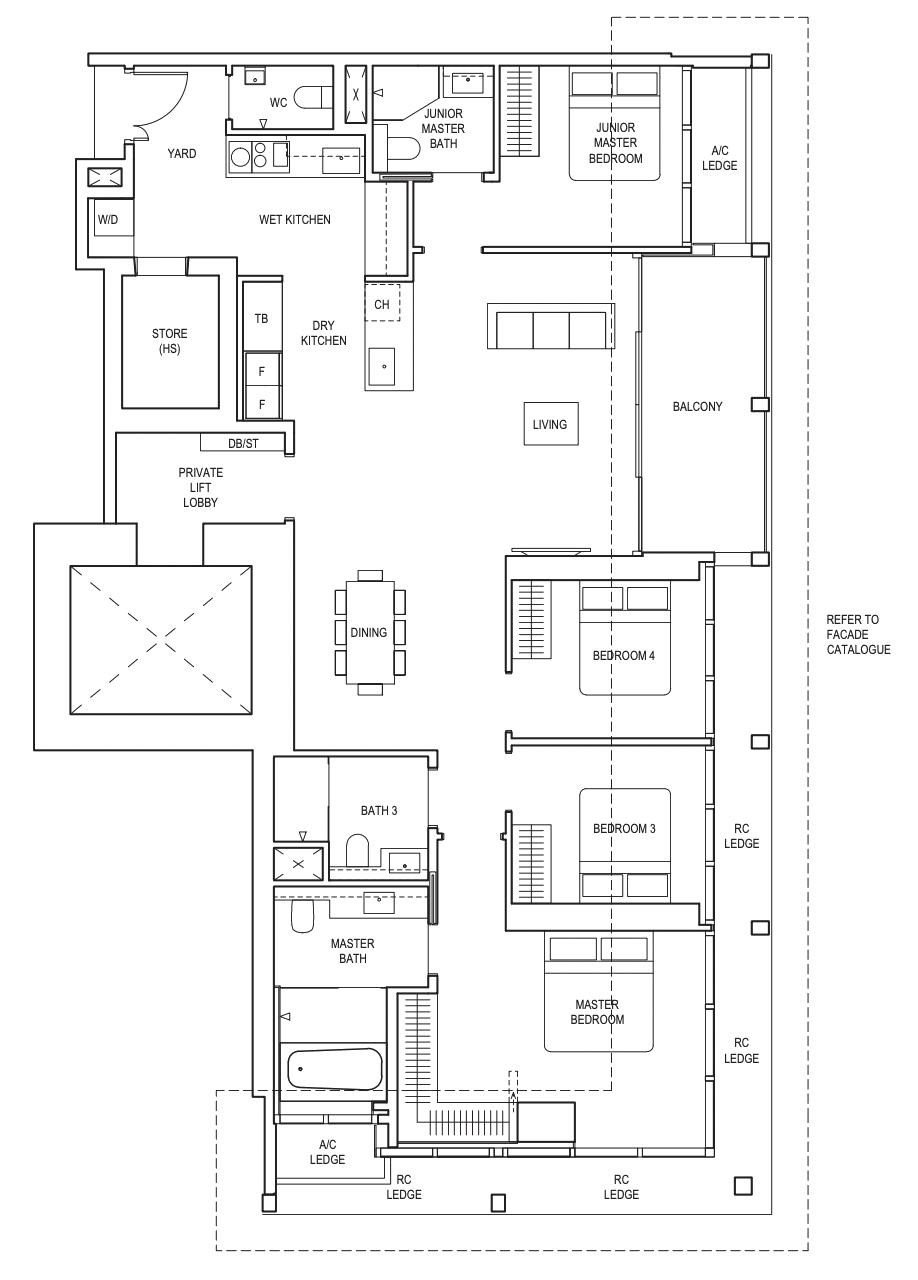 4 Bedroom units are a rarity at CanningHill Piers, occupying just 9% of all units here. At 1,755 sq ft, this is the smallest 4 Bedroom layout in this development, with the other 2 being 1,948 and 1,959 sq ft. While all 4 Bedroom units have private lift access, this is the only layout that does not include a gas hob and comes with an induction one instead. The views for all bedrooms, including the living room, will be of Clarke Quay, Singapore Flyer, Marina Bay, and beyond, while the Master Bedroom will also get views of the Singapore River.
As with the 3 Bedroom units, those here comes with a 2.85m ceiling height and marble floors (an upgrade from the smaller units) in the living and dining areas. Note that for the main block, levels 23 and 48 will have units with a high ceiling height of 3.15m. Bedrooms will have solid timber floors.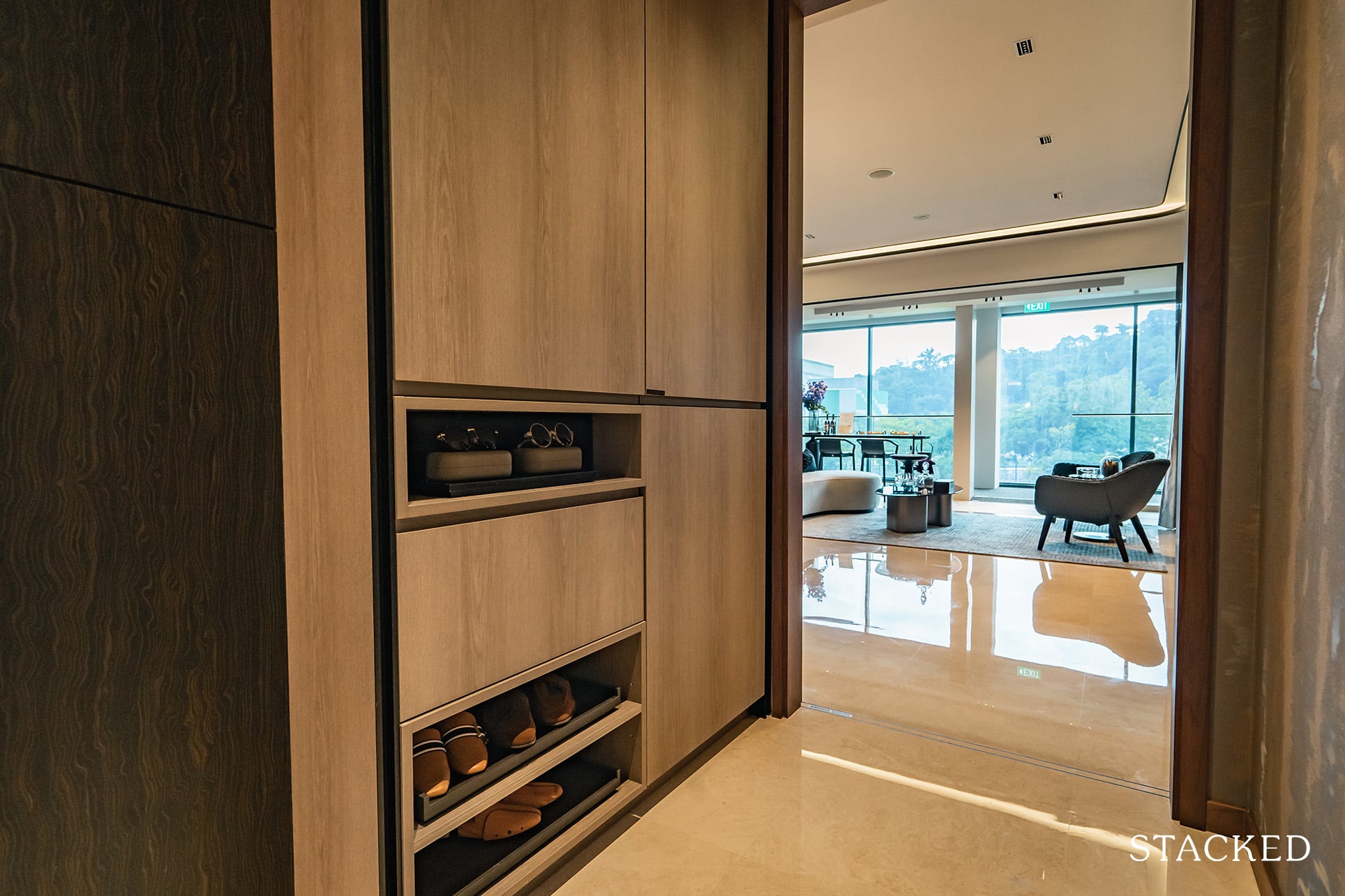 As you step out of your private lift, you are greeted by the 6.6 sqm private lift lobby, with some built-in shoe cabinets provided. It is larger than your typical private lift lobby, so you can put on your shoes in comfort daily.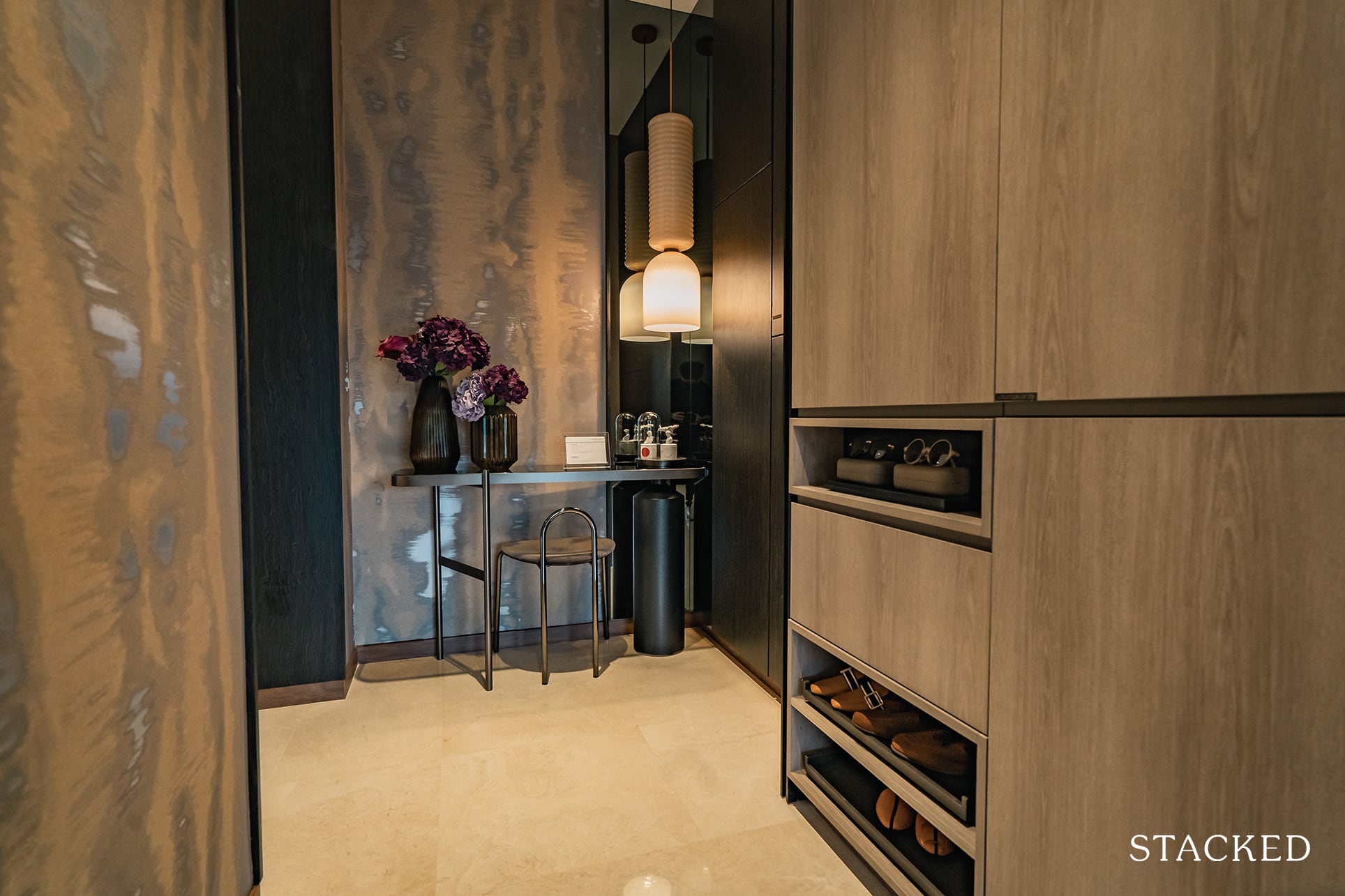 Once you come into the unit, you are greeted by the vast expanse of space found in the living and dining areas. Combined with the kitchen, this makes up 59.3 sqm, which is larger than all the 1 Bedroom units found here.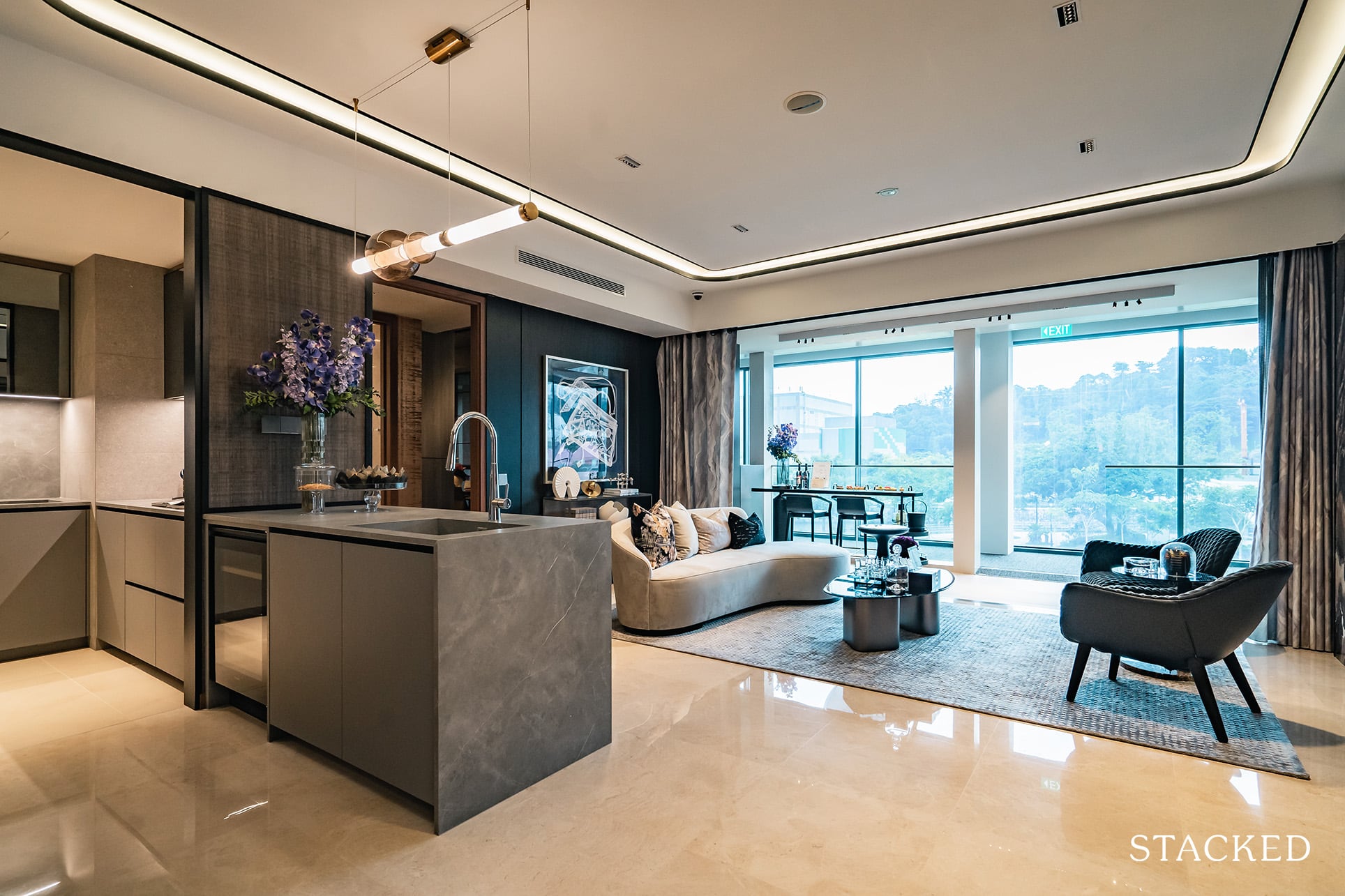 It's certainly a good first impression, and even more so on a high floor unit which will afford you views of the Marina Bay/City area.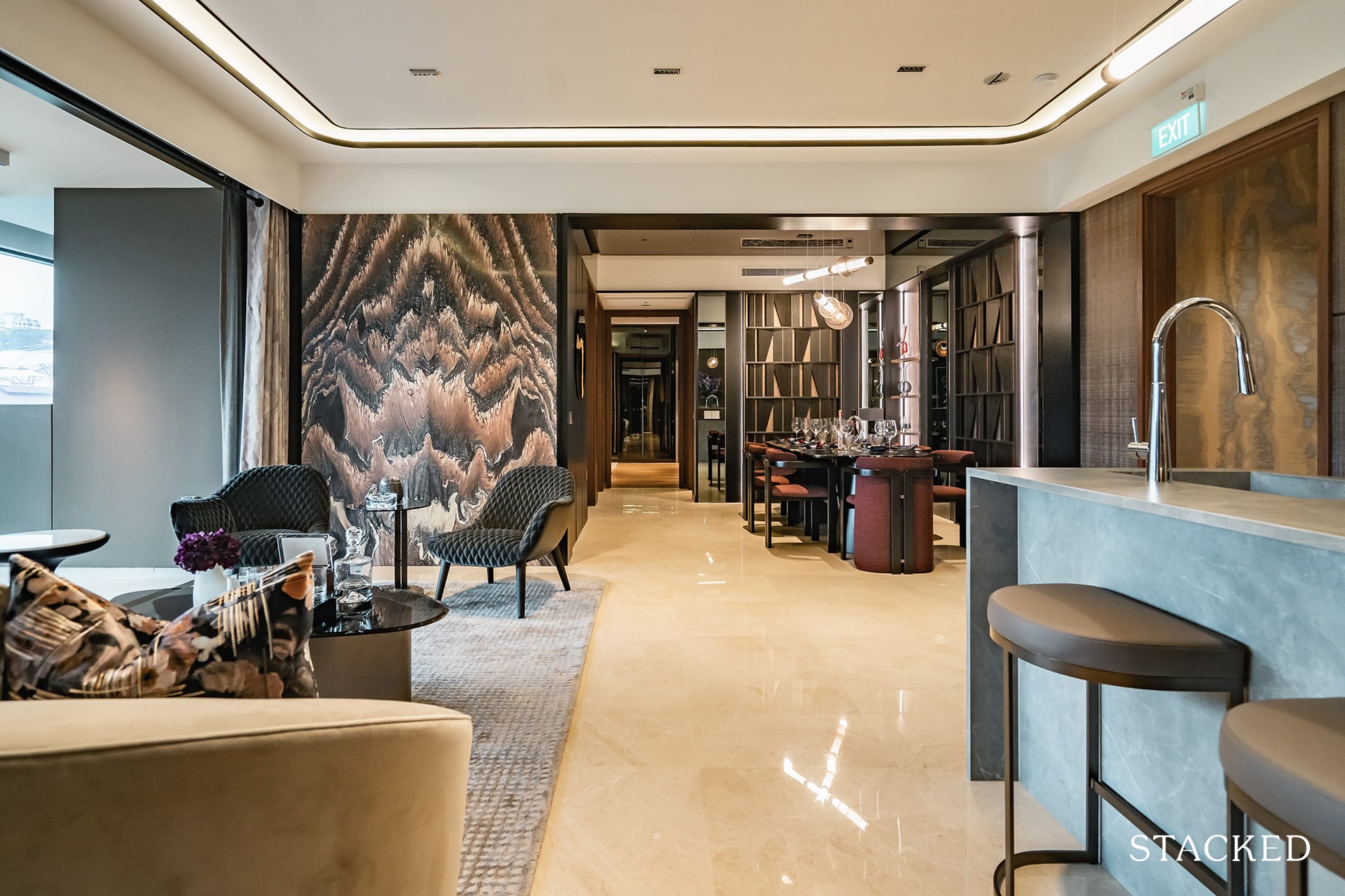 While you may be used to seeing the living and dining rooms laid out in parallel for larger ones, this 4 bedroom unit at Canninghill Piers is uniquely segregated into two different areas instead. It works well for this layout as it allows you to have an amazing amount of space for furniture in the living room with a market-leading wall-to-wall distance. By market-leading, I am, of course, excluding unique, ultra-luxury projects such as Park Nova and Les Maisons Nassim.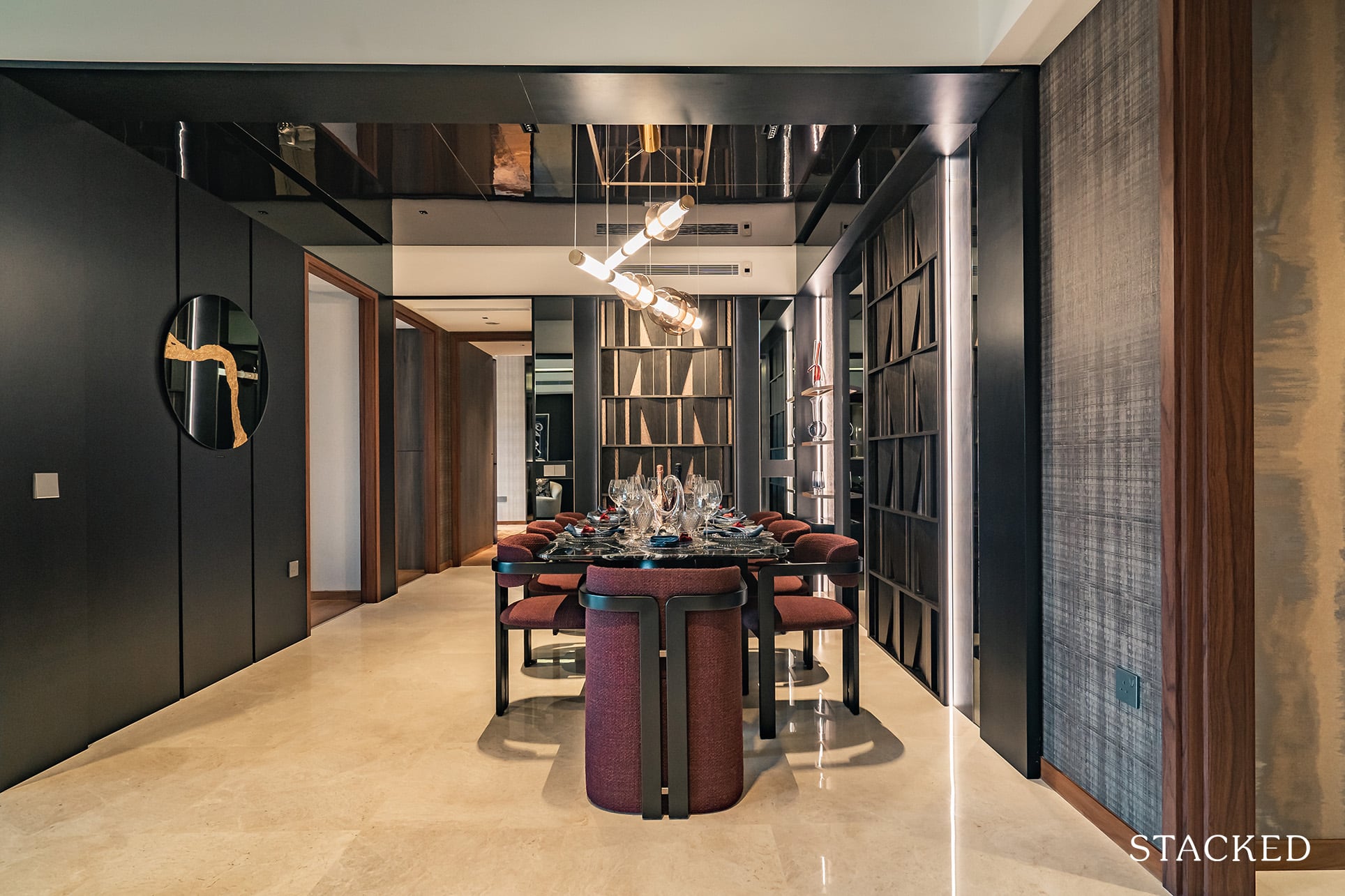 Let's take a look at the dedicated dining area first. Situated to the right of the entrance, the interior designers have placed an 8 seater dining set here with ease. With a unit spanning 1,755 sq ft, hosting friends and family should certainly not be of any challenge. For the eagle-eyed among you, you would have also noticed that the air conditioning in this 4 Bedroom Premium unit is ducted, which has the benefit of being more aesthetic and more consistent cooling.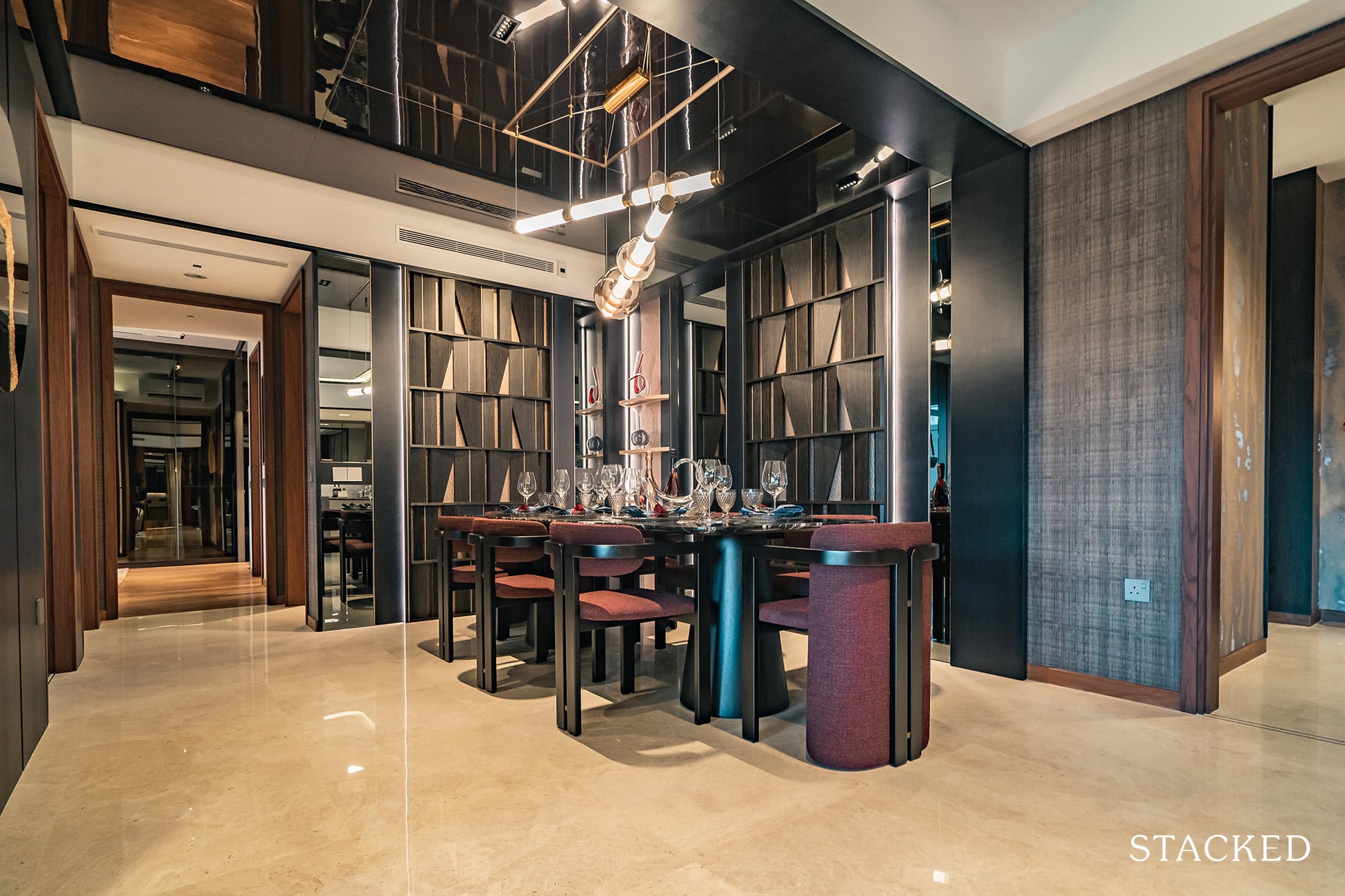 Frankly, I find the design here a little too messy for my tastes, but even with so much going on, it clearly doesn't detract from the space available. I can only imagine a minimalist design to allow the space to be highlighted even more. Thank goodness this is just part of the ID design and would not be coming with the unit.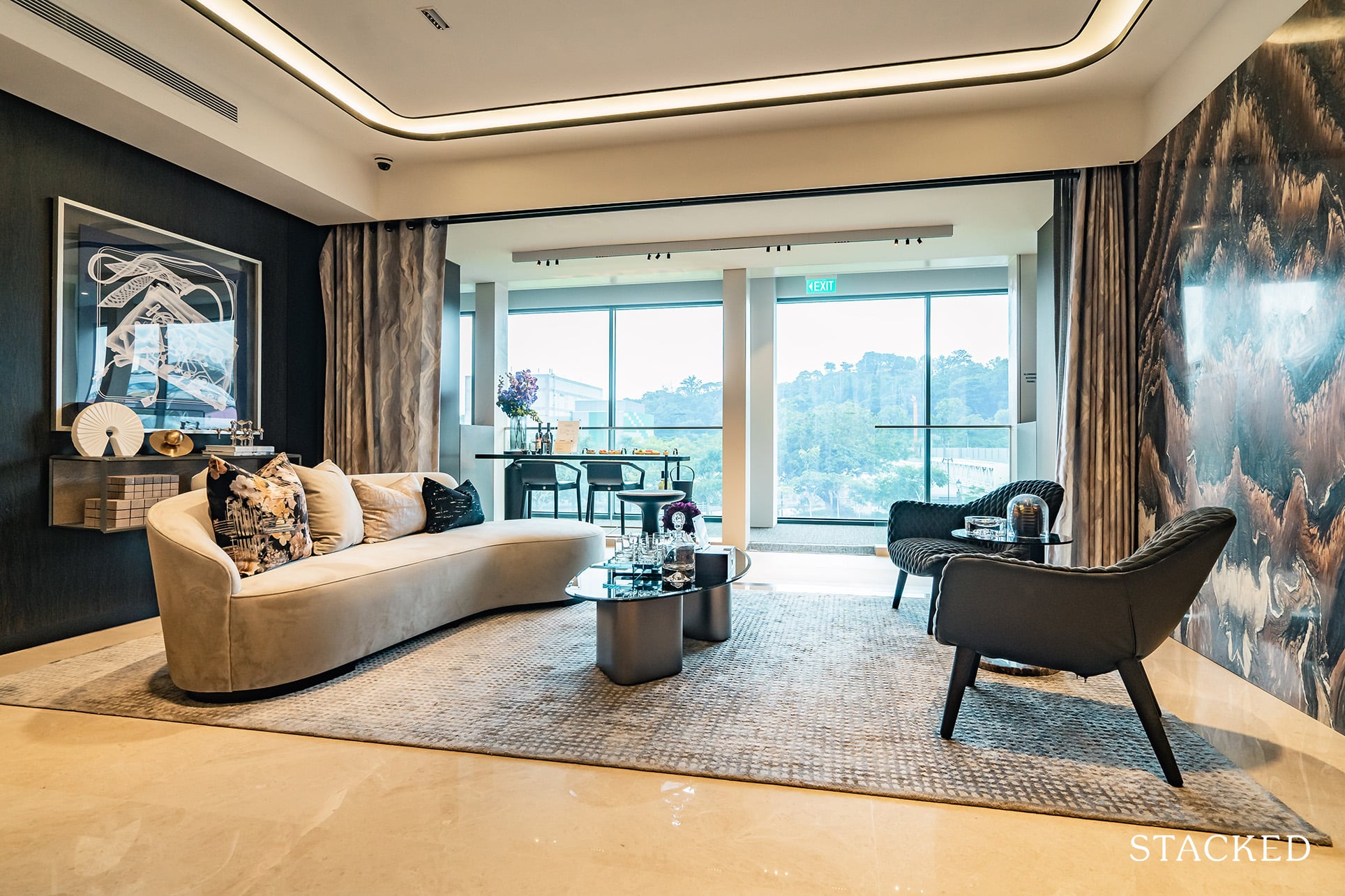 The wall-to-wall distance is certainly commendable in the living room and definitely one that your friends and family will be impressed by. Whatever space constraints you saw in the living rooms of the smaller units (even for the 3 Bedrooms above) will instantly disappear here.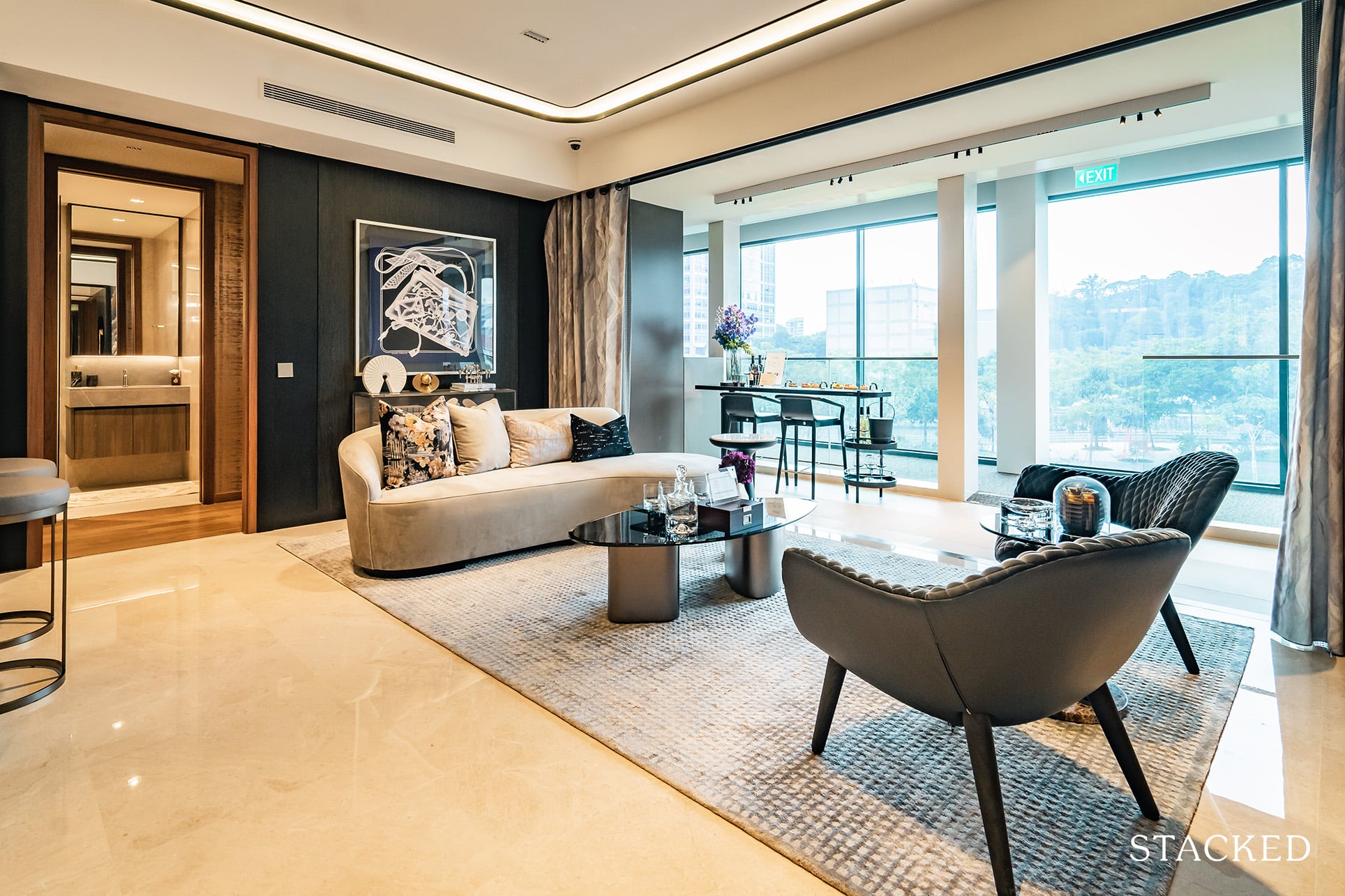 While you do still have to be careful with the length of the sofa, given it might encroach into the Junior Master Bedroom, it still is very decent all around.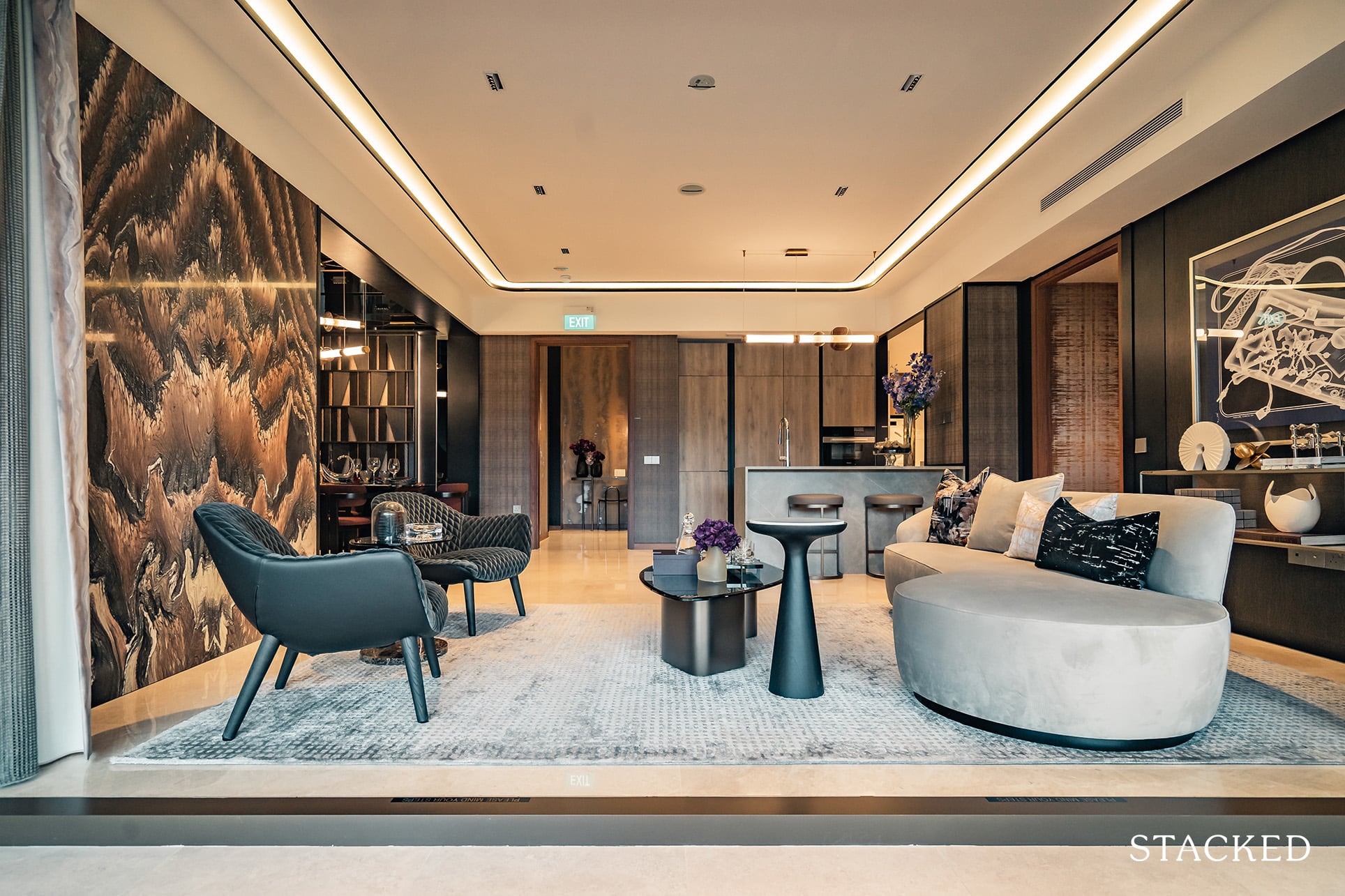 Not to mention, the entrance from the lift lobby and the dry kitchen just makes the space feel very open as well – with a big part to play also due to the light that the balcony brings in.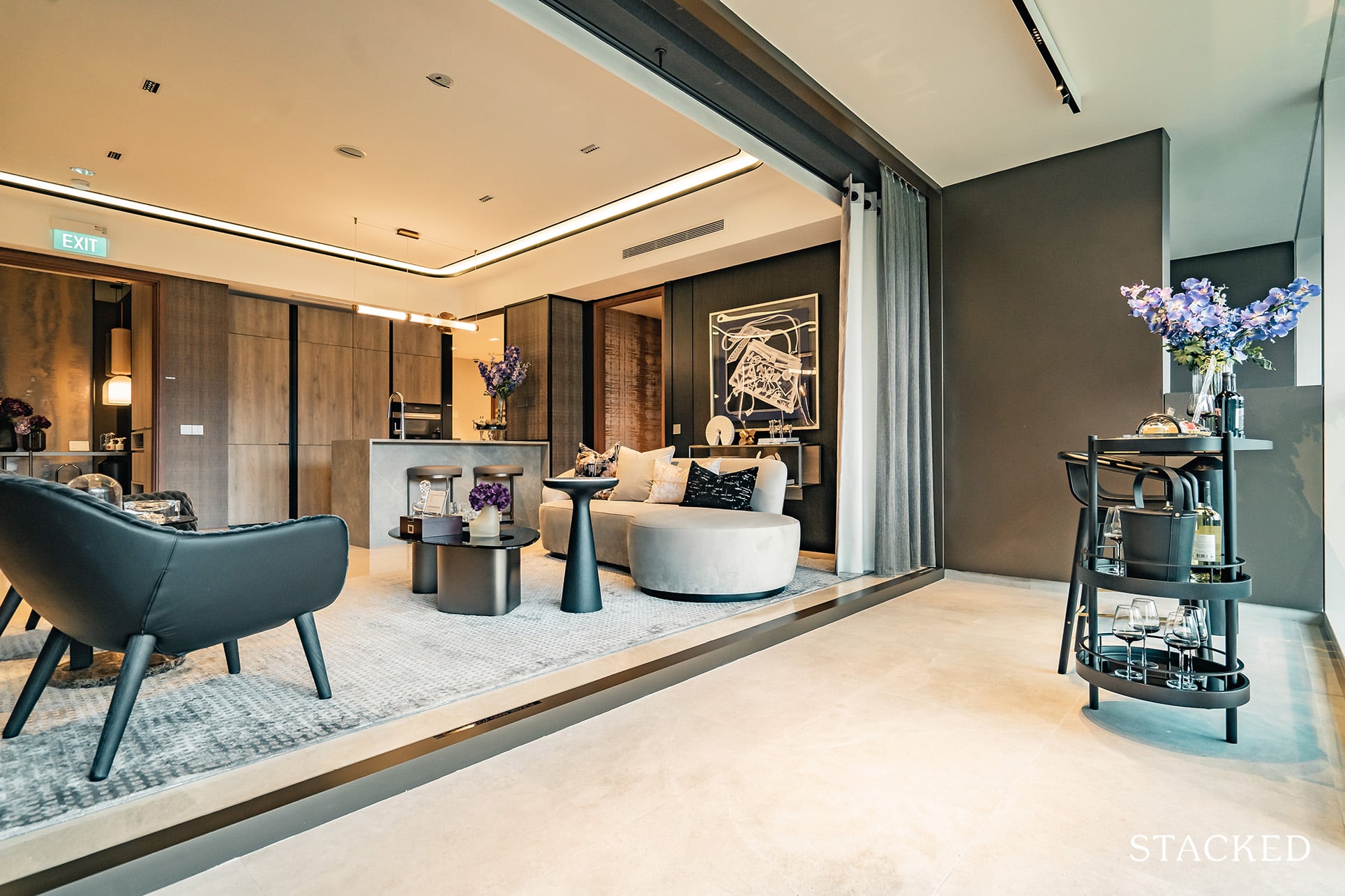 As for the balcony, it stretches the length of the living room and measures 10.3 sqm. It's certainly a good amount of space here, and the developers have intentionally left this space rather sparse to illustrate how plentiful your options can be. They did place a 2-seater bar counter here, but you could easily extend that to the entire length of the balcony to take advantage of the city views you get from here. As part of CanningHill's façade, do note that your balcony will feel a little more closed-off as the fin-like structure will protrude from the exterior.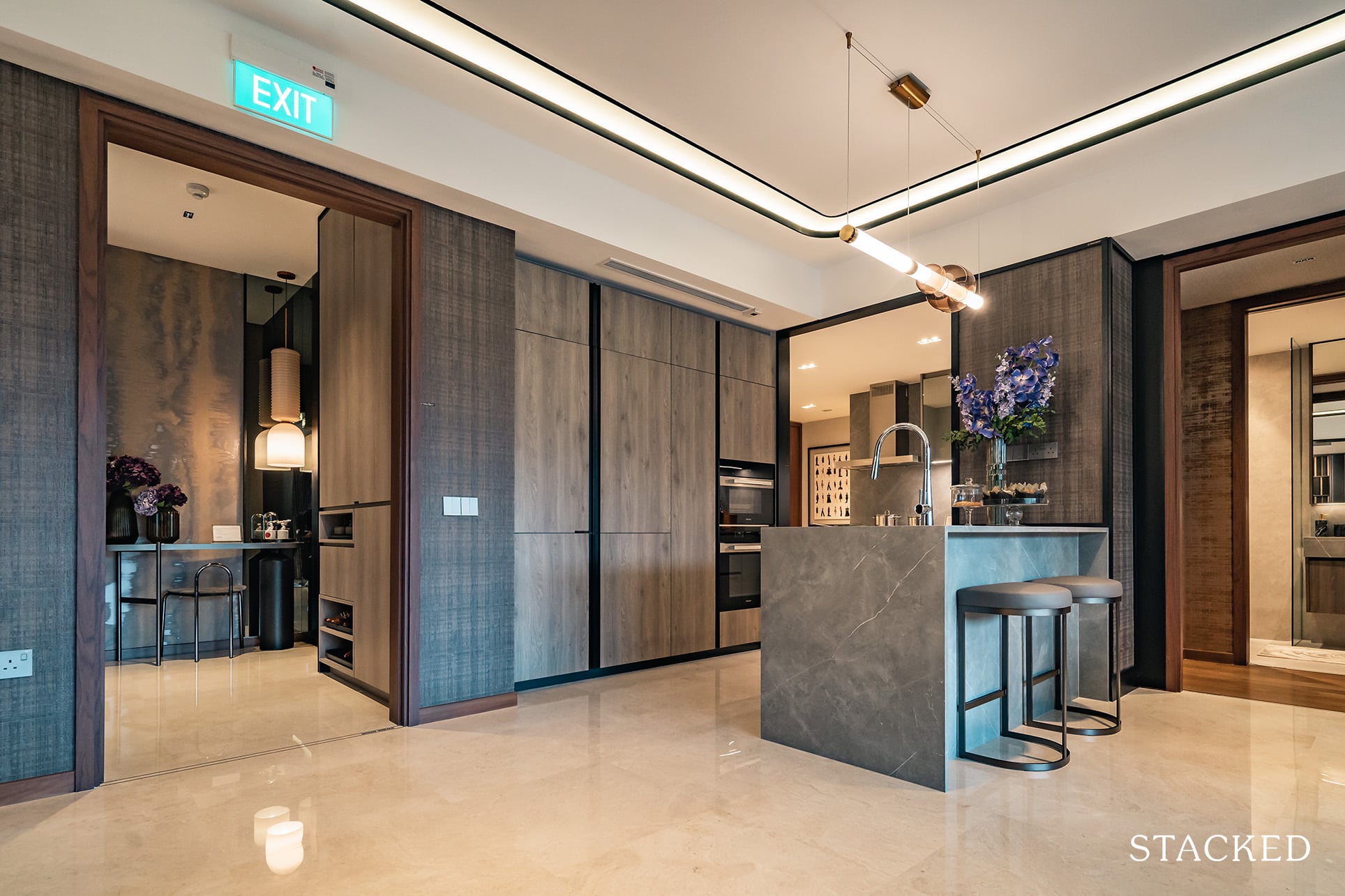 Moving back to the dry kitchen area, where you will find a kitchen island made of engineered stone. This supplements the countertop space you will have in the wet kitchen but is a functional space that large units should always include. You have two options for the colour scheme used in the kitchen, and the one seen here is 'Modern Grey' while the 3 Bedroom show flat displays the 'Opulent Brown' option.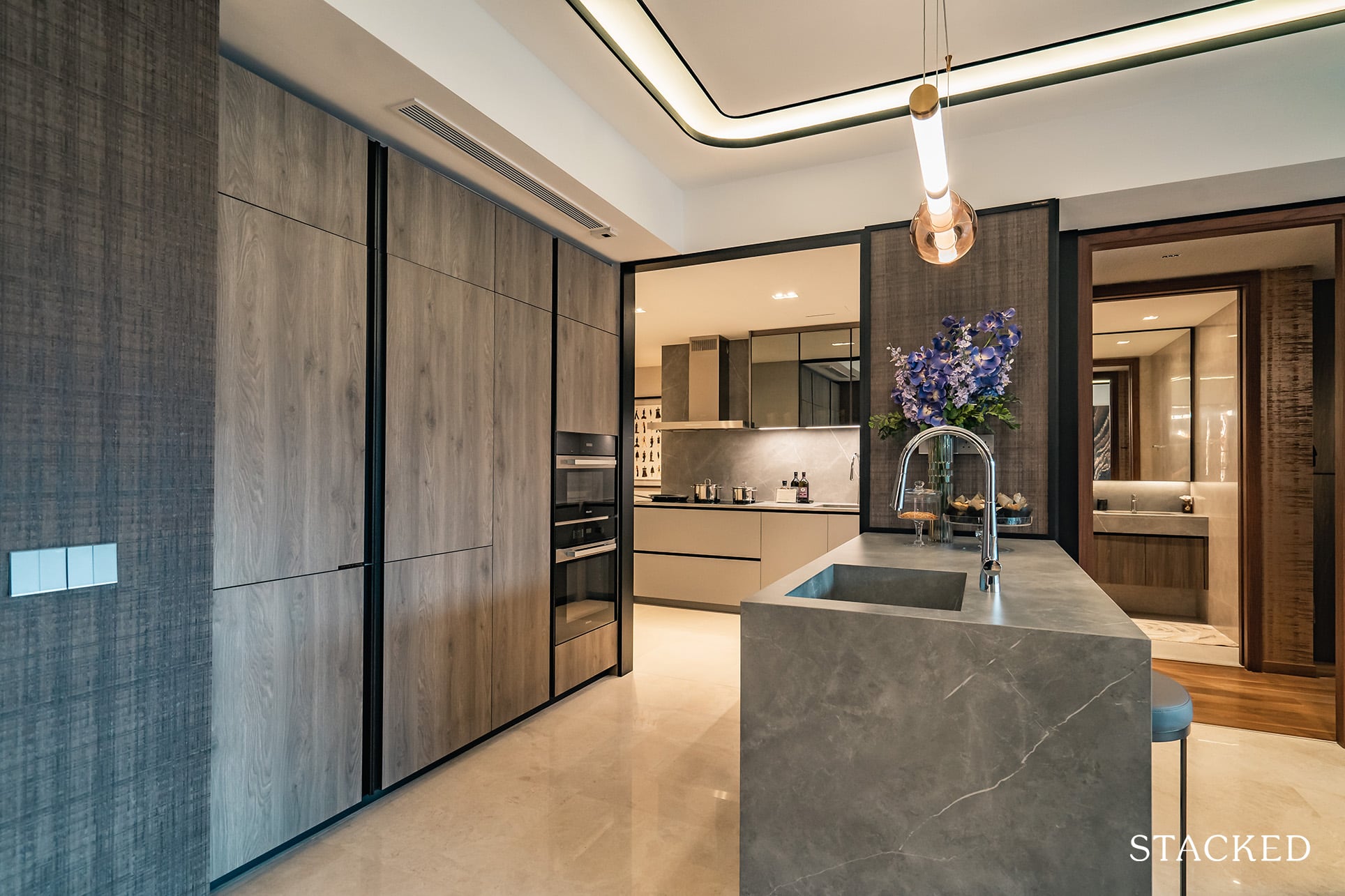 Along the kitchen island is where you will also find an integrated sink and wine chiller, both of which will come in handy for a quick breakfast prep in the morning or an evening cocktail. The dry kitchen area also includes two integrated fridges and other appliances from Miele and De Dietrich, so you can be assured that you will be getting plenty of quality goods here.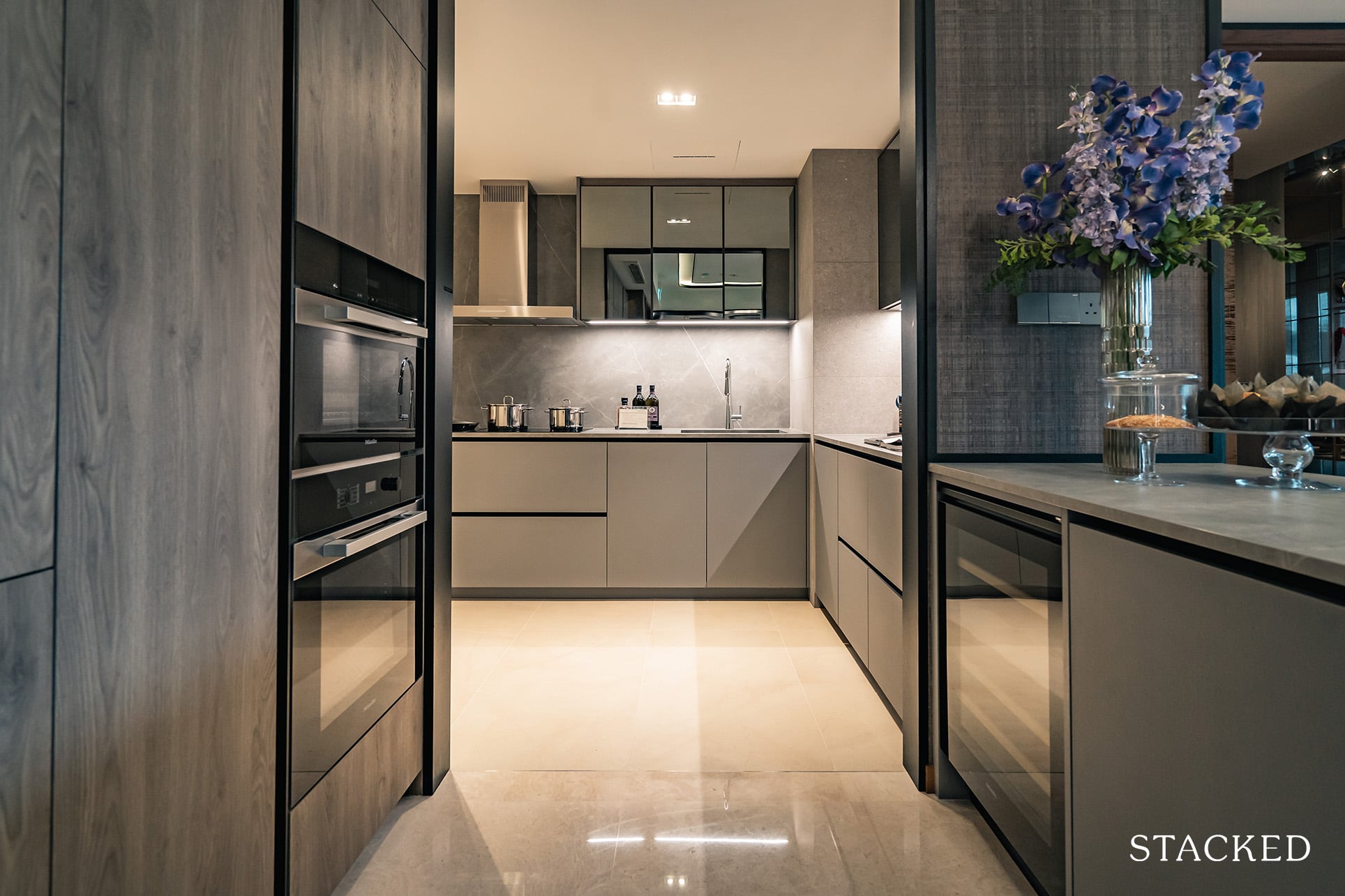 It's very much the same case in the wet kitchen, where the grey-based kitchen cabinets continue the trend. All units at CanningHill Piers get Ernestomeda kitchen systems, which is an Italian kitchen designer brand that was also used to fit other luxury projects like One Pearl Bank and Leedon Green.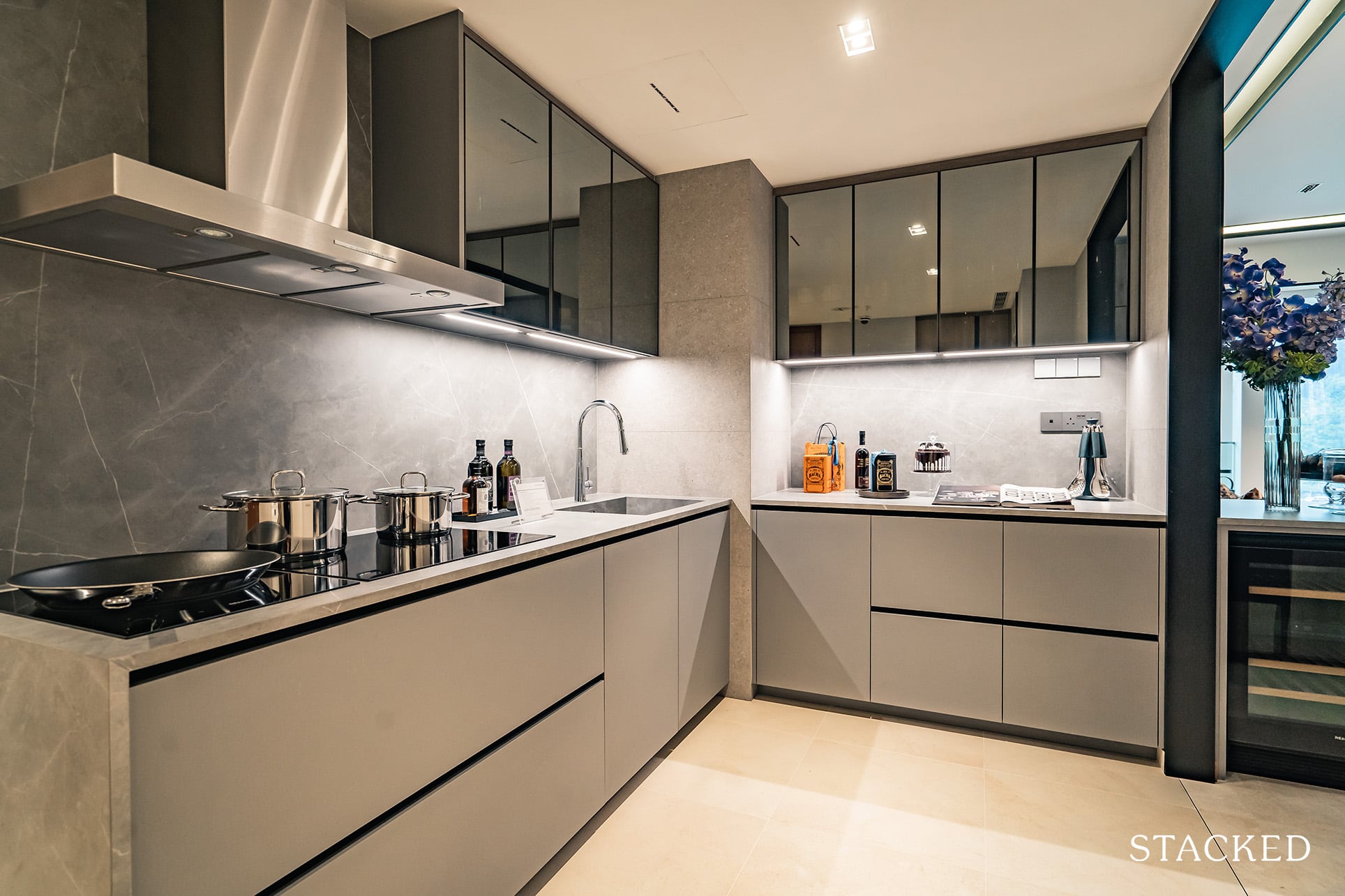 Countertop space spans an L-shaped layout, and while it does not span a large amount of space, it is complemented by the kitchen island outside as well. Size-wise though, this wet kitchen is rather generous. If you spend a lot of time in the kitchen, you should be happy with the amount of space dedicated.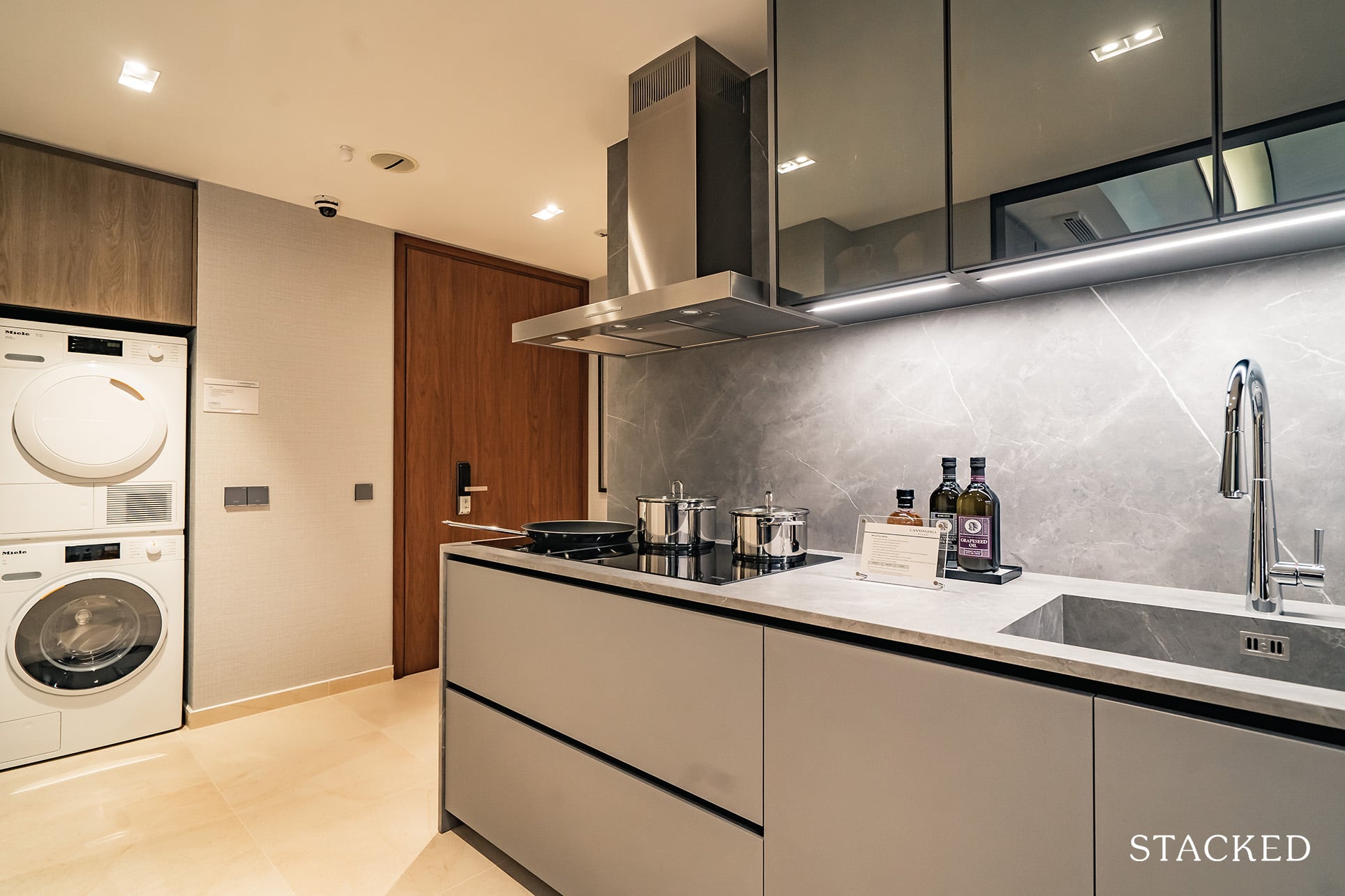 Although it must be said, this is the only 4 Bedroom unit that does not have windows in the kitchen and hence, is also the only one with an induction hob. The other layouts come with gas hobs, which is common for larger units as developers usually presume larger families cook more often at home. It is a bit of a downer, although you can open the backdoor for additional ventilation.
And while I'd have preferred gas hobs here, they have at least provided a very special type of induction hob here – it's specially made for a wok (with a rounded hole) to ensure consistent heat throughout. I wonder if you can whip up a good plate of char kuay teow with this?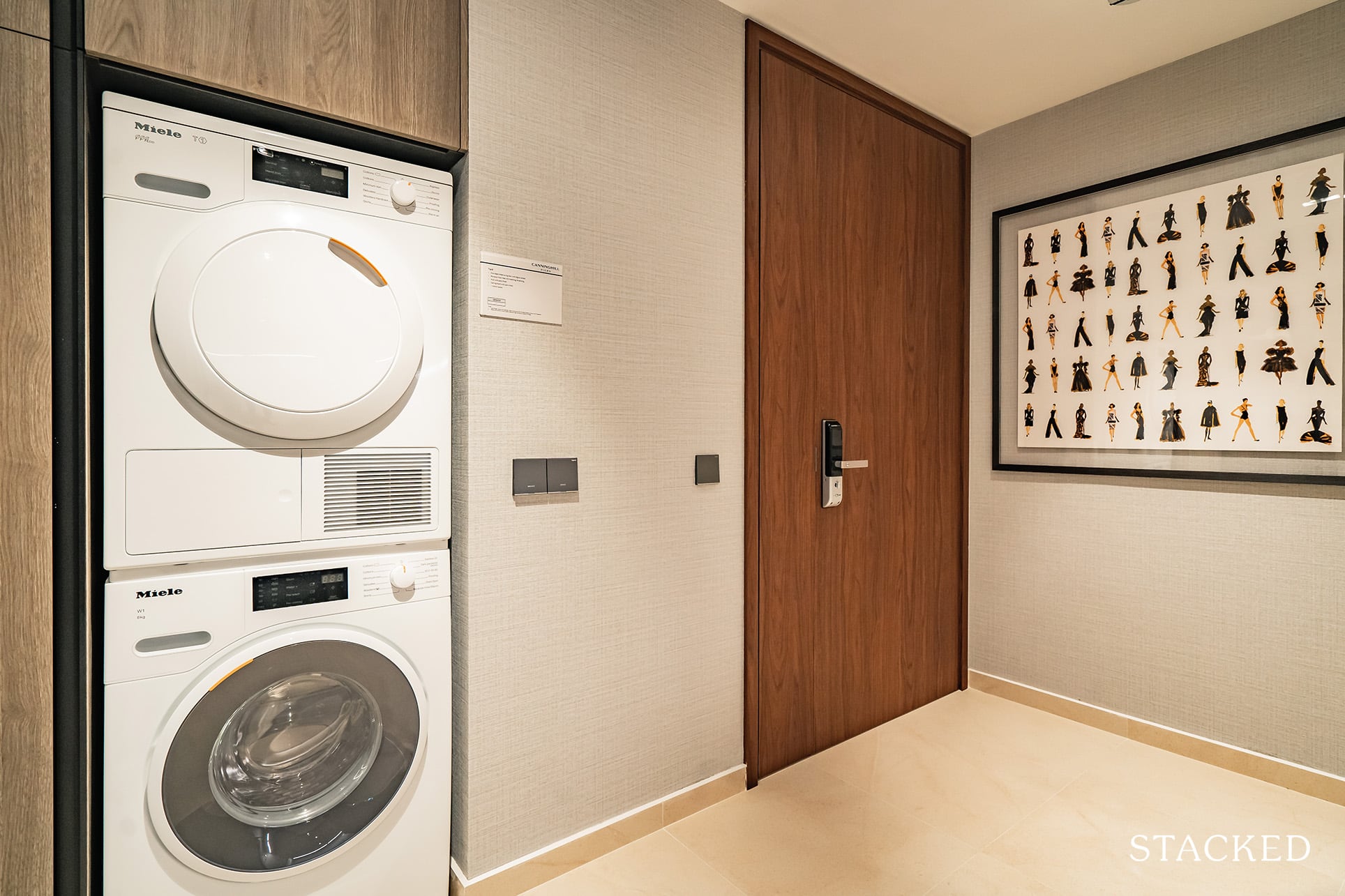 As for the Miele washer dryer, it can be found in the yard adjacent to the wet kitchen. There are no windows for this space, so you will have to rely entirely on the washer/dryer to do the job.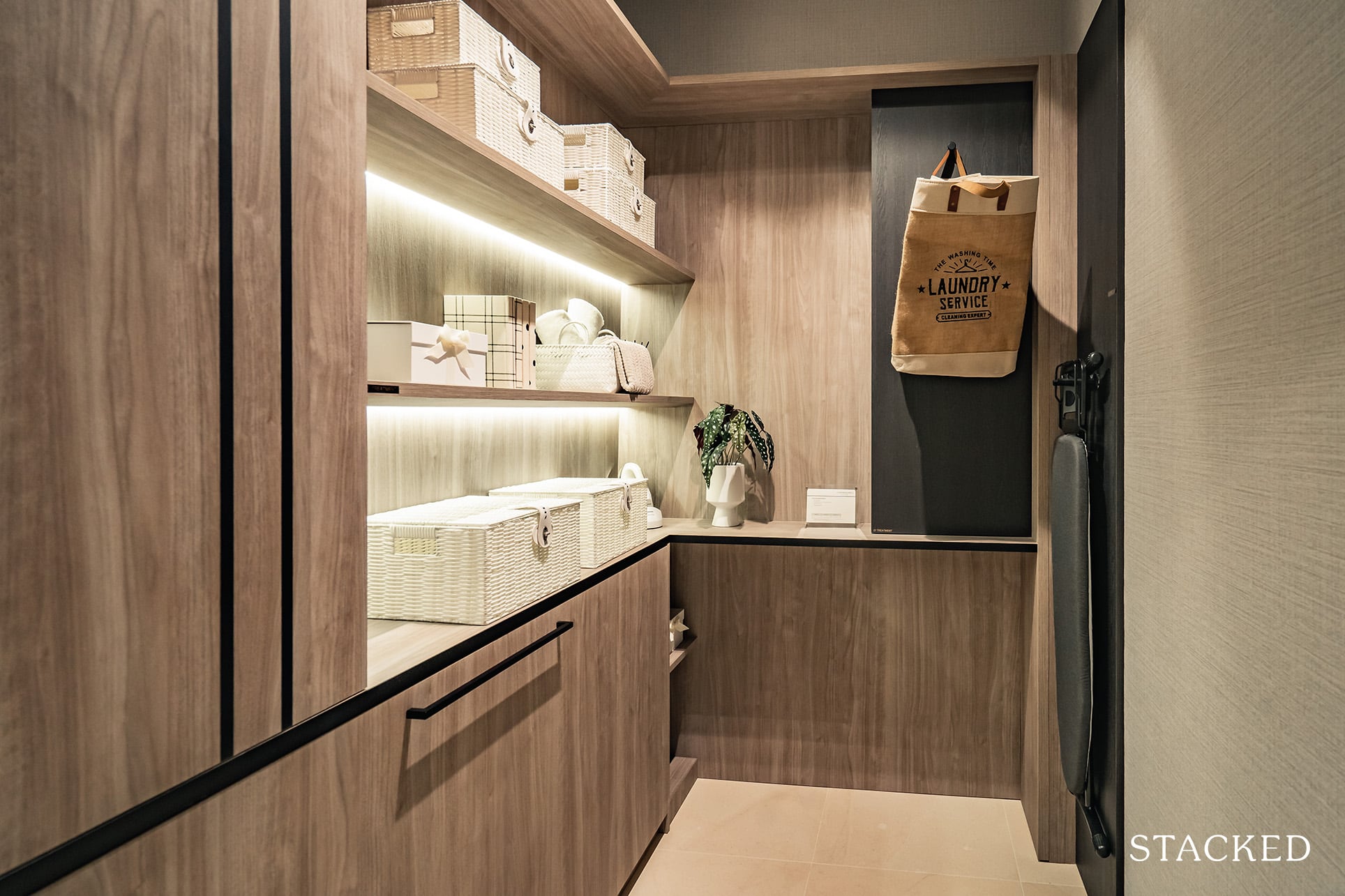 There is a utility room (4.8 sqm) here too, and this is definitely more of a need than a want in a 4 Bedroom unit sized at 1,755 sq ft. Utility rooms are required for most families but these days, it is a luxury that only a few can afford.
Rounding up the kitchen area is a small w/c and back door leading to the common lift lobby.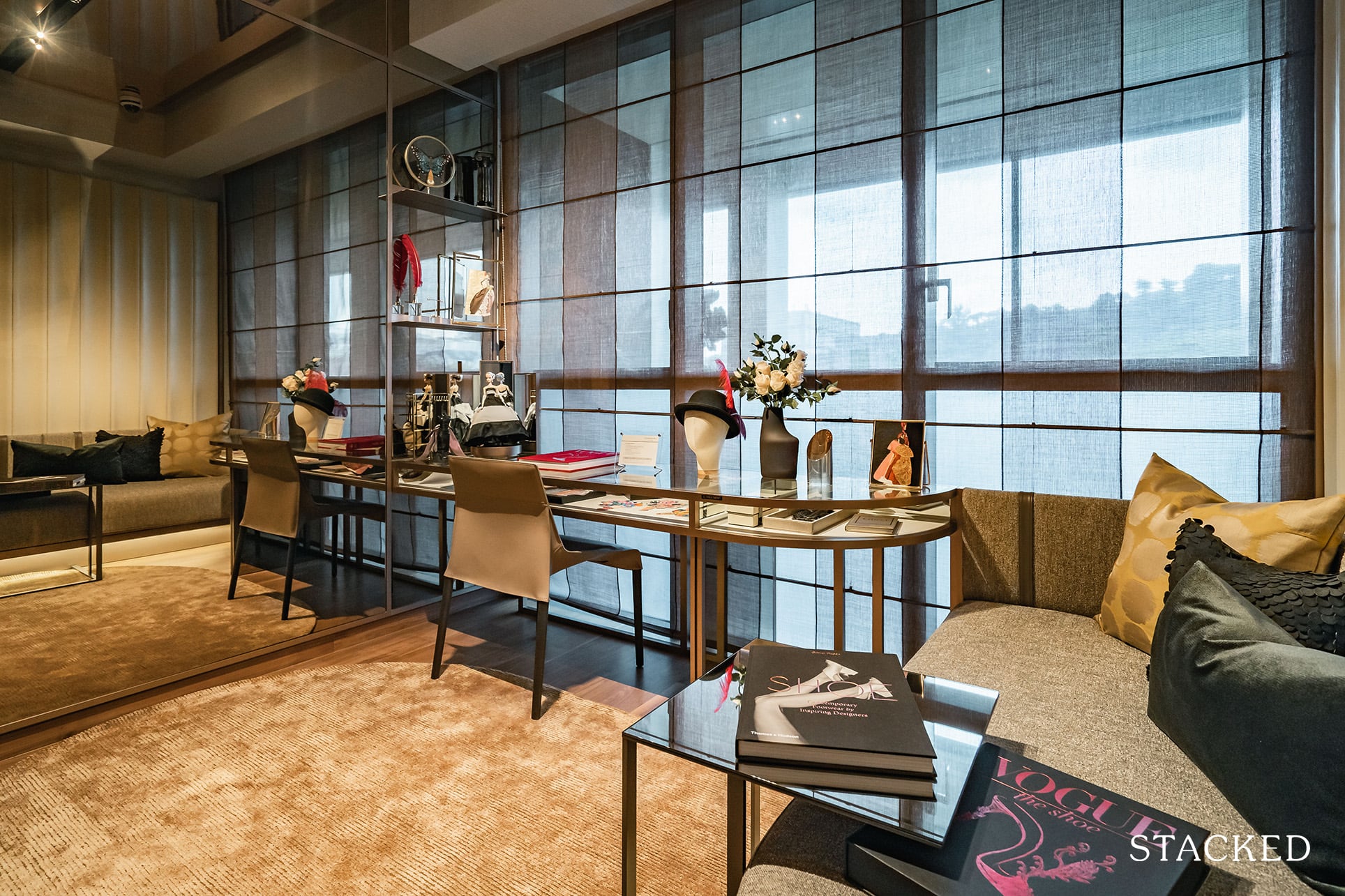 The 4 bedrooms are laid out in a dumbbell format, with the Junior Master Bedroom located on one end and the other 3 bedrooms at the other.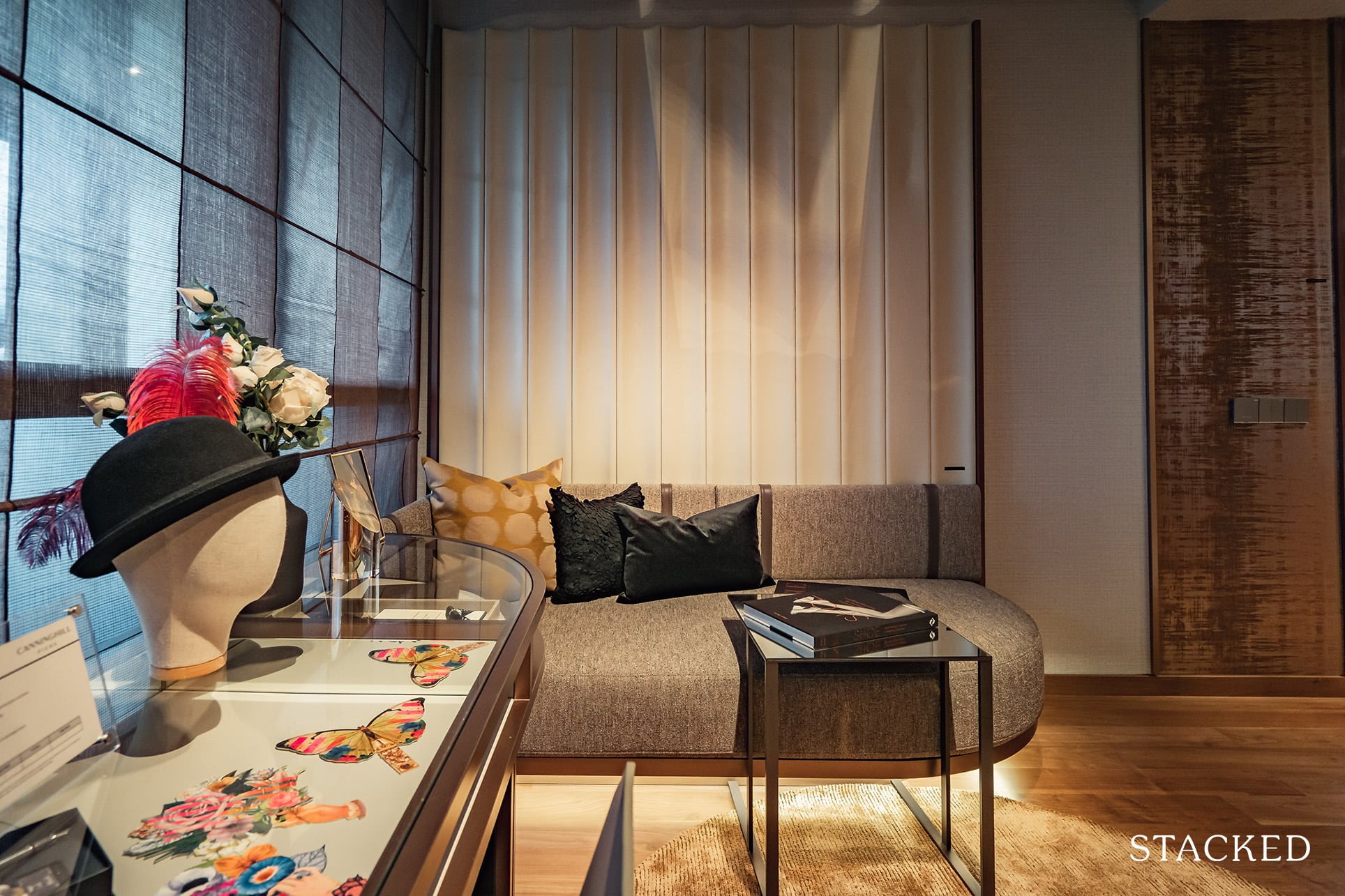 I'll start with the Junior Master, which is located at the end closer to the kitchen. Because this room is standalone, it is ideal for a multi-generational family where one party may need more privacy away from the other members. This Junior Master measures 12.1 sqm and comes with an ensuite bathroom as well.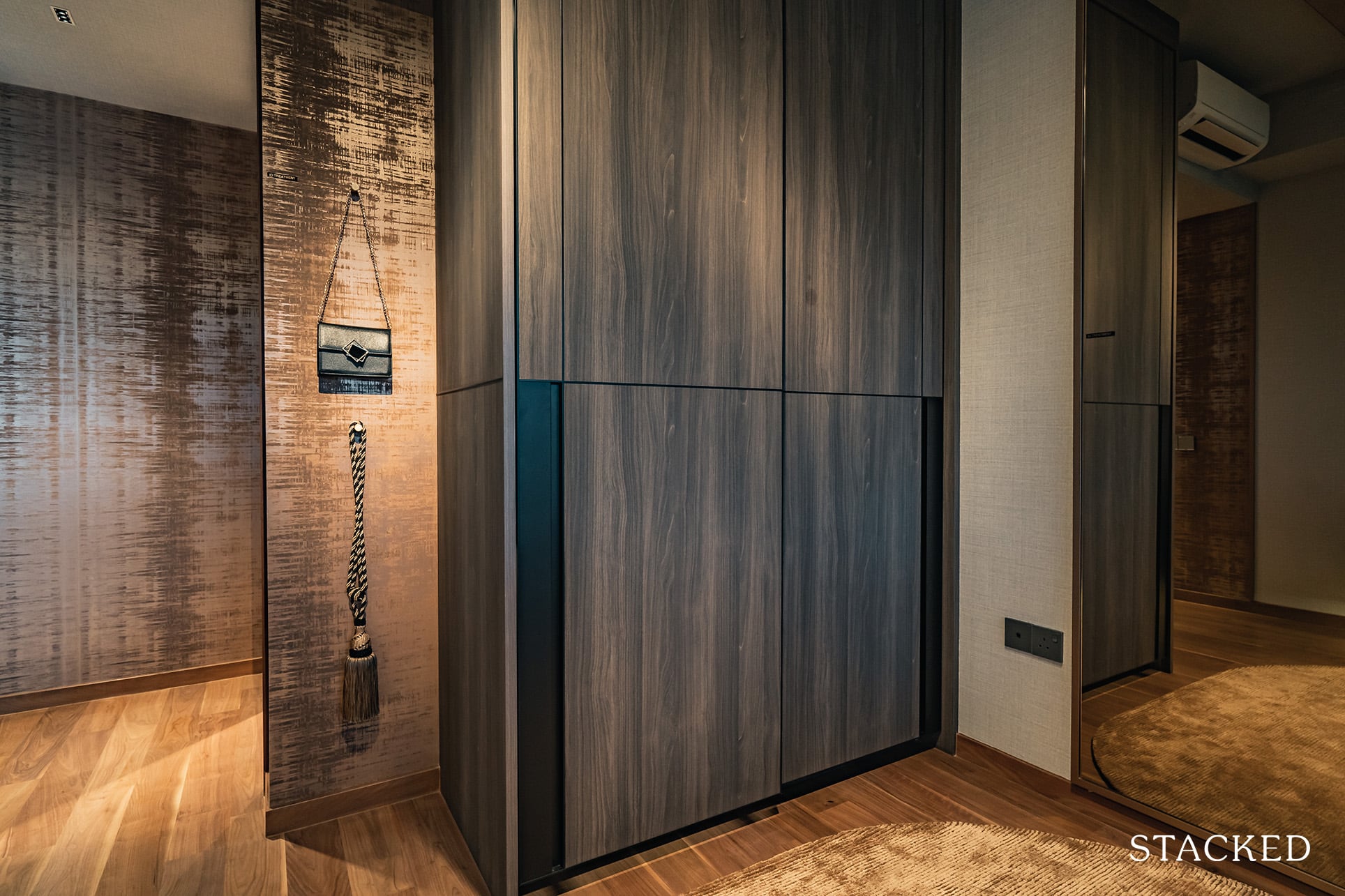 The room has been done up as a guest room of sorts, with a dresser table and a single sofa/bed. As this room is well sized at 12.1 sqm, it leaves you plenty of space in the room. It also has your built-in wardrobe with a wood laminate finish as well. As the aircon ledge is located just outside this bedroom, you will get half-length windows here.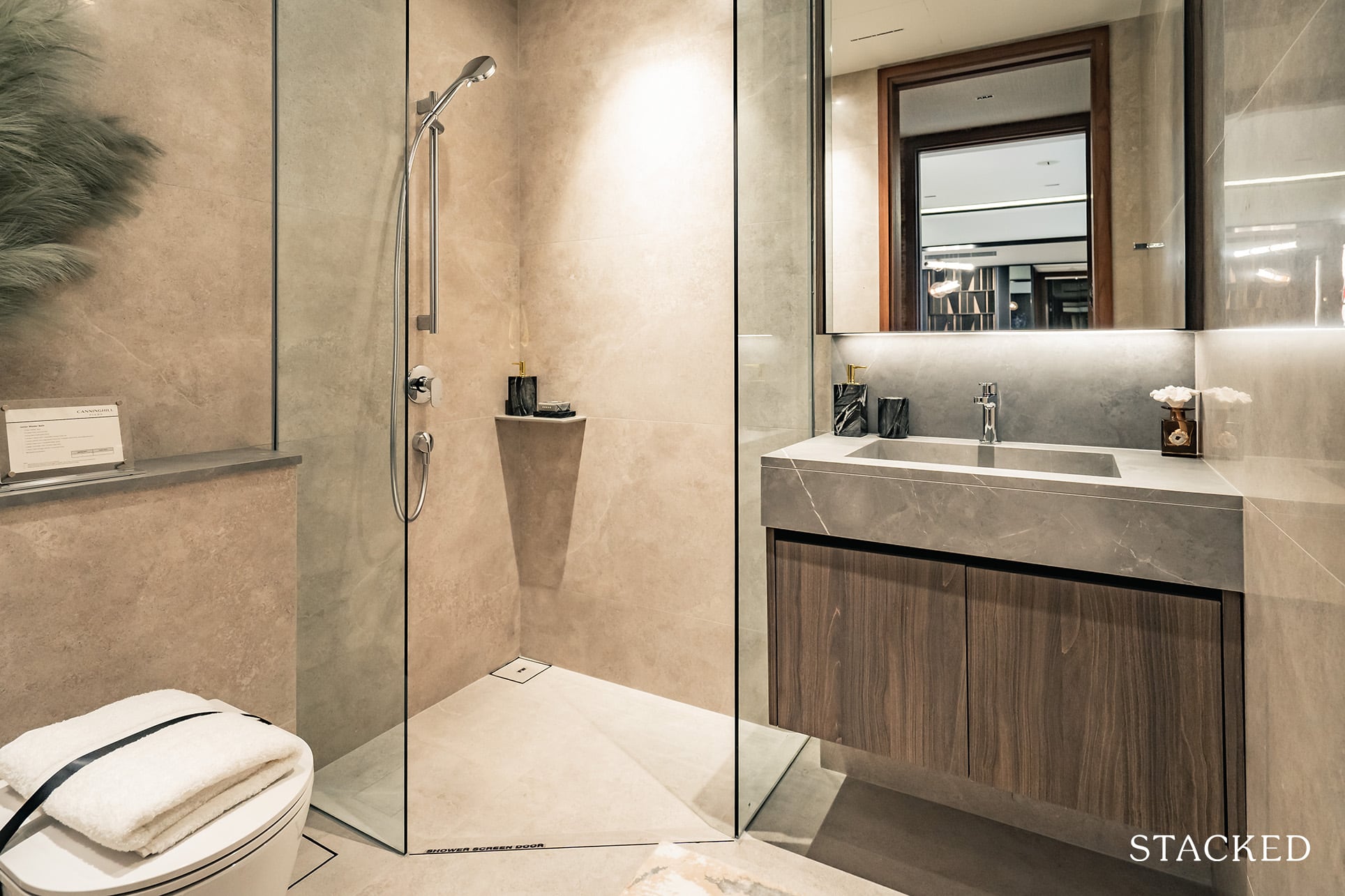 As for the ensuite bath, it is at the market average of 4.2 sqm but slightly smaller than the rest of the bathrooms at CanningHill Piers. Nevertheless, you still get the same reputable brands here – including Laufen wall-hung WC and other fittings from Gessi. However, as with most other bathrooms at CanningHill Piers condo, the one here does not have windows which is a bummer in terms of natural ventilation. Surprisingly you don't have a rain shower in all bathrooms too with the exception of the Master Bathroom.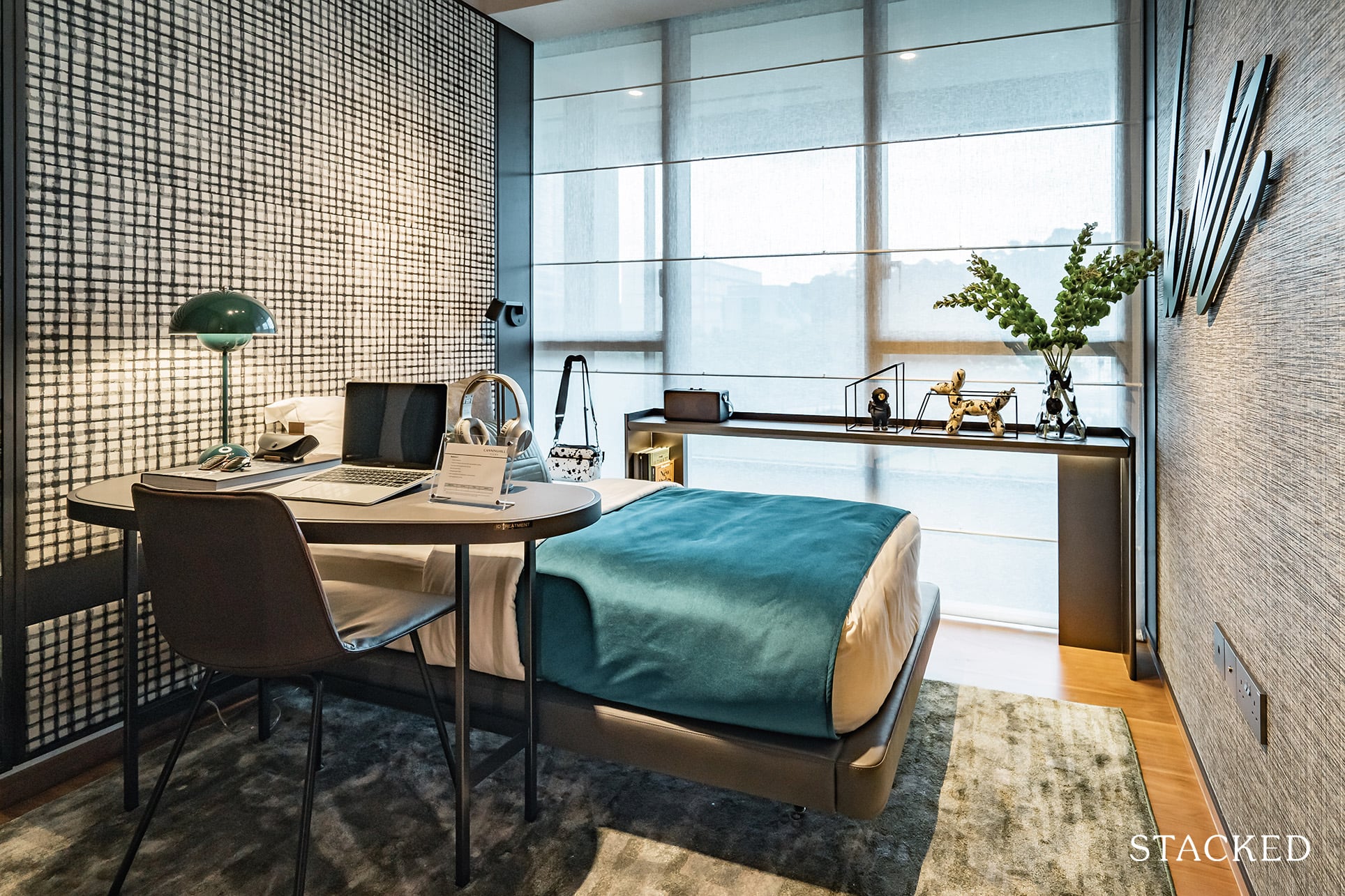 Moving on to the other side of the apartment, Bedrooms 3 and 4 are identically sized at 9.9 sqm. That is a tad larger than the new launch average of between the mid-7 and 8 sqm. I'll start with Bedroom 4, which is the first bedroom along the corridor. This was done up with a Single bed, which leaves room for a standalone study table as well. I wouldn't go so far as to call this spacious, but it is certainly slightly more comfortable than many other new launches out there.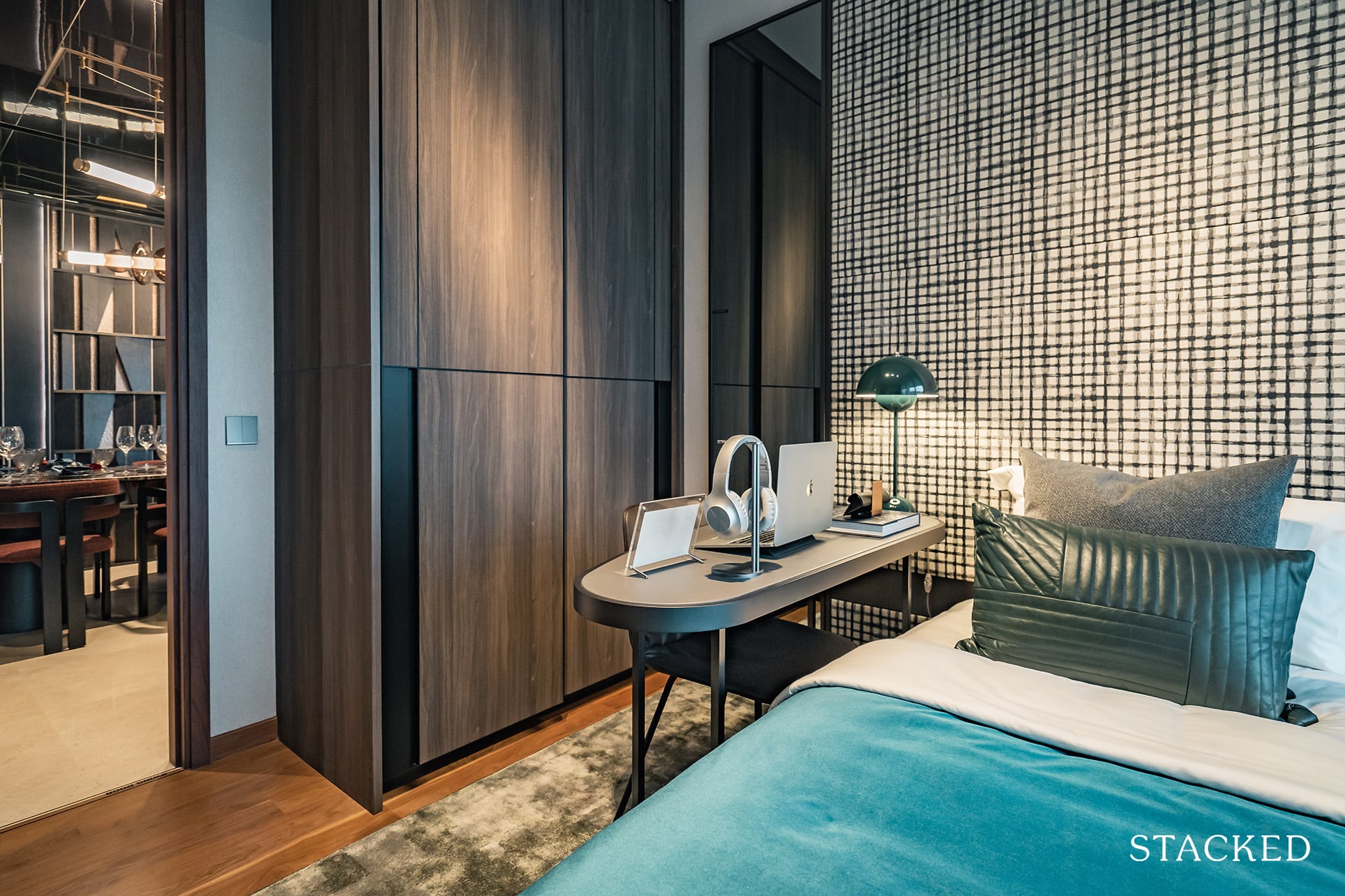 The storage is provided by the typical 2-panel wardrobe, with a wooden finish that I quite like the look of. You do have full length windows here too which is great.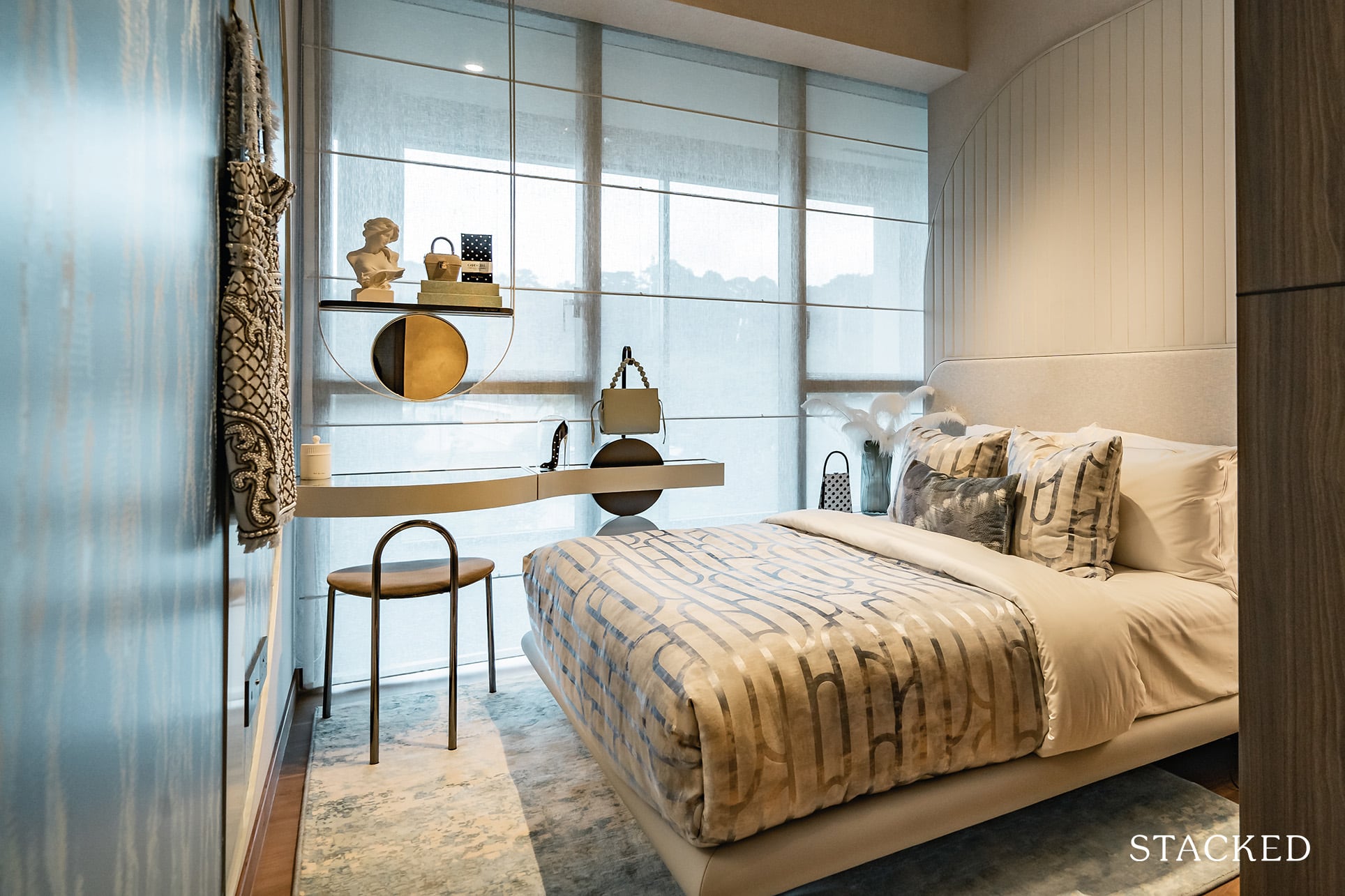 As for Bedroom 3, the developers have done this room up with a Queen-sized bed instead. It's a good contrast to have and gives you an idea as to how a small and larger bed would fit into an identical room size.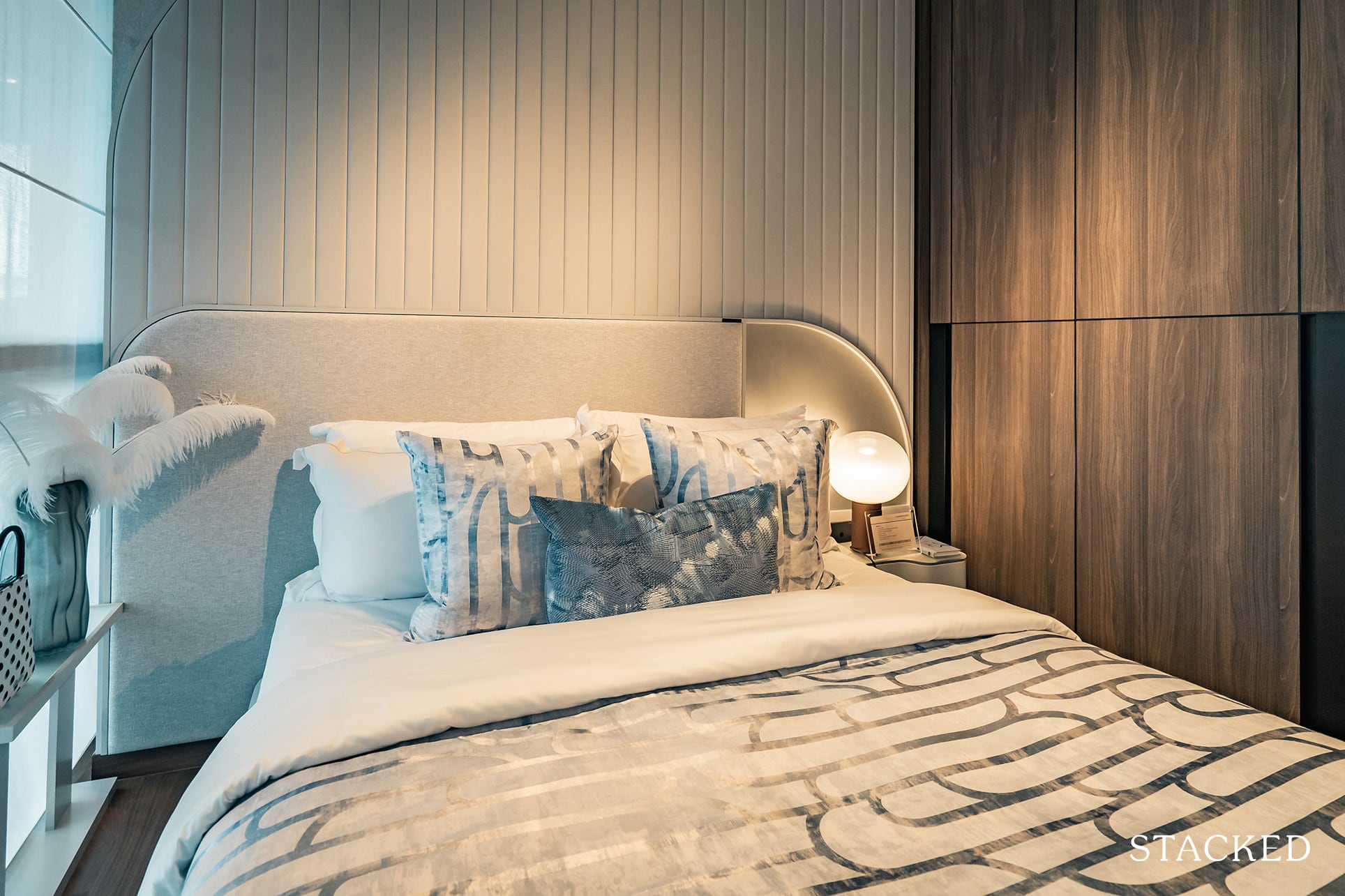 Here, they have been quite creative in actually fitting a built-in table just by the window, which helps to enhance the practicality of this room while not compromising on the size of the bed (it is slim, though, so I can't say it would be very conducive for proper work). Both bedrooms will come with solid timber floors and built-in wardrobes with a wood-like finish.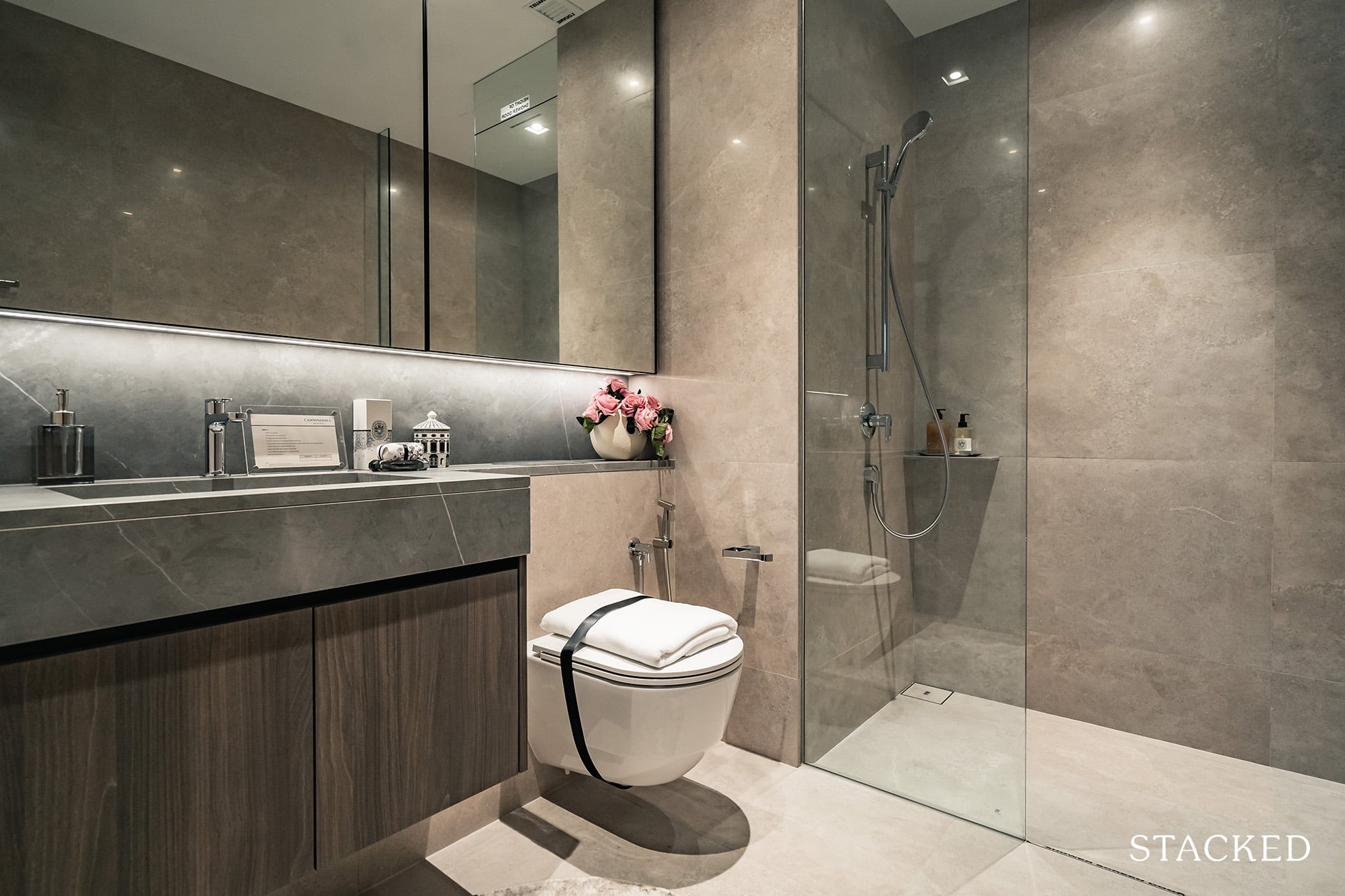 Bathroom 3 will be shared between the two common bedrooms and your guests. It is 5.3 sqm large and does not have windows here. It's in the same neutral palette as the rest of the common bathrooms and features sanitary furnishings such as the handheld shower, wall-hung WC, and taps from both Laufen and Gessi.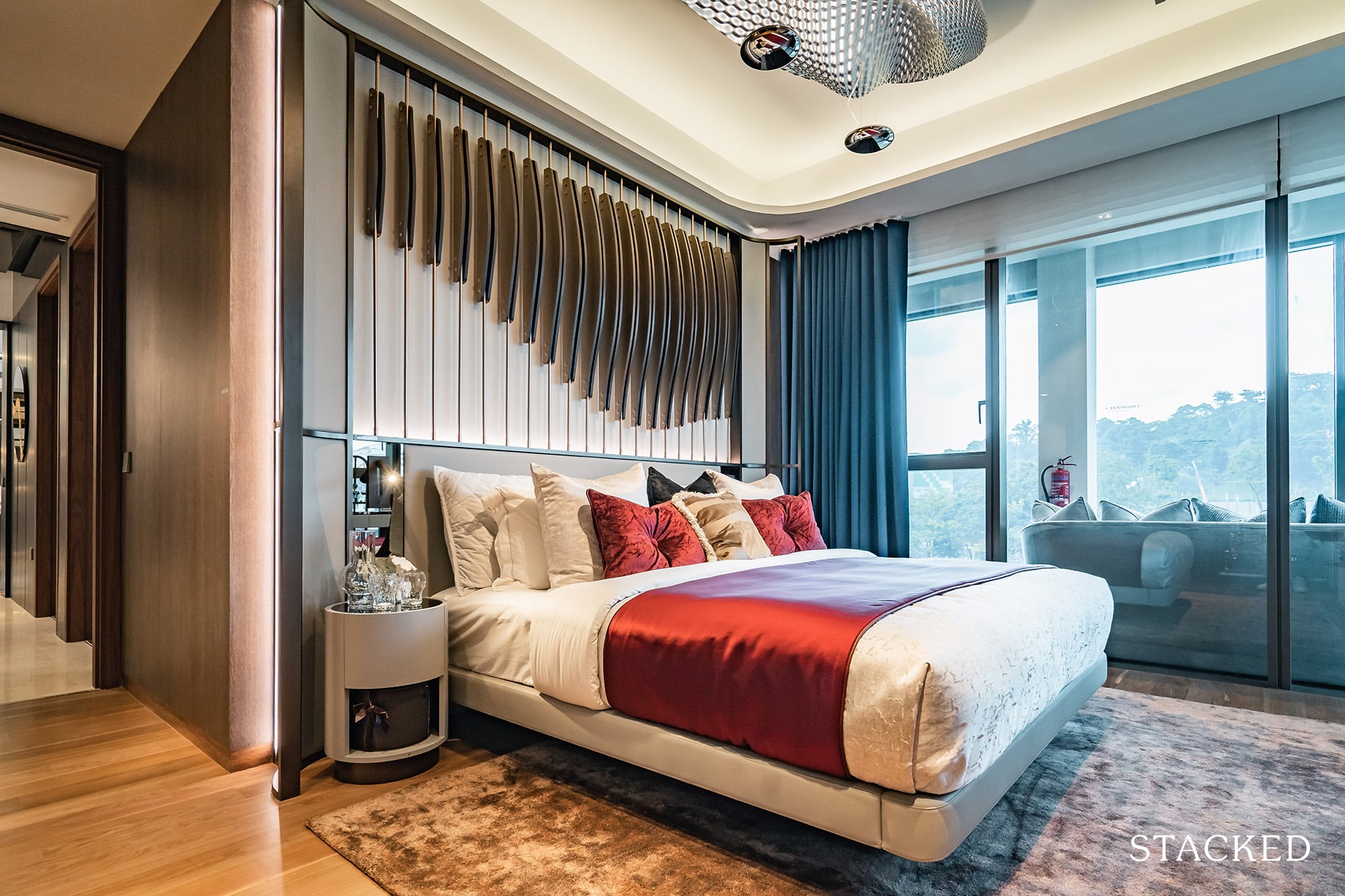 Finally, the highlight for the main occupants of this apartment has got to be the Master Bedroom. It is the place where the owners retreat at the end of the day, so it's important to ensure the experience is comfortable and luxurious.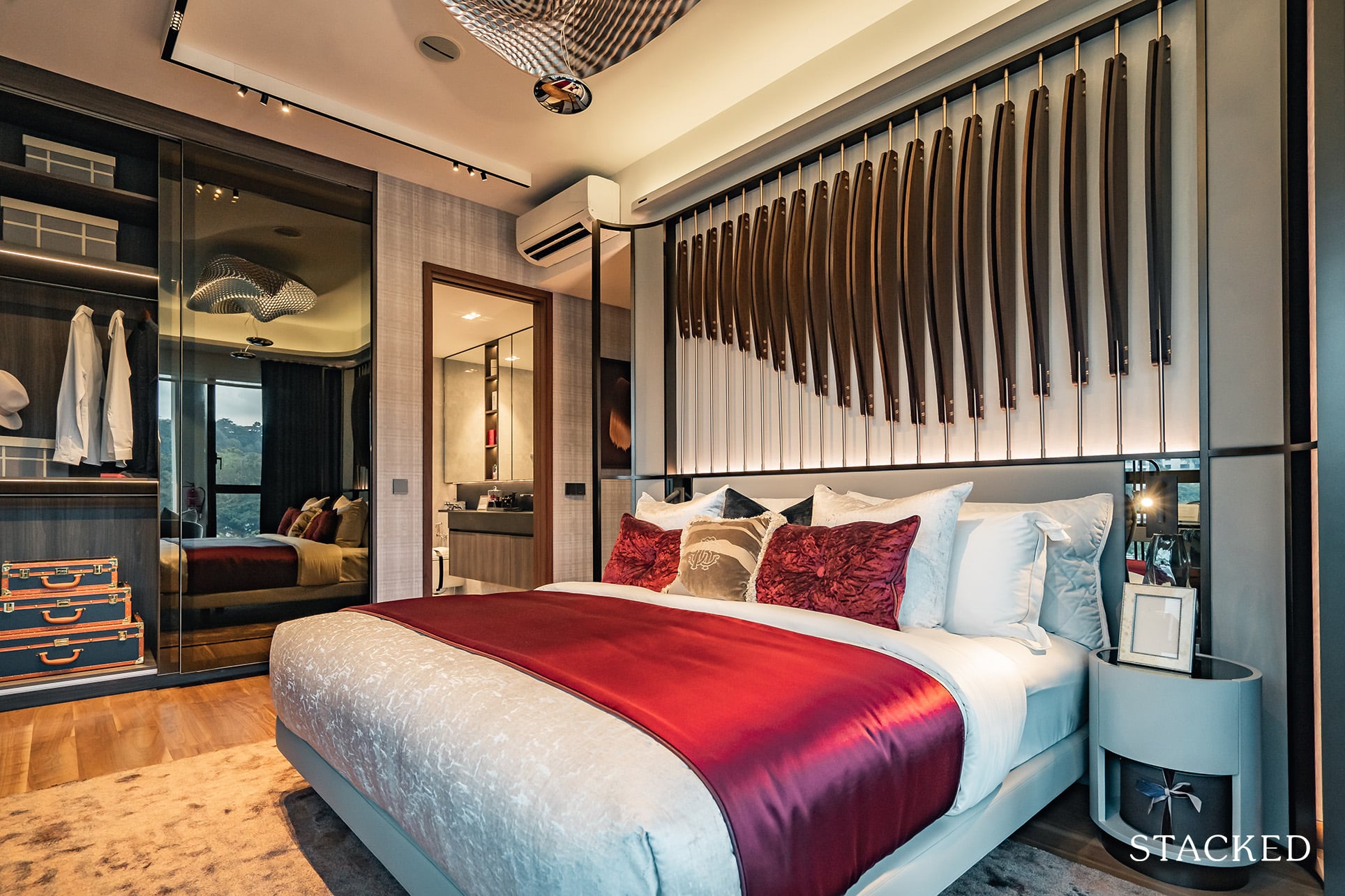 At 21.9 sqm, it is definitely very convenient for one or two occupants and can more than easily fit a King size bed. The space you have to walk around the room is more than decent too.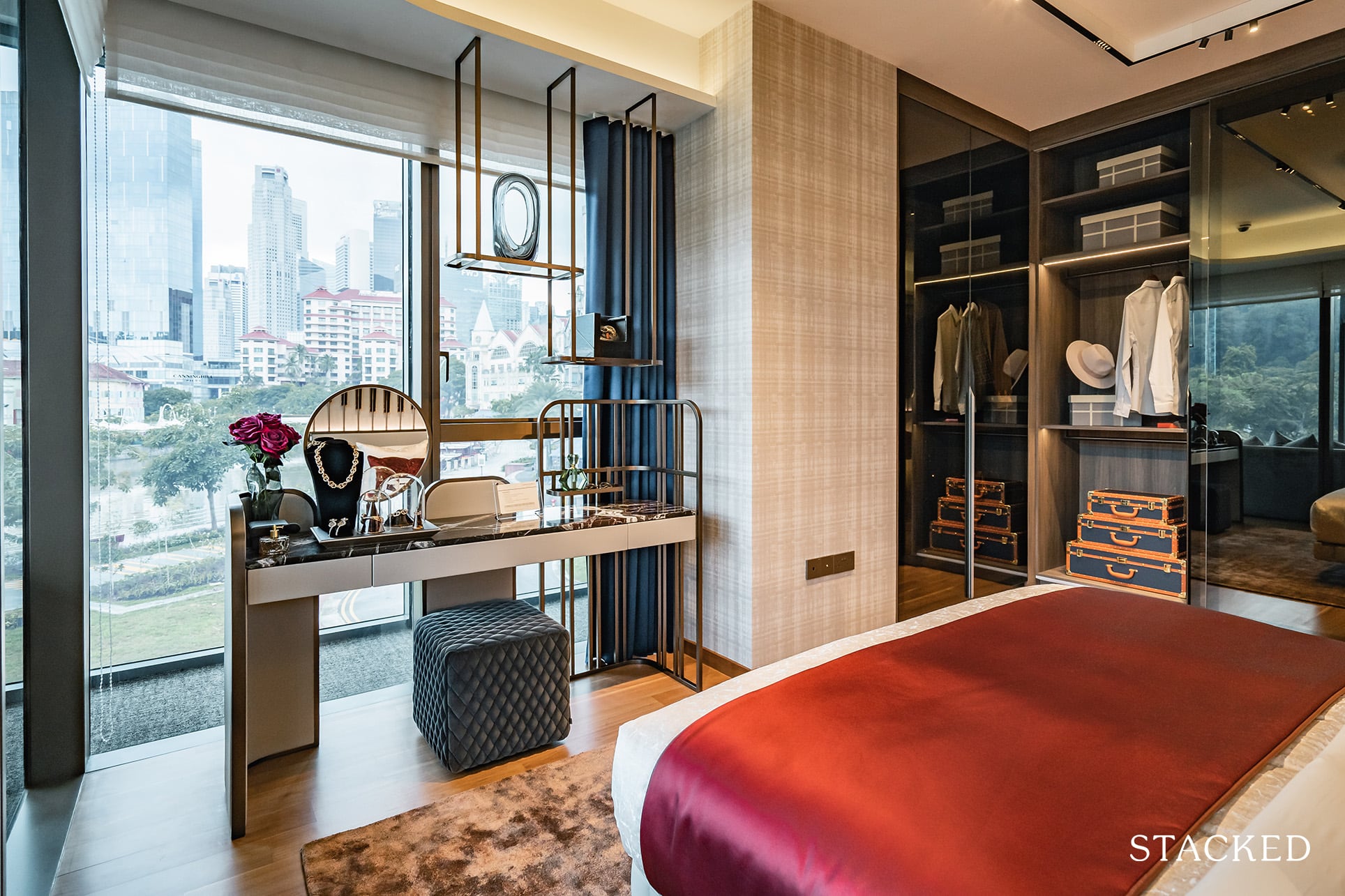 As this also occupies a corner stack, you get windows on two sides which helps to bring in lots of natural sunlight. It certainly helps make a case for buying on a higher floor to enjoy the view as you enjoy a lie-in on the weekends.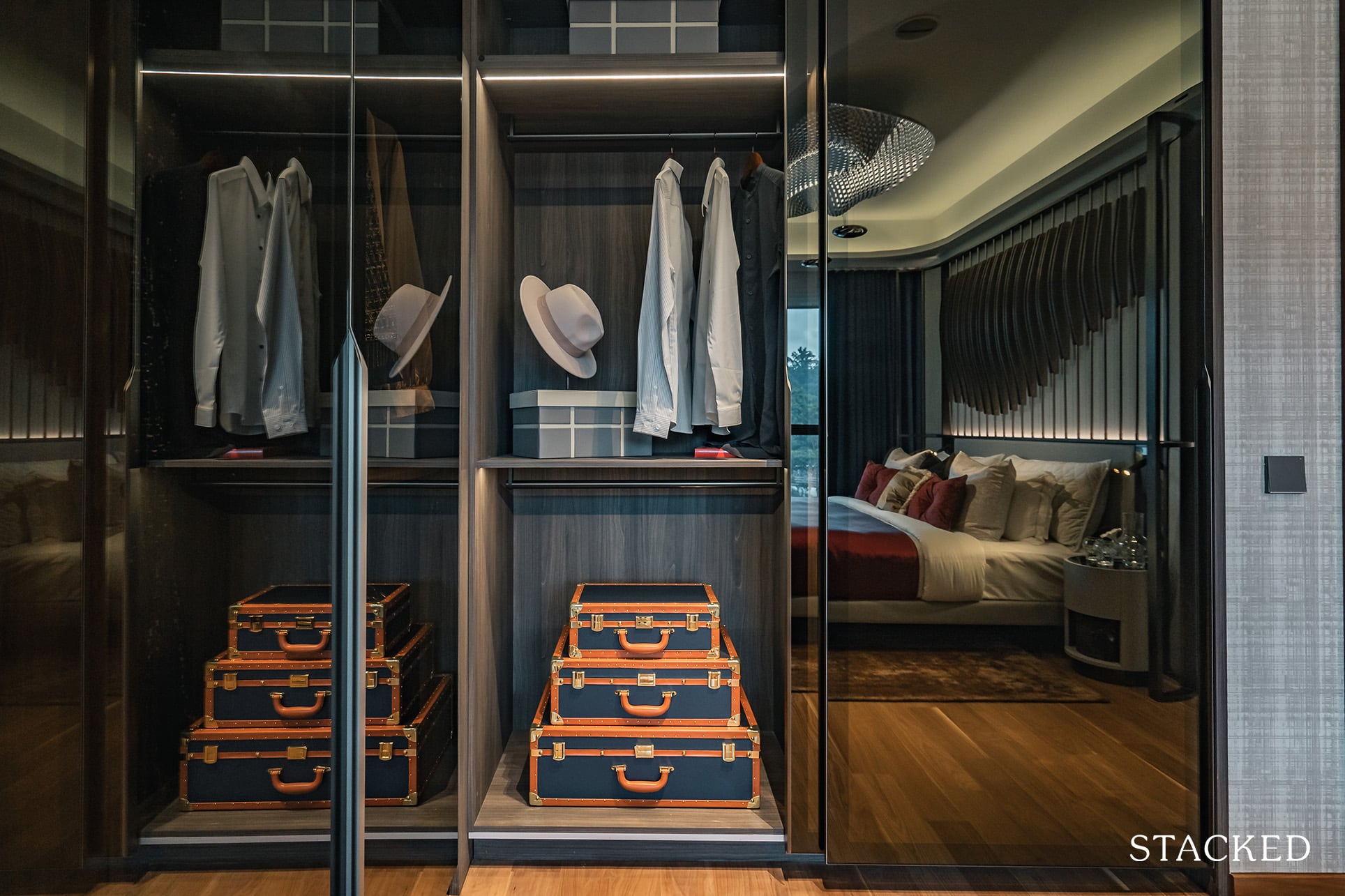 The built-in wardrobe, whilst not walk-in, is also much larger than the ones found in the other bedrooms and has the smoked glass mirror finish, making it look sleeker as well. It looks suitably upscale, and I like that it is differentiated from the rest of the bedrooms.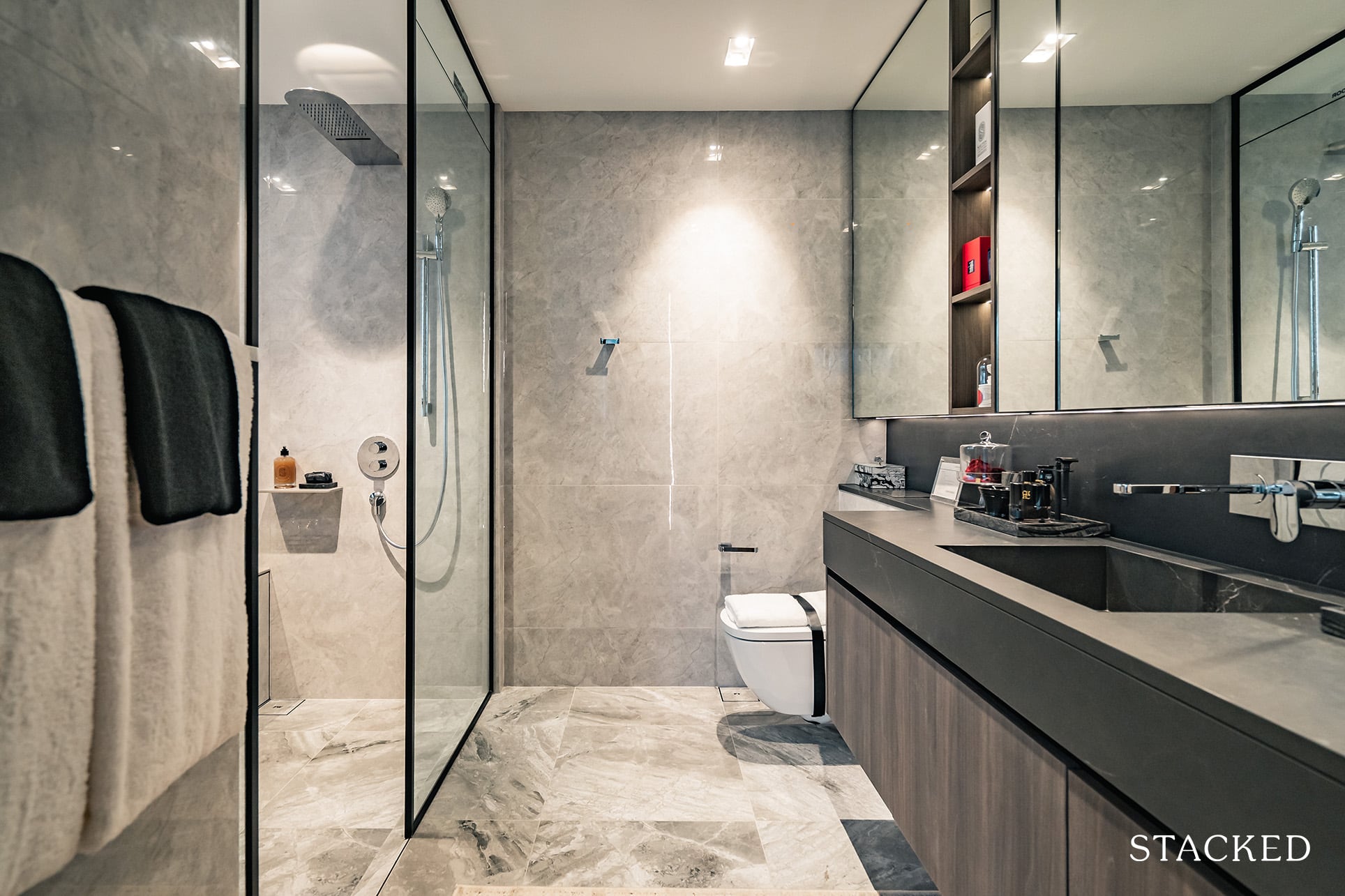 In comparison, the Master Bath at 9.6 sqm is almost twice the size of Bathroom 3 and more than twice that of the one in the Junior Master. It's got nearly all the bells and whistles you might come to expect from a luxury development.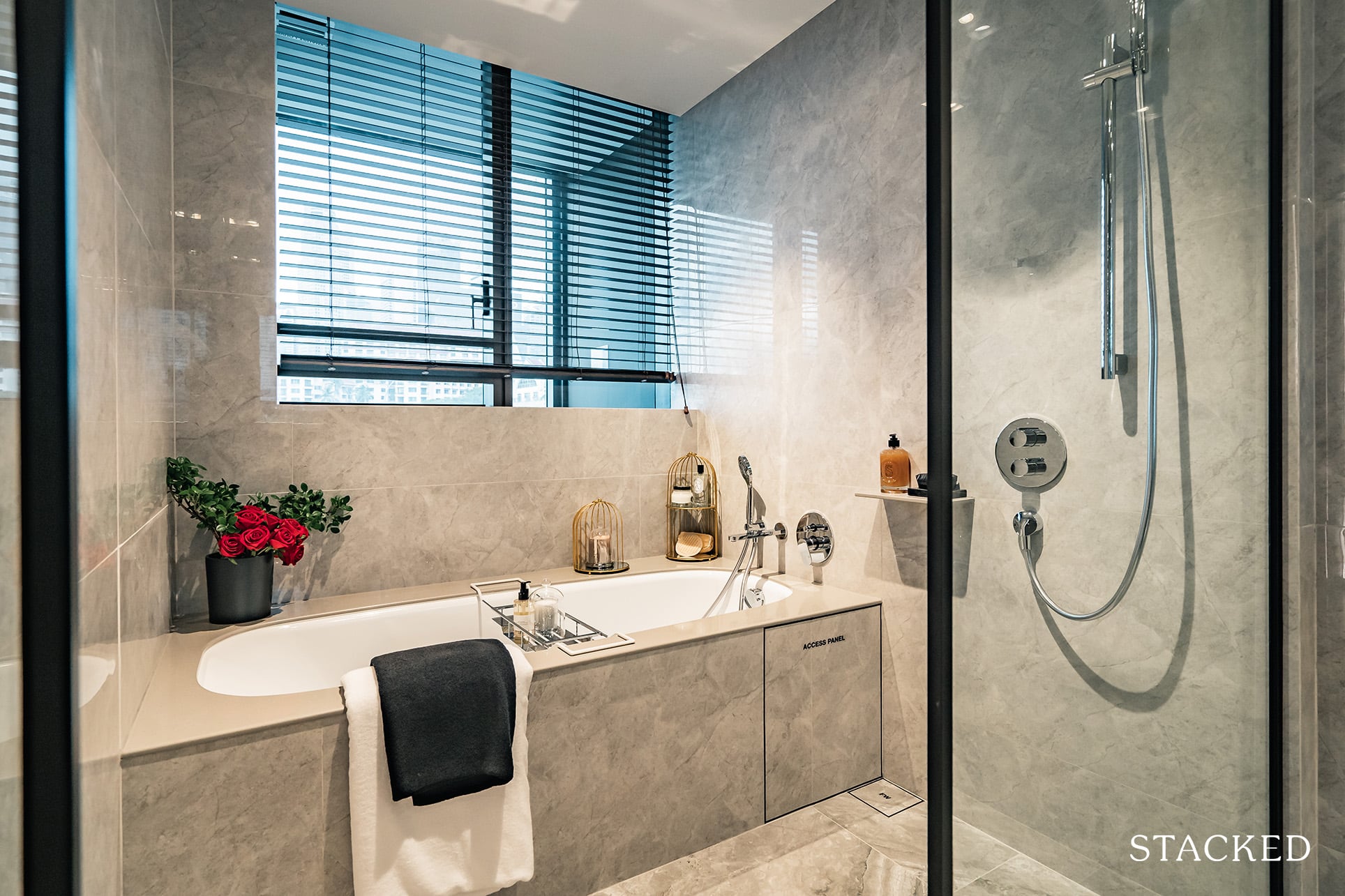 You get several added features here, including a bathtub, an increasingly rare sight these days, so it is nice to see one here. As with most, it isn't the longest so for the vertically blessed you might find it a tad of a squeeze. It would have been nice too to have the ledge low enough so that you can enjoy the views from the window, but I do also understand the need for privacy here.
Besides that, you also have an integrated rain shower here as well as more modern-looking black frame windows and countertop. Brands used in this bathroom are similar to the rest at CanningHill Piers – Laufen and Gessi.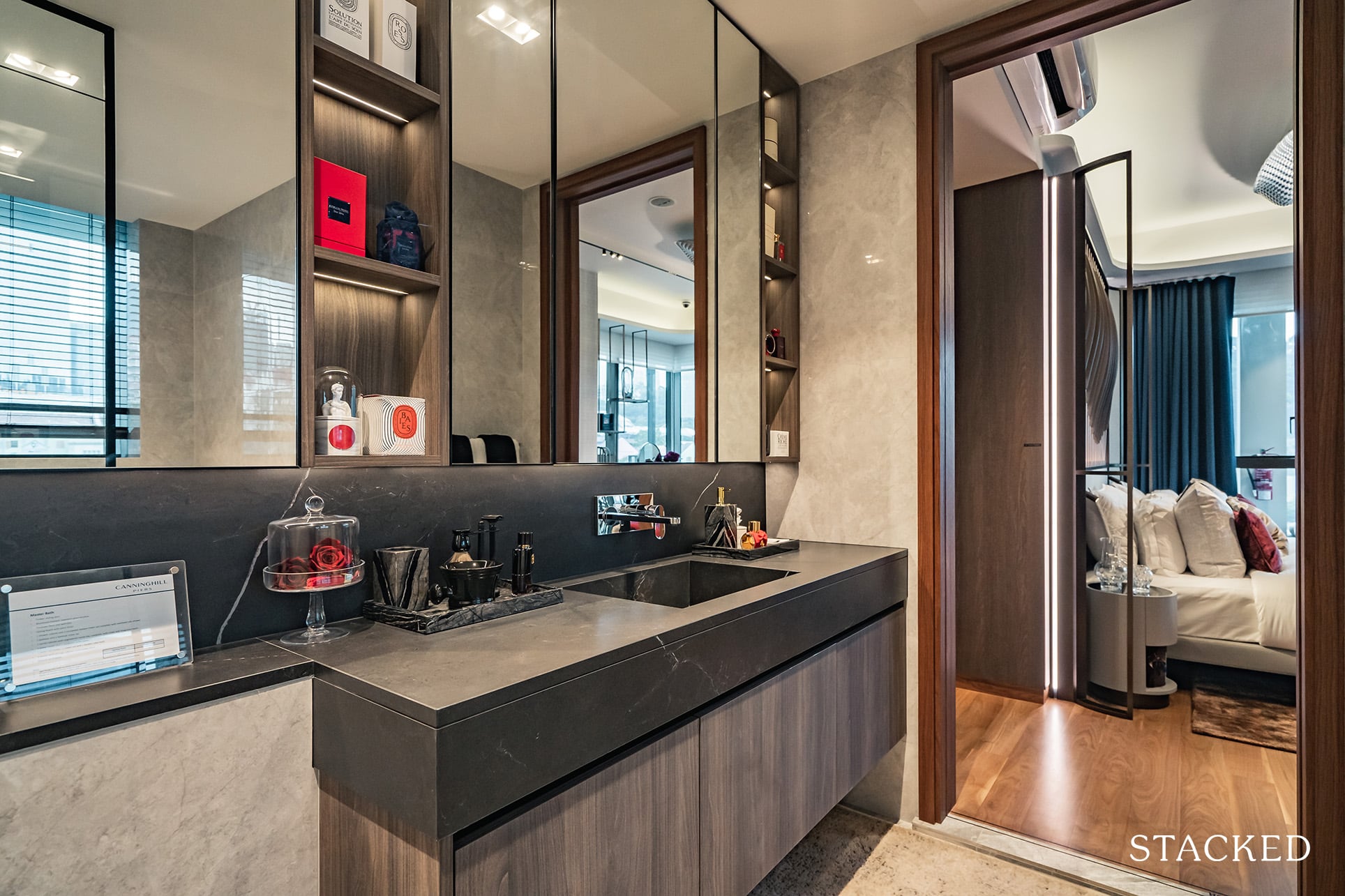 Perhaps the only missing feature would be his and hers sinks here, but there's certainly more of a good to have rather than a dealbreaker for the majority of people.
CanningHill Piers Location Review
CanningHill Piers occupies one of the rarest plots along the Singapore River. Not only is it the tallest residential development in this precinct, but it also boasts an integrated development concept with Fort Canning MRT directly accessible underground. The mall, CanningHill Square, is also expected to be hugely popular given Capitaland's strong track record in this area.
One could almost find no fault with this location – it is extremely central and yet boasts of lush greenery in the form of Fort Canning Hill and water elements along the Singapore River. Staying near the hip district of Robertson Quay also means that food and nightlife are never too far away.
The only main downside to staying in the city is the lack of schools – there is only River Valley Primary School within a 1km radius.
Nearest MRT: Fort Canning MRT (50m, 2 mins), Clarke Quay (600m, 7 mins)
Public Transport
| | | |
| --- | --- | --- |
| Bus Station | Buses Serviced | Distance From Condo (& Est. Walking Time) |
| Before Fort CanningStop ID: 04331 | 1N, 2N, 3N, 4N, 5N, 6N, 32, 54, 195, 195A, NR1, NR2, NR3, NR5, NR6, NR8 | 10m, 1 mins |
| Fort Canning Stn Exit BStop ID: 04339 | 32, 54, 19 | 190m, 3 mins |
Schools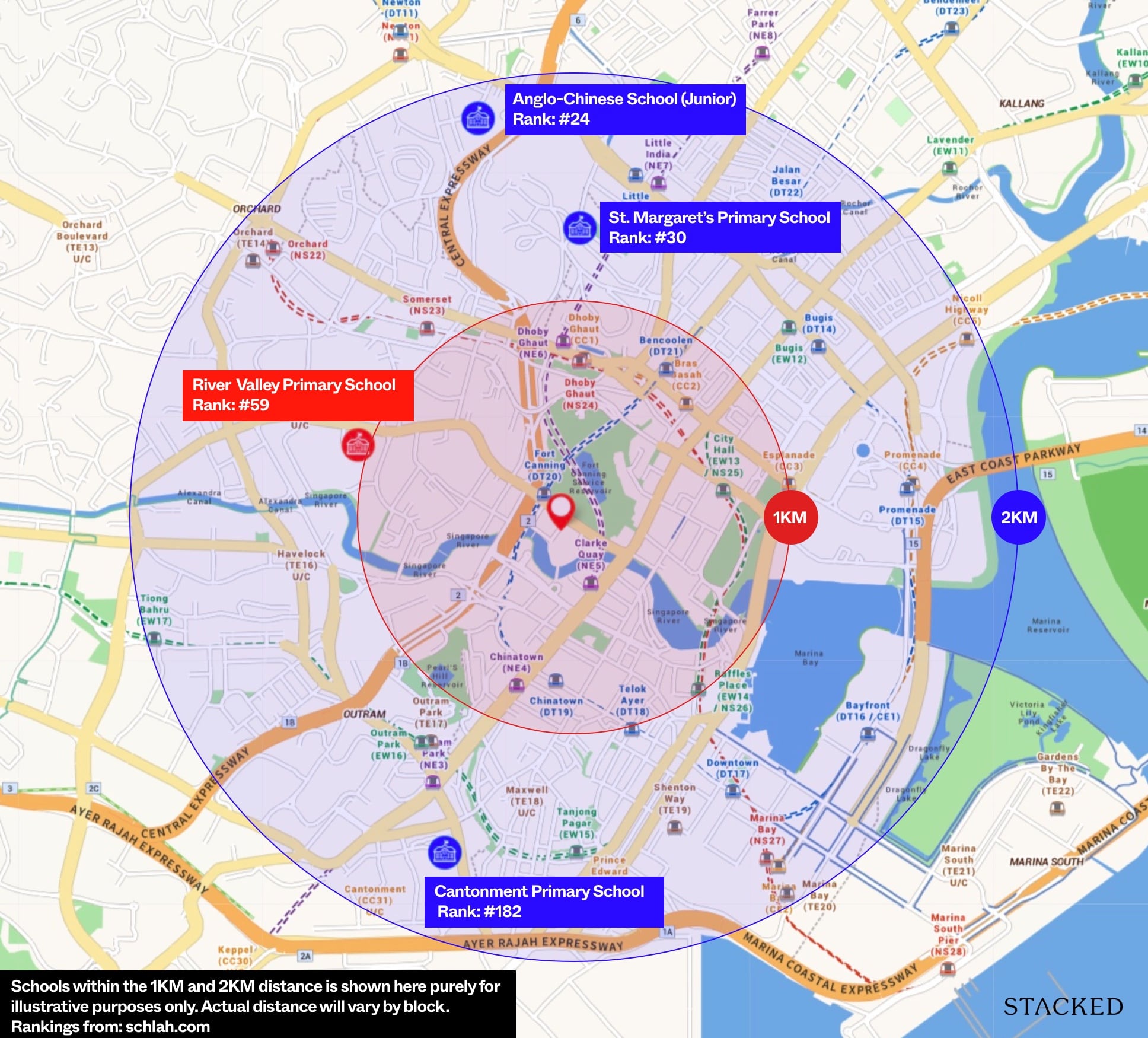 Retail Outlets
| | |
| --- | --- |
| Mall | Distance From Condo (& Est. Walking Time) |
| CanningHill Square | 0.0km, 1 min |
| UE Square | 0.2km, 4 mins |
| Central | 0.6km, 7 mins |
Private Transport
| | |
| --- | --- |
| Key Destinations | Distance From Condo (Average Time at Peak Hour [0830] Drive Time) |
| CBD (Raffles Place) | 2.6km, 9 mins |
| Orchard Road | 3.1km, 11 mins |
| Suntec City | 3.2km, 10 mins |
| Changi Airport | 21.0km, 23 mins |
| Tuas Port (By 2040) | 37.km, 47 mins |
| Paya Lebar Quarters/Airbase (By 2030) | 10.6km, 17 mins |
| Mediapolis (and surroundings) | 8.0km, 16 mins |
| Mapletree Business City | 8.8km, 21 mins |
| Tuas Checkpoint | 27.0km, 32 mins |
| Woodlands Checkpoint | 21.7km, 30 mins |
| Jurong Cluster (JCube) | 15.0km 25 mins |
| Woodlands Cluster (Causeway Point) | 24.9km, 31 mins |
| HarbourFront Cluster (Vivo City) | 5.4km, 17 mins |
| Punggol Cluster (Waterway Point) | 19.4km, 27 mins |
Immediate Road Exits: 1 – Tan Tye Place, which leads you to River Valley Road
Unit Mix (by layout and any general points about it)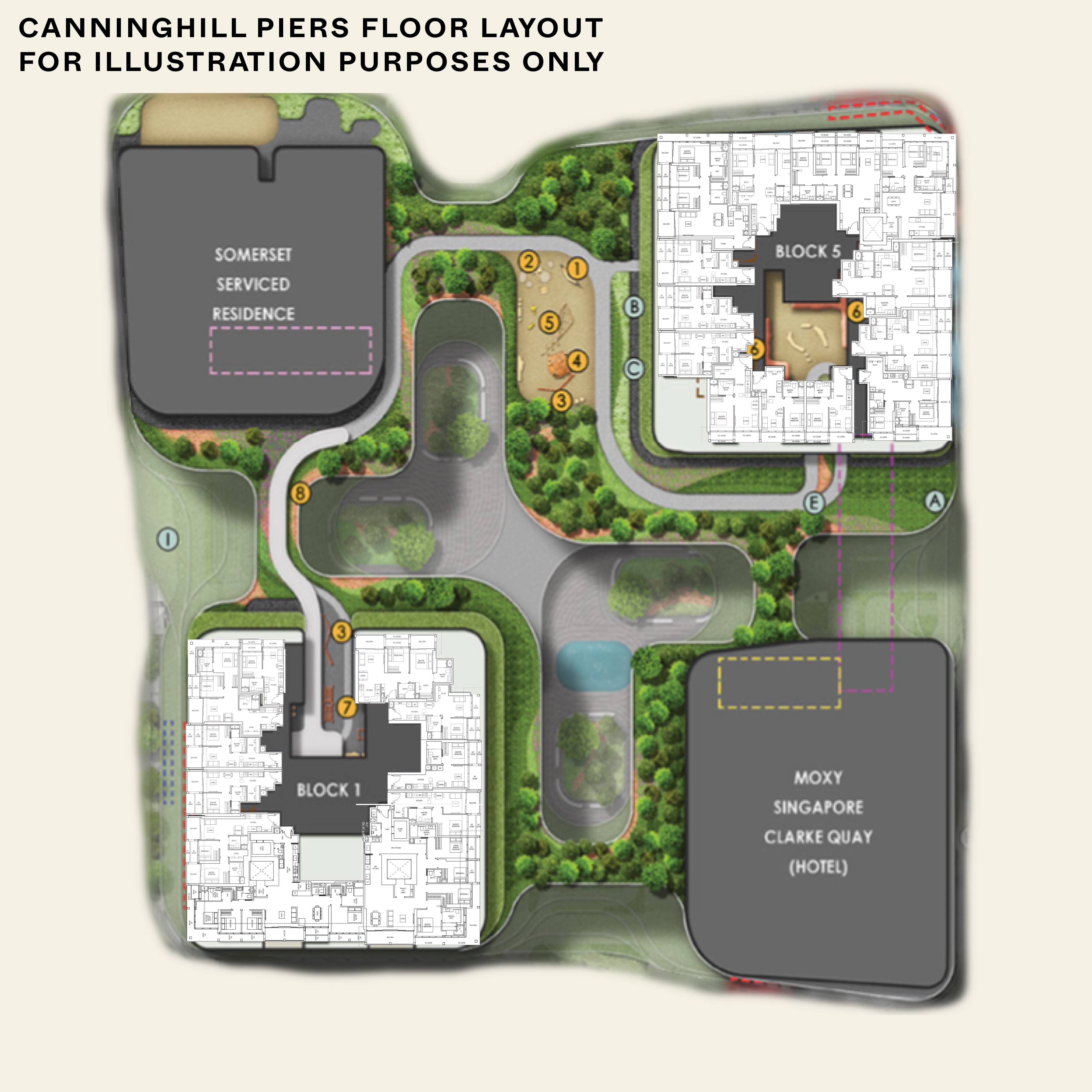 | | | | |
| --- | --- | --- | --- |
| Unit Type | Size | No. of Units | Est Maintenance |
| 1 Bedroom / 1 + Study | 409 -560 sqft | 328 | $395 – $474 |
| 2 Bedroom / 2 + Study / 2 + Ensuite Study | 732 – 883 sqft | 203 | $474 |
| 3 Bedroom / 3 Bedroom Premium | 893 – 1,313 sqft | 80 | $474 – $553 |
| 4 Bedroom Premium | 1,755 – 1,959 sqft | 60 | $632 |
| 5 Bedroom Premium | 2,788 sqft | 20 | $790 |
| Sky Suites | 2,874 sqft – 3,972 sqft | 4 | $790 – $948 |
| Super Penthouse | 8,956 sqft | 1 | $1,422 |
CanningHill Piers is only the 2nd residential condo in District 6 besides Eden Residences Capitol, making this a rare class of condos. Its RCR location is not exactly in the CBD, but more around the lifestyle precincts of Robertson Quay and Fort Canning, with views of both to speak off. Add its integrated development concept to the mix, and tenanting the unit out would surely be on the minds of many buyers here.
Unsurprisingly then, units which are 2 Bedrooms and smaller make up 75% of the project, with 25% for the larger units. I like that the 4 Bedroom and larger units are luxuriously sized at 1,755 sqft and above, which is important considering that some buyers considering CanningHill Piers do not have a firm budget, and space is also an important factor for them.
The standout has got to be the Super Penthouse, at 8,956 sqft (likely priced in excess of $30m), and the single loading layout does look to be a winner (although I am surprised at the lack of a private swimming pool). I've heard through the grapevine that there are already multiple parties interested in it, and I suppose the recent sale of the $75 million Les Maison Nassim penthouse unit would have probably helped their case here. $50 million for a much high floor, better views, and an iconic city development seem like a good deal in comparison. 
As for maintenance, it is reasonable for a luxury development of this standard, although some may lament that you'd have to add a fee each month if you need a car park lot as well.
CanningHill Piers Developer Review
Developer Notes
City Developments Limited (CDL) is one of Singapore's largest real estate developers and continues to play a significant role in the local real estate scene. Besides CanningHill Piers, they currently have at least eight other new launches in the market, including Sengkang Grand Residences (JV with Capitaland), Irwell Hill Residences, Haus on Handy, Amber Park, and Boulevard 88, among others. A member of the Hong Leong Group, CDL has a global footprint across 29 countries and has developed over 47,000 homes with over 23m of lettable floor area in residential, commercial, and hospitality assets globally. They are listed on the Singapore Exchange with a market capitalisation of $6.5Bn. 
CapitaLand was founded in 2000 as a result of a merger between DBS Land and Pidemco Land, making it the largest listed real estate company in Southeast Asia then. Today, CapitaLand has grown larger than ever before, much to the credit of founding President and CEO Liew Mun Leong, and manages a portfolio of some $140Bn in just 20 years. These days, it is no longer the most active player in the local residential market as it has interests in commercial, retail, business parks, industrial and logistics assets. Nevertheless, they are still behind some of the most iconic developments in town, including One Pearl Bank, Sky Habitat, D'Leedon, and The Interlace among others.
Architect Notes
Bjarke Ingels Group (BIG) is a Copenhagen-based architecture practice with offices in New York and London. Their architectural philosophy comes from careful analysis of how contemporary life evolves and changes and seeks to mix conventional elements of living, leisure, and work with pragmatism and utopia. Some of their landmark projects include CopenHill (Denmark), Lego House (Denmark), and VIA 57 West (USA). The lead architect at CanningHill Piers is Copenhagen-based Brian Yang, who is of Singapore-American heritage and he was also behind the design of CapitaSpring, a mixed-use project in the CBD due to be completed in late 2021.
Stack Analysis
CanningHill Piers Site Plan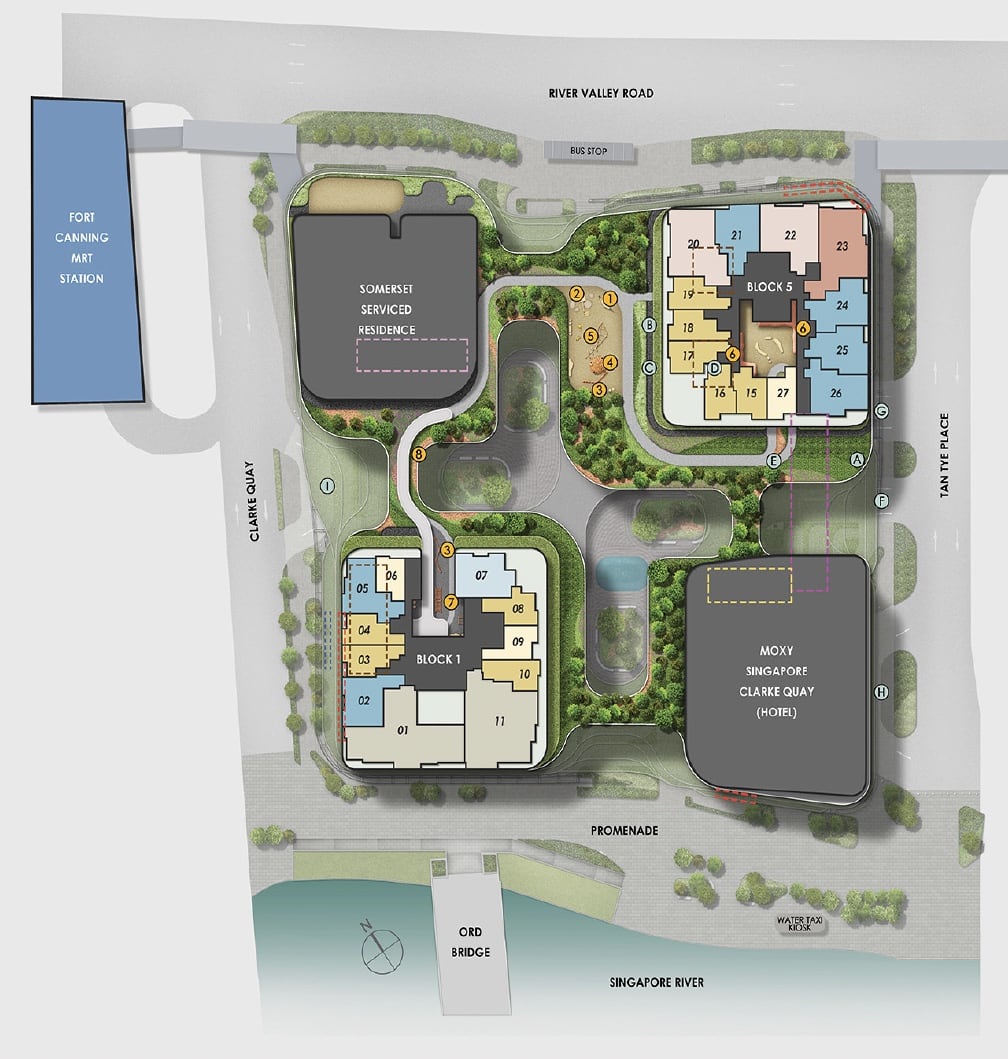 Best Stacks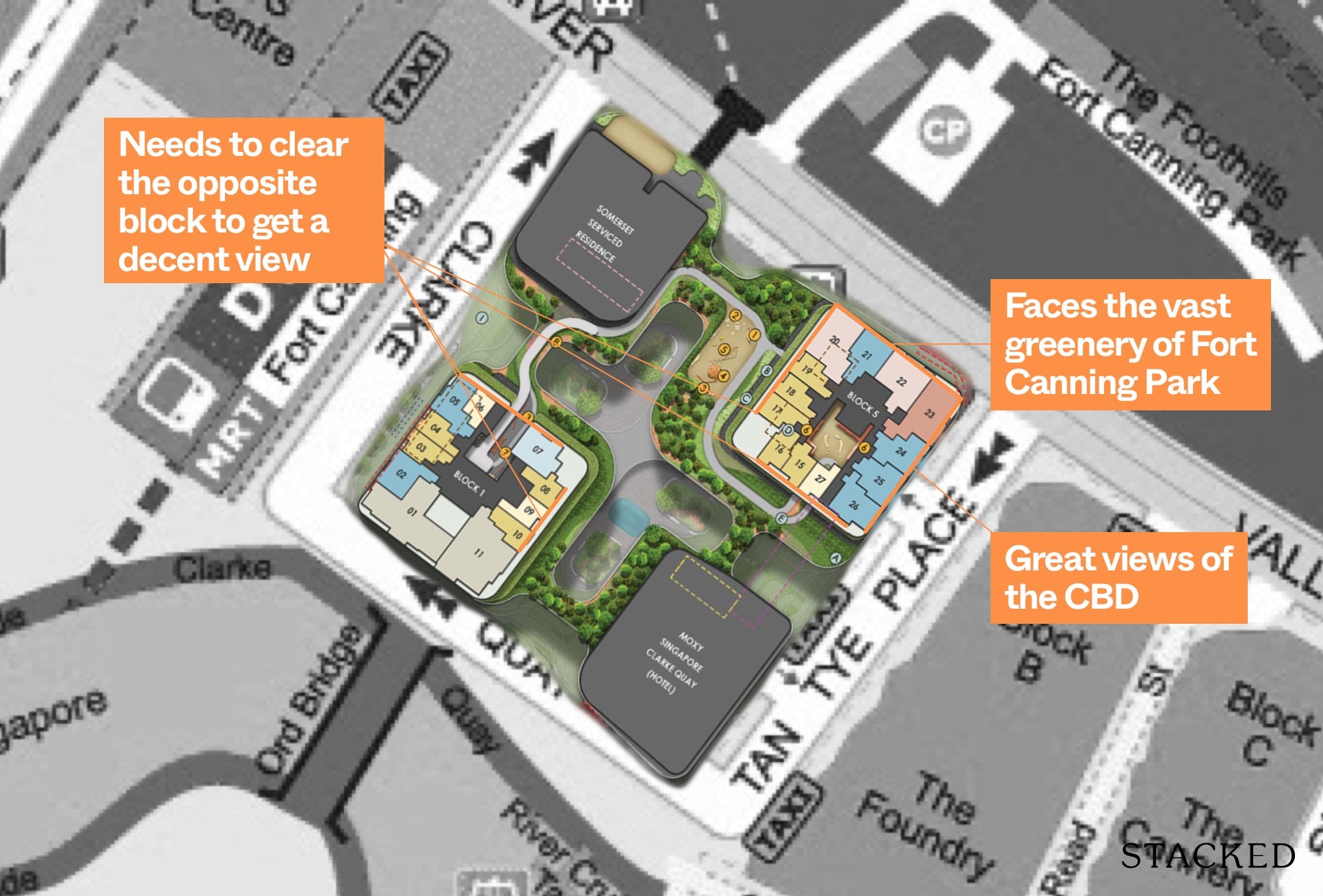 In general, there are 4 main outward-facing views – towards River Valley (North-West facing), towards Singapore River and Pearl's Hill (South-West facing), towards Fort Canning Park (North East facing), and towards MBS, Clarke Quay, and the CBD (South-East facing).
My personal favourites would be the latter two. To face Fort Canning Park and its vast greenery so close to the city is a rarity, so that view takes the cake for me. There is a certain allure around the peace that greenery offers, so that might grant some tired folks among us some respite after a hectic week. The South-East facing towards MBS, Clarke Quay, and the CBD is not too shabby either – and for those for us working in the CBD, it is a good reminder of the reason you have been hustling for.
The other units either face Moxy Hotel (21 storeys) or the Somerset Serviced Residence (20 storeys), so you will have to be on the higher floors to clear these buildings if you want views of any sort.
Afternoon West Sun Analysis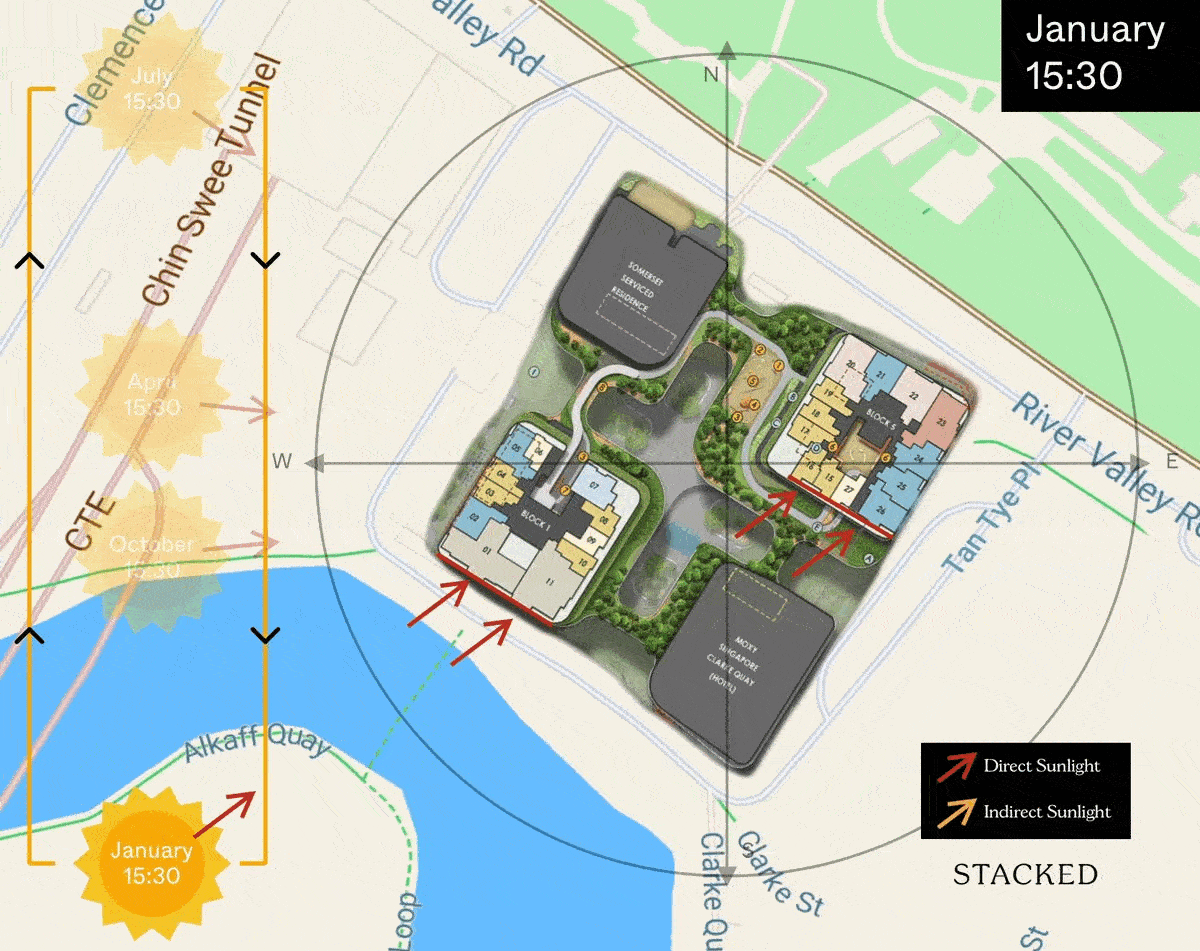 It's clear that the North-West facing units are the hottest as it faces the afternoon sun for about half the year. These are stacks 02 to 05 and 17 – 20. Those looking to avoid both the morning and afternoon sun should aim for stacks 06-06 and 21-23.
Price Review
If you are considering CanningHill Piers, you will undoubtedly compare it against its neighbouring developments. So here is how it stacks up!
| | | | | | |
| --- | --- | --- | --- | --- | --- |
| Development | Units | Psf | TOP | Tenure | Price Gap |
| CanningHill Piers | 696 | $3,100 | 2025 | 99 Years | |
| Eden Residences Capitol | 39 | $3,233 | 2016 | 99 Years | +4% |
| Riviere | 455 | $2,656 | 2023 | 99 Years | -14% |
| The Avenir | 376 | $3,135 | 2025 | Freehold | +1% |
| Martin Modern | 450 | $2,758 | 2021 | 99 Years | -11% |
| UE Square | 495 | $1,823 | 1997 | 929 Years | -41% |
| Aspen Heights | 606 | $1,978 | 1998 | Freehold | -36% |
Indicative pricing for CanningHill Piers starts from $1.16m ($2,836 psf) for the 1 Bedroom, $2.16m ($2,641 psf) for the 2 Bedroom + Study, $2.75m ($2,904 psf) for the 3 Bedroom, $5.22m ($2,665 psf) for the 4 Bedroom, $8.1m ($2,905 psf) for the 5 Bedroom, $13m ($4,523 psf) for the Sky Suites and a whopping $50m ($5,581 psf) for the Super Penthouse.
Interestingly, we see a trending up of psf from the 1 to 3 Bedroom units before tapering slightly for the 4 and 5 Bedroom units and exploding for the Sky Suites and Super Penthouse, presumably due to their rarity factor.
The condos I have chosen for comparison do vary quite a bit in terms of location and age but let me justify.
First up, Eden Residences Capitol. It was the only residential development in District 6 before CanningHill Piers was launched. It is also an integrated project, with direct access to City Hall MRT (arguably the most central MRT around) and a retail mall (Capitol), hotel (Capitol Kempinski), and Capitol Theatre just below. It is also housed in 3 iconic conserved buildings, as I had covered previously in another article. Nevertheless, Eden Residences is a boutique development with just 39 units, compared to a full-fledged project we have here. When compared to Eden Residences, CanningHill Piers looks reasonable as the projected psf of $3,100 is even cheaper than the current average psf at Eden. New launches tend to have a new build premium but without having to factor that in, CanningHill is already the more reasonable option.
Next up would be the closest new launch/recently TOP-ed condos. This includes Riviere, The Avenir, and Martin Modern. The first 2 are new launches and have a price difference of -14% and +1% respectively. The 14% gap is justifiable given this development's integrated nature, with direct access to the MRT. That said, buyers who prefer more peace and tranquillity might opt for Riviere, given its more 'condo-like' environment without a retail mall below.
As for The Avenir, it has a 1% premium over CanningHill Piers, which is unsurprising as it is a Freehold project. Units at The Avenir also tend to be slightly larger, especially for the 1 Bedroom units. This will come down to personal preference to me. If you are a fan of convenience, the CanningHill Piers condo will undoubtedly be an indisputable choice. But if you prefer a Freehold project at this price point and a traditional condo with facilities such as a tennis court, The Avenir is not a shabby choice either.
As for Martin Modern, prices have risen significantly from its launch in 2017 till today. Its lowest psf was $2,007 in 2017, with a unit of the same size (1,012 sqft) sold at $3,335 psf earlier in June 2021, representing up to a 66% paper gain for the early buyers. In any case, its average psf stands at an 11% discount to CanningHill Piers. Integrated developments have a natural premium, as we have seen from the likes of Pasir Ris 8 and Sengkang Grand Residences, so this 11% premium is certainly justifiable as well.
Finally, CanningHill's two closest resale competitors of reasonable size are Aspen Heights and UE Square. Both are Freehold/near Freehold but maintain a significant discount over CanningHill. Perspective matters. We know that new launches have surged way above their resale peers in recent years, and it will not be an apple-to-apple comparison to do so.
That's a simplified overview, but for now, given how the majority of the units at CanningHill Piers are of the 1 and 2 bedroom variety, I'll focus on the prices for such unit types around: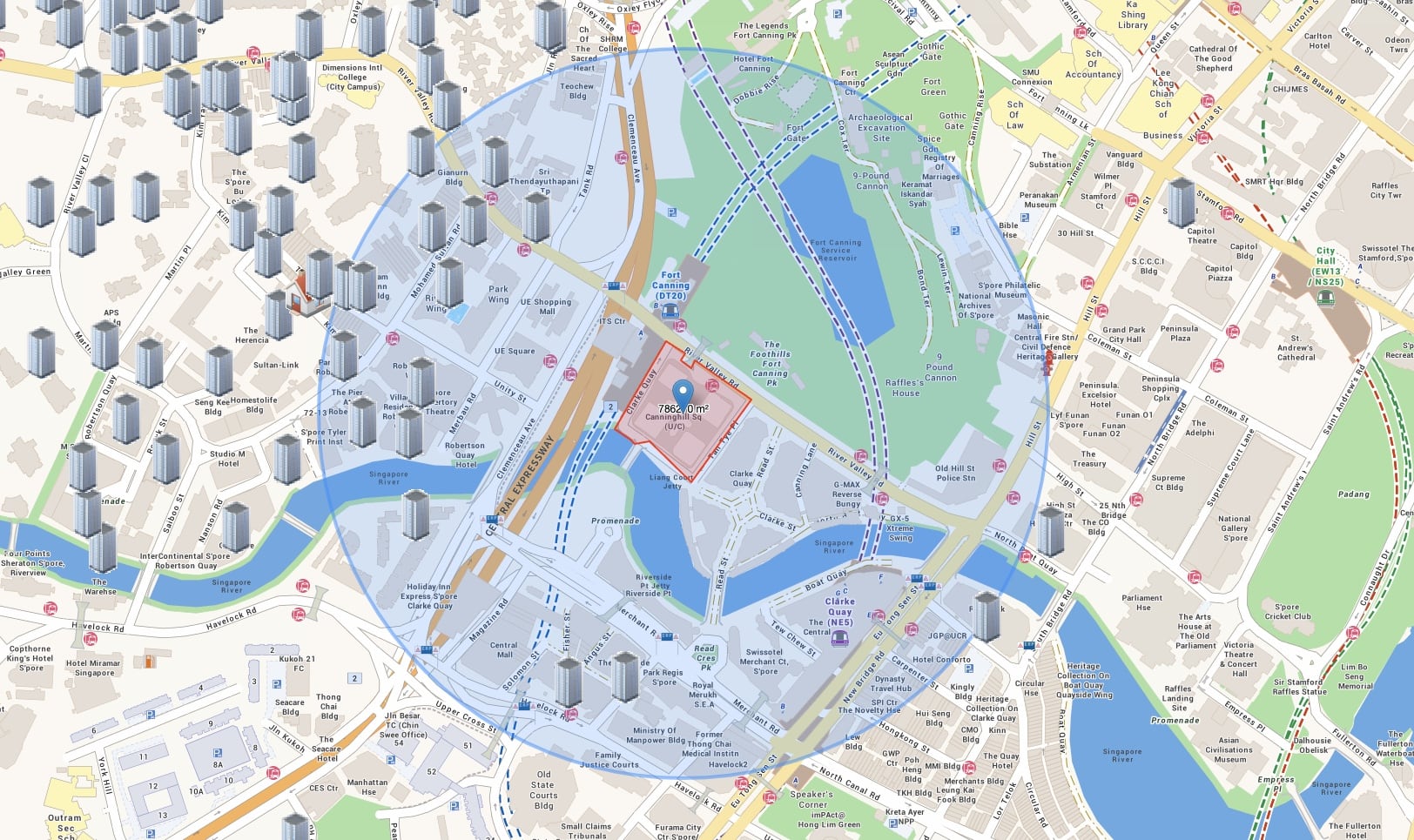 The map highlights private properties in the area, with a 1km radius selected around CanningHill Piers. You can immediately see that while there are a lot of private properties in the River Valley area (top left side), there aren't that many directly besides or opposite CanningHill Piers. And this is what makes this new launch special – not only is it the highest in an area, but it is also one of the few projects that have the Singapore River view, park view, and CBD view – admirable from an advantageous height few can boast about.
With such an advantage, we can expect a premium over its new launch and resale peers, so let's take a look at what prices of resale condos 500m around look like:
| | | | | | |
| --- | --- | --- | --- | --- | --- |
| Resale Price | Tenure | Completion Year | 1BR Price | 1BR Size | 1BR Yield |
| ROBERTSON EDGE | 999 yrs from 01/07/1841 | 2008 | $808,000 | 398 – 463 sqft | 3.71% |
| VIVACE | 999 yrs from 01/07/1841 | 2012 | $899,000 | 398 – 452 sqft | 3.07% |
| RIVER PLACE | 99 yrs from 07/11/1995 | 1999 | $1,138,888 | 678 – 872 sqft | 3.16% |
| CANNINGHILL PIERS | 99 yrs from 03/09/2021 | Est. 2025 | $1,160,000 | 409 sqft | – |
| RIVERWALK APARTMENTS | 99 yrs from 15/12/1980 | 1985 | $1,297,500 | 818 sqft | 2.96% |
| THE PIER AT ROBERTSON | Freehold | 2006 | $1,400,000 | 657 – 732 sqft | 3.00% |
Source: URA. Prices from January – September 2021.
As usual, older resale developments tend to have bigger spaces. This is clear as most developments listed have 1-bedder units that are above 500 sqft – increasingly rare for new launches today. However, of interest are Robertson Edge and Vivace.
Both developments are not only cheaper, but they are also 999-year leasehold (so freehold in a way) and do come in very small unit sizes – similar to the size you can get at CanningHill Piers. Not only that, but they do offer a pretty decent rental yield for almost freehold properties – 3.07 – 3.71%.
Here's what a 431 sqft unit at Roberson Edge units looks like:
A unit of this size went for $880,000 and is about the size of a 1 bedroom at CanningHill Piers. It does not have an entryway and also has enough space for a study area. This price is about 24% cheaper (quantum-wise) than the cheapest 1 bedroom (indicative pricing) at CanningHill Piers.
However, it is not an integrated development, has fewer facilities (smaller number of units overall), and will be 17 years older by the time CanningHill Piers obtains its TOP. It also does not boast as much of a good view as what CanningHill Piers offers. Moreover, the 431 sqft unit here does include planter and bay windows. Now, here's what the smallest 1-bedroom at CanningHill Piers look like: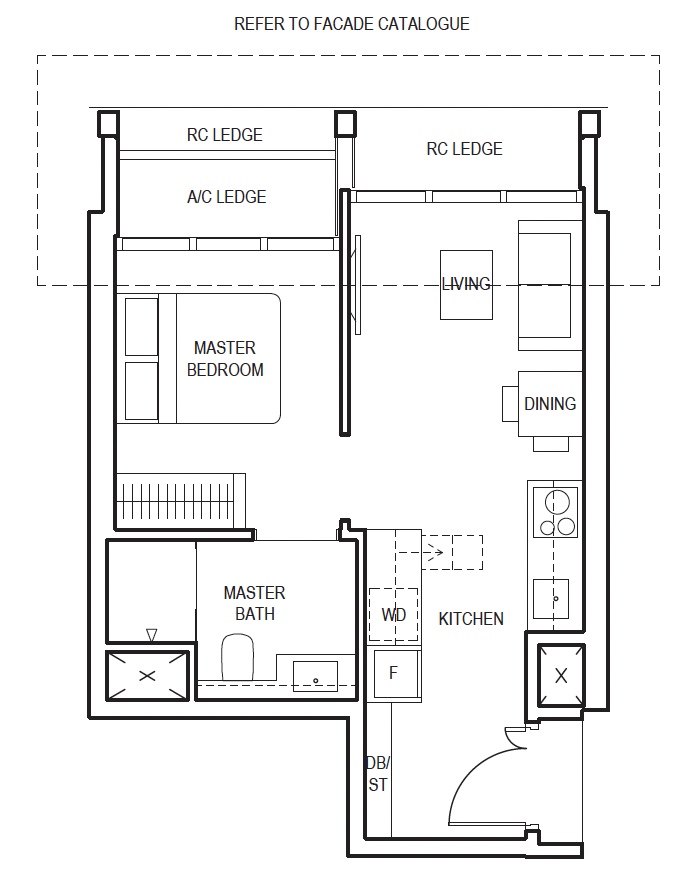 The 1-bedroom here is small and unfortunately does include a sizeable amount of space at the entranceway. However, it does have more kitchen countertop space and no unnecessary bay windows or planters.
Next, let's look at the rental rates here:
| | | | | |
| --- | --- | --- | --- | --- |
| Project | 1BR Average Size | 1BR Median Rental | 2BR Average Size | 2BR Median Rental |
| RIVERPLACE | 775 | $3,000 | 1,124 | $3,900 |
| RIVERWALK APARTMENTS | 850 | $3,200 | 1,250 | $4,300 |
| ROBERTSON EDGE | 438 | $2,500 | 642 | $2,925 |
| THE IMPERIAL | – | – | 957 | $4,700 |
| THE PIER AT ROBERTSON | 703 | $3,500 | 1,058 | $5,000 |
| UE SQUARE | 939 | $3,500 | 1,118 | $3,800 |
| VIVACE | 386 | $2,300 | 637 | $3,000 |
Assuming a $2,500 monthly rental rate for the 1 bedroom at Robertson Edge, you're looking at a rental yield of around 3.4% for the $880,000 unit.
For the $1,160,000 CanningHill Piers unit to match this yield, it needs to command a minimum rental of $3,286 per month.
This is just my opinion, but I do think that CanningHill Piers would not have any difficulty reaching this amount. In fact, we could even see rental rates going from $3,500 per month onwards.
The reason is due to the lack of integrated developments in the vicinity, as well as the views it offers. The attraction of having a potentially popular mall in the area mixed with the F&B lifestyle along the Singapore River and connectivity to the CBD could come together as the perfect combination to make this what could probably be the most rentable development in the area.
Next, what's interesting to note is that the 1 bedroom is actually cheaper than the very old 99-year leasehold development, Riverwalk Apartments. In June, an 818 sqft 1 bedroom unit here went for $1,245,000. This is about a 7.3% premium over the smallest unit at CanningHill Piers. Here's what the unit looks like:
While I am all for a bigger space, it's safe to say that at this size, the space might not be the most efficient. Moreover, this large size has led to a situation where the quantum becomes quite unpalatable for a lot of buyers. Investors, in particular, should be cautious about buying such a large 1-bedroom unit. It is probably why as an old leasehold project, the rental yield here is just about 3% when leasehold projects of such an age should be attaining about 3.5-4% rental yields.
In fact, the unit is so big to the point that it feels almost wasted that a 2nd bedroom is not inside here.
Moving forward, I do think that the much smaller CanningHill Piers, with its newer facilities and Integrated status, would still be more attractive to tenants than this dated-looking development, making it more rentable in the longer run. It is also more relevant to investors going forward since larger 1 bedroom units fell out of favour.
Next, let's look at the 2-bedroom units.
| | | | | | |
| --- | --- | --- | --- | --- | --- |
| Resale Price | Tenure | Completion Year | 2BR Price | 2BR Size | 2BR Yield |
| ROBERTSON EDGE | 999 yrs from 01/07/1841 | 2008 | $950,000 | 474 sqft | 3.69% |
| VIVACE | 999 yrs from 01/07/1841 | 2012 | $1,150,000 | 570 sqft | 3.13% |
| RIVER PLACE | 99 yrs from 07/11/1995 | 1999 | $1,435,000 | 969 – 1055 sqft | 3.26% |
| RIVERWALK APARTMENTS | 99 yrs from 15/12/1980 | 1985 | $1,780,000 | 1259 sqft | 2.90% |
| UE SQUARE | 929 yrs from 01/01/1953 | 1997 | $1,910,000 | 1055 – 1173 sqft | 2.39% |
| THE PIER AT ROBERTSON | Freehold | 2006 | $2,010,000 | 1023 sqft | 2.99% |
| CANNINGHILL PIERS | 99 yrs from 03/09/2021 | Est. 2025 | $2,160,000* | 818 sqft | – |
| THE IMPERIAL | Freehold | 2006 | $2,200,000 | 980 sqft | 2.56% |
Source: URA. Transactions from January – September 2021.
*Update 15 November 2021: We previously wrote that the 2-bedroom unit starts from $2,160,000. This is incorrect. It is the 2-bedroom + study that starts from $2,160,000.
The CanningHill Piers 2 bedroom + study unit is going for an indicative price of $2,160,000. This makes it the 2nd most expensive 2 bedroom within the vicinity – not much of a surprise here given it's a new launch with an integrated status.
Unlike the 1-bedroom units here, the 2-bedroom + study unit at CanningHill Piers seems miles away from its resale peers in terms of price. All but one freehold/almost freehold project costs less and, in some cases, has a larger size overall.
However, if you calculate the $PSF, you'll see that CanningHill Piers indicative $PSF is at $2,641 psf for the 2-bedroom + study compared to the $2,836 psf for the 1-bedroom.
While the $PSF is very attractive, the overall quantum still more or less commands a premium over surrounding developments. But why should anyone pay a premium for a leasehold property over a freehold one?
To answer this, I'll look at another integrated development that's a 99-year leasehold and compare it to a freehold nearby – The Poiz Residences vs One Leceister.
| | | |
| --- | --- | --- |
| Year | ONE LEICESTER | THE POIZ RESIDENCES |
| 2006 | $615 | – |
| 2007 | $675 | – |
| 2008 | $835 | – |
| 2009 | $825 | – |
| 2010 | $947 | – |
| 2011 | $1,096 | – |
| 2012 | $1,211 | – |
| 2013 | $1,357 | – |
| 2014 | $1,257 | – |
| 2015 | $1,181 | $1,446 |
| 2016 | $1,181 | $1,460 |
| 2017 | $1,216 | $1,403 |
| 2018 | $1,270 | $1,402 |
| 2019 | $1,327 | $1,563 |
| 2020 | $1,406 | $1,703 |
| 2021 | $1,380 | $1,718 |
Source: URA
When The Poiz Residences first launched, its average $PSF was $1,446 – a 22.4% premium over its freehold peer. 6 years in, One Leicester has appreciated 17% while The Poiz Residences appreciated 19%.
In terms of gains then, it would seem that the 99-year leasehold did fare better. But is it really a surprise?
We have highlighted the effects of freehold vs leasehold in our recent case study of Jardin vs Gardenvista that it is difficult to judge a development just by looking at its tenure – particularly true if we're concerned over the first 10-20 years of a development's performance. There is a lot more than just tenure and age when it comes to demand!
I have also pointed out in my review of Riviere that the premise of paying more for a leasehold development here isn't too daunting considering what happened to Martin Modern. Indeed, you can see how people are willing to pay up to $3,000 psf for a 99-year leasehold condo here – and certainly not as iconic as CanningHill Piers too!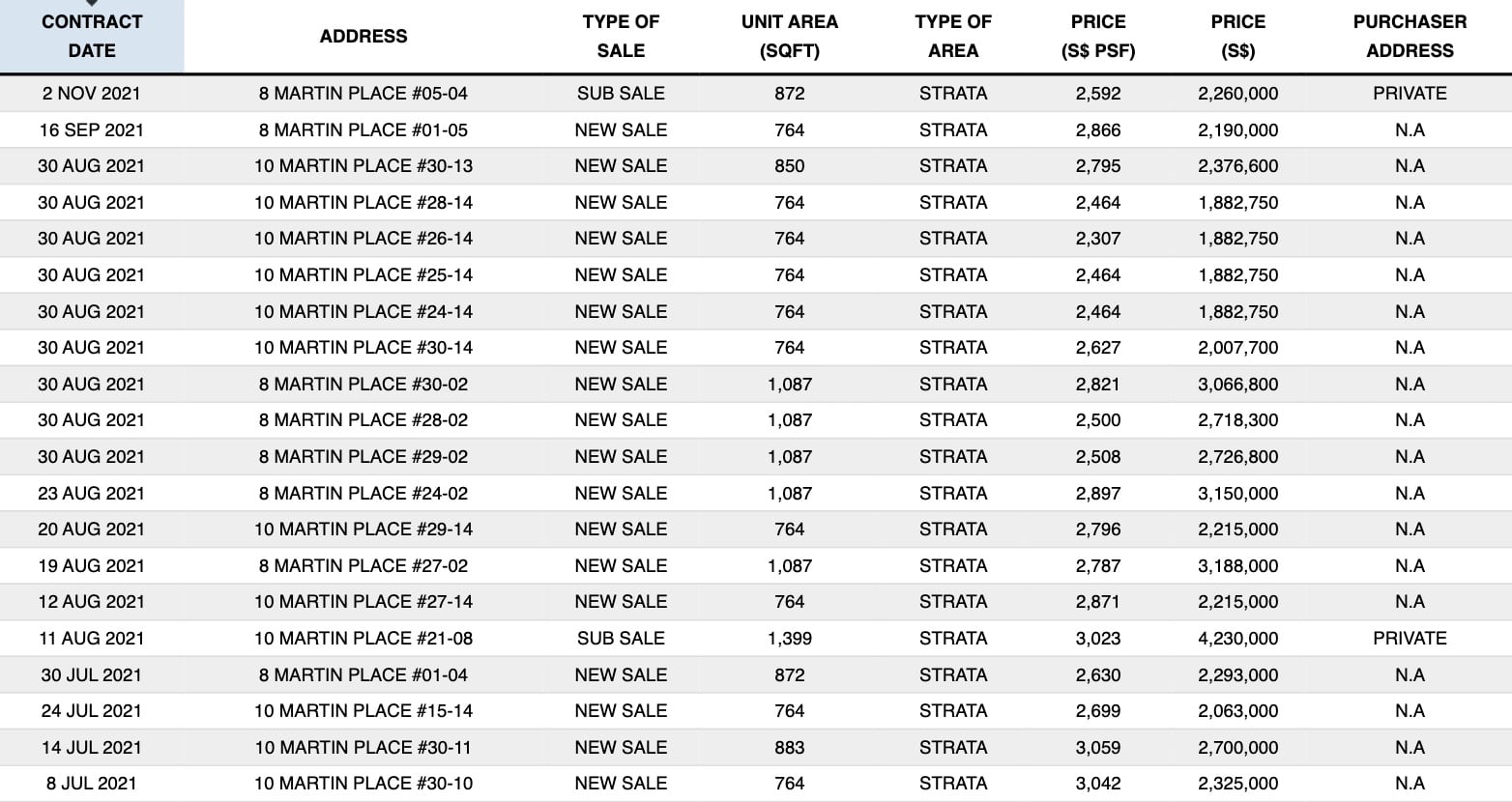 Of course, it's a long shot to say that CanningHill Piers would perform as well as Martin Modern and continue to appreciate. Instead, what we can draw from here is that the secondary market has come to accept this pricing in the area, and Canninghill Piers's $PSF certainly does not look as unreasonable as some might think.
Next, let's see how prices at Canninghill Piers compare with its new launch peers.
Here's a look at the $PSF for transactions between 409 – 560 sqft (size of the 1-bedroom units):
| | | |
| --- | --- | --- |
| Project Name | Median Unit Price ($ PSF) | TENURE |
| PEAK RESIDENCE | $2,388 | Freehold |
| FOURTH AVENUE RESIDENCES | $2,400 | 99 yrs from 07/03/2018 |
| KOPAR AT NEWTON | $2,465 | 99 yrs from 22/04/2019 |
| WILSHIRE RESIDENCES | $2,601 | Freehold |
| ONE BERNAM | $2,602 | 99 yrs from 10/12/2019 |
| DUNEARN 386 | $2,608 | Freehold |
| 35 GILSTEAD | $2,616 | Freehold |
| HAUS ON HANDY | $2,668 | 99 yrs from 07/05/2018 |
| IRWELL HILL RESIDENCES | $2,677 | 99 yrs from 13/04/2020 |
| LEEDON GREEN | $2,704 | Freehold |
| GRANGE 1866 | $2,743 | Freehold |
| THE HYDE | $2,761 | Freehold |
| JERVOIS MANSION | $2,779 | Freehold |
| THE M | $2,793 | 99 yrs from 03/07/2019 |
| CANNINGHILL PIERS | $2,836 | 99 yrs from 03/09/2021 |
| PULLMAN RESIDENCES NEWTON | $2,895 | Freehold |
| RV ALTITUDE | $2,921 | Freehold |
| MIDTOWN MODERN | $2,989 | 99 yrs from 10/12/2019 |
| ONE HOLLAND VILLAGE RESIDENCES | $2,990 | 99 yrs from 13/08/2018 |
| THE AVENIR | $3,002 | Freehold |
| MIDTOWN BAY | $3,023 | 99 yrs from 02/01/2018 |
| 3 CUSCADEN | $4,213 | Freehold |
Source: URA. Prices from January – November 2021 (incomplete).
Note: Martin Modern is included here as it also registered new sales during this period.
You can see that in terms of the 1-bedroom unit, CanningHill Piers is actually more affordable than another Integrated Development – Midtown Modern and Midtown Bay, which is both slightly older.
Midtown Modern and Midtown Bay are also both pretty strong in their offering. They are integrated directly with Bugis MRT, which is an interchange between the Downtown Line and the East-West Line. They boast F&B options and are in proximity to Grade A offices nearby.
All of these traits are very similar to CanningHill Piers (except it's not sitting on an interchange). However, CanningHill Piers is close to nature given its proximity to the park, and few can boast of being at the doorstep to the Singapore River.
Of course, this is just the indicative pricing which we expect to be higher, but otherwise, it does seem to be priced on par with equivalent new launches.
But it is even better for the 2-bedroom units (732 – 883 sqft)
| | | |
| --- | --- | --- |
| Project Name | Median Unit Price ($ PSF) | Tenure |
| PARKSUITES | 2,091 | 110 yrs from 01/11/2017 |
| FYVE DERBYSHIRE | $2,334 | Freehold |
| PEAK RESIDENCE | $2,351 | Freehold |
| ONE BERNAM | $2,397 | 99 yrs from 10/12/2019 |
| 10 EVELYN | $2,429 | Freehold |
| ONE HOLLAND VILLAGE RESIDENCES | $2,498 | 99 yrs from 13/08/2018 |
| WILSHIRE RESIDENCES | $2,519 | Freehold |
| THE M | $2,522 | 99 yrs from 03/07/2019 |
| MOOI RESIDENCES | $2,547 | Freehold |
| JERVOIS MANSION | $2,548 | Freehold |
| 35 GILSTEAD | $2,595 | Freehold |
| NEU AT NOVENA | $2,623 | Freehold |
| CANNINGHILL PIERS | $2,641 | 99 yrs from 03/09/2021 |
| IRWELL HILL RESIDENCES | $2,652 | 99 yrs from 13/04/2020 |
| LEEDON GREEN | $2,677 | Freehold |
| GRANGE 1866 | $2,730 | Freehold |
| ROYALGREEN | $2,778 | Freehold |
| MARTIN MODERN | $2,795 | 99 yrs from 28/09/2016 |
| THE HYDE | $2,835 | Freehold |
| MIDTOWN BAY | $3,028 | 99 yrs from 02/01/2018 |
| THE ATELIER | $3,040 | Freehold |
| THE AVENIR | $3,111 | Freehold |
| SLOANE RESIDENCES | $3,211 | Freehold |
| 8 HULLET | $3,671 | Freehold |
| 3 CUSCADEN | $4,213 | Freehold |
Source: URA. Transactions from January – November 2021 (incomplete).
At $2,641 psf, CanningHill Piers is even more affordable than its new launch "rival" Irwell Hill Residences. Irwell Hill Residences is a few minutes walk to Great World Shopping Centre and Great World City MRT, which is certainly not as convenient as CanningHill Piers. And at this price, you could see it as being around 13% cheaper than the new Integrated Development Midtown Bay!
At this $PSF, it also looks really reasonable considering it is less expensive than projects that are not as well connected and have fewer F&B options in the area, such as The Atelier and Sloane Residences. Of course, these are freehold projects, but you can clearly see that the premium to own an iconic integrated development still makes its $PSF pretty reasonable compared to its peers.
Overall, I think that the excellent strategic location, proximity to the park, and great views will continue to prop up rental demand for this project and, in turn, support its prices.
Appreciation Analysis
Iconic Project with Perpetual Views
CanningHill Piers is not only the tallest residential building (48 storeys, 180m) along the Singapore River, but is also surrounded by many conserved regions close by. This includes the Clarke Quay precinct of shophouses and Fort Canning Hill. This ensures that the views you enjoy will almost certainly be there to stay, bar an unexpected u-turn in government policy. This makes this development a rare project to own, as it will boast of unblocked views that are increasingly hard to find, and much more so in the Central region.
Decently Priced Integrated Development
Integrated developments have a premium over their neighbouring condos, as established clearly in the OCR launches in the form of Pasir Ris 8 and Sengkang Grand Residences in recent years. Yet, if we look at the price review chart above, we notice that there is a little premium that has been built into a project that has both a mall and MRT at its doorstep. Not to mention the entire Clarke Quay area that residents will be able to stroll out to in the evenings. Being priced sensitively will allow buyers to retain value well and enhance yield for investors looking to let their units out. 
What we like
Very centrally located

River views, Marina Bay views, and Fort Canning views

Travel connectivity

Upscale design

Sky Club on 45th Floor
What we don't like
–

Facing hotel and serviced residences for some units

–

Busyness below could be overwhelming
Our Take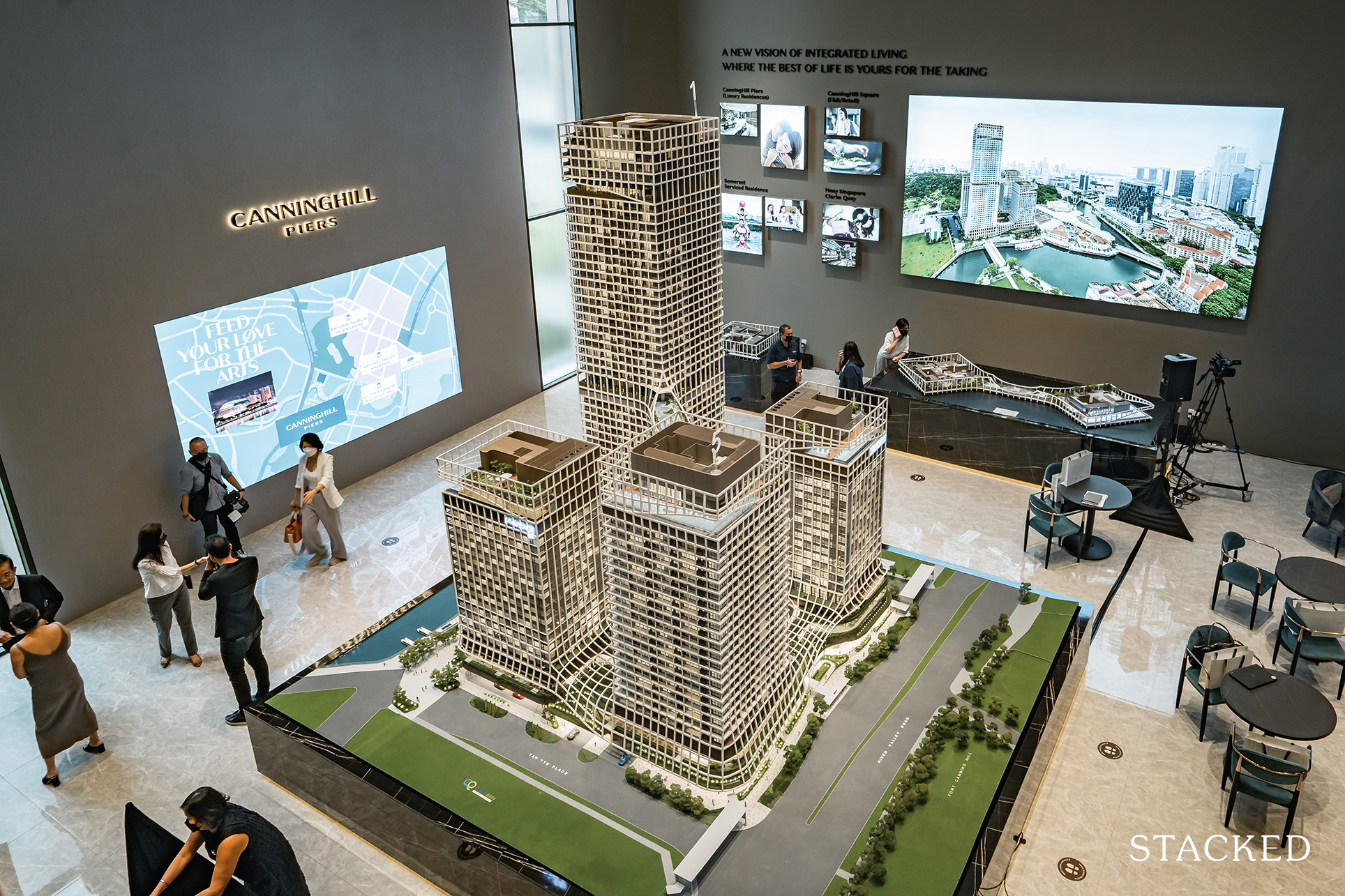 Every once in a while you get something iconic in nature, whether it be a modern-futuristic project like Marina One Residences or the eye-catching Reflections at Keppel Bay. CanningHill Piers is undoubtedly one such development to be included, and it will be an exciting addition to the Clarke Quay precinct. Not to mention, it is the only integrated development to include a hotel, serviced apartments, and a retail mall. 
For me though, the best part about CanningHill Piers is its location. It's probably been overused to death – but I am impressed by the combination of views that are available here. It's not often you get to boast of views of the Singapore River, Marina Bay, and Fort Canning Hill, and it is something I find incredibly rare and priceless.
It's not just about the views, though. As a lifestyle, it is nearly a perfect choice. It's close enough to the CBD that travelling will not be a chore, yet it is in a very liveable location. The Clarke Quay area, Robertson Quay, and Orchard are all very close by, and the fact that you can still enjoy a walk by the Singapore River or choose to take a short hike at Fort Canning Hill is a luxury not many can choose from.
The design of CanningHill Piers is modern and striking and rejuvenates the Clarke Quay area that has been void of any landmark development for a couple of decades now. The four towers are also seamlessly connected with each other with a drape of sorts and integrate well with the river promenade leading to Clarke Quay.
While everything may sound very positive so far, there are, of course, downsides to consider. For one, with the hotel, serviced residences, and the open nature of the lower levels, it is going to attract a considerable amount of traffic. So if you're the sort that prefers somewhere quieter, it's easy to see this isn't the development for you.
It's also not one for families with younger children, as it is there's only one primary school nearby, and the lack of a truly open area for kids to run around will be something on the minds of those that are attracted to the convenient location.
Also, its design does create a bit of a flaw for the balconies in the units, as the external facade will make the balconies feel a little darker and more 'internal'. Additionally, you will definitely have to pay the premium for the outer facing views, as internally, you will be facing the different towers of the projects.
Finally, the indicative prices also look relatively attractive compared to the new launch peers in the vicinity. There does not seem to be much of a price premium packed in on the back of its integrated development status, making CanningHill Piers seem rather reasonably priced.
Overall, I believe that CanningHill Piers has been well thought out to attract its targeted clientele – and those that fall within that range will no doubt be seriously considering it right now.
What this means for you
You might like CanningHill Piers if you:
Wish to own a rare Central development:

Being the tallest residential building in the area with views of Fort Canning Hill, Marina Bay, Singapore River and beyond, Canninghill Piers is also situated in a zone with many conservation buildings, making the views you have almost perpetual.

Enjoy the convenience of an integrated development:

Integrated with a mall and MRT station, CanningHill Piers gives you convenience that few Central projects can rival.

Desire to be in the heart of Singapore's nightlife:

Lifestyle options are just steps away as you have the Clarke Quay and Robertson Quay precincts close by.
You may not like CanningHill Piers if you:
Prefer more condo-like elements:

Some among us (myself included) prefer developments that are away from the hustle and bustle of the city with full condo facilities such as a tennis court and regular shaped 50m lap pools.

Have a limited budget:

While I do feel that this project is rather reasonably priced compared to its peers, it is a Central project that appeals to a select group of buyers who have the ability to fork out more than $2m for a 2 Bedroom unit.
End of Review
Join our Telegram group for instant notifications
Join Now
Matt K