HDB Reviews

Fajar/Saujana HDB Estate (1980s) Review: Decent Amenities + Close To LRT
Sean
March 2, 2022

21

min read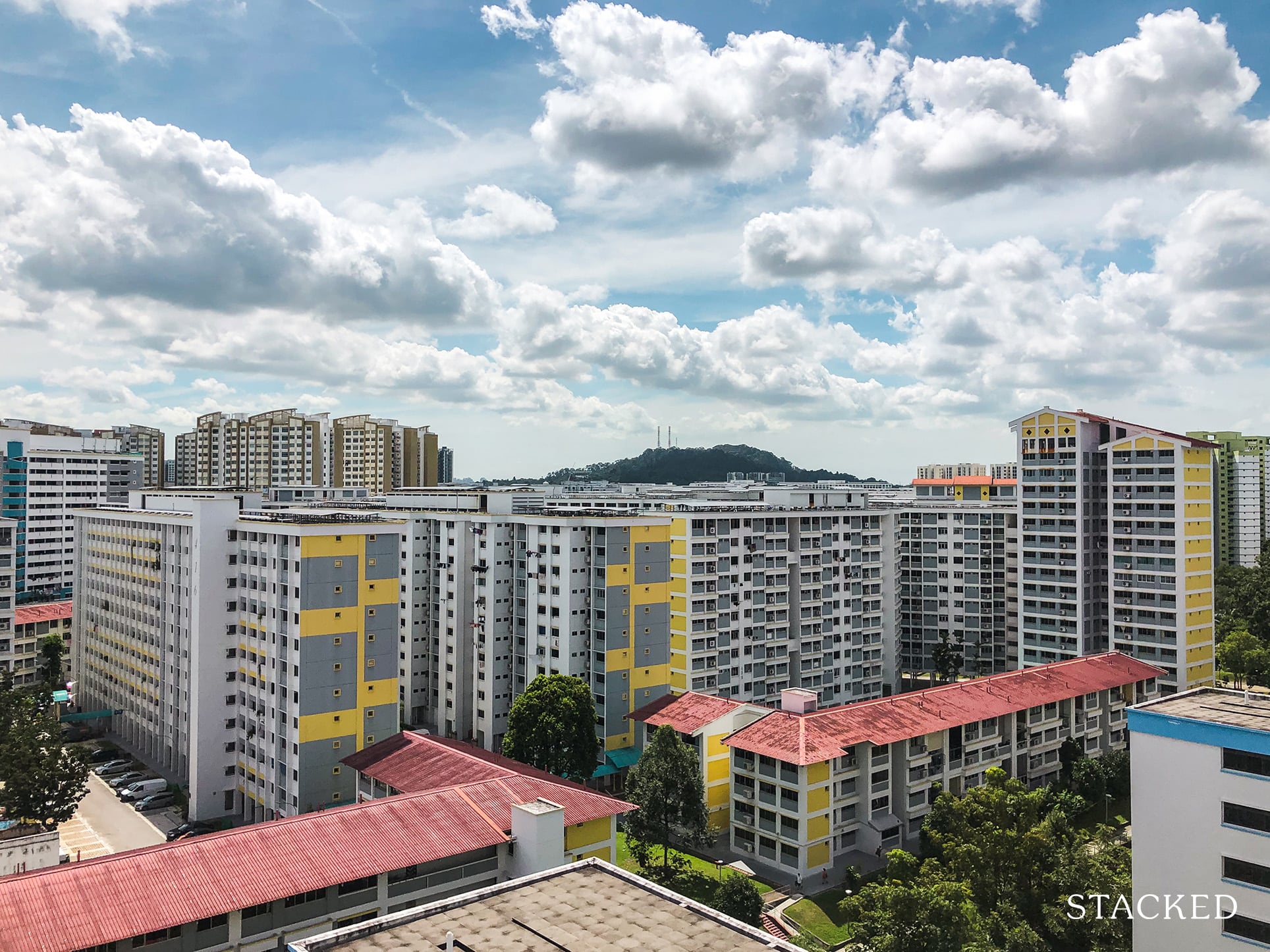 Reviewed by Sean on March 02, 2022
What we like
Close to amenities

Next to the LRT

Modern + varied facilities

Next to the Park Connector
What we don't like
—

Not close to the MRT

—

Not close to a major mall
21
min read
| | |
| --- | --- |
| Project: | Saujana/Fajar HDBs |
| HDB Town | Bukit Panjang |
| Address: | 409 – 416 Saujana Road, 416 – 426 Fajar Road and 427 – 435 Bukit Panjang Ring Road |
| Lease Start Date: | Late 1980s |
| No. of Units: | 1,904 |
Over the past year, I've written a handful of HDB reviews that mostly revolve around the more modern developments – those built in the past decade.
That's why I'm quite excited to share our first ever HDB review of a cluster of HDBs built way back in the 80s – those found in the Fajar area.
For those of you who aren't familiar with the area, Bukit Panjang is made up of 7 subzones: Jelebu, Bangkit, Fajar, Saujana, Senja, Dairy Farm, and Nature Reserve.
Some of these names may seem familiar to you – the Senja area has quite a few new HDB developments, one of which is Senja Parc View which I have also covered recently. You may have also heard of the Dairy Farm area with a new launch like Dairy Farm Residences.
The old cluster of HDBs that I'll be covering here is within the Saujana and Fajar subzones. The area has recently seen some major upgrading works done to it, so while it is an old development, many aspects of it are quite modern.
So if you're looking for an affordable HDB in the Bukit Panjang estate, should you look at these blocks at Fajar/Saujana? Let's take the tour to find out!
Fajar HDB Insider Tour
Unlike newer HDB developments that have a distinct cluster and their own project name (e.g. The Pinnacle@Duxton), older clusters of HDBs such as the ones along Fajar Road are more porous. Where exactly does the development "start" and "end"?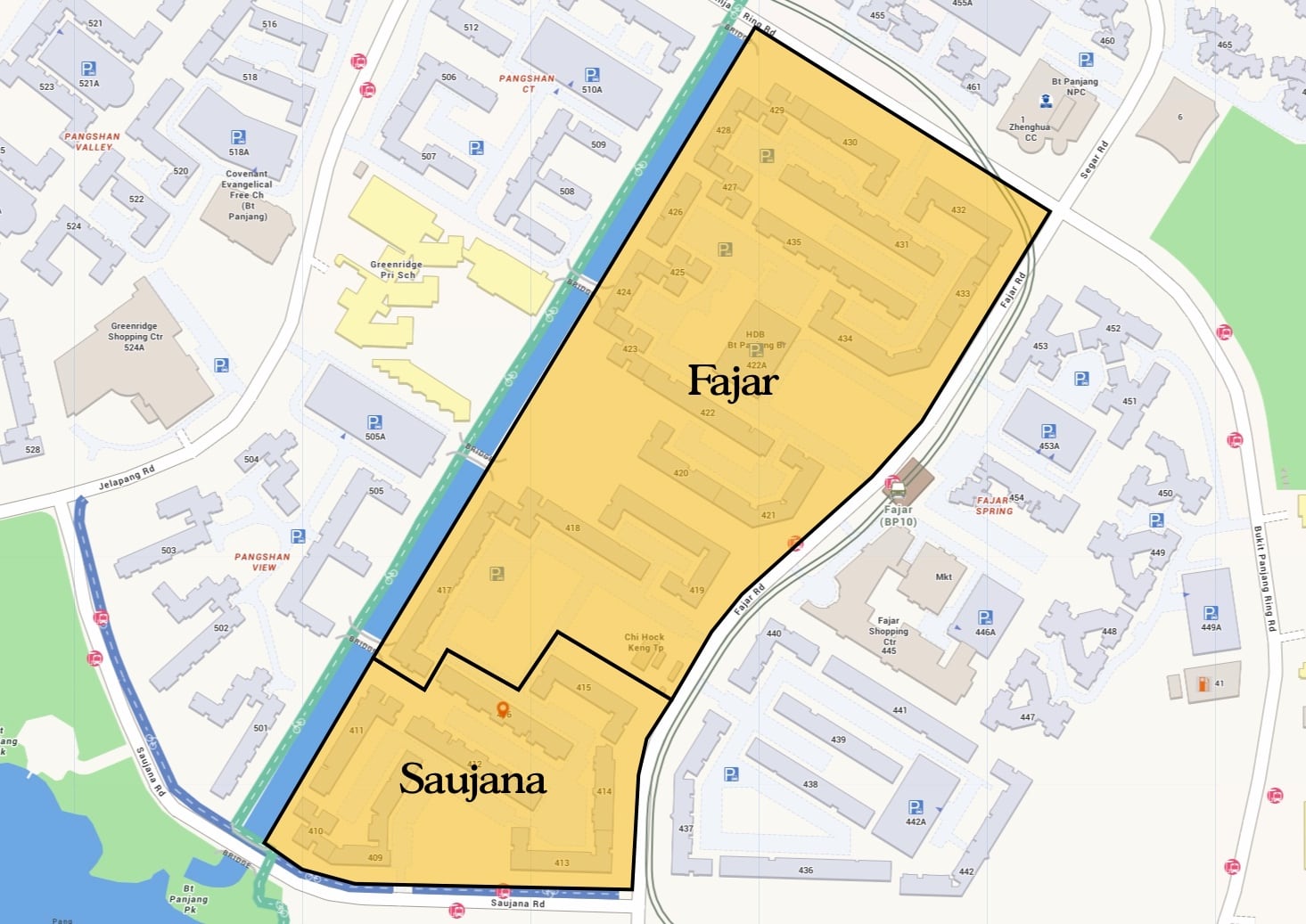 Despite not having an obvious name (it's usually displayed on HDB's map service), the old Fajar HDB cluster is made up of generally 2 areas – Saujana (on the south end) and Fajar (on the north end).
These are the blocks enveloped between Fajar Road, Saujana Road, and the canal/park connector that runs west of it – blocks 409 to 435.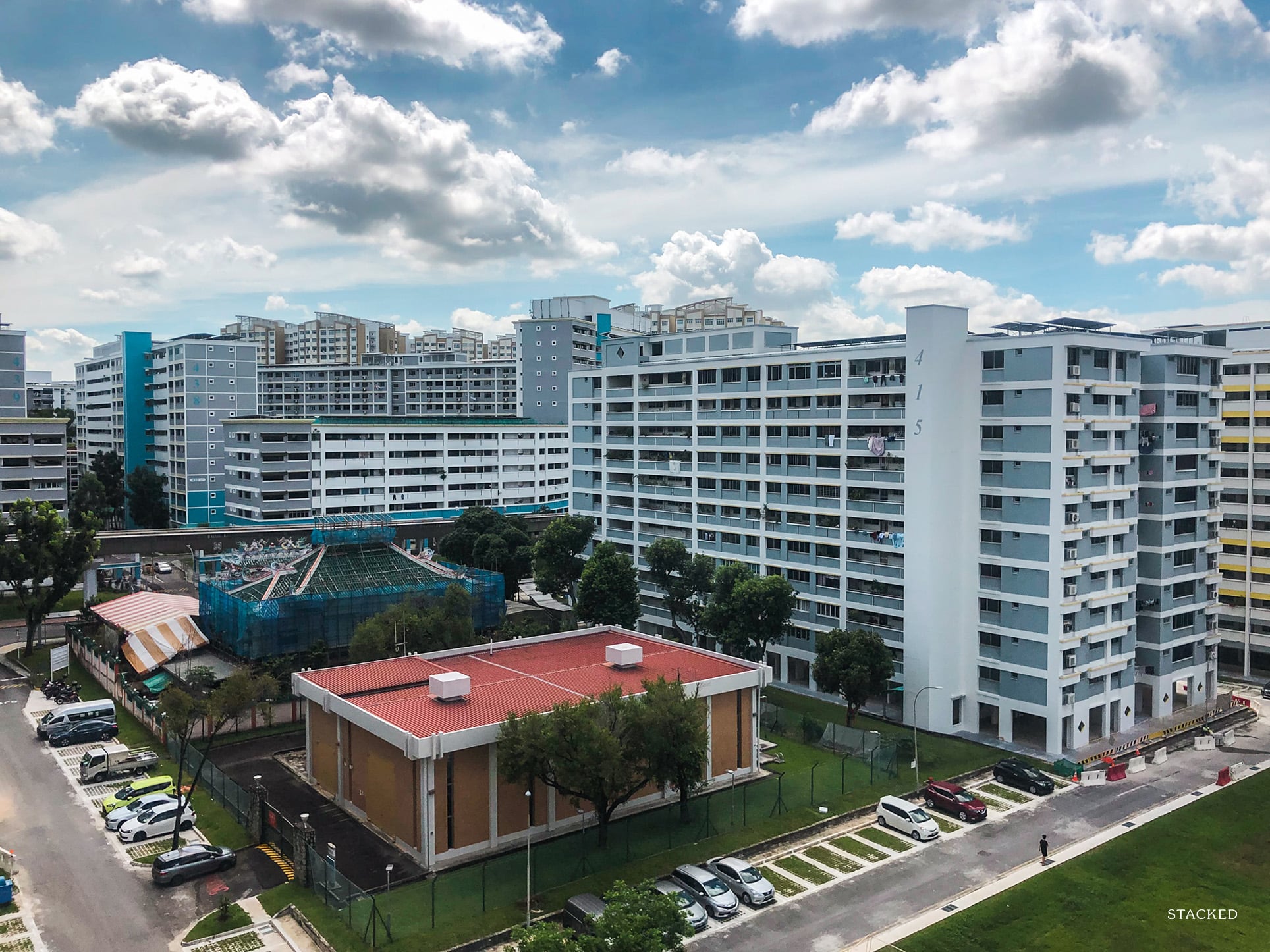 Let's start off with the drop-off point. Given the numerous blocks here, you can expect that only some blocks have a drop-off shelter. This one here is located at block 424: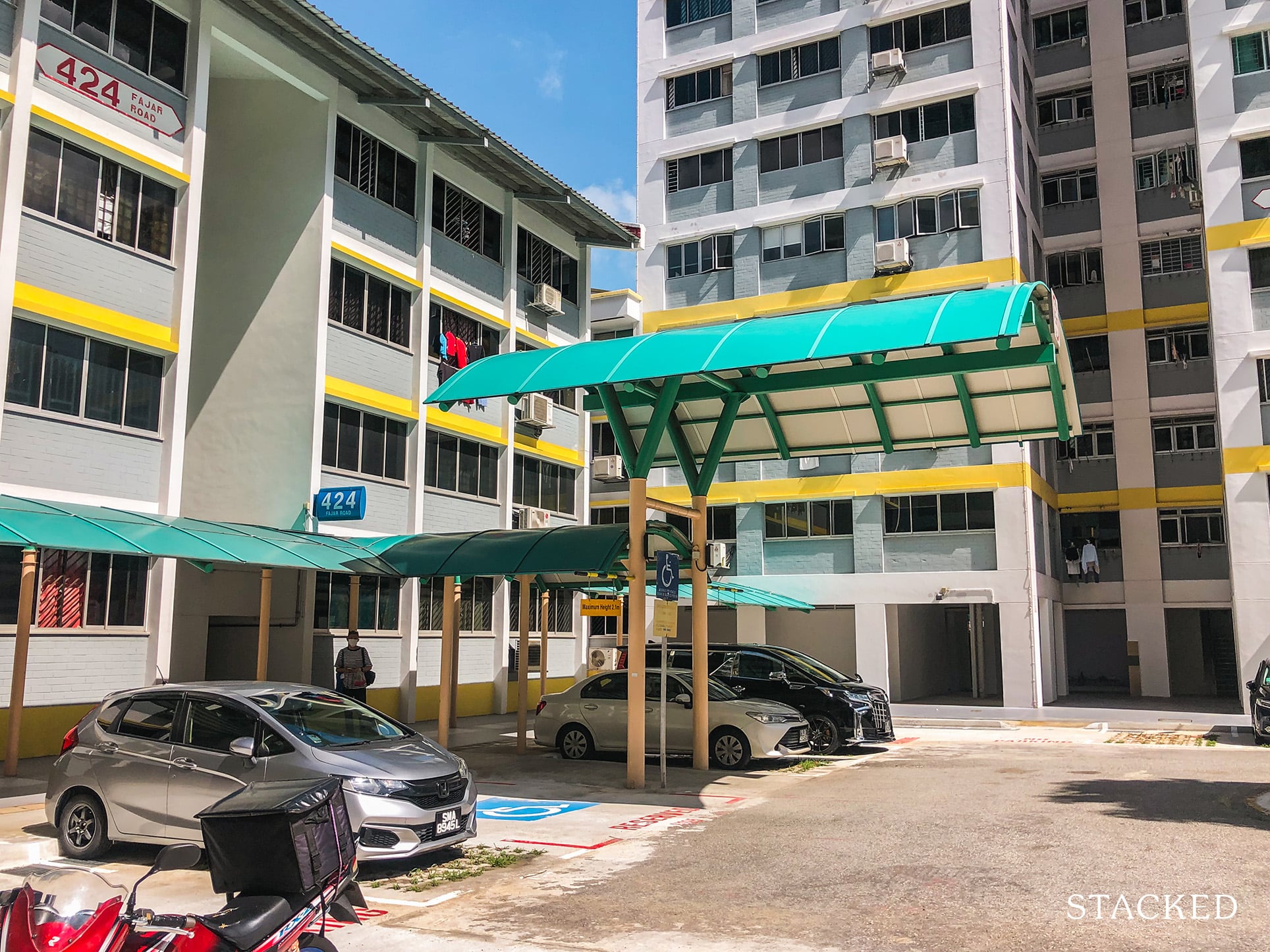 The drop-off has a small sheltered area and lacks any seats of any sort – a common design for older HDBs. If anything, it's odd that these haven't been added yet. After all, as the older estates are more likely to have older folk, it's even more necessary for such places.
From here, residents can take the sheltered walkways to their respective blocks. This particular drop-off is actually wheelchair-friendly though – a small detail yet very pleasant one to find considering the parking lot is just next to the drop-off and there is a gentle ramp up.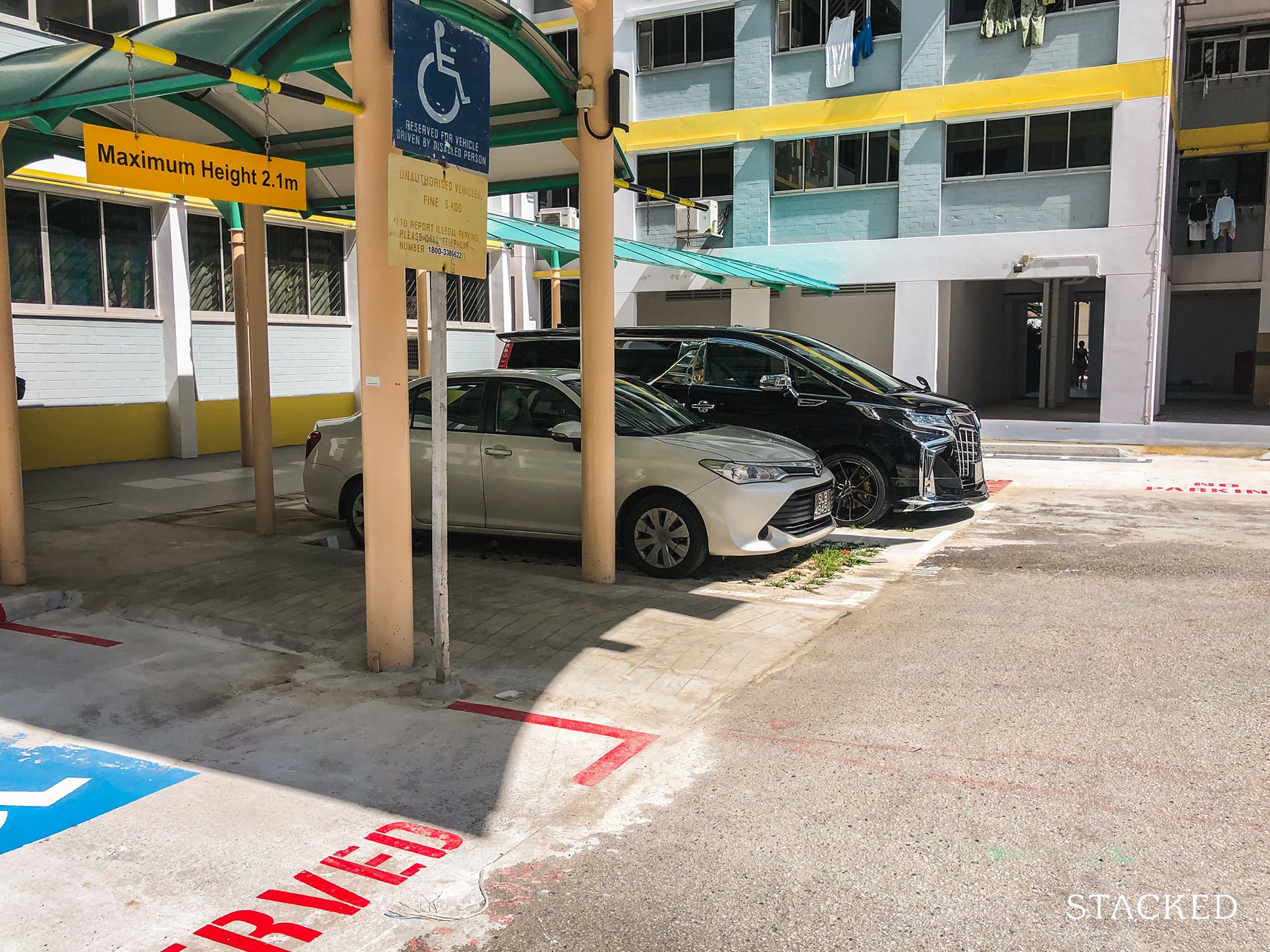 There are also sheltered walkways between blocks, so residents looking to get across the development site would not have to brave the sun or rain too.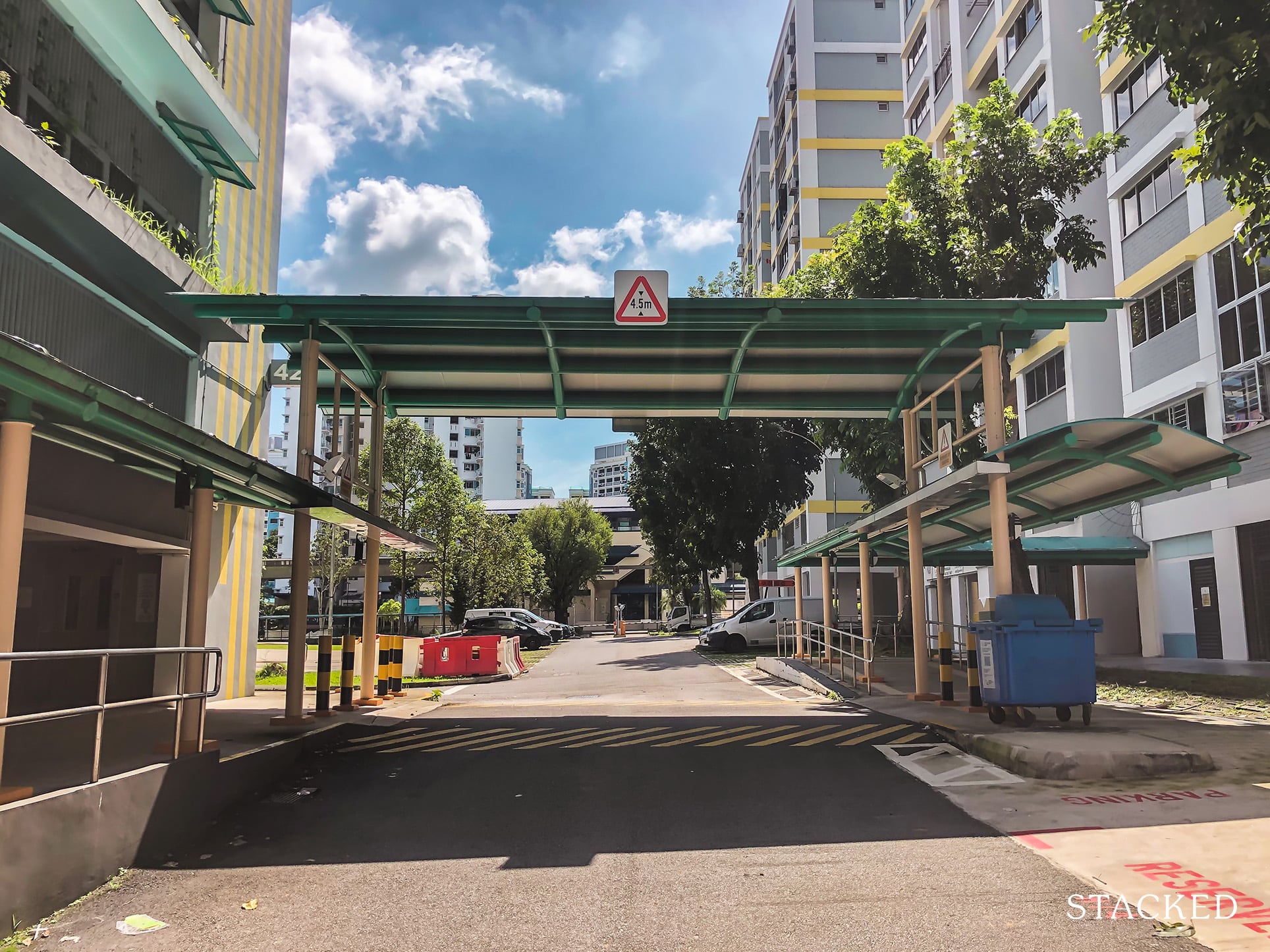 Now like most older HDBs, residents can expect lots of open surface parking lots within the development and in the case of the old Fajar HDBs, this is no exception. Residents are able to park their cars directly in front of their block if they would like.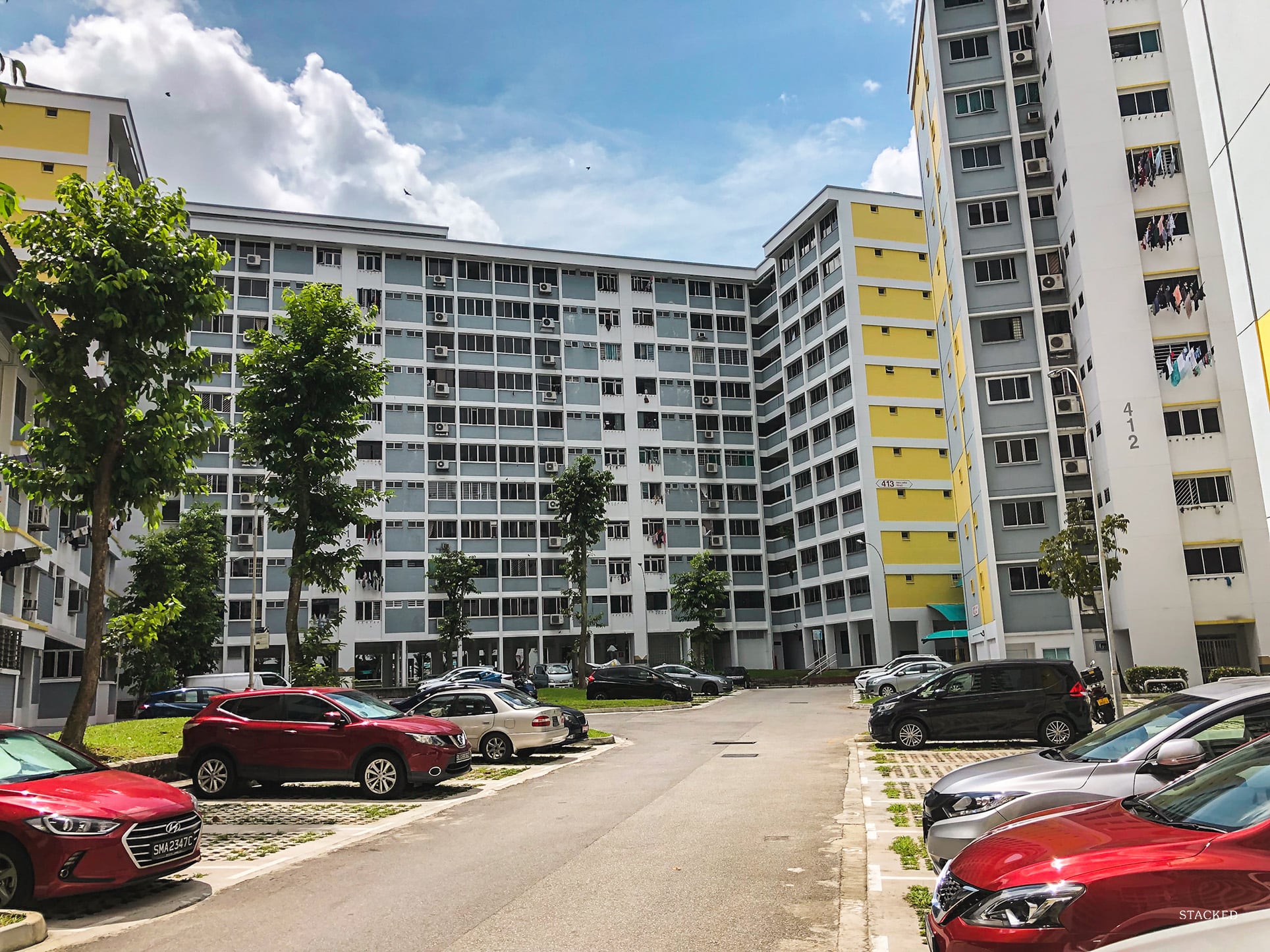 However, I would imagine that most people would prefer the multi-storey car park due to its protection from the weather. It's a trade-off between quick convenience and insurance against bad weather – of which you have the liberty of choosing here.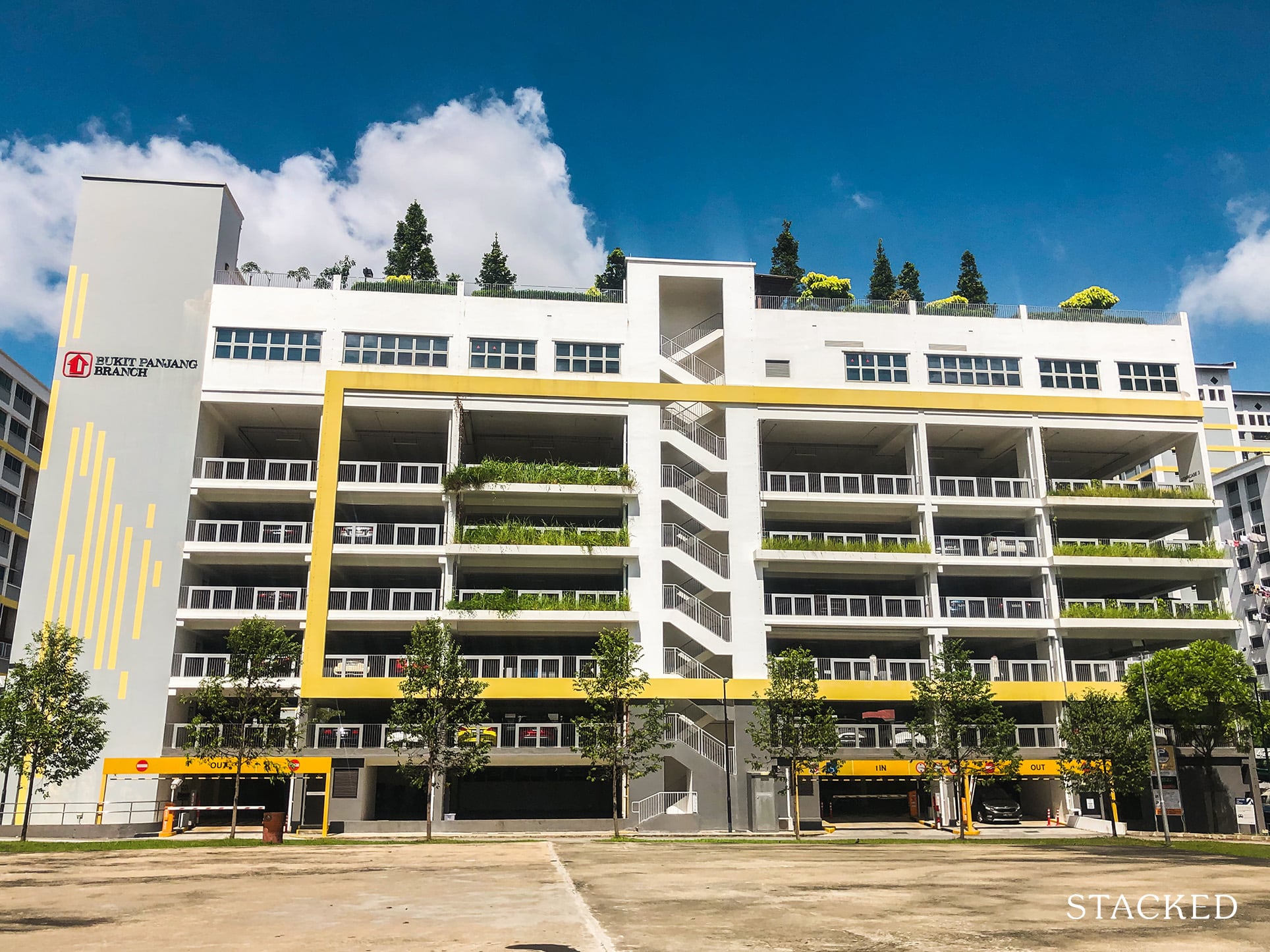 Thankfully for this development, a multi-storey car park was built just a few years ago and is located at block 422A. And when a new, modern-looking multi-storey car park is built in the middle of an old HDB, you can really see the juxtaposition between the old and the new.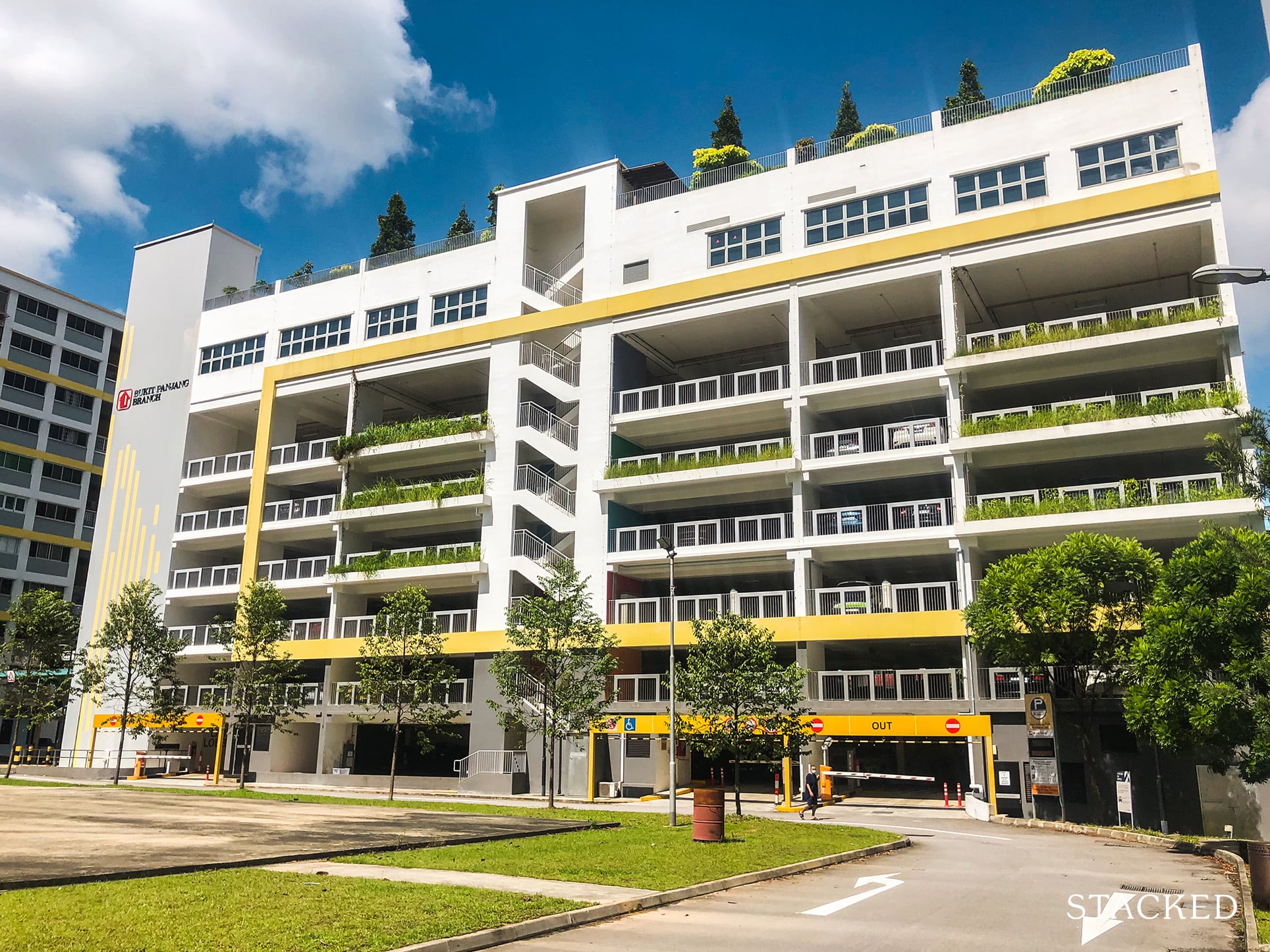 The new multi-storey car park comes with a rooftop garden on level 8 – much like those found in newer HDB developments. It also features its very own HDB branch on level 7 as well as an e-lobby that has self-help e-kiosks for HDB transactions, cash payment machines as well as an AXS machine so that residents are able to pay their fines access services quickly.
It's not very often that I see an e-lobby like this and I think it's a great touch that as it shows they are cognisant of elderly living in the area. Many of the older folk may not have made the transition to the online world (as crazy as that may sound), and this would no doubt come in handy.
There is also a full-fledged HDB branch here for those who prefer a face-to-face service!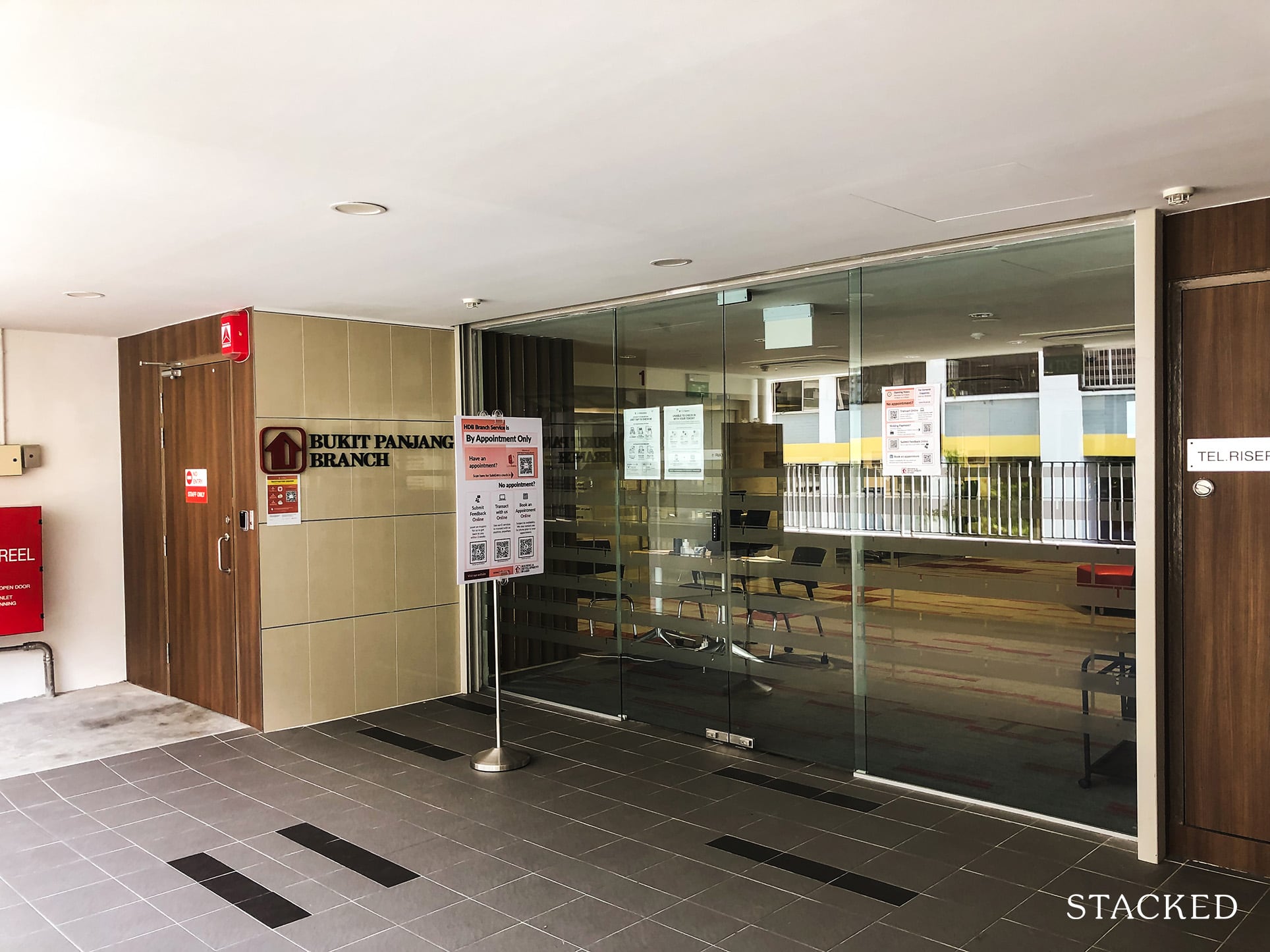 The multi-storey car park has a total of 5 entrances and exits for the whole area as well as two lift lobbies.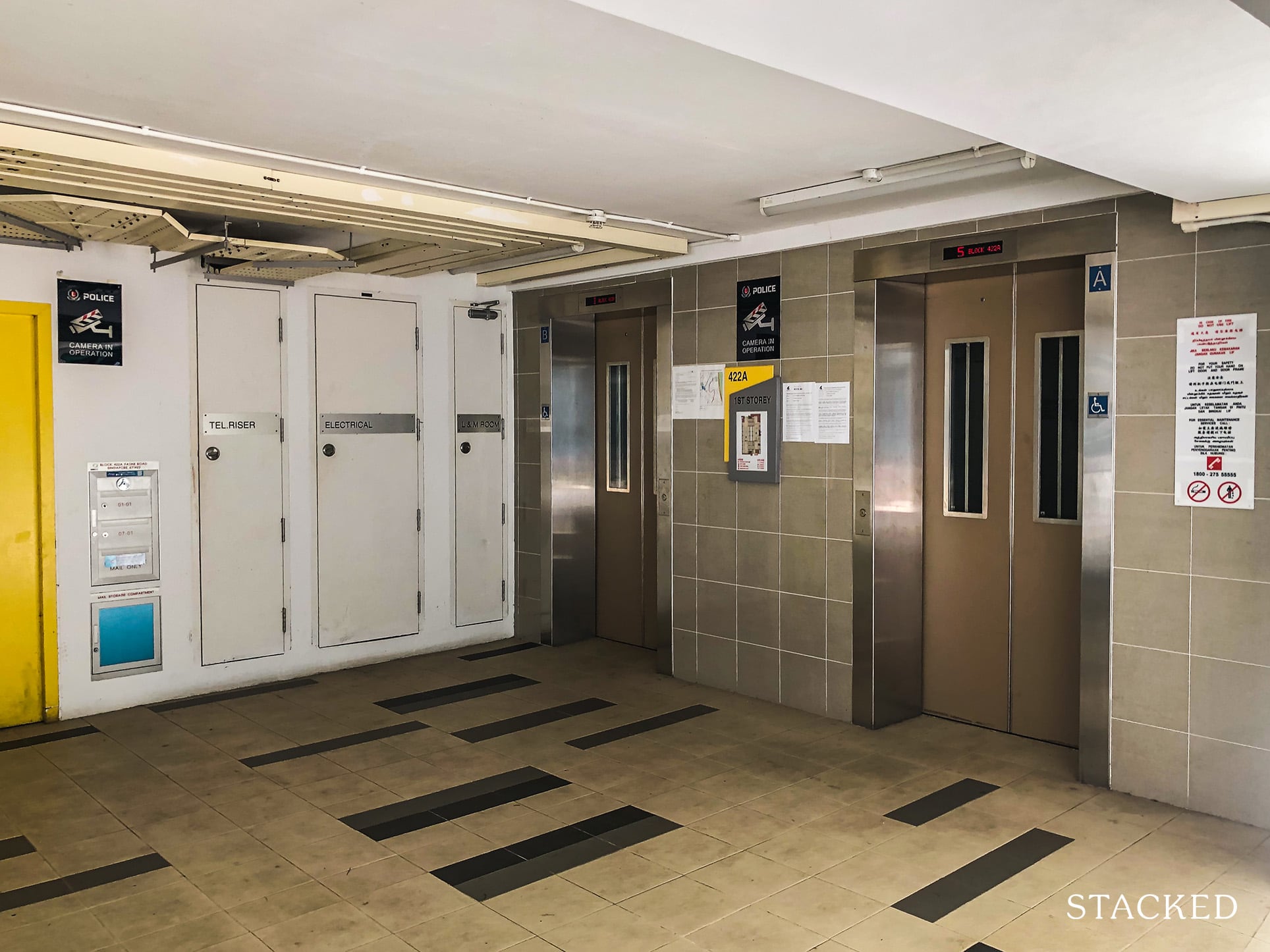 Going up, you'll find the car park here to be very well ventilated and it comes with air wells too so there's lots of natural light in here.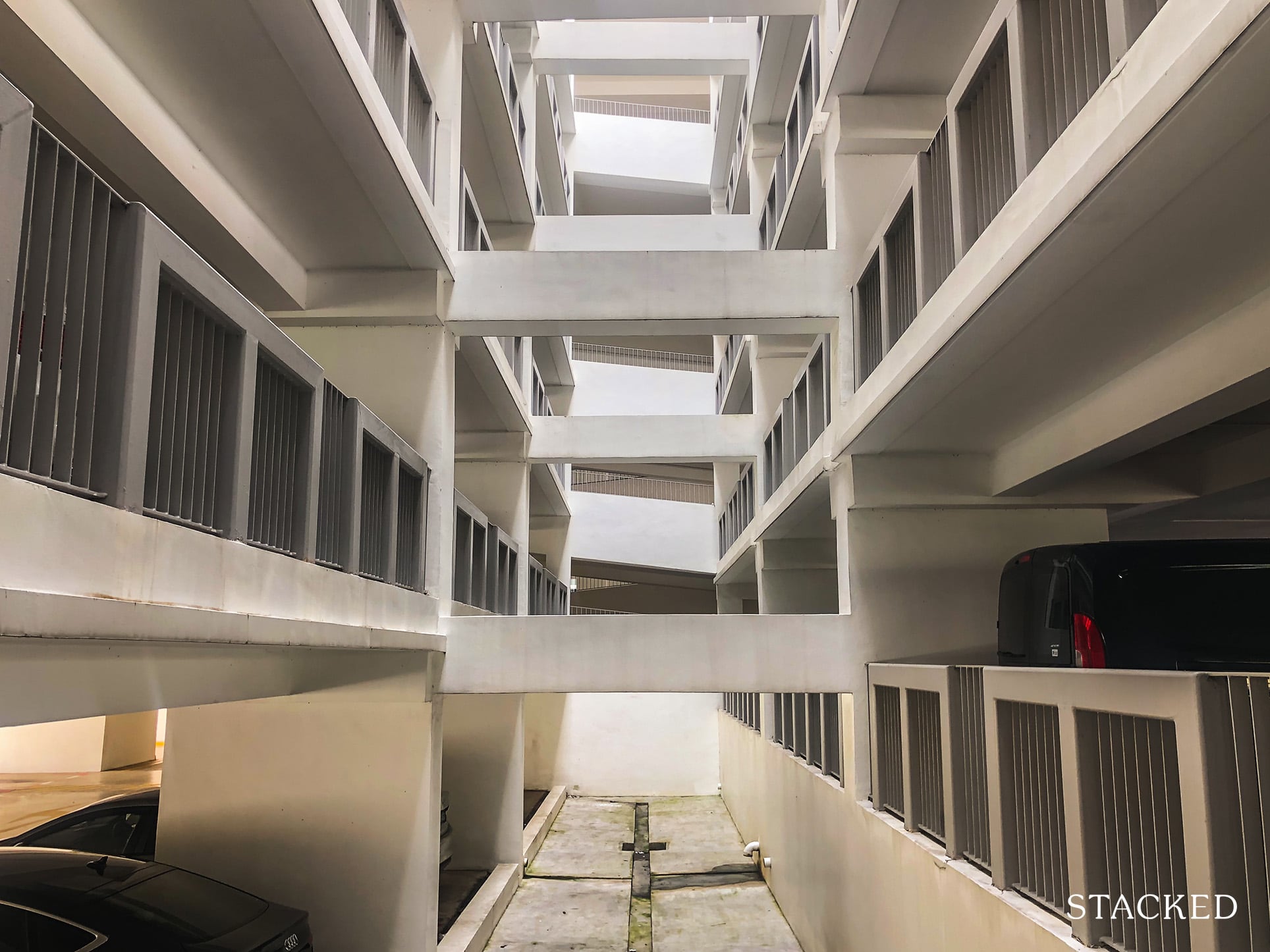 And it's obvious from the photos that this car park really looks like one belonging to a recently-built BTO, so no complaints about maintenance issues here!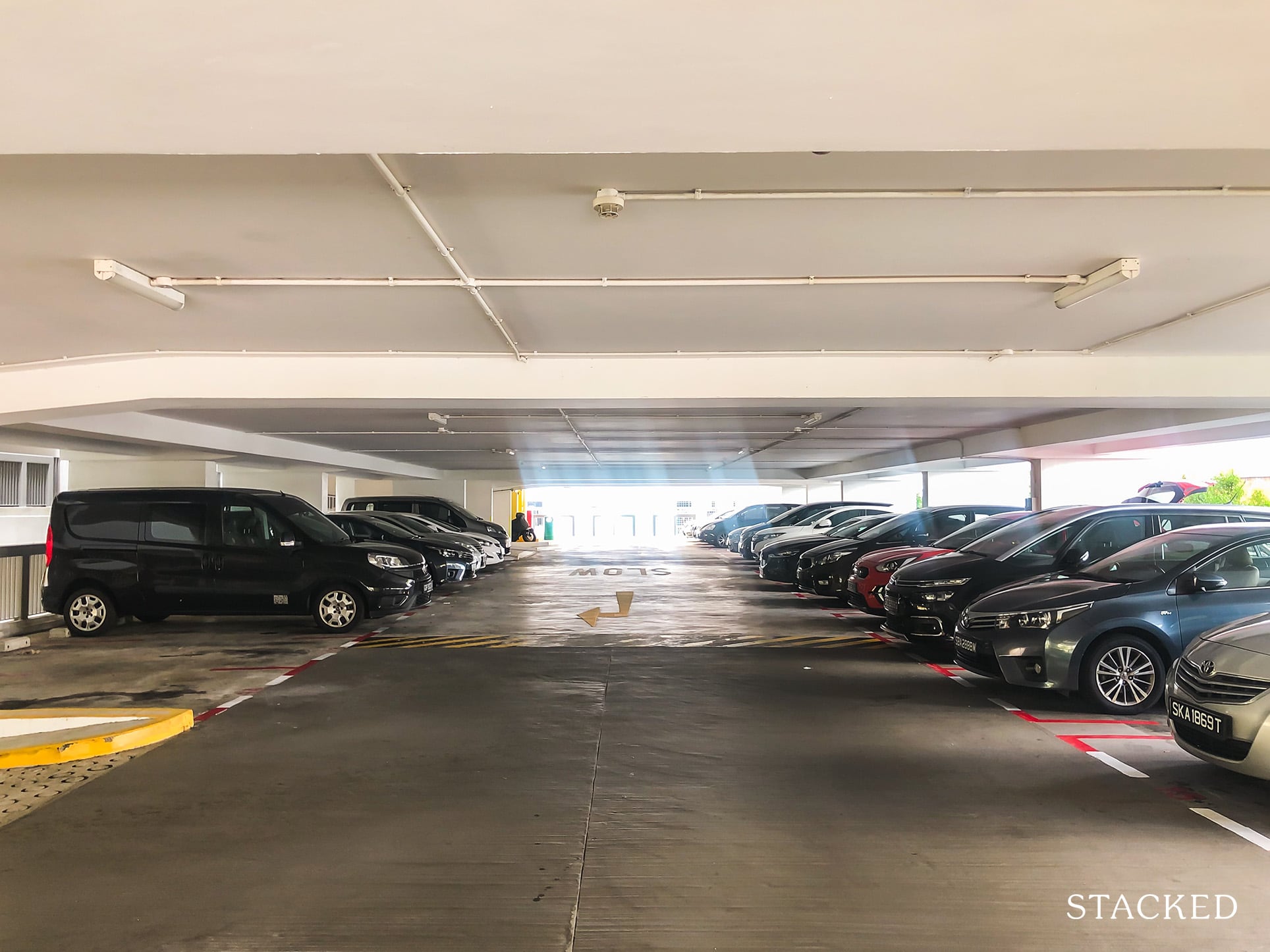 Given that the car park is surrounded by other HDB blocks, it goes without saying that lower floor units adjacent to this would face some privacy issues due to the direct facing.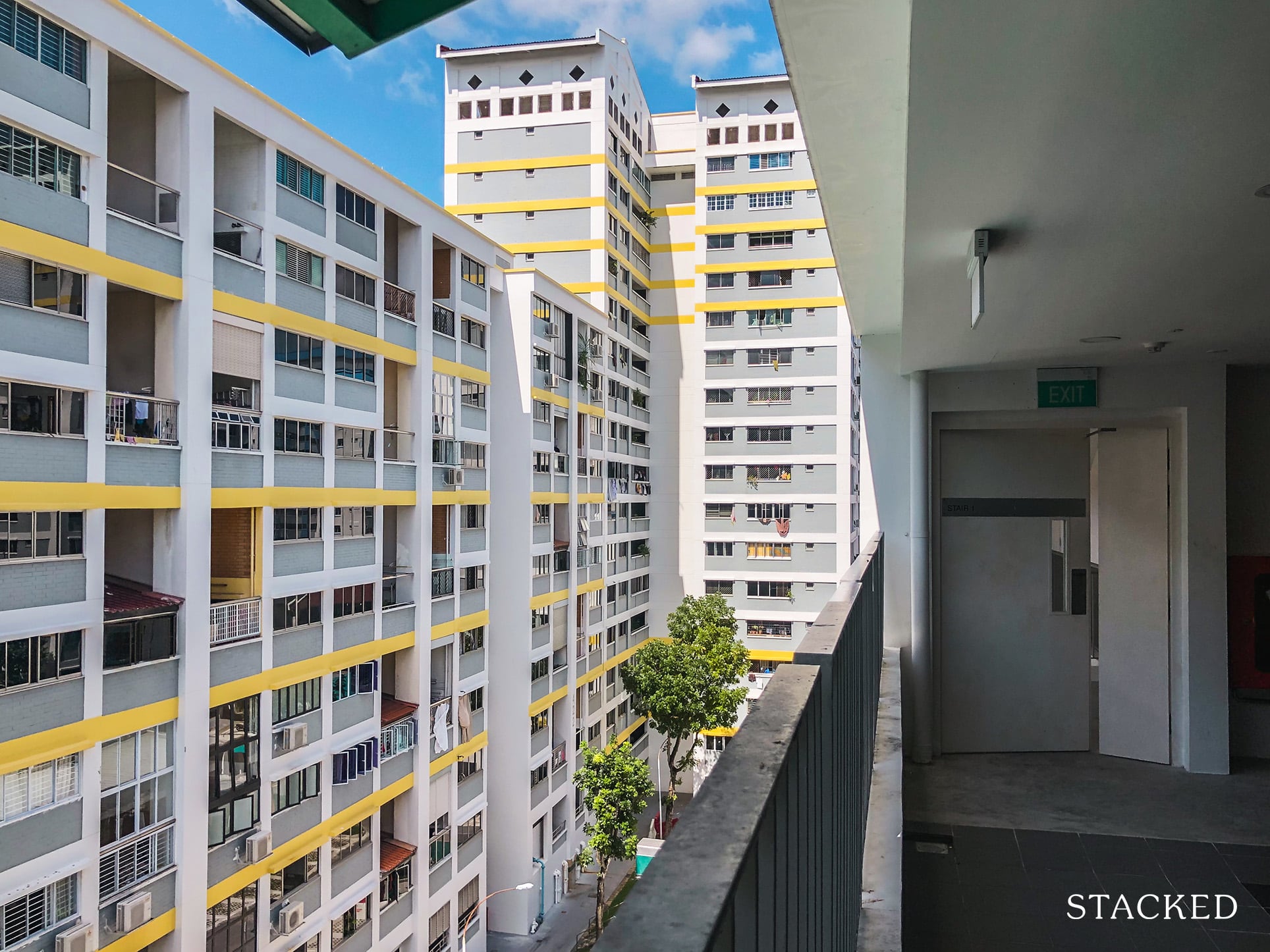 Heading up to level 8, you'll find the ca rpark rooftop garden. While I wouldn't describe this as a luscious oasis of nature, you can really appreciate the effort in setting up the community garden here.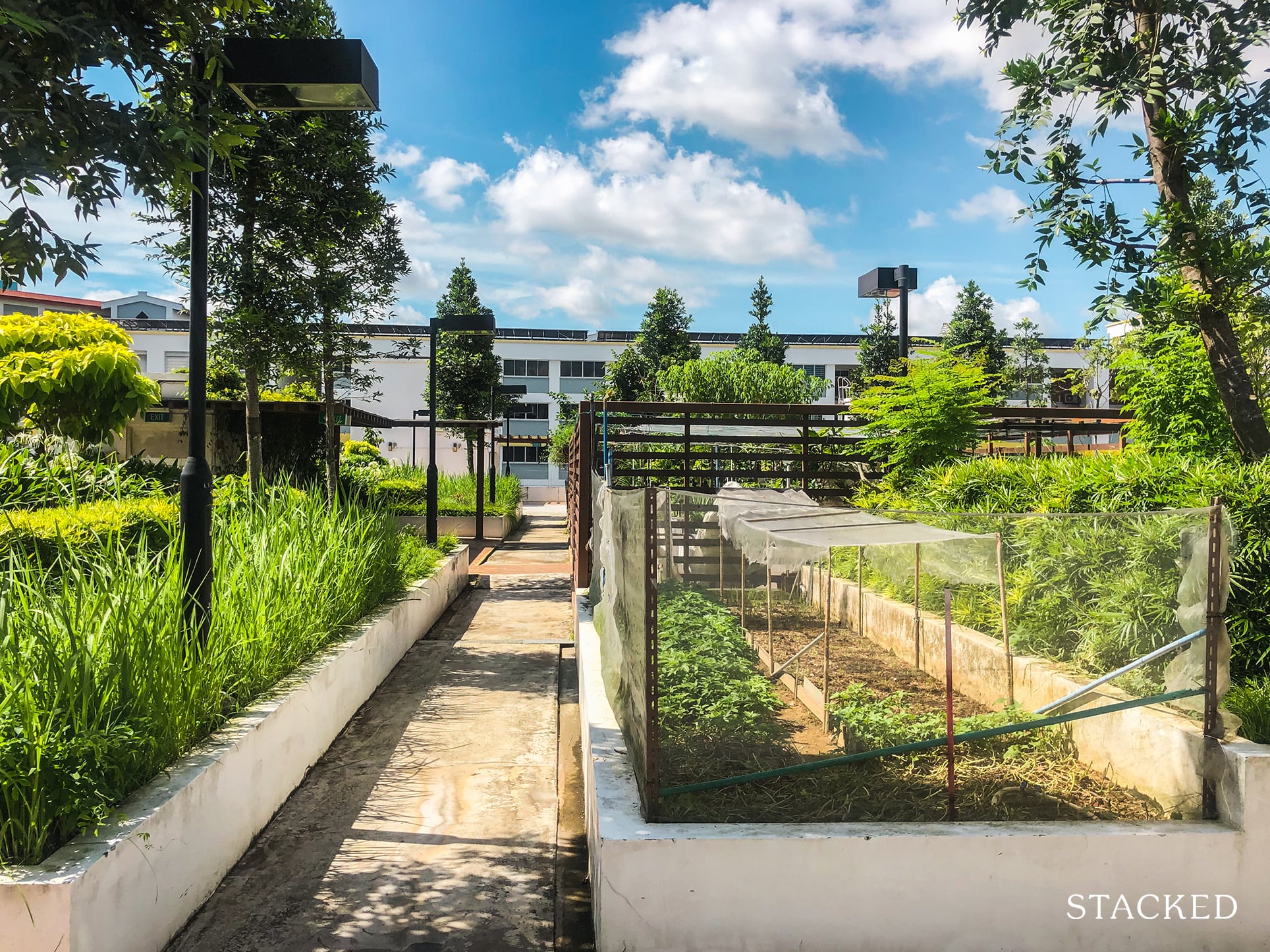 It looks to me like some of the plants here are edibles and the community here takes the gardening quite seriously!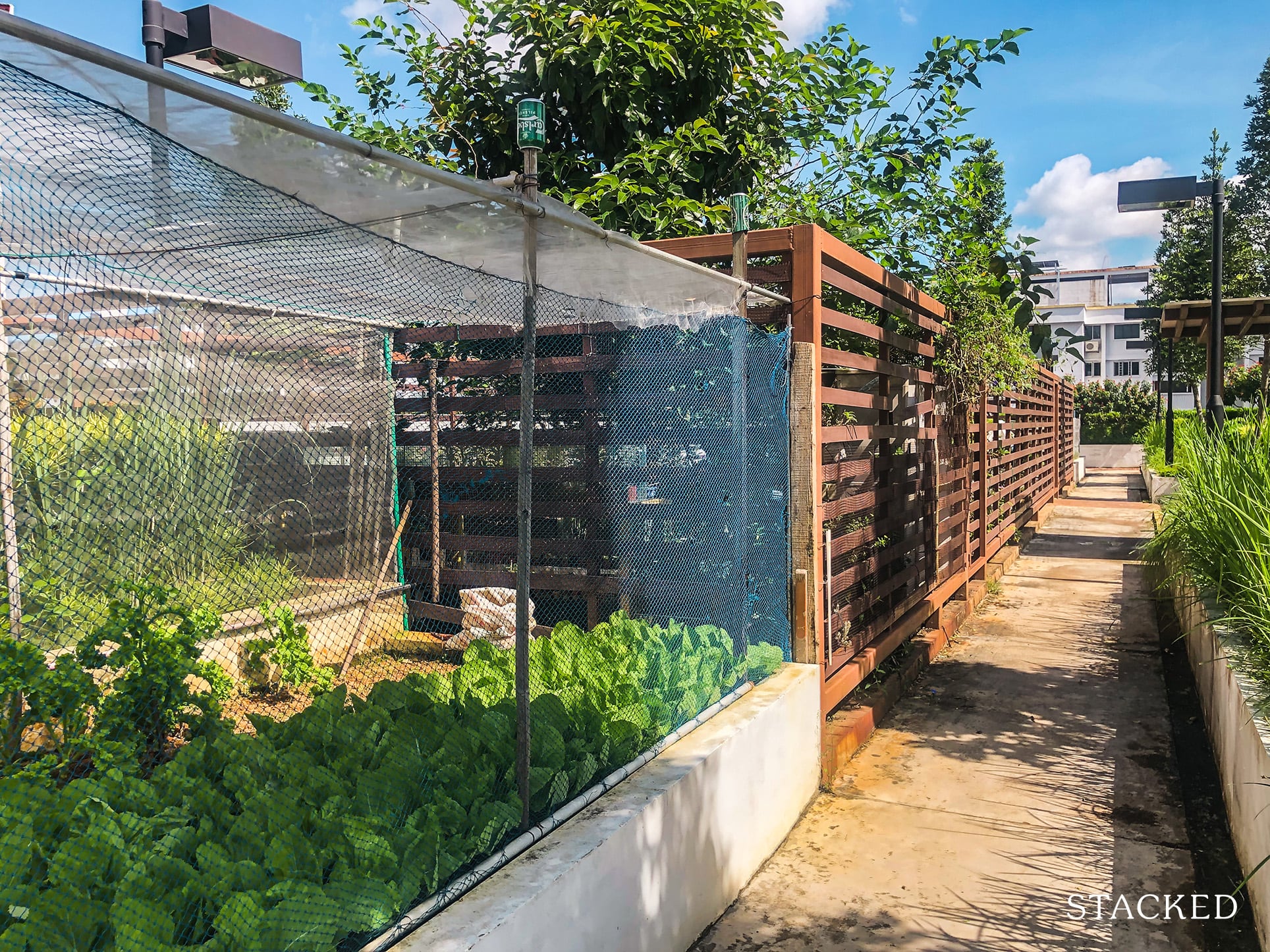 Apart from that, there's not much else that the rooftop garden here provides. Given that it's just 8-storeys high and surrounded by HDBs, there isn't much of a view either as you'll either be facing the LRT tracks or other HDB blocks around.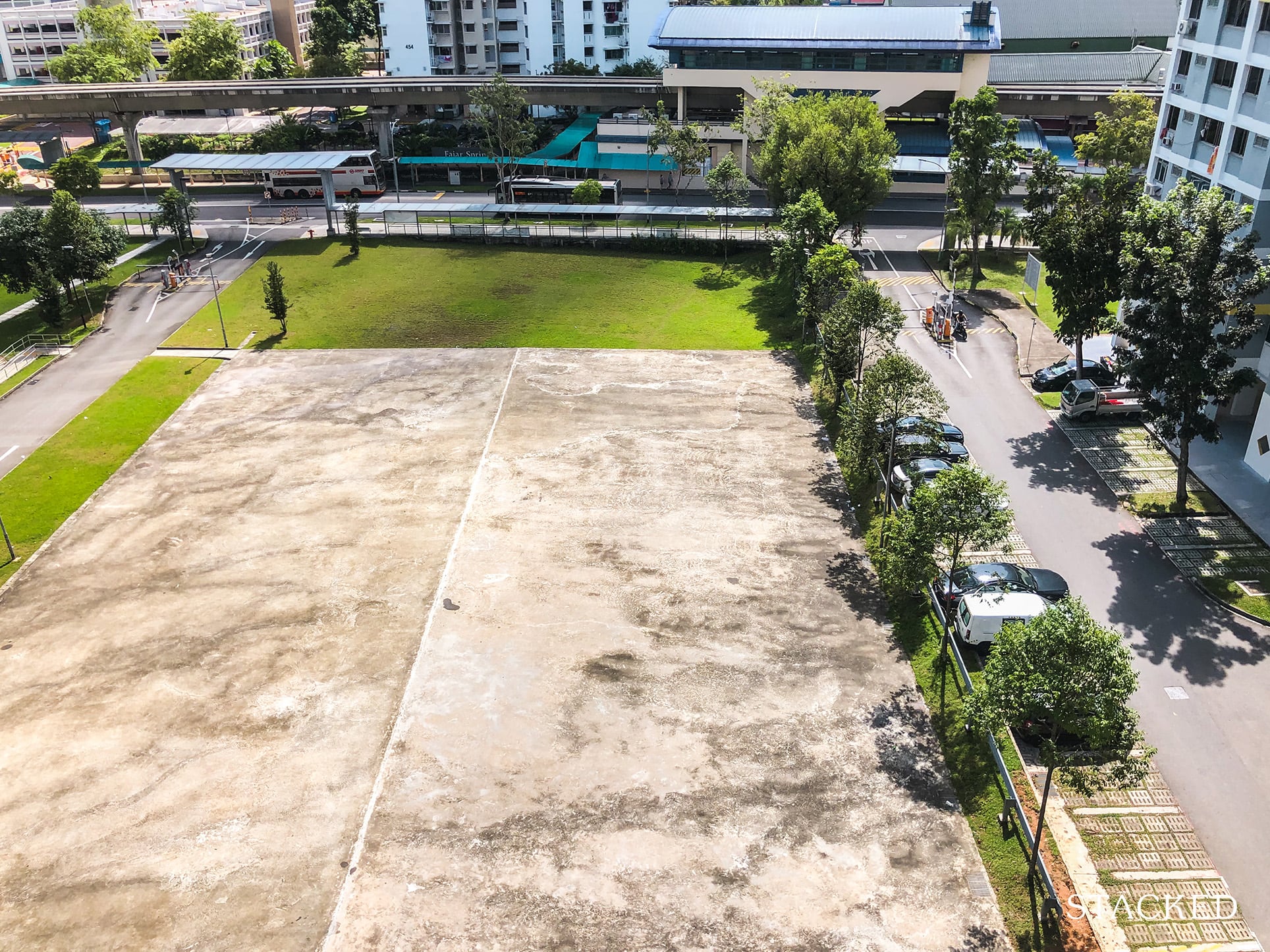 That does bring me to my next point – some stacks here have visibility to the rooftop garden which can be a privacy concern, so buyers of these stacks should take note of this.
While the rooftop garden isn't big, I did find that there's an ample amount of space to walk around.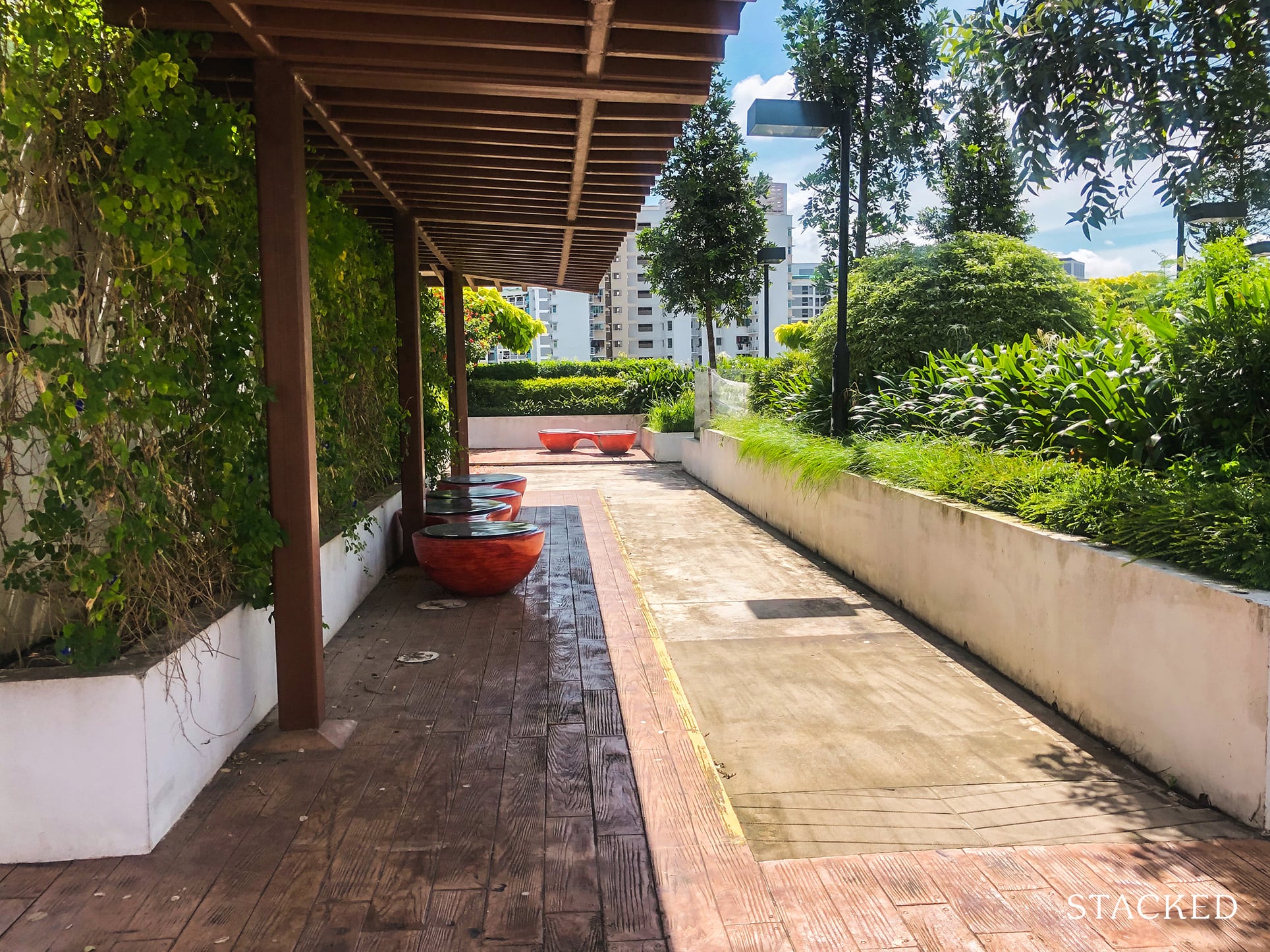 I suppose this is a good place to just unwind and get a breath of fresh air, perhaps to get away from staying at home all day. Other than that, I would rather head down to the park connector just behind for a stroll next to the canal.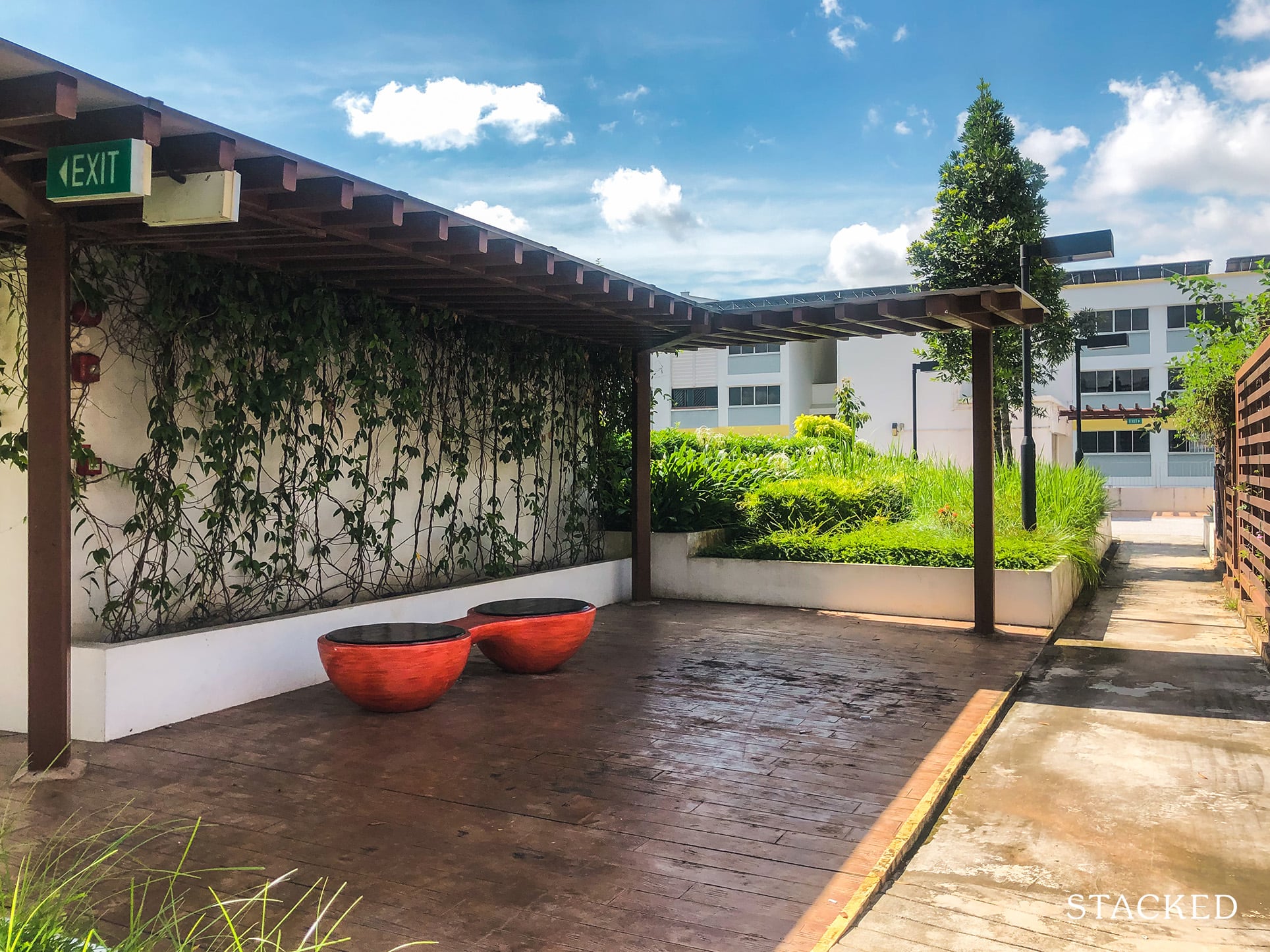 There are also some seats here, though I don't really see the appeal of hanging around here apart from meeting other residents with a green thumb! From the looks of it, it does seem like it's in need of some maintenance – quite a surprise for a facility that's only a couple of years old.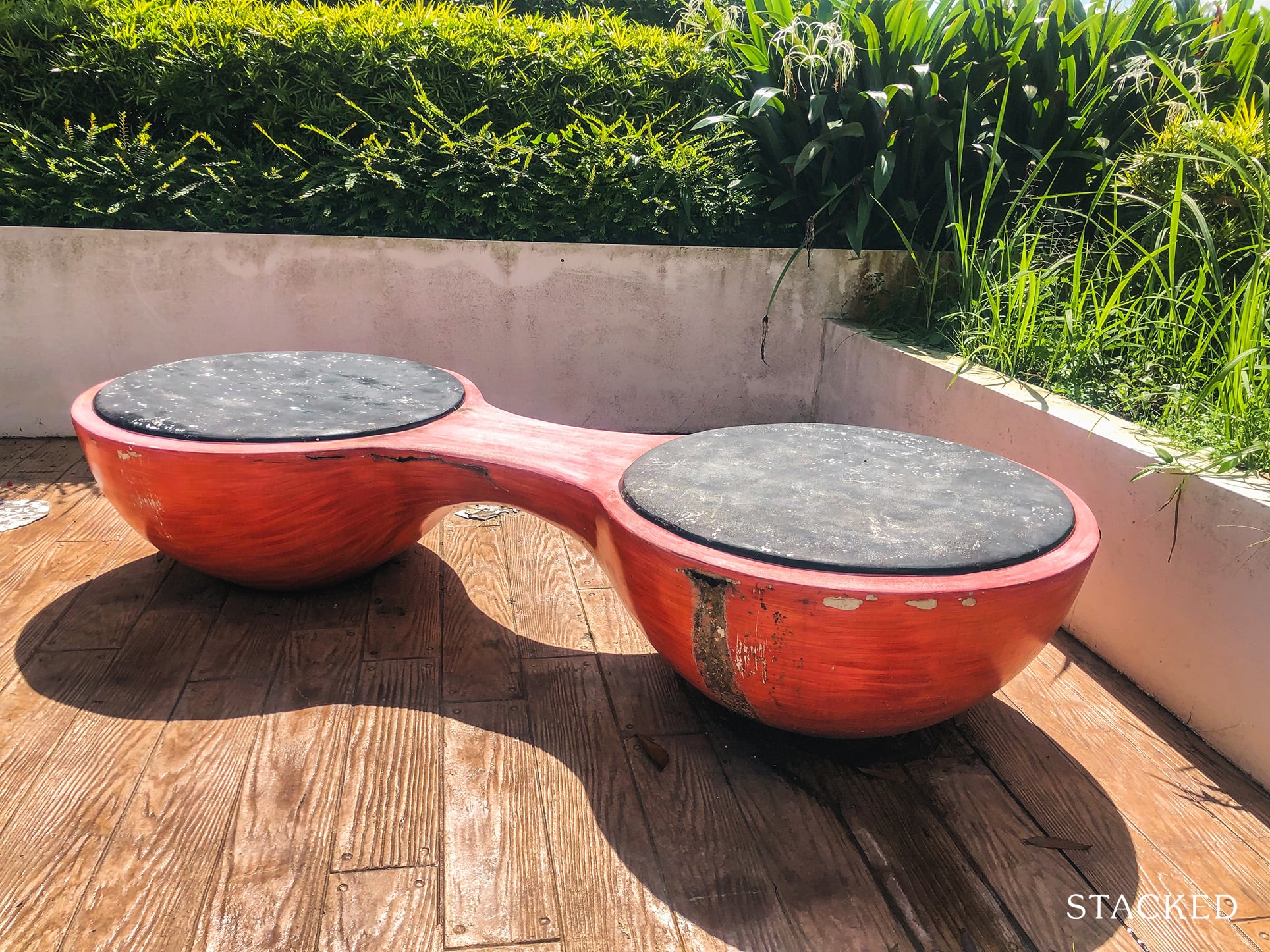 Now that we're done with the multi-storey car park, let's head down to check out the ground-level facilities.
I wouldn't fault you to think that there isn't much on offer here given it's an old cluster of HDBs. In fact, this is a very fair assumption – but the old Fajar cluster here received upgrading works with several newly-built facilities, with the place even getting a facelift altogether with a new paint job!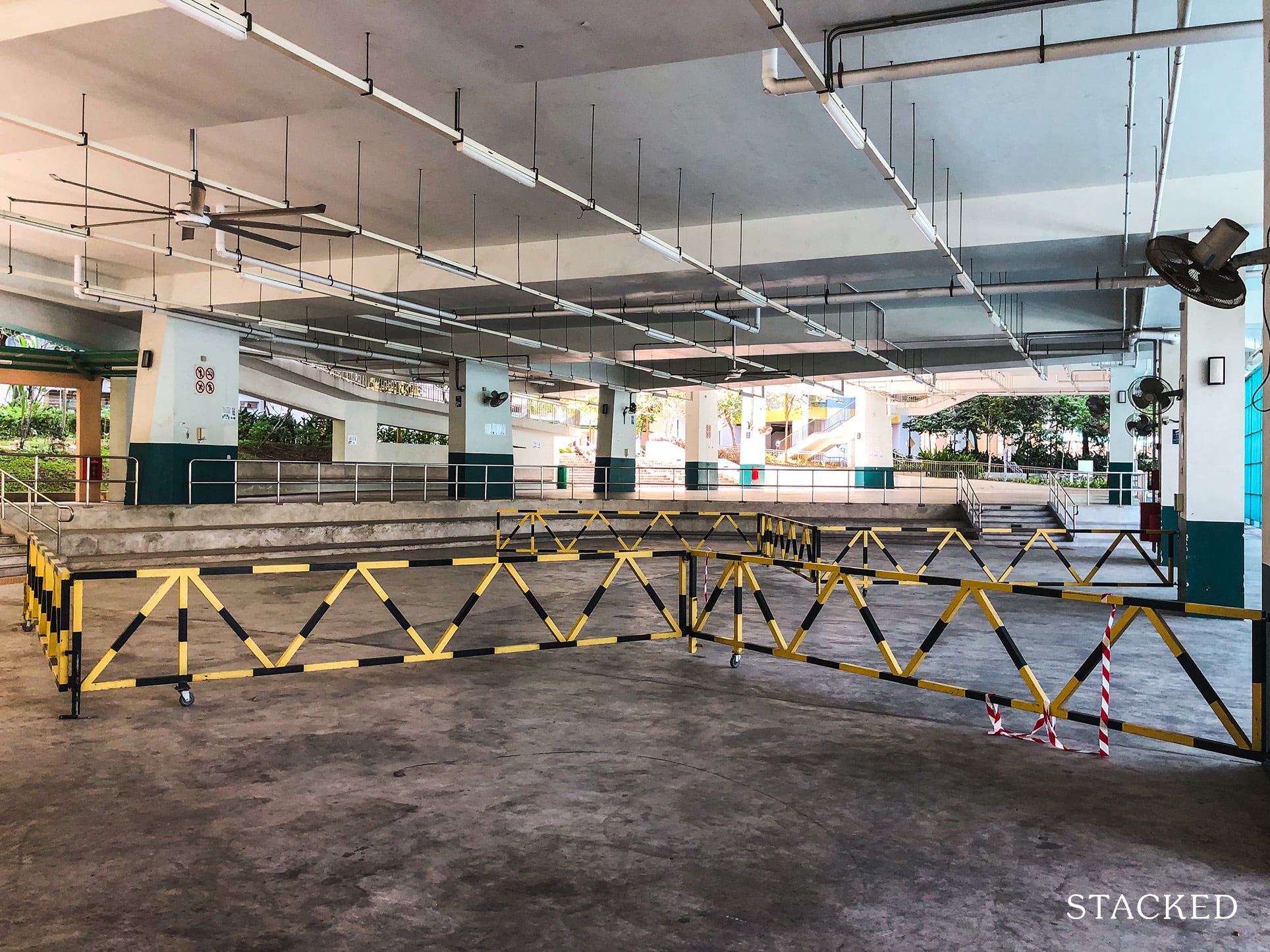 The first new facility is this two-tiered event space (sheltered pavilion). Judging from the looks of it, I'm sure you can tell this is no ordinary "sheltered pavilion". It's two-tiered in the sense that the event space is made up of two floors, and this huge space including both levels can be booked for events such as a wedding.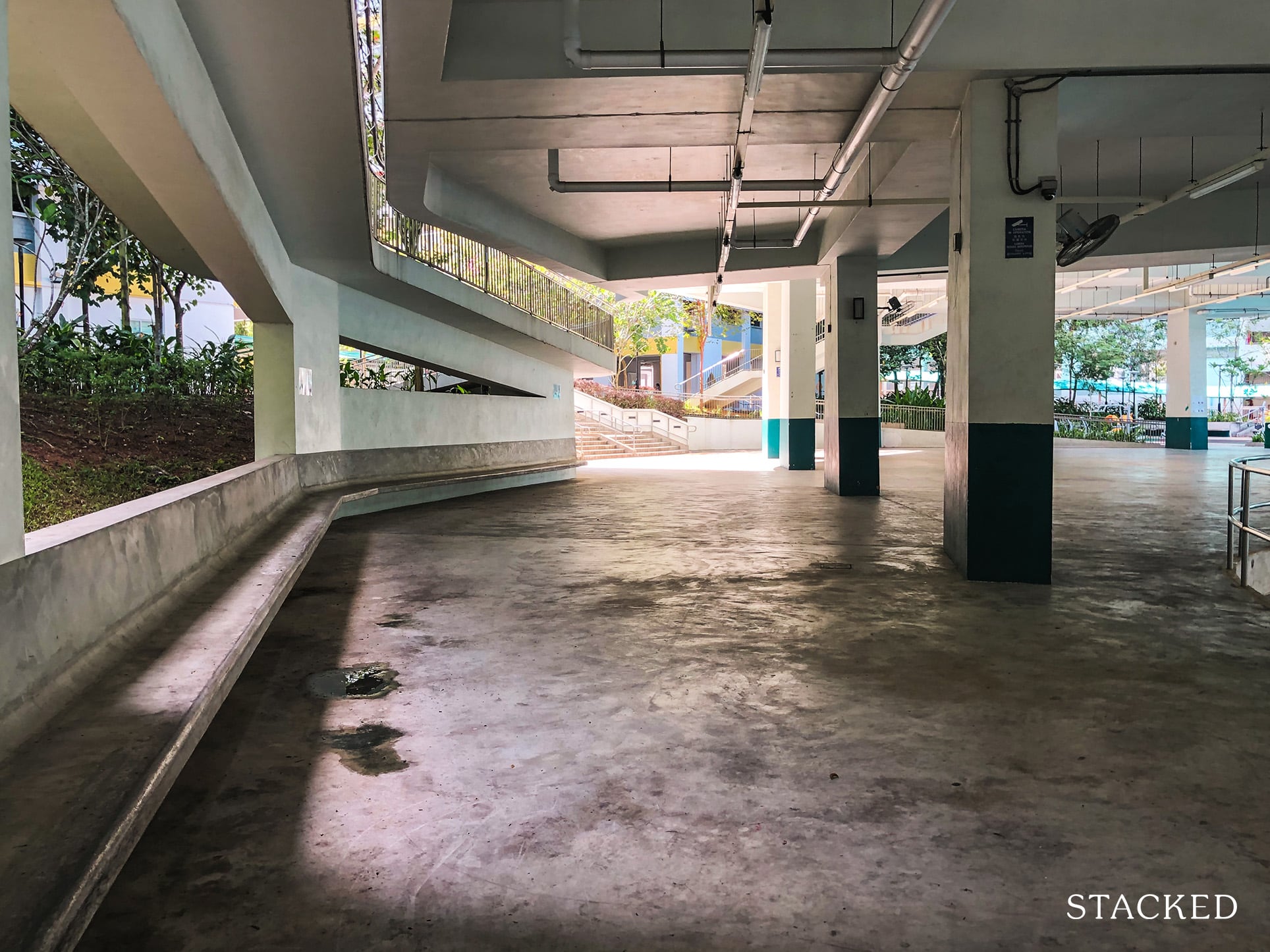 Located on the sides are some seating areas (bench style), so there's a flexible configuration in the middle which is always useful. The area also comes with wall fans and ceiling fans (this is uncommon on its own!). For those who plan to hold events, you'll be pleased to hear that electrical points are provided too.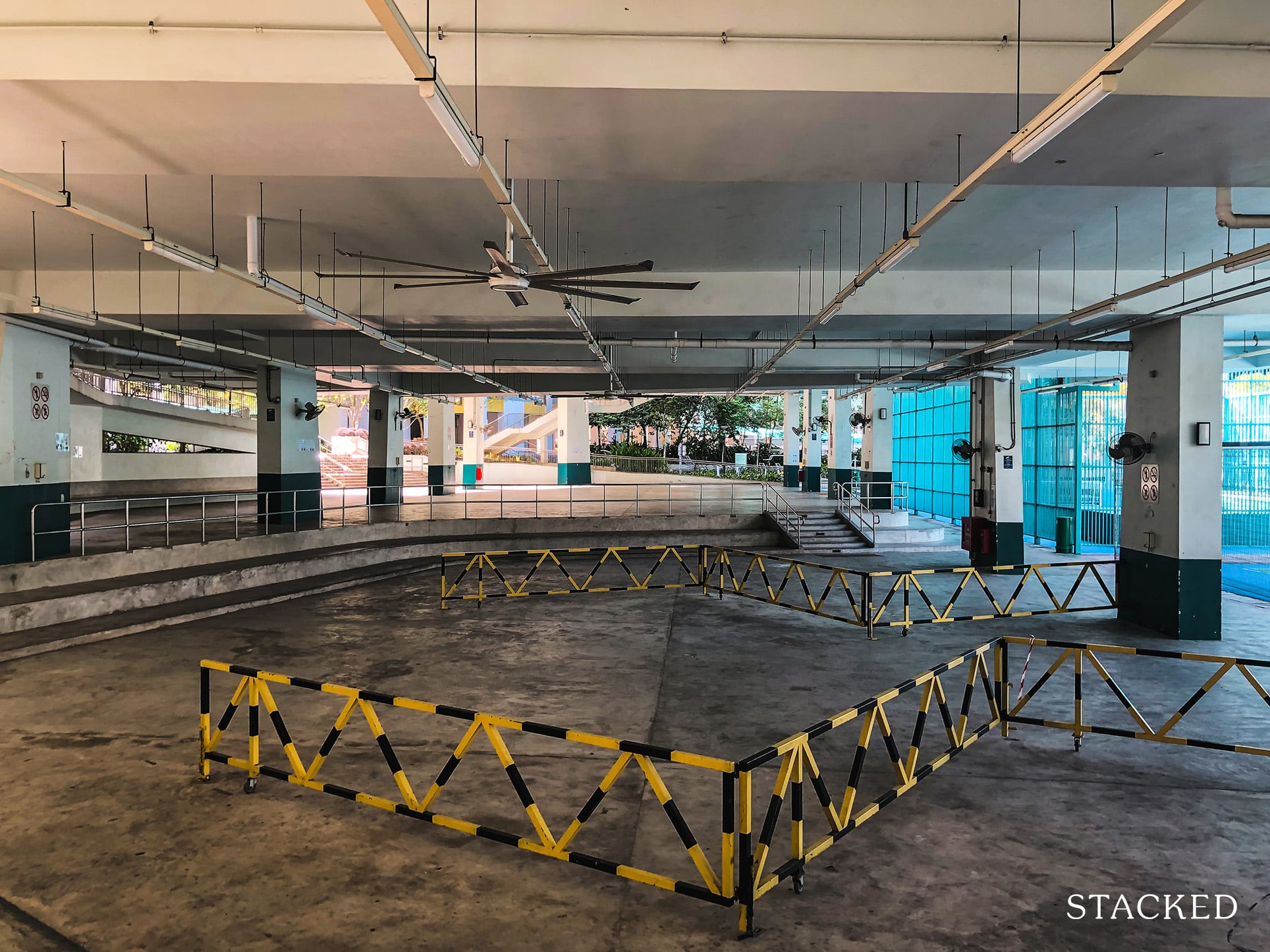 What really makes this special, though, is the presence of public restrooms. Yes, that's right – something as basic as this is a real game-changer. It's always daunting to go to a public event held in one of these pavilions with a full bladder because you know your length of stay depends on how long you can hold it in. Well, your guests won't need to worry about that here!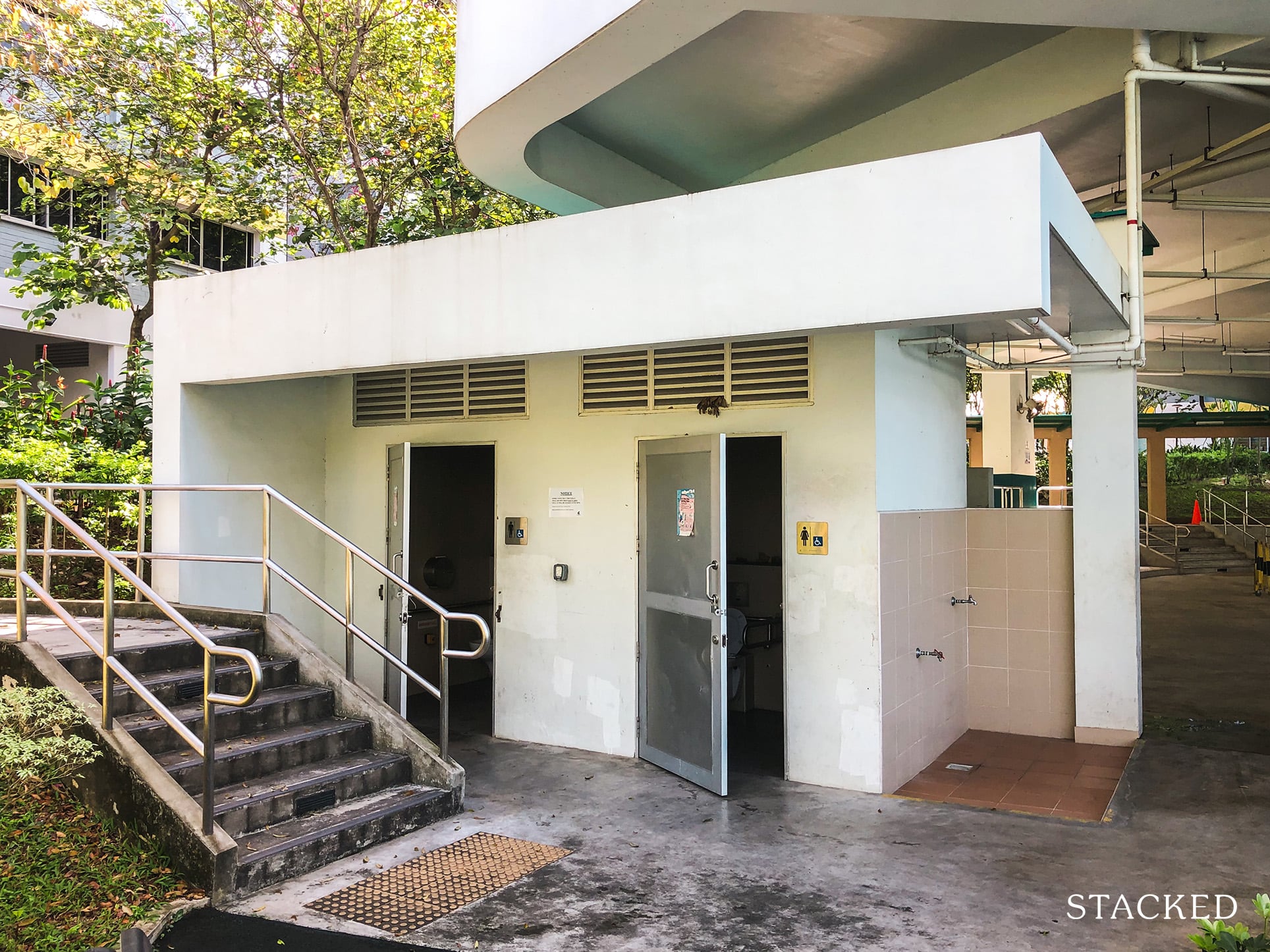 Now this area here is not just a sheltered event space, but its roof actually houses some really useful facilities too! Heading up the stairs/ramp to the second level, you'll find a large area dedicated to playgrounds.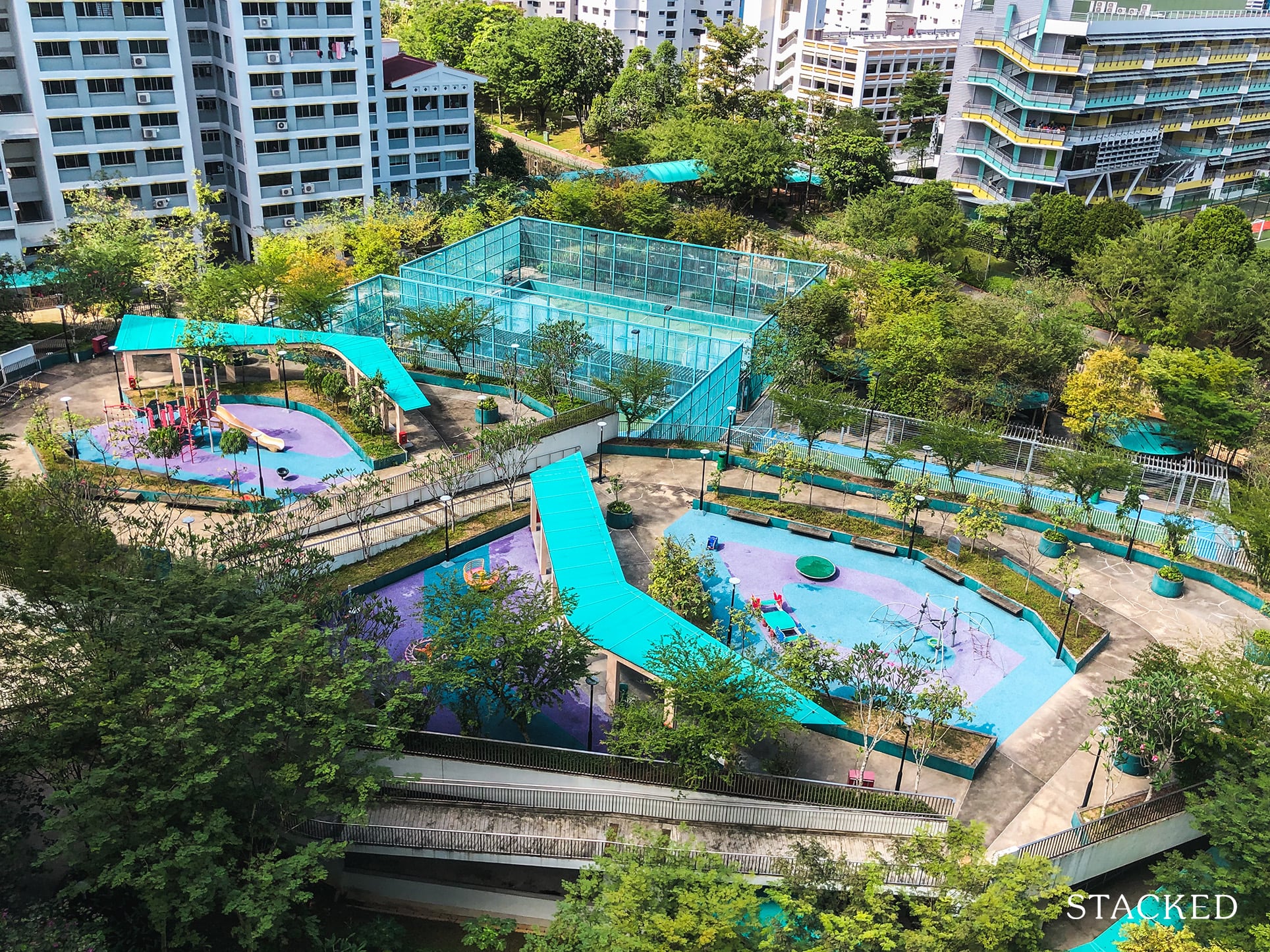 The idea of being on the 2nd level to house the playgrounds is neat since it's a relatively safe space away from all the motor vehicles. The playgrounds here are also quite varied, allowing kids of different ages to enjoy the space.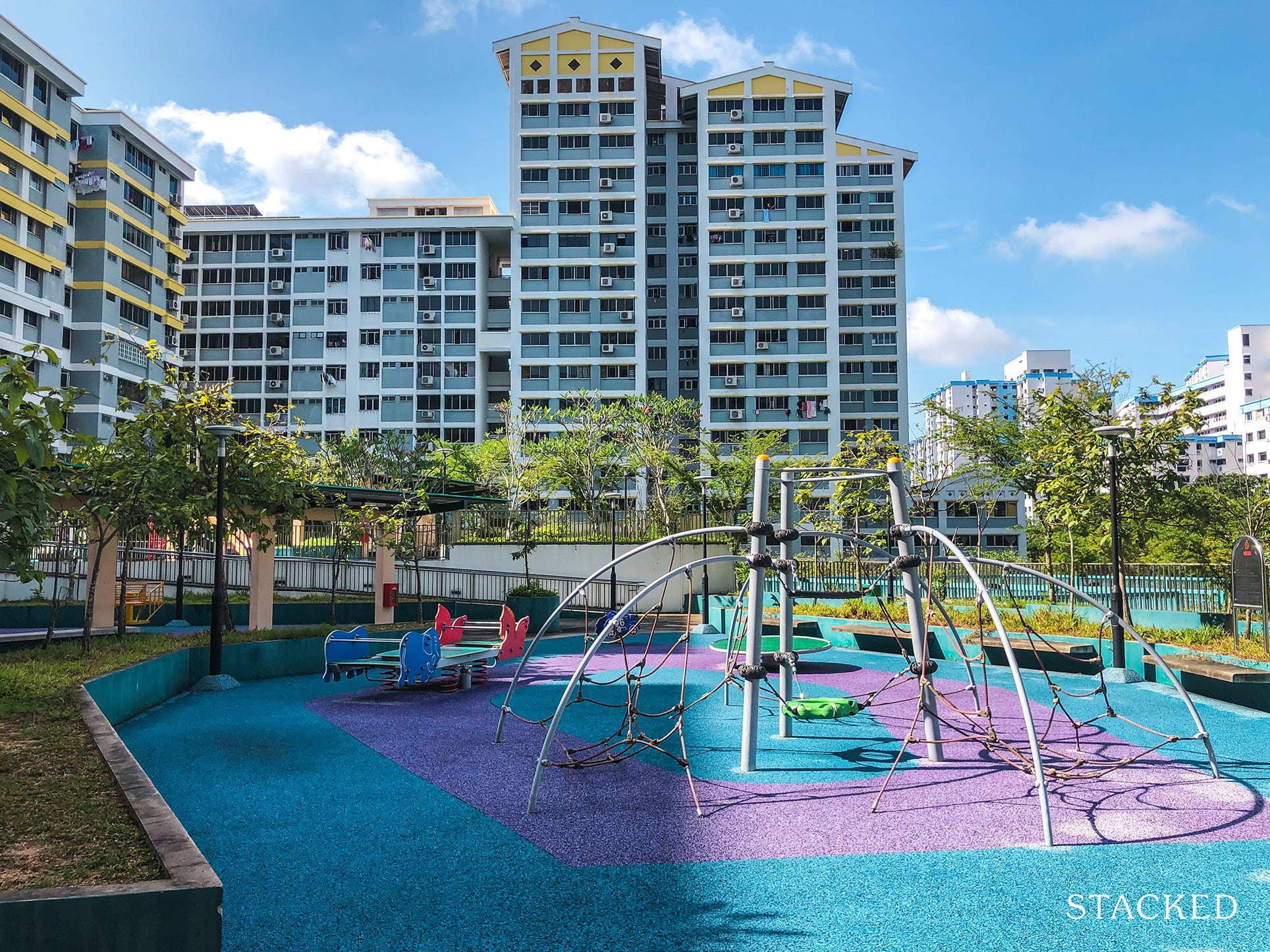 The myriad of playgrounds here means that there's something for every age group too!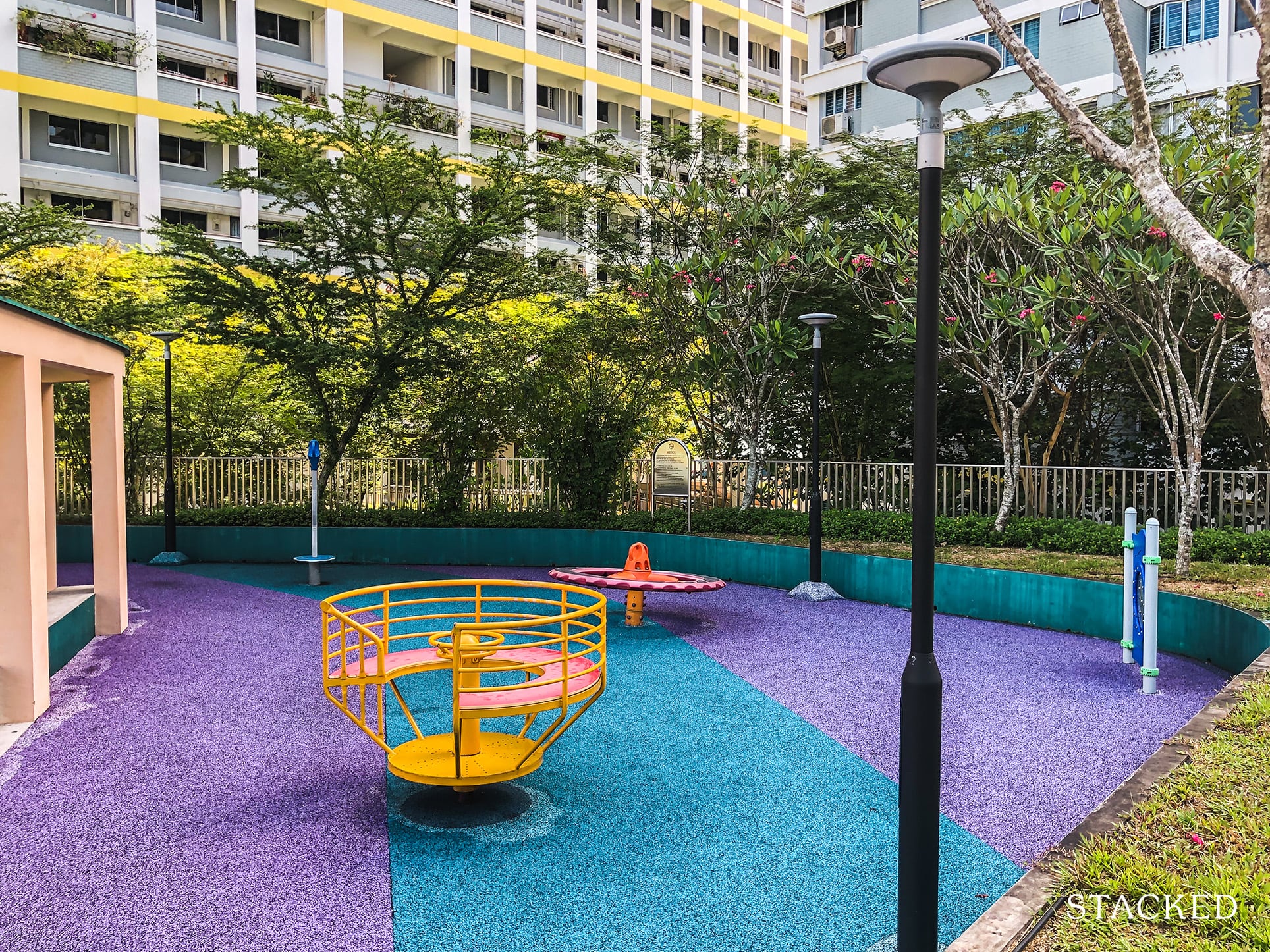 Given how new it is, the playground still looks up to par – however, we did notice the seating areas here are in need of some tender loving care.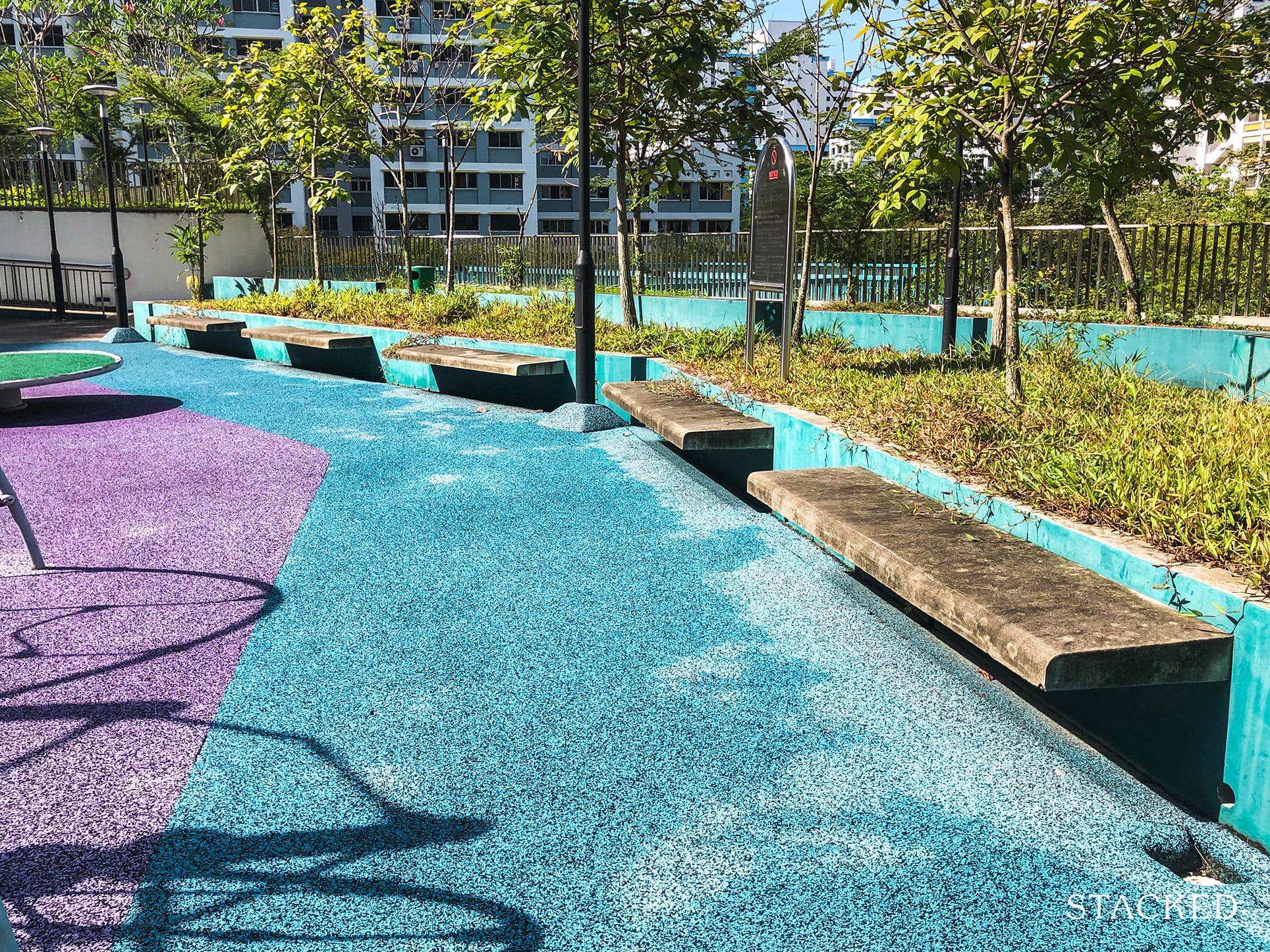 Some areas also show signs of wear, with paint peeling off the walls.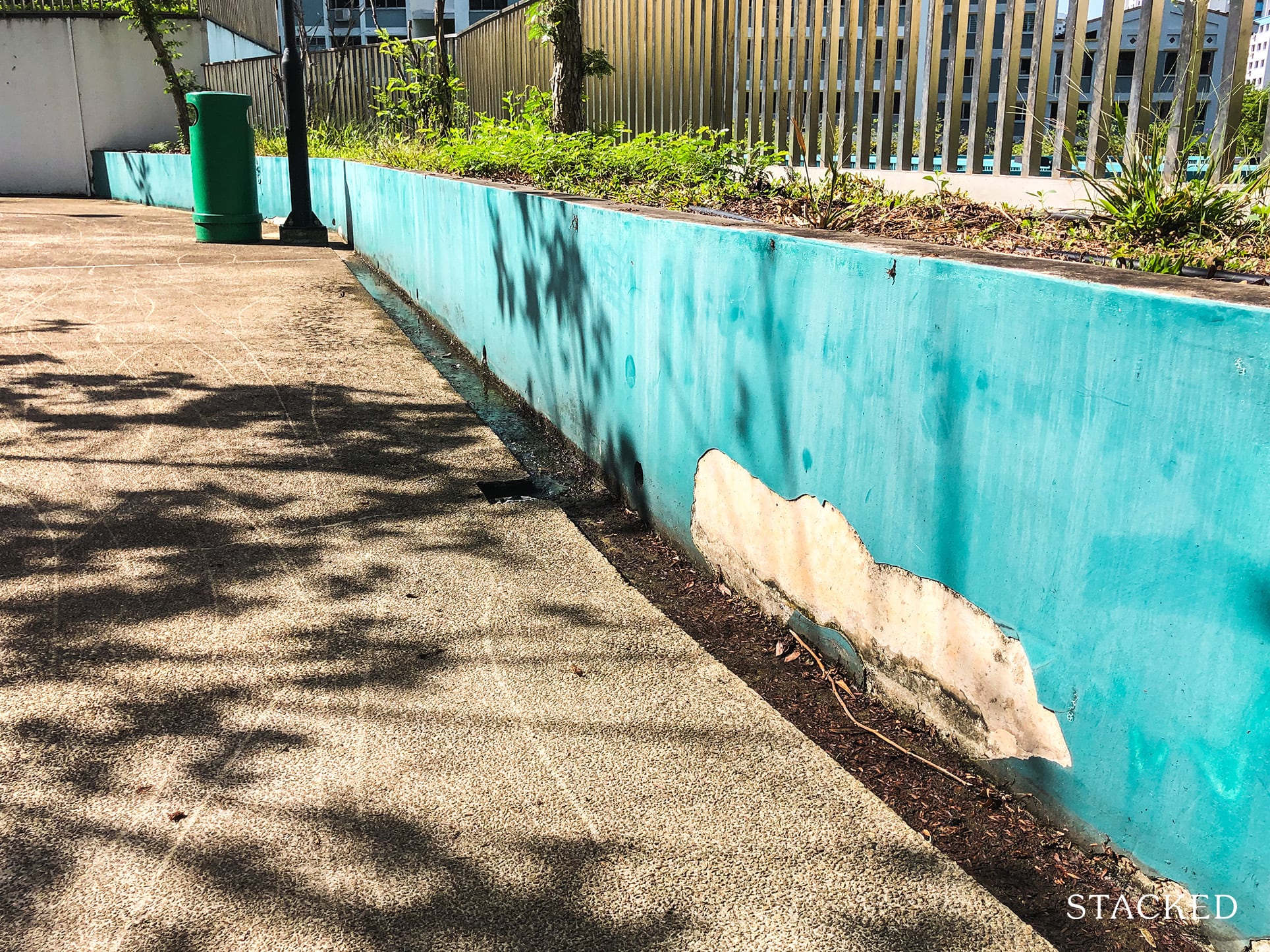 Honestly, this is quite worrying for a new facility, and hopefully, it's something that can be looked into in the long run. Though, it must be said that I'm just grateful that there are even sheltered seating areas to comfort parents in the sweltering heat.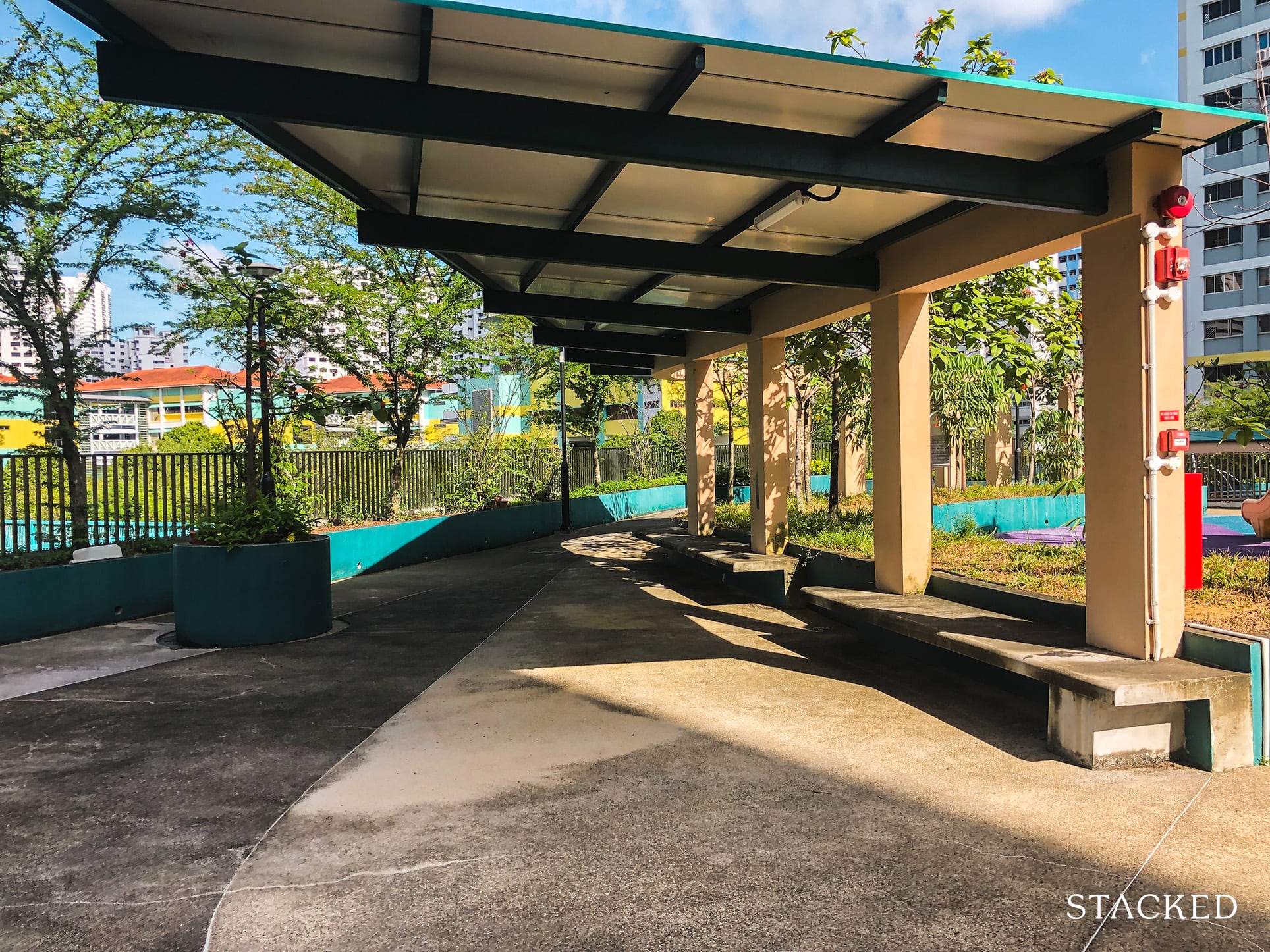 As with all facilities though, there can be a level of disamenity caused to residents nearby – particularly stacks that face the playground and sheltered event space directly. This would be especially noisy during the evening when kids come out to play, or when events such as weddings are held. Buyers of this unit facing should visit during the evening on weekdays and weekends to see if this bothers them.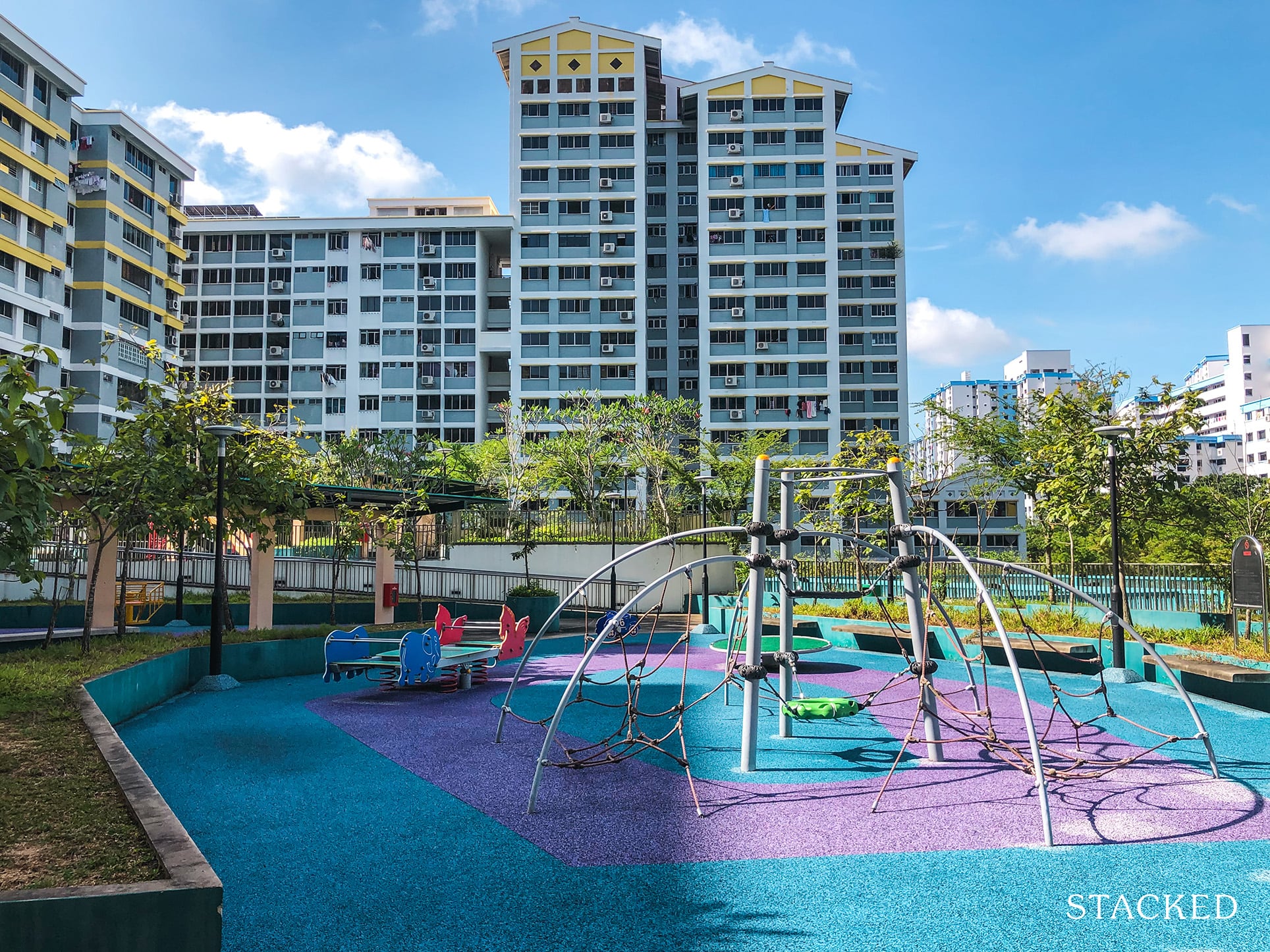 For those looking to stay here, you might be wondering if this is the only playground in the vicinity – fret not! You'll also find more playgrounds at both blocks 419, 412 and in front of 439 so you wouldn't have to travel all the way to the new facilities to use the playground.
Heading back down, you'll find several more facilities located around. First off is the elderly fitness area: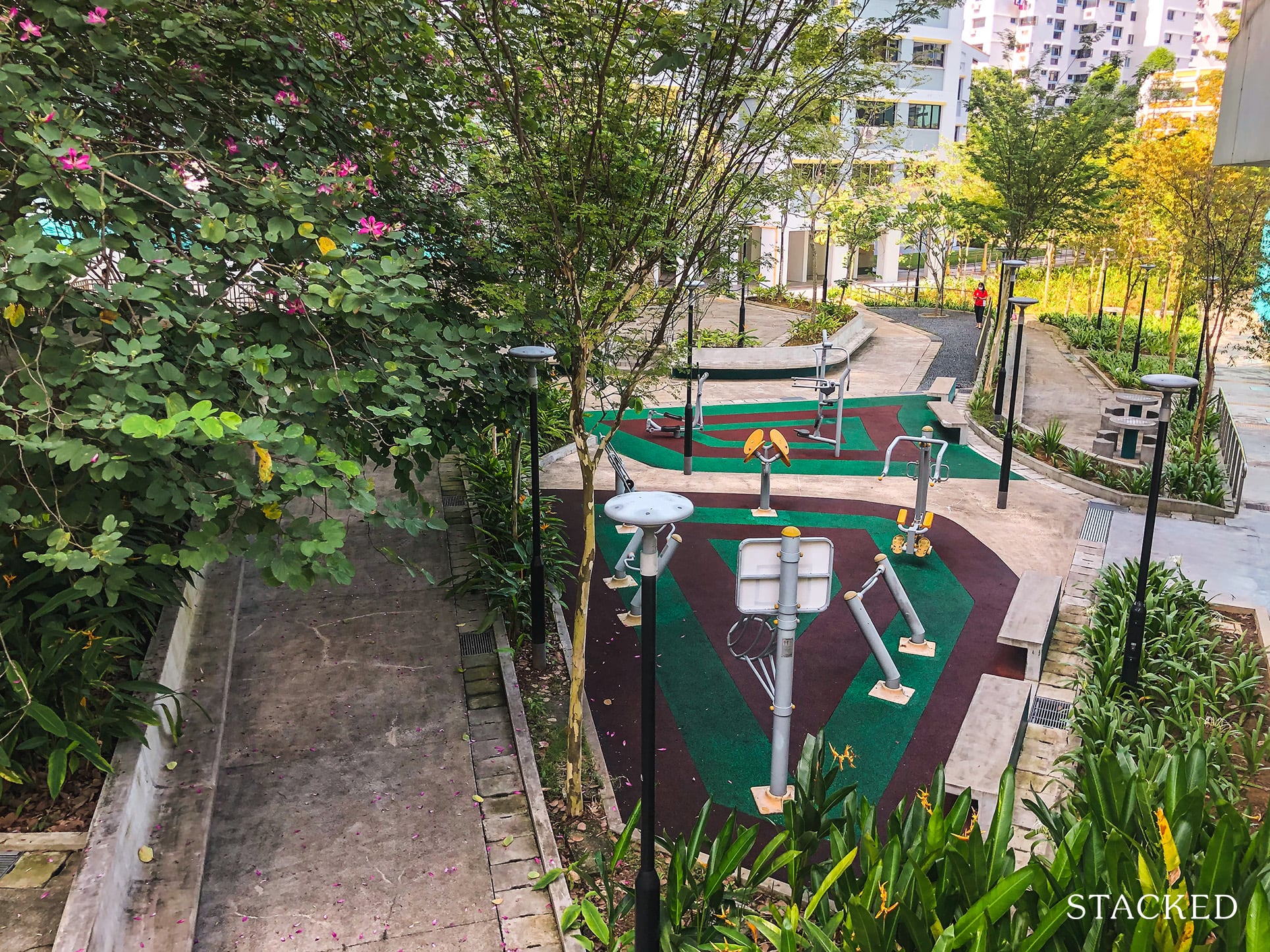 I must say that there's quite a diverse range of equipment here and they're all relatively well-maintained! While I would say that is to be expected given it's only a few years old, it seems that you can't apply that reason of thinking to everything thing here.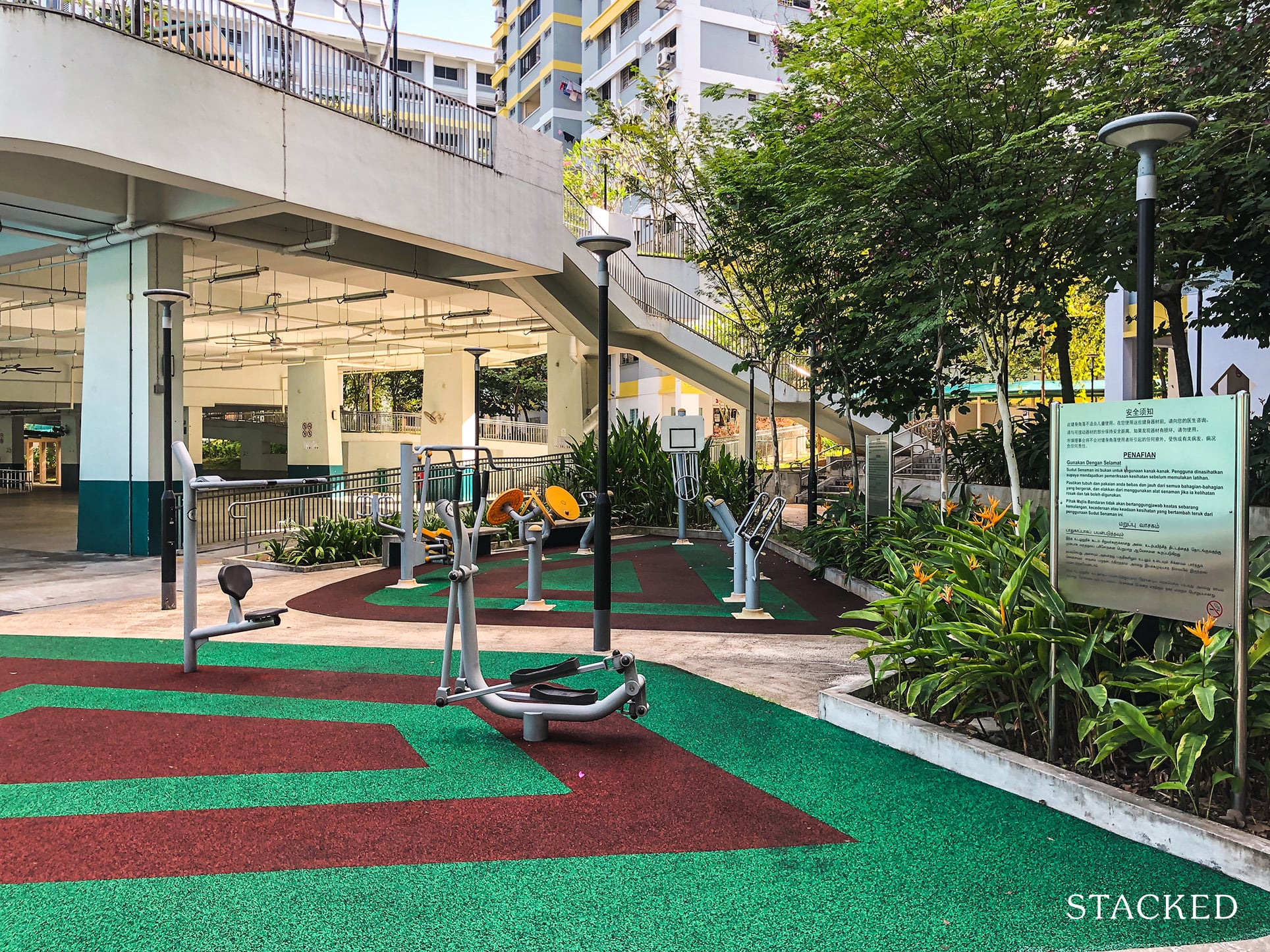 There's also a pretty quirky adult fitness area that's located right next to the Park Connector: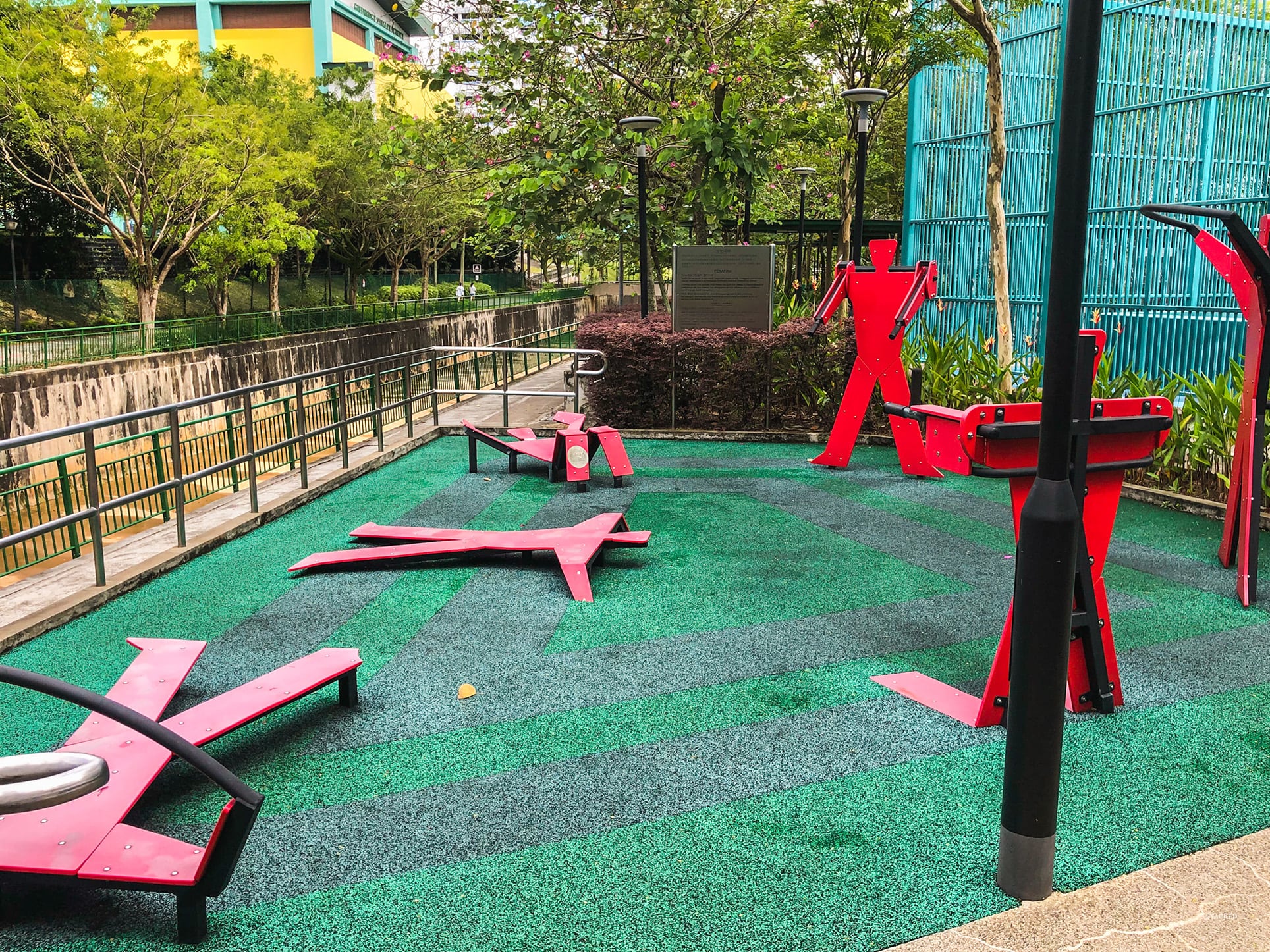 I've seen my fair share of adult fitness areas, but it never ceases to amaze me just how creative some of these static machines can be. Personally, I'm not a fan of this design as the "figure" layout limits the amount of space I can use on this, but I'm happy to see the effort not to create something cookie-cutter here.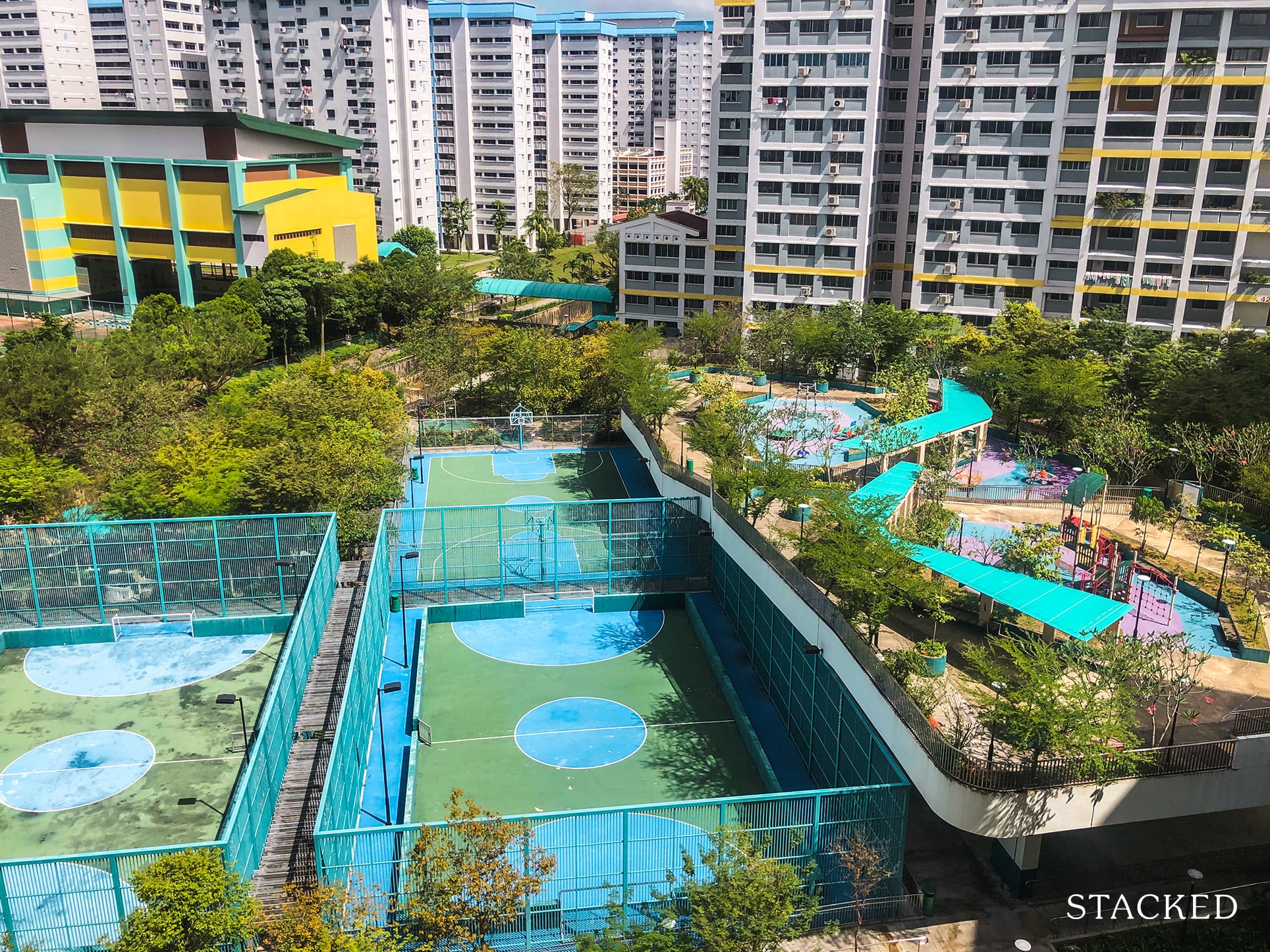 While these fitness areas are pretty common in other HDB developments, what's not common are the next two facilities: the Futsal Court and the Basketball Court!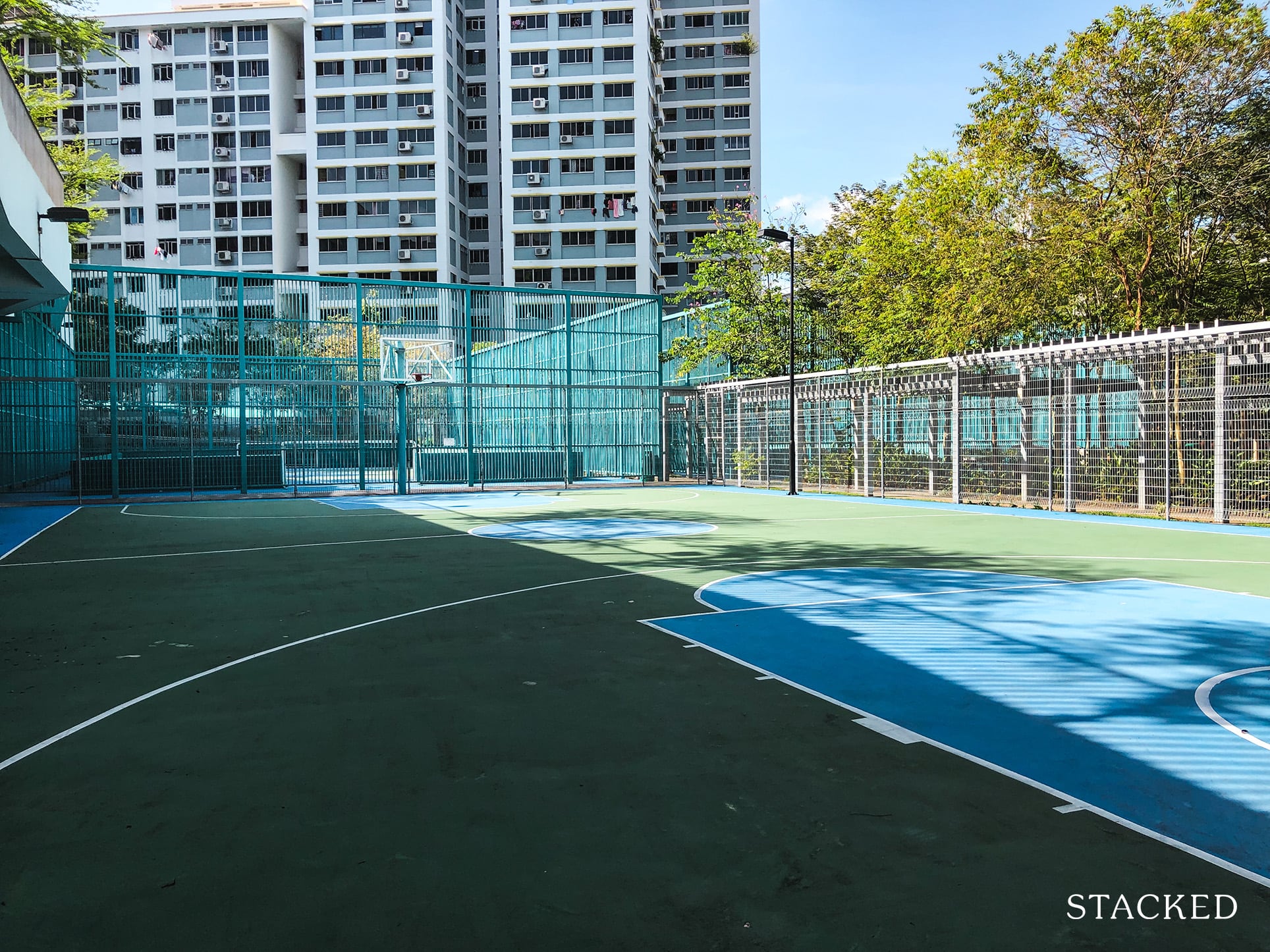 The cluster of Fajar HDBs has not just one, but two Futsal courts. Both are quite well-maintained so far and are a perfect place to play ball sport (no excuses in using the sheltered pavilion now!).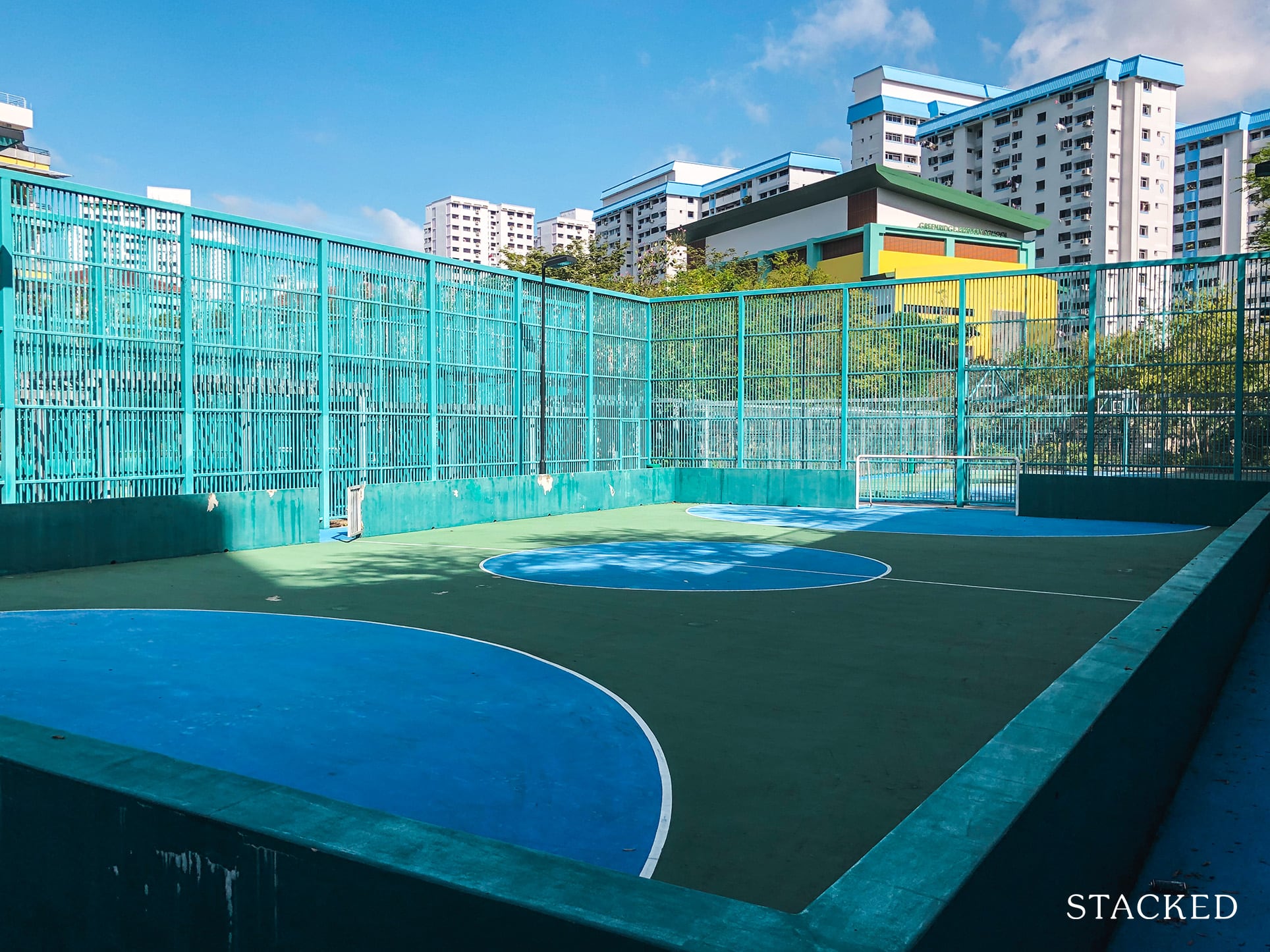 The basketball court is also really nifty as it can bring enthusiasts from around the neighbourhood to gather here. Perhaps the only things I'd like to see more would be benches around given how it's a team sport.
So far, you've seen numerous playgrounds, fitness corners, two futsal courts, and one basketball court. It would then come as a surprise to learn that this HDB cluster even has its very own barbeque pit area!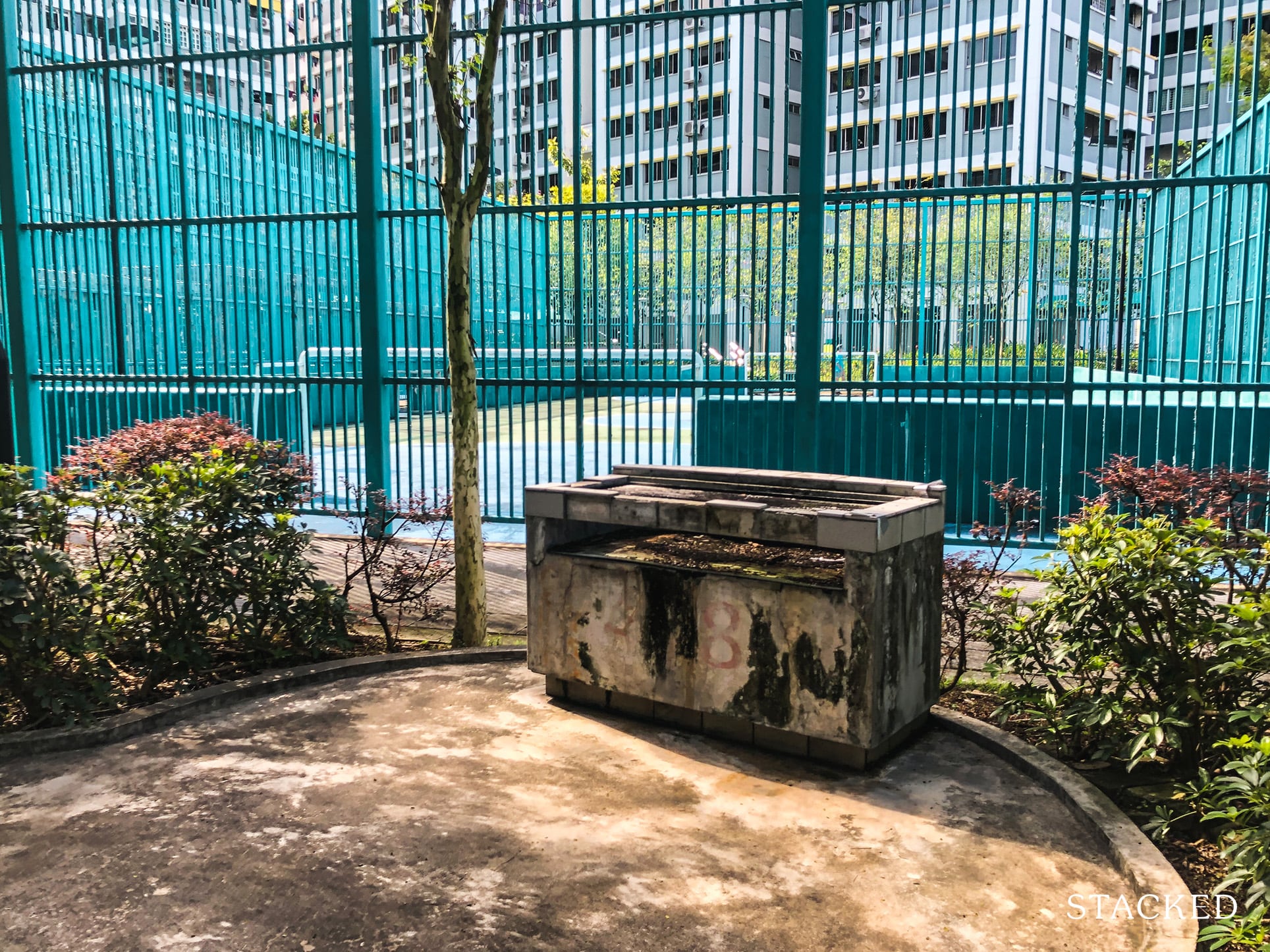 Located right next to the basketball court are five barbeque pits that even come with their own sheltered seating area. There aren't that many developments with barbeque pits – most of the time, these are located in DBSS projects. Others that do have them only feature one or two pits, but having five here is a real gem!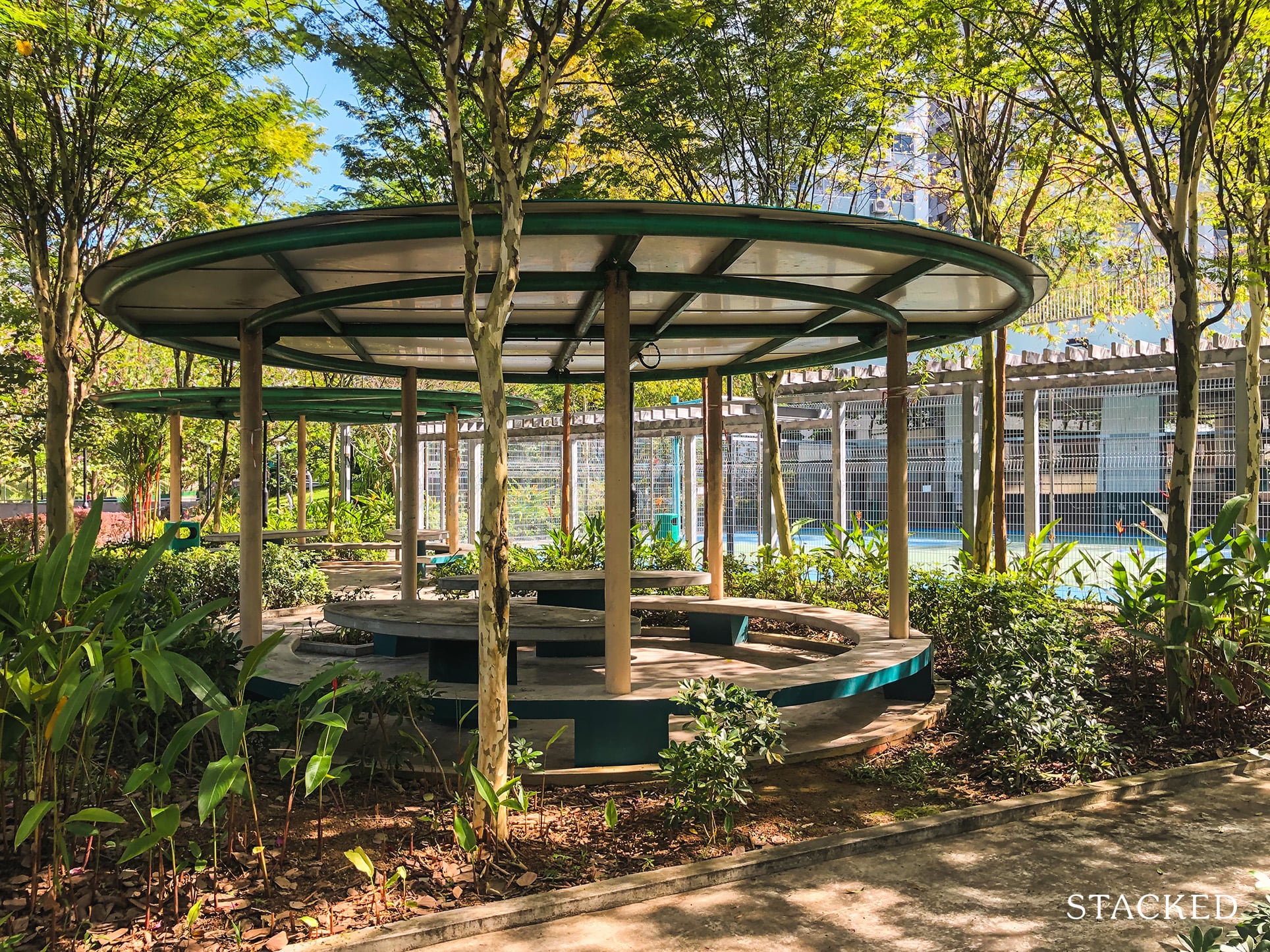 One problem here is that the barbeque pits lack a basin which would be immensely useful to have. I highlighted this in my review of Skyline I & II @ Bukit Batok where not only is there a basin provided, but the barbeque pits have a metal cover that protects them from dirt (think mynahs and pigeons sitting on it) and separate the halal from the non-halal section!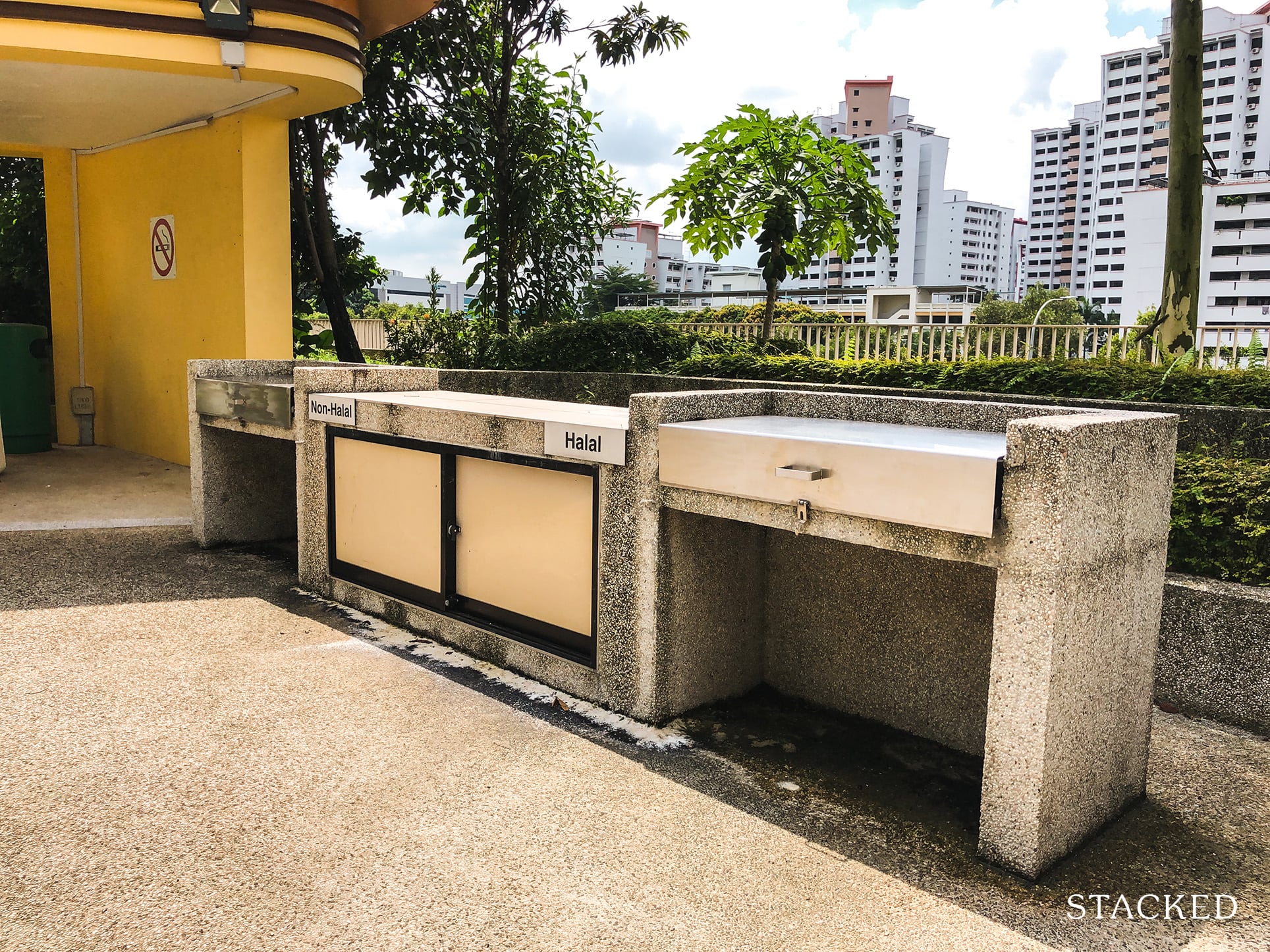 That said, I think Skyline I & II @ Bukit Batok spoils the market here. Having these barbeque pits is good enough – containers of water can be brought along, and a mesh can be placed on top to cook so these are really non-issues.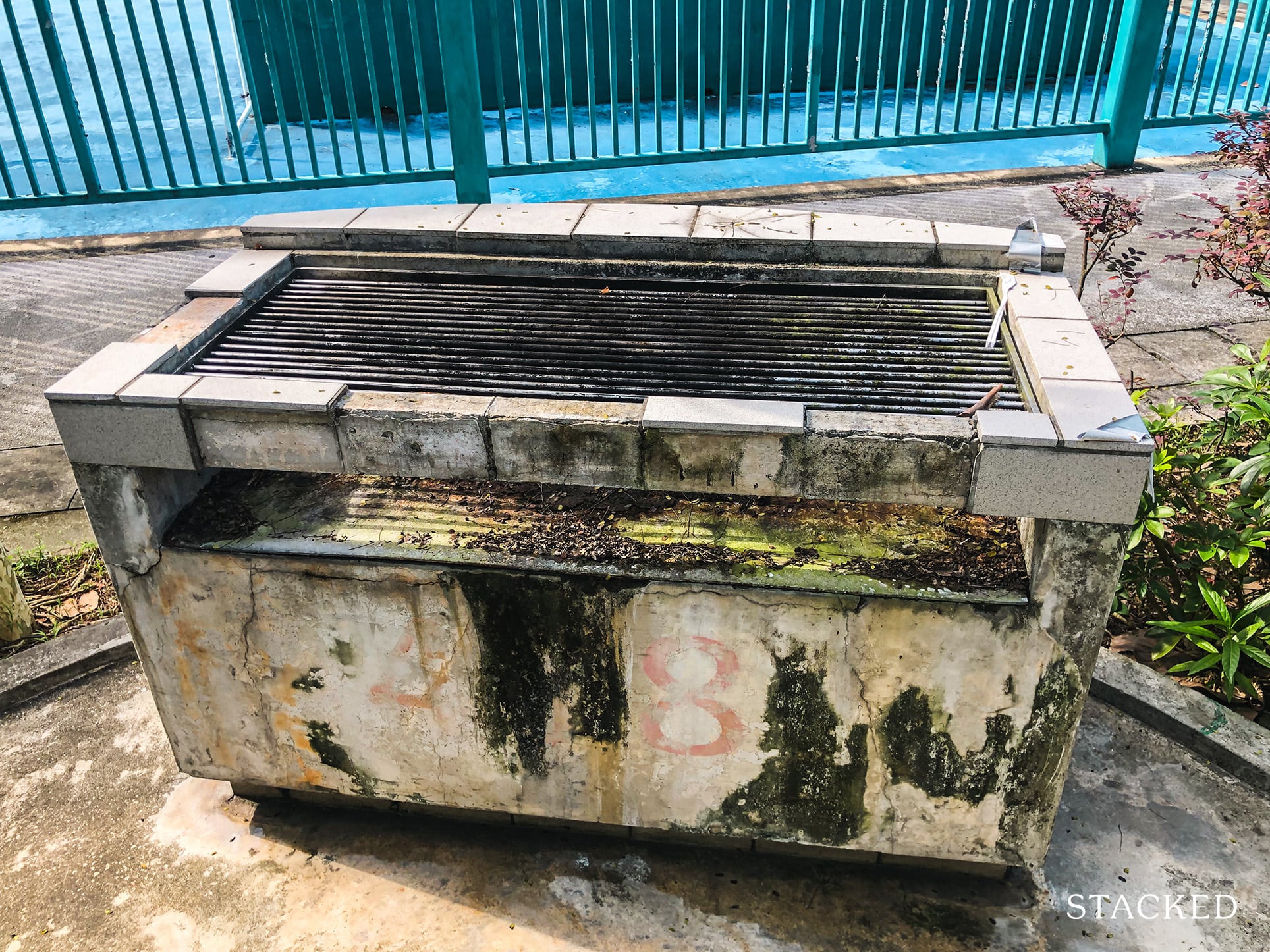 One thing that could improve though, is the maintenance. From the looks of it, the barbeque pit seems very dirty with clear signs of wear which does not set up for an appetising start. A spruce of paint and a clean-up would do wonders here.
Beyond the facilities here, you'll also find that blocks located further south have their own set of facilities too. Over here, you'll find a large space that can be used for events, a fitness corner as well as 3 badminton courts.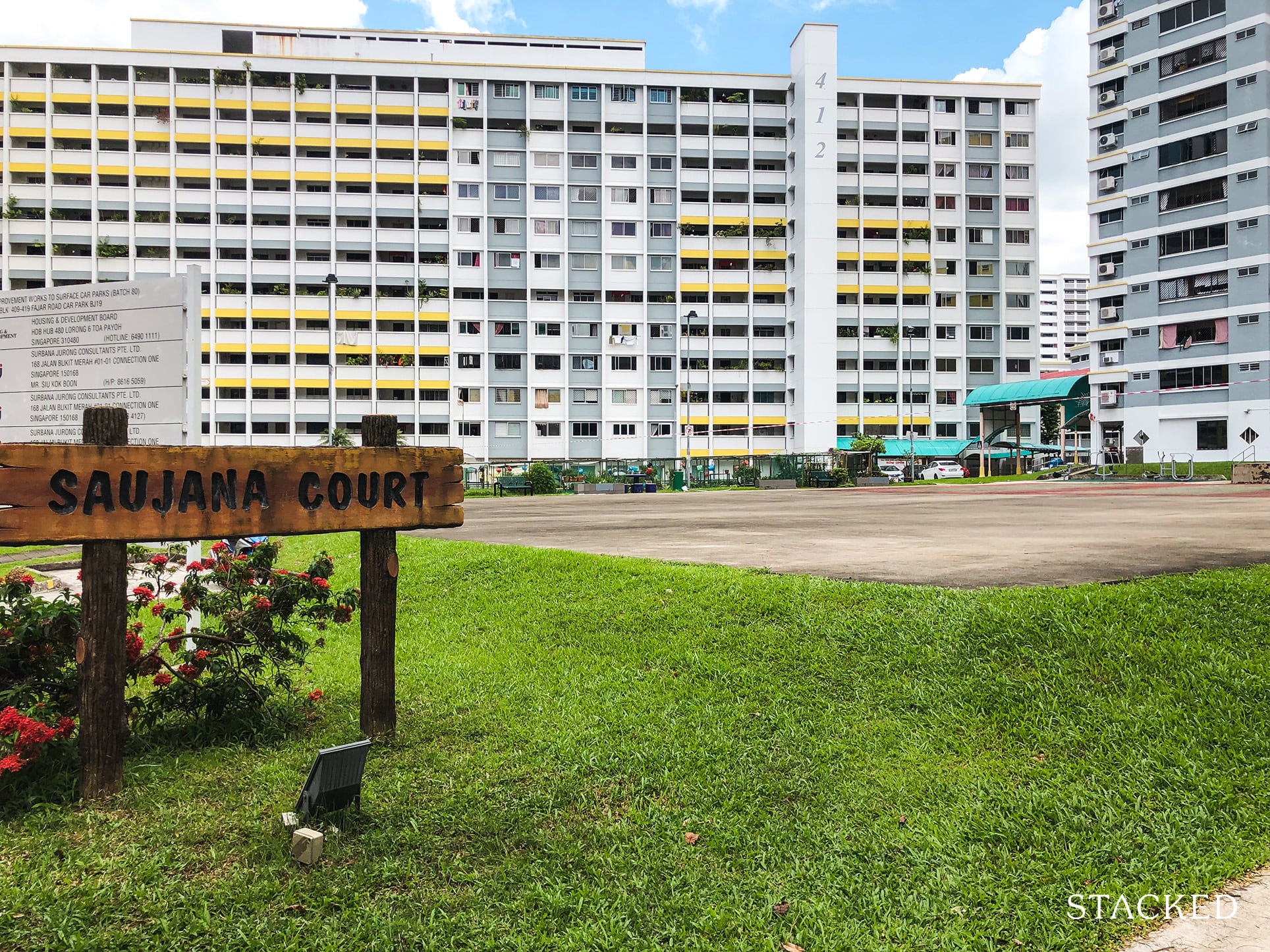 It's here that you'll find 3 badminton courts that look like it has seen much better days.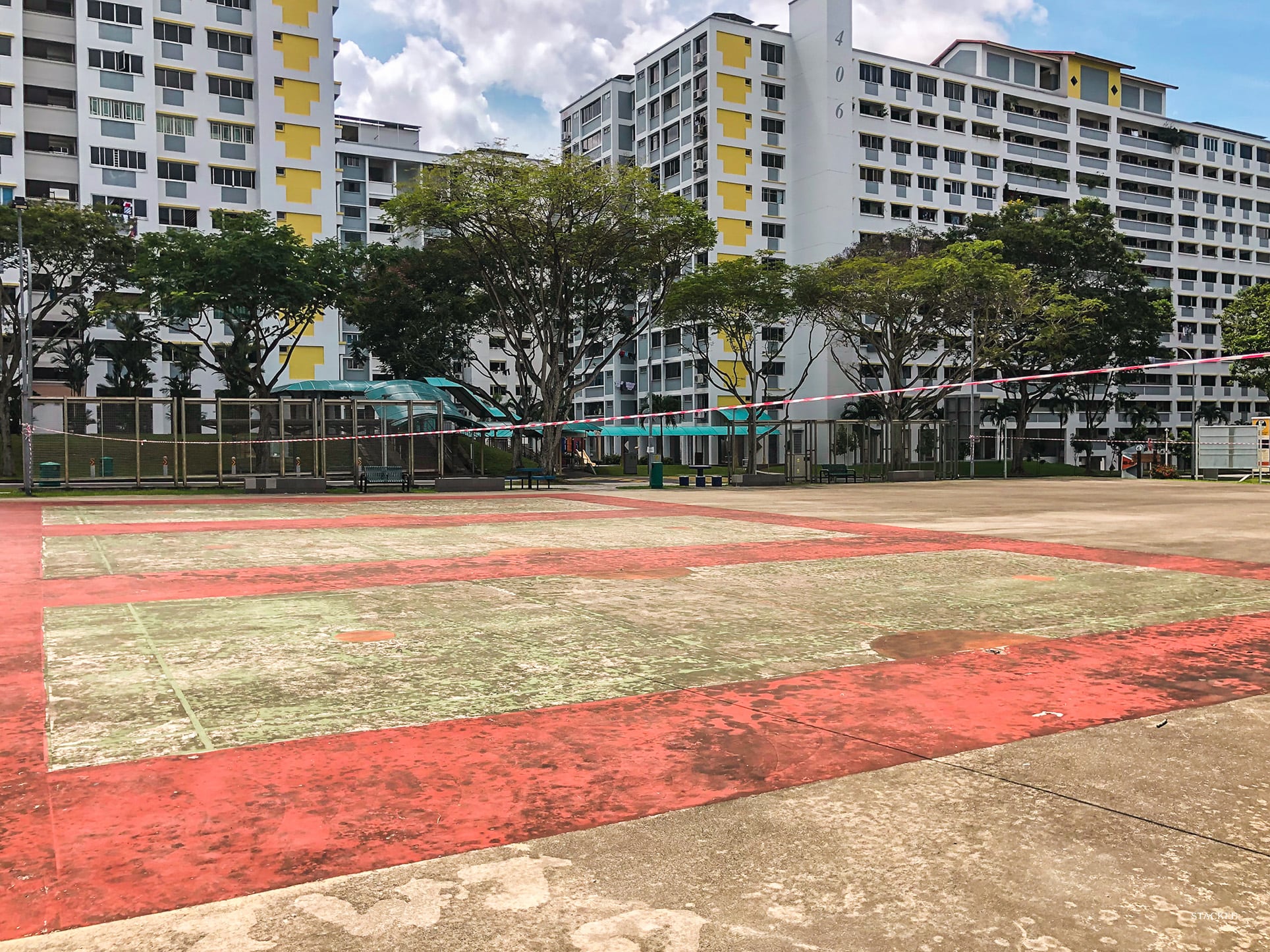 There are also more fitness areas here too!
Overall, the area here does feel a little underwhelming compared to the new facilities set up in the middle of the cluster, but it's still undoubtedly very useful to have around.
Now that we've seen the ground facilities, let's check out what amenities there are in this HDB cluster.
First off, there is a minimart located at block 419: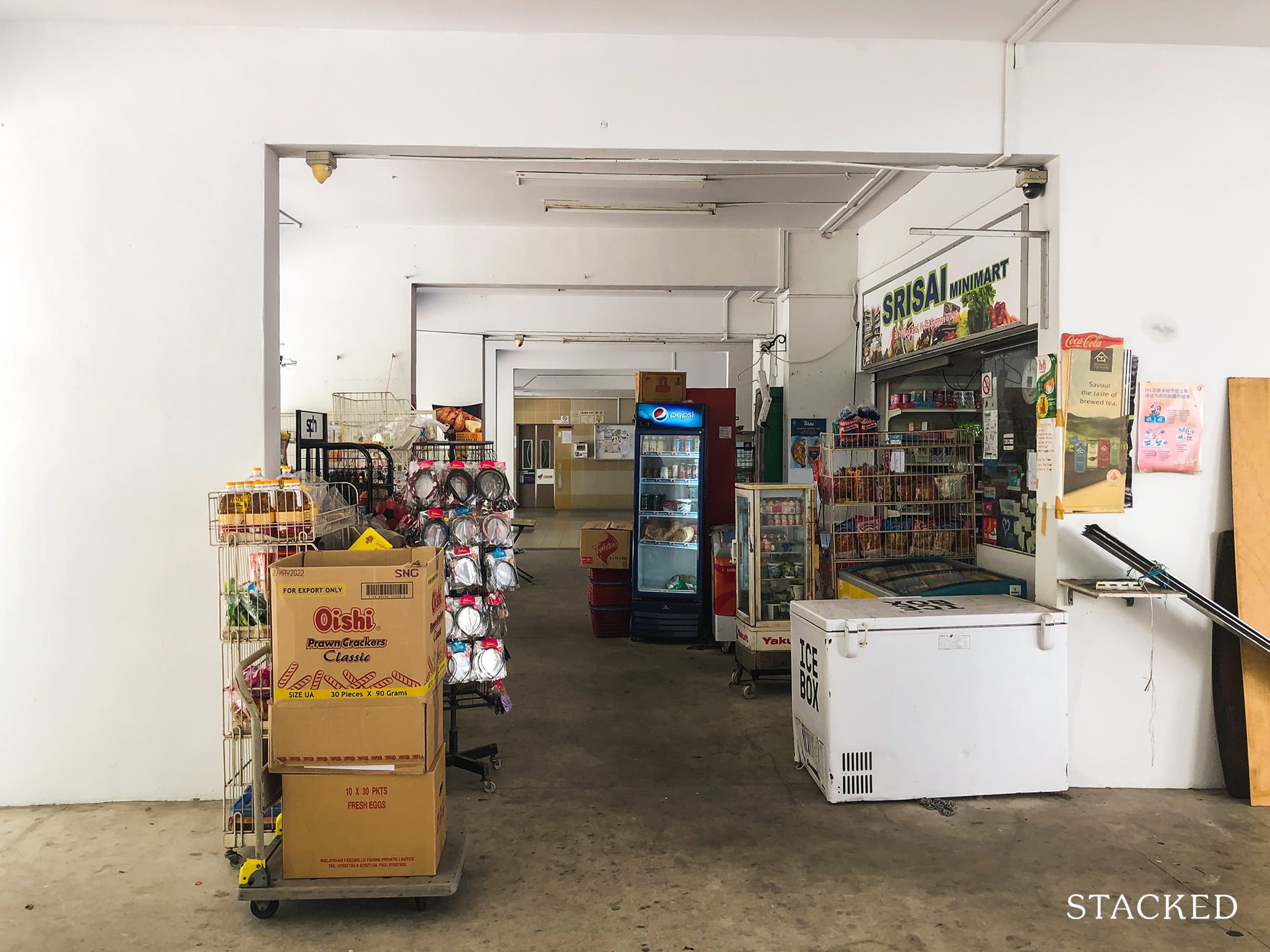 While it is just a minimart and obviously wouldn't have the same variety as the bigger ones like a Sheng Siong, it does have a good variety of daily needs supply, including fruits and vegetables.
Having a minimart here is really useful for that last-minute grocery run, however, residents would be better off at Fajar Shopping Centre which is just opposite the HDB (less than 5 minutes by foot).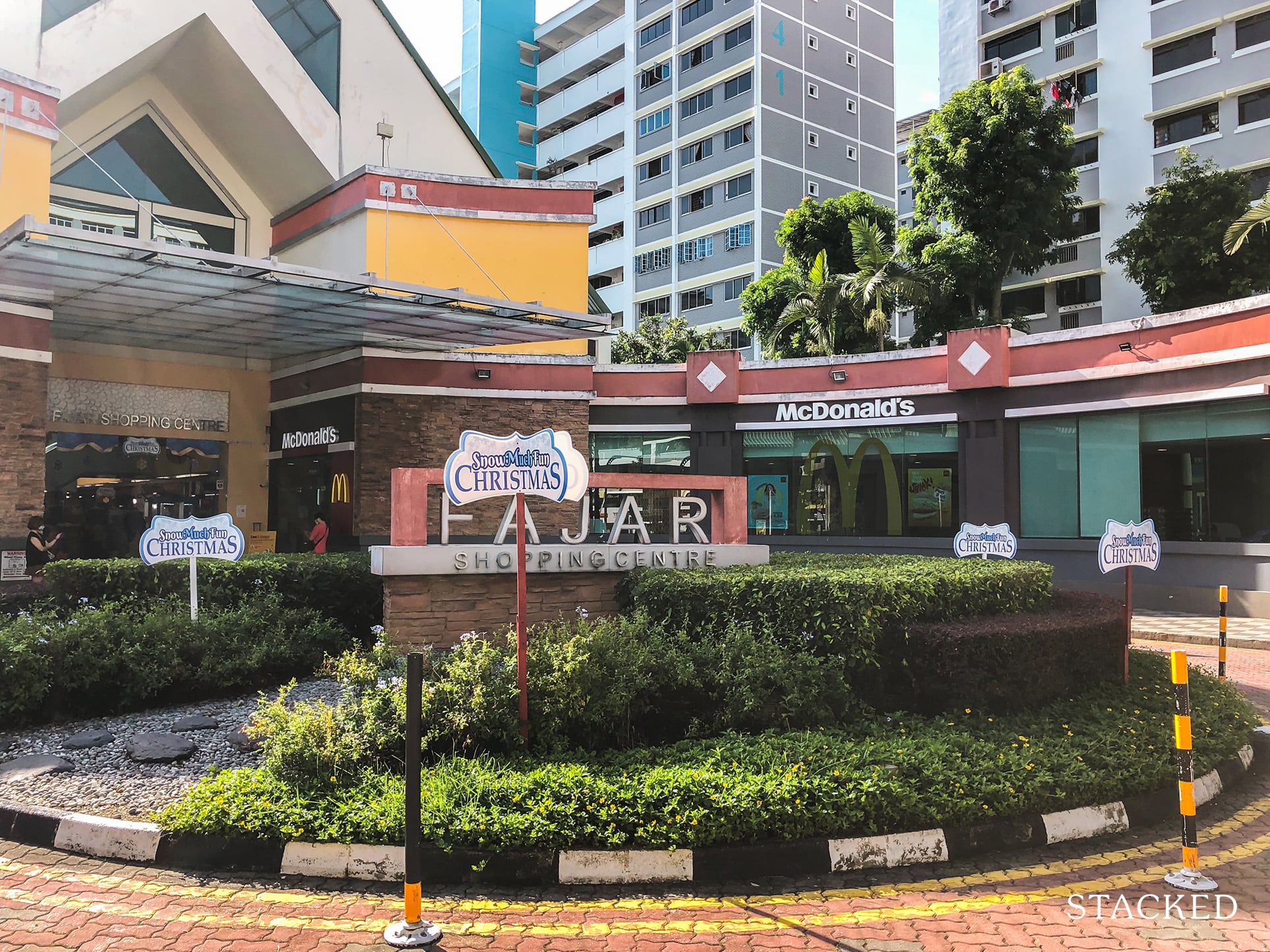 Over here, you'll find major supermarkets like Sheng Siong, F&B options (including a MacDonalds!) as well as your daily necessities like a hairdresser, dental and medical clinic, pharmacy, optical shops, and ATM machines from various banks.
This shopping centre alone instantly transforms the HDB cluster at Fajar. While it's just a neighbourhood mall, the myriad of options here makes living in this old HDB cluster extremely convenient and is probably on par or better than most HDBs with direct commercial offerings below their block.
Beyond daily necessities, families with kids here can also enjoy the convenience of three preschools. Two are by Sparkletots (blocks 412 and 422) and one by Just Kids @ Bukit Panjang (block 435).
Now that we're done with the amenities, let's check out the common corridors here.
From the ground level, you'll find that certain ground floor units have a great frontage area outside their units to do gardening – and it's quite clear certain residents take advantage of that!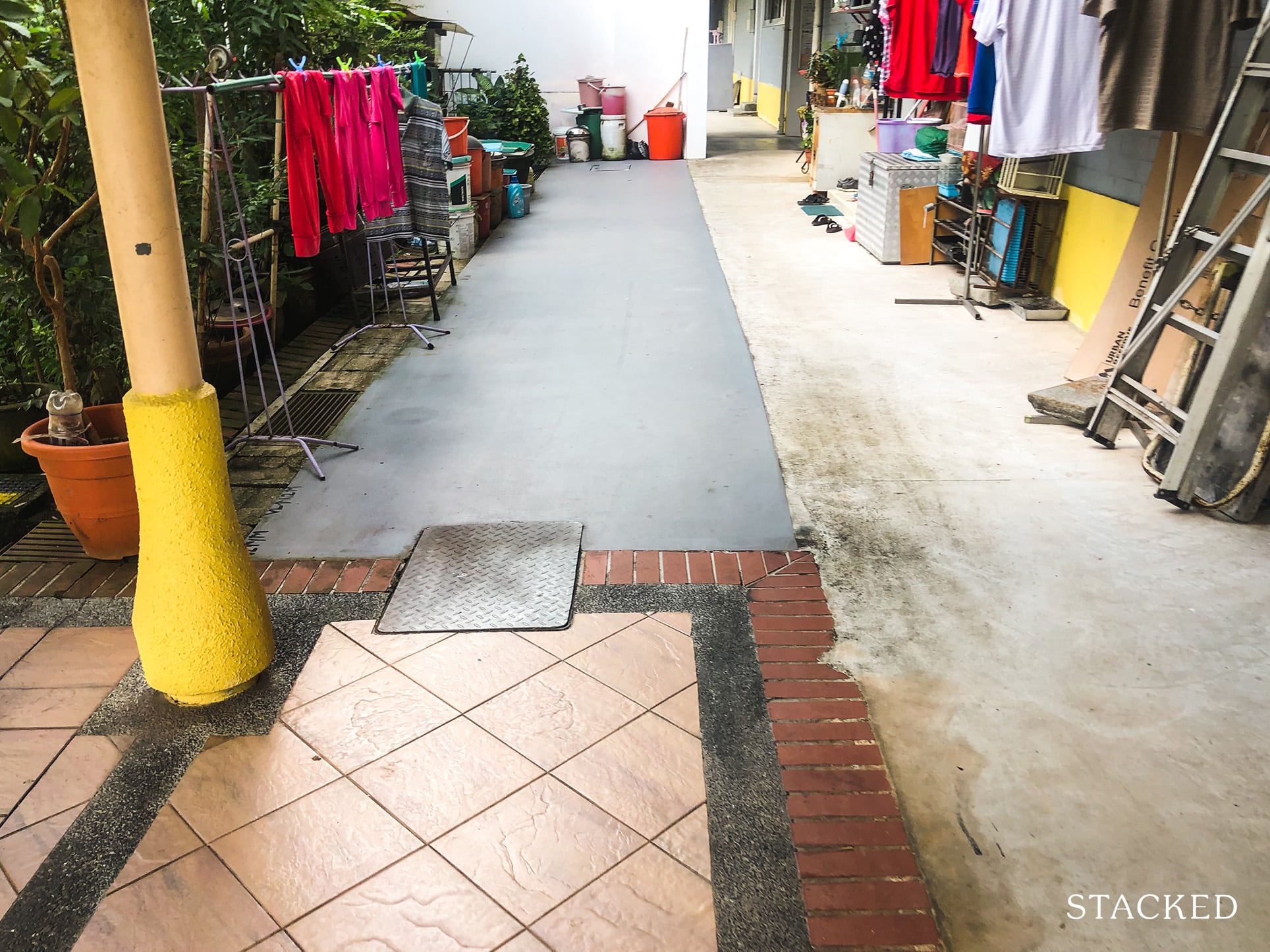 While it's not a private area, having this space can be a real benefit for those with a green thumb since it would not clutter up the home.
Heading to one of the block's lift lobby, you'll find that it's actually quite decent looking – probably a result of lift upgrading works here. The design differs between blocks, but overall it looks quite modern and the area is generally well-maintained too!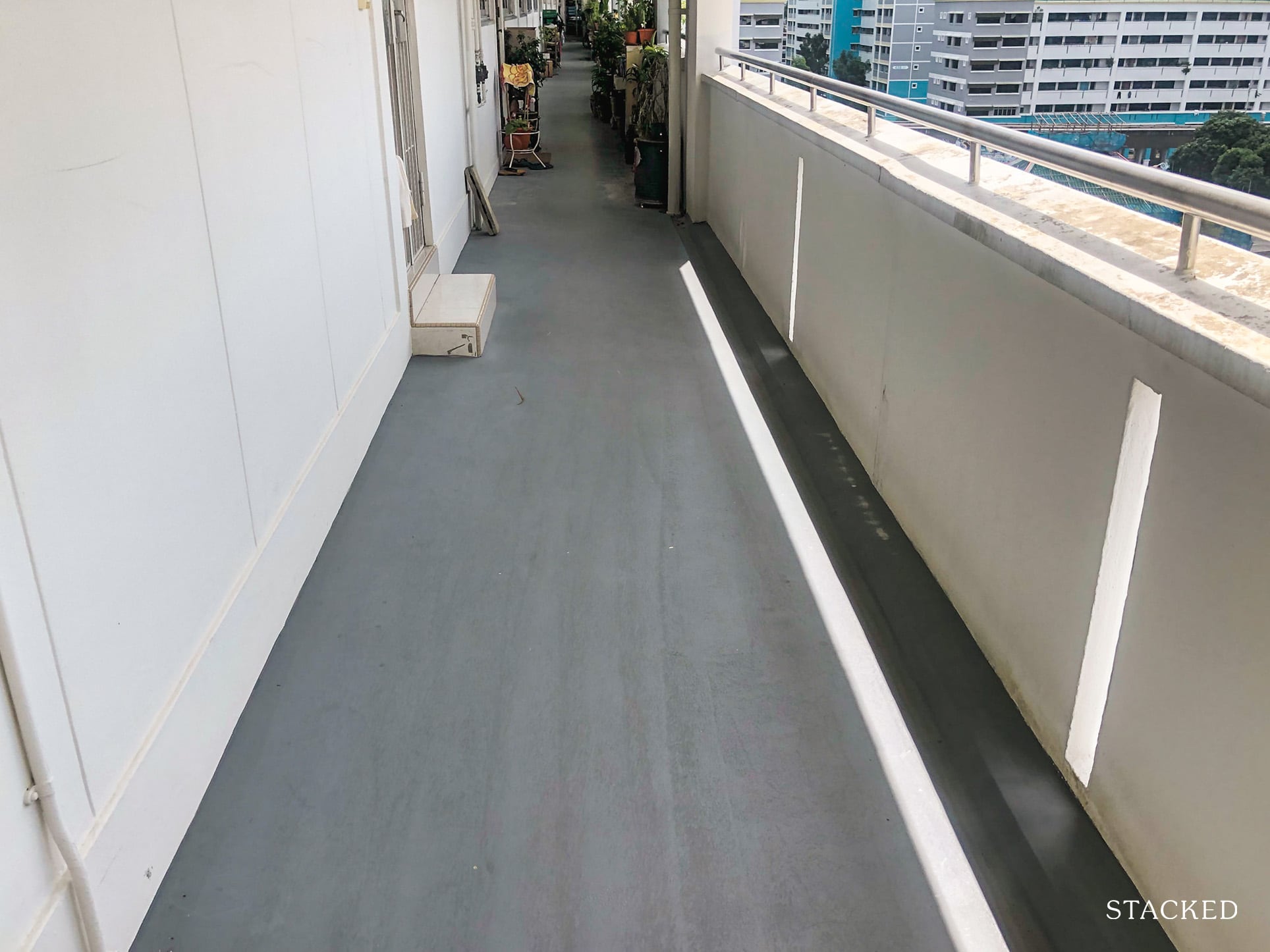 Heading up, you'll find that most units here are of the common corridor type. This is the slab form of HDB design that encourages social mingling (read less privacy).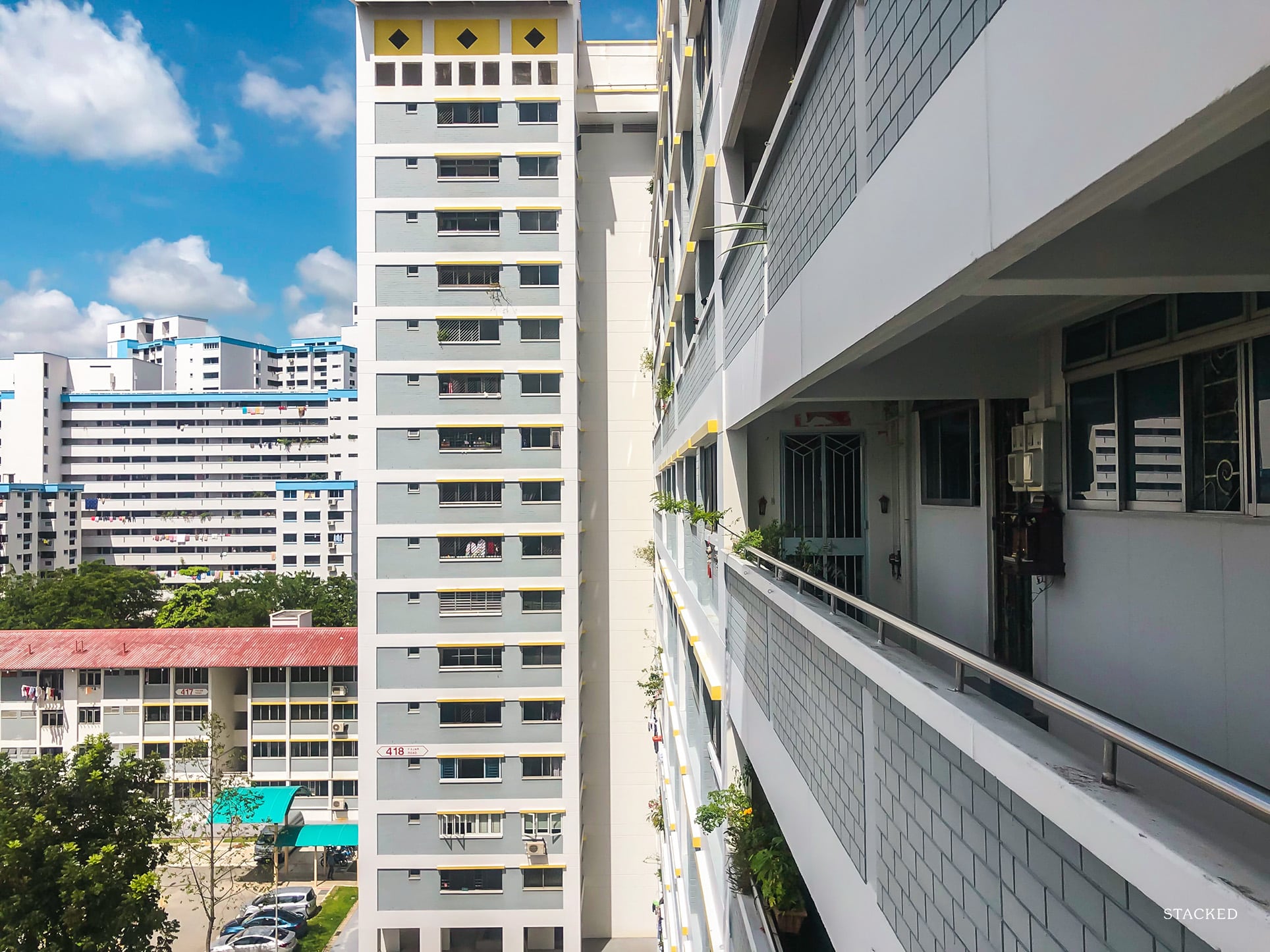 Personally, I do prefer the more private units that are found in modern developments, especially since the view into the unit showcases the living and dining. Residents who are uncomfortable with this would have to either tint their windows or close the curtains here which limits cross ventilation since one side of the home is now covered up.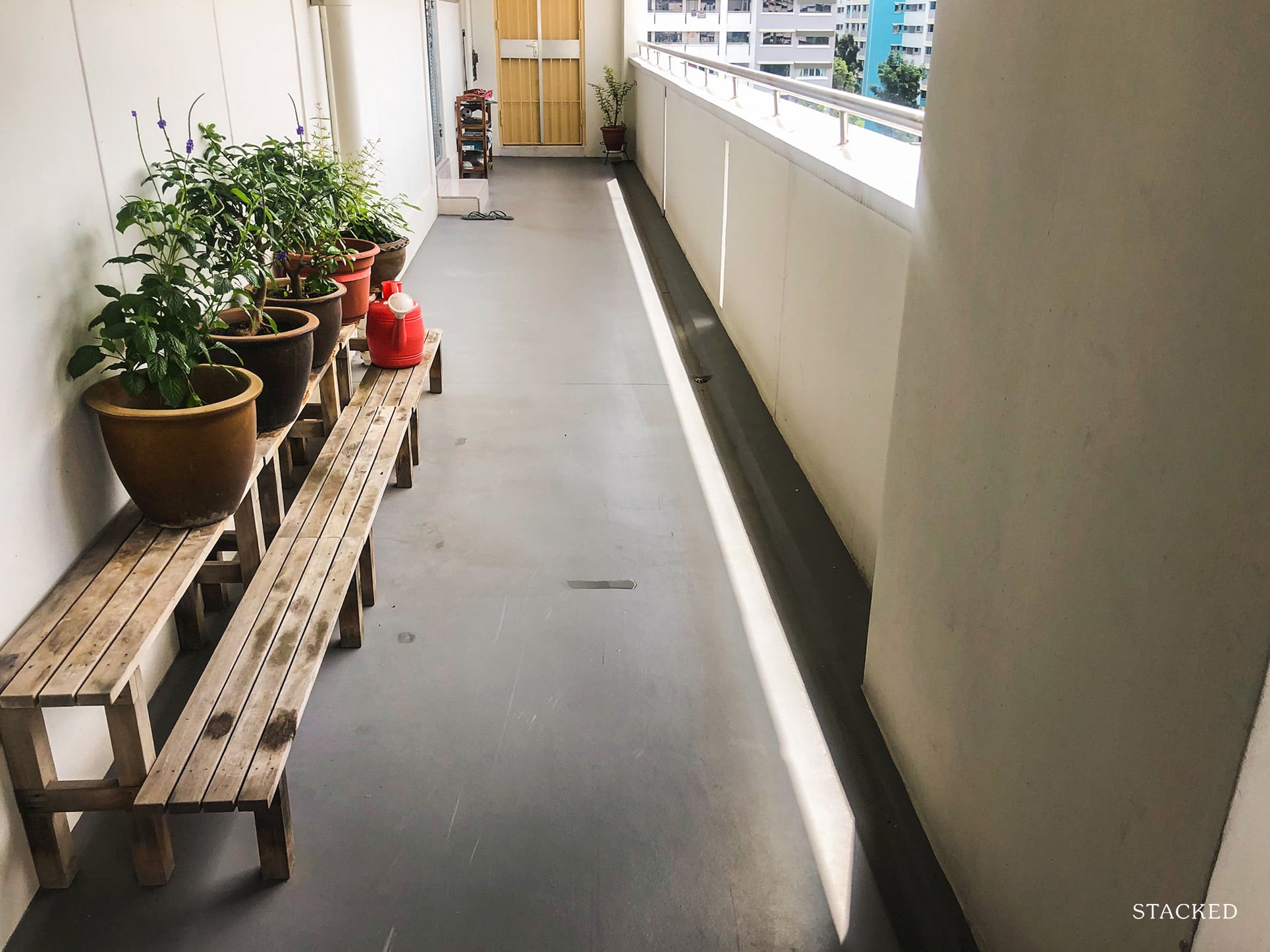 One thing you'll notice here is the clear upgrading works that the place has gotten (probably with the repainting of the place). The ground here looks almost brand new!
It's also nice to see that the corridor is also spacious enough to accommodate personal items like your shoe racks and plants, something that may not be possible in certain developments.
We recently did a review of Senja Parc View which is also located in the Bukit Panjang estate where I highlighted the shortcomings of its location – it's not really near retail or connectivity elements, both of which are important factors when it comes to livability.
Though it's not a complete 180-degree turn from that, I'm pleased to say that the cluster of old HDBs in Fajar here is much better positioned.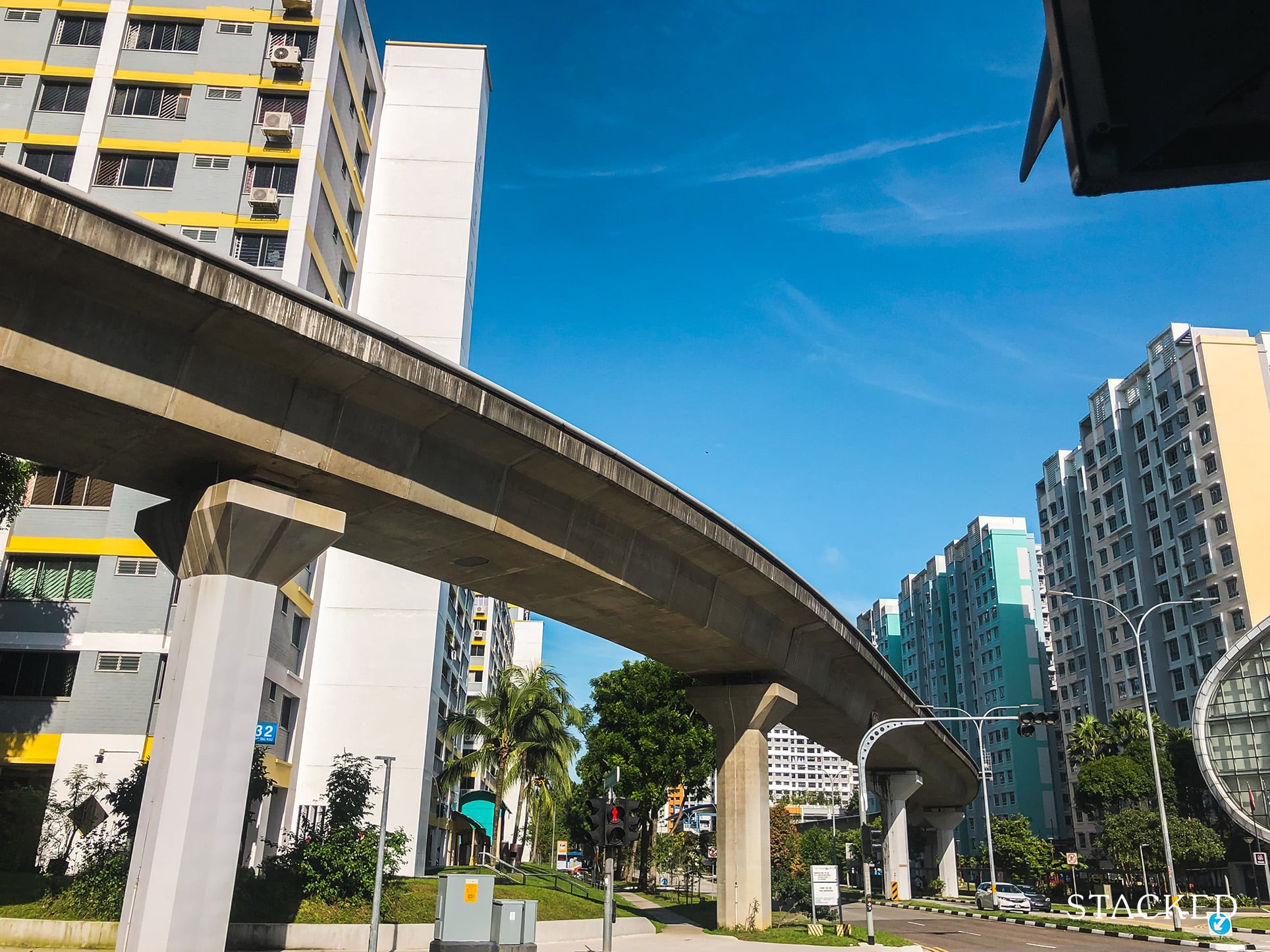 Firstly, it's right across an LRT station, so like Keat Hong Mirage, it may not have the advantage of being close to an MRT but at least residents can easily get to the MRT in a short and comfortable ride away.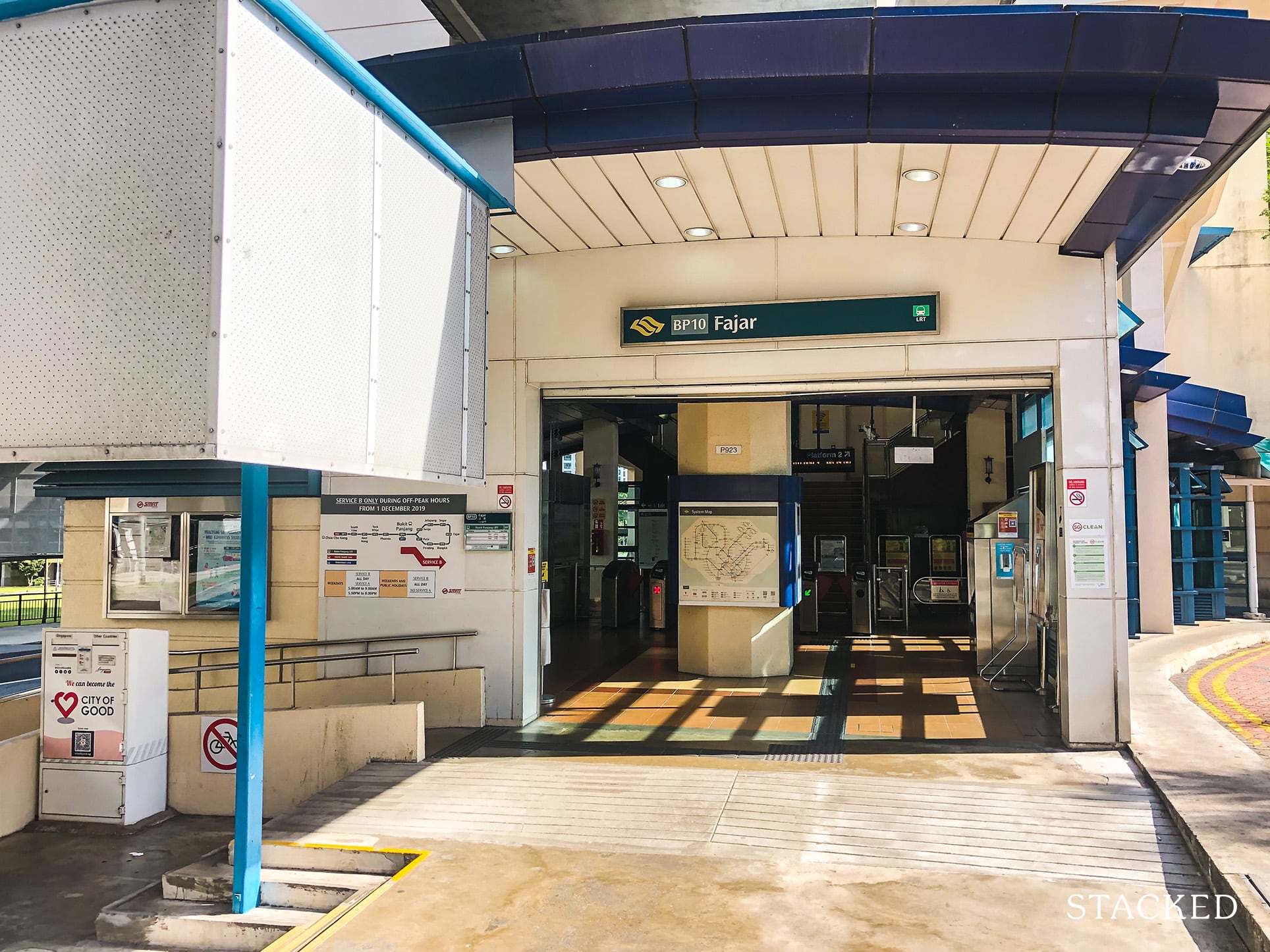 Next, it's located right across Fajar Shopping Centre. I've previously raved on how convenient this is given the numerous F&B options, supermarkets, and other amenities such as a medical clinic.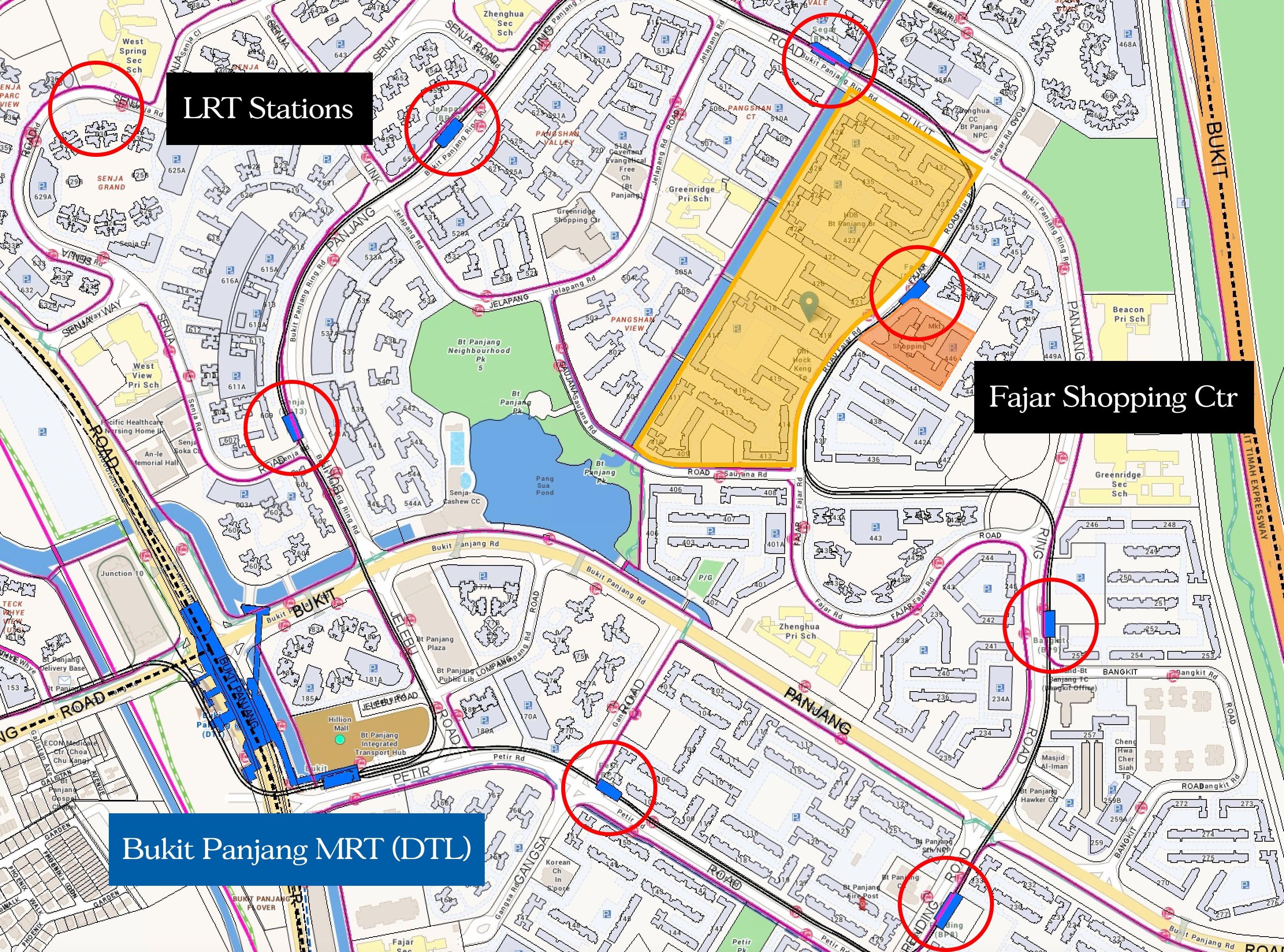 Besides convenience to transportation and amenities, the cluster of HDBs at Fajar is right next to the Bukit Panjang Park Connector, putting residents right next to the Western Adventure Loop: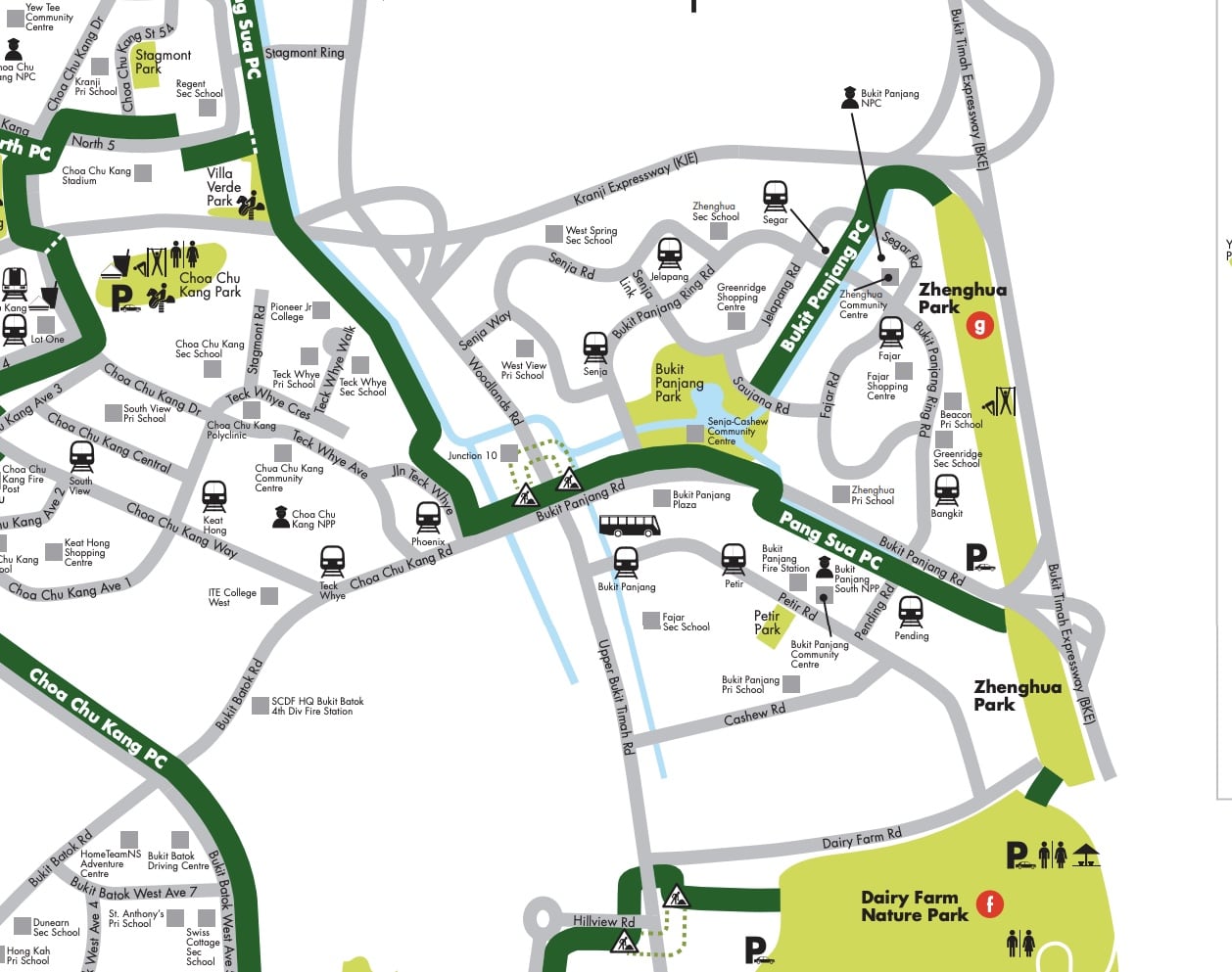 Just like Keat Hong Mirage, residents staying here can easily connect to the Bukit Batok Town Park (aka "Little Guilin"), Bukit Batok Nature Park, Bukit Timah Nature Reserve, Dairy Farm Nature Park, and Zheng Hua Park.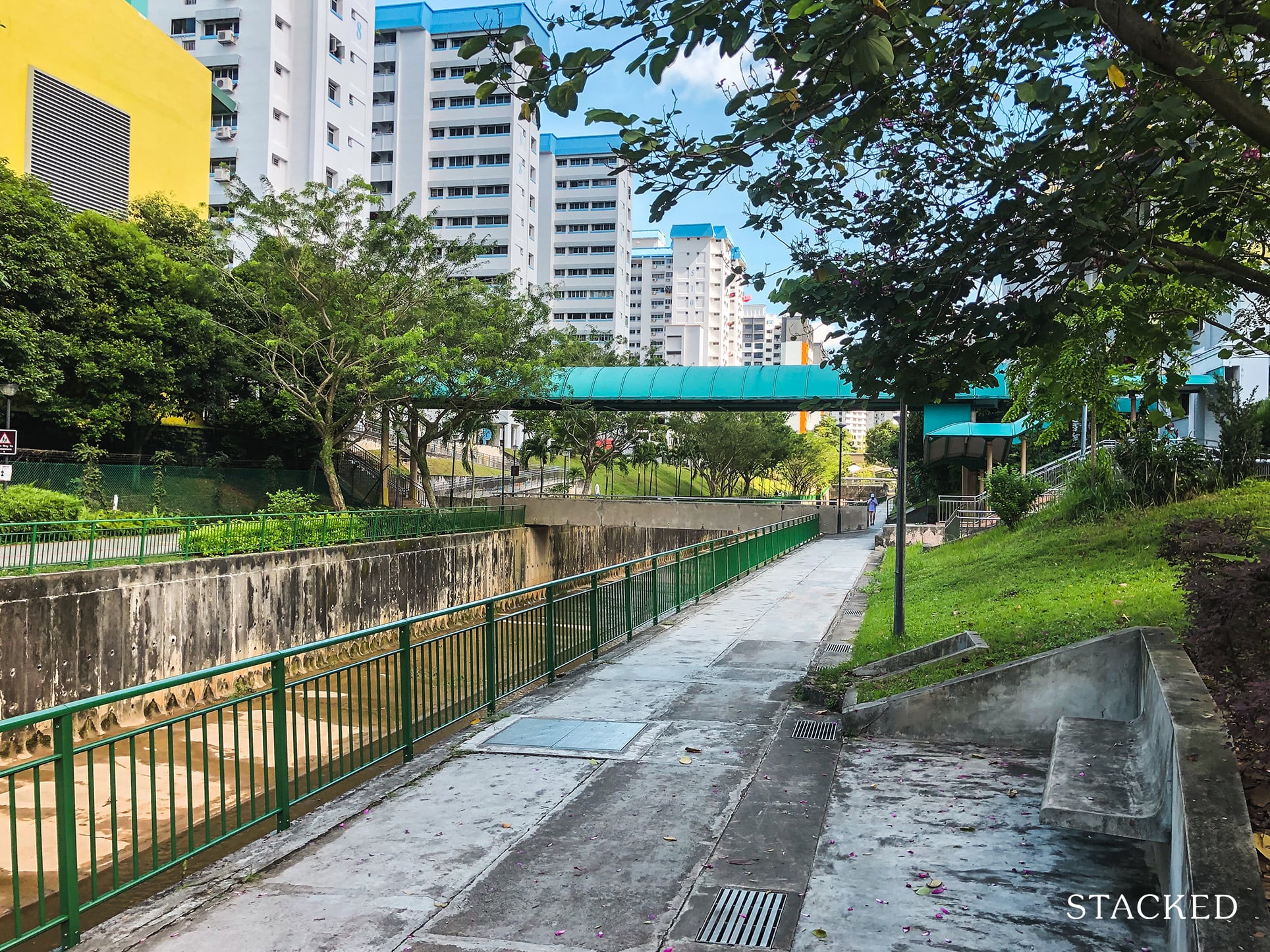 The downsides to the location are obvious – while it is close to an LRT, it's not nearly as convenient as being close to an MRT due to the rush hour traffic where boarding the LRT could be could a hassle.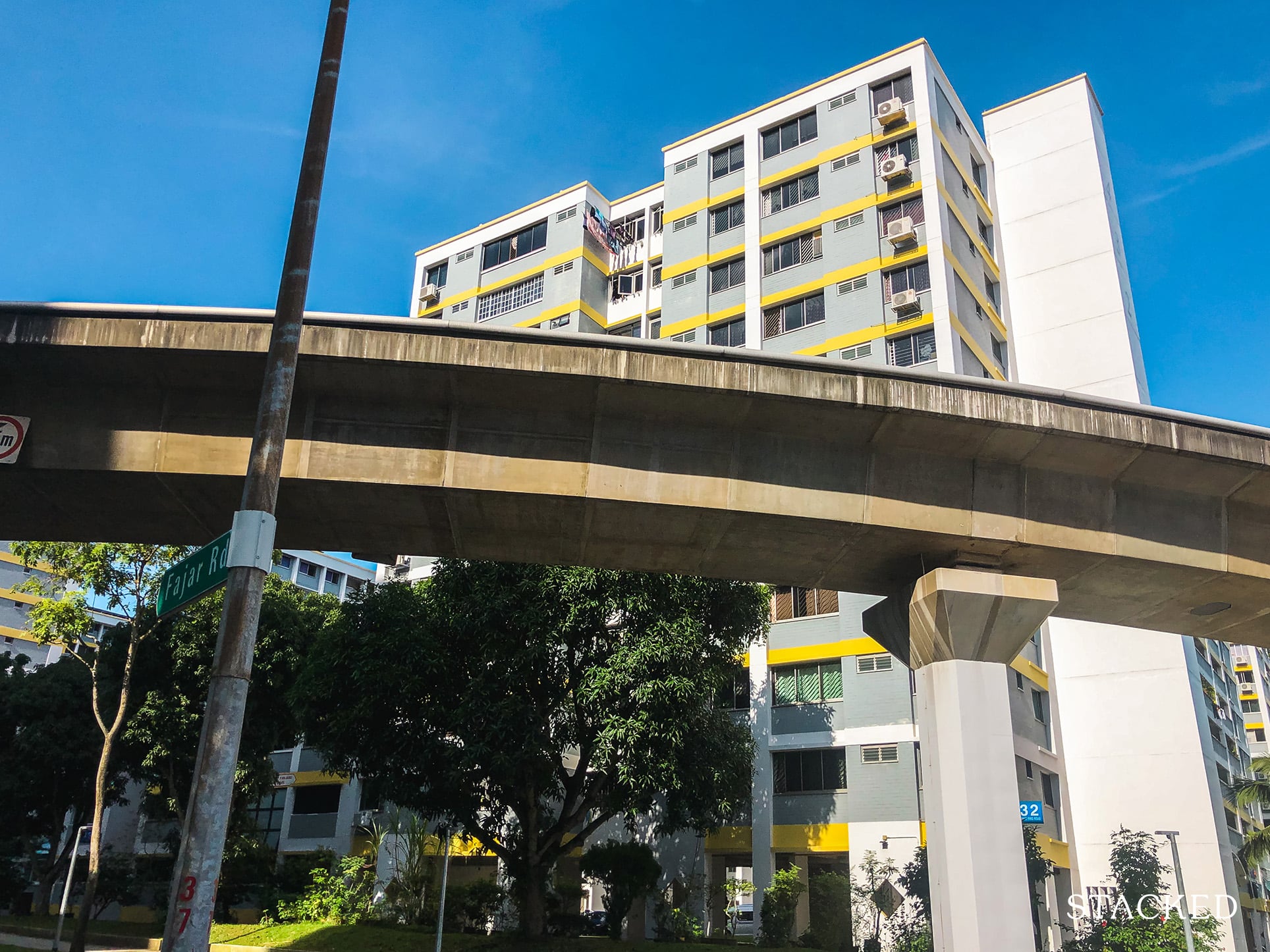 It's also right next to the above-ground LRT tracks, so certain stacks will have privacy issues though it shouldn't generate much noise. The surrounding developments are quite low-rise and the roads aren't major, so noise isn't much of an issue in this cluster unless you stay right in front of the bus stop.
Public Transport
| | | |
| --- | --- | --- |
| Bus station | Buses Serviced | Distance From HDB (& Est. Walking Time) |
| 'Opp Fajar Stn' | 922, 971, 972, 972M | 200m (2 min walk) |
| 'Fajar Stn' | 922, 971, 972, 972A, 972M | 250m (2-3 min walk) |

Closest MRT: Fajar LRT; 2-8 min walk (depending on block). Bukit Panjang MRT; 19 min walk. 10 min to the MRT by LRT (including walk).
The cluster is about a 19-minute walk to Bukit Panjang MRT. Most people would not be taking this option considering the LRT is just the opposite. Including the walk, that journey would take 10 minutes which is quite tolerable. Honestly, I would prefer a 10-minute journey with an LRT than a 10-minute walk, since it's just a lot less effort.
Would you rather be within 10 minutes to an MRT by foot or 10 minutes by LRT? Keen to hear your thoughts in the comments below!
In terms of buses, the bus stop here does not have an extensive range of services. In fact, the buses run similar to the Downtown Line.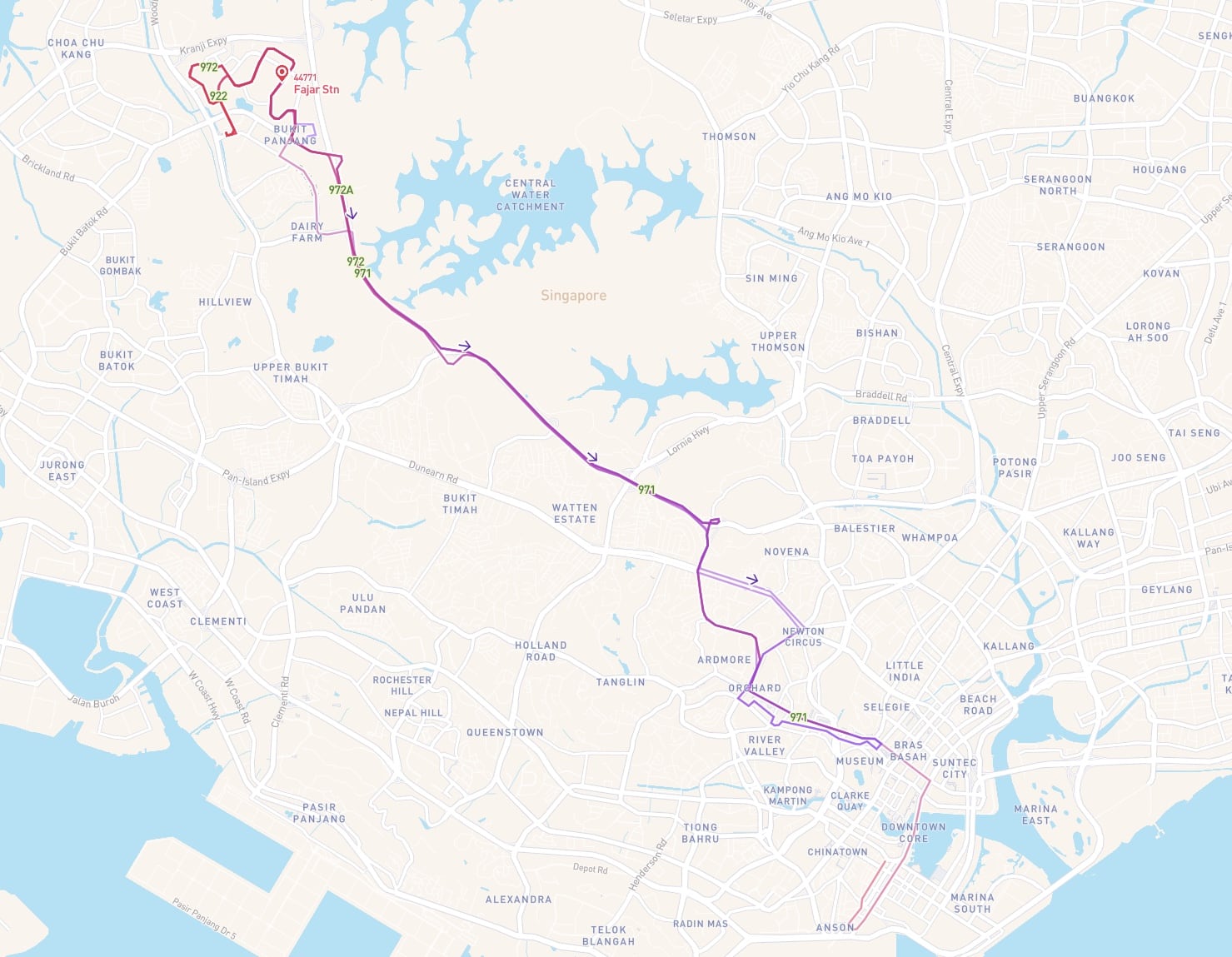 This does make sense. After all, most workers would be travelling to the city, and before the Downtown line came about, this route is a must-have if the place was to remain accessible to the working Singaporeans.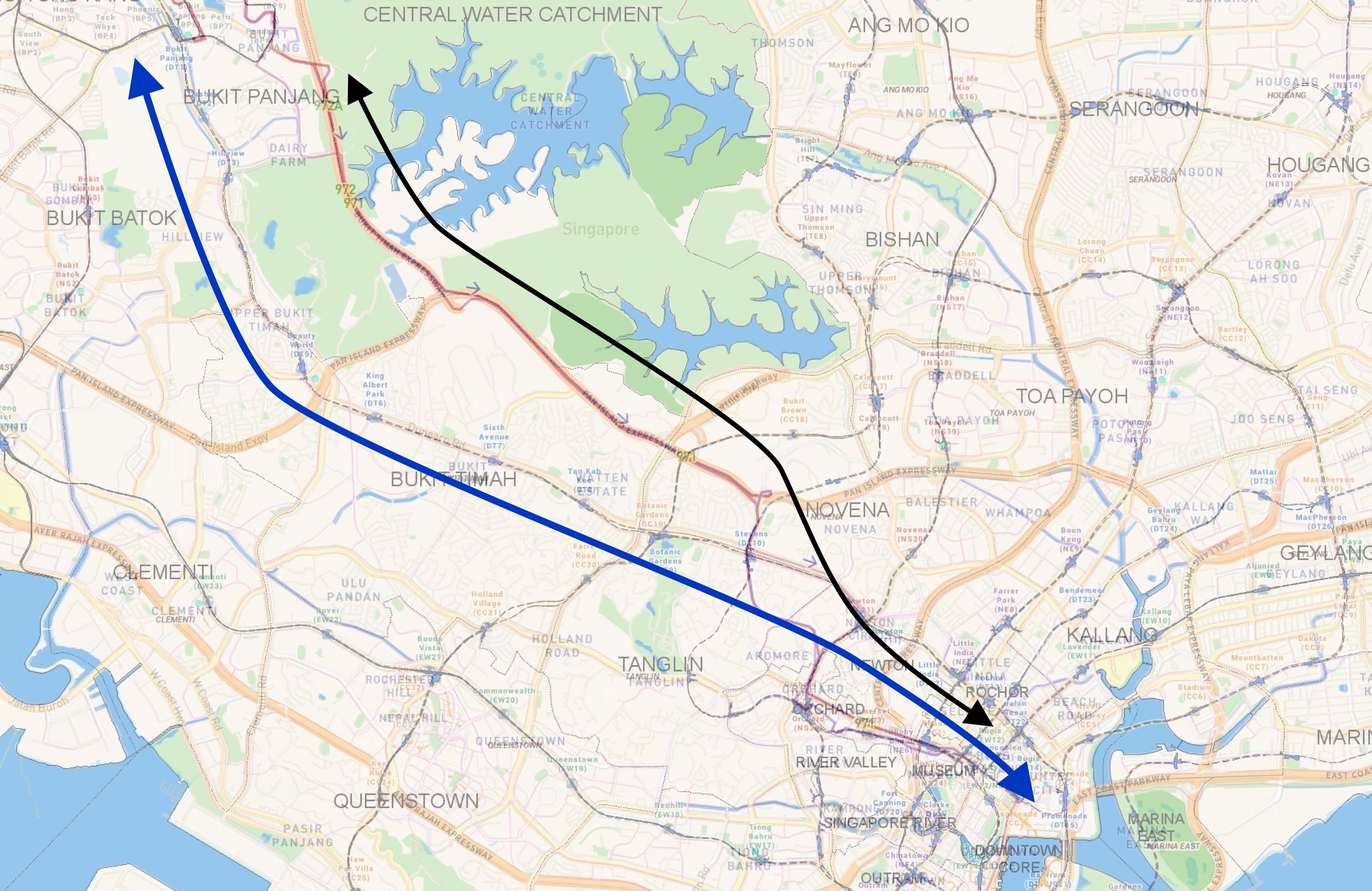 Residents looking to take the bus would be comforted to know that the walkway is sheltered from blocks 419, 421, and all the way down to block 415. At the moment, upgrading works are observed here.
Private Transport
| | |
| --- | --- |
| Key Destinations | Distance From HDB (& Est. Peak Hour Drive Time) |
| Raffles Place | 17.8 km (29 mins drive) |
| Orchard Road | 15.2 km (24 mins drive) |
| Suntec City | 17.7 km (28 mins drive) |
| Changi Airport | 30.3 km (38 mins drive) |
| Tuas Port | 28.0 km (43 mins drive) |
| Paya Lebar Quarter | 18.8 km (25 mins drive) |
| Mediapolis | 17.3 km (26 mins drive) |
| Mapletree Business City | 19.3 km (30 mins drive) |
| Tuas Checkpoint | 19.9 km (30 mins drive) |
| Woodlands Checkpoint | 11.5 km (18 mins) |
| Harbourfront Cluster | 19.5 km (33 mins) |
| Punggol Cluster | 24.4 km (31 mins) |
Source: OneMap. Based on driving times during peak hours.
Immediate road exit:
Saujana Road, Fajar Road and Bukit Panjang Ring Road.

Summary:
Drivers here can look forward to good connectivity via the Kranji Expressway (KJE) which connects to the Bukit Timah Expressway (BKE) and ultimately the Pan Island Expressway (PIE).
Groceries
| | |
| --- | --- |
| Name of Grocery Shop | Distance from HDB (& Est Time) |
| Giant (Fajar Shopping Centre) | 300m, 3-min walk |
| Sheng Siong (Fajar Shopping Centre) | 300m, 3-min walk |
| Giant (Greenridge Shopping Centre) | 500m, 5-min walk |
Schools
| | |
| --- | --- |
| Educational Tier | Number of Institutes |
| Preschool | 3 |
| Primary School (Within 1KM) | 5 |
| Secondary School | 3 |
| Junior College | 2 |
| Other Tertiary Institutes | 3 |
PCF Sparkletots Preschool @ Bukit Panjang Blk 412 (CC) – Within the development
PCF Sparkletots Preschool @ Bukit Panjang Blk 422 (KN) – Within the development
Just Kids @ Bukit Panjang – Within the development
Greenridge Primary School – 400m (4-min walk)
Beacon Primary School – 600m (7 min walk)
Zhenghua Primary School – 600m (7 min walk)
West View Primary School – 1.5 km (17 min walk)
West Spring Primary School – 900m (11 min walk)
Fajar Secondary School – 1.2 km (14 min walk)
West Spring Secondary School – 1.4 km (17 min walk)
Zhenghua Secondary School – 900m (12 min walk)
Jurong Pioneer Junior College – 24 min by bus
National Junior College – 26 min by MRT/bus
ITE College West – 14 min by bus
Millennia Institute – 33 min by bus
Ngee Ann Polytechnic – 33 min by MRT
Fajar HDB Site Review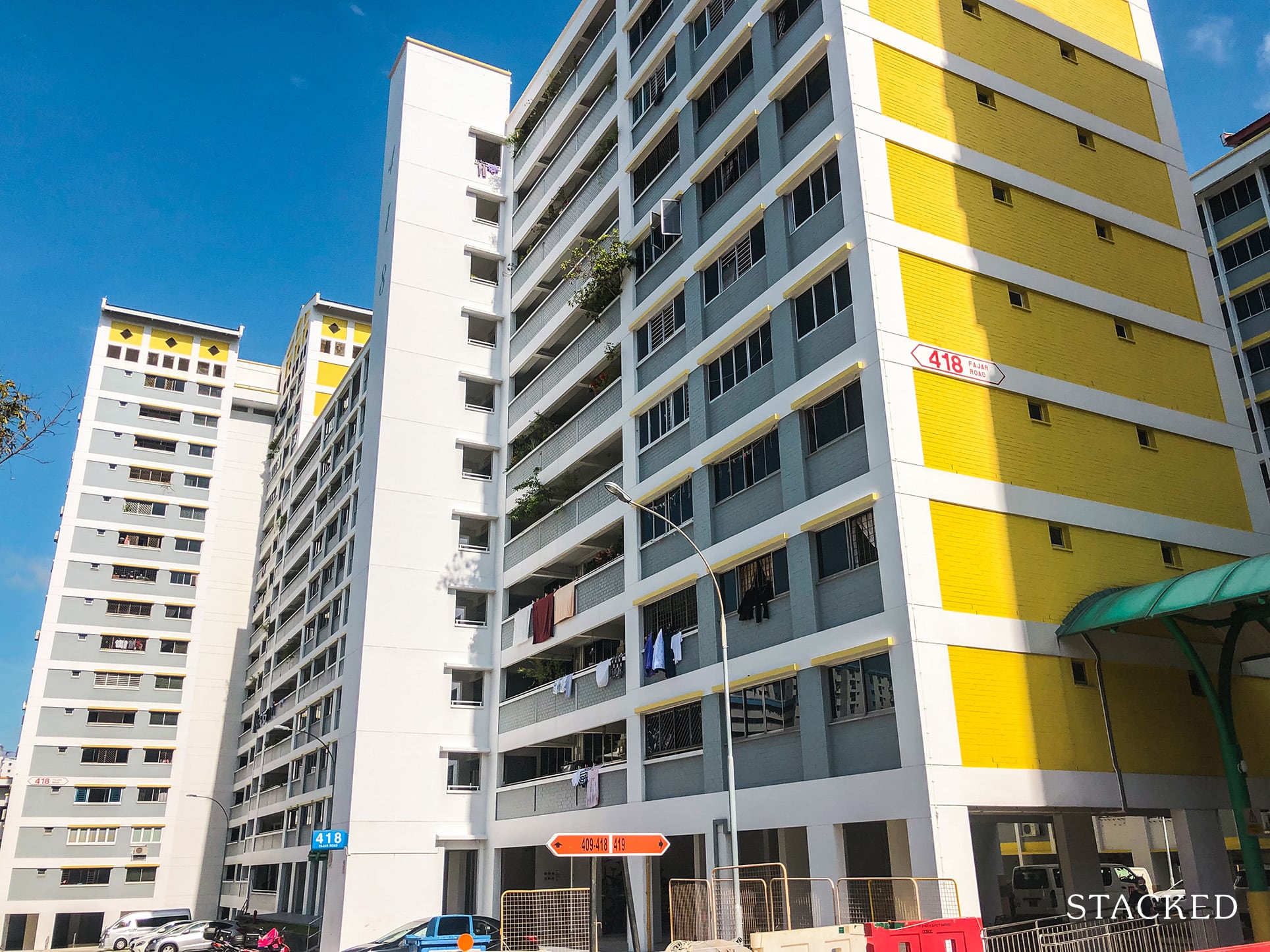 Given how old this cluster is, I am not able to obtain a site plan for the area. Even the views from Google Earth are incomplete as it does not include the new facilities. That being said, the photos I've taken should suffice in giving you a feel of the space.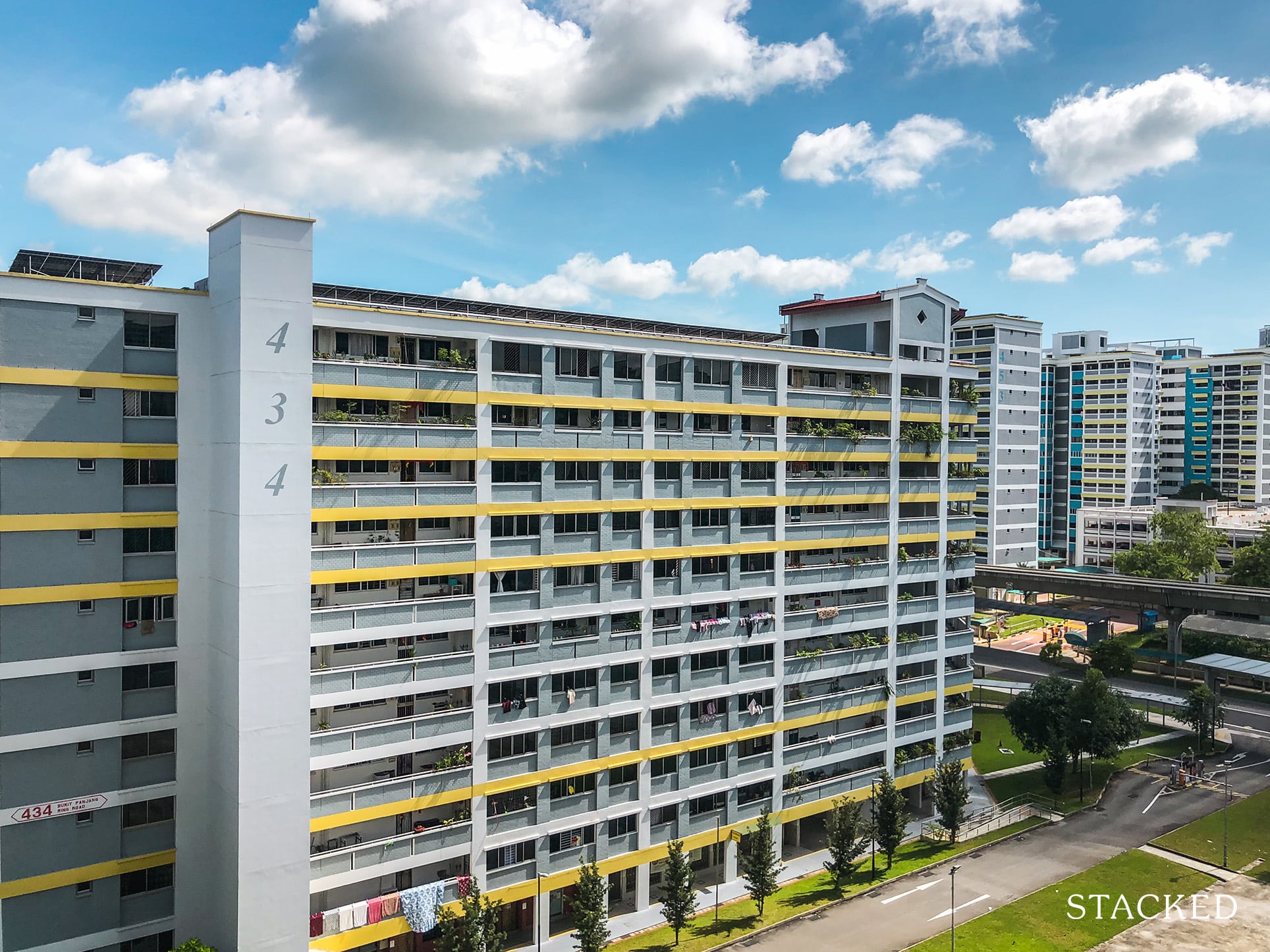 The old Fajar HDB cluster has 27 blocks in total with flats ranging from 4, 5-room, and Executive Maisonettes. It was built in 1989 and is around 4/11-17 storeys high, depending on the block.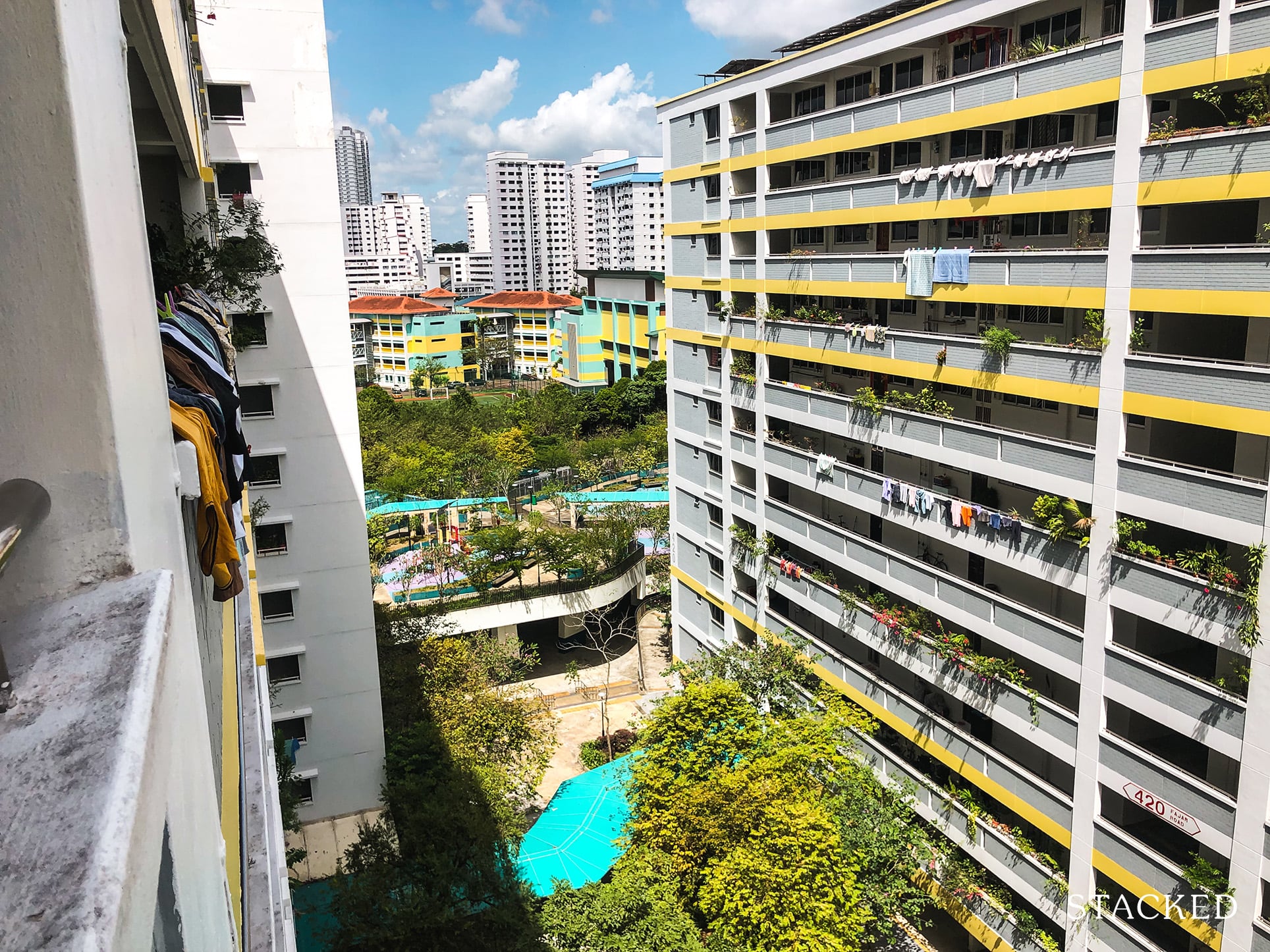 Most blocks are in the old slab form which encourages social cohesion but reduces privacy, and if you look at the Google Streetview, you may have noticed that the older and more dated-looking paint scheme has been refreshed to a more modern, cheerful yellow colour tone with a touch of grey and white.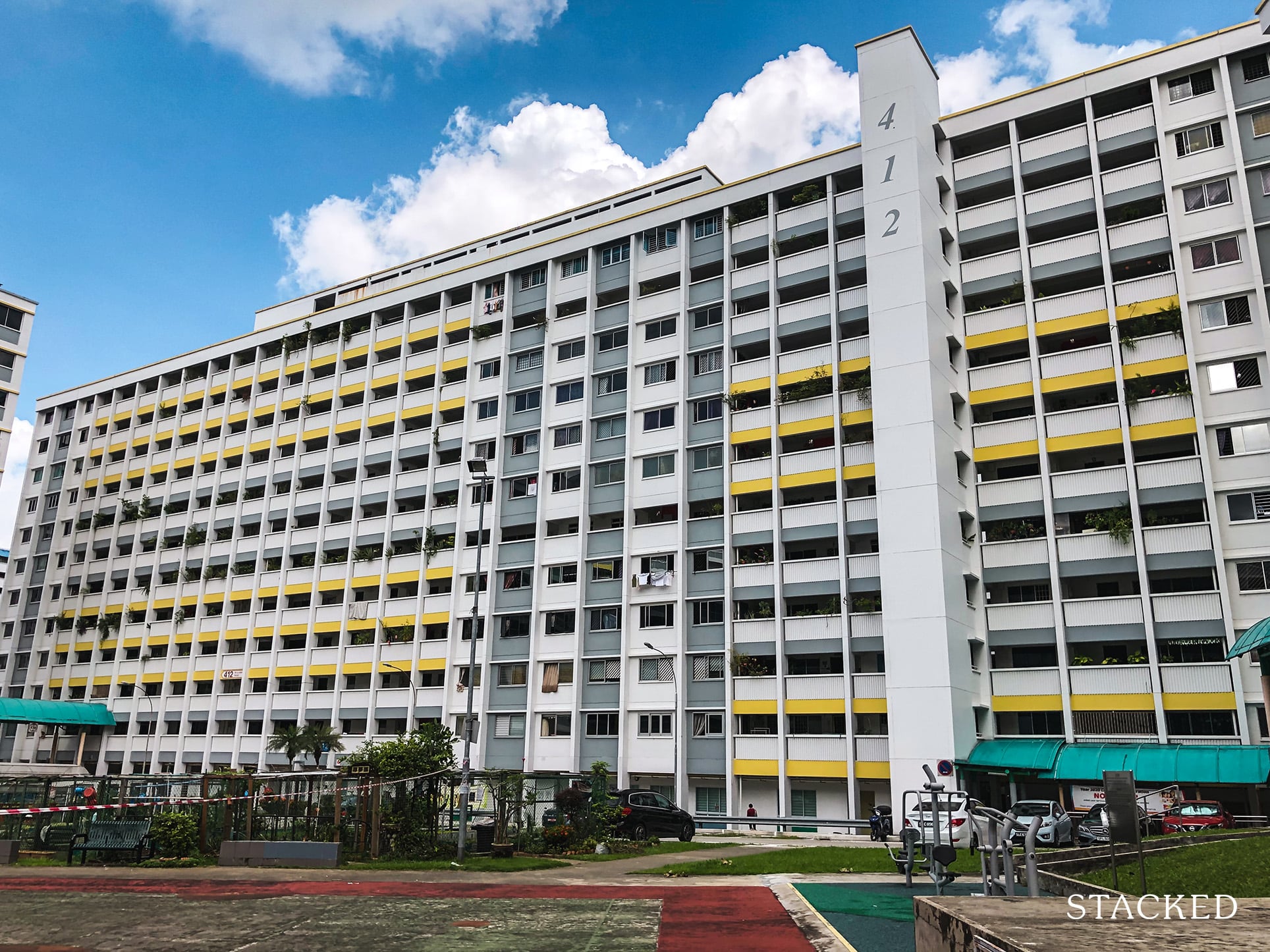 Overall, I find that the cluster of blocks is quite well-spaced out. It certainly did not feel claustrophobic to walk around here, and large empty areas can be found in certain spots.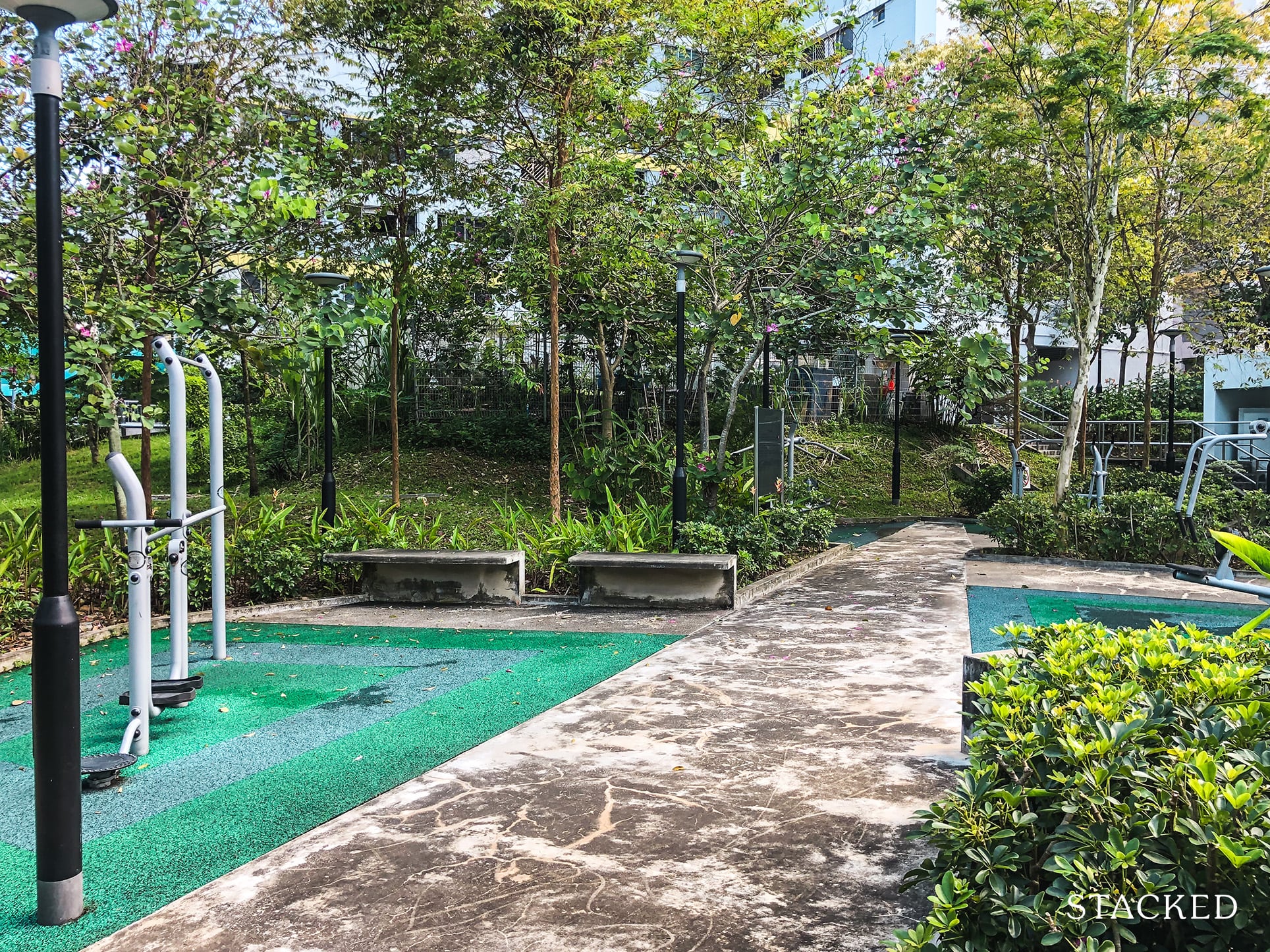 Like most other HDBs, trees can be seen planted around too, so despite the urban nature of the blocks, the whole area does not feel too concrete.
Unit Mix
| | | | |
| --- | --- | --- | --- |
| Block | 4 Room | 5 Room | Executive |
| 409 | 77 | 11 | |
| 410 | | 60 | |
| 411 | | | 24 |
| 412 | 110 | | |
| 413 | 44 | 36 | |
| 414 | 17 | 3 | |
| 415 | 44 | 36 | |
| 416 | 110 | | |
| 417 | 30 | 18 | |
| 418 | 45 | 75 | |
| 419 | 71 | 55 | |
| 420 | 44 | 22 | |
| 421 | 65 | 21 | |
| 422 | | | 60 |
| 423 | | 64 | |
| 424 | 10 | 6 | |
| 425 | | 64 | |
| 426 | | | 12 |
| 427 | | | 64 |
| 428 | 10 | 6 | |
| 429 | | 64 | |
| 430 | 34 | 36 | |
| 431 | 132 | | |
| 432 | 44 | 36 | |
| 433 | | | 12 |
| 434 | 64 | 36 | |
| 435 | 132 | | |
| Total | 1083 | 649 | 172 |
Stack Analysis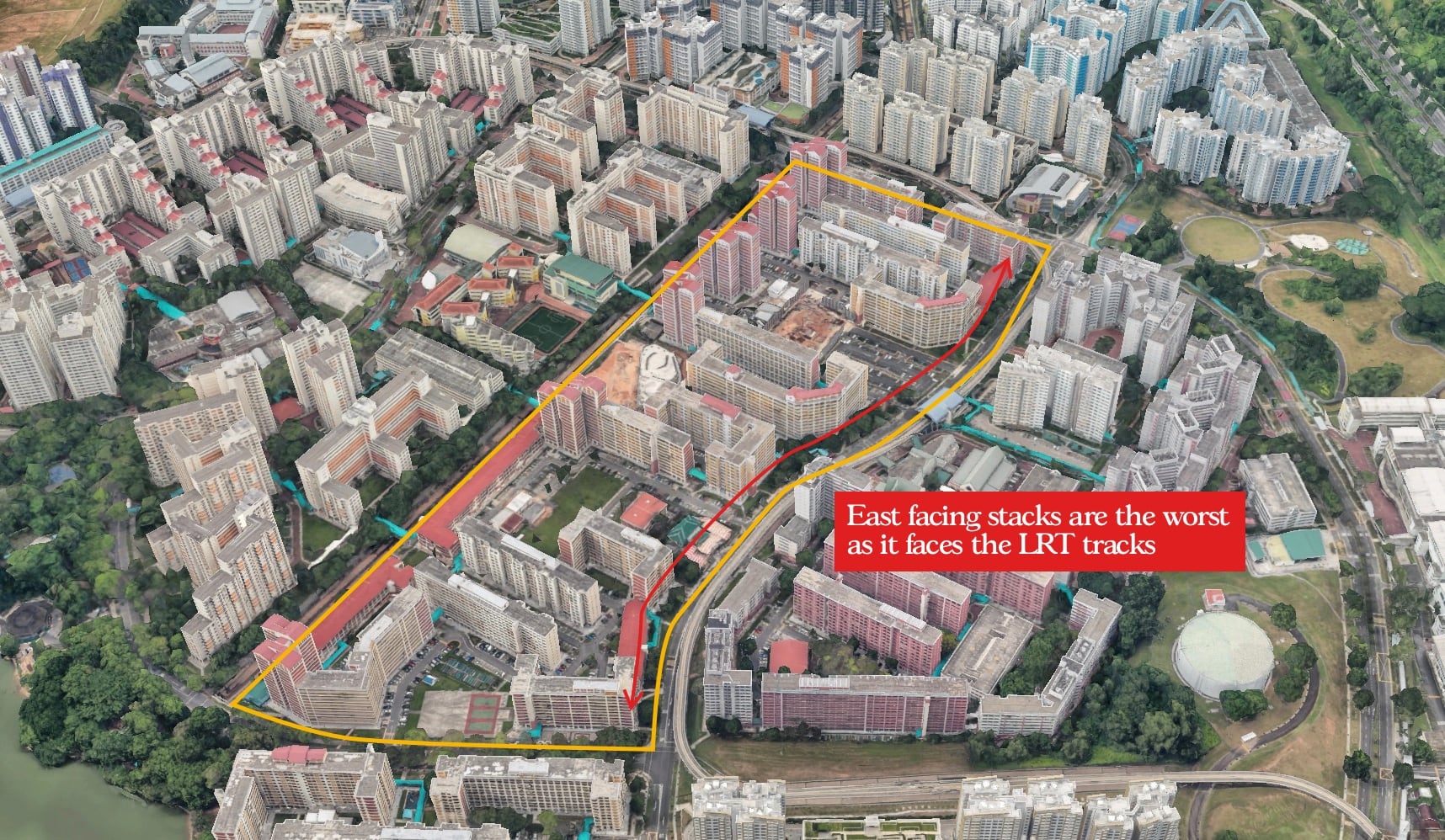 Now when it comes to the best stacks here, I must say that there really isn't one that is outstanding.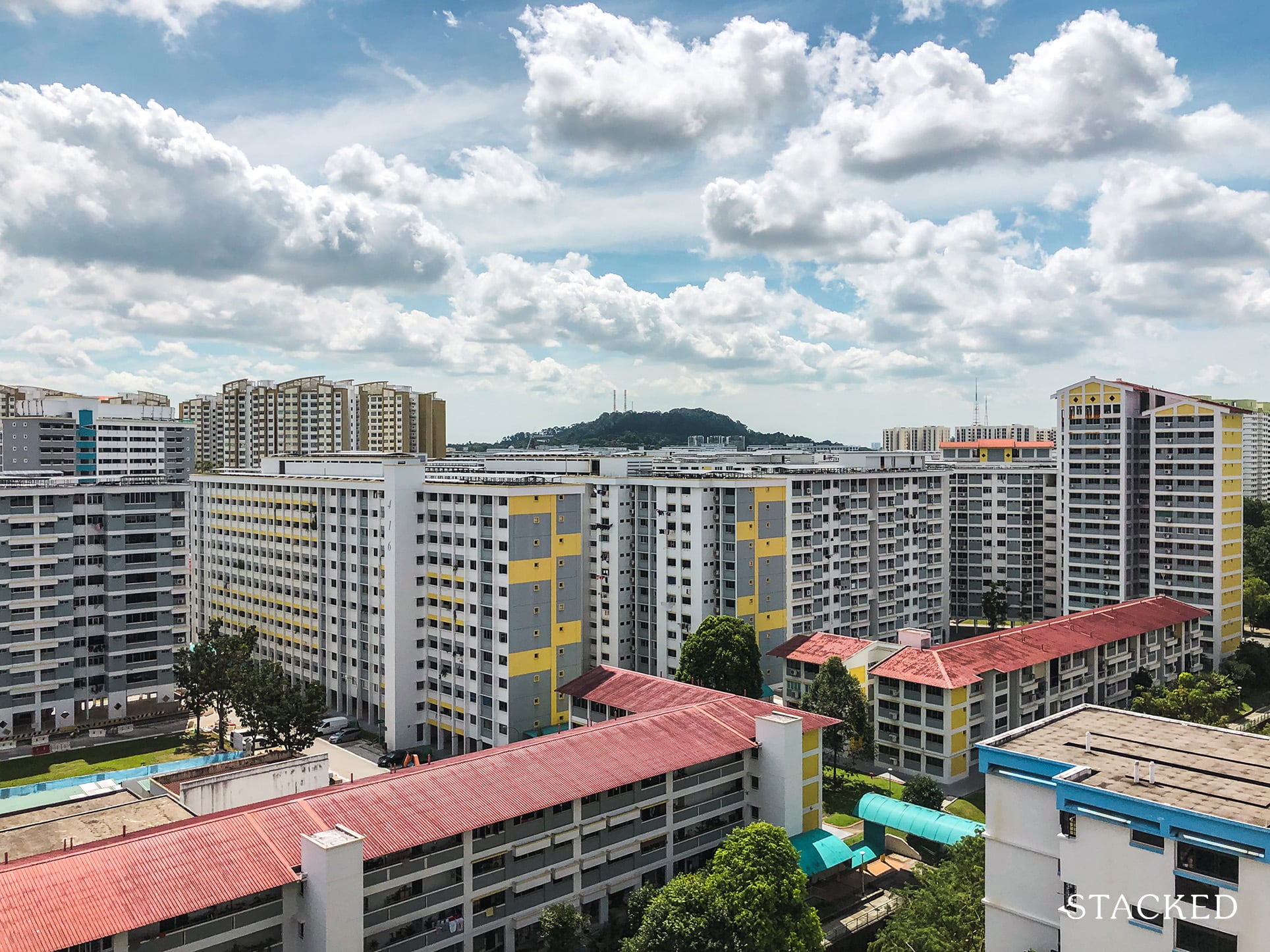 Given the highest storey is only 17 storeys high, and the surrounding HDBs are around the same height, there's not much of a view that any blocks here can boast of. In fact, most blocks here pretty much face another block – so there's nothing to shout about here.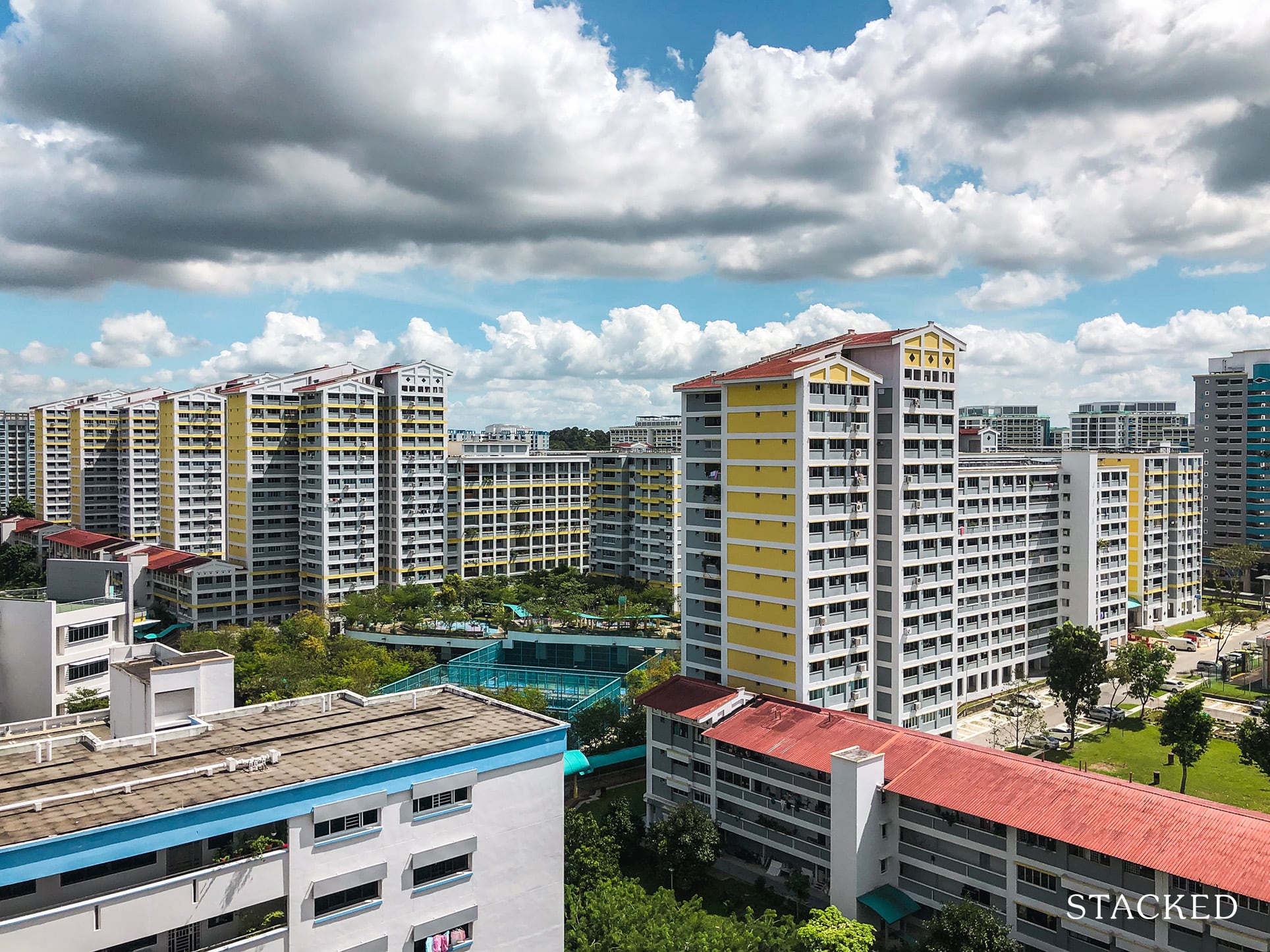 The only stacks that I'd be wary of are the east-facing ones. These face the LRT tracks directly, and while noise isn't a primary concern here, it is quite an annoyance to have a train go by your home every once in a while – especially if the living quarters face the tracks directly.
Layout Analysis
4-Room Flat Type 1 (104 sqm)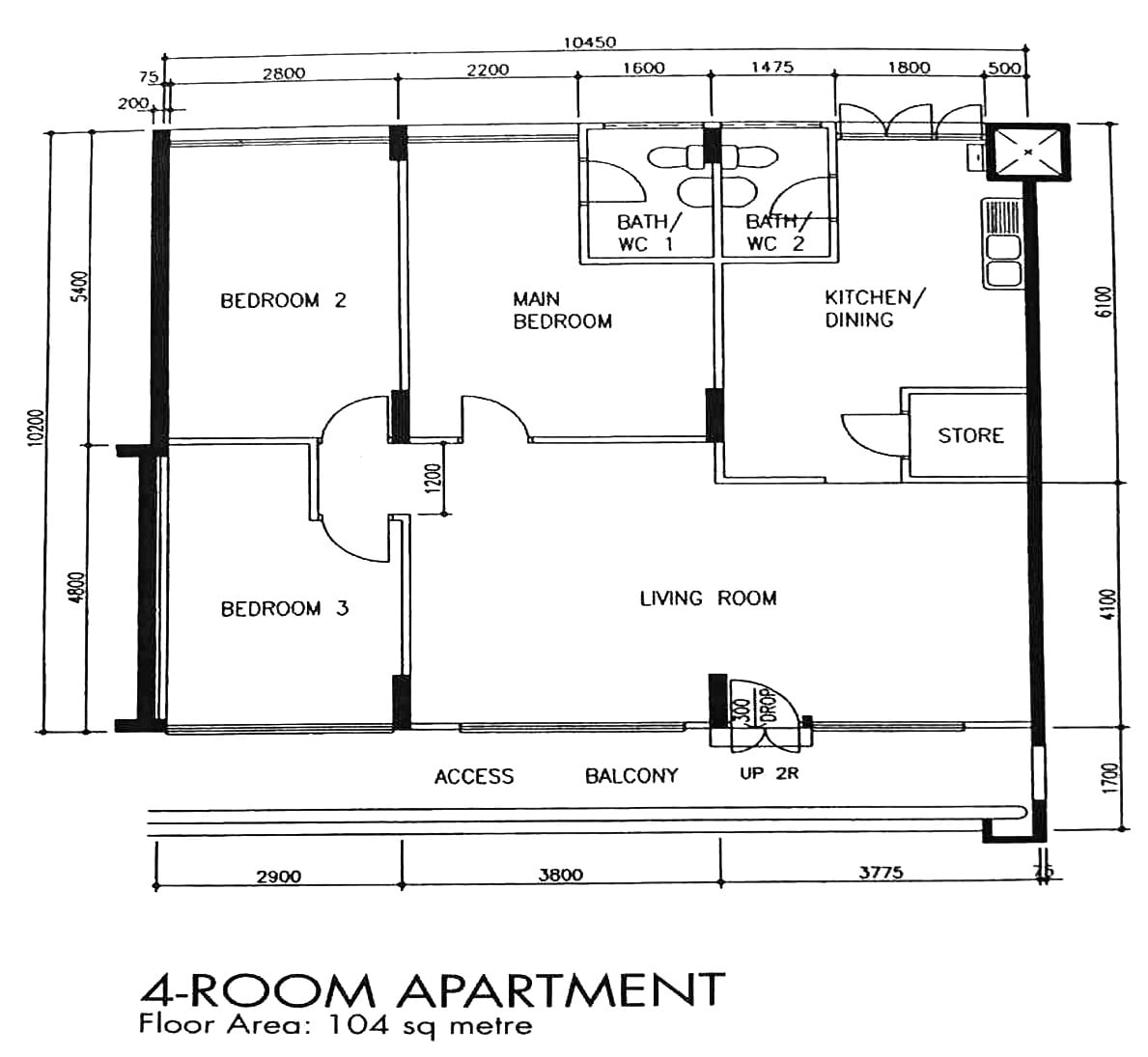 | | |
| --- | --- |
| Pros | Cons |
| Good unit size | Corridor unit, hence it lacks privacy |
| Spacious bedroom size | Protruding column between bedrooms hence walls could not be hacked fully. |
| Separate living and dining space | The main door opens straight to the living and dining area, lacks privacy |
| No wasted bedroom walkway space. | Small store room |
| | Tight Bathroom space |
Pros and cons (4-Room flat at Fajar)
4-Room Flat Type 2 (84 sqm)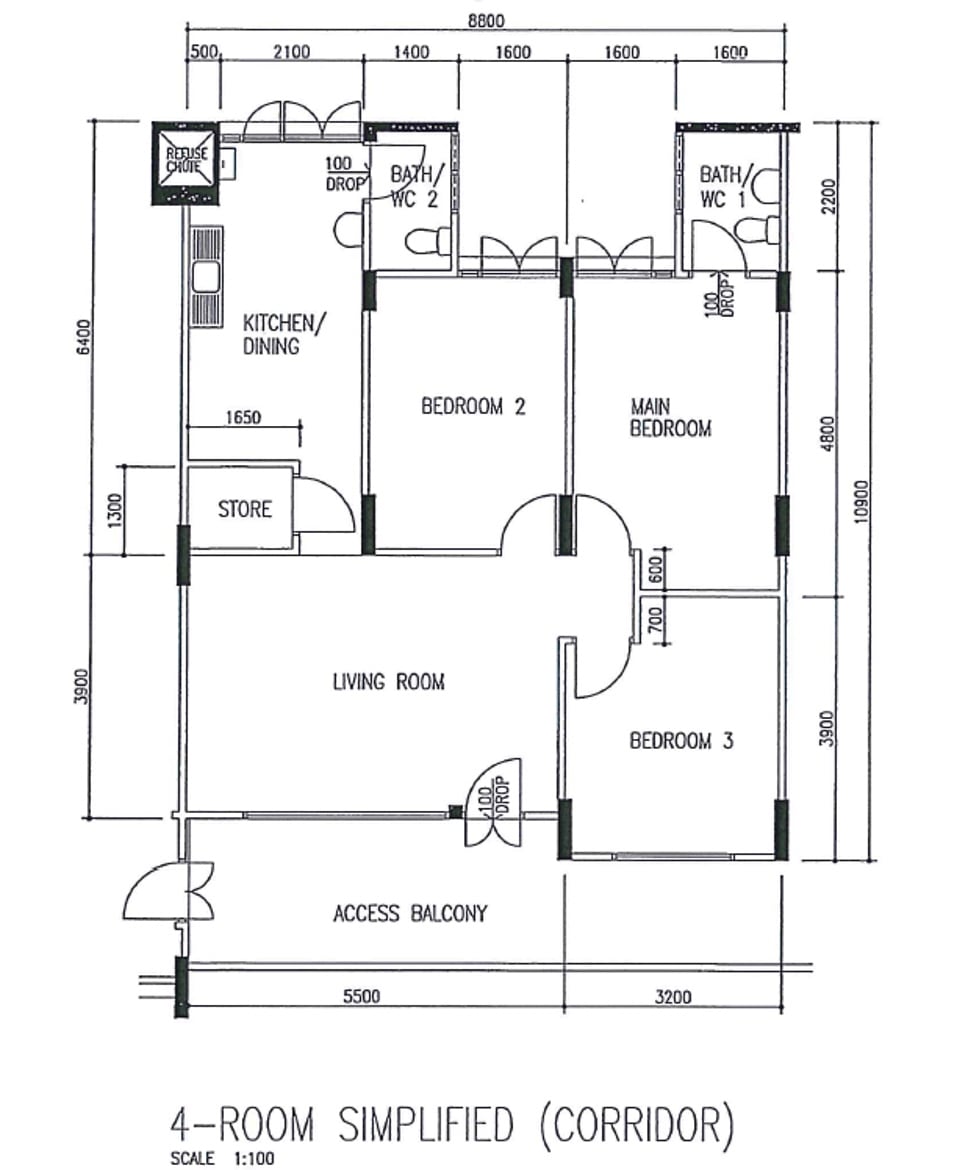 | | |
| --- | --- |
| Pros | Cons |
| Decent size bedroom | Corridor unit, hence it lacks privacy |
| Separate living and dining area. | Protruding column between bedrooms hence walls could not be hacked fully. |
| No wasted bedroom walkway space. | The main door opens straight to the living and dining area, lacks privacy |
| | Small store room |
| | Tight bathroom space |
Pros and cons (4-Room flat at Fajar)
5-Room Flat Type 1 (122 sqm)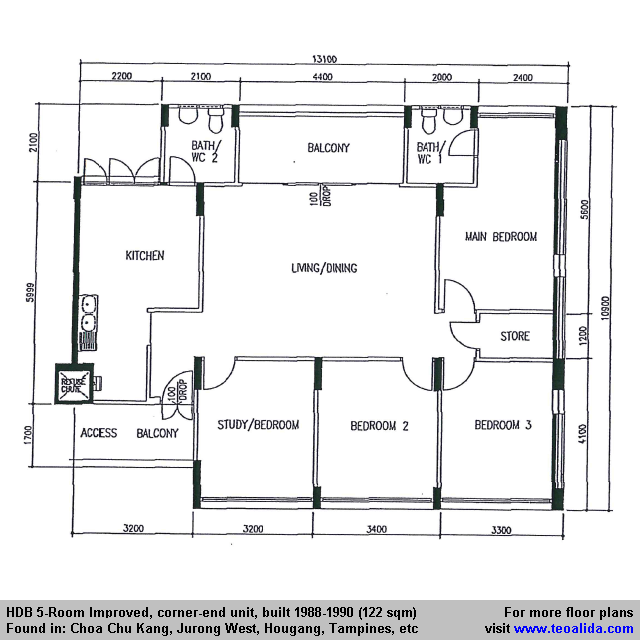 | | |
| --- | --- |
| Pros | Cons |
| Good unit size | Protruding column between bedrooms hence walls could not be hacked fully. |
| Decent bedroom size | Small store room |
| Horizontal living and dining layout, allows natural ventilation and light into unit. | Tight bathroom space |
| No wasted bedroom walkway space. | |
Pros and cons (4-Room flat at SkyPeak @ Bukit Batok)
5-Room Flat Type 2 (122 sqm)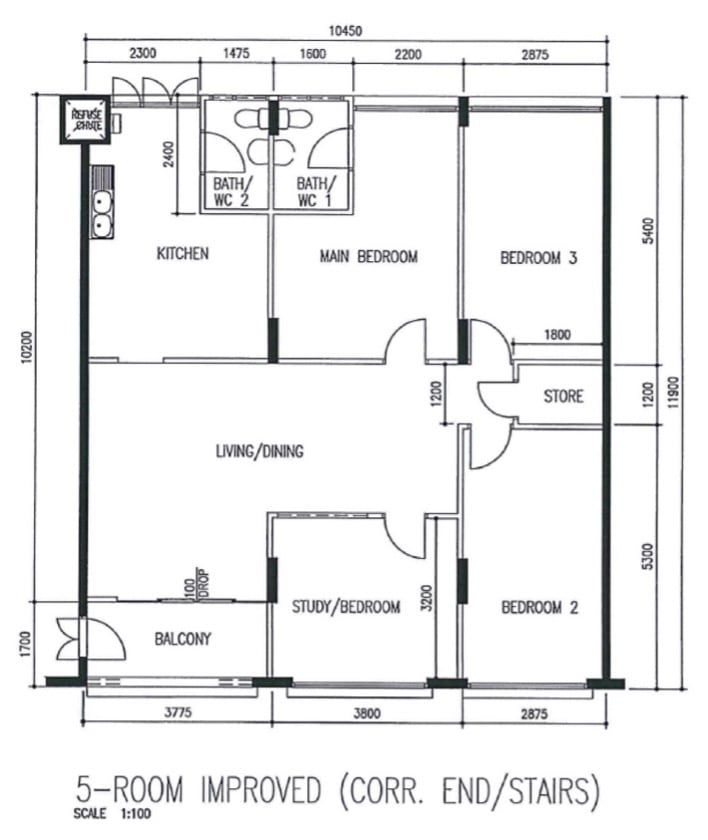 | | |
| --- | --- |
| Pros | Cons |
| Good unit size | Corridor unit, hence it lacks privacy |
| Spacious size bedroom | Protruding column between bedrooms hence walls could not be hacked fully. |
| No wasted bedroom walkway space. | The main door opens to the balcony, unique but less ideal |
| | Small store room |
Pros and cons (5-Room flat type 2 at Fajar HDB)
5-Room Flat Type 3 (132 sqm)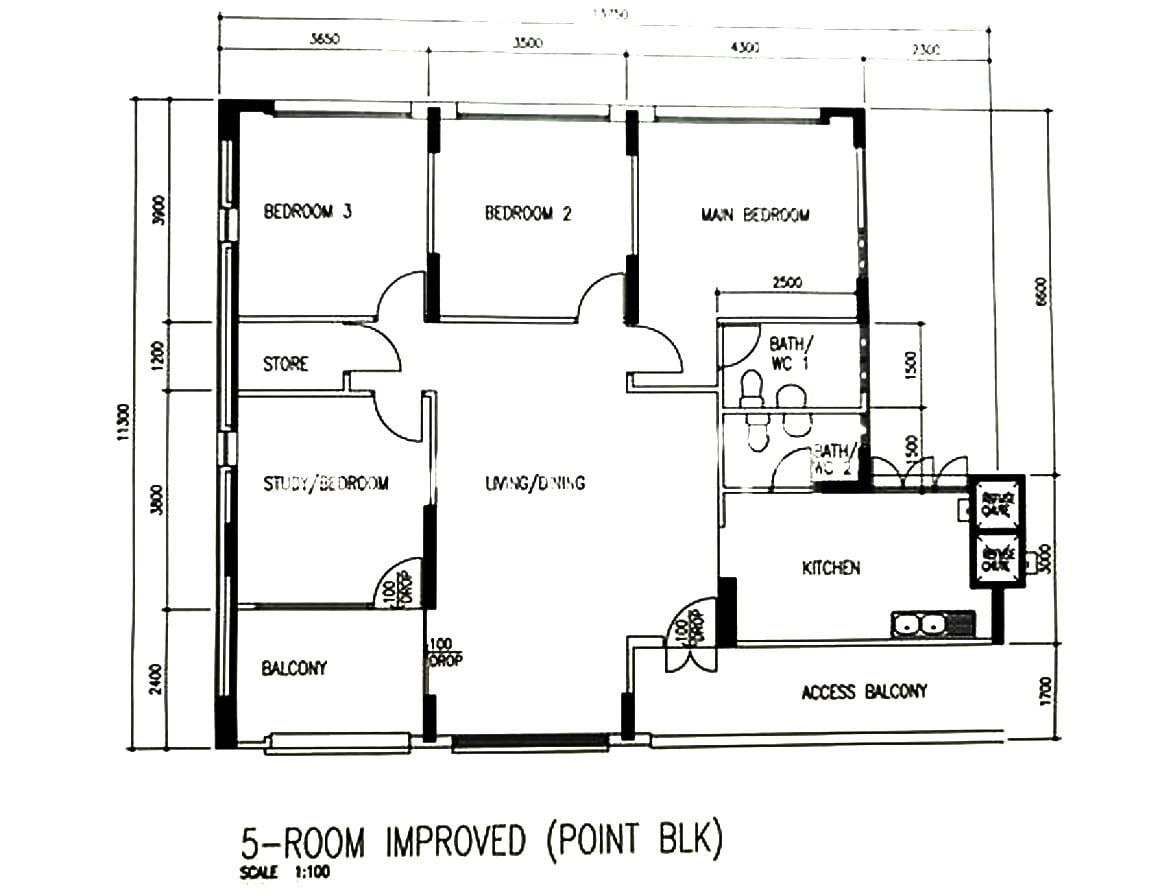 | | |
| --- | --- |
| Pros | Cons |
| Good unit size | Odd living and dining space, making it hard to place furnitures. |
| Decent size bedrooms | Protruding column between bedrooms hence walls could not be hacked fully. |
| | Small store room |
| | Double access balcony, tucked in a corner. Not as practical. |
Pros and cons (5-Room flat type 3 at Fajar HDB)
Fajar HDB Price Review
| | | | | |
| --- | --- | --- | --- | --- |
| Project | Lease Start Date | 4 Room | 5 Room | Executive |
| 181-185 Jelebu Rd | 2003 | $586,000 – $645,000 ($634 psf) | $640,000 – $732,000 ($591 psf) | $728,000 – $898,000 ($623 psf) |
| Fajar Hills | 2016 | $428,000 – $553,000 ($472 psf) | $540,000 – $648,800 ($488 psf) | |
| Old Fajar HDBs | Late 80s | $338,000 – $450,000 ($388 psf) | $400,000 – $600,000 ($385 psf) | $613,000 – $718,000 ($428 psf) |
| Senja Parc View | 2015 | $455,000 – $570,000 ($510 psf) | | |
Data from 2021 (Source: HDB)
For our pricing comparison, I've considered the newer Fajar Hills located south nearby, as well as the central 181-185 Jelebu Road HDBs and the new Senja Parc View.
If you consider strictly the price itself, you'll find that the old Fajar HDBs are quite expensive. In fact, you can get some 5 room flats here that go for about the same price as the new HDBs in Fajar Hills whose lease only began not long ago in 2016. This is because the old Fajar HDBs are about 9 sqm (or about 8%) bigger than the new Fajar Hills 5-room flats. $PSF-wise though, the old HDBs here are about 22.2% cheaper than their newer peers. At around 28 years older, I think this discount is quite all right.
This discount is very similar to Senja Parc View as well, with its 4-room flat trading at a 24% discount to it. What's particularly interesting is just how much more expensive 181-185 Jelebu Road is. The 5-room flat here goes for $591 psf – a whopping 53% premium! While it is right next to Bukit Panjang MRT, I think that this premium is quite stretched. It does make sense that people are willing to pay so much more for that convenience to be right next to the MRT, after all, it is an extra 10 minutes by LRT to the MRT at the older Fajar HDBs, and it's also 13 years newer.
Whether or not you think this premium is worth paying for just depends on how much you value that convenience. To some, the percentage difference may be great, but since the overall quantum isn't considered very high, to begin with, that extra $200,000 could be worth it to some. Personally, an extra $200,000 may not be worth it in this case since it's close to Fajar Shopping Centre and an LRT.
Our Take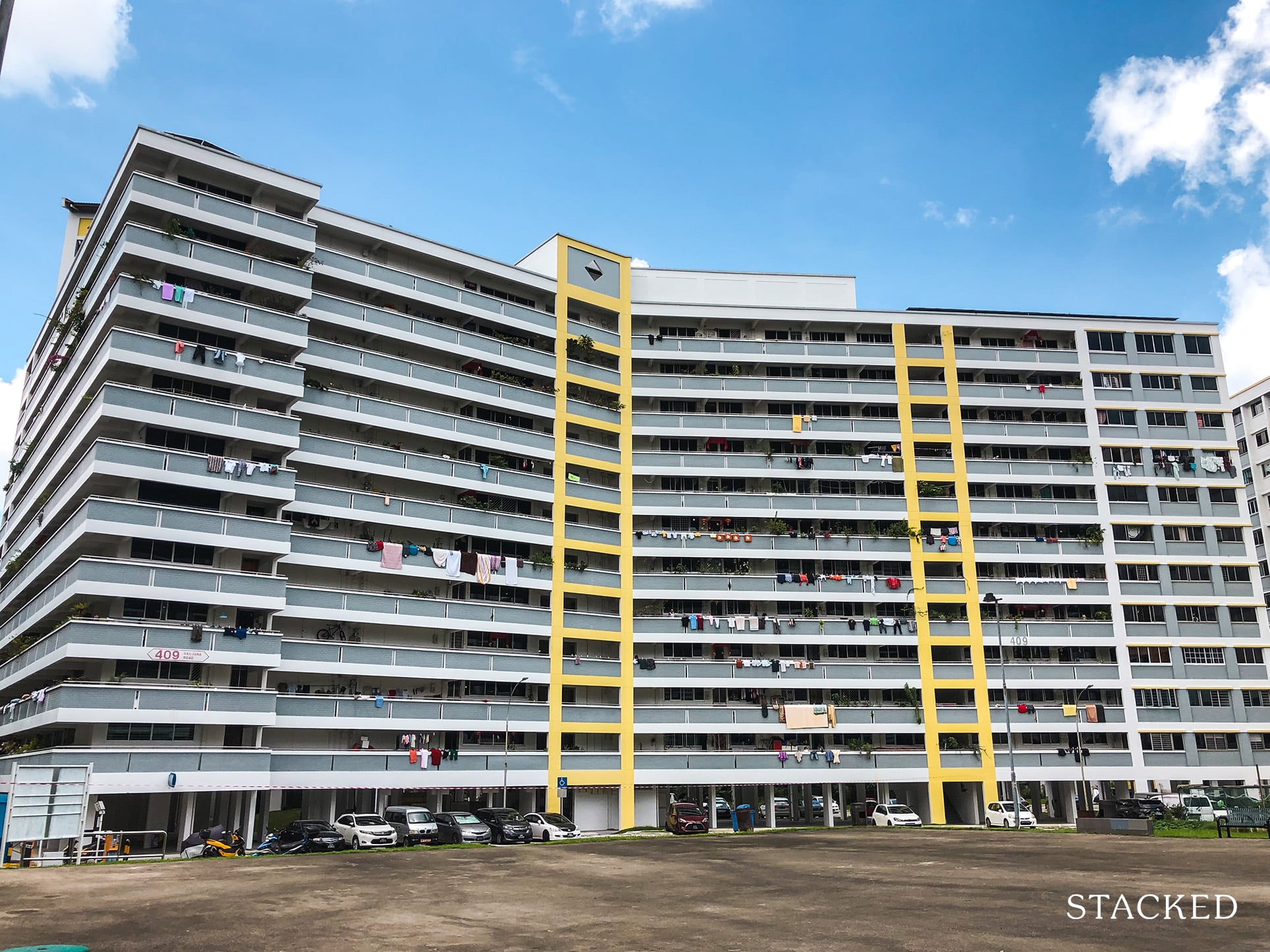 While it's my first time reviewing an older HDB estate, I must say that the old Fajar HDBs do remind me of some of the more modern HDBs I have visited.
This is likely due to the repainting and maintenance works done (like along the common corridor), as well as the complete facility facelift that saw a new multi-storey car park (with its own garden), a two-tiered sheltered pavilion, and numerous playgrounds and fitness areas.
The development even includes hard courts and multiple barbeque pits that even many of the modern HDBs do not have. This complete facelift is quite impressive, so I can see the appeal of this space for those looking to stay in a more affordable HDB without having to compromise too much on the modernity aspect of things.
More importantly, I love how Fajar Shopping Centre is just right opposite. The neighbourhood mall is great in ensuring this development remains very livable while still being an affordable place to call him.
In terms of nature, well at the risk of sounding offensive here – it IS within Bukit Panjang after all. But I like that it's located right next to the Park Connector, making it easy for residents to connect to the network quickly.
Moreover, while it isn't close to the MRT, its location right opposite the LRT does make it quite convenient still – with only an extended journey of 10 minutes to take the LRT to the MRT. From there, it's a straight line to the CBD!
Overall, I feel that the old cluster of HDBs here represents an affordable option for those who want to stay in a relatively peaceful yet affordable place that's close to important amenities.
What this means for you
You might like the old Fajar HDBs if you:
• Want some level of convenience:The old HDBs here are right next to the LRT as well as Fajar Shopping Centre which provides residents here with their daily amenity needs.
• Looking for an affordable home:Given the age and location, those looking for an affordable home could consider the old Fajar clusters.
You may not like the old Fajar HDBs if you:
• Want immediate MRT access:While the LRT is nearby, the walk to the MRT is 19-minutes long so those looking for quick access should consider elsewhere.
• Looking for something new:Despite the modern facilities, it's obvious that these HDB flats were built in the 80s given the unit layout. Those looking for something modern should definitely consider elsewhere.
End of Review