Advice
Will Irwell Hill Residences, Riviere, Or Perfect Ten Be A Better Choice For A 3 Bedroom Unit?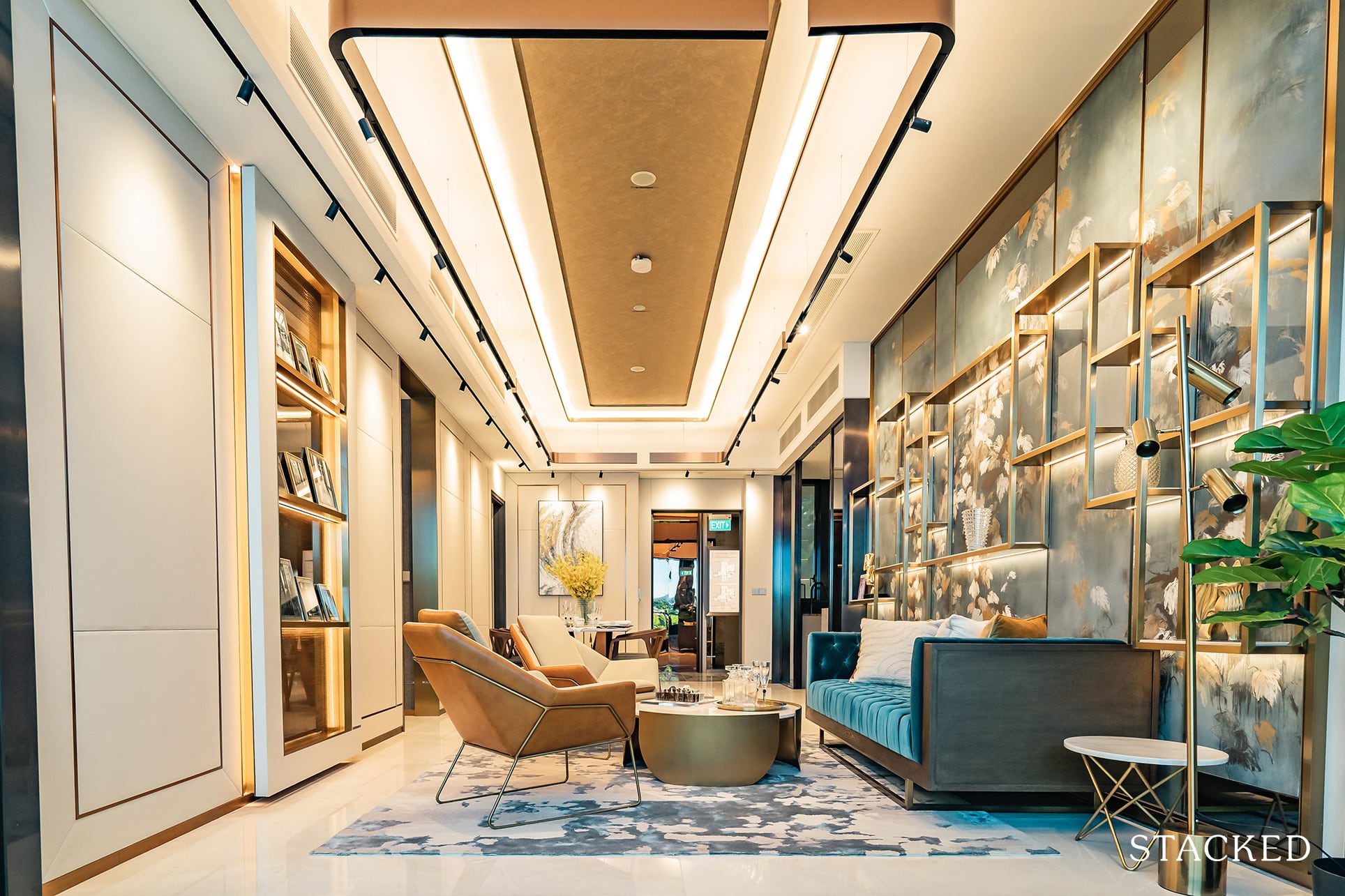 13
min read
We want to buy 3BR (new development) for own stay with spacious rooms, quiet residential neighbourhood, near to park or park connector (for walk in the evenings) and have price appreciation potential. Currently im viewing new launches in Dist 9 and 10 both freehold and 99. I would like to know which one is better for own stay (quiet environment, good room sizes and good condo facilities) and potential for price appreciation, Riviere or Irwell Hill Residences (and also Perfect Ten). I do not want what happened to resale pricing to OUE Twin Peaks, Helios and The Laurels.
Look forward to your advice. Thank you.
---
Hey there,
Thank you for writing to us.
With regards to your question, we have actually done a full review of each development with a proper tour and analysis of the pricing. However, you should note that each was done at launch, and for Riviere and Irwell Hill Residences especially, the market has moved since they were written.
Nevertheless, we will share some of our thoughts on the developments that you've picked. Two of the developments are located near to each other though interestingly they are both actually in different districts. District 3 for Riviere while Irwell Hill Residences is located in District 9. They are really close by though, so they share the same amenities and transport links. Some people may be a little uncomfortable with the District 3 tag but on paper Riviere actually occupies a more prominent location, with its position along the Singapore River.
Perfect Ten is quite a different beast altogether. It's located in District 10 and within proximity to two highly sought-after primary schools, with the main difference being its freehold tenure. Both districts have seen connectivity improve over the years with new MRT lines added thus benefiting the area which will usually lead to a growth in property prices.
Let's start with Riviere.
Riviere:
If you've been keeping tabs on the property market, you'd probably know that Riviere didn't enjoy the best of launches. It was purchased at a premium, with a land price of $955.4 million or $1,732 psf ppr. This was keenly contested, with 9 other bidders and second-placed Hong Leong Holdings just beaten by a whisker of 0.6%.
Although at that time, the bid was deemed too bullish, as Martin Modern (nearby) was purchased about a year and a half earlier that was 40% cheaper.
Initial launch prices were at $2,580 psf, but with slower sales over 2020/2021, there were price discounts to as low as $2,400 psf to encourage more closings.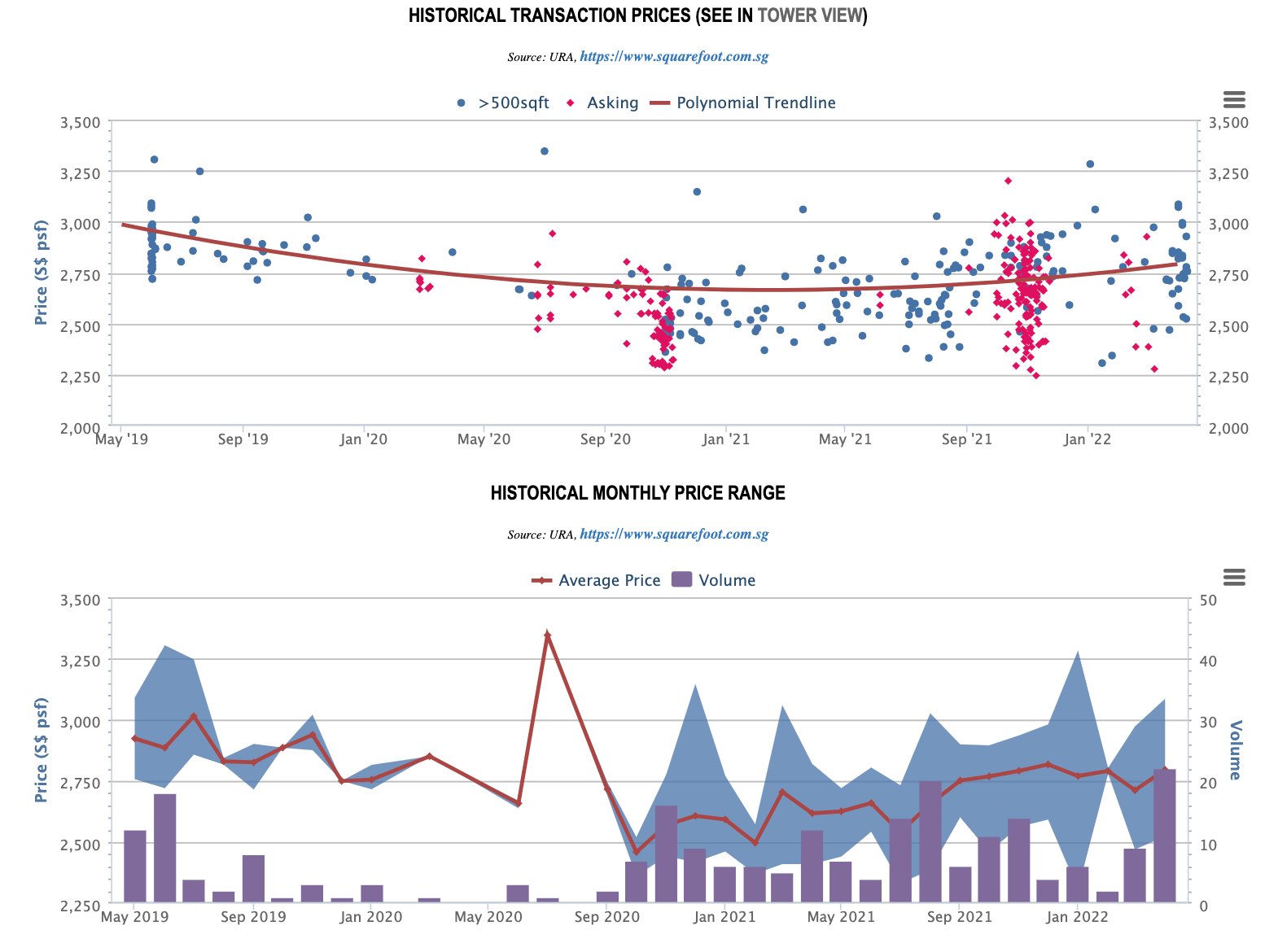 With 455 units, Riviere is a medium-size development with the usual facilities provided barring a tennis court. While the pool offers a splendid open view of the river, do note that it isn't a 50m lap pool, it's a 35m pool instead – so it could get crowded based on the number of units here.
It is within walking distance to the revamped Great World City for amenities and flanked between two upcoming TEL MRT stations, namely Great World and Havelock hence improving connectivity to the area.
Do be mindful that Riviere is a leasehold development located in an area dominated by freehold resale options. With a current average PSF$ of $2,7xx psf, it is quite close to its immediate neighbour Rivergate, while Centennia Suites had a recent transaction of $2,900 psf. These are freehold options though, while you will have to take into account the age difference when Riviere is completed. That said, the overall price quantum as older resale condos are usually bigger, and possibly with a less efficient layout may likely cost more while Riviere with a squarish layout and newer facilities could be more worthwhile when it comes to future exit.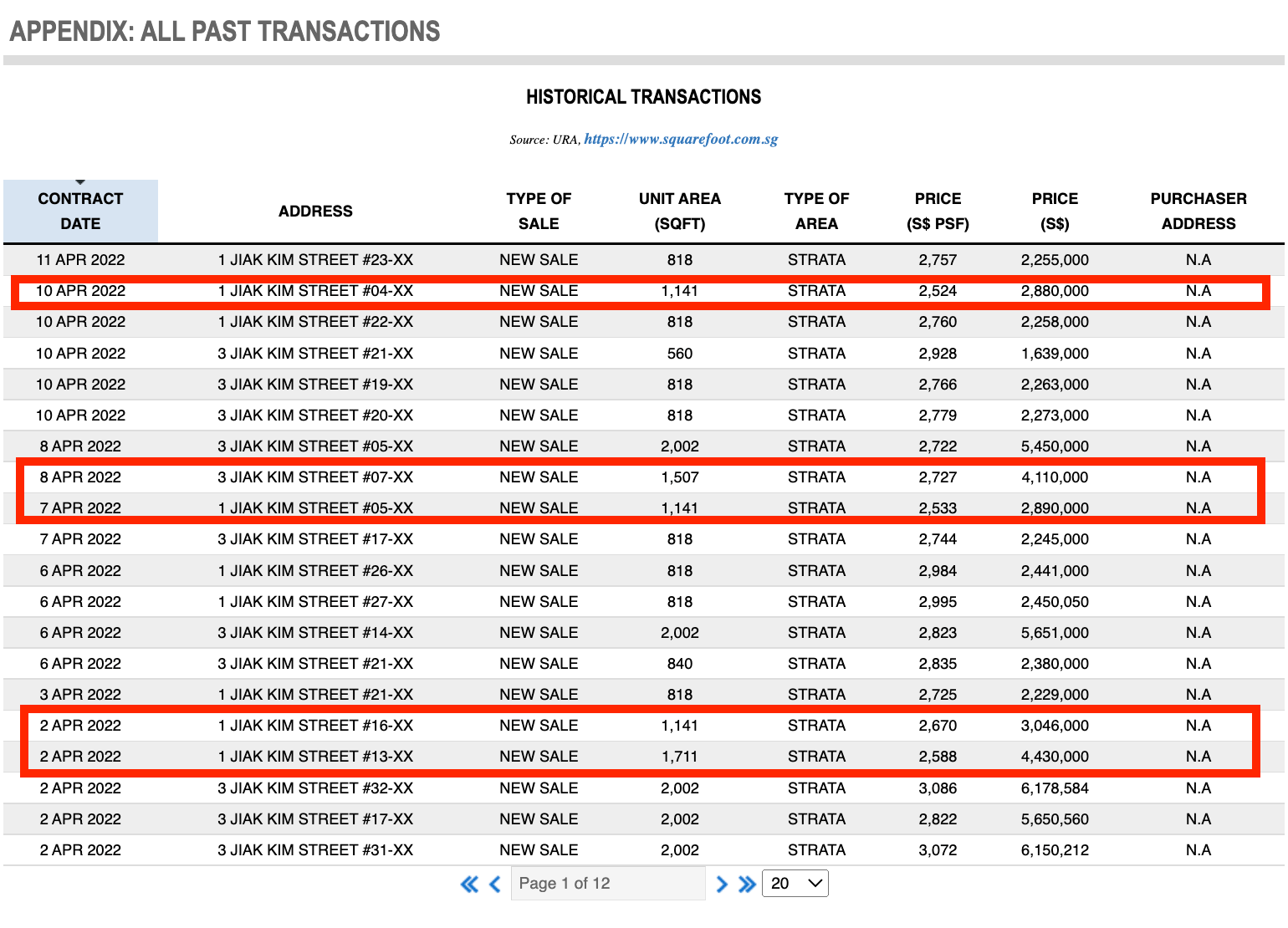 That being said, you may have missed the boat on the promotional psf rates by the developer in their effort to push for sales in this post-cooling measure climate as we've heard that prices are about to be raised given the recent spate of sales. You'd need to study more on this, but given that surrounding resale prices have also increased in tandem, certain lower floor units can be considered attractive especially seeing the prices that the leasehold Martin Modern is currently commanding as well. But with its larger than average unit sizes, the overall quantum is still considerable.
Layout Analysis: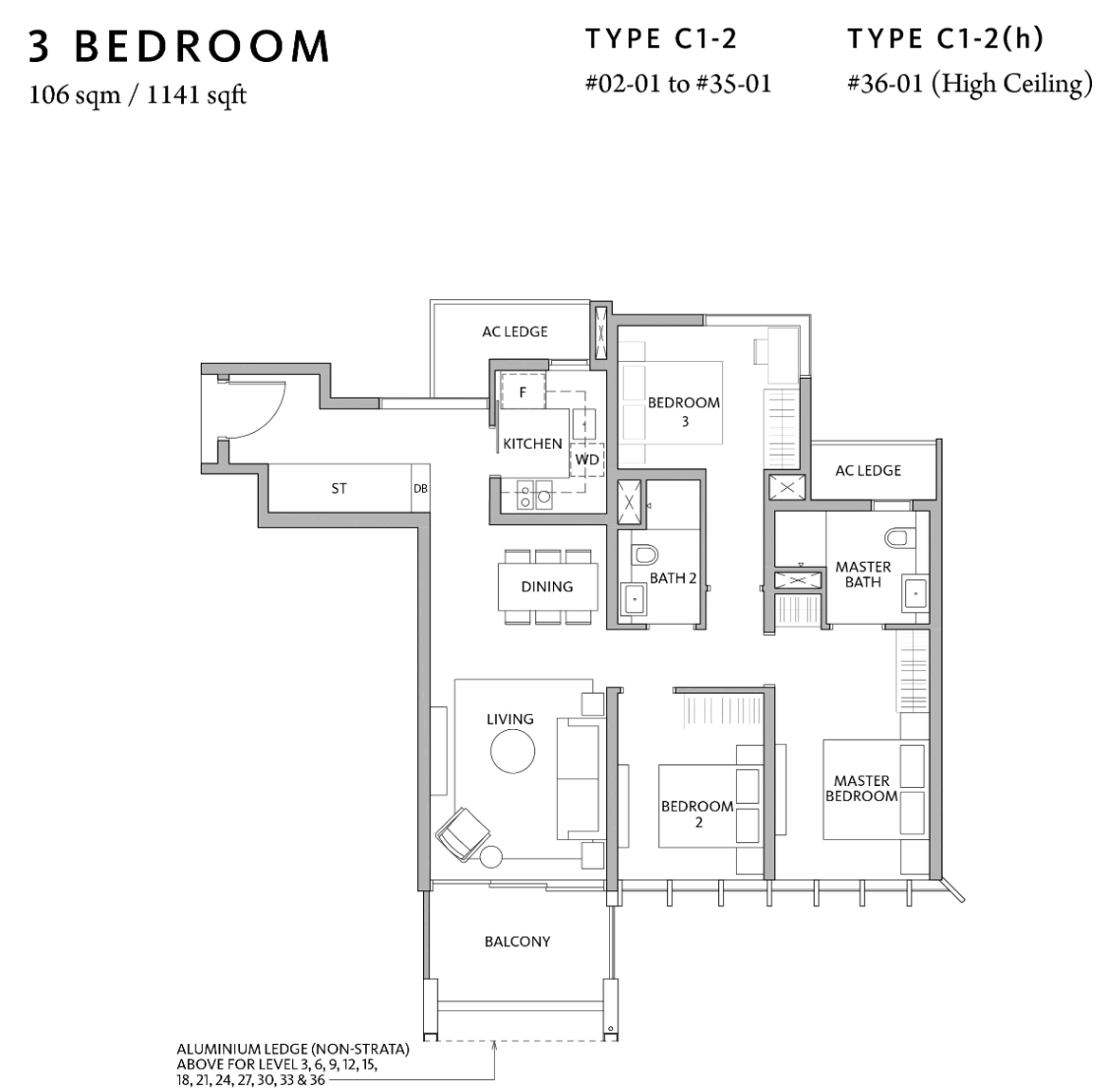 At 1,141 sq ft, the 3 bedder layout is quite spacious compared to the market average. For me though, the layout does have some strange walkway preferences at the entrance and second common bedroom that could have been done without. The unit comes with an enclosed kitchen with ventilation windows however the area lacks a proper yard area for laundry so you'd likely be using the balcony for that. It does have natural ventilation in the master bathroom, though the common bath relies on mechanical ventilation.
Irwell Hill Residences:
Given that the Irwell Hill GLS was launched only in 2019 (later than Riviere), the final acquired price of $1,515.10 psf ppr is considered to be a good one.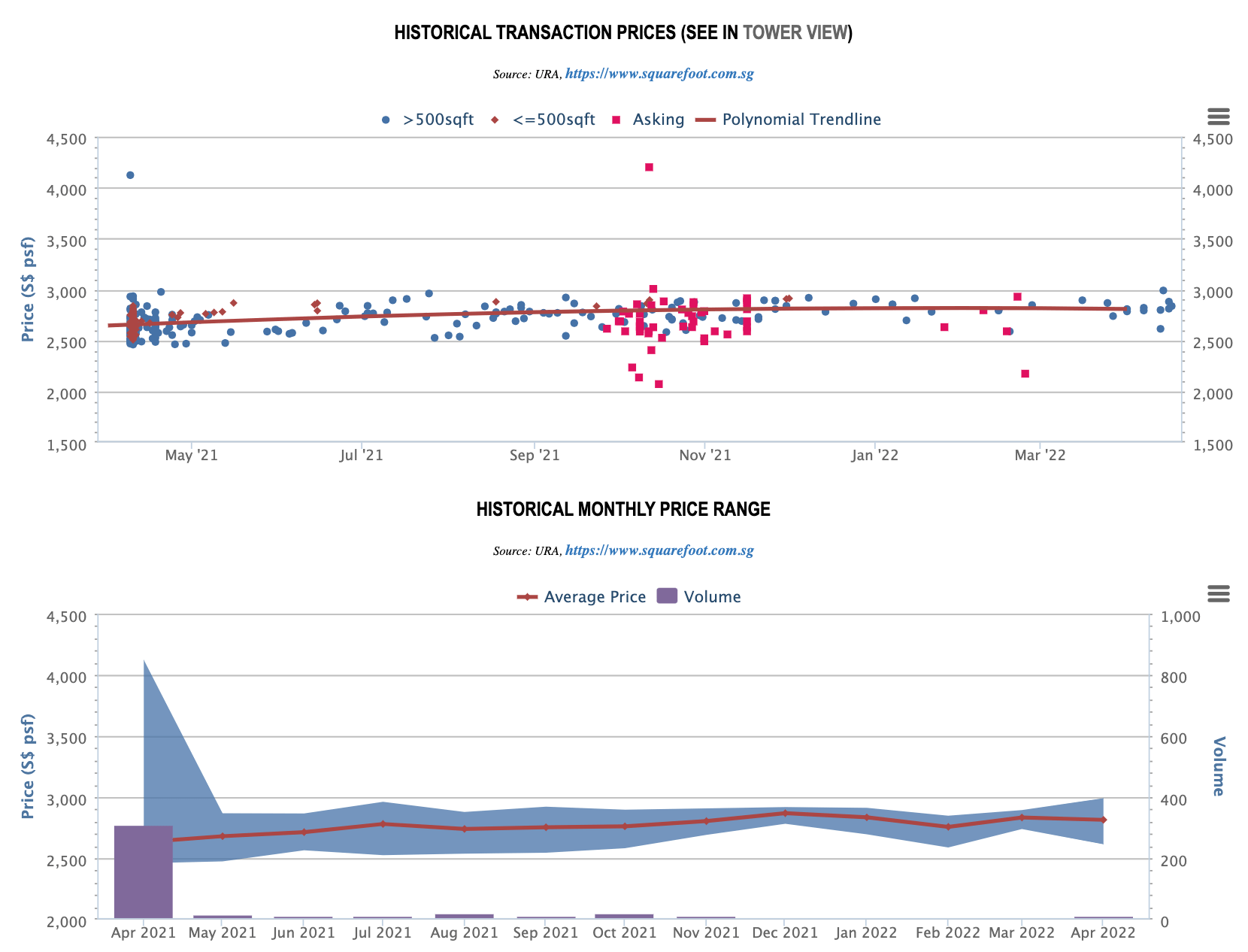 Irwell Hill Residences is a mid-sized condo development with 540 units offering a good range of facilities. With over 70% of the land dedicated to facilities, it's rare to see such a nice lush Raintree lawn (with the 4 conserved trees), along with 2 different swimming pools.
It is located within walking distance to Great World City for amenities and a few food options along Zion Road and River Valley Road. You are also a very short drive away from Orchard Road for shopping, and it offers great convenience for city living. Additionally, connectivity will improve further with the opening of TEL Great World MRT station slated to open sometime this year as the entrance is located just across the road.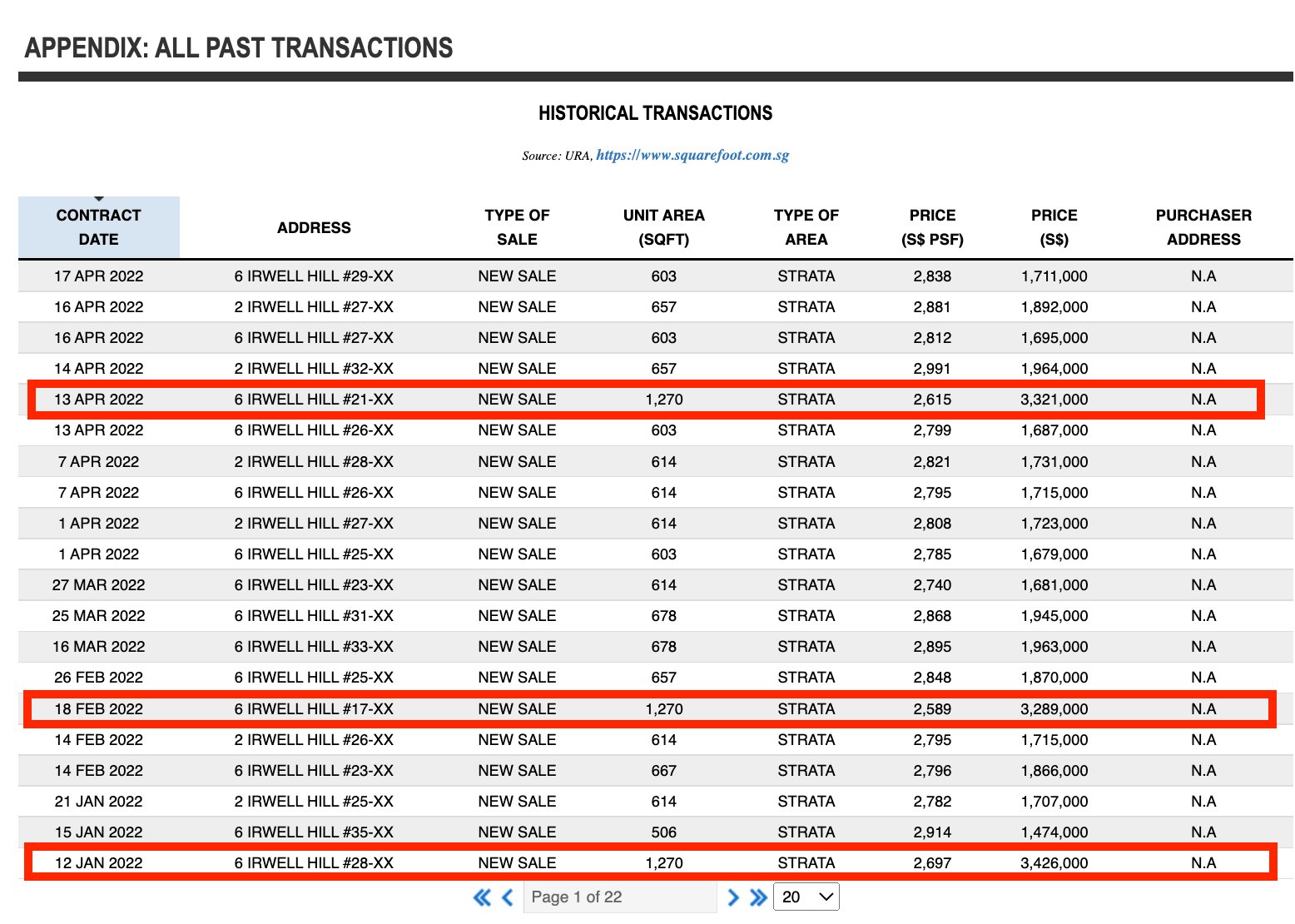 At the time of writing, Irwell Hill Residences is nearly 80% sold, with a current average price of $2,8xx psf. There's no question it is on the higher side for a leasehold development but to be fair, the unit quantum is still within your budget for the 3 bedder unit type due to its smaller yet efficient unit layout as compared to the resale options in its vicinity.
Layout Analysis: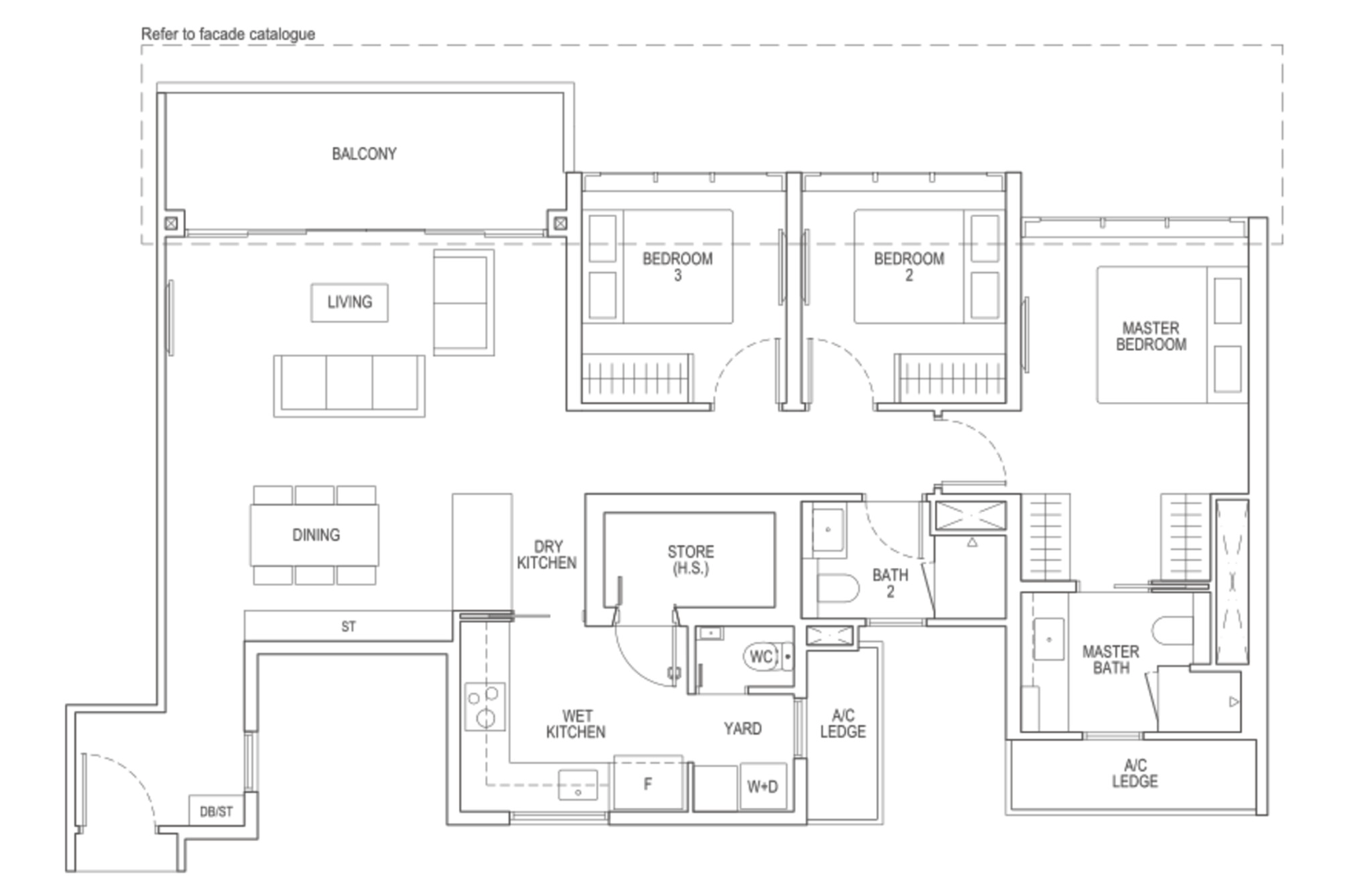 At 1,270 sq ft, the 3 bedder layout is quite an efficient one. You do have a small entranceway, which does give good privacy to the unit when deliveries come knocking at the door. Personally, I am a fan of the horizontal living and dining space which allows for more natural ventilation and light in the living space. I do also like the provision of a wet and dry kitchen (although small) here with a proper yard area for laundry. Adding on, the unit comes with a household shelter which is great for storage.
You do also have quite a spacious living area with a good frontage. Additionally, you have a good size master bedroom with a separate his and hers wardrobe. All in all; this is a safe layout, especially for family profiles.
Perfect Ten: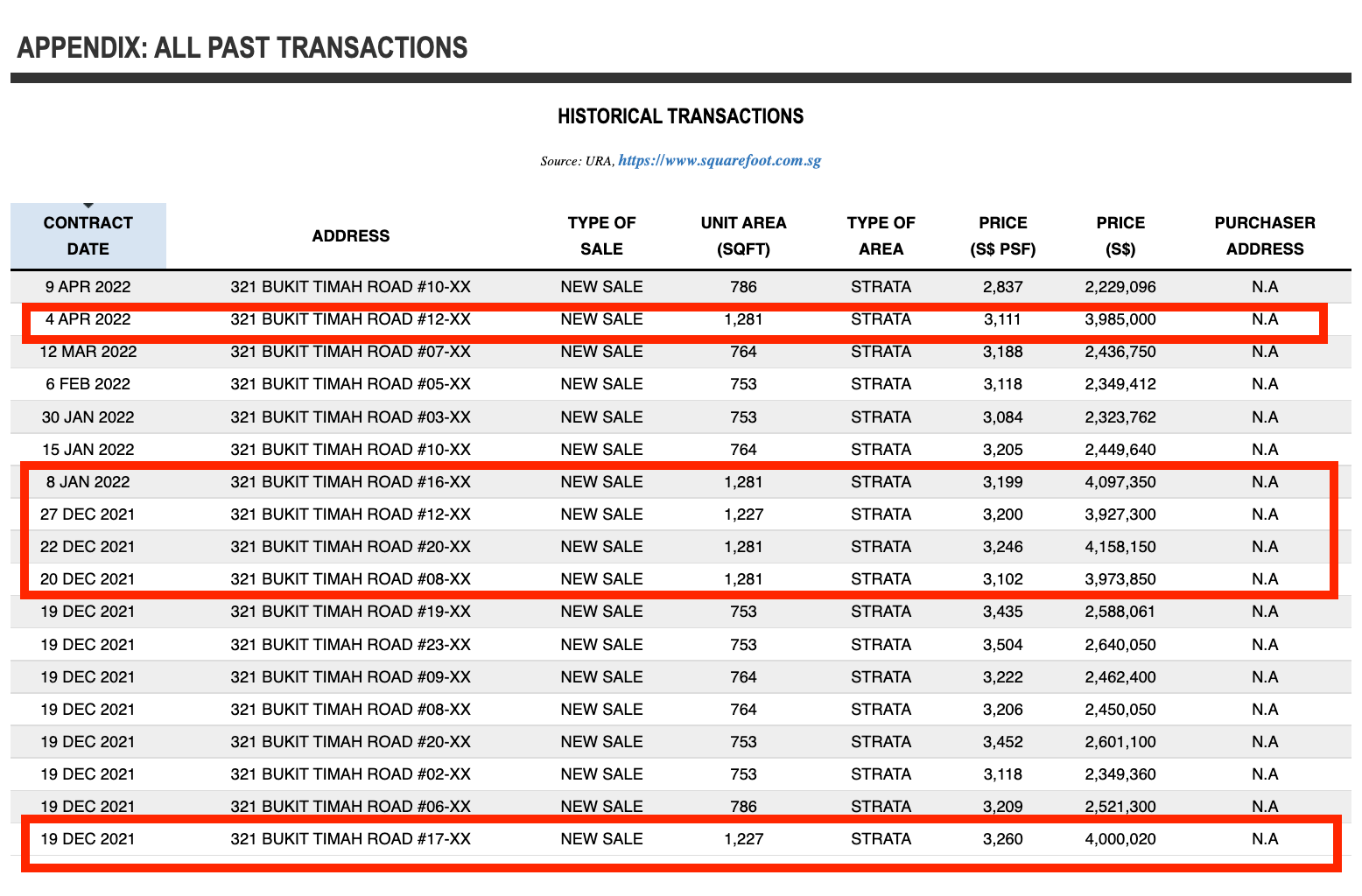 Perfect Ten is located in the prestigious address of Bukit Timah Road with proximity to highly sought after schools. It offers high-quality facilities for just 230 units in the development. Amenities wise, it is within walking distance to Balmoral for basic needs which have improved recently with the addition of the Fairprice Finest Gourmet (in keeping with the high-end area). Price-wise, it is the highest among the three developments with an average $3,2xx PSF with a higher overall quantum which is likely to overstretch your budget. To be fair, unlike the other 2, this is a freehold development where it would be a better bet should you be keeping this in the long haul.
There are a couple of redeeming features of the development. Namely, the glass lifts that offer a view of the city, along with the standard 3.225m high ceiling that is present in all units. It's also nice to see more than decent storage options within the unit, and generally, everything is well laid out and efficient.
Layout Analysis: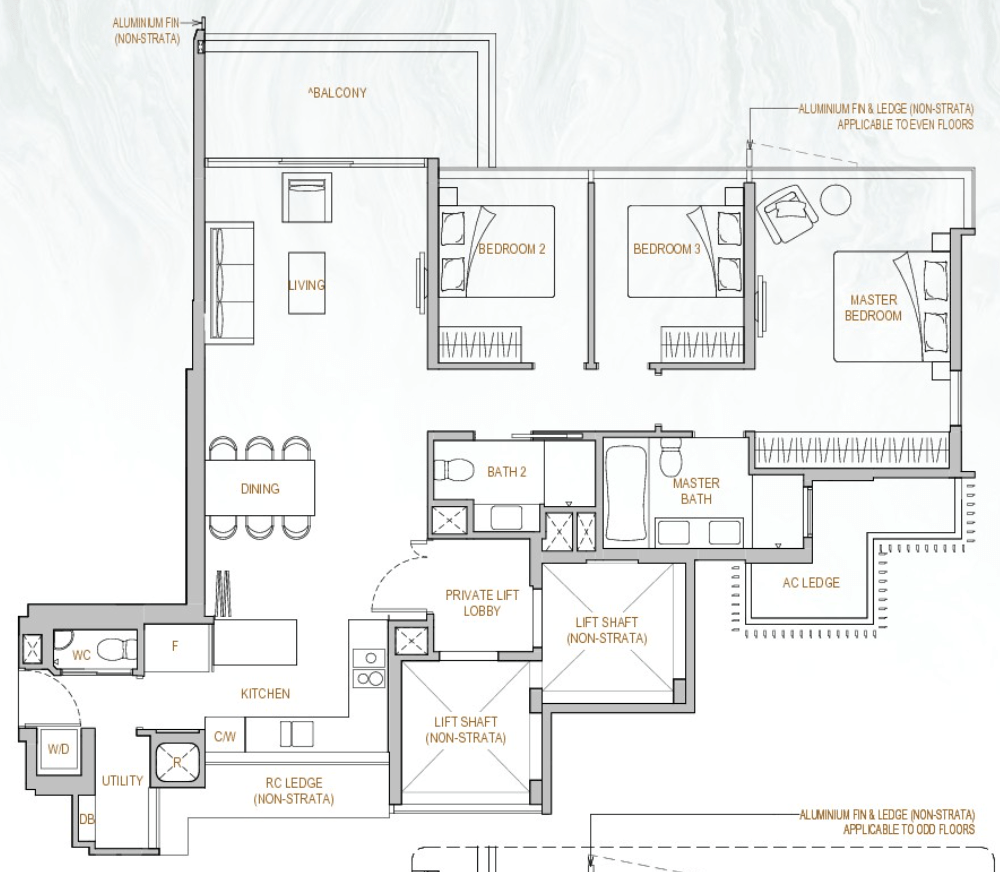 At 1,227 sq ft, the 3 bedder unit comes with a private lift which opens straight into the dining area. We do like the design of the kitchen area with the foldable doors; giving the flexibility for an open layout or an enclosed kitchen space. The kitchen area is a reasonable size with good countertop space. The utility area comes with window panels; which are great for ventilation.
With a wide living and dining area; the space available is made better with the higher ceiling. Common bedrooms come in pretty standard in size where it could fit in a queen-size bed. While the master bedroom is spacious in size with an impressive neatly flushed wardrobe space. The master bathroom comes with a shower, bathtub and his & her vanity; a rarity in a 3 bedder unit type (although it is a little squeezy).
On the downside, the unit lack a proper yard area to hang laundry. Additionally, the common bathroom lacks a ventilation window.
Capital Appreciation:
The central area has some exciting plans lined up with the URA planning to make the Central Region a more liveable place for work, play and stay. More residential sites are added in the Central Region which includes the River Valley district. With new developments added to its vicinity, resale prices in the area can be indirectly propped up. On a negative note, this adds to the competition when it comes to future exit.
Additionally, URA has also planned for more green corridors and parks added to the area. This is a great initiative by respective agencies in making Singapore a green city where residents could enjoy a brisk stroll from park to park.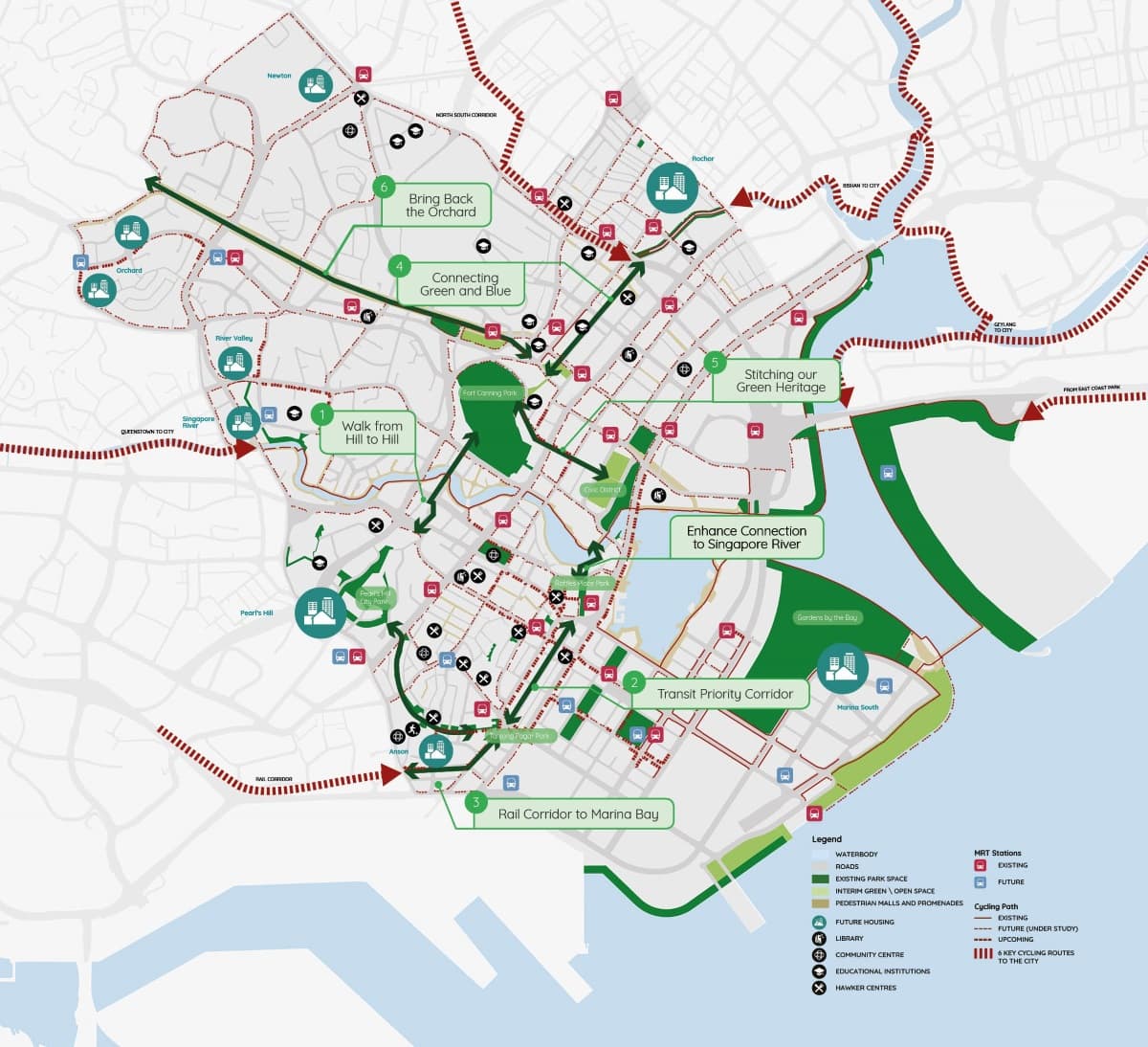 Adding on, Riviere will be in close proximity to two of the TEL MRT stations, namely Havelock and Great World station which is slated to open sometime this year. This adds to the convenience of public transport connectivity. Currently, the area is highly dependent on bus connectivity to get around.
Notably, Irwell Hill Residences will be closer to the Great World TEL line with a station exit within minutes walk. This enhances the convenience of having an MRT very close to the development, and is a great attraction for sure.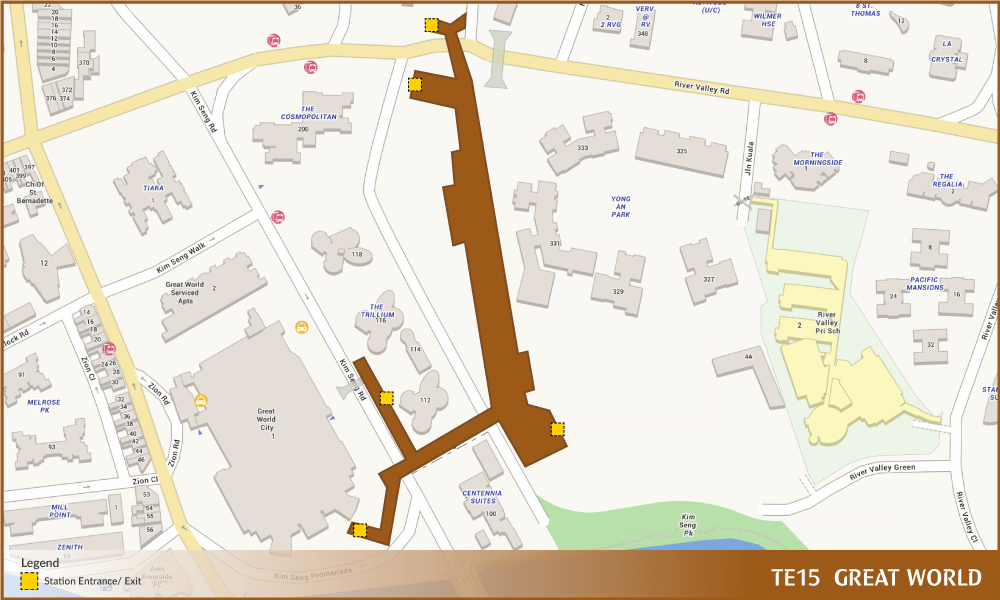 Perfect Ten on the other hand is a different proposition altogether. While the units are small for a development looking to be in the upper echelons of the market, the price point does mean that it can't really be compared to Riviere and Irwell Hill Residences. With a low take-up rate during launch, it's also hard to really judge its performance given its unfortunate launch timing with the December cooling measures. With the foreigner ABSD hit, that may have really impacted its sales as that would have been a target market given the developer's roots in Hong Kong
In recent weeks, the developer has also resort to lower its price, by offering star buy discount for certain stacks. Even so, the take-up rate hasn't been fantastic. With it being a niche market product, exiting may be tough as it caters to a small group of buyers. Though proximity to good schools is a huge plus here, family profiles or upgraders may be less inclined to enter a high quantum product here.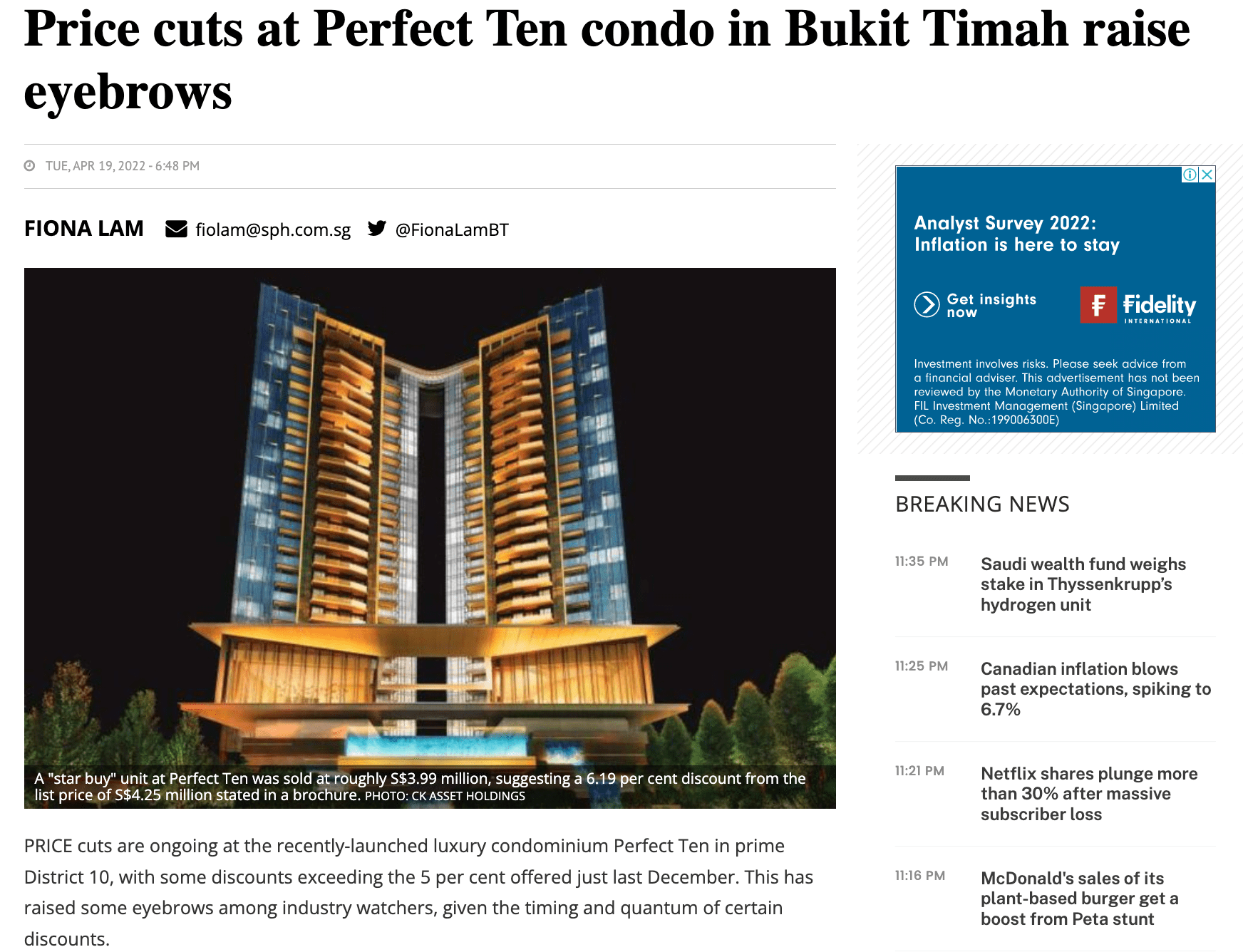 Conclusion:
Given a choice between the three, I would pick Irwell Hill Residences for its decent unit quantum with a safe unit layout that is great for a family's own stay profile. Adding on, with a good-sized land plot that has been well thought out, Irwell Hill offers great facilities with a tennis court on-site and a huge garden and lawn space for your walks too. With a TEL station exit located nearby, it offers very good convenience all in all. Though road noise would be an issue for certain stacks here, it is a little compromise for all the convenience offered here. I would say that you are entering at a point where the majority of the units have been sold, and there would have been many others that have bought at price points lower than you so this would still not be the very best bet if capital appreciation is your biggest concern.
Riviere is a close second, but only if you are after those river views. It is set further away from the main road, so perhaps one to really think about if you are more concerned about road noise. Facilities may not be as great however with its location right by the riverside, you do have the option to have a walk along the riverside. As compared to Irwell Hill Residences, it does offer a less ideal unit layout which may come as some downsides for some family's profiles. One upside to think about though, is that Riviere is slated to be completed by the end of the year, this represents quite a big gap in time that you can move in as compared to Irwell Hill Residences, which only just launched last year.
In terms of your listed requirements, Perfect Ten does seem to be the odd one out. While it does have a good set of offerings, its price point as compared to your budget is probably the easy one to cut out. Unless you are bent on a freehold and more exclusive development, this will be the last pick for us.
Corresponding to your last comment, entering a high PSF$ product that caters to a niche market is always going to be a risky proposition. This scenario depicts what has happened to the three latter developments that you have mentioned (OUE Twin Peaks, Helios and The Laurels). It's not really the same comparison today, as for example, OUE Twin Peaks was selling units in 2010 at $2,900 – $3,000 psf, which does sound quite ludicrous comparing to prices that the leasehold Riviere, Martin Modern, and Irwell Hill Residences is priced at (we covered that here). At that time, just a quick sweep of older competition around like Leonie Gardens (about $1,500 psf), Leonie Suites ($1,700 psf), Rivershire ($1,400 psf), Cosmopolitan (freehold, $1,900 psf) were priced at.
Equally premium freehold properties nearby like Grange Infinite were priced at $2,900 psf as well (it has dropped today too), so you can see that surrounding price points were way different.
Today, prices nearby like Cosmopolitan ($2,400 psf), Trillium ($2,400 psf), Centennia Suites ($2,900 psf), Rivergate ($2,600 psf), Martin Modern ($2,700 psf), and even ultra-luxury ones like New Futura nearby ($4,000 psf) that provides for much closer price support than before. So in a way, you are not purchasing these properties at a crazy high as compared to those mentioned developments.
Overall, we looked at all three development's background, pricing as well as their layouts. We've also looked at the capital appreciation potential for each development and addressed your concerns over their pricings relative to the three developments you cited which performed poorly. We hope that this will help you in making your decision.
Have a question to ask? Shoot us an email at hello@stackedhomes.com – and don't worry, we will keep your details anonymous.
Looking for a home? Feel free to reach out to us here for a more in-depth consultation.
For more news and information on the Singapore private property market or an in-depth look at new and resale properties, follow us on Stacked.