Condo Reviews

Cosmopolitan Condo Review: Modern living next to Great World City
Sean
June 23, 2019

13

min read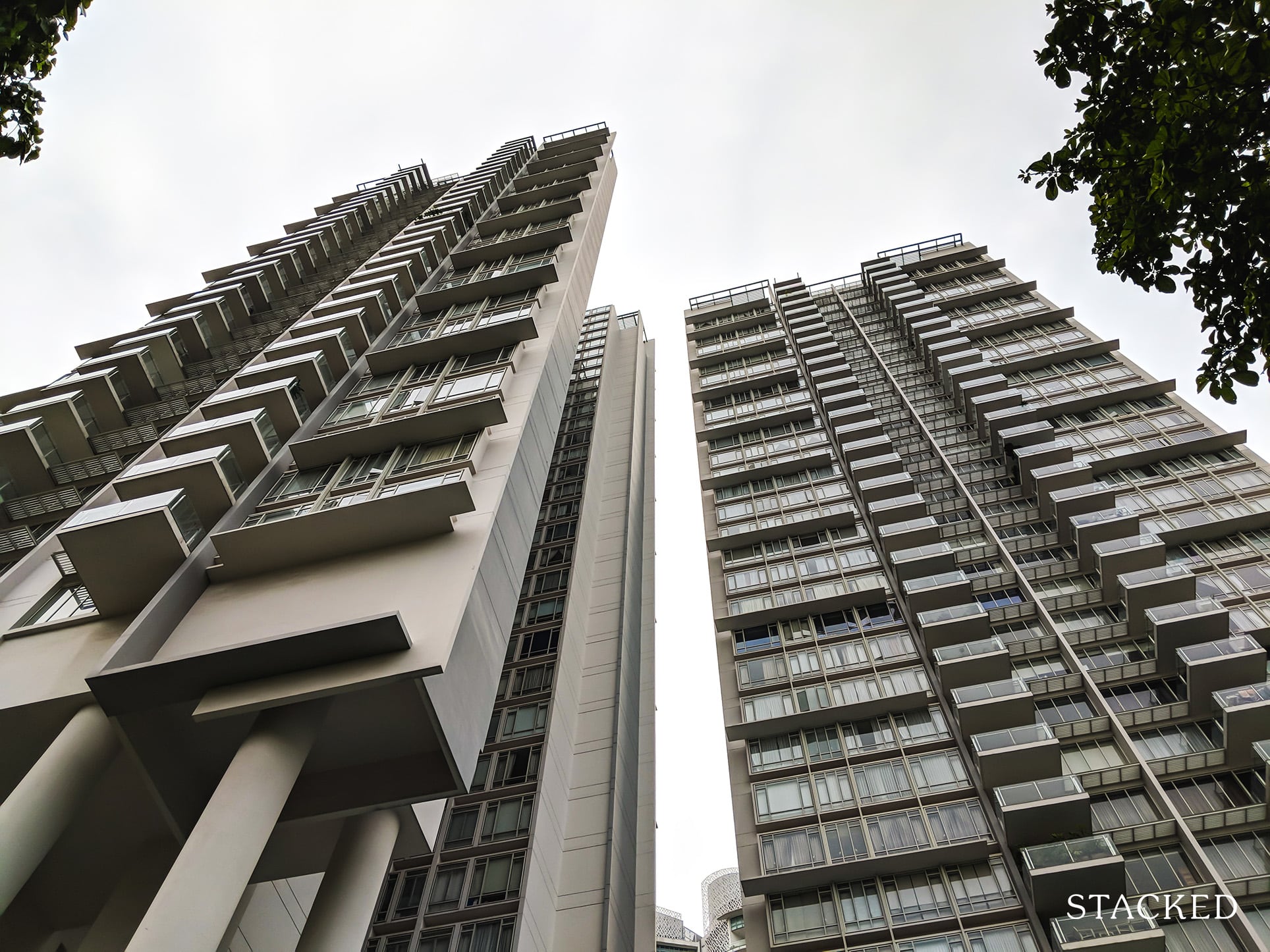 If you prefer a quieter location but still want to live as centrally as possible, the Cosmopolitan condo is a very viable alternative to the Scotts Square at a much more palatable price.
Reviewed by Sean on June 26, 2019
What we like
Right next to MRT station

Revamped Great World City

Big sized pool

Good gym
What we don't like
—

Small balconies

—

Small 3/4 bedroom units
13
min read
About this condo

| | | | |
| --- | --- | --- | --- |
| Project | Cosmopolitan Condo | District | 09 |
| Address | Kim Seng Road | Tenure | Freehold |
| Site Area | 102,365 sqft | No. of Units | 228 |
| Developer | Belgravia Properties Pte Ltd | TOP | 2008 |
Among the many condominiums in River Valley, the Cosmopolitan Condo does not really stand out in terms of its outward appearance despite its well-situated location. Prior to the review, we were shocked to find out that the Cosmopolitan Condo actually achieved its TOP status in 2008! Depending on the type of person you are, there are two ways of interpreting that information. If you are a glass half full type of person, the Cosmopolitan does not look its age at all, and its design is still very relevant in today's context. However, if you are a glass half empty type of person, the Cosmopolitan's design is so ordinary that most people seem to ignore it amongst the glut of River Valley condominiums. As you should know by now, you can never judge a development fully by its appearance, so let us dive right into this comprehensive review of the Cosmopolitan condo.
Cosmopolitan Condo Review – Location
The Cosmopolitan condo is located in River Valley, which can be divided into two parts. There is one side that is closer towards Alexandra and the other which is closer towards Somerset. Unsurprisingly, the area closer to Somerset is considered to be more "prime". In our mind, the Cosmopolitan condo is actually smacked bang in the middle of both. But most people would probably consider it to be closer to the Alexandra side, which is not a bad thing at all. Unless you have a pressing need to be as close to Orchard as possible, we personally prefer this side of town. For one, it is less packed here as compared to the glut of condominiums at the Somerset side (8 St Thomas). Currently, the Cosmopolitan condo faces the empty patch of land along Irwell Bank Road and with the low rise MRT station next door, it gives a much better feeling of space.
So the biggest reason why this area has been upgraded as a location is the addition of the upcoming Great World MRT station as part of the Thomson-East Coast line. For people living in these central areas, you now have no reason to complain about the East being too far away as there will be a straight train to areas known for good food like Joo Chiat and Bedok. With the MRT line, you are also just one stop away from Orchard and just a couple of stops away from the CBD and the Gardens by the Bay. As the MRT station is literally at your doorstep, it is super convenient to just hop on and hop off at Orchard Road.
In fact, it could be even better than staying directly in Orchard as you get the ease of accessibility to town, yet none of the crowds and noise.
We are still some time away from that happening though, as the Thomson-East Coast line is set to be unveiled in stages. 2021 will be when the Great World MRT station will be functional, all the way up till Gardens by the Bay. For trips to the East, that will have to wait till 2023. For the next two years, however, you will have to deal with the construction noise as it is immediately next to the development. It's a small, short term price to pay for the amount of convenience it will bring.
In terms of other transport links, there is a bus stop located right outside the development. The bus services plying the route include NR7, NR6, 32, 54, 139, and 195. There is also another bus stop outside the Trillium, where there are even more buses to choose from. As the Cosmopolitan condo is situated at the intersection of two major roads, Kim Seng Road and River Valley Road, getting anywhere is really a breeze. Admittedly, traffic right now during peak hours can get quite heavy as the construction for the MRT is still going on. Hopefully, when that is complete it will result in an ease of traffic in the area.
Another huge point in favour of the location is that Great World City shopping centre is just opposite the Cosmopolitan condo. We especially like that there is a large sized Cold Storage and lots of food options like Crystal Jade and Imperial Treasure Steamboat, just to name a few. Great World City is currently undergoing a revamp as well, new dining options like Hototogisu Ramen and Tim Ho Wan have just opened and there will even be an upcoming Meidi-Ya!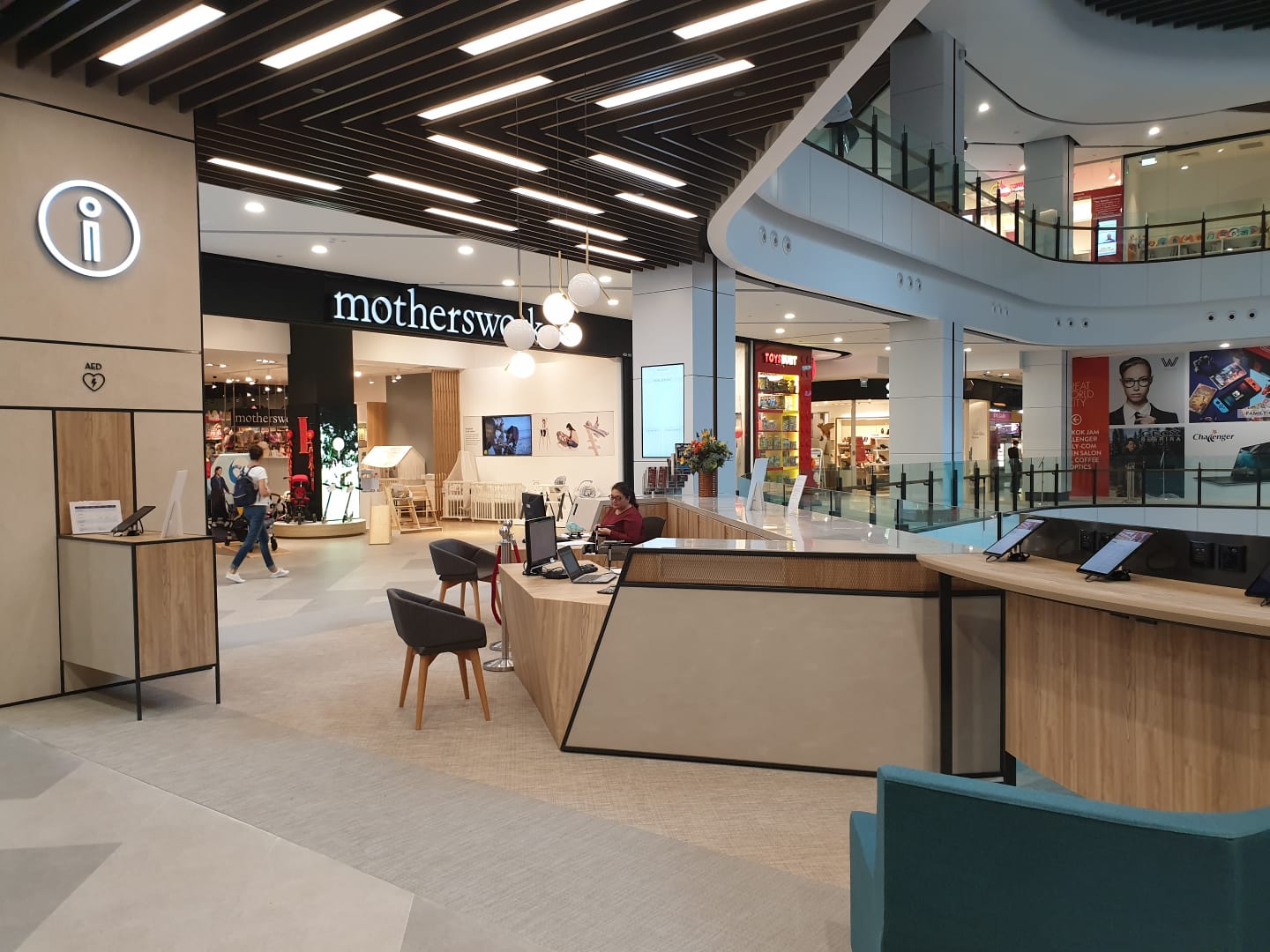 There is a food court at Great World City, but if you want the good cheap stuff, you could always walk to Zion Riverside Food Centre which is quite the legendary establishment. If you are too lazy to walk there, just after Tiara there is a row of shophouses along River Valley Road where chicken rice stalwarts, Boon Tong Kee and Five Star are located. Best part? They are open till late so if you want supper it is just a short stroll away. 
We wouldn't say Great World City is renowned for shopping, but a Zara and Uniqlo should be enough for your basics. For proper shopping, there is always Orchard which is near enough that you could actually take a slow relaxing walk to. That is, until the MRT line is up.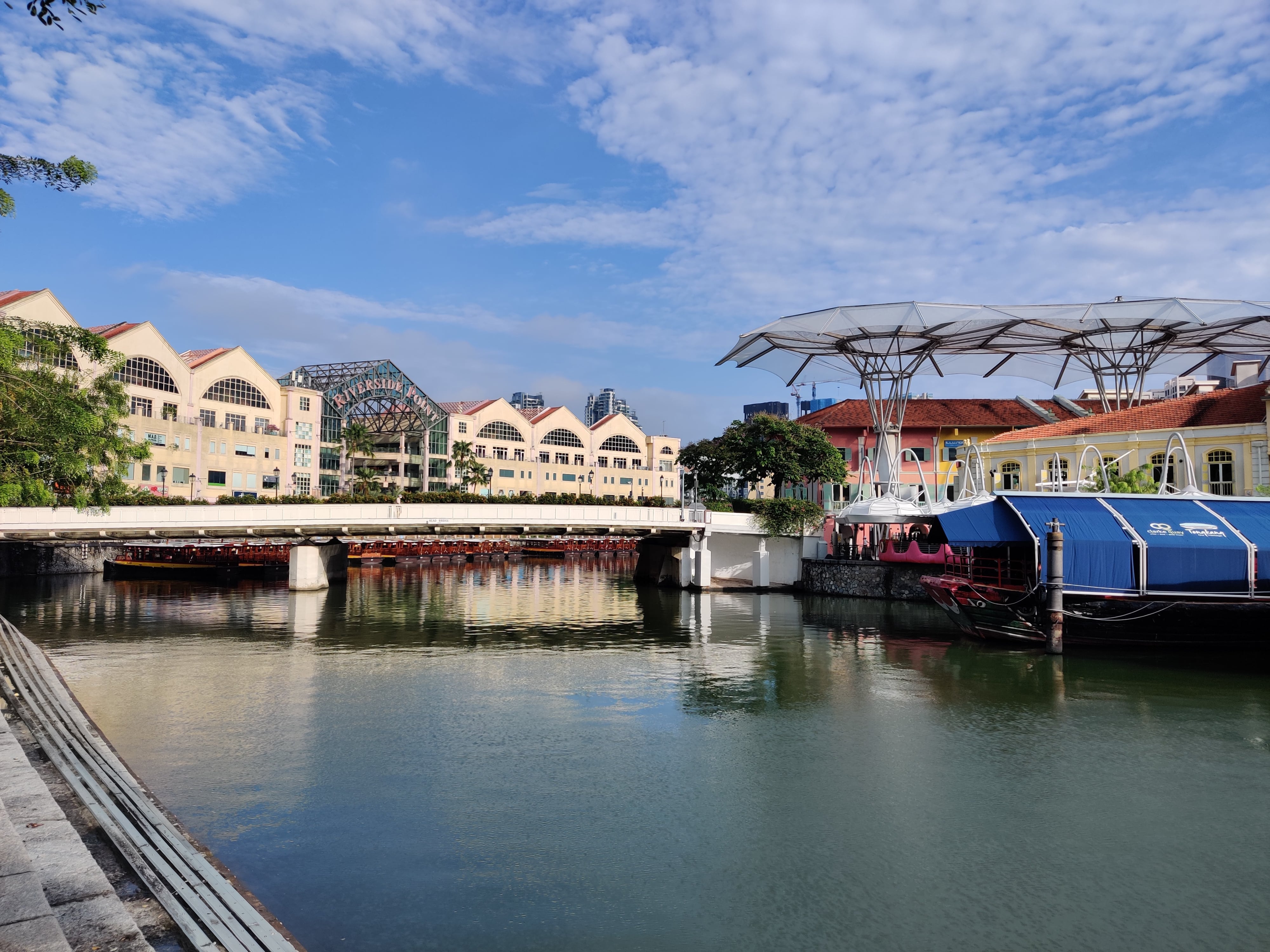 The next best thing about the location of the Cosmopolitan condo is how close it is to the Singapore River and the Robertson Quay area. No doubt, it is not riverfront living like the upcoming Riviere or the older Rivergate, but it is close by and an easy walk down Kim Seng Road. Thereafter it is a very pleasant walk along the riverfront to get to Robertson Quay. When the MRT station is built it does look like there would be a nice pathway built along the back, which would be better than walking down Kim Seng Road for sure.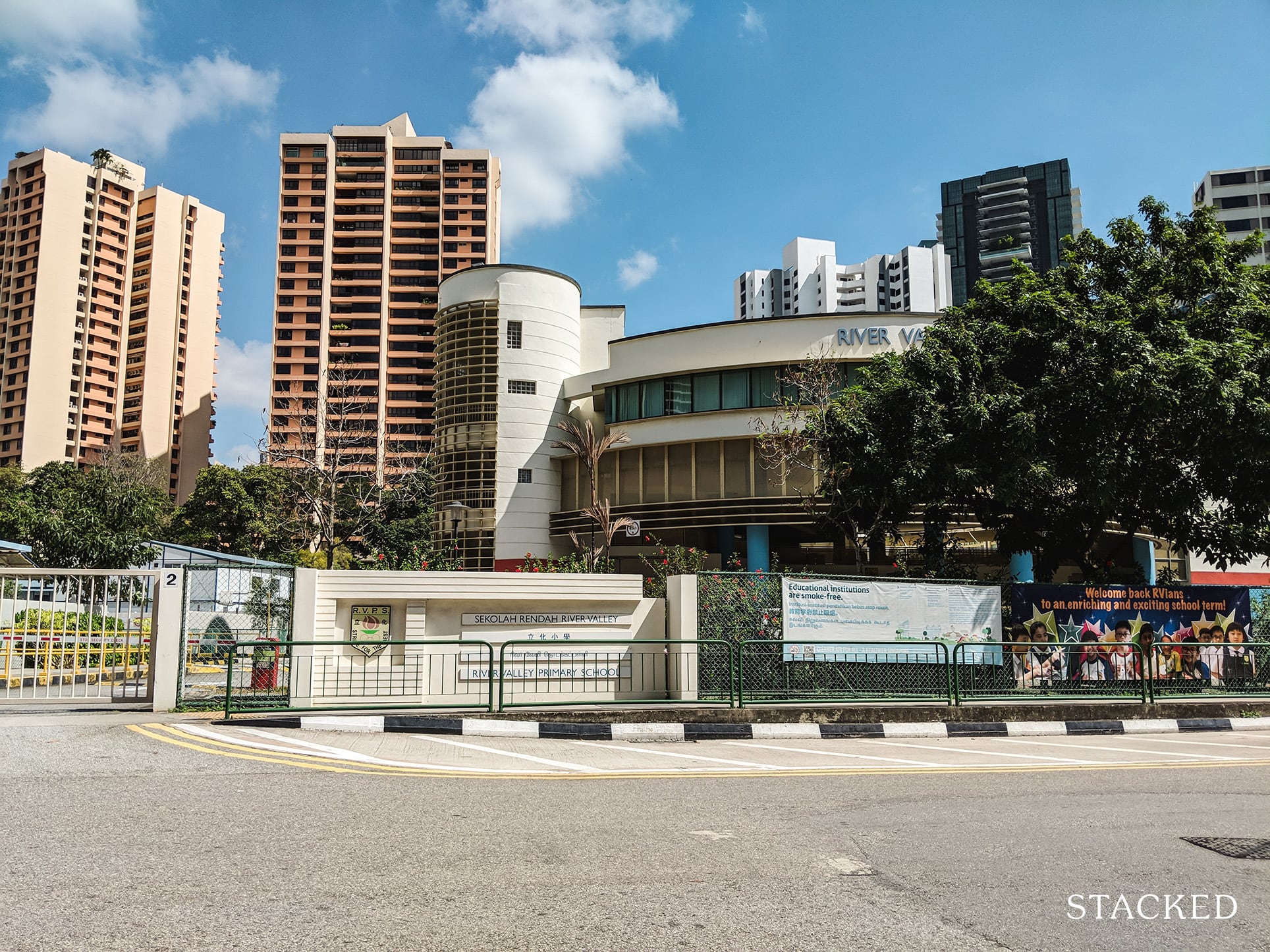 Lastly, in terms of nearby schools, the closest would be River Valley Primary School, which is very much within walking distance. Other schools nearby include Raffles Girls Secondary School, Anglo-Chinese School, Chatsworth International School, and St Margaret's Primary School. For young children, there is Kay Poh Road Baptist Kindergarten and Brighton Montessori International Pre-School.
Cosmopolitan Condo Development Site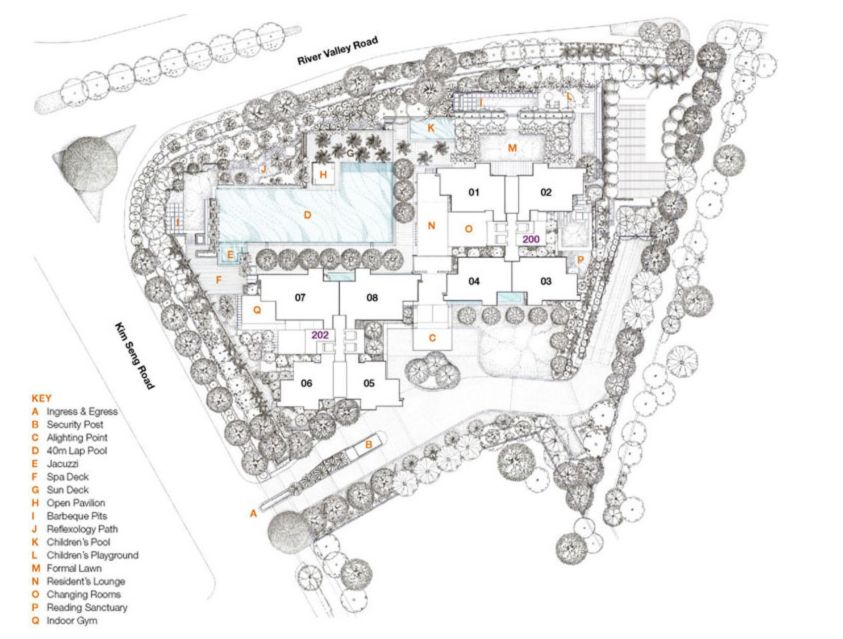 We found that the actual site feels a lot bigger than it looks on the map. Perhaps because of the wide gaps of space from Kim Seng and River Valley Road, and the MRT station on the right. The closest block would be Trillium, but even then it is separated by the driveway and the tennis courts of Trillium.
Entering the Cosmopolitan condo would be via Kim Seng Road, and there is only one entrance to the development. This isn't a problem at all because Kim Seng Road is a major one that connects to many other roads.
The unit mix of the Cosmopolitan Condo is very straightforward:
Unit mix

| Unit Type | Size (sqft) |
| --- | --- |
| 2-bedroom | 1,141 sqft |
| 3-bedroom | 1,324 – 1,399 sqft |
| 4-bedroom | 1,679 sqft |
The 2 bedroom units are certainly bigger than today's average sizes, but the 3 and 4 bedroom units here are not the biggest. Especially when you benchmark them against the two nearest competitors, the Trillium and Centennia Suites.
Insider Tour
Facilities in Cosmopolitan
40m Swimming Pool
Jacuzzi
Children's Swimming Pool
Playground
Function Room
Gym
Barbeque Pits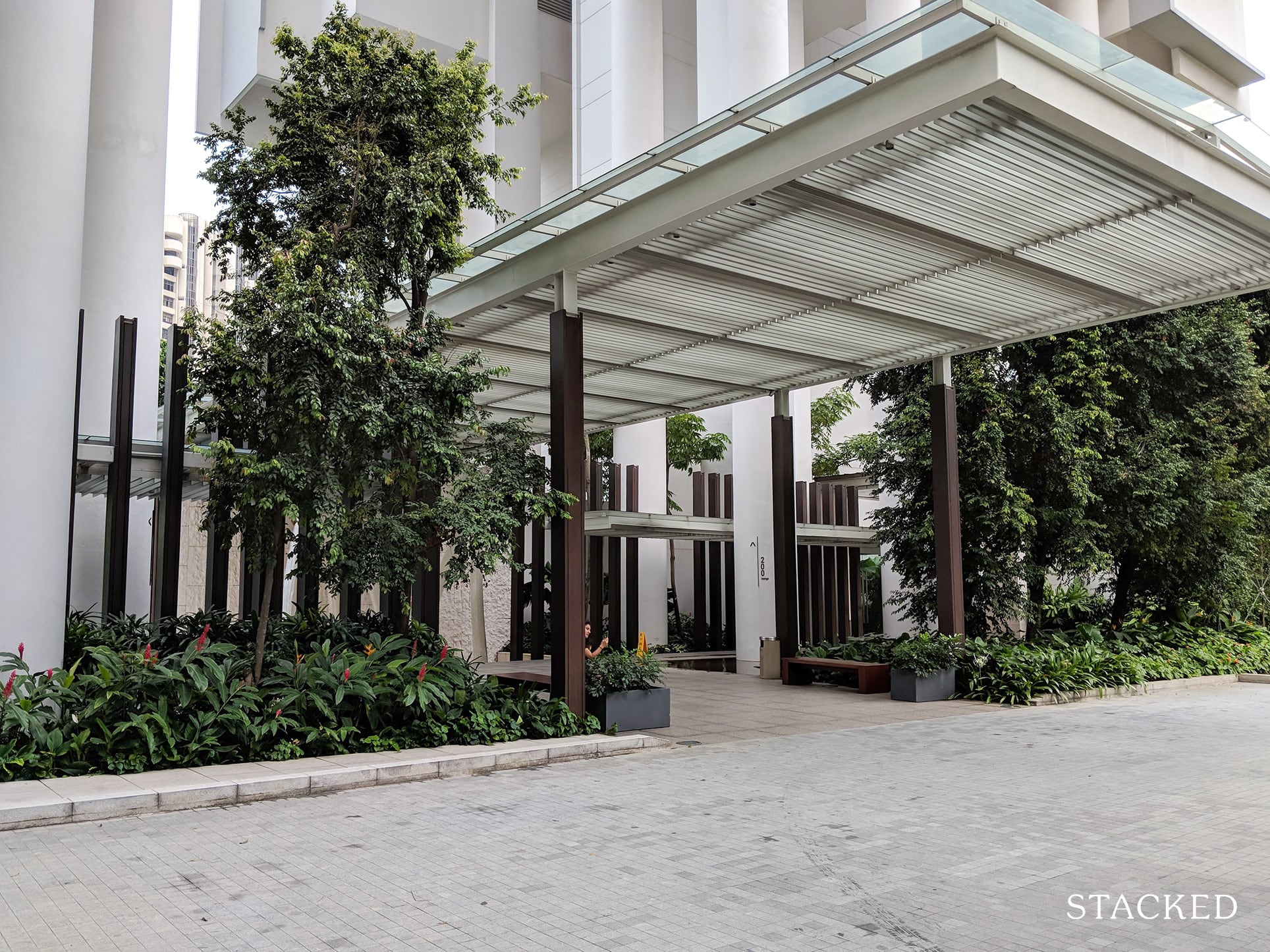 We really like the entrance and drive into the Cosmopolitan condo. Perhaps because we weren't expecting much from the outside, but it was spacious and extremely welcoming. Particularly as the blocks are built on pillars instead of the units starting from the ground floor, it gives off a wide airy feeling to the development.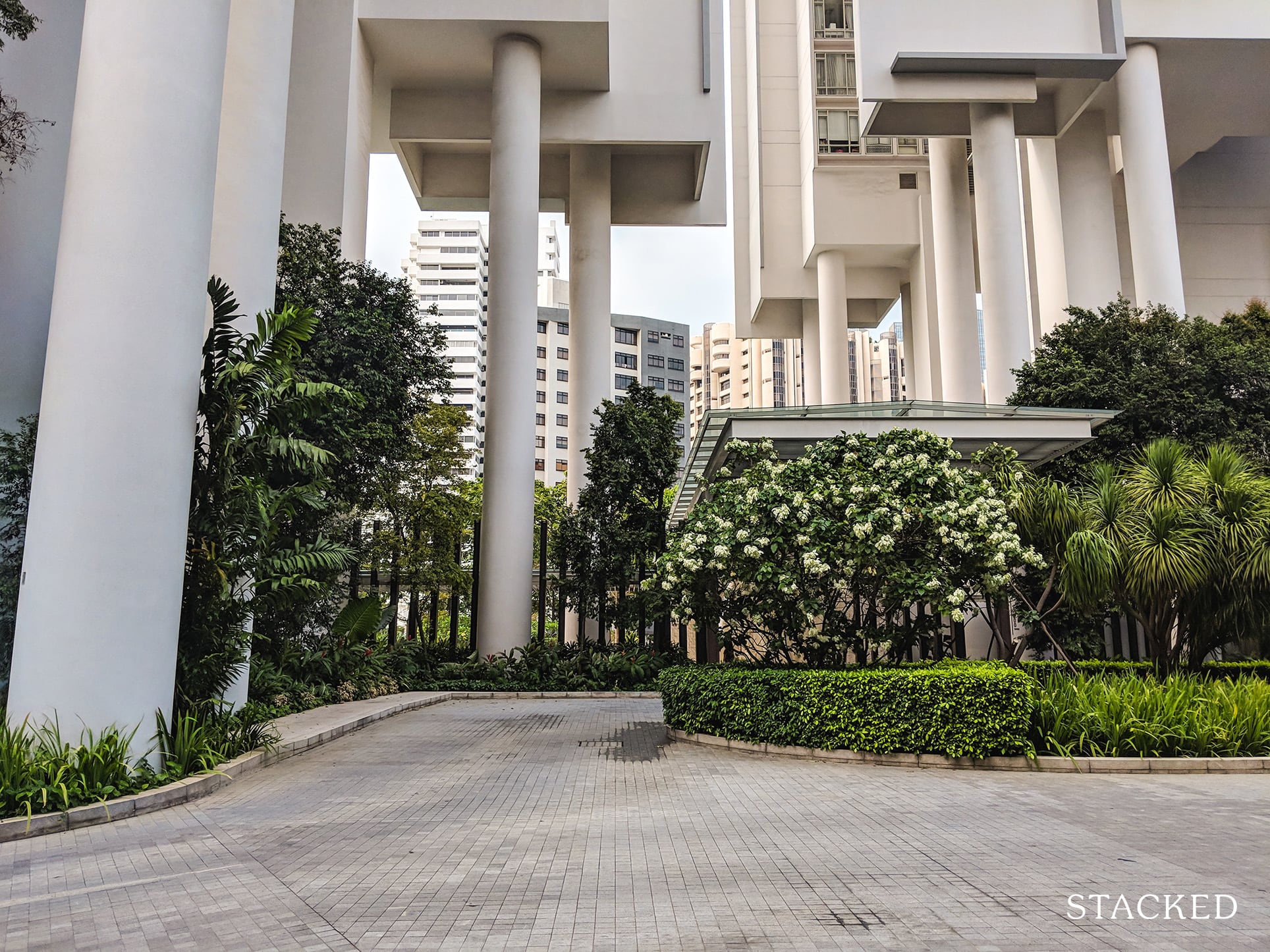 As you can see, the driveway is really large. Some might say it is overly generous, but we do feel that it adds a lot of class and premium feeling to the development. First impressions are always important and the Cosmopolitan condo has nailed that down here.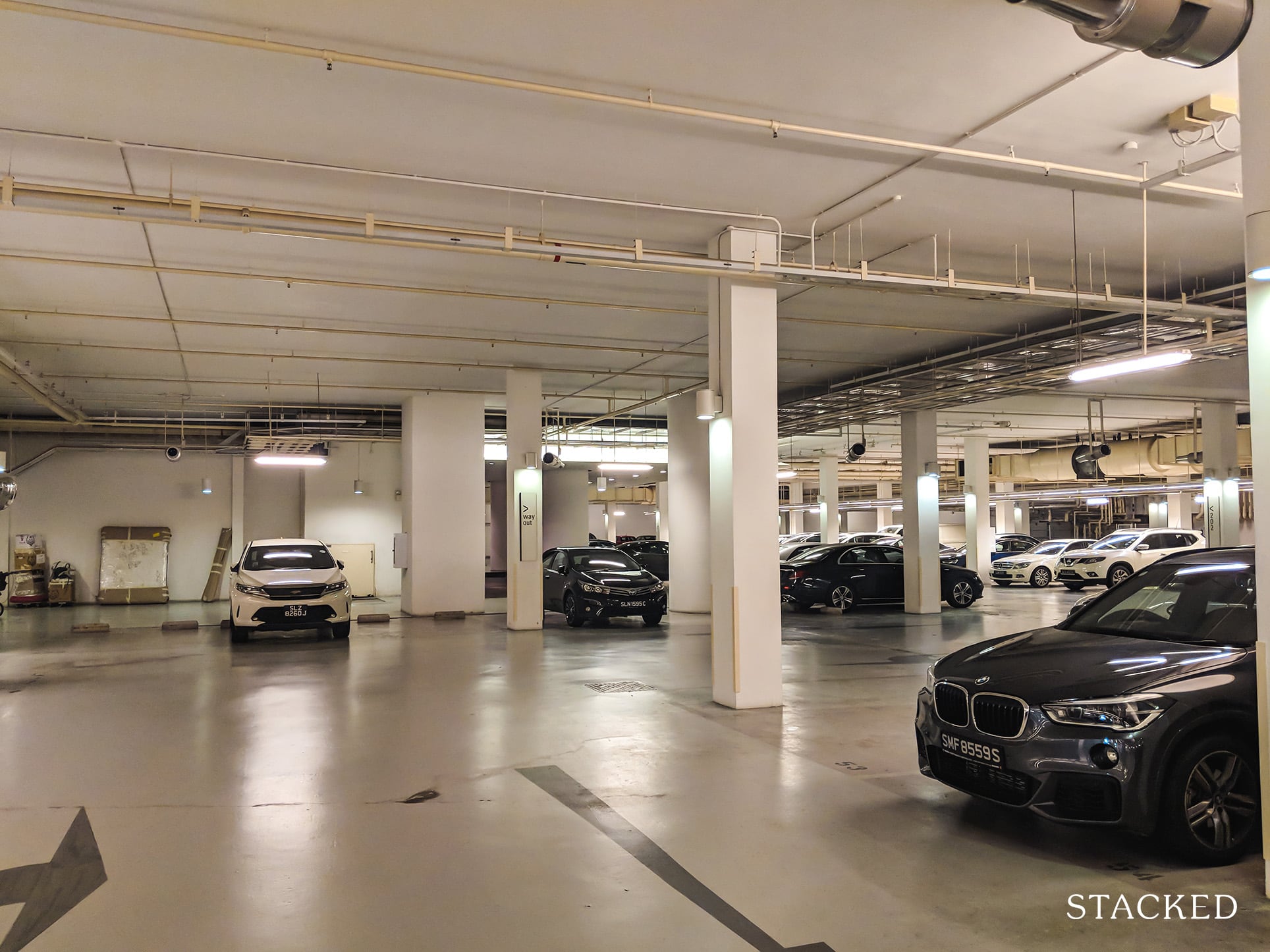 And that same feeling is translated to the carpark as well. This has got to be the highest ceiling of any car park that we have visited in Singapore. It just feels so roomy and ample, and really adds to that luxury feel again. Not to mention, it is extremely well lit.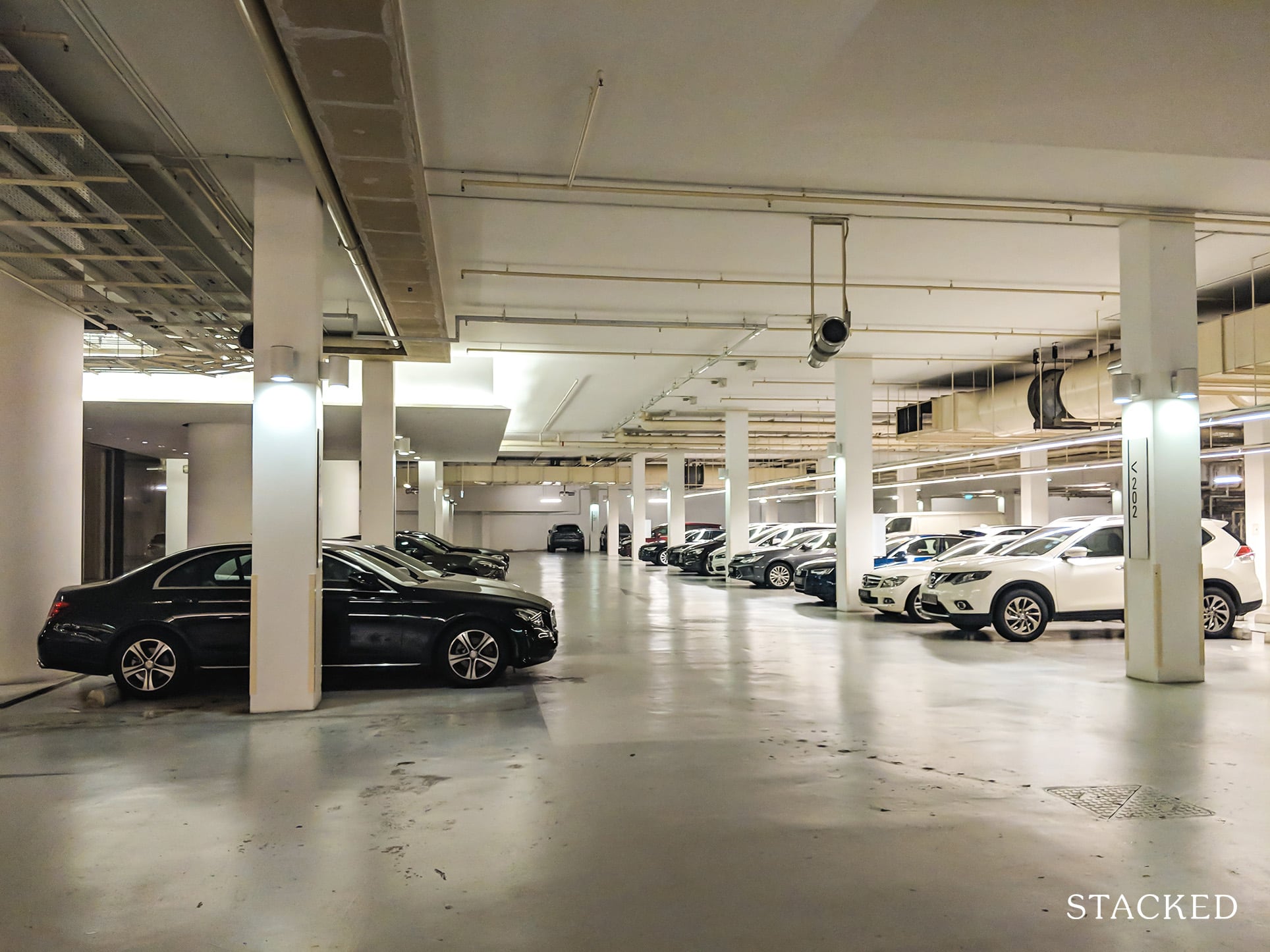 On most counts, we would say that the Cosmopolitan condo belies its age, and the development is pretty well maintained for one that was completed in 2008. But on closer inspection, many of the corners and walls could do with some sprucing up as well.
Carpark allocation should be no issue as a lot of the units here are tenanted.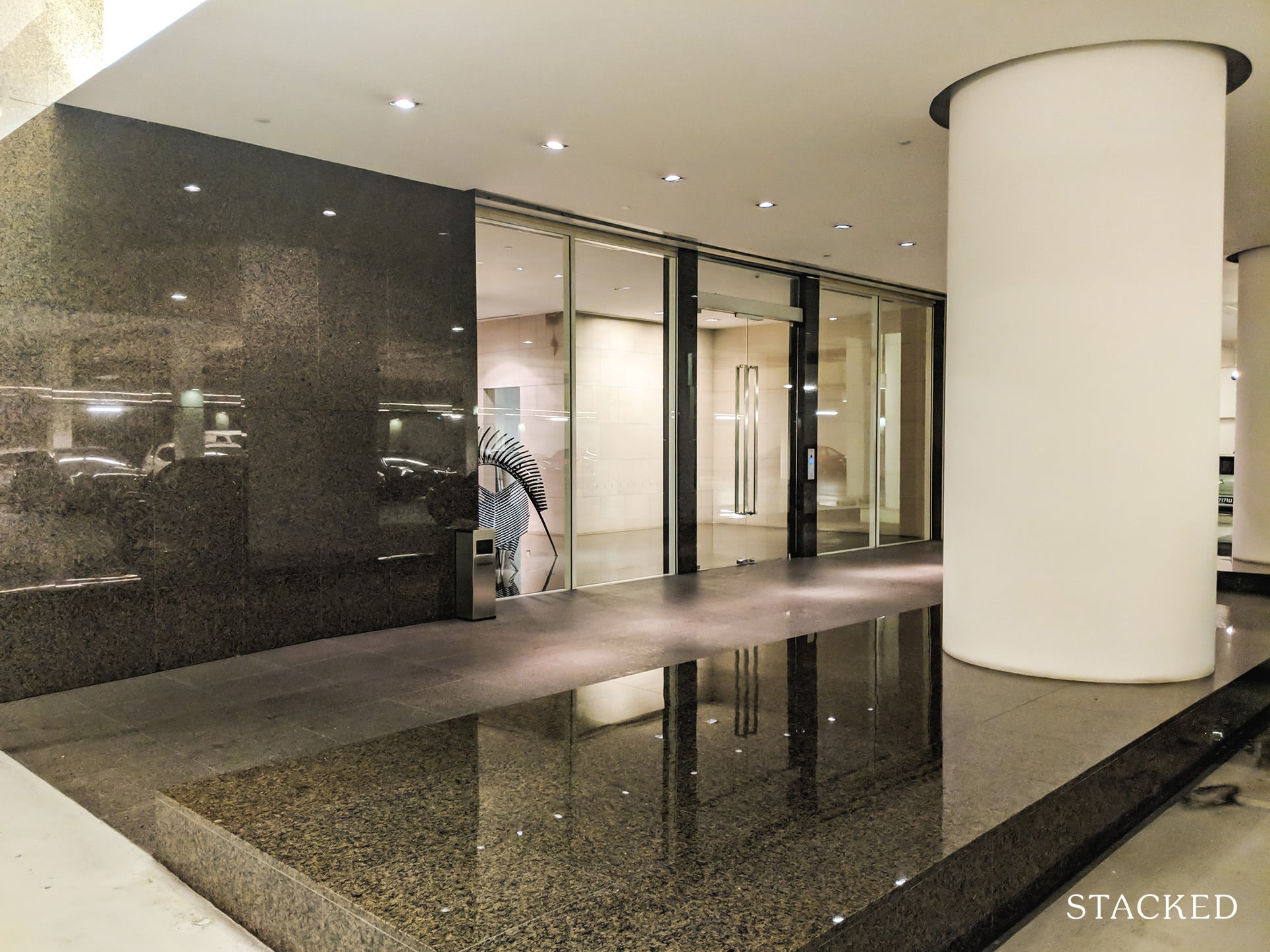 Again, the lobby area looks high end because of the high ceilings and is air conditioned as well. You will have to dial up if you are a visitor at this point. Surprisingly, unlike the Trillium and Centennia Suites, you do not get private lifts here.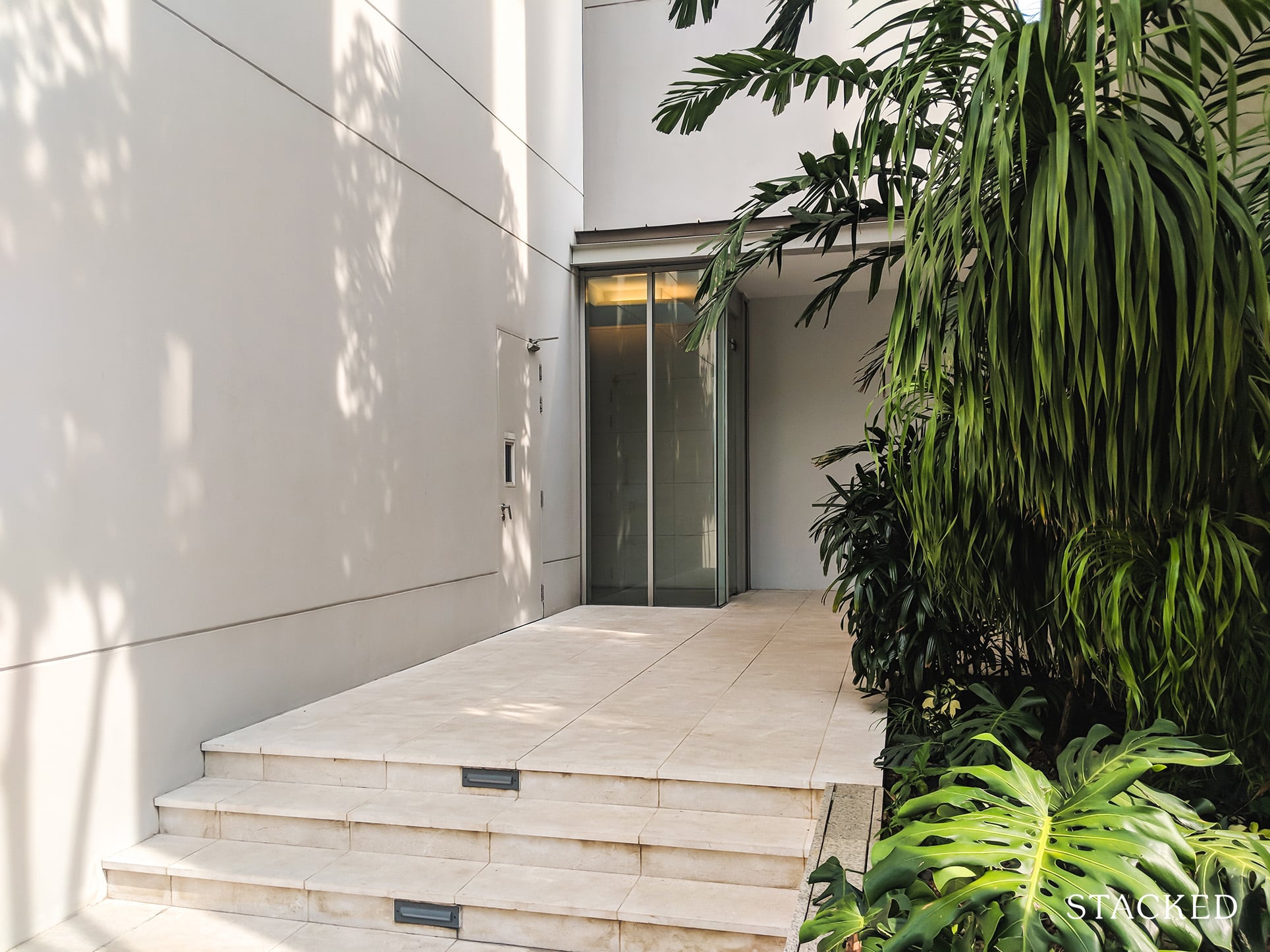 Once you get up to the first floor, the lobby area there is only accessible by residents as well for additional security.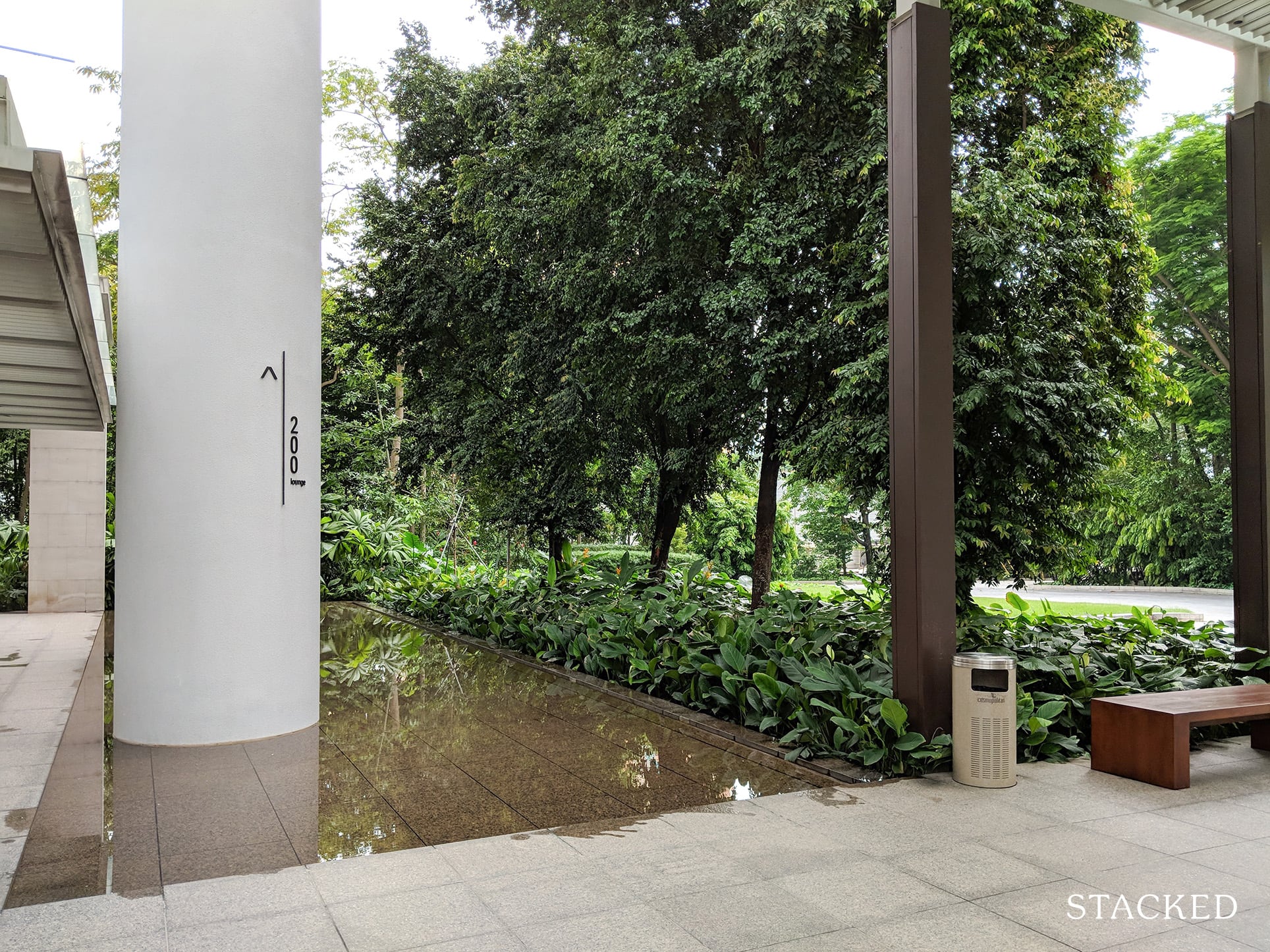 The common areas are spacious and very well maintained.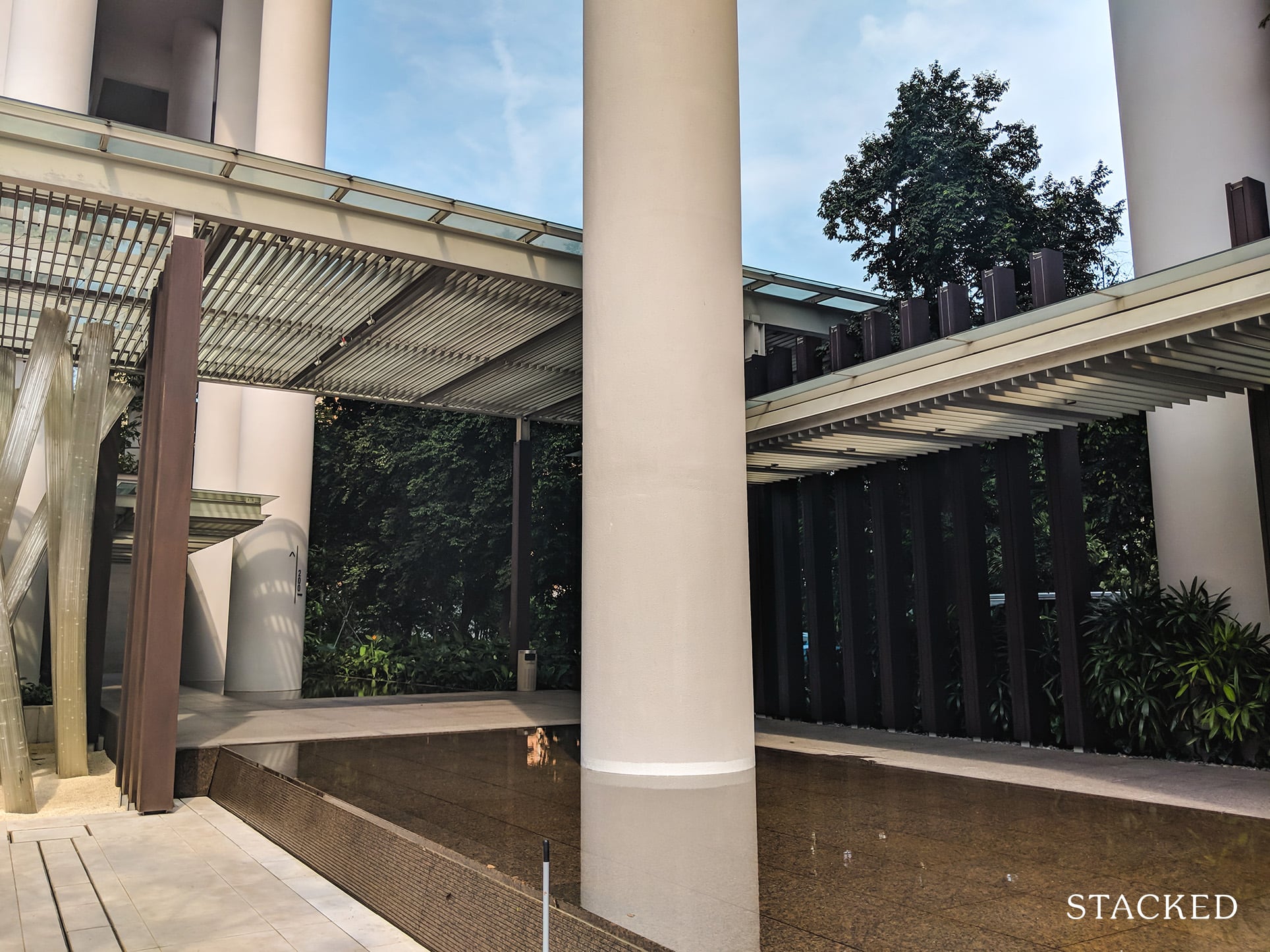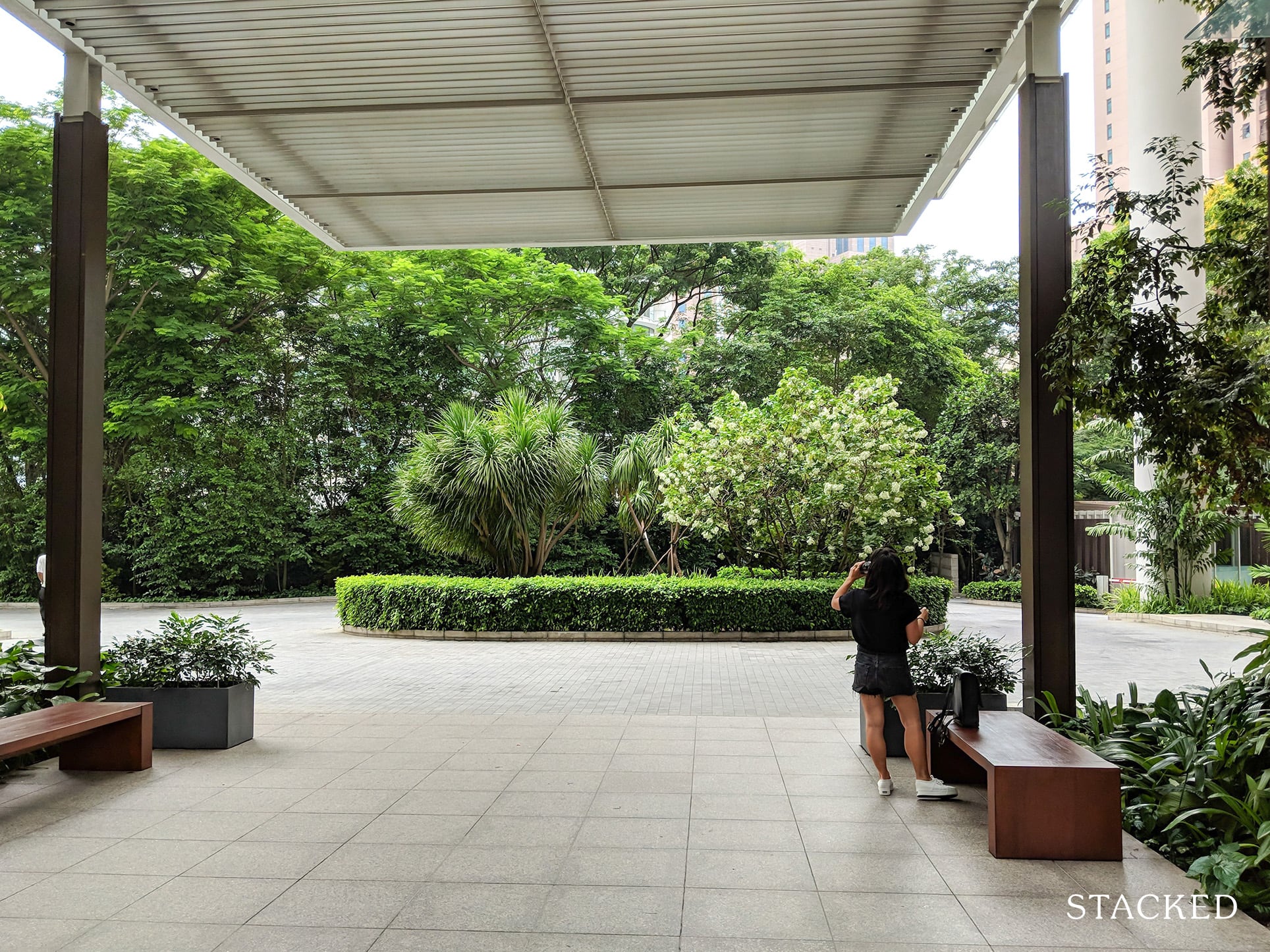 Like we said earlier, the drop off point is huge. It would probably be well utilised as well, due to the high number of tenants living in these areas.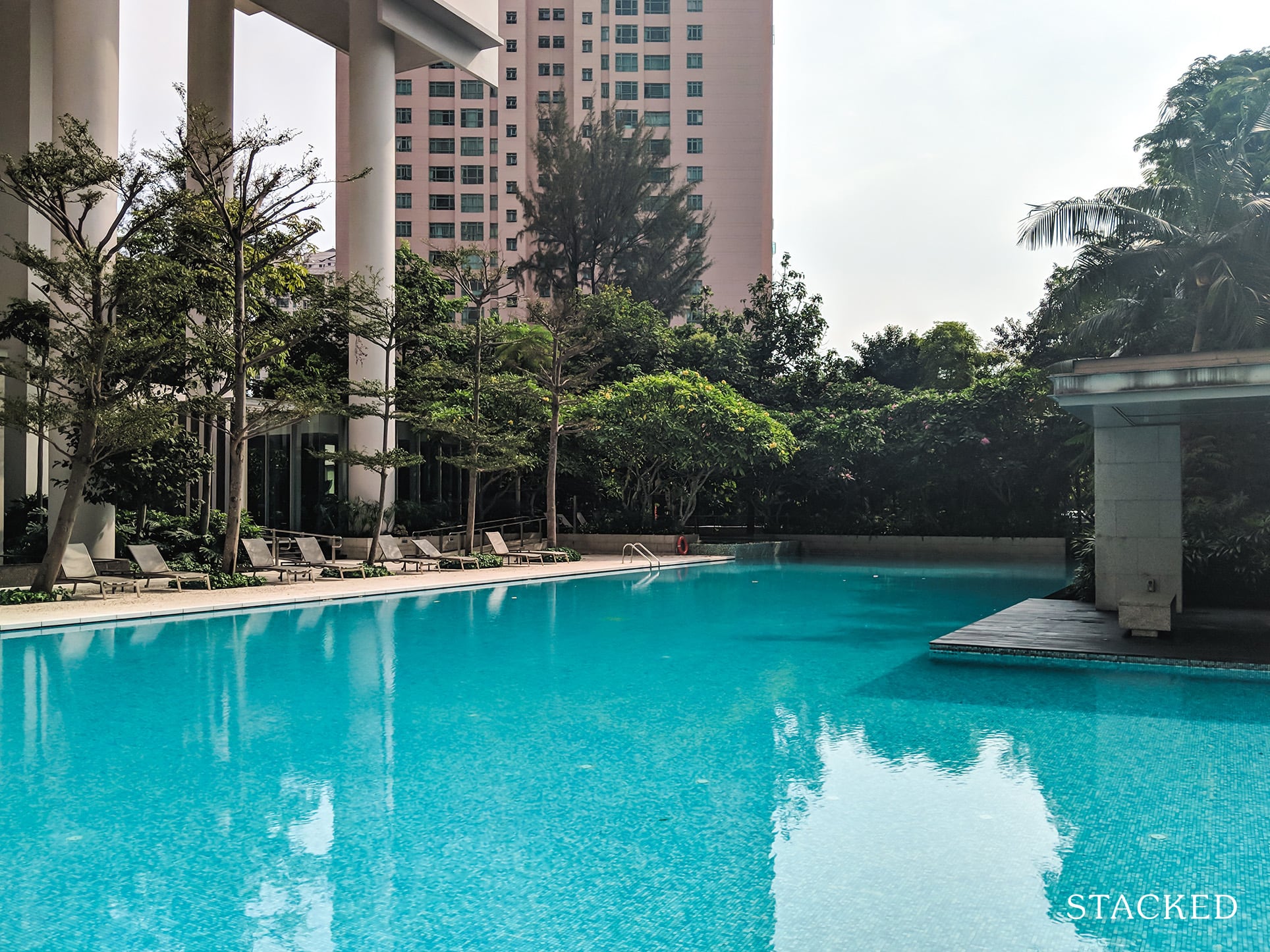 The Cosmopolitan condo swimming pool is gorgeous. It is rather private as pedestrians walking outside can barely get a peek in, and will be unaware of this hidden oasis. It isn't the modern infinity pool, but it's got a great size considering the amount of units here.
Read this next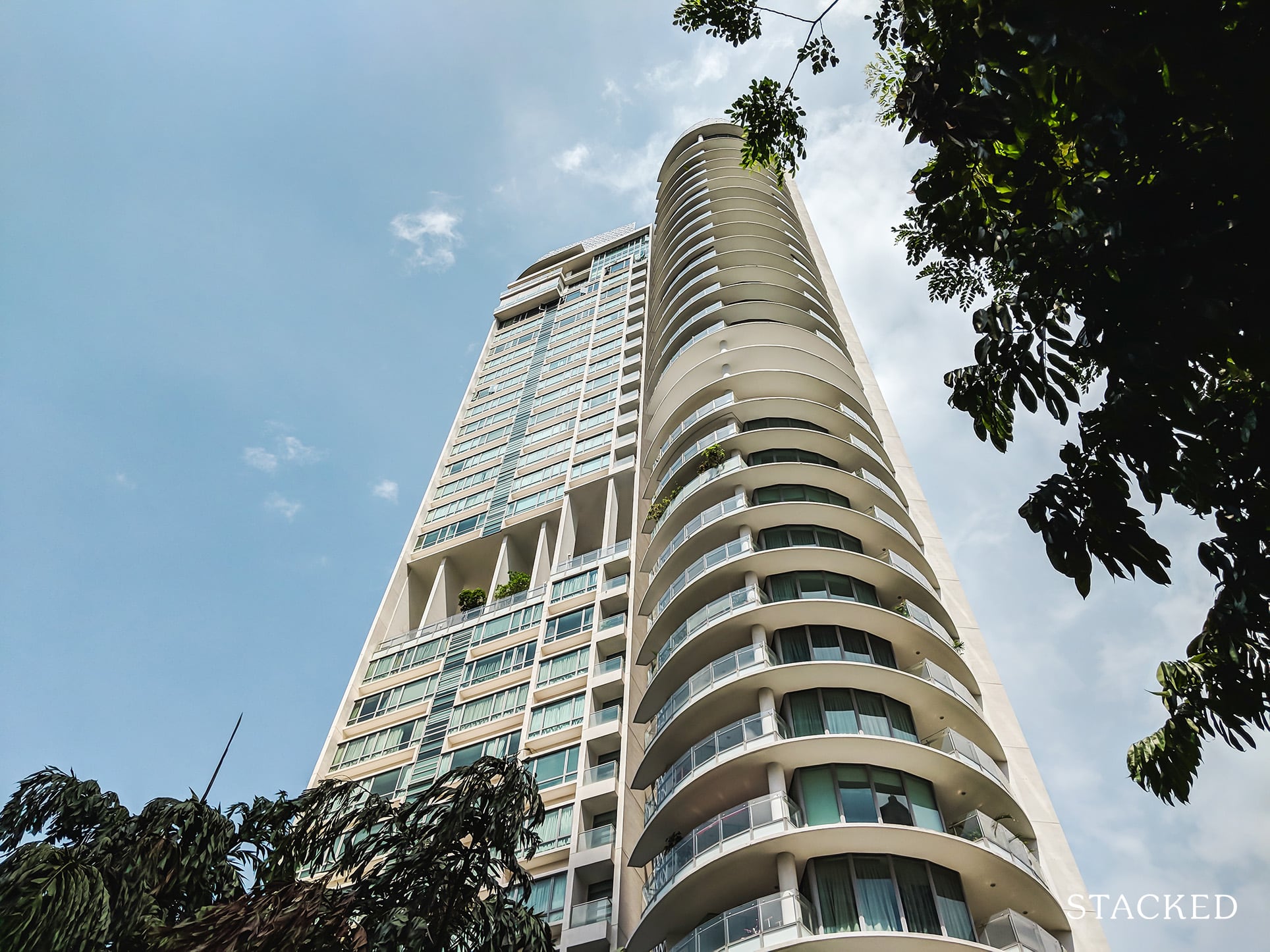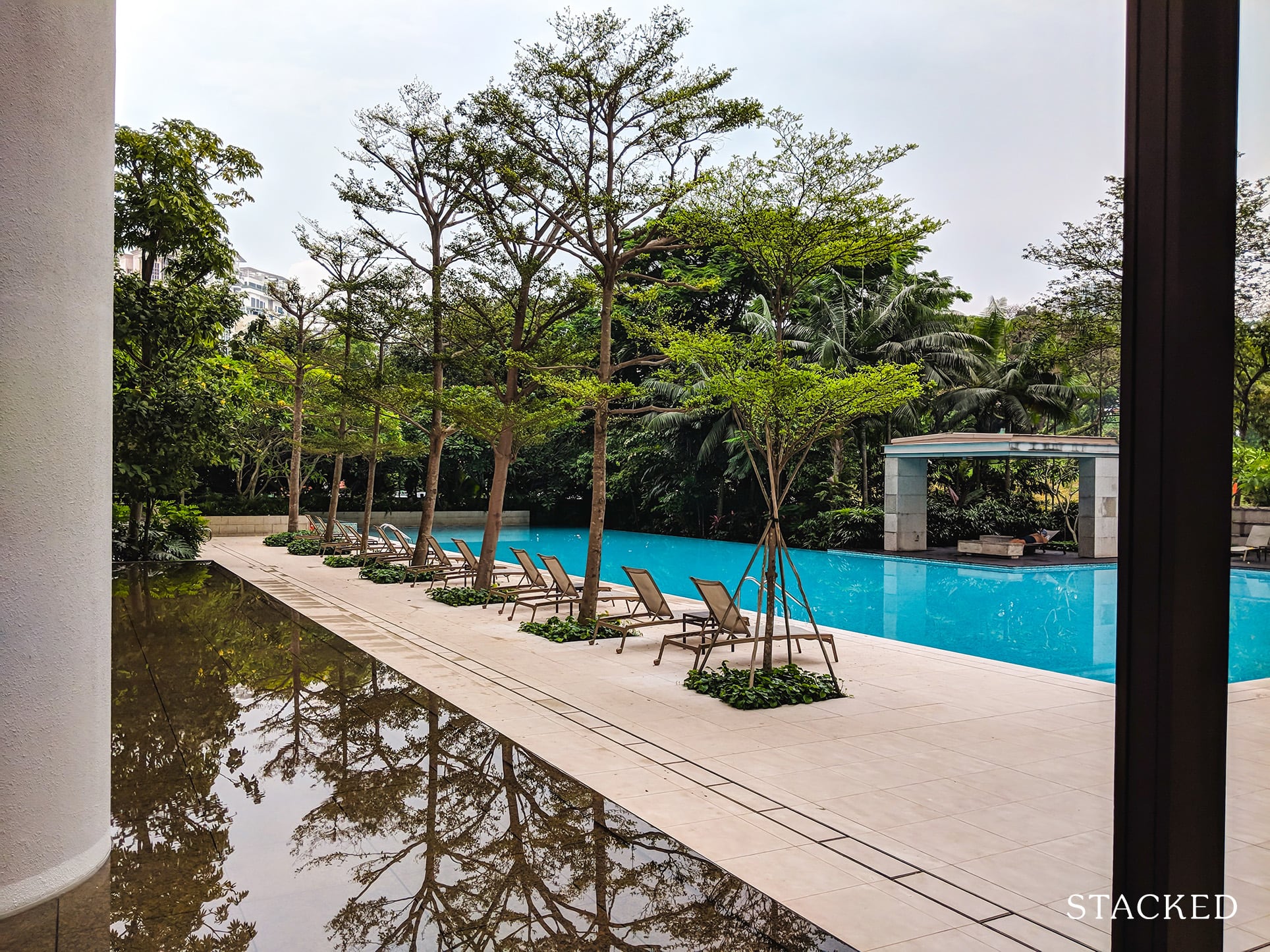 There are a number deck chairs at the side for relaxing. You can really swim long laps here, which is great for exercise. There is also a small pavilion, for some respite on sunny days.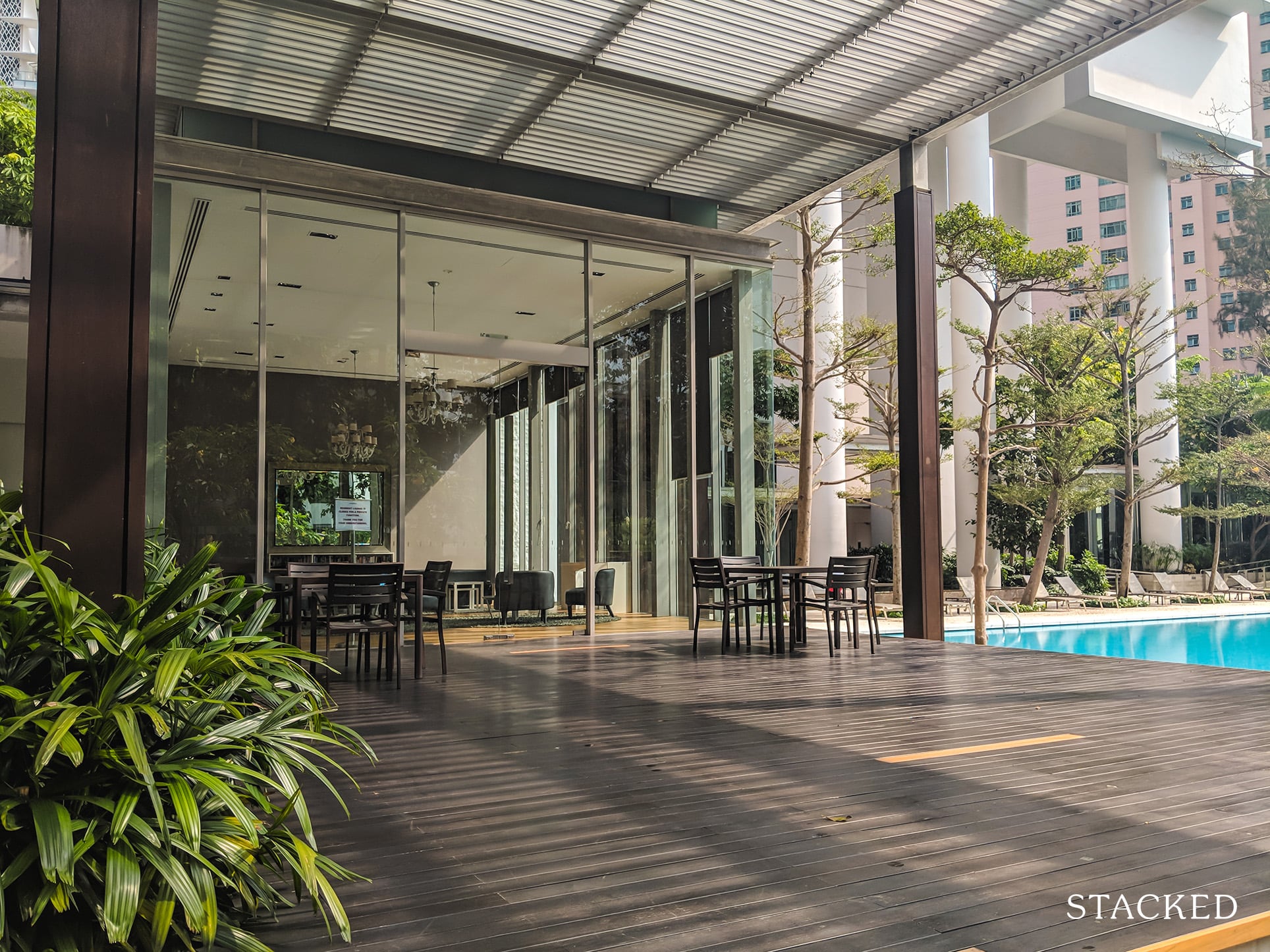 We really like the function room here, it has a good-sized space with a kitchenette and an outdoor deck. The deck is sheltered as well, so you can do a buffet catering here, with indoor and outdoor seats. Perhaps this is the only downside to the high ceilings, it is easier for the rain to get in!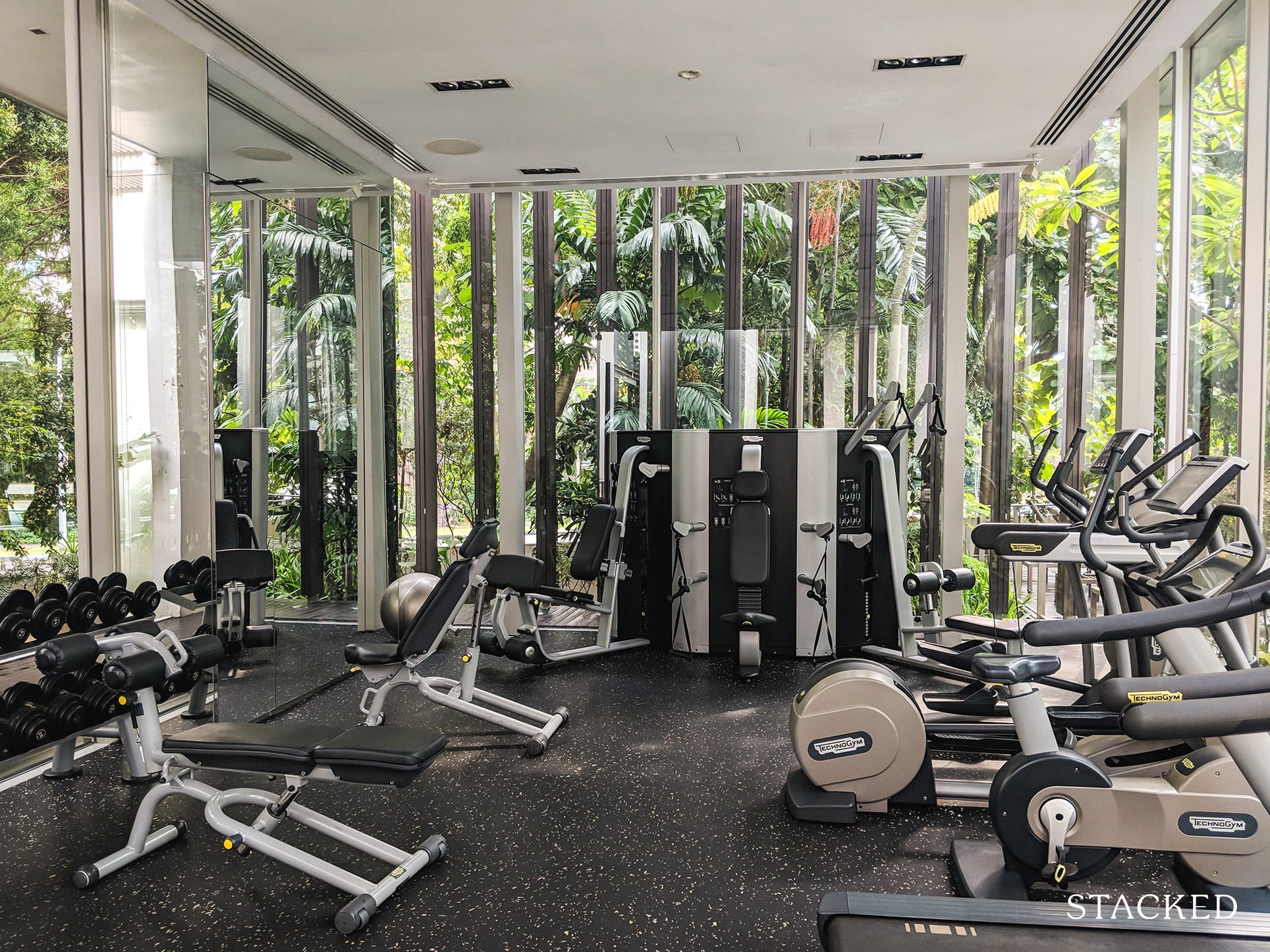 The gym at the Cosmopolitan condo is fantastic. Its modern, has most of the equipment you need. The best part is the floor to ceiling windows on all four corners, making it a bright and cheery place to work out.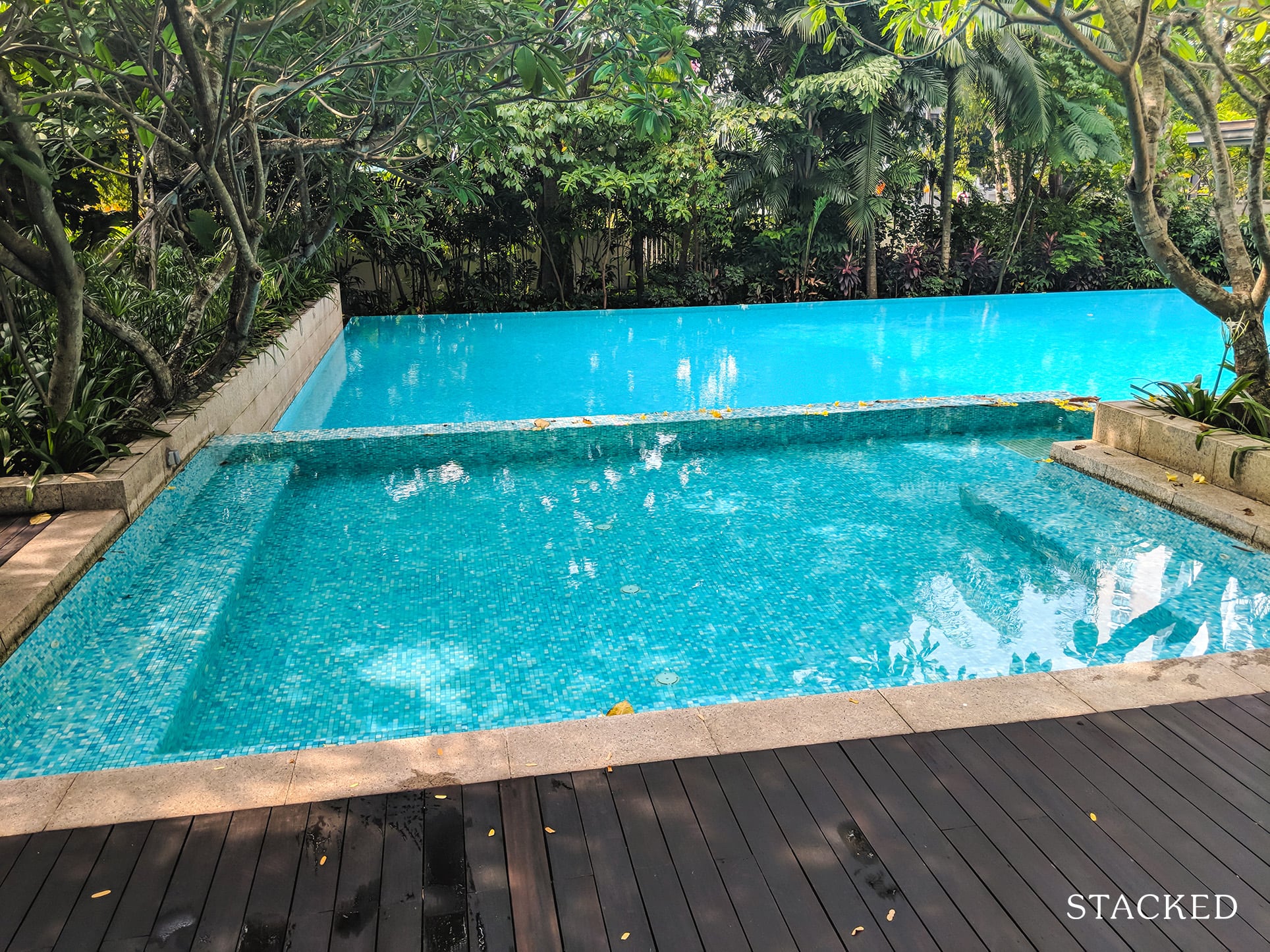 Over at the end of the swimming pool, there is a shaded area for a jacuzzi.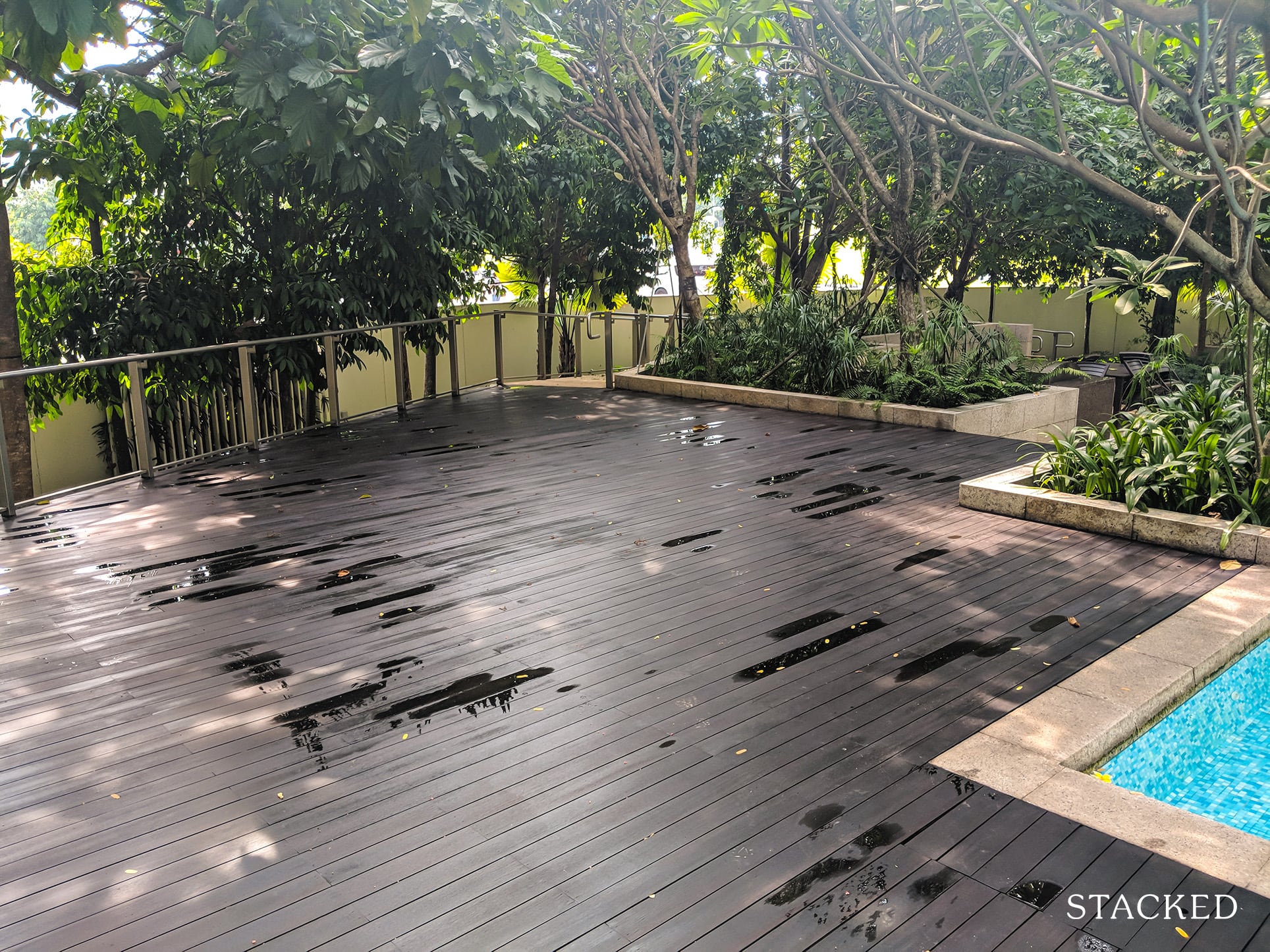 Next to it is an open deck and the barbeque pits. We actually like that these are not situated directly by the swimming pool as it allows for more privacy for gatherings. The downside here is that the area is not sheltered, so holding a barbeque here is really dependant on the weather forecast.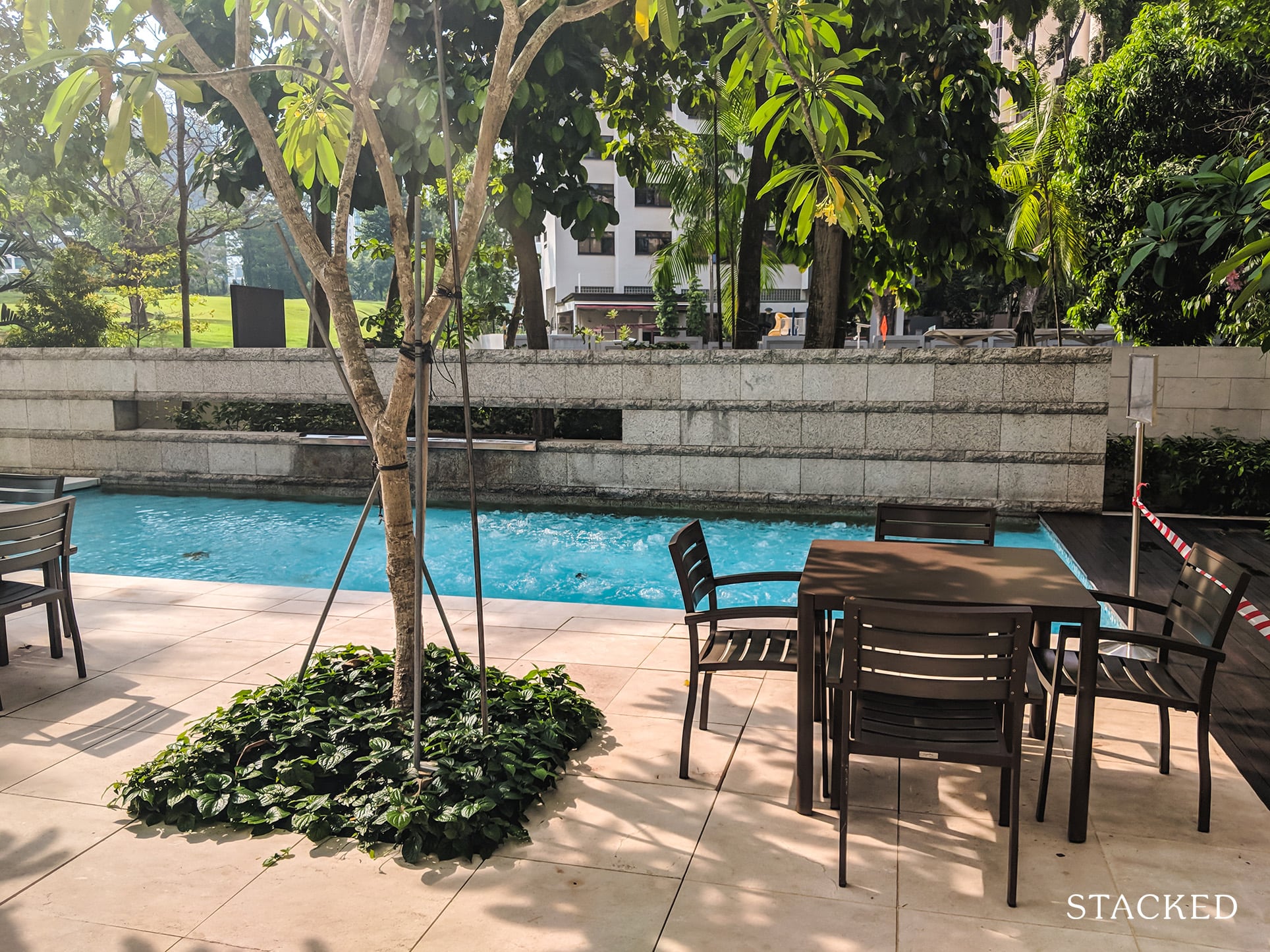 You also get a small kids pool and more seating areas here.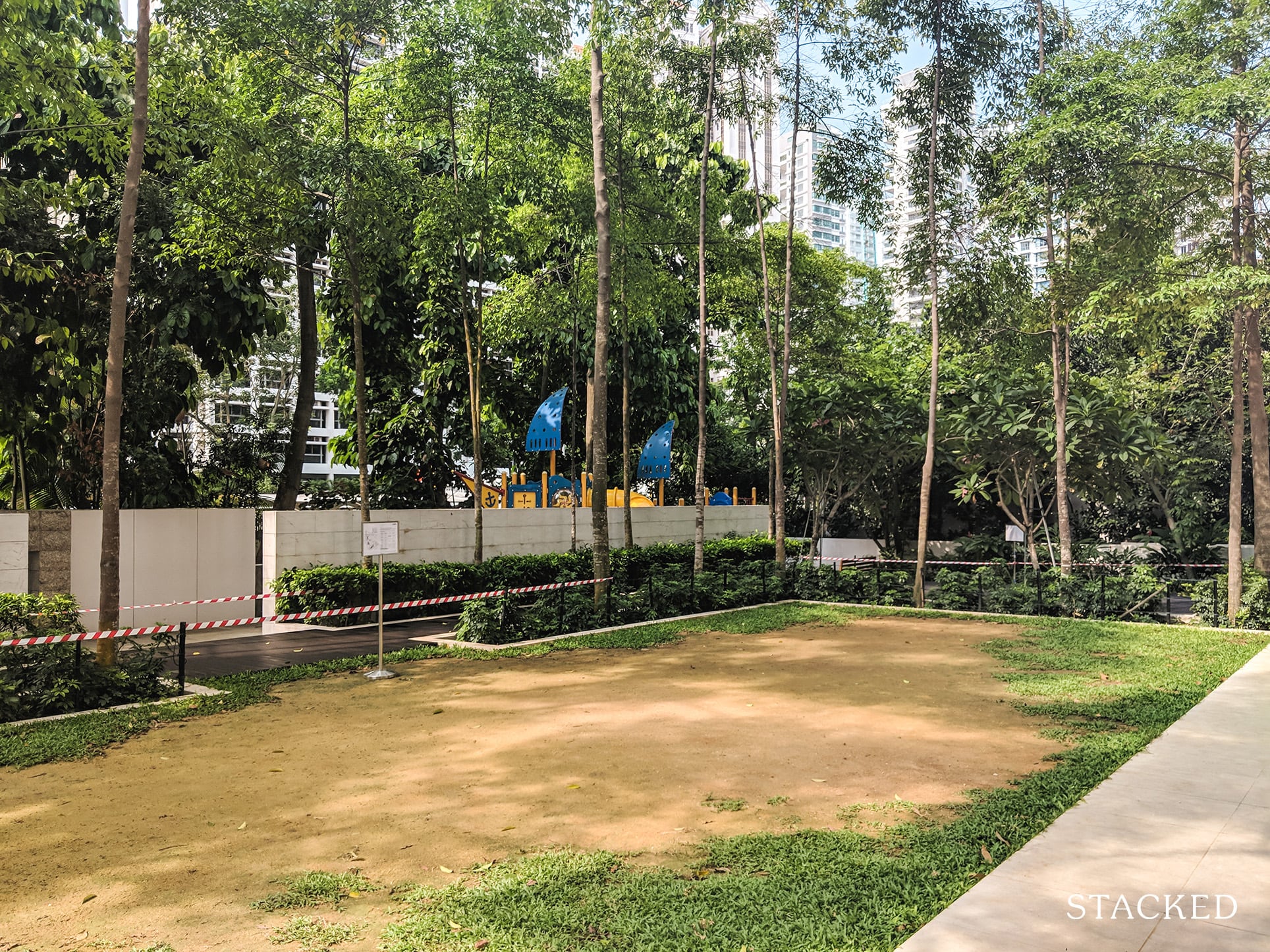 And a lawn area that evidently has seen better days. This bald patch is quite the eyesore in what has mostly been a sea of positives so far.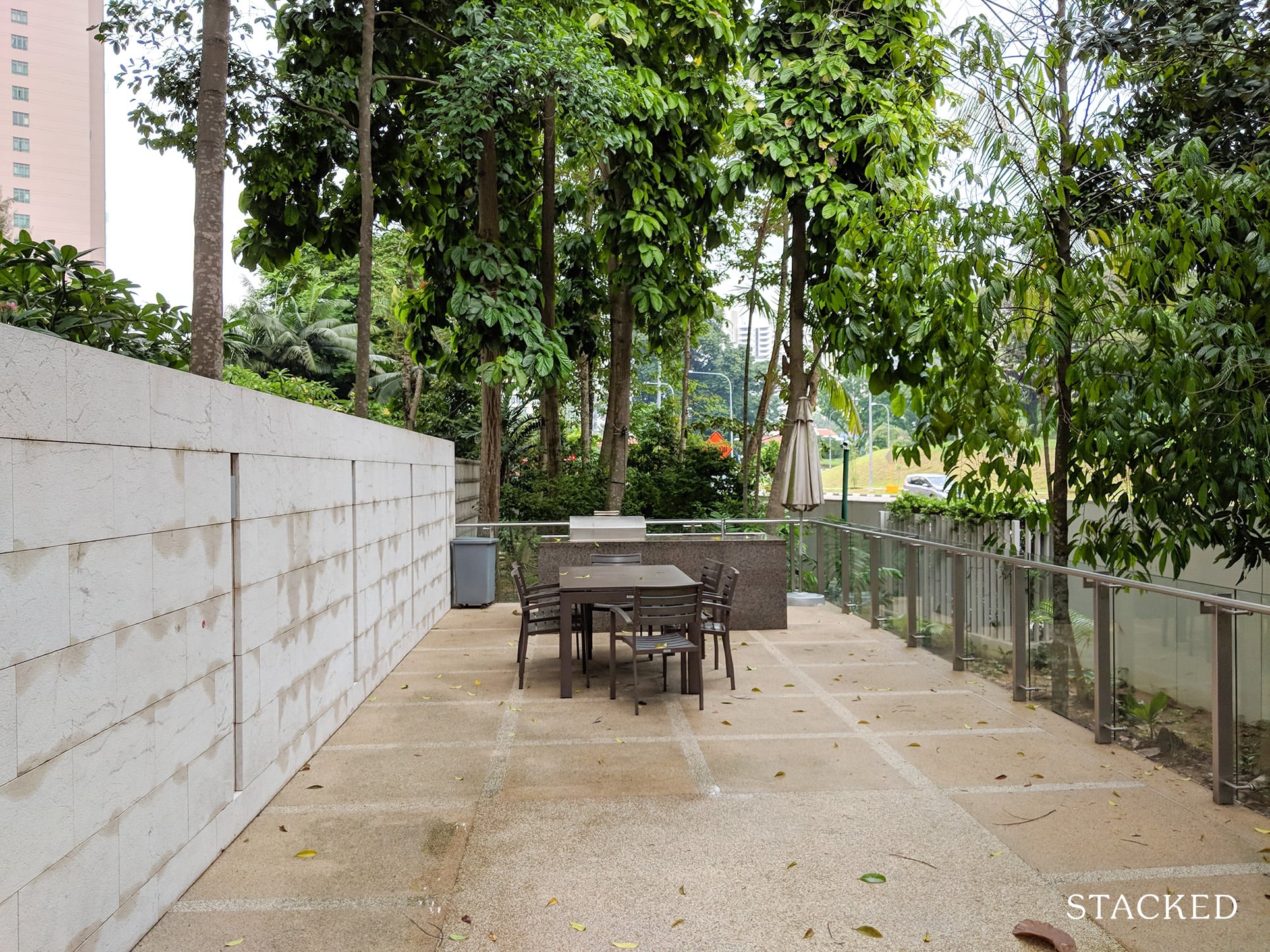 There is another barbeque area, but we much prefer the other area. This isn't shielded by the trees as much, and the road noise filters through.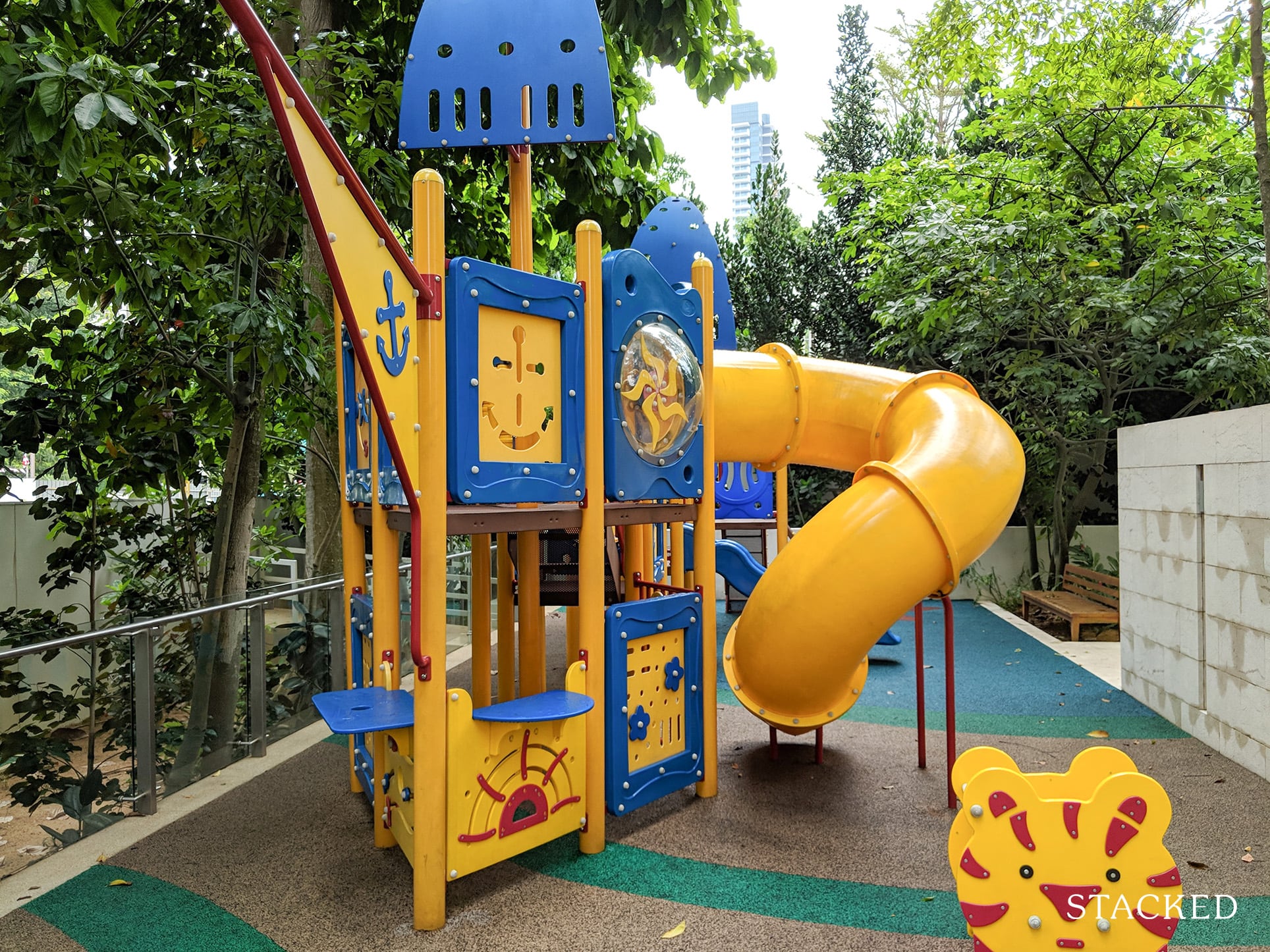 Obligatory children's playground at the corner. We do wish developers would step up their game in this respect, it is always so cookie cutter.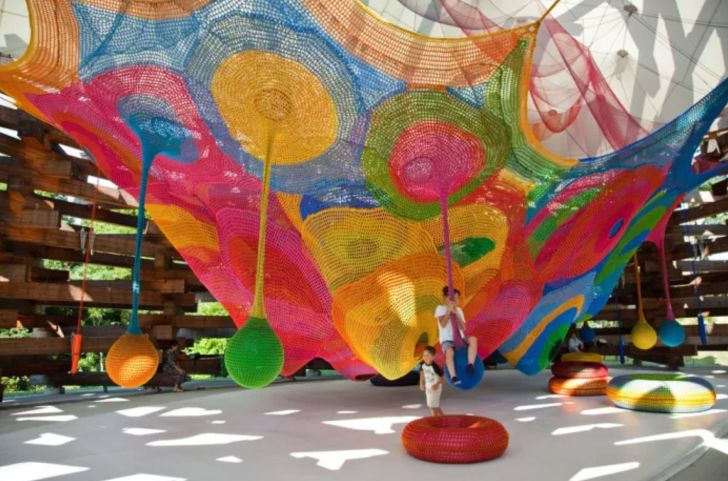 Perhaps something like this would be amazing for the kids!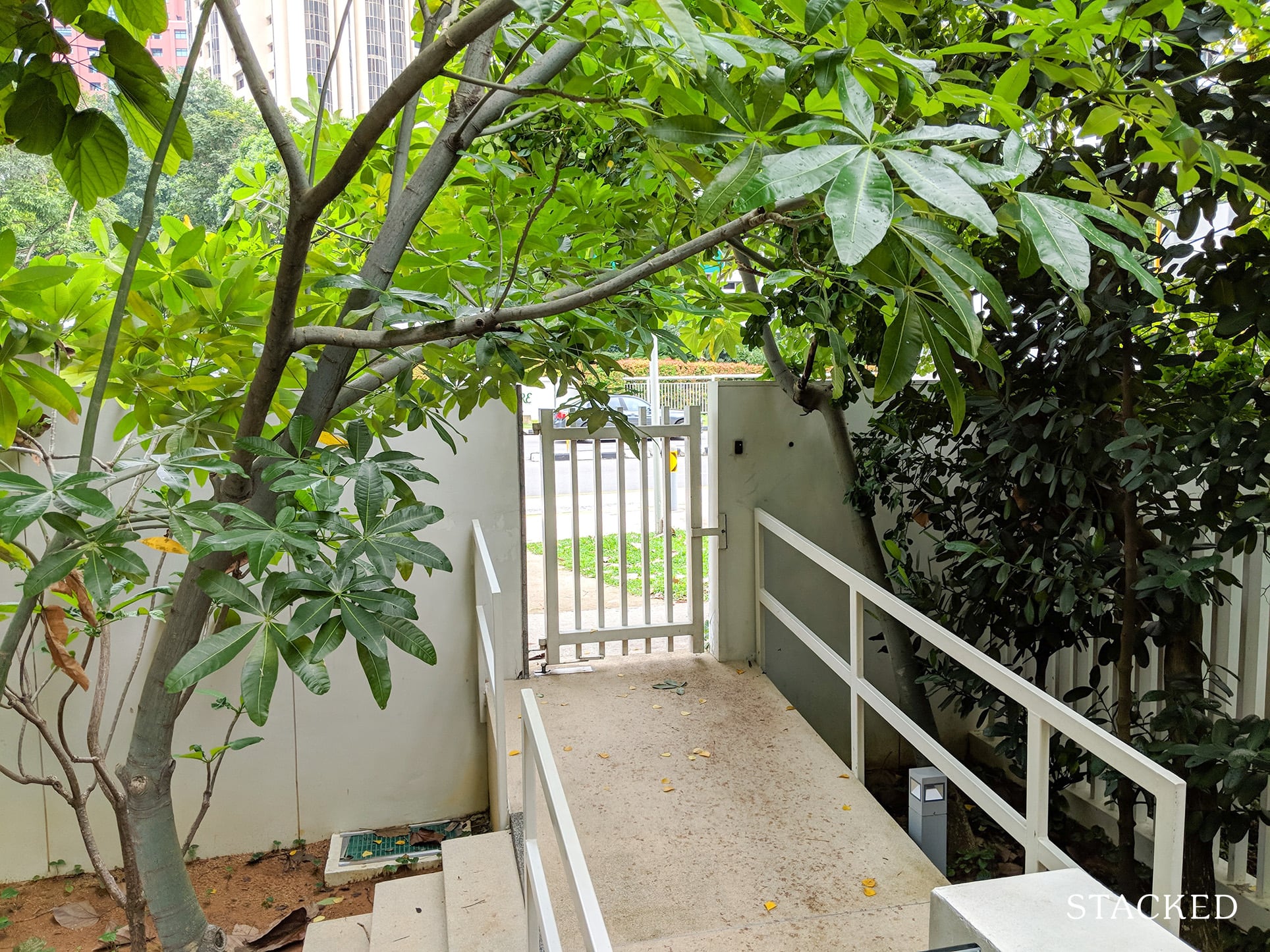 Just behind the playground is the side gate that will lead you to the bus stop along River Valley. Once the MRT is up, this will be the nearest entry point to it.
Cosmopolitan Condo Review – Prices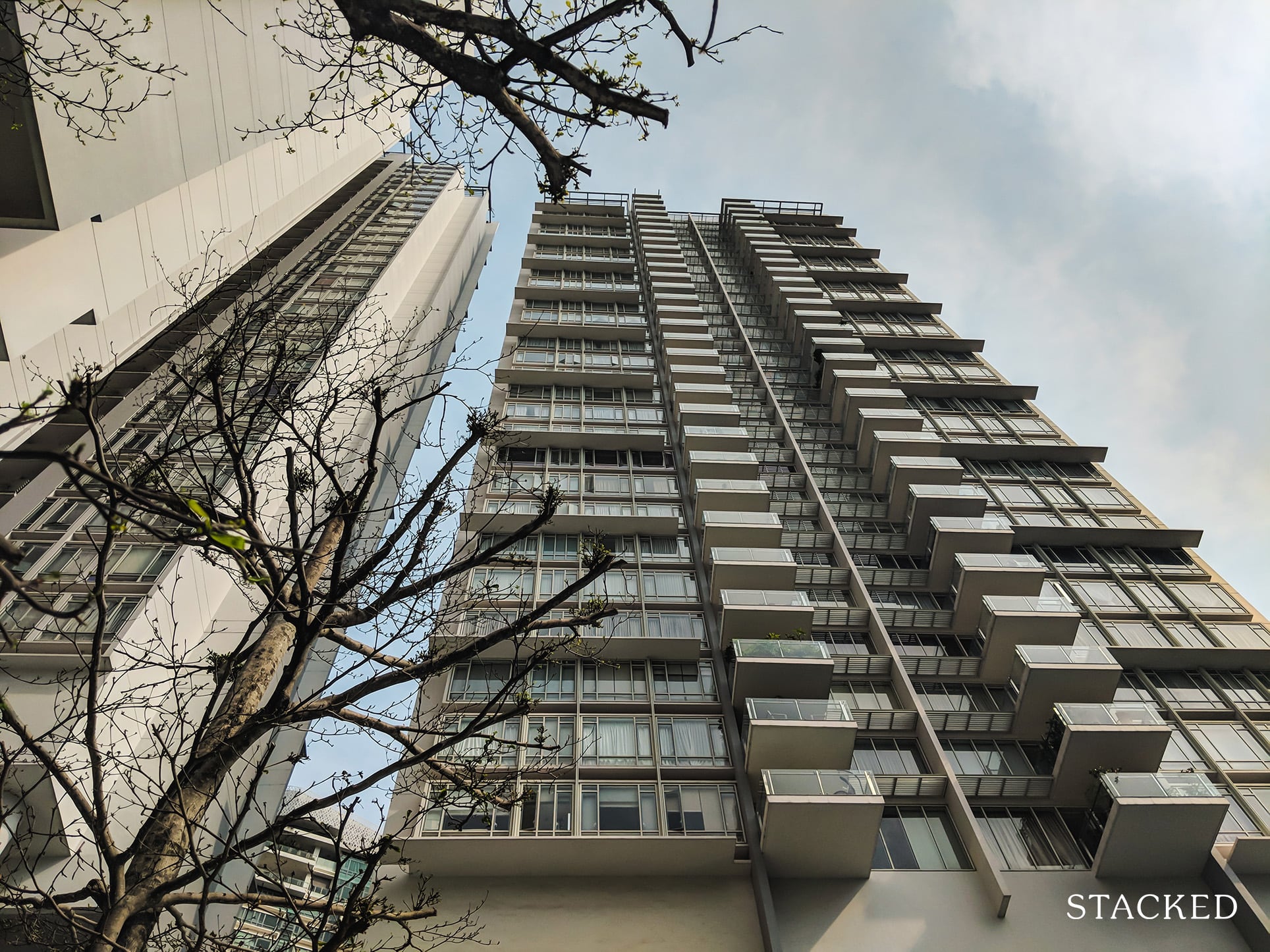 | Project Name | Tenure | TOP | Average Price (PSF) |
| --- | --- | --- | --- |
| Cosmopolitan Condo | Freehold | 2008 | $2,256 |
| Horizon Towers | 99 years | 1984 | $1,286 |
| Skypark | Freehold | 2010 | $1,432 |
| Leonie Gardens | 99 years | 1993 | $1,460 |
| Sam Kiang Mansions | Freehold | 1999 | $1,659 |
| Leonie Towers | Freehold | 1976 | $1,755 |
| Luma | Freehold | 2011 | $1,766 |
| Yong An Park | Freehold | 1986 | $1,817 |
| Leonie Suites | 99 years | 2006 | $1,858 |
| Mirage Tower | Freehold | 1996 | $1,867 |
| 2 RVG | Freehold | 2006 | $1,959 |
| Tiara | Freehold | 1995 | $1,960 |
| The Trillium | Freehold | 2010 | $2,129 |
| The Lumos | Freehold | 2011 | $2,509 |
| Centennia Suites | Freehold | 2013 | $2,584 |
| 8 Saint Thomas | Freehold | 2018 | $3,187 |
| New Futura | Freehold | 2017 | $3,533 |
When you look at the prices of the surrounding condominiums, it might seem that the Cosmopolitan condo is on the high side. But you will have to bear in mind that many of them are a lot older as well, and it will be tough to compare directly. If you were to compare to two of its most direct competitors, the price is in line with the Trillium and lower than Centennia Suites. This is to be expected as the latter is slightly more upmarket, has fewer units and is right by the Singapore River.
The prices here are not cheap by any means, but we do feel that it is quite fair if you take into consideration the current market prices, its location and the potential given the upcoming MRT station.
Our Take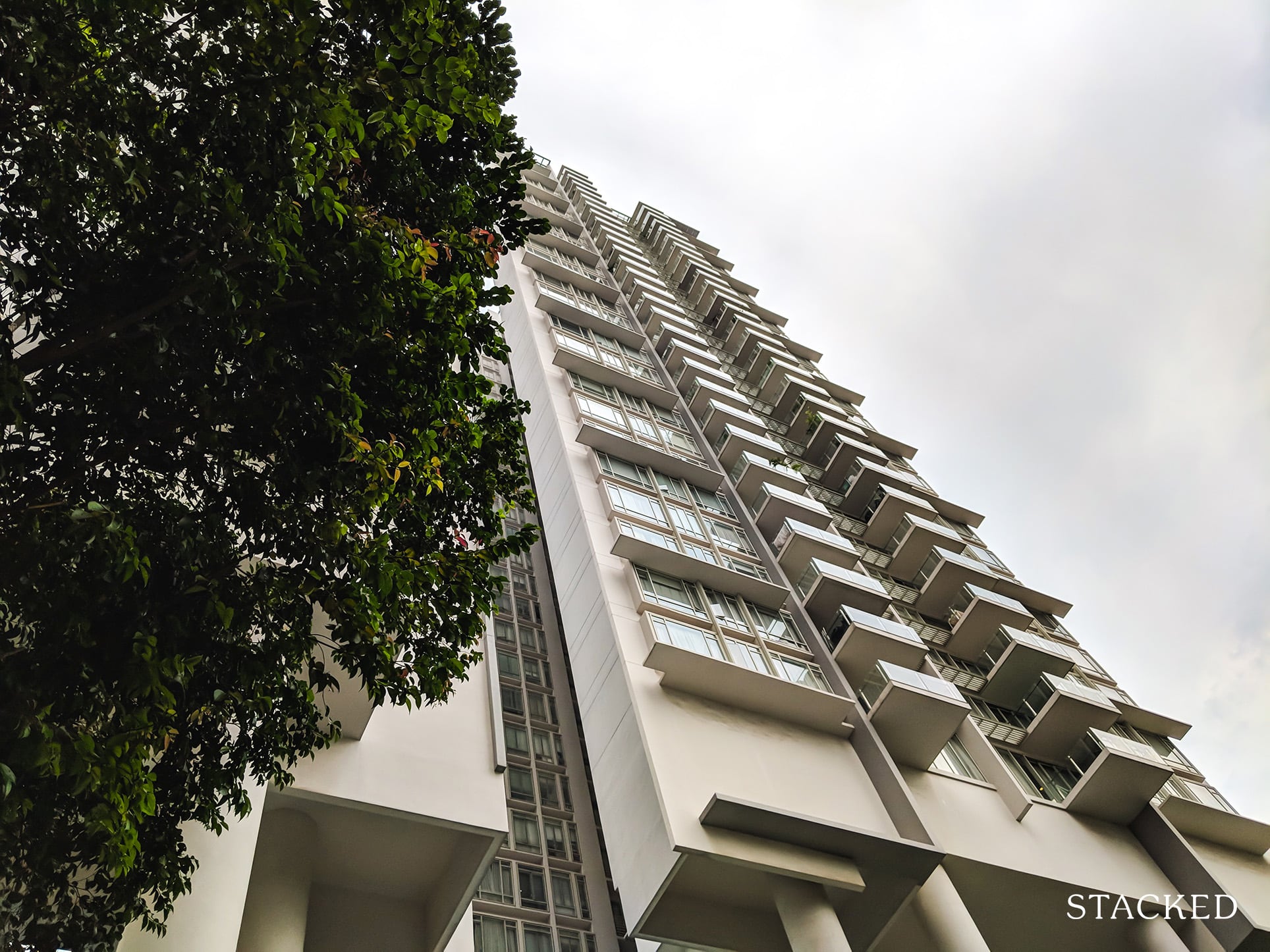 Despite its ordinary outside appearance, the Cosmopolitan condo has pleasantly surprised us on the inside. It is one of those places that you will have to make a visit to judge for yourself, but we have to say that we enjoyed the vibe of the place. It is very similar to a condo we reviewed recently, Scotts Square, which we were also very impressed by.
In fact, the all-white design and similar unit layouts were too coincidental to be true and a quick lookup showed that both properties are under Wheelock Properties. Which goes a long way into explaining the similarities. If you prefer a quieter location but still want to live as centrally as possible, the Cosmopolitan condo is a very viable alternative to the Scotts Square at a much more palatable price.
Finally, if you are looking to live in River Valley, the Cosmopolitan really does offer the best of both worlds. Its location is superb and the development does not look its age. But if you need bigger living spaces in your unit, there are better choices elsewhere.
What this means for you
You might like the Cosmopolitan if:
• You prioritise the location.The location is unbeatable, with an MRT station and bus stop at your doorstep.
• You want to be near food and amenities.River Valley has lots of good food, and it is awesome to live right next to a shopping centre.
You might not like the Cosmopolitan condo if:
• You prioritise space.The 2 bedroom units here are of a good size, but we can't say the same for the 3/4 bedroom units.
• You like big sized balconies.Regardless of the unit size, all the balconies here are of the same size.
End of Review