Our Verdict
Perfect Ten is a luxurious development along Bukit Timah Road with its standout architecture and gold accents ensuring that the project is unmistakable. With sweeping views of greenery and detailed furnishings in every unit, will Perfect Ten be perfection in the heart of District 10?
45
min read
| | |
| --- | --- |
| Project: | Perfect Ten |
| District: | 10 |
| Address: | 321 & 323 Bukit Timah Road |
| Tenure: | Freehold |
| No. of Units: | 230 |
| Site Area: | 104,532 sqft |
| Developer: | CK Asset Holdings (Cheung Kong) |
| TOP: | 2026 |
What comes to mind when you think of the residential enclave of Bukit Timah?
To me, it is an estate dotted with large, expansive (and expensive) homes set amidst lush greenery, with Singapore Botanic Gardens at its core. It is no different for the wider District 10 region, which also includes the Holland, Nassim, and Tanglin areas. With about 25 of the 39 Good Class Bungalow areas located in District 10, it is no wonder that it is widely recognised as one of Singapore's most prestigious estates from a traditionalist's point of view.
Of course, beyond the gorgeous landed estates, you will find many swanky condominiums in the Bukit Timah region. Drivers will definitely recognise the landmark developments along that stretch of Bukit Timah Road – Wing On Life Garden and Honolulu Tower, which have dominated the skyline since the 1980s. There is an element of rarity in this area as you would be hard-pressed to find any available site along Bukit Timah Road for development. The only way to have a new development would therefore be via an en-bloc sale. 
And so an en-bloc sale it was for the owners of City Towers, which was sold for $1,847 psf back in 2019, with each owner getting a windfall of between $2.8m to $11.5m. If you do not yet know the exact location of Perfect Ten, it is just before Wing On Life Garden and Ferrell Residences, which is one of the newest condos along this Bukit Timah stretch, along with Cyan, which we reviewed back in 2019.
This Bukit Timah stretch benefits not only from good transport connectivity, being a beneficiary of the Downtown Line in 2015, and proximity to Orchard, but also enjoys the luxury of being 1 km from popular schools such as ACS Primary and SCGS. However, common gripes include congestion during peak hours and road noise from the units facing Bukit Timah Road. 
Perfect Ten has big shoes to fill, given its illustrious neighbours and its naming aspirations so let's check out if Perfect Ten is indeed Perfect and Ten (upon Ten)!
Perfect Ten Insider Tour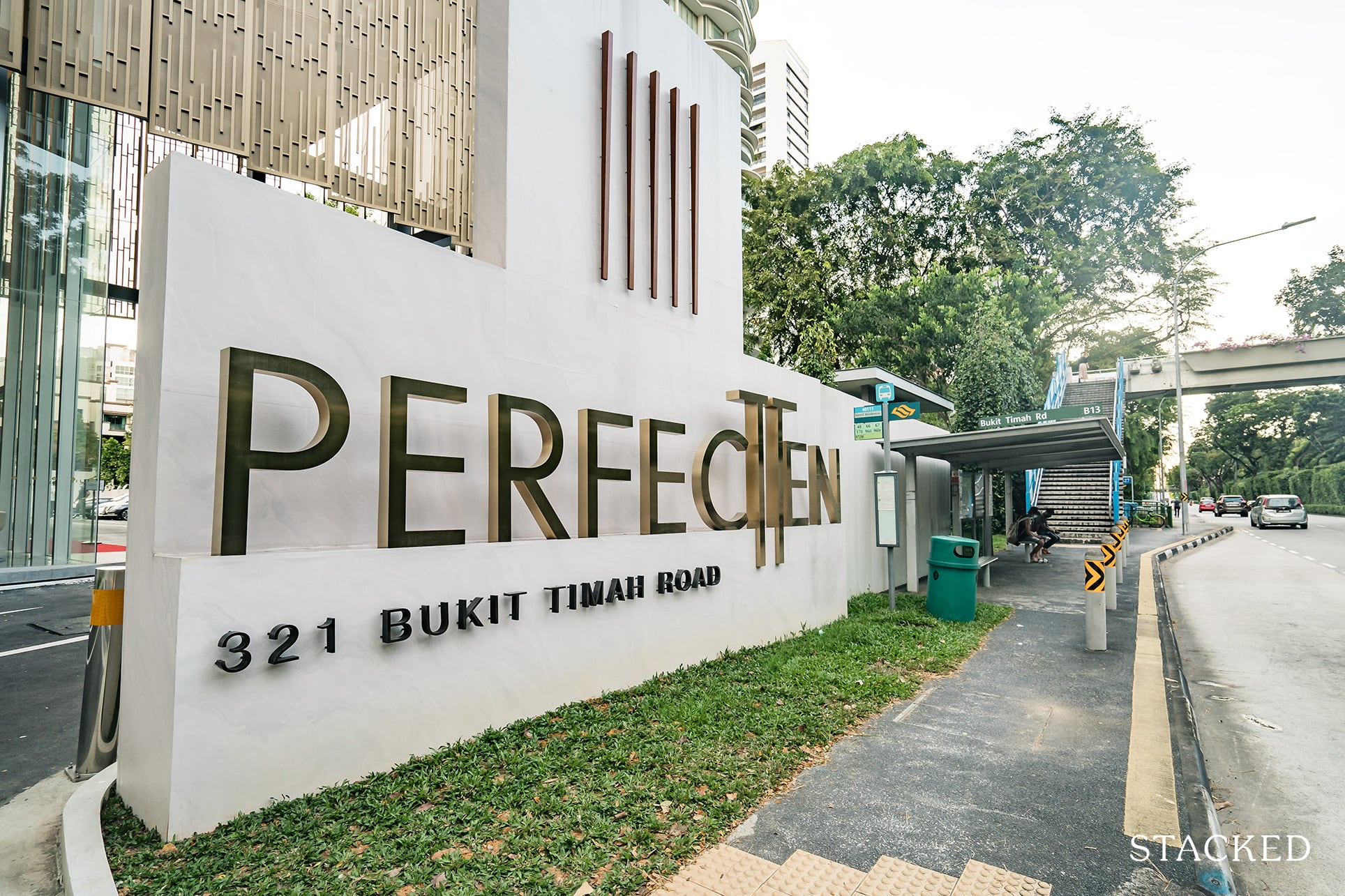 Perfect Ten has outdone even its more luxurious peers with the marketing materials. Gone are the days of hard copy brochures, instead, you are given a box that features a QR code to download the Perfect Ten app.
From there, you can toggle between the different floors to check out the different views, explore individual 3D facilities up close via artificial reality and do the virtual tour anytime, anywhere. I found this to be really engaging and interactive and hope that developers, especially for more upscale projects, will embrace such technologies going forward. It's definitely a peek into the future as with the advancement of such technologies, show flats could actually be a thing of the past. For what it's worth too, the investments even on this front may be an indication to you of the commitment to executing a luxury project here.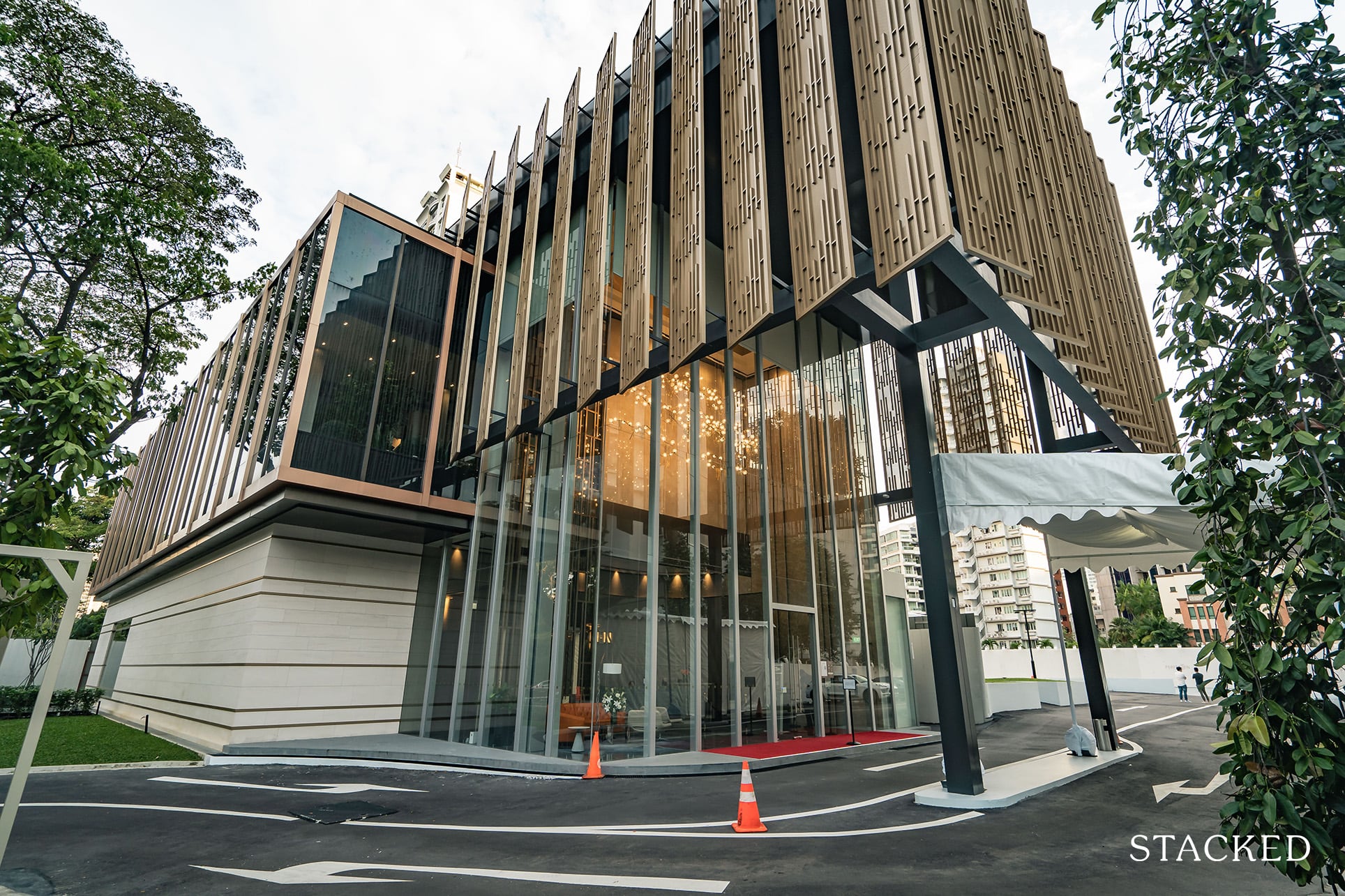 For now, the physical realm is still very much the biggest showpiece and the developers have set out stall to impress from the get-go.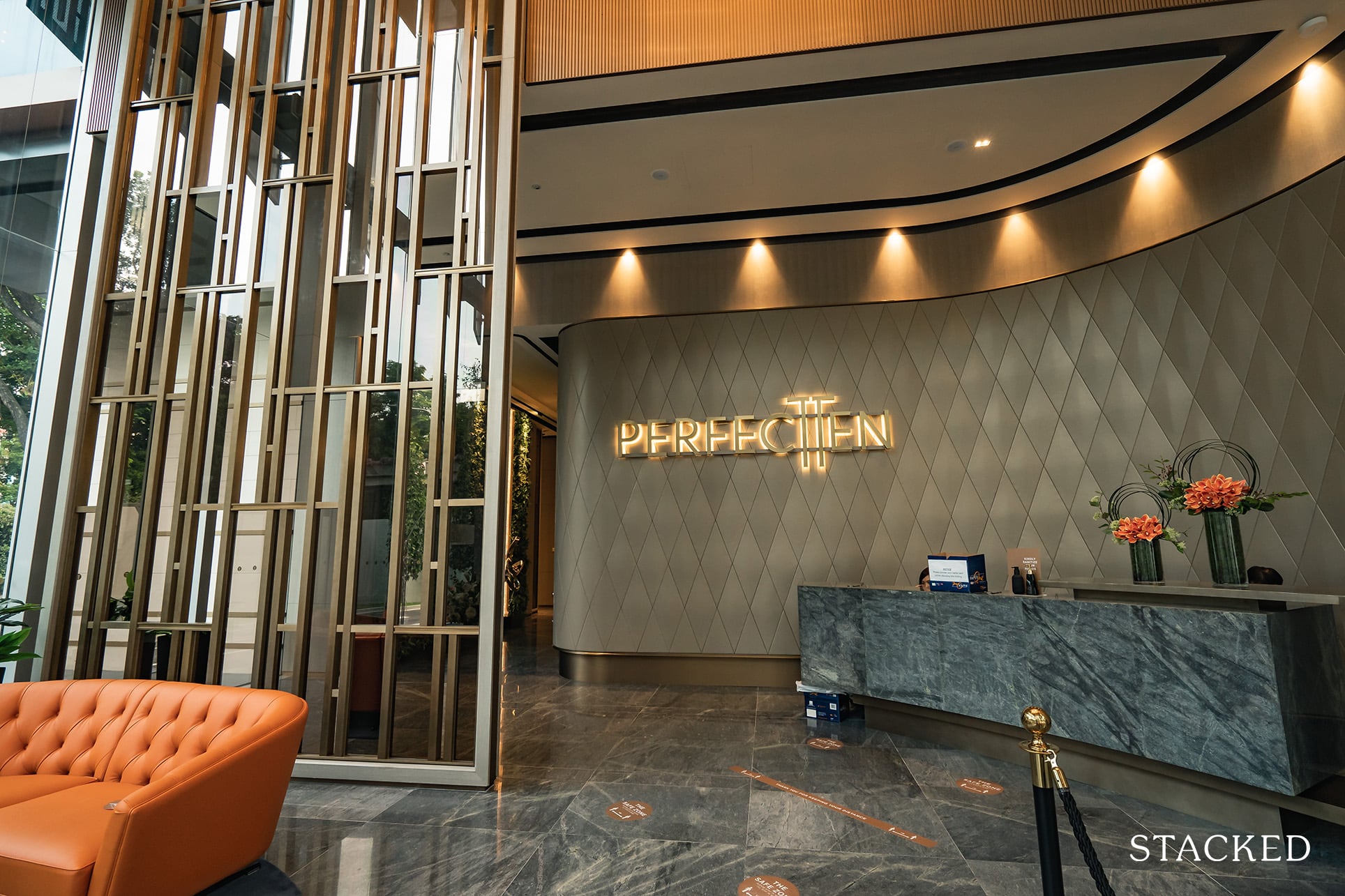 In terms of their physical show flat located at the actual site, it's the customary high-ceiling arrival, with a resplendent chandelier to boot.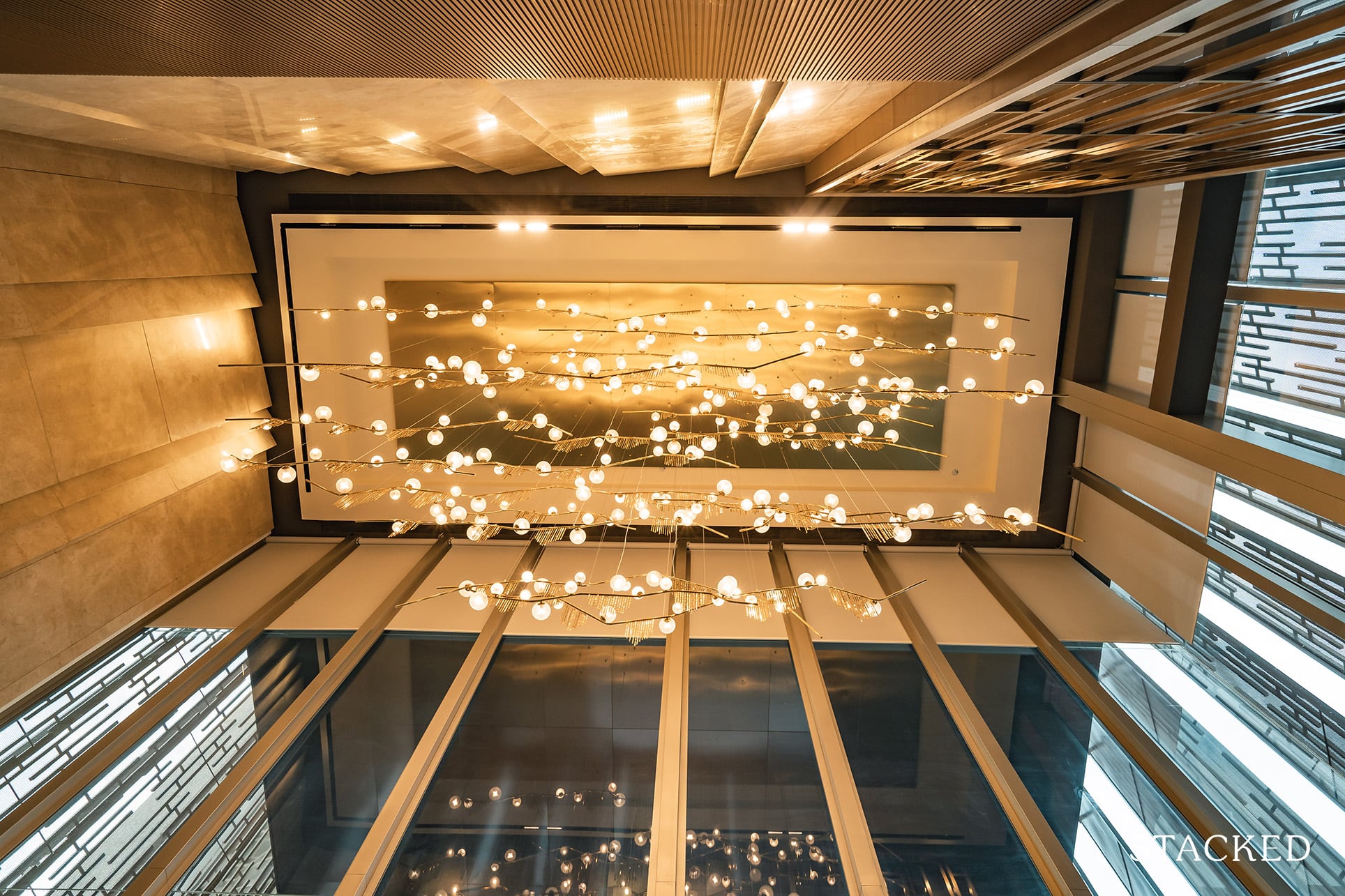 Next, you are led into a private room with an introductory video on the Perfect Ten's locale and 360-degree views, setting the tone for the rest of the show flat. From there, you will proceed to yet another area, where there are a number of private pods for negotiations between prospective buyers and agents. Naturally, exclusivity is important here as some buyers would prefer to be as discreet as possible.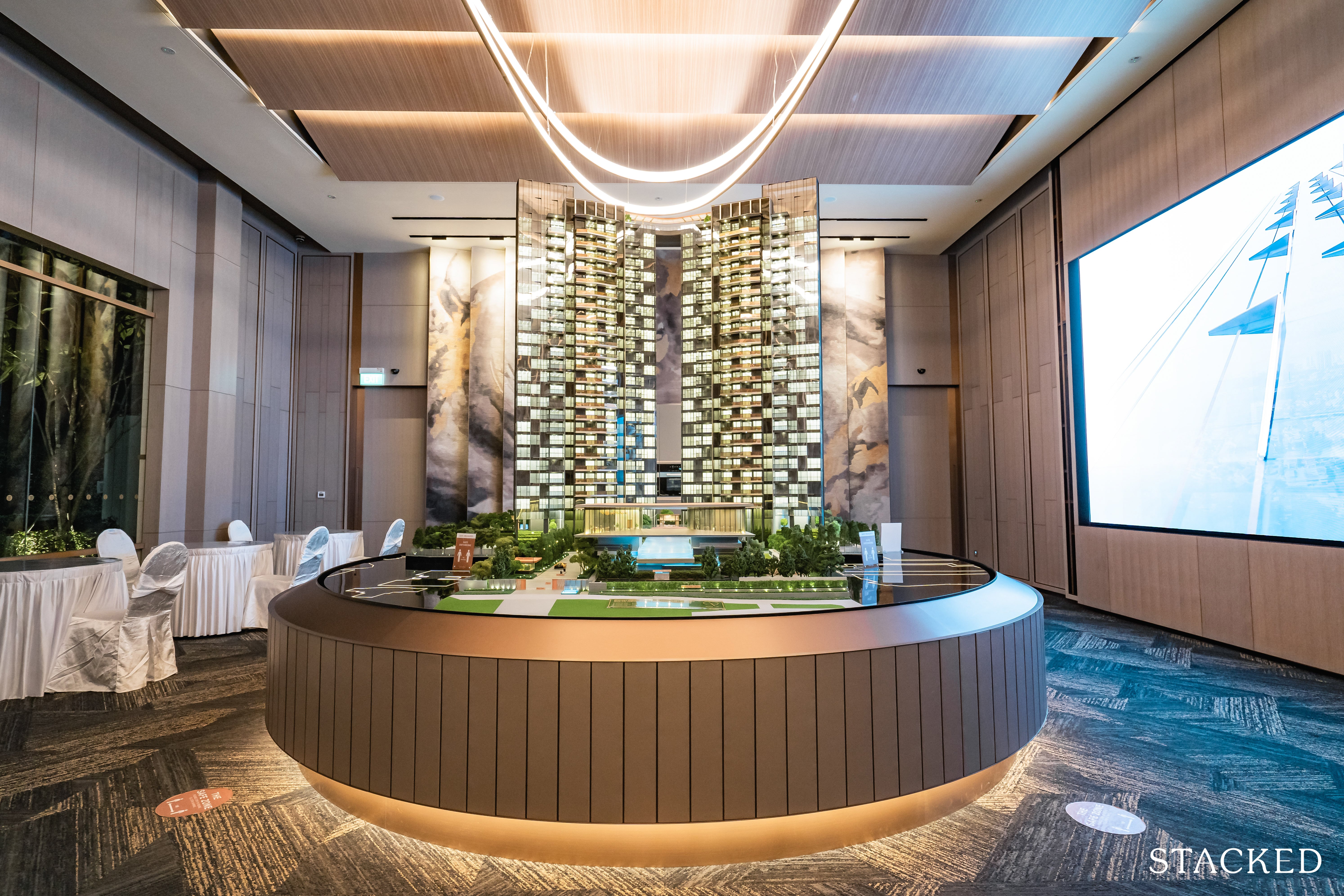 As the doors slide open, you are treated to the gleaming model of the Perfect Ten. It is made up of 2 symmetrical residential towers of 24 storeys each, with 230 units in total across 2 and 3 Bedroom types. Its symmetry echoes a welcoming entrance home, exuding an aura of luxury. 8 out of the 10 stacks front Bukit Timah Road and have unblocked views of the greenery and Goldhill landed enclave. The views are definitely one of the reasons why some would consider purchasing a unit along this stretch and we previously reviewed Cyan back in 2019, a condo just down the road with similar views.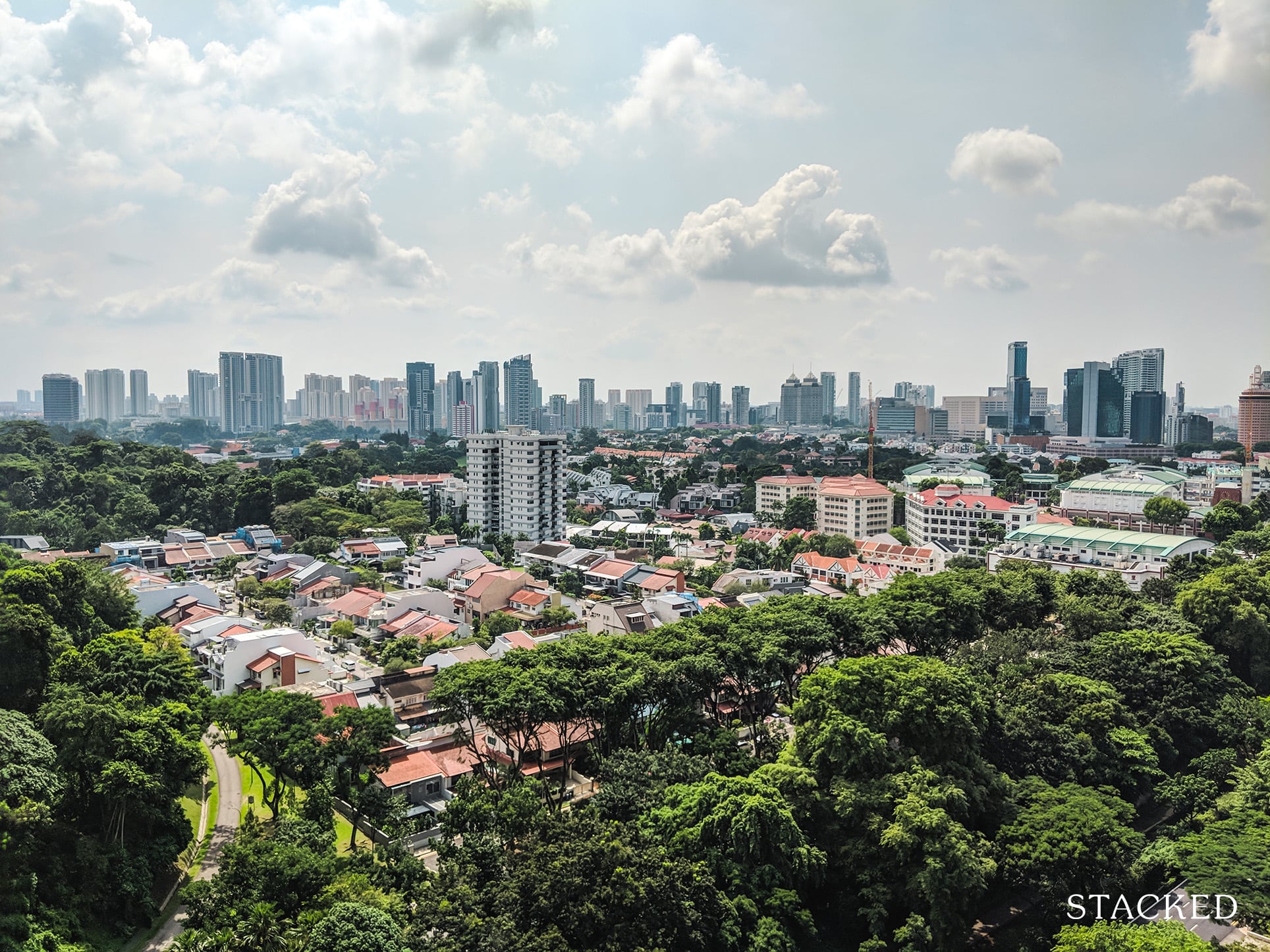 While the developer has thoughtfully captured the view you'd expect from every single unit (yes, you heard that right – everyone should be doing this), most people won't understand the views that you can get from here unless you've seen it for yourself. Arguably for me, getting this many lush greenery views in such a central location is a huge part of the appeal.
Plus with the landed estate here, it's pretty much guaranteed unblocked views for the foreseeable future.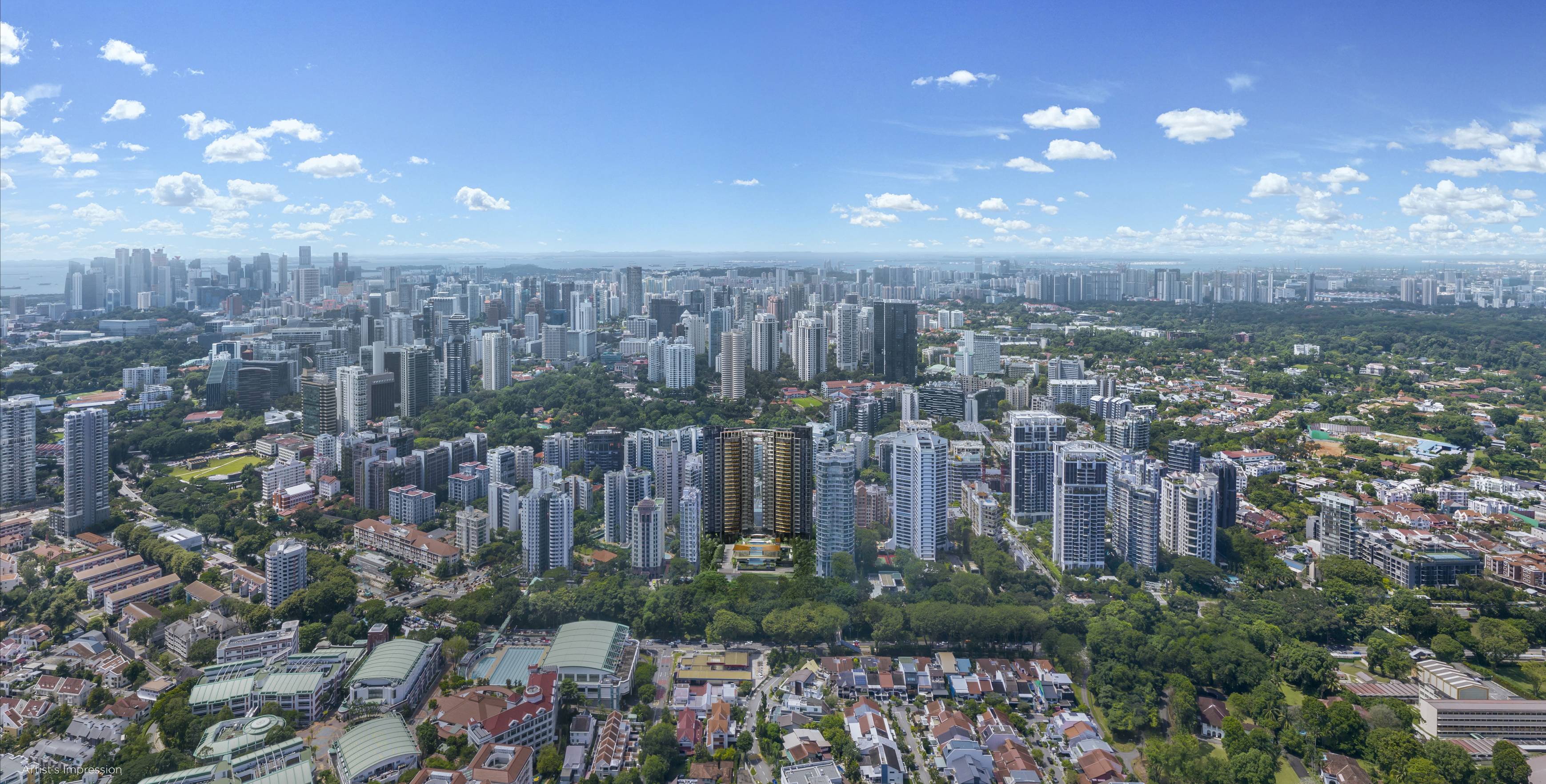 In fact, even views on the other side are not too shabby either as you will be able to look towards the city and the neighbouring condos.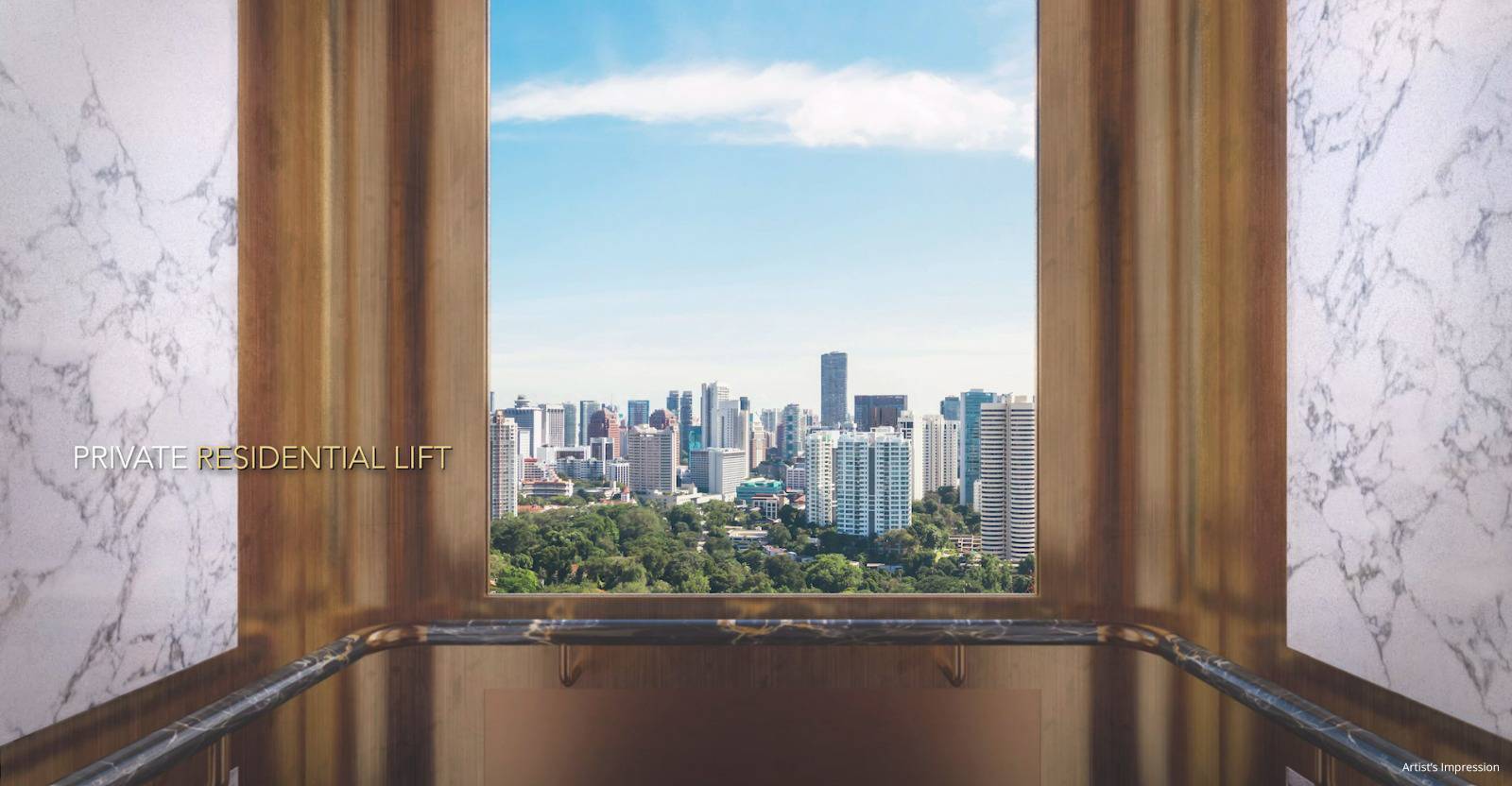 But instead of the usual private lift, they've gone for something absolutely special here – a private lift with glass windows, allowing you to check out the city views as you get elevated back to your sanctuary. I think it's a near-perfect welcoming experience to get home each day. The Singapore city skyline might not have the colourful vibrancy of New York or Hong Kong but it's still really nice to be able to stare out and watch the view as you ascend.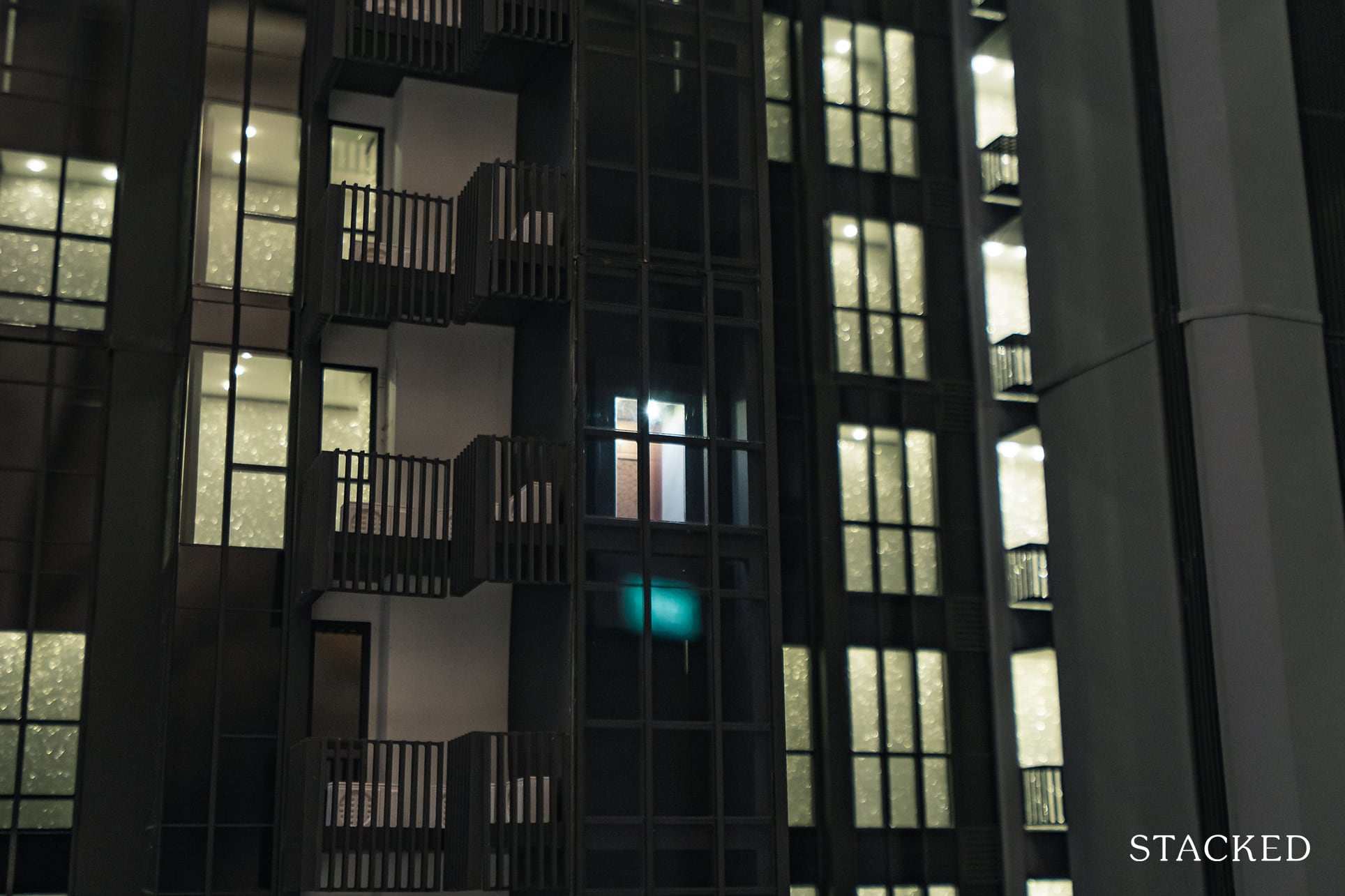 The developers have even incorporated this into the model, with an actual moving lift! It's absolutely unnecessary but the fact that they've even attempted such a move is a plus point in my books. I can't quite explain it, but there was a certain child-like thrill when I first saw it (as ridiculous as it may sound).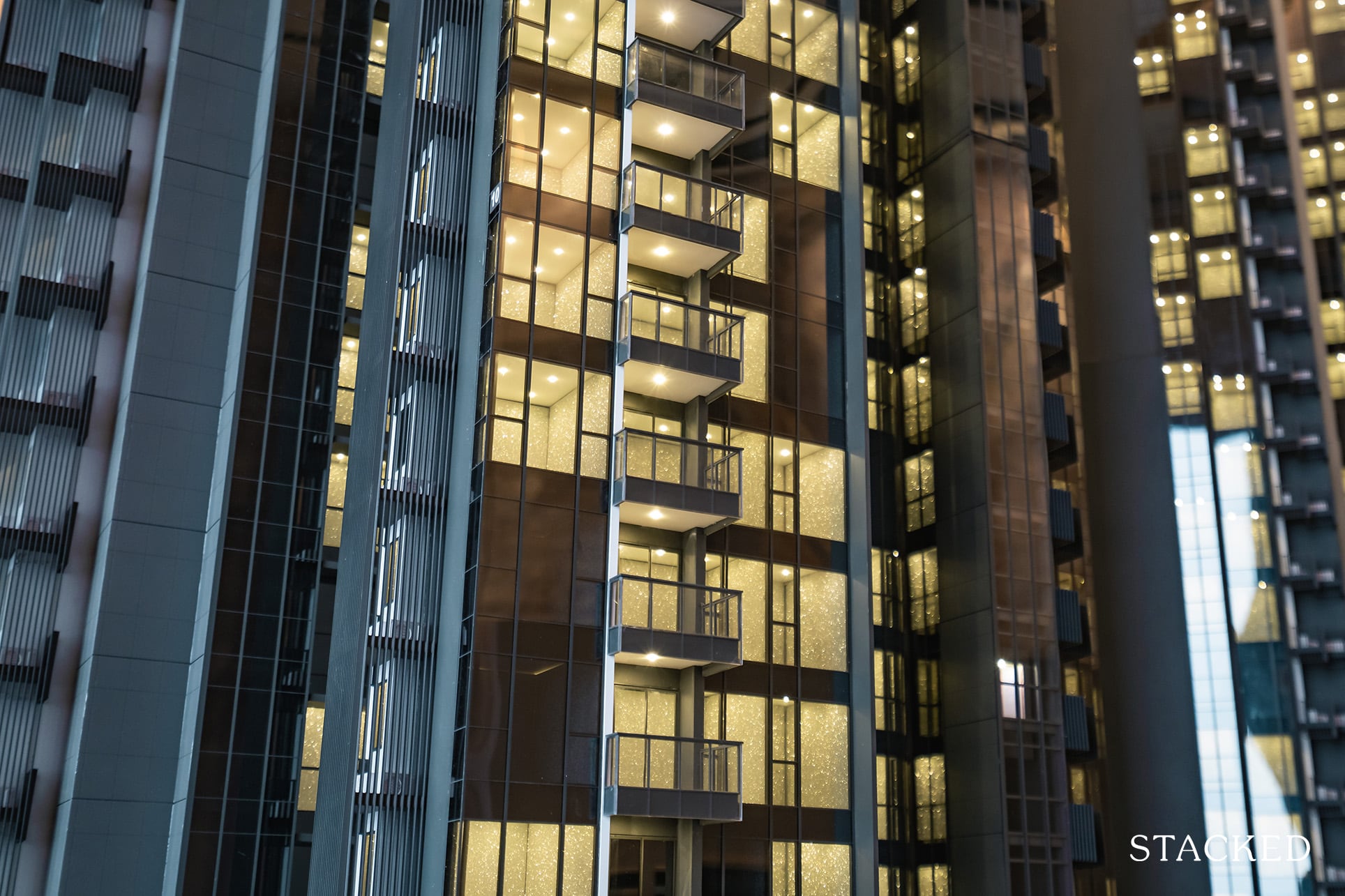 If there is an overarching theme to describe Perfect Ten, it would be the liberal use of gold throughout. You have them right from the clubhouse, the residential towers to the fittings in your individual units. While some may perceive it to be loud, one must acknowledge that it fits well with the overall luxe factor. After all, you are expecting to pay north of $3,200 psf here so buyers would naturally expect to purchase a home that makes a statement.
It may not be the understated luxury of something like the Meyerhouse, but this more swanky luxe appeal could actually be something that more people can identify with.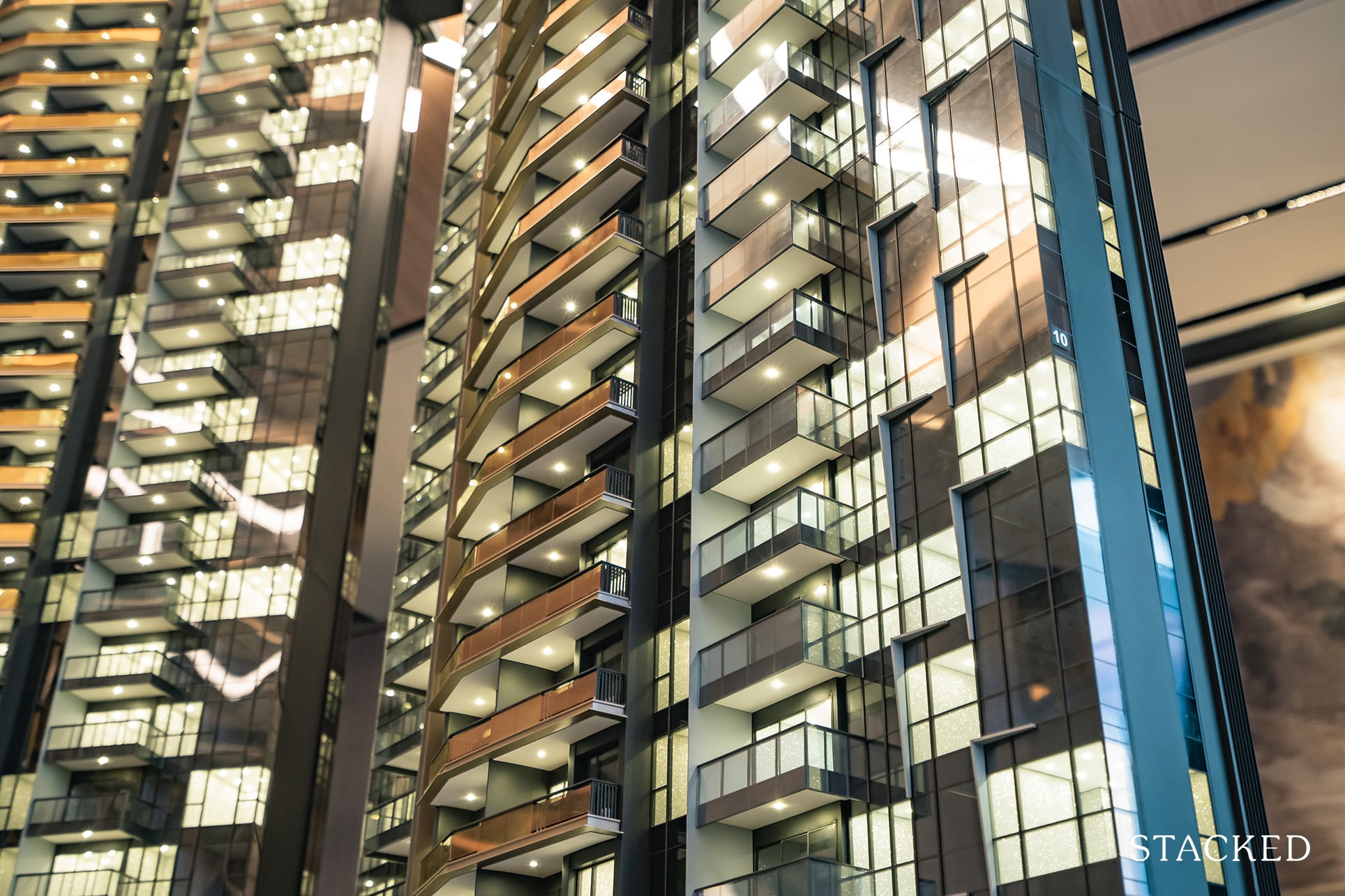 It is ultimately a very shiny and sleek design. The modernity of it will be very much obvious from even far away, especially on a sunny day where the different colours will be more reflective. It will be a stark difference compared to its nearby peers, even for the newer ones like Cyan and Ferrell Residences – as they will be more than 10 years old by the time Perfect Ten is completed.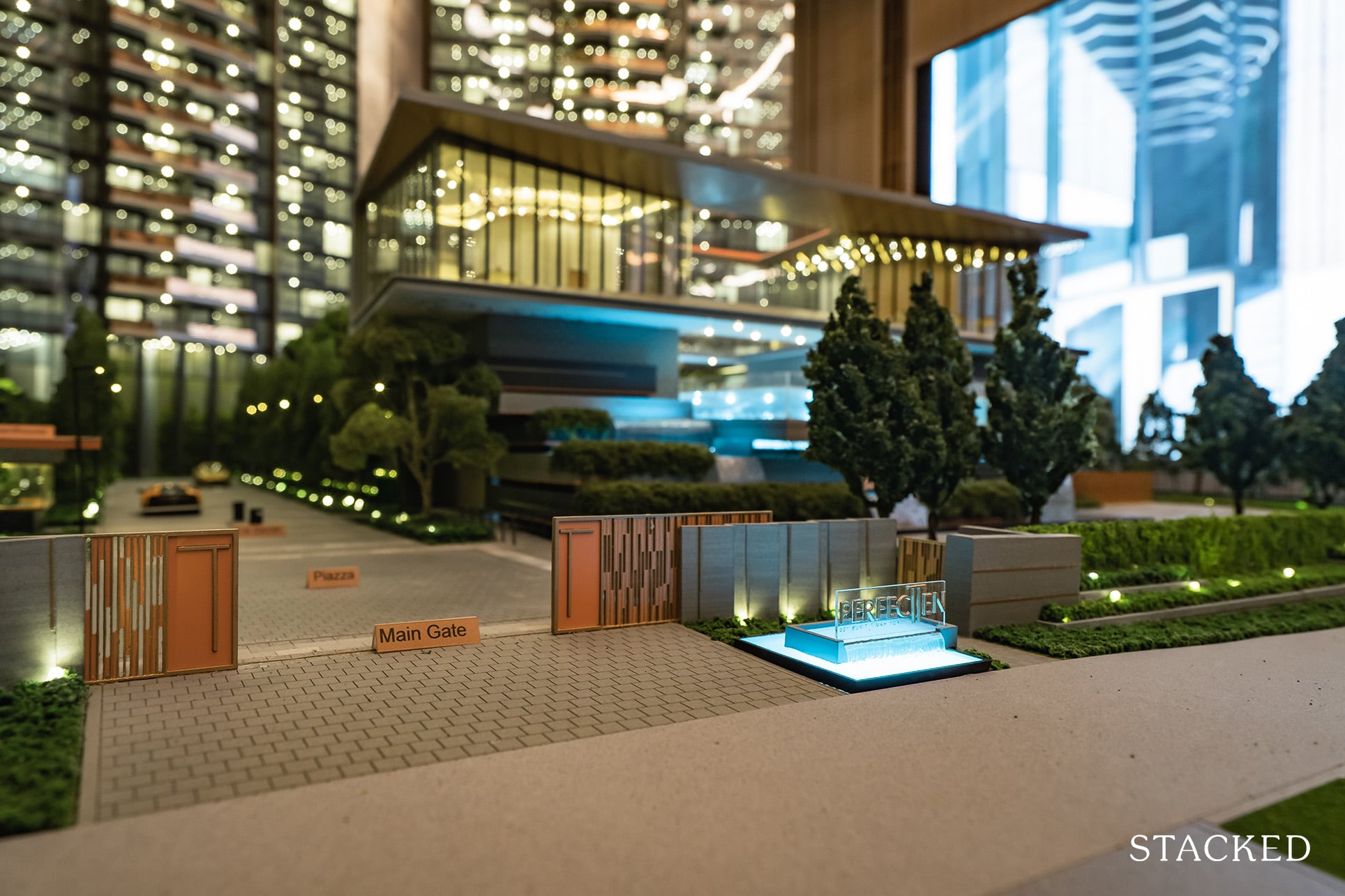 Your entrance to Perfect Ten will be along Bukit Timah Road, a short drive from Newton Circus and just after Balmoral Road. As you drive into Perfect Ten, you are greeted first by the Piazza, the cascading waterfall, and the Guardhouse before you are taken on a soothing 80m drive along the boulevard driveway with planters lining every step of the way.
It's worth noting here though that turning out to the main road may not exactly be child's play for some drivers, the main Bukit Timah Road can be pretty fast-moving and unforgiving traffic.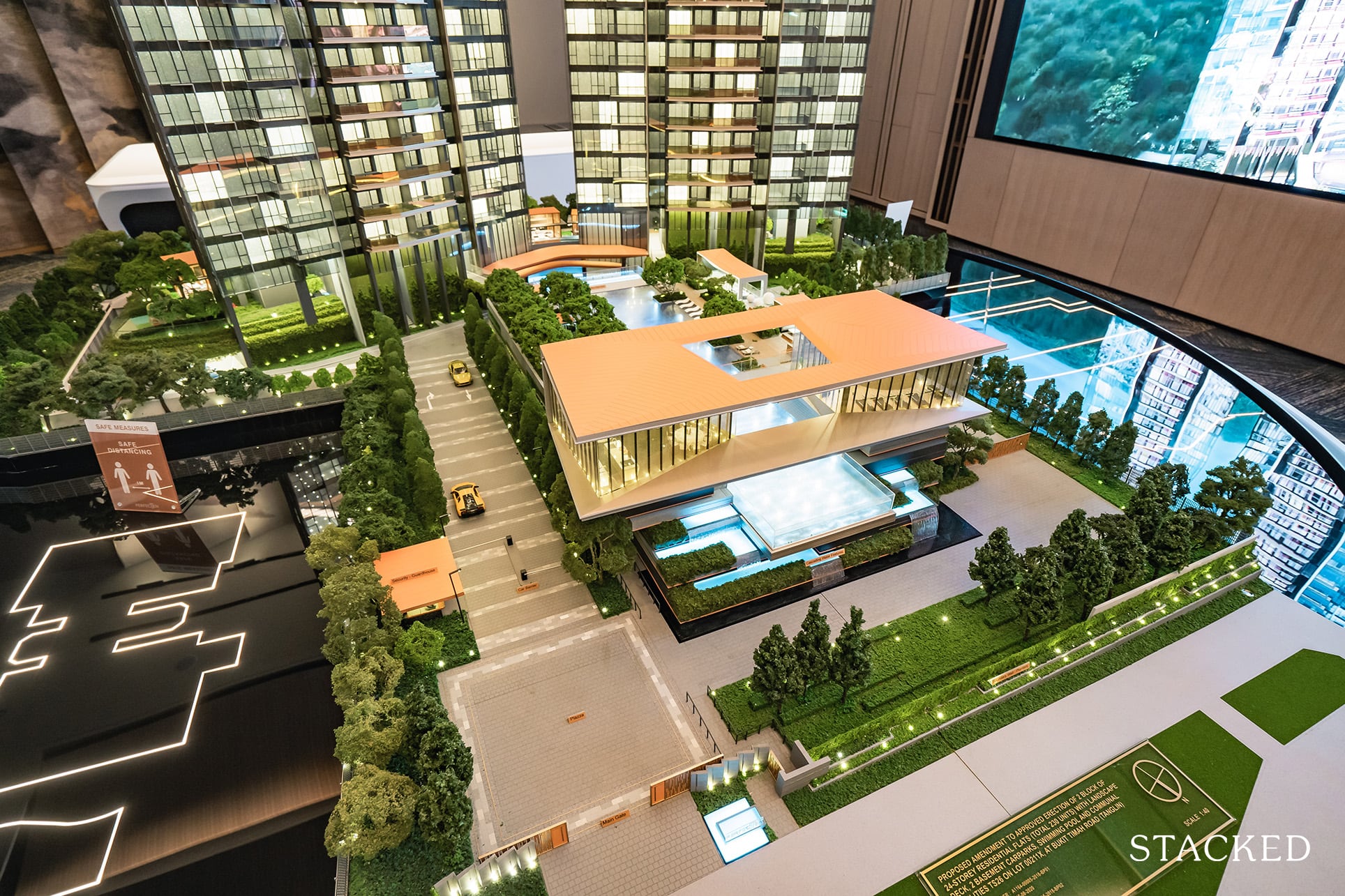 Peak hour traffic issues aside, the piazza is a nice prelude to the development and the long driveway is a grand feature often unique to luxury developments such as Goodwood Residence and OUE Twin Peaks. The welcome home away from the hustle and bustle of Bukit Timah Road is always appreciated.
Couple this with the stunning glass window private lift (only for the 3 bedroom units), and I daresay this could be one of the most impressive welcome home experiences out of all the developments I've seen so far.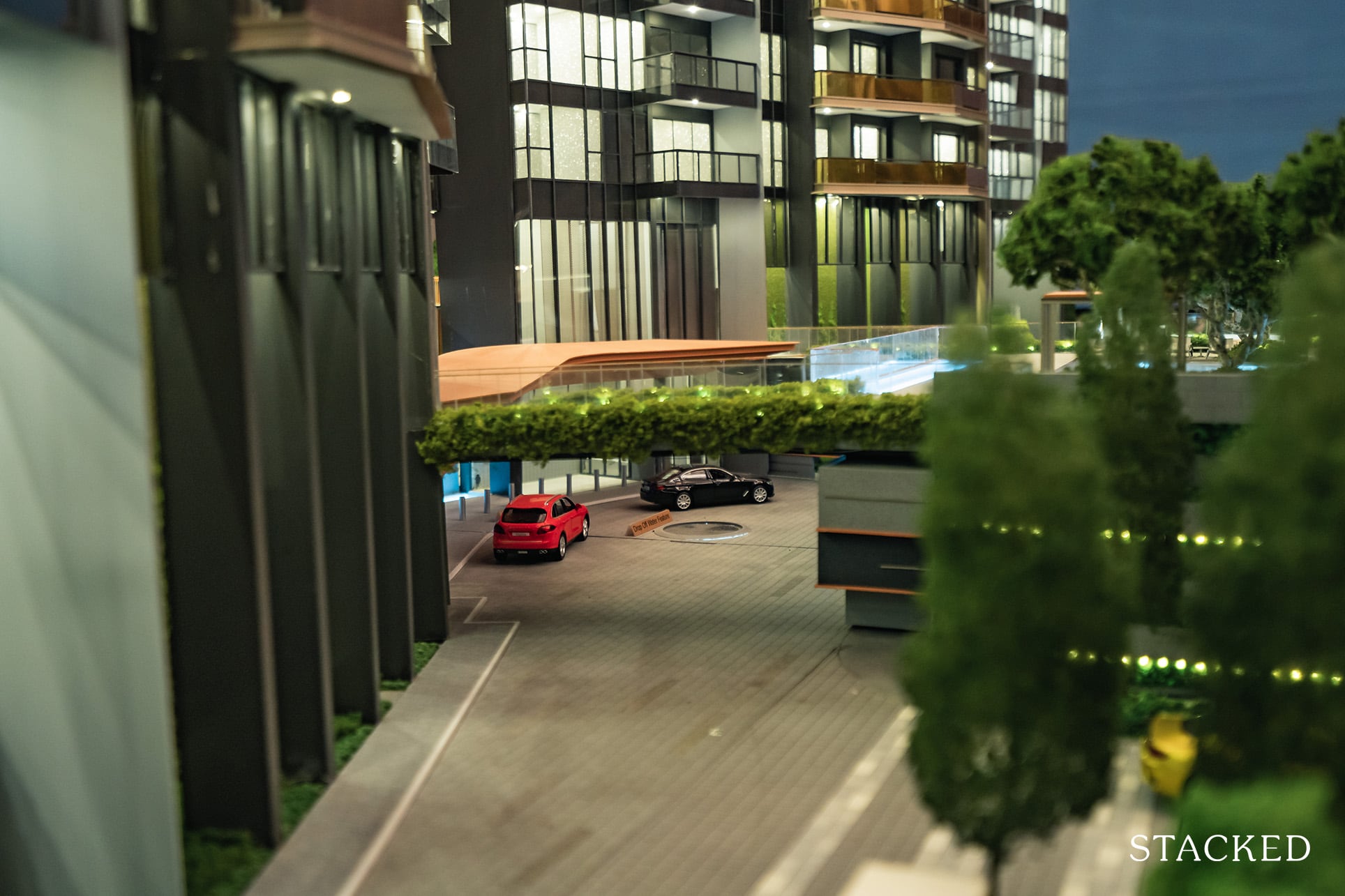 Where you or your guests will be dropped off will be at the Grand Drop Off, which features a 5m high rose gold shelter that is hidden from sight from the main road. There is that level of intrigue and exclusiveness here while the 10m lobby will make your welcome home a glitzy one.
On that note, this 80m long boulevard driveway has dual benefits. On the one hand, it helps to make the drive home more exclusive. On the other hand, it also sets the residential towers back by 100m from the busy Bukit Timah Road. Having viewed several units along this stretch myself, the most common gripe my partner and I had was around the incessant road noise given how heavy traffic along Bukit Timah Road can be. With this setback, it helps to provide a larger buffer which buyers will definitely be thankful for.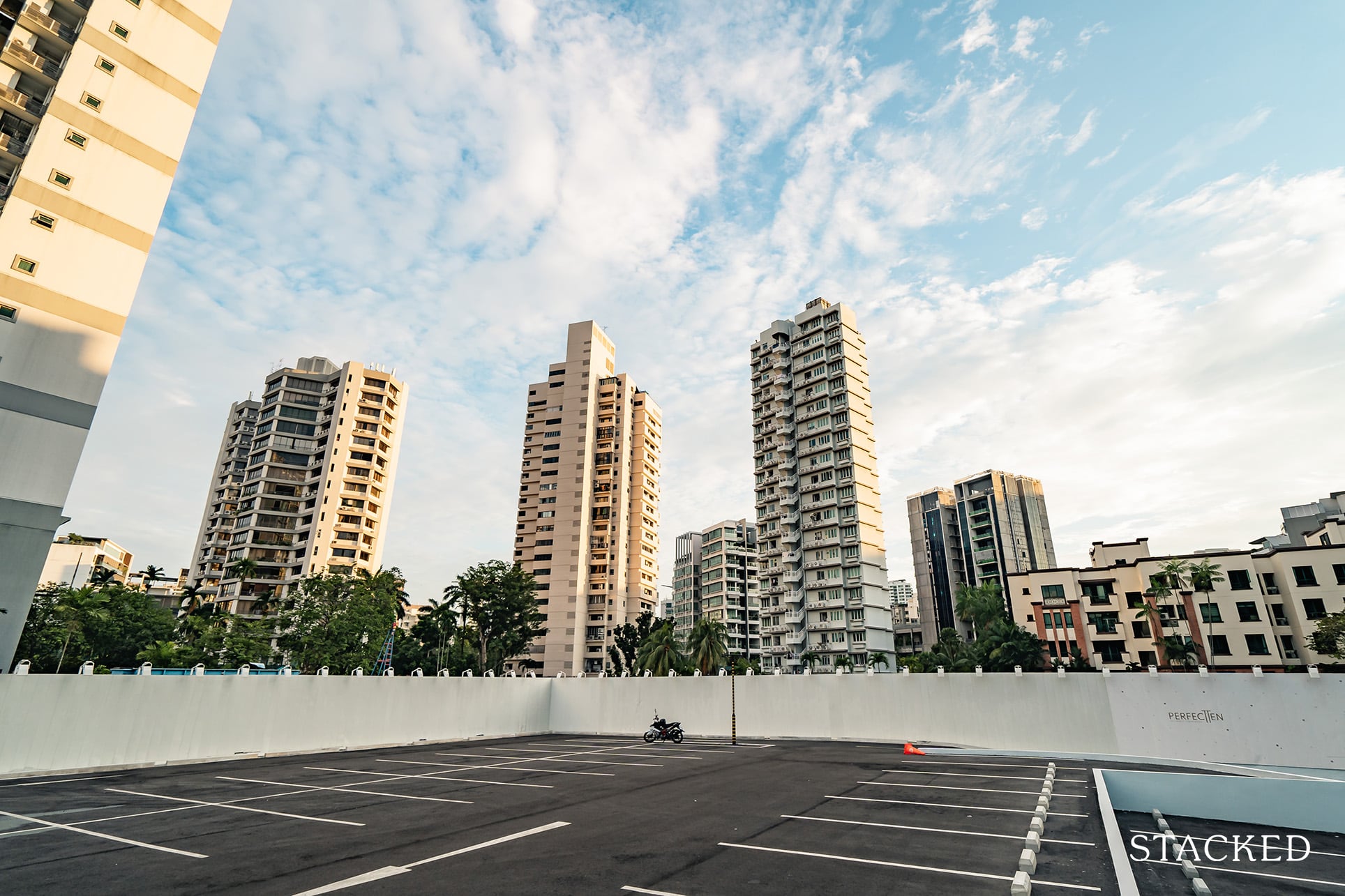 In fact, if you had a look at where the residential towers are proposed to be in comparison to other developments along the same stretch, it looks like Perfect Ten would have towers that are set furthest back from the road. I can't guarantee that there will be no road noise at all, but you can at least be certain that it would be less than your neighbouring developments. It's definitely a very shrewd move.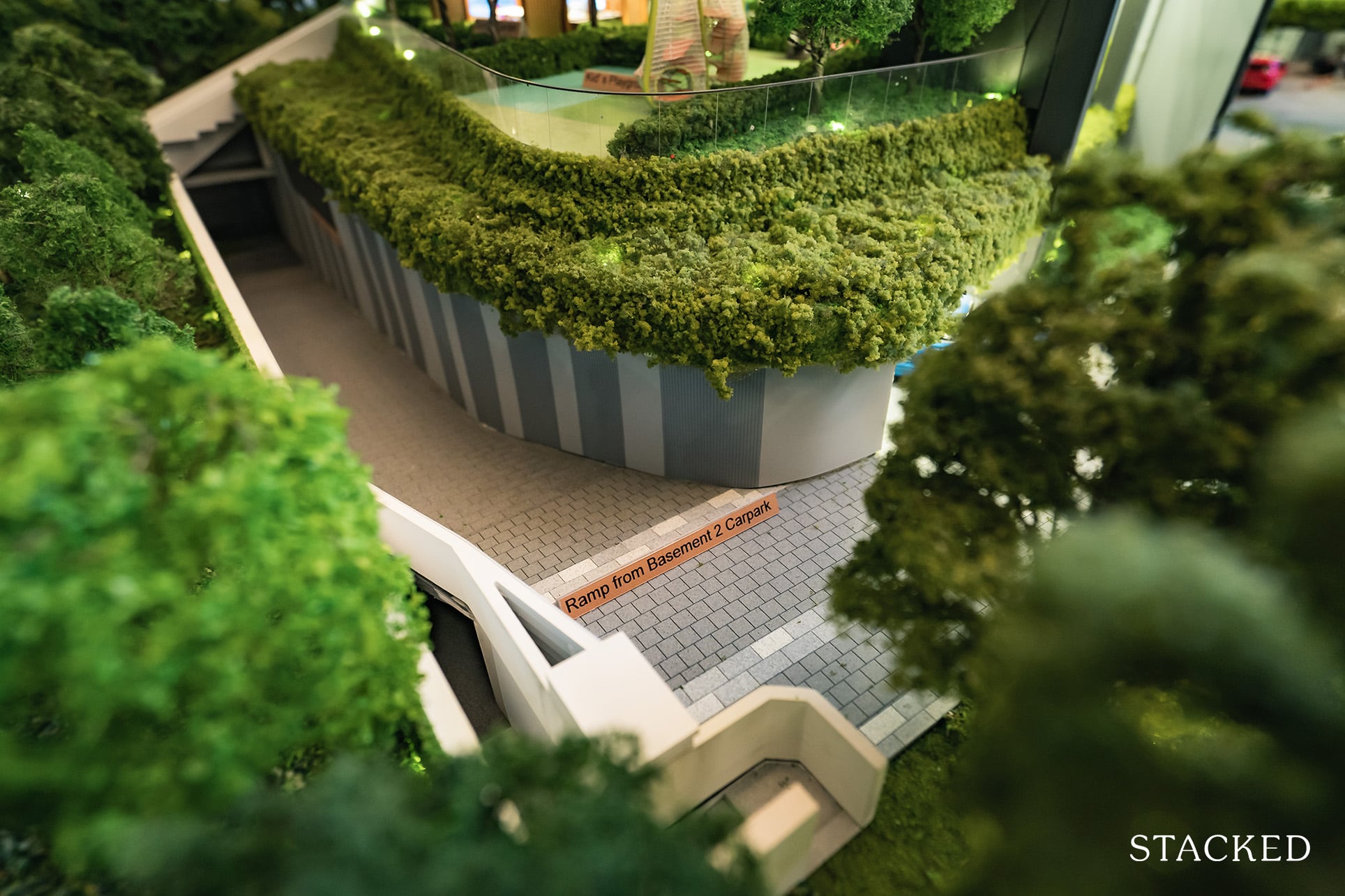 Despite Perfect Ten having 60% of units as 2 Bedroom ones, there is a 1 to 1 car park to unit ratio here, which should be much applauded. It's an 8 to 10-minute walk from both Newton and Stevens MRTs, so you don't actually need a car but I'm glad that the developers are sensitive to the needs of the upmarket clientele that they are expecting here. Future-proofing the project are 5 electric car lots in the basement car park, which is actually one of the most I know of among the new launches.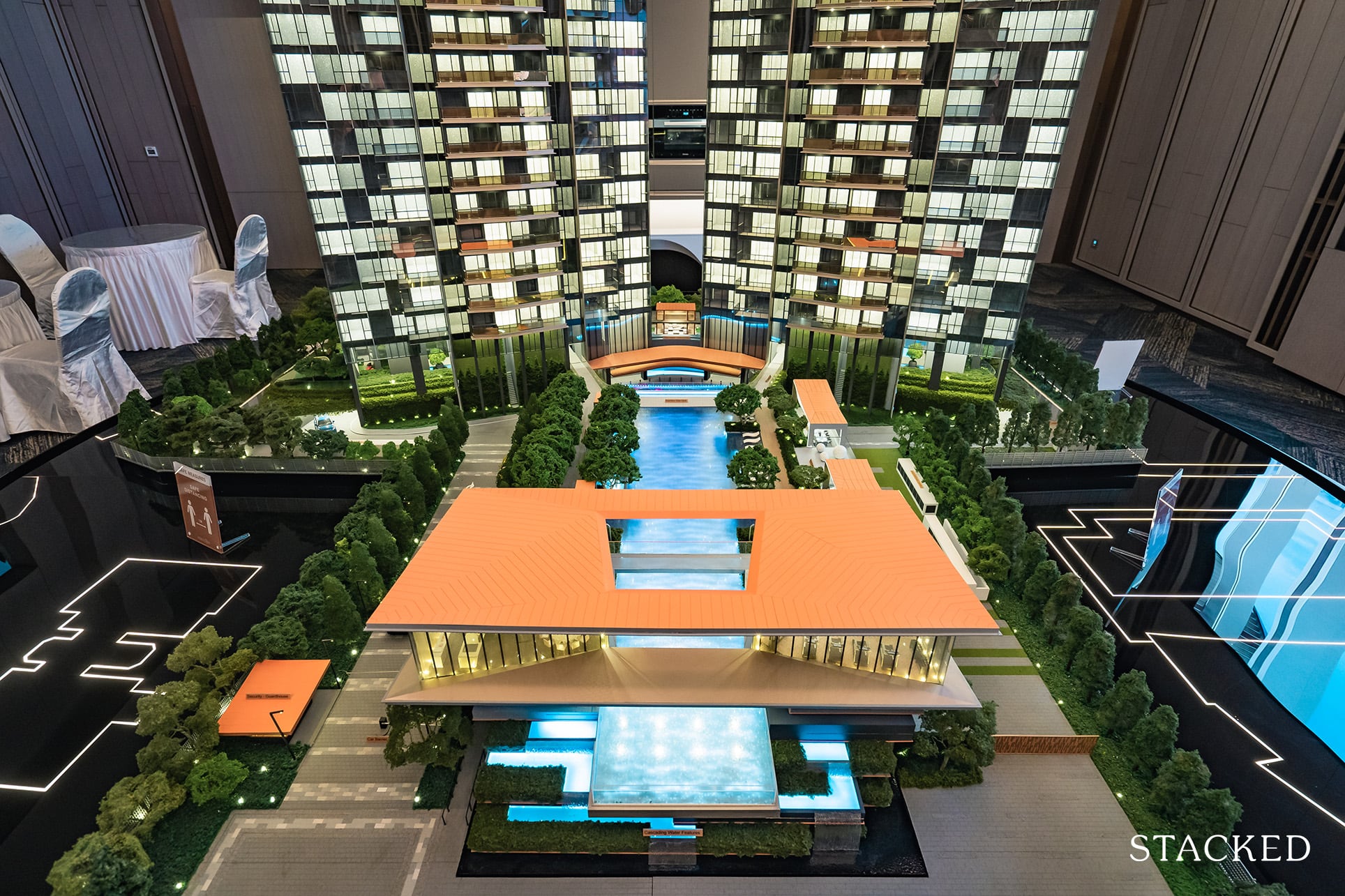 Perfect Ten has definitely strived to make their facilities a real show stopper and I think it is one of the more notable ones out there. Not quite in terms of how extensive they are, where you really can't triumph over mega-developments such The Florence Residences or Jadescape but rather in terms of its strong quality execution.
I'll start with what I think is meant to be the masterpiece here – the 2 storey Clubhouse that fronts Bukit Timah Road, providing a further noise buffer for the residential towers. The imposing clubhouse will be an impressive sight to behold and will stand out among the sea of condos along the same stretch.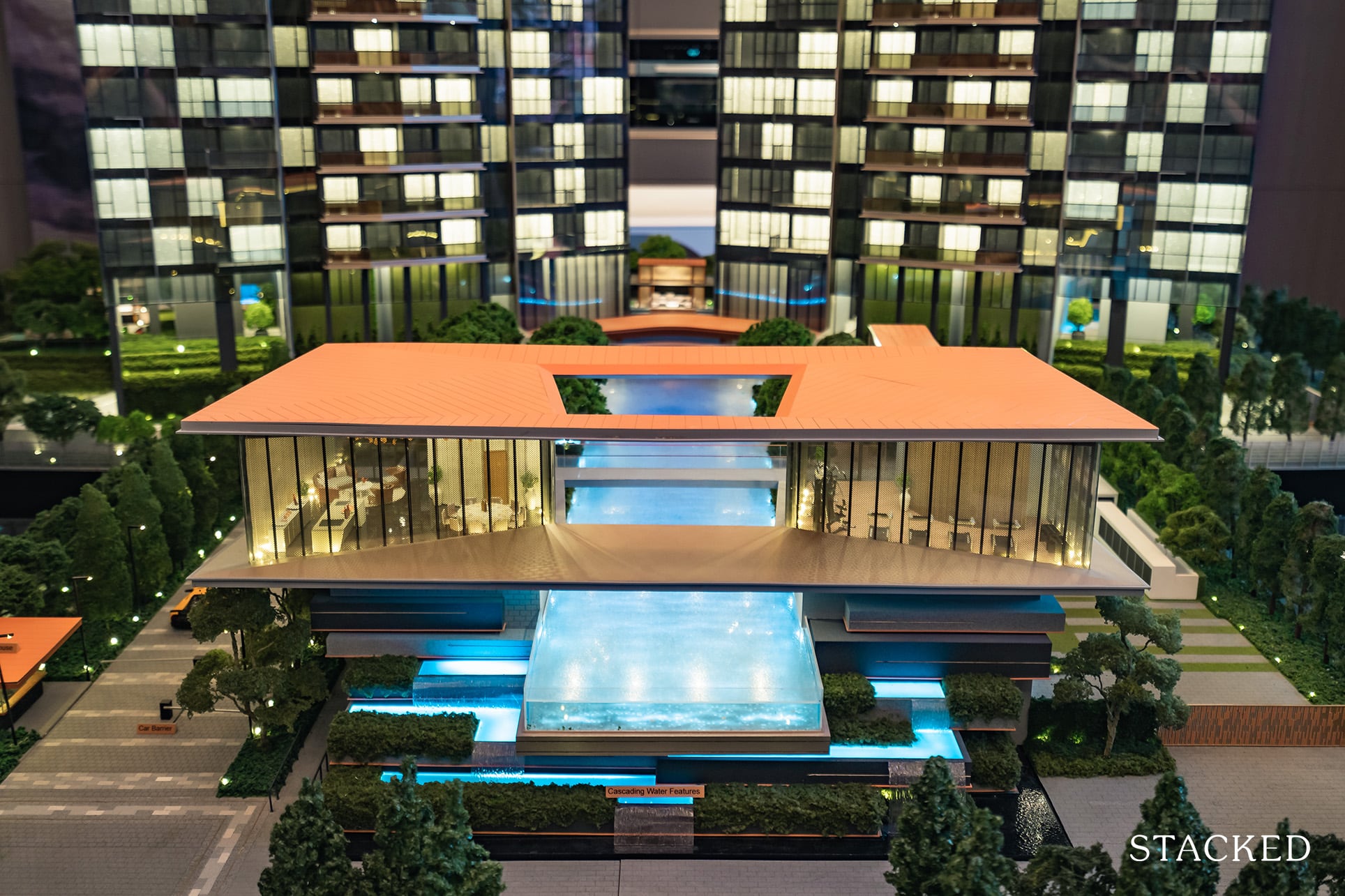 On the 2nd floor, you will find the air-conditioned function room/clubhouse complete with full kitchen appliances fit for your parties on one side and the gym on the other side. You will be able to get to these facilities via the grand staircase, which further adds to the luxe factor.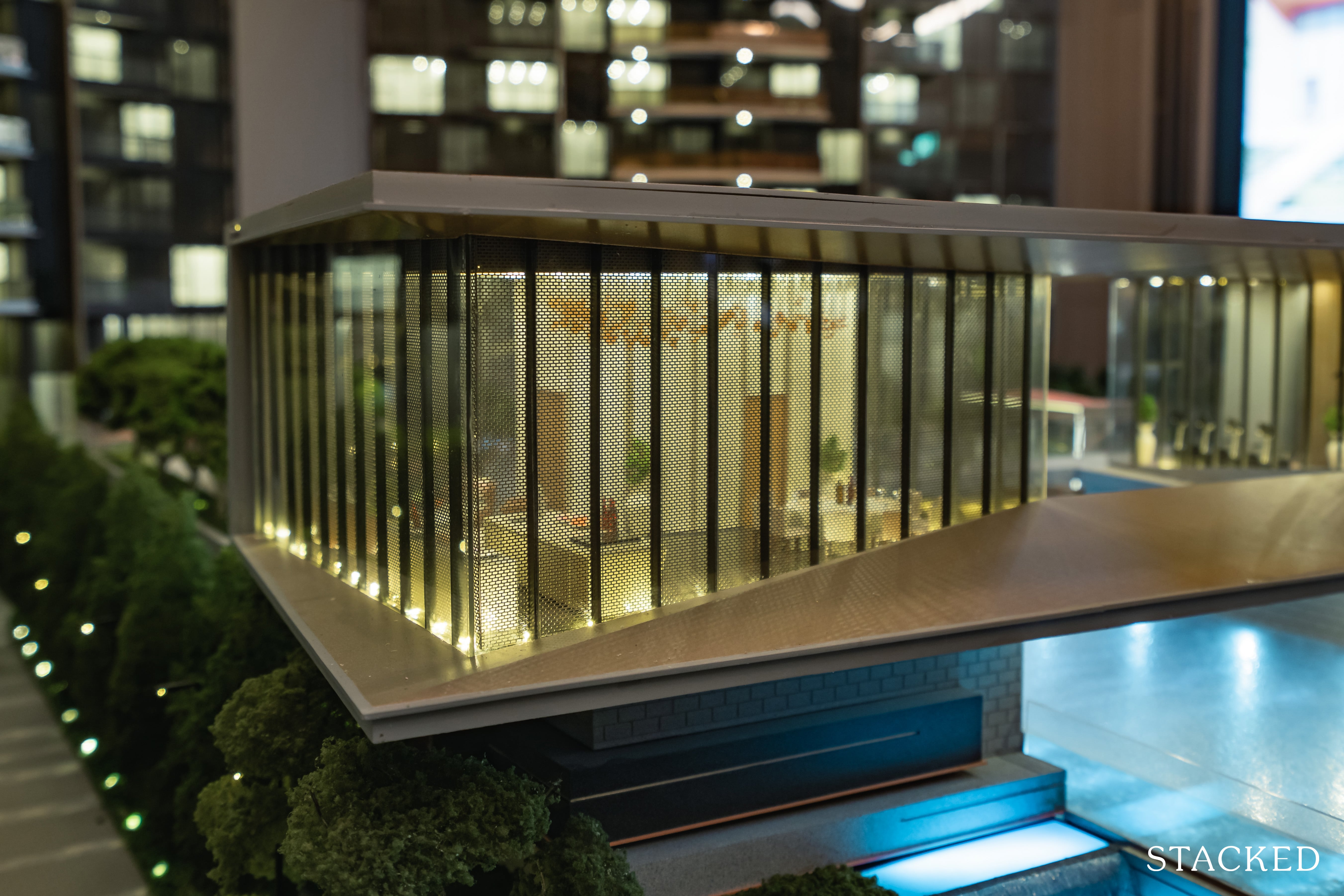 The function room almost looks more like a high-end restaurant, additionally aided on by the very expensive island counter – designed by the famed Zaha Hadid (apparently the price of this runs into the 6-digit realm). The high ceilings and luxurious fittings are certainly exemplary, perhaps only let down by the not-so-nice views of the busy Bukit Timah Road.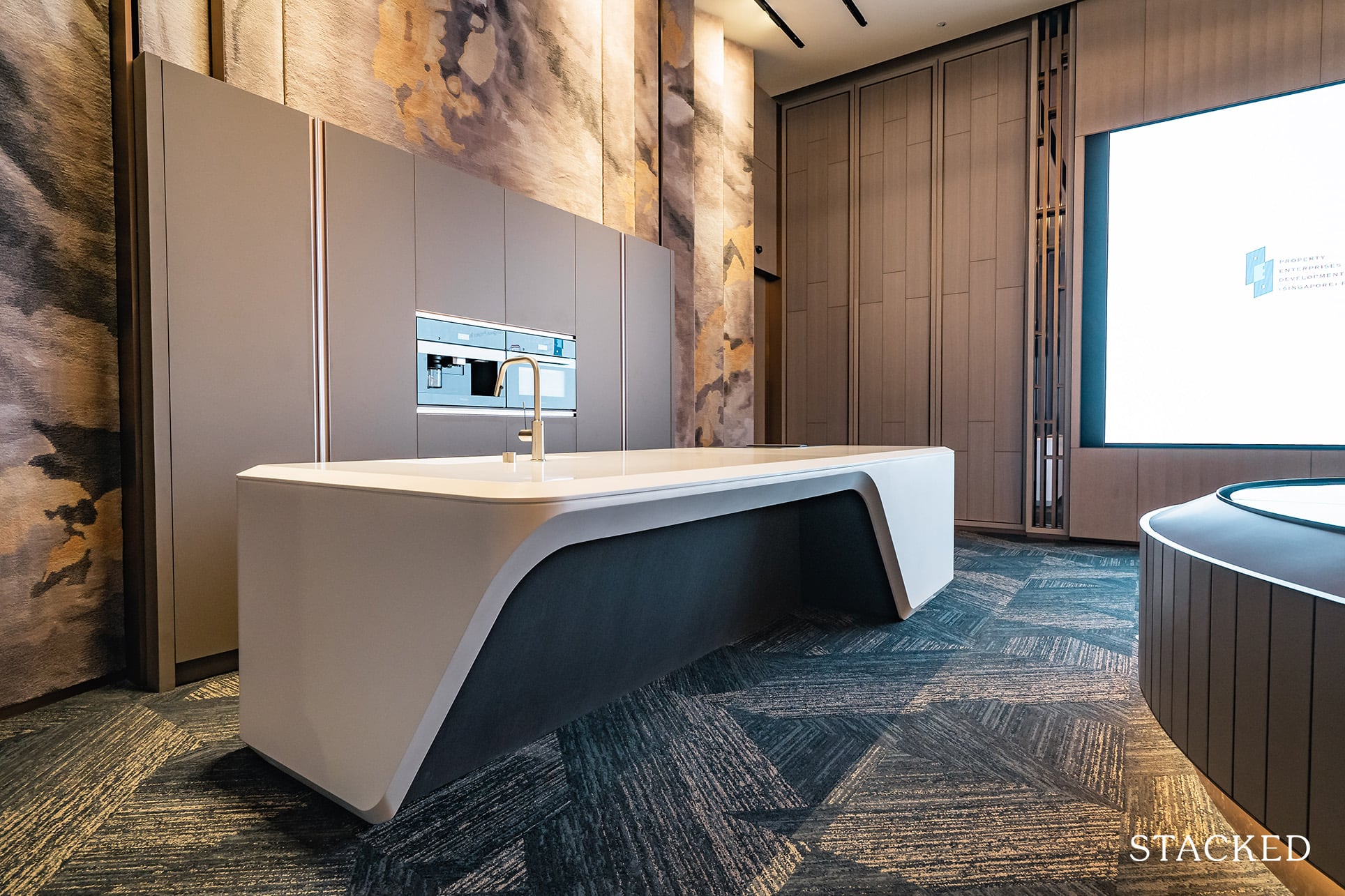 Separating the gym and the clubhouse is a walkway that overlooks the 50m infinity pool just downstairs. The infinity pool and the other facilities are elevated some 12m off the ground floor, providing privacy from the prying eyes of the double-decker bus passengers that ply the area.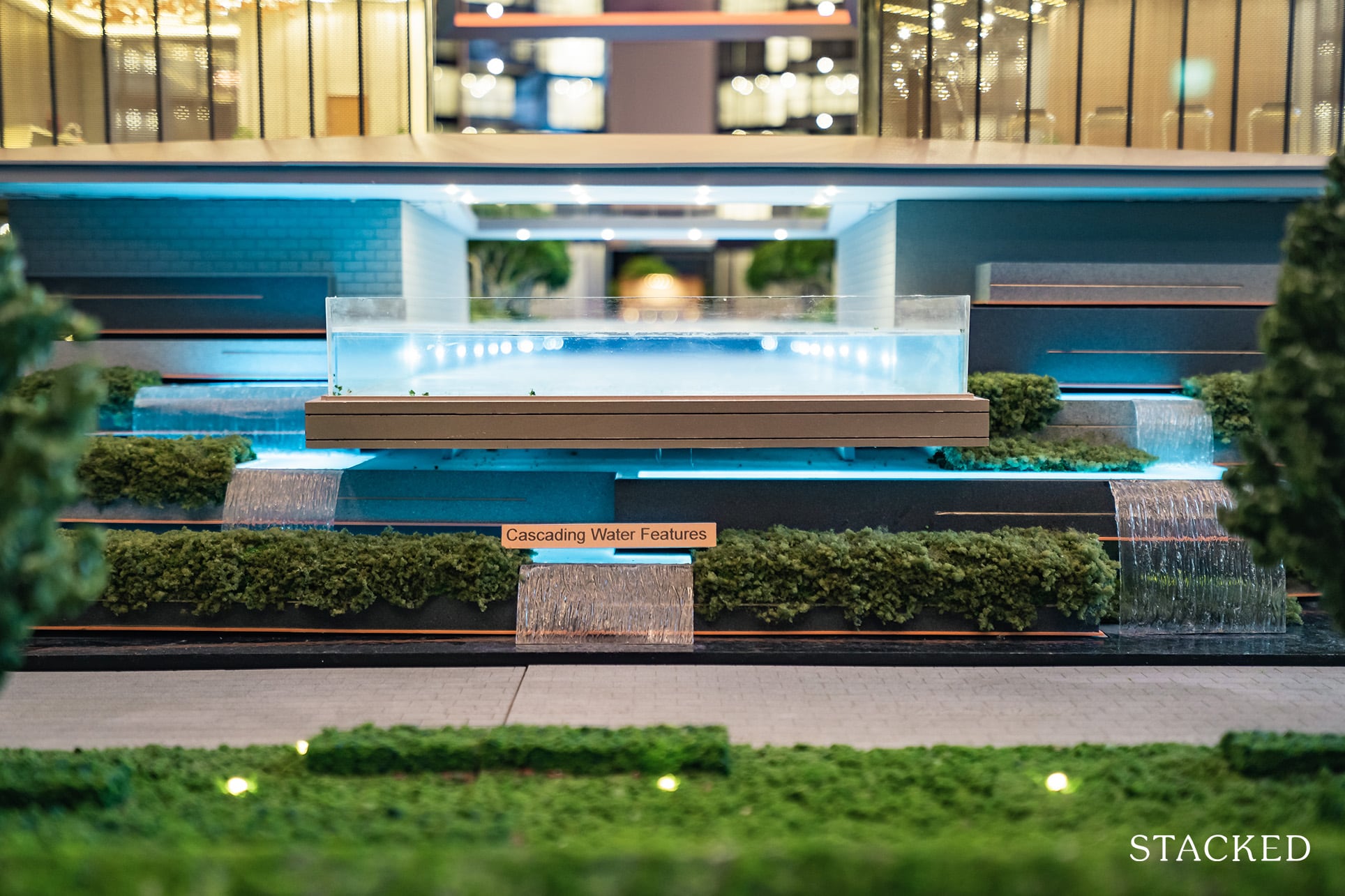 I find this infinity pool to be quite spectacular and certainly one of Perfect Ten's highlights as well. It is an infinity pool, which means that you can look out of the edges and you see that the end fronting Bukit Timah Road seems to have that cantilevered effect. Pretty cool don't you think? It'll be a talking point for anyone passing by, also because this will be the newest and shiniest development on this stretch of the road.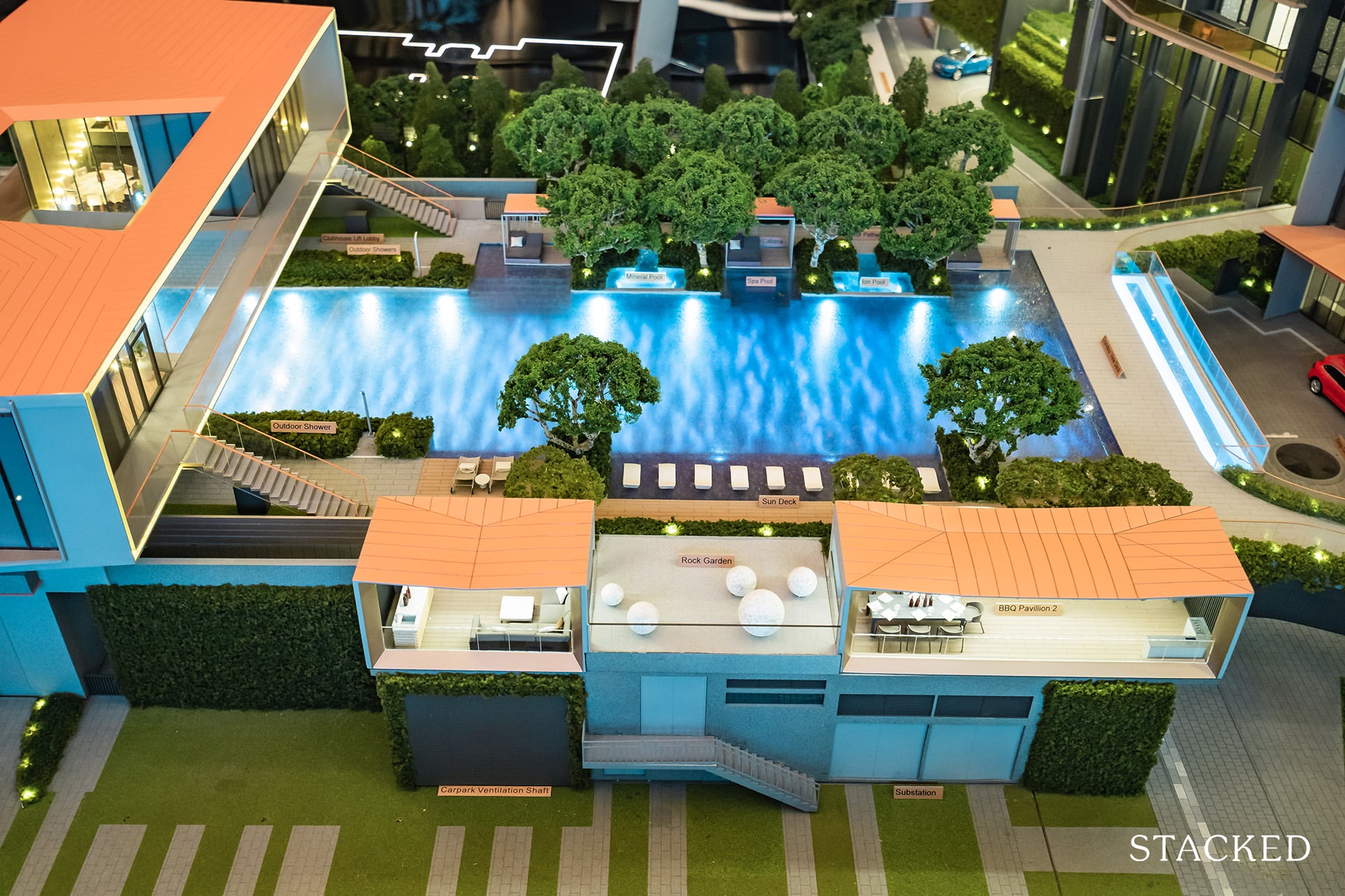 For just 230 units, having a 50m lap pool is certainly a luxury to have, and having one as nice is even better. This will be the main sporting feature here other than the gym, as there is no tennis court here to speak of. If you do require one, Raffles Town Club at Stevens MRT will likely be your closest option with 2 outdoor courts.
By the poolside are a couple of other smaller pools, including the Ion Pool, Spa Pool, and Mineral Pool. You get the standard poolside cabanas and sundecks here and they will likely be sufficient for a rather low-density development. So far so good!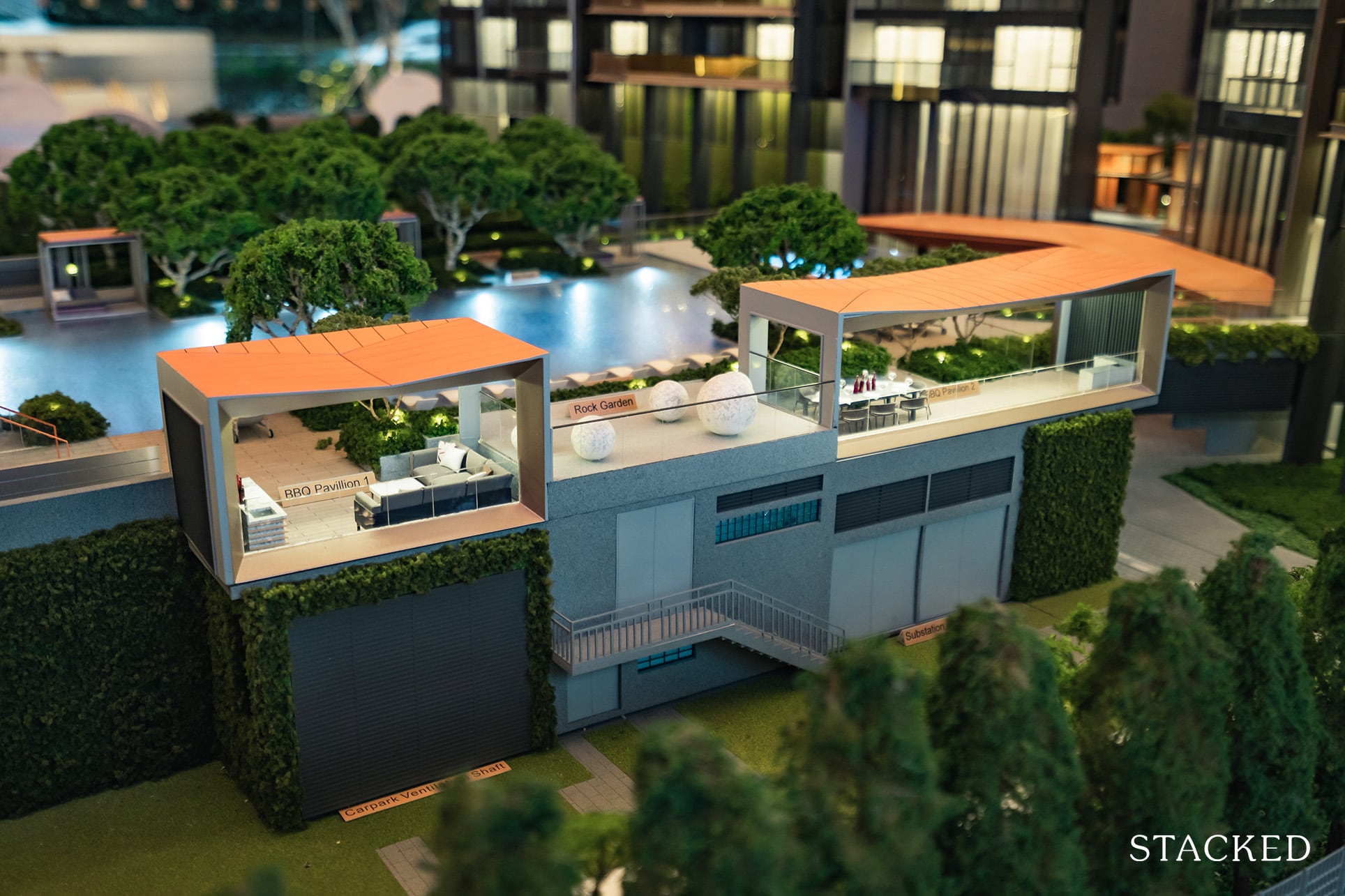 Some of the other features on this floor also include 2 BBQ pavilions near the poolside, providing you further dining options when throwing a party for your friends here. There's one last Gourmet Pavillion right at the back of the development, facing directly towards the infinity pool. That's 4 dining areas in total for 230 units, which should be more than enough, sans popular occasions such as Christmas and the New Year.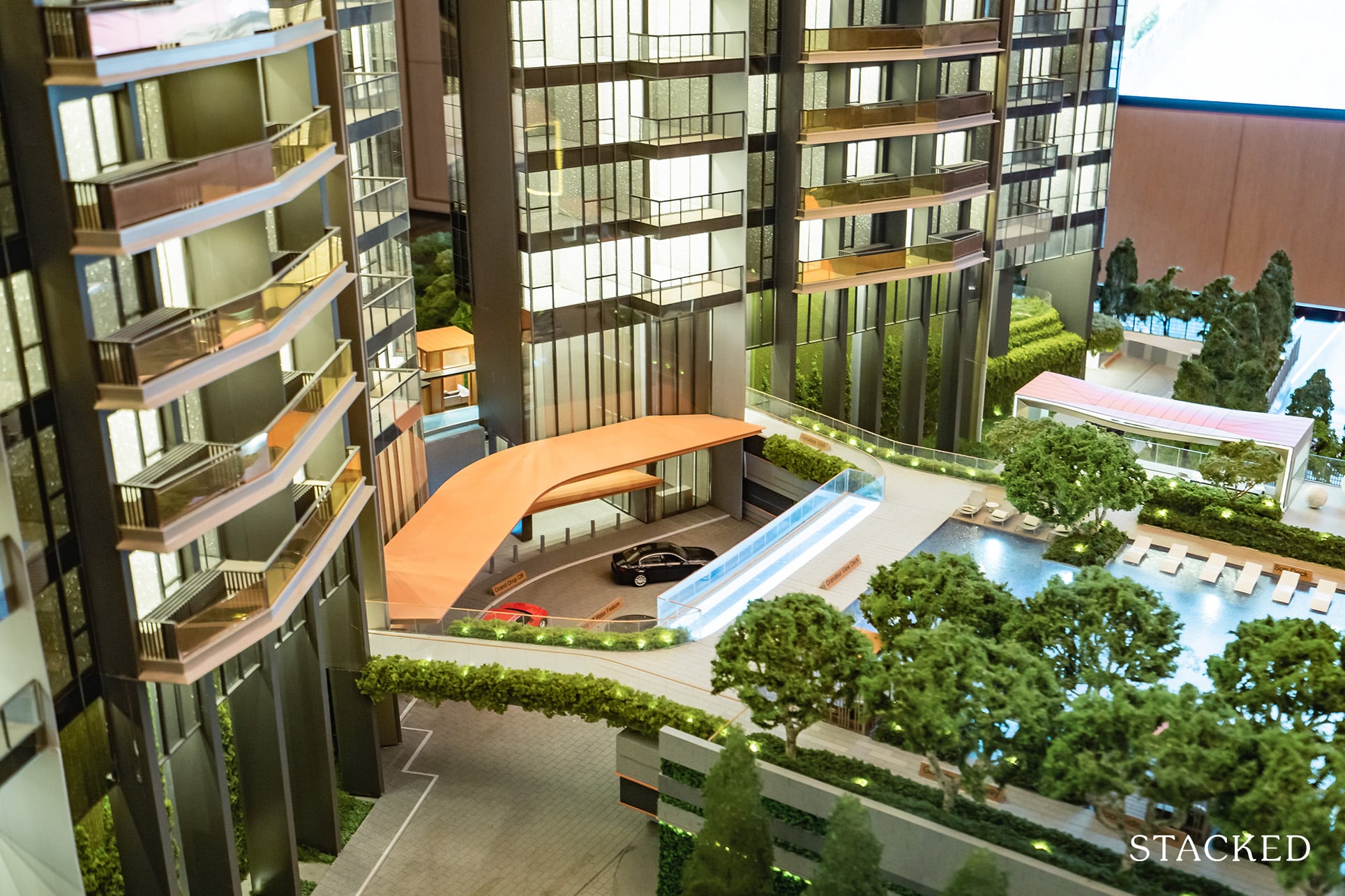 There are various ways to get to the back of the development, either from the elevated walkways or the ground level. On that note, it does remind me that there aren't any sheltered walkways to the front of the estate (to get to the bus stop) – although I don't suppose this would be too much of a concern for buyers at this level.
Another good move they've done here is to elevate both residential blocks. This allows for wind flow to get through to the swimming pool area, and also for even the first-floor units to get some form of views (and privacy).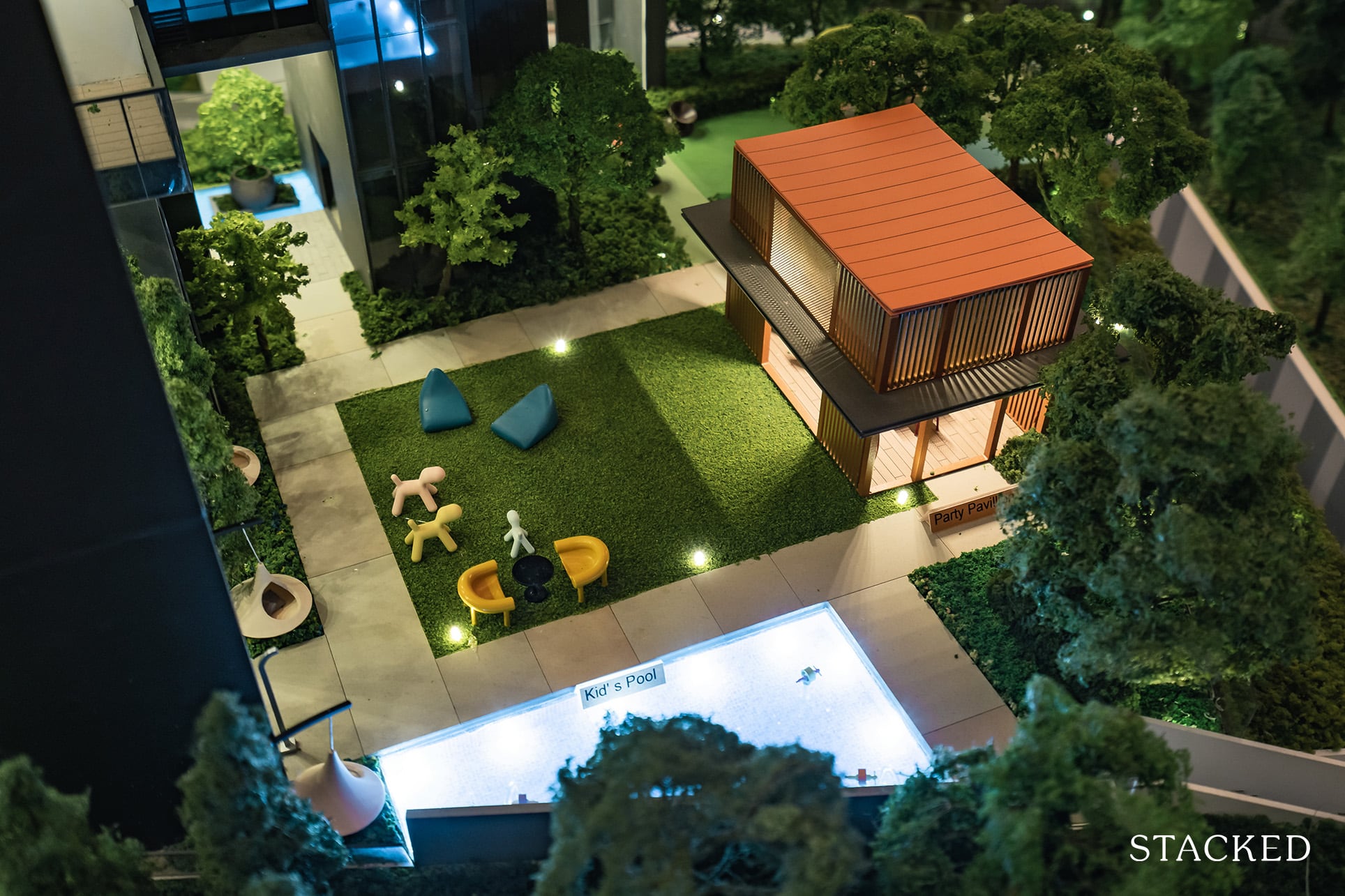 Moving beyond the pool, at the back of the development, you get an entire zone of facilities dedicated to your children.
There is a Party Pavilion, a sheltered area for your kids to play, a Great Party Lawn for the little ones to run around, a Playground, and Kid's Pool all in the same area. This was a conscious decision to incorporate many features for kids as the developers foresee young families as one of the important buyer segments. Given Perfect Ten's 1km proximity to SCGS and ACS Primary, this is certainly a very sensible move.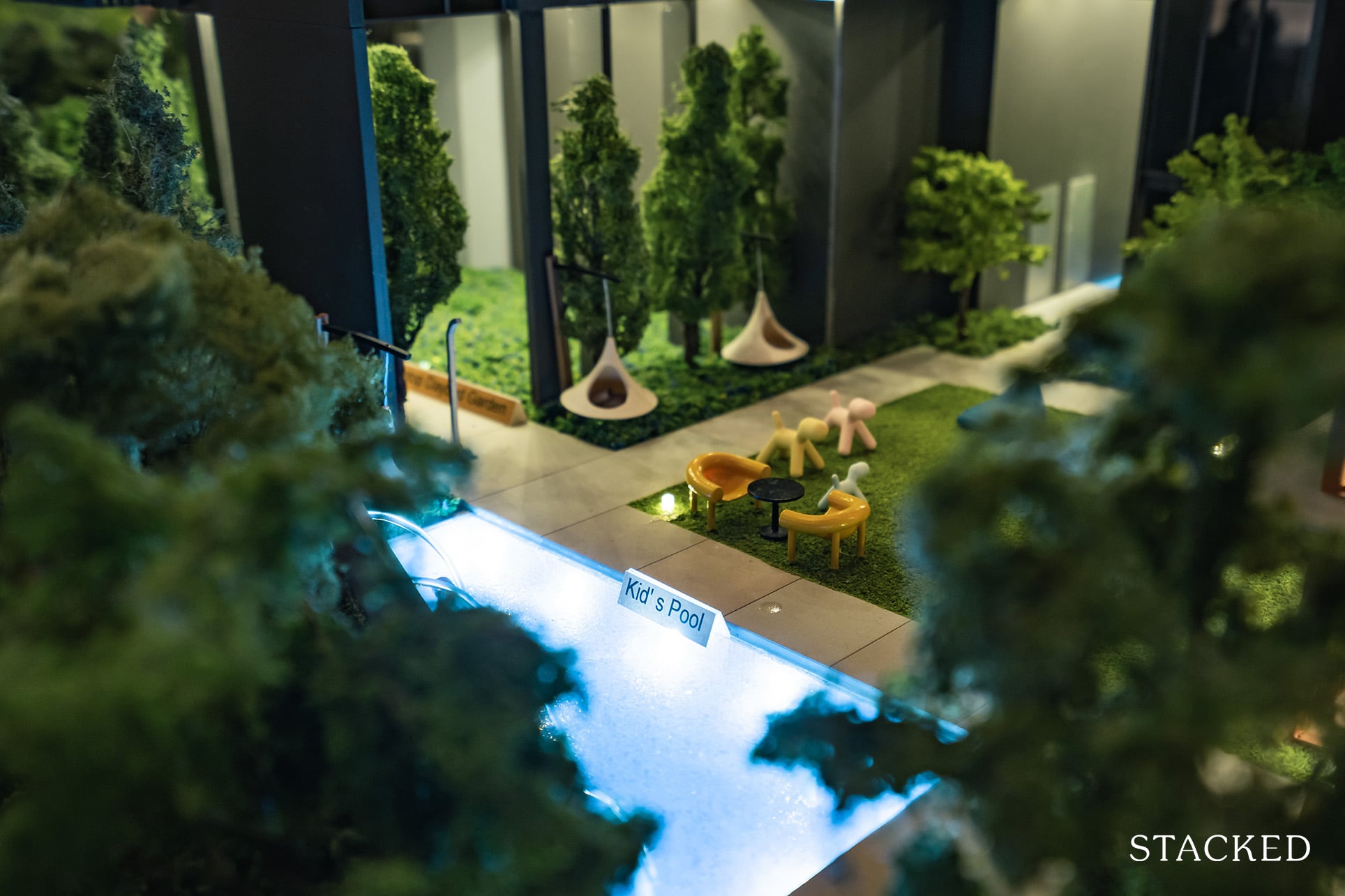 Now I'm not certain if it's by accident or design, but I do like the location of the kid's facilities away from the main road and traffic pollution.
On the other side, you get a couple of ancillary facilities such as the Aqua Gym and Wellness and Yoga Decks. There are also 2 Reading Cabanas situated just beside the Gourmet Pavilion.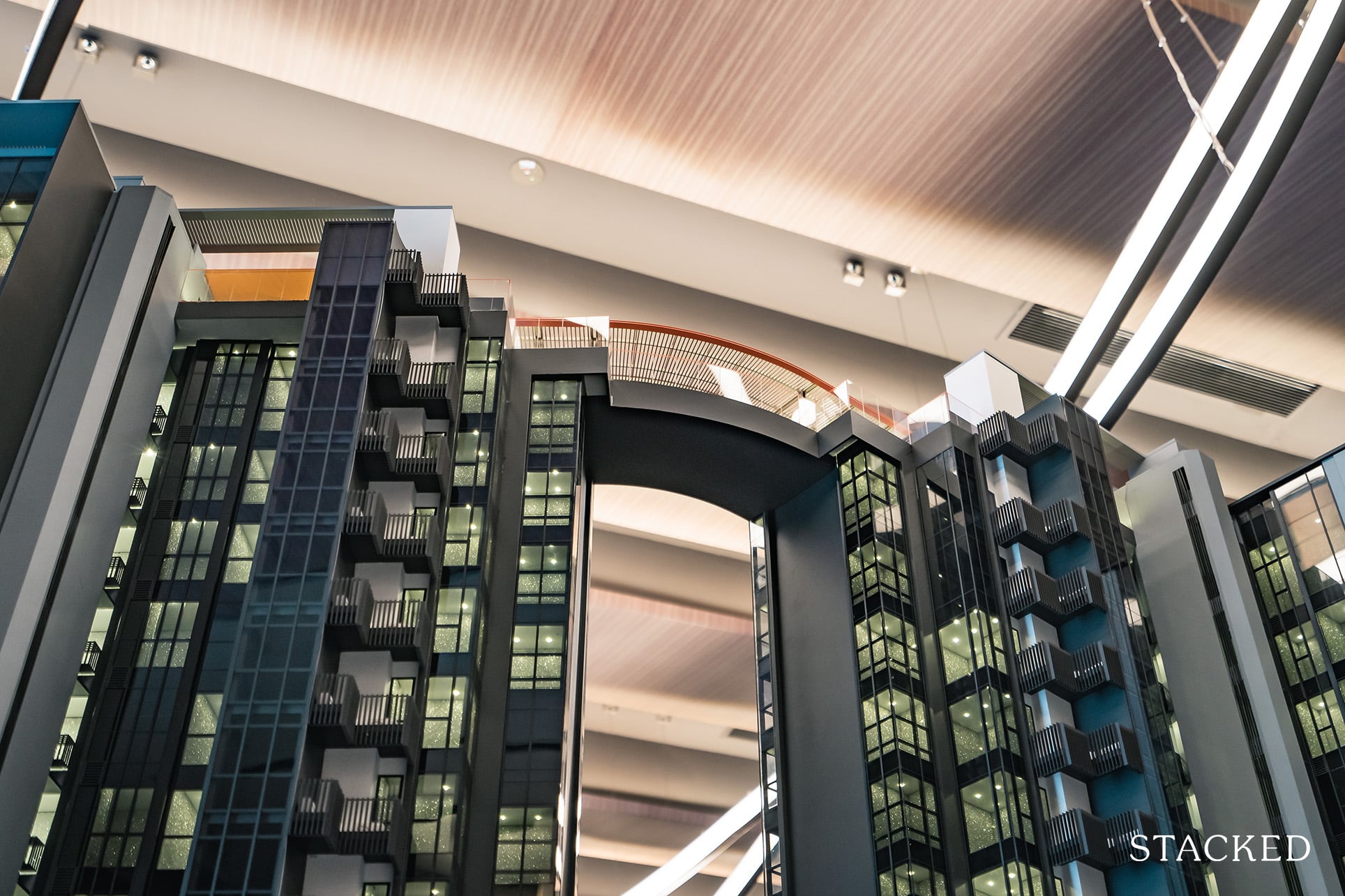 Besides the aforementioned facilities, there is also a facilities zone right on the rooftop, linking the 2 residential towers. It's not a massive amount of space up there so they consist mainly of viewing decks and sitting areas just to take in the City and Bukit Timah views.
Do note that you don't get regular penthouses here at Perfect Ten (at least, the sort with an open roof terrace or private pool). Instead, the top floor units will have higher ceiling heights of up to 4.475m.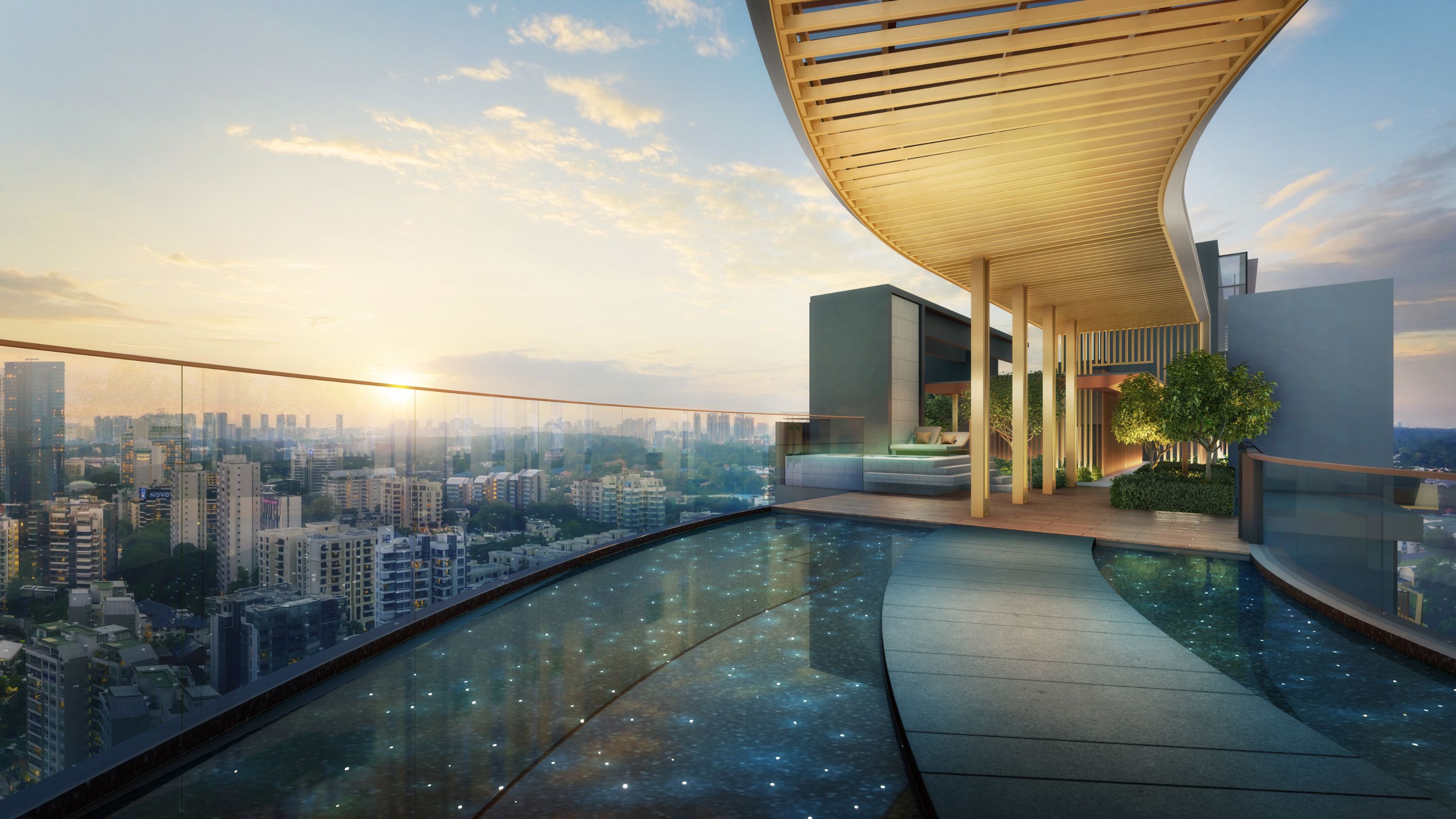 That said, there are a couple of reflective pools, spas, and lounge seatings around for your enjoyment. Although I was surprised to see that there wasn't any proper dining facility here as it seemed natural to want to dine here to enjoy the view. Sure, nothing will stop you from getting some takeaway to eat here – but it would still have been nice to be able to host a gathering at such a height.
Nevertheless, I do appreciate that the developers have incorporated rooftop facilities for the communal enjoyment of all residents, especially when there are good views to speak of.
Now that we've wrapped up the tour of the estate, let's head straight for the show flat units.
Perfect Ten – 2 Bedroom Type A2 (73 sqm / 786 sqft) Review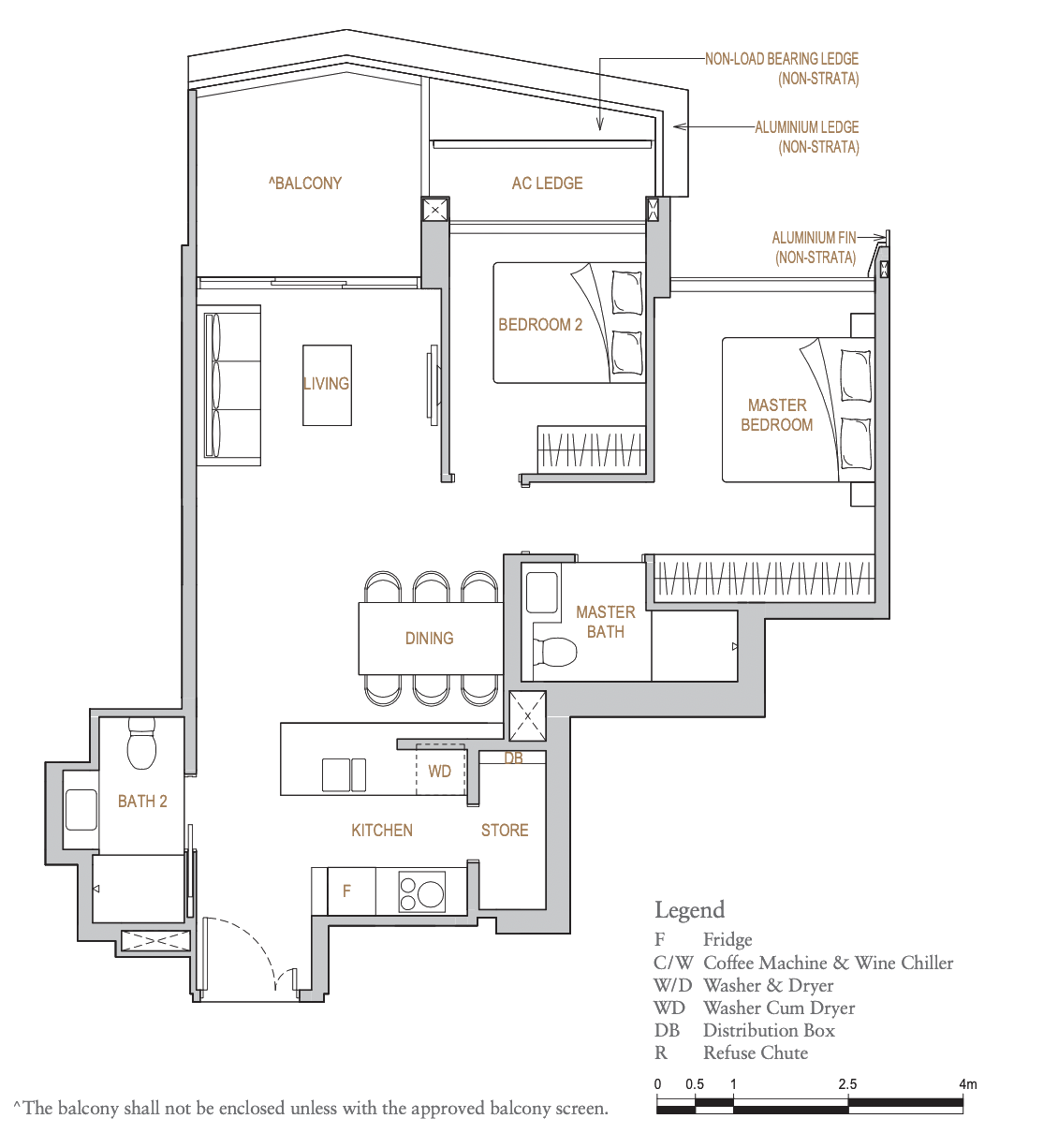 At Perfect Ten, 60% are 2 Bedroom units with the remaining 40% being the 3 Bedroom ones. At 786 sqft, this is one of the larger 2 Bedrooms offered at Perfect Ten, with the range being from 753 sqft to 797 sqft. With most of the market offering 2 Bedroom units at 600+ sqft, the sizes here are a little larger from today's average.
While there is only 1 Premium stack that comes with a private lift, the other 2 Bedroom units share 2 lifts with only 1 other unit on the same floor, which makes even the common units as exclusive as it gets.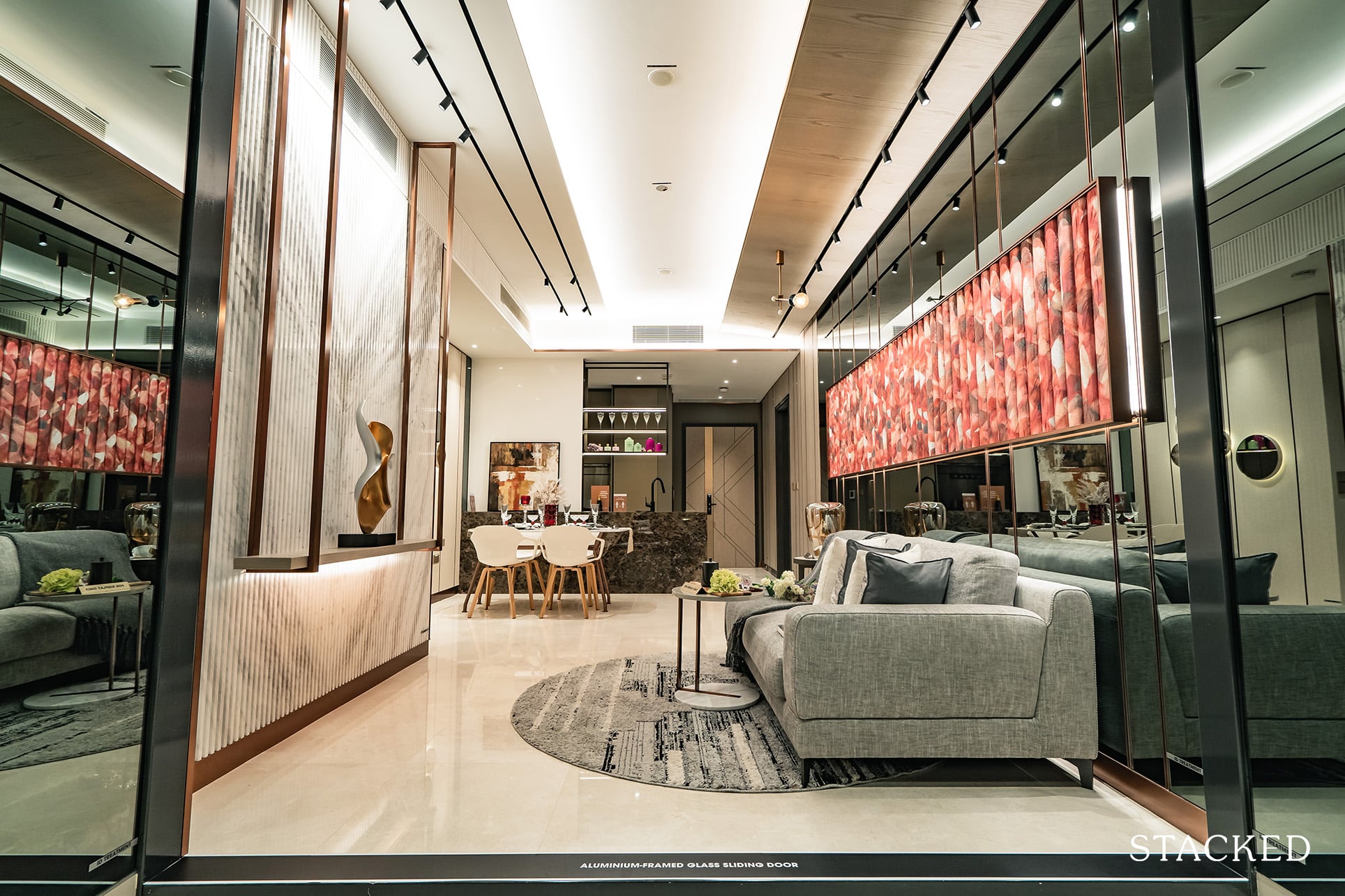 For starters, this 2 Bedroom show flat feels much larger than its actual size on paper. The standard 3.225m ceiling definitely plays a big part here – I daresay, it is the highest standard provision among new launches right now, triumphing even its more expensive peers such as Park Nova. Beyond its ceiling height, the unit is generally well laid out (despite not being in dumbbell layout) and I am particularly impressed by the size of the dining area and the balcony.
This is perhaps one of the more underrated points about having a Hong Kong developer in charge. Being used to tight spaces back in Hong Kong, they have been very cognizant of every sqft of space and it's clear that they have been very efficient in their use of space! Additionally, for Perfect Ten, you get Cheung Kong's very own in-house interior designers in charge, and they are the very ones behind 21 Borrett Road in Hong Kong, which set an Asia record of $23,000 psf earlier this year! Mind you, that's per square foot – not per square metre.
Marble floors come standard in the kitchen, living, and dining areas with engineered timber being the material of choice for the bedrooms so there are no questions about the quality here. In general, the materials used here are very impressive, with the kitchen cabinets and bedroom wardrobes being well-built and hefty to the touch.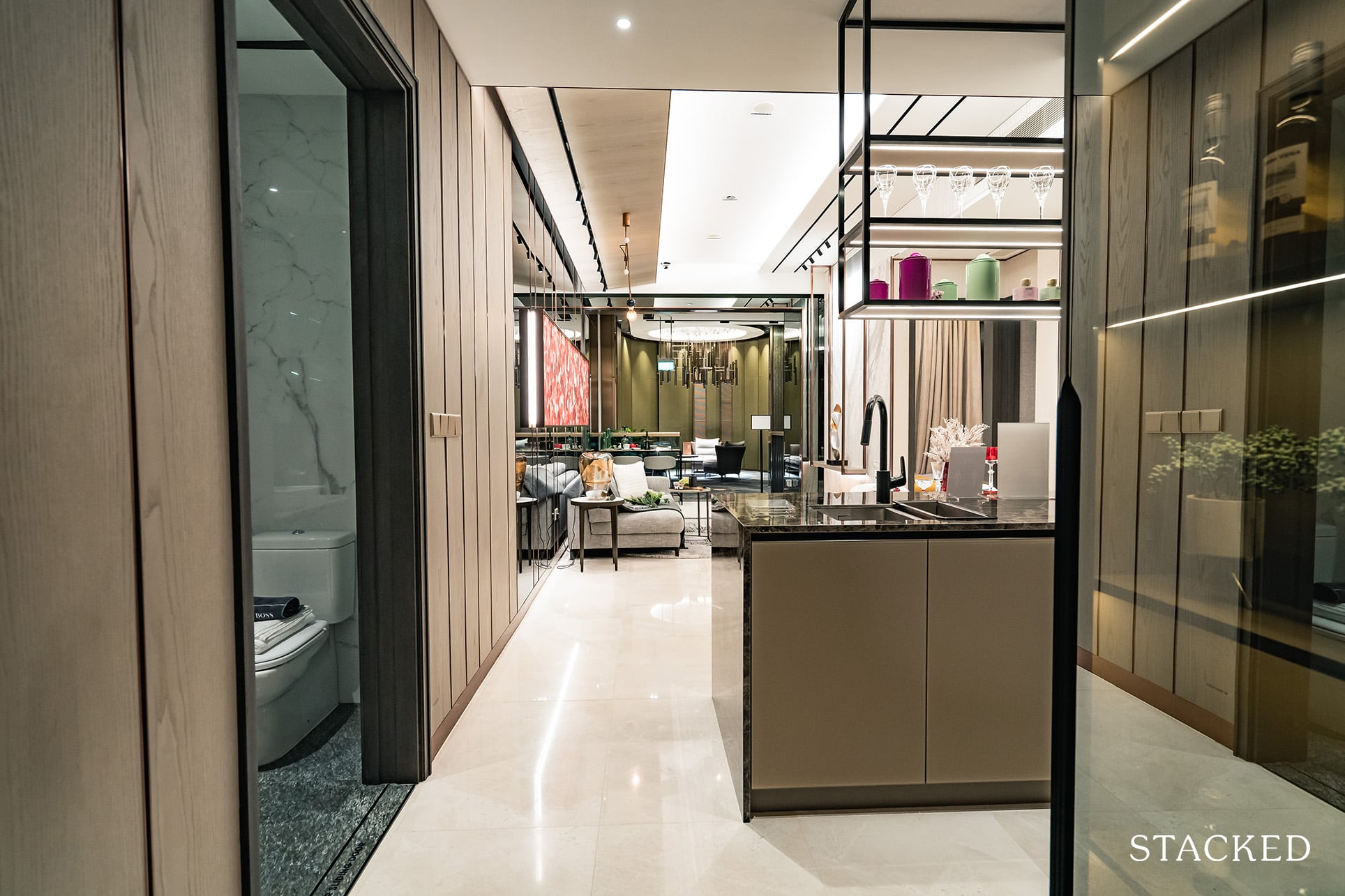 Stepping into the unit, you will find the kitchen almost immediately to your right and the common bathroom to your left.
There isn't quite enough space here to build proper shoe cabinets, but you do get a pretty fancy glass cabinet (along with the soft lighting inside) as part of the developer provisions here. They've displayed some wine bottles and plants inside and I like the small touches of detail with such provisions.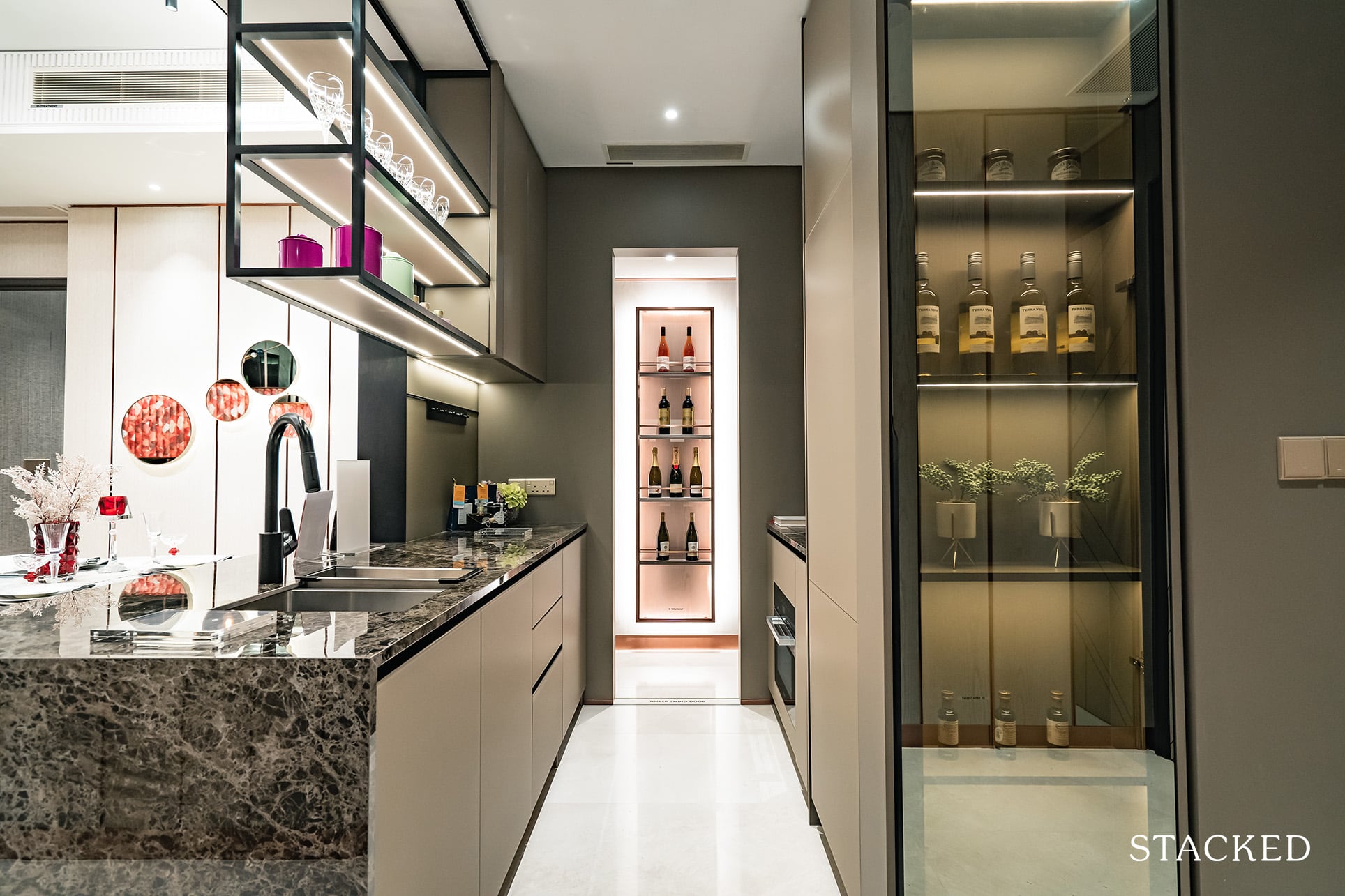 The kitchen is an open concept, although you could install a glass frame if you so wish. I like the mature, luxurious look of this kitchen, and you have got to have a feel of the cabinets provided here. They are all finished in glass and feel much heftier than the typical laminate finish for other developments, including those in the same price range. It's well-built and really nice to the touch.
Size-wise it isn't the best, where working back-to-back with 2 people in here can feel squeezy for some. The other areas are decidedly more impressive.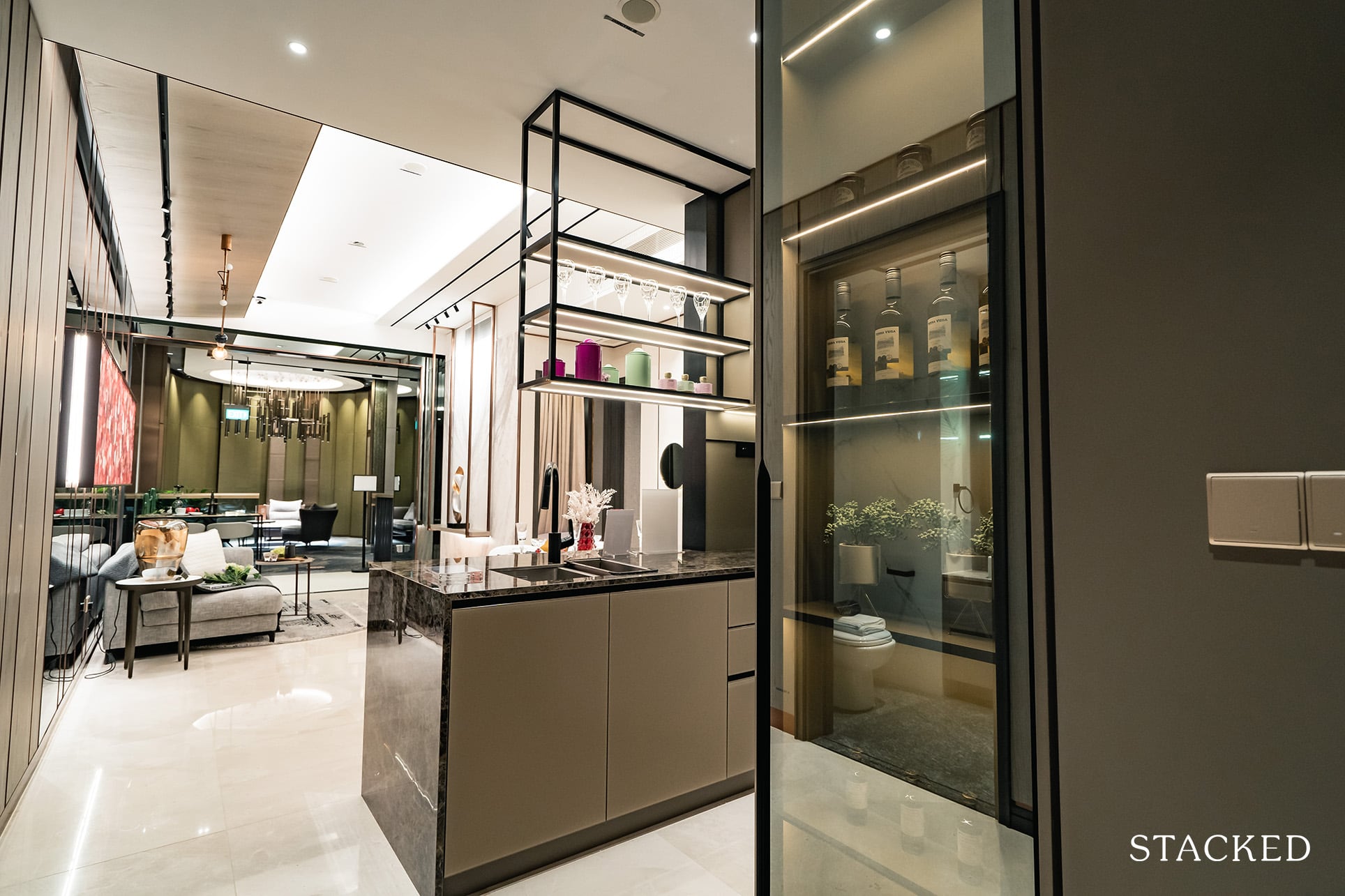 The open shelving racks here are part of the standard provisions, as with the matte black kitchen faucet with pull-out sprayer, which is getting trendy but not seen often in new developments!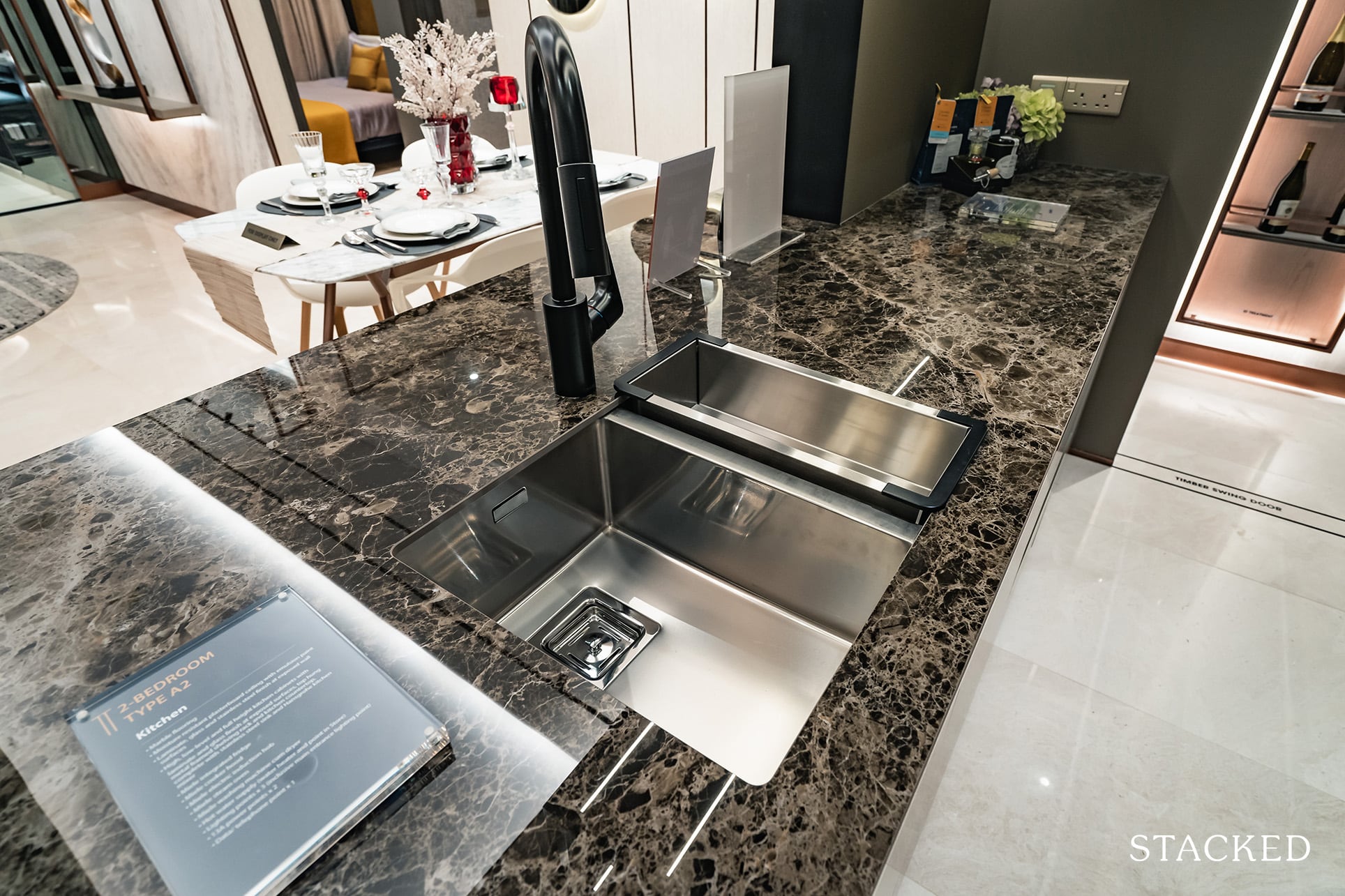 The sink is from Cheung Kong's in-house design team. And while it isn't big I really like that it has dual compartments as it just is more useful.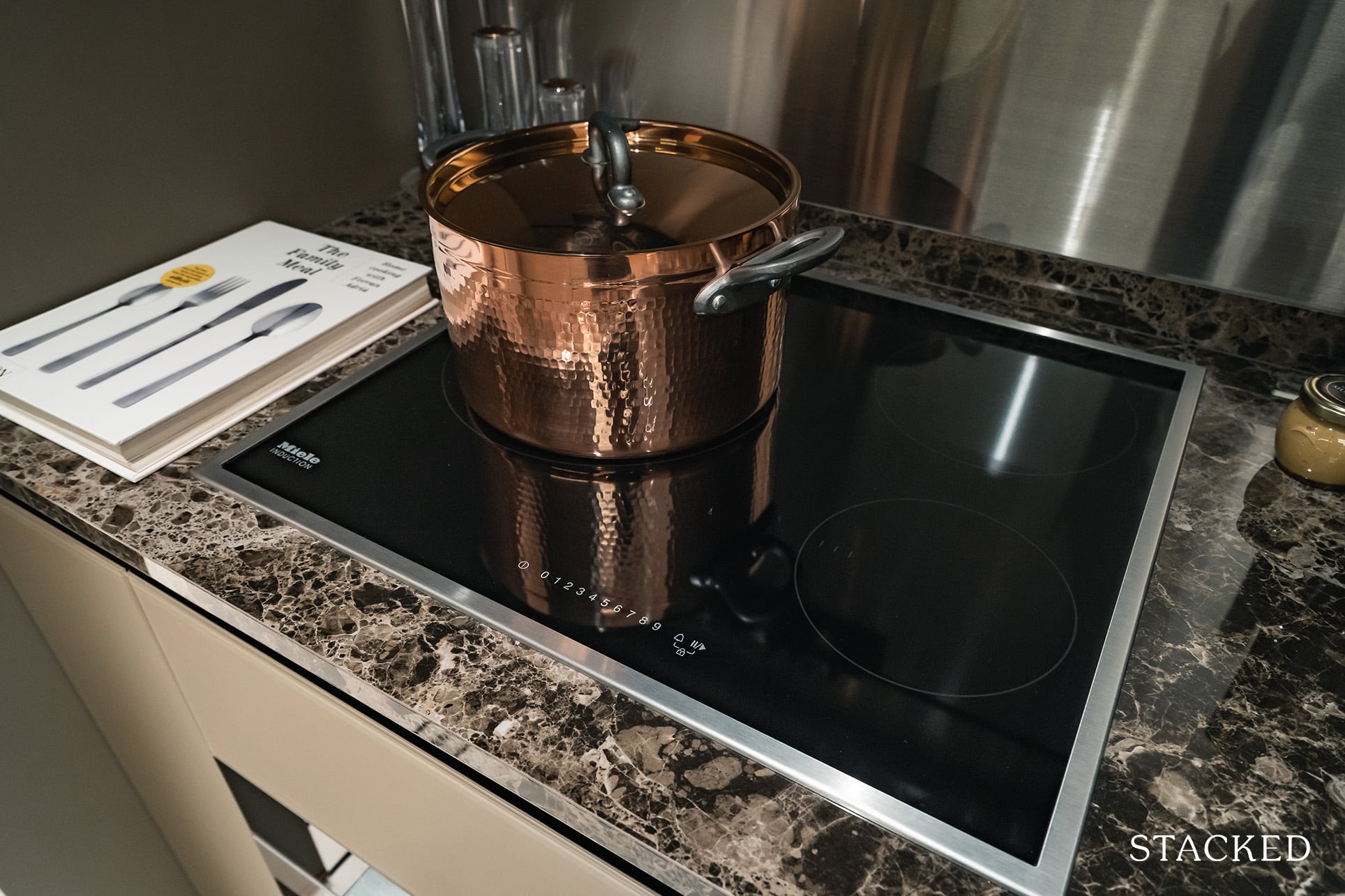 In terms of appliances, you get a 3 zone induction hob, hood, steam oven, integrated fridge and washer cum dryer by Miele, which is one of the best brands you can get out there. There's even a spice rack provided just by your induction hob and the kitchen is just a prelude to the effort put in by the developers and their in-house interior design team.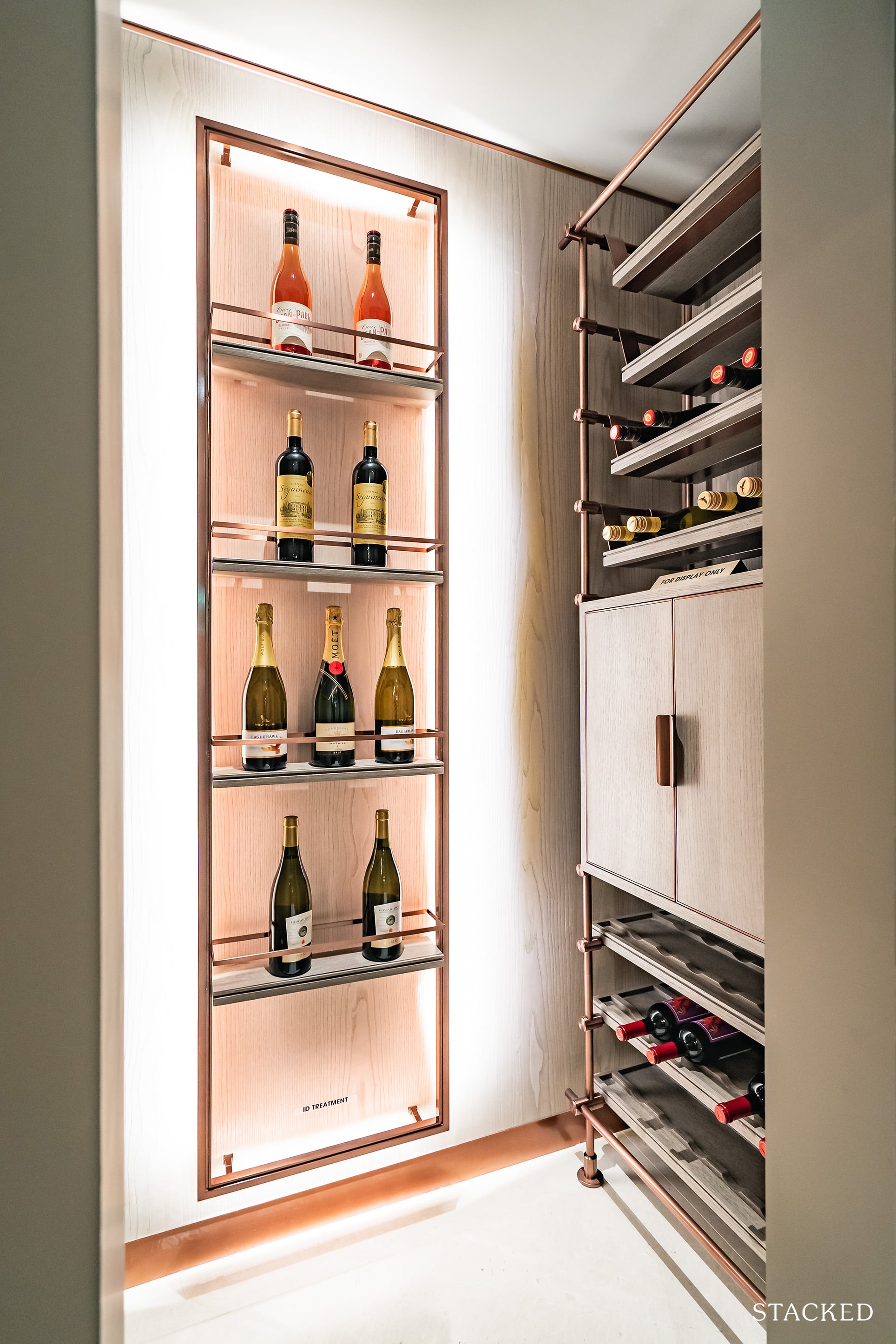 While there are no windows to this kitchen, there is a small Store by the end of the kitchen. It's a tiny space at 2 sqm, but a useful one nonetheless. Most 2 Bedrooms do not have storerooms, so this is certainly welcomed. The developers have claimed that you can fit a Single bed here should you have a helper so at the very least you have provision for that – which is usually not even provided for in units of this size.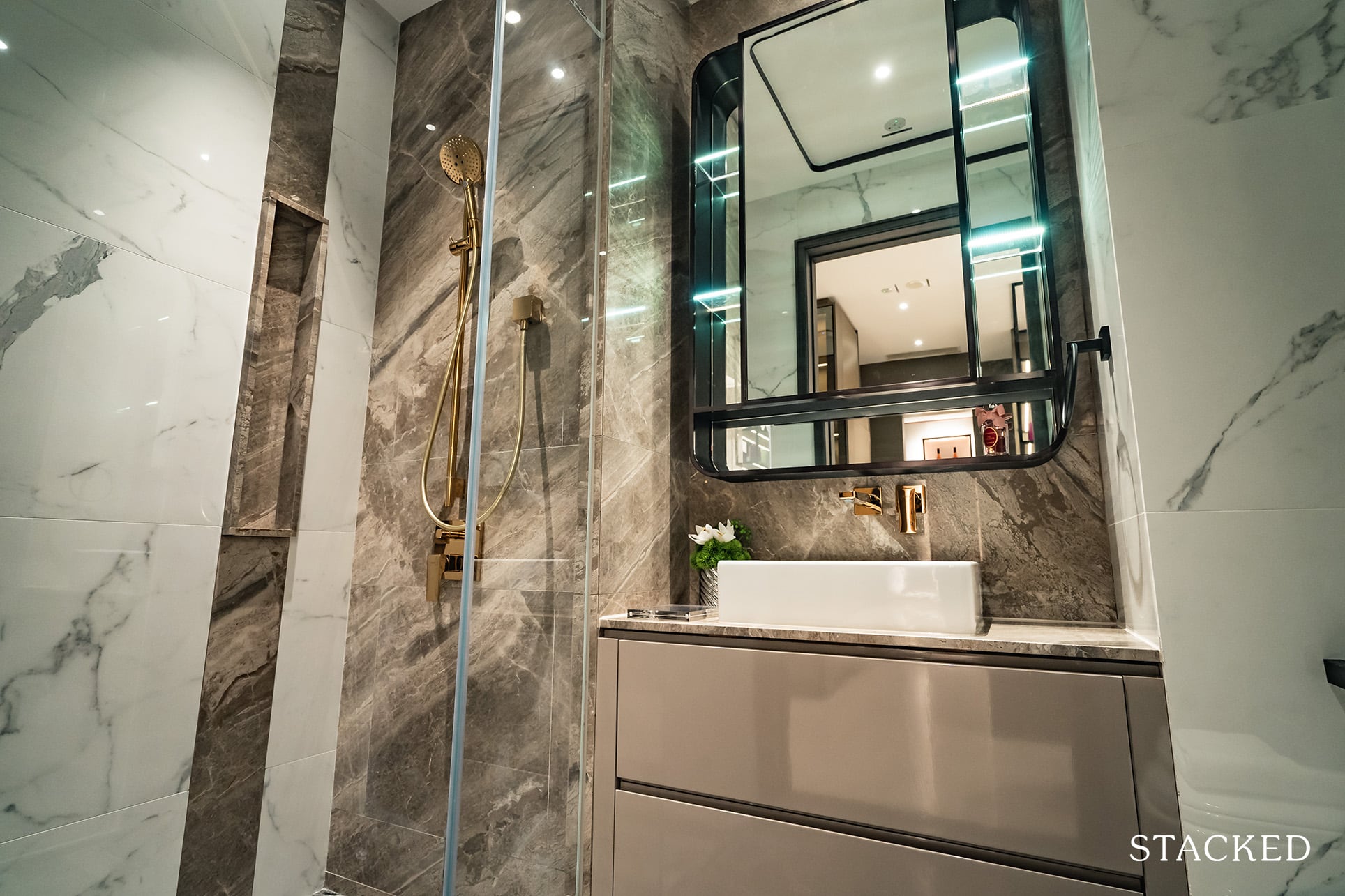 Moving just opposite the kitchen is the common bathroom, which at 4 sqm, is average in size. Its location makes this bathroom seem more of a powder room, as it is away from the bedrooms, and for easy access to guests when coming or leaving the house. That said, while it is convenient for guests, it does inconvenience the common bedroom's occupant.
I'm no feng shui expert, but I do know that you should avoid the bedroom door facing the bathroom door – which in the case of most 2 bedroom layouts in Singapore is pretty common.
Let's not take anything away from the luxuriousness of the bathroom, with granite, marble, and tiles making up the choice of materials used here. If there's a common theme throughout the development, it is certainly the widespread use of gold trimmings. You have a rain shower, hand-held shower, and integrated taps here all in gold by Hansgrohe, with the washbasin by Duravit.
The standout has got to be the rain shower, which is rarely seen in common bathrooms – even in some luxury projects.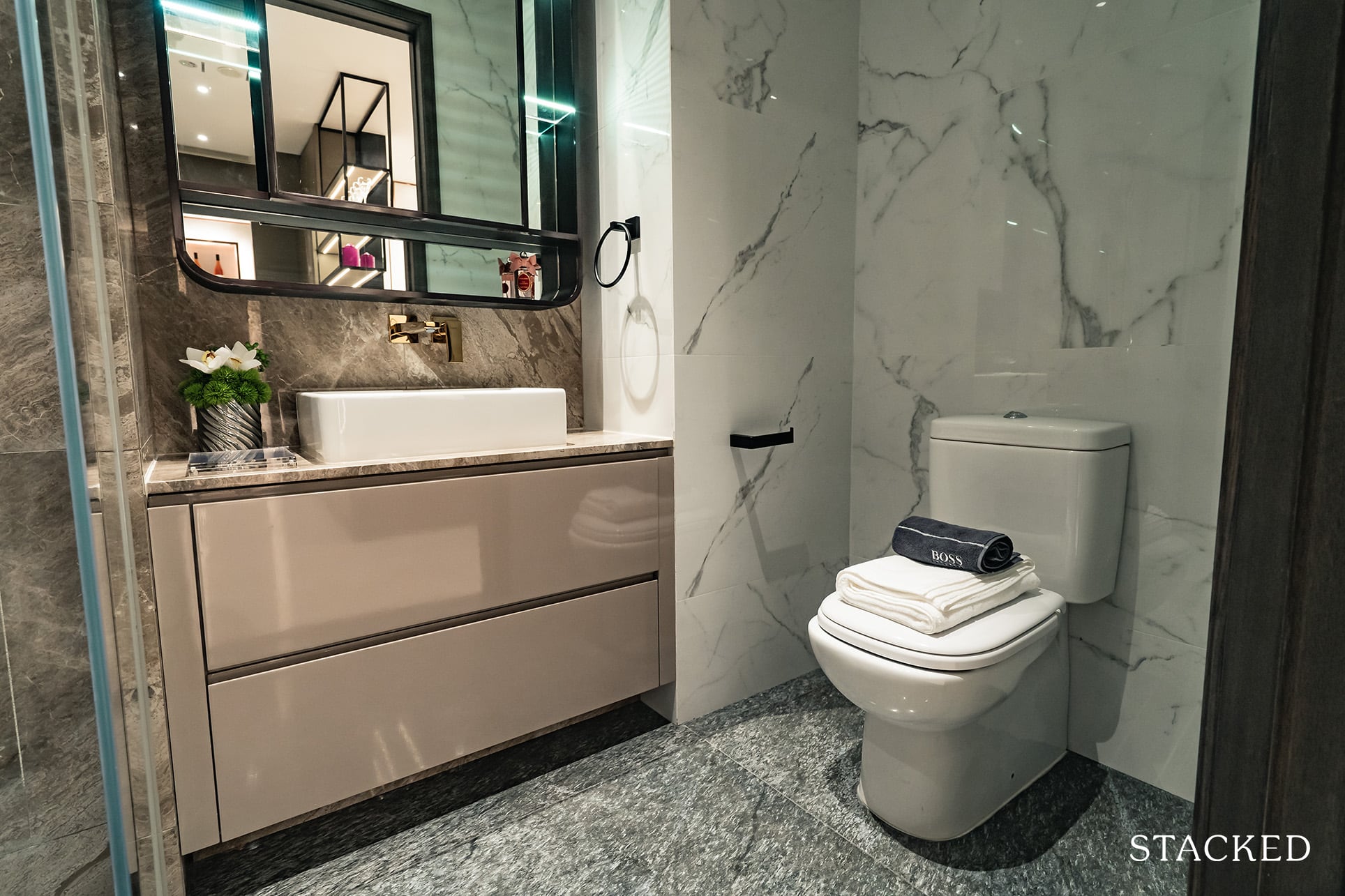 However, I was very surprised (not in a good way) to see a freestanding w/c by Villeroy & Boch here, as a wall-hung w/c should be the standard provision at this price range with no exceptions. Apparently, the decision was made because of certain construction considerations, which I'm inclined to believe given that most of the fittings here so far have been at a spare-no-expense type of approach – so this would be a very strange oversight.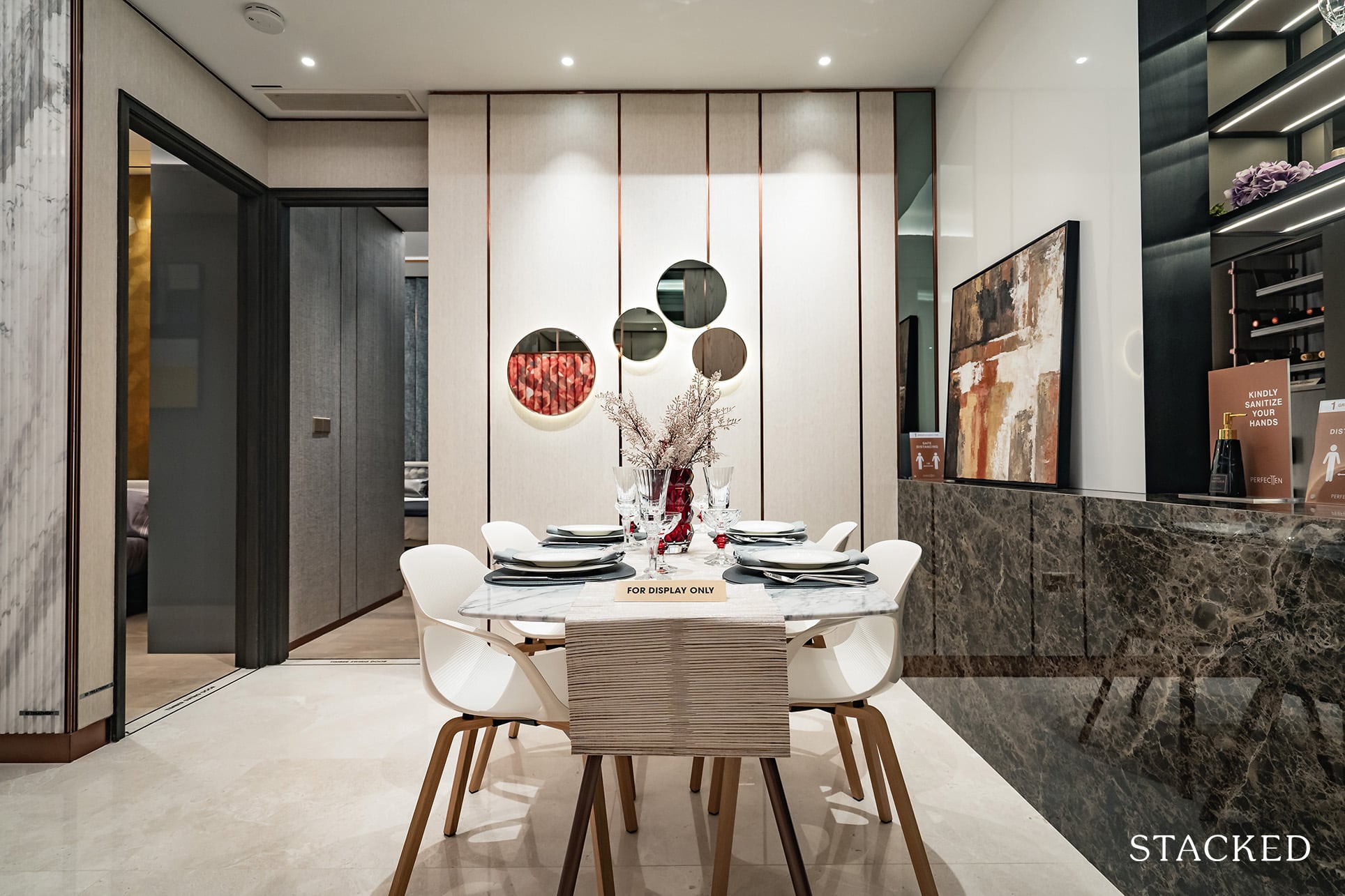 Moving on to the dining area and this is the space that impressed me the most about this layout. They have gone with just a 4-seater table here but just look at the ample leftover space around it. When I visited, I understood that the developer went with a 4-seater because they intended to showcase the kitchen counter as a breakfast spot for 2, which can definitely be an option to explore.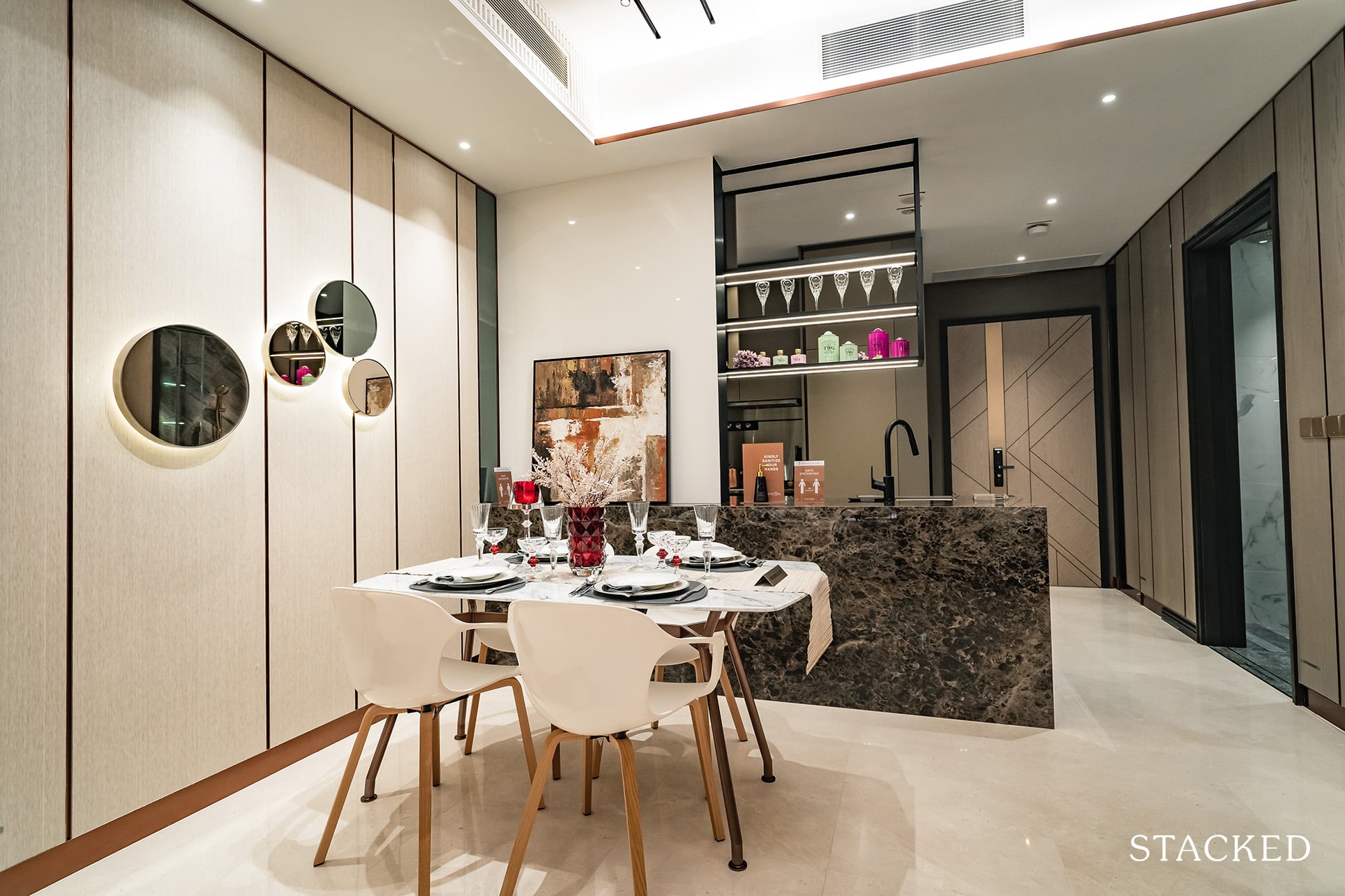 Otherwise, should you prefer more of a traditional dining area, you can surely fit a table of 6 without issues, an impressive feat for a unit that has less than 800 sqft. It's surely down to the combination of the high ceiling and how it's been laid out which makes the dining area also feel so much more spacious. At 3.225m, you could even explore building a mini-loft! It's a very liveable layout, with not many compromises that you'd usually have to contend with when it comes to smaller unit types.
Oh, and the air-conditioning here is ducted too, which is a premium provision reserved only for luxury developments.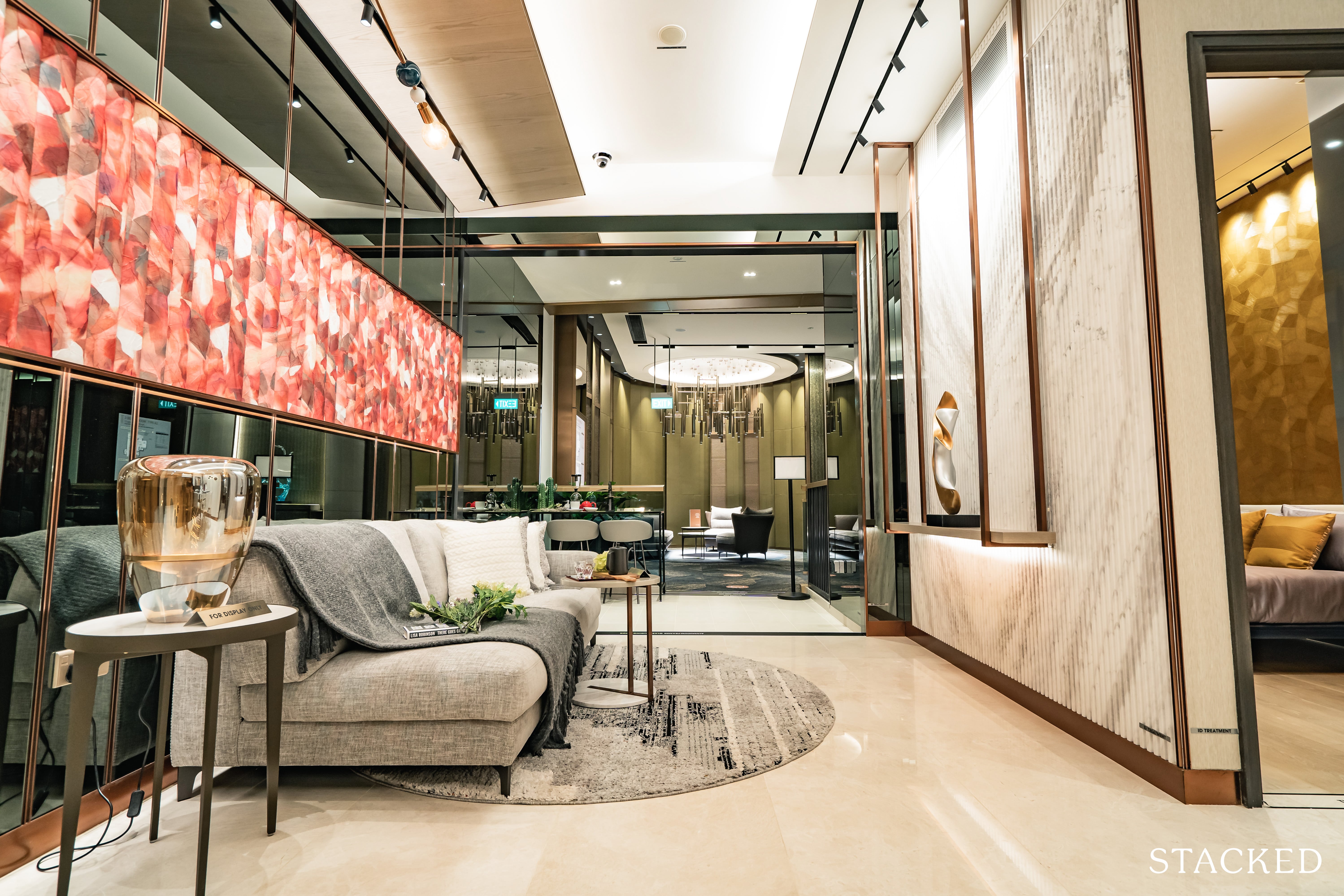 As for the living room, I think that factually the size may be in line with its new launch peers but optically, it feels rather spacious. That may, of course, be down to the strategic moves by the interior designer such as the mirrored wall, the lack of a TV console, carpets, and a bite-sized coffee table, if you can even call that one.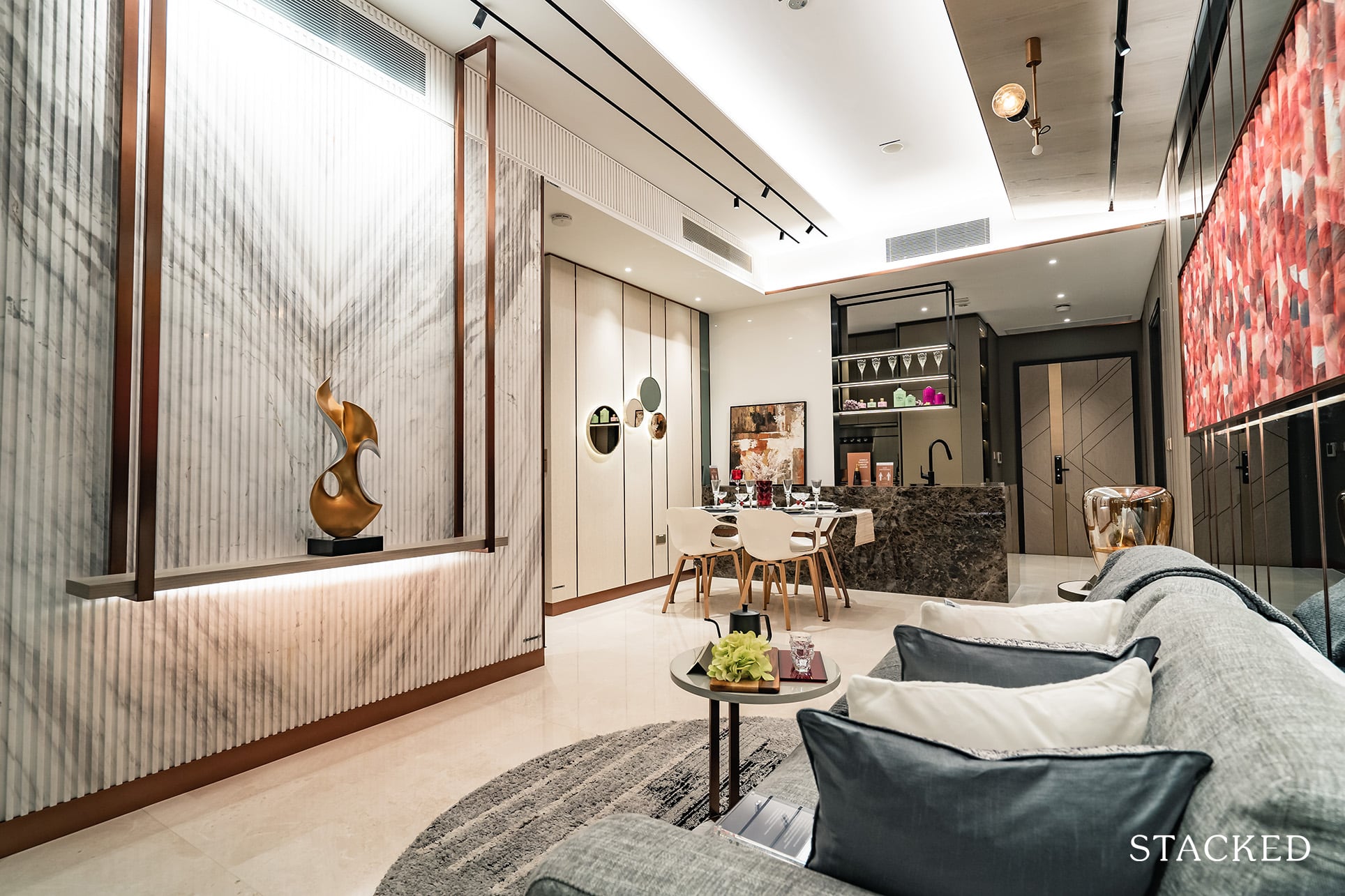 A 3-seater sofa would fit well here and there is room for a larger table than the one you see here. Of course, the high ceilings definitely have a part to play in making this space look more spacious!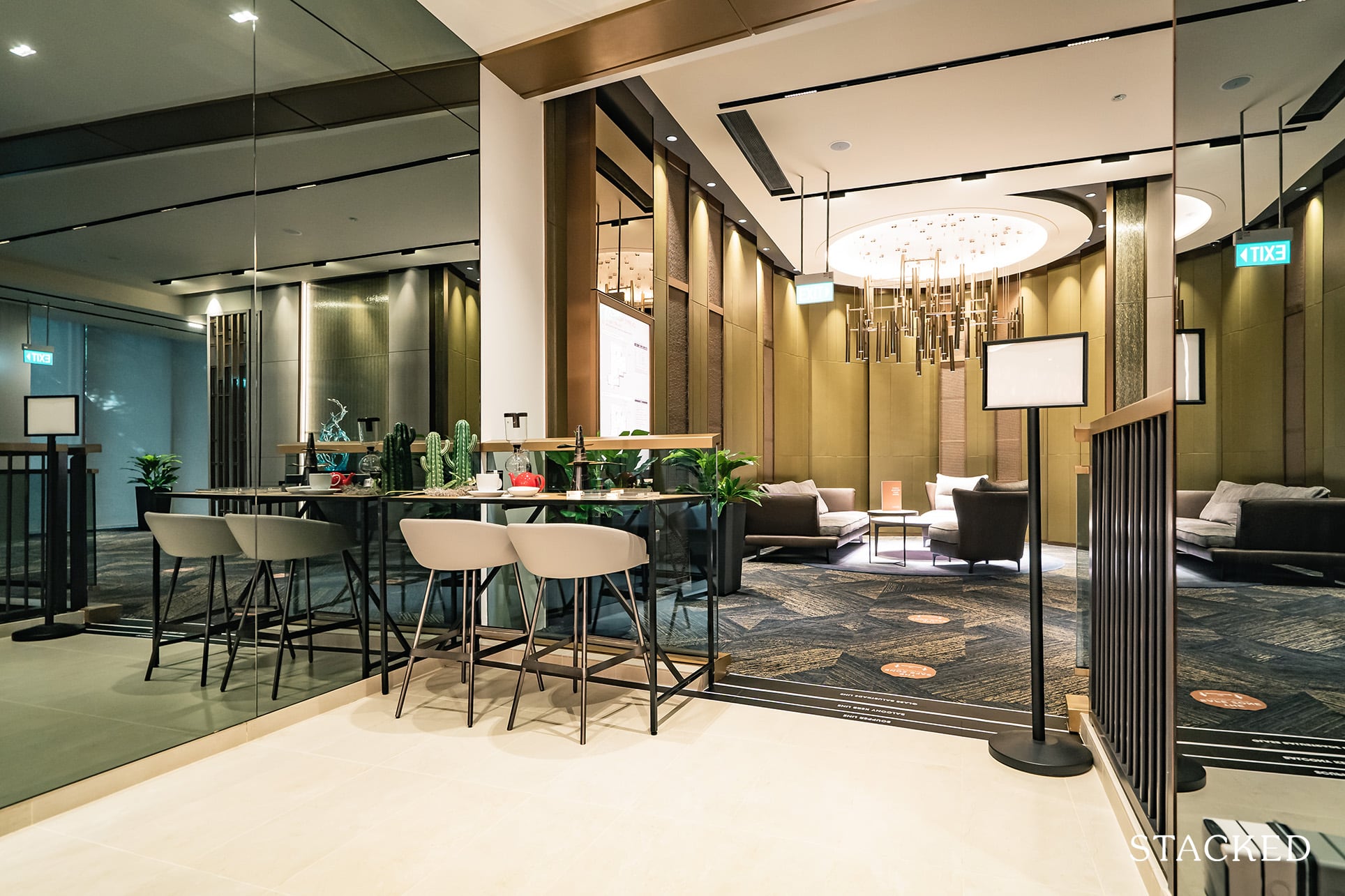 Moving to the balcony, it is pretty spacious at 7 sqm and its squarish shape (it doesn't look as squarish on the floor plan) makes it practical to have an al-fresco dining set here if you wish. Remember how I said gold trimmings are the common theme here? You'll find that on your balcony ledge here too!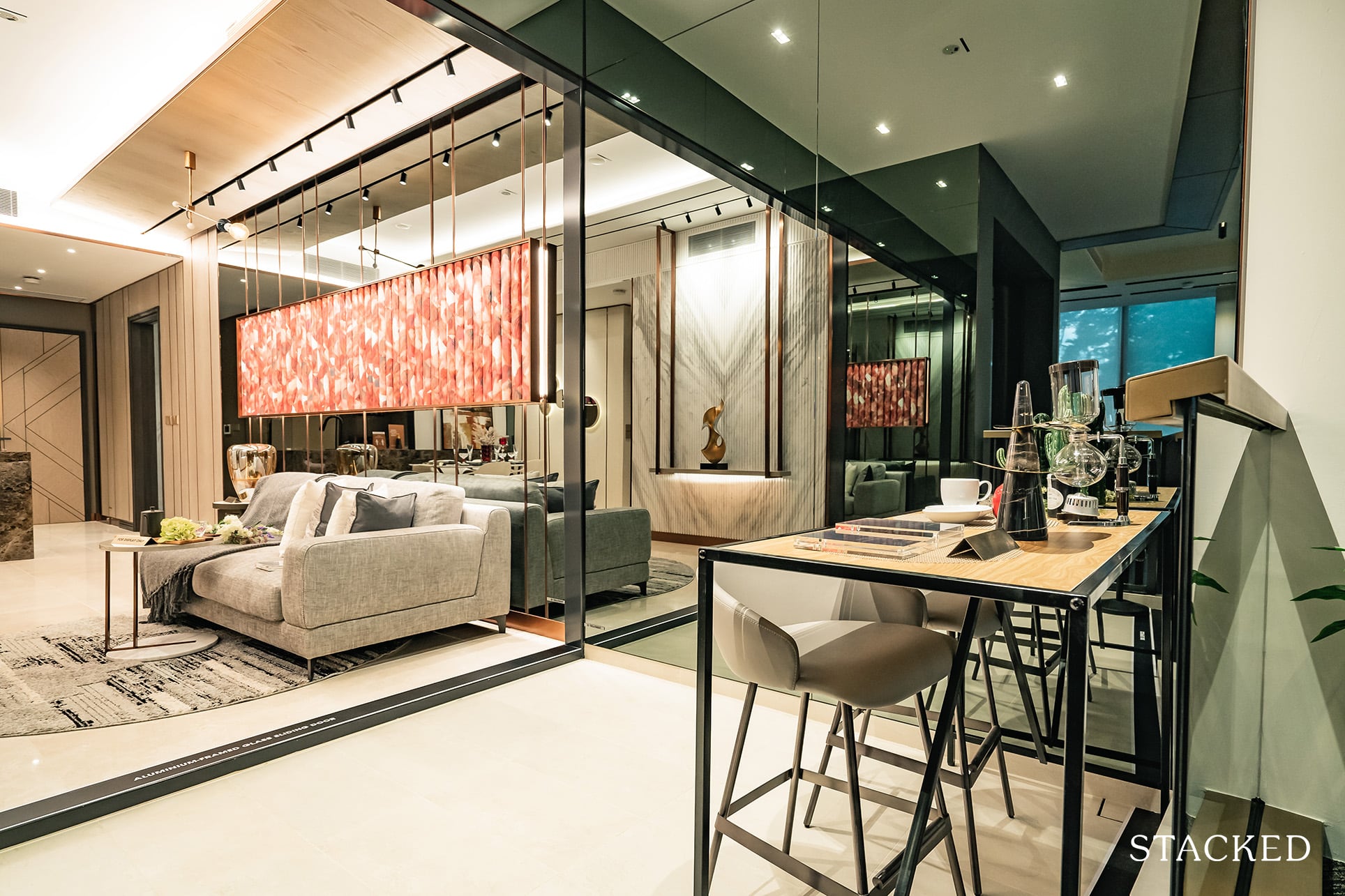 I'm definitely happy to see the provision for a well-sized balcony here, more so if I would be ponying up the cash for a high-floor unit. As you might expect, the key selling point would be the views, as you get unblocked views of the landed Goldhill enclave in addition to the vast amounts of greenery that stretches all the way to the Mount Pleasant estate. Just one of the many reasons why many look to buy along this stretch of Bukit Timah!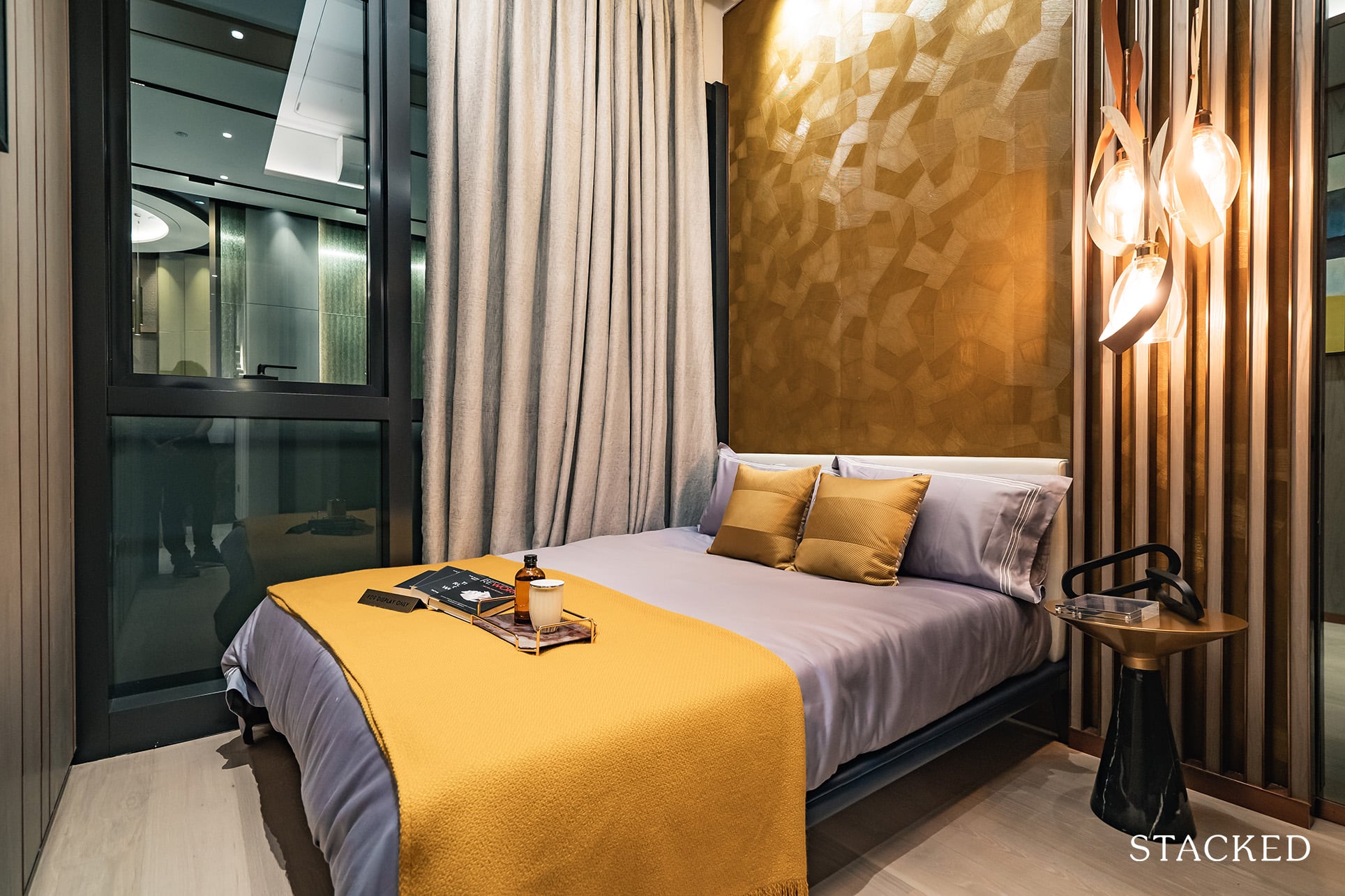 Now to the Common Bedroom, which is averagely sized at 8 sqm. They have a Queen sized bed placed here, which leaves room for a small bedside table. As with everything so far, that high ceiling naturally helps to accentuate the space, so to most, it would feel larger than it is on paper.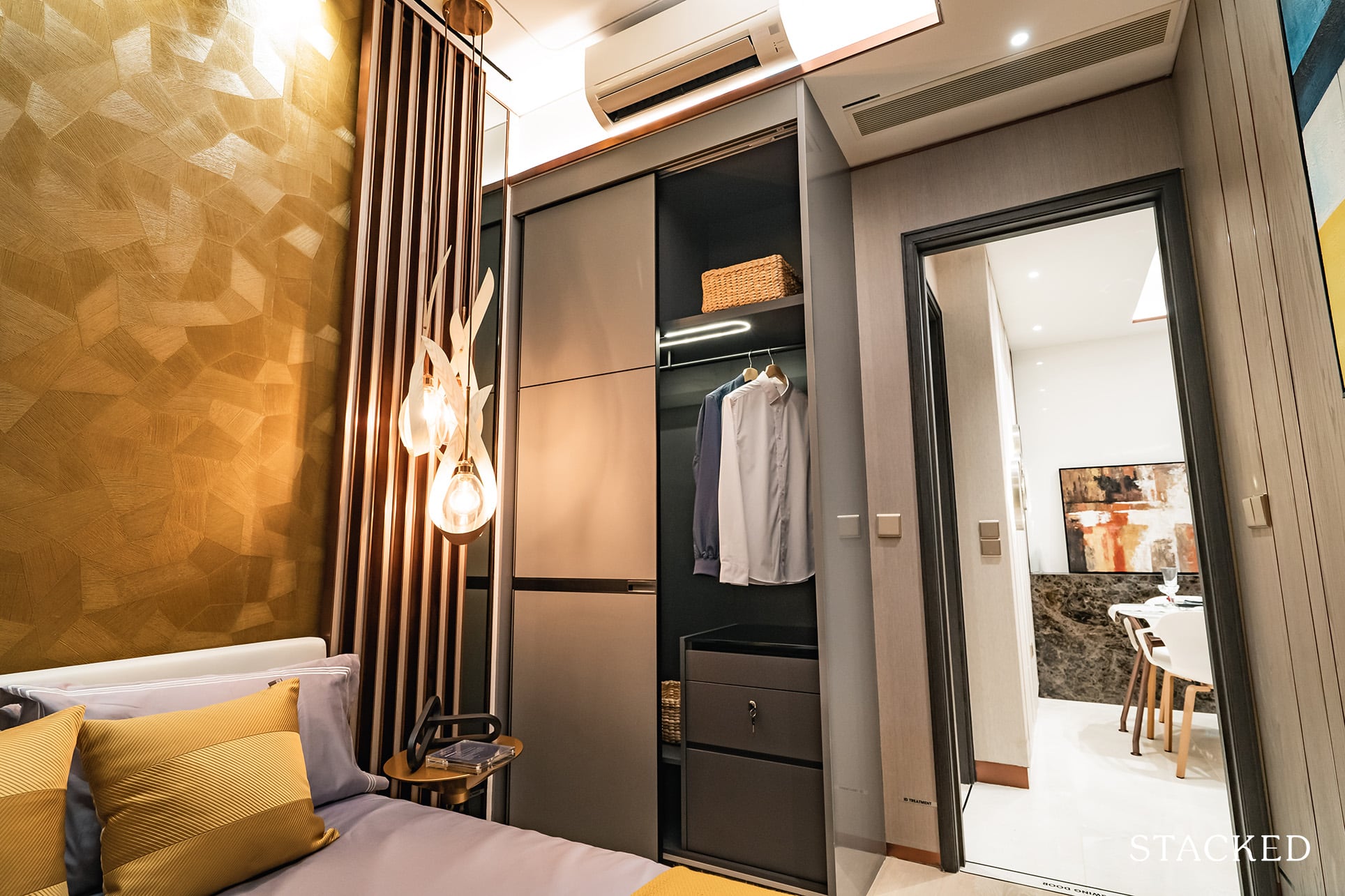 There is also a standard 2-panel sliding wardrobe provided here and the quality is better than most developments out there. Rightfully so you might say, given the prices you are paying for here. As the aircon ledge is located just outside this room, you will only get half-length windows with the bottom half being frosted out.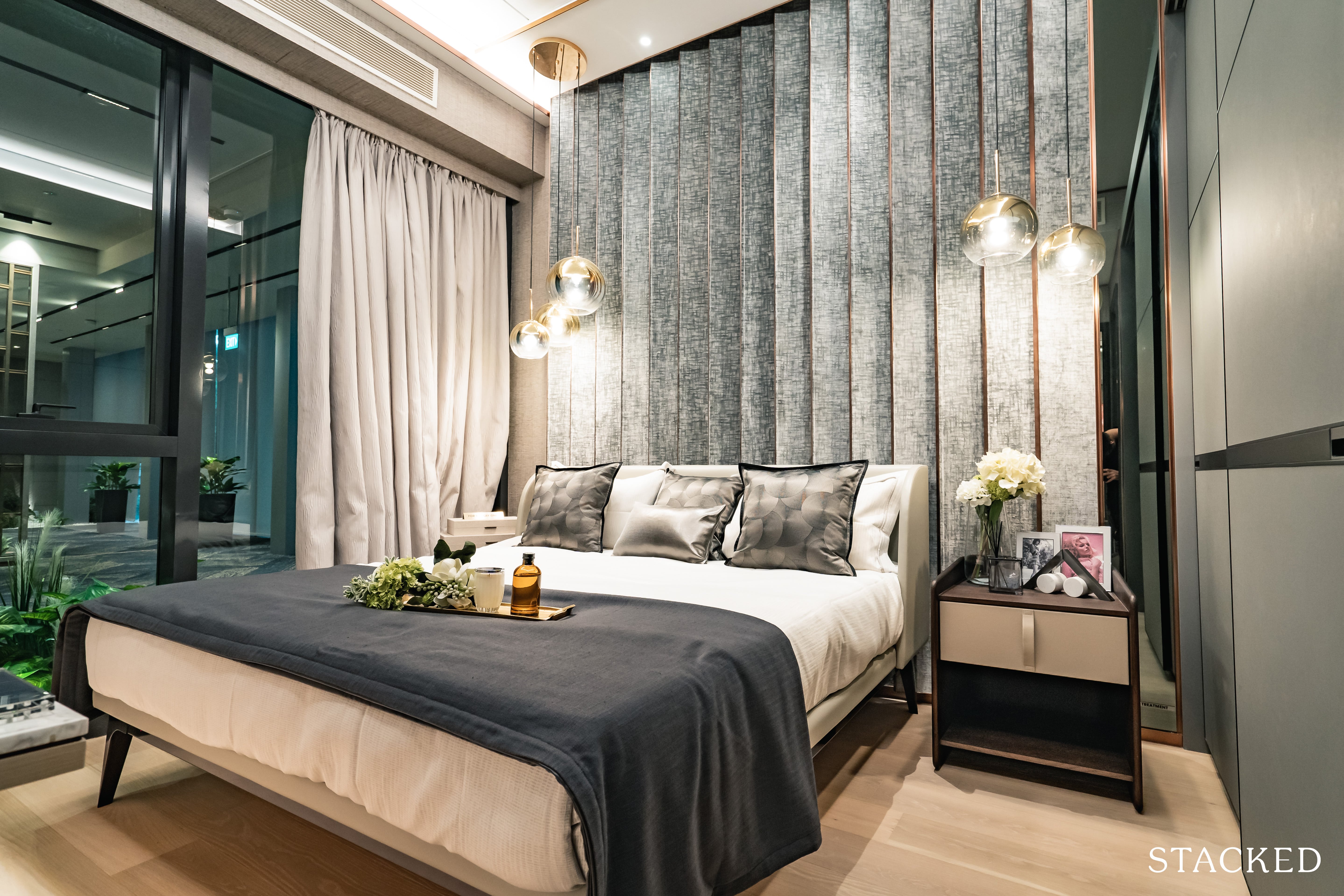 As for the Master Bedroom, it has a typical size of 13 sqm. It isn't the largest of Master Bedrooms but it's definitely helped by the huge full-length windows and high ceilings. They have placed a King-sized bed and a rather sizeable bedside table (by show flat standards). That said, I note that the walkway between the bed and the wall (where the TV is usually placed) is rather tight.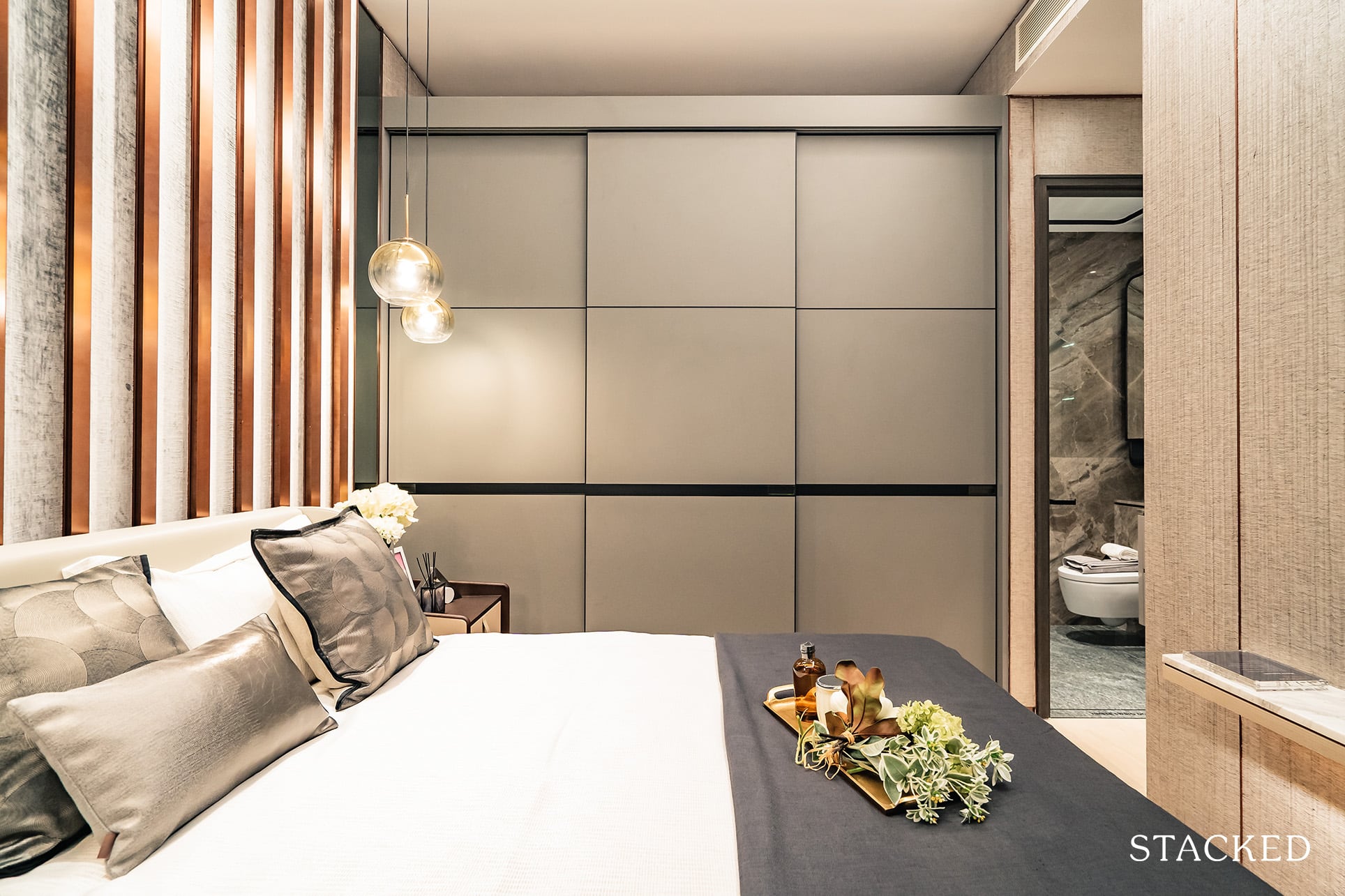 However, if we look past that, one thing that Perfect Ten excels in is also the built-in wardrobe space provided. Instead of the usual 2 panels, you actually get 3 large panels here and it is significantly larger than every other development out there with a comparable unit size of sub-800 sqft. This is outstanding as a common gripe about new launches has been the lack of wardrobe space for the Master Bedroom but Perfect Ten seeks to address that through clever planning.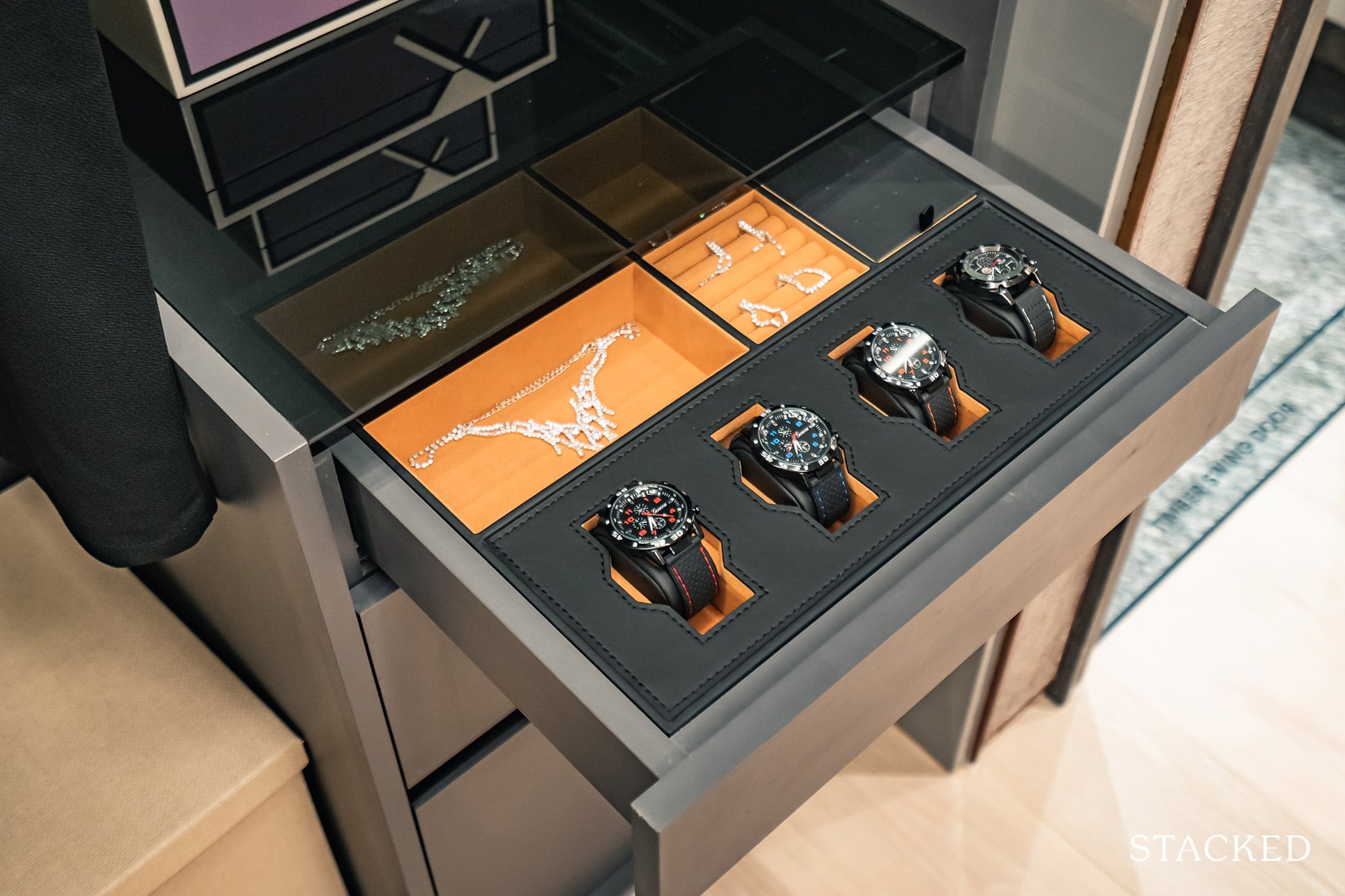 You do also have further drawers and glass cabinetry to keep your accessories. And it's worth mentioning that the wardrobe is finished in a leather-grained look – but it's not actually made of leather, of course.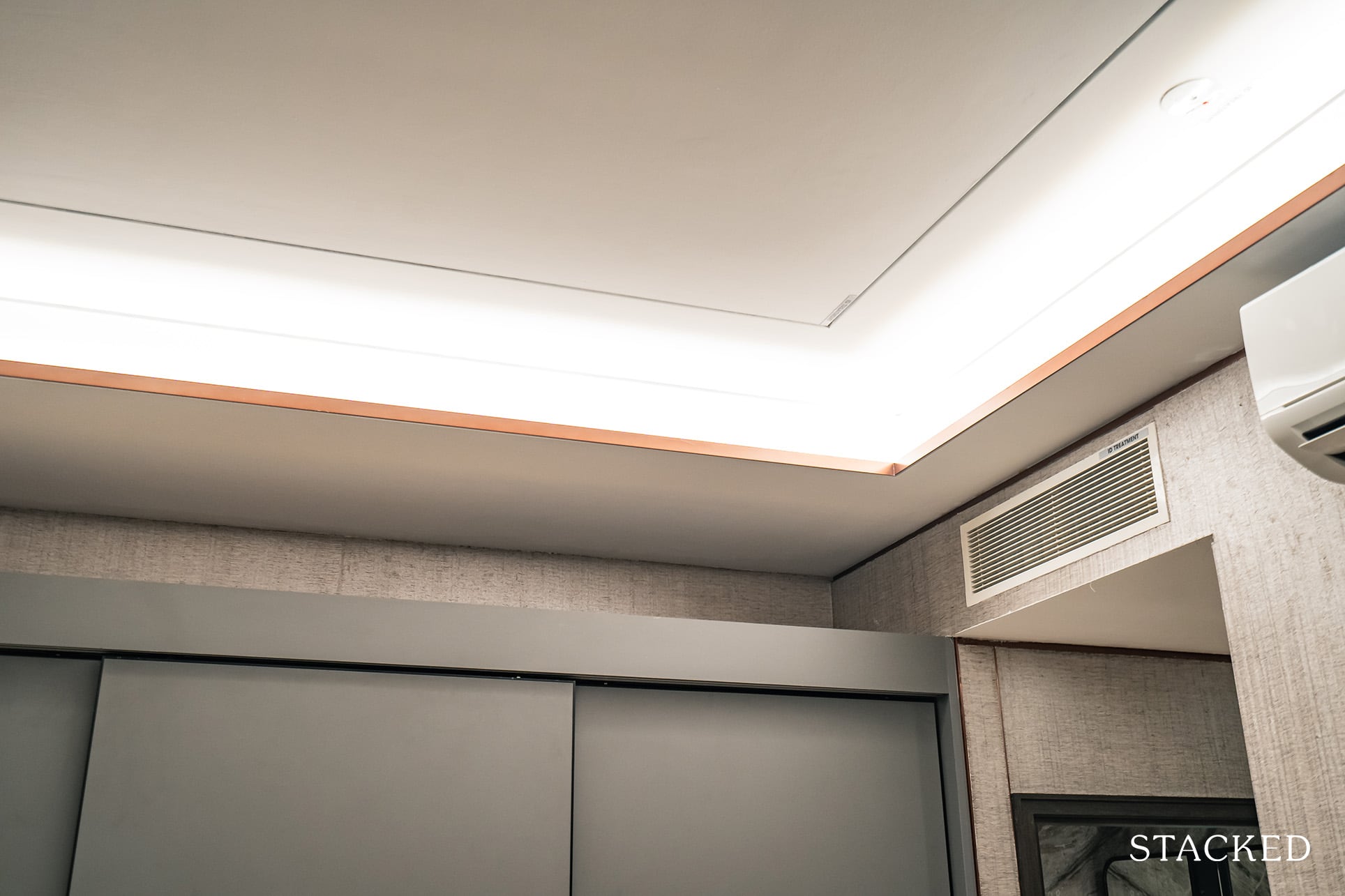 You do also have additional space above, which is purposefully left open for odd-shaped items like suitcases and the like. Personally, I prefer more cabinetry to keep things flushed and tidy, but that should be an easy enough fix if you feel the same way.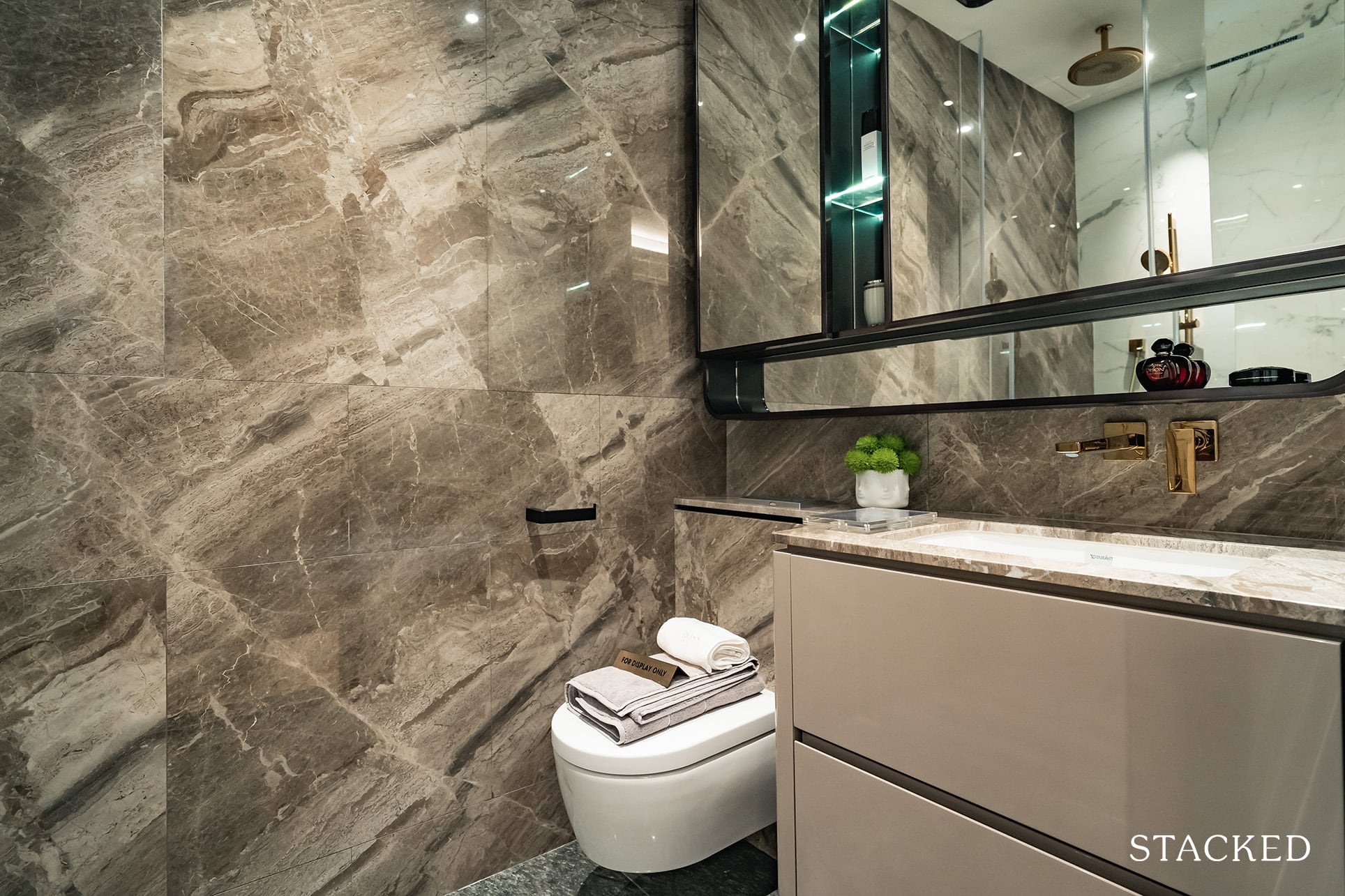 Finally to the Master Bathroom, which is very average in size at 5 sqm. After all, all the space you see elsewhere had to come from somewhere – and if I had to choose I'd definitely live with a smaller bathroom. (You do at least get a wall-hung w/c here.)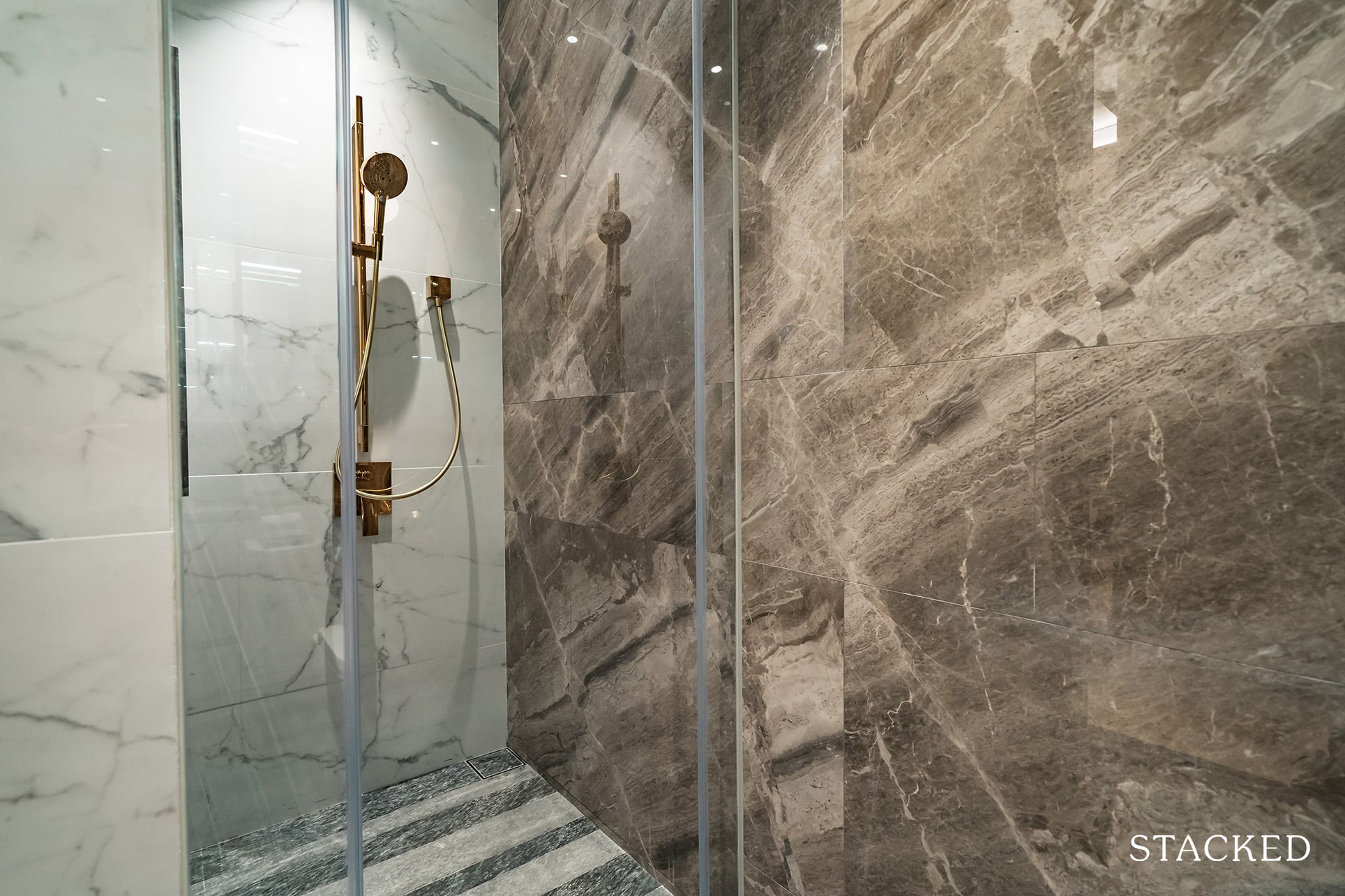 Just like the Common Bath, the one here does not come with windows so you will have to rely on mechanical ventilation. Once again, you will notice plenty of gold wares here, including the integrated tap and rain and handheld showers by Hansgrohe. The theme of the bathroom seems to go down the luxe look, which is not surprising given the price points Perfect Ten is marketing themselves at.
Perfect Ten – 3 Bedroom Type B3 (119 sqm / 1,281 sqft) Review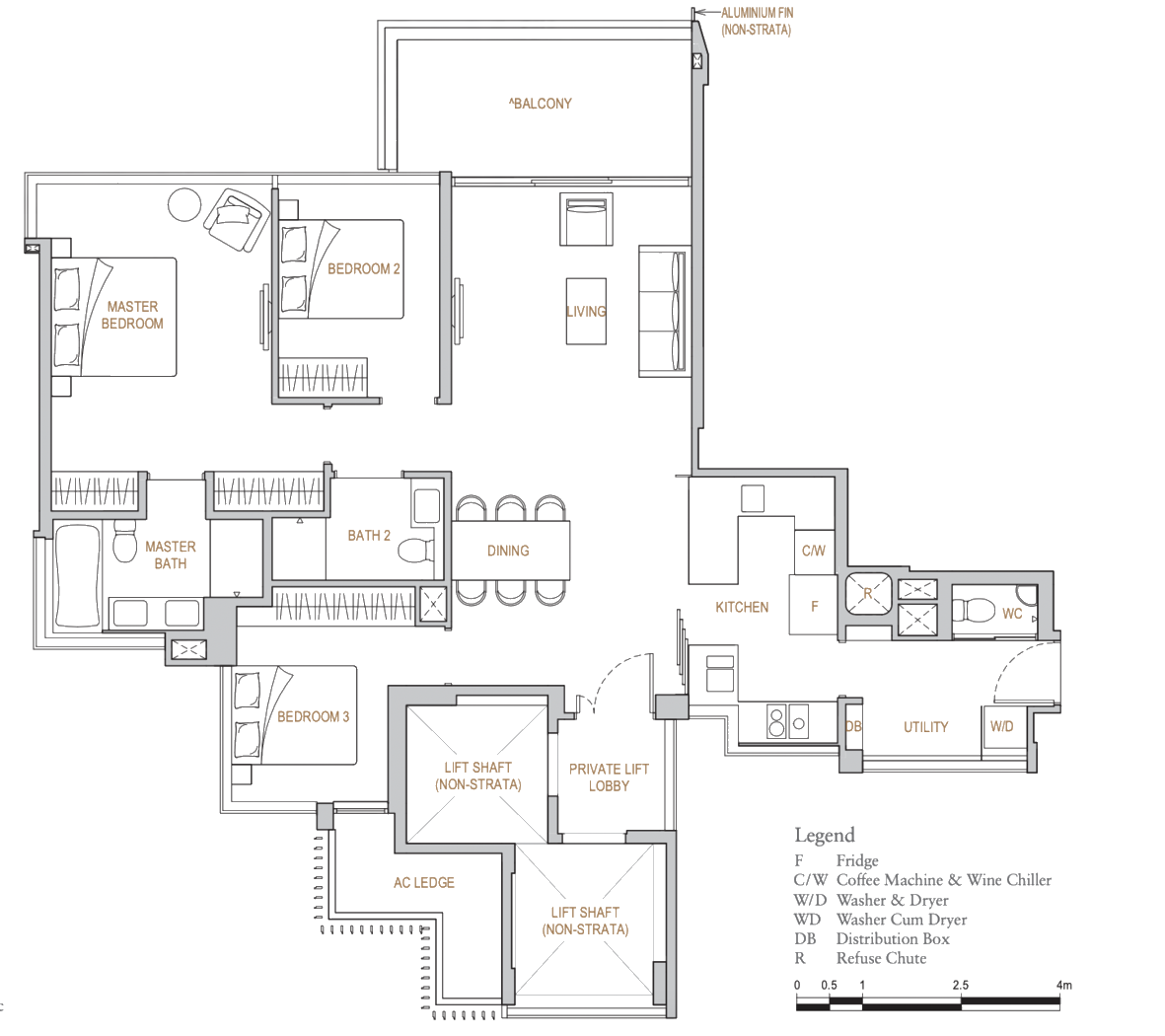 As mentioned earlier, there are only 2 and 3 Bedroom unit types at Perfect Ten, with 3 Bedroom units making up 40% of the total. They range from 1,227 sqft to 1,281 sqft and all of them are above the current new launch average of about 900+ sqft. This show unit is thus the largest unit on offer at Perfect Ten and probably the only sticky point for me is the actual unit size of the biggest units available here. While it is nothing to be sniffed at (and they have done a very admirable job of an efficient layout), it still isn't what you'd describe as an expansive space.
That said, you do have the option of amalgamating units if your budget allows. Because the 3 Bedroom units are all corner stacks, you can't actually amalgamate two 3 Bedroom units together. So the combination would always be like 3 + 2, or even something like 3 + 2 + 2.
There are strong points about this unit, including the standard 3.225m ceiling height which I also mentioned in the 2 Bedroom unit. This is likely the highest standard ceiling height among all the new developments and triumphs even more luxurious developments such as Park Nova. Additionally, there are very interesting features found in this unit, including a beauty fridge (definitely a first for me) in the Master Bedroom, automatic blinds, and ceiling speakers in the Master Bathroom (also a first for me).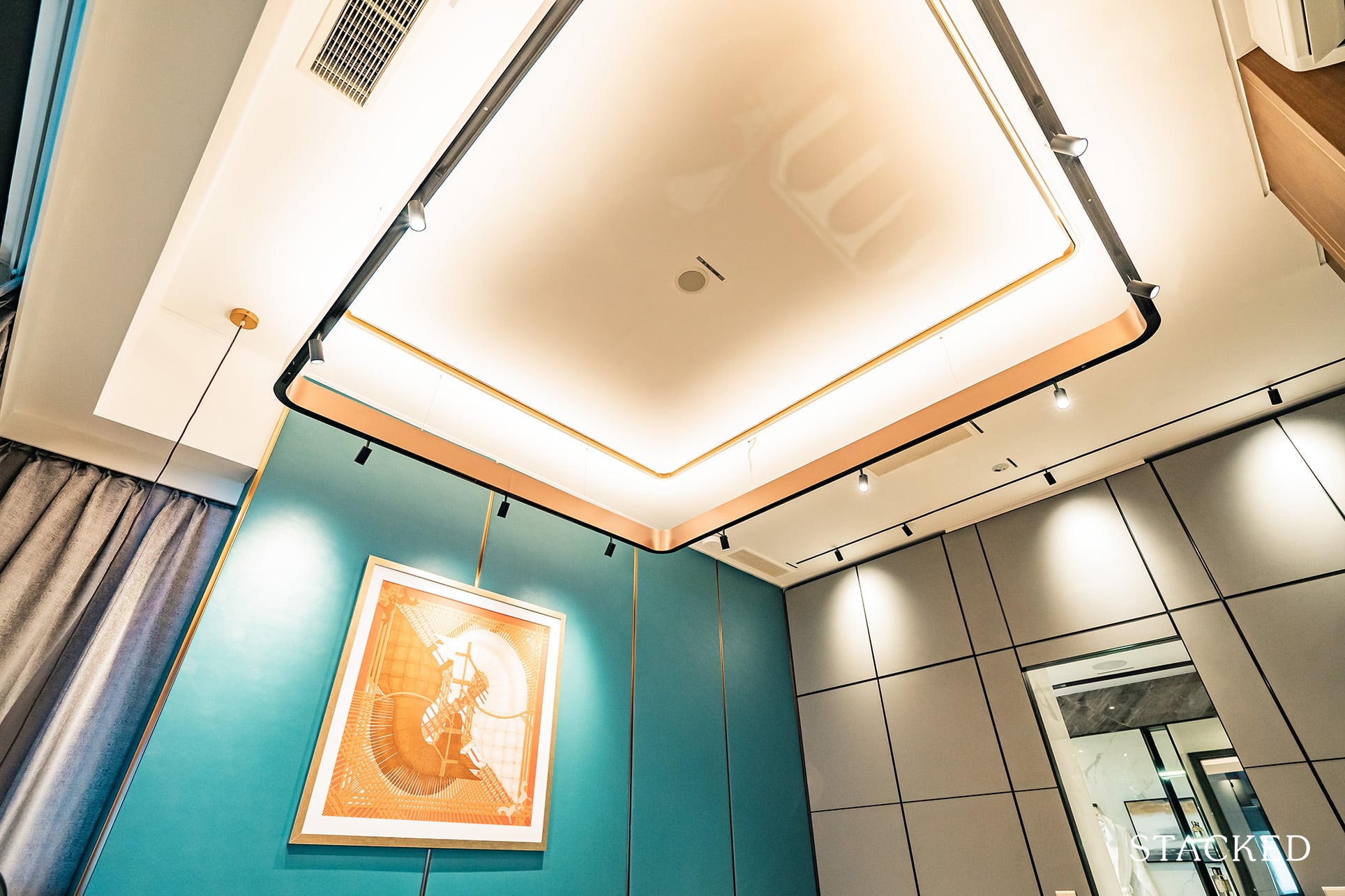 To me, this just speaks volumes about the amount of thought and effort that the developers have put into this project and their conscientiousness bodes well for buyers. This is the advantage that an overseas developer like Cheung Kong has. Being used to tight spaces and luxury projects back in Hong Kong, they are aware of the needs of the upper class and the importance of space efficiency. In fact, for Perfect Ten, you get Cheung Kong's very own in-house interior designers in charge, the very ones behind 21 Borrett Road in Hong Kong, which set an Asia record of $23,000 psf earlier this year!
Marble floors come standard in the kitchen, living, and dining areas with engineered timber provided in the bedrooms. Overall, I find that the materials used at Perfect Ten are of great quality, with the kitchen cabinets and bedroom wardrobes being very well-built.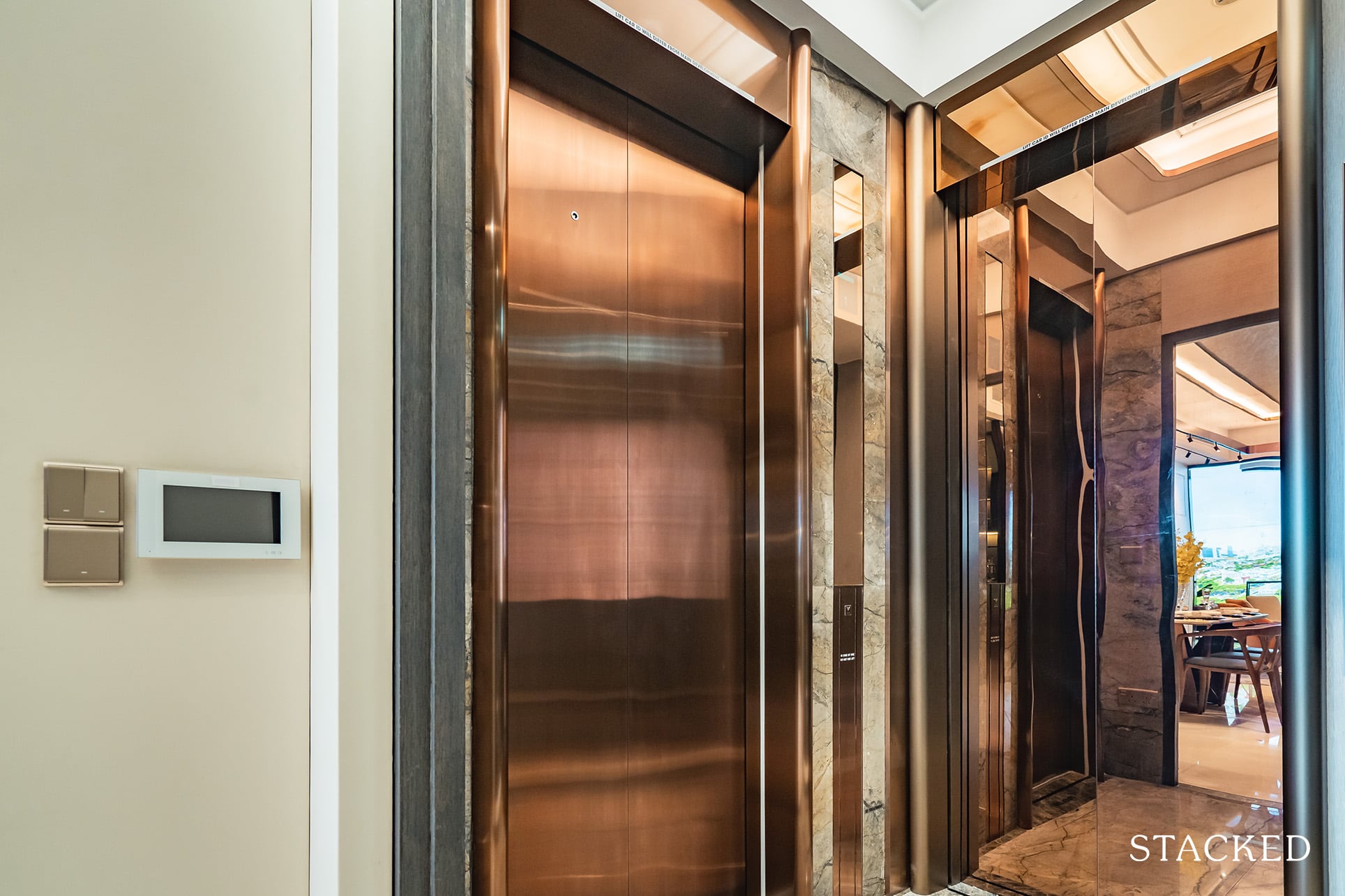 When you exit the private lift, you are first greeted by the private lift lobby, which at 4 sqm is just right in terms of size. Not big enough to be a waste of space and yet not small enough to make it impractical. What's great is that there are 2 private lift shafts here, so you can be assured that your wait for the lift will not be too long. The best part? 1 of them even has a clear glass that allows you to check out the city views while traveling to your unit!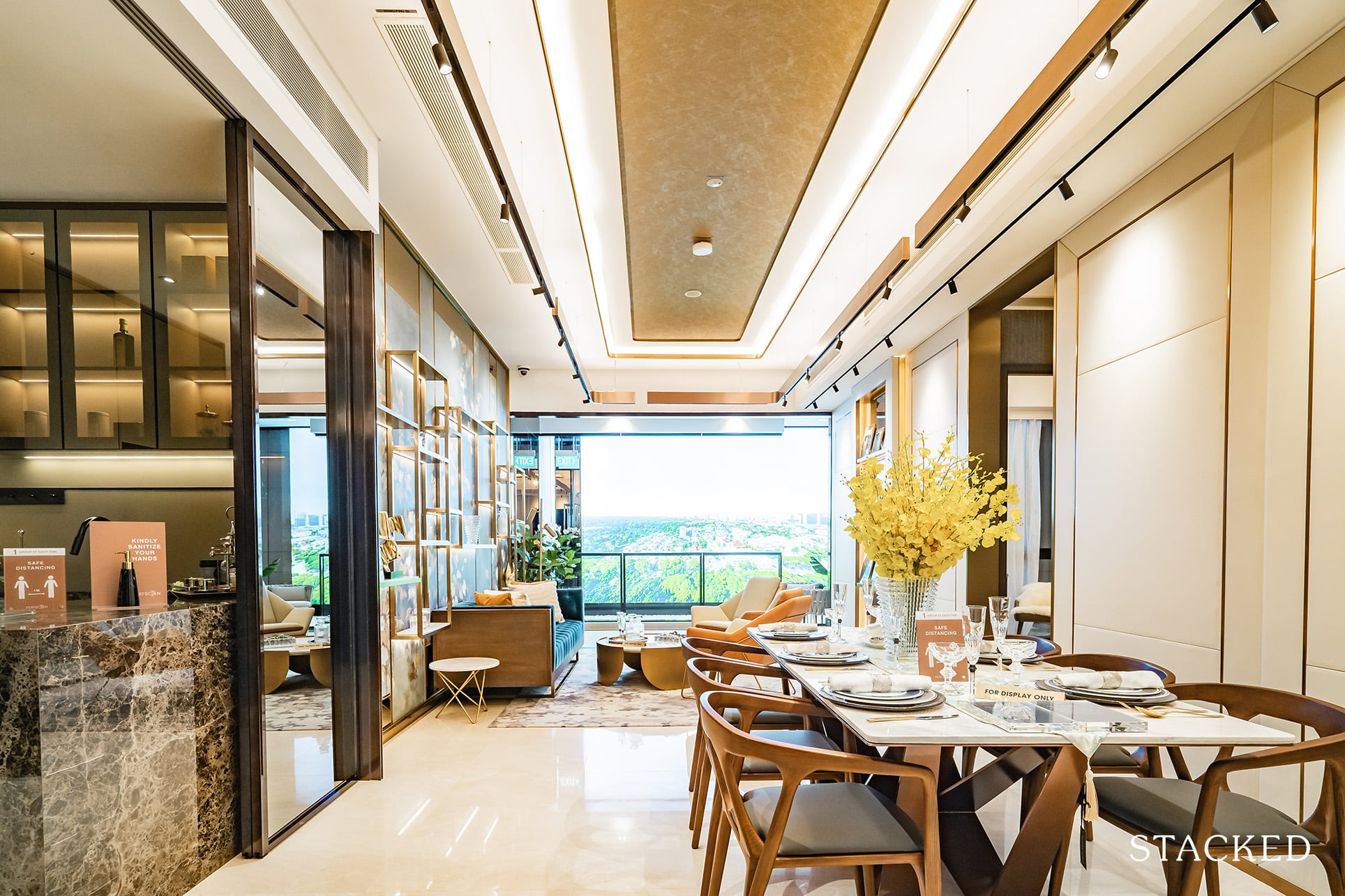 Entering the unit, you will be greeted by the continuous living and dining areas, which collectively make up 32 sqm of space. It's a big space by today's mass-market standards but unsurprising given the unit's 119 sqm size. There's no wasted foyer area at all.
First impressions are pretty great, and no doubt highlighted further by the brightly lighted-up photo of the view that you'd be enjoying from a high floor unit. And again, certainly from that 3.225m high ceiling.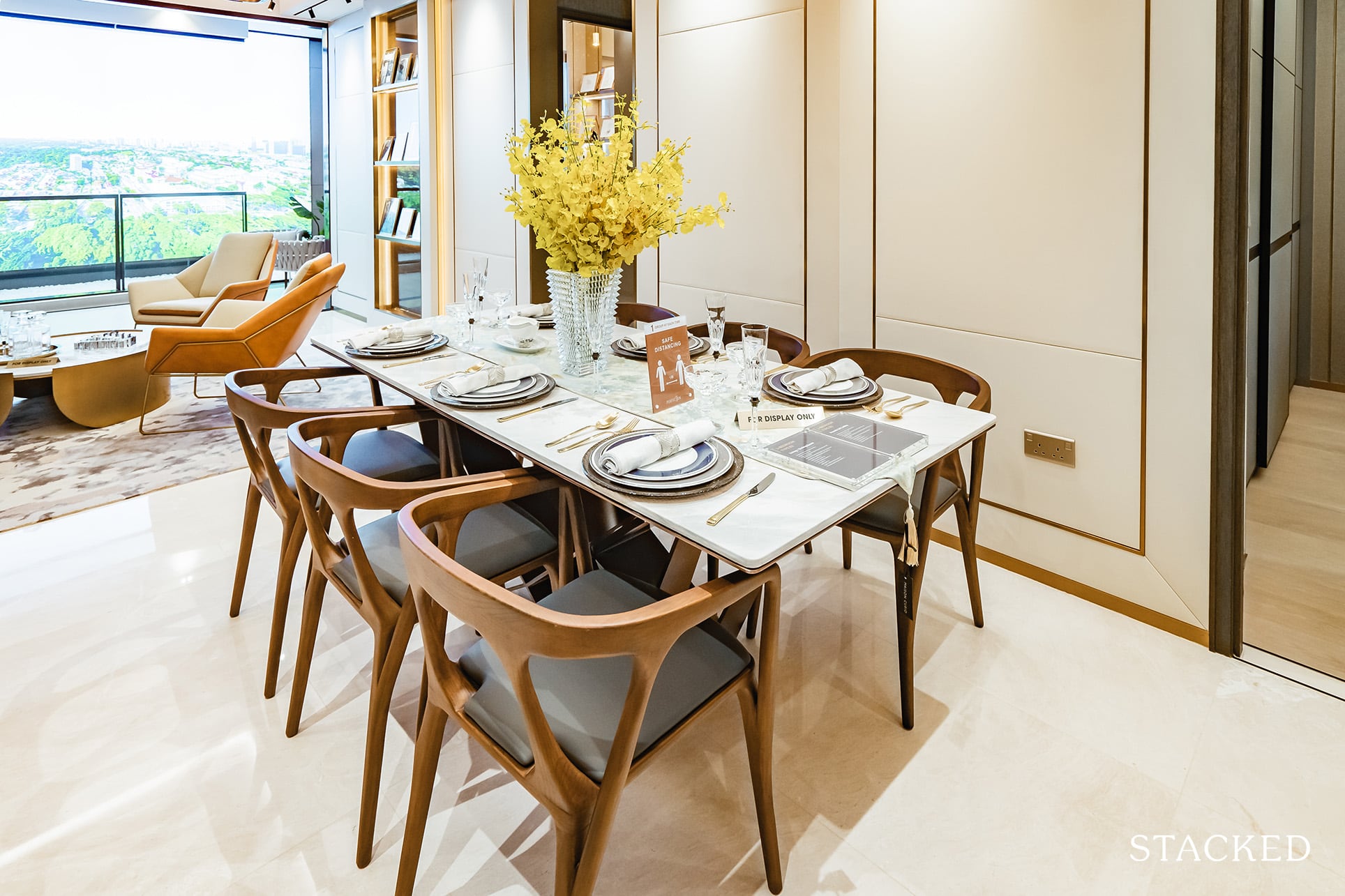 A 6-seater dining set has been placed in the dining room and while there is enough space for more seats, do be mindful that Bedroom 3 is situated here so a longer dining table would risk blocking its entry. That said, perhaps the solution would be an extendable table if you intend on hosting larger parties in the future.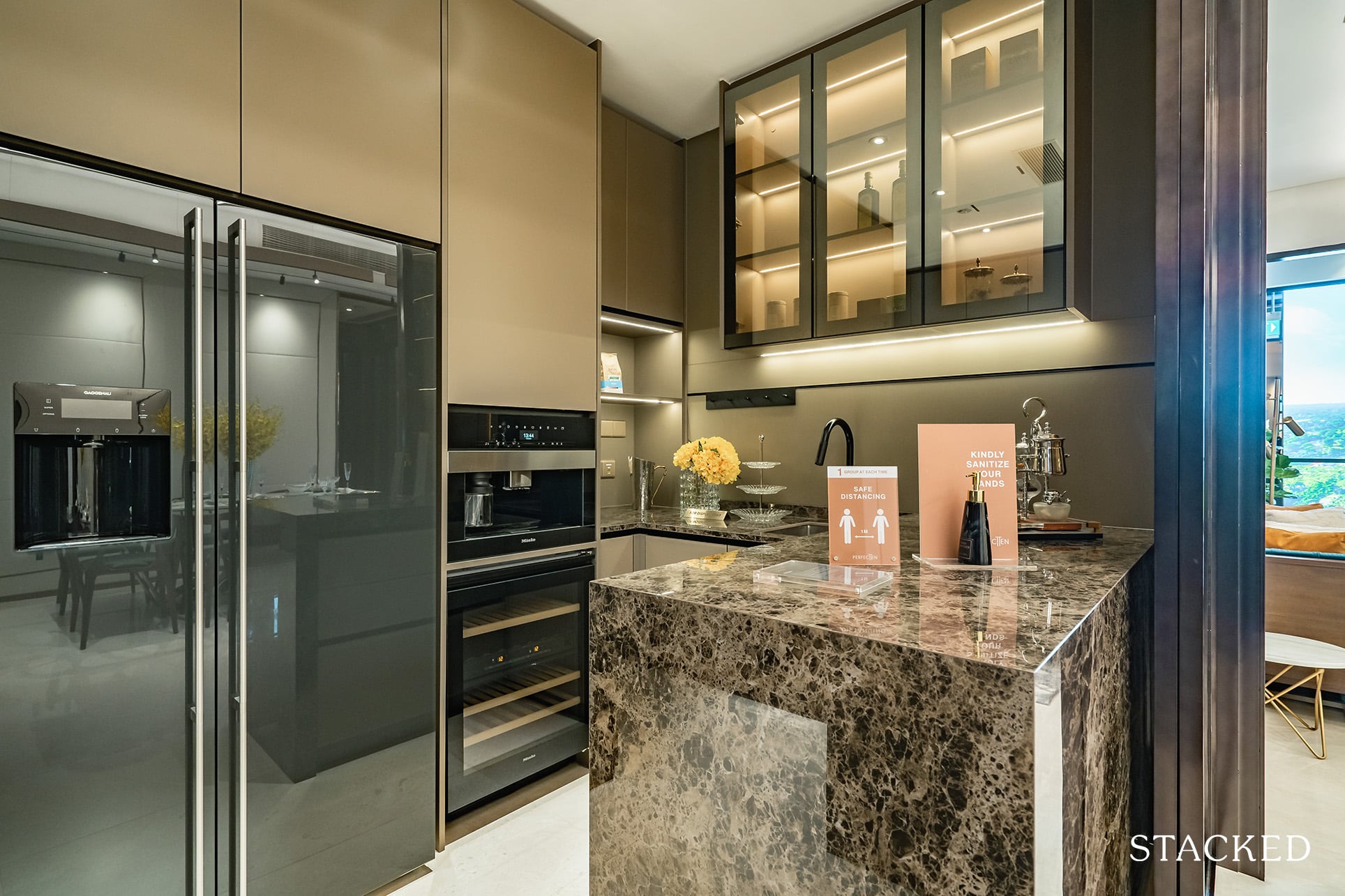 Just opposite the dining area is the enclosable kitchen. Smoked glass sliding doors are provided, giving you the option of either having it opened or closed. I really like this concept because of its versatility.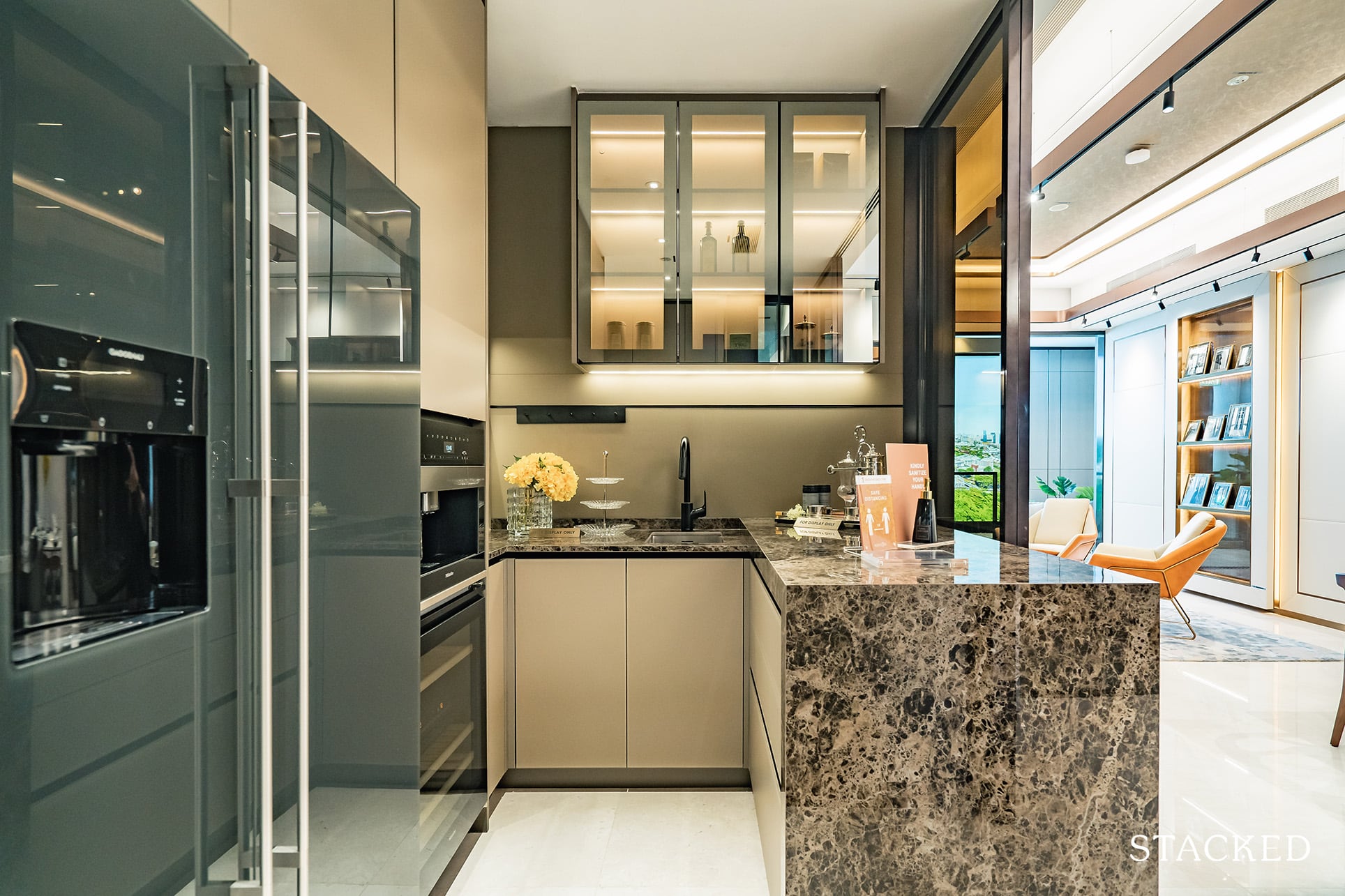 In the mornings, you could have this as a breakfast counter (albeit a pretty squeezy one) and in the evenings when your friends are over, you could entertain them even while preparing dinner. On the other hand, when you do require heavy cooking, you still have that versatility of closing it to prevent the fumes from getting to the rest of the house. If anything, my only gripe would be that the doors cannot be 'slid away', i.e. completely entirely out sight, as that would allow you to have a proper breakfast counter. As it now stands, the kitchen cannot be 'completely open'.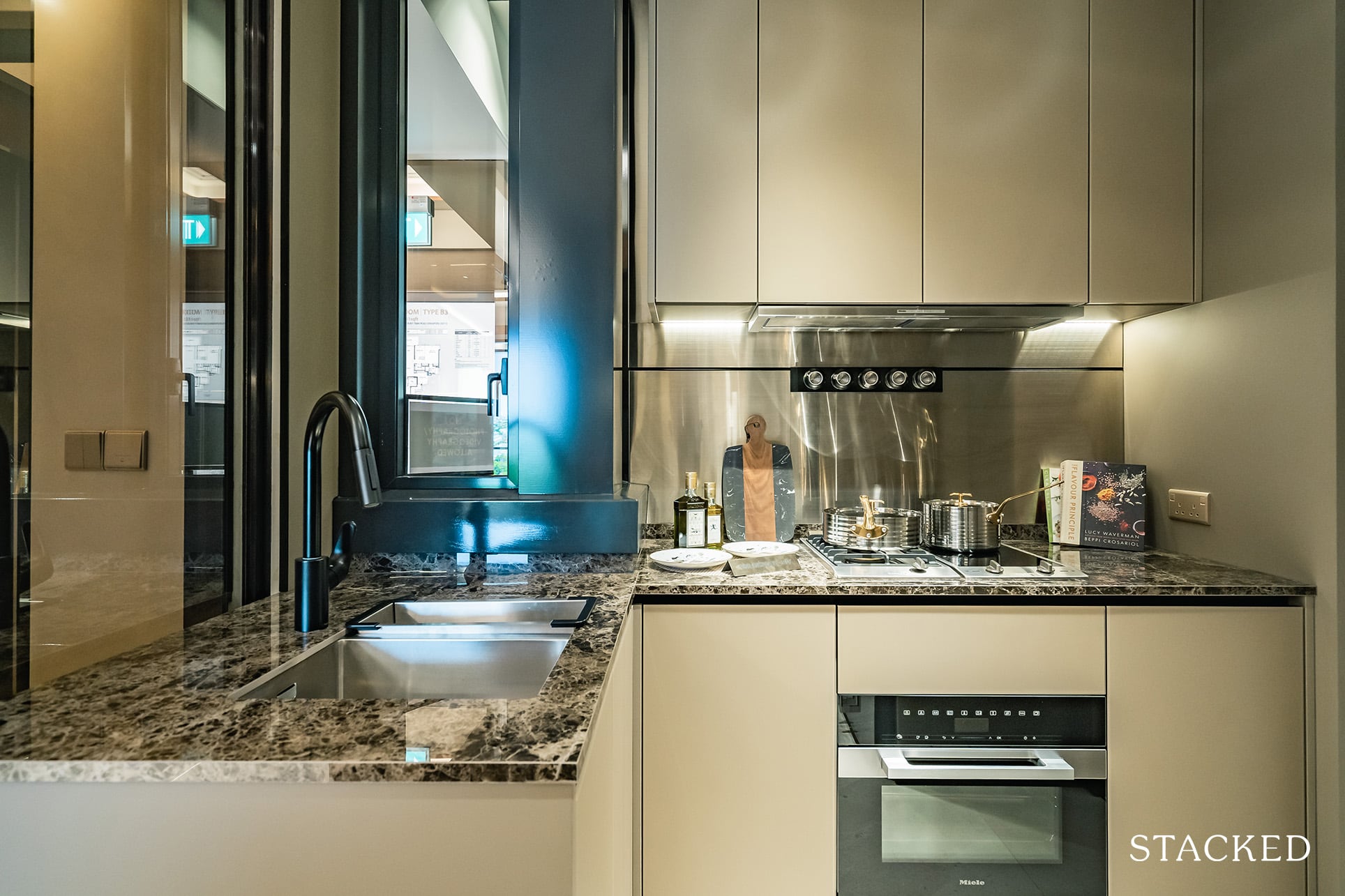 Like the 2 bedroom unit, the space in the kitchen is relatively compact, and if you do have a lot of kitchen equipment that you use frequently, you could find the countertop space a little limiting.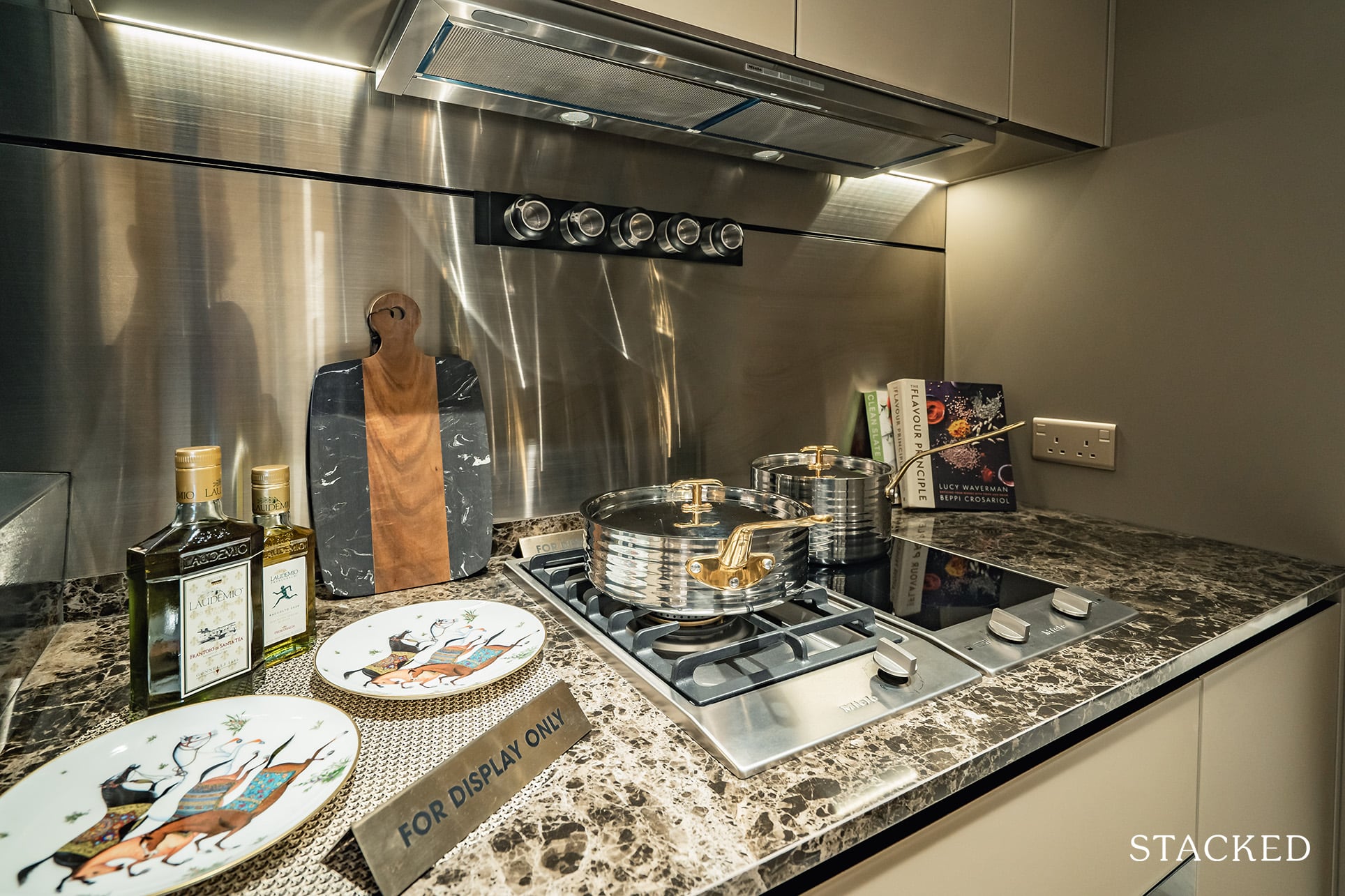 As for the kitchen provisions, you can see that the overall theme here and for the rest of the development has been the emphasis on luxury and quality. The kitchen countertop looks luxurious and the built-in cabinets are finished in glass instead of laminate, so you will feel the difference in quality instantly. There is also a translucent section of glass cabinets, which allows you to display your most exquisite glassware. Besides the built-in cabinets, you also get 2 different sinks, one with two sides and the other as a regular one.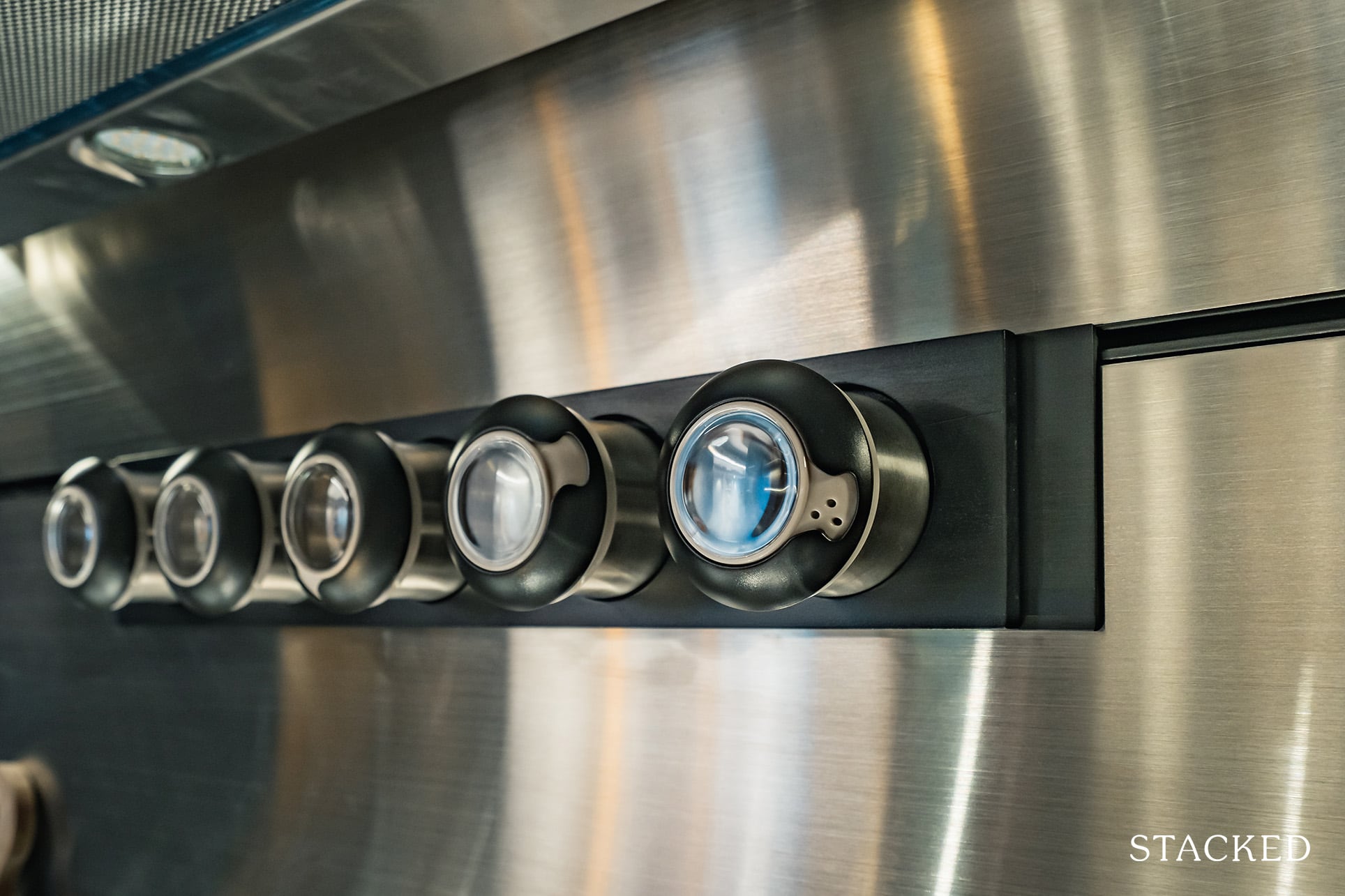 And like the 2 bedroom unit, they've also included a movable spice holder rack above too. Each container is easy to remove and will no doubt come in very handy while you are busy cooking.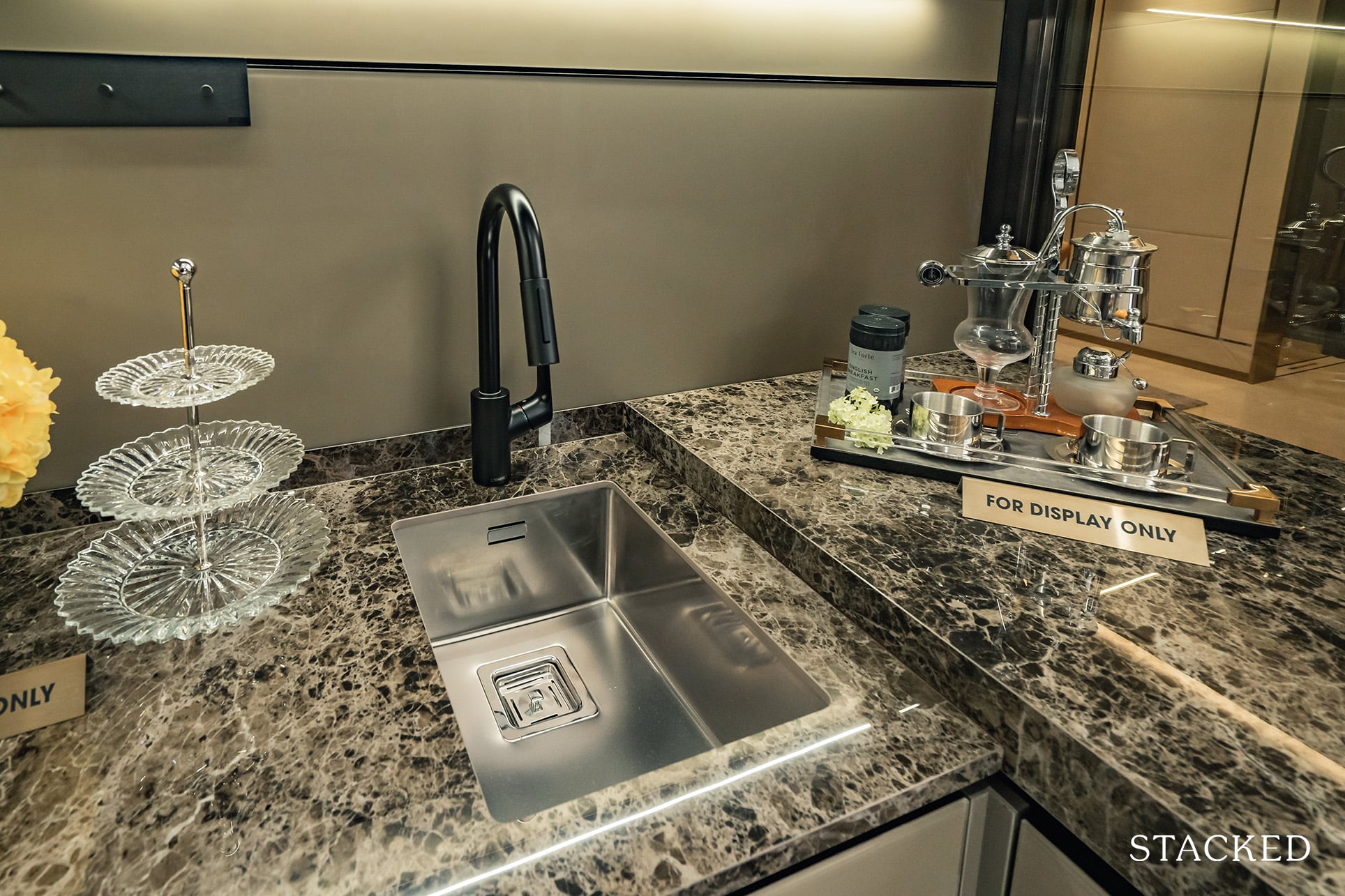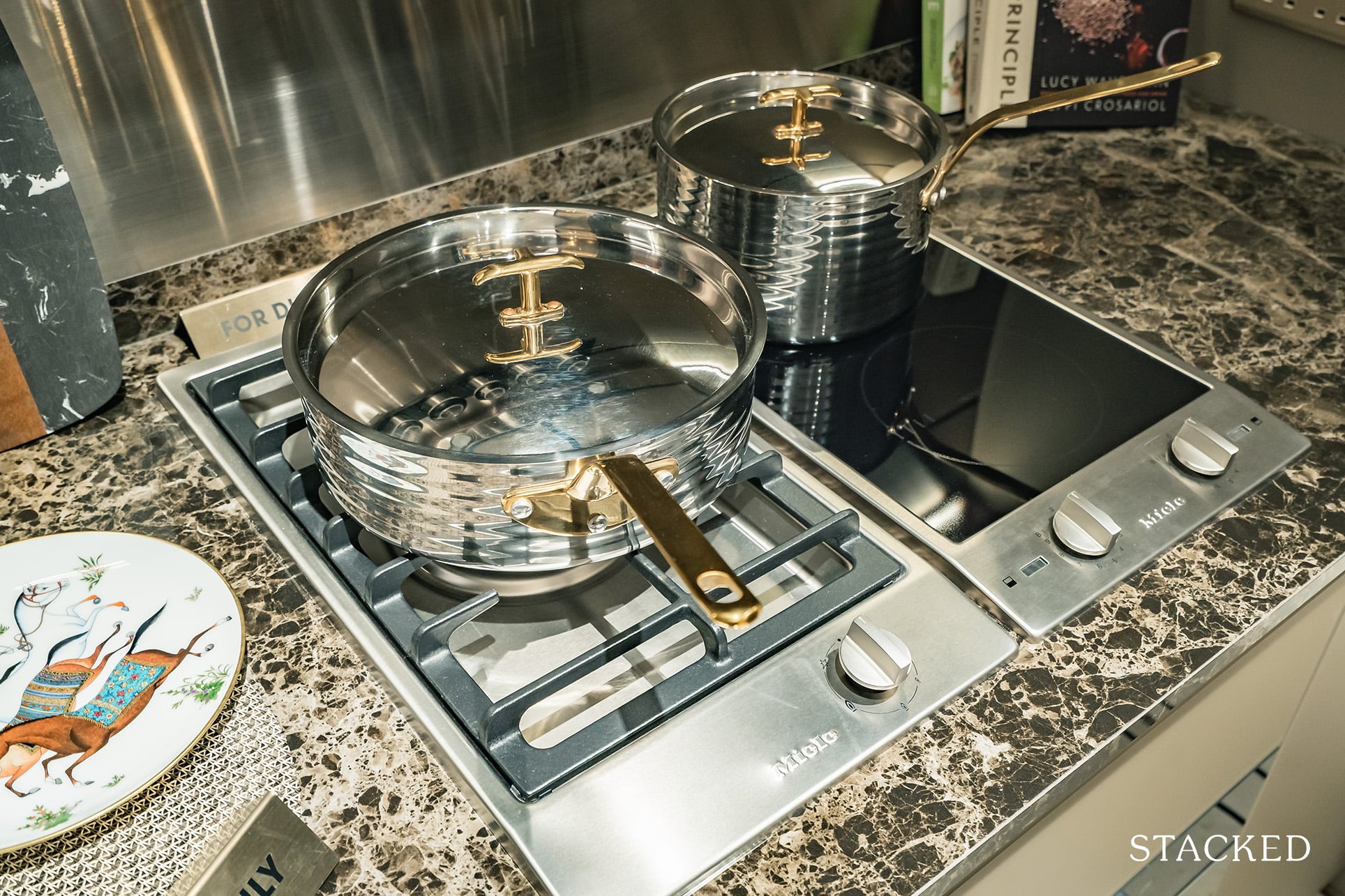 Appliances here are mostly from high-end German manufacturer Miele, including the 2 zone induction hob, 1 zone gas hob, steam oven, coffee machine, wine chiller, and hood. The 2 door fridge will be from Gaggenau.
I do really like that they've included both an induction and gas too, as it is just a lot more versatile.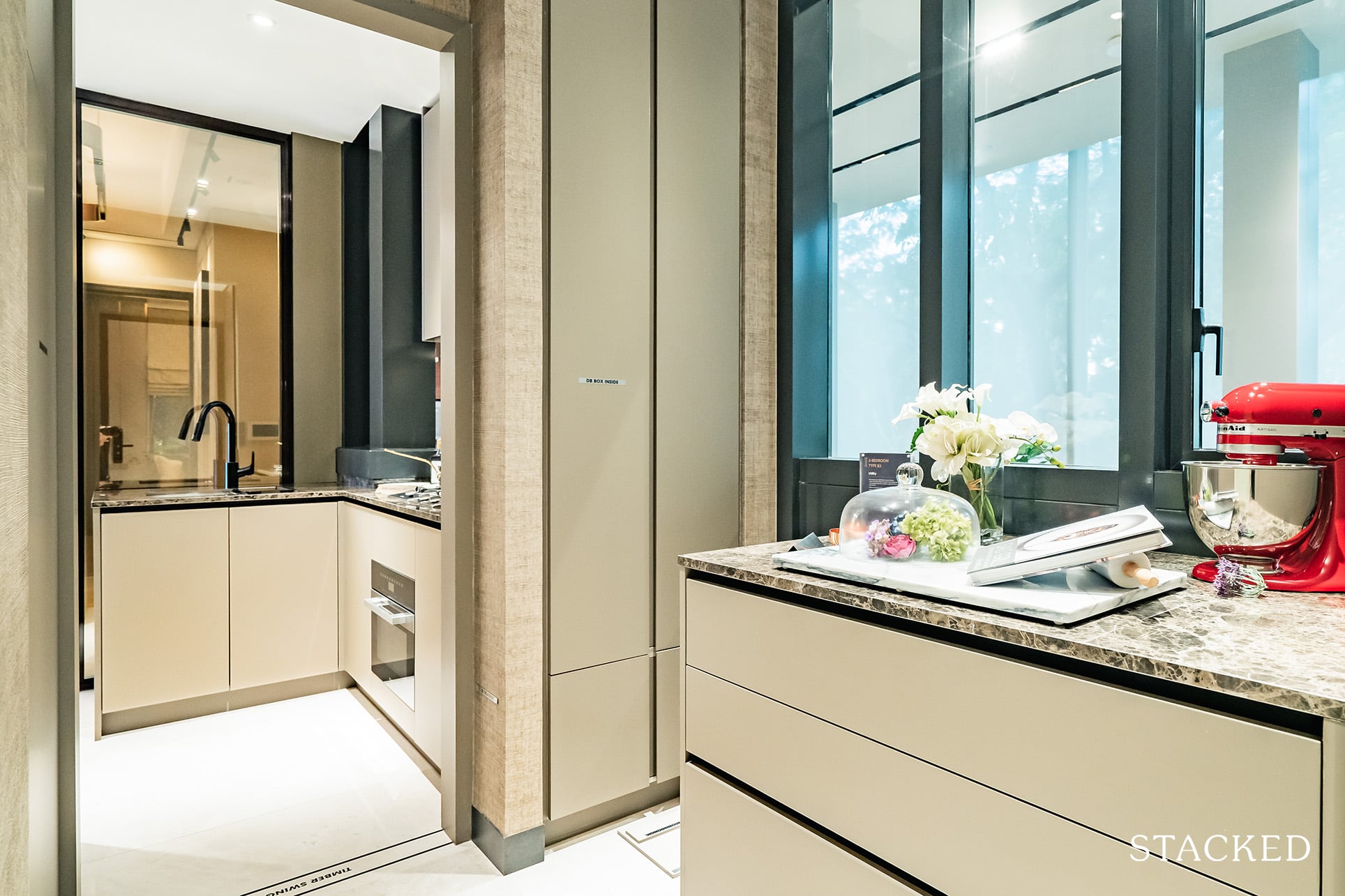 At the back of the kitchen is the utility area, which at 6 sqm, is certainly more liveable for your live-in helper compared to the space provided in the 2-bedroom unit. This space also comes with several windows for ventilation.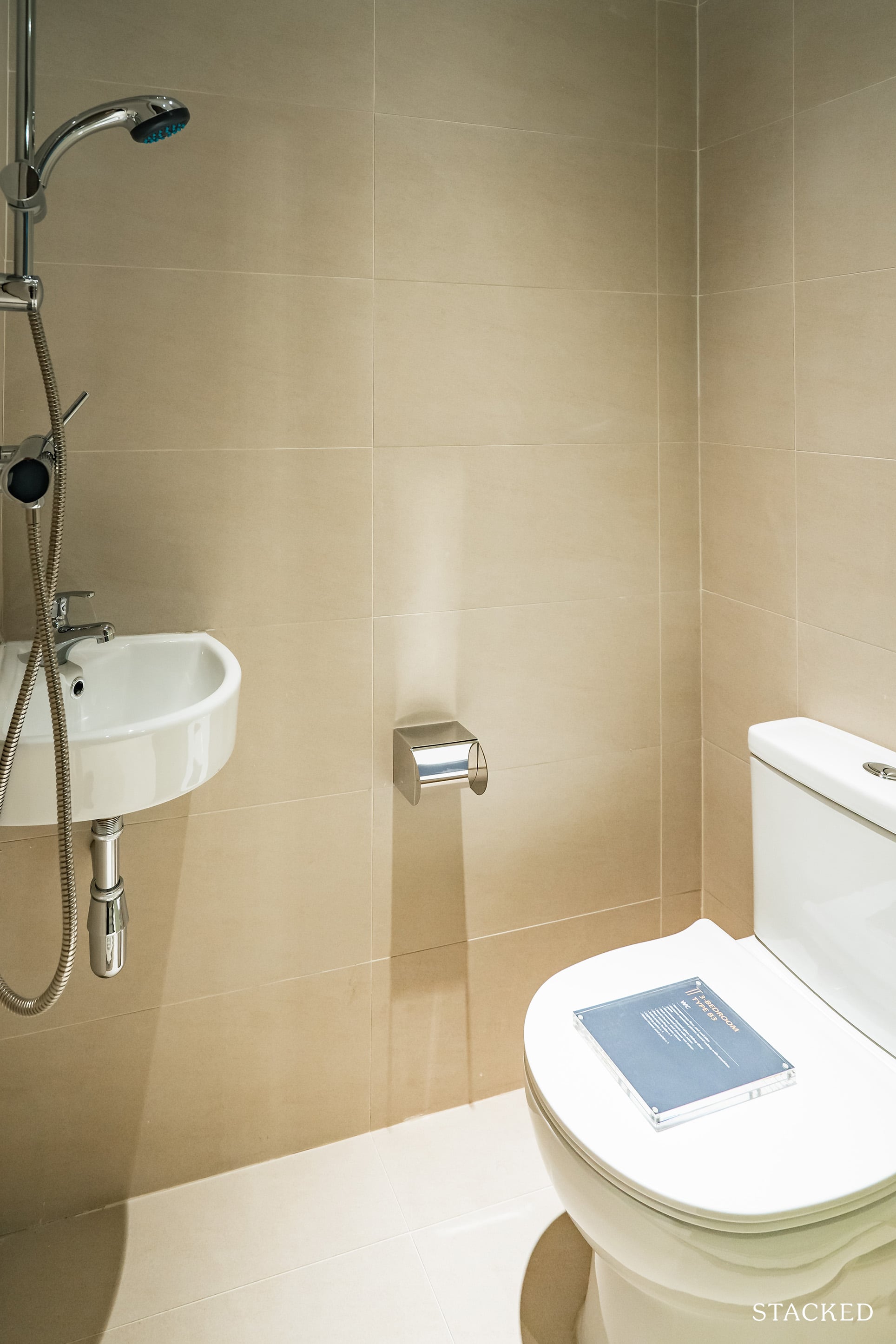 There is also a w/c here and has the door leading to the common lift lobby. Do note that the additional storage spaces here are ID treatment and will not be provided, although the separate washer and dryer by Miele are both located here.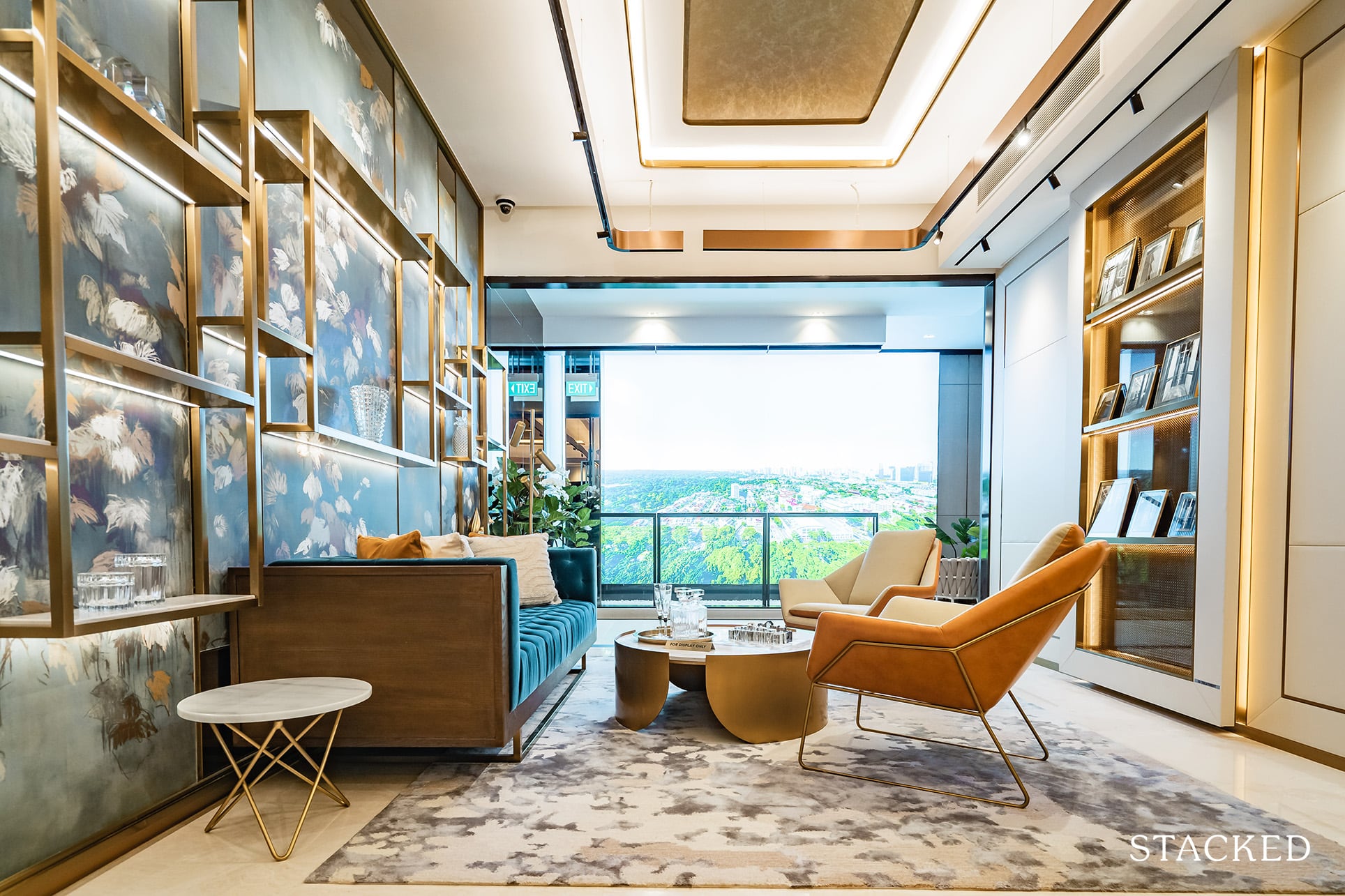 Back to the living room and yet again, the high ceiling really comes into play here as the space does feel very open and sizeable.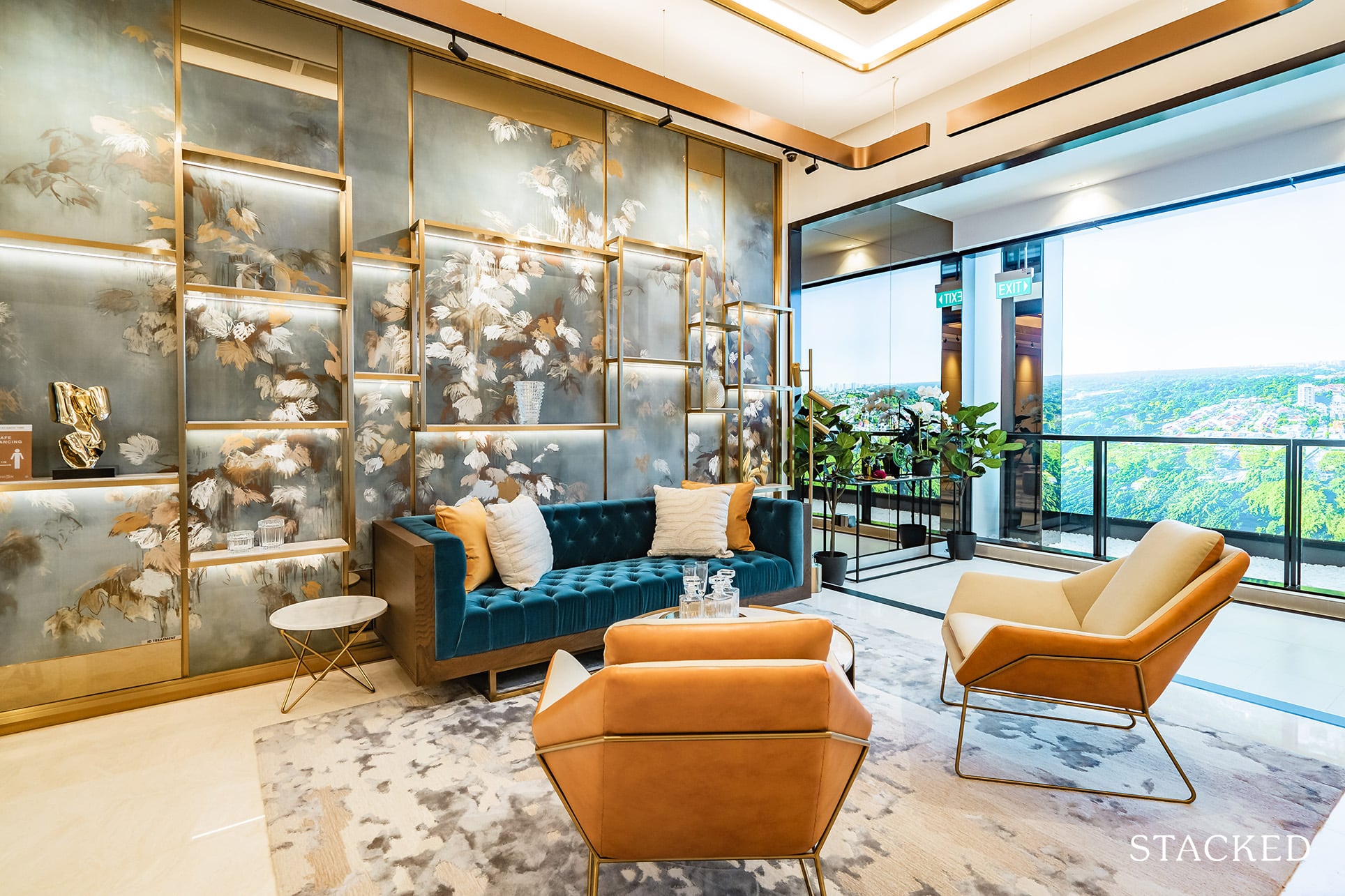 I would say the sofa used here is on the small side, but you certainly do have the space still to incorporate something more comfortably larger.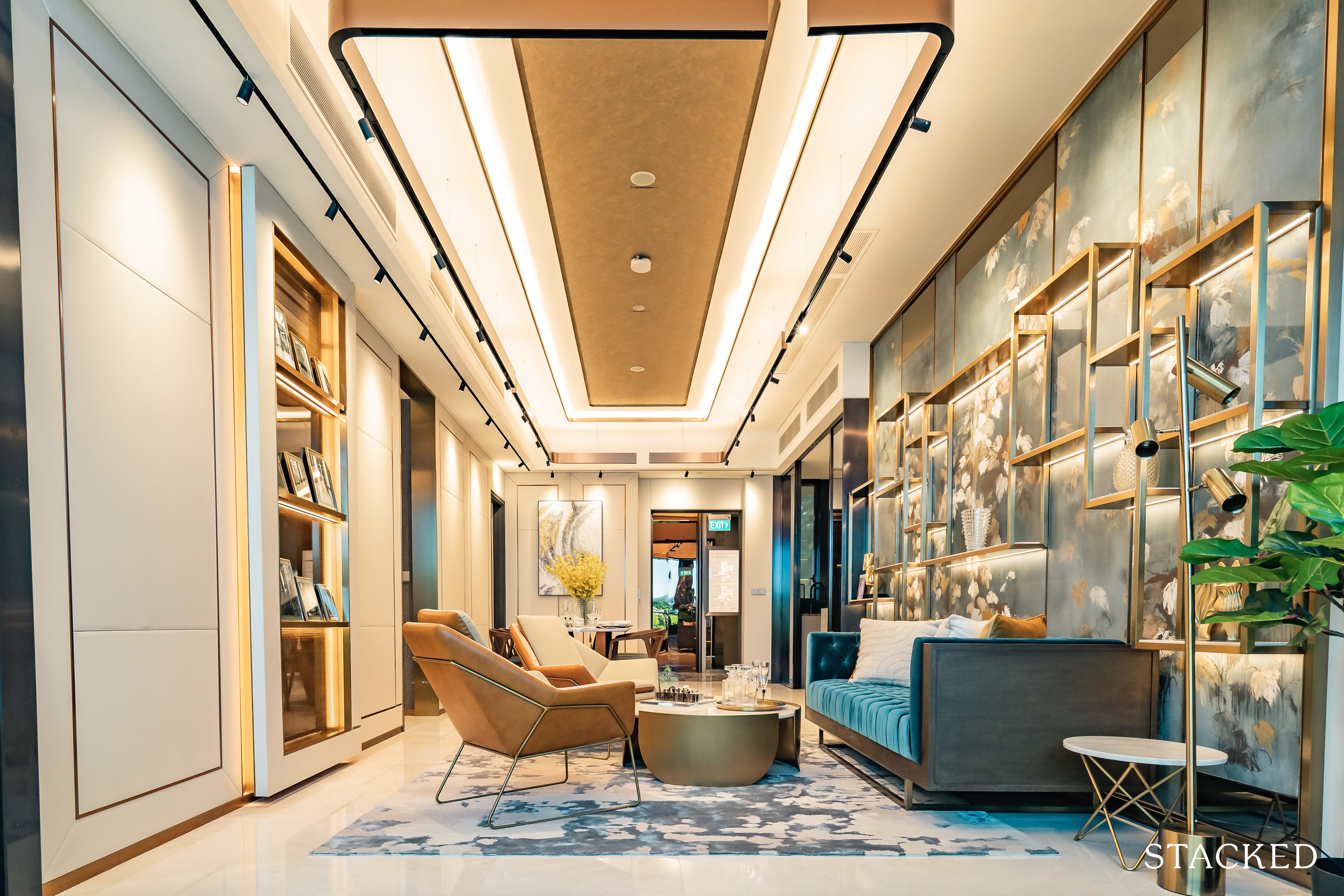 And of course, not many people will have a set up with 2 separate lounges across – so you do definitely have adequate space to have a traditional set up with a TV and console.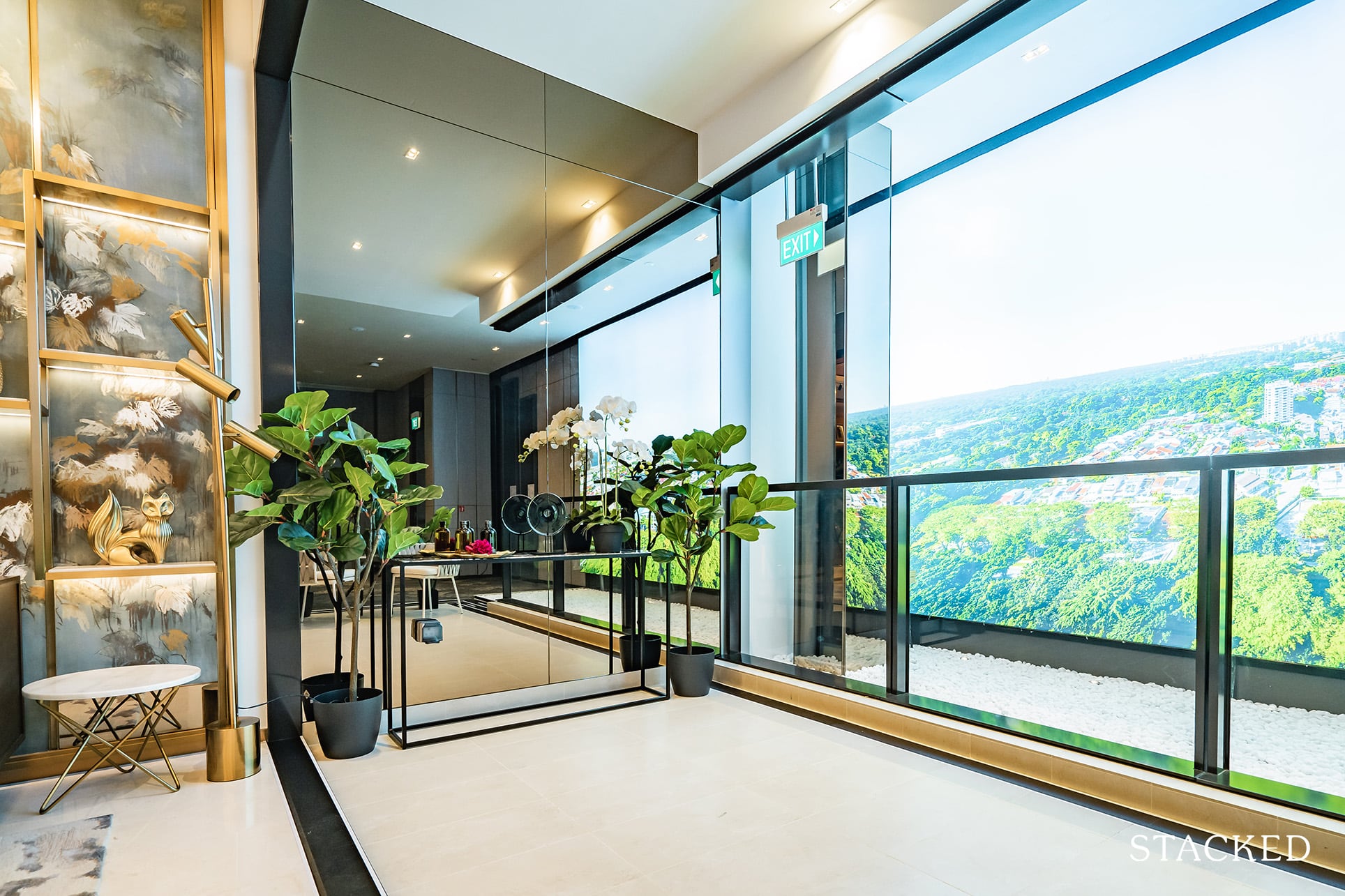 The balcony adjacent to the living room is equally generous in size at 12 sqm. I was talking about the balcony views in my 2 Bedroom review earlier and here, the developers have displayed what I would say are pretty amazing views of the Malcolm/Mount Pleasant greenery and Goldhill landed estate.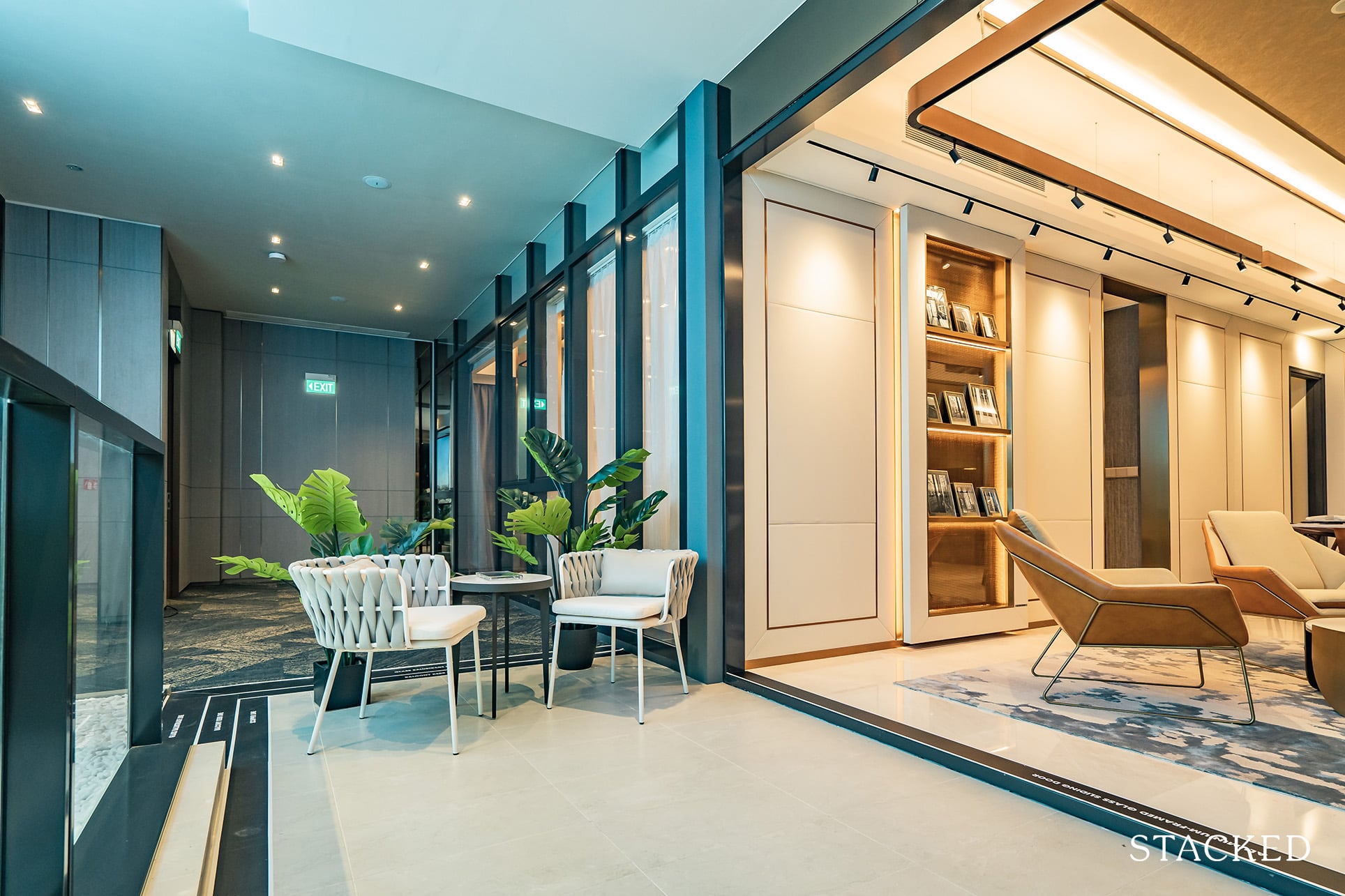 Spacious balconies such as the one here allow you to fully take in these views so you would appreciate that there is sufficient space to place a decent outdoor dining set here. These views will also come with the road noise along Bukit Timah Road, although the 100m setback will help to mitigate some of this.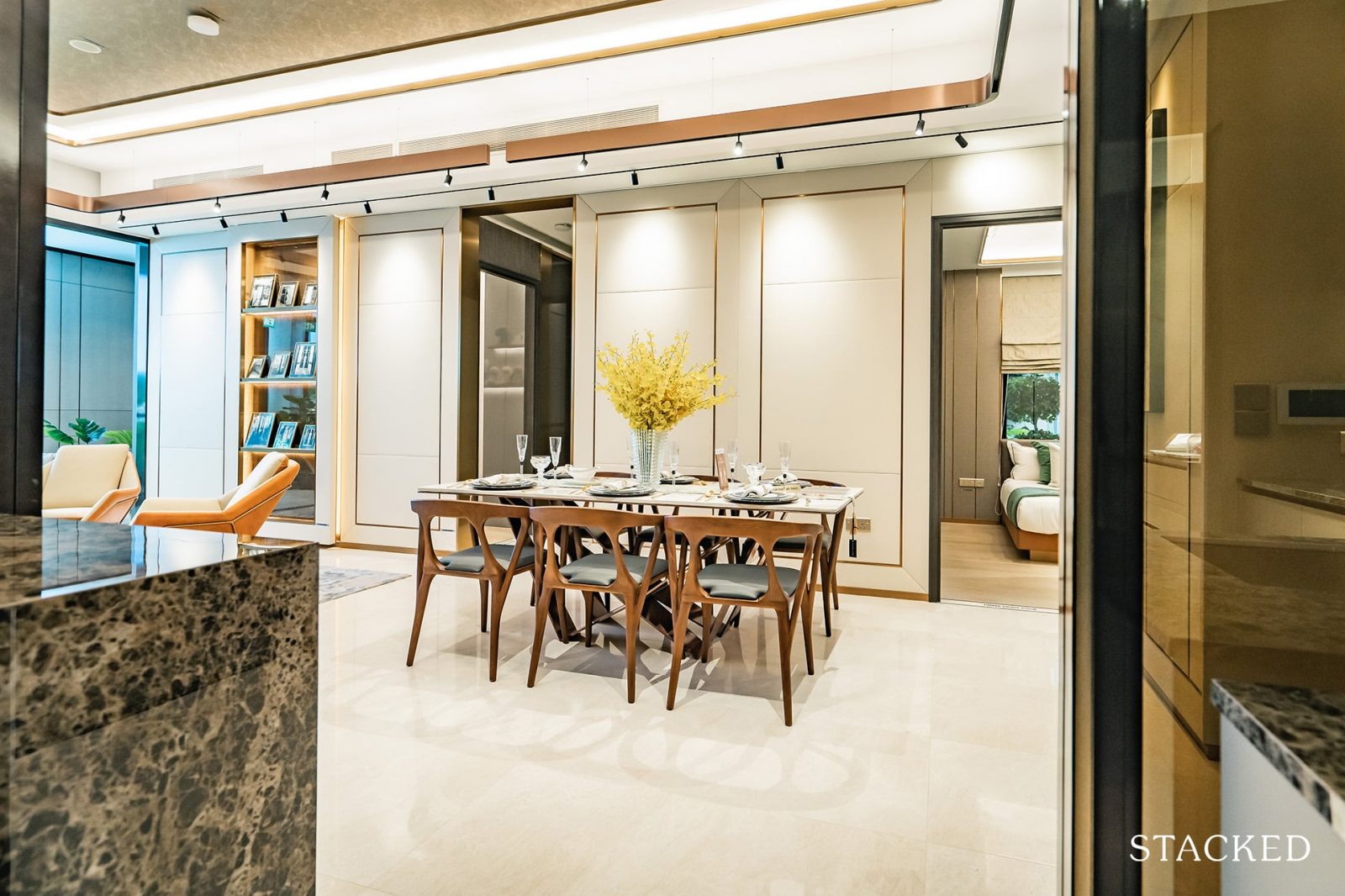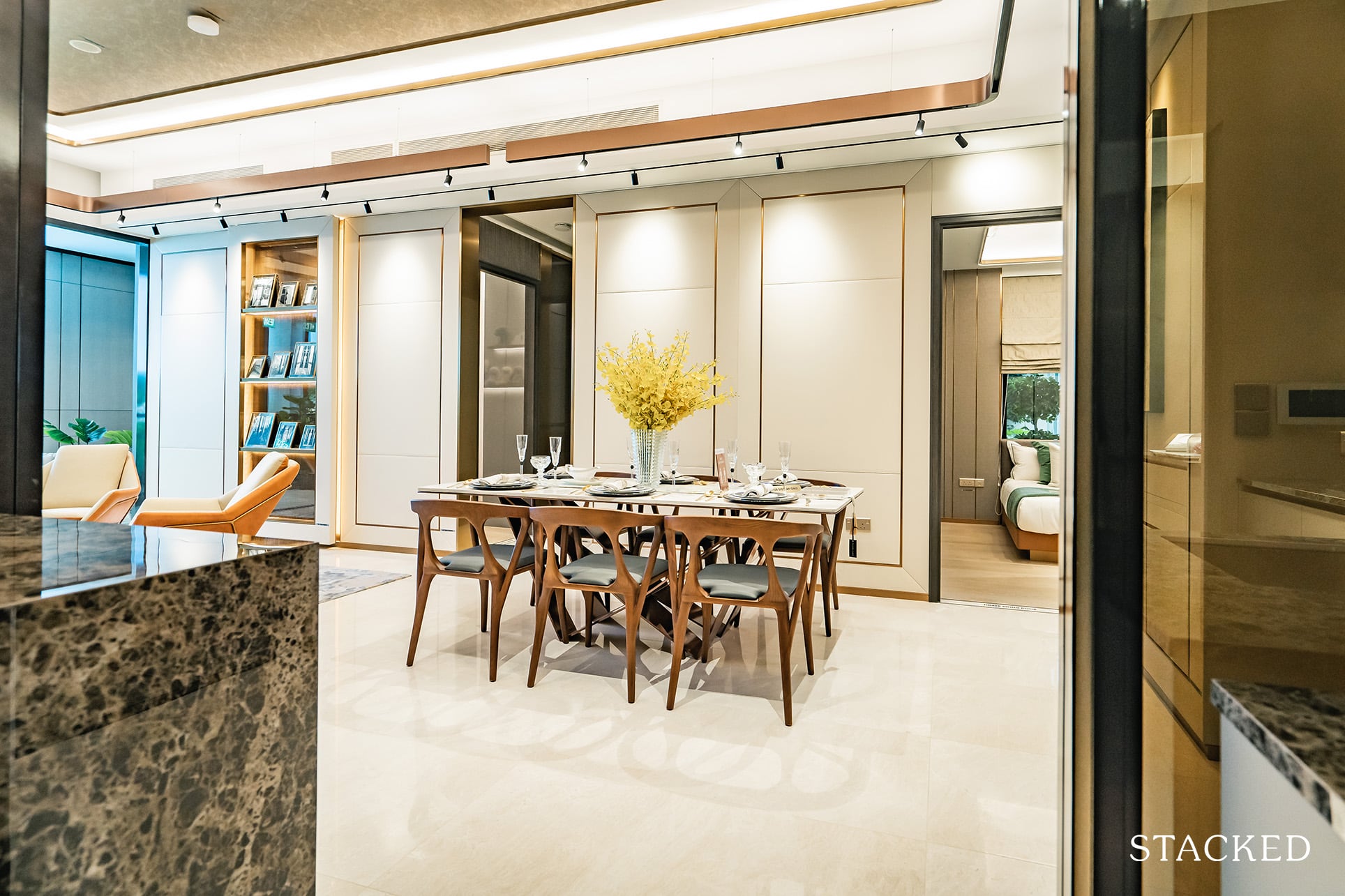 Moving on to the 3 Bedrooms, of which Bedroom 2 and the Master Bedroom are located along the same corridor just by the living room, while Bedroom 3 is just beside the dining room instead. It's not quite a dumbbell in its truest sense, but still, a layout that cuts out some corridor space and gives more privacy to the occupants of Bedroom 3.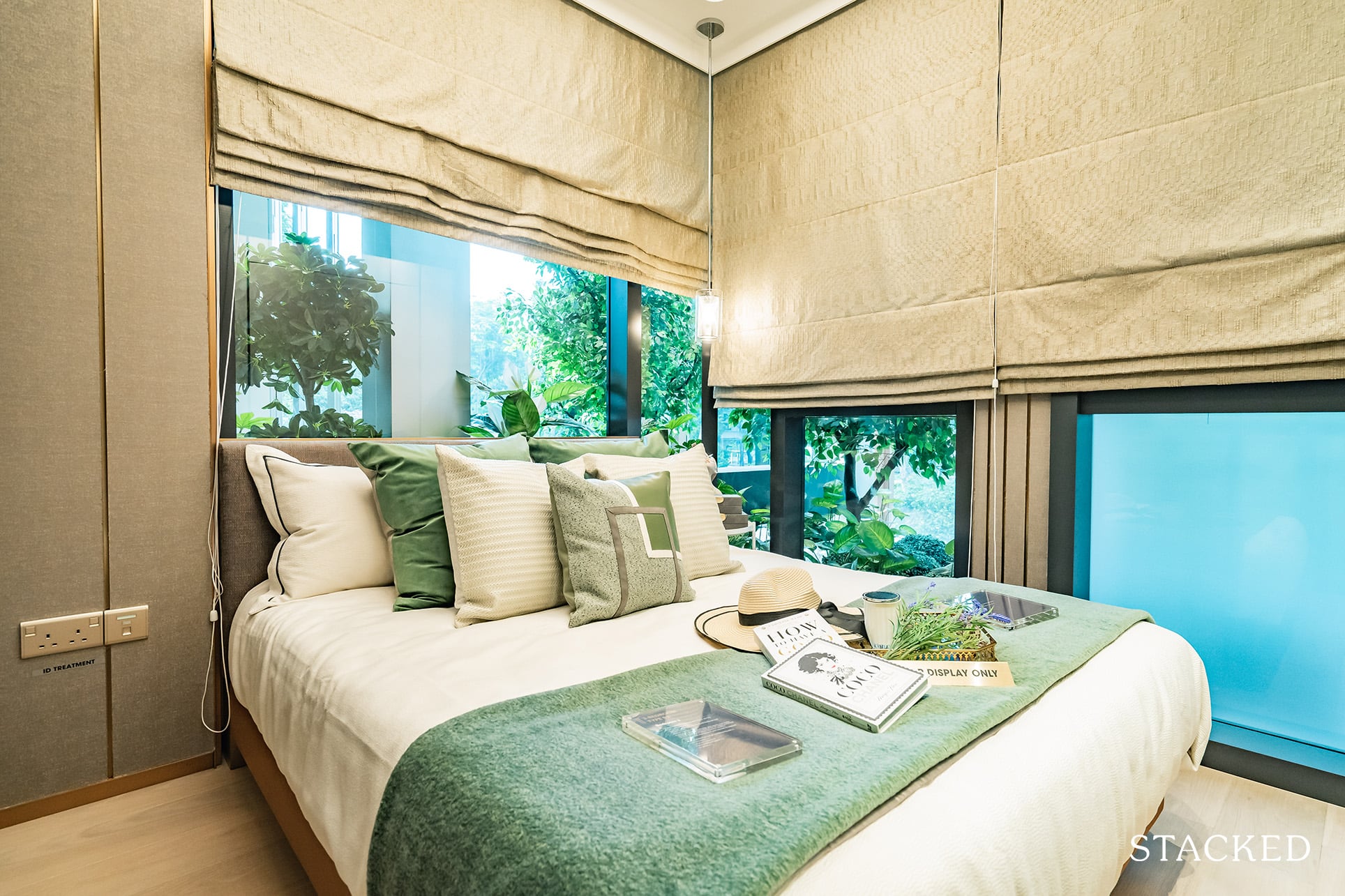 I'll start first with Bedroom 3, which is slightly larger than Bedroom 2 at 10 sqm. It's not the biggest, but it overall the details do make up for it. There's plenty of natural light coming into this room as you get an L-shaped full-length window on 2 sides of the room, although there is a small portion that has been frosted due to the location of the aircon ledge. They have a Queen bed here, which should fit comfortably enough, leaving some room for a small bedside table as well.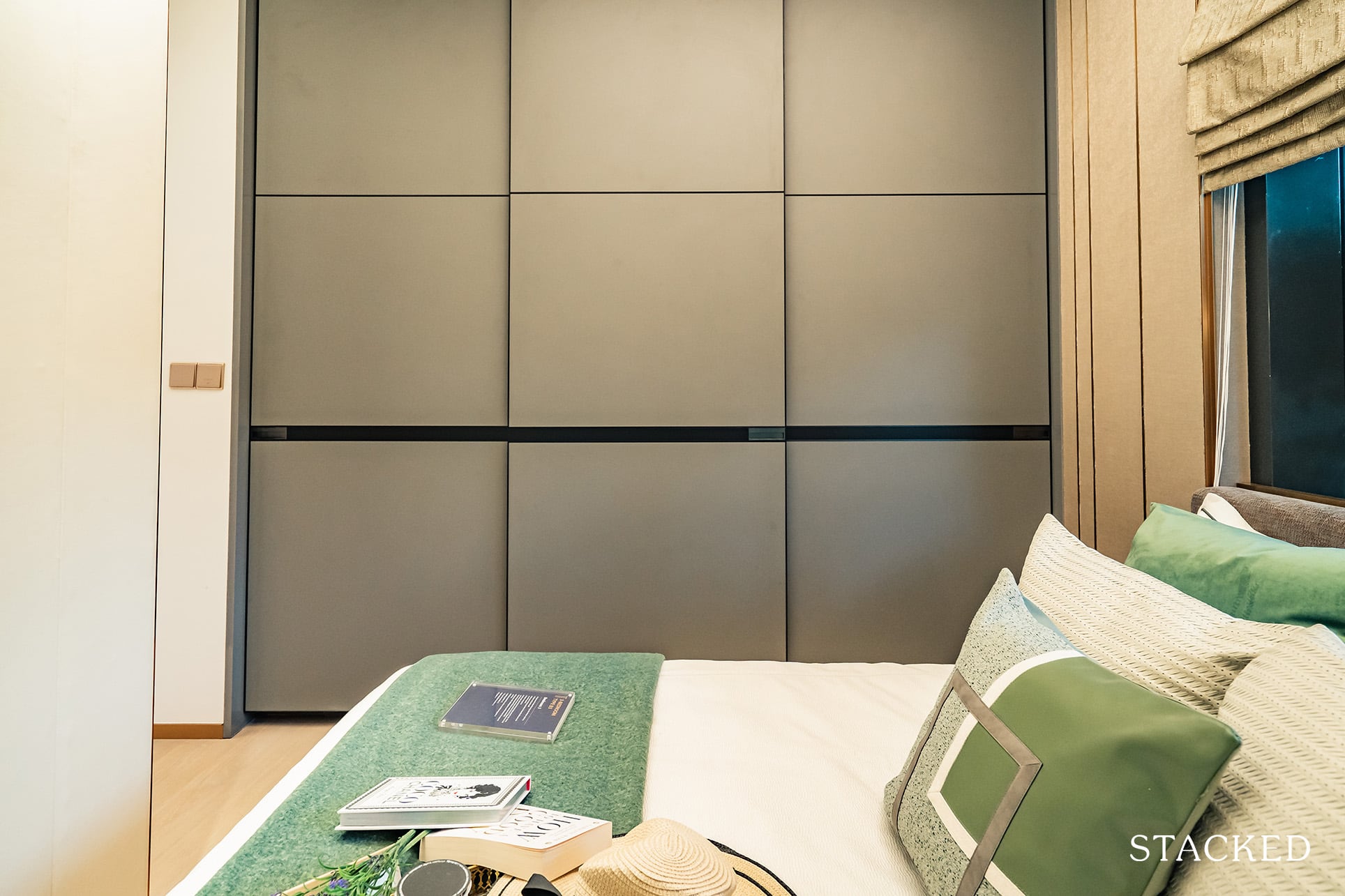 I've griped about this many times in other launches, but I'm glad to see that it has been answered here – least of all in a unit that is sized under 1,300 square feet. You get a very generous amount of built-in wardrobes, 3 large panels to be exact, which is definitely market-leading for common bedrooms (better than some master bedrooms I've seen too). The wardrobes are also flushed against the wall, so you get a much more squarish room here.
All bedrooms also come with dehumidifiers (another first for me) and the air-conditioning in the living room comes ducted, making Perfect Ten one of the most premium developments out there by features alone.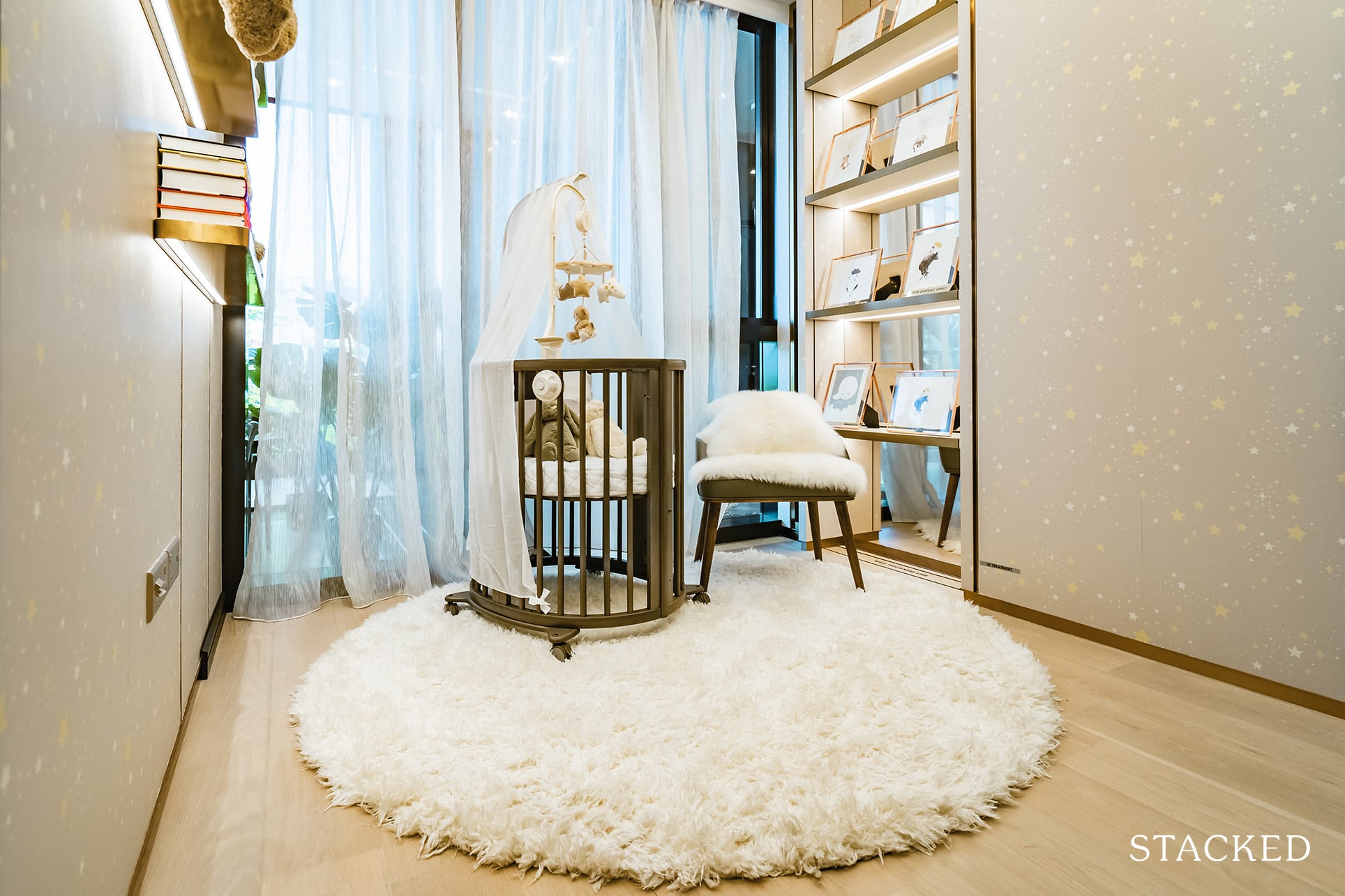 Now to Bedroom 2, which is a tad smaller at 9 sqm. This room has a more typical layout that you also find in other developments. The wardrobe here is considerably smaller than the one found in Bedroom 3 and more in line with the market norm.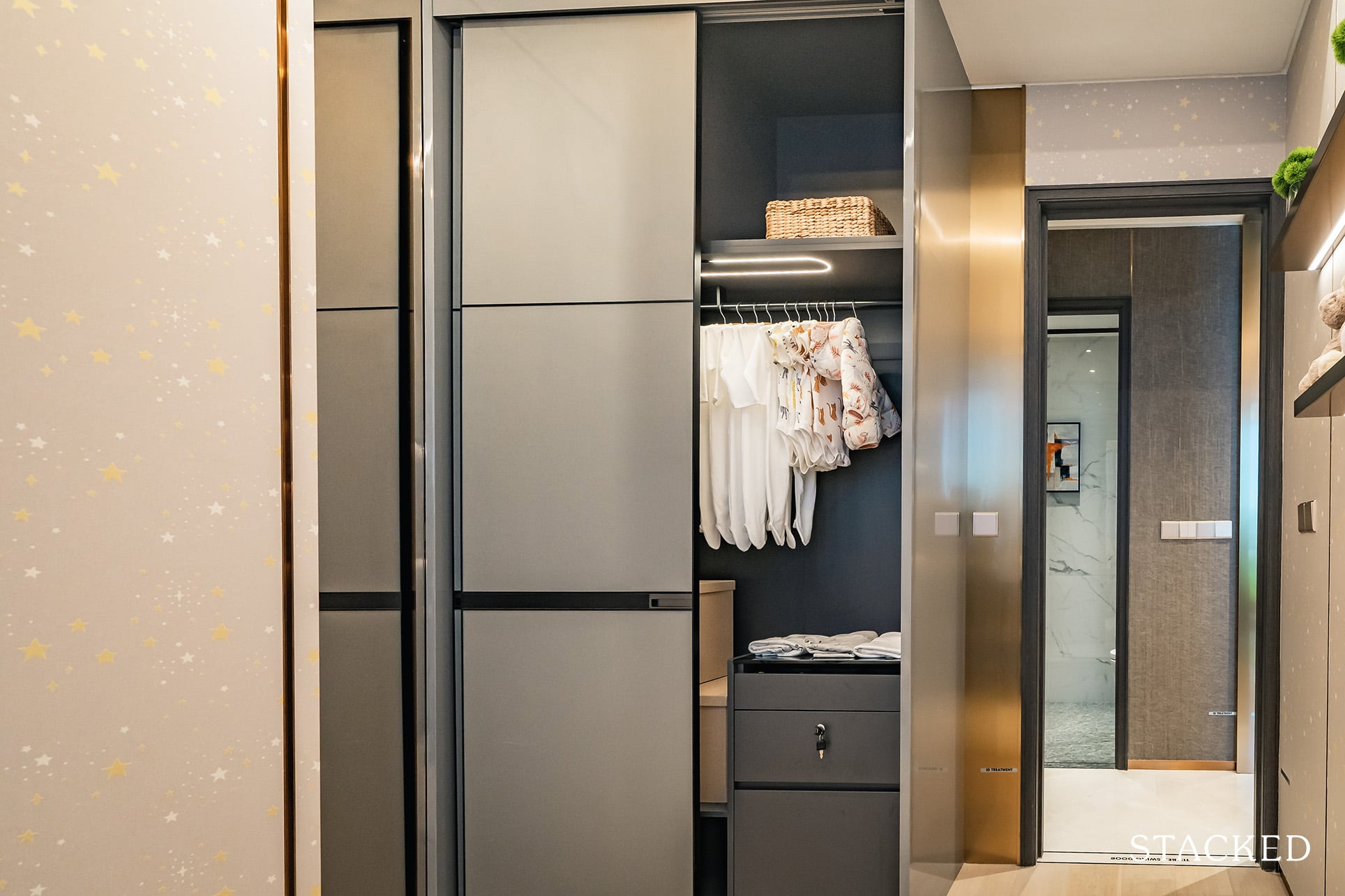 Nevertheless, there is still sufficient room for a Queen sized bed, although the developers have consciously kept this room bare as a baby's room so it might be a little hard to imagine. You get full-length windows here as the aircon ledge is just outside Bedroom 3 instead.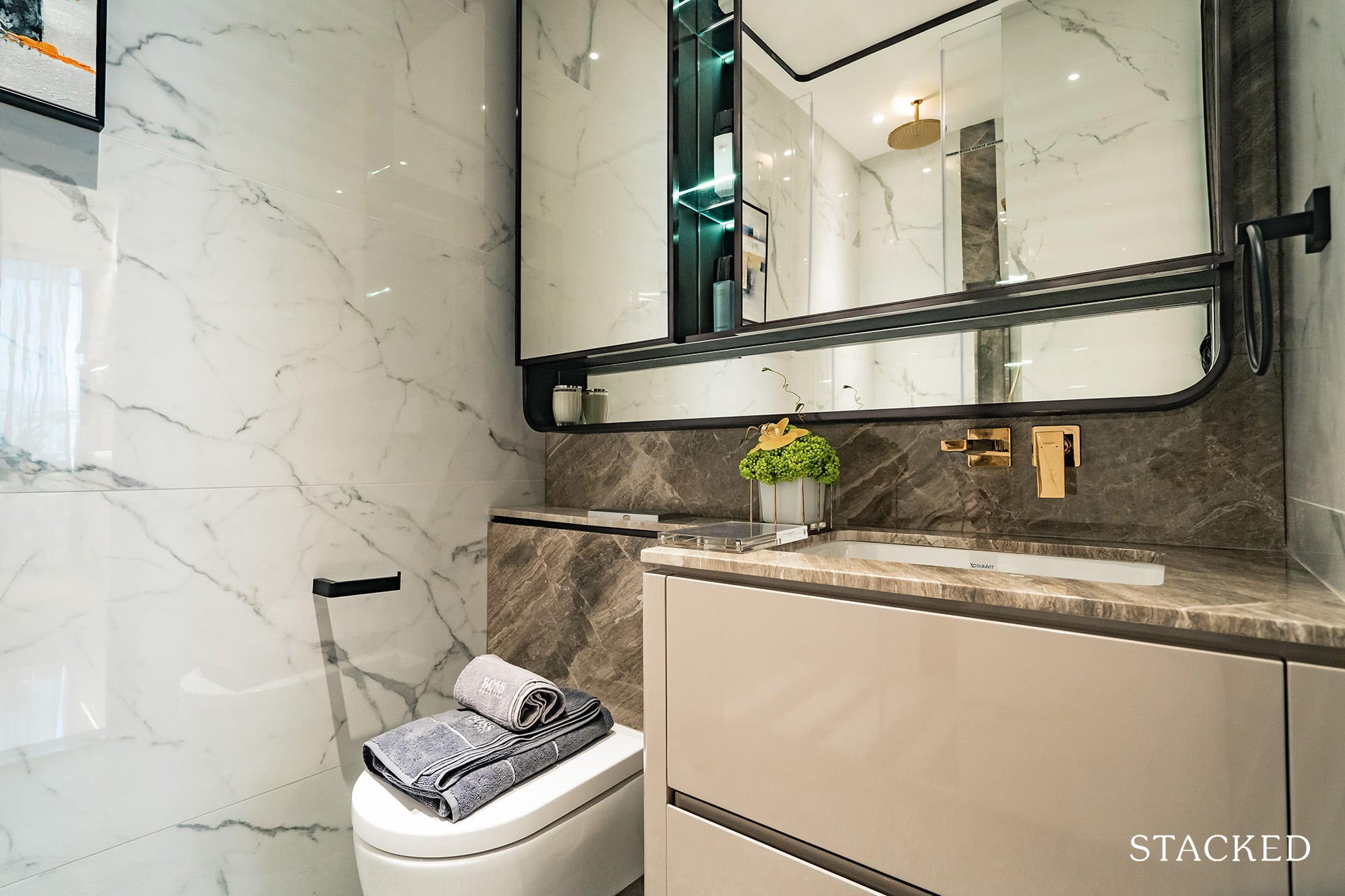 Perhaps one of the few minor downsides you can point out here would be the lack of en-suite common bedrooms – something which buyers of this category may be expecting. Nevertheless, the bathrooms here are a luxurious affair. You have a rain shower, hand-held shower, and integrated taps here all in gold by Hansgrohe, with the washbasin by Duravit.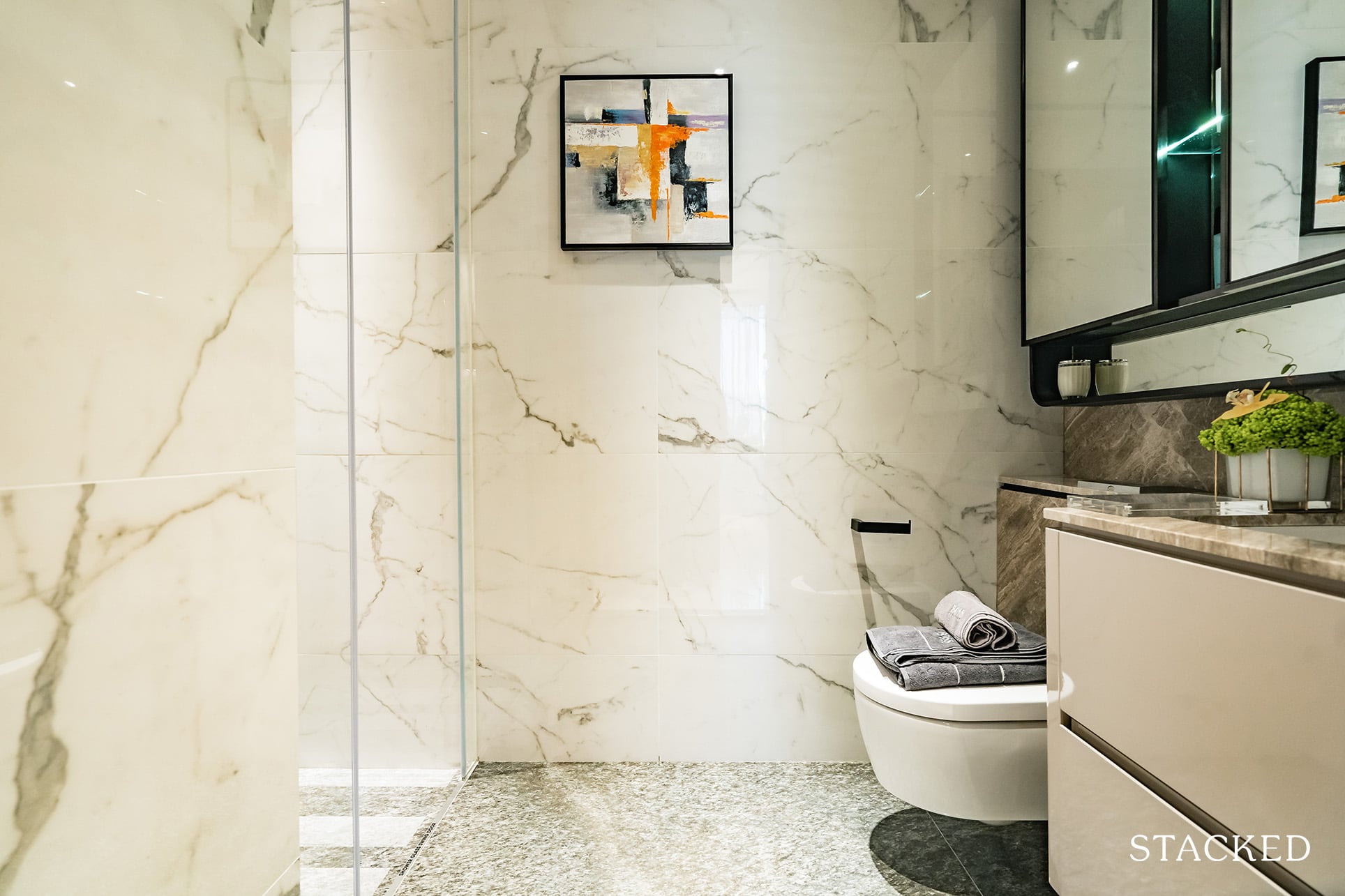 Certainly, the gold finishings aren't for everyone. There is sometimes a fine line between being too ostentatious, but I do think they've balanced it quite well here.
Also, given the location of the bathroom, there won't be any windows here hence no natural ventilation.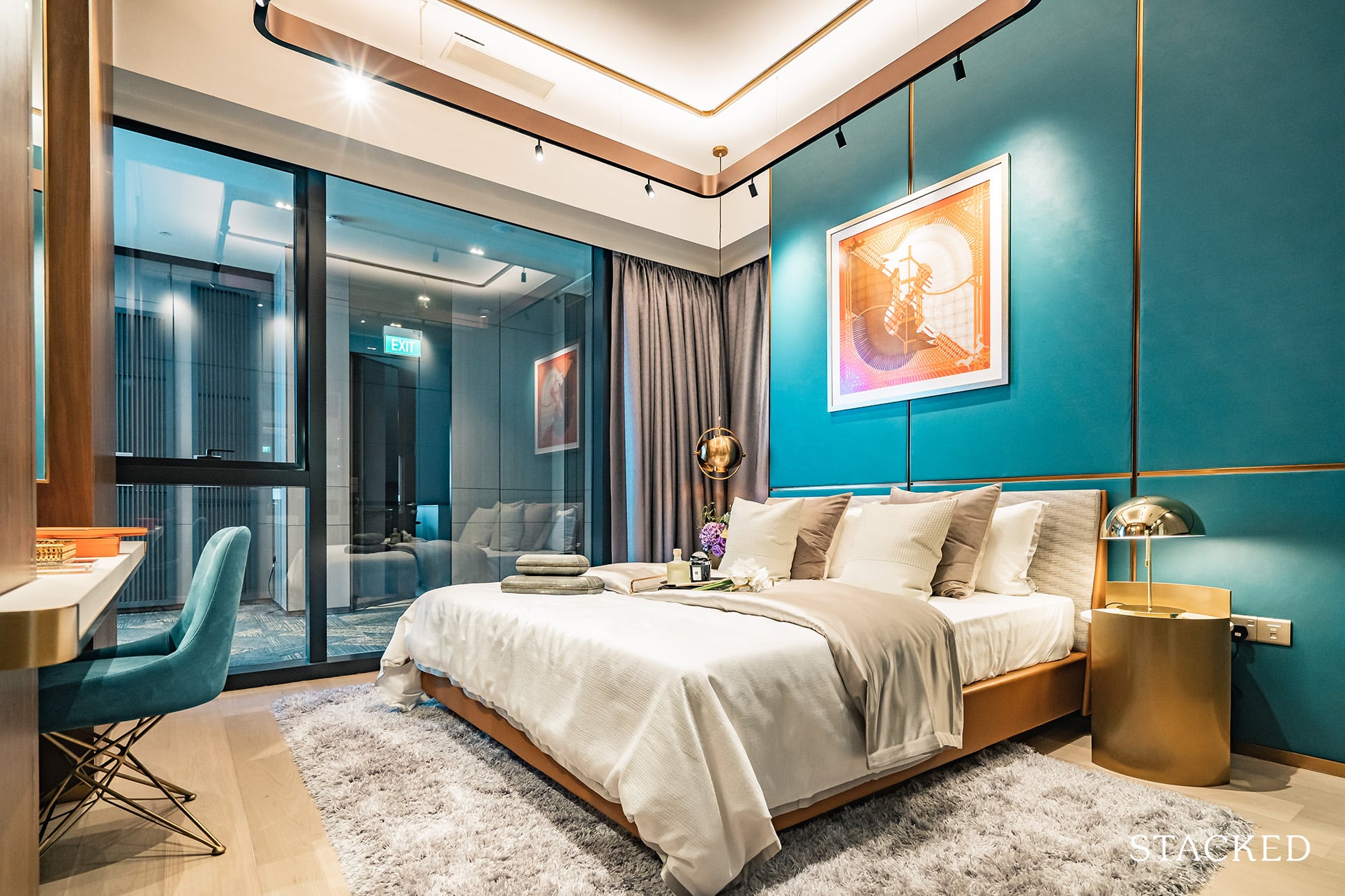 Finally on to the Master Bedroom, which at 19 sqm, is large by new launch standards and certainly the showpiece of the unit. As always, the 3.225m ceiling height has been a big help to accentuate the spaciousness of the room. More than that too, the large frame window panels make this space feel roomier than it already is.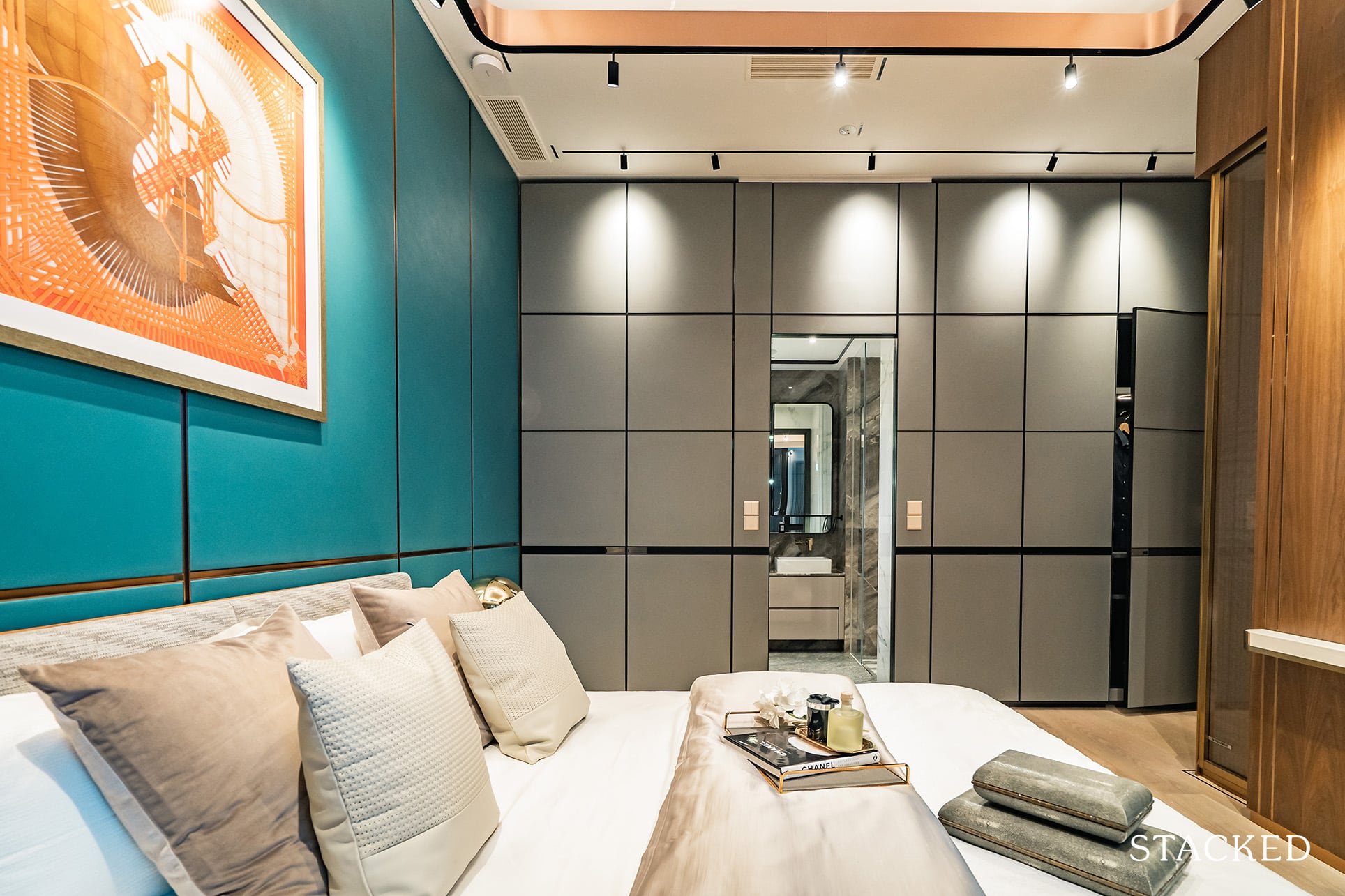 I really like the details in this room. For starters, there is a ton of wardrobe space, stretching the entire length of the room to be exact and flushed into the corners, making the room very squarish. While it may not be a walk-in wardrobe I think I'm just happy to see that storage wise it has been exemplary so far – we've got a thing or two to learn from the Hong Kong developers when it comes to space efficiency.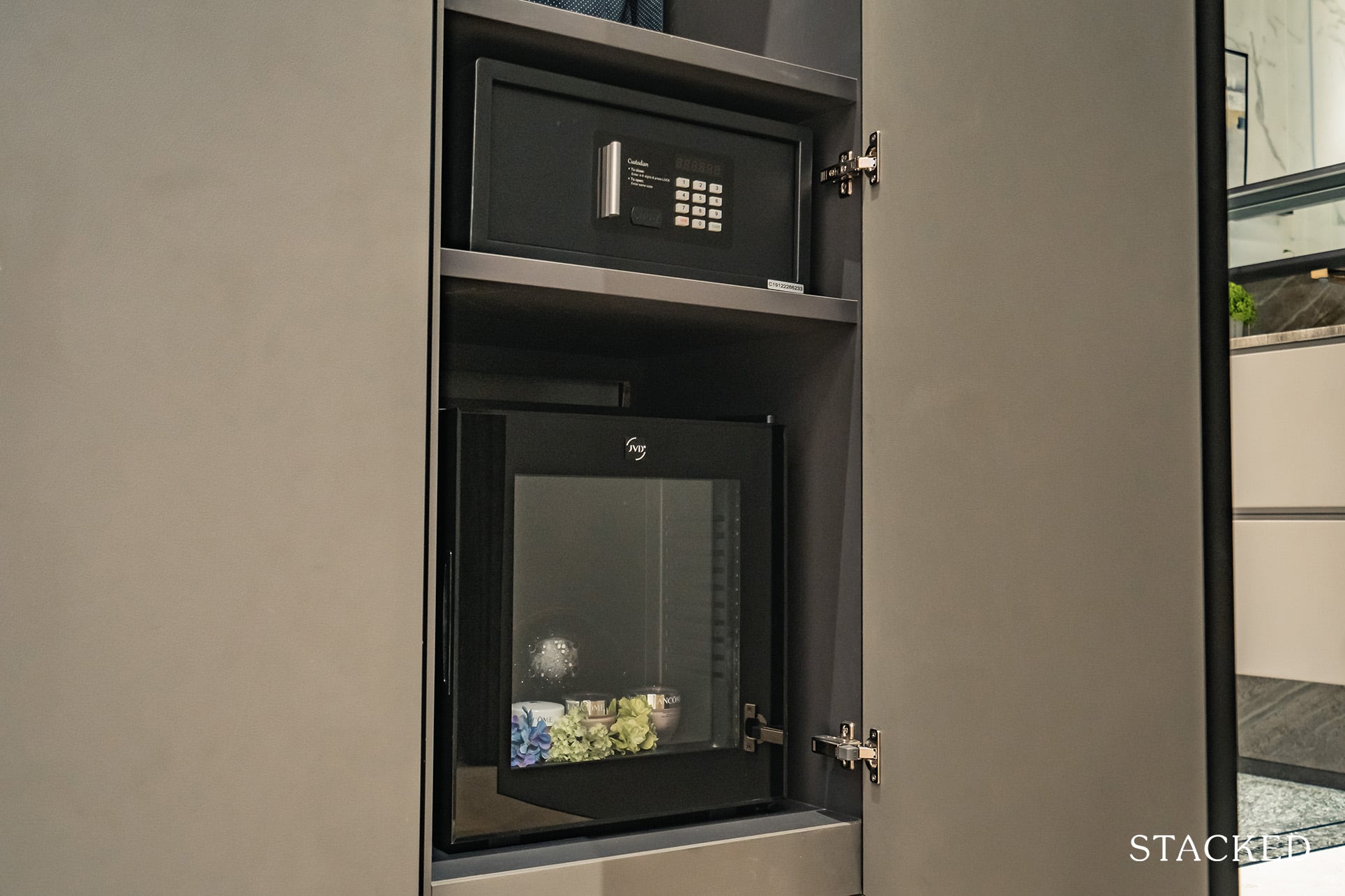 In these wardrobes are a safe and a beauty fridge to store your masks and other cosmetic items. I've definitely seen safes provided in other new launches, but the beauty fridge is definitely a first for me – and really highlights the level of detail put into the planning of the room.
To be sure, I'm not the right target market for such a feature, but I'm thinking most women should be more than happy to see such a provision.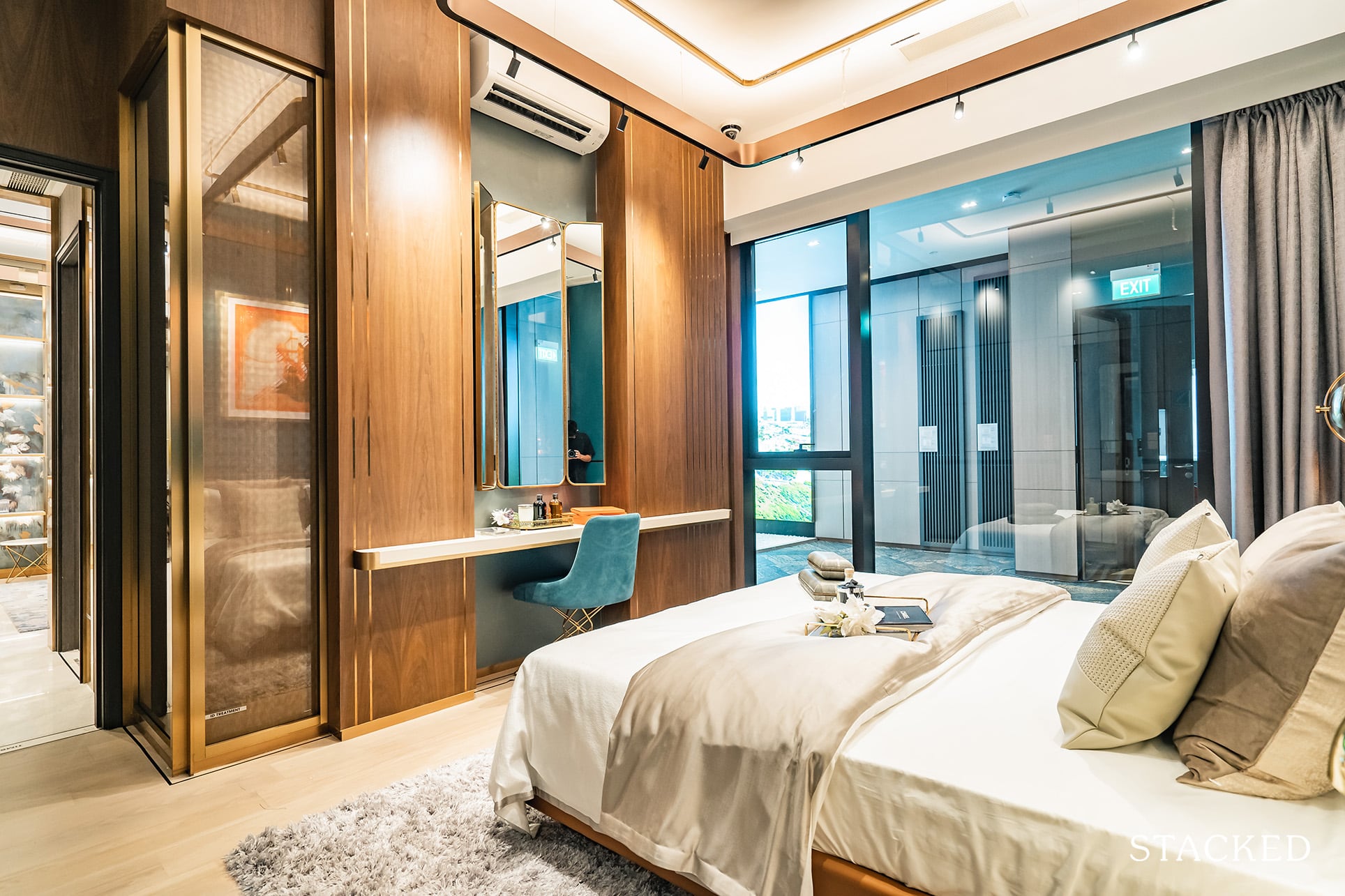 You do still have some space at the foot of the bed to have a small dresser, so the location of the beauty fridge will come in handy.
As for the Master Bathroom, it is firstly not a big space, but probably one of the most feature-laden bathrooms I've seen. Unless you are just sticky for space, this bathroom has it all (and more).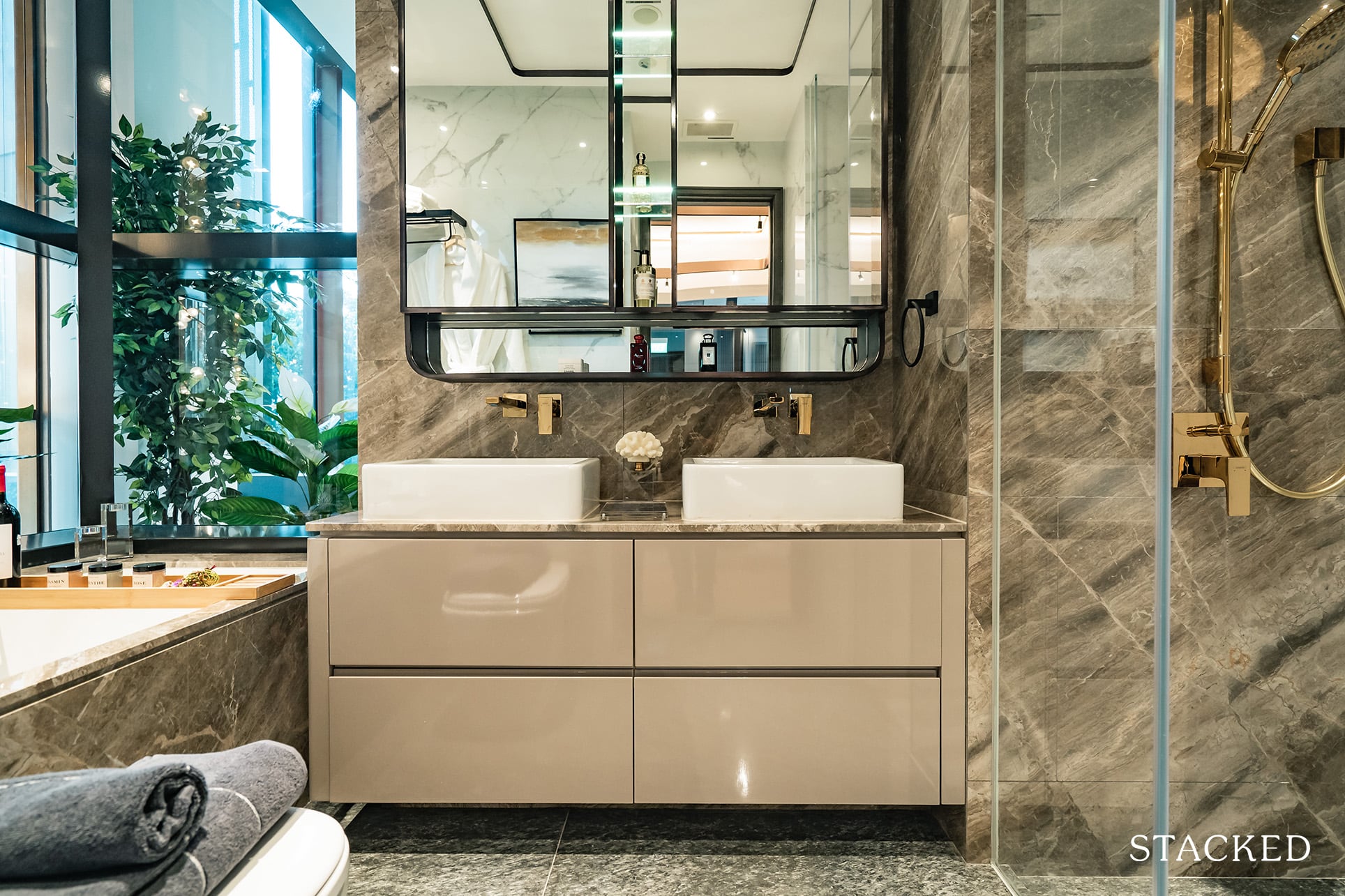 First up, there are dual washbasins, complete with gold finishings by Hansgrohe.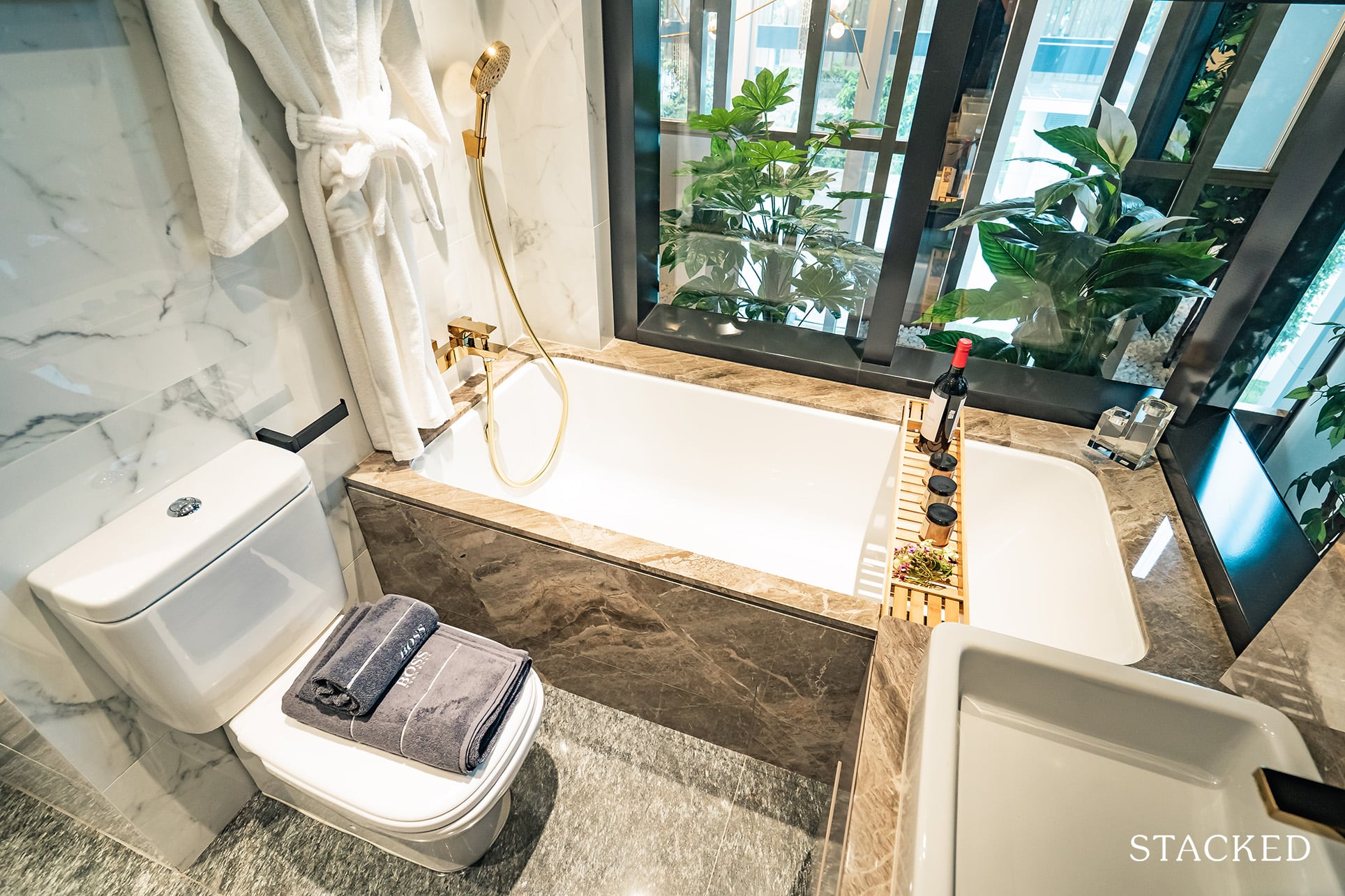 Next is a bathtub by Duravit, with the bathtub being a rare find these days. It isn't the longest, but I really like the L-shaped long windows here as it lets a ton of light in and makes the space so much brighter and seemingly bigger.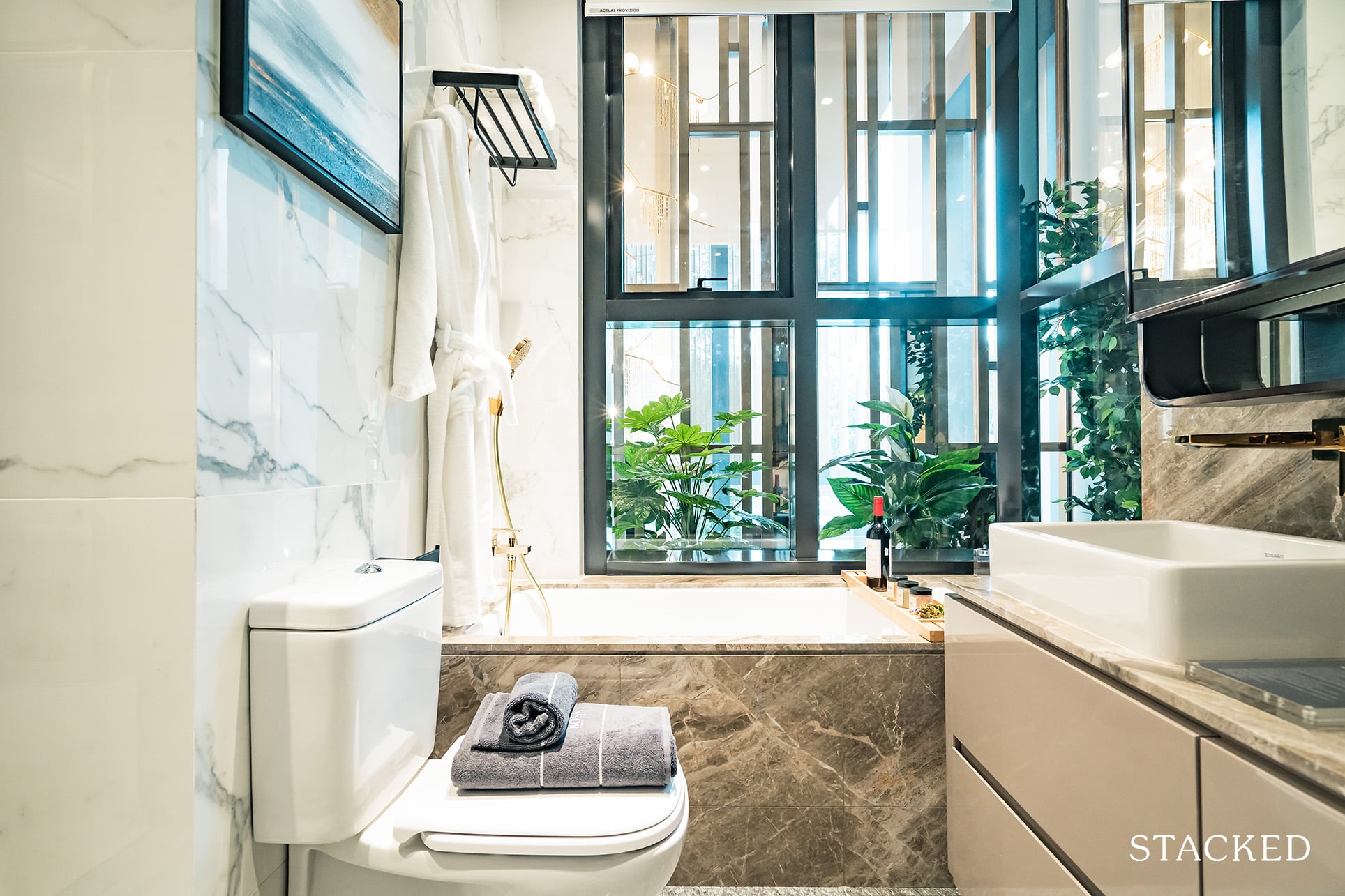 To further enhance your bath soaking experience, you even get a ceiling speaker that connects via Bluetooth for your enjoyment even while you soak in your bathtub and automated blinds here too. Pretty sure you haven't heard of these features in new launches much, if at all.
And if you are feeling risque enough, having a soak while enjoying the open views is something not many people will have the luxury of doing in their own home. Do note though, that there are only two stacks that offer the L-shaped windows layout – the slightly smaller 3 Bedroom unit unfortunately does not have the same setup.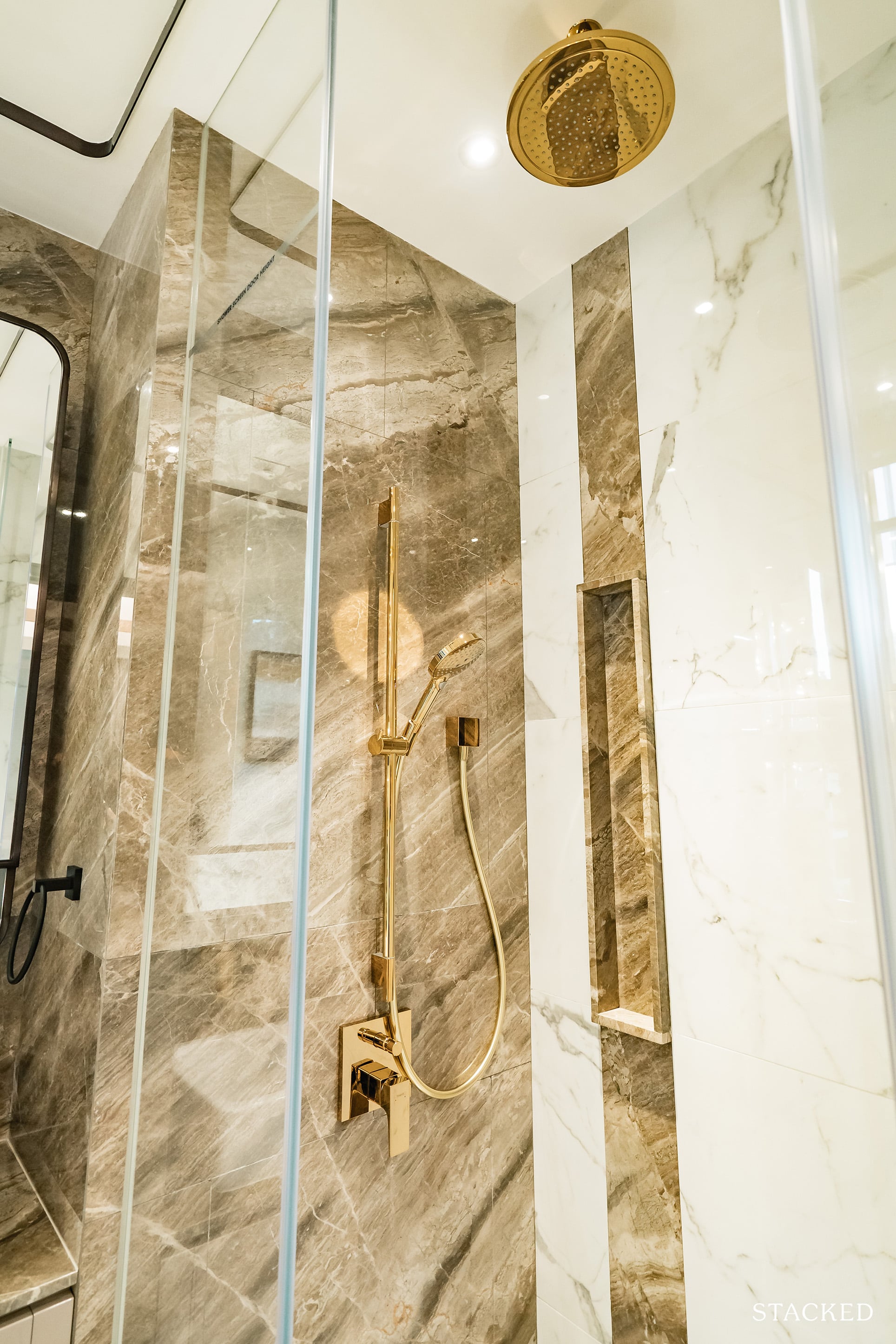 If time is an issue, you still have the option of having the rain or hand shower mixer option by Hansgrohe. Possibly the only blemish here is the lack of a wall-hung w/c again – but as with my reasons above, there could be more to it than we think.
Read this next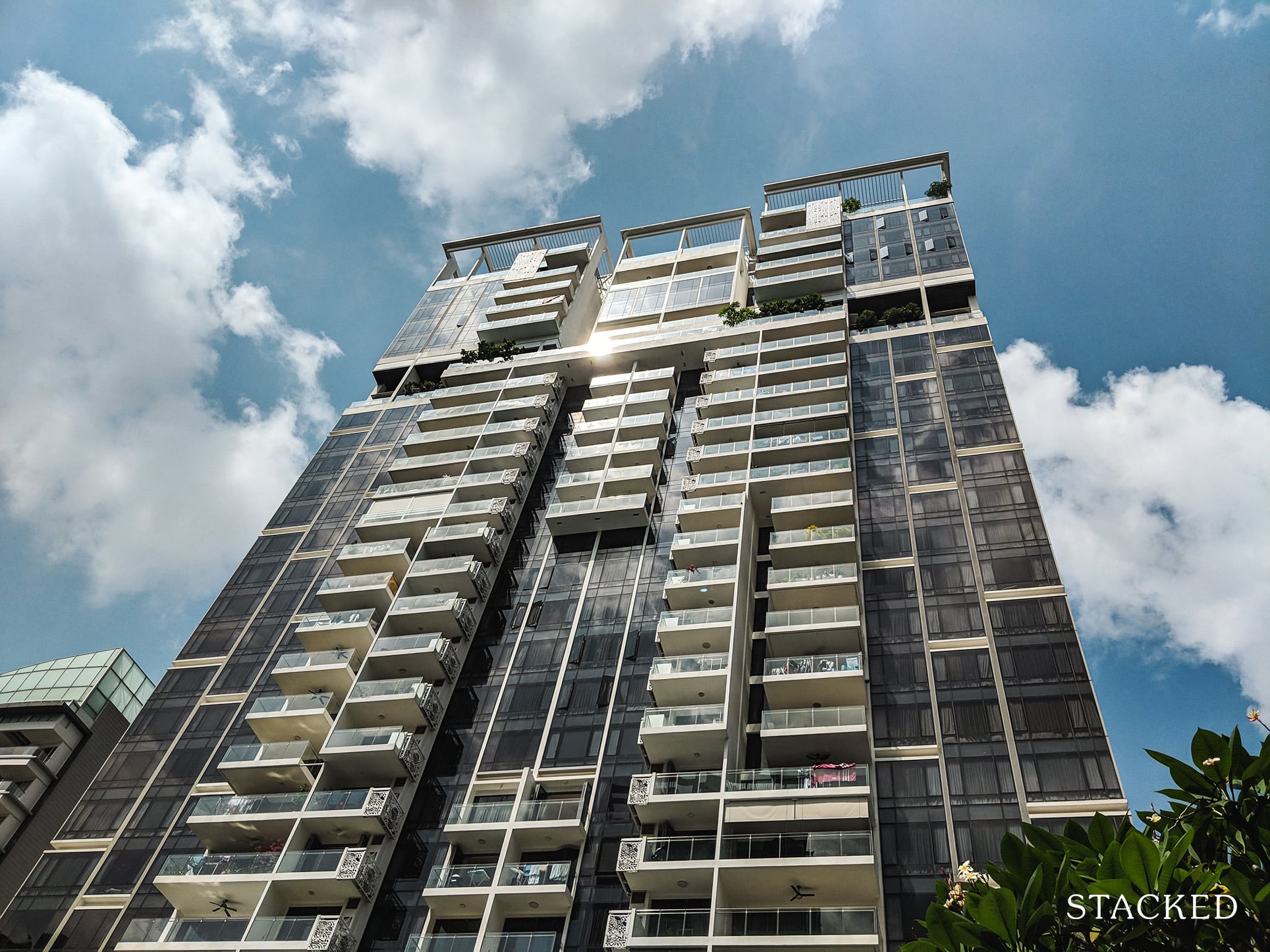 Perfect Ten Location Review
Perfect Ten's location is perfect for many Singaporeans who have grown up with the perception of Bukit Timah as the aspirational place to live. While prestige does play a part, you will notice that there are also many practical reasons for doing so.
Bukit Timah is perhaps the most renowned education belt in Singapore. There is nowhere else where you can find so many popular schools located in the same cluster. Whether these schools are 'top' can be debated (I never attended any of them so there is a level of bias here) but residents are off to a good start with ACS Primary and SCGS Primary both within the desired 1km radius. You get even more options such as ACS Junior and SJI Junior when you widen the radius to 2km. Education options continue even after your child enters secondary school, with the likes of ACS Barker, Nanyang Girls High School, Hwa Chong Institution, and National Junior College all being potential options. So, I think this point on Perfect Ten's location is loud and clear.
On transport connectivity, Perfect Ten is not the closest development to an MRT station. It is equidistant from Newton and Stevens MRT but gives you access to the 3 lines (North-South, Downtown, and Thomson-East Coast (yet to be completed)) within a 10-minute walk. From these stations, you can get to Orchard, Novena, and Botanic Gardens within minutes. For some locations such as Botanic Gardens, it may be faster to hop on the bus given that there is a bus stop conveniently located just outside your development.
If you drive, Orchard is close by via Stevens Road or you could do a U-turn before heading down to the CBD. During peak hours, however, as many drivers would appreciate, there might be some congestion so do come down to the actual site quite these hours if possible to get a sense for yourself.
Nearest MRT: Newton (750m, 10 mins), Stevens (750m, 10 mins)
Public Transport
| | | |
| --- | --- | --- |
| Bus Station | Buses Serviced | Distance From Condo (& Est. Walking Time) |
| City TwrsStop ID: 40111 | 48, 66, 67, 170, 170A, 960, 960e, 972M | 10m, 1 min |
| Bef Goldhill AveStop ID: 40119 | 48, 66, 67, 170, 960, 960e, 972M | 170m, 3 mins |
Amenities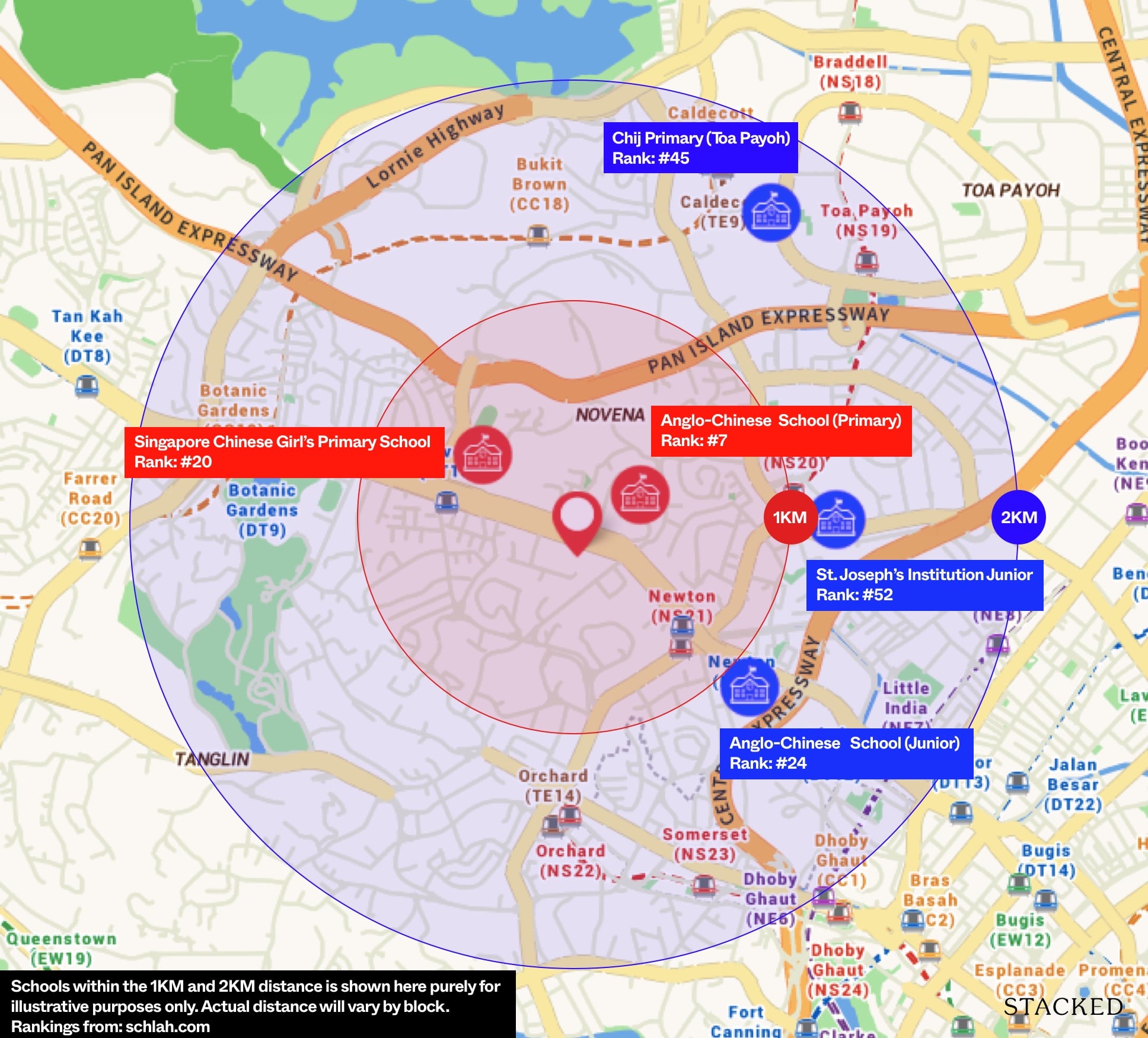 Schools
| | |
| --- | --- |
| School | Distance From Condo (& Est. Walking Time) |
| Anglo-Chinese School (Barker) | < 1km (0.6km, 7 mins) |
| Singapore Chinese Girls' School | <1km (0.9km, 10 mins) |
| Anglo-Chinese School (Junior) | <2km (1.5km, 18 mins) |
| St. Joseph's Institution (Junior) | <2km (1.9km, 22 mins) |
| St. Joseph's Institution | 1.7km, 20 mins |
Retail Outlets
Private Transport
| | |
| --- | --- |
| Key Destinations | Distance From Condo (Average Time at Peak Hour [0830] Drive Time) |
| CBD (Raffles Place) | 7.2km, 20 mins |
| Orchard Road | 3.1km, 8 mins |
| Suntec City | 6.3km, 16 mins |
| Changi Airport | 20.6km, 21 mins |
| Tuas Port (By 2040) | 38.7km, 47 mins |
| Paya Lebar Quarters/Airbase (By 2030) | 10.1km, 16 mins |
| Mediapolis (and surroundings) | 7.4km, 12 mins |
| Mapletree Business City | 9.7km, 22 mins |
| Tuas Checkpoint | 28.5km, 32 mins |
| Woodlands Checkpoint | 17.7km, 20 mins |
| Jurong Cluster (JCube) | 13.9km 22 mins |
| Woodlands Cluster (Causeway Point) | 18.2km, 25 mins |
| HarbourFront Cluster (Vivo City) | 11.1km, 19 mins |
| Punggol Cluster (Waterway Point) | 19.1km, 27 mins |
Immediate Road Exits: 1 – Bukit Timah Road, which can connect you to Stevens Road in a short distance
The Developer Team
Developer Notes
Japura Development is closely affiliated with Li Ka Shing's CK Asset Holdings and the purchase of the Perfect Ten site marks their first purchase in Singapore since 2014. They came into the Singapore real estate scene just before the Asian Financial Crisis with a bullish bid for what is now Costa Del Sol at Bayshore, launching at $765 psf before tumbling to a low of $465 psf in 2001. With many units boasting of full sea views, their maiden project has done remarkably well despite its 99-year lease, hitting a record high of $1,620 psf in August 2021. Since Costa Del Sol, CK Asset has gone on to develop Cairnhill Crest, Thomson Grand, Stars of Kovan, and Marina Bay Financial Centre among others. 
Besides Singapore properties, where they are arguably not the most active developer, they have extensive developments in Hong Kong and China, with their luxury project 21 Borrett Road in Hong Kong setting an Asian price record of $23,000 psf in February 2021.
Architect Notes
DP Architects is one of Singapore's most recognisable practices, founded by the pioneers of the local architectural scene, William SW Lim, Tay Kheng Soon, and Koh Seow Chuan. Since its founding in 1967, it has had its hand in Singapore's history with brutalist concepts such as the People's Park Complex and Golden Mile Complex. More recently, they have helped with the design of projects such as 8 St Thomas, Frasers Tower, Woodleigh Residences, Dairy Farm Residences, and Midwood. Their international portfolio spans China, India, Indonesia, Malaysia, Thailand, Dubai, Turkey, the UK, and many others.
Stack Analysis
Perfect Ten Site Plan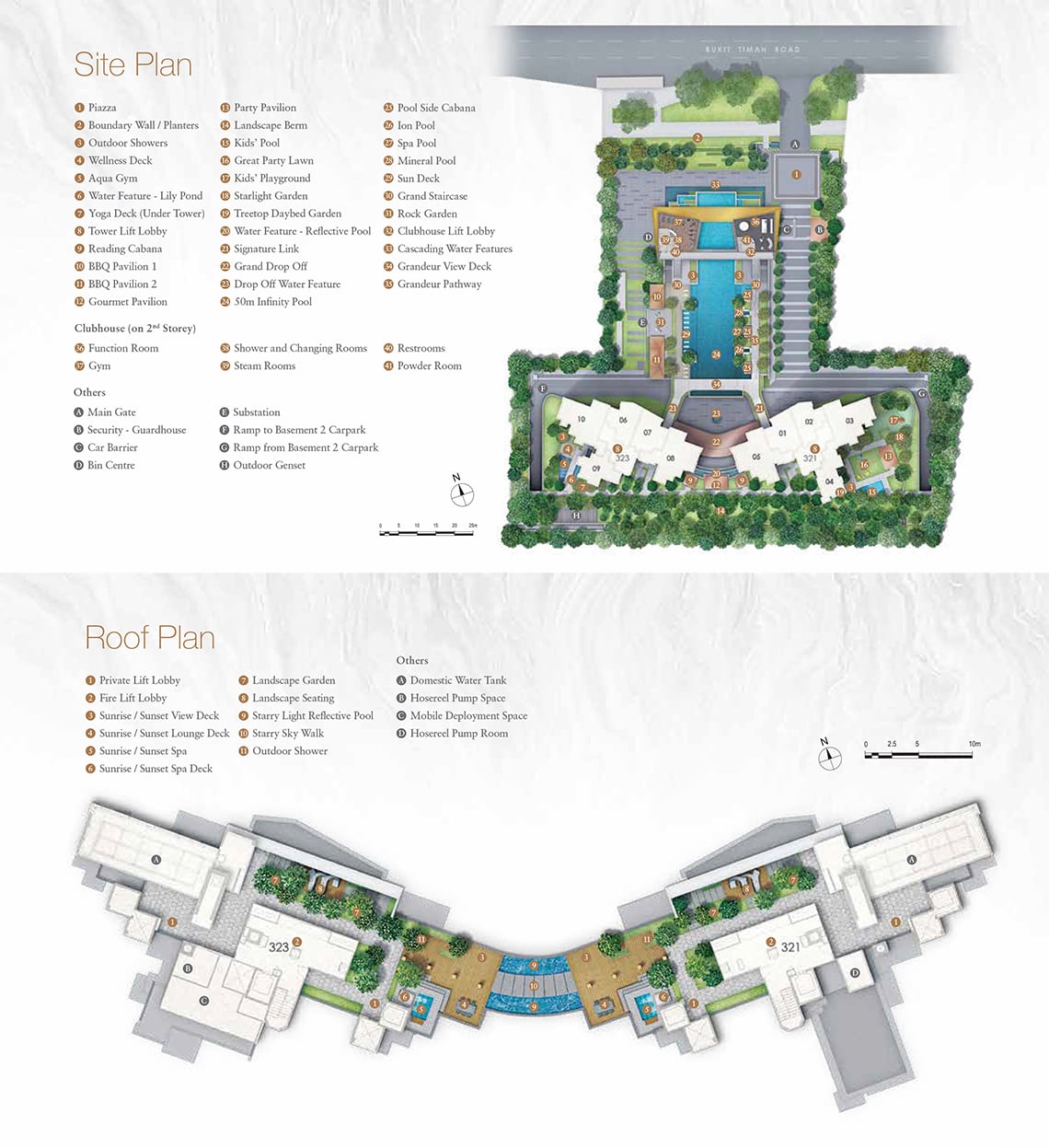 Perfect Ten Unit Distribution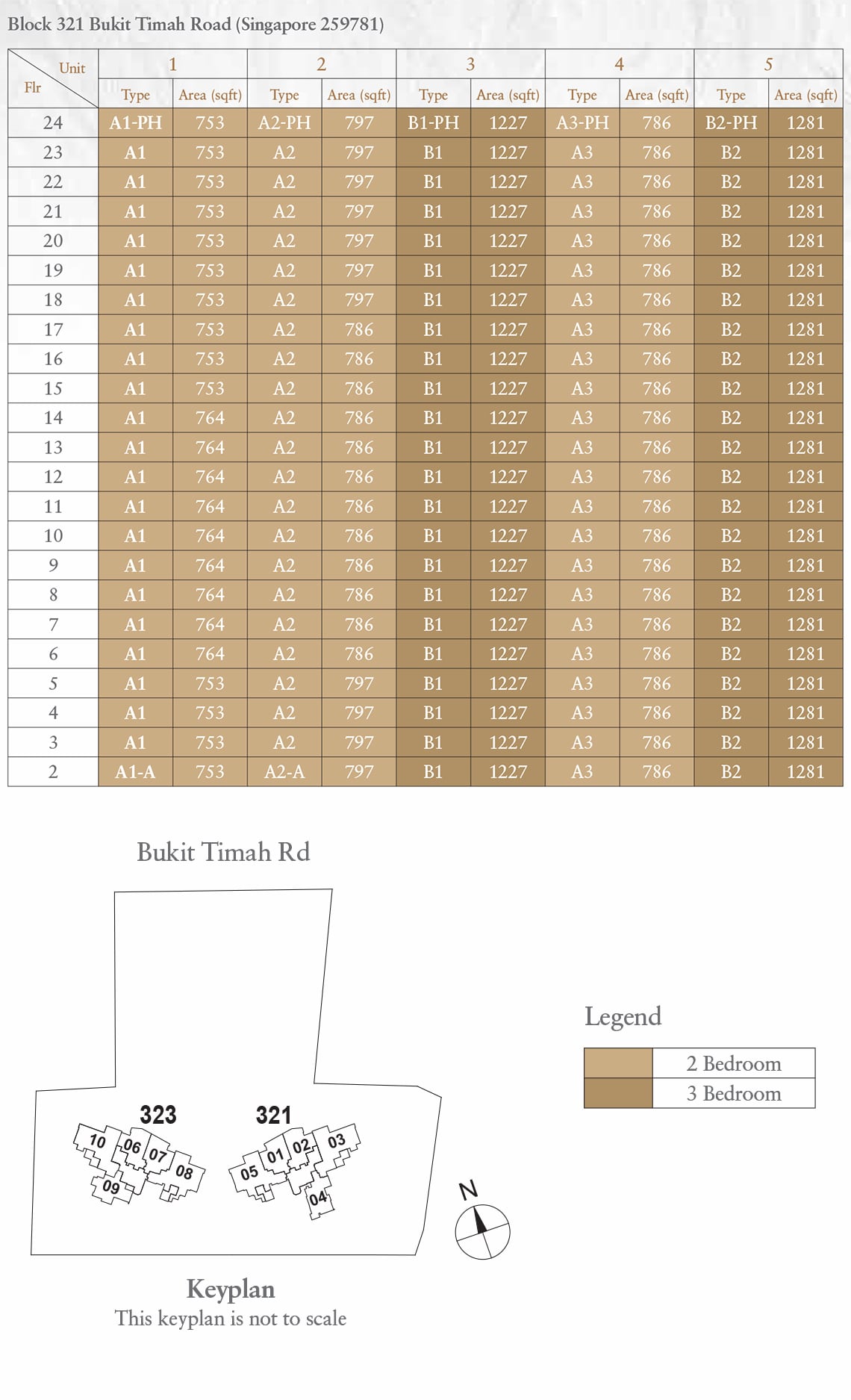 Perfect Ten Unit Mix

Unit Type
Size
No. of Units
(2 Bedroom) A1 / A1-A / A5
A1-PH / A5-A / A5-PH
753 – 764 sqft
46
(2 Bedroom) A2 / A2A / A4 / A4-A
A2-PH / A4-PH
786 – 797 sqft
46
(2 Bedroom) A3 / A3-PH
786 sqft
23
(2 Bedroom) A6 / A6-PH
786 sqft
23
(3 Bedroom) B1 / B4
B1-PH / B4-PH
1,227 sqft
46
(3 Bedroom) B2 / B3
B2-PH / B3-PH
1,281 sqft
46
Don't be fooled by the number of rows above, Perfect Ten is actually amazingly simple in terms of its unit mix. It zeros in on only 2 and 3 Bedroom units, which are arguably the most popular types among buyers anyway. Nearby developments along Bukit Timah Road have sprawling unit sizes, which are partly a function of its vintage but also an emphasis on space for a wealthy neighbourhood – and so the developers have identified a gap here to narrow in.
Doing away with 1 Bedroom units will mean that buyers here are of a certain socioeconomic class, and if you have deeper pockets and wish to have bigger units, you have the option to amalgamate units subject to discussions with the developers. While the 2 Bedroom units are slightly larger in size compared to other new launches, the 3 Bedroom units are larger than average (not including the ultra-luxury launches), which also means a steep asking price given its location. While 2 Bedrooms have a quantum that is comparatively more palatable, starting from $2.5m, the 3 Bedroom units start from $4m, which means that buyers in this category do have a decent amount of options when picking their eventual property. 
Best stacks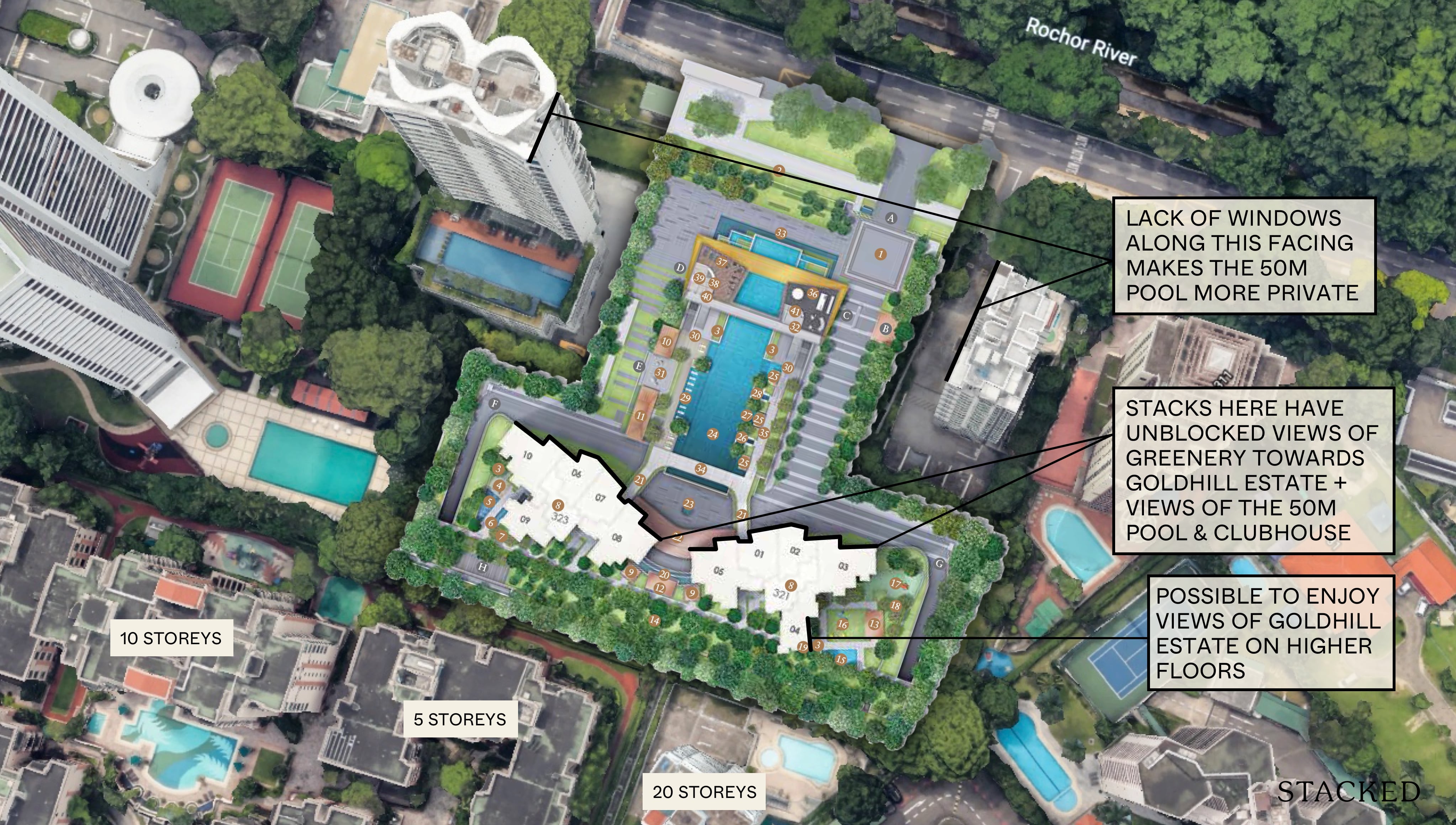 There are a total of 10 stacks here at Perfect Ten and 80% of the units here front Bukit Timah Road and have unblocked views of the greenery and landed enclave over at the Goldhill Estate and all the way to Mount Pleasant and beyond. Even on the lower floors, which are already elevated by 12m, you get calming views of the 50m infinity pool and the imposing clubhouse. This means that road noise will also be kept to a minimum, relative to the other condos along Bukit Timah Road. Having personally seen these views at the neighbouring developments, I must say that these are truly desirable views so you will not go wrong picking any of these units.
Stacks 1 to 5 (excluding Stack 4) have a North facing, meaning no afternoon sun and you will likely enjoy breezy days throughout the year. Stack 4 has a South facing and will have views of the condos along Balmoral Road, although you will likely get pocket views of the Goodwood Estate in the distance on the higher floors.
As for Stacks 6 to 10 (excluding Stack 9), it is generally North-East facing and will get some morning sun, which is fine by most Singaporeans. You will also get completely unblocked views across the Bukit Timah estate. As for Stack 9, it will get some afternoon sun and will face Palm Spring condo and some other condos along Ewe Boon Road.
Price Review
If you are considering Perfect Ten, you will undoubtedly compare it against its neighbouring developments. So here is how it stacks up!
| | | | | | |
| --- | --- | --- | --- | --- | --- |
| Development | Units | Psf | TOP | Tenure | Price Gap |
| Perfect Ten | 230 | $3,300 | 2025 | Freehold | |
| Juniper Hill | 115 | $2,644 | 2022 | Freehold | 25% |
| The Hyde | 117 | $2,936 | 2022 | Freehold | 12% |
| Sloane Residences | 52 | $2,924 | 2022 | Freehold | 13% |
| RoyalGreen | 285 | $2,706 | 2022 | Freehold | 22% |
| Dalvey Haus | 27 | $3,081 | 2022 | Freehold | 7% |
| Fourth Avenue Residences | 476 | $2,397 | 2022 | 99 Years | 38% |
| Cyan | 278 | $2,191 | 2014 | Freehold | 51% |
| Goodwood Residence | 210 | $2,499 | 2013 | Freehold | 32% |
| Madison Residences | 56 | $2,196 | 2014 | Freehold | 50% |
| Ferrell Residences | 34 | $1,841 | 2012 | Freehold | 79% |
| Honolulu Tower | 30 | $1,855 | 1985 | Freehold | 78% |
| Wing On Life Garden | 81 | $1,649 | 1982 | Freehold | 100% |
The last en bloc boom from 2017 onwards has provided an abundance of new supply in the District 10 region, with about 20 launches in the market currently. District 10 can be subdivided into many different areas, and I have excluded developments in certain areas.
The excluded areas are Leedon / Holland (Hyll on Holland, 15 Holland Hill, Leedon Green, One Holland Village etc), Nassim (Les Maison Nassim, 19 Nassim), Orchard Boulevard (Park Nova, Boulevard 88, etc) and Jervois (Jervois Mansion, Petit Jervois, Jervois Prive etc) as I feel that Perfect Ten's location at Bukit Timah Road offers a slightly different lifestyle from these areas. 
All the new launches I have chosen are geographically close to Perfect Ten, with Juniper Hill, The Hyde, and Sloane Residences being the closest at Ewe Boon Road and Balmoral Road respectively. Interestingly, all the new developments I have chosen all have TOP dates next year with a couple already looking close to completion.
At this juncture, I would like to caveat that despite their proximity, all of these developments should be considered on their own merit as they are each unique in different ways. For example, Sloane Residences and Dalvey Haus are boutique developments with very few units on a small land plot, appealing to those who value absolute privacy and exclusivity. Juniper Hill's Ewe Boon Road address has always been an area with a more affordable entry price into Bukit Timah and it is less accessible to the MRT station. On the other hand, Balmoral Road (The Hyde and Sloane Residences) is also a little further from the MRT but has always carried a price premium given its traditionally more prestigious address and direct connectivity to Orchard.
As for Fourth Avenue Residences and RoyalGreen, they are slightly further up along Bukit Timah at Sixth Avenue but both have a larger land plot that is closer in size to Perfect Ten. However, Perfect Ten has a more prime location and is arguably a more luxurious product that boasts of taller blocks (24 storeys versus 5 storeys for RoyalGreen and a maximum of 10 storeys for Fourth Avenue Residences).
For the resale properties, I have chosen to include the latest condos in the vicinity and to my mind, Goodwood Residence along Bukit Timah Road will likely be its closest competitor in terms of product offering. It too is very exclusive, with a long driveway and good design, However, it lacks the frontage and awe that Perfect Ten offers here. Cyan is also another strong competitor, with a low number of units for a large plot of land, boasting of the same unblocked views as Perfect Ten. However, the overall design does seem more ordinary when compared to the glitzy Perfect Ten.
As always, we have to dive deeper into the pricing to look at both a quantum and psf perspective. For the purpose of comparison, I'll be assuming Perfect Ten's pricing to be as follows based on their indicative prices:
| | | | |
| --- | --- | --- | --- |
| Type | Size | Price | $psf |
| 2 Bedroom | 753 | $2,500,000 | $3,320 |
| 3 Bedroom | 1,227 | $4,000,000 | $3,260 |
Updated pricing as of 21 December 2021 (non-discounted price):
| | | | |
| --- | --- | --- | --- |
| Type | Size | Price | $psf |
| 2 Bedroom | 753 – 797 sqft | $2,500,000 – $2,900,000 | $3,200 – $3,618 |
| 3 Bedroom | 1,227 – 1,281 sqft | $4,000,000 – $4,400,000 | $3,200 – $3,618 |
*Due to recent cooling measures, the developer will be giving a 5% discount (prices to start from $3,040 psf).
For this pricing review, we'll look at:
Comparison to surrounding resale prices ($PSF & Quantum)
Comparison to new launches in the Core Central Region (CCR)
Comparison to the nearest new launches
Surrounding Resale Developments
District 10 may not be the biggest district in Singapore, but the number of private properties in this district alone is nothing to scoff at. It is comprised of the Ardmore, Tanglin, Holland Road, and Bukit Timah areas. It's also the district with quite a lot of new launches available at the moment, particularly those in the Holland vicinity.
Based on transactions from December 2020 – November 2021, there have been at least 220 projects with one or more transactions. From the 1,604 units transacted here, the median $PSF is $2,375. Given this sheer number of projects, all of which have their varied characteristics, looking at District 10 figures alone would be meaningless.
As such, I've considered the surrounding resale prices of condos around Perfect Ten. Here's what prices 500m within this new launch look like: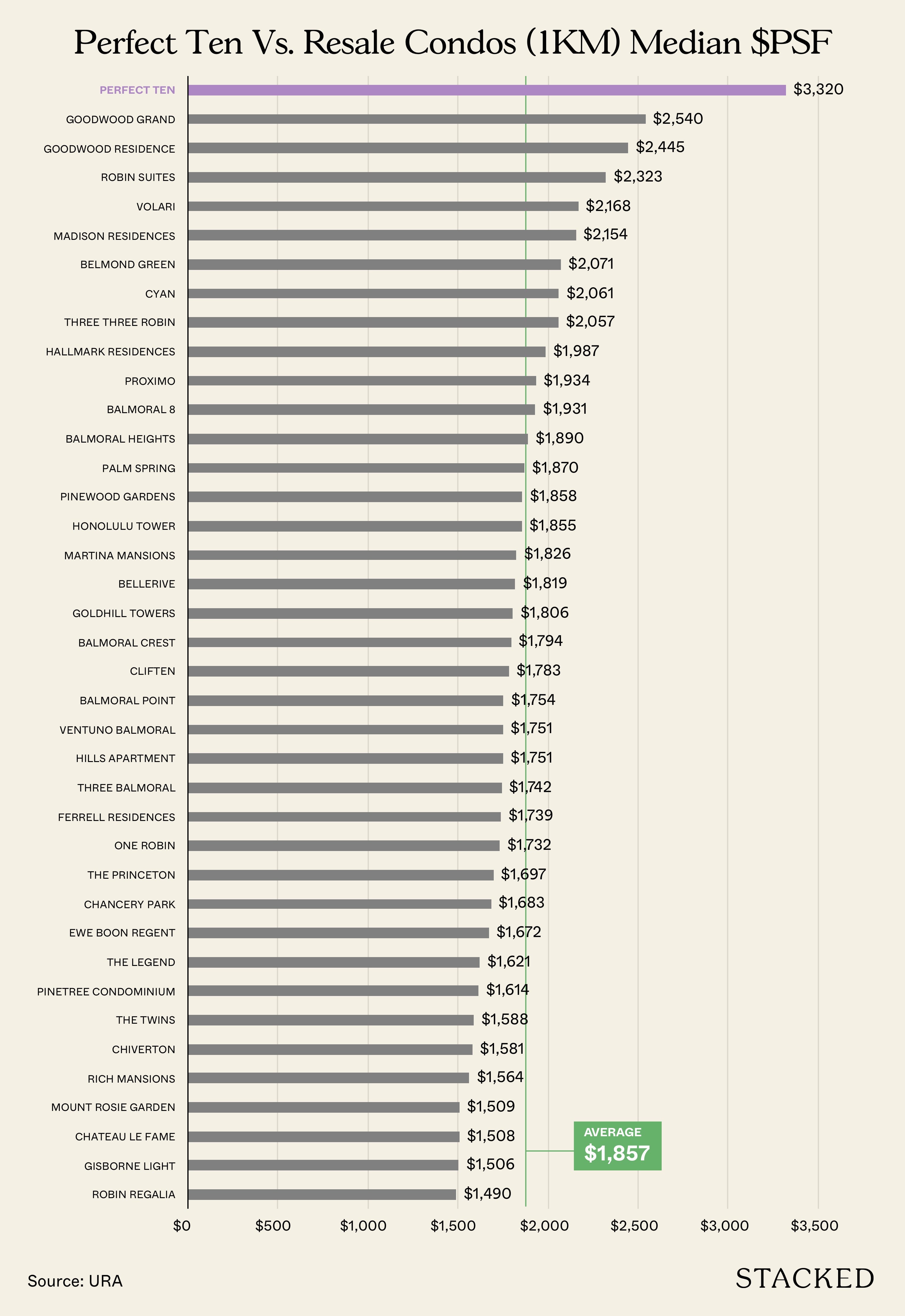 Even within 1KM, there are already 38 resale developments you can choose from. Now it's obvious that if we look at just the $PSF here, Perfect Ten costs a hefty premium over the next most expensive development in the area – Goodwood Grand. It is a 30.7% premium over that and a 78.8% premium over the average $PSF around.
It's no surprise that Goodwood Grand ranks as the most expensive resale development around here since it is considered relatively new (built 2017).
The most recent 2 and 3 bedroom unit here has gone for $2,300,000 (893 sqft) and $2,638,888 (1,044 sqft) respectively. Quantum-wise, the 2-bedroom resale unit here trades at an 8% discount, while for the 3-bedroom, a 33% discount. This stark contrast between the discount is due to the much larger size of the 3-bedroom unit at Perfect Ten which starts from 1,227 sqft, 183 sqft more than the unit at Goodwood Grand.
Since Bukit Timah is a very mature estate, you'll find that many developments surrounding Perfect Ten are considerably older, as such, they may have a larger unit size and hence, bigger quantum. So let's compare how the quantum stacks up against Perfect Ten based on the resale developments within 300m:
| | | | | |
| --- | --- | --- | --- | --- |
| Project | Built | 2BR | 3BR | 4BR |
| BALMORAL CREST | 2002 | $1,940,000 – $2,000,000 | – | – |
| BALMORAL POINT | 1974 | – | $4,437,000 – $4,437,000 | – |
| BELLERIVE | 2011 | – | $2,800,000 – $3,100,000 | – |
| BELMOND GREEN | 2004 | $1,995,000 – $2,320,000 | $2,228,000 – $2,785,000 | $2,660,000 – $2,660,000 |
| CYAN | 2014 | $2,200,000 – $2,550,000 | $3,150,000 – $3,380,000 | $4,510,000 – $4,510,000 |
| EWE BOON REGENT | 1999 | $1,510,000 | $1,655,000 – $1,728,000 | – |
| FERRELL RESIDENCES | 2012 | – | $3,085,000 – $3,388,888 | – |
| GISBORNE LIGHT | 2003 | – | $1,880,000 – $1,880,000 | – |
| GOODWOOD GRAND | 2017 | $2,280,000 – $2,300,000 | $2,638,888 – $3,000,000 | – |
| HALLMARK RESIDENCES | 2015 | – | $2,900,000 – $3,200,000 | – |
| MARTINA MANSIONS | 2000 | – | $2,300,000 – $2,300,000 | – |
| PALM SPRING | 1997 | – | $2,648,000 – $3,410,000 | $6,000,000 – $6,000,000 |
| PERFECT TEN | Uncompleted | $2,500,000 | $4,000,000 | |
| RICH MANSIONS | 1994 | – | $3,015,000 – $3,015,000 | – |
| THE PRINCETON | 1999 | – | $1,800,000 – $1,890,000 | – |
| VENTUNO BALMORAL | 2008 | – | $2,245,000 – $2,310,000 | – |
| VOLARI | 2012 | $2,800,000 – $2,910,000 | $4,600,000 – $4,800,000 | – |
Source: URA. Transactions from December 2020 – November 2021.
As you can see, 10 out of the 16 developments within 300m were built prior to 2010. The closest and newest development was built in 2017 – Goodwood Grand, which I've covered above. Next would be Cyan. Built in 2014 by Far East Organization, this development off Keng Chin Road has 2-bedroom units going for around $2.2 – $2.55 million, which is close to the starting price of Perfect Ten – a development that would be around 12 years newer.
Prices of Cyan have flatlined since 2014 – 2020, but have seen higher resale transactions in 2021 owing to the hot property market. It is a little concerning that despite hitting new highs now, Cyan has not breached its 2011-12 highs despite being a freehold property. Nevertheless, the stability of price in this region does mean that the 2-bedroom price is quite steady and trades close to what Perfect Ten's guide price is like.

Source: Squarefoot Research
It has a much lower $PSF though, and this is because Cyan's unit sizes are just bigger, with 2-bedroom units at over 1,000 sqft.

As such, if a buyer chooses to find a modern/new development in this vicinity, Cyan and Goodwood Grand would come to mind – and the 2-bedroom units here are not too far off.
The picture is different for 3-bedroom units. Cyan, Goodwood Grand and Ferrell Residences (just next door, built in 2012) 3-bedroom units go for a high $2 million to low $3 million dollars. This is a 25% difference in quantum, and if you've taken a look at the floor plan of Perfect Ten, you'll know why.
The smallest 3-bedroom unit here goes for 1,227 sqft – and if you're in the new launch market, you'll undoubtedly realise that this is a very decent size for its type. Large units for 3-bedroom types and above in the CCR are pretty much sought after, and so they manage to hold their own as it manages to differentiate themselves from smaller 3-bedroom units.
That being said, $4 million dollars for a 3-bedroom unit here is still miles ahead of its resale peers, and I'm not even counting those close to Stevens MRT such as Robin Residences that also go for around $3 million.
So when it does hit the resale market, the real question is whether this gap can be sustained. This varies from area to area, and largely depends on how the resale market perceives units at Perfect Ten relative to its competitors.
For example, we have noticed that Maple Woods is an older development whose $PSF managed to catch up and even outpaced newer developments given it is the preferred development in the area.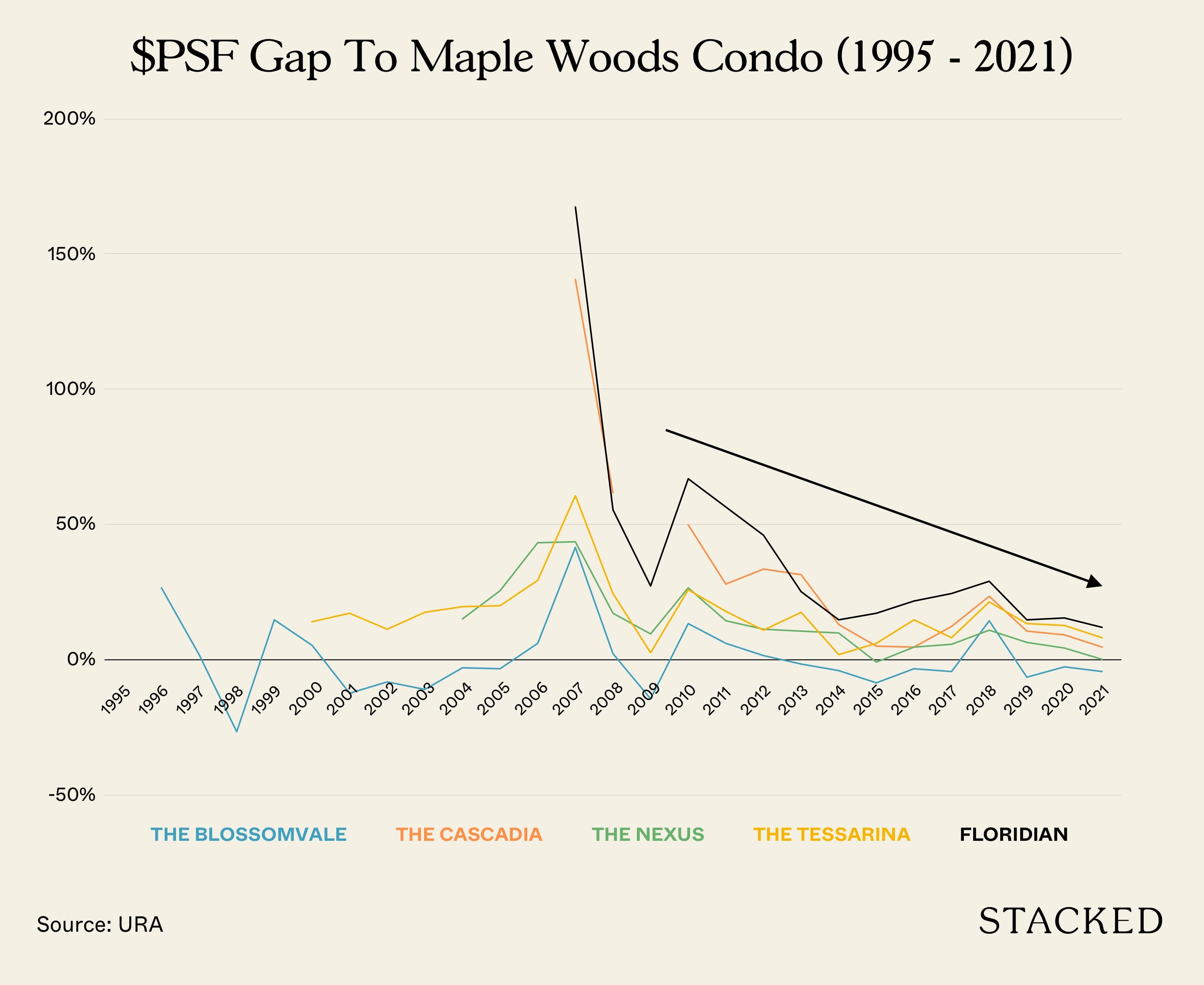 If Perfect Ten becomes a market leader in the area, this gap could very well be sustained, where $PSF continues to remain high given its highly sought-after.
Since this is hard to say now, I'm inclined to point out that those paying this price should be prepared to put a premium on this development simply due to its modern/new aspect of the development.
Now that we've looked at the numbers for resale developments, let's find out how it fares compared to its new launch peers.
Core Central Region (CCR) Comparison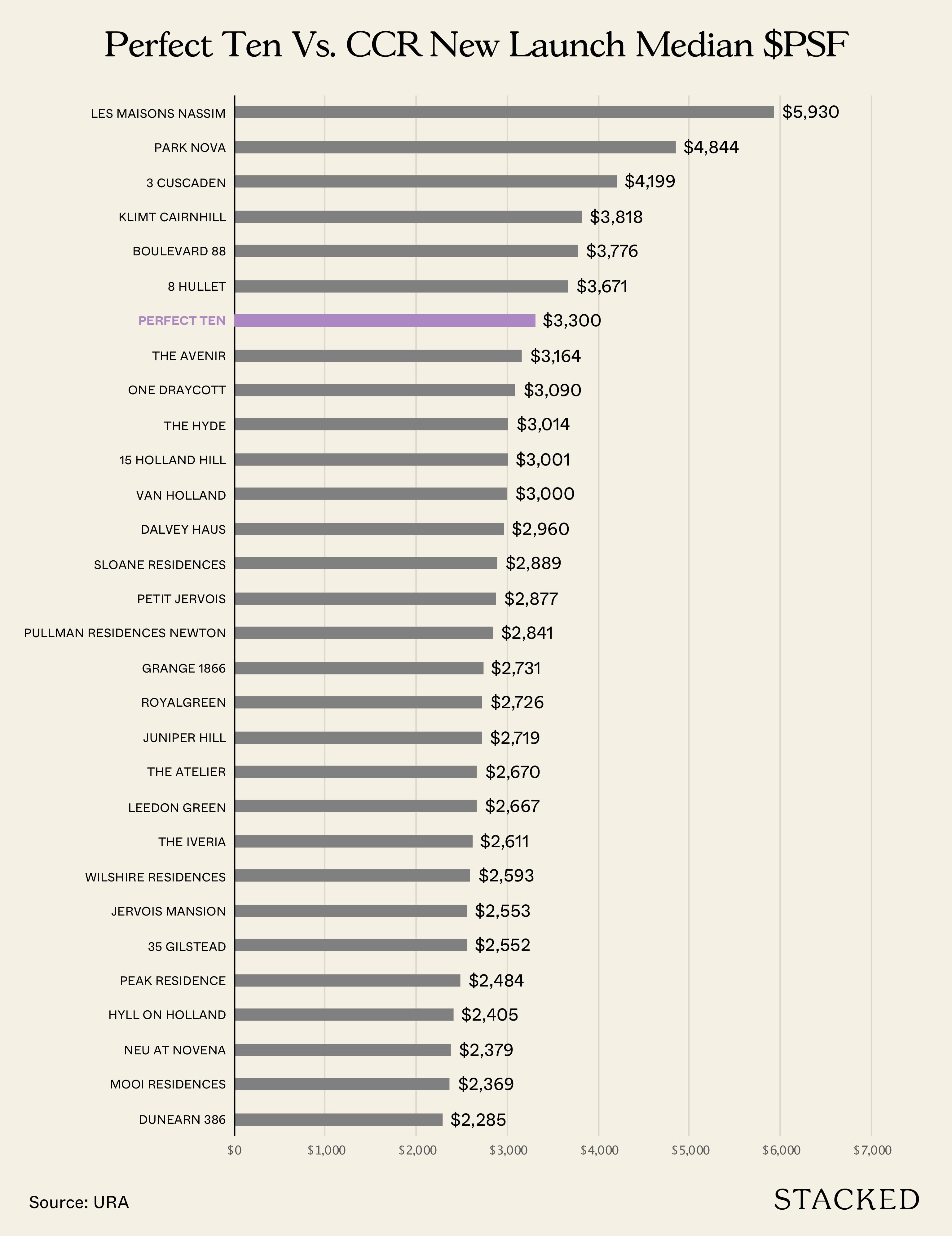 Perfect Ten ranks 7th out of 29 other new launches in the CCR. Its $PSF is right smack between 8 Hullet (next to Emerald Hill Road) and The Avenir (along River Valley Close).
Those that rank higher are also known to be luxury-focused developments, such as Boulevard 88 and 3 Cuscaden. These are situated in the Cairnhill/Cuscaden/Nassim area. That's not to say that those ranking lower aren't luxury-focused. The Avenir, for instance, is upscale and is also located in the River Valley area. Its location is also more upscale in the sense that it's tucked away along the quieter River Valley Close (unlike being situated along the busy Bukit Timah Road) and is also a short walk away from the Singapore River. Of course, it does not have the prestigious schools that Perfect Ten has to offer, but if that is not a consideration, then a price of $3,300 psf does leave buyers open to many other decently prestigious options.
Compared to the nearest new launches
Finally, let's look at how new launches within 1km are like:
| | | | | |
| --- | --- | --- | --- | --- |
| Project | 1 Bedroom | 2 Bedroom | 3 Bedroom | 4 Bedroom |
| 35 GILSTEAD | $1,299,000 | $1,676,900 | $2,234,000 | |
| ONE DRAYCOTT | | $2,262,000 | | |
| PULLMAN RESIDENCES | $1,367,250 | $1,914,636 | $3,205,833 | $3,754,000 |
| SLOANE RESIDENCES | | $2,500,000 | $3,737,705 | $4,236,002 |
| THE HYDE | $1,440,000 | $2,166,400 | $4,035,500 | $4,977,952 |
| PERFECT TEN | | $2,500,000 | $4,000,000 | |
Source: URA. Data from May – November 2021.
It's when you look carefully at what Perfect Ten is up against do you realise that its pricing is actually quite decent.
If we consider Sloane Residences and The Hyde, you'll find that its pricing is quite similar to that of Perfect Ten (an inverse relationship between the 2 and 3 bedroom). Yet, Perfect Ten's location seems more favourable, considering it is not tucked away along Balmoral Road which can be quite packed during peak hours, is closer to the schools, and is closer to public transport nodes.
It's also not a boutique development like Sloane Residences and certainly has a much larger site area compared to both of them. As such, Perfect Ten's location and facility offering are better in that regard.
In other words, those that are seriously considering Sloane Residences and The Hyde would now have, what I would consider, a better alternative for about the same price.
That said, the arrival of Perfect Ten might actually push sales at Pullman Residences, given that the price point there now looks like a better deal as a new launch (and perhaps also due to the fact that they've lowered their previously high estimated maintenance prices). In addition, Pullman Residences is just further down the road and also freehold in nature. It's also marketed as an upscale development with hospitality elements (yes, you get a doorman) branded under the Accor brand.
However, Pullman Residences is located in District 11, not 10. The site also features a smaller land area of 95,442 sqft with 340 units, compared to Perfect Ten's 104,531 sqft with just 230 units.
Now if we count the number of bedrooms from each development, you'll find that Pullman Residences Newton has 717 bedrooms, while Perfect Ten has 552 bedrooms.
This puts it at:
133 sqft of land space per bedroom for Pullman Residences Newton, and,
189 sqft of land space per bedroom for Perfect Ten.
As such, even though the land size is only around 9.5% larger, it is more exclusive given the fewer number of expected occupants in the development.
And since we are on the topic of land size, you'll also notice that many of the surrounding resale projects are boutique in nature too – so they're not only harder to come by, but lack the facility offering and spaciousness that Perfect Ten has to offer (assuming no. of units is a proxy to land size):
| | |
| --- | --- |
| Project | No. of Units |
| CYAN | 278 |
| PERFECT TEN | 230 |
| BELMOND GREEN | 211 |
| PALM SPRING | 167 |
| VOLARI | 85 |
| HALLMARK RESIDENCES | 75 |
| GOODWOOD GRAND | 73 |
| BELLERIVE | 51 |
| RICH MANSIONS | 37 |
| THE PRINCETON | 37 |
| VENTUNO BALMORAL | 35 |
| FERRELL RESIDENCES | 34 |
| EWE BOON REGENT | 33 |
| BALMORAL POINT | 31 |
| MARTINA MANSIONS | 31 |
| BALMORAL CREST | 24 |
| GISBORNE LIGHT | 17 |
As such, there is a good chance that in the resale market, buyers may find themselves in a position of having to continue paying this premium over resale developments nearby simply due to the lack of modern, new options close to public transport nodes that's also near prestigious schools in district 10.
Ultimately though, real estate is a personal choice, and whether or not this premium is justified depends on your own objectives and holding period. Not everyone wants to pay for the greater exclusivity/facilities/location (depending on which new launch you compare Perfect Ten to).
Appreciation Analysis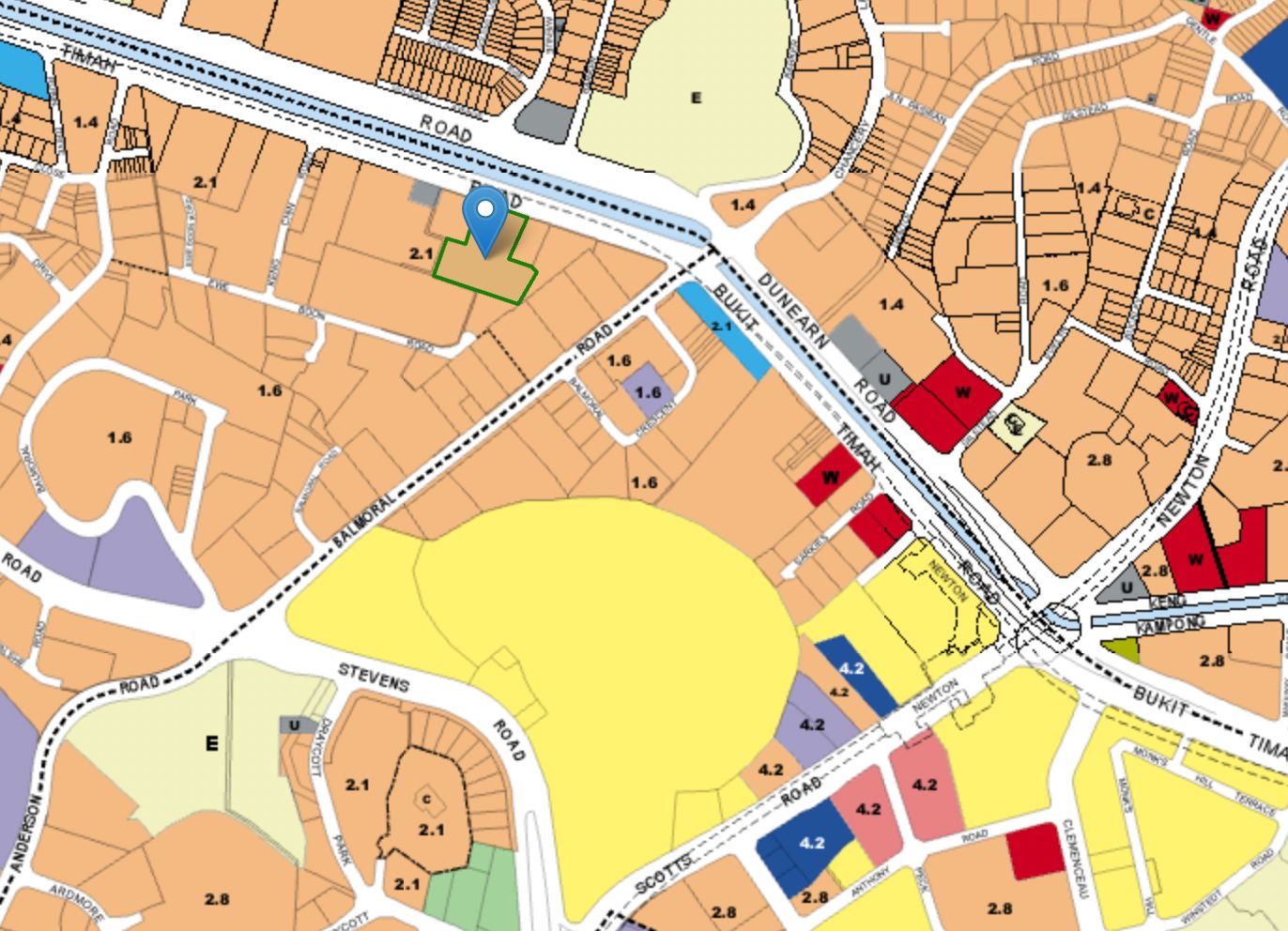 Beauty World Transformation
Look, every new development at Bukit Timah has been talking up the whole Beauty World transformation. Essentially, if you compare the URA Masterplans of 2014 and 2019, you will notice that there will be a 1 million sqft mixed-use development as part of a new integrated transport hub at Beauty World. This will rejuvenate the neighbourhood that looks past its prime, with drab-looking buildings such as Beauty World Plaza still standing. We hence expect added vibrancy and increased connectivity brought about by the new integrated transport hub. That said, Perfect Ten is actually quite a distance away from Beauty World, despite having the same Bukit Timah link. Whether the transformation actually provides firm support to prices here at Perfect Ten is not exactly certain. 
Education Belt
This is not exactly an appreciation factor but more of a point that will keep Perfect Ten desirable for as long as the schools remain here. Within 1km, you have SCGS Primary and ACS Primary, both of which are desirable schools for many parents. Beyond that, you also have a host of other top pre-university institutions such as Hwa Chong Institution, Nanyang Girls High, and National Junior College in close enough proximity too. So if you desire for your child to be the next scholar in waiting, investing in the right property matters! This constant desire to give our children the best will help to keep prices here stable and properties attractive.
Housing Developments
Plans for more homes are not exactly around the Stevens/Newton areas given how high density this area already is. Rather, there are many plans around the development of large land plots in the wider Bukit Timah region. This includes the massive Turf Club plot, which has been zoned residential and will need careful planning by the government so as not to cause an oversupply in the area. Beyond Turf Club, you also have the Holland Plain plot that will yield some 2,500 units close to King Albert Park that will add further supply to the area. If managed well, these 99-year plots will help to set new benchmarks in the Bukit Timah region, which Perfect Ten is poised to take advantage of given its (way) more central location and Freehold status. 
Close by to Perfect Ten is also that massive reserve site that is currently Goodwood Hill (just behind Goodwood Residence). As of today, it's anyone's guess what that would be, but you can see that there is still a lot of land in the surrounding areas that are set aside for possible further redevelopment in the future. For those very familiar with the area, you might have noticed that even the land that the famous Newton Hawker Centre sits on is also a reserve site.
What we like
Glass private lift to admire views

50m infinity lap pool

100m setback

Unblocked views

Good storage provision
What we don't like
–

Traffic noise

–

Heavy Bukit Timah traffic

–

No provision for bigger units
Our Take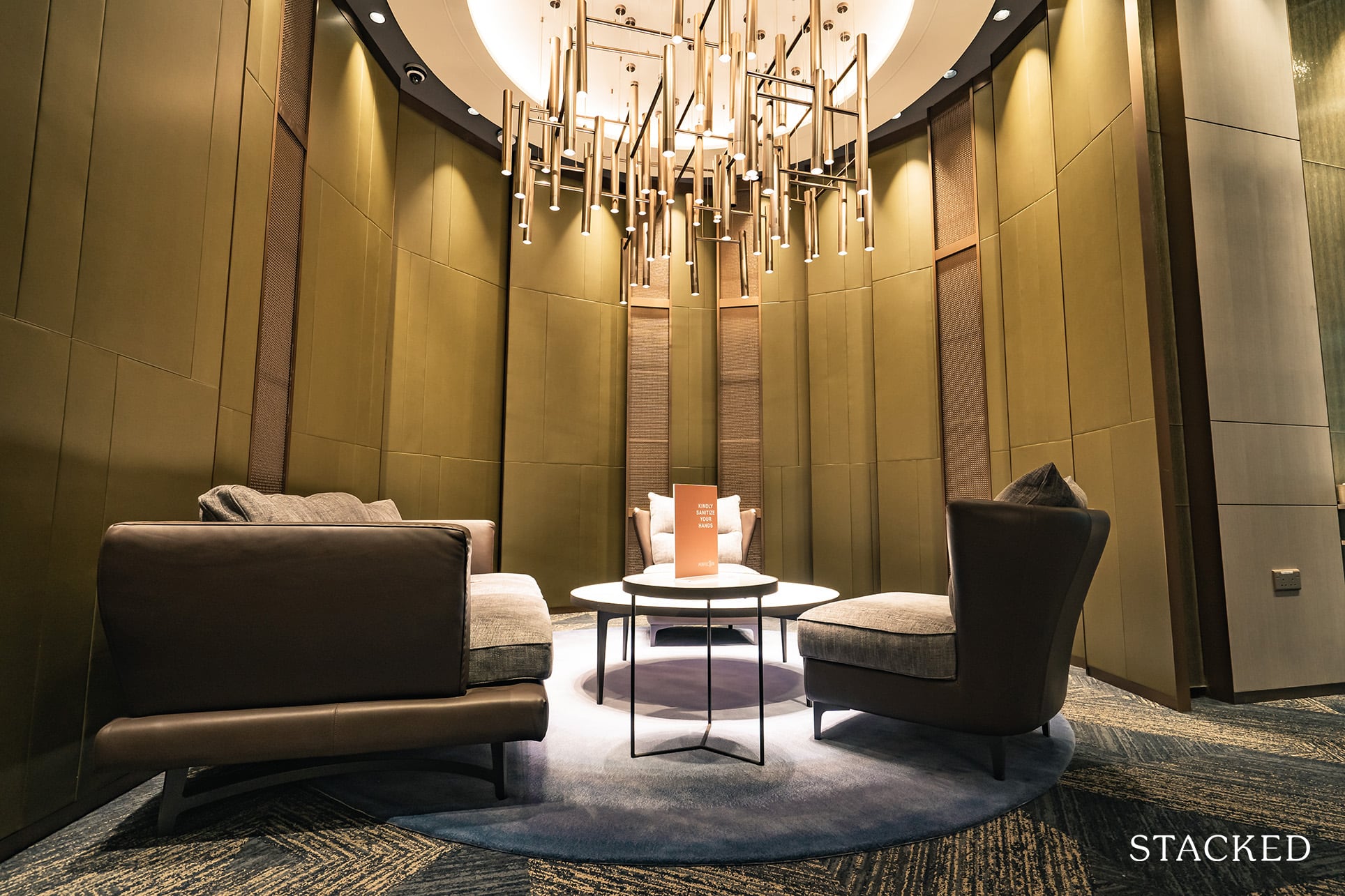 Perfect Ten is a thoroughly impressive launch with strong selling points. I have to admit the name did take some convincing for me when I first heard of it, but it's hard to come away not feeling how polished everything is (quite literally too). This includes the symmetrical twin residential towers with liberal use of gold accents throughout the development, from the Grand Drop Off and Clubhouse all the way to the fittings in the units.
This is a prelude to the level of detail you will find in the development, which I see as a real selling point. A lot of effort was clearly put into the planning, from the boulevard driveway to ensure a setback of the towers to the beauty fridge and ceiling speakers found in the units. Its overall facade and facilities mean that Perfect Ten will be a statement home for many looking to purchase a unit here, one that they would be proud to show their family and friends.
Its location has both the prestige and convenience factor, which does not always come hand in hand. Bukit Timah is home to some of Singapore's most expensive homes and to own a unit here at Perfect Ten gives you a foot in the door. That is if you are not already a member of the esteemed neighbourhood. The project's dominant frontage along Bukit Timah Road will make it impossible to miss, flanked by ageing but equally landmark projects such as Wing On Life Garden and Honolulu Tower. Yet at the same time, it is convenient for those who drive or take public transport, with close proximity to Botanic Gardens, Orchard, and Holland Village. Its 1 km radius from 2 very popular primary schools SCGS and ACS Primary are also equally important selling points for many young families considering this project.
If anything were to stop you from signing on that dotted line, it is likely the quantum that will be the natural barrier for would-be buyers here. With no 1 Bedroom units to speak of, 2 Bedroom units here start from $2.5m and 3 Bedroom units from $4m, making Perfect Ten only within the reach of higher-income earners in Singapore. This is not necessarily bad as it ensures that Perfect Ten continues to be an aspirational product that people strive towards and consequently, keeps prices stable.
That said, I do think the sizes of the units will probably not be something that will attract the old rich, as they'd probably still be prioritising bigger floor plates over everything else. Where I see Perfect Ten succeeding is among the younger, more affluent audience – that have young children (or planning to) in view for schools in the future. This crowd will be less concerned over the absolute unit size but instead will be after lifestyle facilities, and a modern outlook – something Perfect Ten has seemingly executed well.
Overall, Perfect Ten has proven itself to be a development with strong attention to detail and solid execution. If you are comfortable with the overall quantum and premium over its neighbouring developments, this is a statement project that might be worth your consideration.
What this means for you
You might like Perfect Ten if you:
• Want to live in the heart of Bukit Timah:

Perfect Ten is in the heart of Bukit Timah, close to Orchard, Newton and Botanic Garden and is better shielded from the traffic noise due to its 100m setback.

• Enjoy the unblocked views of the Malcolm / Goldhill Estate:

80% of units will front the large swathes of greenery and black and white bungalows at the Swiss Cottage / Malcolm estates.

• Want to enroll your kids in the good schools:

1km radius to ACS Primary and SCGS is definitely a selling point for successful young parents who wish to enroll their children in 2 of Singapore's most famous schools.
You may not like Perfect Ten if you:
• Are looking for small or big units:

Perfect Ten's unique unit mix of just 2 and 3 Bedroom units means that those looking for small (1 Bedroom) or big (4 Bedrooms and above) will have to look elsewhere or amalgamate units.

• Do not have deep pockets:

As mentioned above, the lack of 1 Bedroom units coupled with its prime location means 2 Bedroom units here start at $2.5m mark and 3 Bedrooms from $4m.

• Dislike traffic congestion:

Perfect Ten's location along Bukit Timah Road means heavy traffic during peak hours, which may not be quite the ideal scene for a luxury development.
End of Review
Join our Telegram group for instant notifications
Join Now
Matt K