Units Of The Week
5 High-Ceiling And Freehold Units For More Airy Living
Stacked
December 2, 2021

8

min read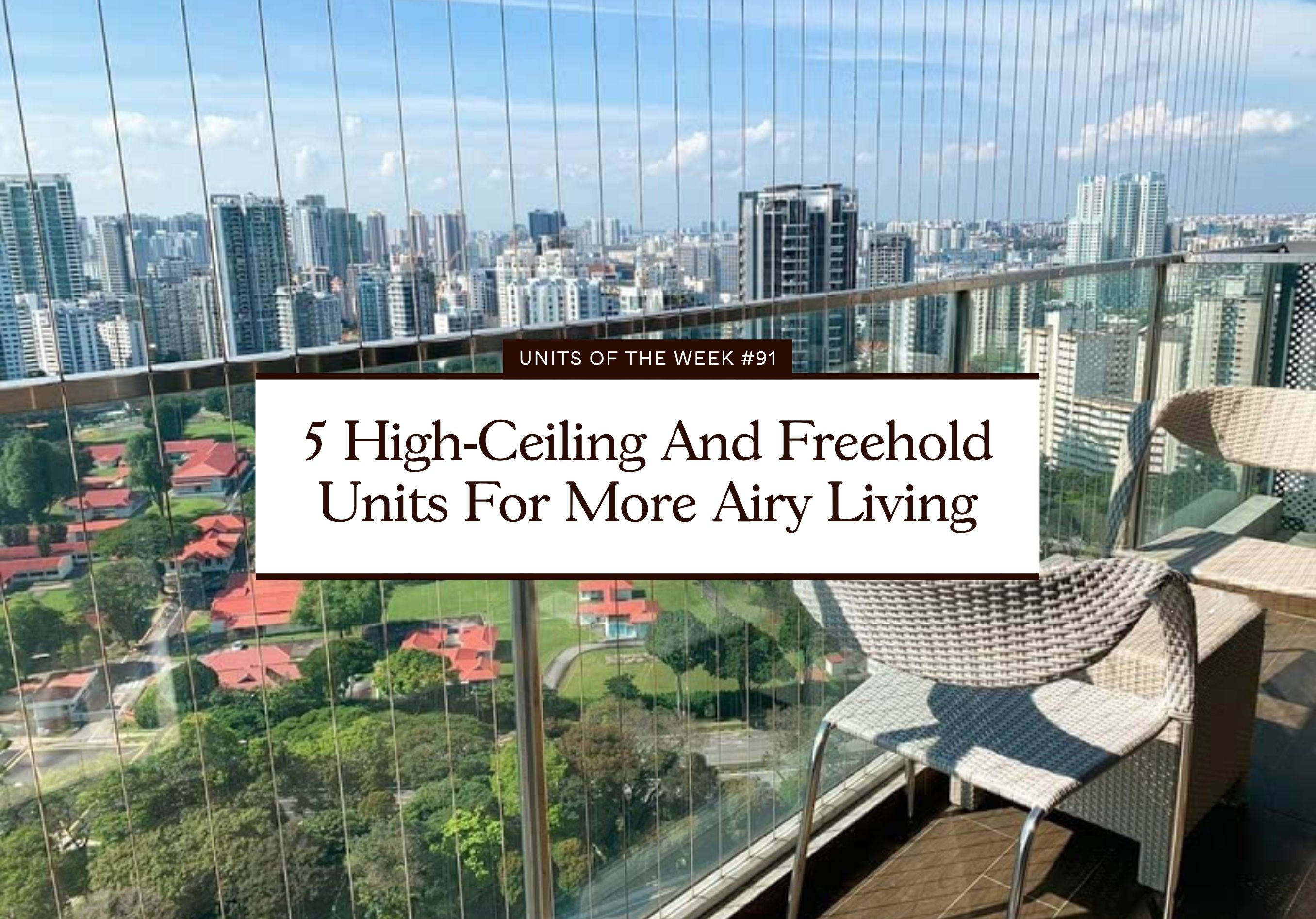 8
min read
Buying a home can be a very emotional purchase, and a very subjective one at that too. To give you an example (and as surprising as it may sound) there are some people that actually look out for bay windows! And while some people swear that having a bathtub in a bathroom is a huge plus point, there are others that find it an absolute waste of space.
The point is – it's all very subjective when it comes to a home.
So this week, we look at another contentious feature – high ceilings in a home. Some like it for the open and more spacious feeling it gives, while others dislike that cleaning and maintenance can be a nuisance.
Nevertheless, here are 5 interesting high-ceiling and freehold units to look at!
Missed last week? You can view the previous issue here.
You can also join our free weekly newsletter so you stay up to date on our latest curations weekly.
Now let's get on with the list of curated units this week!

1

Hong Heng Garden
$2,188,888
| | |
| --- | --- |
| Address: | Hong Heng Garden |
| Tenure: | Freehold |
| Size: | 2,067 sqft |
| $PSF: | $1,058.97 PSF |
| Developer: | Unknown Developer |
| TOP: | 1987 |
Why I like it
I would think most people would probably not have heard of Hong Heng Garden. I'm sure given the name you'd know it's an old apartment – 34 years to be exact. As with most of the older apartments of that era, it is freehold, and has just 27 units so it is as exclusive as it gets. But on the flipside, it is a walk-up (so no lifts), and you don't get facilities to speak of here – so it's really all about the big unit sizes that you get (and affordable monthly maintenance too).

This unit is a 3 + 1 bedroom that is sized at 2,067 square feet – a size that if you have been keeping tabs on the current market, one that is very generous indeed. While the exterior is decidely dated, the interior of the apartment is well kept and still relatively modern. The standout for me is undoubtedly the high ceilings, as it adds an even more airy openness to the already sizeable unit.

– Ryan

$1,680,000
| | |
| --- | --- |
| Address: | Forte Suites |
| Tenure: | Freehold |
| Size: | 1,033 sqft |
| $PSF: | $1,626.33 PSF |
| Developer: | Forte Development Pte. Ltd |
| TOP: | 2018 |
Why I like it
Rangoon Road as a bit of a niche location, but if you are more concerned about centrality than anything else this could be a bit of an under the radar option to consider. Forte Suites is a pretty new development, having only been completed in 2018. It is freehold (like most in the area) and has just 106 units.

This unit is a duplex penthouse that sits on the 24th storey. The good part about this is it affords you a good view of the suprisingly green area around you. Do note, however, that Forte Suites is located close to the busy CTE, and you do also have the upcoming Kent Heights HDB construction to contend with. The best part for me though, is the 6.7 metre high ceilings. While the floorplate isn't the biggest, that high ceiling really helps in making the space more bright and open.

– Druce

$2,500,000
| | |
| --- | --- |
| Address: | The Boutiq @ Killiney |
| Tenure: | Freehold |
| Size: | 1,270 sqft |
| $PSF: | $1,968.50 PSF |
| Developer: | Unique Development Pte. Ltd. |
| TOP: | 2014 |
Why I like it
If I had to stay in Orchard, I think I would definitely choose an area like Killiney. Although it is still quite busy, it is certainly a lot more quaint than the rest of the area – and perhaps other than the Emerald Hill enclave, offers a differentiated lifestyle living from the rest of Orchard.

As you can probably decipher from the name, The Boutiq @ Killiney is a small project of just 130 units. Like its peers in the neighbourhood, it is freehold and also still rather new as it just TOP-ed in 2014. This is a ground floor unit at a large size of 1,270 square foot – although you should know that a large portion of that is dedicated to the PES area outside. As with the theme of the list, you do enjoy very high ceilings here (you can build a loft if you'd like to maximise it).

What I do like about the location too is the proximity to food. The Killiney stretch does offer a good range of different cuisines, and there is a 24 hour NTUC supermarket just a few steps away! Of course, you can easily walk to the Somerset area too for the MRT as well as the usual suspects when it comes to shopping centres.

– Reuben

4

Eastwind Mansions
$1,500,000
| | |
| --- | --- |
| Address: | Eastwind Mansions |
| Tenure: | Freehold |
| Size: | 1,270 sqft |
| $PSF: | $1,181.10 PSF |
| Developer: | Unknown Developer |
| TOP: | 1992 |
Why I like it
Like Ryan's choice this week, this is an old walk-up apartment – except this time this is in the Joo Chiat area in the East. For those familiar with the area, you are close to lots of good food in the immediate vicinity, and that old school vibe isn't what you'd come across easily in many other areas of Singapore. You are about 10-minutes walking distance to Eunos MRT station, not exactly an enjoyable distance to me to walk everyday – but this is subjective of course.

This is a 3 bedroom unit sized at 1,270 square feet. That's a more than decent size for today, but what really sets it apart here is the high ceilings as the top floor of an admittedly not very high development to begin with (you certainly won't buy this for the views). Another unique feature is the slanted roof, which I really like as it just makes the whole space feel more cosy.

– Stanley

5

Cubik
$2,600,000
| | |
| --- | --- |
| Address: | Cubik |
| Tenure: | Freehold |
| Size: | 2,120 sqft |
| $PSF: | $1,226.42 PSF |
| Developer: | EG Development Pte Ltd |
| TOP: | 2011 |
Why I like it
For those unaware, Cubik is in the famed Lorong K Telok Kurau area, where there are a ton of boutique projects. This one is no different, it's a freehold development of just 24 exclusive units. On the positive side, you could say you are in the best of both worlds as it is nearly right in the middle of both Kembangan MRT station on the East West line, and Marine Terrace MRT station on the upcoming Thomson East Coast line. Although, a pessimist would point out that it's perhaps better to be location to just one, as the walk to either is about 11-minutes.

This is the penthouse unit, which is at a very respectable size of 2,120 square feet – especially for a 2+1 bedroom unit. Although do note that there will be space taken up by the stairs, as well as the open roof terrace on the top (which comes with your very own private pool).

– Sean