Condo Reviews

Centennia Suites Review: Luxury Condo by the Singapore River
Sean
August 26, 2019

17

min read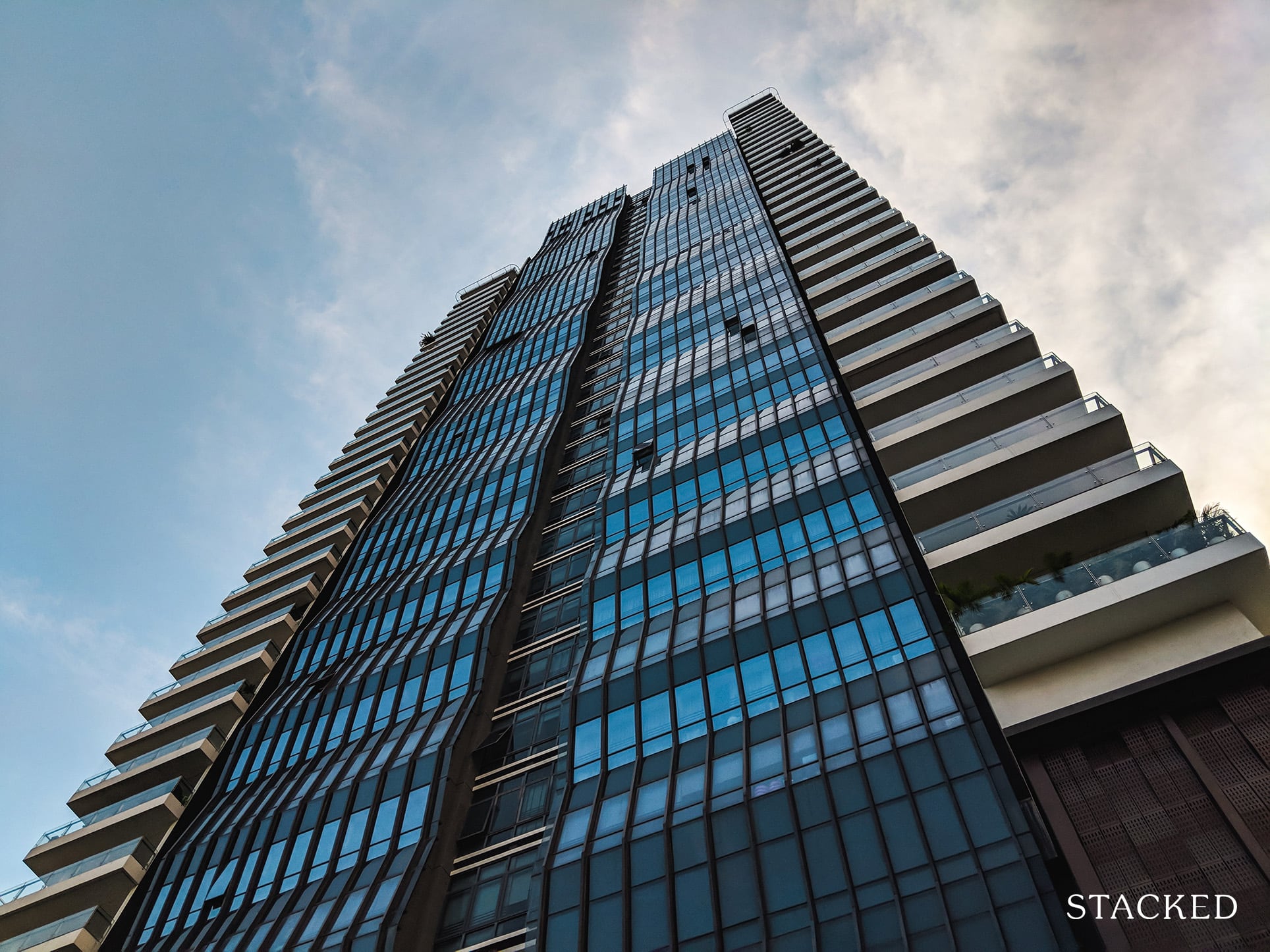 At the end of the day, when it comes to luxury developments it can be tough to quantify whether it is worth the price if you are just making a comparison between facilities and location. A lot of it is also down to materials, quality of construction and the feel and ambience of the development. And I think, in this case, the Centennia Suites does fulfil many of these factors.
Reviewed by Sean on August 25, 2019
What we like
MRT at your doorstep

Great World City just opposite

Riverfront location

Huge swimming pool
What we don't like
—

No tennis court

—

Small land size
17
min read
About this condo

| | | | |
| --- | --- | --- | --- |
| Project: | Centennia Suites | District: | 09 |
| Address: | Kim Seng Road | Tenure: | Freehold |
| Site Area: | 53,107 sqft | No. of Units: | 97 |
| Developer: | Lippo Real Estate Pte Ltd | TOP: | 2013 |
Out of the 3 condos along the Kim Seng Road stretch, the Centennia Suites was the one that I was most excited about. In short, it is the newest, most luxurious and although it occupies the smallest piece of land, it has arguably the best location, seeing as it is right beside the Singapore River. So if you are considering a condo at River Valley, is the Centennia Suites the right fit for you? Here is our full comprehensive review!
Insider Tour
Facilities in Centennia Suites

| | | |
| --- | --- | --- |
| Barbeque Area | Swimming Pool | Playground |
| Function Room / Dining Room | Gym | Jacuzzi |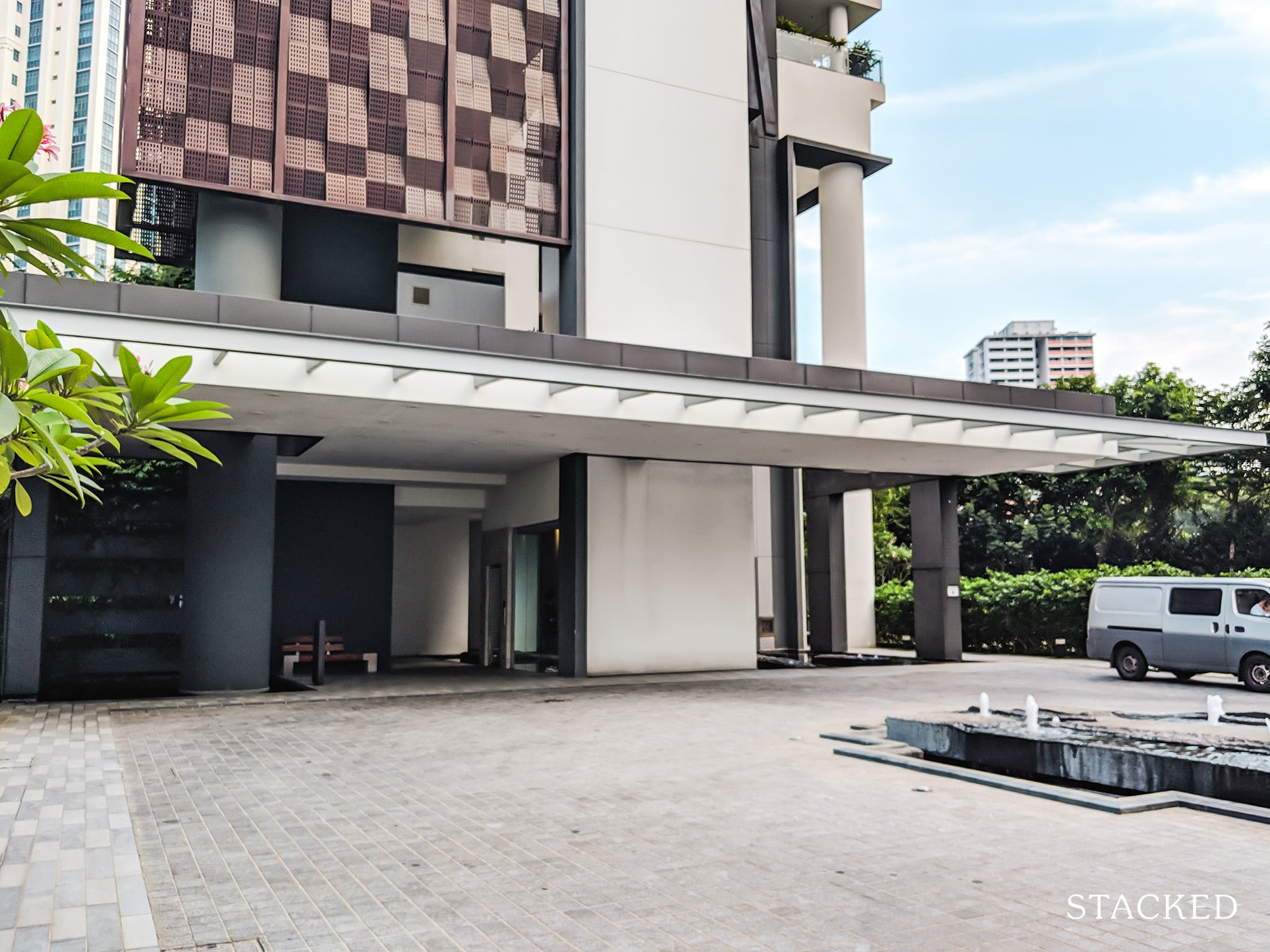 The entrance to the Centennia Suites is relatively unassuming, it doesn't scream flat out luxury but the huge open space and simple sleek lines do convey the upmarket feel of the place.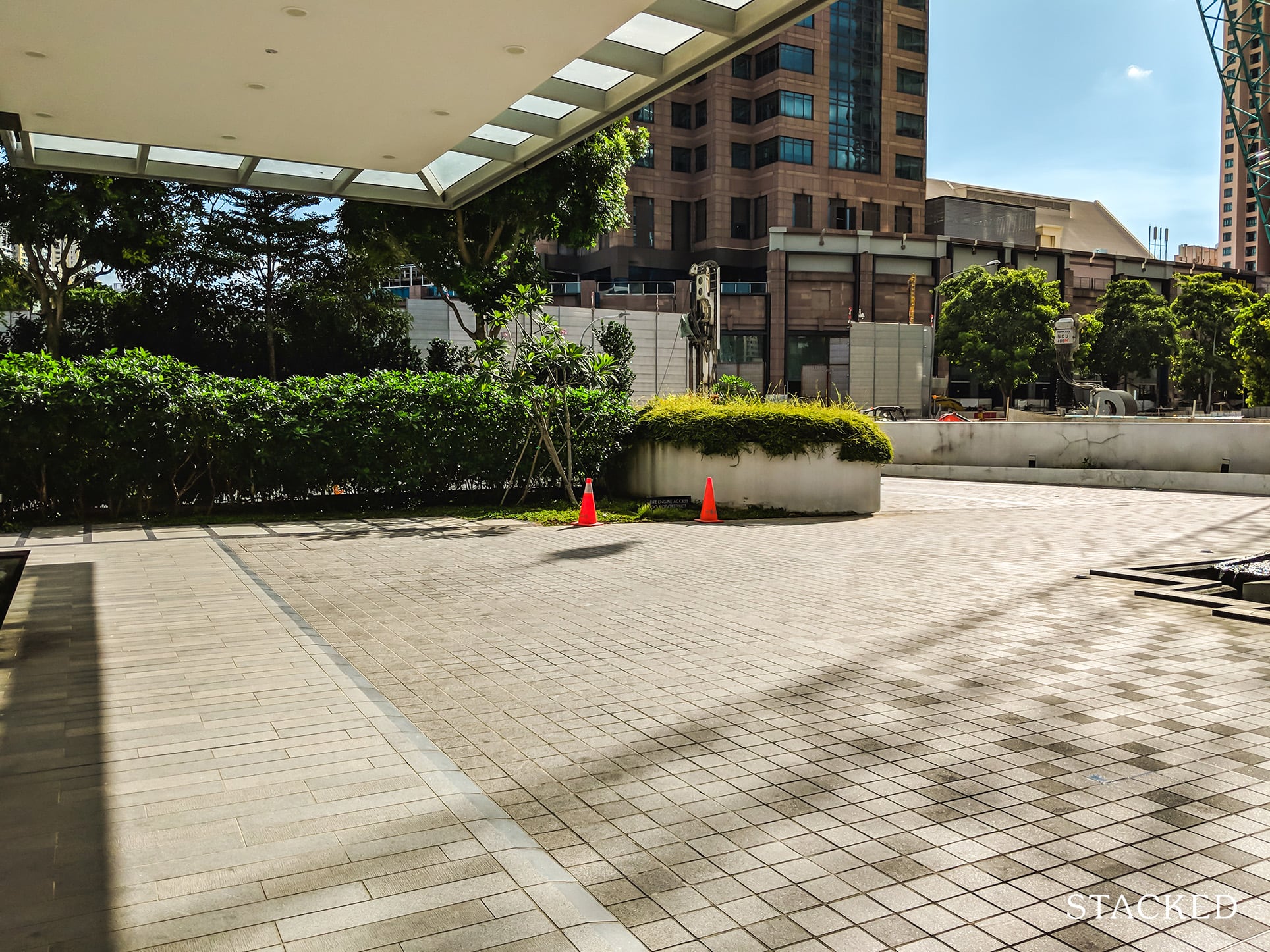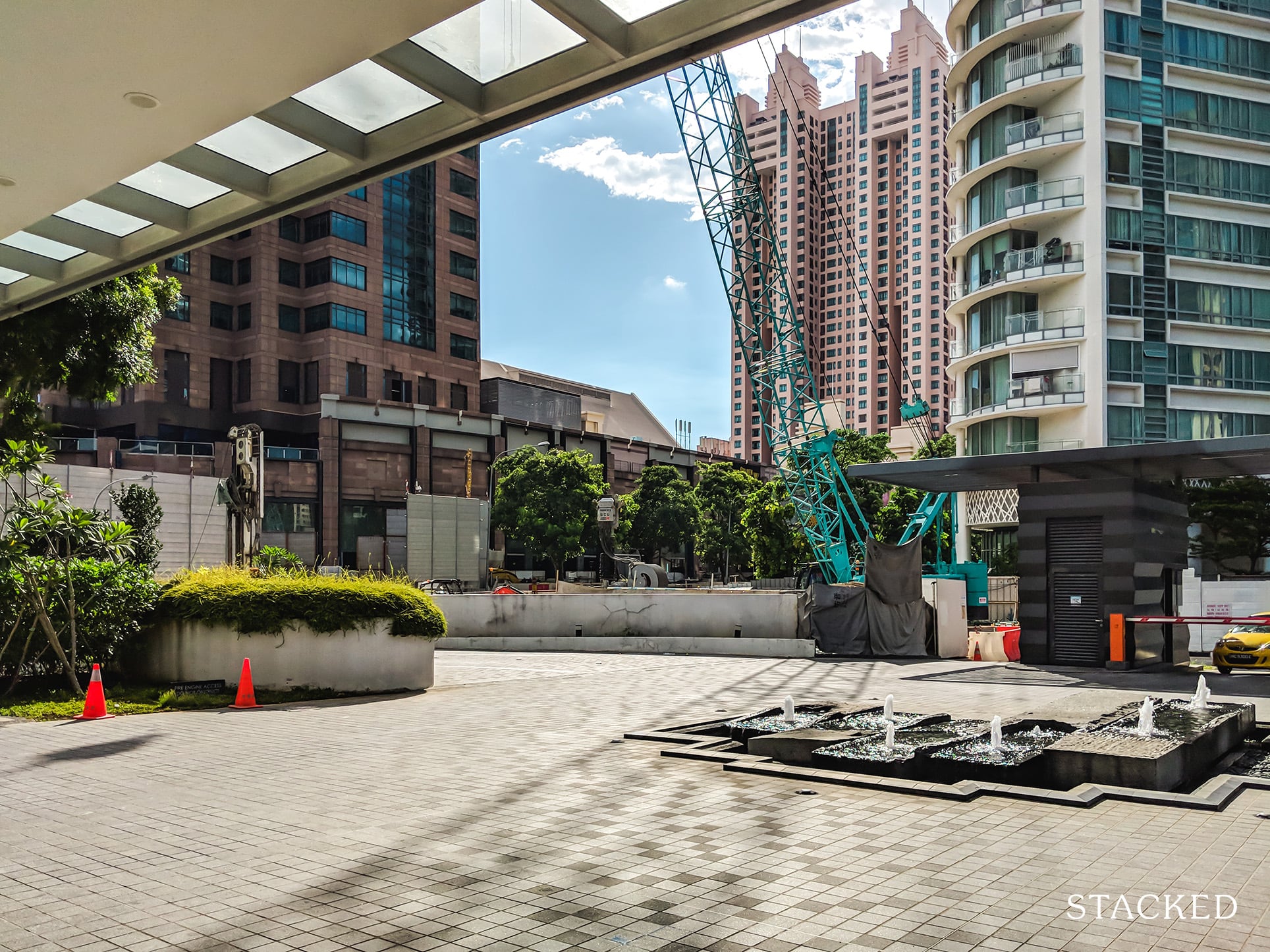 Small nitpick here, but I think a better-designed water fountain in the centre would have done wonders. Despite the small land space, quite a lot of room has been dedicated to the arrival and drop off point.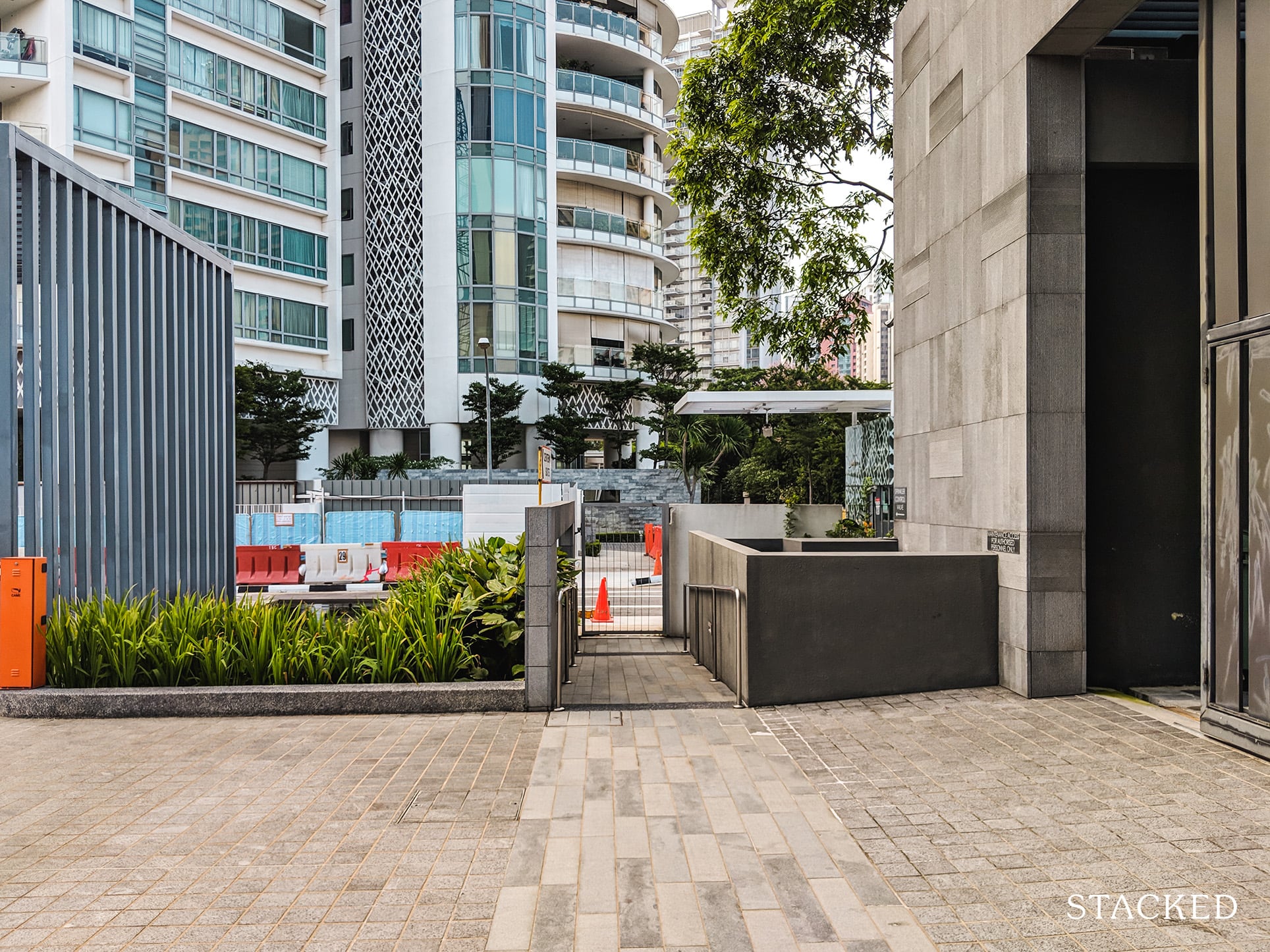 At the right side, there is a side gate that leads you to the back. In the future when the Great World MRT station is up, this will certainly be better utilised.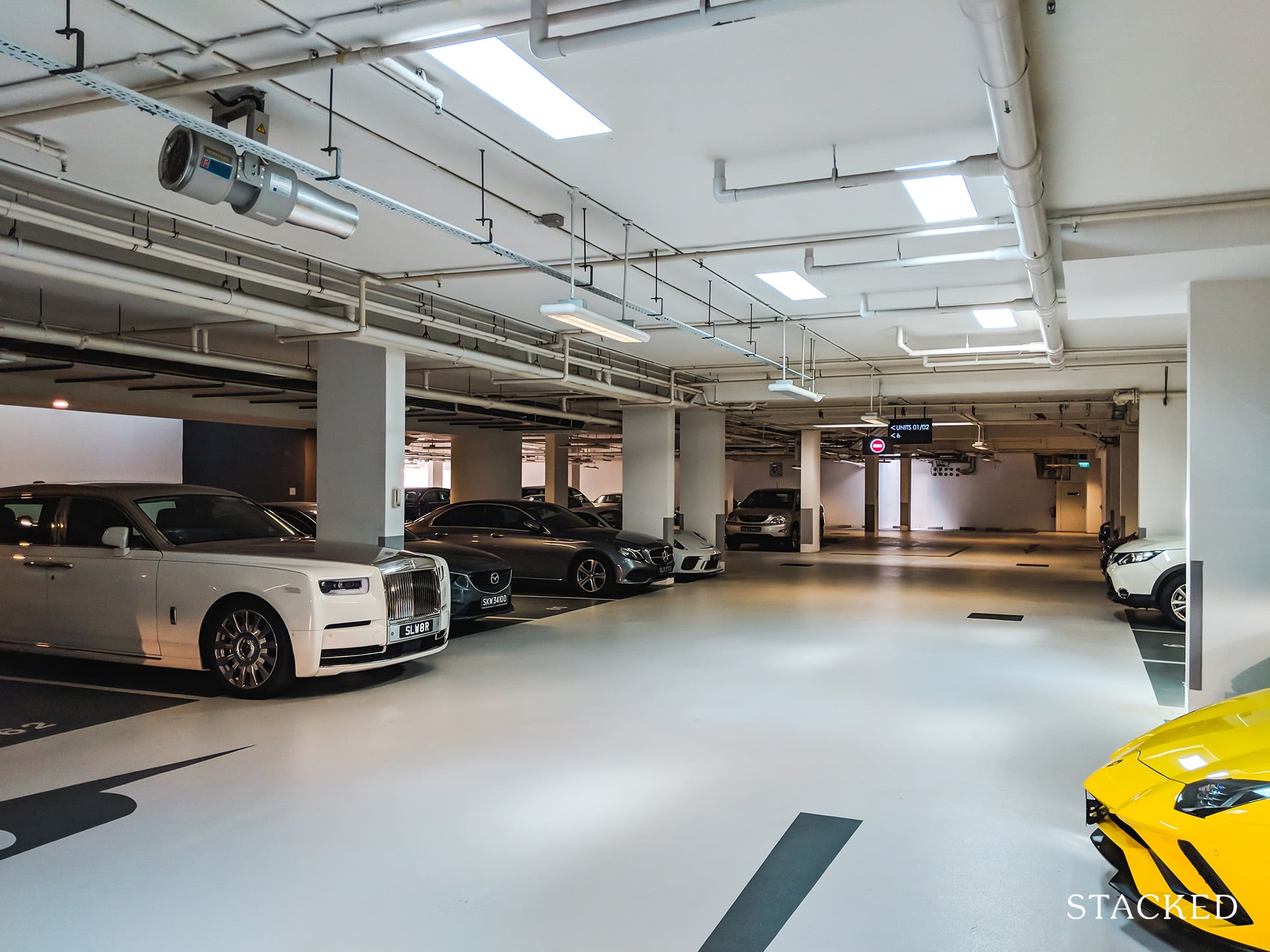 As you'd expect from a luxury development, the carpark here is suitably built, with high-end smooth flooring. The carpark lots are also well-sized to hold luxury cars without it being too much of a squeeze. I prefer the high ceiling carpark in the Cosmopolitan condo, but this place feels a touch more deluxe.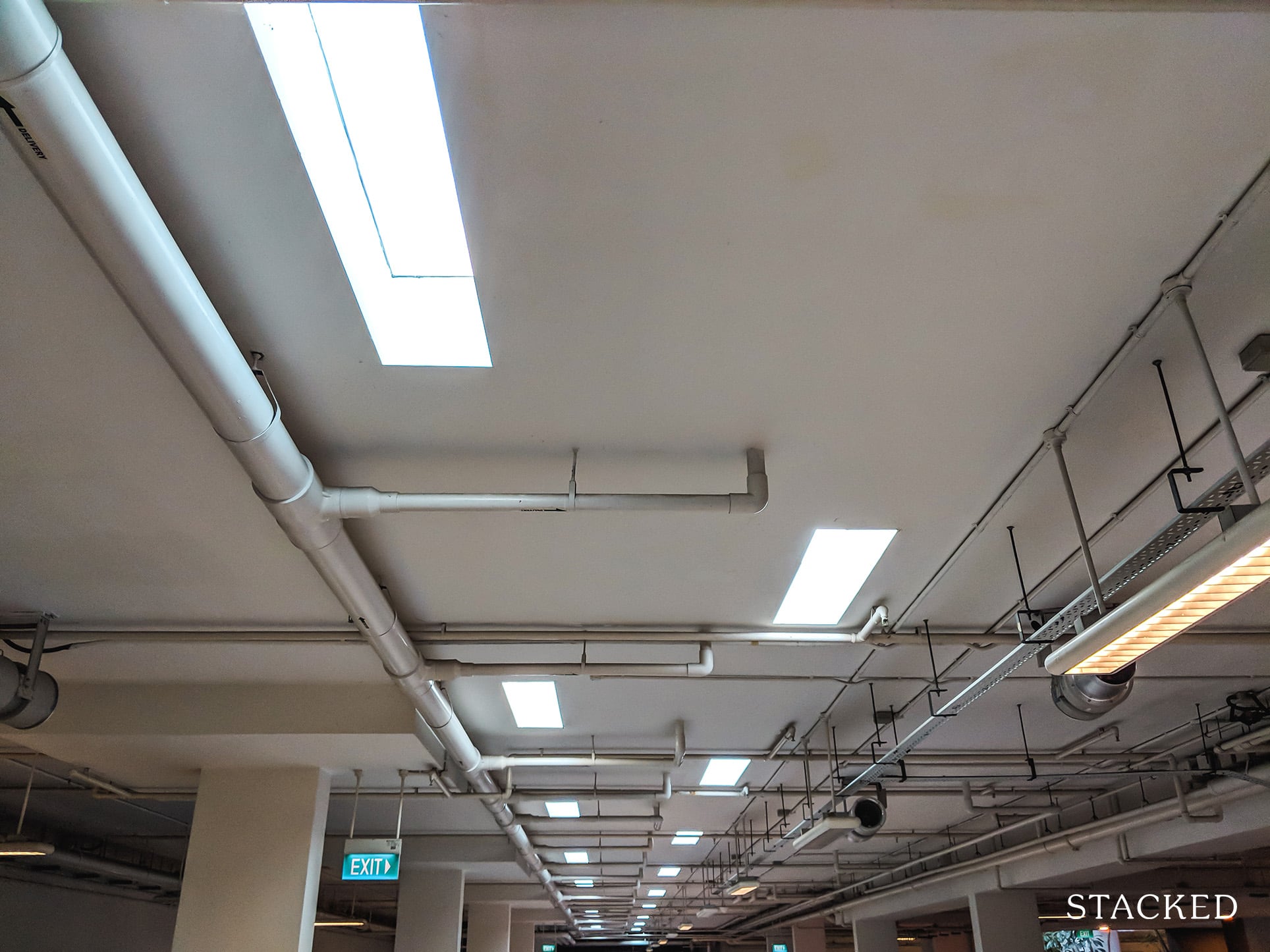 A small detail I would like to point out are these skylights along the length of the carpark. It's a great touch as it brings so much light into the carpark on a sunny day.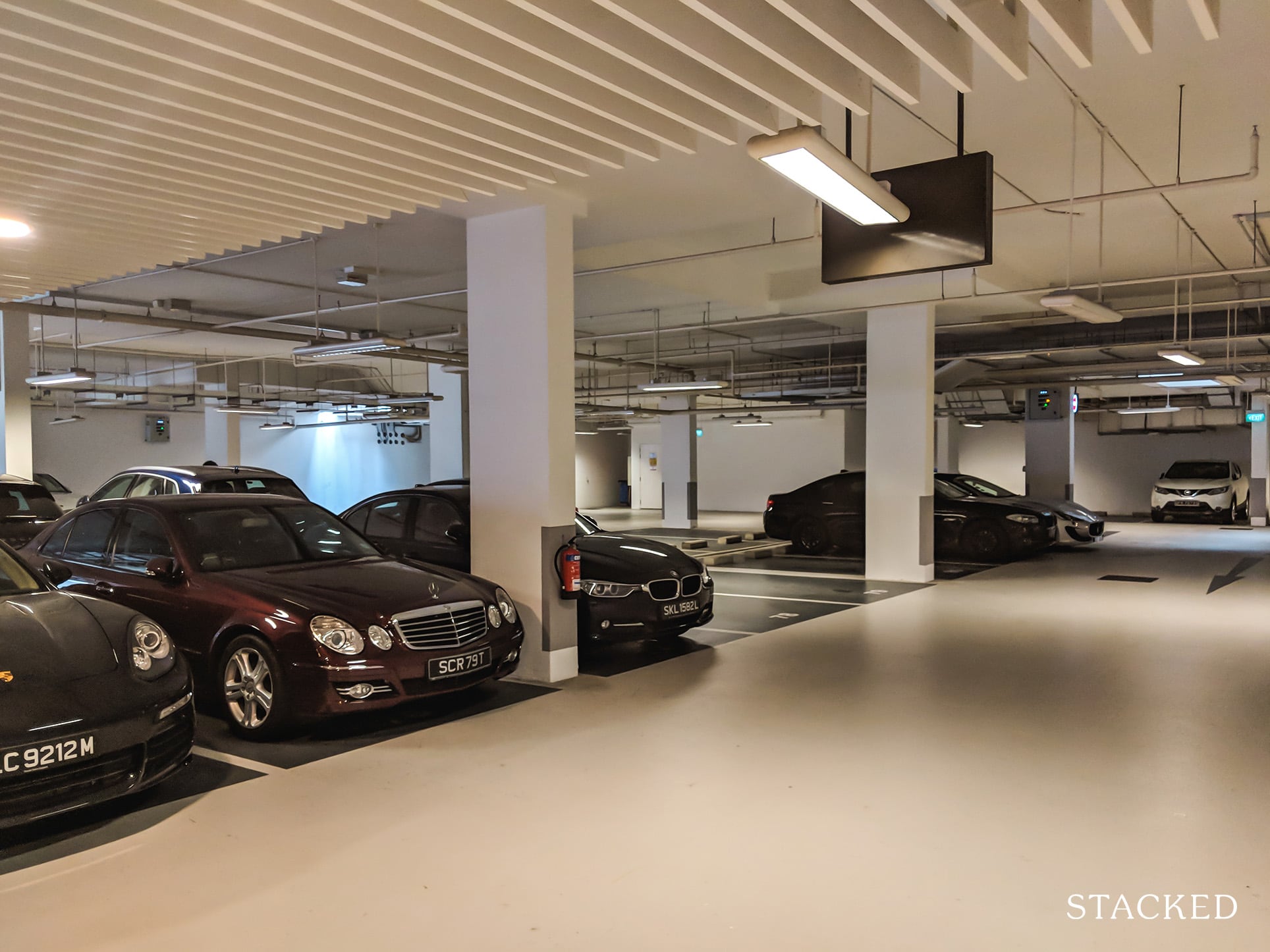 Generally, even though the Centennia Suites is considered to be pretty new still, it looks like it has been maintained well so far.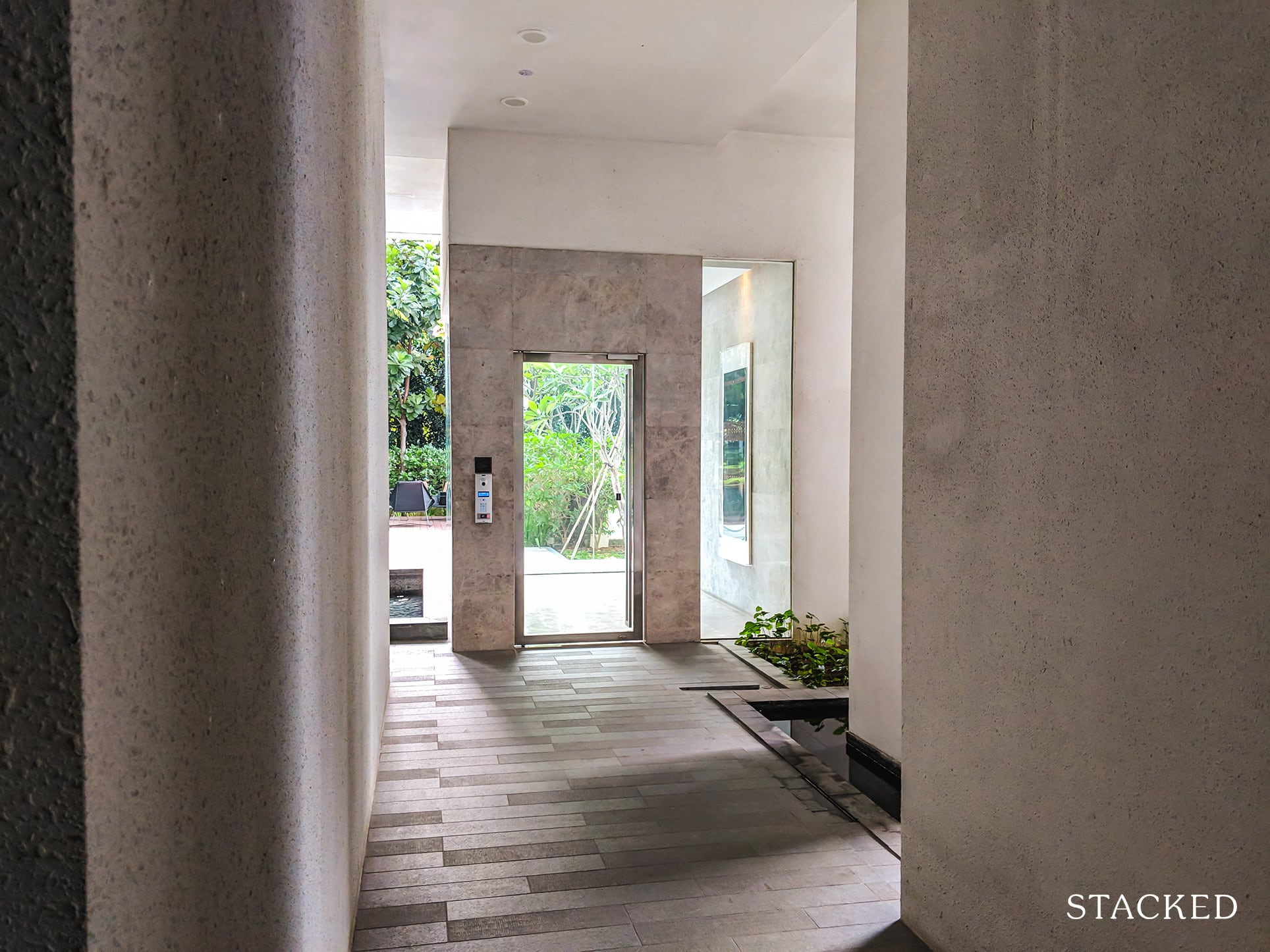 Each lobby area is adorned with marble walls and is air-conditioned throughout the day. Of course, access to the lobby is restricted unless you have your keycard or you are let in through the intercom as these are private lifts that would go straight to your unit.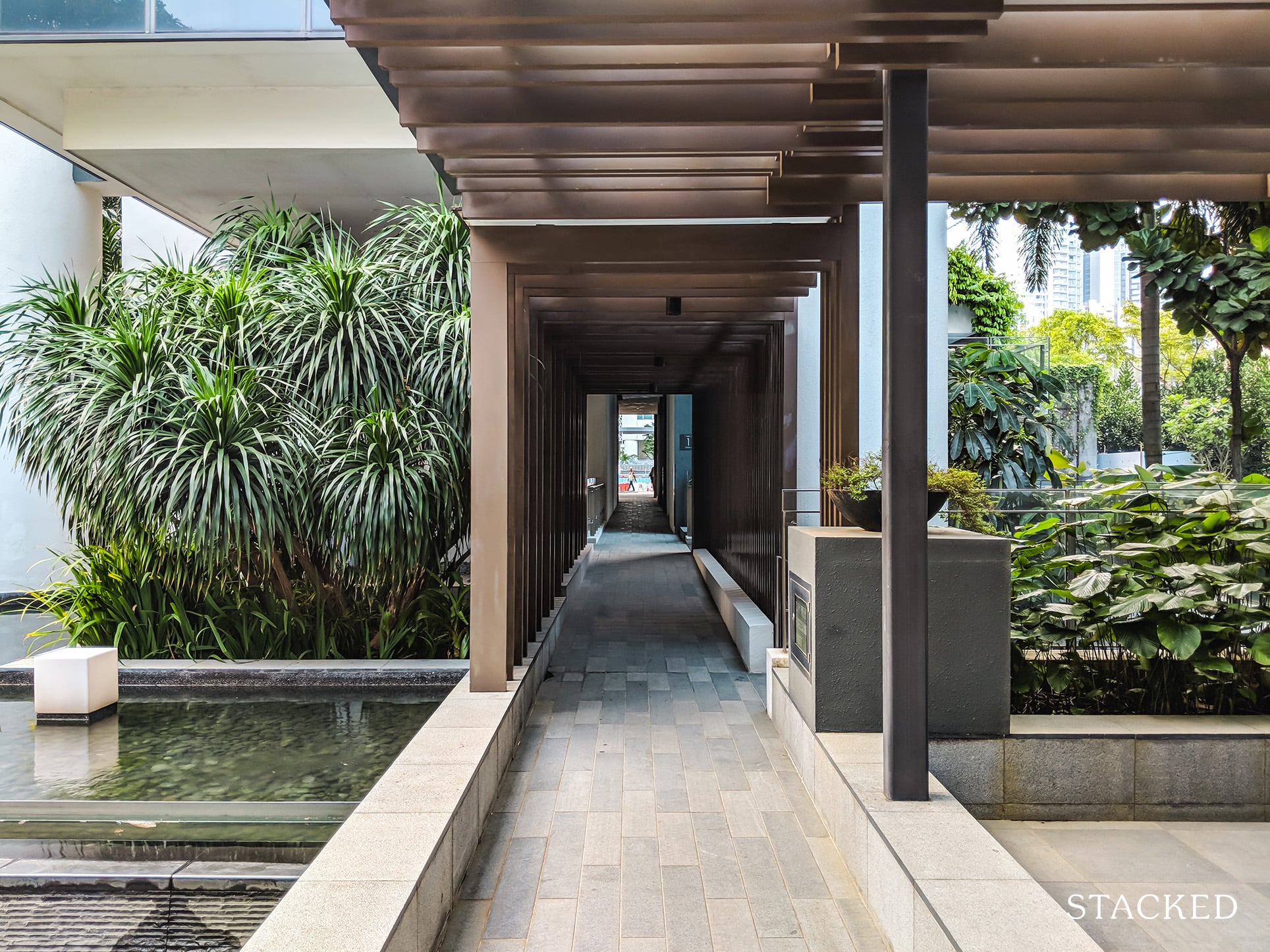 After going through this long walkway, you will get to where most of the facilities are at.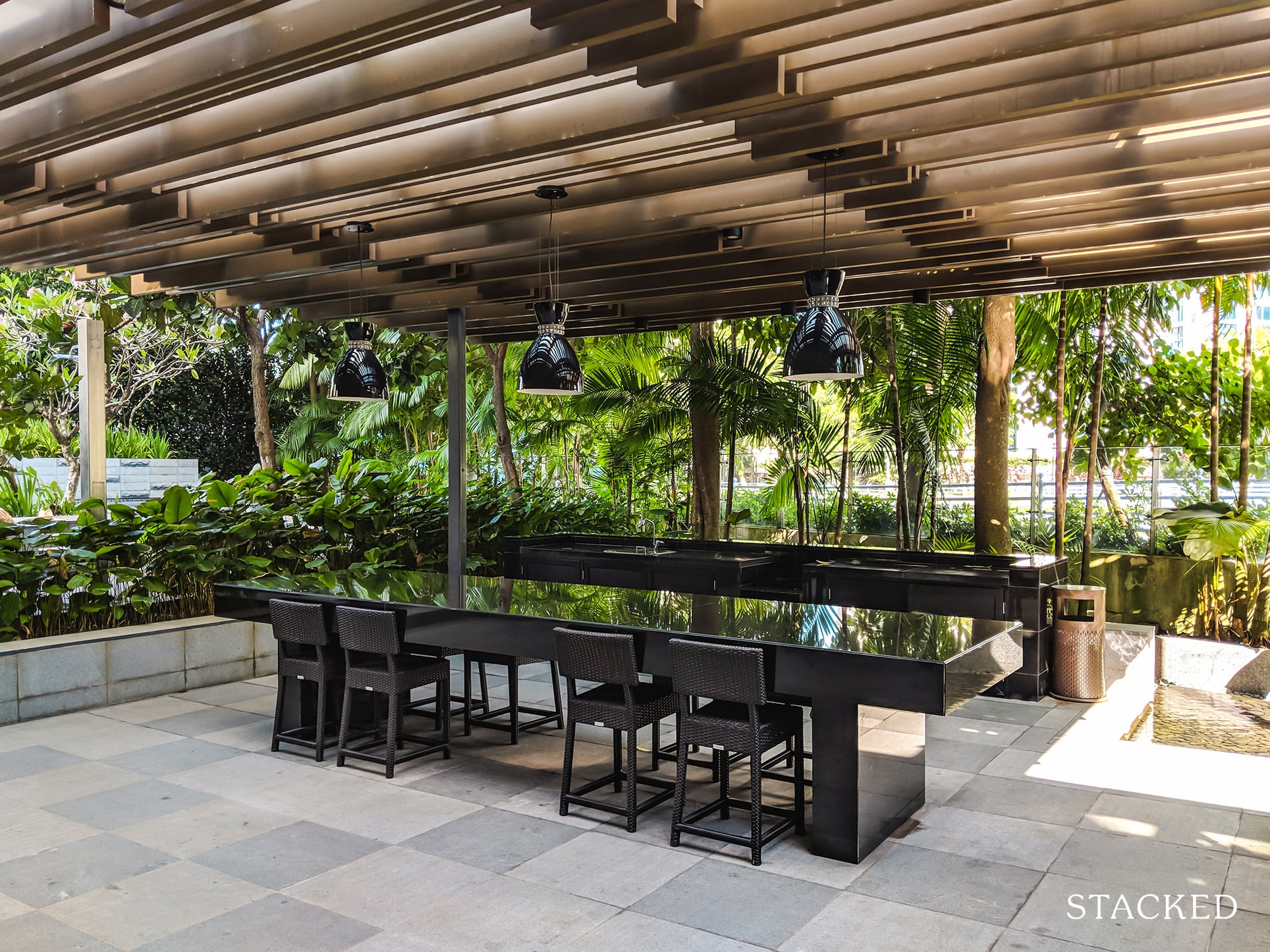 First up is the dining/barbeque area at the Centennia Suites. It is well-designed as the slates in the roof let light through, but more importantly, it is sheltered too.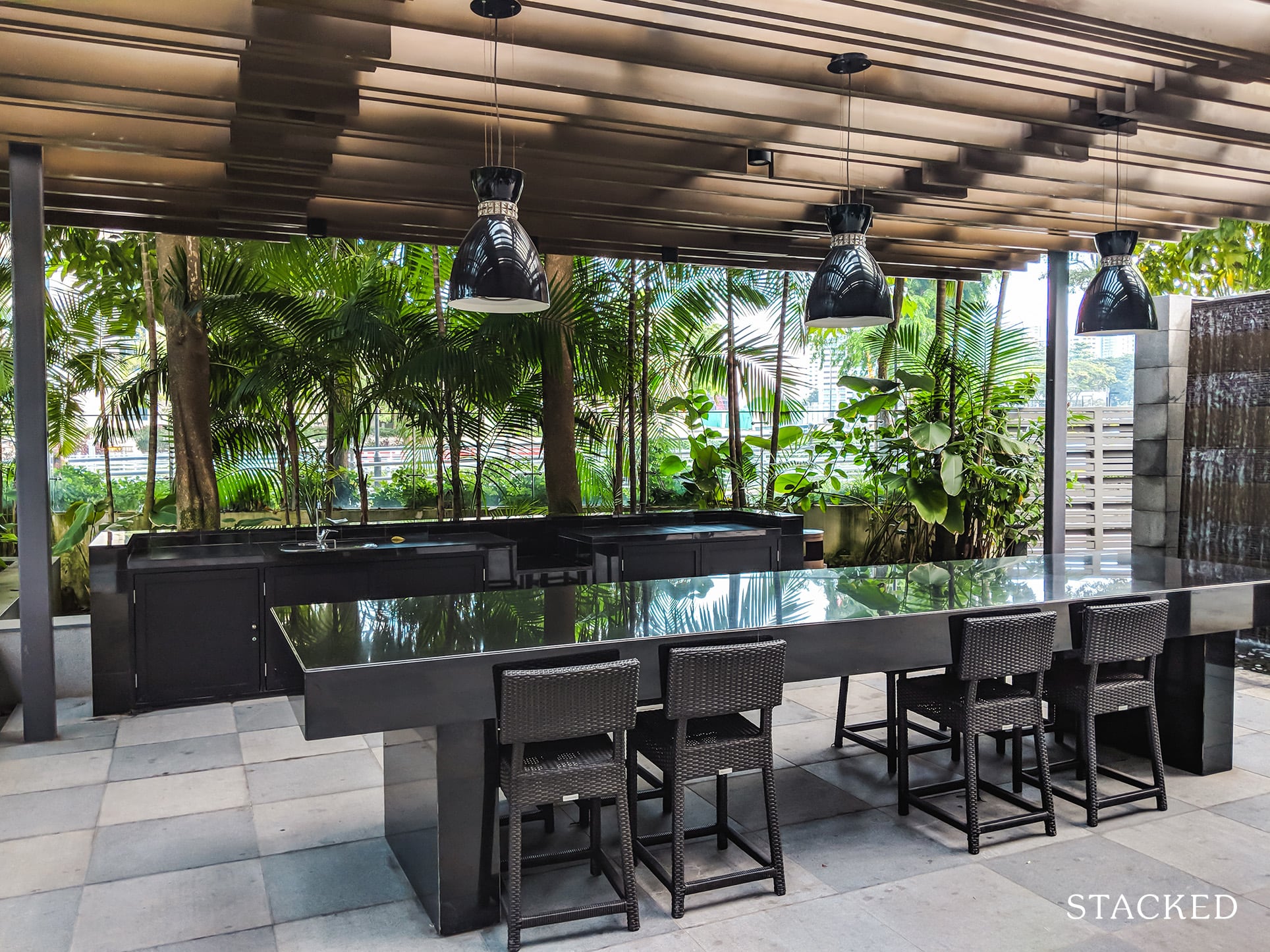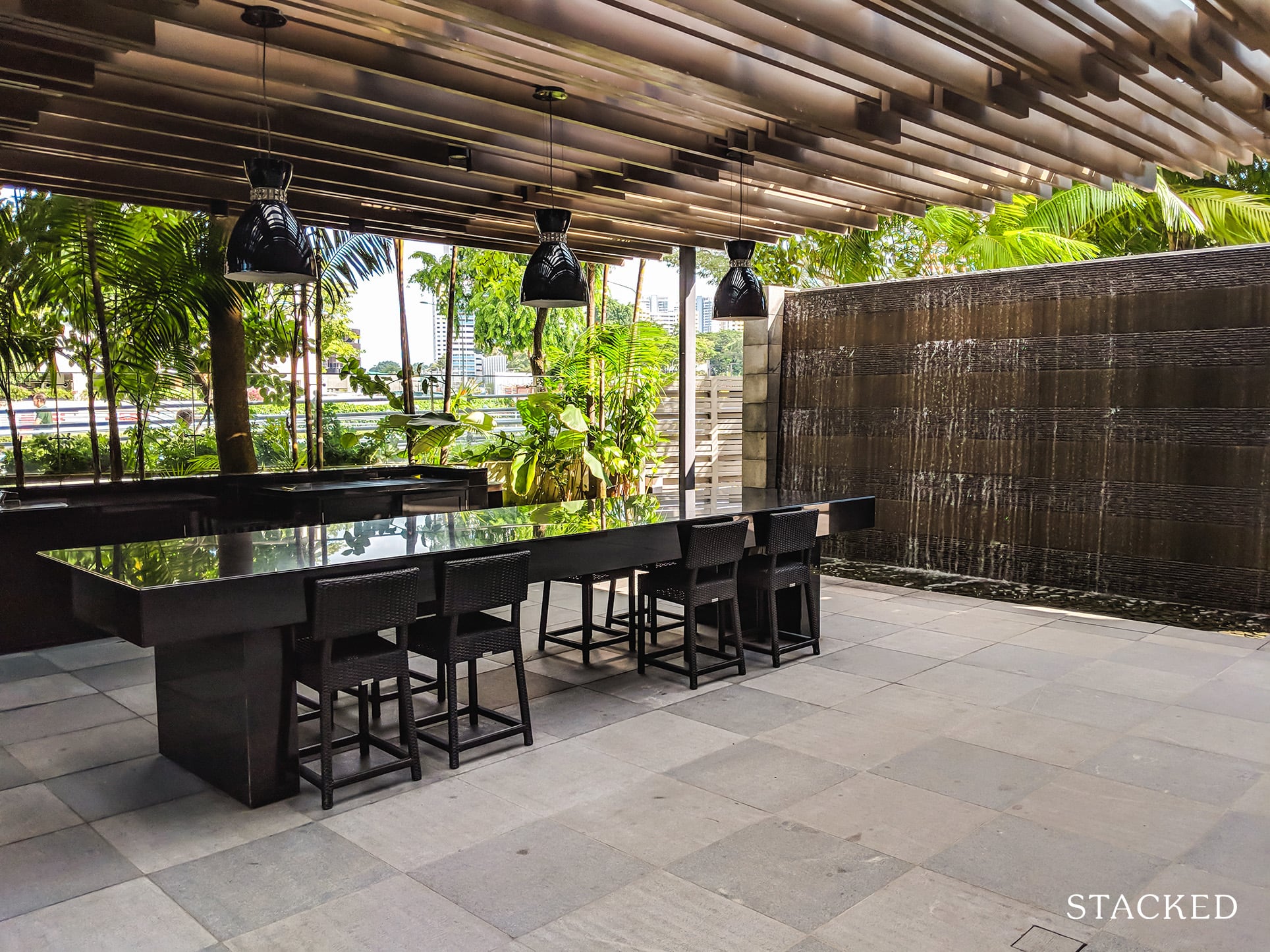 It is accompanied by a water fountain feature and surrounded by greenery that provides a certain degree of privacy and shade. This is one of the nicer barbeque areas that I have seen in a condo development, and it is quite impressive.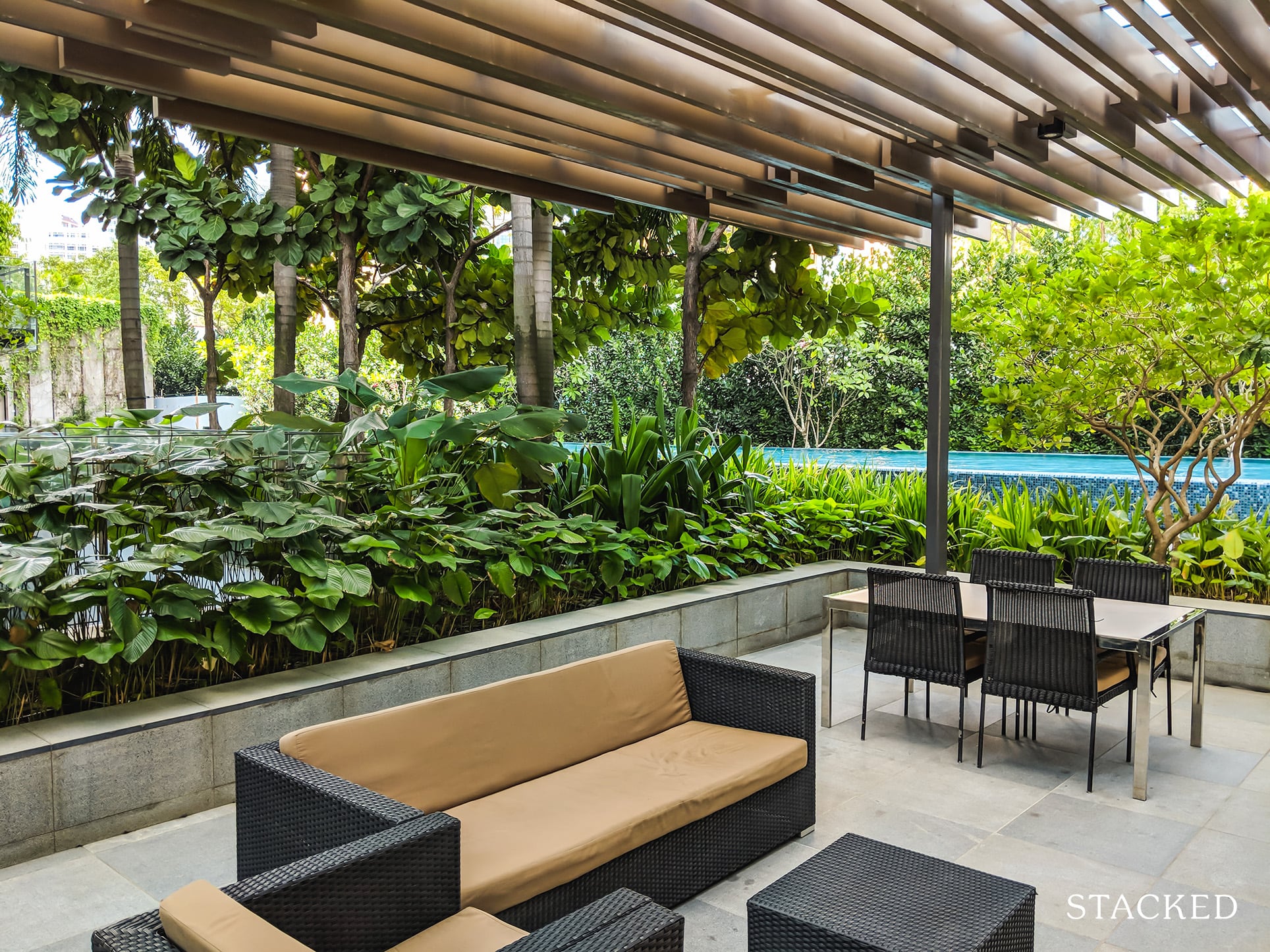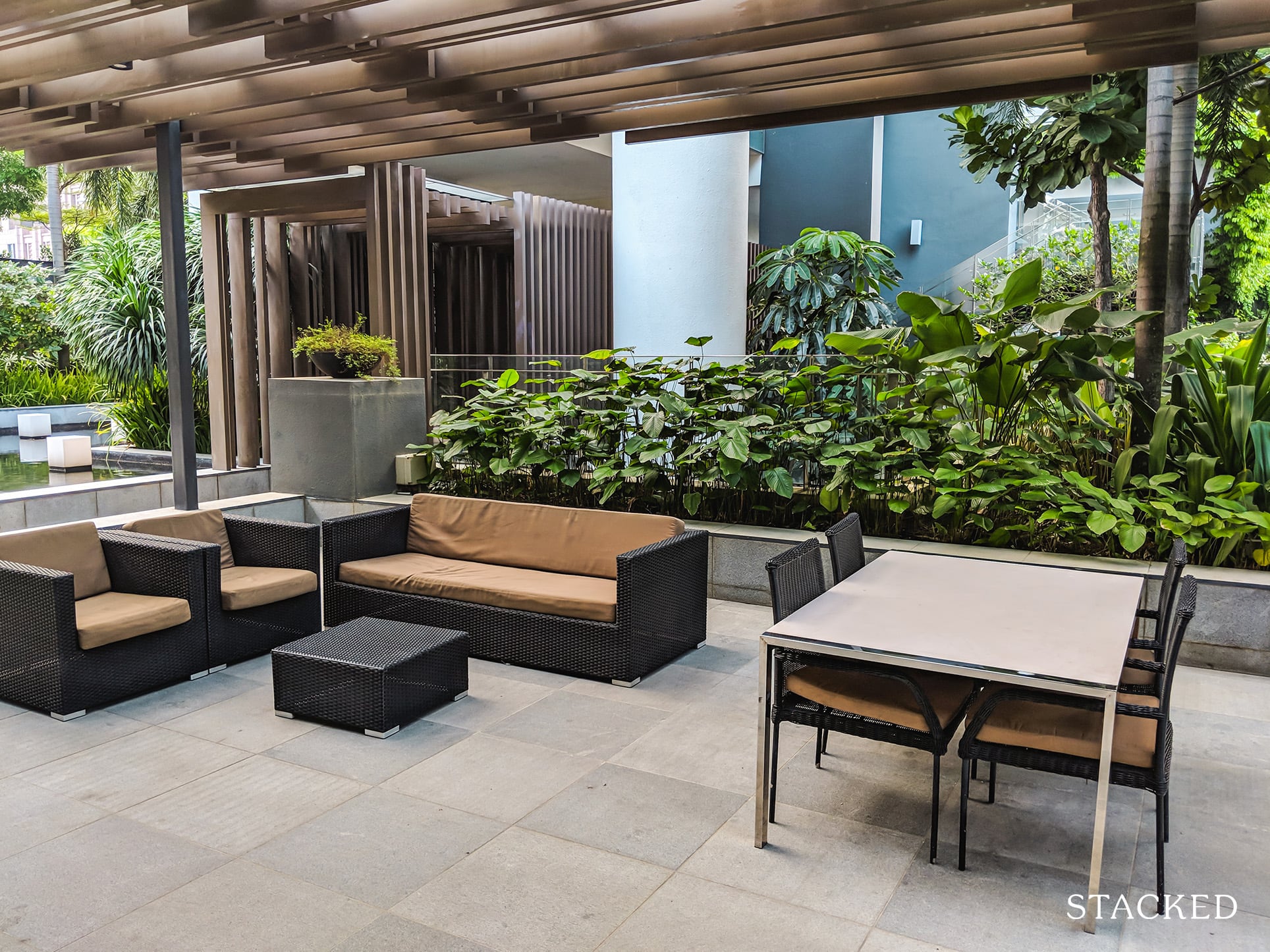 And there are more seating areas and space right opposite should you need it.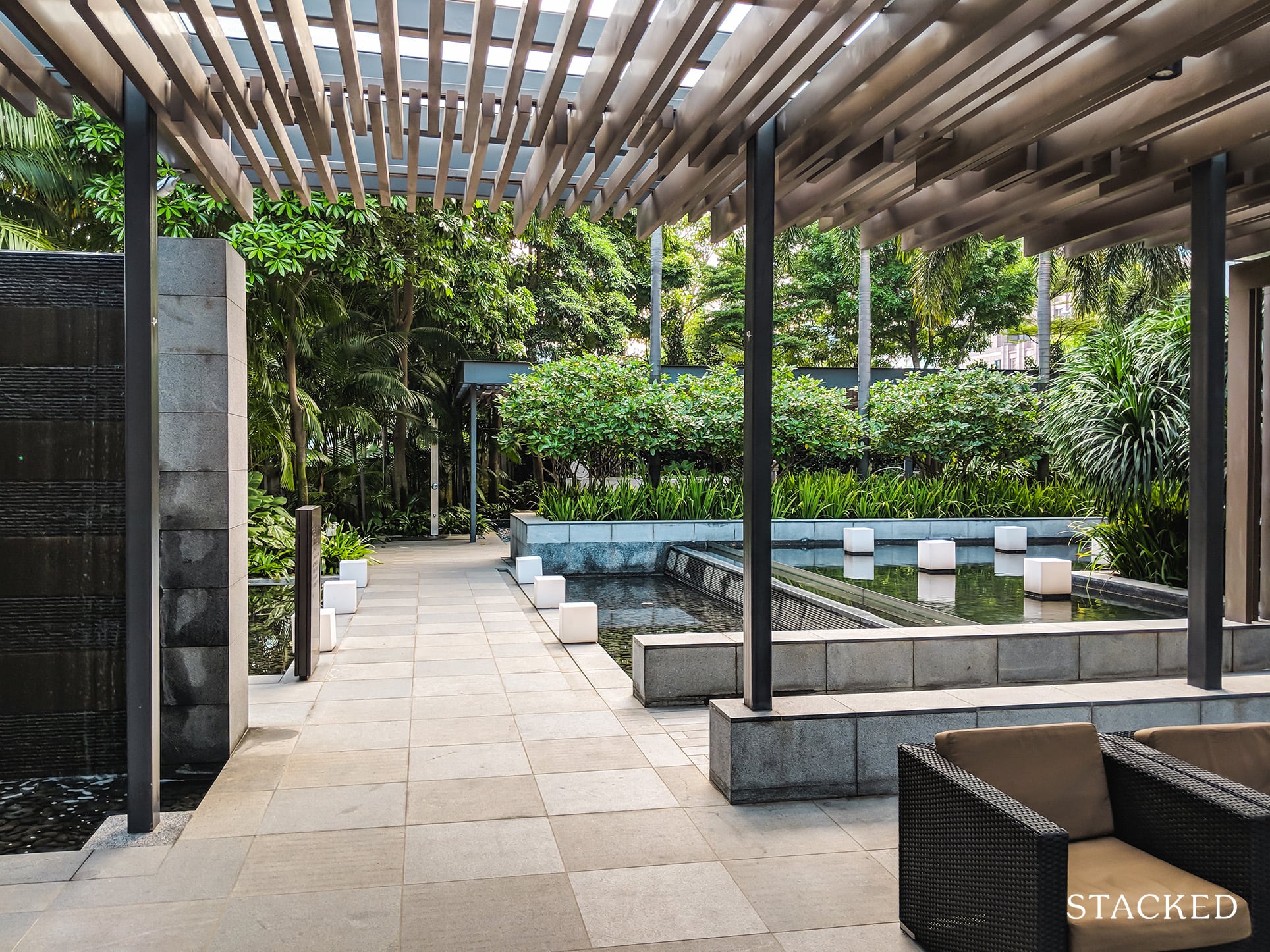 There is another dining pavilion up ahead, but before you get there, there is a large water feature.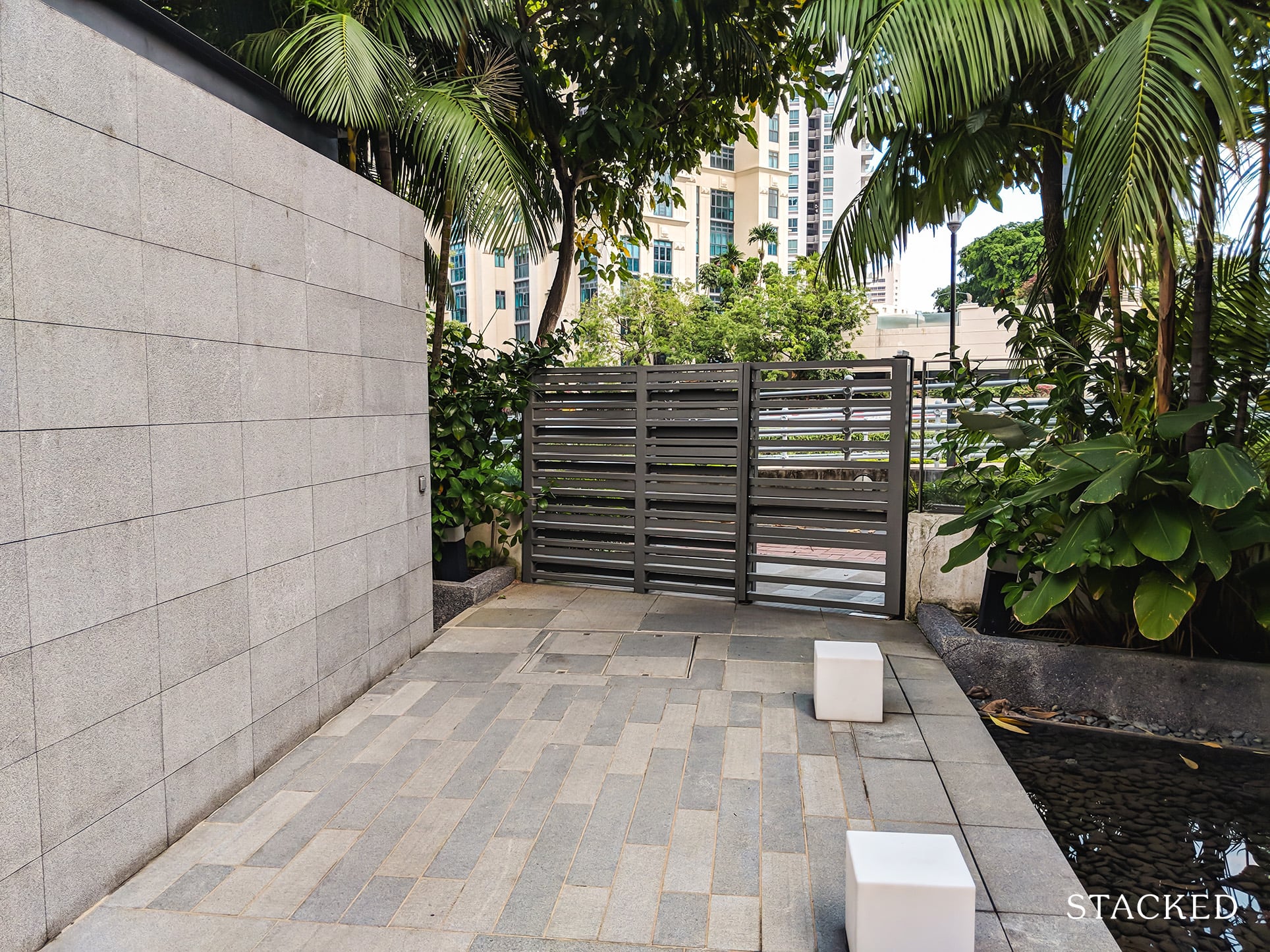 And a side gate that leads directly to the Singapore River, or towards Robertson Quay as well.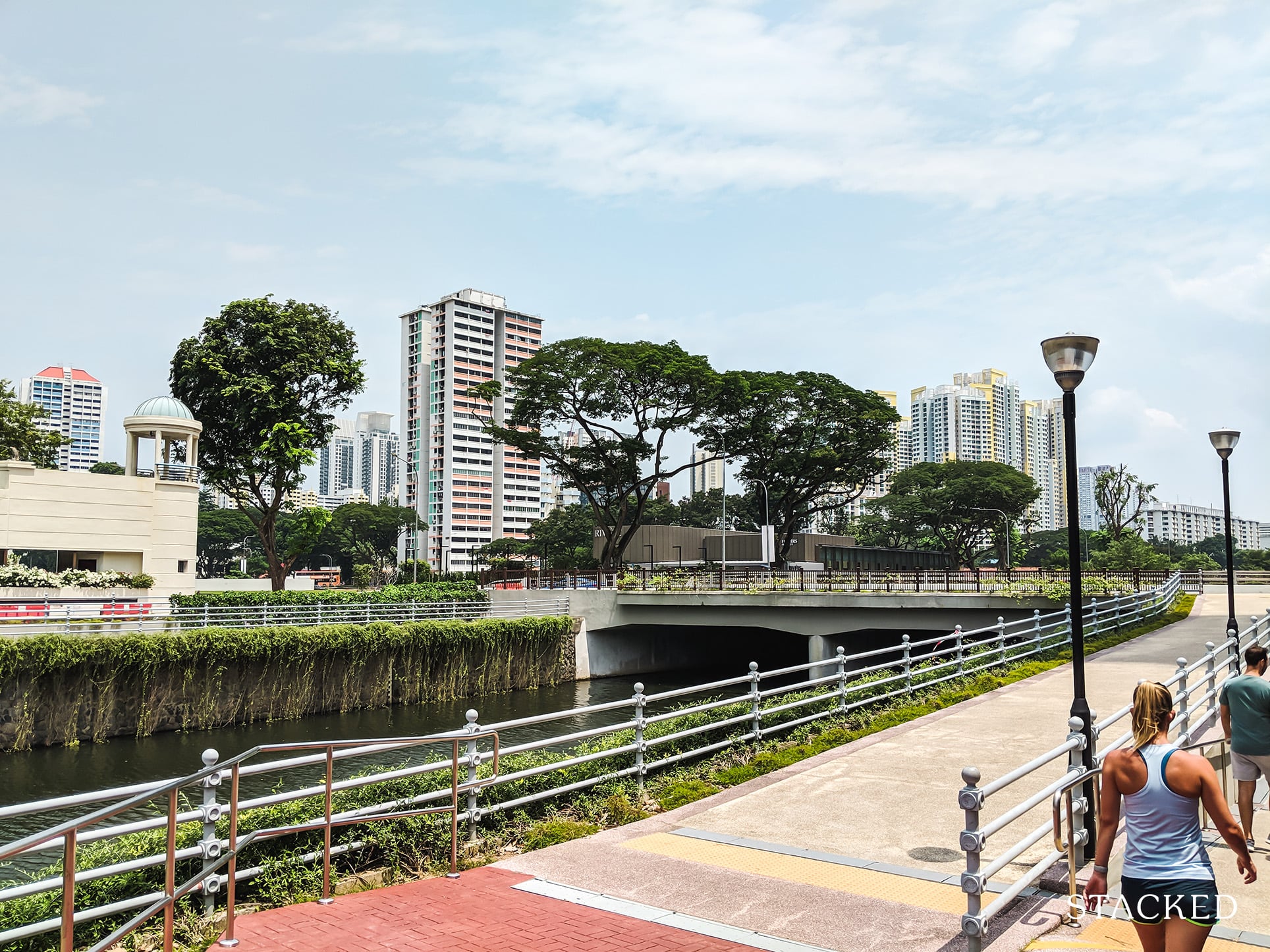 You can see from here why the Centennia Suites is sold at a premium as compared to the Trillium and Cosmpolitan condo. It's really just a doorstep away from the Singapore River, something that is unique to only very few condominiums.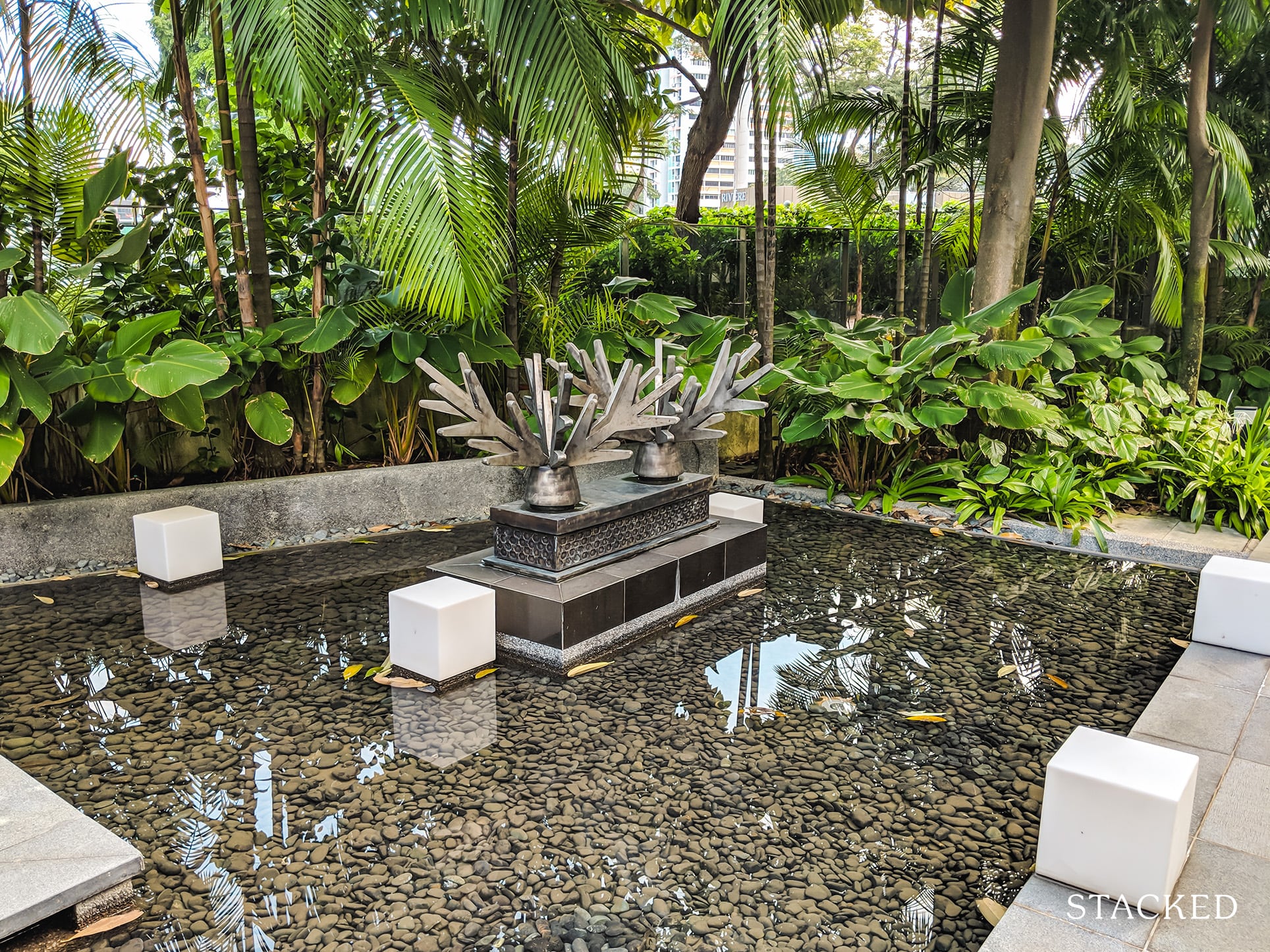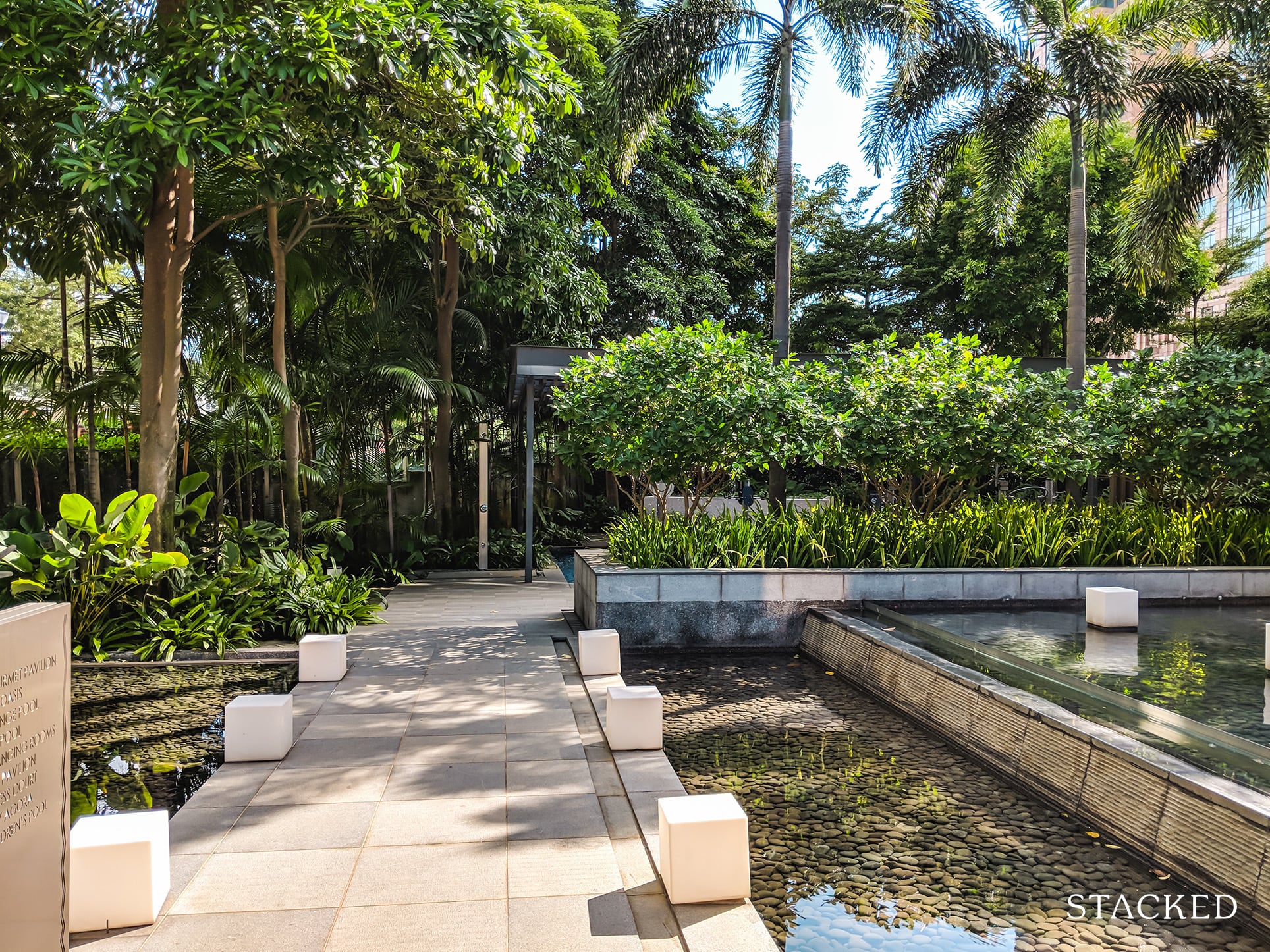 Now, back inside the Centennia Suites, after walking along the pathway flanked by two water fountains, you will get to another dining pavilion.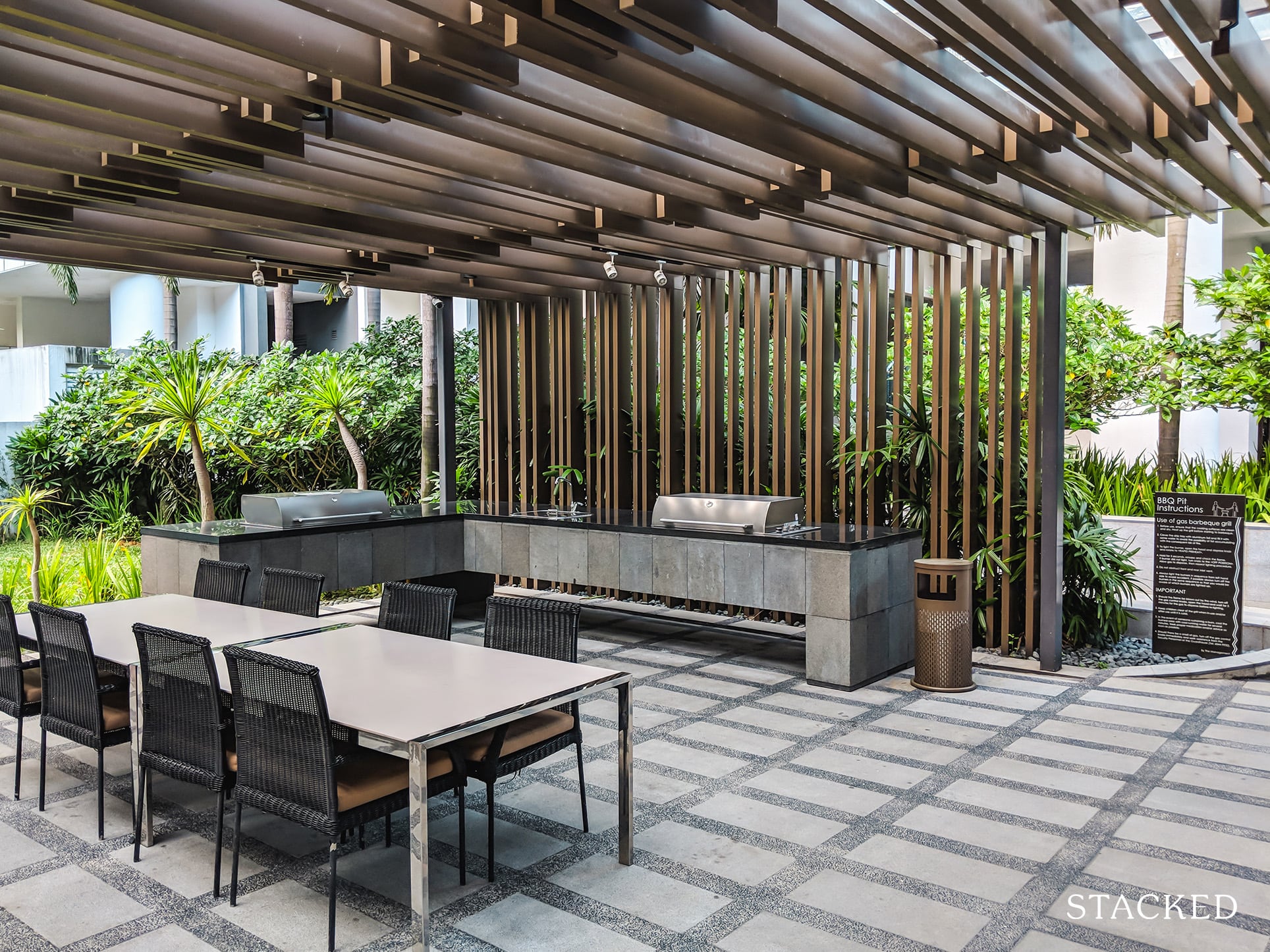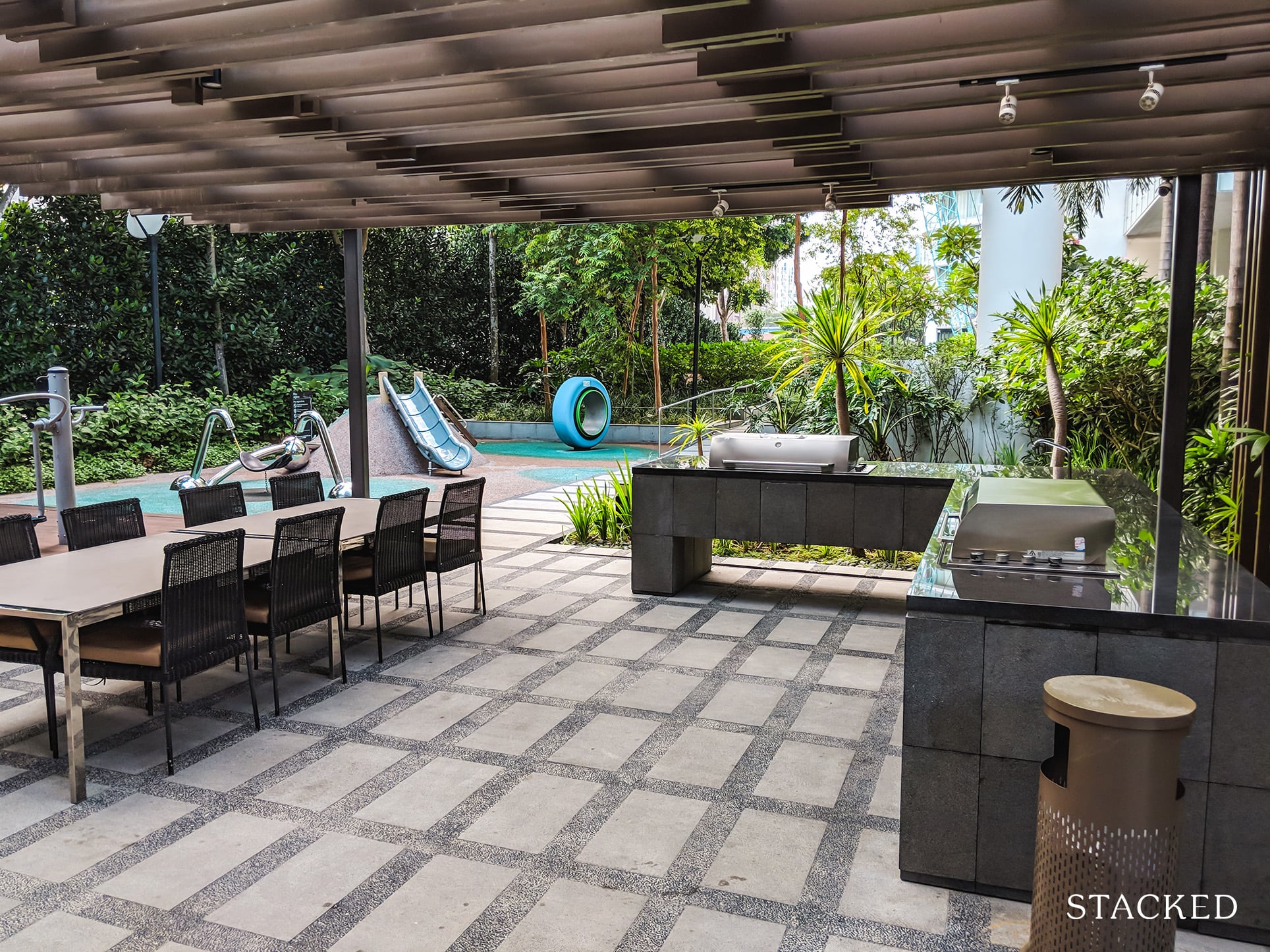 This dining area is sheltered too and has two tables with adequate seating.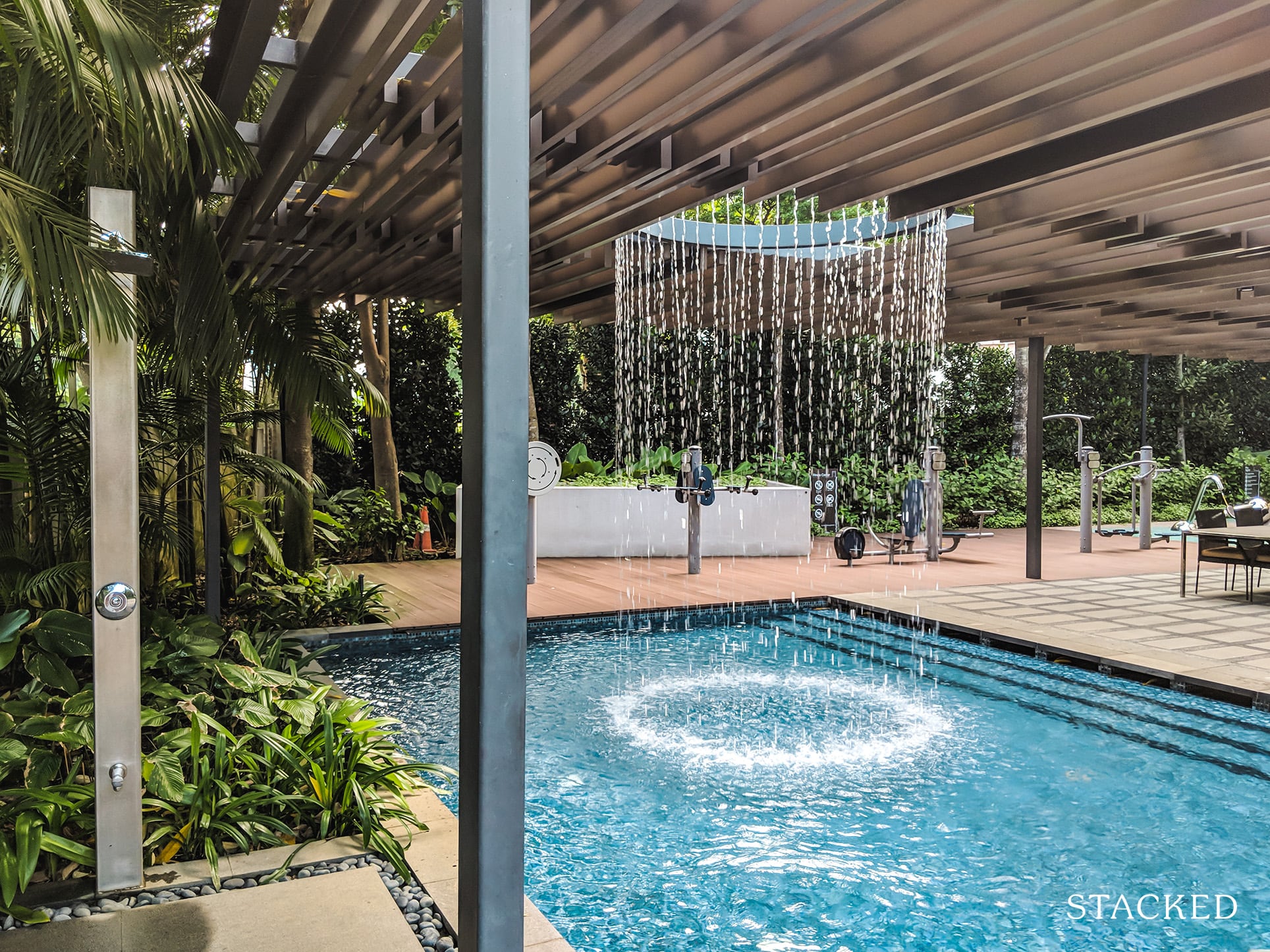 If you are planning on holding a gathering with lots of young kids present, this dining pavilion would be a good choice as there are a number of facilities around to occupy them. This wading pool area with a water fountain would no doubt be a crowd-pleaser.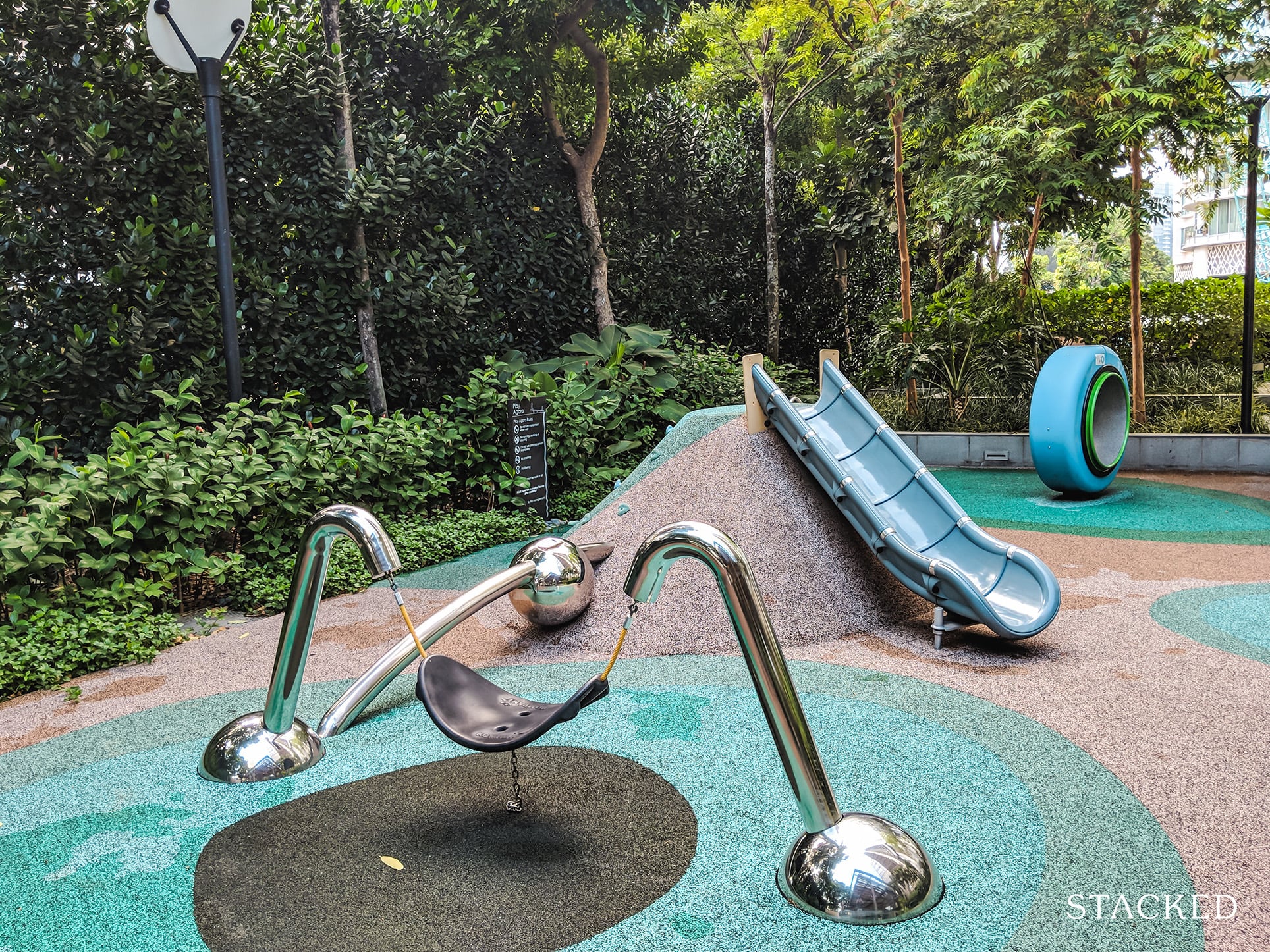 Along with a kids playground over at the side. For a development that does not have a lot of land space, this area is surprisingly quite spacious.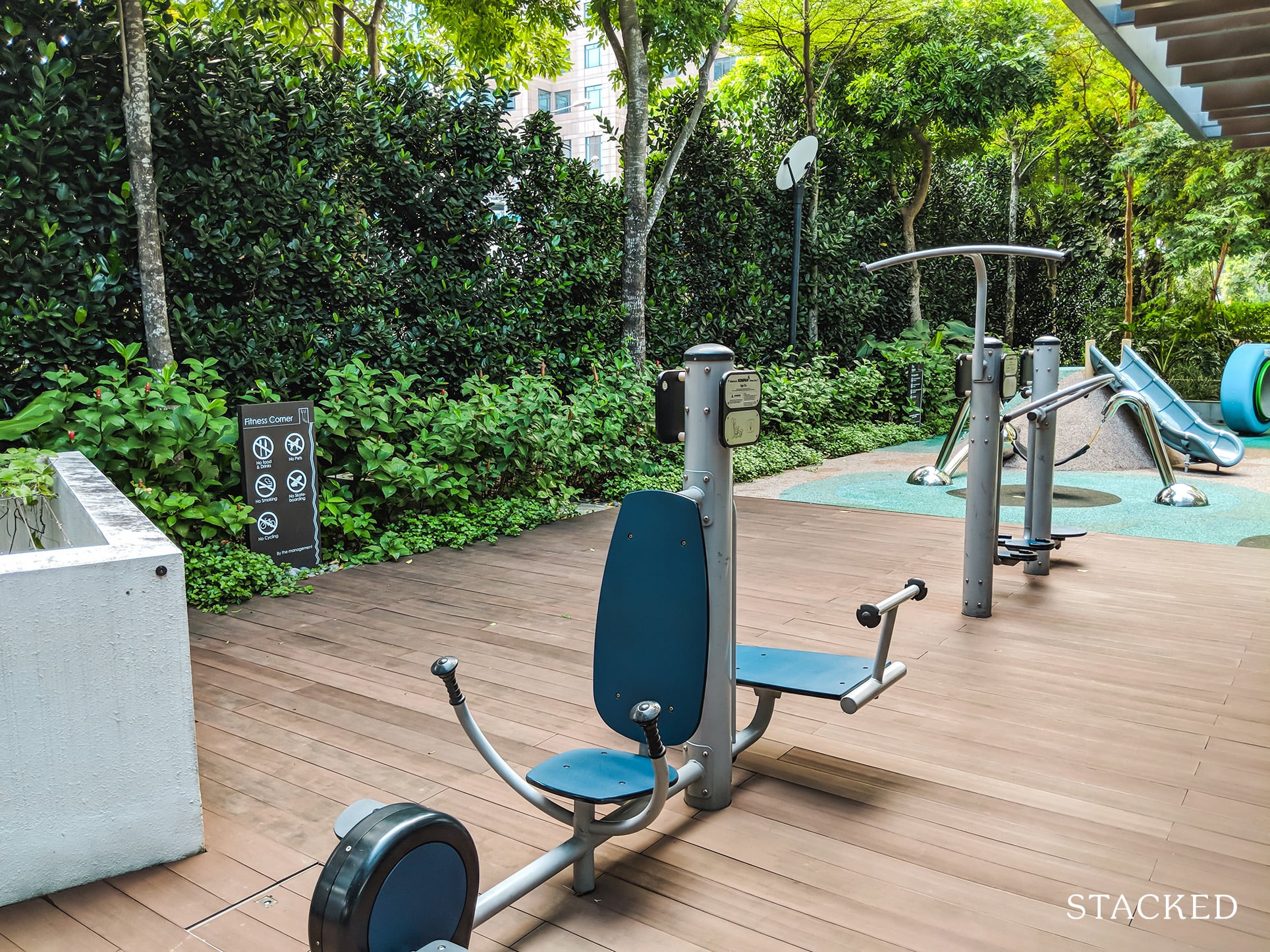 Next to the playground is an outdoor fitness station. I think judging from the clientele that would be attracted to this development this is quite out of place, and it would have been better to have a putting green or perhaps even a yoga deck.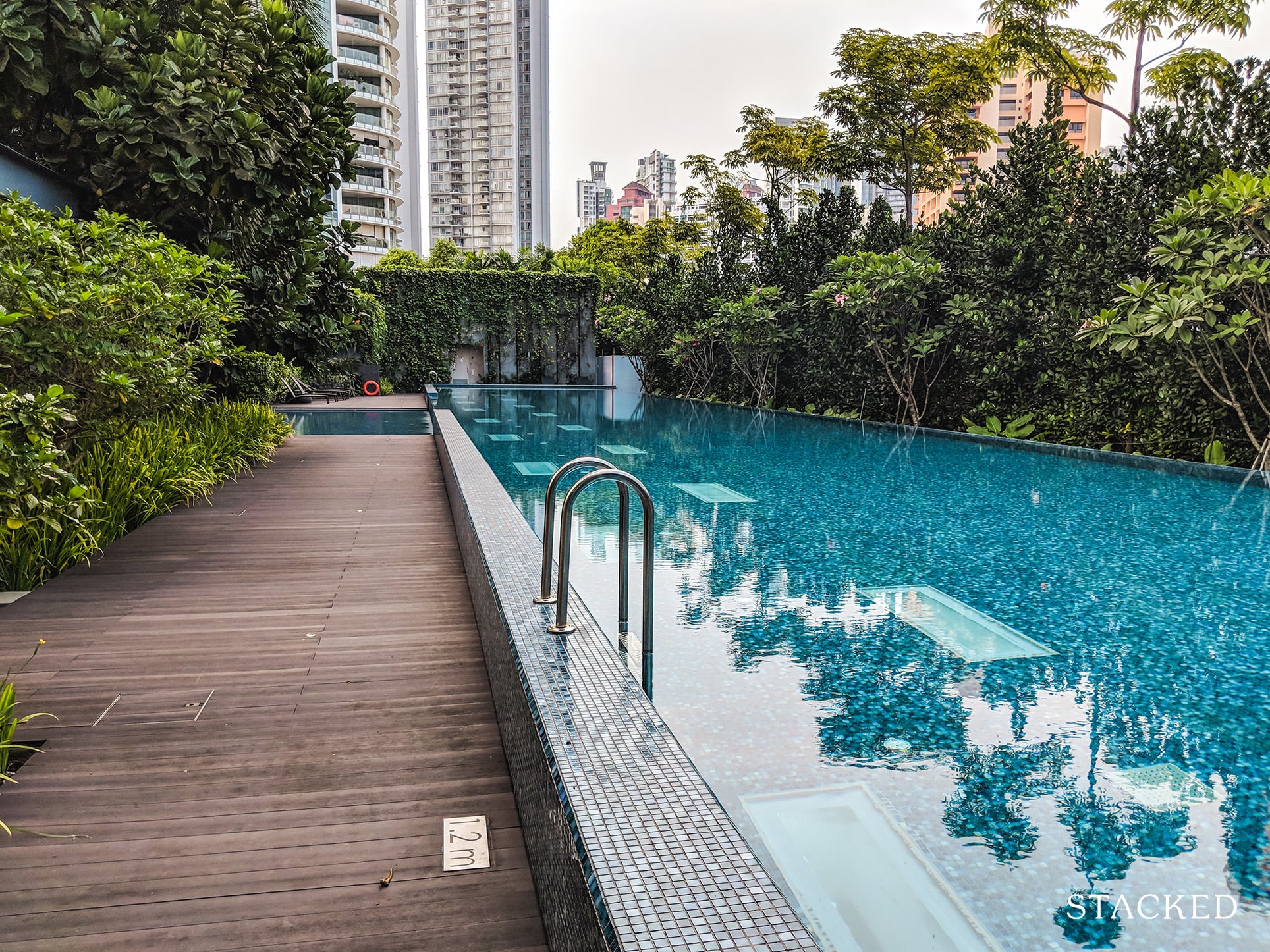 Next, onto what I think is one of the best features of the Centennia Suites, the swimming pool.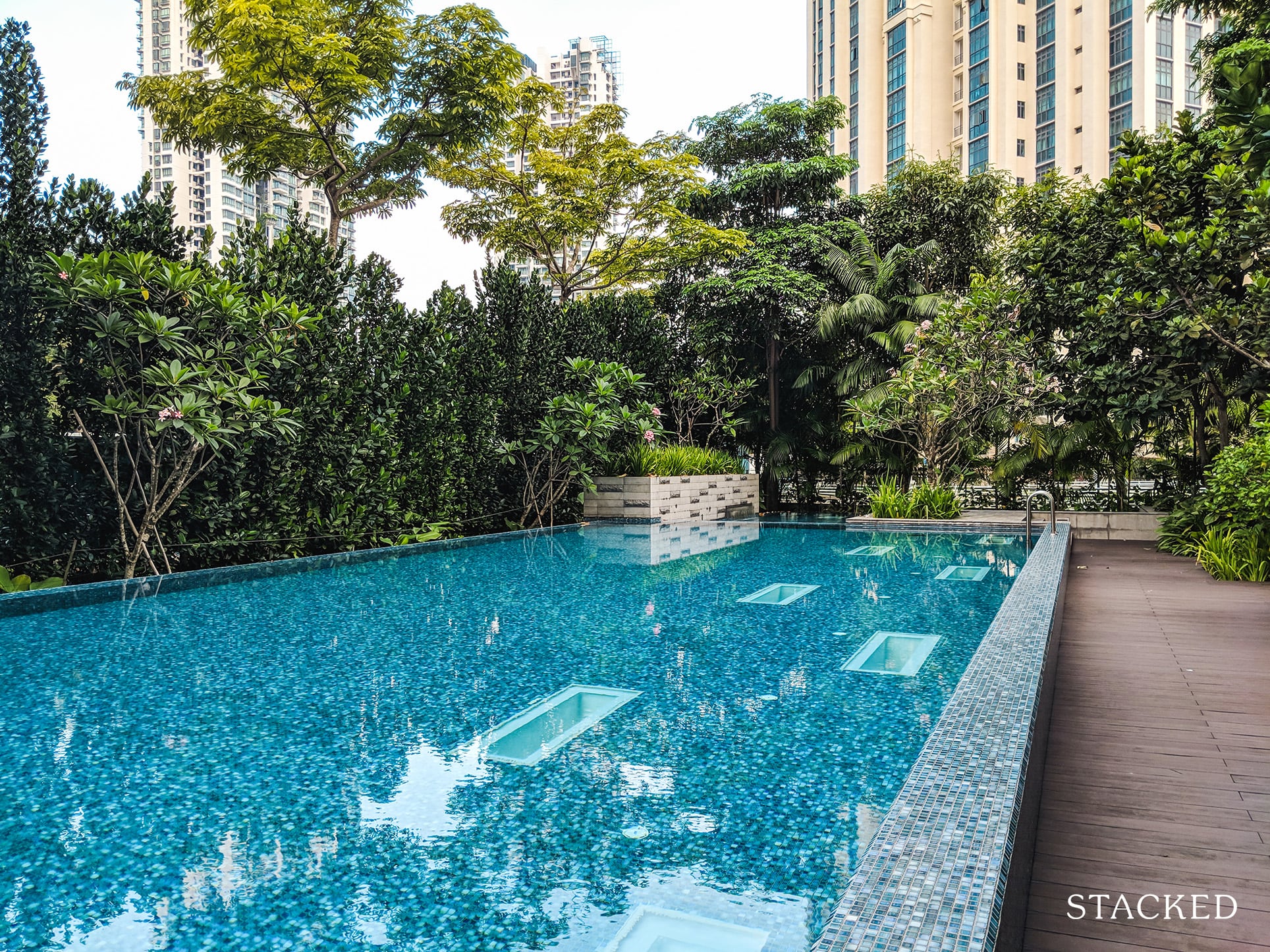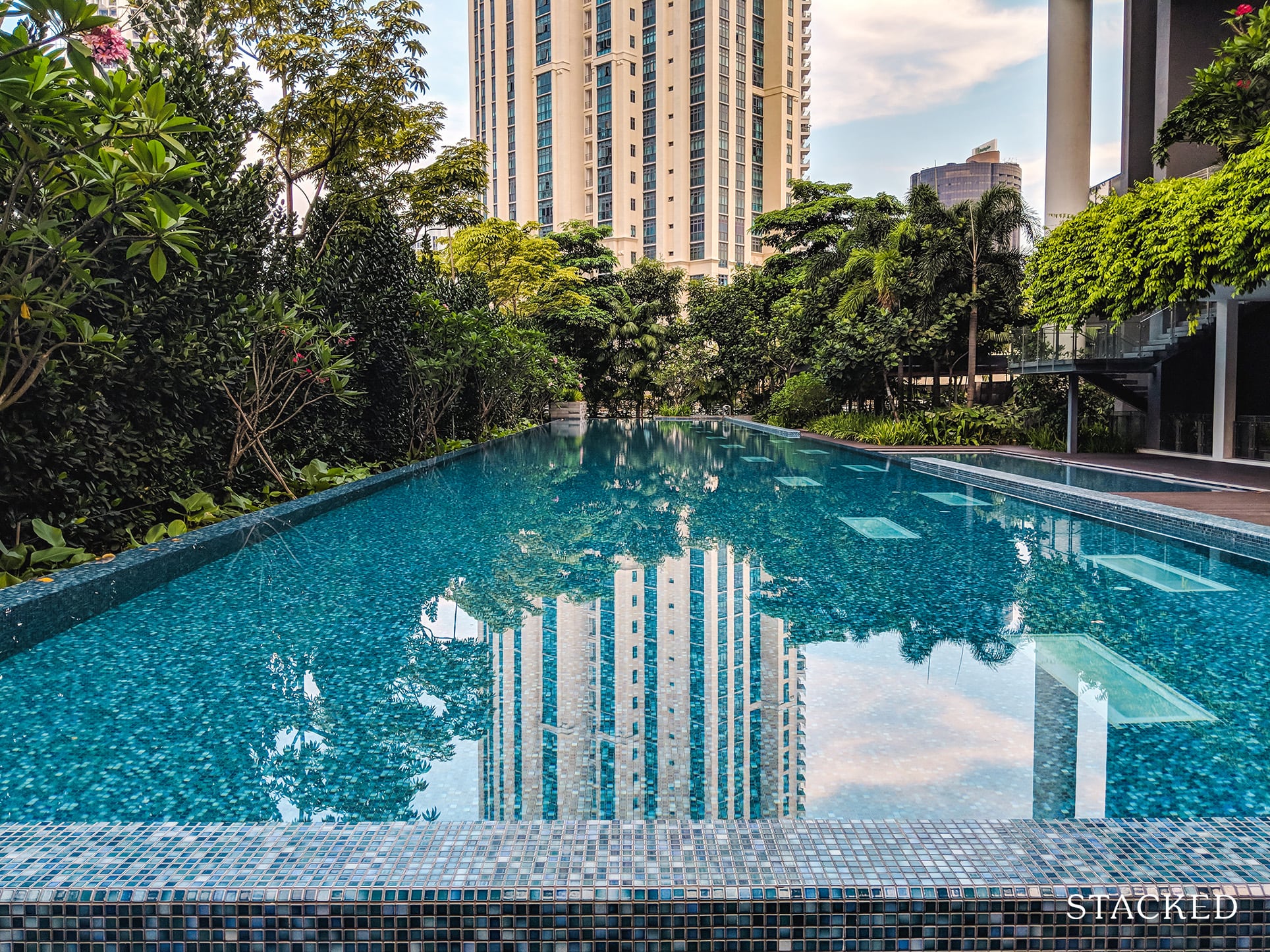 It is absolutely gorgeous, and at 50m in length for a lap pool, it is more than enough for the 97 units at the Centennia Suites. It is even more apparent when you compare with the Trillium next door, as that has a smaller pool and more than double the number of units! It is perfect for proper swimming or just to get a cool respite from Singapore's unbearable weather at times.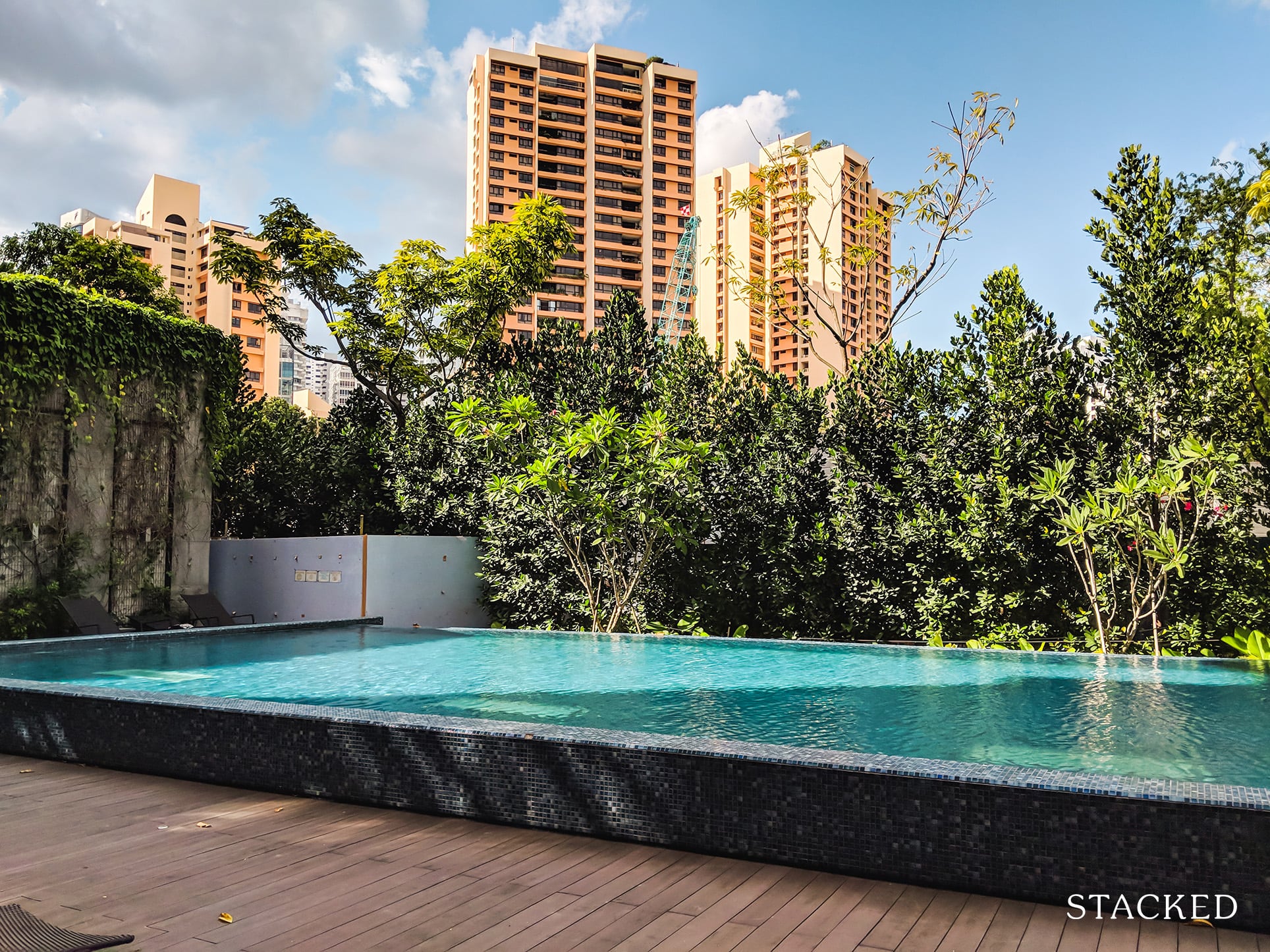 I think if you use the swimming pool a lot, this could very easily be the winning factor. Most times it would seem as if you have the whole pool to yourself, which can be incredibly relaxing and just a calm oasis in the middle of the city.
Another super point is the amount of openness that you get. Because the MRT station is just next door, you will never get another high rise development peeking in. Mirage Tower is also quite a distance away because it is separated by the Singapore River, so the privacy that you get is certainly better than average. Note that the first levels of the development are quite high up as well, so you do not get your neighbours being able to peer directly at you while you are swimming. Something quite common in many other developments.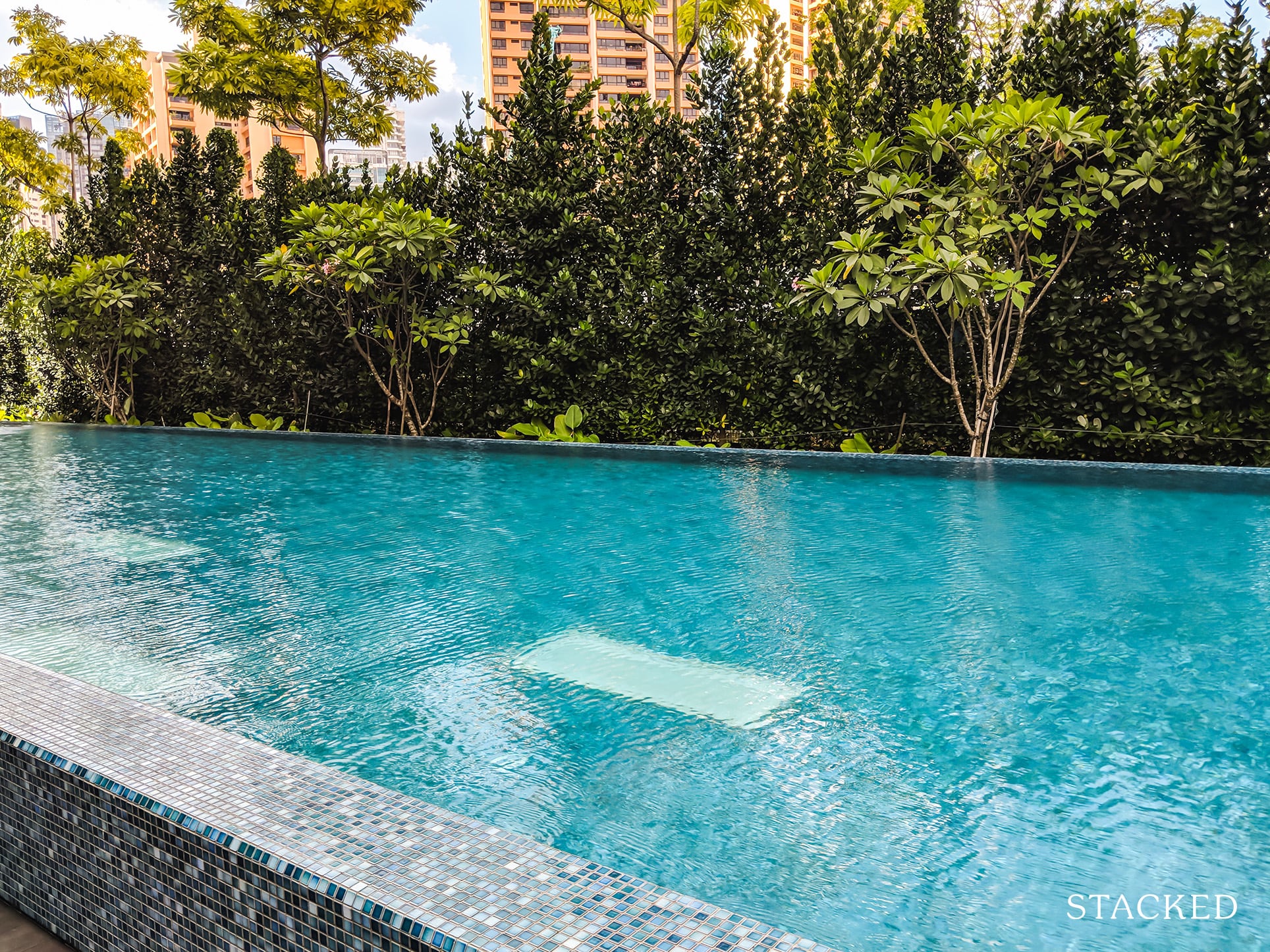 The pool is flanked by lots of trees too, which provides a great deal of privacy as in the future behind it would be the park connector to Kim Seng Park.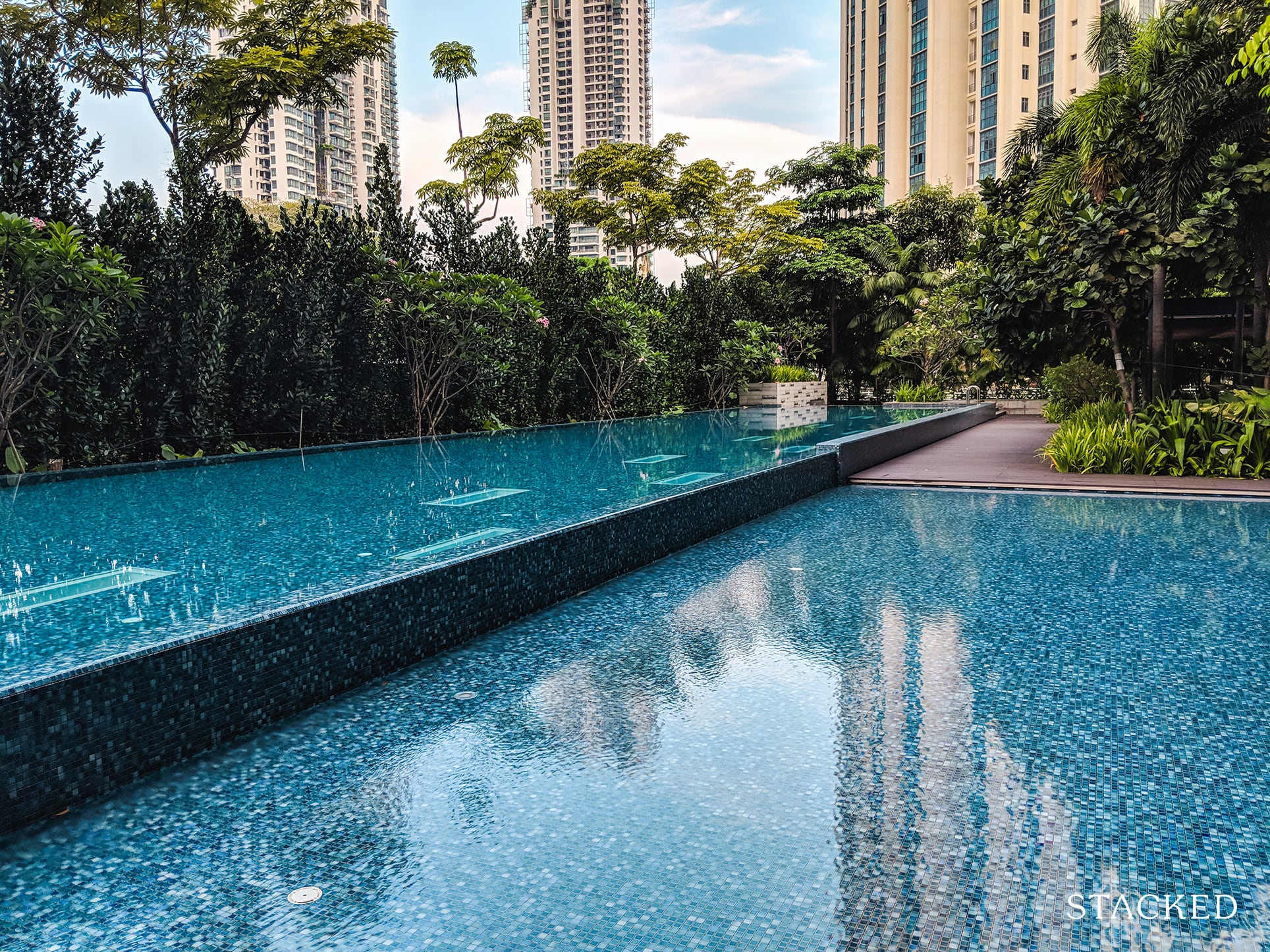 I like that there is also a very shallow wading pool next to the main lap pool for kids to splash about. All in all, the swimming pool here is well executed. The ambience and surroundings feel special and you won't for a second think this is anything other than a luxe development. After all, the developers had to come up with something special to make up for the lack of a tennis court here.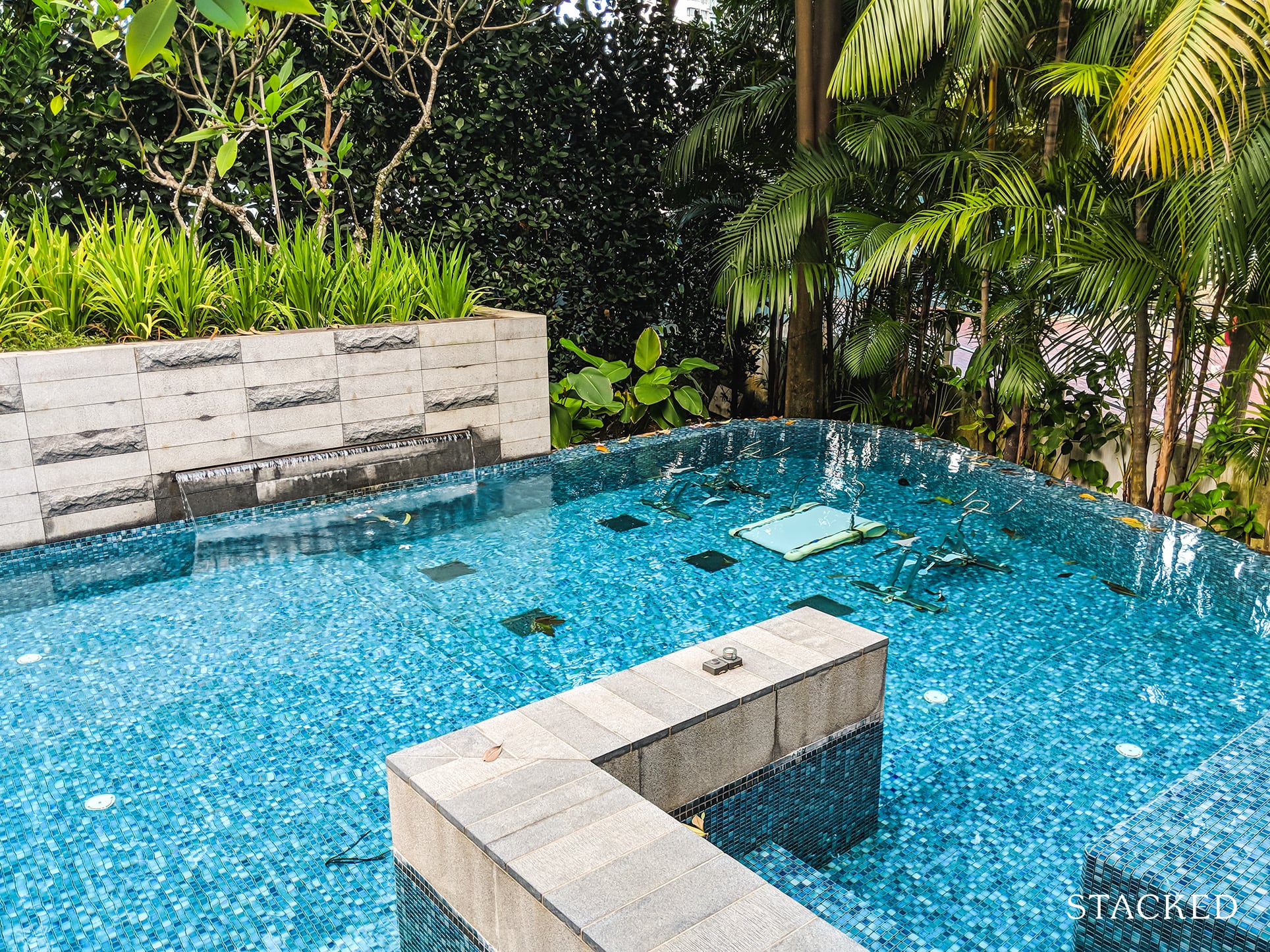 Over at the far end is the aqua gym and a private corner for the jacuzzi.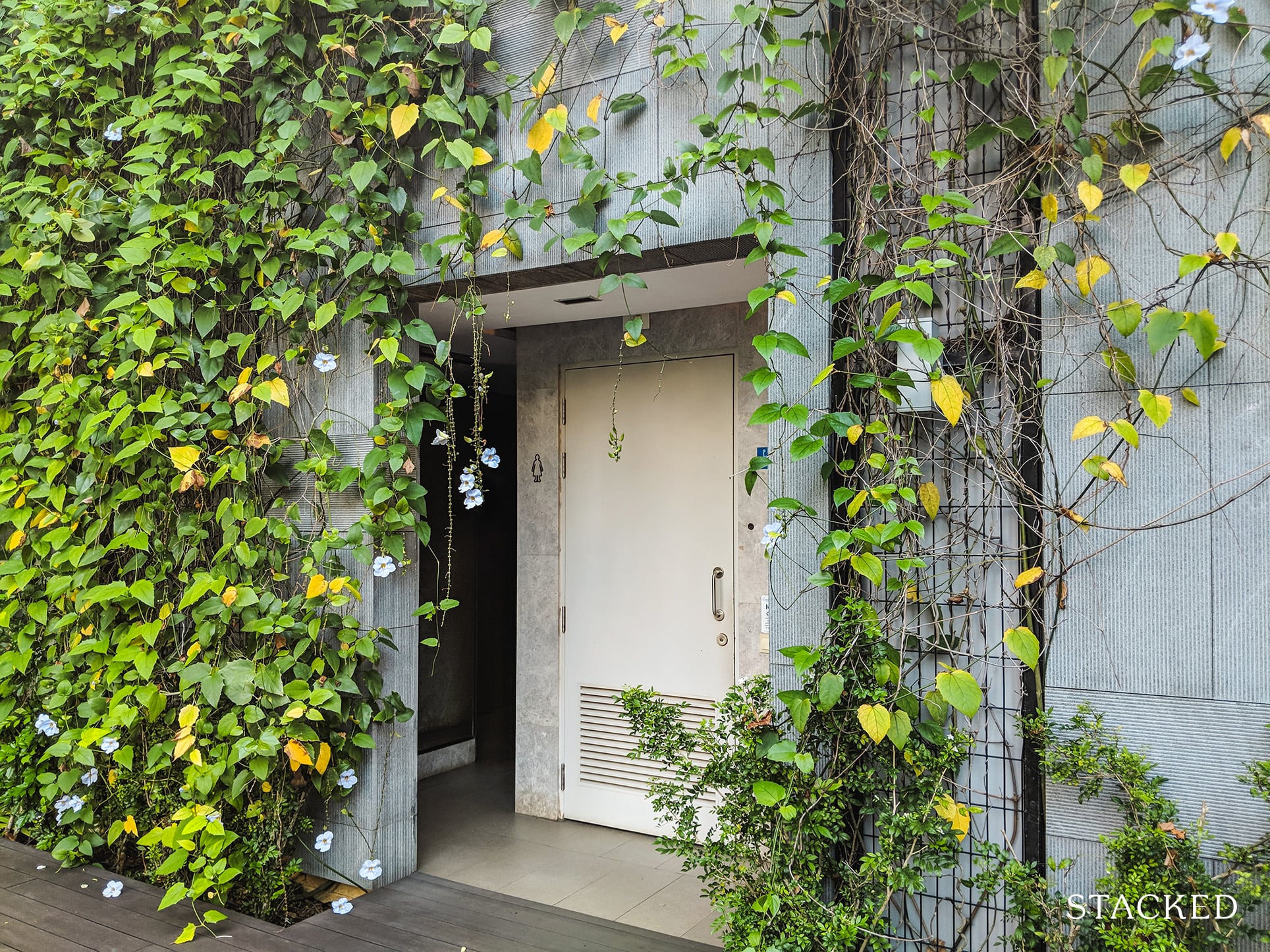 The shower area at the pool is surrounded by creepers, and the surrounding greens really add to the look of the place.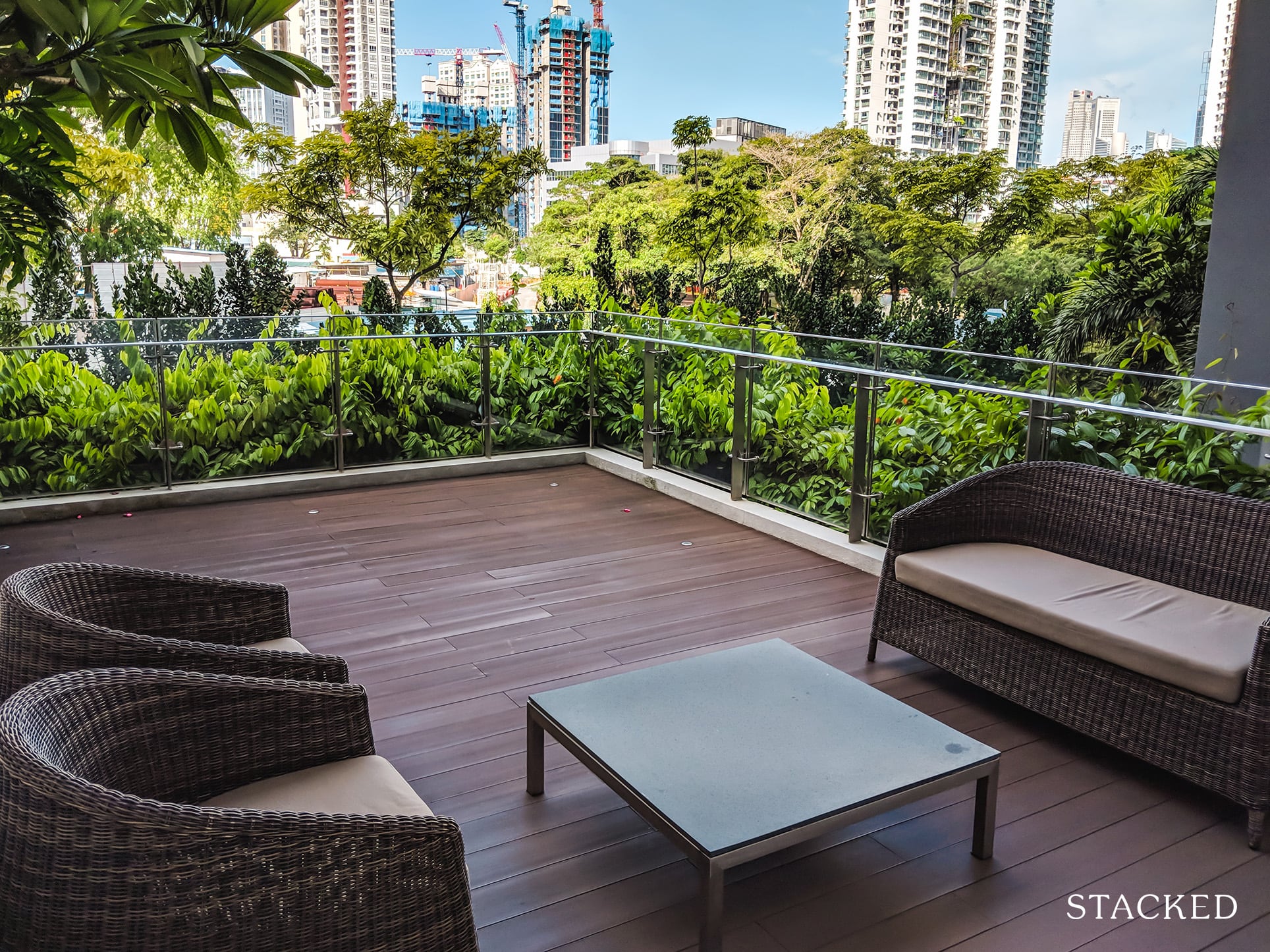 You can also go up to the second level where there is an open deck and some sofa and couches to just chill.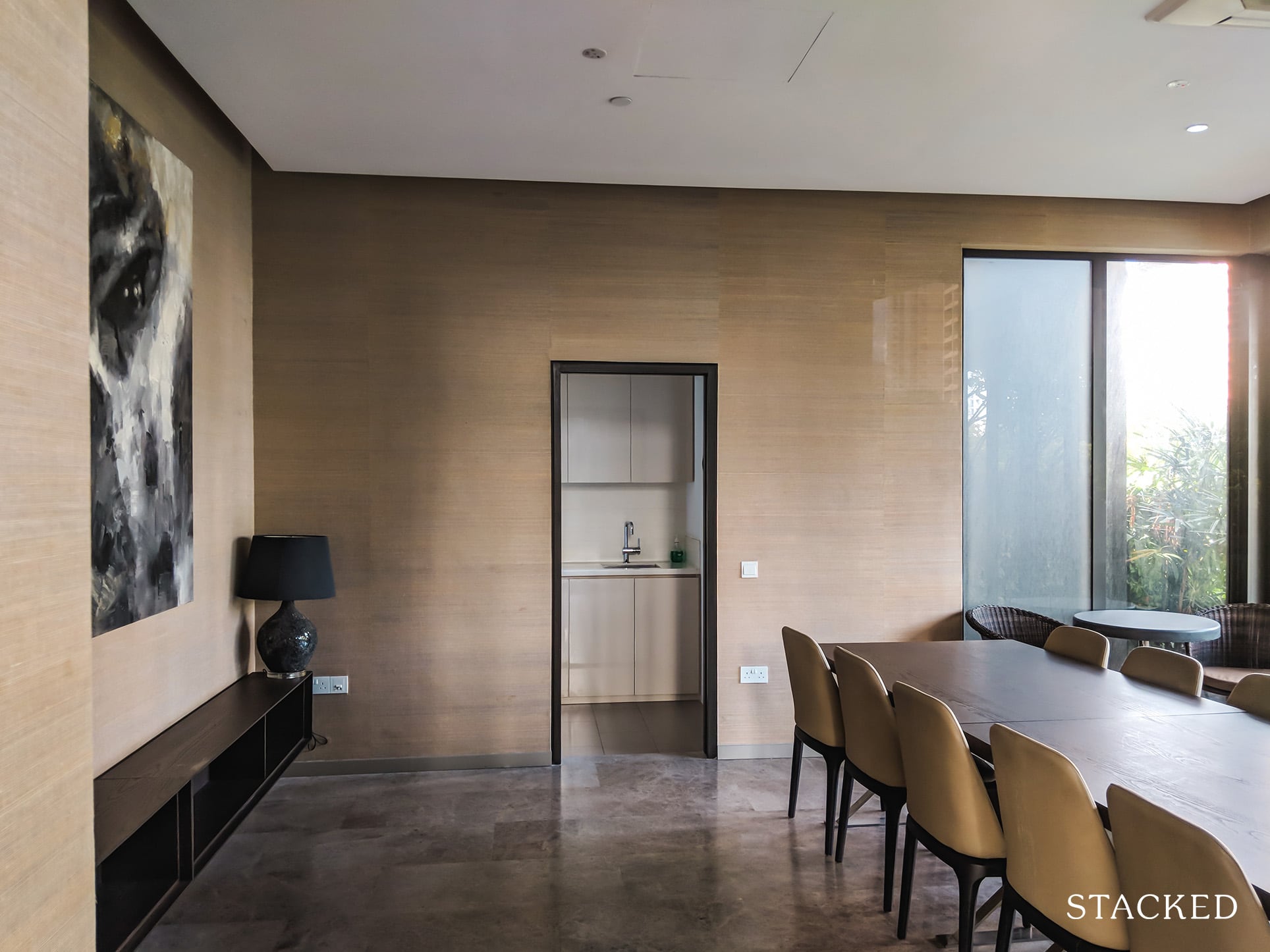 On the same level, there is a well-sized function room, with a long time and quite a lot of seating. More importantly, there is a kitchenette behind so this is a great space for you to entertain your guests.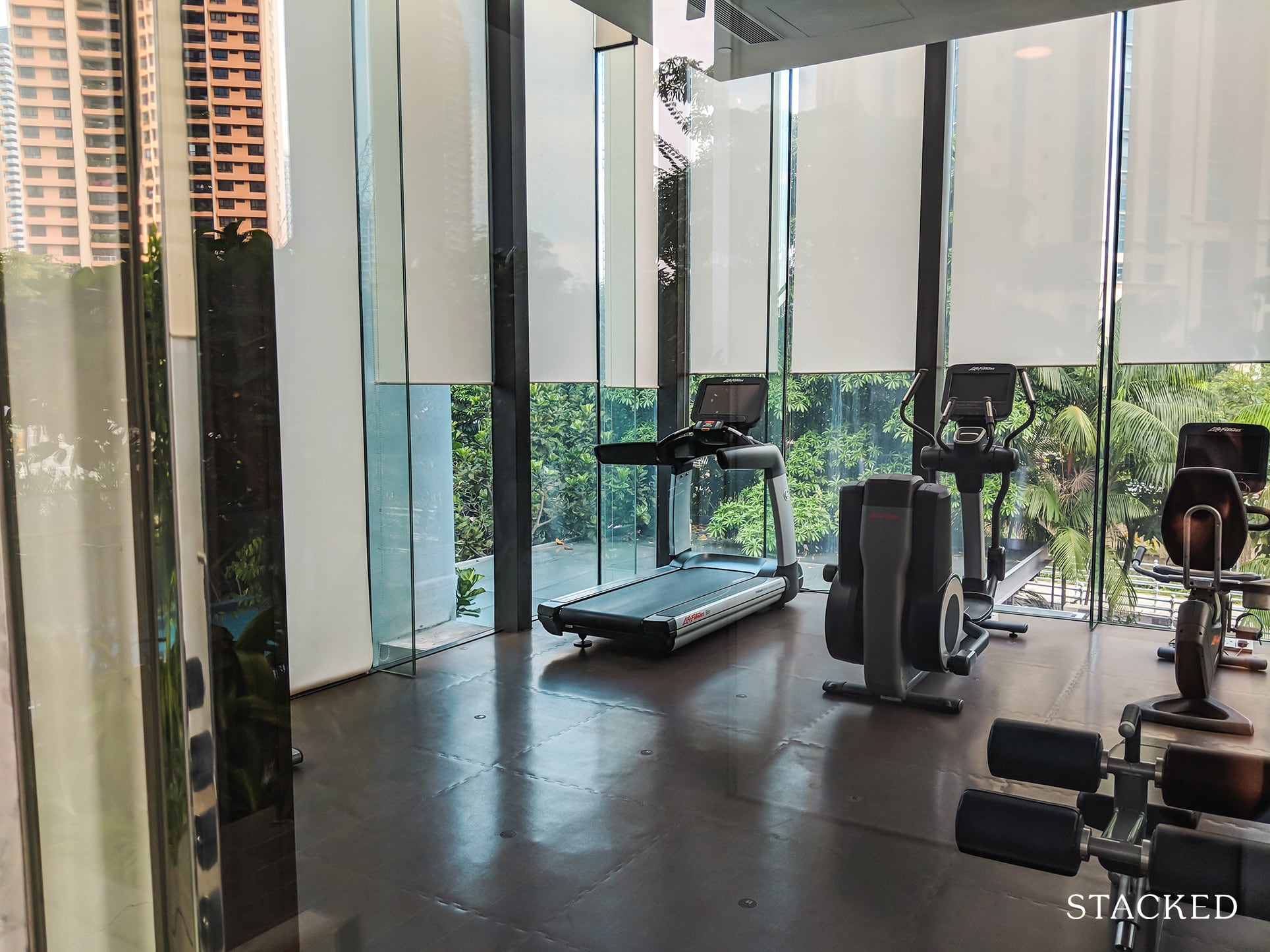 The gym is at the other end of the second level and has floor to ceiling windows which is an awesome idea here as it shows off the view of the Singapore River. I like that the gym is completely surrounded by windows as it just makes it look more open and bright. If I had to nitpick, I would say that the flooring could have been made of a better-looking material. Also, the weights in the gym do not go very heavy so don't expect to do any heavy-duty weight lifting in here.
Centennia Suites Location Review
I think along with the Trillium condo, the Centennia Suites certainly makes a strong case for the best location to live in River Valley. As you would know by now, the Great World MRT station is right outside the development and is slated to be completed in 2021. This makes it ultra-convenient to access and be connected easily to most places in Singapore. It's worth noting that as the completion date is still some time away, you do have to consider the construction noise that goes on during the day. But as the saying goes, all good things are worth waiting for!
The Great World MRT station is located on the Thomson-East Coast Line, and one of the perks here is that Orchard is just a stop away. I like that there is the option of getting to town super easily, without having to deal with the hustle and bustle of Orchard Road. Even for residents who drive that are staying in the Centennia Suites might actually find it much more convenient to take the train in the future. Because the train station is right outside, it is a quick hop in and out, with no need to deal with any traffic jam or fight for carpark space.
Although Great World MRT is not an interchange, because of its central location, most other lines are easily connected at just a stop or two away. So for example, Orchard connects you to the North-South Line, Outram to East-West and North-East Line and two stops down at Stevens get you to the Downtown Line as well. The biggest draw of the Thomson-East Coast Line is probably its connectivity to the East. Now, it is just a straight train to places like Tanjong Katong and Marine Parade. So now you can get your gastronomic adventures fulfilled in the culinary destination that is the East!
Probably another big draw to the location of the Centennia Suites is that the Central Business District is within easy reach. Again, because of the Thomson-East Coast Line, you have a direct train to the CBD. Of course, for ultimate convenience, it would be best to live directly in the city itself but not everyone would like to live where they work. So for those that want a good blend of convenience and a certain living lifestyle, I think that this location is a fantastic option.
Ultimately, let's not forget that most people living here would be reliant on driving as their primary mode of transport. And in that sense, the Centennia Suites has that covered very well. Kim Seng Road and River Valley Road are major roads that will get you to places like Orchard and the CBD fairly easily. Proximity to the highways are just a little further than usual and you are relegated to the CTE, which is quite regularly jammed up. But living so centrally mitigates that, so unless you use the highways daily to get to work this should not be a problem for most people.
This might not apply to everyone, but to me, one of the best points of the Centennia Suites location is that you have direct access to the Singapore River, and along with it all the lifestyle benefits that you get being close to the Robertson Quay stretch.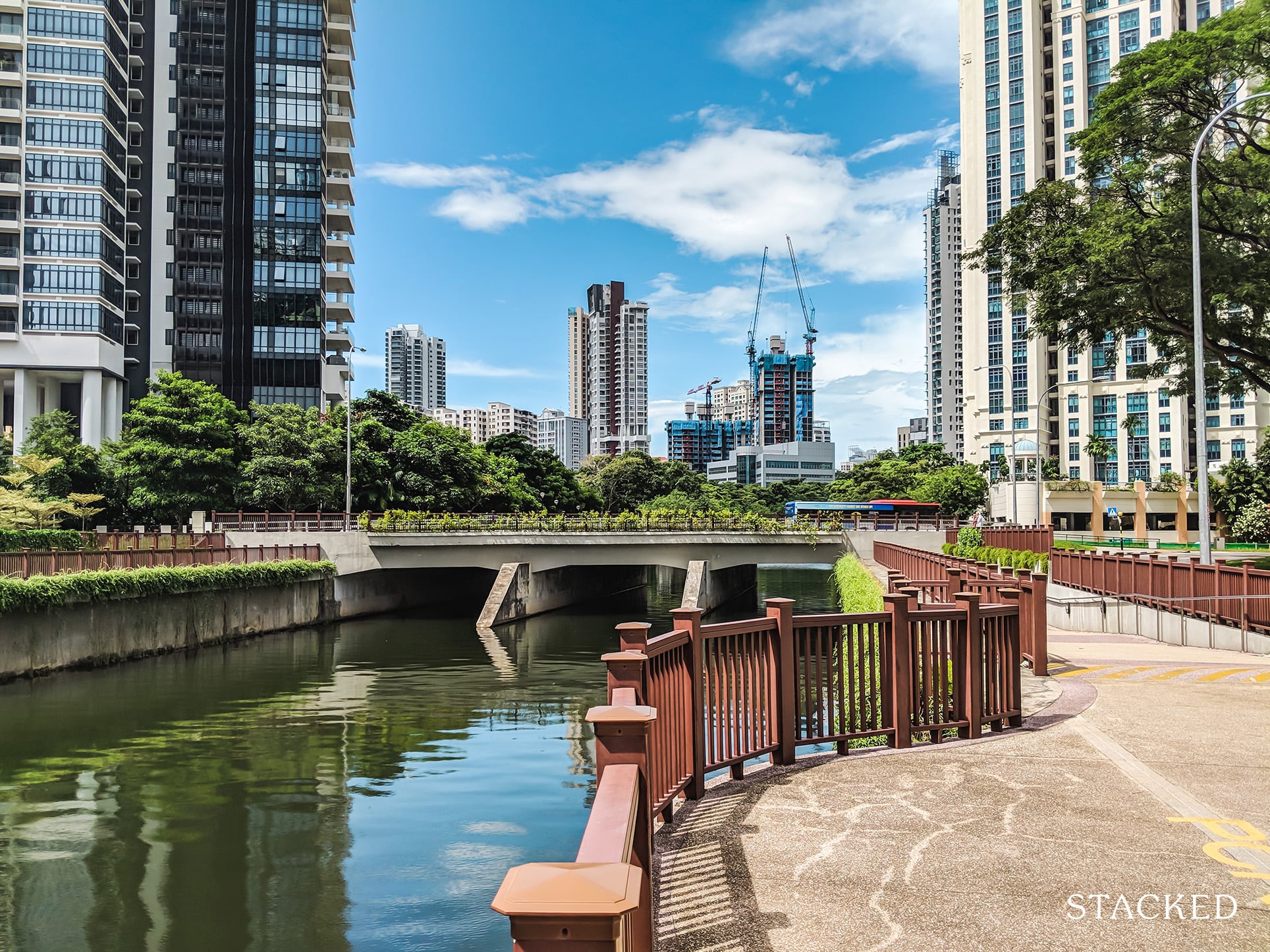 As mentioned during the tour of the Centennia Suites, from the side gate you get immediate access to the Kim Seng Park connector. I love that you have this option of a scenic walk along the Singapore River as and when you please. Although it isn't as picturesque as other waterways around the world, there is still something very calming to be able to walk along a river after a long day at work. Certainly something not many other developments can boast about!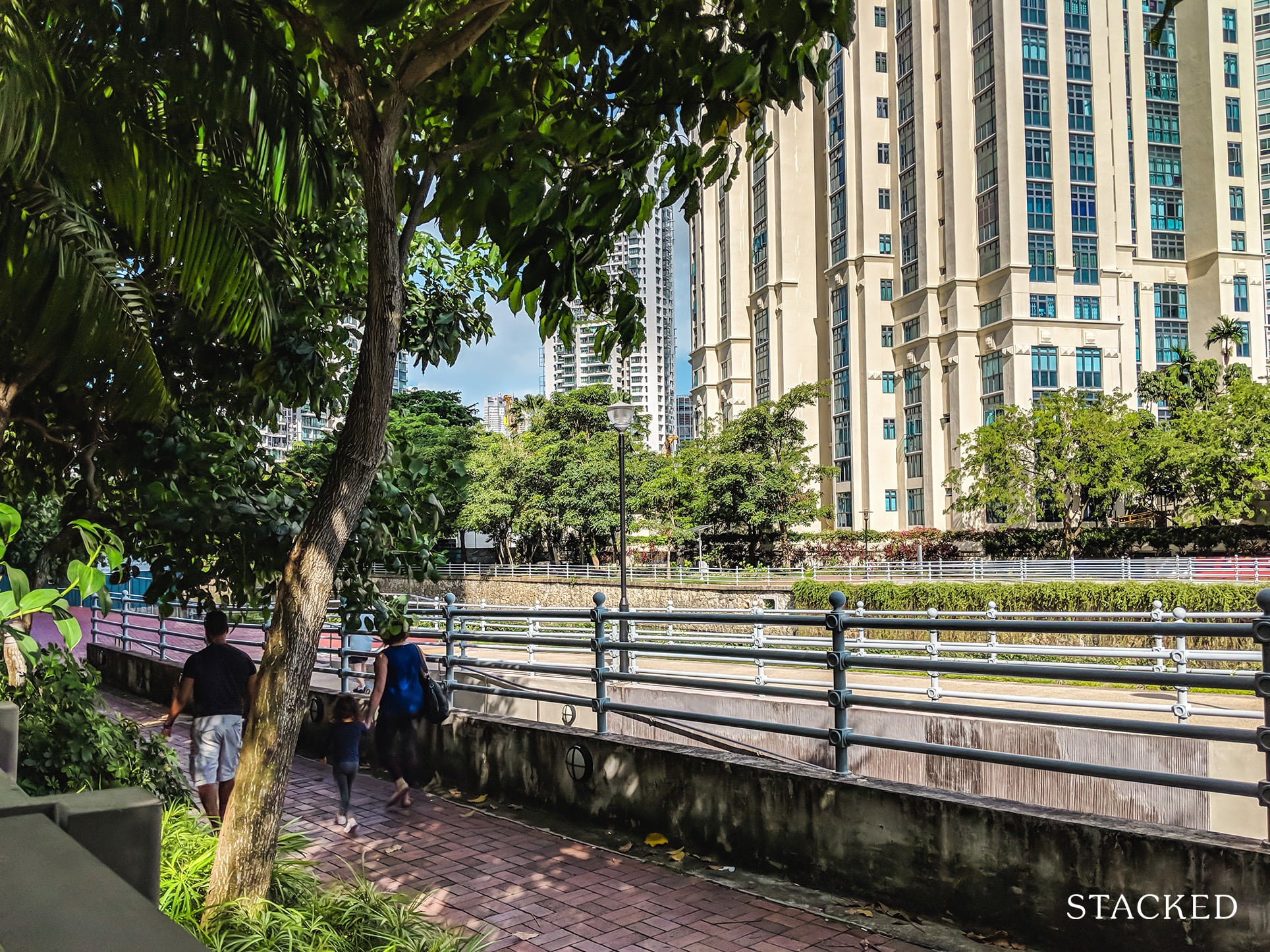 If you turn left upon exiting the side gate, it's just a short walk down towards the Robertson Quay area.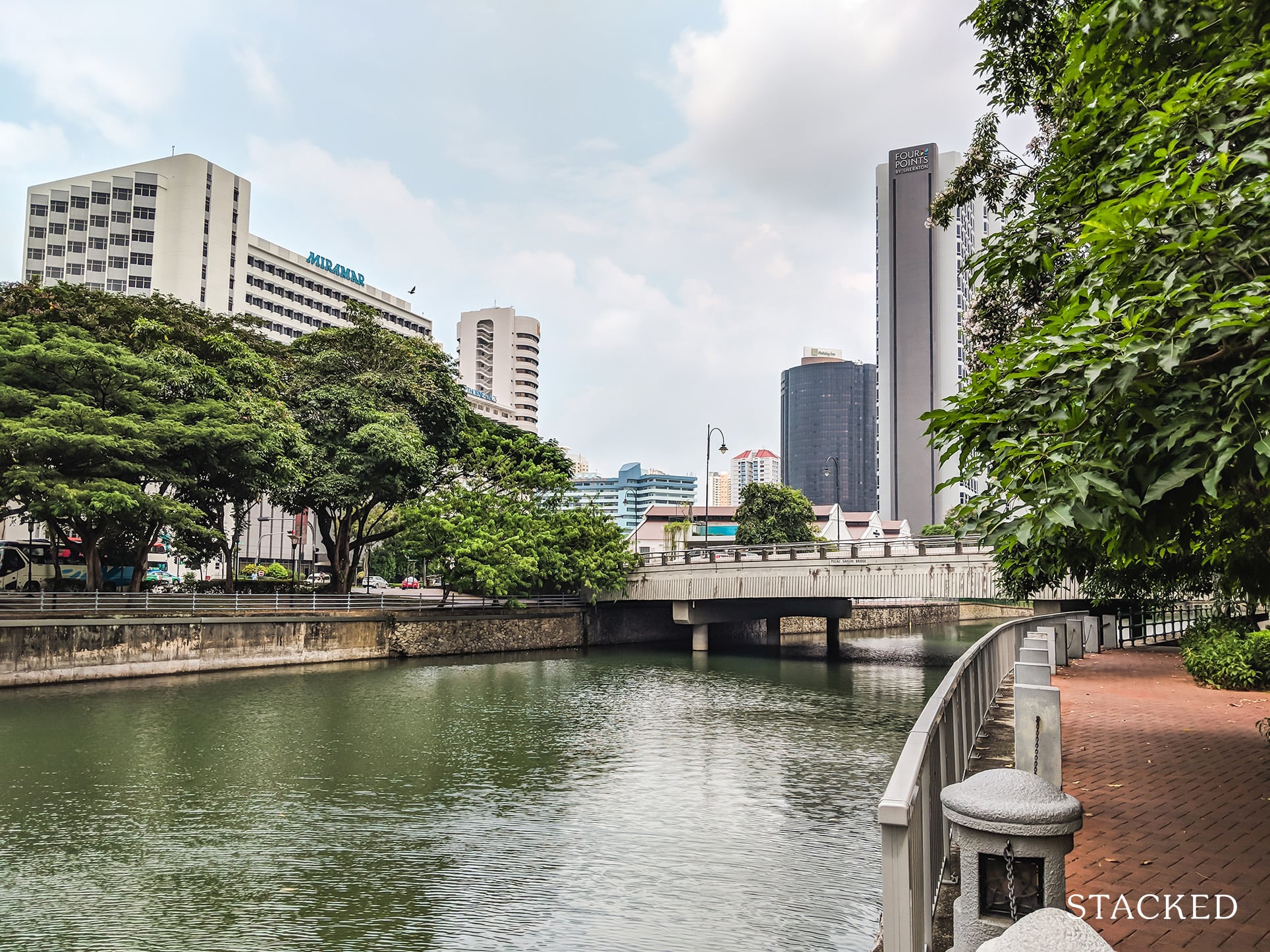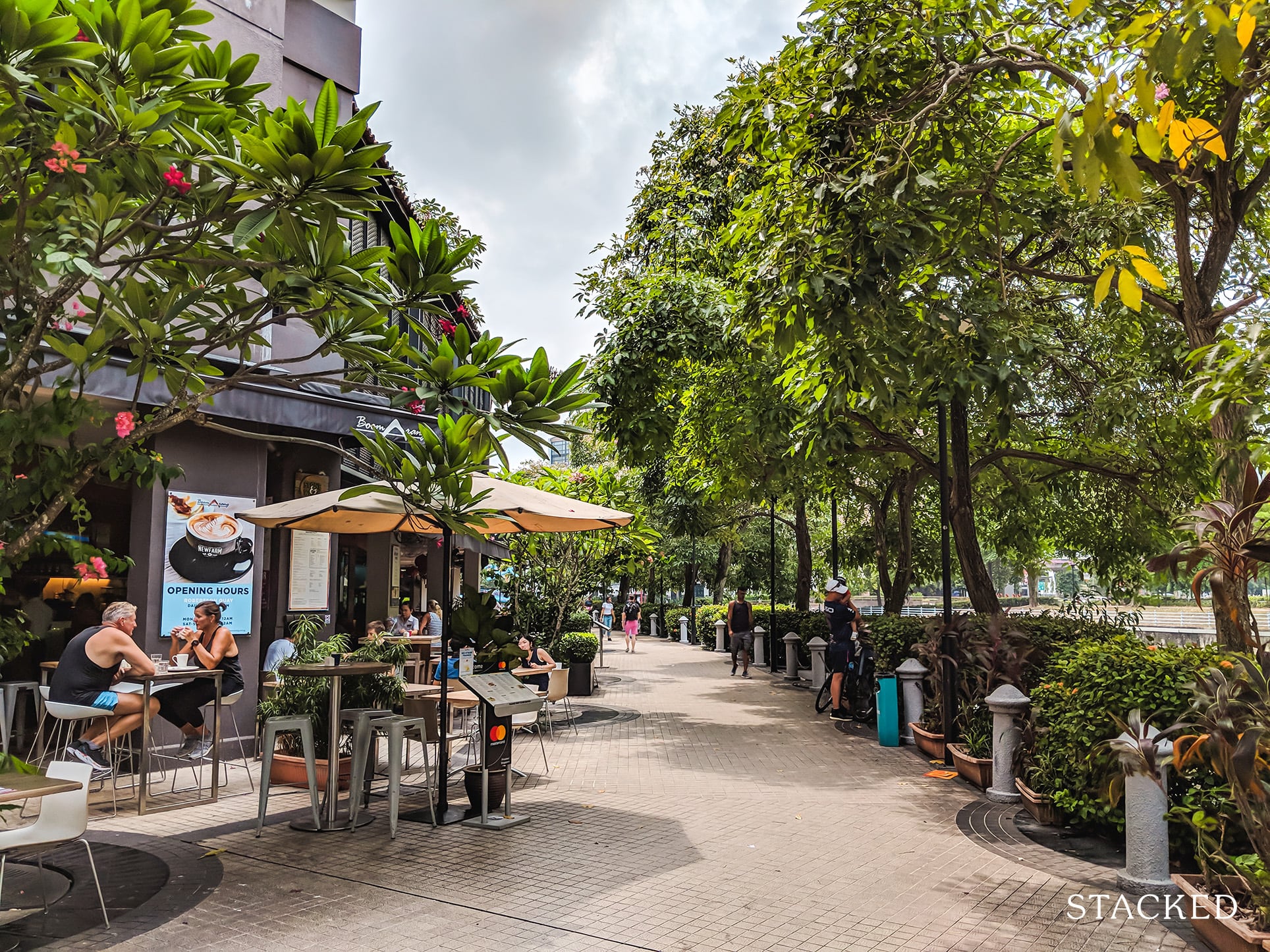 The walk to Robertson Quay takes about 8 to 10 minutes and is a very pleasant one indeed because of the sights along the Singapore River. Unless you are a retiree that plans on spending every afternoon relaxing at the cafes here, I think that it is close enough to be able to enjoy the weekends having brunch or even a late-night out at the many restaurants and bars.
Robertson Quay is a hotspot for expats and younger families and it is not difficult to see why. It offers a very idyllic lifestyle without being overly stuffy, which is why it is such an attractive place for them. So renting your unit out here would not be an issue at all, because of the lifestyle options that living here would provide.
Most of you would already know this, but I think the best thing by far is that Great World City Shopping Centre is right opposite the development. Even before the updates to the place, it was more than adequate as you had amenities like a food court and even a Golden Village for movie buffs to enjoy.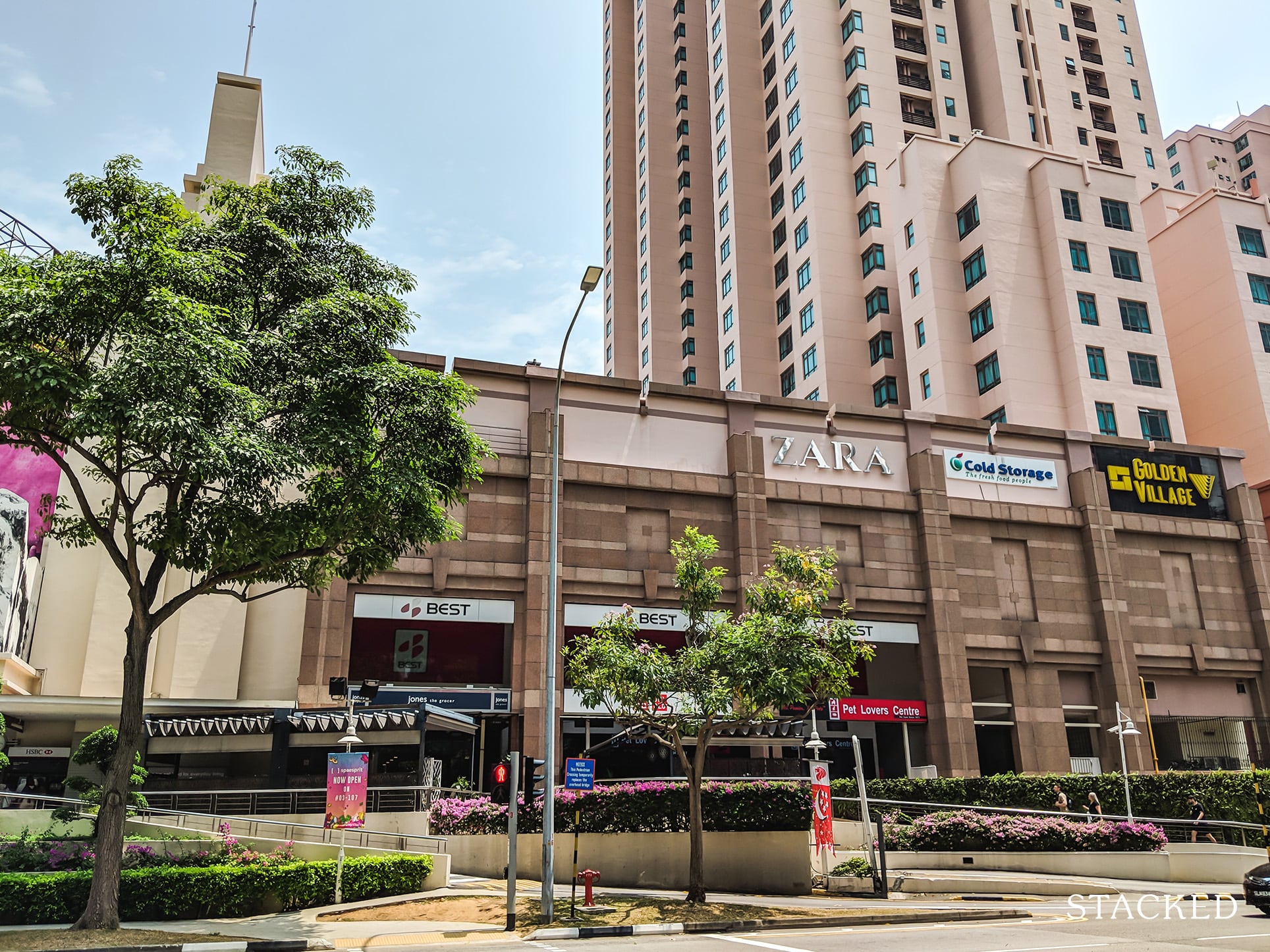 With the planned revamp of Great World City, it is set to be even more useful to residents of the area. In addition to the large Cold Storage, a Meidi-Ya (Japanese Supermarket) has opened up in the basement. As only one of two in Singapore currently, it is a great addition to Great World City as Singaporeans are generally crazy about Japanese goods.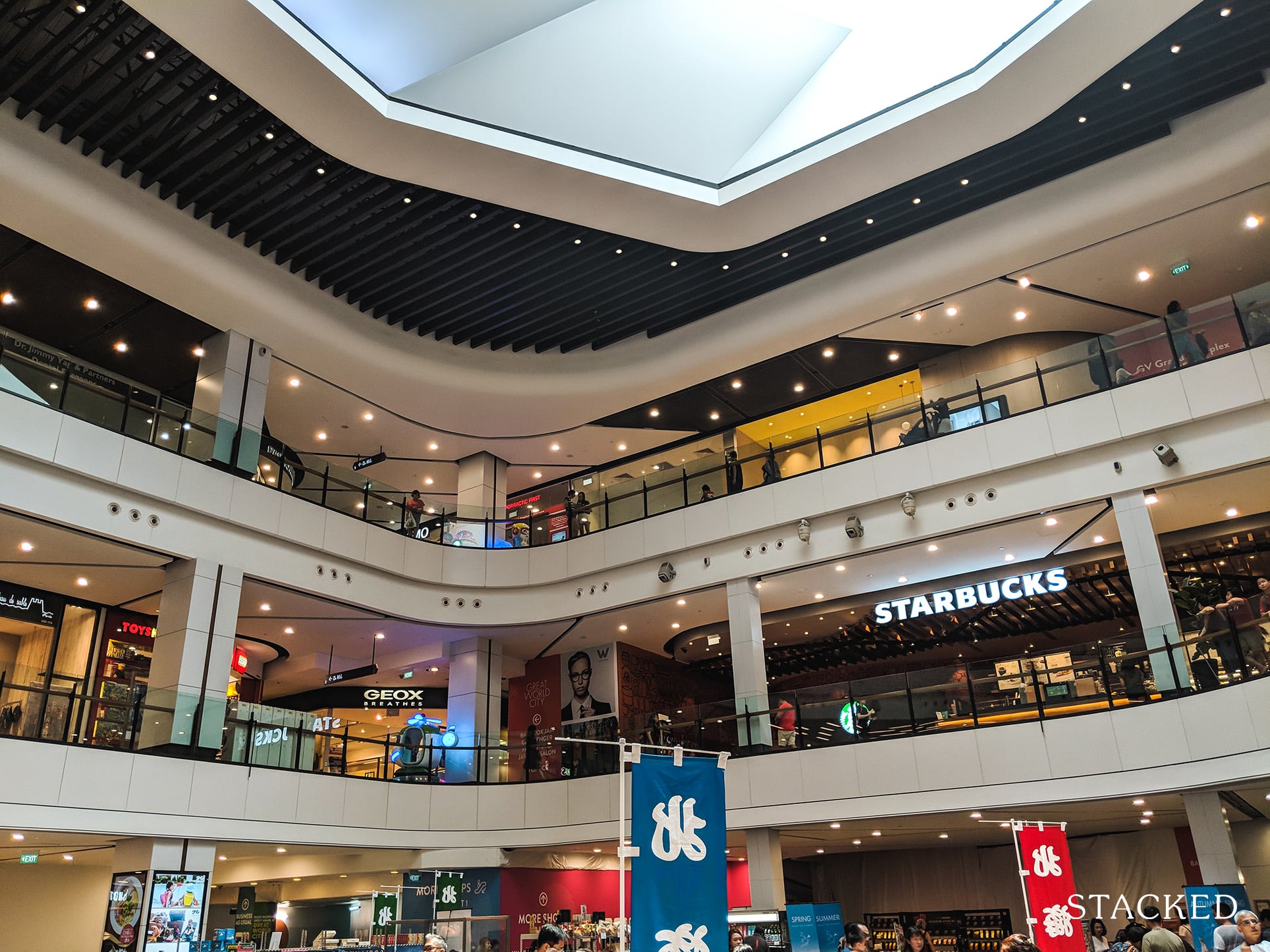 I do like the refresh on the interior as well, it certainly looks more modern and upmarket and is a good move in the right direction. I think the new eateries are a wise choice to attract more people to the mall, with familiar favourites like Tim Ho Wan and Din Tai Fung, to new ones such as Ho Fook Hei Soy Sauce Chicken and Four Seas Fish Grill.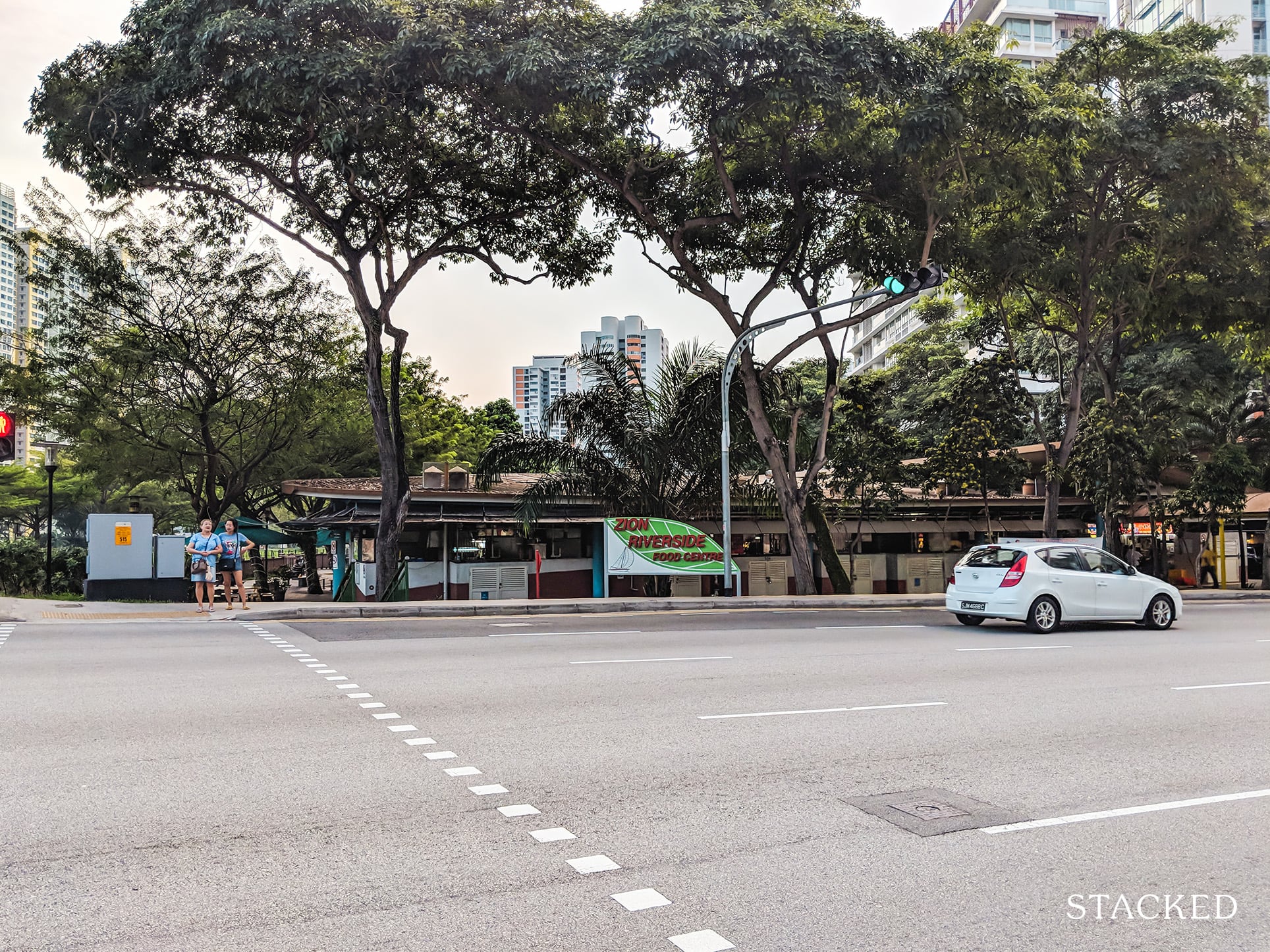 Lastly, with regards to food options, Zion Riverside Food Centre is just two streets away. I think one complaint of many central city developments is the proximity to cheap local food so it is terrific to have this option so close by.
Schools will always be a big point of concern to parents in Singapore, particularly because of the level of importance given to education. In this respect, parents will be glad to know that River Valley Primary School is within a 5-minute walking distance. There are other schools nearby given its central location, but you will need to drive or go by the school bus. The schools are: Raffles Girls Secondary School, Anglo-Chinese School, Chatsworth International School, and St Margaret's Primary School.
Development Site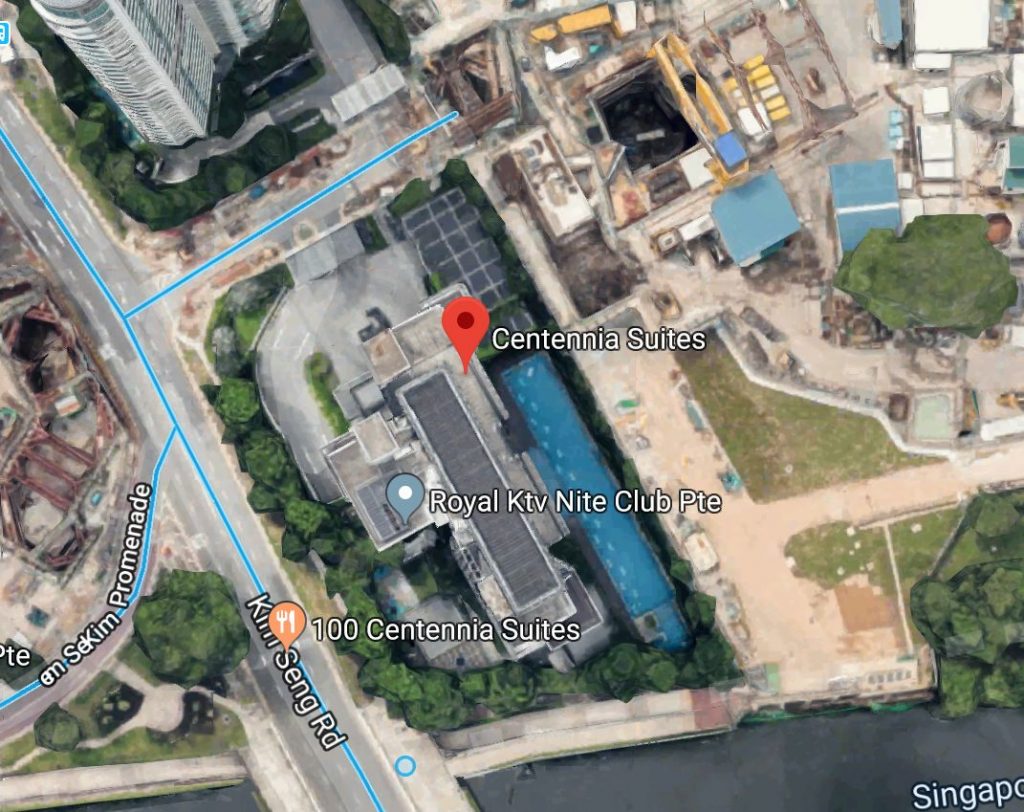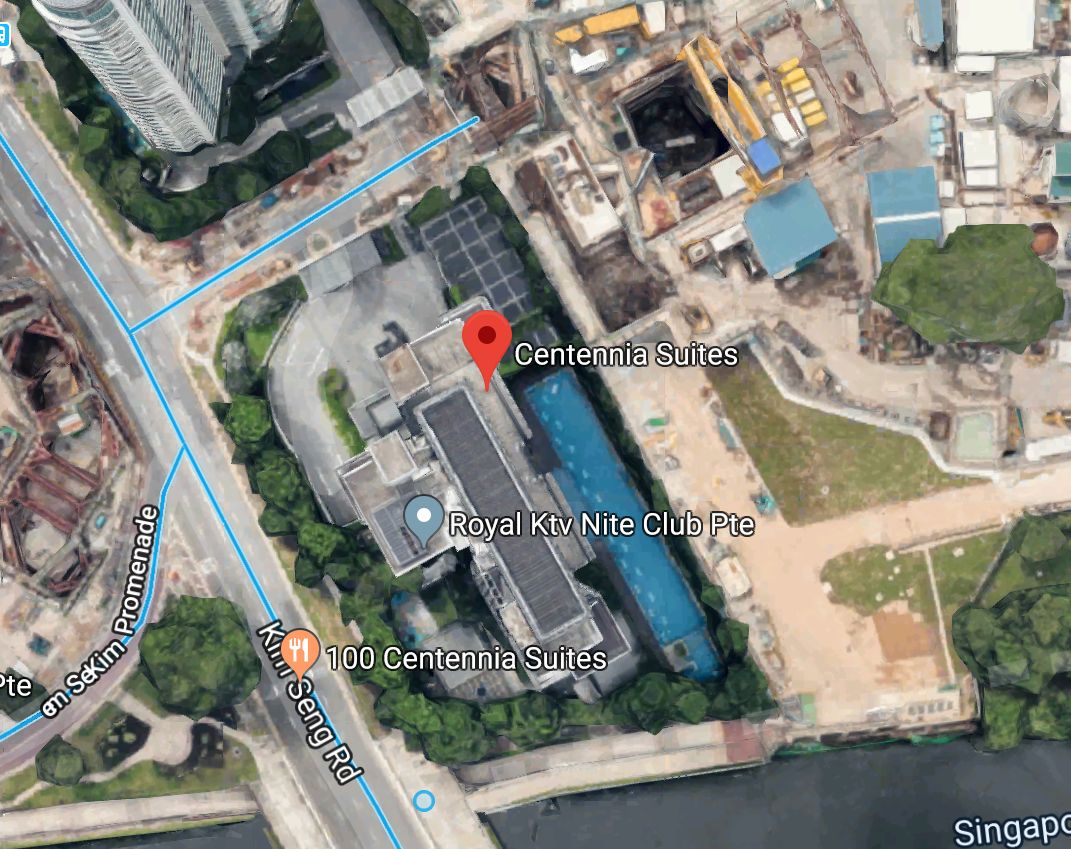 Centennia Suites occupies an almost squarish plot of land, and for the most part, has made full use of the space available well. Out of the three condos on the Kim Seng Road stretch, it is the smallest at only 53,107 square feet of land. Given the size, it only has one tower and the orientation of where your unit would face is dependent on the size of the unit. As I mentioned above, because of the small land size there isn't a tennis court which could be a dealbreaker for some people but I think that the general high quality of the rest of the facilities does make up for it.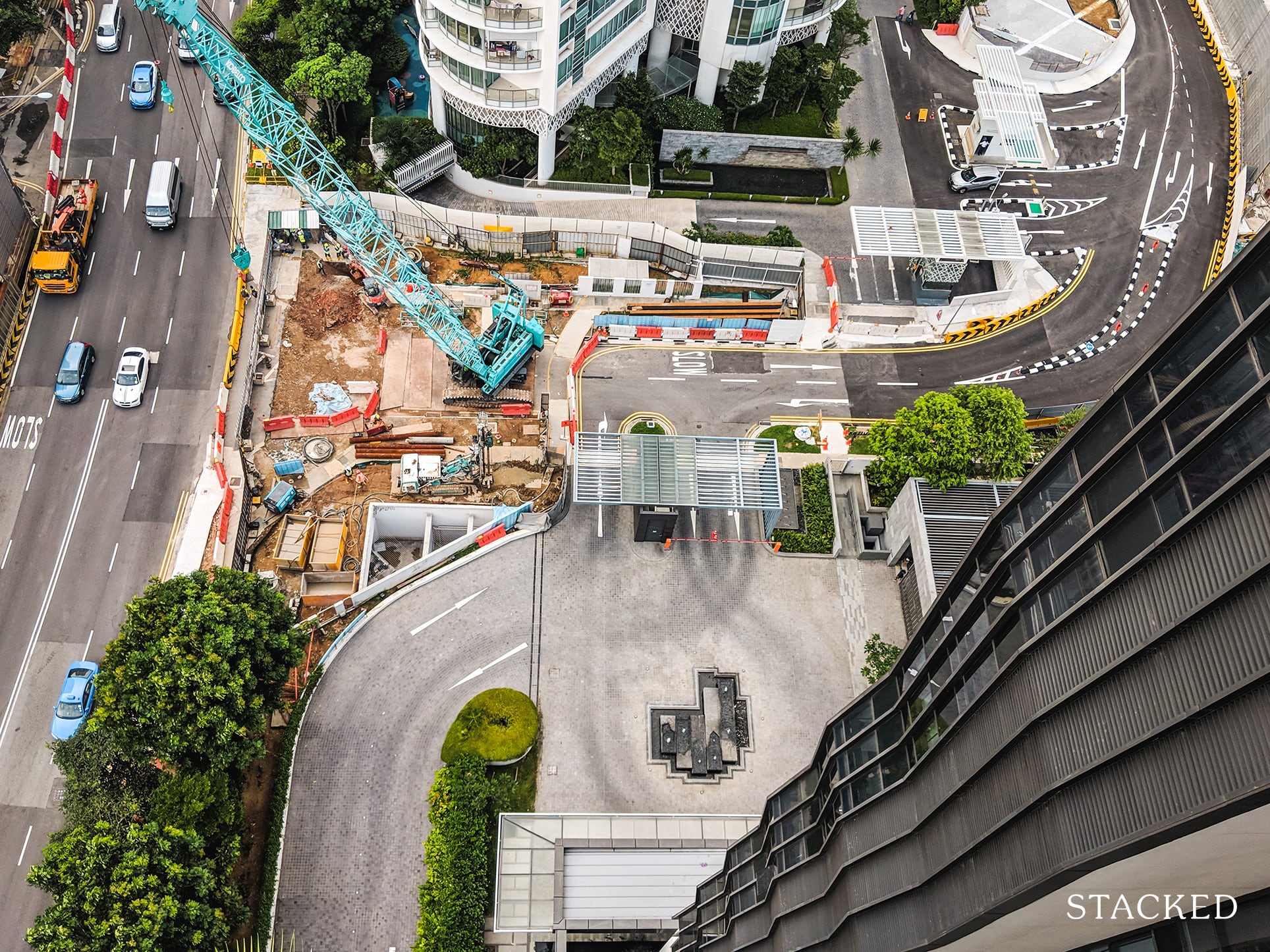 Because of the construction of the Great World MRT station, the entrance via Kim Seng Road is currently closed so you will have to go via River Valley Road. It is a little troublesome right now for those who drive, but once the construction is done you will have two entry points to the Centennia Suites which is always an underrated thing to have that many people do not think about.
There are only three different unit sizes in the Centennia Suites:
Unit mix

| Unit Type | Size (sqft) |
| --- | --- |
| 2-bedroom | 1,238 sqft |
| 3-bedroom | 1,755 – 1,798 sqft |
| 4-bedroom | 2,217 – 4,096 sqft |
For a relatively new development, the unit sizes here are very generous given the trend of small units, especially in the central areas. Given that this is a development geared towards luxury, you could say that bigger units are just about what is expected. As with most developments, the bigger units enjoy the best views. So the 4 bedroom units at the Centennia Suites get the full Singapore River view, the 3 bedroom gets partial views, with the 2 bedroom units facing Great World City itself.
Centennia Suites Review – Prices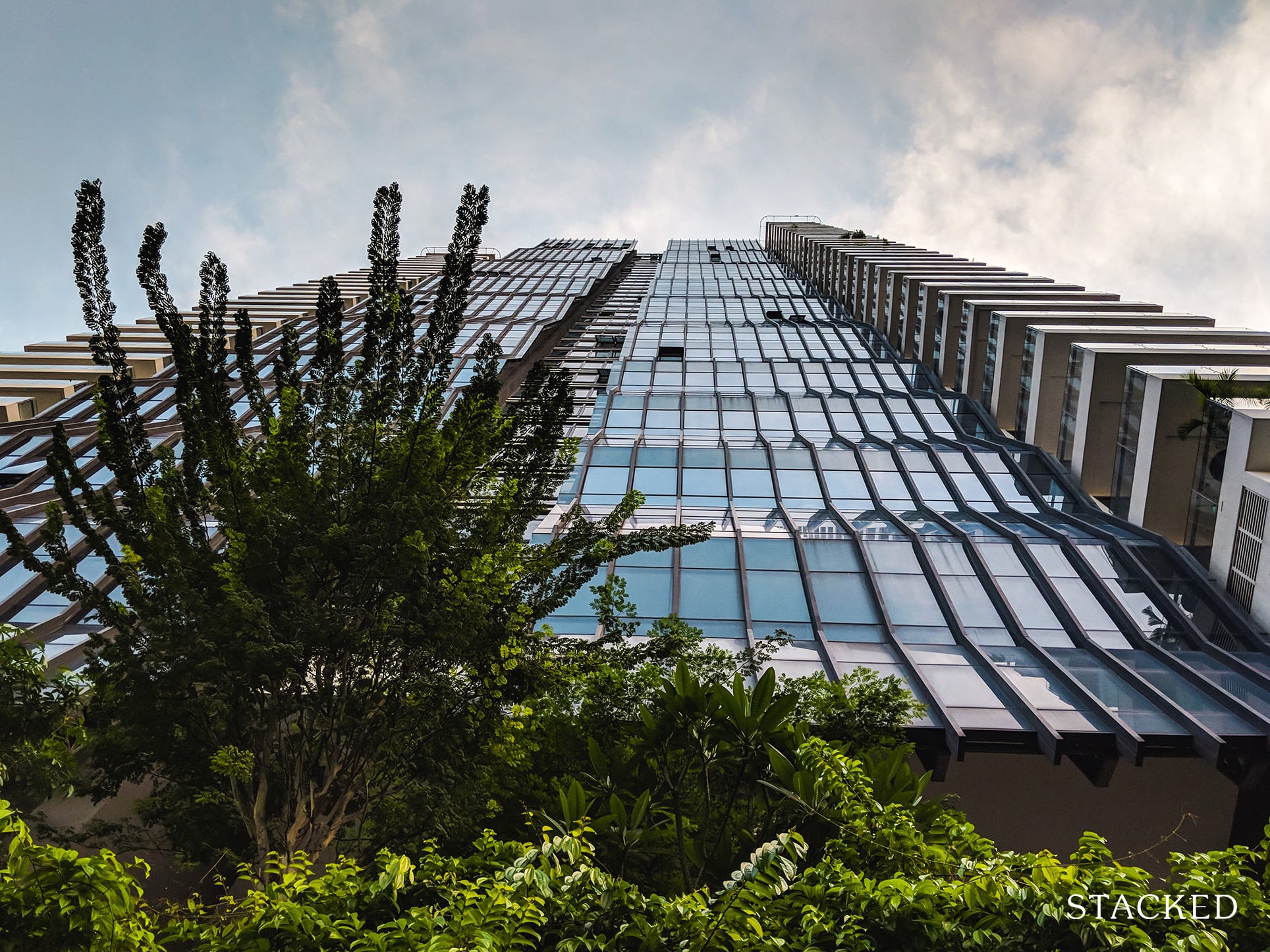 | Project Name | Tenure | TOP | Average Price (PSF) |
| --- | --- | --- | --- |
| Centennia Suites | Freehold | 2013 | $2,433 |
| Euro-Asia Court | Freehold | 1994 | $1,584 |
| The Morningside | Freehold | 1992 | $1,742 |
| Luma | Freehold | 2011 | $1,765 |
| Mirage Tower | Freehold | 1996 | $1,823 |
| Yong An Park | Freehold | 1986 | $1,839 |
| Tiara | Freehold | 1995 | $1,843 |
| Starlight Suites | Freehold | 2014 | $1,926 |
| 2 RVG | Freehold | 2006 | $1,959 |
| Tribeca | Freehold | 2010 | $1,966 |
| The Trillium | Freehold | 2010 | $2,129 |
| Rivergate | Freehold | 2009 | $2,237 |
| Cosmopolitan | Freehold | 2008 | $2,277 |
| Martin Modern | 99 years | 2021 | $2,666 |
| 8 St Thomas | Freehold | 2018 | $3,133 |
The prices for the Centennia Suites are the highest of the three condominiums in the same vicinity and are reflective of its status as the most luxury centric development. Don't forget also that it commands a higher price because of its riverfront location too.
I think some people might find it tough to swallow the price difference between the other two developments given that the location is almost on the same level playing field. Ultimately, it is really up to how much you value a more private, luxury-focused development that is situated on the riverfront.
Our Take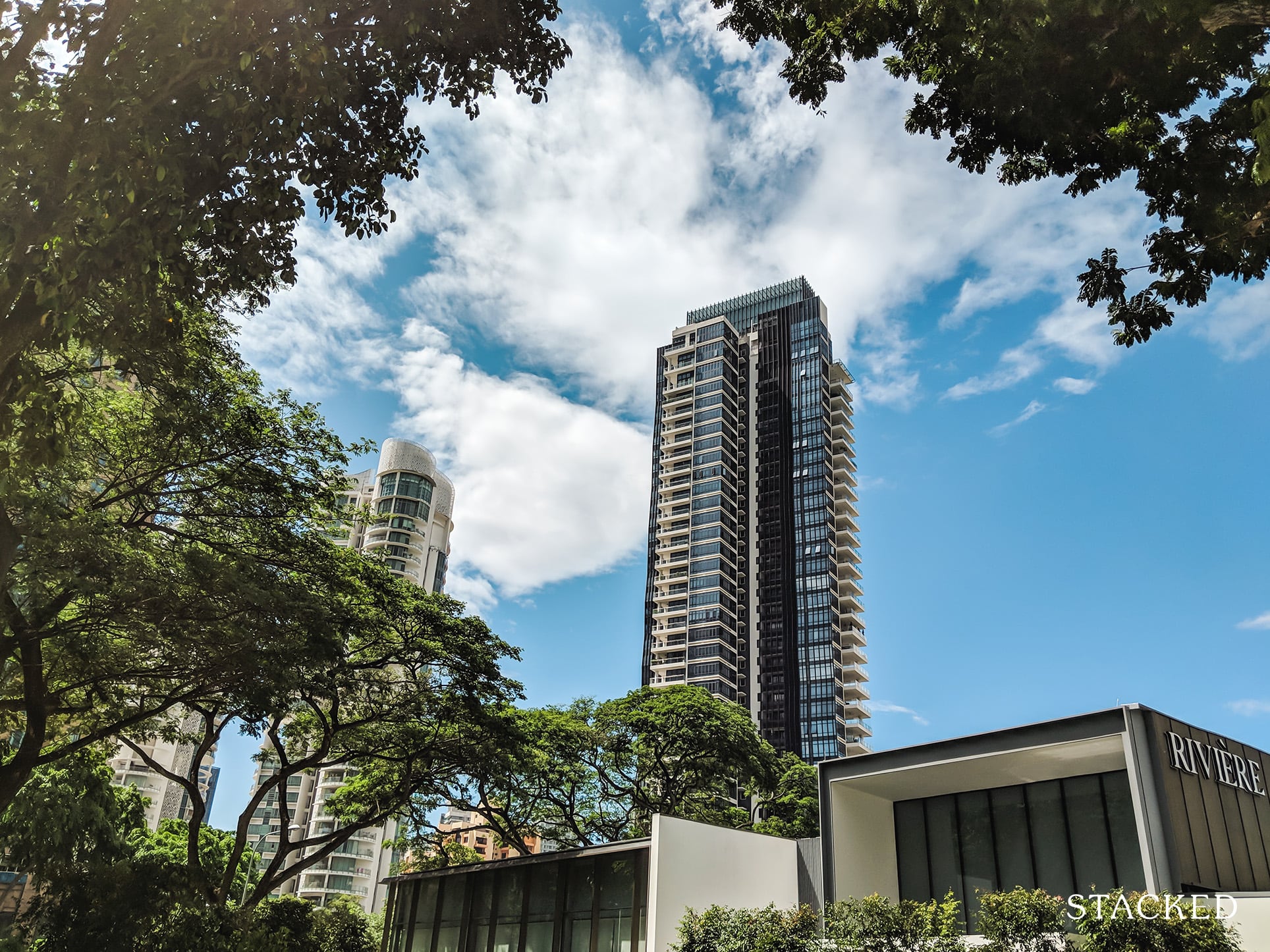 The main problem facing most of the buyers looking at the Centennia Suites would probably be its immediate competitors such as the Trillium condo and the Cosmopolitan condo. At lower prices, the Trillium has more facilities and much bigger land space. The Cosmopolitan is also of a much lower quantum, given the smaller unit sizes and I would say, an equivalent level of facilities. So unless you place a priority on a riverfront location and a more luxurious setting, some buyers might find it difficult to justify the increase in price.
At the end of the day, when it comes to luxury developments it can be tough to quantify whether it is worth the price if you are just making a comparison between facilities and location. A lot of it is also down to materials, quality of construction and the feel and ambience of the development. And I think, in this case, the Centennia Suites does fulfil many of these factors.
What this means for you
You might like the Centennia Suites if:
• You want riverfront living.With the Singapore River right at your doorstep, it has a proper waterfront location.
• You prioritise a certain lifestyle.The Centennia Suites is no doubt luxurious, and its proximity to Robertson Quay is great for those who want the upmarket lifestyle.
You might not like the Centennia Suites if:
• You want full condo facilities.Because of the small land size, there aren't any facilities like a tennis court.
• You want more live-in space.Centennia Suites units are generous in size, but they do all have rather big balconies, if you want maximum live in space this would not be your best bet.
End of Review