Condo Reviews

Anchorage Condo Review: Anchorpoint, Queensway and Ikea
Sean
August 15, 2019

16

min read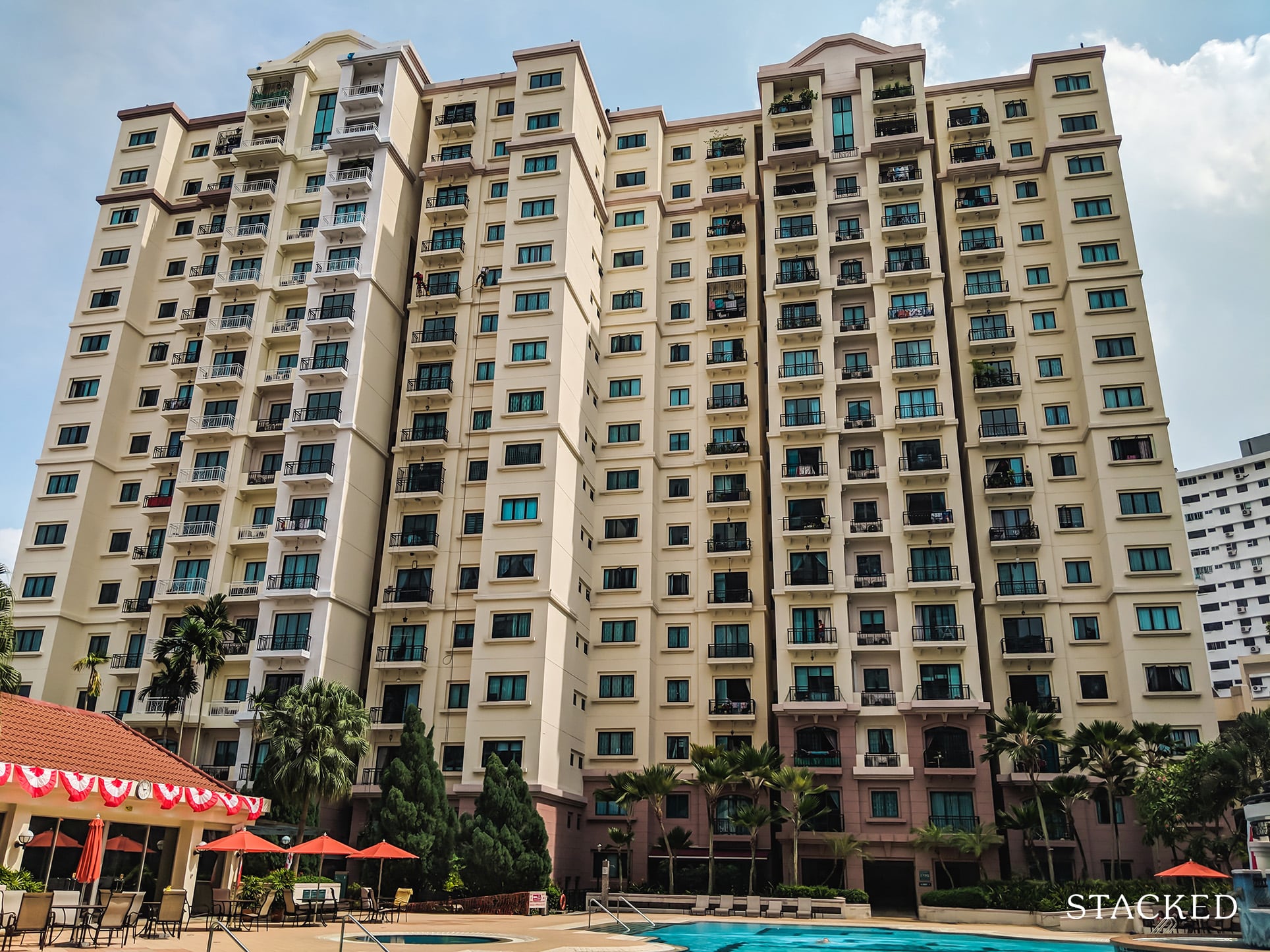 The Anchorage condo suffers from its appeal as a big development. Bear in mind this is my personal opinion, but it comes across as a little sterile and the common areas are just passable, with no real standouts. If you can look past the dated exterior and boring landscaping, the Anchorage condo is in a good location.
Reviewed by Sean on August 15, 2019
What we like
Near shopping mall

Close to good food

Walking distance to MRT
What we don't like
—

Boring landscaping

—

Small swimming pool
16
min read
About this condo

| | | | |
| --- | --- | --- | --- |
| Project: | Anchorage Condo | District: | 03 |
| Address: | Alexandra Road | Tenure: | Freehold |
| Site Area: | 613,423 sqft | No. of Units: | 775 |
| Developer: | Anchor Development Pte Ltd | TOP: | 1997 |
Anchorage condo is quite a curious development. Having been built in 1997, it is more than 20 years old at present and is one of the two stalwarts in Queenstown (with the other being the Queens condo). As you all know, Queenstown has always been a very attractive place to live in for those looking at city fringe living. Before all the new kids to the block like Commonwealth Towers, Queens Peak, and Stirling Residences arrived (or arriving soon), there was only the Anchorage condo and the Queens condo to choose from. So if you are looking at the Queenstown area, will the Anchorage condo be a good option for you? Read on more for our full comprehensive review!
Insider Tour
Facilities in Anchorage
Barbeque Area
Clubhouse
Gym
Function Room
Swimming Pool
Putting Green
Fitness Station
Playground
Squash Court
Tennis Courts
Sauna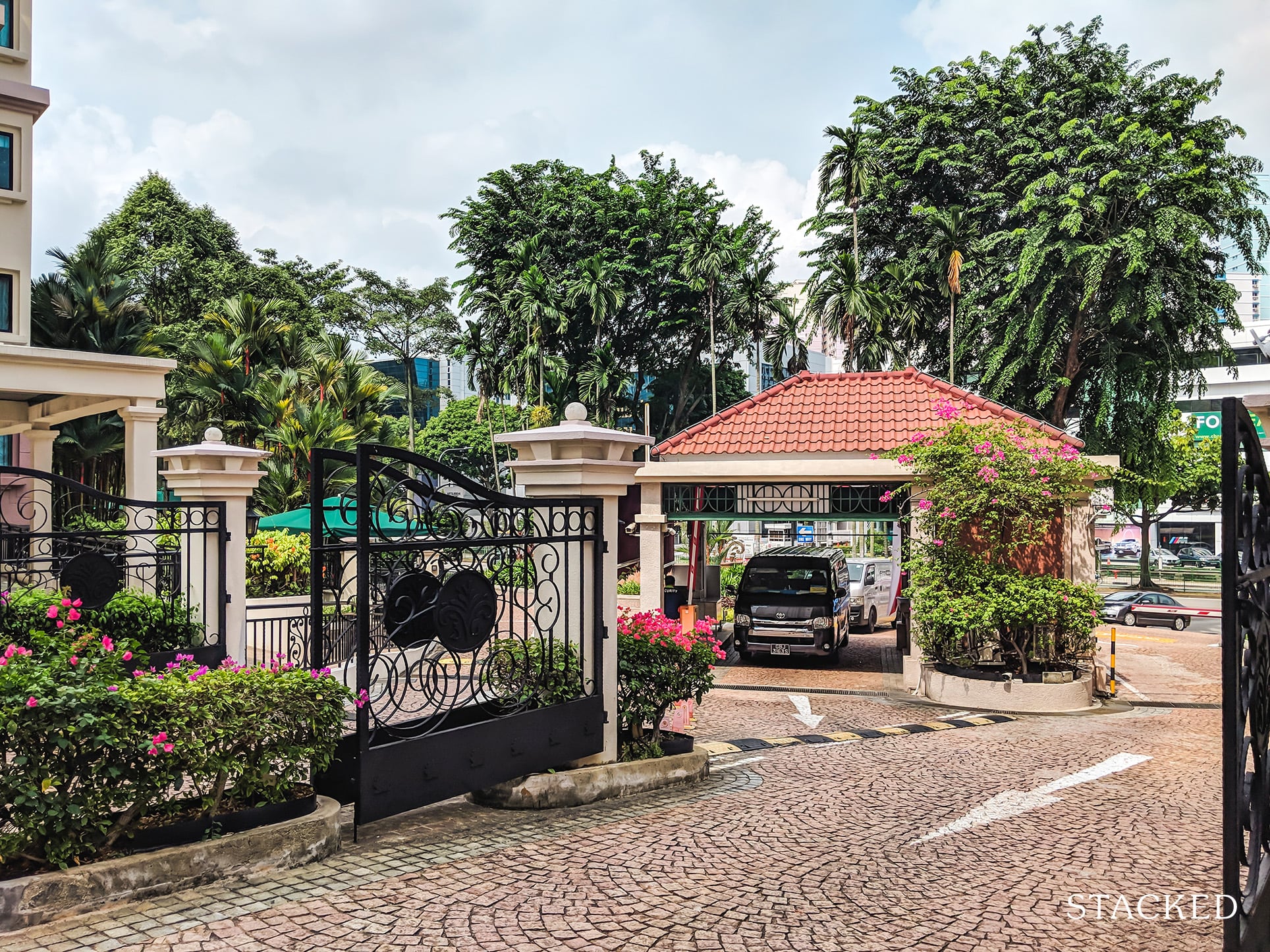 The Anchorage condo has two separate entrances, one for residents and the other for visitors. I do like that the visitor entrance is sheltered as I have been to condos where there isn't a provision for shelter and it is super annoying during rainy weather. You have to wind down your window to speak to the guard, he gets wet, you get wet, and it just isn't a pleasant experience.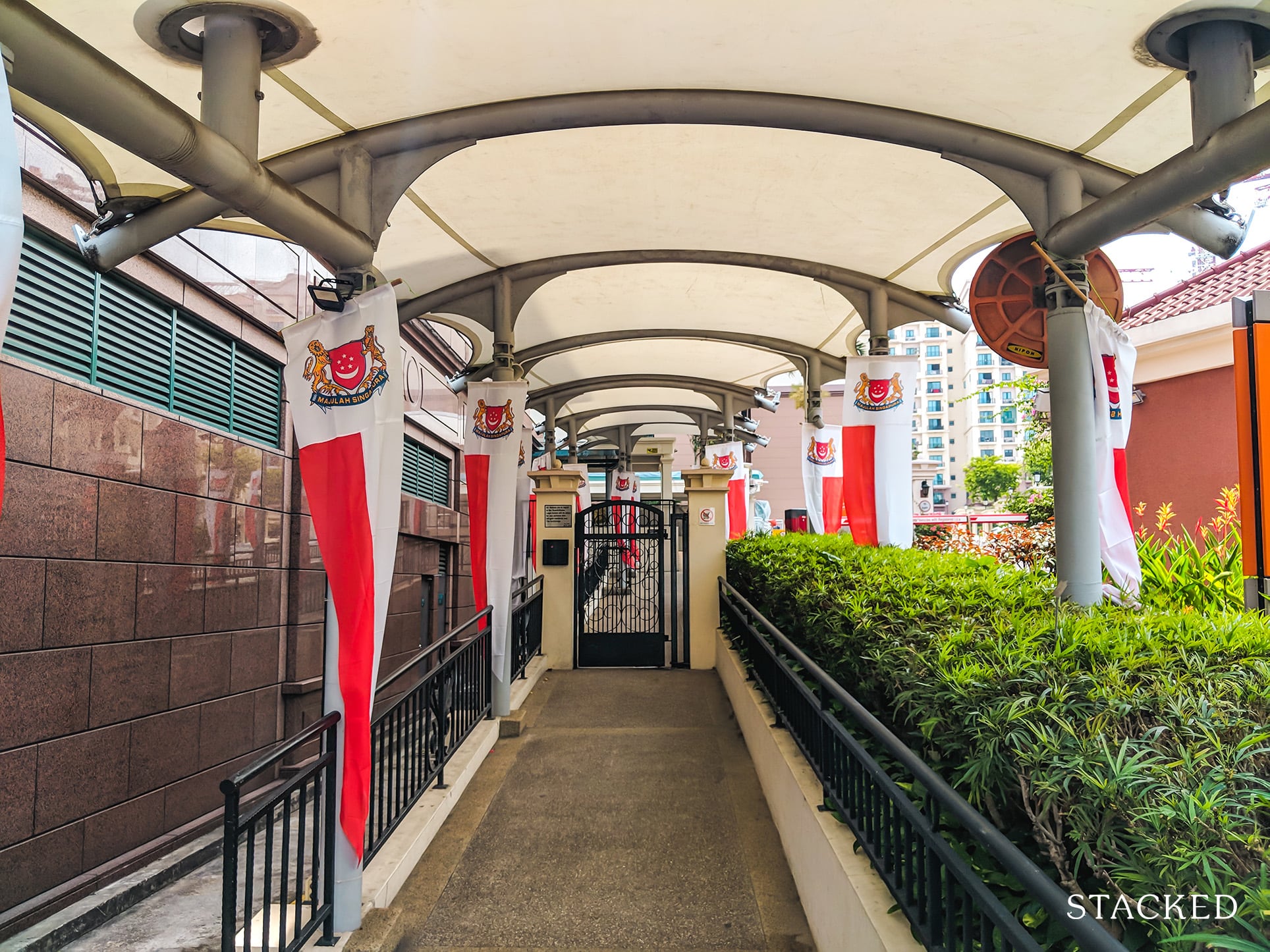 There is also a side gate right next to the main entrance that is only accessible by residents, so you need your keycard with you at all times. One plus point is that it is sheltered from here all the way to Anchor Point, and even to Ikea!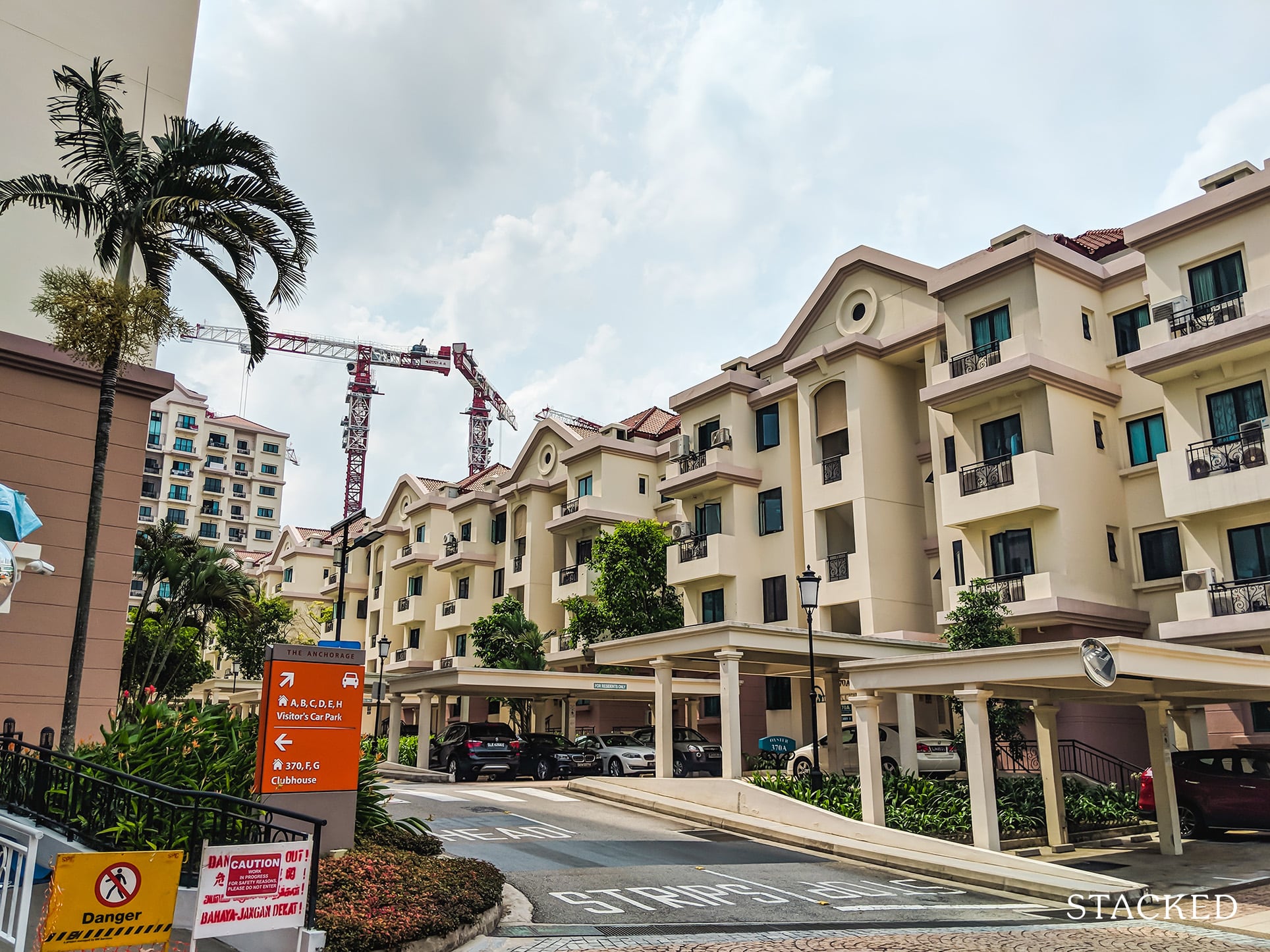 Once you get in, you'll see two different types of blocks. The first is a shorter four-storey block with its own sheltered carpark out at the front.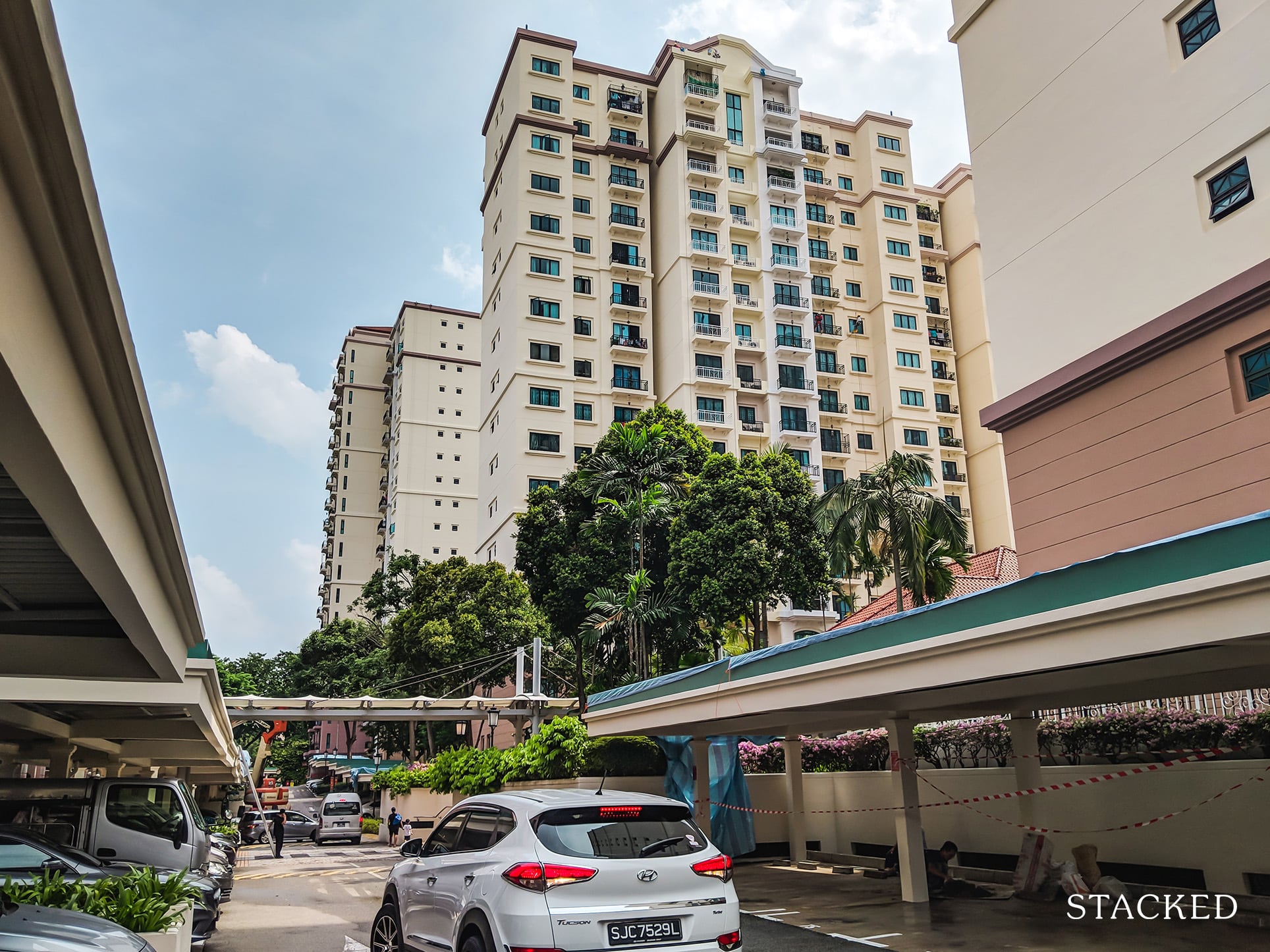 The rest of the blocks are the regular, much taller blocks.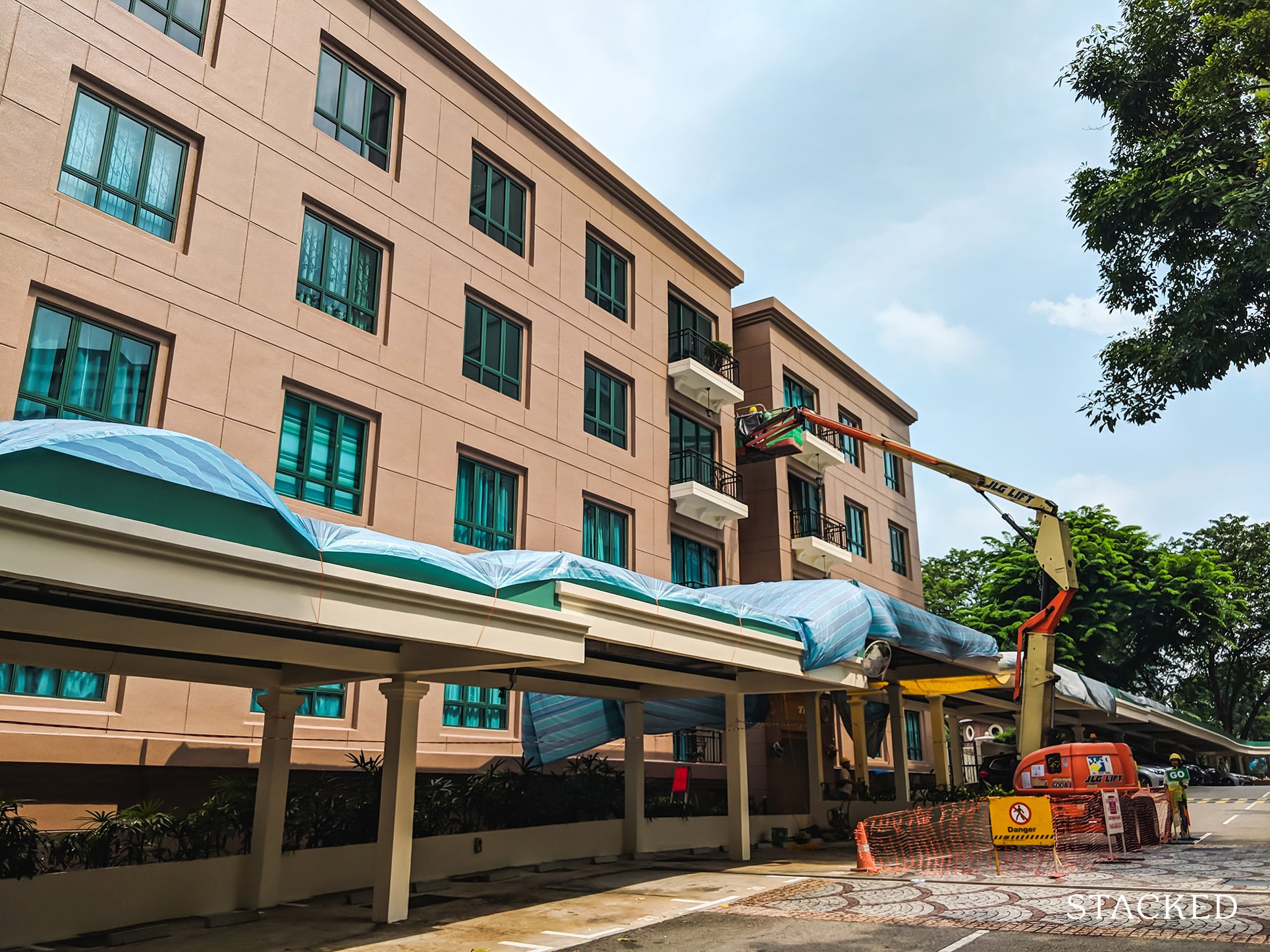 It just so happened that at the time I was there, there was extensive renovation works being done. Some blocks were getting a new coat of paint, and the roof for many of the sheltered carpark areas was being rejuvenated. This is encouraging to see, as with resale condos, a major point to consider is the upkeep and maintenance of the place. In this case, I can safely say that the Anchorage condo passes with flying colours.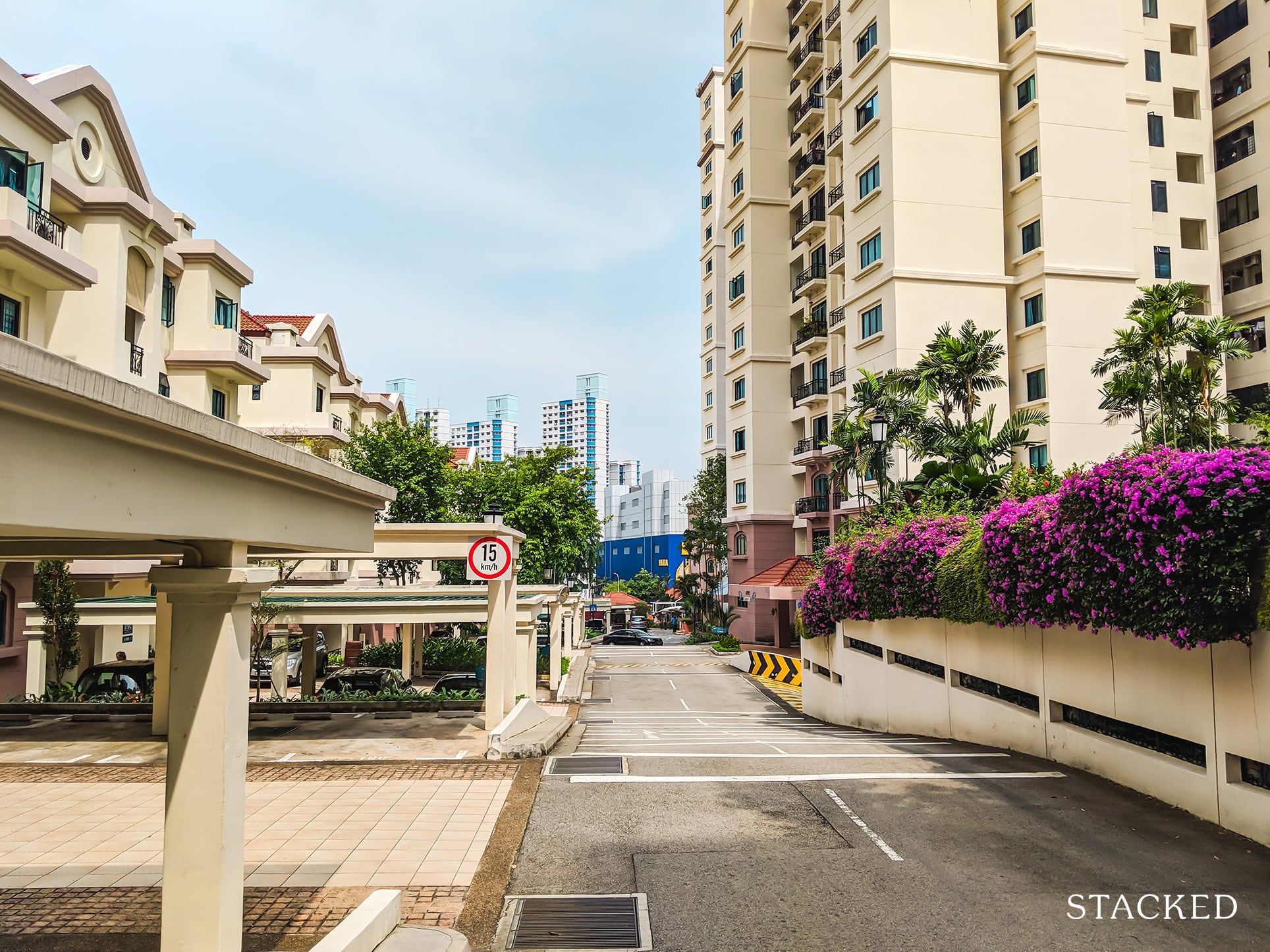 The Anchorage condo is also very unique in that it offers all 3 different types of carpark: Sheltered, underground and even a multi-storey carpark.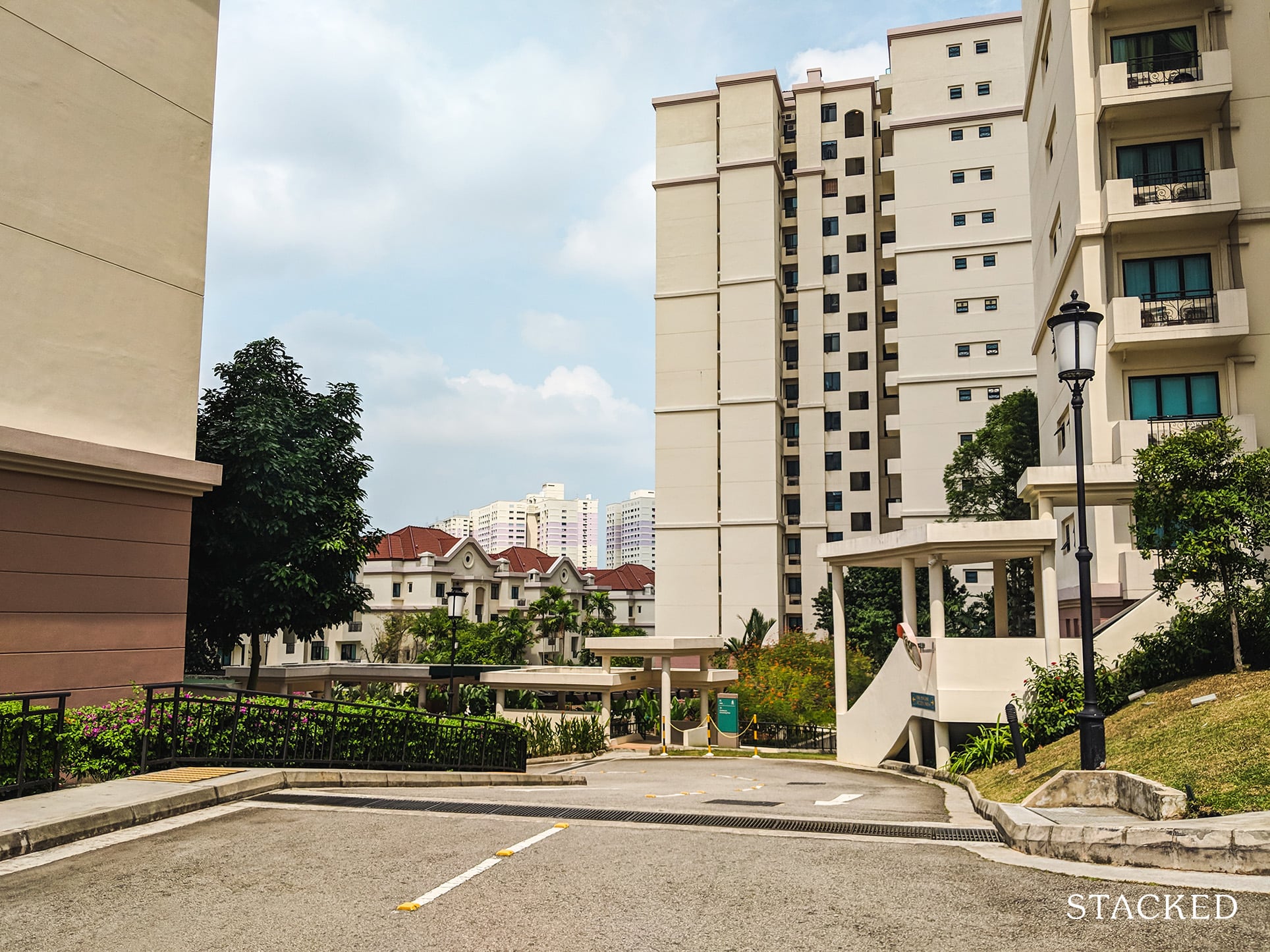 As you go further into the development, it moves into quite a steep incline at places.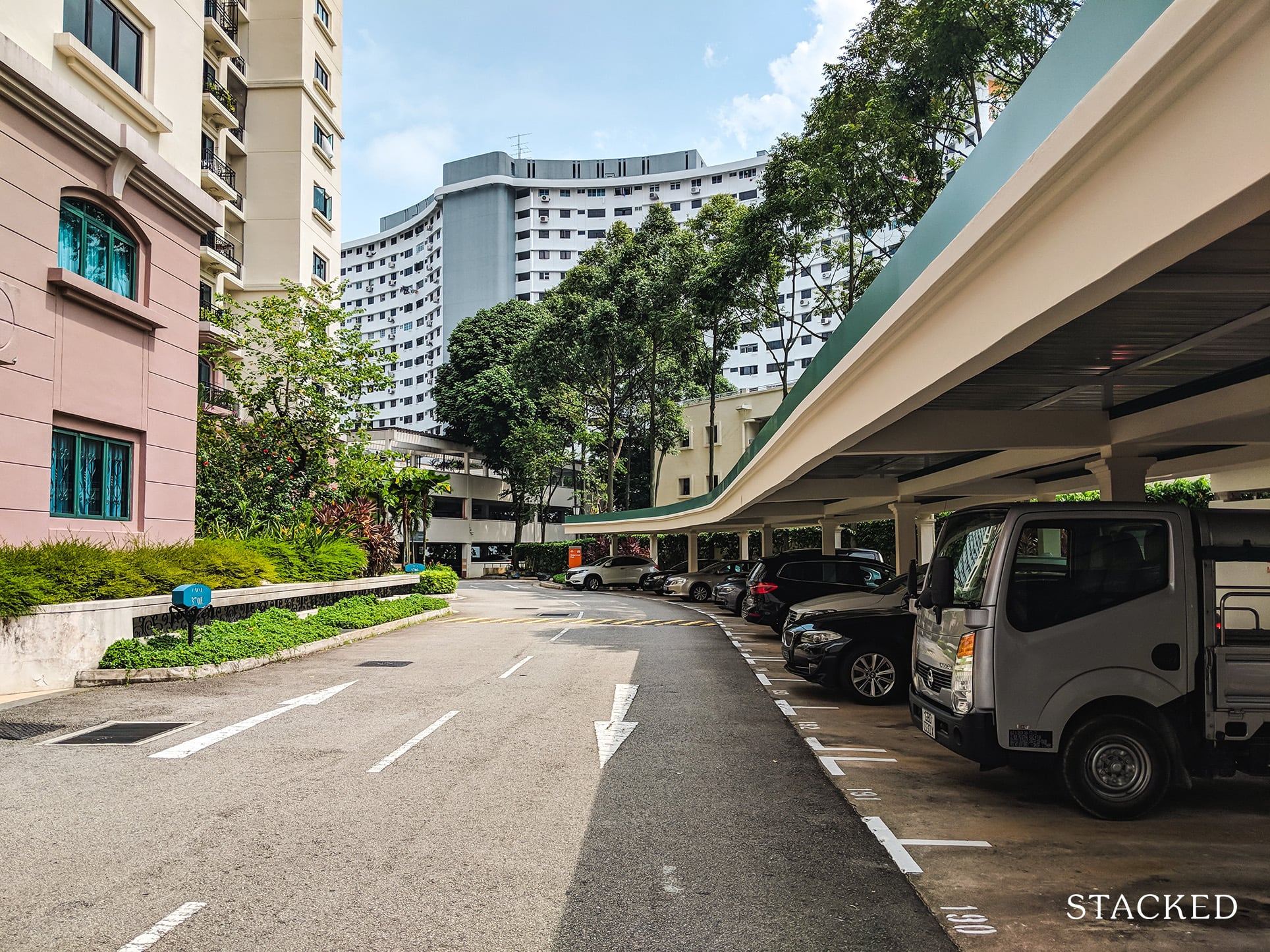 Further behind this carpark is a side gate that will lead you to Stirling Road and Mei Ling Street. Unfortunately, they were doing renovations to that area and I could not snap a photo of it, but it is basically a short cut to the HDB area as well as to Queenstown MRT station.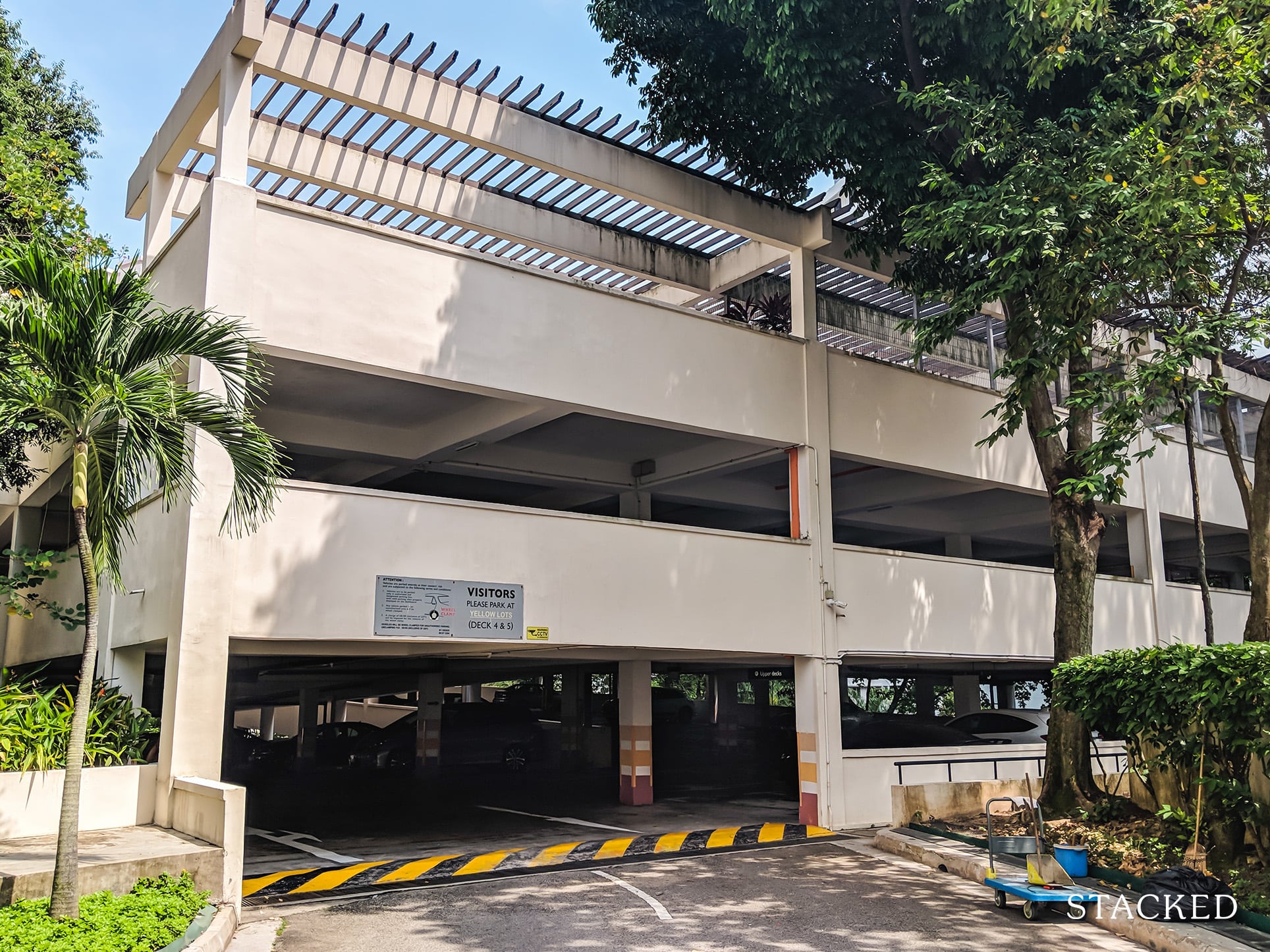 Right at the back of the Anchorage condo, there is a huge multi-storey carpark that is mainly for visitors to park. It is almost refreshing to see this much space dedicated to visitors, as many of the new developments nowadays do not even cater for parking space for visitors.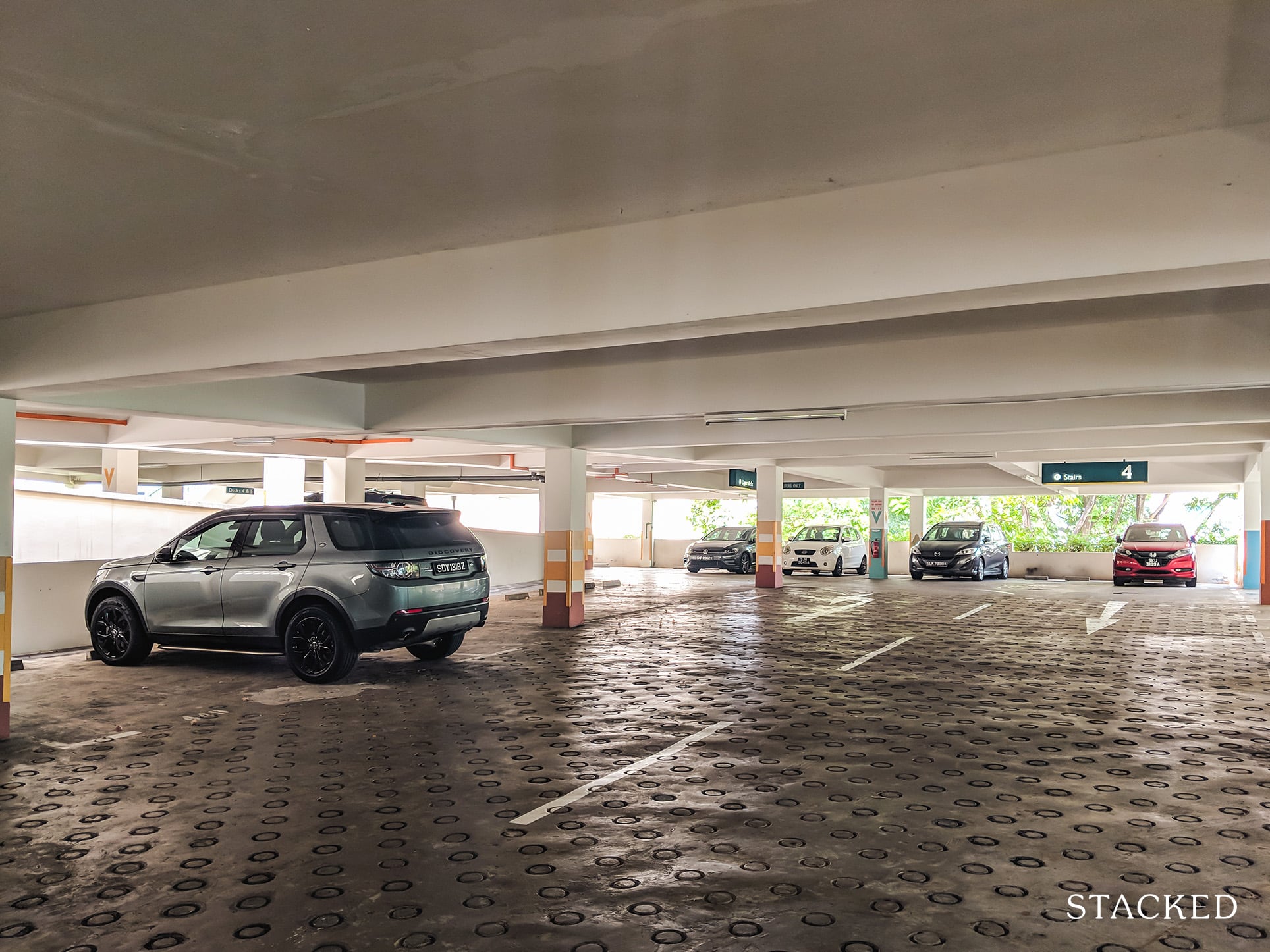 As you can see, you surely will have no problems with parking lots in the Anchorage condo. It is plentiful.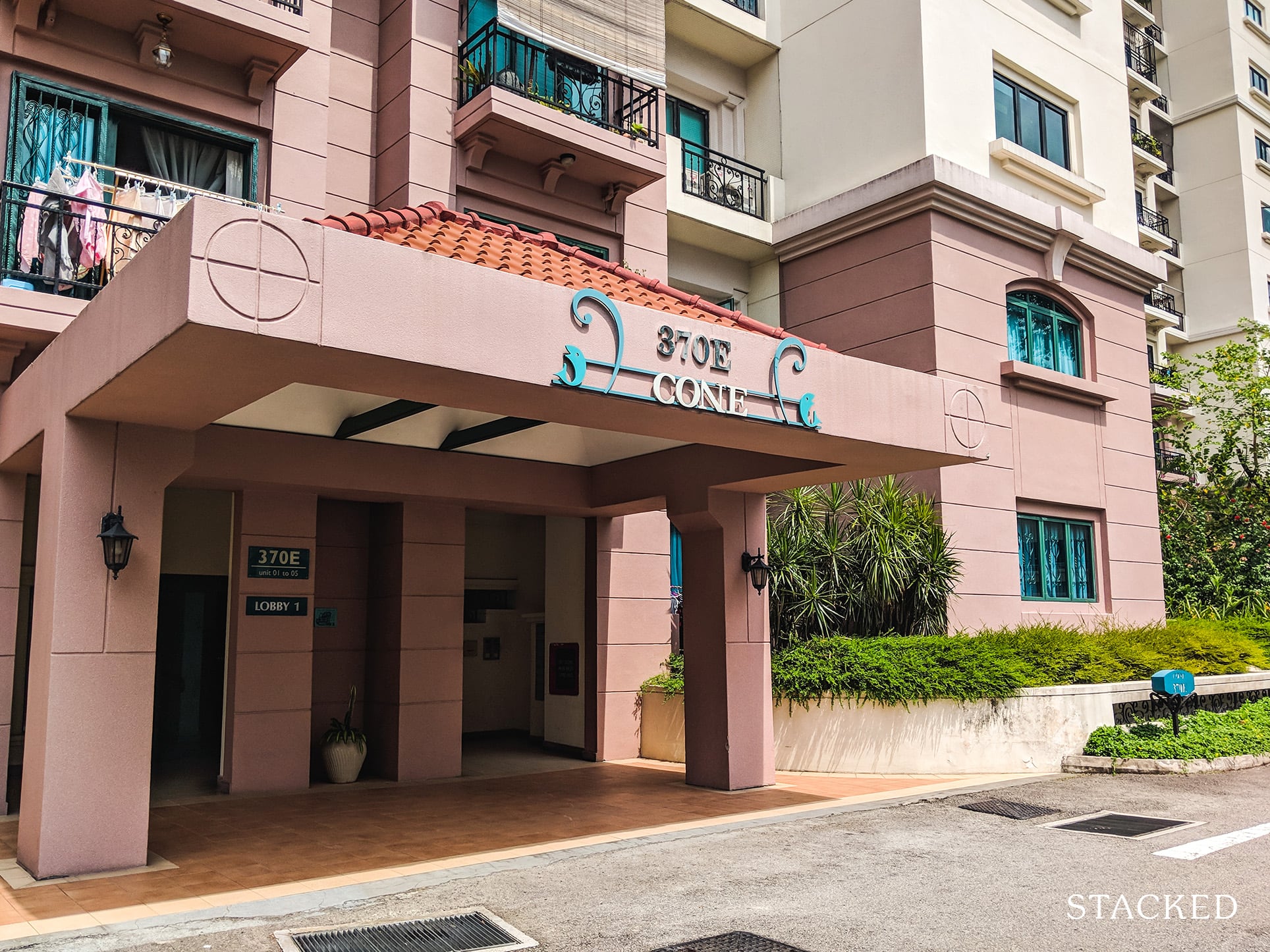 Each of the taller blocks has its own sheltered drop off point, which is great for rainy days.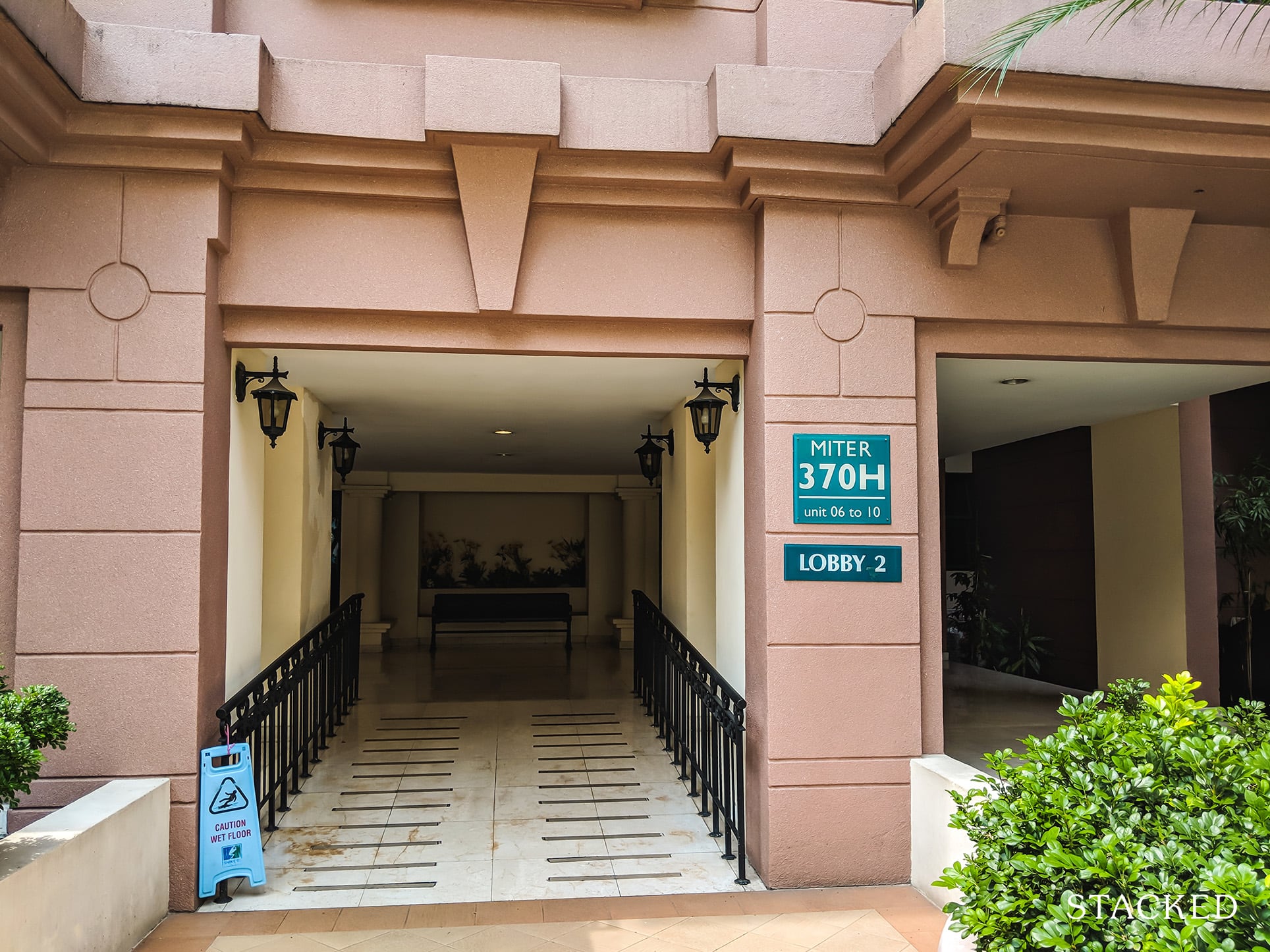 Going up to the unit also requires keycard access, which is typical of most condo developments today.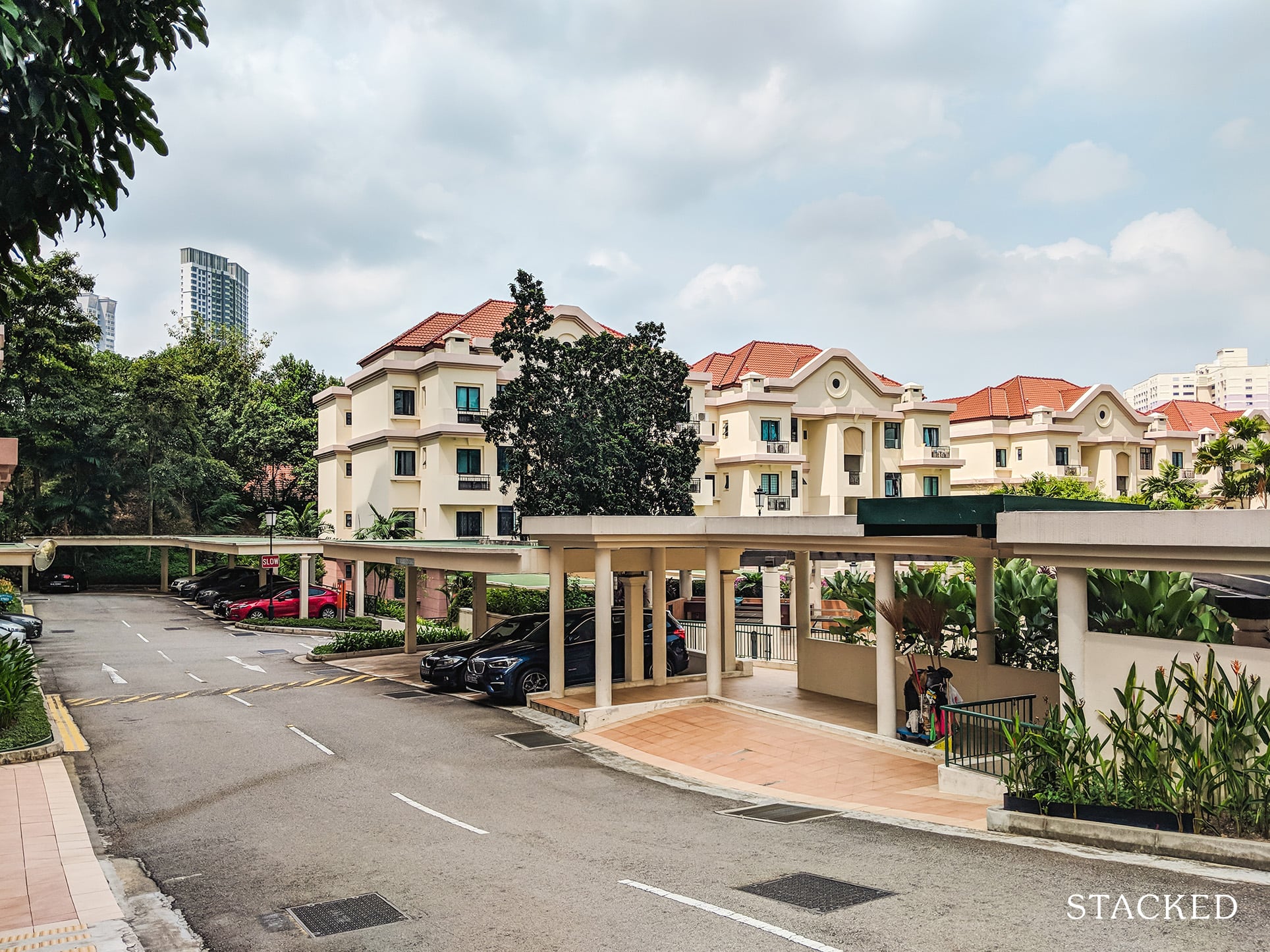 Coming back down to the centre of the Anchorage condo, you get quite a huge open space.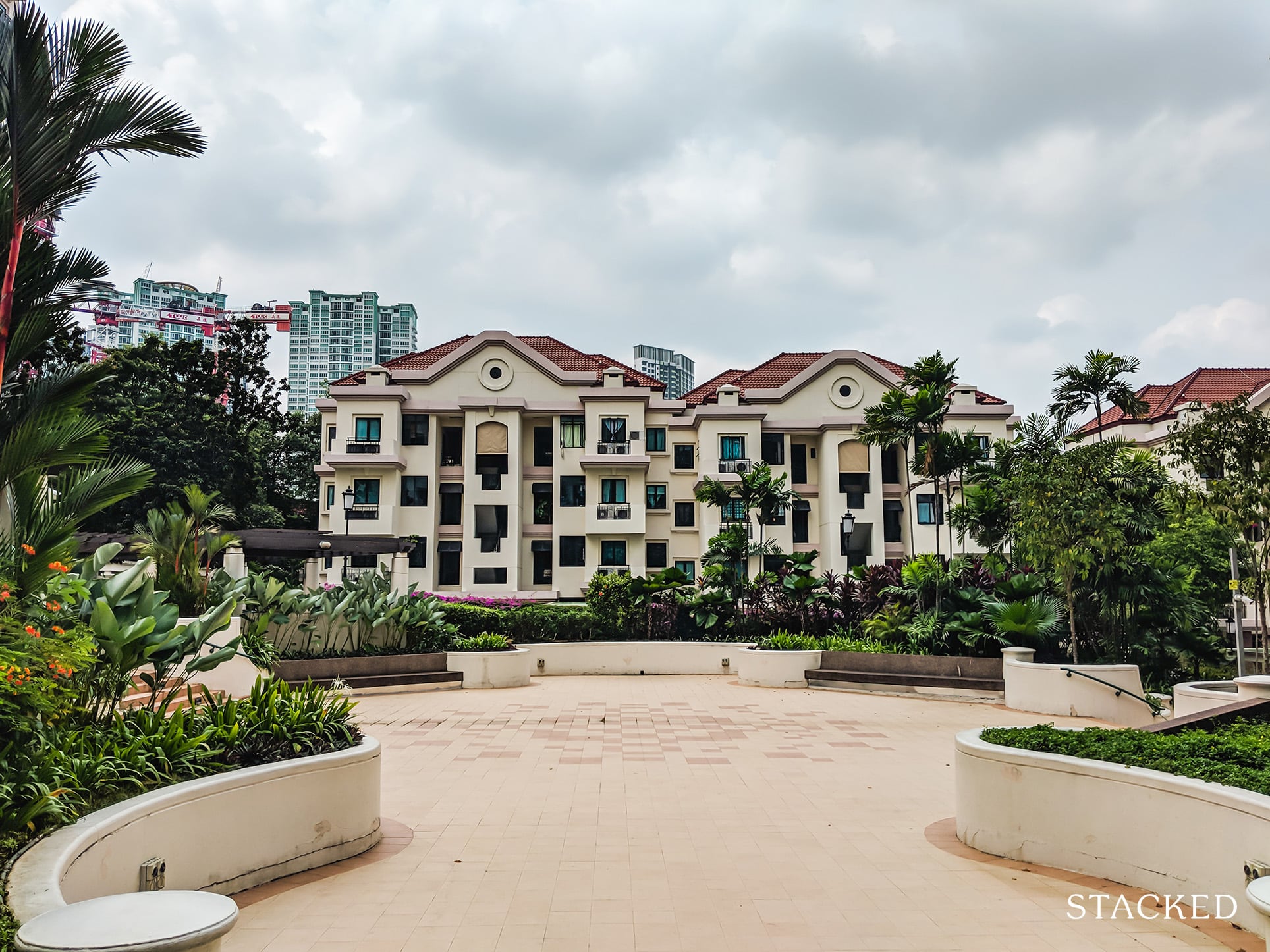 Which is currently super under-utilised.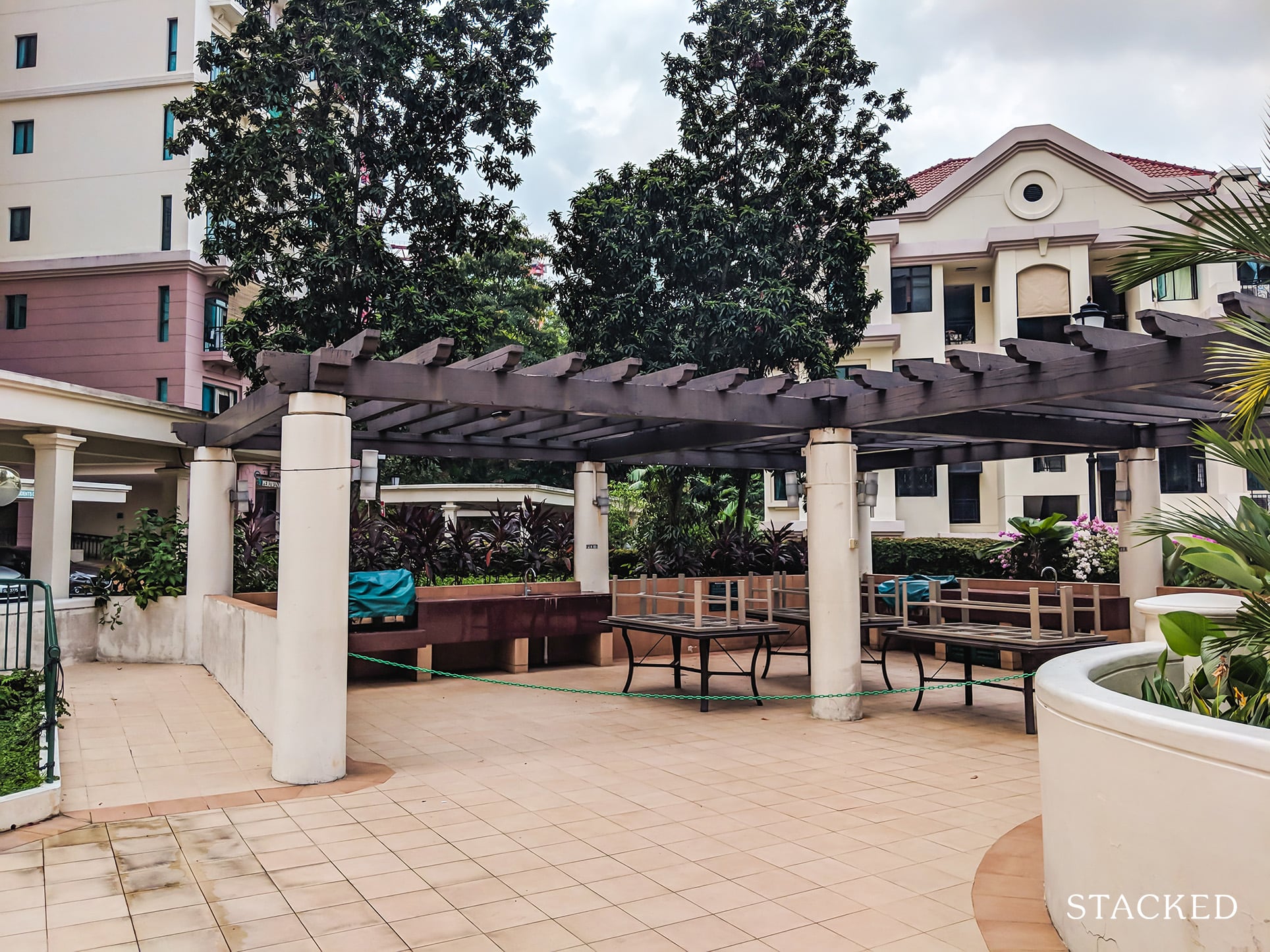 But it does link to two separate barbeque areas. They both have a wooden striped design as a roof that is neither functional nor does it look good, so hopefully there would be upgrading works in the future.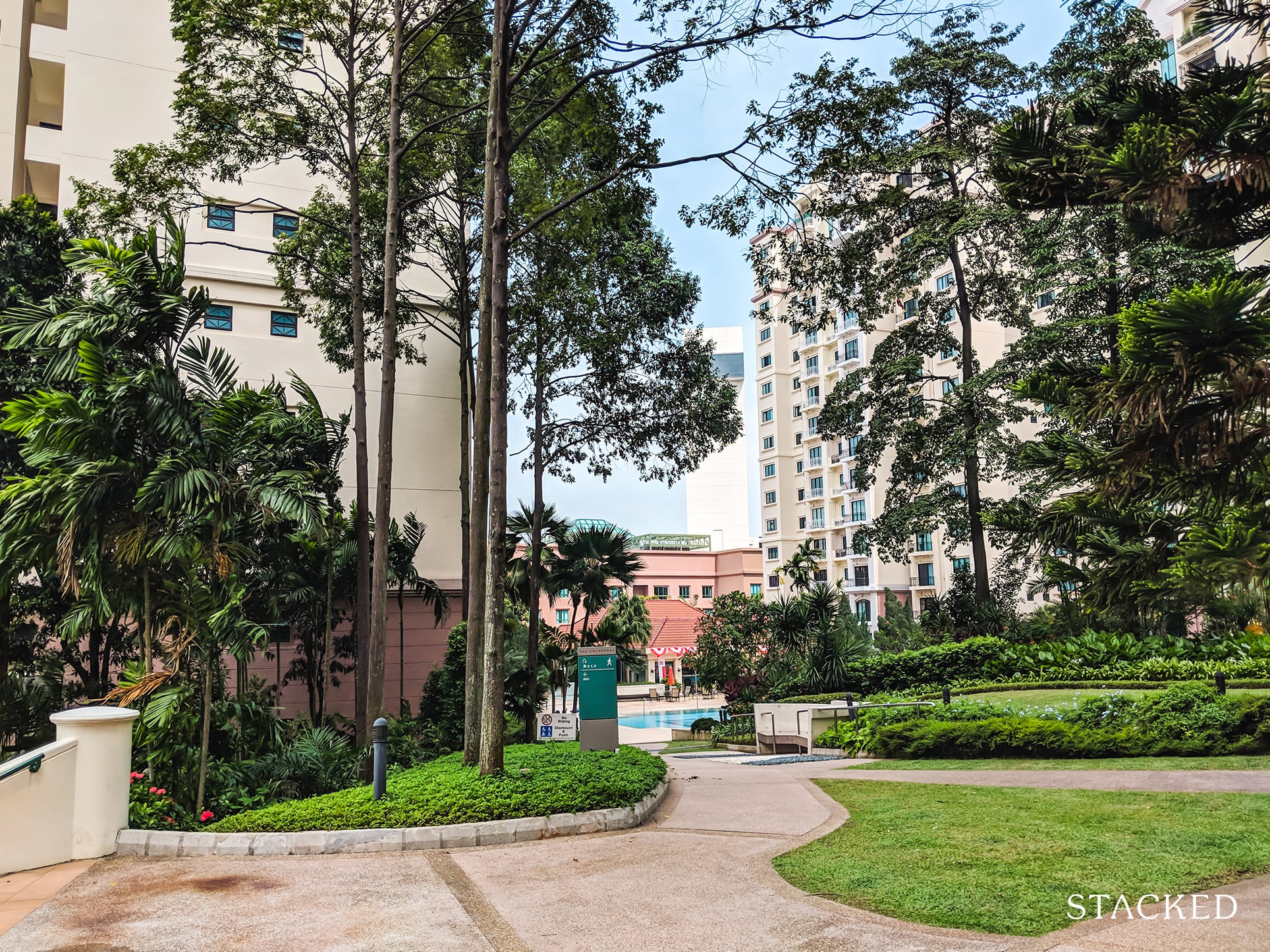 Beyond that, there is a pathway that would lead you to the clubhouse and swimming pool.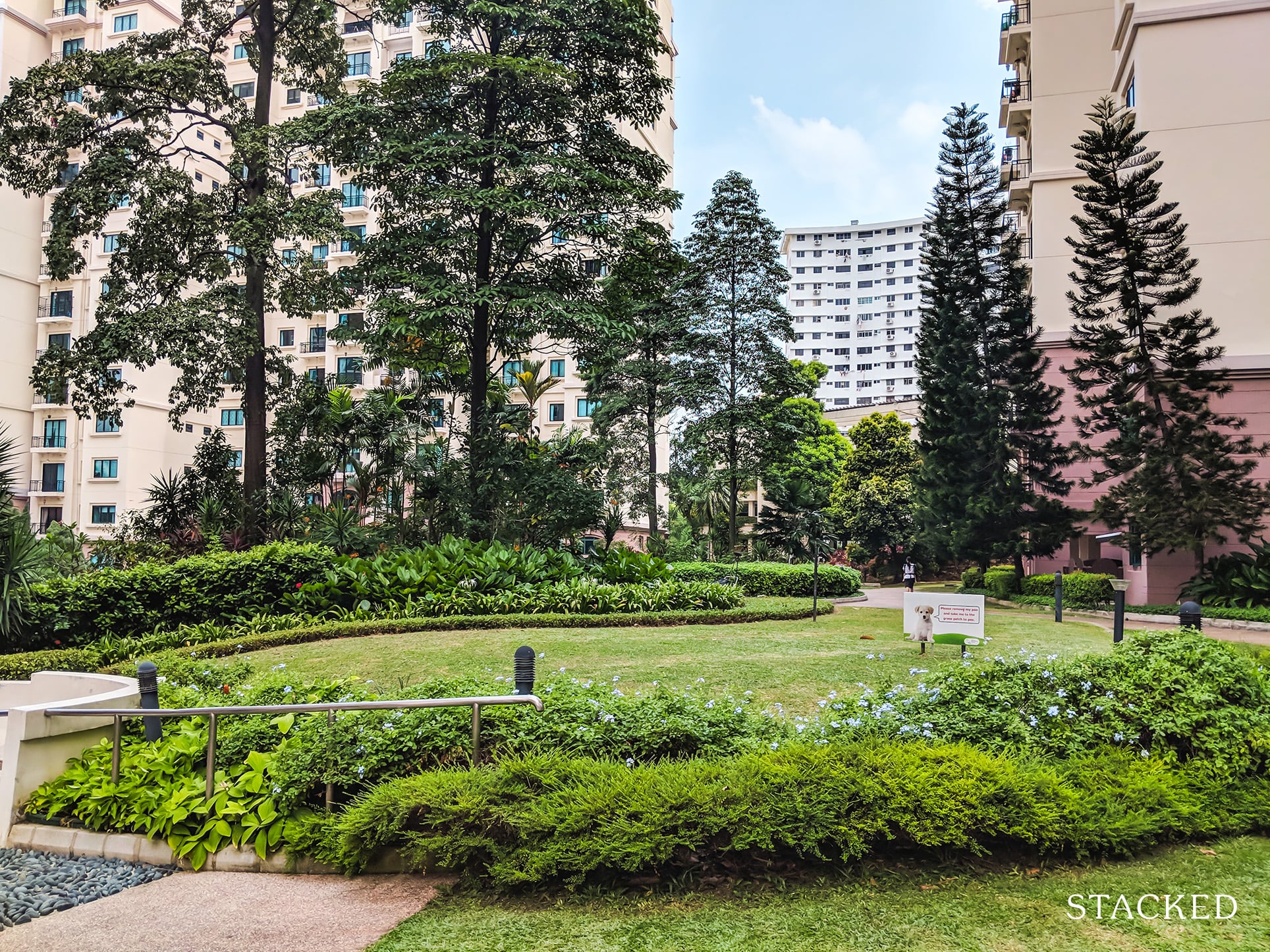 Next to it is a garden area that adds a much-needed greenery boost to the development. That's not to say that there aren't any plants and trees, it just feels strangely lacking in the Anchorage condo. It makes the place feel more concrete and city-like, and landscaping is definitely not a strong suit for this development.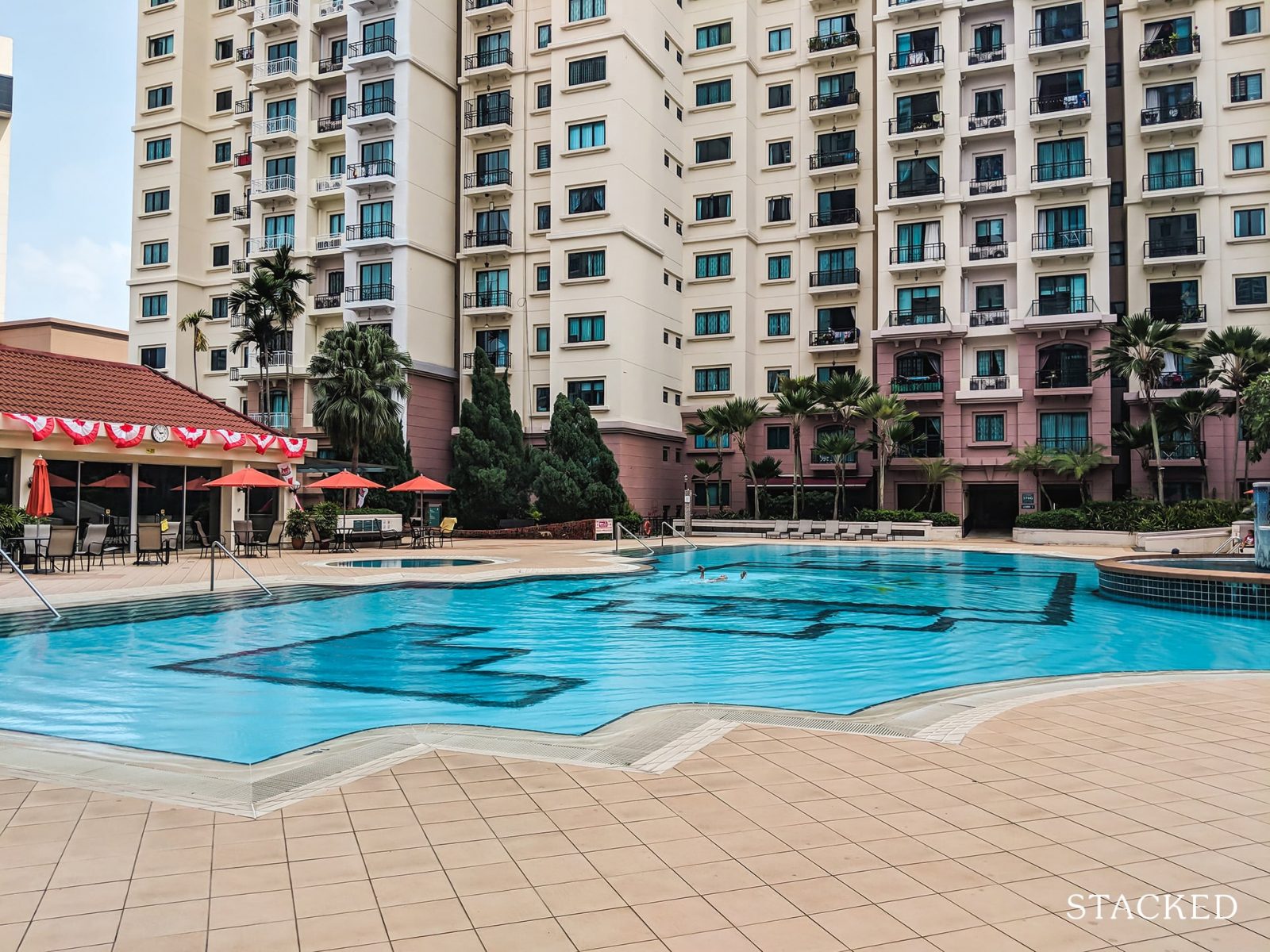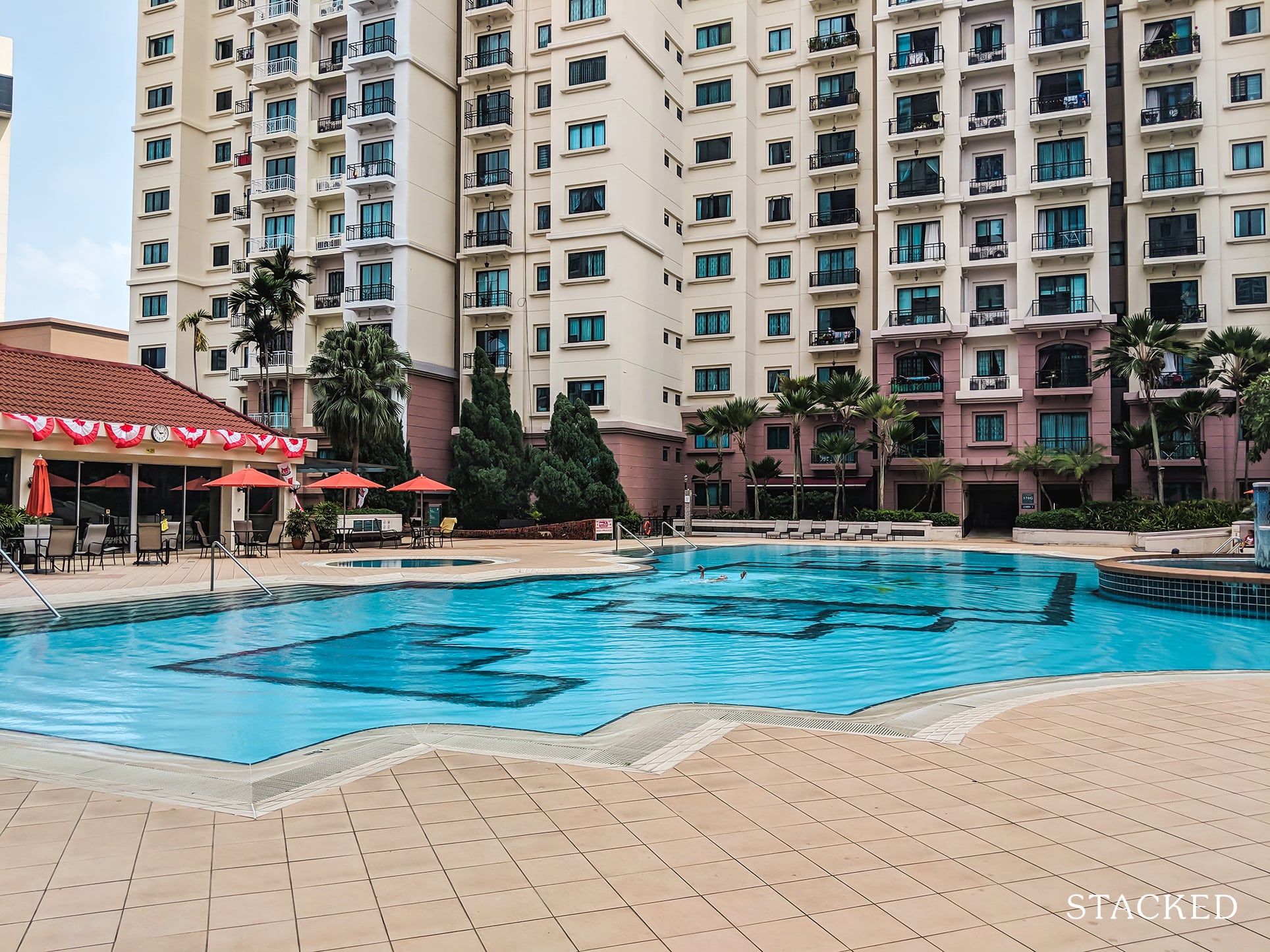 The swimming pool is surrounded by the 3 tall blocks and from an aerial view, it's actually the shape of a heart.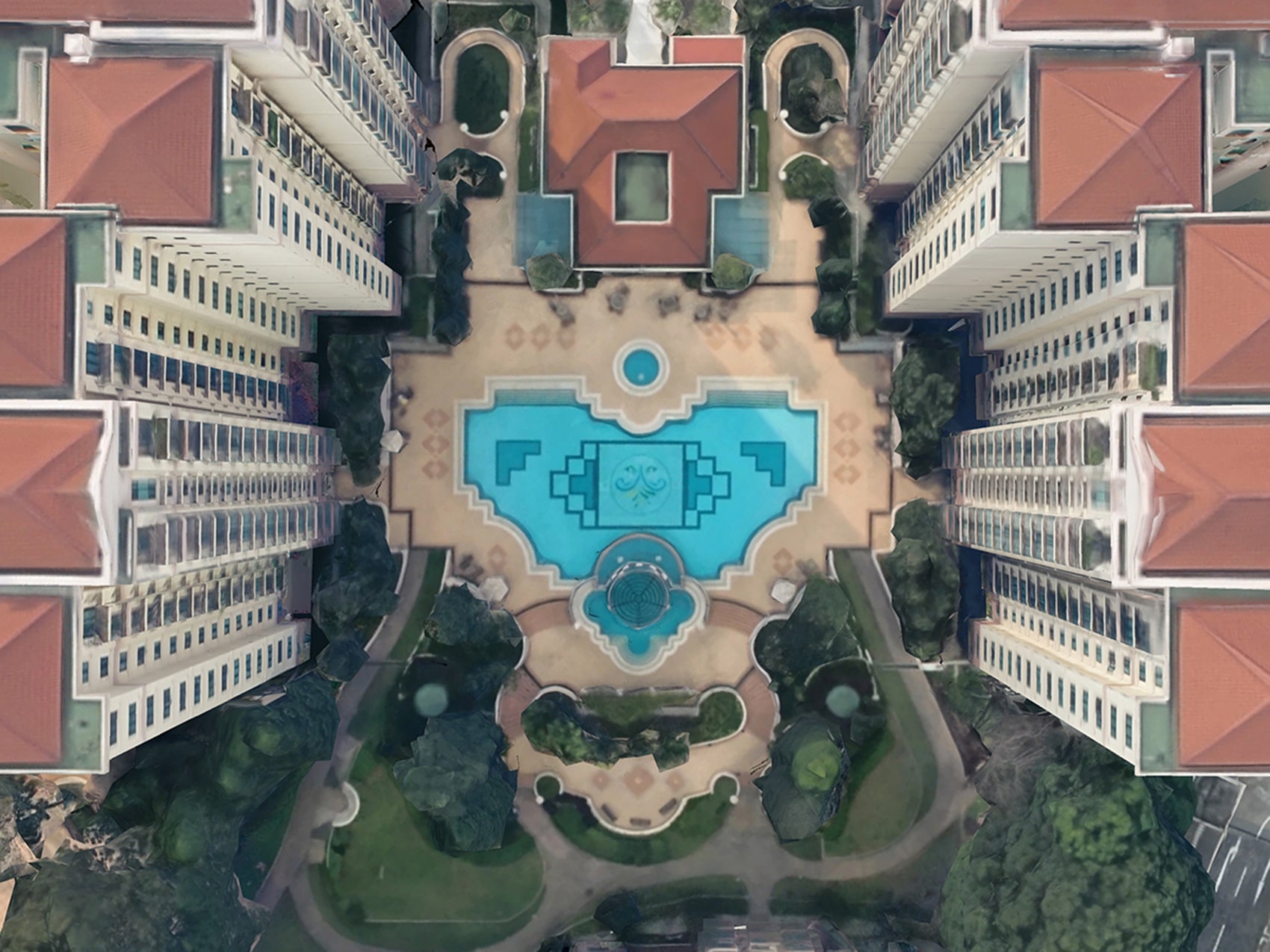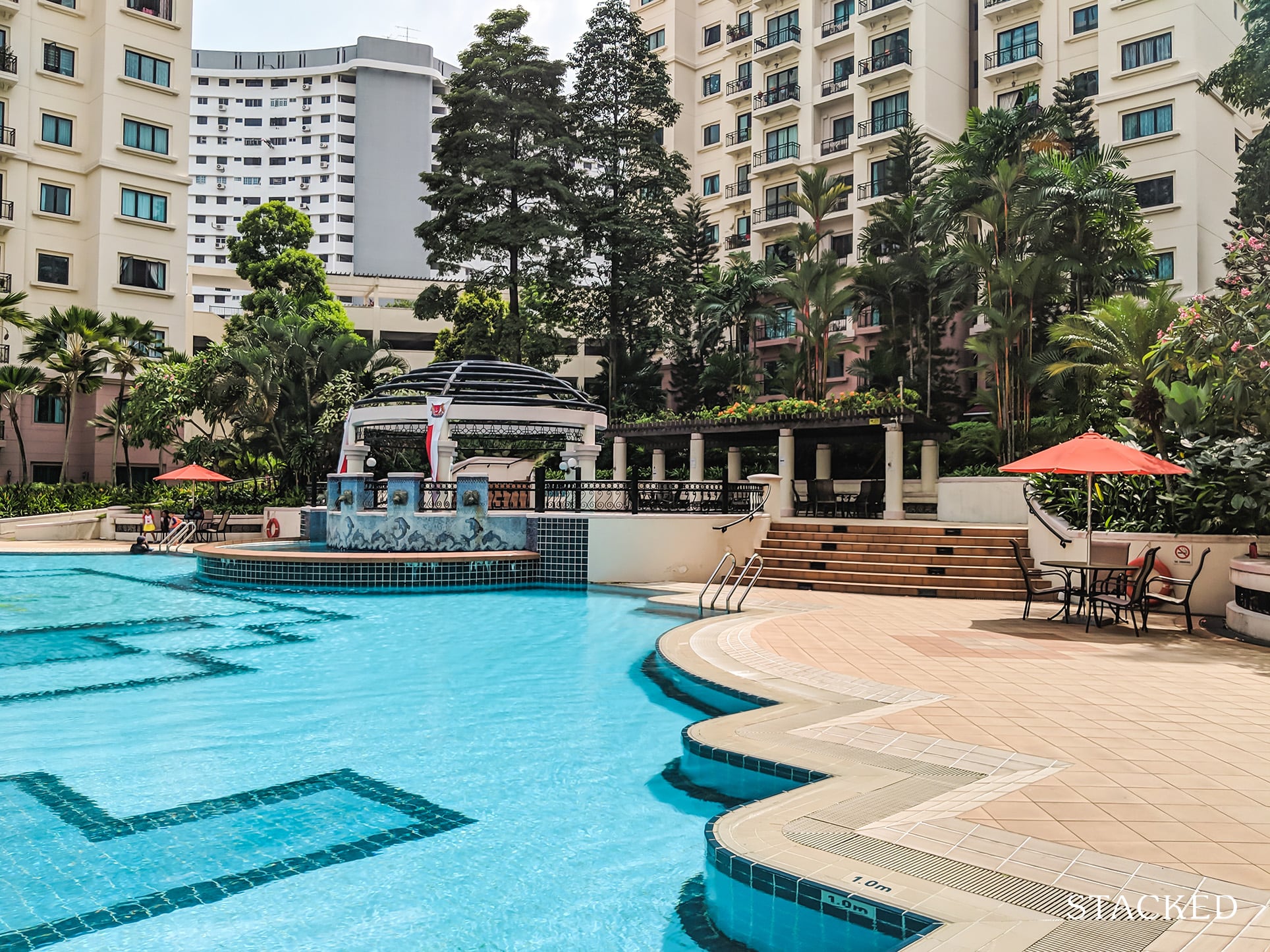 The middle end of the pool has a water fountain, and above it is a jacuzzi area.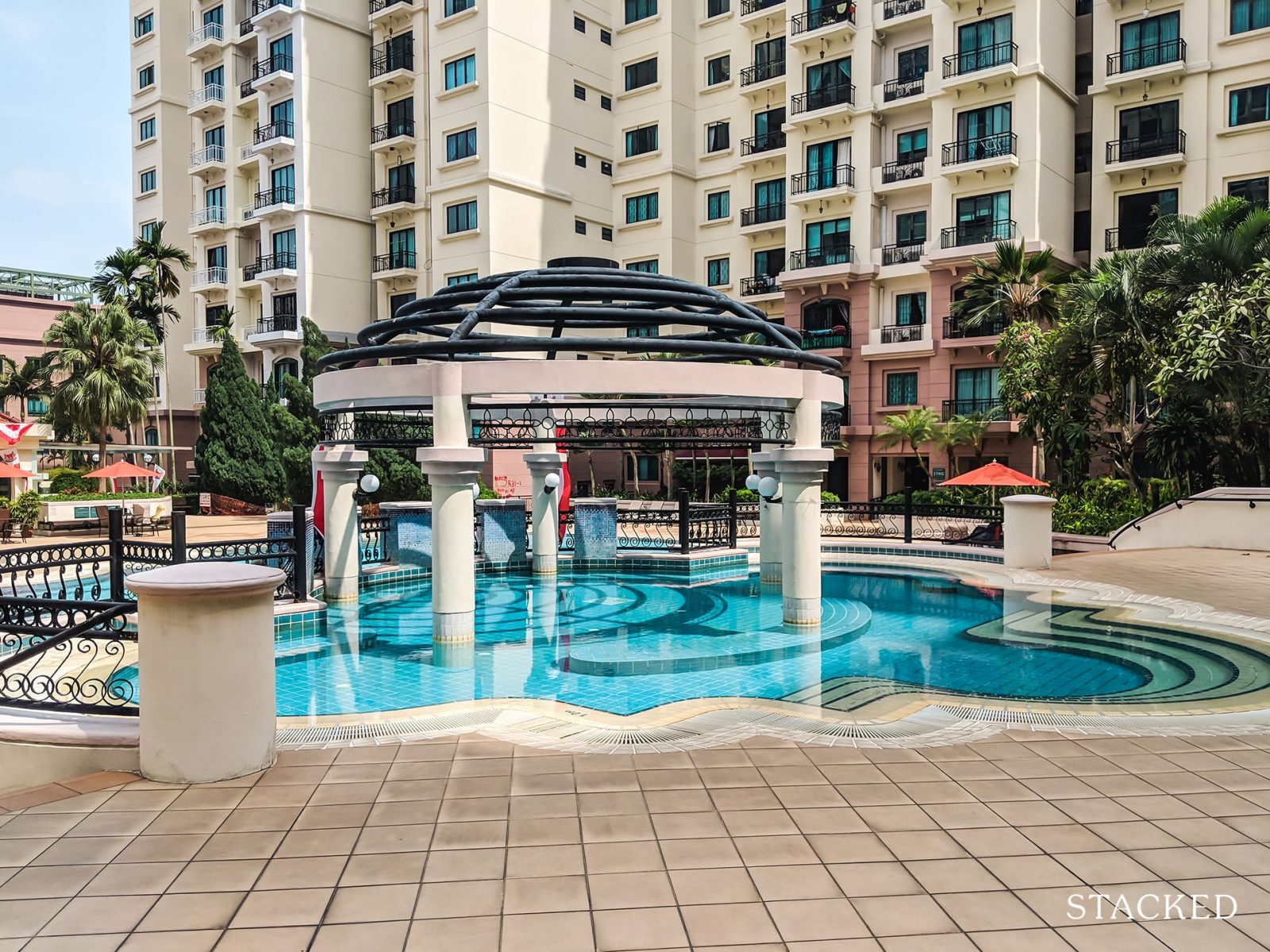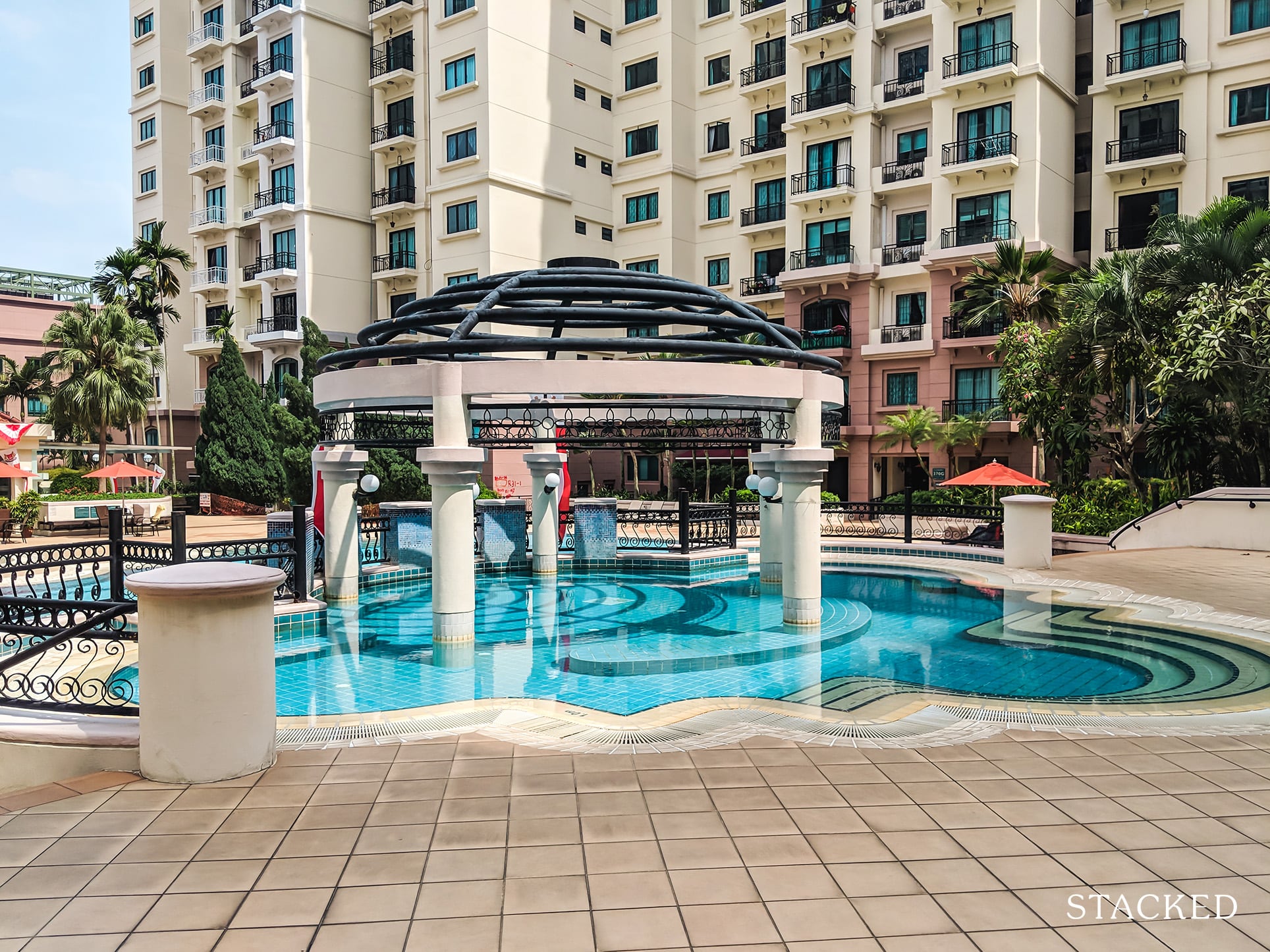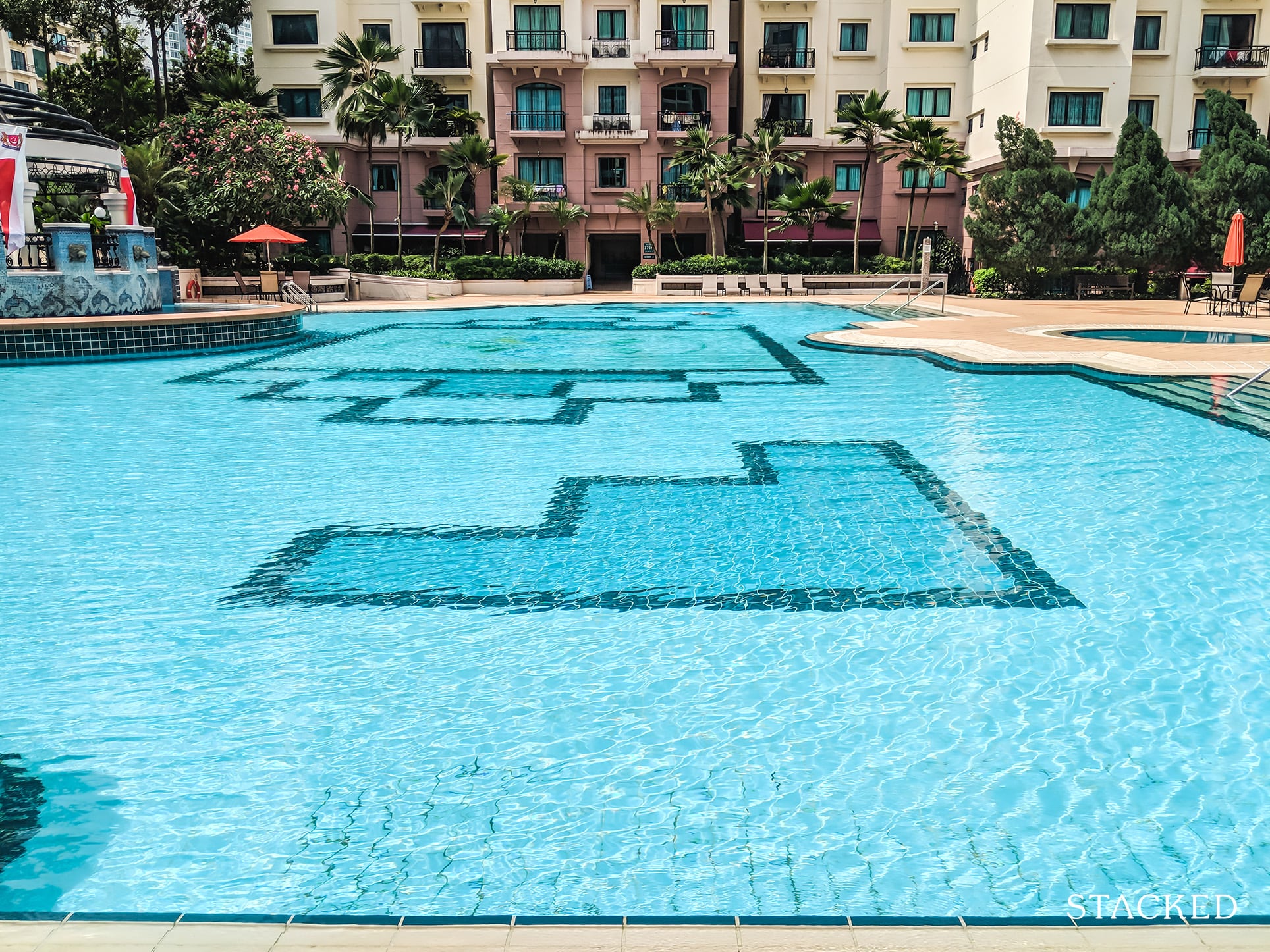 While the swimming pool at the Anchorage condo is not going to win any design awards, it is of a long enough to do some proper laps, measuring 34m in length. There is also a very small circular shallow kids pool right at the front. Frankly speaking, the swimming pool here is not large enough to support 775 units. So if the pool and privacy are important to you, this is a point you must consider.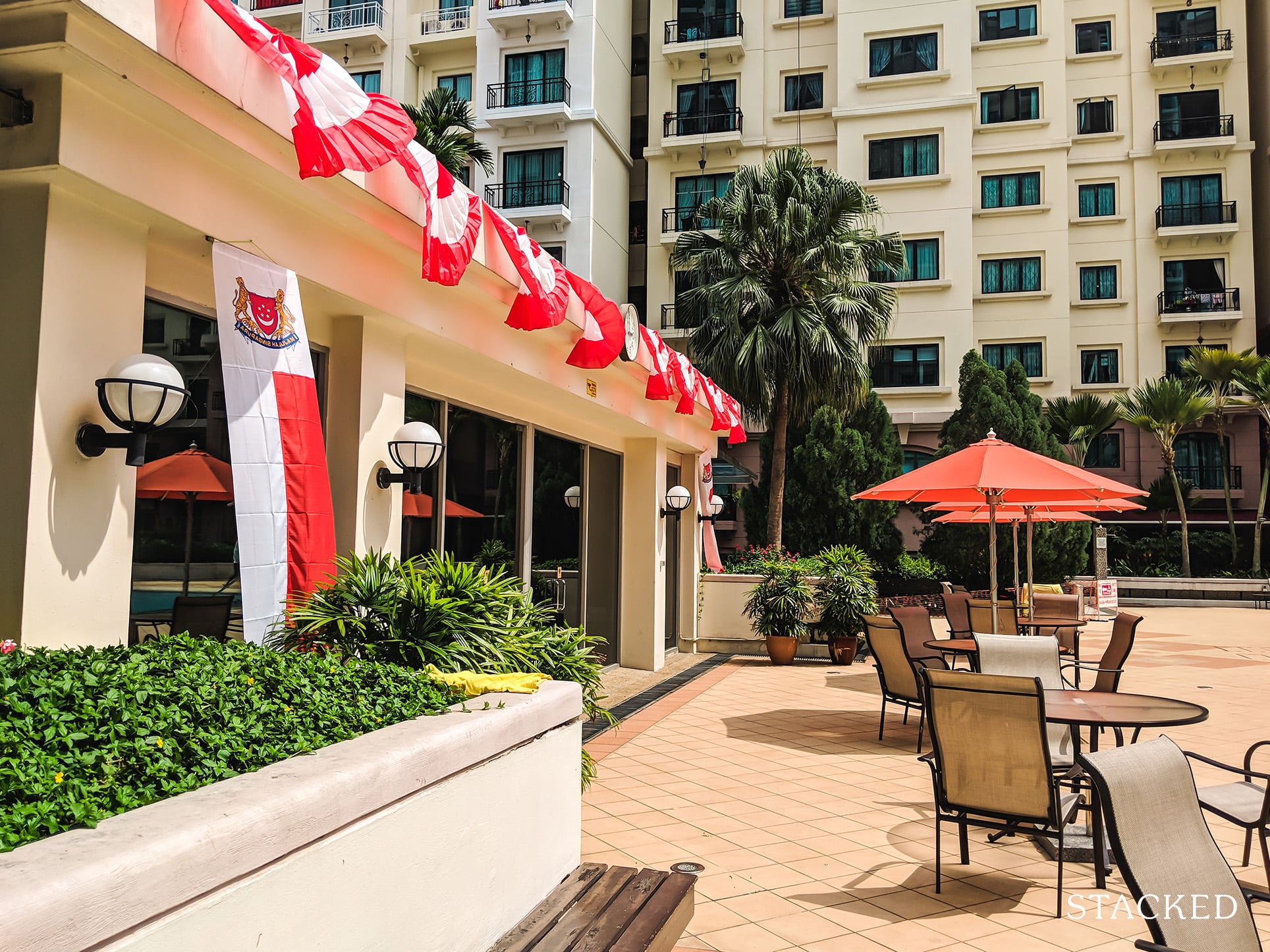 Beyond the swimming pool is the clubhouse, where there are a number of outdoor chairs and tables outside.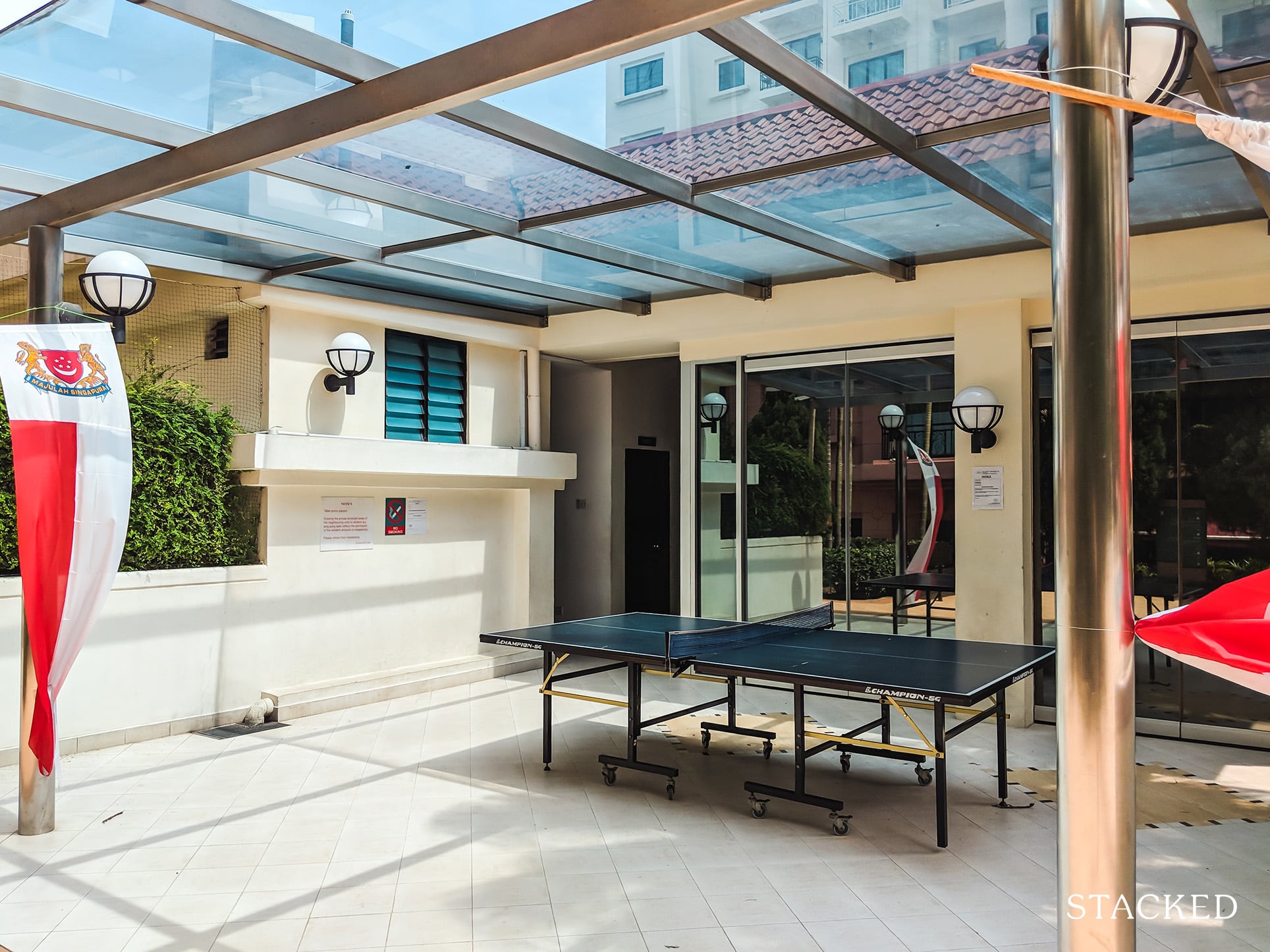 There's a table tennis table by the side of the clubhouse. It is open-air, but is thankfully sheltered.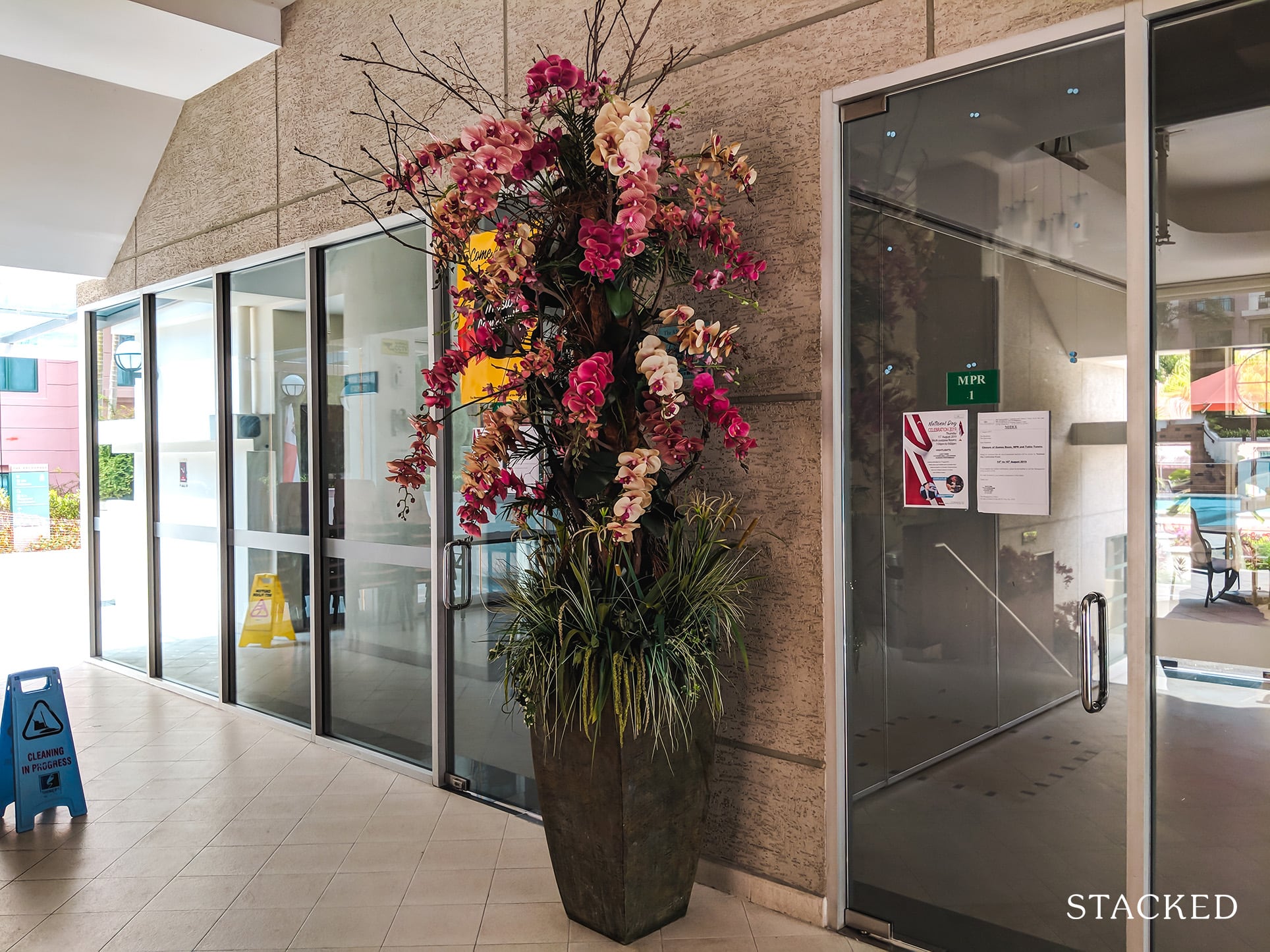 Inside the clubhouse itself, you have two function rooms. They are basically just an empty room, no fancy kitchenette or plush seating.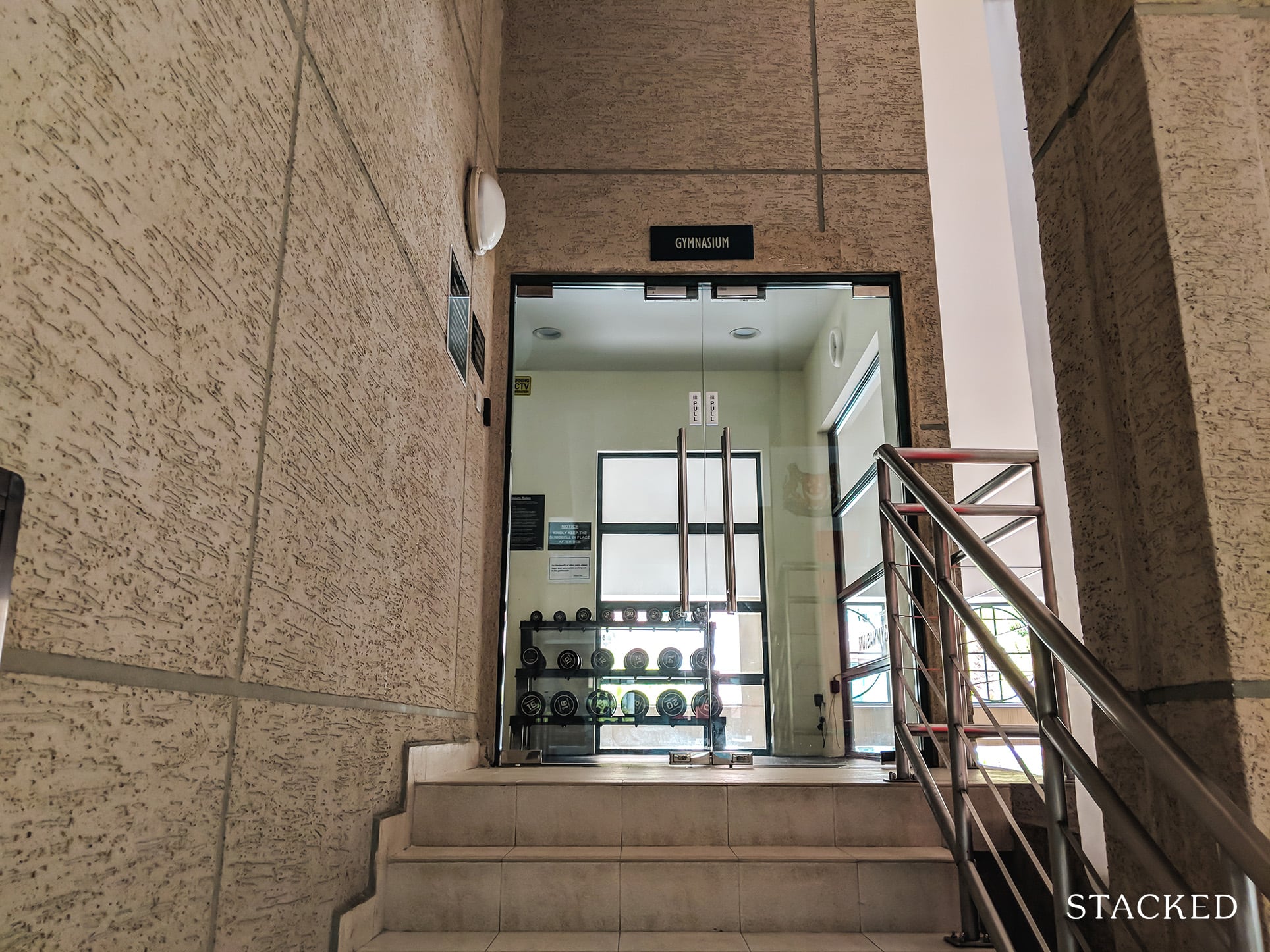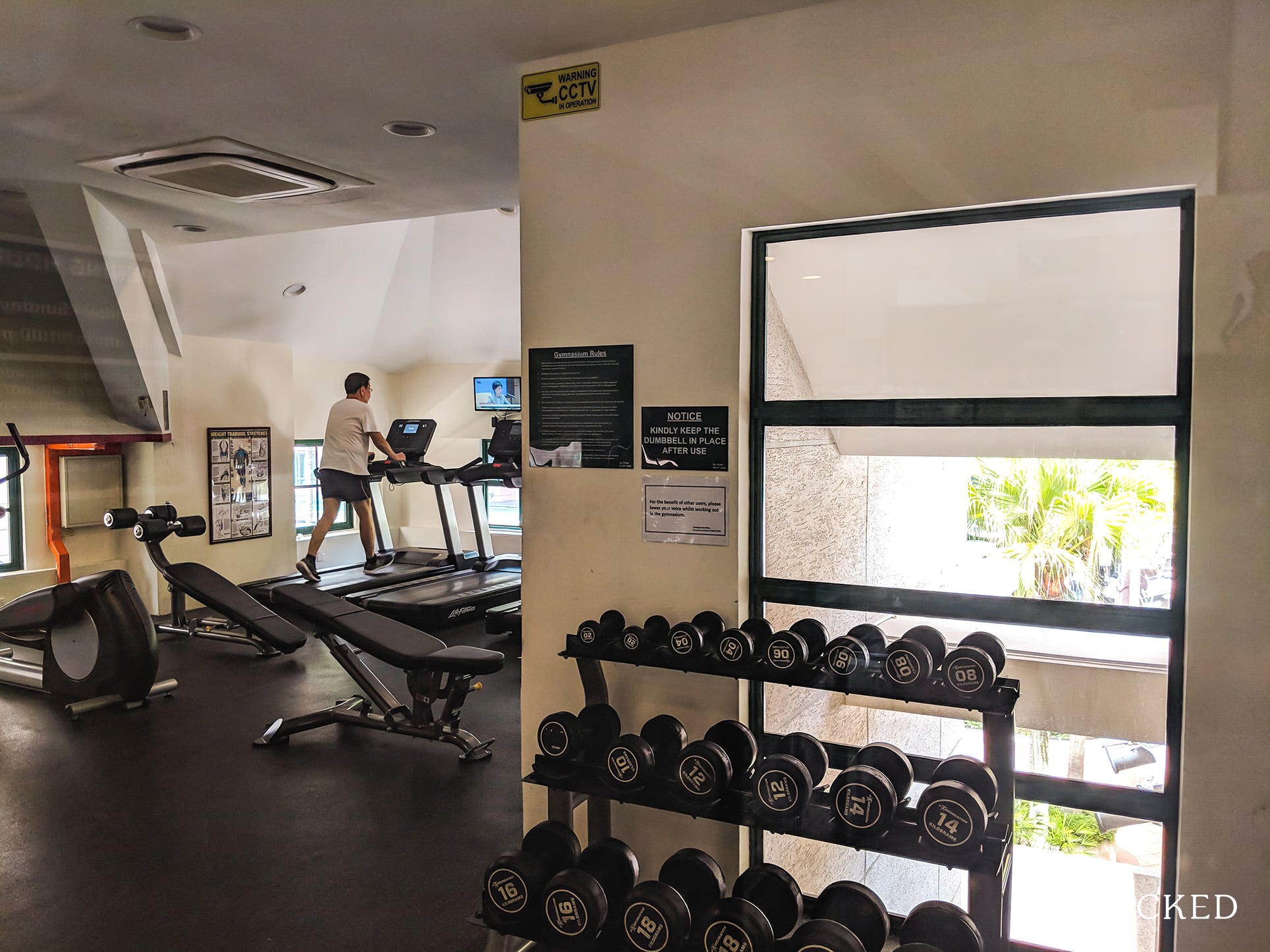 A couple of stairs up, you will get to the Anchorage condo gym. It is decently sized and has all the equipment most people would need. Unfortunately, it suffers from small windows and a facing that I would hardly call inspirational for your workout.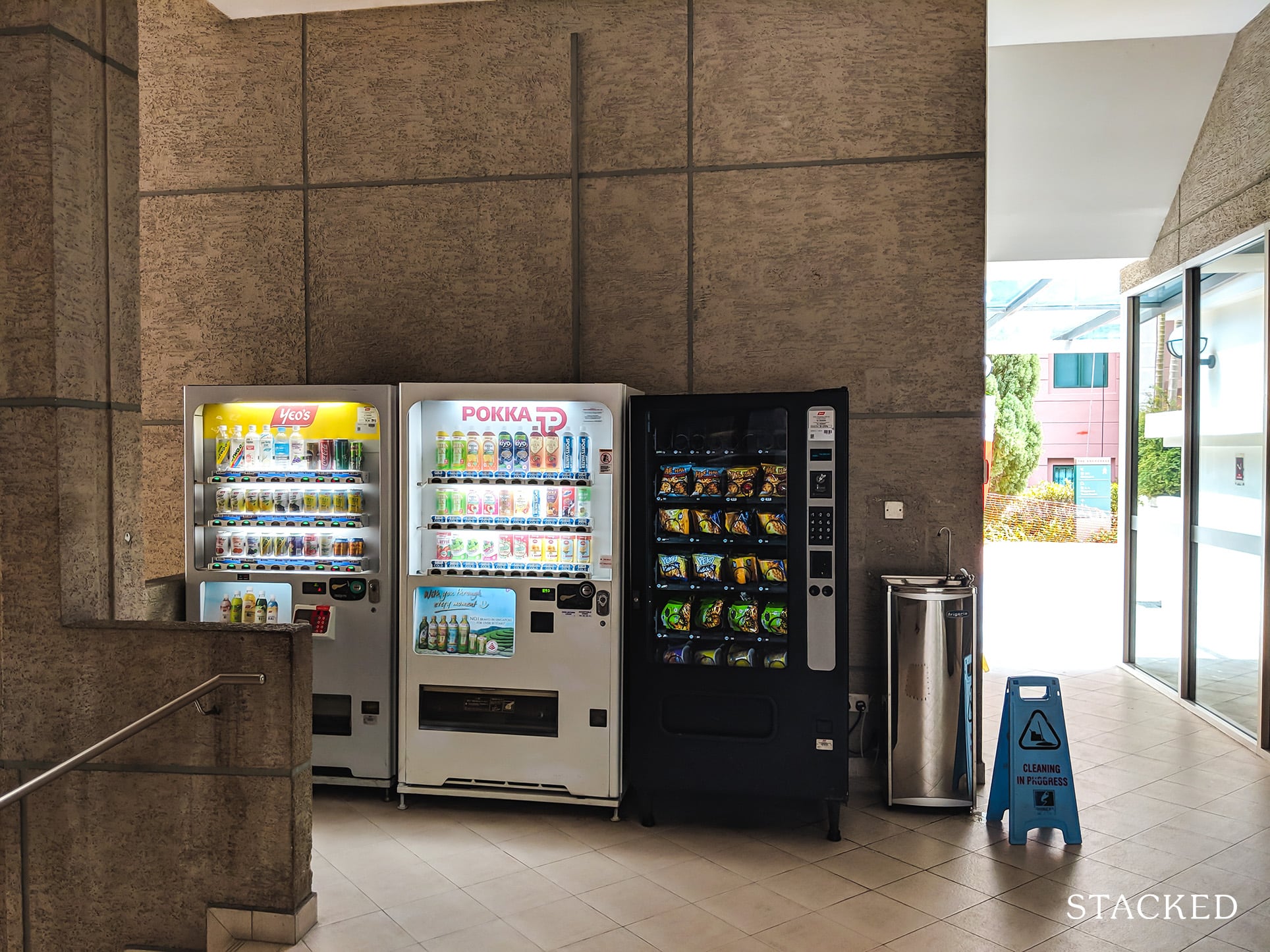 On the same level as the function rooms, there are vending machines for drinks and snacks, which is always convenient for sudden cravings. Also, I like that there is a water cooler at hand after a gym or swimming session. If anything, the Anchorage condo is one of the few condos that doesn't really need vending machines, after all, there is a shopping centre right outside!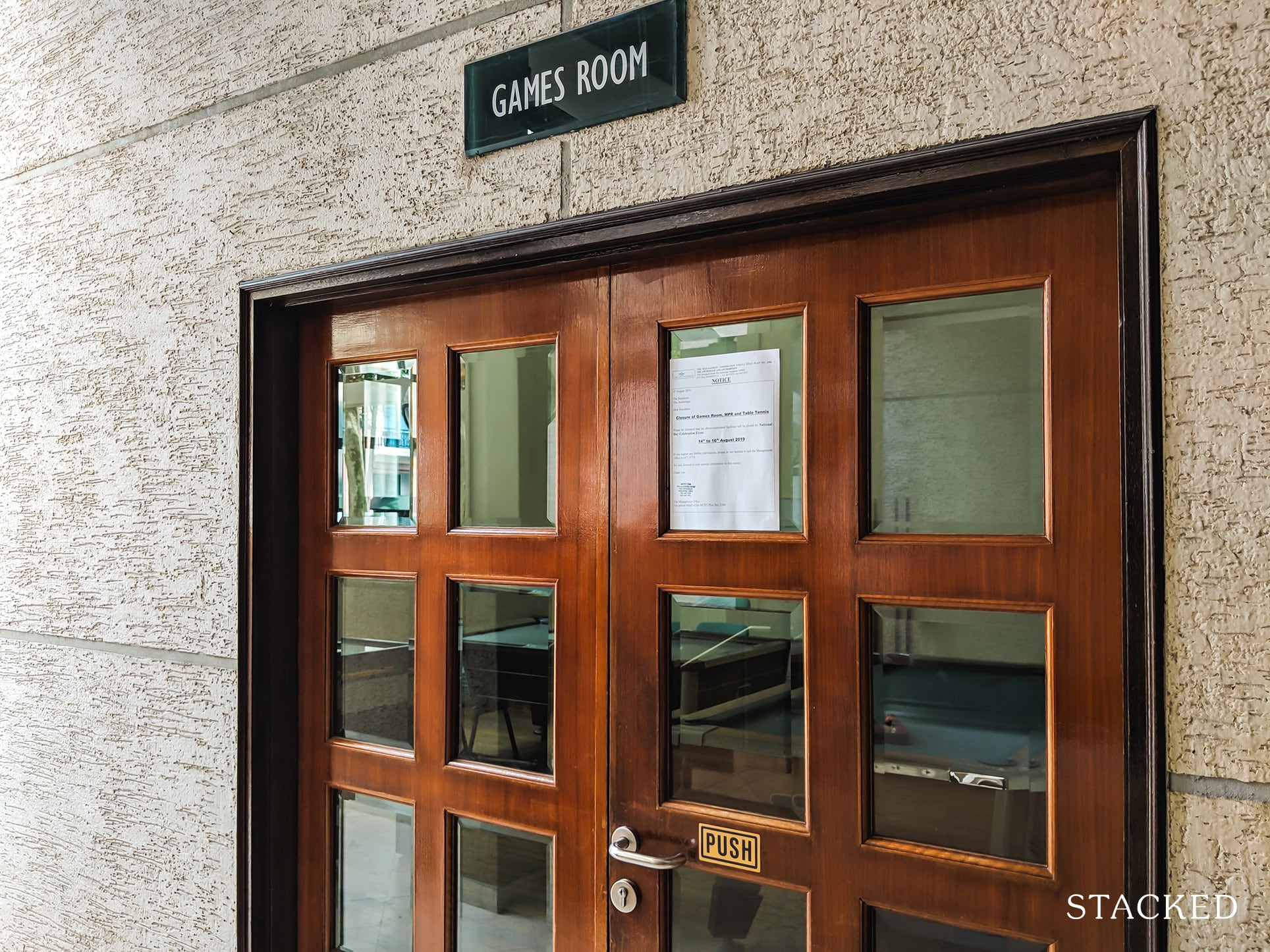 Moving on in the clubhouse, there is even a games room with a pool table. You really only see facilities like this at the bigger condos, and it is an underrated facility to have.
To round things up in the list of things to do in the clubhouse, there is a squash court in the basement area. For a clubhouse that is seemingly small in size on the outside, there are quite a surprising number of activities to do on the inside!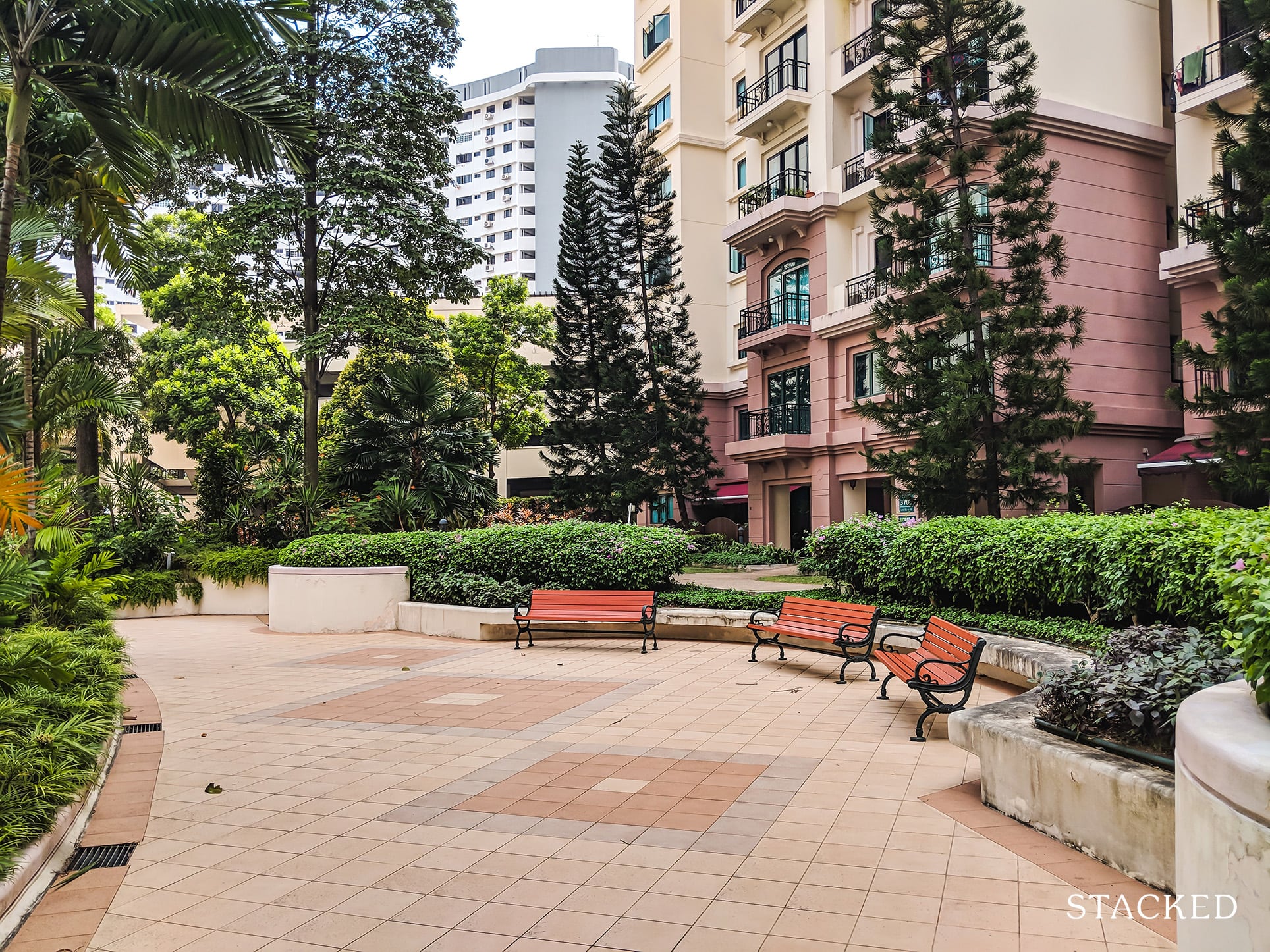 Walking around the rest of the development, I did wish that there was a proper footpath that went around the circumference, which would make good use of the large land that it is sitting on. To be honest, I didn't feel that the development was particularly homely. It felt very characterless, and not the most exciting of places.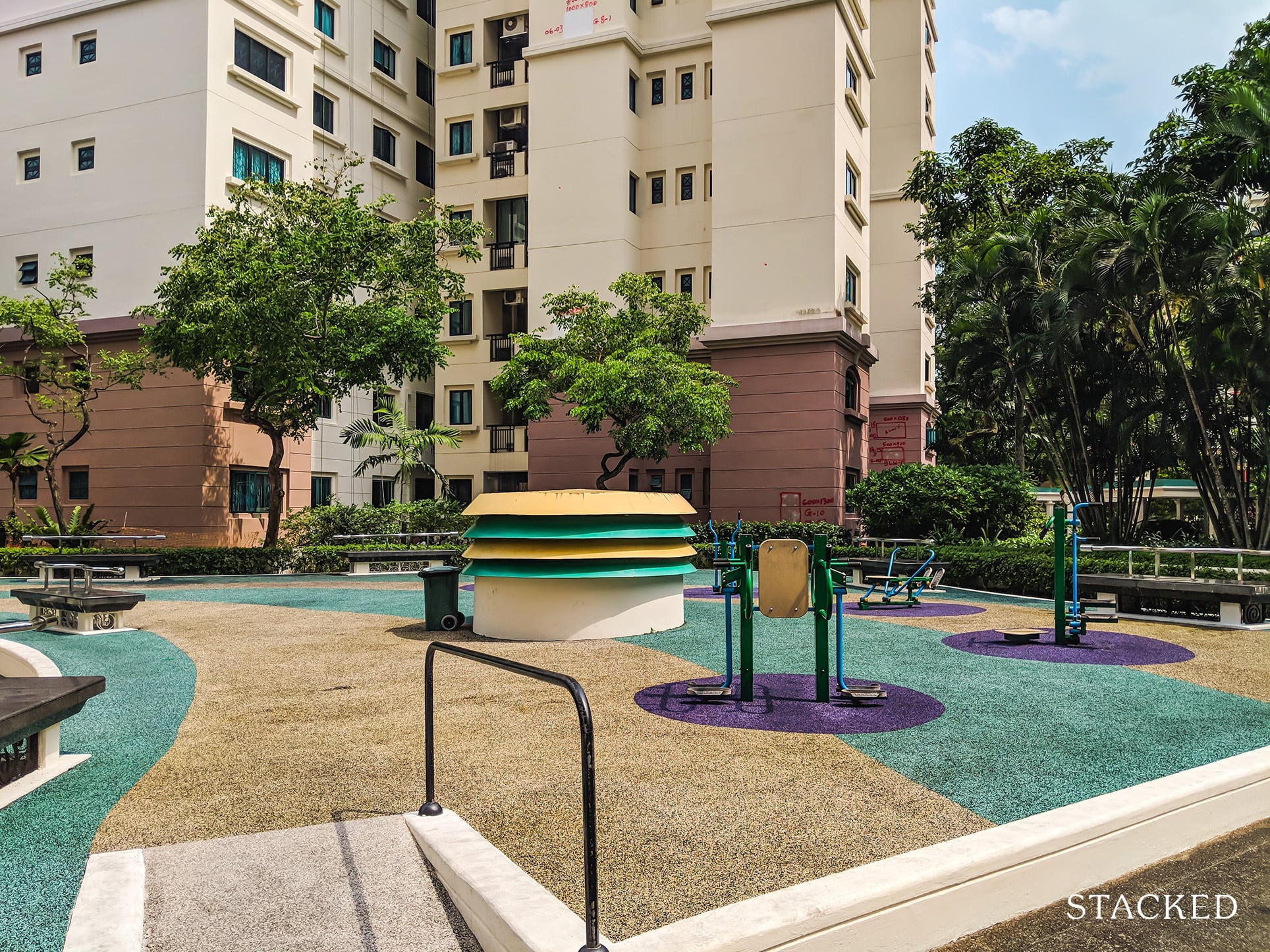 To wrap up the facilities in the main compound, there was a really large outdoor fitness station area. I think this would surely be better off as another swimming pool or multi-purpose court of some kind, but that's just me.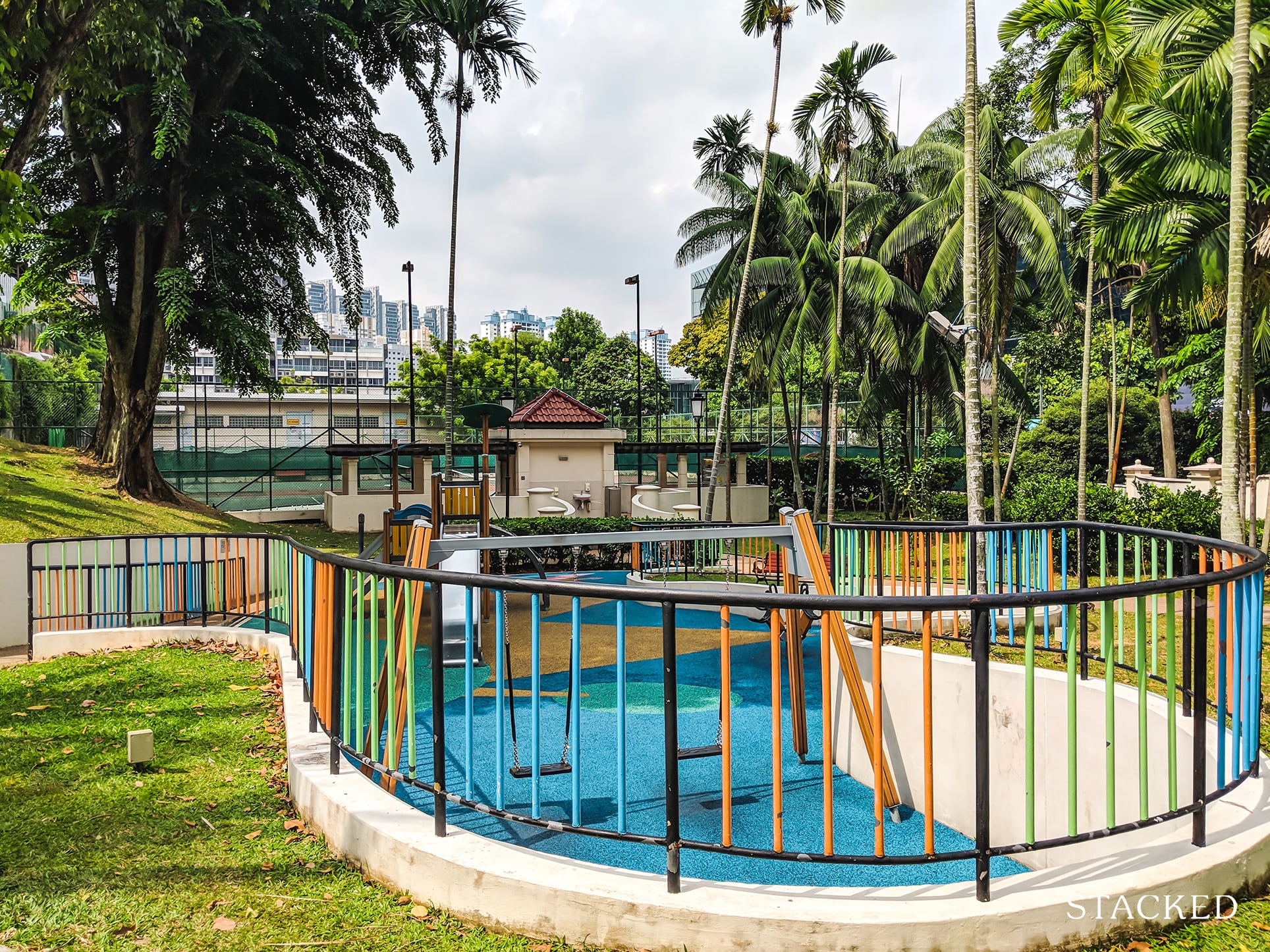 So on the right of the main entrance (when you are facing the Anchorage condo), there is actually a rather large area with more facilities. First up is a swing and playground for the kids.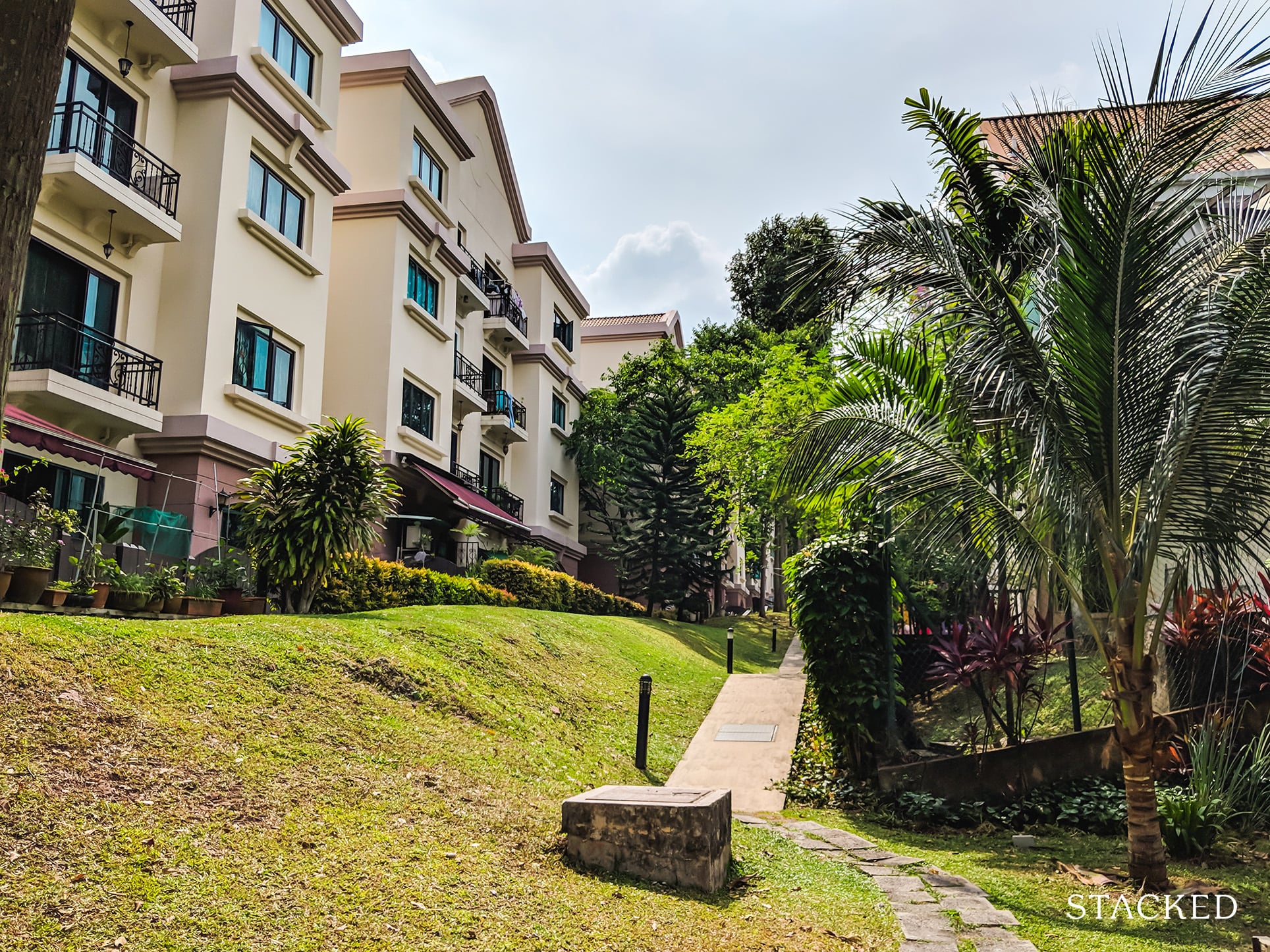 From here you can also see the lower level blocks and the small garden patio of the ground floor units.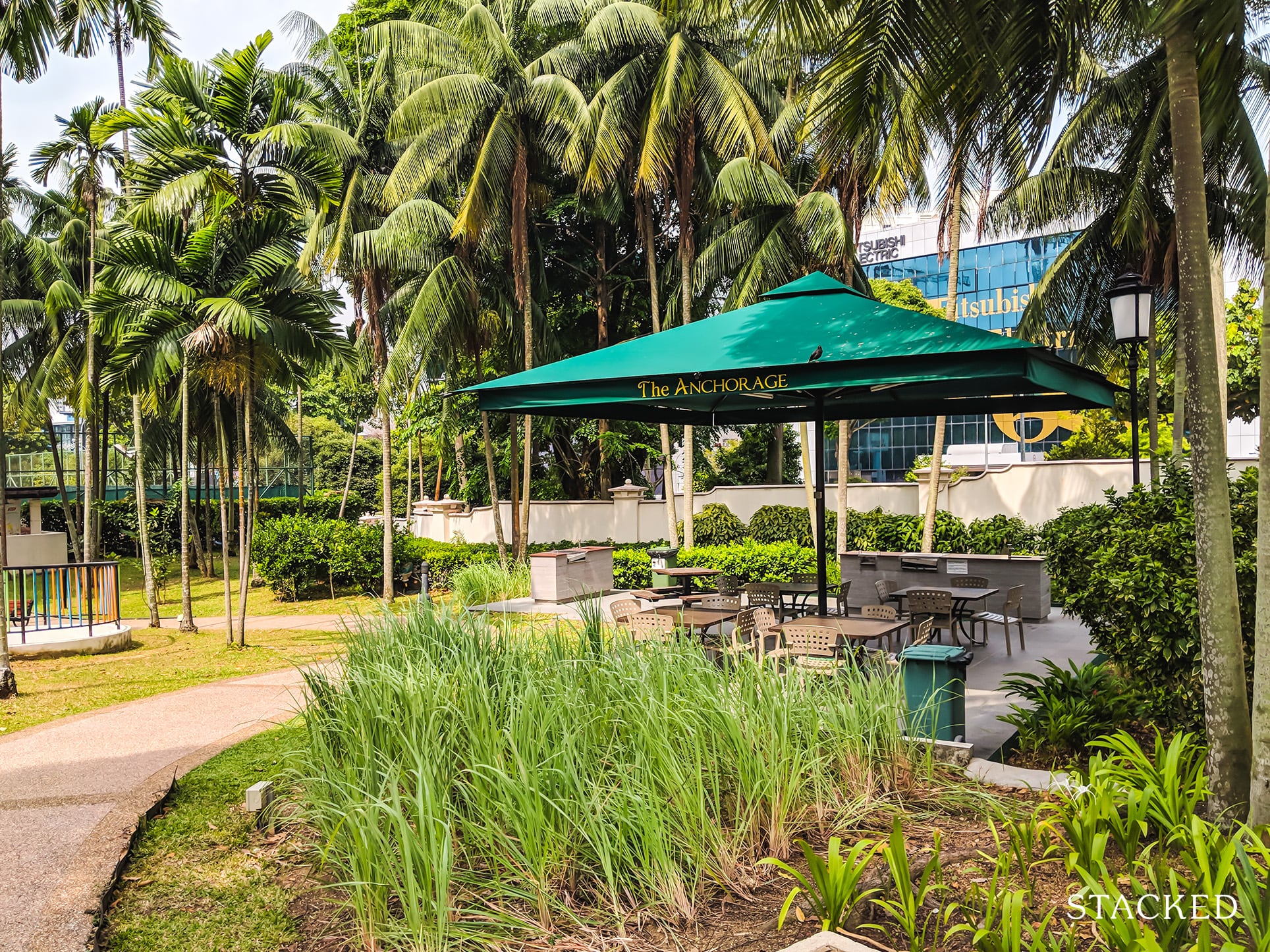 There is a nice and private barbeque area here too. I very much prefer this place to hold a barbeque because of privacy. The only problem would be that it is a little far off from the main blocks should you need anything from your home.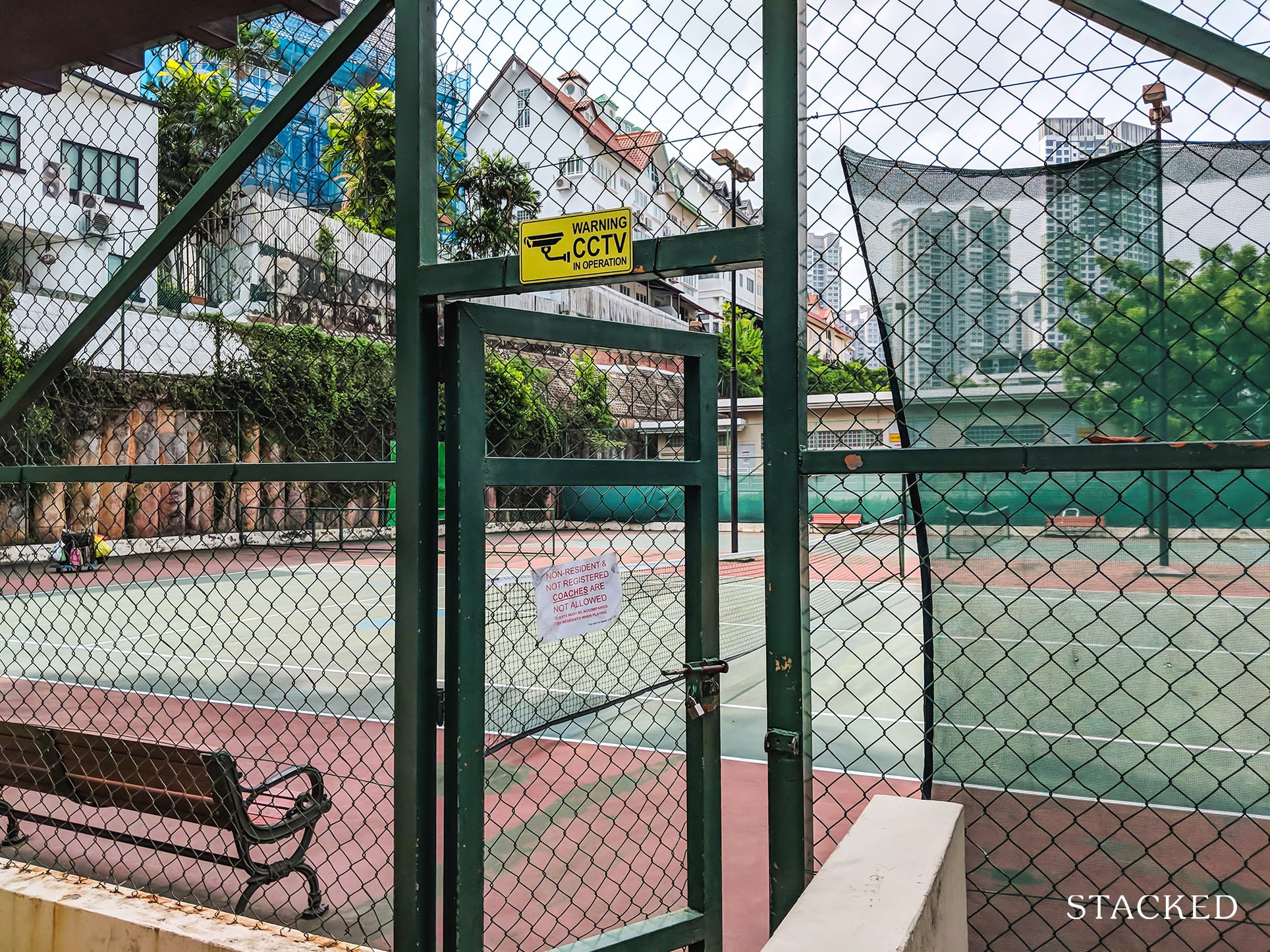 Lastly, there are two proper-sized tennis courts right at the end, which is good for a development of this size.
Anchorage Condo Location Review
Queenstown is one of my favourite places to live in Singapore as it offers a great blend of connectivity, convenience and old school charm. I like that it is close enough to the city, yet far away enough that you get the benefits without the hustle and bustle as it undoubtedly feels more homely.
Some people say that Alexandra Road is the "Orchard Road" of Queenstown (okay fine, I admit, no one said that) but you do kinda get my point here. Of all the places to live in Queenstown, other than right next to the MRT station, being on Alexandra Road itself means you are right in the thick of the action.
Probably the biggest attraction to living in the Anchorage condo is that Anchorpoint Shopping Centre is right at your doorstep. By no means is it a world-class shopping centre, but it is still incredibly convenient to have one just mere steps away from your house. As long as you don't have the mindset that this will be the one-stop-shop for all your retail therapy, it does actually fulfill one need, namely being food.
One of the main draws of Anchorpoint Shopping Centre was a Cold Storage in the basement, but unfortunately, that has recently closed and there is no news at the moment as to what will be taking over. Hopefully, it would be another supermarket chain as the nearest supermarket would now be Sheng Siong or NTUC at Dawson. It is actually only 2 bus stops away, but that is still not ideal in my opinion.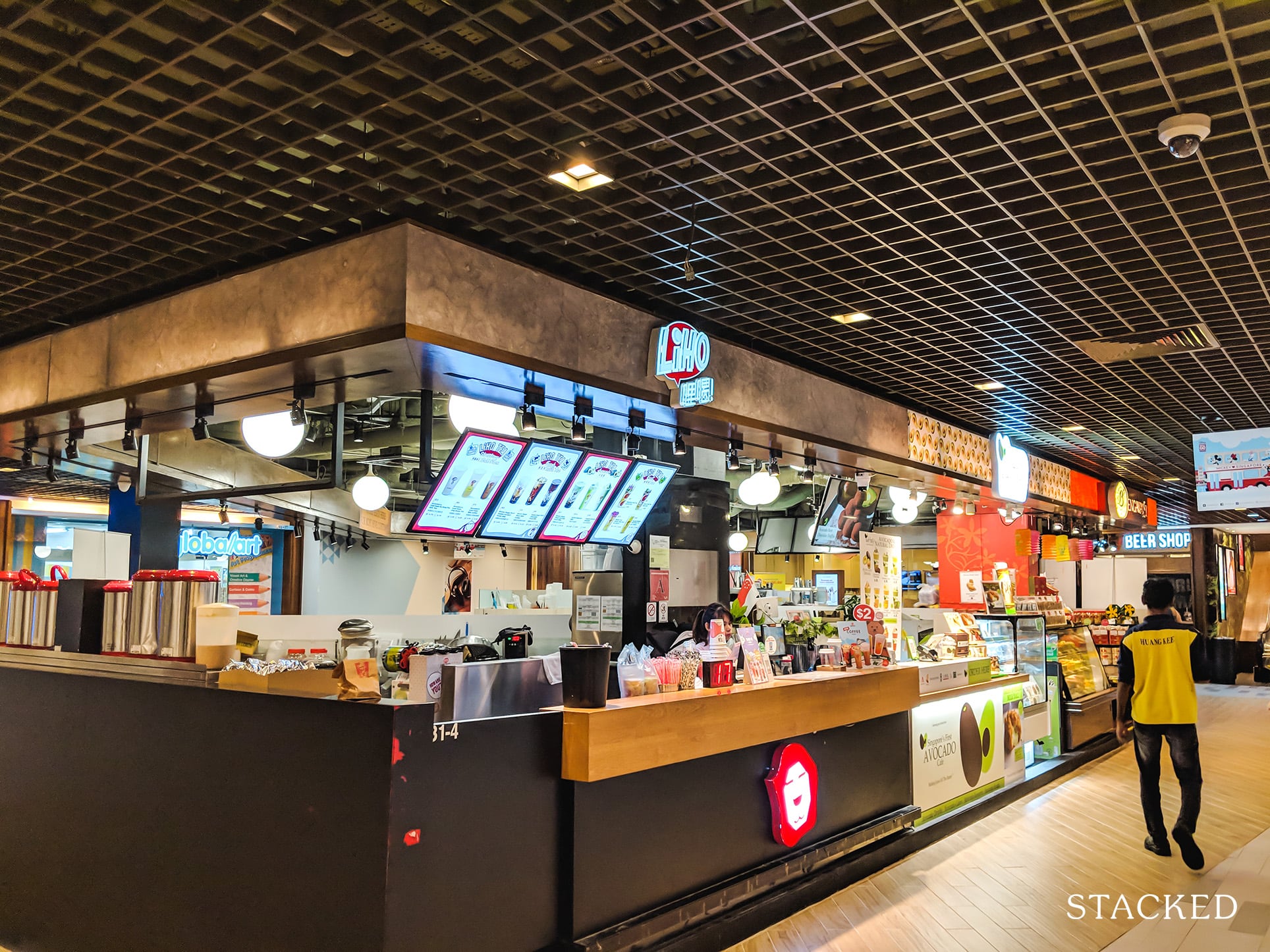 There are a number of small eateries at the basement level, including what is now a Singaporean staple, bubble tea.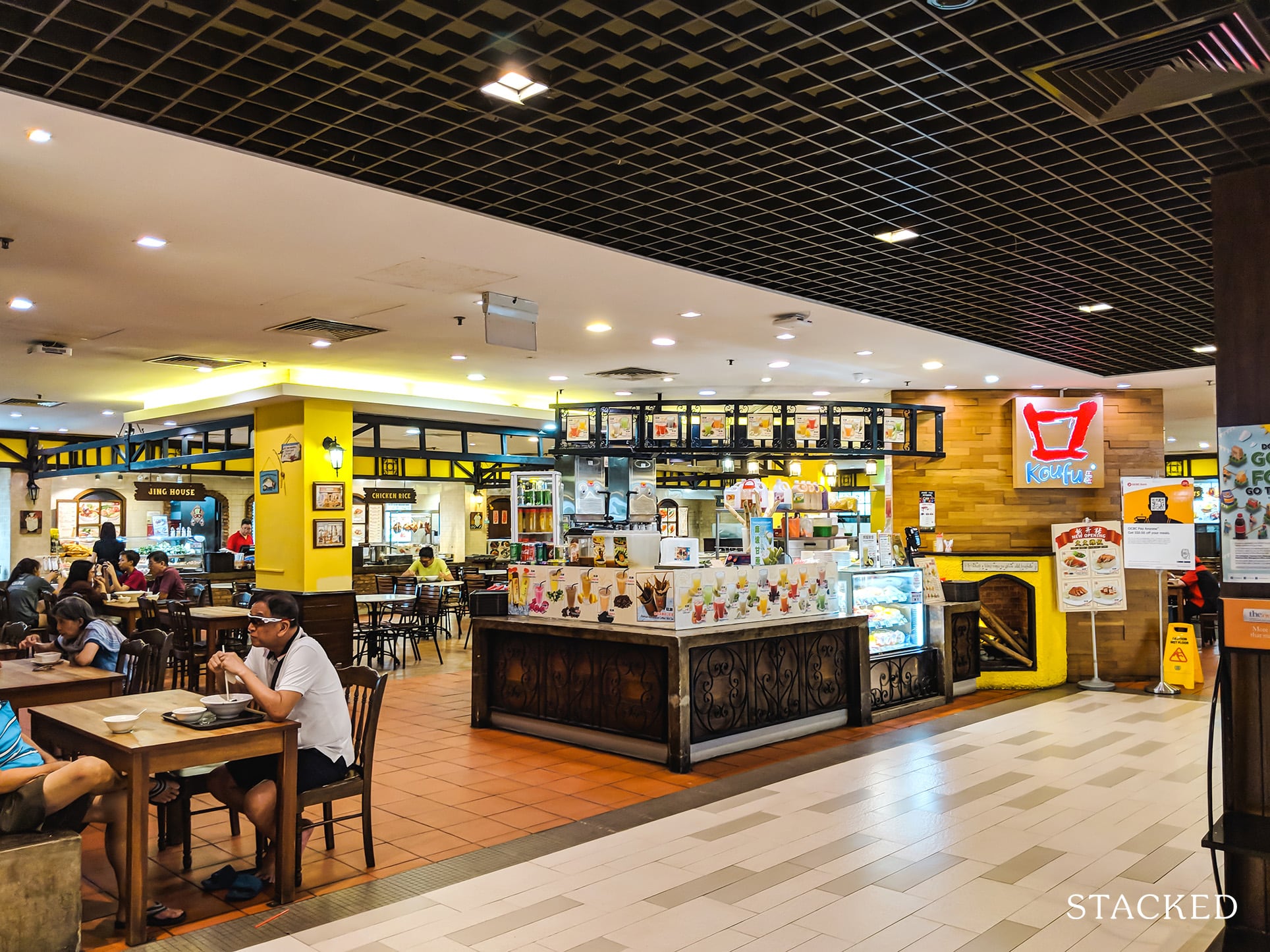 Along with a Koufu food court, there are other food outlets like a Fish Mart Sakuraya (cheap sashimi), KFC, and Xin Wang Hong Kong Cafe which opens till 1.30 am on weekends. The selection here is not the biggest, but I think it is more than sufficient.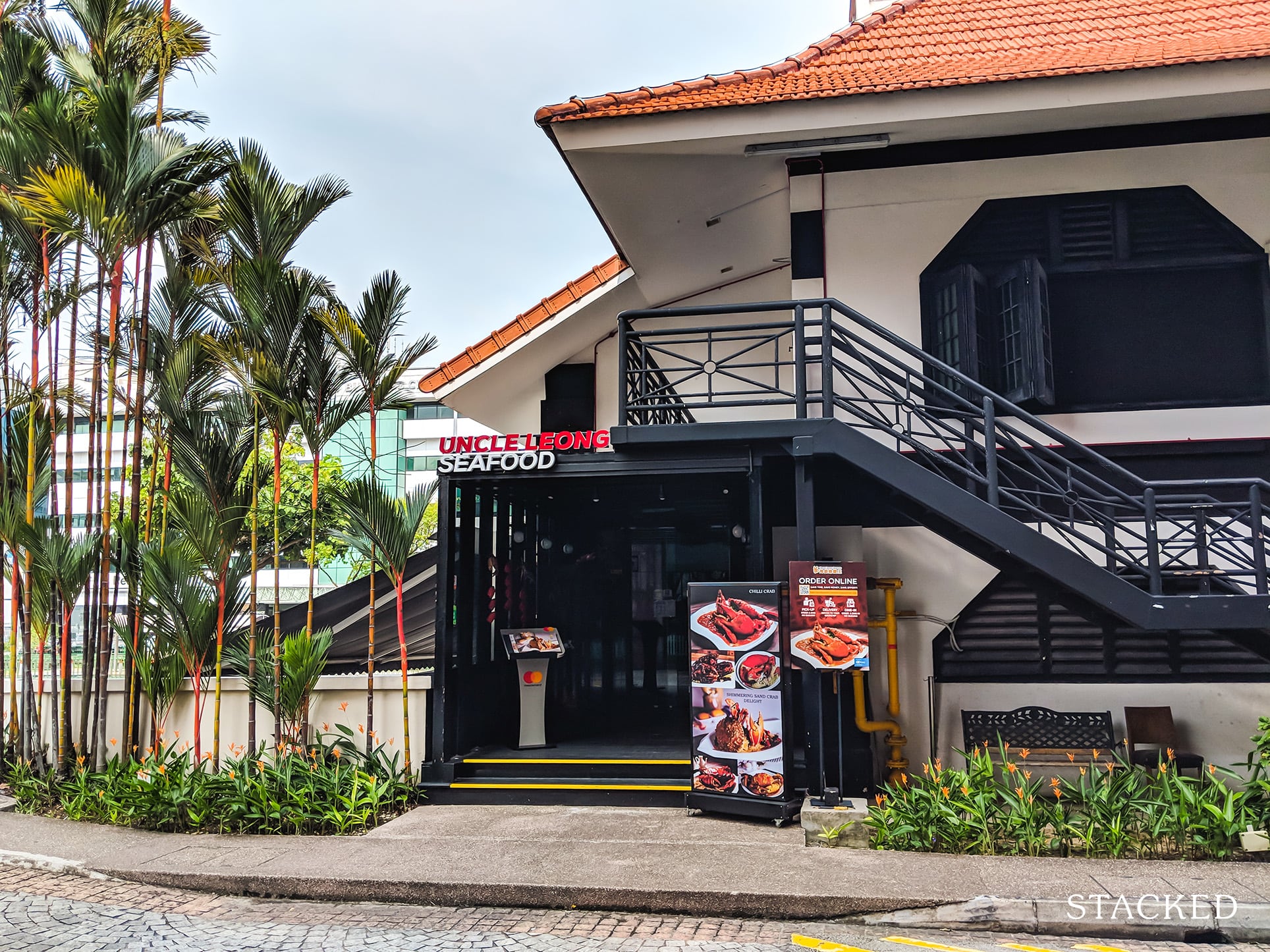 Right outside Anchorpoint Shopping Centre, there is an Uncle Leong Seafood branch, where you can get your seafood fix at any time.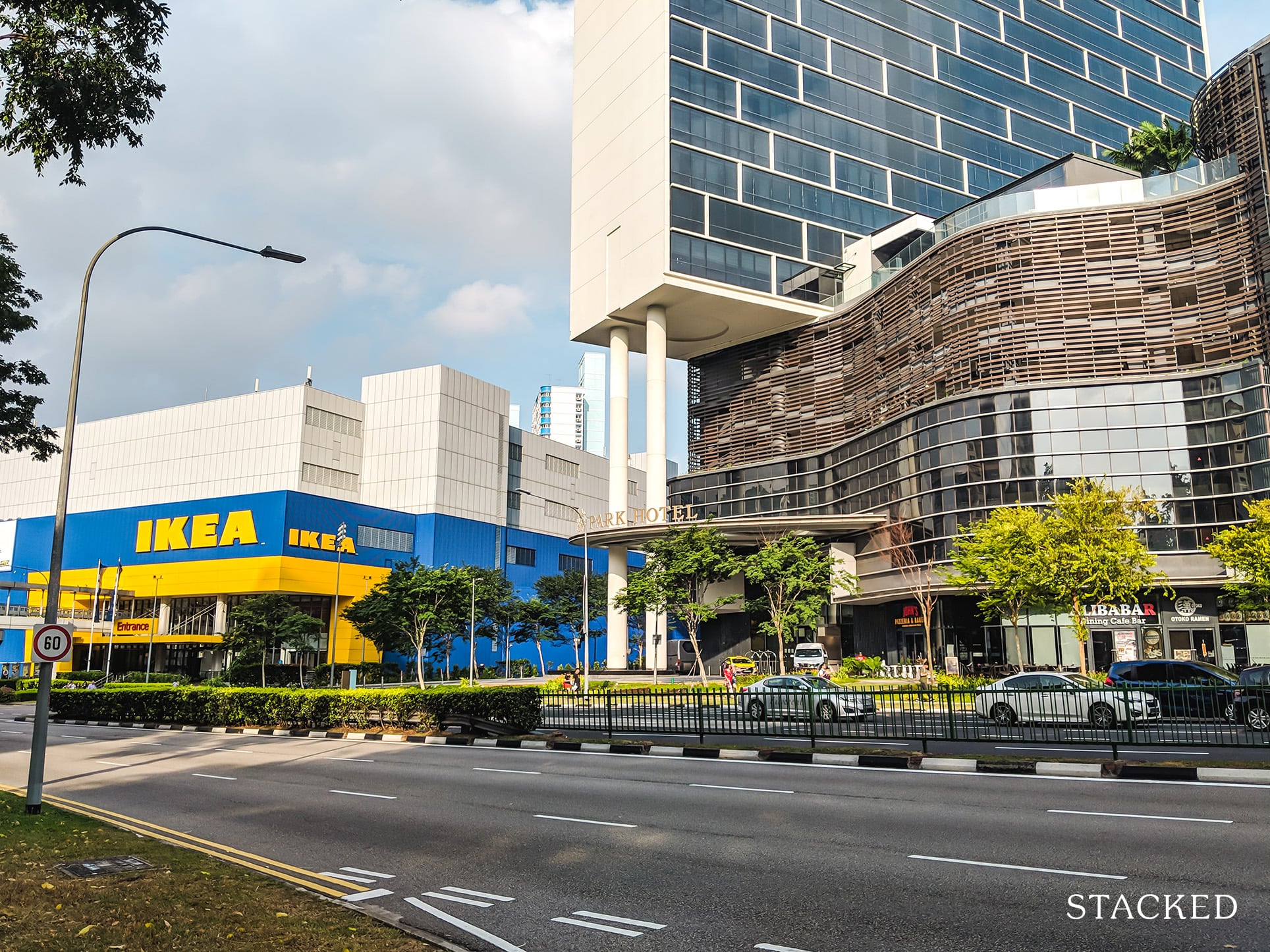 A firm favourite with Singaporeans, right opposite the Anchorage condo is Ikea, one of only two locations in Singapore. On weekends, you can see a line of cars streaming to get in, which just shows its undying popularity. If you ever need any household items, you can just pop right over! It's a minor perk for sure, but not many people can boast of living right in front of an Ikea.
Next to the famous blue and yellow building is the Alexandra Central Mall. There are a couple of dining places at the first level, like Alibabar, Toast Box and Otoko Ramen. To be honest, the offerings in this mall is rather weak and judging from the empty shops inside, it isn't doing well. The best-case scenario here would be for a strong anchor tenant to come in, like a 24 hour Cold Storage or another supermarket chain, that would really pep up the area.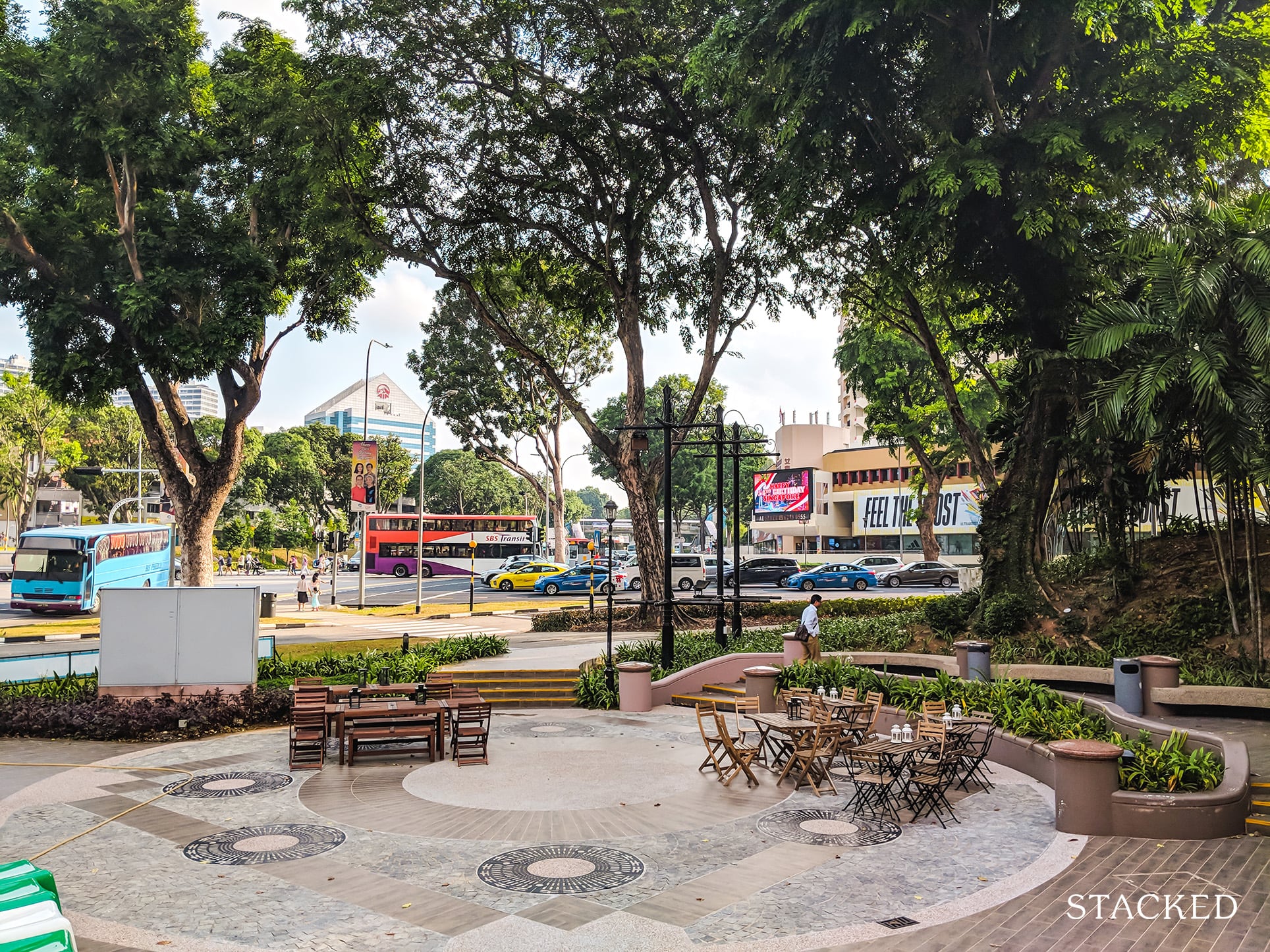 Queensway is another perennial favourite with Singaporeans, as it is a convenient place to shop for sporting goods and shoes. However, there was news earlier this year that it may go en bloc, so be prepared for it to change in the future.
Another notable point of staying in the Anchorage condo is the availability of great food nearby. Other than the food options at Anchorpoint Shopping Centre, and the usual Ikea meatballs, there are three hawker centres within a 5-minute walking distance. The first is Alexandra Village Hawker Centre and the second being ABC Brickworks Food Centre. Both are really popular, and the latter even has a wet market.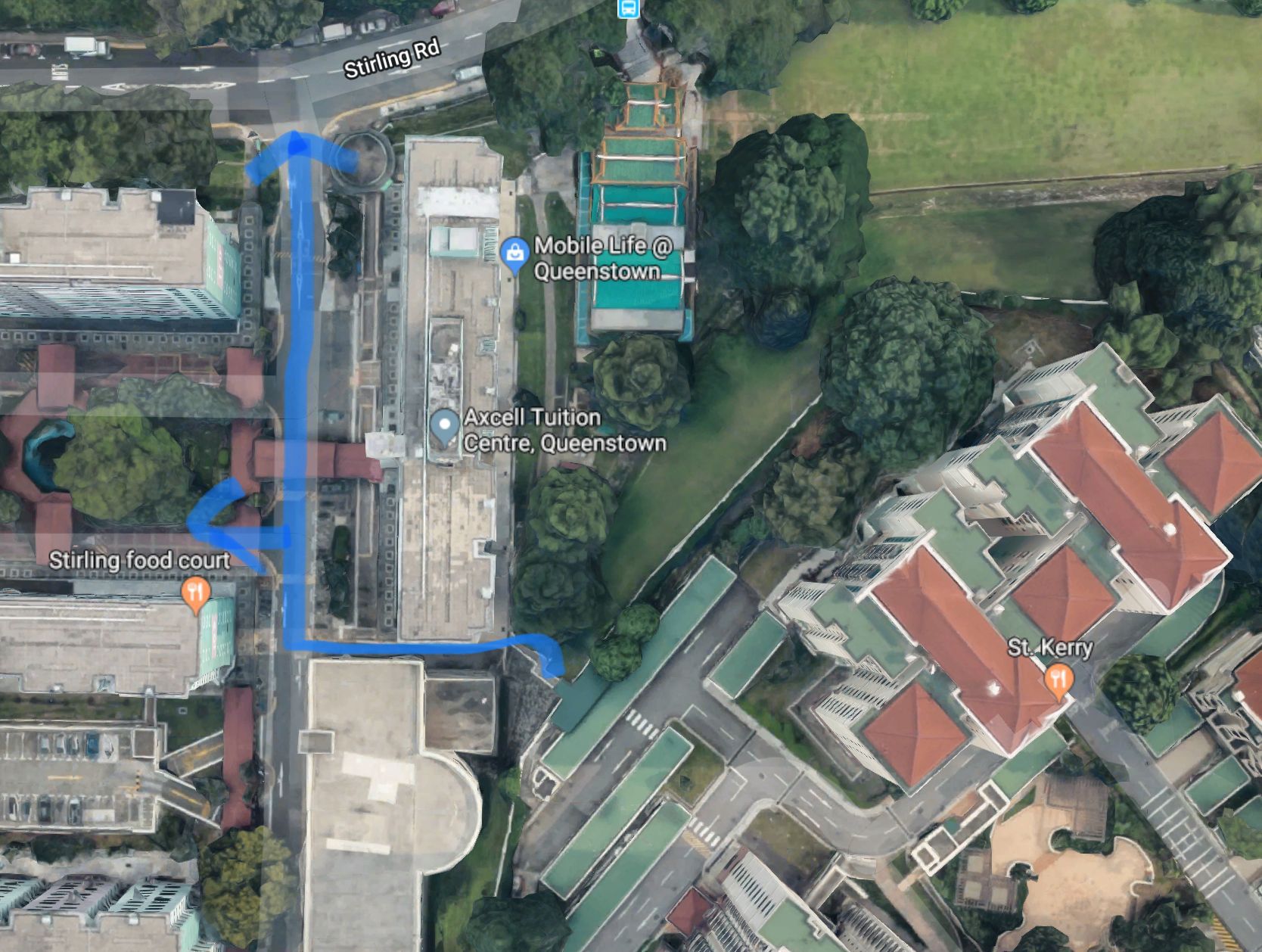 For the third hawker centre and wet market, Mei Ling Market is accessible via a side gate at the back of the development which I pointed out earlier in the review. It is quite a pleasant walk through the Stirling Road HDB estates, and for a quieter experience, this is the place I would go for. The HDB blocks right behind the Anchorage condo itself have a mini food court on the ground floor if you are looking for something local and quick.
This is also the pathway to take as a shortcut to get to Queenstown MRT. From the back, it is about an 8-minute walk, which is actually very decent.
Probably the only thing you have to note here is that Stirling Road is a mini-hill so walking back from the train station would just be slightly tougher.
For those who drive, staying in the Anchorage condo has an interesting upside if you treat your car as if it were a baby. For one, the famous Leng Kee stretch is filled with all the major car brands, so if you have bought a car from the authorised distributor, any servicing or repairs would be really convenient. Secondly, the area behind Alexandra Village Food Centre is full of third party car workshops. It's brilliant for cheap repairs you need to do for scuffs and dings, or if you are really into customising the outlook of your car.
Alexandra Road is a major road, so you can get to AYE really quickly, which would be a 15-minute drive to the city. Alternatively, you can go via Alexandra Road itself too, which might be quicker, depending on the time of the day.
Being close to Alexandra Technopark, Metropolis in the Buona Vista area, and the CBD, you can be sure that the Anchorage condo is a popular choice with office workers and expats.
Lastly, for schooling options, the Anchorage condo is close to Gan Eng Seng Primary School, Queenstown Primary School, Henderson Secondary School, and Crescent Girl's School. For a mature estate though, the option of good schools is a bit of a letdown in this area as none of them are really within walking distance. Don't get me wrong, schools like the National University of Singapore, Fairfield Methodist Primary and Secondary, and Anglo Chinese School (Independent) are all actually a 10 to 12-minute drive away, but again, certainly not near enough to walk.
Anchorage Condo Development Site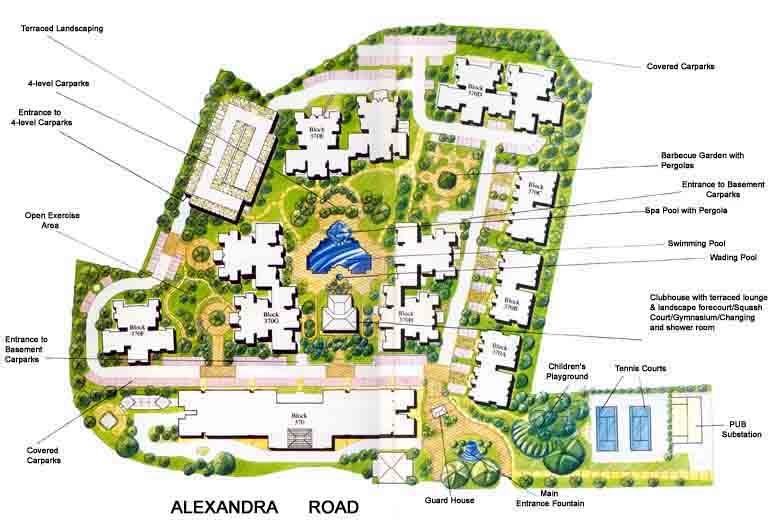 The Anchorage condo sits on a vast 613,423 square feet of land. As the majority of it is quite hidden by the HDB blocks and Anchorpoint Shopping Centre, most people are unaware of how big the development really is.
That being said, it does not feel as spacious as other old developments such as Pine Grove and Pandan Valley. But, as the location is more central and closer towards the city, I think it is fair to expect to have to give up that sense of spaciousness.
Truth be told, 775 units is a large number for a development, and I for one am not the biggest fan of big developments. But the silver lining is that it does not feel very dense when you are actually there in person. In fact, if I wasn't aware of it, I would have put it at a 4 to 500 unit development.
As you can see from the site plan, there is only one main entrance and exit from Alexandra Road. Although I much prefer to have the flexibility of two entrances for bigger developments (one at Mei Ling would have been perfect), Alexandra Road is well connected and easy to get to and from the development. Just bear in mind that road traffic is quite heavy in the morning peak hours, so if you have to get to the AYE, trying to U-turn on Alexandra Road could be an issue.
Now, on to the unit mix of the Anchorage condo:
| Unit Type | Unit Size |
| --- | --- |
| 1-bedroom | 883 – 958 sqft |
| 2-bedroom | 1,044 – 1,238 sqft |
| 3-bedroom | 1,421 – 1,830 sqft |
| 4-bedroom | 2,077 – 2,088 sqft |
As expected, the unit sizes here are large and roomy. They are certainly better than the average new development as the 1-bedroom unit size here can be the equivalent of a 3-bedroom in a new launch!
Anchorage Condo Pricing Review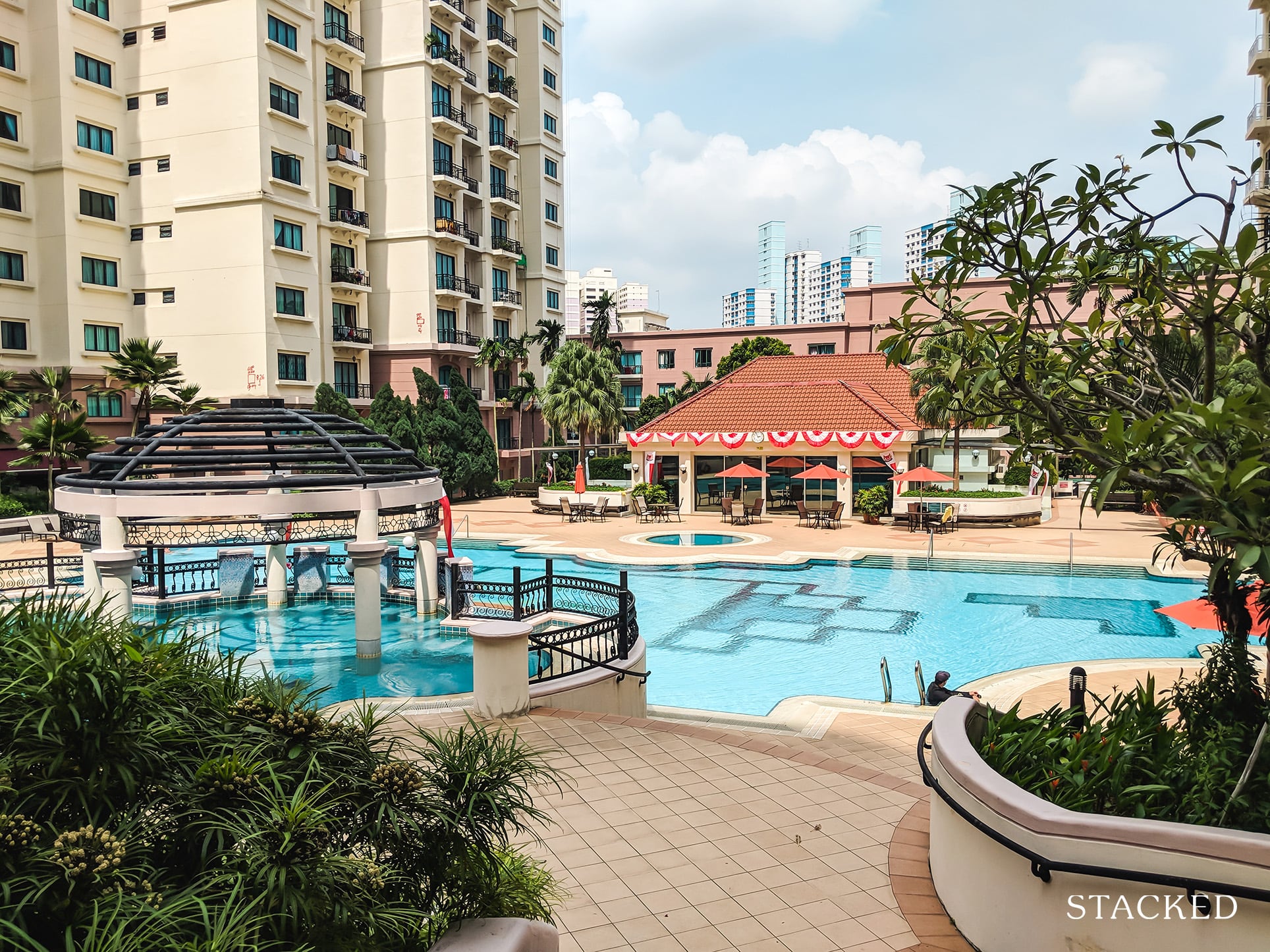 From the pricing, it seems as if the Anchorage condo is fairly priced when you benchmark it against the Queens and Commonwealth Towers. But when the Alexis condo comes in at $1,128 PSF and being closer to the MRT, it is a tough fight unless your priority is large unit sizes and more spacious grounds.
Our Take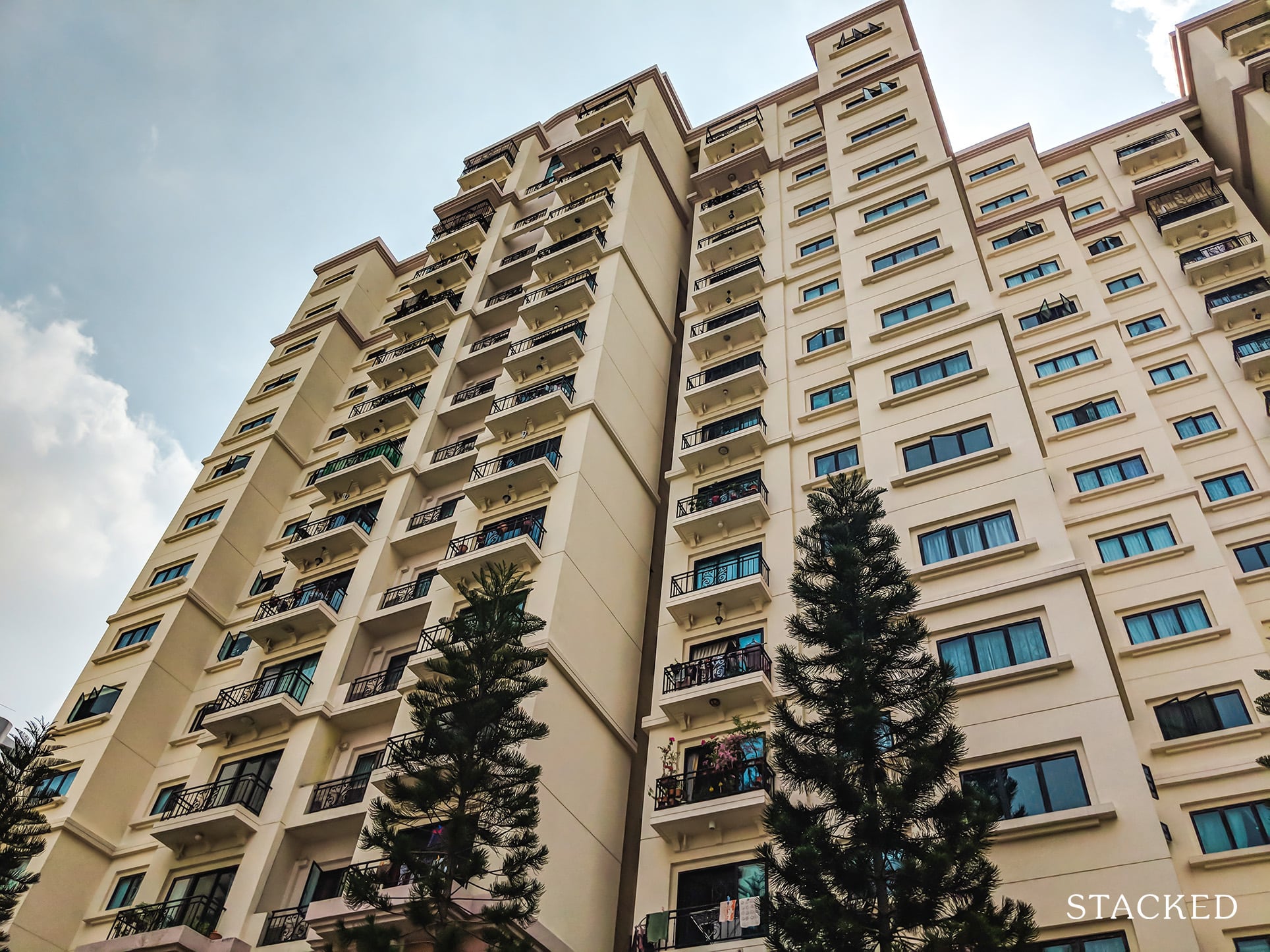 Overall I think that the Anchorage condo suffers from its appeal as a big development. Bear in mind this is my personal opinion, but it comes across as a little sterile and the common areas are just passable, with no real standouts.
I think where the Anchorage condo is a winner is really the location. Like I said before, Queenstown as a location is one of the better places to be in. Unfortunately, in terms of choices for condominiums, it doesn't really offer a lot of choices. Not many condominiums have the luxury of being right next to a shopping mall, Queensway and Ikea and yet be walking distance to an MRT. So if you are looking for a middle of the road option between convenience and a certain amount of quietness and privacy, I believe that this could be worthwhile for you to explore.
What this means for you
You might like the Anchorage Condo if:
• You prioritise living near food.With Anchorpoint shopping centre and 3 hawker centres within a 5-minute walk, this is about as good as it gets.
• You want a big living space.Every unit boasts of a bigger living space than the average new launch out there at the moment.
You might not like the Anchorage condo if:
• You like something modern.The design is dated, and not the most appealing.
• You prioritise good schools.Nearby schools are all not in a walkable distance.
End of Review