Condo Reviews

Corals at Keppel Bay Review: Best Waterfront Views At Keppel
Reuben
April 14, 2020

19

min read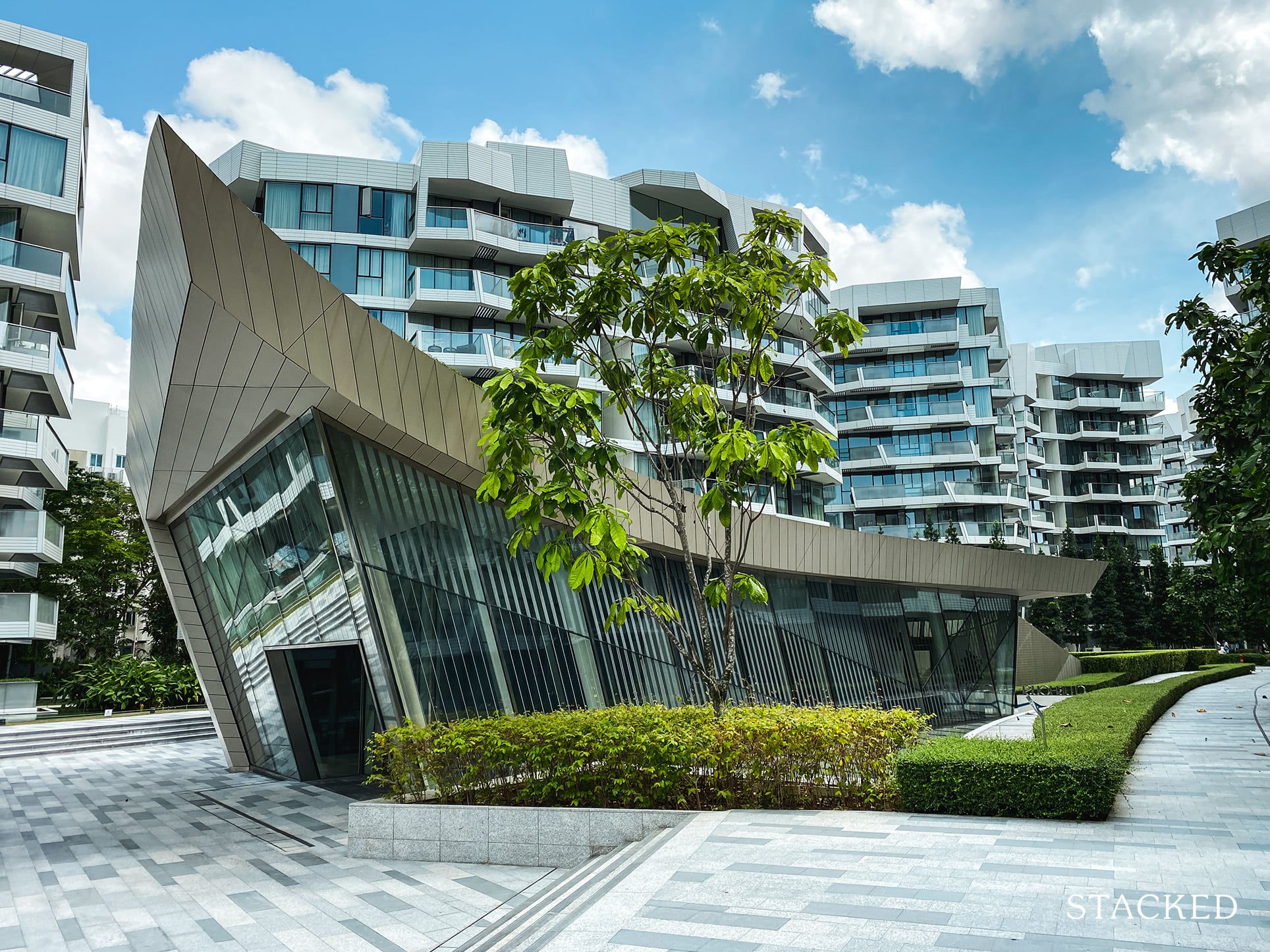 With only 3-4 units each floor and a hefty price tag, those who crave exclusivity would find Corals at Keppel Bay suitable. However, if you're seeking an affordable waterfront project, there're more affordable options out there.
Reviewed by Reuben on April 13, 2020
What we like
Avant-garde design

Waterfront views

Exclusivity

Adult centric
What we don't like
—

Some stacks are too close

—

Pool a little too small
19
min read
| | | | |
| --- | --- | --- | --- |
| Project | Corals at Keppel Bay | District | 04 |
| Address | Keppel Bay Drive | Tenure | 99-year leasehold |
| Site Area | 420,000 sqft | No. of Units | 336 |
| Developer | Keppel Land Limited Pte. Ltd. | TOP | 2016 |
Imagine a stunning weave of radiant sunlight, sparkling waters and crisp breezes at your very own doorstep!

Sounds like a Manhattan dream come true?

Well, to those who reside at the Corals at Keppel Bay, you could say that this fantasy is very much a reality.

Architectured by the illustrious Daniel Libeskind and backed by none other than Keppel Land, this place was bound for the upper echelons of property fame from the start.

Yet, it isn't to say that the project comes without any concerns.

Sadly for its developers, just 68% of the units here have been snapped up since its launch in 2013!

It's not like there's a glut of units here or anything. It's just that the prices of units here do reach staggering heights, making it an option only for those with some serious dough.

In fact, if you were to further bring into account that most units from its (arguably) 'more illustrious' neighbours are going at three-fifths the price of a place here, it's easy to see why the Coral's take-up rate hasn't yet been fulfilled.

As a positive (and probably expected) consequence of its high quantum command however, Corals at Keppel Bay has since become simultaneous amongst Singapore's affluent as a luxurious waterfront abode that screams exclusivity.

Pop in a dash of unbridled convenience alongside its tranquil waterfront vibe, and you'll be hard-pressed to find anything like the Corals at Keppel Bay elsewhere in the Lion City.

Read on for our insider tour.
Corals at Keppel Bay Insider Tour
Facilities in Corals at Keppel Bay
Public Promenade
Dockside Promenade
Reflecting Pools
Water Gardens
Hydro Spa
Lounger Pool
50m Length Swimming Pool
Splash Pool with Jumping Jets
BBQ Party Pavilion
Clubhouse
Al Fresco Terrace
Forest Walk
Entrance Gateway
Stepping Stones
Tennis Court
Children's Play Area
Multi-Purpose Studio
Lounge
Function Room
Gym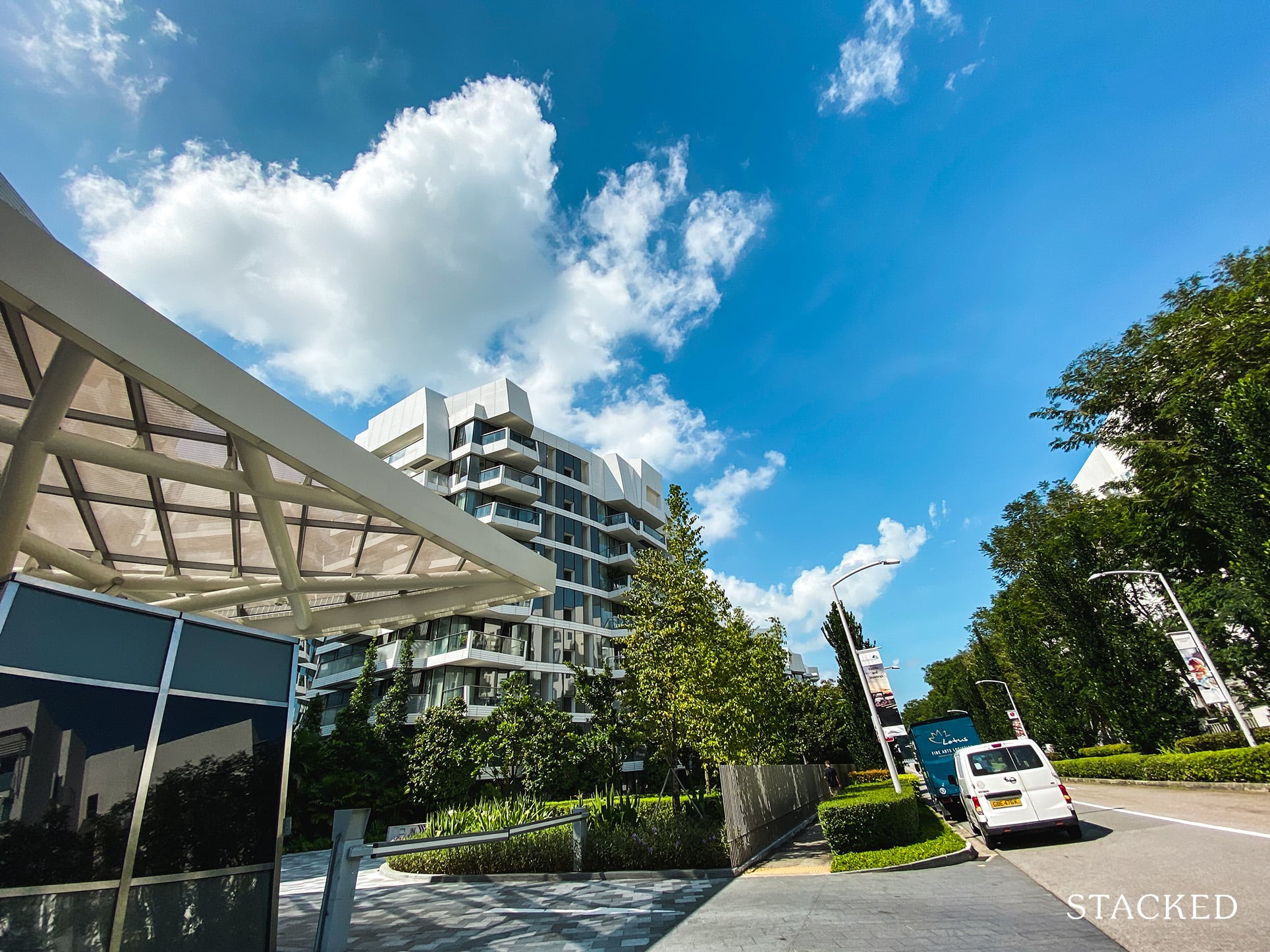 Blink and you'll miss it – something that most visitors would be well acquainted with upon their first visit to the last and newest of the trio of condos that Keppel Land has developed in this area. It's a very nondescript entrance to Keppel Bay Drive – hence its reputation as one that is easy to miss.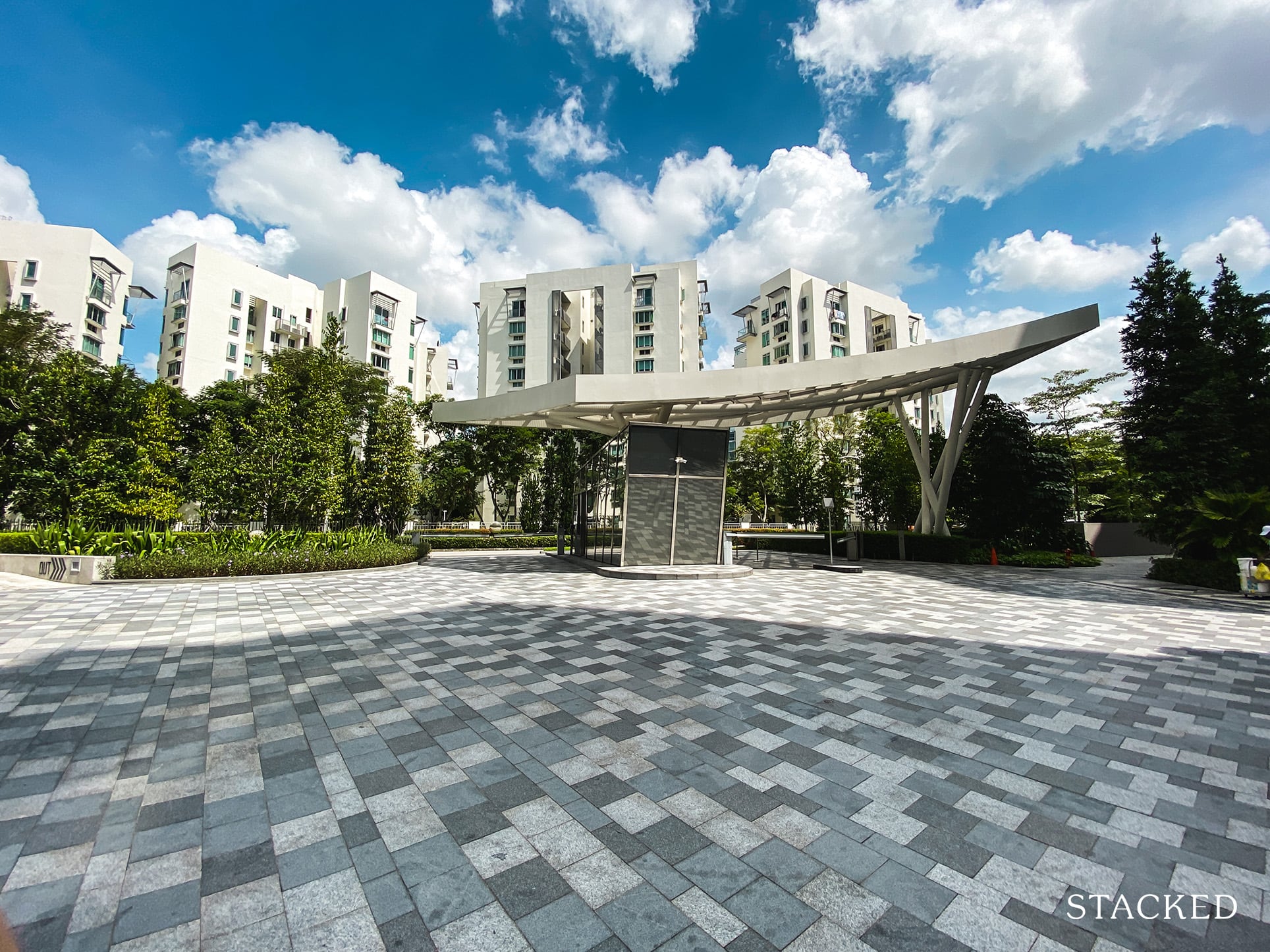 If you're thinking that this sloping entrance has a very familiar feel to it, that's because this development was designed by the renowned Daniel Libeskind – the same mind behind the iconic Reflections at Keppel Bay. Unlike that massive development however, the size of Corals at Keppel Bay is definitely smaller. As a result of that, there isn't any ground level drive way to speak of – everything is located underground.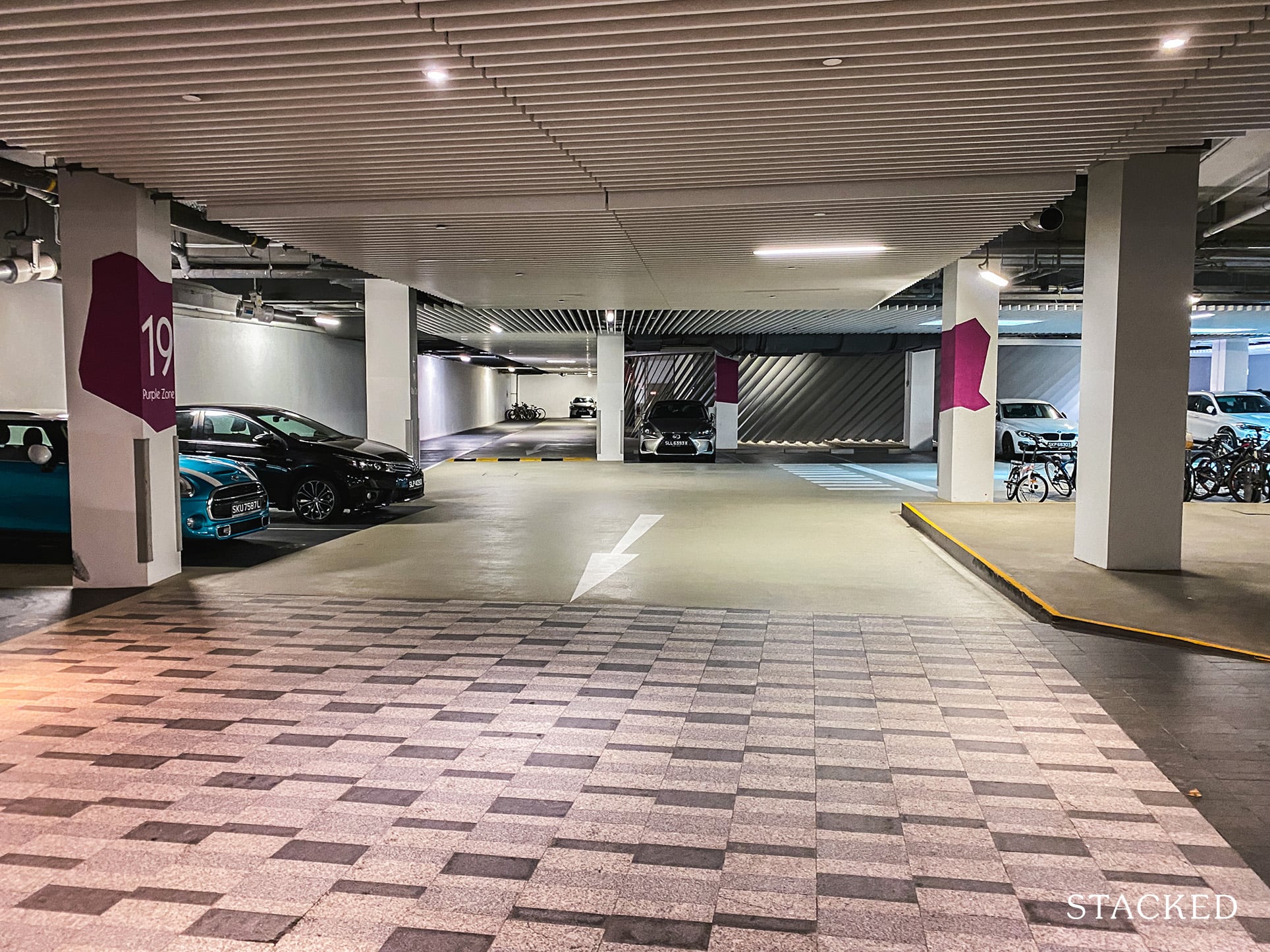 As you might expect from an upmarket condo such as this, the underground carpark is polished and well maintained. It's well lit too, no thanks to the good lighting and skylights at different sections – strategically letting sunlight in.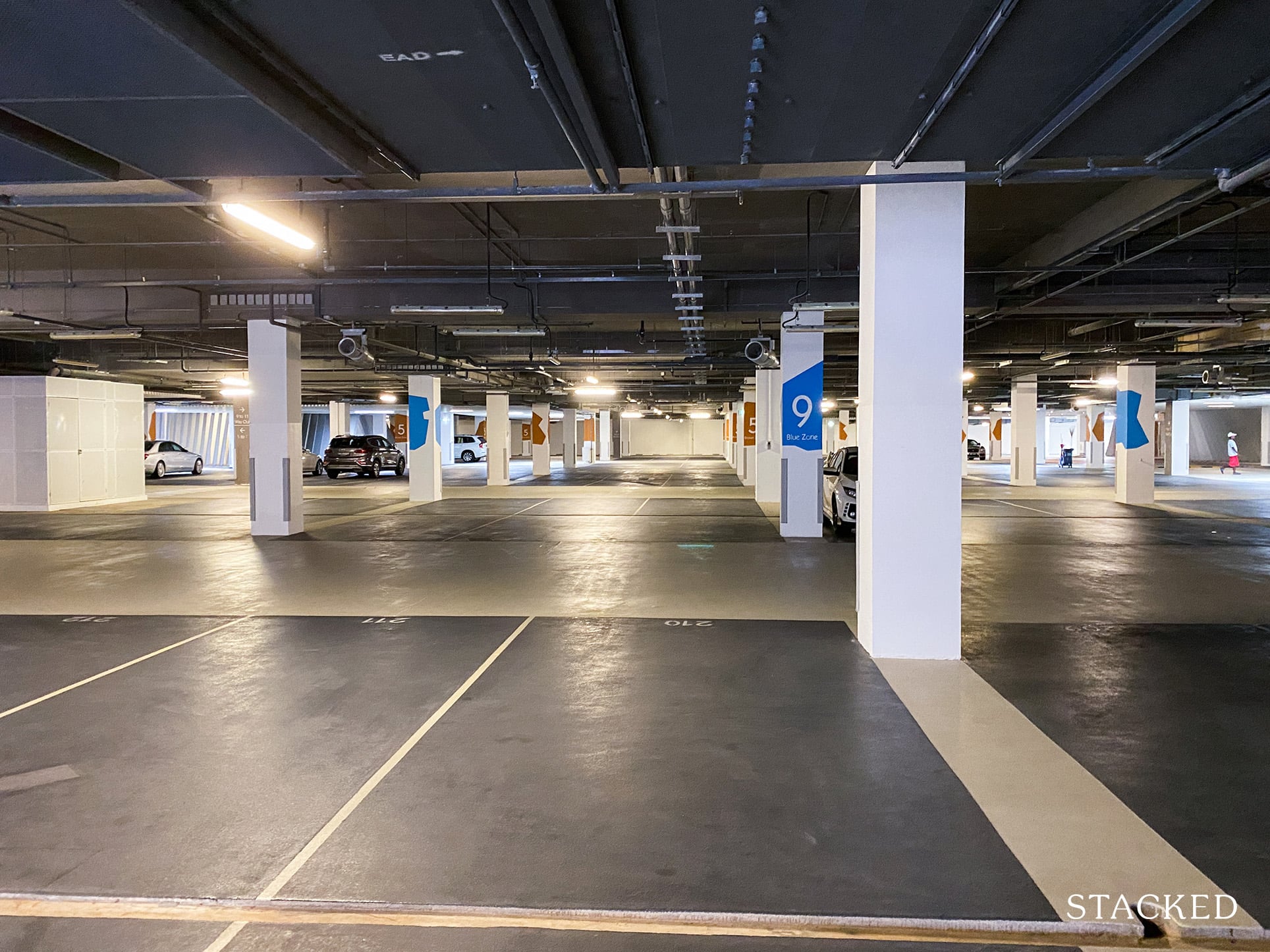 There are 418 carpark lots available for the 366 units here – an enviable ratio given that new launches nowadays are moving towards a less than desirable 1:1 carpark ratio. Carpark space shouldn't be an issue at all for now, as evidenced by the empty lots and the fact that the development still isn't fully sold at this point.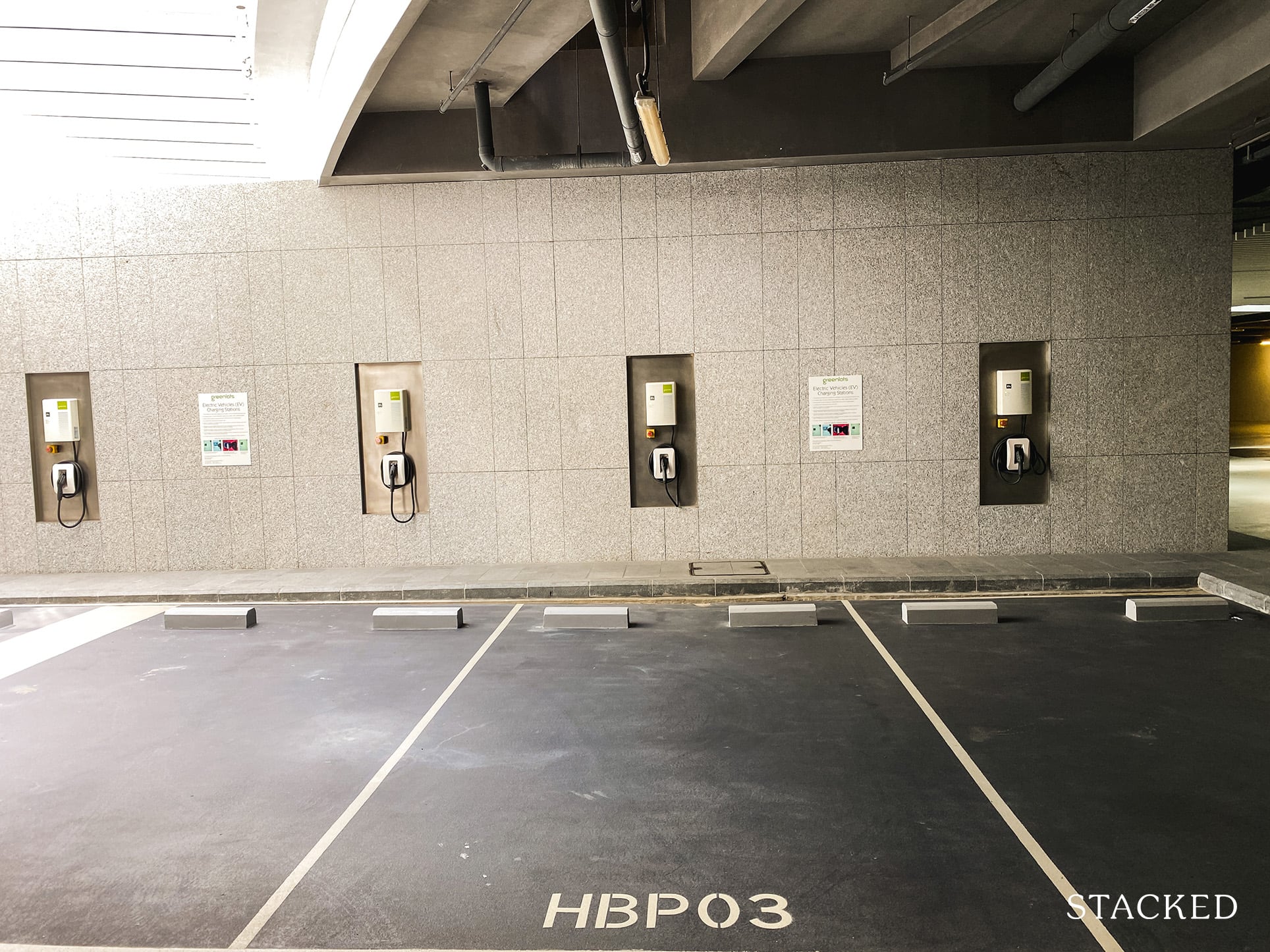 For those who love their electric cars you'll be glad to know that Corals at Keppel Bay has one of the more generous allocation of EV charging lots – with a total of 4. Especially since Singapore has plans to move towards a petrol car-less future in 2040, it's always good to have some level of future proofing available.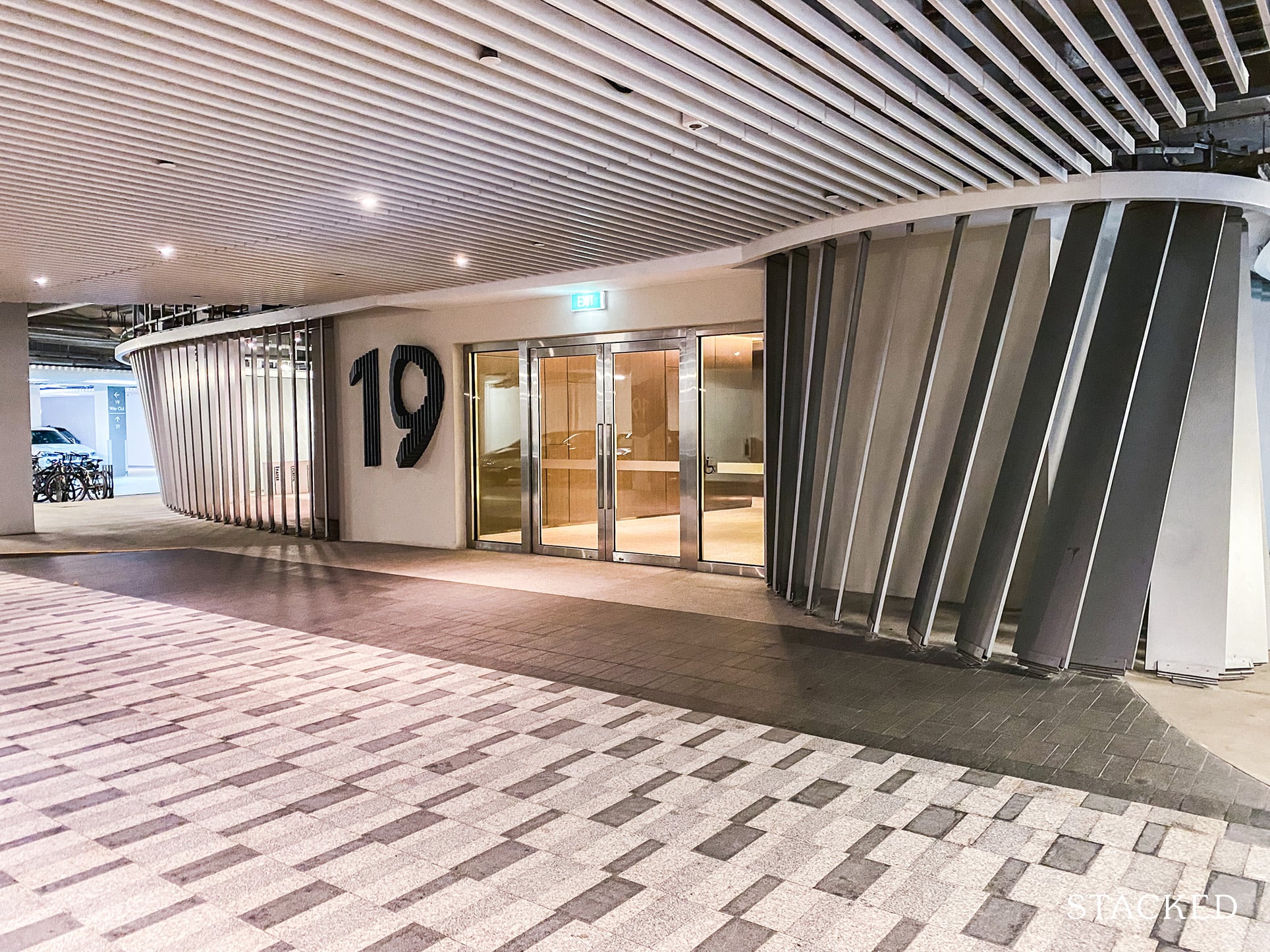 Unlike most other developments I've seen, the lobby isn't actually closed off – anyone can open these doors. It is only till you reach the lift would you require the resident's key card access to move up to the respective floors. If you're curious, private lift access is only available for the bigger units – 4 bedroom and the penthouses.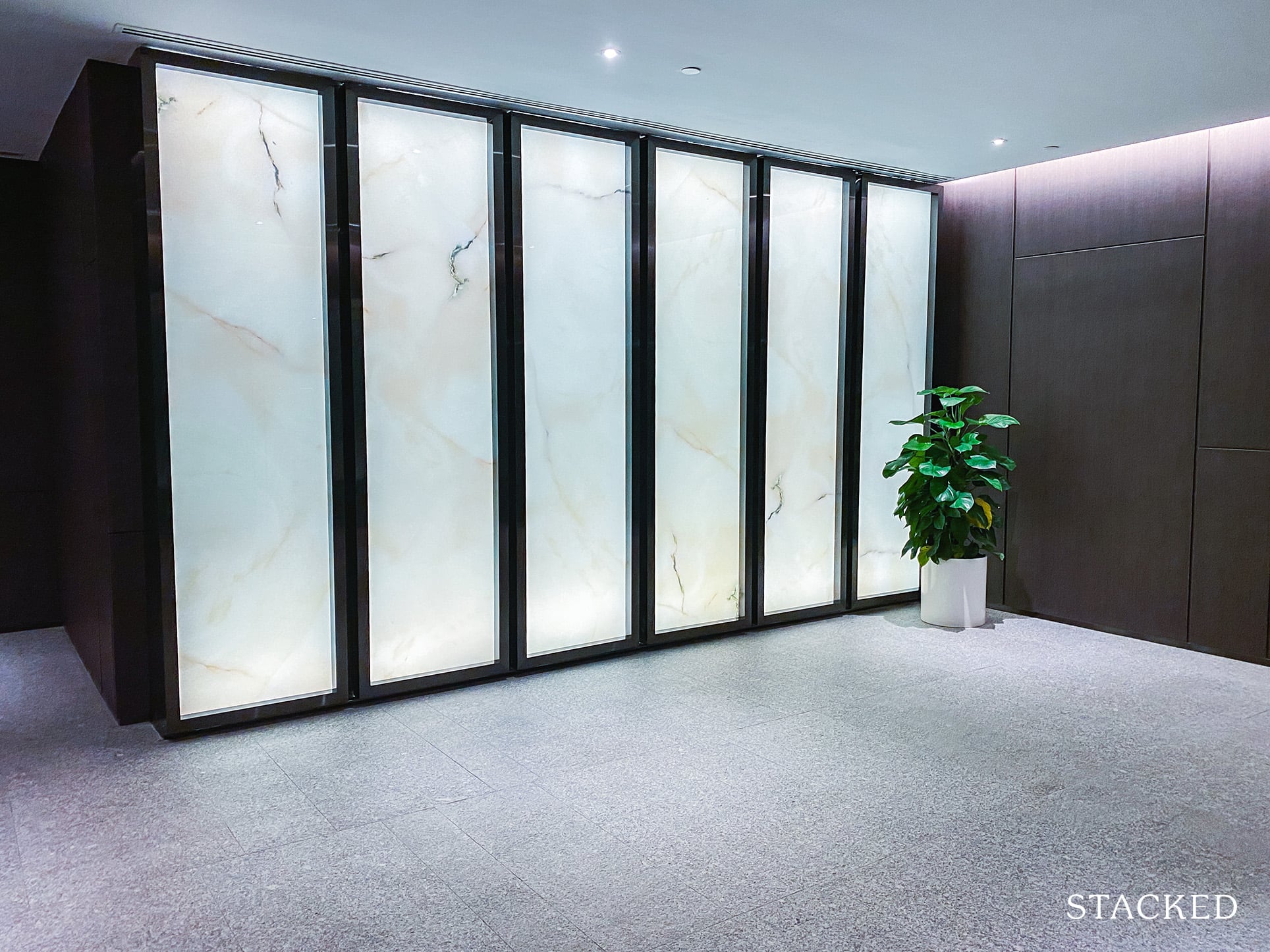 Now it may not look like much from here, but the lobby is actually feels very premium – in an understated fashion. It's always hard to capture the luxury feel of a minimalist interior so in this case, you'll just have to take my word for it. All told, the lobby gives off a great first impression should it be your first visit to the place.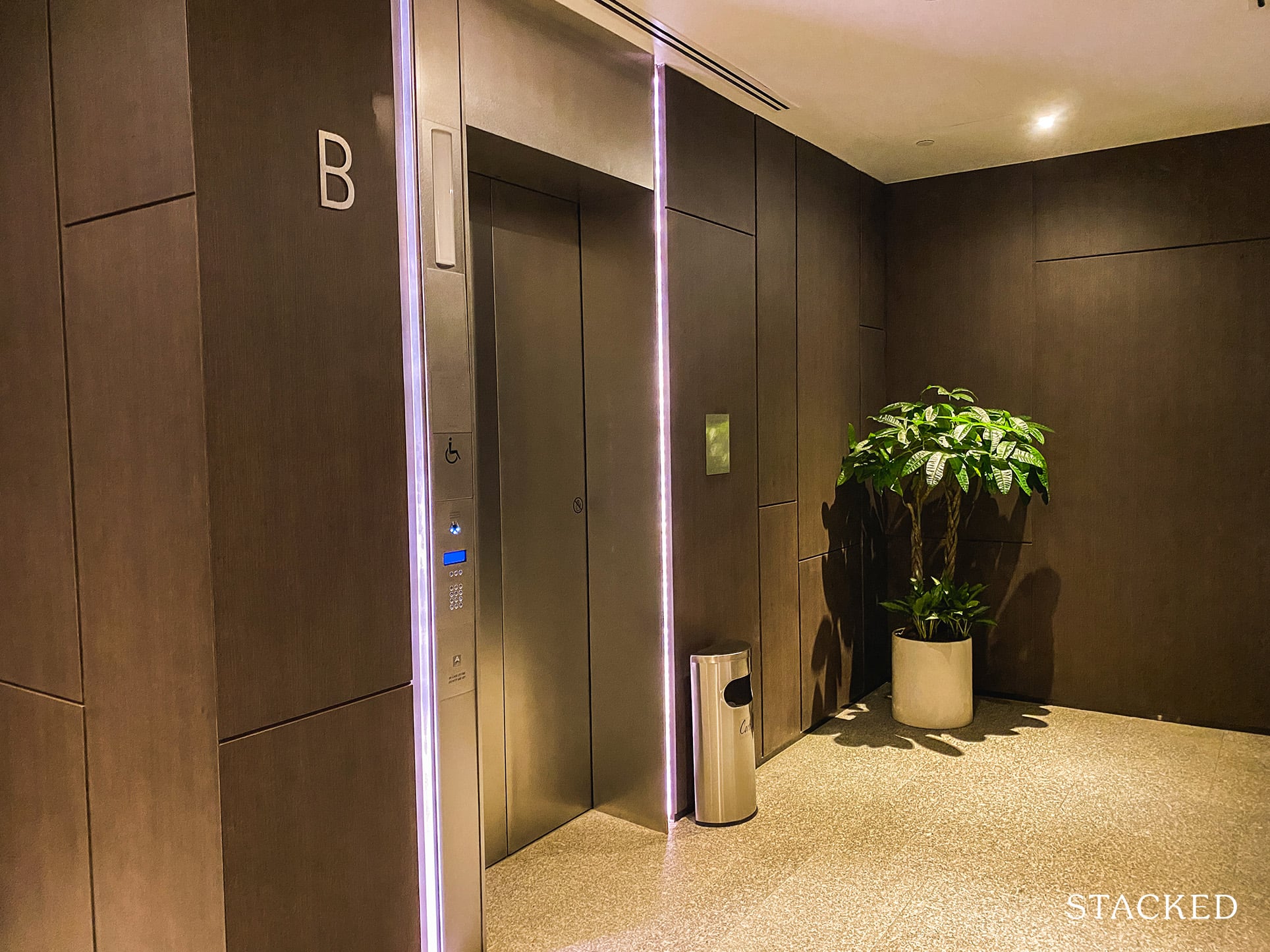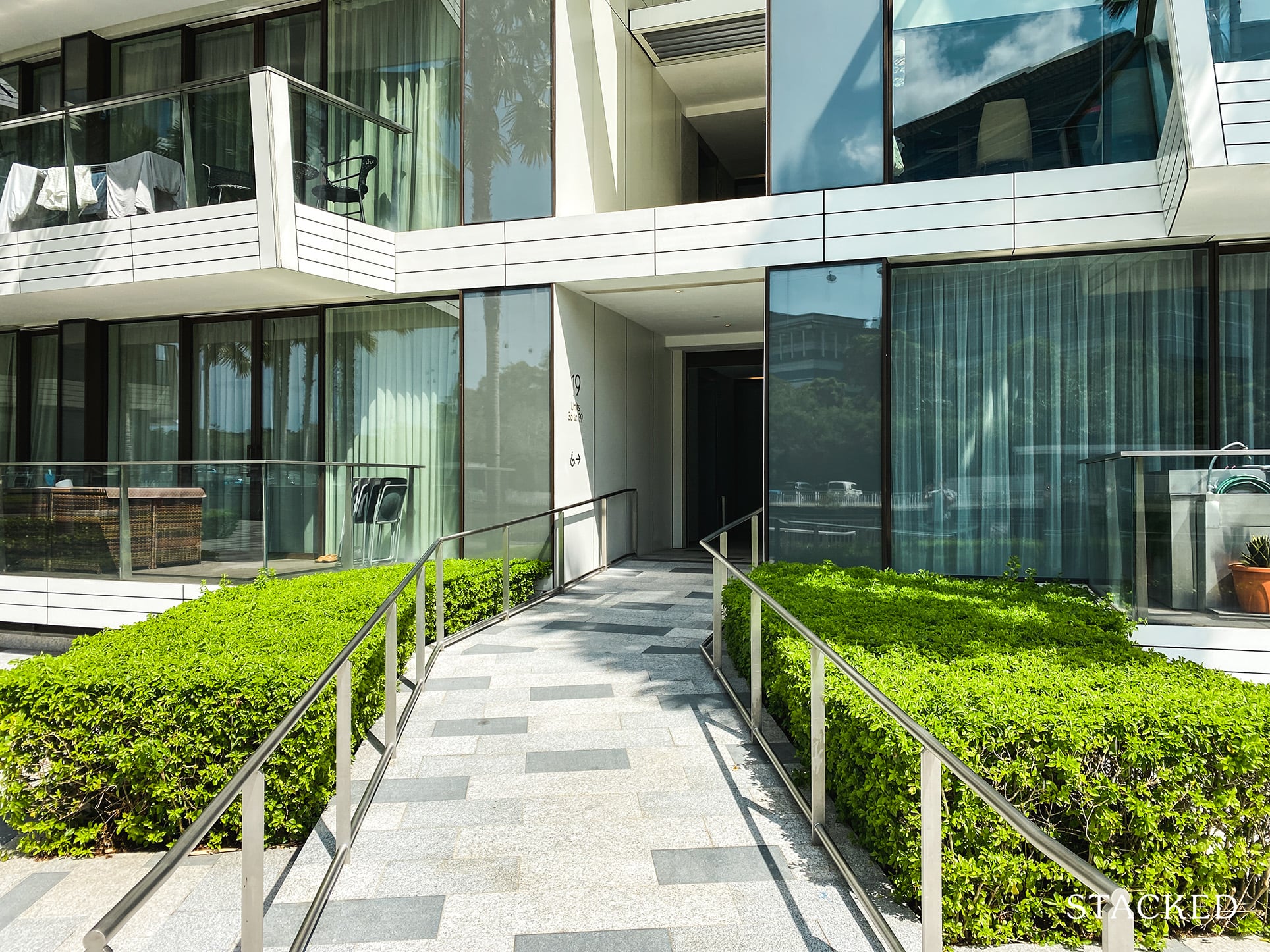 Surprisingly, the ground level did not have its own lobby too. Instead, you'll find a regular open-aired corridor.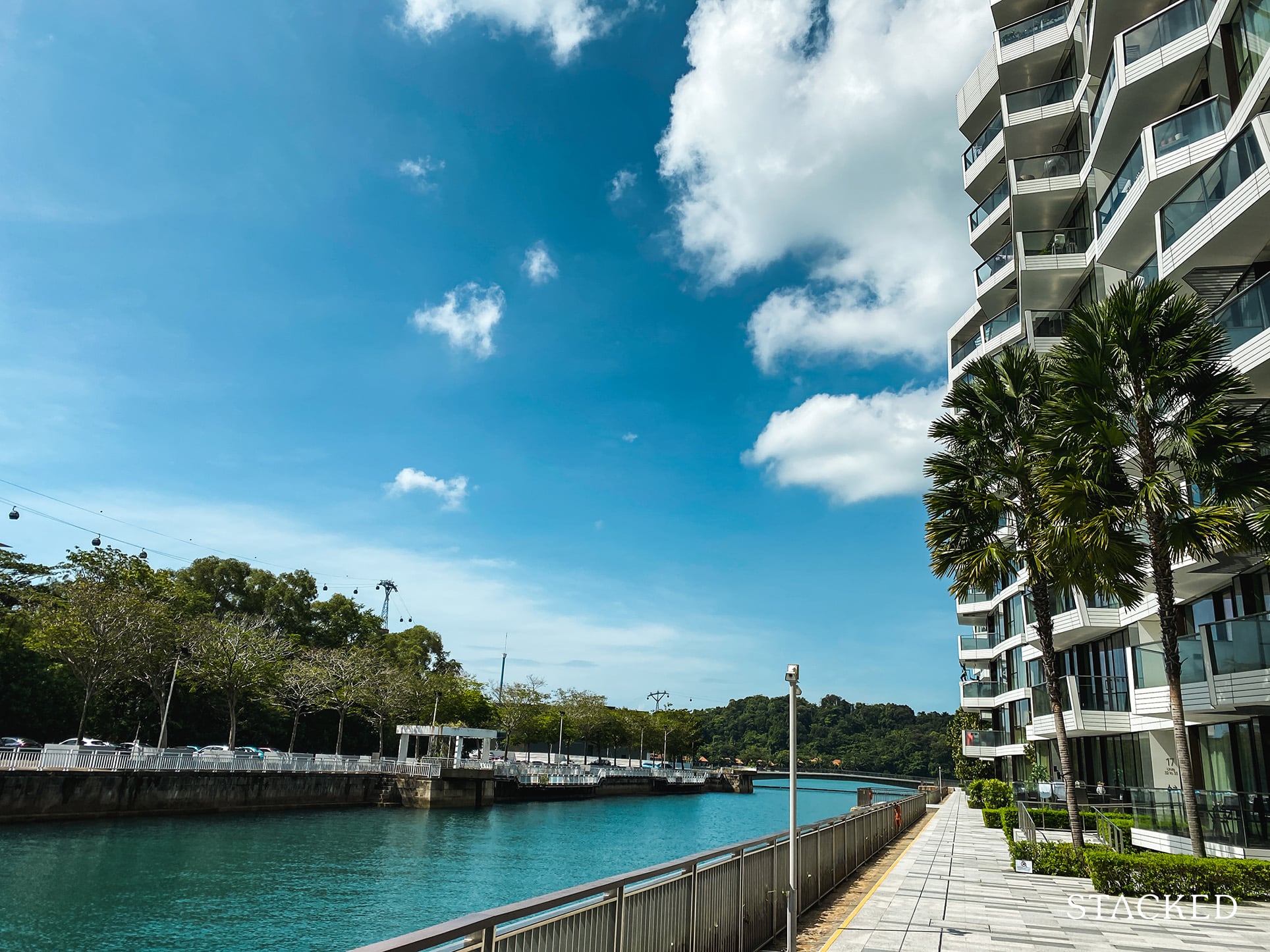 But when you see the waterfront views immediately at your doorstep, it makes it easier to understand the intentions of the design – not to mention the bracing sea breeze too.
Not many people know this, but King's Dock is one of the oldest in Singapore, having been built in 1913.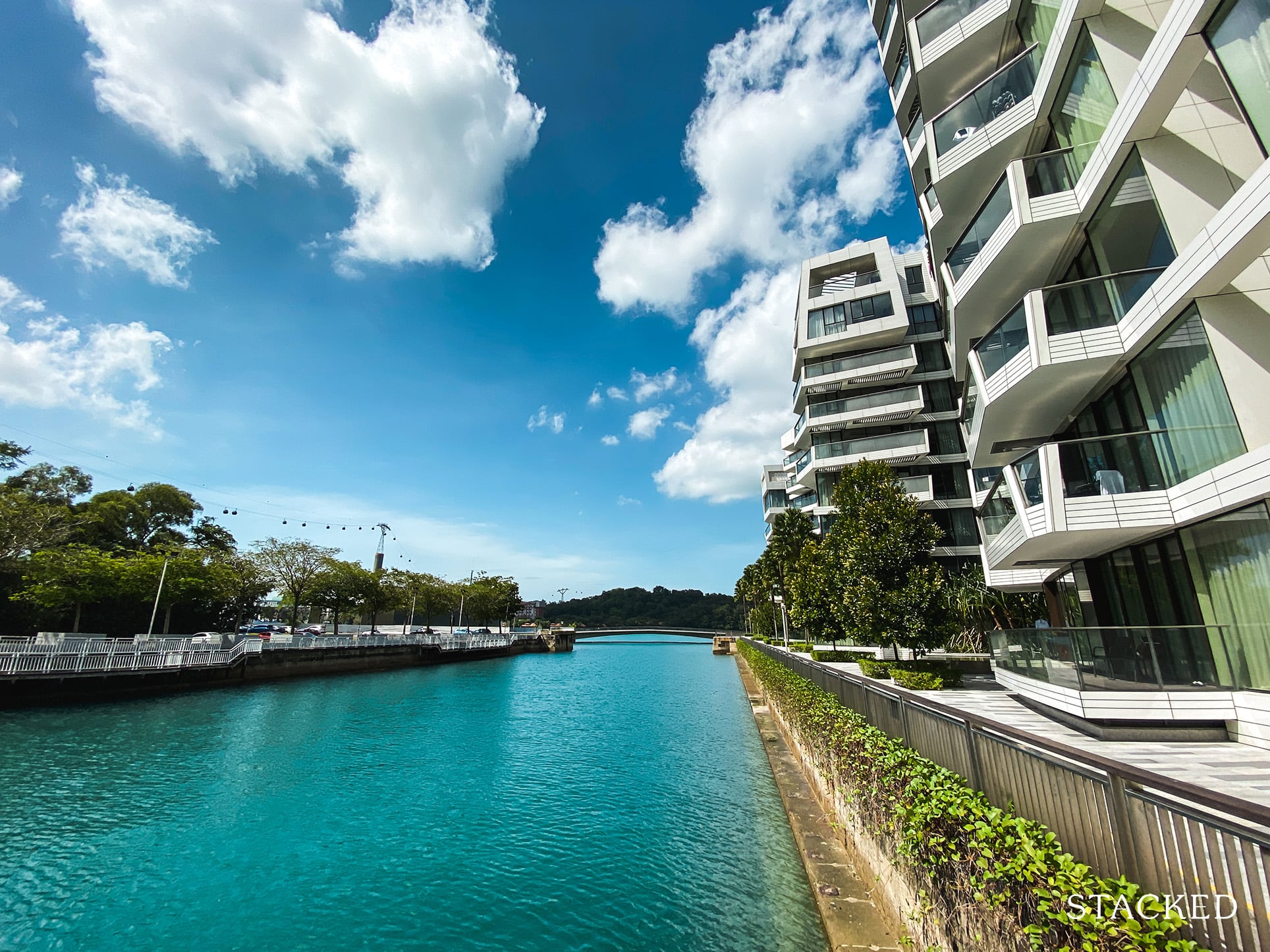 While I wouldn't say that these are the prettiest waterfront views that I've ever come across, it is still quite a scenic view if you are living on this side of the Corals at Keppel Bay. Not sure about you, but I would most certainly take a view of the water over city views any day of the week.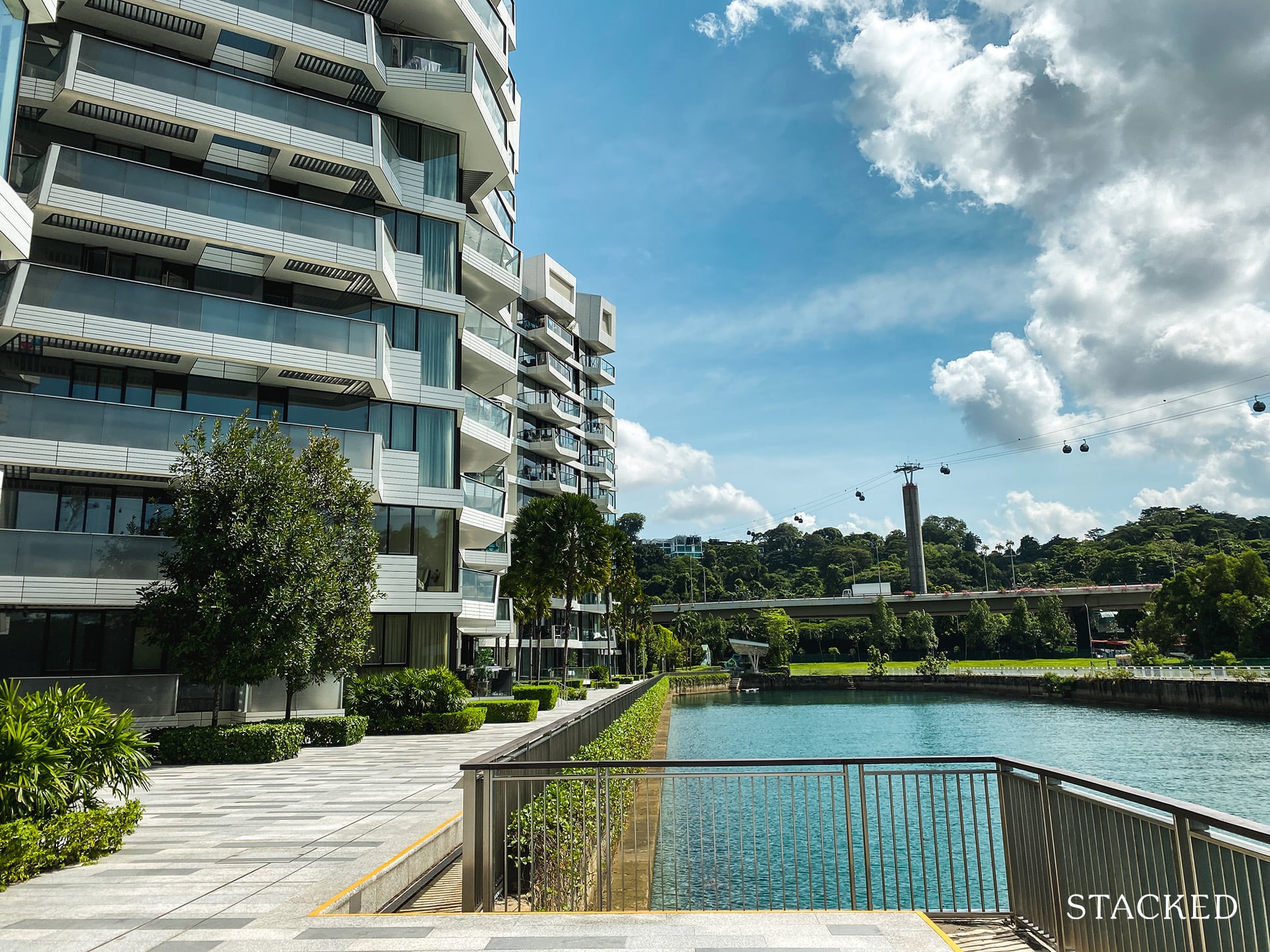 Depending on which side you face, you'll get a facing of either the opening of King's dock or the cable cars that are strung across Mount Faber. Either ways, most of the stacks here are positioned smartly to have water views of some sort. So unless you don't count swimming pool views, that is 10 out of 11 stacks – a pretty great number.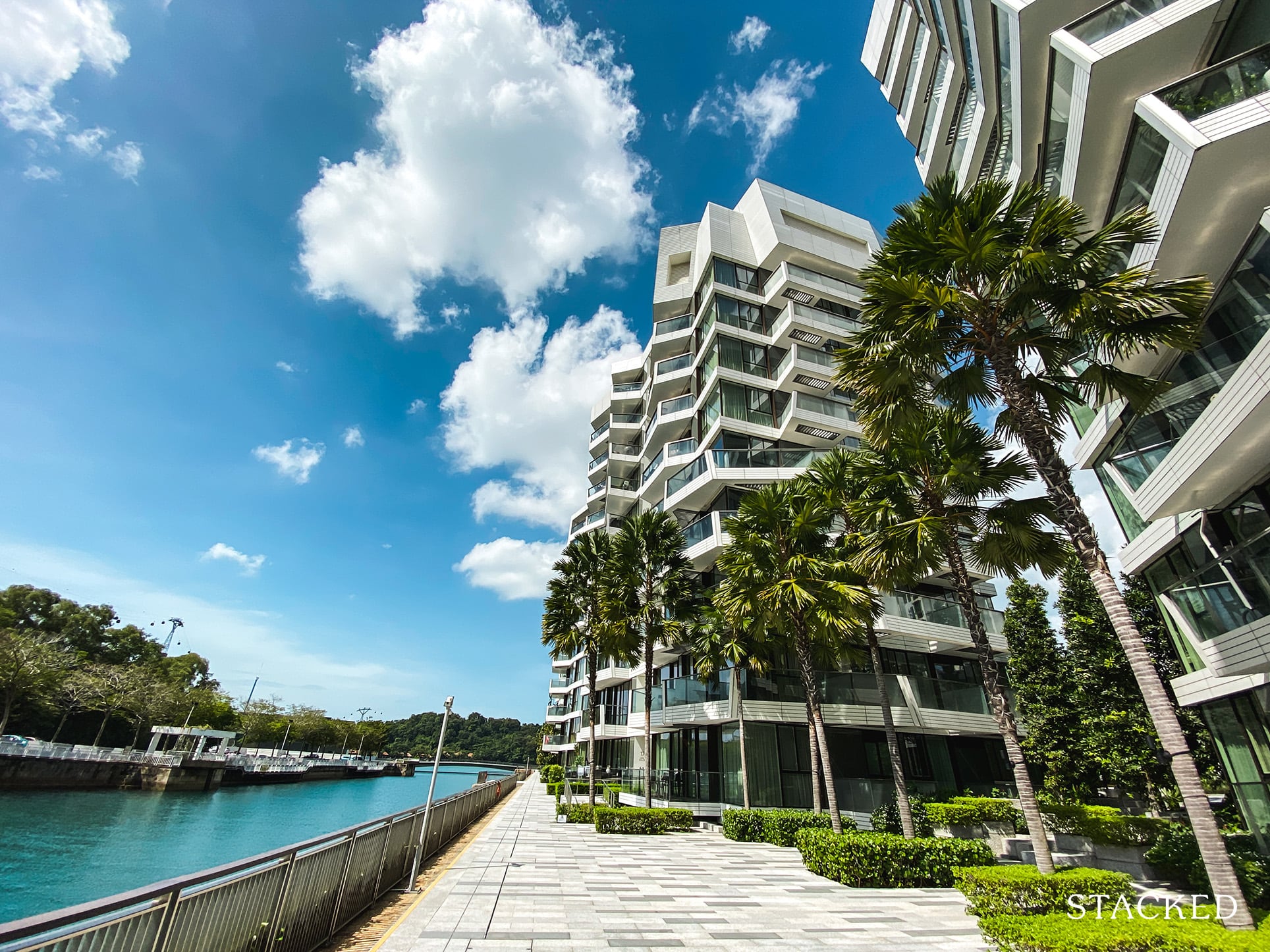 Although this isn't quite the open sea view (reserved only for stacks 5 and 7), I think for most people you're going to be quite happy with the views from here. It currently faces an open public carpark so it is relatively unblocked as well.
One thing that I find strange here is a total lack of seating along the whole length of this boardwalk – it's really just one long walking path.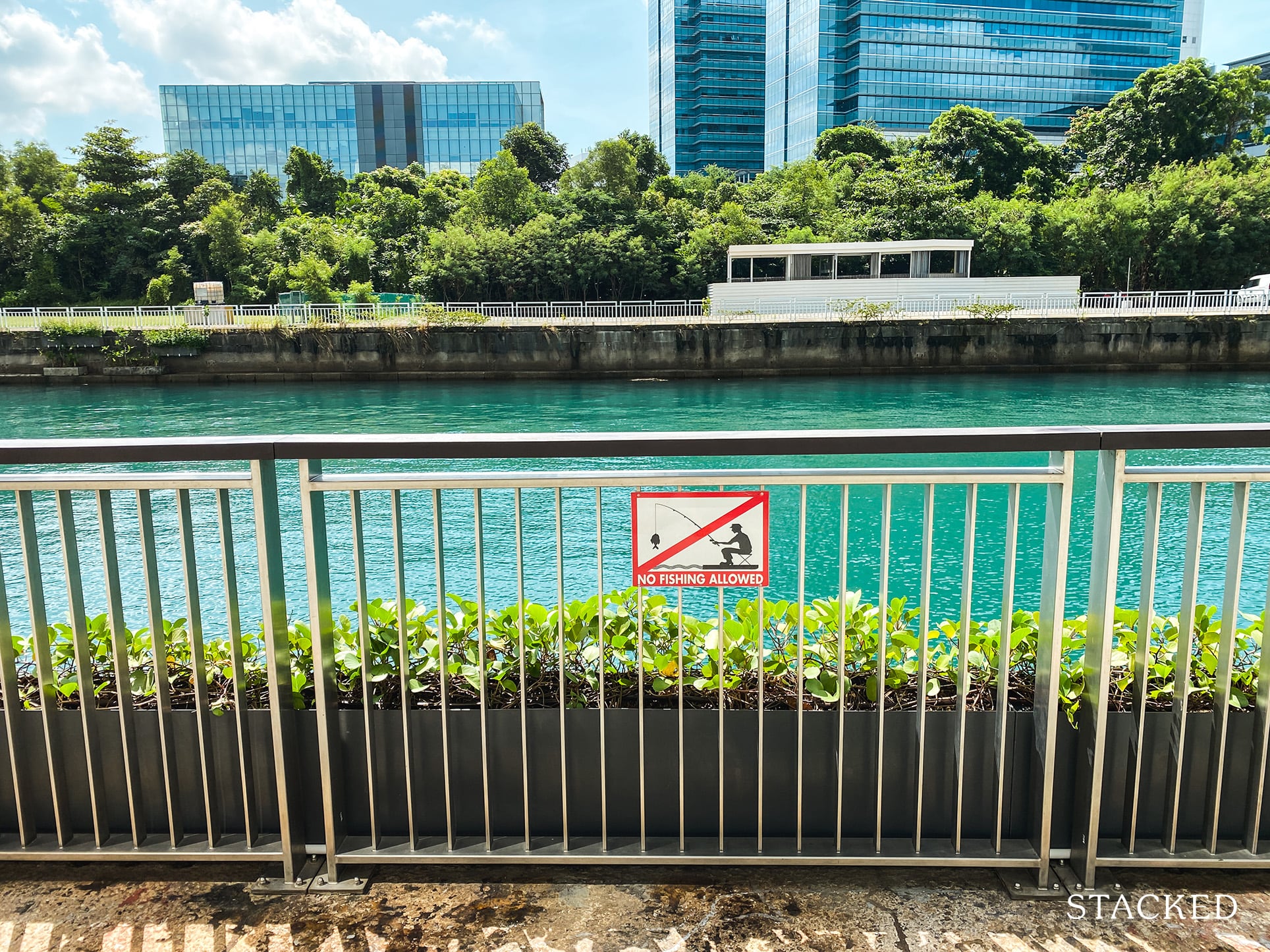 I'm sure some fishing enthusiasts would have entertained thoughts of fishing on weekends but sadly for them – the signs are explicit.
If anything, this serves to protect the rich marine life that is beneath the depths at Keppel Bay. You (obviously) can't see much from the surface, but Keppel Bay is actually home to a vibrant sea community of corals, butterflyfish, seahorse, and sea urchins.
In fact, corals are taken from Keppel Land's nursery and transplanted to King's Dock – of which gives a much greater meaning to the name of the condo.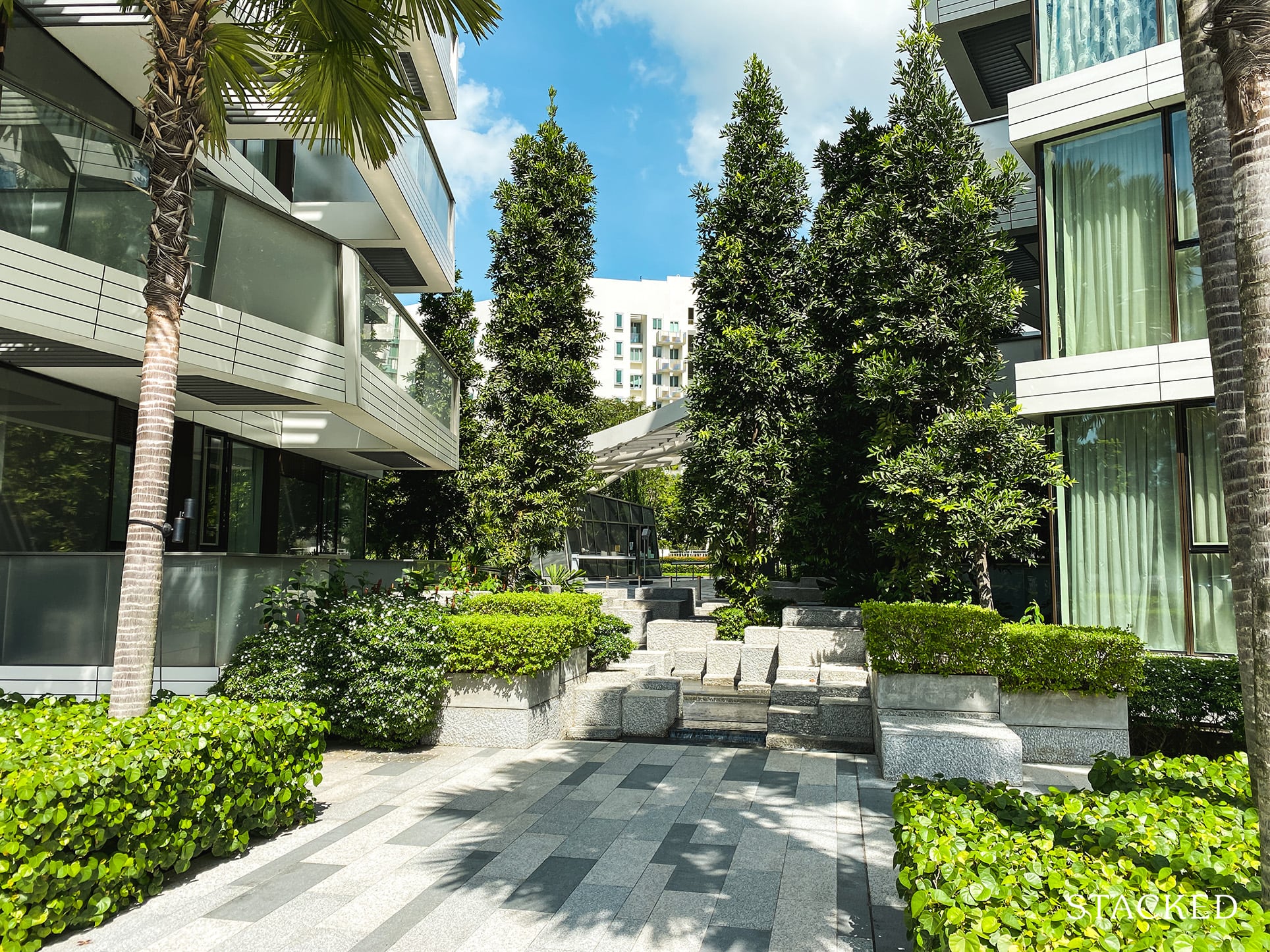 Along the whole pathway, you'll find different types of water features. This one shows off different sized stone blocks with a running stream in the middle.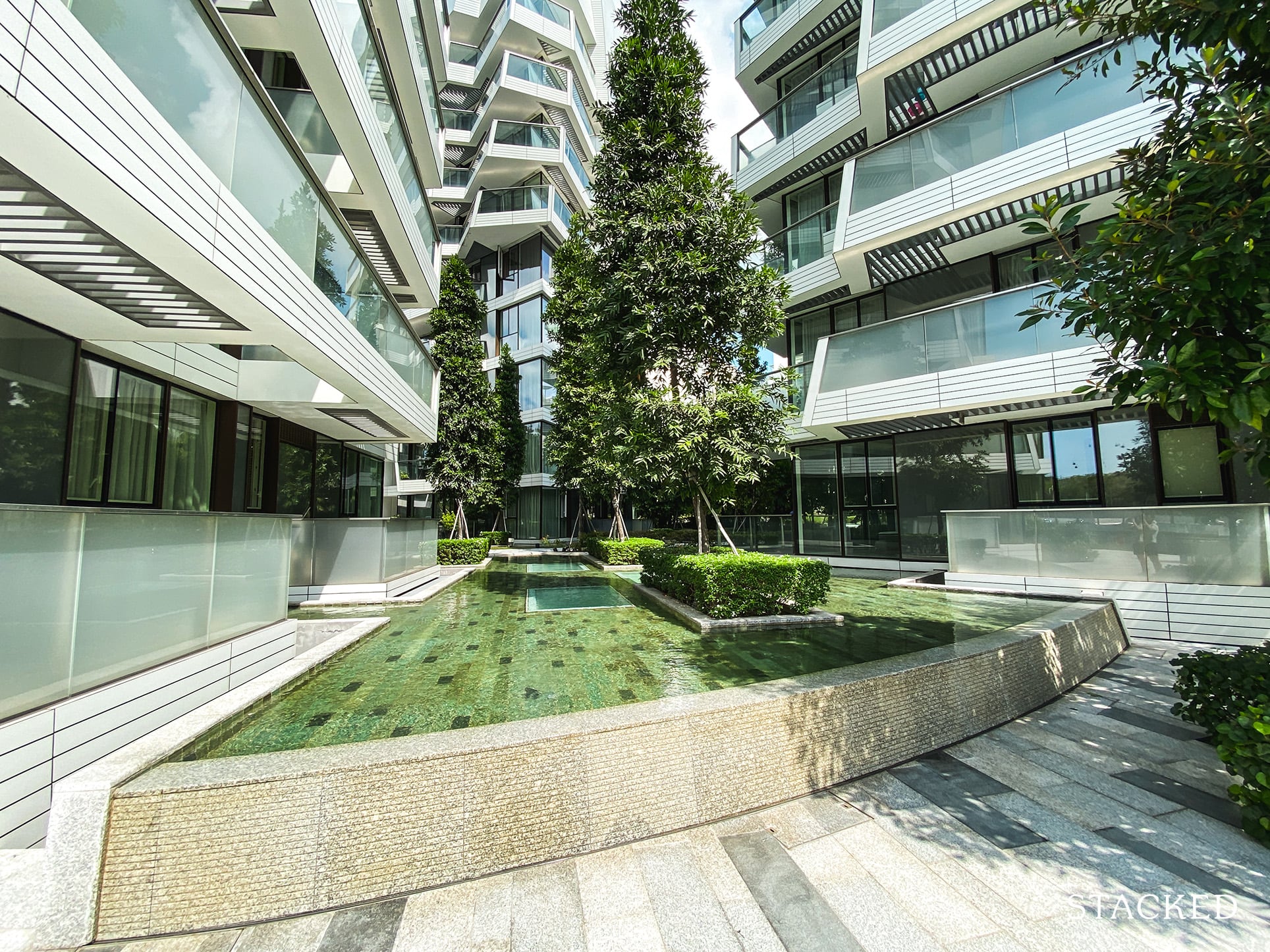 Another break between the blocks featured this open shallow pond, with skylights that allowed the sunlight to pierce through to the carpark below.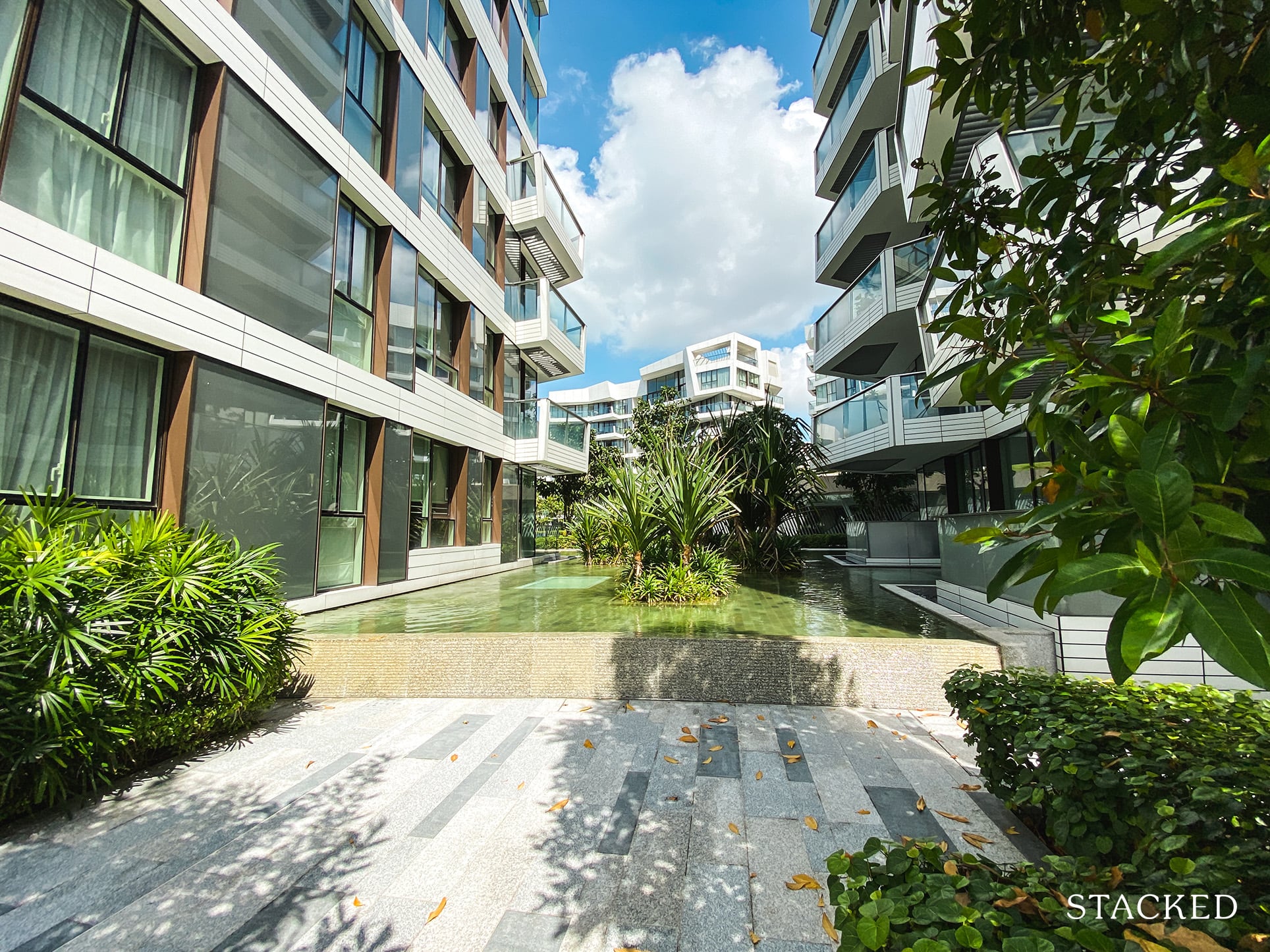 It's a similar design at the next block too. You'll find that the general landscaping here is not the sort of lush greenery that you might have come to expect – it is rather much more minimalist and well trimmed – in keeping with the design of the buildings.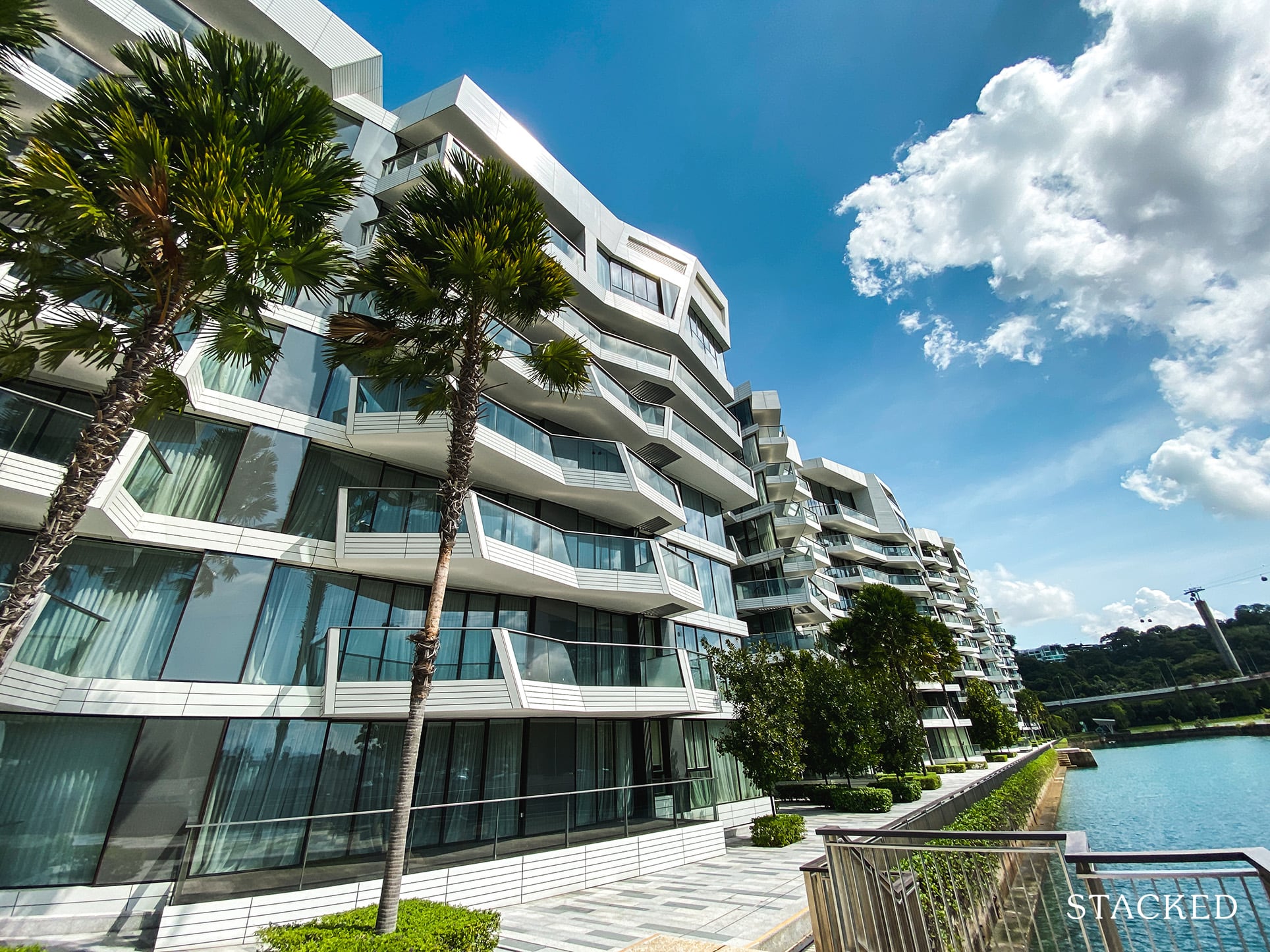 Speaking of which, the design of the blocks at Corals at Keppel Bay is unmistakeably a unique proposition. Some people may not like the quirkiness of the design of the balconies, but I find the look quite novel and one that should stand the test of time.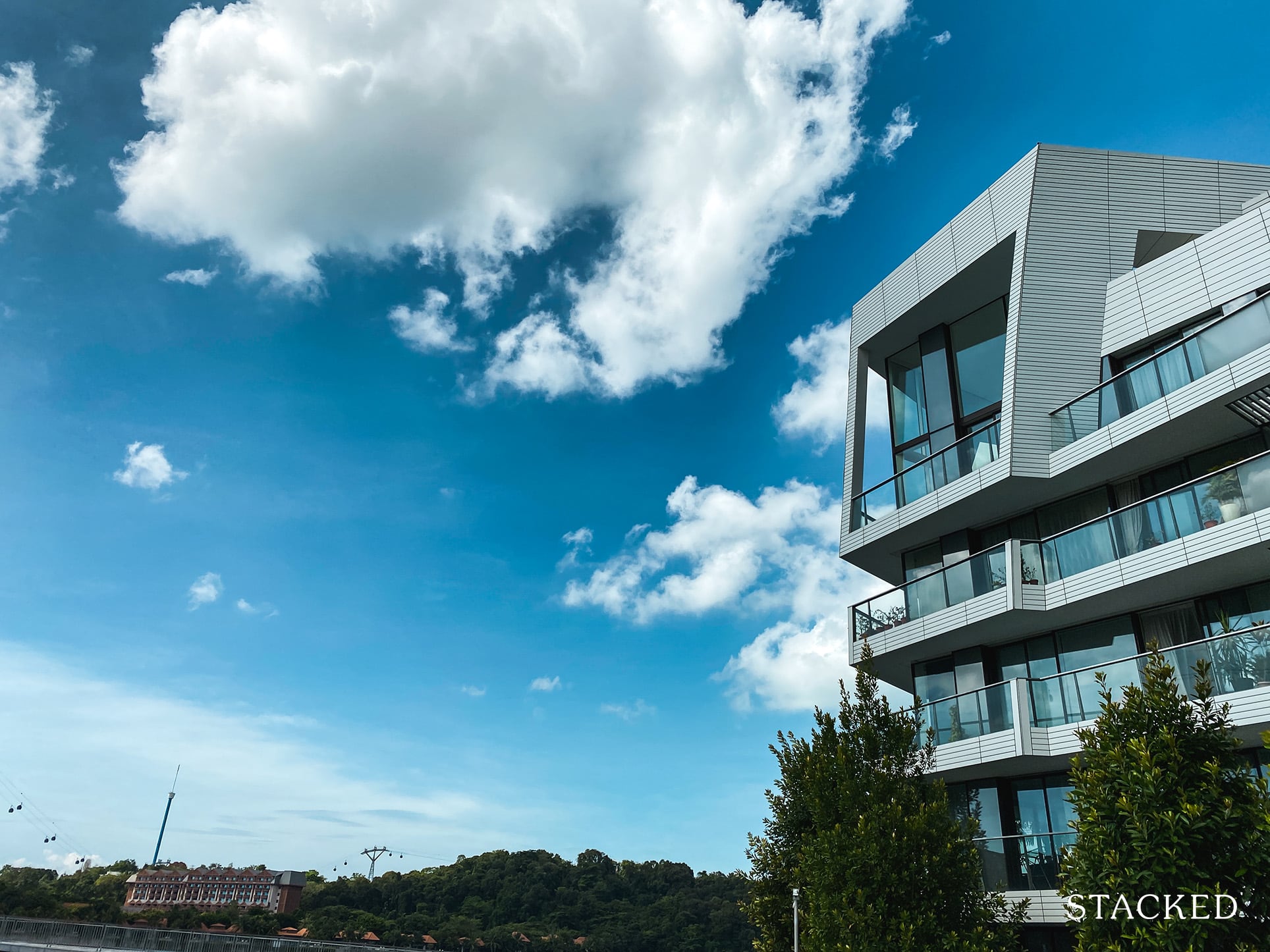 Out of the three developments at Keppel Bay built by Keppel Land, they've definitely reserved the best plot for Corals at Keppel Bay. If you want direct seafront views, stacks 5 and 7 are definitely ones to look at as the views off the balcony face the expanse of water between Keppel Bay and Sentosa. Although it must be said that the sole stack 21 at Reflections at Keppel Bay should still offer the ultimate view as this is of the open sea.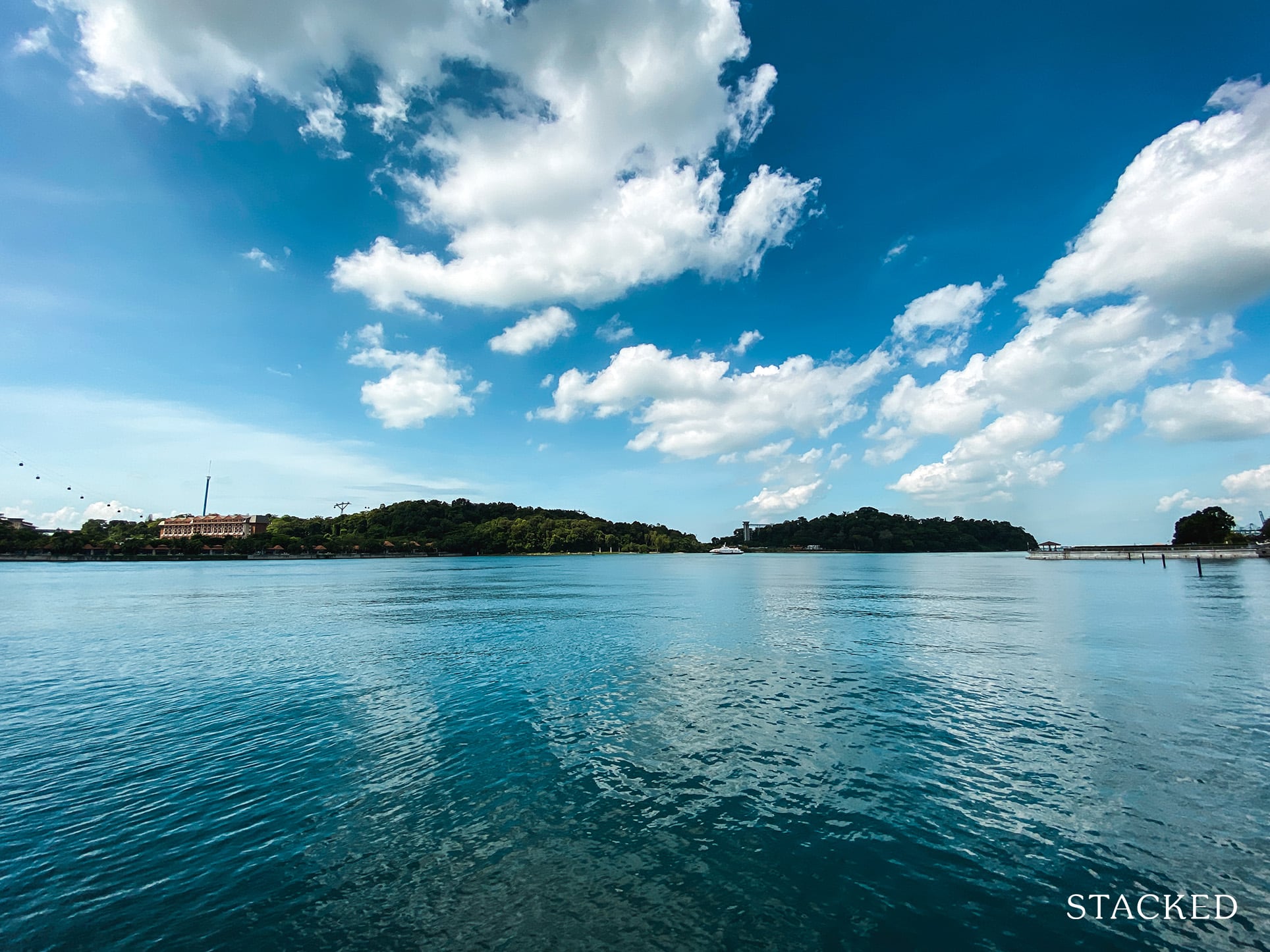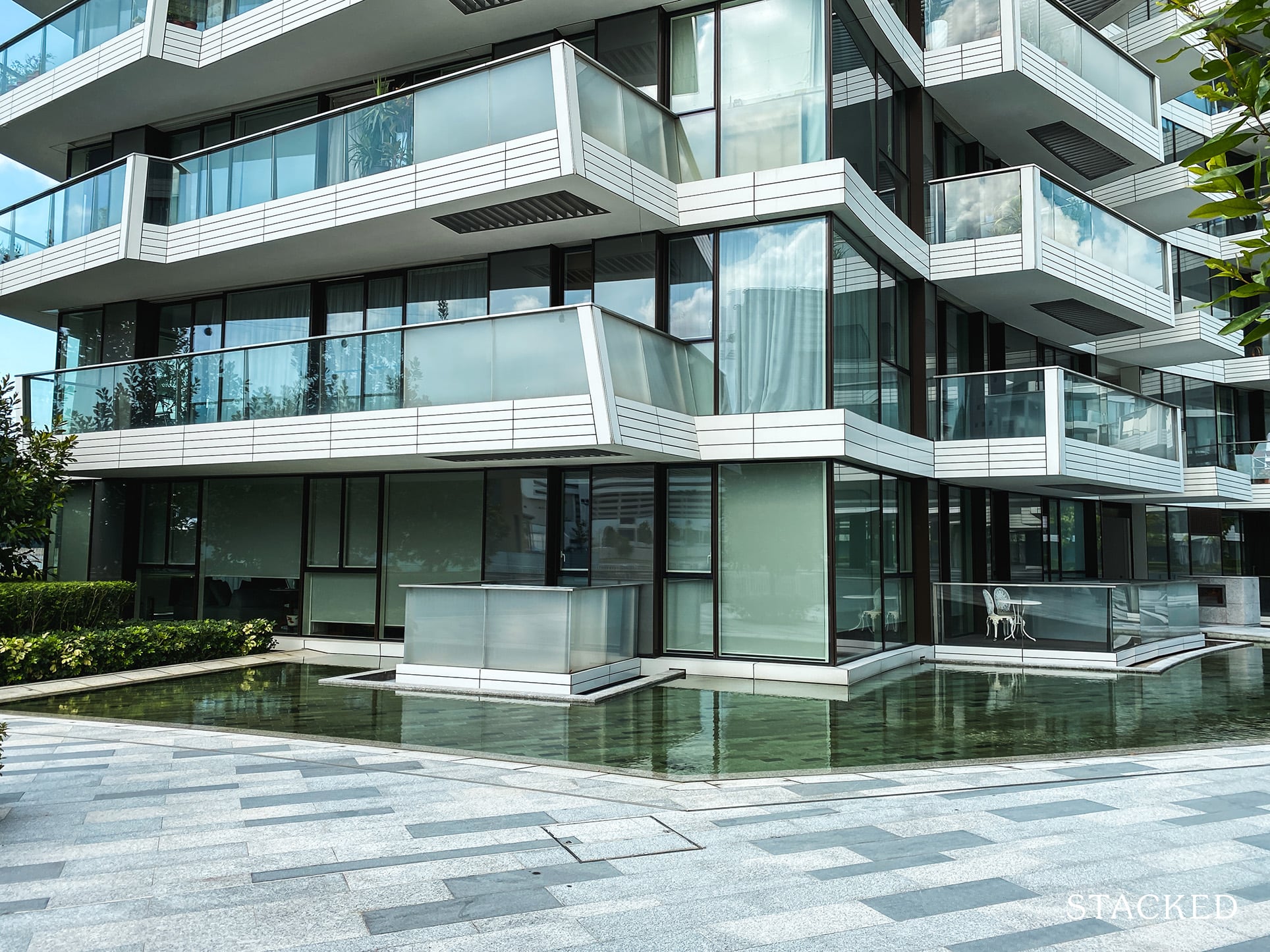 This particular stack also features special ground floor units that have water features surrounding it, giving the units an overwater feel.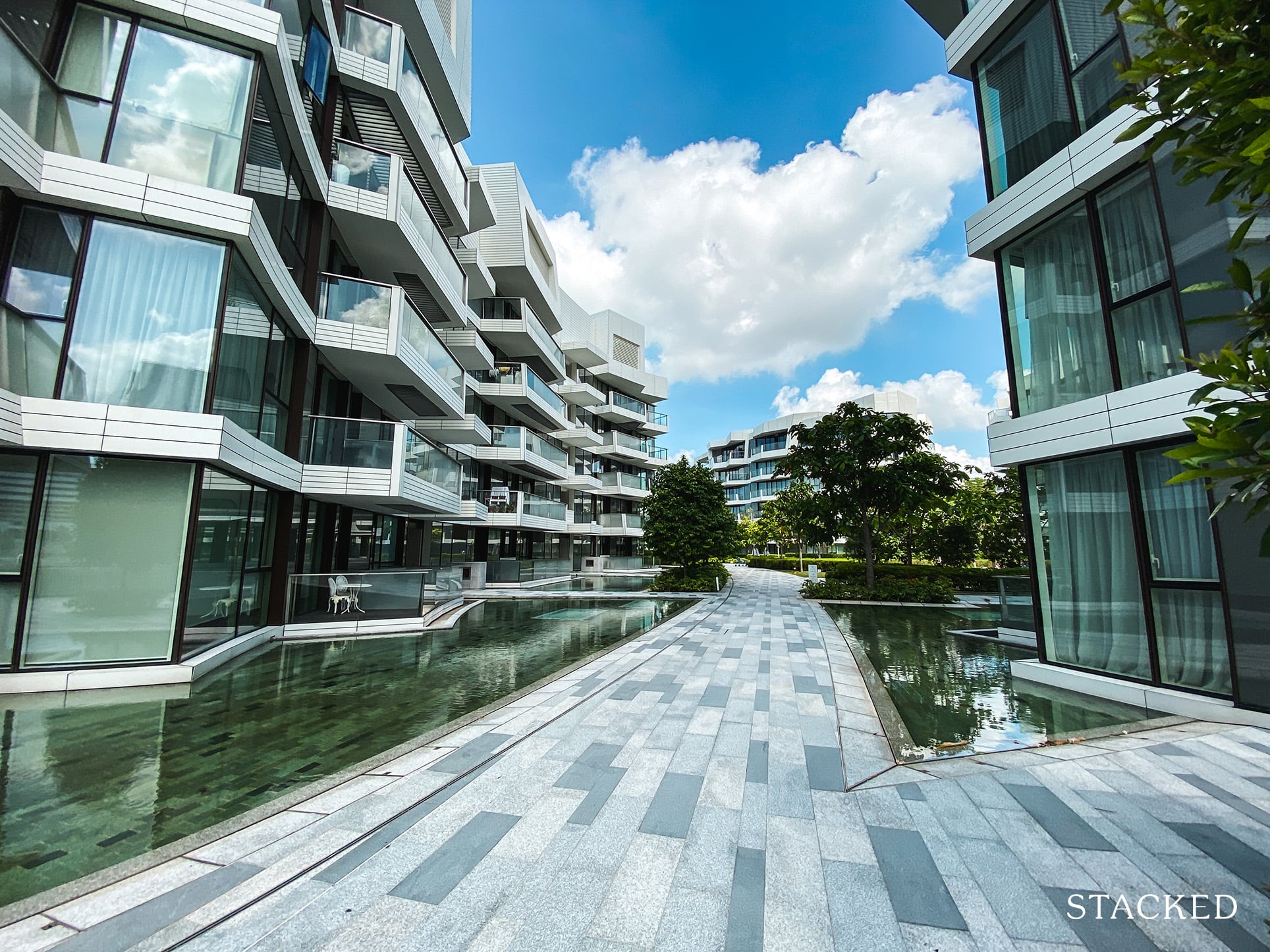 It does make the pathways feel a lot more immersive as well.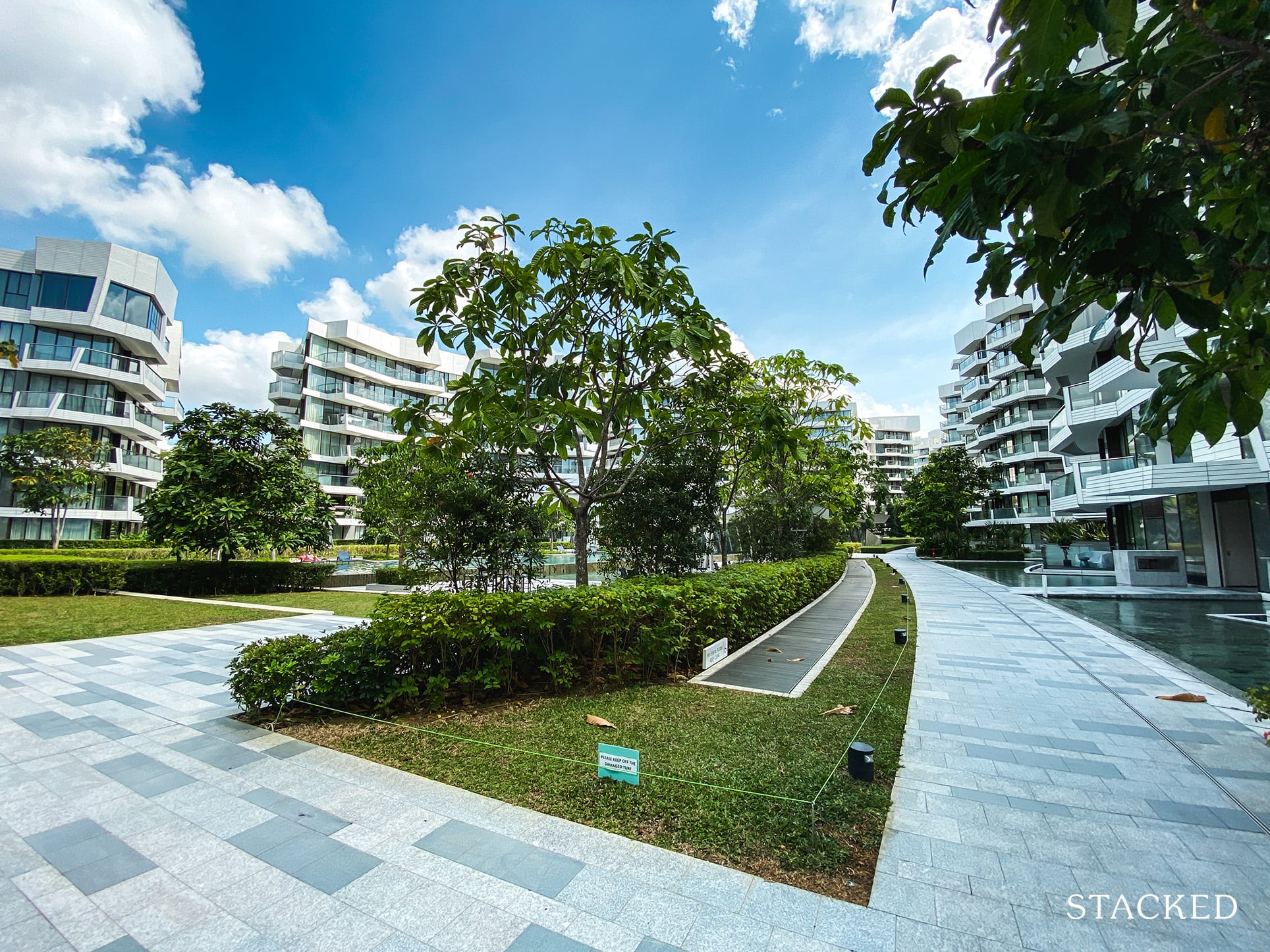 You could actually get quite a good workout walking the estate pathways – both the internal and circumference of the development. That said, I do think most people would just use the Keppel Bay boardwalk – it is just that much more scenic.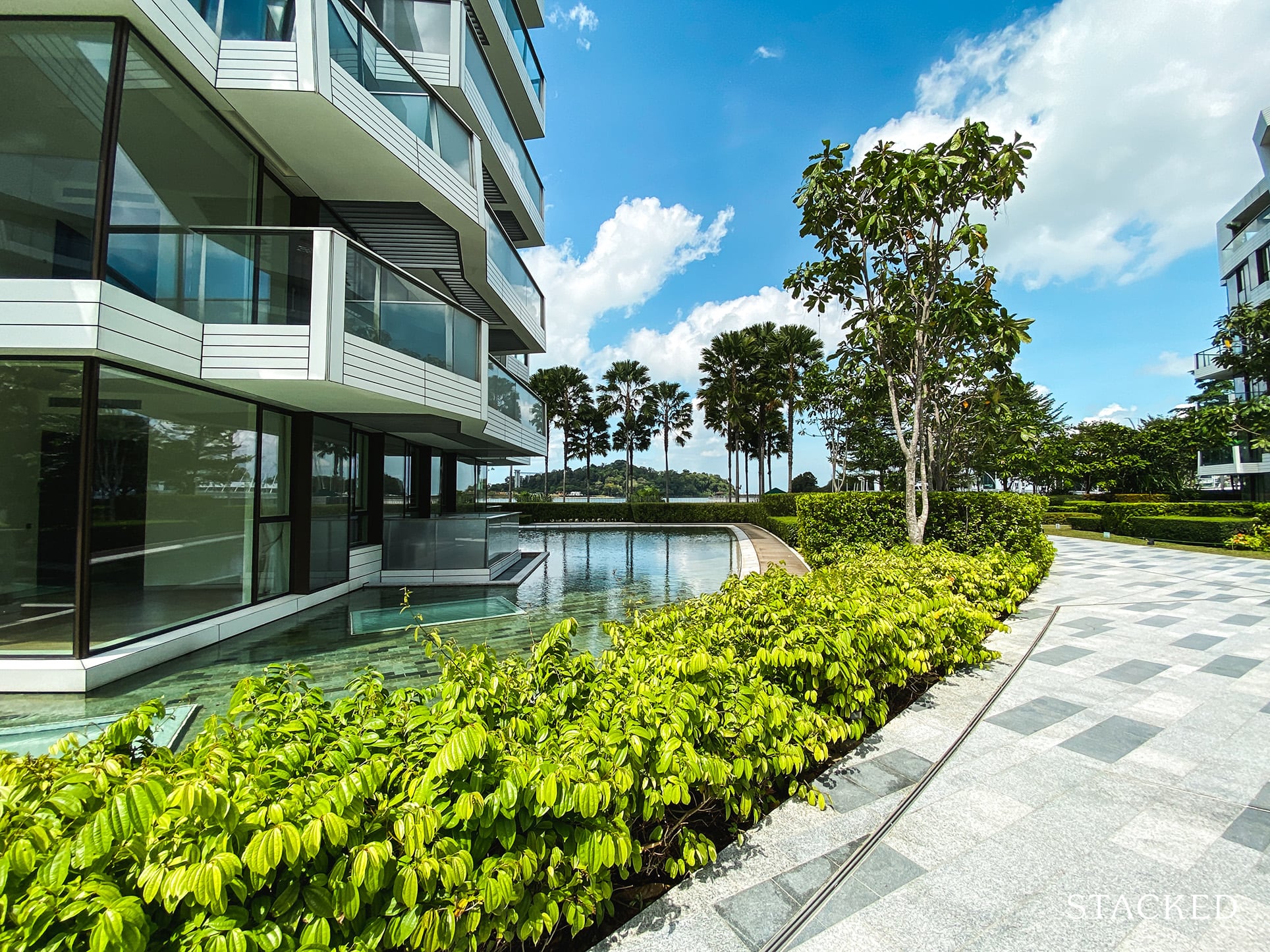 As you can see, not all the units at Corals at Keppel Bay have been sold yet.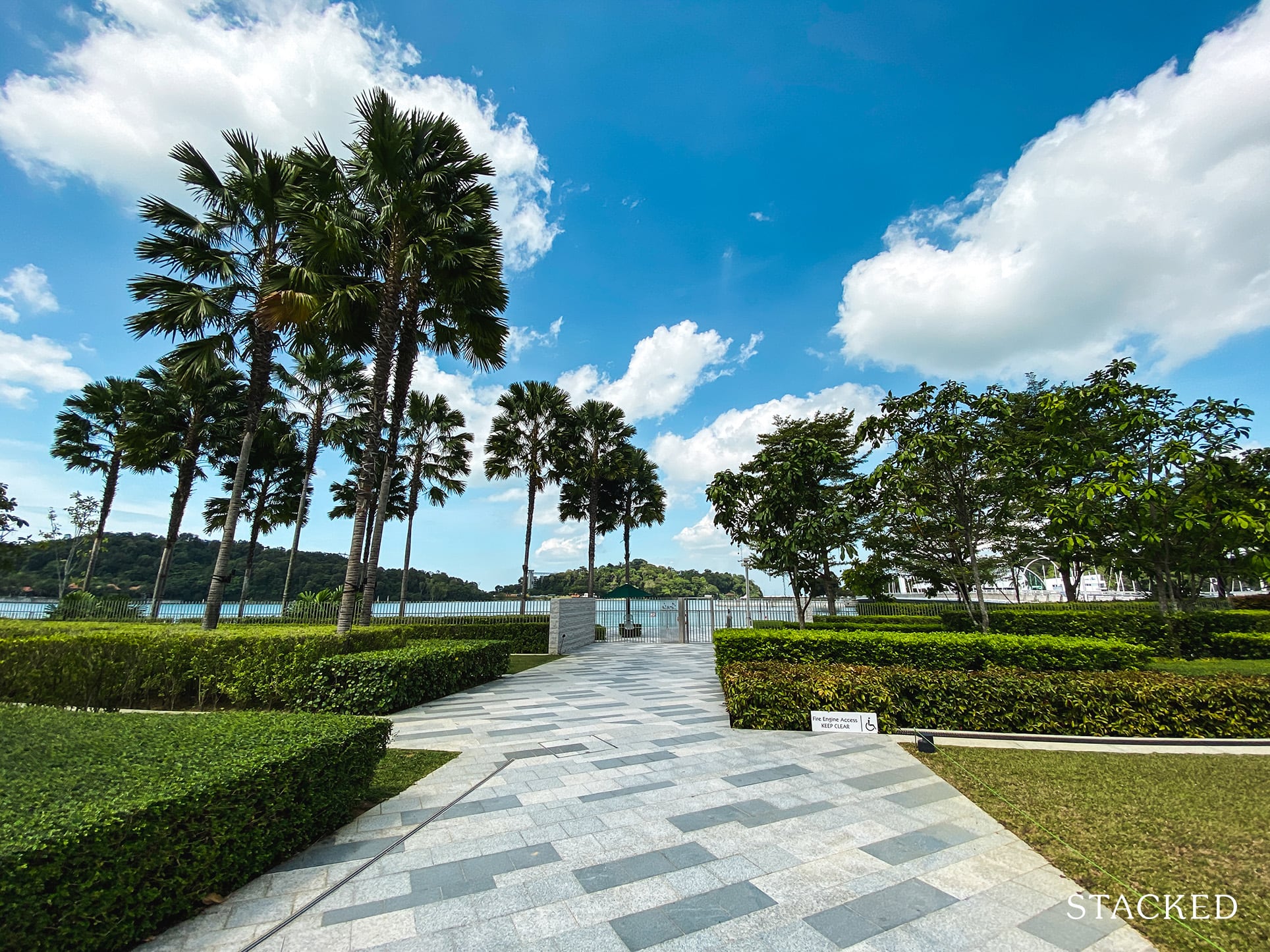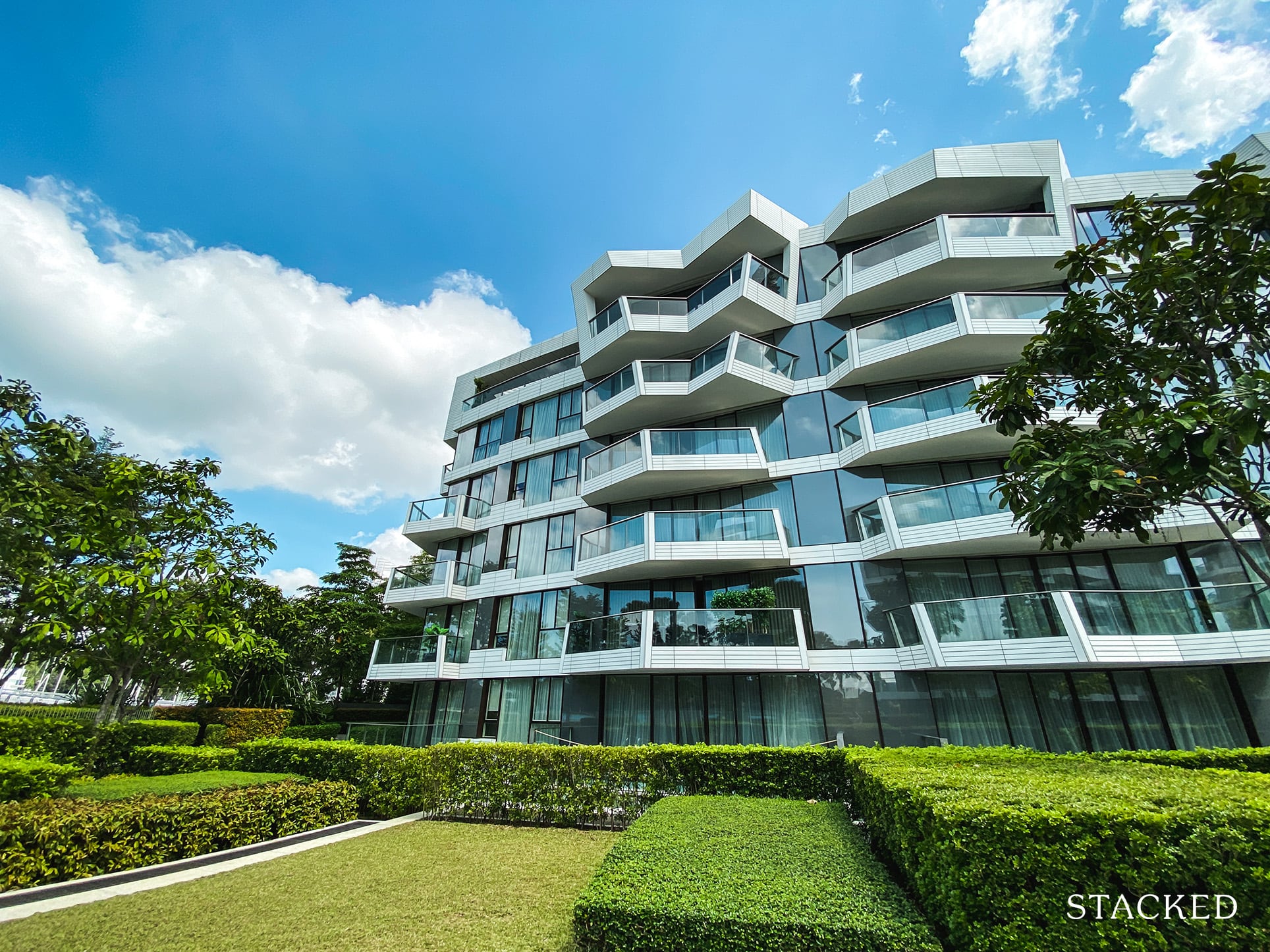 One of the best things about living at Keppel Bay is obviously the waterfront lifestyle that it offers.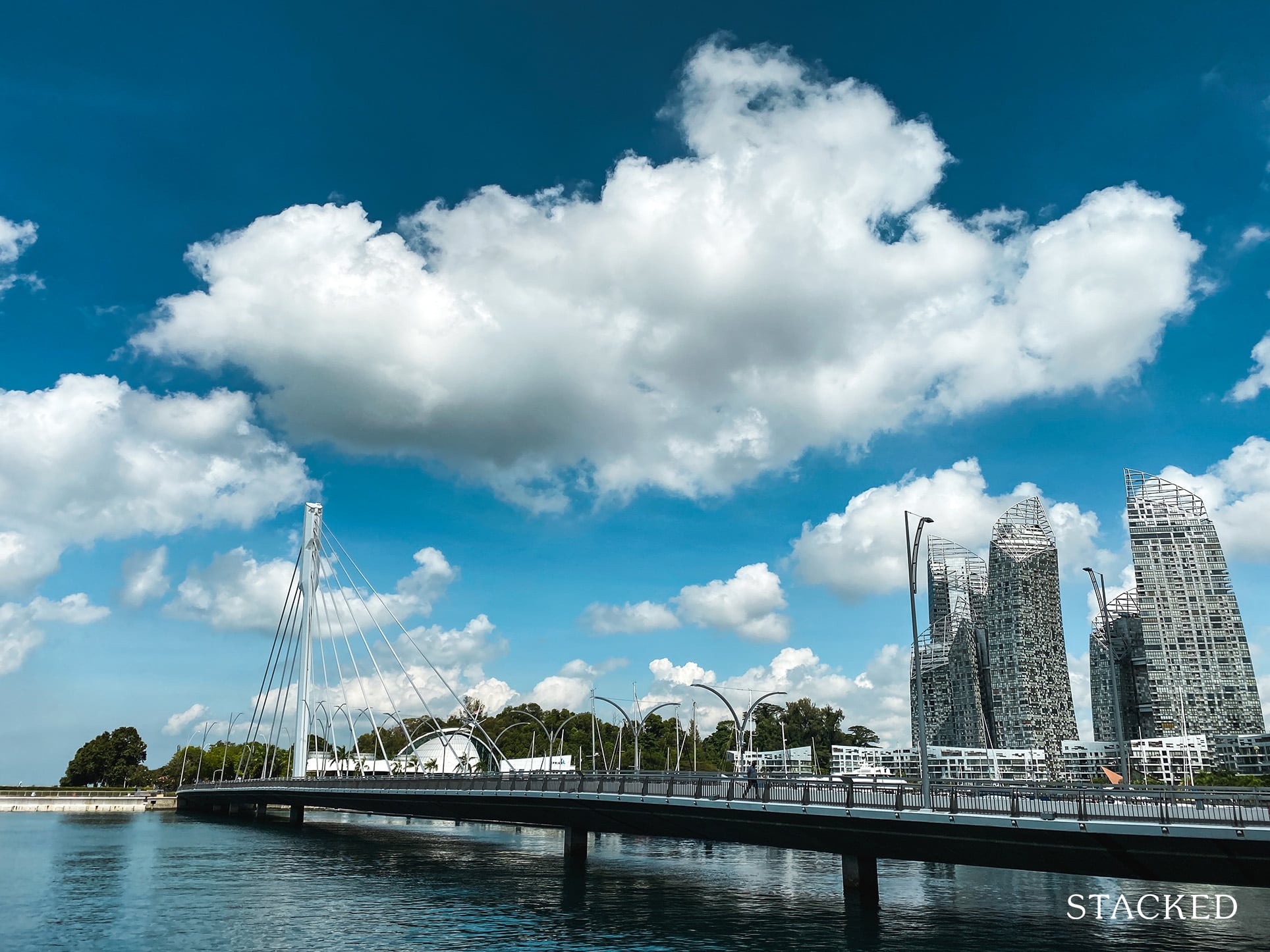 One of the attractions is the close proximity to Keppel Island, where there are a number of restaurants and cafes for an idyllic breakfast in the mornings during the weekends. Given how close it is, you don't even have to drive as the walk across the bridge is quite a charming one.
If you are game enough, walking past Reflections at Keppel Bay gets you to the Bukit Chermin Boardwalk – a place where you can get one of the best sunset views in Singapore. It's not just all about the views too though, it is a pathway that leads you to Labrador Park – where it is well known for family-friendly parks and playgrounds.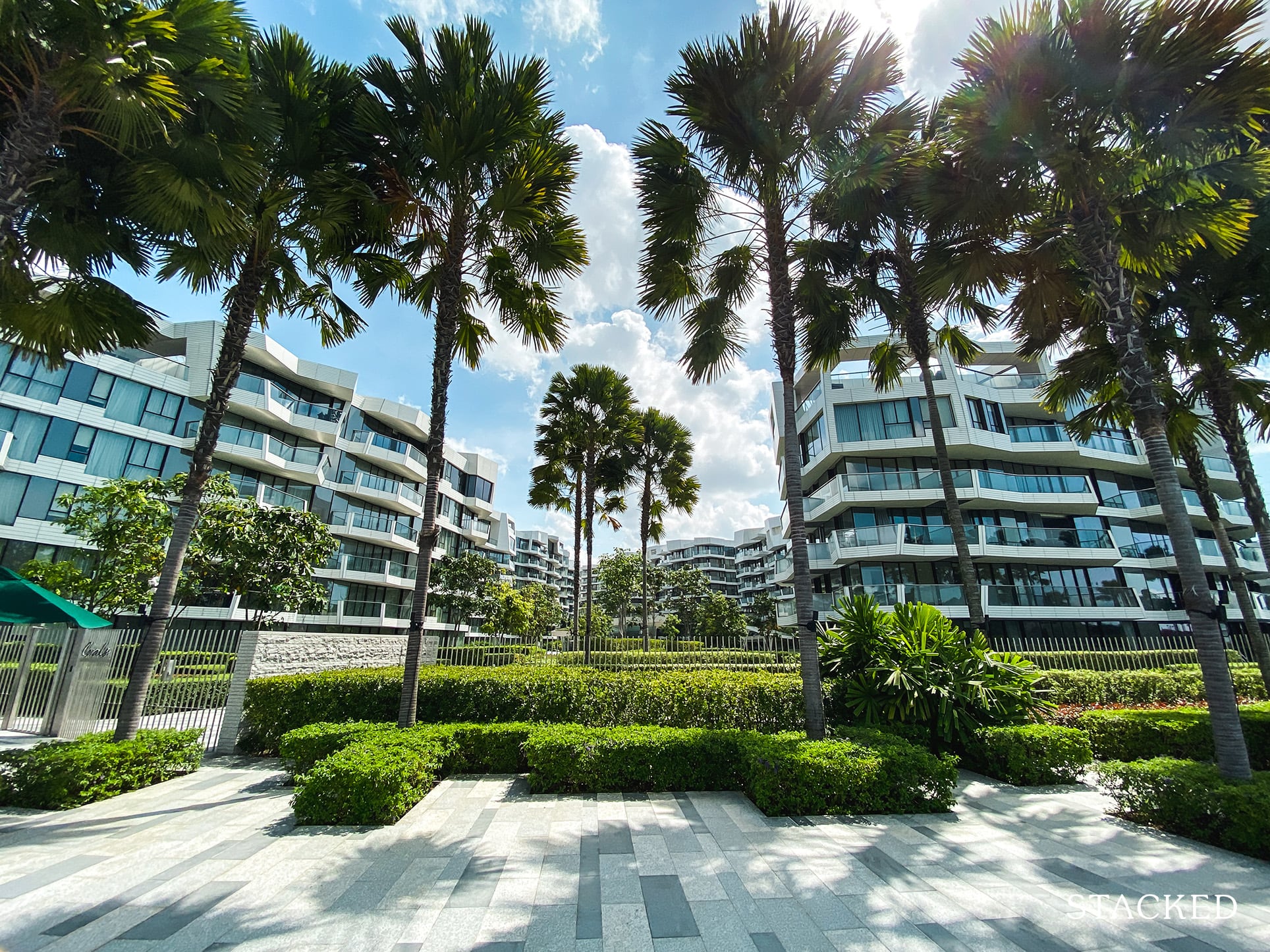 Walking the opposite direction will bring you towards the Harbourfront and VivoCity area – one of the perks of the Corals at Keppel Bay as it is the closest by.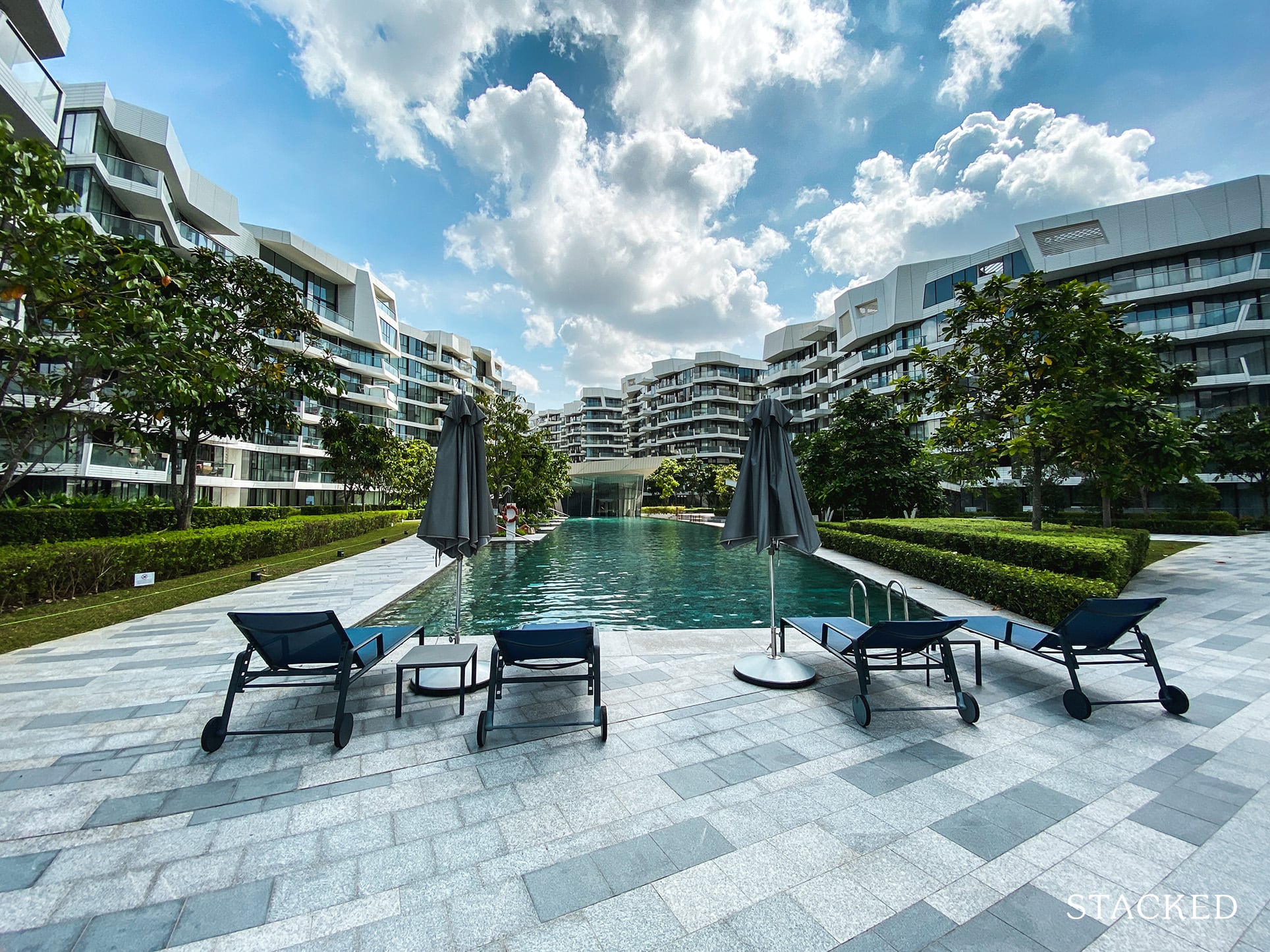 The swimming pool is located in the middle of all the stacks. While it is long at 50 metres, it isn't actually very wide.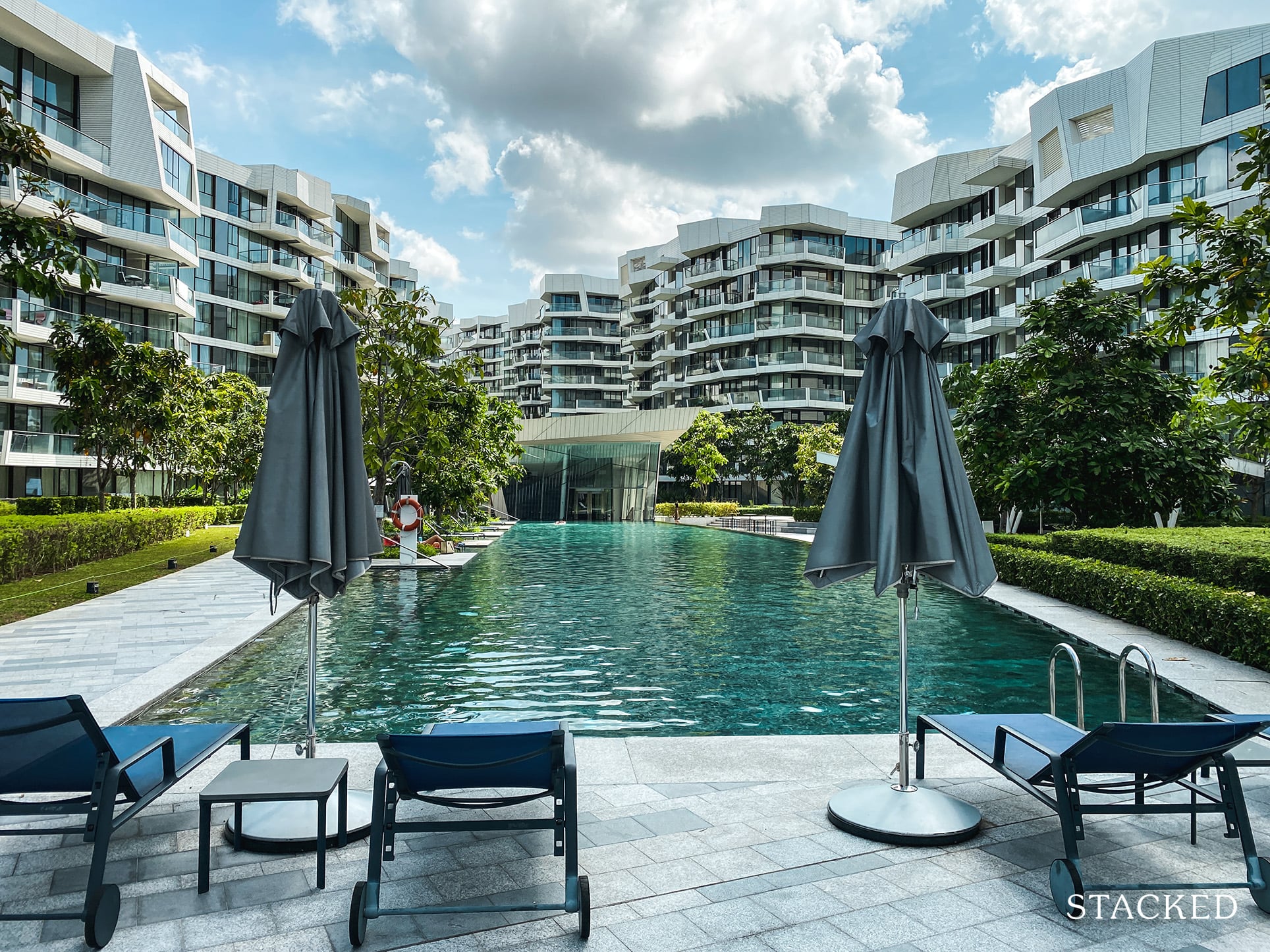 Just like the Reflections at Keppel Bay, the swimming pool really isn't quite big enough considering the number of units. There is still considerable space by the sides so I can't think why this wasn't made to be bigger.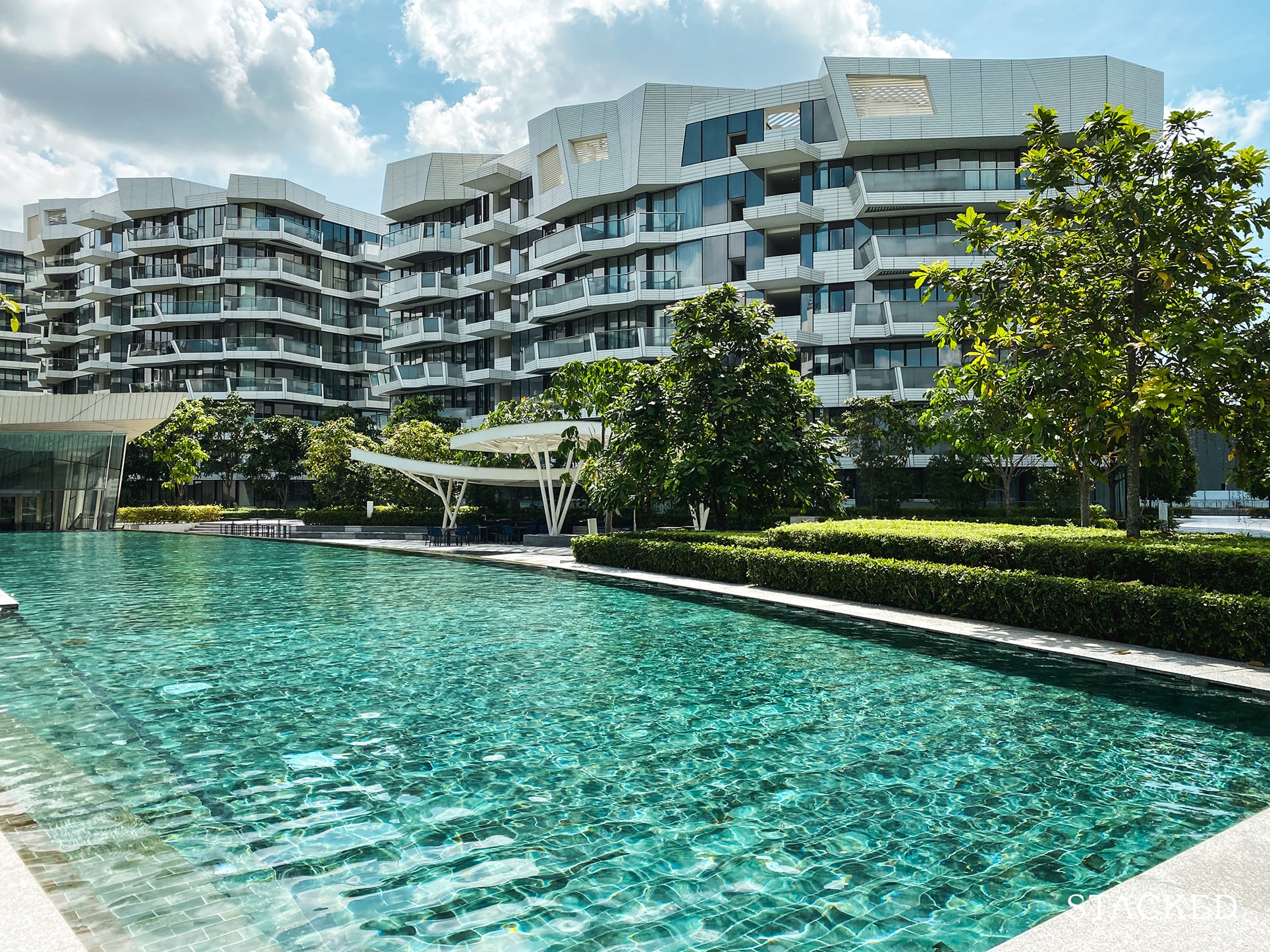 It's hard to tell from the photo, but the swimming pool is actually flat on one side, with the infinity edge running along the other.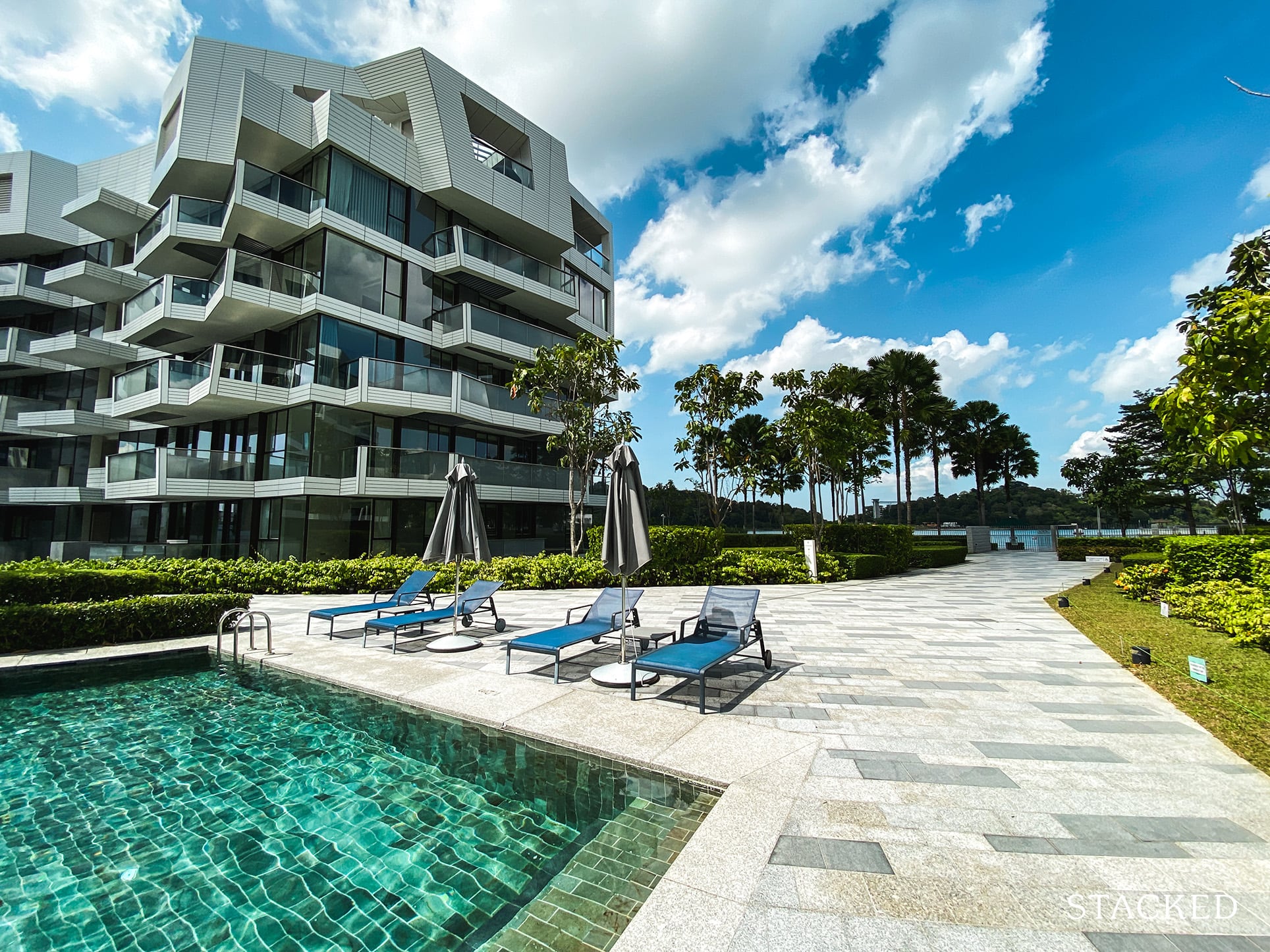 There are a couple of deck chairs at the far end of the pool.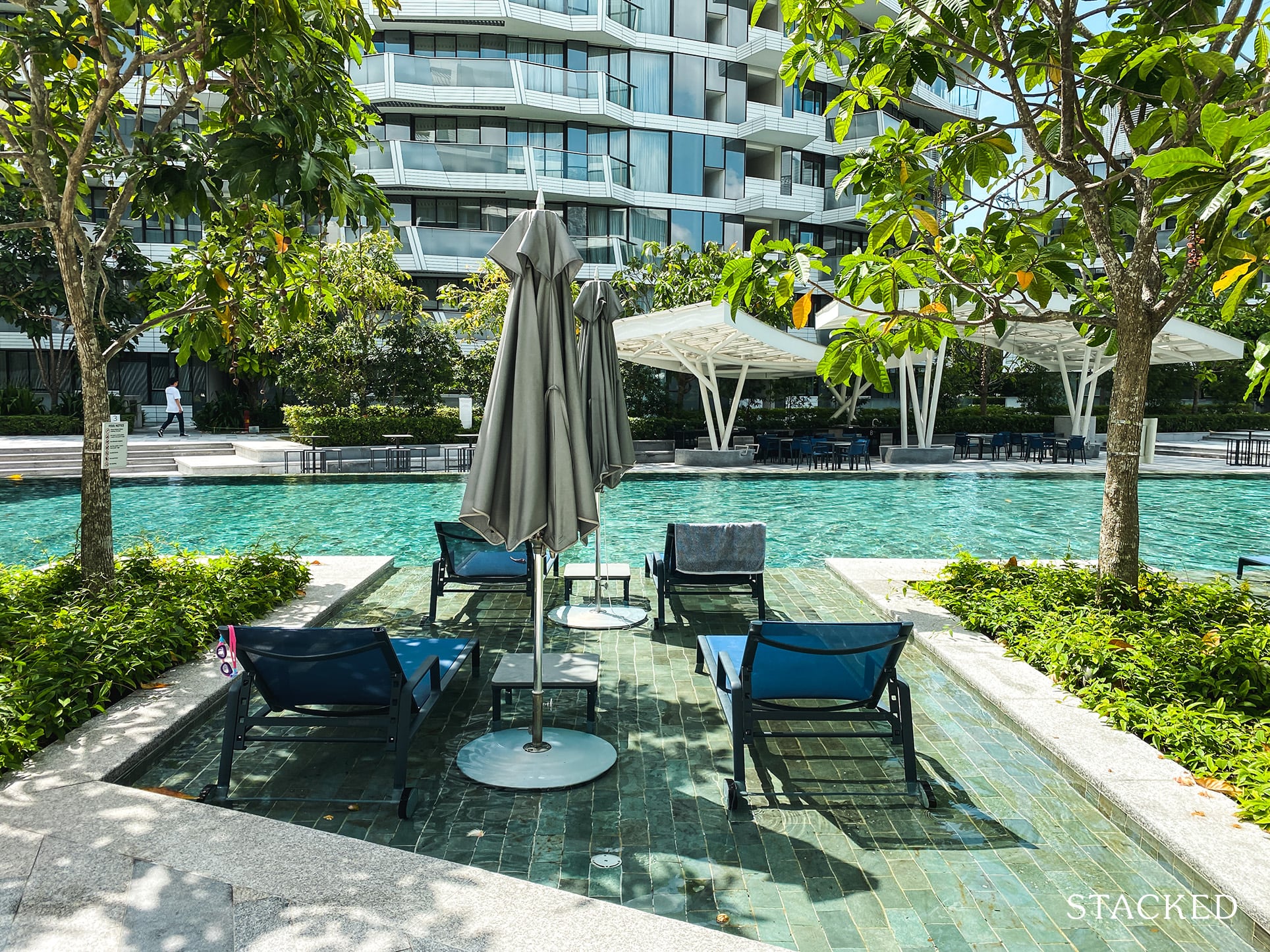 And overwater ones by the side of the pool as well. Just note: deck chair seats are quite limited too.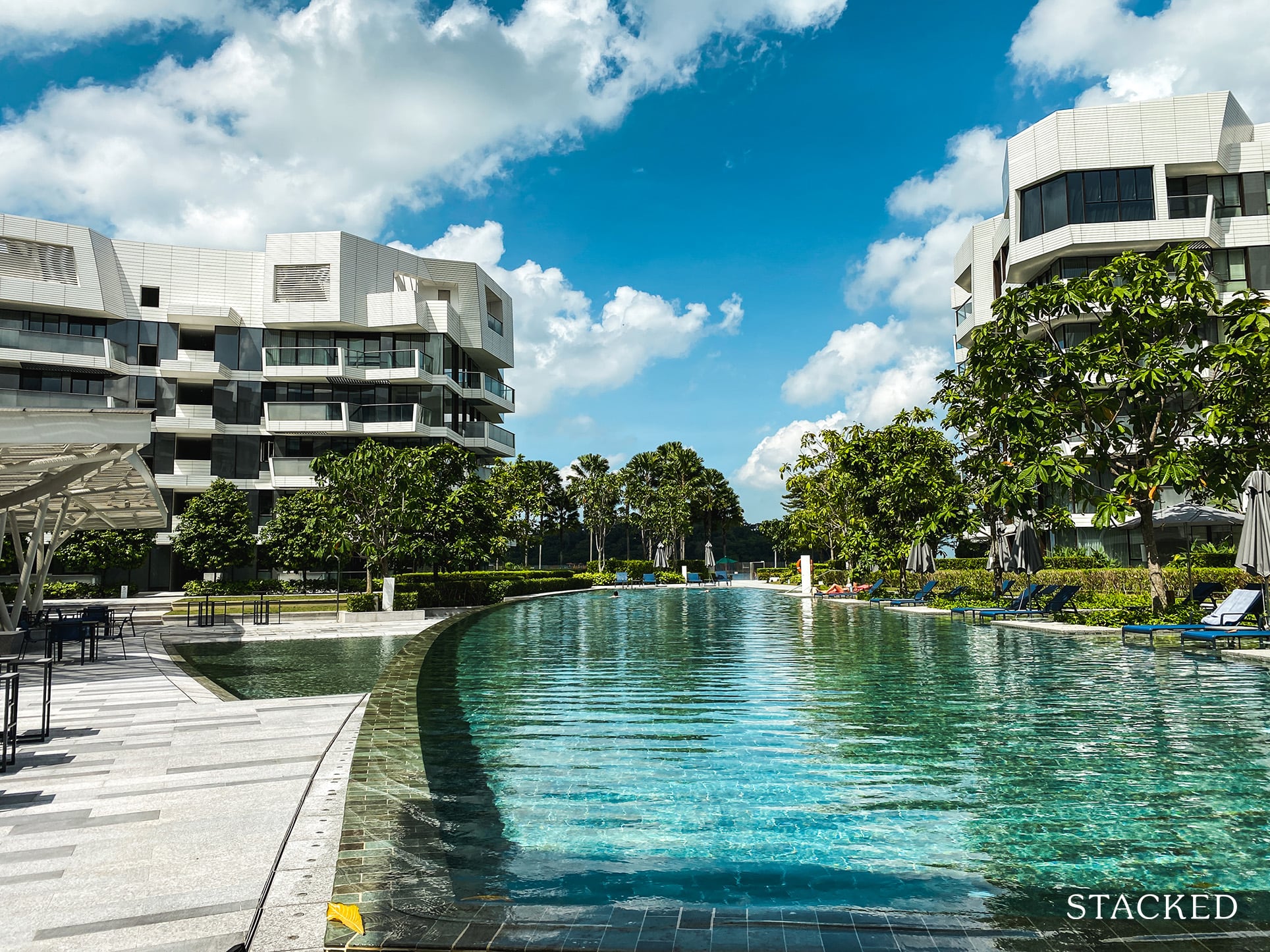 Despite all the shortcomings so far, this open view towards the sea is truly a million dollar one. Yes, you certainly need to be the pool loving, sun worshipping type to appreciate such a view – which is probably the main reason why you would be looking at such a development in the first place.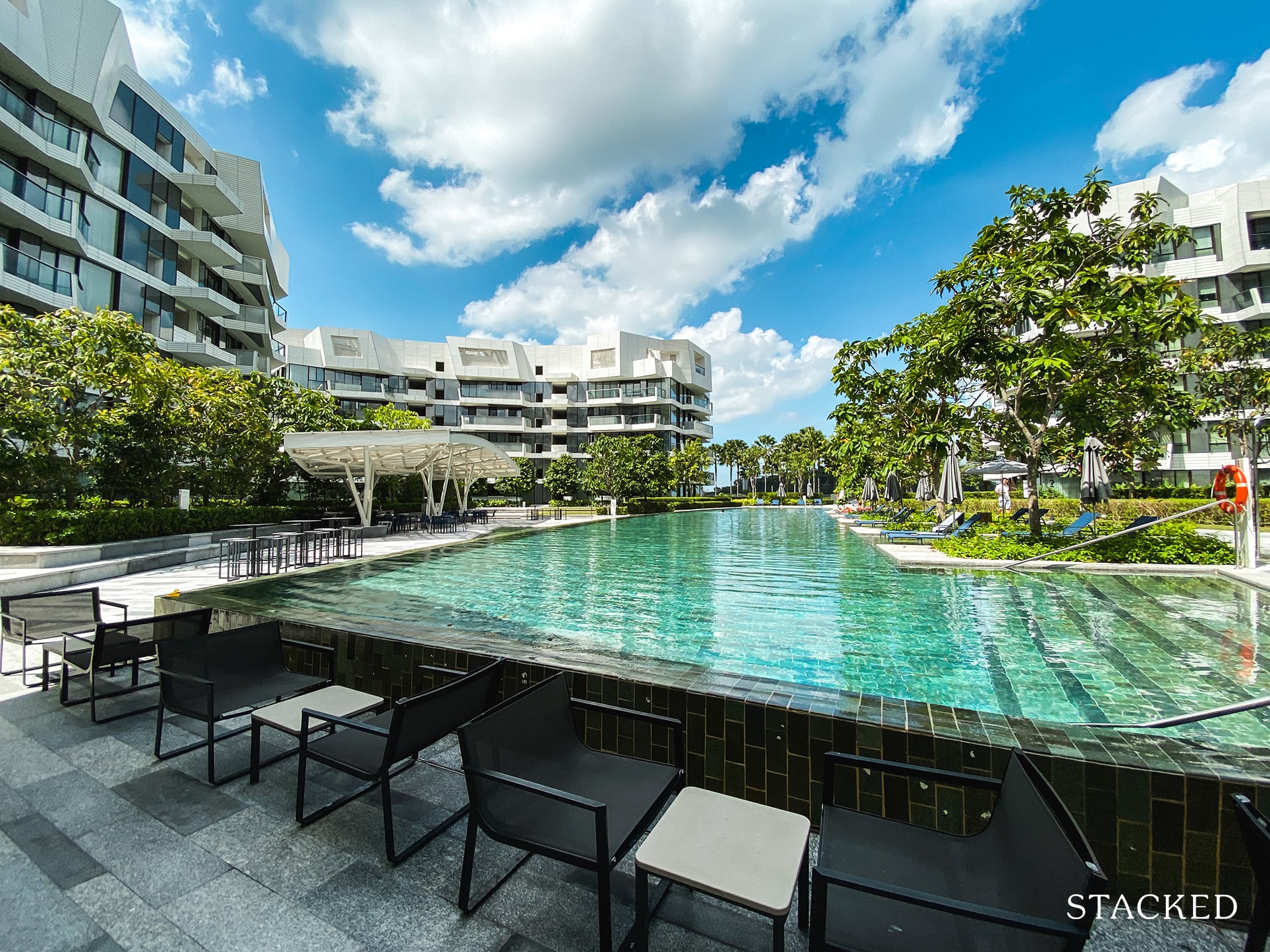 You get tables and chairs at the foot of the pool to enjoy that view too!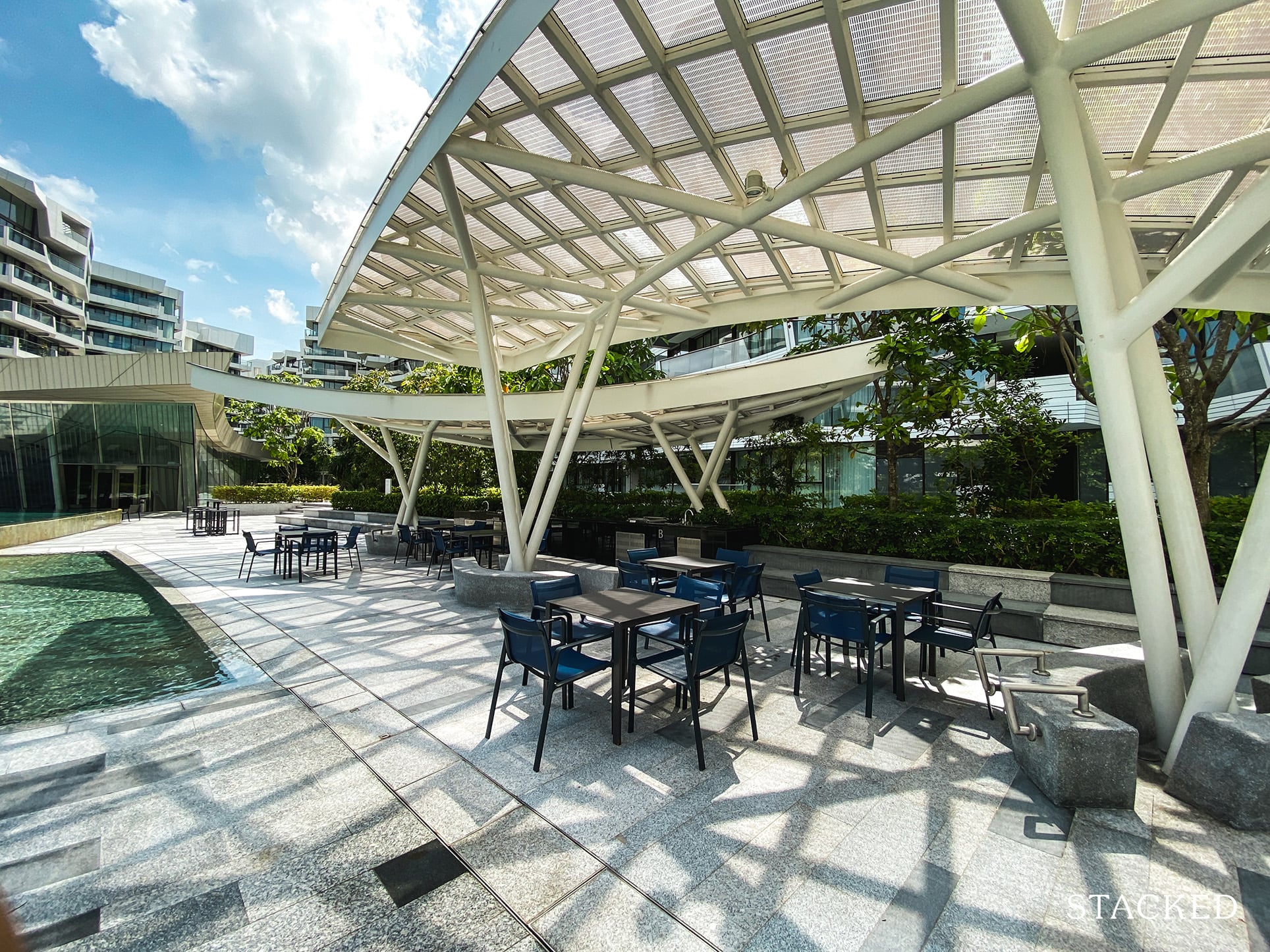 By the side of the swimming pool is a barbecue spot. It's nicely sheltered and has a generous sprinkling of seating too. While some might enjoy the poolside ambiance while having a barbecue, others might find it to lack a certain level of privacy.
There is a shallow splash pool that is attached to the side of the main pool that could be an option for kids to wallow about while you barbecue too.
Which brings me to my next point. You'd probably notice by now that Corals at Keppel Bay isn't exactly kids friendly, and there is absolutely nothing wrong with that – it is quite clear the type of audience that the project is targeted at.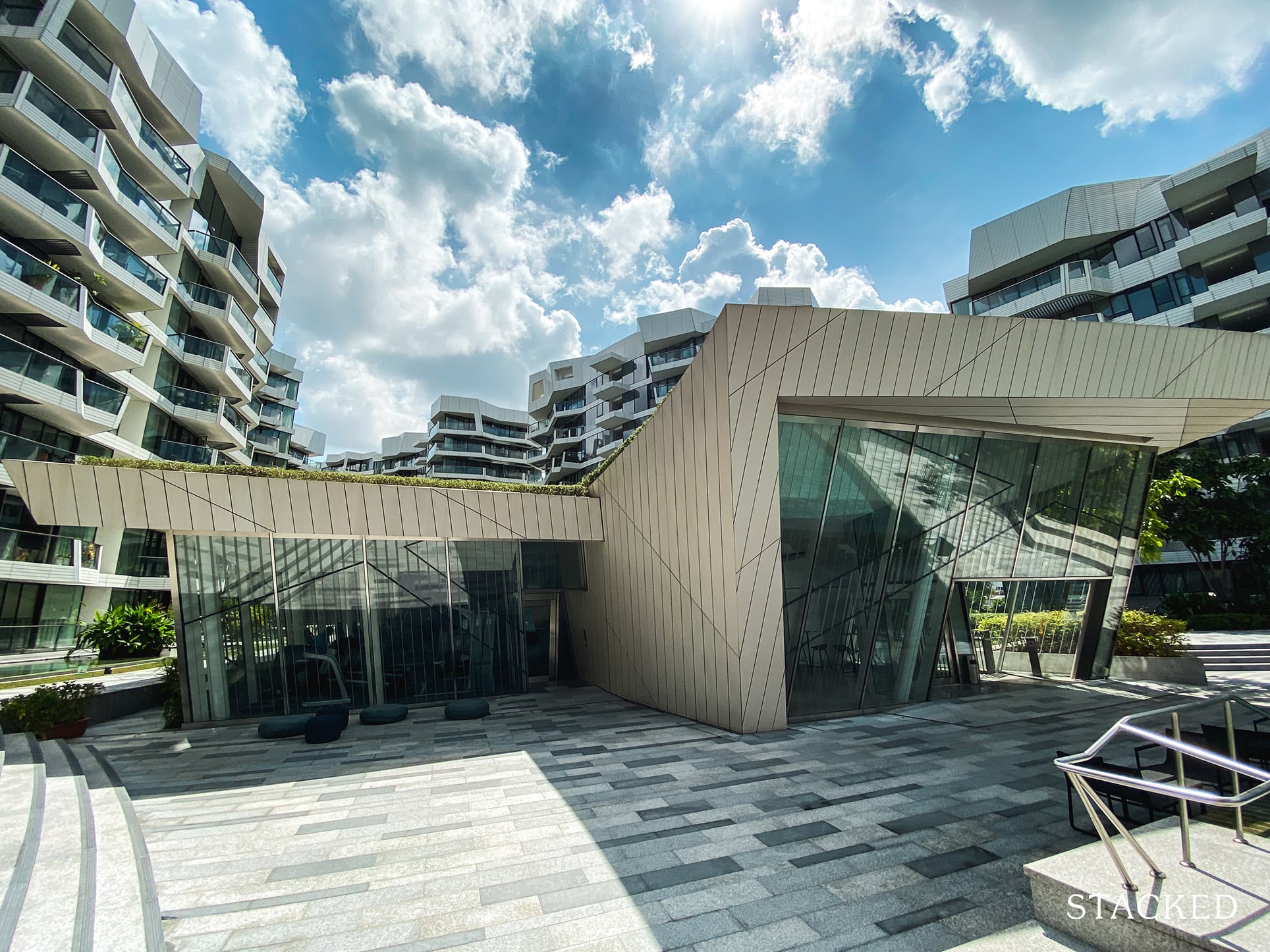 The clubhouse is located just in front of the swimming pool. While it isn't as attractively styled as the one at Reflections at Keppel Bay, this one still cuts quite an imposing figure.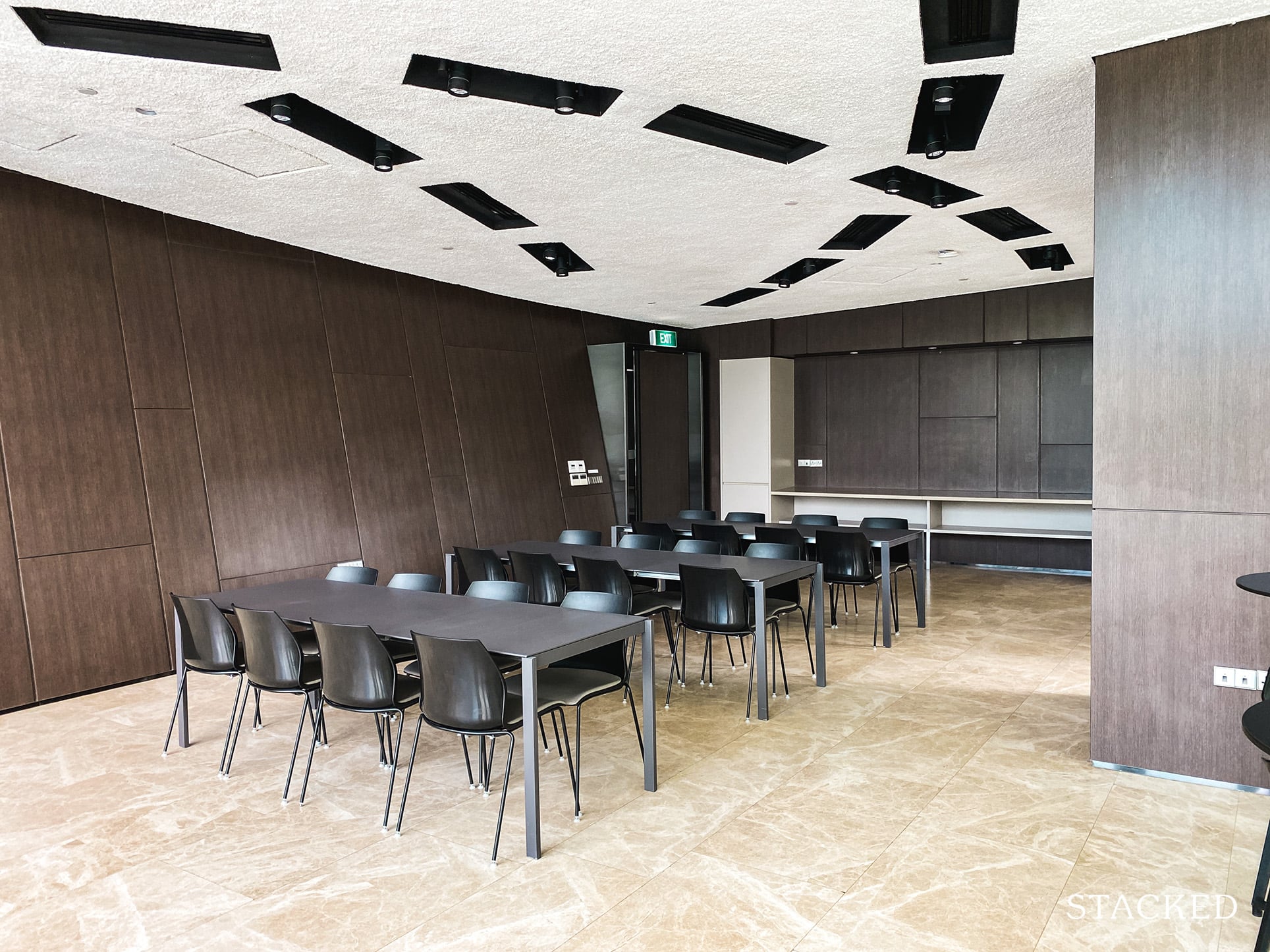 First up is the function room. Despite the fact that it currently looks like a classroom setting – it does showcase the versatility of the space. It is quite a sizeable space, and the availability of ample chairs and tables allows you to hold a good sized gathering.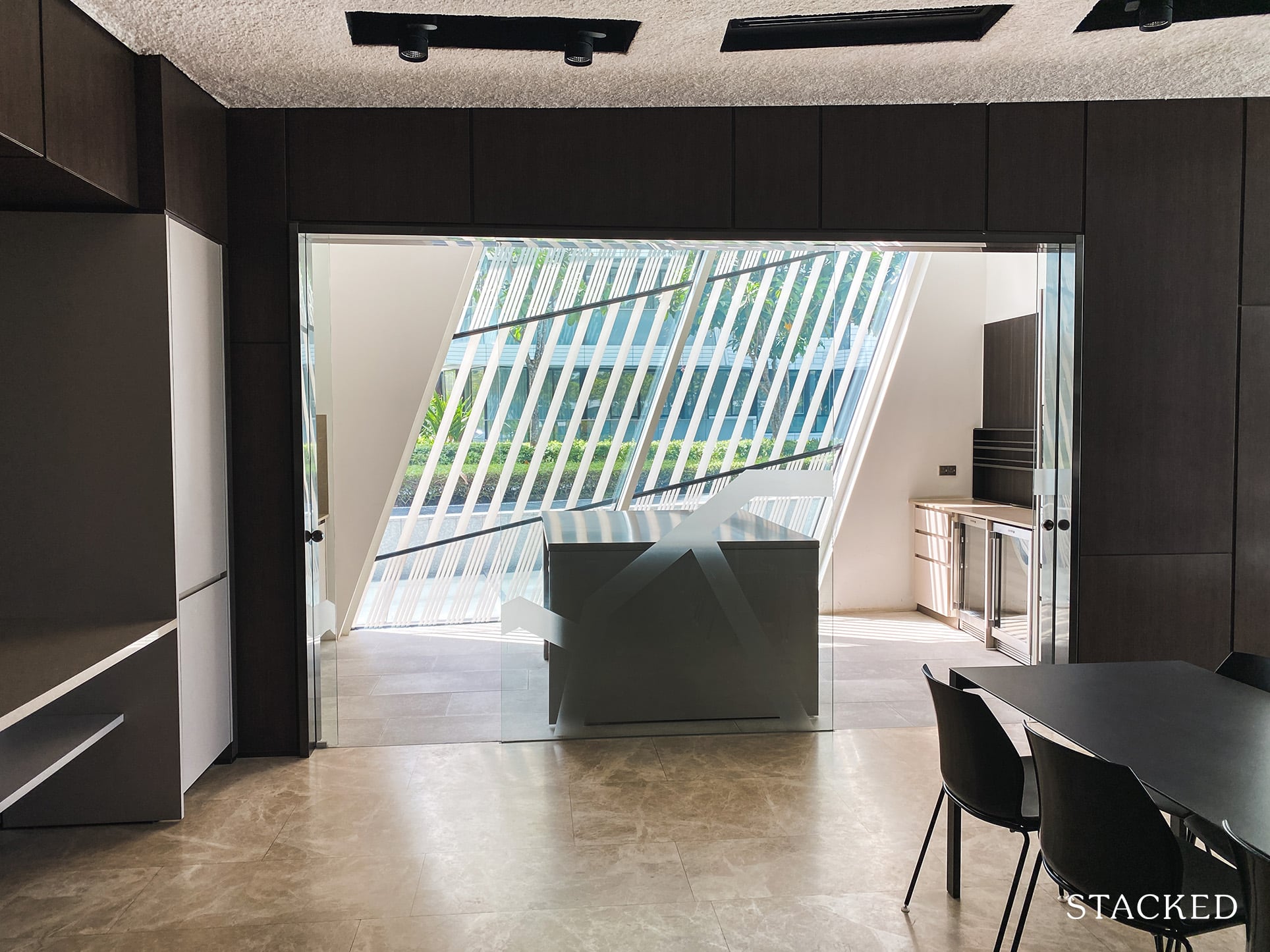 You do get proper dining facilities too – fridges, ovens, the whole works.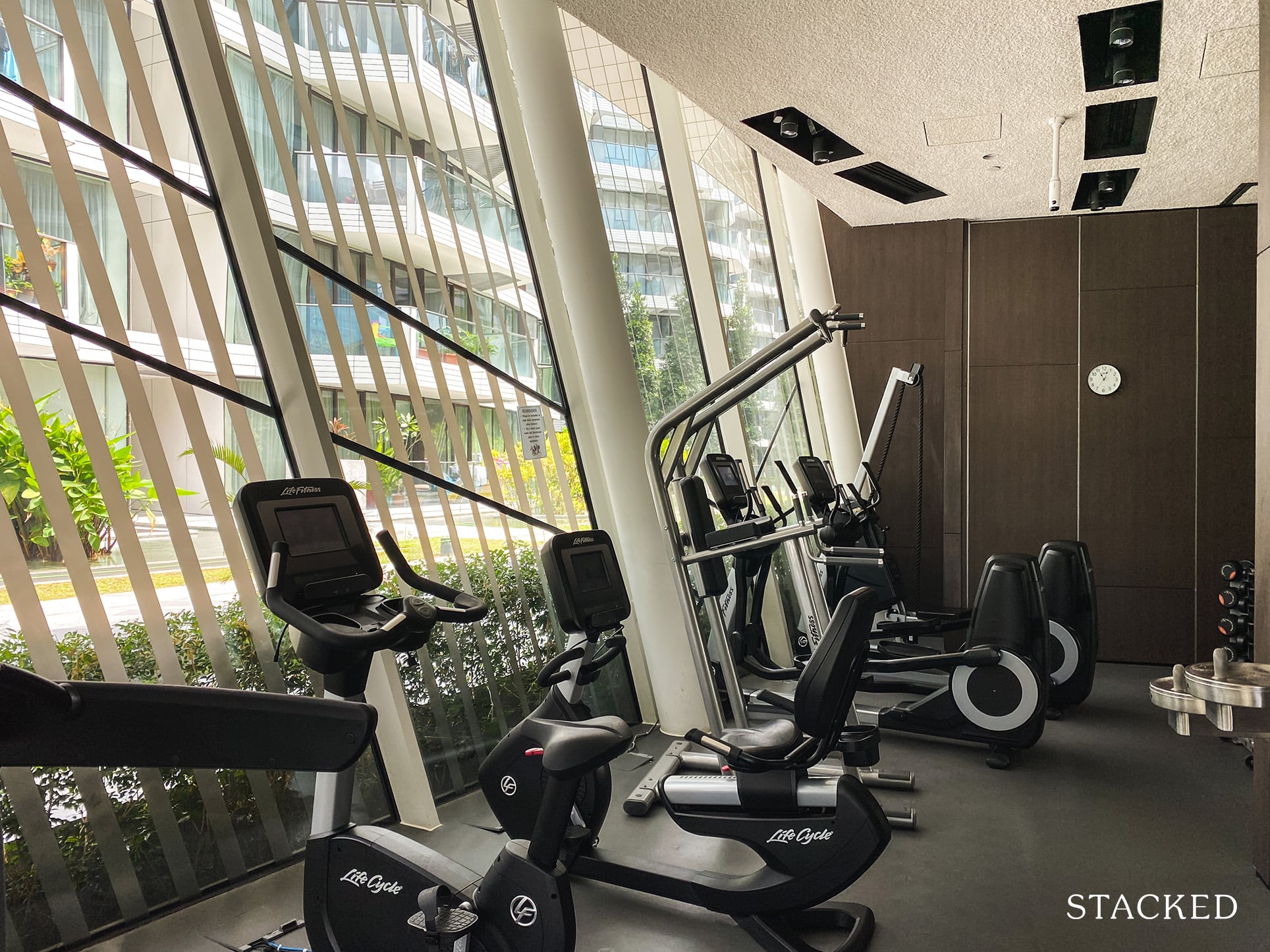 Like the swimming pool, the gym is long but not very wide. I do like the high ceiling and huge sloping windows – it gives a good view of the outside surroundings. That said, the long side does face the neighbouring blocks, with the cardio machines smartly placed facing the swimming pool instead.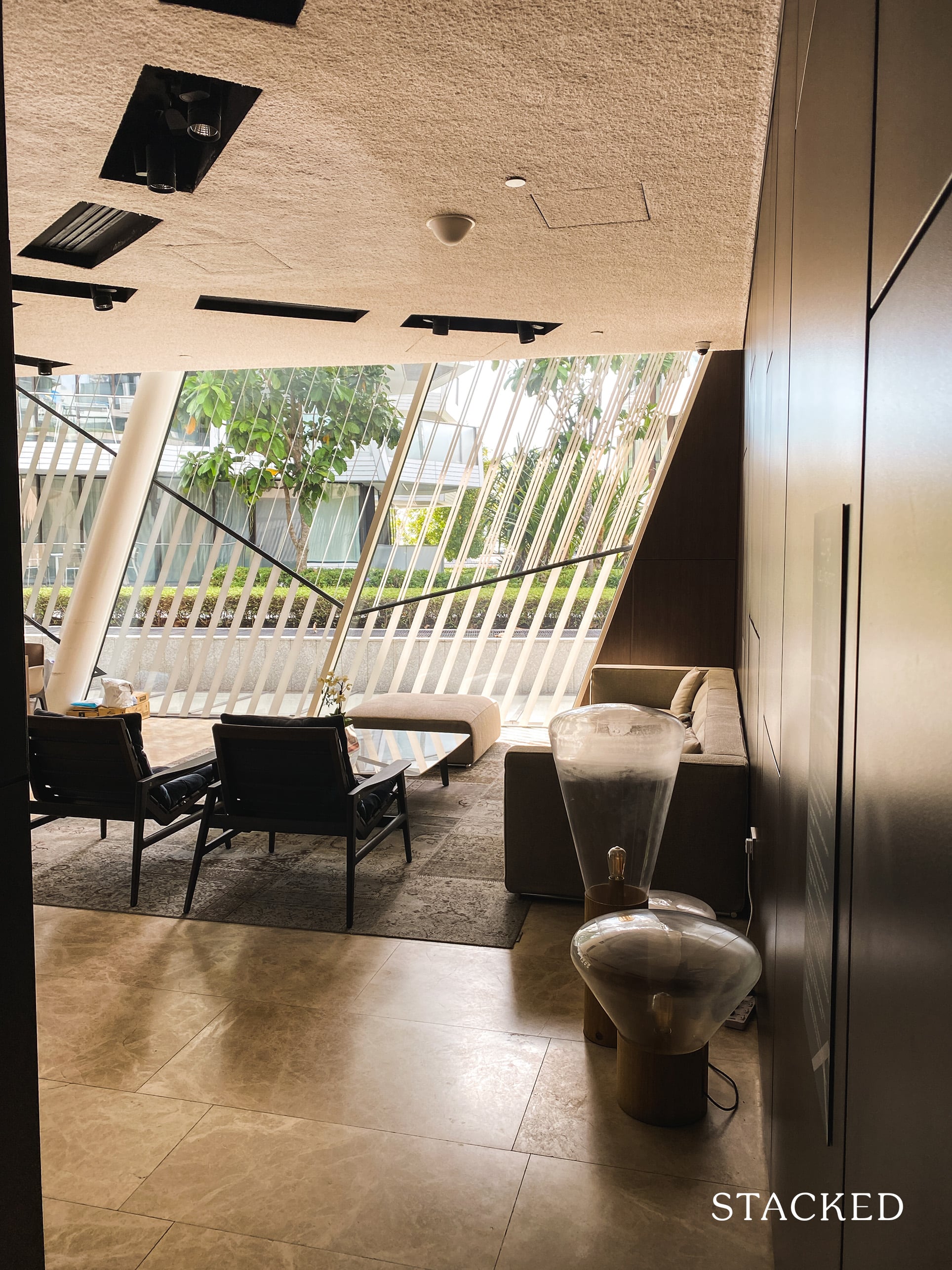 Just behind the function rooms is the lounge area of the clubhouse. It is smartly designed and looks suitably posh.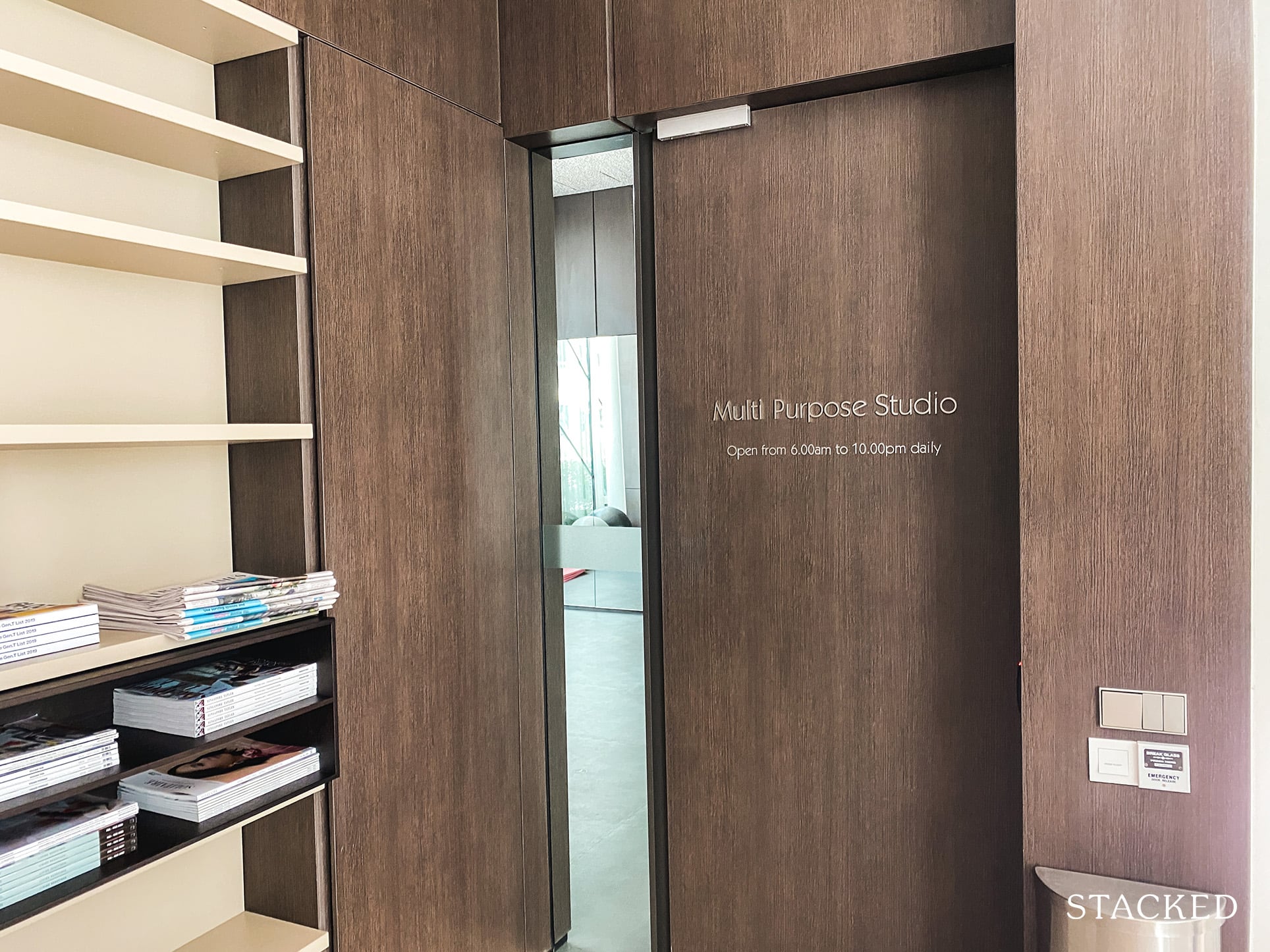 Close by is a multi purpose studio – of which most people would be using it for dance/yoga sessions.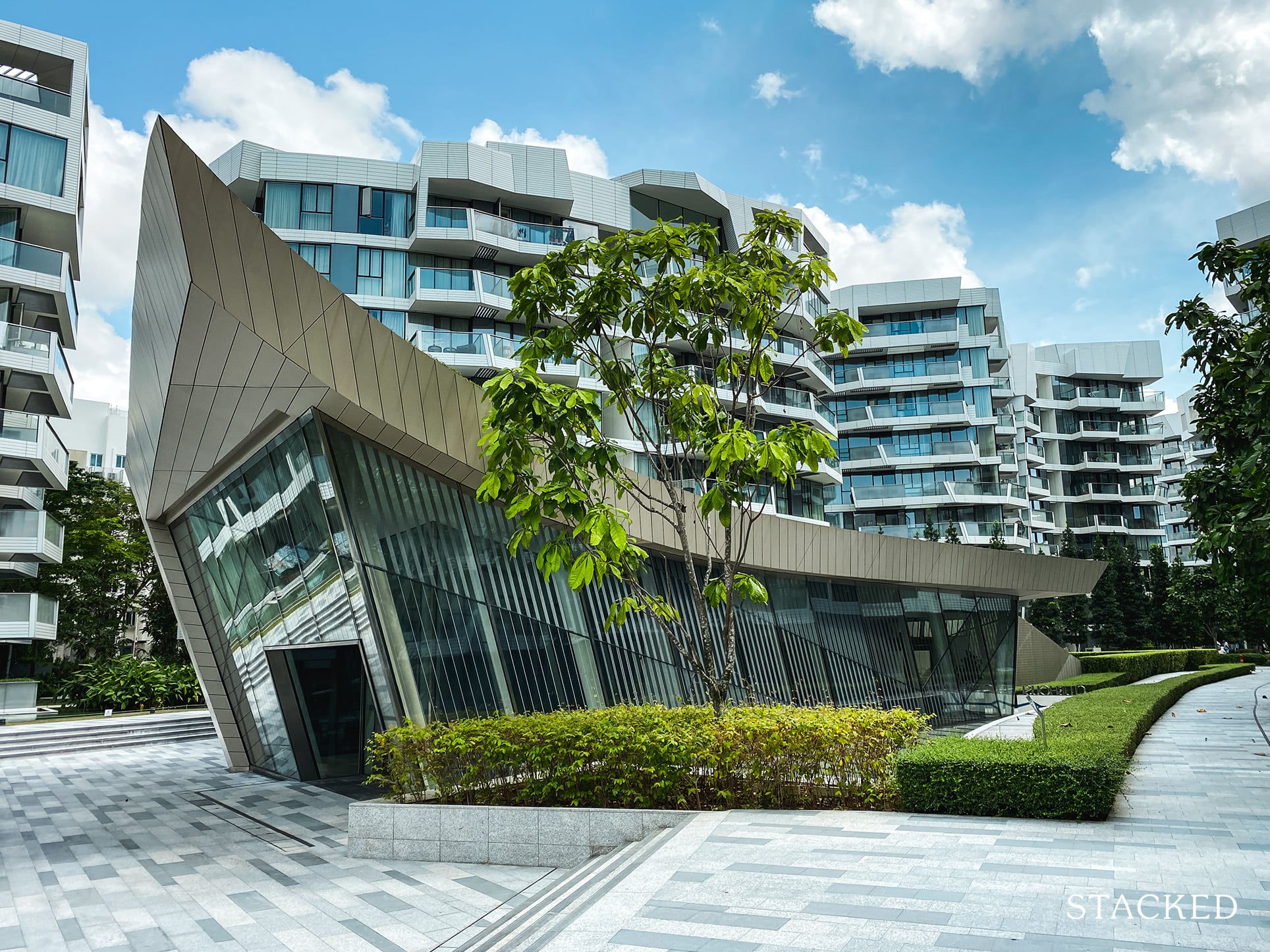 The best view of the clubhouse isn't actually of this angle – even though this unique angular shape does look rather avant-garde.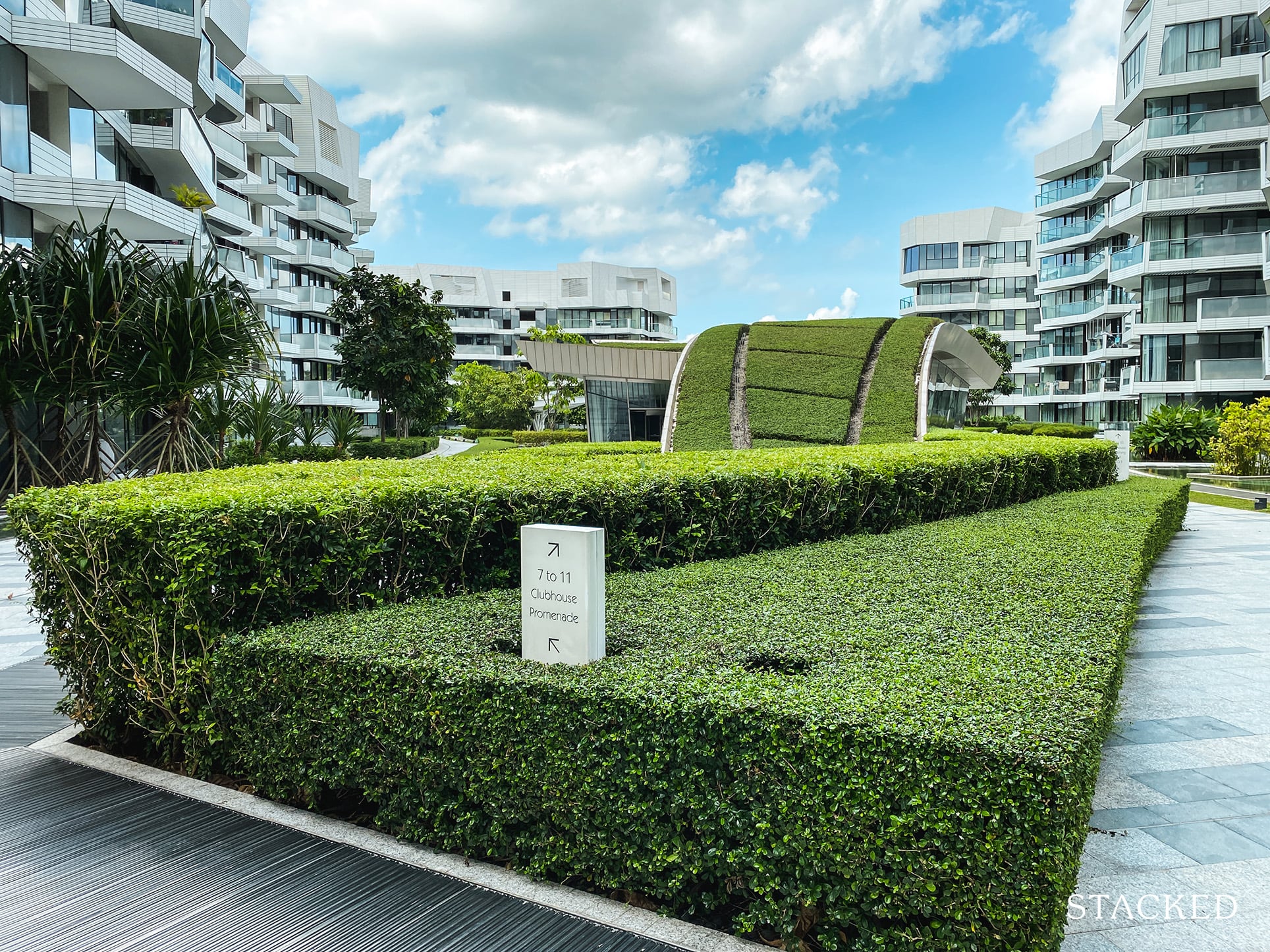 In my humble opinion, the best view is actually from the "back", where a whole length of hedges leads up to a carpet of grass laid out over the top.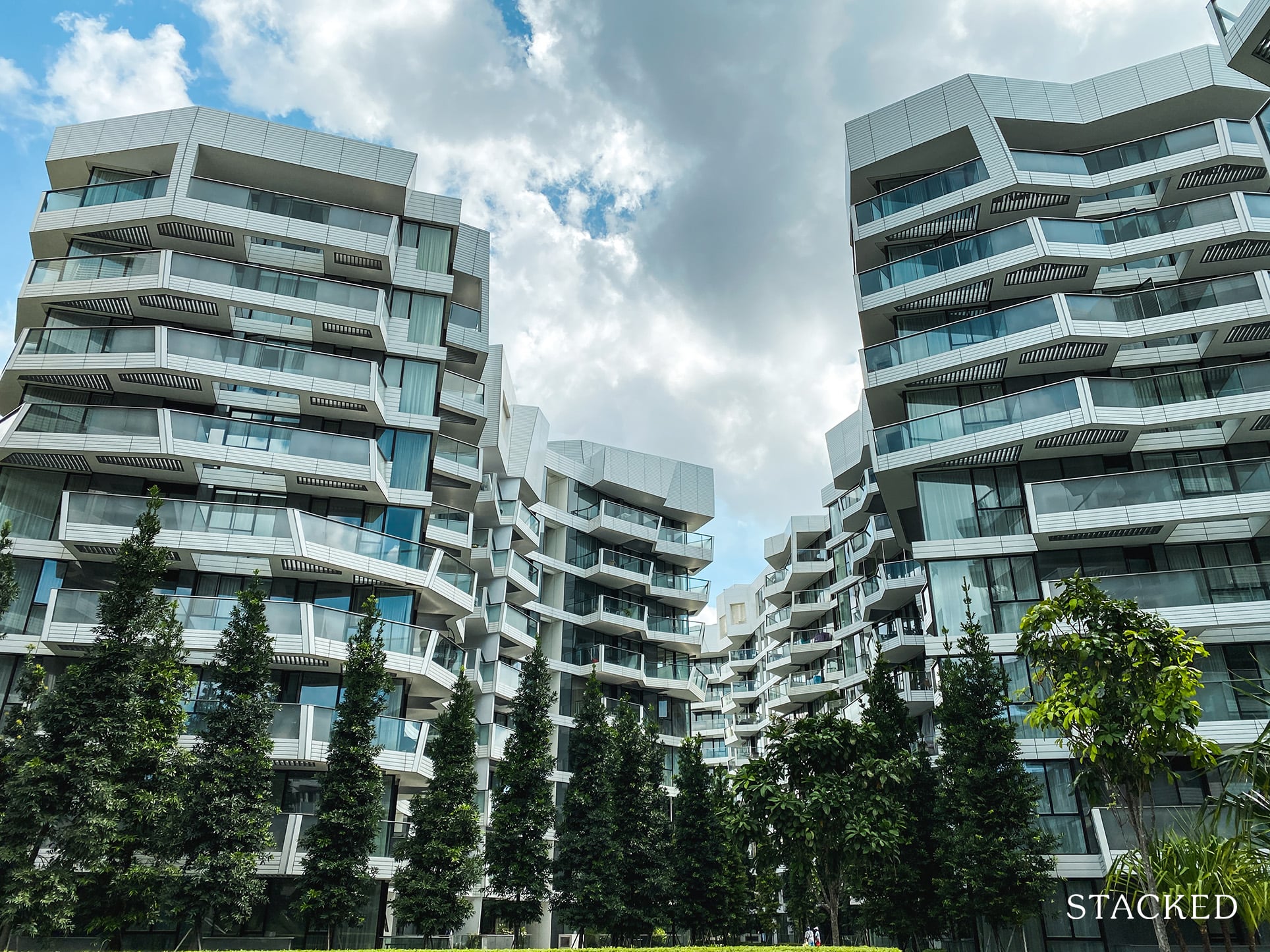 Because of the odd shape of the land, the front stacks of the Corals at Keppel Bay are packed quite closely together. For some people, I'd imagine these might be too close for comfort.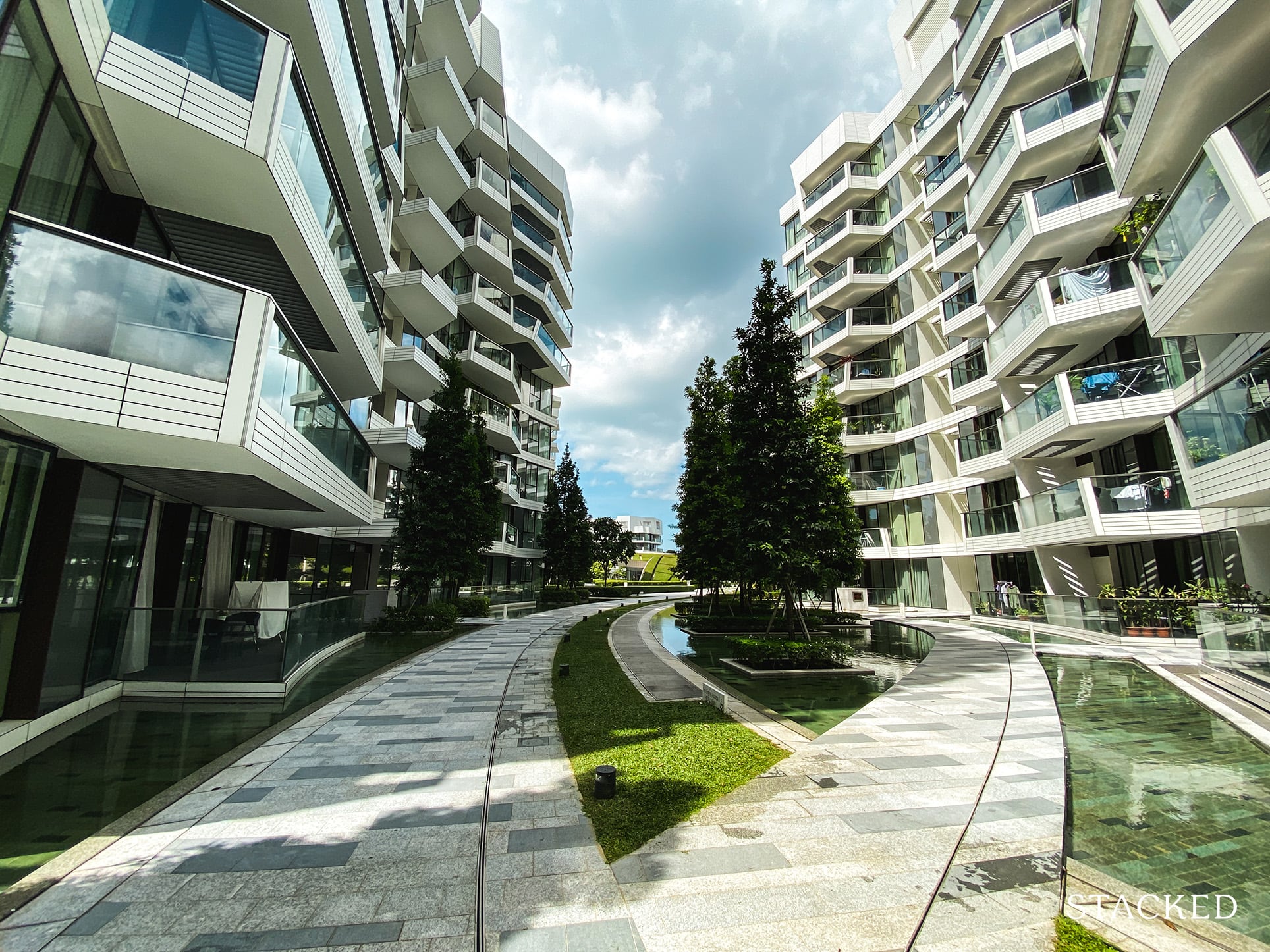 You can see from here how the paths wind back towards the clubhouse.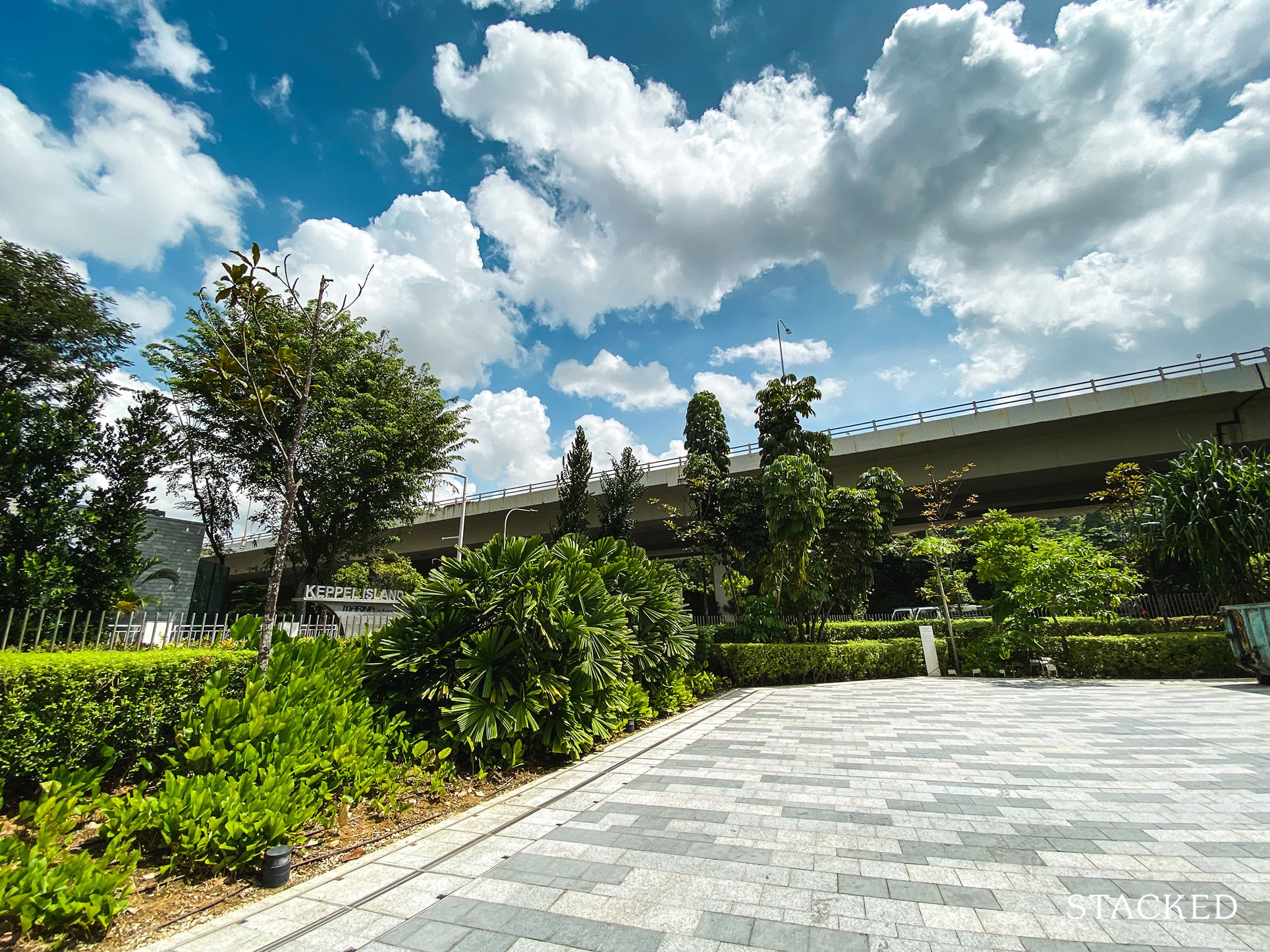 The front of Corals at Keppel Bay overlooks the West Coast Highway flyover. Thankfully, there is a big enough frontage such that the immediate first few stacks aren't too affected by road noise.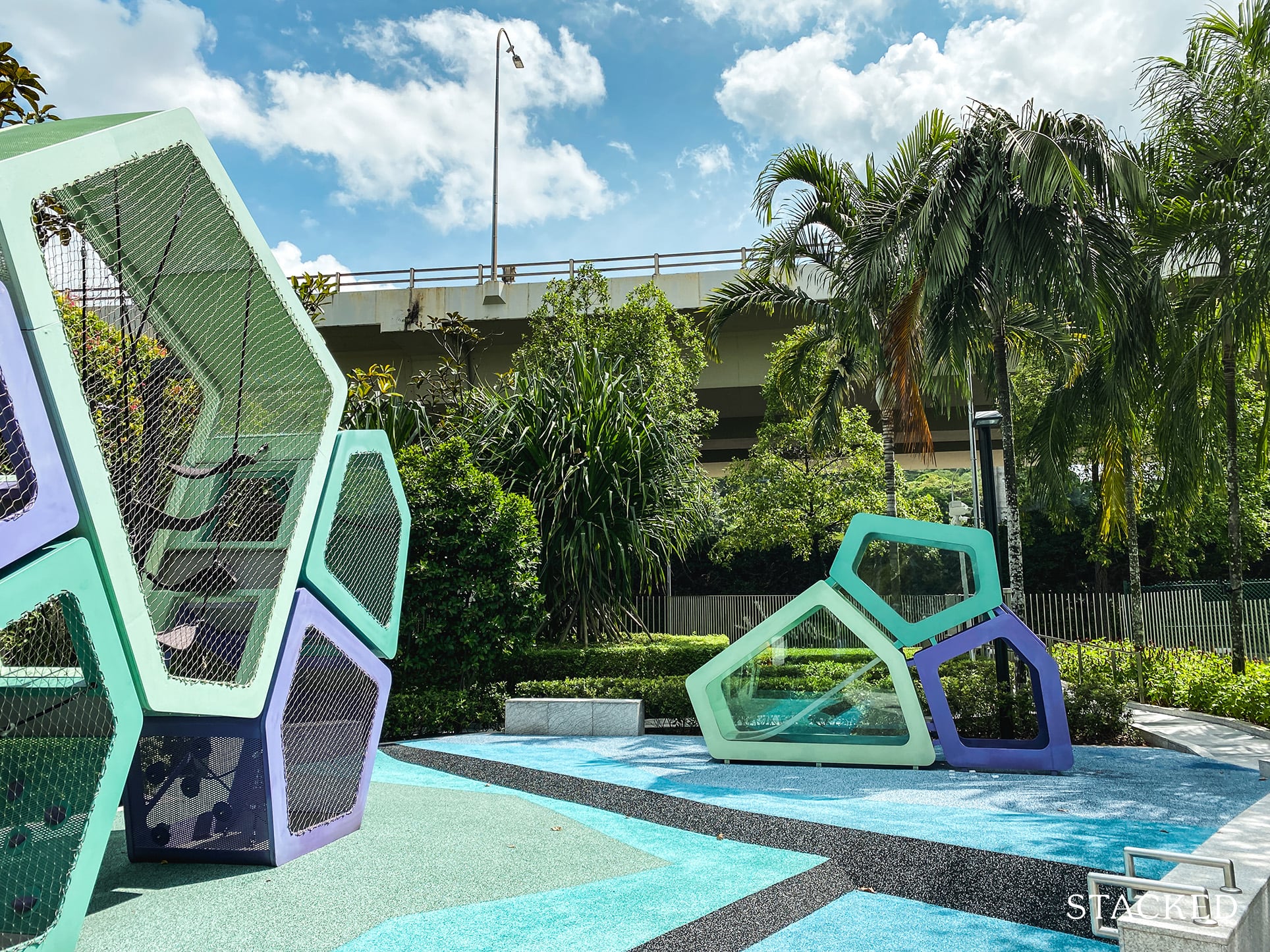 The children's play area is located at the front too. I'd say that this probably isn't the most conducive place for kids, the traffic noise can get quite loud along with the fumes from the cargo tracks that would inevitably come from the port.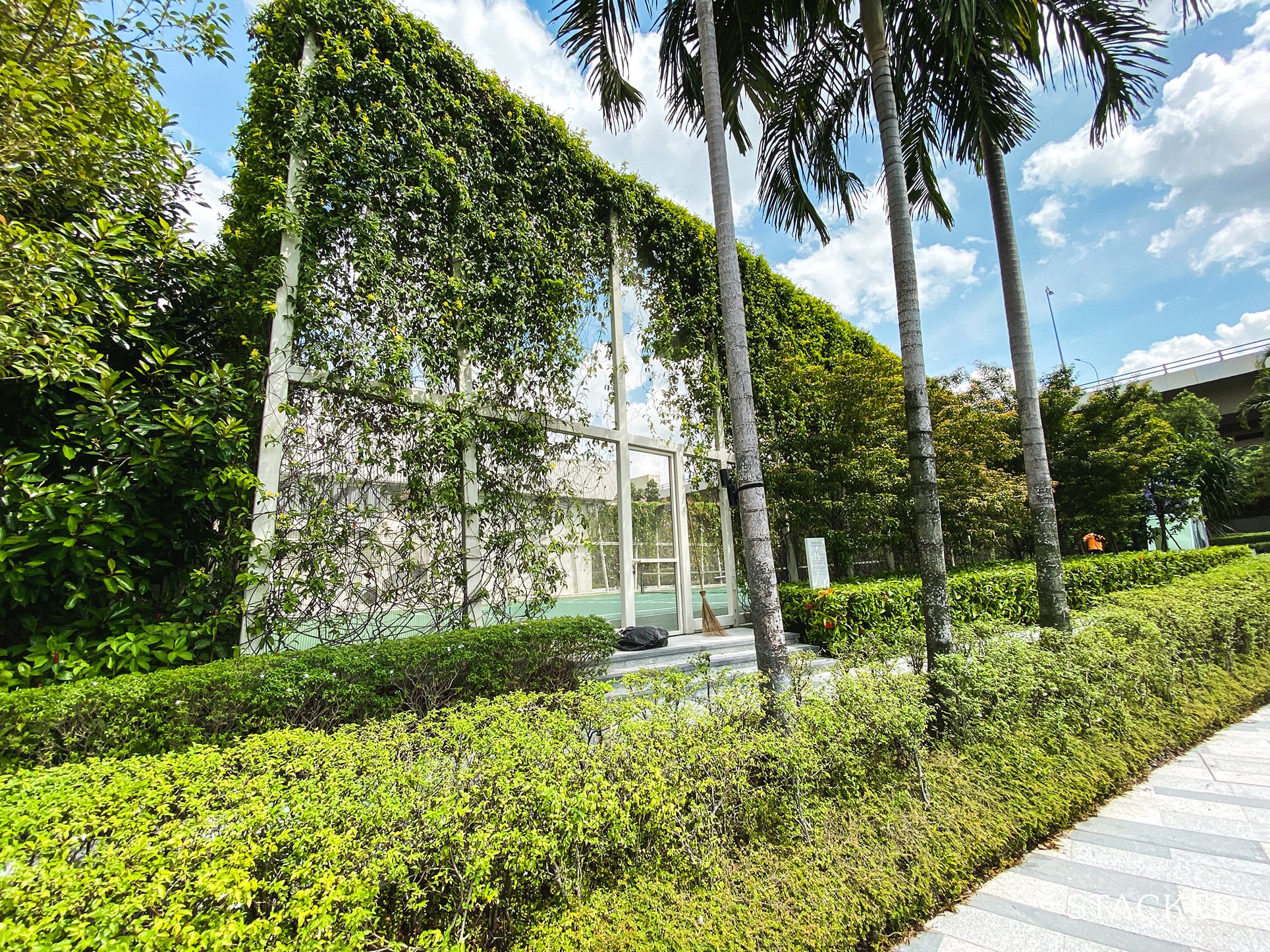 Here's another reason why there is a big enough frontage – the tennis court is situated at the front of the development too.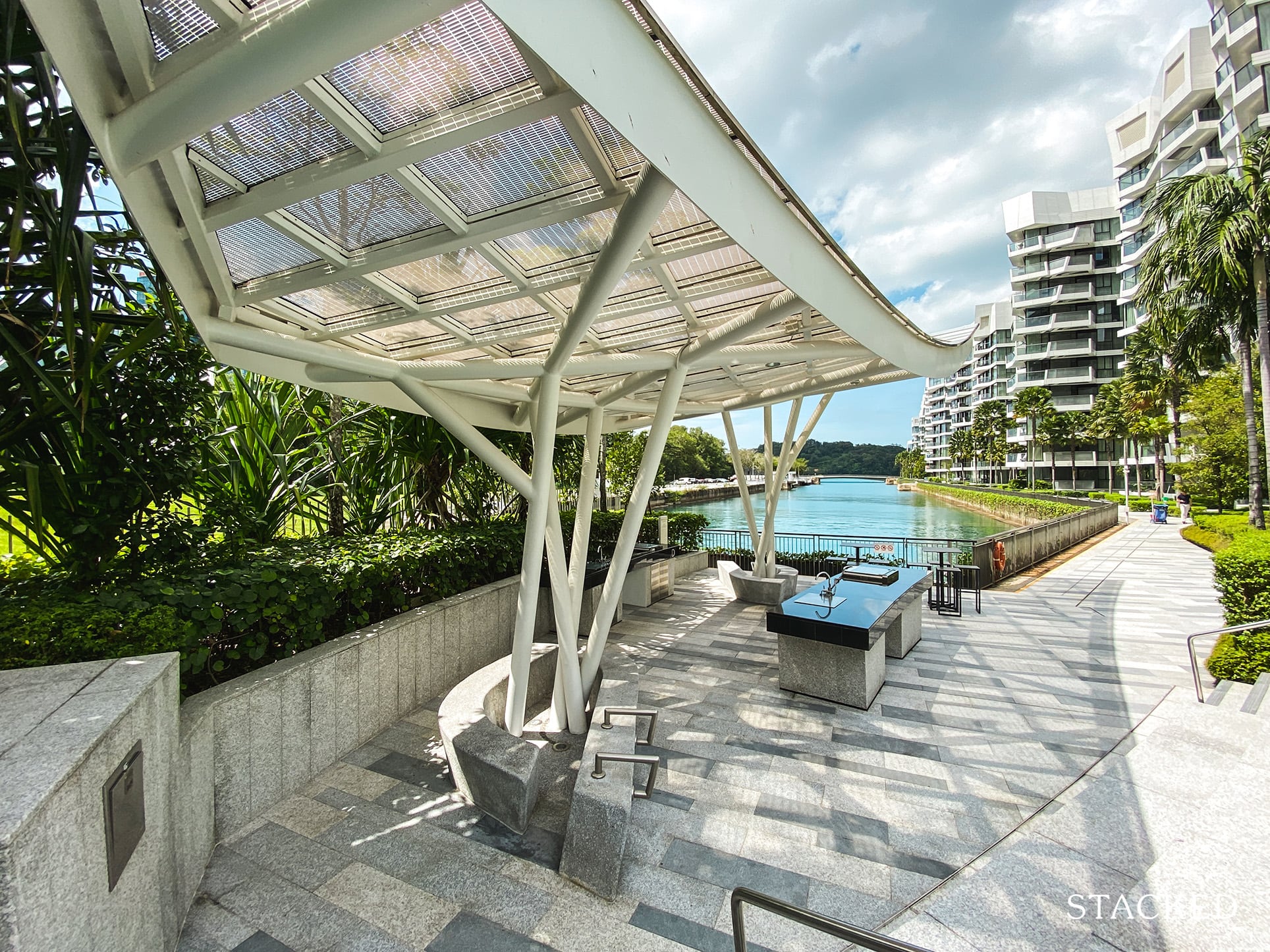 Last but not least, you'll find the second barbecue area by the side of the tennis court. This one is a lot more private, and it's my pick of the two.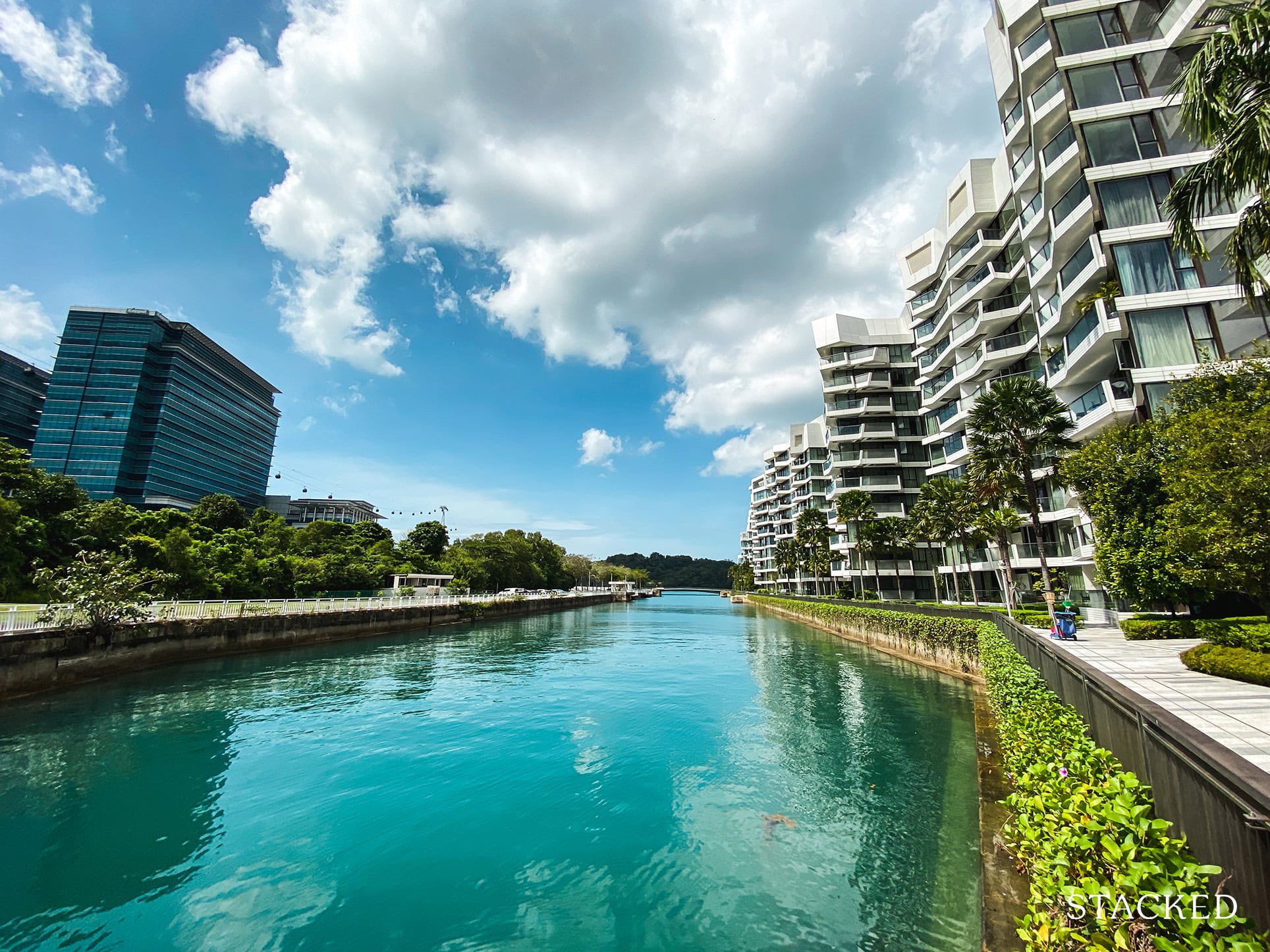 With the main reason being this quaint view overlooking the King's dock.
Corals at Keppel Bay Location Review
Corals at Keppel Bay is one of the three 'big-name' residential developments located by the mouth of Keppel Harbour.

It is also the closest of the trio to the mega mall that is VivoCity.

Now it might seem massive at first glance, but you'll be surprised to find out that it's actually more than half the size of either the Caribbean at Keppel Bay or Reflections at Keppel Bay.

Unlike the Reflections at Keppel Bay however, some blocks of both the Caribbean at Keppel Bay and Corals at Keppel Bay are located right next to the West Coast Highway.

These blocks might naturally be 'less sought-after', but they do provide greater convenience to their residents in terms of transport and amenity-access.
Public Transport

| | | |
| --- | --- | --- |
| Bus Station | Buses Serviced | Distance From Condo (& Est. Walking Time) |
| 'Carribean at Keppel Bay' | 10, 30, 57, 61, 93, 97, 100, 124, 131, 143, 145, 166, 188, 963 | 230m, 3-min walk |
| 'Aft HarbourFront Stn' | 10, 30, 30e, 57, 61, 97, 97e, 100, 131, 143, 145, 166, 188R, 963R | 450m, 6-min walk |
| 'HarbourFront Stn/Vivocity' | 10, 30, 30e, 57, 61, 65, 80, 97, 97e, 100, 123M, 131, 143, 145, 166, 851, NR1, NR6 | 750m, 10-min walk |
Closest MRT: HarbourFront MRT – 600m, 8-min walk

The number of bus services available per stop gradually increases as you get closer to the main 'HarbourFront Stn' – even if there are already a sizable number of options available at the doorstep 'Caribbean at Keppel Bay' station.

Accessing the Orchard Road MRT station involves a 12-minute ride across 6 MRT stops with a single line change on the North-East line.

As for those who frequent the CBD/Raffles Place MRT, you'll find it a 7-minute train ride across 3 stops amidst another line change (this time on the East-West line).

That said, there is an alternative bus route to the CBD that most residents would prefer.

It involves crossing over to the 'Bef Seah Im Rd' station from the condo and boarding the 10, 97 or 100. The total journey spans 9 stops and takes 10-14 minutes on average.

Private Transport
| | |
| --- | --- |
| Key Destinations | Distance From Condo (& Est. Peak Hour Drive Time) |
| CBD (Raffles Place) | 7km, 20-min drive |
| Orchard Road | 6.4km, 24-min drive |
| Suntec City | 10.7km, 20-min drive |
| Changi Airport | 24.9km, 25-min drive |
| Tuas Port (By 2040) | 35.1km, 45-min drive |
| Paya Lebar Quarters/Airbase (By 2030) | 19.2km, 23-min drive |
| Mediapolis (and surroundings) | 5.9km, 15-min drive |
| Mapletree Business City | 2.7km, 10-min drive |
| Tuas Checkpoint | 24.3km, 30-min drive |
| Woodlands Checkpoint | 24.5km, 40-min drive |
| Jurong Cluster (JCube) | 12.4km, 25-min drive |
| Woodlands Cluster (Causeway Point) | 24.9km, 40-min drive |
| HarbourFront Cluster (Vivo City) | 2.8km, 5-min drive |
| Punggol Cluster (Waterway Point) | 26.2km, 30-min drive |
*Note that Drive Times are calculated during Peak Hours

Immediate Road Exit(s): 1 Exit along Keppel Bay Drive

Summary: Private vehicles must first exit onto Keppel Bay Drive before turning out to Telok Blangah Rd. One-laned nature of Keppel Bay Drive (shared with Caribbean) and lack of yellow box at Telok Blangah Rd exit/entrance means possible peak hour congestion. Nearby Alexandra, Bukit Merah and Queenstown districts prove relatively accessible during off-peak hours.
Groceries

| | |
| --- | --- |
| Name of Grocery Shop | Distance From Condo (& Est. Walk Time) |
| Cold Storage – HarbourFront Centre | 600m, 7-min walk |
| FairPrice Xtra – VivoCity | 850m, 9-min walk |
| Shine Korea Supermarket – VivoCity | 850m, 9-min walk |
Schools

| | |
| --- | --- |
| Educational Tier | Number of Institutes |
| Preschool (within 1km walk) | 2 |
| Primary (3km-drive) | 2 |
| Secondary (3km-drive) | 2 |
| International School (3km-drive) | 0 |
| Junior College (5km-drive) | 0 |
| University (5km-drive) | 1 |
| Polytechnic (10km-drive) | 1 |
Additional Pointers

Recreational Extravaganza
Living next to a mega mall (VivoCity) comes with a number of unannounced perks.

Take the occasional movie, dine-out with friends or even shopping spree for example. Some might even consider walking through the supermarket – supposedly the largest NTUC in Singapore… recreational!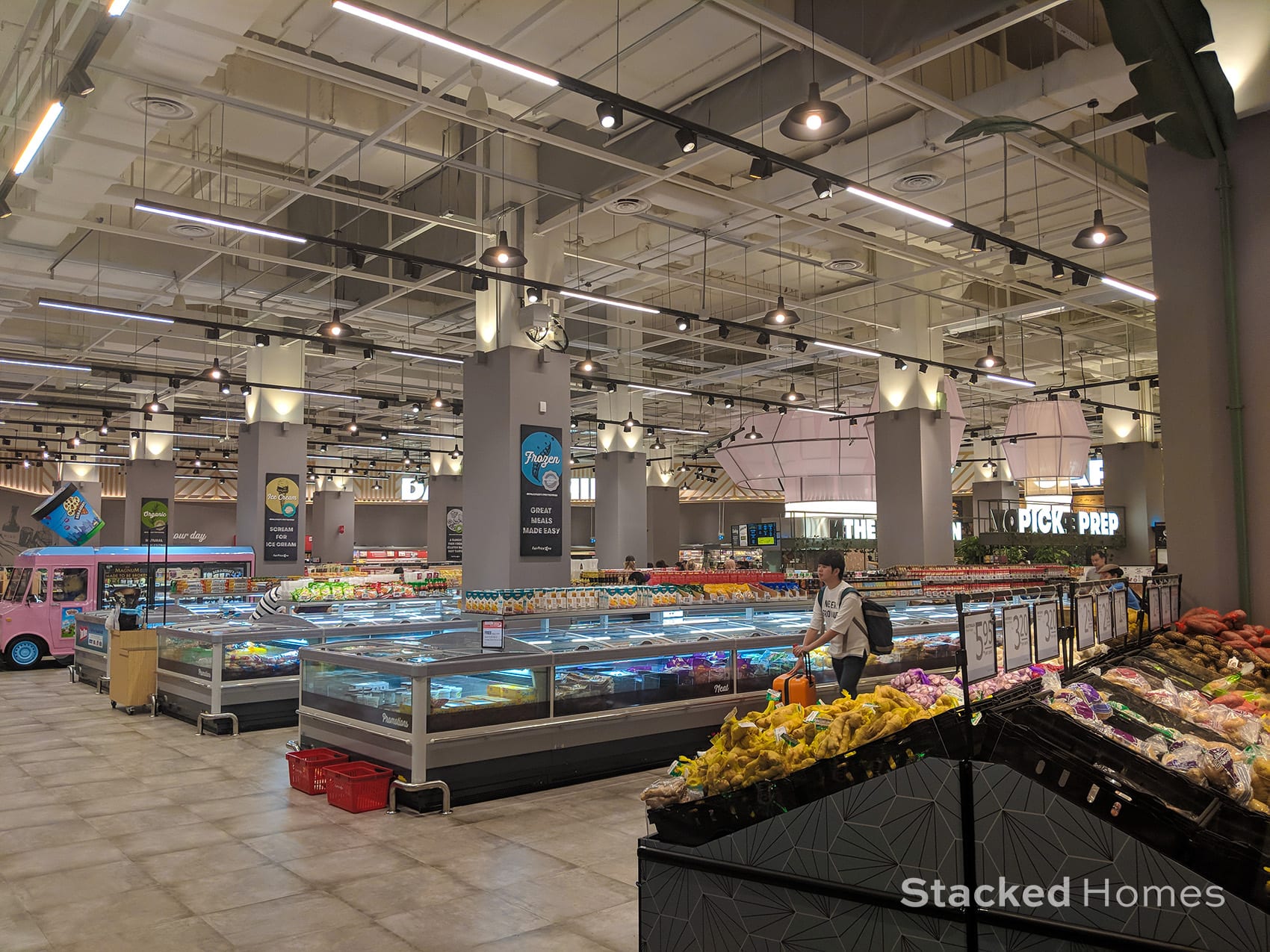 Of course, there is more to its locale than mere mall-marauding.

With an entire waterfront playground at your doorstep, hiking routes (hello Mount Faber), and a range of alternating entertainment themes at your disposal (did someone say Sentosa?) – well, believe me when I say that finding some sort of respite over the weekends really couldn't get any easier.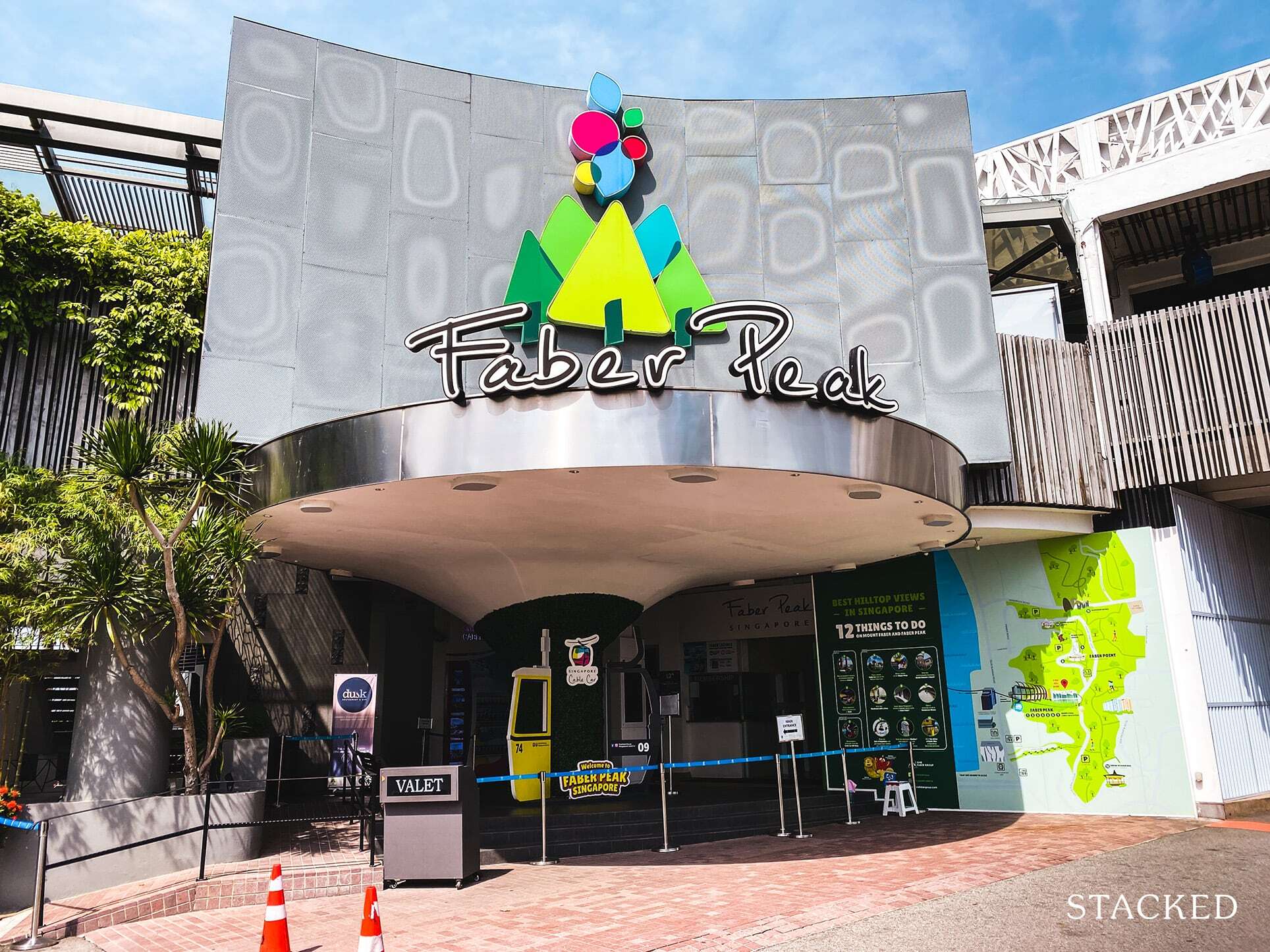 Incredible Mega Work-Entities
Convenient home-work commutes is often a key characteristic when choosing an abode.

Corals at Keppel Bay further one-ups that by providing seamless accessibility to not just one, but five key working nodes!

These areas include (amongst others) the Tanjong Pagar Distripark, Alexandra Technopark, Mediapolis trio, Mapletree Business City, and perhaps most importantly, the CBD.

You could easily reach these places in less than 15-minutes by either private or public transport.

Kent Ridge Education Belt
Now I wouldn't go as far as to say that Corals at Keppel Bay has incredible schooling options in immediate range (it was also a big flaw with Reflections at Keppel Bay for us), but its relatively good proximity to the Kent Ridge Education Belt is definitely a key point worth mentioning.

Not only does the education belt provide some solid study options across tiers (NUS, ACSI, Fairfield Methodist etc.), it also serves as a steady and opportunistic stream of employment to those working in the education sector.

What's more, as mentioned earlier, Corals at Keppel Bay is the closest to the HarbourFront MRT station of the 3 main residential developments here (as evident in its price tag), so that helps to further reduce commute time to the Kent Ridge MRT station (5 stops away).
Corals at Keppel Bay Development Site Review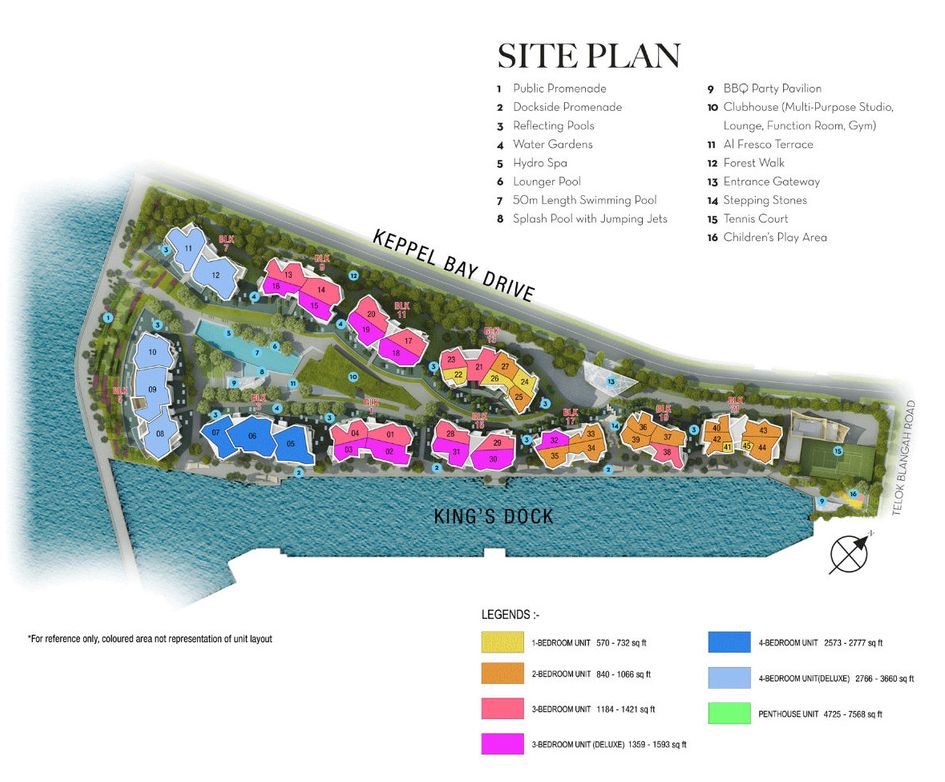 For a more accurate representation of the Corals at Keppel Bay's actual location, I would probably flip the sitemap counter-clockwise and compare it on Google Maps with its surrounding developments (Reflections at Keppel Bay, VivoCity etc.).

Nevertheless, if we were to look at the development's facilities, it does seem relatively adequate at first glance.

It has to be said though, that unique implementations and quirky details of facilities here (if any) have not been emphasised on this particular site-map – as we are now repeatedly seeing with all the current new launches.

That said, you've seen the tour, and I, as much as anyone, am very much impressed by the level of class, maintenance and general 'flow' of the entire development.

Now if there was one thing I could alter about the place though, it would have to be the block placements.

Personally, the adjacency of various blocks do feel a tad squeezy to me on occasion – especially that of the opposing blocks, 13 and 15.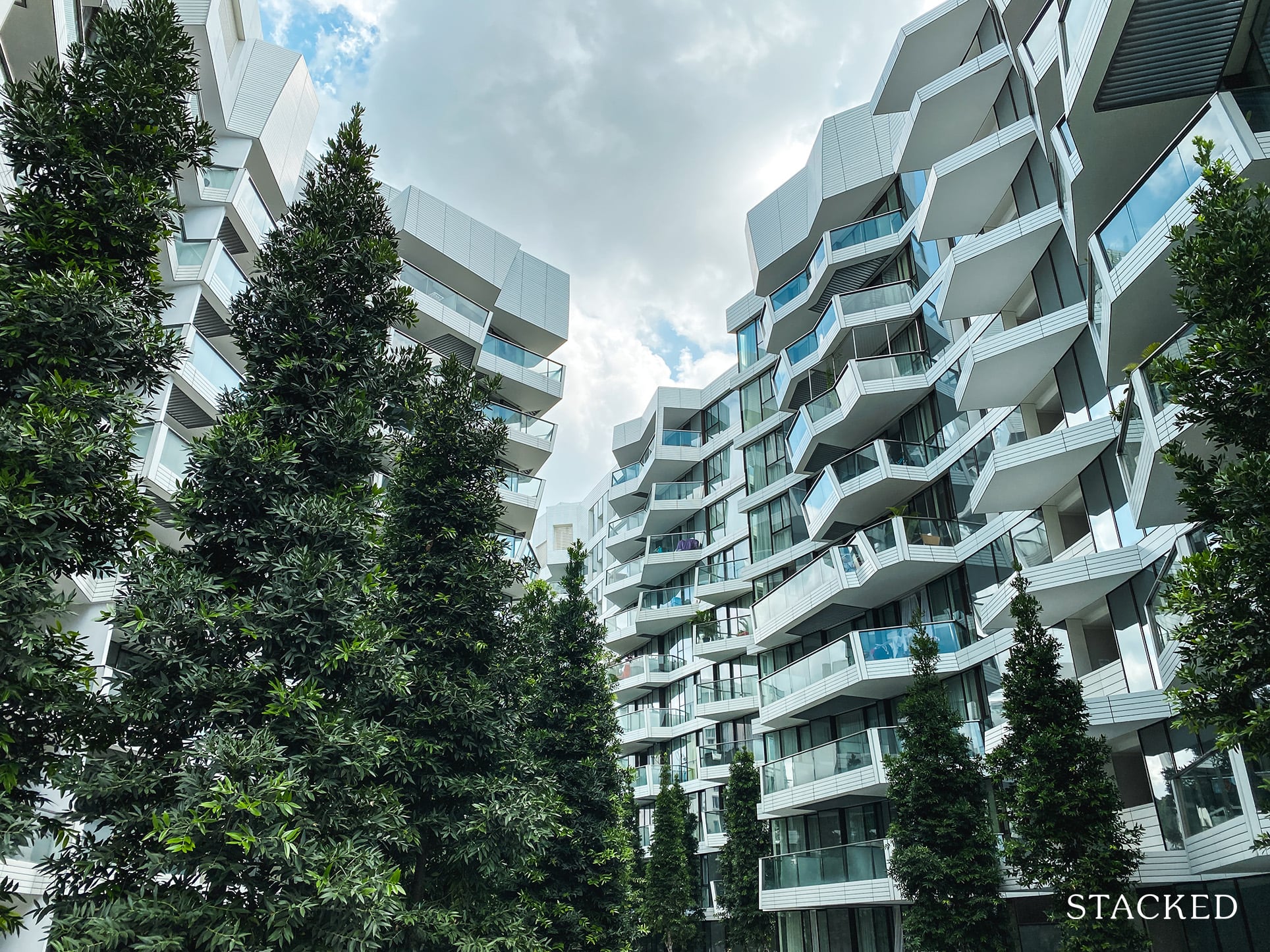 Now I understand that these low-rise buildings were constructed with low-density living in mind (3-4 units/level), and the unique architecture of the blocks do somewhat mitigate that effect, but the slightly 'cramped' arrangement isn't something that really resonates with me.

In fact… the more I think of it, the layout of blocks 3 and 9 (swimming pool included) actually reminds me of some residential blocks situated along the Punggol Waterway inlet.

Much more upscale of course, but relatively similar in architectural layout if you will.

One final point worth mentioning is that due to the rectangularly-shaped land, residents of the premium waterfront units (blocks 5/7) will have to cover a sizable amount of land to reach certain facilities like the Tennis Court and Children's Play Area (and vice versa for blocks 11/19 residents heading to the waterfront).

It's certainly not a deal-breaker, and it admittedly provides some warm-up in a well pieced-together neighbourhood prior to activities, but it might prove a tad inconvenient to some.

Best Stacks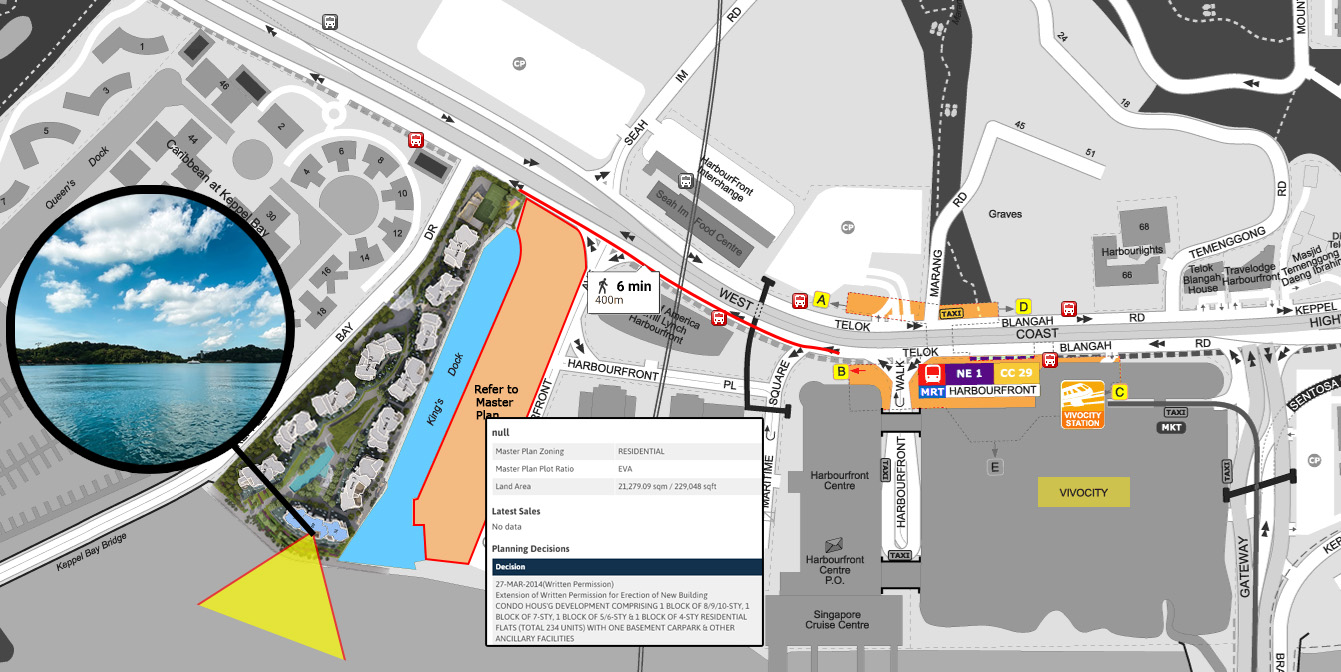 As mentioned earlier the best stacks at Corals at Keppel Bay is a very clear cut case – for the best sea views you are solely looking at stacks 8, 9, and 10. For a more affordable waterfront view, any of those along King's Dock could be an option too. Although you will have to bear in mind that although it is unblocked now, the URA Masterplan 2019 has indicated that this will be a 4 -5 storey residential building.
Unit Mix

| | | | |
| --- | --- | --- | --- |
| Unit Type | No. Of Units | Size of Units (sqft) | Maintenance |
| 1-Bedroom | 46 | 570 – 732 sqft | $588 |
| 2-Bedroom | 115 | 840 – 1,066 sqft | $588 |
| 3-Bedroom | 87 | 1,184 – 1,421 sqft | $686 |
| 3-Bedroom Deluxe | 70 | 1,389 – 1,593 sqft | $686 |
| 4-Bedroom | 18 | 2,573 – 2,777 sqft | $882 – $980 |
| 4-Bedroom Deluxe | 22 | 2,766 – 3,660 sqft | $980 – $1,078 |
| Penthouse | 8 | 4,725 – 7,868 sqft | $1,176 – $1,372 |
A wide diversity of unit tiers and sizable homes in a waterfront district… what else could anyone ask for?

Well, better unit layouts for one.

Unsurprisingly, a number of unit layouts in the development have been stunted (downsized bedrooms included) to suit the outer architecture of the blocks. Truthfully, it does feel that you're paying more for outer-design than inner-comfort in some regard.

What's more, unit sizes here are generally larger than the average ones.

And large units often equates to higher costs for buyers.

Now at lower PSFs, its effects aren't as extreme. Sometimes even negligible.

But what happens when you add in an additional 300 square feet of space to your average unit size? Assuming you secure a deal worth $2,000 psf, that's a whopping $600,000 more.

All this, on top of that slightly cumbersome layout.

Of course, some might argue that this is the premium price one should be paying for a well-monopolised waterfront project with this much convenience to key amenities.

And I agree completely.

Now if only the unit layouts were as incredible…
Prices for Corals at Keppel Bay
Price Breakdown (1st Property)
1-Bedroom
2-Bedroom
3-Bedroom
3-Bedroom Deluxe
4-Bedroom
4-Bedroom Deluxe
Penthouse
Price
$1,737,658
$2,105,637
$2,770,656
$2,799,550
$7,599,422
$9,882,000
$18,997,755
25% Down Payment
$434,415
$526,409
$692,664
$699,888
$1,899,856
$2,470,500
$4,749,439
Additional Costs
Buyer Stamp Duty
$54,106
$68,825
$95,426
$96,582
$288,577
$379,880
$744,510
Legal Fees
$2,500
$2,500
$2,500
$2,500
$2,500
$2,500
$2,500
Valuation Fees
$300
$300
$300
$300
$300
$300
$300
Stamping Fees
$500
$500
$500
$500
$500
$500
$500
Total Price
$1,795,064
$2,177,762
$2,869,382
$2,899,432
$7,891,299
$10,265,180
$19,745,565
Initial Investment Amount
$491,821
$598,535
$791,390
$799,770
$2,191,732
$2,853,680
$5,497,249
Return on Investment
Expected Rental Price
$3,445
$4,845
$6,510
$7,375
$13,295
$18,300
$36,975
Rental Yield
2.30%
2.67%
2.72%
3.05%
2.02%
2.14%
2.25%
Price (2nd Property)
1-Bedroom
2-Bedroom
3-Bedroom
3-Bedroom Deluxe
4-Bedroom
4-Bedroom Deluxe
Penthouse
Price Before ABSD
$1,795,064
$2,177,762
$2,869,382
$2,899,432
$7,891,299
$10,265,180
$19,745,565
Plus: ABSD
$208,519
$252,676
$332,479
$335,946
$911,931
$1,185,840
$2,279,731
Total Price After ABSD
$2,003,583
$2,430,439
$3,201,861
$3,235,378
$8,803,230
$11,451,020
$22,025,296
Initial Investment Amount
$700,340
$851,211
$1,123,869
$1,135,716
$3,103,663
$4,039,520
$7,776,980
Return on Investment
Expected Rental Price
$3,445
$4,845
$6,510
$7,375
$13,295
$18,300
$36,975
Rental Yield
2.06%
2.39%
2.44%
2.74%
1.81%
1.92%
2.01%
Corals at Keppel Bay Price Review
| | | | | |
| --- | --- | --- | --- | --- |
| Project Name | Tenure | TOP | Average Price (PSF) | Comparison Point |
| Corals at Keppel Bay | 99-year leasehold | 2016 | $2,351 | |
| Caribbean at Keppel Bay | 99-year leasehold | 2004 | $1,499 | Immediate Proximity |
| Reflections at Keppel Bay | 99-year leasehold | 2011 | $1,633 | Immediate Proximity |
Now it wasn't hard to fathom what neighbouring competitors our price review would include.

And while it seems like the general price gists haven't changed drastically since the last time we did our review on the neighbouring Reflections at Keppel Bay, it is evident that there have been tiny price movements on the 3 projects' average PSF from unit sales made between this time.

Both the Caribbean at Keppel Bay and Reflections at Keppel Bay have seen average psf drops from $1,548psf to $1,499psf and $1,649psf to $1,633psf respectively.

Corals at Keppel Bay, on the other hand, has seen a substantial average psf rise from $2,224psf to $2,351psf – no doubt due to sales of its higher PSF 1 and 2-bedroom units.

Once again, Caribbean at Keppel Bay does offer the cheapest option, though at 16 years old, a 100psf top-up for a much newer unit at Reflections would seem more enticing – provided that a well-suited resale unit will exist on the market at the point of enquiry.

Should you be in the market for the more up-market Corals at Keppel Bay however, the 32% of vacant units available here will provide you with solid choices, though developer discounts on remaining units do seem a tad unlikely given that its developers will not qualify for any QC/ABSD charges/rebates – and therefore have no major incentive to secure a swift 100% take-up.

That said, those who are also considering resale units here might want to keep a lookout for future sales akin to this recent February 18 auction of a 3-bedroom unit at the Corals at Keppel Bay.

Appreciation Analysis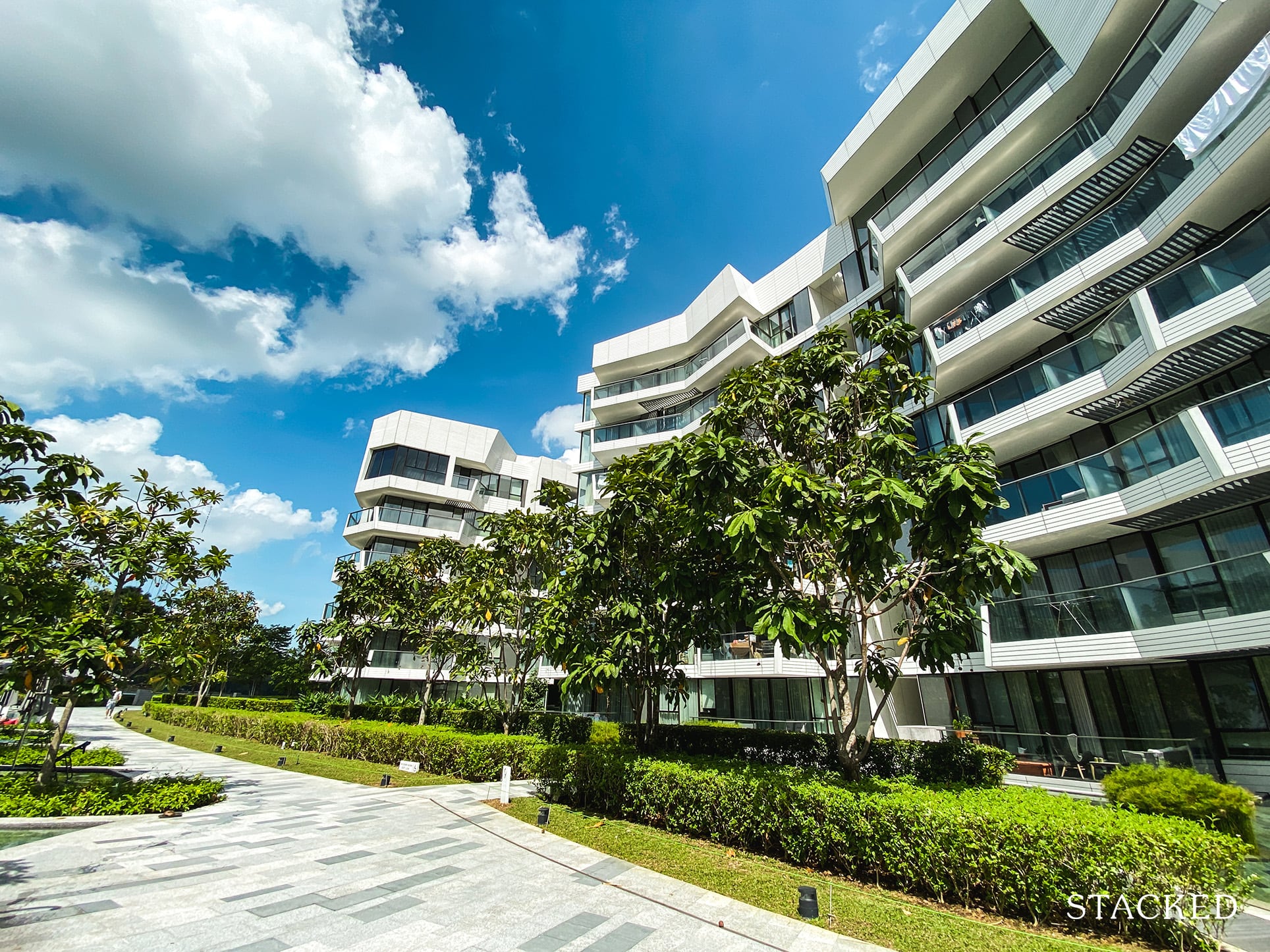 Unsurprisingly, the premium on a number of units at the Corals have dropped since its launch in 2013, although a majority of unit-tiers seem to have retained their average quantum values from the beginning.

Now in the face of uncertain economic outlook (owing to the current Covid-19 situation), it will be tough to predict likely short-mid term appreciation trend avenues for the project without first detailing a thorough analysis of both local and global economical factors, policies and likely buyer trends.

That said, there has been news of promising developments in the area that spell good fortunes for the project's long-term appreciation trend.

Perhaps none more than the construction of the Greater Southern Waterfront.

With over 9,000 public and private housing units set to fill the space on which Keppel Club currently resides, one can easily expect a funnel of key commercial, transport, educational and even work opportunities popping up in the area to suit future residents' needs.

Granted, Corals at Keppel Bay does already have most of these sectors fulfilled, and it isn't as close to the 'action' as Reflections at Keppel Bay is (hint: you get to avoid the noise), but it definitely still stands to profit in the long run from a potential uptick in both land value and attention/recognition to the project – more so when you consider the Corals at Keppel Bay key exclusivity value.
Our Take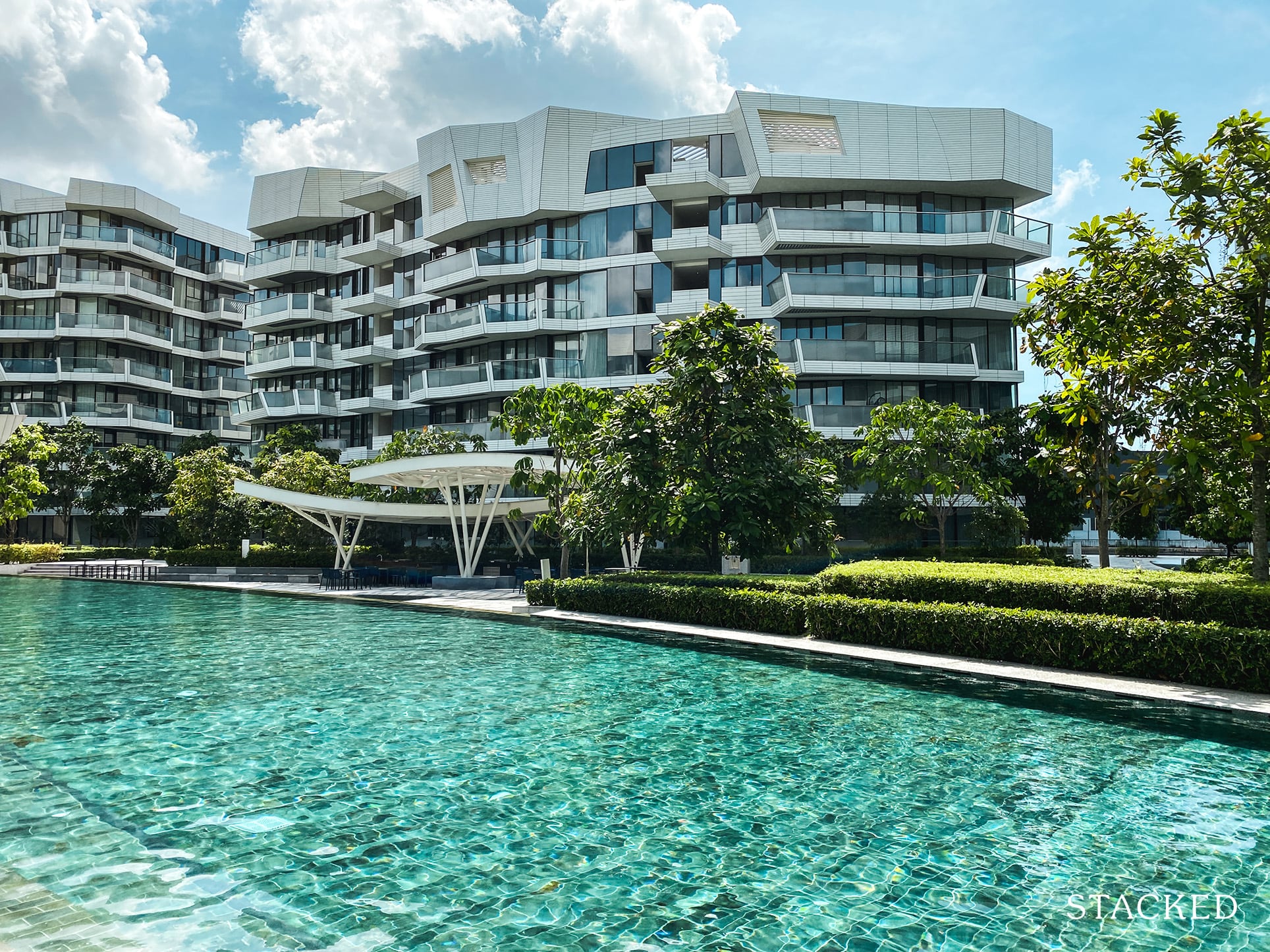 Given the Corals high price point – especially when compared with its neighbouring competitors, I personally would not buy into the development for the sake of investment purposes alone.

Instead, I'd liken this to purchasing a sports car – it looks fantastic, the feel-good factor is undeniable, but unless you are in the upper echelons of money, the impracticalities might be hard for some to ignore.

It is, quite simply, a home with one or two unfortunate design flaws that although somewhat reduces its potential, but is sufficiently backed up by its invaluable surrounding offerings.

In my humble opinion, if you are going to dedicate to the Corals at Keppel Bay, then it should be with the mindset of enjoying the experience of convenient and exclusive waterfront living in Singapore to its very fullest!

What this means for you
You might like Corals at Keppel Bay if you:
• Crave Exclusivity:With only 3-4 units per floor, a generally low-rise residential type and a price tag catered to the well-heeled, this project comes with a priority on exclusivity.
• Enjoy Convenient Waterfront Living:Yes, you do pay a premium for it, but unlike many waterfront projects (Sentosa area included), that exclusive waterfront-living to convenience ratio hardly gets any better than this.
You might not like Corals at Keppel Bay if you:
• Are Looking for Affordable Waterfront Living:Alternative residential options at the Reflections or Caribbean at Keppel Bay will prove almost two-fifths as affordable.
• Prioritise Incredible Layouts – Inside and Out:Due to architectural reasons, there have been reports of compromised/poorly planned unit layouts alongside smaller-than-average unit sizes. Blocks also feel a tad squeezed together on occasion.
End of Review