Condo Reviews

Reflections at Keppel Bay Review: Glitzy Living with Waterfront Views
Reuben
September 13, 2019

23

min read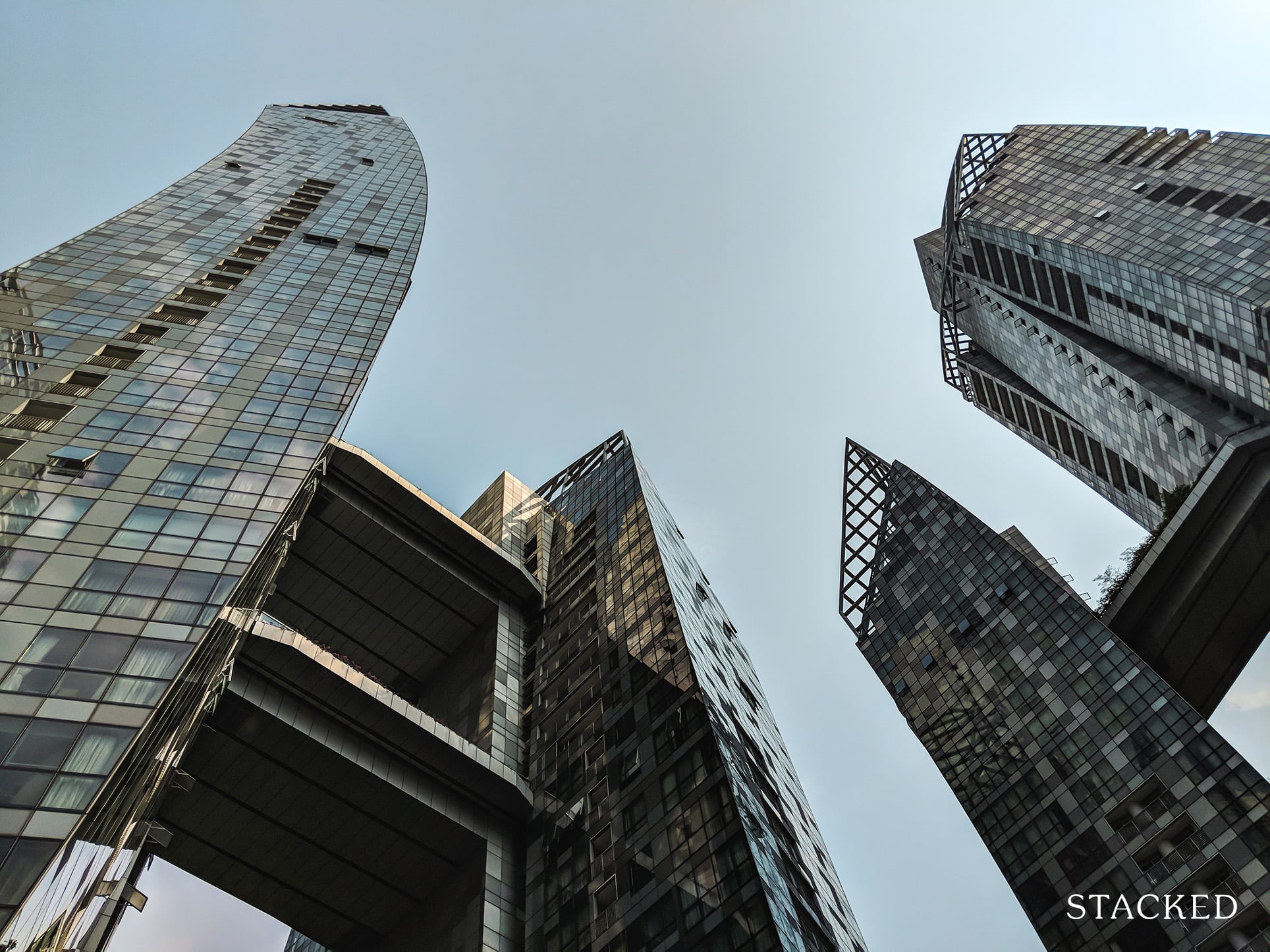 Great for nature lovers given its proximity to Labrador Park and the Southern Ridges, as well as waterfront lovers. However it's not a long-term investment for families due to the lack of schools in the proximity, amenities outside the condo is not within walking distance.
Reviewed by Reuben on September 13, 2019
What we like
Waterfront living

Great design

Spacious units
What we don't like
—

Small swimming pool for the number of units

—

One entrance to the development
23
min read
About this condo

| | | | |
| --- | --- | --- | --- |
| Project: | Reflections at Keppel Bay | District: | 04 |
| Address: | Keppel Bay View | Tenure: | 99 years |
| Site Area: | 836,758 sqft | No. of Units: | 1,129 |
| Developer: | Keppel Bay Pte Ltd | TOP: | 2011 |
Less than a kilometre from the entrance to the Sentosa gateway lies one of Singapore's most pristine condos – the Reflections at Keppel Bay. Towering majestically above the straits of Singapore, this incredible development has since become a global hallmark for waterfront living since its completion in 2013. More than that, it is a testament to mankind's architectural ingenuity – spearheaded by none other than superstar World Trade Center master reconstructor, Daniel Libeskind. 6 iconic sky towers (coupled with 360º sky bridges) offer awe-inspiring views of both bay and forest in addition to state-of-the-art facilities and amenities that serve to pamper the condo's well-heeled residents. Not to mention the super penthouse (13,304 square feet!).
Yet despite all this, Reflections at Keppel Bay isn't completely a bed of roses. Talk is that occasional flashes of overcrowding owing to the 1,000-over units in the vicinity (think Interlace and D'Leedon) can sometimes make residential facilities feel more like tourist attractions over the weekends. Despite the fact that most would agree that the pros of living here tend to far outweigh the cons, we simply had to check it out for ourselves. Read on to find out more about life on this sublime waterfront.
Insider Tour
Facilities in Reflections at Keppel Bay
Tennis Court
Reflecting Pool
Jacuzzi
Clubhouse
Swimming Pool
Children's Pool
Gym
BBQ Pavilion
Playground
Grocer Shop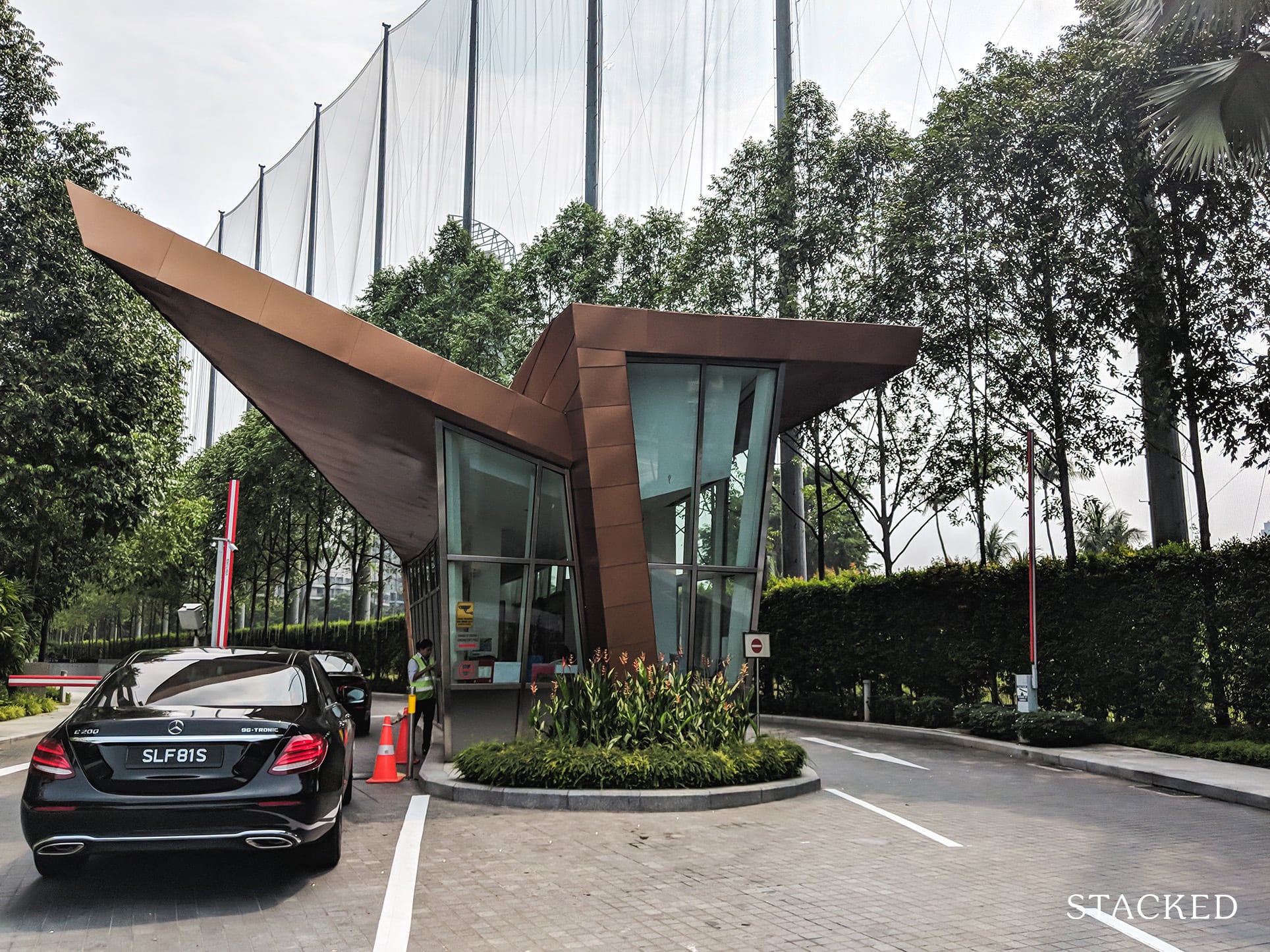 In keeping with its designer condo status, the first thing that greets you at the Reflections at Keppel Bay is this sharp-edged copper coloured guardhouse. Most developments do not pay much attention to the design of the guardhouse so it is cool to see the dedication to that here. Definitely one of, if not the most unique one I have come across so far.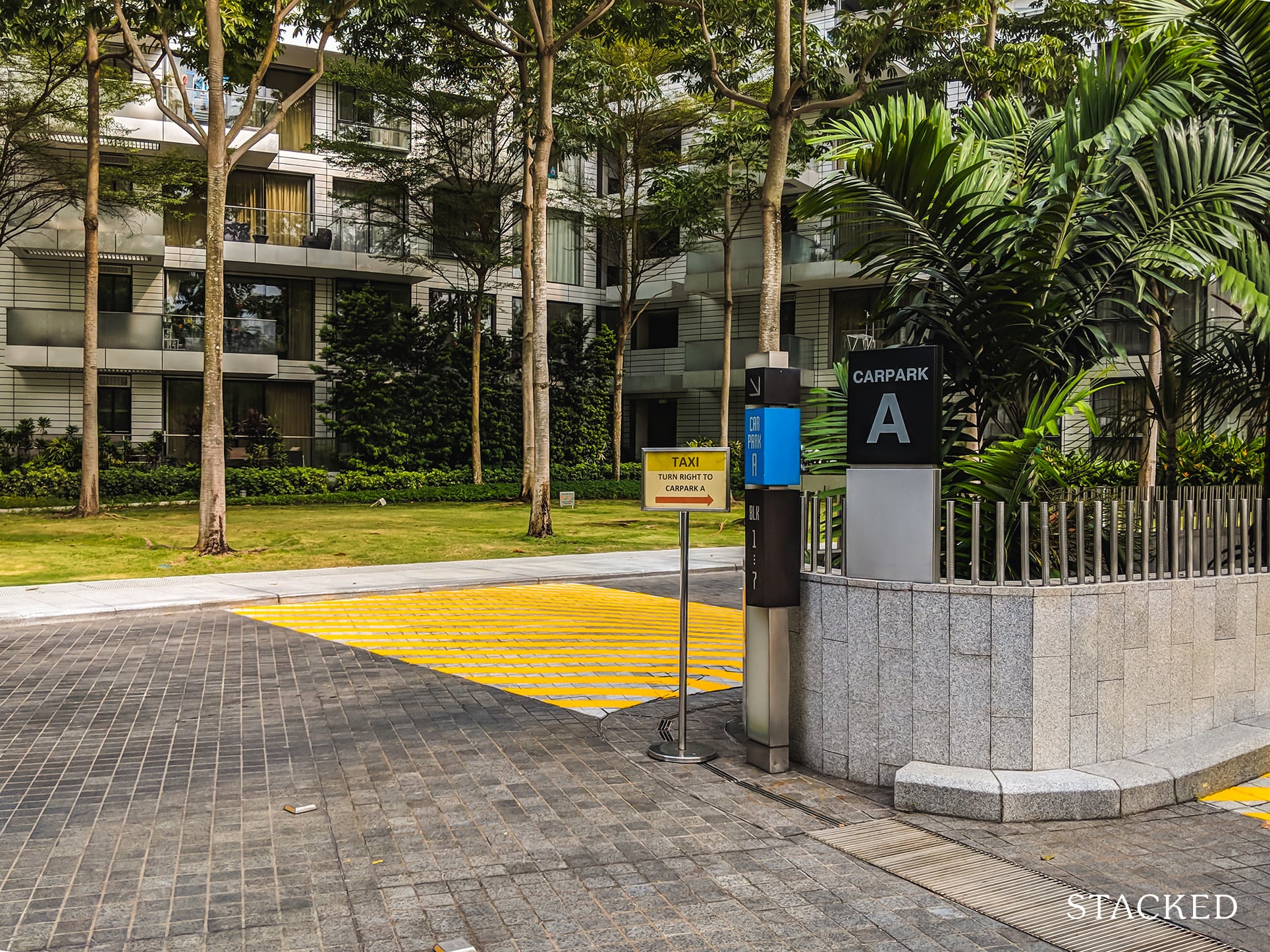 The carpark entrance here is wide and easy to manoeuvre because of the space.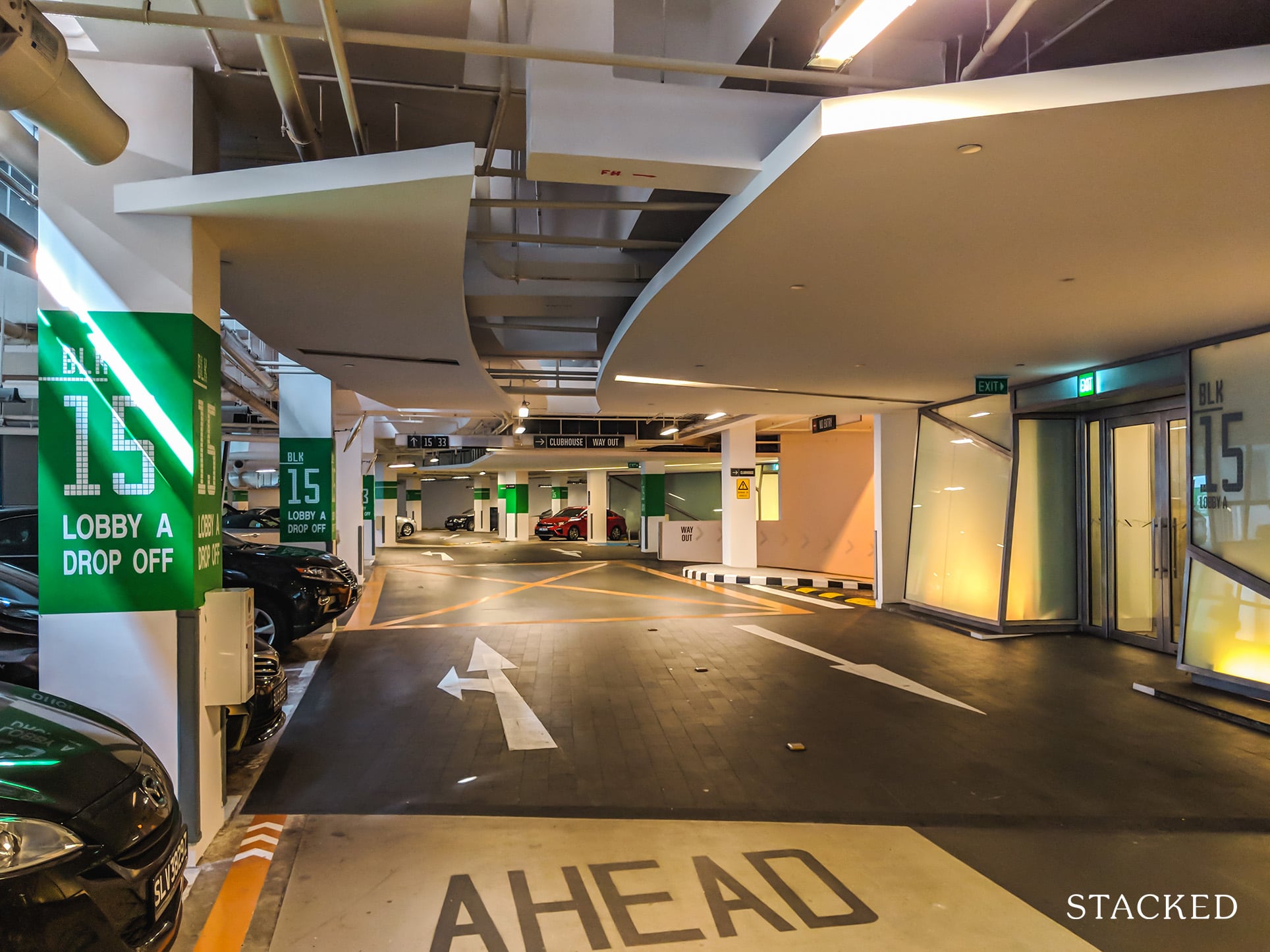 Once you are in, you will immediately be struck by how big the carpark is. If I didn't know any better, I would have assumed I was in the carpark of a shopping centre.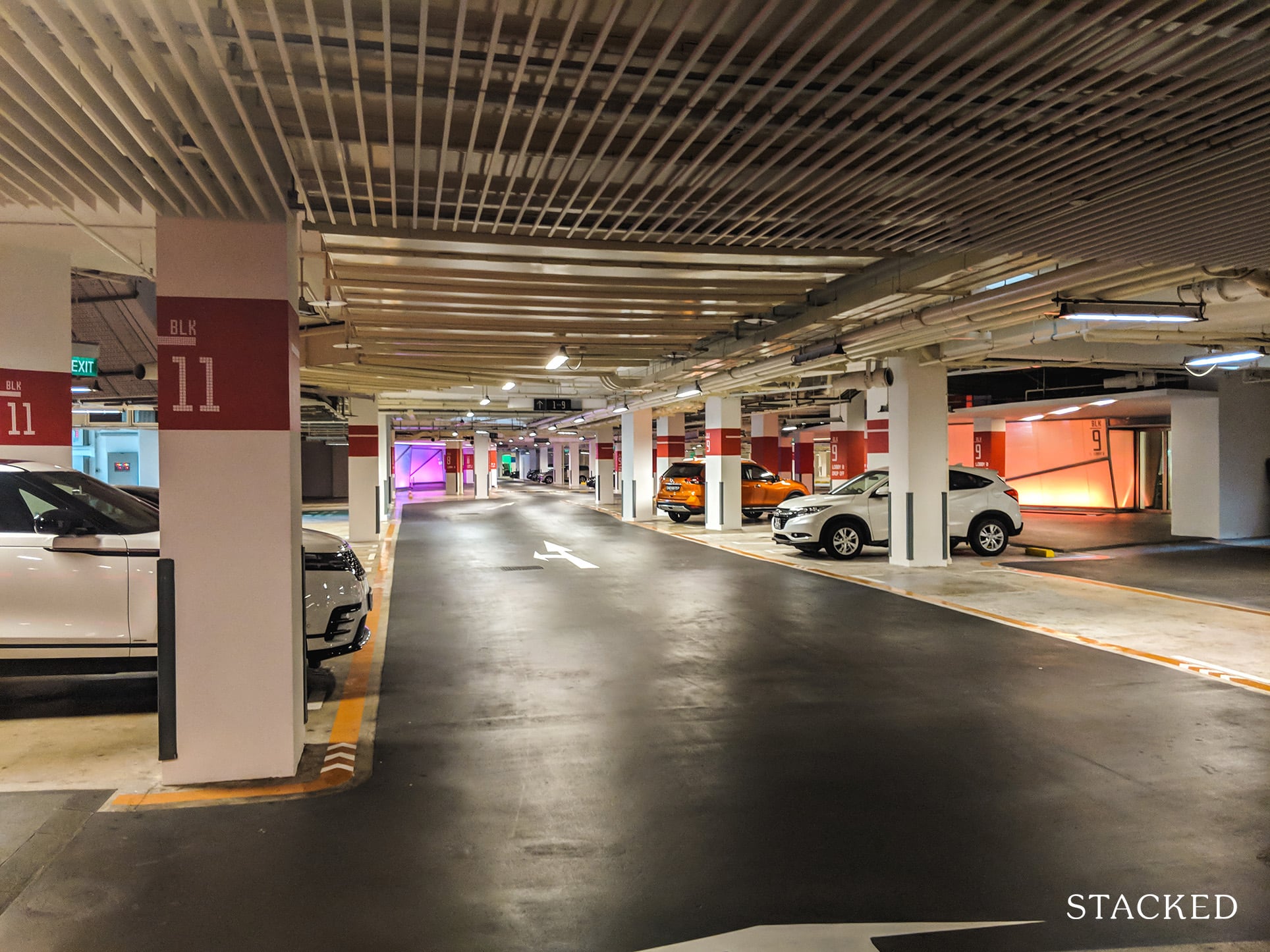 You can see the details put into the Reflections at Keppel Bay from the commendable effort that the developers have taken to cover up most of the unsightly pipes and cables that run on the ceiling of the carpark.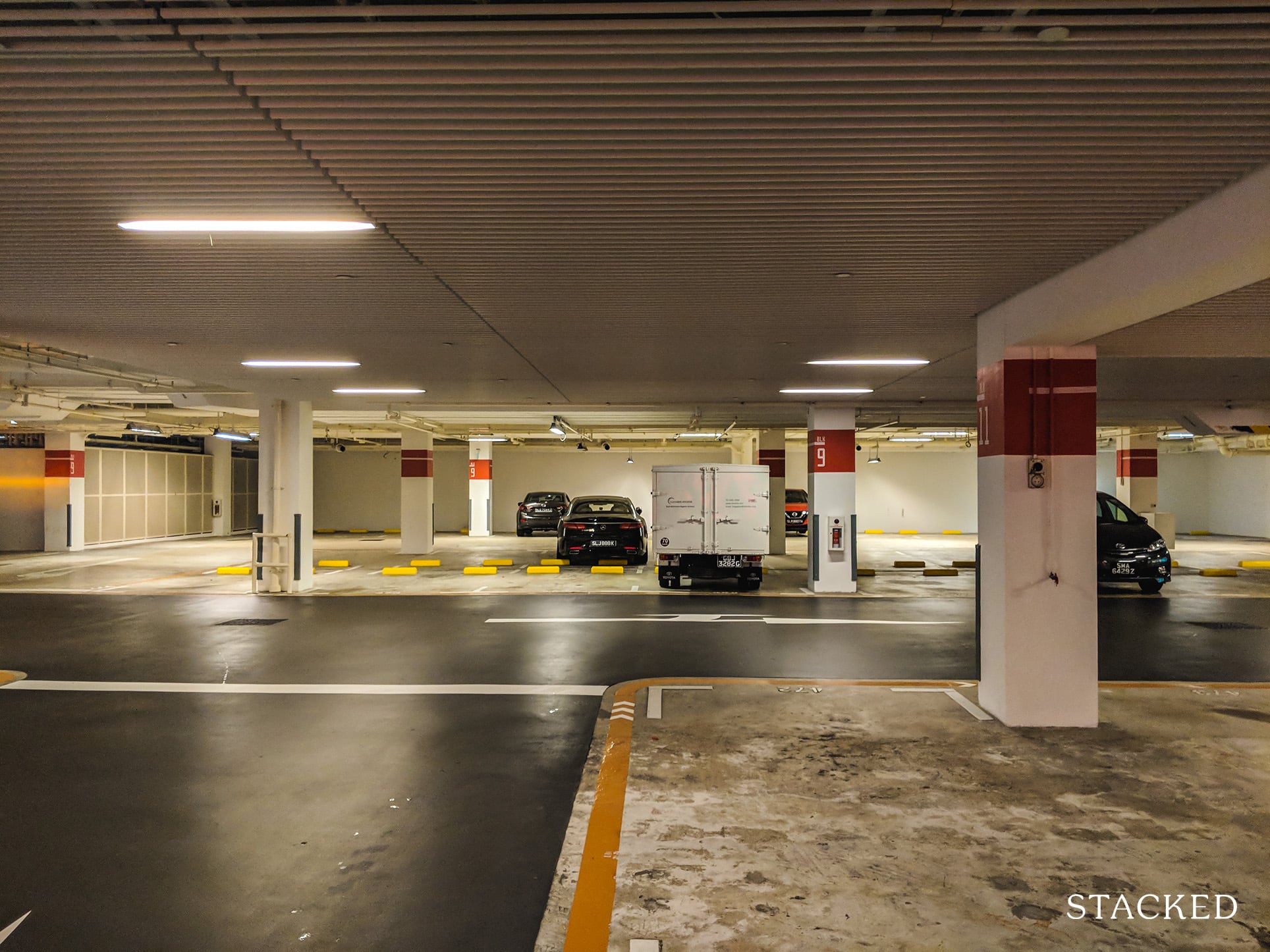 The carpark lots, in general, are spacious and the roads of the carpark have a smooth, premium finish. It would have been good if they had continued the finish to the carpark lot itself, as it currently cheapens the look.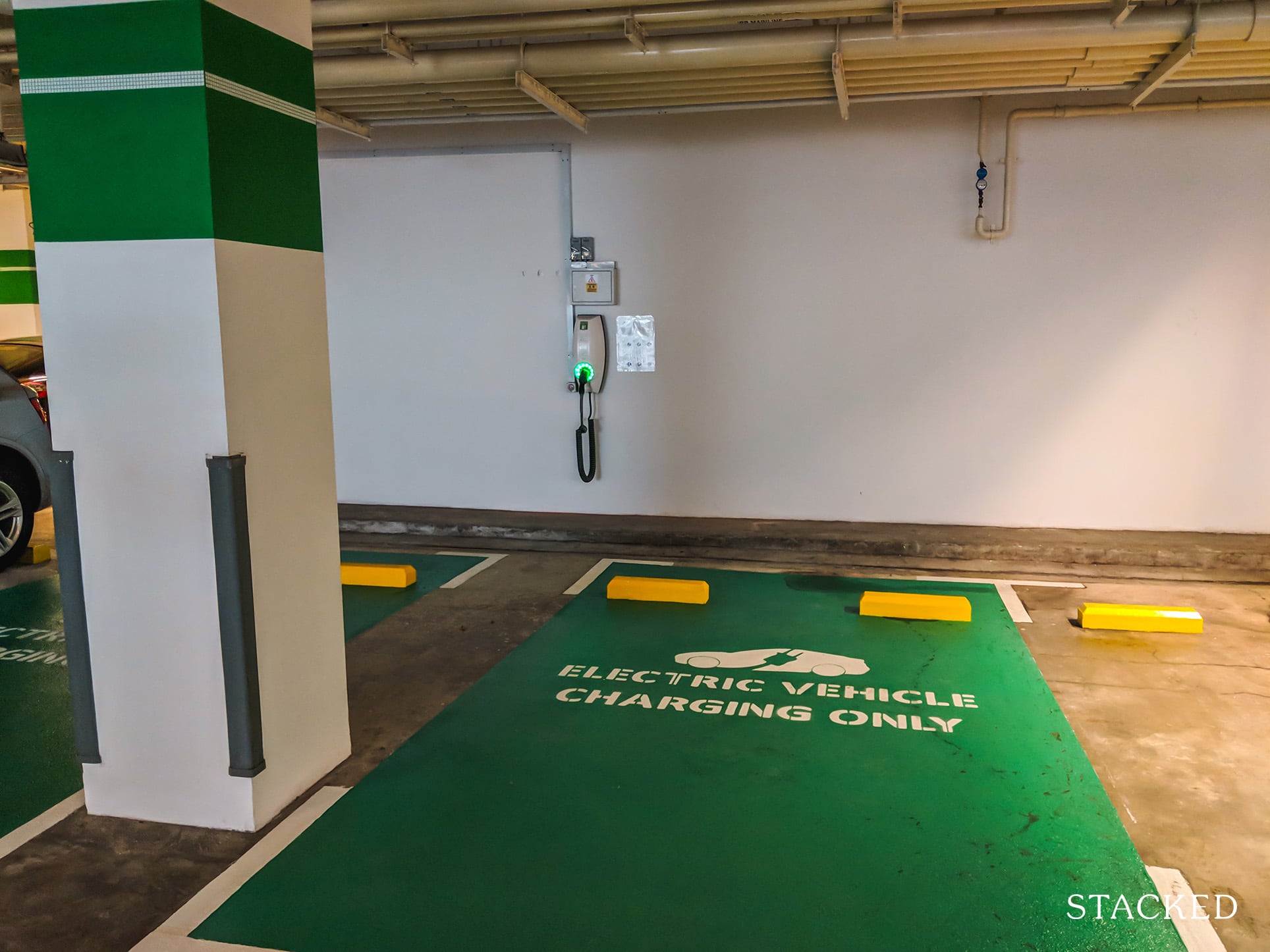 There are electric car charging lots too, which will be useful as electric cars get more and more popular in Singapore.
The next thing that will catch your attention is the brightly lighted up lobby areas! Every lobby has its own neon colour and needless to say, this is something that surely differentiates it from other developments. Although I can't say that this will be to everyone's tastes, I do applaud the effort.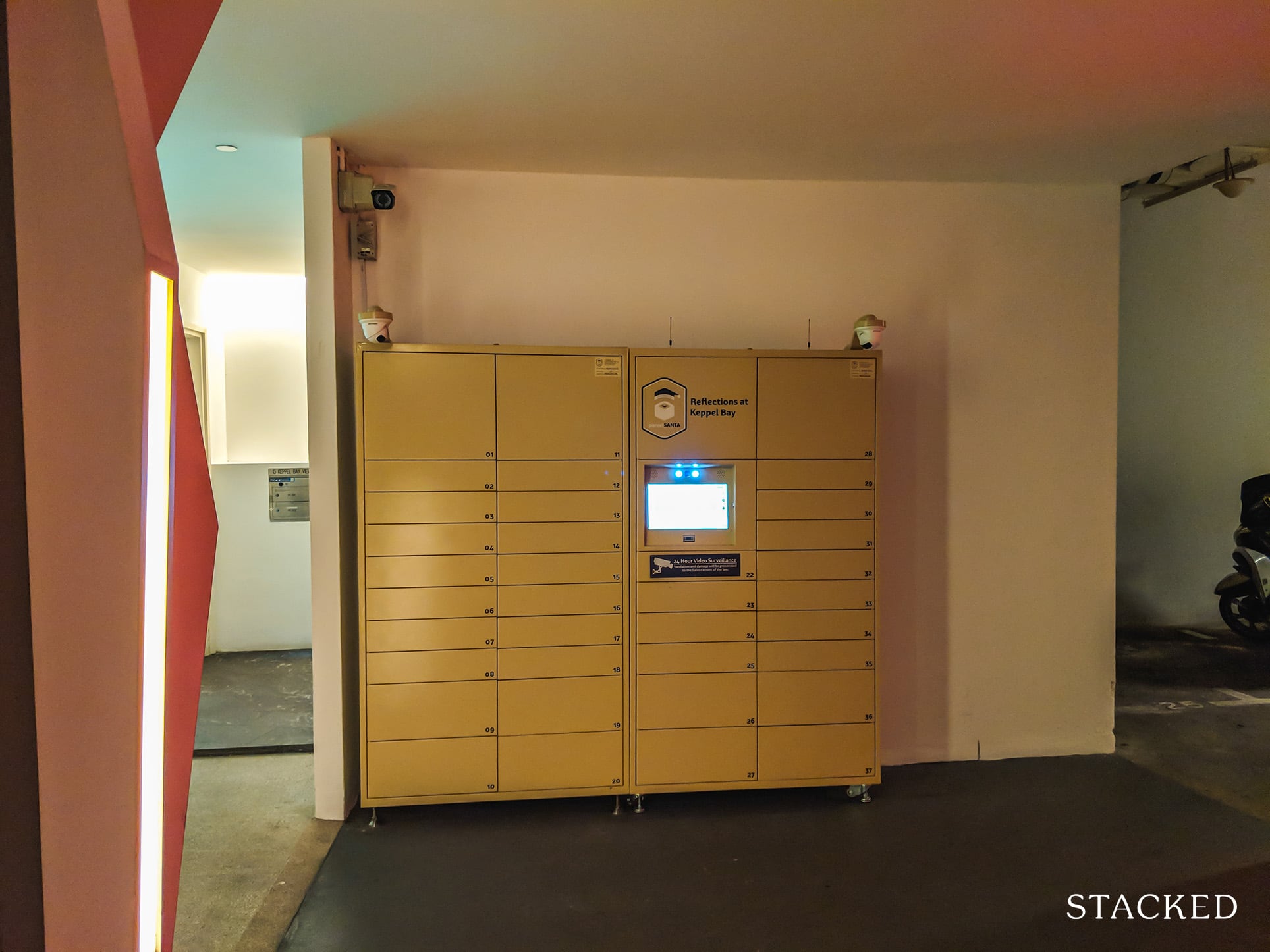 Not surprisingly for a development of this size, there was a Parcel Santa located close to the lobby of the clubhouse.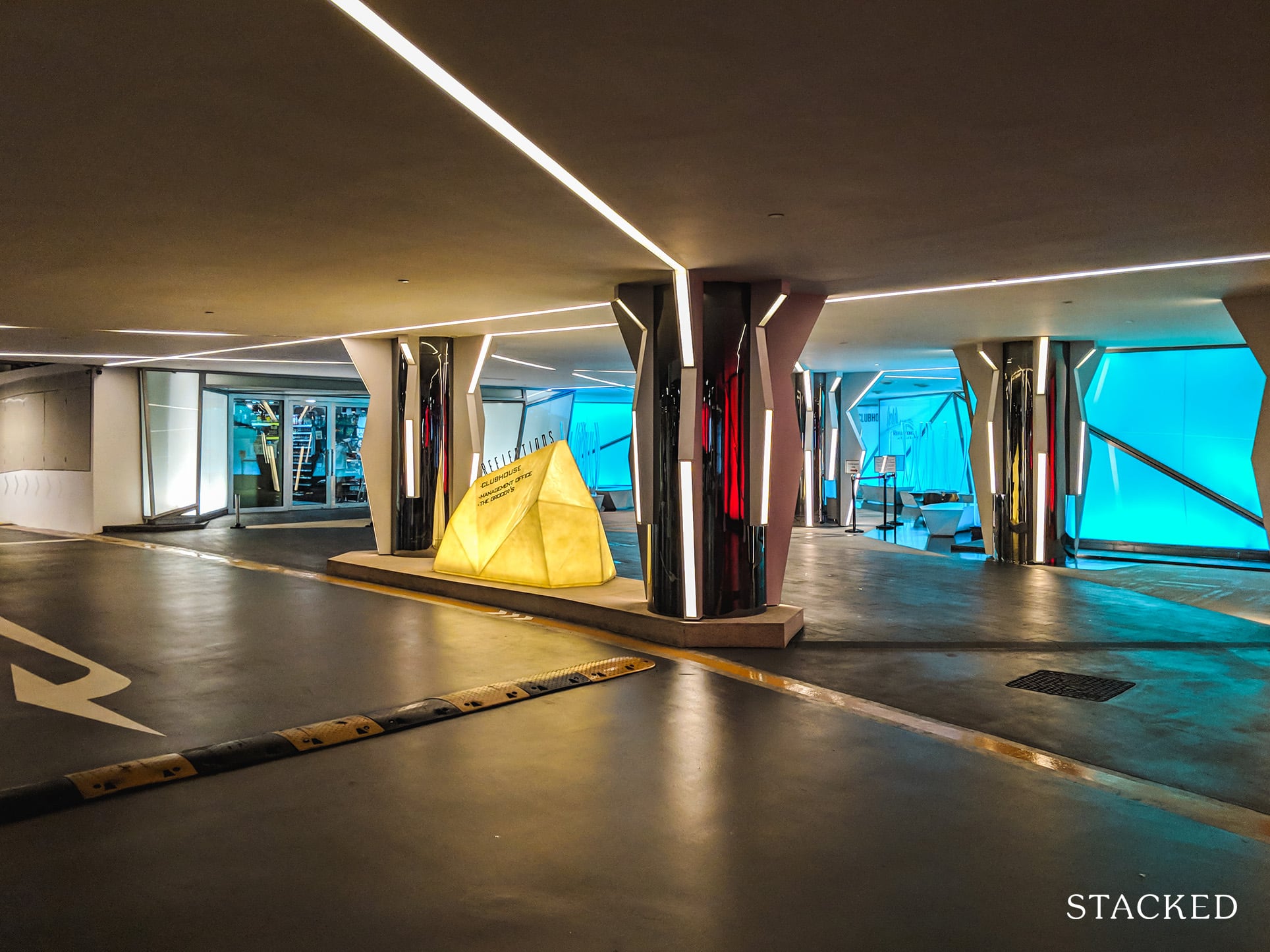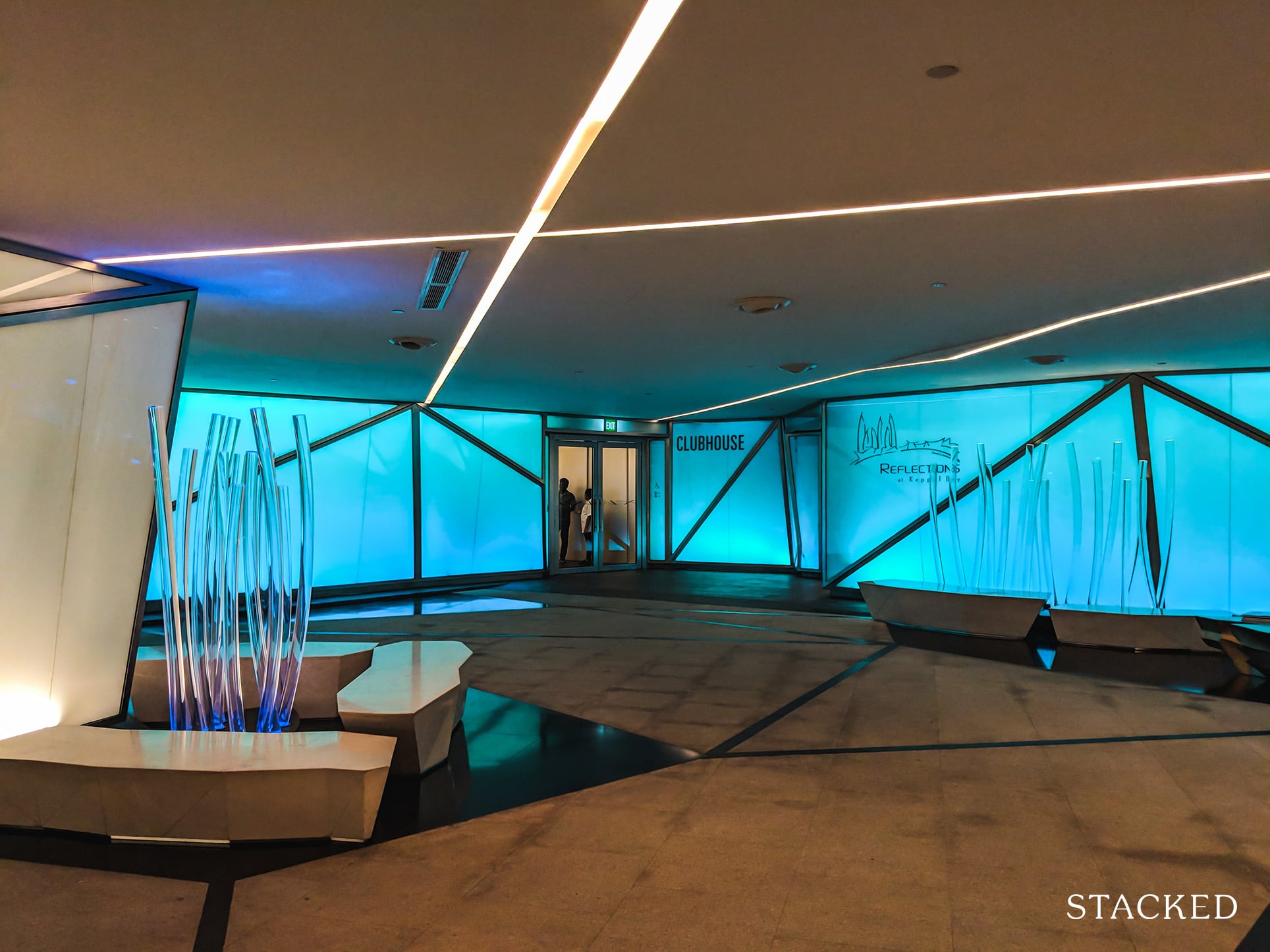 The clubhouse lobby has its own cool blue exterior, along with a drop off point.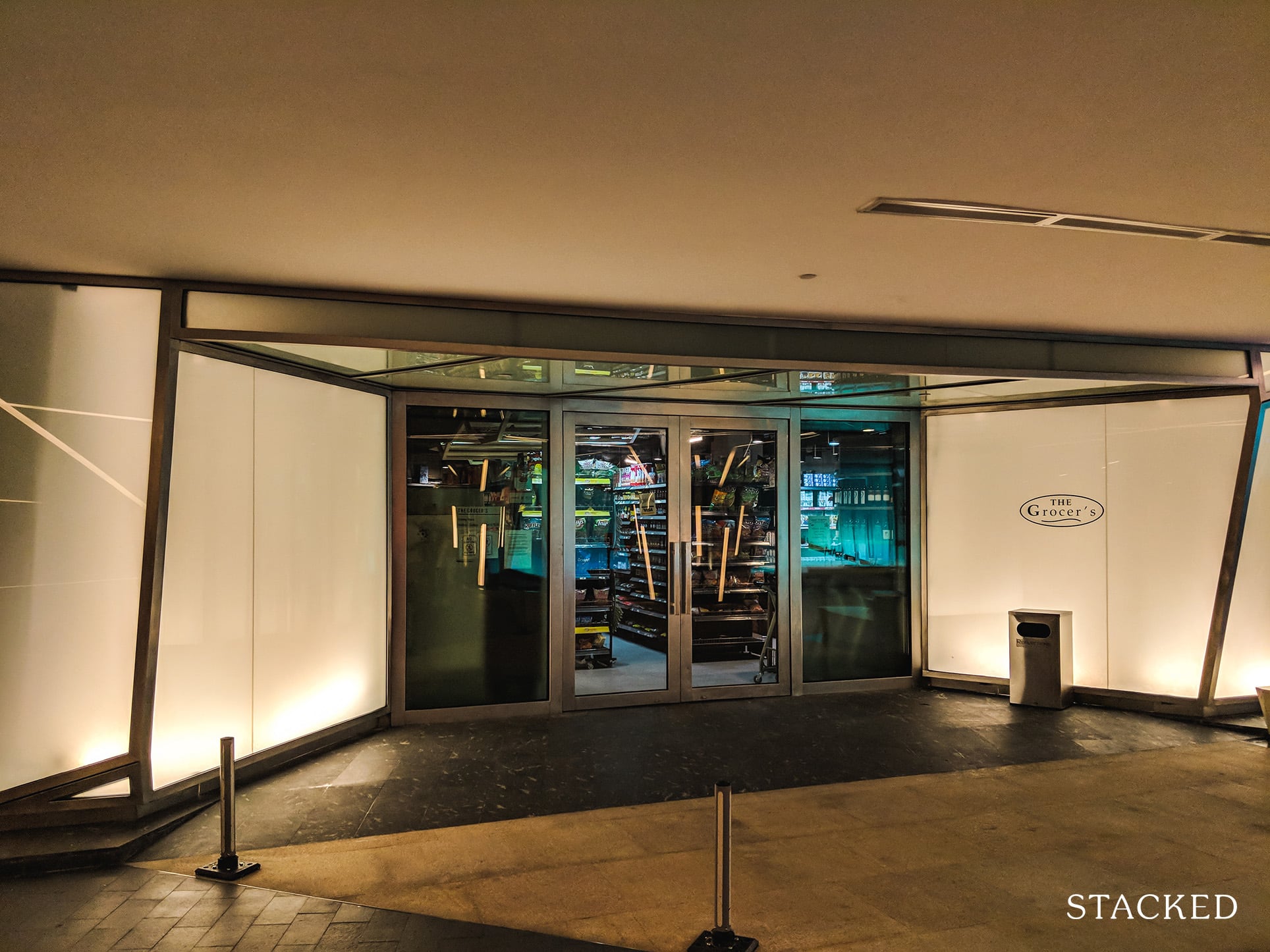 Next to the lobby clubhouse is a grocery shop called the Grocer. This is by far and away the nicest condo "minimart" that I have been to.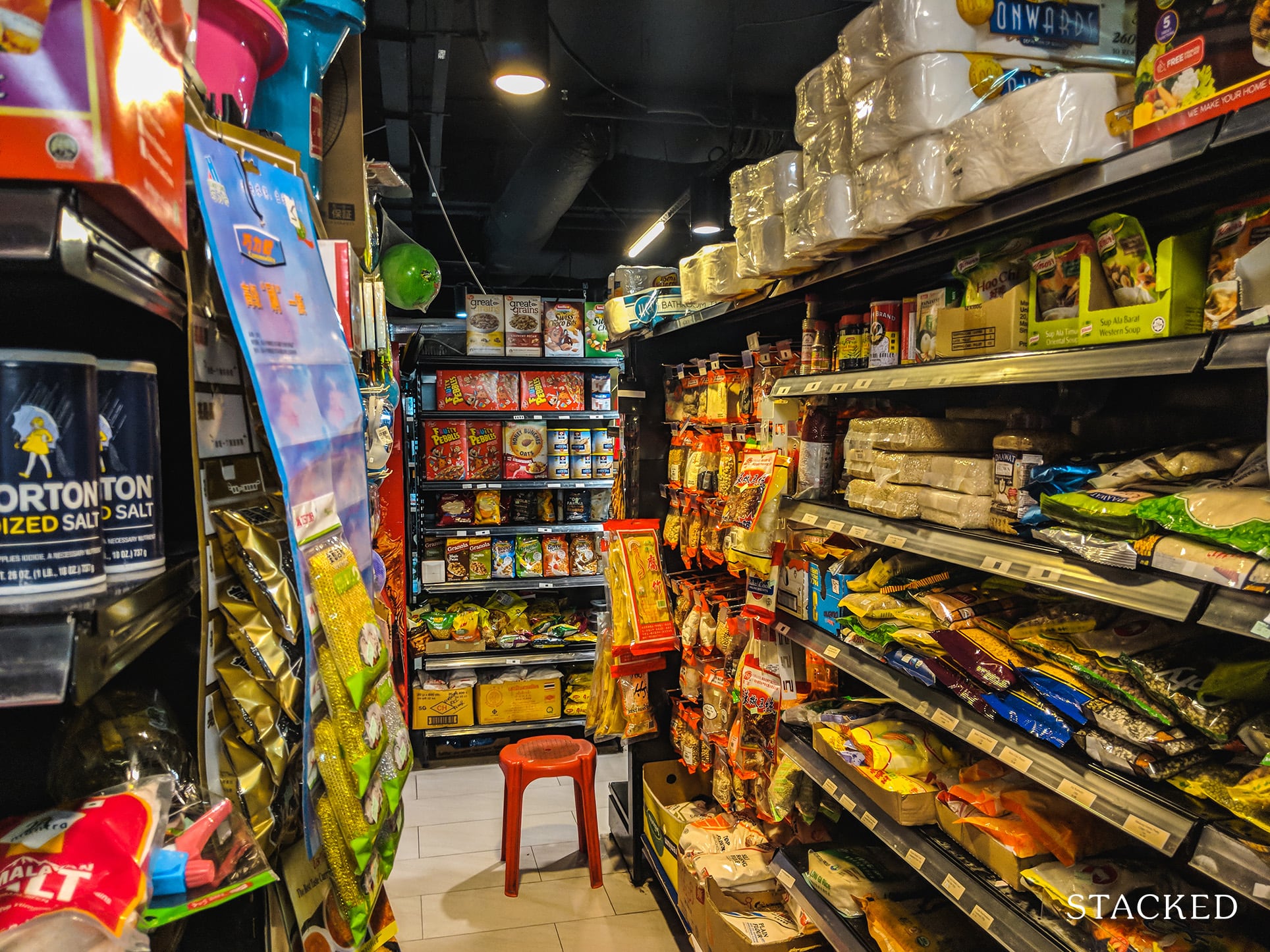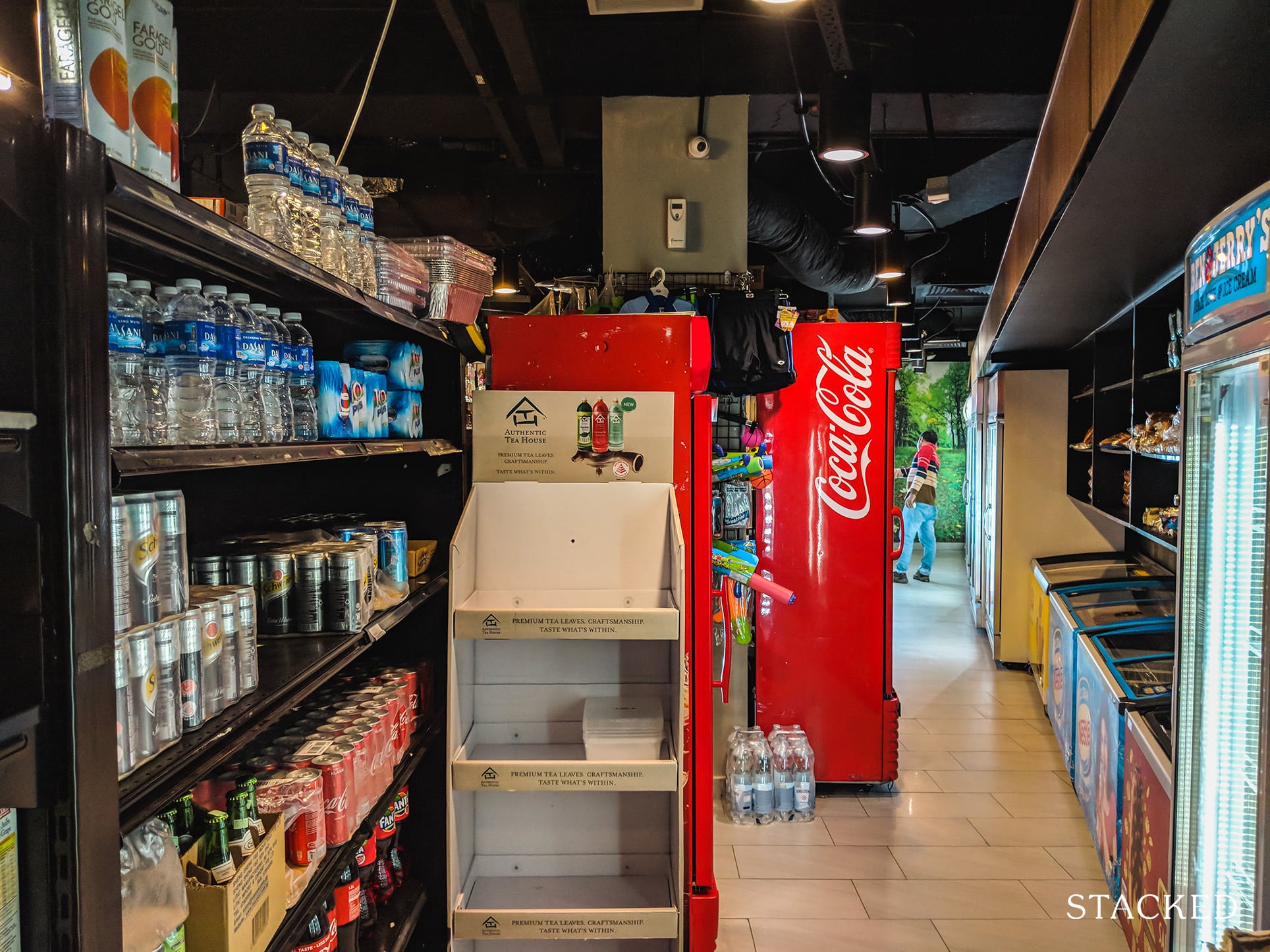 It is actually quite a big space, and every inch is packed with groceries. There is even fresh produce, unfortunately, no fresh meat but I think it is still more than adequate for most of your grocery needs. I am really quite astonished at the number of items that they managed to cram in here.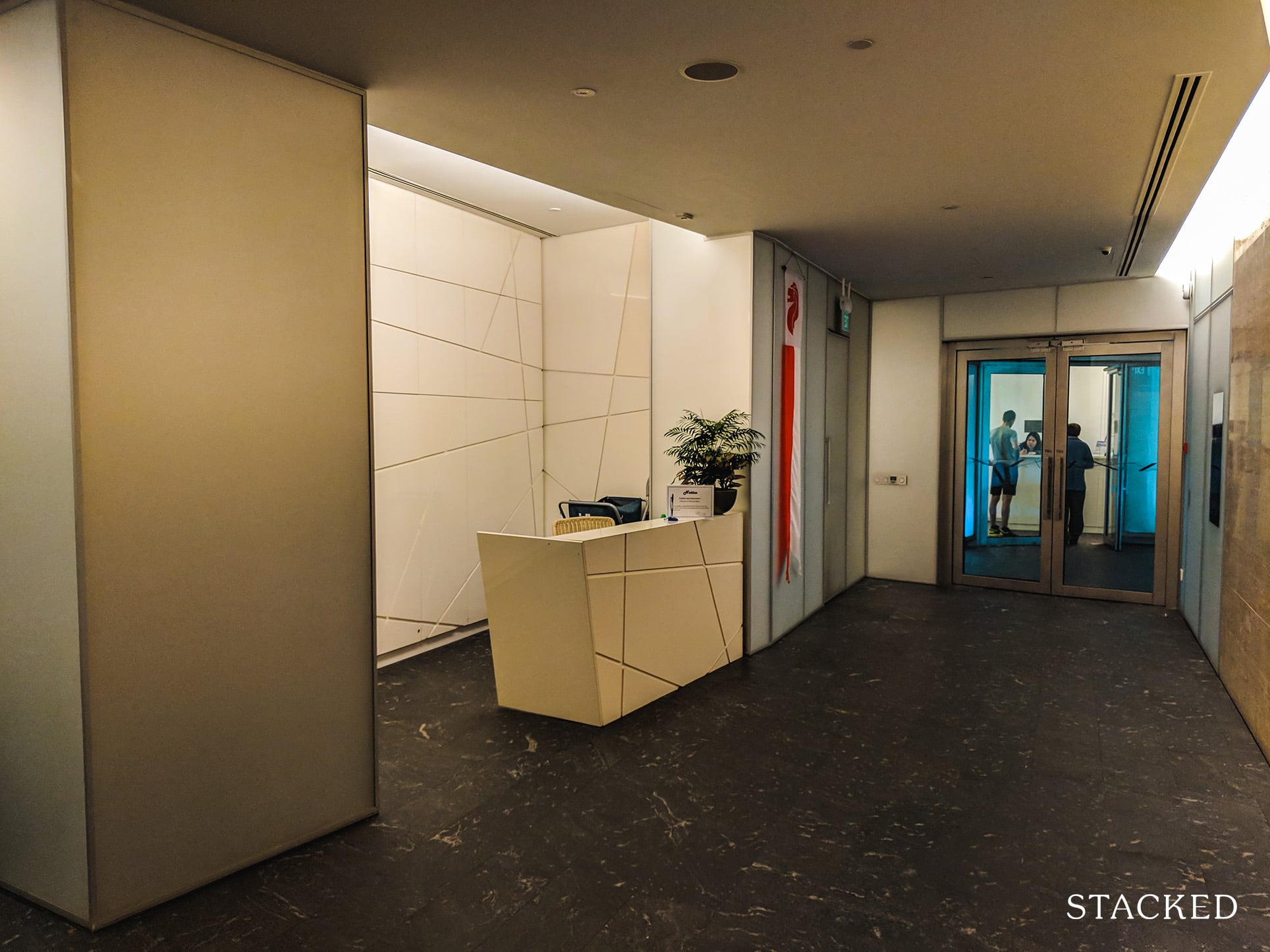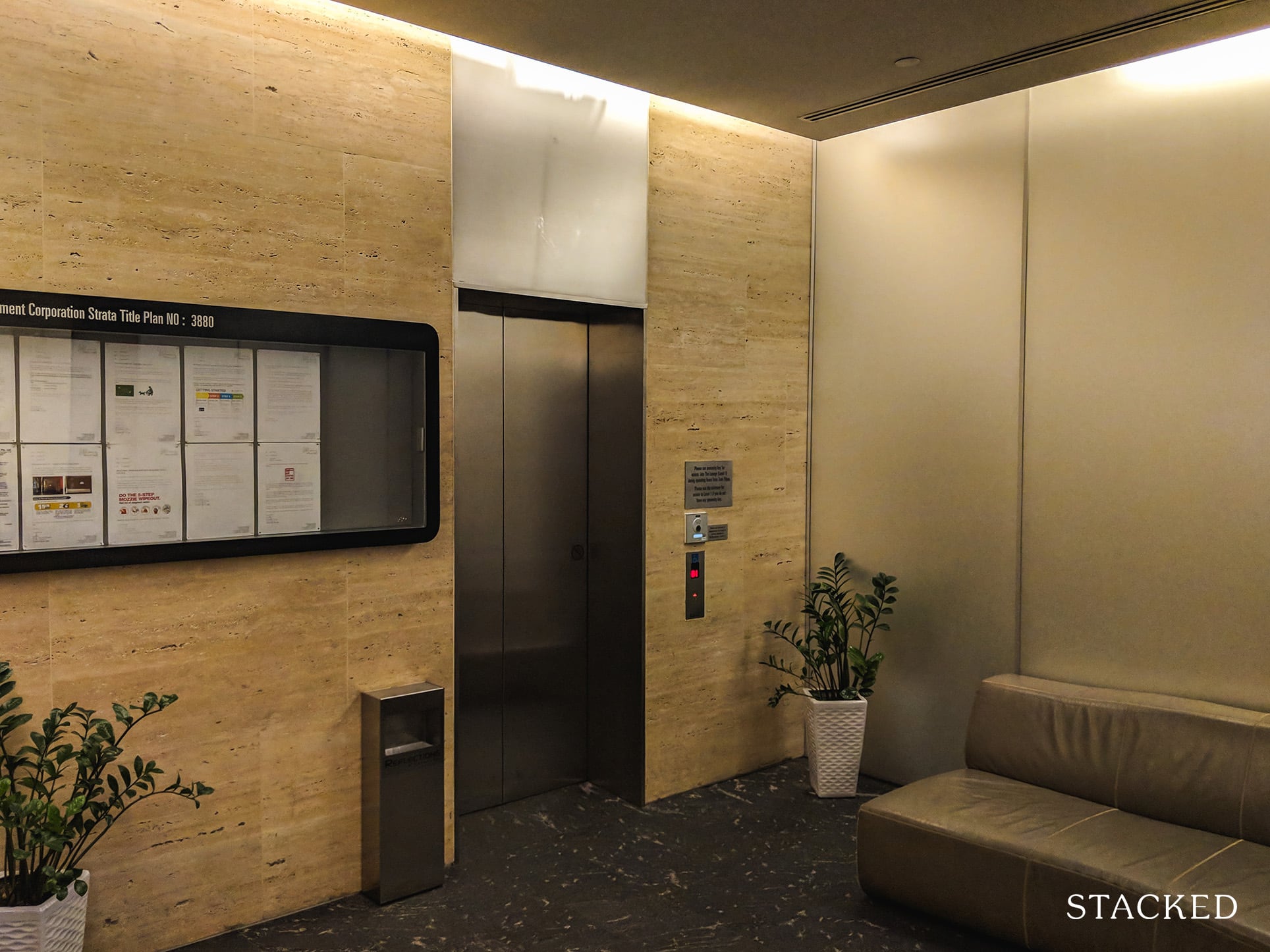 The lobby at the basement is air-conditioned, and while it is no doubt a nice environment, the decor looks quite bland as compared to the flair of the structure on the outside.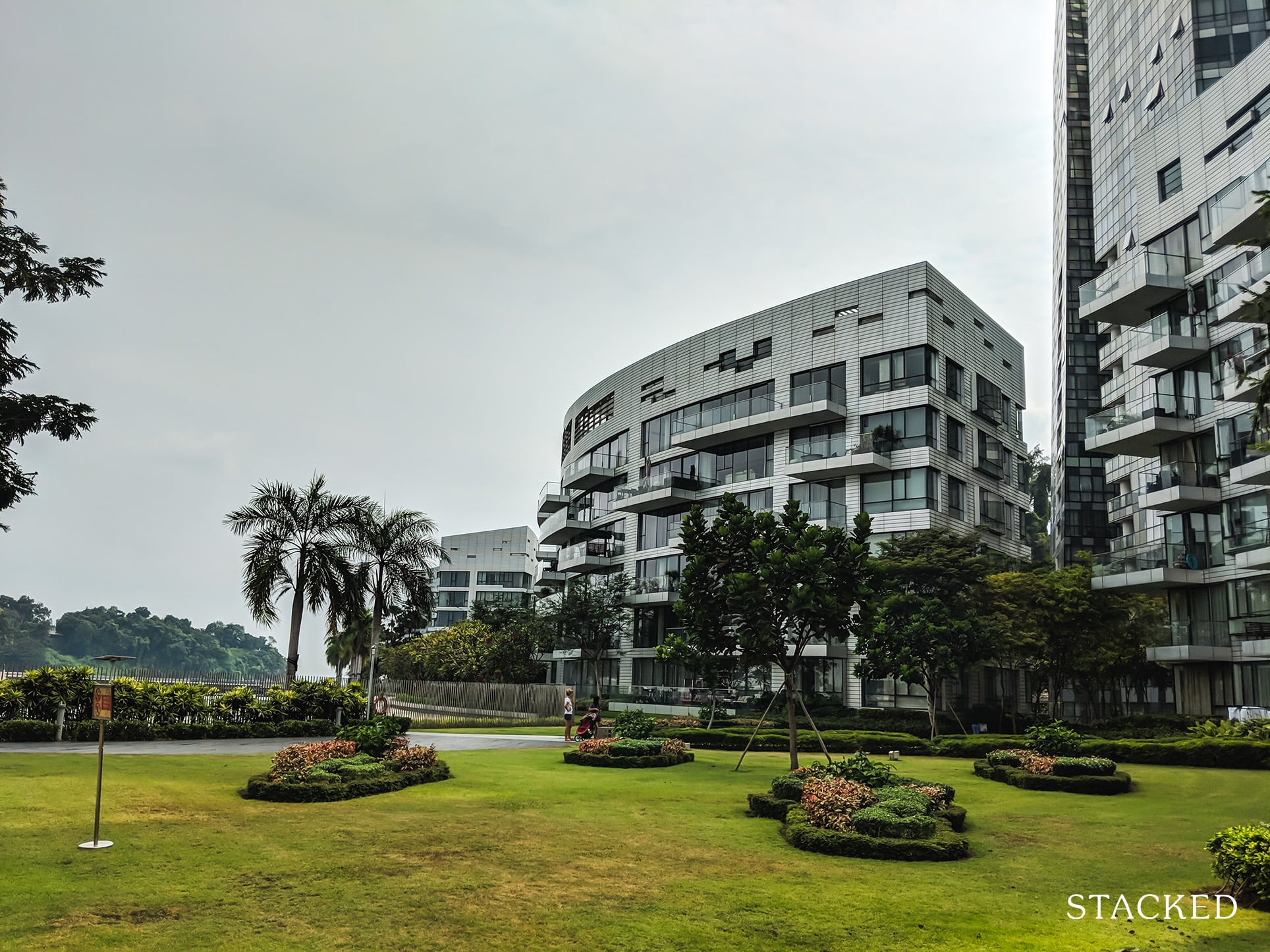 The moment you step out onto the grounds of the Reflections at Keppel Bay, you will understand why people are prepared to pay such a premium to stay by the waterfront. Although it wasn't a windy day, there was a gentle enough sea breeze that was very calming. Maybe it was just the time of the day, but it was really peaceful as well.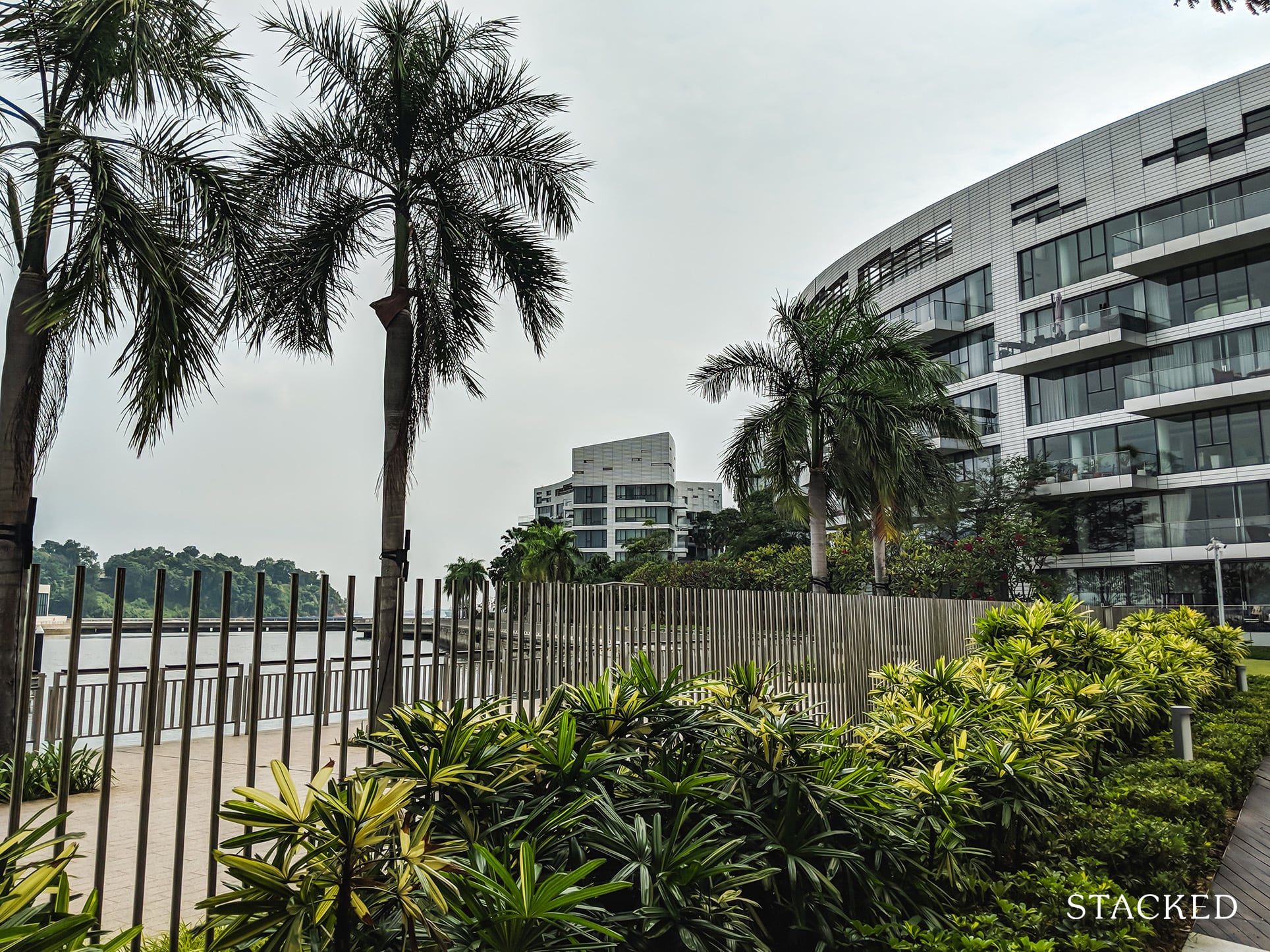 The gates also do a great job of showing that it is a secure gated compound, yet it also allows you to admire the bay views from the ground level.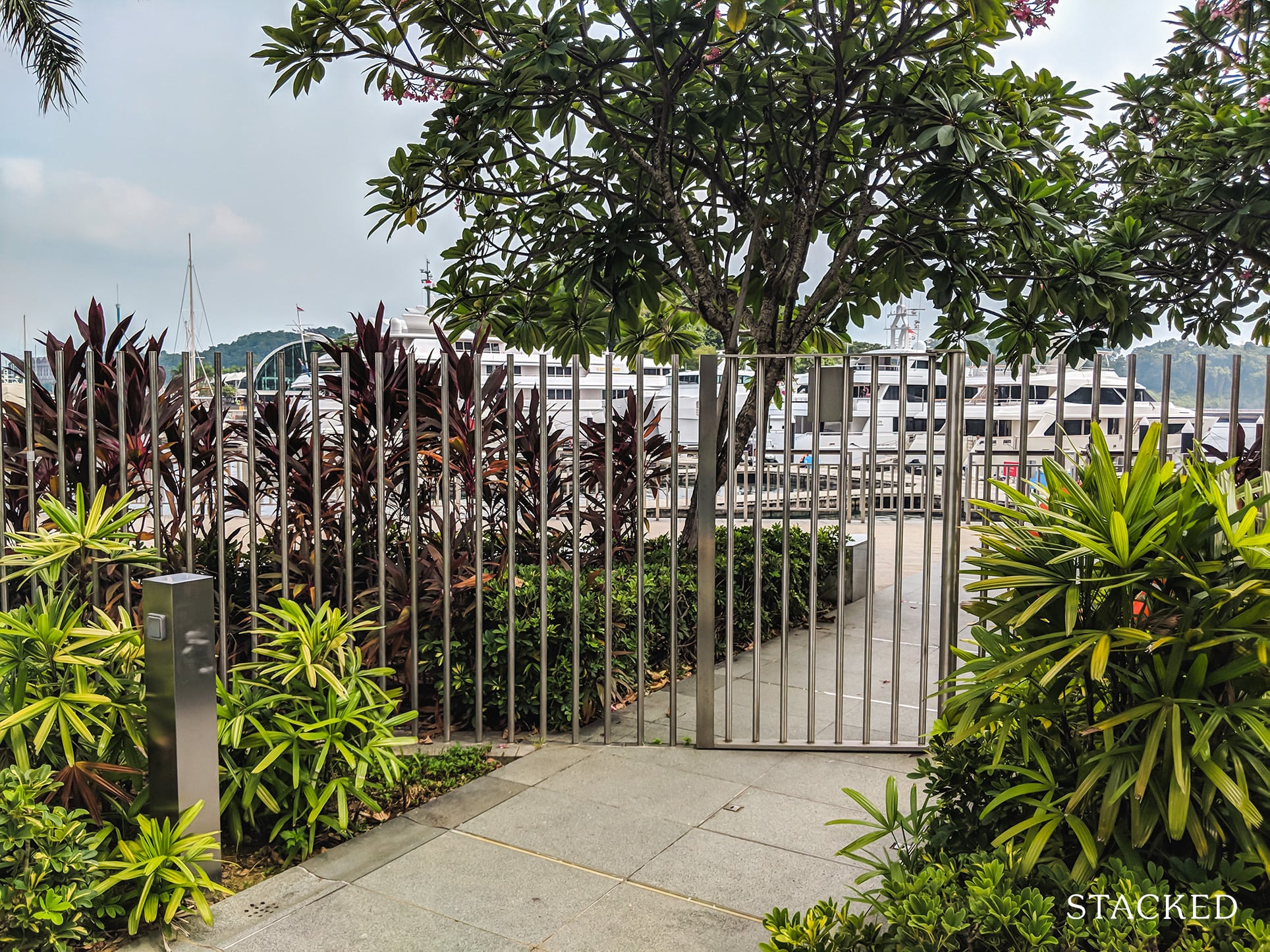 Along the waterfront, there are multiple side gates that allow you to access the bay area easily.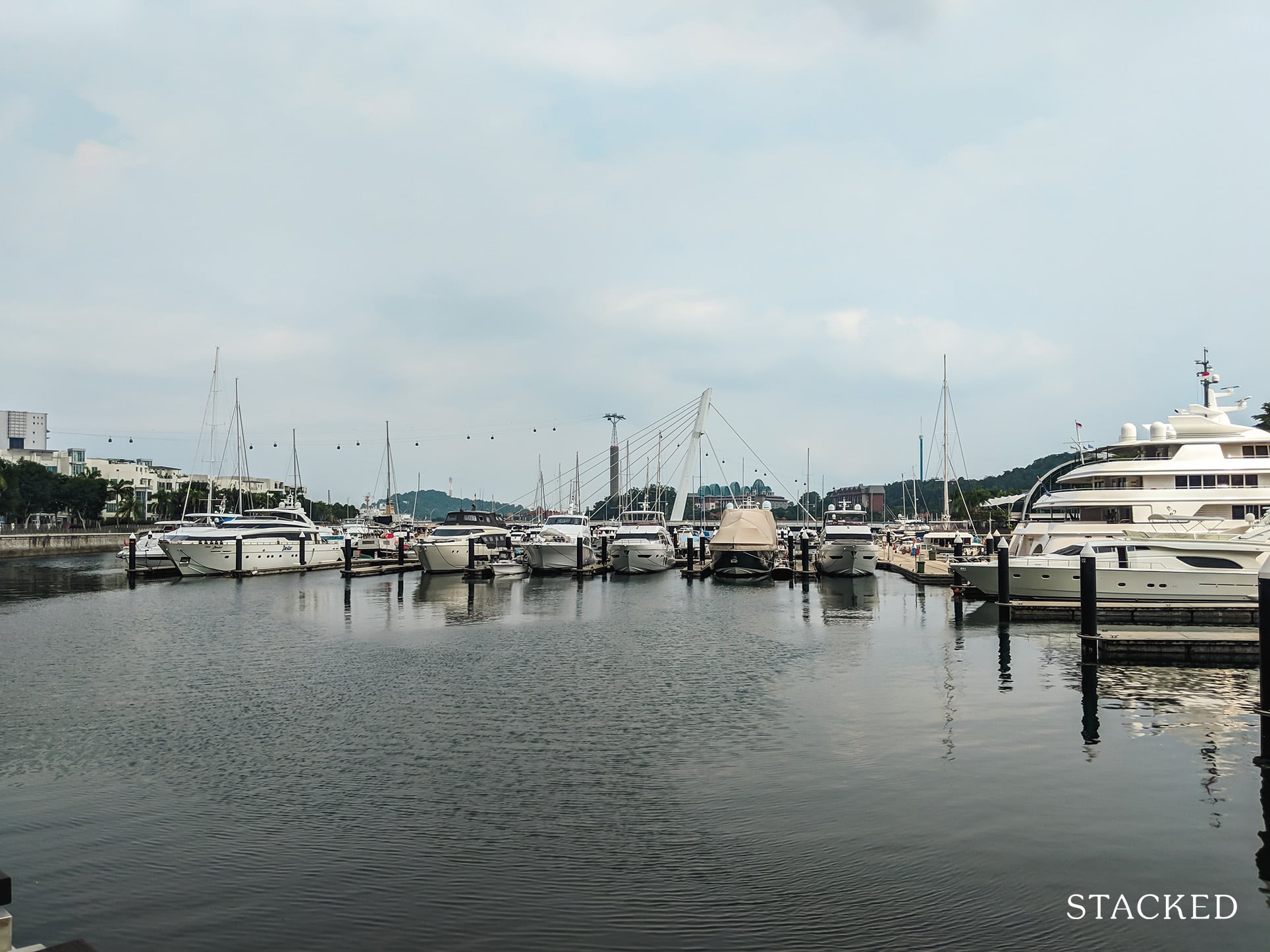 If you are one of the fortunate few in life who have made it thus far to afford your own yacht, Reflections at Keppel Bay would be an ideal place to enjoy quick access whenever you need it.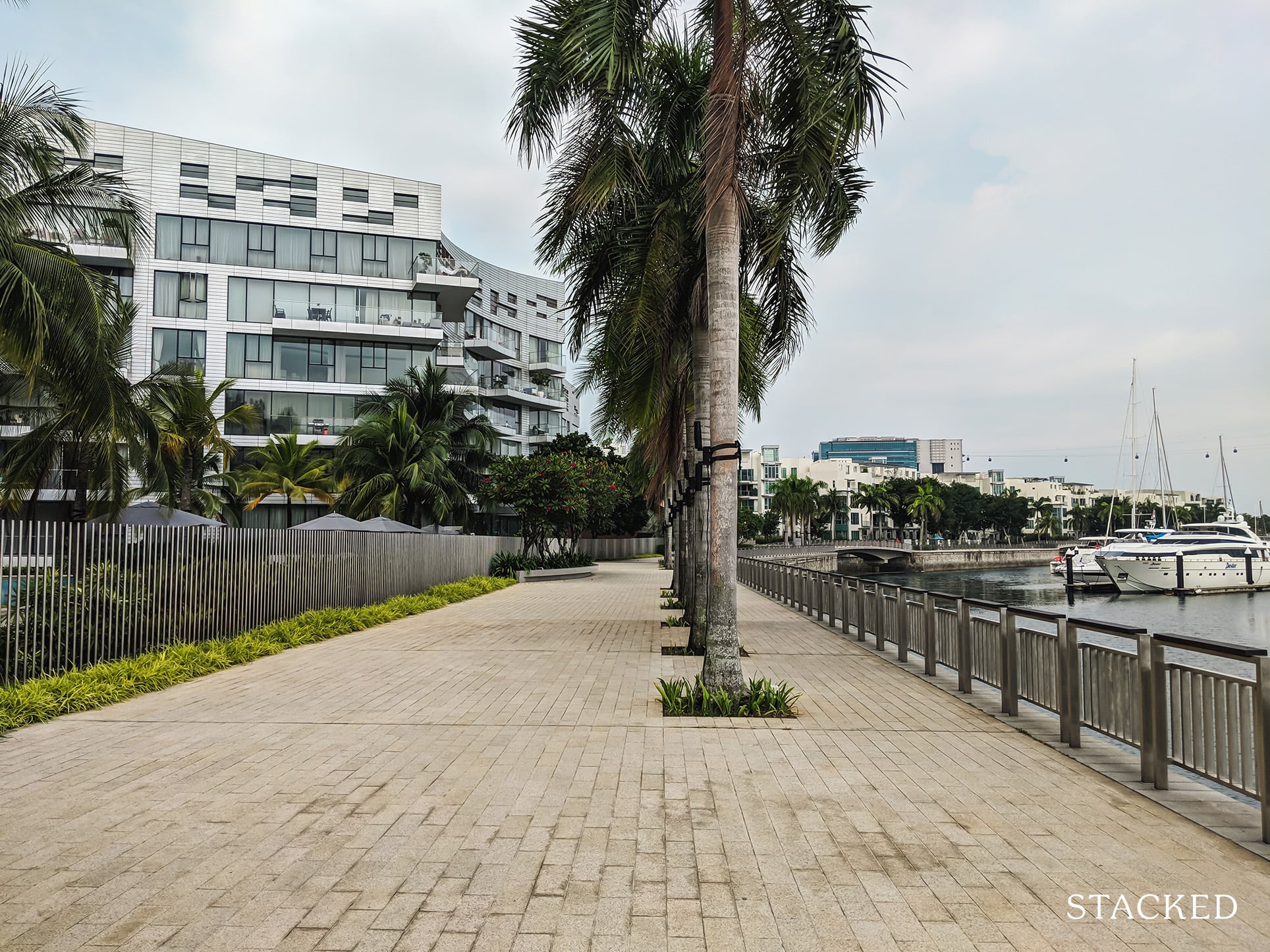 Even if you do not have a yacht, the views along the boardwalk are still worth the money. It must be incredibly relaxing to take a walk here on weekends or just after work. From here, you can easily walk to the Marina at Keppel Bay for brunch or even all the way to Harbourfront Centre and Vivocity if you wish.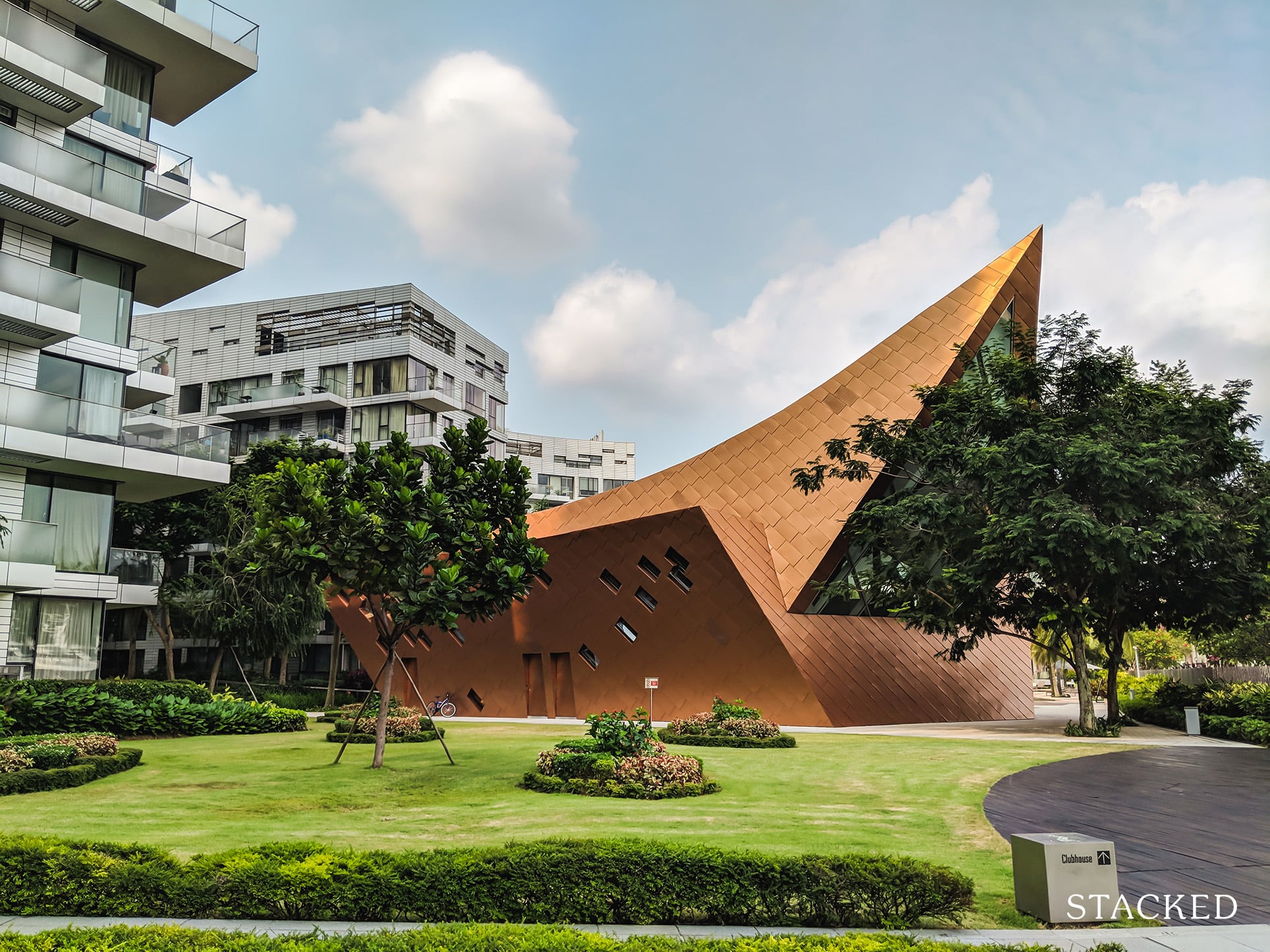 Now, onto the clubhouse. It is a pretty magnificent structure in its own right, and if you have taken a boat past Keppel Bay before you would have probably noticed this distinct building. The copper tones gleam especially brightly during the day and the mastermind behind it is renowned architect Daniel Libeskind.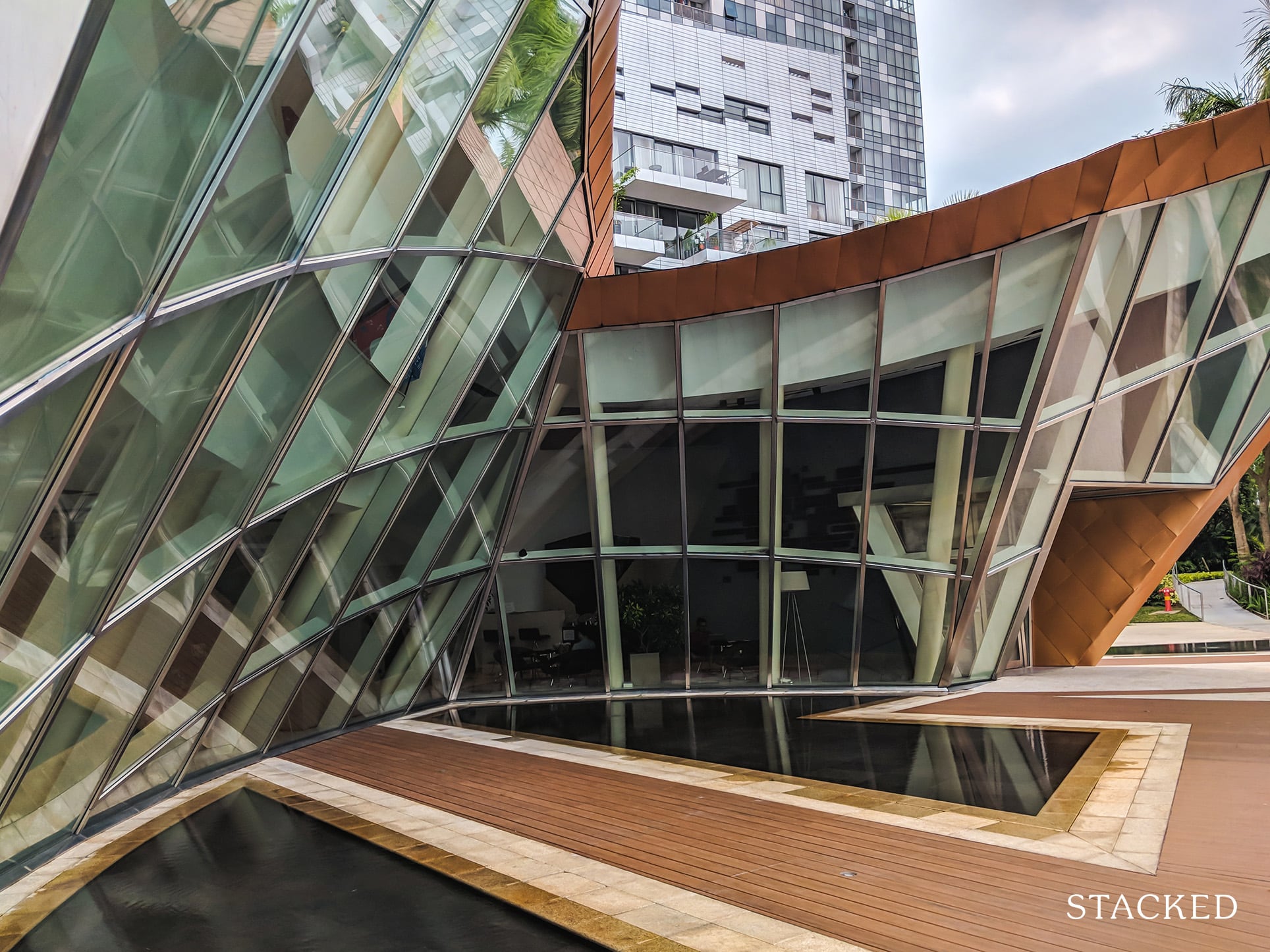 The stunning arched roof and structure took two years to complete the design and a whole year to construct.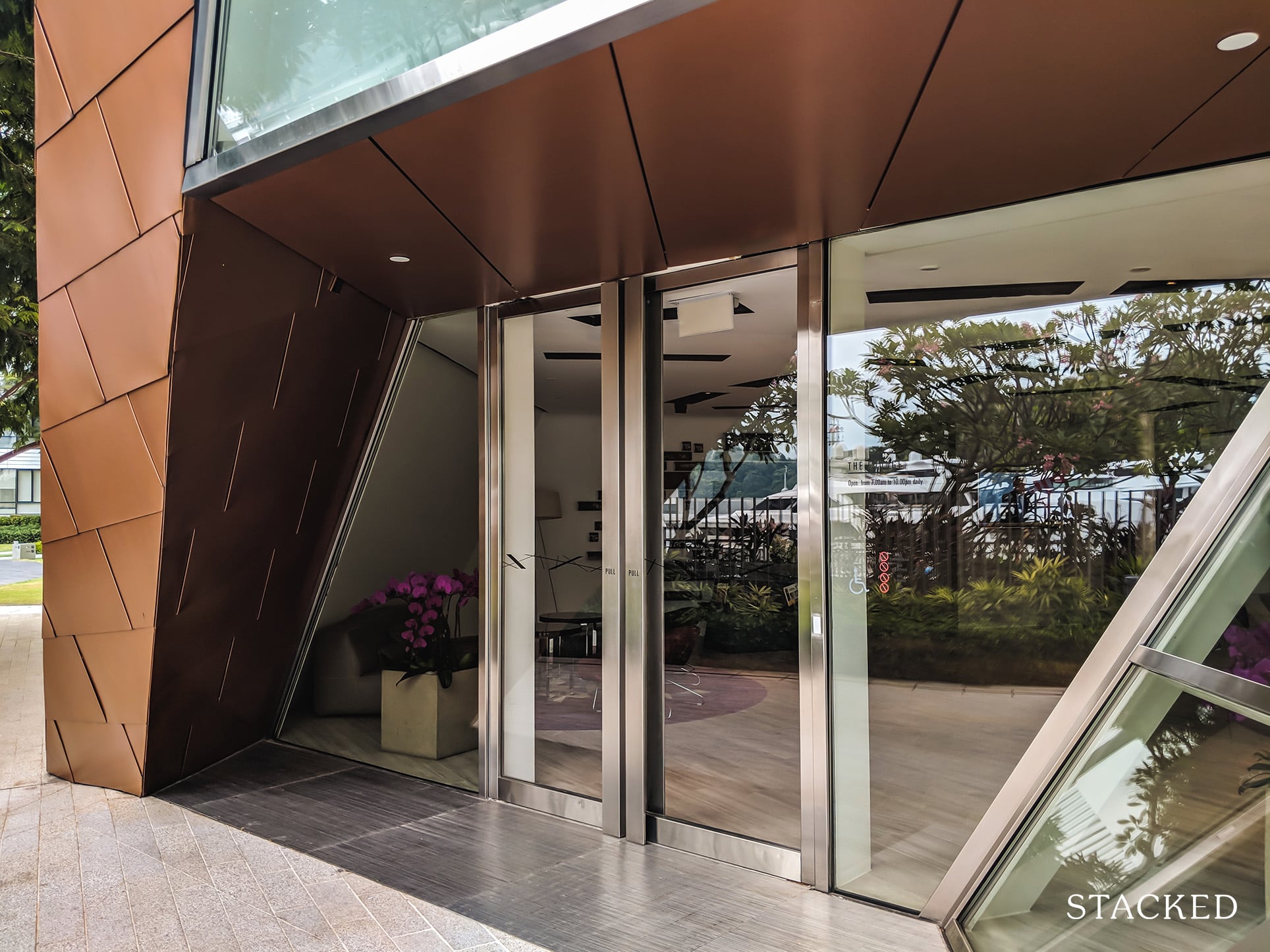 The clubhouse is split into two levels. On the ground level is an open area, with lounging couches and seats to just relax or get some work done. The space is done up luxuriously, with its furniture and fittings from luxury Italian interior and furniture design firm Saporiti Italia.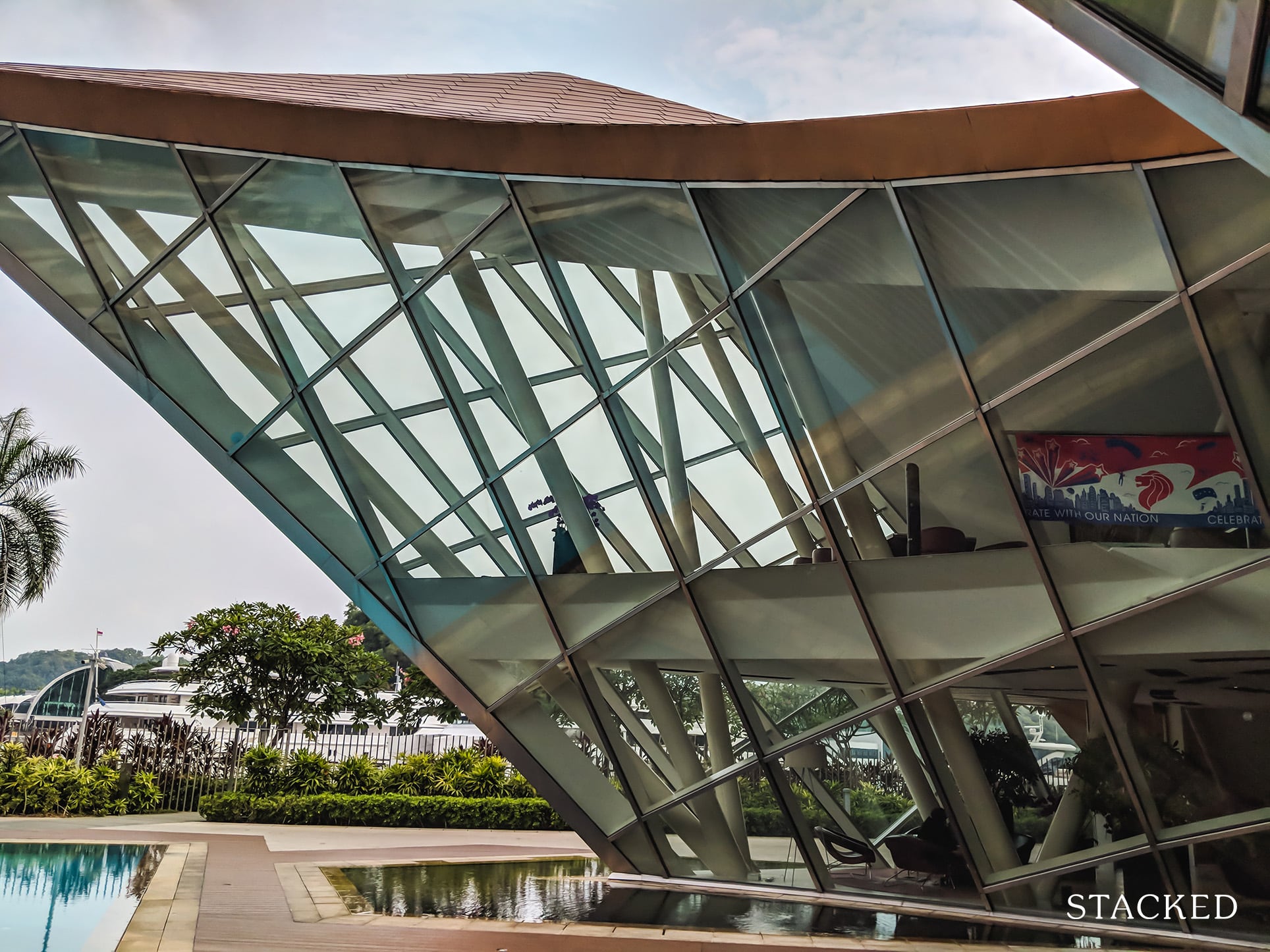 The upper level has an entertainment area, where the elevated height allows you to have sweeping views across Keppel Bay. I really like the clubhouse of the Reflections at Keppel Bay, it is one of the standouts of this development for me.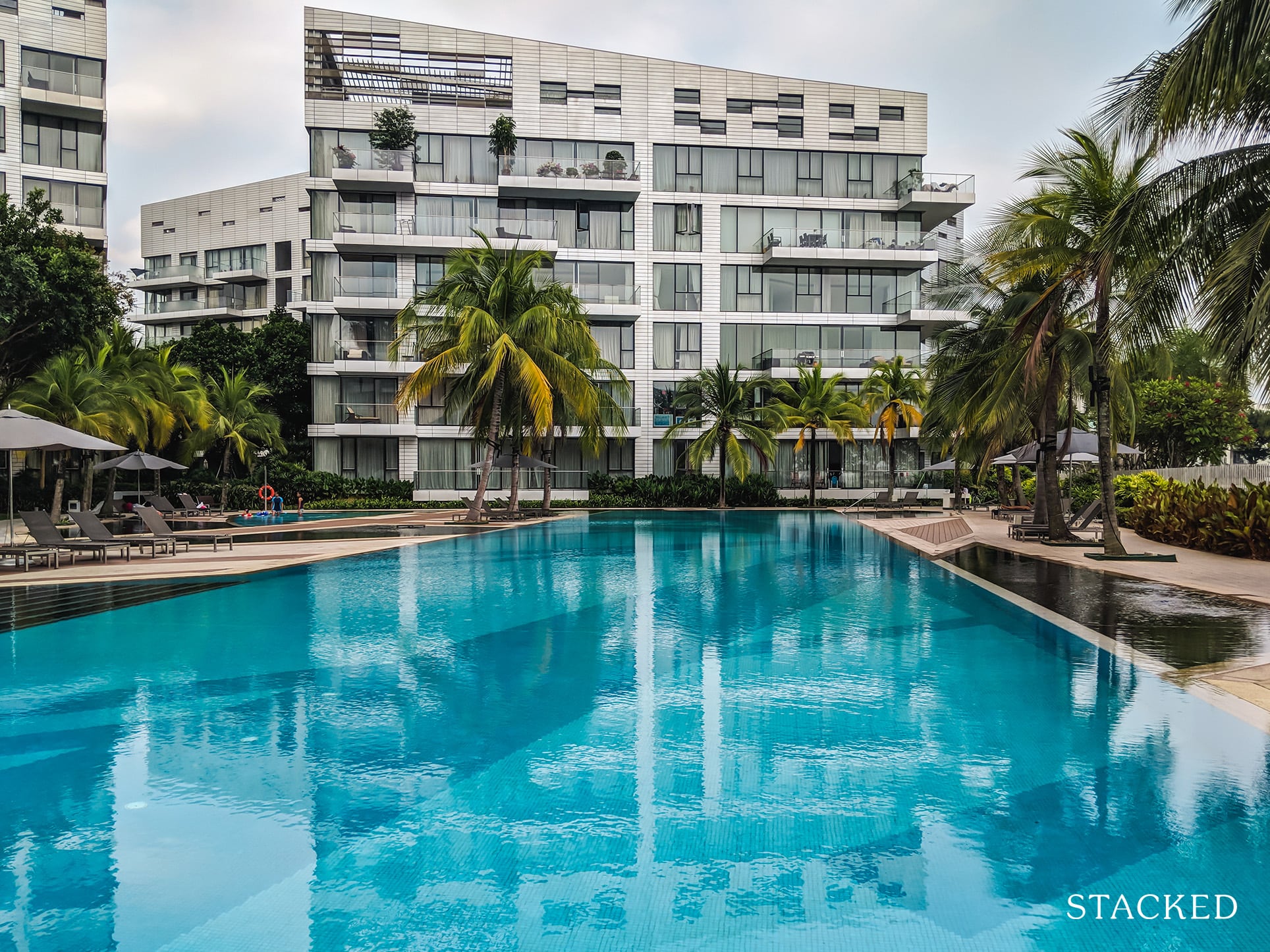 The main swimming pool of the Reflections at Keppel Bay is located right outside the clubhouse. It is Olympic sized, as you'd expect from a development of this class. Being located right by the waterfront as well is perfect to enjoy the views from the comfort of the poolside deck chairs. Even with the addition of the other smaller pool (which you'll see later), I do think it is inadequate considering that there are 1,129 units here.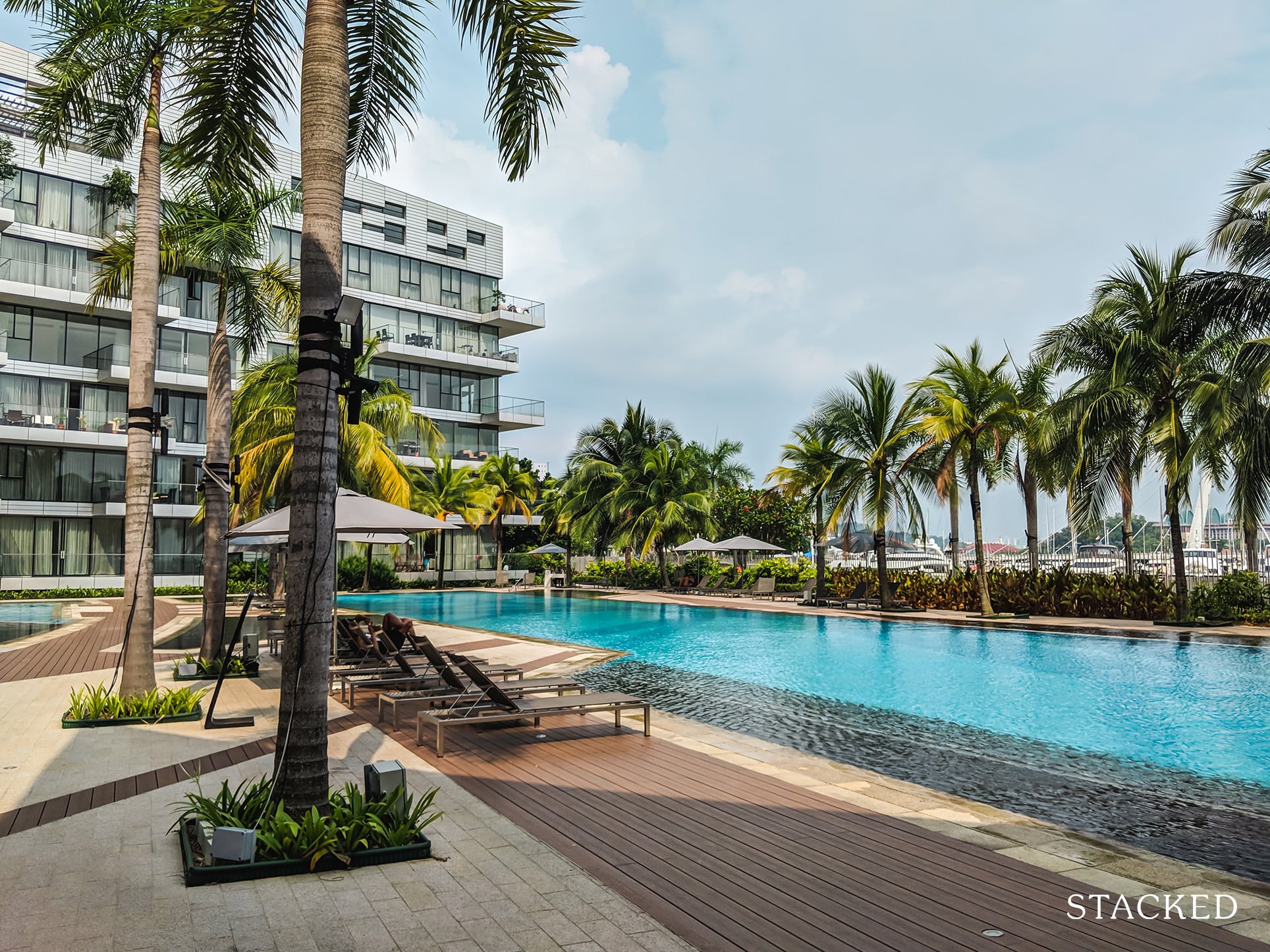 It is a very nice swimming pool, and on quiet days such as these, it is a true luxury to be able to spend some time here to rest and relax.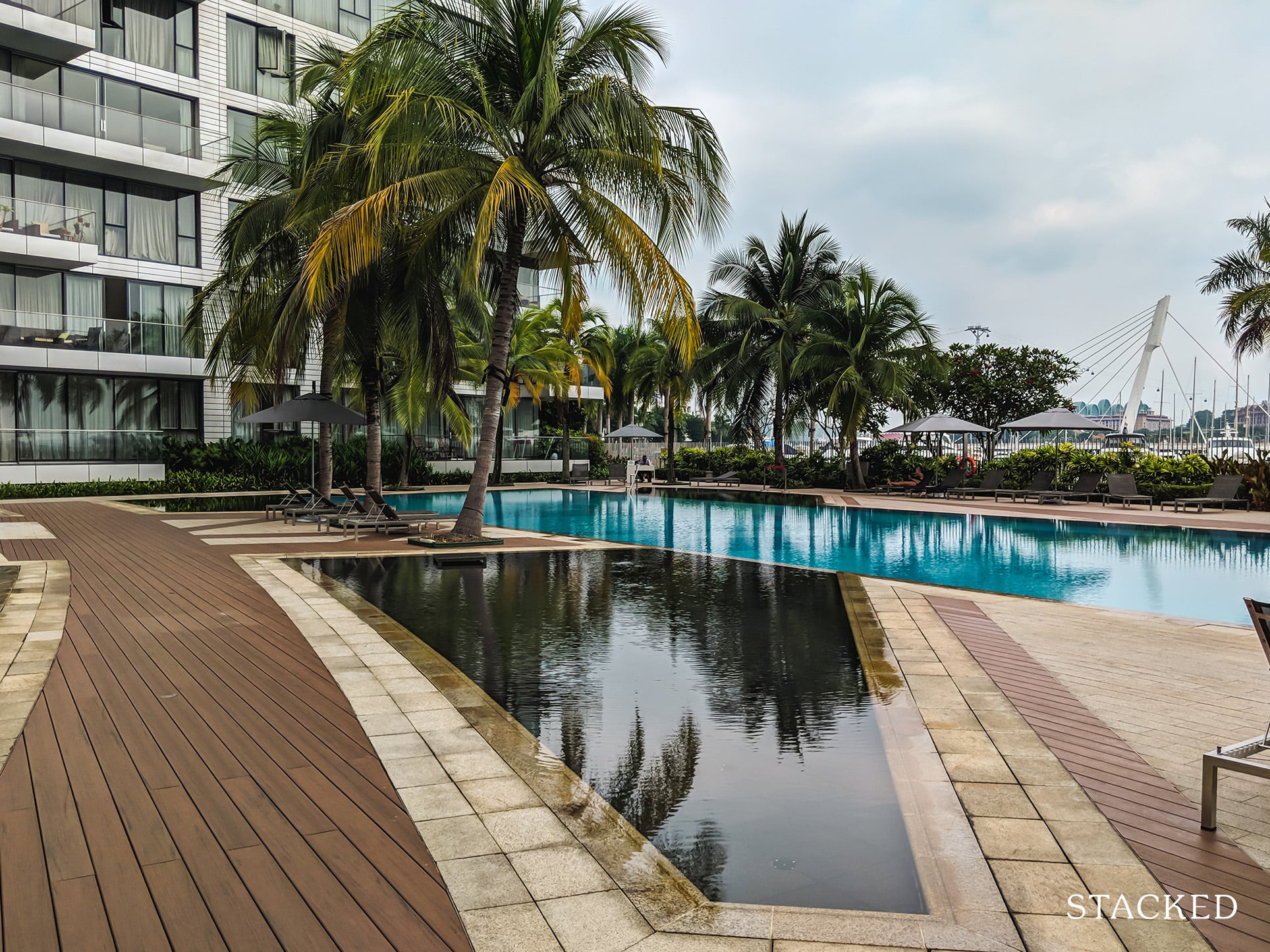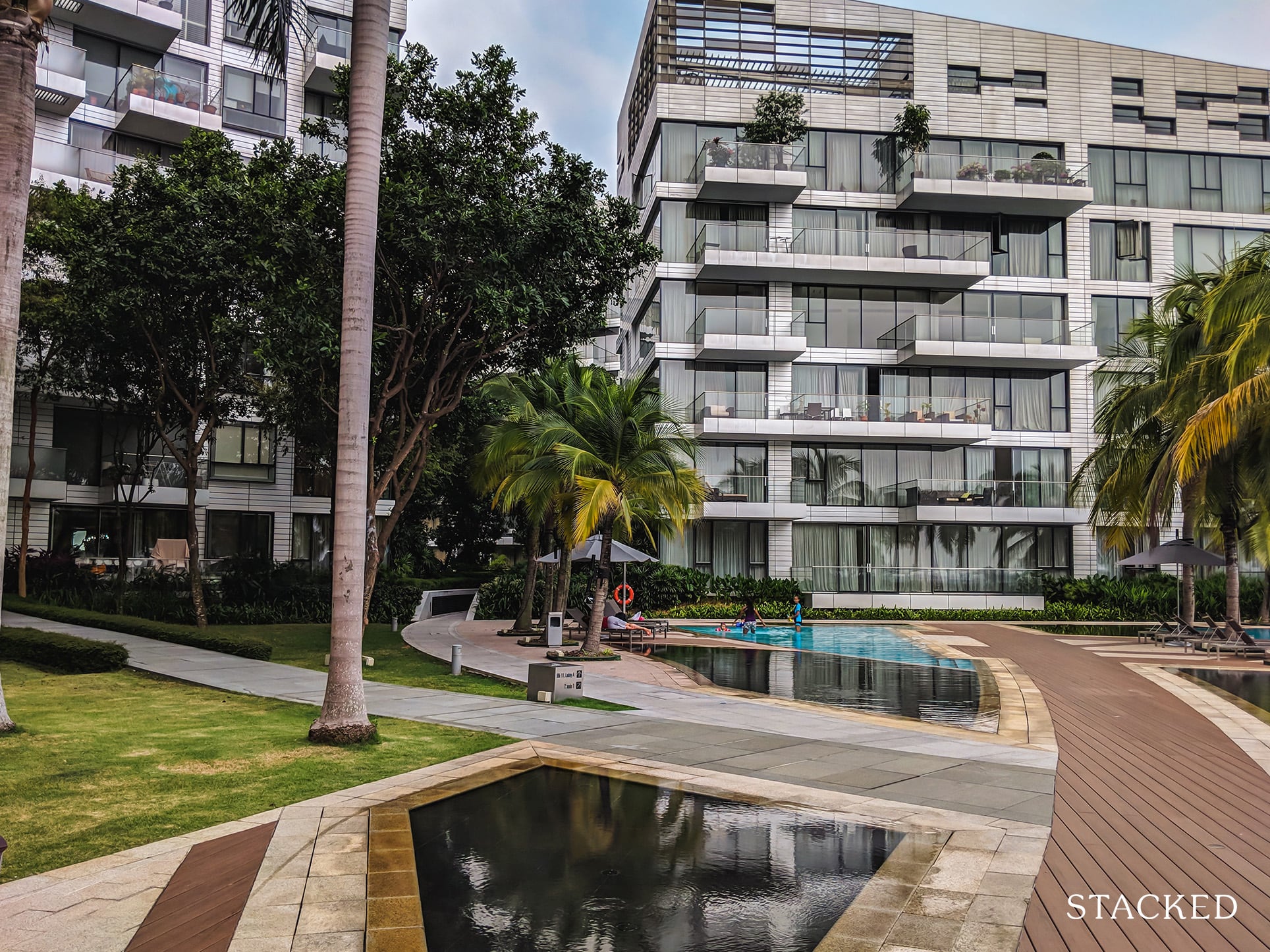 There is also a small pool for kids to play right by the side.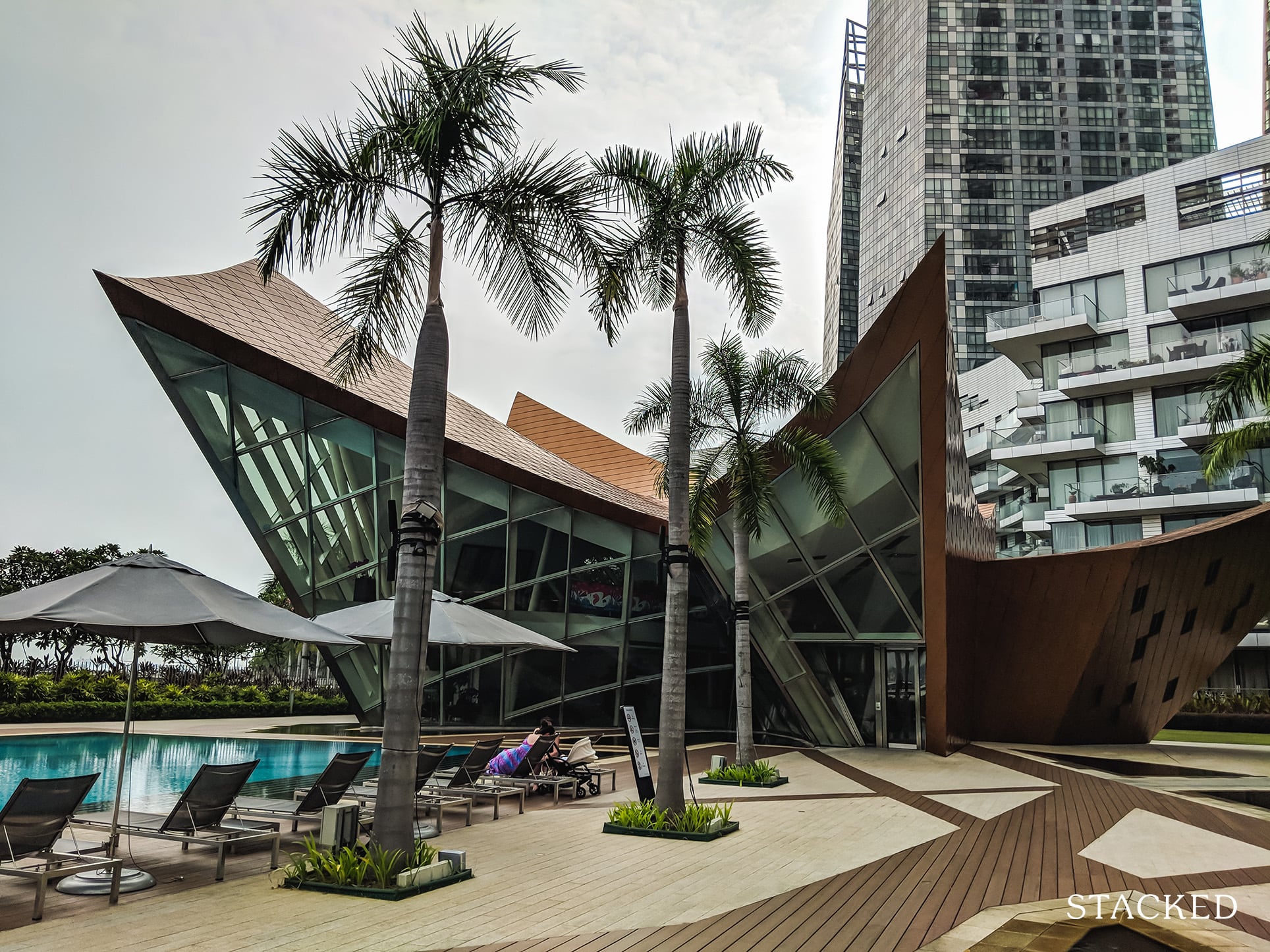 Last shot of the fab clubhouse.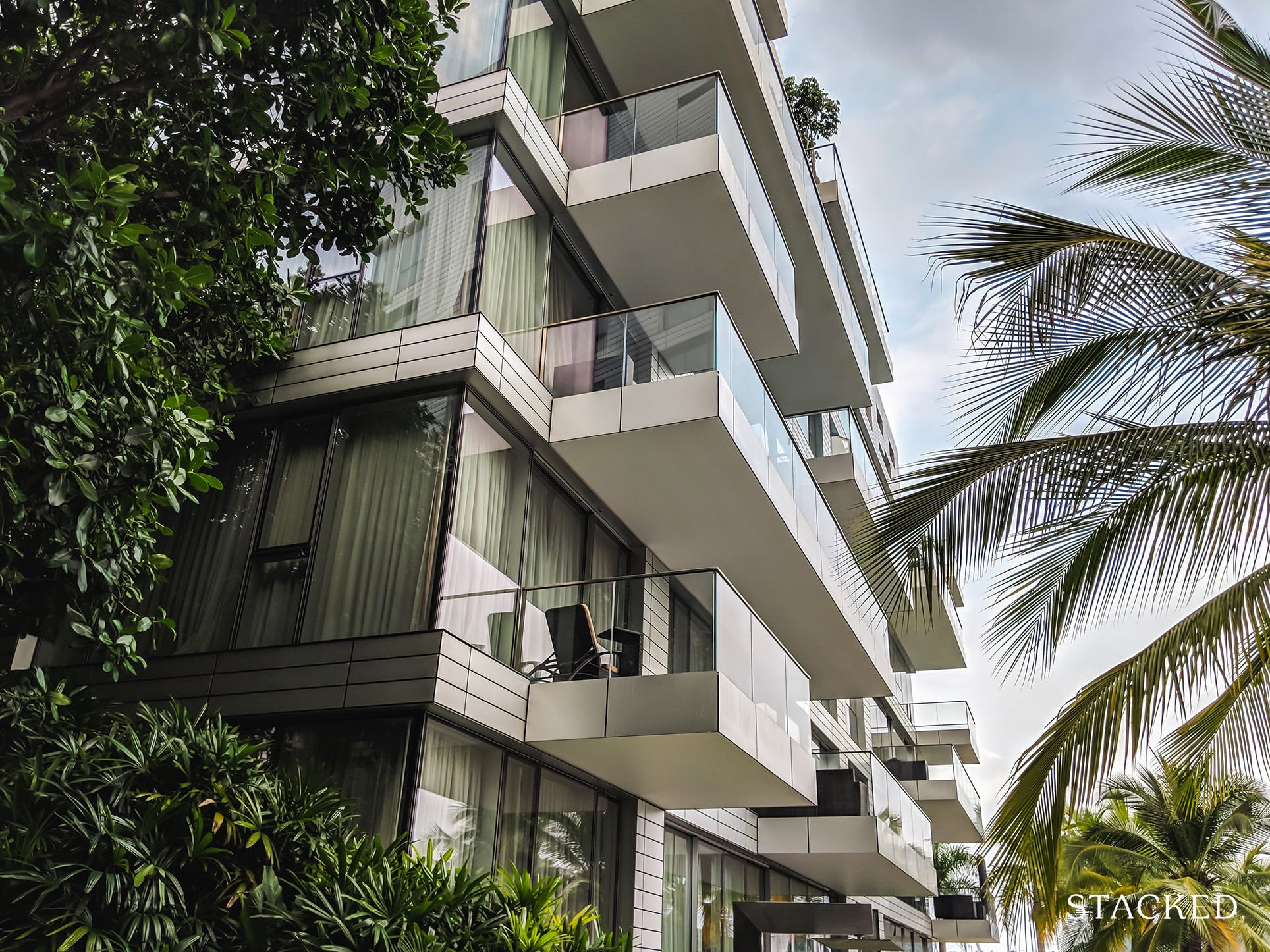 Just to show the balconies for the units by the pool, these enjoy the sea view as well.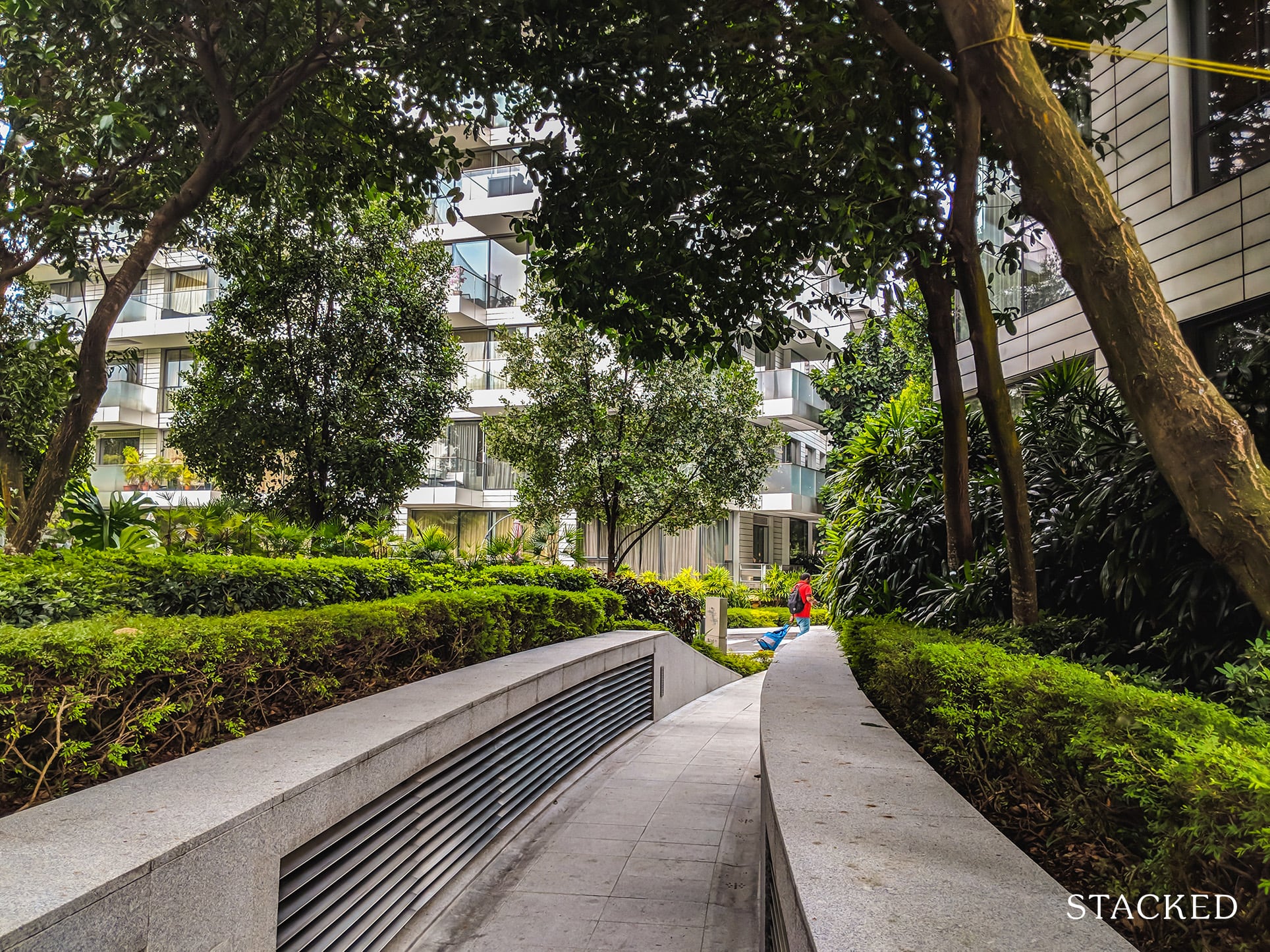 The landscaping here is generally very well kept, and I think that it is great as it provides a much-needed softness and contrast to the concreteness of all the blocks.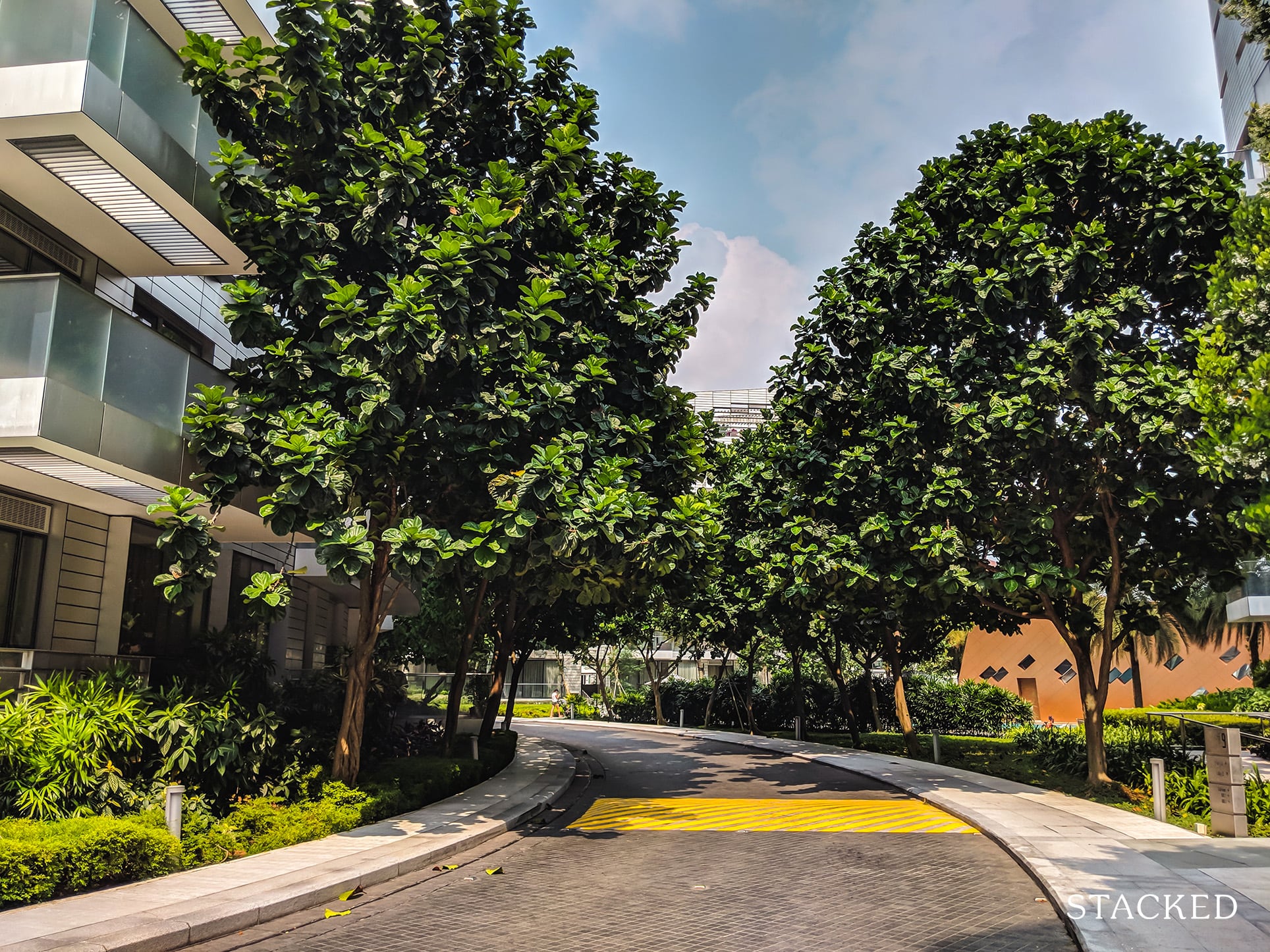 The pathway here is so quaint and pleasing to the eye. The internal roads and pathways are big enough in this development so that you can easily walk your dog or take a walk at night without having to go out of the estate.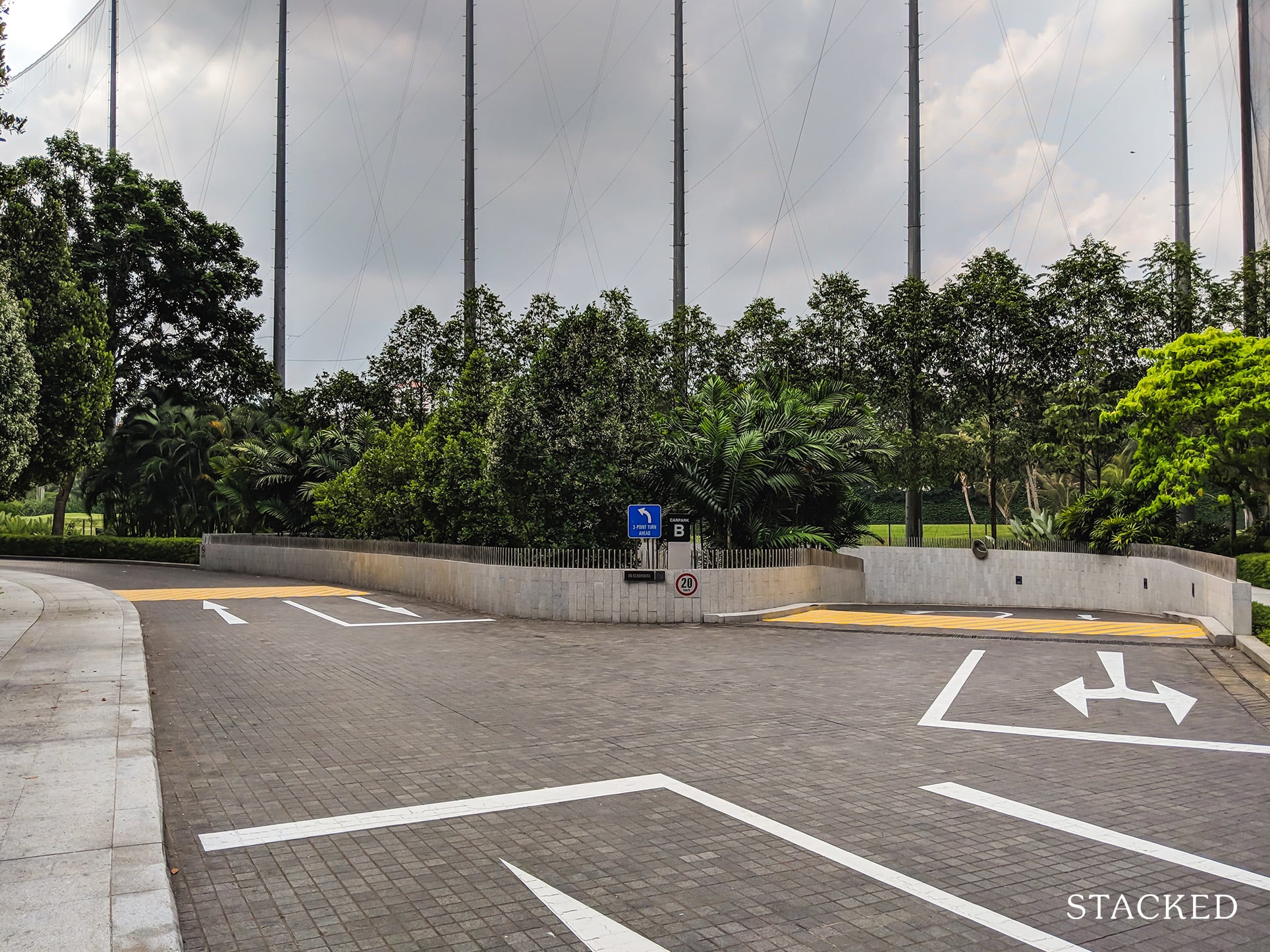 The roads are wide and the entrances are really easy to manoeuver around.
The design of the blocks are really uniquely designed and looks almost Japanese like.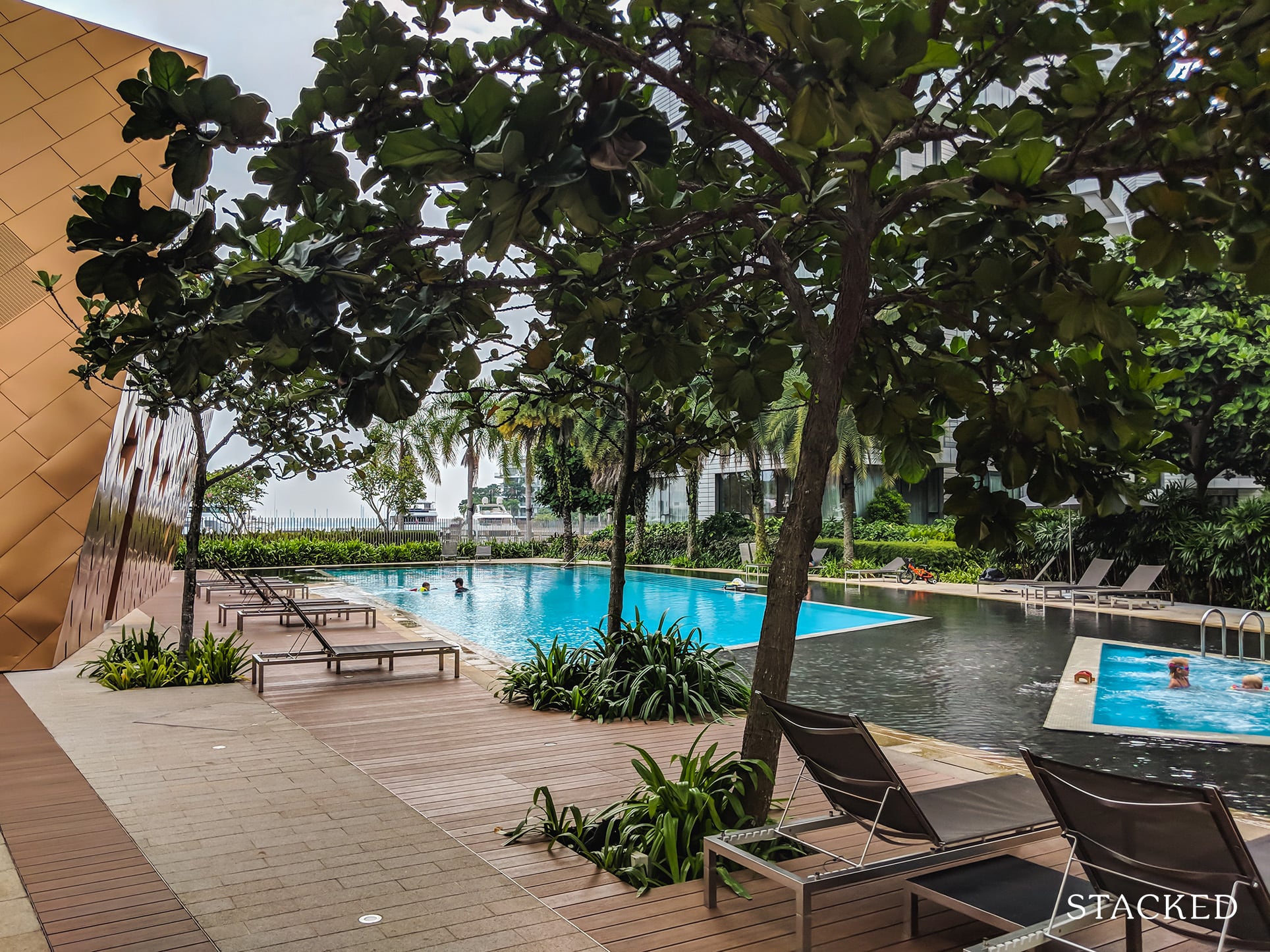 There is another swimming pool located further along the waterfront. This one is a lot smaller and more private as well.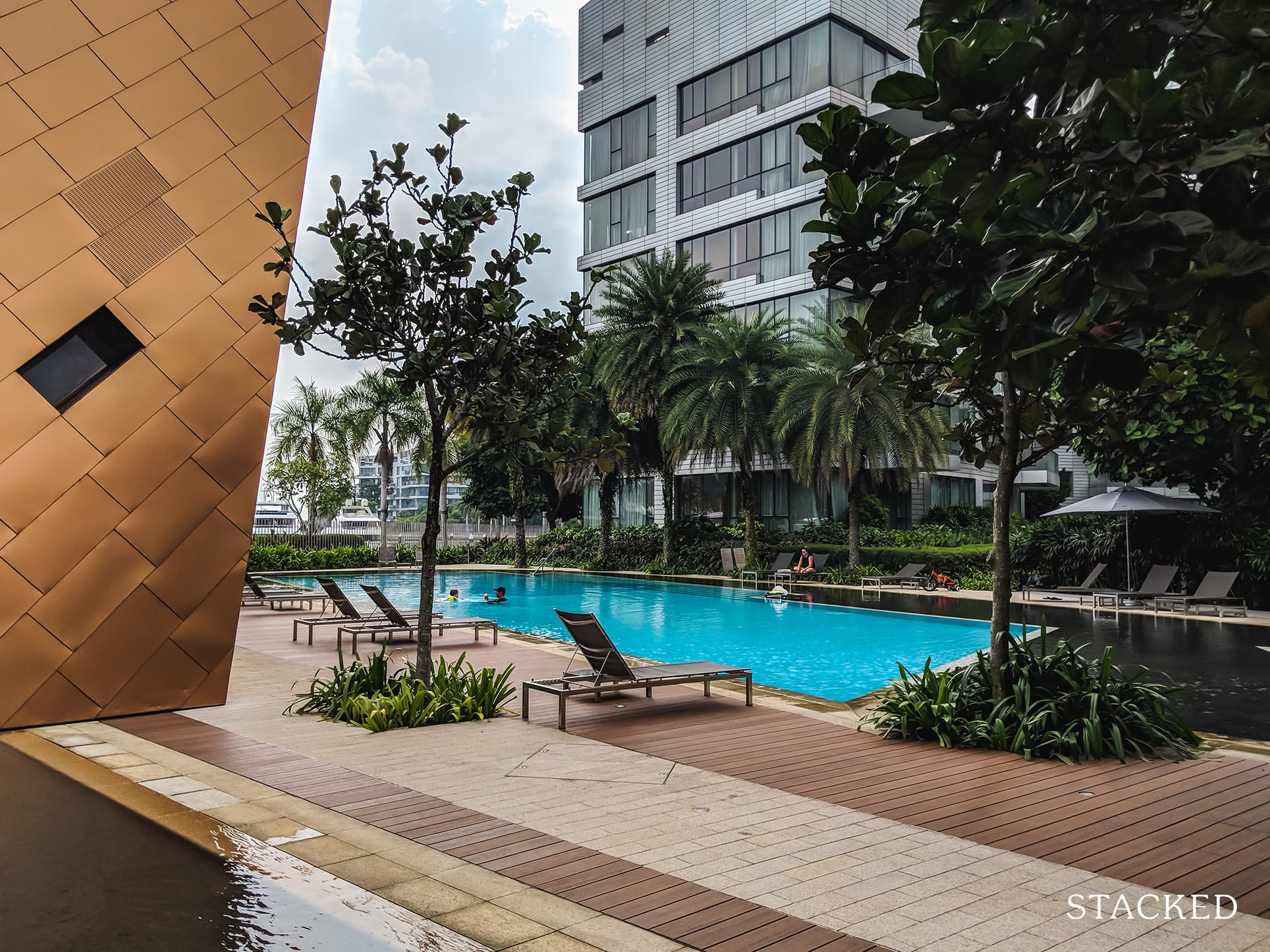 Again, these areas could get quite crowded on weekends, and I do think some of the common spaces could have been utilised better (more on that later).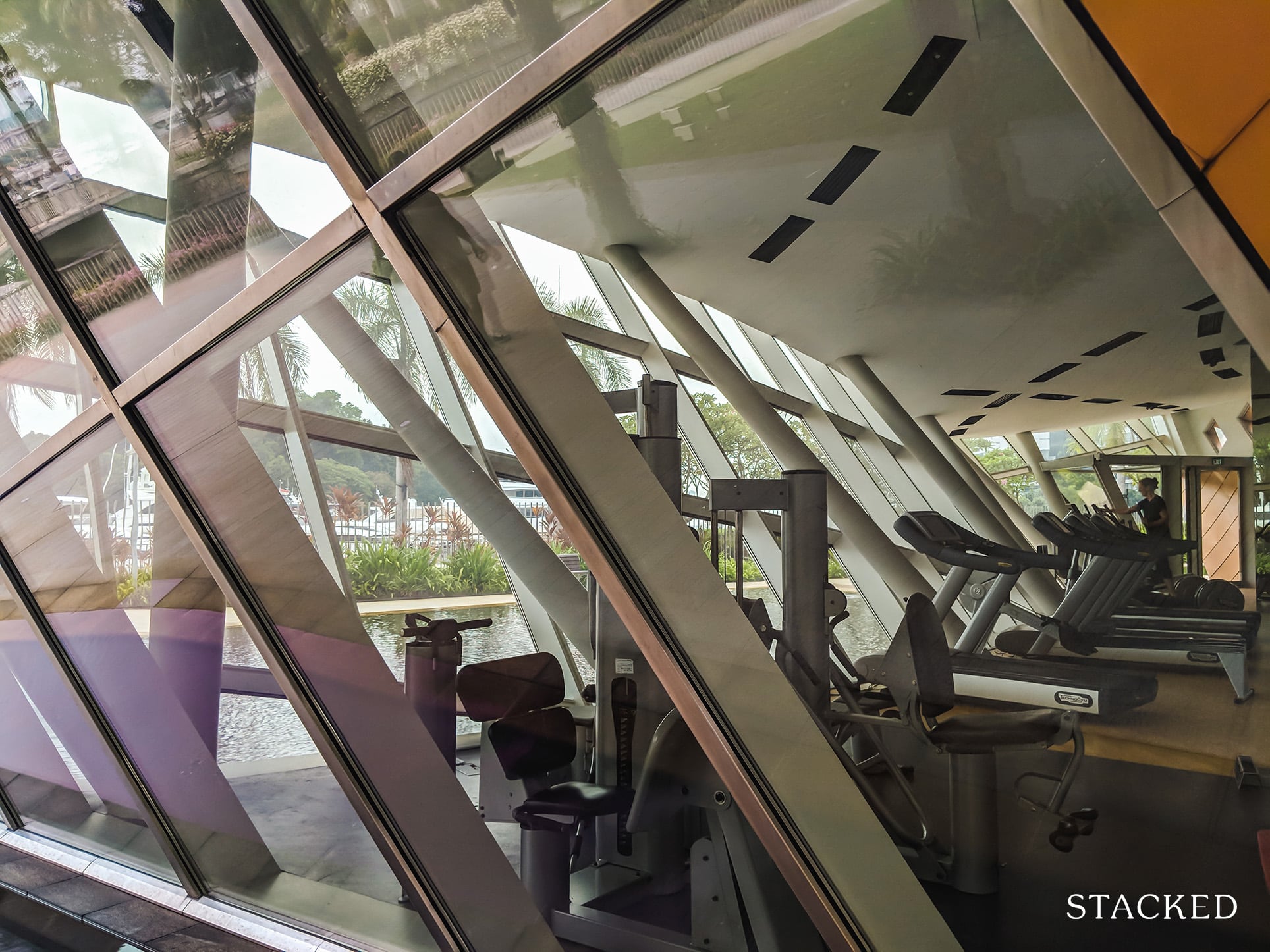 To the left of the pool is a smaller, similar structure to the clubhouse that houses the gym!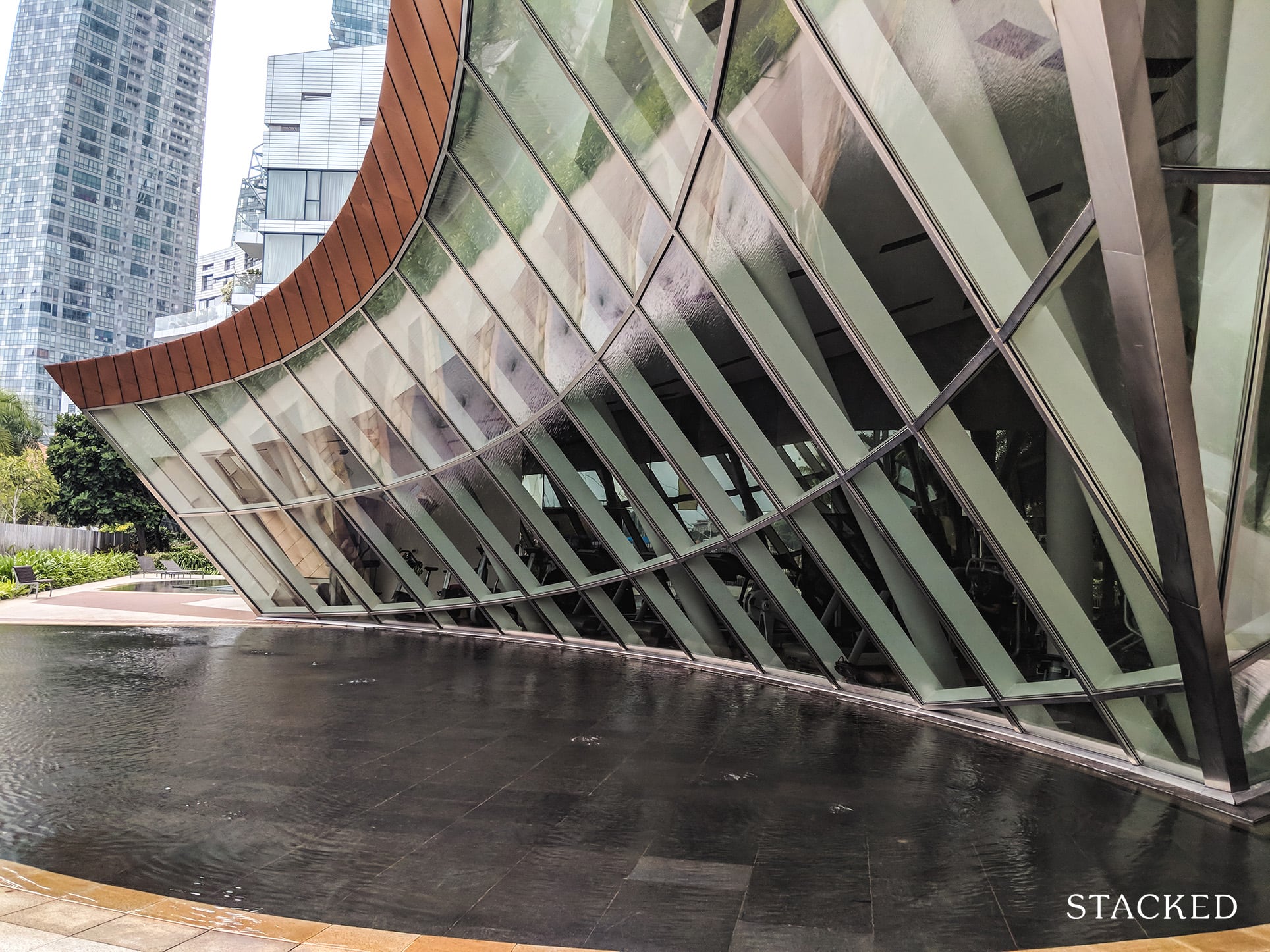 Without a doubt, this is one of the nicest condo gyms. The sloping and sweeping windows allow lots of light to come in, and on the other side, the views that you get of the waterfront while you workout can be almost therapeutic. The quality of the gym equipment is at the level that you would expect of a private gym and it does have quite a number of exercise machines.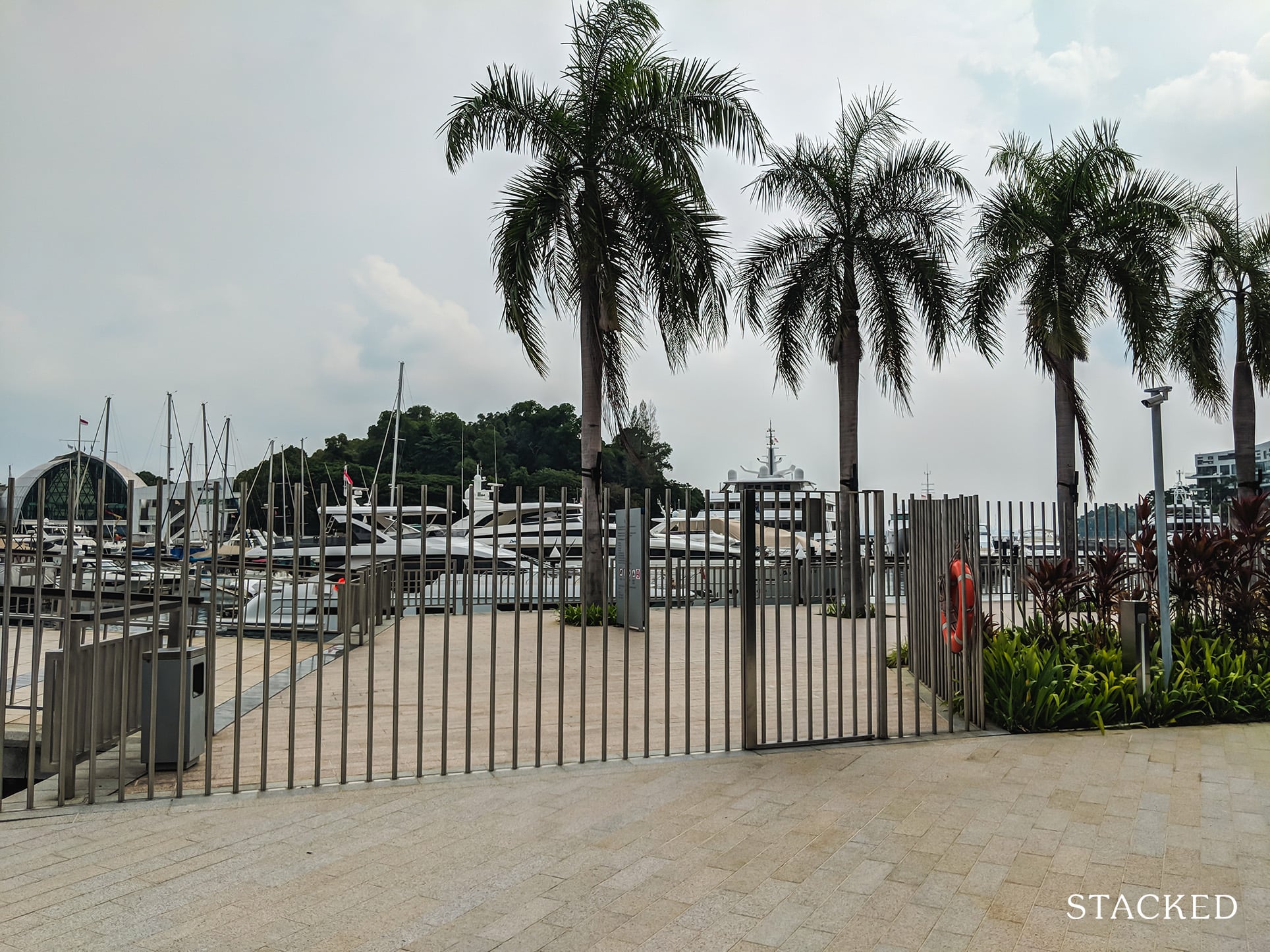 There is another side gate beyond the gym that leads on towards Carribean at Keppel Bay.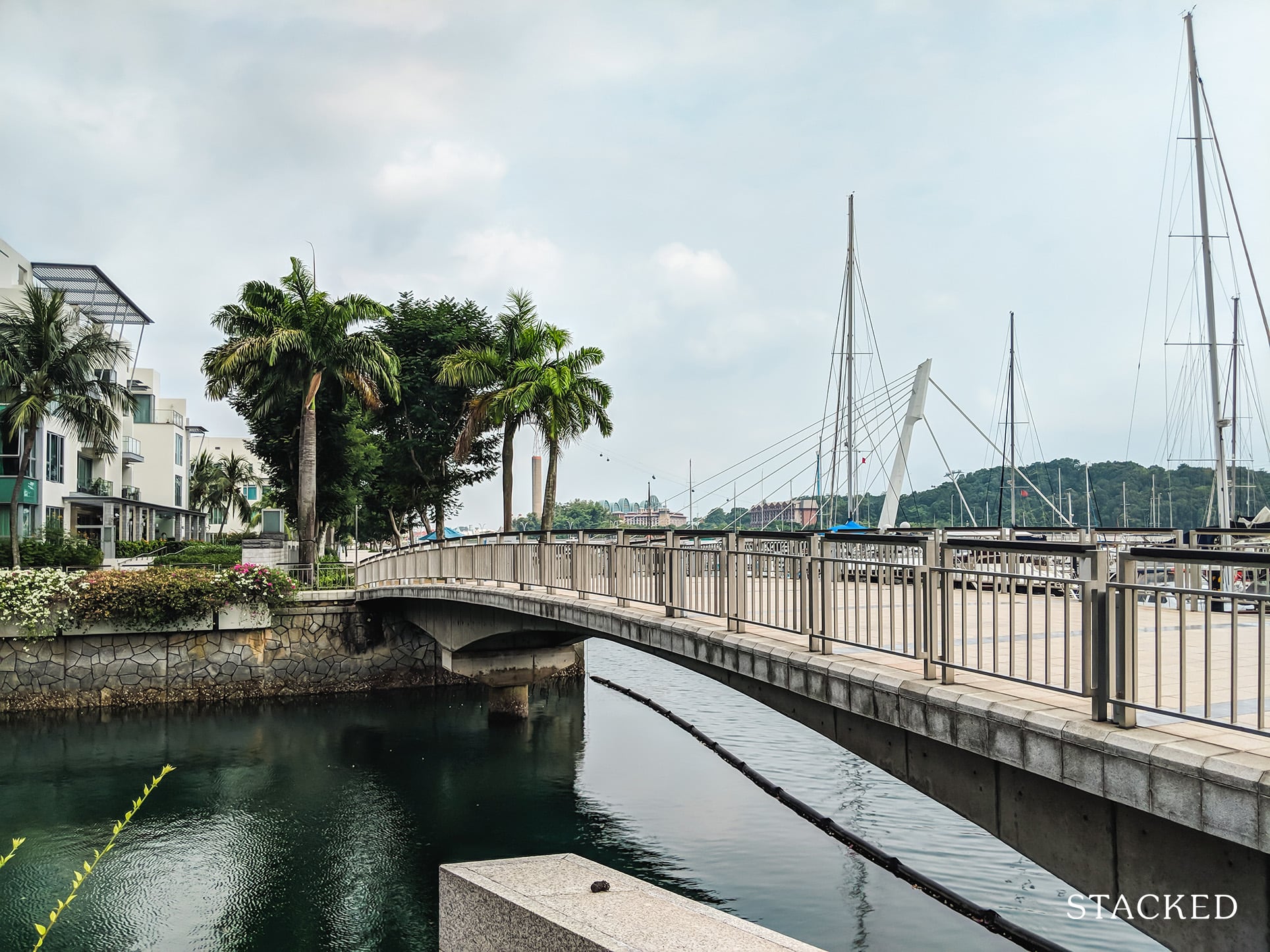 Nothing beats having a bridge and water views right outside your doorstep.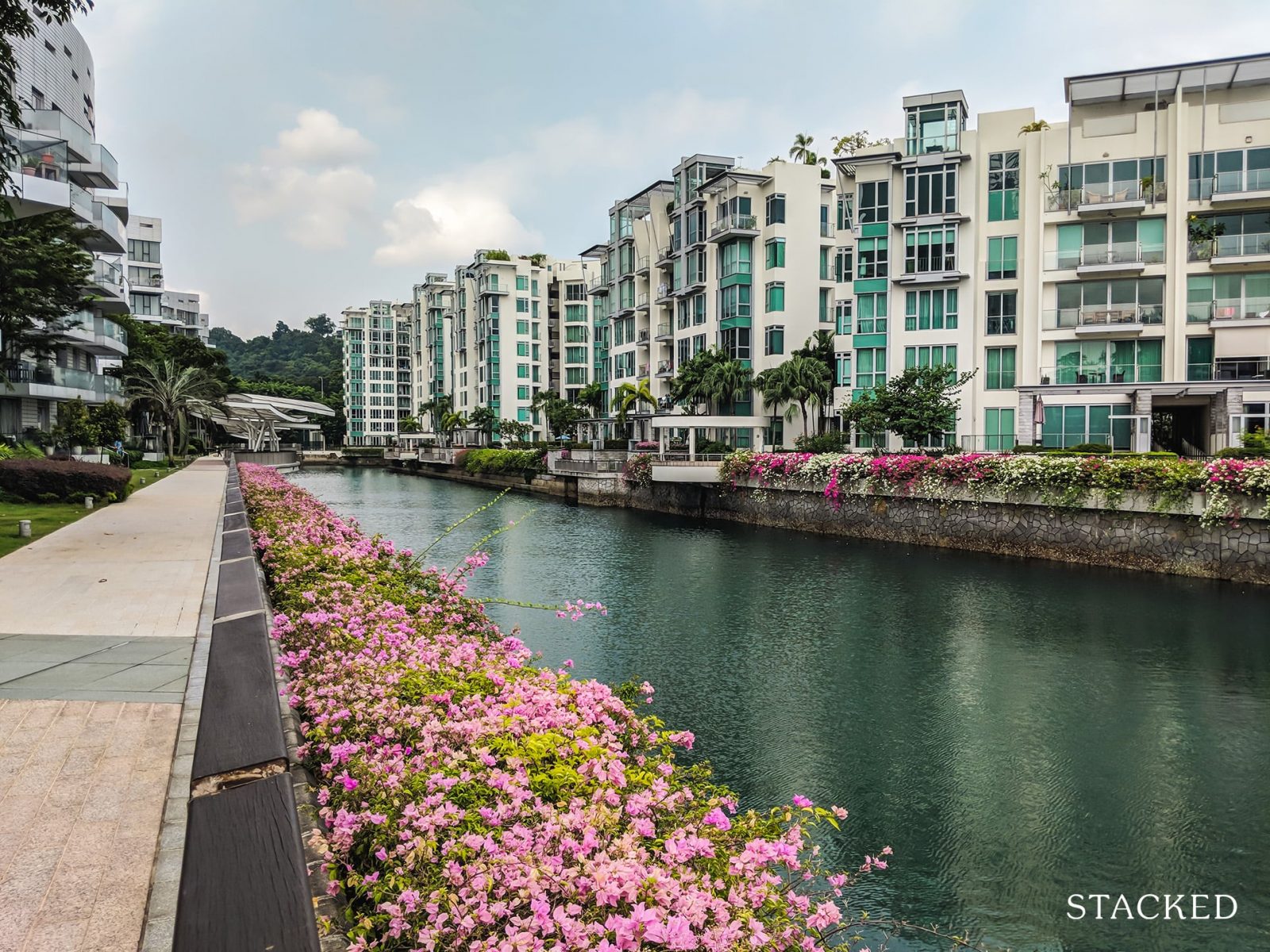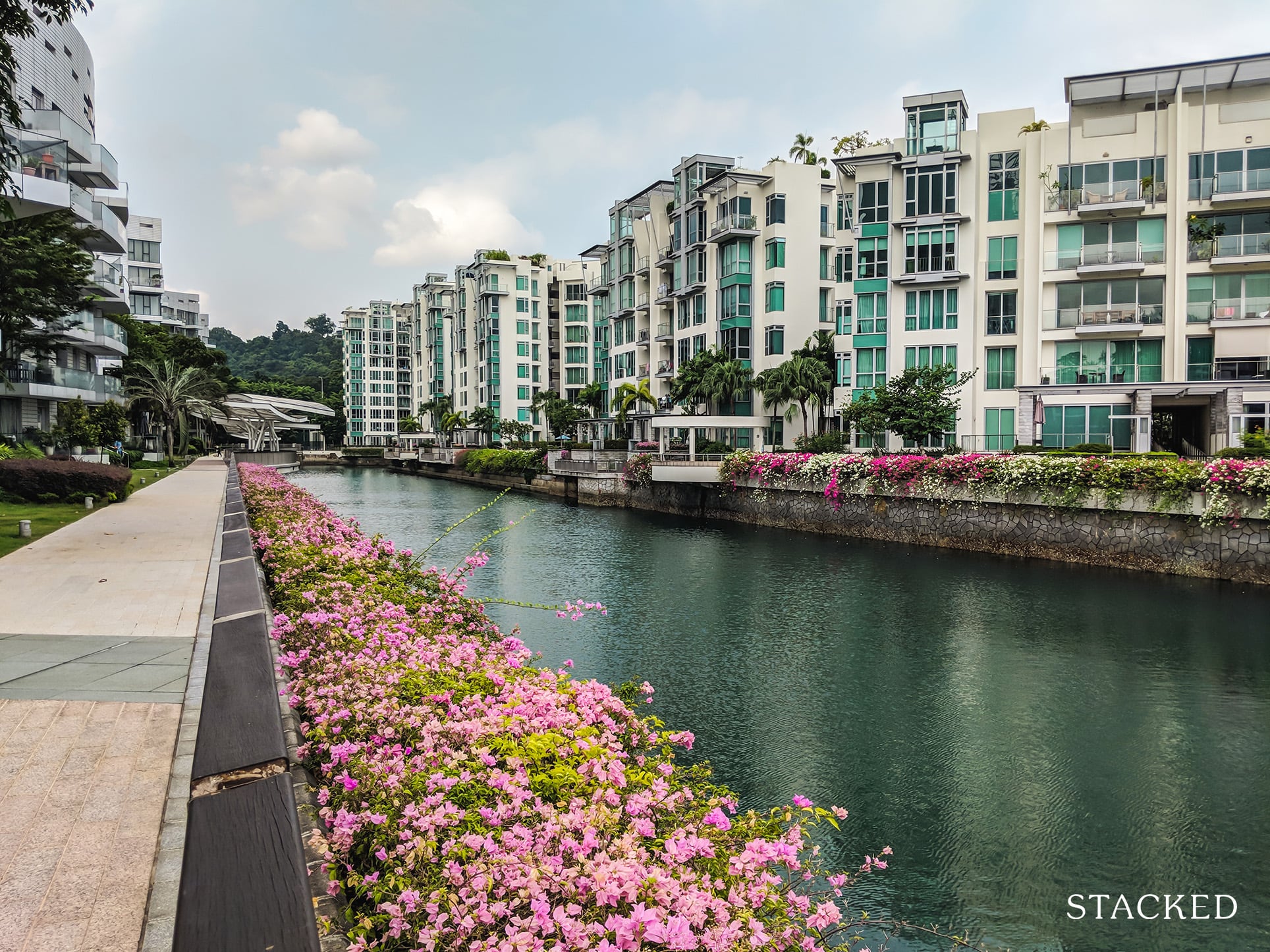 With the flowers lined alongside the water bank, it is really such a pretty sight. Walking along this pathway was certainly a pleasant one.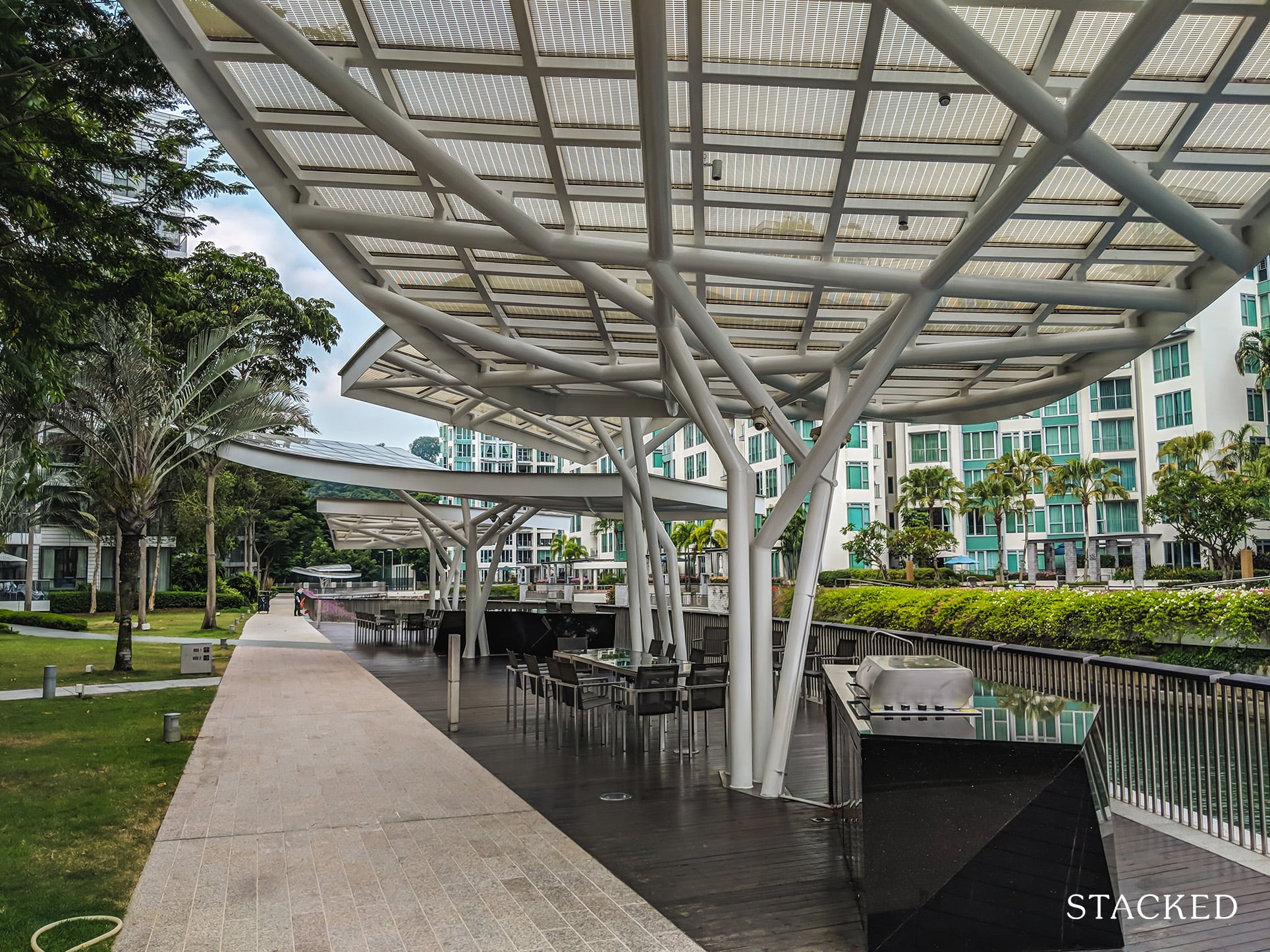 If you were to walk further down, you'll get to the barbeque pit area. It is a sheltered one and it does have quite a number of seating. Barbeque pits are one of the most common facilities that you will see in condos, and this one has got to be right up there in terms of its location.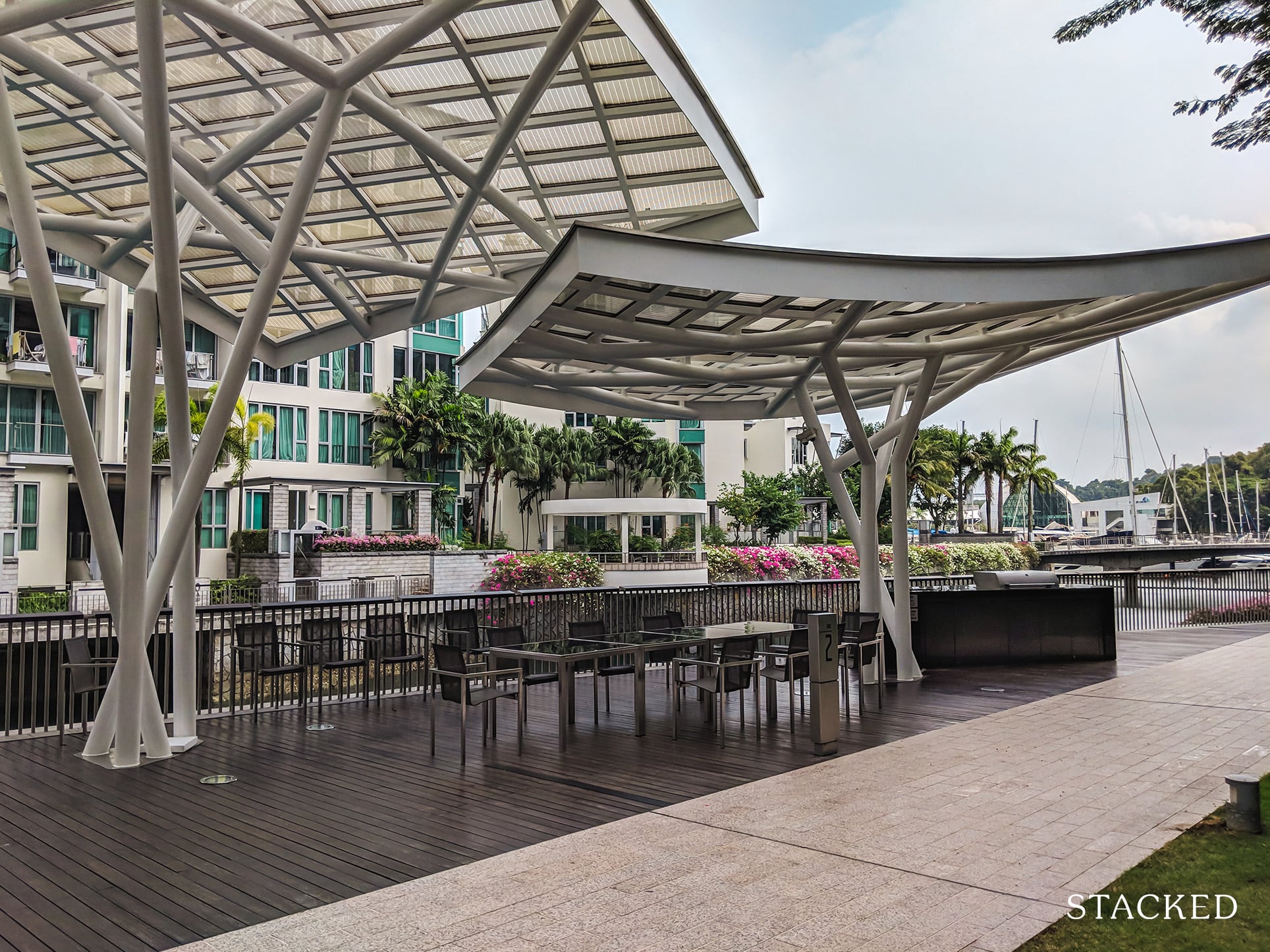 I can't think of many better ways to spend a weekend; having a barbecue and a few beers by the waterfront.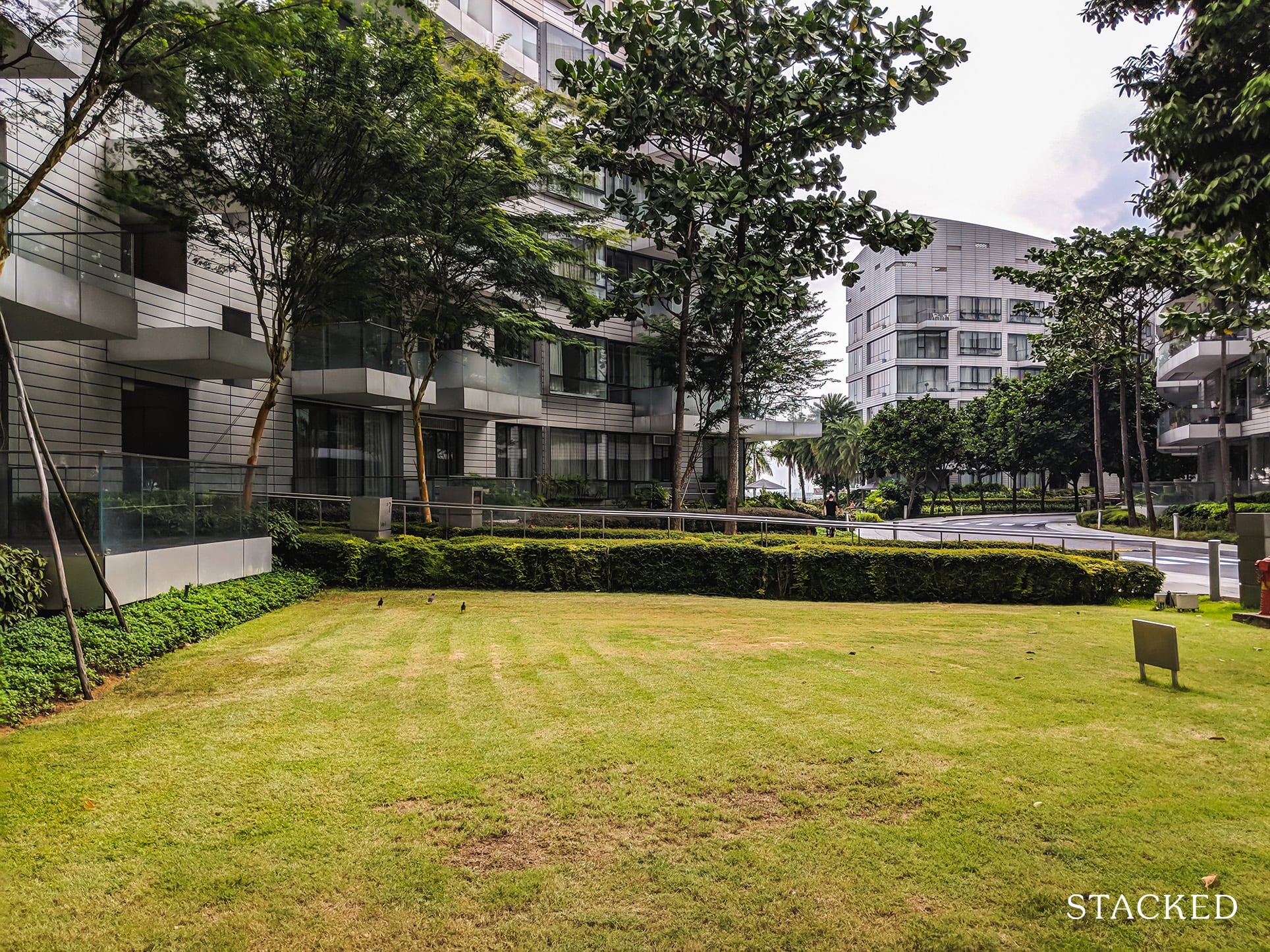 Lots of open spaces that help emphasise the size of the development.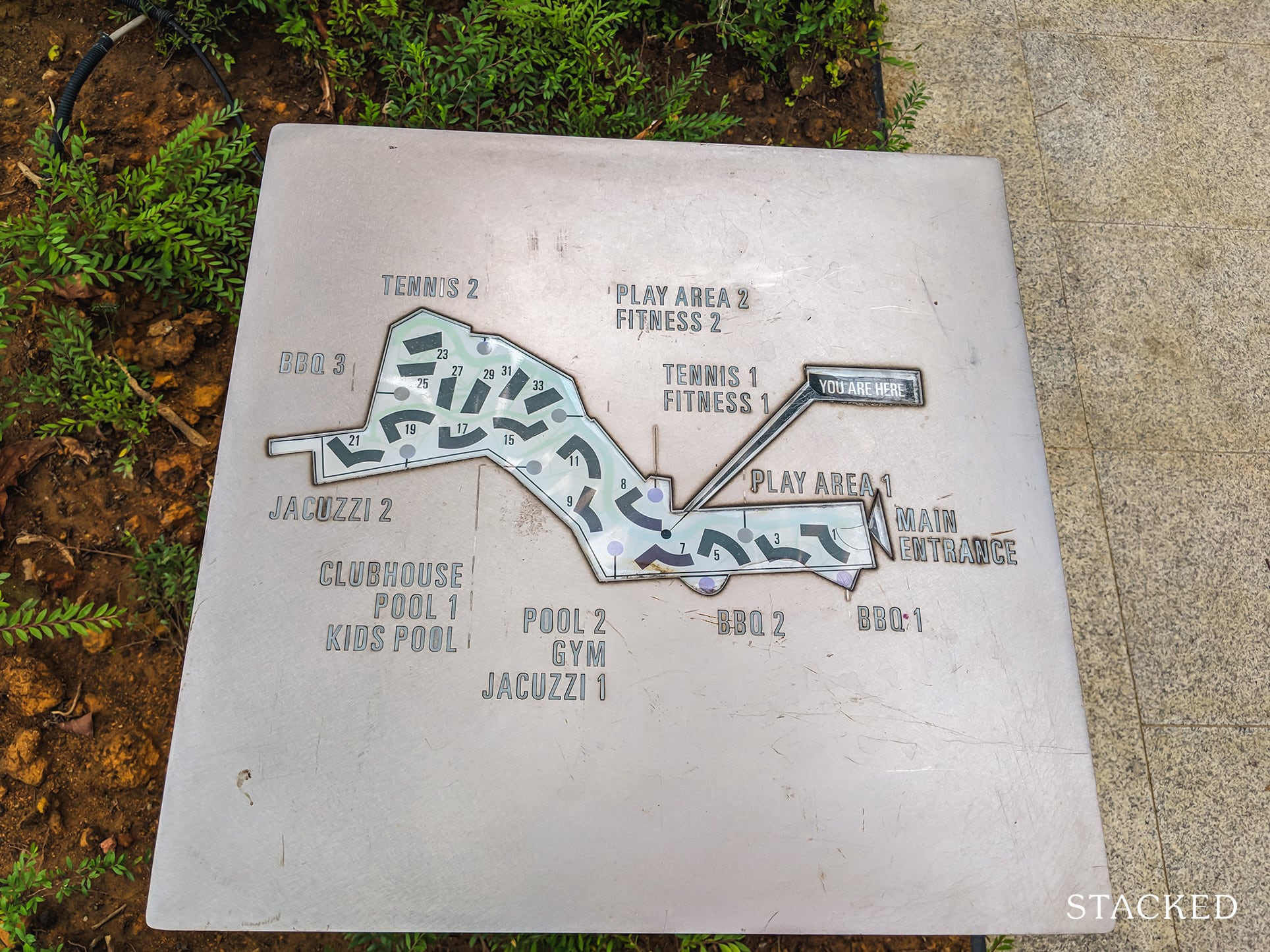 Seeing as how large the estate of the Reflections at Keppel Bay is, there are site plans to help you navigate around.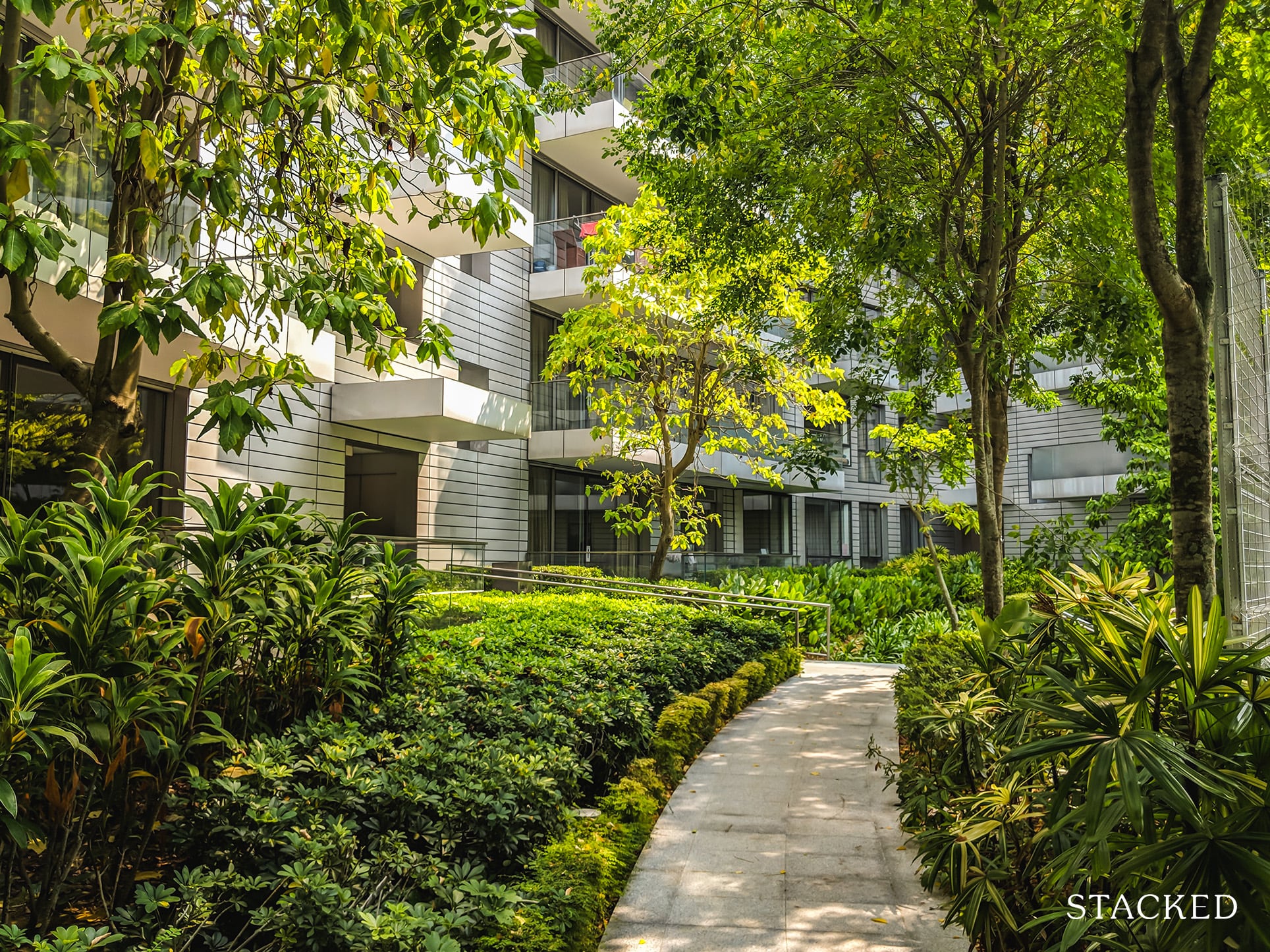 It's worth repeating, the landscaped greenery really helps to create a homely and relaxing environment.
There is another side gate here that will lead you towards the Keppel Club side.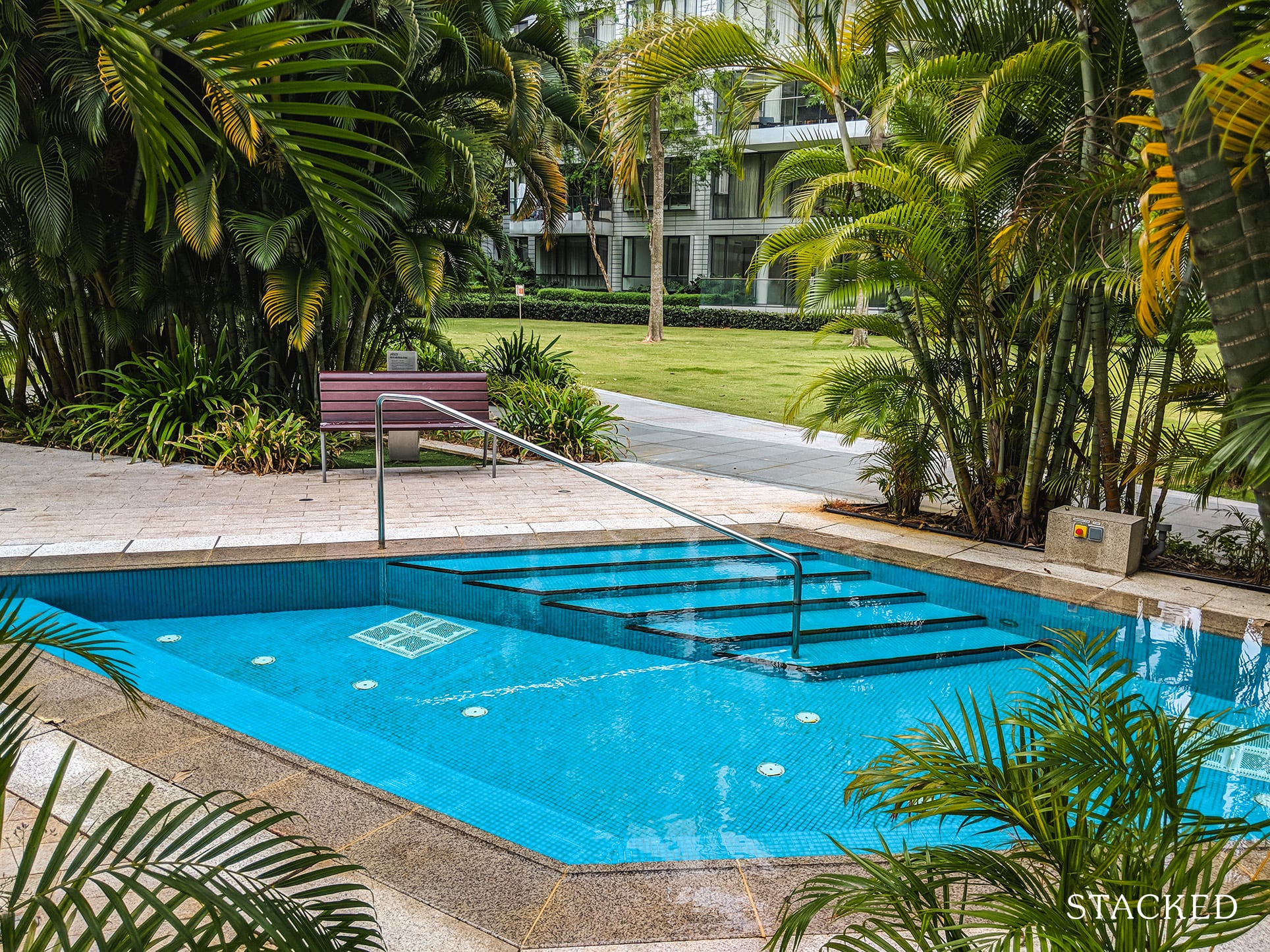 In front of the furthest apartment blocks, there is a really private jacuzzi space.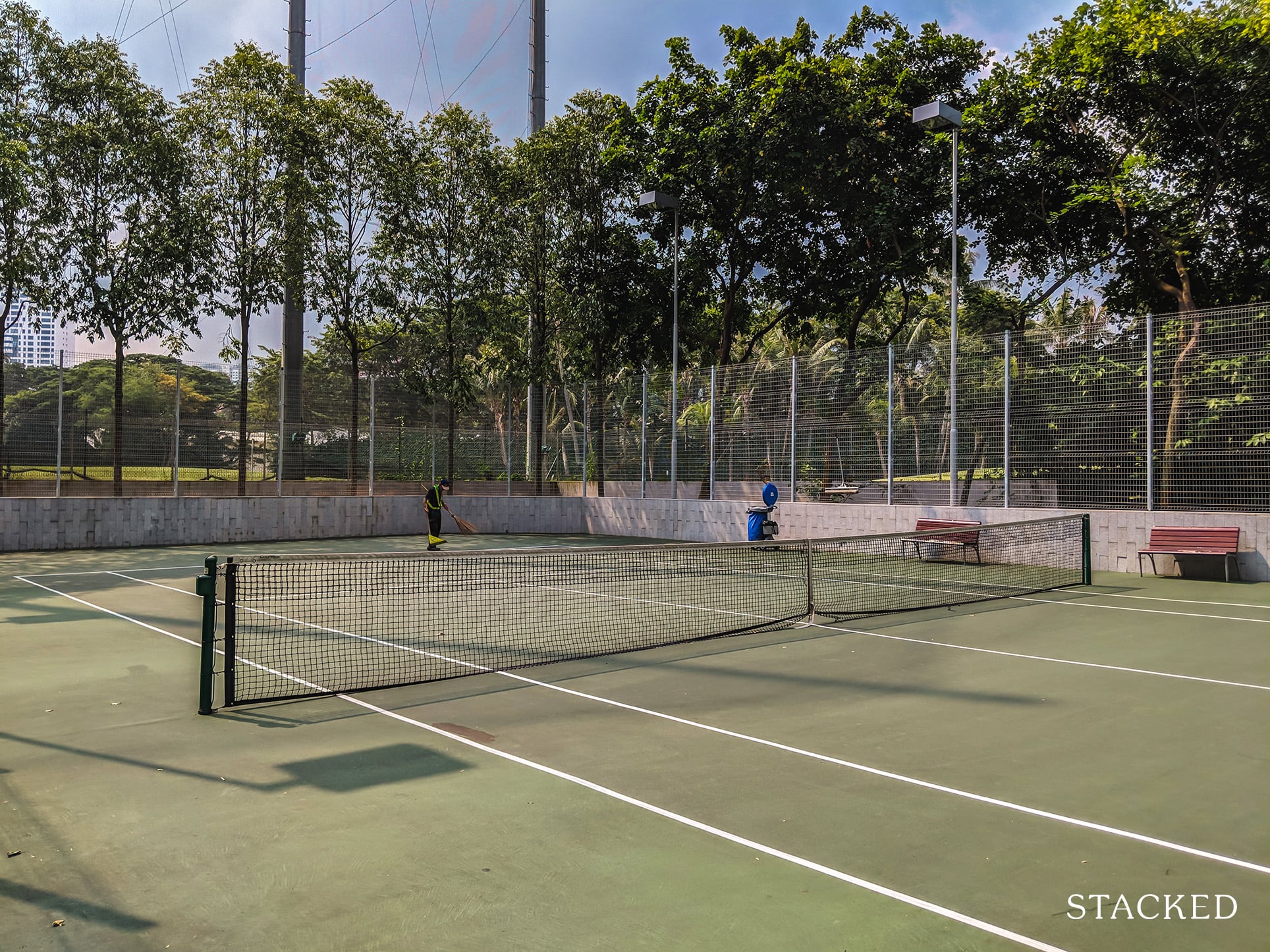 This is one of two tennis courts, which is expected here, given that there are more than 1000 units.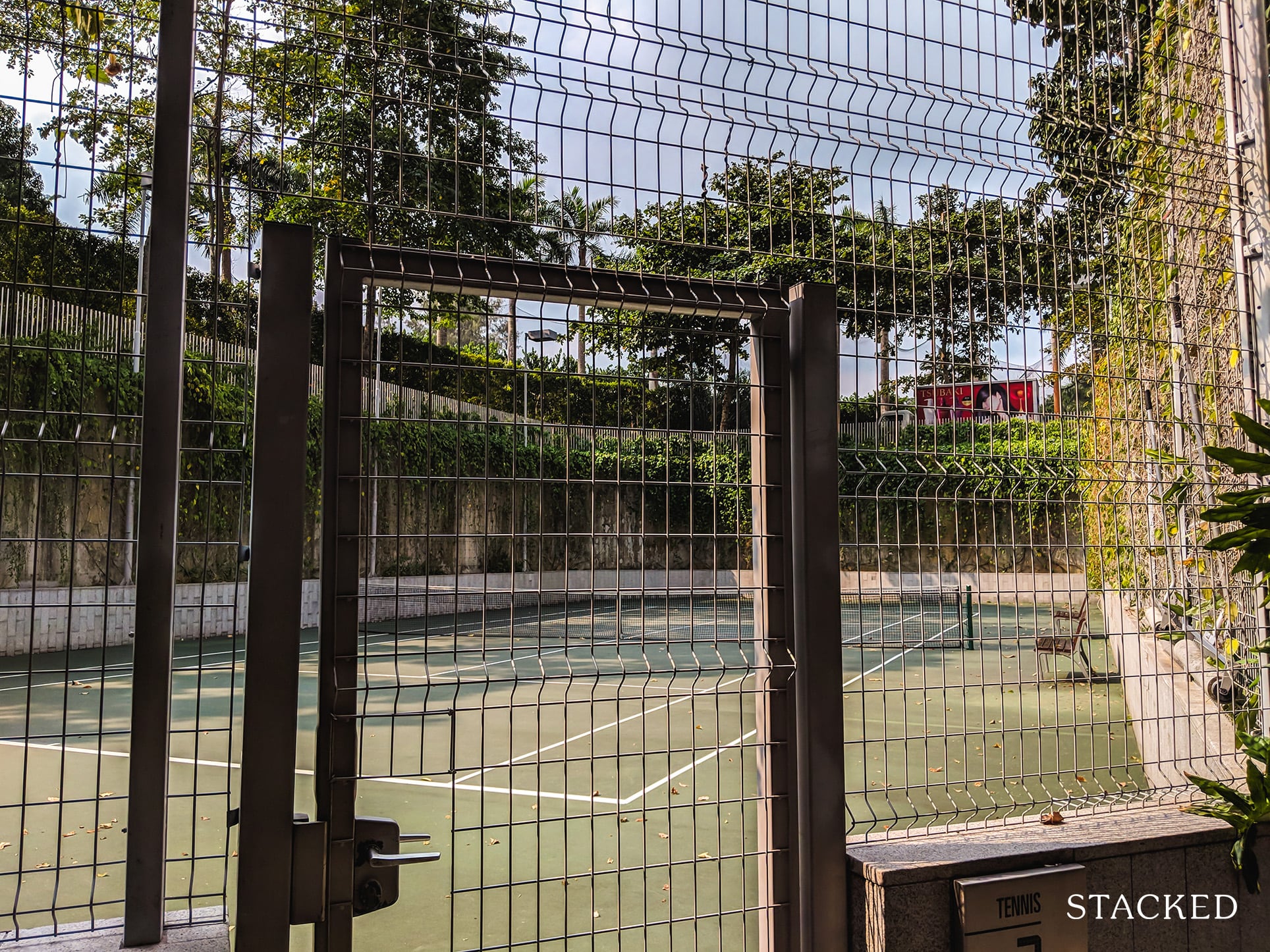 The other tennis court is some distance away and is quite distinctive because instead of the usual fences around, it is actually a sunken one.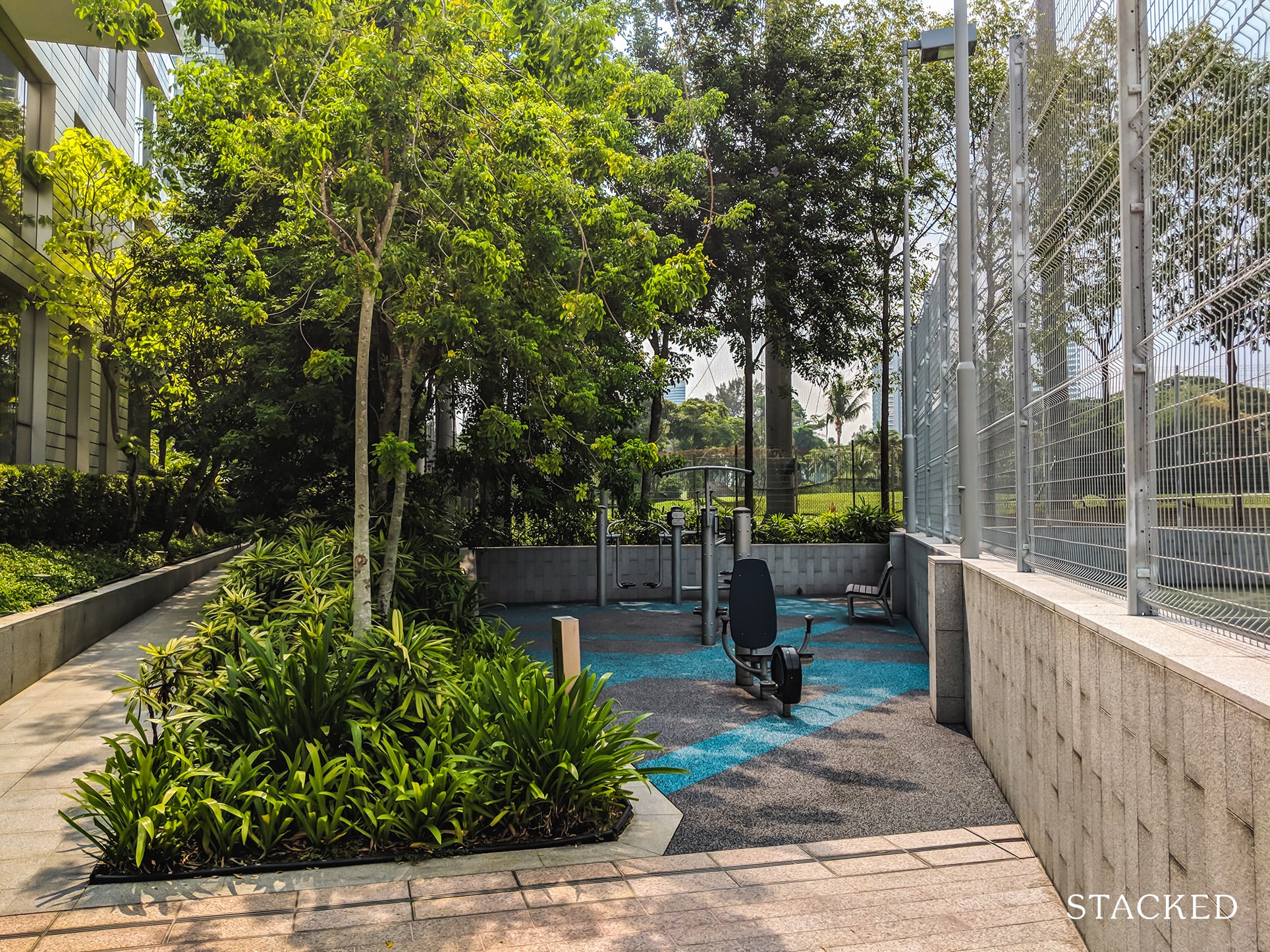 With an outdoor fitness station right next to it.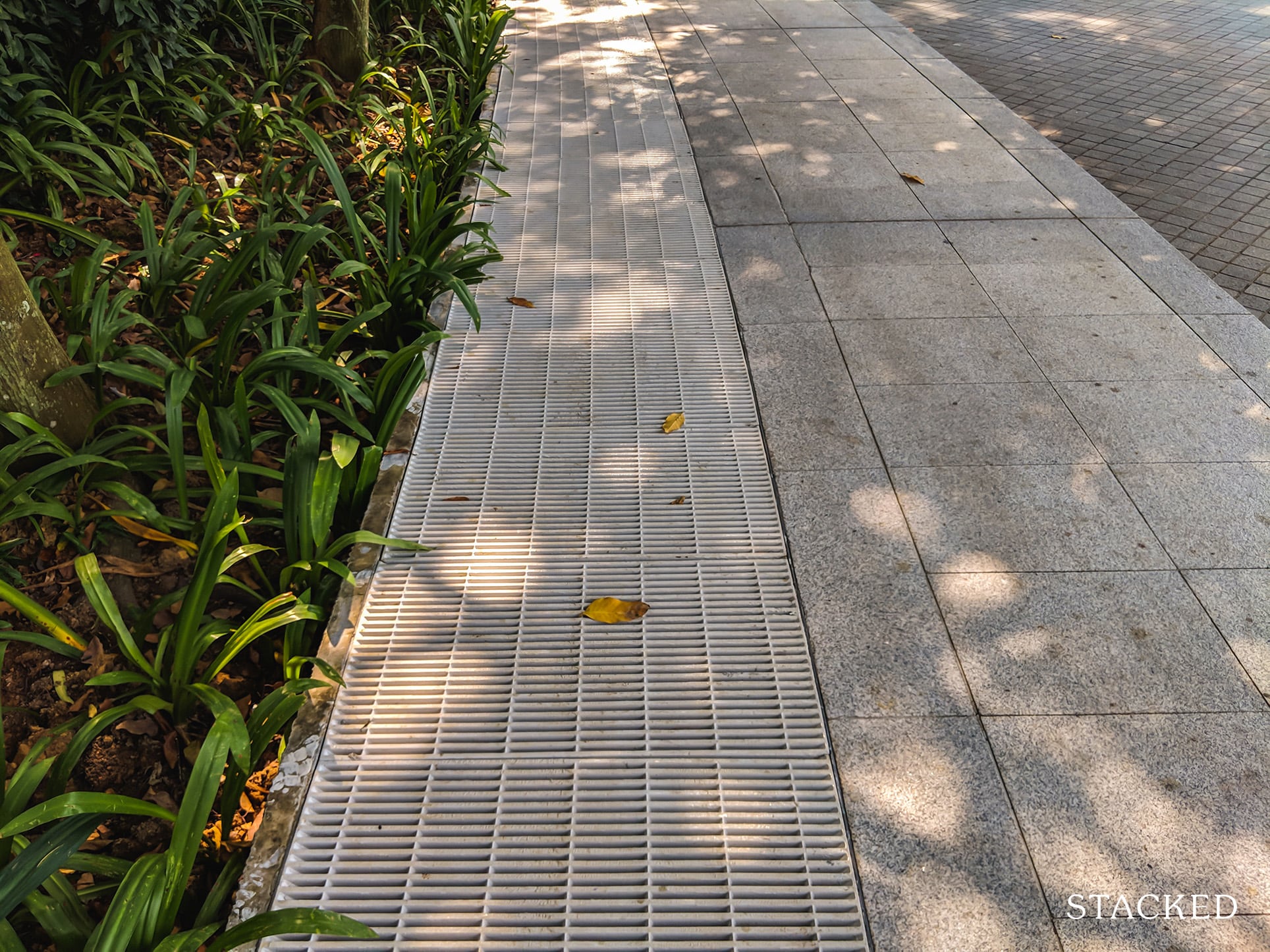 A small detail, but it is worth pointing out. I like how they have ensured that the colour of the drain coverings matches the pavement colour. So it looks uniform and blends in from afar.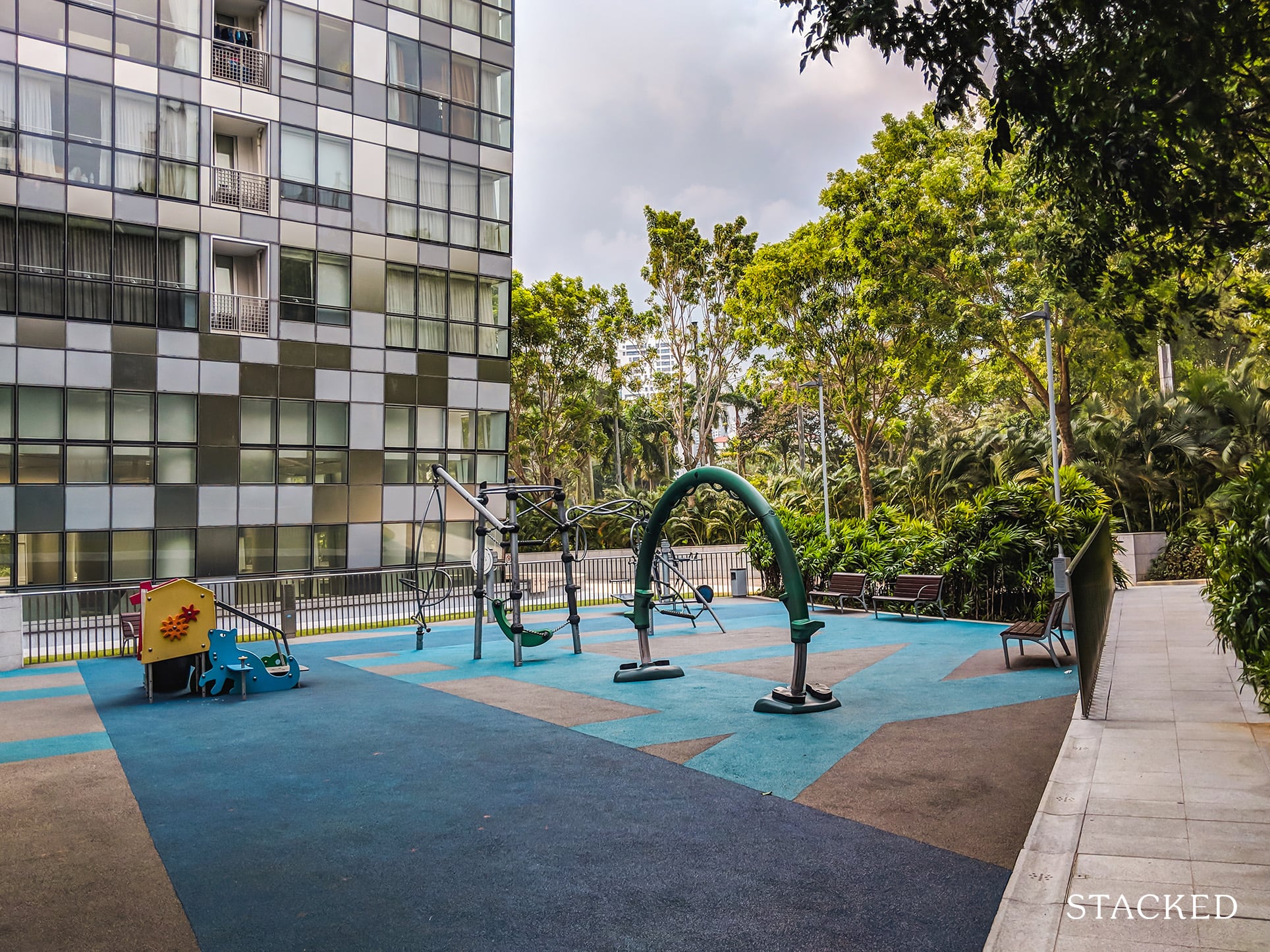 Just before we get to the tower blocks, there is quite a large space dedicated to a children's playground.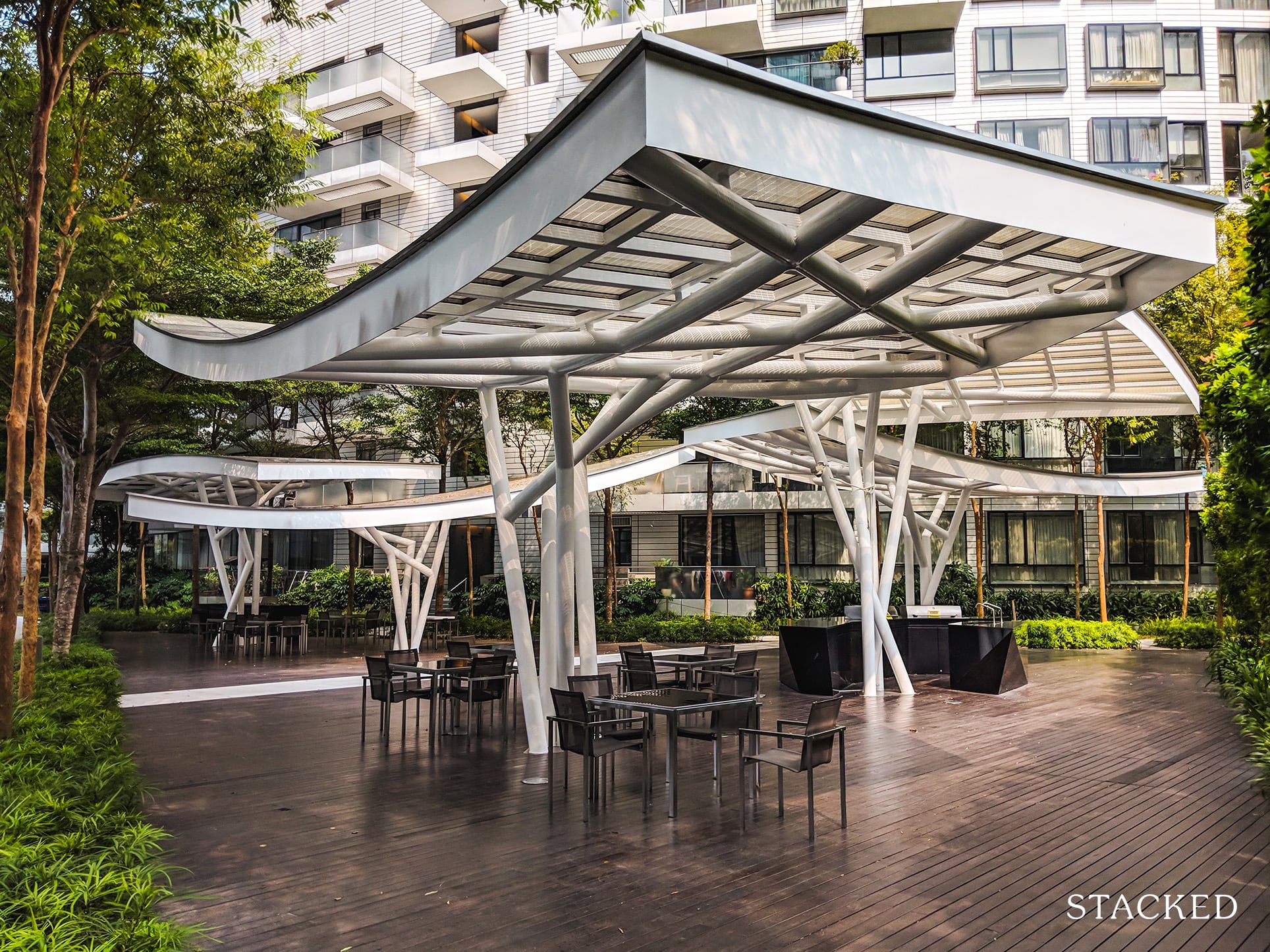 Closeby, there is a sizeable barbeque pit area. Although this one does not enjoy the views over the water, it is nevertheless a nice space as well.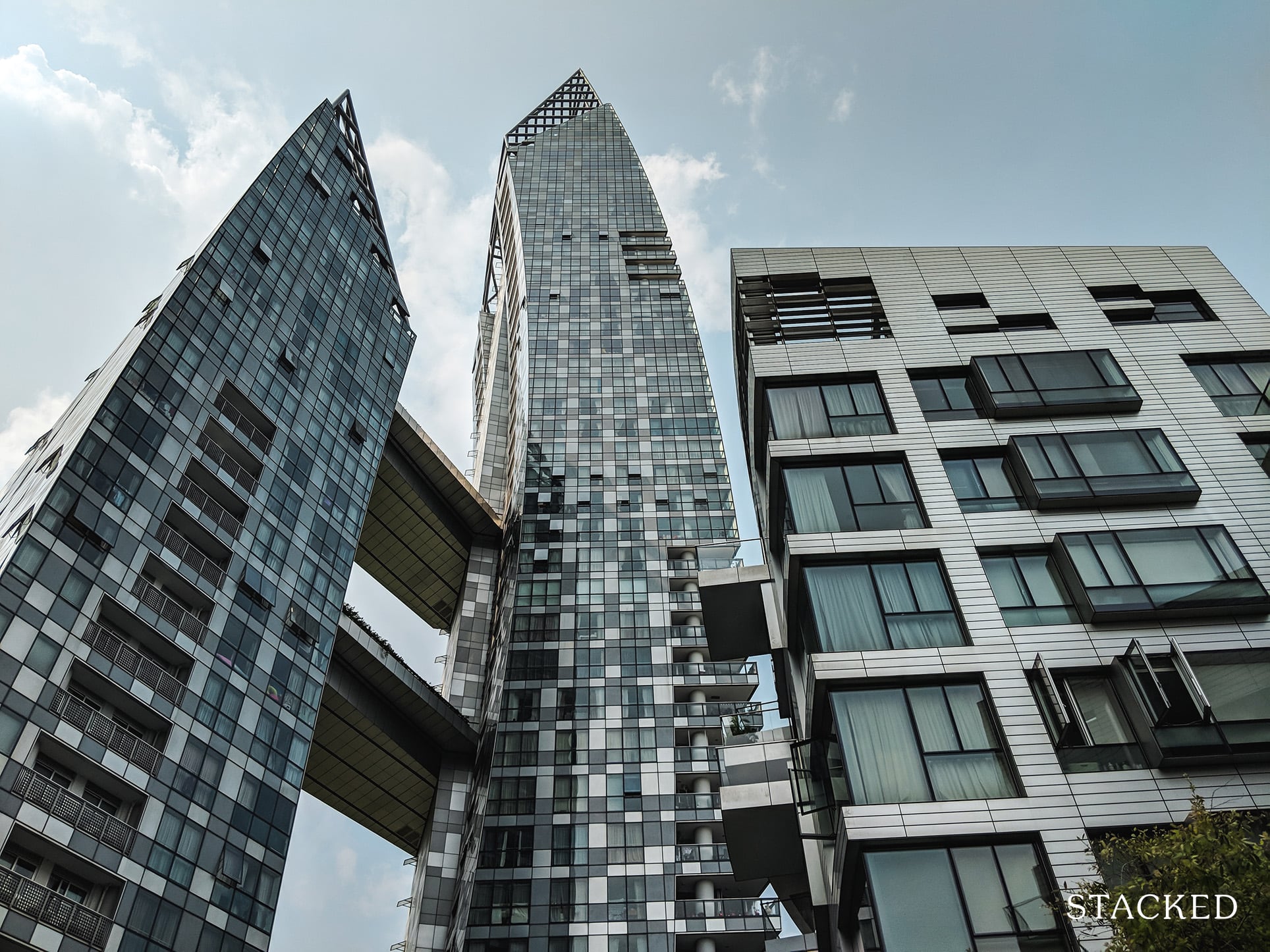 Now, onto what makes the Reflections at Keppel Bay so special, the 6 sky towers!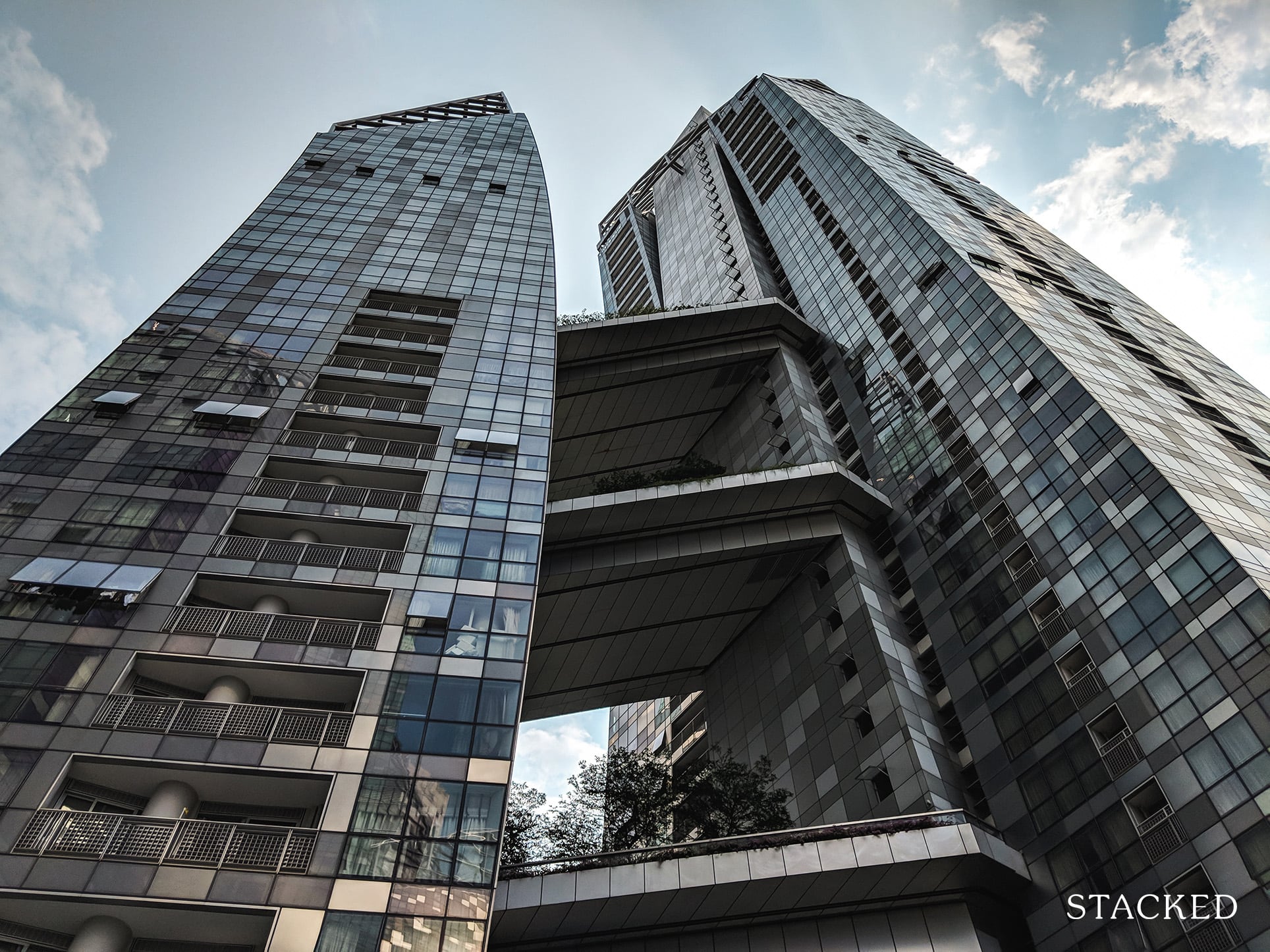 It is certainly quite marvelous to look at.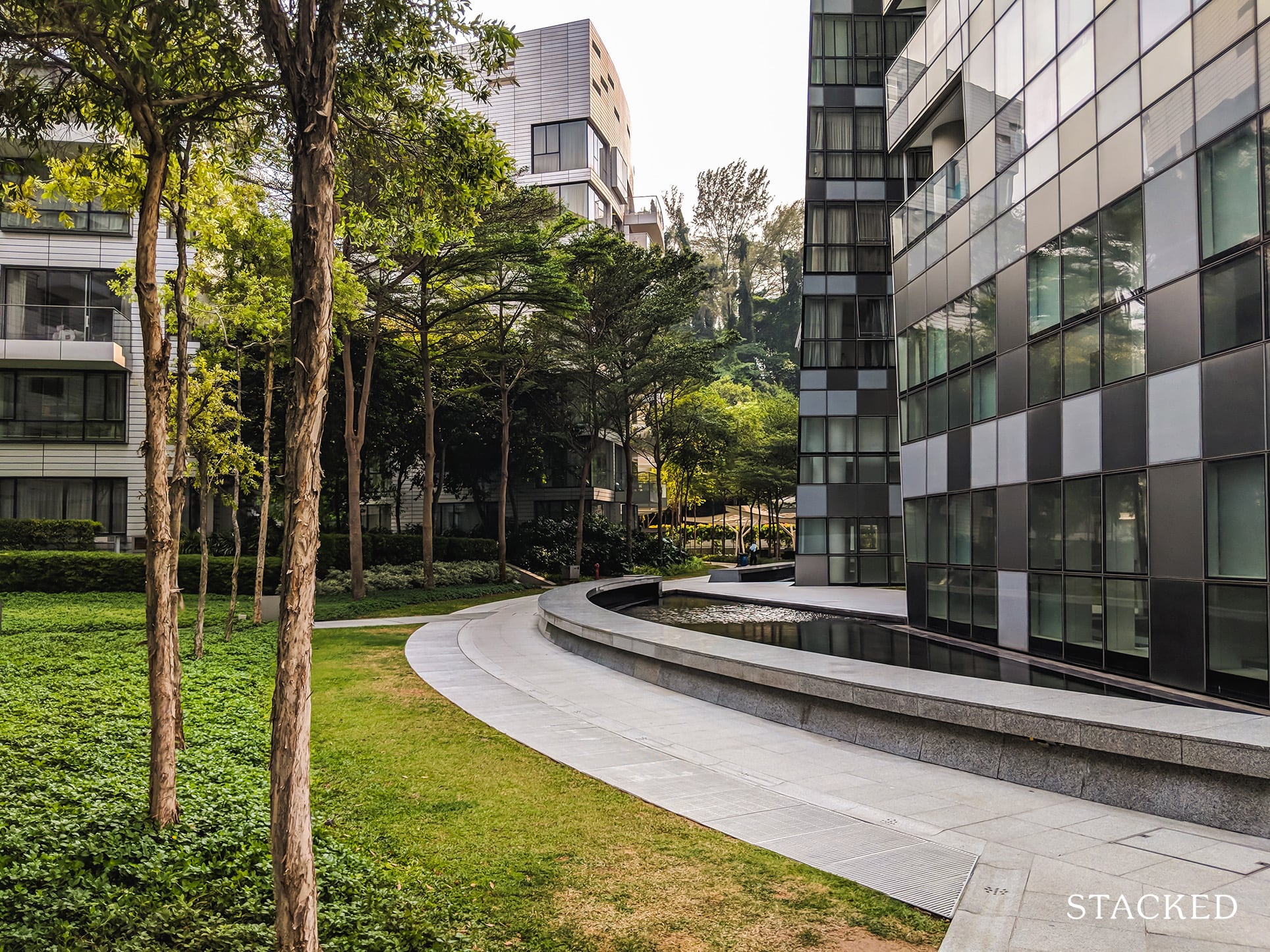 I think one of the most jaw-dropping features of the Reflections at Keppel Bay is something that cannot be seen from the outside.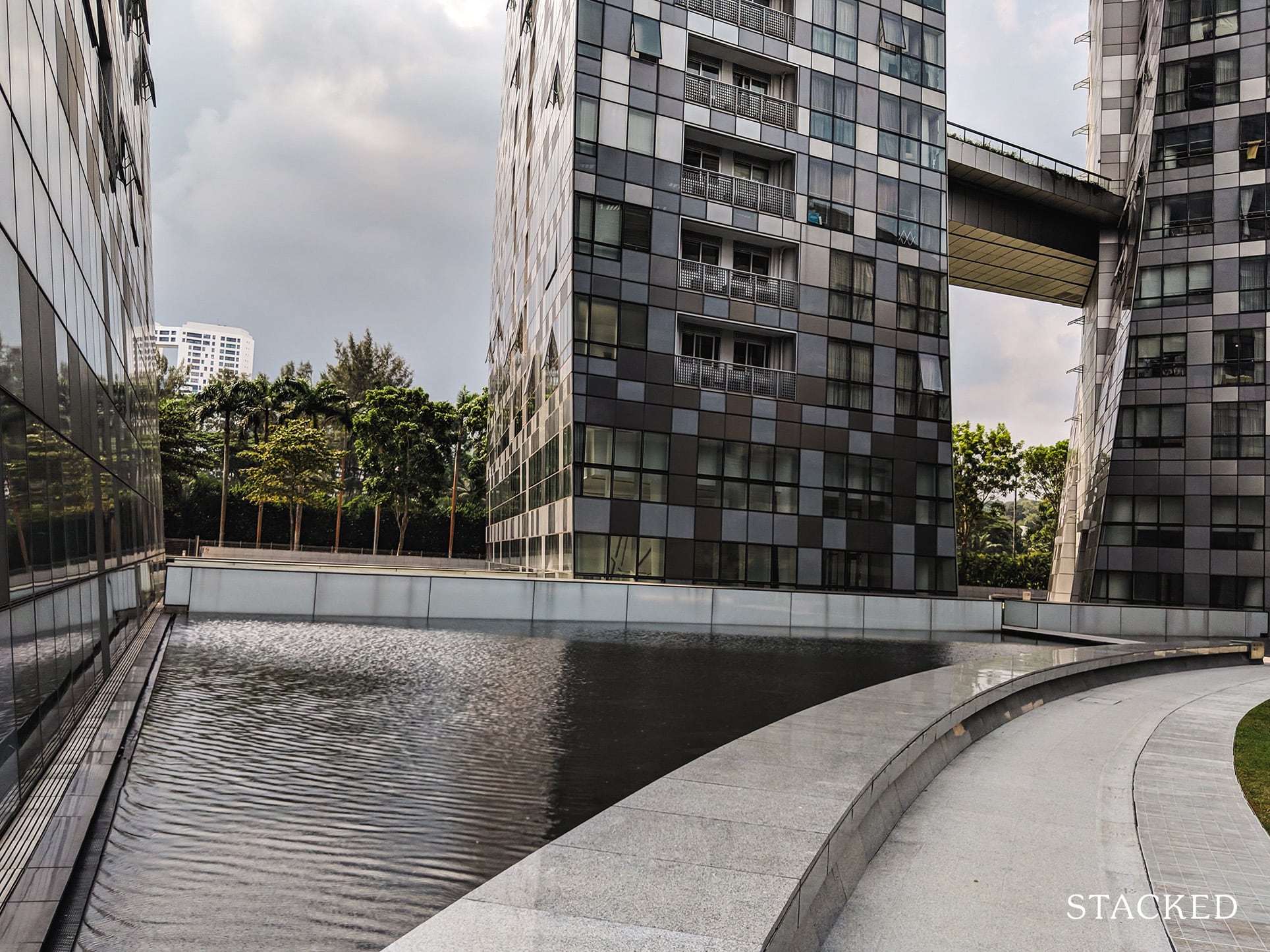 Here's a sneak peek of it.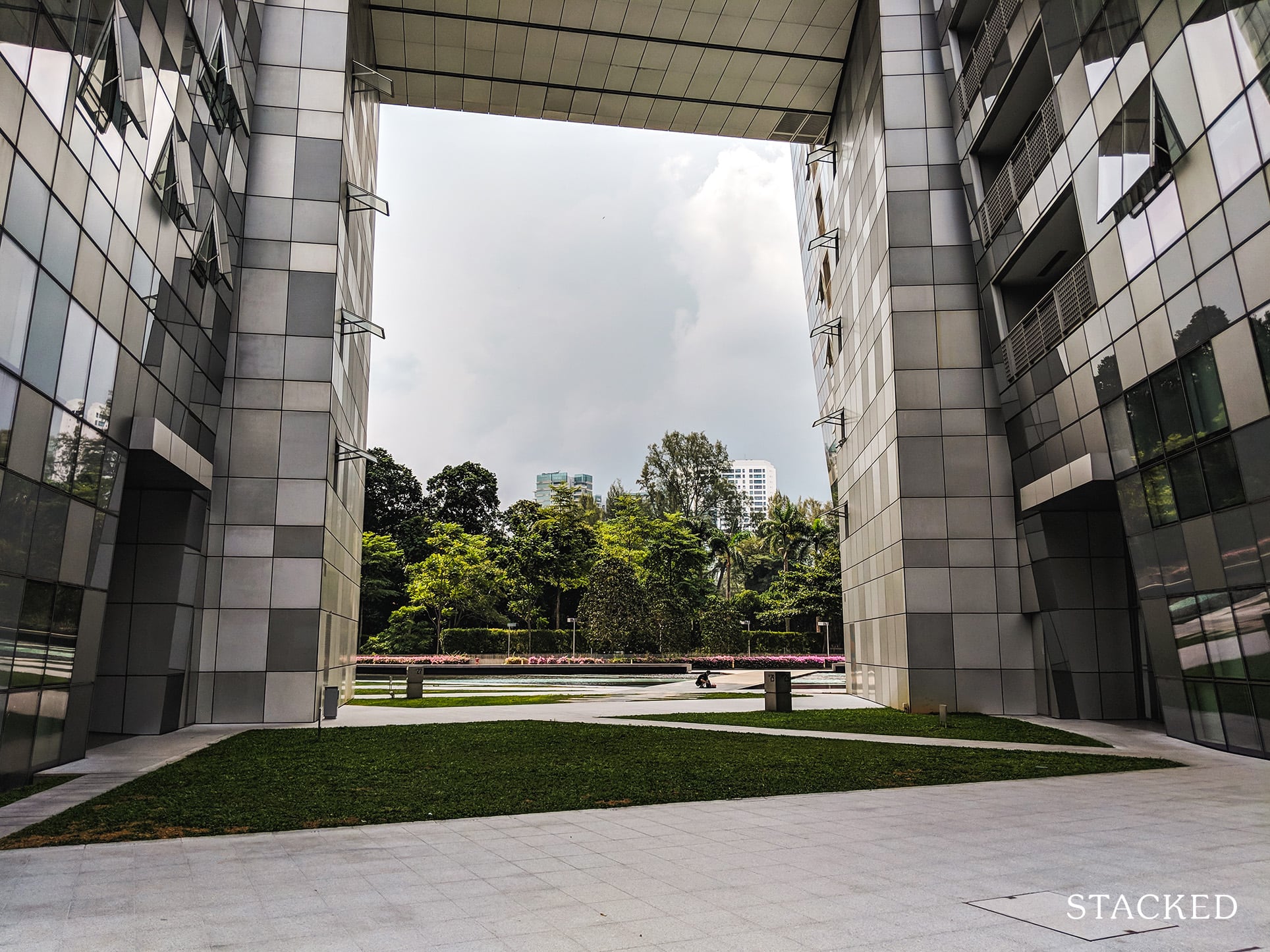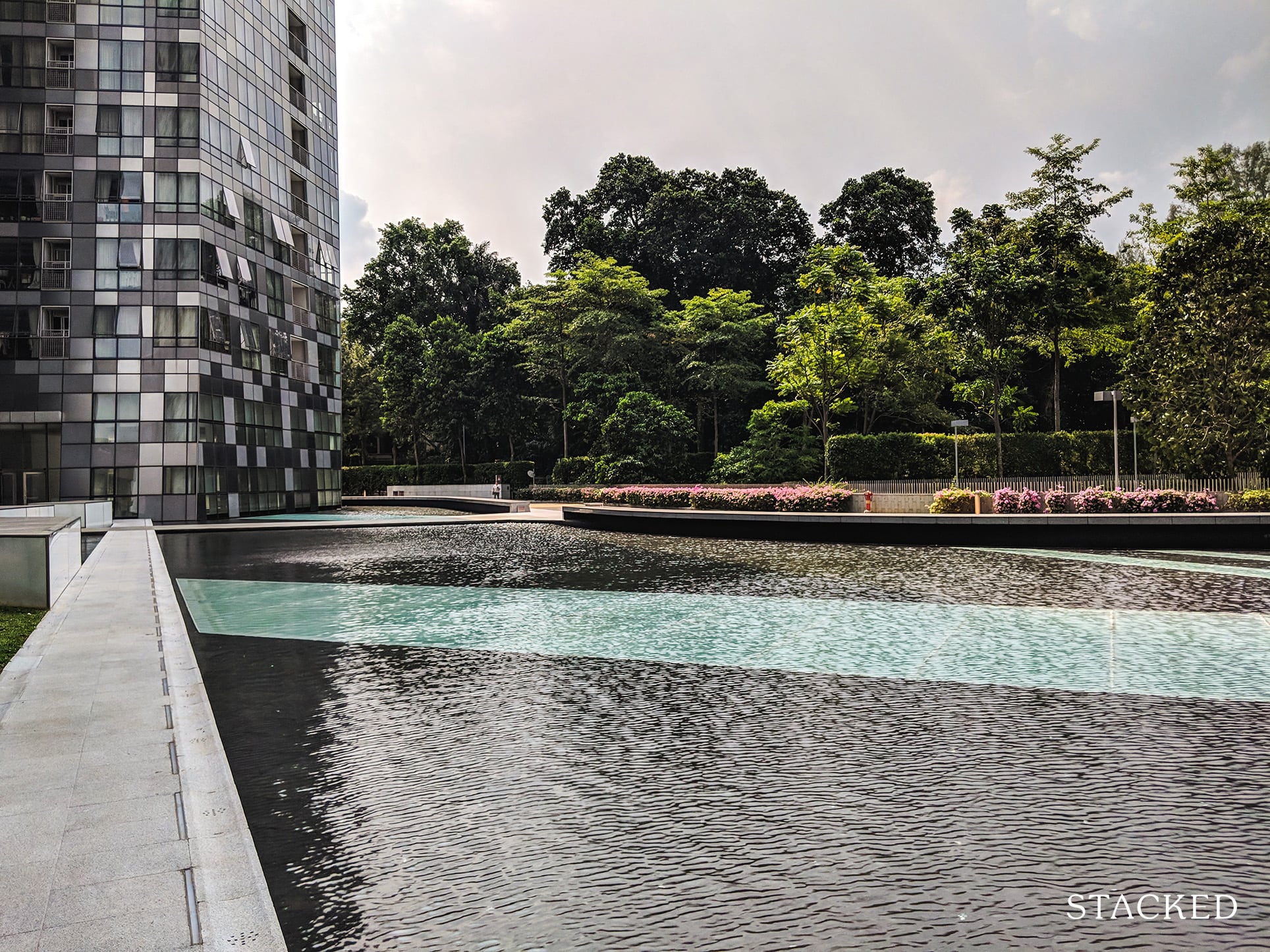 So right under the tower blocks, you have this absolutely insane 100,000 square feet water feature. Or as they like to call it, a reflecting pool. Just to put things in perspective, the land size it occupies is bigger than a lot of smaller condos in Singapore.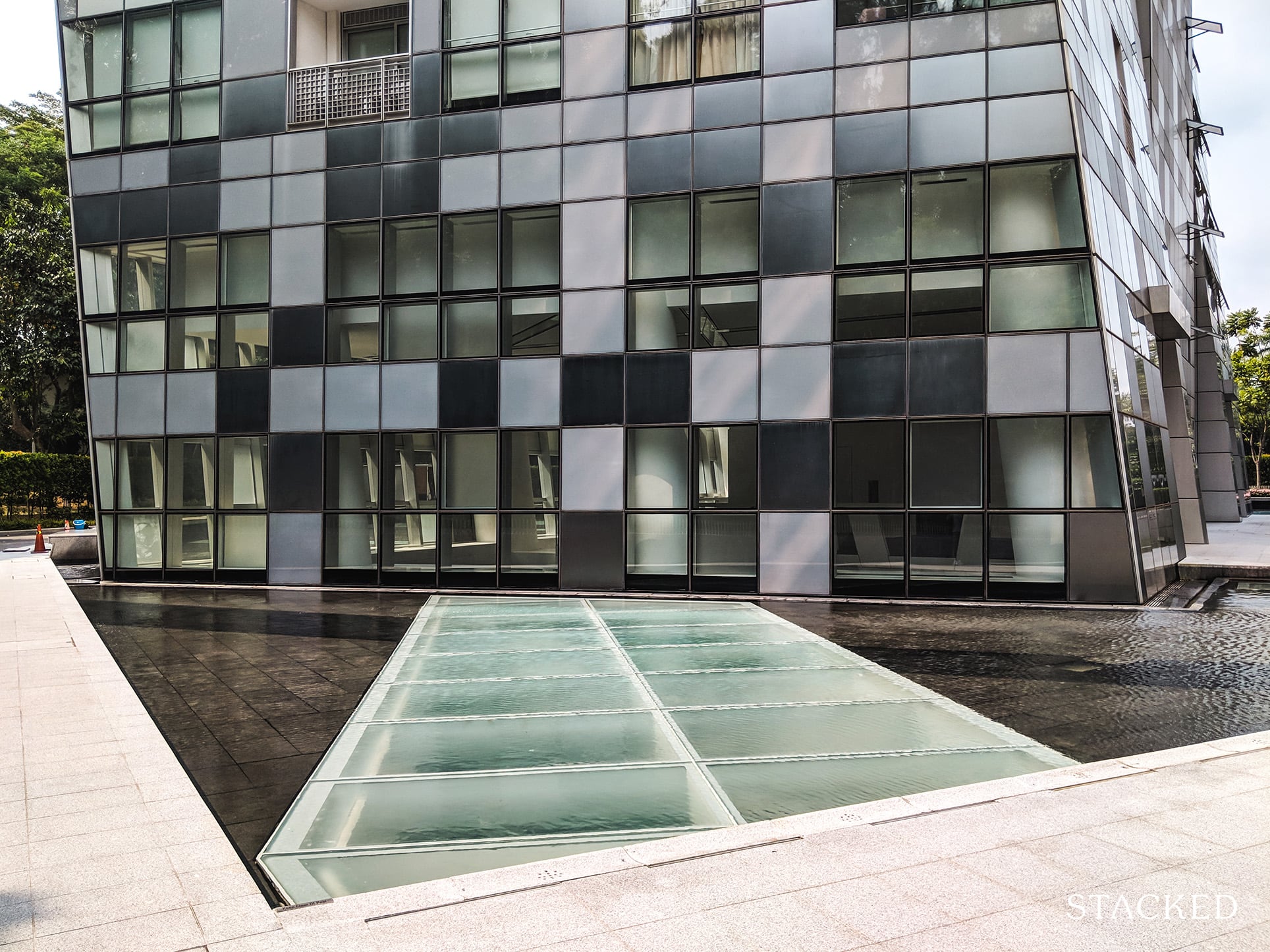 It was impossible to capture the size of the pool in one photo, but it is really quite an amazing sight.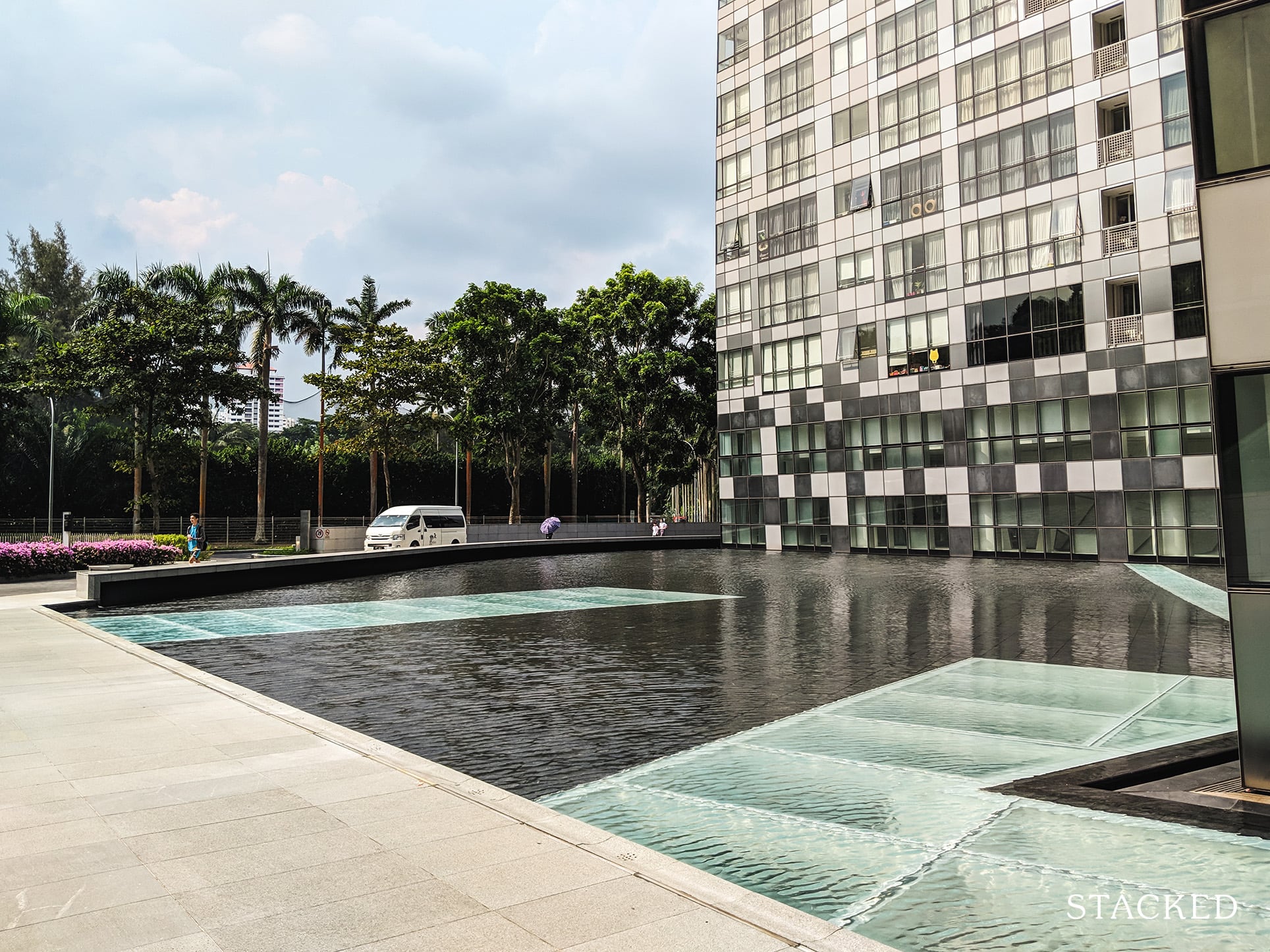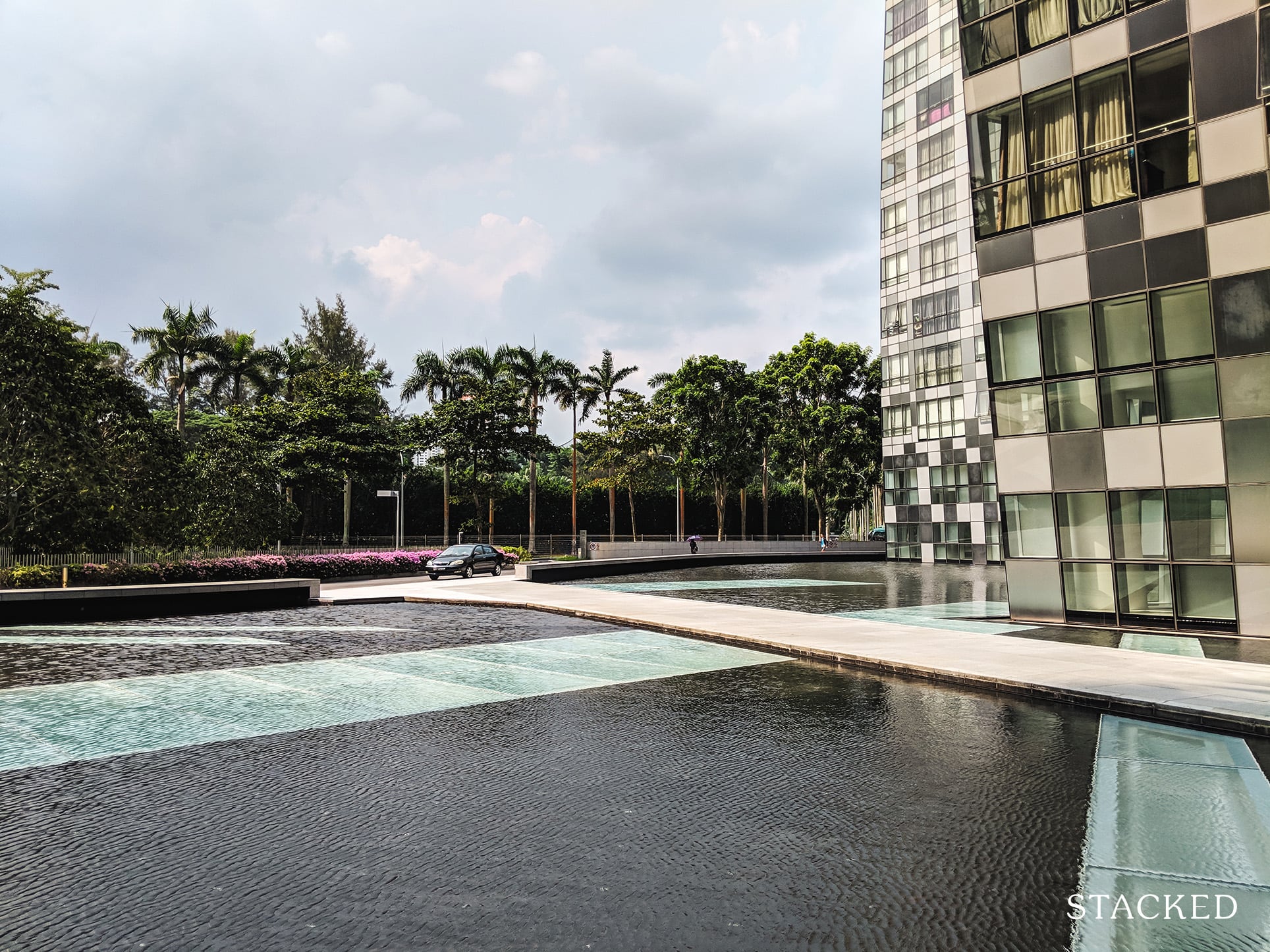 It is no doubt super extravagant and is a lovely way to be welcomed home every day. But the practical side of me would rather have a 100,000 square feet swimming pool. Just thinking about it, the maintenance cost for this must be exorbitant.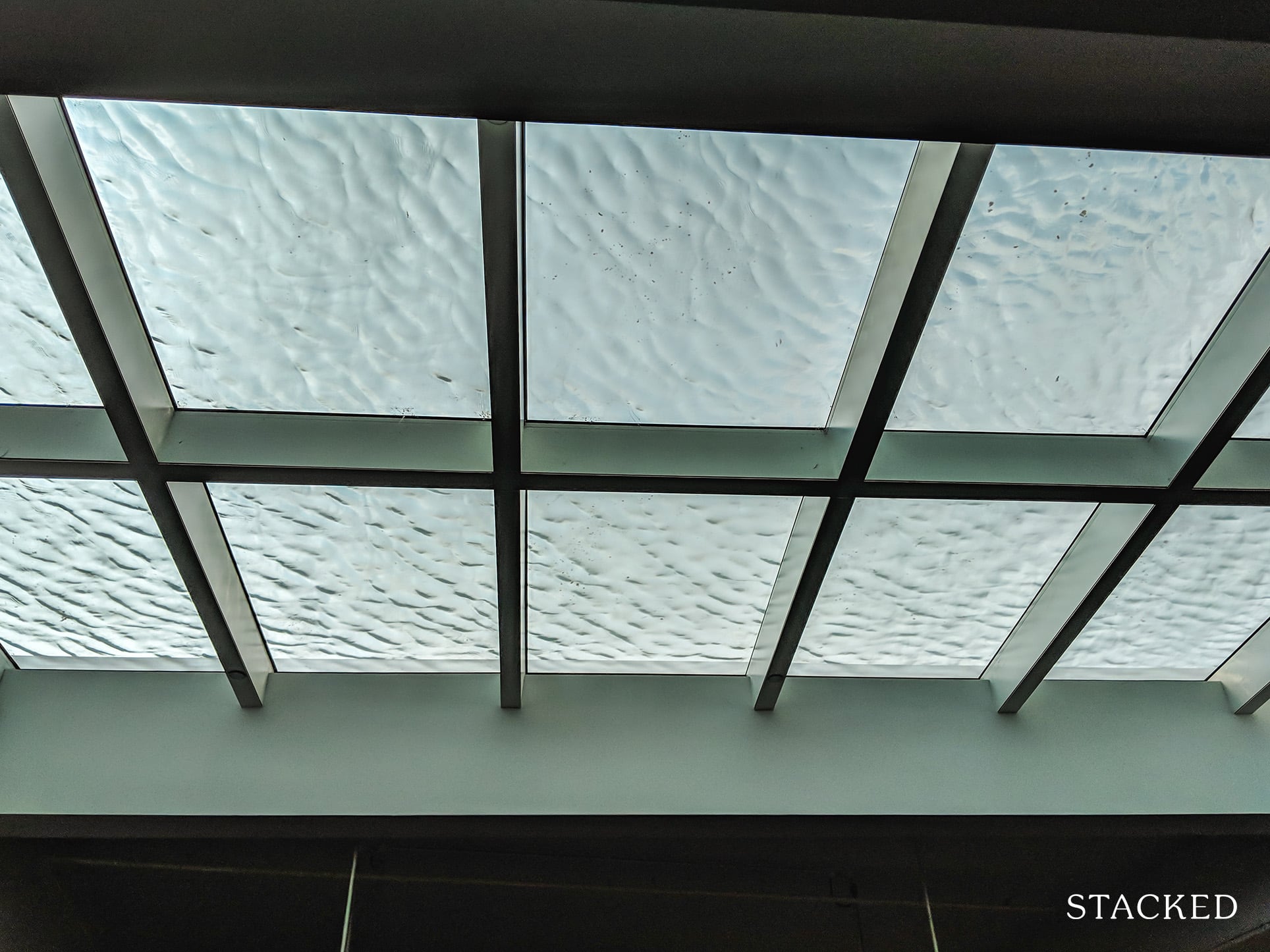 The pool at the top has different spots that have glass panels underneath. This lets light through to the underground carpark.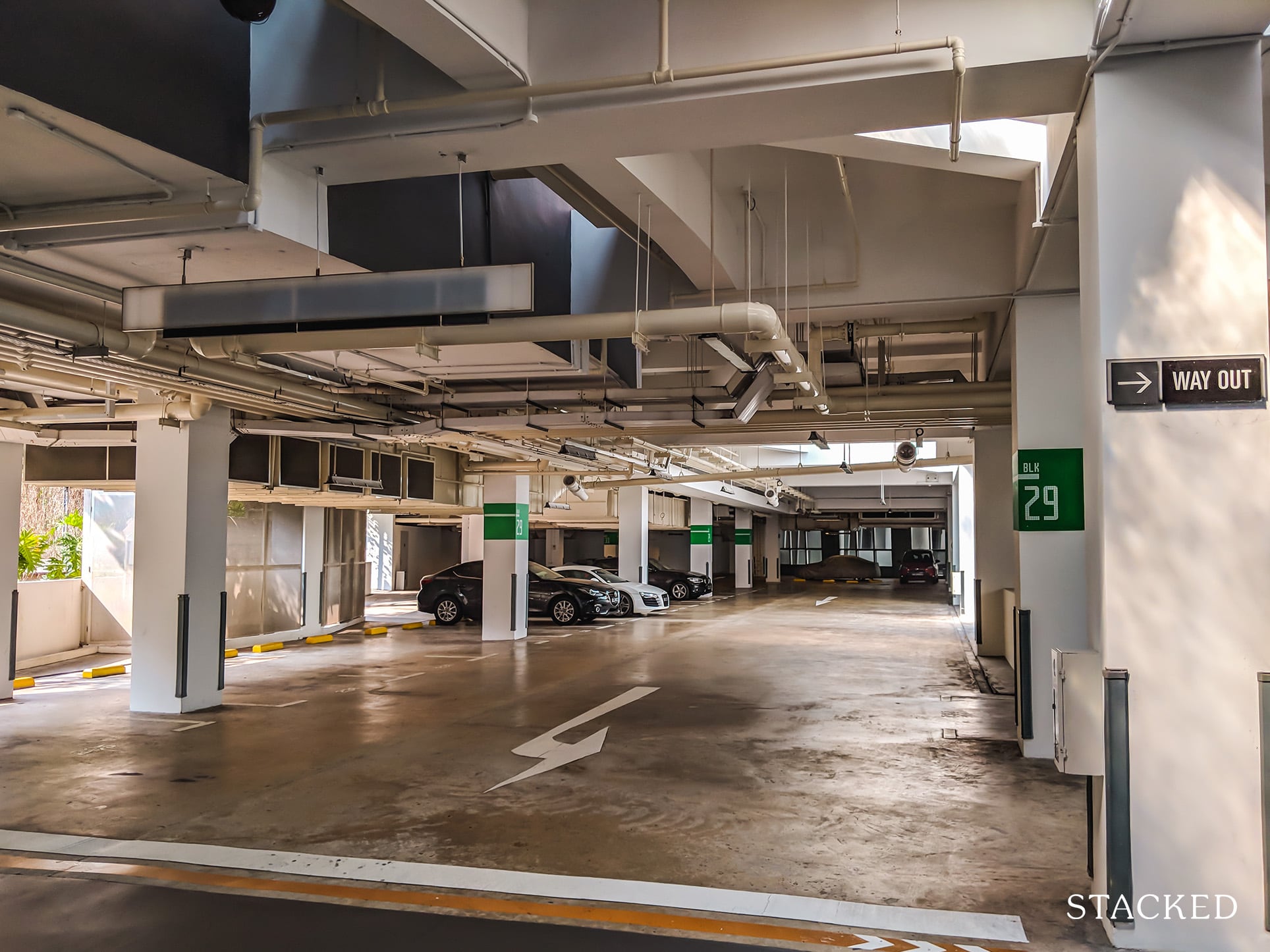 Which can give off a light shimmering effect, depending on how the light hits the water.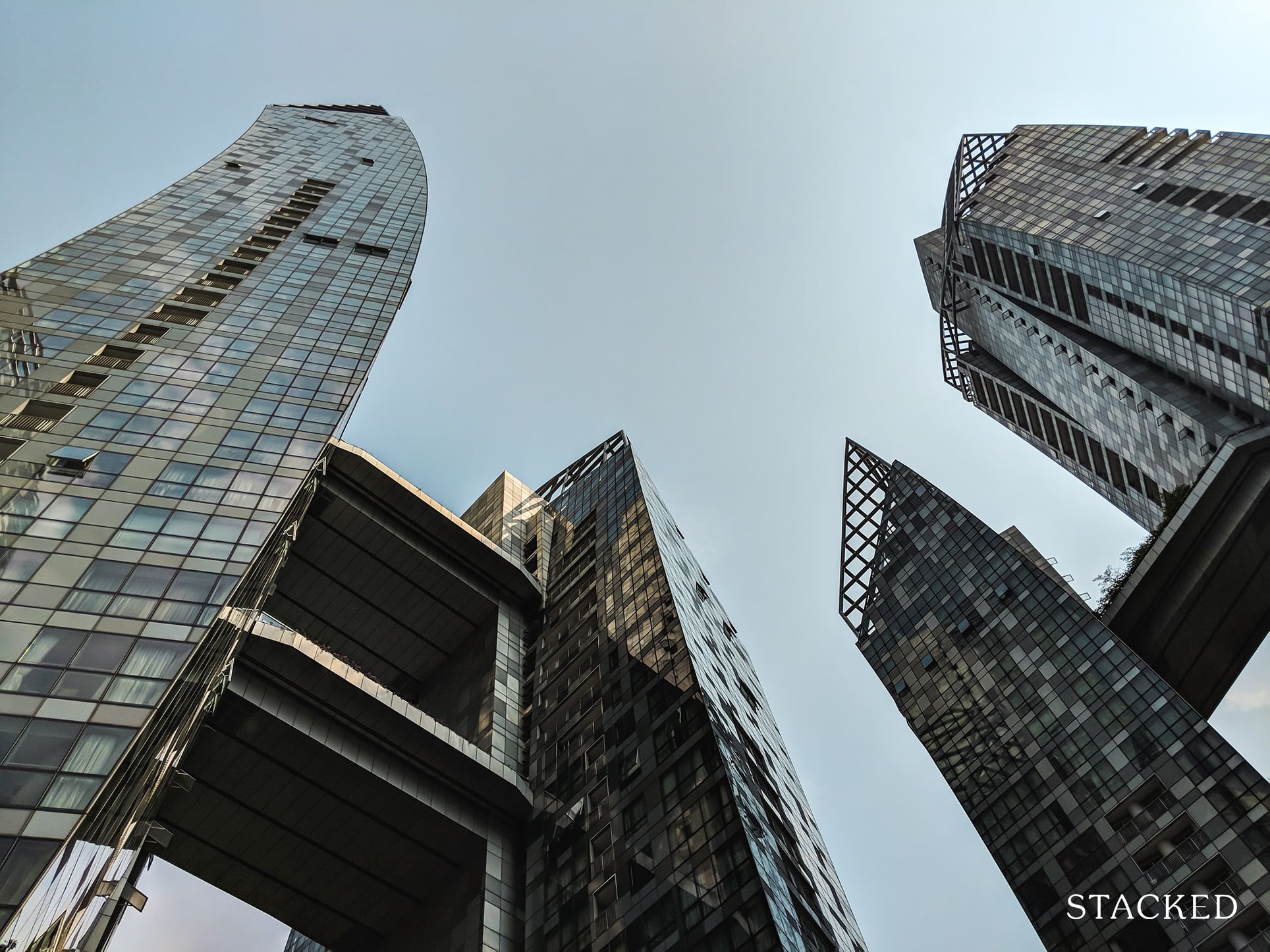 At the end of the day, whatever your feelings are about the space, it is a truly extraordinary structure to marvel at.
At the bottom of each sky tower, it is a high ceiling lobby space.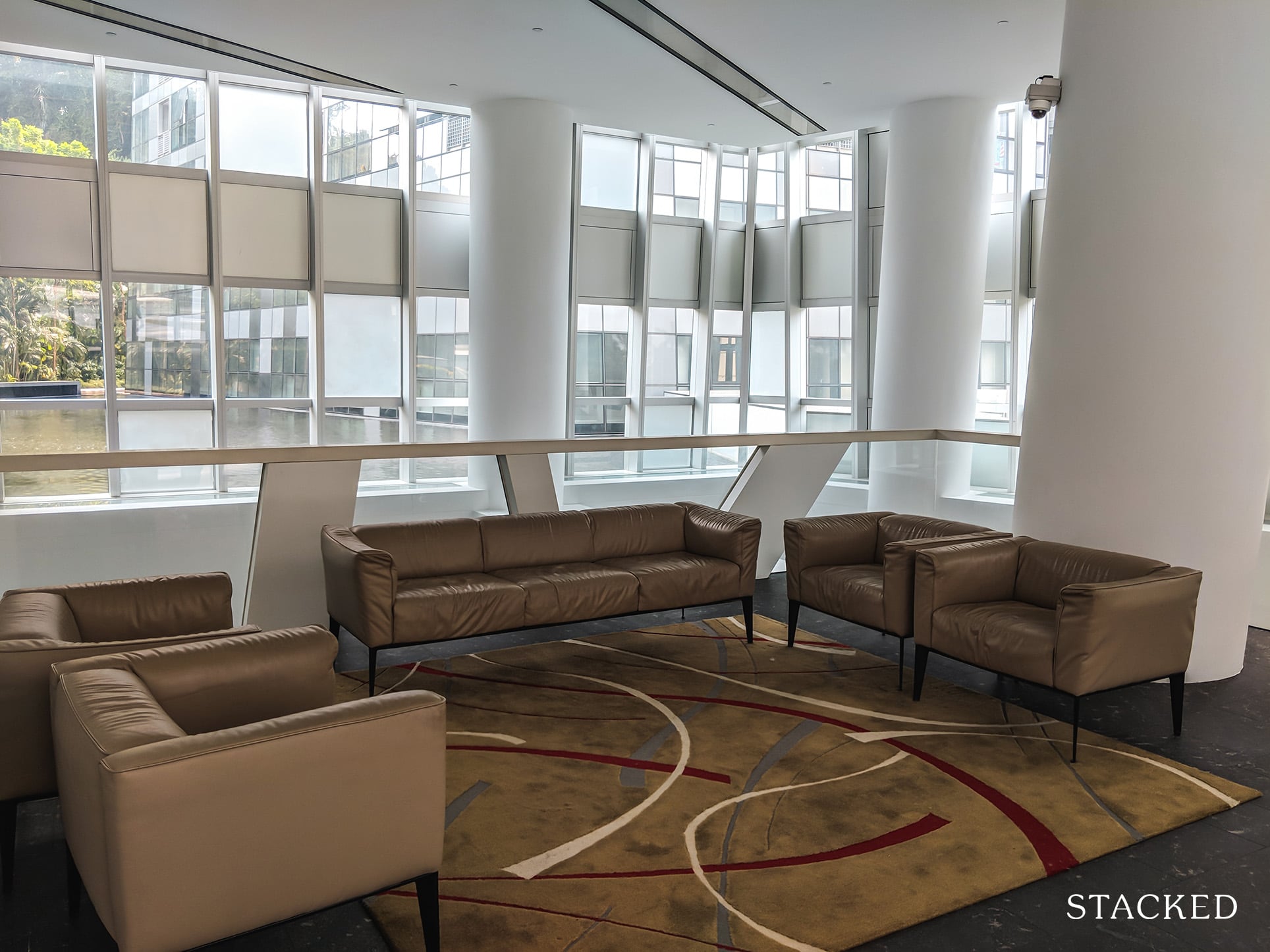 It comes with cool air-conditioned comfort, and each lobby has its own unique seating spaces.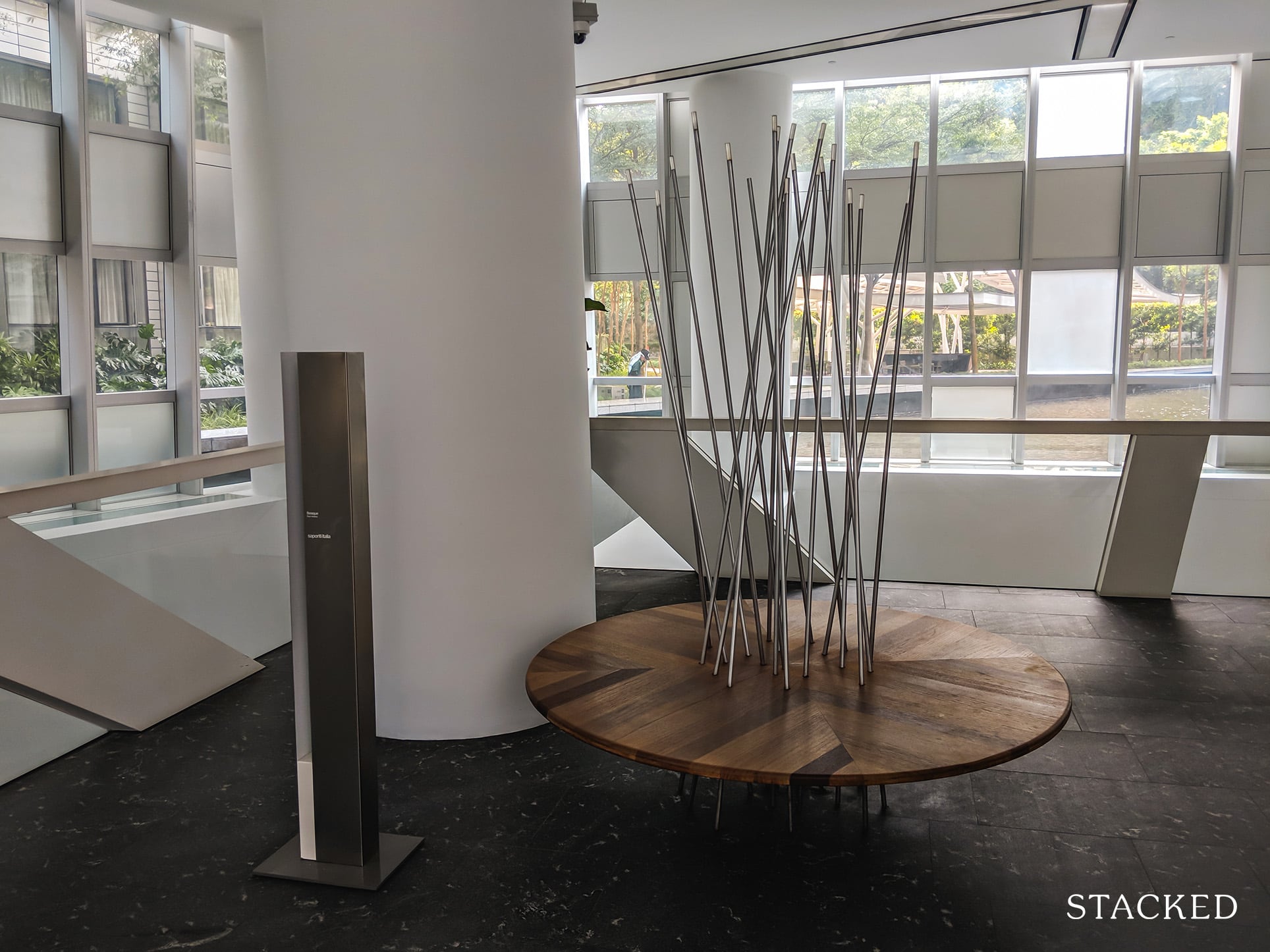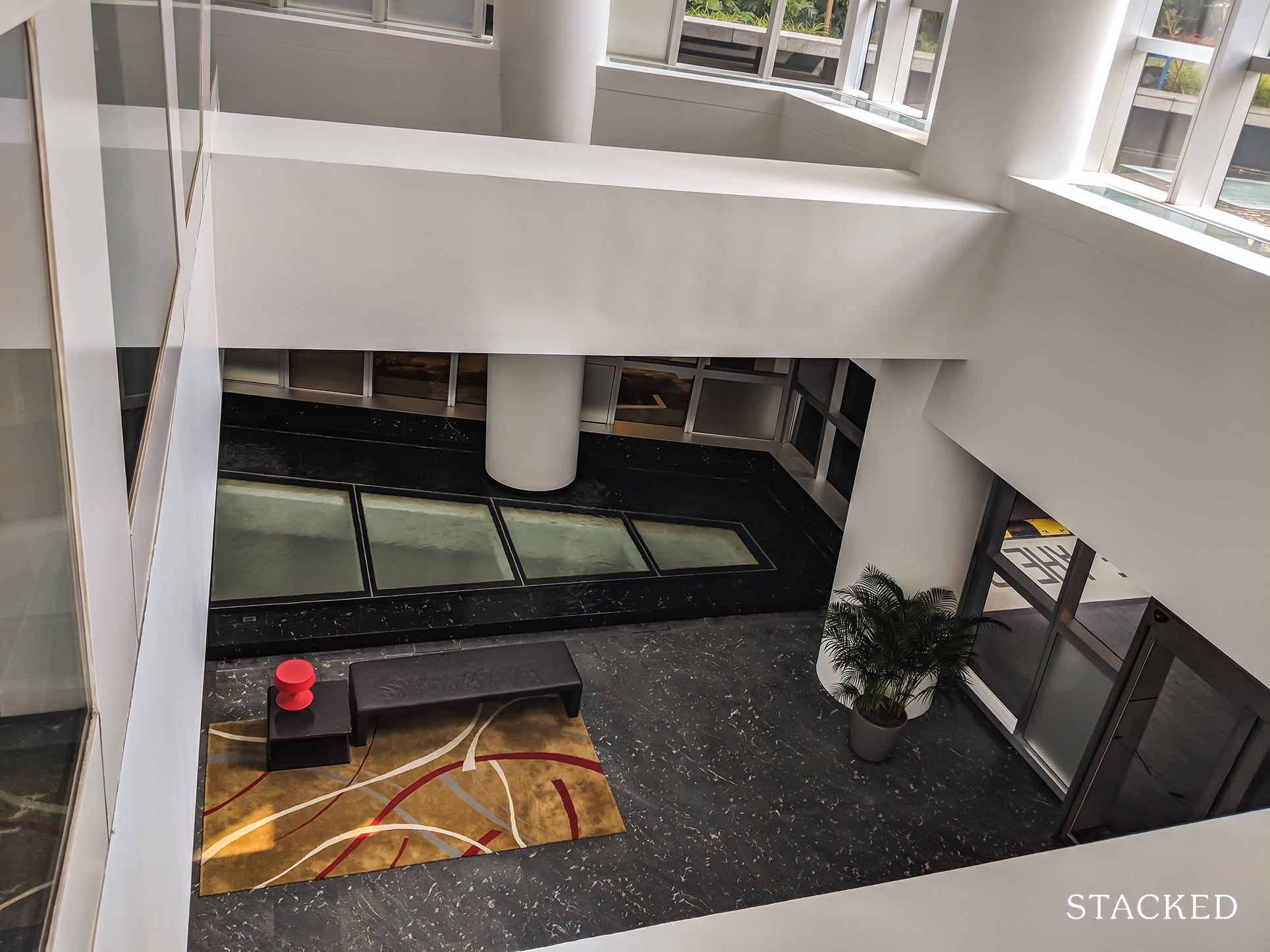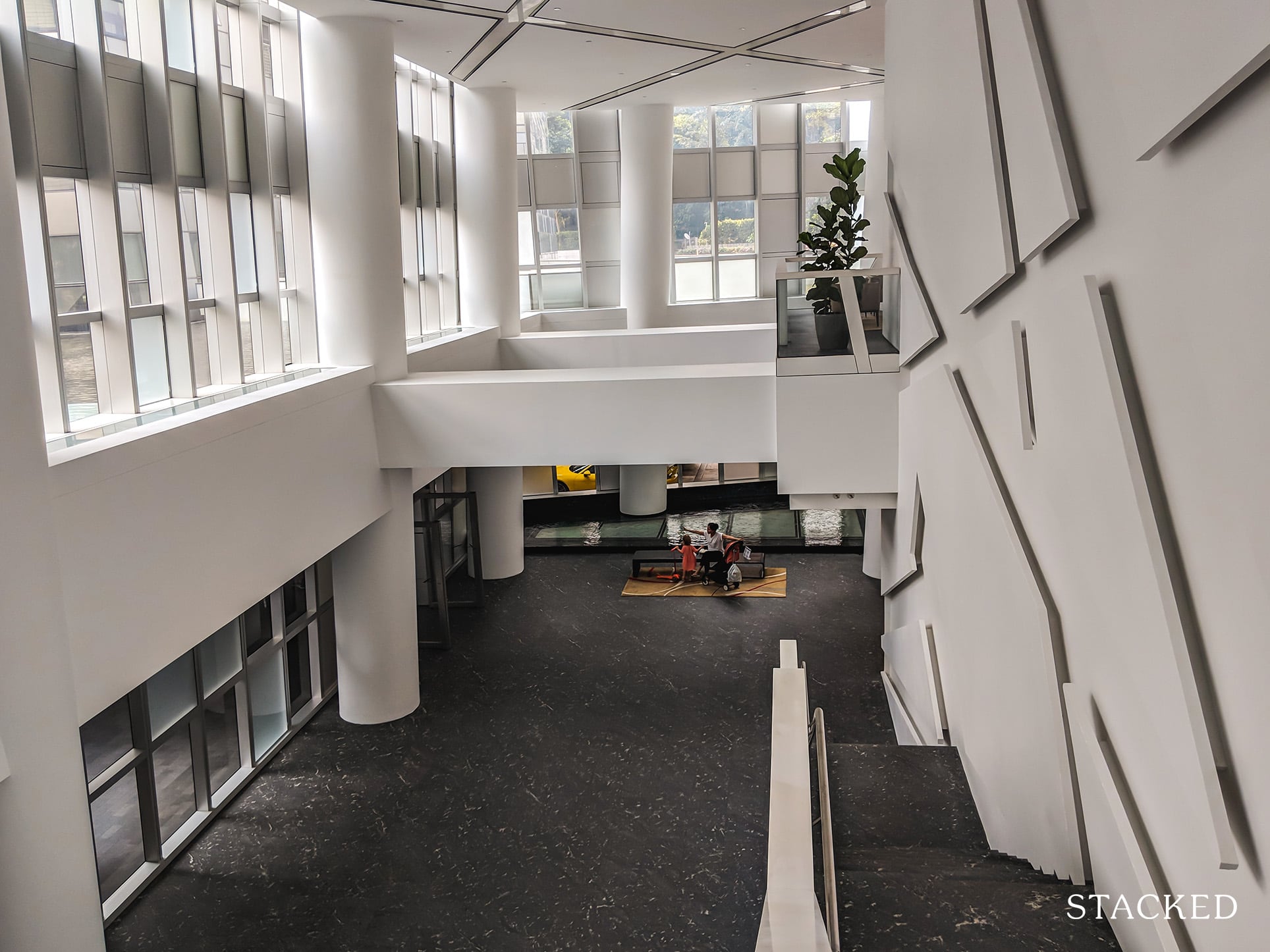 The main lobby is seriously impressive. The high ceilings give off a grand feeling, and because there is so much open space, it feels luxurious and is reminiscent of a high-end modern museum space.
Reflections at Keppel Bay Location Review
Reflections at Keppel Bay is situated in one hell of a unique locale (for good or for bad we'll let you decide). Tucked away in the southern point of metropolitan Singapore and neighbouring the beautiful Caribbean at Keppel Bay and Corals at Keppel Bay, it resembles a haven unlike any other.
The condominium's biggest draw lies in a diversity of unique recreational options that few other residentials in Singapore can fathom, let alone match.
Avid fans of watersports will find an aquatic playground at their very doorstep, as yacht owners can rejoice at the proximity of the Marina at Keppel Bay to their homes (you can even access your yacht from the condo itself!)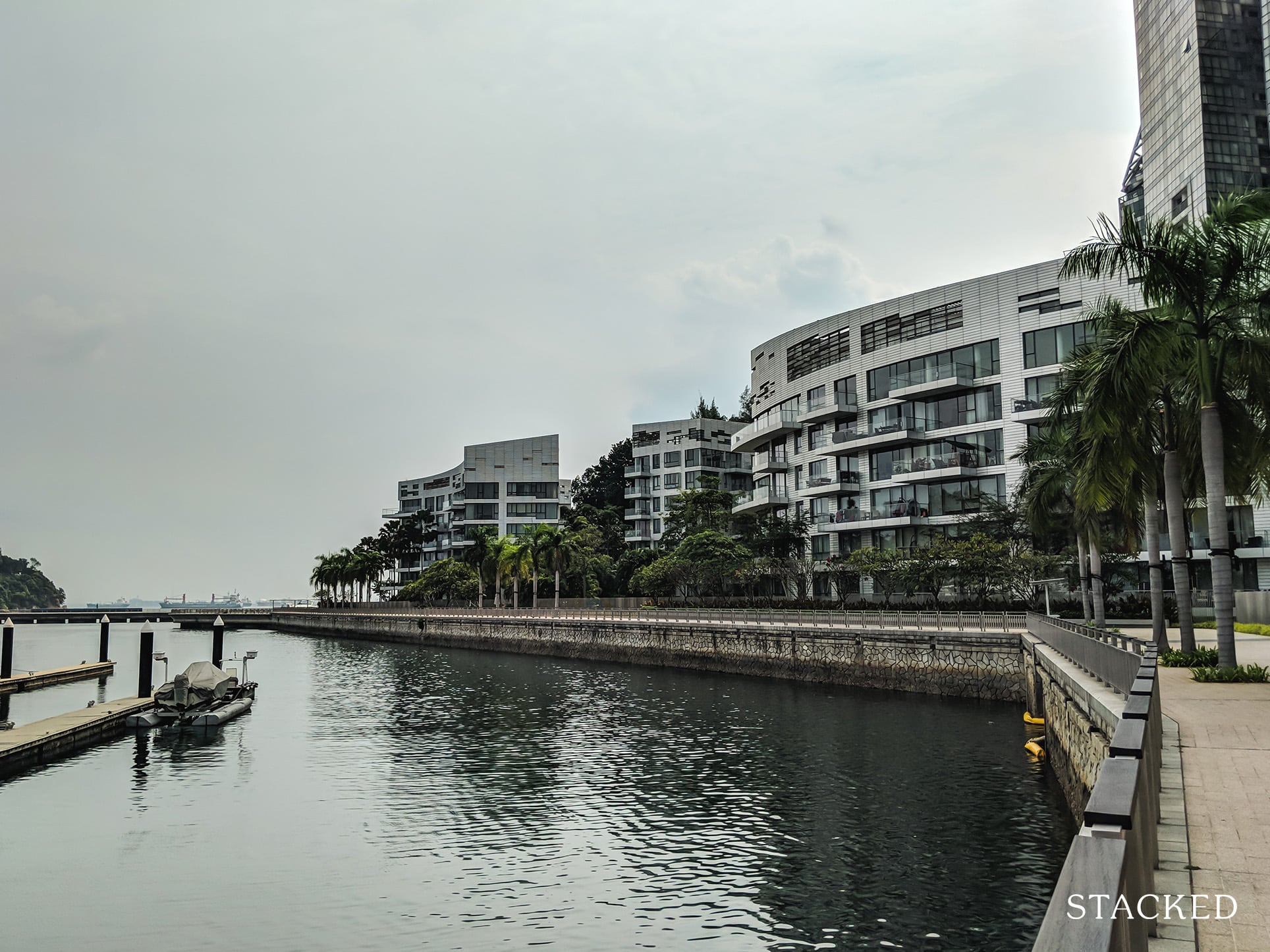 More than that, golfers will appreciate the vast amounts of green available here, courtesy of the Keppel Club which is less than a 10-minute drive away.
Adding to that is the abundance of nature spots in the locale for its residents (amongst other things) to enjoy. Cooler temperatures (a result of refreshing sea breeze combined with transpiration cycles the surrounding greenery undergoes) make strolls/hikes in the vicinity all the more rewarding.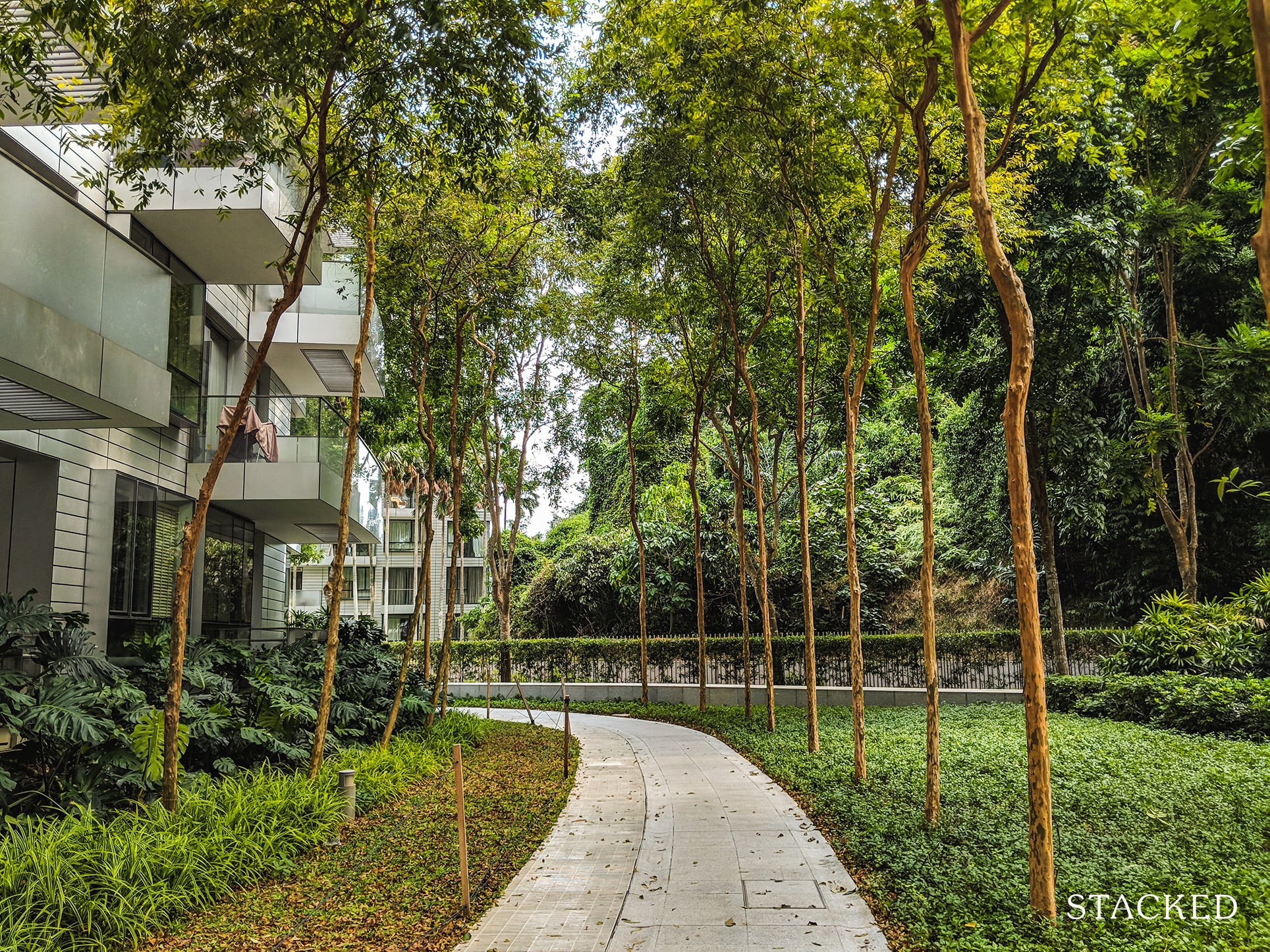 The closest nature amenity to the condo is the Bukit Chermin Boardwalk – a (300m) scenic boardwalk by the bay's edge that will inspire you with views of both Sentosa and the Marina at Keppel Bay. It can be easily accessed from the condo, and more importantly, forms a link to the Labrador Nature Reserve. From there, you can go as far as to explore the Southern Ridges (and beyond) or simply peruse the rest of the boardwalks as part of the larger Labrador Nature and Coastal Walk.
In the other direction, Mt. Faber awaits. Though it is a slightly more challenging hike (via the Marang Trail) that caters mostly to nature and fitness enthusiasts, there are cable-car alternatives for reaching both its peak as well as gaining access to the neighbouring Sentosa Island – once again a testament to entertainment/recreation options available to residents.
Admittedly, however, Reflections at Keppel Bay does have its cons.
While a diverse range of recreational activities is definitely Reflection at Keppel Bay's strong suit, some might argue that accessibility of nearby amenities via foot isn't.
Situated by the edge of the West Coast Highway, residents will find that the closest train station to the condo is Telok Blangah MRT – situated a 10-minute walk away from the condo. Other stations in the vicinity are twice the walking distance at best, making it a better option to access them via the former.
Unfortunately, you will encounter the same situation with the bus stops. The nearest station is the 'Opp CHR Community Chapel' stop, an 8-minute walk from the condo. The good news is that the bus stop caters to a massive line of bus services, including 10, 30, 57, 61, 93, 97, 100, 124, 131, 143, 145, 166, 188 and 963.
Regarding groceries outside of the condo, you have 3 main options to choose from. The first (and closest) is the Cold Storage at Harbourfront Centre just 5 minutes by car from the condo. It is followed by the immense new NTUC FairPrice (Singapore's biggest) at VivoCity. This particular outlet was opened just last month and spans over 90,000 sqft – that's 1.5 times the size of a football field (it even features its very own indoor hydroponic farm)!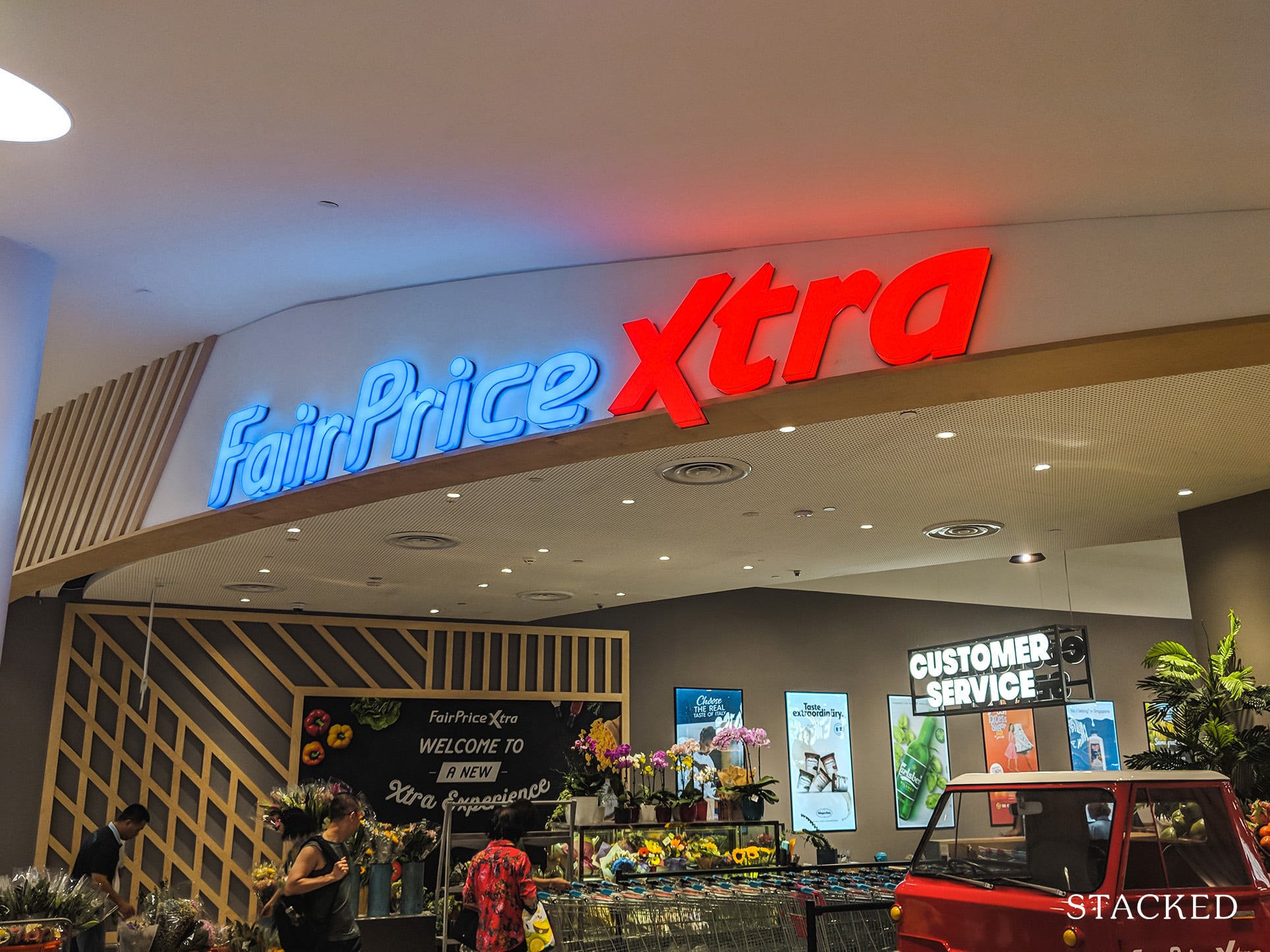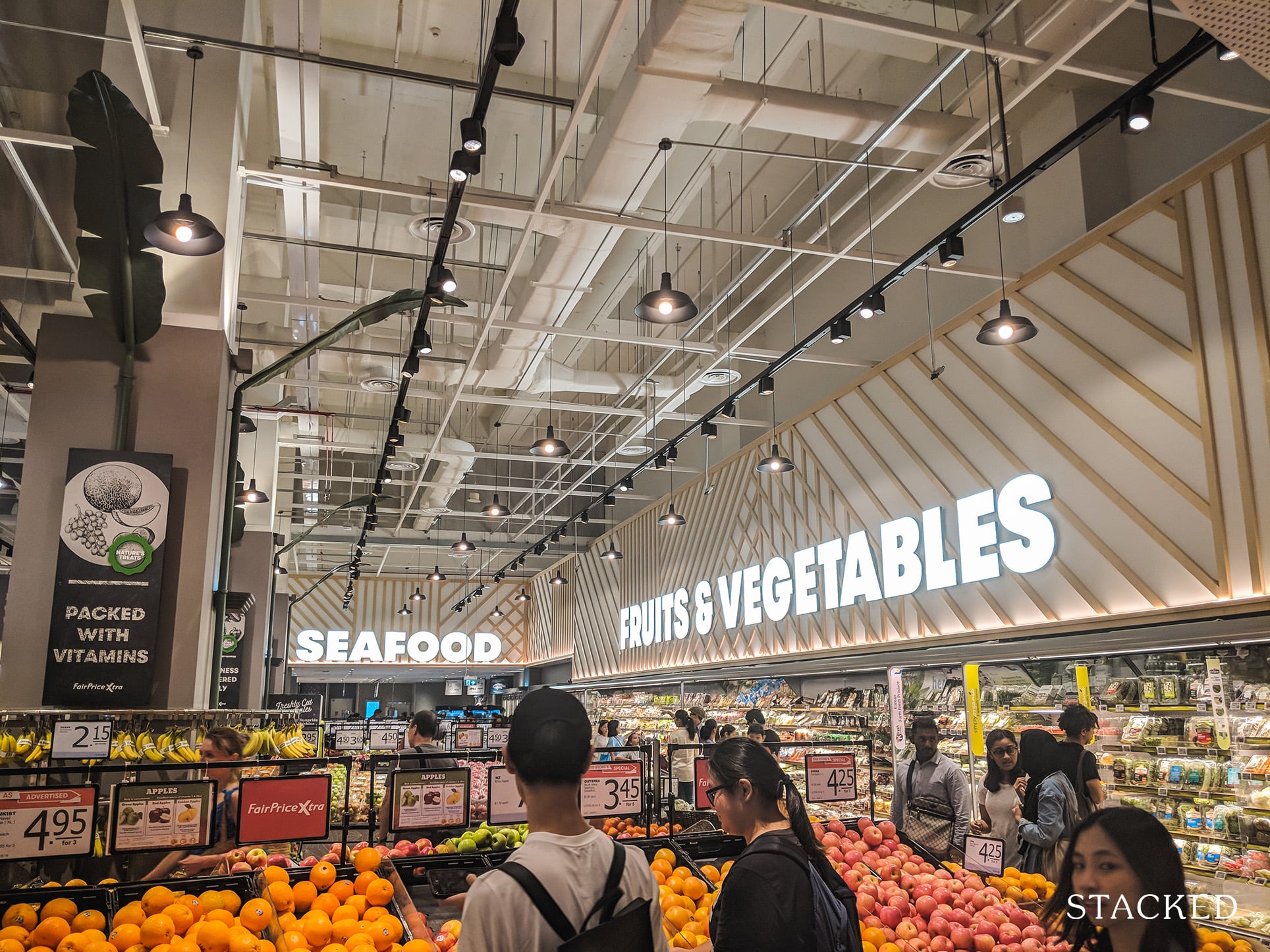 It is quite a lovely shopping experience. Safe to say, you can probably find everything that you could possibly need in here.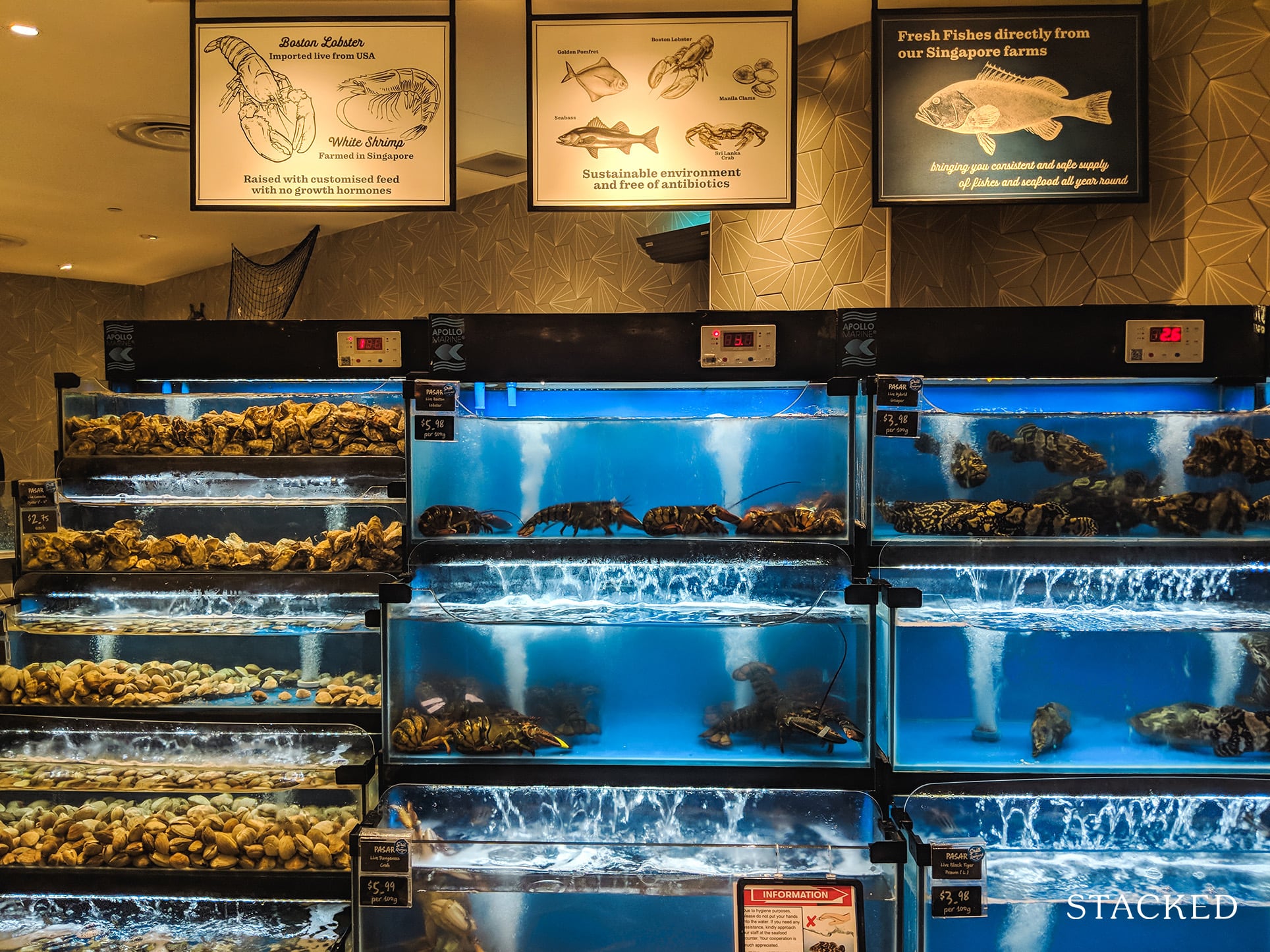 Not to mention, live seafood in tanks!
The third (and usually quieter) option is the FairPrice at Telok Blangah, 7 minutes' drive from the condo.
As you will observe up to this point, owning a car (or an e-scooter at the very least) is a huge bonus if you live here. This is further fueled by the proximity of the condo to neighbouring highways – the closest being West Coast Highway. It is close (3 minutes' drive from the condo), though not quite close enough for residents to receive any unwanted smells/sounds into their homes.
Are we looking at increased walking accessibility near future however? You bet.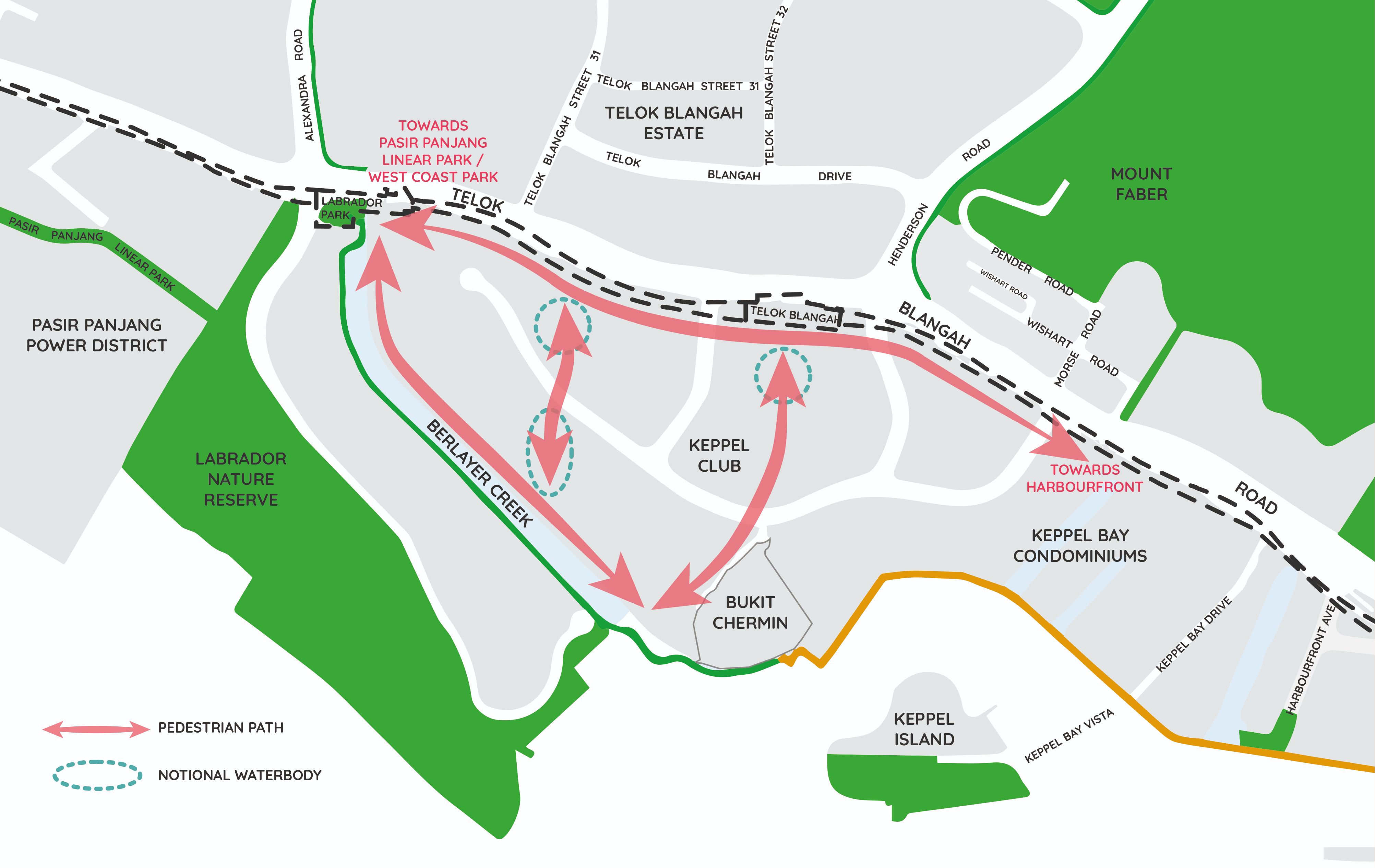 Talk has been rampant in town about the impending Great Southern Waterfront (GWS) and how it will make its mark. Over 9,000 housing units (public and private) are expected to fill the land on which Keppel Club (lease expires in 2 years) currently sits. This means added amenities, including a possible 'Downtown South', increased office space and more recreation options.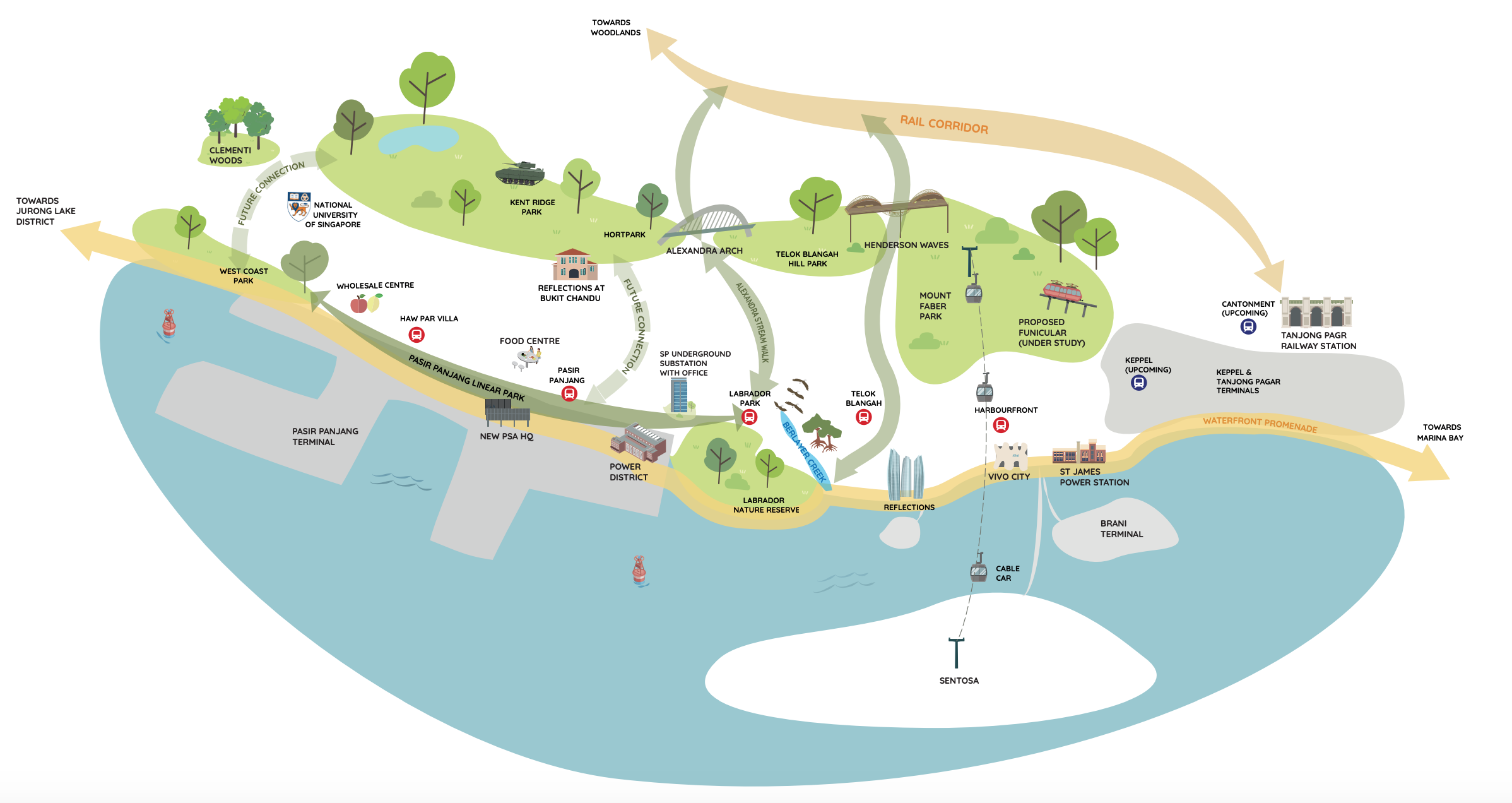 While this potentially bolsters the accessibility factor and might eventually lead to an increase in valuation (and people in the vicinity) of the property, it will have to first result in increased noise/air pollution from construction close by. More than that, a reduction in greenery and the relocation of Keppel Club will affect residents here. Notwithstanding, these attributes might even cause an initial dip in the property's valuation.
That being said, the GWS' completion is only projected for after 2040, so it is food for thought (and planning).
Speaking of food, however… the condo is well within distance of numerous posh waterfront restaurants including Privé and Bayswater Kitchen at the Marina. There are also a string of restaurants occupying Labrador Park (within walking distance of the condo) – Japanese, Peranakan, Western, Fusion and local cuisines wait to whet your appetite.
As for more economical places, both the Telok Blangah Food Centre and the Seah Im Food Centre present themselves as tasty, yet affordable food options. They are located in separate areas, though both are a 7-minute drive from the condo.
Lastly, we find the availability/diversity of schools in the area a tad wanting – save for preschools in the vicinity (of those there are aplenty). Preschools include Capstone Kindergarten, Cherie Hearts, Hundred Thoughts and My First Skool at Telok Blangah Heights.
Primary and Secondary schools within the 10-minute drive radius are more lacking with only the Blangah Rise and Radin Mas Primary(s) as well as Pasir Panjang Secondary occupying the area.
Parents can, however, take respite in knowing that there are at least a couple of international schools in the area including ISS International, Canadian International and Shelton College International.
Reflections at Keppel Bay Development Site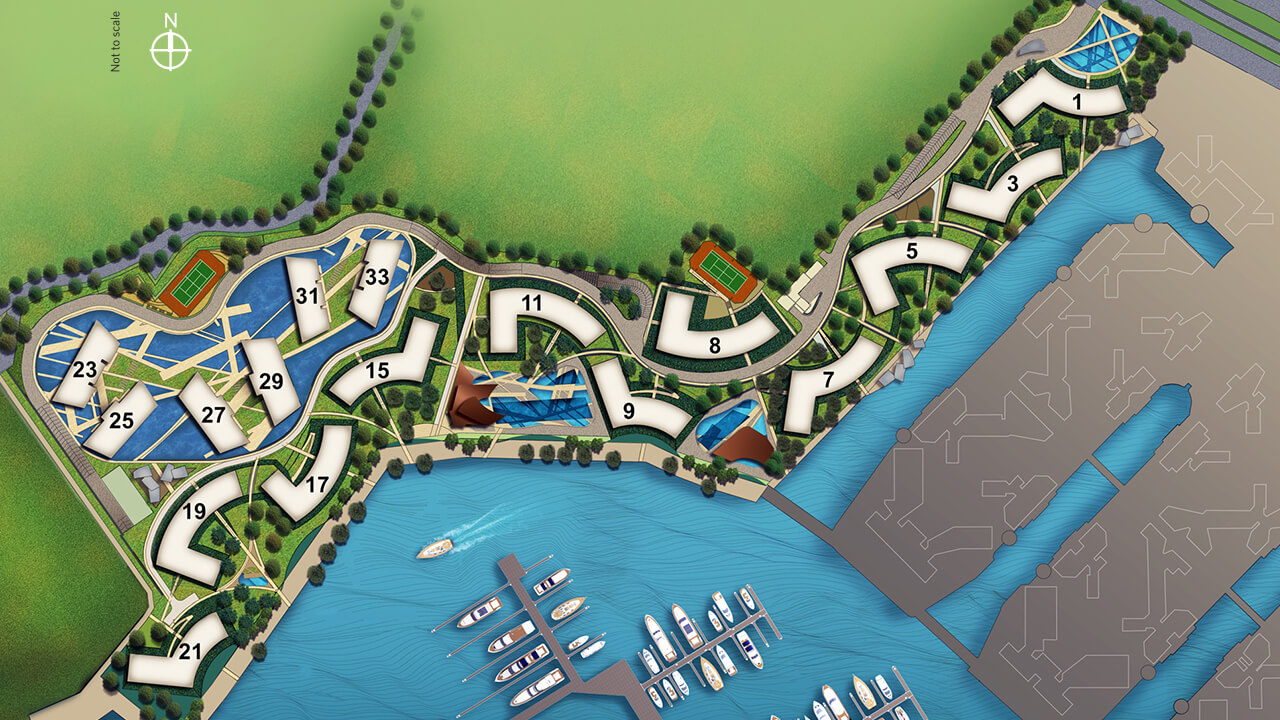 Unsurprisingly, Reflections at Keppel Bay sits on 836,758 square feet of land, though the eye-catcher is really the 750m shoreline that it boasts. Numerous side gates further allow residents to easily reach the shoreline without having to meander through this massive compound.
Featuring 1,129 units in total, one might think that the compound gets pretty cramped. Compared to the D'Leedon which has 1,715 units on 840,000 square feet of land however, you will observe that units here are more widely spaced. The 11 low-rise villa apartment blocks (housing 6-8 floors each) paired with the presence of the numerous wide walkways make it seem expansive and well-spaced.
The architectural structure of the 6 glass towers (24-41 floors) also help reduce mundanity – which can sometimes add to that 'overcrowded vibe'.
As for internal condo roads, they are widely spaced with access to almost every building – save for the villas closer to the sea. We do not see internal traffic jams as too much of an issue here as most of the units here are occupied by expats who might not find it wise in investing in cars for the short term.
One thing that it is worth noting for those who drive, however, is the singular road exit from the condo. What this means is that residents living near the backend at blocks 23 and 25 will have to meander a full 700metres-worth of road between the guardhouse and their homes. A jam in this, would most definitely not be fun.
Moving on to the unit mix:
Unit mix
No. of Units
Unit Type
Size (sqft)
6
1-bedroom + study
732 – 800 sqft
398
2-bedroom, 2-bedroom + study
743 – 1001 sqft
2-bedroom + study
947 – 1335 sqft
589
3-bedroom
1,109 – 2,142 sqft
132
4-bedroom
1,938 – 2,831 sqft
4-bedroom + study
2,530 – 2,874 sqft
35
Penthouse
3,488 – 12,900 sqft
As you can see, the sizes of similar unit types in this condo can get pretty varied. Just observing that 1,000 sqft jump in the 3-bedroom stacks adds volume to this thought. Coupled with the wide variety of unit types (save for the elusive 5-bedroom units), there are bound to be various units that suit the majority of different home-lookers' needs.
One more thing to note is that while the sizes of smaller units here are above average, the larger units are just massive – especially when compared to many other condos in Singapore.
Prices Review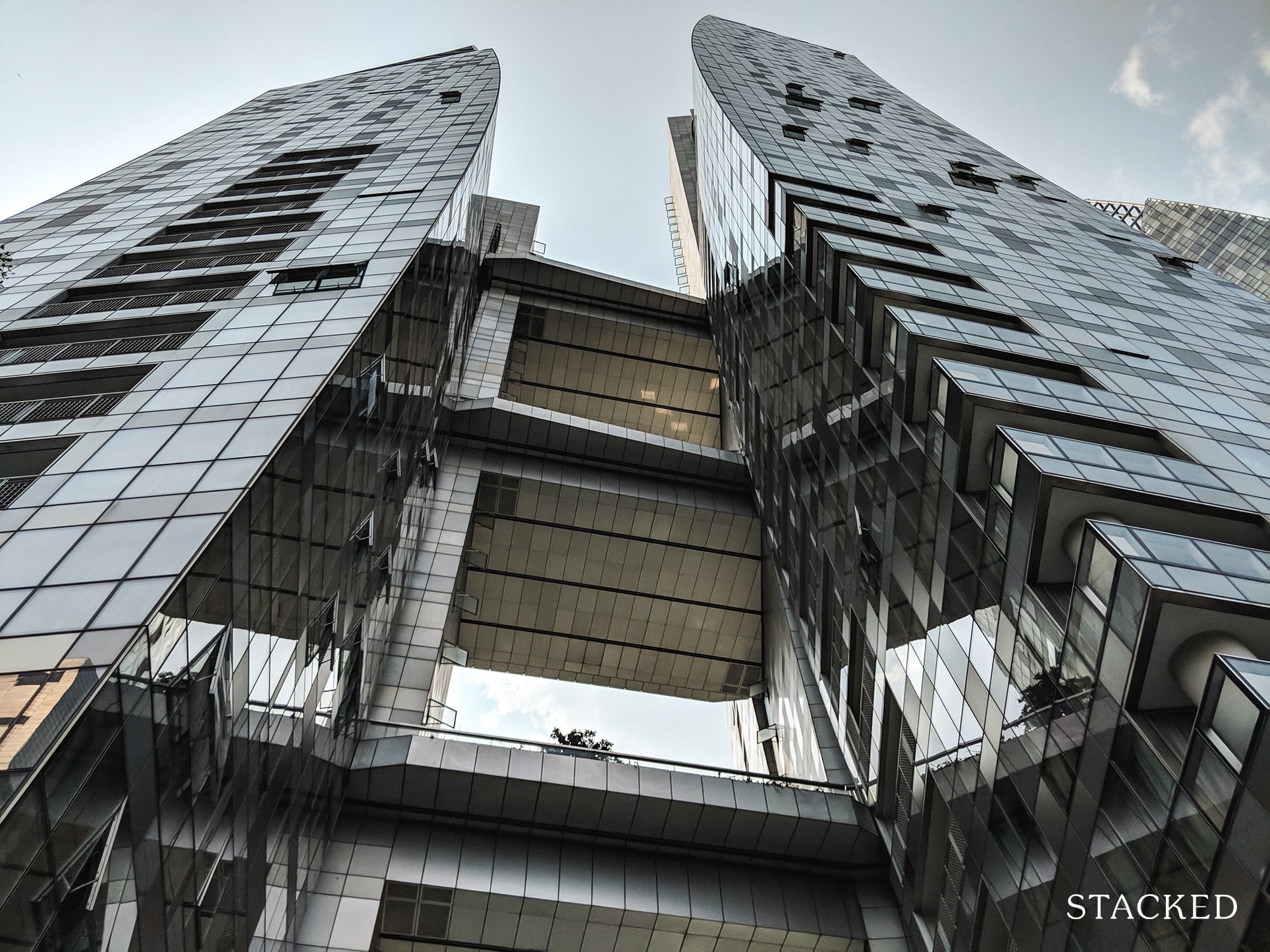 Surrounding developments

| Project Name | Tenure | TOP | Average Price (PSF) |
| --- | --- | --- | --- |
| Reflections at Keppel Bay | 99 years | 2011 | $1,649 |
| Carribean at Keppel Bay | 99 years | 2004 | $1,548 |
| Corals at Keppel Bay | 99 years | 2016 | $2,224 |
The condos listed here are all waterfront properties located in the Keppel Bay region. Of the 3 condos lining Keppel Bay, Reflections seems to be right in the middle in terms of price and TOP. Given that the Caribbean is 7 years older than Reflections, and going for $100 less PSF, it seems like the Reflections is a no brainer for those who can afford it.
Corals at Keppel, on the other hand, is only 3 years old. More so, it is relatively closer to the VivoCity area as compared to Reflections at Keppel (albeit further away from the golf and Labrador Park). All this does come with a price tag, however. $2,224 average PSF means a hefty $600 increase per square foot when compared to Reflections at Keppel Bay. For home-lookers on a 'budget', the latter seems to take the cake for this vicinity.
Our Take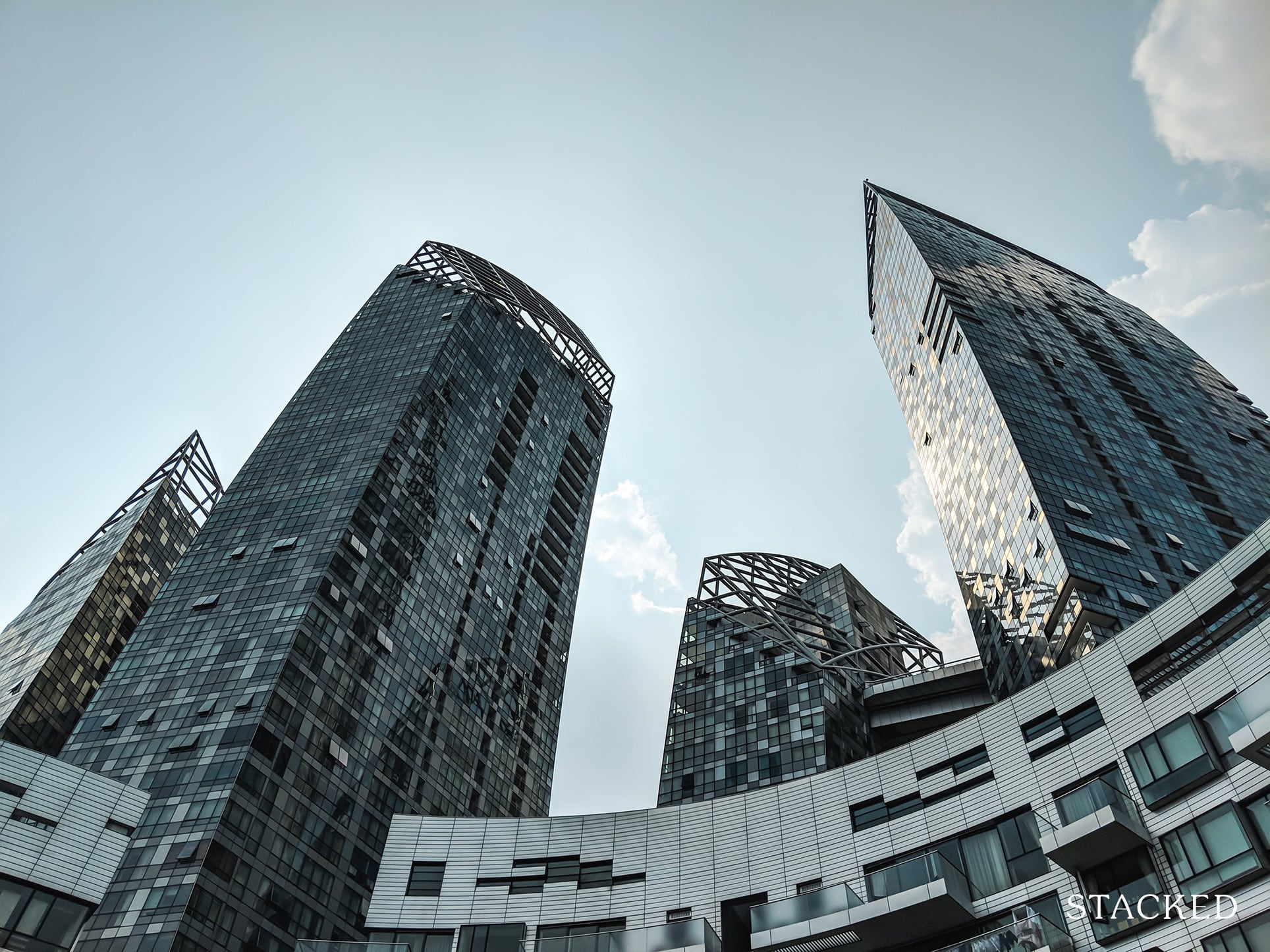 Personally, the idea of waking up every morning to the smell of the sea and a view of luscious green and turquoise blue is simply a dream come true – though I'm bearing in mind that units with such incredible views in Singapore are bound to cost a tad (lot) higher too.
A huge plus point for me is the easy access that my family will have to the variety of nature trails in the neighbourhood as well as our very own in-condo grocery (not too fazed by this owing to the efficiency of online grocery deliveries these days).
Sadly, the 99-year tenure does put a slight dampener on the entire thing (bye-bye dream of family seaside heirloom).
As for the overcrowding of facilities over the weekends and public holidays, I did some personal research, and it seems that most of the units are rented by busy expats who work in the CBD (that's 5 minutes away by car). While they do utilize the facilities every once in a while, it seems like the possibility of over-populated facilities here is almost non-existent.
To cut to the chase, I would definitely consider purchasing a unit here (with a solid view) IF the condo had a freehold tenure. Given its 99 years lease, I do have to say that I would be very (very) tempted to rent a unit here for a year or two if concerns over my kids' education was not a priority.
Reflections at Keppel Bay is truly a wonderful initiative overall. It just lacks that extra bit for me to make it a brilliant long-term family investment.
What this means for you
You might like Reflections at Keppel Bay if:
• You value nature:The nature factor is incredible with access to Mt. Faber, Labrador Park and the entire bay area at your disposal.
• You want to experience living on a waterfront:For those who have never lived on a waterfront, it is truly an incredible opportunity made better by Singapore's top luxury standards.
You might not like Reflections at Keppel Bay if:
• You have kids who are studying:Not having schools in the vicinity could spell massive long-term headaches for both kid and parent.
• You work in the east:A long commute to work in the east (regardless of private or public transport) is a hassle few would want to deal with.
End of Review