Units Of The Week

5 Tastefully Renovated Penthouses That Are Ready To Move In
Stacked
December 1, 2022

9

min read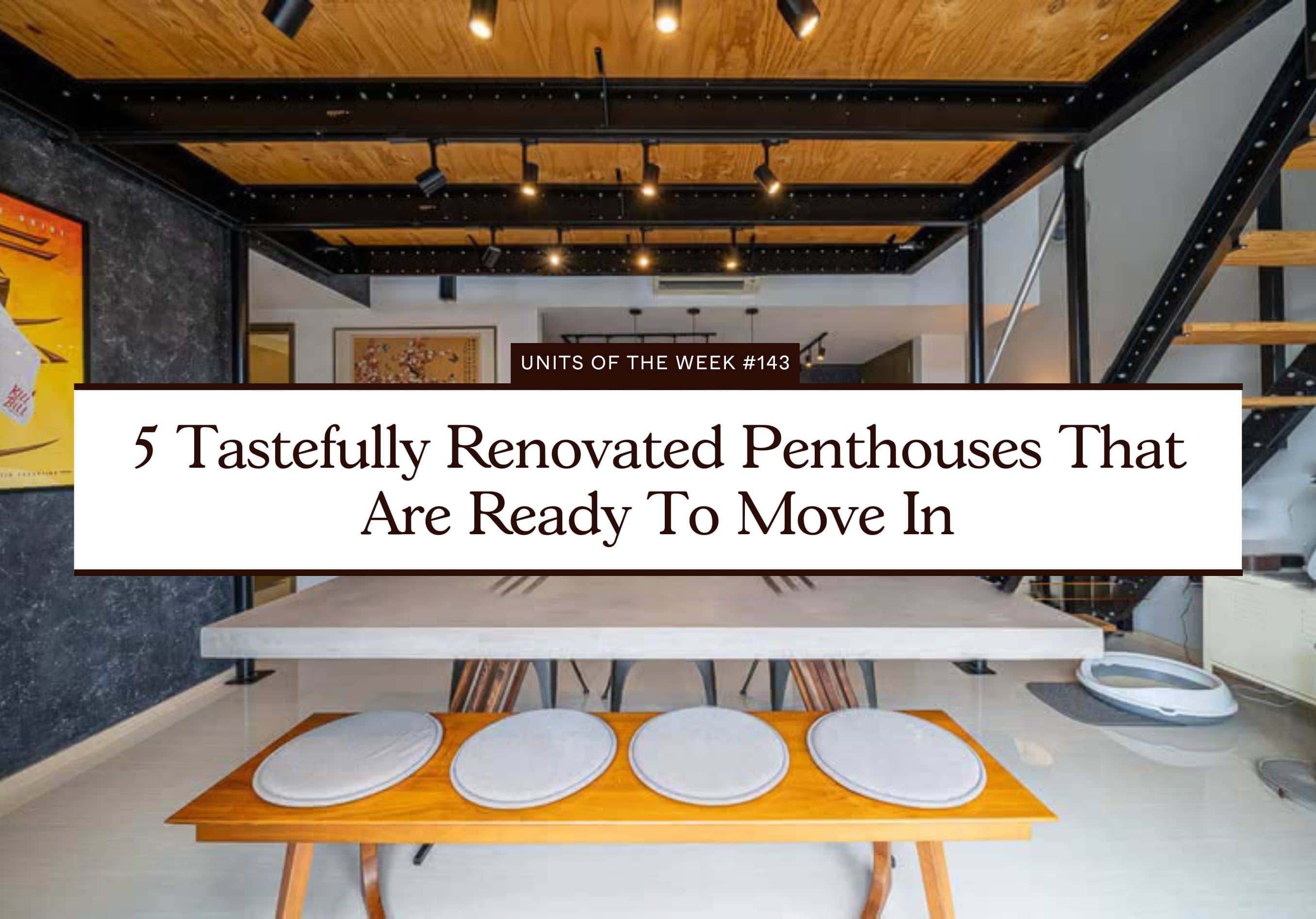 There's no denying the allure of living in penthouses, especially in land-scarce Singapore. It's about the exclusivity, the views (if you are high up enough), and the lifestyle (some have private rooftop pools).
This week, we've picked out 5 tastefully designed penthouses that are move-in ready.
Missed last week? You can view the previous issue here.
You can also join our free weekly newsletter so you stay up to date on our latest curations weekly.
Now let's get on with the list of curated units this week!

1

Beverly Hill
$19,880,000
| | |
| --- | --- |
| Address: | 61 Grange Road 249570 |
| Tenure: | Freehold |
| Size: | 7,555 sqft |
| $PSF: | $2,631.37 PSF |
| Developer: | Golden Development Pte Ltd |
| TOP: | 1983 |
Why I like it
Sized at a whopping 7,555 square feet, this penthouse unit in Beverly Hill is basically the size of a landed unit that's nestled within a condo.

One thing that stood out to me is the multiple generously sized common spaces that can be found on both upper and lower floors that make this a perfect home for hosting parties and guests. To say the least, the bedrooms are much bigger than what we commonly see in new launches today and every room is an ensuite. The penthouse unit is also very luxuriously designed to bring out its undeniable sense of affluence. Of course, the massive swimming pool located on the upper floor is another definite eye-catcher.

The spiral staircase is the centrepiece of this unit as it sets the tone of grandeur and elegance in the living space. Its design is also very functional as it reduces the space needed (not that in needed to, anyway).

Beverly Hill is located in the prestigious district 10 within close proximity to the Orchard shopping belt, but away from the usual hustle and bustle. Amenities are aplenty and commuting is a breeze. With the launch of Orchard Boulevard MRT Station, the nearest MRT station is now a 9-minute walk away.

– Ryan

2

Lake Life
$1,988,000
| | |
| --- | --- |
| Address: | 8 Tao Ching Road 618724 |
| Tenure: | 99-year Leasehold |
| Size: | 1,711 sqft |
| $PSF: | $1,161.89 PSF |
| Developer: | Lakehomes Pte Ltd |
| TOP: | 2017 |
Why I like it
Lake Life is a newly MOP Executive Condominium that is located nearby to the highly anticipated Jurong Lake District that is slated to be the largest CBD outside of Central Singapore.

Sized at 1,711 square feet, this unit has a gorgeous double volume living room that makes the unit feel much more spacious. Due to its north-south facing direction, the natural soft light filtering into the living space gives an airy and bright touch to the space. There's no doubt that one of the biggest draws to this unit is the unblocked views of Jurong Lake Gardens.

For families with kids, Lake Life is located directly across from Jurong Secondary School and Yivabharathi International School. Pockets of green spaces are also abundant in the vicinity, with Jurong Lake Garden located just directly opposite Lake Life.

JEM, West Gate and Jurong East MRT Station are easily accessible via bus or a short drive away for dining and shopping alternatives. It's definitely not the closest to an MRT station, but the draw here is really the greenery views.

– Druce

3

Eco Sanctuary
$1,980,000
| | |
| --- | --- |
| Address: | 63 Chestnut Avenue 679523 |
| Tenure: | 99-year Leasehold |
| Size: | 1,602 sqft |
| $PSF: | $1,235.96 PSF |
| Developer: | S P Setia International (S) Pte Ltd |
| TOP: | 2016 |
Why I like it
Another superb choice for nature lovers and fur parents, Eco Sanctuary is located along Chestnut Avenue in the leafy Bukit Panjang neighbourhood. It faces the massive Chestnut Nature Park and other smaller pockets of green spaces like Bukit Panjang Park and other community gardens.

With its location, it might be true that Eco Sanctuary isn't the most convenient when it comes to commuting (Hillview MRT station is quite a walk away), but that also means that you get to enjoy more tranquil surroundings. Its vicinity to Bukit Panjang Primary School is also one for parents to note. Also, one of this unit's biggest draws is the unblocked leafy views of the Central Catchment Nature Reserve and the double volume living room.

Sized at 1,602 square feet, the extra ceiling height certainly makes the house feel much more spacious, with more natural light filtering in from the large window panels. Not only that, the home is very tastefully designed with parquet floorings in bedrooms and marble floorings in common spaces.

The roof terrace is also a superb space for hosting intimate gatherings. It is divided into two separate areas – an elevated pool deck and a hang-out spot where guests can mingle with each other.

– Reuben

4

Bellewaters
$1,990,000
| | |
| --- | --- |
| Address: | 27 Anchorvale Crescent 544657 |
| Tenure: | 99-year Leasehold |
| Size: | 1,636 sqft |
| $PSF: | $1,216.38 PSF |
| Developer: | Qingjian Realty (Anchorvale) Pte Ltd |
| TOP: | 2017 |
Why I like it
While Bellewaters isn't the most conveniently located condo per se, it has a good mixture of all the amenities within walking distance that makes it a really liveable project for everyone.

Amenities within the vicinity include schools (such as Nan Chiau Primary School and Nan Chiau High School), Sheng Siong Supermarket (a quick 3-min walk away) and Seng Kang General Hospital. For nature lovers and fur parents, Bellewaters is located just a short walk from Sengkang Riverside Park and Punggol Park Connector. It is also near the Sengkang Sports Complex which has a swimming complex and a hockey stadium.

The nearest MRT station is Sengkang MRT (a 15-minute walk), but residents have the option to take the LRT to shorten the walking distance (Farmway LRT station is a 7-minute walk away).

Apart from the fact that this 1,636 square feet unit is tastefully designed with an industrial theme, it has a rather functional layout that makes it a great option for multi-generation living. With its move-in-ready condition, renovation costs can be cut down quite a fair bit.

In terms of the unit's layout, the living area and master bedroom are double volume but the previous owner has decided to build up a loft to fully maximise the space. This layout gives a twist to the typical penthouse design that we see in Singapore.

– Stanley

5

Studio 3
$1,980,000
| | |
| --- | --- |
| Address: | 28 Shanghai Road 248196 |
| Tenure: | 99-year Leasehold |
| Size: | 936 sqft |
| $PSF: | $2,115.38 PSF |
| Developer: | FORTUNE DEVELOPMENT PTE LTD |
| TOP: | 2005 |
Why I like it
For those living alone (or with your partner), this 1-bedroom in Studio 3 could be a great option to experience penthouse living within the lively River Valley neighbourhood.

For one, it has a great size of 936 square feet and has quite a functional layout. You can find the master bedroom, kitchen and living space on the lower floor. Those who enjoy doing heavy cooking have the liberty of enclosing the kitchen, which is always a plus point.

On the upper floor is a private roof terrace that comes well-equipped with a jacuzzi. Although probably the best part comes from the unblocked views of Singapore's stunning city that you get to enjoy from the comfort of your own home.

Location-wise, it is nestled within a residential-dense neighbourhood. The nearest MRT station is the recently opened Great World MRT, which is about a 12-minute walk away.

Nearby amenities include Valley Point (4-minute walk), Zion Riverside Food Centre (11-min walk) and Great World (10-min walk). I also like that Orchard Road is only a quick 5-minute drive away, yet residents can still enjoy the exclusivity of living in central Singapore.

– Sean