HDB Reviews

West Plains @ Bukit Batok Review: Great For Families Though Far From The MRT
Sean
April 21, 2022

27

min read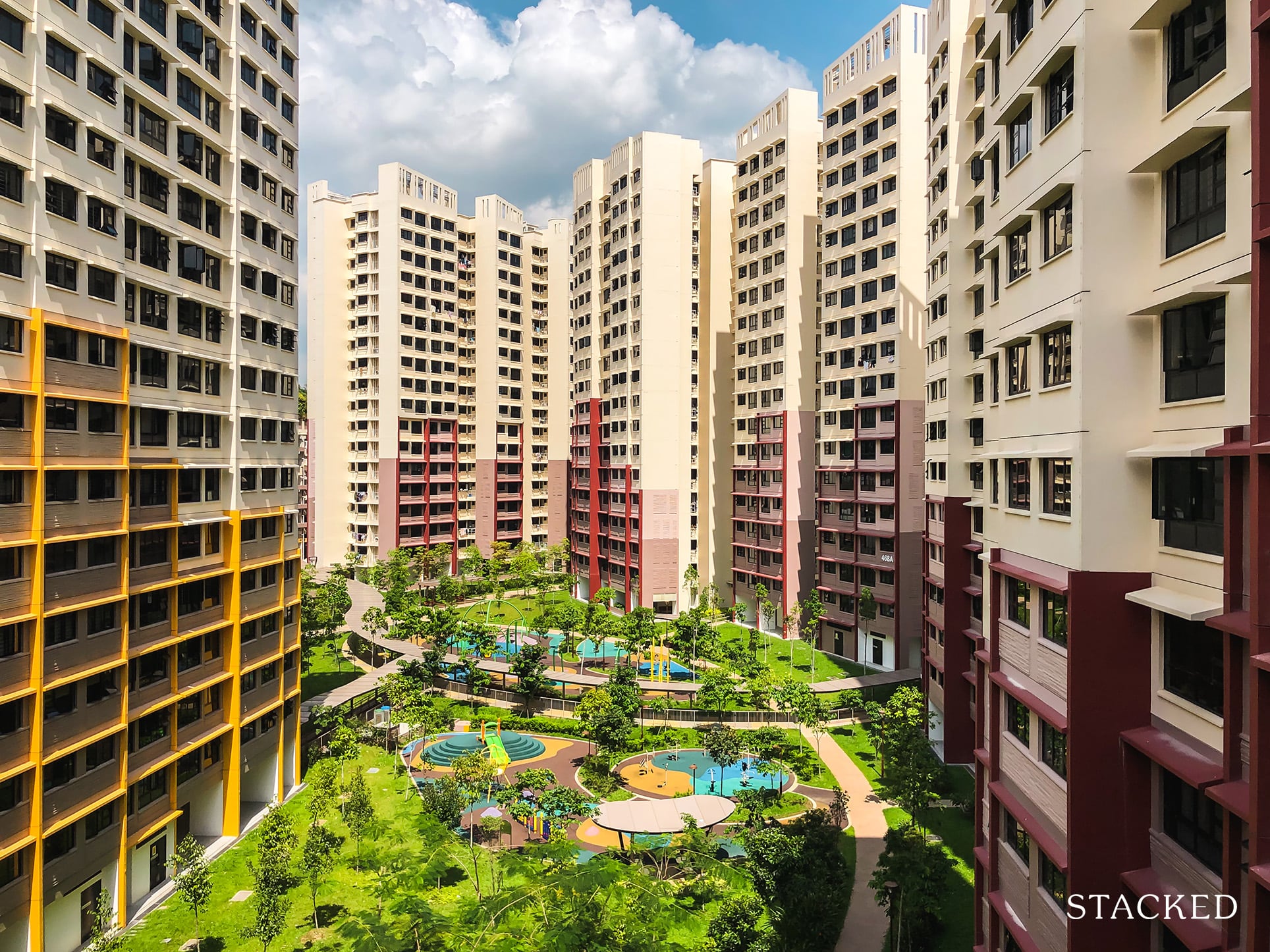 What we like
Extensive playgrounds

Self-sustaining development

Close to retail mall

Good range of units

Within 1KM of a popular primary school
What we don't like
—

Not much of a view from the unit

—

Far from the MRT

—

Densely populated (over 1,900 units)
27
min read
| | |
| --- | --- |
| Project: | West Plains @ Bukit Batok |
| HDB Town | Bukit Batok |
| Address: | 463 Bukit Batok Street 41, 464-465 Bukit Batok West Avenue 8, 467 – 468 Bukit Batok West Avenue 9 |
| Lease Start Date: | Around 2020 |
| No. of Units: | 1,962 |
West Plains @ Bukit Batok was launched in the February 2016 BTO exercise as part of HDB's effort to grow the town's population. But since 2012, the HDB has already launched 16 BTO sites at Bukit Batok. As such by the time of its launch, it was already the 12th launch and much of the early fizzle had disappeared, so there wasn't anything in particular that BTO hunters had to look forward to.
Prior to this, the area was largely empty plots waiting to be developed, and here's a little tidbit for you to see just how much development had occurred in the area between the 2014 and 2019 Master Plan: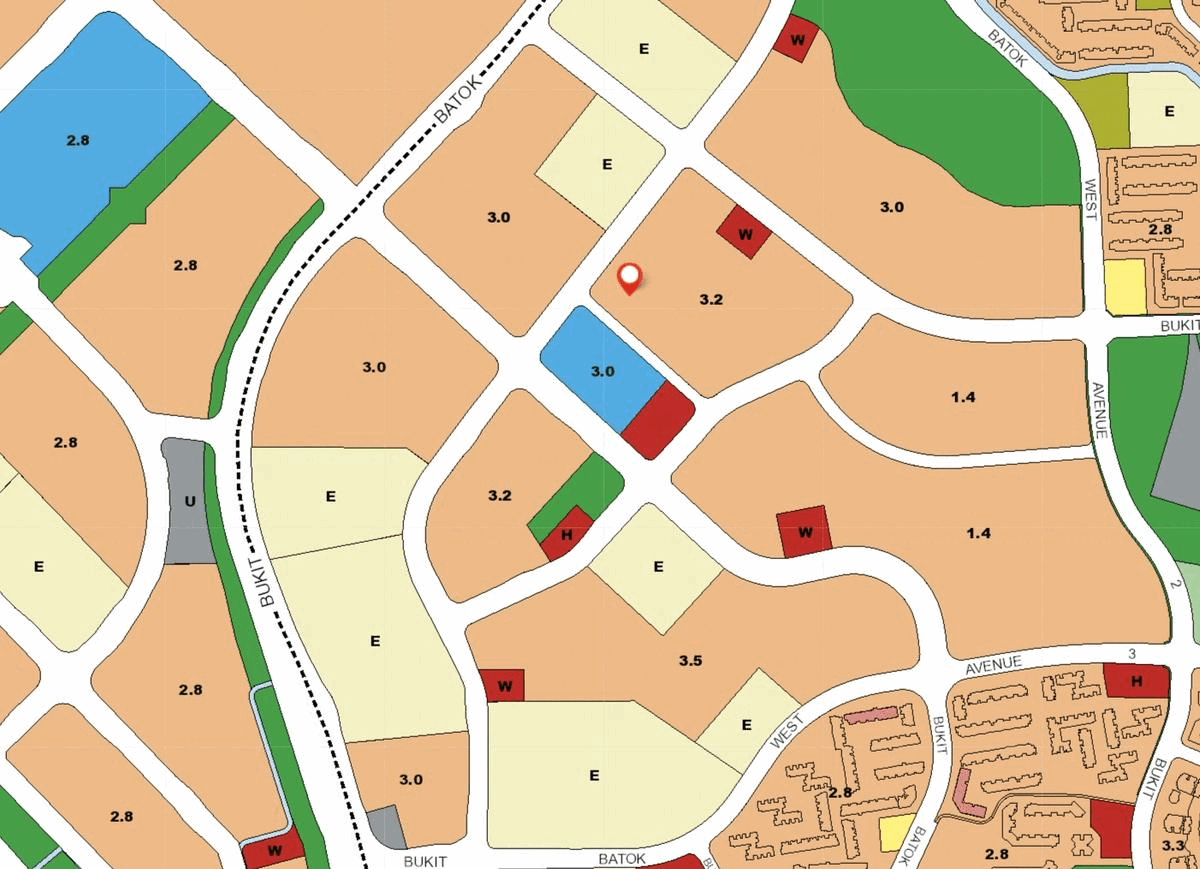 Owing to how immature the place is, this was certainly not the most popular launch at its time – particularly since a 1,594-unit strong development was launched in the Bidadari estate (Alkaff Oasis) which is a location that remains very sought after.
Prices at West Plains were going for $266,000 for a 4-room flat, while the 5-room flats went for $367,000 onwards which looked very affordable compared to the mature Alkaff Oasis that went for double the price for a 4-room flat.
Today, many of the BTOs in the Bukit Batok area are around the same age and would likely MOP around the same time, meaning that buyers would be spoilt for choice in the area (You can also consider Tengah too!). Given the supply here, should West Plains @ Bukit Batok be worth considering?
Let's find out in our usual HDB review!
West Plains @ Bukit Batok Insider Tour
West Plains @ Bukit Batok is huge so it's no wonder that there are four entrances and exits into this development which are on every side except Bukit Batok West Avenue 5.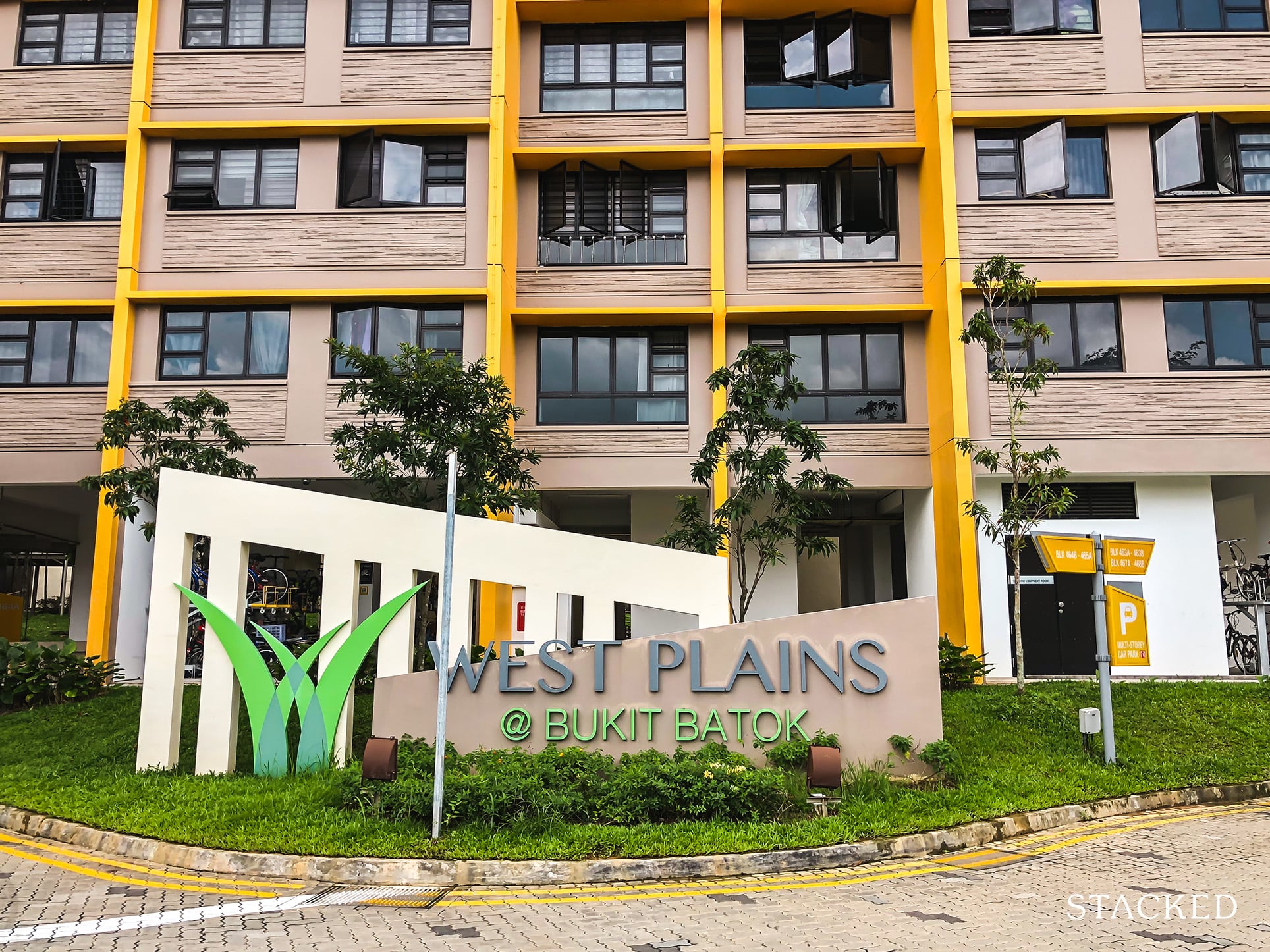 From the outside, it's clear where you're at. The signage "West Plains @ Bukit Batok" (an appropriate one I must say) greets you at the entrance.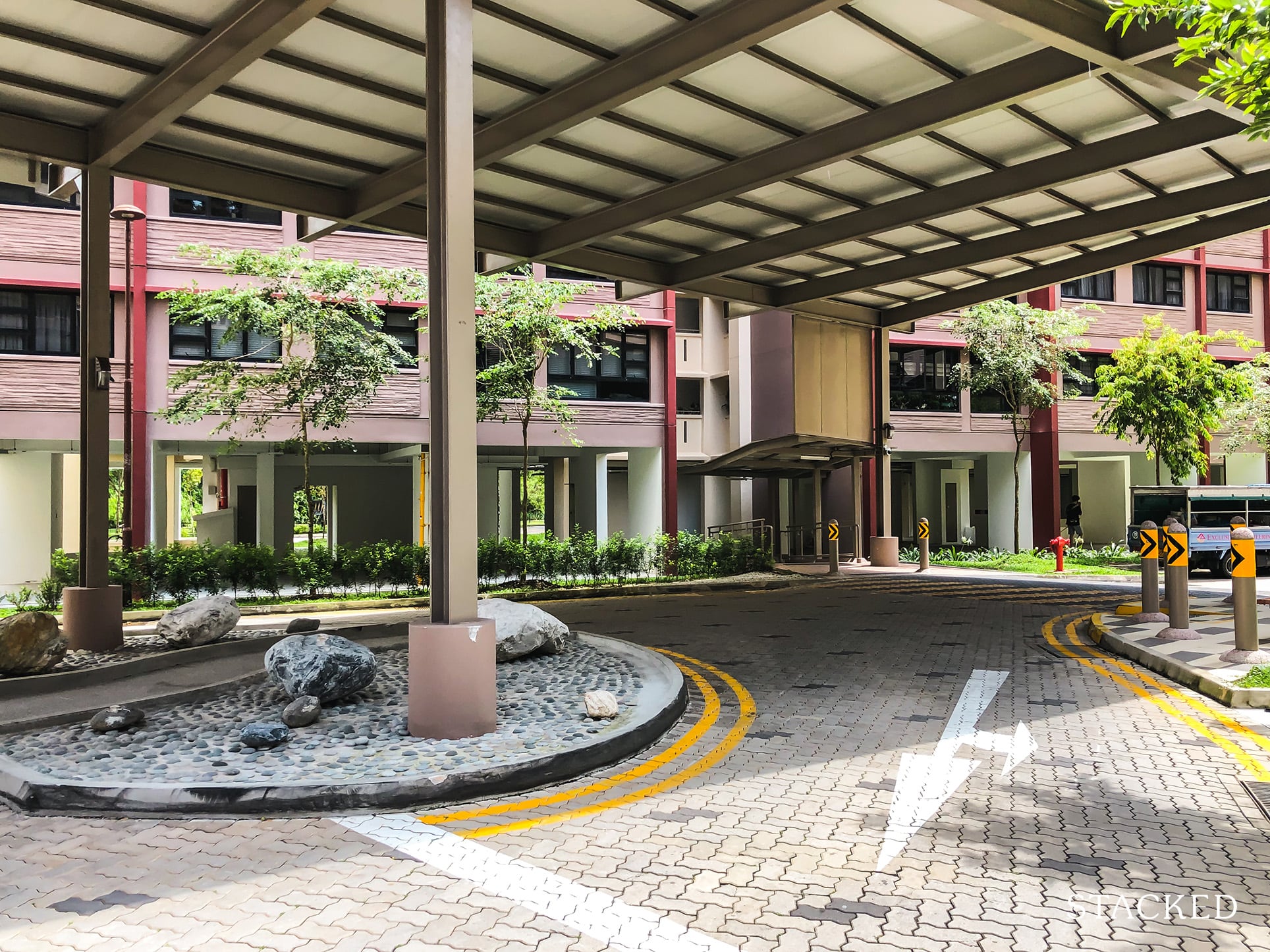 Heading in from Bukit Batok West Avenue 9, you'll immediately come across the main drop-off point which has a roundabout design, which is common in most drop-offs.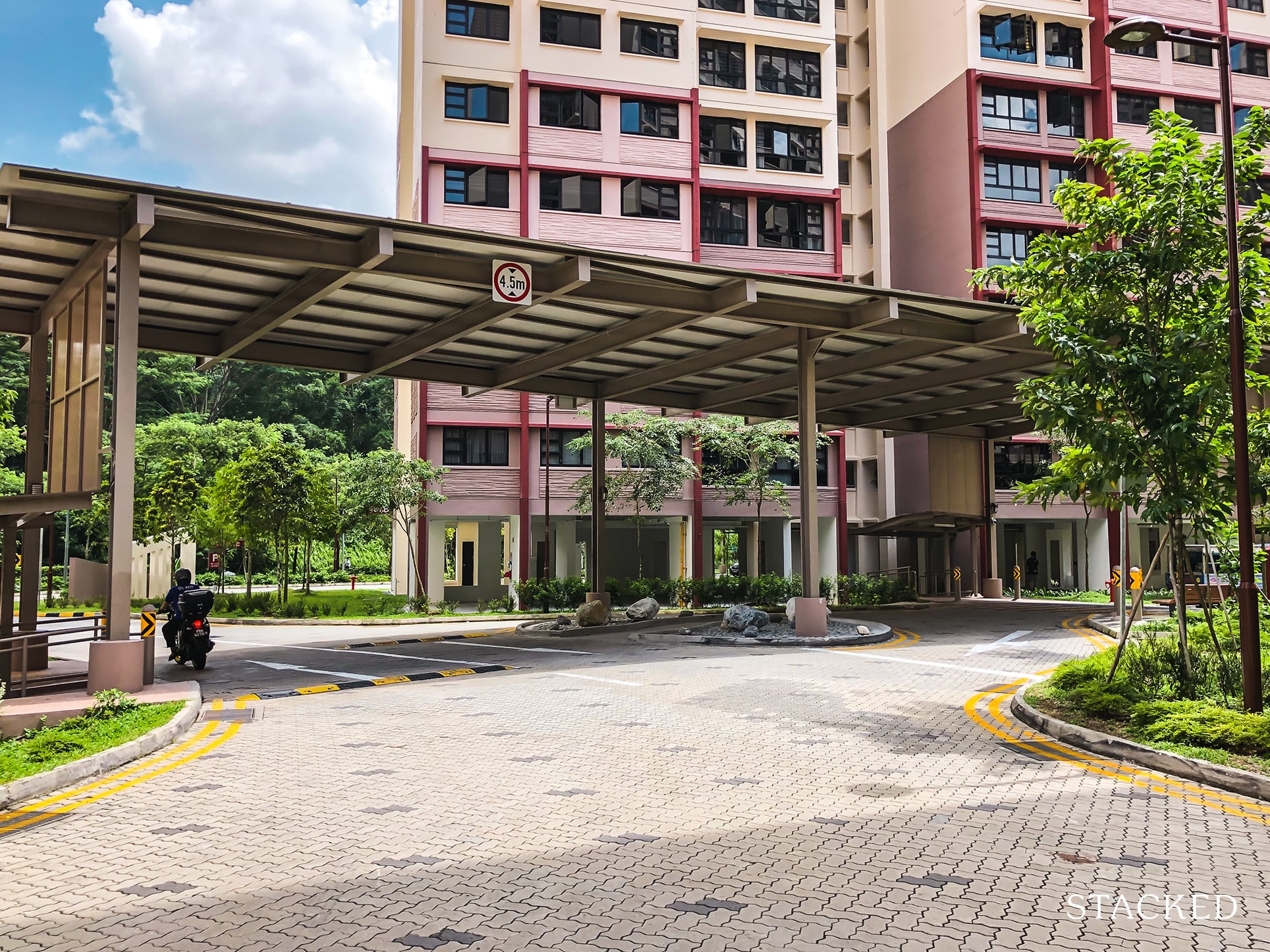 For the main drop-off point, however, the amount of space here is lacking. First, there's an allowance for just one car to stop underneath the sheltered area. For a development this size, perhaps having two spots would be great. It's also not a typical roundabout as it has a road that continues on to an area for loading and unloading.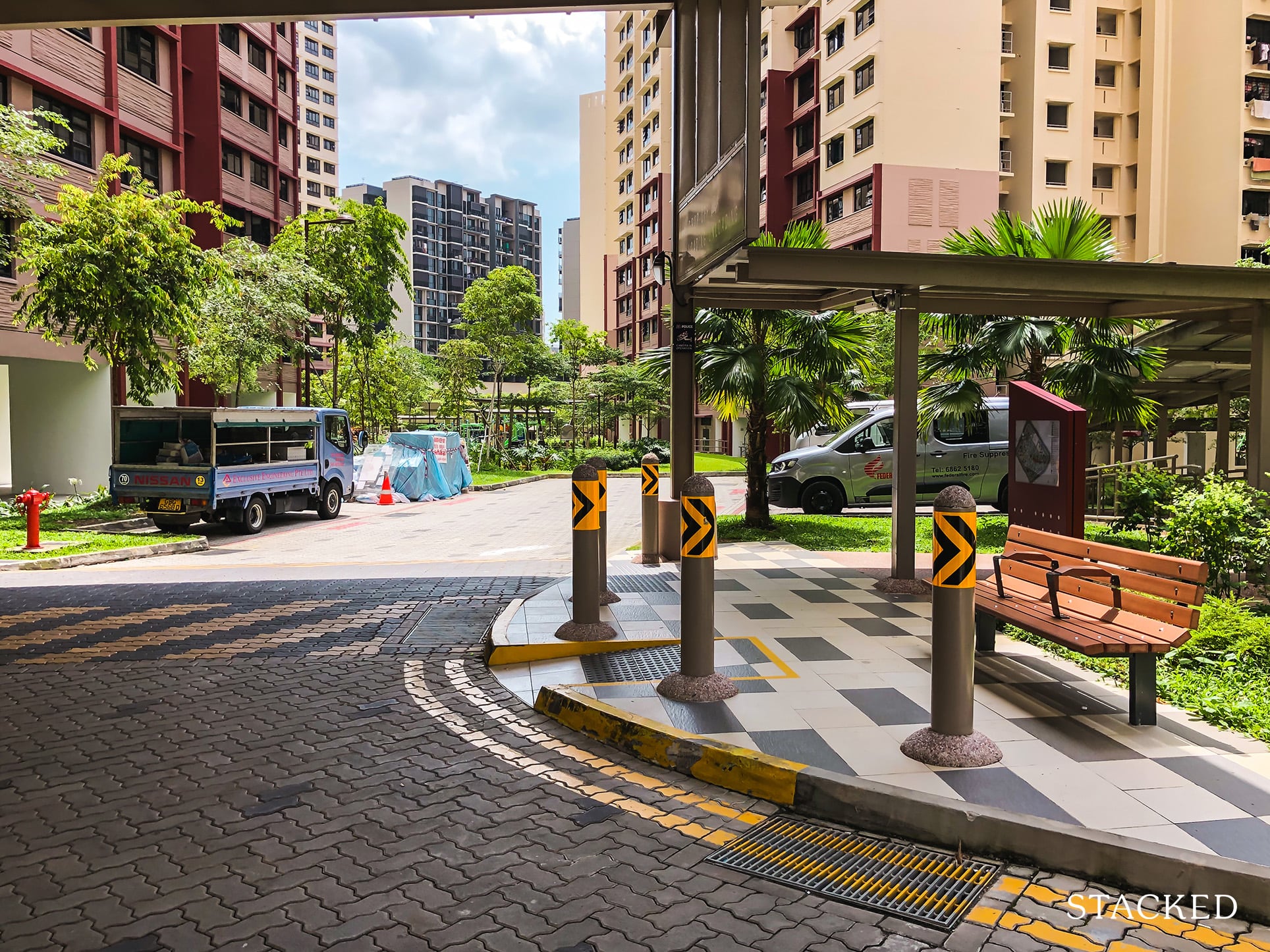 Next, there's a lack of sheltered seats here, which is a very strange oversight. Most HDBs that I have reviewed have at least some form of sheltered seating here and it's hard to pinpoint space constraints as a root cause of it considering how vast this site is. Though there is a bench nearby, it doesn't fall under the drop-off shelter. Again, a very weird placement.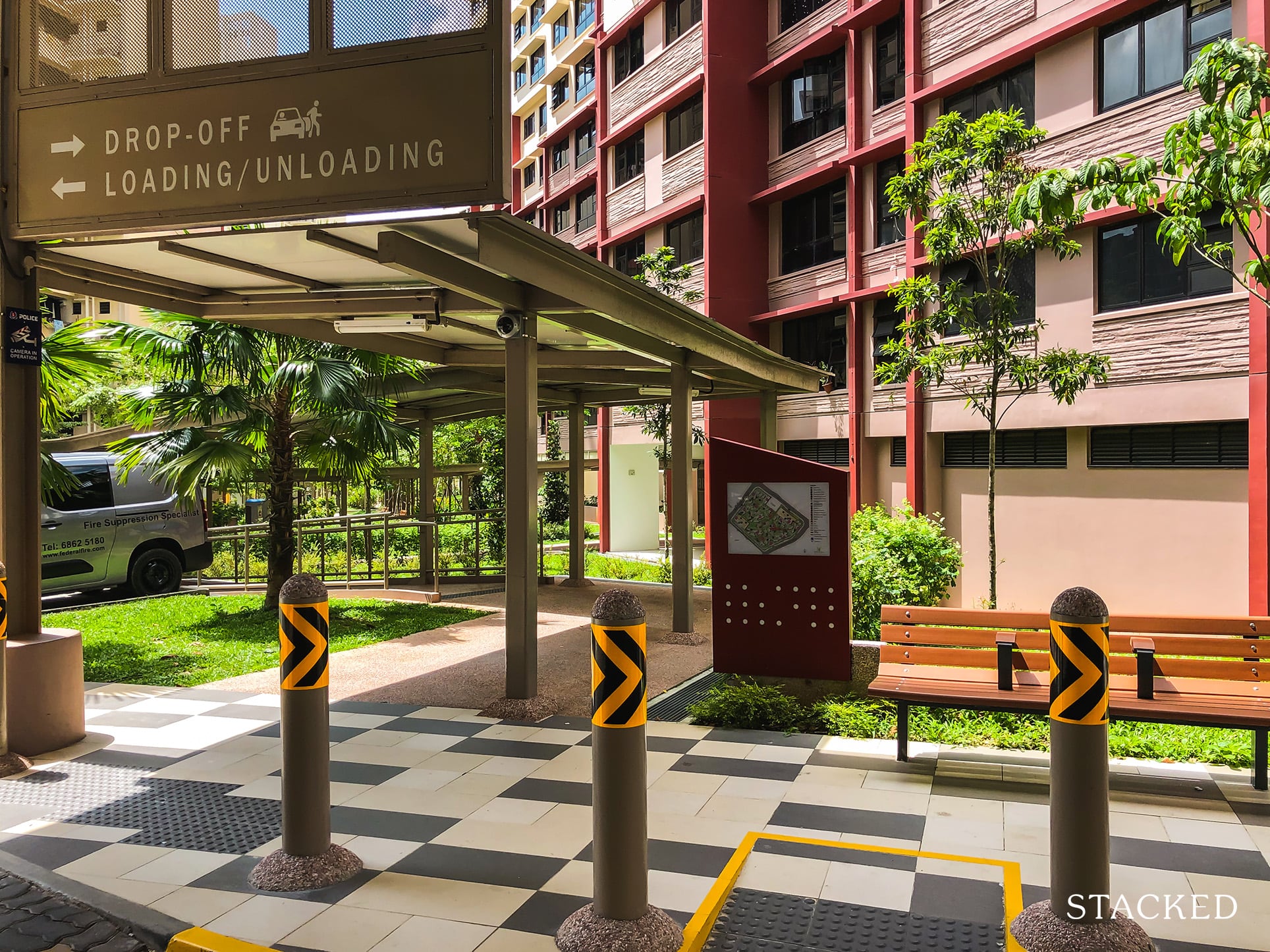 The good news is that there are at least sheltered walkways to three blocks here, so anyone dropping off at this point can comfortably get to their blocks regardless of the weather. After reviewing so many HDBs, I think this is probably the bare minimum you can expect of any HDB.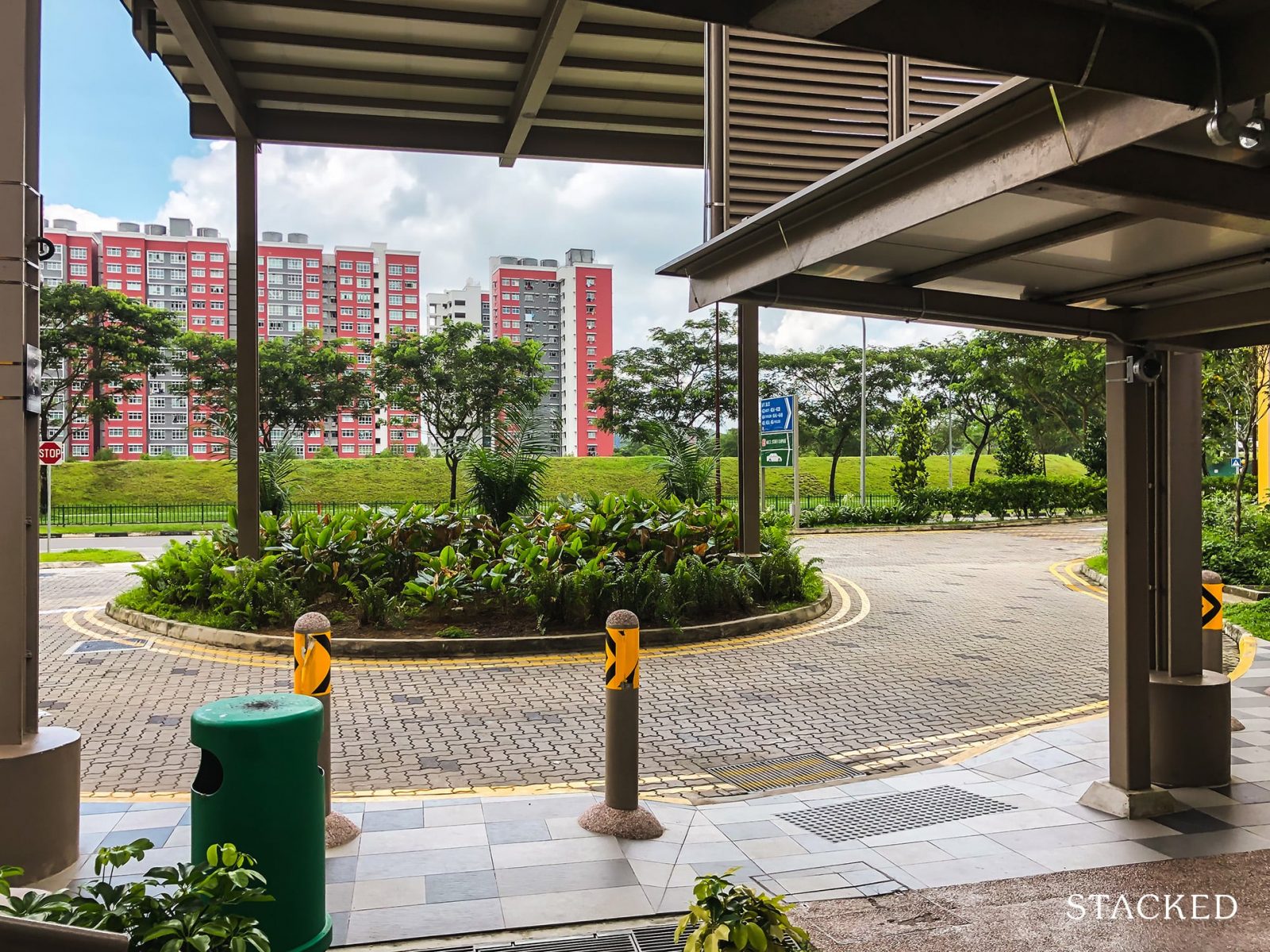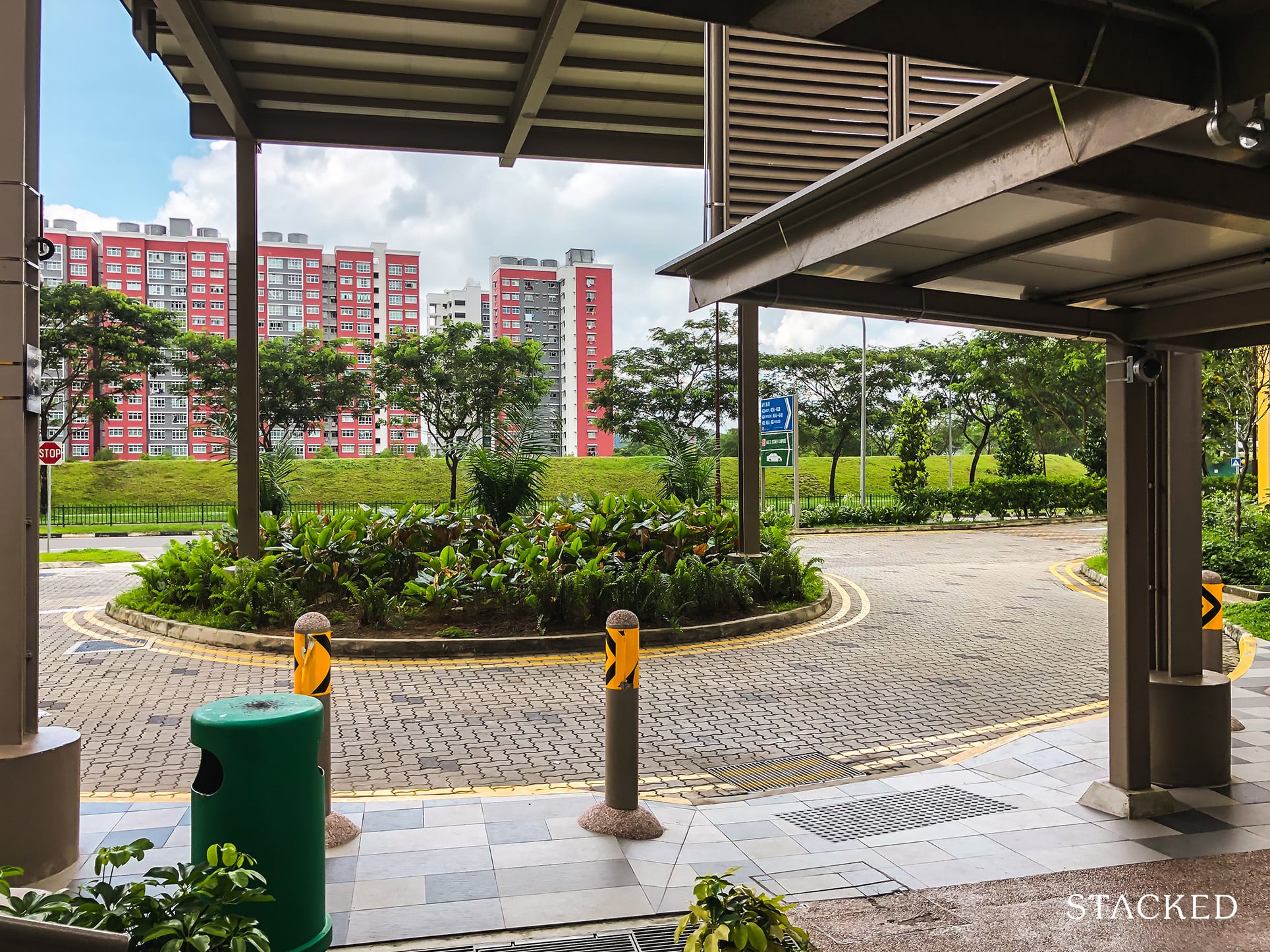 The shortcomings of the main drop-off point are mitigated by the fact that almost every single block has its own drop-off, or at least has one nearby. This is more of a necessity than a want considering how big the site is.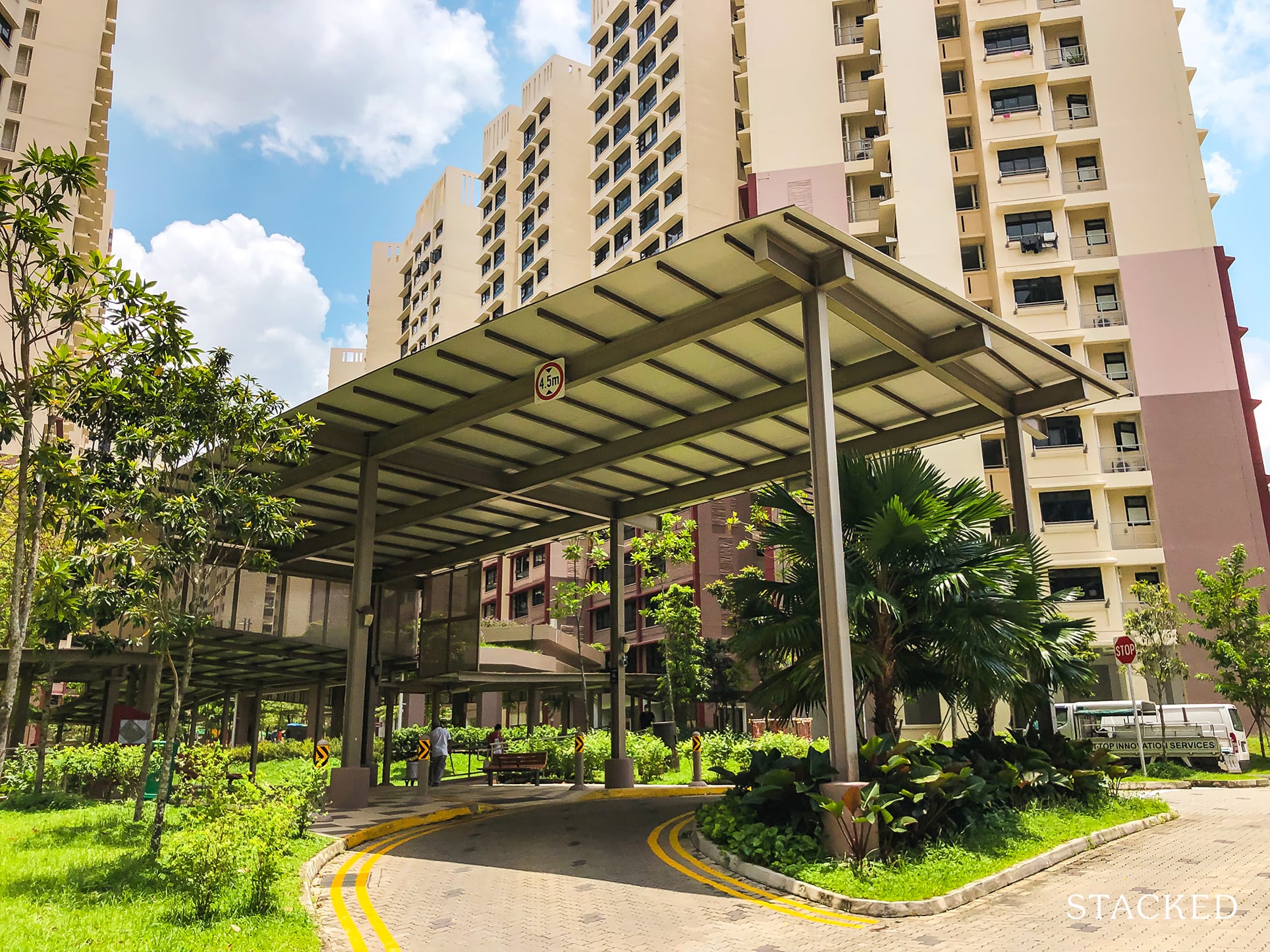 The drop-offs are designed in a similar roundabout fashion, but some of these secondary drop-off points actually have bench seatings, always good for the elderly or those who tire from waiting for too long.
Now that we've looked at the drop-off points, let's check out what the car park here is like!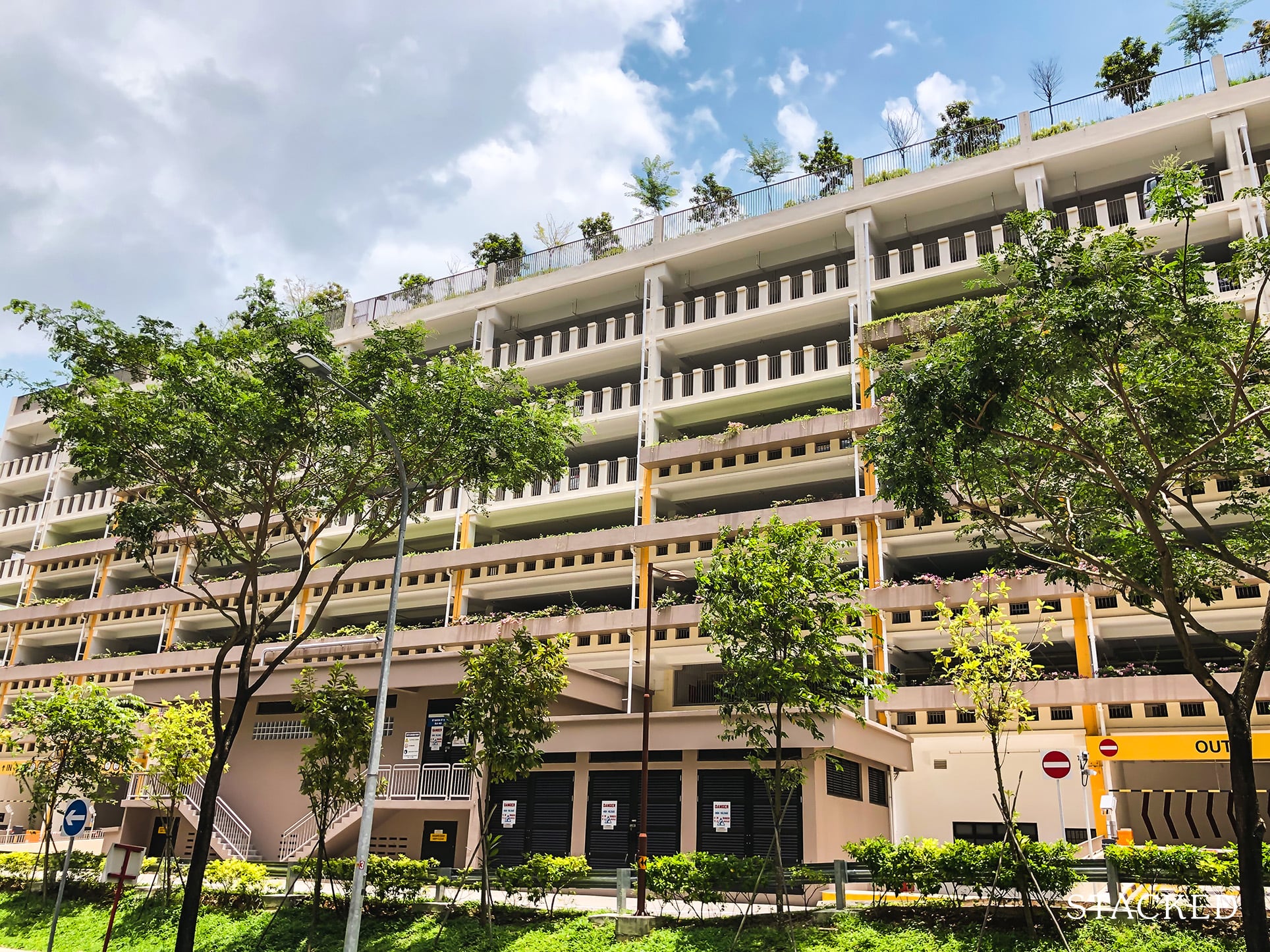 The car park is a multi-storey one, the most common form found in HDBs. Considering how big the development is though, West Plains @ Bukit Batok has not just one, but two multi-storey car park blocks in total. One is situated on the west side, while another is on the east side of the development.
The east-side car park is a 6-storey one that sits atop the commercial outlets of the development. This one is closer to blocks 467A and 468B.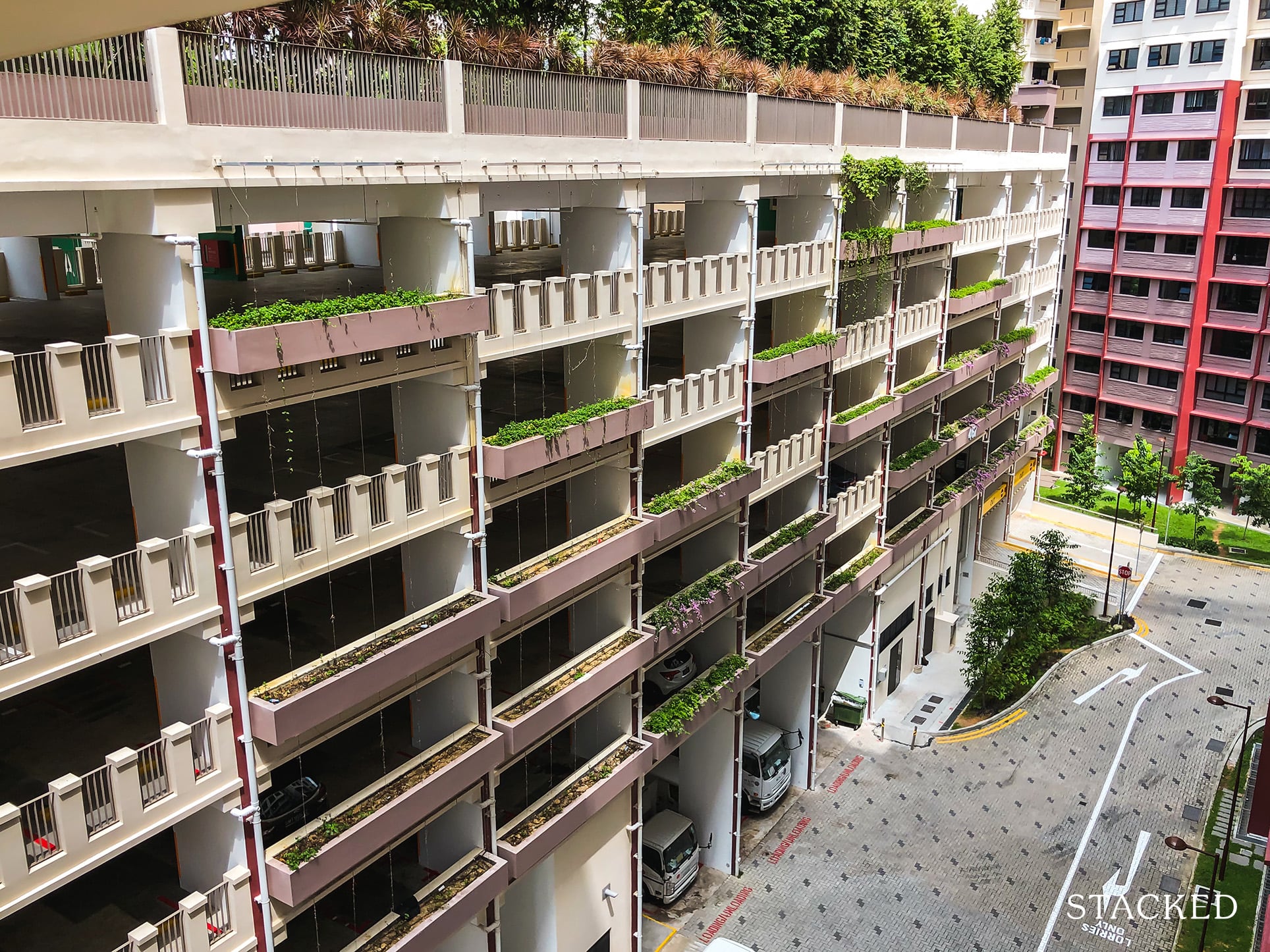 In terms of design, the car park has a consistent colour scheme with the rest of the development with planter boxes on the outside. I've always liked plants growing along the car park block as it helps break its concreteness. It's no surprise that car park blocks are the ugliest parts of any development, so having some overhanging plants does go a long way.
As the development is still new, time will tell whether the plants here would grow nicely, but from what I'm seeing here, some planter boxes do not seem very successful so far. Still, most seem to be growing out nicely!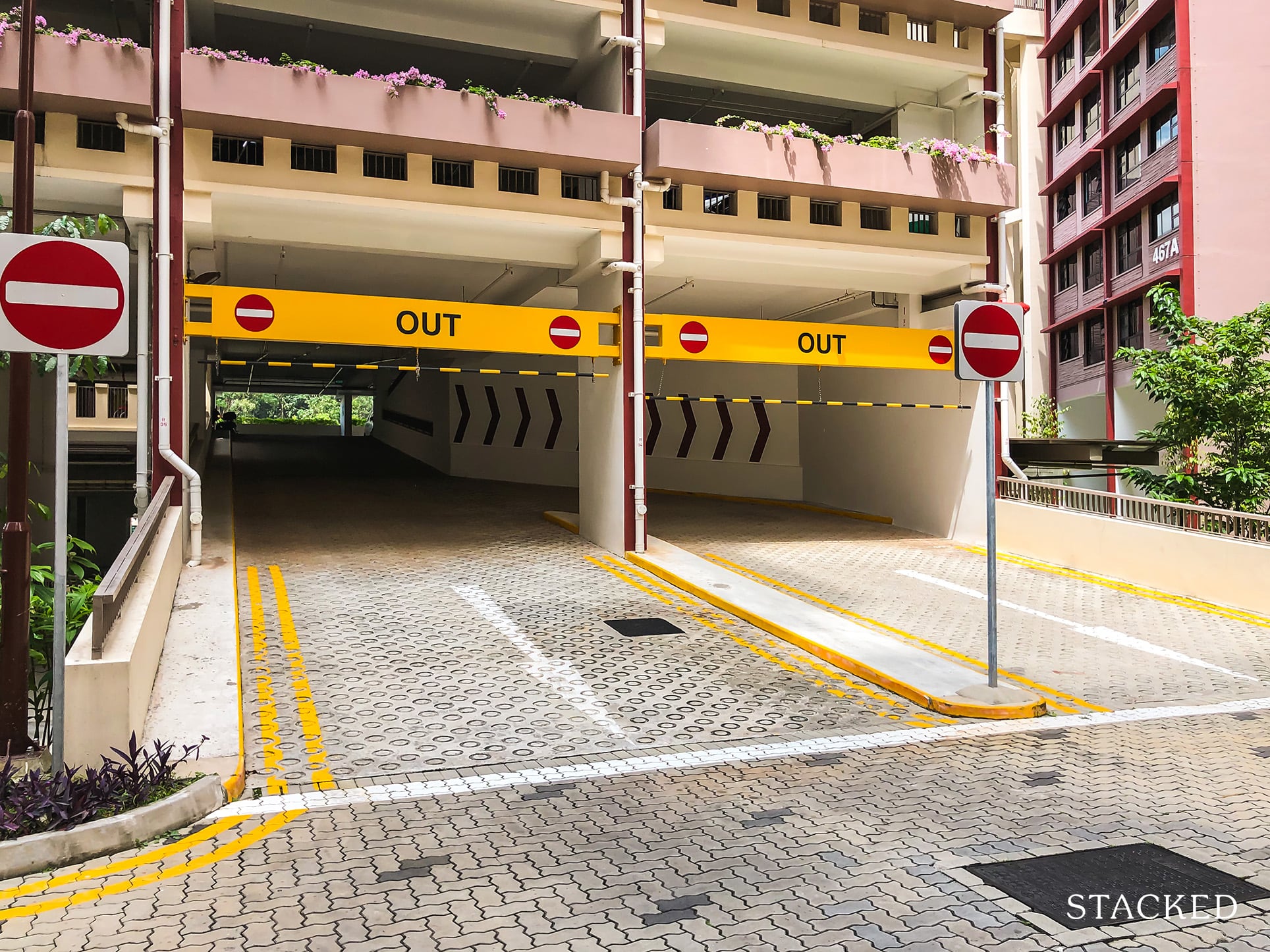 Each car park comes with two entrances and two exits which is always handy during peak hour traffic (or if someone is hogging up one lane from forgetting to top up their cashcard!).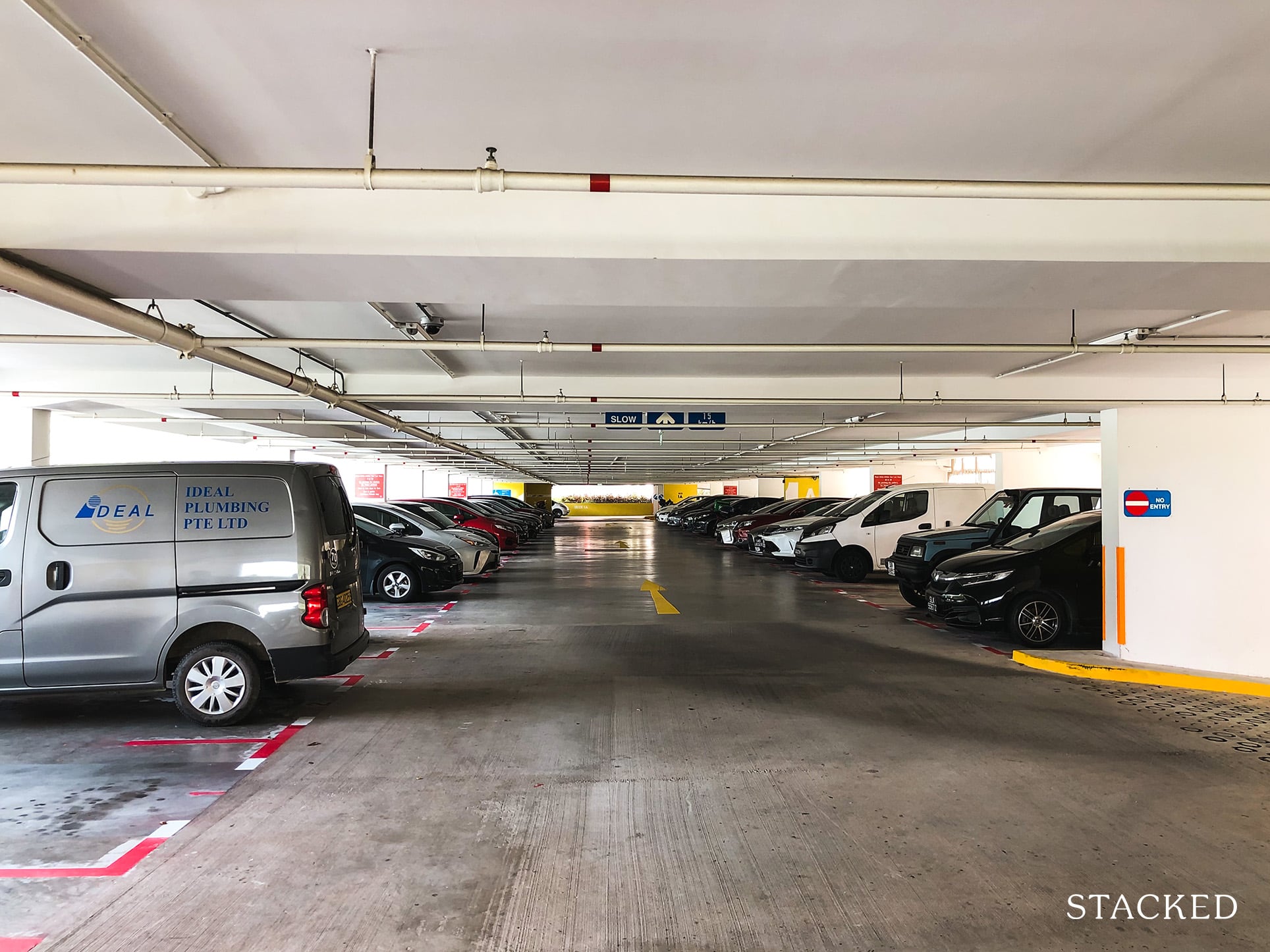 Inside, you'll find the car park to be very bright and spacious which is common in multi-storey car park blocks. There's also an air well in the middle that helps bring in more light and improves ventilation.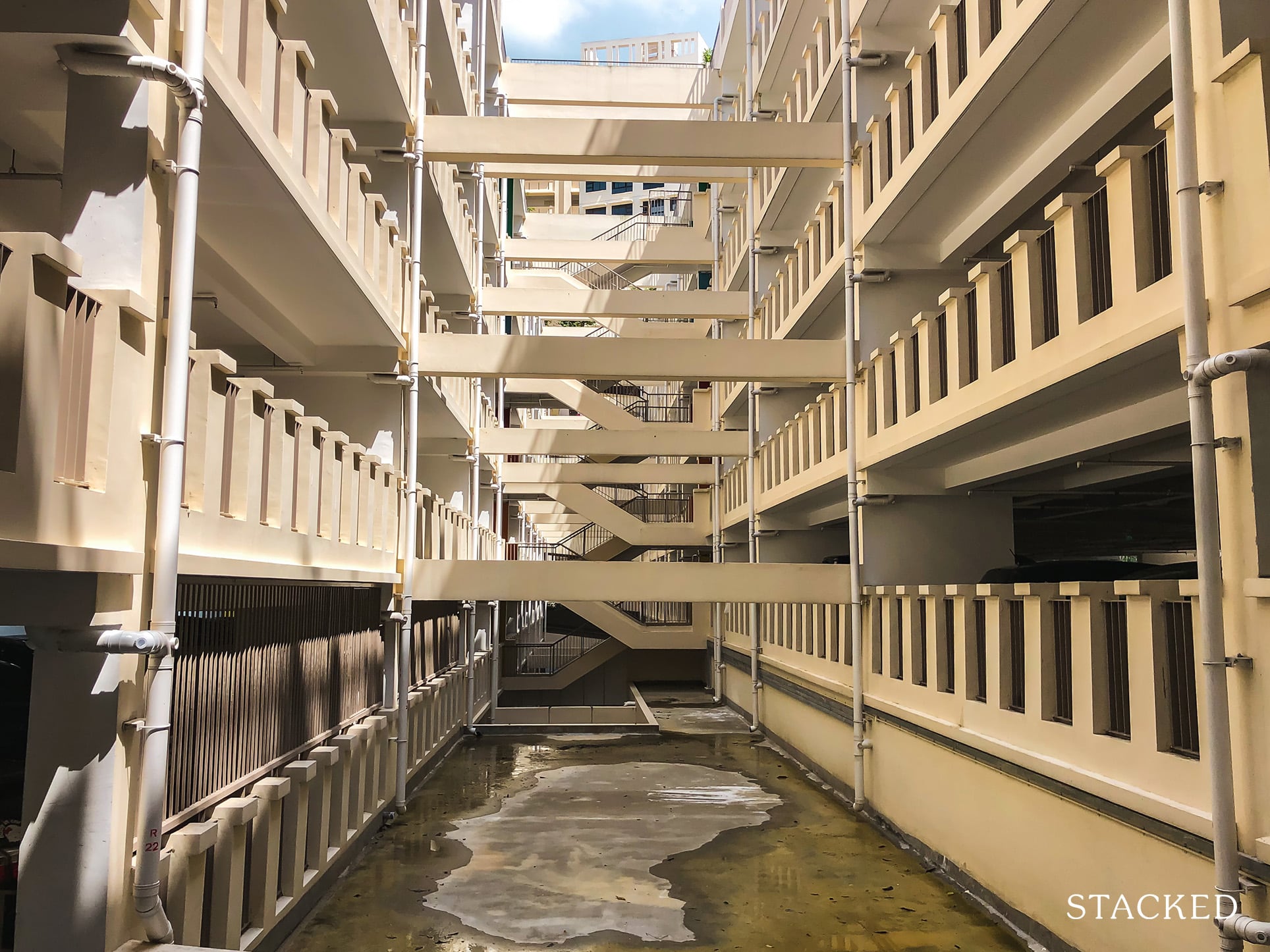 This shot above isn't very useful, but it does somewhat look like a photo taken out of the Matrix.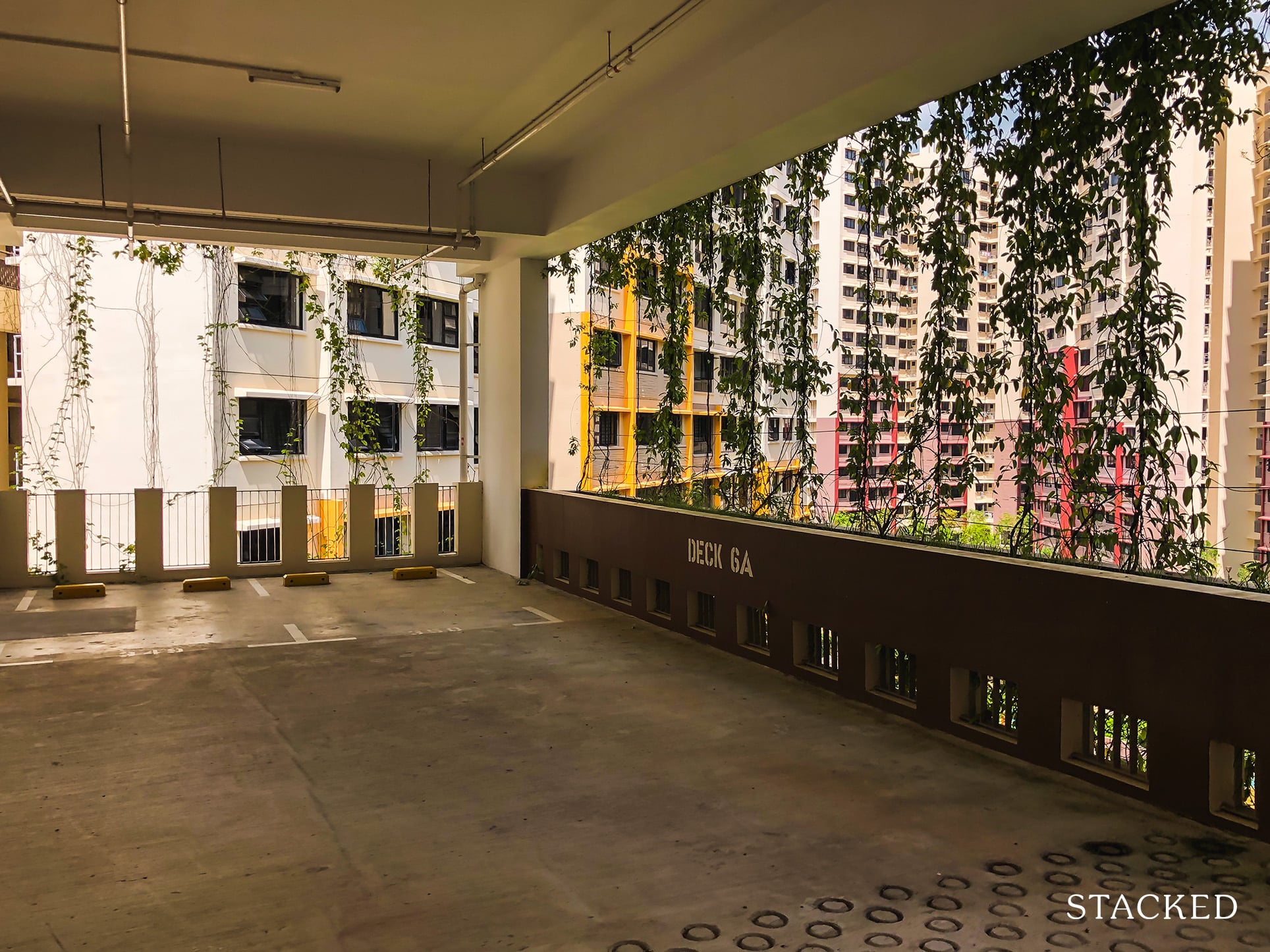 There are also some overhanging plants on this side – a very nice touch to the car park!
But it's from here that you'll spot the inevitable problem that plagues units near any car park block – a lack of privacy.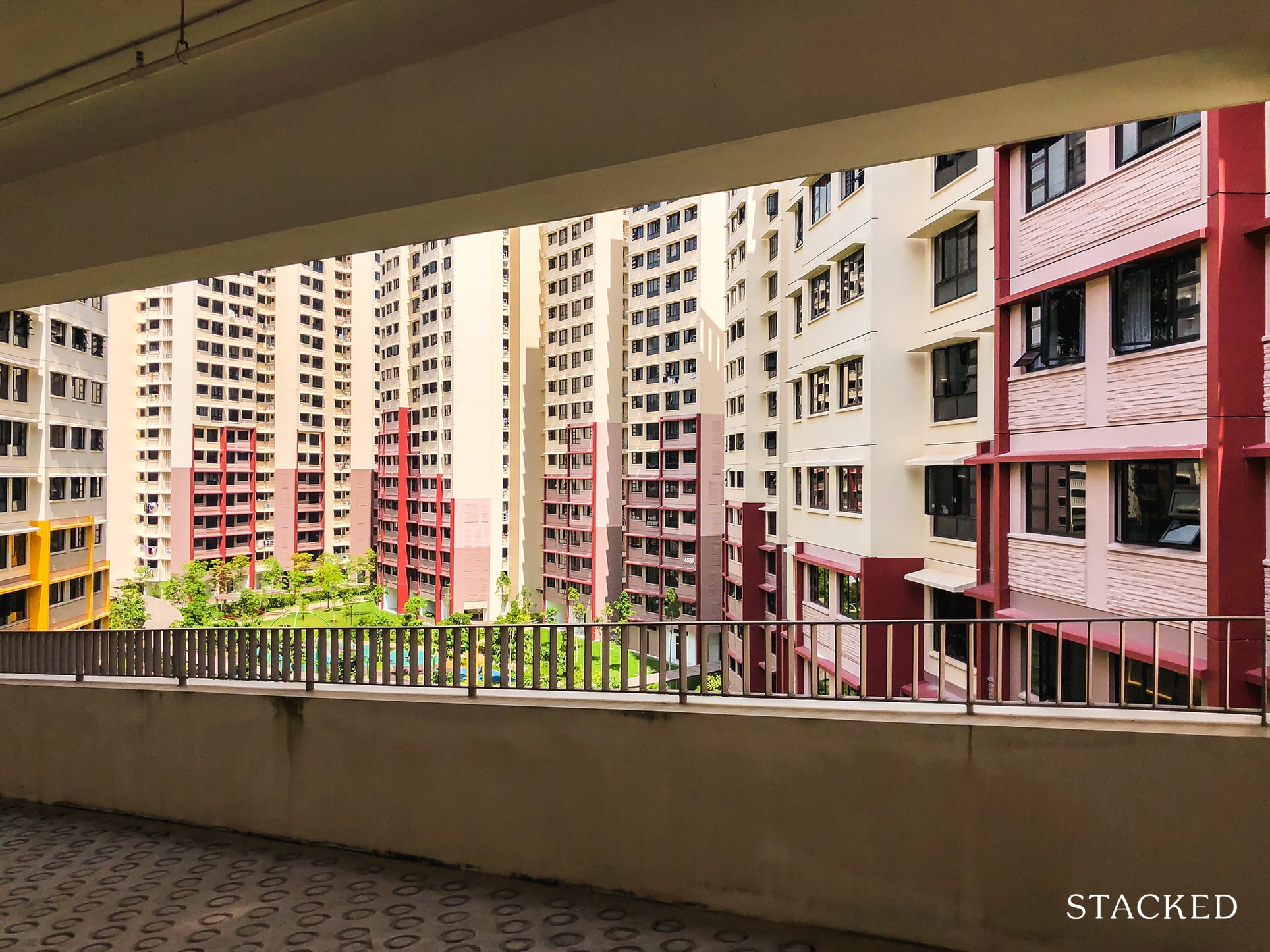 Notice how close some of these units are to the car park? These can be some of the hardest flats to sell due to the noises from cars and headlights disturbing the peace at night.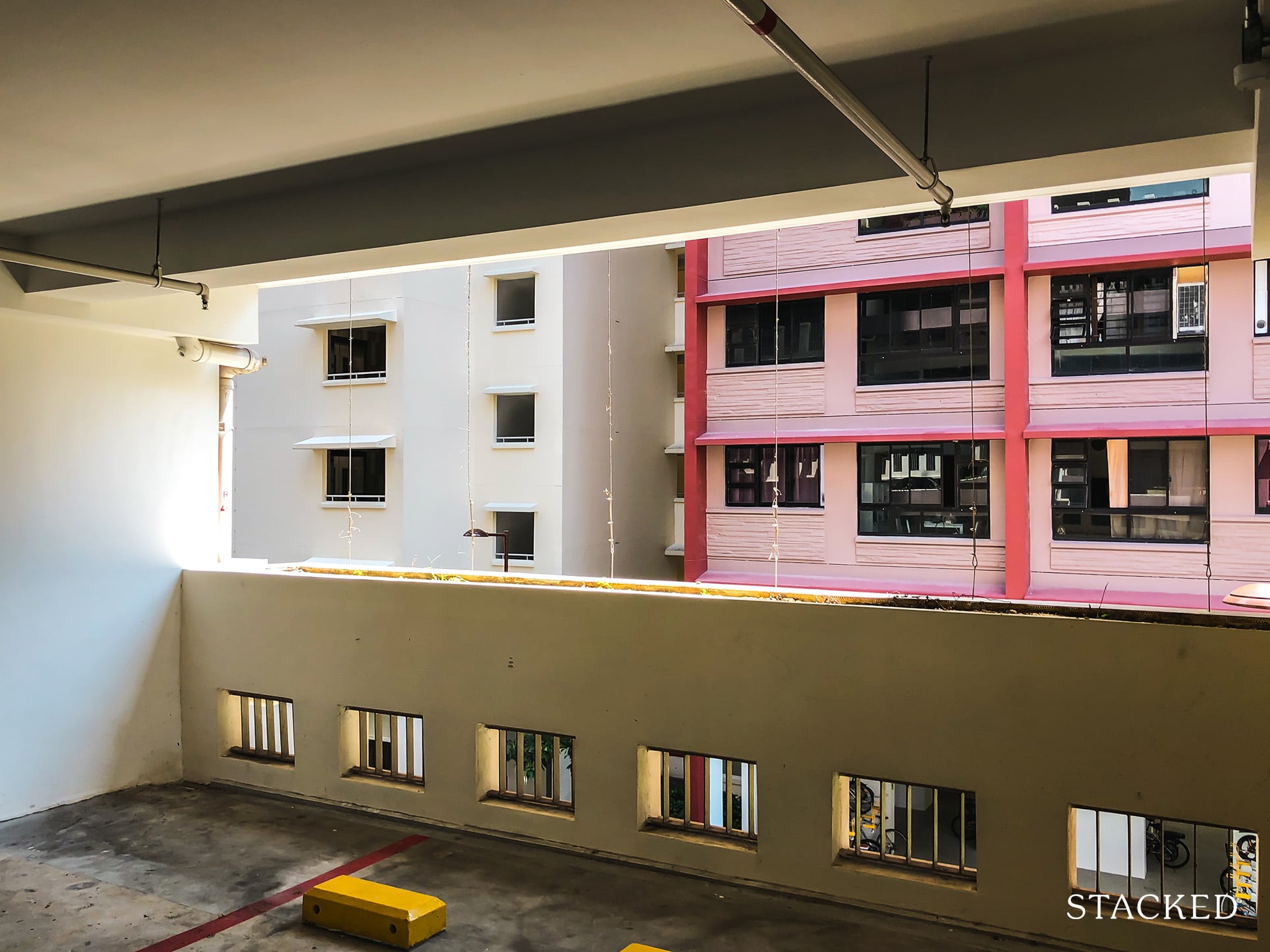 The blocks on the west side facing the multi-storey car park have a more indirect facing (not too bad), while the east side has a more direct facing (the most unfortunate). I'd say to take note of these as a buyer, but I'm sure it'll be obvious when you're viewing the unit.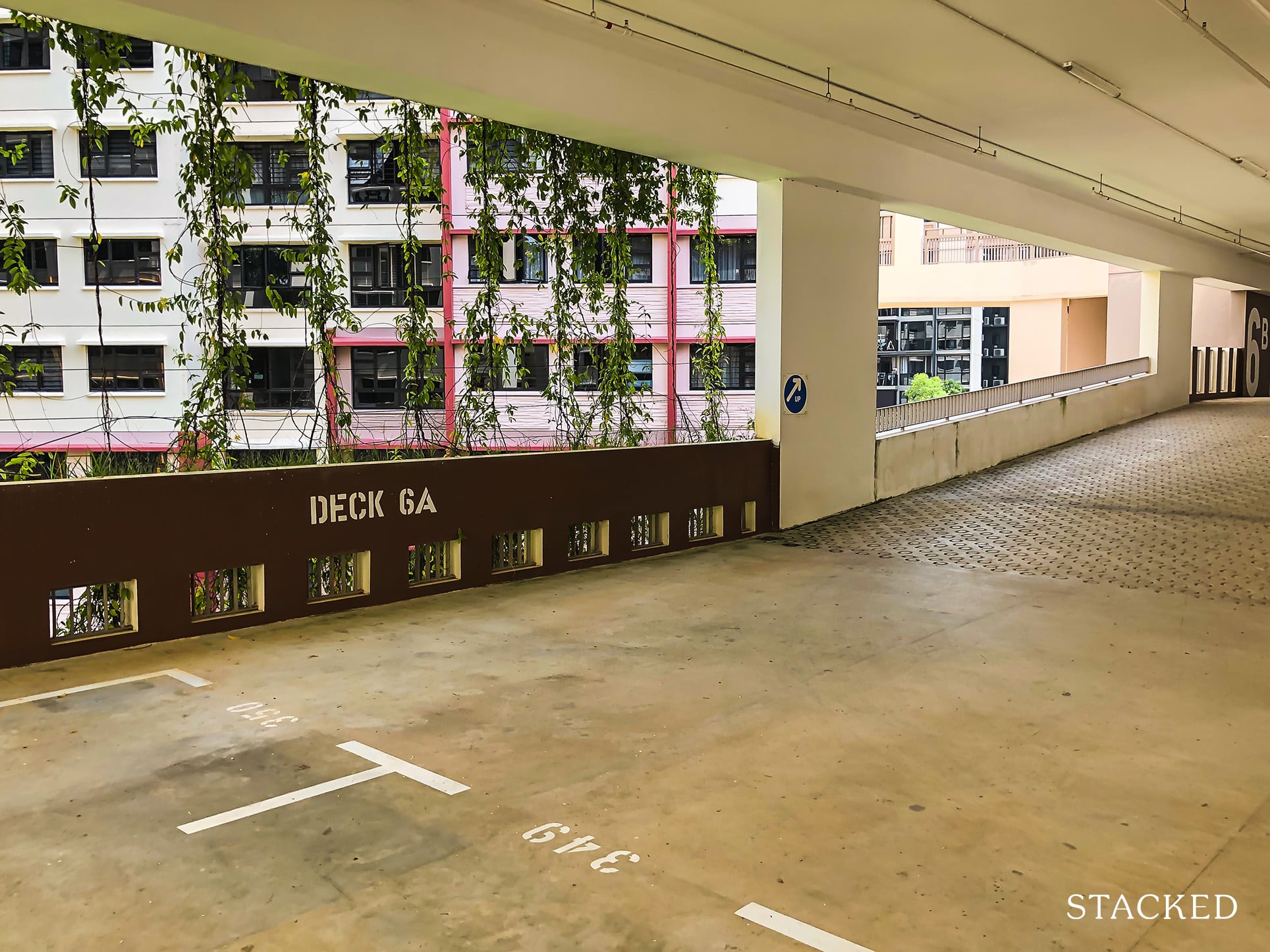 That being said, some of the overhanging plants here are quite thick such that it could really mitigate some of the privacy issues, so do take this into consideration too.
From the west-side car park, you'll get a good view of the common grounds that we'll get to later (it's quite a pretty sight):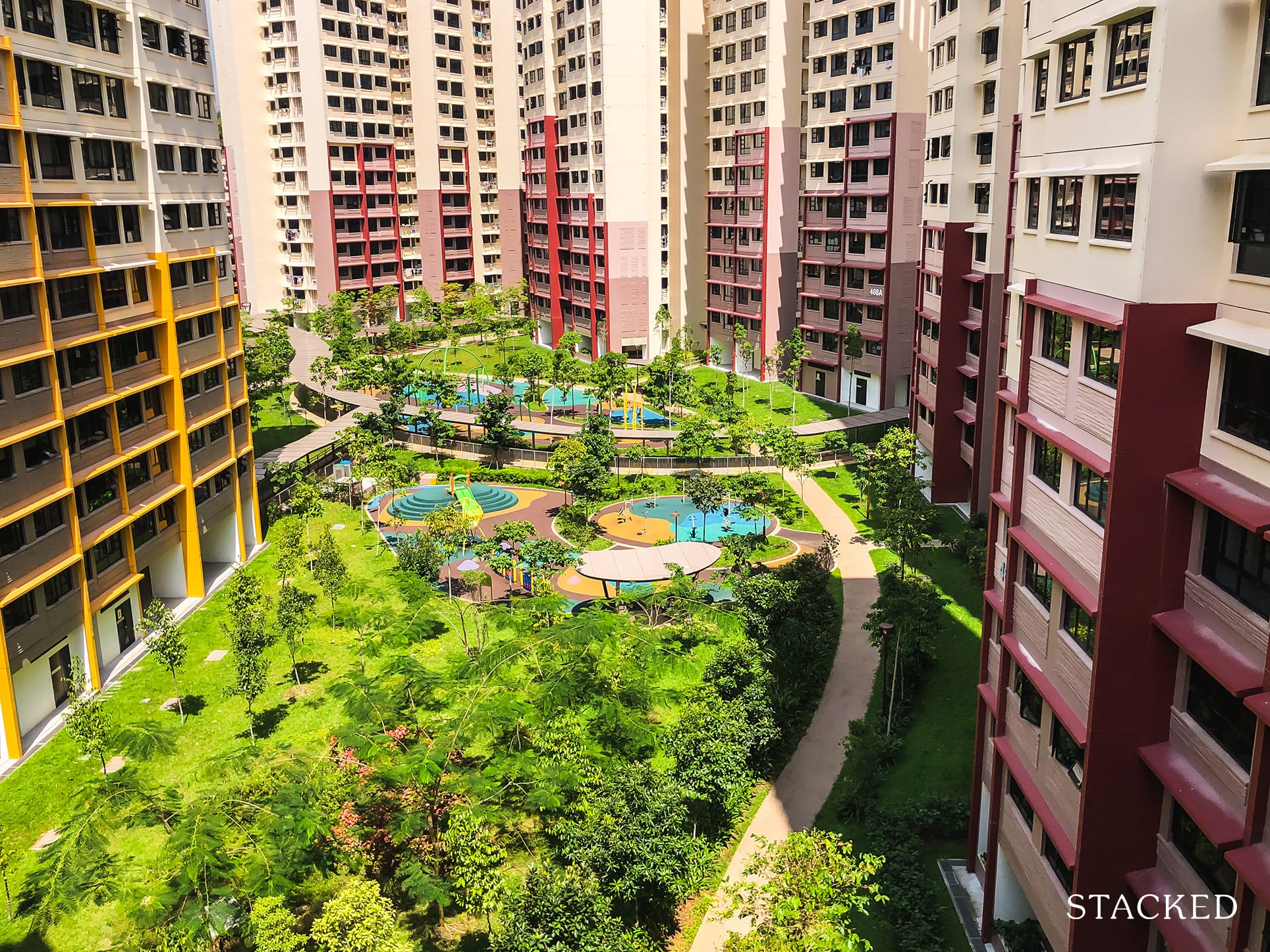 One pet peeve I have of this car park is the lack of a link bridge from the first few levels. While there are unsheltered paths to the surrounding blocks, the lack of a link bridge means that residents/visitors who park on the 2nd floor and above have to take the lift twice instead of being able to head directly to their block.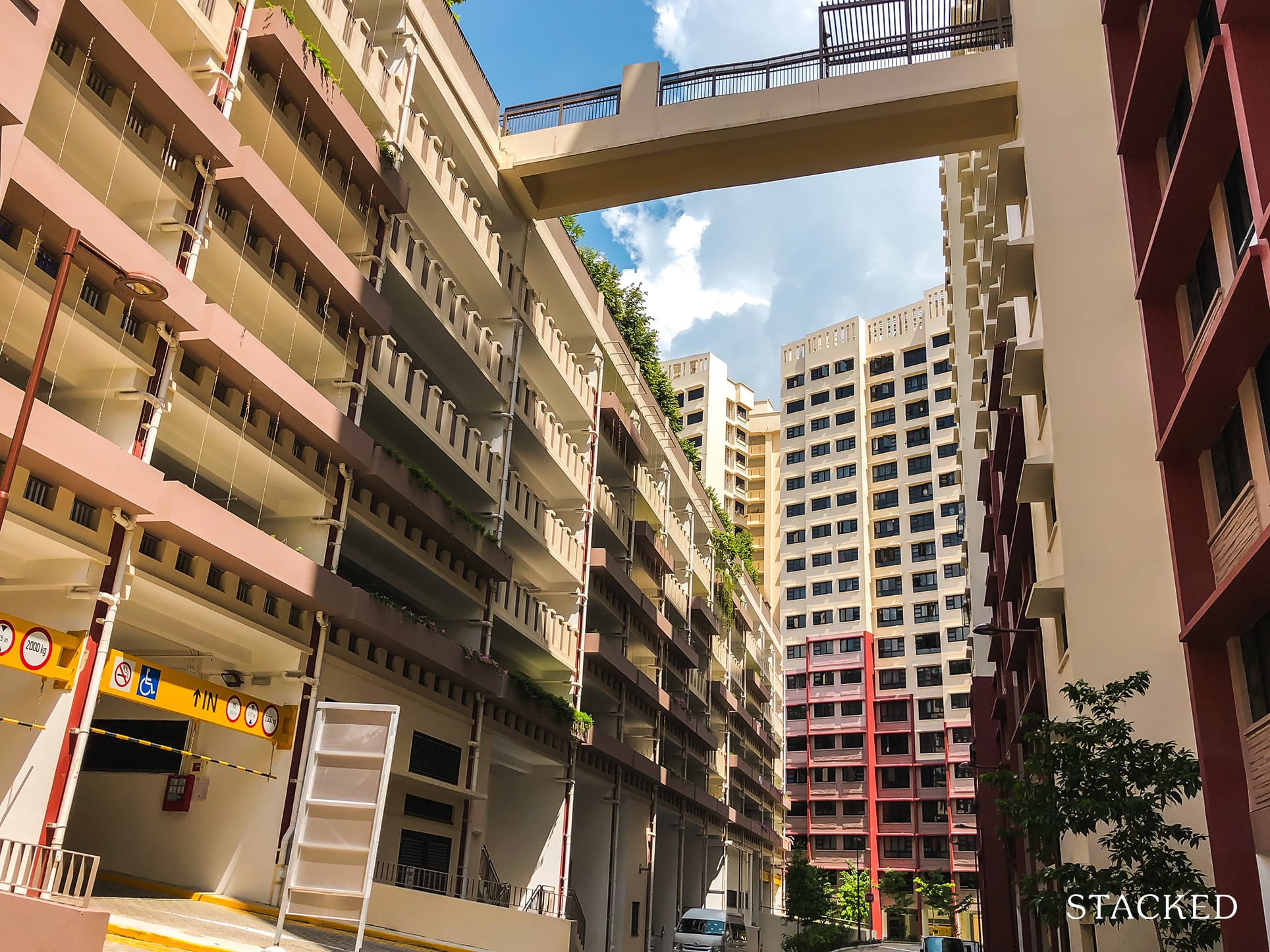 This is usually an issue if you rely heavily on driving out to do your groceries or bringing heavy items back often. So considering the commercial block here, perhaps this is not as much of a big deal for residents of West Plains @ Bukit Batok.
And given how new the development is, it's no surprise that the multi-storey car park blocks here have an accessible roof garden which is a common feature in new HDBs.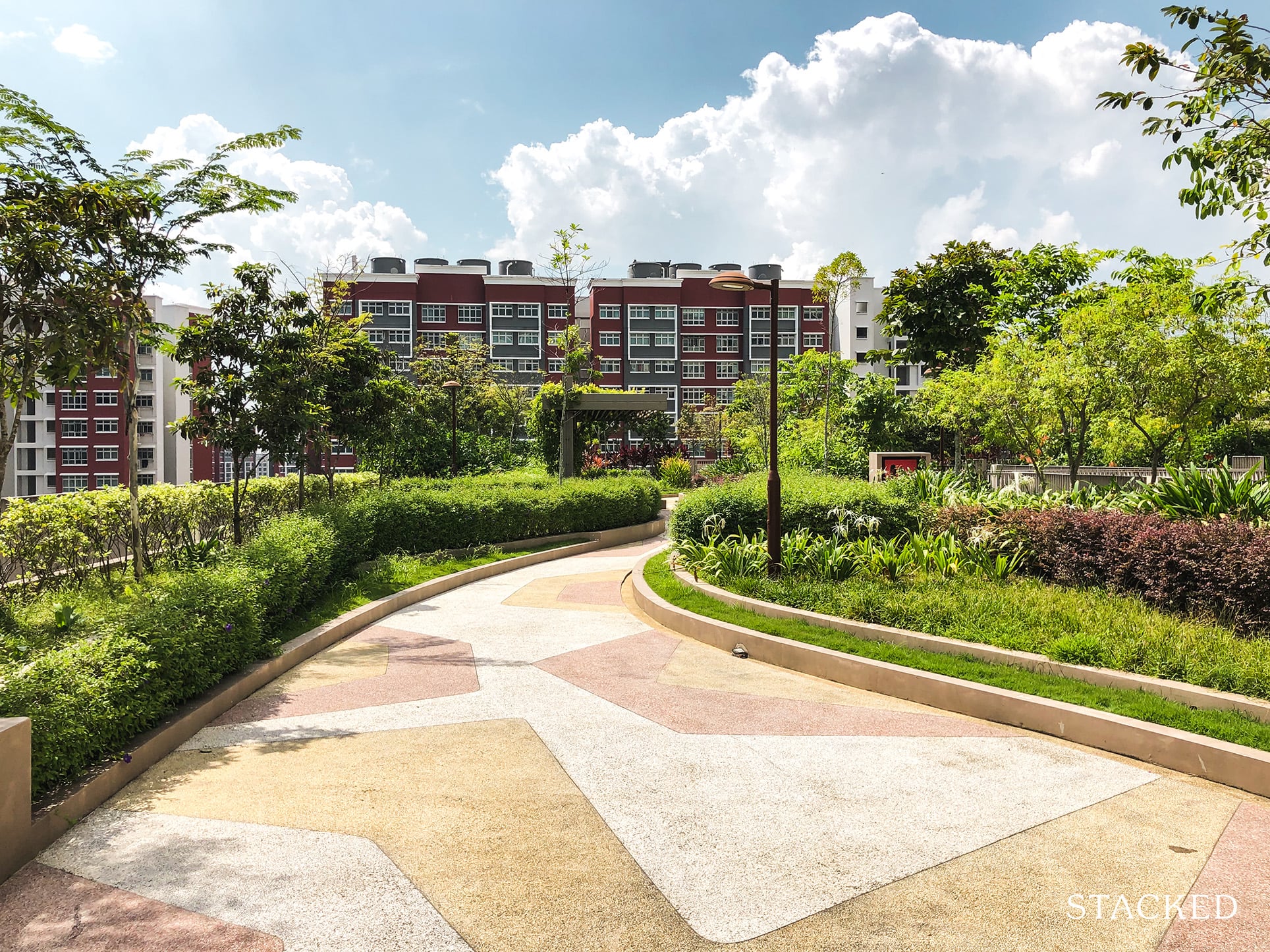 Once you step out, you'll find the rooftop garden to be very well landscaped. The first thing you'll notice is just how manicured the greenery is. The sides of the pathway actually look like a lot of thought went into the landscaping, unlike the one I saw at Hougang Capeview.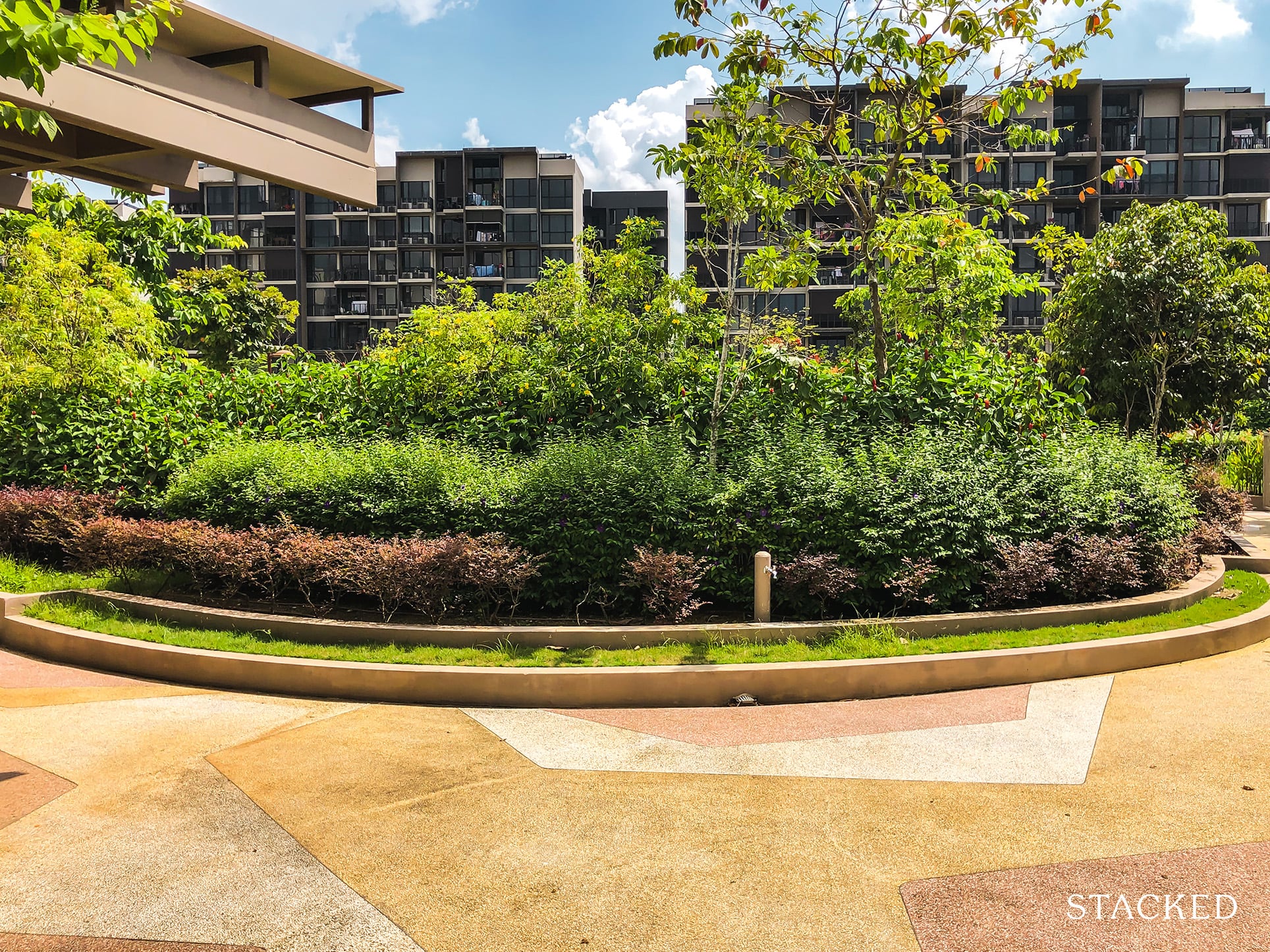 The variety of textures, colours, and different plants provides for a very soothing look, and it will certainly be a visual treat for the blocks that are higher and facing this area.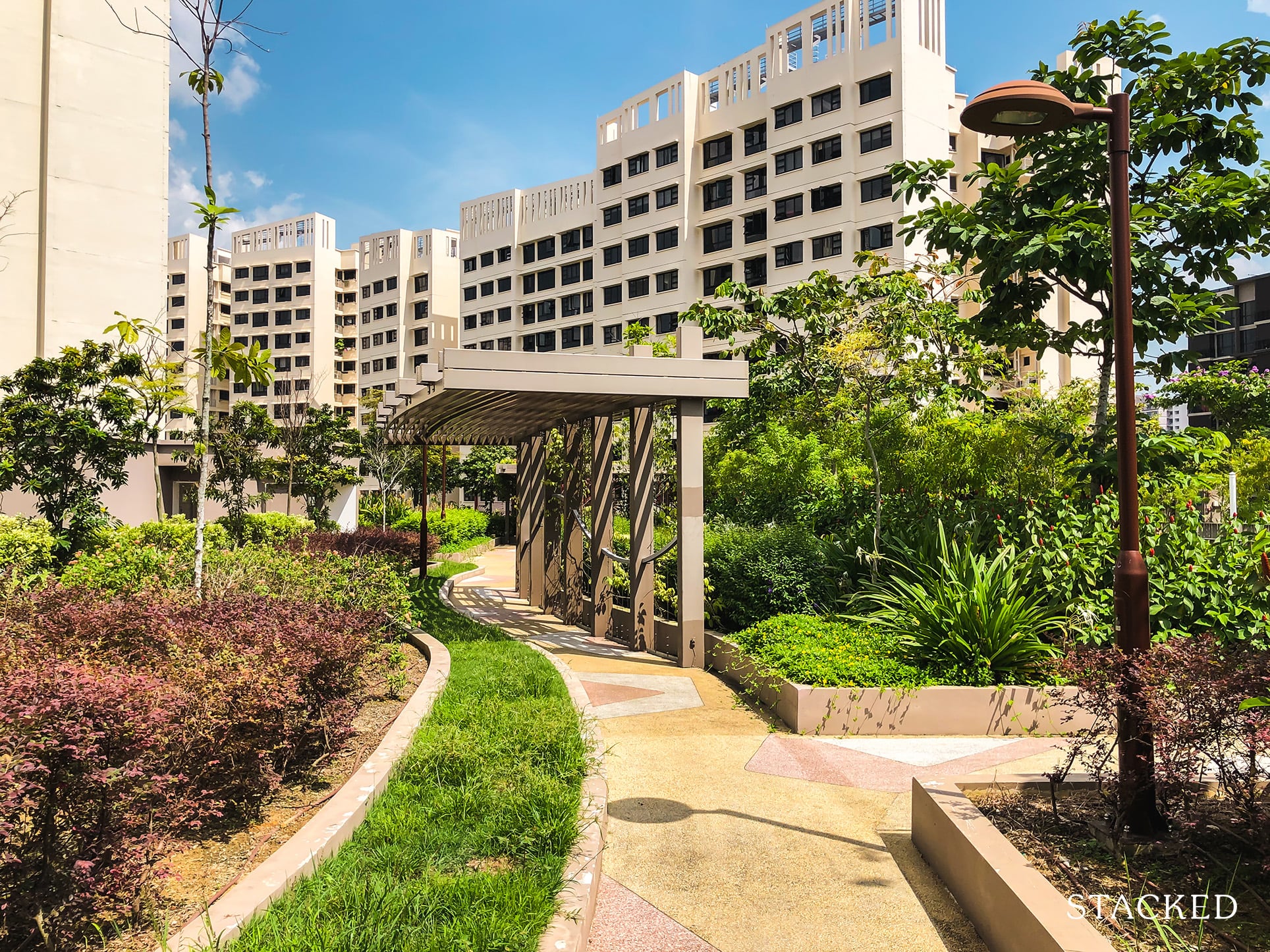 The pathway here is also sufficiently wide, and considering how the rooftop garden is not frequently trafficked, this really seems like a great place for residents to unwind. There are also fully sheltered seating areas available too!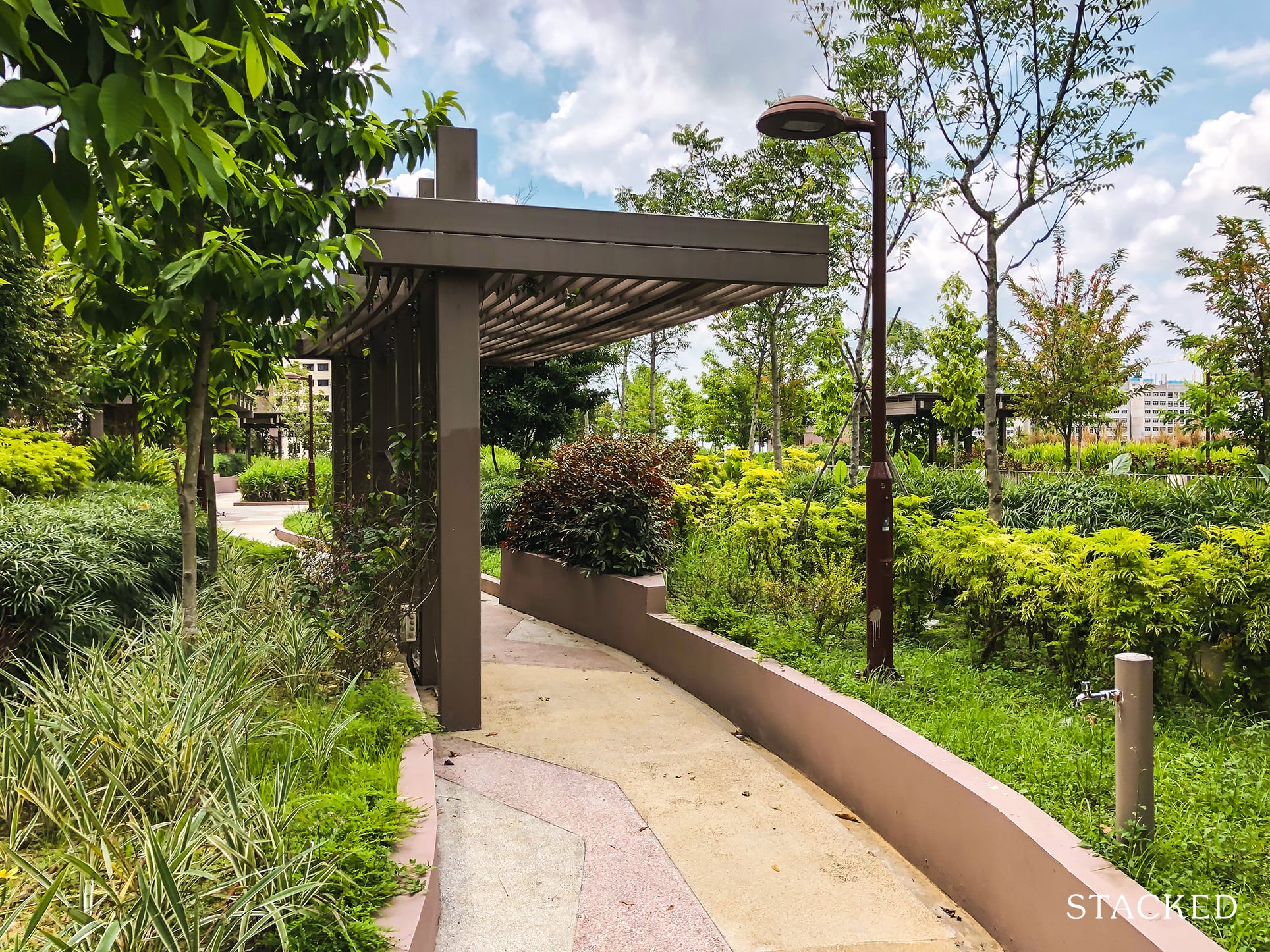 And it's not just a garden you can walk in – the rooftop garden at the commercial block has a fitness area as well accompanied by a semi-sheltered seating area.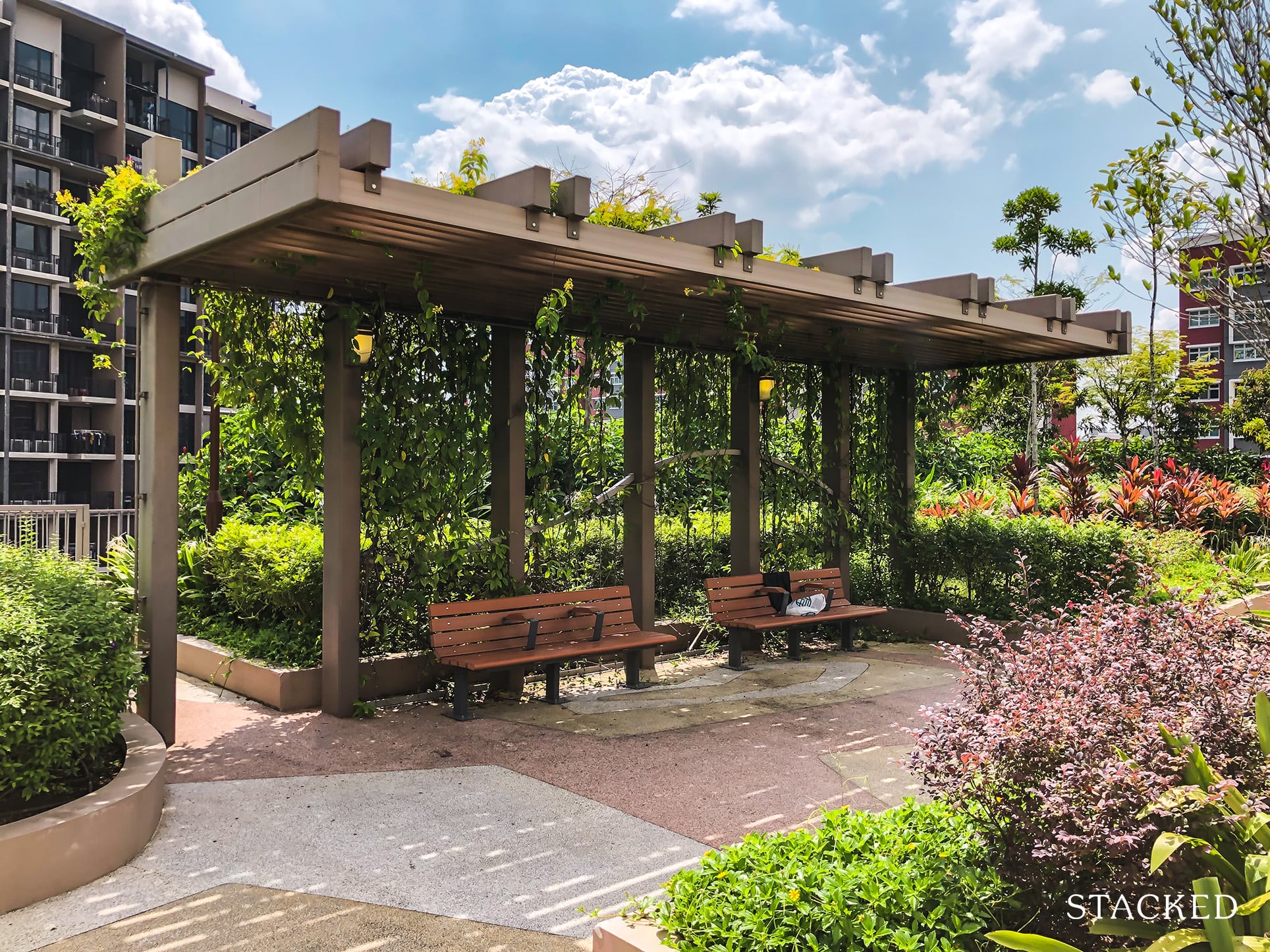 Perhaps all that's missing here is a playground – but I wouldn't worry about that since West Plains @ Bukit Batok has some of the best playgrounds I've seen which we'll get to in a bit.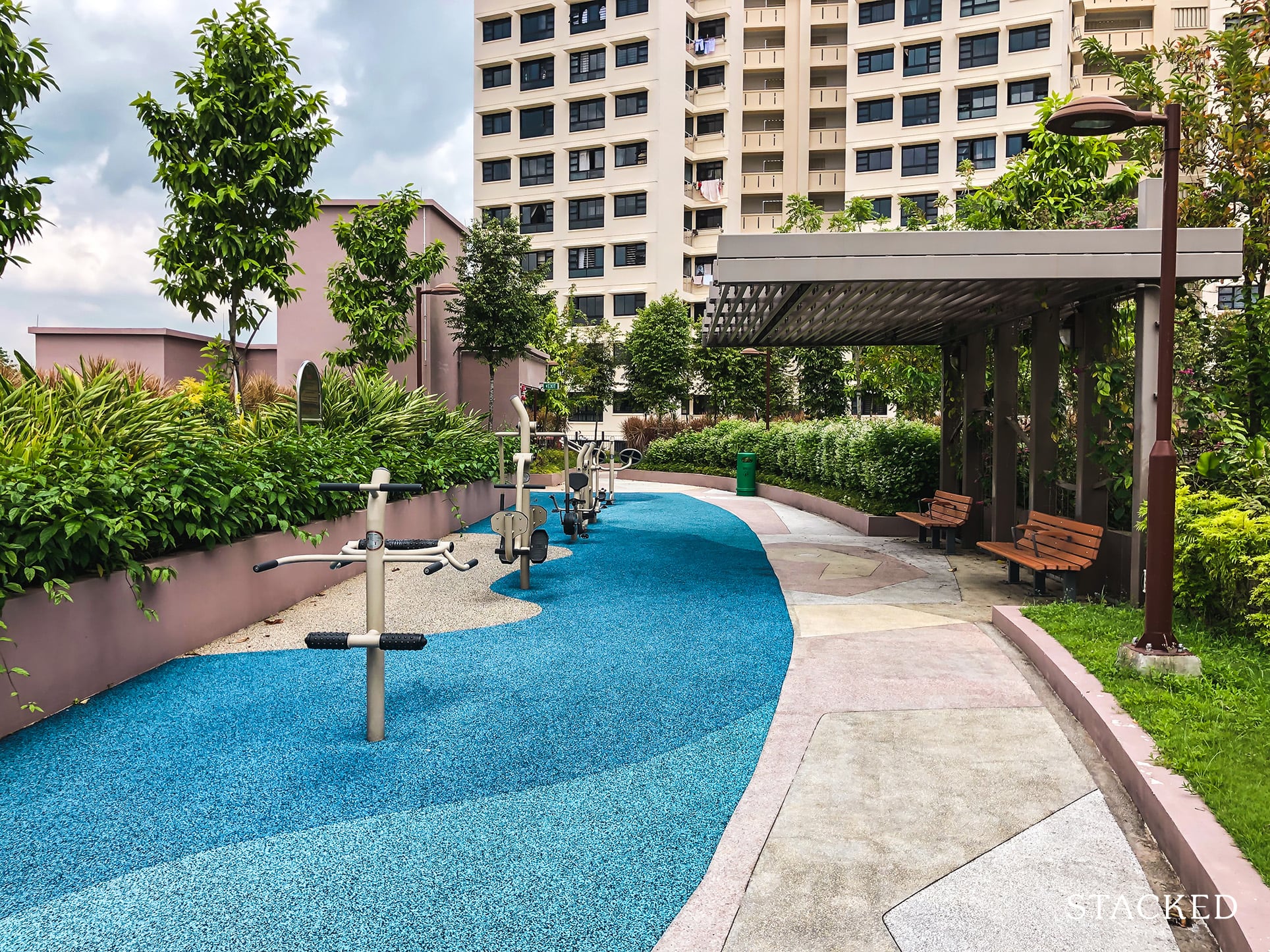 One thing I'd like to point out is that some parts of the rooftop garden do look like it needs some maintenance. The paint has started peeling off in places, and for a development that just reached its TOP, this does seem to be a concern. Nonetheless, most areas look well-maintained.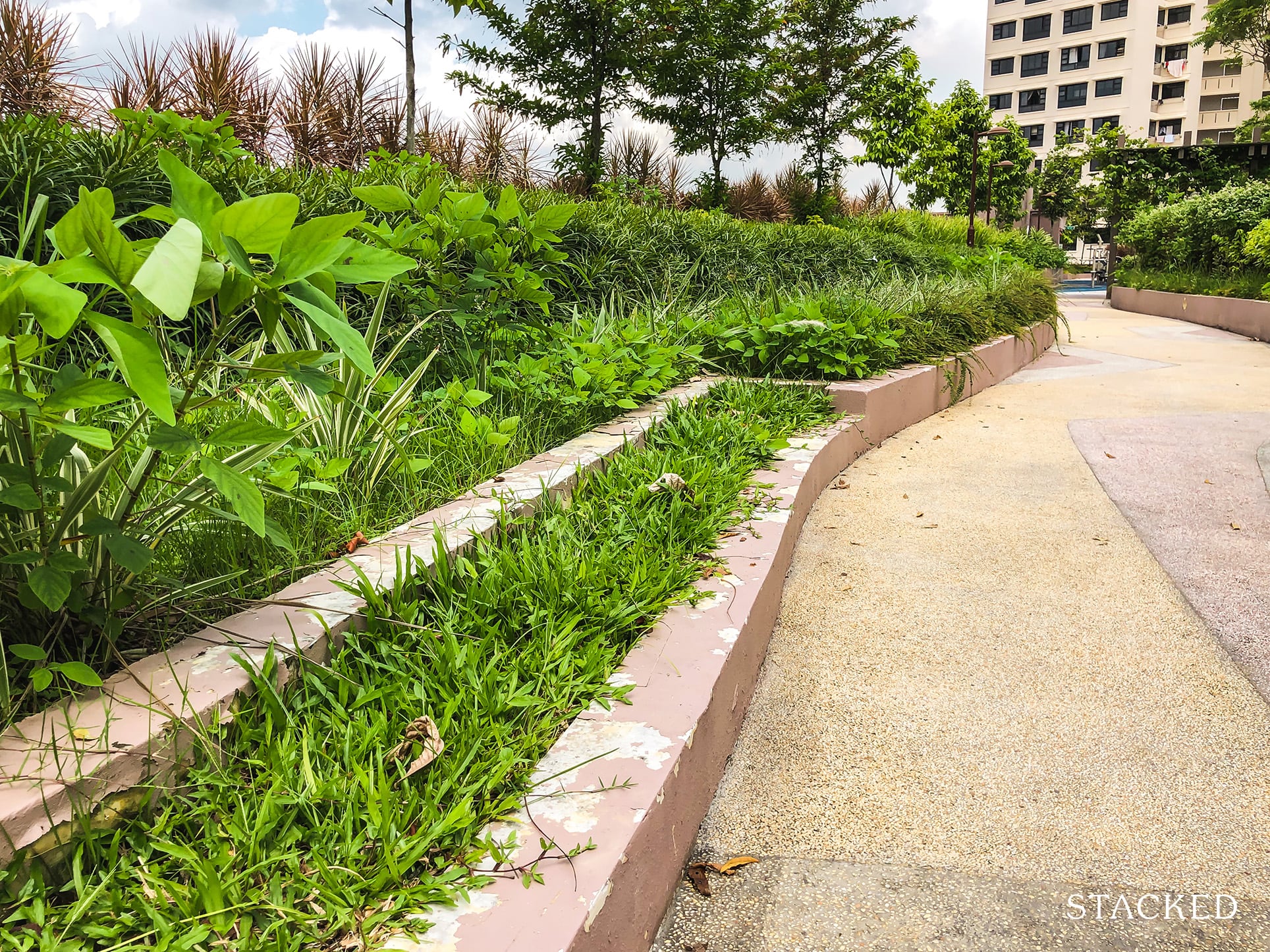 As with most rooftop gardens, there can be privacy concerns too. In this case, residents here can have a good view of some of the units here. That said, I would not be overly concerned about this as the rooftop garden is usually not overcrowded. The main concerns still lie with the car park itself.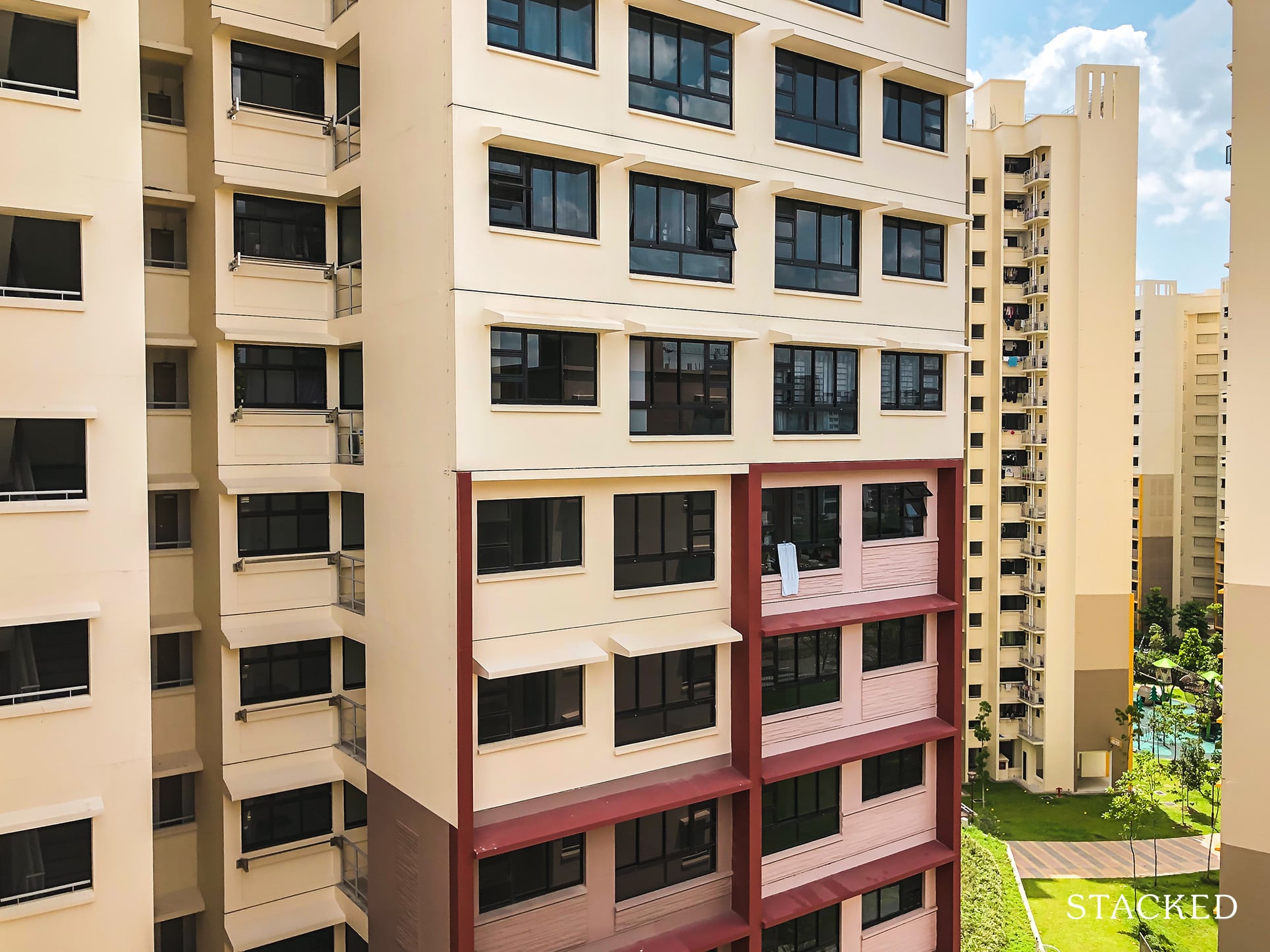 From here, you'll find that the rooftop garden is also directly linked to the blocks, making it very convenient for residents to come here! In most cases, residents who wish to visit the rooftop garden would need to head down to the ground level, walk over to the car park block, then head up. But in this case, residents can simply drop by level 6 or 7 (depending on which block they are at) and head over to the garden directly.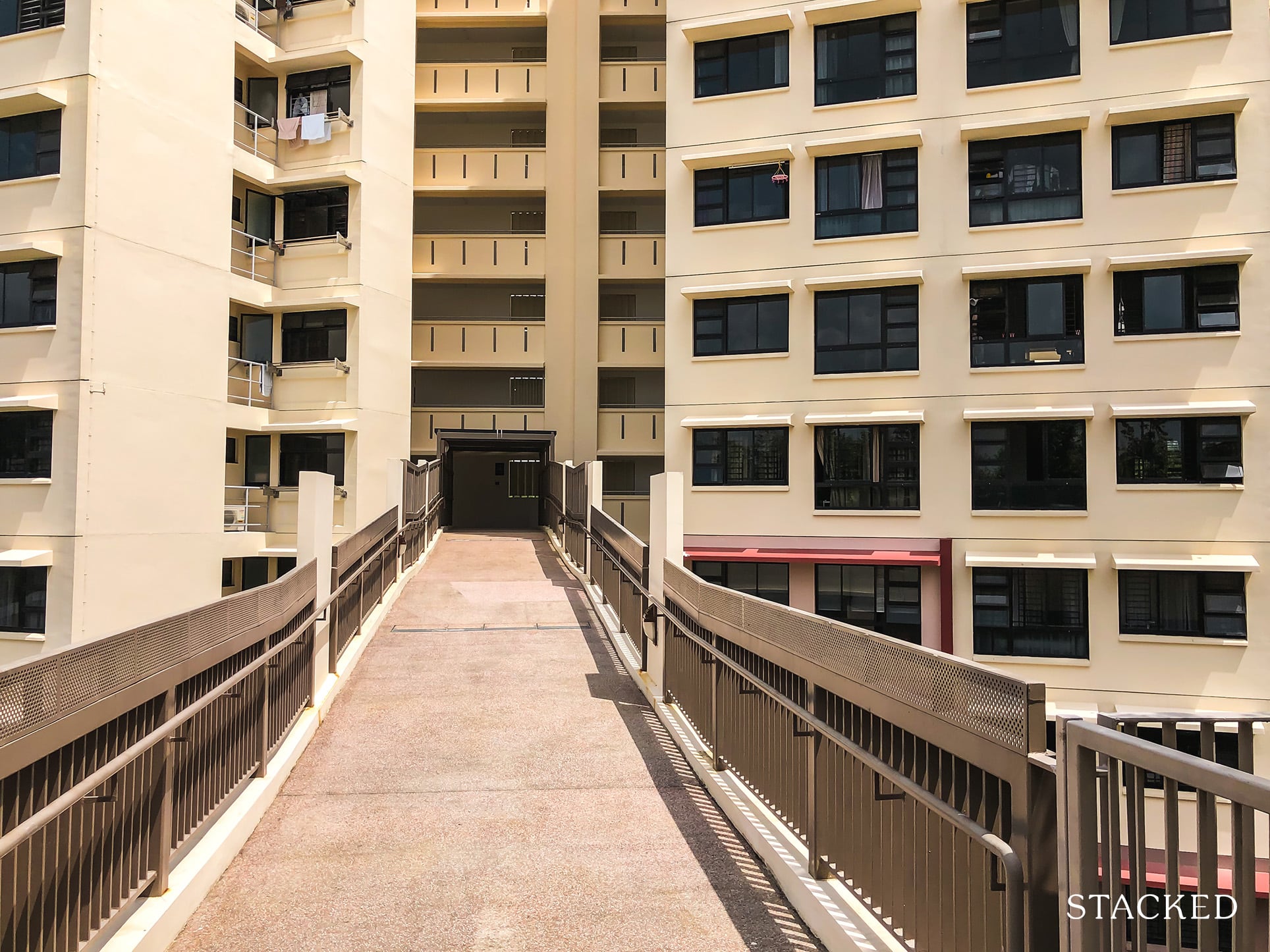 And while the link bridge here isn't sheltered, I sincerely doubt anyone would be coming here on a rainy day.
From here, you'll also see that units facing the link bridge inevitably have a privacy concern. Some are service yard facing, but most actually face the living quarters itself – so if you're someone who isn't comfortable with strangers peering into your home at close range, then this is something to take note of.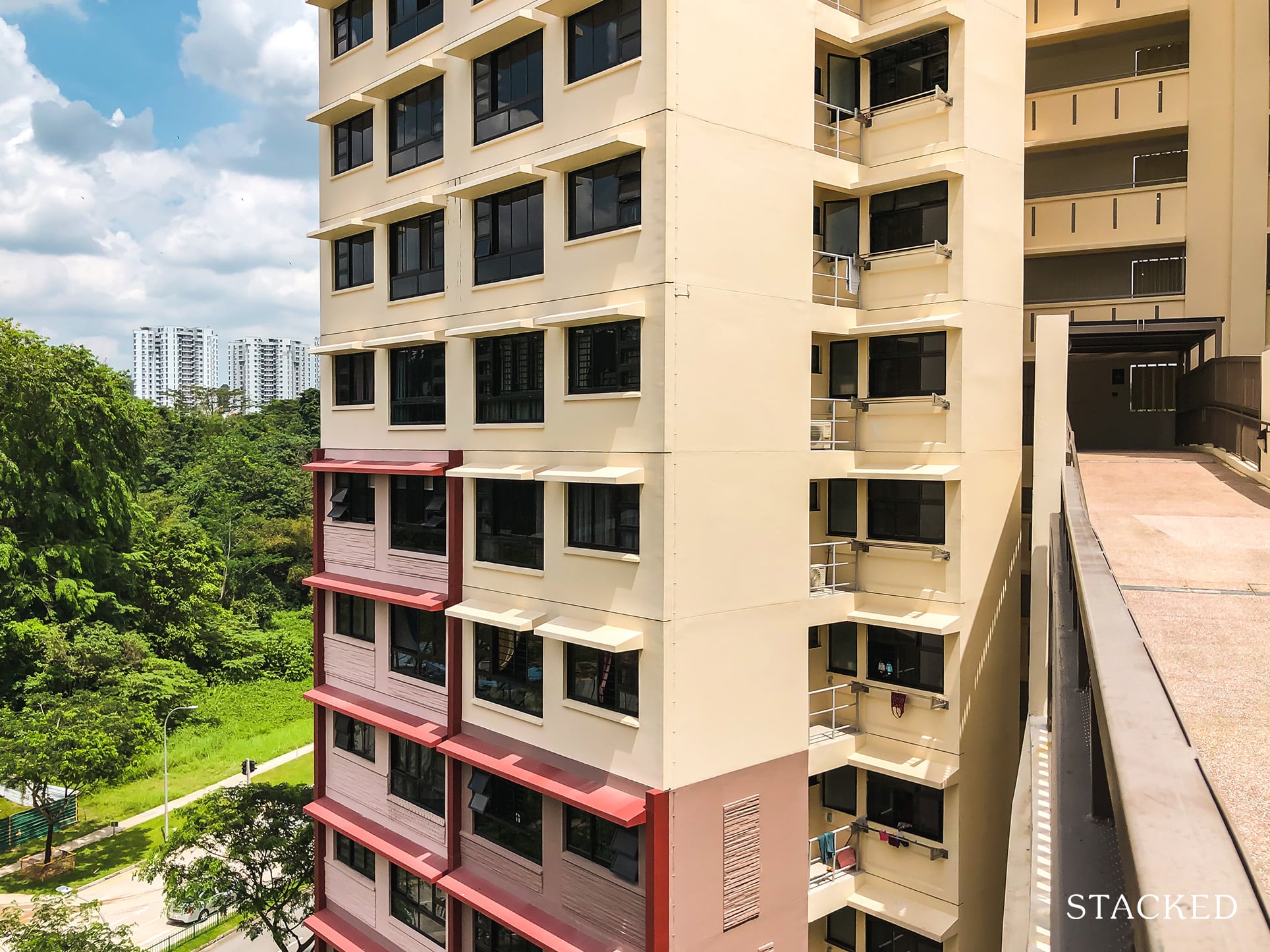 This sort of reminds me of the link bridges at SkyVille@Dawson – the units having these facing tend to have a harder time being sold due to their orientation towards the car park and the link bridge.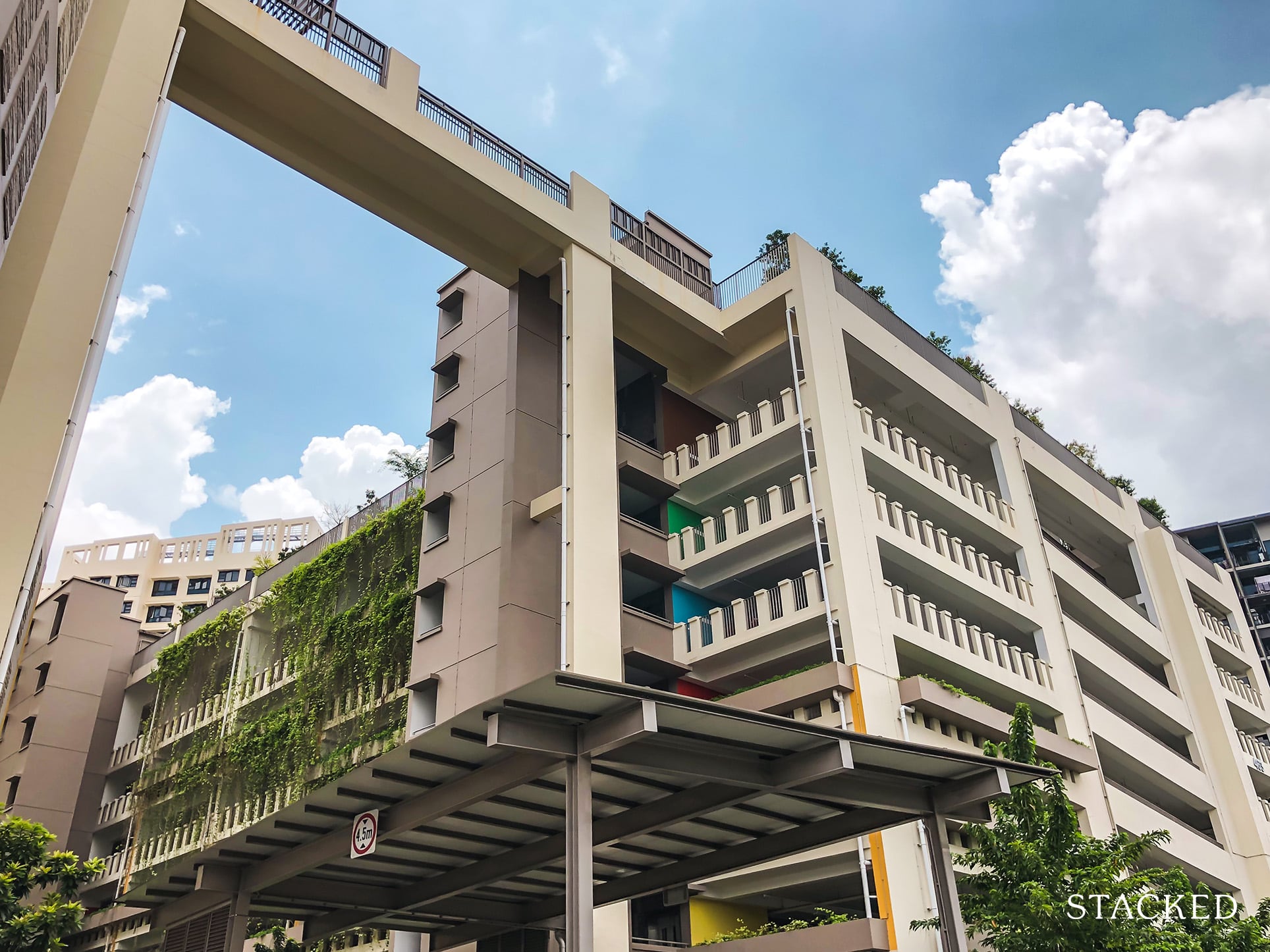 Some link bridges that are directly by certain units do have porous barriers put up though which helps alleviate this issue.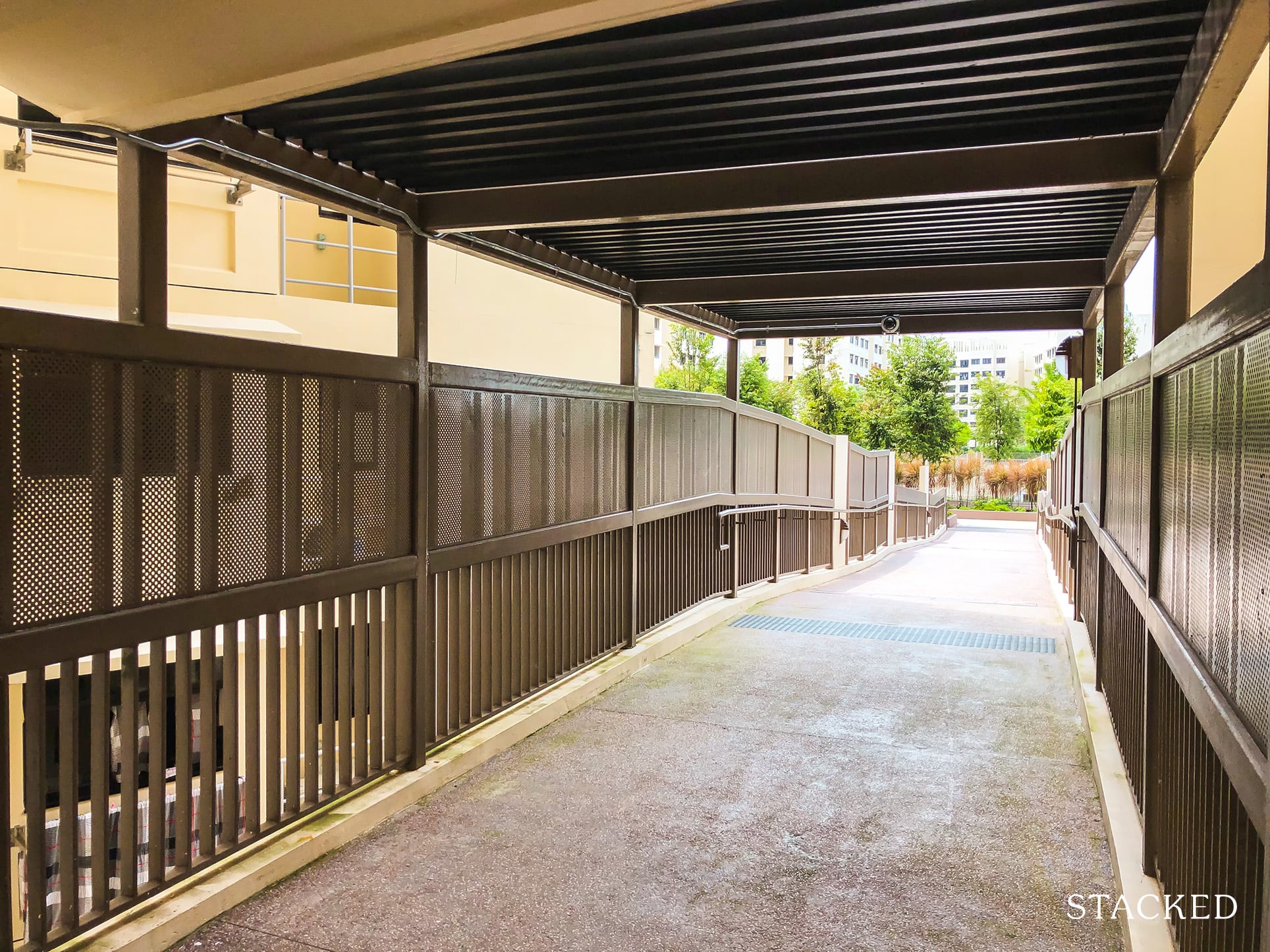 Perhaps more opaque barriers could be set up so that it's not so easy to peer directly into someone else's unit along the bridge. Of course, this would come at the cost of having a view out from the link bridge (and ventilation) – though I don't think you'll be missing much. What do you think? Should HDB build opaque privacy barriers for such spaces? Let us know in the comments below!
Now that we're done with the rooftop garden, let's head back down to check out the amenity offering at the commercial block.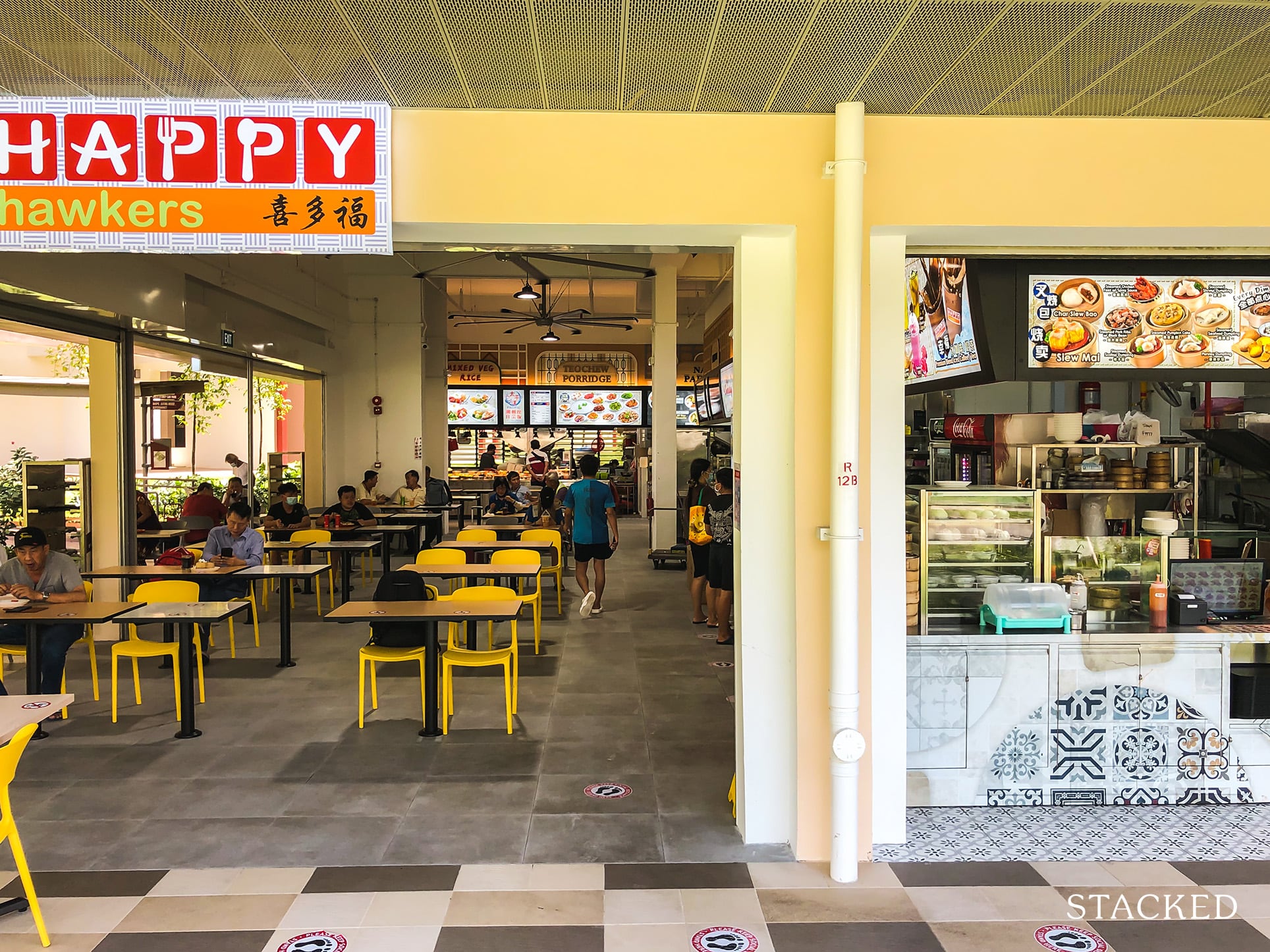 Over here, you'll find that West Plains @ Bukit Batok is indeed a self-sustaining development. Residents can look forward to a pretty decent eating house "Happy Hawkers". I must say, this eating house actually looks appetising to feast in. The place looks well-maintained and the tables and chairs look very clean too.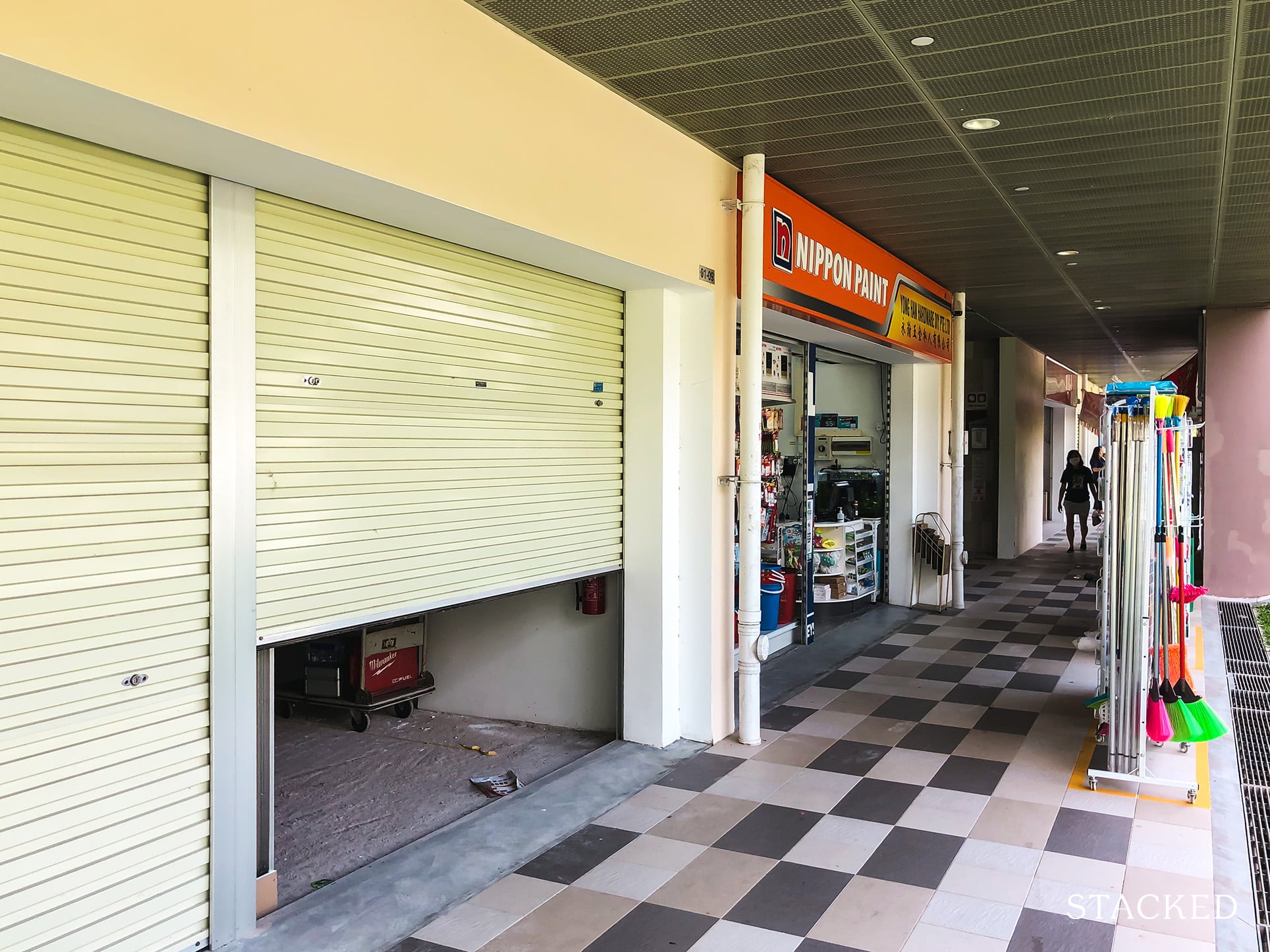 There are also some small retail outlets here, and given how new the development is, some tenants are still in the midst of moving in!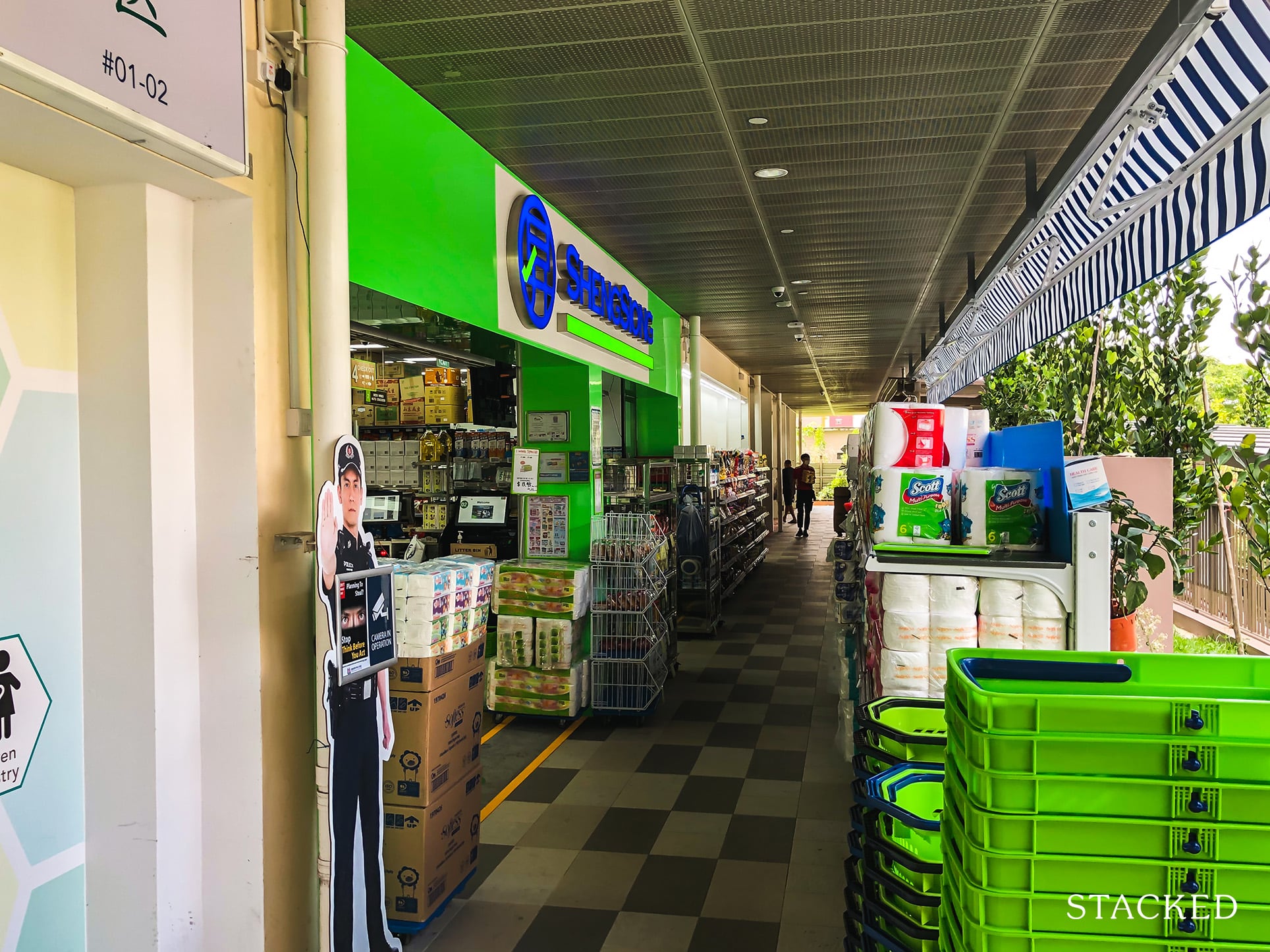 Most importantly, there is a Sheng Siong supermarket here – making it extremely convenient for residents to do their groceries. These amenities are more of a necessity than a want though, considering the number of residents in this development (1,962 units!) and how far it is from the MRT.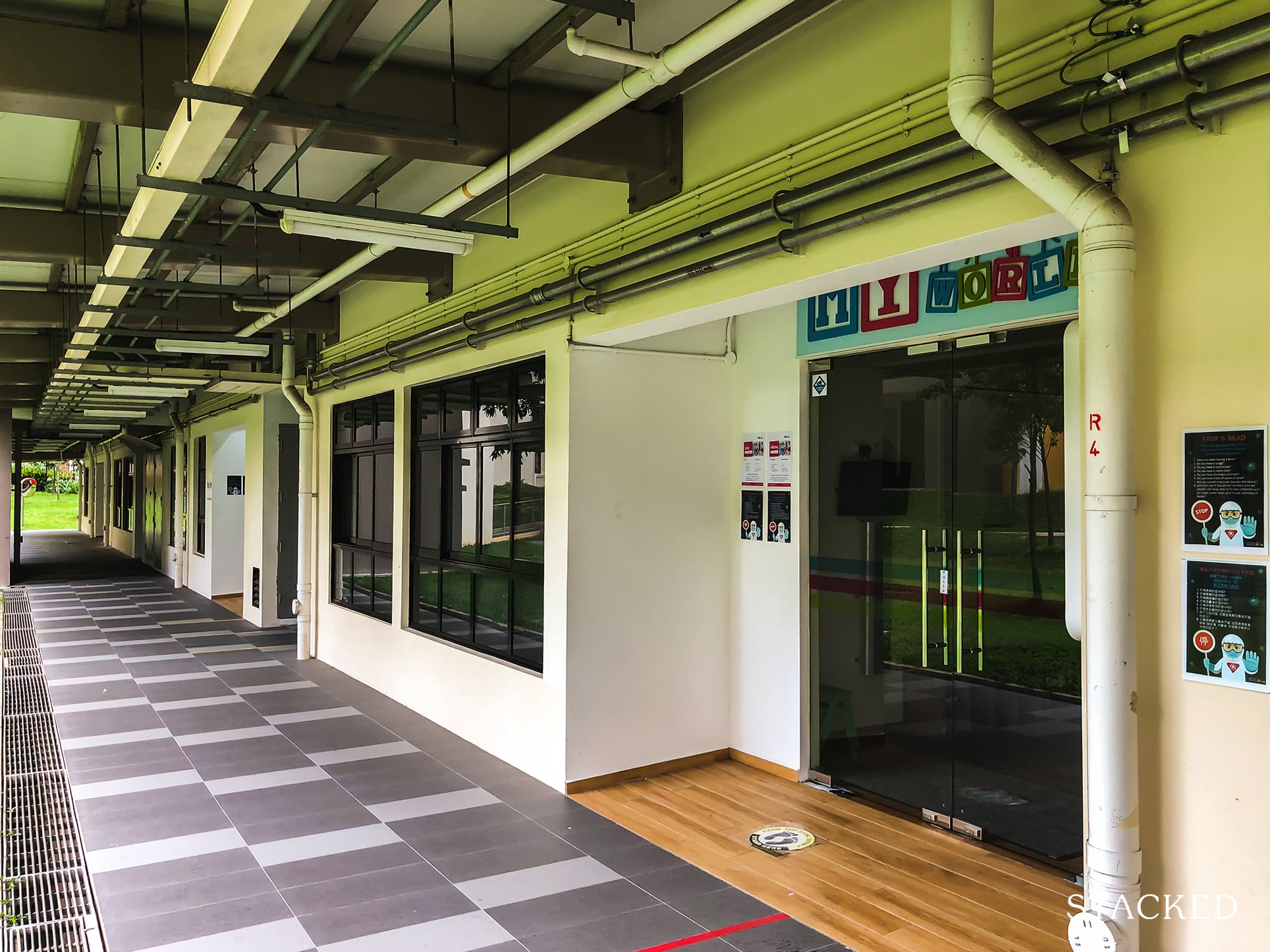 There's also a preschool located in West Plains, however, this is not located in the commercial block which is usually the case for most HDBs. Instead, the preschool here is located in the other multi-storey car park at block 463. It is the development's one and only preschool and it's operated by M.Y. World.
For a development with this many units, I'm not sure if just one preschool is enough. However, considering the lack of residences up north and newer BTOs coming up with possibly more childcare centres, this might not be an issue.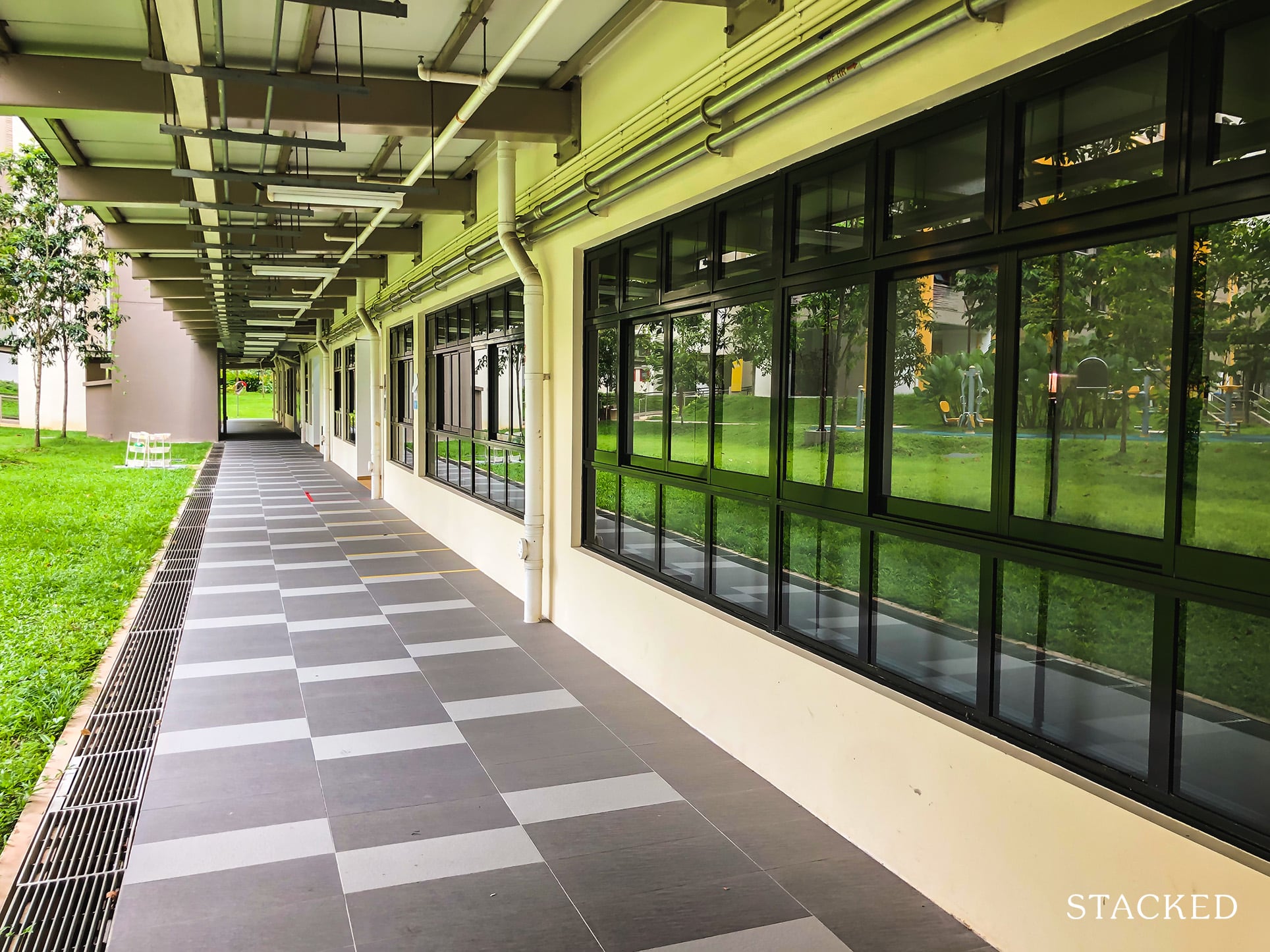 I do like the location of the preschool. It's spacious since it does not compete with space from the commercial block, the area is less noisy and the best part is that it's close to the amazing playgrounds this development has to offer (we'll get there shortly!).
Next, let's check out what West Plains @ Bukit Batok has to offer in terms of facilities.
First, we have the usual precinct pavilions. There are three such sheltered event spaces here and they are spread around the development. For an HDB development with close to 2,000 units, having three seems just about right.
All the pavilions here come with some form of seating by the side which makes it great for flexibility in space configuration. They also come with ample lighting and electrical points, so this makes them convenient for events.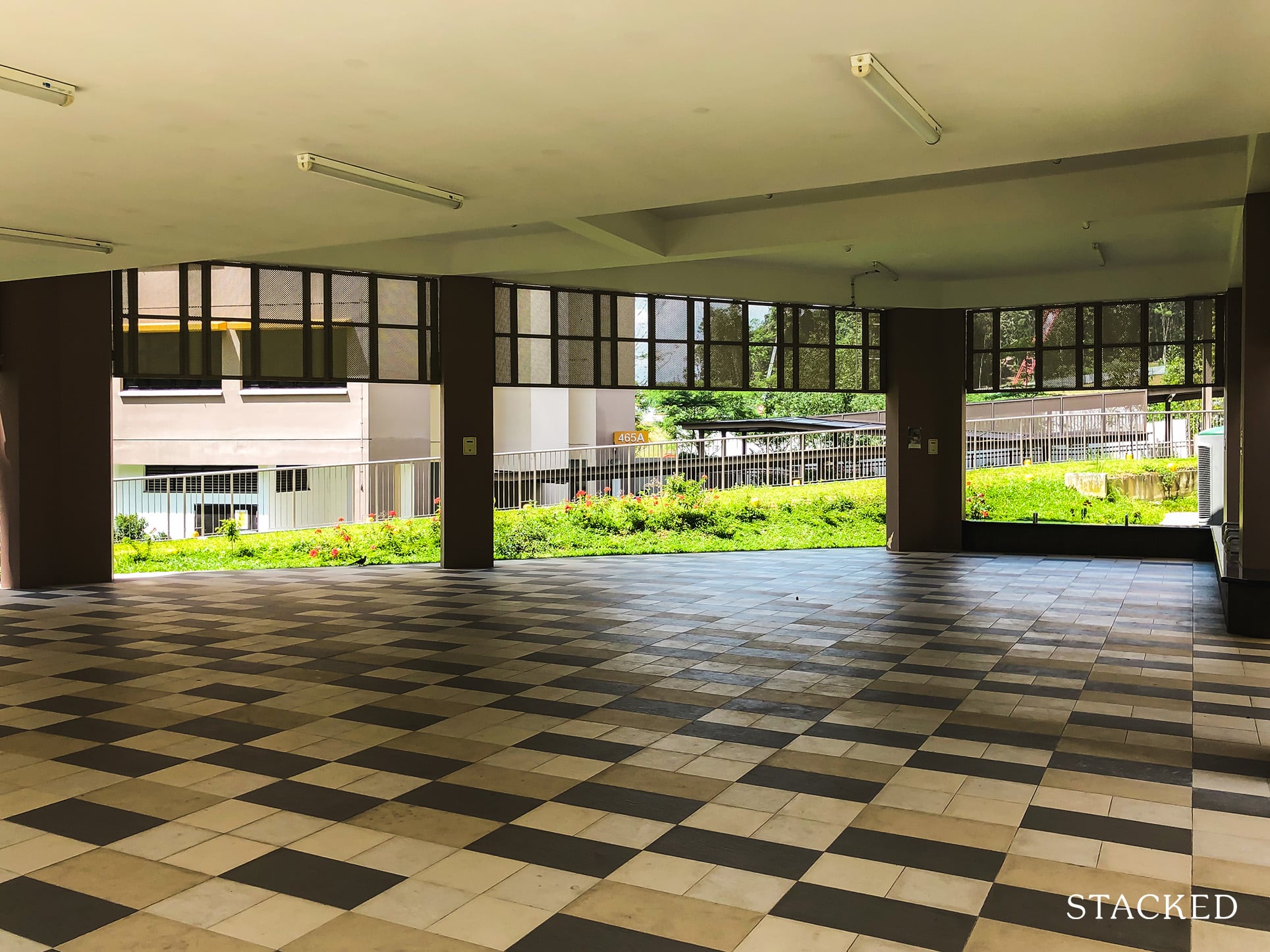 The only downside is the lack of fans here. While the electrical points allow you to bring your own fan, this is added logistics that you have to account for. Some HDBs do provide fans by the side which is really helpful though, of course, it's not entirely necessary depending on the time of year.
As the space is new, there aren't any maintenance issues I can see here. However, I must add that the event spaces are quite near the living quarters, so residents nearby could get disturbed and there isn't a lot of privacy either given how close the walkways are to this. In fact, two out of three of the shelters are located quite close to the drop-off point, though this can be a positive factor for your visitors.
Next, let's check out what is probably the highlight of this development: the playgrounds and the fitness areas!
In total, there are 3 designated facility areas on the site plan – all of which are sandwiched between the blocks that are spread out across the plot of land. Due to the sheer number of facilities here, I'll be covering it by type of facility rather than location.
First up, we have the playgrounds – and like I mentioned earlier, this is probably one of the highlights of West Plains @ Bukit Batok!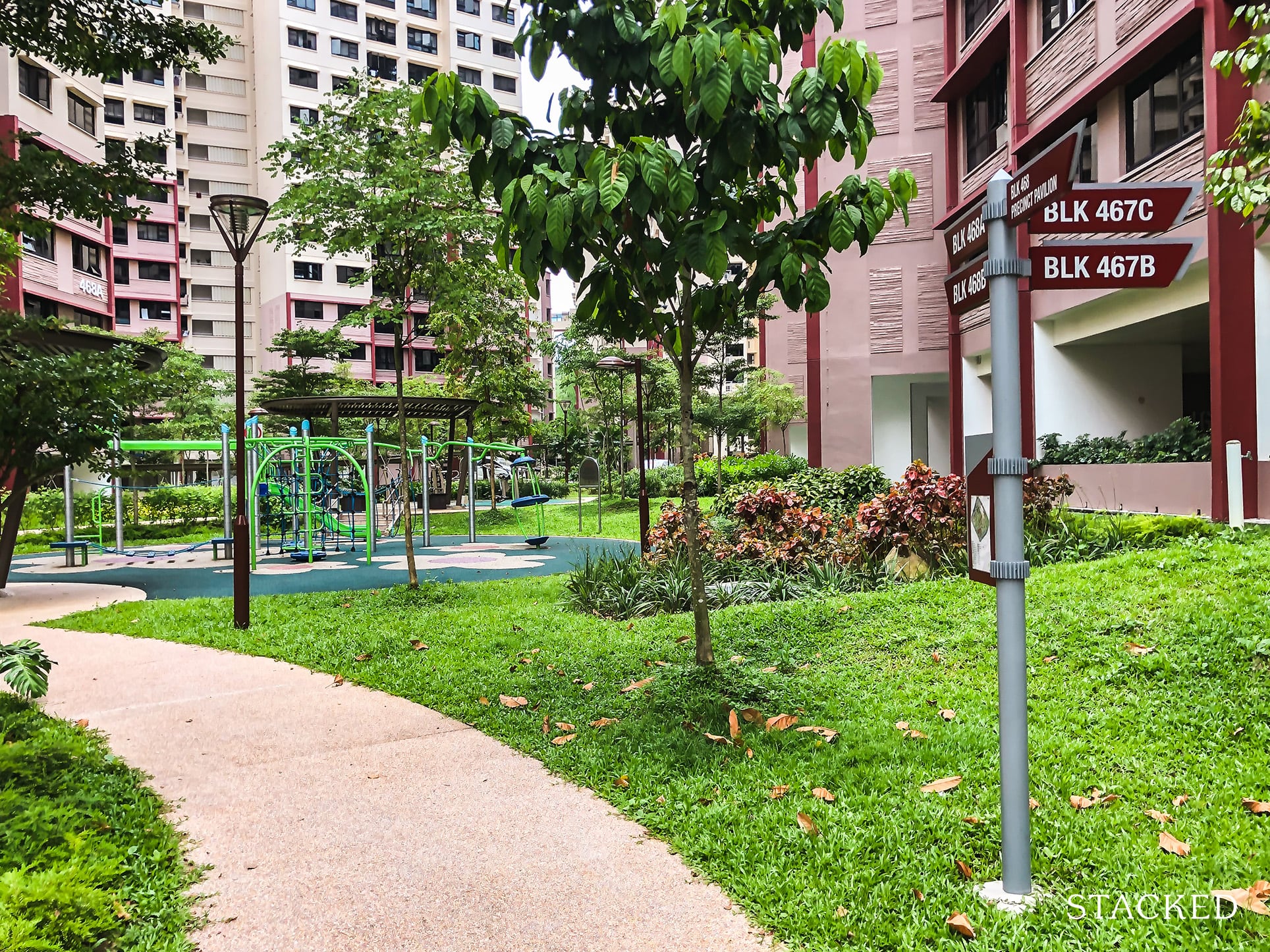 There are a total of six playground areas and given this large number of playgrounds, you can be sure that a variety of playground types are provided. Here, we have one that's insect-themed – not nearly as unique as the one I previously reviewed at Woodlands Glen, but nonetheless still looks like a lot of fun. The playground here is also suitable for children of younger age too!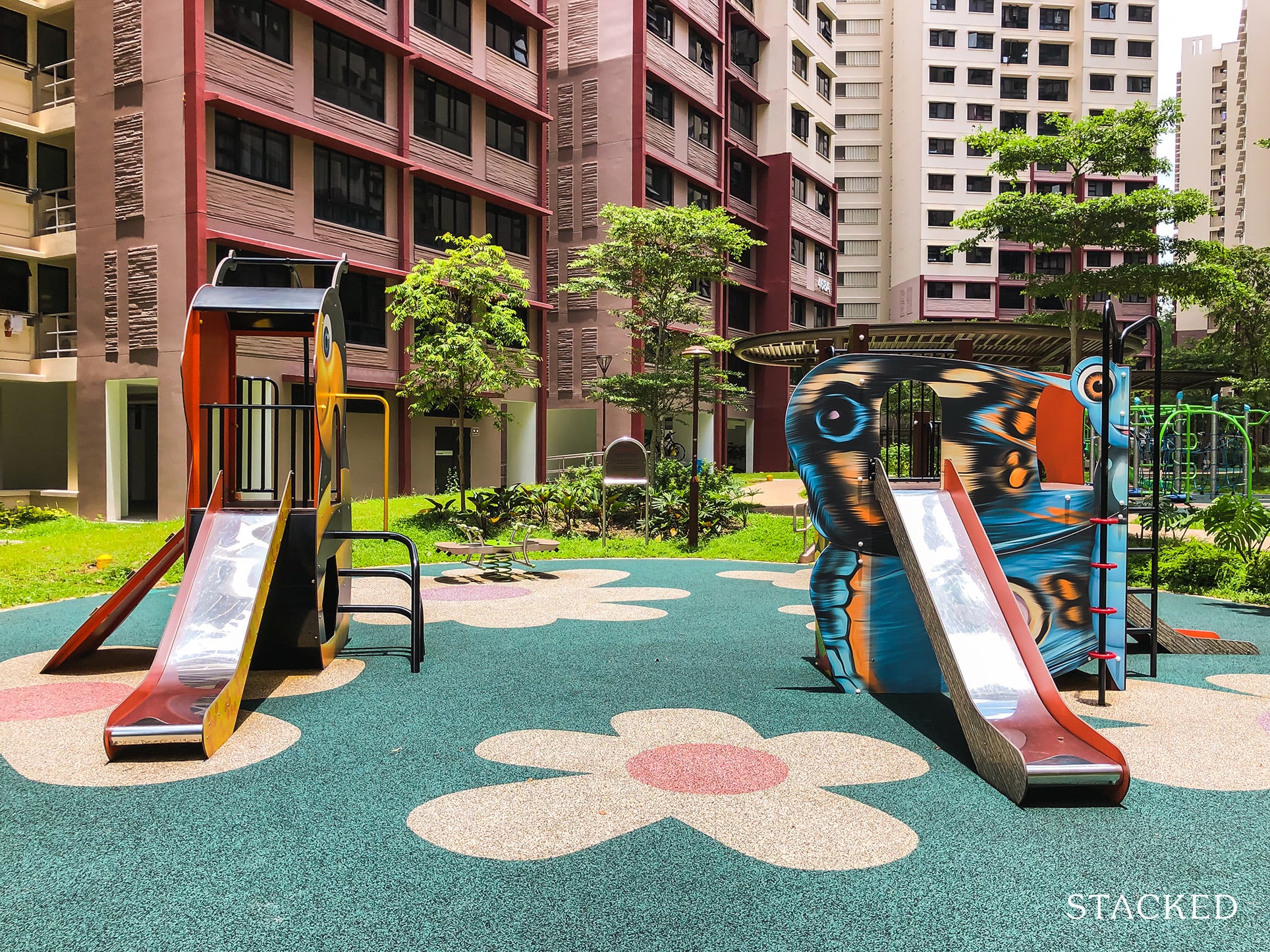 Next to this is a more adventurous playground for the active ones with plenty of bars to climb on.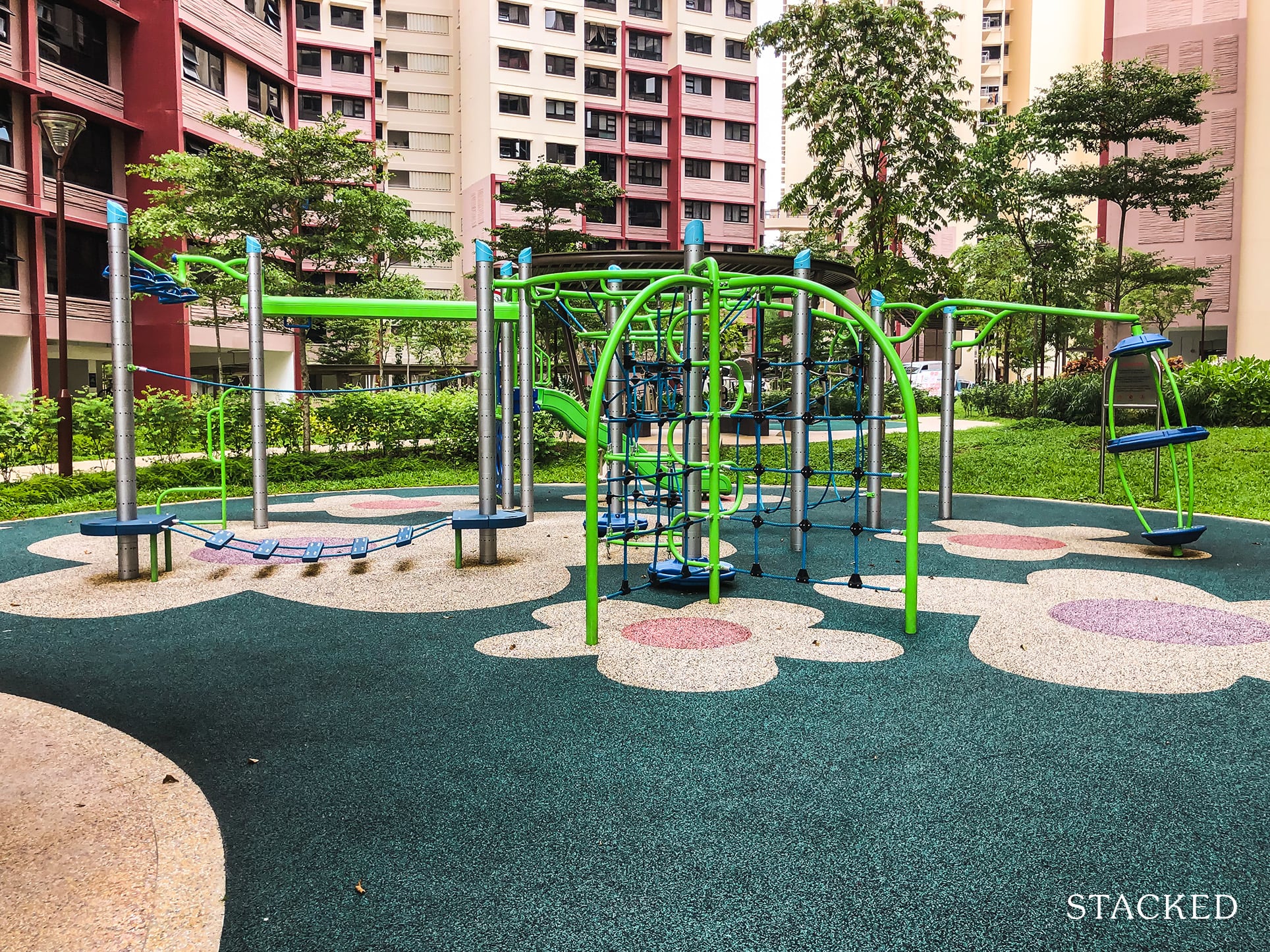 As you can see from the picture, the playground here is sandwiched between blocks which can lead to noise and privacy issues for lower floor units – just something to take note of as it can get noisier in the evening time.
In the center of the development is the biggest playground of all: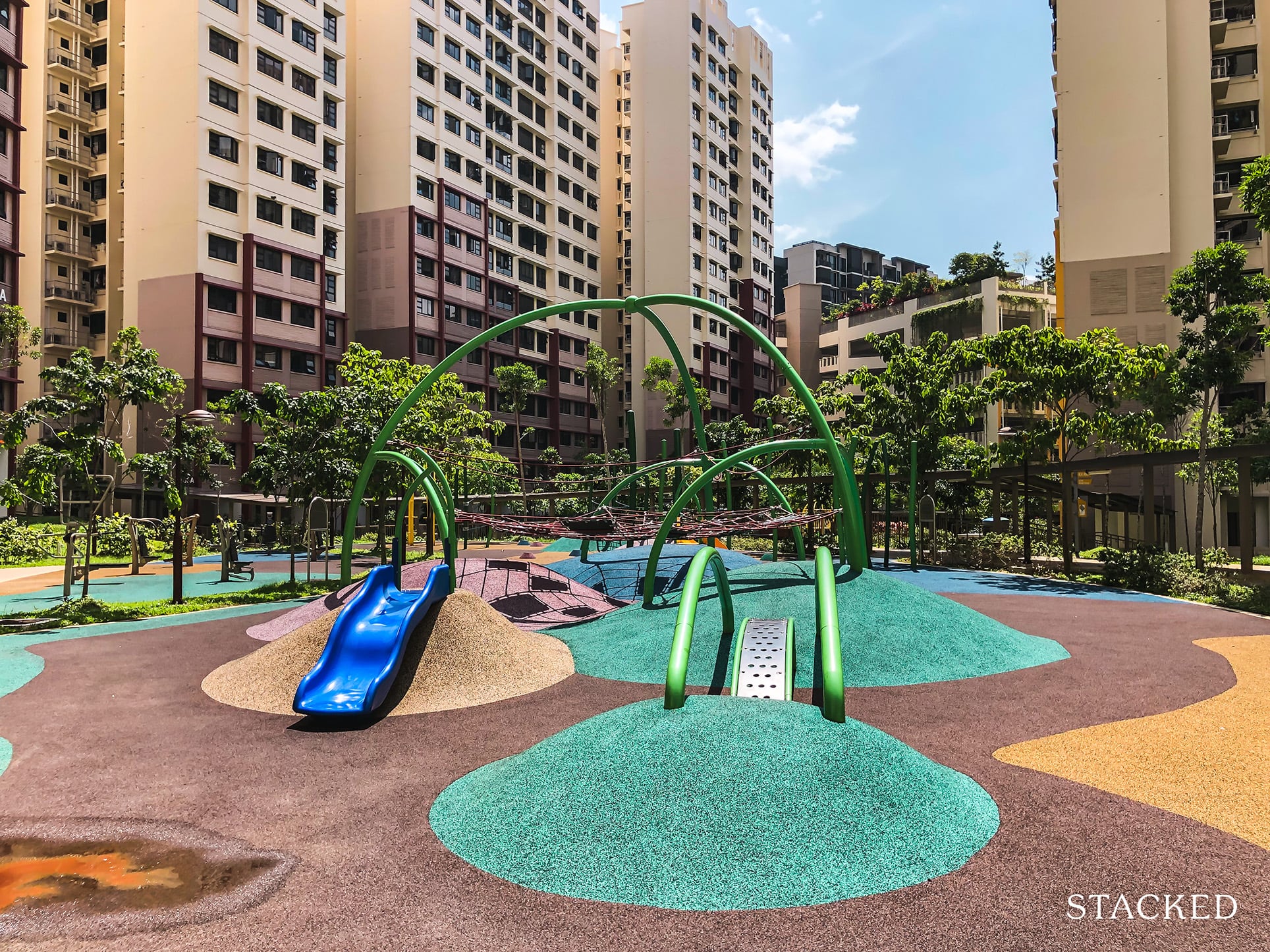 Just look at how big the netting area here is! I also love the undulating slopes here that look like plenty of fun for kids to run up and down on.
There's also another playground for the adventurous ones here too – this one with a bridge that connects between two slopes.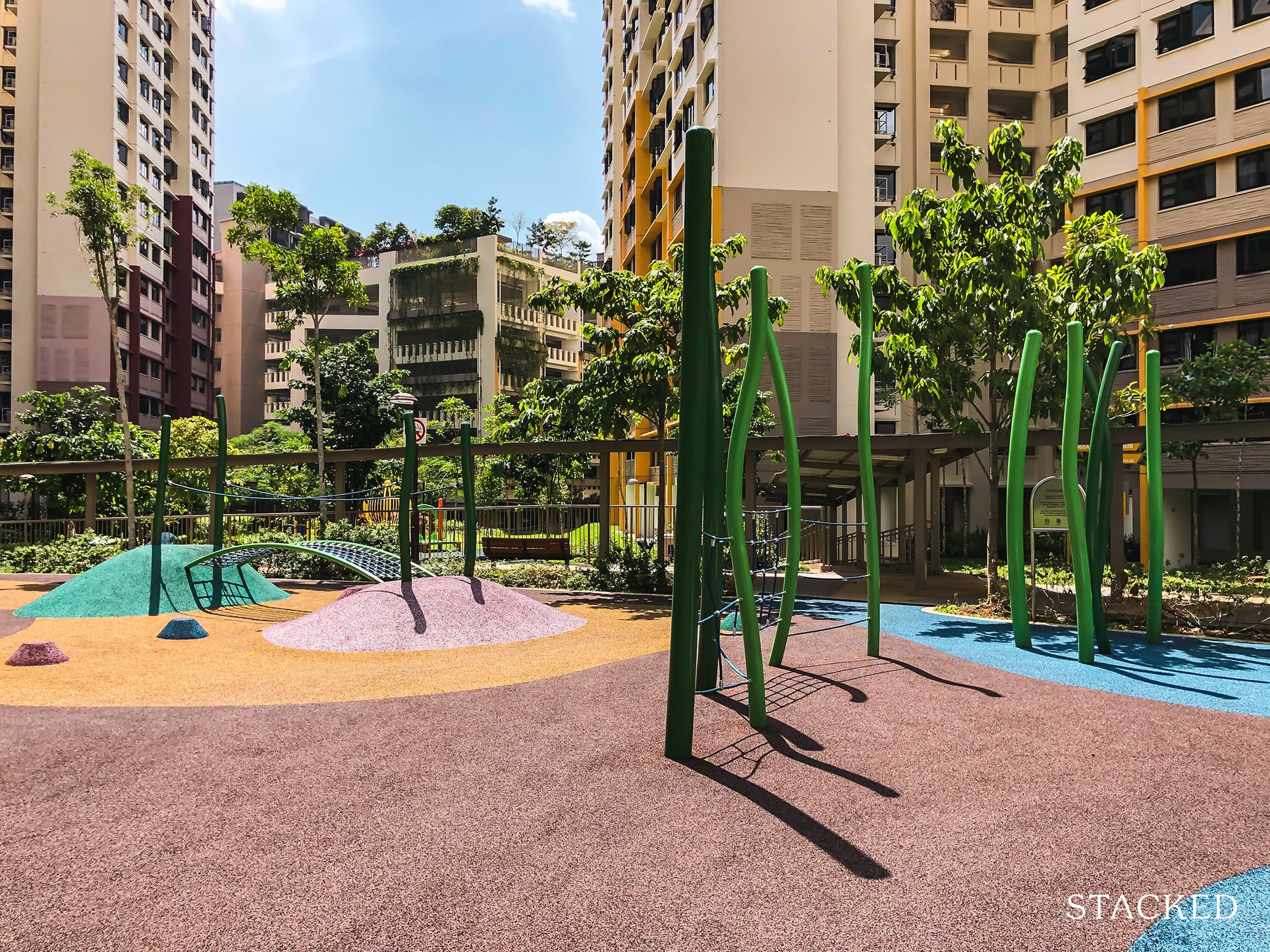 There are also some climbing structures here. The yellow ones honestly look quite intimidating for me personally. One slip and you might find yourself at the end of the agony train.
Here's another one for the little ones. Some fun slopes to climb up to – and a "watchtower" too!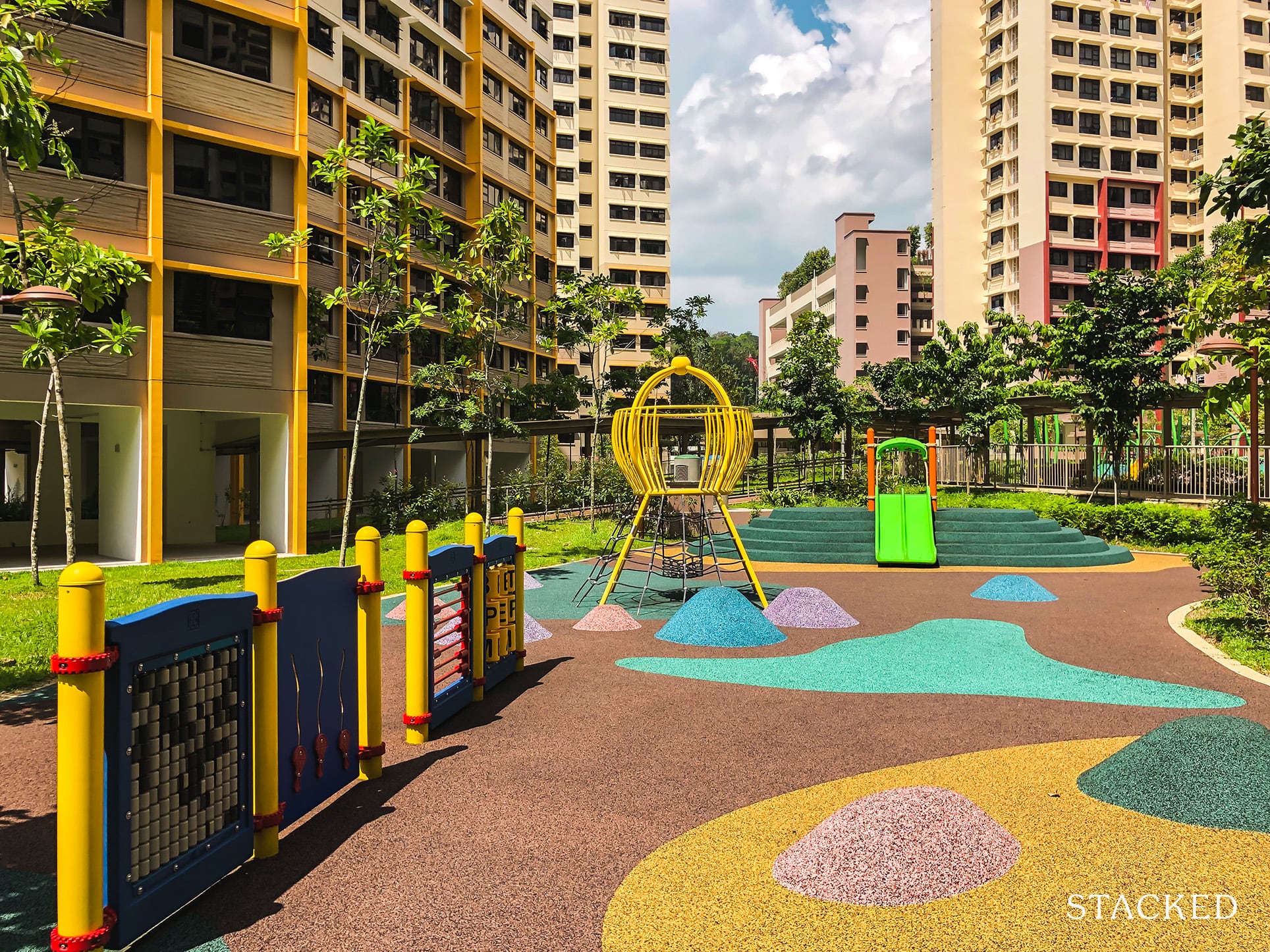 There's even one with a really neat hill you can climb up to with the reward of reaching a slide – the perfect incentive for any toddler!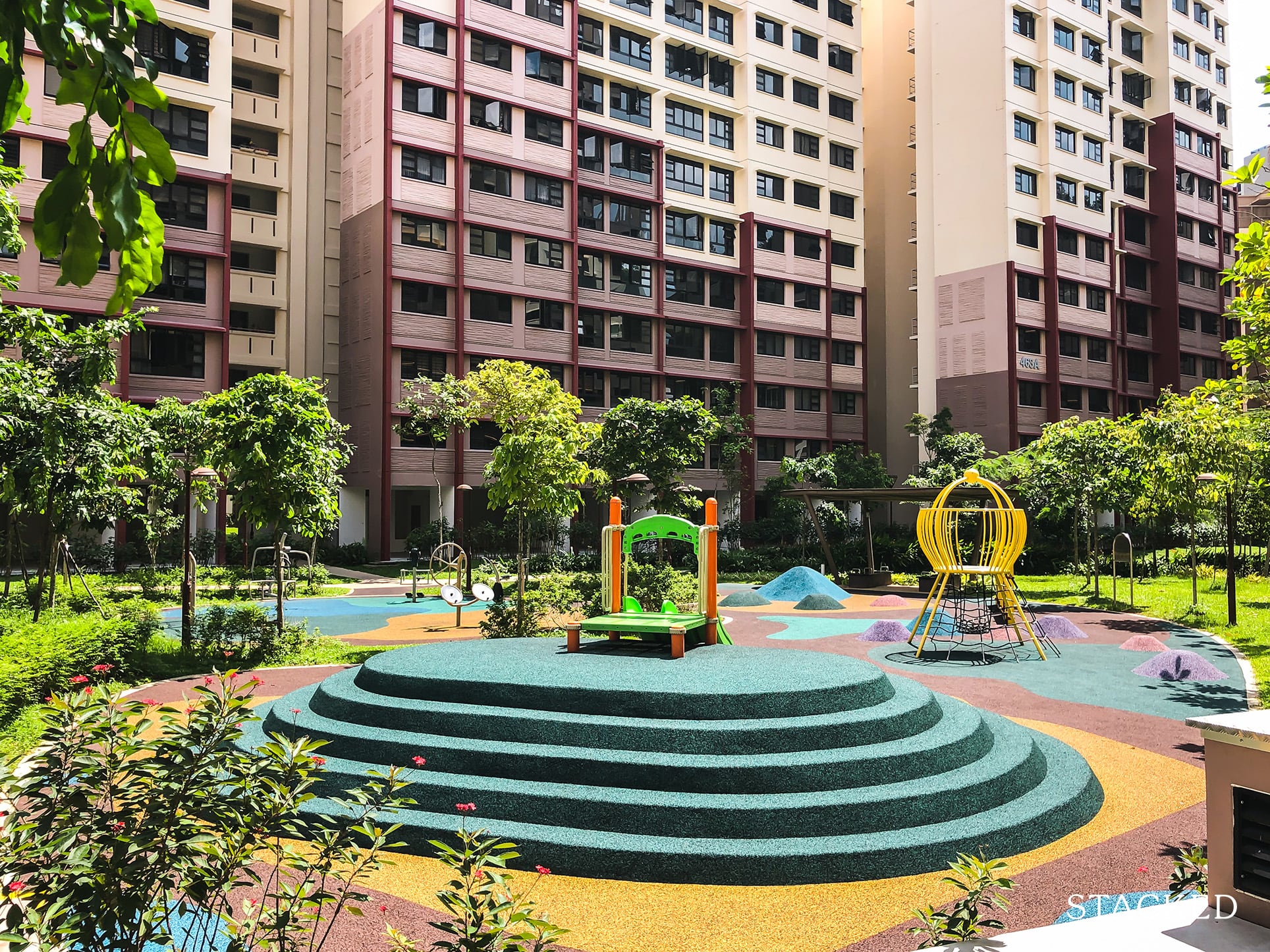 Those looking for a more relaxing playground will find three sets of swings here – one for groups, another for toddlers, and the last one is just a regular swing. I really like that the swing set really caters to different age groups!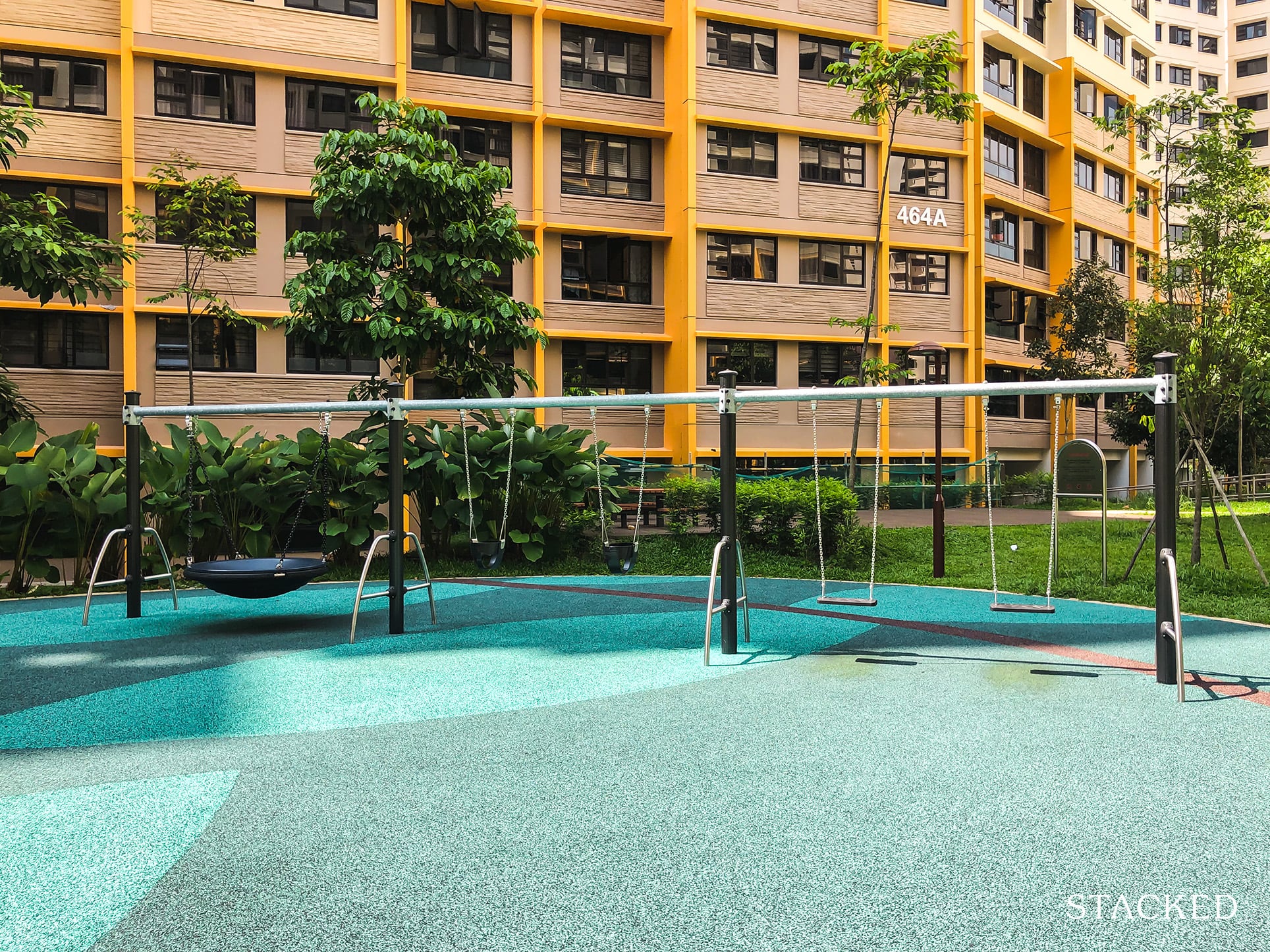 Finally, we have what is probably one of the nicest tower playgrounds I've seen in all my HDB reviews so far: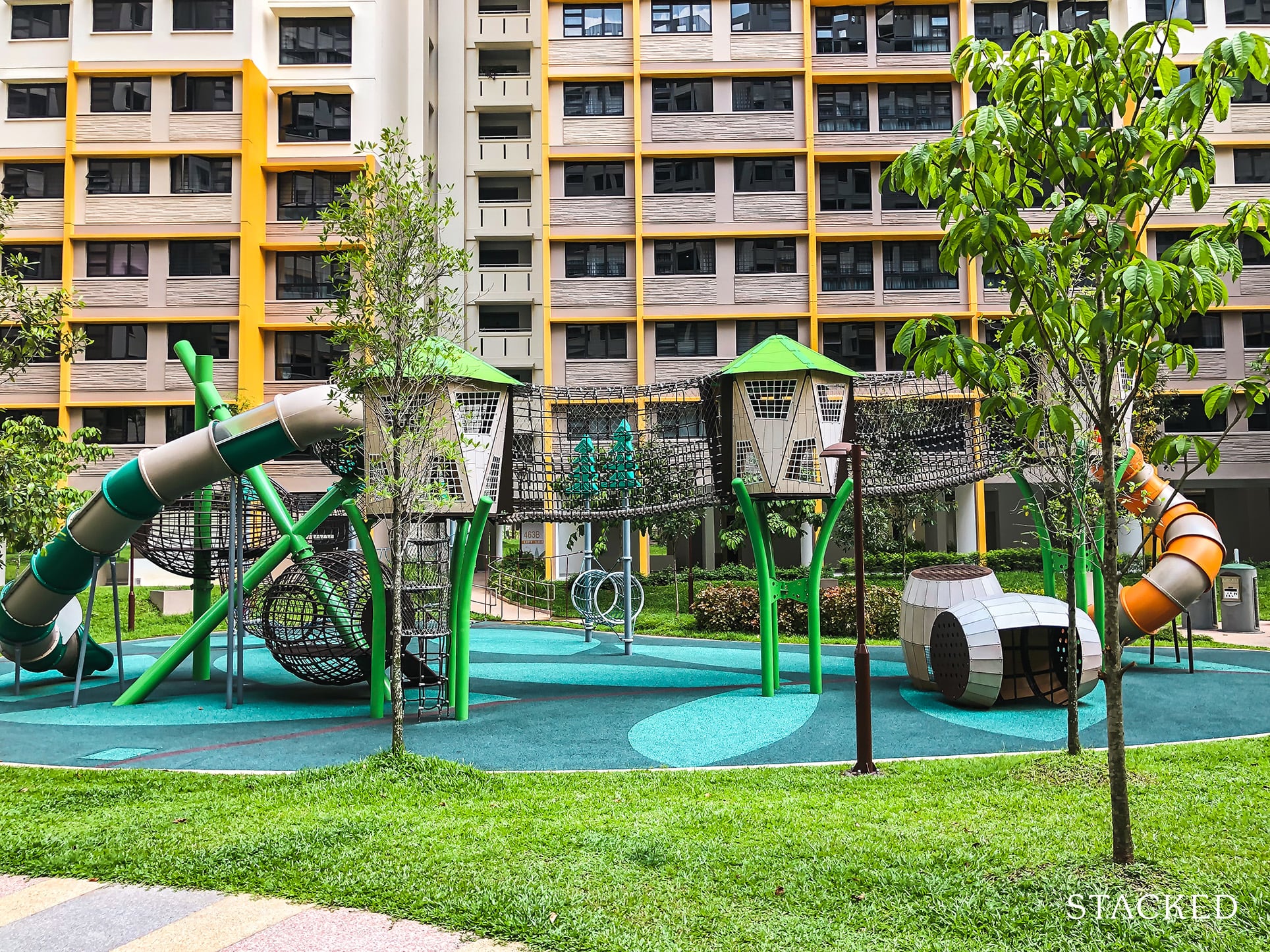 I just love the design of this playground which somehow reminds me of a treetop house (I know it's strange to say this given how I grew up in Singapore and I've never seen any treetop houses here).
Even the poles here have tree designs on them.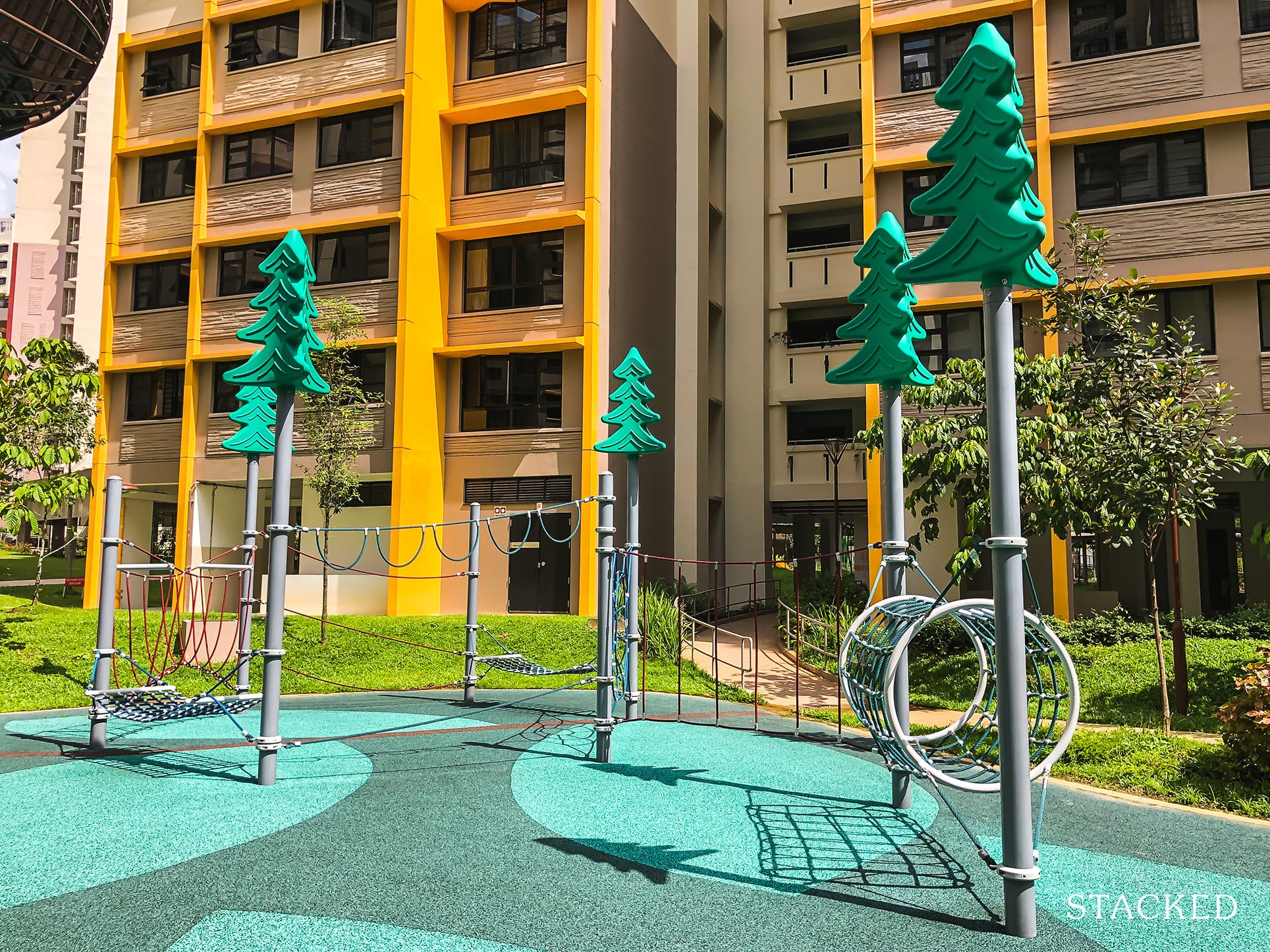 And who doesn't like twister slides? I'd love to hop onto one of these but I'd probably get stuck.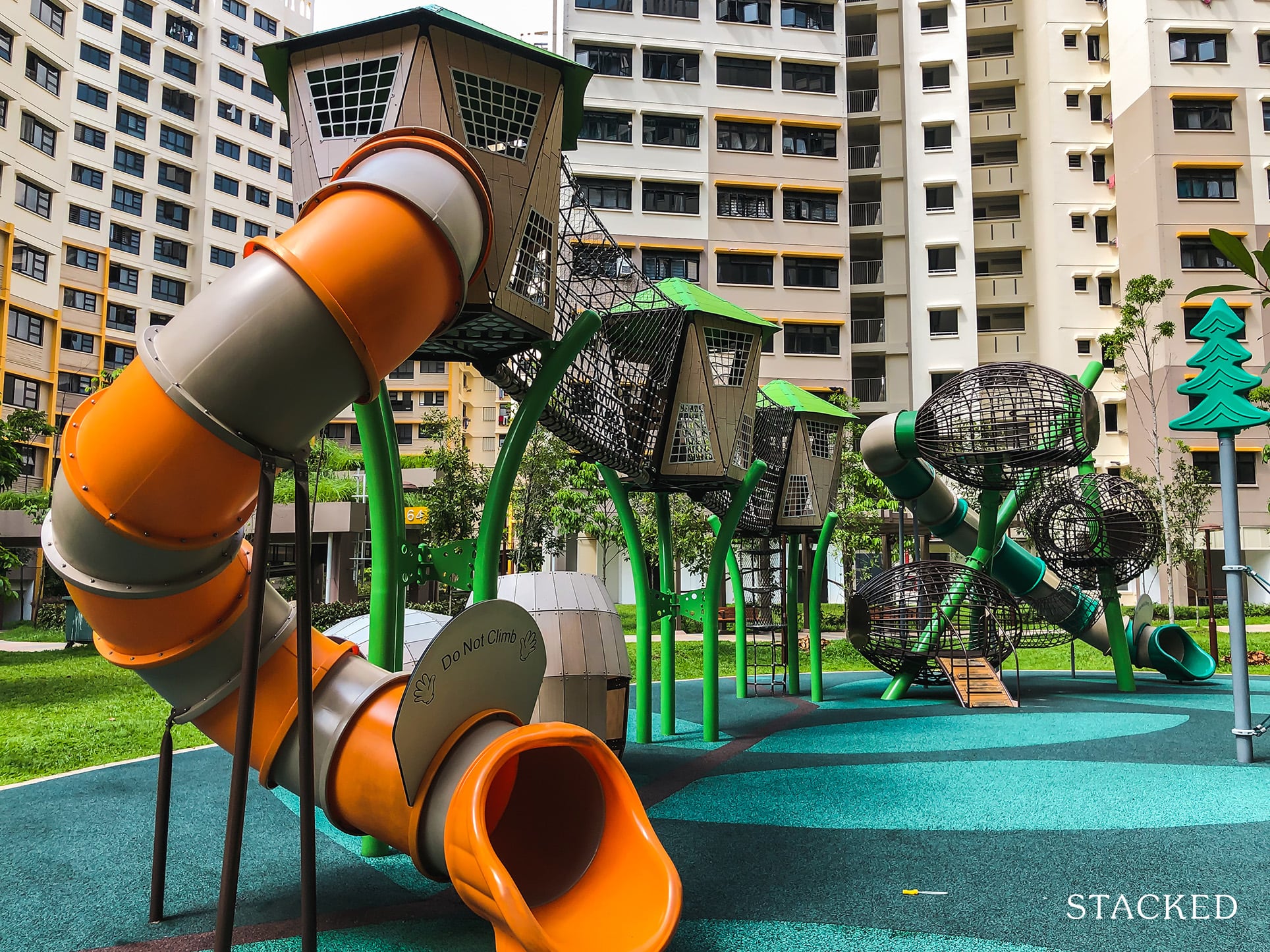 Now for parents who are accompanying their kids to the playground, rest assured that there are plenty of shelters around too: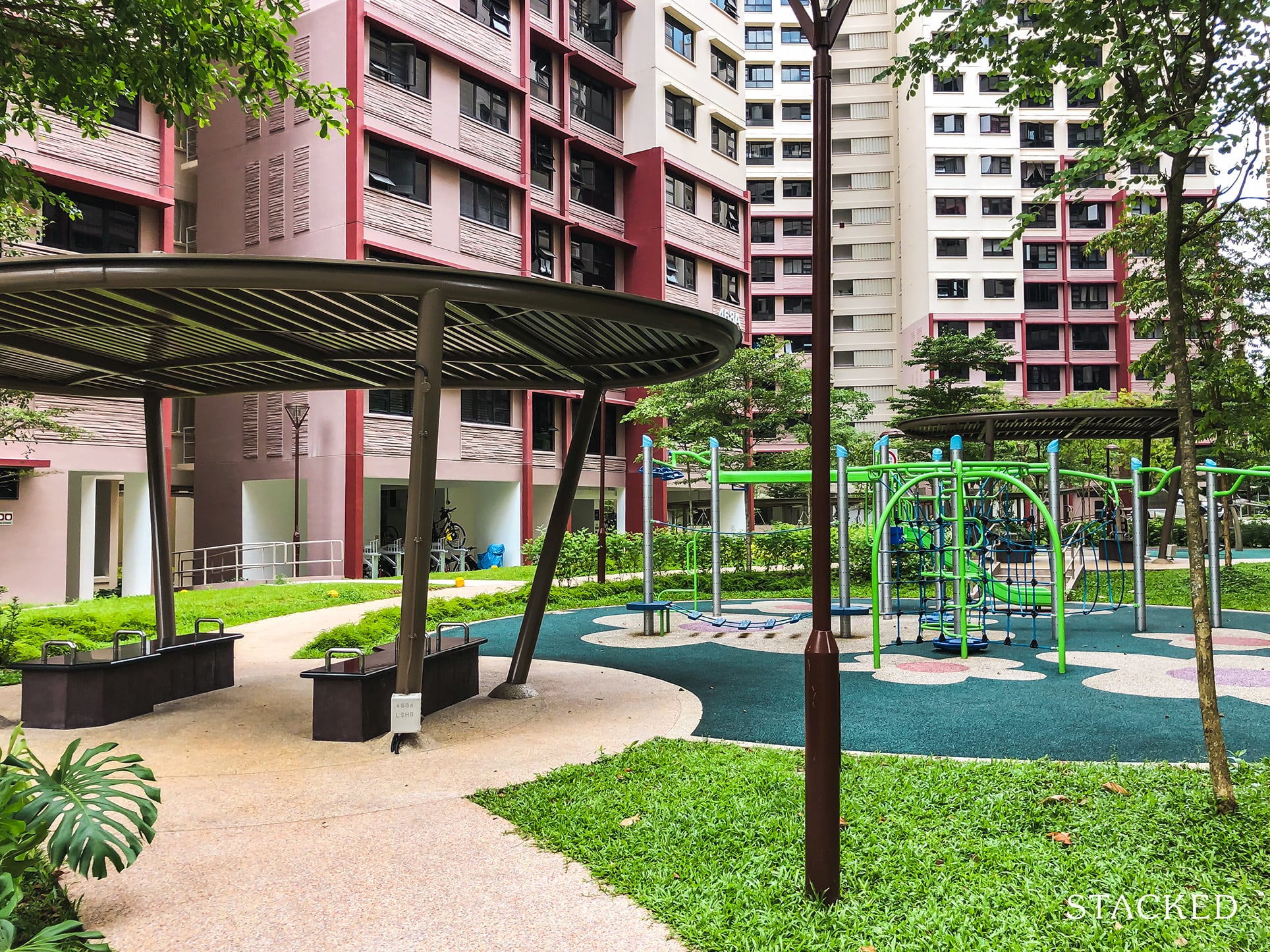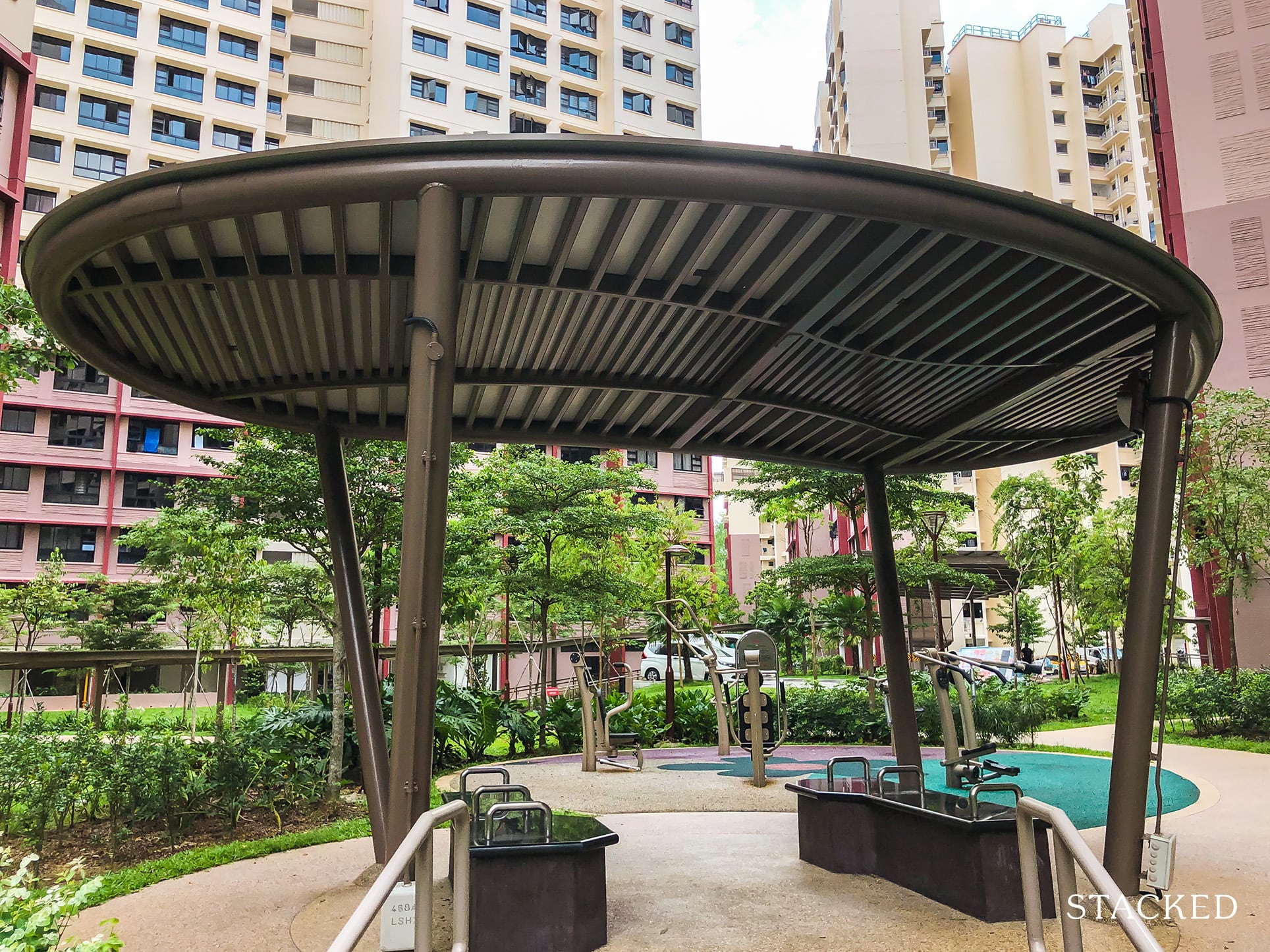 These aren't just partially sheltered – they protect you fully from the sun too! Every single playground area has at least one shelter as well, so you're covered regardless of which you pick.
Up next, we have the usual fitness areas. As with the playgrounds, there's an ample amount of fitness areas here to cater to the nearly 2,000 units in this development.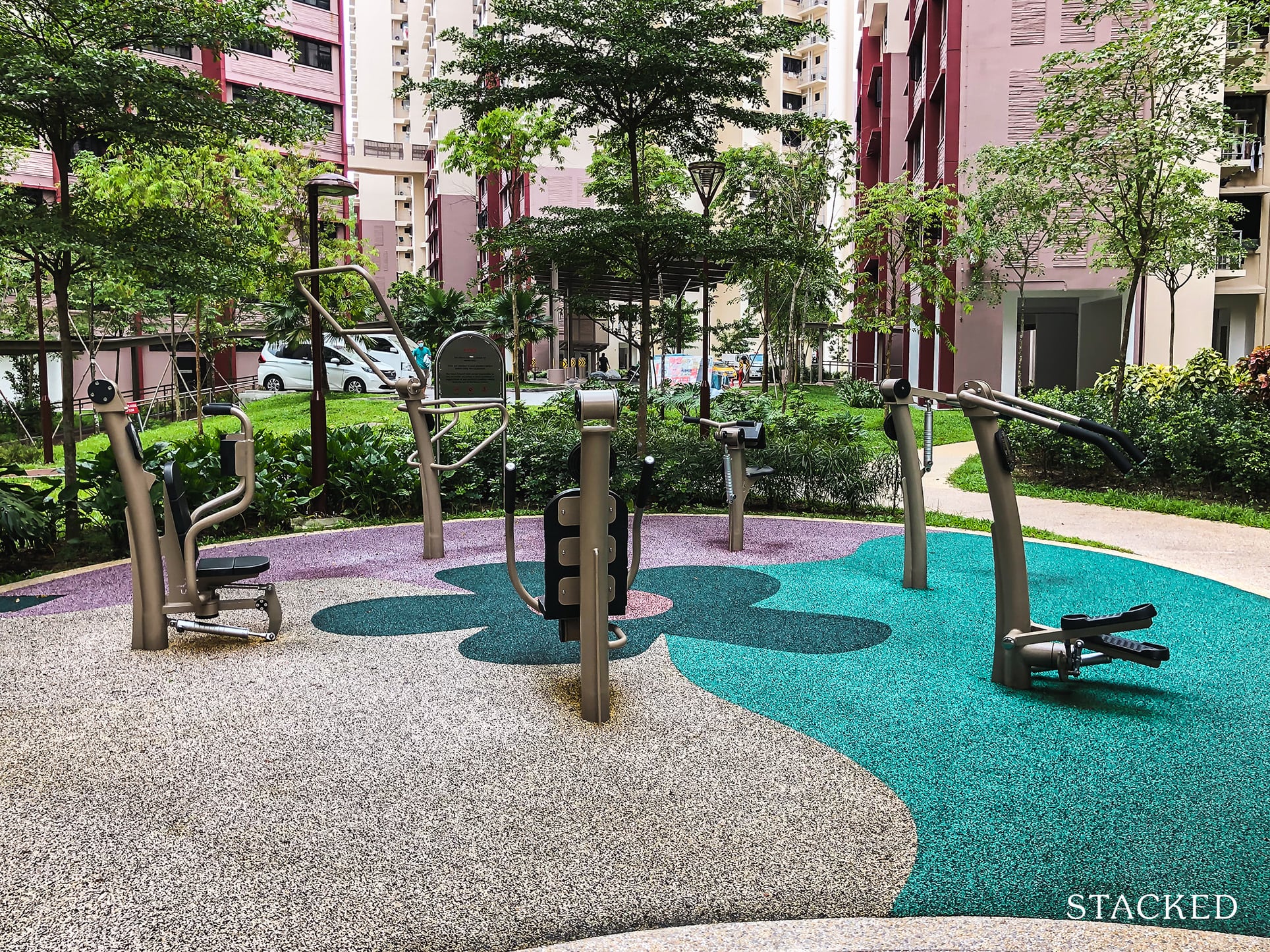 These ones here have several static machines that are just good to keep your body moving.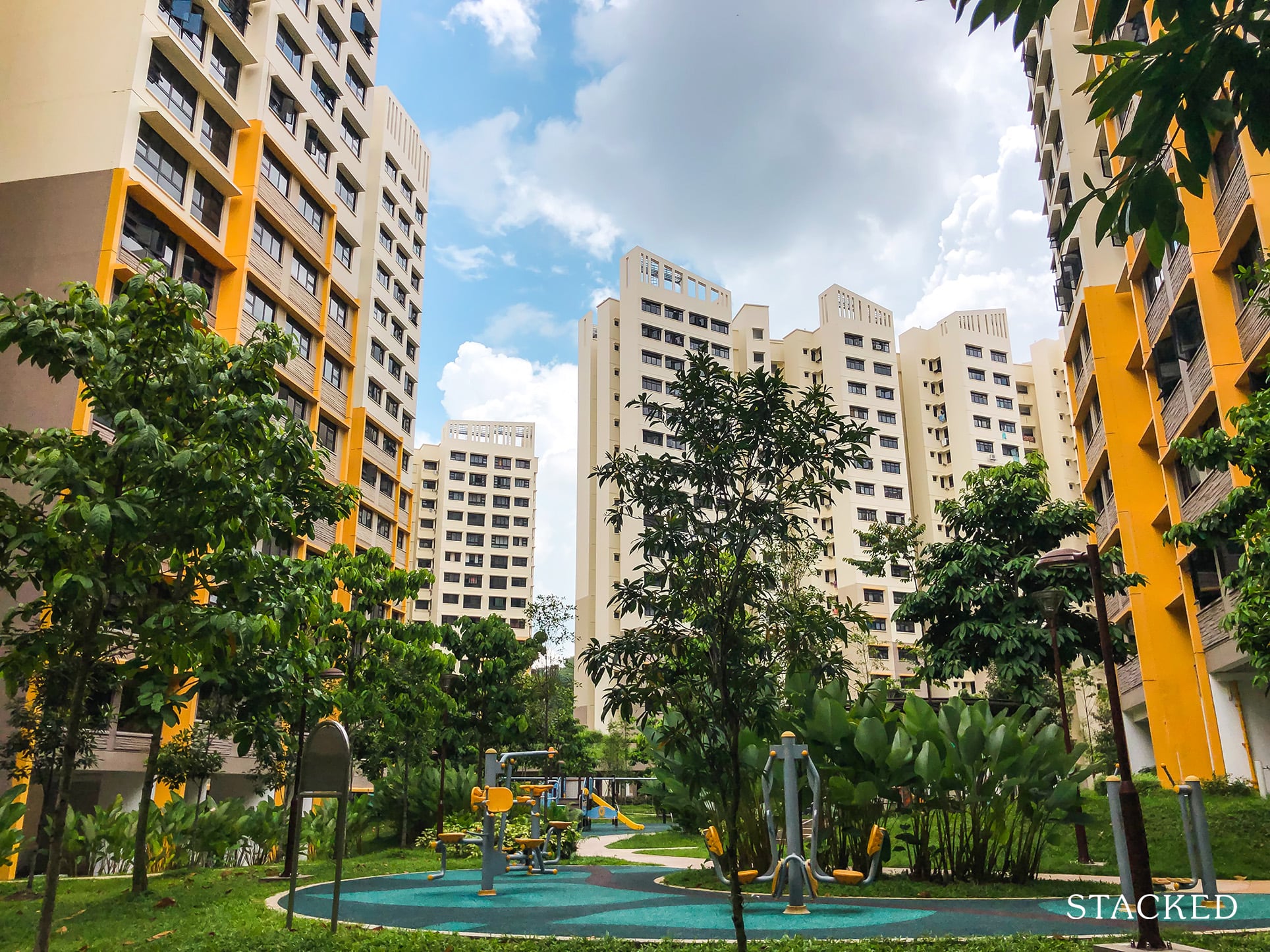 More static machines here that are decently spread out. I'm not sure what I'm more attracted to, the facility or the landscaping, it just looks very homely and inviting here.
With all that being said, I do wish that there was at least one fitness area that focuses on more intense static workouts. These machine equipment have little to no resistance and does nothing for strength improvement, more for blood circulation.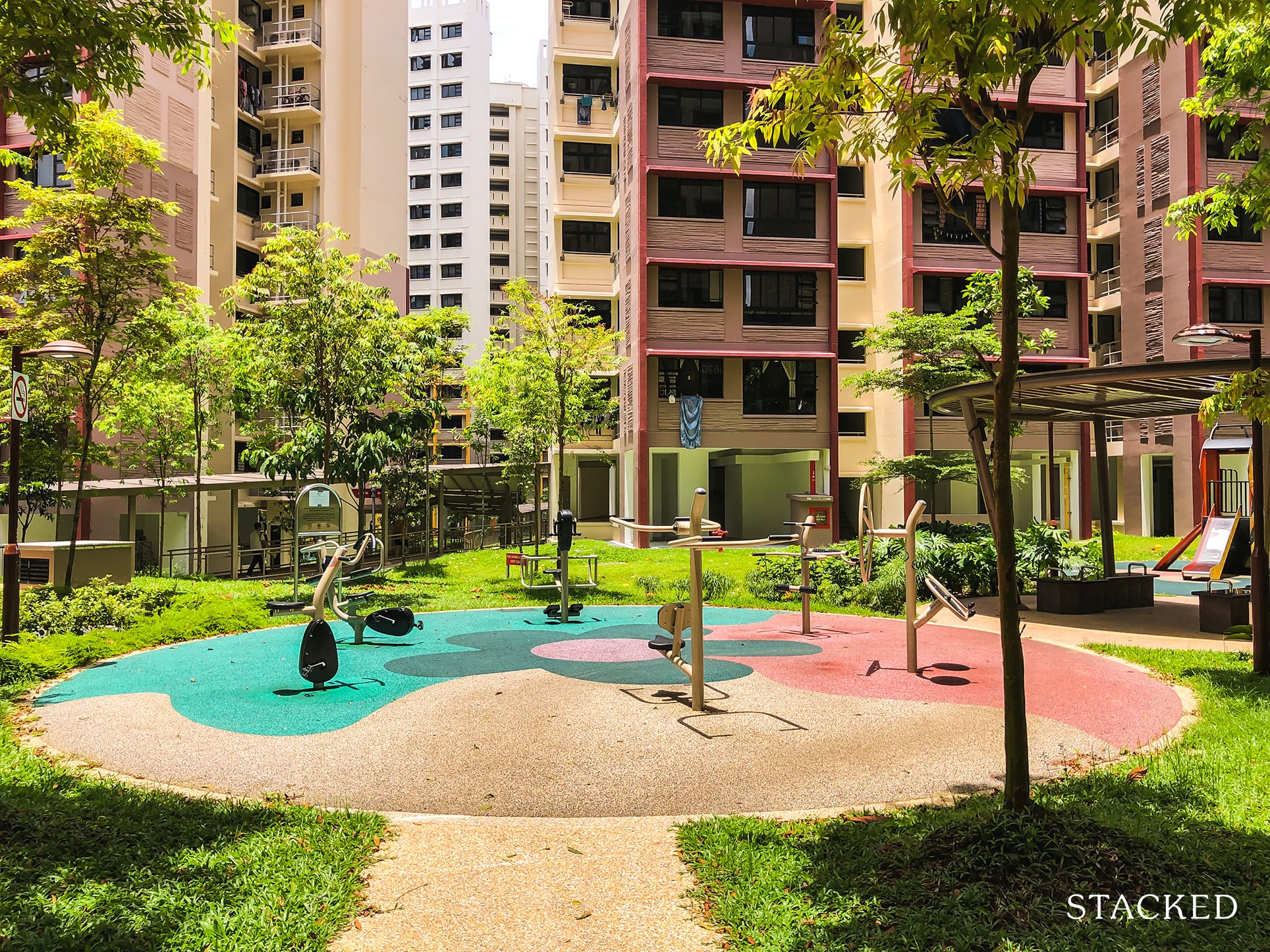 Beyond the fitness areas, West Plains @ Bukit Batok also features a hard court that is located on the northern tip of the development. The hard court here looks brand new (because it is) and is perfect for those who are looking to play racket sports here. The only downside is that there's just 1 court for close to 2,000 units! Nevertheless, it's not a common facility to begin with, so I'm not complaining!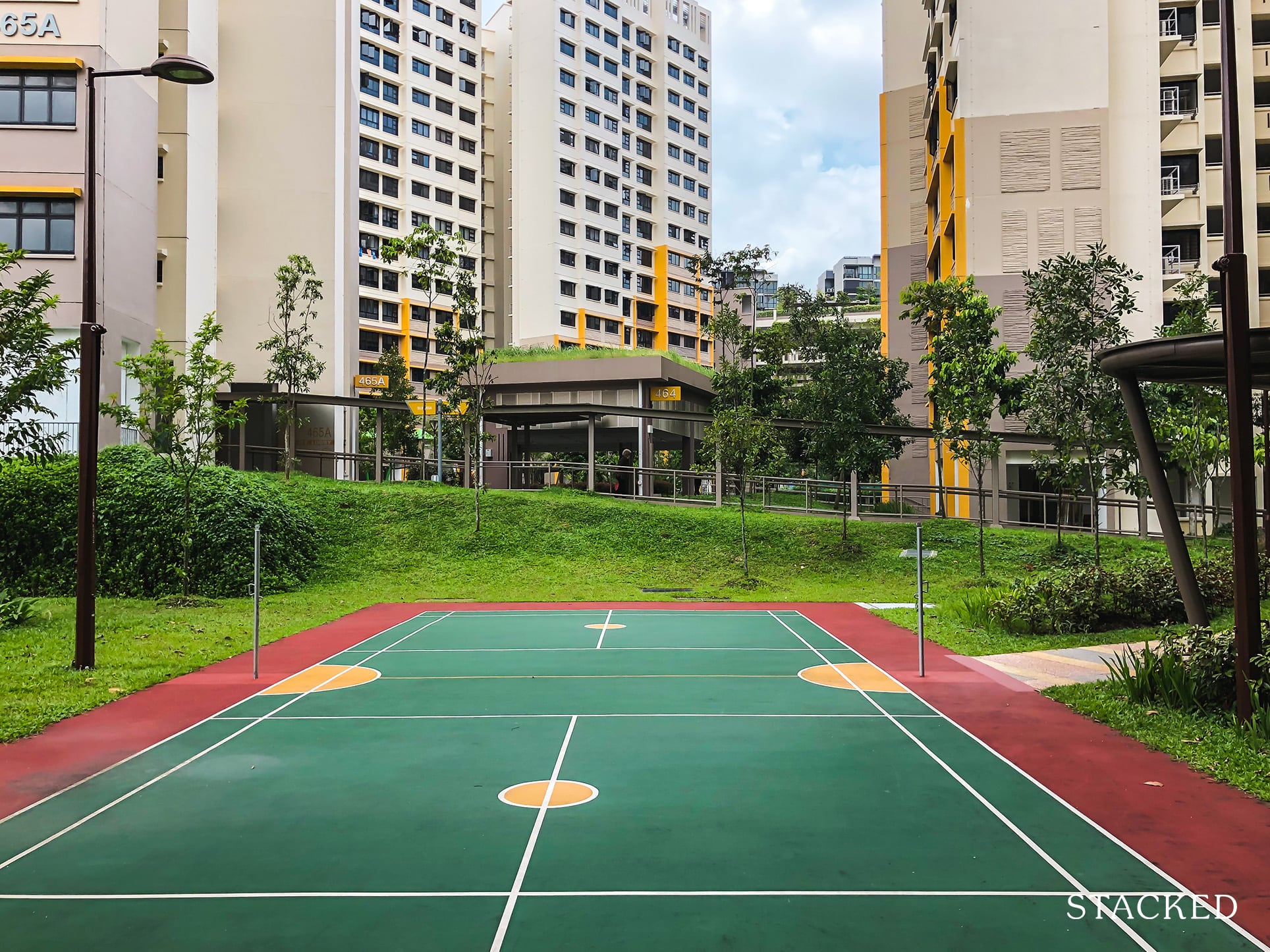 Before ending the facility tour, I'd like to point out one pretty nifty thing about this development – the Pneumatic Waste Conveyance System (PWCS). The name may be fancy, but it's not new. In fact, it was first piloted at 38 residential blocks in Yuhua and the HDB has also implemented it in the new Bidadari flats and Tampines.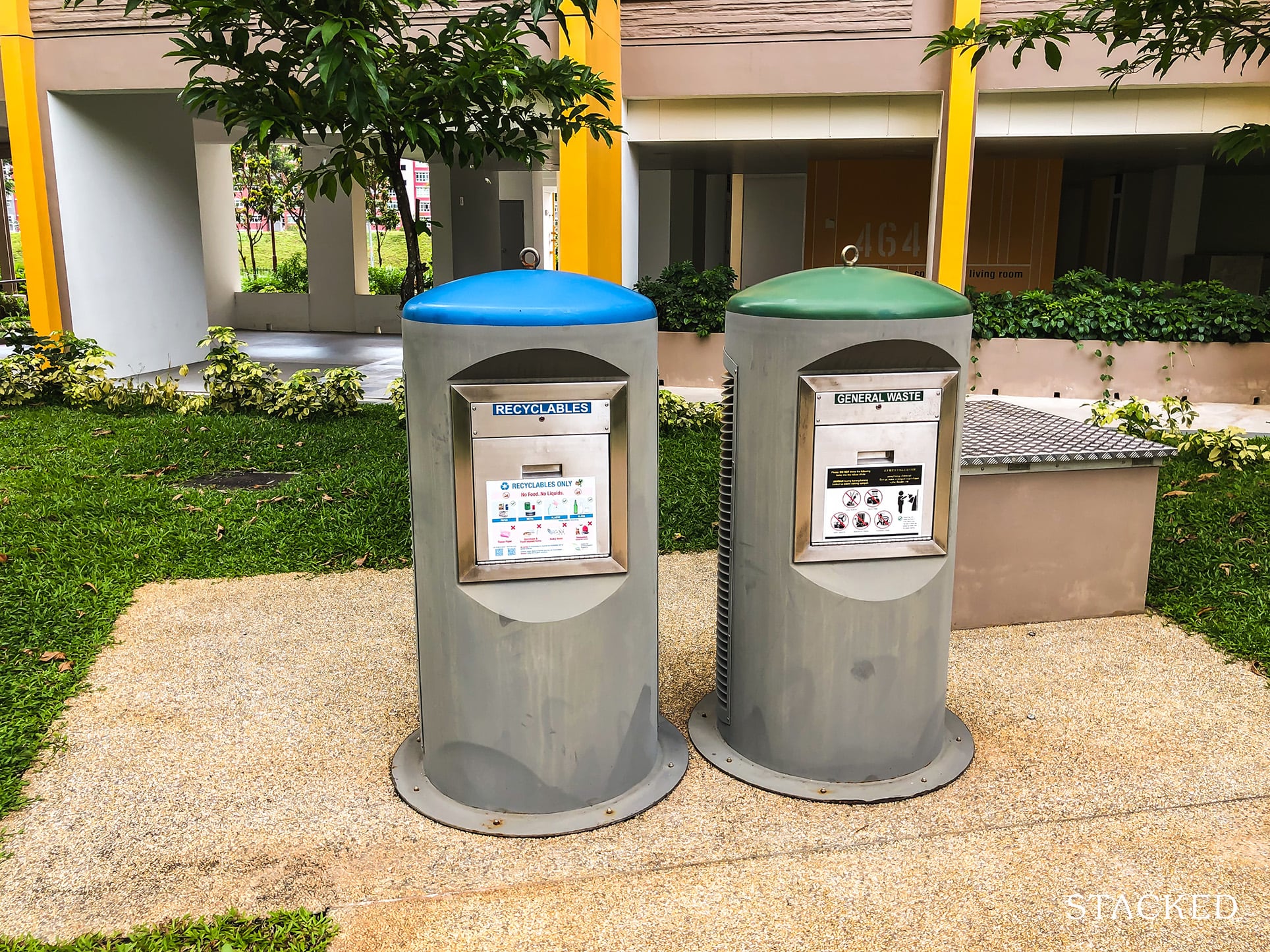 According to HDB:
"The PWCS is an automated waste collection system that uses a vacuum-type underground pipe network to collect household waste, which is then transported through underground pipes to a sealed container. Trucks then periodically collect the waste for disposal."
This hugely improves on the existing manual collection as it not only reduces the manpower needed by up to 70%, but since it's streamlined, disamenities caused by rubbish are very much reduced. For example, a centralised collection bin rids the need for garbage trucks to collect it at every block, this generally generates noise and odours that are unpleasant. It also reduces pests from appearing around the block.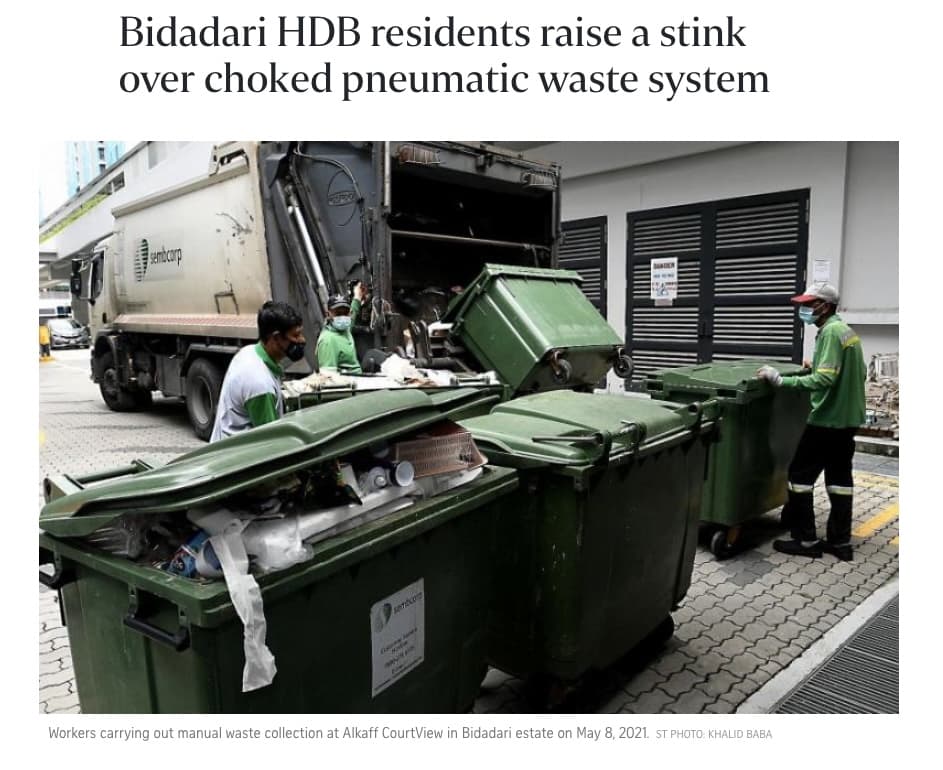 The system, however, is not without its flaws. In May 2021, residents at Bidadari complained of foul smells after the system experienced a blockage – likely due to improper dumping from renovation works done.
Of course, no system is perfect, but overall I do like the idea that there is just one central bin collection point which does away with lower floor units having to experience garbage smells in the morning!
Now that we're done with the facilities, let's head up to see the common corridor here.
Heading to the block, you'll first notice the void deck area which has some useful seats around. I'm always fascinated by newer BTOs choice of void deck furniture as they do try to blend it with the overall development – completely different from the older HDBs where attempts at design are lacking.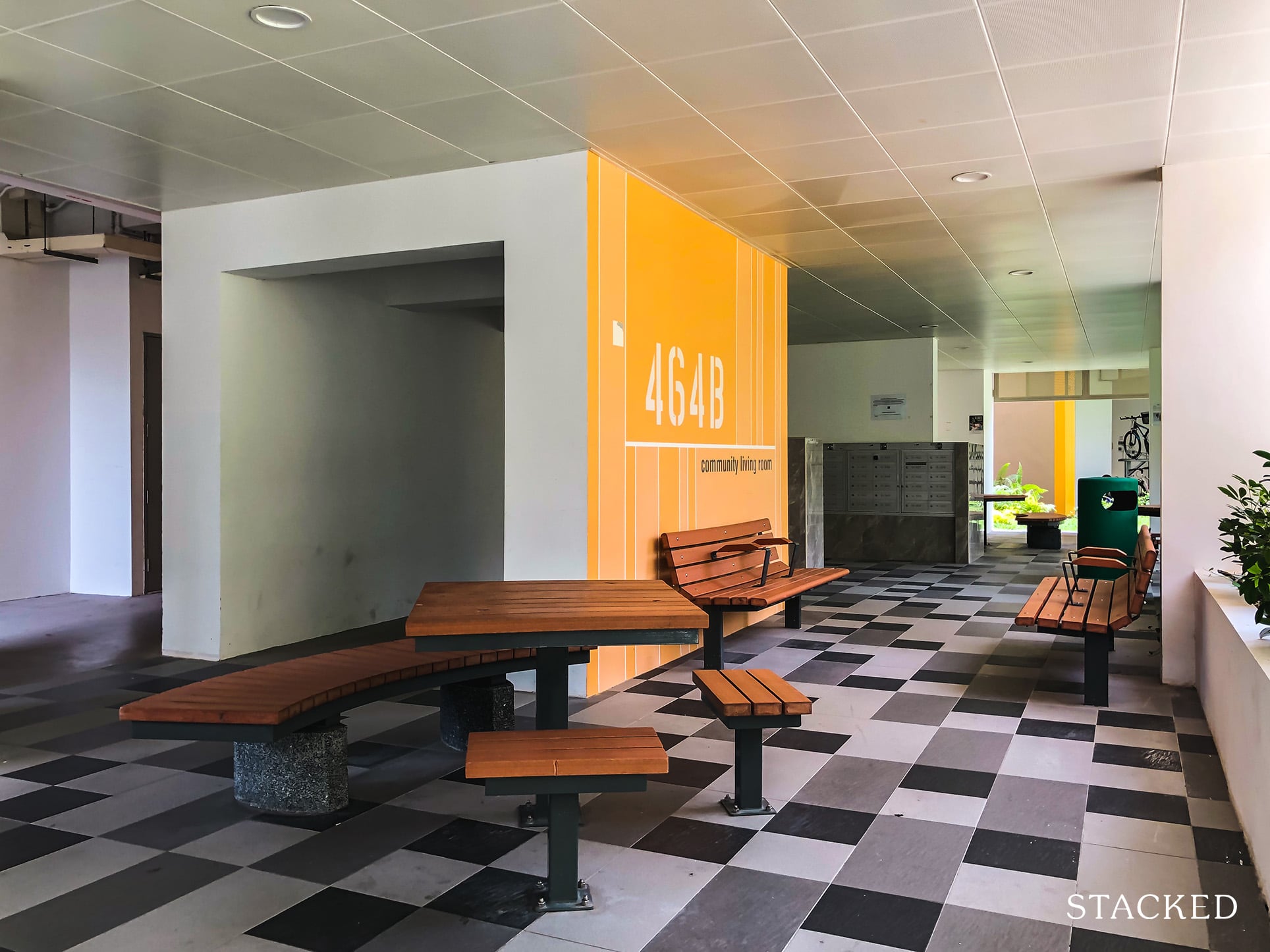 The seats and tables here have a nice wooden texture to them, so it gives the place a more homely and warm vibe as opposed to the concrete feel that most void decks have.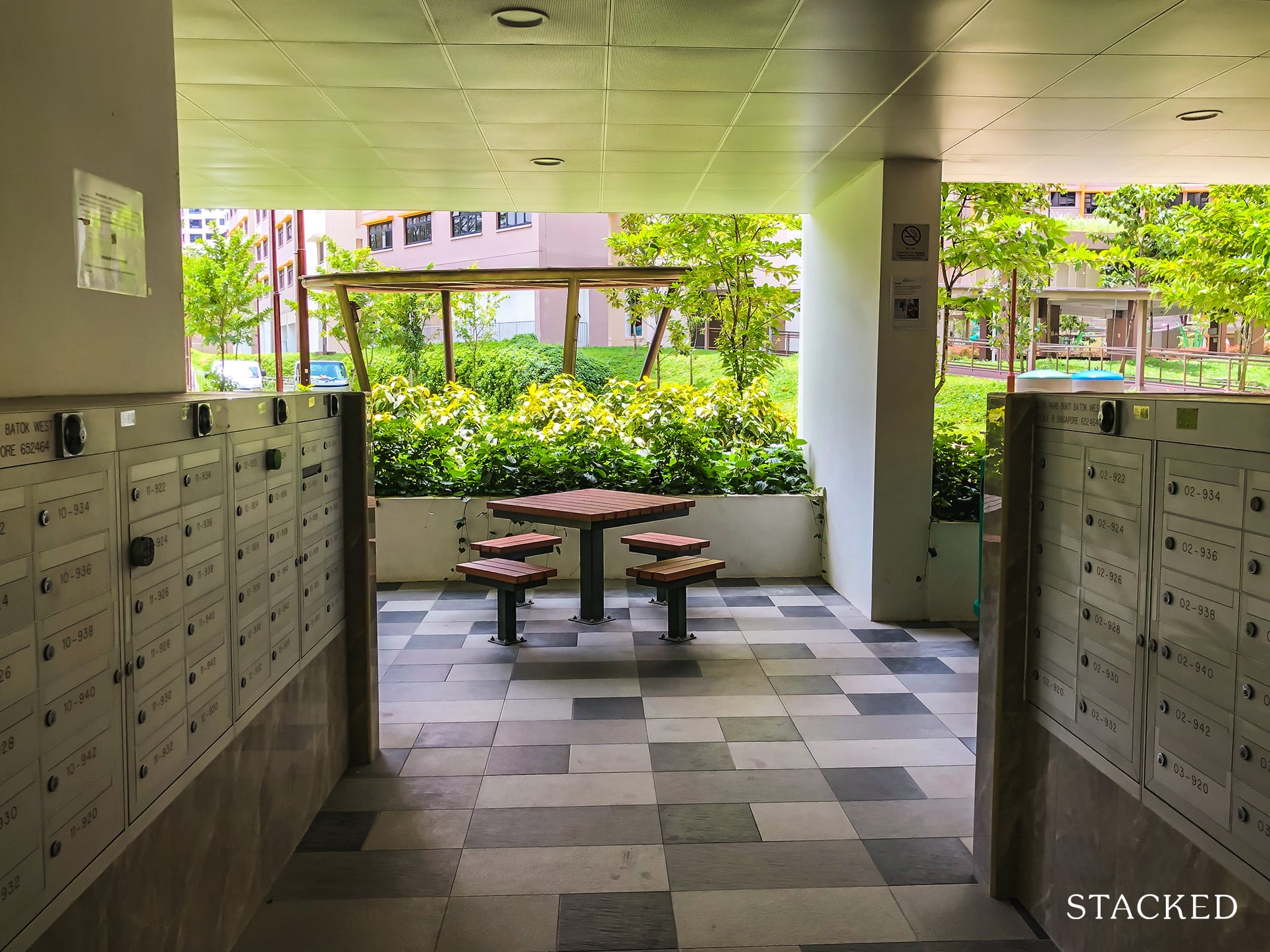 Heading further in, you'll find that the lift lobby here looks very decent and well-maintained. And depending on the block, there are 2 to 3 lifts here serving about 11 to 16 units per floor.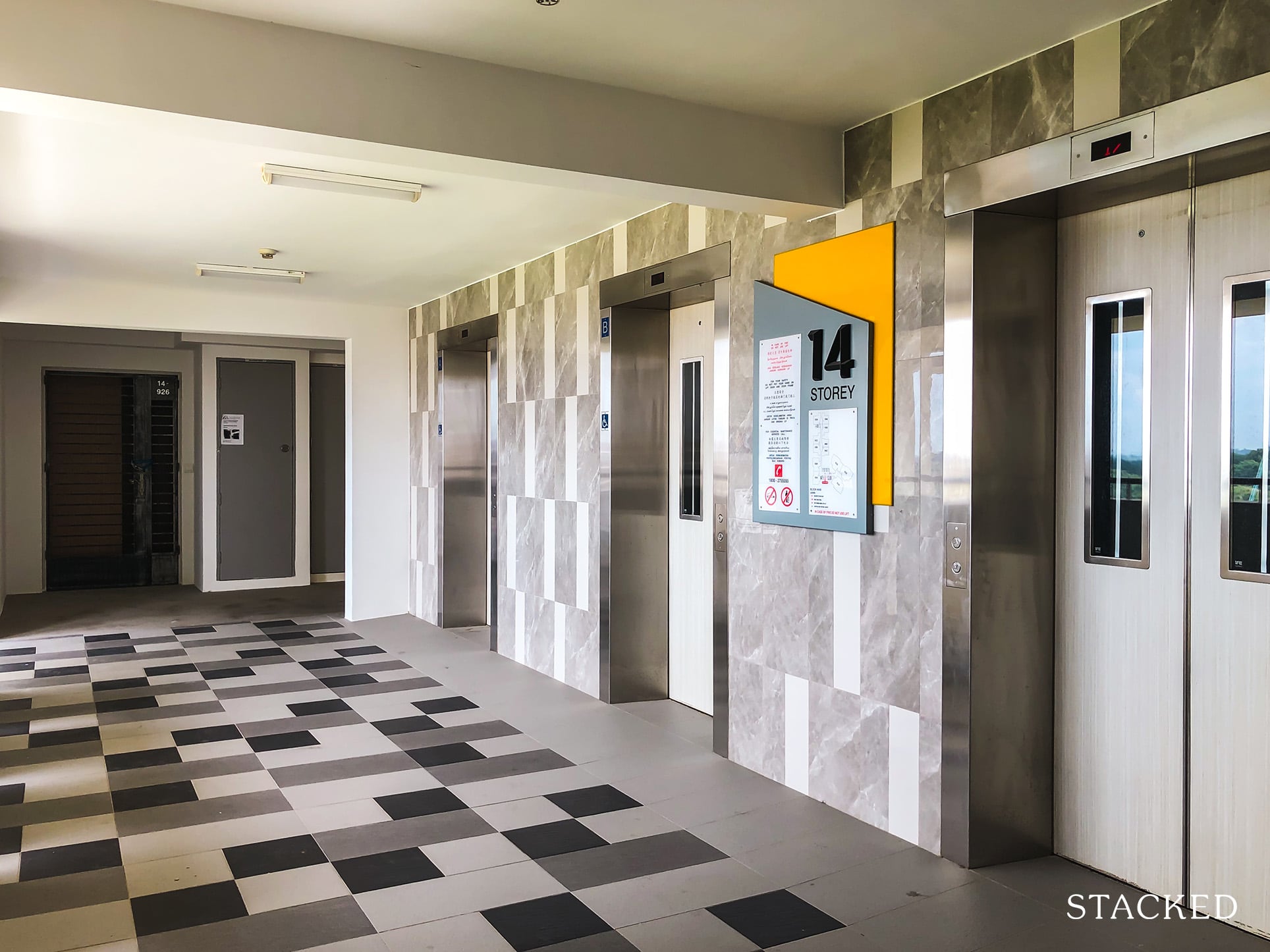 Given the sizeable number of units here relative to the number of lifts, I do think that residents would find themselves having to wait once in a while for a lift to come, though the height of the development does mitigate this wait since it's all less than 20 storeys high. I have shared my thoughts on this before in my review of Woodlands Glen so I would spare you the details here.
Heading up and out to the common corridor, you'll find it to be sufficiently bright and quite well-maintained. The walkway here seems spacious enough with units starting further in, giving some allowance for a shoe rack.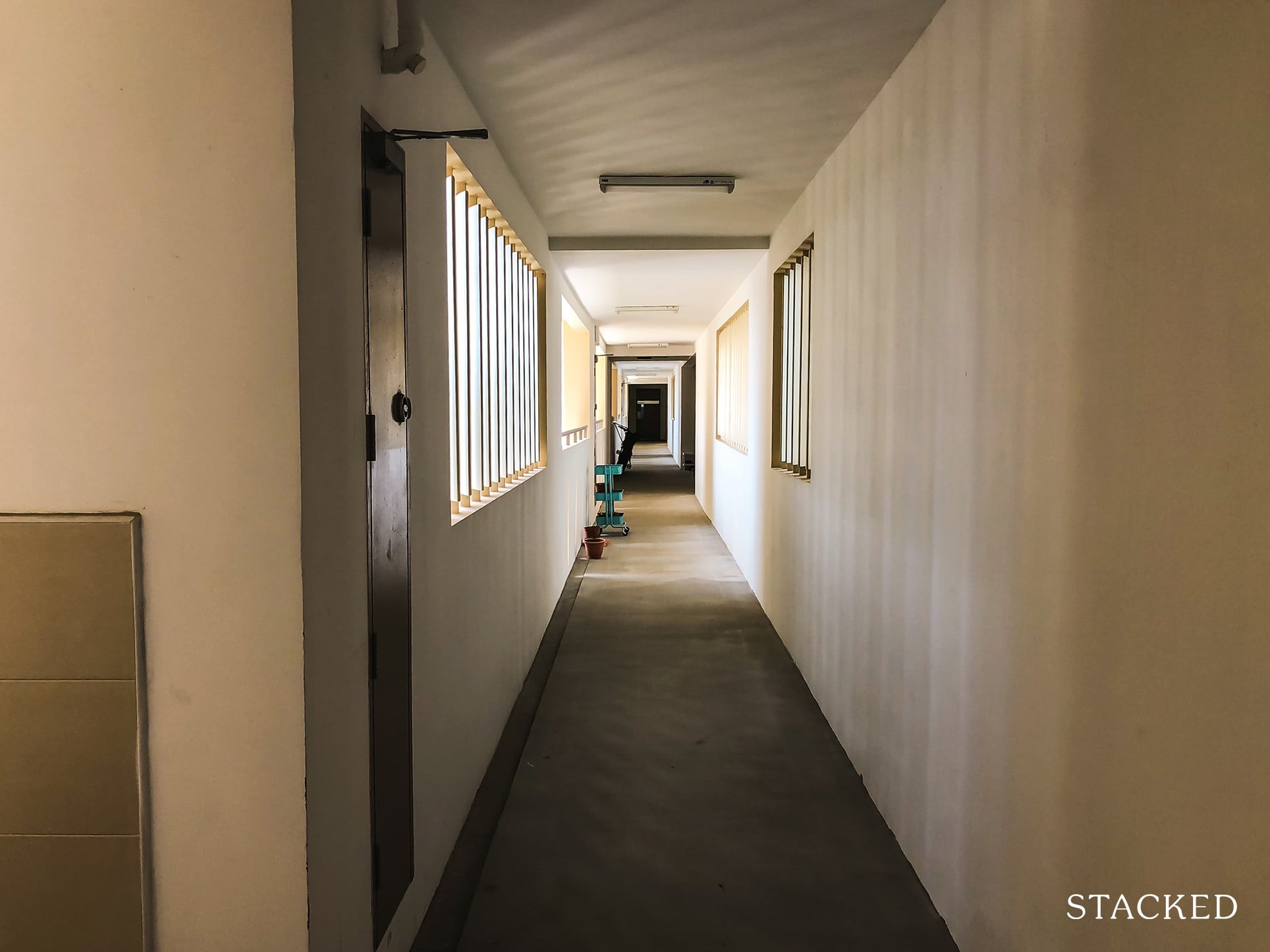 Given the number of units here, long corridors are inevitable which means reduced privacy for most units along the way. As a result of this, some units also have their service yards facing the walkway – not a big deal to be honest, unless you enjoy sitting by the service yard and observing passersby (then perhaps it's a big deal for your neighbours).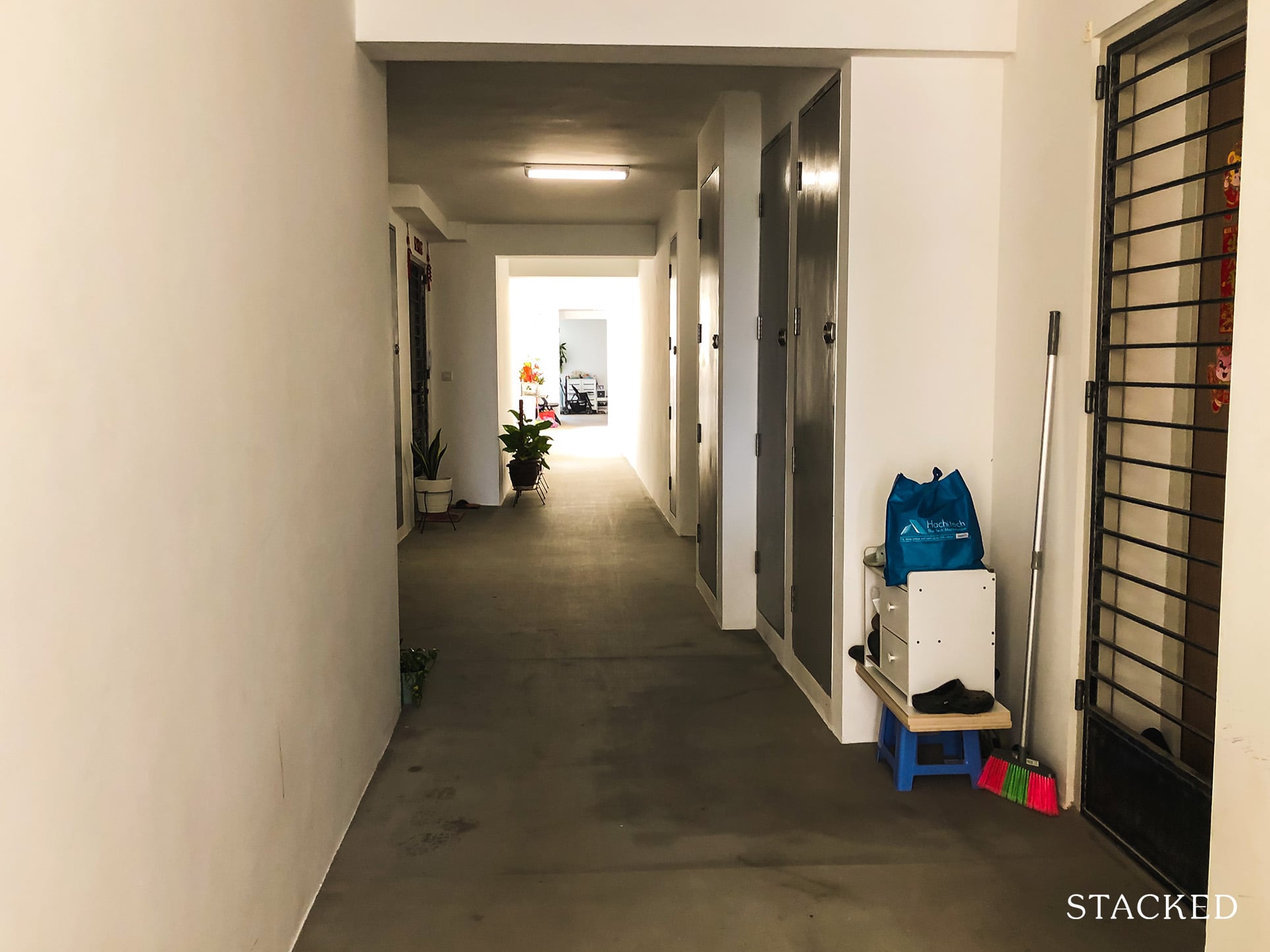 Now in most long corridor situations, the lift is located around the middle of the block. This means that the distance you need to travel to reach the end of the corridor should be about the same amount of time both ways. But it pains me to say that this is not the case for most blocks at West Plains @ Bukit Batok.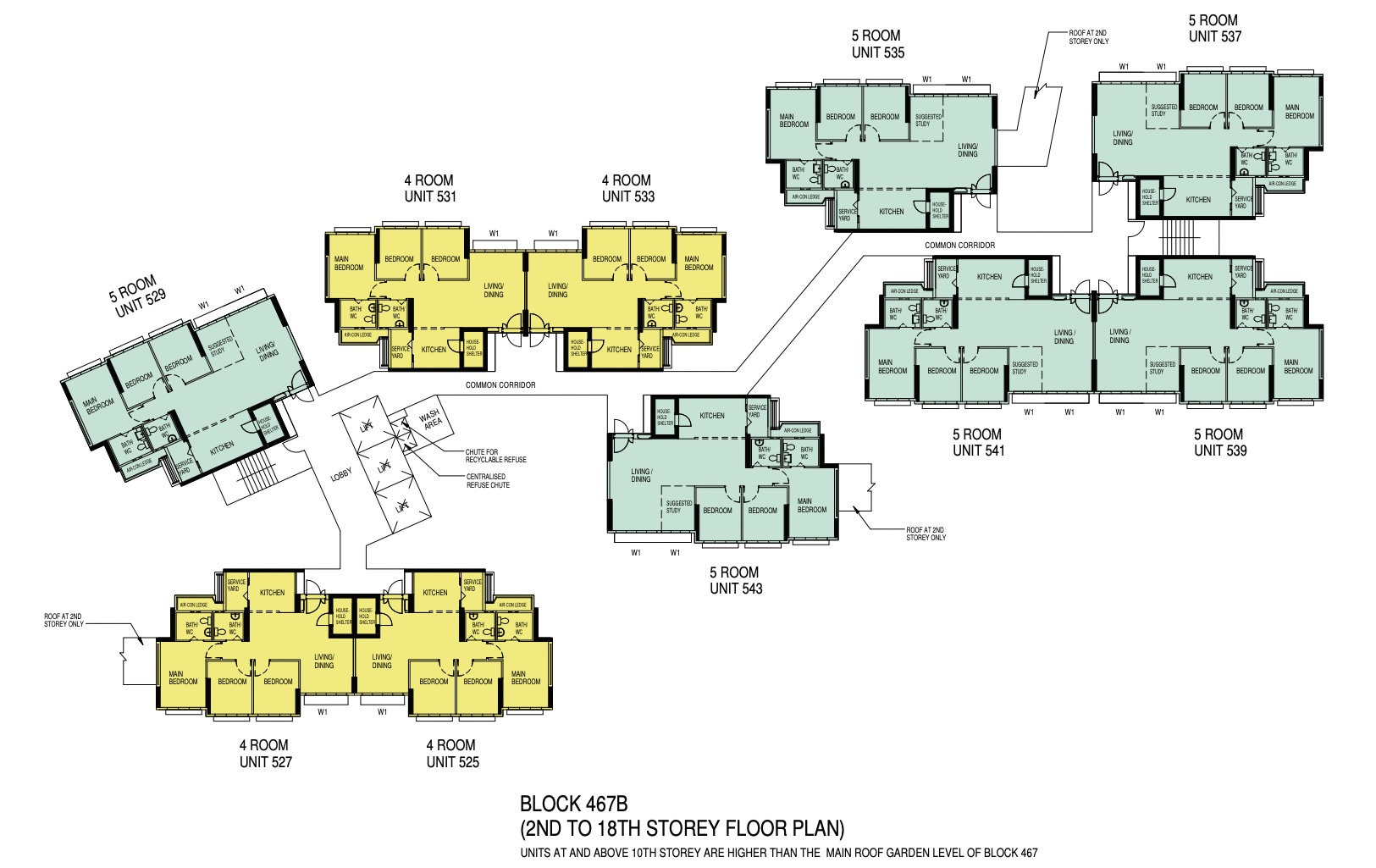 Looking at the corridor layout, you'll find that some blocks have the lift lobby located at one end of the long corridor, meaning residents who purchase a corner unit or one that's close to the other side would have to walk a much further distance. It's not a big deal doing it once or twice, but it could be a little annoying over time – so this is something you need to decide for yourself!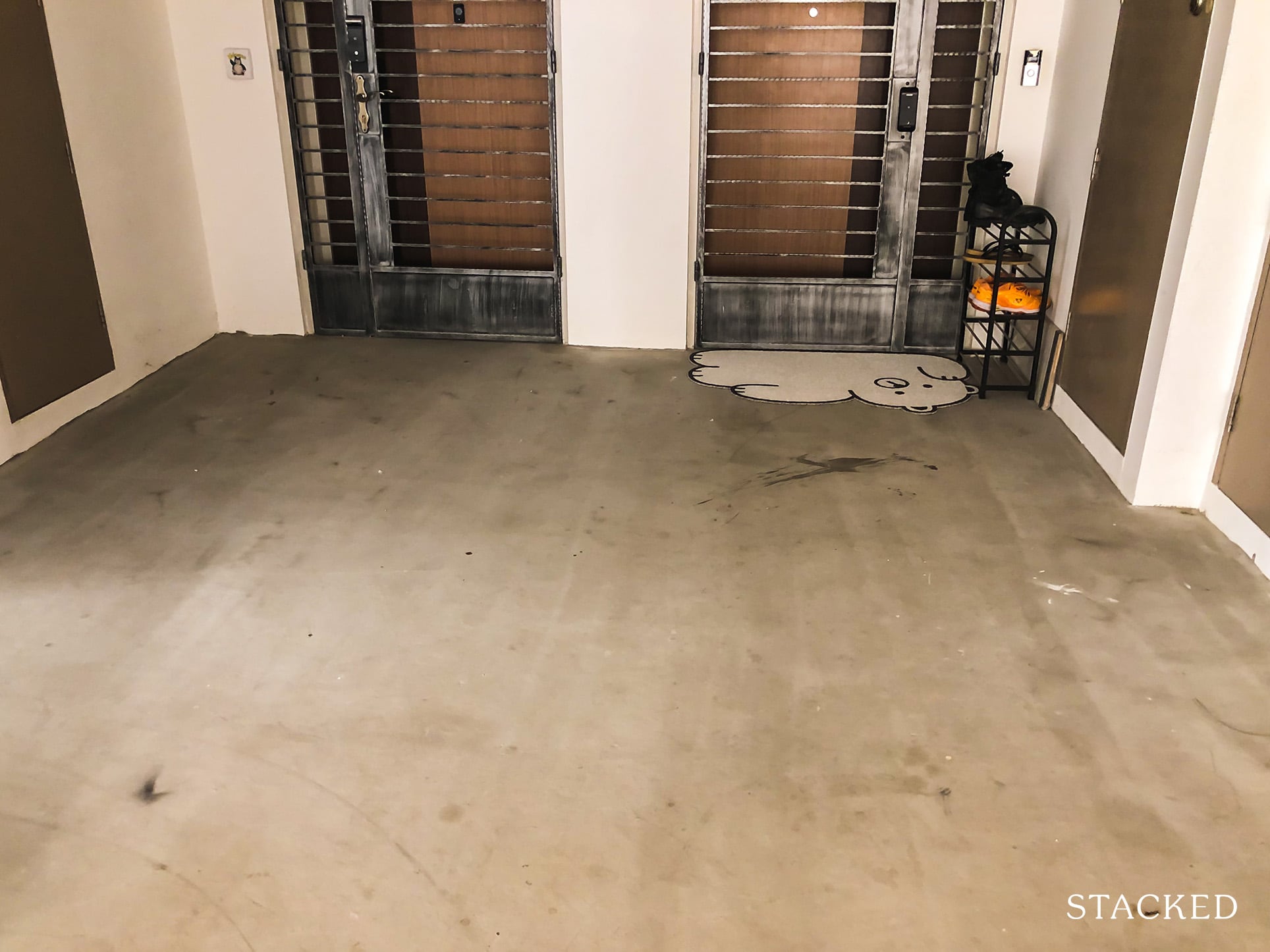 Some stacks here do have their main doors just beside each other while others are corner units or further apart. So while there is still space for a shoe rack, you might not like it when it comes to privacy if your main door is just next door – and this is something to take note of because some units of the same flat type differ in this regard. If all other attributes are the same for you between two units, perhaps the area around the common corridor could be a factor.
Read this next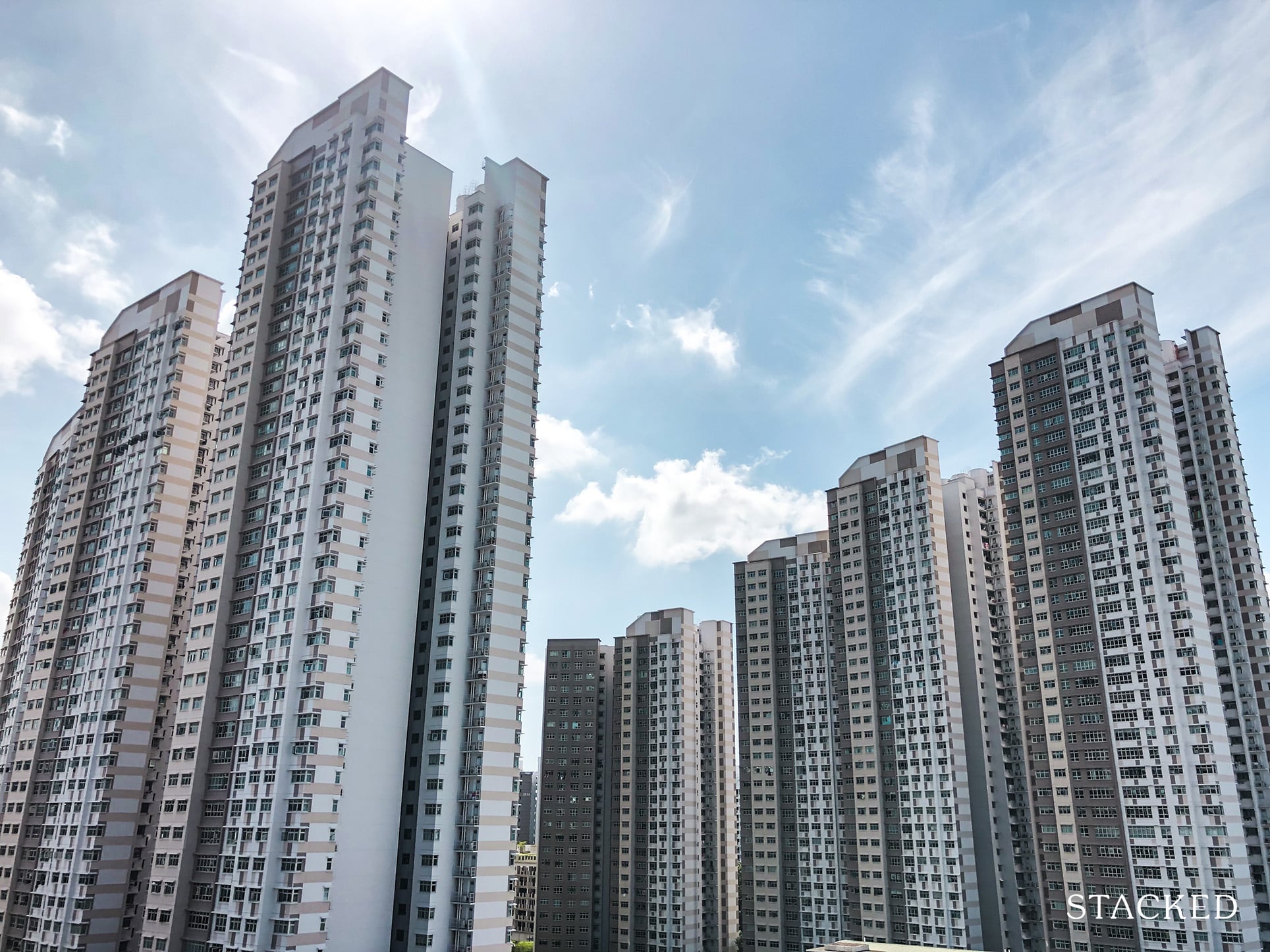 West Plains @ Bukit Batok Location Review
Let's face it, you aren't going to buy a unit at West Plains for its location (unless living close to your parents is a priority). It's located in a relatively new area of Bukit Batok with high-rise residential surrounding it and the closest MRT is an 18-minute walk away.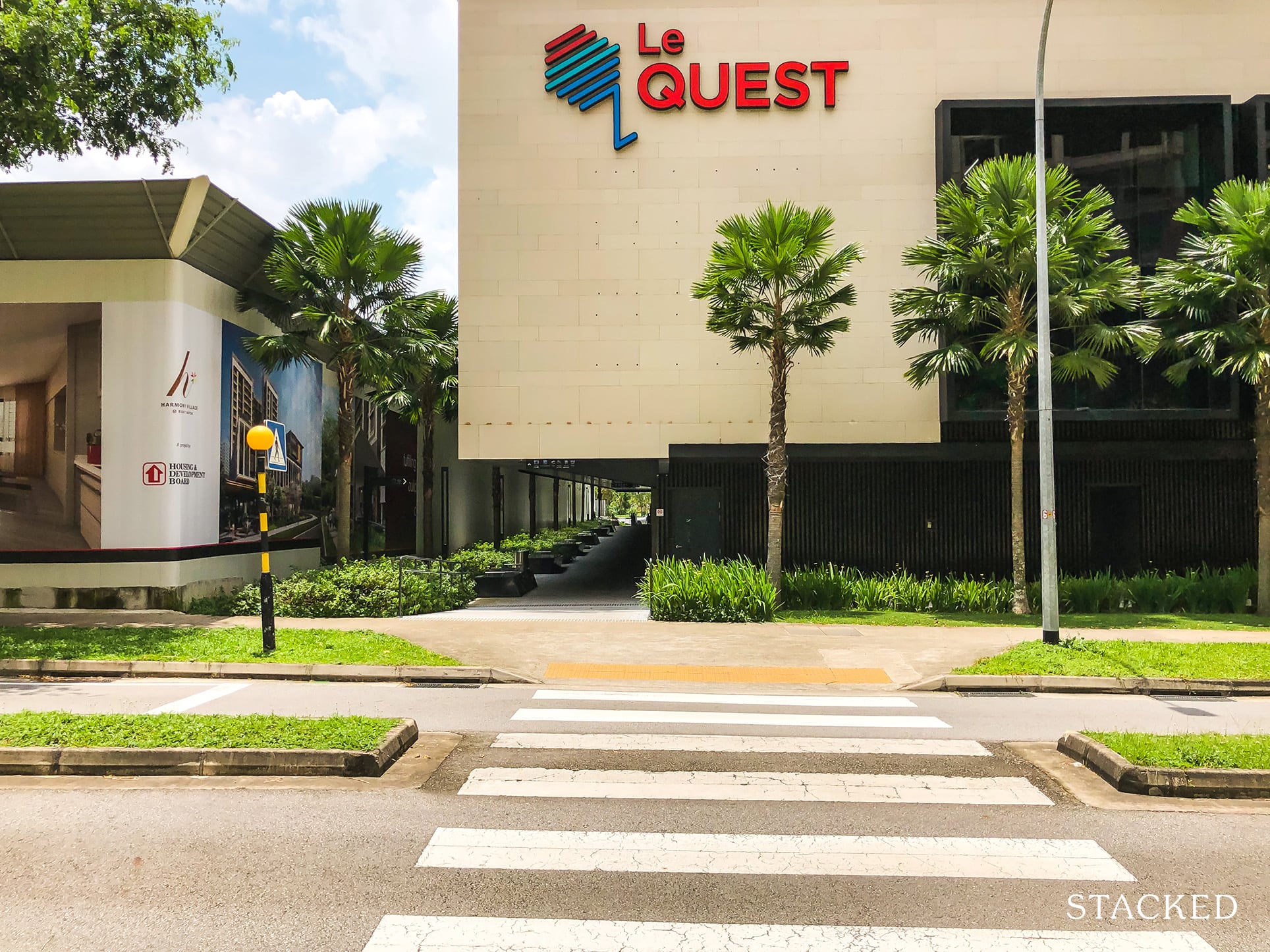 There is only one point of interest here – Le Quest, a condominium that sits atop a retail mall which is probably a game-changer for residential developments all around. This development is located just across the road, so residents can reach here in just a couple of minutes.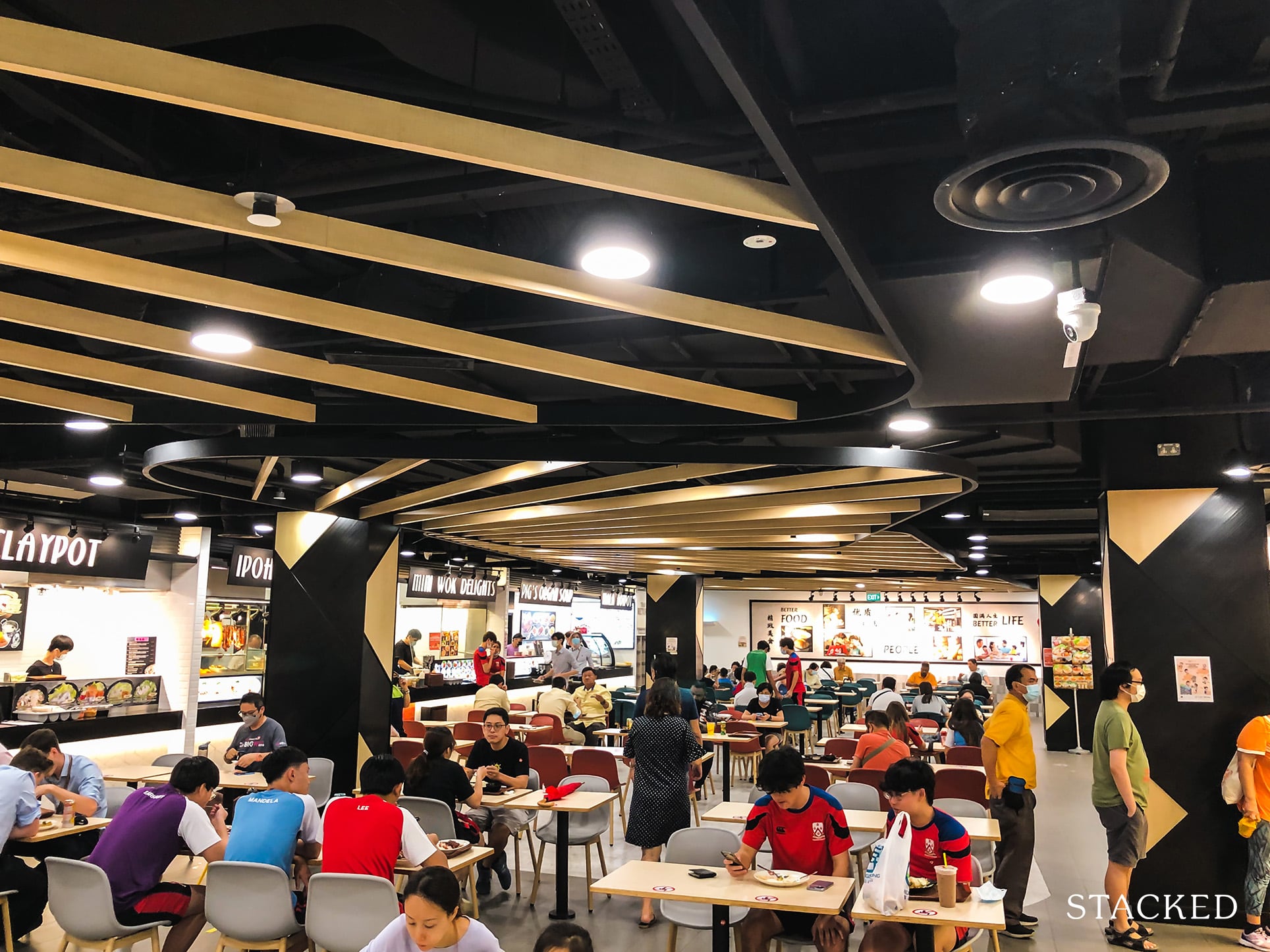 Over here, you'll find a myriad of shops and services available to you. This includes all the essentials like an eating house, a supermarket (NTUC Fairprice), a Guardian, and several F&B outlets such as McDonalds.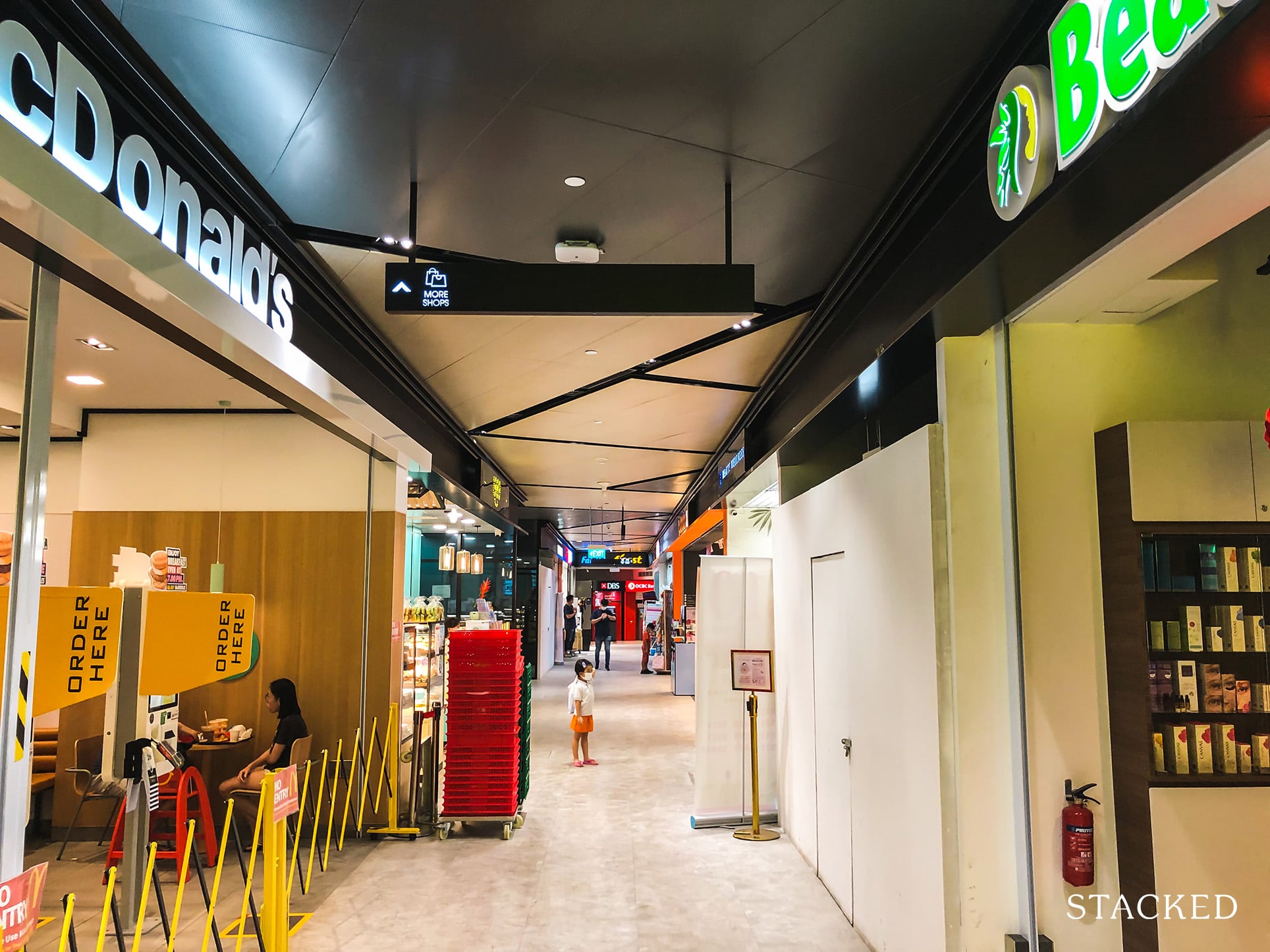 Despite being a self-sustaining development, you will probably tire of the eating house below or find that Sheng Siong can only meet so much of your grocery needs. That is why having this mall within walking distance makes such a big difference.
Nearby, you may also notice that Bukit Batok Hillside Park is just a few minutes away on the north side of West Plains. But while "park" is in its name – don't be fooled! This is not a proper "park" in the commonly used sense.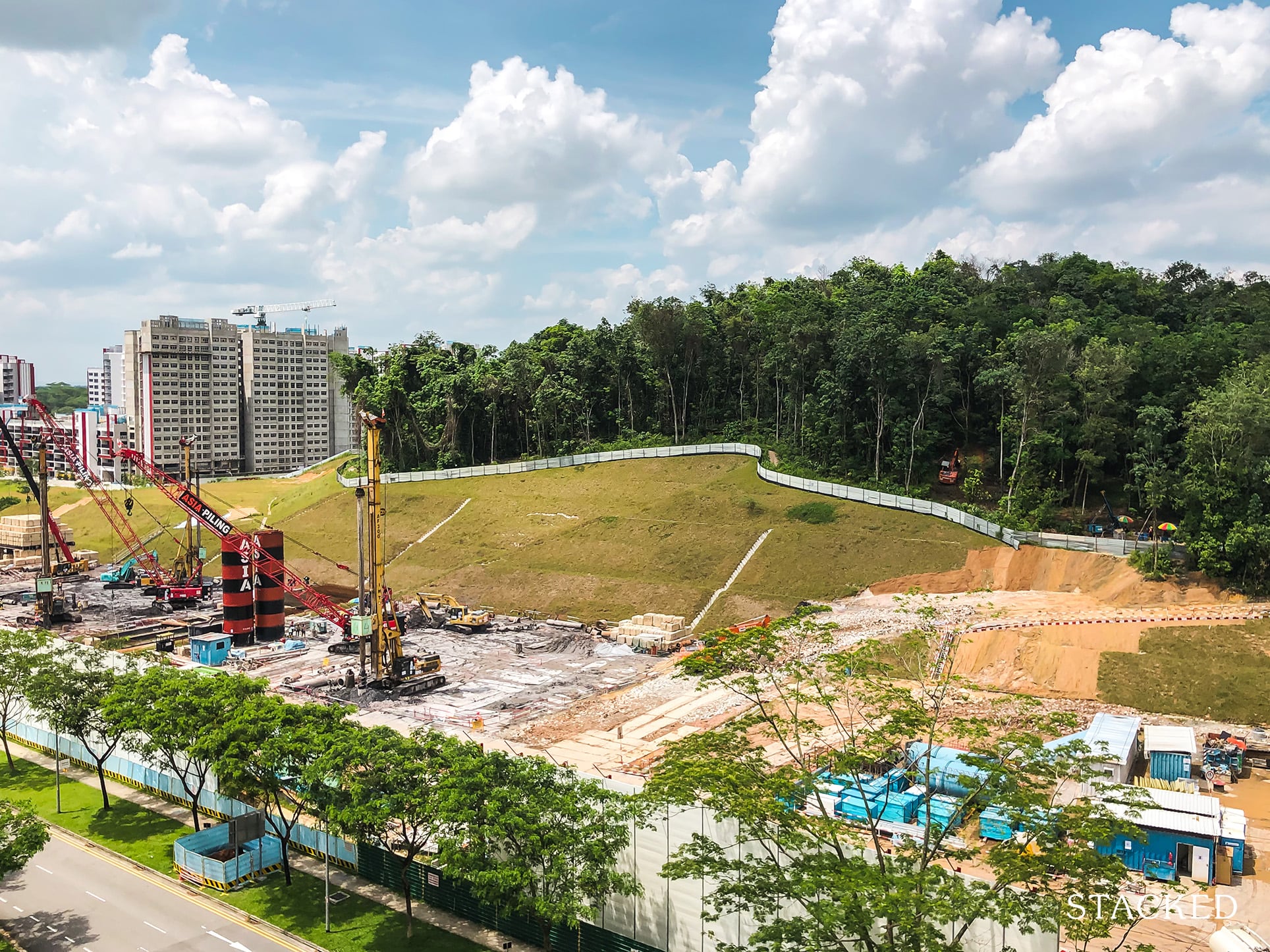 The park here is more of a trekking and hiking area, not so much a place to take a casual jog or enjoy a picnic considering how underdeveloped this park is. I'd say it's more of a point of interest, a place commonly known by trekkers and hikers but not so much for families who want a recreational spot. As such, it's not really a selling point for the area.
Fret not, however, as Bukit Batok is known for its nature parks. Just outside the development, you'll find a neat path that you can cycle along to get onto the Bukit Batok Park Connector. From here, there are multiple points of interest that you and your family can easily reach, including Bukit Batok Town Park (Also known as Little Guilin), Bukit Batok Nature Park, and Bukit Timah Nature Reserve.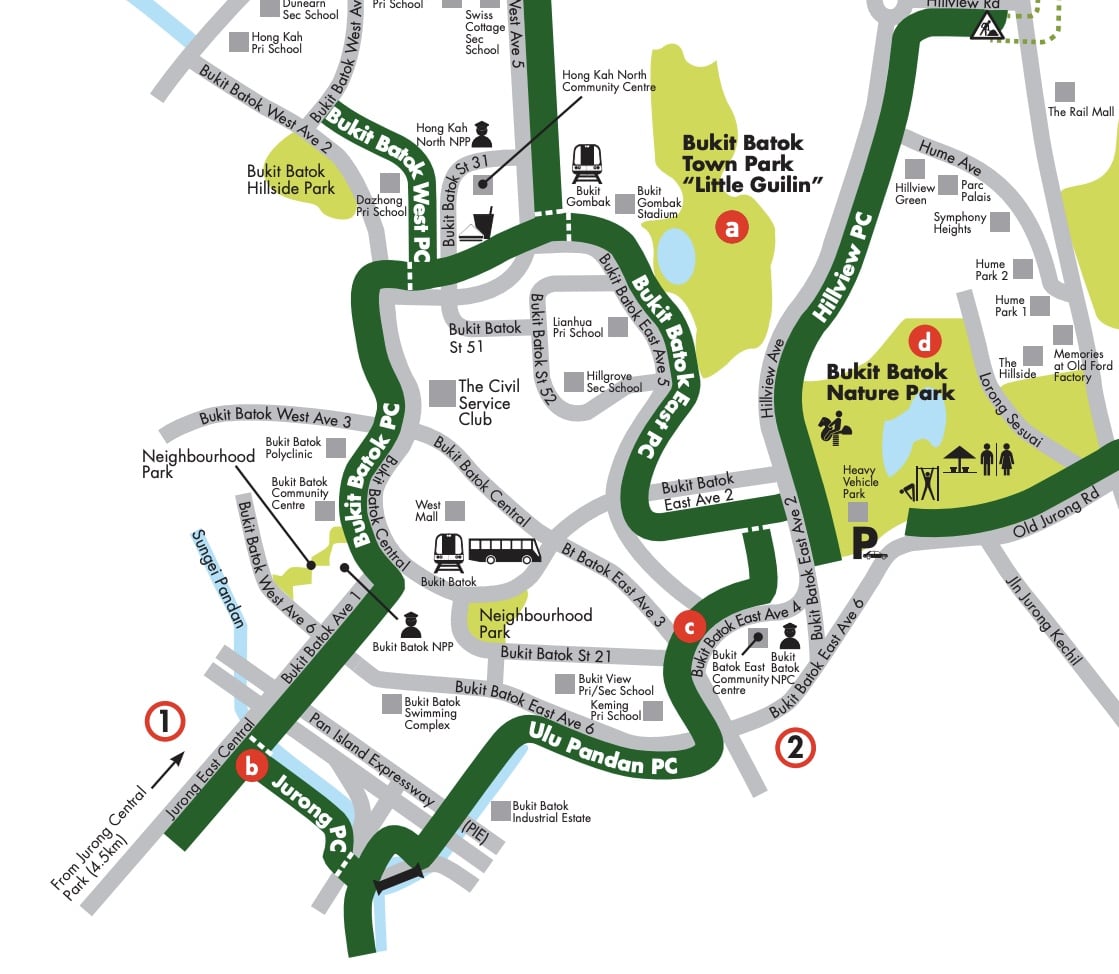 If you are adventurous, you can even head southwards to Jurong Park Connector where you'll find one of the Jurong Lake Gardens which houses Singapore's largest manmade wetlands.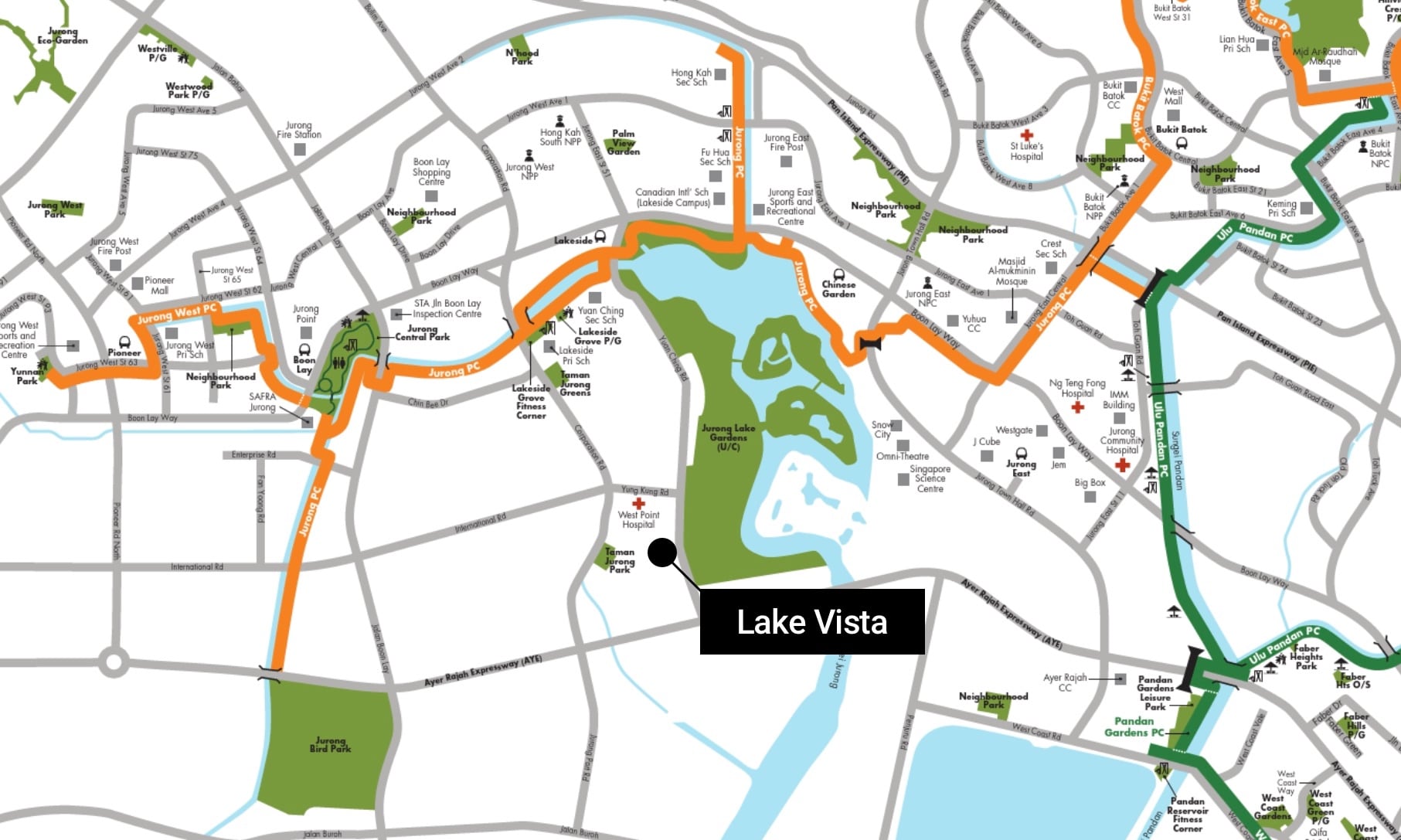 Public Transport
| | | |
| --- | --- | --- |
| Bus station | Buses Serviced | Distance From HDB (& Est. Walking Time) |
| 'Blk 467 Cp' | 991 | 1-5 minutes depending on the block |
| 'Opp Blk 465A' | 991 | 1-5 minutes depending on the block |
Closest MRT: Bukit Gombak/Bukit Batok, about a 15-minute walk.
As mentioned, West Plains @ Bukit Batok is certainly not at the top of the list when it comes to public transport convenience.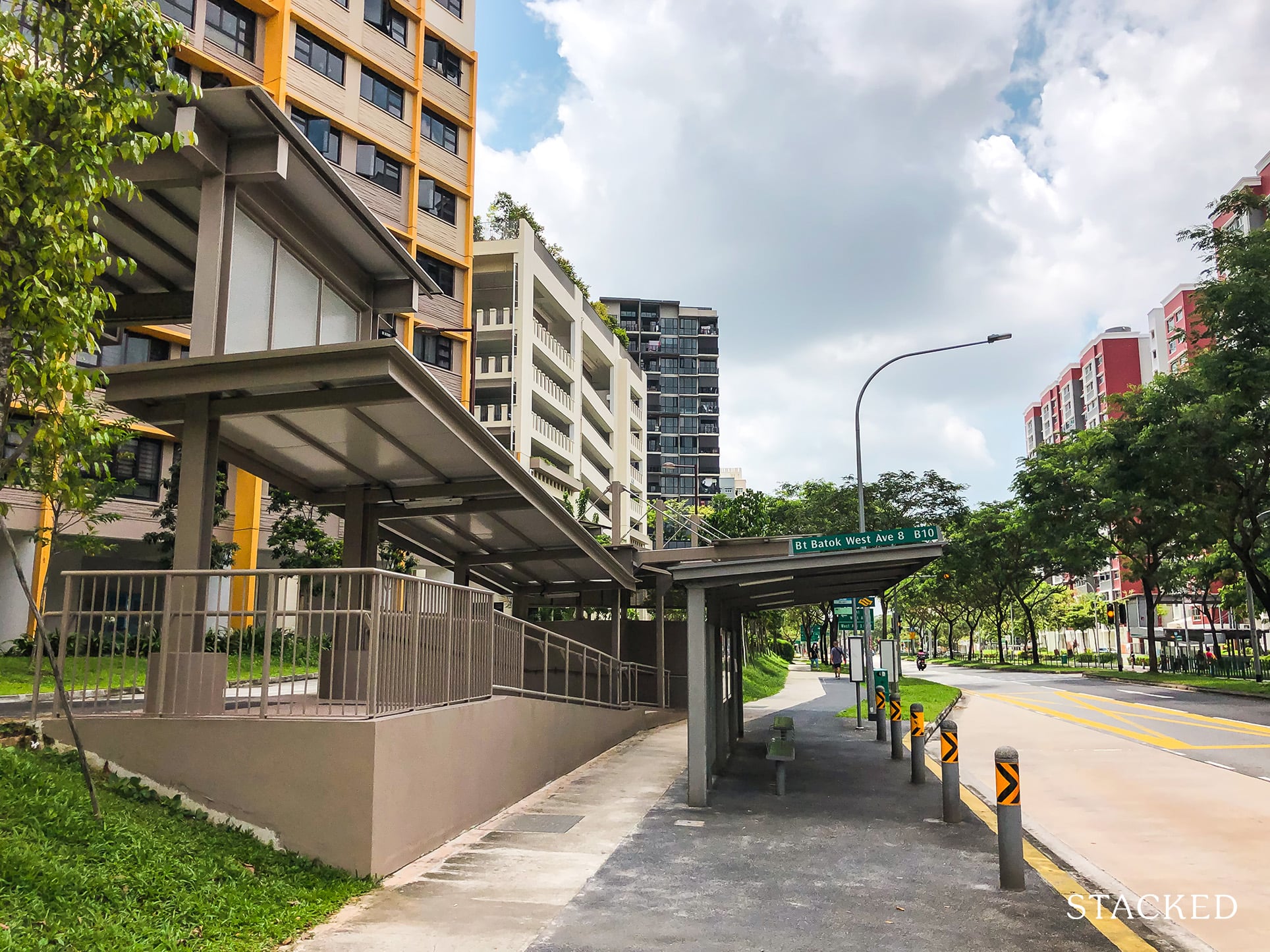 The closest bus stop is located along Bukit Batok West Avenue 5/8 and features just 1 bus service: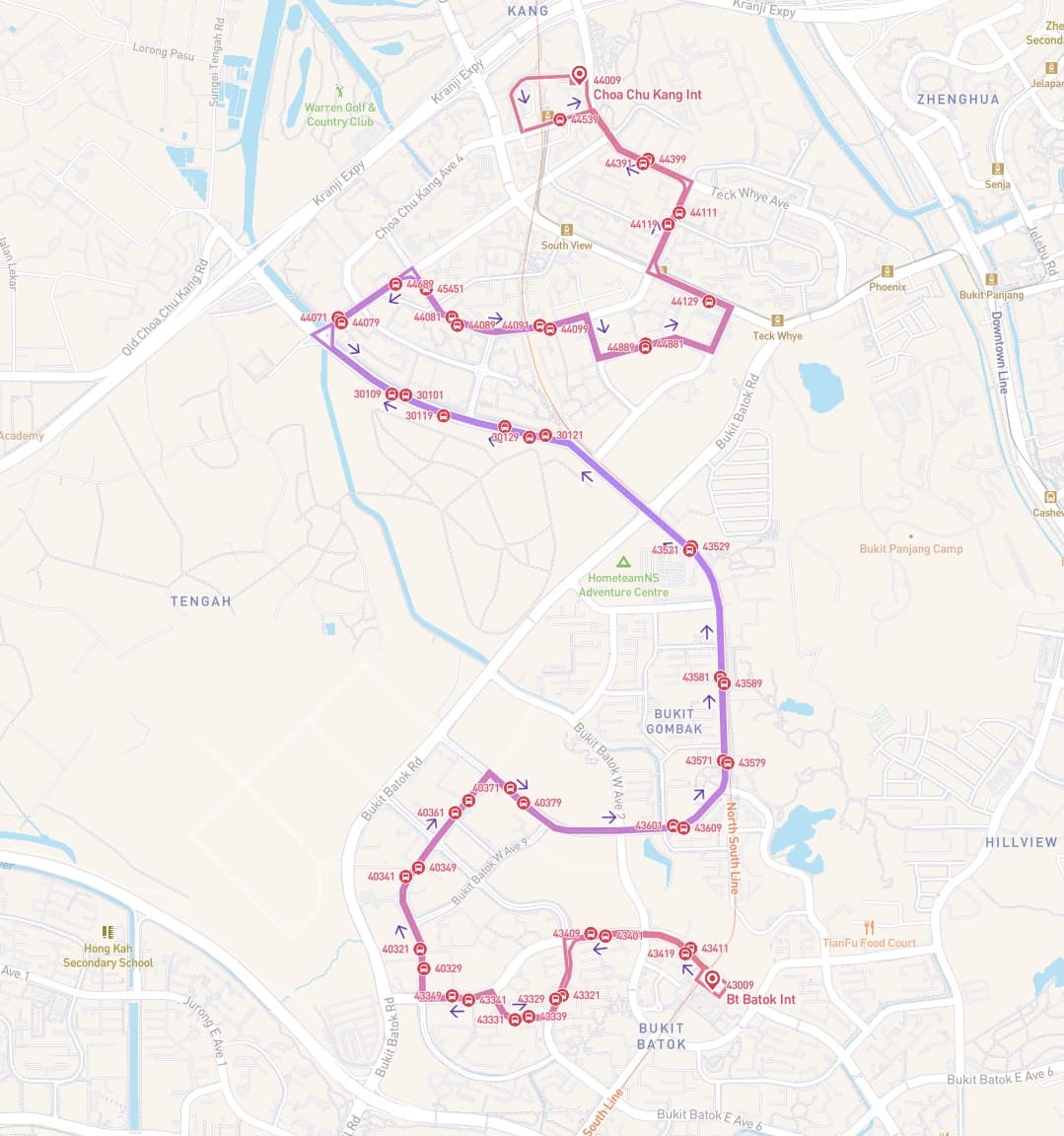 The bus takes residents directly to Bukit Gombak MRT (about 7 minutes including walk) and Bukit Batok MRT (about 12 minutes including walk). The bus also services residents in Choa Chu Kang.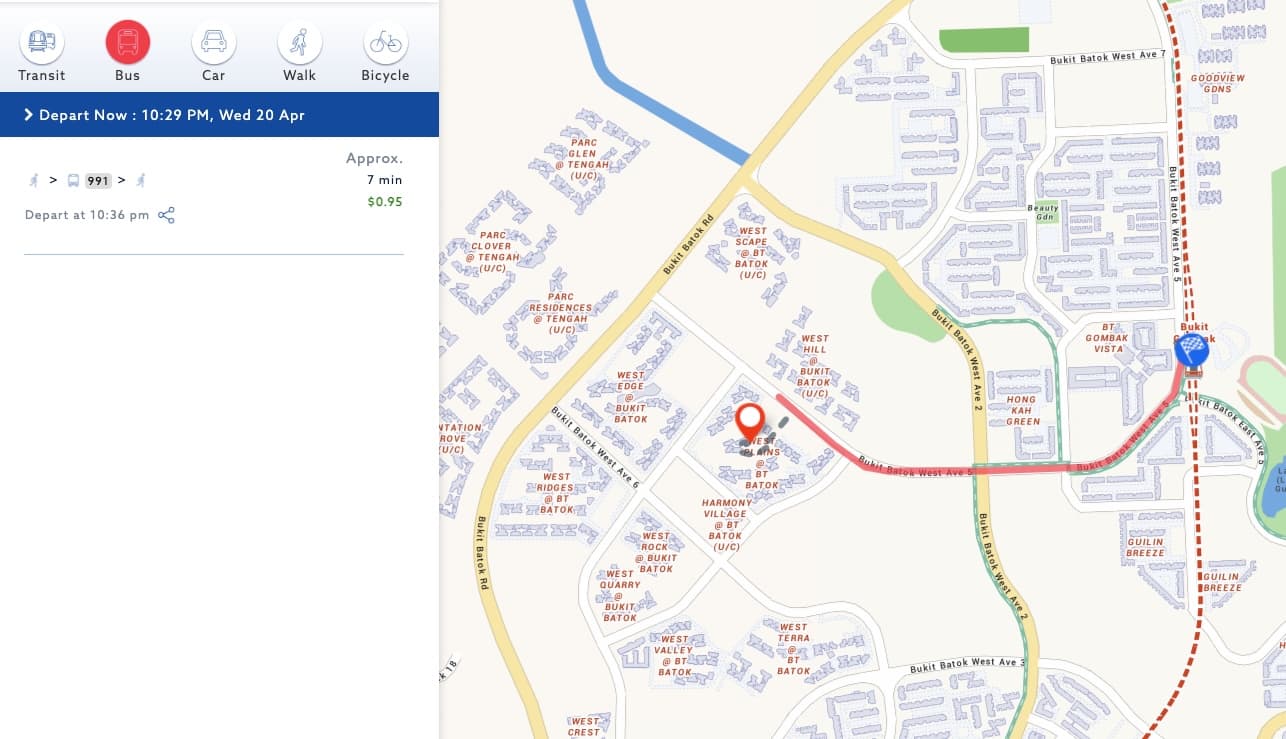 Given the lack of services plying the road here, residents would need to transfer buses or take the train to reach other parts of Singapore.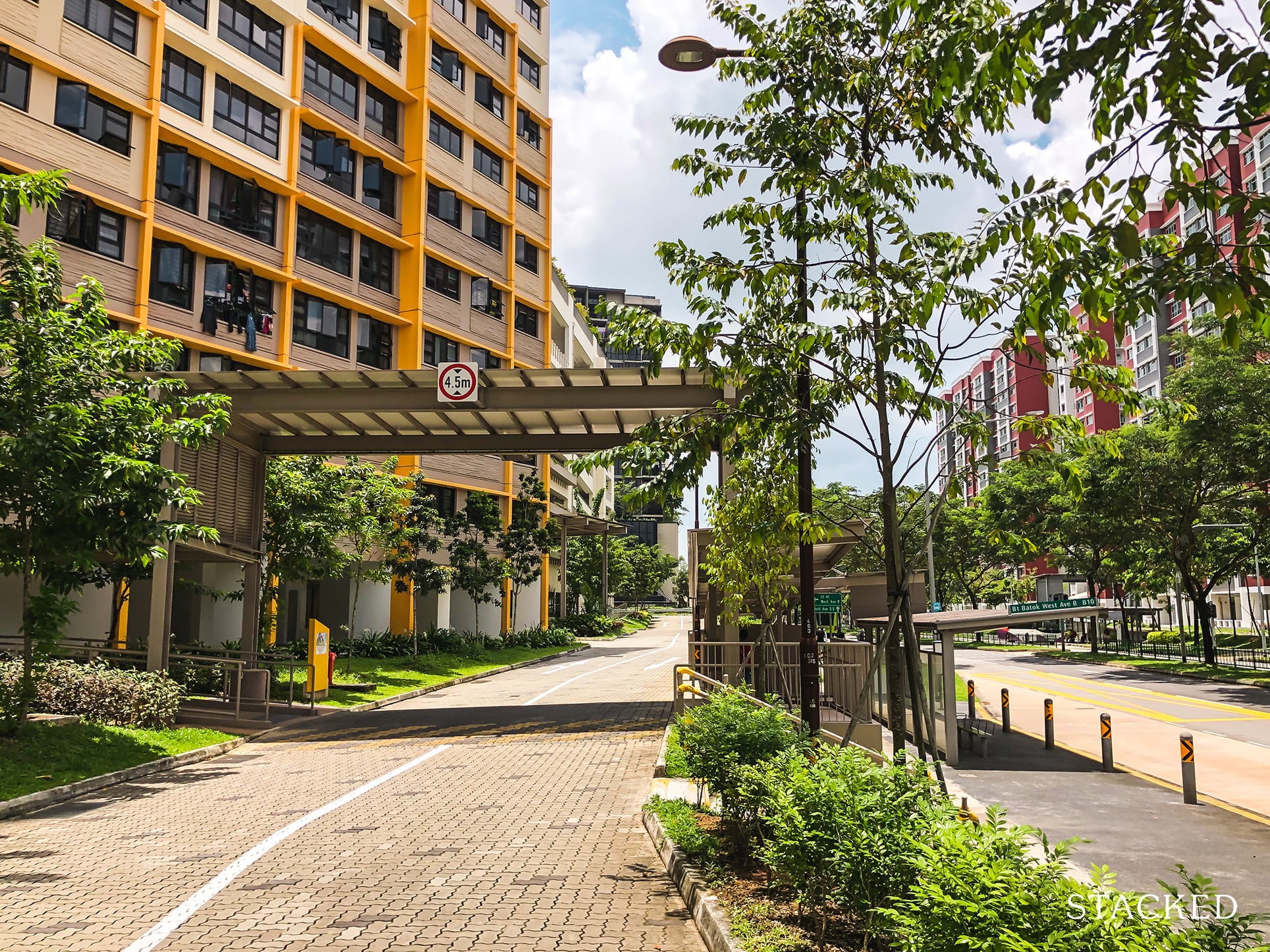 Residents would also be happy to hear that the bus stop is fully sheltered from the development – at least on the way back. Like most cases, the bus stop opposite is not fully sheltered from the development given the need to cross the road.
Private Transport
| | |
| --- | --- |
| Key Destinations | Distance From HDB (& Est. Peak Hour Drive Time) |
| Raffles Place | 19.3 km (28 mins drive) |
| Orchard Road | 18.5 km (27 mins drive) |
| Suntec City | 20.5 km (30 mins drive) |
| Changi Airport | 35.7 km (45 mins drive) |
| Tuas Port | 24.3 km (38 mins drive) |
| Paya Lebar Quarter | 22.1 km (27 mins drive) |
| Mediapolis | 12.1 km (20 mins drive) |
| Mapletree Business City | 14.6 km (24 mins drive) |
| Tuas Checkpoint | 20.7 km (32 mins drive) |
| Woodlands Checkpoint | 15.5 km (26 mins) |
| Harbourfront Cluster | 16.3 km (27 mins) |
| Punggol Cluster | 28.6 km (39 mins) |
Source: OneMap. Driving times are based on peak hour traffic.
Immediate road exit:
Bukit Batok West Avenue 5 and Bukit Batok West Avenue 9.

Summary:
Drivers who need to commute to the CBD regularly can use the AYE down south which is only a few minutes down Jurong Town Hall Road. Those looking to get to the north can take advantage of the BKE that's just a couple of minutes drive away too.
Groceries
| | |
| --- | --- |
| Name of Grocery Shop | Distance from HDB (& Est Time) |
| Sheng Siong Supermarket | Within the development |
| NTUC Fairprice | 400m (5-min walk) |
Schools
| | |
| --- | --- |
| Educational Tier | Number of Institutes |
| Preschool | 3 |
| Primary School (Within 1KM) | 2 |
| Secondary School | 3 |
| Junior College | 1 |
| Other Tertiary Institutes | 2 |
Wisdom Star Preschool – within the development
My World Preschool – within the development
My First Skool – 0.32 km (4 min walk)
Dazhong Primary School – 1.9km (22 min walk)
Princess Elizabeth Primary School – 2 km (24 min walk)
Dunearn Secondary School – 1.5 km (21 min via bus)
Hillgrove Secondary School – 2.9 km (19 min via bus)
Bukit Batok Secondary School – 2 km (12 min via bus)
Millennia Institute – 2.1 km (6 min via bus)
ITE College West – 2.8 km (19 min via bus)
Jurong Pioneer Junior College – 4.3 km (28 min via bus)
West Plains @ Bukit Batok Additional Pointers
Within 1KM of a popular primary school – Princess Elizabeth Primary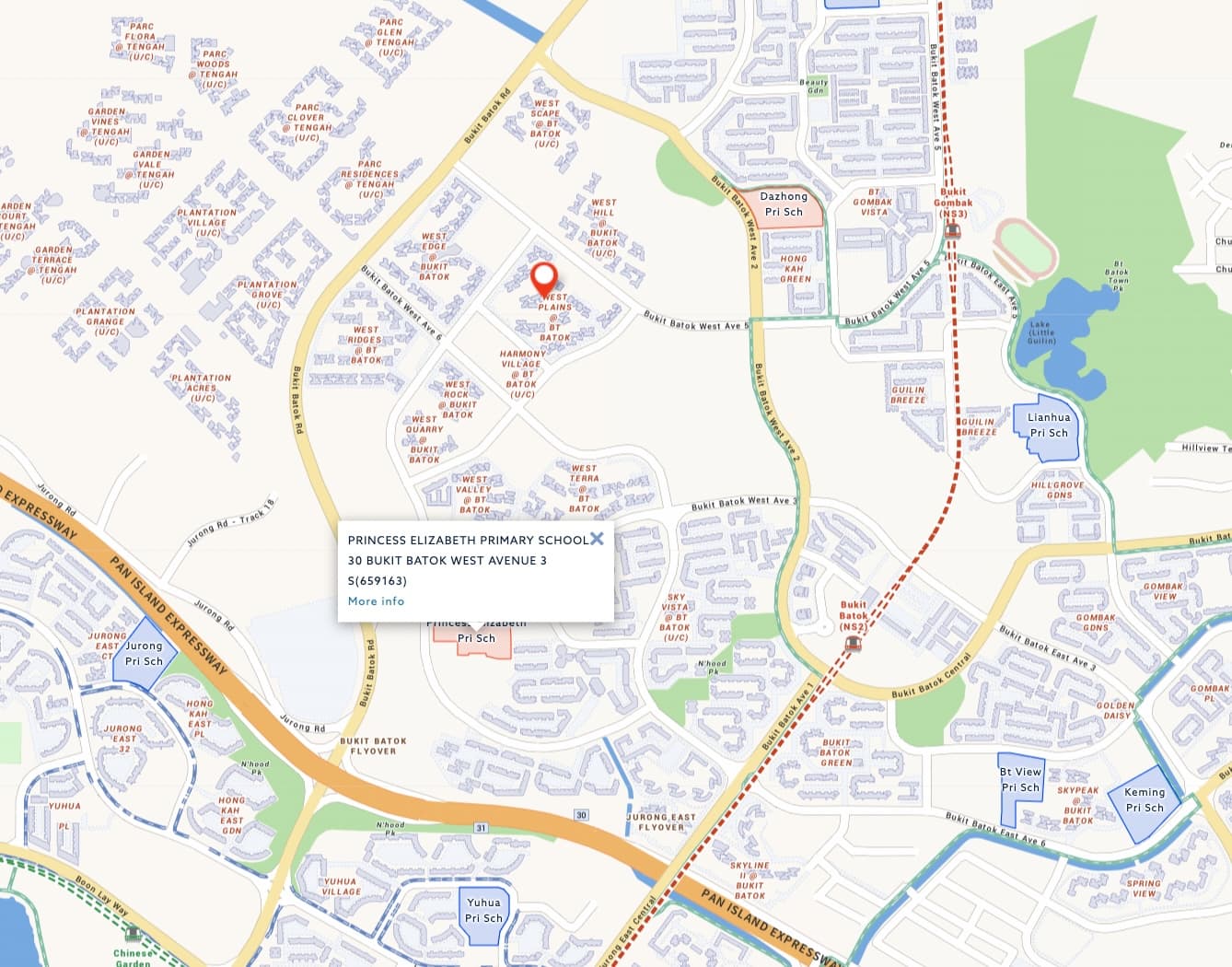 Just like Skyline I & II @ Bukti Batok, West Plains @ Bukit Batok has the benefit of being within 1KM of Princess Elizabeth Primary School which is ranked #43 overall by schlah.com, as well as #15 in its popularity ranking. That being said, even the distance to the school matters, and if this is a priority, we would prefer Skyline I & II over this due to its closer distance.
A large supply of BTOs present/coming up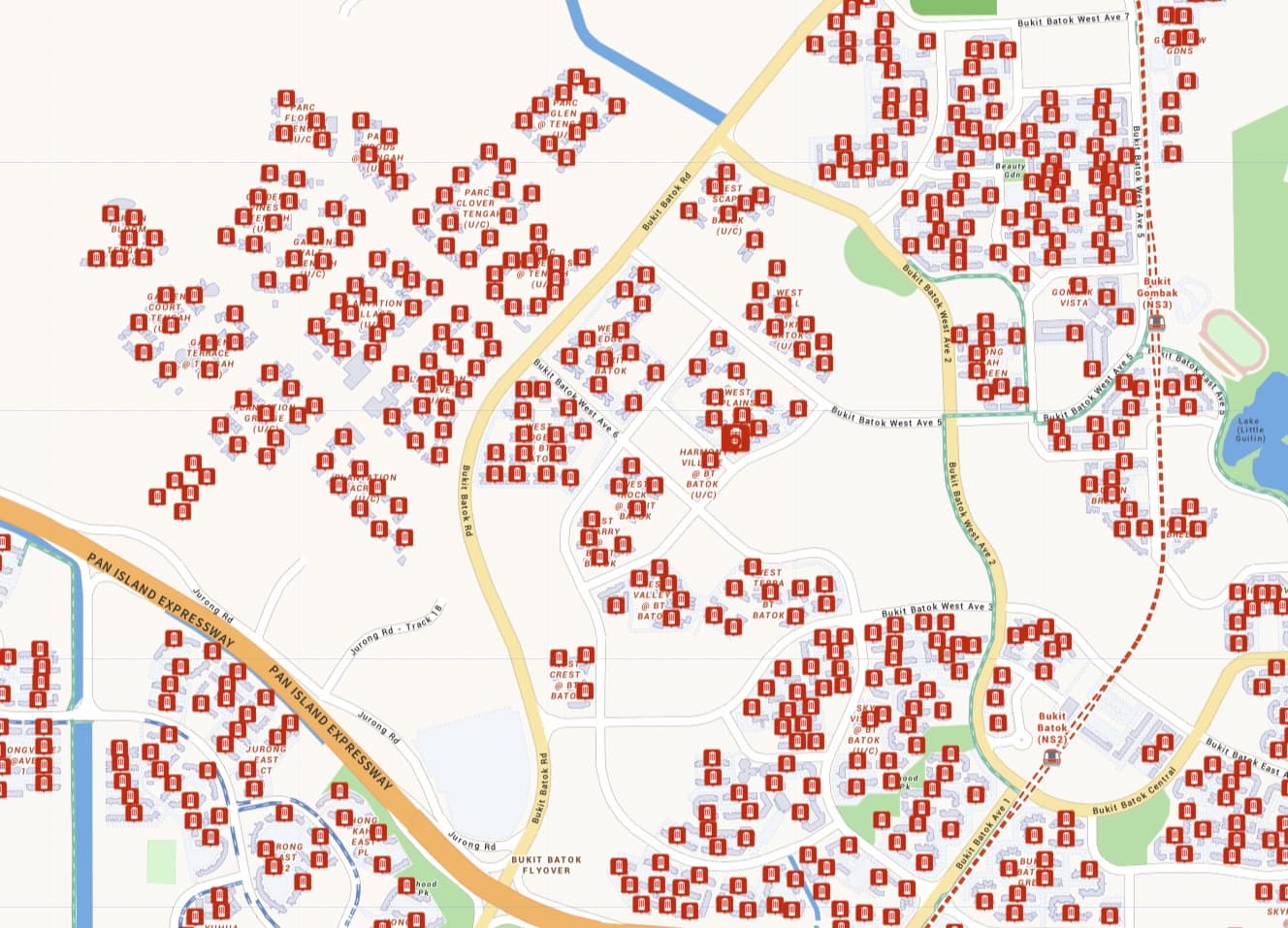 West Plains @ Bukit Batok may be the new kid on the block, but it's not the newest nor is it the first. First, there are other BTOs that were launched around the same time as West Plains – West Quarry (Nov 2015), West Edge/West Rock (Feb 2015), and West Terra (Sep 2014) to name a few.
As such, all of these developments will reach their first MOP around the same time which means buyers would be spoilt for choice.
Moreover, existing new-ish Bukit Batok HDBs also pose as competition for future sellers, such as the aforementioned Skyline I & II as well as SkyPeak @ Bukit Batok. Finally, the whole cluster of new Tengah HDBs would also poise itself as competitors to future sellers of West Plains.
Possible upcoming church site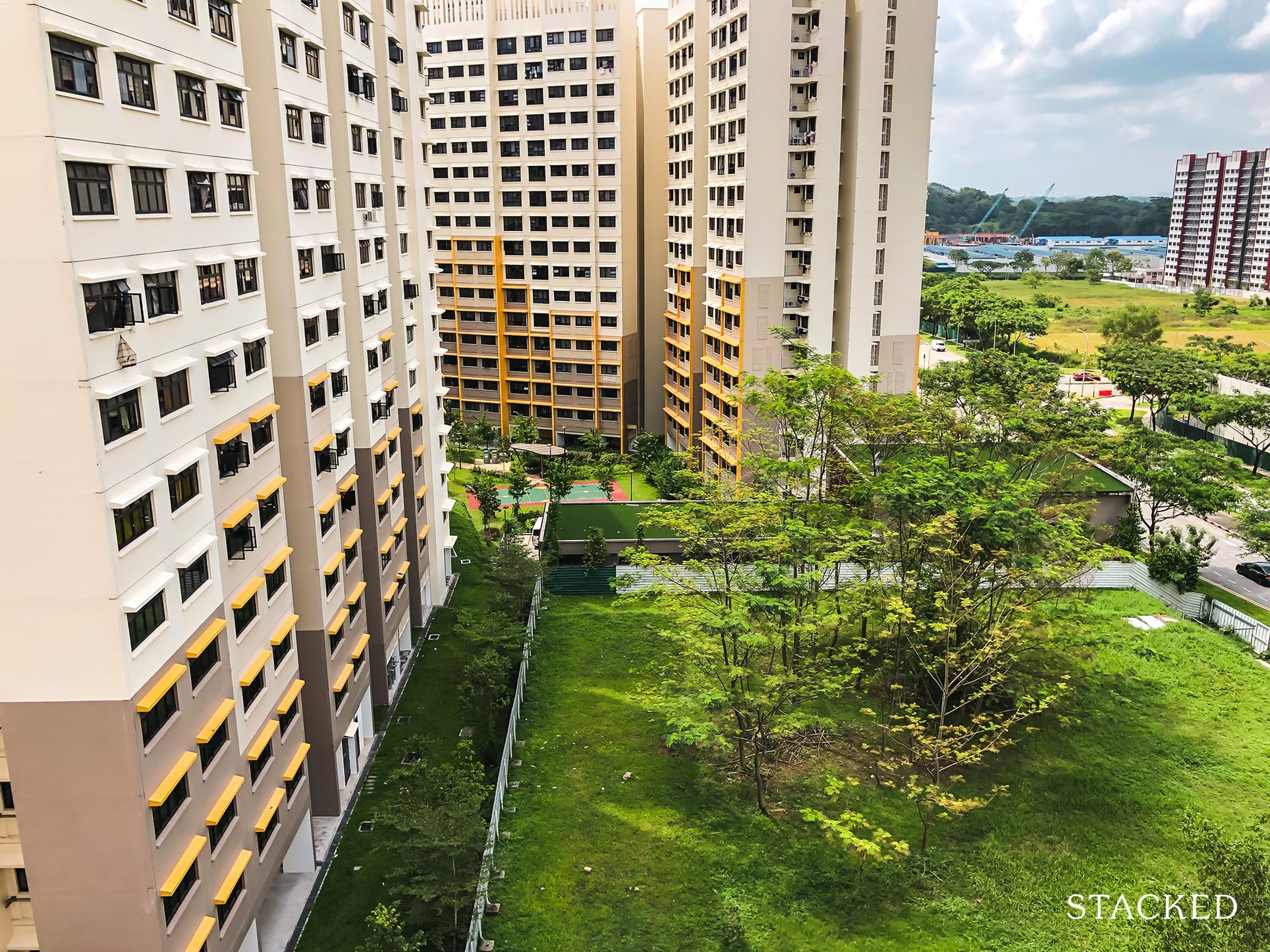 Currently, there's a site reserved under the Master Plan 2019 as a "place of worship", in this case, a church. While there are no clear signs of construction happening, there are signs of activities going to start due to planning decisions being made at the moment – the most recent one being 18th March 2022 to amend the erection of a 5-storey building with a basement to a 4-storey building with a mezzanine instead. Residents moving to blocks close to this site should take note that construction noise can be expected in the years to come.
West Plains @ Bukit Batok HDB Site Review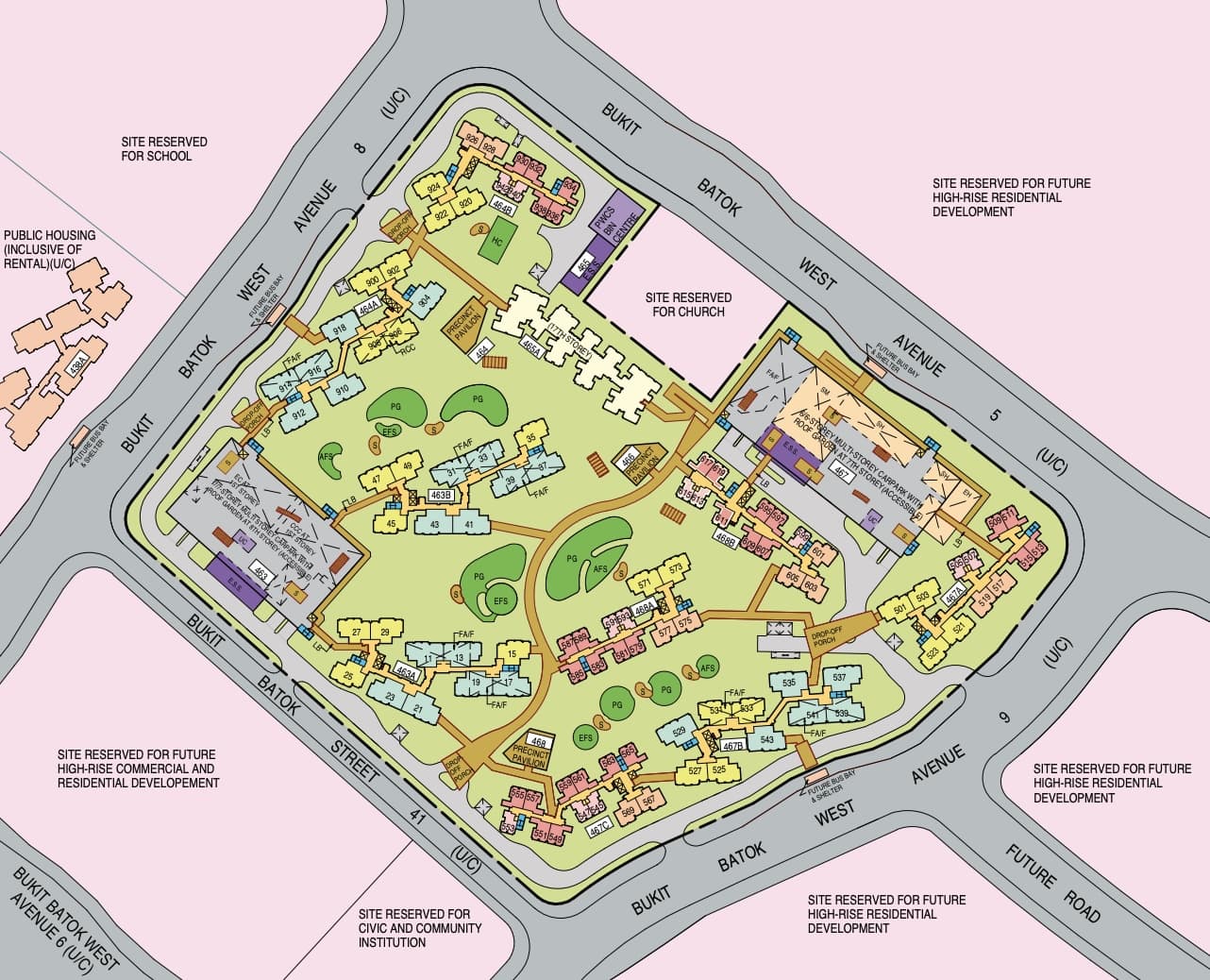 West Plains @ Bukit Batok is a large development consisting 10 blocks with a total of 1,962 unit with a good mix of 2-5 room flats. It is 16 to 19 storeys high, depending on the blocks.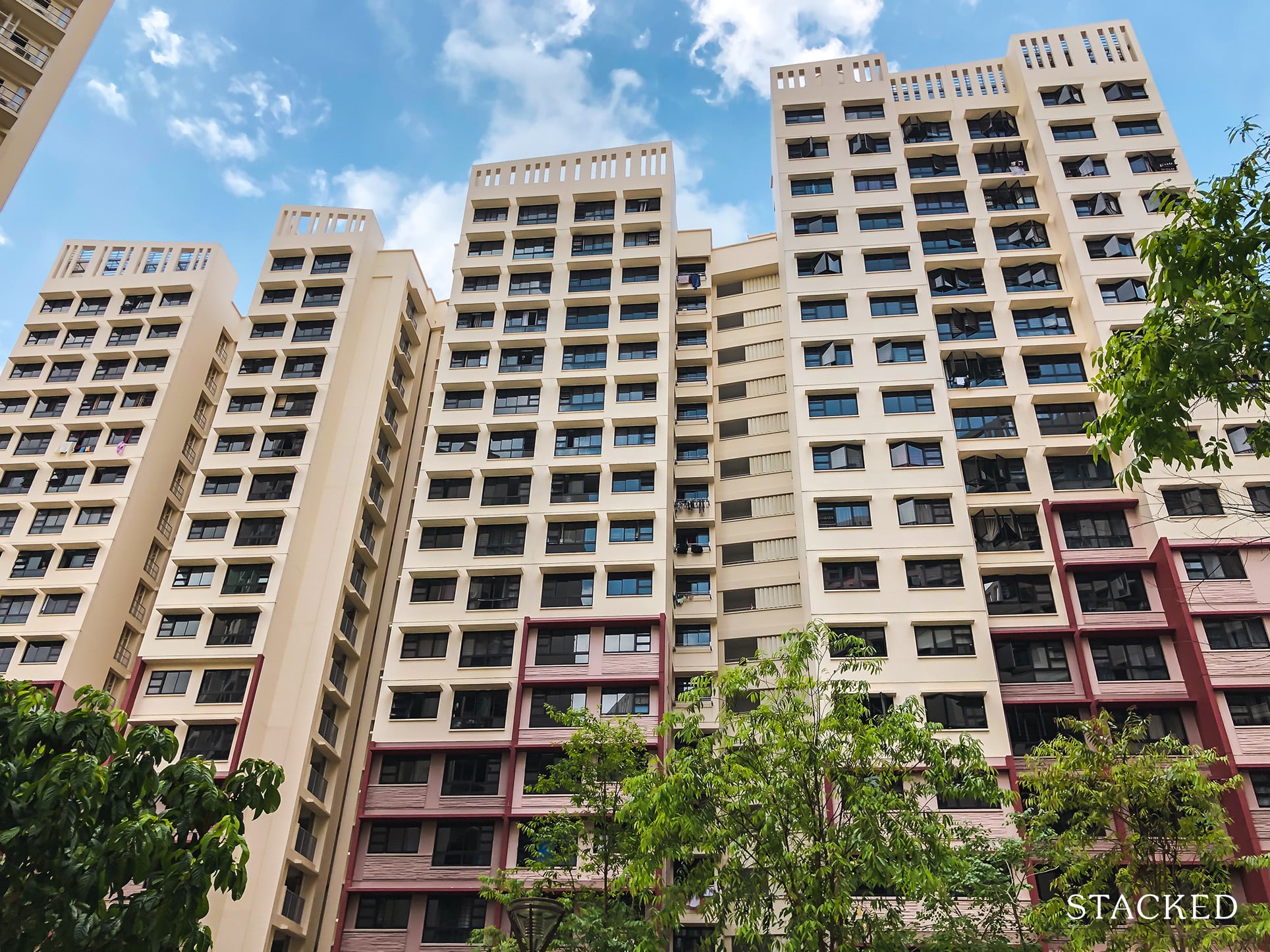 The development TOP-ed recently (early 2020 thankfully before COVID delays), and has an interesting colour palette. I can't say what it is exactly but it's like an Almond base with a light/dark brown or light/dark purple colour and mustard/velvet accents.
In terms of colour design, I do think this is quite nice and makes it stand out on its own compared to other HDBs. Its rooftop also sports an interesting slant design – not as sleek as the one at Skyline I & II, but any effort to differentiate itself doesn't go unnoticed!
I also like the attention put into the landscaping here. The place feels quite well thought through and homely, and serves as a visual interest to residents of the inner-facing stack.
Walking around the development, you'll find plenty of seating areas too: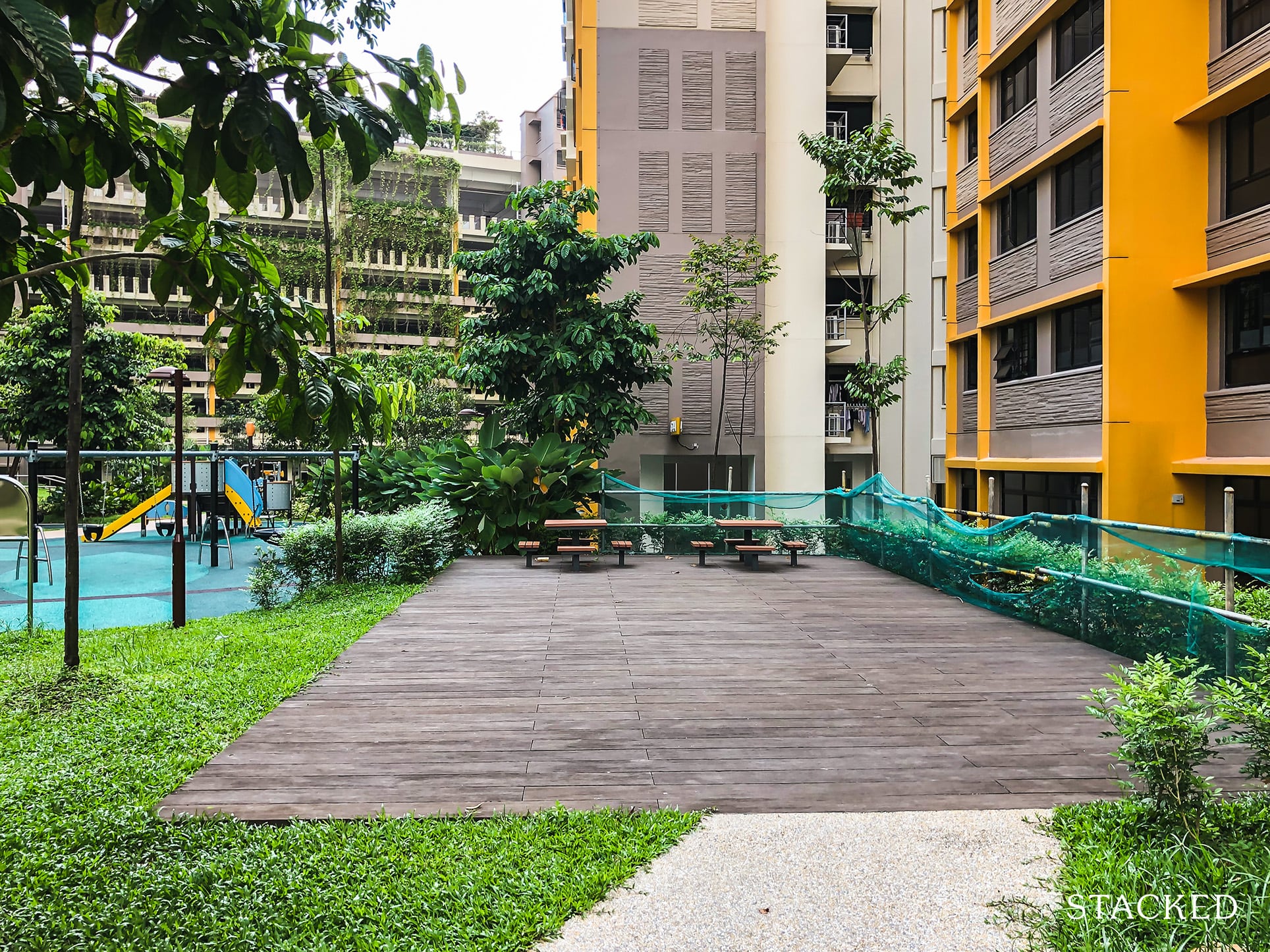 While all of this is positive, I must mention that not everyone might like the layout here. Most blocks are facing each other, and despite the large plot of land, having every single facility sandwiched between these blocks could give you a caved-in feeling whenever you use them.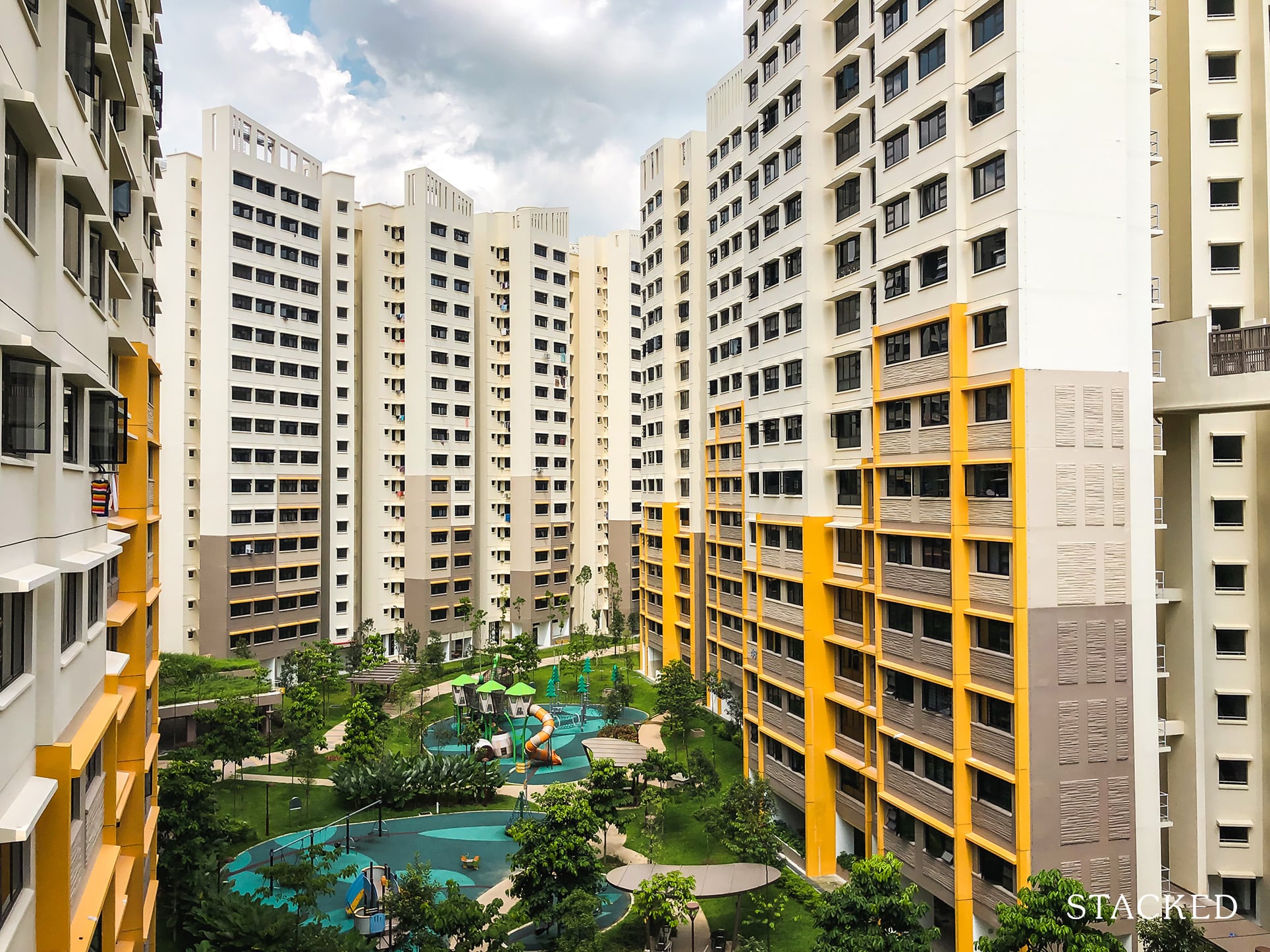 Some of the closest blocks here measure around 28m from each other, while the furthest one measures about 58m away. As such, do pay attention to whether the unit you're viewing has an advantage over others in terms of distance to the opposite blocks since most units face one on the opposite side.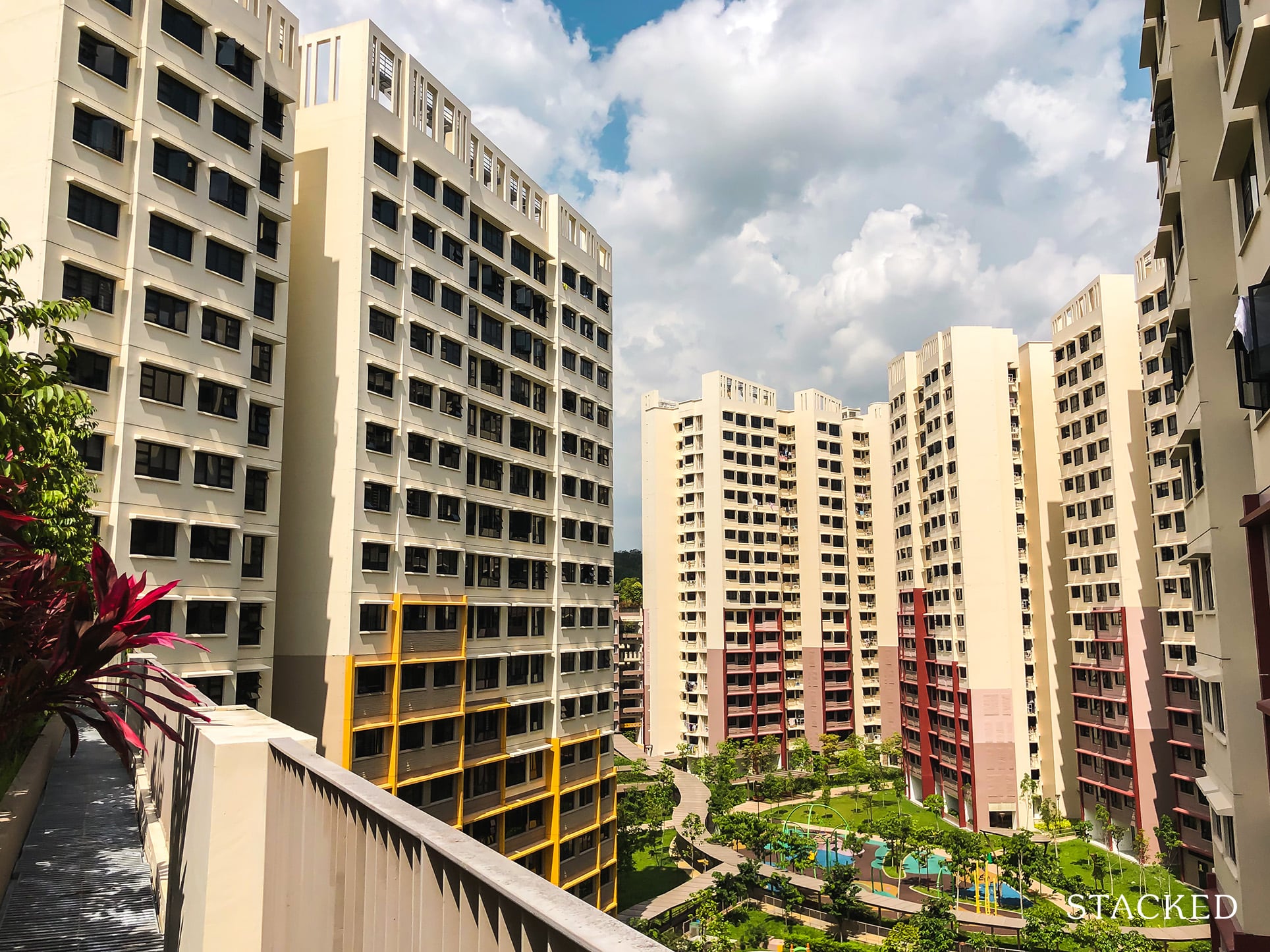 Unit Mix
| | | | | | | | | | |
| --- | --- | --- | --- | --- | --- | --- | --- | --- | --- |
| Block | Storeys | 1-Room (Rental) | 2-Room (Rental) | 2-Room (T1) | 2-Room Flexi (T2) | 3 Room | 4 Room | 5 Room | Total |
| 463A | 17 | – | – | – | – | – | 64 | 96 | 160 |
| 463B | 17 | – | – | – | – | – | 64 | 96 | 160 |
| 464A | 16 | – | – | – | – | – | 60 | 90 | 150 |
| 464B | 17 | – | – | 32 | 80 | 32 | 48 | – | 192 |
| 465A | 17 | 144 | 128 | – | – | – | – | – | 272 |
| 467A | 19 | – | – | 34 | 70 | 36 | 72 | – | 212 |
| 467B | 18 | – | – | – | – | – | 68 | 102 | 170 |
| 467C | 18 | – | – | 51 | 136 | 34 | – | – | 221 |
| 468A | 18 | – | – | 34 | 102 | 34 | 34 | – | 204 |
| 468B | 18 | 14 | 21 | 37 | 98 | 51 | – | – | 221 |
| Total | | 158 | 149 | 188 | 486 | 187 | 410 | 384 | 1962 |
West Plains @ Bukit Batok Stack Analysis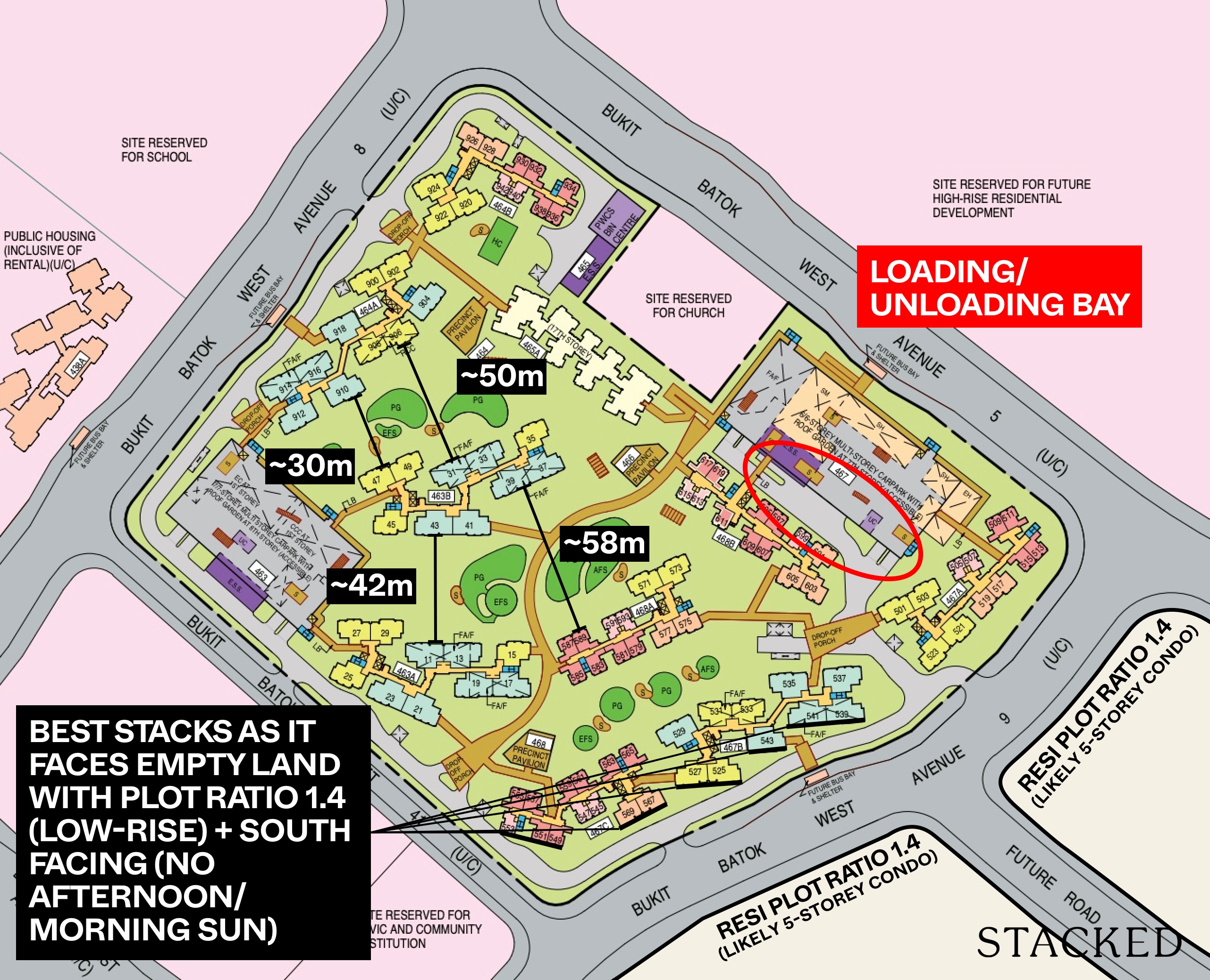 There aren't many choices when it comes to picking the "best stacks" of West Plains. The development is largely surrounded by residential blocks and upcoming residential buildings. As such, if you are gunning for the best possible views, I would go for the south-facing stacks at blocks 467B and 467C. 467A also faces an empty plot of land at the moment, however, it's more towards the east which means that the unit could get rather hot in the morning due to the morning sun.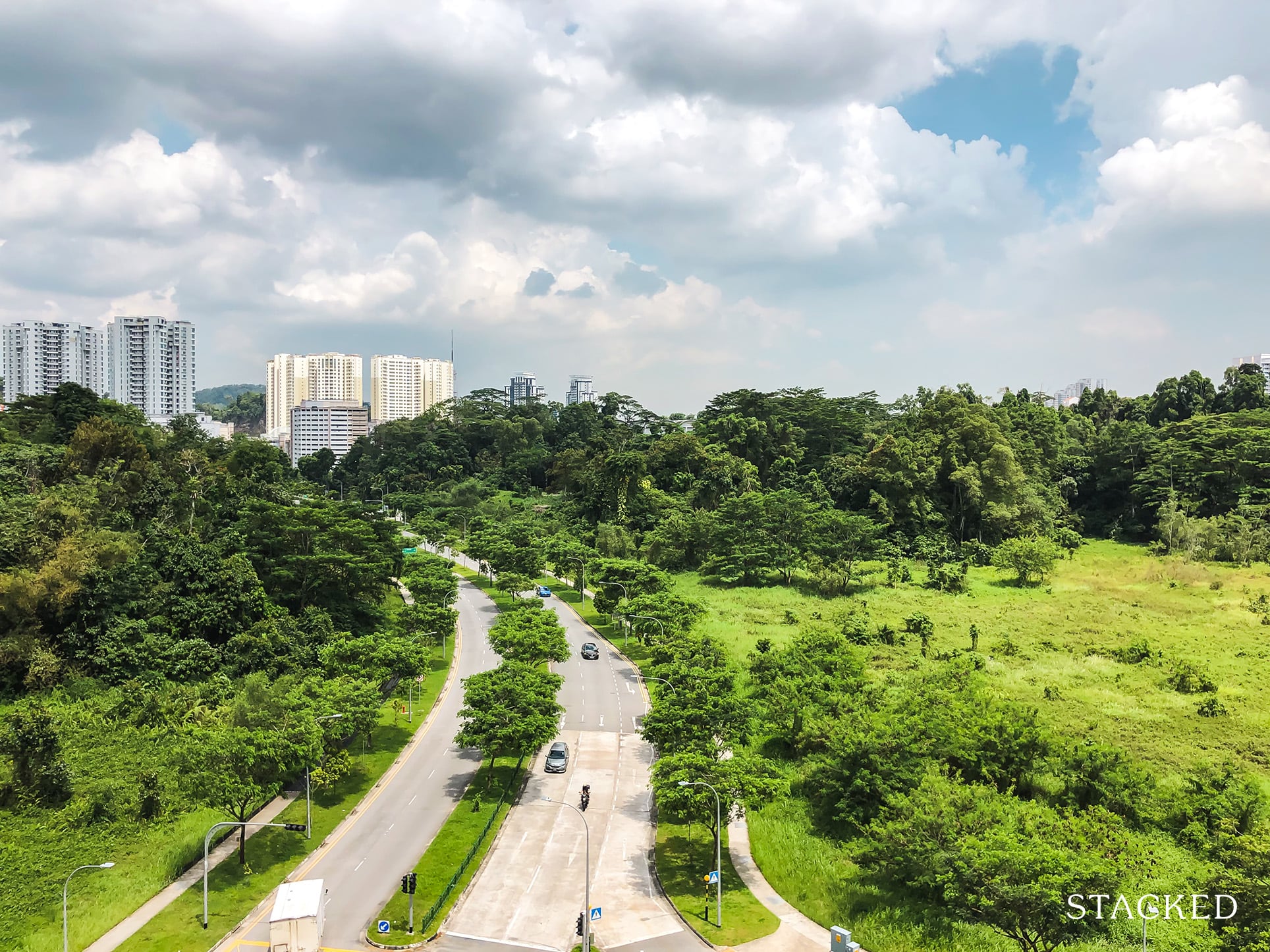 This empty plot of land will likely be a residential development that's about 5 storeys high given the plot ratio of just 1.4.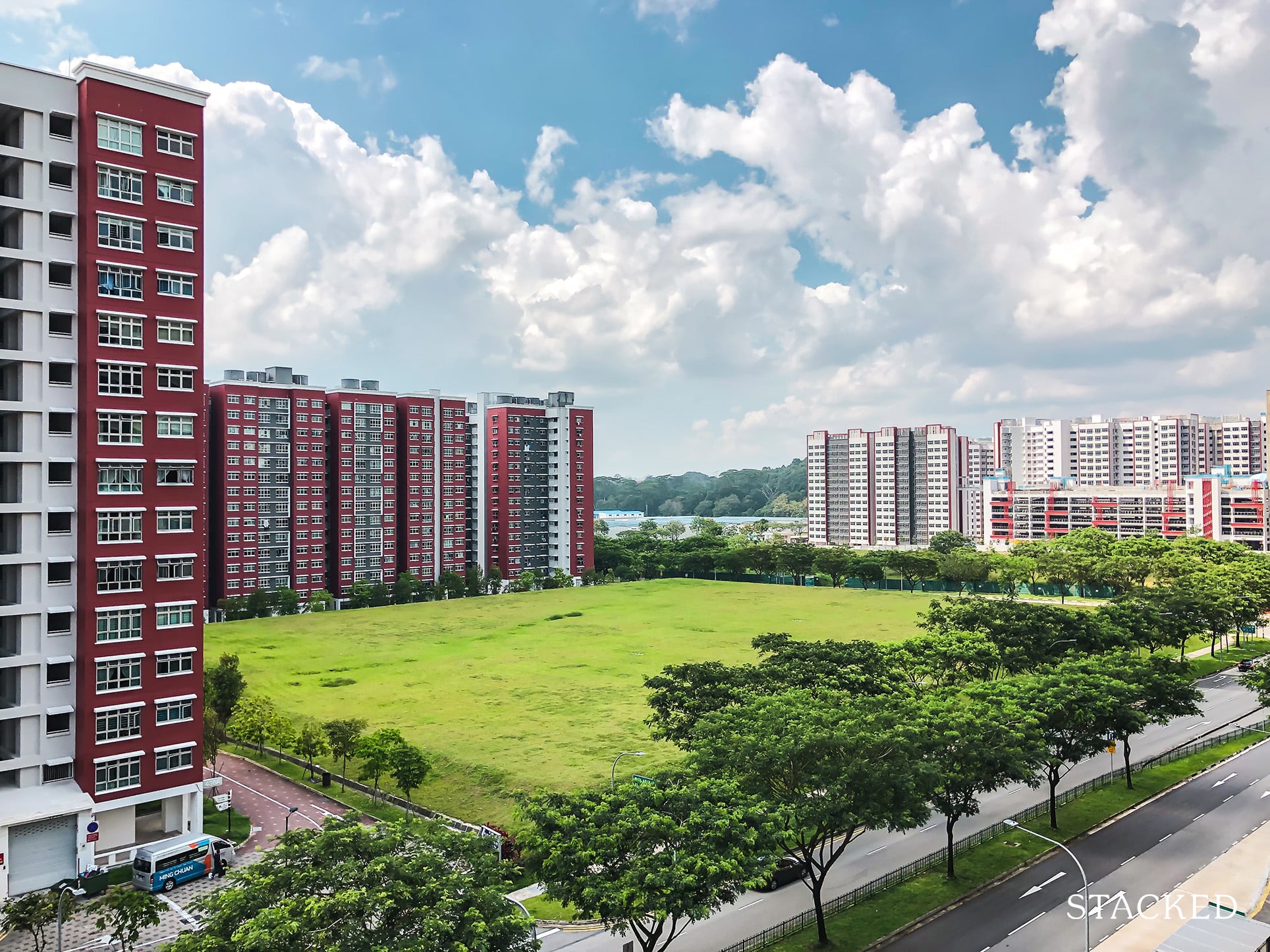 On the west side, stacks on higher floors facing the empty plot designed under Education in the Master Plan 2019 would likely get some breathing space since schools are low-rise developments. That being said, there's not much of a view either since there is another HDB development just behind that.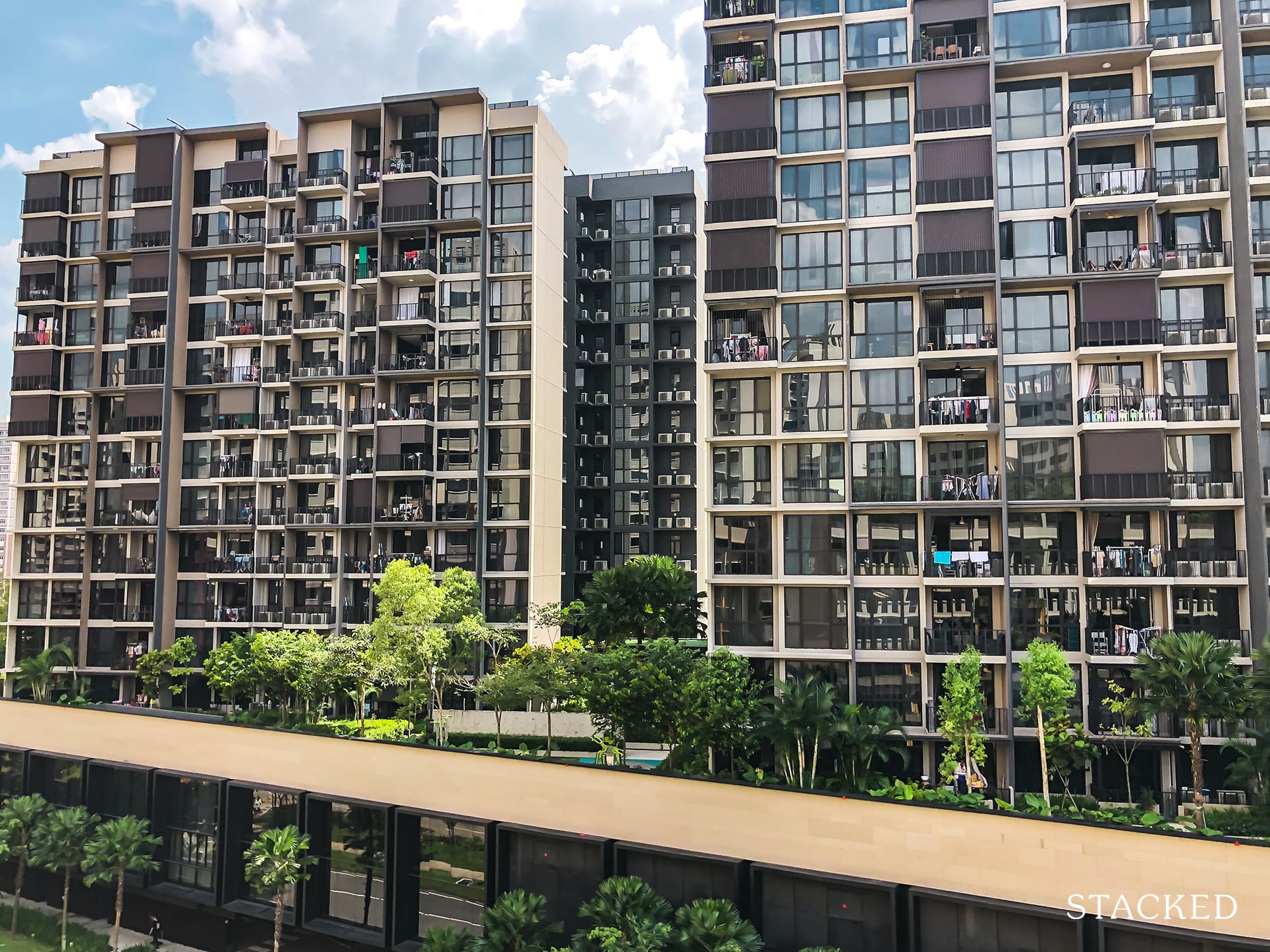 Other than these two sides that faces an empty plot, most units here would likely be facing another unit, whether it's within West Plains, another HDB, or Le Quest. For inner-facing stacks, I would choose the ones at blocks 463B (for 5 room flats) and 468A (for 4 room flats) due to the greater distance from the opposite block. These would also face the quieter facilities as opposed to the road.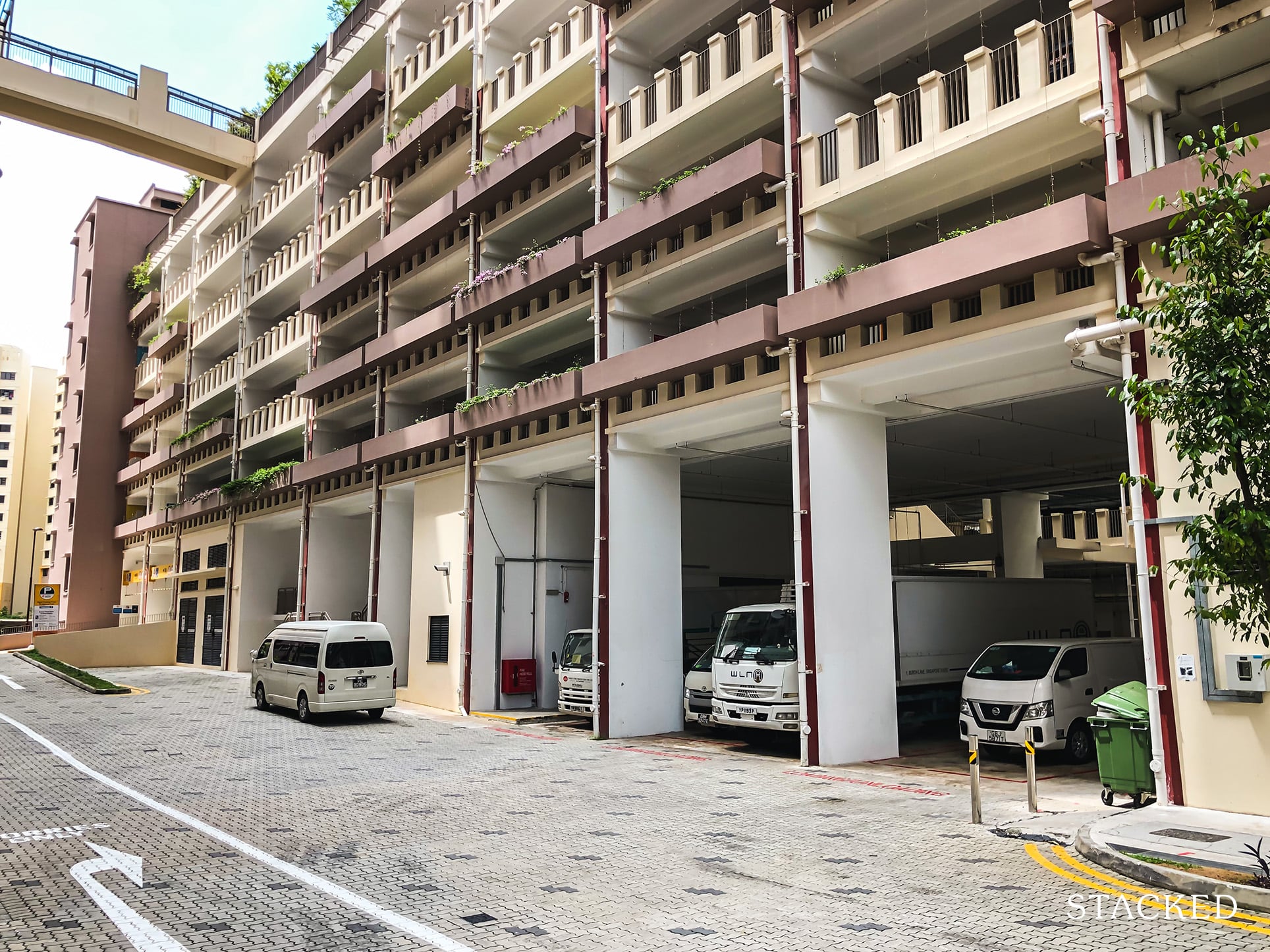 For those staying near the commercial block, do take note that there is a loading and unloading bay behind it, so units facing it directly will likely experience some disamenities.
Finally, the centralised bin centre is located in the northern part of the development – closest to the 2-room flats there. Residents will find the garbage truck visiting this area often which can generate smells and noise. However, it is far from most other units in the development.
West Plains @ Bukit Batok Layout Analysis
West Plains @ Bukit Batok has a wide range of flat types available.
2-Room Flat Type 1 (38 sqm)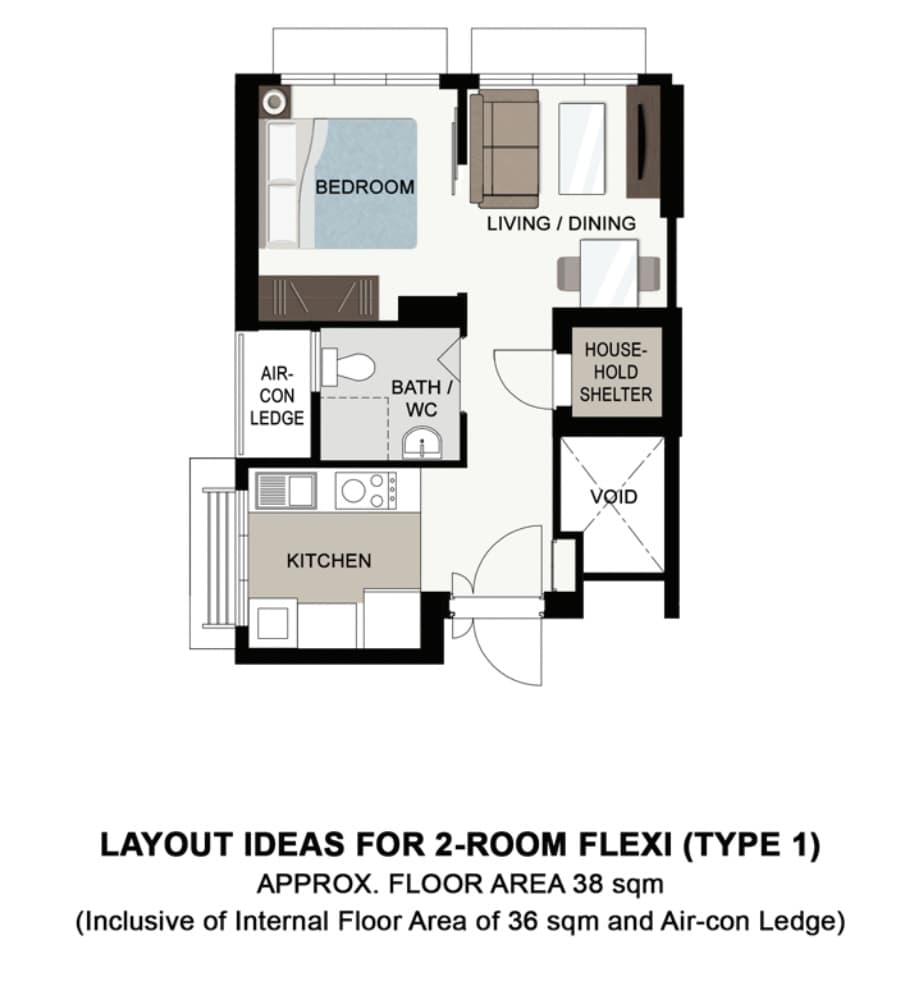 | | |
| --- | --- |
| Pros | Cons |
| Good size kitchen, plenty of space to do cabinet on both sides. | Tight bedroom area |
| | The Bathroom opens up to Dining Area |
West Plains @ Bukit Batok 2 Room Type 1 Pros & Cons
2-Room Flat Type 2 (47 sqm)
| | |
| --- | --- |
| Pros | Cons |
| Good size kitchen area | Tight bedroom area |
| Jack & Jill bathroom | |
| Spacious living and Dining area | |
West Plains @ Bukit Batok 2 Room Type 2 Pros & Cons
3-Room Flat (68 sqm)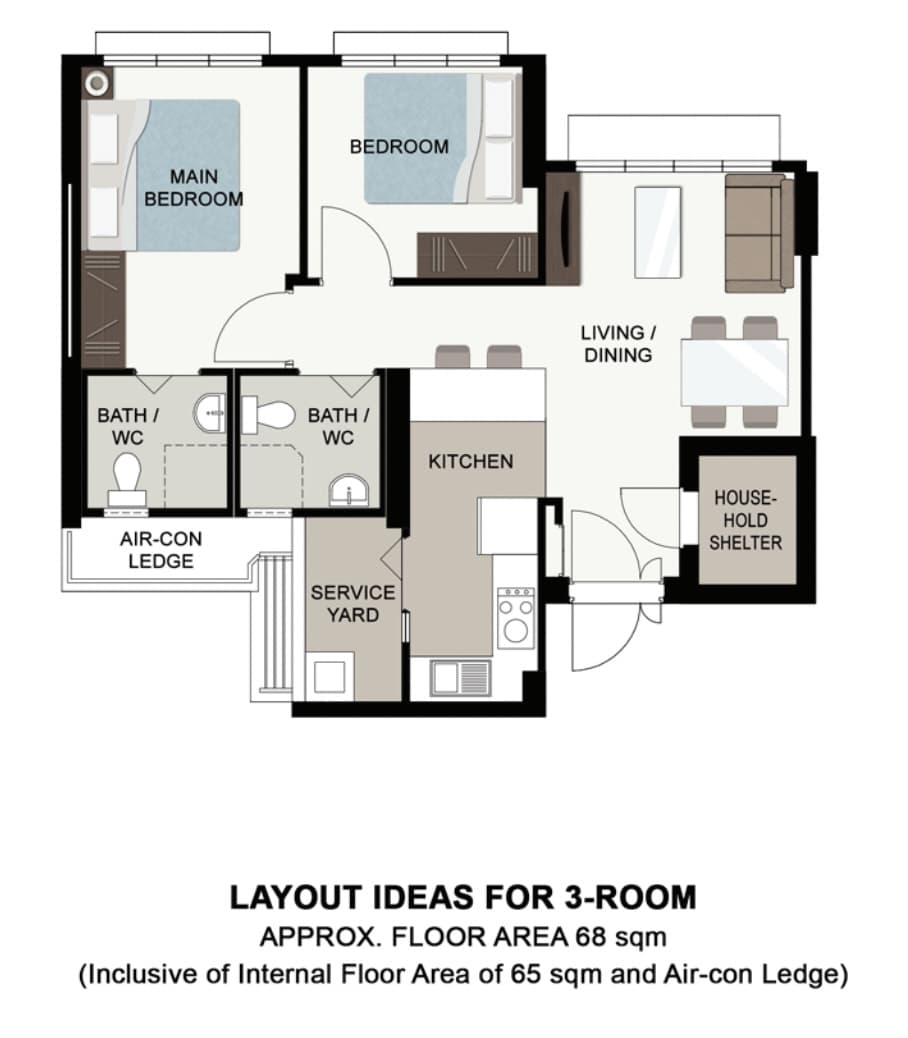 | | |
| --- | --- |
| Pros | Cons |
| Good size kitchen area | Tight living and dining area |
| Decent size bedrooms | |
West Plains @ Bukit Batok 3 Pros & Cons
4-Room Flat (93 sqm)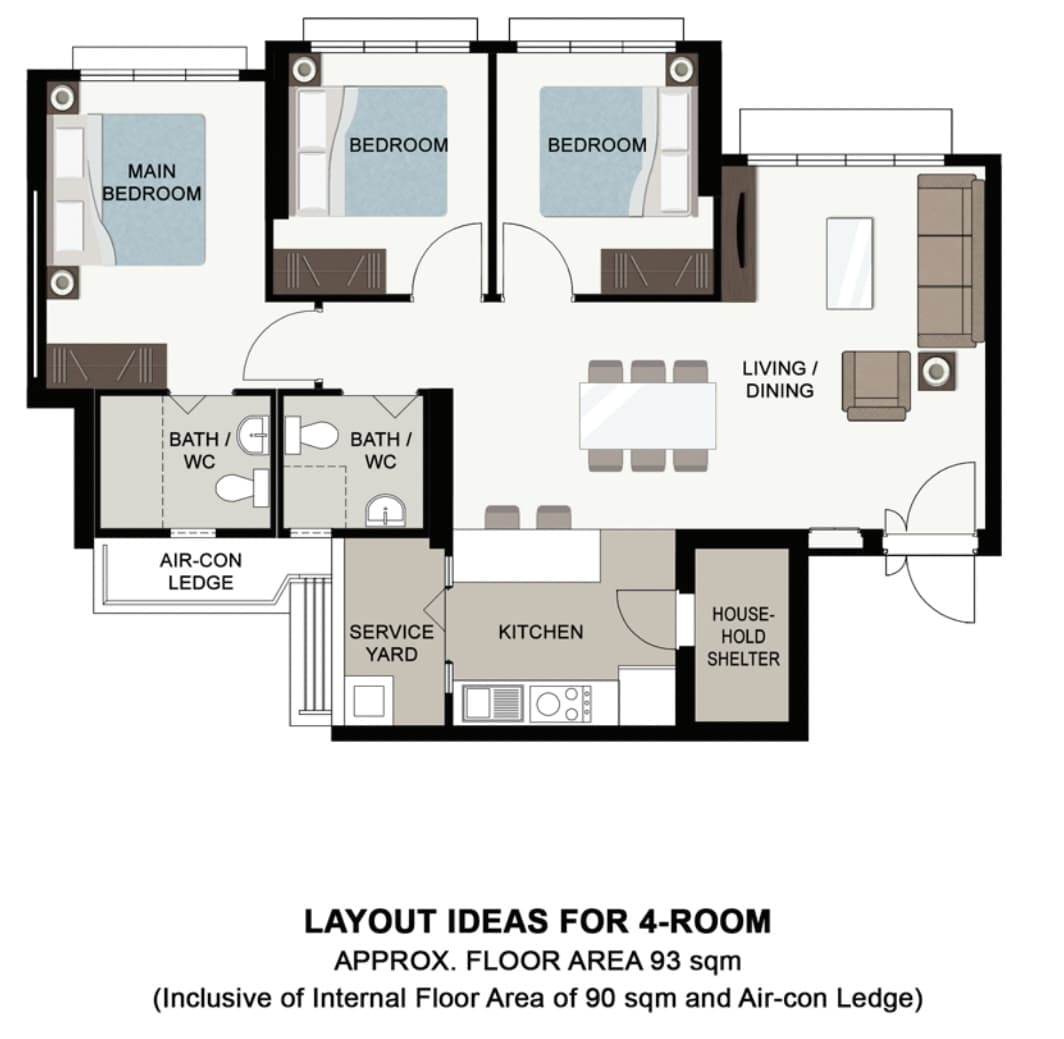 | | |
| --- | --- |
| Pros | Cons |
| Spacious living, dining and kitchen area | Protruding column between bedrooms hence walls could not be hacked fully. |
| Separate Living and Dining area | The main door opens straight to the dining area, and lacks privacy. |
| No wasted bedroom walkway | |
West Plains @ Bukit Batok 4 Room Pros & Cons
5-Room Flat (113 sqm)
| | |
| --- | --- |
| Pros | Cons |
| Spacious living, dining and kitchen area | Protruding column between bedrooms hence walls could not be hacked fully. |
| Separate Living and Dining area | The main door opens straight to the dining area, and lacks privacy. |
| No wasted bedroom walkway | |
West Plains @ Bukit Batok 5 Pros & Cons
Our Take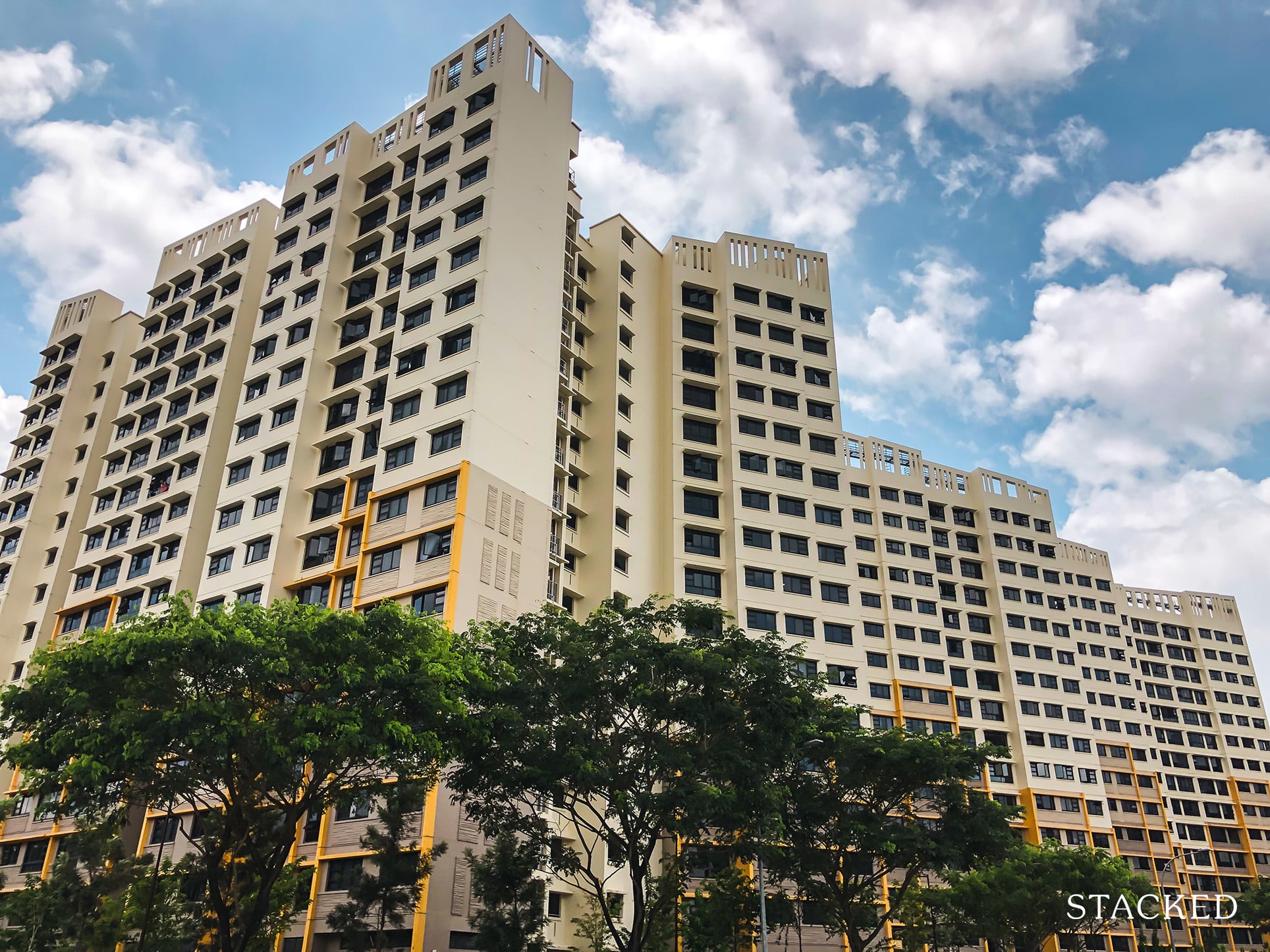 The pros and cons of staying at West Plains are clear cut.
The pros are that it's a self-sustaining development that's also directly opposite a retail mall and it also comes with a fantastic range of playgrounds – which is great for families with kids. Moreover, it is within the 1 km range of Princess Elizabeth Primary, a popular school in Singapore.
But its downsides are also obvious – its location leaves more to be desired as residents would be fully dependent on taking the bus to reach the MRT. It's also a sort of a new area in Bukit Batok, so the place feels very raw at the moment. Beyond the amenities within the development and Le Quest, there isn't really much more that the place offers.
Those looking for proximity to the Park Connector can find it here, however, it's not that much more special than other Bukit Batok HDBs since the Park Connector network is quite extensive within the estate.
The views here aren't special in any way either, as most stacks either face another block, or an empty plot of land that would likely be a residential development someday.
So ultimately, I think this would boil down to price. Considering the large supply in the area and its distance from the MRT, those looking for a more affordable but new home in the west could find this suitable. After all, it does offer a wide range of flat types from 2 to 5-room flats!
What this means for you
You might like West Plains @ Bukit Batok if you:
• Are a young family:With an extensive amount of playgrounds within the development, families with young children would find the development to be quite entertaining for their young ones.
• Want convenience to amenities:While it's not close to an MRT, it has several retail outlets including a supermarket just below. Just opposite, Le Quest offers more retail options including an NTUC Finest!
• Want to be near a popular school:While being within 1KM is no guarantee you'll get in, parents can at least stand a chance of enrolling their child into Princess Elizabeth Primary, a popular school in the estate.
You may not like West Plains @ Bukit Batok if you:
• Want to be close to an MRT:Both Bukit Gombak and Bukit Batok are not within walking distance (~10m) to the MRT.
• Are looking for a good view:Most units either face each other or outwards towards other residential developments. Even stacks that face empty plots of land aren't very interesting and would likely be blocked in a couple of years as the estate develops.
End of Review