HDB Reviews

Park Central @ AMK DBSS Review: Close To Mall, MRT And Amenities But Needs Better Maintenance
Sean
June 7, 2023

20

min read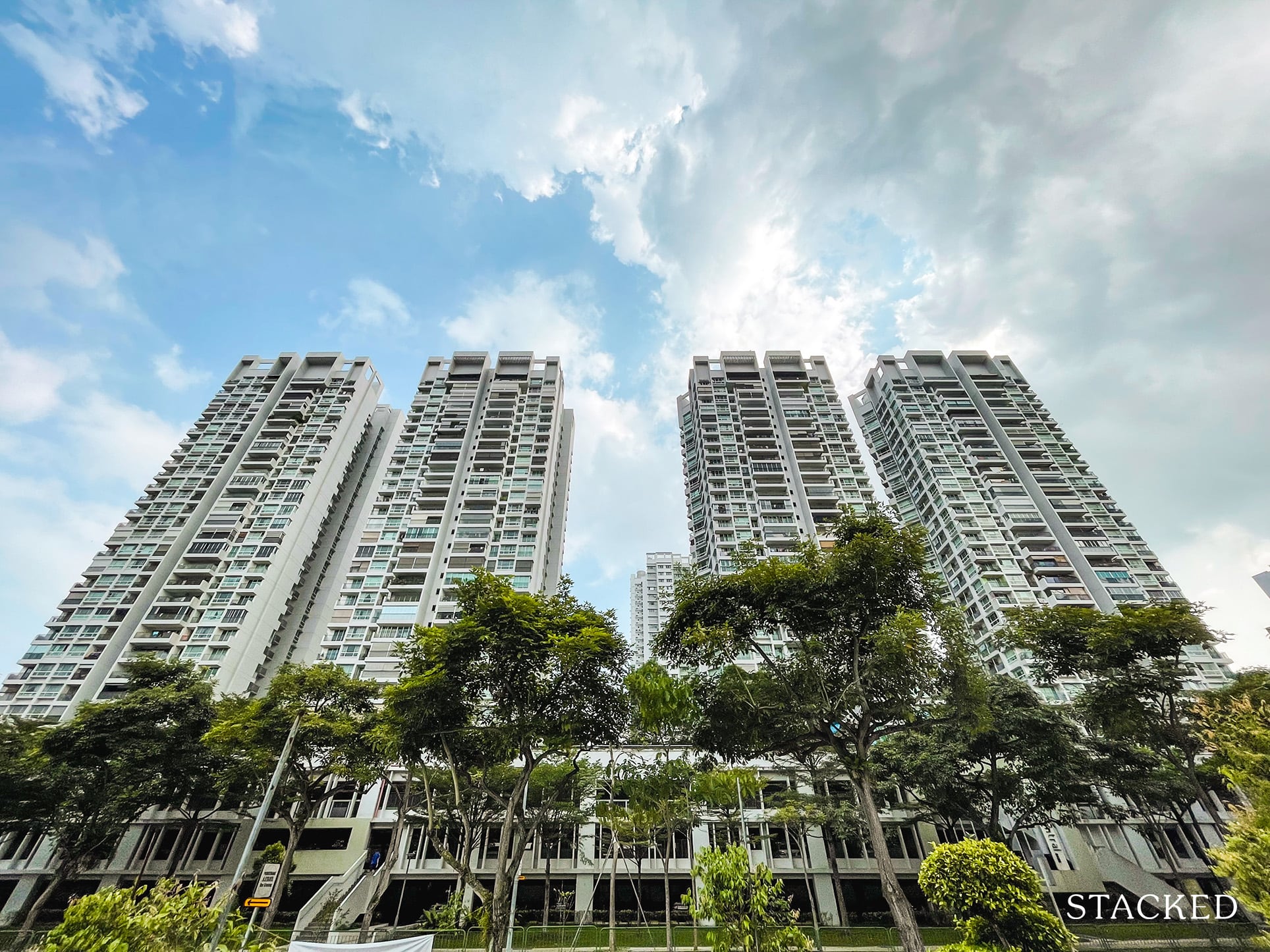 Reviewed by Sean on 07 June 2023
What we like
MRT is within walking distance

MRT will be an interchange later on

Within walking distance to AMK Hub (Suburban mall)

Unblocked city views

Close to good amenities

Close to a park
What we don't like
—

Poorly maintained

—

Very narrow corridors

—

Planters and bay windows

—

Very small kitchen and service yard
20
min read
| | |
| --- | --- |
| Project: | Park Central @ AMK DBSS |
| HDB Town | Ang Mo Kio |
| Address: | 588A-D Ang Mo Kio Street 52 |
| Lease Start Date: | July 2011 |
| No. of Units: | 578 |
Park Central @ AMK is a Design, Build and Sell Scheme (DBSS) development that was launched in October 2008, making it the third DBSS to be built out of a total of 13 available today (you can find out more about the failures of the DBSS model here). It was completed in 3 years, making this development around 12 years old now.
As it was launched in the mature estate of Ang Mo Kio, the reception to the DBSS was quite strong with thousands showing up at the show flat.
However, the DBSS did raise some concerns from netizens back then, particularly due to the amount of space dedicated to bay windows/planters:

Looking at the floor plans, I'm in full agreement that the bay windows/planters are quite a turn-off here.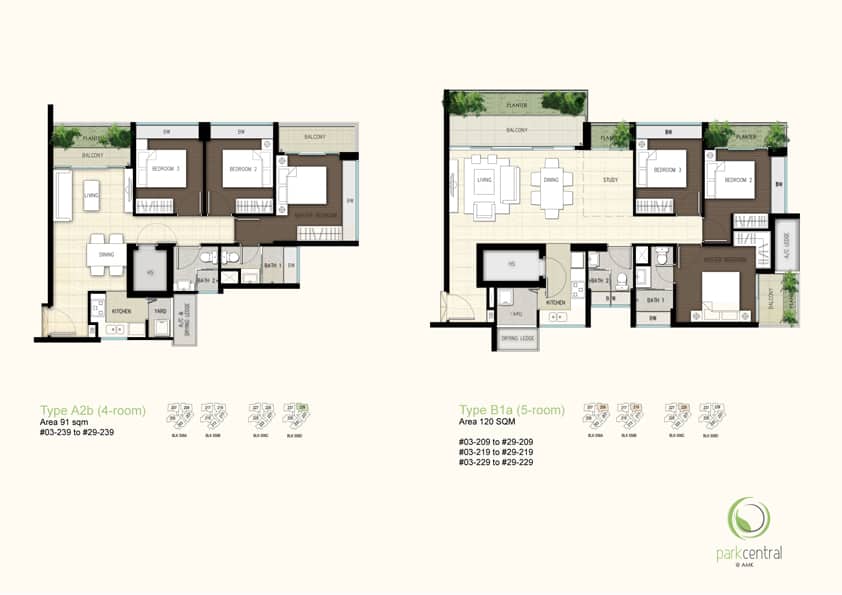 But some residents make it work – and with prices trading 40% higher in the resale market, it seems that most buyers do not seem to mind.
To be fair, 40% is nothing impressive for a subsidised HDB project. It is what I would come to expect from a mature estate launch anyway. Plus, it was launched in 2008 when prices were still low (in hindsight).
With that said, Park Central @ AMK still trades at a higher price point for a 4 and 5-room flat in the entire HDB market particularly due to its location. So if you're looking out for an HDB in Ang Mo Kio, should you consider Park Central @ AMK?
Let's head onto the grounds to find out more!
Park Central @ AMK Insider Tour
Getting to Park Central @ AMK DBSS requires climbing up (or down) Ang Mo Kio Street 52 which happens to be the only entrance to and from the development.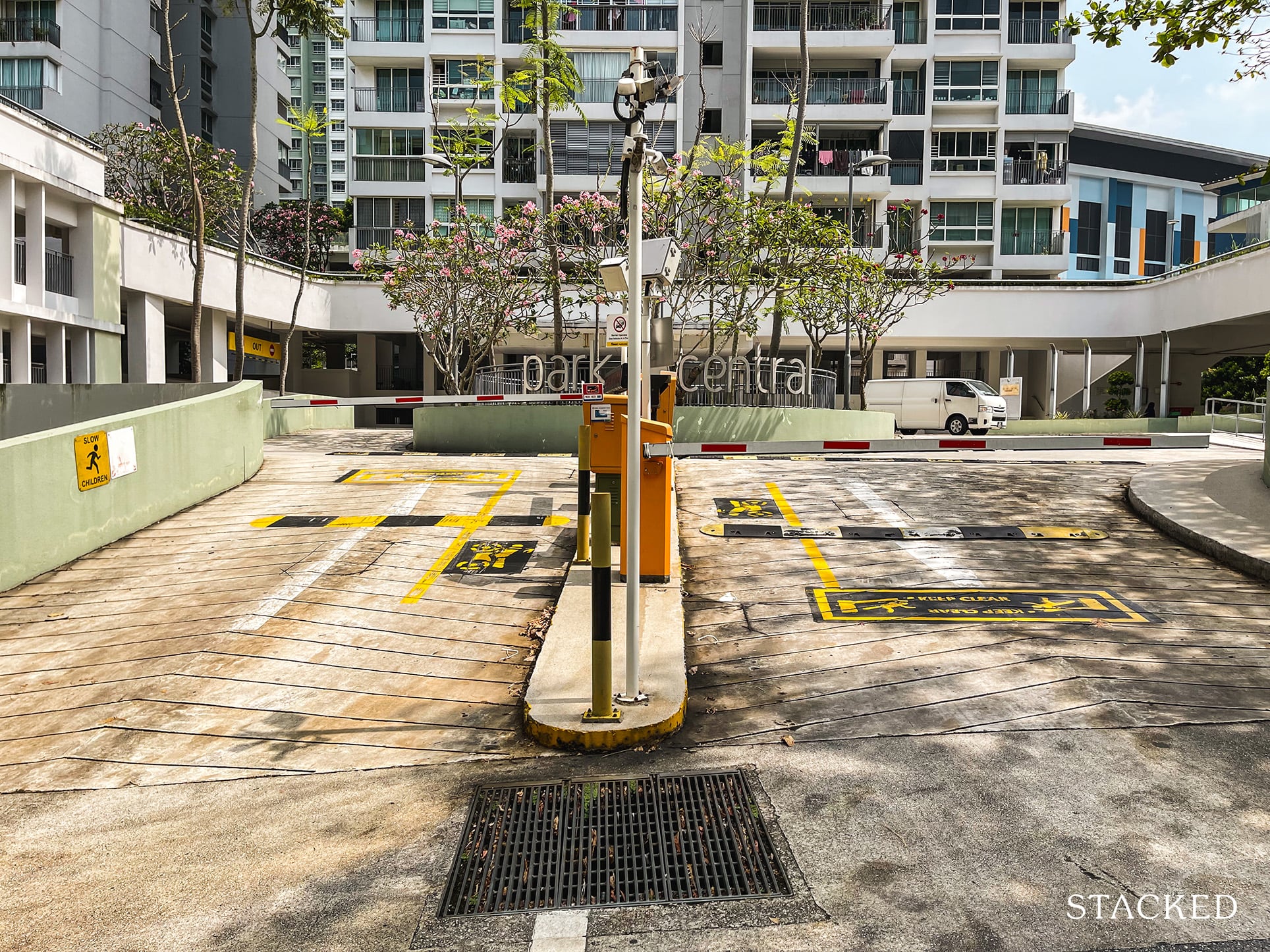 At the entrance, you're greeted by the ingress and egress where the car park gantries are located. From here, you do get a sort of impression that the place needs some maintenance as you'll see streaks of off-colour paint in various different spots.
If you're new here, you might be wondering how to enter the development if this was presented to you. Thankfully, there is a path from the side that you can use to get to the drop-off point.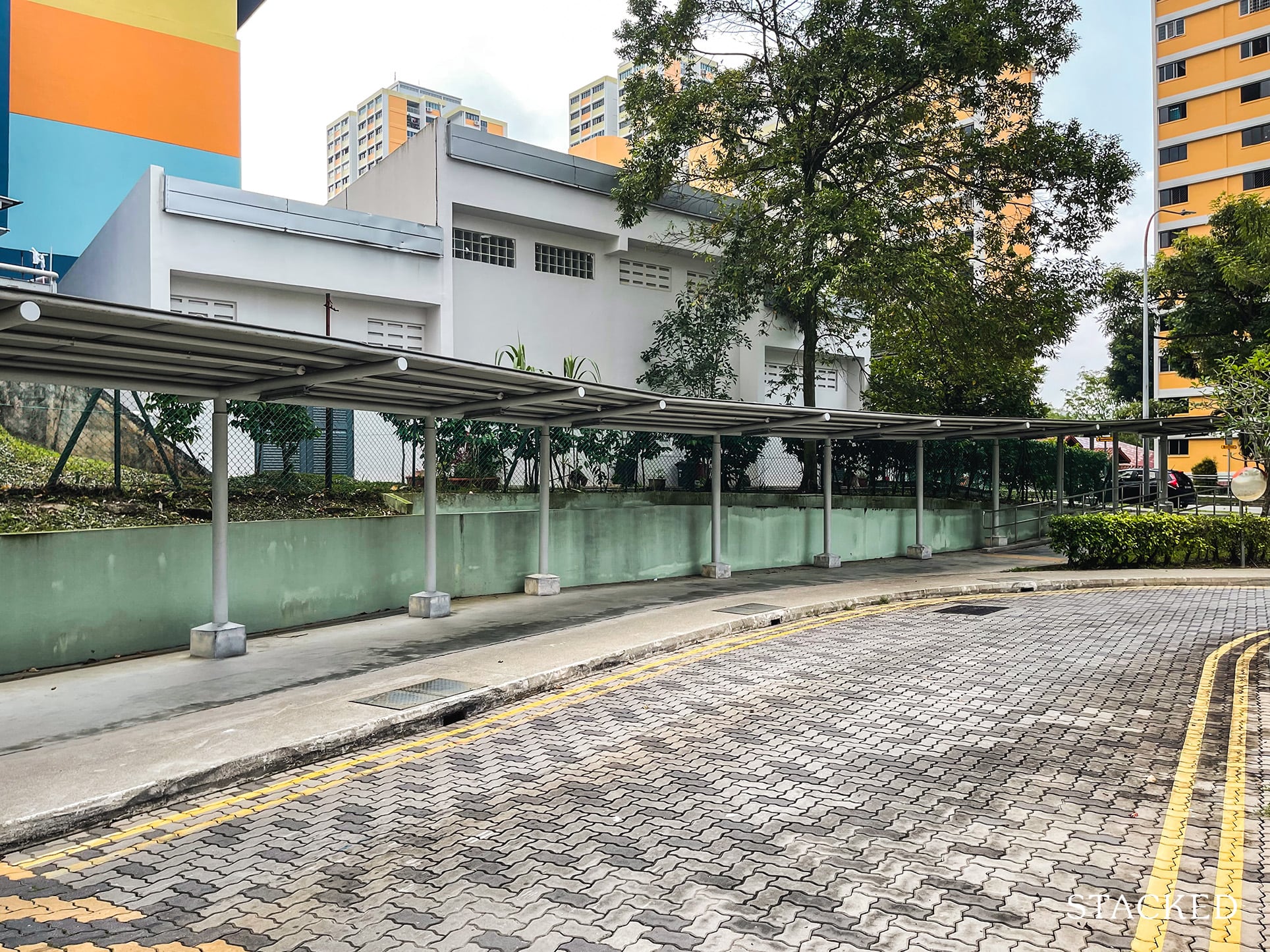 There's also another entrance that heads down to the car park where you can access the lift lobbies.
Heading in, you'll find the development's name that's placed front and centre: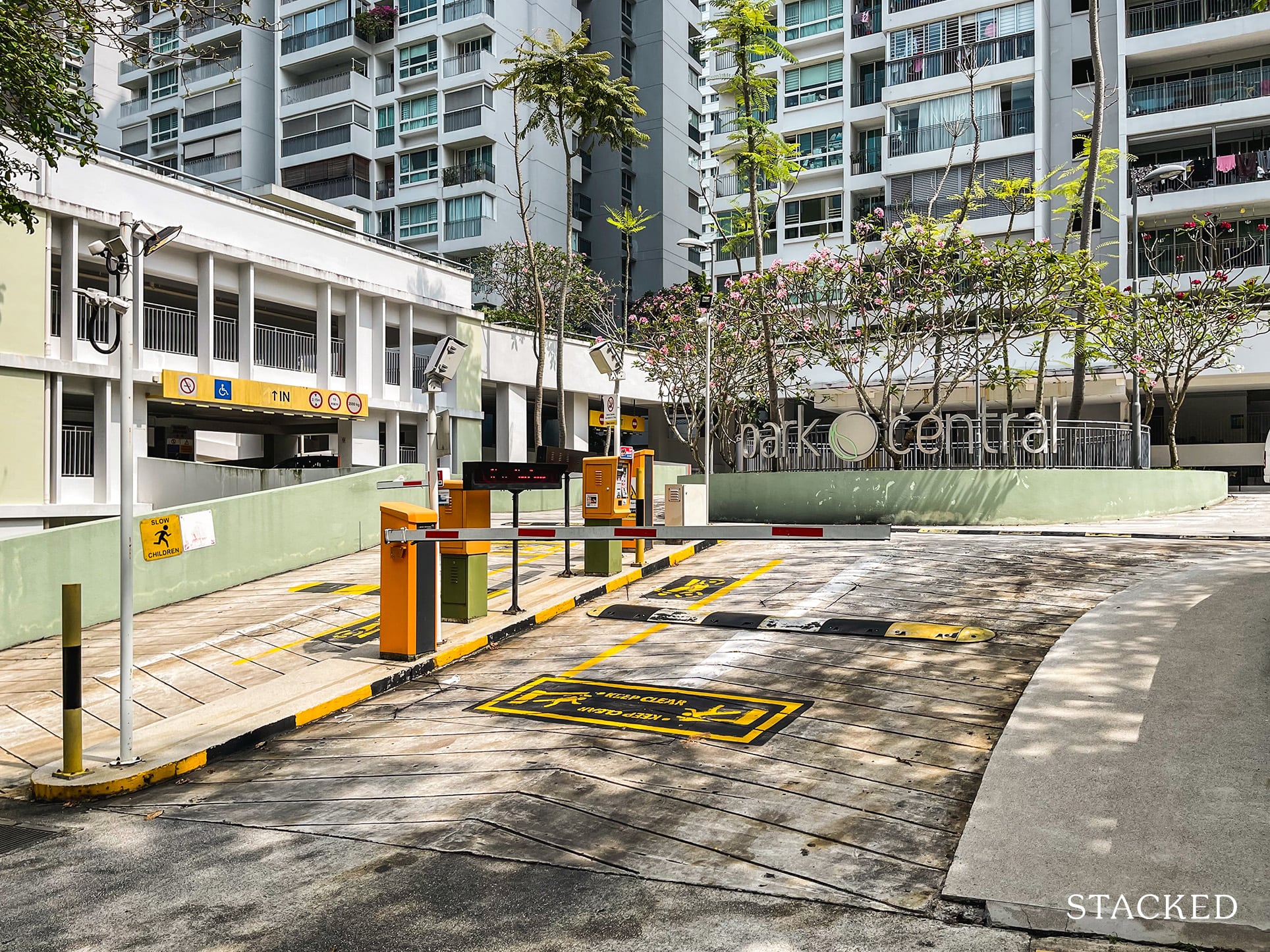 Considering when it was built, I do think that the sign here doesn't look too dated. I also like the idea of coming home to some greenery which Park Central @ AMK attempts, but this isn't the lushest of arrival areas I've seen for an HDB.
The roundabout here is quite wide, but when I take into account that this is the main thoroughfare for picking up and dropping off passengers, it becomes one that is just passable.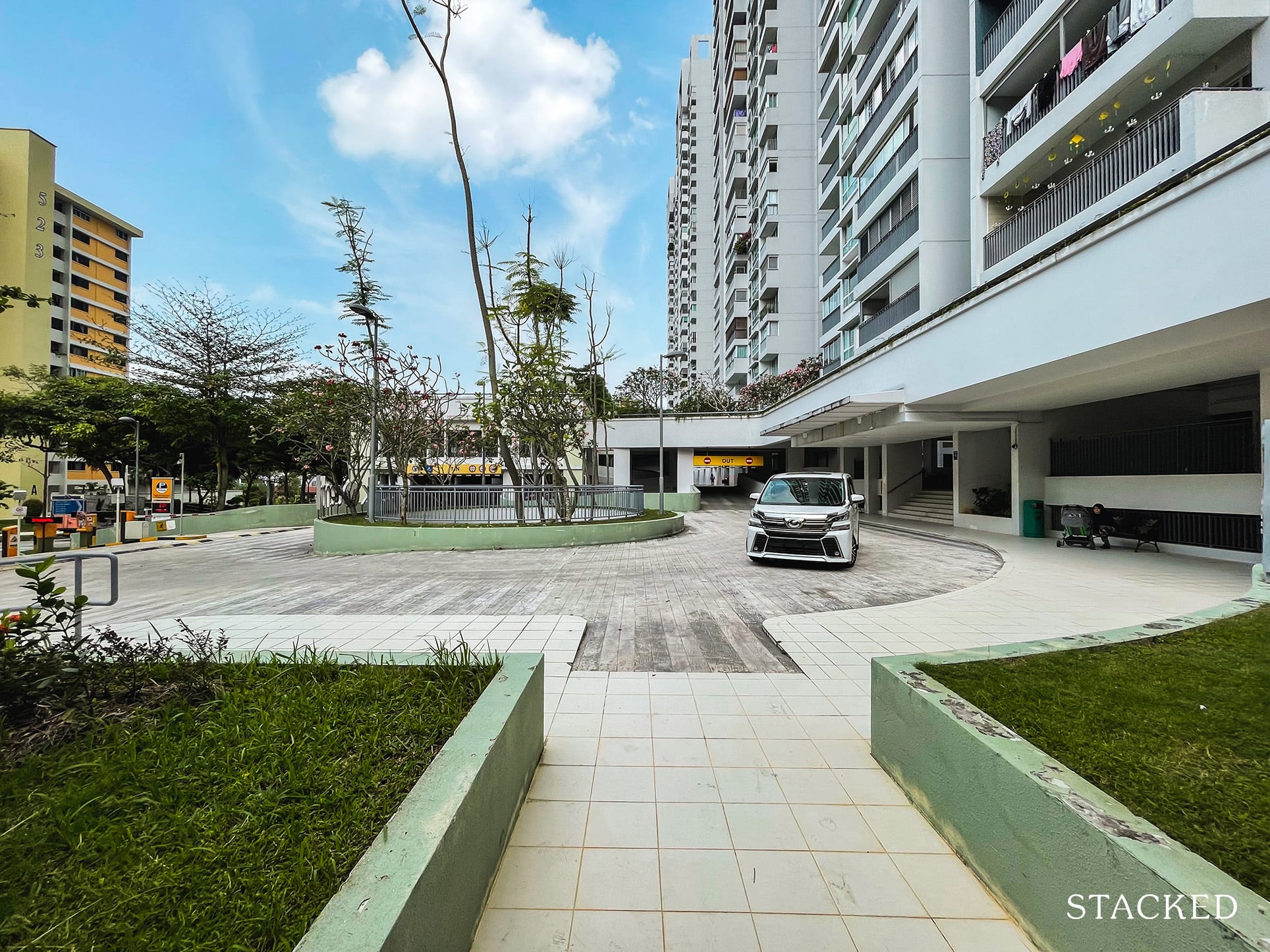 The drop-off point itself is sheltered which is useful during wet weather, and I'm pleased to say that the shelter is also quite long allowing up to 2-3 cars to stop here. You'll also find 2 benches here (always a welcomed addition).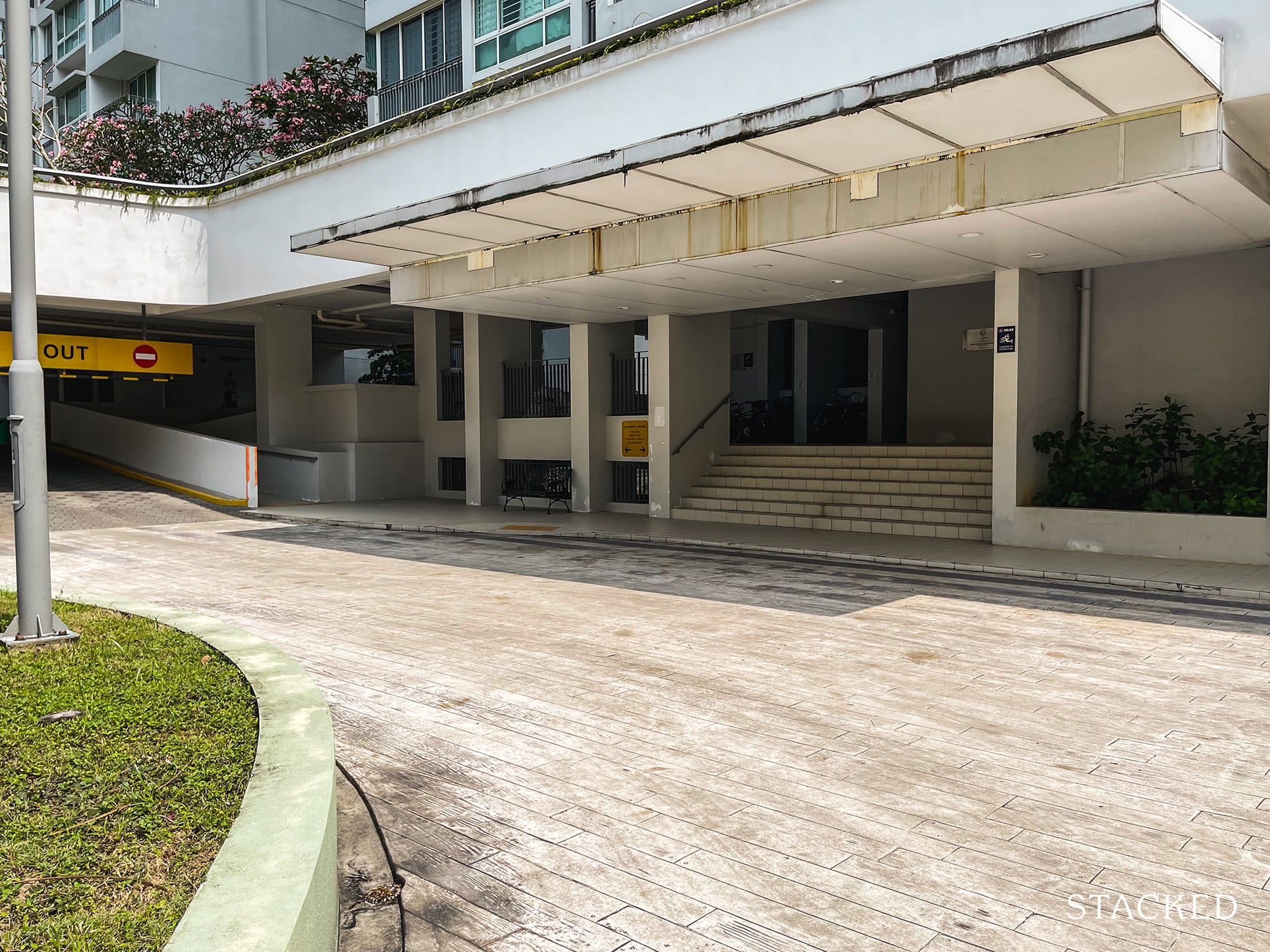 It's also here that you'd see the stains on the roof, which does need to be brushed up as it isn't a good sight upon arrival.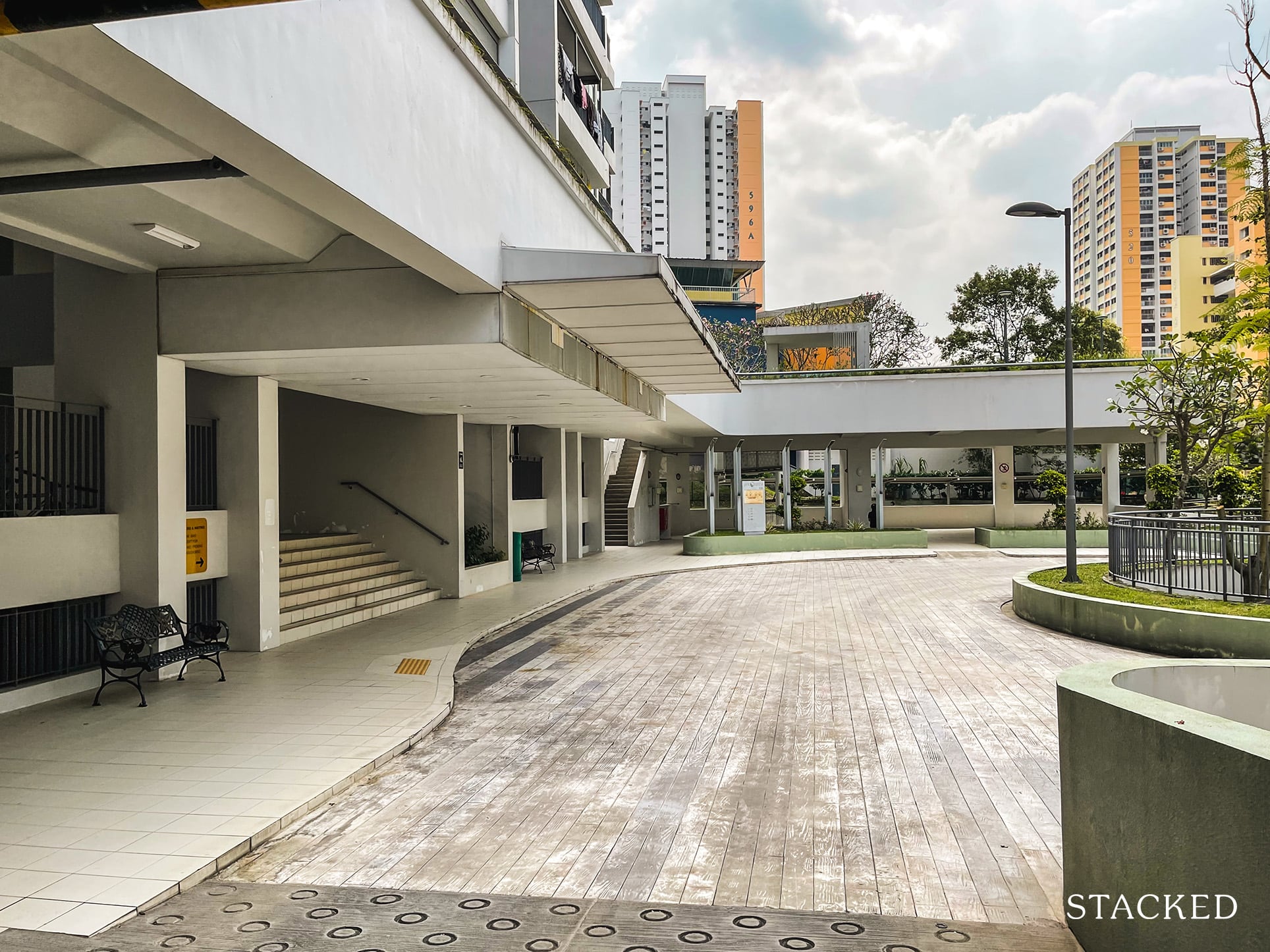 The drop-off is also conveniently located right next to the precinct pavilion.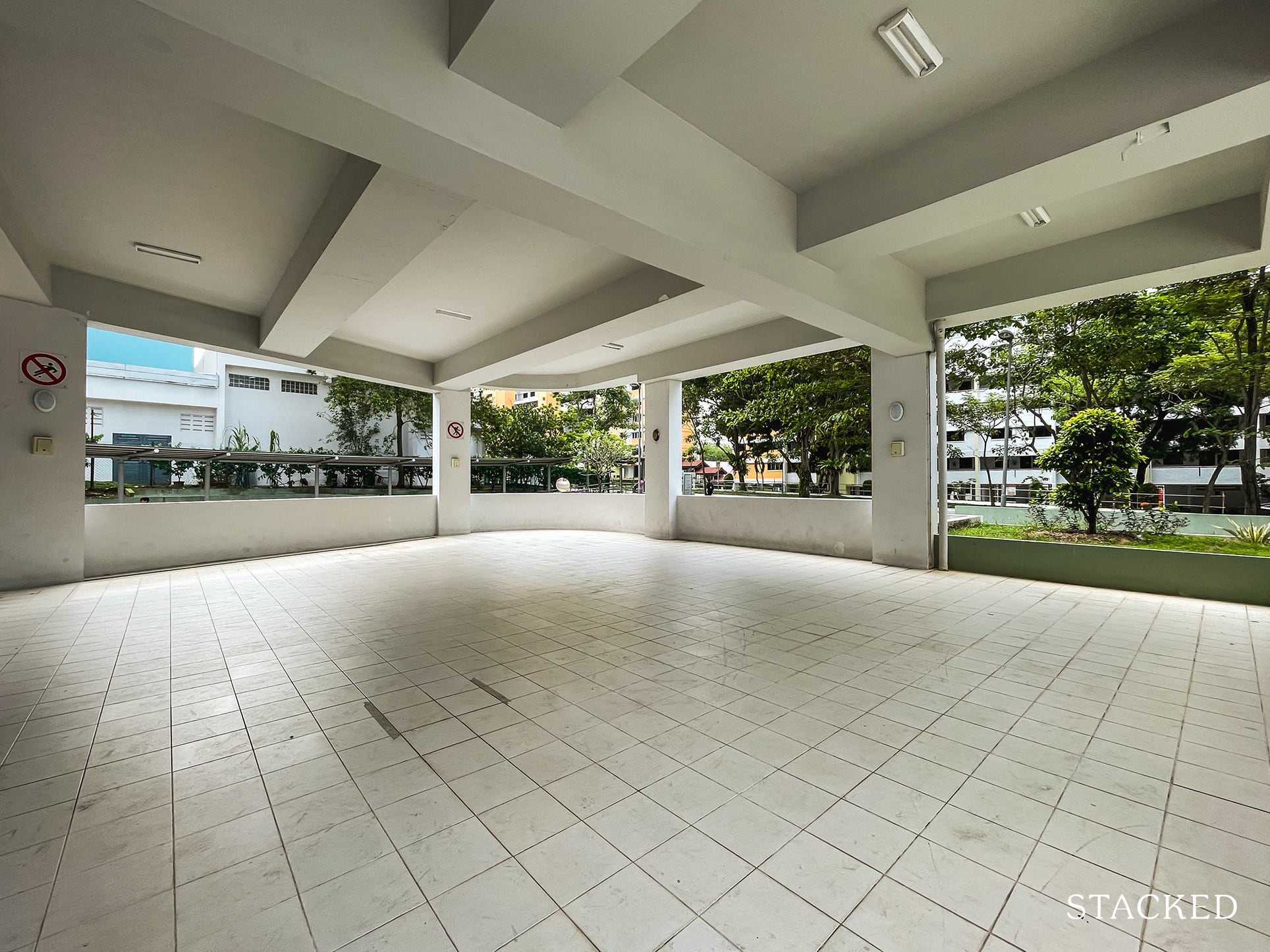 Overall, I would say that the precinct pavilion here is quite sizeable. While it does have lights, fans are not provided, so this is something your event organiser has to provide if you intend to use the space during a hot day.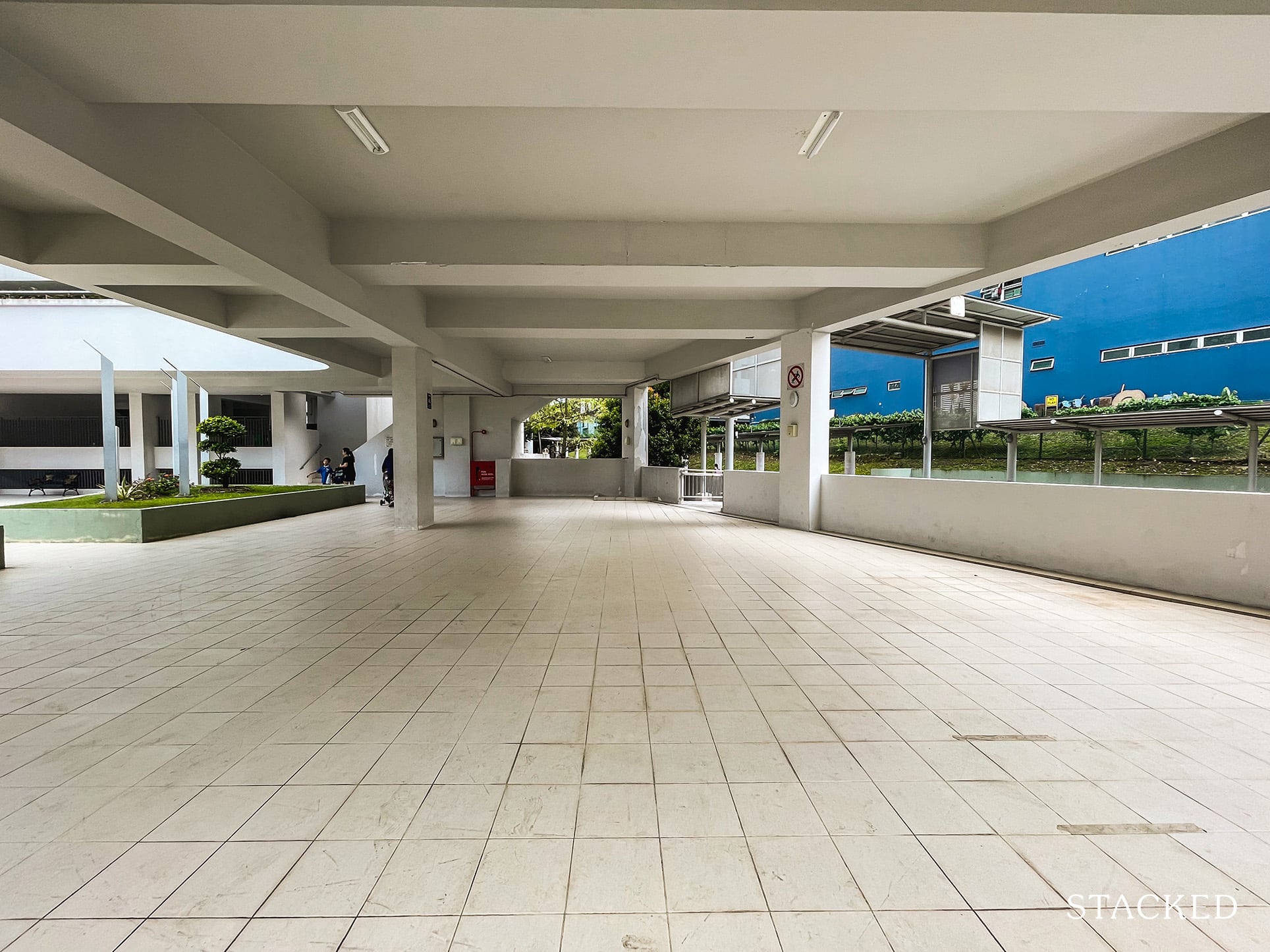 What's notable is that there is a direct shelter from here straight to the bus stop outside, so it's perfect for guests coming over to attend an event here. However, this does raise the irony of it in that the precinct pavilion does serve as a passageway to the residential blocks.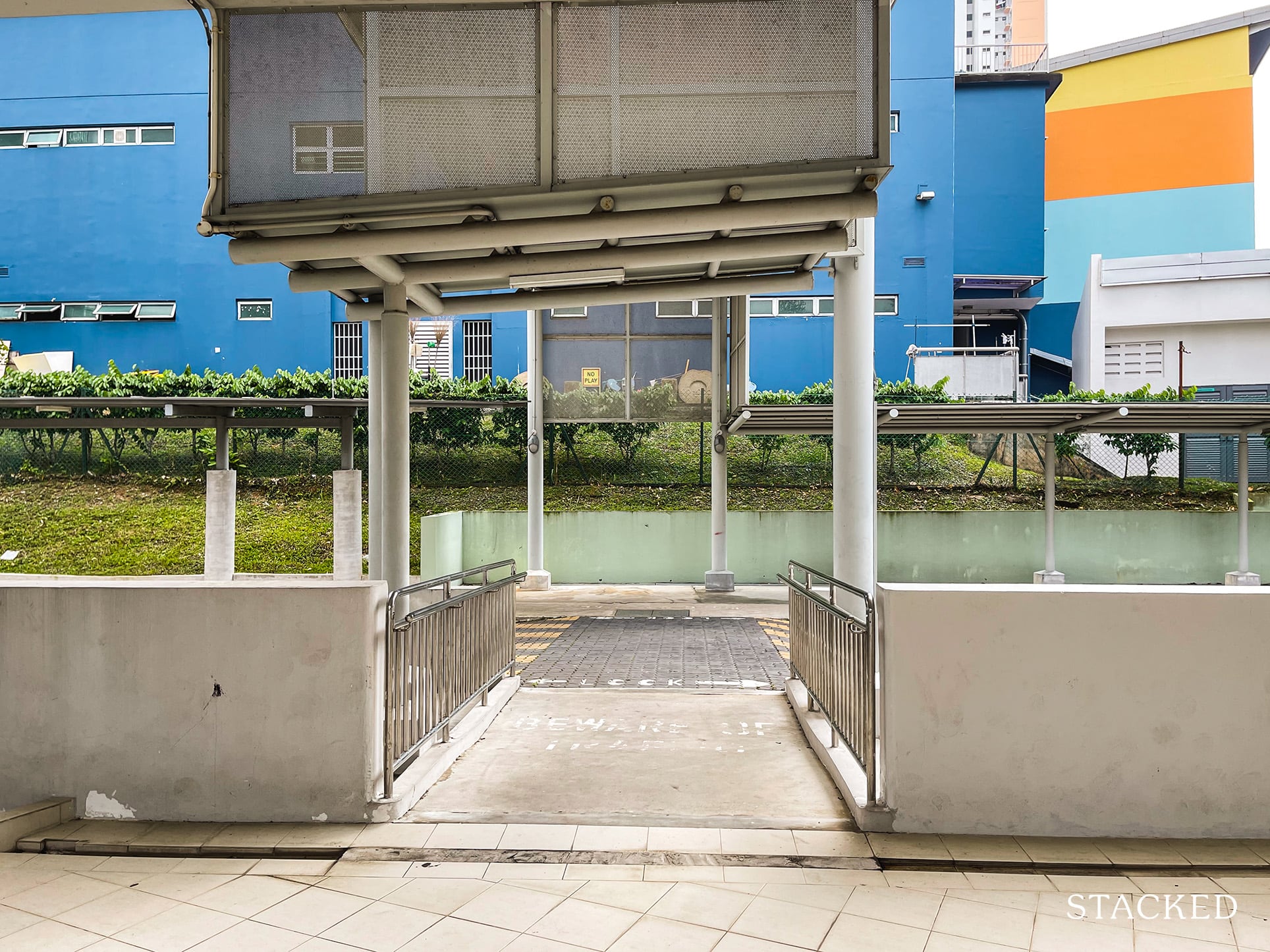 During heavy rain, I can expect residents to use the sheltered walkway to pass through the Precinct Pavilion. As such, holding an event here does prevent people from moving through or it can be quite intrusive during an event.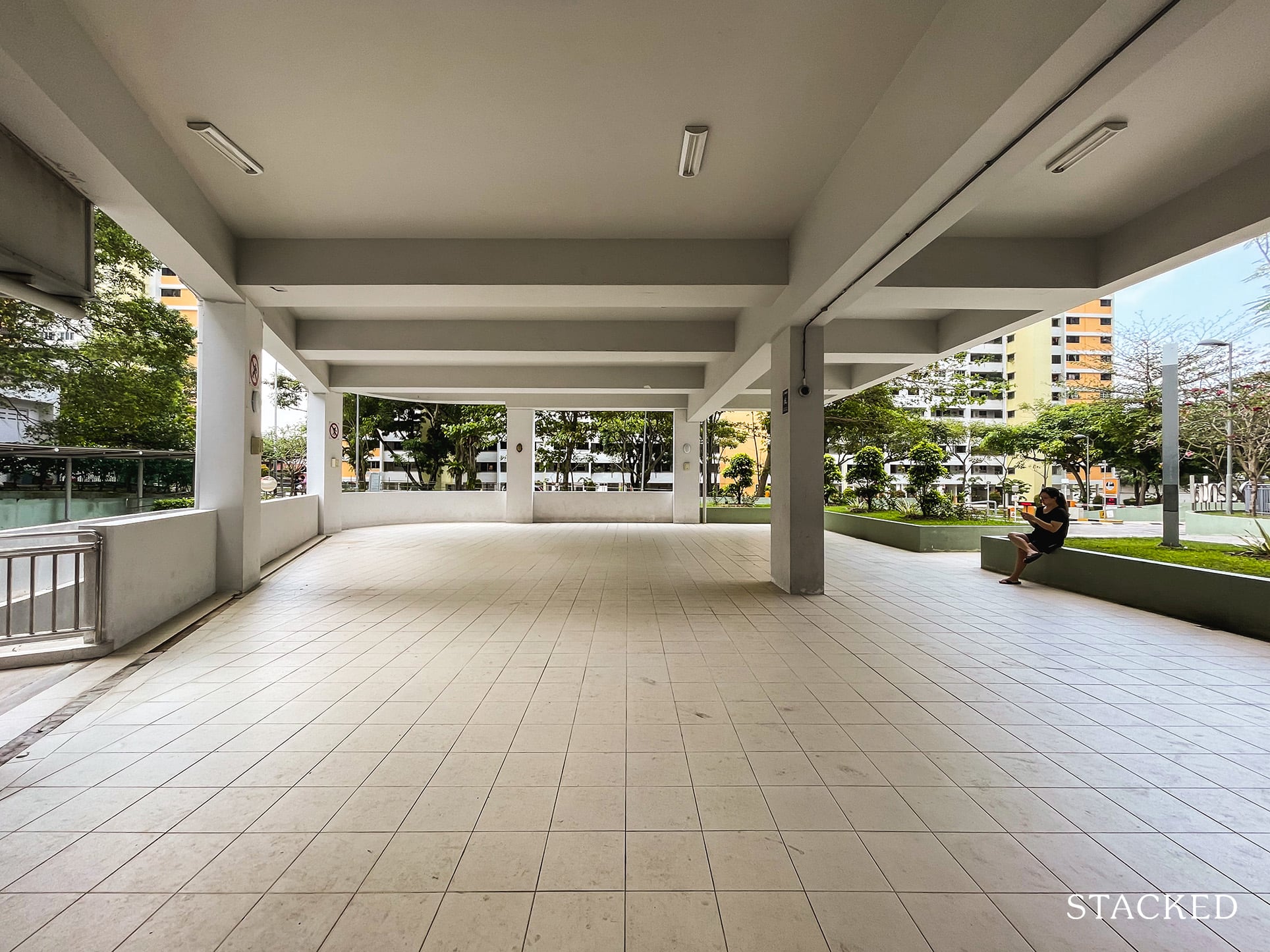 The sheltered path on the side continues through the development, however, it doesn't neatly connect to the blocks. Instead, the sheltered walkway passes through the HDB cluster at the back that leads all the way to Ang Mo Kio MRT.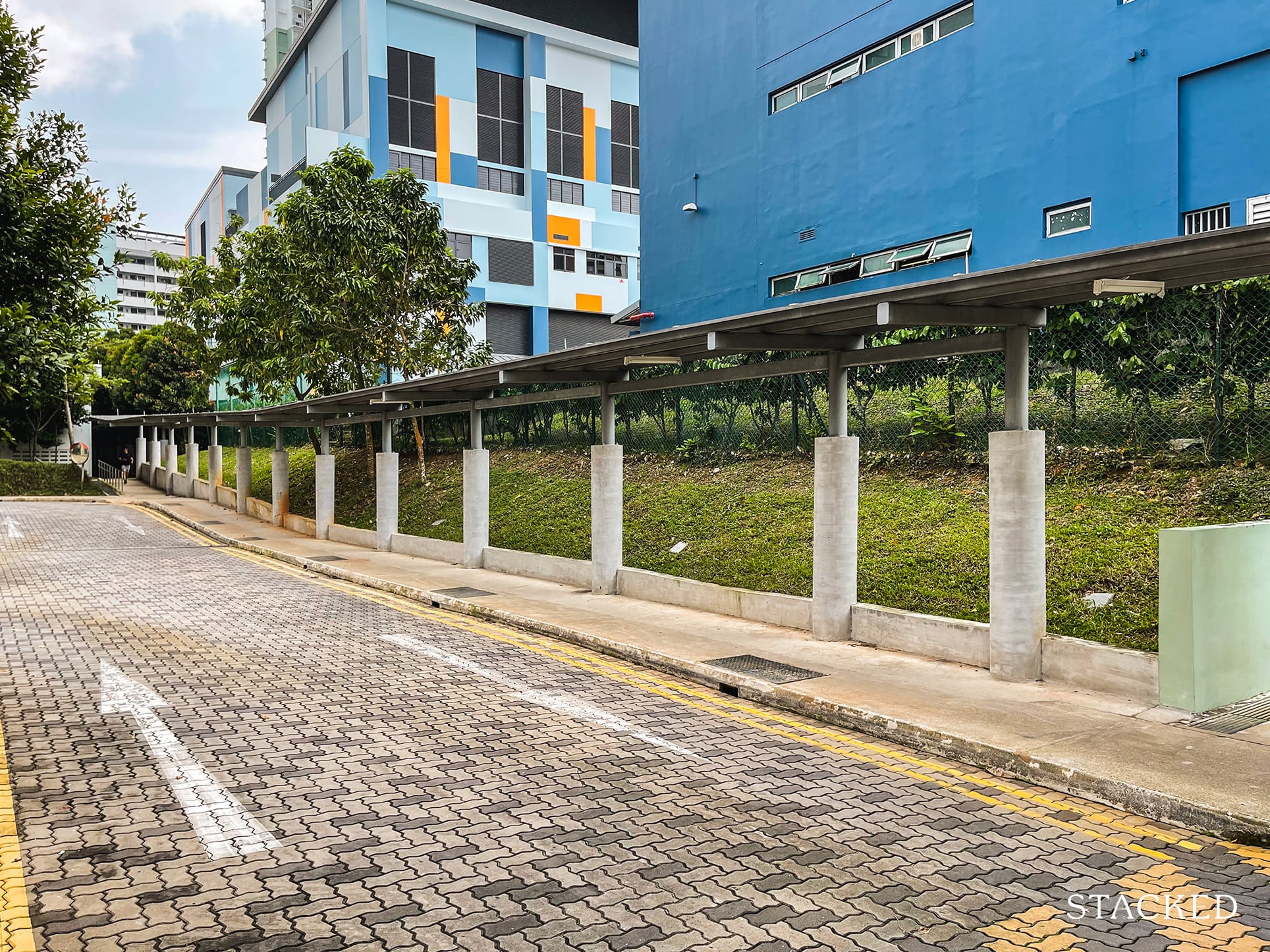 That's right, residents staying in Park Central @ AMK have a sheltered walkway all the way to the MRT!
What this does mean is that you can expect the shelter to be quite heavily used since it connects both the MRT and bus stop through to the residential blocks, so passing through the precinct pavilion must be really weird when there are events being held here.
Next, let's take a look at Park Central @ AMK's car park. Its entrance is located next to the drop-off point too, but on the other side of the precinct pavilion: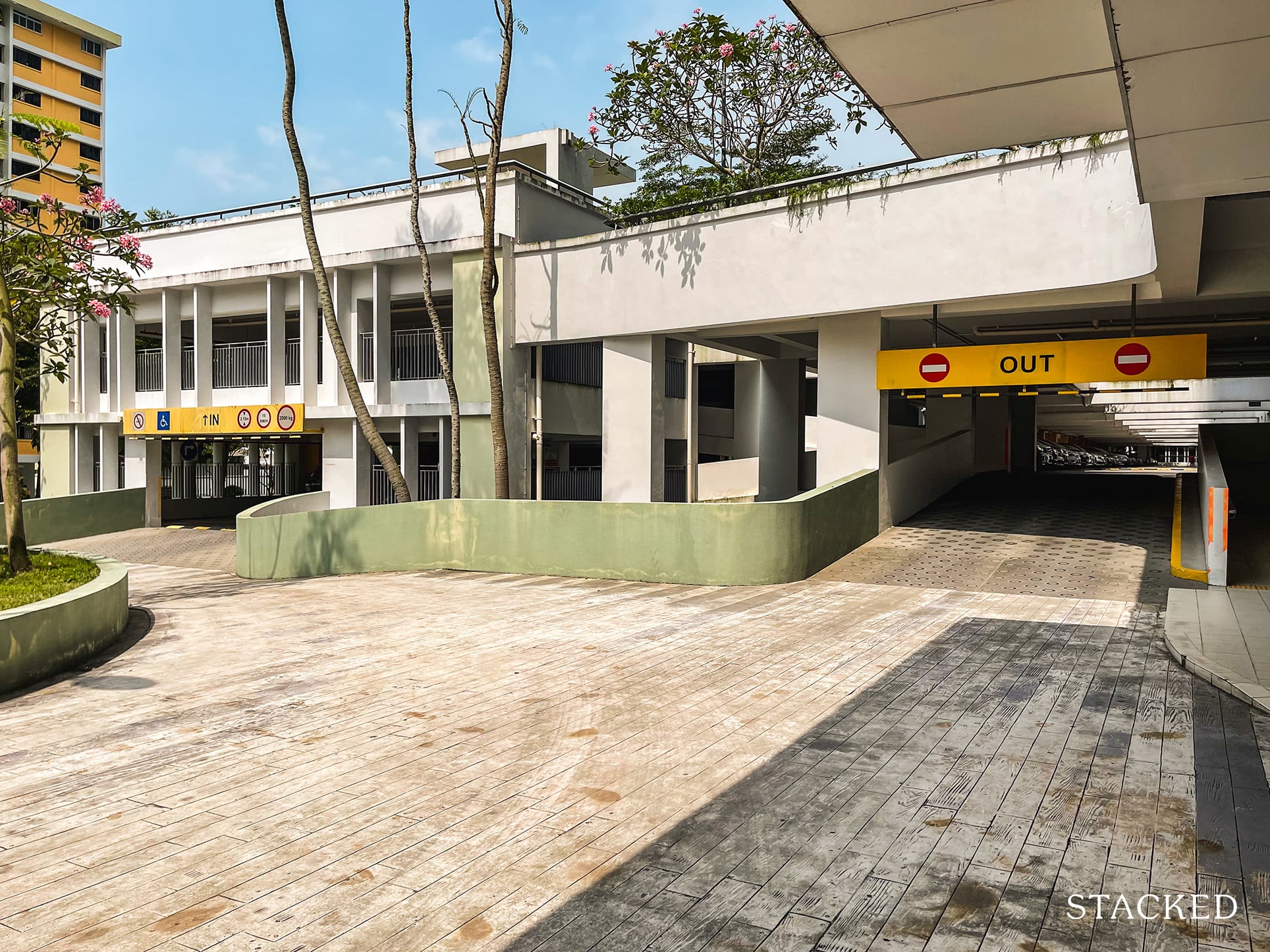 There's only one entrance and exit, though this isn't really a big deal given it's the only entrance. The good news is that the car park entrance is right at the front, so it's quick for residents to enter.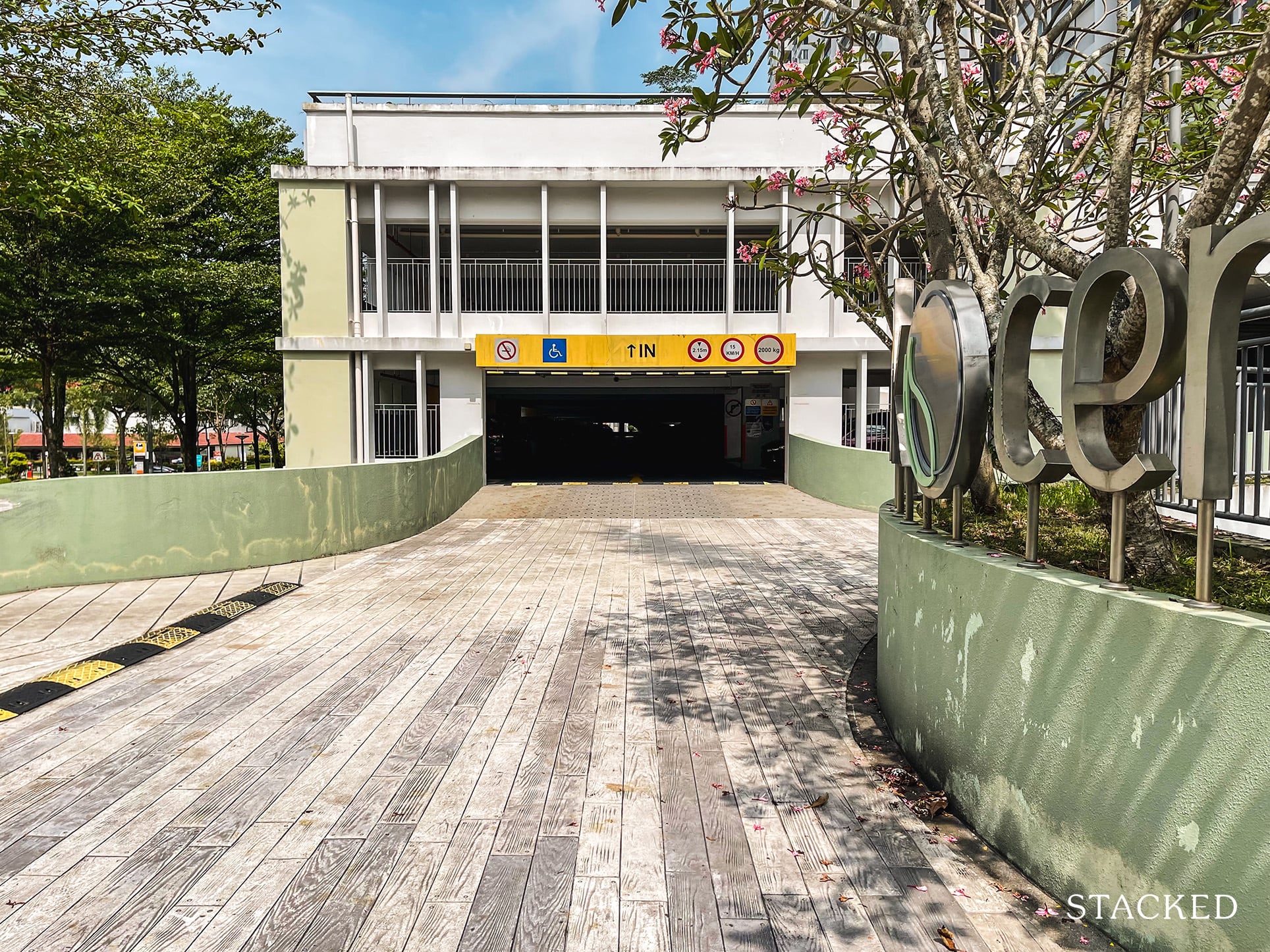 One central highlight of Park Central @ AMK DBSS is that the car park is integrated with the development. What this means is that residents can park close to their lift lobby without having to exit the car park like in most multi-storey car park settings without a link bridge.
This brings greater convenience to residents who own a car which can be a game changer if you drive often, especially for families with kids.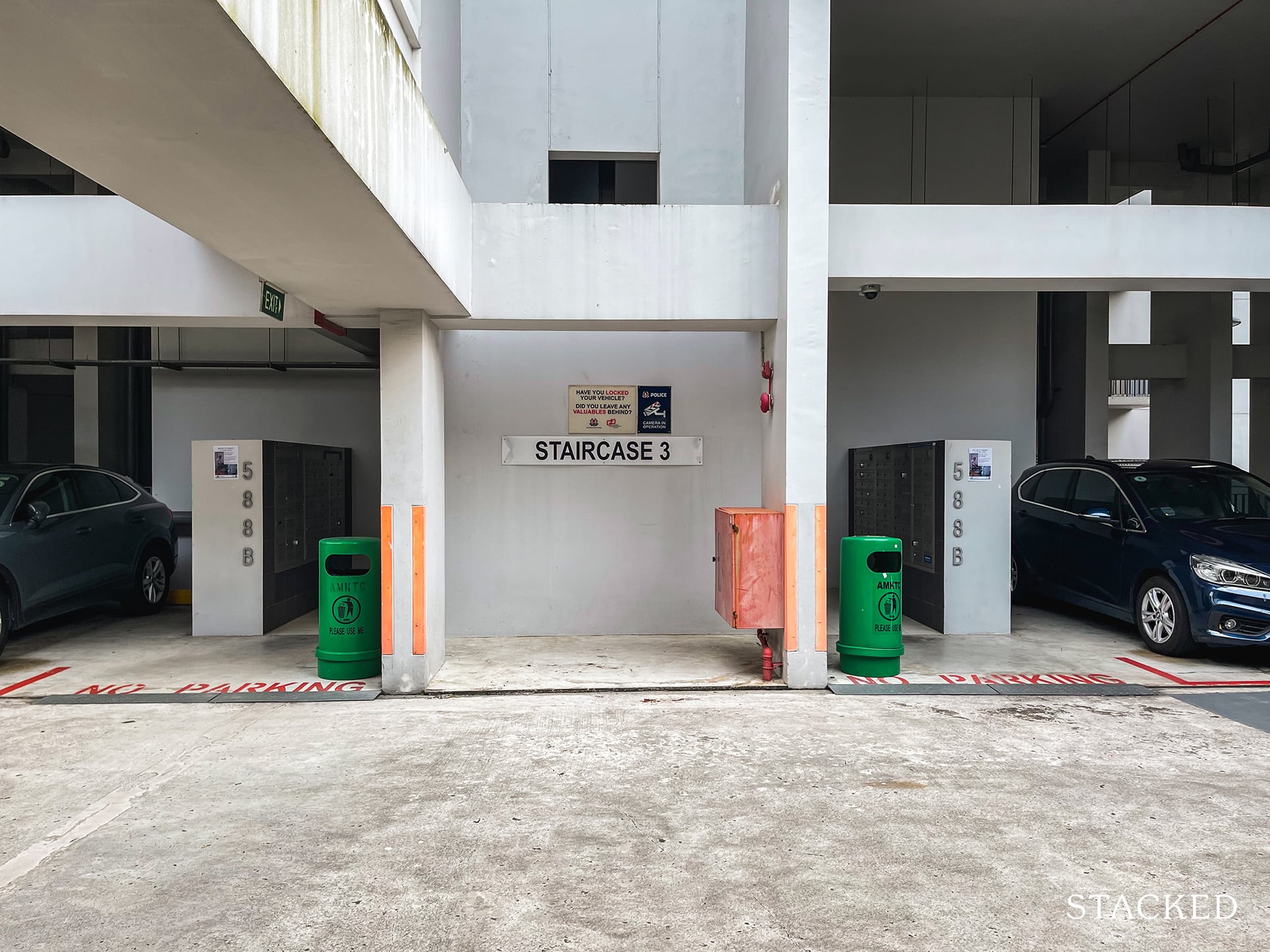 There are 2 levels available for parking here and from my visit, there seems to be an ample number of lots. However, a quick search on HDB revealed that there are only 13 season parking lots left in May.
Usually, motorists can pay in advance or simply pay on a monthly basis. With just 13 left, it would be okay to continue paying monthly, but you do run a risk of not having a lot if there's a slight increase in the next month.
The first level would be the default choice of parking and it's also brighter given the numerous open roofs above: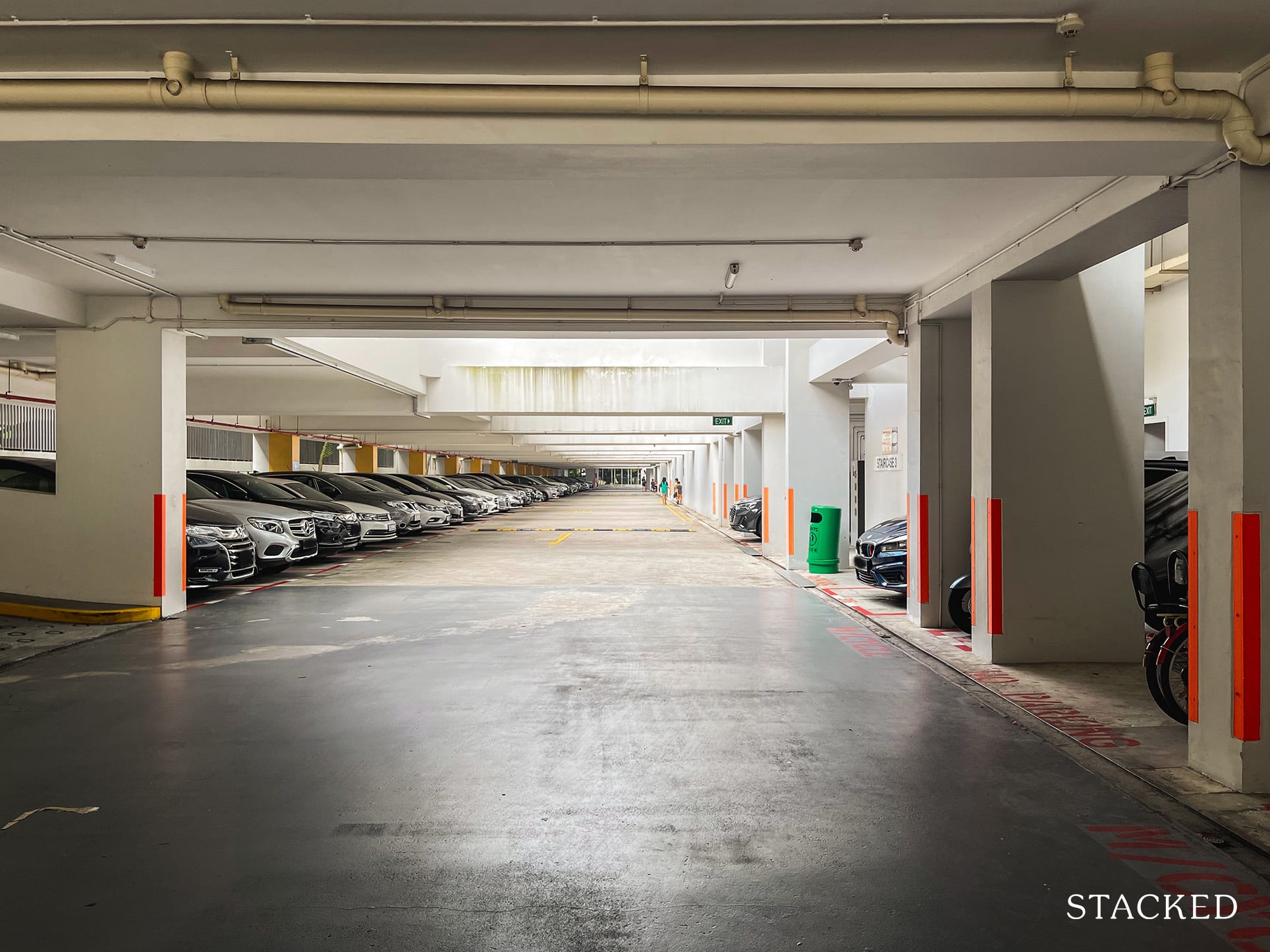 Here's a shot from the basement: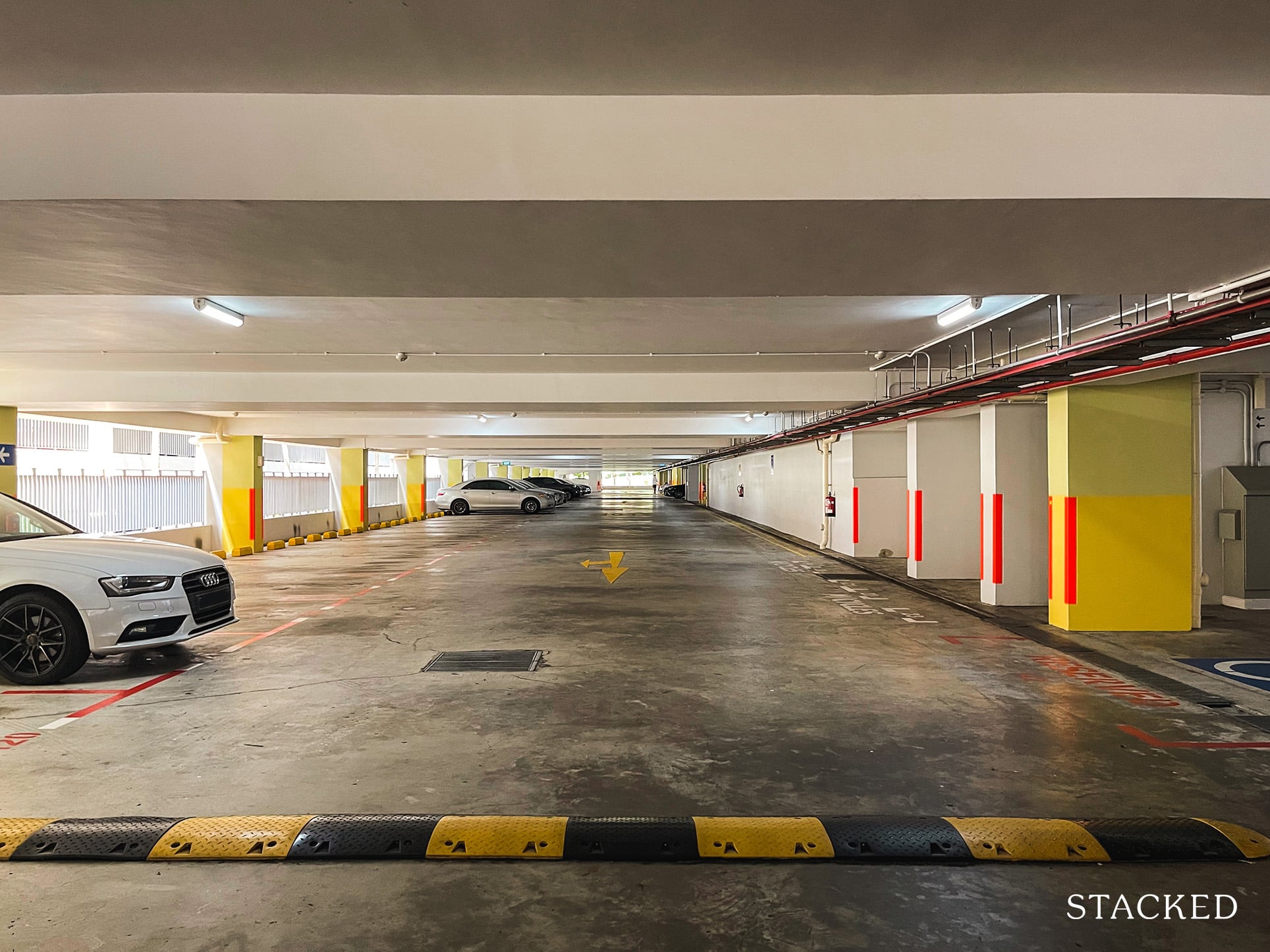 Another benefit of being integrated below the development is that it avoids having any direct facing to any units which is a problem that I've seen in other HDB developments (e.g. Trivelis).
That being said, there are some units that can see the car park below such as the units on the right here: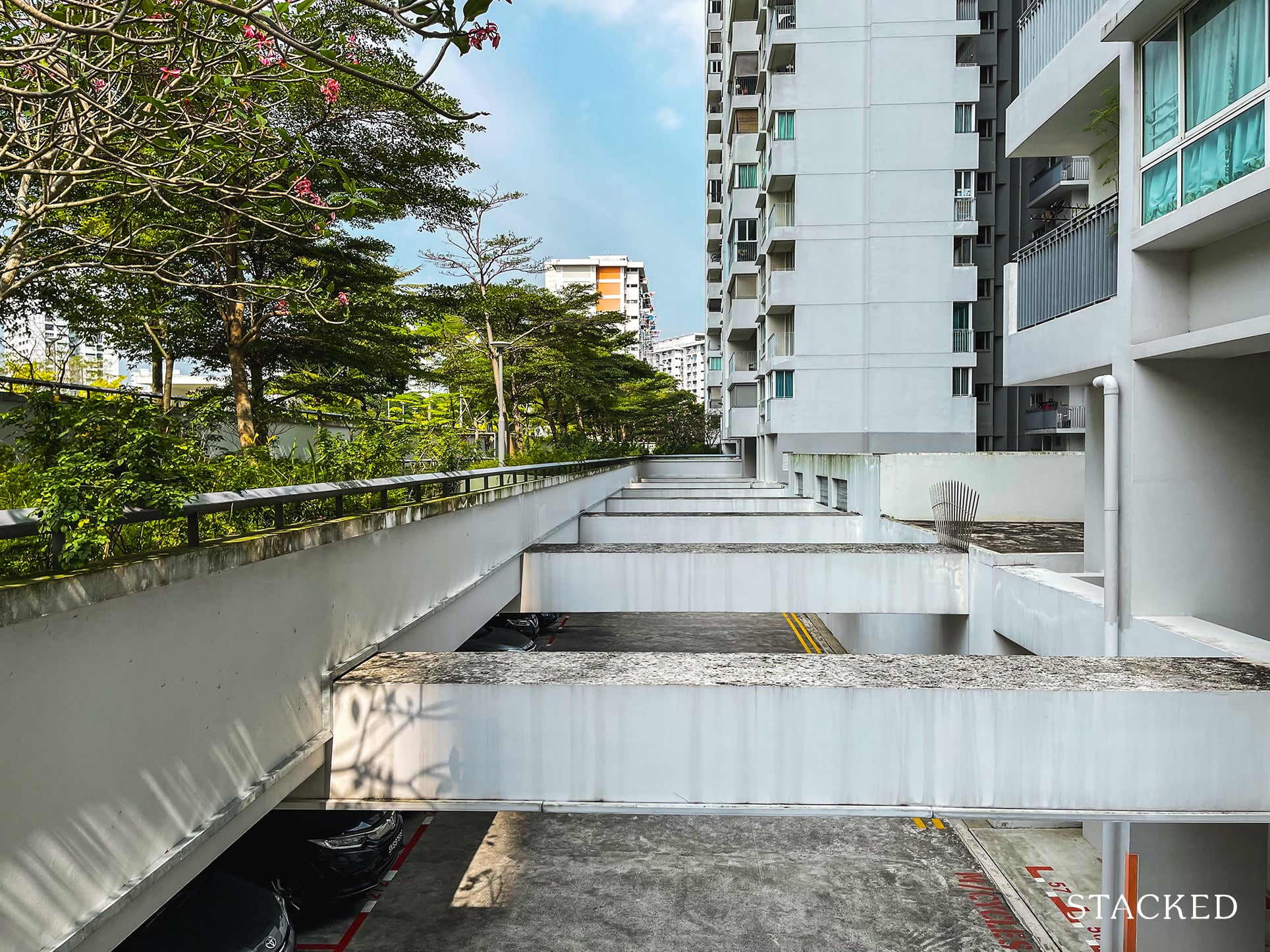 It's not a big deal, but I suppose that the unit here would face not only noise from the main road but the noise from within the car park itself.
From the car park, residents can access the lift lobby directly: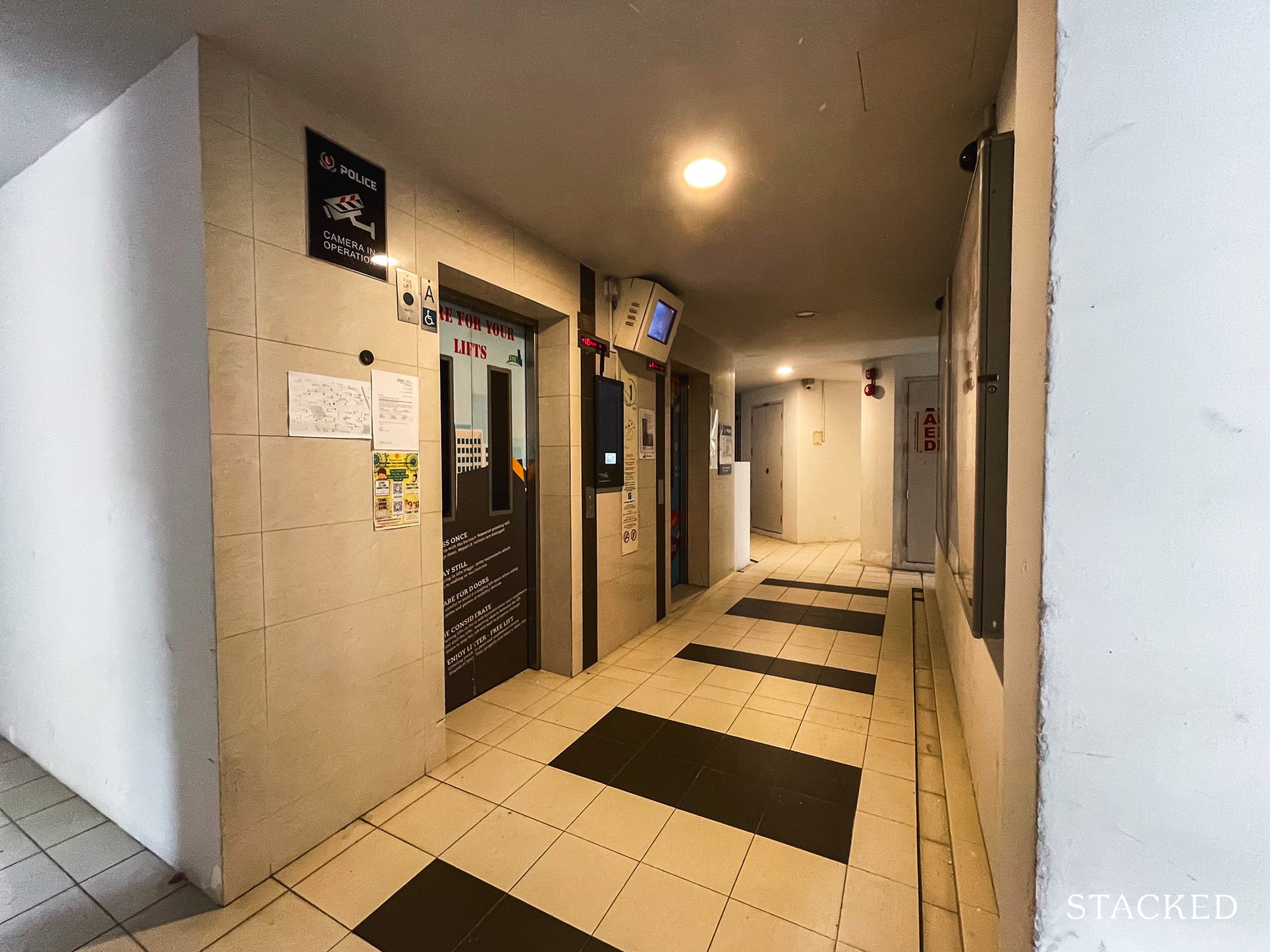 This lift lobby was shot in the basement which is darker than level 1, as such, even the lift lobby has to be lit during the day.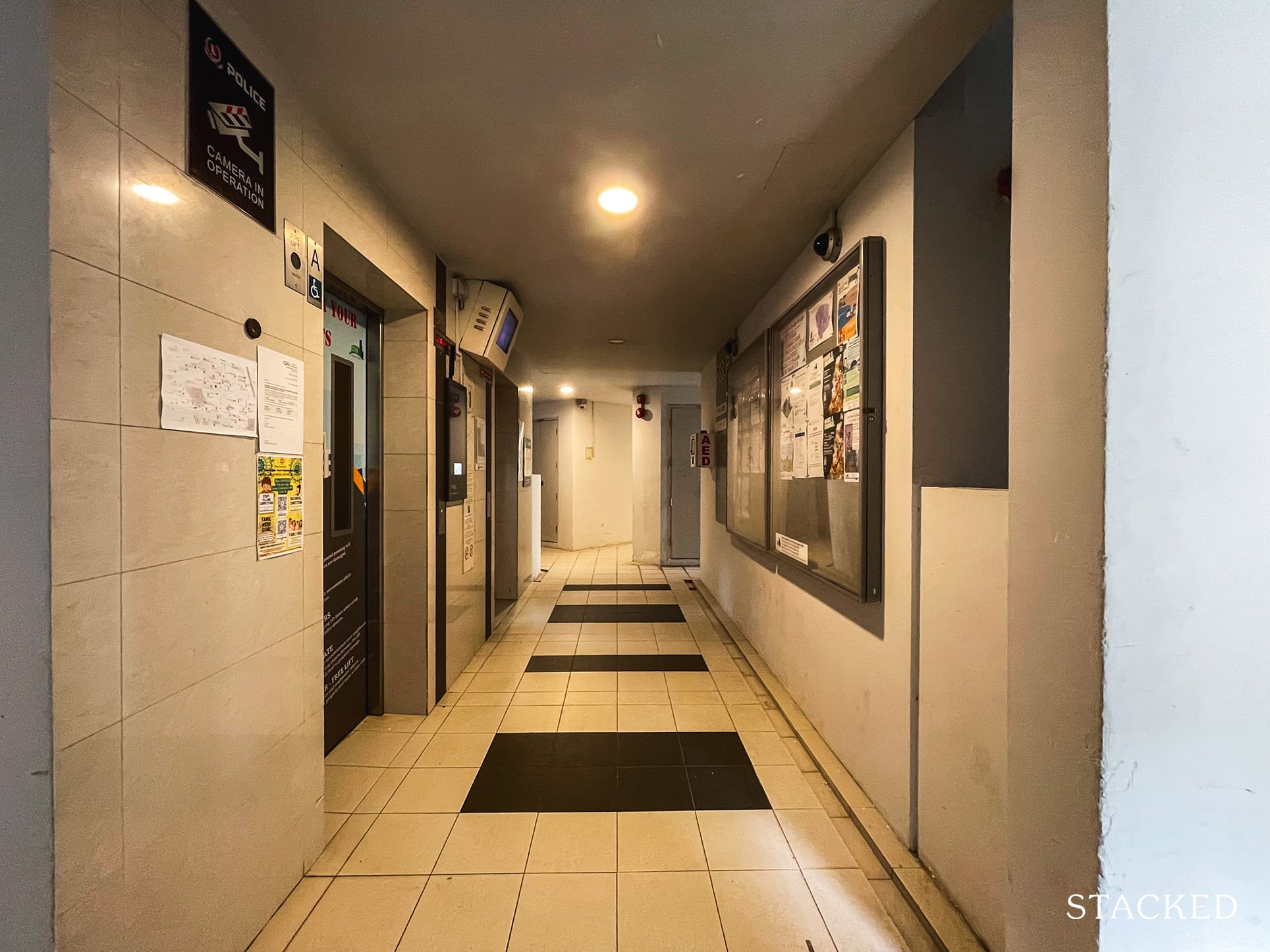 Now that we're done with the car park, let's head up to level 2 which is not only the roof garden of the DBSS, but where the main facilities are given the small plot here.
One good thing here is that the roof garden is connected to all blocks, so residents wouldn't need to go to the ground level and back up to use the facilities.
Let's start off with the barbeque pits which can be typically found in DBSS properties. There are 2 here which are found on the east side of the development.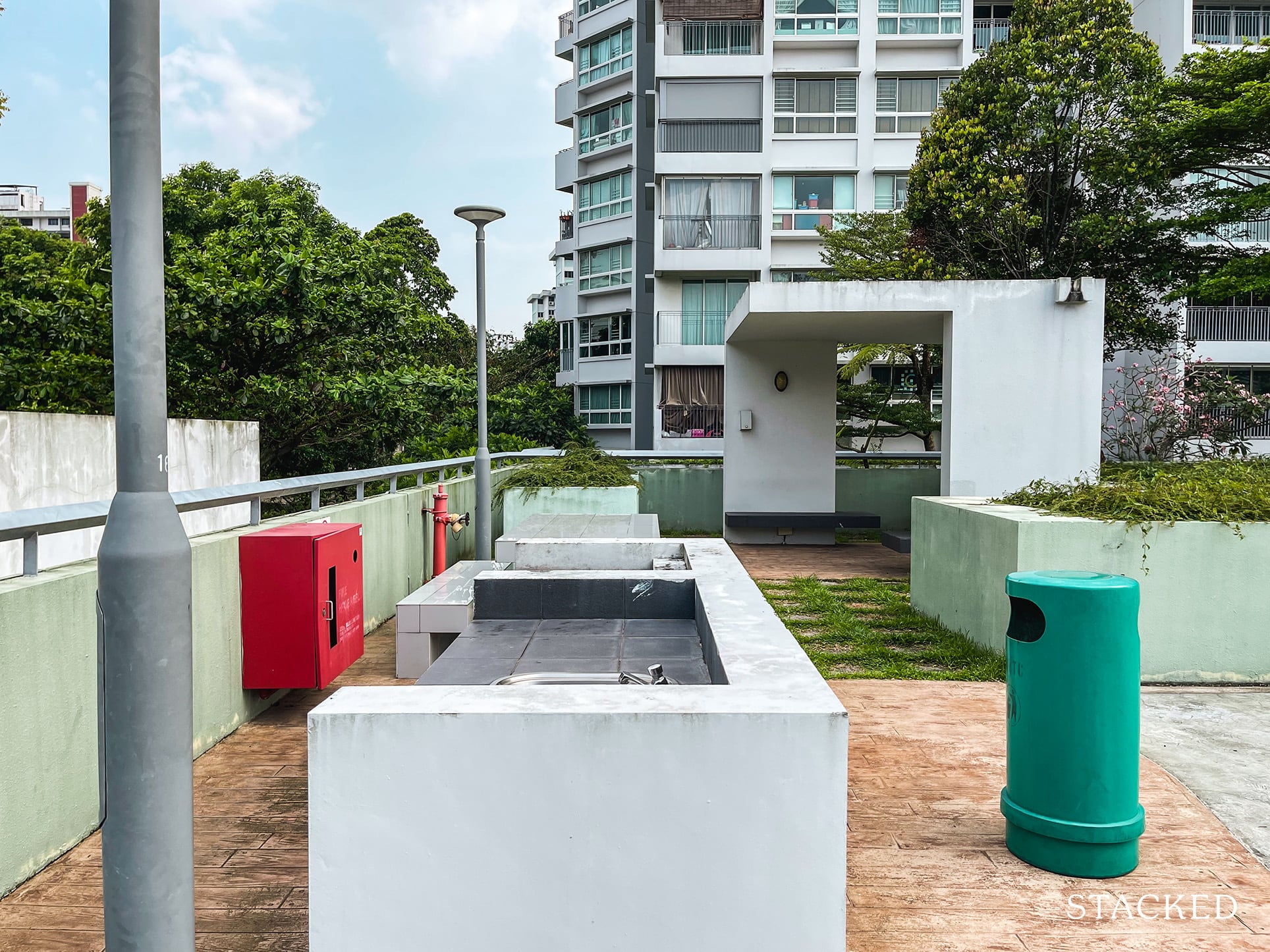 This happens to be where block 588D is facing, so lower floor units would have to bear the brunt of the noise and smell should residents hold any gatherings here.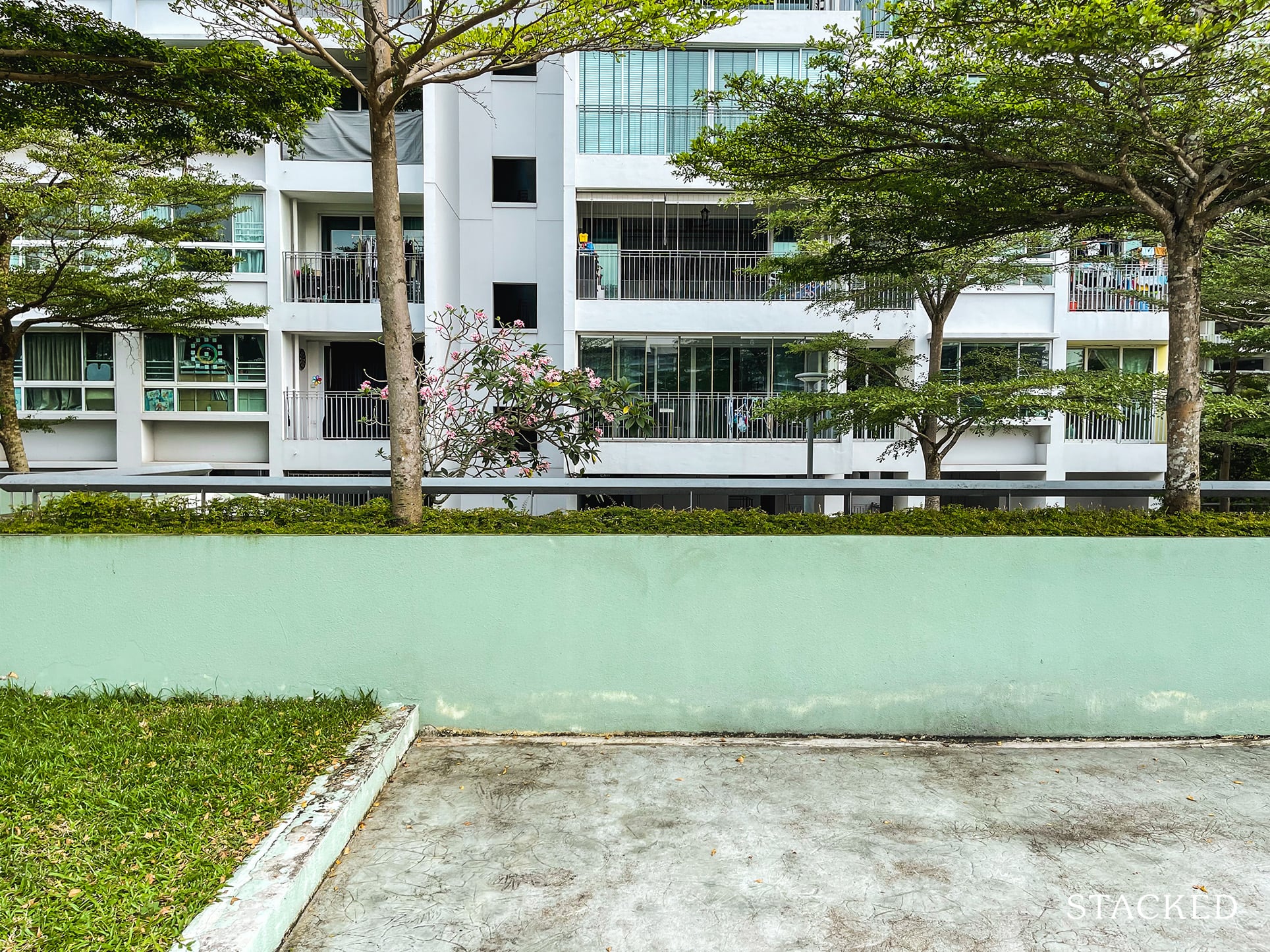 That being said, there is a sort of "green buffer" that runs between, though I don't think it does that much to block the sound or smell.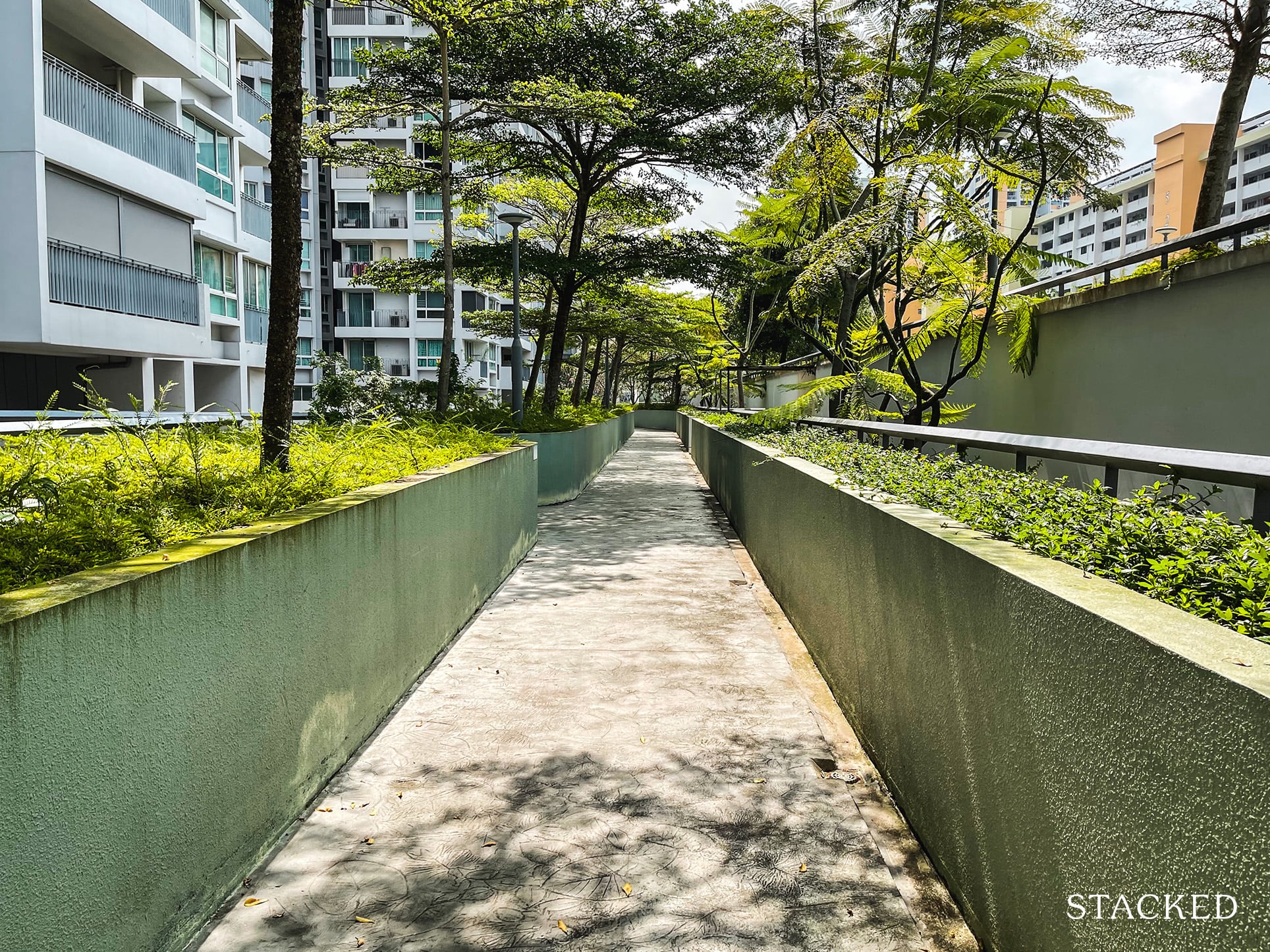 The barbeque area comes with numerous sheltered seating areas, washbasins, and tables/benches, and there's a good amount of greenery here too!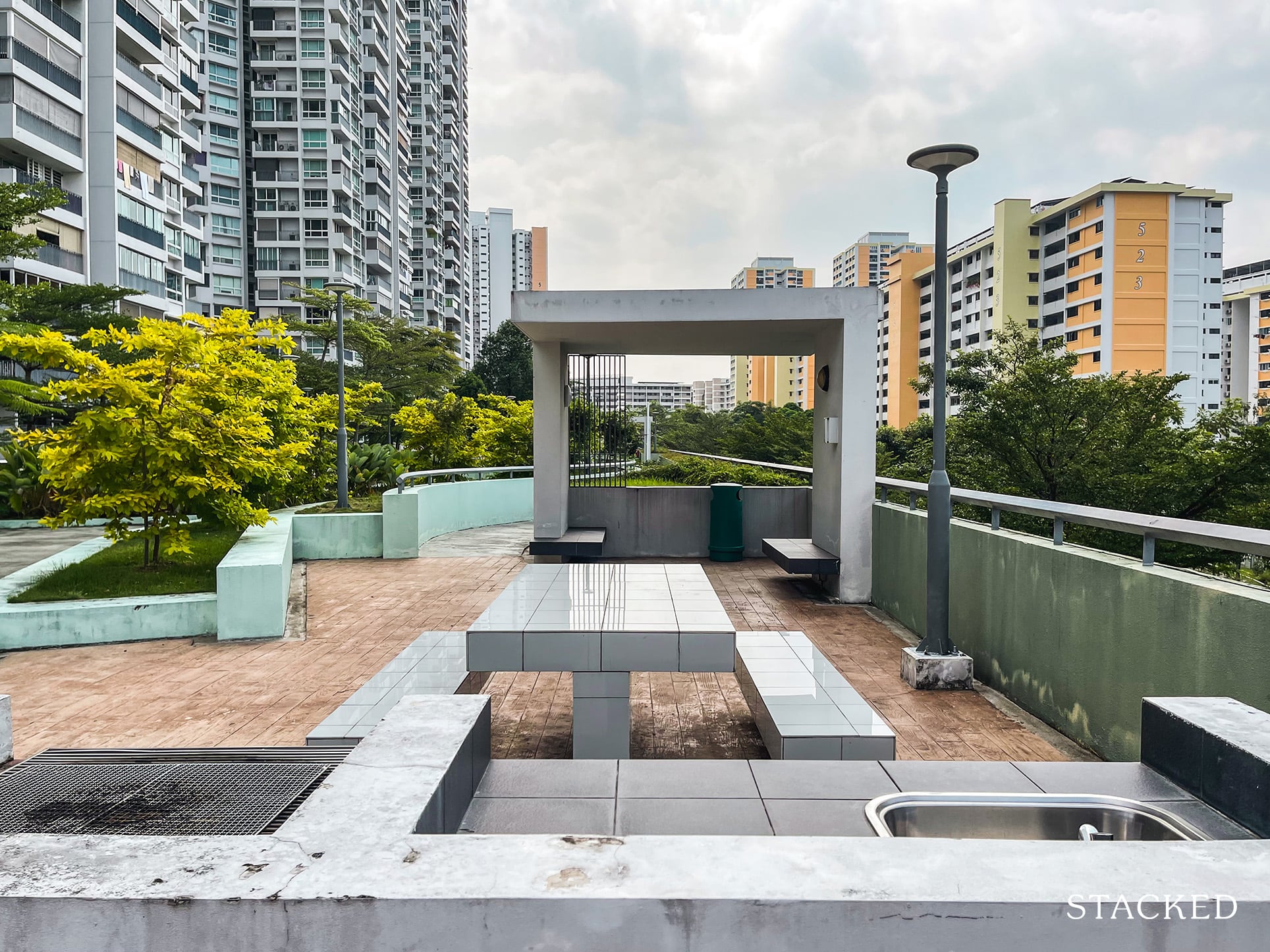 It's really rare to find barbeque pits with a sink. The developers could've been sloppy and left it out altogether – and there would probably have been few complaints given it isn't a condo. But its addition really makes things convenient given how messy some barbeque gatherings can get.
While the sink area looks fine, I must point out that the barbeque pit looks like it is in need of some kind of maintenance – something I'd expect for a 12-year-old development!
The next facility is the playground of which there is just one in the entire development. For a DBSS with 578 units, one playground doesn't seem to be adequate. Although if you really want, residents can also head to the HDB block behind, where you'd find another playground.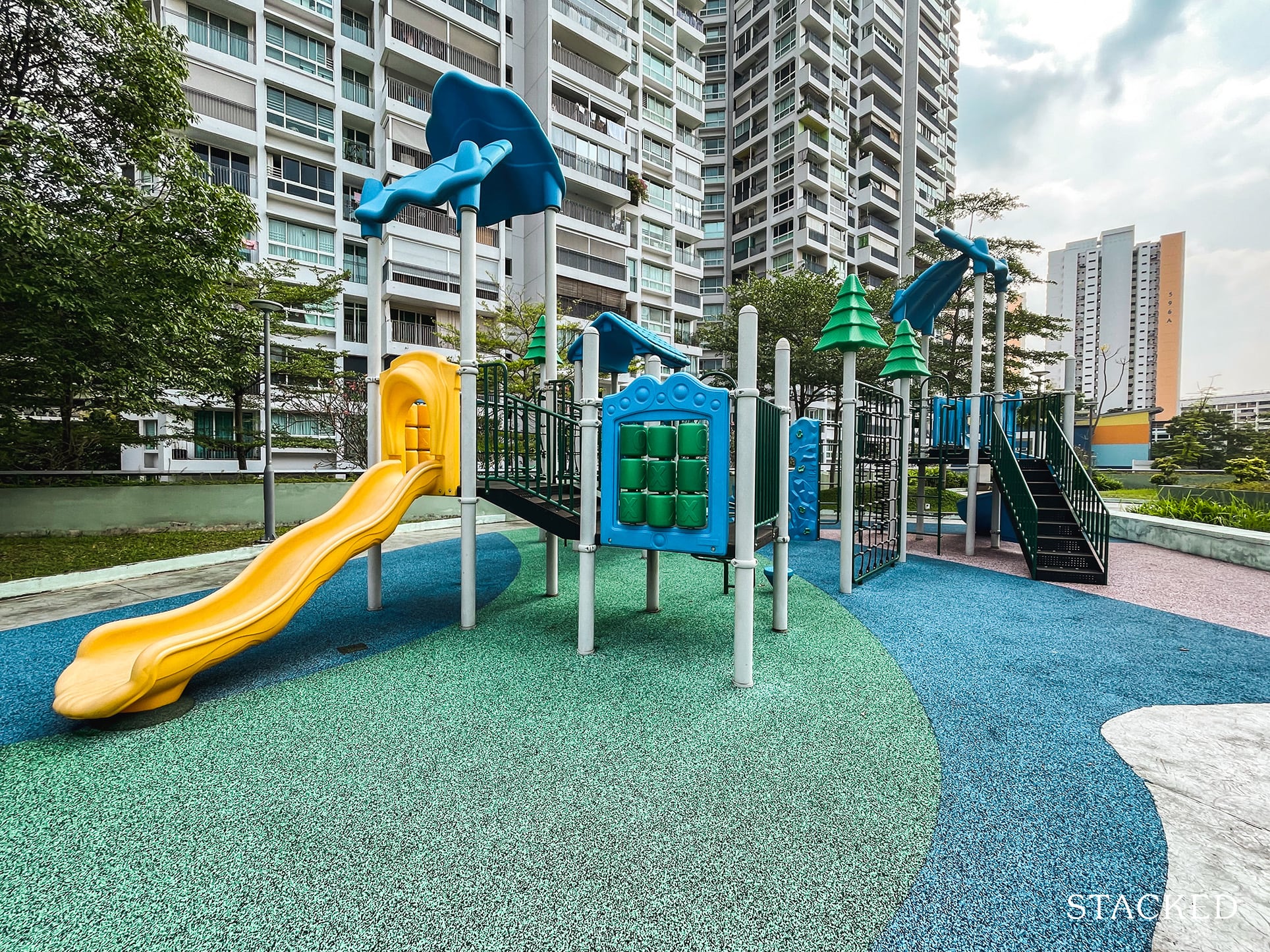 The playground is pretty standard fare, although you would find your usual mix of slides and varieties of climbing up. To be fair, the playground is also quite big, so perhaps this makes up for the fact that it's the only one.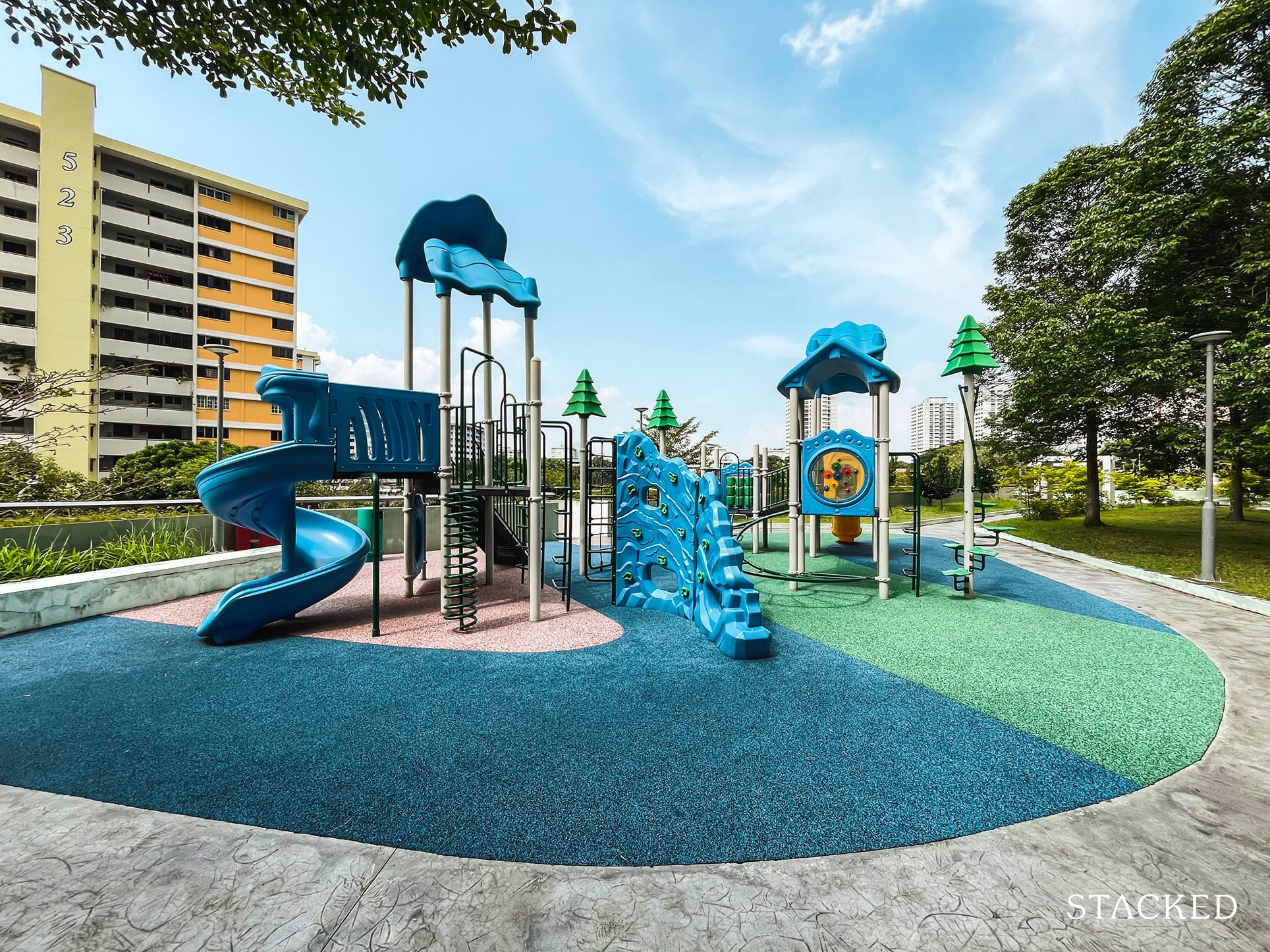 I couldn't see any spring riders or other playgrounds for younger kids though, so this is just something to note if it's important to you. If you're a resident who knows of another playground here for young kids, please do let us know!
Next up are the fitness corners. There are two here which is kind of the minimum number again – one Elderly Fitness and one Adult Fitness area.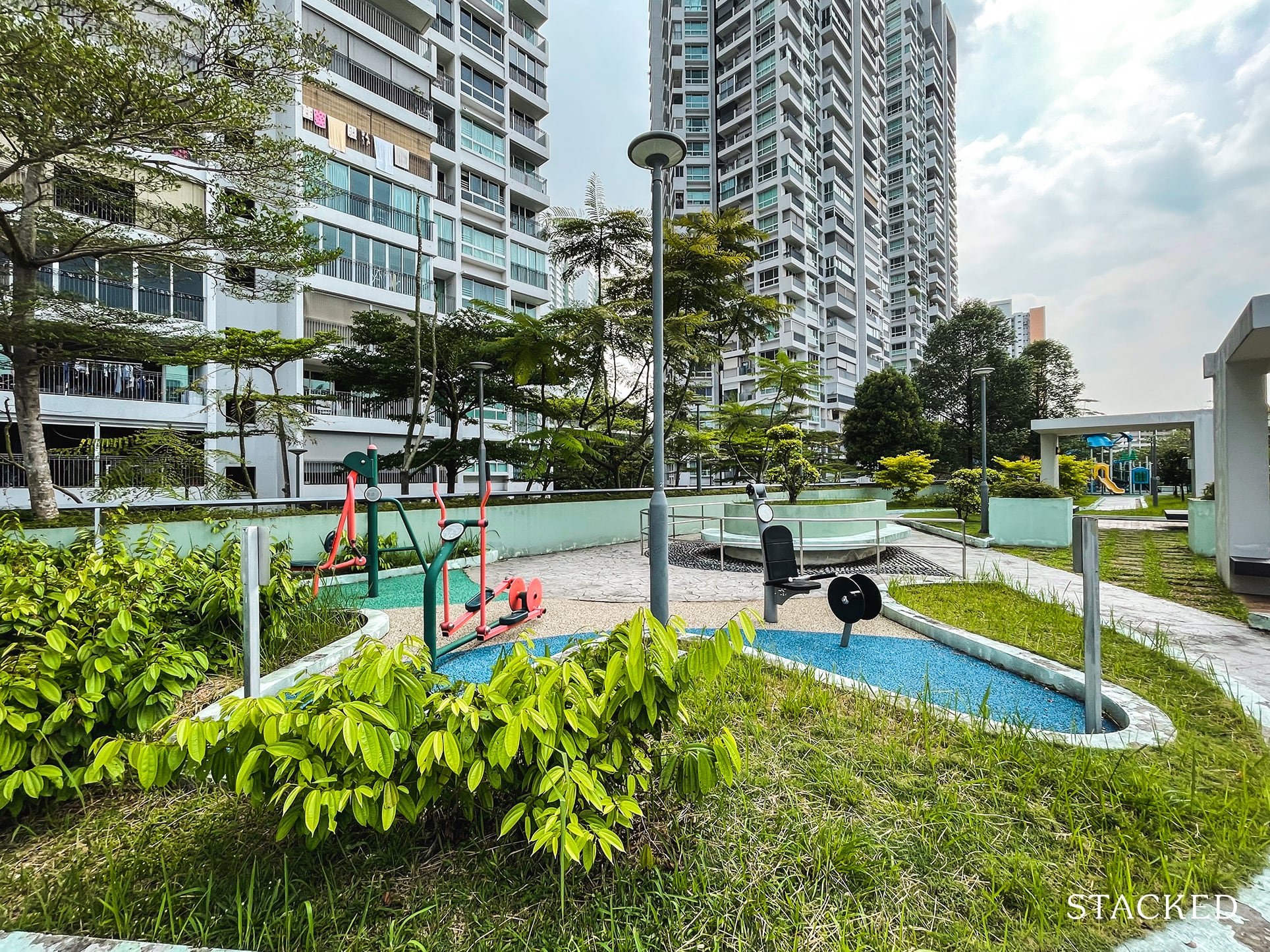 The Elderly Fitness area consists of just 3 pieces of equipment. I wouldn't say it has a great variety, but considering how few residents from other HDBs would use this, I think this is decent enough.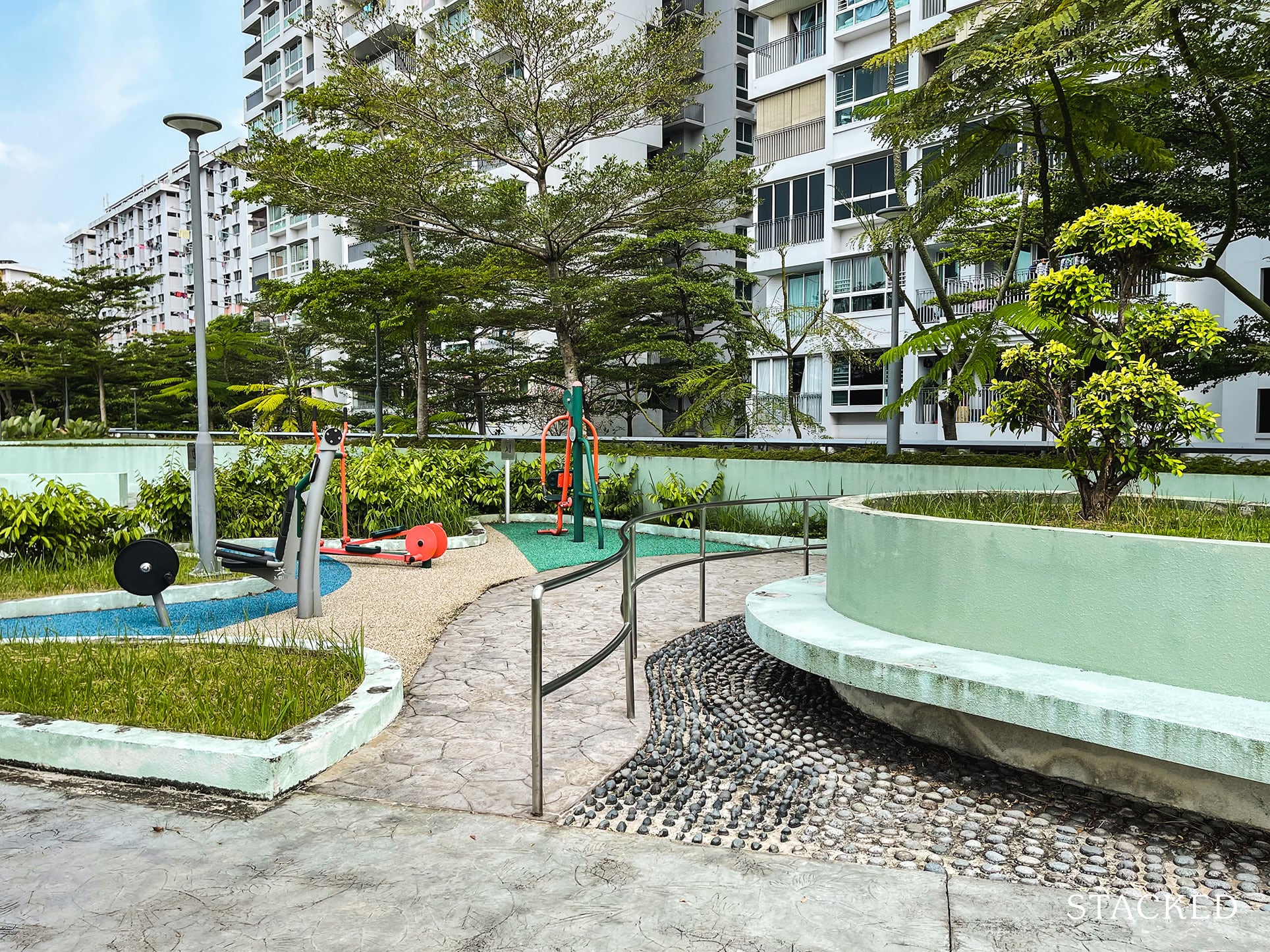 By the side, there's also a foot reflexology path, along with bench seatings and railings for support.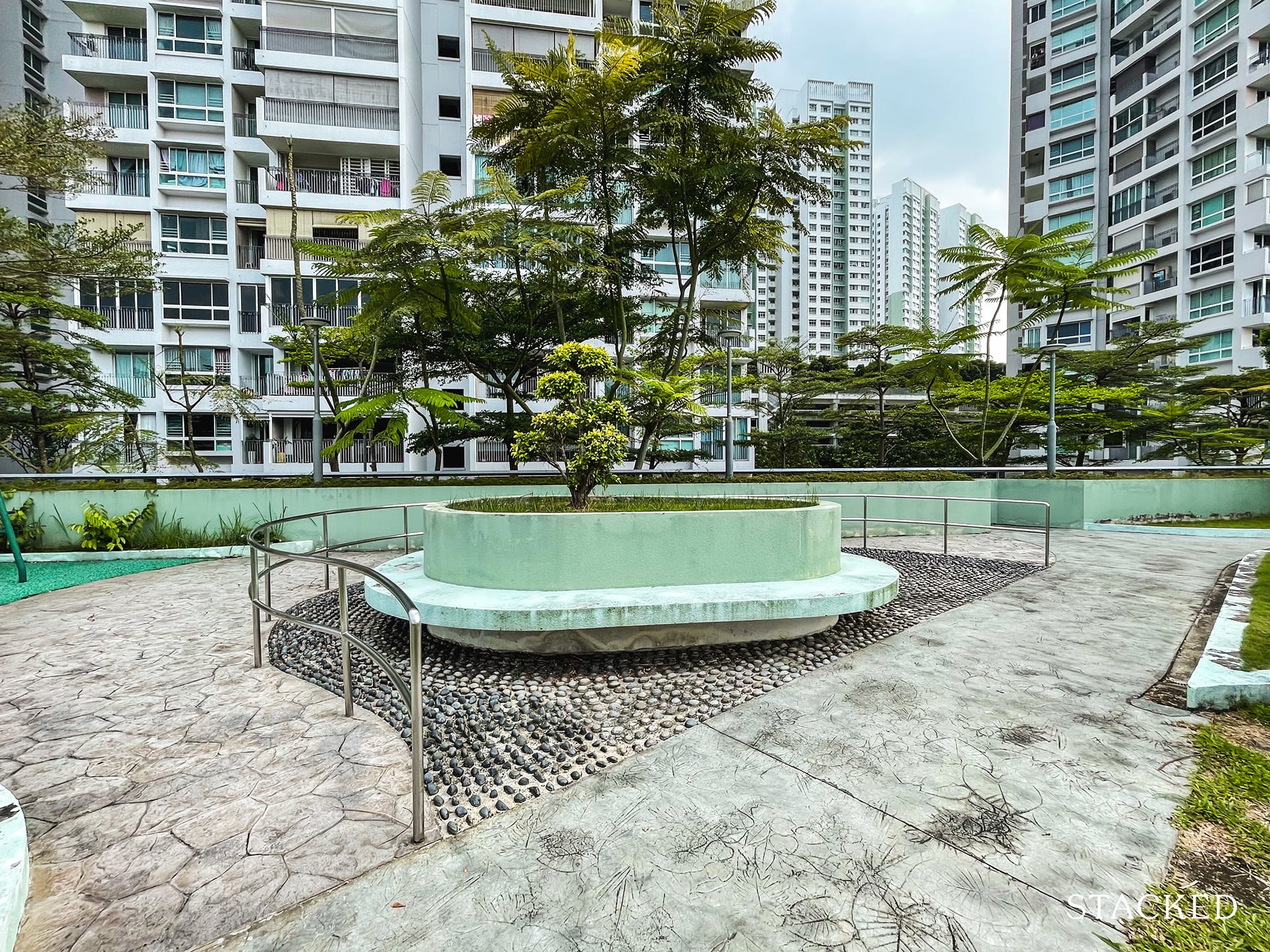 Finally, we have the adult fitness corner. This one has a good number of equipment and they're all pretty modern looking too!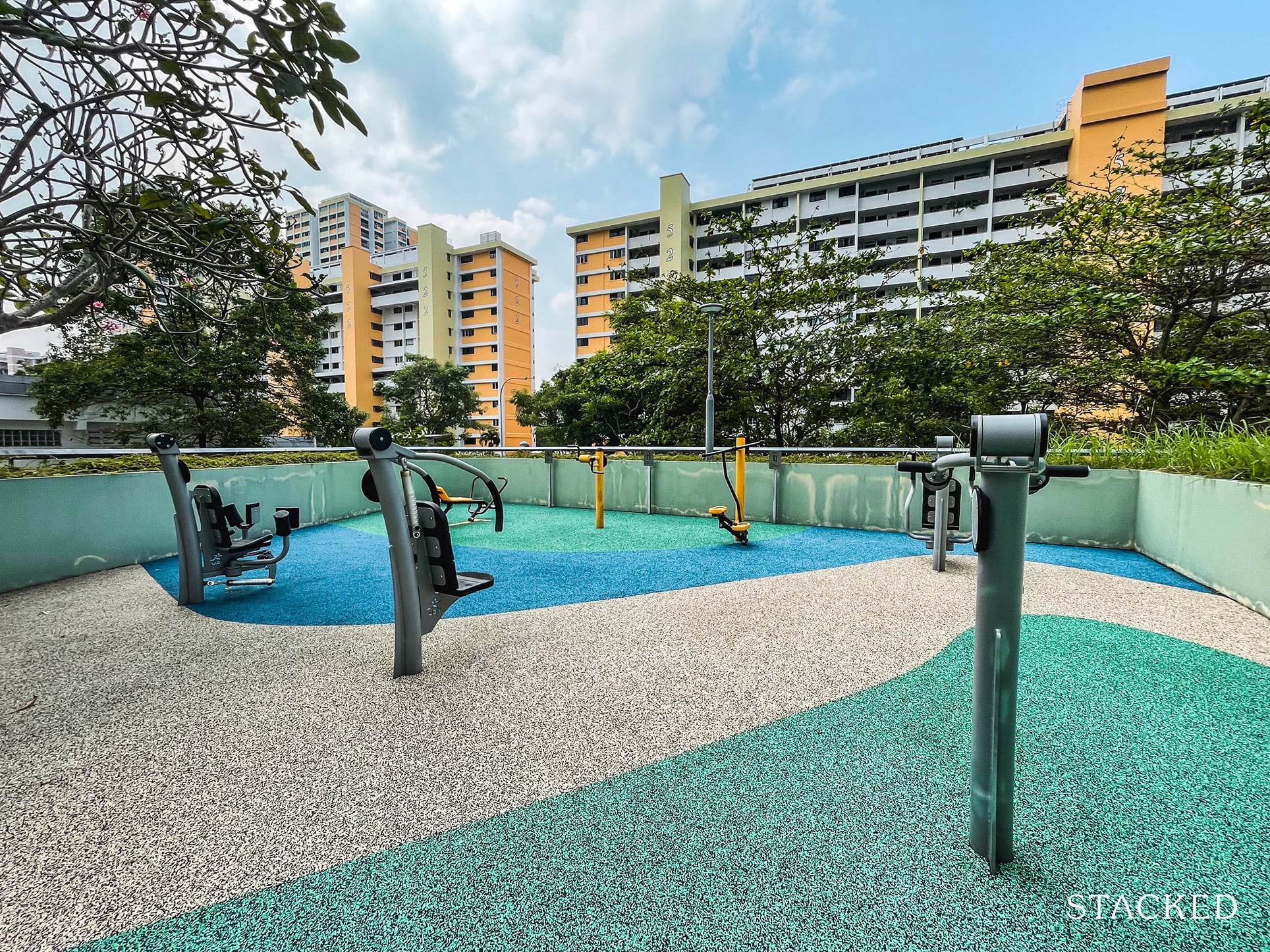 Now one thing about this rooftop garden is that those with a north-facing on the lower floors would have to bear with some lack of privacy.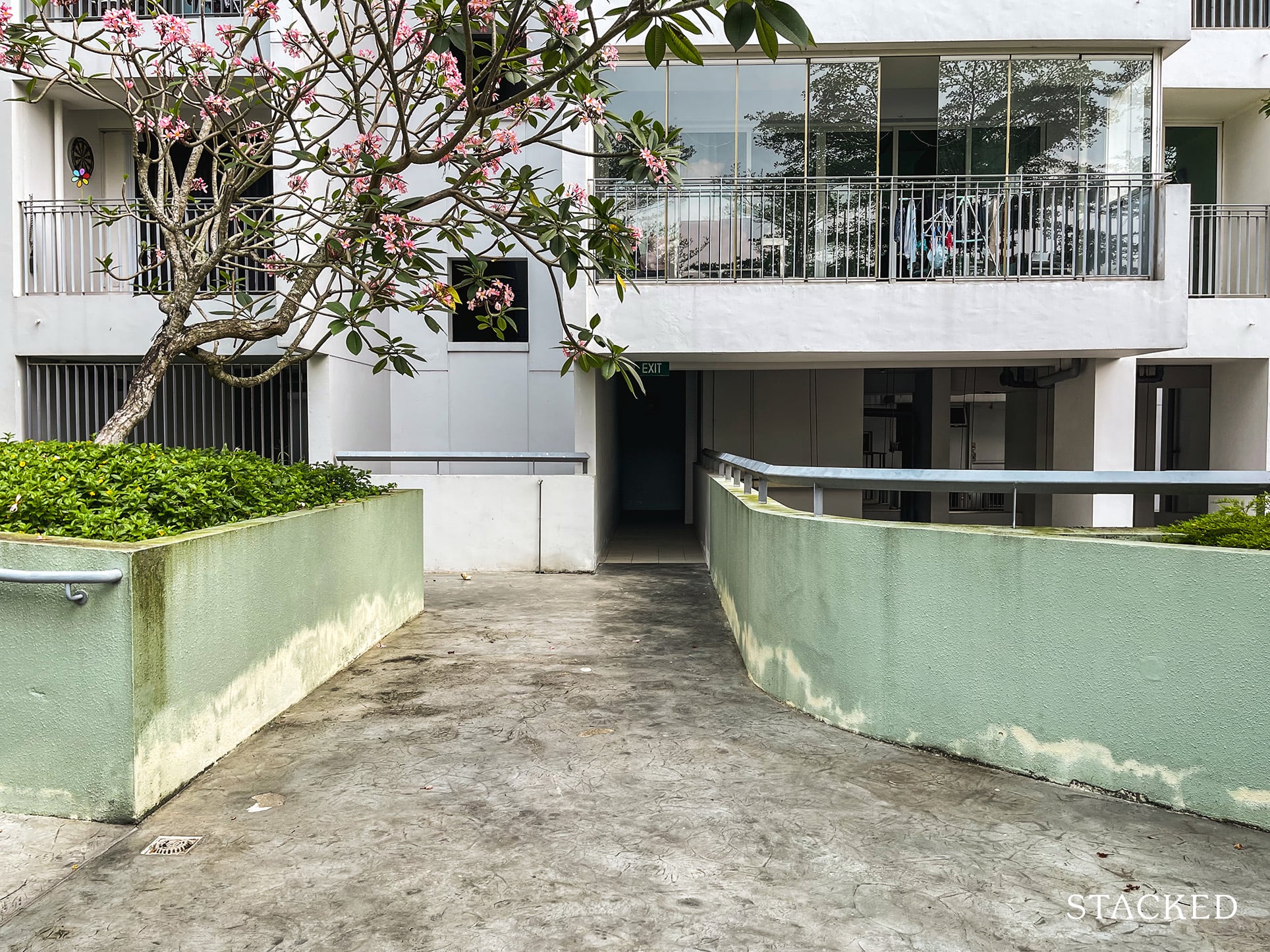 From here, you can really see how intrusive it can be with people walking around and looking into your unit. It would've been better if thicker vegetation was planted along the planter areas here to help act as a privacy buffer.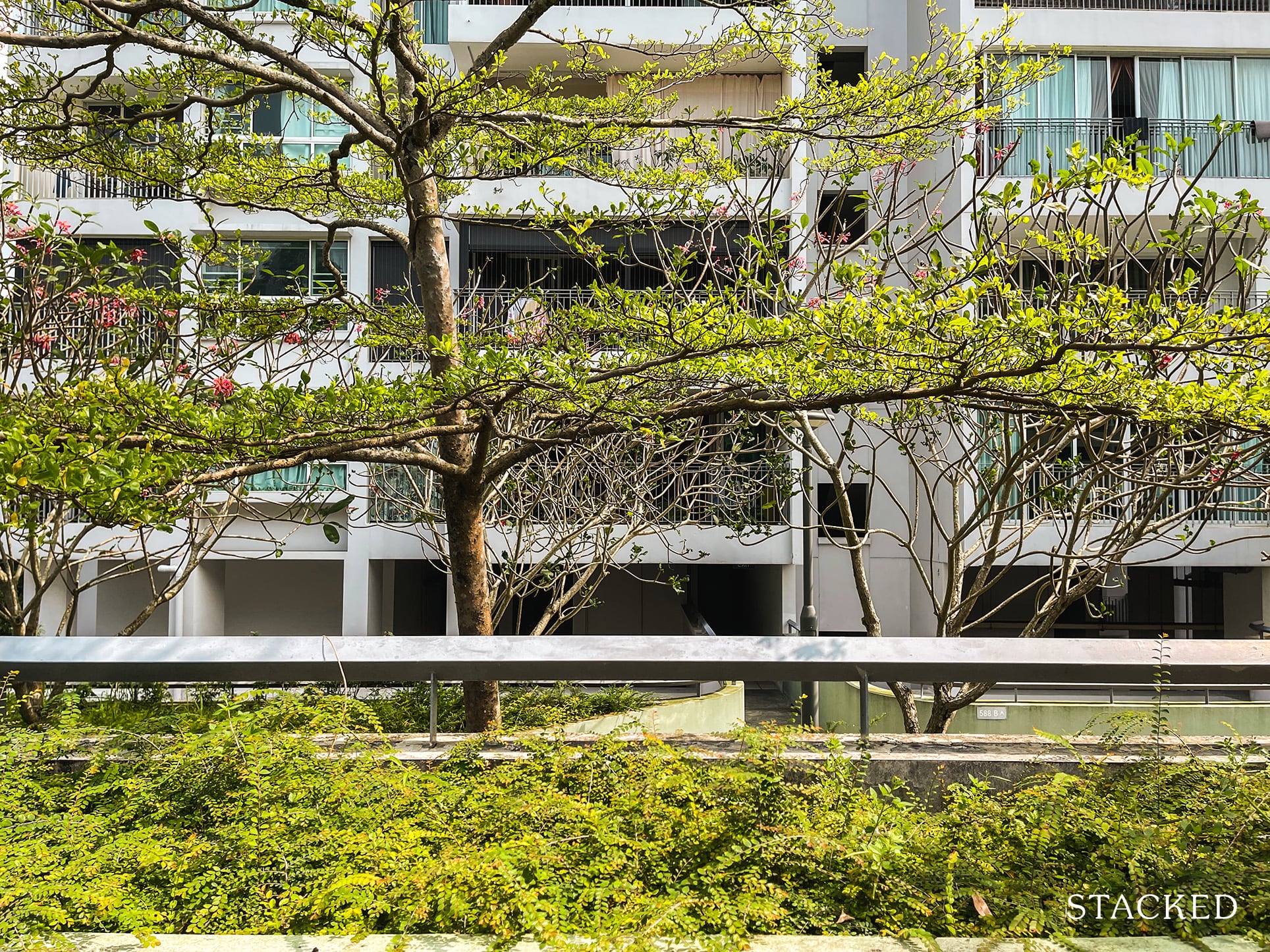 And if you haven't noticed by now, the condition of the rooftop garden is in much need of maintenance. This was something I highlighted at the entrance, and suffice it to say, it's the same problems that have surfaced here.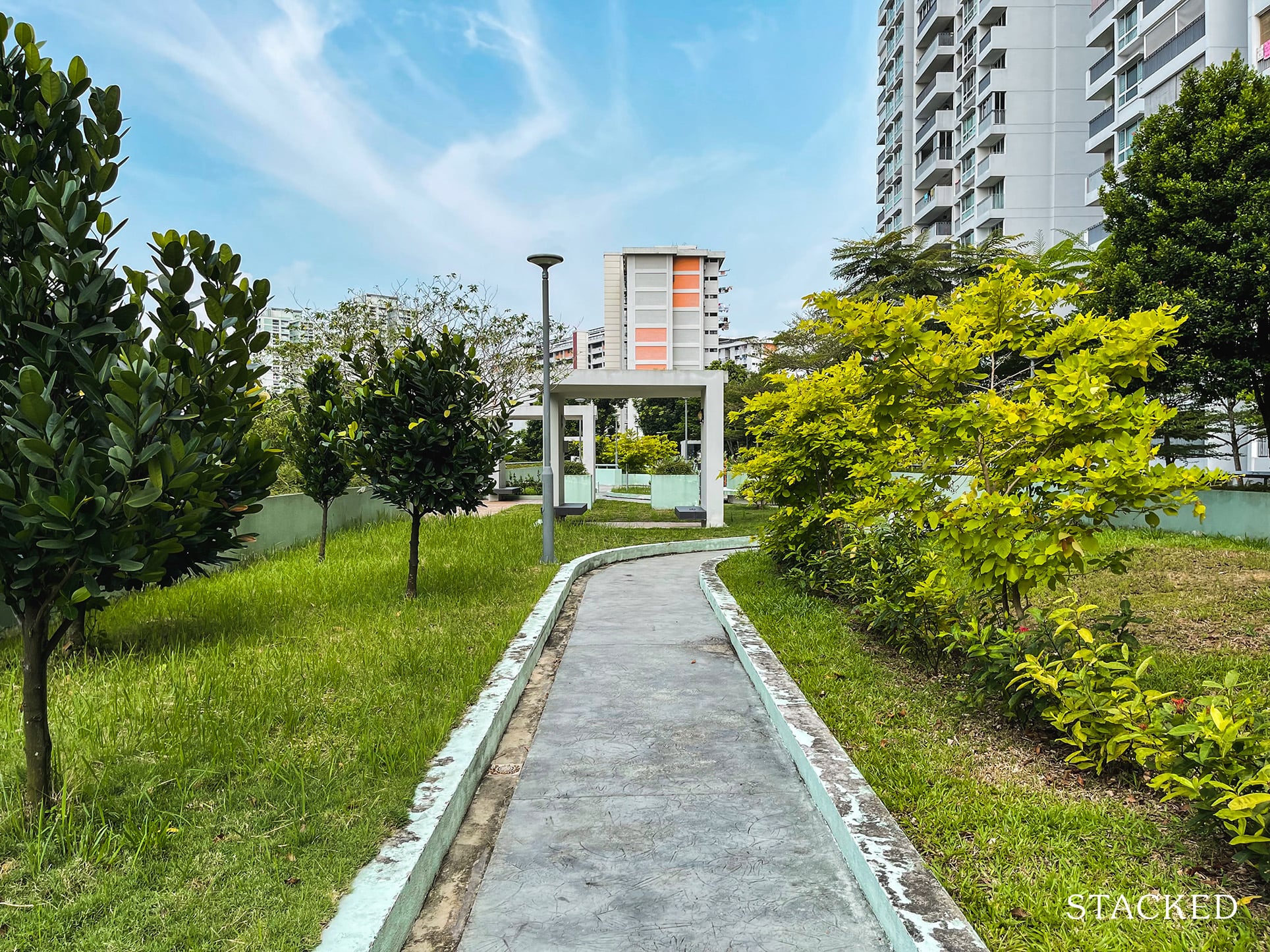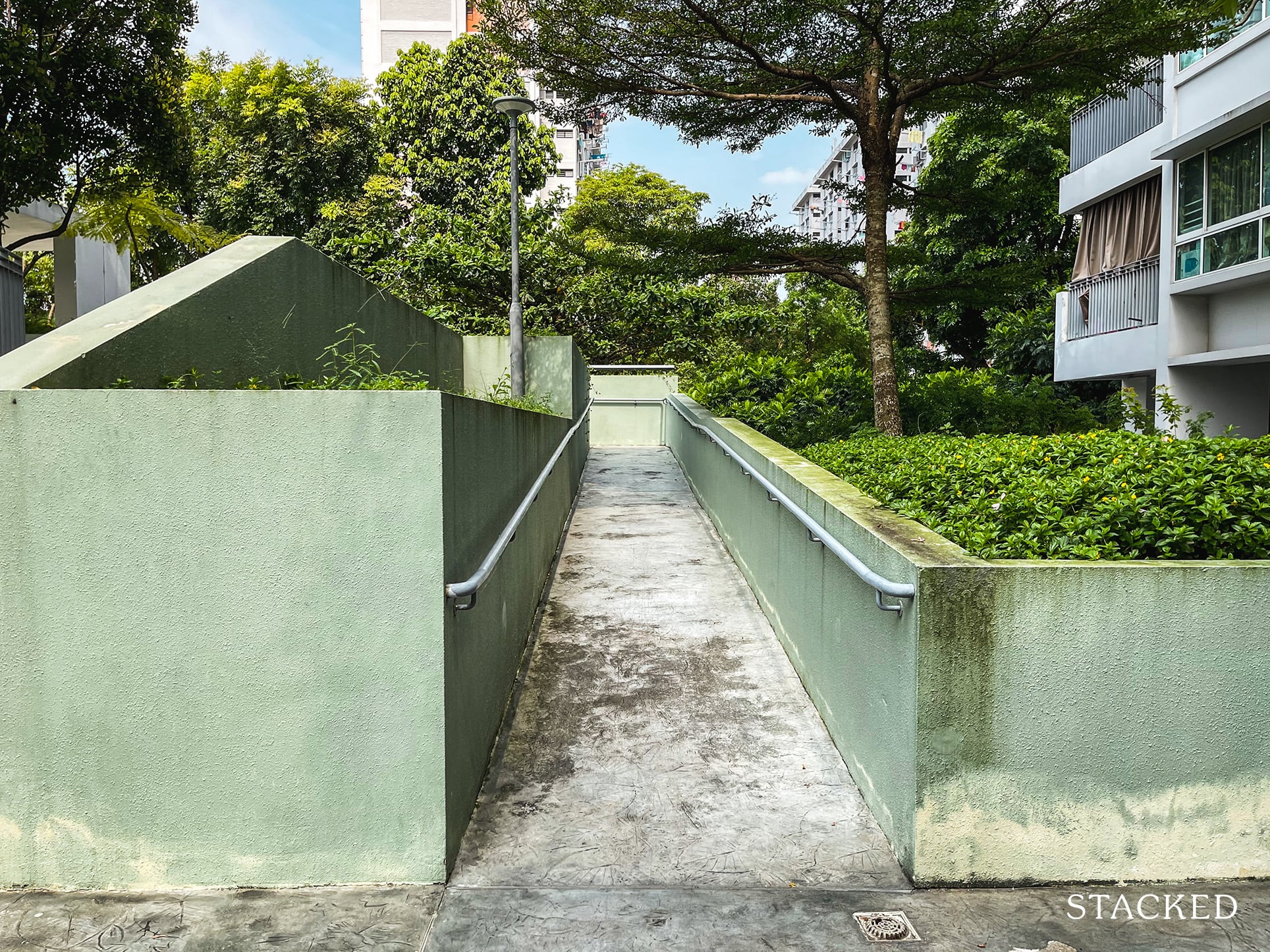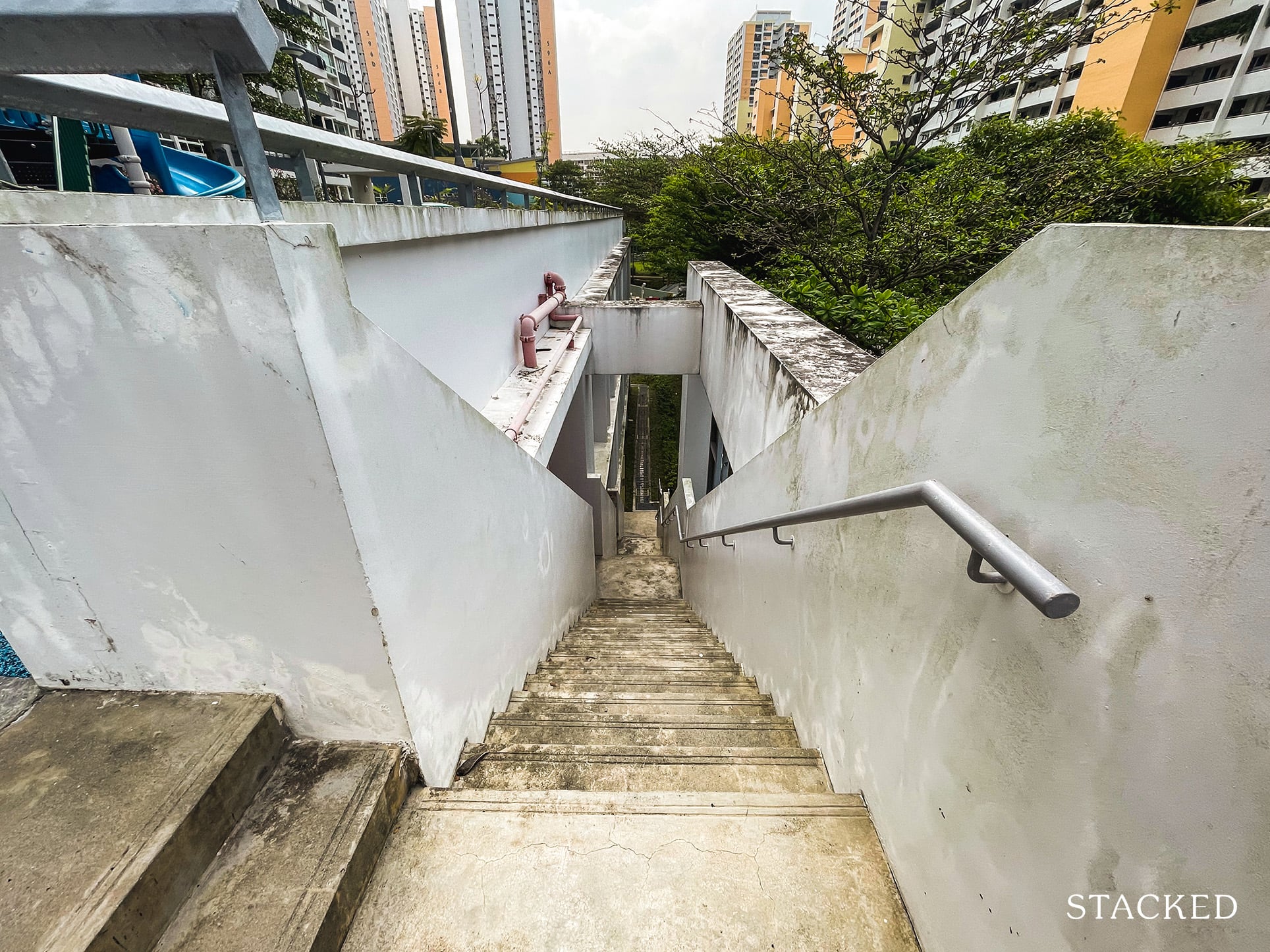 Everywhere you turn, you'll find evidence of ageing with the walls looking like they're in need of a fresh coat of paint. It's actually quite surprising that this is the case given it's already more than 10 years old.
HDBs tend to have a new coat of paint within this period of time since the government generally adopts a 7-year cycle for such works, so the paint you see here should only be a few years old.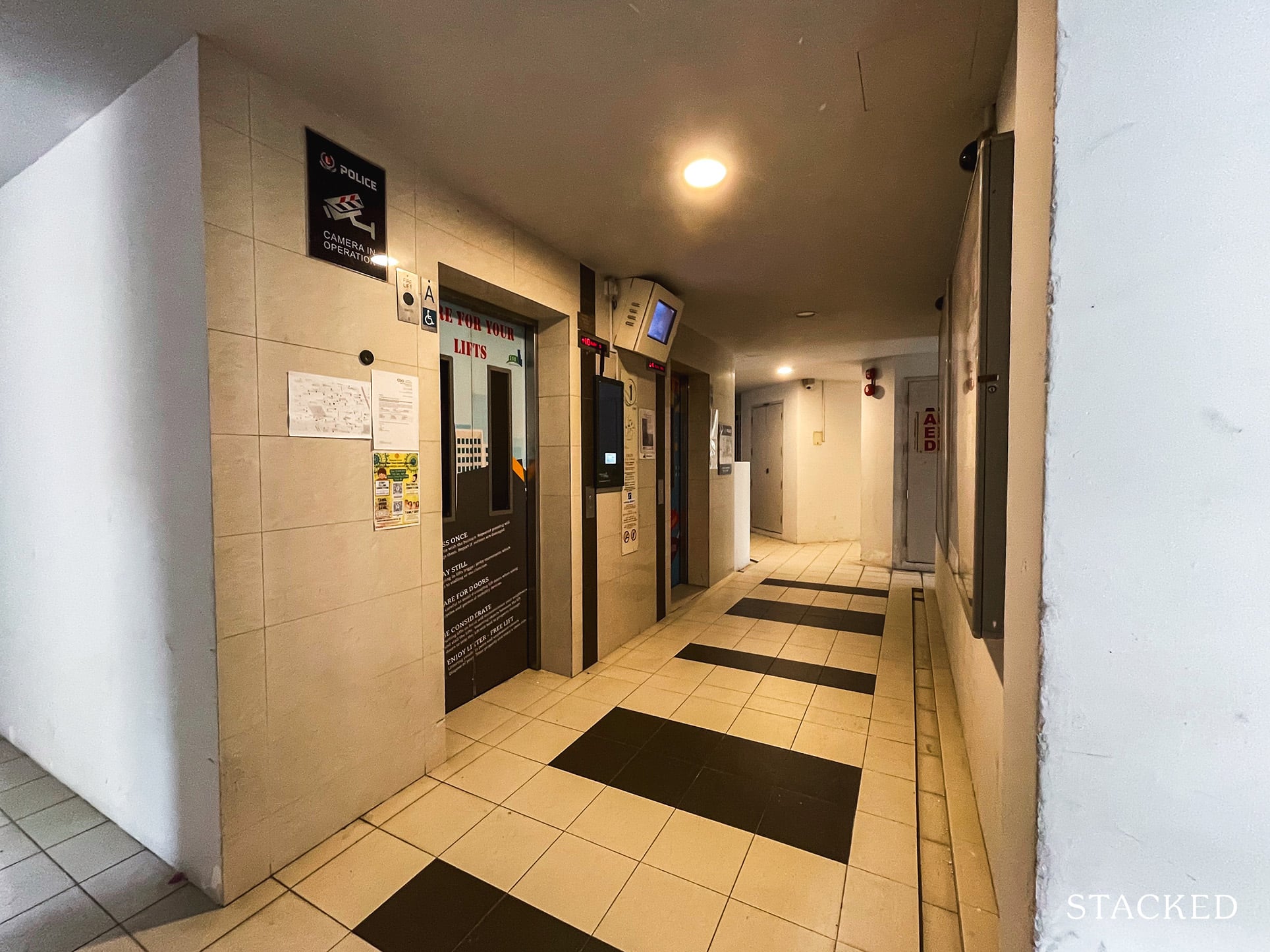 Now that we're done with the rooftop garden/facilities, let's head into the blocks to check out what the common corridors are like!
Heading into the lift lobby, you'll find the area to be quite narrow and dim, depending on which floor you're at. Here's what it looks like at level 1:
It does get better from level 2 which is where you'd access the facilities from.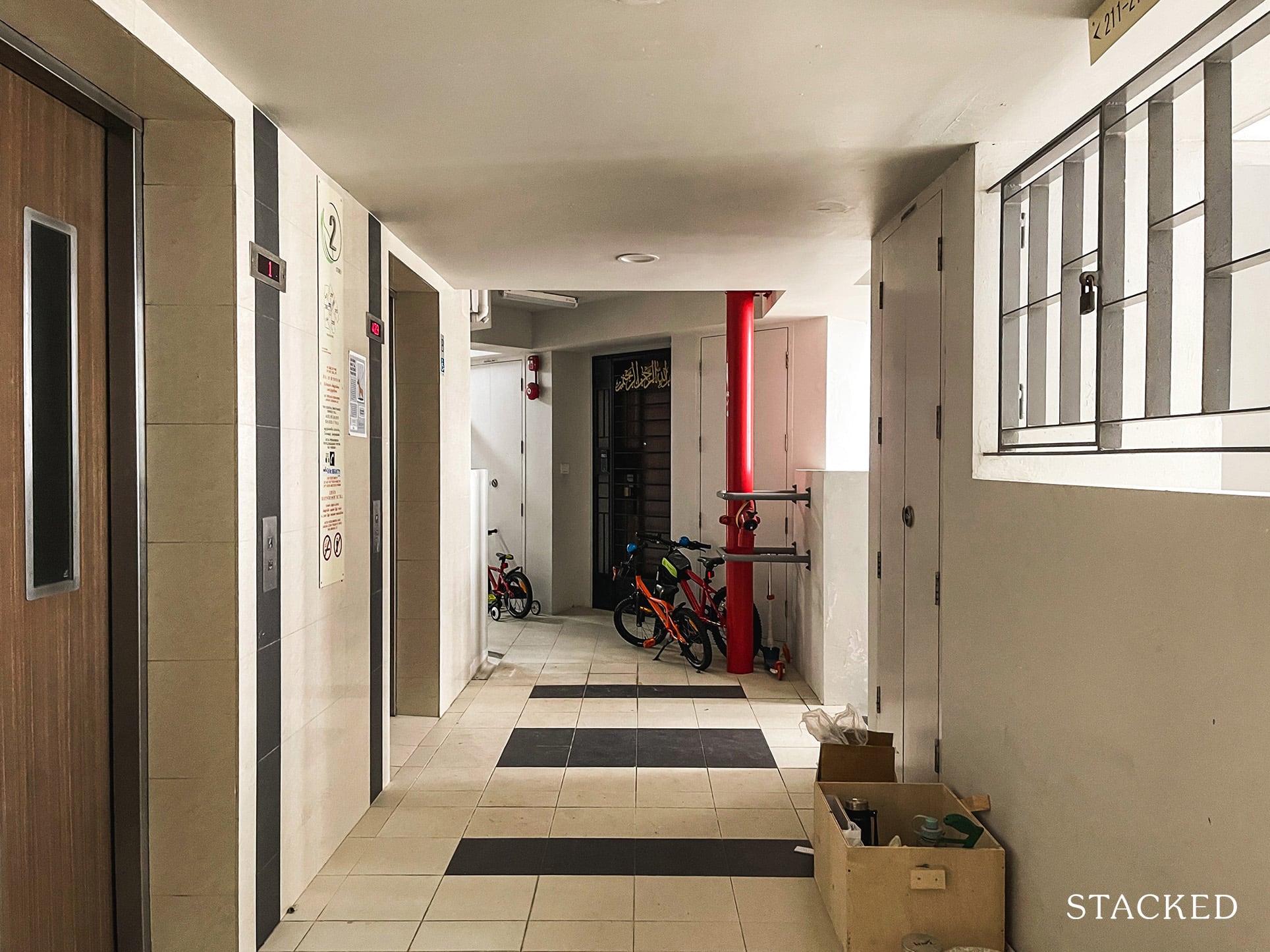 Here's what it looks like at level 30 which is a lot brighter: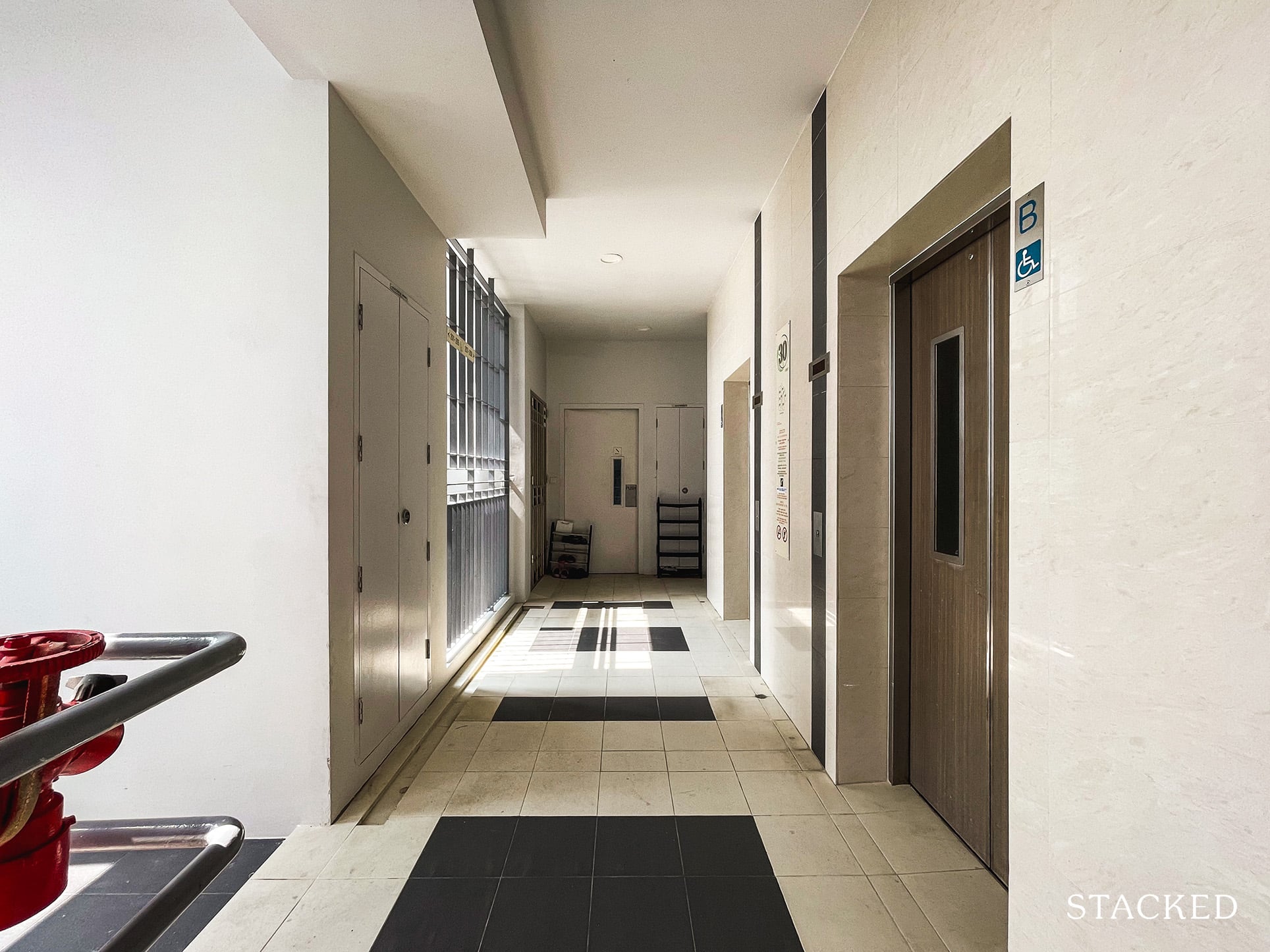 Unsurprisingly, the common corridor here is quite narrow and looks to be around less than 3 and a half tiles wide.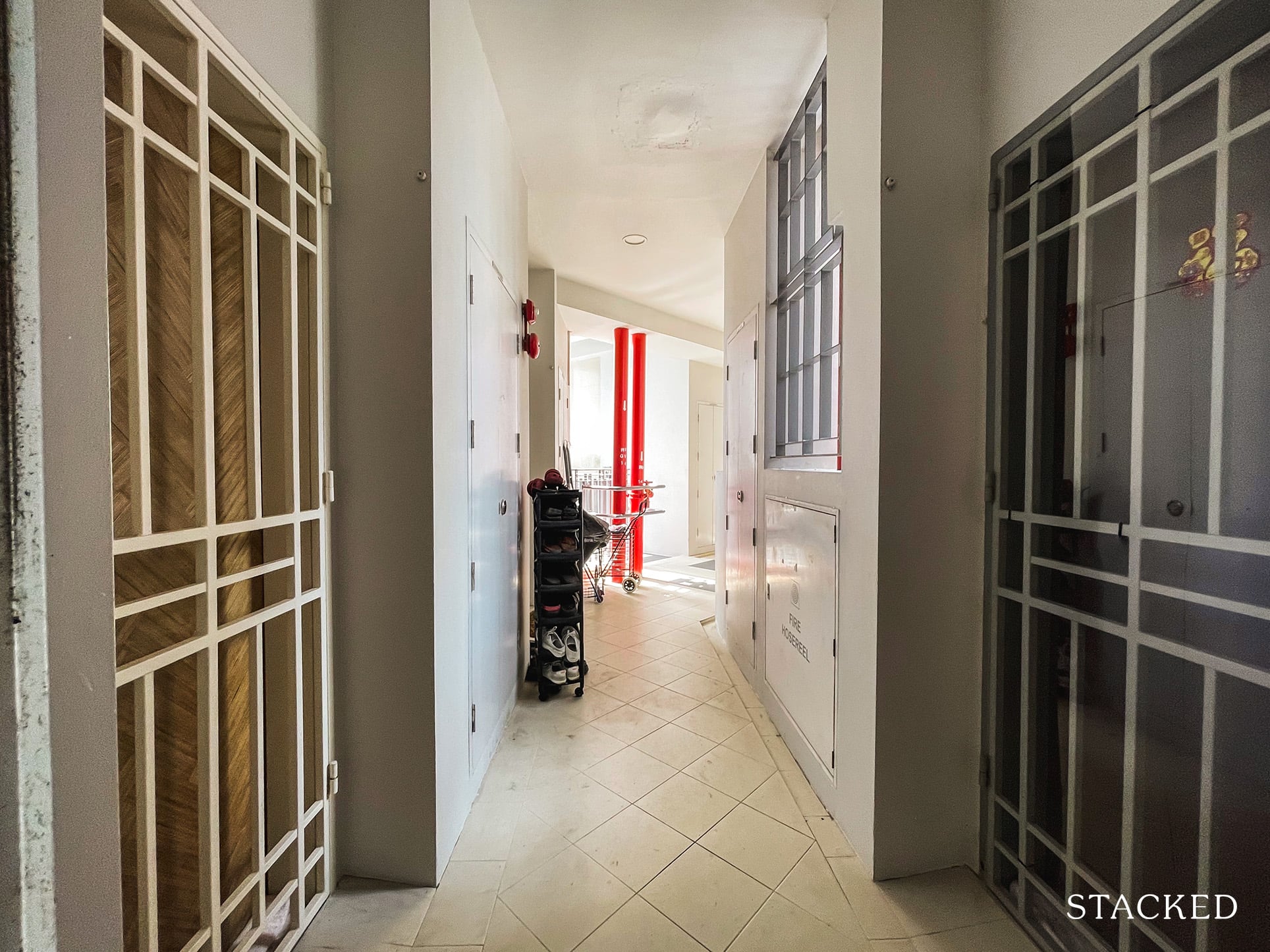 The good thing is the door does have a setback around 1 tile wide, so gates wouldn't clash on opening unlike what we see at Pasir Ris ONE.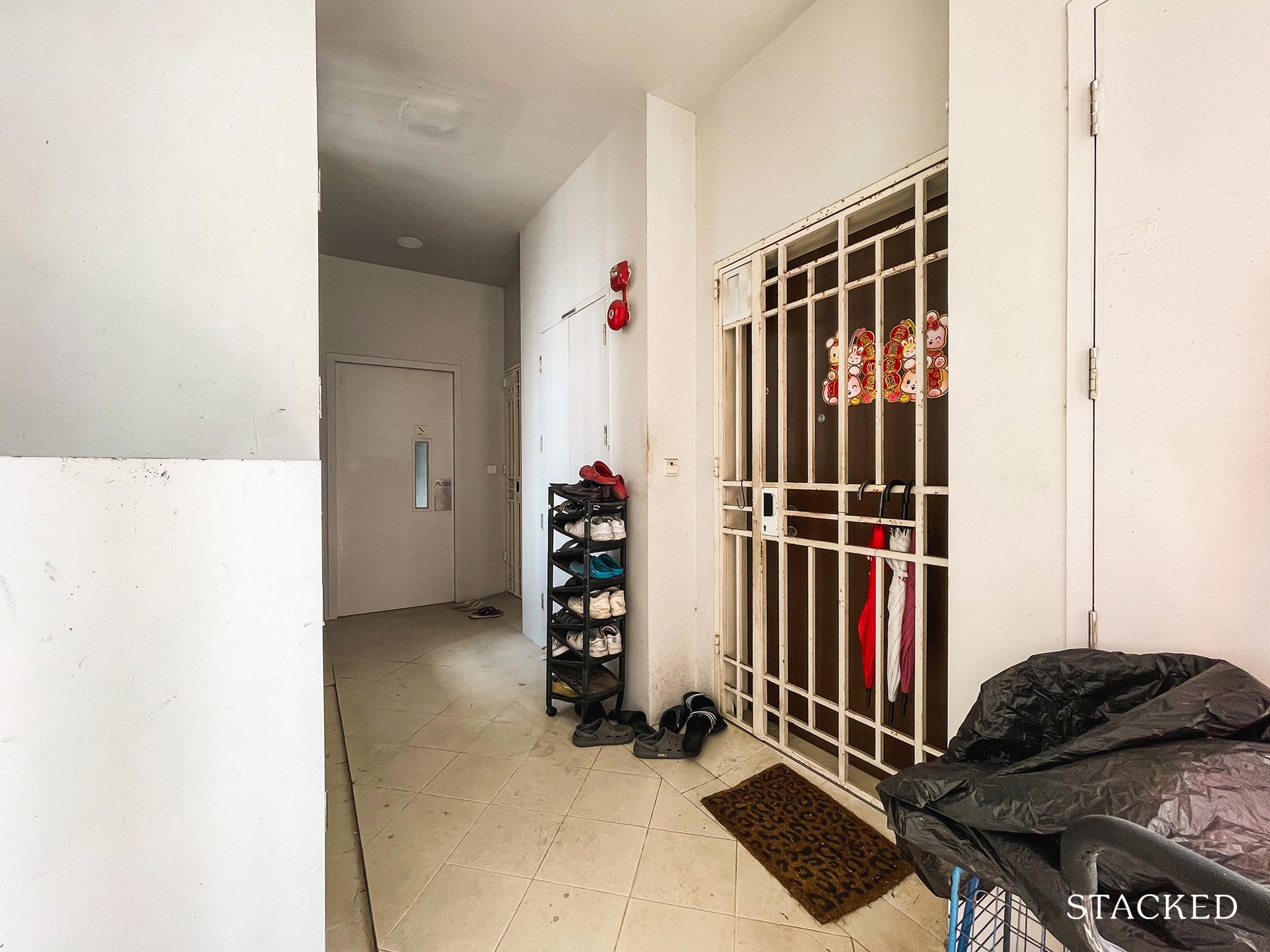 Certain units also don't have a lot of space to put things outside. For example, this corner unit is in a position where the gate opens from left to right, however, the gate is right next to the stairwell! So placing a shoe rack on the left side makes it really tight. It also doesn't make sense to put it on the right side since you'll likely open the gate to grab your shoes and wear them before walking out of the unit. This really puts the homeowner in a tight spot (get it?).
Here's another shot of what I mean: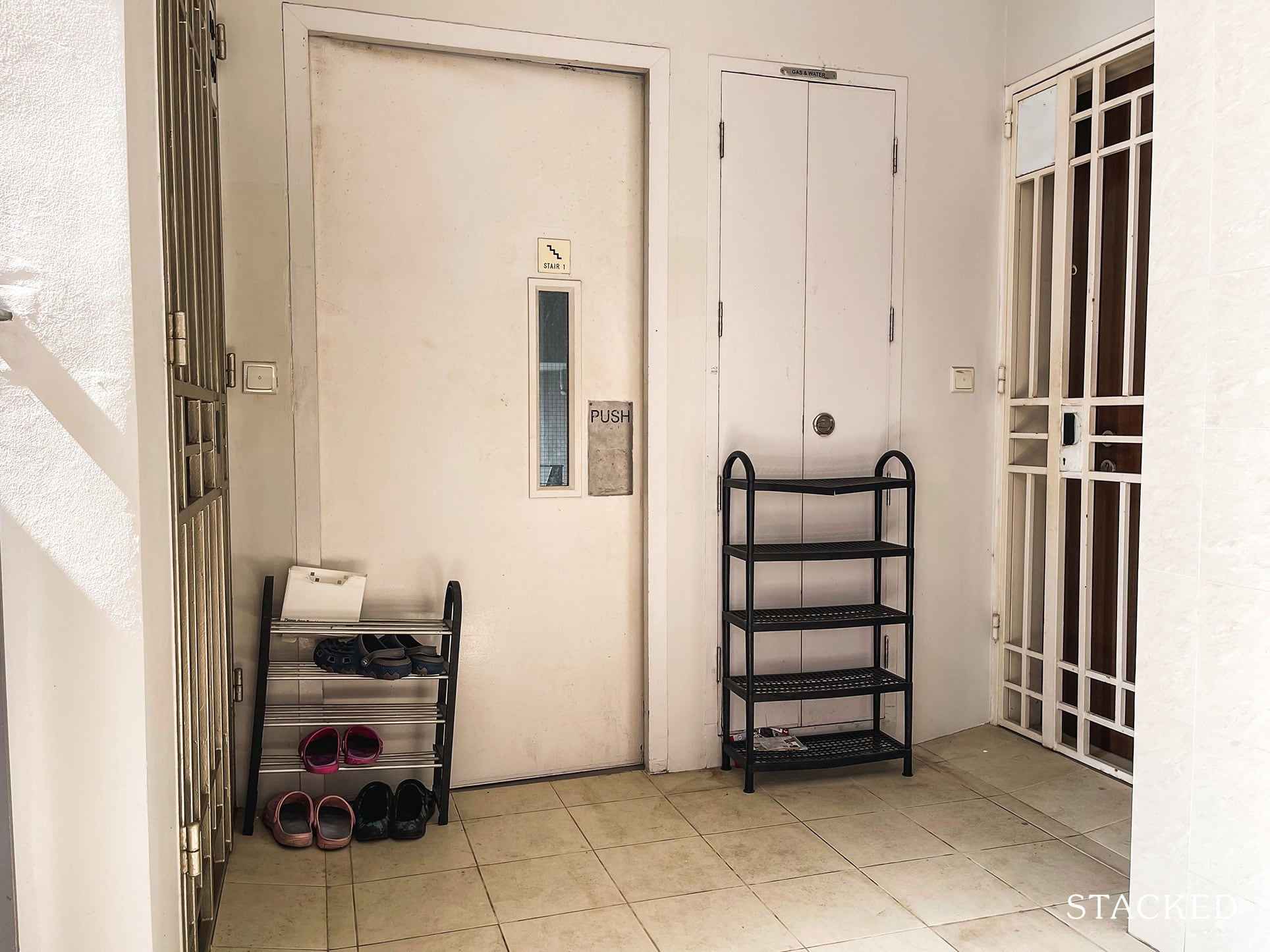 For those who place importance on having some decent common corridor space to put items outside, Park Central @ AMK will be quite a letdown on that front.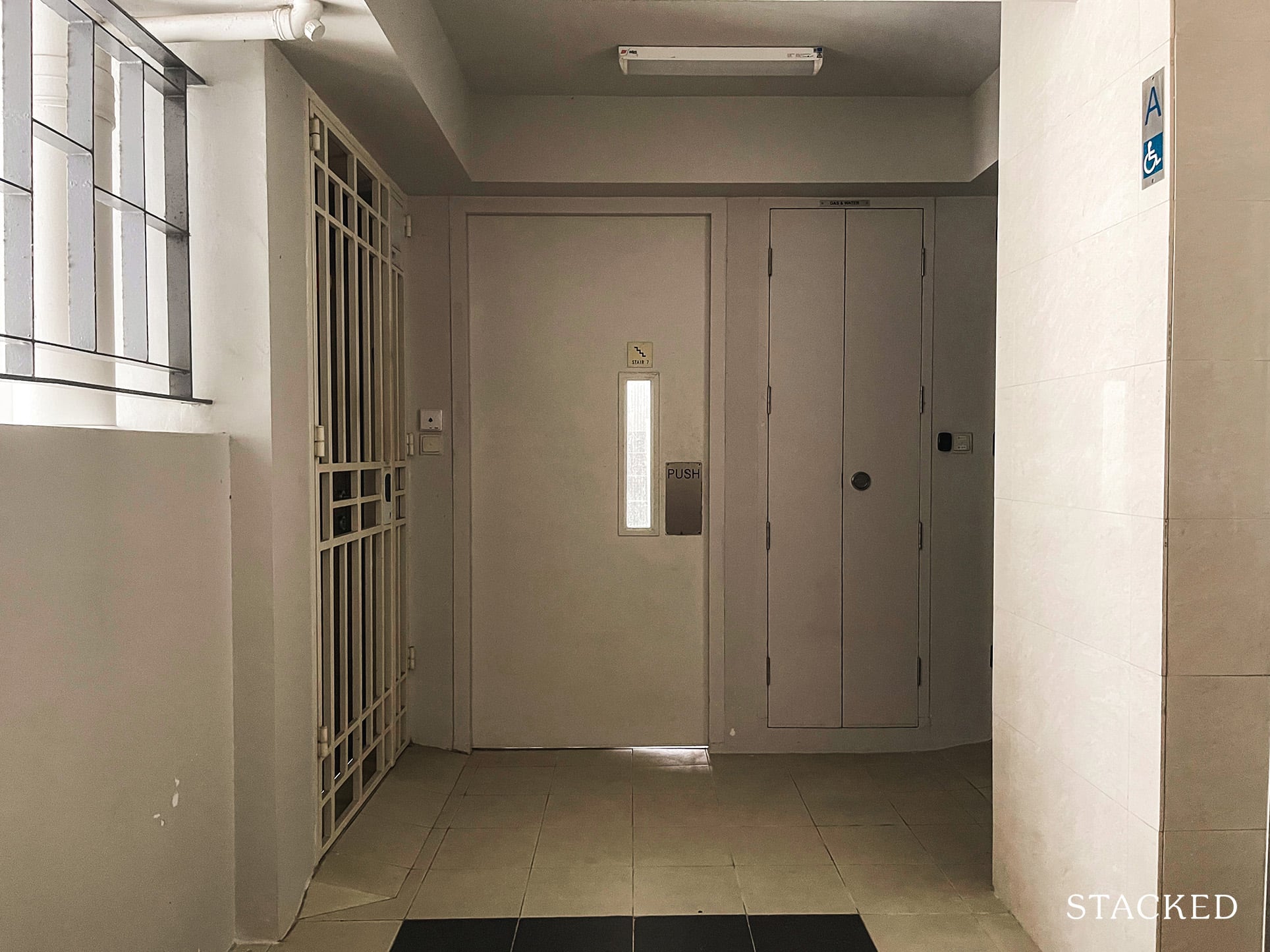 Frankly, there really isn't much else to tour in this development. For parents with kids (or expecting), you'll be glad to know that there are a few childcare options around the area: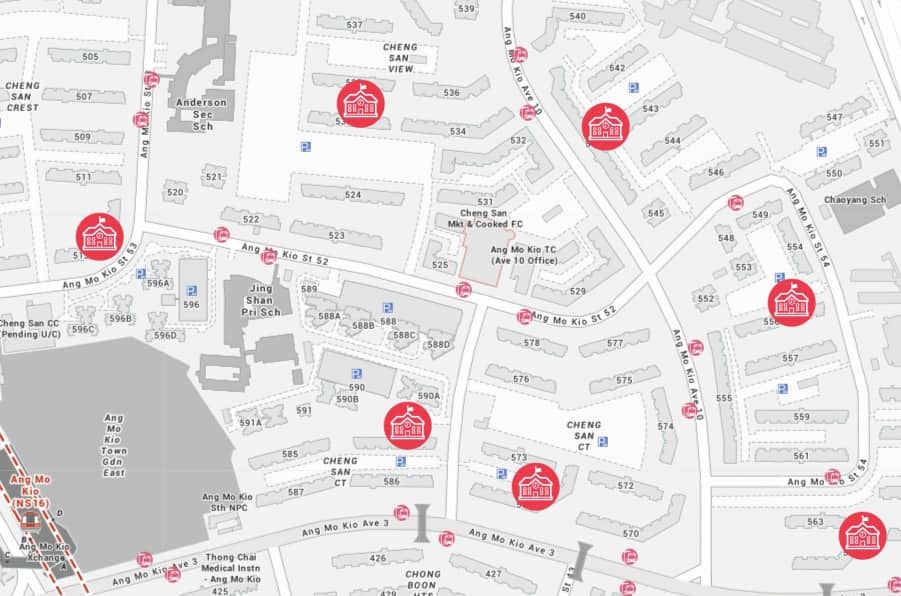 I was pleasantly surprised to see that the closest Childcare, My World Preschool actually has infant care and playgroup options with vacancy within 1 year. That's not very common as most of the time, we see that there's no vacancy.
Apart from that, you've probably noticed that Park Central @ AMK DBSS does not come with any commercial units. However, its location in Ang Mo Kio means it's got plenty of amenities around, so let's see what's on offer!
Park Central @ AMK Location Review
We've written about the amenities that Ang Mo Kio has to offer in our previous review of Ang Mo Kio Court, however, Park Central @ AMK is in a different area, so the offerings here differ too.
First off, there's the Cheng San Market and Hawker just opposite: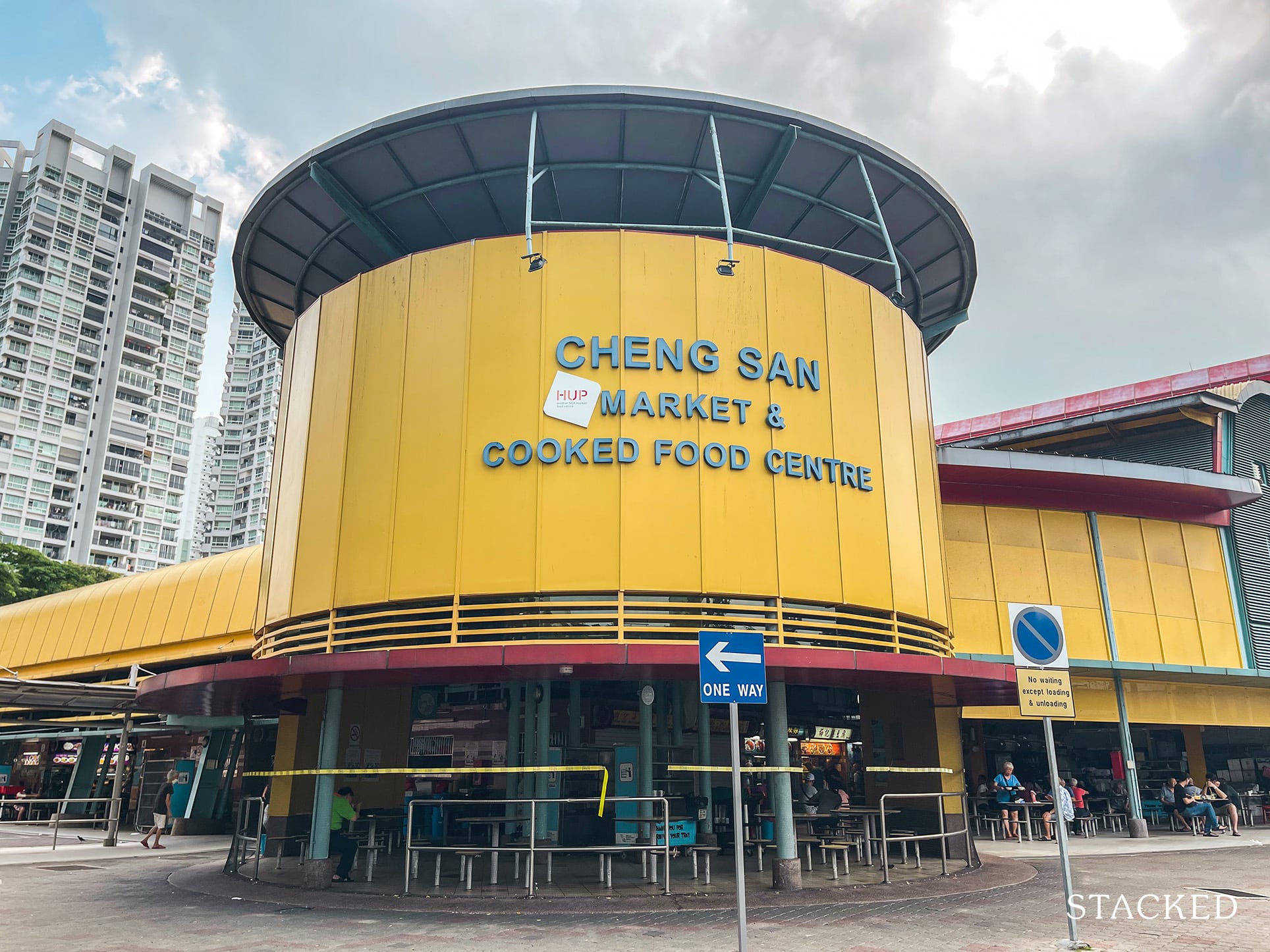 It goes without saying that there are plenty of food options here. All of this is within a 1-2 minute walk away, you can't get better than that.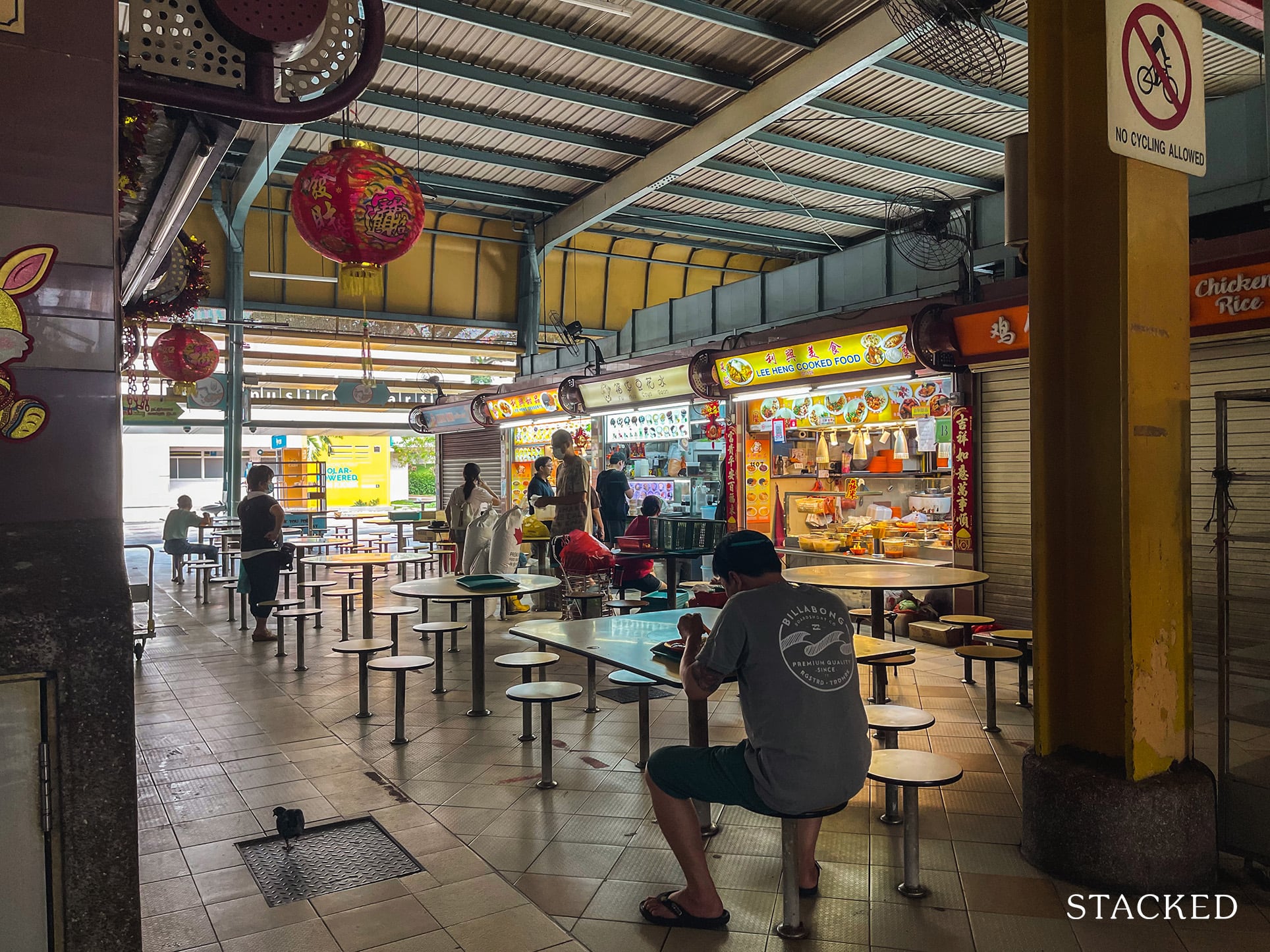 The area also houses a 24-hour Giant Express supermarket and a clinic. There's also a ValuDollar shop here: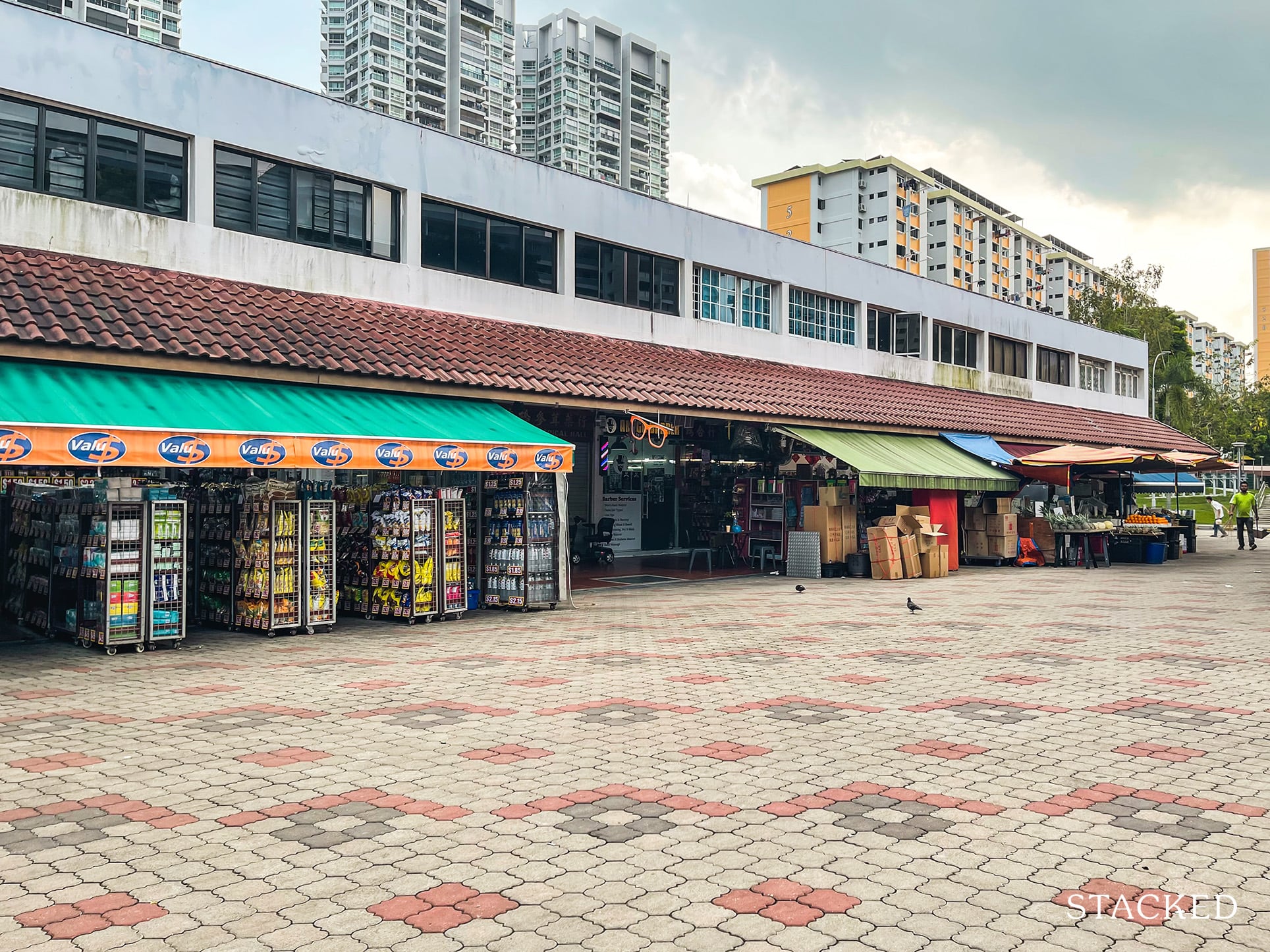 Beyond Cheng San Market, there are also some food centres up north at Cheng San Shopping Mall (ground-level HDB shops) where you'll find some of the usual hardware stores.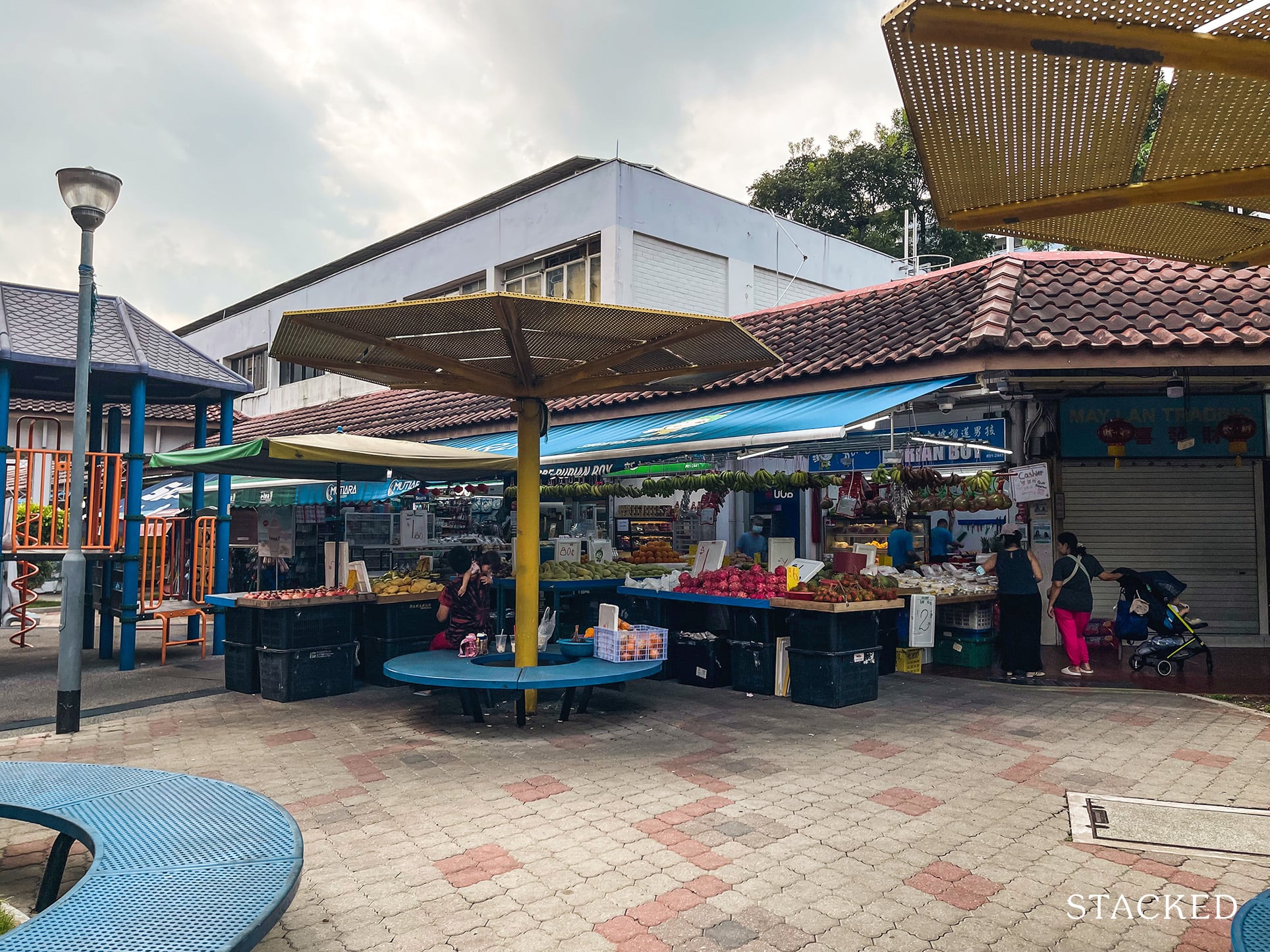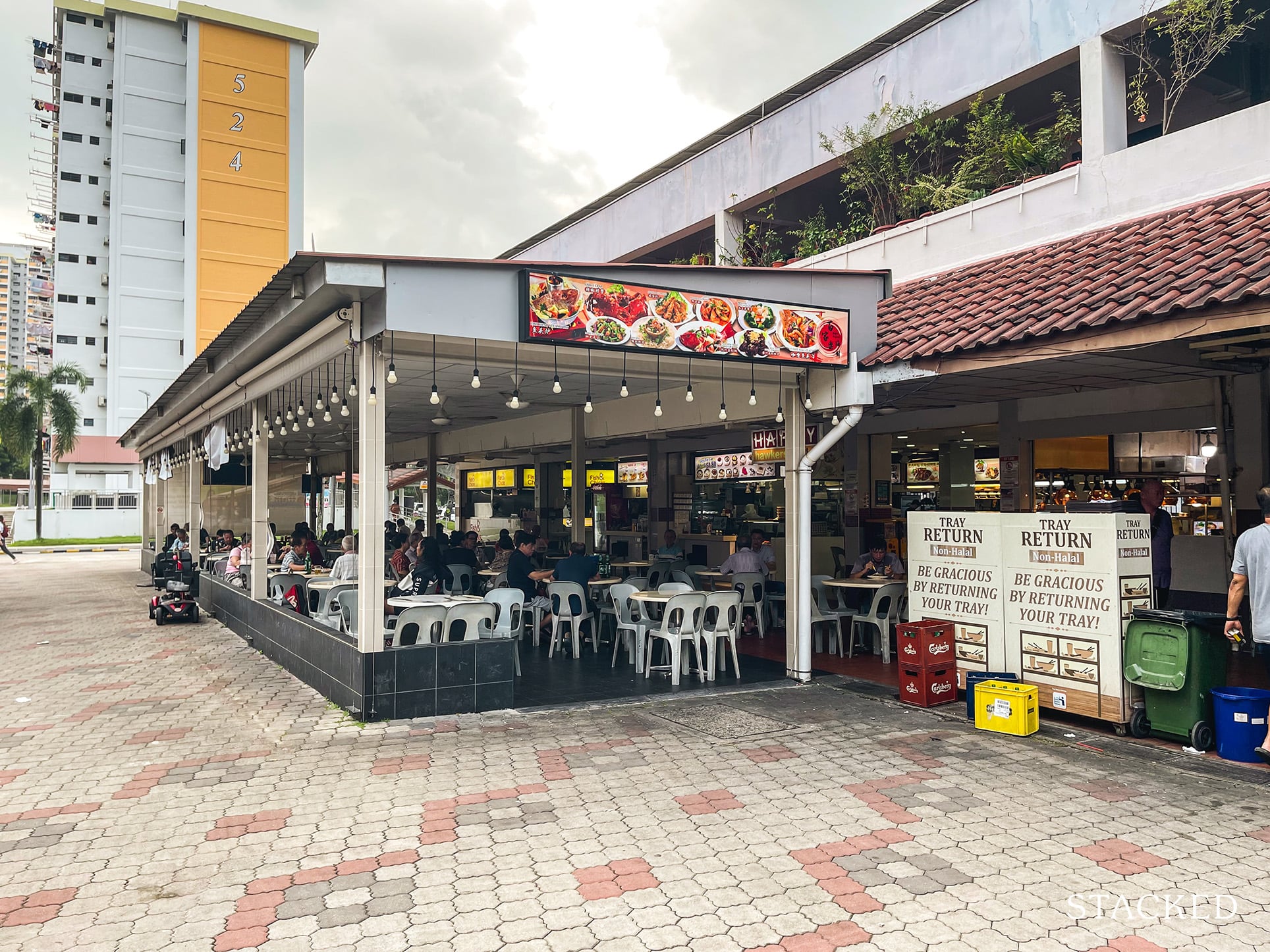 About an 8-minute walk away, residents can reach AMK Hub which is really the main mall in Ang Mo Kio given it's connected to the Ang Mo Kio bus interchange which is linked to the MRT.
Since it's connected to the MRT, residents can take a fully-sheltered walk straight to the shopping mall!
This is quite special. Not many HDBs have a main mall within walking distance – and even more so one that's fully sheltered all the way through! For those who wish to stay near a suburban mall, Park Central @ AMK is quite attractive!
Nature lovers would also find the DBSS could be quite attractive given Ang Mo Kio Town Garden East is just a few minutes' walk away.
Lastly, there's also Cheng San Community Club which occasionally hosts activities for families and the elderly.
Public Transport
| | | |
| --- | --- | --- |
| Bus station | Buses Serviced | Distance From HDB (& Est. Walking Time) |
| 'OPP BLK 522 (54409)' | 265, 668 | 50m (1 min walk) |
| 'BLK 527 (54411)' | 265, 668 | 50m (1 min walk) |
| 'BLK 586 (54271)' | 25, 73, 73T, 74, 76, 88, 88B, 132, 165, 261, 268, 268A, 652 | 150m (3 min walk) |
Closest MRT: Ang Mo Kio MRT (North-South Line) – about a 6-minute sheltered walk depending on the block you stay in. You can cut through the new Cheng San Court HDB south of the development. This is considered to be within walking distance by many.
Residents can also look forward to increased connectivity as Ang Mo Kio MRT becomes an Interchange with the Cross Island Line.
In terms of bus connectivity, the bus stop just outside doesn't really offer much given there are just 2 bus services.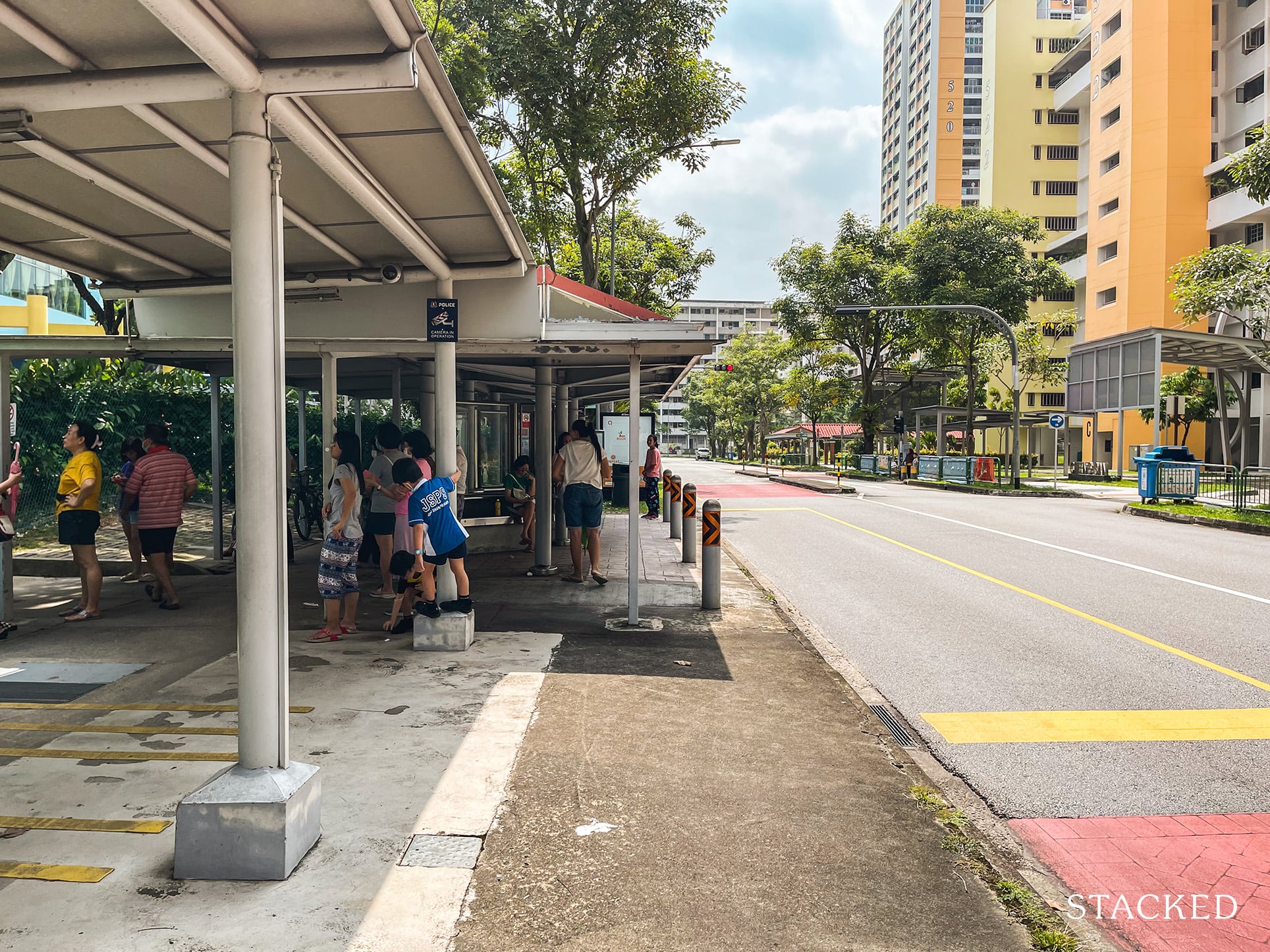 However, bus 668 does go to the CBD which may be enough for residents working in that area.
Heading south, the bus top at block 586 offers much better connectivity: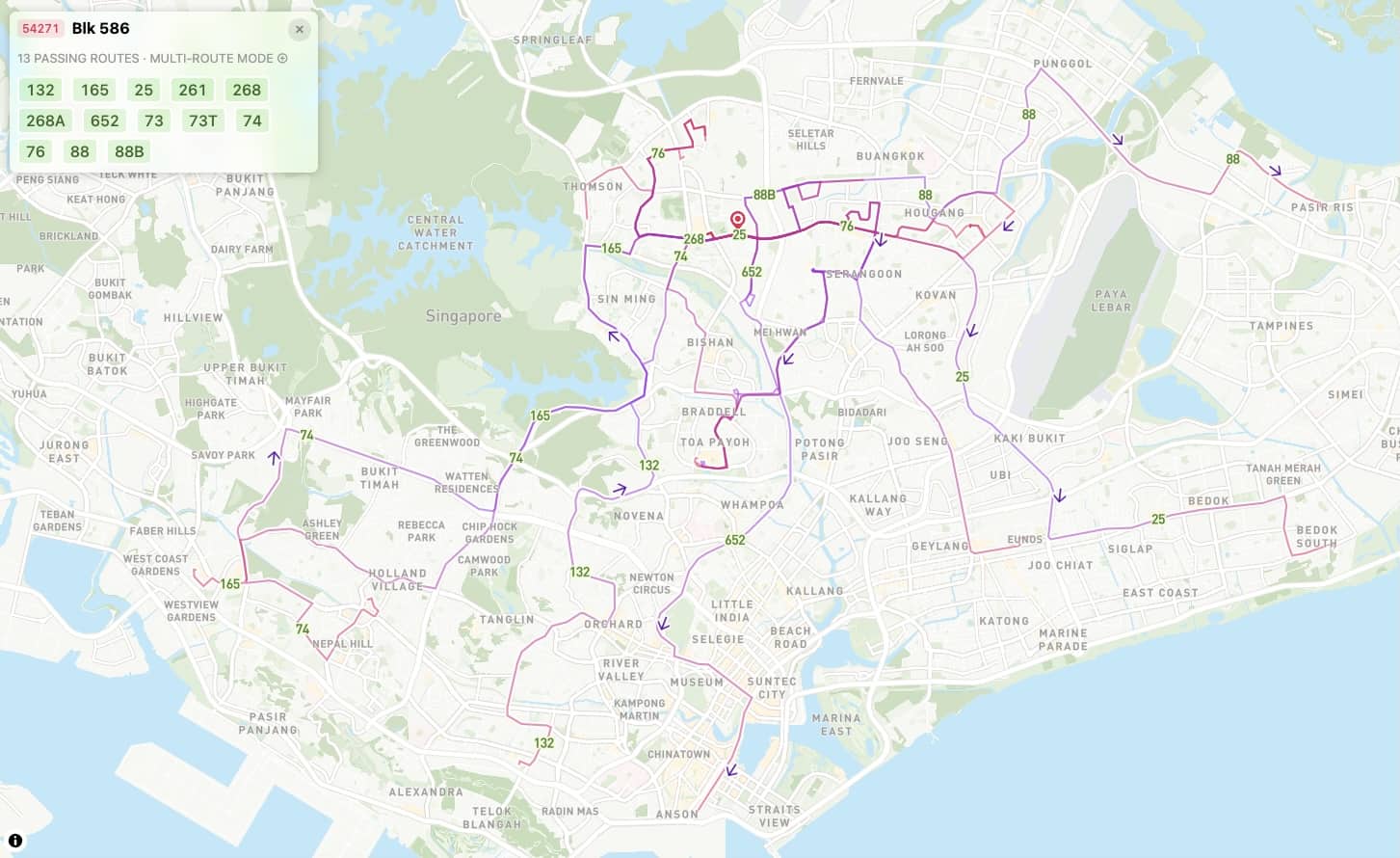 Residents would also be pleased to know that the journey to both bus stops is fully sheltered too, so it'll be convenient be it rain or shine.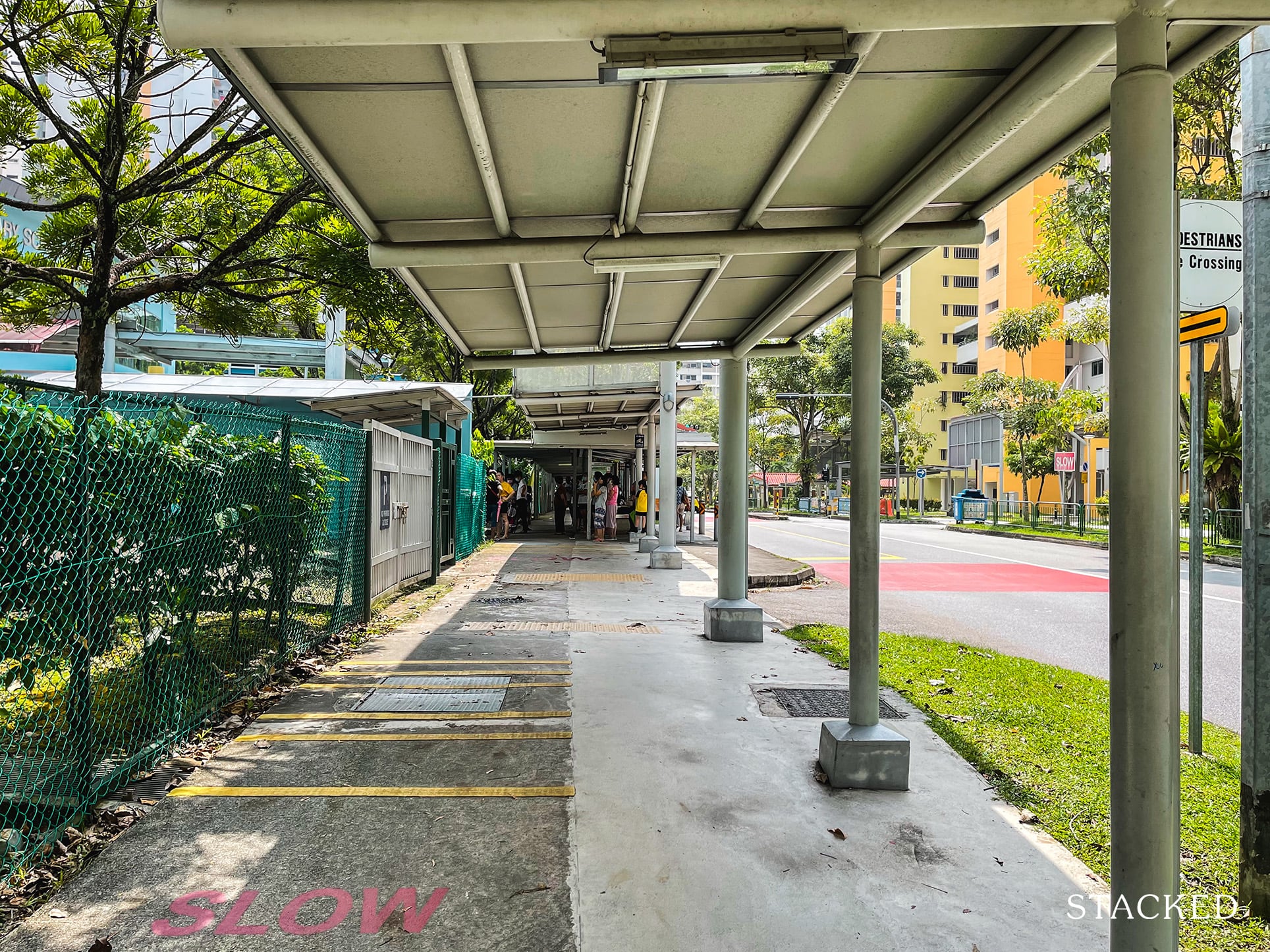 Private Transport
| | |
| --- | --- |
| Key Destinations | Distance From HDB (& Est. Peak Hour Drive Time) |
| Raffles Place | 13.1 km (18 mins drive) |
| Orchard Road | 11.2 km (16 mins drive) |
| Suntec City | 12.6 km (17 mins drive) |
| Changi Airport | 24.2 km (34 mins drive) |
| Tuas Port | 45.3 km (1 hr and 2 mins drive) |
| Paya Lebar Quarter | 10.1 km (14 mins drive) |
| Mediapolis | 18.8 km (23 mins drive) |
| Mapletree Business City | 18.3 km (27 mins drive) |
| Tuas Checkpoint | 42.4 km (55 mins drive) |
| Woodlands Checkpoint | 17.7 km (28 mins) |
| Harbourfront Cluster | 17.1 km (23 mins) |
| Punggol Cluster | 8.1 km (16 mins) |
Source: OneMap. Based on driving times during peak hours.
Immediate road exit:
Ang Mo Kio Street 52

Summary:
Drivers can easily connect to the CTE to go straight to the CBD via Ang Mo Kio Avenue 1. From the CTE, drivers can transfer to the PIE to quickly reach Changi Airport too.
Groceries
| | |
| --- | --- |
| Name of Grocery Shop | Distance from HDB (& Est Time) |
| Sheng Siong | 8-minute walk (650m) |
Schools
| | |
| --- | --- |
| Educational Tier | Number of Institutes |
| Preschool | 3 |
| Primary School (Within 1KM) | 3 |
| Secondary School | 3 |
| Junior College | 2 |
| Other Tertiary Institutes | 1 |
| | |
| --- | --- |
| School | Distance From Condo (& Est. Walking Time) |
| My World Preschool | 300 m (3 mins walk) |
| My Kindergarten @ Jing Shan | 200 m (1 min walk) |
| PCF Sparkletots Preschool @ Cheng San-Seletar | 240 km (2 mins walk) |
| Jing Shan Primary School | 200 m (1 min walk) |
| Teck Ghee Primary School | 1.3 km (15 mins walk) |
| Anderson Secondary School | 600 m (7 mins walk) |
| Deyi Secondary School | 900 m (10 mins walk) |
| Ang Mo Kio Secondary School | 2 km (23 mins walk) |
| ITE College Central | 1.1 km (12 mins walk) |
| Nanyang Polytechnic | 1.2 km (8 mins via bus) |
| Anderson Serangoon Junior College | 1.7 km (16 mins via bus) |
Park Central @ AMK Site Review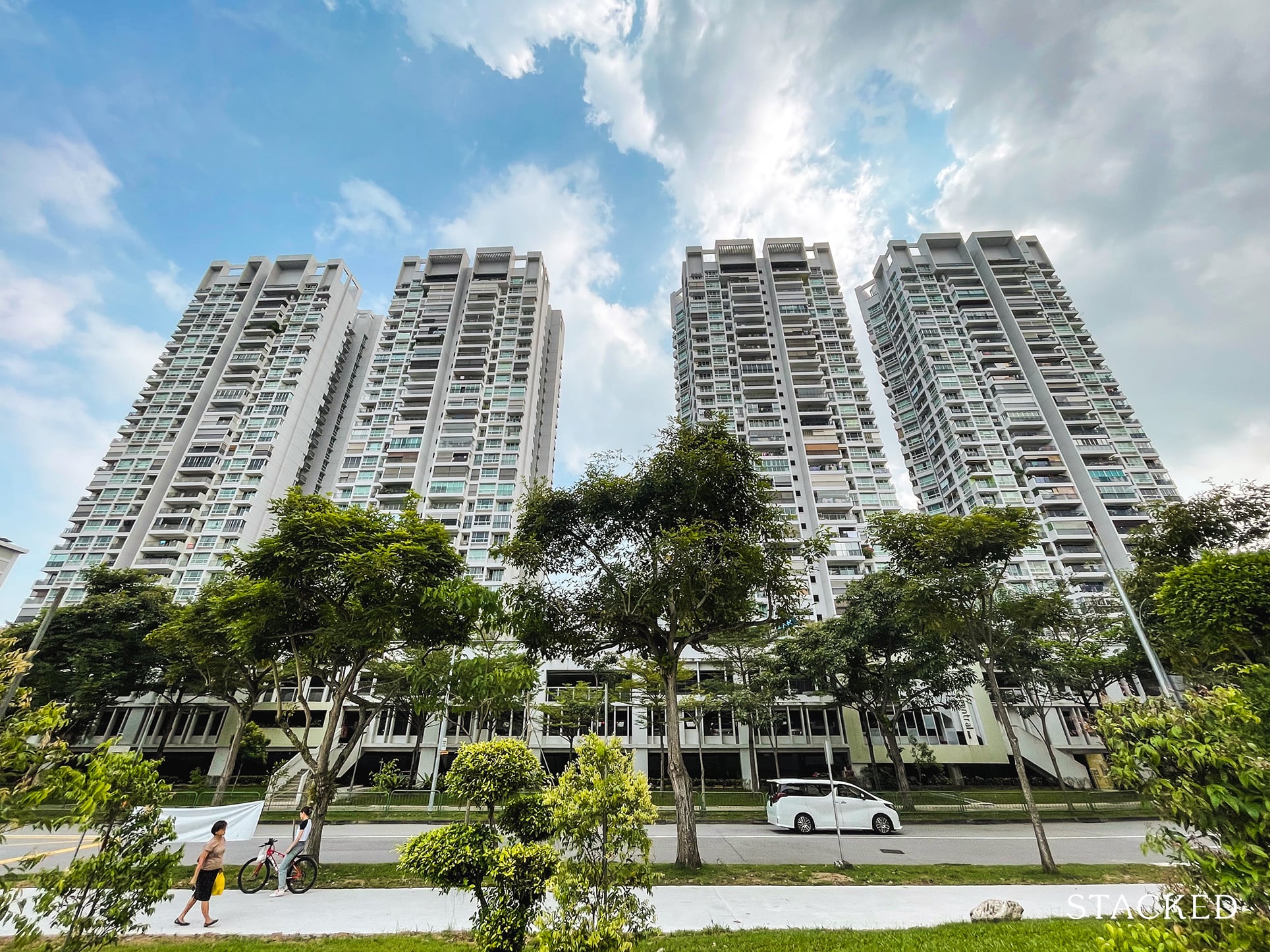 Park Central @ AMK is made up of 4 blocks each spanning 30 storeys high. It may come as a surprise to you, but there are no 3-room flats here. The development only houses 4 and 5-room flats – the majority of which is the latter.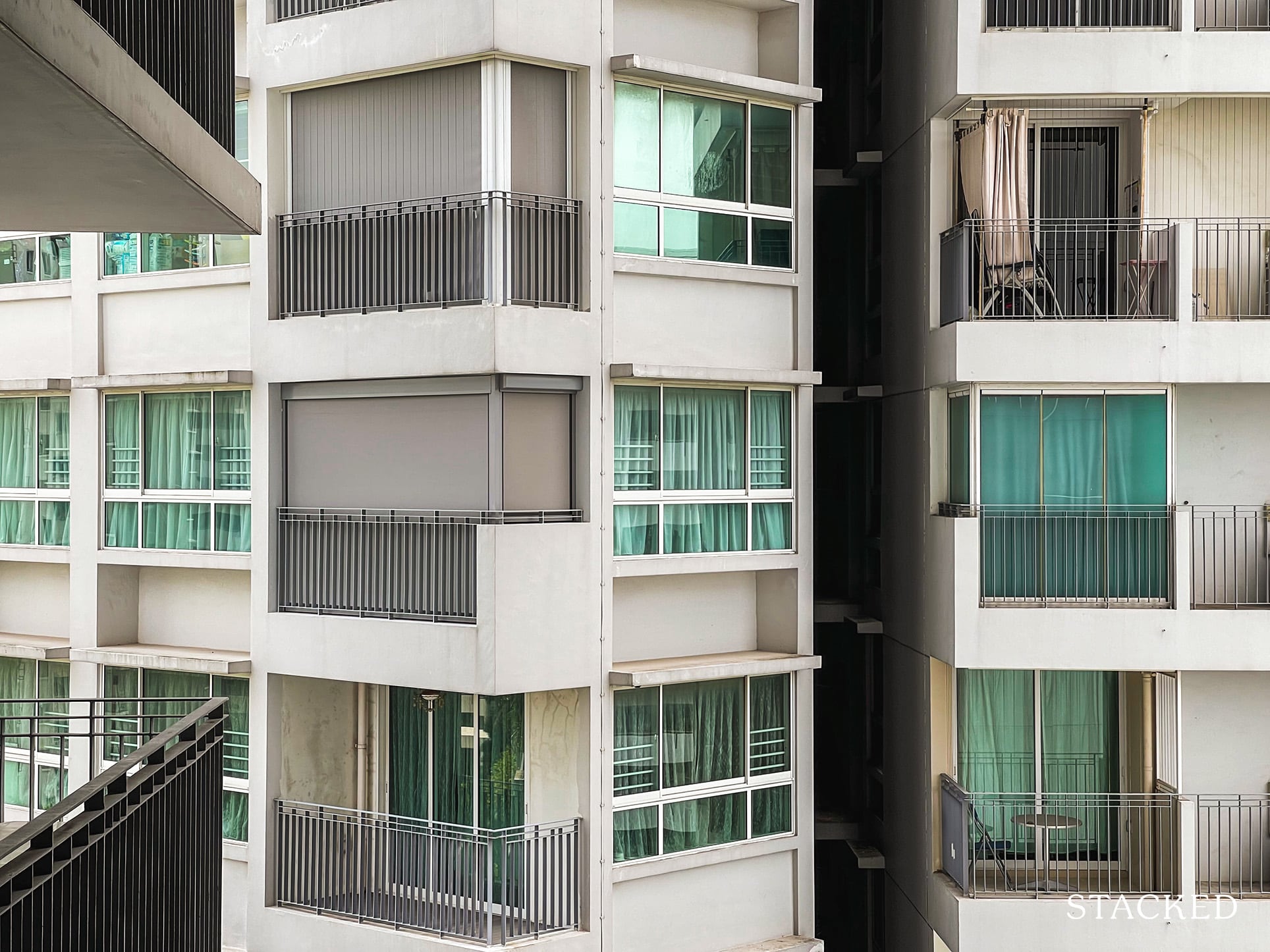 In terms of the development as a whole, I don't have a very good first impression of Park Central @ AMK. The common areas from the outside to the facilities do seem quite dirty and in need of maintenance work.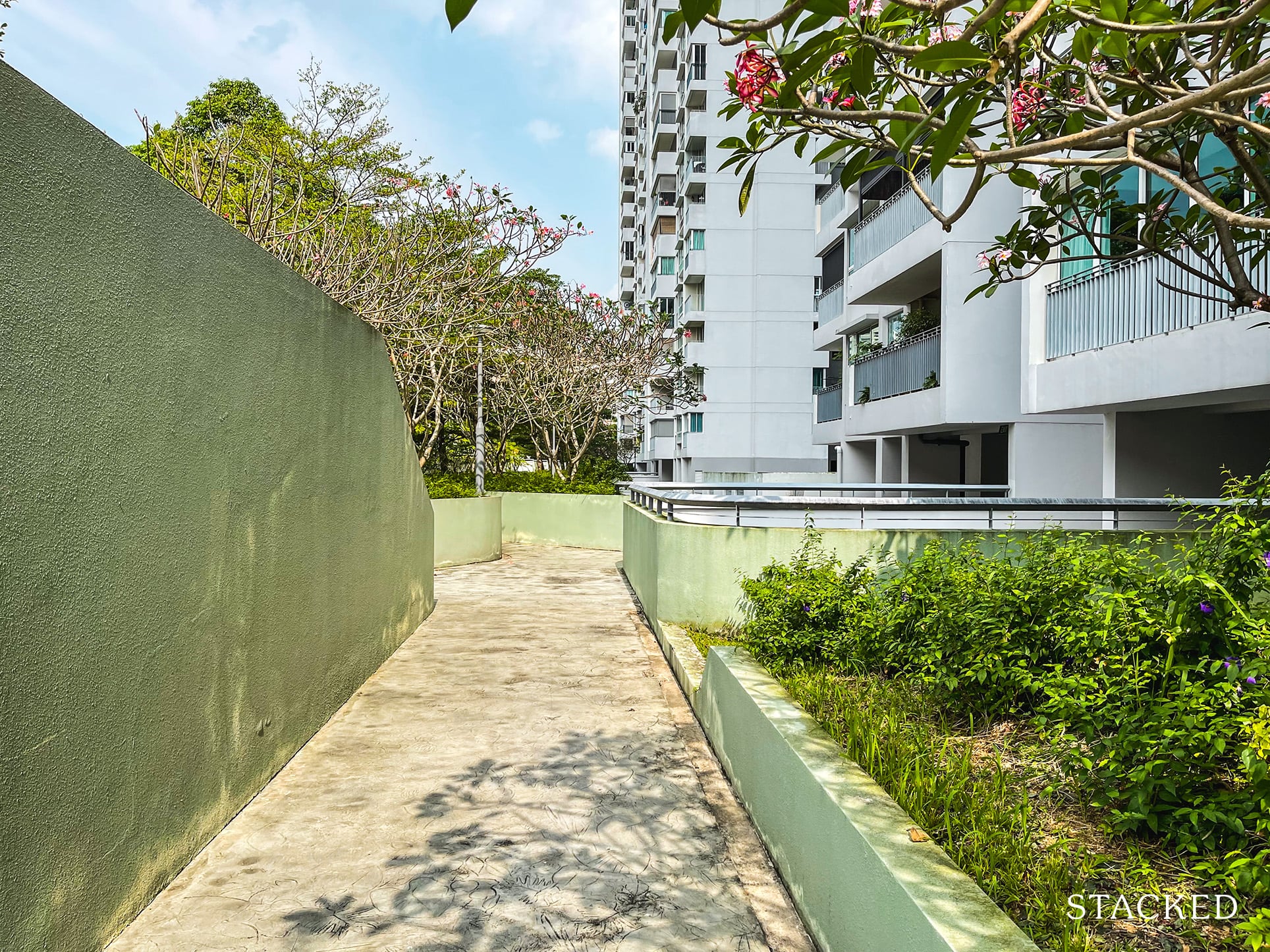 The common areas itself does seem like they could've been done better. For instance, here's a look at the void deck area. It's really just an empty space and it felt like some tables and chairs here would have gone some way into making the area more welcoming.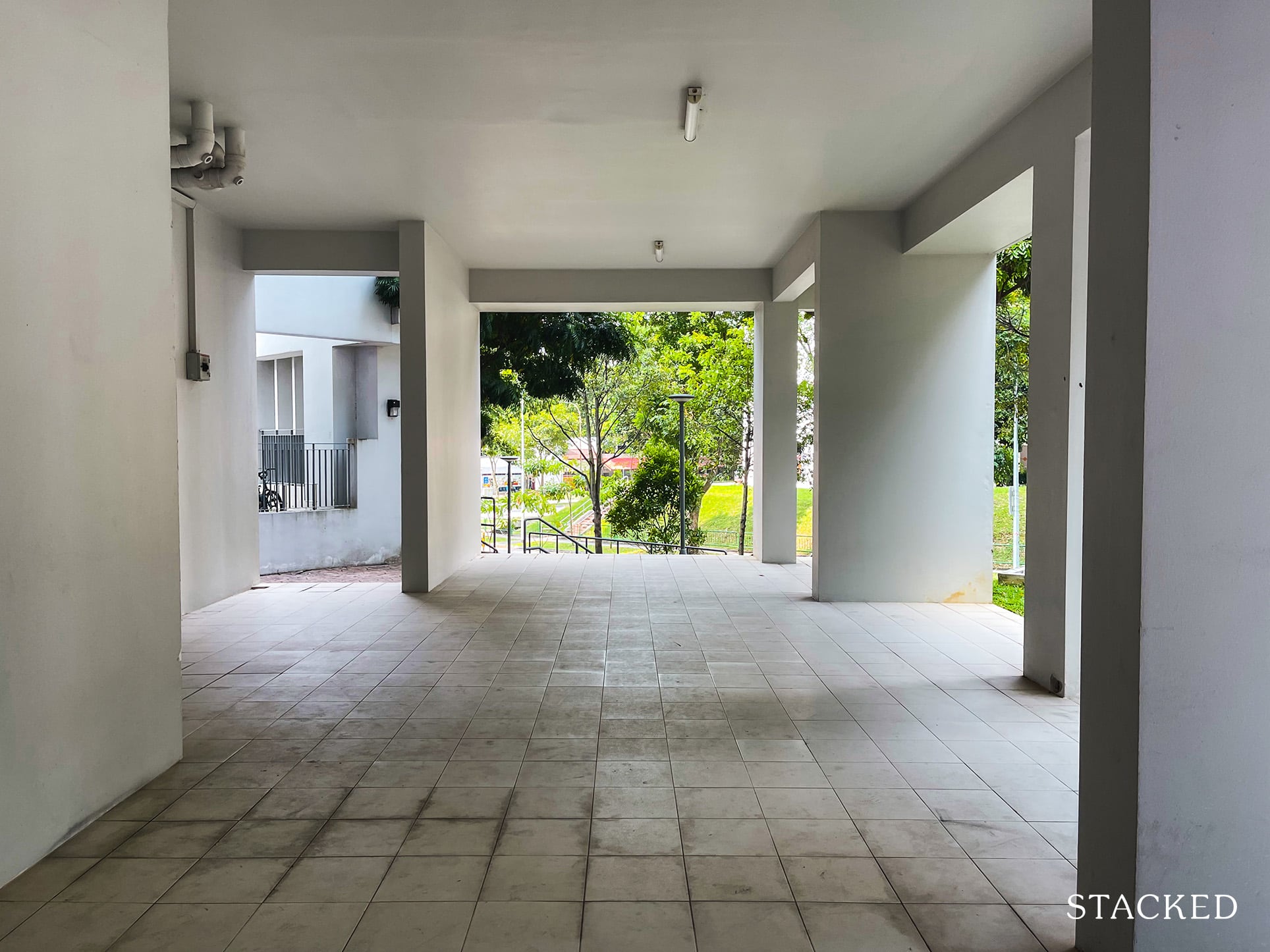 There are also empty areas like the one below with missed opportunities to put vegetation or seats around which is what I see in most other HDBs/DBSS projects.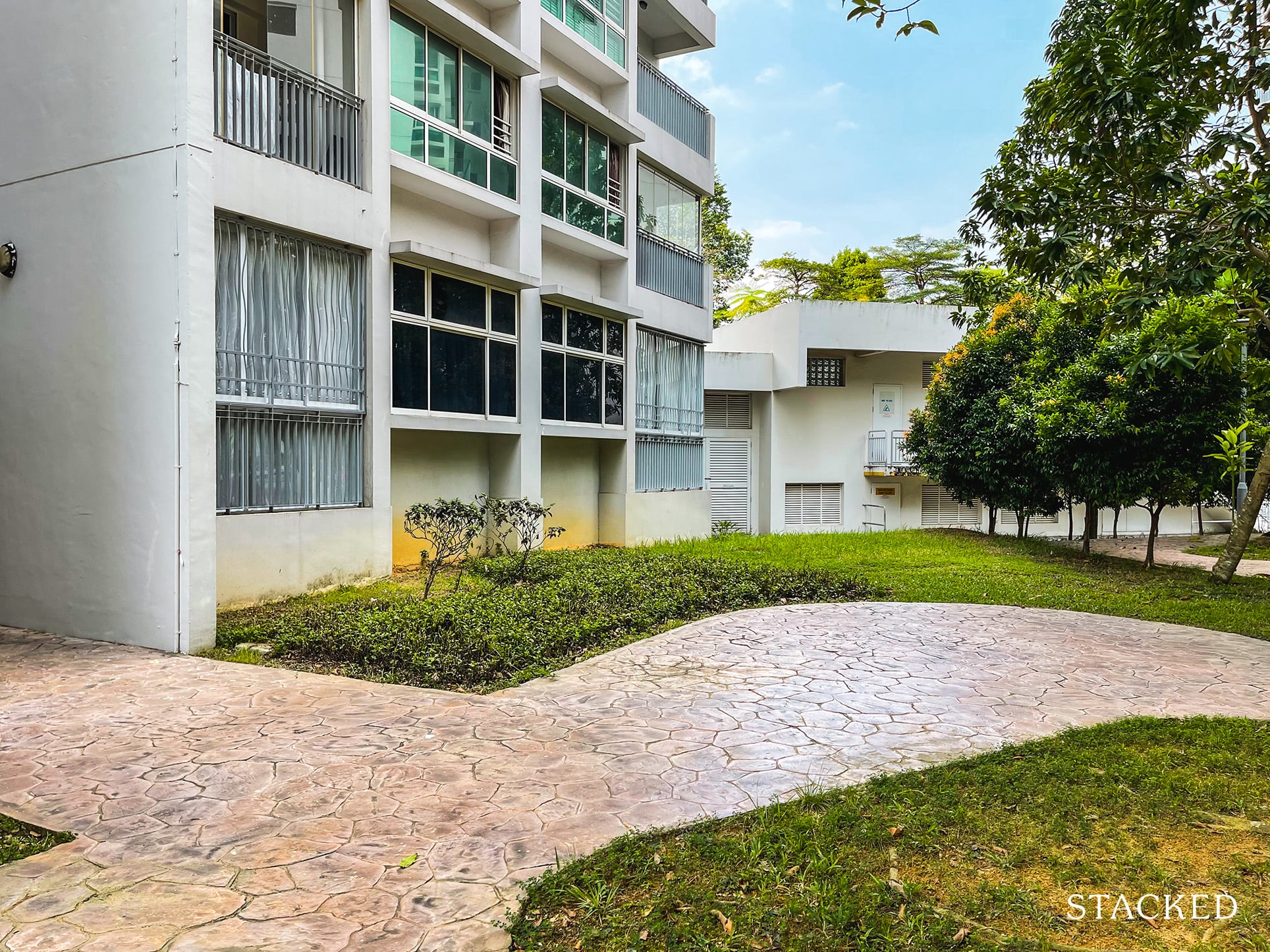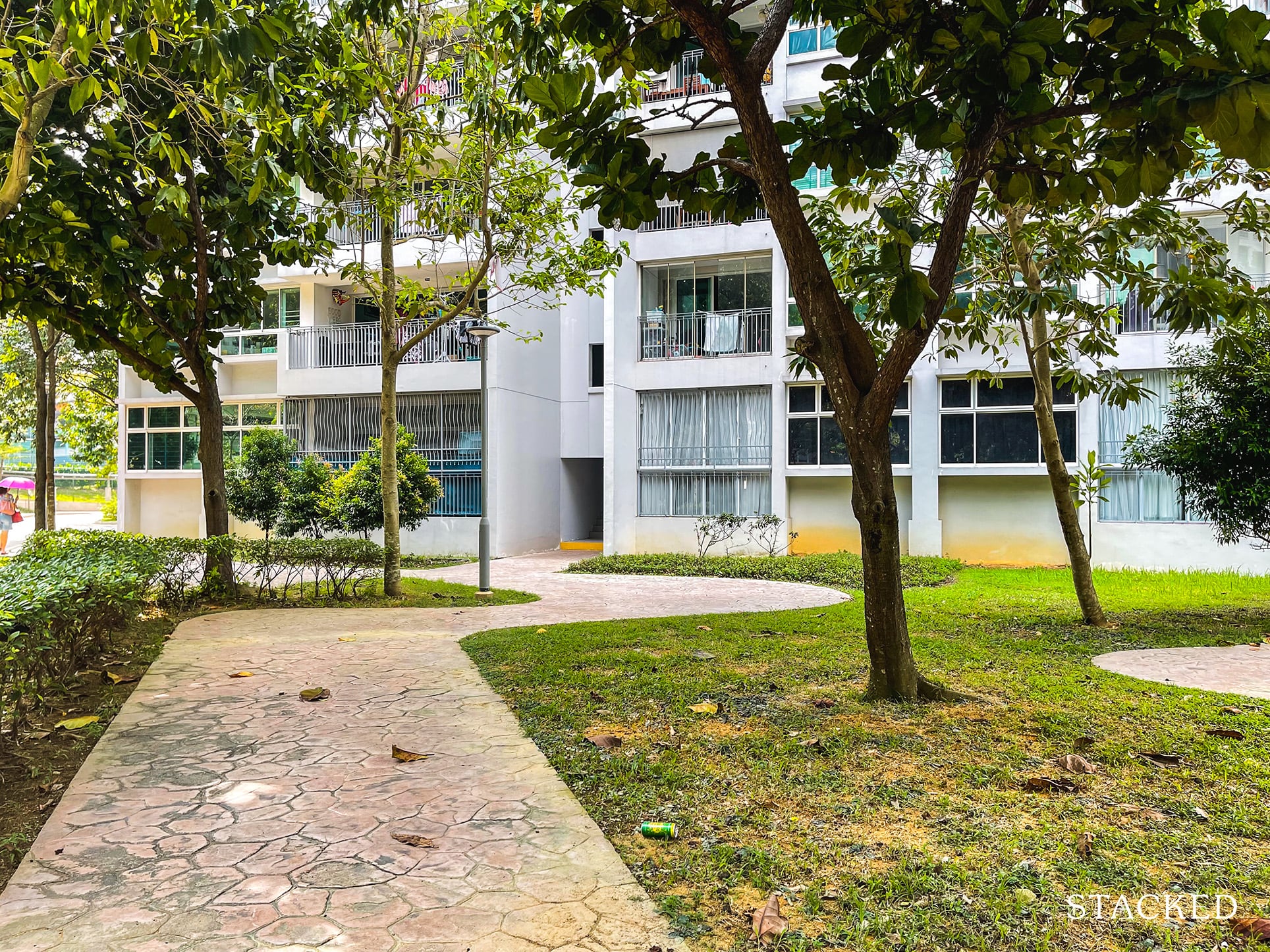 As a result, it's easy for people to peer straight into the low-floor units given the lack of natural barriers.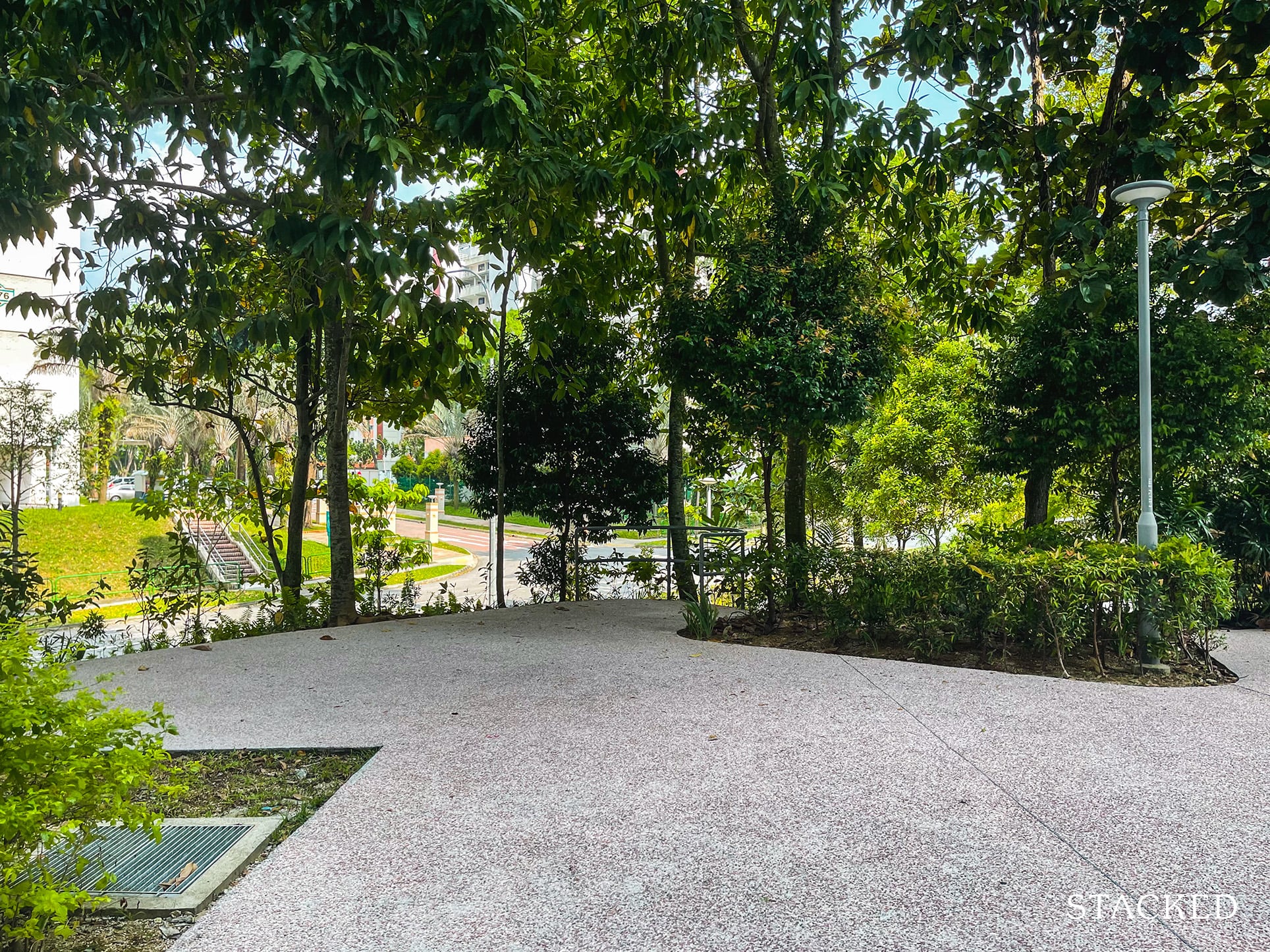 There's also only one drop-off point which is situated on the west side of the development. Those staying on the east side would have to walk more, though it isn't really that much longer. I suppose you could insist on being dropped off in the car park which leads you straight to the lift lobby.
Overall, I think Park Central @ AMK could've done more in terms of its common area offerings, but if you can look past this, then I don't think it's a dealbreaker at all.
Unit Mix
| | | | | |
| --- | --- | --- | --- | --- |
| Block | Storey | 4-Room | 5-Room | Total |
| 588A | 30 | 30 | 115 | 145 |
| 588B | 30 | 30 | 115 | 145 |
| 588C | 30 | 30 | 115 | 145 |
| 588D | 30 | 86 | 57 | 143 |
| Total | | 176 | 402 | 578 |
Park Central @ AMK Stack Analysis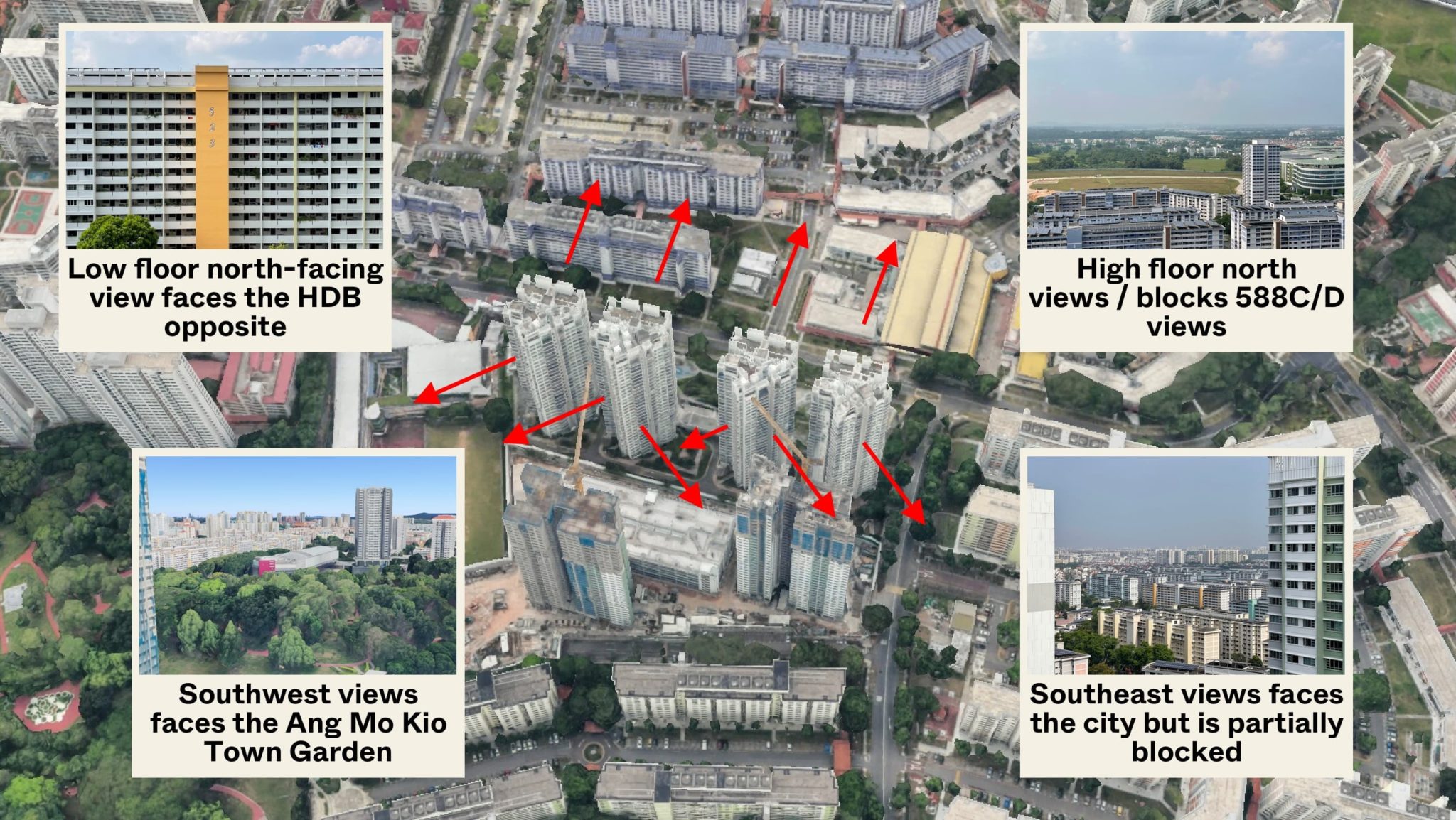 Park Central @ AMK has the advantage of being 30 storeys high. In a very mature estate like Ang Mo Kio, this usually means sweeping city views due to low-rise HDBs being the norm back then regardless of your facing.
However, residents with the south-east view today would be facing the recently-built Cheng San Court: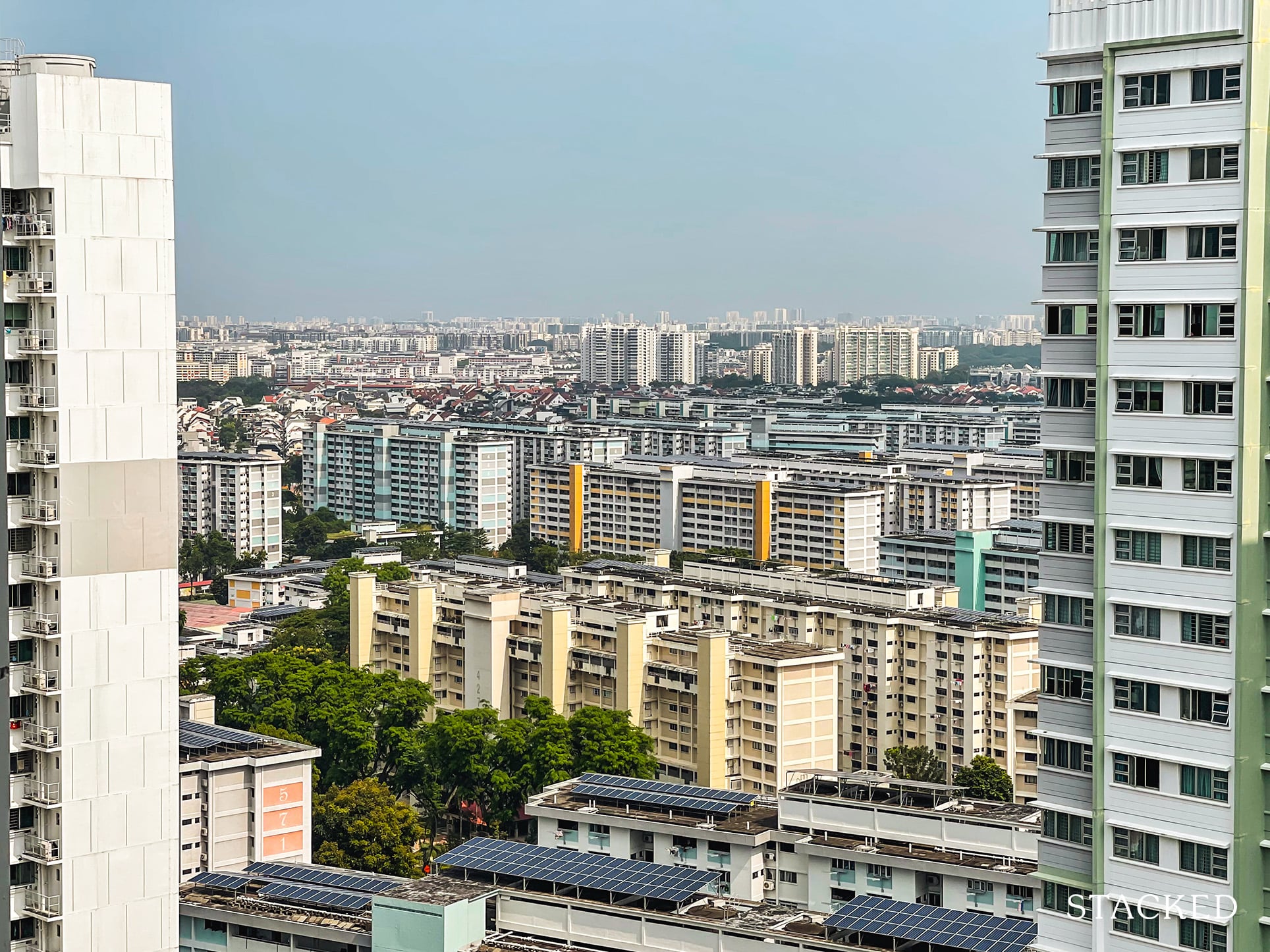 While it's not ideal, residents blocked by Cheng San Court can still get quite a decent partial view of the city. Those at block 588D won't face this issue though as it's not blocked at all.
Residents with the southwest view would have a protected view of a school plus the Ang Mo Kio Town Garden right in front, so unblocked views would likely remain for some time. Sadly, I wasn't able to capture the garden view from the common area though!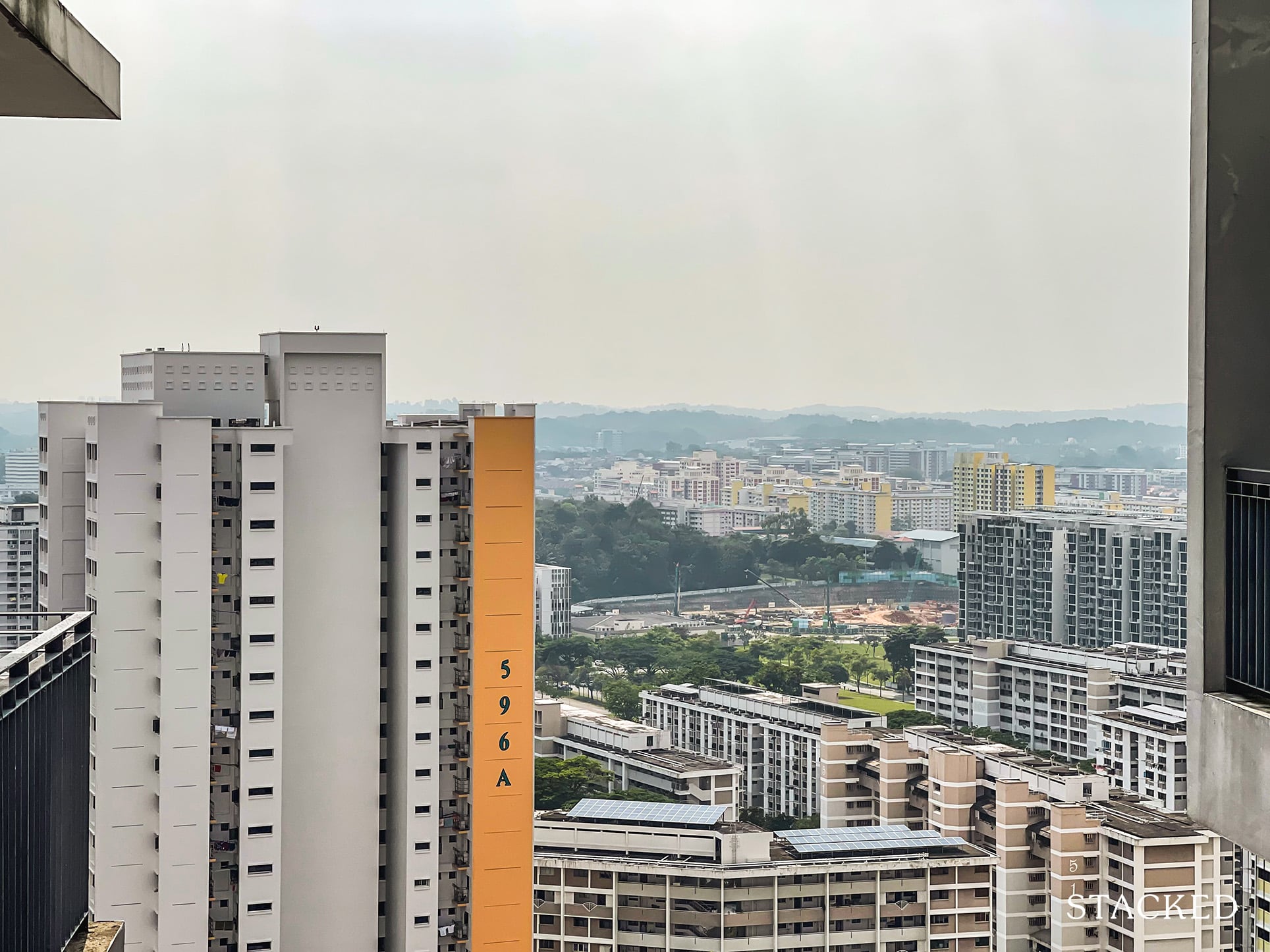 Unfortunately, this facing also comes with the afternoon sun. In this case, residents can expect the afternoon sun to come in for most parts of the year – direct and indirectly.
North-facing stacks at blocks 588A and 588B would need to surpass the opposite low-rise HDB: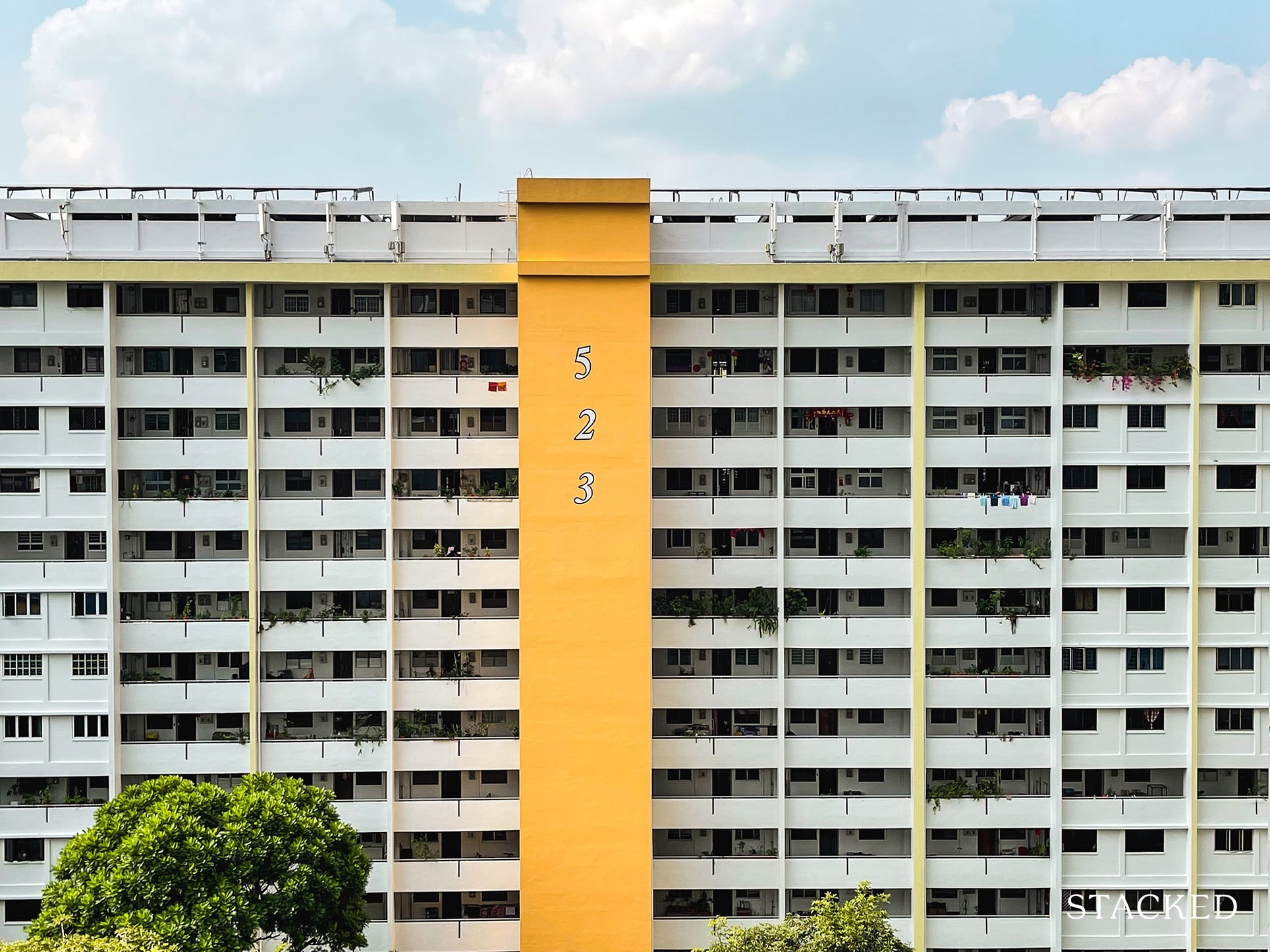 Those at 588C and 588D won't be facing the HDB, instead, residents here would face Cheng San Market which is low-rise. We don't think Cheng San Market is going anywhere anytime soon, as the few residential units here recently had their lift upgrading and Home Improvement Programme (HIP) done in 2019/2020 respectively.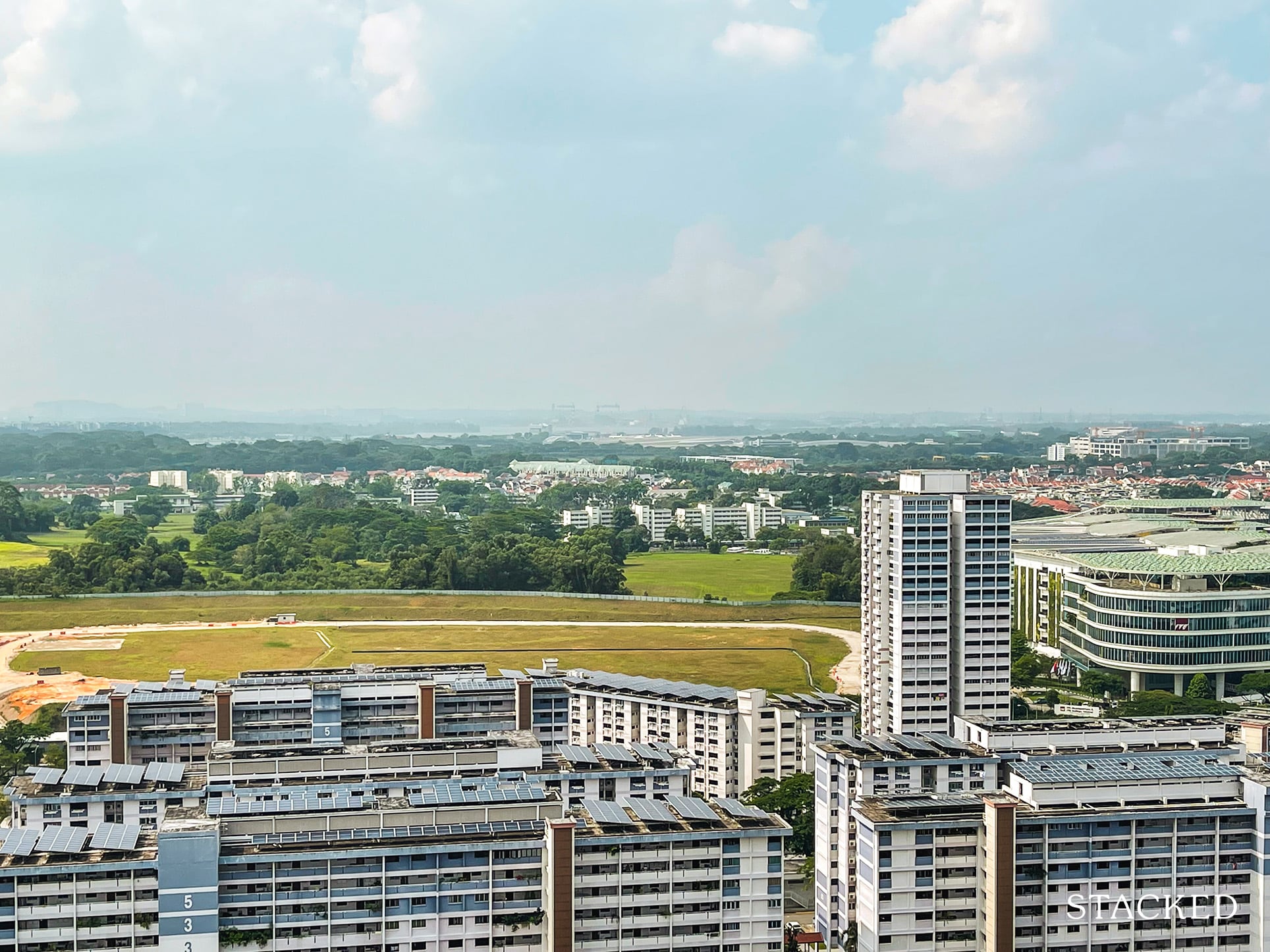 Park Central @ AMK Layout Analysis
The biggest con to the layouts at Park Central @ AMK is the bay windows and planters. This reduces the liveable space within the home, so the question here is whether or not the layout is practical for your needs.
4-Room Flat (90-91 sqm)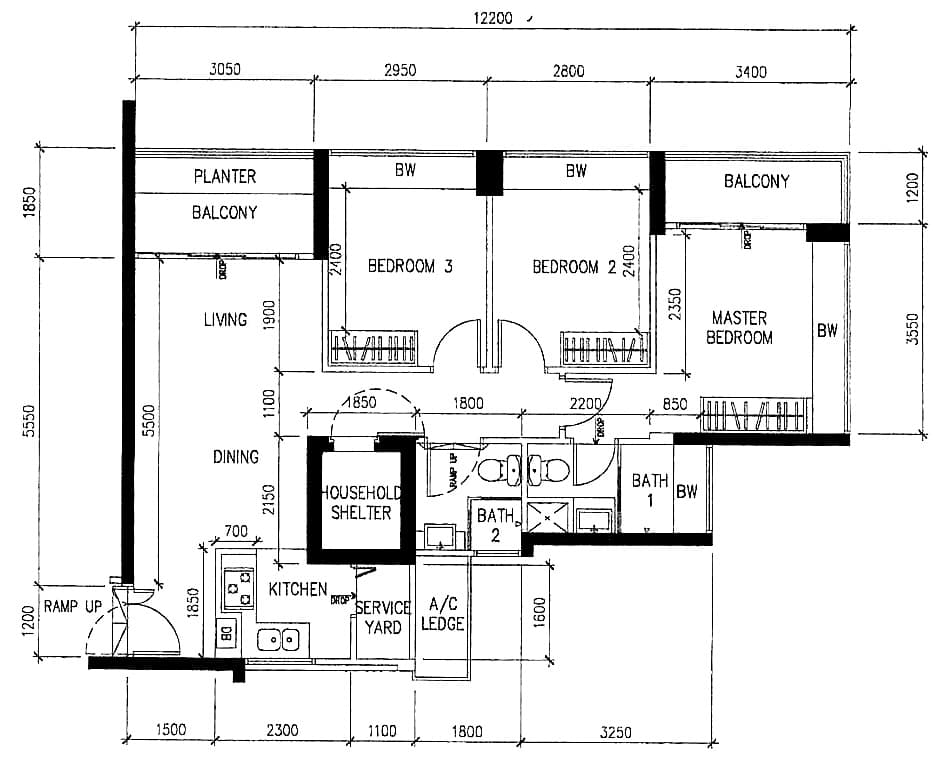 | | |
| --- | --- |
| Pros | Cons |
| Does not open up to the living room, so it's more private | Lots of planters and bay windows |
| Separate living and dining area | A small kitchen doesn't leave much room for countertop space |
| | The TV wall is shorter due to the presence of a balcony |
| | The household shelter is in the middle of the home which does not allow for an open layout |
5-Room Flat (112 – 120 sqm)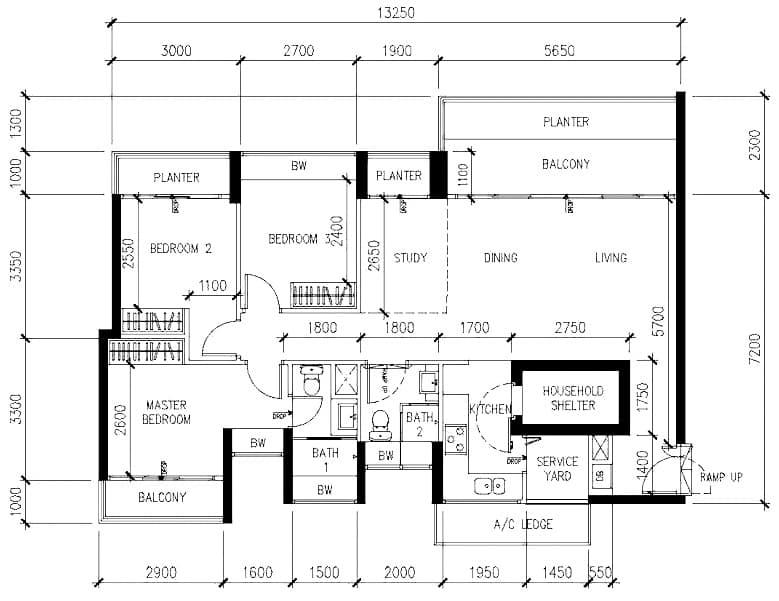 | | |
| --- | --- |
| Pros | Cons |
| Does not open up to the living room, so it's more private | Small kitchen for a 5-room flat |
| Good living/dining/study size | Compact service yard |
| Few structural columns allow for an open layout | Kitchen cabinets can be put on only one side of the kitchen |
| The household shelter can double up as a pantry area | Lots of bay windows and planters |
Park Central @ AMK Pricing Analysis
| | | | | |
| --- | --- | --- | --- | --- |
| Row Labels | Lease Started | 3 ROOM | 4 ROOM | 5 ROOM |
| Cheng San Court | 2019 | $672,081 | $922,422 | |
| City View @ Cheng San | 2003 | | $717,000 | $875,778 |
| Park Central @ AMK | 2011 | | $830,500 | $905,333 |
Source: HDB. Transactions from October 2022 – April 2023.
Considering its location and height, we can expect prices at this DBSS to be within the top few percentiles for units here. At an average of $830,500, Park Central @ AMK stands as one of the more expensive 4-room flats available in the market today.
And we're not surprised too. If you're looking out for a relatively young HDB in the area, you are limited to only a handful of developments given how mature the estate is.
Cheng San Court has a lease start year of 2019 and so its MOP was just reached recently. A 4-room flat here, on average, costs almost $100,000 more than the one at Park Central @ AMK for just being 8 years older. Of course, when we compare the 4-room flat, it is slightly bigger – but Cheng San Court is also closer to Ang Mo Kio MRT and sports a better layout if you appreciate internal living spaces.
Here's a direct comparison between the two layouts: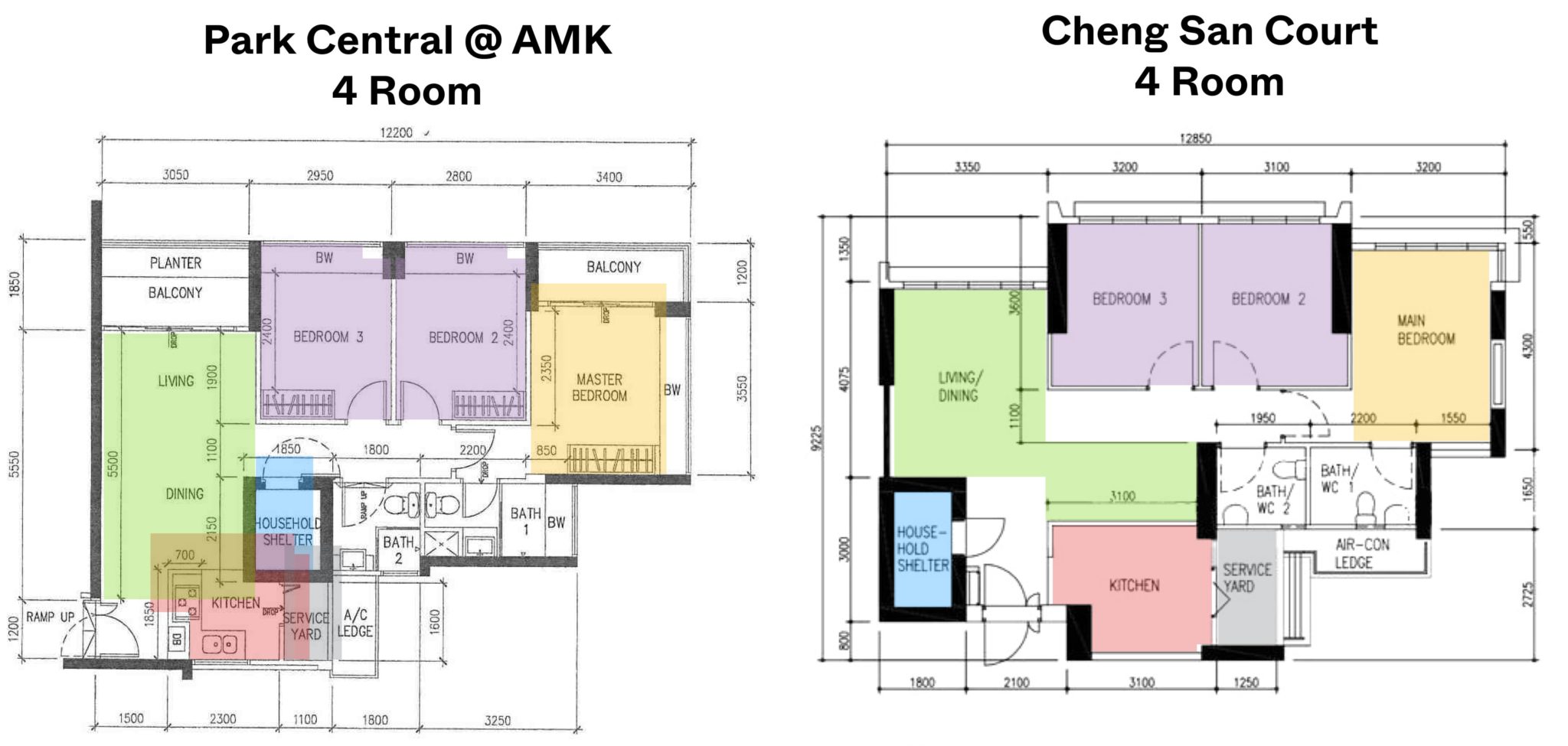 In the image above, we've colour-coded rooms in Cheng San Court and matched them to equivalent rooms in Park Central @ AMK. Since both floor plans have dimensions, we were able to match the sizes easily.
For the bedrooms, the sizes are actually quite similar if you see the bay windows as usable space. This would make sense if you connect the bed to the bay window. In the master bedroom, you'll have slightly less internal living space, but if you include the balcony, then the master bedroom is bigger. Still, you'll likely have more space for side tables in Cheng San Court than in Park Central @ AMK.
The biggest difference lies in the kitchen. Look at the size difference between floor plans! In Park Central @ AMK, the kitchen is hardly practical given the lack of countertop space.
By contrast, the kitchen in Cheng San Court looks to be almost double the size of Park Central @ AMK. The service hard is also a lot narrower in Park Central @ AMK, leaving less room for hanging clothes. Couple this with the fact that the service yard is accessible only from the service yard means it's even tighter now as you can't obstruct the passage to the AC ledge.
Another huge difference is the living and dining area. The combined internal space in Cheng San Court far outweighs what Park Central @ AMK can provide. The only upside to Park Central here is the balcony which we did not count as internal living space. If you do factor this in, then it's not too bad.
Overall, it's clear that if you like a practical living/dining and kitchen like most of us, then we'd consider other HDBs over Park Central @ AMK – even at a higher cost since you're still getting a younger HDB flat anyway.
But if you're someone who likes having lots of balcony space and bay windows, then the choice is clear.
Our Take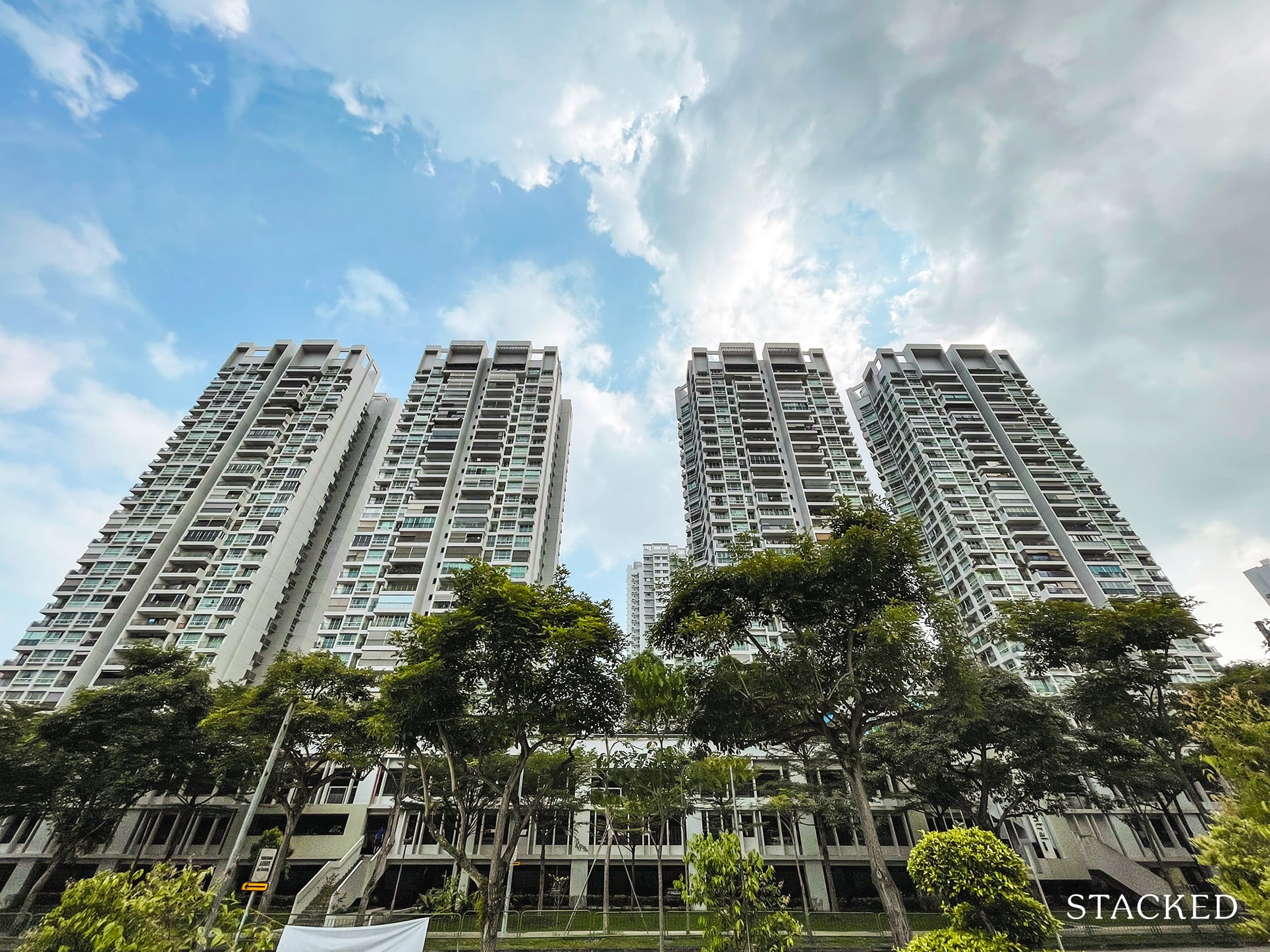 Park Central @ AMK is kind of like a yes or no type of development, it's hard to really be conclusive about it.
It's got a good location in Ang Mo Kio having a food centre just opposite and a sheltered route all the way to an MRT/AMK Hub. These 2 factors alone make for a very liveable home.
Yet, there are some aspects that left me hanging. When I look at the internal living space, it's clear that the layout at Cheng San Court is a lot more practical.
Moreover, the development itself is quite disappointing. It's obvious that the place hasn't been very well maintained, and for a development that is past the 10-year mark, it's surprising since there should have been a paint job done recently. The facilities are so-so, and the common areas could've done with more where landscaping is concerned. There are other DBSS and HDBs that do much better in this regard.
When it comes to views, while certain segments are unblocked, I must say that they aren't that impressive anyway. It's a city view with not much to admire in all honesty, beyond a high cityscape view. The greenery view towards Ang Mo Kio Town Garden is pretty decent, but it's also flanked by City View @ Cheng San and Cheng San Court so it's not completely unblocked either.
So should you consider staying at Park Central @ AMK considering its high price? Yes if you really want this location and don't mind the less practical and more inefficient layout, but I do think that alone will be a dealbreaker for some.
What this means for you
You might like Park Central @ AMK if you:
• Want good amenities:It's right opposite Cheng San market and Hawker, with lots of shops, a supermarket and eateries – everything you need to make it a liveable place!
• Want to live near a mall:Not many HDBs can boast being within walking distance to a mall, let alone one that's integrated with an MRT. Park Central @ AMK is one of them.
• Want to be within walking distance to an MRT:Park Central @ AMK is not only within a mature estate – it's close to the main Ang Mo Kio MRT too.
You may not like Park Central @ AMK if you:
• Want a practical/spacious layout:The layout here is filled with bay windows and planters. To make matters worse, the kitchen and service yard is really small as a lot of space went to the balconies.
• Value common corridor space:While you don't live along a corridor, it's certainly helpful if you could leave things outside like a shoe rack which would be a squeeze.
End of Review