HDB Reviews

Clementi Towers Review: A Rare Integrated HDB That's Incredibly Convenient (With Unblocked Views)
Sean
October 9, 2023

18

min read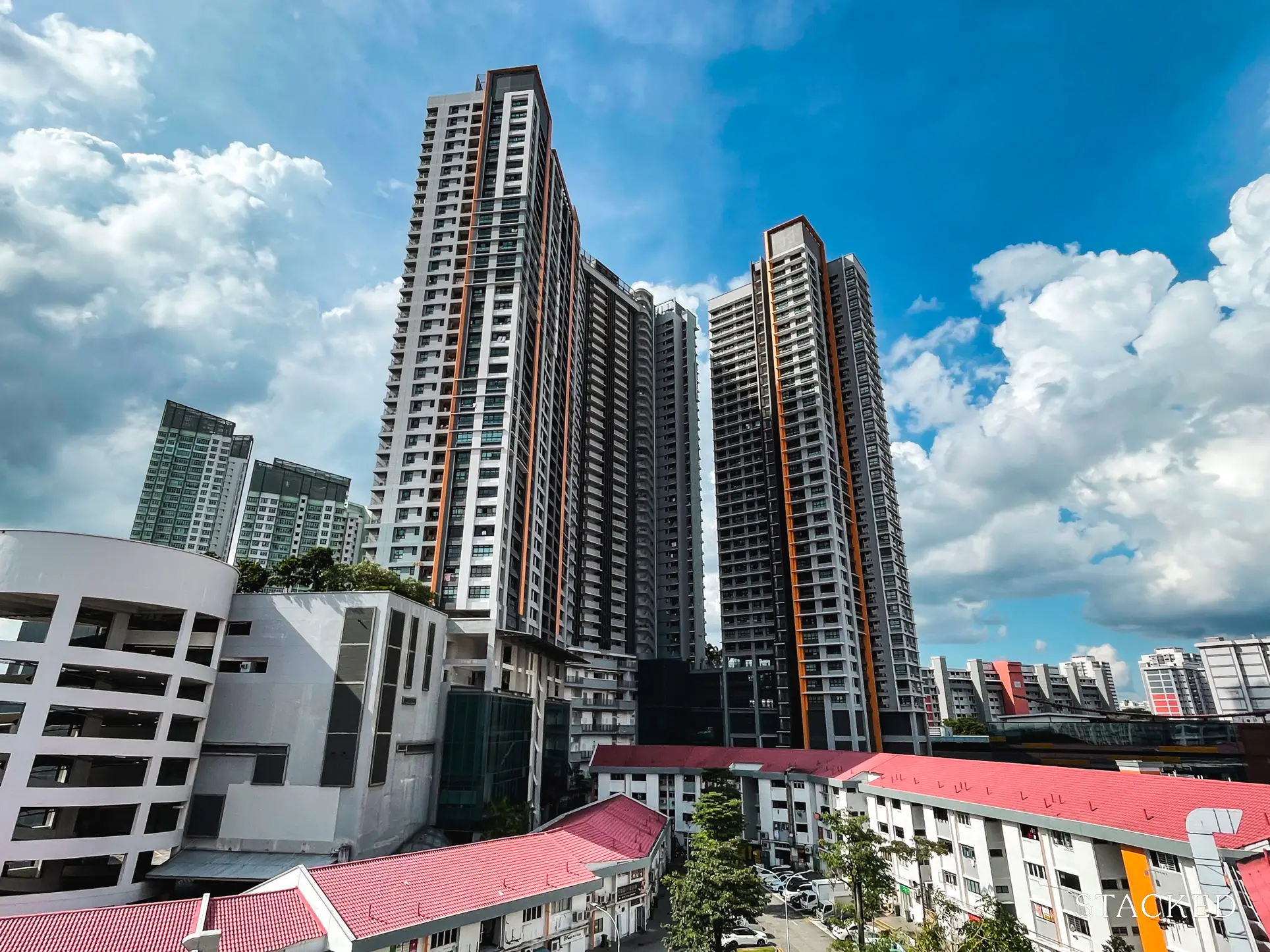 What we like
Close to the MRT

Lots of amenities

Great bus connectivity

Near to park connector

Unblocked views
What we don't like
—

Crowded place to stay

—

Noisy due to transport nodes around and foot traffic

—

Subpar playground

—

Lack of proper drop-off points
18
min read
Clementi Towers was launched as part of the replacement blocks under a SERS exercise in 2005. Due to the lack of marketing and the early years when it was built (2010-2011), not much is said or written about this development.
It probably also doesn't help that it has just 388 units, with few transactions happening each year.
However, Clementi Towers deserves to be in the limelight more, just as with the likes of Pinnacle@Duxton or SkyVille@Dawson. It may not be new, but it's really unique in that it's situated right above the popular Clementi Mall and the Clementi MRT.
You could say that those who benefitted from the SERS exercise struck it lucky twice – one with SERS. and being able to stay in this development.
Going up to 40 storeys high, residents staying here get to enjoy unblocked views around while also enjoying the convenience of staying close to a mall, MRT, and bus interchange.
Today, prices of Clementi Towers go for as high as $1.28 million dollars for a 5-room flat (level 22 – 24). Given the high prices here, should you buy a home at Clementi Towers?
Let's take a closer look at what Clementi Towers can offer!
Clementi Towers HDB Tour
Not many HDBs can boast of being integrated with a mall, unlike Clementi Towers. If you've ever driven along Commonwealth Avenue West, you may have noticed the towering block that's right next to the mall.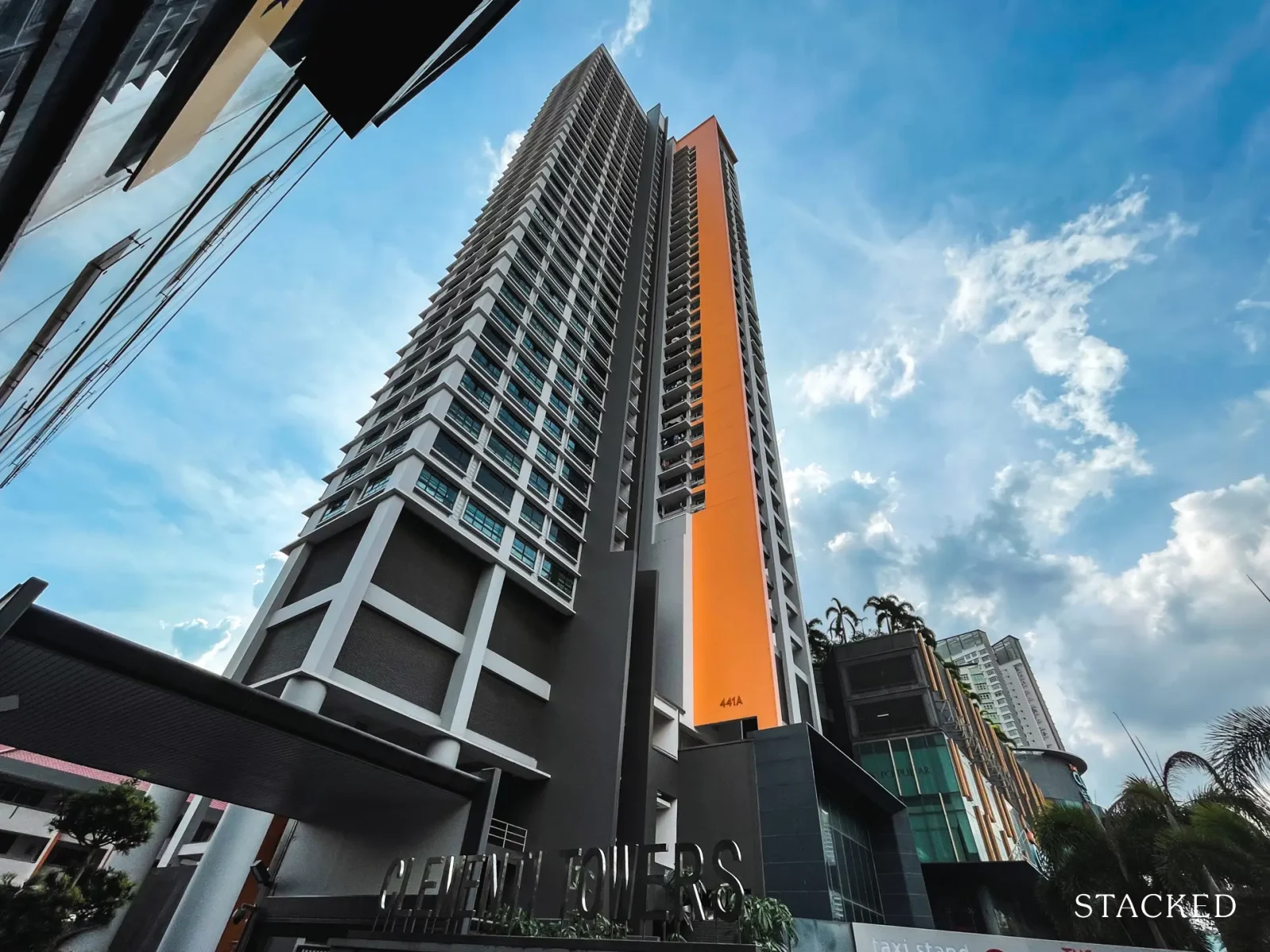 It's quite a unique place to find itself in and unlike any other HDBs I've seen before.
If you're coming from Commonwealth Avenue West, you'll need to turn left into the quieter Clementi Avenue 3 to get into the development. There's no "service road" into the development as the ground level opens up to the public plaza behind the mall.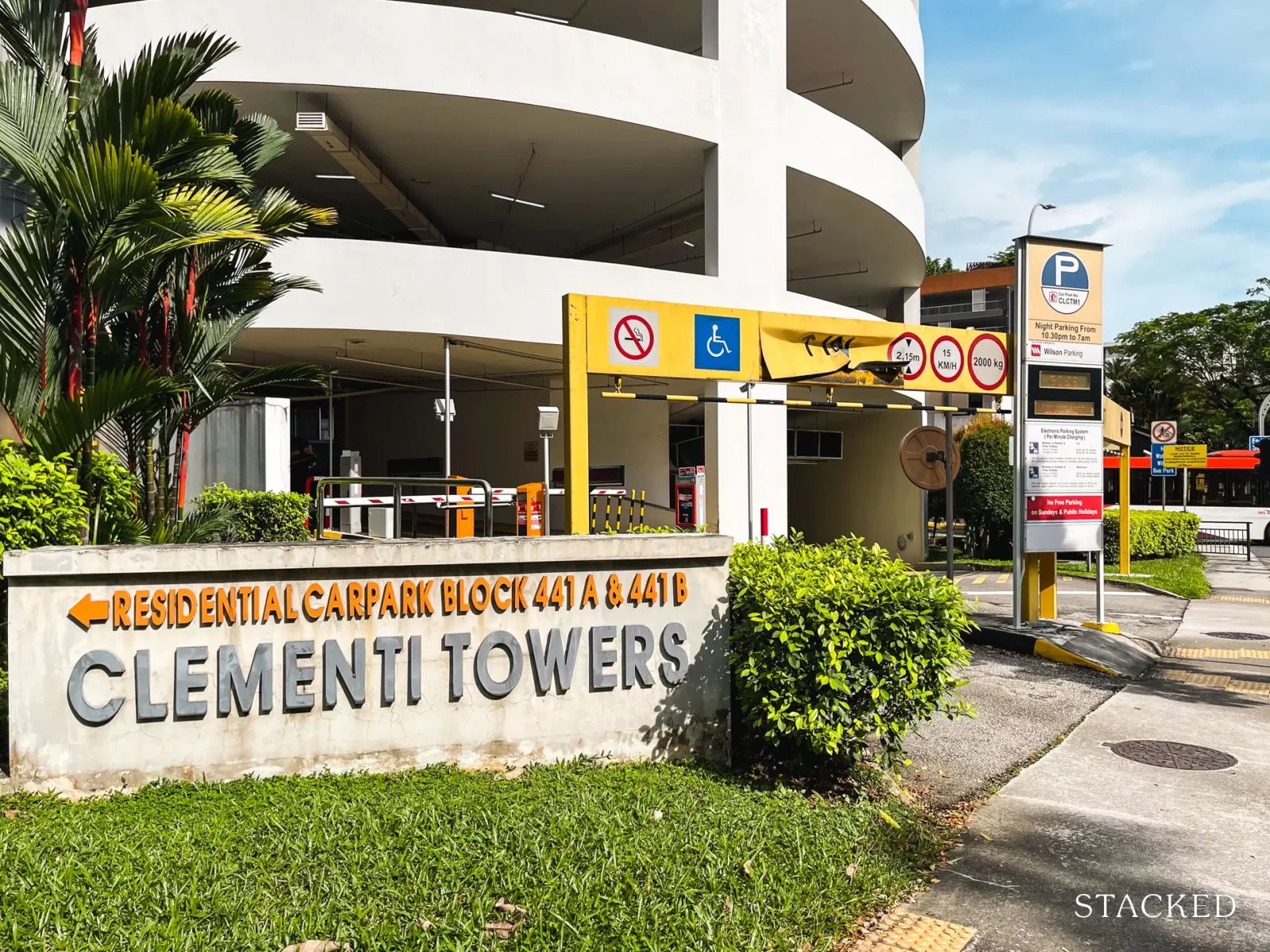 Here, you're greeted by the development name and confirmation that you've arrived at the residential blocks.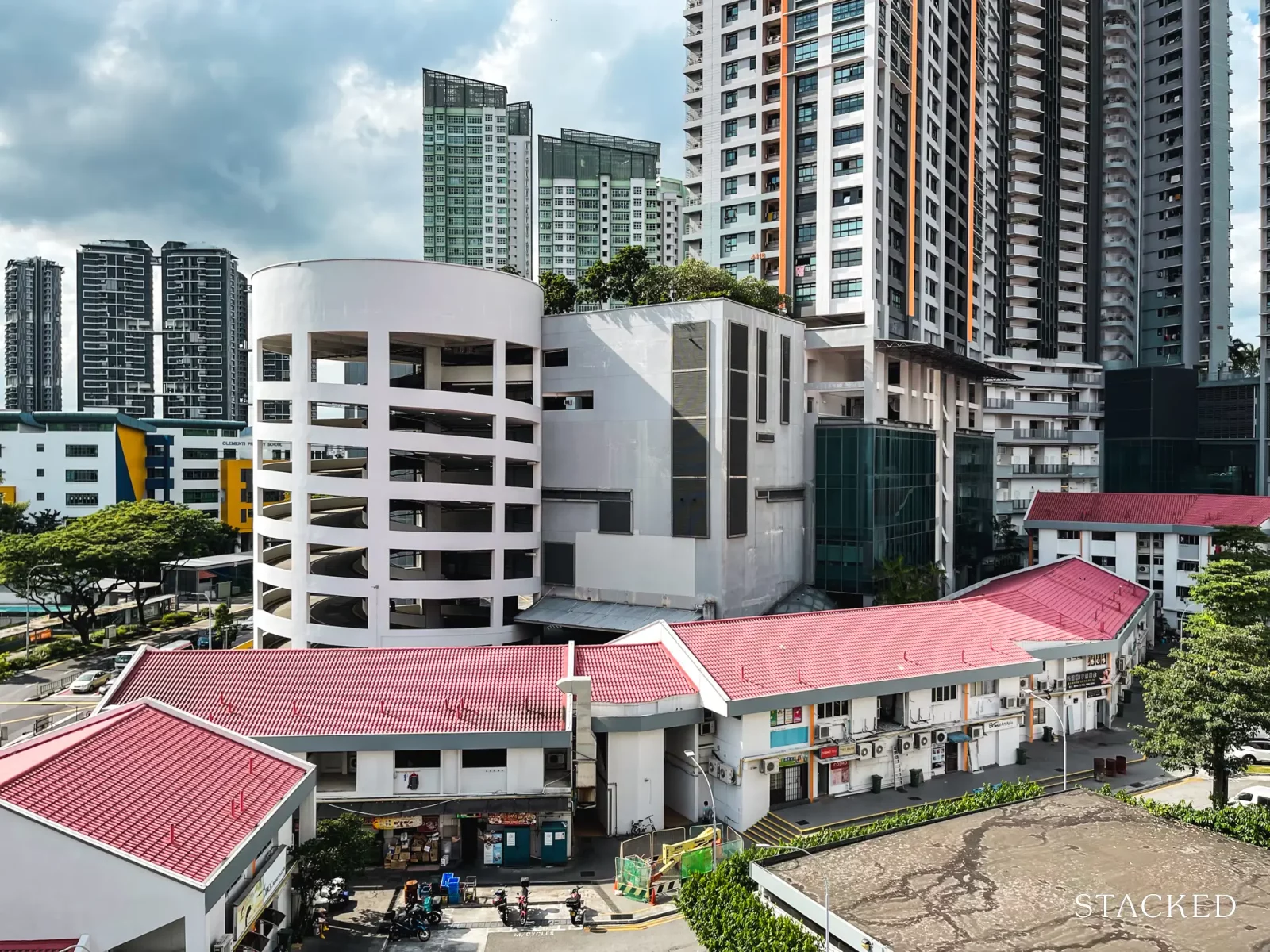 While the car park looks high, there is no parking along the first 5 levels. The car park is instead situated on just 2 levels – levels 6 and 7. This makes it quite inconvenient for drivers as they have to go up many floors before being able to park.
The good news is that it's a spiral drive, so there's no need to go through any car park levels before reaching level 6. Still, it can be annoying for some and worth highlighting anyway.
Before we head into the car park, I'd like to touch on one thing here: the lack of a convenient drop-off point.
I've always highlighted drop-off points in my other reviews and the absence of one in Clementi Towers shows how much we take it for granted.
The reason it's inconvenient is that there's no service road that leads you to the lobby of your block. The entrance to Clementi Towers is not bound by any road, so you can't just drop off at your lobby. Instead, the lift lobby is in the car park – but it's 6 levels high.
One resident we spoke to stated that unless you're willing to have your driver head up 6 floors through the car park to drop you off, it'll be about a couple of minutes' walk back to your block from the open car park at 442 Clementi Avenue 3/Clementi Mall taxi stand.
Another thing to note is that when you're moving in, larger lorries won't be able to enter the car park, so they'll have to park elsewhere and trolley the goods over which is quite inconvenient.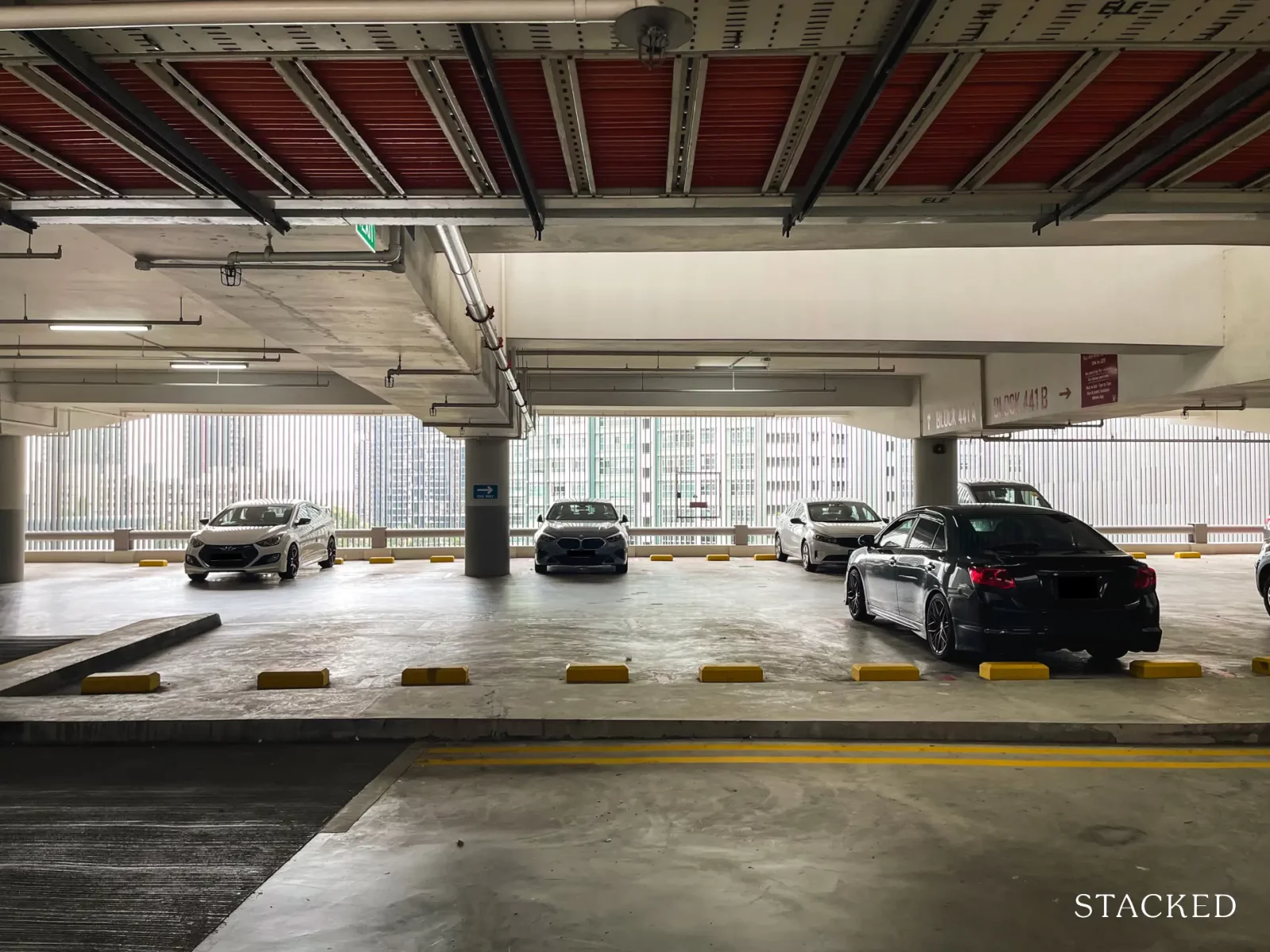 Once inside though, you'll find the car park to be very bright and airy. That's because of the way the grilles are lined along the perimeter:
I'm used to seeing more concrete walls than this type of design, and I must say this is nicer. It's similar to having full-height windows in that sense where lots of light can flow in.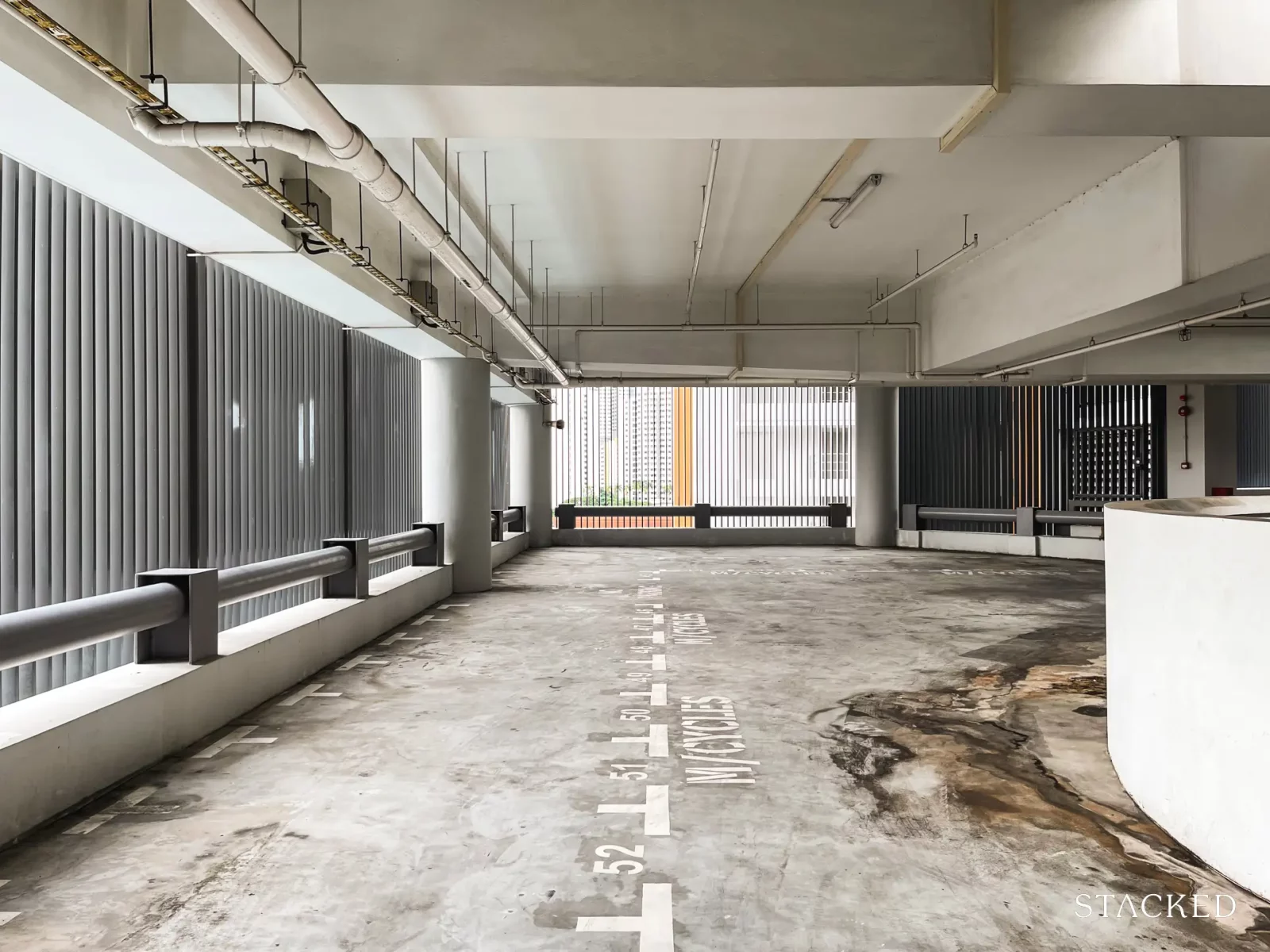 The road here is also very spacious. Just take a look at how wide it is: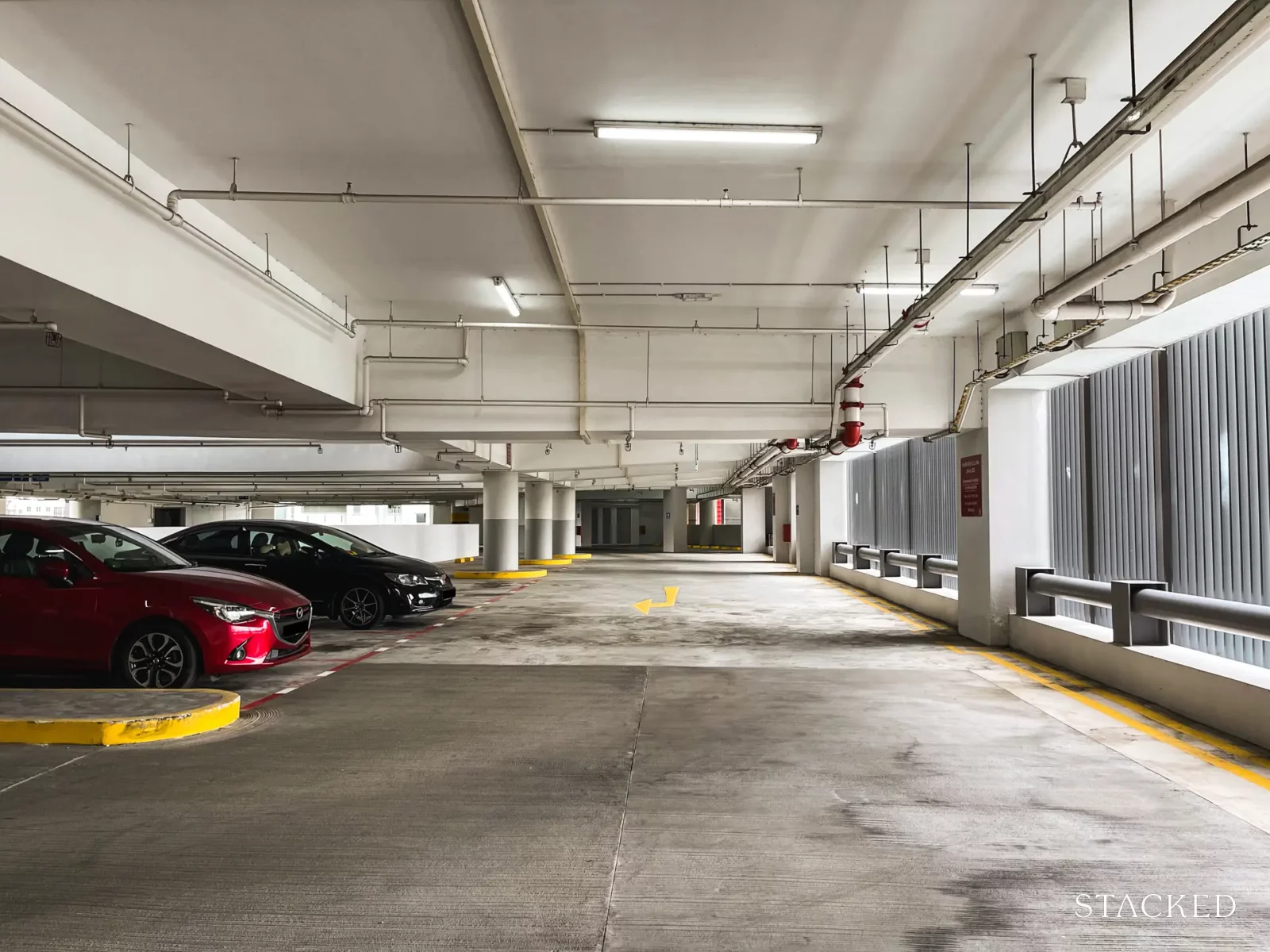 If you're driving, do note that there are only 264 lots. However, 132 season parking lots are still available as of September 2023 (checked 19th September 2023).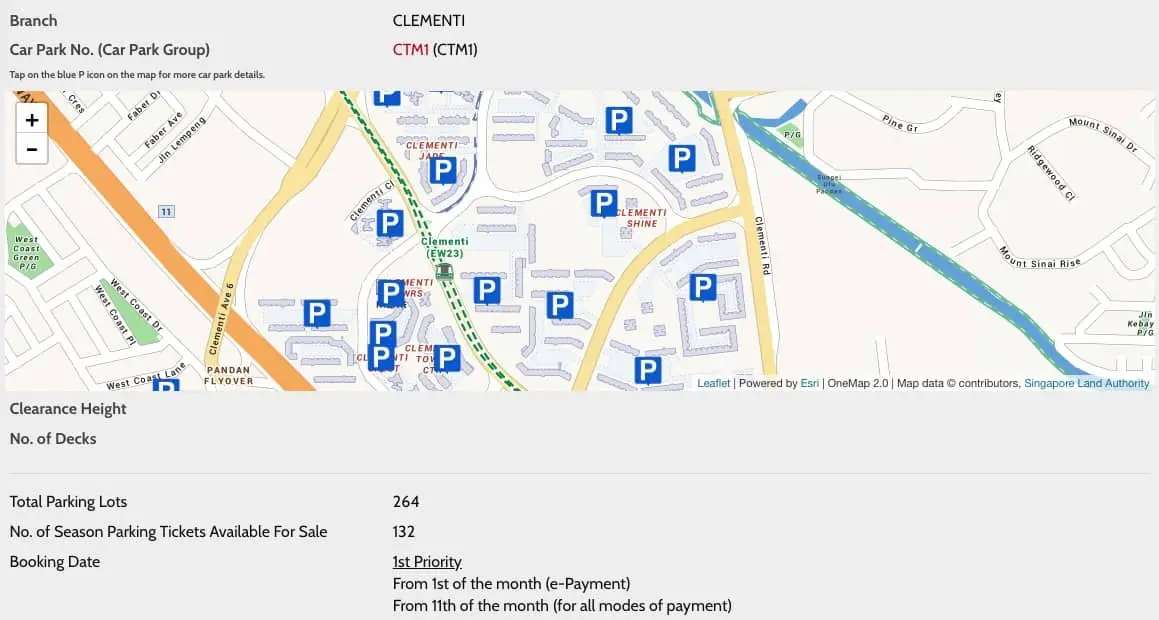 This means there wouldn't be a shortage at all for residents looking to stay here – especially given there are only 388 units.
Clementi Towers car park is also separate from the mall's parking, so there shouldn't be a lot of spillover from those who park in the mall. This also means that you don't share the entrance with the mall, so you are unlikely to face congestion issues here (unlike what you may have heard at Woodleigh).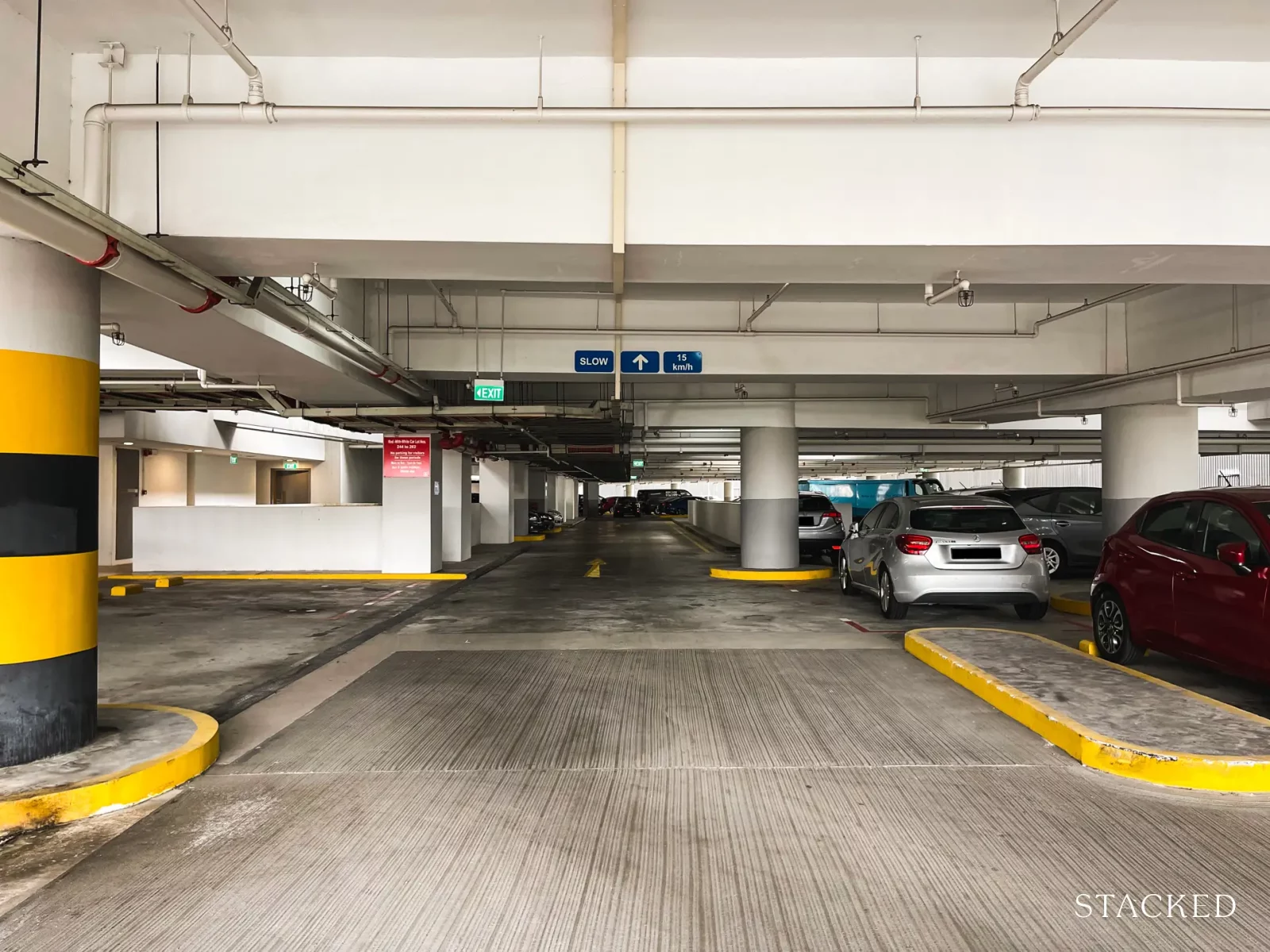 From the car park, you'll find 3 lift lobbies.
The first lift lobby (lobby B) is directly connected to the mall: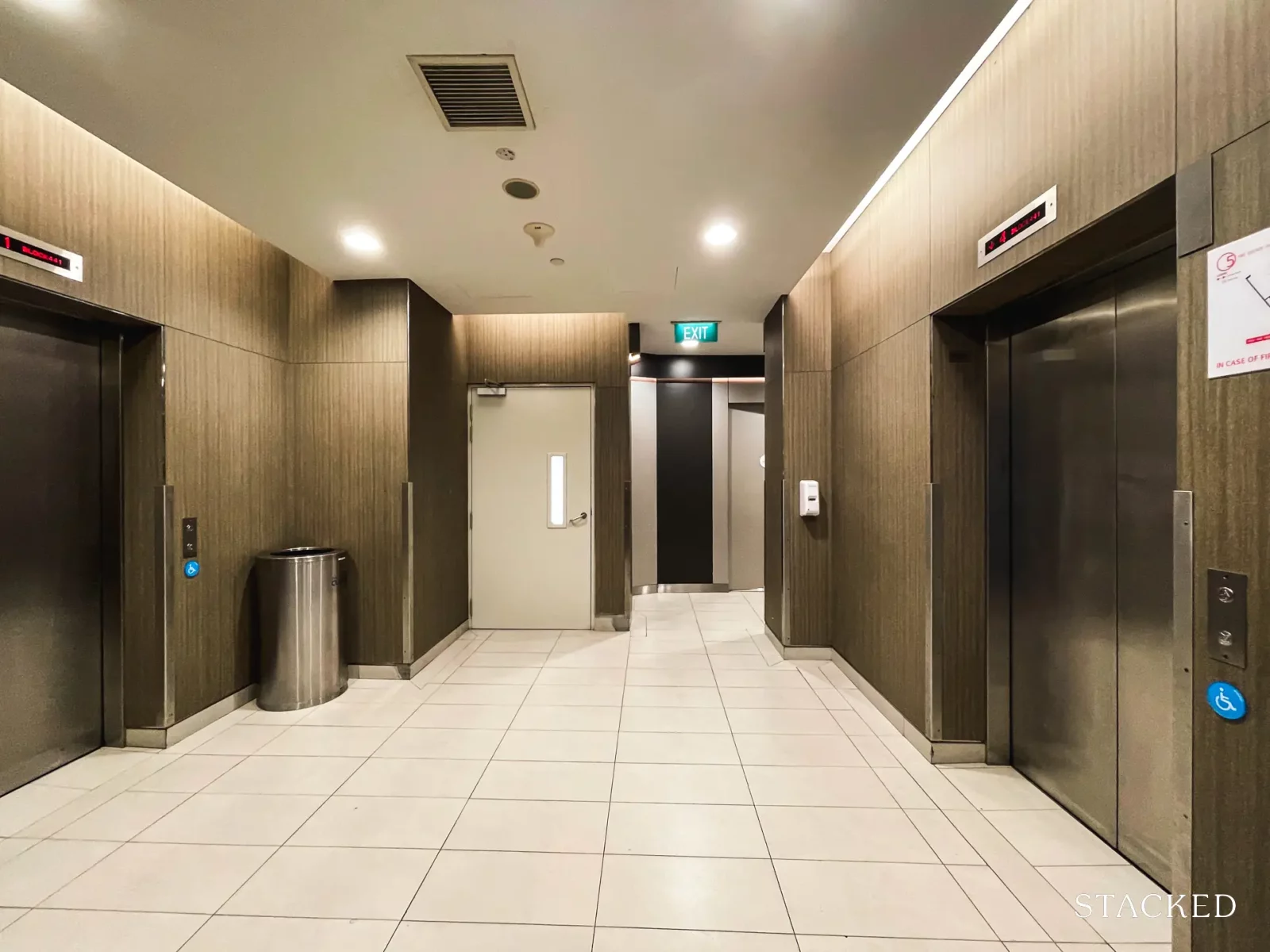 This lobby does not connect to the upper floors where the HDB units are. You'll find this in Lobby 1 and Lobby 2 respectively.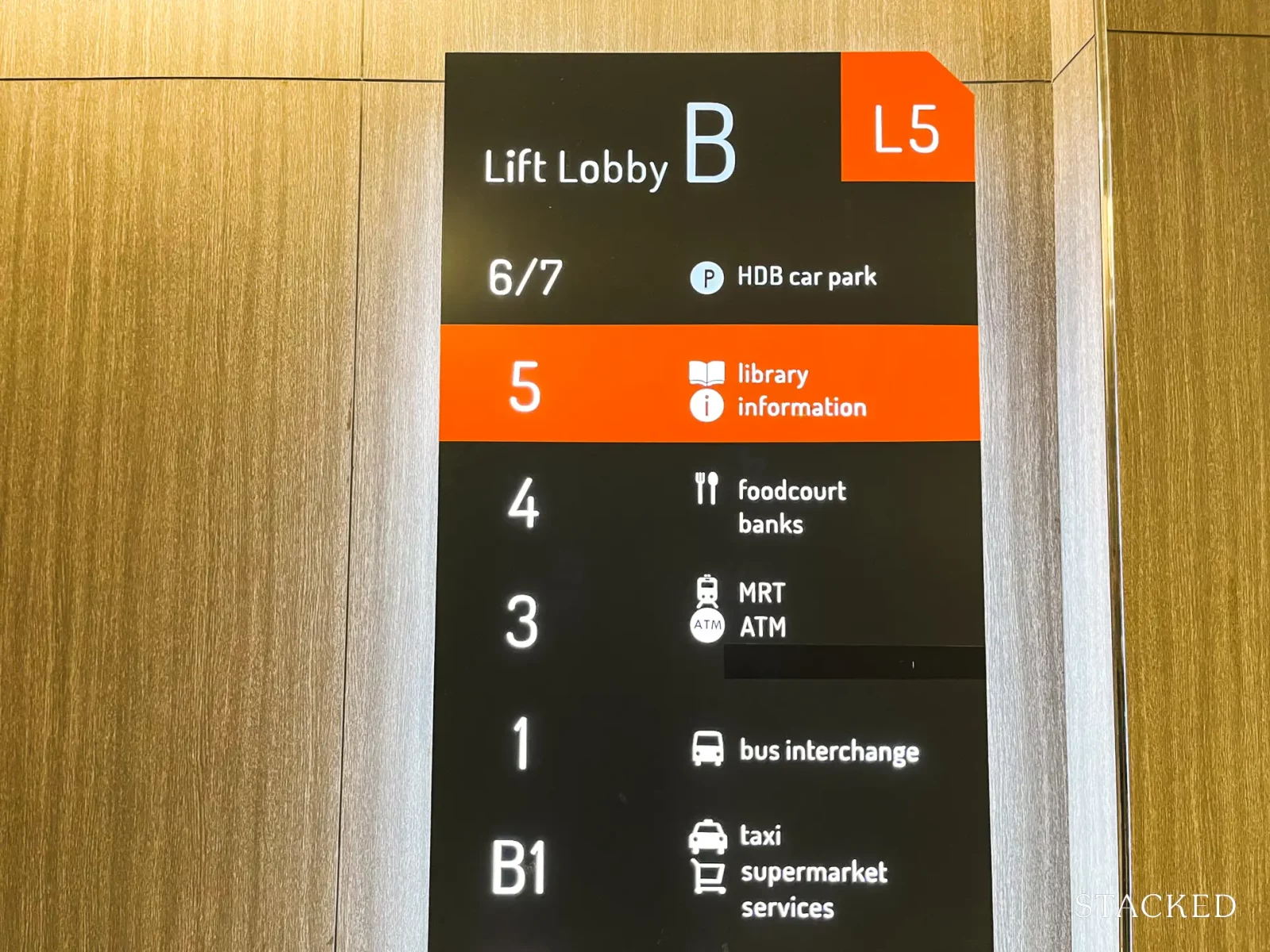 The difference in both lobbies is just the floors they serve. Lobby 1 serves levels 1, 6, and 10-25. While Lobby 2 serves levels 25 – 40.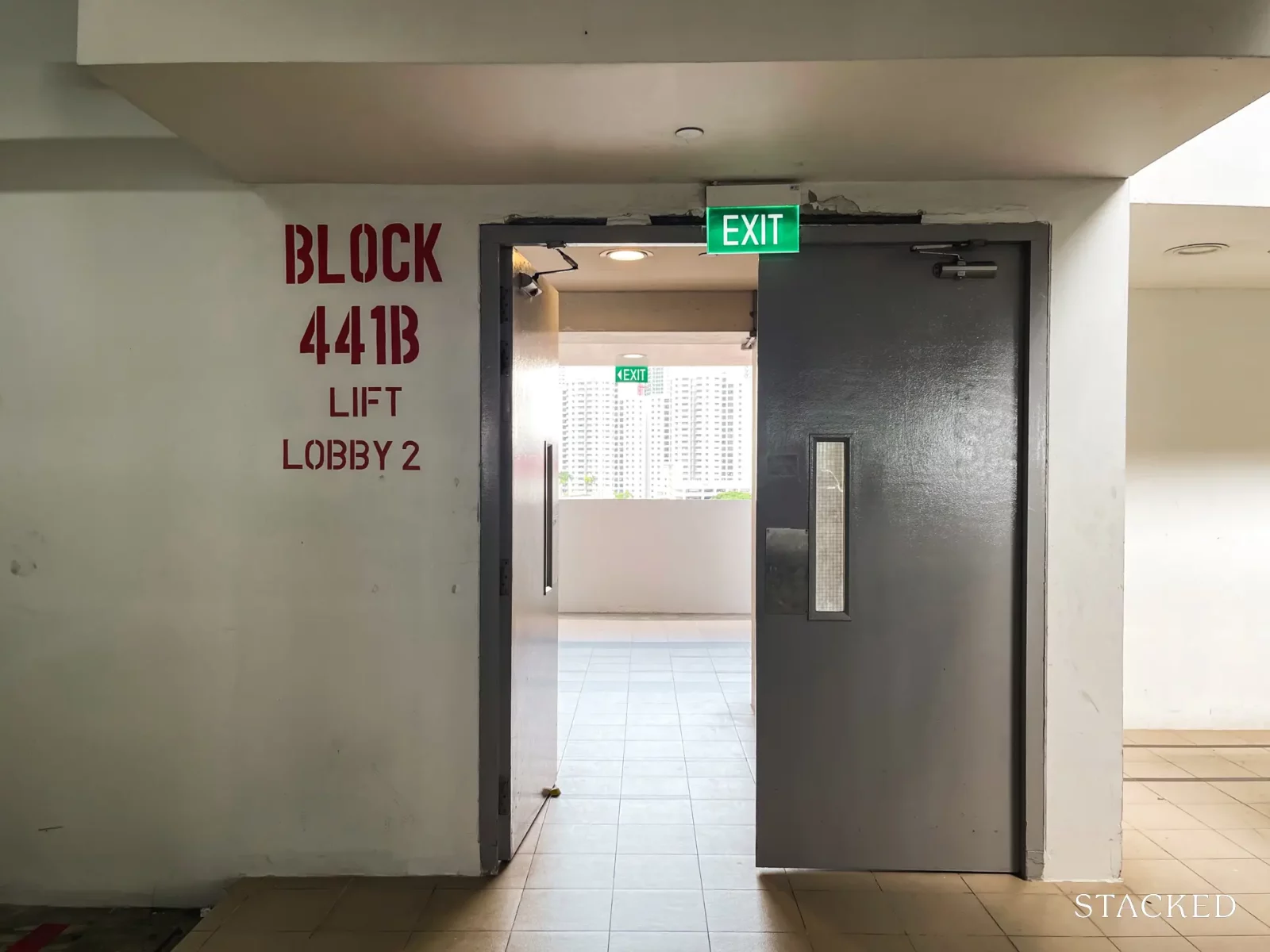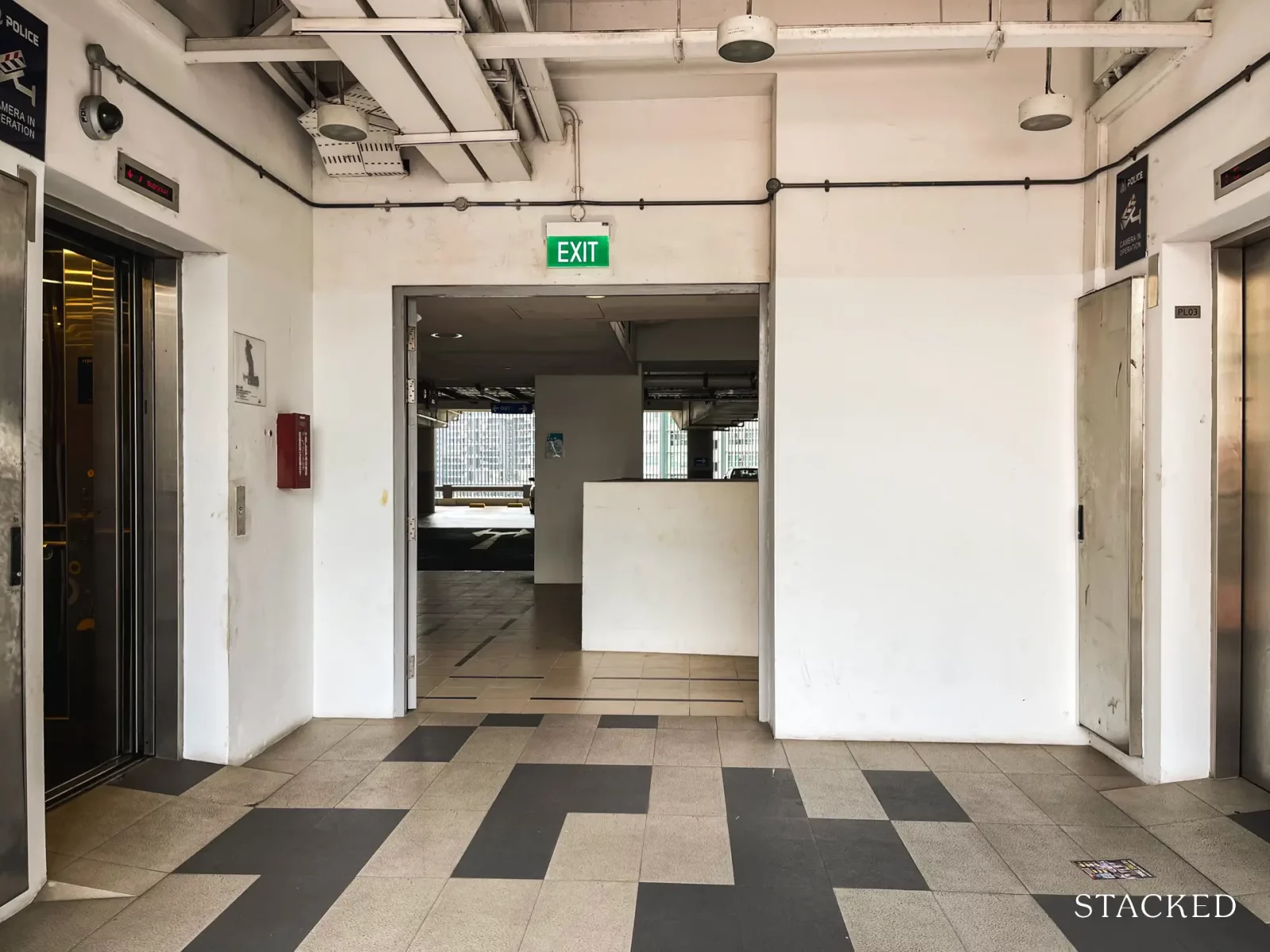 Do note that the car park is also closer to block 441B. For those staying in block 441A, you'll need to walk through here to the other side to reach your lift lobby: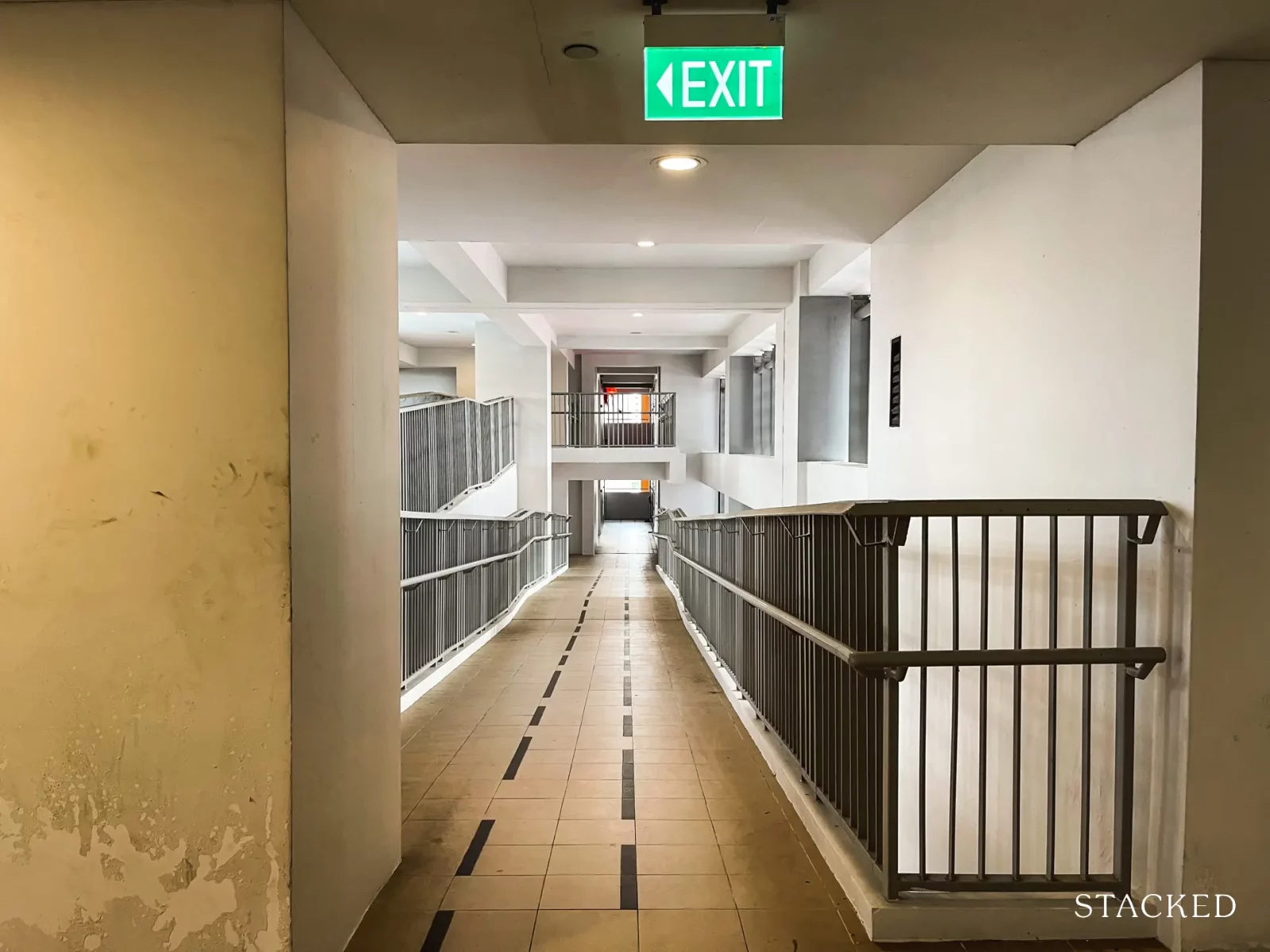 For this block, there's also only 1 lift lobby with 4 lifts. Two serving the lower floors, and another 2 serving the higher floors.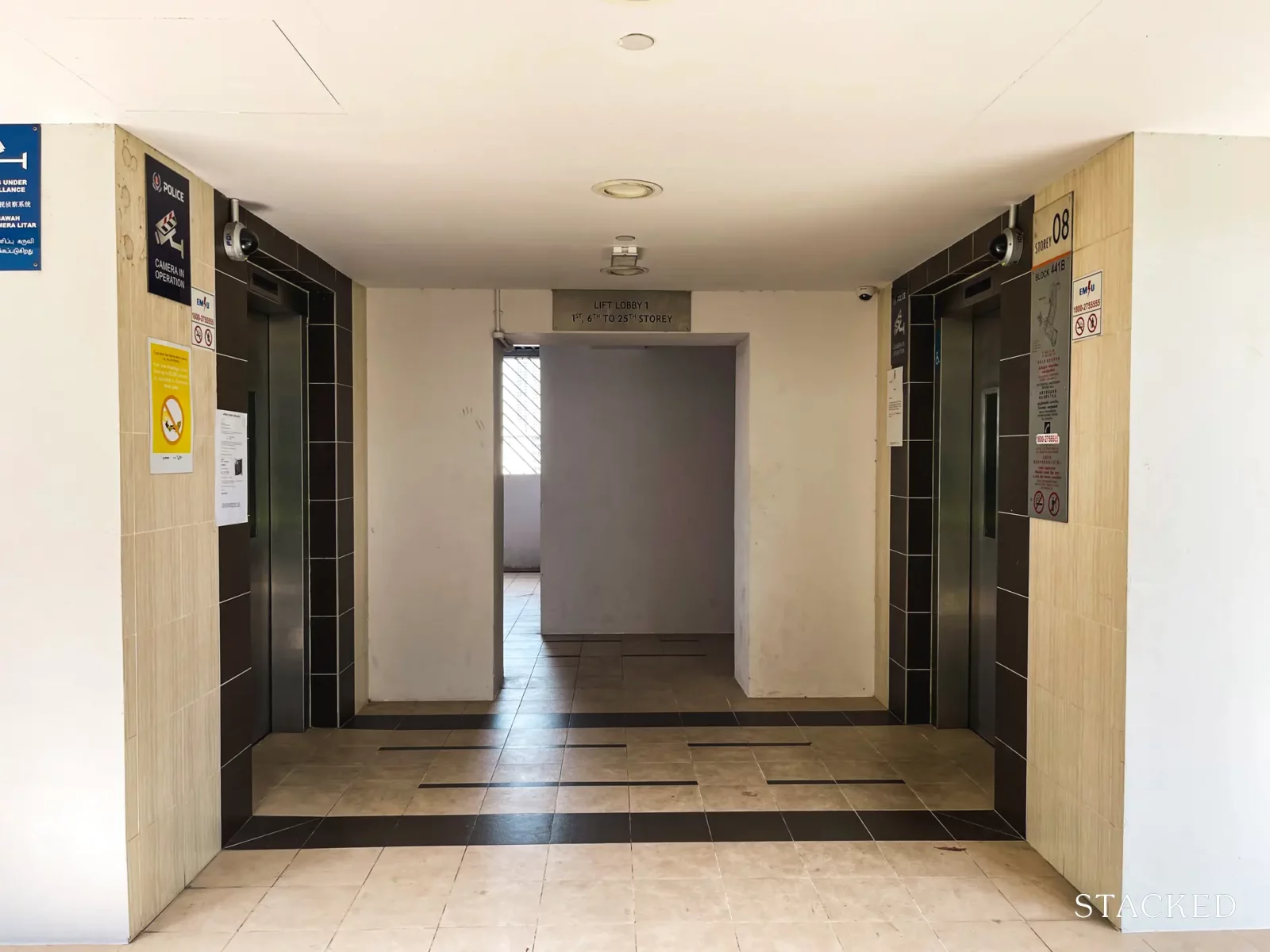 As a result of the multiple lobbies and lack of drop-off points, guests may find it quite difficult to get to your home without clear instructions.
While the HDB is integrated given you can connect to the mall via the car park lift lobby, I have received word on the ground that the mall lifts are slow to the point where it's just faster to go straight to level 1 and walk to the mall directly.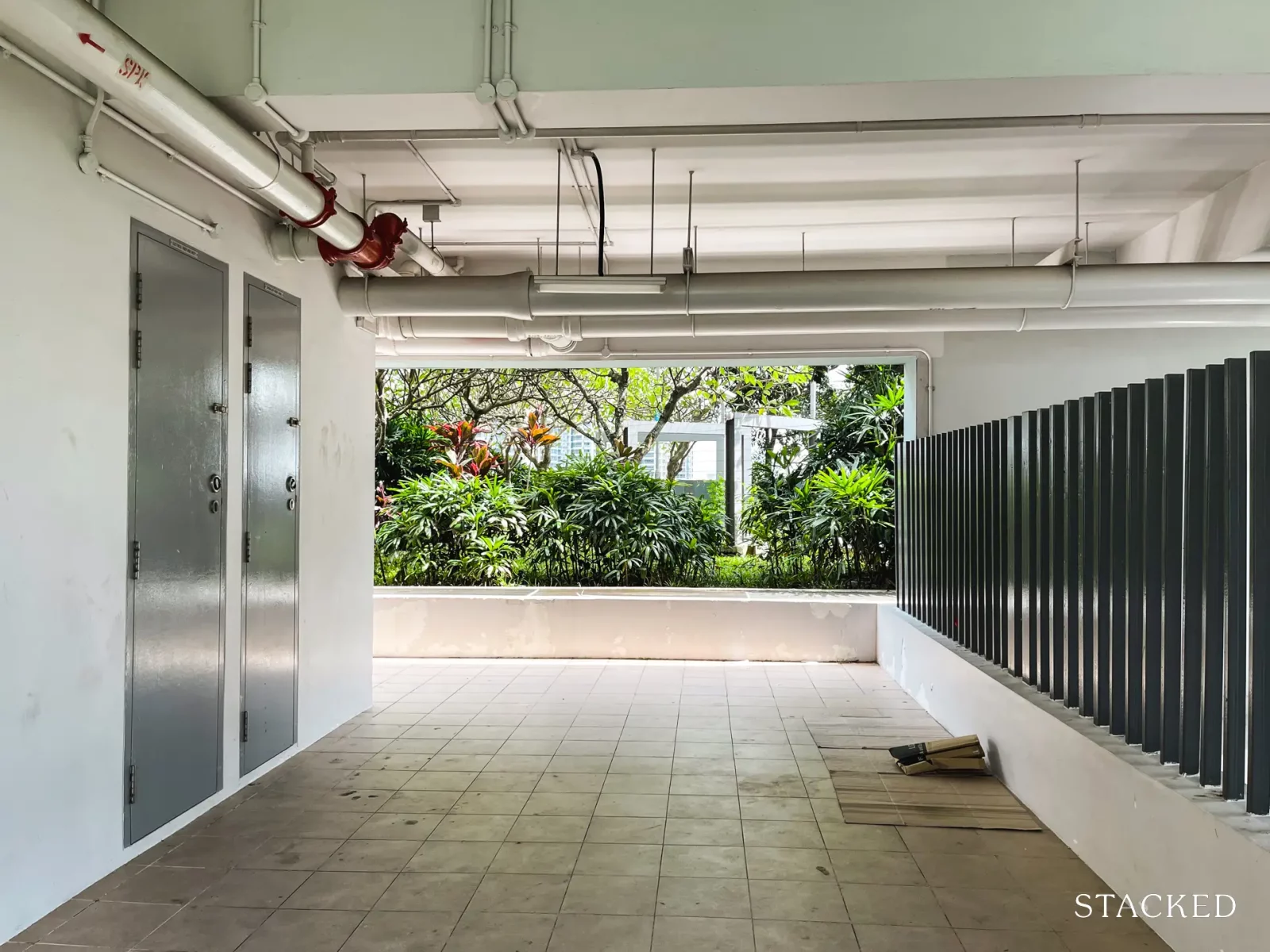 Now because this HDB is quite unique in that it's integrated with the mall, there are no ground-level facilities here that you'll find in all other HDBs. Instead, all of Clementi Towers's facilities are located on the roof garden.
The roof garden is located on level 8 – just one level above the car park.
According to the sign here, it seems that the roof garden is only open to residents on weekends and public holidays.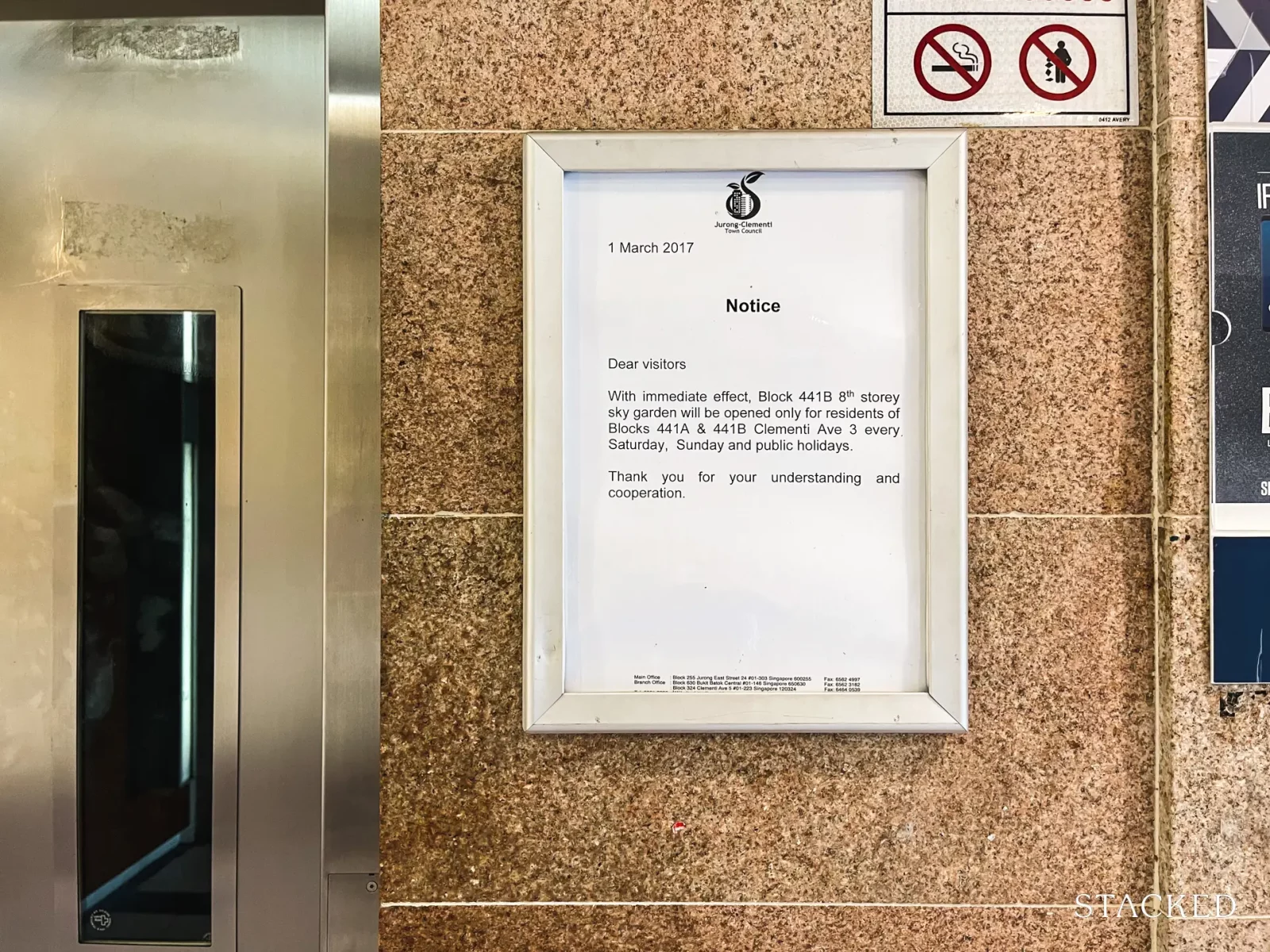 Given the area's high density, this may have been done to prevent non-residents visiting Clementi Mall from using its public spaces as hangout spots. This often leads to disruptions and inconveniences for the residents on the lower floors.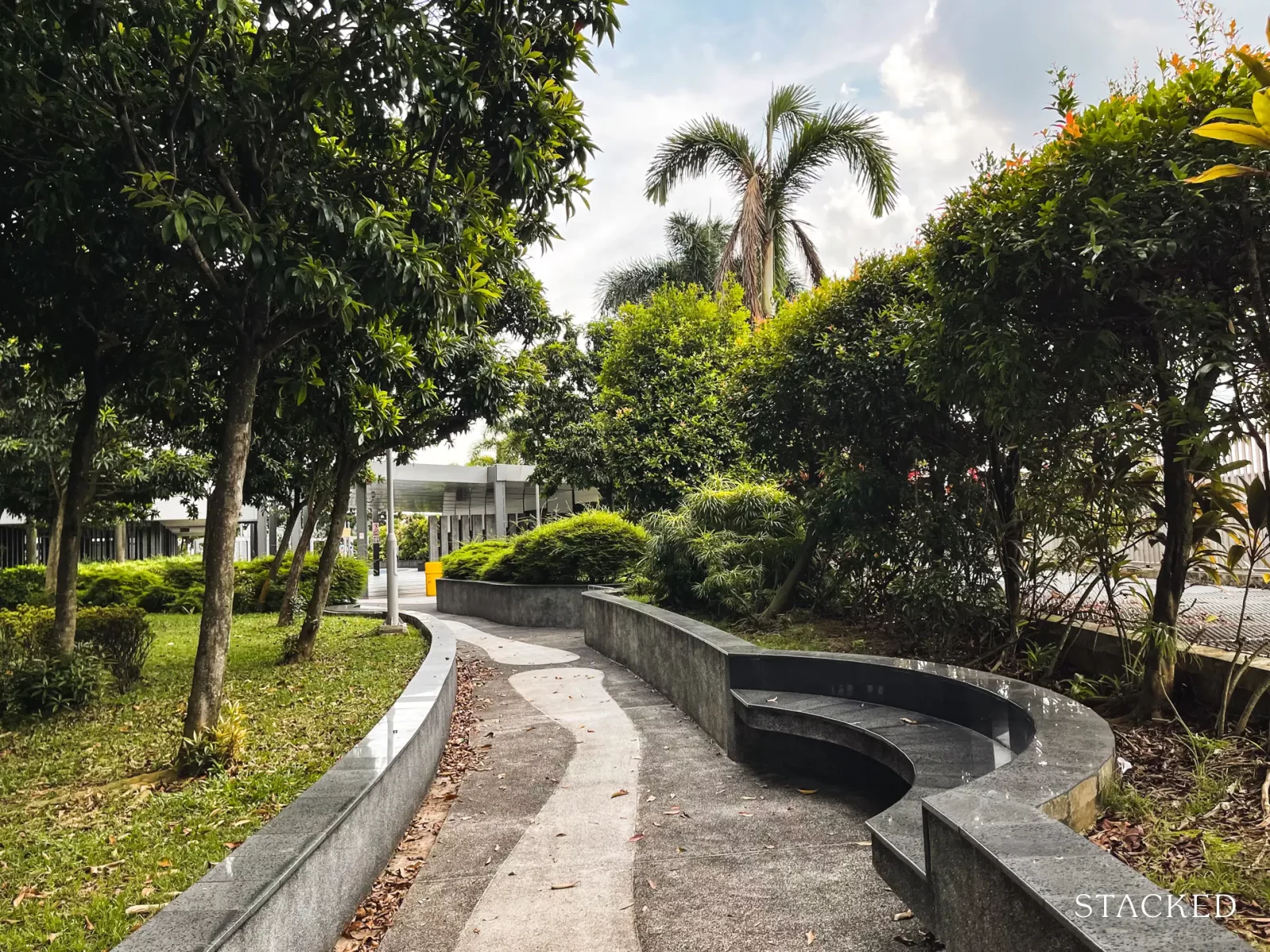 Taking a tour around, you'll find that there's a good amount of greenery here:
I even saw sunflowers in one section – a first for an HDB I've visited.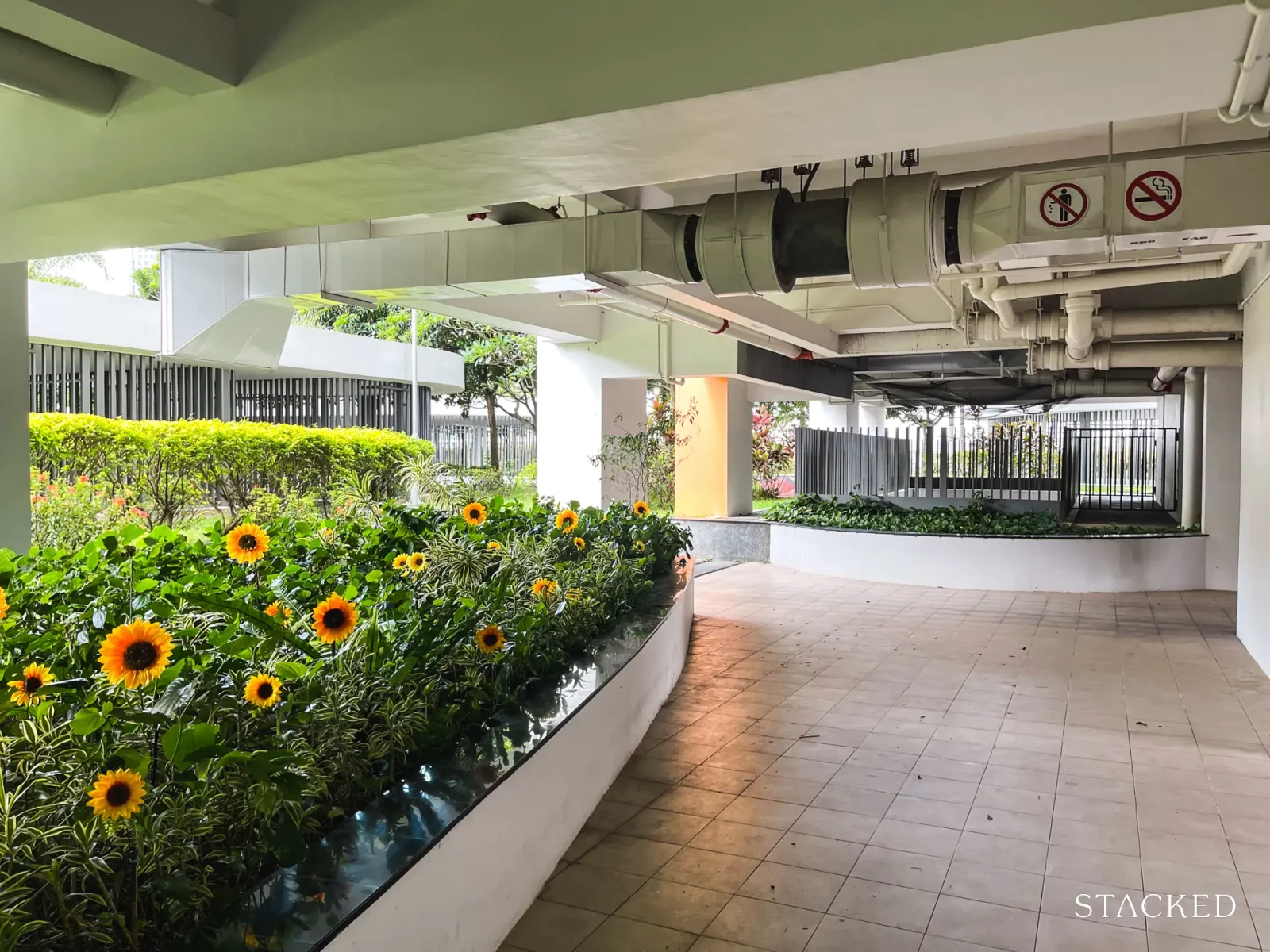 There is a lot of open space as well as ample seating on the side.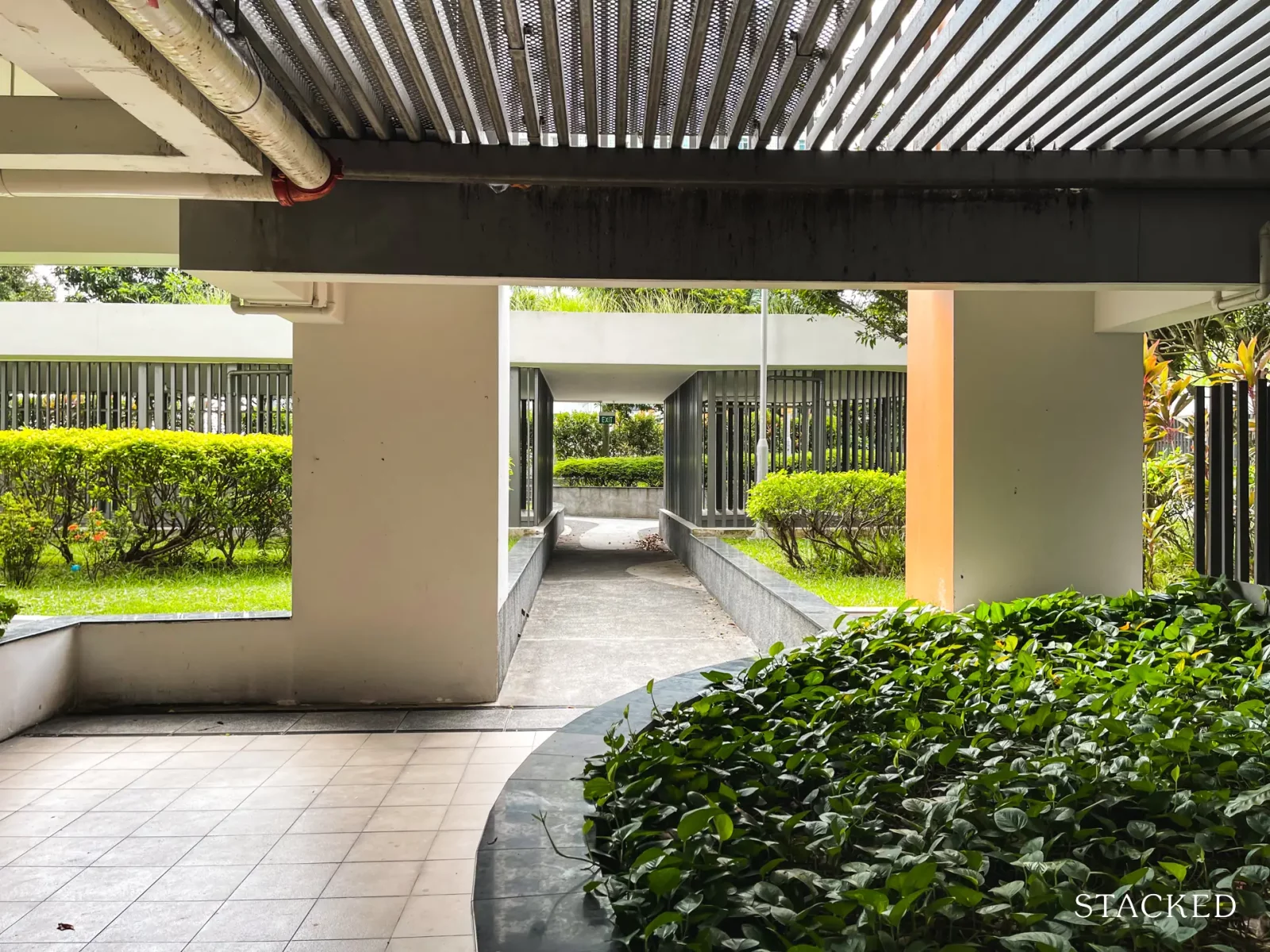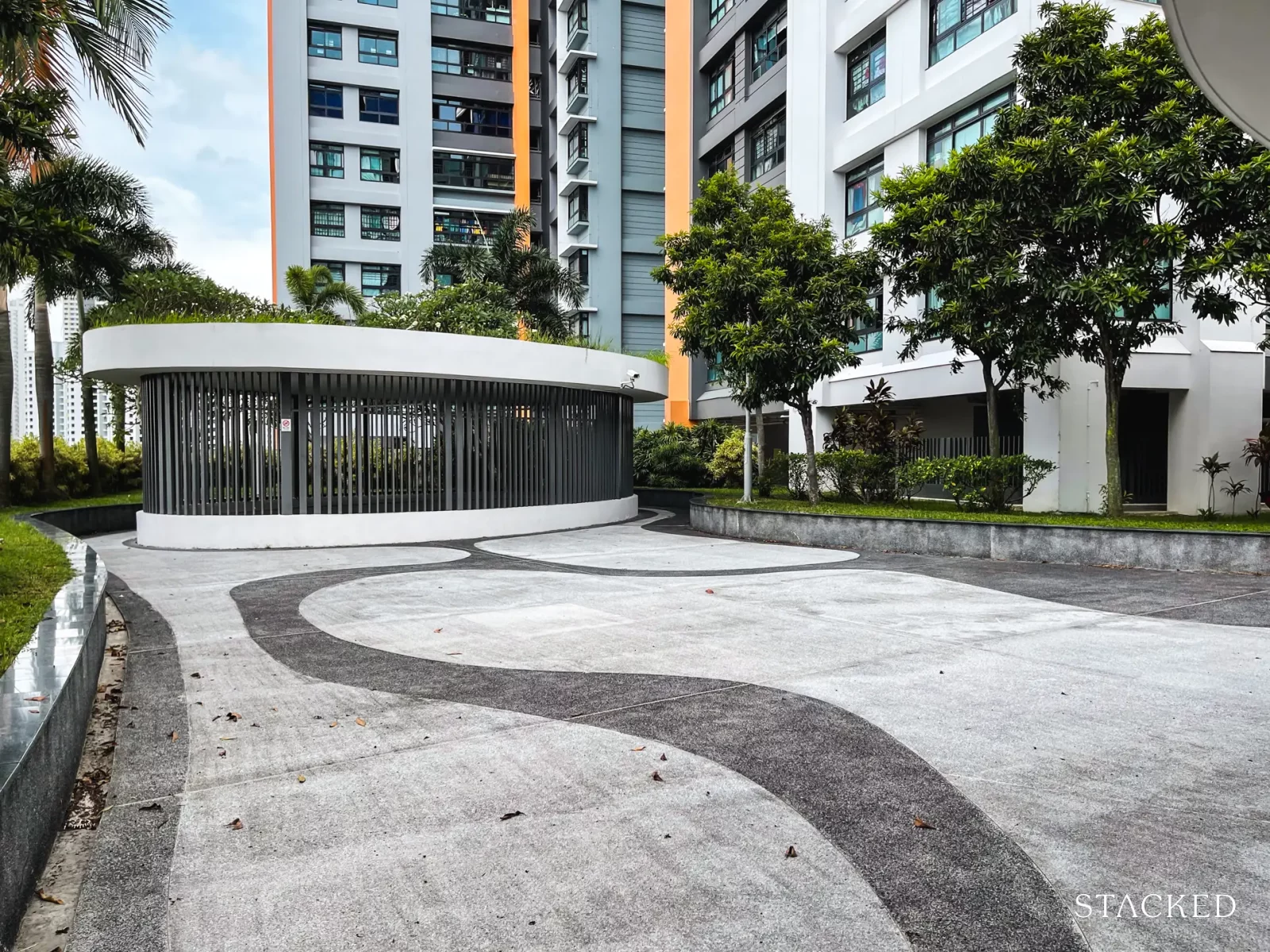 You might be thinking that these open spaces could be put to better use – perhaps some tables and chairs would be nice. But I think the reason for leaving it void is due to the popularity of the area. If the area has to be restricted on weekends and public holidays, any additional tables or chairs would only cause more disamenities since this generates more noise.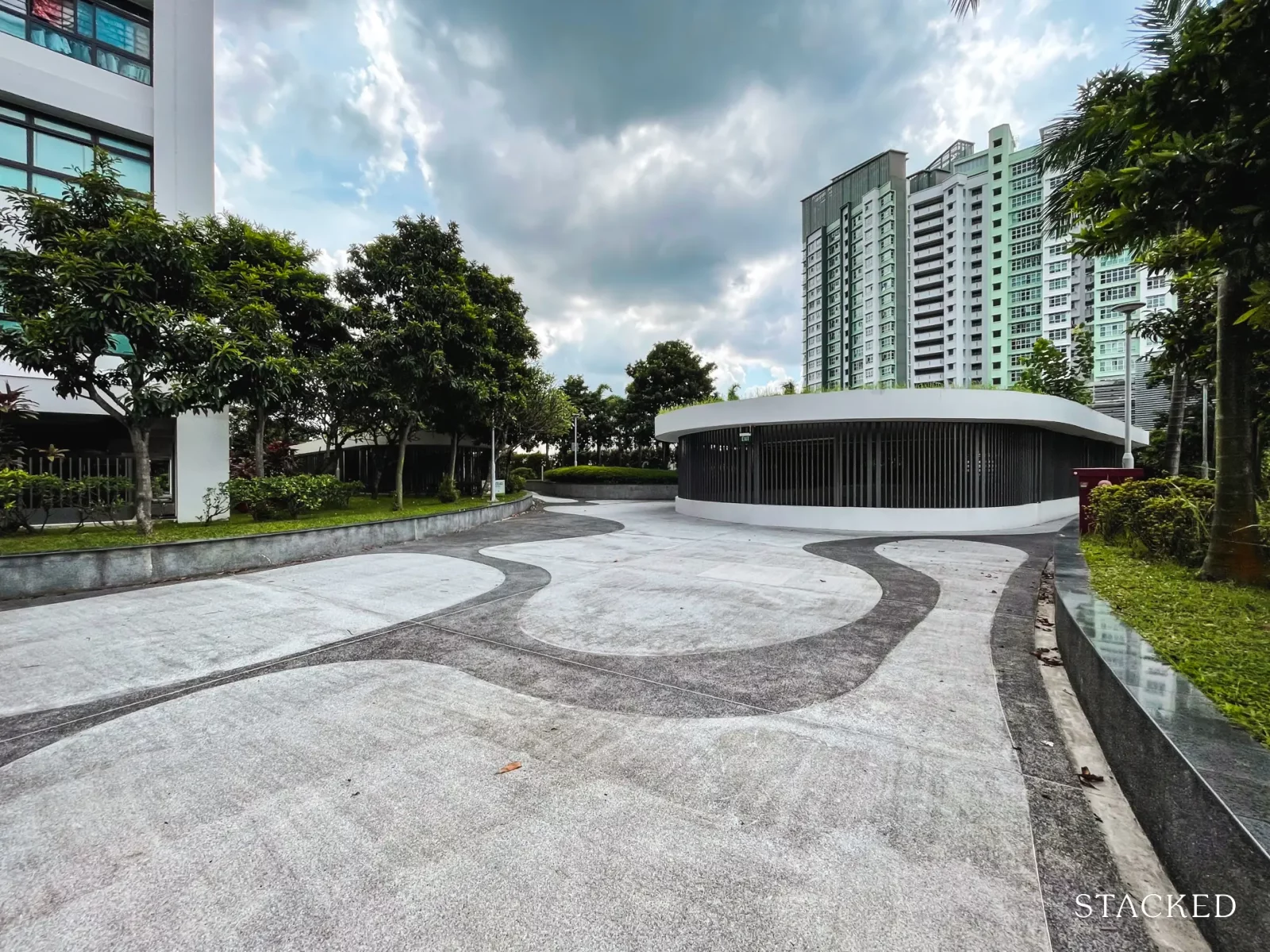 While it's nice to fill these spaces, I don't think it's a big deal at all unless chilling in the void deck is an important feature to you.
More empty, void spaces you can find here: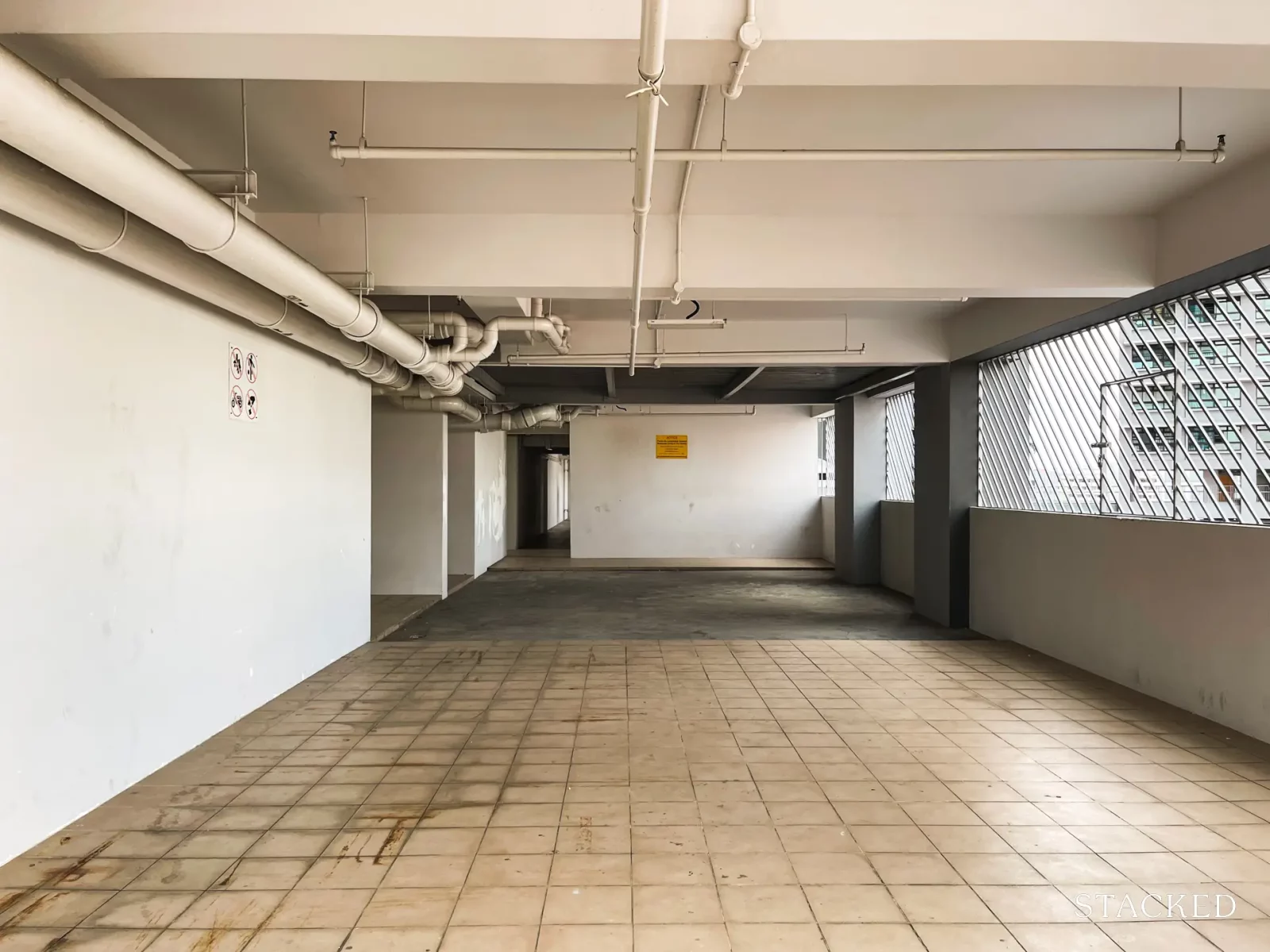 Now let's focus on the remaining facilities. First, we have the Multi-Purpose Hall (aka the Sheltered Pavilion):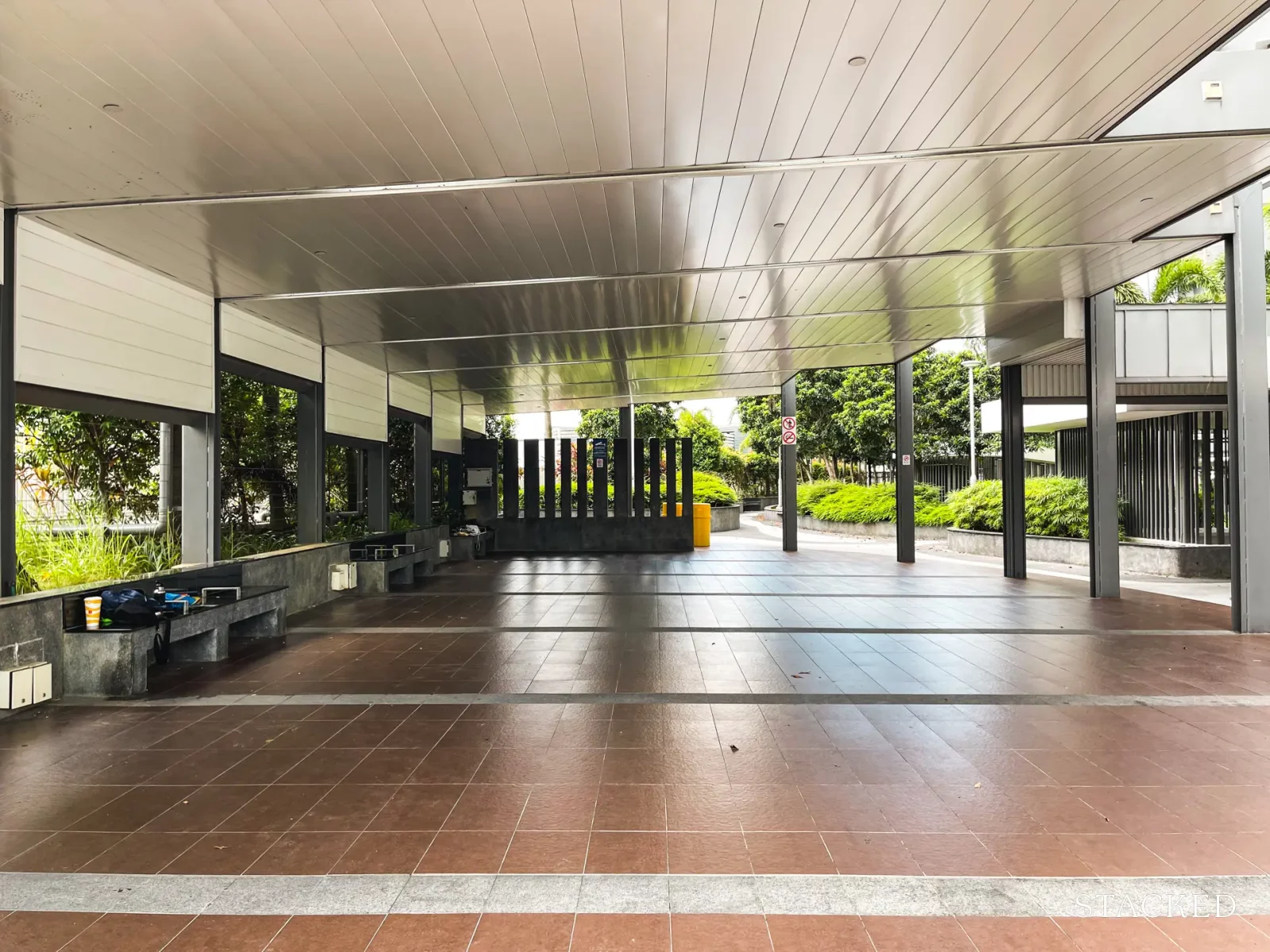 The MPH is bright, open, and spacious. There's also some seating here by the side which is useful for events that don't need that much seating but could appreciate some.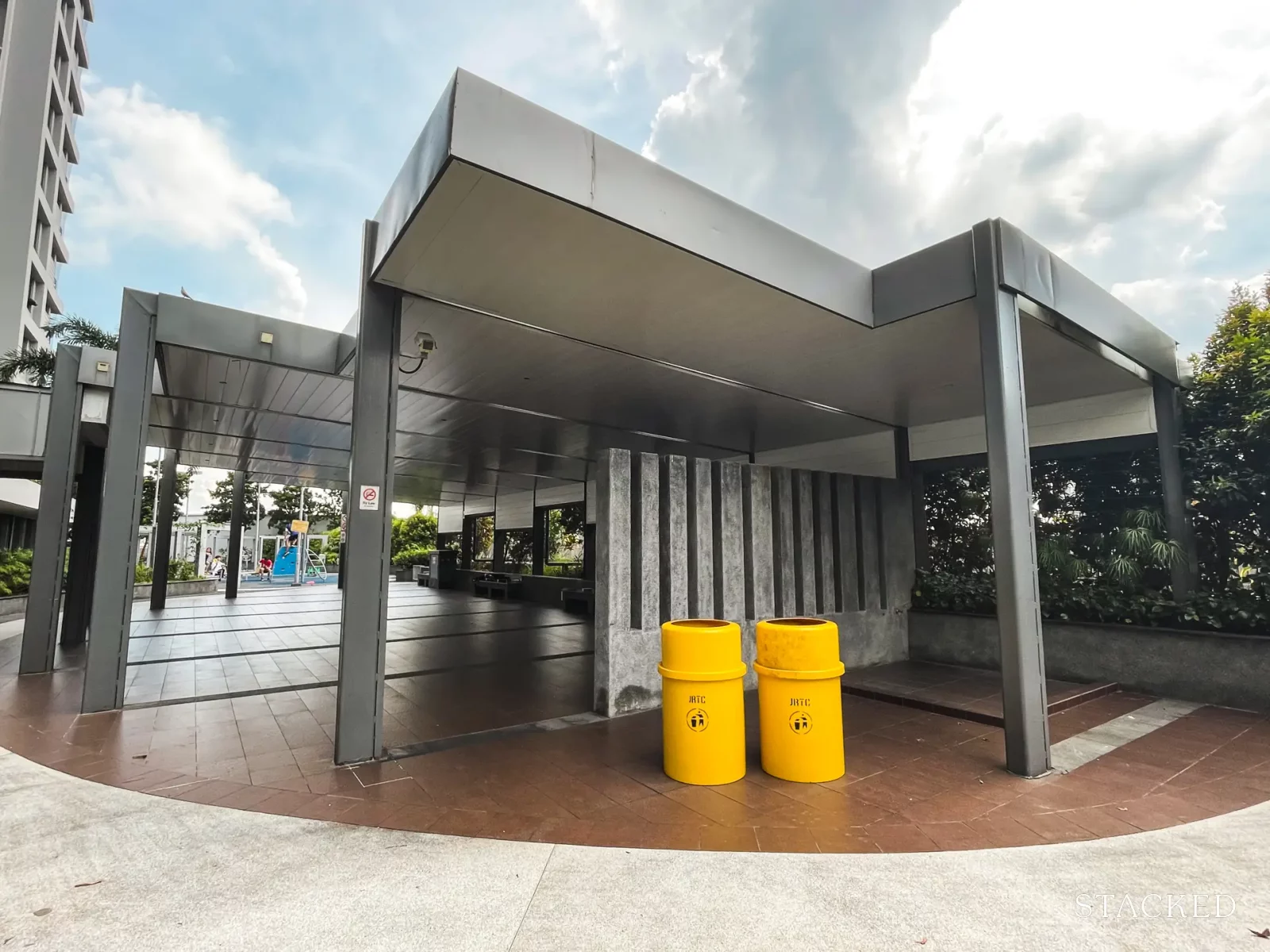 There are lights installed, though no fans were observed, which might not be an issue since most events usually prepare for Singapore's warm climate. However, the primary challenge arises when organising an event: logistics. Companies can't directly unload heavy equipment from their trucks due to the lift access requirement, causing significant delays in setup.
It's rare to find sheltered pavilions on rooftop gardens for this reason, but Clementi Towers had space constraints to consider. One resident even mentioned never witnessing a wedding or funeral here, likely due to these logistical challenges.
Next up is the fitness corner. This is probably the most impressive part of the rooftop garden: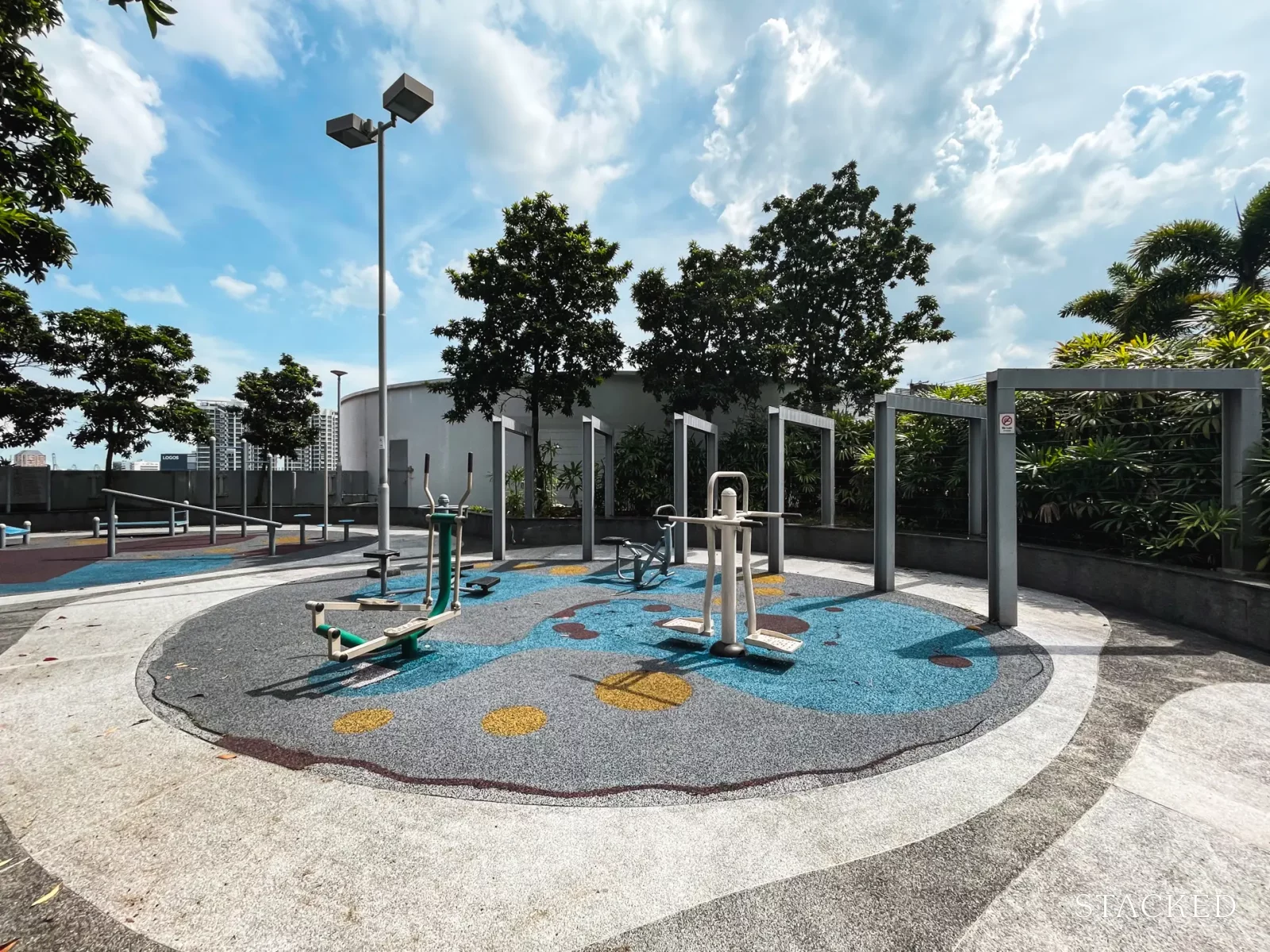 There's a good variety of fitness equipment here, so if you're looking out for both machines and static equipment, Clementi Towers's got you covered!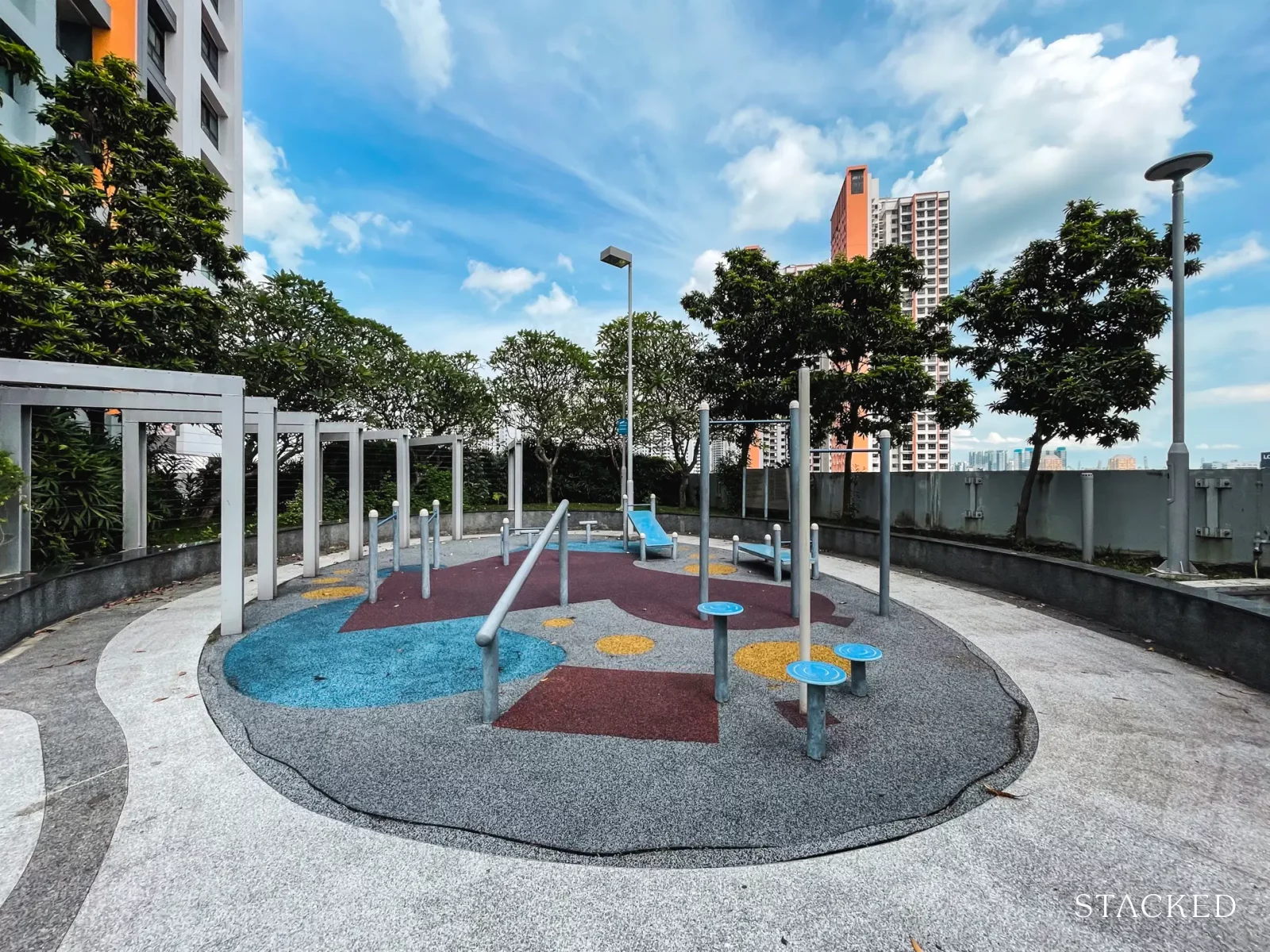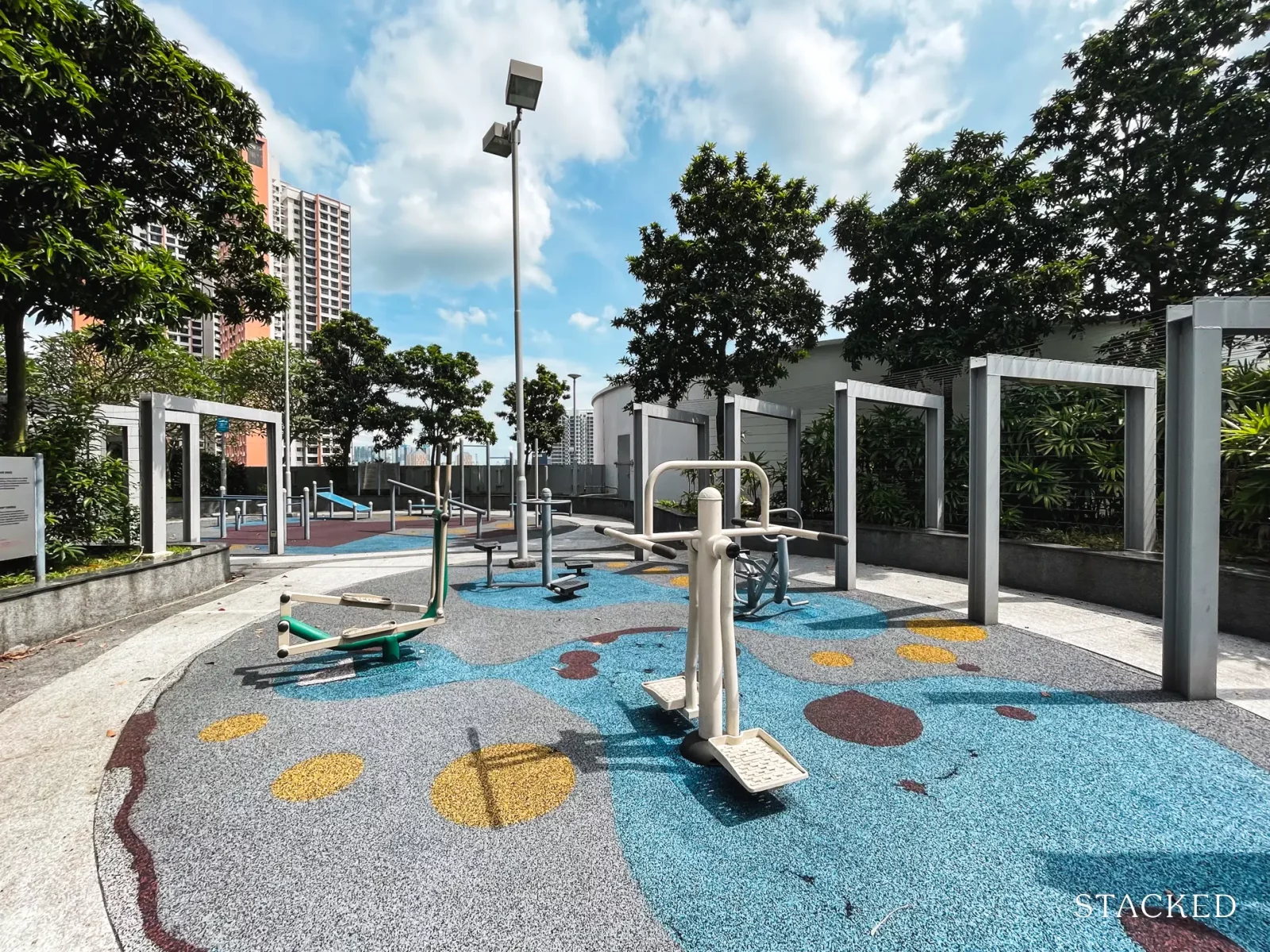 This is in stark contrast to the playground: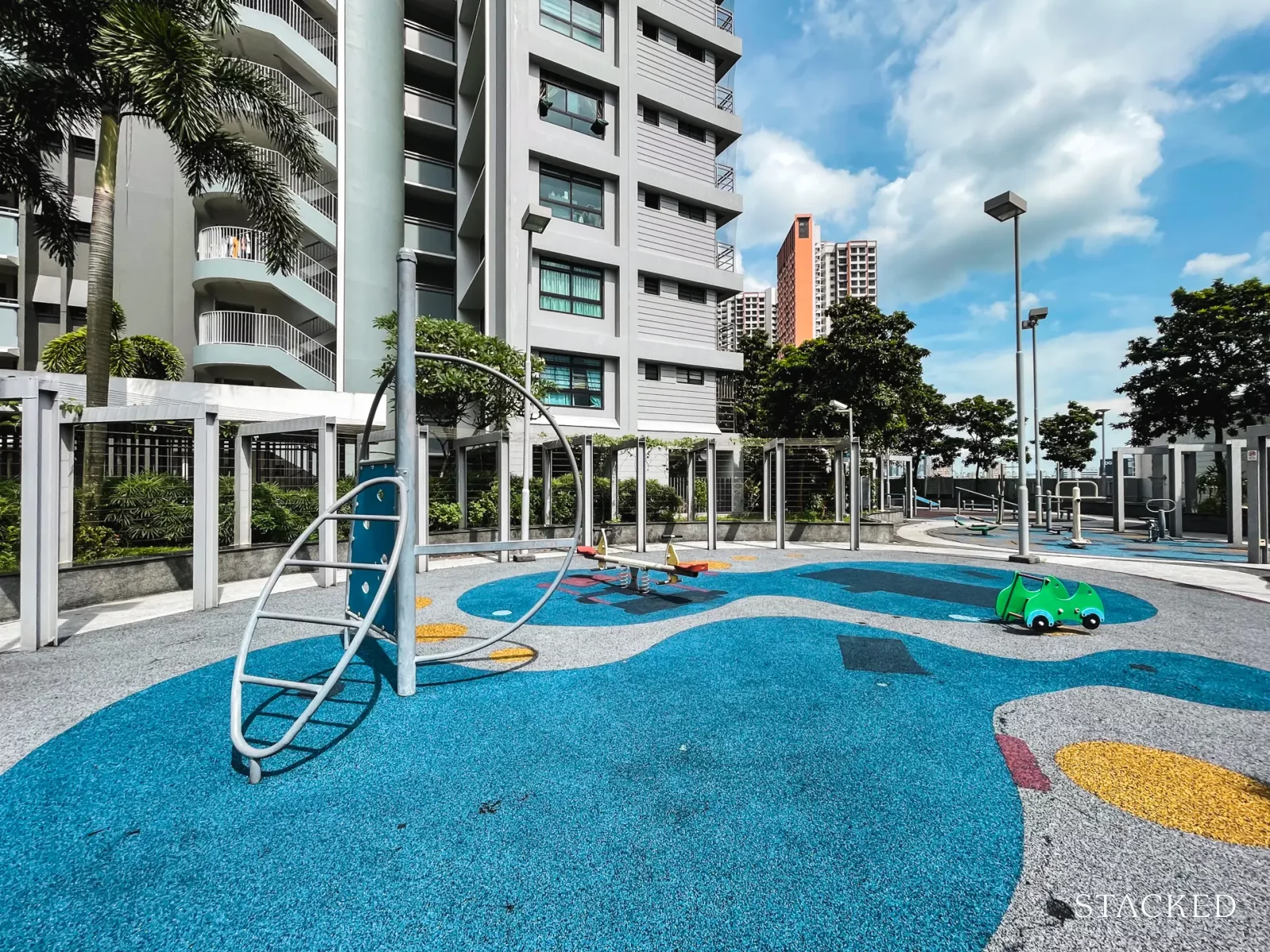 It's probably one of the worst I've seen in all the HDBs I've visited. The playground looks like an afterthought, almost as if they built it and realised they forgot a playground and decided to use whatever's left in the budget to squeeze one in.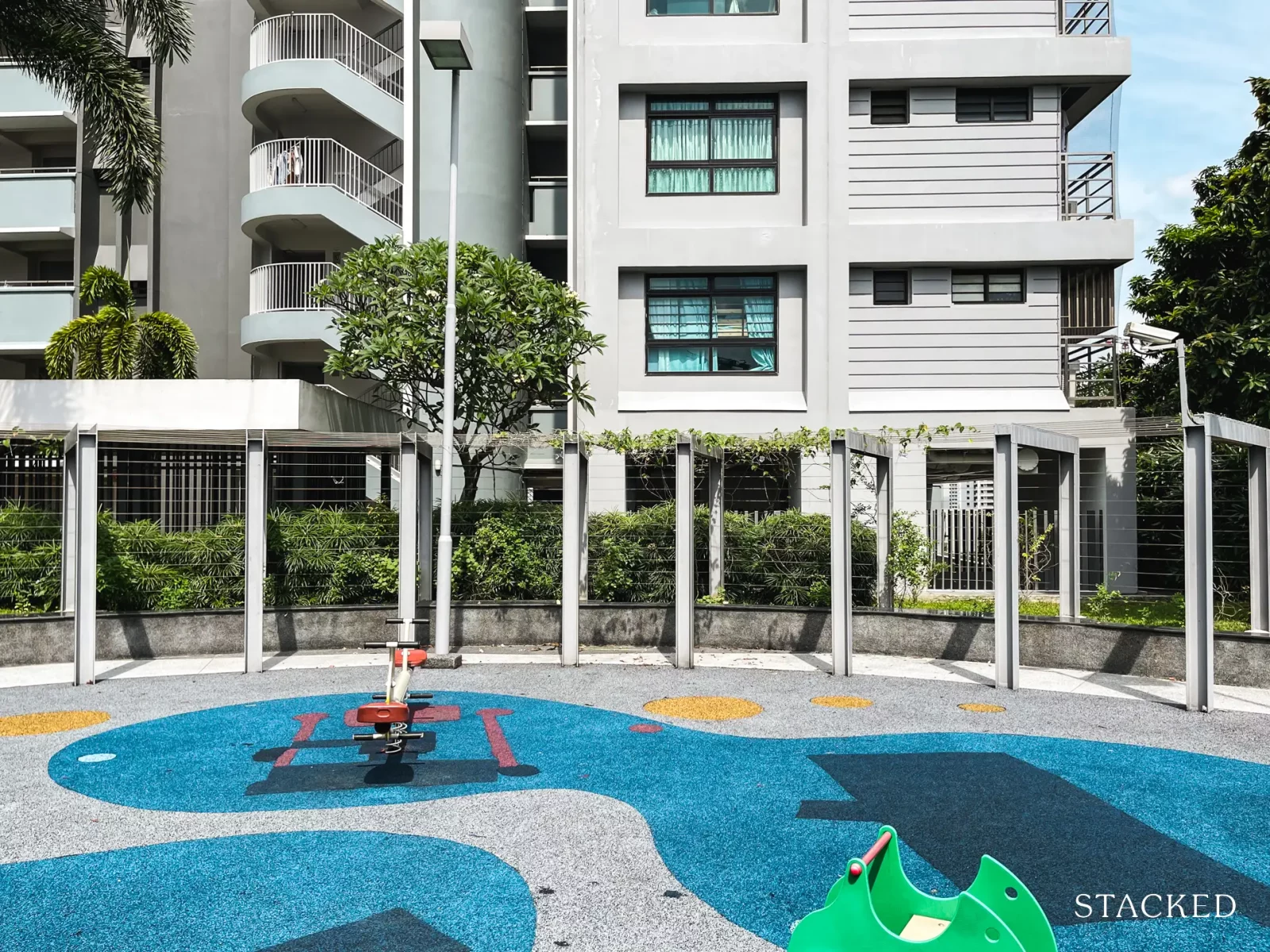 There is really just one climbing structure that doesn't even look fun, a see-saw and a spring rider. If I had to squeeze 1 item per age group (toddler, young kids, and older kids), it's these 3.
And this is really all the facilities that Clementi Towers has to offer as an HDB. It does seem like there isn't much on offer here, but you have to remember two things:
First, Clementi Towers is integrated with Clementi Mall. In this aspect, the HDB immensely benefits from the mall, so there's no real need for these HDB facilities. In some sense, the lack of facilities here is more than compensated for by the location.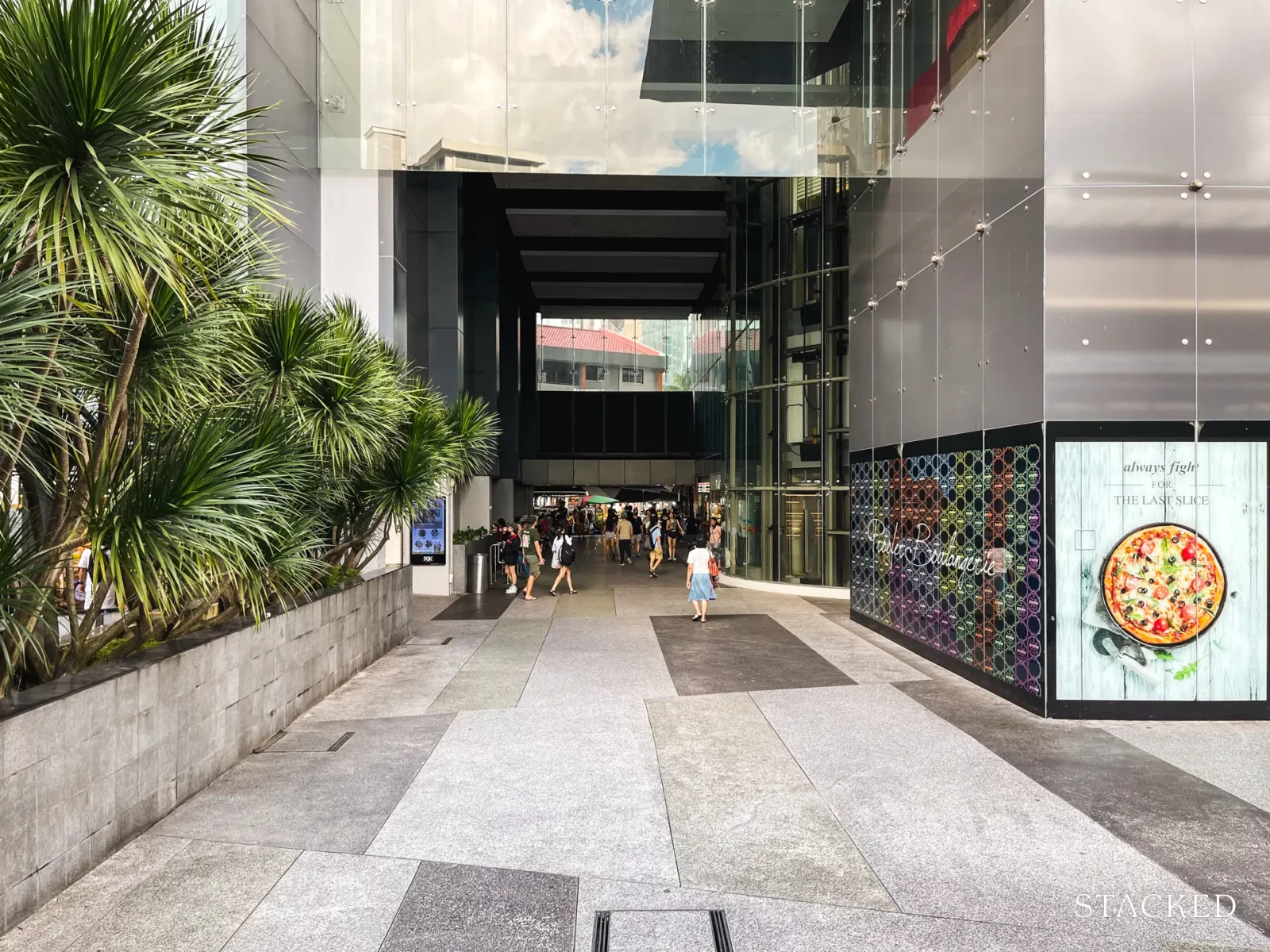 Second, there are only 388 units here. This is really the right amount of facilities you'd build for a development this size. As such, I wouldn't expect overcrowding here.
The only disappointment here is the playground – even the one at SkyTerrace which was a little disappointing isn't as bad as this. Because SkyTerrace is located along the park connector and neighbouring HDBs have their own playgrounds, it benefits from the surrounding area.
But given how dense the area around Clementi Towers is, having a good playground within the compound would've been a lot more convenient and necessary.
Finally, I just wanted to highlight one more thing about the rooftop garden. The area seems to require more upkeep presumably from the high usage of the place. A resident we spoke to said that many students and maids would frequent the area – whether or not they really live here is questionable. This isn't a bad thing at all, but it could do with more maintenance.
Now that we're done with the facilities tour, let's head back to the lift lobby to see what the common corridors are like.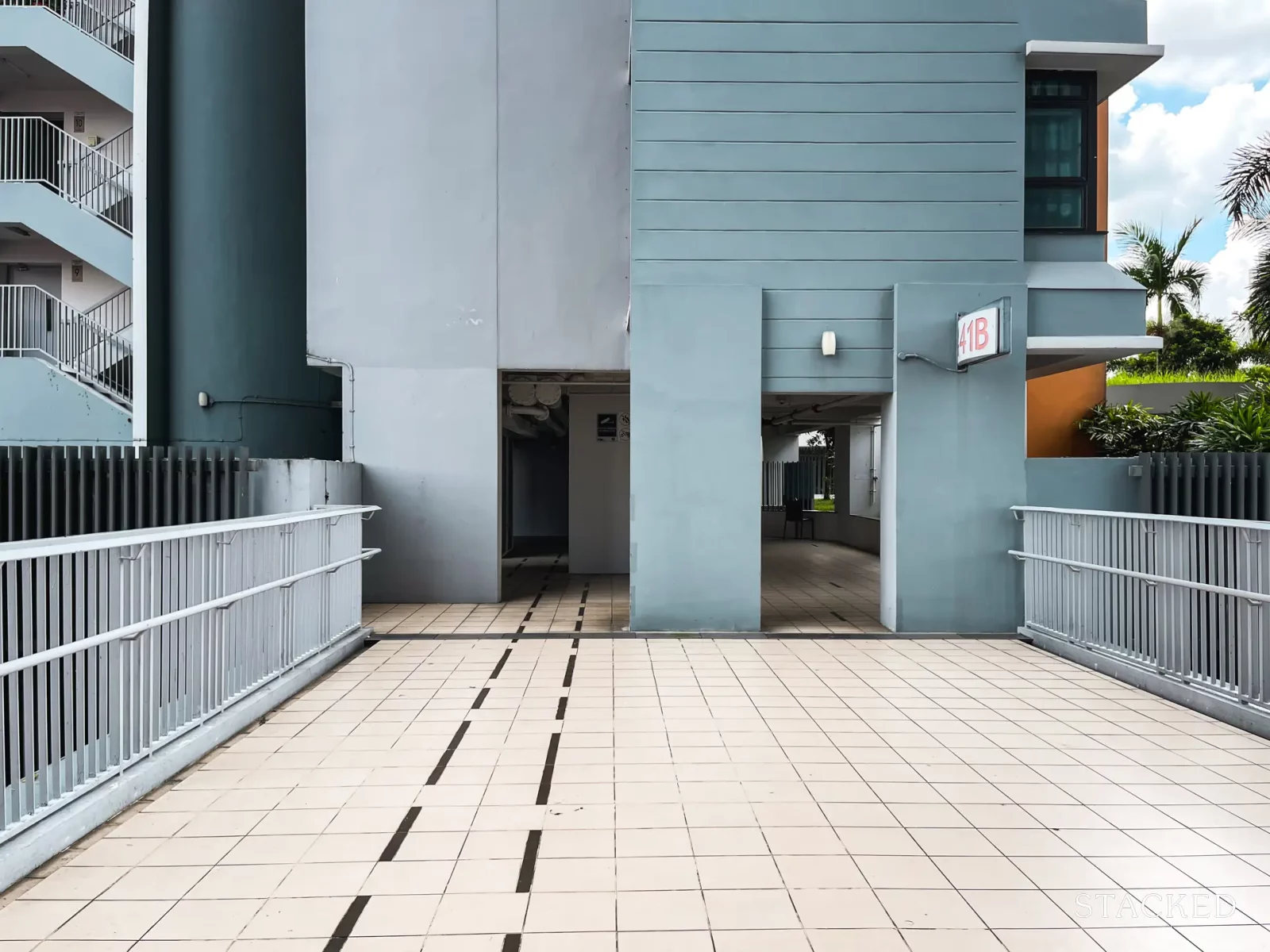 Clementi Towers has 2 blocks: 441A and 441B. Let's first head to block 441A.
This block only has 1 lift lobby with 4 lifts. As mentioned, 2 lifts serve lower floors, while another 2 serve higher floors.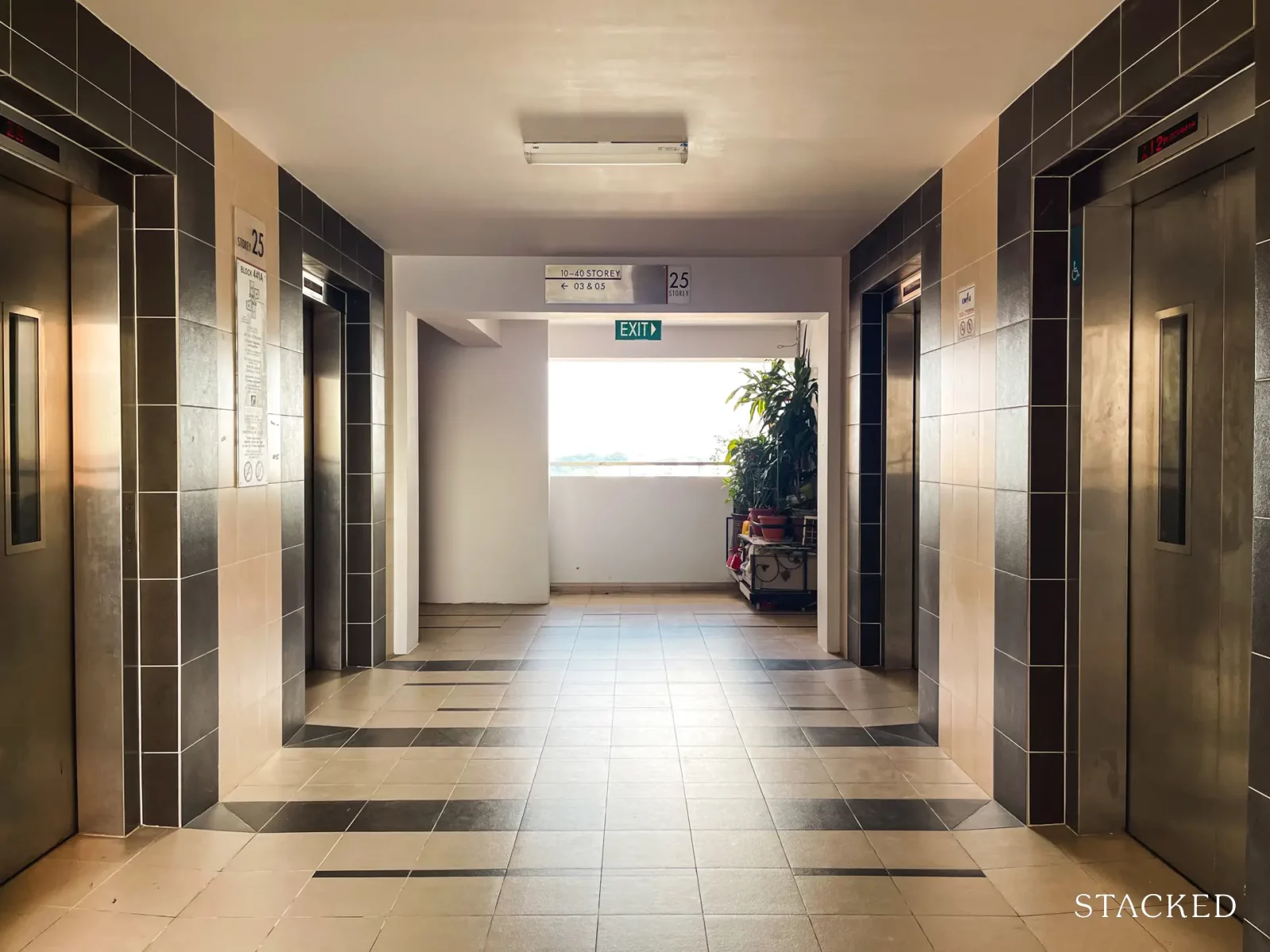 You'll also notice that the lift lobby is quite spacious and bright. The lifts are also modern-looking.
The common corridor is short but wide. The downside here is that units directly face each other, which is less private. However, the good thing is that each floor has just 4 units, making it quite private as a whole already.
Judging from the photos, it also seems that there's a decent amount of space to put a shoe rack outside, so those who find this important shouldn't have to worry about that here.
Next, let's check out block 441B. This block has 2 lift lobbies – one serving lower floors and another that serves higher floors.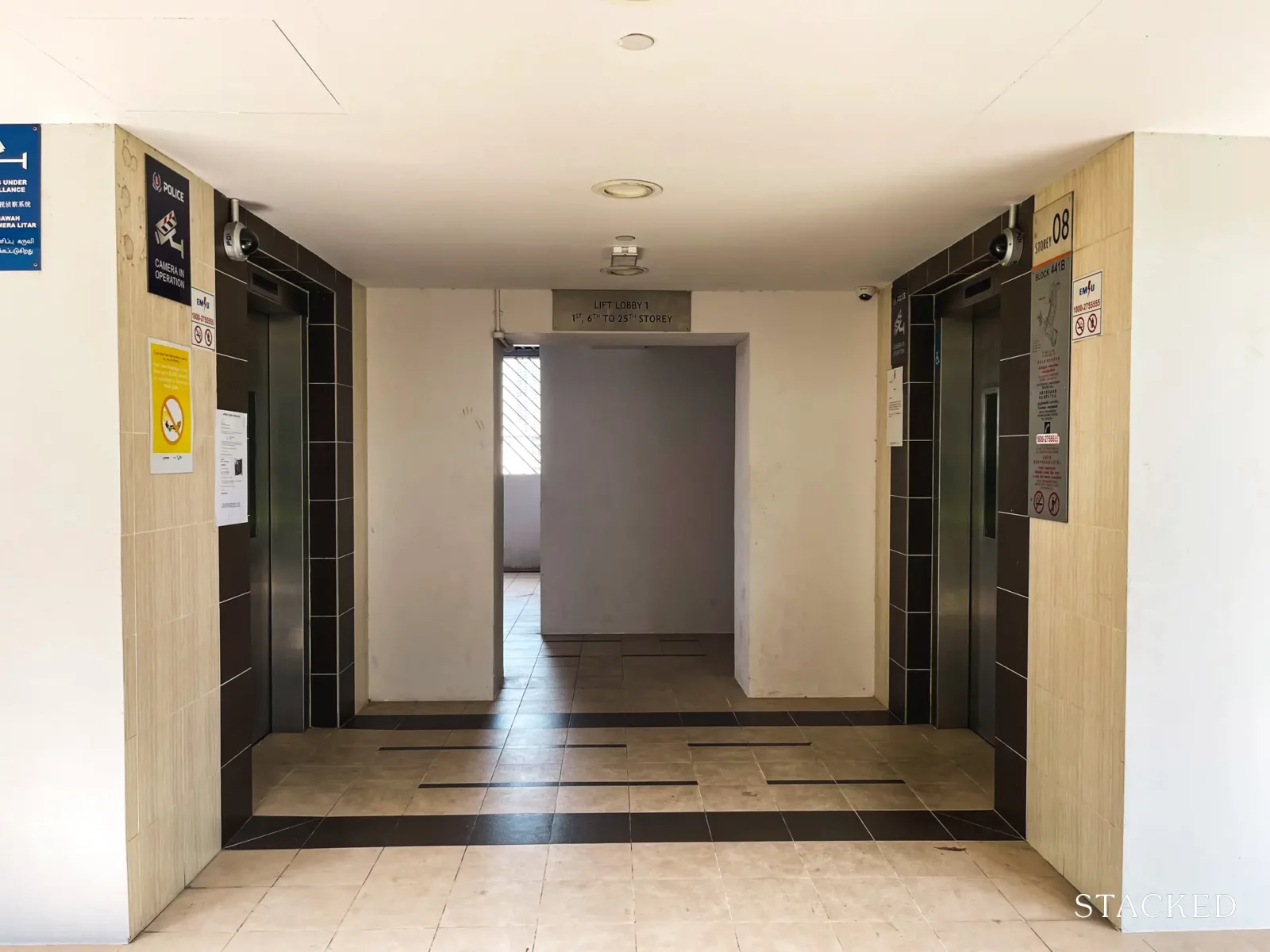 Like block 441A, the lift lobby is also bright and spacious. But unlike 441A, the corridor at this block is longer. This allows for more units per floor – and there are 8 on each floor here with some facing the corridor.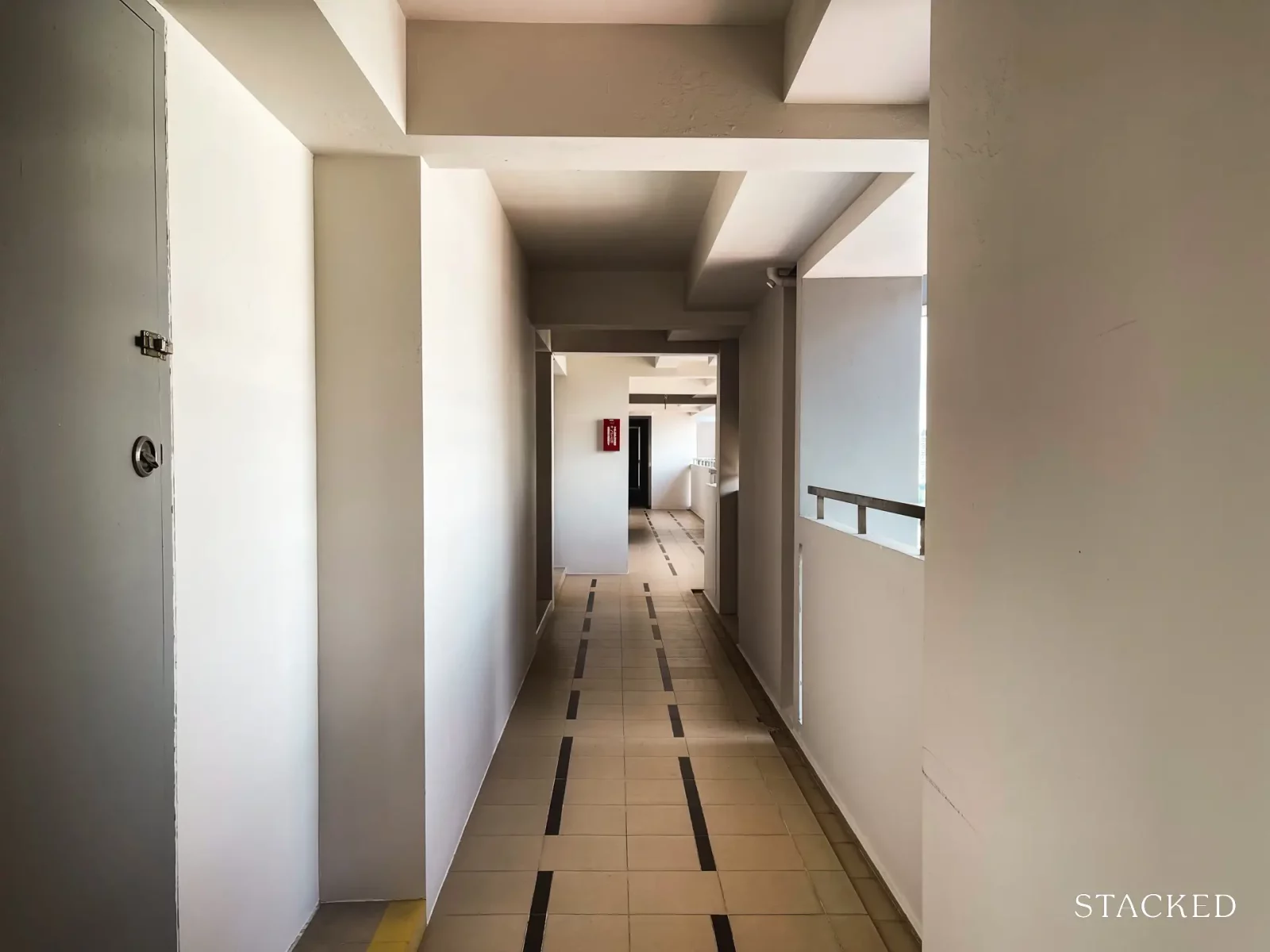 At the end are the corner units which face each other: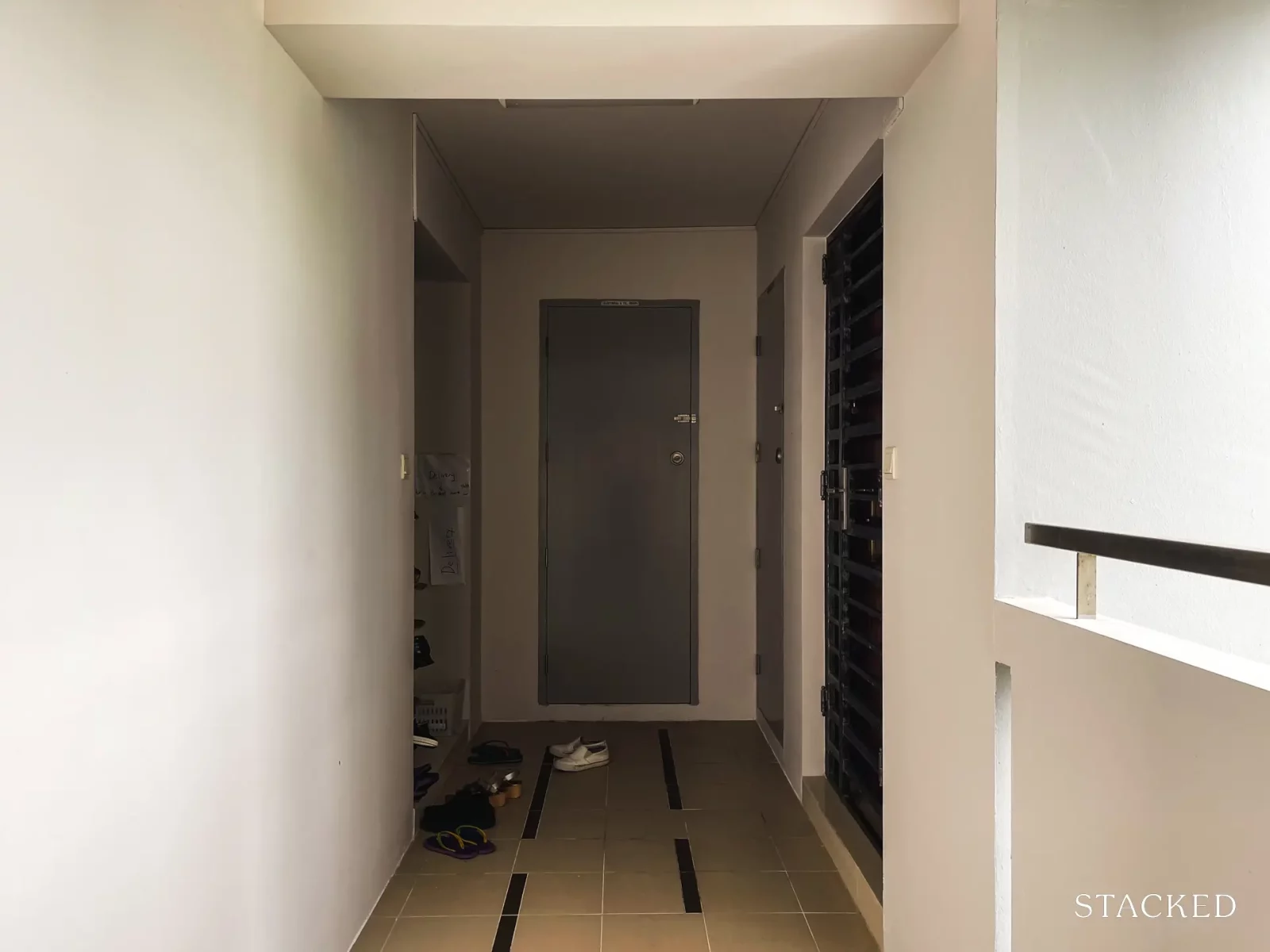 These are naturally darker since less sunlight reaches the corner here. While they do face each other directly, there's still a good amount of space in the common area to put a shoe rack. However, the direct facing does mean that certain units have less privacy as some layouts open straight to the living area.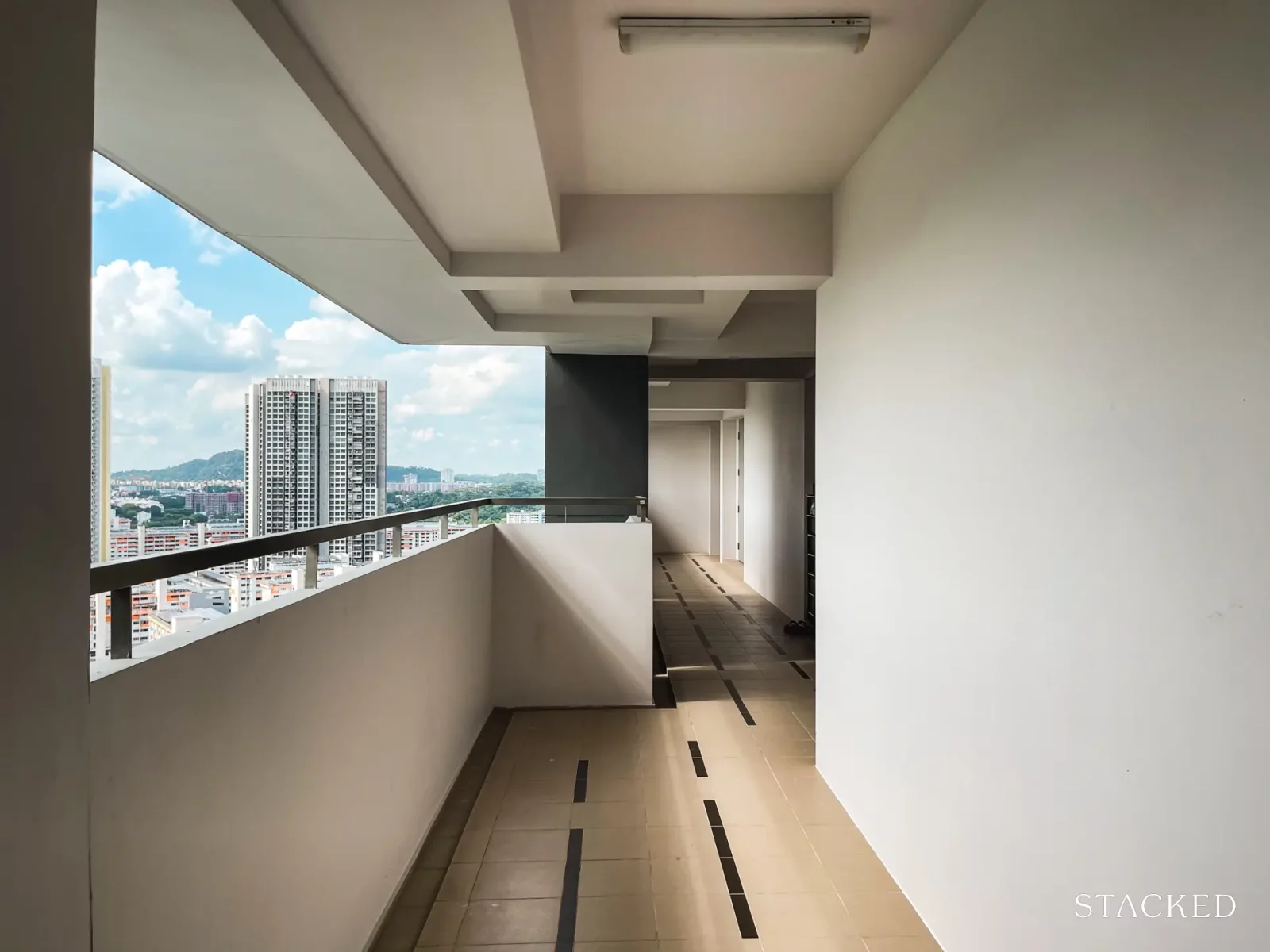 I'd also like to point out here that since each block only has 4 lifts, 2 of which serve lower floors while 2 serve higher floors, any lift maintenance or breakdown could result in a much longer waiting time. For example, if you stay on level 30, you're only served by 2 lifts. If one breaks down, you'll have to wait for just 1 lift to serve you. This could be frustrating if it came from a much higher floor while picking people up along the way.
Finally, for those staying at block 441B, do note that the long corridor can be quite an annoyance depending on where you are on the floor and which floor you are on.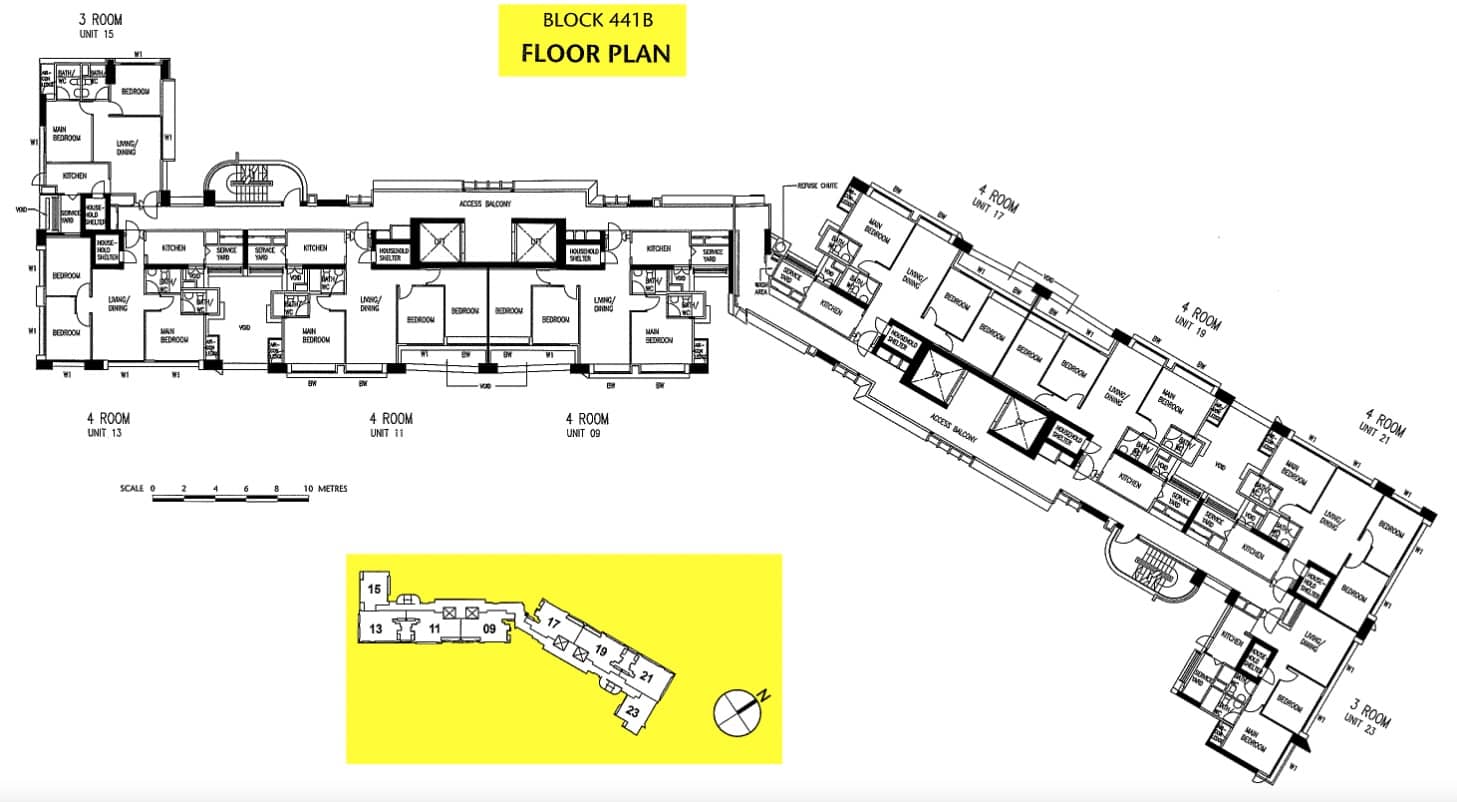 As mentioned, lower floors are served by lift lobby 1 (left side) while upper floors are served by lift lobby 2 (right side). If you buy a corner unit on a lower floor, for example at stack 23, you'll have to spend a good minute just walking to your home from the lift lobby. This may not sound like much but it does add up over time.
You'll also have to walk to the middle section to dispose of your trash each day which can be a minor annoyance.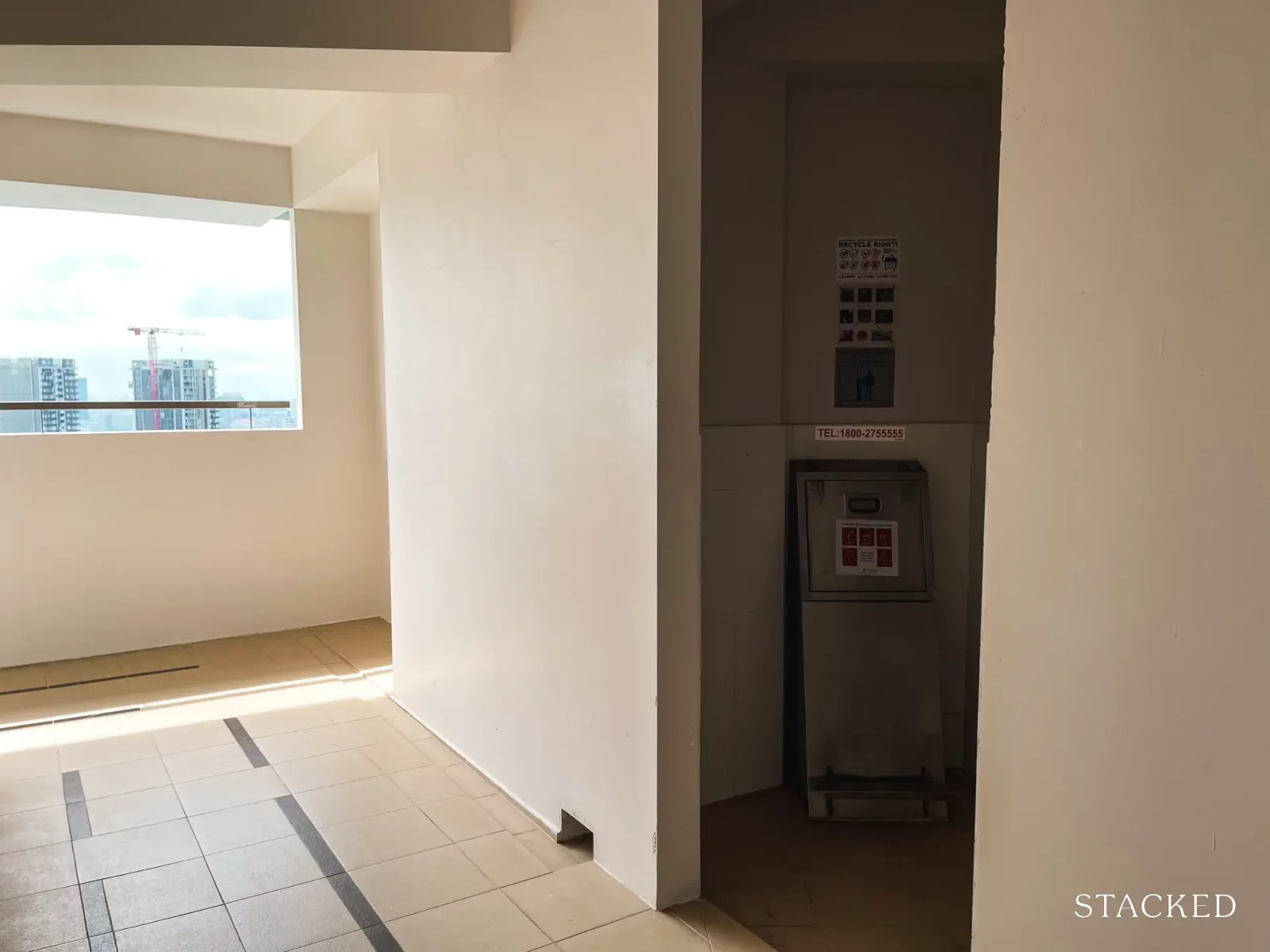 This brings us to a close on the development tour. I know it isn't much, but I would say that most of what Clementi Towers has to offer is its location and (obviously) the mall, so let's move on to our next section.
Clementi Towers Location Review
As far as HDBs go, Clementi Towers is one of the most convenient HDBs to be living in. For those who do not drive, the MRT is right below the HDB. Not only that but there's a bus interchange too.
You are also just minutes away from Clementi Mall, Grantral, and 321 Mall. These malls offer a wide range of retail and F&B outlets. It's not quite the retail extravaganza as the malls at Jurong East (which you can get to easily), but I wouldn't see the need to go elsewhere with these within easy reach.
You even have a cinema here at 321 Mall, so you don't even have to venture out for most of your entertainment needs.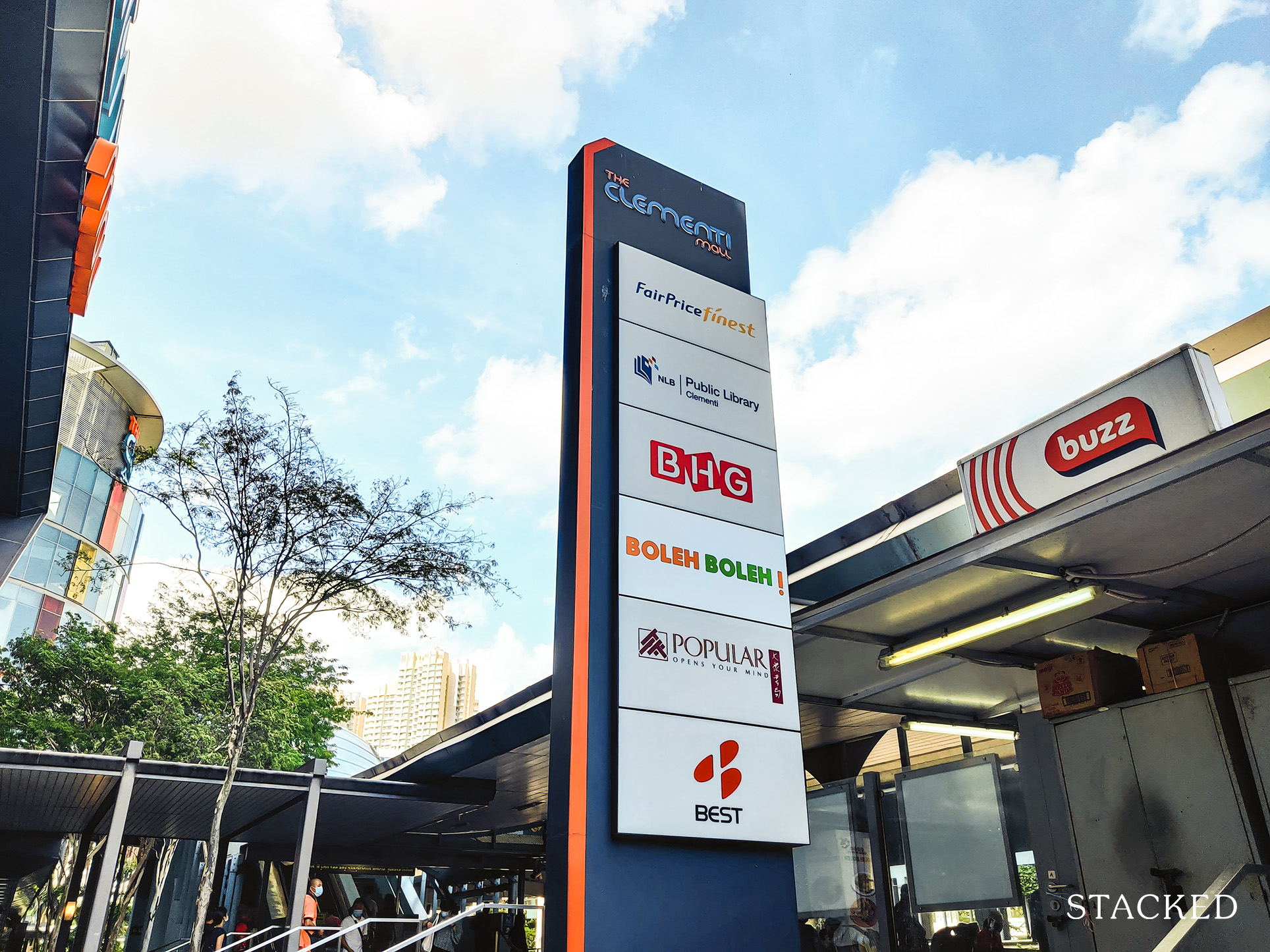 The Clementi mall in particular boasts the best tenant mix of the trio, from an NTUC FairPrice Finest in the basement, to a library as well as the electronic retailer BEST Denki.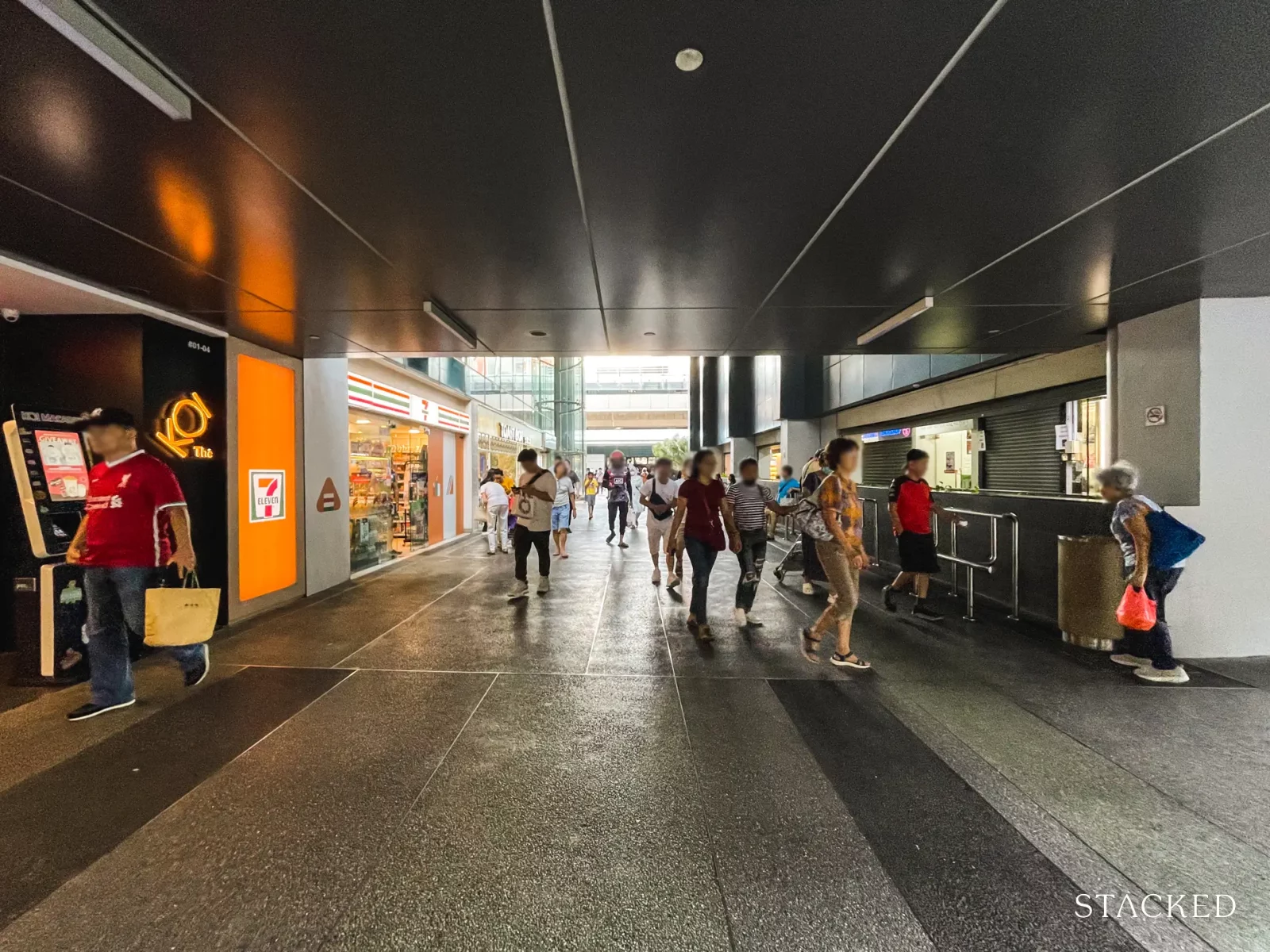 For those living here, you'd know that this mall is crowded at almost all times of the day – it could definitely do with a bigger space!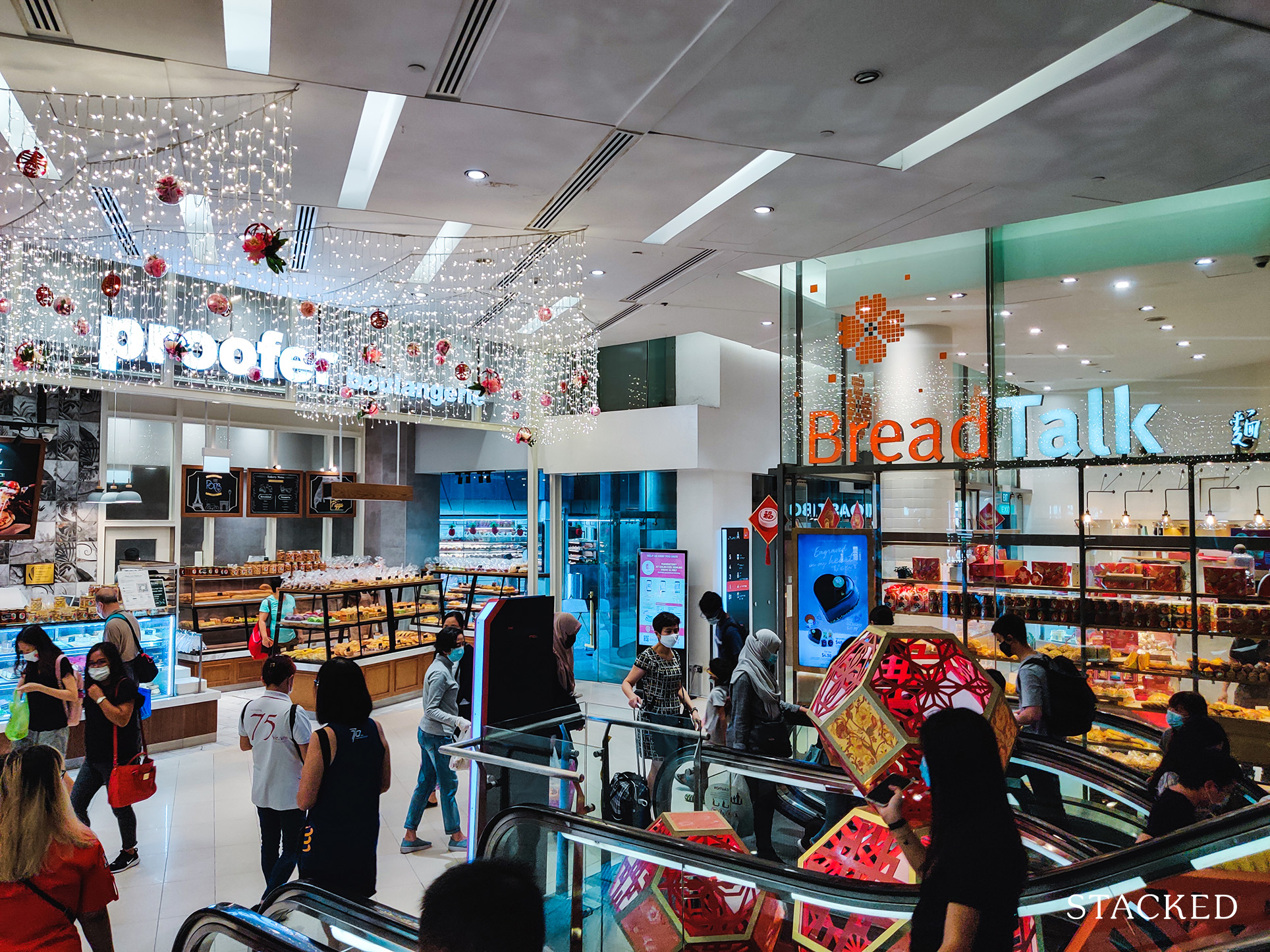 But if you do not fancy air-conditioned malls and prefer the comforts of hawker food, you'll be pleased to know that just behind the Clementi Mall is the main Clementi Town Centre.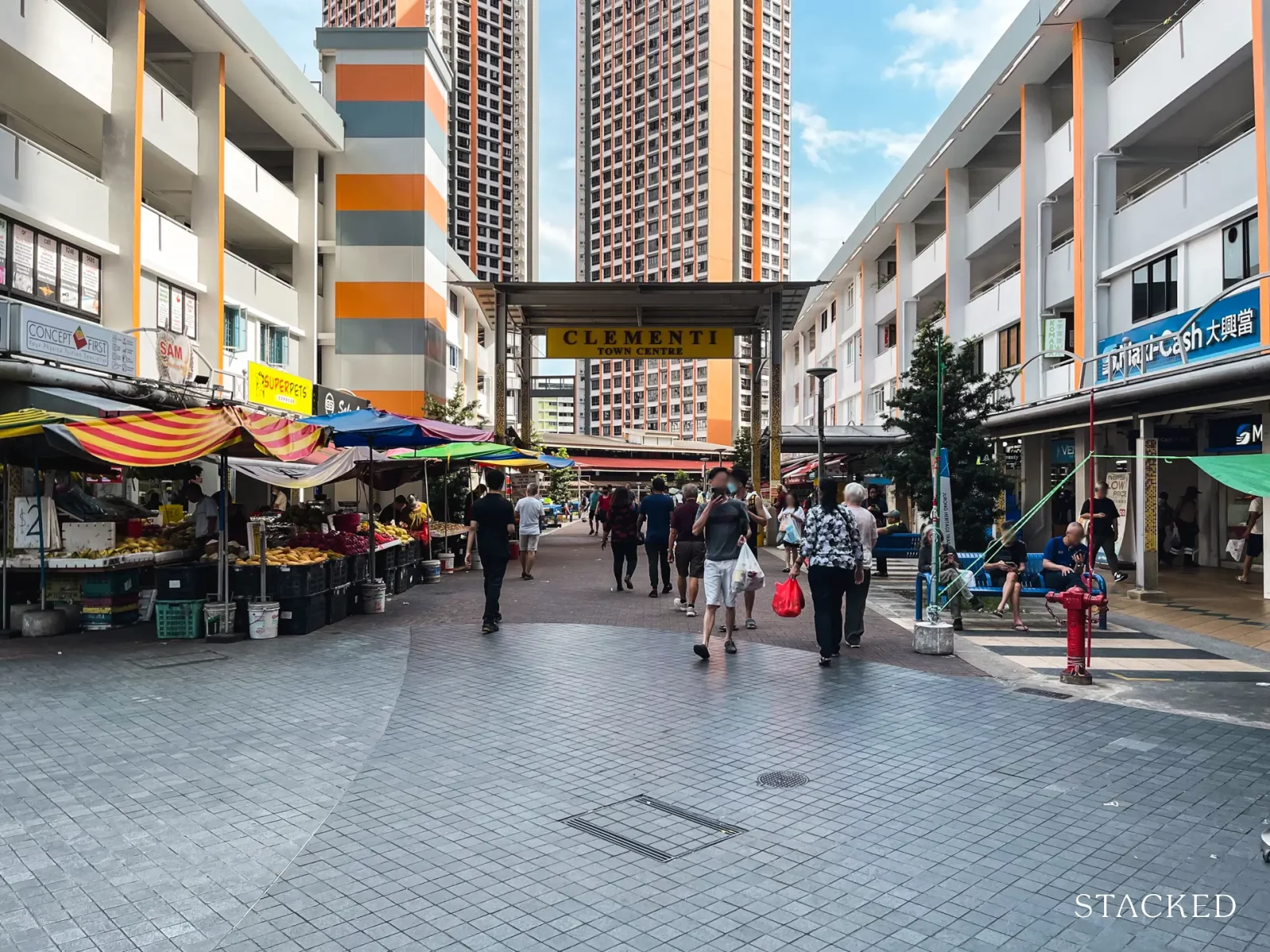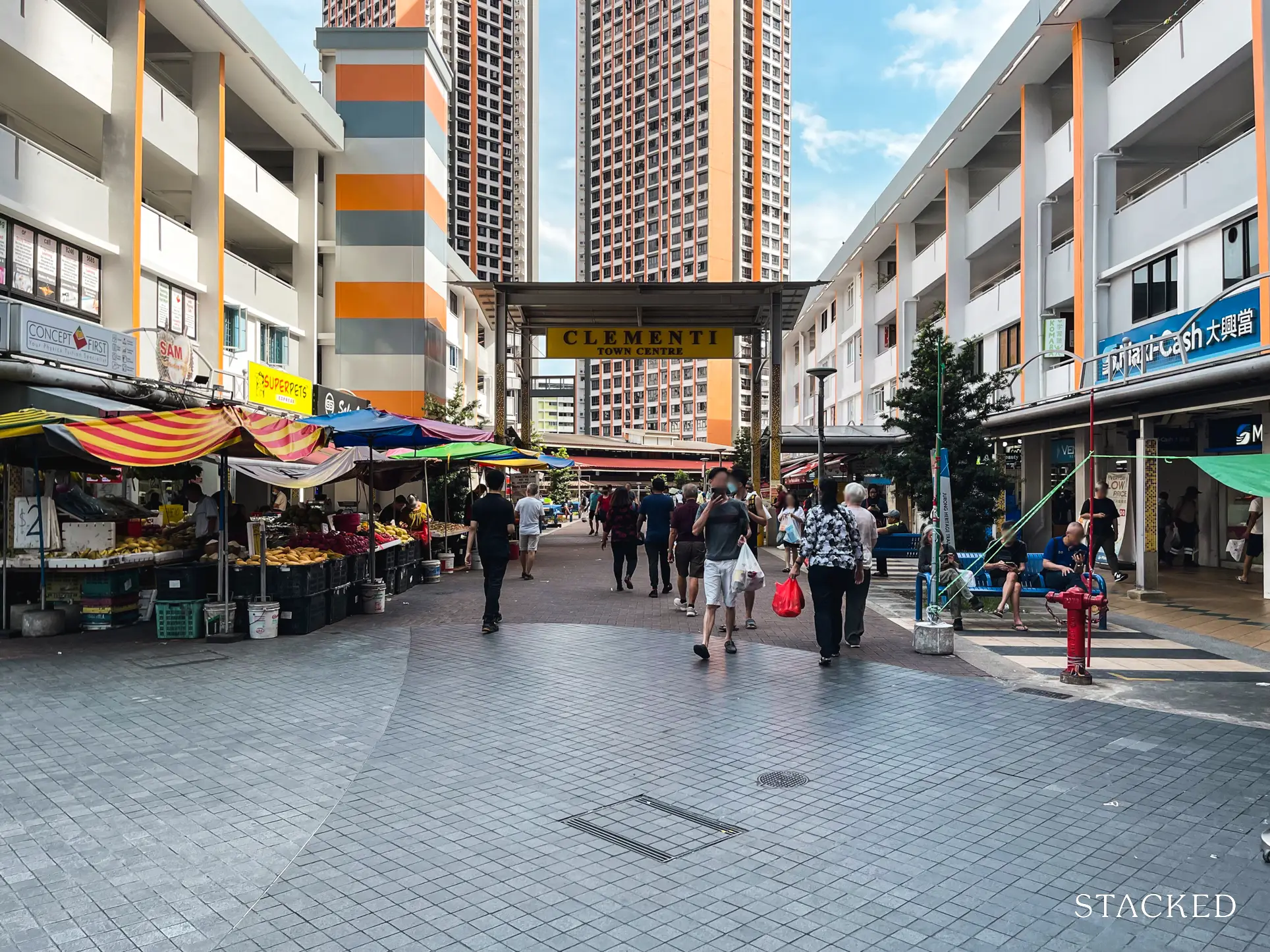 The entire street is lined with open-air stalls selling food (depending on the time of year) and there are a ton of retail shops lining the streets too.
Given the maturity of the town, and this being the centre of it all, you can surely expect it to be crowded here on weekends as well.
Being just next to these amenities is definitely a strong factor for potential buyers. For those who prioritise convenience, there's no doubt that Clementi Towers can offer this to you – all this at the expense of living next to a more crowded area, and of course, the noisy MRT track.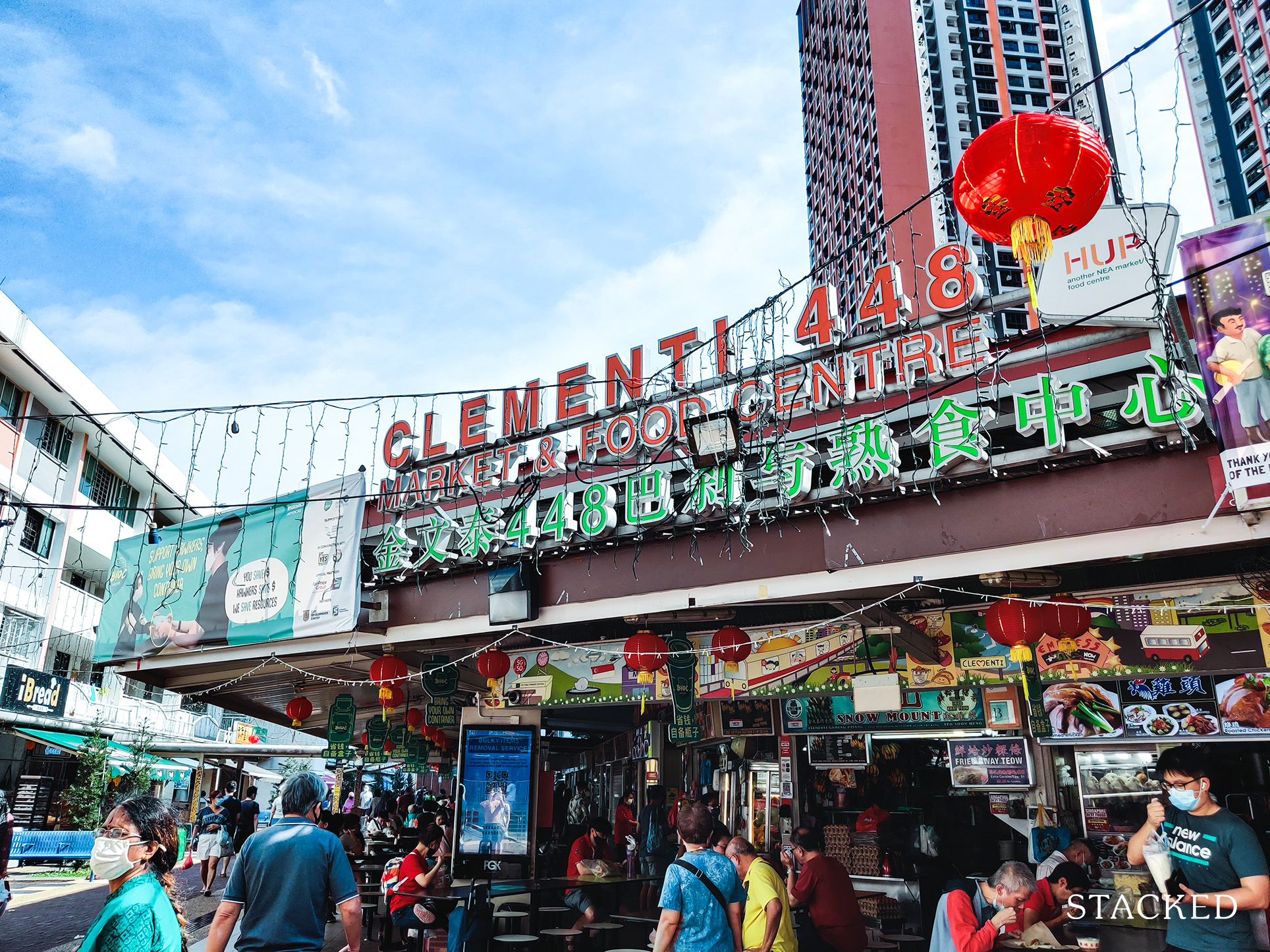 Finally, the best part about the town centre (for the foodie at least) – Clementi 448 Market & Food Centre.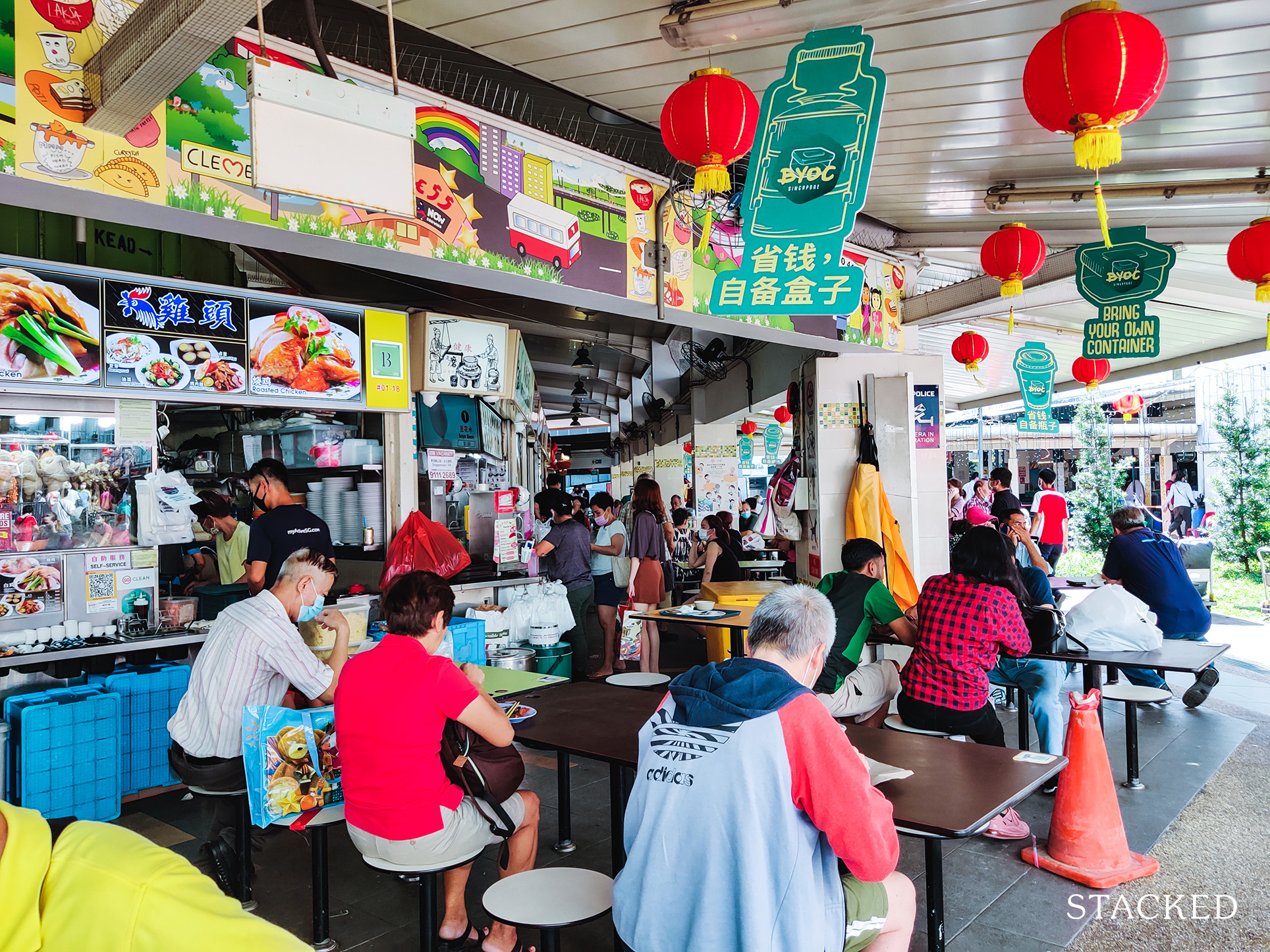 Just about any HDB town needs a proper hawker centre – and for Clementi, this is it. Residents can have access to good and cheap food within minutes – and since it's a hawker centre, the food choices are huge, unlike those food centres you commonly find in other HDBs where there are just around 8 stalls max (including a drink stall).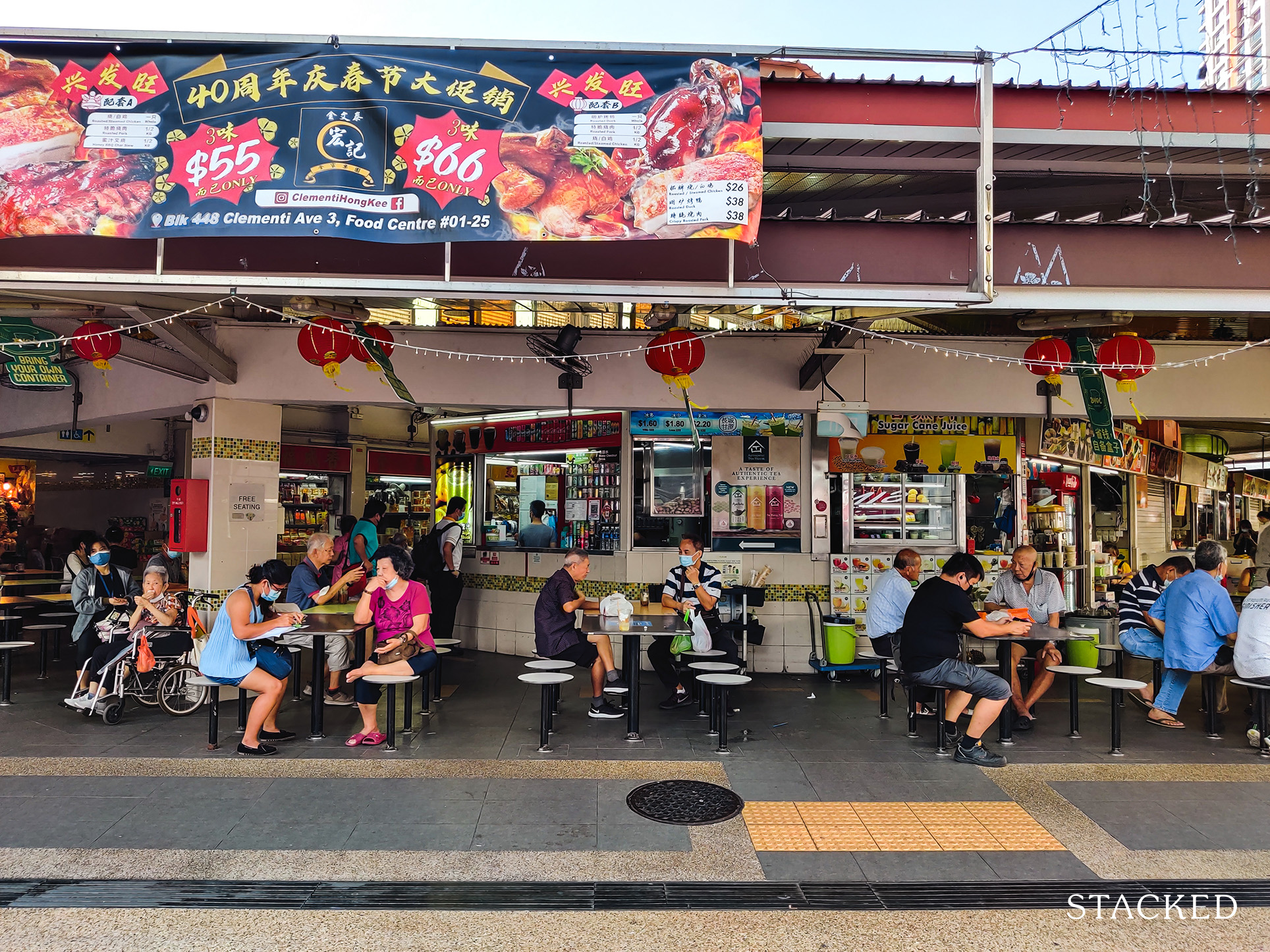 Public Transport
| | | |
| --- | --- | --- |
| Bus station | Buses Serviced | Distance From HDB (& Est. Walking Time) |
| 'Clementi Stn Exit A' | 14, 105, 106, 147, 154, 156, 165, 166, 175, 183, 185, 189, 201, 285, 5N, 52, 78, 96, 96B, NR5, NR8 | 100m (2 min walk) |

Closest MRT: Clementi MRT is within the development, but still takes around 3-4 minutes to head down.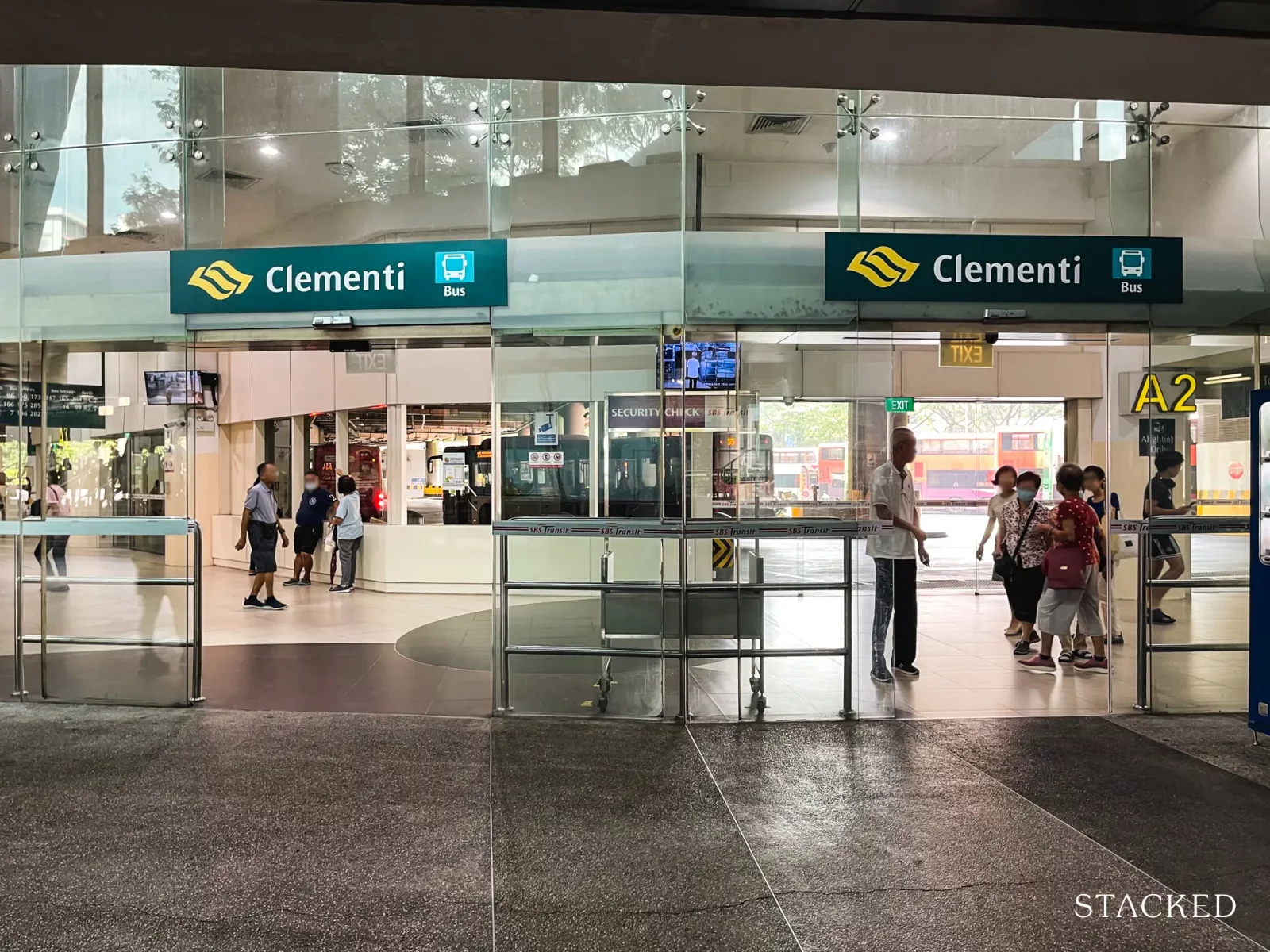 Clementi Towers is connected directly to Clementi MRT station and the bus interchange. However, it's not a direct lift ride, so if you include waiting times and walking to the MRT, it does take around 3-4 minutes.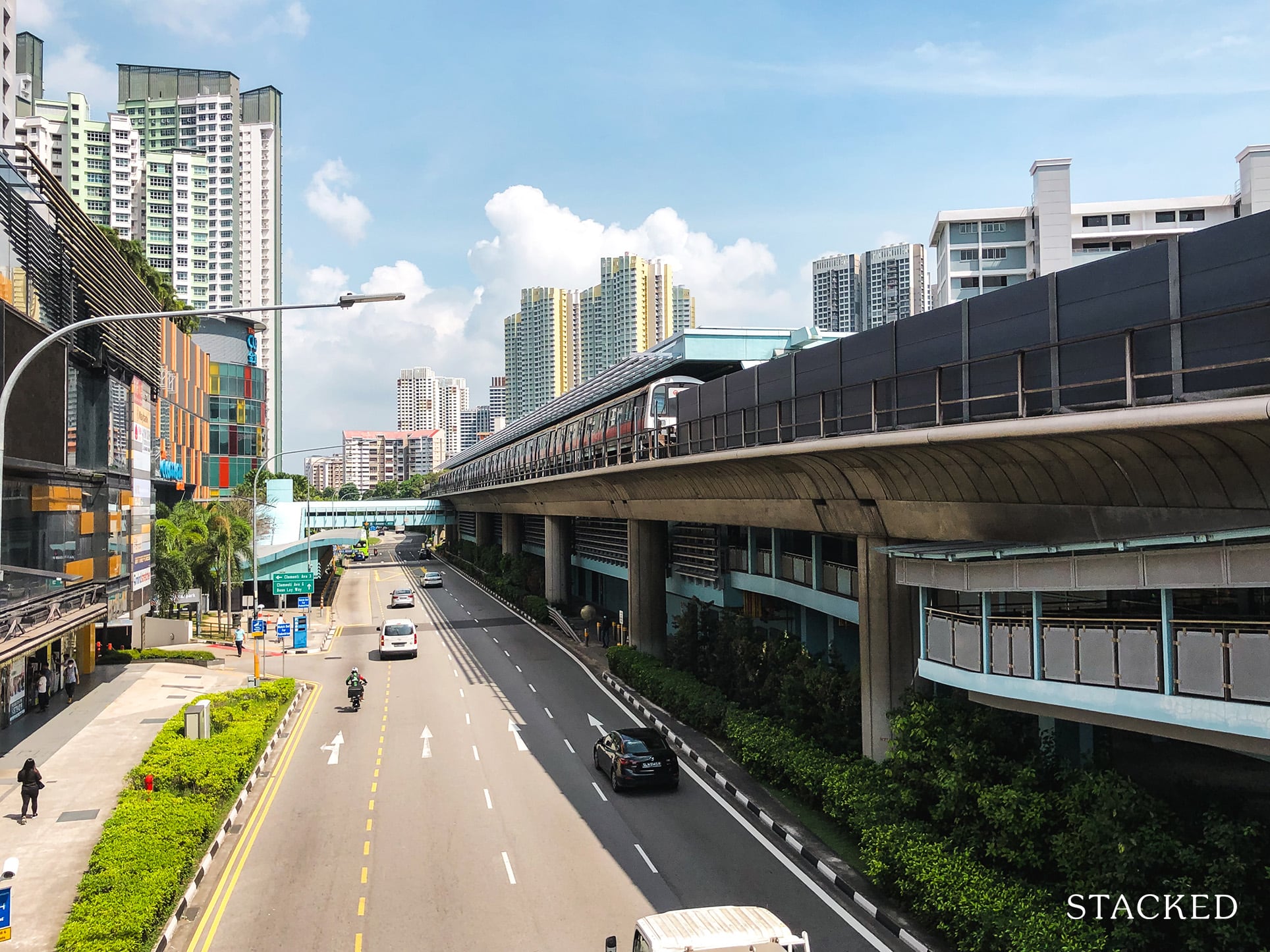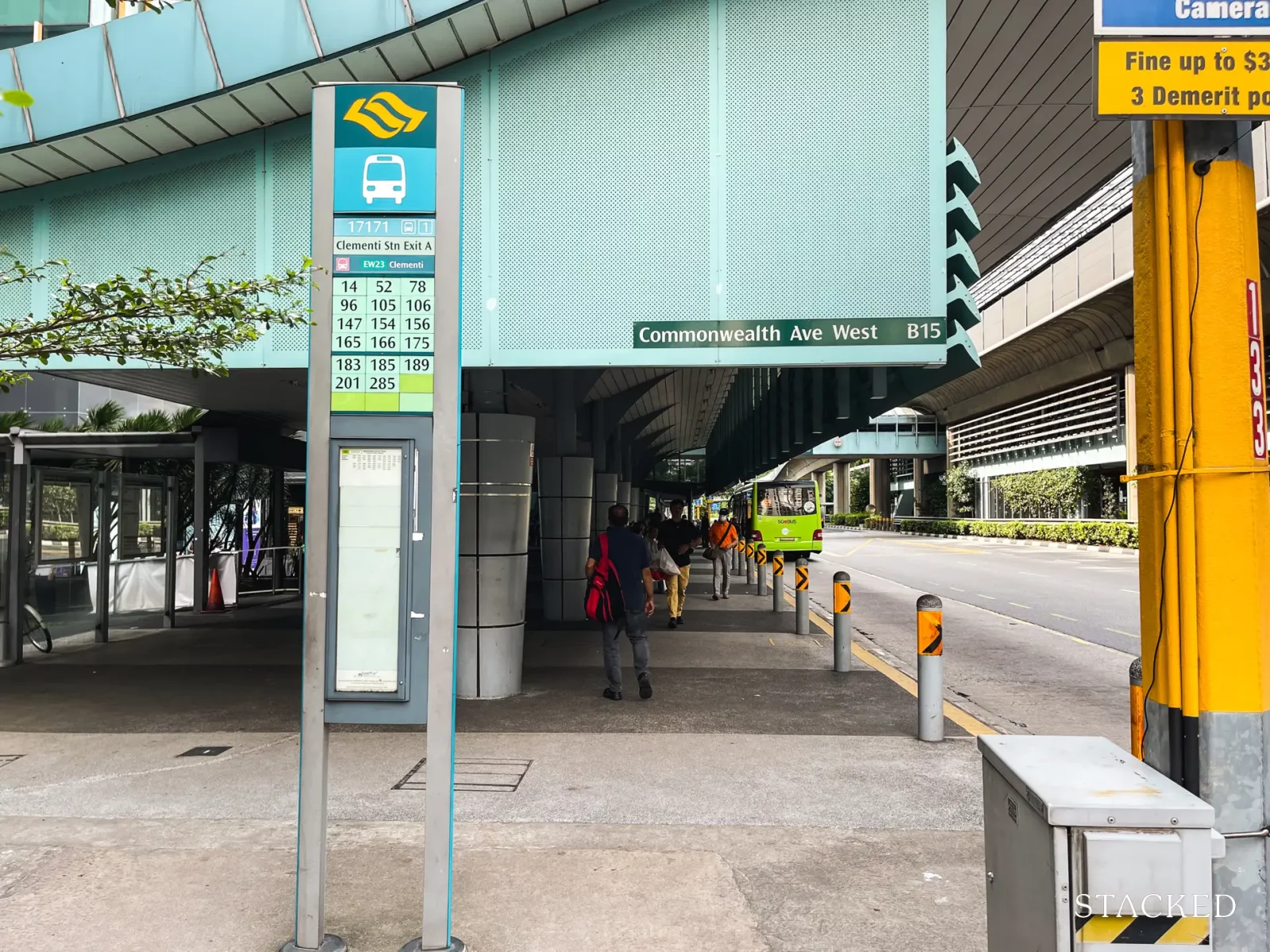 Finally, here's the accessibility of bus routes from the bus interchange:
Private Transport
| | |
| --- | --- |
| Key Destinations | Distance From HDB (& Est. Peak Hour Drive Time) |
| Raffles Place | 23.6 km (26-55 mins drive) |
| Orchard Road | 15.8 km (22-45 mins drive) |
| Suntec City | 22.4 km (26-50 mins drive) |
| Changi Airport | 31.2 km (30-55 mins drive) |
| Tuas Port | 27.0 km (28-55 mins drive) |
| Paya Lebar Quarters | 20.8 km (24-50 mins drive) |
| Mediapolis | 16.1 km (20-40 mins drive) |
| Mapletree Business City | 18.6 km (24-50 mins drive) |
| Tuas Checkpoint | 16.8 km (20-35 mins drive) |
| Woodlands Checkpoint | 11.3 km (16-28 mins) |
| Harbourfront Cluster | 20.3 km (24-55 mins) |
| Punggol Cluster | 26.8 km (28-50 mins) |
Source: Google Maps. Based on driving times during peak hours.
Immediate road exit:
Clementi Avenue 3

Summary:
Staying at Clementi naturally puts residents in close proximity to the AYE. Drivers would be happy to know that the AYE is just a 2-minute drive away, after which a 10-minute drive (off-peak) would lead you straight to the CBD.
Groceries
| | |
| --- | --- |
| Name of Grocery Shop | Distance from HDB (& Est Time) |
| NTUC FairPrice Finest | Below development, 2-3 min walk |
| NTUC FairPrice (Block 451) | 100m, 3-4 min walk |
There are numerous small grocery shops around as well given its proximity to 3 malls.
Schools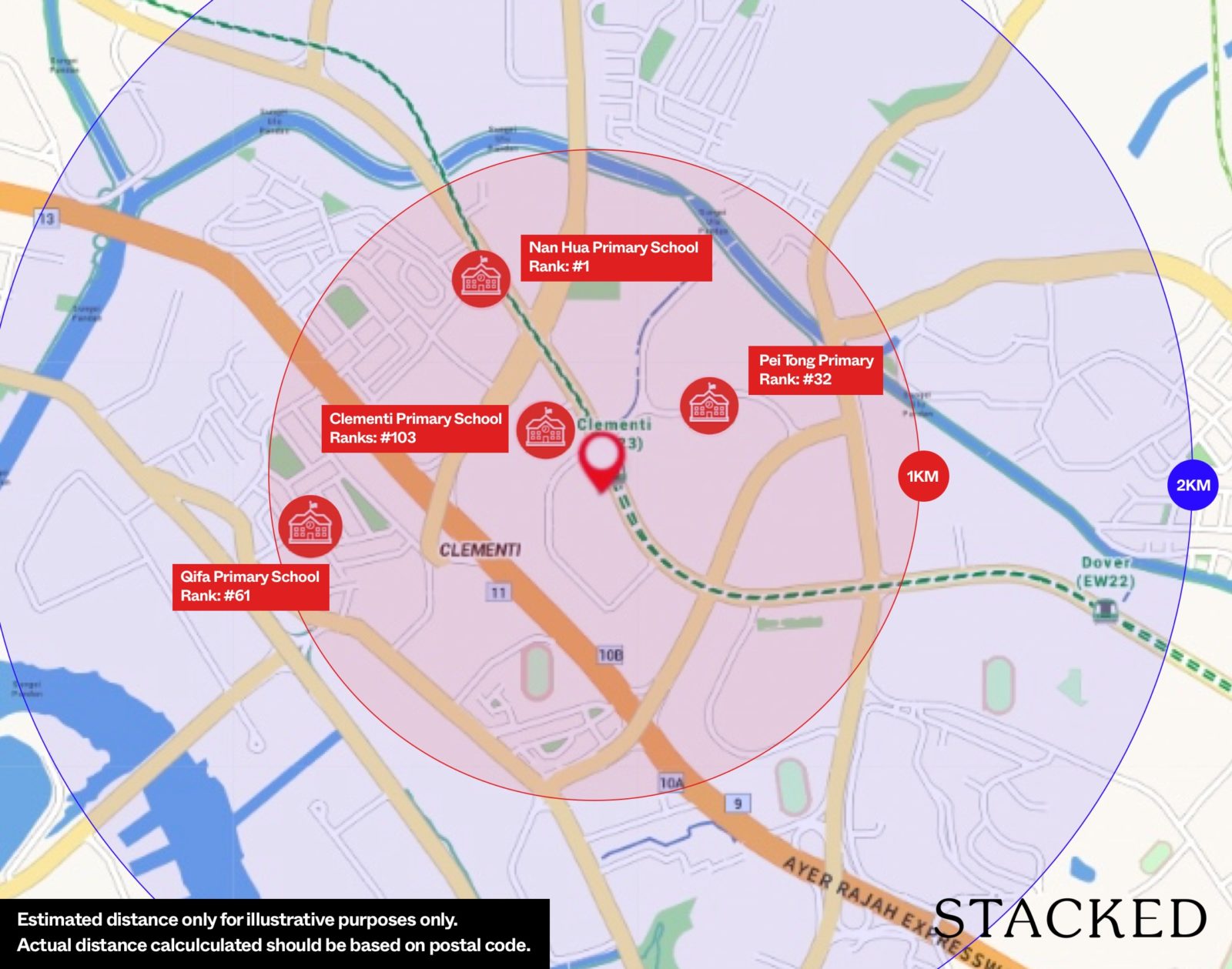 Additional Pointers
Easy access to the Ulu Pandan Park Connector & the Rail Corridor
Residents staying here can easily access the Ulu Pandan Park Connector and subsequently, the nature parks in Bukit Batok and the Rail Corridor.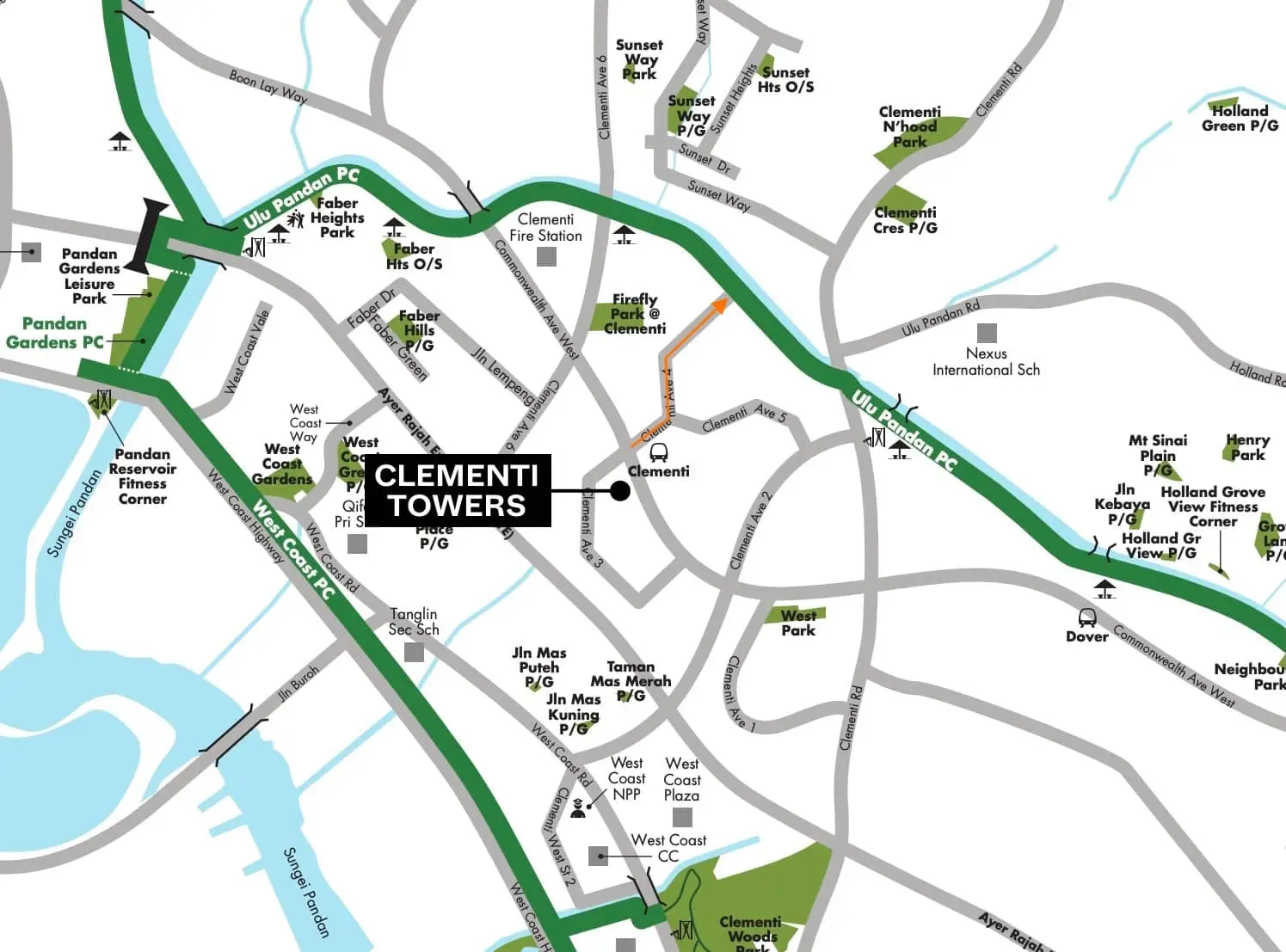 The Rail Corridor is a 24km trail that runs from the Tanjong Pagar Railway Station all the way to the north at the Woodlands Train Checkpoint and is meant to be completed by 2021.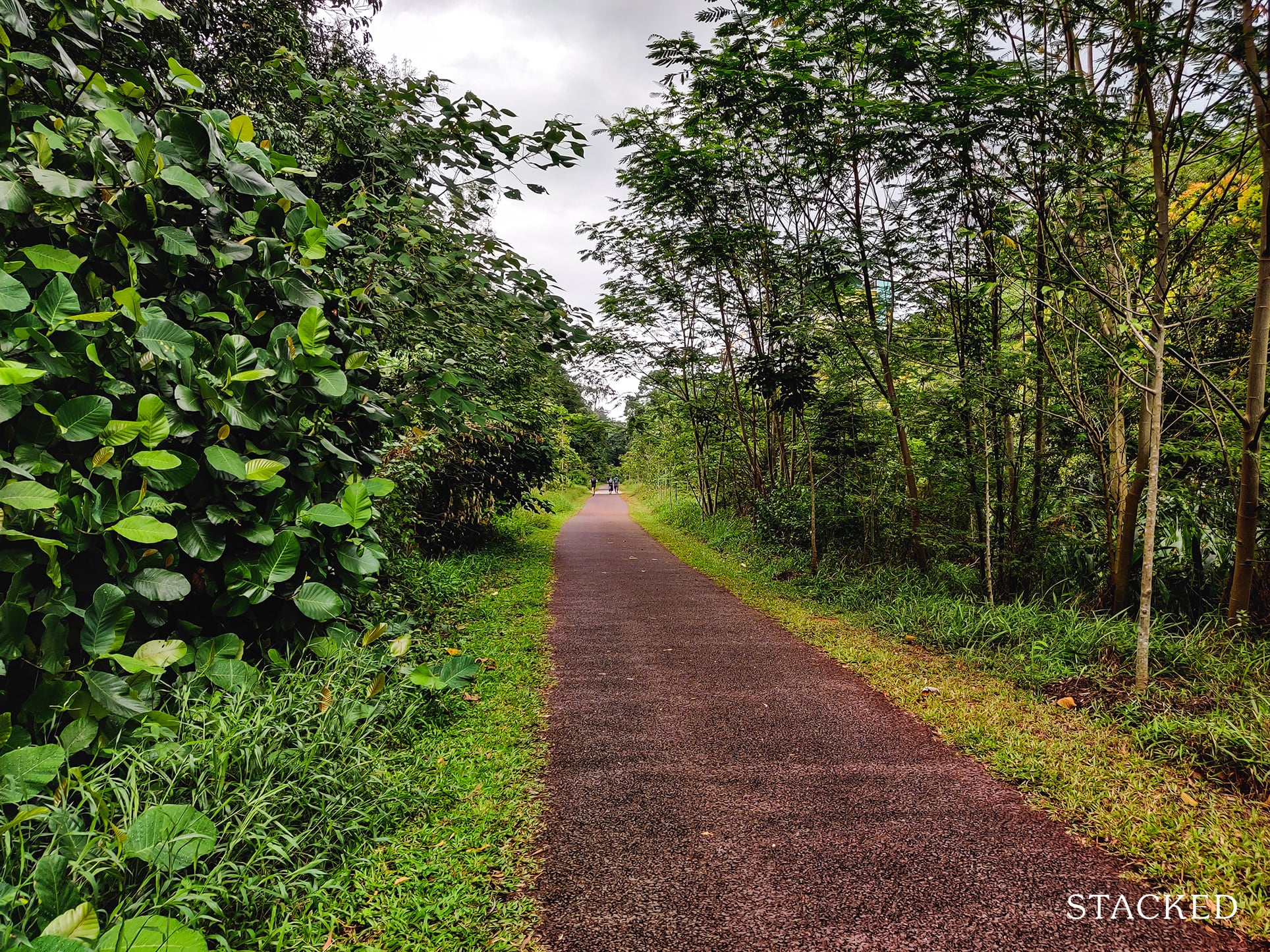 Easy access to the park connector opens up a lot of recreational opportunities and is a great perk of staying at Clementi Towers.
Close to a popular school – Nan Hua Primary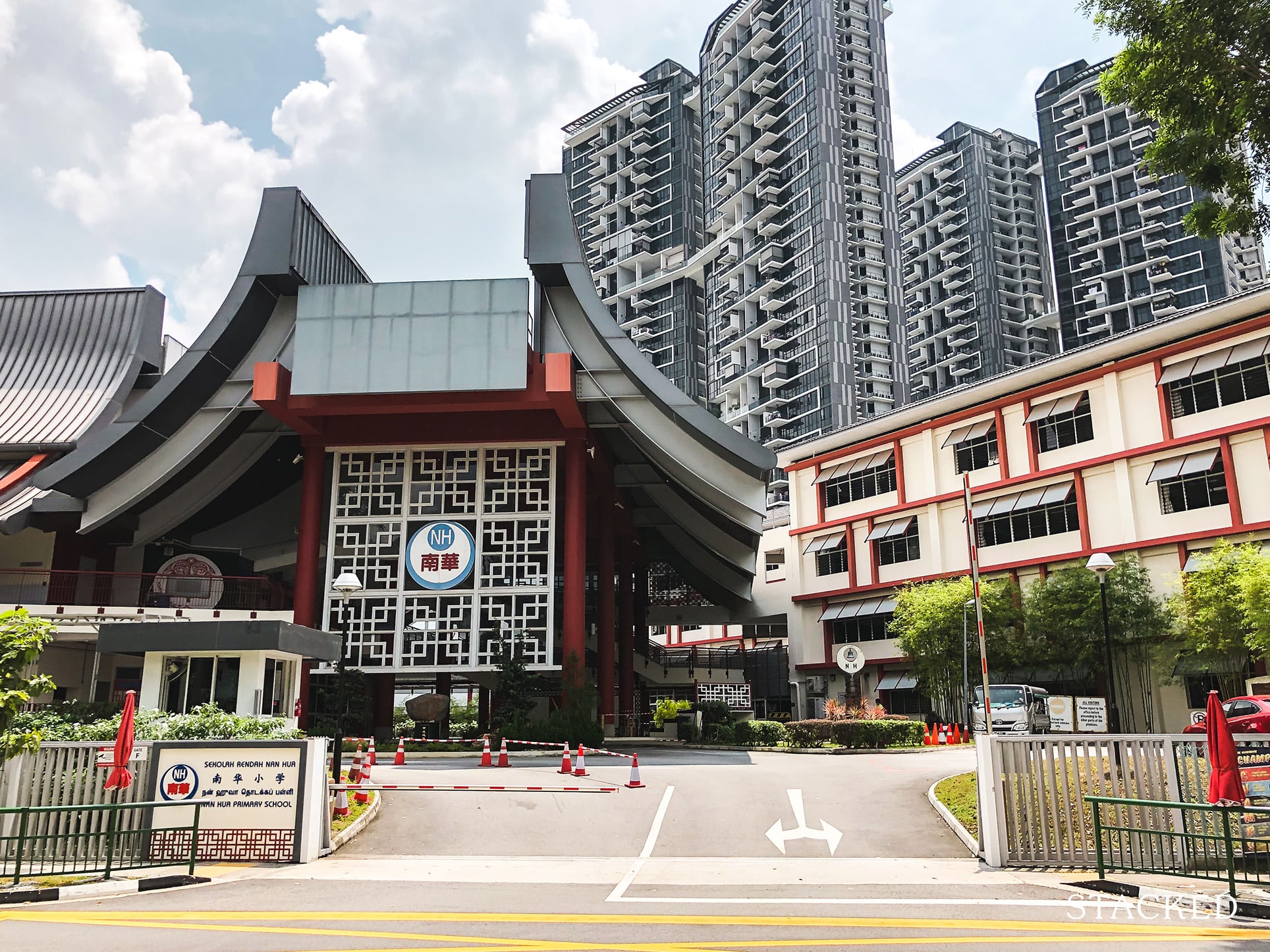 Clementi Towers is within a 1 km radius of Nan Hua Primary School which ranks #1 on schlah.com ranking, making it the most popular school in Singapore.
However, buying an HDB here for this sole reason is dangerous due to how dense the neighbourhood is. The distance factor is binary, meaning you're either within 1 km or you're not. How close you are to the school doesn't matter aside from convenience.
Apart from that, Clementi Primary School is also just next door, making it extremely convenient for parents to send their children to school.
Clementi Towers HDB Site Review
Clementi Towers was a replacement flat for homeowners of blocks 436 to 438 Clementi Avenue 3. This was announced on 28th March 2005, as such, there's no marketing brochure readily available.
Clementi Towers is made up of 2 blocks and spans up to 40 storeys high. Block 441A was completed in 2010, while 441B was completed in 2011. There are just 388 units in total, so the development isn't considered massive. But that's a good thing too given how dense the area is.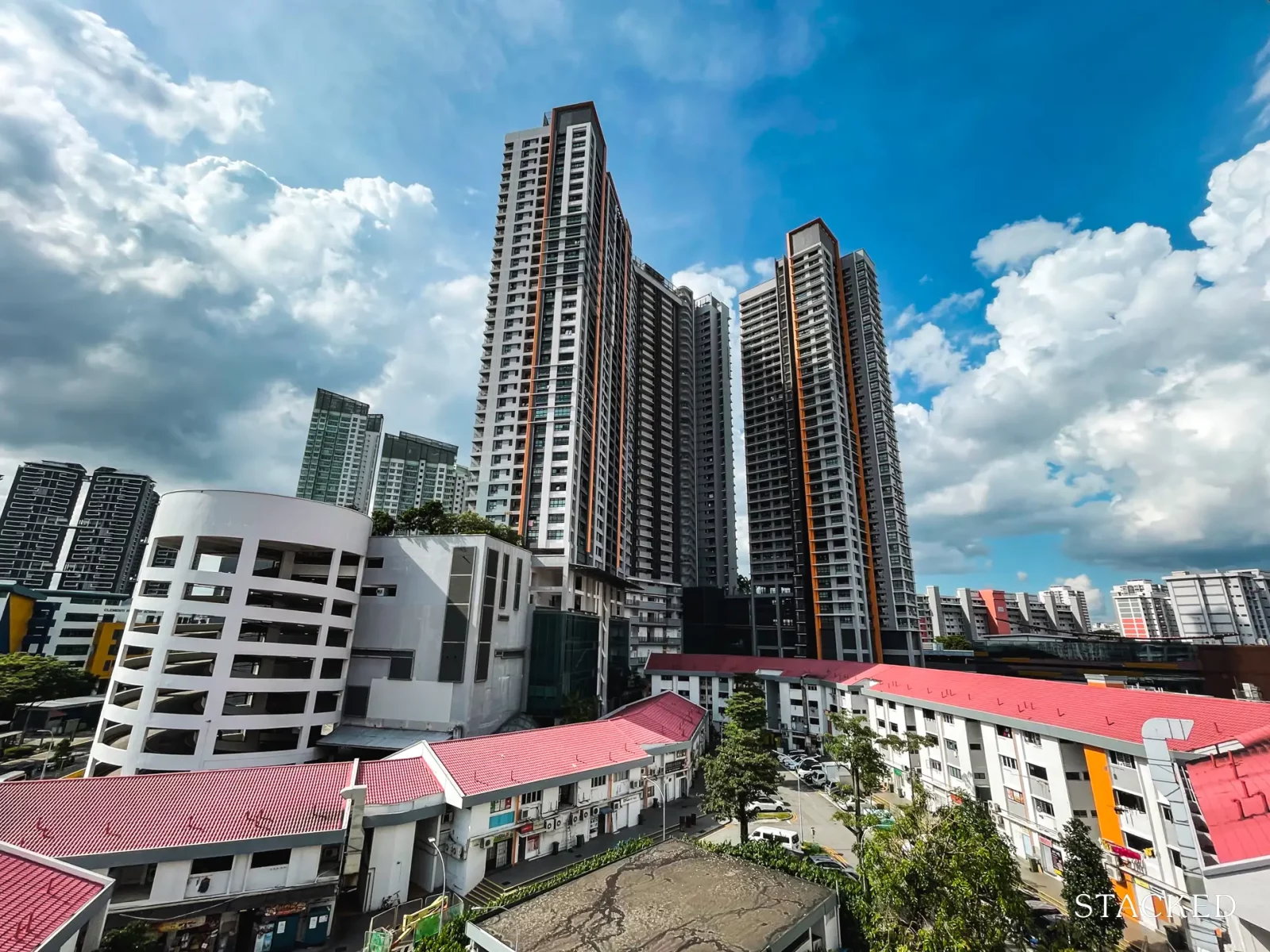 Unit Mix
| | | | | | |
| --- | --- | --- | --- | --- | --- |
| Block Number | No. of Storeys | 3-Room | 4-Room | 5-Room | Total |
| 441A | 40 | – | 66 | 66 | 132 |
| 441B | 40 | 64 | 192 | – | 256 |
| Total | | 64 | 258 | 66 | 388 |
Stack Analysis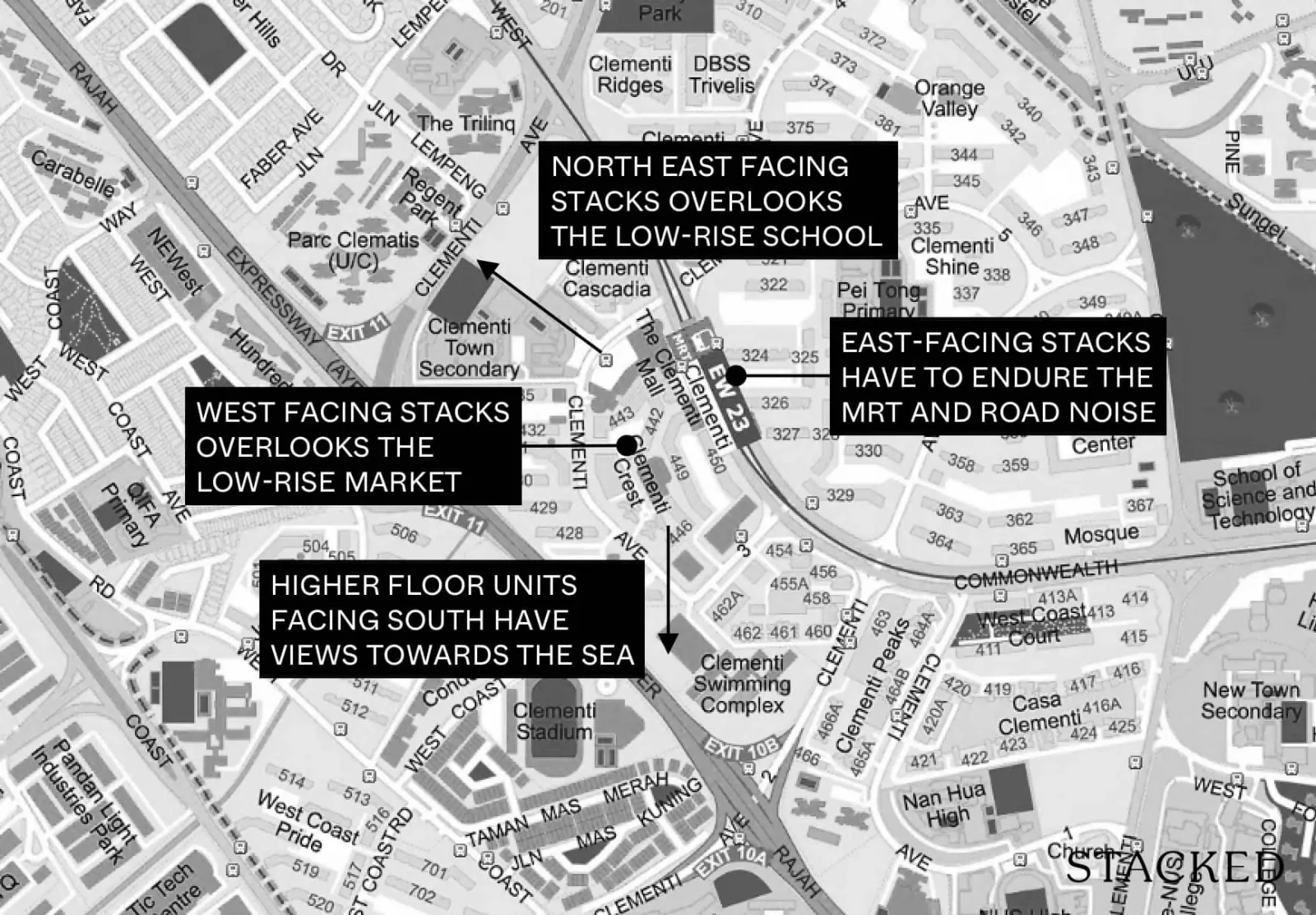 Given the development's location right next to the MRT station, residents staying here would be exposed to sounds coming from the MRT quite frequently.
It's pretty much a standalone development, so sounds generated from the buzz below and from the MRT tracks won't be dampened either, but this brings us to one highlight of staying here: the unblocked views.
Even from level 6, the views are quite decent.
The east-facing stacks face the MRT and Commonwealth Avenue, so these are likely the noisiest stacks.
High-floor units get unblocked views of the city, and you can even see hills in Malaysia on a clear day!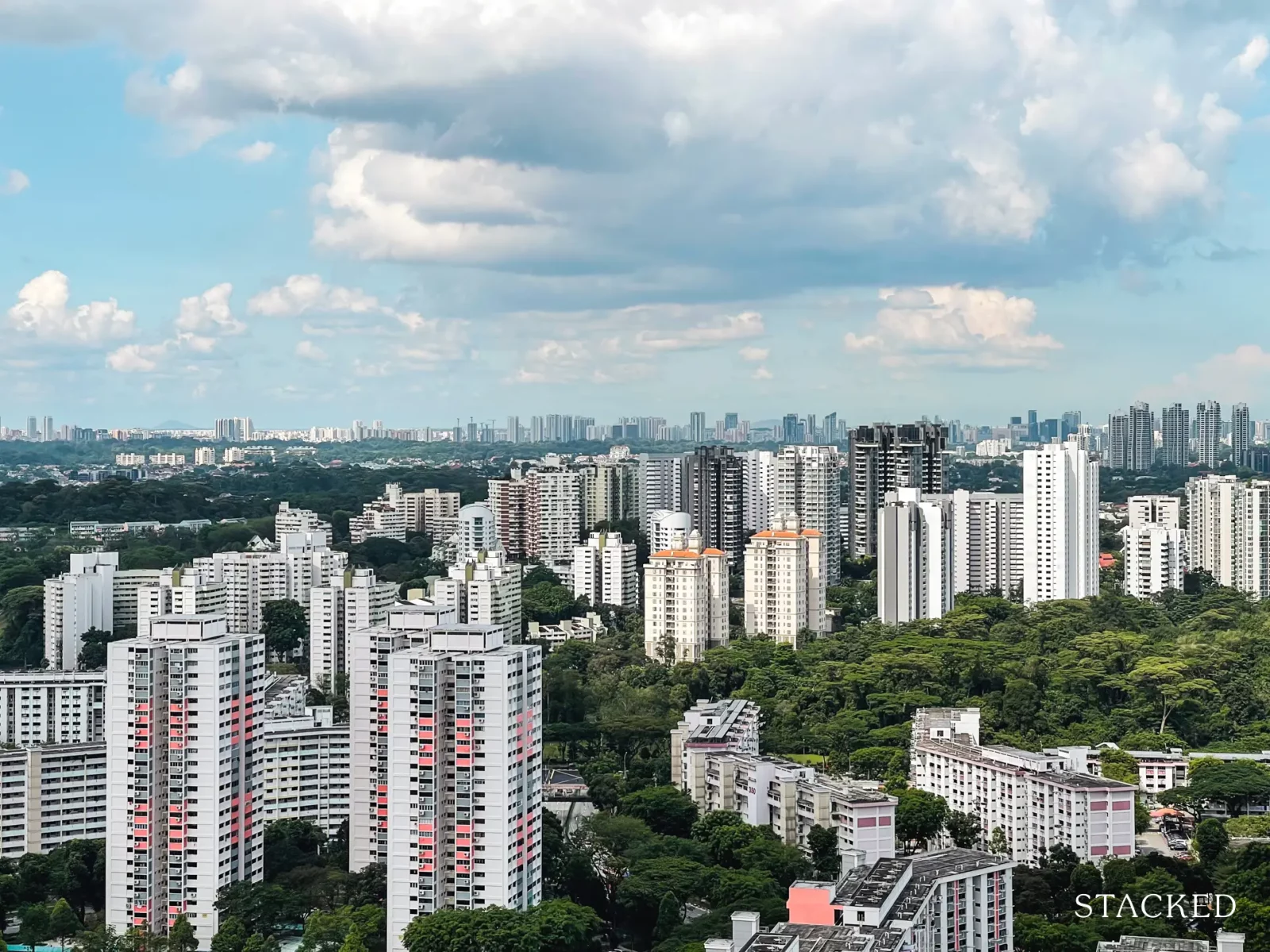 West-facing stacks overlook the market and have unblocked views towards Jurong Island.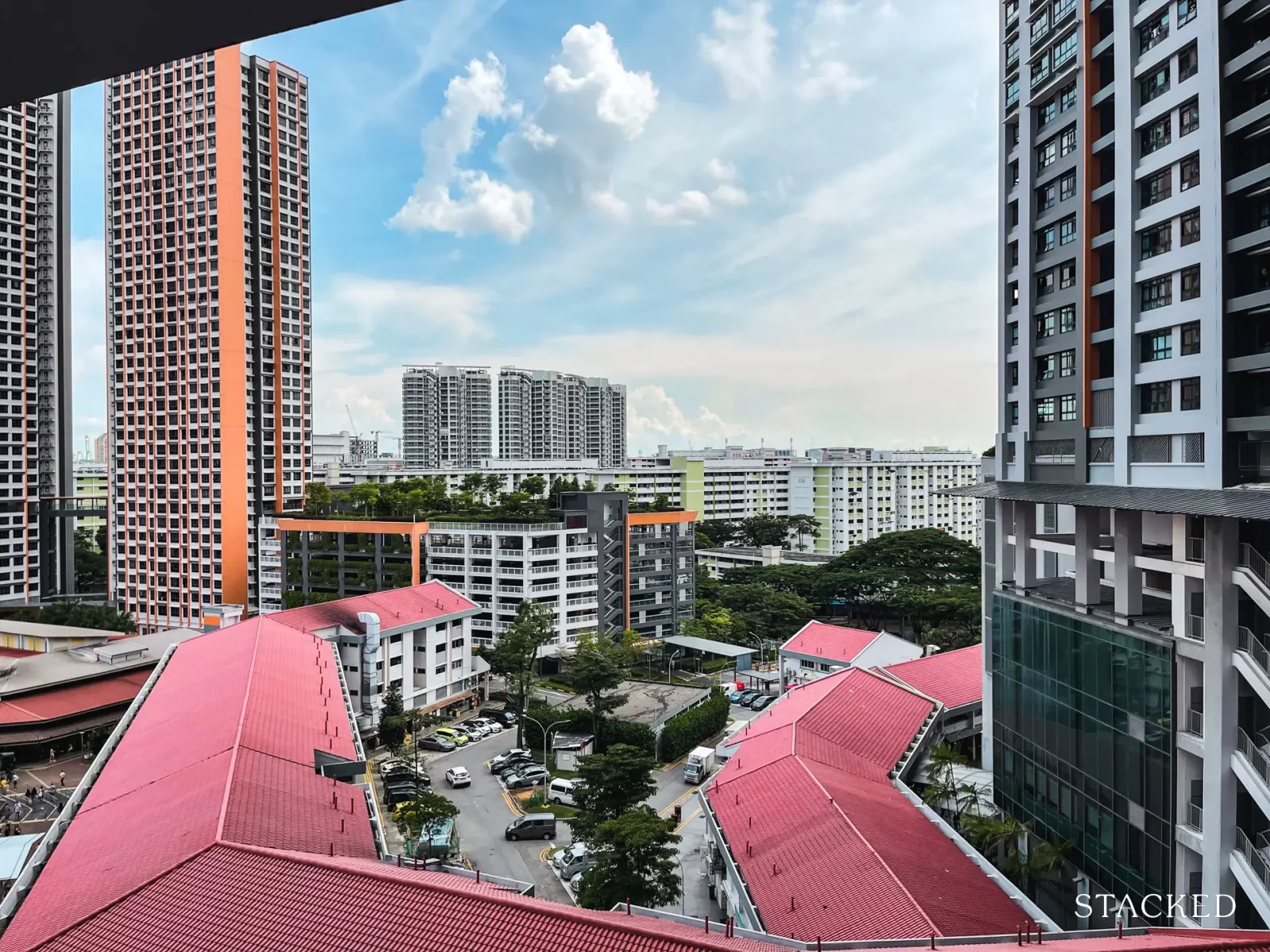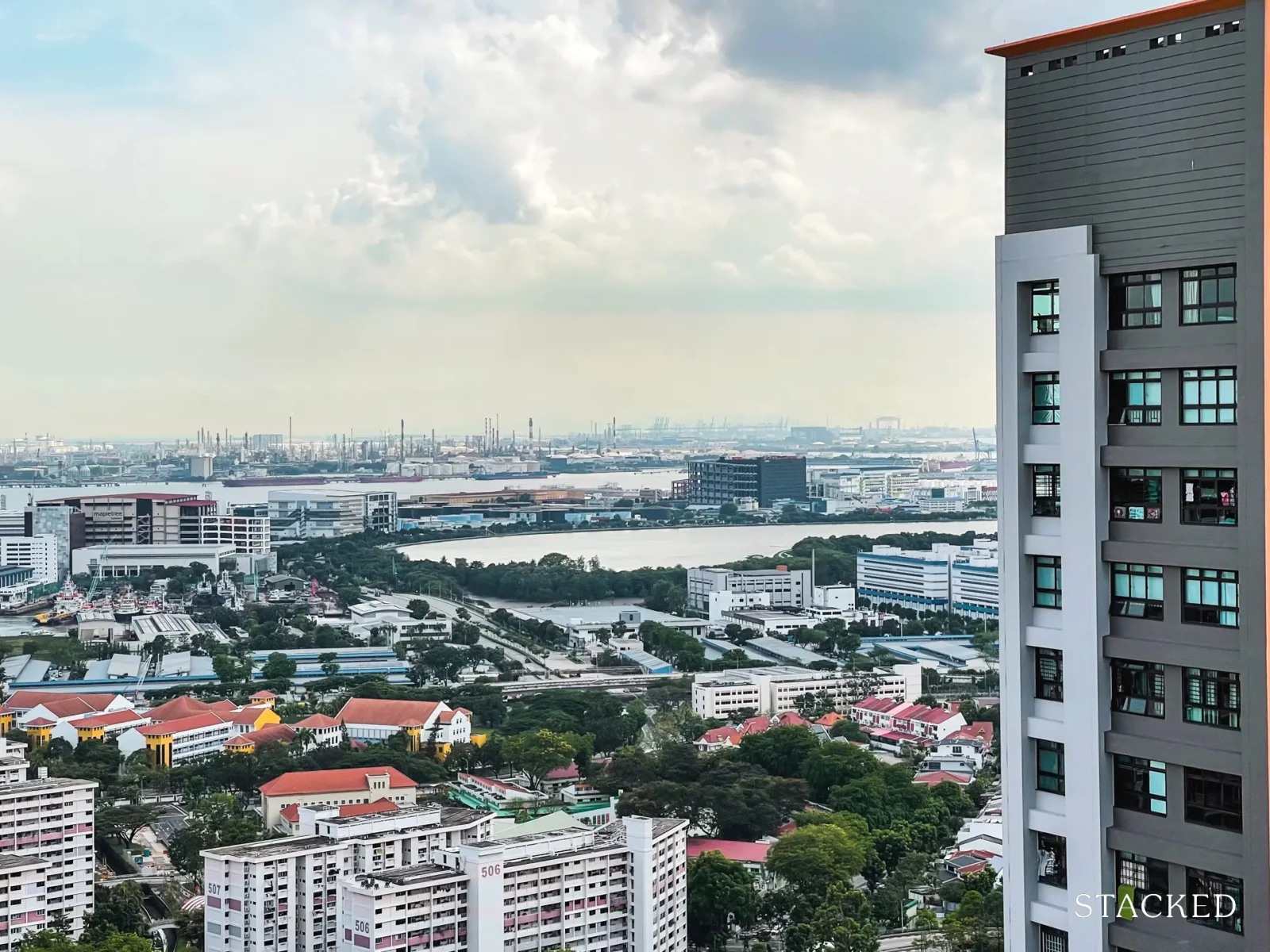 South-facing stacks also have a view of the market as well as other HDB clusters. Those on higher floors will be treated to sea views too.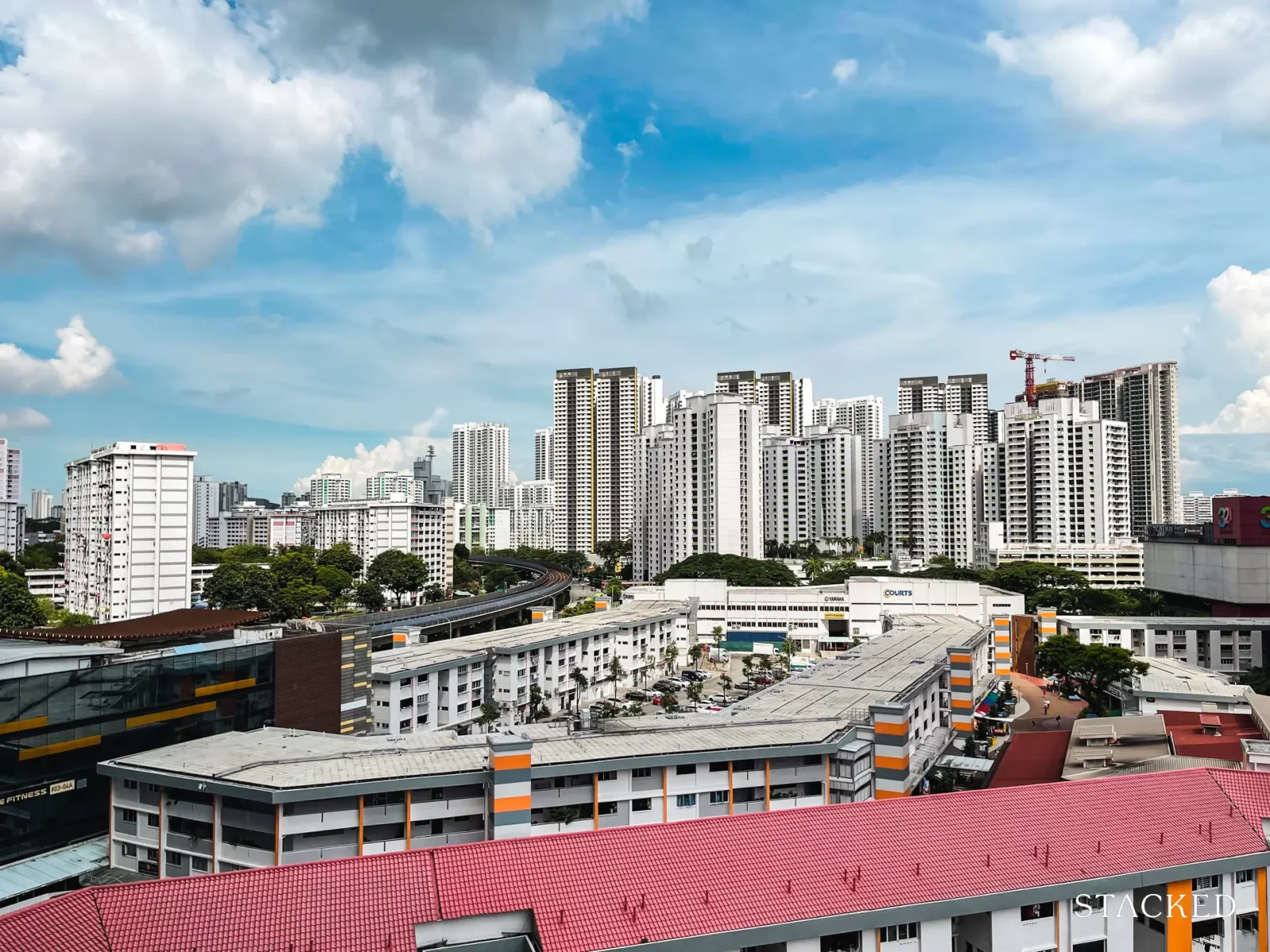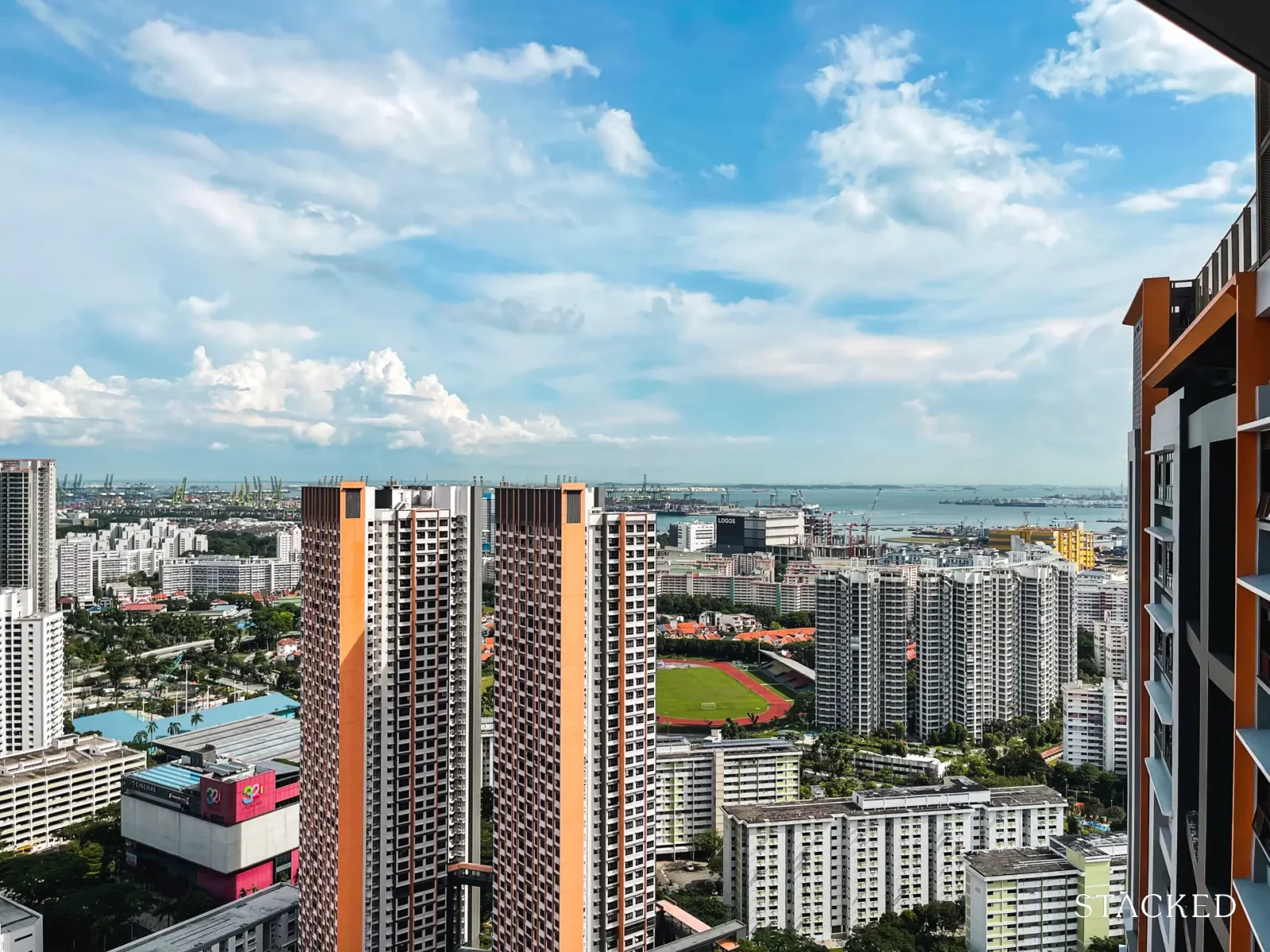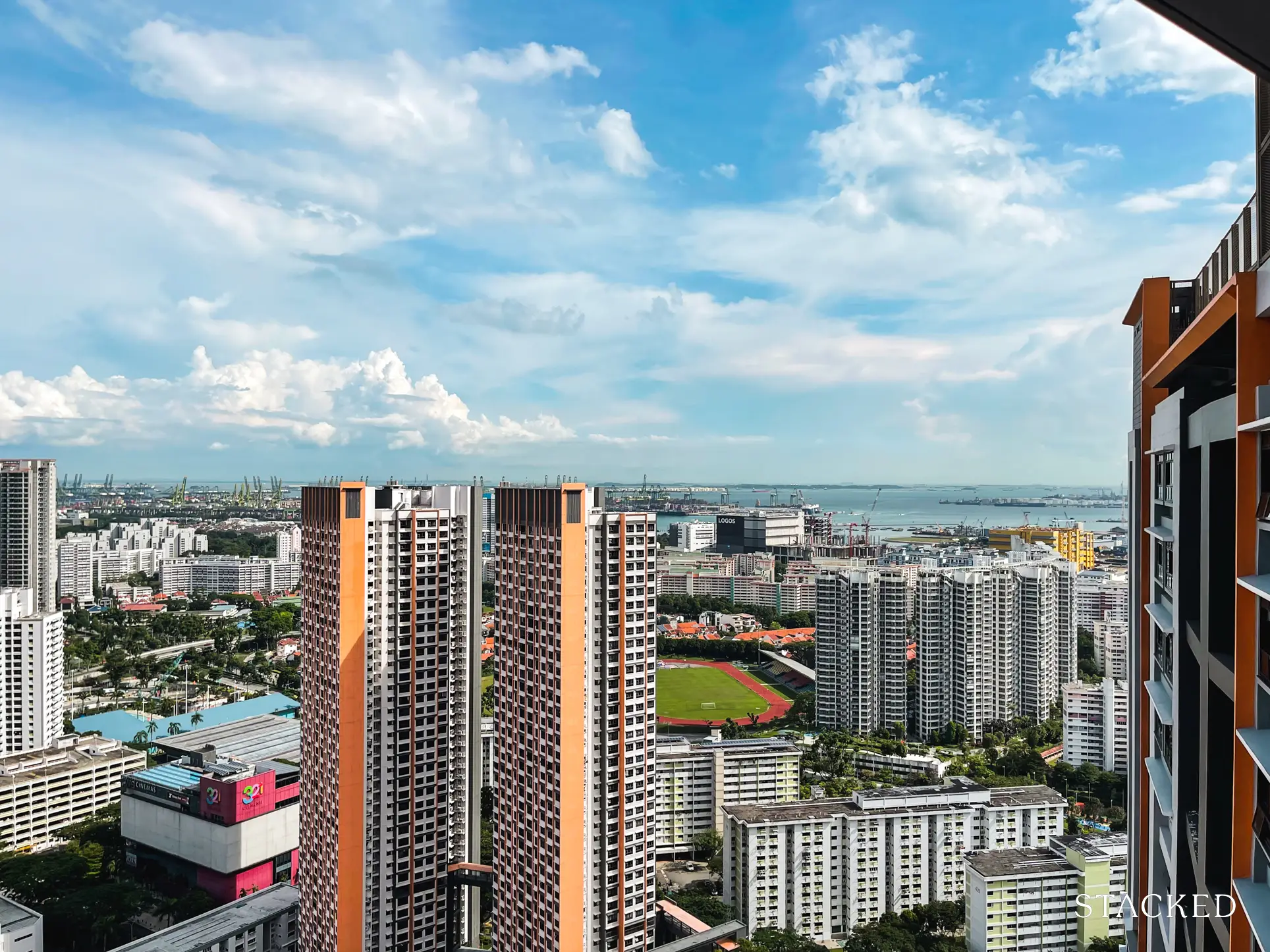 Finally, north-east facing stacks overlook Clementi Primary School, so this view is more or less protected.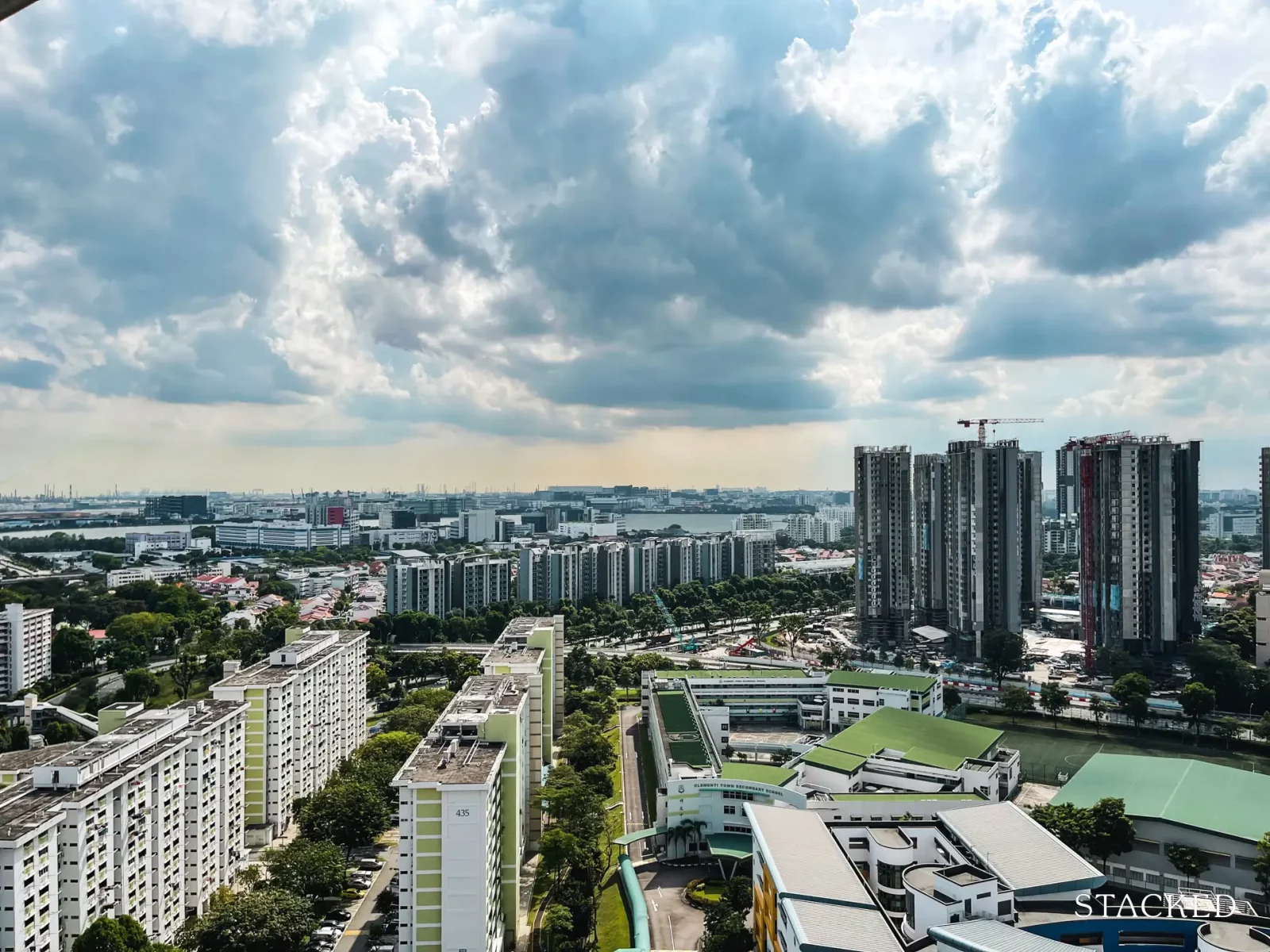 Clementi Towers Price Review
I've covered the area's pricing in my previous review of Clementi Cascadia. For this review, I'll cover just the newer flats since it's likely those looking at Clementi Towers are looking at flats that weren't built in the 70s or 80s. So here's a 2023 price update.
| | | | | |
| --- | --- | --- | --- | --- |
| Development | Lease started | 3 ROOM | 4 ROOM | 5 ROOM |
| Clementi Towers | 2012 | $790,000 ($1,048 psf) | $928,000 ($927 psf) | $1,280,000 ($1,025 psf) |
| Trivelis | 2014 | $567,500 ($879 psf) | $802,000 ($927 psf) | $1,080,000 ($956 psf) |
| Clementi Ridges | 2017 | $660,000 ($889 psf) | $906,000 ($905 psf) | $1,156,500 ($951 psf) |
| Clementi Cascadia | 2018 | $696,000 ($937 psf) | $940,000 ($944 psf) | $1,240,000 ($1,029 psf) |
Source: HDB
Caveat: Due to the low number of units in Clementi Towers, there were only 6 transactions recorded between 2022 June to August 2023. As such, we had to rely on a longer period of time to get more accurate data. Even so, there was only one 3-room flat transacted and it was on level 40 itself – this explains the phenomenally high price of $790,000. If we reduce each floor by $5,000, then a 20th-floor unit would go for $690,000 which seems more reasonable. There was also only one 5-room flat transaction which took place between levels 22 – 24.
Now looking at the price, it's telling that demand for flats in the area is very high. With unblocked views and its integrated status, Clementi Towers commands one of the highest prices in the vicinity despite being an older development. Moving forward, Clementi Towers also stands to benefit from the new BTO classification since there are no resale restrictions, but would likely be a "Plus" flat.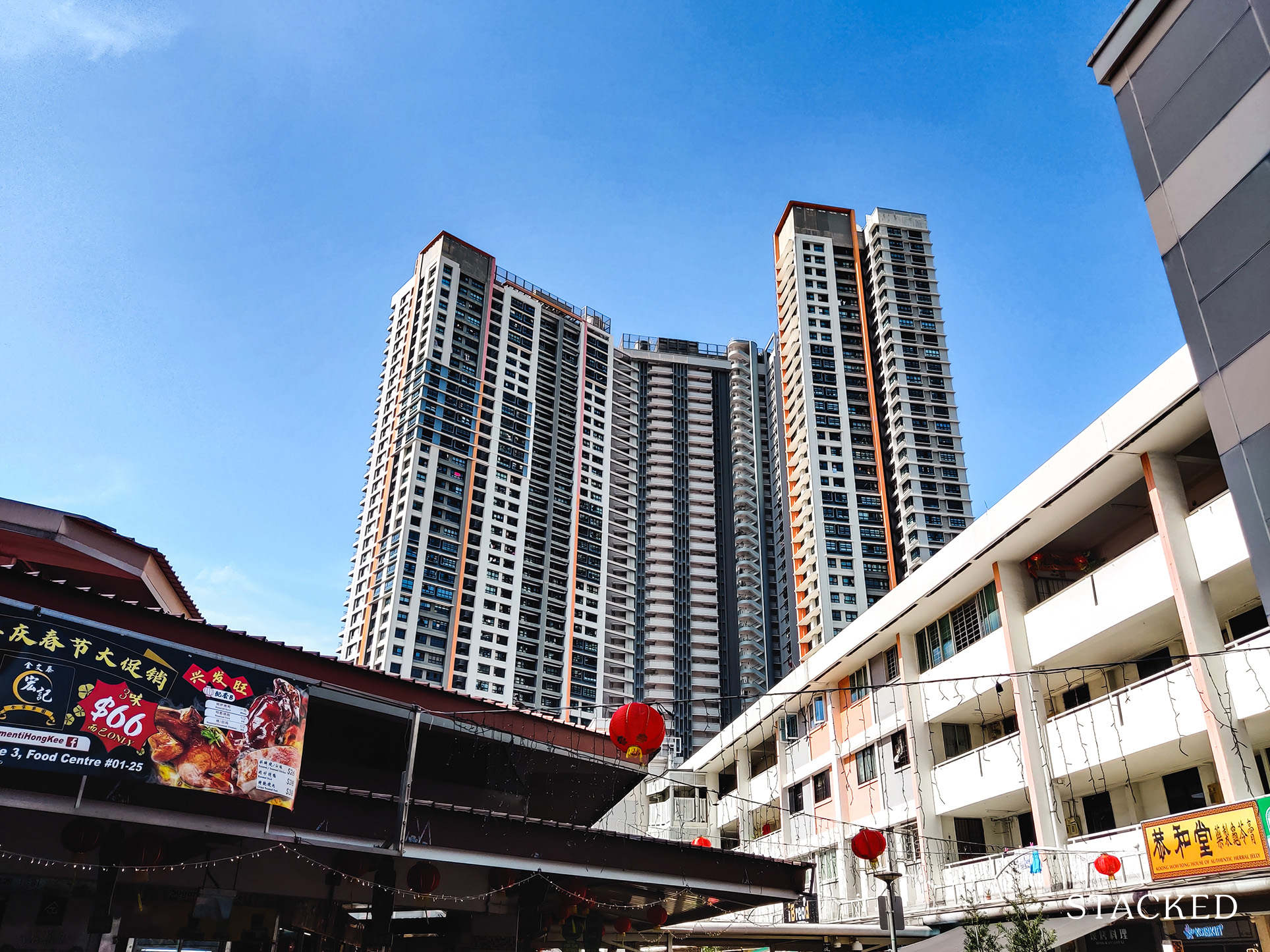 Even Trivelis with its smaller flats commands a high price due to its location.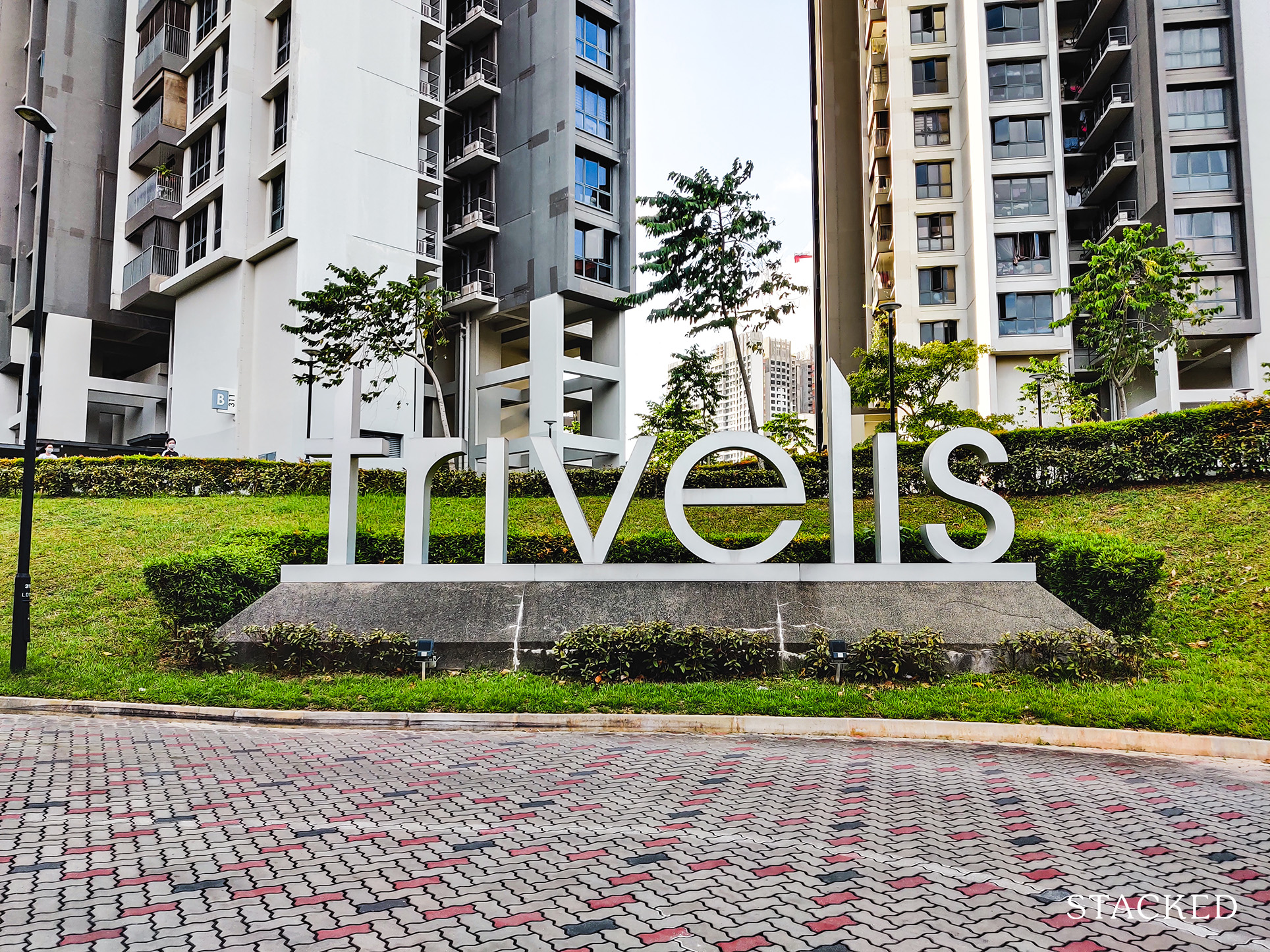 We've highlighted that the development is situated away from the crowded Clementi Town Centre, and yet it's just a 6-minute walk away from the MRT. It also has a much lower overall price given its smaller size – giving it a wider reach.
For those looking at a 5-room flat here, there's no doubt that you'll need to fork out almost a million dollars or more – especially for those on the higher floor. It's by no means a prime HDB (by definition) – but it is certainly priced like one!
Our Take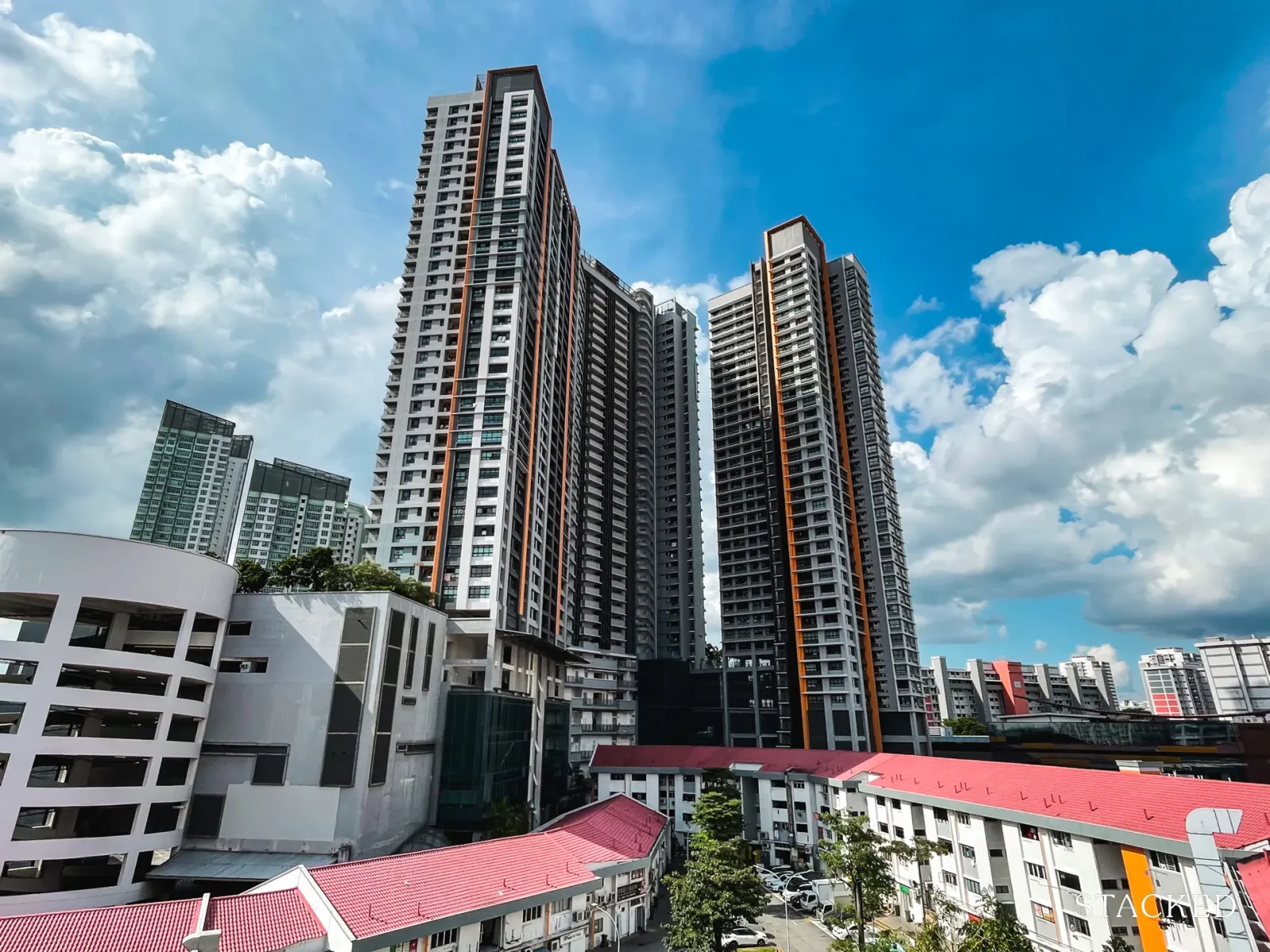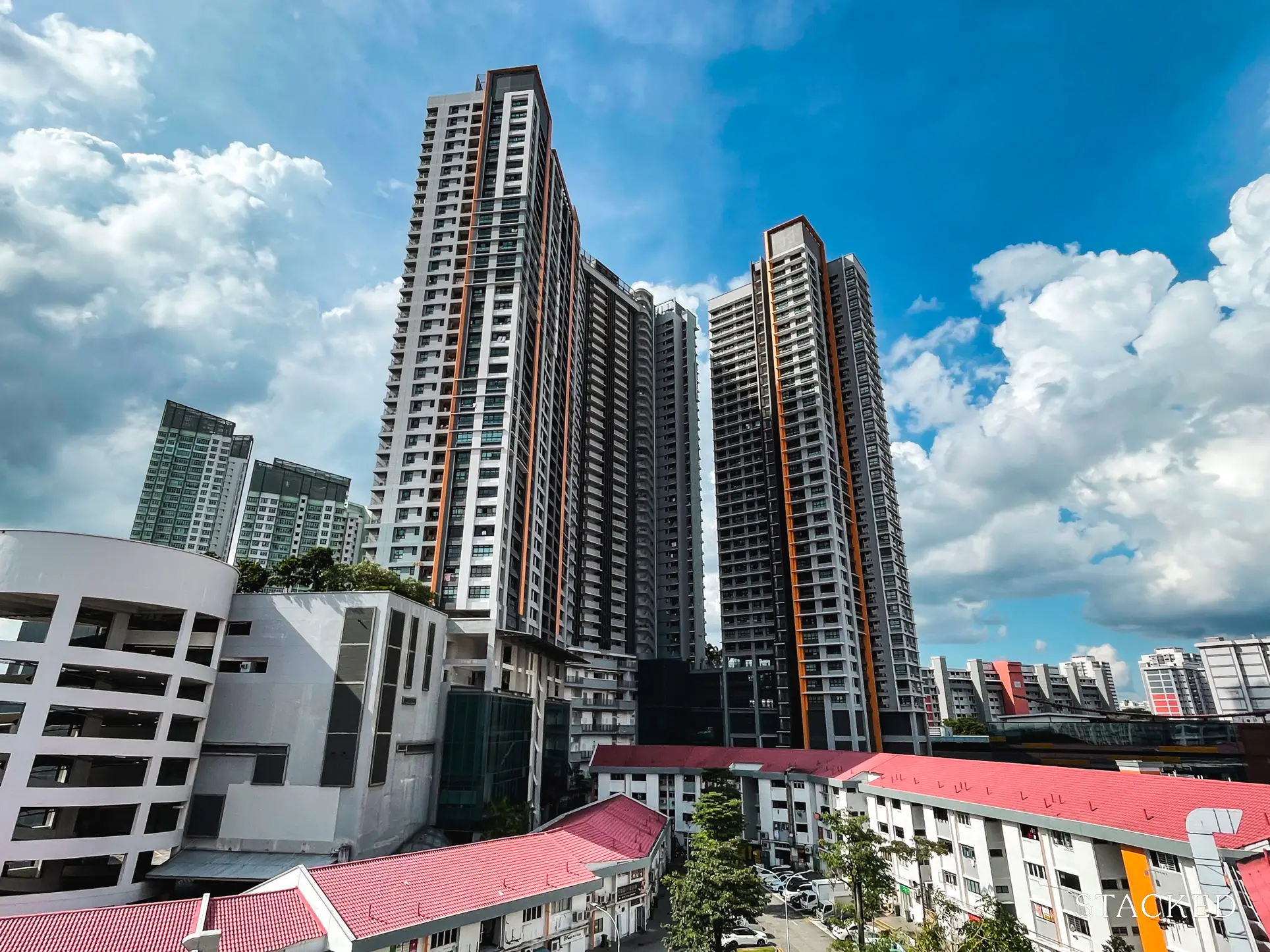 Like Clementi Cascadia, Clementi Towers's value proposition is clear: Staying here means you'll enjoy the best that Clementi has to offer given its proximity to major malls, as well as the Clementi Town Centre and the MRT/bus interchange. However, this also means coming home to a crowded environment – but that's to be expected for the level of convenience it brings.
The good news is that residents are just a short cycle away from the Ulu Pandan Park Connector as well as the Rail Corridor.
The downside here isn't dramatic: it lacks a proper playground, but with its convenience, I wouldn't say it's a big deal. The lack of a convenient drop-off is quite annoying though, but not a dealbreaker either.
So should you buy a unit here? If you can handle the crowd and don't mind living in a dense area, then I'd go for it (if you have the budget for it!). However, those looking for peace and quiet may want to look elsewhere. Anyone who has visited Clementi MRT during peak hours would generally agree to this.
What this means for you
You might like Clementi Towers if you:
• Want excellent amenities: You can't get any better than this. 3 malls within just minutes walk and a ton of shops just below makes this one of the most convenient places to live.
• Want to close to transport nodes: Clementi MRT and Clementi Bus Interchange is at your doorstep.
You may not like Clementi Towers if you:
• Want a peaceful environment: It's not exactly a residential area given the mall and MRT is just below you.
• Are on a budget: It's one of the more expensive HDBs available. Not many may want to pay for such a high level of convenience.
End of Review