HDB Reviews

Adora Green DBSS Review: Great Views, Amenities And Affordable Albeit Far From MRT
Sean
May 24, 2023

24

min read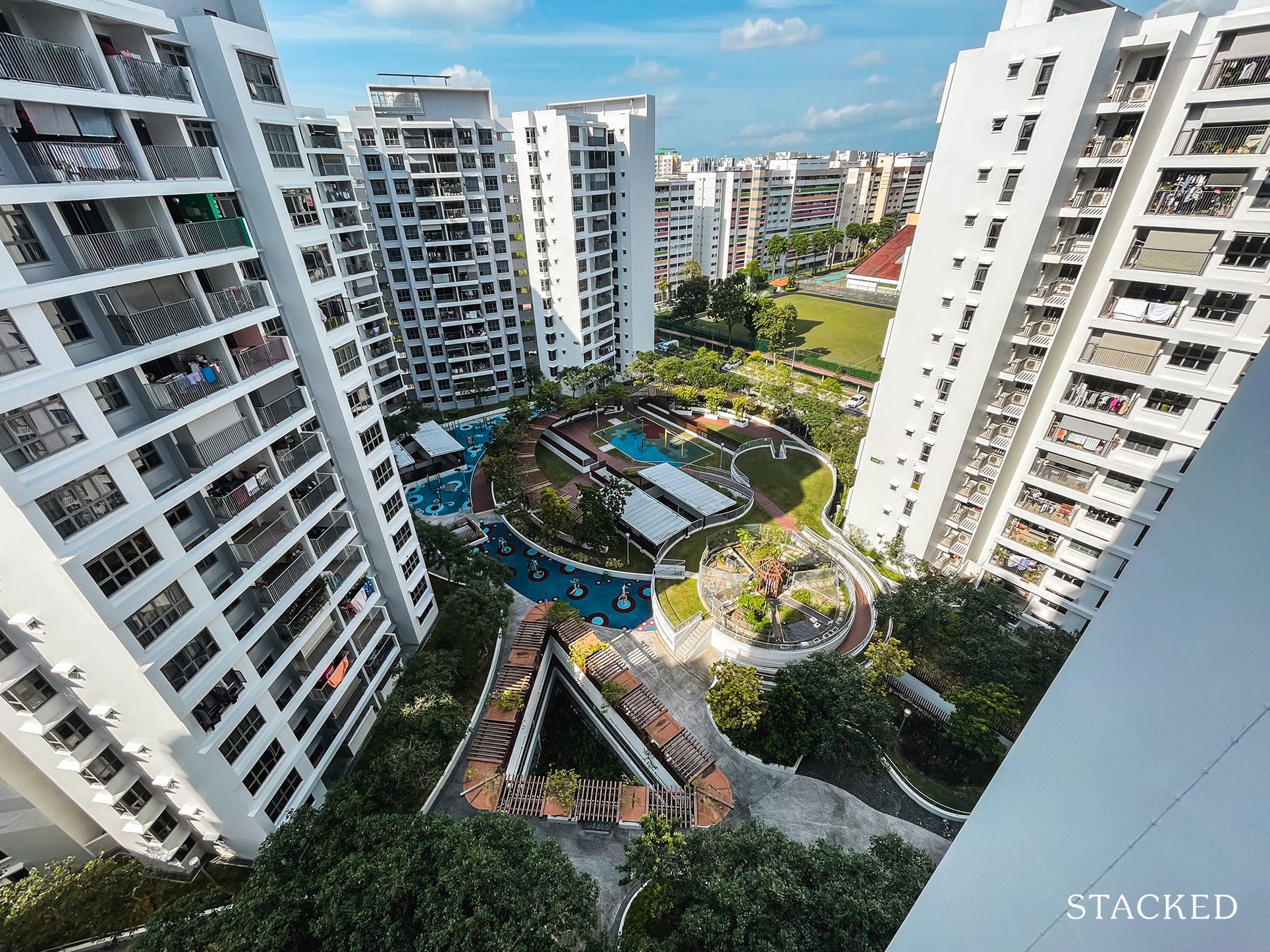 Reviewed by Sean on 24 May 2023
What we like
Unblocked greenery views

Close to park connector and 2 parks

Within walking distance to a hawker centre

Commercial units within the development

Walk to Northpoint City in 10-12 minutes

"Underground" car park
What we don't like
—

Narrow corridors

—

Not near MRT
24
min read
| | |
| --- | --- |
| Project: | Adora Green DBSS |
| HDB Town | Yishun |
| Address: | Yishun Avenue 11 |
| Lease Start Date: | September 2013 |
| No. of Units: | 806 |
Adora Green is the first and only DBSS in Yishun. It sounds special when phrased this way, but you should know that there are only 13 DBSS in Singapore and most estates only have 1 given it was scrapped shortly.
Without going into too much detail, let's just say that some DBSS in general doesn't enjoy the best of reputations. Be it poor workmanship, high selling prices and even lack of internal living space.
However, Adora Green did manage to stay out of the negative light. And when it was launched, potential buyers were pretty fond of the project given the location within Yishun wasn't terrible – you can walk to SAFRA Yishun, it's situated next to 2 parks and around just a 10-12 minutes walk to Northpoint City.
| | | | |
| --- | --- | --- | --- |
| Unit Type | Floor Area | No. of Units | Indicative Price Range |
| 3-Room | 67 sqm | 168 | $310,000 – $390,000 |
| 4-Room | 92 sqm | 510 | $420,000 – $520,000 |
| 5-Room | 112 sqm | 128 | $520,000 – $650,000 |
Buyers who bought from the developer and sell today are up around 40+%
That said, some people felt that DBSS projects were priced too much especially when you compared them to surrounding HDBs. Still, Adora Green was 3 times oversubscribed in its launch, and today, it manages to maintain a premium gap over HDBs in the area.
So if you are looking out for a more affordable DBSS, should you consider Adora Green? Here's what development looks like:
Adora Green Insider Tour
One of Adora Green's unique selling points is that it's situated right beside a large park – Yishun Park, and this is no more apparent than when you arrive at the development's one and only entrance along Yishun Avenue 11.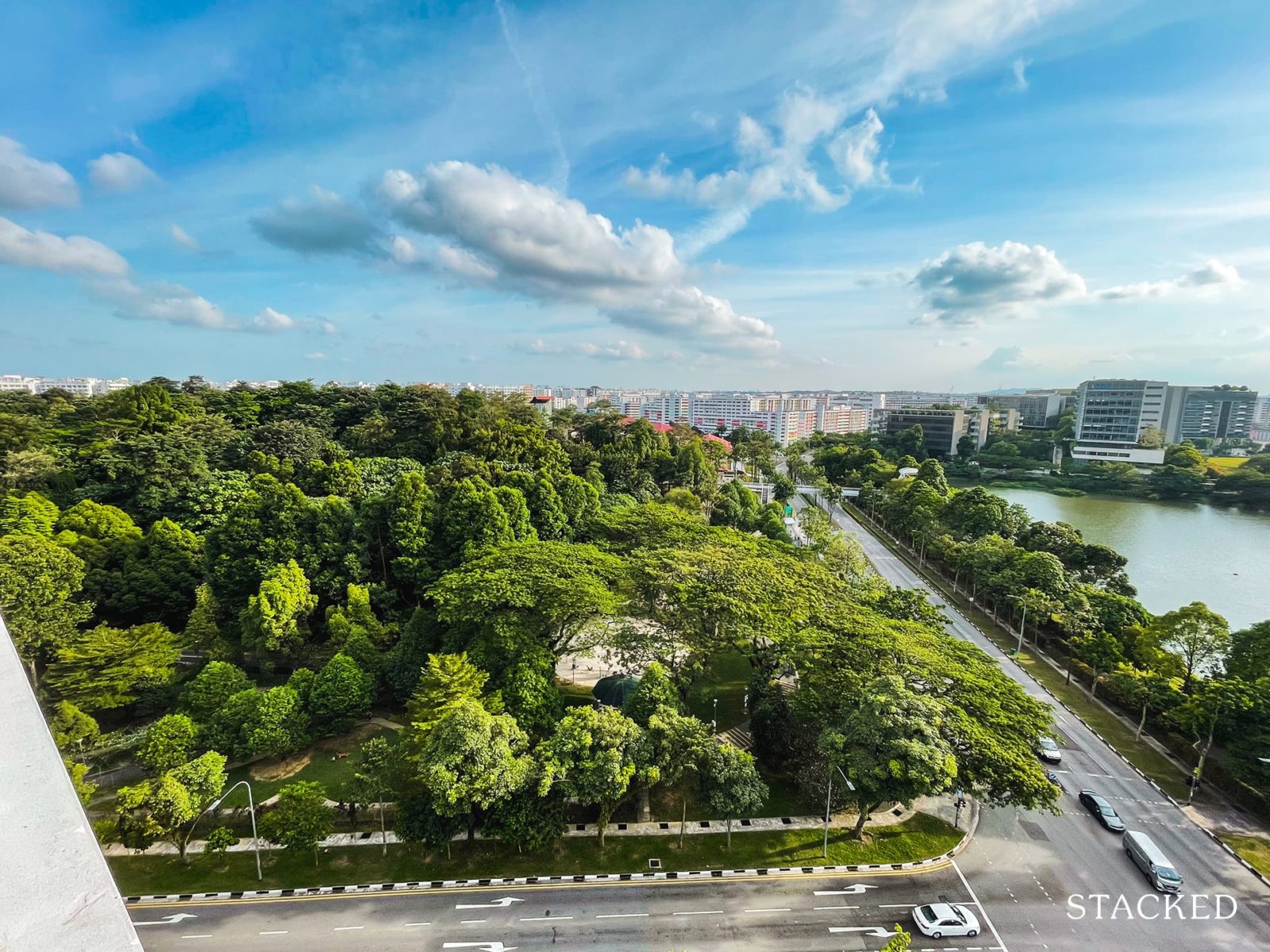 Heading in, you're greeted by the DBSS name in a brown serif font. You may be surprised to see that it looks quite good for a development that was sold more than 10 years ago!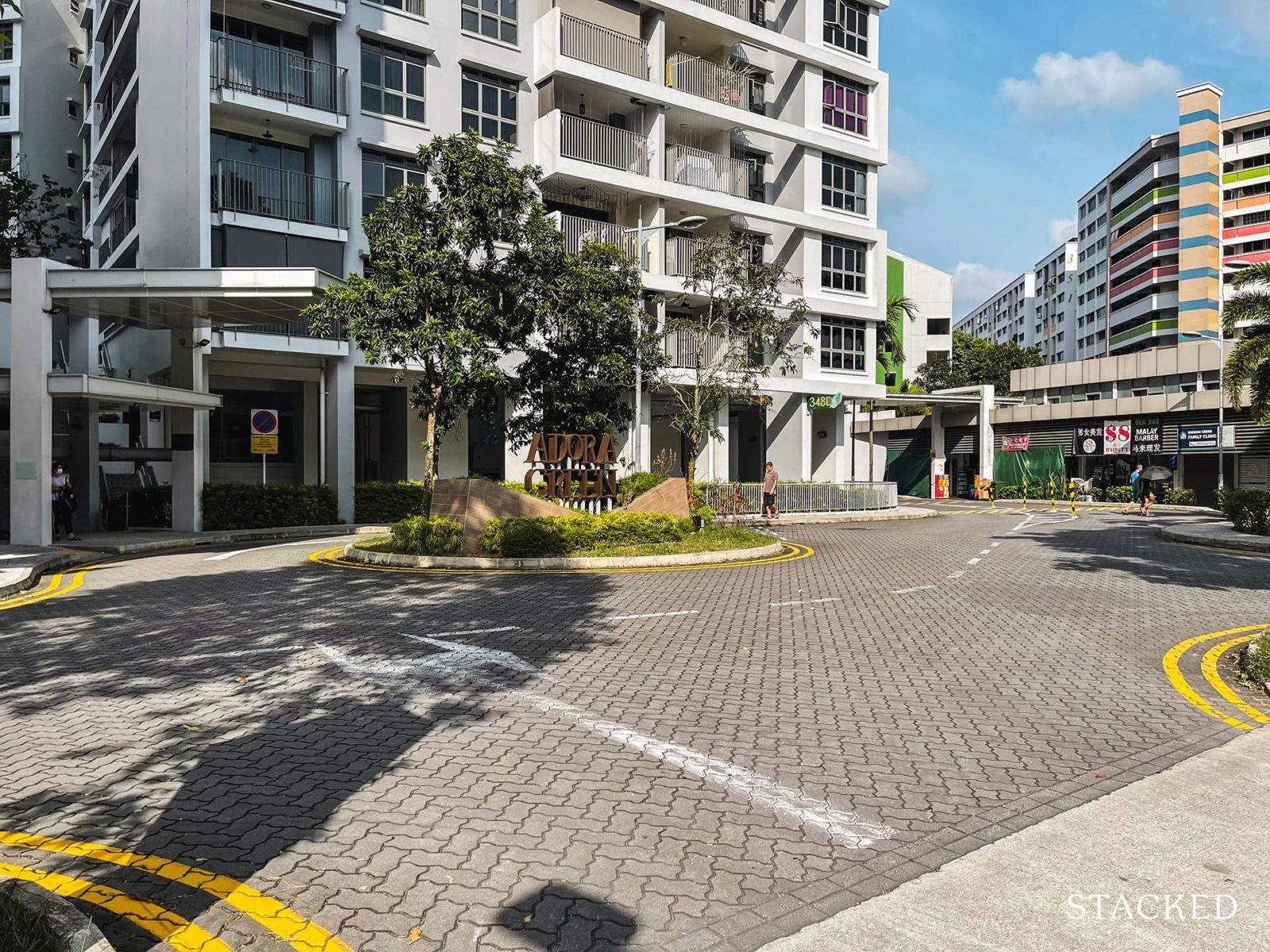 That's because this development actually went through some changes. Here's what the old design used to look like: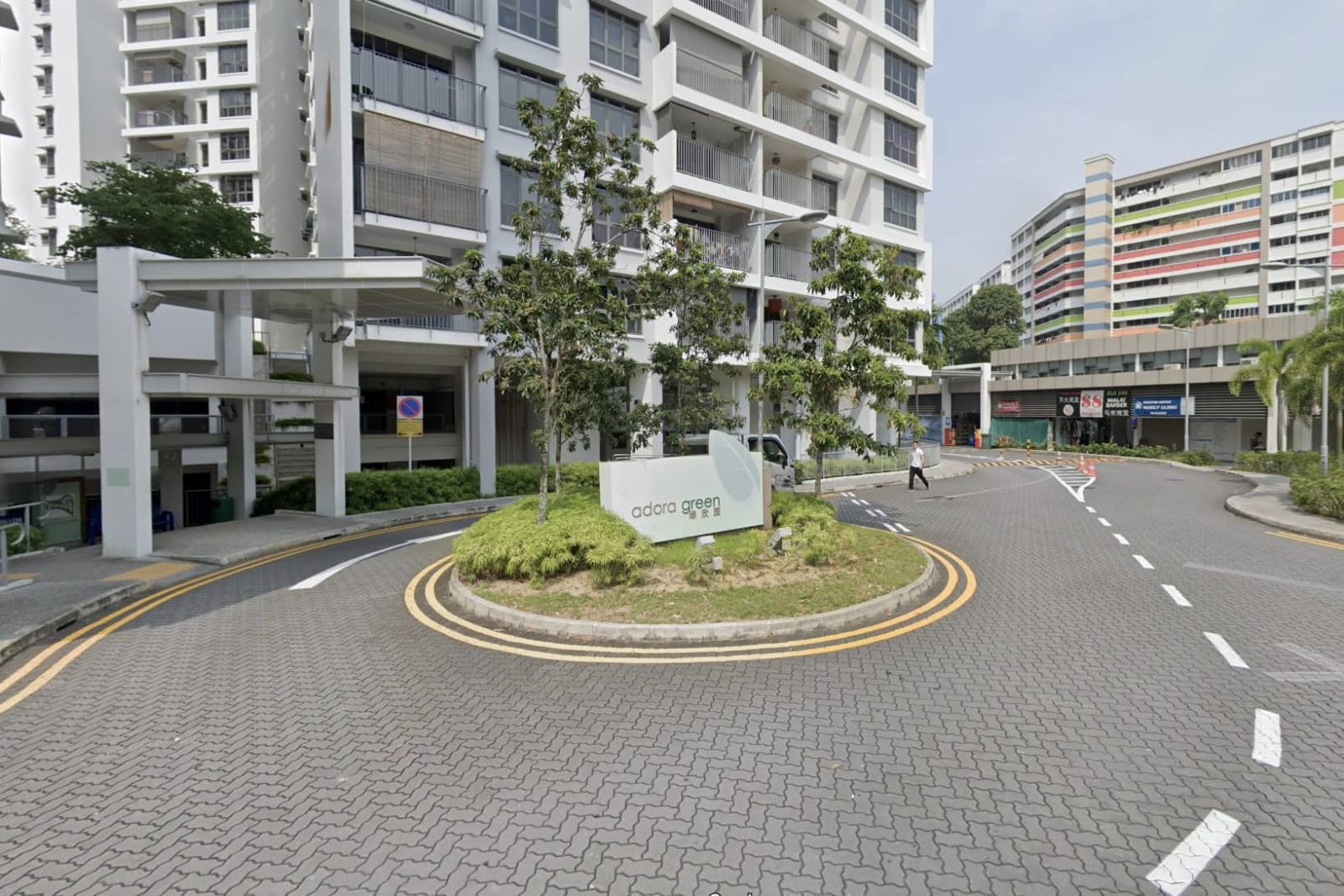 This also happens to be the main drop-off point in the development which services blocks 348A to 348D. The drop-off sports a roundabout design with some landscaping which makes the entrance look quite welcoming.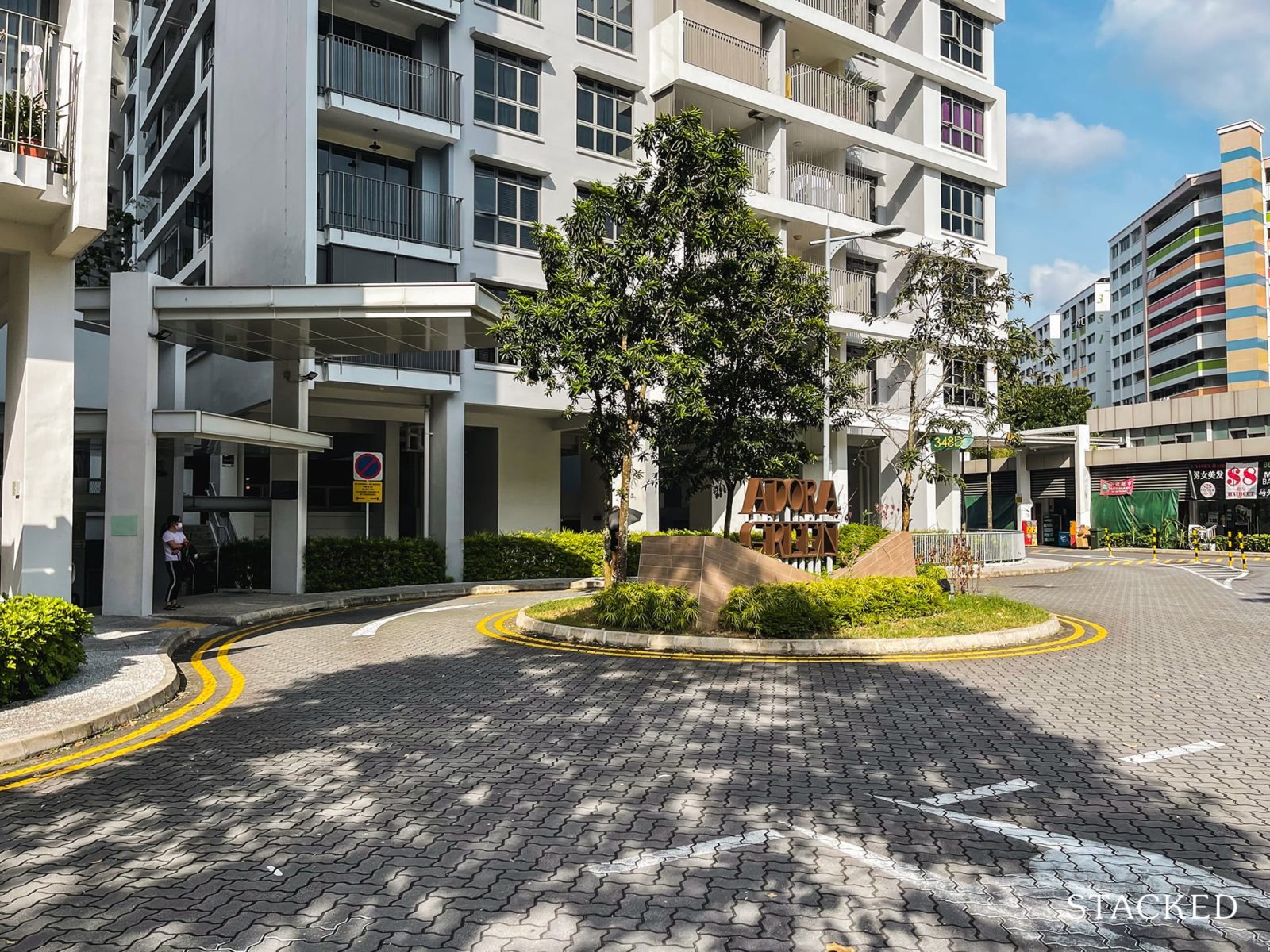 As expected of any drop-off point, this one has a shelter, but it can only fit 1 car at a time.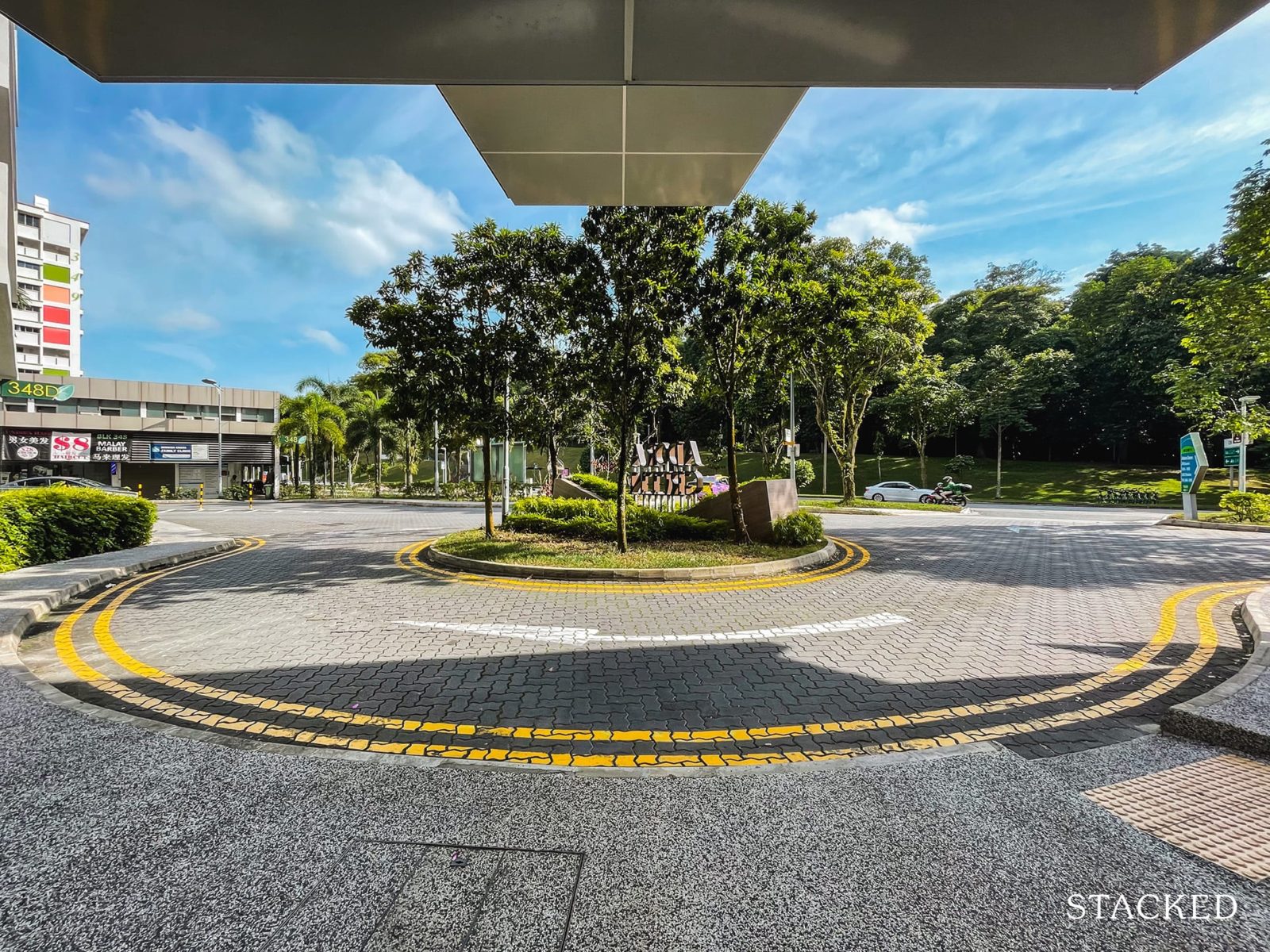 You'll also find 2 benches here that are also sheltered, so residents can sit around and wait for their pickup.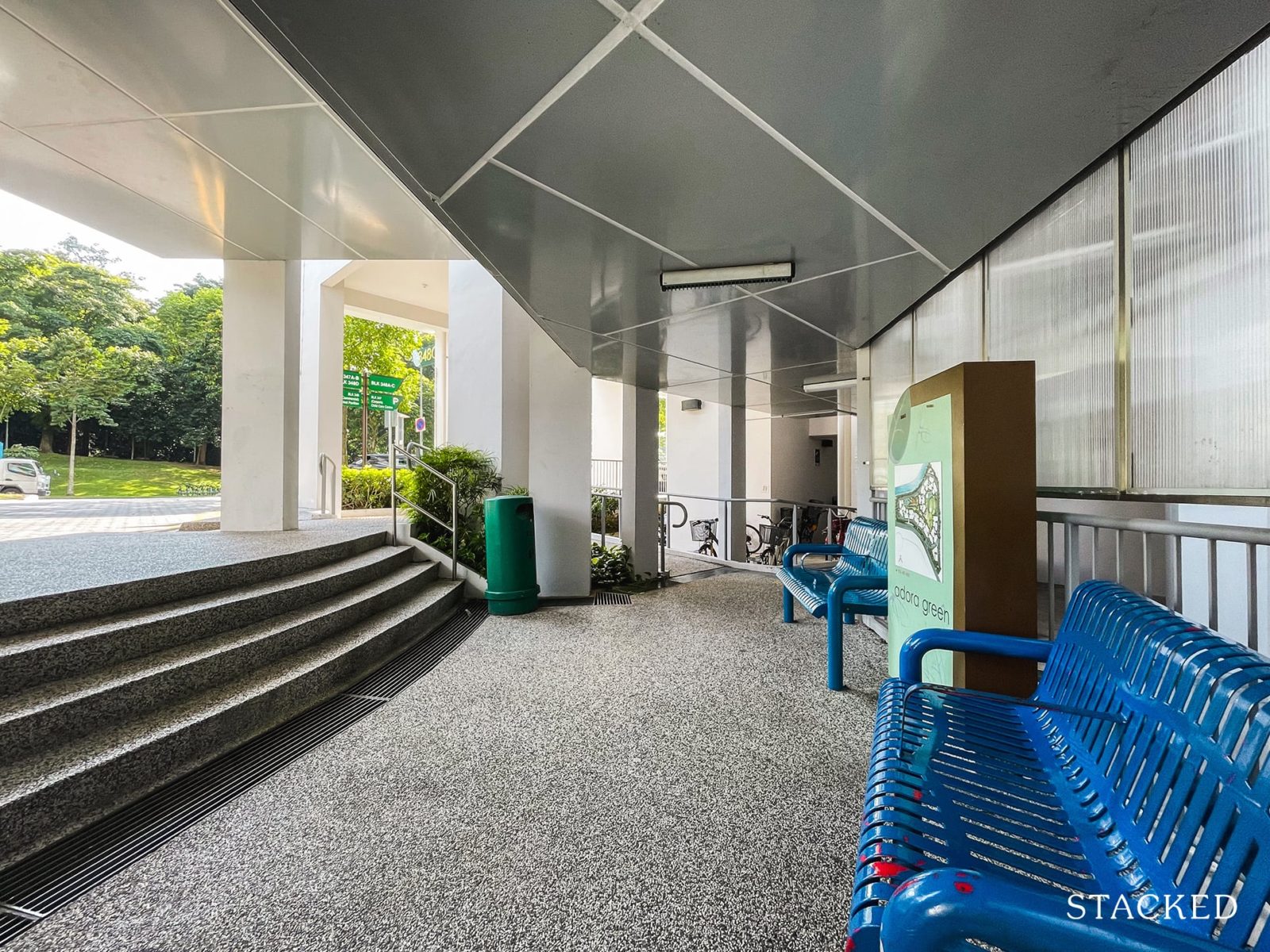 From here, residents can take a sheltered walk to their block, but those staying on the north side can use the more discreet drop-off point at block 347A.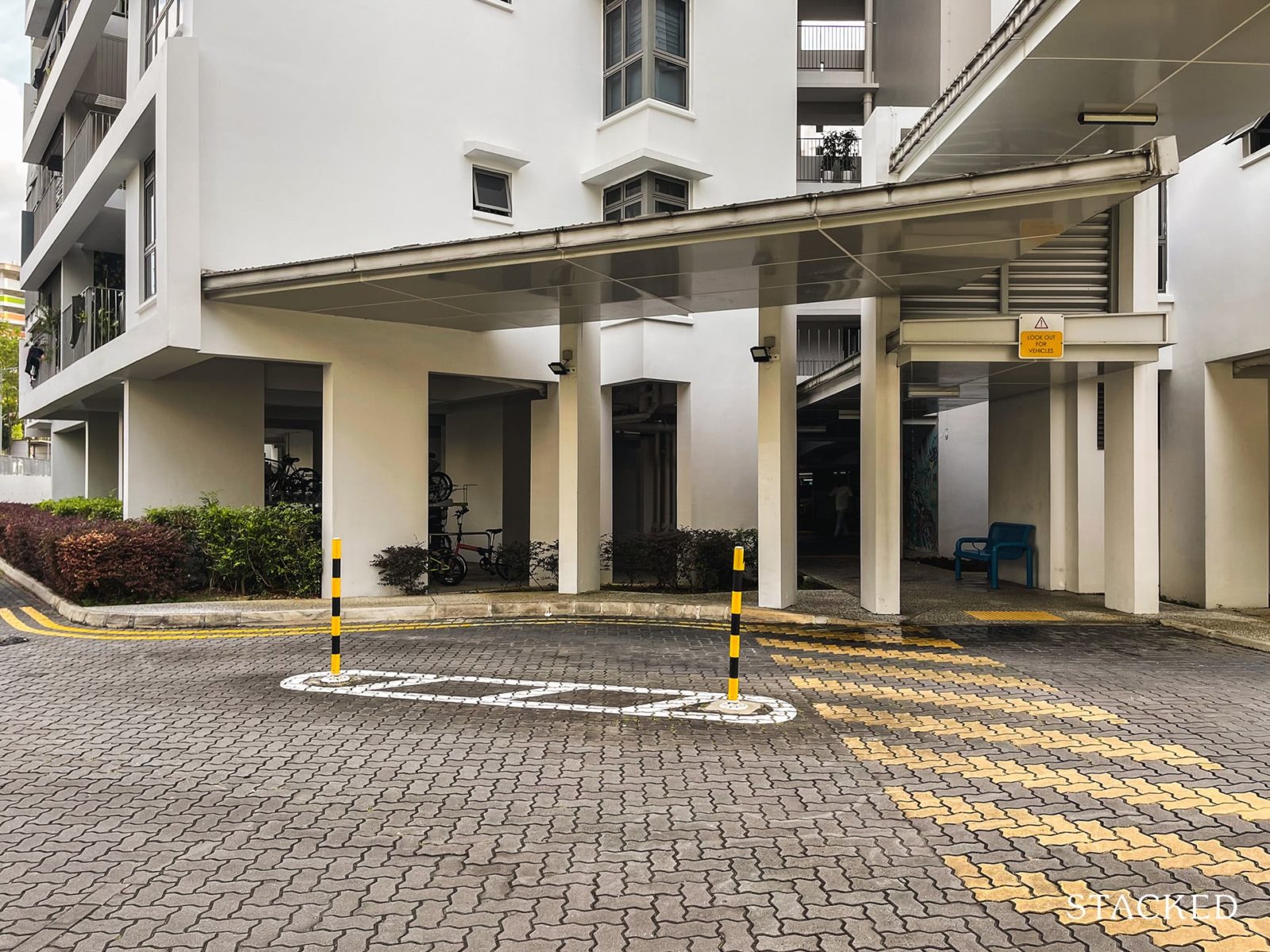 It's quite easy to miss as there's no roundabout here with any greenery, but it does provide shelter for 1 car and does its job well, servicing residents at blocks 347A and 347B.
Given there are only 2 drop-offs though, residents staying on the far west side of the development (block 348A) would have to walk more, but given the development size, I don't think this is much of an issue at all.
Those who really want to alight directly at their block can also opt for the refuse area behind each block too.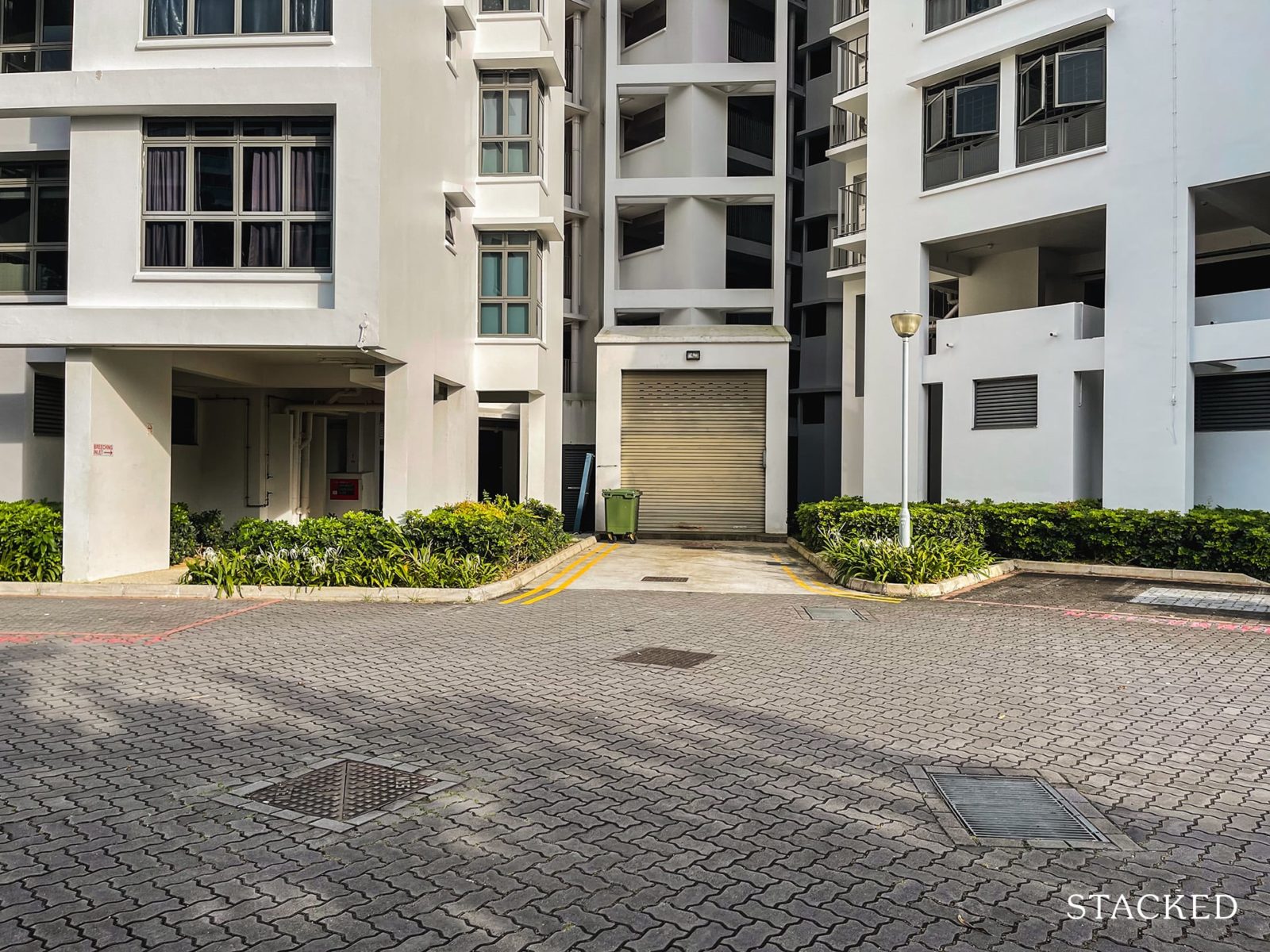 Just opposite the block 347A drop-off point is the Adora Green's Precinct Pavilion: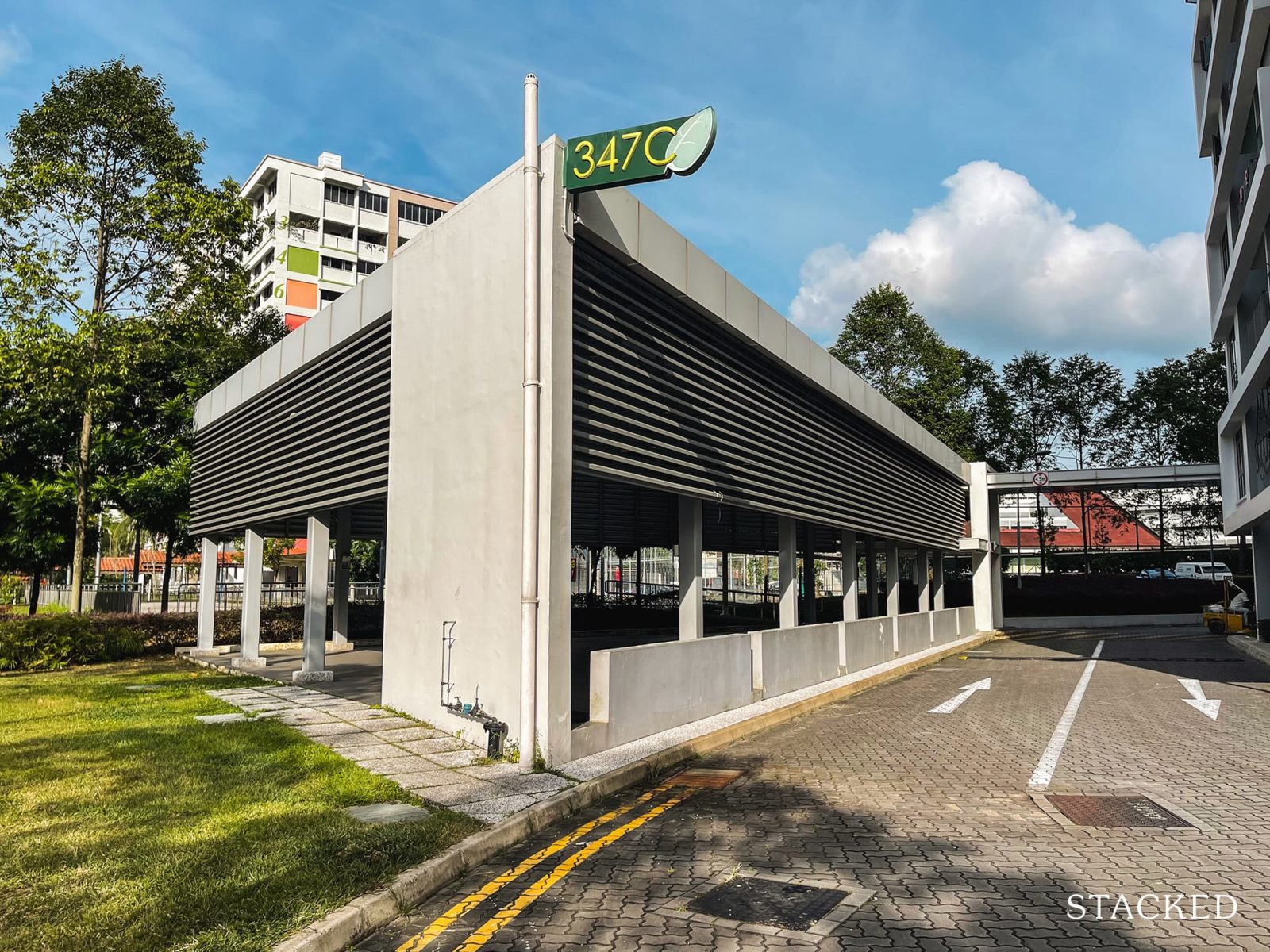 It's quite bright and windy here, however, the pavilion is of an irregular shape and the size is not very fantastic.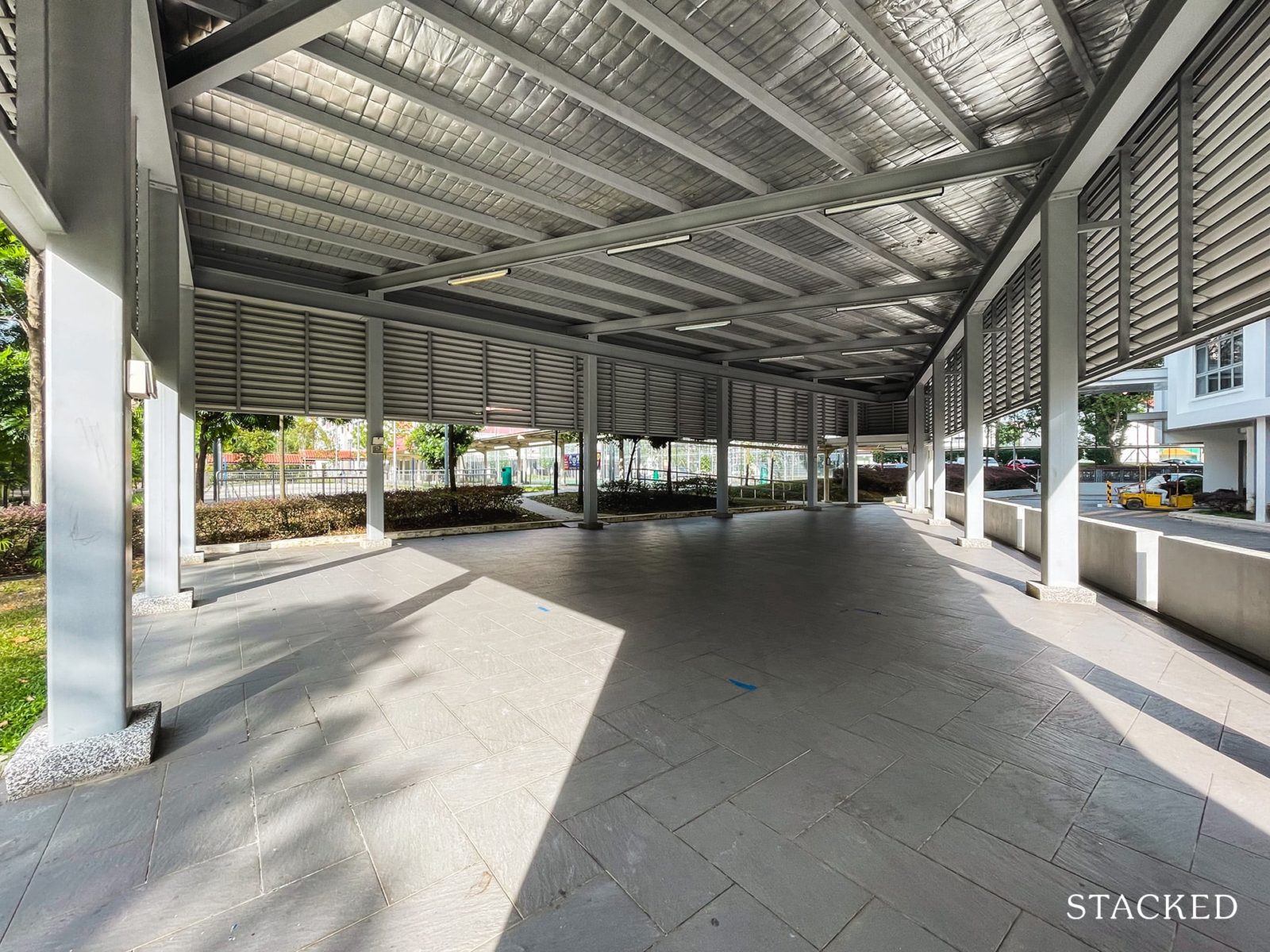 I do like that it's strategically located at the corner of the development though where it affects the least number of residents.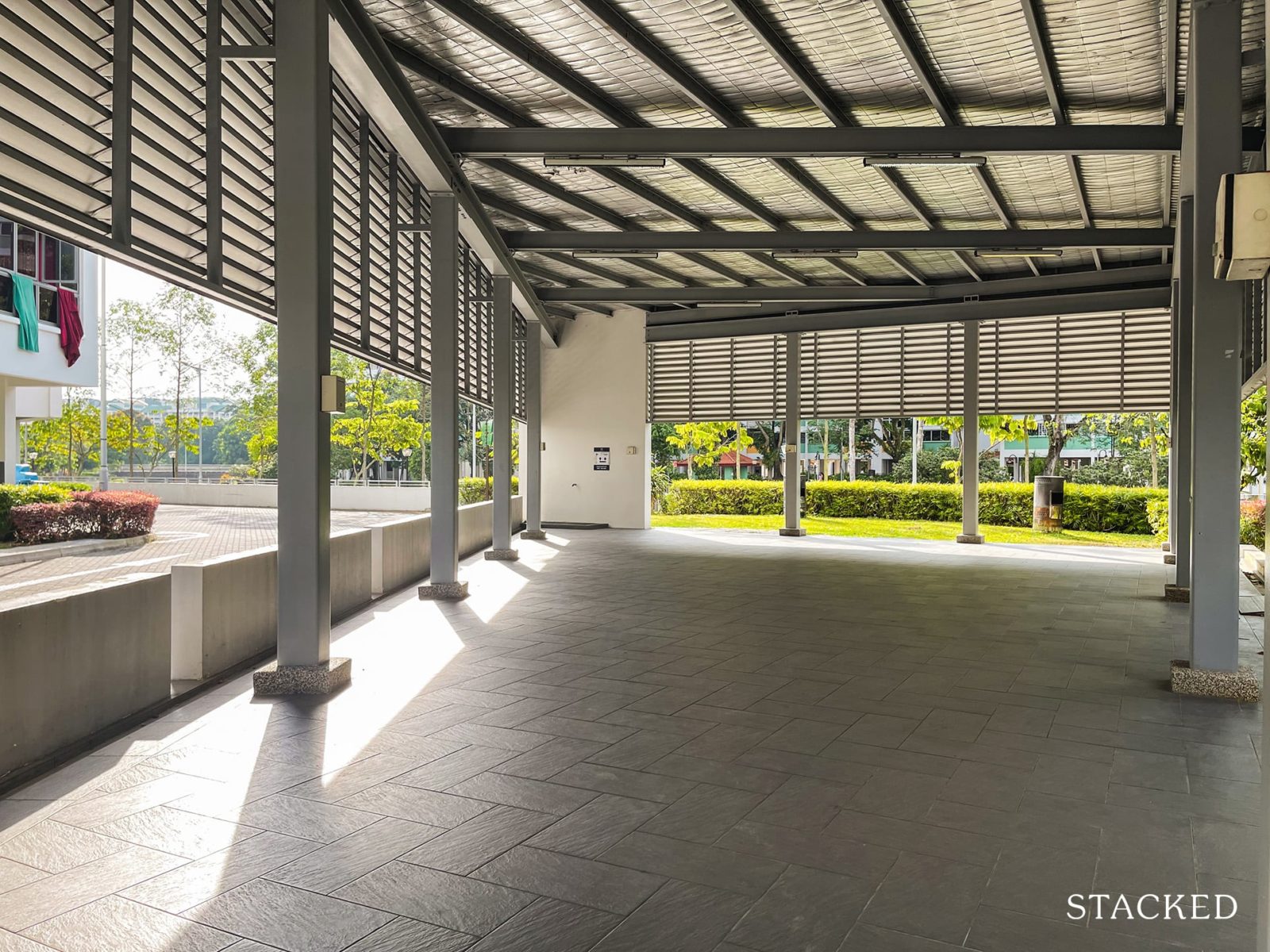 Next, let's check out what the car park is like here.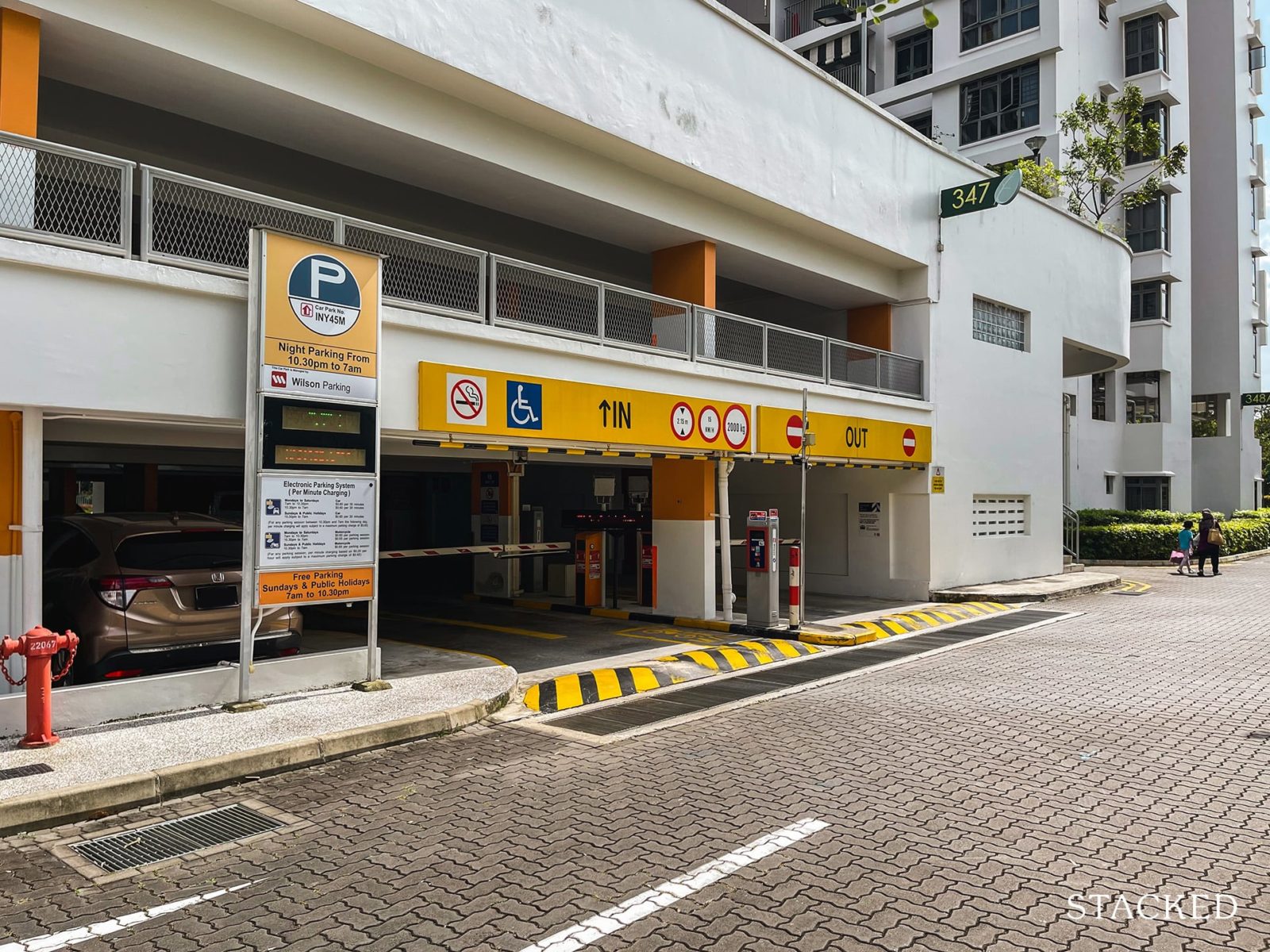 To no one's surprise, the car park is of a multi-storey variety. However, it's quite special in that it's only 2 levels high and both levels form part of the blocks here, sort of like an underground carpark (similar to Natura Loft).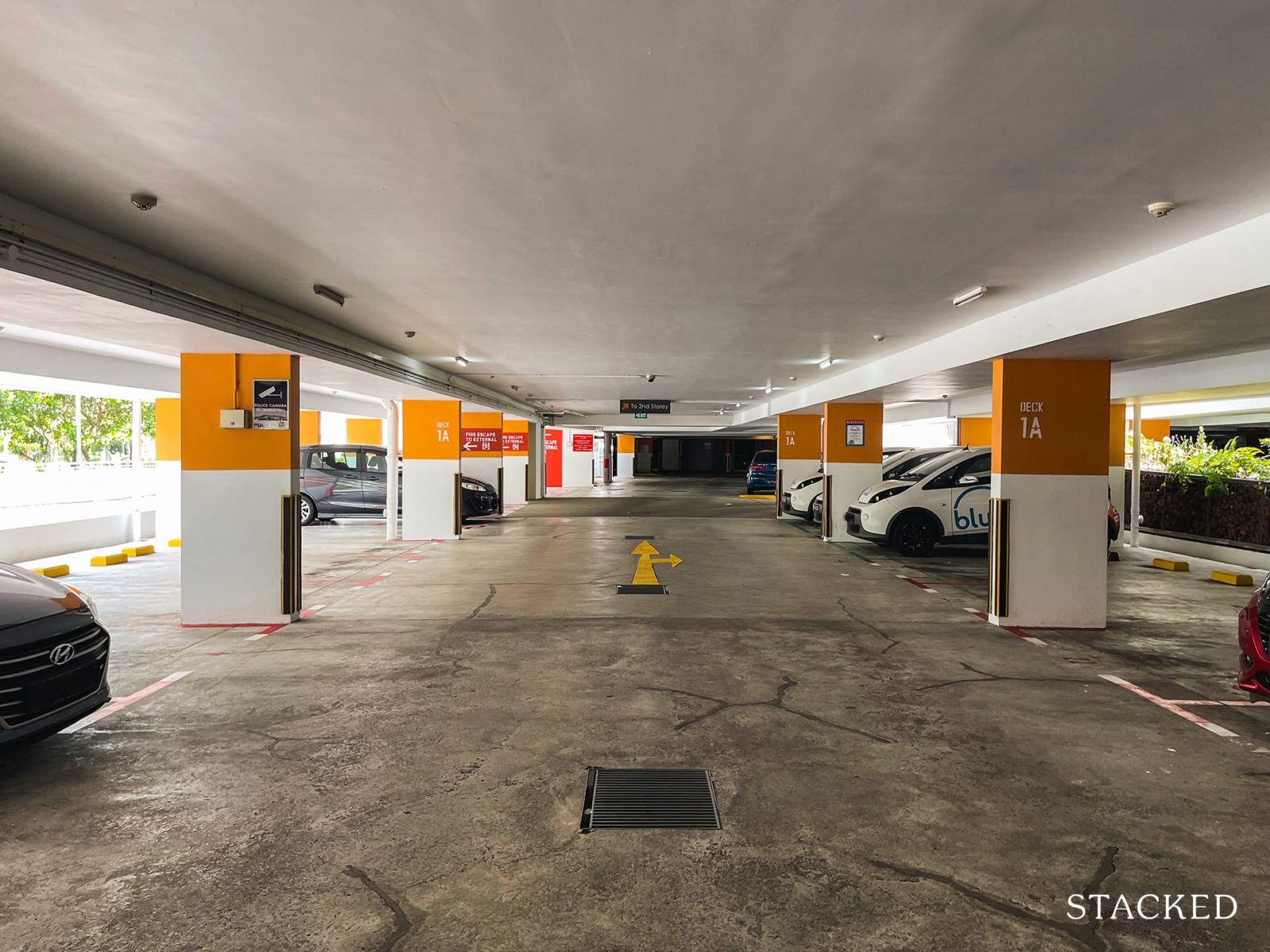 This is advantageous because drivers can park close to their block and it completely does away with the need for a link bridge. In addition to that, residents wouldn't have to deal with an unsightly MSCP structure!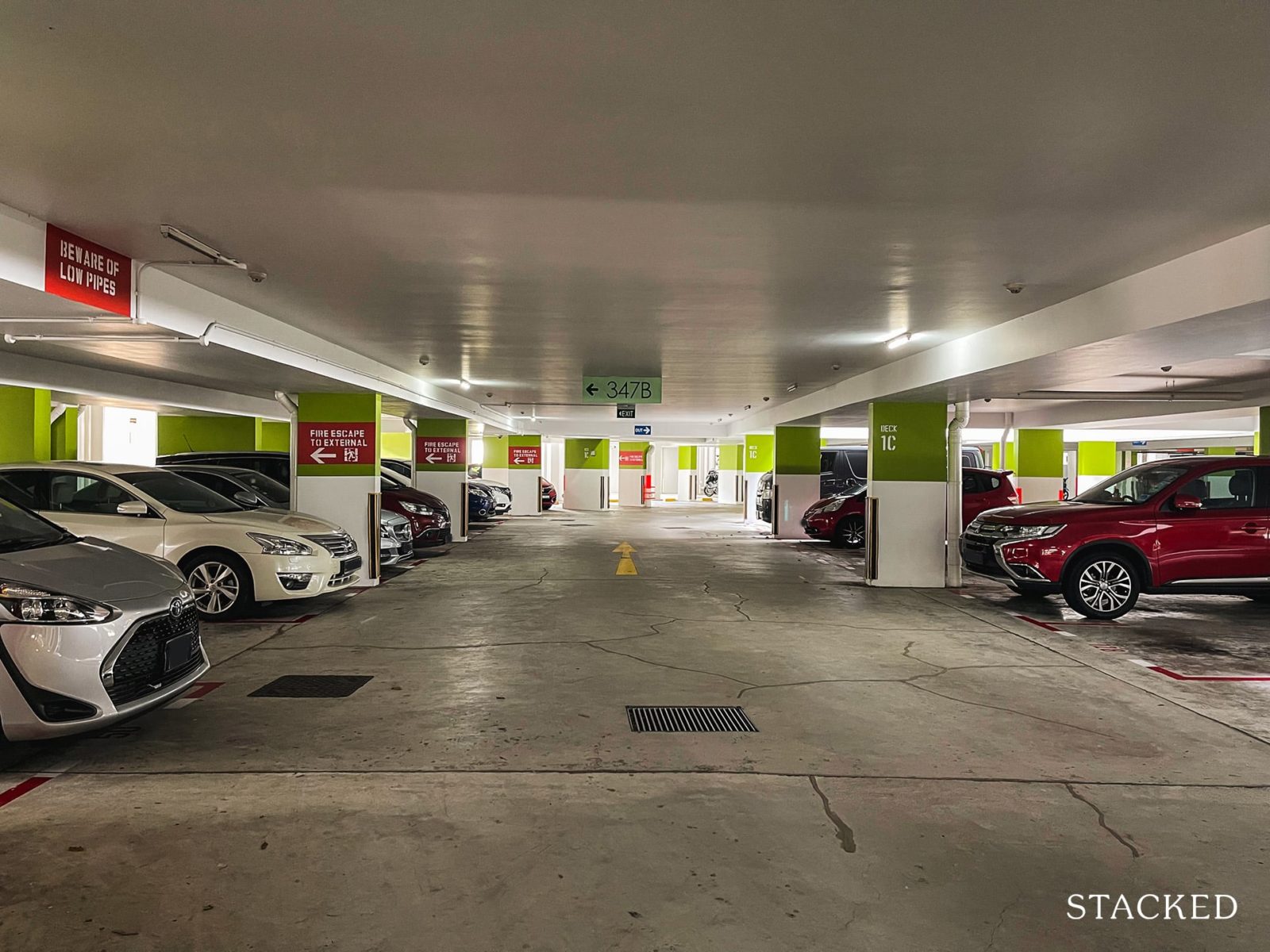 The first level is rather dim though, but I must say that it's well-ventilated. The lights here were on even during the day.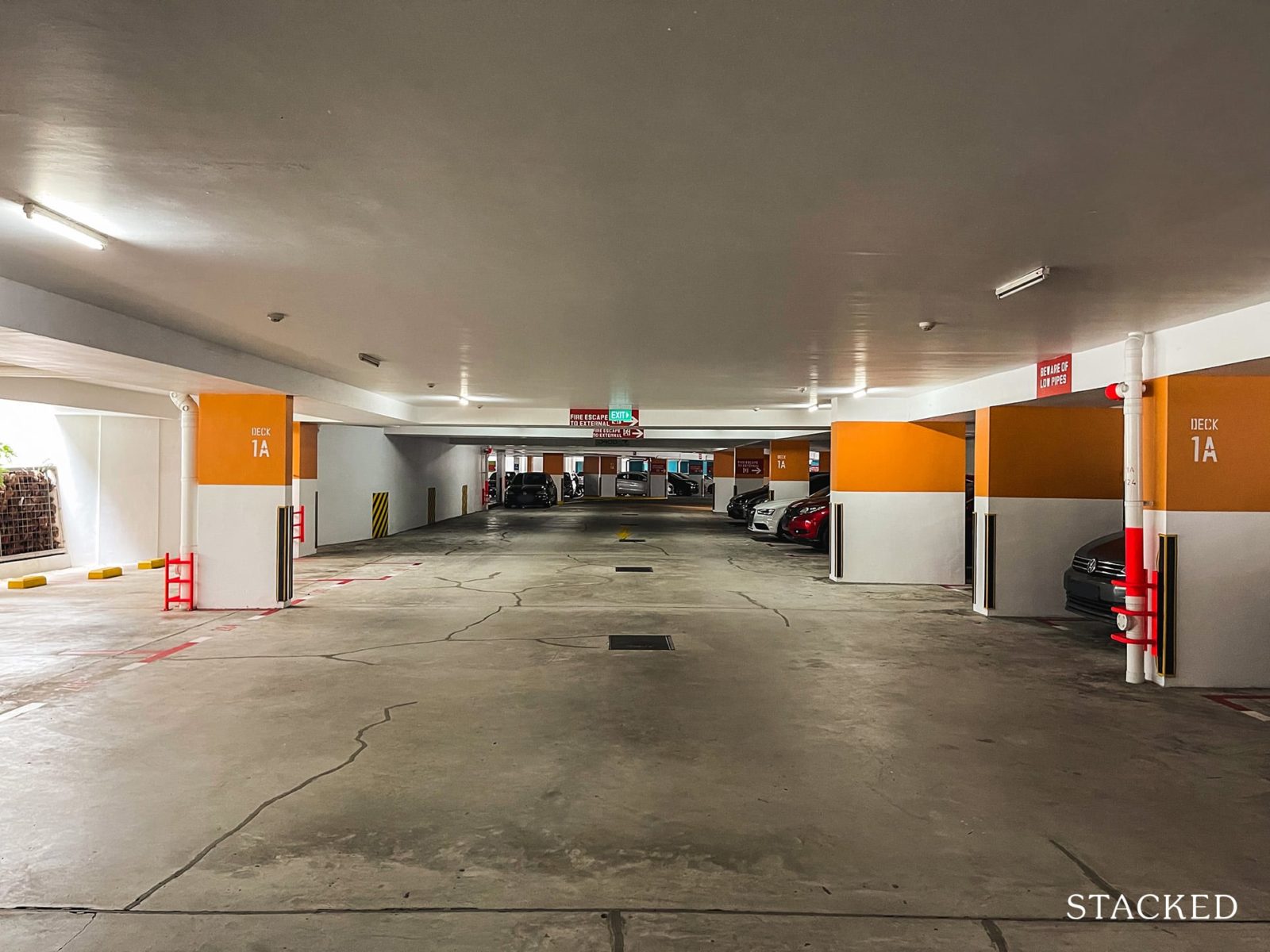 The second level is much brighter: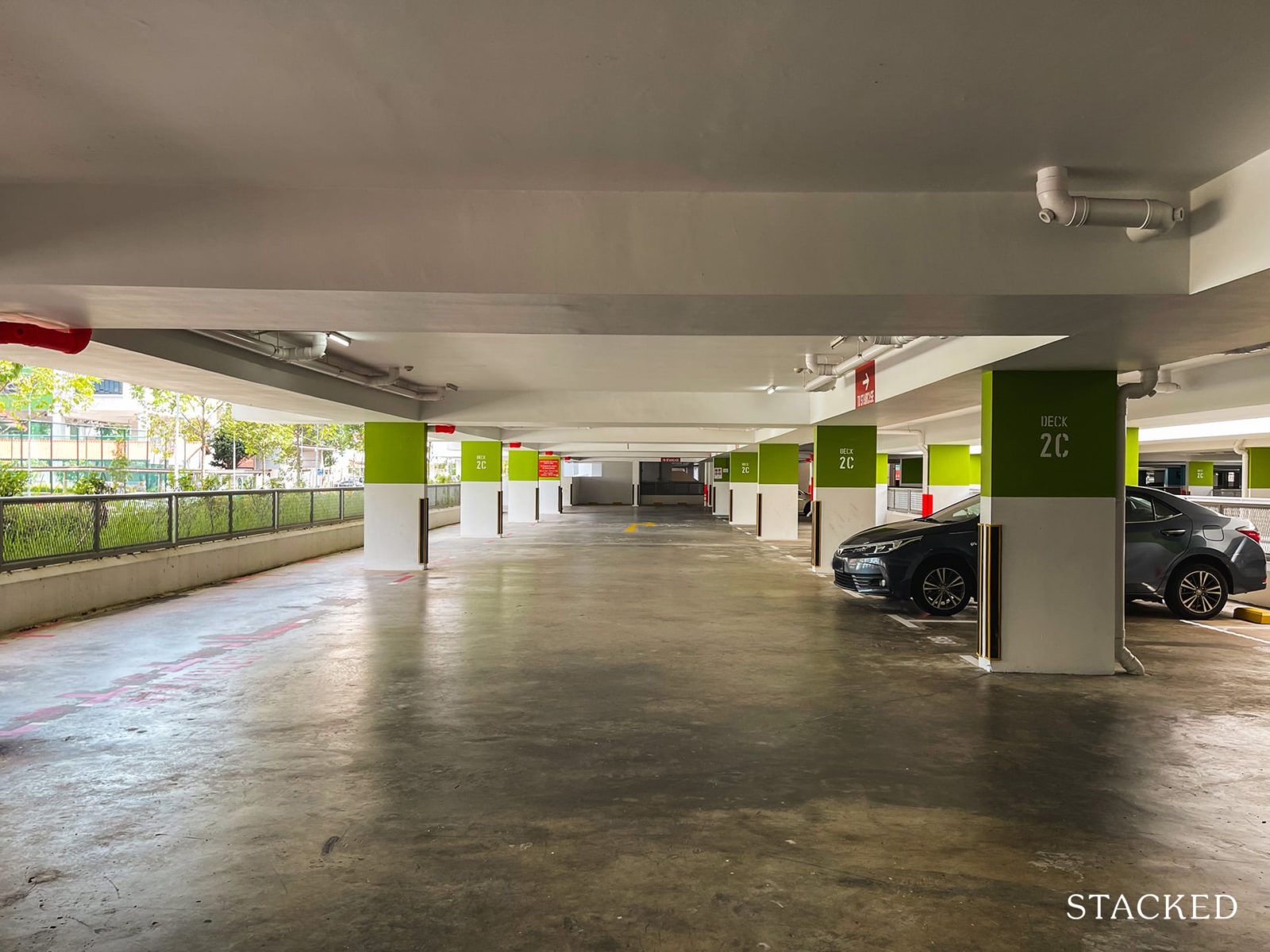 What this also means is that the car park acts as a sheltered walkway throughout the development, making it very comfortable for residents to move through the development be it rain or shine.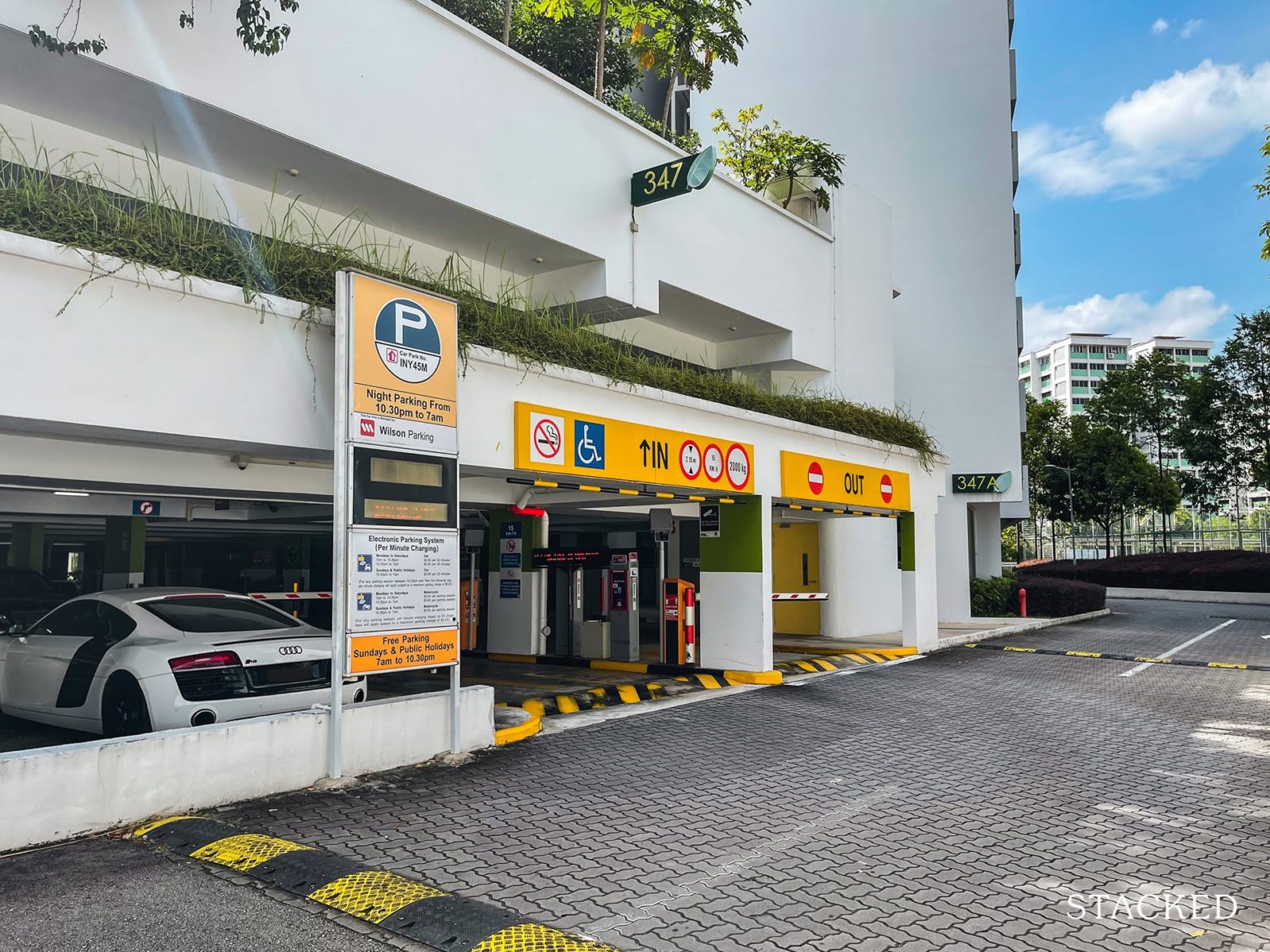 Now that you've seen the car park, let's check out the "roof garden" on the 3rd level which houses all the facilities of the development.
There are two main sections here, one on the west side and another on the east side.
First off, let's take a look at the barbeque pits which are on the west side. There are 5 in total, and it looks pretty typical: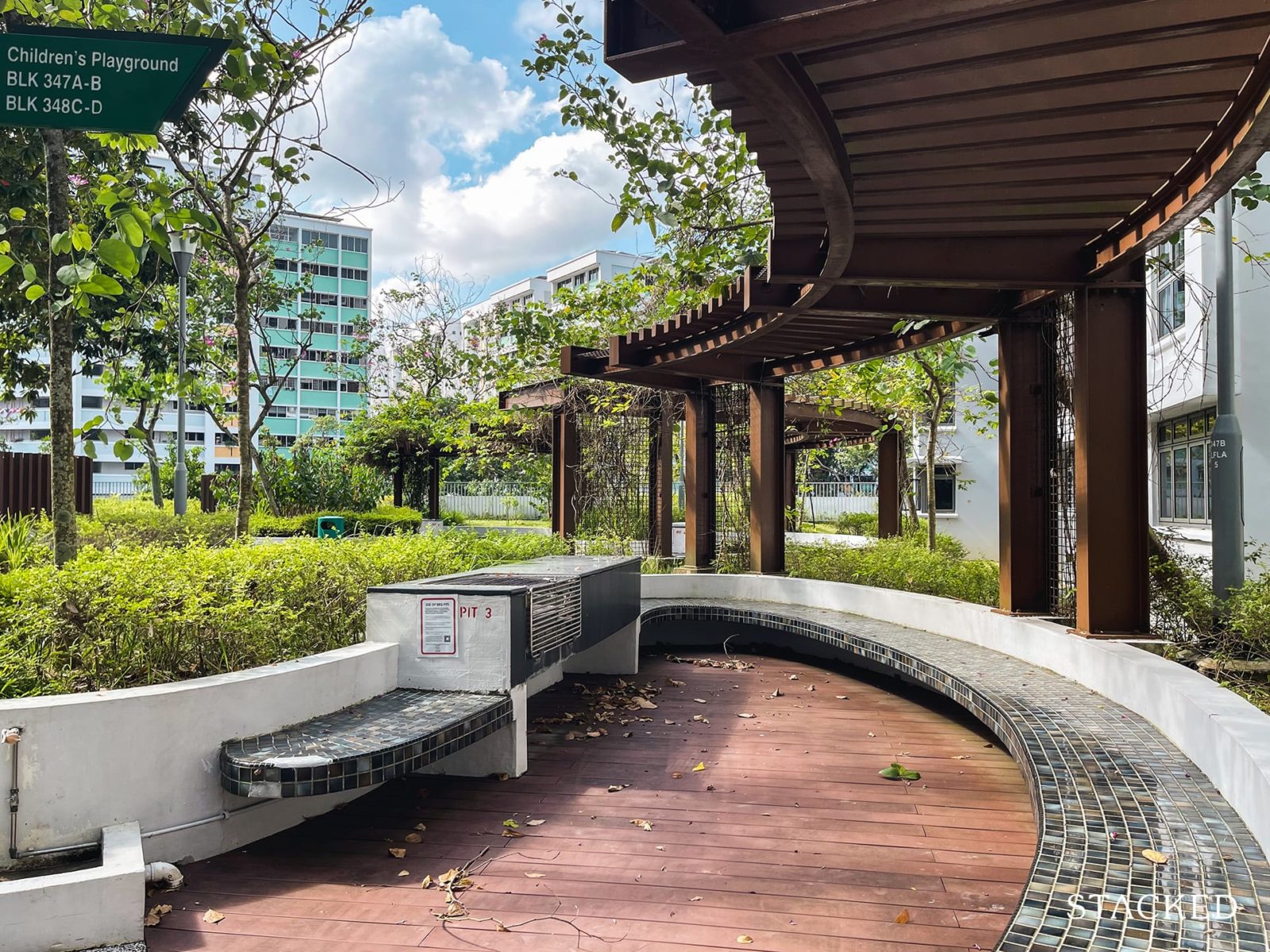 There's no wash basin or shelters around though, so these pits are likely not usable if you happen to book it and it rains.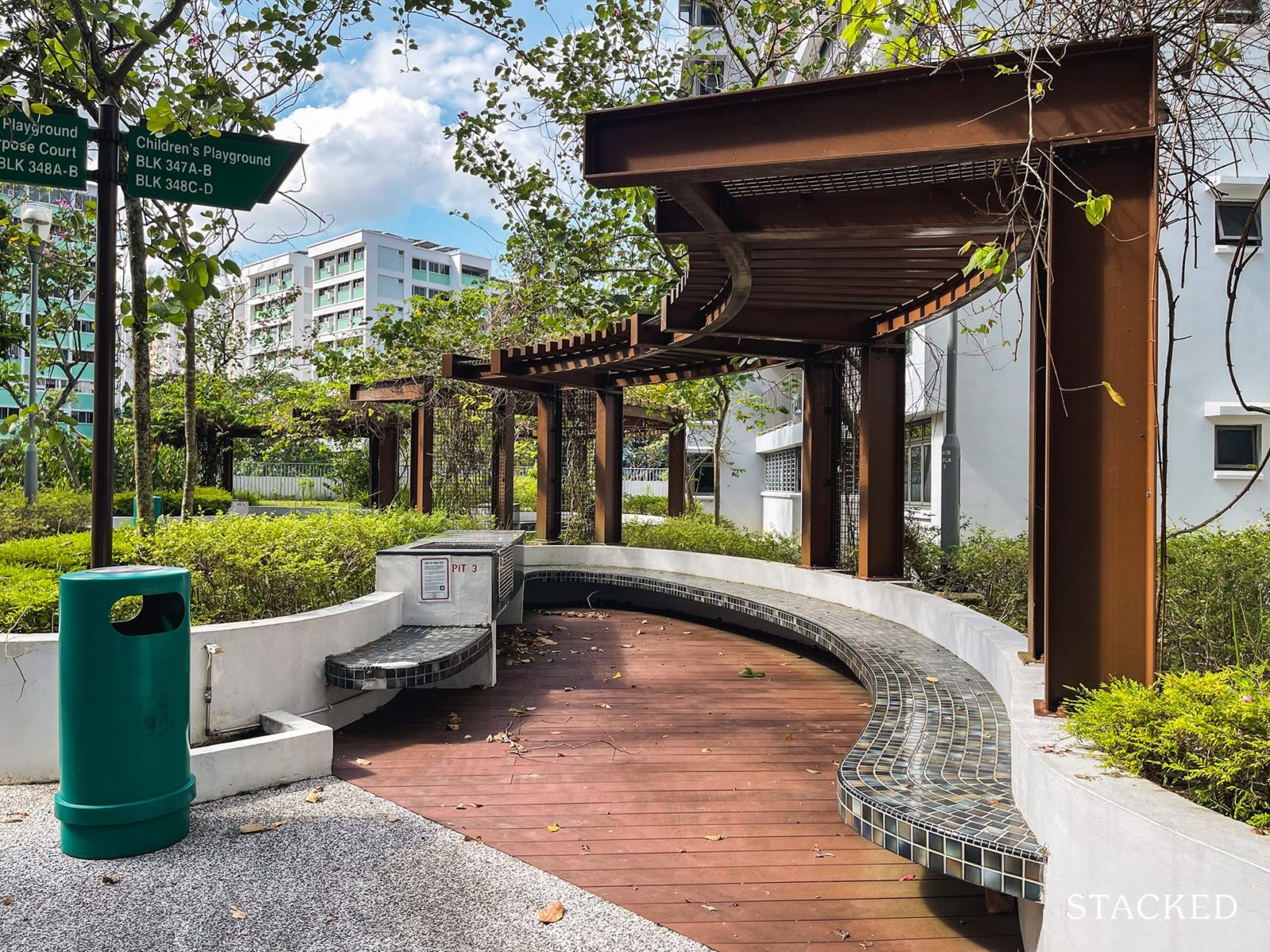 Still, 5 pits are quite a number as I'm accustomed to seeing just 2 being the standard! Getting a booking here shouldn't be much of an issue at all.
On a less positive note, from here, you'll see one of the biggest downsides to staying on an inner-facing stack of a low-floor unit: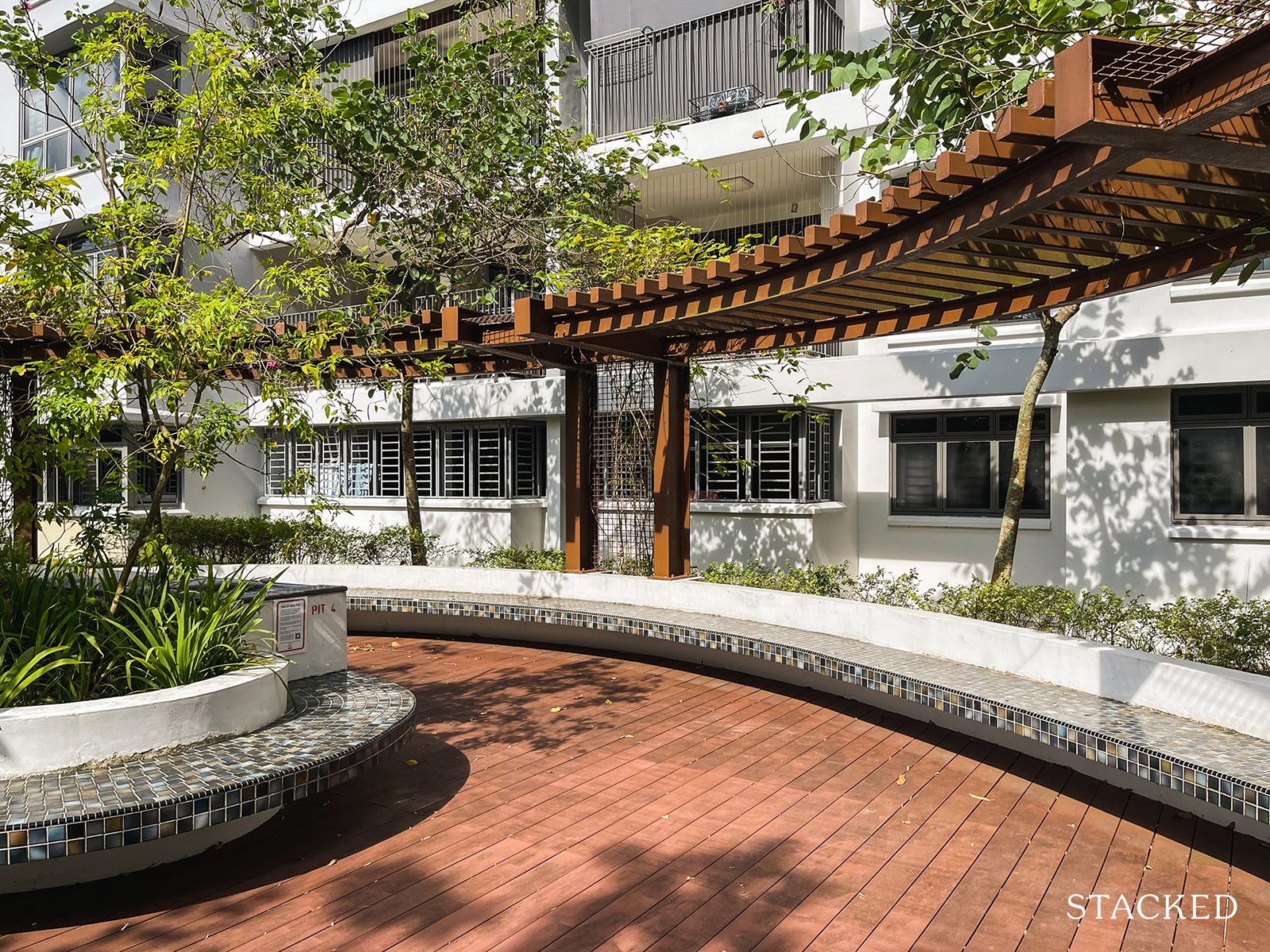 While other inner-facing stacks face this issue, it's probably worst where the barbeque pits are as you can expect noise and smoke to come through your unit in certain parts of the year.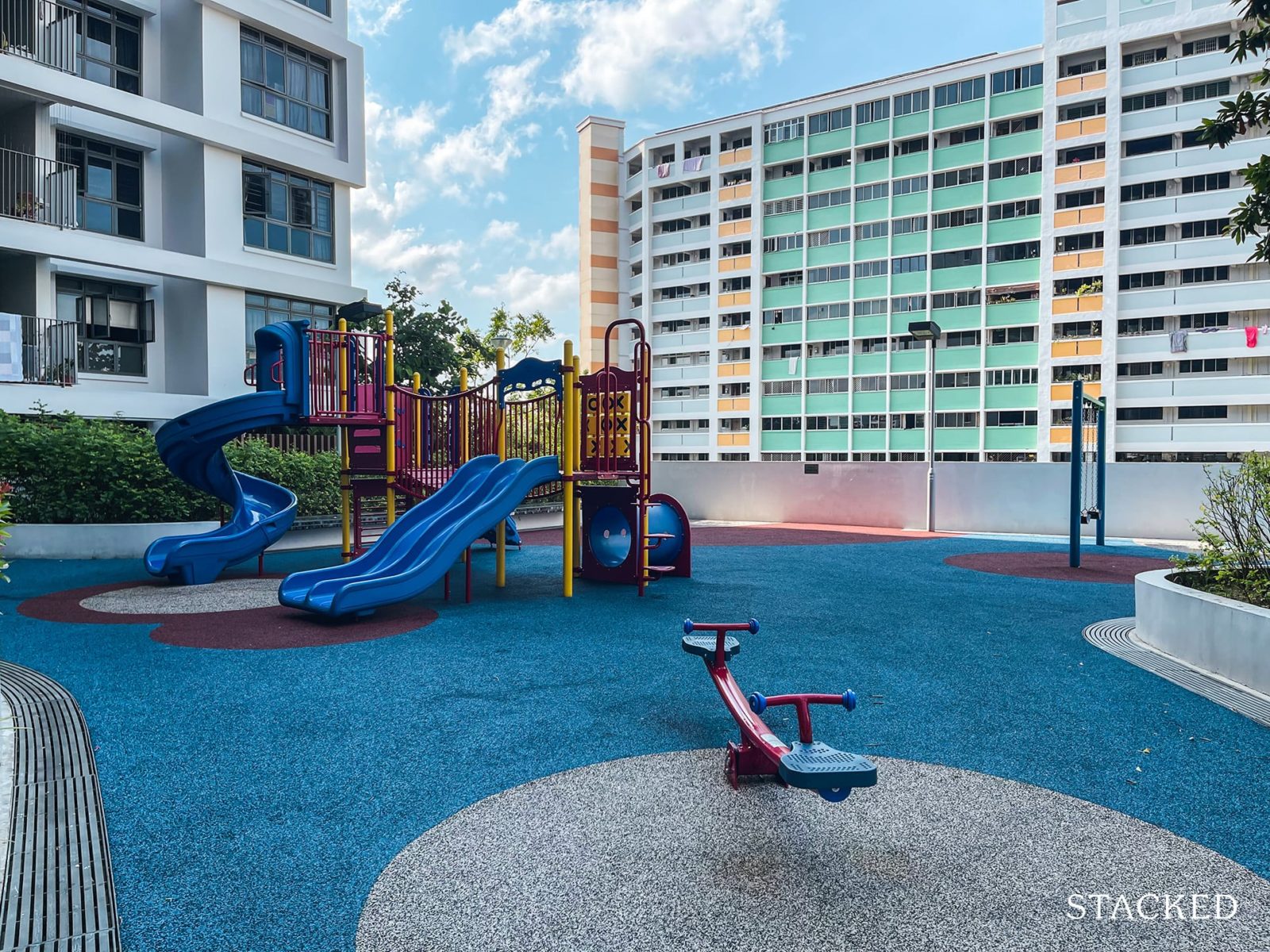 Next we head north, where you'll find the playground area:
There are two types of playgrounds here, one for 2 to 5 year olds and another for 5 to 12 year olds as these signs enthusiastically point out: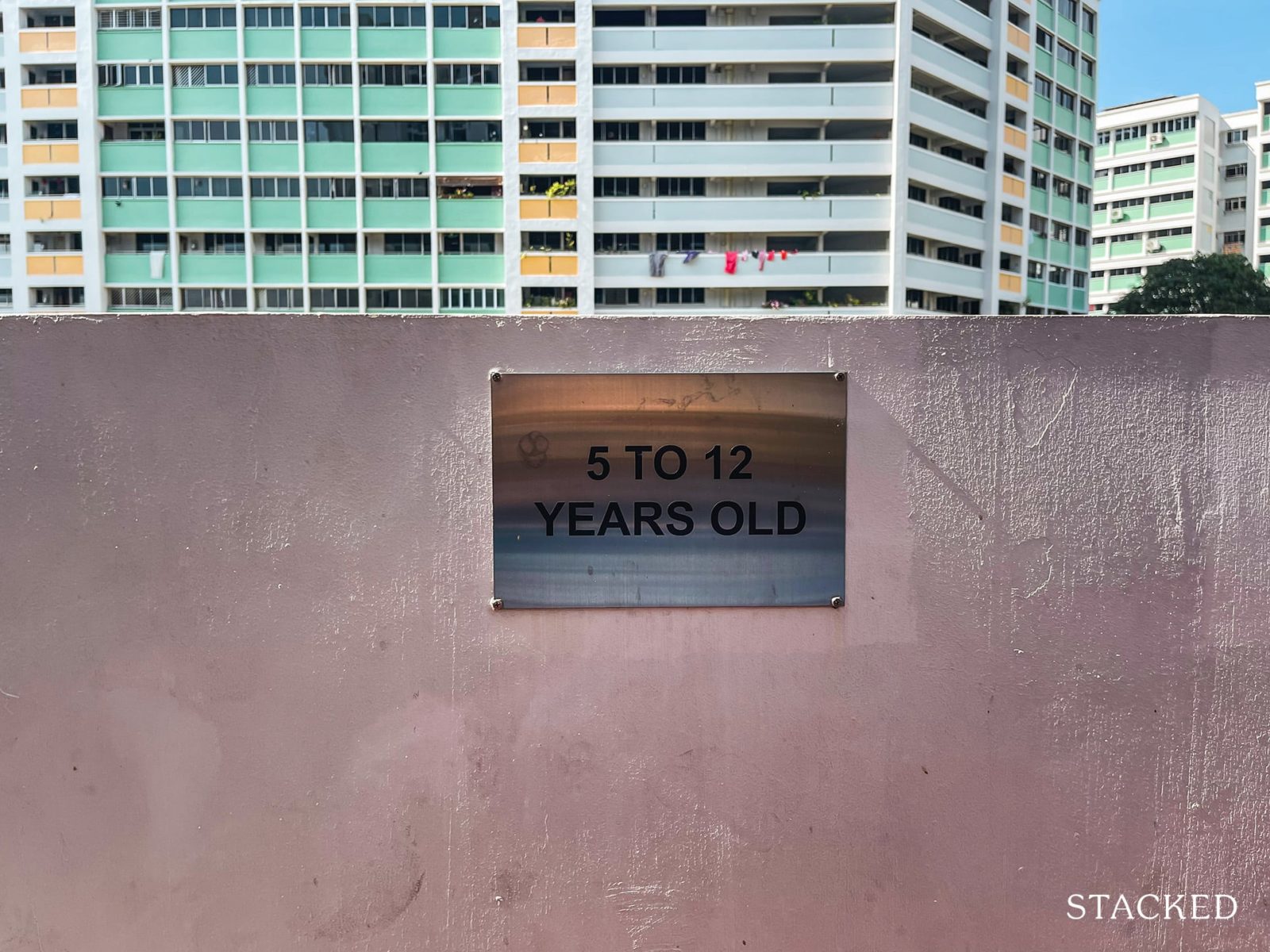 Here you'll find a very traditional-looking playground that comes with the usual tower bridge and slides which is quite a safe option. There's also a swing set – always a favourite so you can't go wrong with that.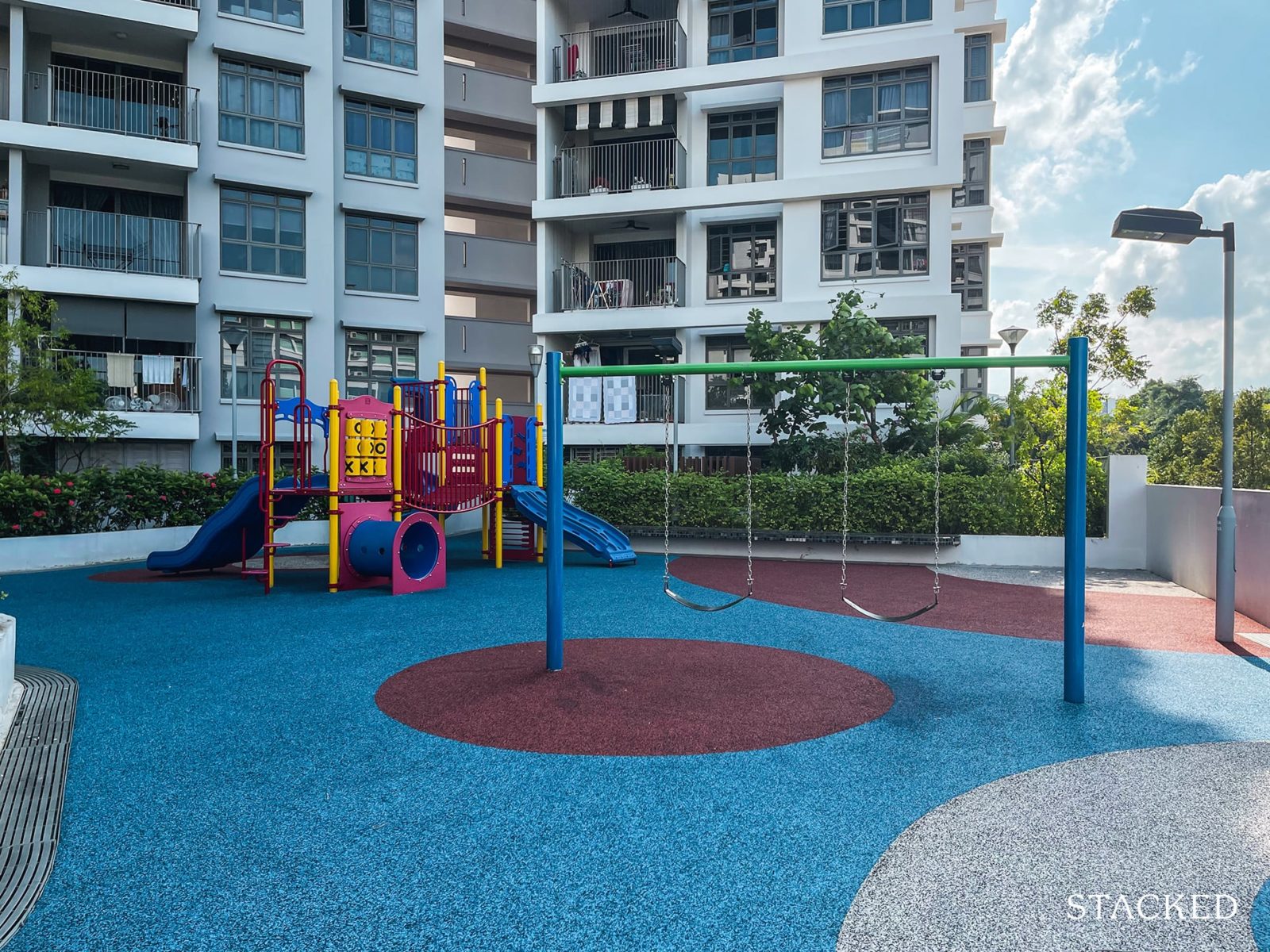 You can also see just how close some of these units are to the playground!
On the other side, you'll find another playground structure with a tower bridge and slides too. This area also houses several spring riders and a pretend car structure.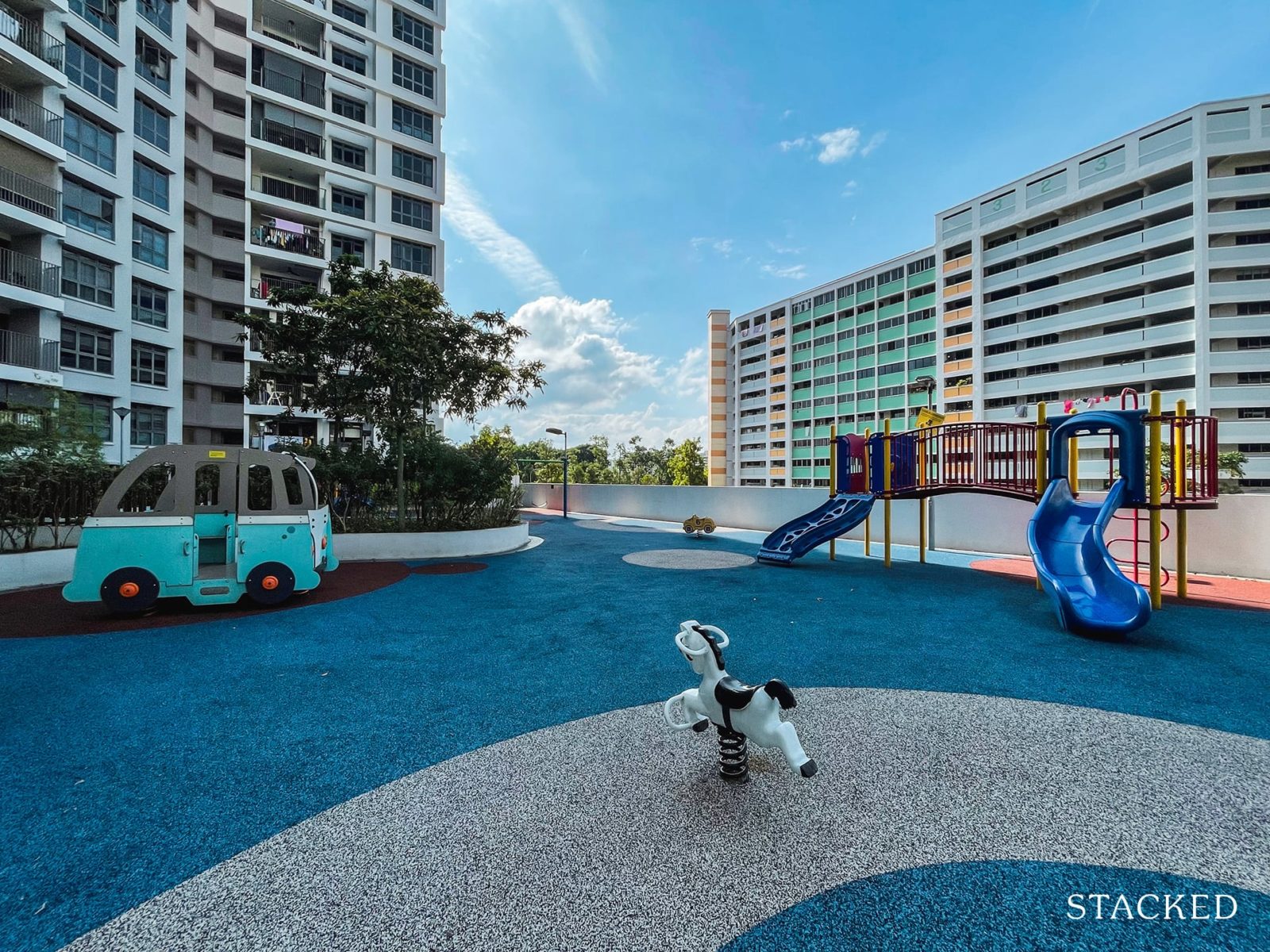 The area does feel quite spacious and comes with some bench seating, though I do wish there was some shelter here. Perhaps the blocks are close enough to act as the shelter?
Right next to this is the multi-purpose court: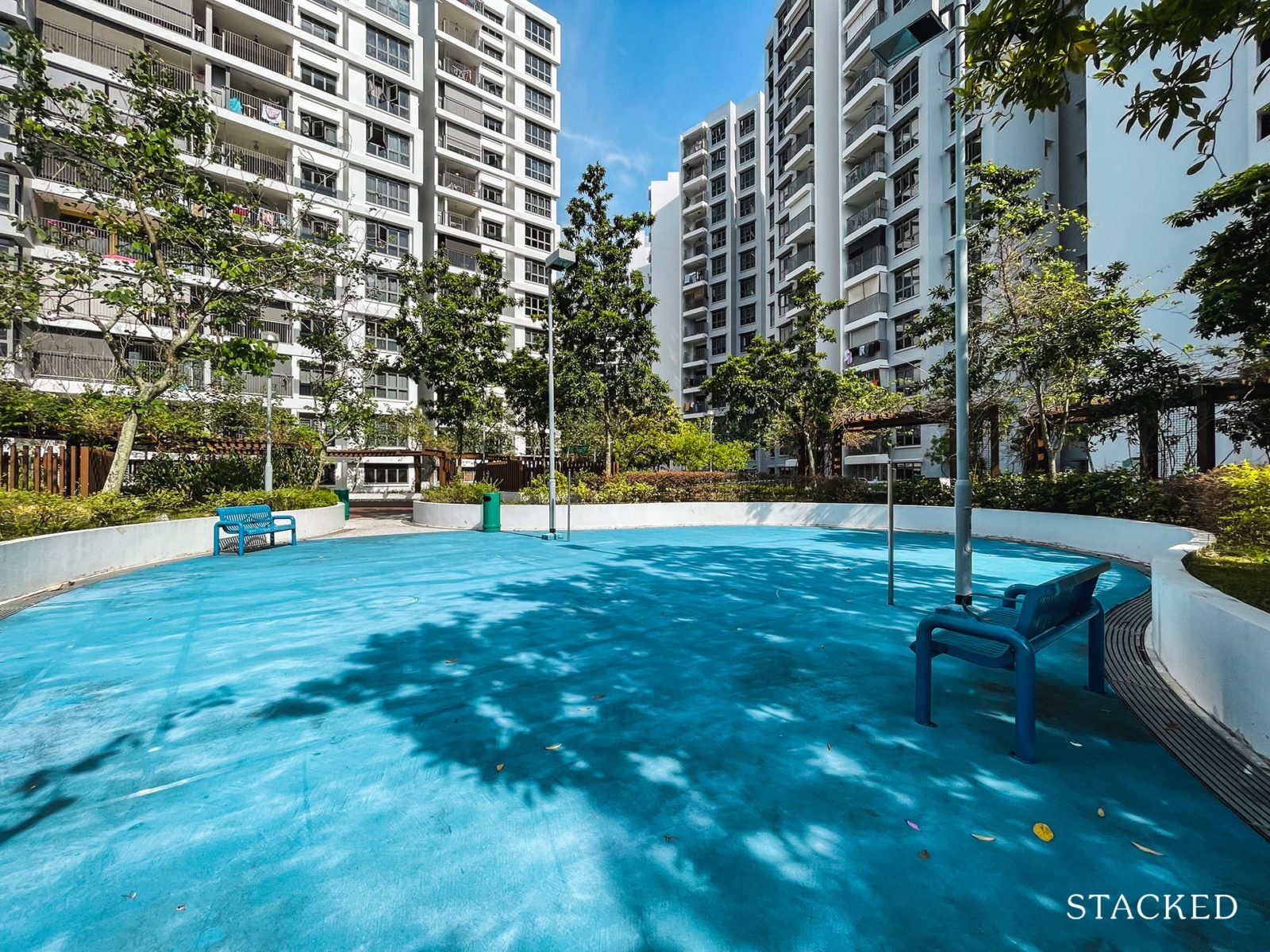 The markings on the ground are long overdue for some touching up, but the space is quite big and I can imagine people playing racket sports here. There are 2 benches here for those who need a rest too.
The downside of such a facing is the privacy and noise issue – something to take note of if you're looking at an inner-facing stack.
Next, let's check out the facilities on the east side. Before we dive into each though, here's an overview of the east wing: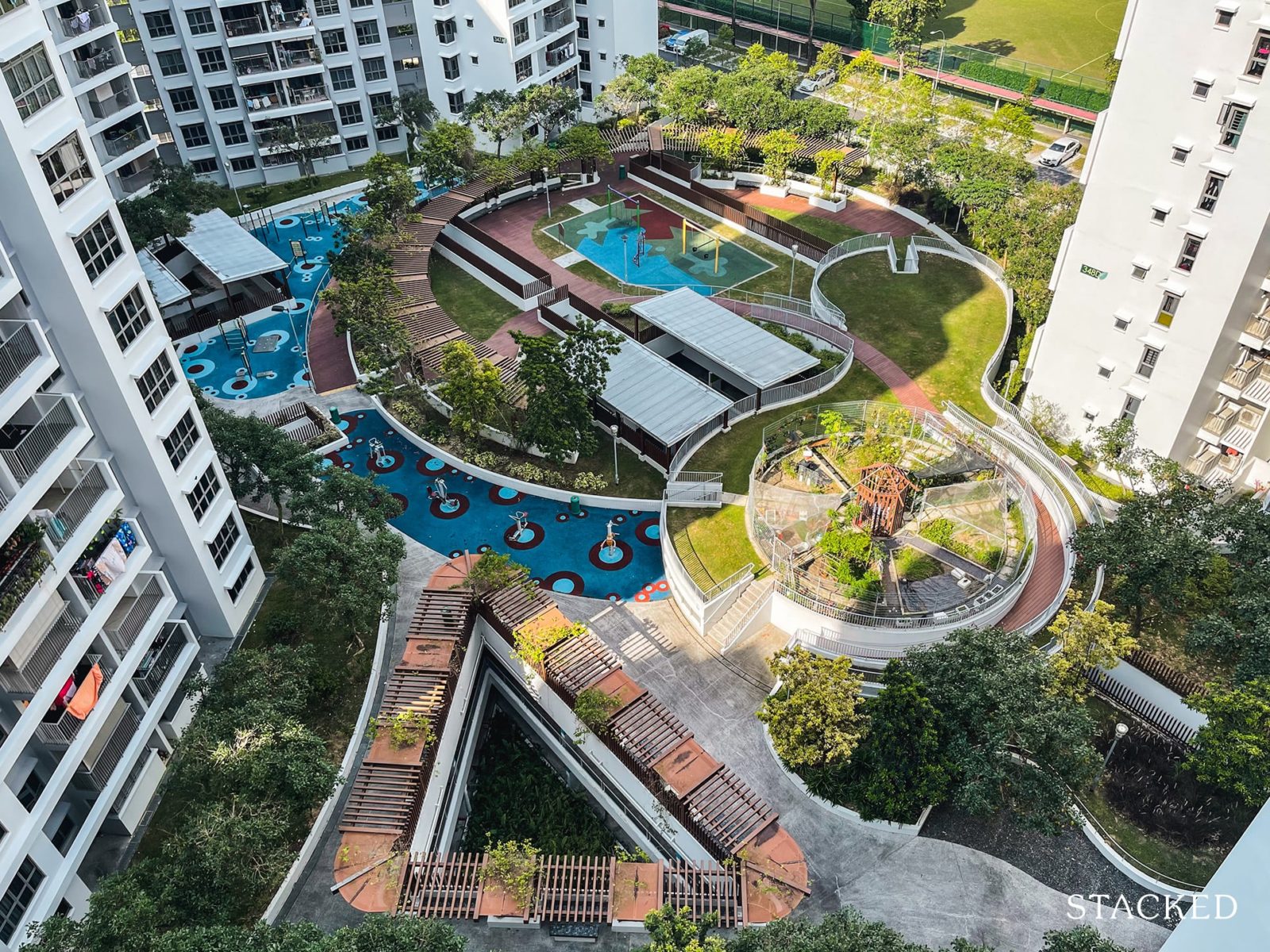 First off, there's the "fitness area". As always, it is amusing how on the site plan, all sorts of fanciful terms like "Cardio Corner", "Wellness Corner" and "Reflexology Circles" are used when they are really just the same as HDB adult/elderly fitness corners.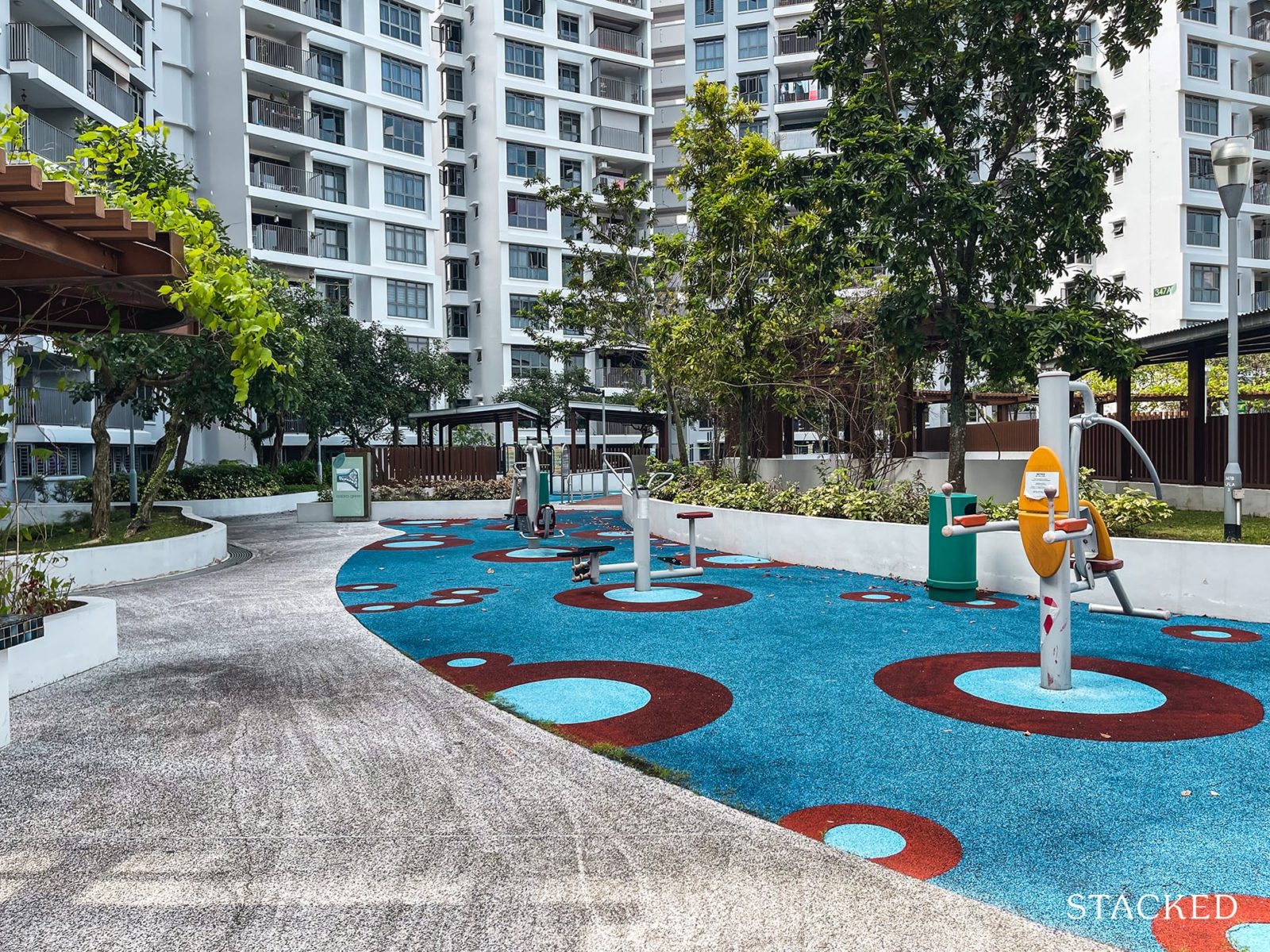 There isn't a wide variety of equipment here at all, though I must say that it's quite spacious.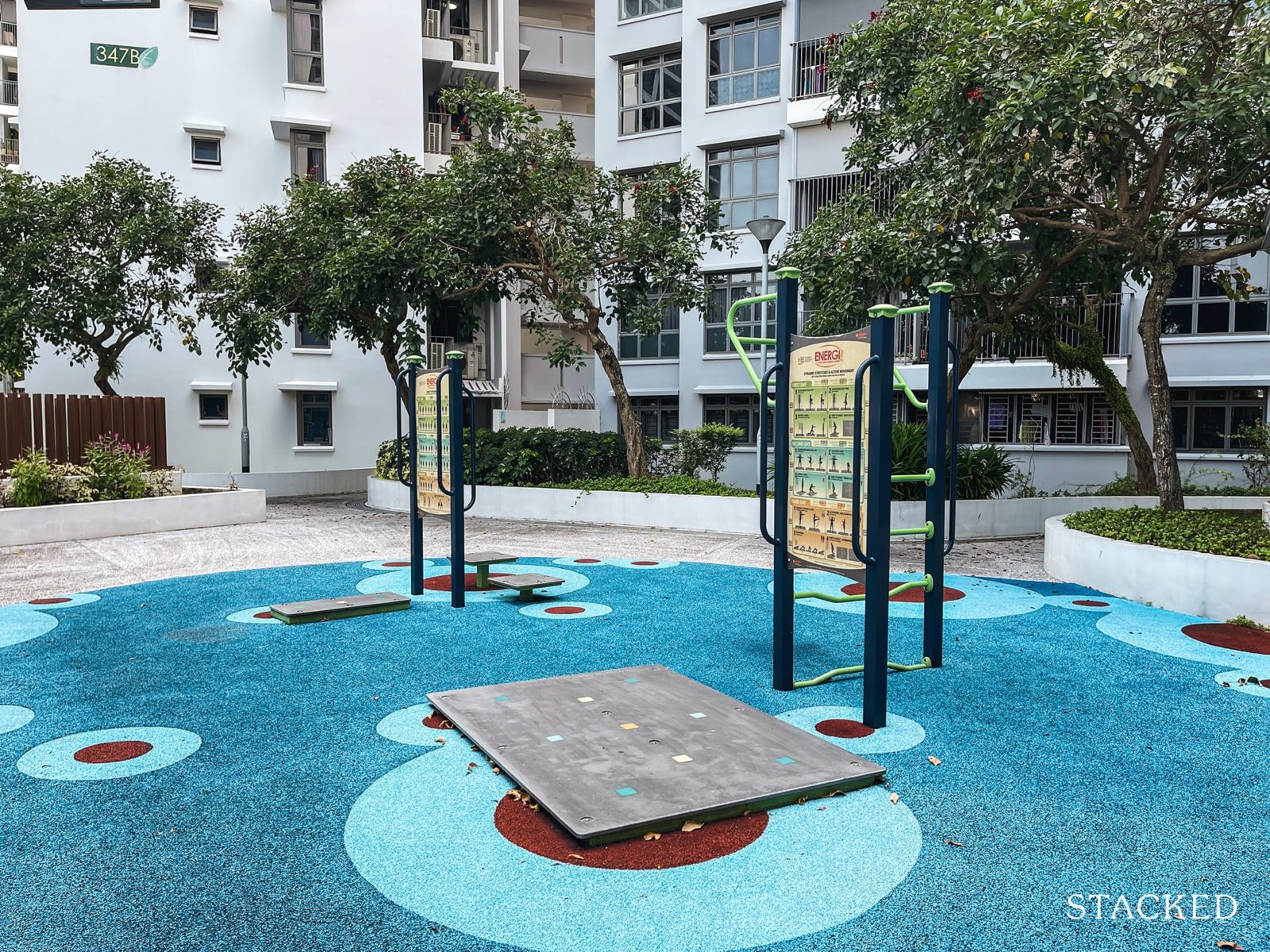 There's also some static equipment for those looking at using body weight for their workout: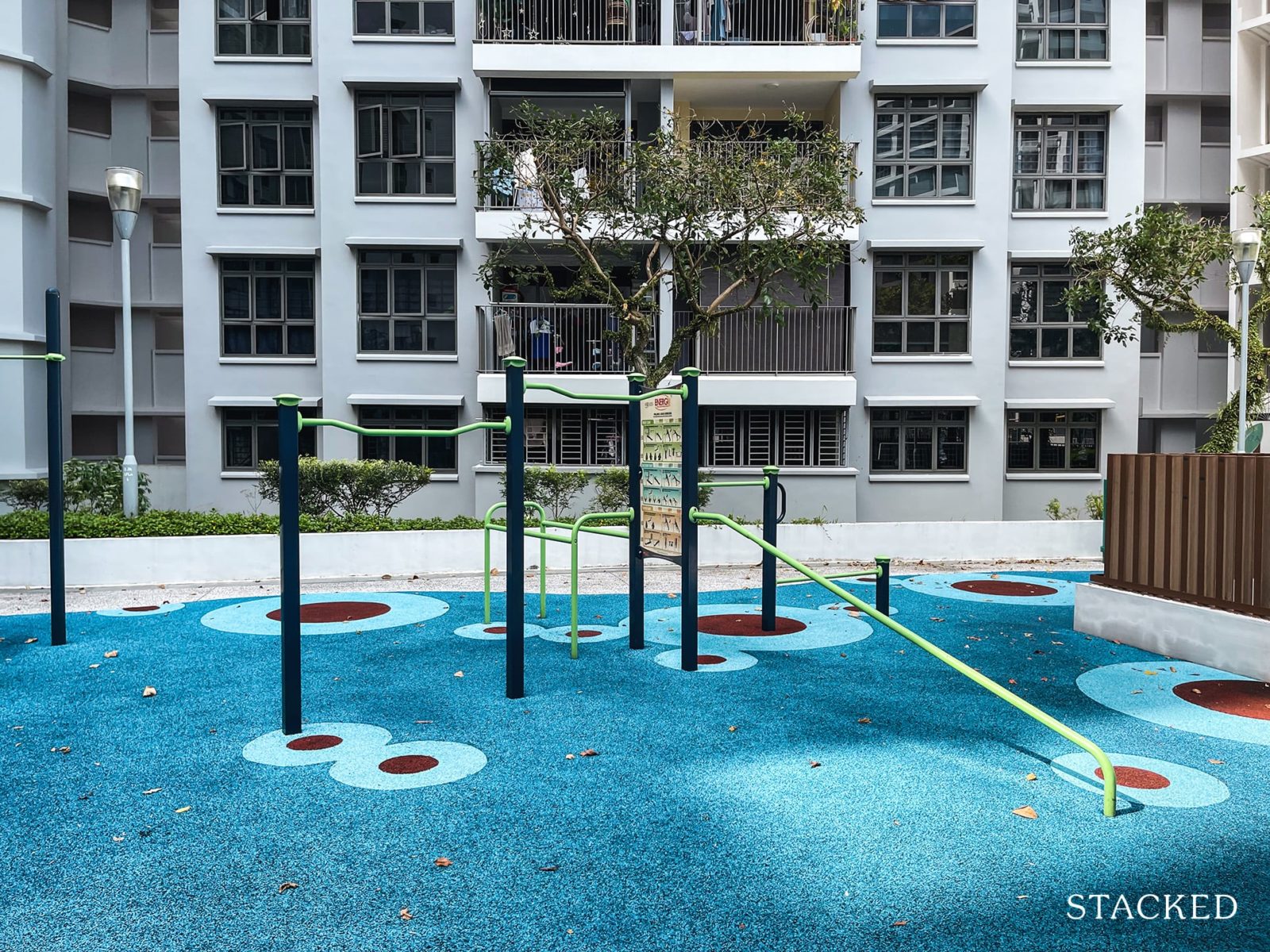 Next up, there's the "Recreational Lawn":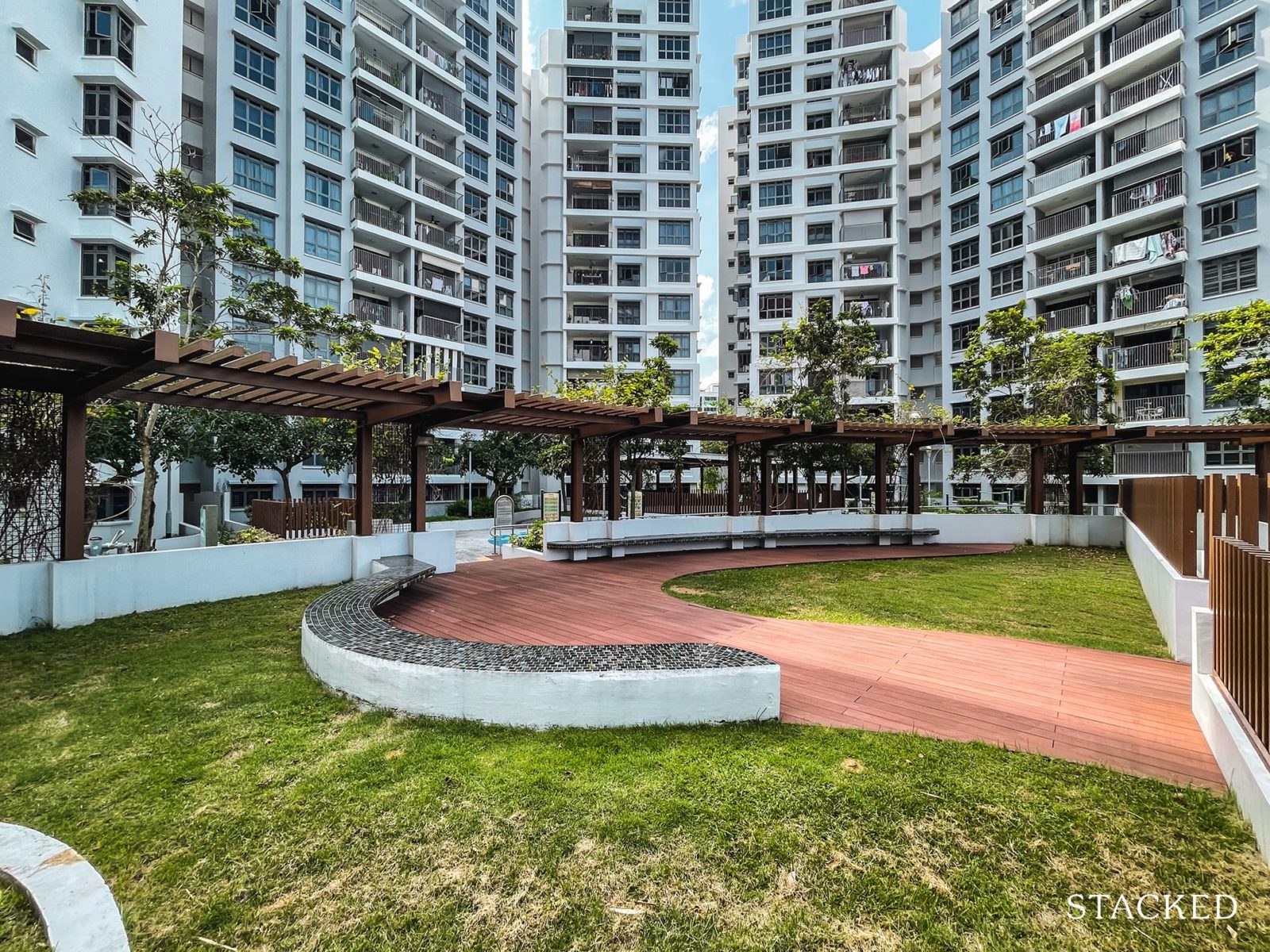 This is really just a place to lounge around or to bring your pets when walking them and they need a place to run around safely.
Next, there's another playground just next to this. On the site plan, it's known as the "Recreational Field" and "E-Deck" (whatever that is) but now it's just 2 swing sets and a climbing structure. This must have been added on later as having another patch of grass here would seem pretty wasteful.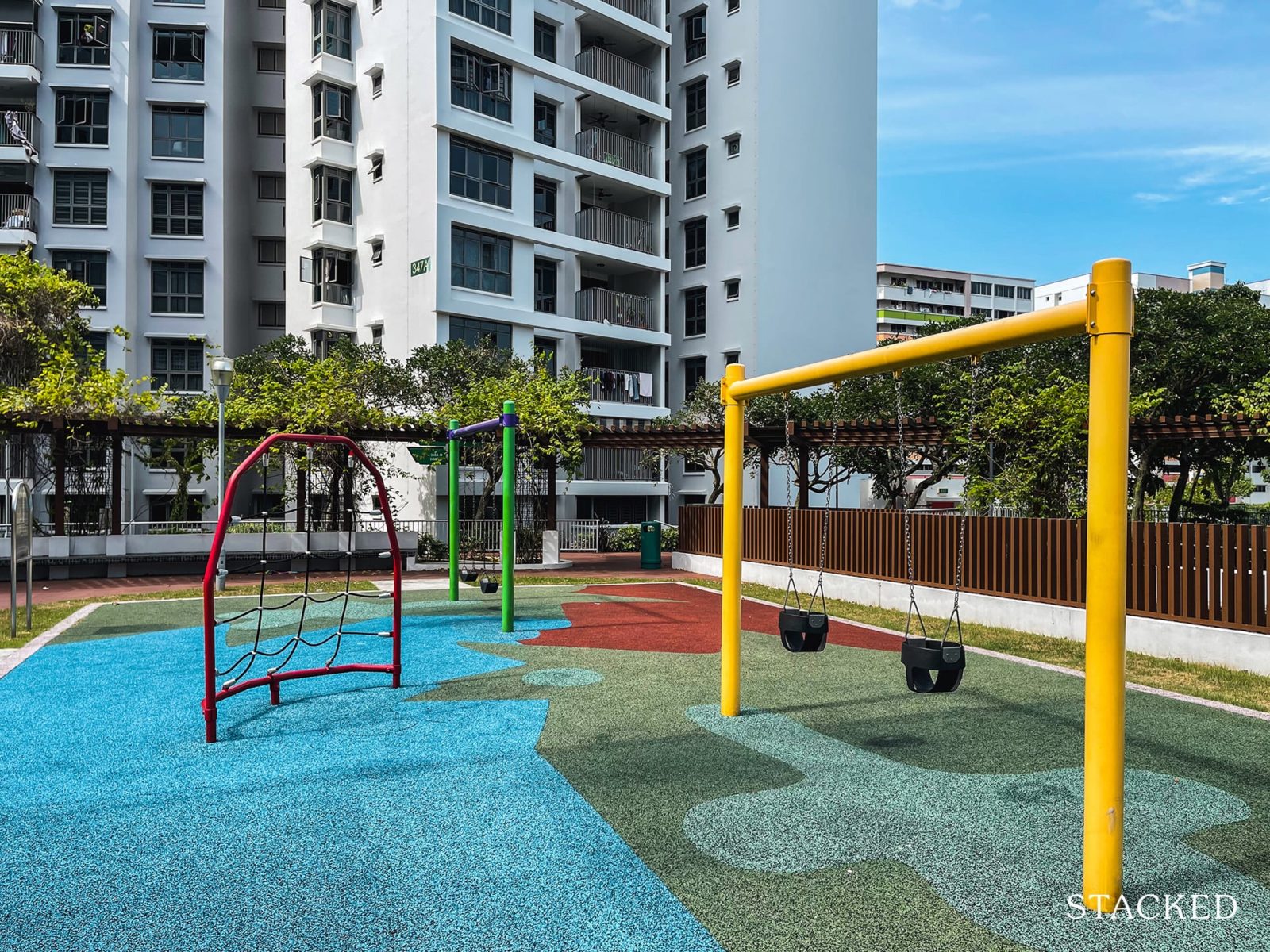 Heading further upstairs, you'll find another open area known as the "Play Lawn". This is really another space that seems useful if you have pets, otherwise, I don't imagine much use for this space. So far, this DBSS seems to be quite pet-friendly with its open spaces and lawns!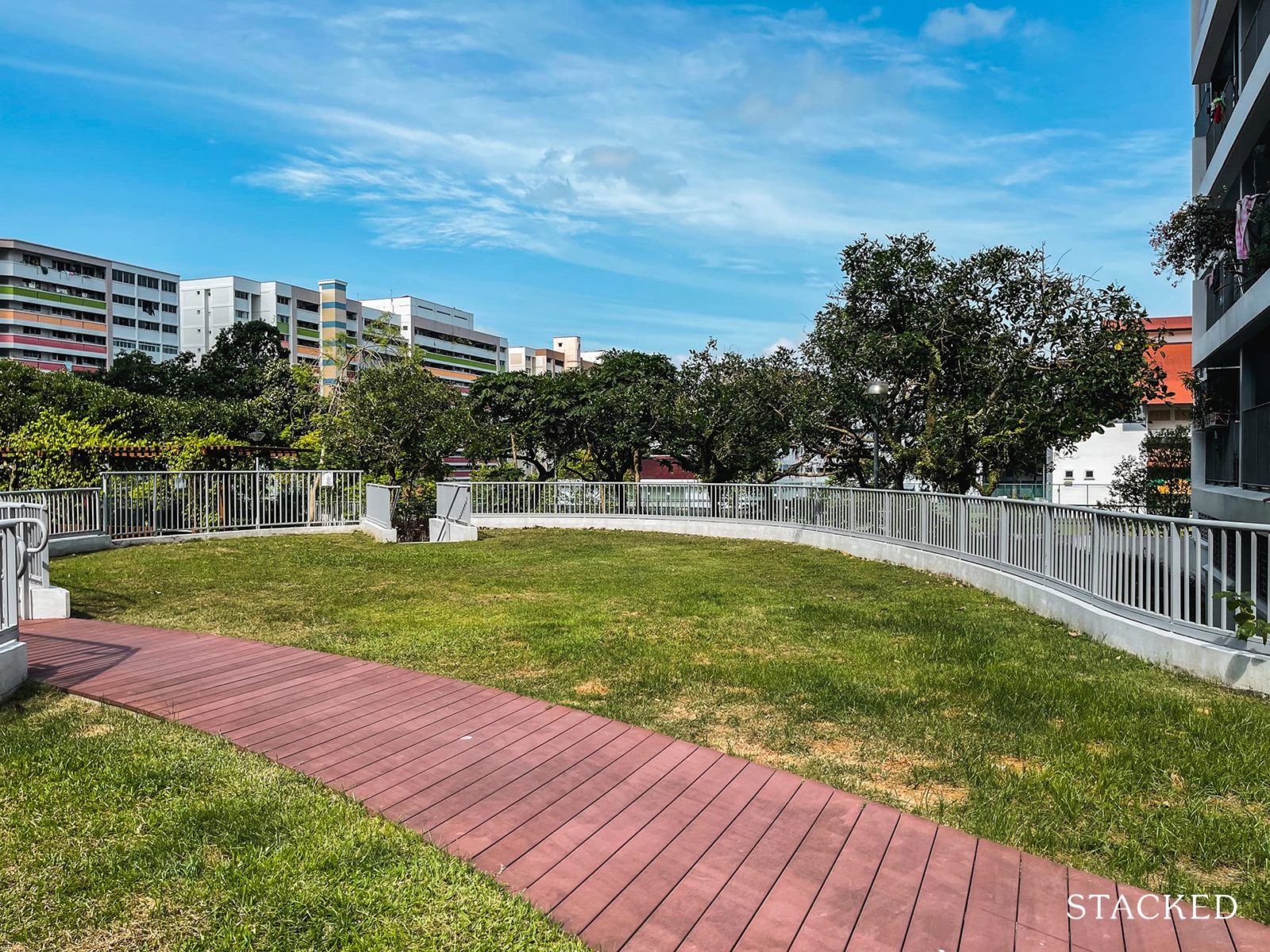 Finally, we come to the last point of interest on the rooftop garden – the community garden. It's nice to see that there's one here that residents can use. But let's be real, the main highlight to residents is really to serve as a visual interest from above: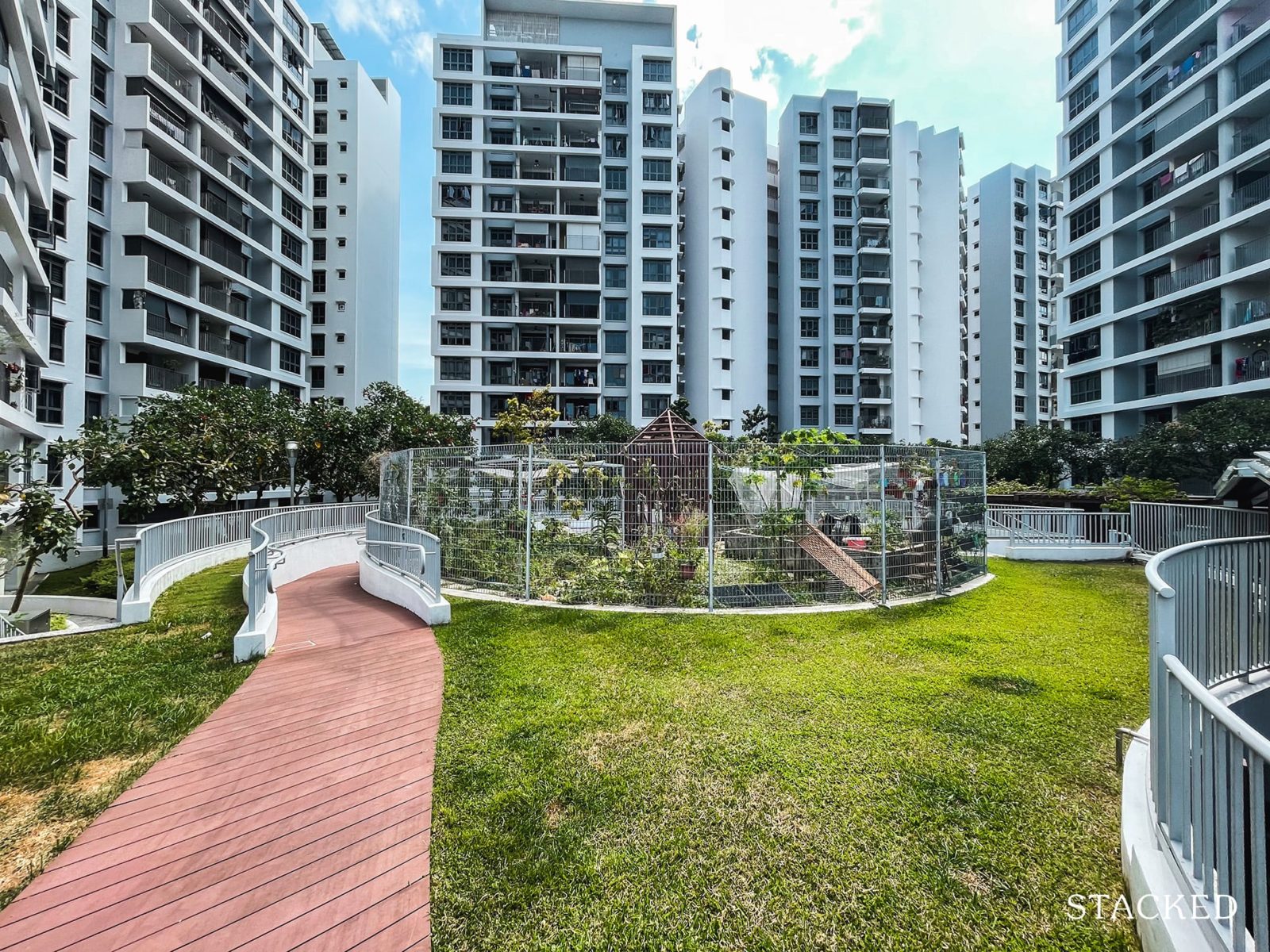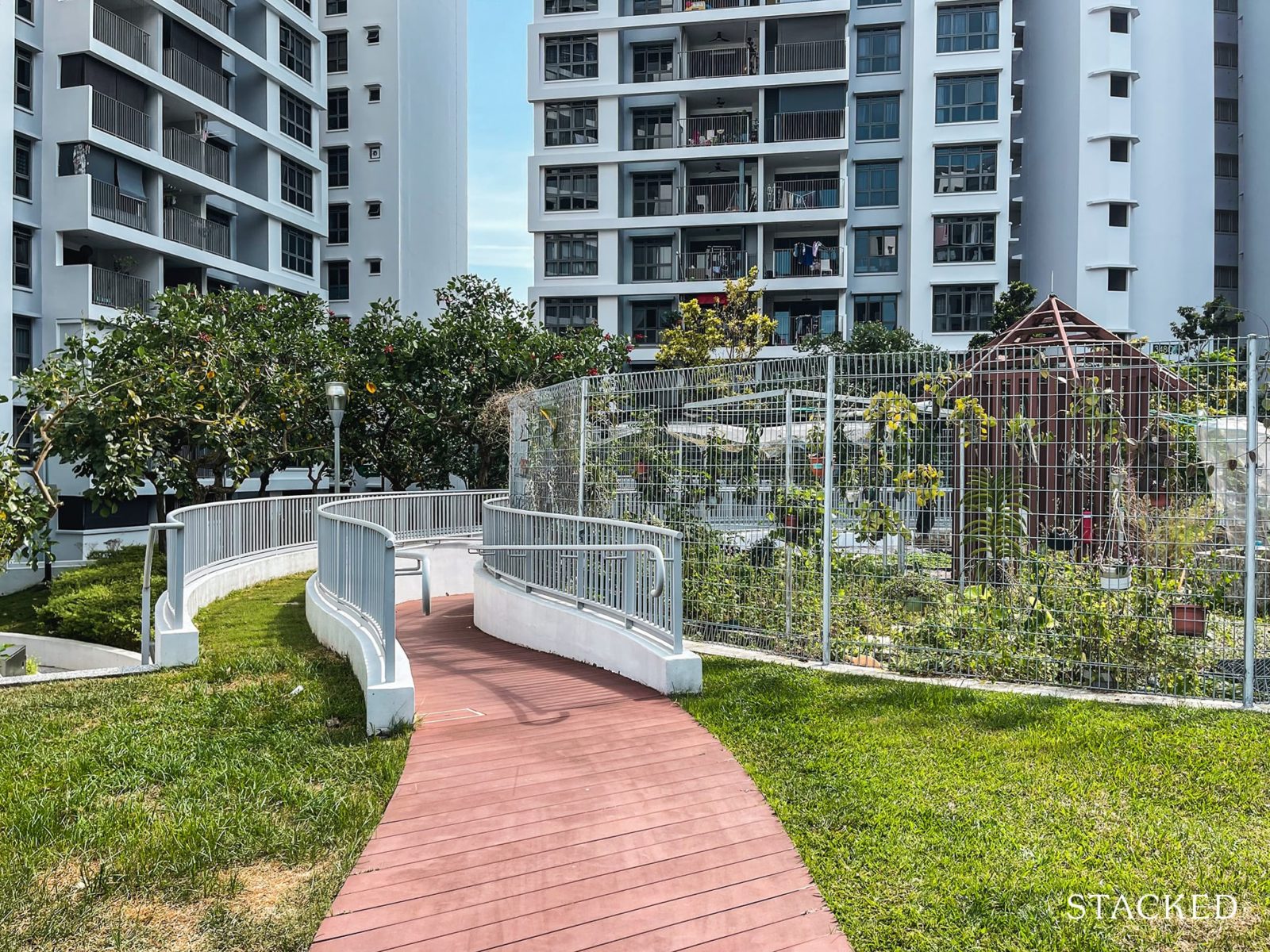 Again, the view from here is nothing to shout about, but it's quite decent and certainly better than looking directly into the opposite block! Something that is pretty much the case for other DBSS projects that I've seen.
Now that we're done with the facilities, let's head into the blocks to check out the common corridors.
This is where you'll find some of the shortcomings of Adora Green. Typical of many other DBSS, the lift lobby area is pretty cramped – telling of things to come upstairs.
Do note that the lift lobby here isn't gated, something that Trivelis and Lake Vista @ Yuan Ching has.
And as you can see, the common corridor itself is quite narrow: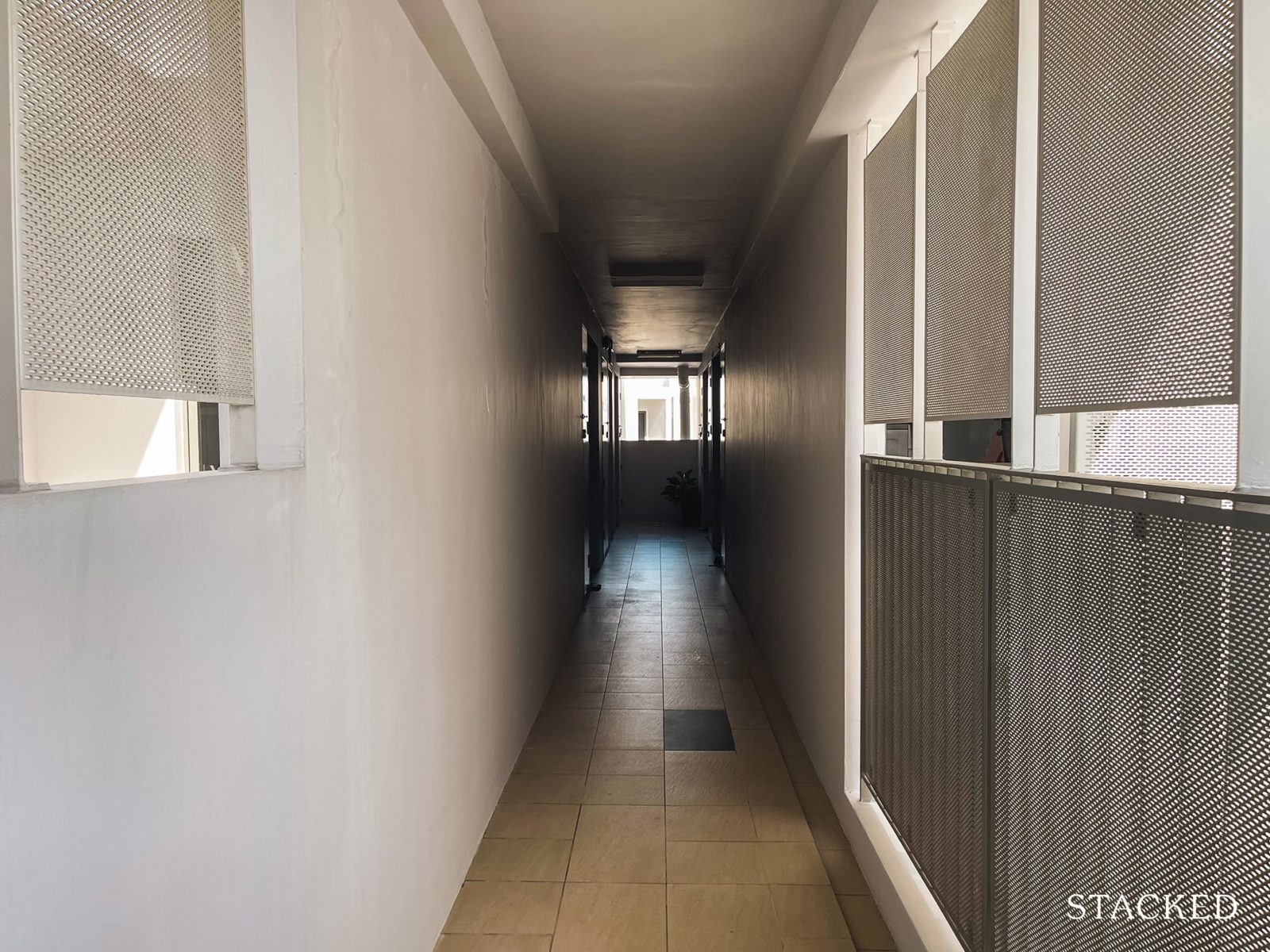 It's just 4 tiles wide, similar to the one at Trivelis. This means it's really only wide enough for 1 wheelchair user and 1 person standing sideways. Today, developments cannot be built with such narrow corridors as the minimum width specified by SCDF is 1.5 metres wide.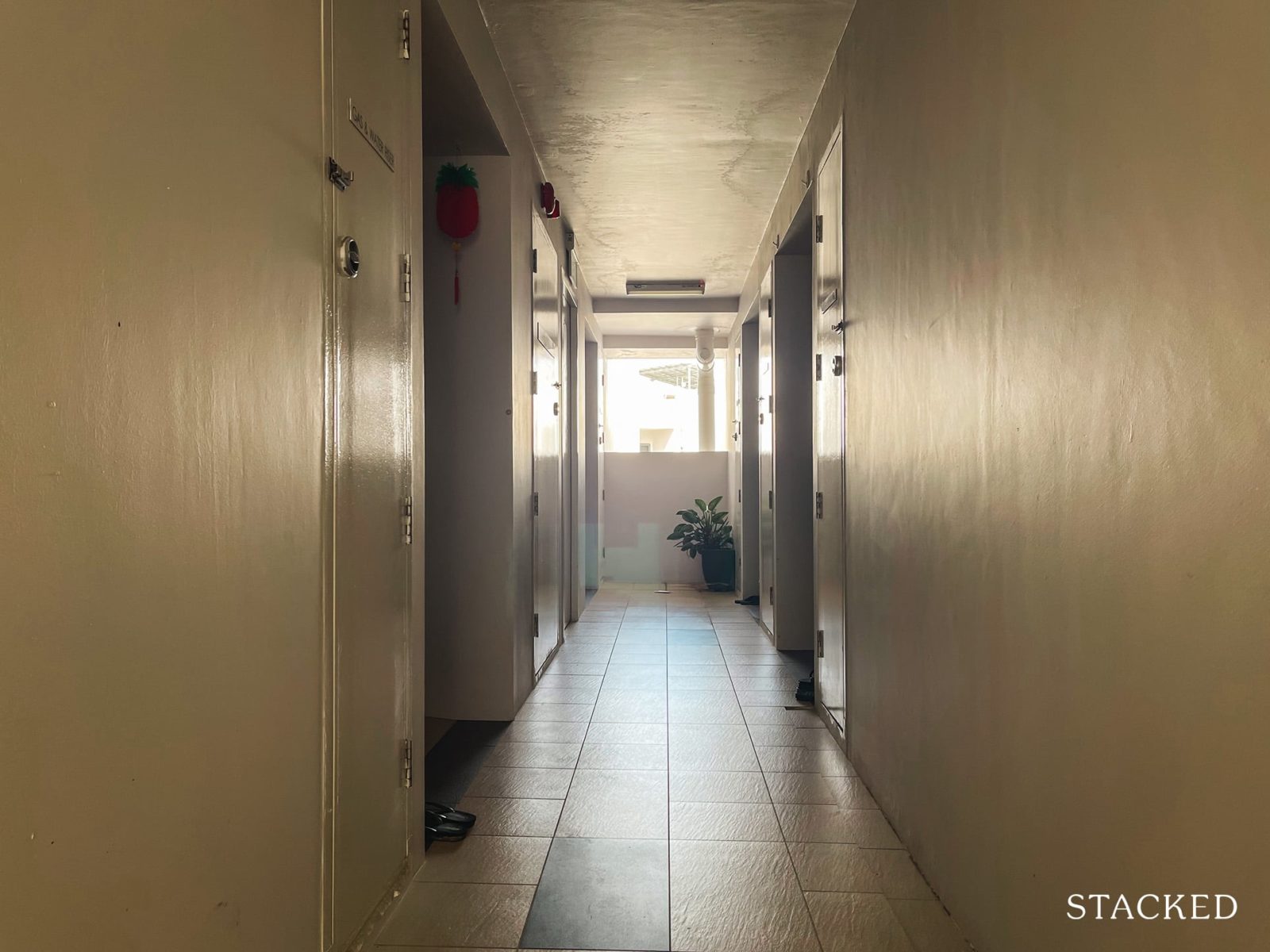 While the corridors are narrow, there is a small recess area in front of each unit to put things like a shoe rack – so it's not as bad as the one at Trivelis where you really can't put anything as it's against SCDF regulations. However, it's still not ideal!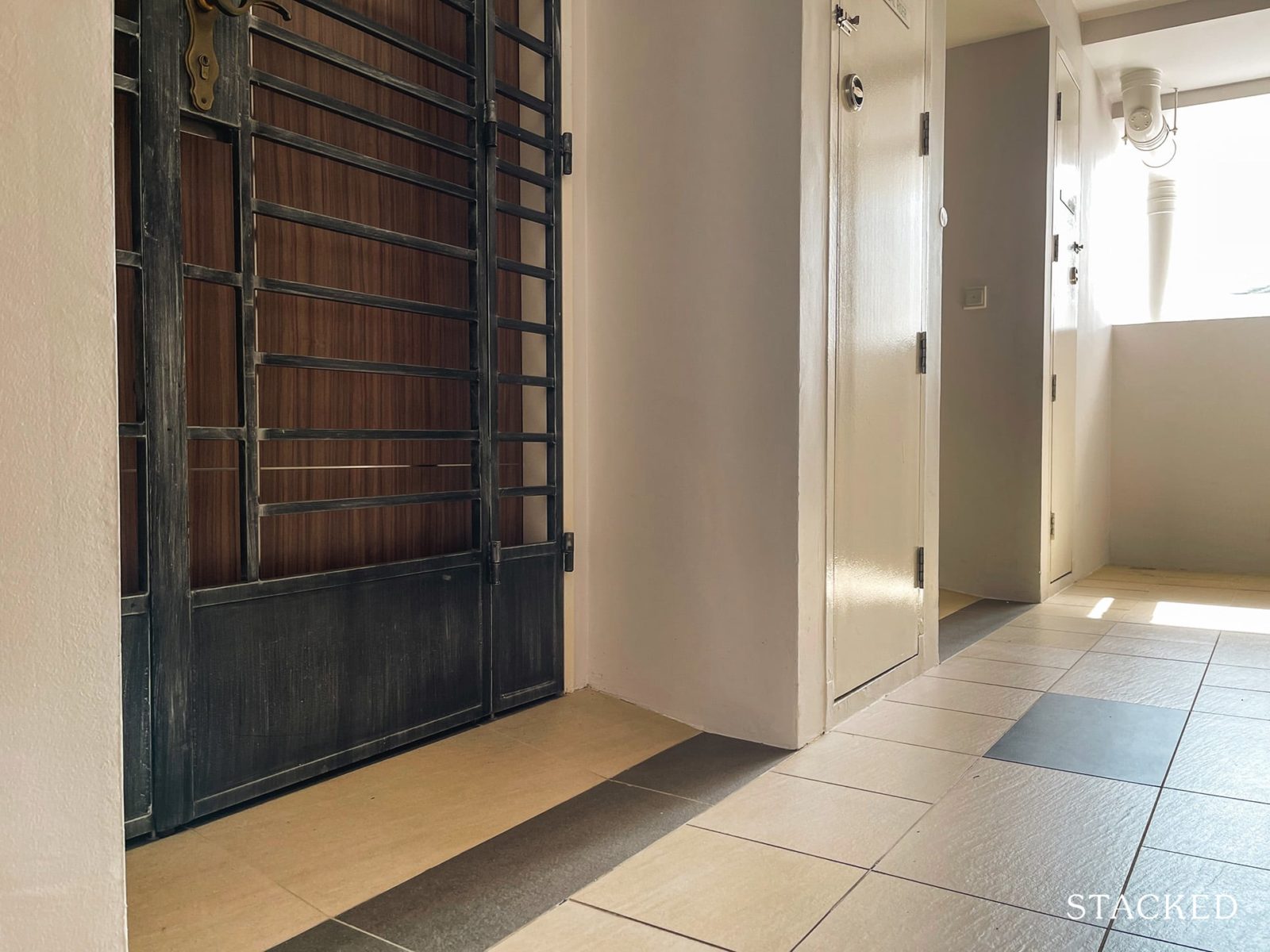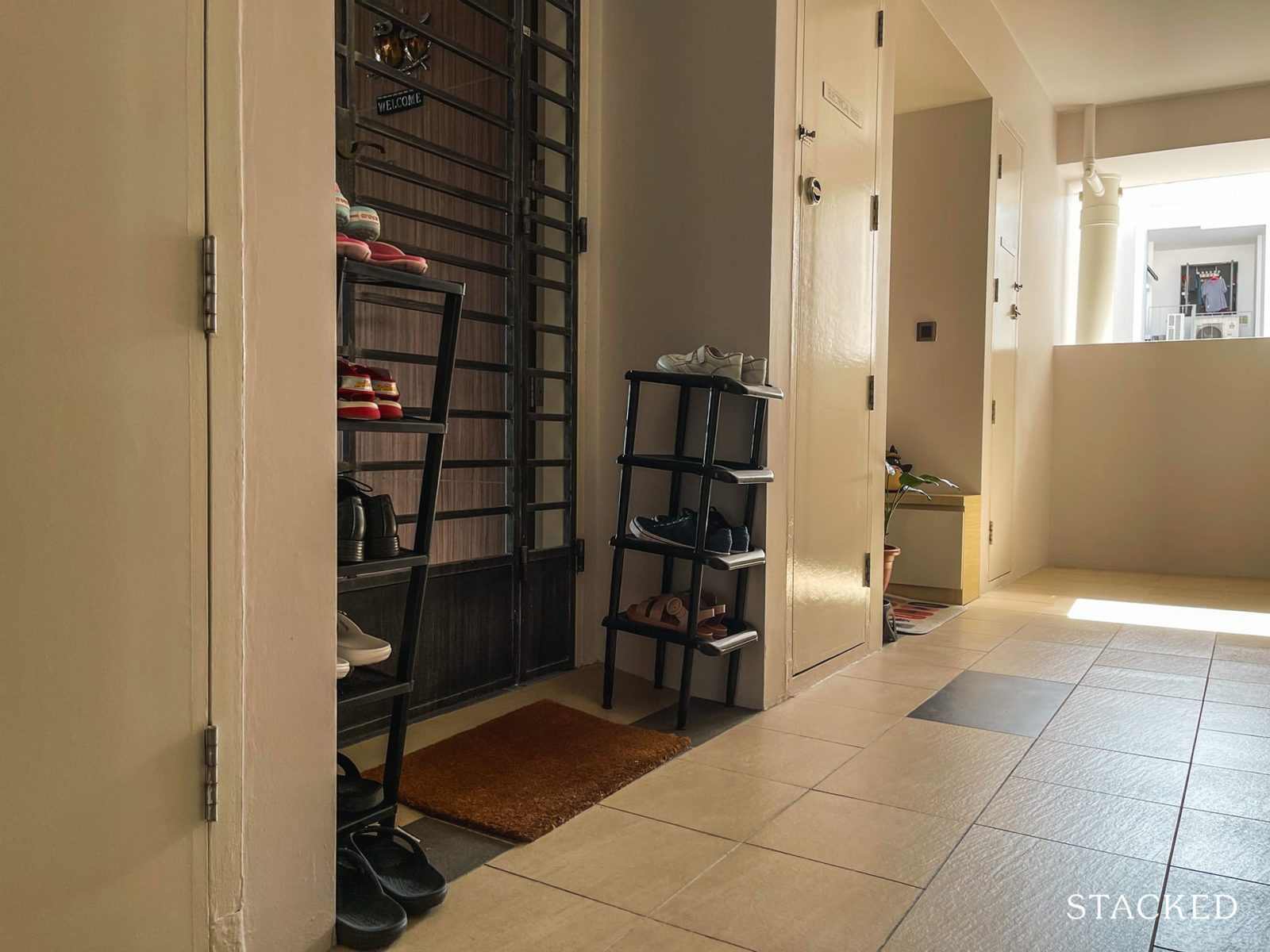 As such, gate clashing isn't going to be an issue here. In fact, some corner units do have a decent amount of space to use: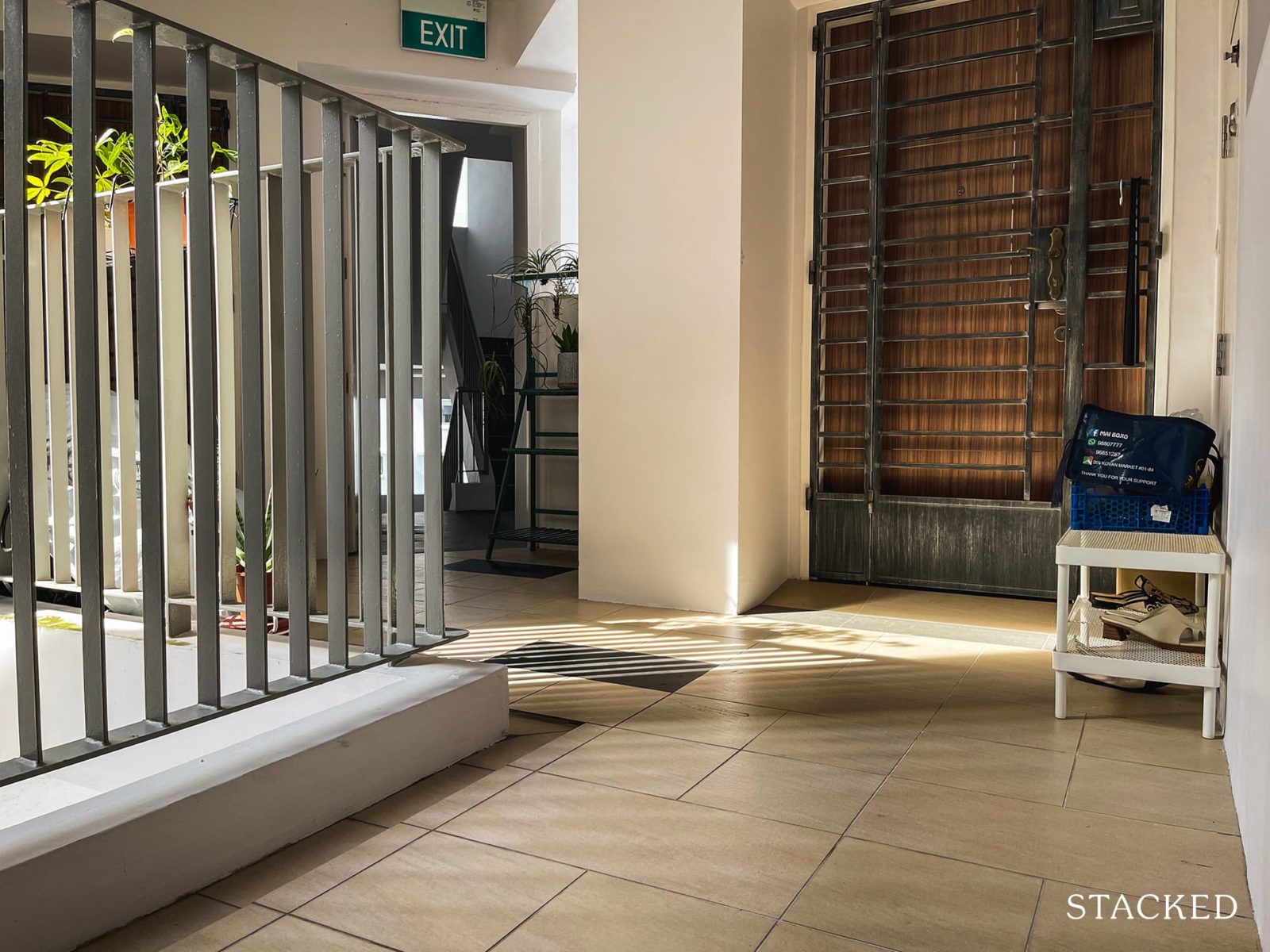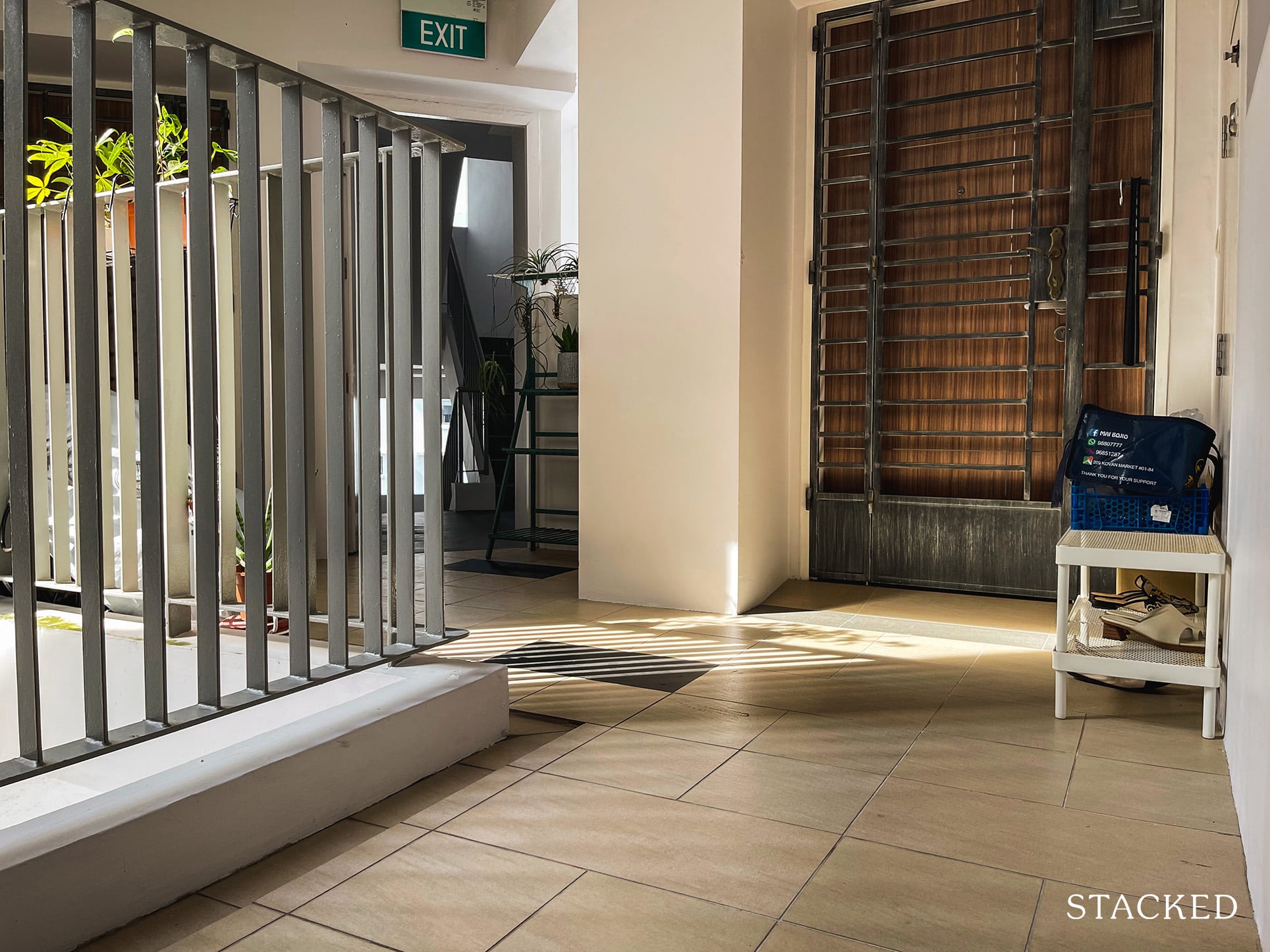 Now, let's head back down to talk about one more highlight about Adora Green – the commercial units here.
Having commercial units within your development makes it extremely convenient for residents to meet their daily needs. Located at block 348 (southeast of the development), you'll find a minimart, a clinic, a hairdresser and most importantly, a food centre.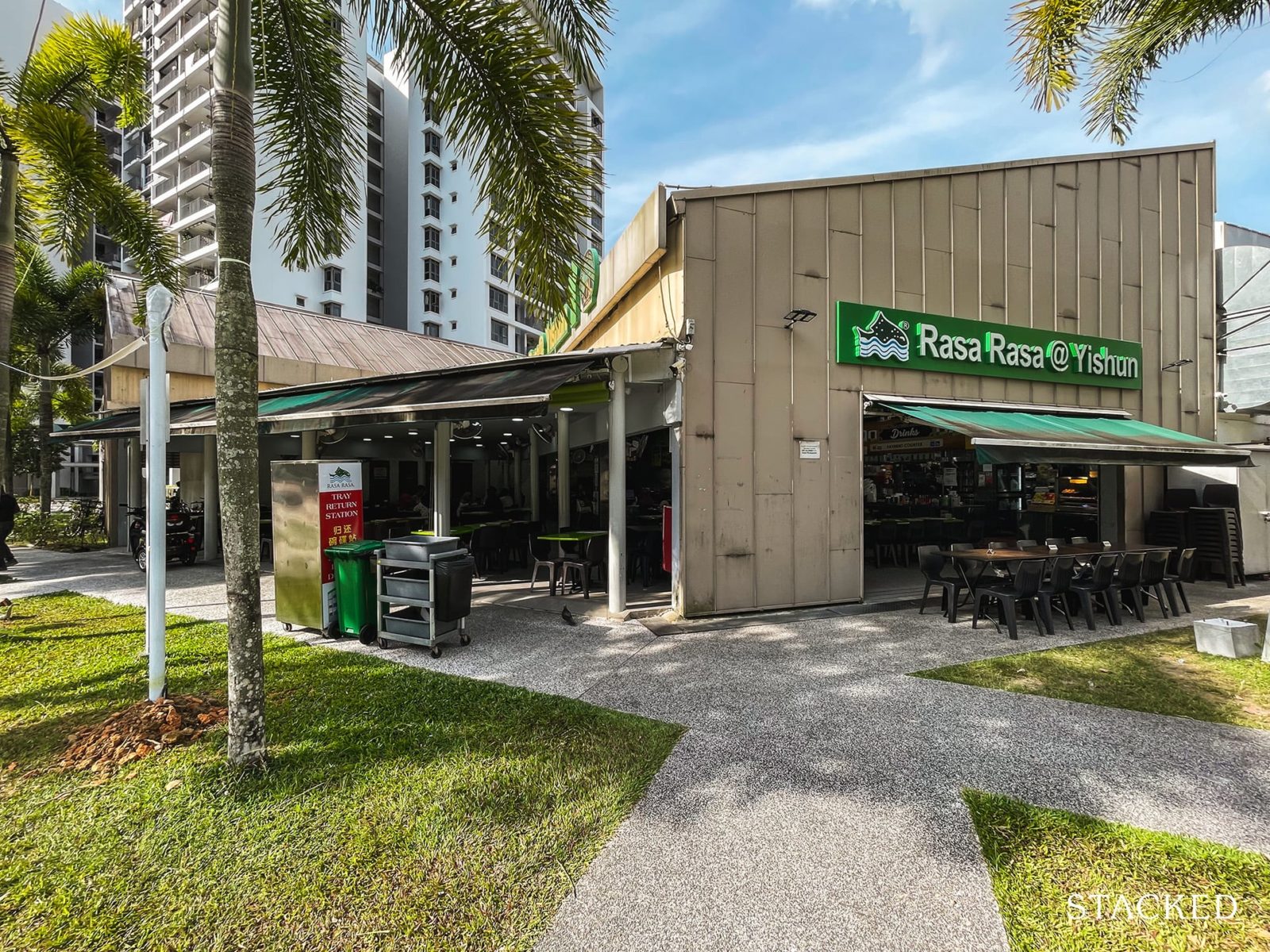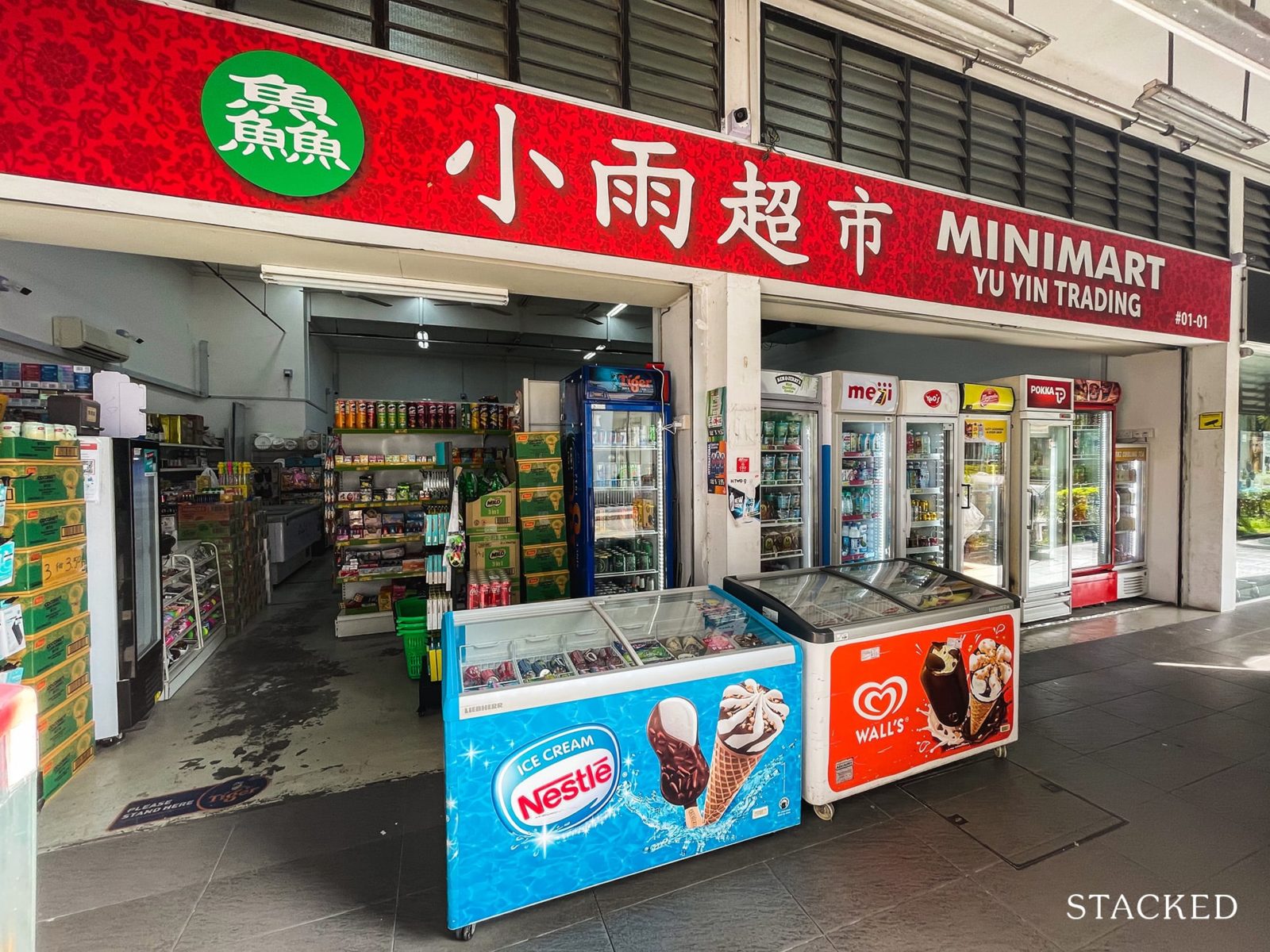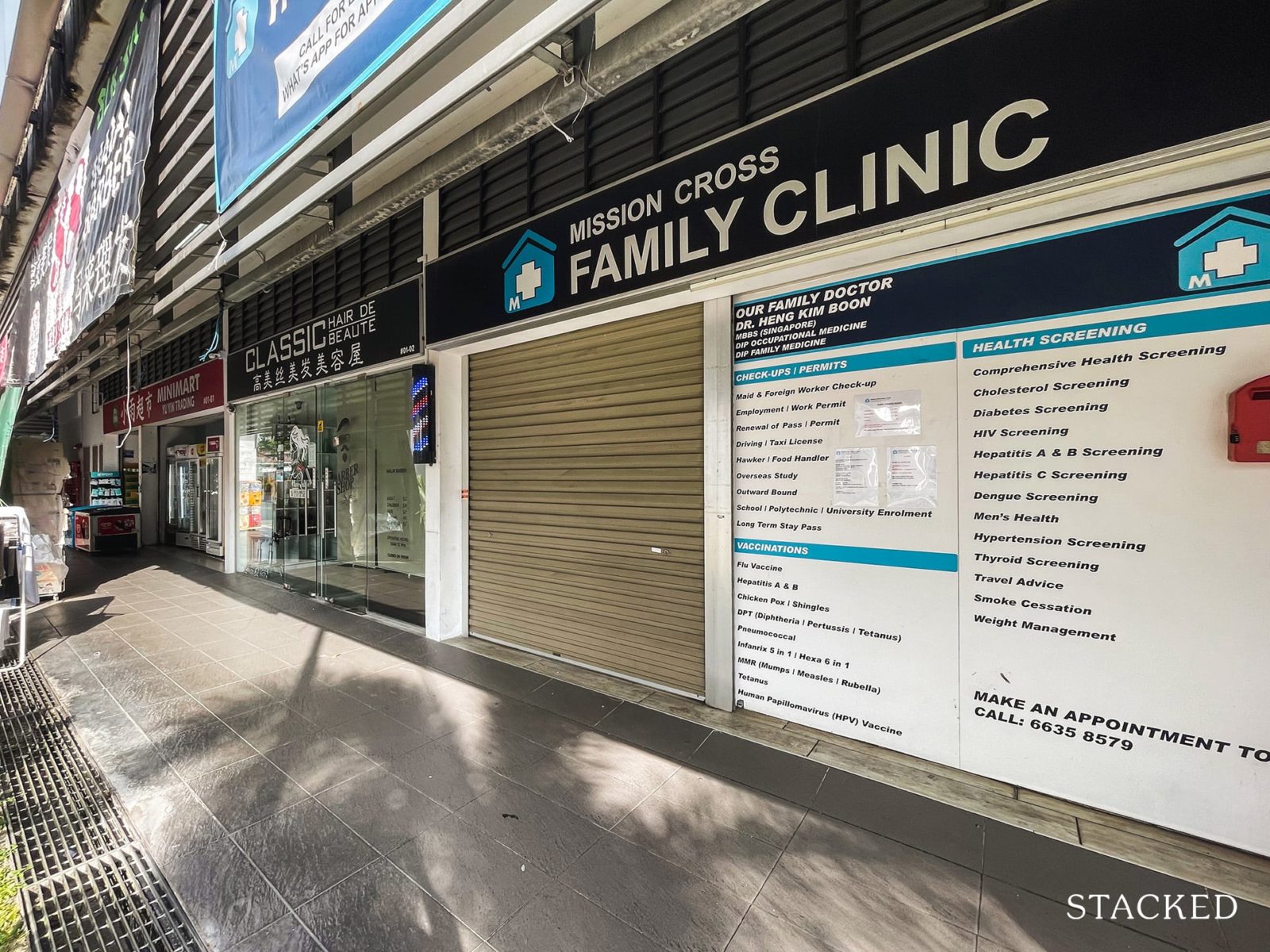 Another amenity that families could appreciate is the childcare centre. This one is located at block 348A. A quick check on the ECDA portal shows that there's no vacancy within 1 year across all levels.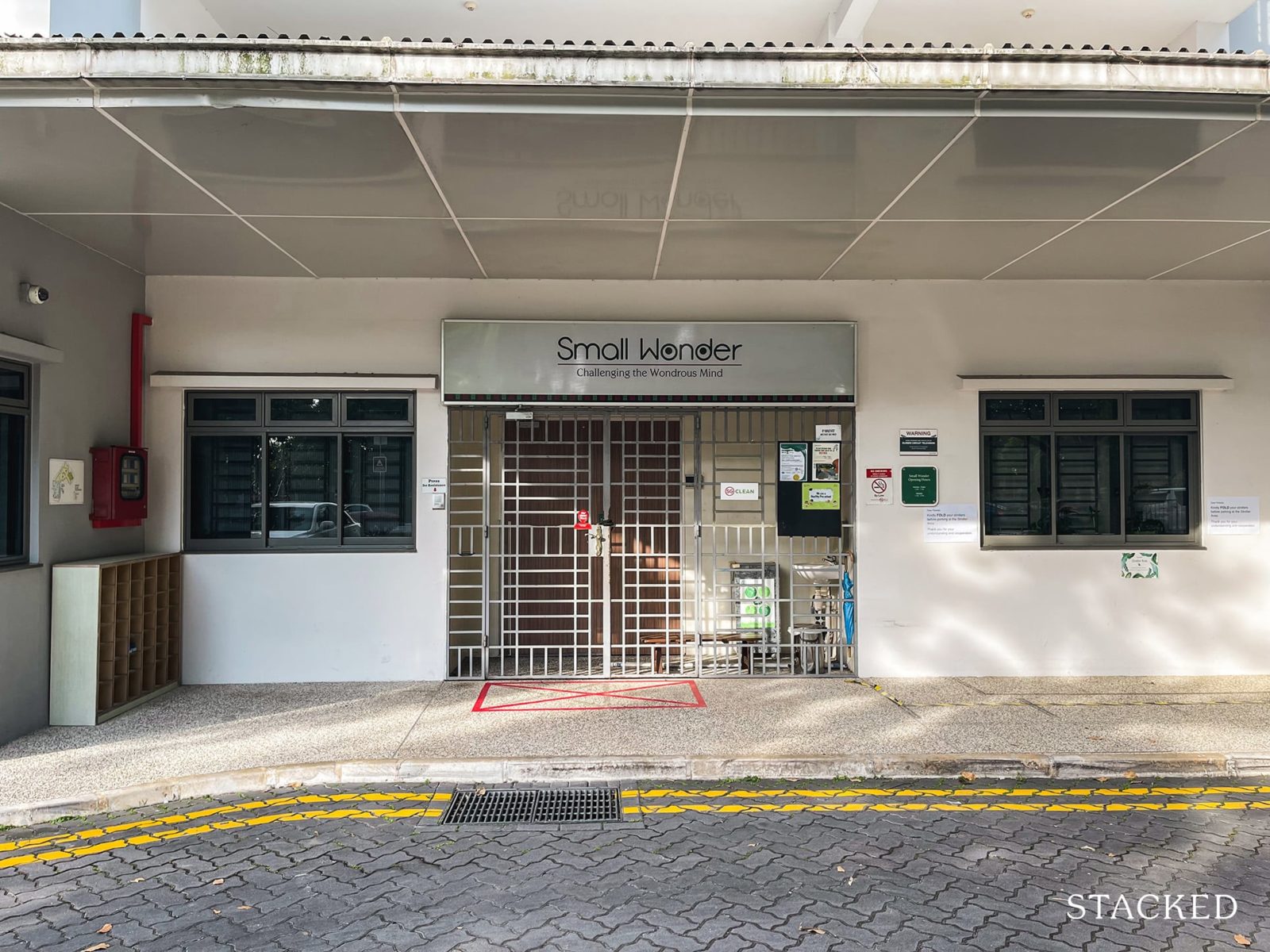 Looking at the map, families with young kids can also try for the preschool at SAFRA Yishun down south, or the ones at Nee Soon Community Club (about a 5-minute walk away).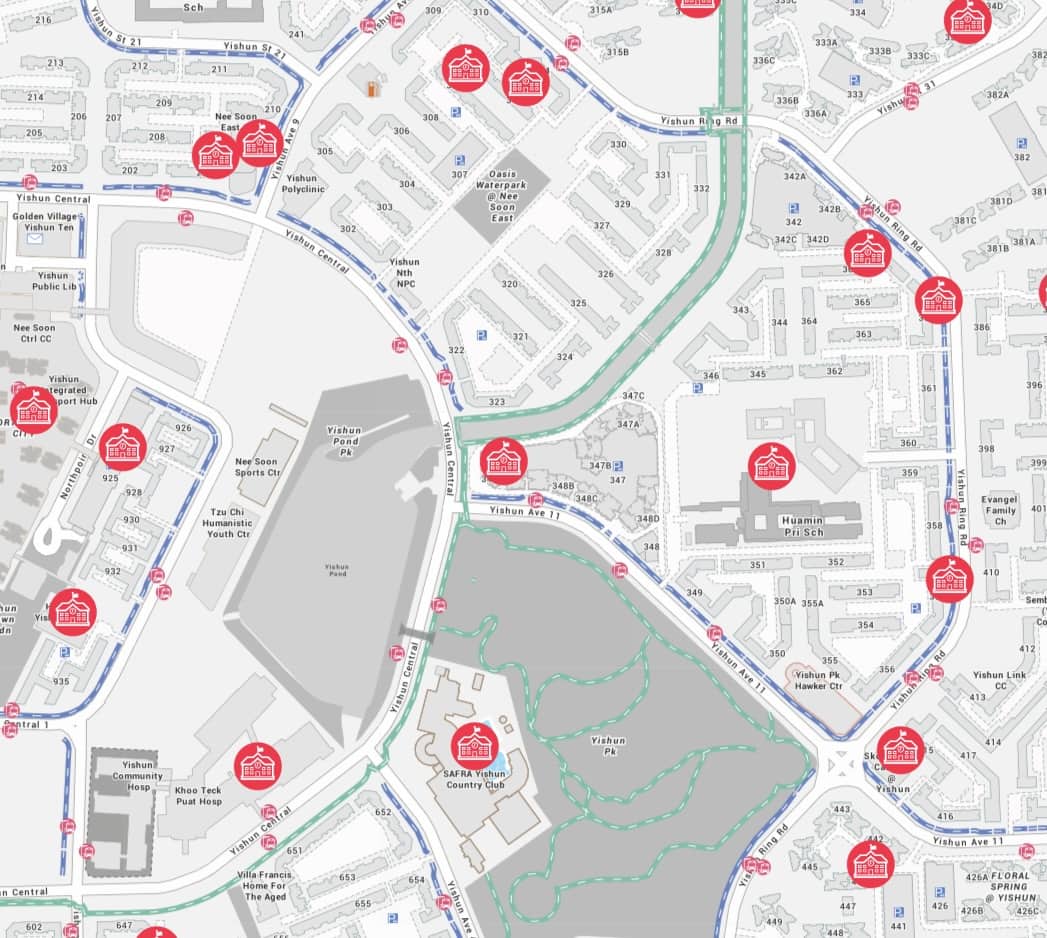 Adora Green Location Review
Those who don't stay in Yishun must be wondering – how good can this location possibly be?
Well before we jump to any conclusions, I must say that Adora Green has quite a bit to offer in this regard.
First off, it's right next to 2 parks – Yishun Park and Yishun Pond Park. Yishun Park is huge, so the unblocked greenery views offered for some stacks are pretty amazing. Moreover, having a park opposite makes it really convenient for those who want a breath of fresh air/go for a jog.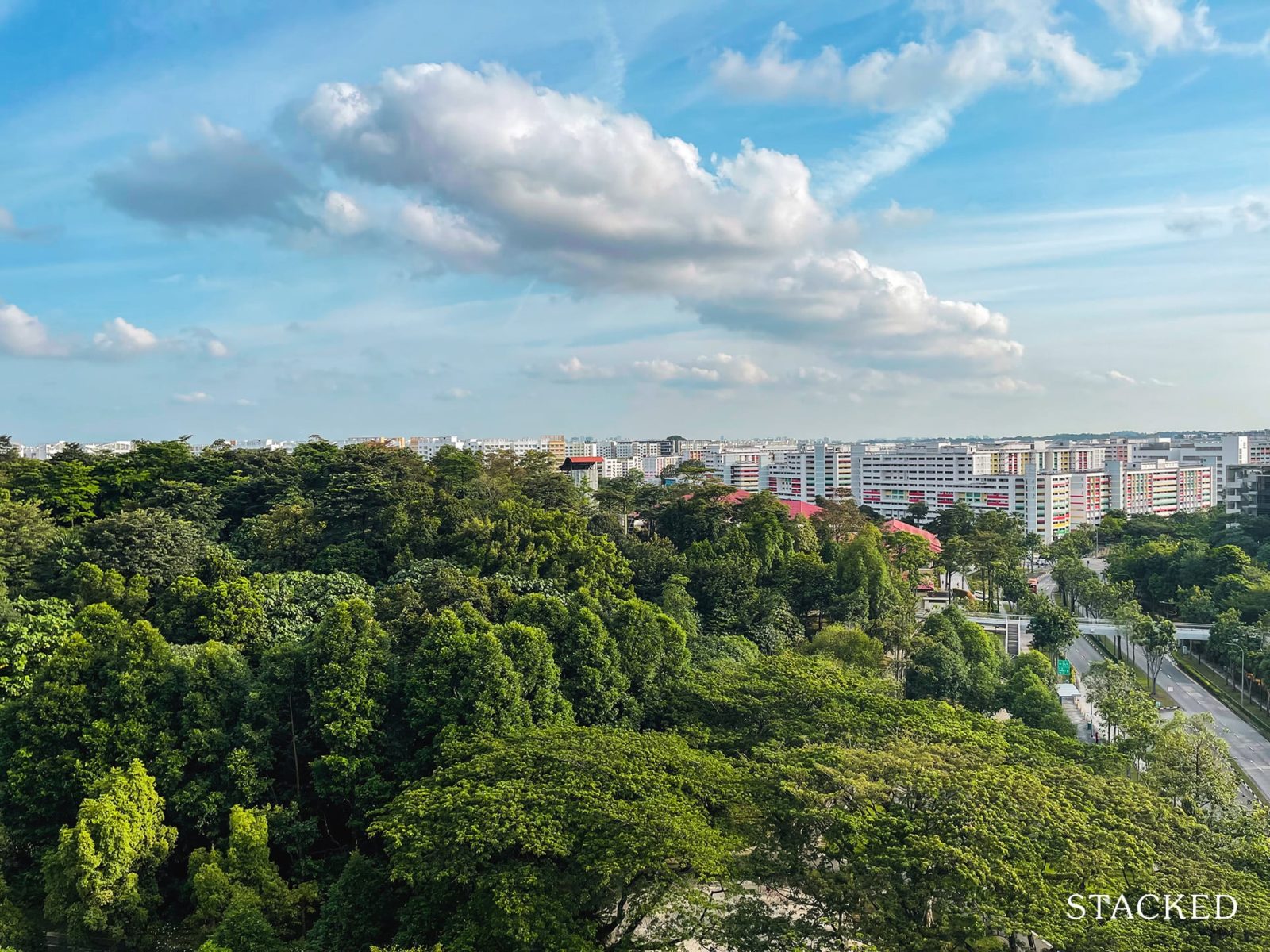 Yishun Pond Park is unique as there's a water body, not something that many HDBs can boast of having just next door. There's also a popular cafe you can visit that overlooks the pond.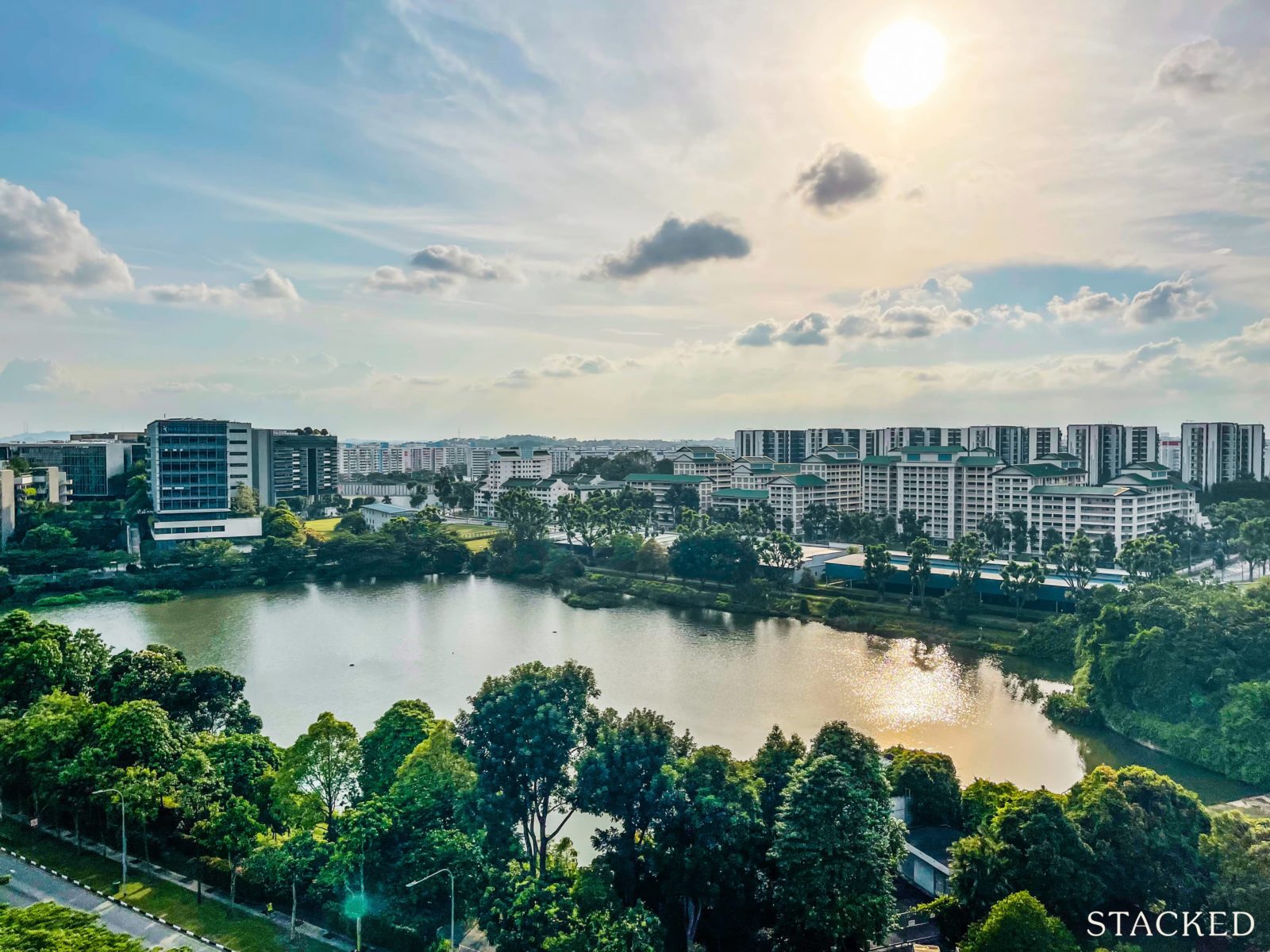 Another aspect I like is its proximity to the park connector. It's right next to the Khabit Bongsu PC which links residents up north to Sembawang, or westwards towards the Central Catchment.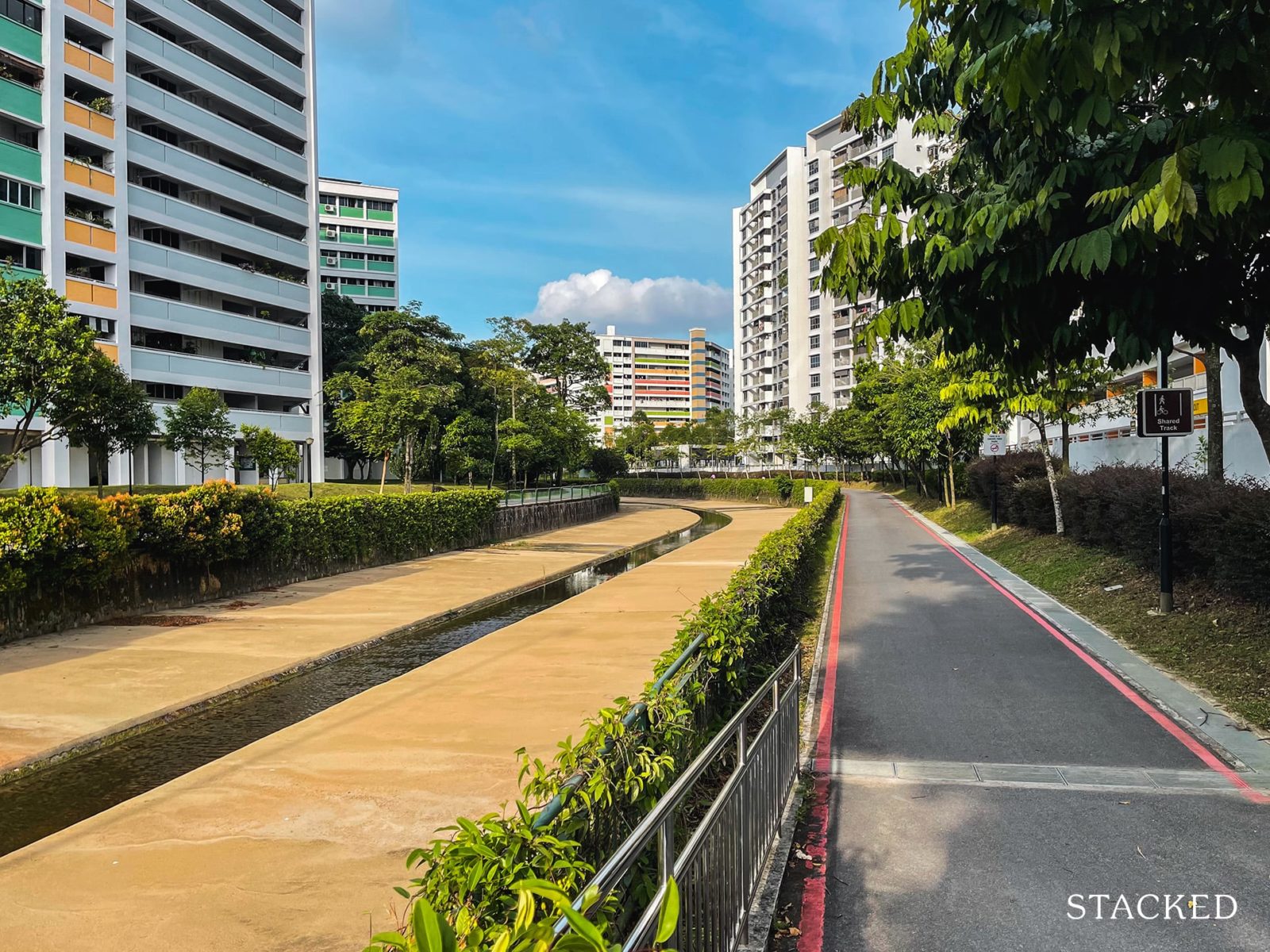 In terms of amenities, the Yishun Park Hawker Centre is just a 5-7 minute walk away and features a great variety of stalls, garnering over 6,000 reviews on Google with a 4.1 star rating!
Khoo Teck Puat Hospital is about a 10-12 minute walk away (even shorter by bicycle) where you'll find a Subway outlet, an NTUC FairPrice Xpress and an NTUC Foodfare.
Opposite that is SAFRA Yishun which comes with a McDonald's, a swimming pool and Dinoland Singapore, an indoor forest trail with dinosaurs along the trek – sounds like a perfect place for families to visit!
Those looking for a shopping mall experience can walk to Northpoint City (the largest mall in the north) in just 10 minutes too. It's also a well-curated mall, and if you've gone there on even a weekday, it is a very popular destination indeed.
Overall, the immediate area around Adora Green seems pretty attractive as it's got a good balance of nature and amenities!
As of today, however, public transport here and the amenities (apart from what's been mentioned) are pretty limited.
Public Transport
| | | |
| --- | --- | --- |
| Bus station | Buses Serviced | Distance From HDB (& Est. Walking Time) |
| 'BLK 348B (59651)' | 103, 663, 806 | 50m (1 min walk) |
Closest MRT: Yishun MRT (North-South Line) – about a 10 to 13-minute unsheltered walk (10-minutes by bus including the walk).
Probably one of the biggest downsides to staying here is the lack of public transport connectivity. The nearest MRT is Yishun which is not within walking distance. You could take a bus to the MRT which is about 10 minutes.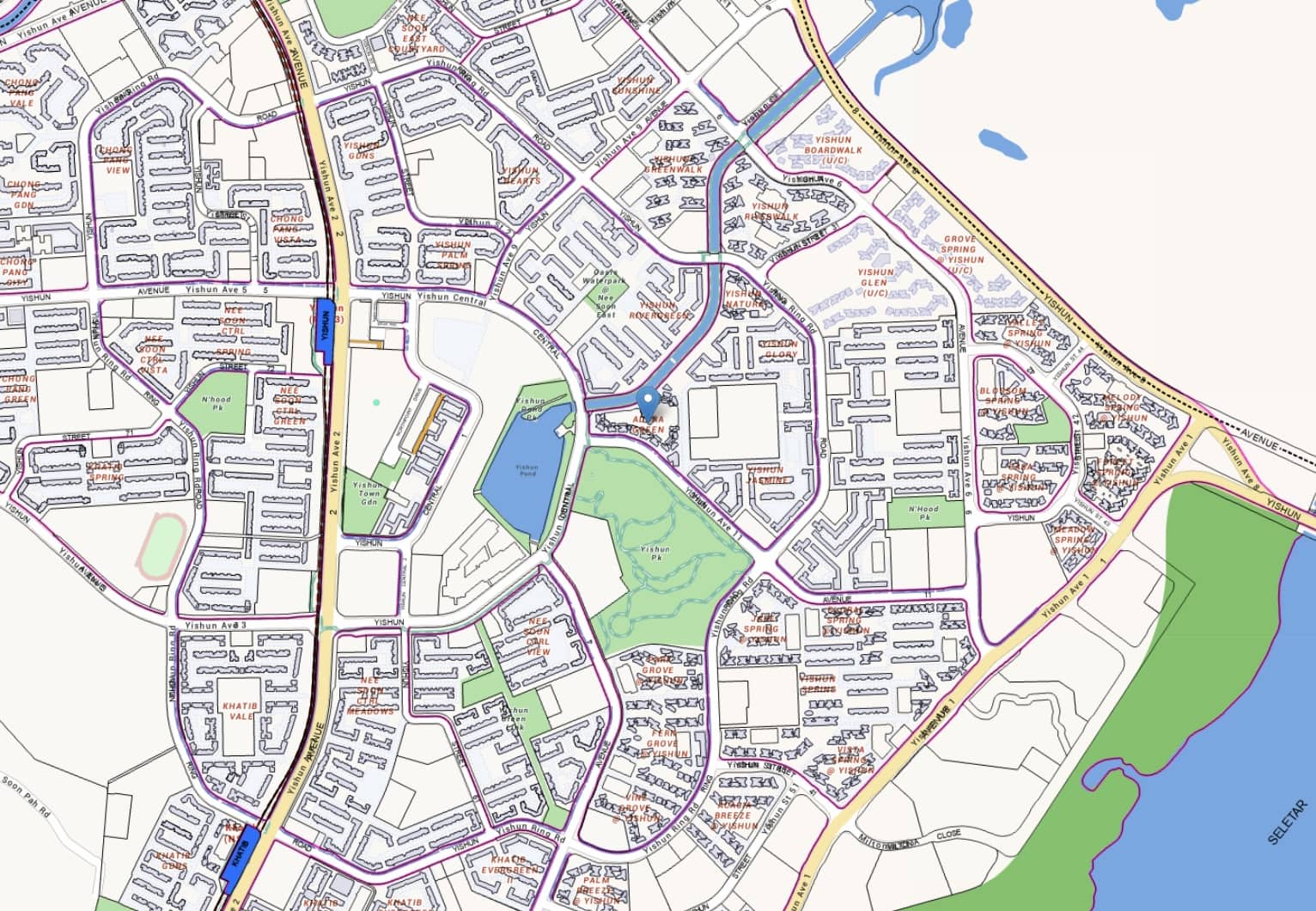 In terms of bus connectivity, the services provided at the immediate bus stop outside Adora Green connects you through the Serangoon area and also to the CBD – but that's about it.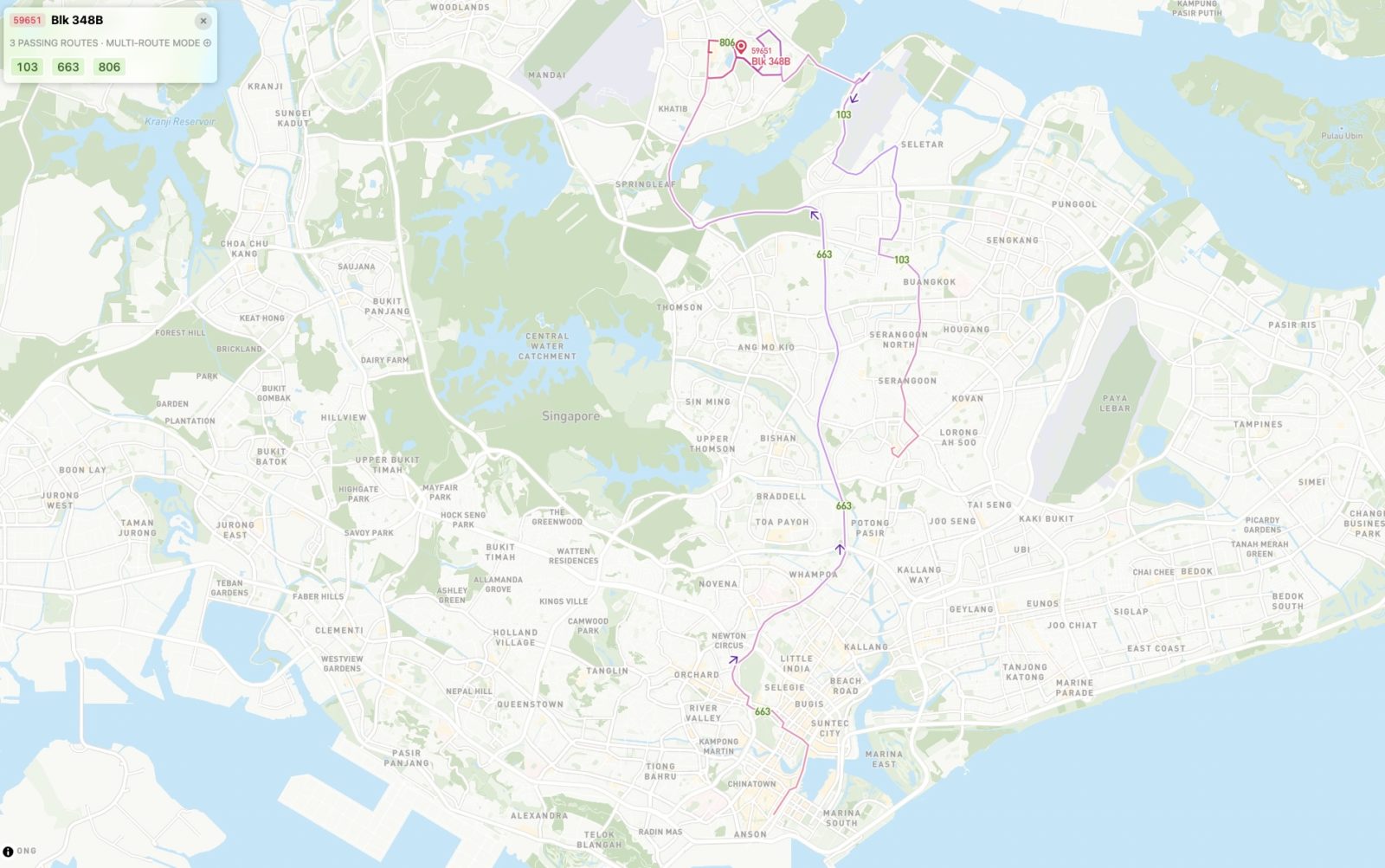 As such, bus connectivity is also quite limited here unless you change buses along the way.
Although it must be said, residents would be pleased that the bus stop is sheltered all the way through to blocks 348A and 348B which is really convenient.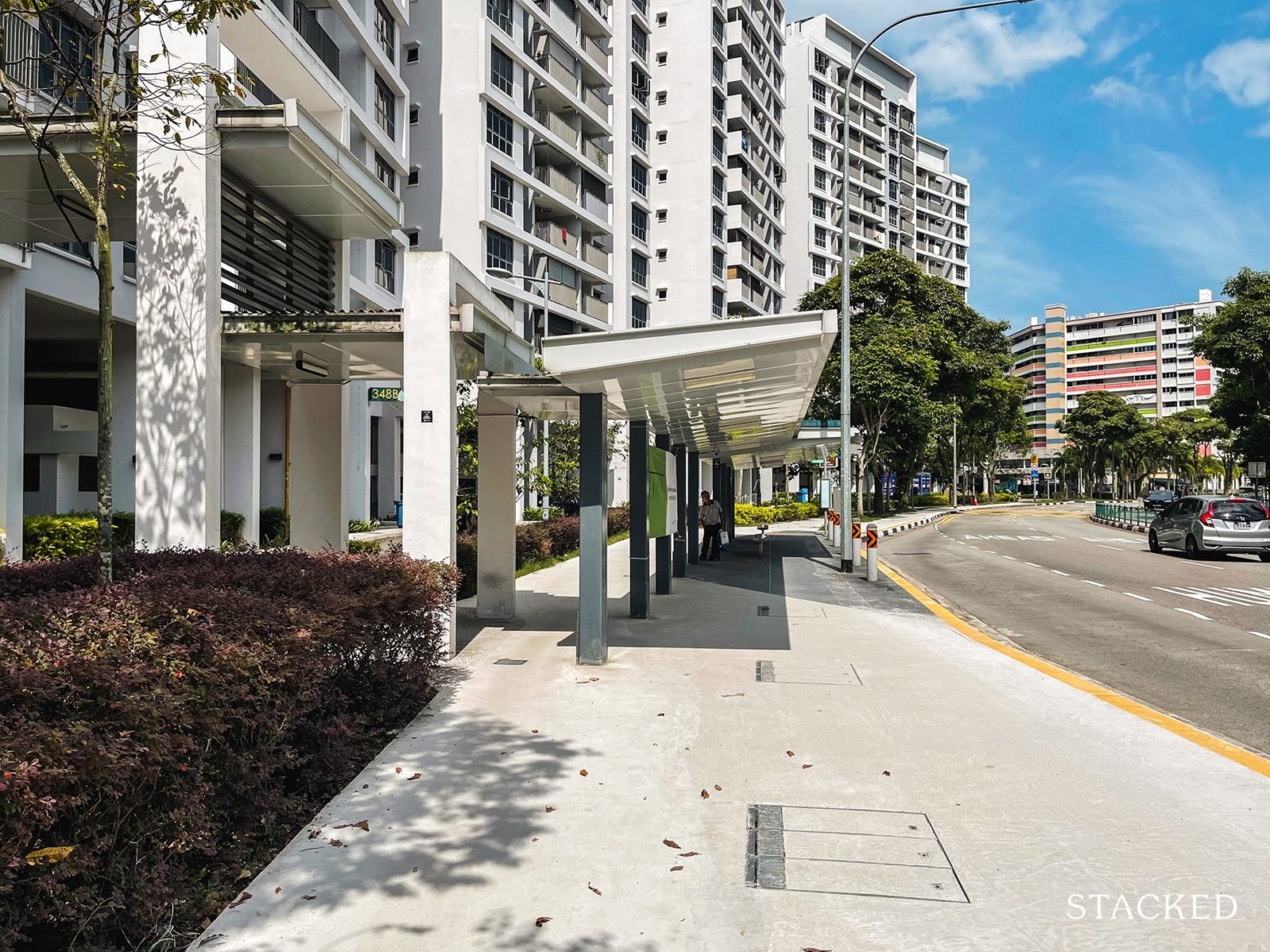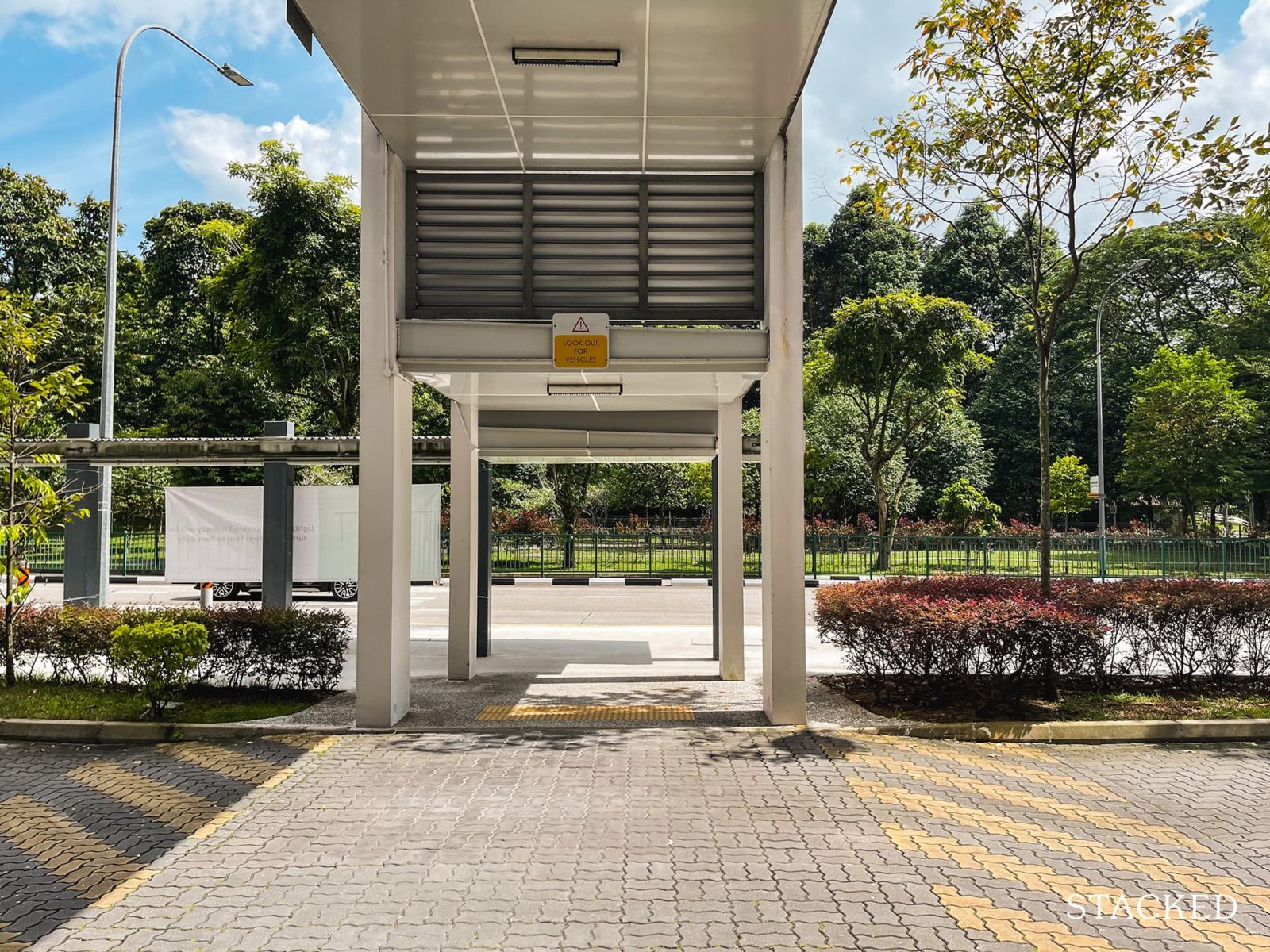 Private Transport
| | |
| --- | --- |
| Key Destinations | Distance From HDB (& Est. Peak Hour Drive Time) |
| Raffles Place | 14 km (21 mins drive) |
| Orchard Road | 15.7 km (25 mins drive) |
| Suntec City | 11.7 km (18 mins drive) |
| Changi Airport | 10.2 km (16 mins drive) |
| Tuas Port | 48.9 km (1 hr and 6 mins drive) |
| Paya Lebar Quarter | 7.1 km (14 mins drive) |
| Mediapolis | 21.9 km (34 mins drive) |
| Mapletree Business City | 24.8 km (29 mins drive) |
| Tuas Checkpoint | 45.2 km (59 mins drive) |
| Woodlands Checkpoint | 34.4 km (45 mins) |
| Harbourfront Cluster | 17.9 km (25 mins) |
| Punggol Cluster | 14.9 km (23 mins) |
Source: OneMap. Based on driving times during peak hours.
Immediate road exit:
Yishun Avenue 11

Summary:
Yishun isn't exactly near any expressways. For those travelling to the CBD, you'd have to drive east to Seletar West Link and then head south for a couple of minutes before reaching the TPE which can also be used to head eastwards towards Changi.
Those looking to go towards the west would have to drive through Mandai Avenue onto the BKE and finally the KJE. If you do somehow frequently visit Jurong, you should avoid staying in Adora Green anyway.
Groceries
| | |
| --- | --- |
| Name of Grocery Shop | Distance from HDB (& Est Time) |
| Minimart | Within the development |
Schools
| | |
| --- | --- |
| Educational Tier | Number of Institutes |
| Preschool | 3 |
| Primary School (Within 1KM) | 2 |
| Secondary School | 3 |
| Junior College | 1 |
| Other Tertiary Institutes | 2 |
| | |
| --- | --- |
| School | Distance From Condo (& Est. Walking Time) |
| Sparkletots Preschool | inside the development |
| Blossom Creative Centre LLP | 0.8 km (9 mins walk) |
| Little Lions Preschool | 1 km (11 mins walk) |
| Temasek Primary School | 0.4 km (4 mins walk) |
| Bedok Green Primary School | 1.8 km (22 mins walk) |
| Temasek Secondary School | 0.1 km (1 min walk) |
| Bedok View Secondary School | 1.2 km (14 mins walk) |
| Bedok South Secondary School | 1.6 km (19 mins walk) |
| Temasek Junior College | 1.7km (20 mins walk) |
| ITE College East | 2.8 km (17 mins via bus) |
| Victoria Junior College | 3.9 km (19 mins via bus) |
Adora Green Site Review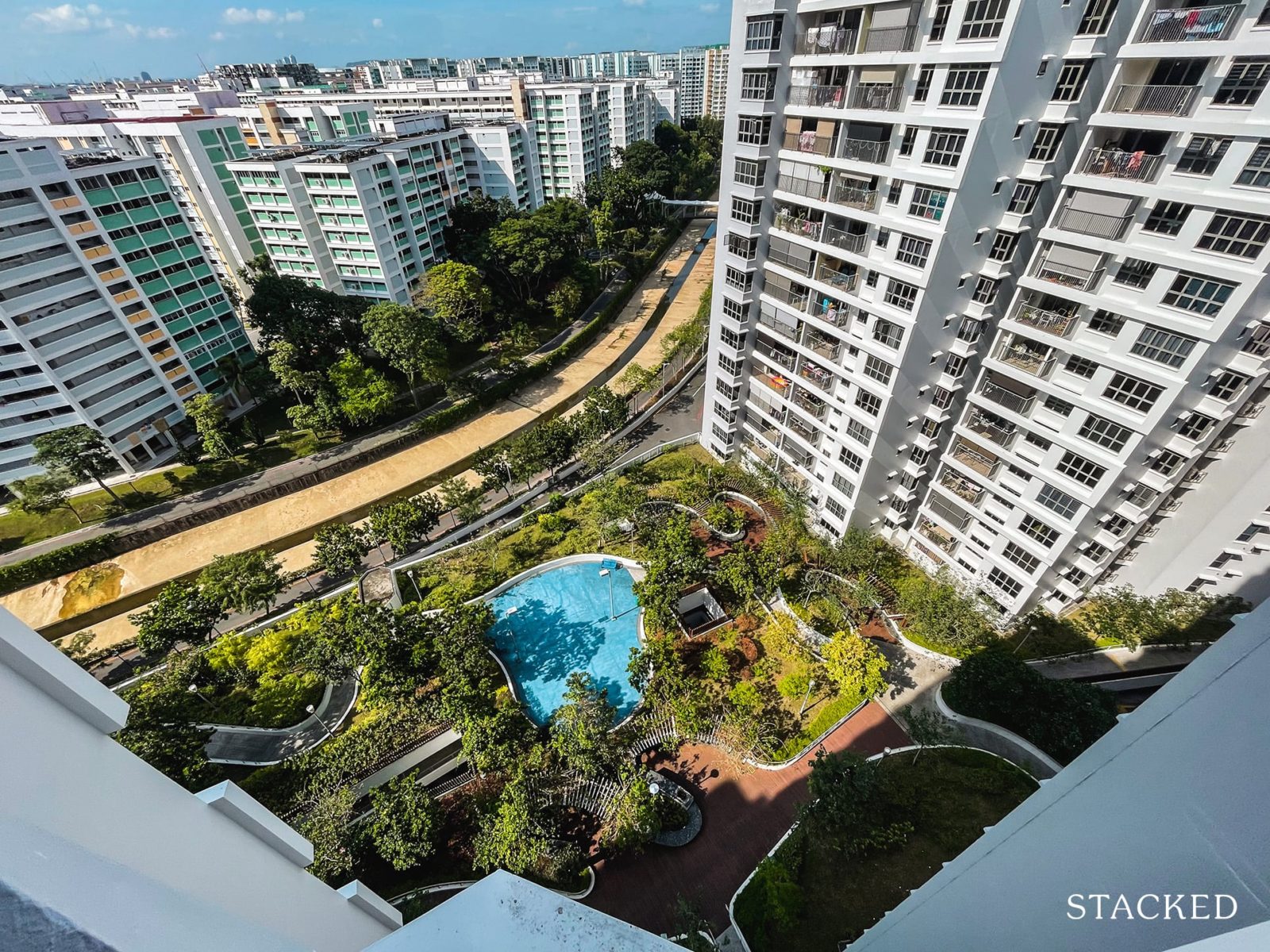 Adora Green is made up of 806 units comprising 3, 4 and 5-room flats. It's mostly white and grey, making it quite a clean-looking development and is a relatively safe choice of colours.
What's interesting is that there is some form of a rectangular pattern on every alternate level which does give it an interesting look.
The development is also touted to have a "high CONQUAS score" of 82.1 points which sounds high, but it's not really anything special given the number of developments that scored higher: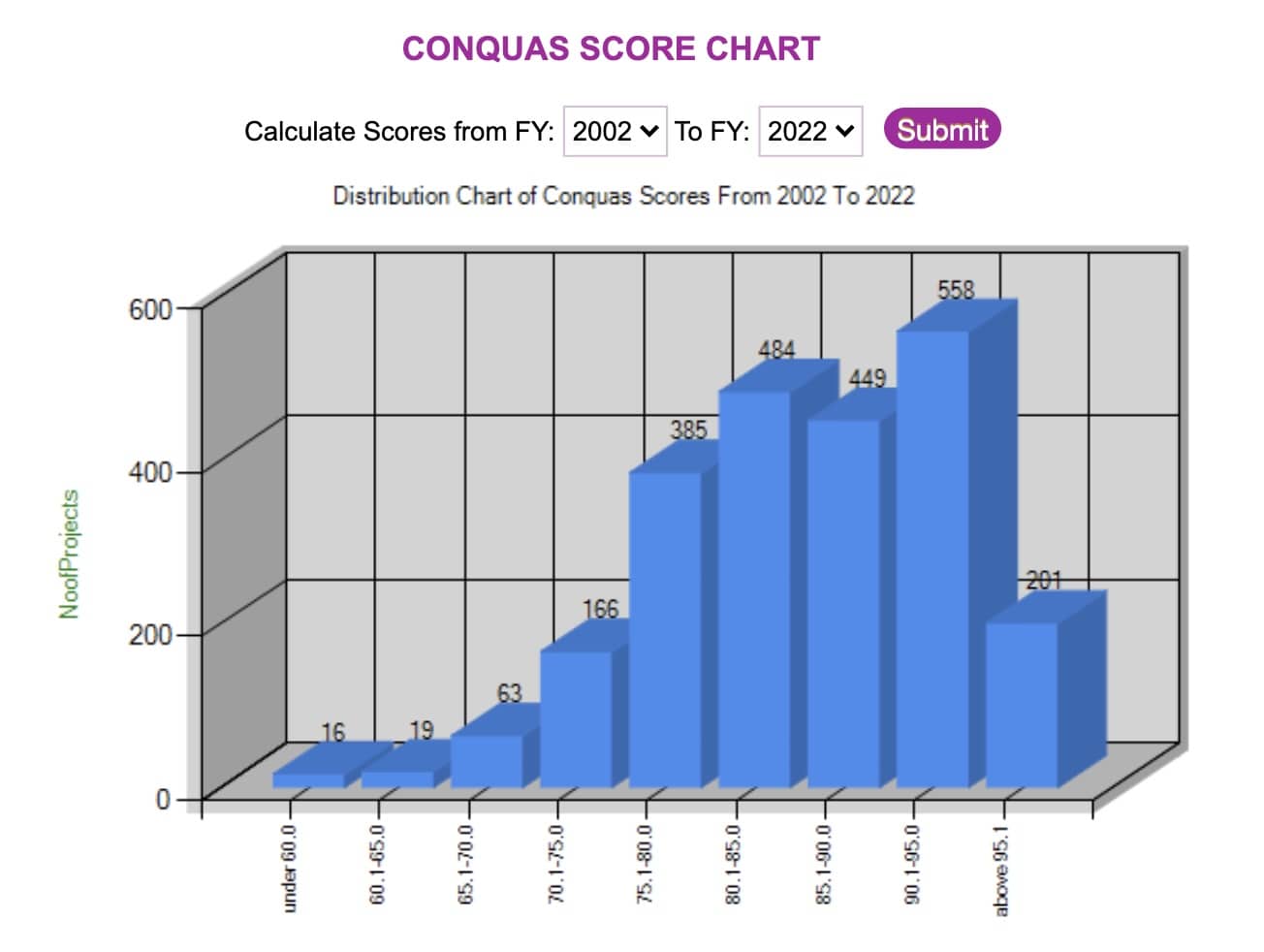 In total, there are 6 residential blocks structured in a way where all the blocks are located at the perimeter of the site, while the facilities are found in the centre.
Due to the way the blocks are laid out, very few stacks have a close facing to a unit opposite. It's a really strategic play as the developer took advantage of the views surrounding the plot, while creating as desirable a view for the inner-facing stacks.
Because of this block layout, the overall feel of the place doesn't seem to be as cramped as other DBSS that I've visited. Even though each block is 16 storeys high, you don't get a sense of being caved in since you hardly find yourself between two blocks.
The common areas also feature adequate bench seating, and as highlighted earlier in the facilities tour, there are quite a few open areas with grass which is especially useful if you have pets.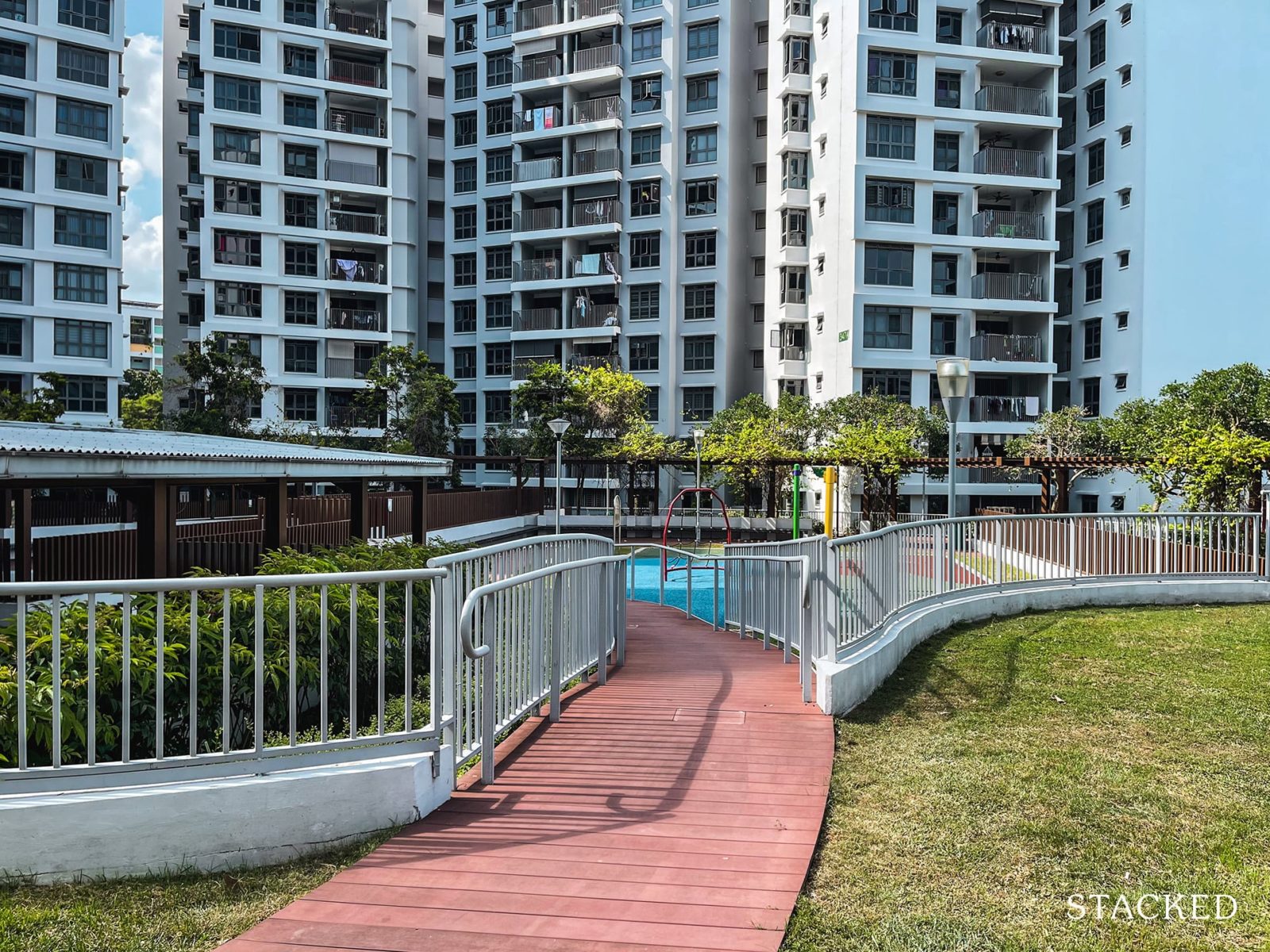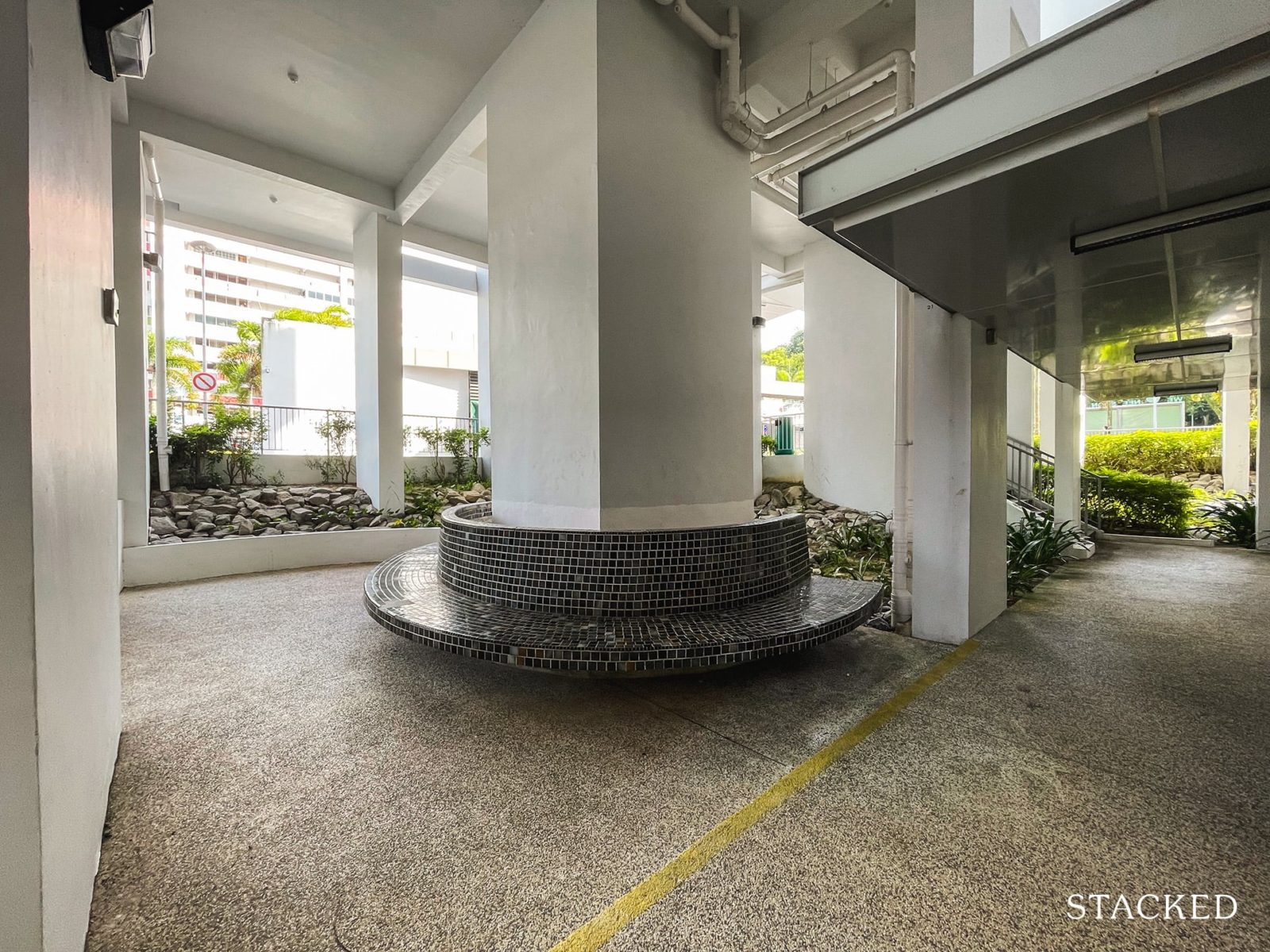 Unit Mix
| | | | | | |
| --- | --- | --- | --- | --- | --- |
| Block | Storey | 3 Room | 4 Room | 5 Room | Total |
| 347A | 16 | 28 | 88 | 30 | 146 |
| 347B | 16 | 28 | 100 | 14 | 142 |
| 348A | 16 | 28 | 98 | 14 | 140 |
| 348B | 16 | 28 | 56 | 28 | 112 |
| 348C | 16 | 28 | 70 | 14 | 112 |
| 348D | 16 | 28 | 98 | 28 | 154 |
| Total | | 168 | 510 | 128 | 806 |
Adora Green Stack Analysis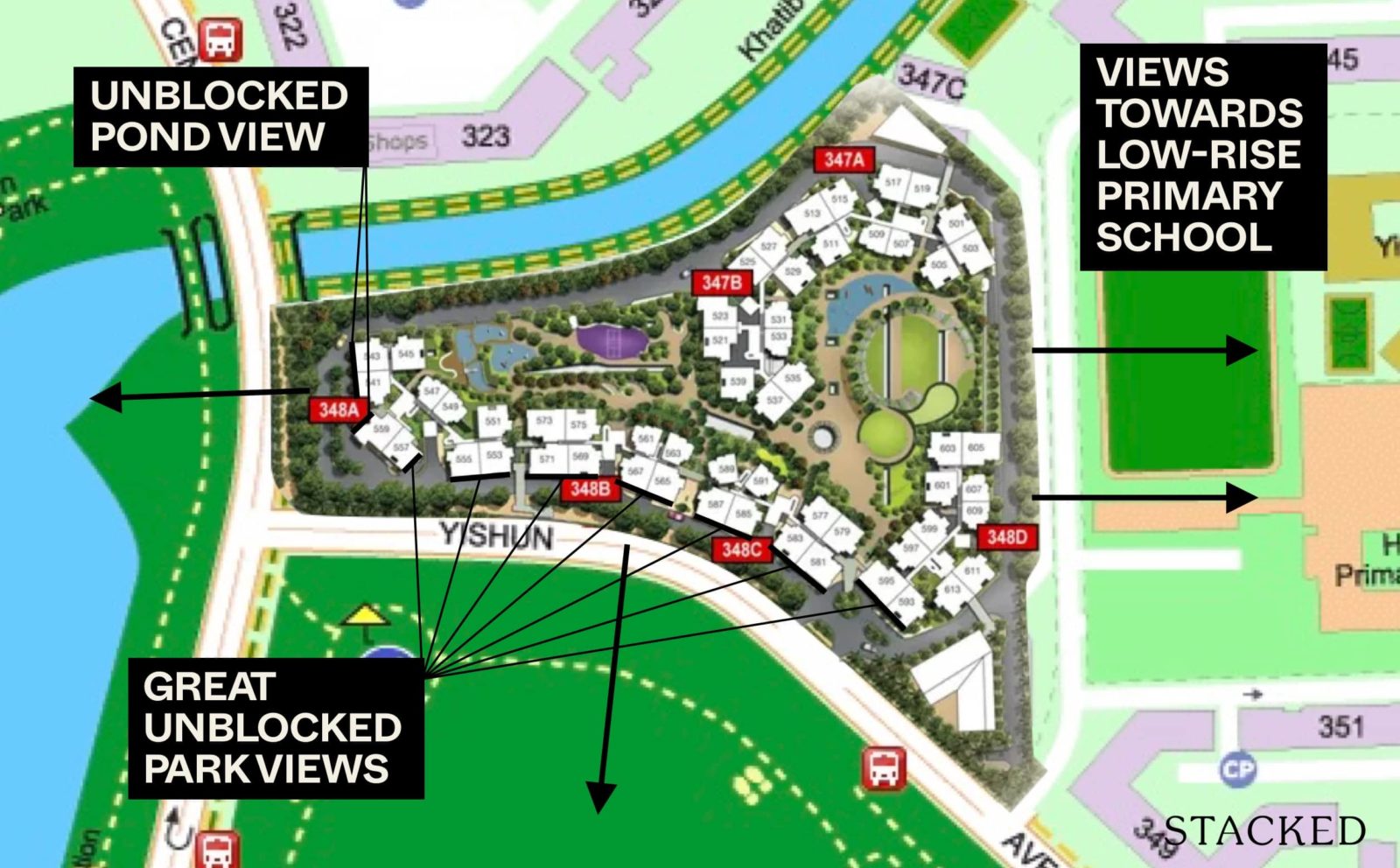 Another strong point of Adora Green is the high number of stacks with unblocked views – some even with the view of Yishun Park!
South facing stacks can enjoy the vast greenery just opposite: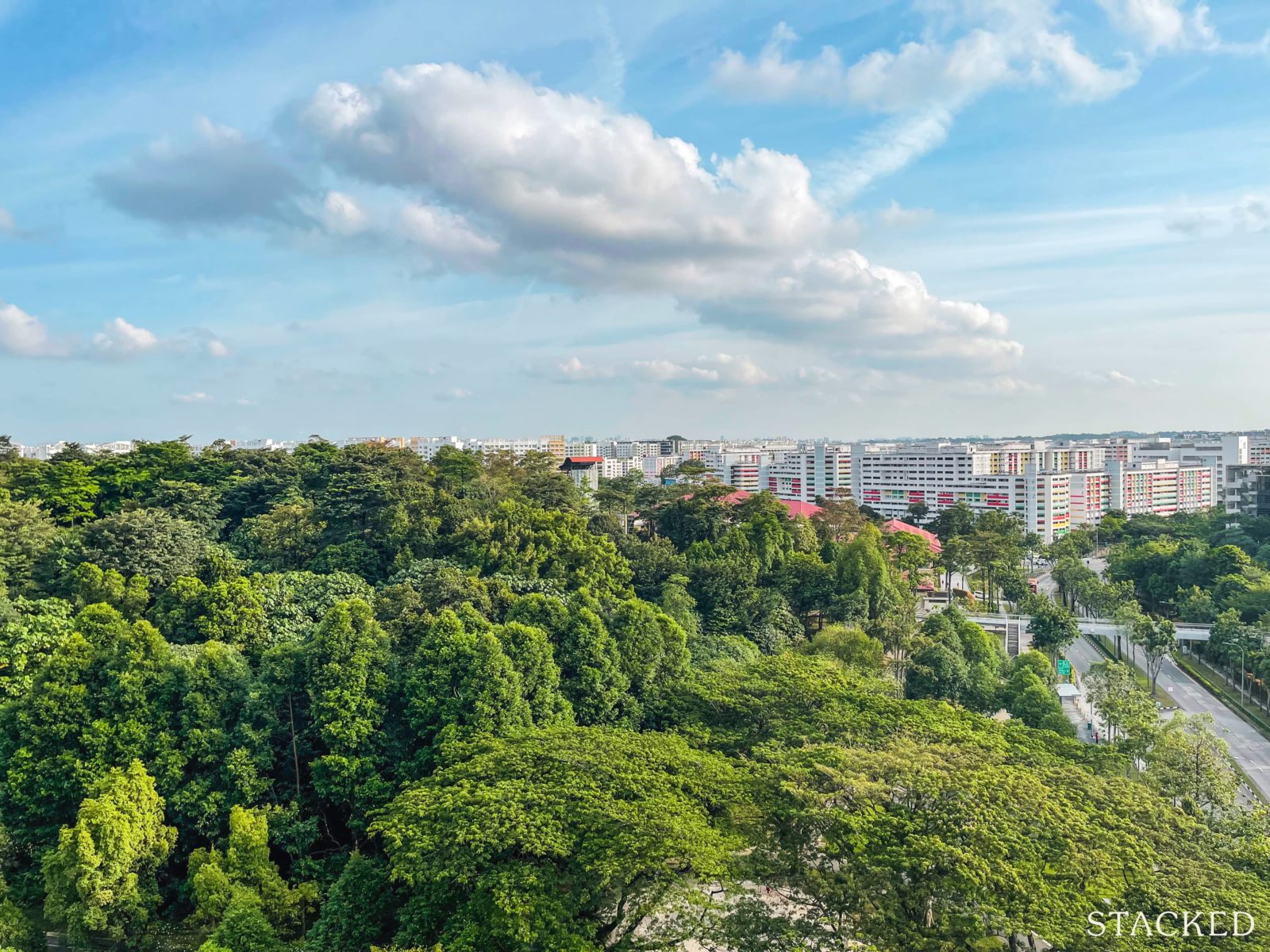 These are also the best stacks as they don't get a lot of afternoon sun but have good crosswind ventilation given their north-south orientation.
Only 2 stacks have a good view of the pond towards the west. However, these also get the afternoon sun all year round as it is perfectly west-facing: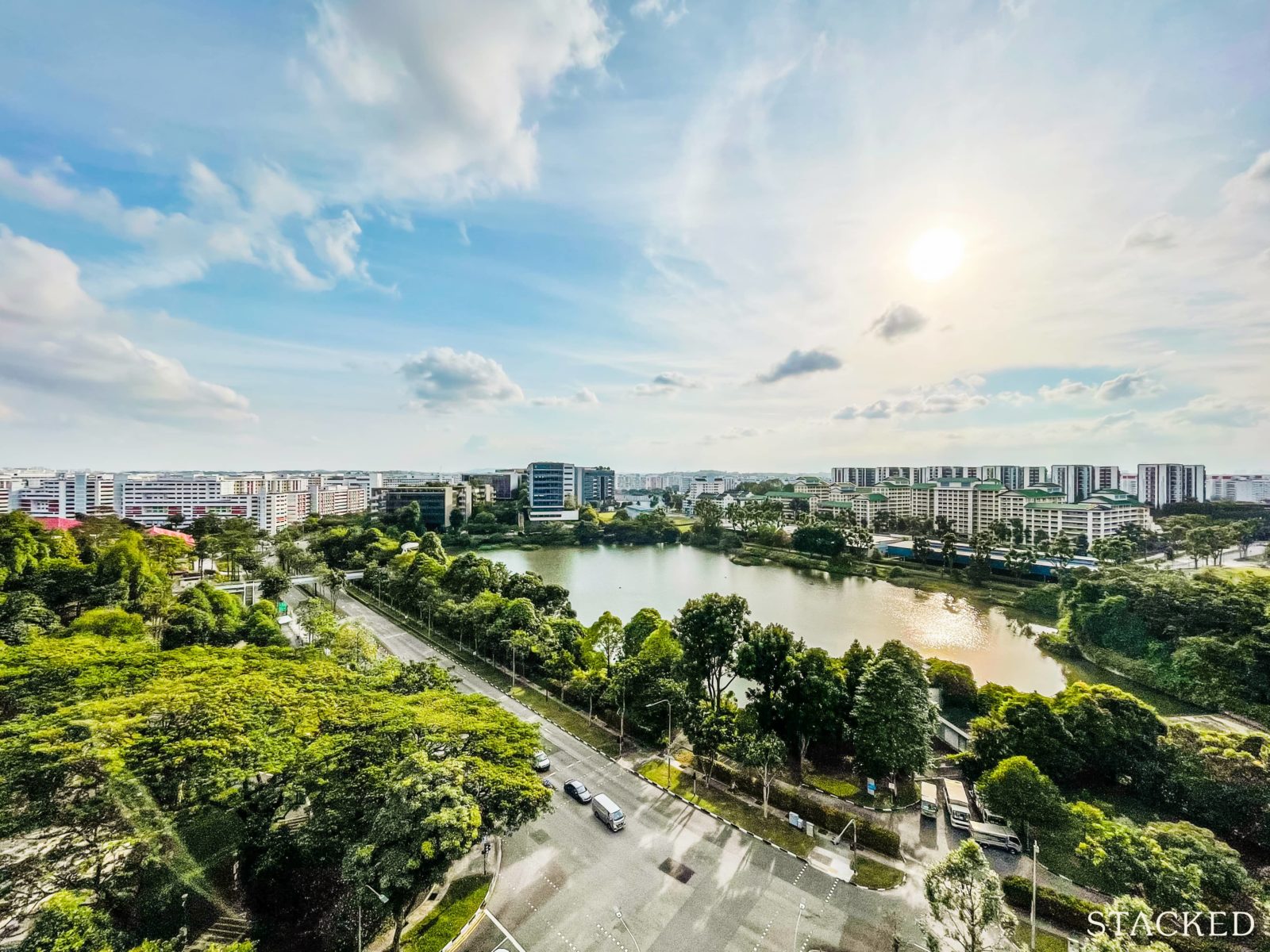 Towards the north, residents will face the low-rise HDB blocks opposite, with drainage in between as a buffer: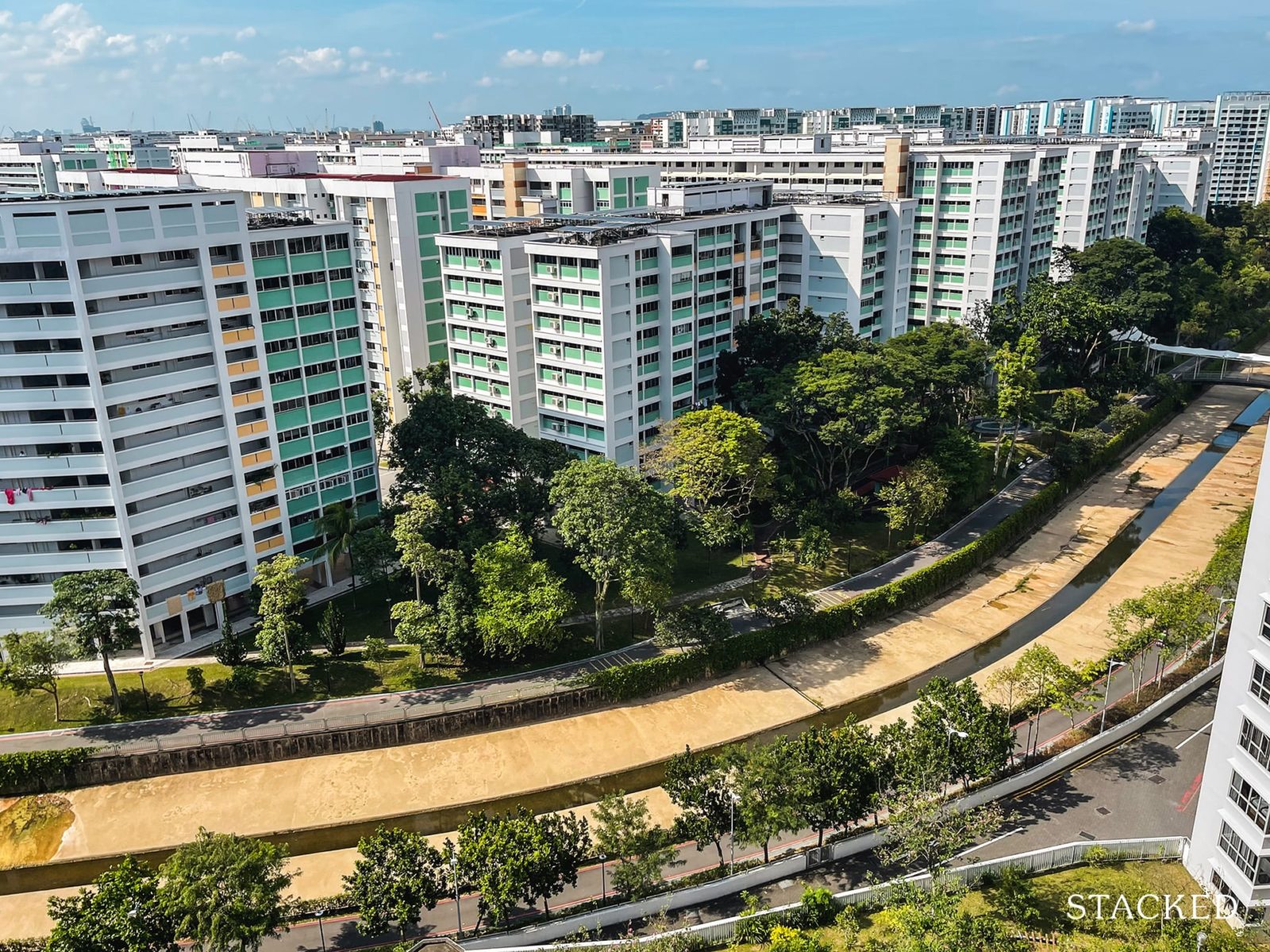 Finally, on the east side, residents would face the low-rise primary school which isn't bad at all given the field acts as a buffer:
As you can see from the site plan, inner-facing stacks do have some distance from one another and face the facilities in the middle which is not bad at all given the lawn and the community garden.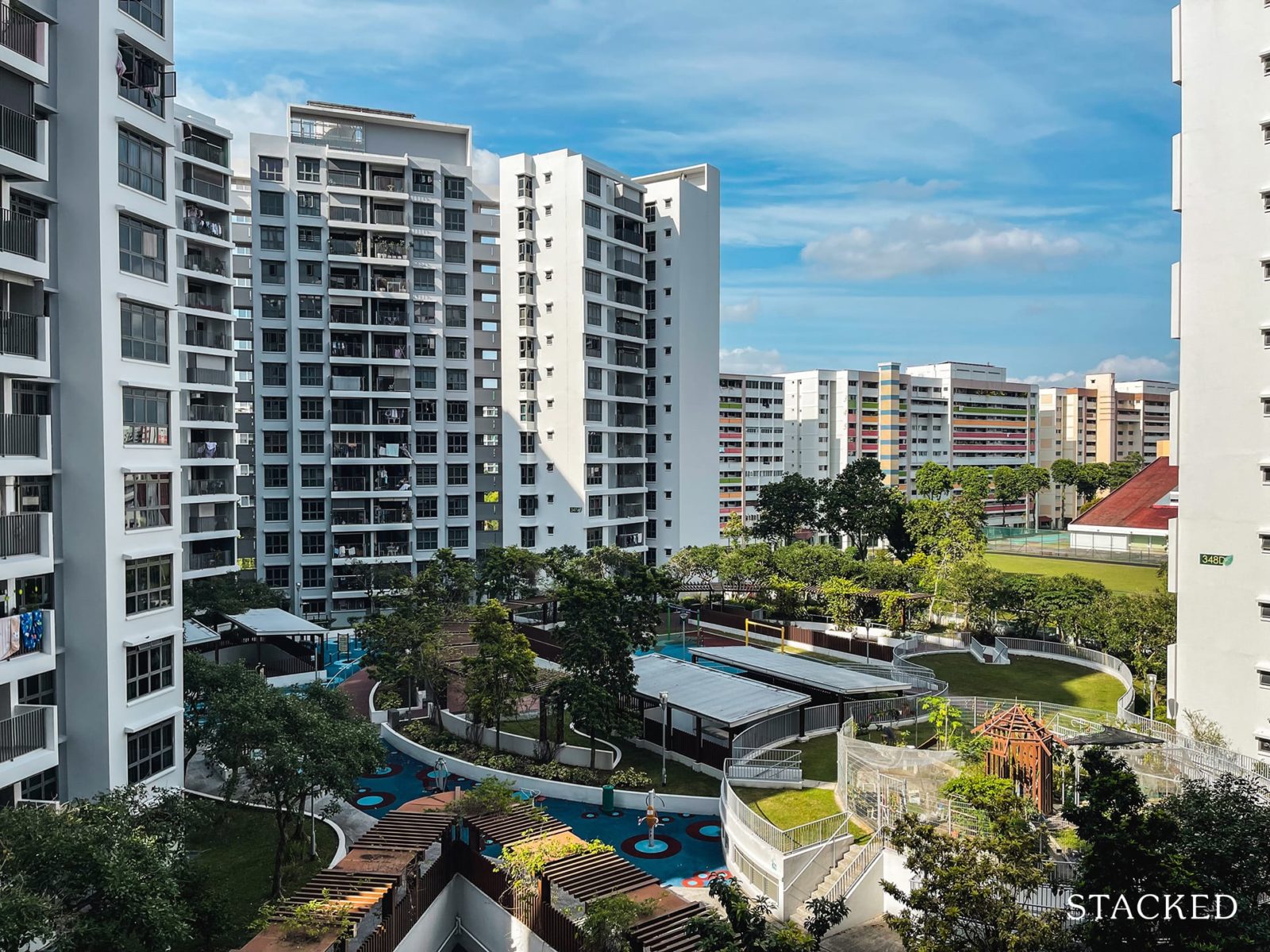 Stacks that are close to one another are angled in a way that it doesn't have too direct a facing too, so kudos to the developer on this aspect!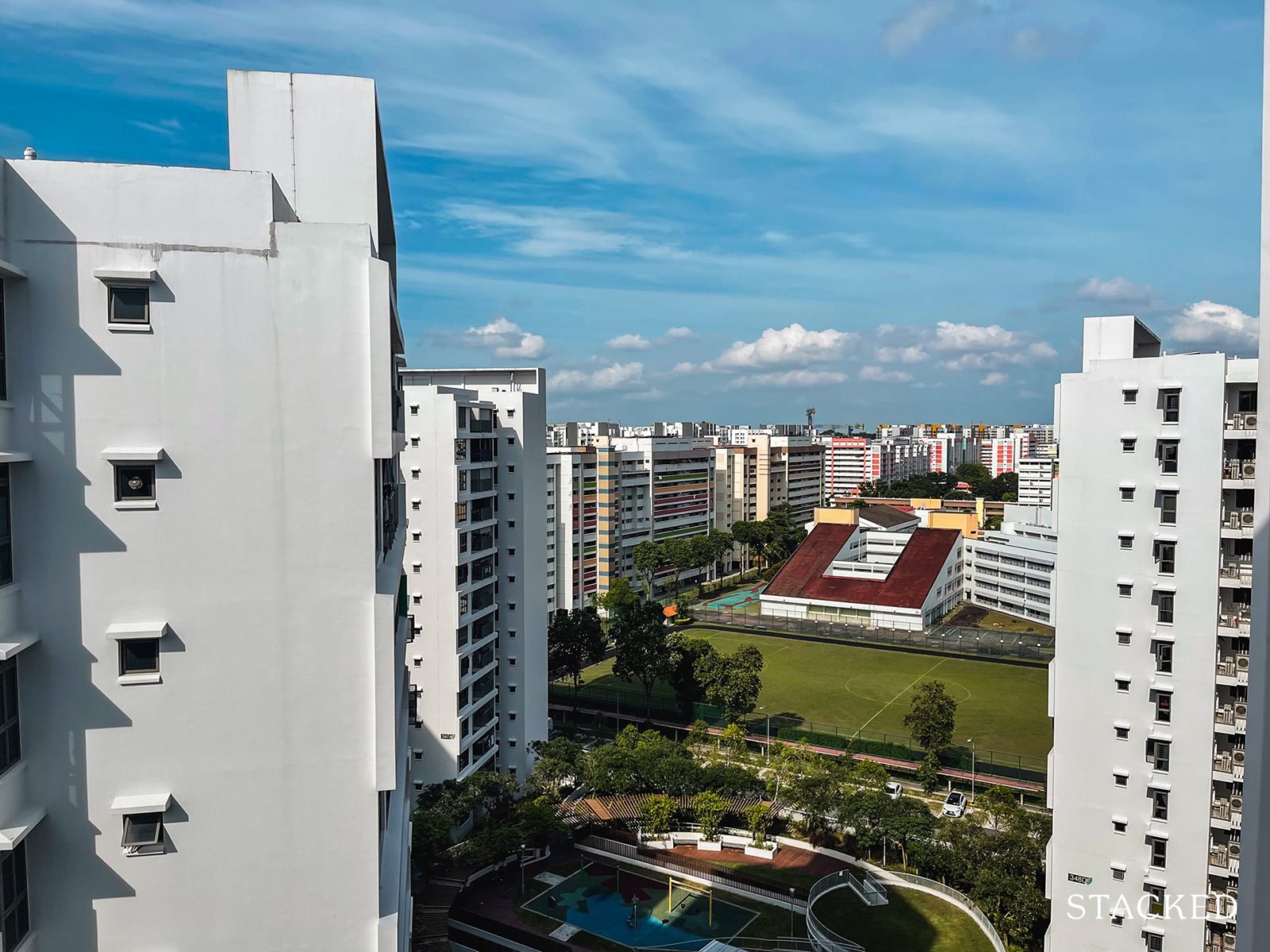 Adora Green Pricing Review
| | | | | | |
| --- | --- | --- | --- | --- | --- |
| DBSS | Estate | Lease Started | 3 Room Avg ($) | 4 Room Avg ($) | 5 Room Avg ($) |
| Lake Vista @ Yuan Ching | JURONG WEST | 2014 | $505,000 | $656,148 | $760,167 |
| Adora Green | YISHUN | 2013 | $511,250 | $685,378 | $838,888 |
| Parkland Residences | HOUGANG | 2014 | $519,000 | $692,500 | $838,000 |
| Pasir Ris ONE | PASIR RIS | 2015 | $570,000 | $720,981 | $930,800 |
| Centrale 8 At Tampines | TAMPINES | 2014 | $543,333 | $739,097 | $857,667 |
| Parc Lumiere | TAMPINES | 2011 | | $750,648 | $870,000 |
| The Premiere @ Tampines | TAMPINES | 2008 | | $758,888 | $866,341 |
| Belvia | BEDOK | 2014 | $575,089 | $772,989 | $840,000 |
| Trivelis | CLEMENTI | 2014 | $555,600 | $793,972 | $1,086,000 |
| Park Central @ AMK | ANG MO KIO | 2011 | | $828,500 | $968,600 |
| The Peak @ Toa Payoh | TOA PAYOH | 2012 | | $942,167 | $1,177,167 |
| City View @ Boon Keng | KALLANG/WHAMPOA | 2011 | $635,000 | $960,500 | $1,181,722 |
| Natura Loft | BISHAN | 2011 | | $1,006,000 | $1,206,714 |
Among all of the DBSS out there, Adora Green is unsurprisingly one of the most affordable, ranking 2nd most affordable among all 13 DBSS projects. All of them have a start date that's only within a couple of years from each other (apart from The Premiere @ Tampines), so the age shouldn't matter here.
Considering the 3 cheapest DBSS are not within walking distance of an MRT, the numbers above are within reasonable expectations. Pasir Ris ONE is close to the MRT, so we do expect prices to be higher.
So if you were to compare its price point among all DBSS, there really isn't much to justify here. Furthermore, they're all located in different places, so your decision wouldn't really boil down to choosing between Lake Vista vs Adora Green since they're around the same price anyway.
Let's take a look at newer BTOs in the Yishun estate to see how it compares:
| | | | | |
| --- | --- | --- | --- | --- |
| Development | Lease Started | 3 Room | 4 Room | 5 Room |
| Dew Spring | 2013 | $399,472 | $495,078 | |
| Orchid Spring @ Yishun | 2015 | $393,578 | $496,444 | |
| Vista Spring @ Yishun | 2015 | $425,000 | $503,740 | $615,500 |
| Jade Spring 2 | 2012 | $400,000 | $507,817 | |
| Dew Spring @ Yishun | 2013 | | $508,000 | |
| Yishun Riverwalk | 2015 | $418,714 | $508,140 | $610,000 |
| Floral Spring | 2015 | | $509,000 | $611,425 |
| Jade Spring 1 | 2012 | $408,000 | $513,468 | |
| Yishun Natura | 2016 | $408,500 | $524,000 | $692,500 |
| Yishun Greenwalk | 2015 | $405,000 | $526,049 | $640,486 |
| Oleander Breeze @ Yishun | 2017 | $439,333 | $526,824 | $660,000 |
| Acacia Breeze | 2016 | $413,333 | $527,536 | $656,981 |
| Angsana Breeze @ Yishun | 2018 | $412,750 | $532,357 | $674,333 |
| Vine Grove @ Yishun | 2018 | $424,818 | $543,222 | |
| Palm Breeze @ Yishun | 2018 | $419,400 | $543,400 | $681,250 |
| Saraca Breeze @ Yishun | 2018 | $429,286 | $544,333 | $713,950 |
| Fern Grove @ Yishun | 2018 | $436,678 | $552,963 | $690,210 |
| Park Grove @ Yishun | 2018 | | $564,223 | $695,778 |
| Adora Green | 2013 | $511,250 | $685,378 | $838,888 |
| Khatib Court | 2018 | $453,760 | | |
Immediately, you'll see that Adora Green ranks as the most expensive HDB you can buy among all the new HDBs at Yishun. Moreover, it's one of the older developments too!
Furthermore, Adora Green isn't just $20,000 more than the other HDBs, but over $100,000 different if we compare the 4 and 5-room flats.
The next most expensive HDB is Park Grove @ Yishun which also borders Yishun Park, but on the south side. It's also not close to an MRT, but it is within a 7-8 minute walk to Wisteria Mall.
Fern Grove @ Yishun ranks as the next most expensive and it's situated just south of Park Grove @ Yishun, so it's even closer to Wisteria Mall.
But what makes Adora Green so much more expensive than the other HDBs? Let's compare both floor plans: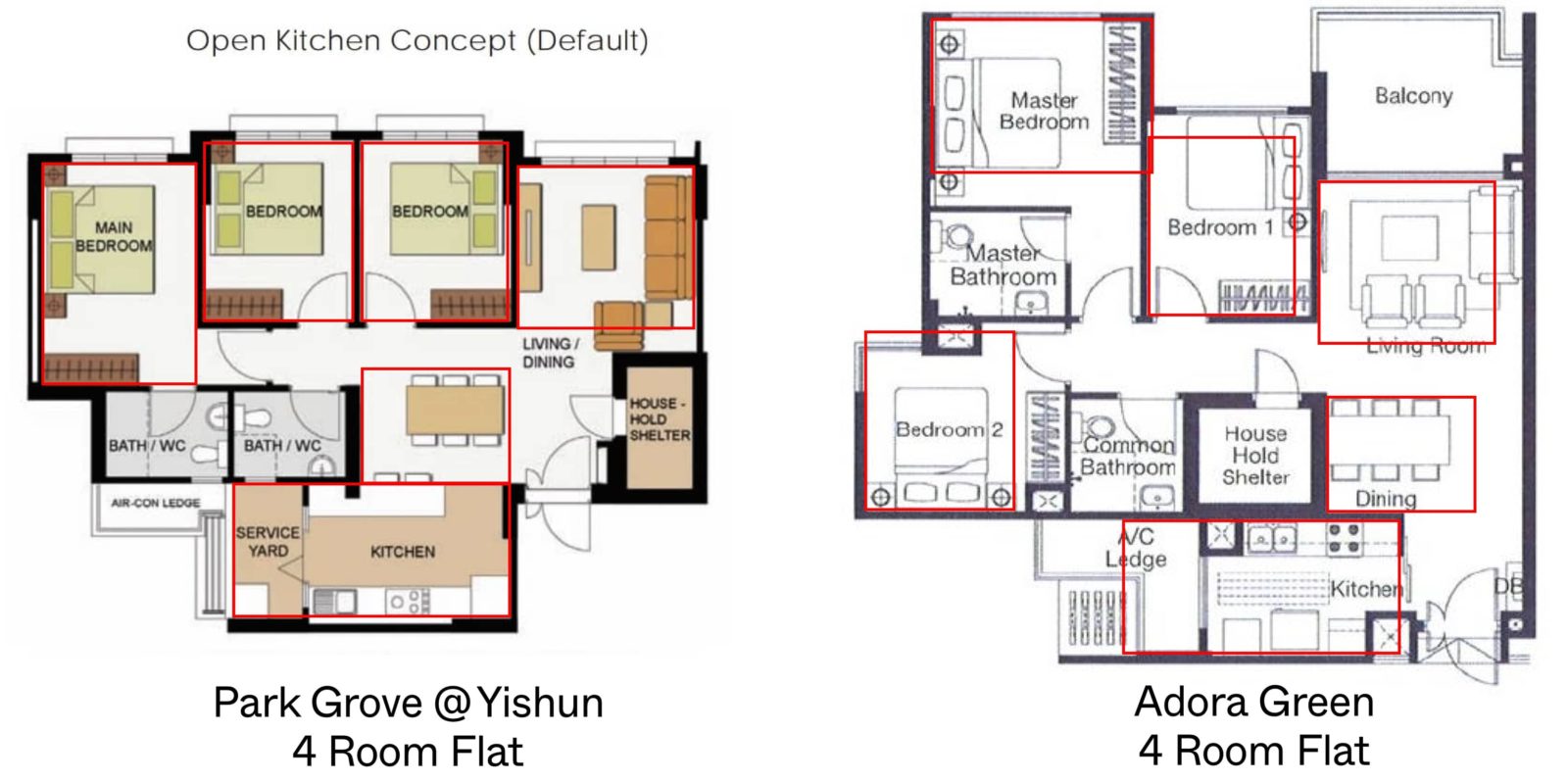 We aren't able to measure the exact dimensions between both plans, but overlaying the door room sizes shows that Adora Green's bedrooms are actually slightly bigger. Its living, dining and kitchen are smaller with Adora Green having no service yard at all. So most of the extra space went to the balcony.
It's only slightly smaller, but as with all DBSS, most of the difference in size goes to the balcony.
Can the layout truly explain the $100K premium?
Such layouts are quite rare in the market, after all, there are only 13 DBSS in Singapore. And in Yishun, this is the only one. However, that isn't the only reason.
Another could be that many of the stacks have an unblocked view, so people are willing to pay more for it. Generally, good views can carry a premium of over $60,000 as I've highlighted in my Hougang CapeView review.
It's also closer to an MRT compared to the newer BTOs. For example, Park Grove @ Yishun is about a 17-minute walk to Khatib. More importantly, residents can just cut across Yishun Pond here to reach Northpoint City in just 10 minutes. While it is an unsheltered walk, there could be worse places to cut through than a park!
So while the jump of over $100K for the 4 and 5-room flats does seem like a hefty premium to stay in this DBSS as compared to the newer BTOs around, it does have its reasons. Buyers shouldn't be too worried about "overpaying" at the current market price.
But if you aren't particular about having outdoor space, or if you're the type that likes to leave your curtain closed and turn the air con on all day, or if you drive, then perhaps it would make more sense to pay less for one of the newer BTOs.
While I can't predict how prices would move in the future, I do not think that the DBSS-HDB gap would close here. Adora Green has good views that don't look like they would go away anytime. There are also only that many HDBs in Singapore with large balcony spaces. More importantly, Adora Green hasn't been tainted by any workmanship issues and the development so far looks quite well-maintained!
Adora Green Layout Analysis
3-Room Flat (93/90 sqm)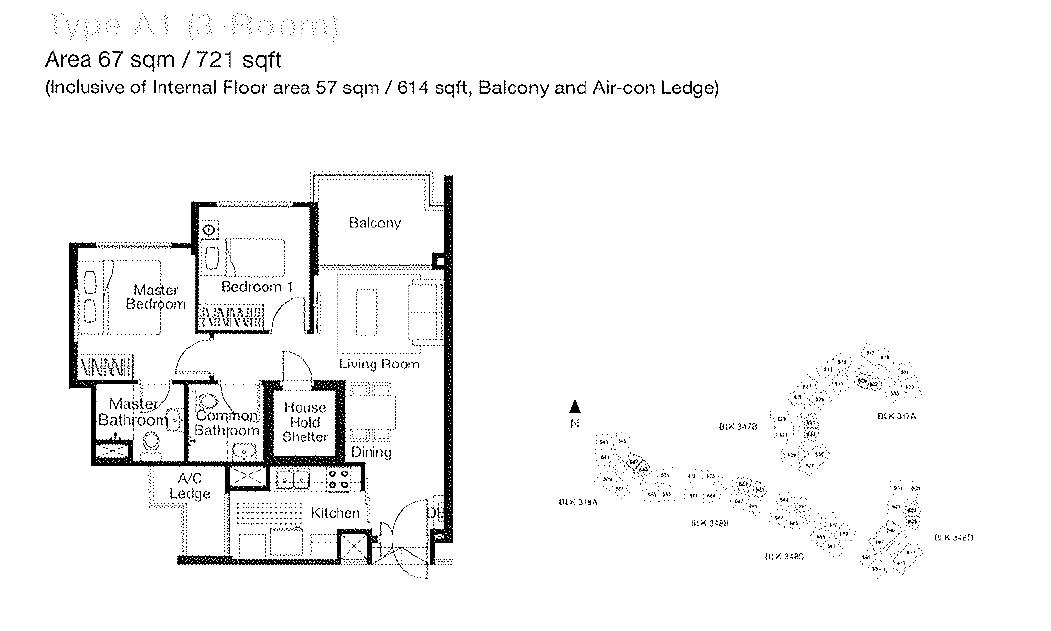 | | |
| --- | --- |
| Pros | Cons |
| A double-sided kitchen allows for cabinets to be built on both sides | Narrow TV wall limits TV placement |
| Large balcony great for those who like outdoor living space | Small living and dining room |
| | Bedrooms are small in general |
| | No proper service yard |
| | Generally big AC ledge |
4-Room Flat (93/90 sqm)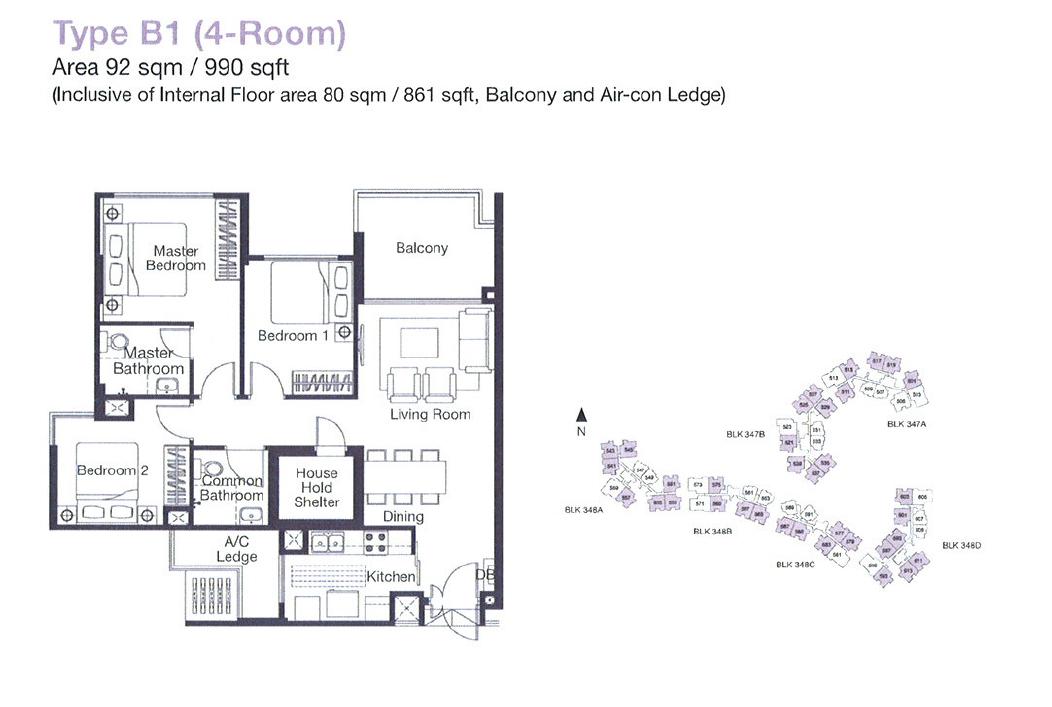 | | |
| --- | --- |
| Pros | Cons |
| A double-sided kitchen allows for cabinets to be built on both sides | Narrow TV wall limits TV placement |
| Large balcony great for those who like outdoor living space | No proper service yard |
| All bedrooms can generally fit a queen-sized bed | Generally big AC ledge |
5-Room Flat (113/110 sqm)
| | |
| --- | --- |
| Pros | Cons |
| A double-sided kitchen allows for cabinets to be built on both sides | No proper service yard |
| Decent balcony space for those who like outdoor living | Generally big AC ledge |
| Balcony in bedroom is unique (Type C1) | 4th common bedroom is tiny |
| Great wardrobe length in master bedroom (Type C2) | |
Our Take
Adora Green is one of the "furthest" DBSS project I've reviewed so far, but where it lacks in the location department, it makes up for it with its other tangible attributes.
First, the car park is integrated with the rest of the blocks, making it easy for drivers to reach their block.
Second, there are good amounts of open spaces given the way the blocks are laid out.
Third, there is an ample amount of facilities here – 2 playgrounds, a swing set and several fitness equipment.
In terms of facing, many of the stacks have an unblocked greenery view towards the park, pond and the primary school on the east side. It's also close to two parks as well as the park connector.
As for amenities, residents can just head down to an eating house, a minimart and a clinic. Those looking for greater variety will find Yishun Park Hawker Centre just around a 6-minute walk away.
Residents can also walk to SAFRA Yishun where there's a swimming pool, recreational activities and eateries there for families. Khoo Teck Puat Hospital is also within a 10-12 minute walk away.
And when it comes to layout, Adora Green does come with a decent size for a 4-room and 5-room flat. The 5-room flat also comes with a 4th bedroom which can be very practical for families, though it must be said that the 4th bedroom is really small.
One downside is the common corridor which I find to be quite narrow. However, each unit does have a recess, so there's still space for a small shoe rack. More importantly, the gates here do not clash, and this really isn't much of an issue if you do find a good corner unit.
Given all these factors, Adora Green seems to be a very decent DBSS for those looking for an affordable home with ample outdoor space. The only issue is the location – Yishun is far away from most places (which explains the price). However, for those who drive, this may not be much of a problem as there is an ample number of season parking lots here.
Those just considering a Yishun HDB and do not really care for the layout may find the more affordable, newer HDBs in the estate more enticing. However, I do think that Adora Green would be able to hold its resale value better given it's really one of a kind in the estate.
What this means for you
You might like Adora Green if you:
• Want an unblocked view:

It's surrounding by 2 parks and a low-rise school on the west, south and east side. On the north side, there's a good drainage buffer below the low-rise HDB opposite.

• Want decent amenities in a non-mature estate:

It has commercial units within the development and a hawker centre just a couple of minutes walk away. Moreover, you can walk to Northpoint City within 10-12 minutes, as well as SAFRA Yishun.
You may not like Adora Green if you:
• Want to be close to an MRT:

It's not within walking distance to one, and there won't be any upcoming MRT stations here to look forward to either.

• Prefer indoor living space:

As with all other DBSS, the balcony takes up quite a lot of space here. Those who do not like outdoor living spaces like this shouldn't look at Adora Green.
End of Review