Advice
Will One Pearl Bank, Kopar, Amber Park, Or The Avenir Be A Better Choice For A 3/4 Bedroom Unit For A Family?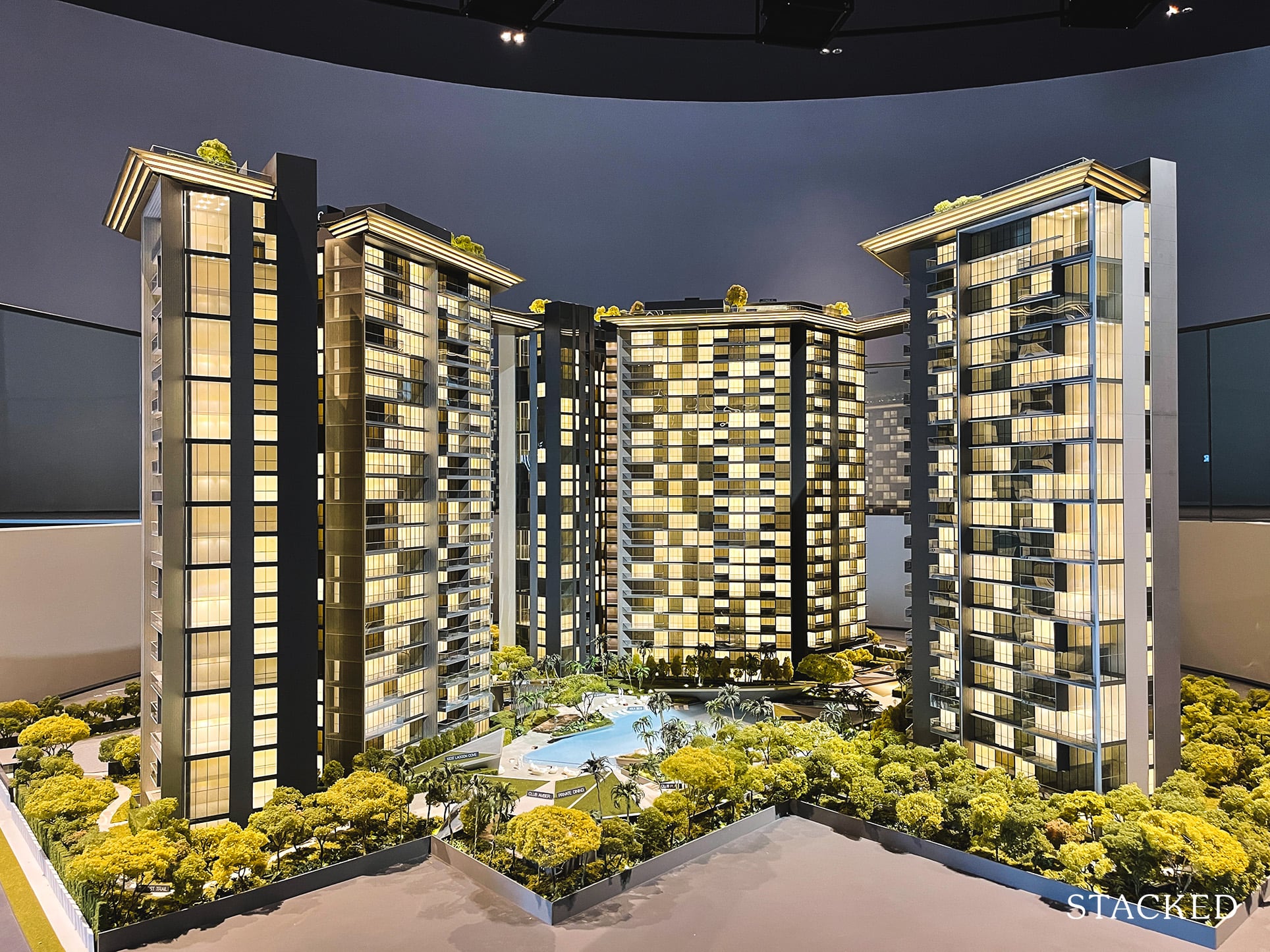 18
min read
Hi there,
Thanks for your message. Info especially condo reviews on your website are very informative and useful. This helps in selection and decision-making. Currently, I'm exploring 4BR in Kopar, One Pearl Bank, and Amber Park, and 3BR in The Avenir. I want to live in a quiet and nice residential enclave with appreciation potential.
Your review on Kopar is good but not sure about traffic noise at Stack 10 (4BR on high floors 20 and above). I went to the site a few times but was unable to estimate the level of traffic noise these units will experience. Any advice would be greatly appreciated.
One Pearl Bank is a good development but lacks a residential neighbourhood. This will give feelings of living in isolation. What is your opinion on this?
Amber Park in general lacks a sea view (even from high floors) usually expected living on East Coast. Air quality on the East Coast near ECP and sea may not be very clean due to heavy land, sea, and air traffic pollution. Seems not a good choice?
The Avenir 3BR layout is good but I think it's overpriced. What is your opinion?
Look forward to your opinion. This will help in my decision-making.
---
Hey there,
Thank you for writing to us and thanks for sharing with us in detail your intended purchase. To be sure, it is a tough choice between the four developments that you have shortlisted here as they are all very different and offer very different pros and cons to consider.
From what you've mentioned, I'm sure that you've seen all our reviews on these developments, but for the sake of those who haven't – we've reviewed Kopar at Newton, One Pearl Bank, Amber Park, and The Avenir.
Do note though, that the market has changed since some of them were written, so some of the comparisons with regard to pricing may have changed.
Let's start with Kopar at Newton.
Kopar at Newton
With a land size of 125,326 square feet, the developer has managed to maximise the triangular land plot and has worked around it to develop a 378 units development. In today's environment, 378 units is a good size, where the development would probably not be as overcrowded, and yet still have enough units to have a good range of facilities. Kopar does provide that with a full range of facilities including lawn space, and social spaces for hosting, and they have even fit in a tennis court; a rarity in today's new launches.
In terms of location, Kopar at Newton is located within walking distance to Dual-line Newton MRT station and it is just right across the street from the famous Newton Food Centre for local food fairs. Although as you have mentioned, because of its location that flanks along the major Bukit Timah Road, stacks facing Newton Flyover will face traffic noise directly which includes the 4 bedder Stack 10 you are looking at – but to be fair, there is a buffer of approximately 65m between Stack 10 and the major road. Still, we can't deny that Kopar at Newton as a whole will indirectly face some traffic noise. It's a consequence of any development that is deemed convenient, and will always be a trade-off to consider.
On a good note, It does have great road connectivity to major roads and expressways – and is in close proximity to the city.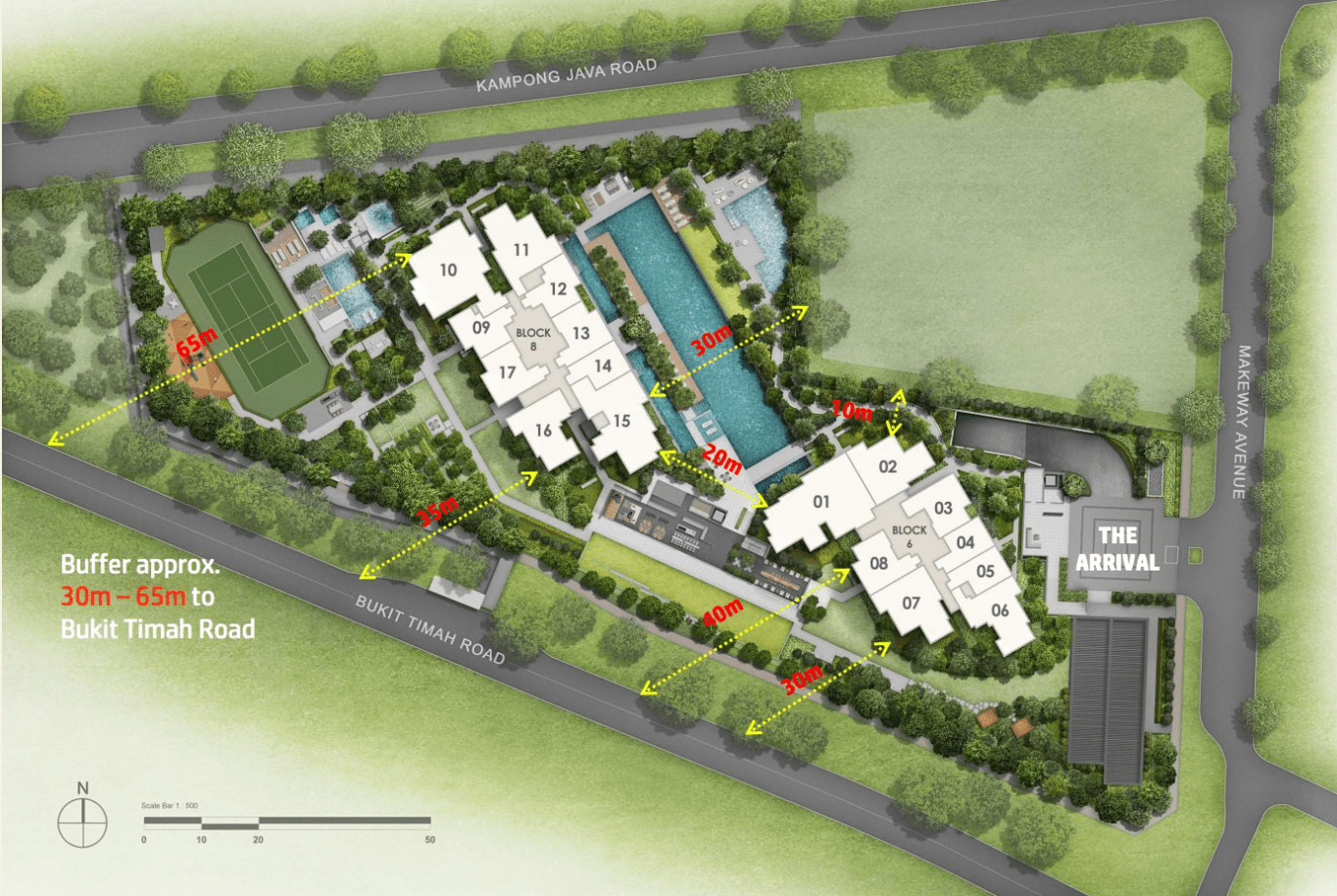 Do also take note that Kopar at Newton is a leasehold development located in an area dominated by freehold resale options. With its current average of $2,4xx PSF, its pricing has now reached a stage where you are looking to trade at a premium with the neighbouring developments in terms of PSF.
On another note, do also take note of the overall price quantum as an older resale with a less efficient layout may likely cost more while Kopar at Newton with a squarish unit layout and newer facilities could still be a better bet when it comes to future exit, especially for an efficient and spacious unit size with the provision of a private lift at a quantum of below $3.8m.
Though proximity to schools is not on your list, we do want to share that Kopar @ Newton is located within the 1 km proximity to two highly sought Primary Schools, namely; Anglo-Chinese School (Junior) and St. Joseph's Institution Junior thus we do foresee Kopar @ Newton to remain attractive, especially among families with school-going children that are on a lookout for a newer resale development within the school radius in the future.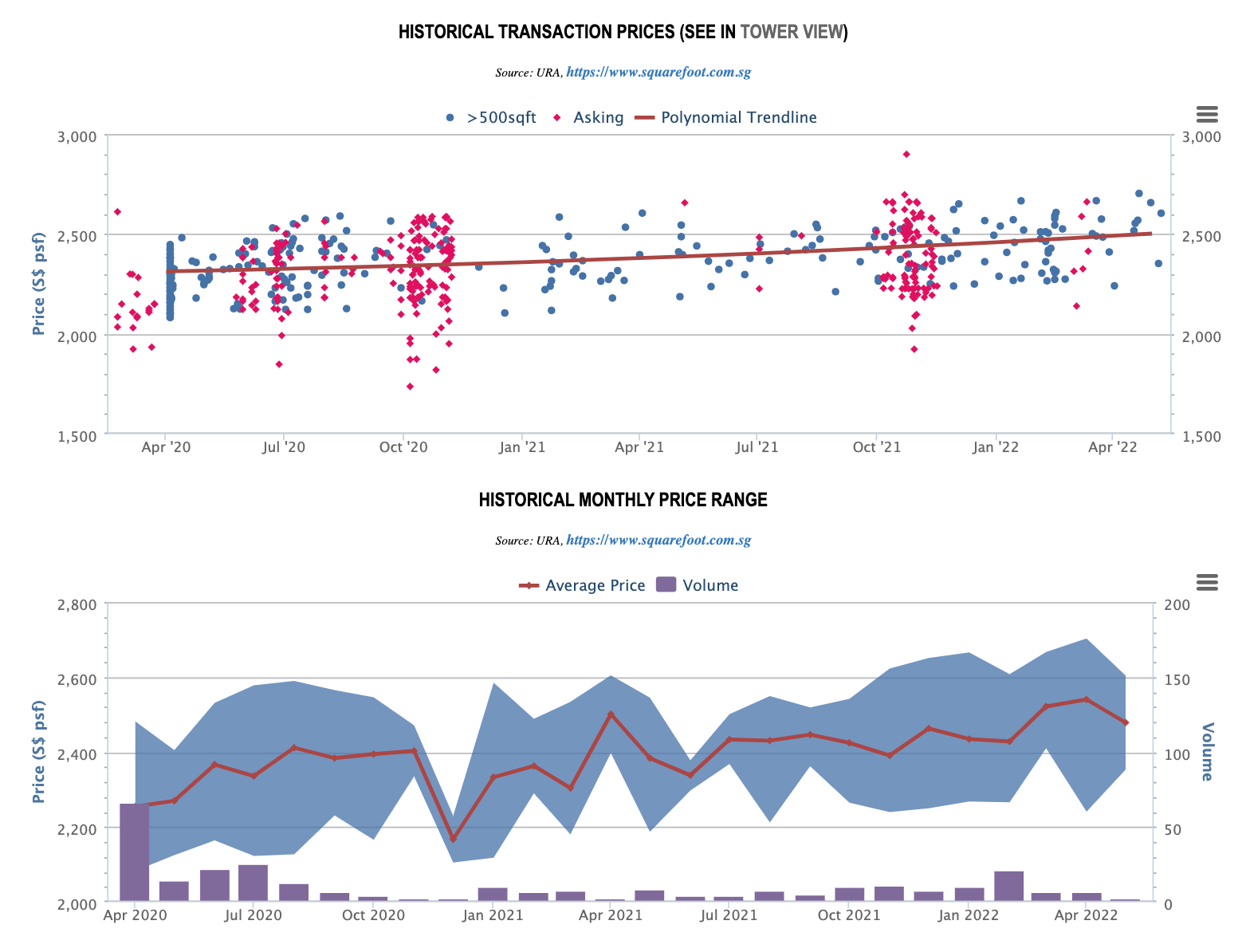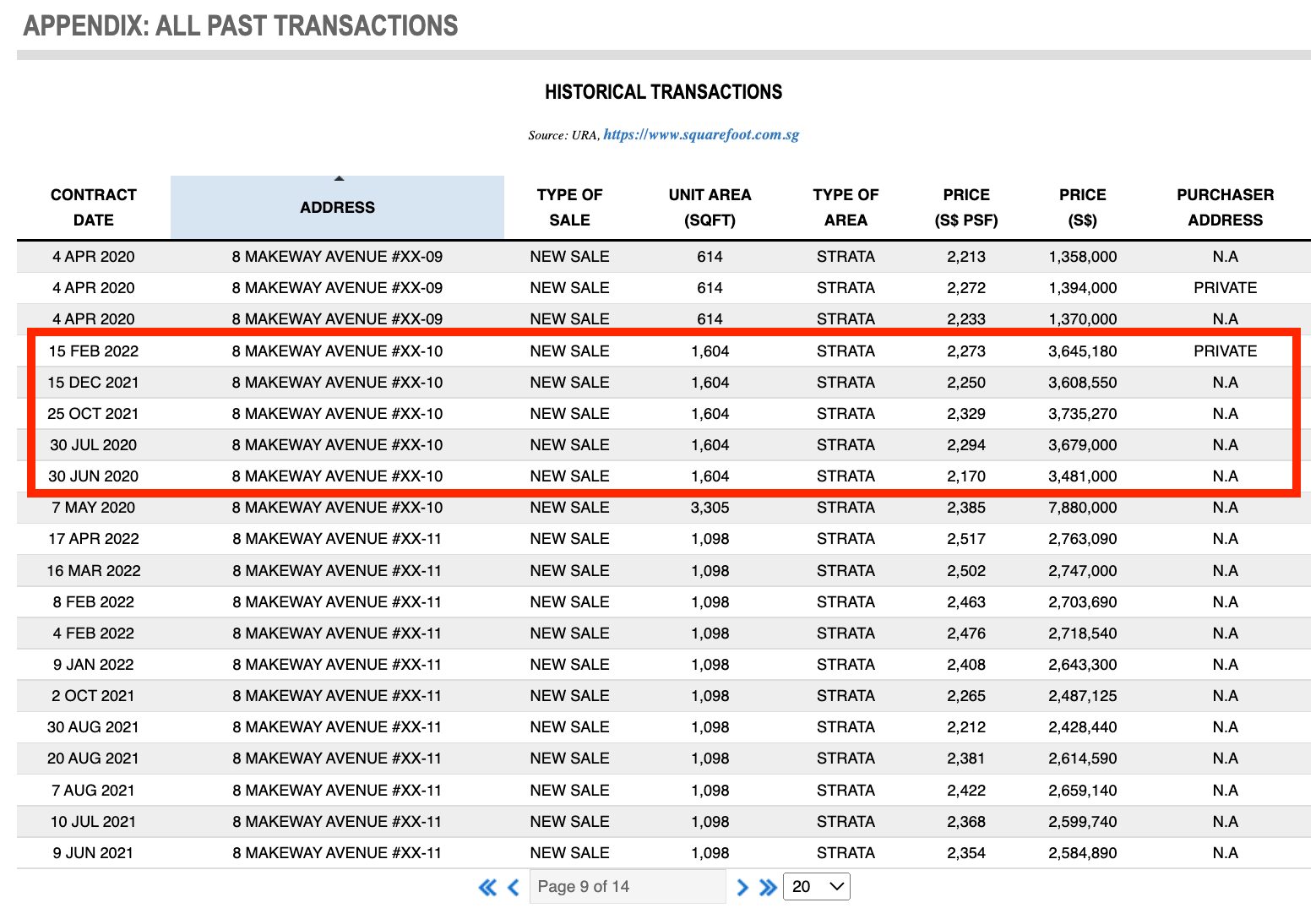 Layout Analysis: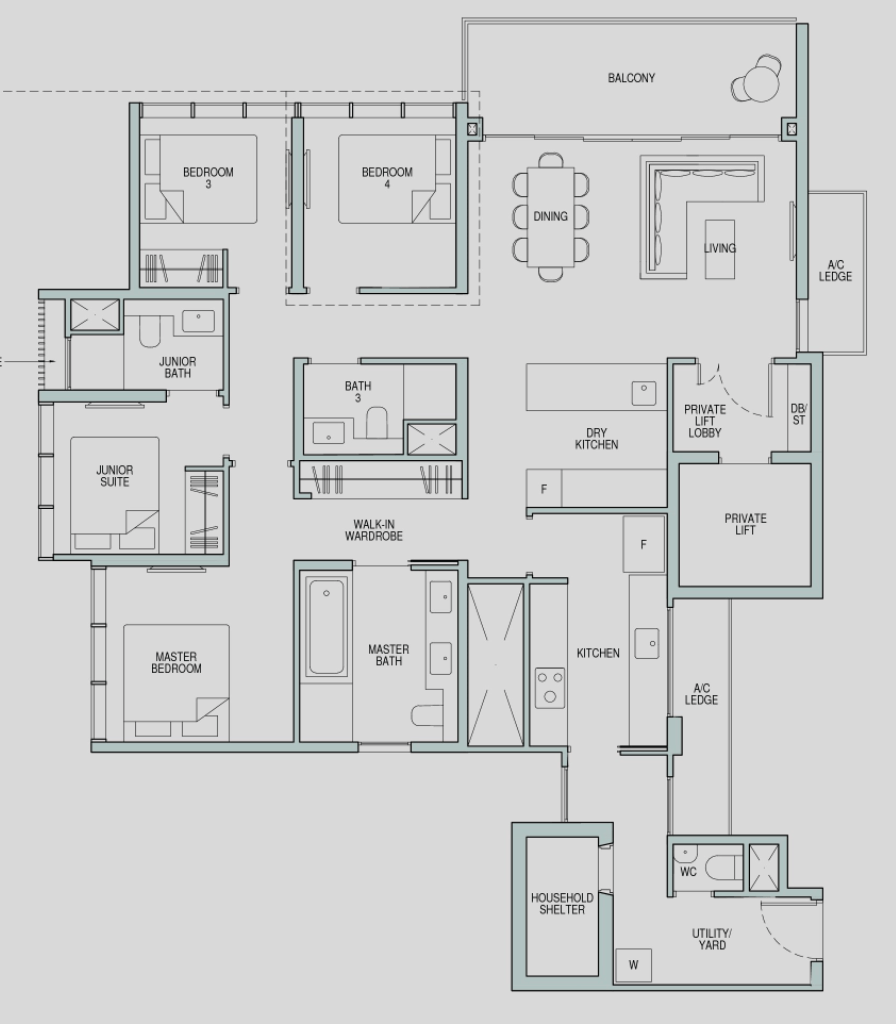 At 1,604 sq ft, it is a good-sized 4 bedder unit especially with the provision of a Private lift configuration, giving a luxurious feeling as you enter your unit. Once you step in, the unit opens up to a decent size horizontal layout which is great for natural light. It has an extensive kitchen with a dry and wet kitchen setup – which is good for gatherings or for those that love to cook. The unit also comes with an in-unit household shelter which could be used for storage or pantry area, but for the family types that would be staying here, this would more likely be used as a room for your helper.
Additionally, we do like the junior suite addition, although it would have been better in a dumbbell layout for privacy concerns. Finally, the master bedroom comes in spacious with his and hers vanity set added with both shower and bathtub, a great space for couples to unwind after a long day. Do note though that the common bathroom situated in the middle will have no natural ventilation point at all.
One Pearl Bank
With its unique design facade and architecture, One Pearl Bank will certainly be the new landmark in the Outram Park vicinity. With a small land size of 82,376 square feet and challenged with hilly terrain, the developer and Architect have done a great job of instilling the old arc shape design and incorporating it into the new development. We must say that it is pretty dense though, especially with the number of units in the new development with 774 units as compared to the previous tower with just 272 units. Even so, it used to be the tallest and densest residential building back in the 70s.
As the development is located in an upslope terrain (and nearly enveloped by Pearl's Hill City Park), it ticks your criteria for quietness yet within close proximity to various amenities, the CBD, and has great connectivity for both public and private transport links. It offers a decent range of facilities and we personally like the sky terraces located on levels 14, 18 and 39 where residents could enjoy the panoramic cityscape.
Due to its unique design, the layout here may be less efficient though spacious in terms of square footage. The "Pizza" layout comes with lots of wasted walkway space and planter boxes. Hence, one has to work around the area to suit your lifestyle needs. Price-wise, it has risen over the years to $2,5xx PSF. Additionally, we do want to point out that One Pearl Bank is an investor-focused project with a higher number of Studio, One Bedder, and Two Bedder unit type which makes up close to 77% of units here. Typically, projects that are geared towards rental tend to have lesser staying power as investors that have made their money from rent are more inclined to let go of the property at a loss if they have identified better opportunities elsewhere.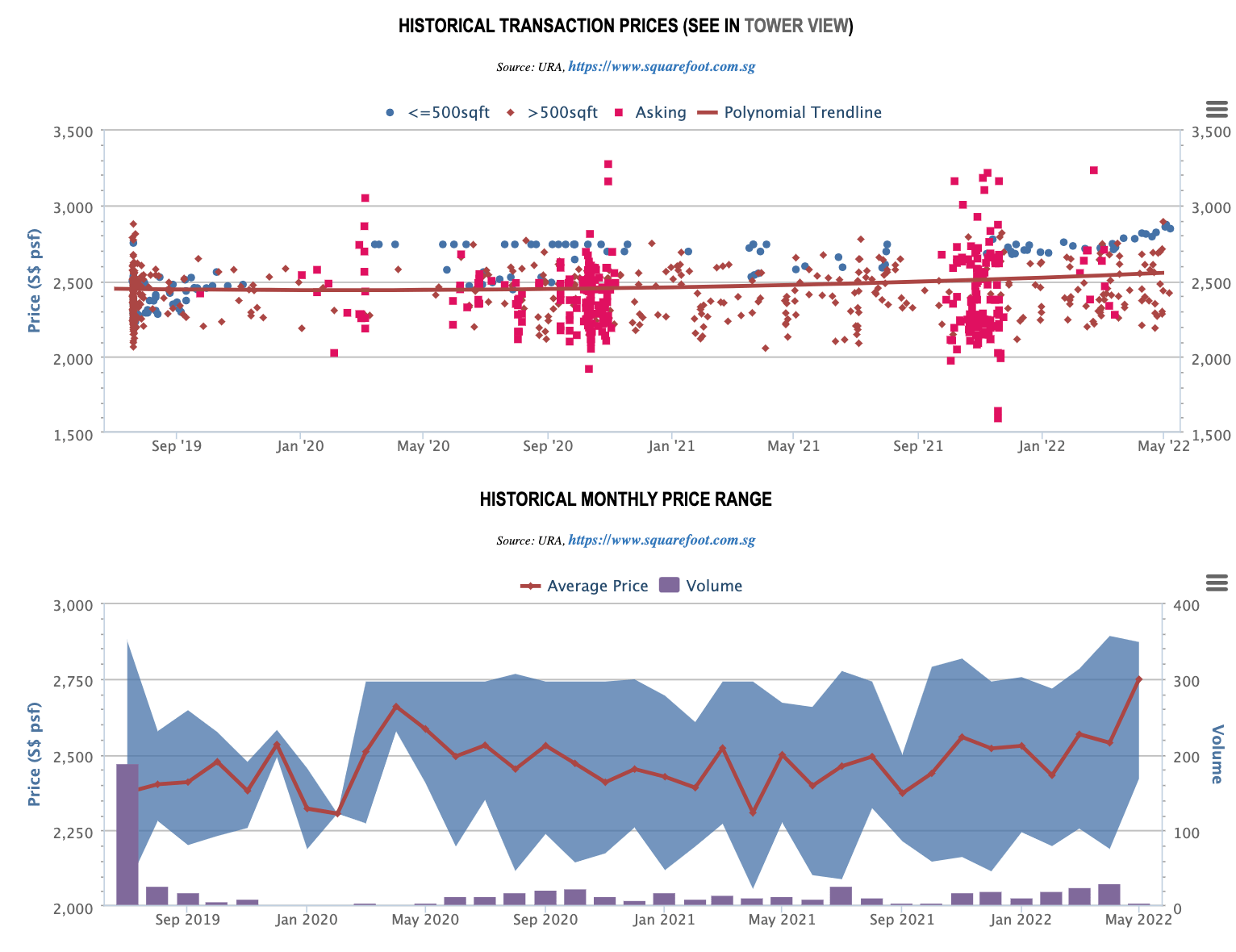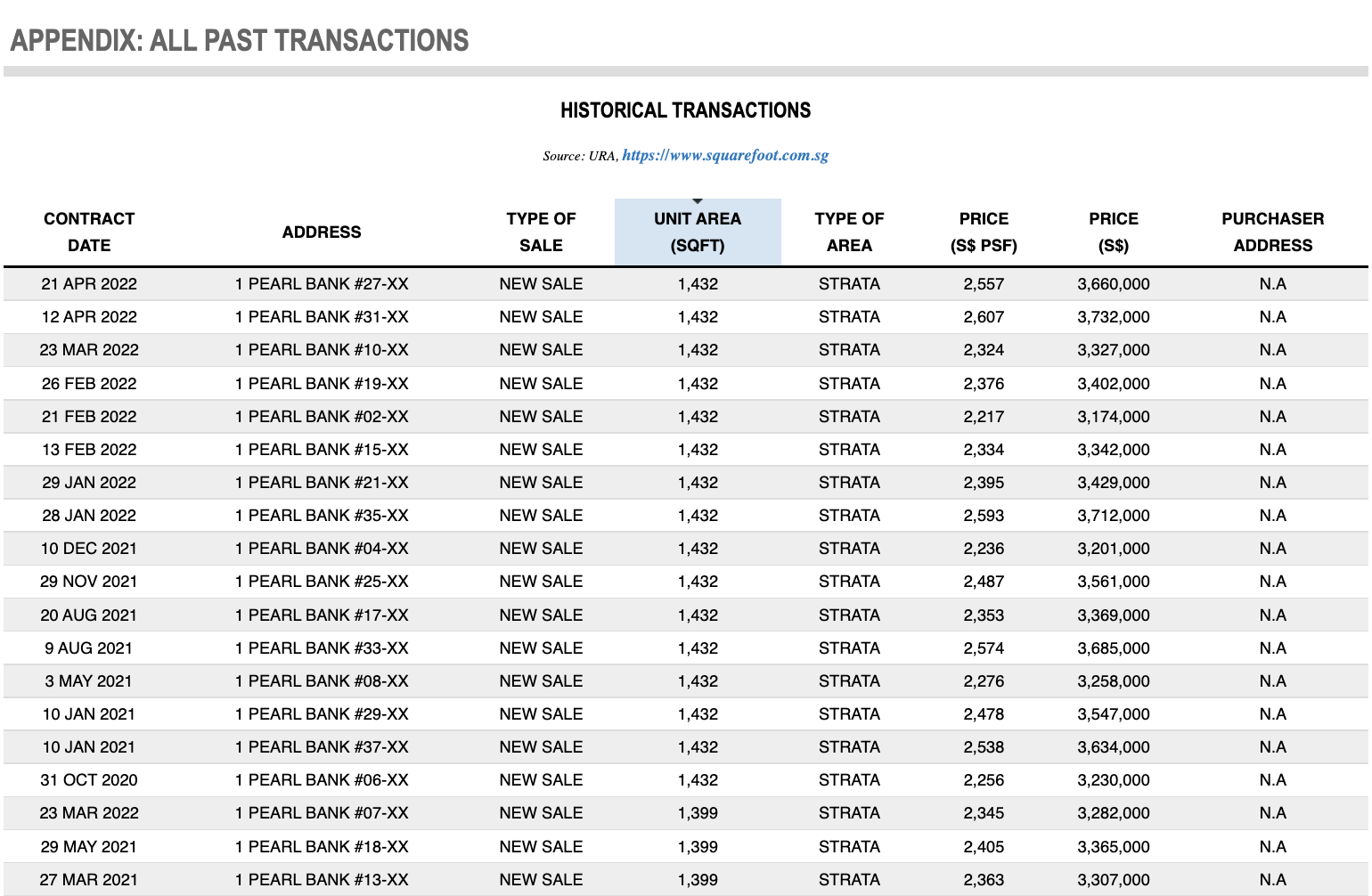 Layout Analysis: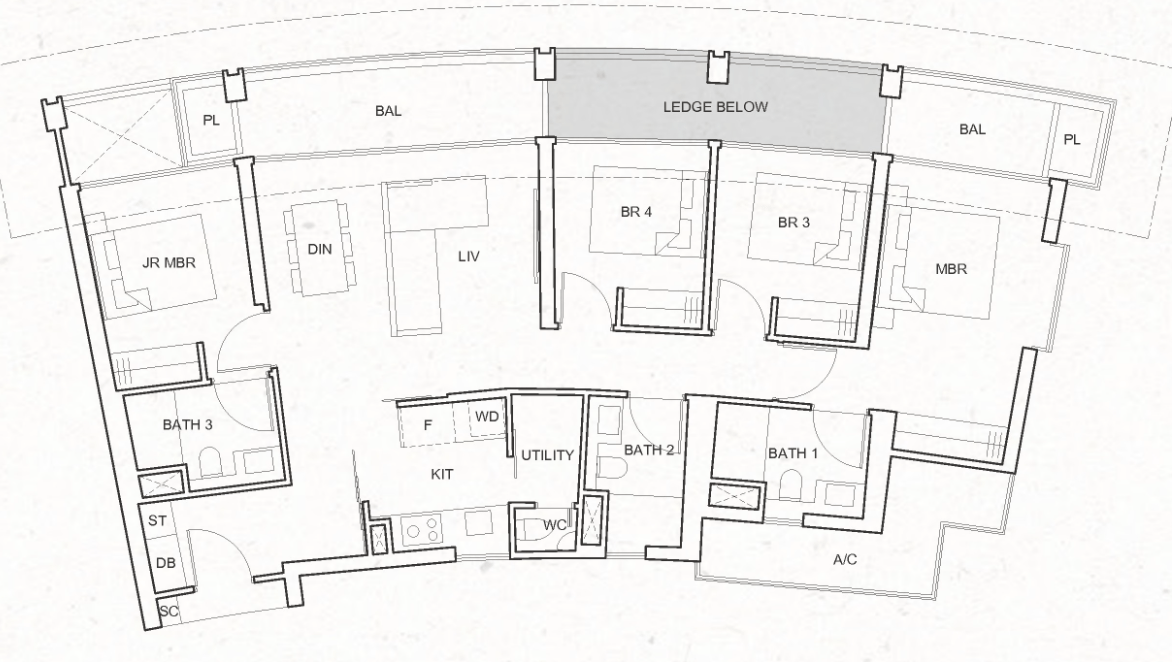 At 1,432 sq ft/1,399 sq ft (depending on floors), the 4 bedder unit comes in a dumbbell set-up. Due to its unique architecture, it comes at the expense of an irregular "Pizza" shape layout – but you aren't going to feel the curvature as much as some of the smaller units. We do like that the Junior Master bedroom is located on the other side of the unit, as this is a great set-up for a multi-generation family where grandparents could get their personal space on one side of the house (although this is also the only bathroom with no natural ventilation).
The entrance foyer opens up to a foyer area which does provide a little privacy. We do like that the developer has set up a neatly tucked DB box and storage cabinet right behind the main door. For a 4 bedder unit which caters to larger families, we must say that the kitchen area is on the smaller side and not as ideal. There's also a very obvious lack of a yard space, although you do have a utility plus WC for your helper.
From an aesthetic standpoint, the planters with plants do help soften the look of the building from the outside. But practically, we think most buyers would rather do without. With a double balcony here though, it is great if you are one that values outdoor space if not, some people would see it as a point against a unit that already doesn't rank very high in its practical aspects. Since it does lack a proper yard area, the balcony space will likely double as a laundry drying corner too.
Amber Park
Spanning over 213,676 square feet, Amber Park is a new redevelopment developed by the previous developer, CDL. Out of the 4 developments you've picked, Amber Park is arguably the most stunning (some might say One Pearl Bank), especially with that 32,500 square feet rooftop deck perched on the 22nd floor of the development that connects all 3 blocks. From this height, the 600m jogging track, gym, spa pool, and lounge areas will offer wonderful views of the city and sea for those who love to exercise.
With 592 units, it isn't what you'd consider overly crowded today, but it is surprising to see that there isn't a tennis court here considering the competition in the area.
Location wise, it is located one bus stop away from Parkway Parade for amenities or a 5 minutes walk to Katong Shopping Centre for basic needs. It is also within walking distance to the upcoming TEL Tanjong Katong MRT station which will improve the connectivity in the area in the upcoming years.
CDL has also provided great quality fittings and fixtures which adds to its lux feeling. Price-wise, at $2,5xx psf, undeniably, it is on the higher side as compared to the resale counterparts in its direct vicinity. However, if it is based on the total quantum, for less than $3.5m, you could potentially get a 4+Study unit here though we are not a fan of the overly large balcony here. Just to add, certain stacks may also likely get a pocket sea view from the unit – so do check carefully.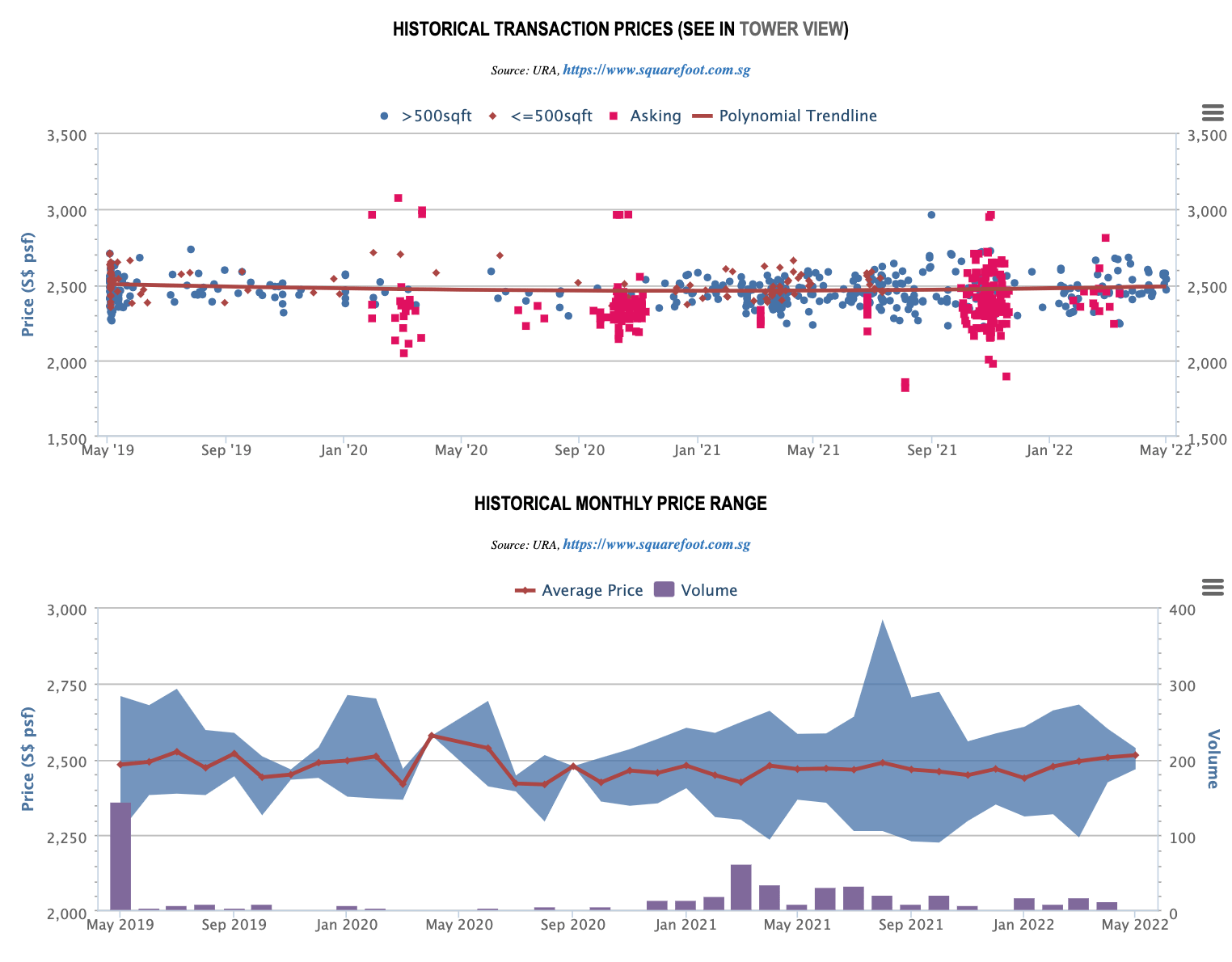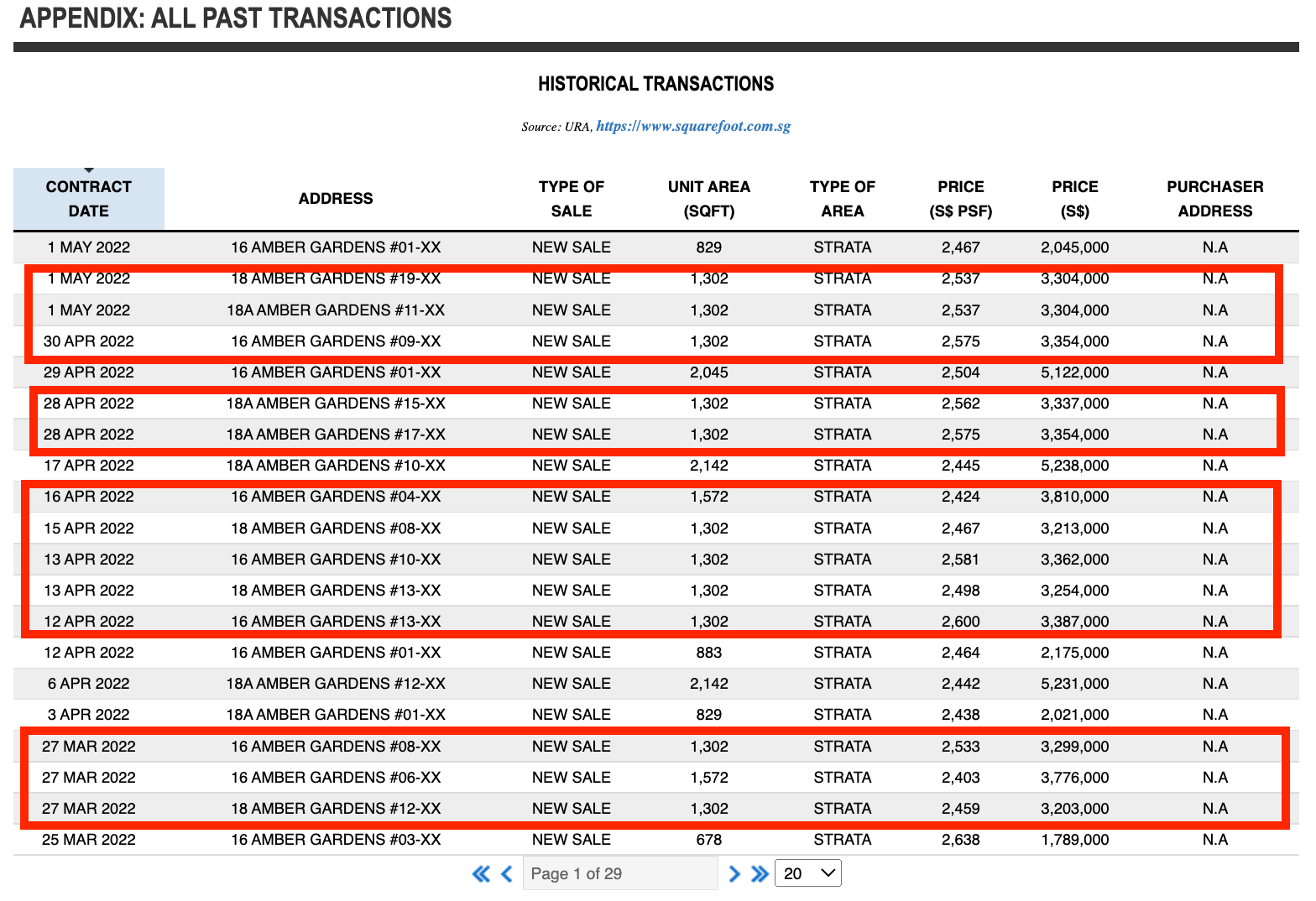 Layout Analysis: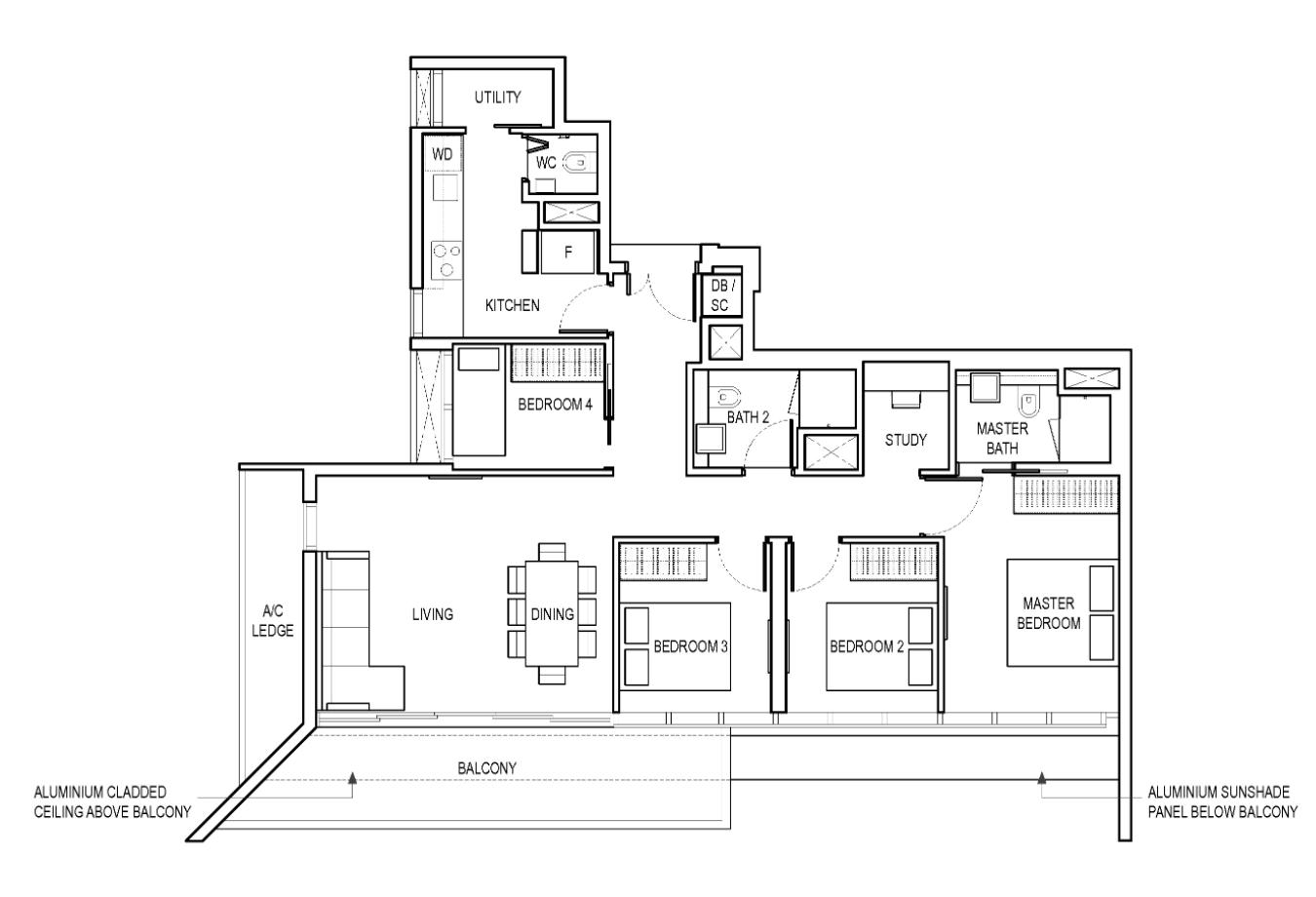 At 1,302 sq ft, the 4+Study is decent in size on paper, but perhaps not a layout that is very practical. The unit opens up to a long walkway entrance which does take up space but provides a greater sense of privacy.
The kitchen entrance is located right by the main entrance, it is an enclosed kitchen though we must say that the kitchen is on the smaller side for a 4 bedder unit especially since the target market here is for family own stay profiles. Nevertheless, we are amazed that the developer has managed to squeeze a utility and WC into the kitchen space. This is great for storage purposes or to house a helper.
We do like the horizontal living and dining layout which allows for more natural light and ventilation in the unit. With the neatly tucked study area, it is a great set-up, especially for WFH/HBL arrangements.
However, the unit comes with a long bedroom and entrance walkway, an overly large A/C ledge (although it is neatly tucked away), and perhaps too much balcony space. The bedrooms are also on the smaller side – especially the size of bedroom 4 which can only fit a single bed. Additionally, all bathrooms lack ventilation windows which is a common design trait in a 4 bedder unit mix but not found here. The unit also lacks a proper yard area for laundry, hence the balcony area has to double up as a laundry corner too.
The Avenir
With a total land area of 129,648 square feet, The Avenir offers luxury living in the upscale River Valley enclave, an area popular among ex-pats. For a 376 units development, there is an extensive range of facilities here including four swimming pools, a great lawn, concierge service, and a tennis court with the addition of roof gardens located on the rooftop of individual blocks; where residents could enjoy the skyline of Singapore. Unit sizes are larger as compared to recent new launches, but are in keeping with its upscale status. In terms of location, The Avenir is located in close proximity to Great World City for retail options and minutes away from the Orchard shopping belt and CBD. Connectivity will improve further with the opening of the TEL Great World MRT station slated to open sometime this year.
Personally, we do like the 3 and 4 bedder unit layouts which are practical for family profiles. Price-wise, at $3,1xx PSF, it is on the higher side as compared to the older resale developments in the area. To be fair, with the quality of fittings and fixtures provided here added with the extensive range of facilities, it's hard to see the prices change much here given the nearby Martin Modern, an "older" leasehold property already trading at $2,7xx PSF. Quantum-wise, for a $3.xx m budget, you could potentially purchase the 1,141 sq ft 3 bedder unit here. Do also be mindful of the higher maintenance fees as this is a luxury development after all.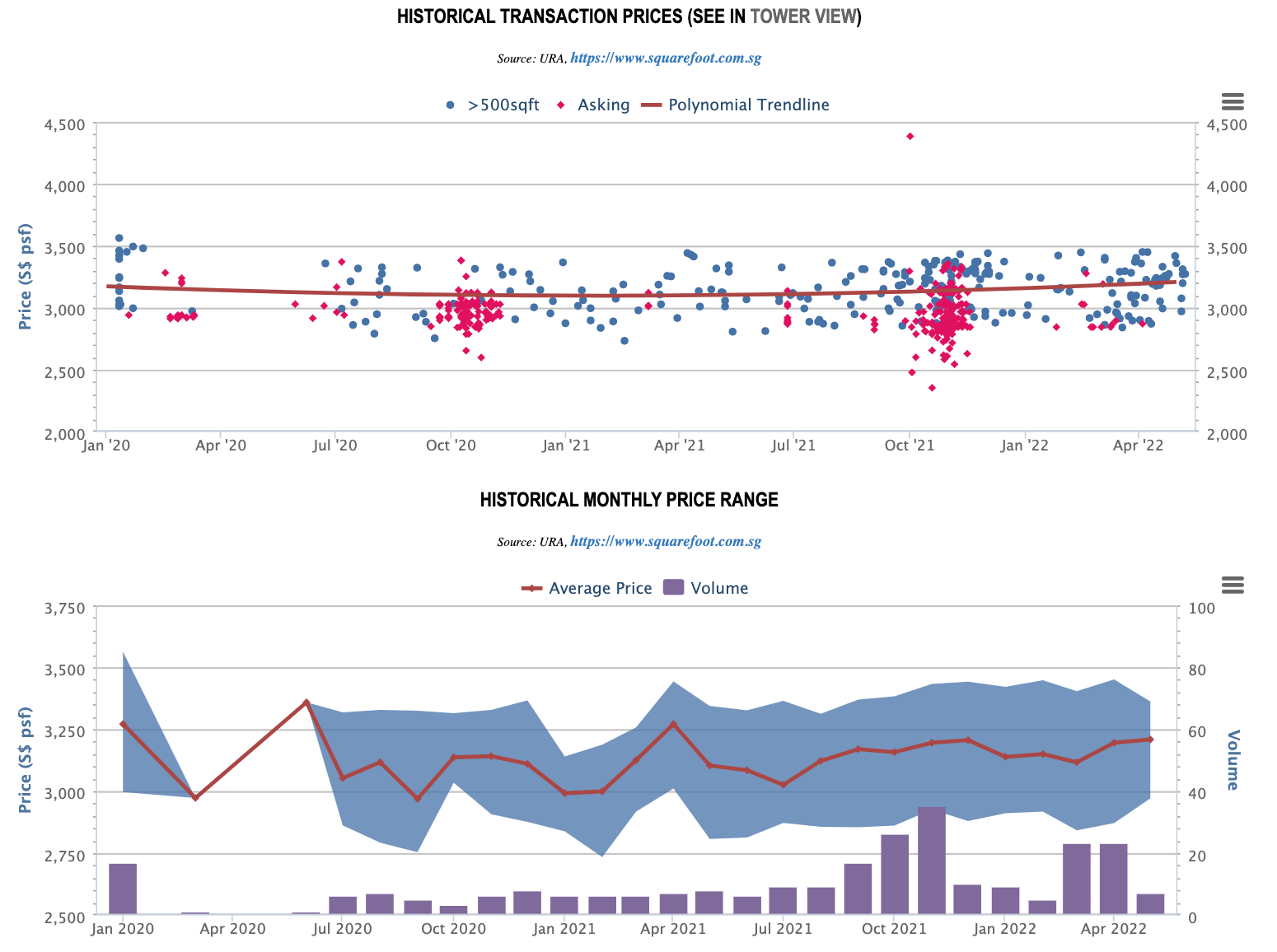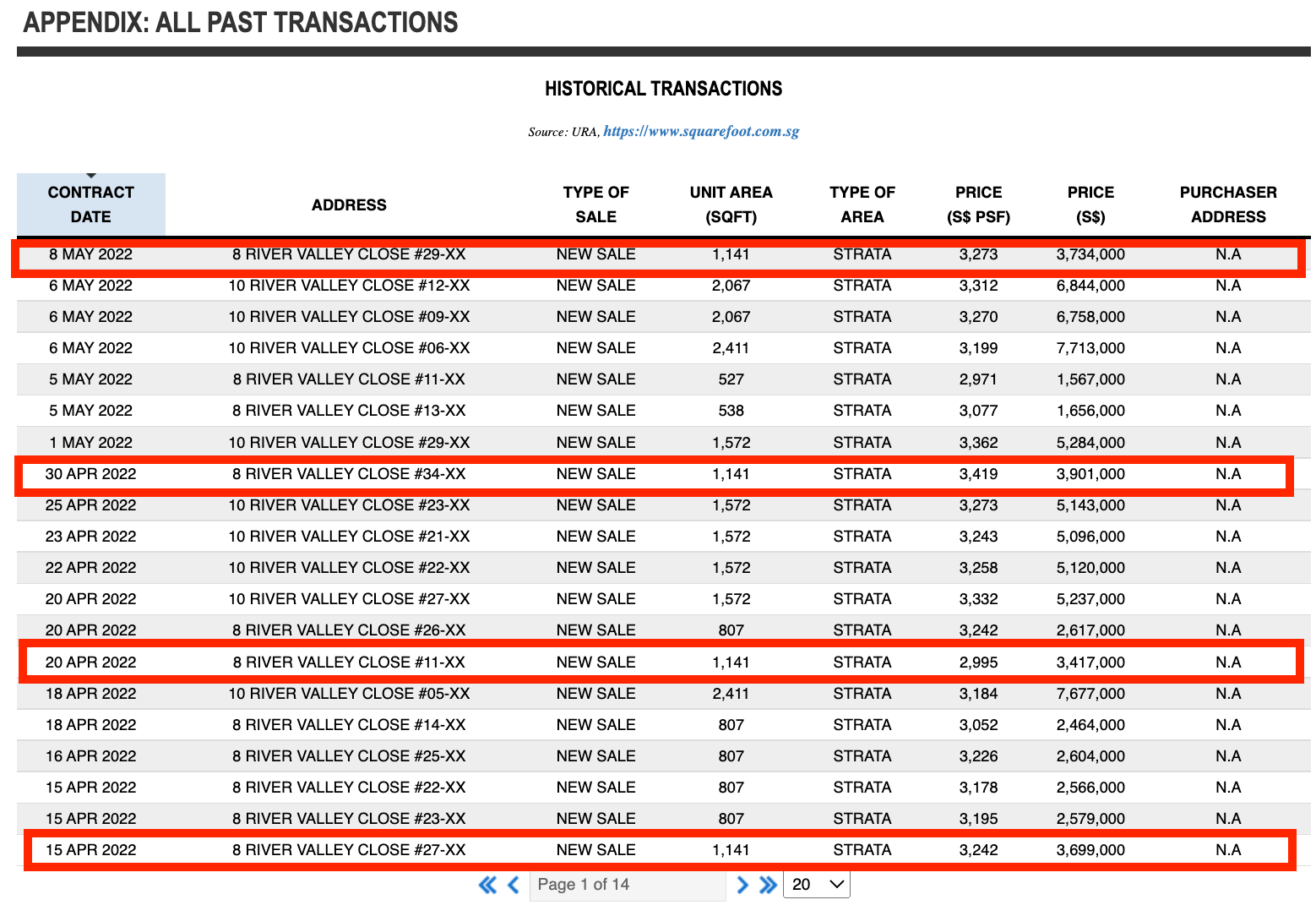 Layout Analysis: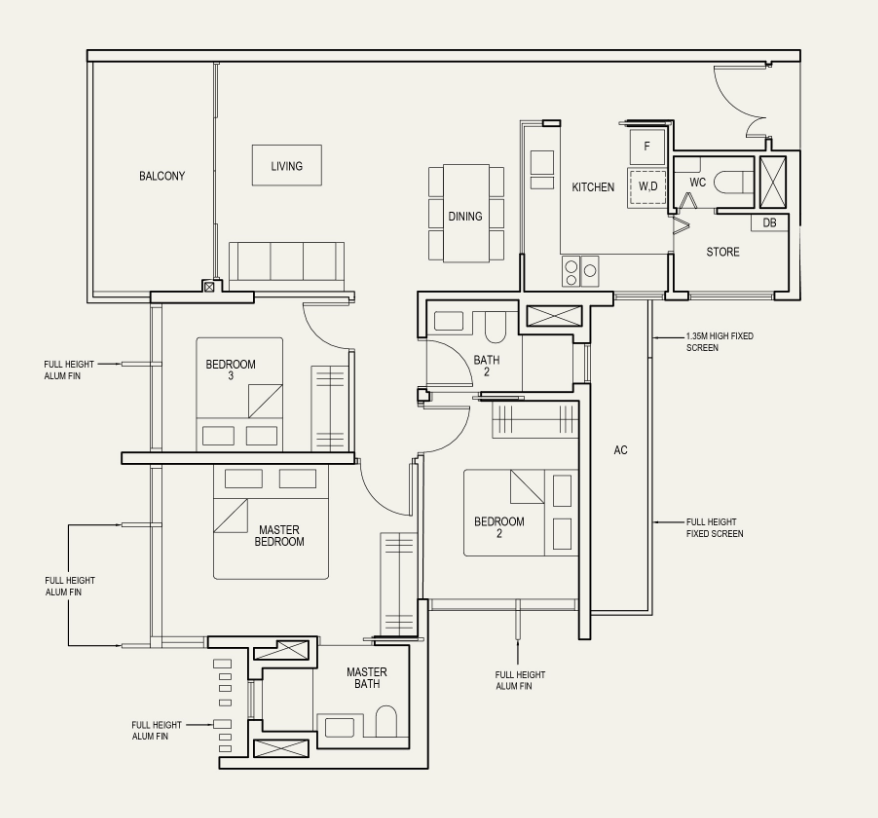 At 1,141 sq ft, it is a practical layout, especially for family profiles. An efficient and squarish unit layout with good size bedrooms is a safe layout all in all.
The main door opens to a small foyer which provides some privacy before entering the enclosed kitchen area with a good length of countertop space added with a storeroom and WC, which could be used as storage space/pantry or for a helper to sleep in. The unit's wide living and dining area indirectly make the whole area look spacious and welcoming. The unit comes with good sized bedrooms and we do like the provision of a jack & jill common bathroom here; as it is efficient and effectively makes one of the bedrooms an "ensuite". Additionally, both bathrooms, kitchen, and storeroom come with ventilation window panels which is great for natural ventilation.
Conclusion:
As you can see, each option is very different and it is really a tough one to compare as each has very unique strengths and weaknesses.
Also, all developments here are close to, if not more than 3/4 sold so you won't be buying at the best price points possible, and neither would you have the best pick of the bunch in terms of ideal units.
Personally, from a layout liveability standpoint, we would pick Kopar at Newton for its sheer unit size with the provision of a private lift unit configuration added with a good range of facilities at an attractive quantum. If starting a family is in the plans, the proximity to primary schools is a huge plus for Kopar @ Newton. And arguably, it does offer a better land to building ratio (70 over %) so facilities wise and layout this will be much preferred.
On another note, the amenities in the area may be a downside to some as the area lacks supermarkets and basic shops. The proximity to Newton Food Centre with a variety of local food options is all that the area has to offer. Arguably, more amenities options could be found in Orchard, Little India, and Novena which is just an MRT ride away.
In terms of value retention, the area is mostly built up with residential plots, mostly Freehold status. Kopar at Newton being a leasehold development among Freehold, one would wonder, how will Kopar at Newton; be a leasehold development fair in the future?
In this case, layout efficiency and price quantum do play an integral role in future proof exit strategies.
In today's new launches, unit sizes may have shrunk in terms of square footage however we are seeing a more efficient unit layout and fewer bay windows and planter boxes which were a common design trait a few years back. For its price point of less than $3.7m, you could get a good size 4 bedder unit with a great unit layout which can be considered more future proof when it comes to a future exit. The proximity to the two primary schools added with a Junior Master Suite configuration, these are huge selling point as it opens up to a wider group of buyers including larger families or multi-gen family profiles.
However, given your stance on a quiet residential neighbourhood, we must re-iterate that staying here does come at the expense of a huge compromise of possible traffic noise from the nearby Newton Flyover and Bukit Timah Road. You may like to check with the developer if double insulated window panels were used especially for stacks closer to the main road; this helps in minimising the noise level.
The Avenir will probably be our pick for a residential neighbourhood as it ticks the box for a quiet environment in an upscale area, that is popular among ex-pats and foreign buyers. It offers an extensive range of facilities which cater towards family own stay profile especially since there is larger unit type (3 & 4 bedders) in the development with its practical unit layout.
As this is a luxury development with good quality fixtures and fittings, the price may be on the higher side. For a price quantum of below $4m, you can only get a 3 bedder (1,141 sq ft) unit here as compared to a 4 bedder unit size in the other 3 developments mentioned.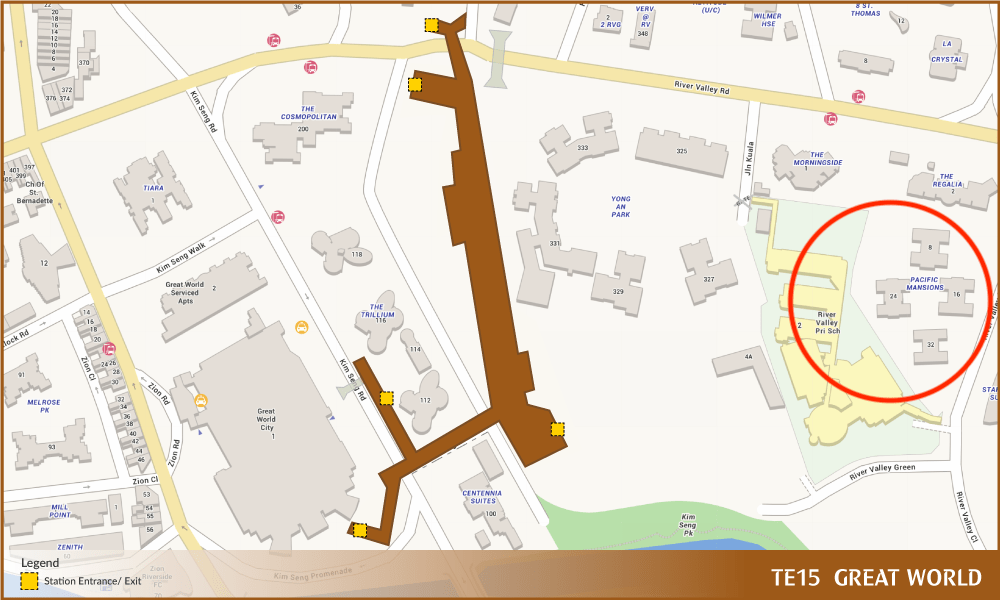 Amber Park may be a better bet for appreciation in the future for its sea view (certain stacks) and unique facilities, as the 32,500 sq ft sky terrace is a huge plus here. Depending on how well executed the project is, we can see that the final ready product may actually be quite attractive for its lifestyle benefits. And because the average prices haven't moved all too much here, you aren't buying at a more disadvantaged position as compared to something like Kopar at Newton.
That said, it does lose out in terms of its layout. At a price point of less than $4m, you could potentially get a 4+Study unit in Amber Park though we must say that we are not a huge fan of the layout here. It comes at a compromise of a tight kitchen area and a small common bedroom thus it caters to a smaller group of buyers. Amber Park marks your need for a quiet private enclave as it is located along a minor road, away from the main road and ECP. With its unique design and freehold status, we do foresee value retention in the long run.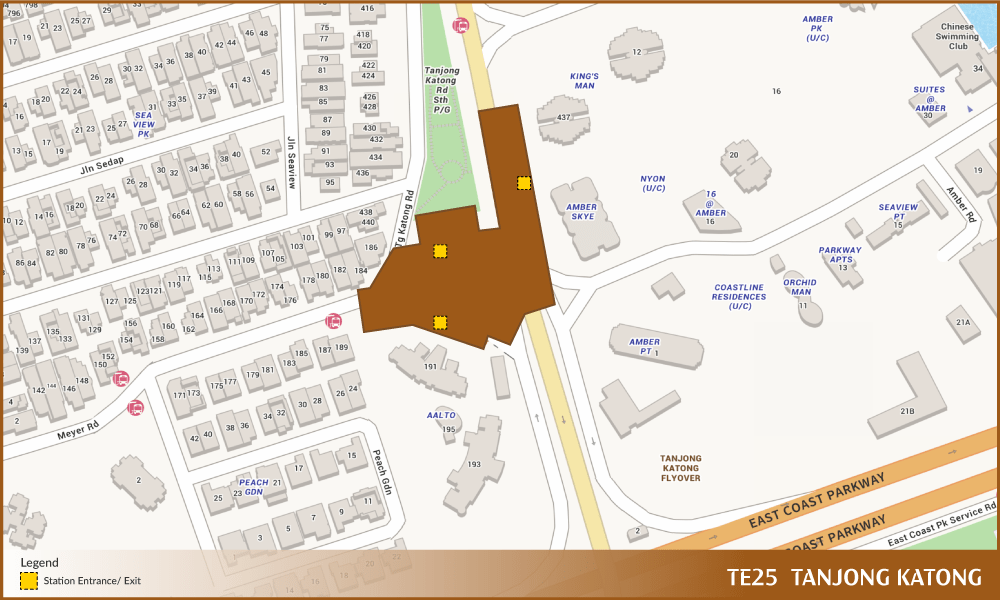 We could be wrong about your profile, but given you are looking at a 3/4 bedroom unit, it's likely that family own-stay is at the top of your mind. And on that note, One Pearl Bank is probably the least favoured option for us.
Although proximity to the CBD, unique architecture and connectivity to public transportation is a huge plus for One Pearl Bank, however the development fall short in terms of facilities offered and layout efficiency which is not as ideal for families with younger children. Unless you have an absolute need to stay close to the CBD for work, it probably doesn't tick as many of the boxes here for you.
To be fair, due to its unique design, the layout here is irregular hence it may not be the best deal, especially for a family own stay unit. We would also like to reiterate that One Pearl Bank caters to investors with the higher number of Studio, One Bedder, and Two Bedder unit type which makes up close to 77% of units here.
On another note, based on the recent master plan, Pearl's Hill enclave will see more residential developments added into the area in the next few years.
This will in return add to the competition when it comes to future exit but on the flip side, it could raise the prices of resale developments around – but all this would depend on the supply and future offerings by developers in the future.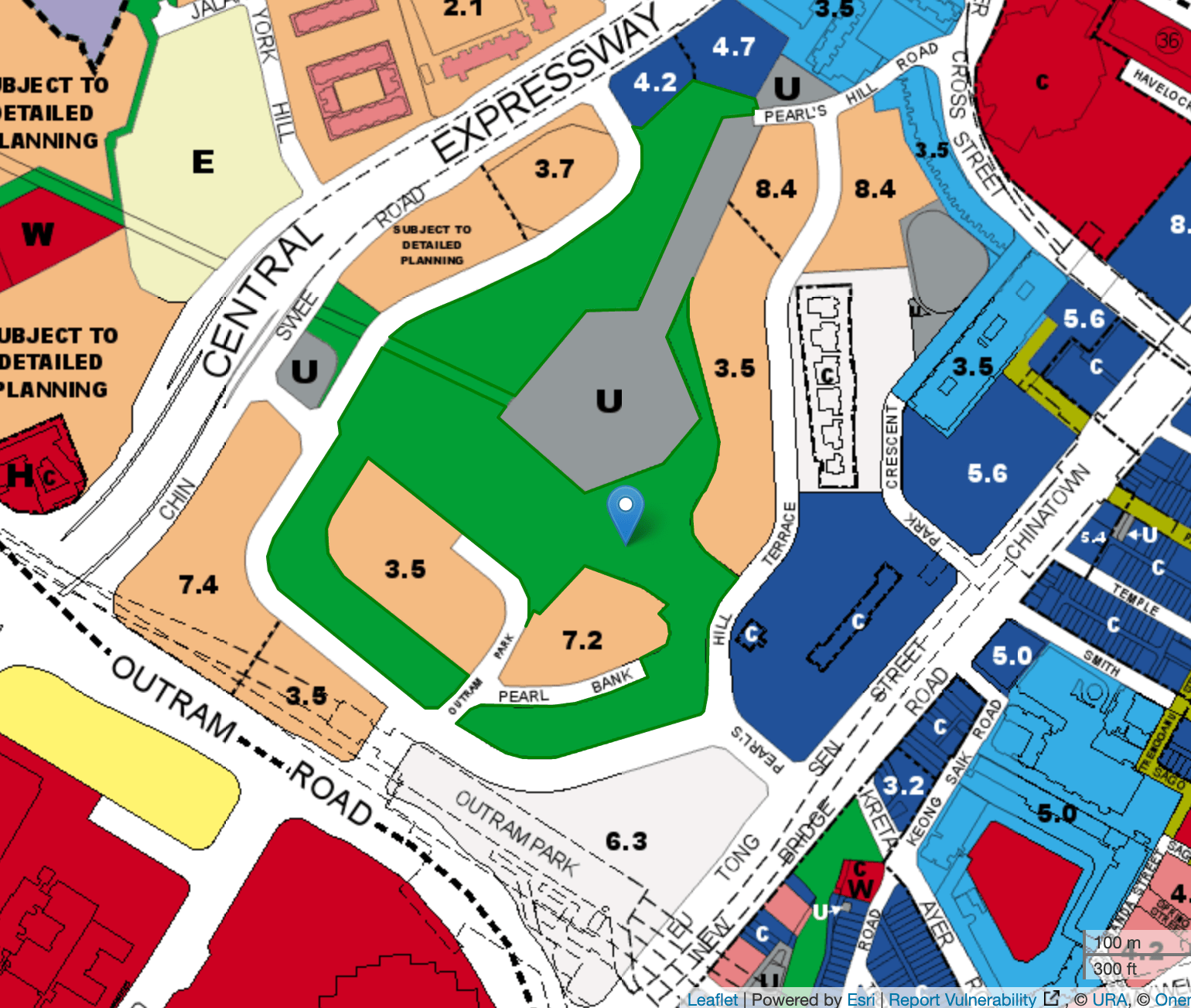 With this, we hope that this would prove useful in your decision-making.
Have a question to ask? Shoot us an email at hello@stackedhomes.com – and don't worry, we will keep your details anonymous.
Looking for a home? Feel free to reach out to us here for a more in-depth consultation.
For more news and information on the Singapore private property market or an in-depth look at new and resale properties, follow us on Stacked.