Our Verdict
LIV@MB is located close to some of the fanciest houses in the East, in the heart of District 15. Famed for its seaside lifestyle and proximity to the CBD, LIV@MB offers buyers highly practical layouts while enjoying an 80% emphasis on landscaping and the promise of unblocked landed views from the rooftop. As the only 99-year development along the Meyer stretch, will its lower psf be enough to wow buyers?
70
min read
| | |
| --- | --- |
| Project: | LIV@MB |
| District: | 15 |
| Address: | 114A-D Arthur Road |
| Tenure: | 99-Years from November 2021 |
| No. of Units: | 298 |
| Site Area: | 140,758 sq ft |
| Developer: | Bukit Sembawang Estates Limited |
| TOP: | 2024 |
Having grown up in District 15, you could say that I definitely have a soft spot for the area. One of which is Mountbatten – Singapore's first coastal millionaire's row. Since the 1850s, some of Singapore's most prominent families have built their seaside bungalows here. To give you a better idea, the sea was literally a stone's throw away before land reclamation works to build the ECP started in the late 1960s.
Today, proximity to the seaside and connectivity to the CBD ensure that District 15 continues to shine as one of the most desirable areas to live in. It is often viewed as an alternative to homes in the traditional prime districts of 9, 10, and 11. Now that public transport connectivity will be further enhanced once the Thomson East Coast Line comes live in the next 2 years, it is perhaps even more of an attractive proposition. In fact, a 2019 PropertyGuru survey found that 1 in 3 Singaporeans intended to purchase a property here.
Yet even amidst it all, Mountbatten is the crown jewel of D15. The row of luxurious high-rise condos along Meyer Road boasts of panoramic sea views with the last remaining landed home along this stretch reminding you of the prestige and pedigree of its owners. For the sake of those who don't know, the mansion is the family home of Lee Kong Chian and his descendants. The extensive landed enclave of Wilkinson, Branksome, and Goodman Road are also prominent streets that many landed buyers with higher budgets have considered purchasing.
Mountbatten Road itself was home to many palatial bungalows built in Victorian and Art Deco styles in the 1920s. After a number of them had been demolished for newer-looking houses, URA designated 15 bungalows for conservation in 1993 in order to retain the heritage and charm of this area. Among them are the former Chansville, home to the legendary Chan family who dominated the swimming scene in the 1960s and 1970s, and Sing Hoe Hotel, which is currently on sale for $27 million.
With a keener understanding of the area, I hope to bring LIV@MB's neighbourhood to life through this review. This new launch is located just off Mountbatten Road at Arthur Road, with a number of units facing some conservation bungalows and the wider landed estate. This 99-year leasehold plot was purchased en-bloc by Bukit Sembawang for $345 million ($1,280 psf) which today seems like an astute decision.
Enough about the estate, let's go right to the Insider Tour!
LIV@MB Insider Tour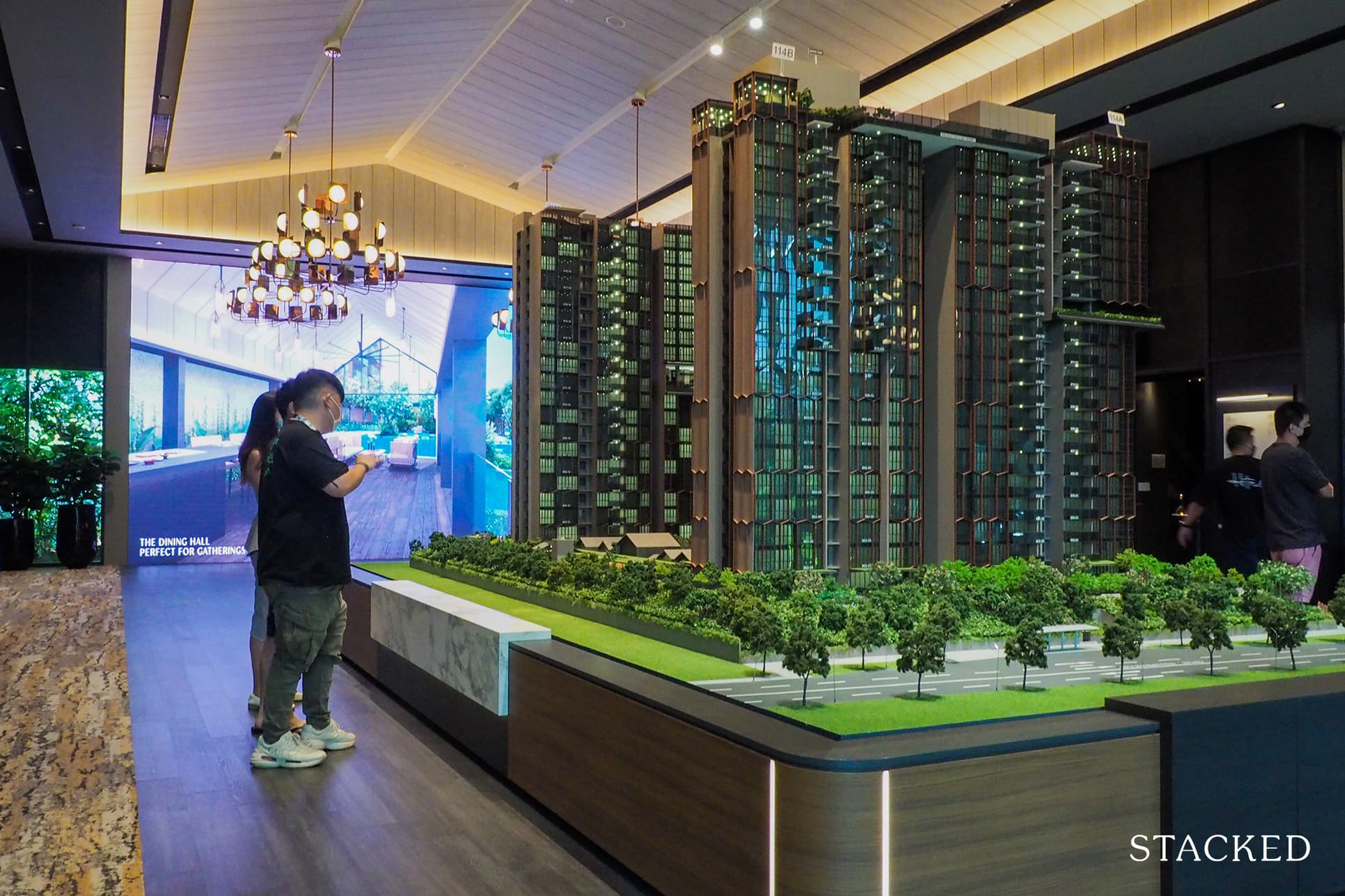 I must start by saying that the developers of LIV@MB have done a great job with the show flat. The look of it is reminiscent of what one of the clubhouses would be like, and it was a shrewd decision to build a big model of the estate as this allows you to better appreciate the 80/20 landscaping to units ratio on offer here.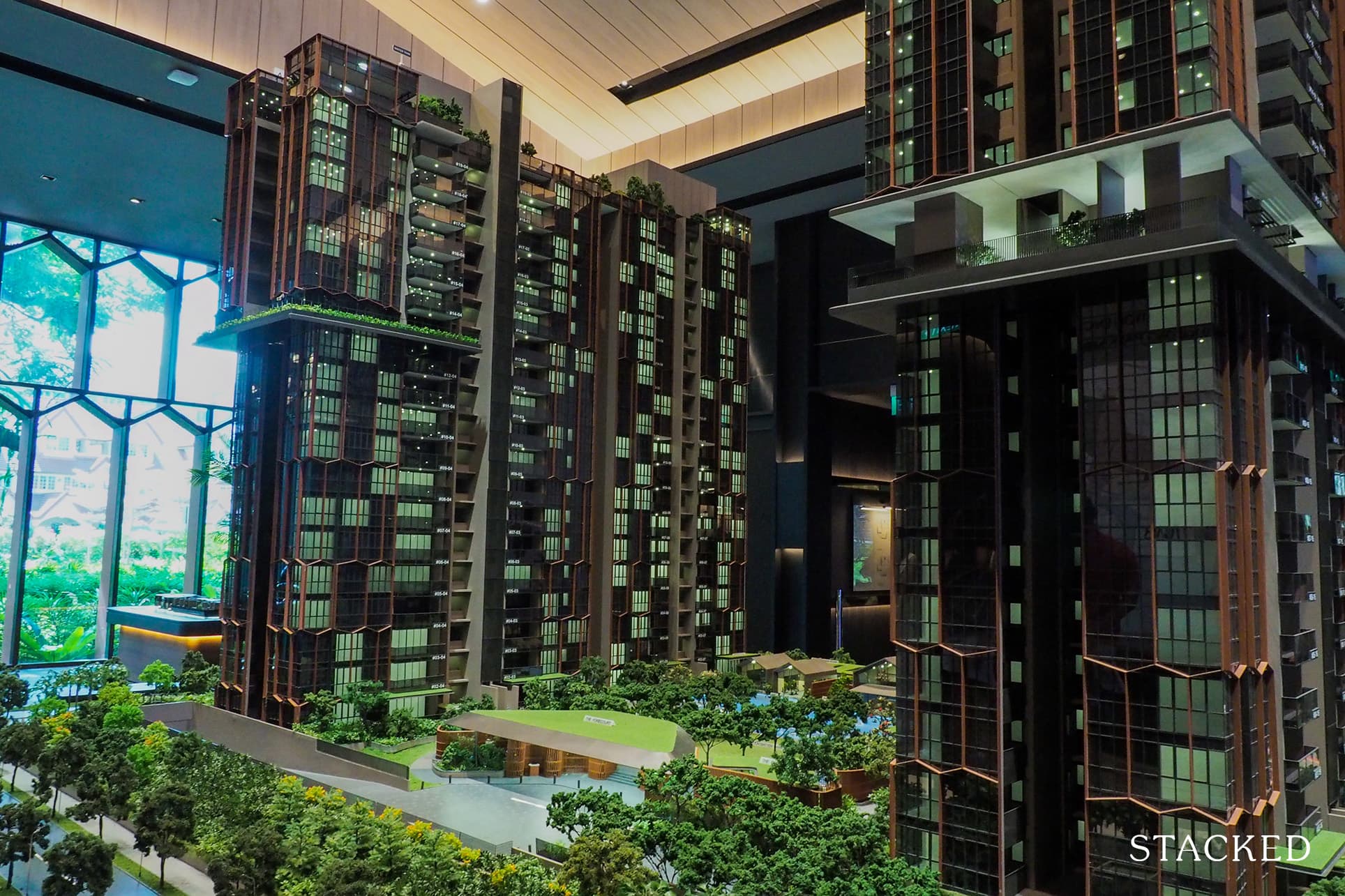 LIV@MB houses three 20-storey towers and one 19-storey tower, with the unique feature that there are only 4 units for each tower. While it may not sound like much, it's actually a much bigger deal than you might imagine when it comes to the liveability of each unit.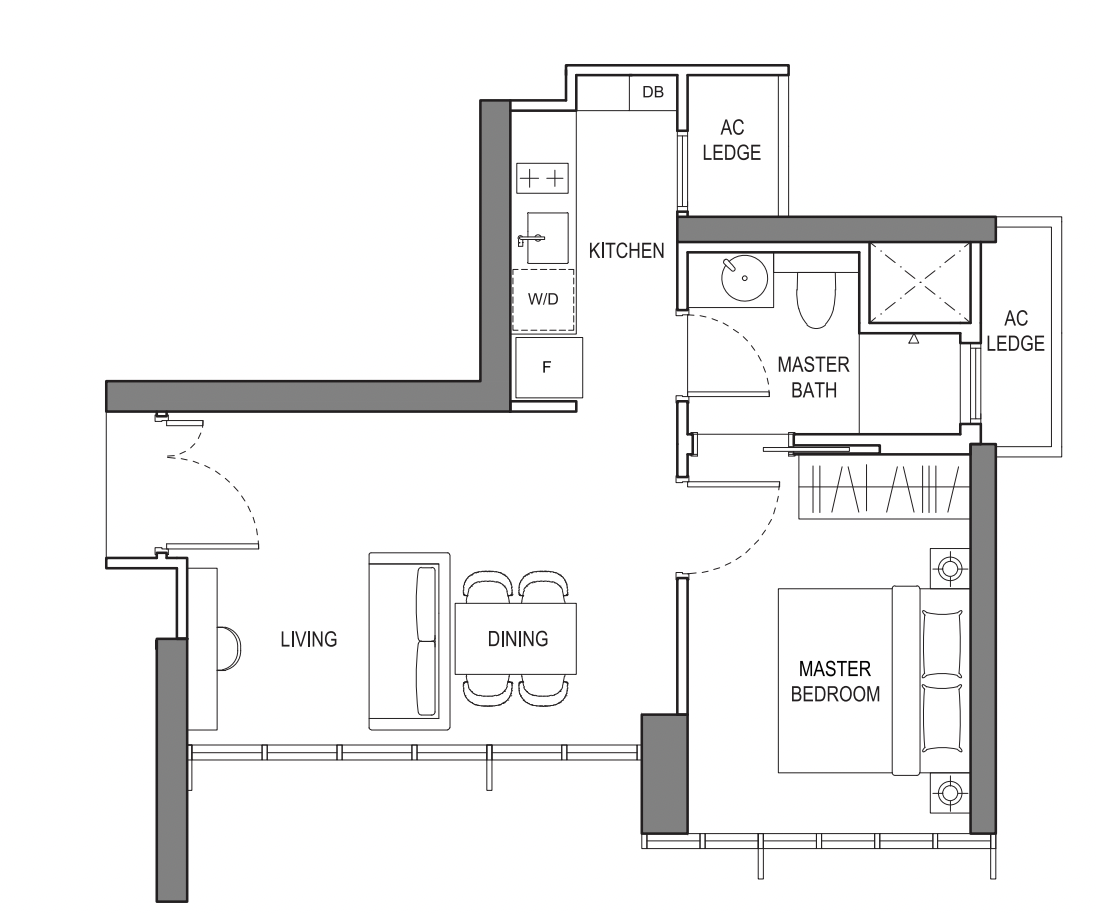 Allow me to explain. This now means that every unit, whether you are a 1 or 4 Bedroom, does not share a wall with a neighbouring unit. Consequently, you will get plenty of windows and natural ventilation for every unit (more on that in our review of the show flat units below). It's a truly fantastic arrangement.
And as I mentioned above, LIV@MB has an 80/20 landscaping to units ratio, putting it in the hallowed league of condos in this category – including the likes of Meyer Mansion and Ki Residences.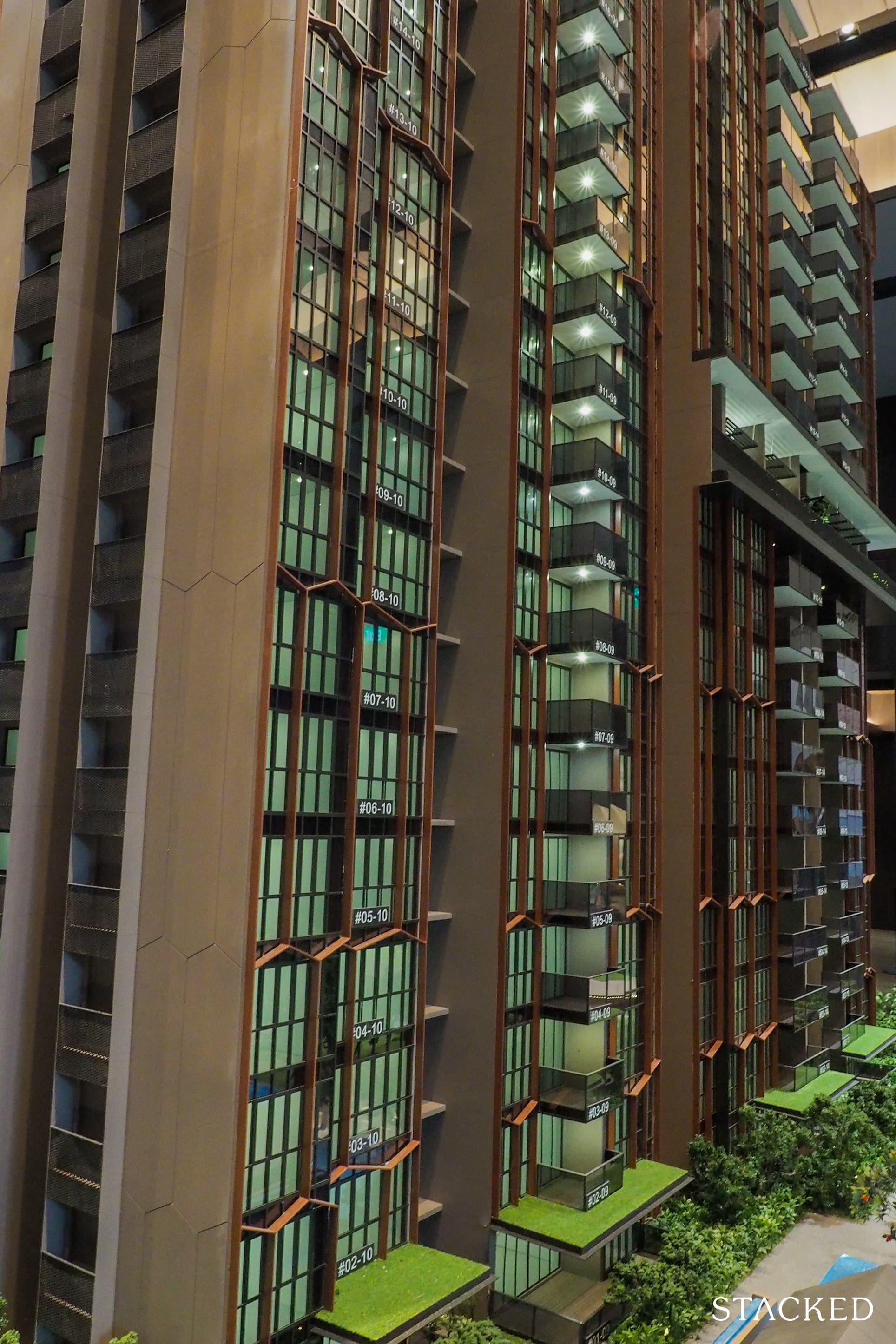 Architecture-wise, the hexagonal fins that you see on the external facade of LIV@MB are inspired by the Peranakans. You will see further influences on the screens provided in the 3 and 4 Bedroom units. This plays on the historic presence of Peranakans in the wider Katong region, reminding residents of the history and heritage of the area.
Entry to LIV@MB will be along Arthur Road, off Mountbatten Road. If you are driving along Mountbatten Road, you will pass a number of conservation bungalows with European influences on the way home, reminding you of the heritage that you live amidst (it does provide some of that more laidback charm). In fact, Arthur Road itself is home to a number of black and white bungalows so you can be certain of a more tranquil living environment.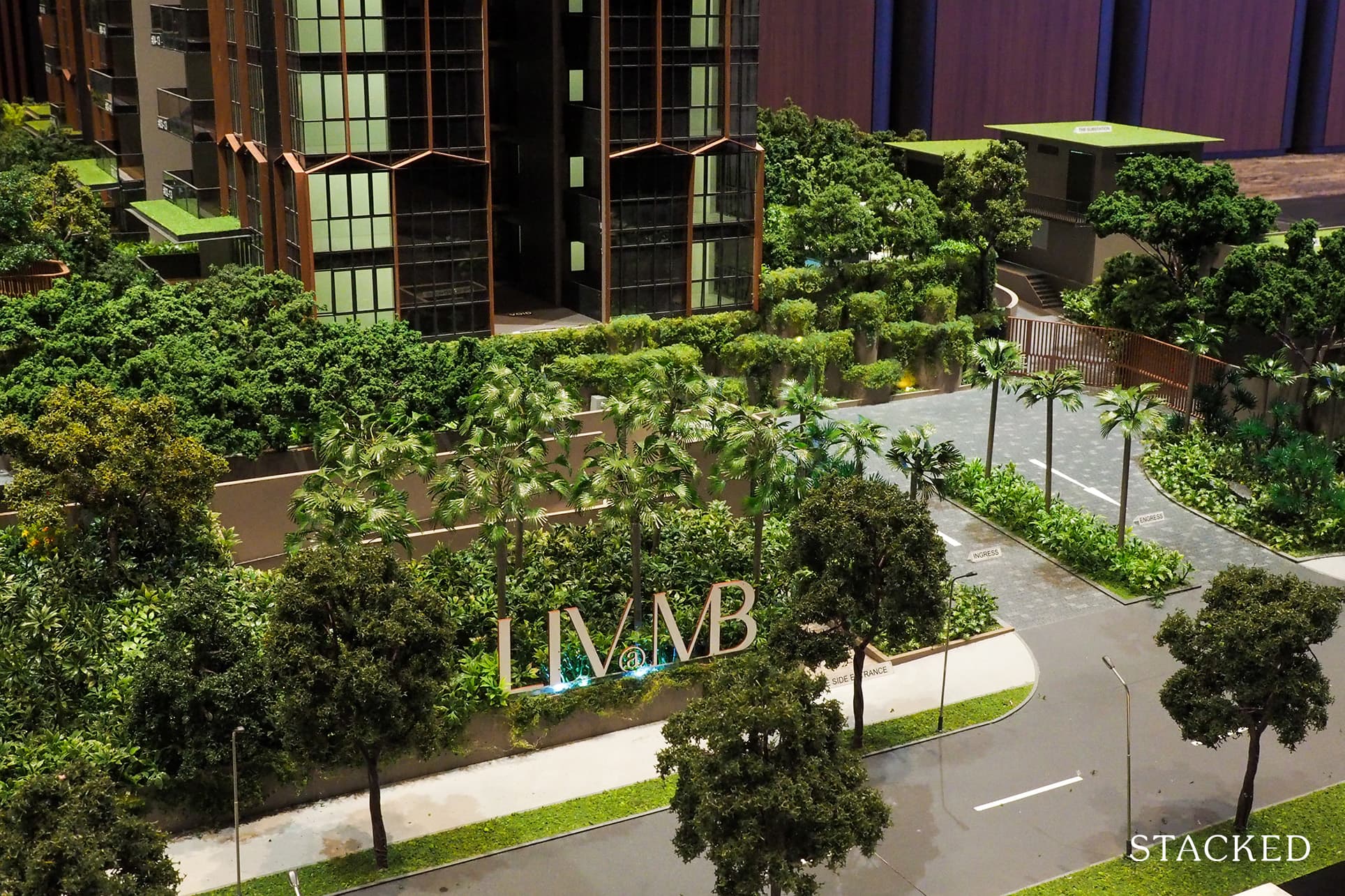 Driving into the development, it's a one-lane ingress and egress, and given how there are only 298 units here, this should be sufficient. There is also a side entrance here and it will be just a 3-minute walk to the upcoming Katong Park MRT by walking towards Meyer Road. Basement parking will be available, with 285 car park lots, catering for 95% of the units. Given how close LIV@MB is to Katong Park MRT, I was pleasantly surprised at this generous provision. That said, I am also cognisant that this condo is made up of predominantly 3 Bedroom units costing upwards of $2.3 million, so I expect a good number of them to own a car or two.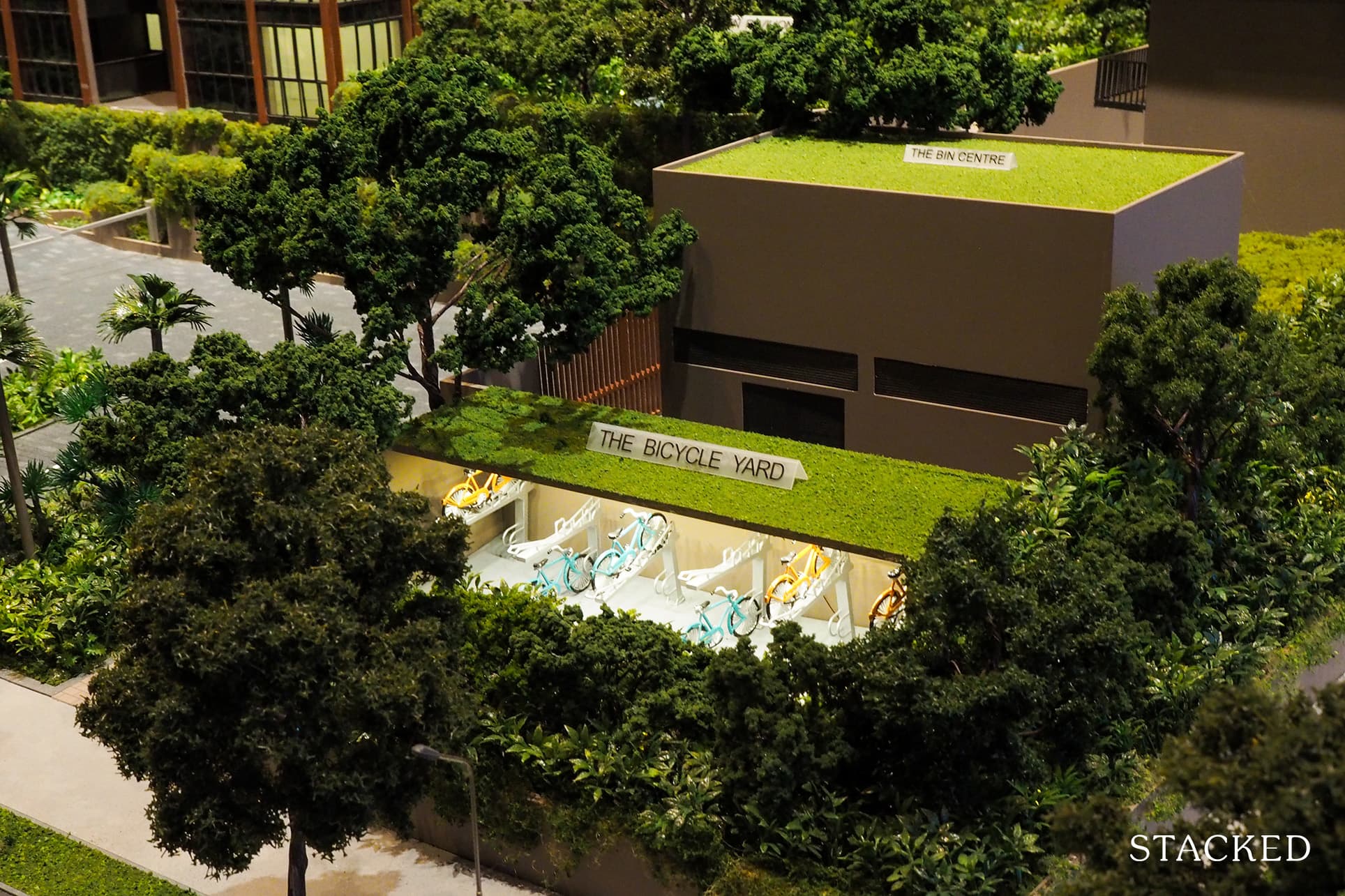 Anyway given Singapore's car-lite future hopes, the trend moving forward is that the younger generation would be more reliant on cycling around and taking public transportation – so it's good to see the provision of a dedicated bicycle storage area by the entrance.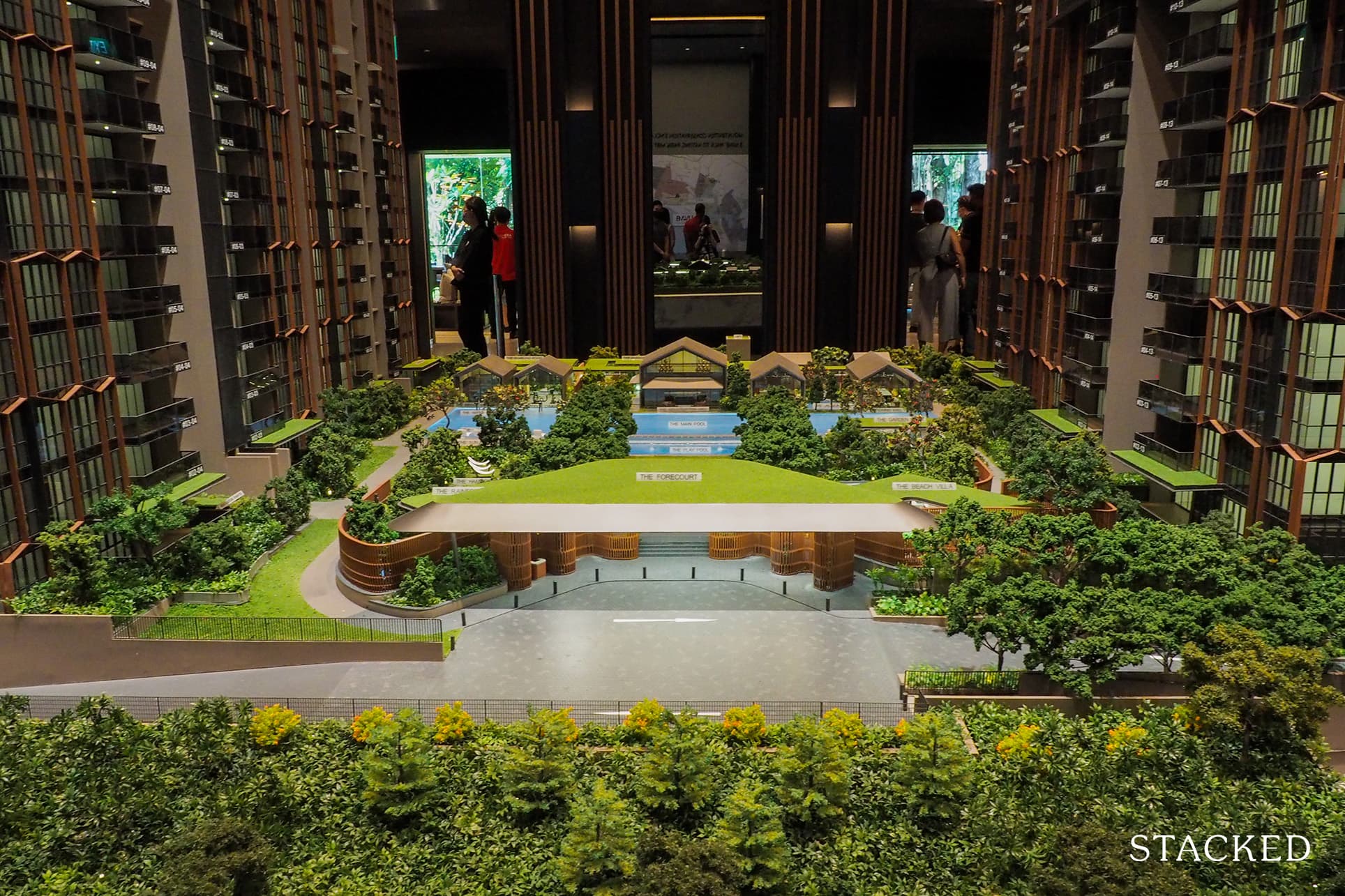 The arrival court will be situated a short drive into the development. Named The Forecourt, it's a grand looking nice sheltered area that provides a welcoming presence both for residents and visitors alike. For 298 units this is a seriously impressive arrival that's for sure.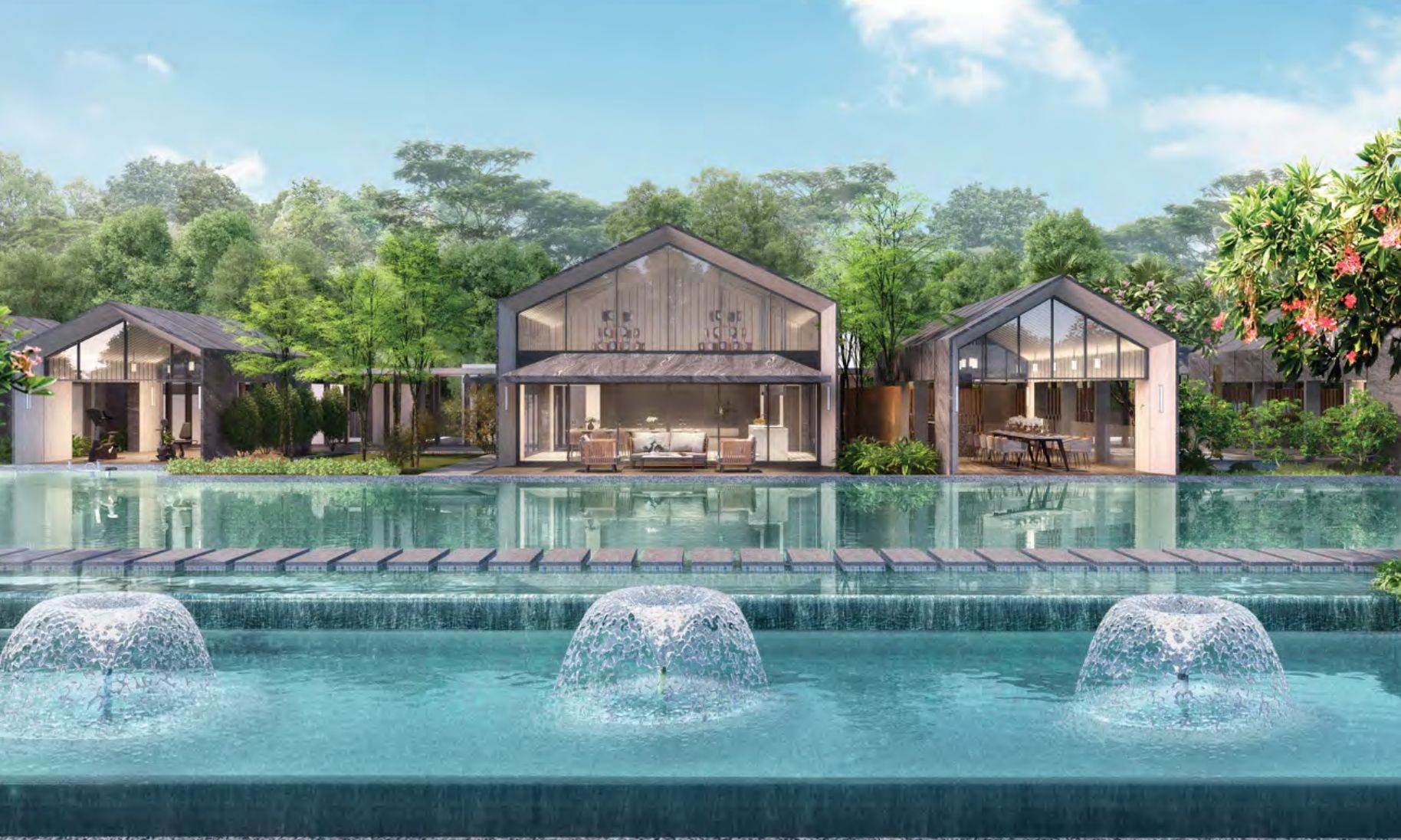 In fact, something I really like is how you are about to 'look through' the Mountbatten Lawn and the 45m lap pool to Mountbatten Hall, which is the main clubhouse here. On that note, the dining halls, clubhouse, and gym have been built as 5 separate 'houses', which I feel pays homage to the established landed community here. It definitely adds cost to the construction, but doing so seems to bring forth some landed feels to the residents, some of whom may have been living in those nearby currently. It's got a very hilltop resort feel, which I really do like.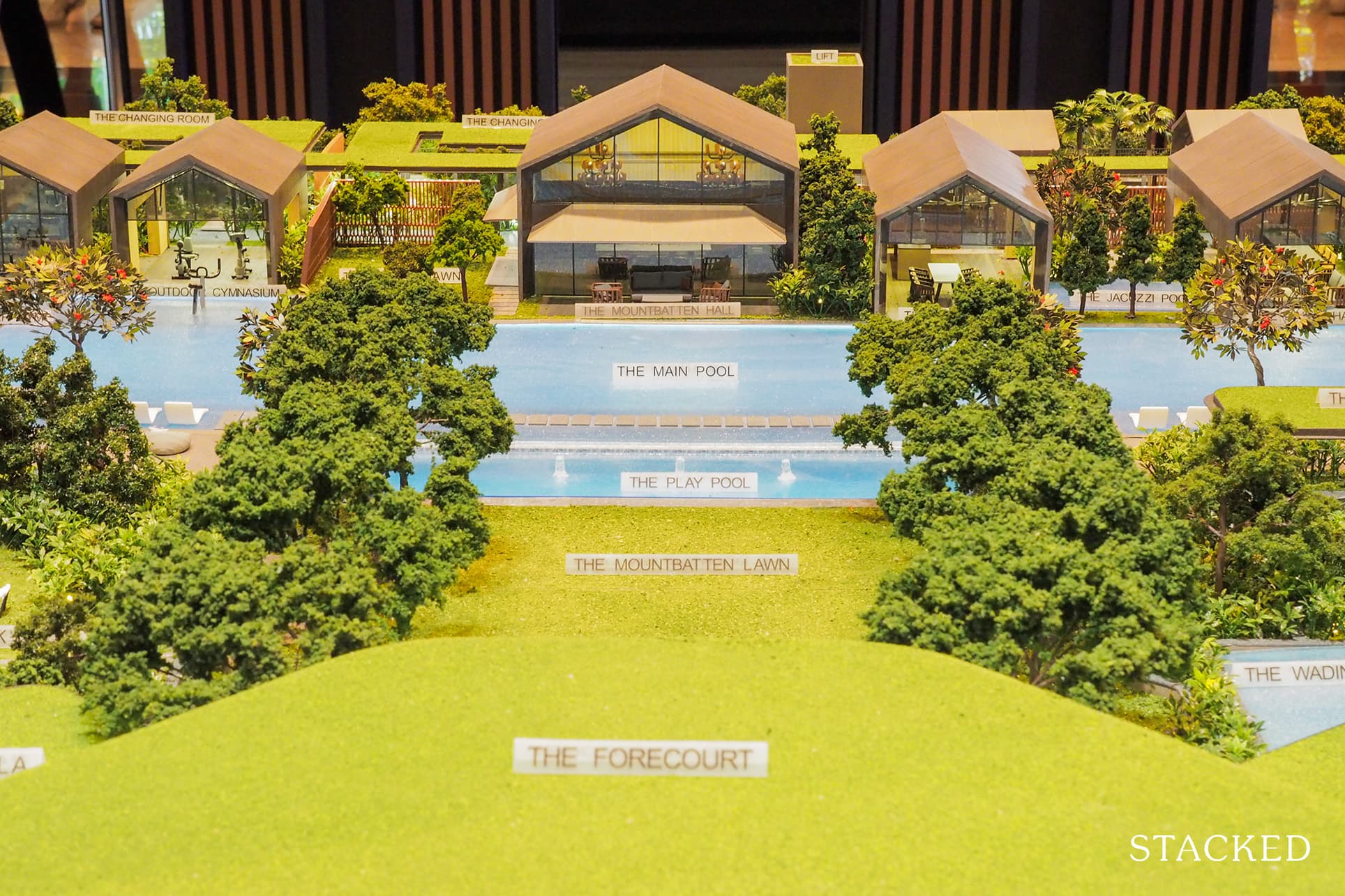 Since we are on that note, let's share a little more about the 5 different 'landed houses' found here. Starting with the most impressive Mountbatten Hall, it was inspired by the seafront bungalows that dotted the area. In a modern interpretation, it still fronts the 45m lap pool, with mosaic monochromatic tiles in this huge dining hall. Based on the photo renders, it looks equipped with a full kitchen and seats for 12 – it's quite a gorgeous-looking space.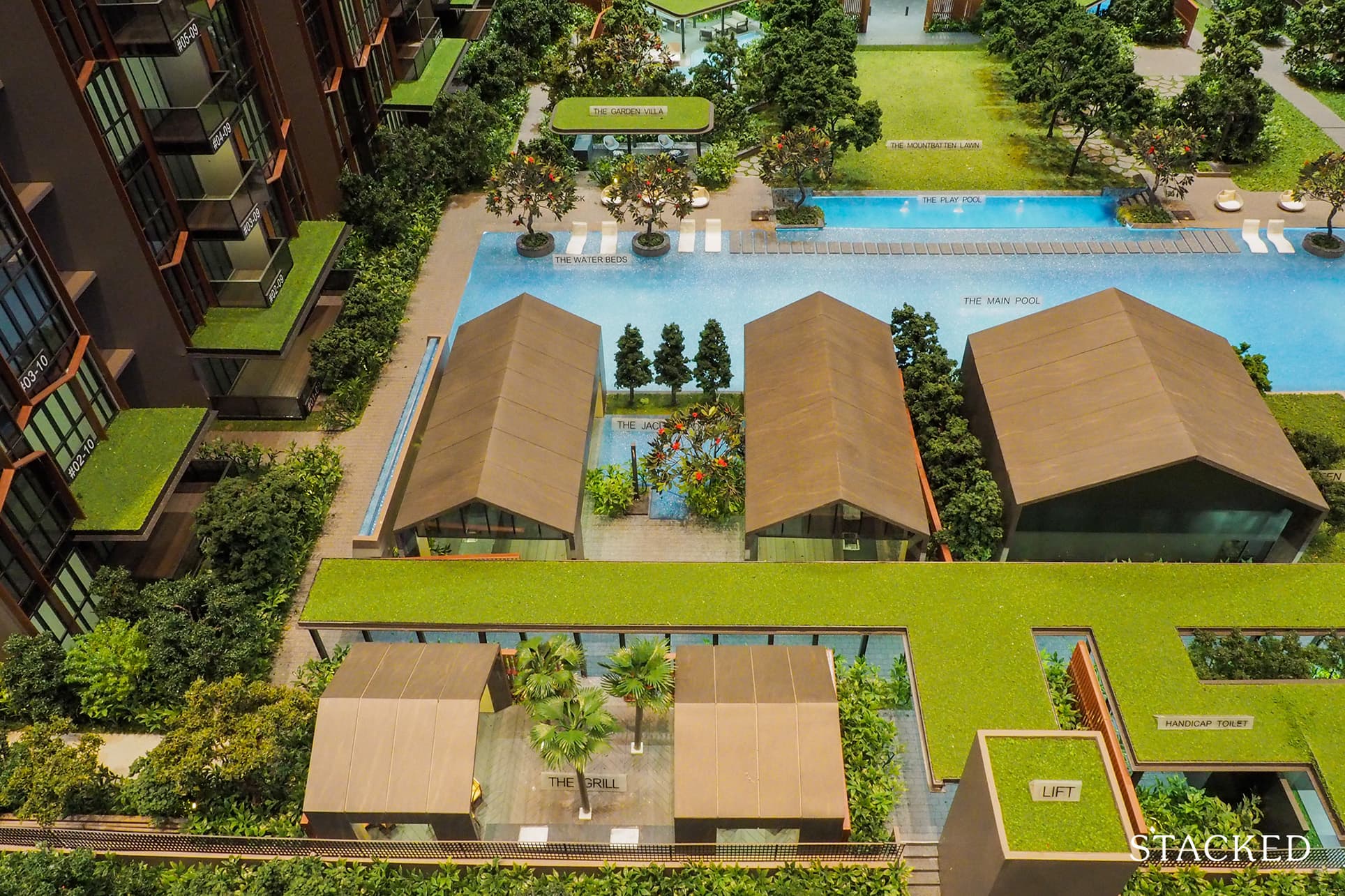 2 of the other 'houses' are also dining halls, albeit smaller ones. To even have 3 proper dining halls for 298 units in this area alone is already impressive, as there are also other dining facilities both on the ground floor and the sky facilities. The other 2 house the indoor and outdoor gym respectively.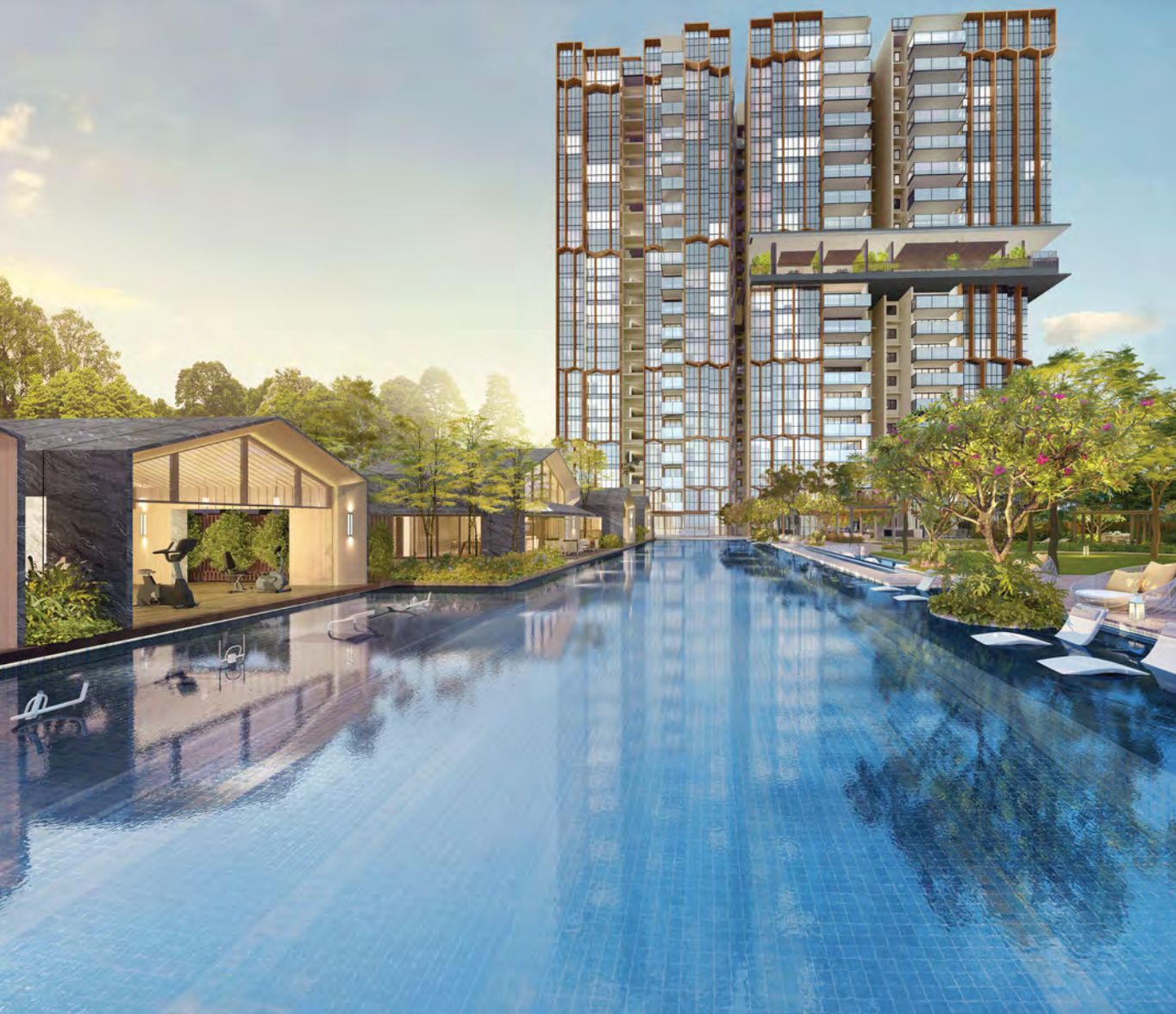 Swimming pool wise, you have a 45m lap pool separating the 4 tower blocks. While it's not 50m, I would say that 10% less really isn't that big of a deal. Coupled with the fact that this is not the only lap pool in the development (with one more on the rooftop) it is probably sufficient for the residents. It's clearly a nice environment, as you also have water beds lining its entire length and if you prefer not to get wet, sun decks by the side as well. There is also a water gym right outside the indoor and outdoor gyms so there's a workout for any occasion.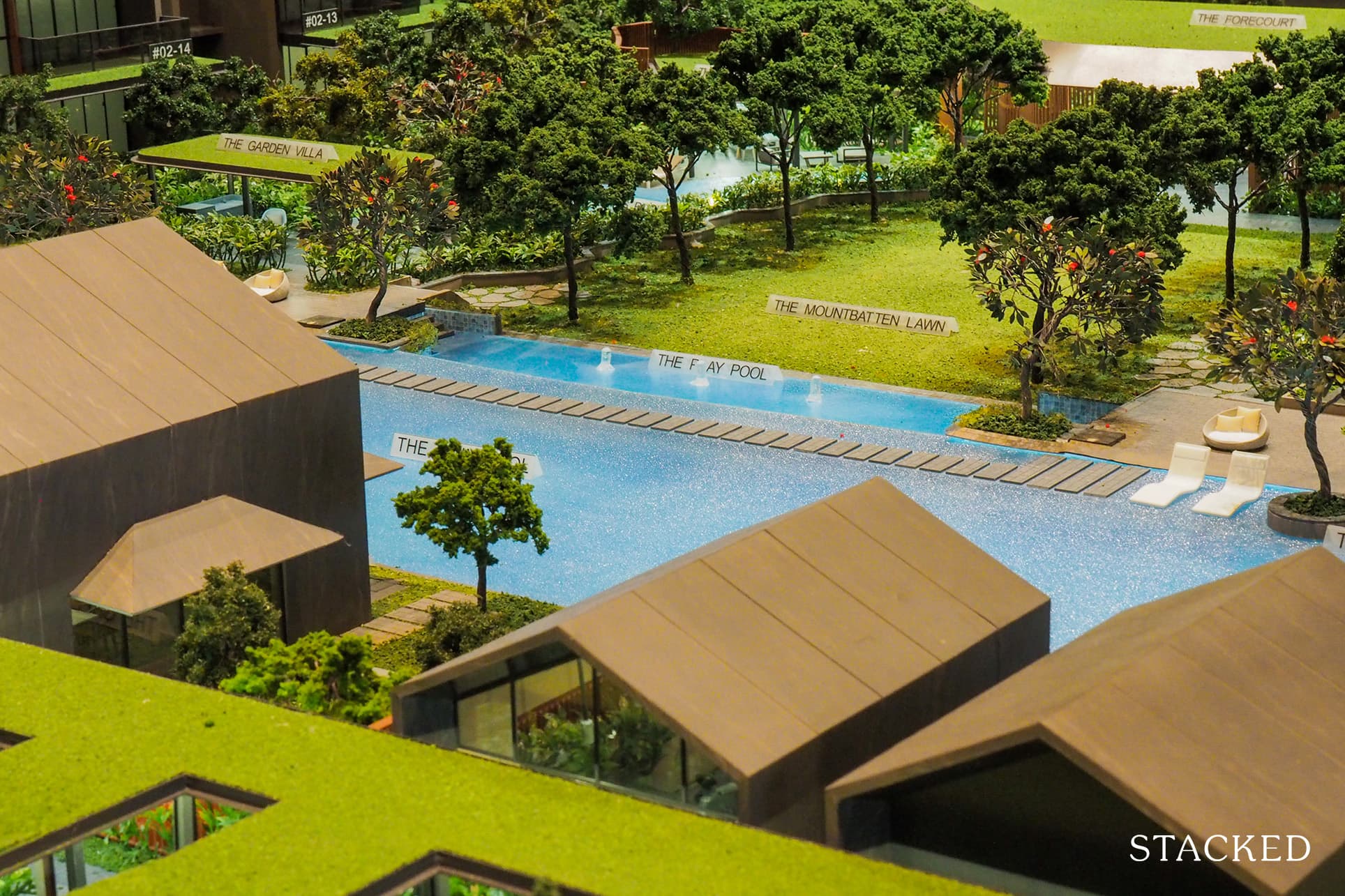 For the children, there is also a play pool beside the lap pool as well as a wading pool closer to the drop-off point. I do really like the addition of the lawn space here as well, as it just adds to the open nature of the entire space.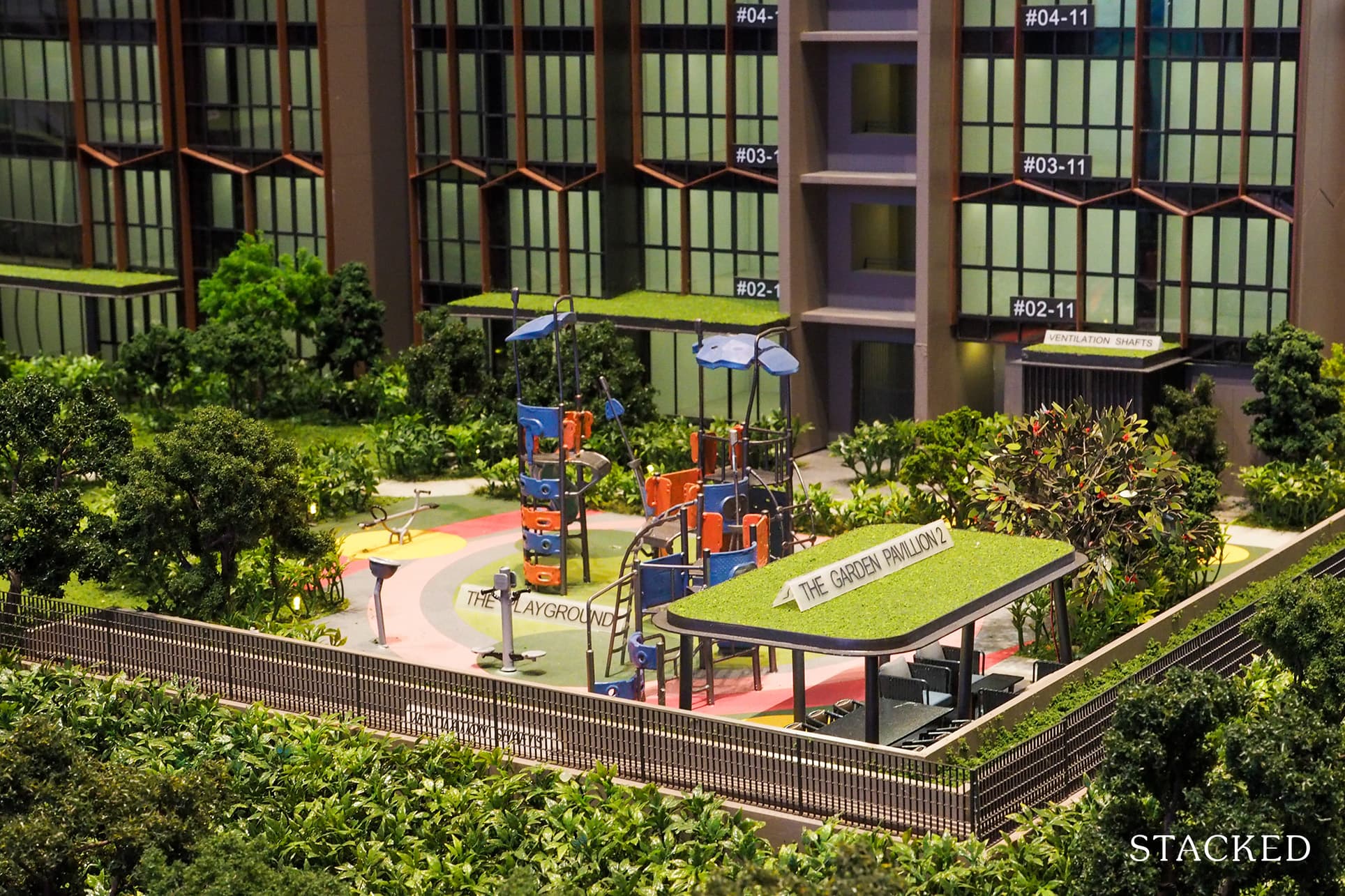 District 15 is popular with families, so I'm glad that the developers ensured that the playground here is actually larger than normal. It occupies a fair bit of space towards the back of the development in front of stack A1, and it's a wise spot as it is away from any fumes from the traffic off the main road. For parents watching over their children, there's even a garden pavilion here for you to be sheltered from the sun. Otherwise, you could get some fitness sessions in with the tiny fitness yard here.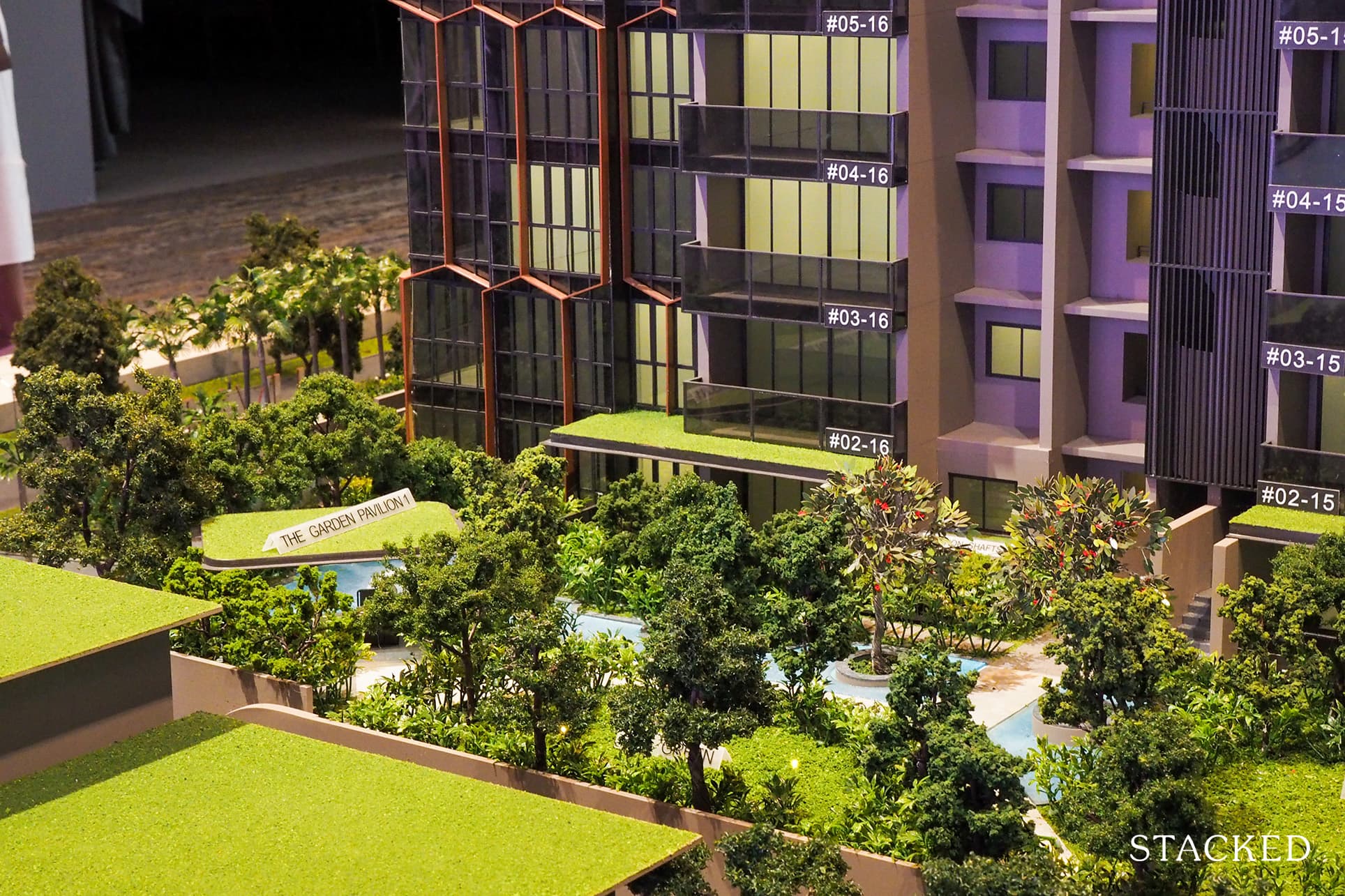 The back of the development contains green spaces throughout, so even if the children get bored of the playground, they are free to run around this area without any hindrance. There's no traffic in this area as well so safety is also ensured. Towards the other end, there's another sheltered garden pavilion for you to chill and relax in.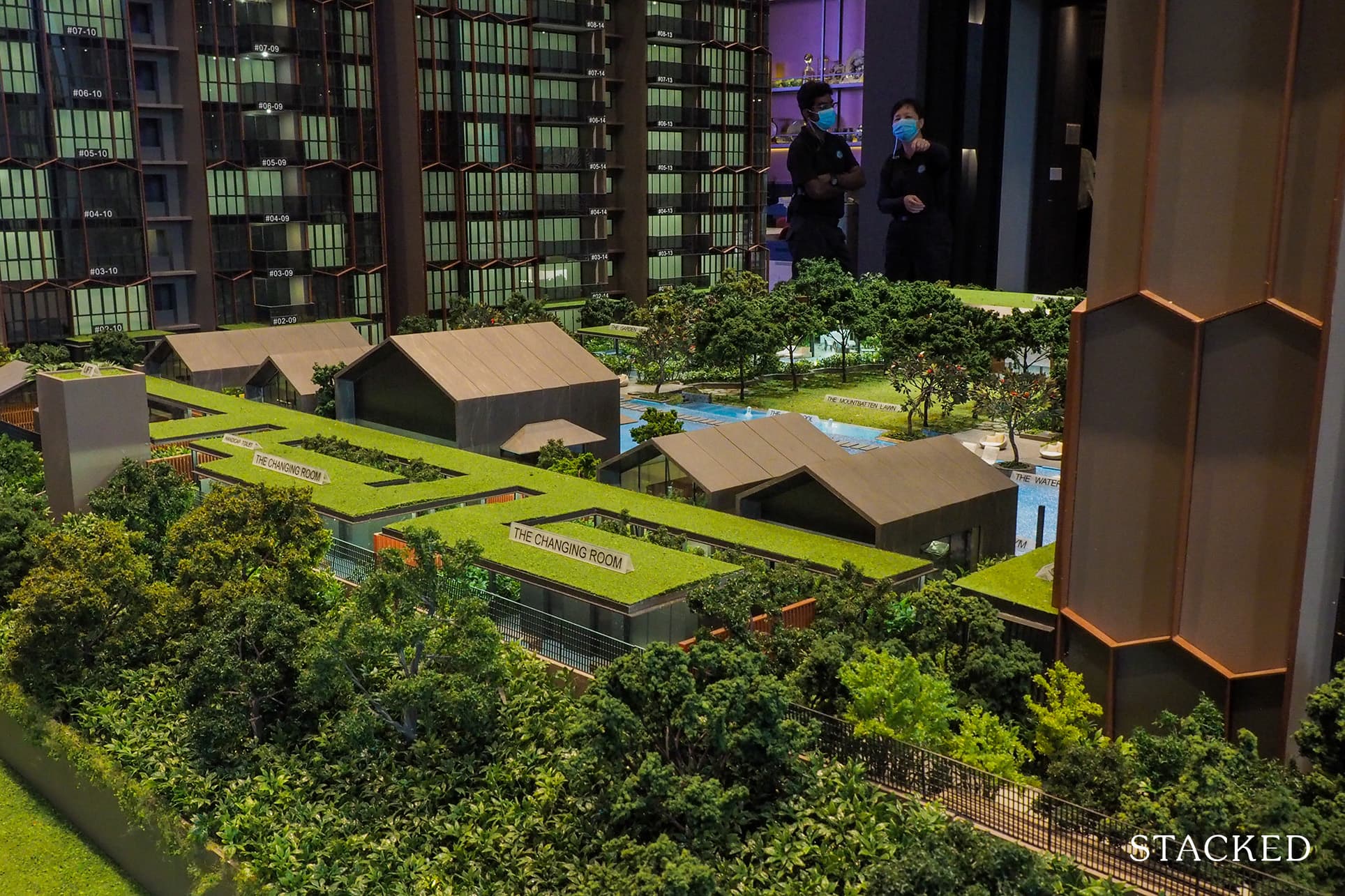 There are actually a number of such sheltered spaces for residents to relax in, which I am appreciative of and adds to the overall lifestyle of this condo and community. You have the Rainforest Villa and Beach Villa close to the Forecourt and the Garden Villa and Grill to the left and right of the lap pool. Of course, the latter is also expected to have grilling facilities and is tucked away at the corner of the development, providing more privacy for its users.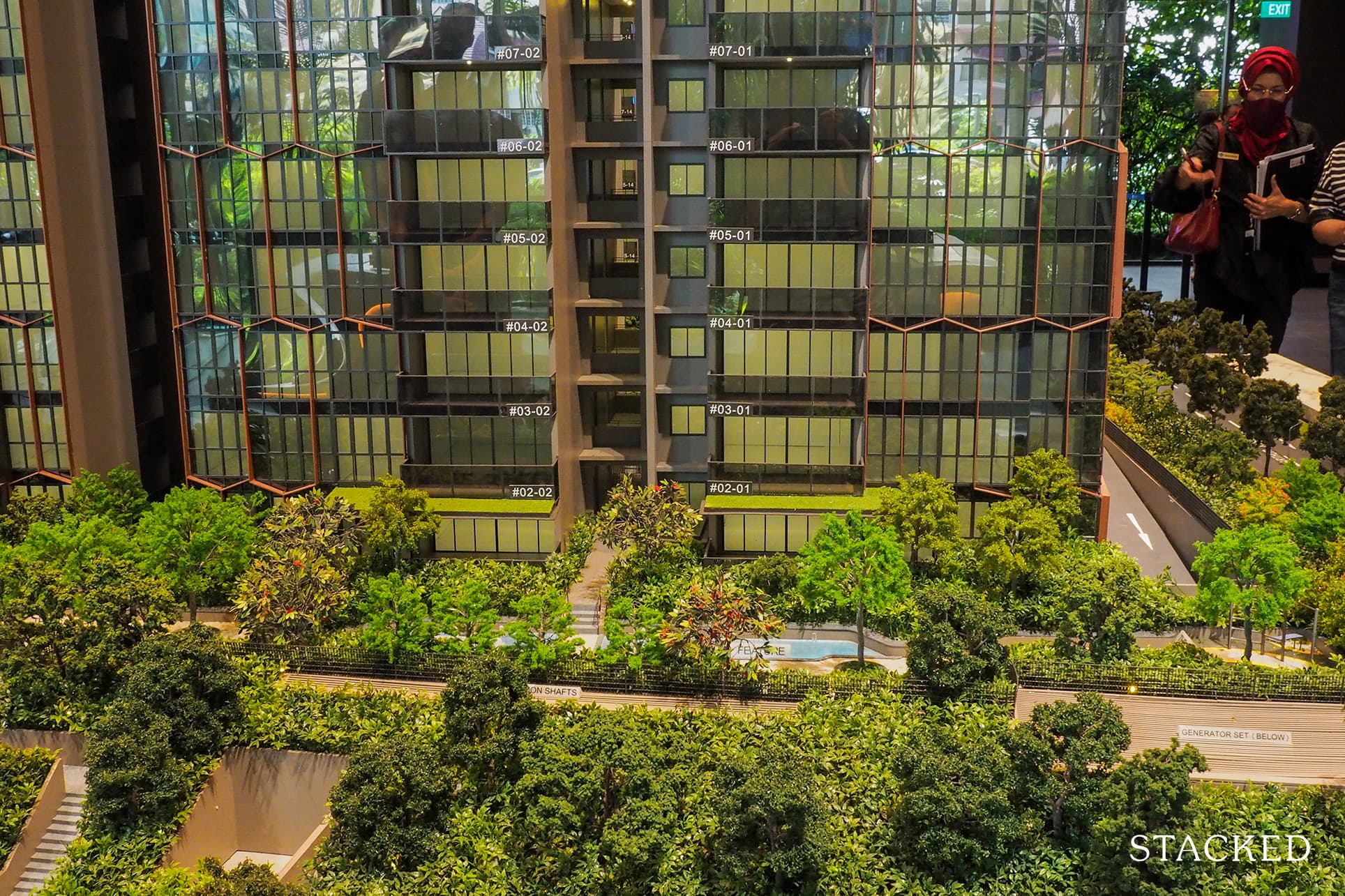 You do also have a garden trail by the other side of the estate (parallel to Mountbatten Road), along with several water features by the side.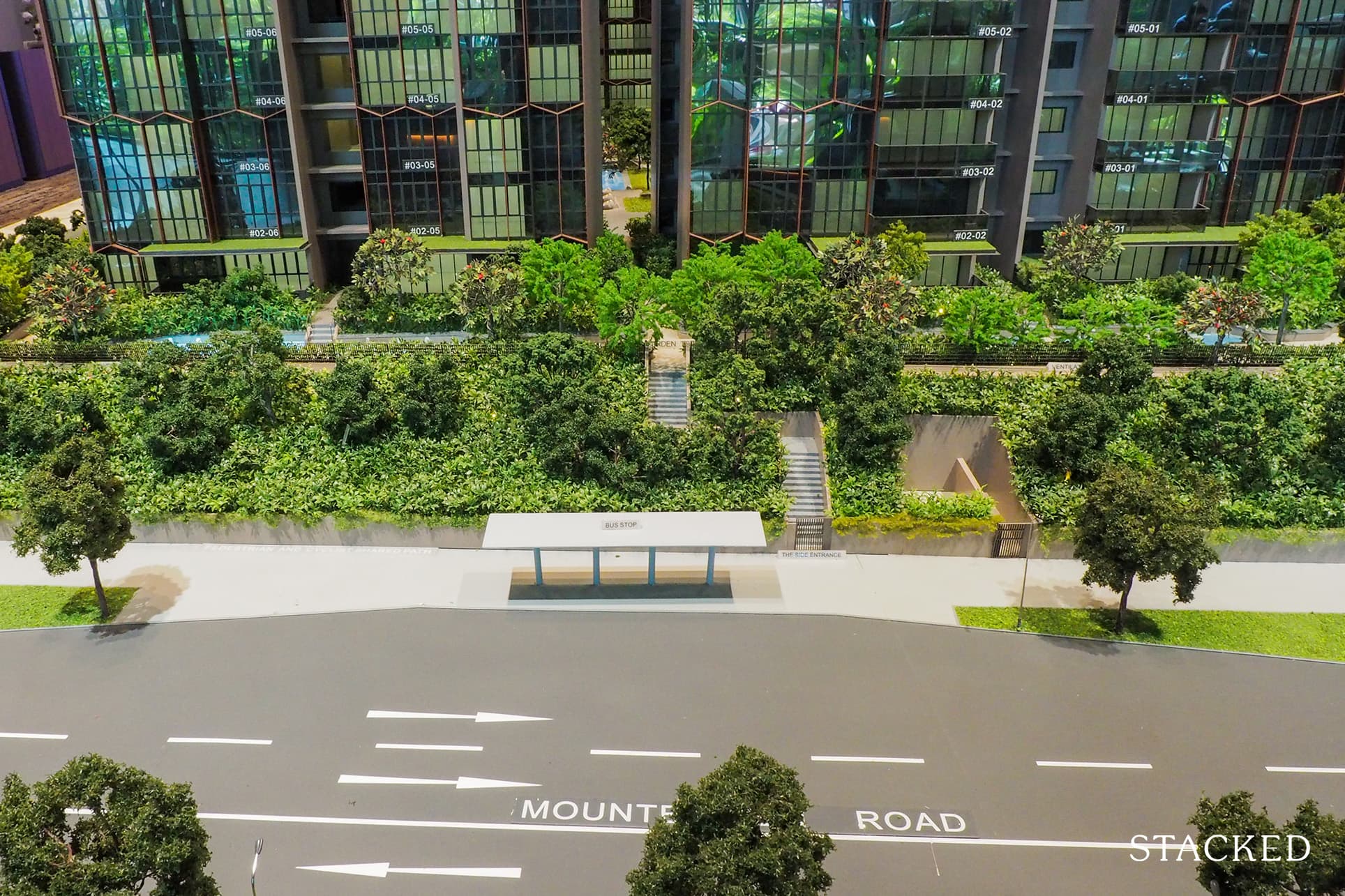 It's also here that you have easy access to the bus stop, although it was surprising to see that it wouldn't be sheltered.
Now that you have an idea of what the ground floor facilities are, let's check out the 2 sky facilities that LIV@MB has. They are divided into the 11th floor Sky Lounge (with pool and views of neighbouring condos) and the 20th floor Rooftop (with pool and landed views).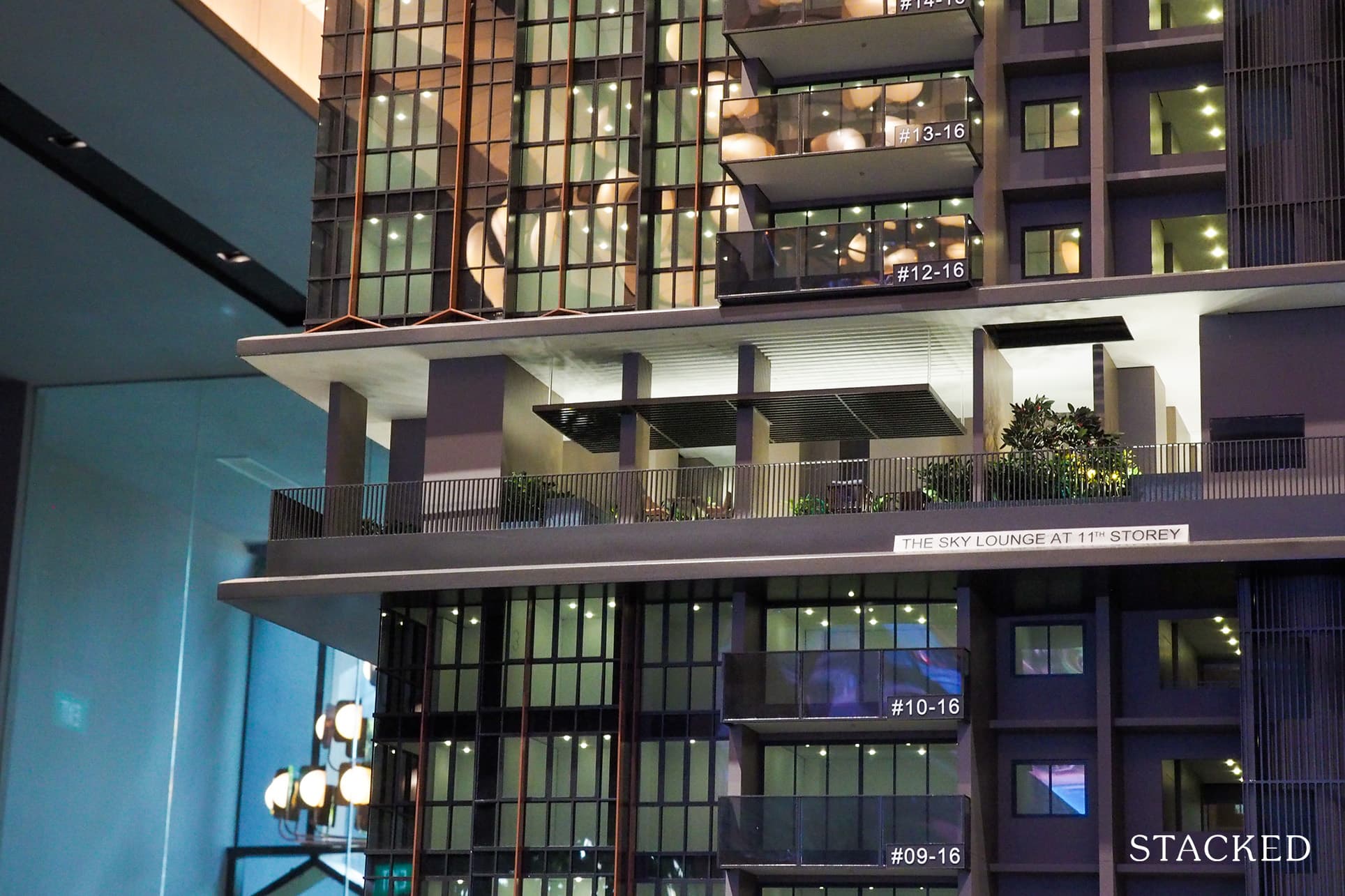 I'll start with the 11th-floor sky lounge. There are actually units on the 11th floor as well and can connect directly to the sky lounge – so if that's something you like, you should definitely consider those units.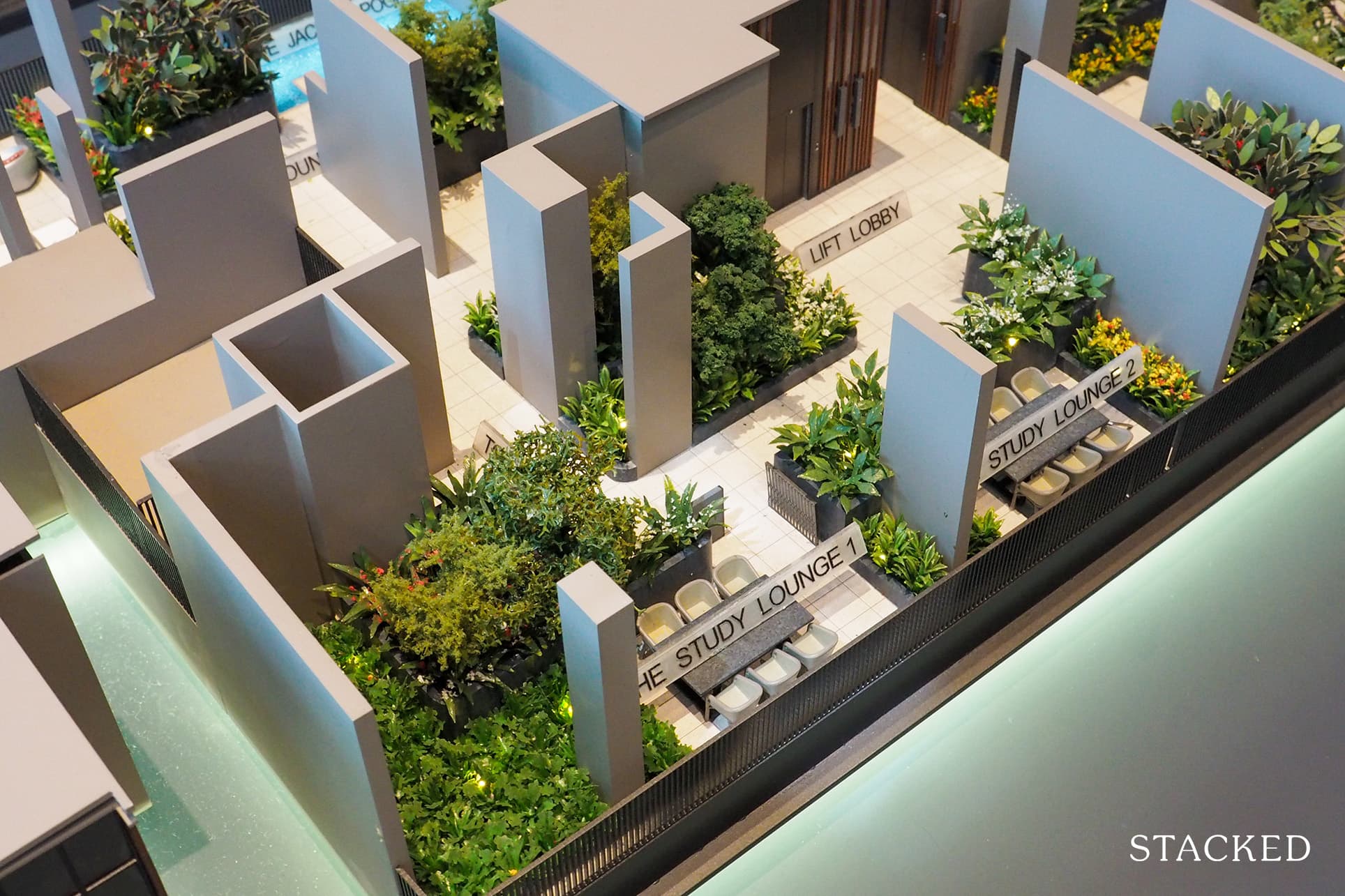 Facilities wise, there are a further 2 dining lounges here for the resident's use. In line with the WFH/hybrid working concept, there are also 2 study lounges here.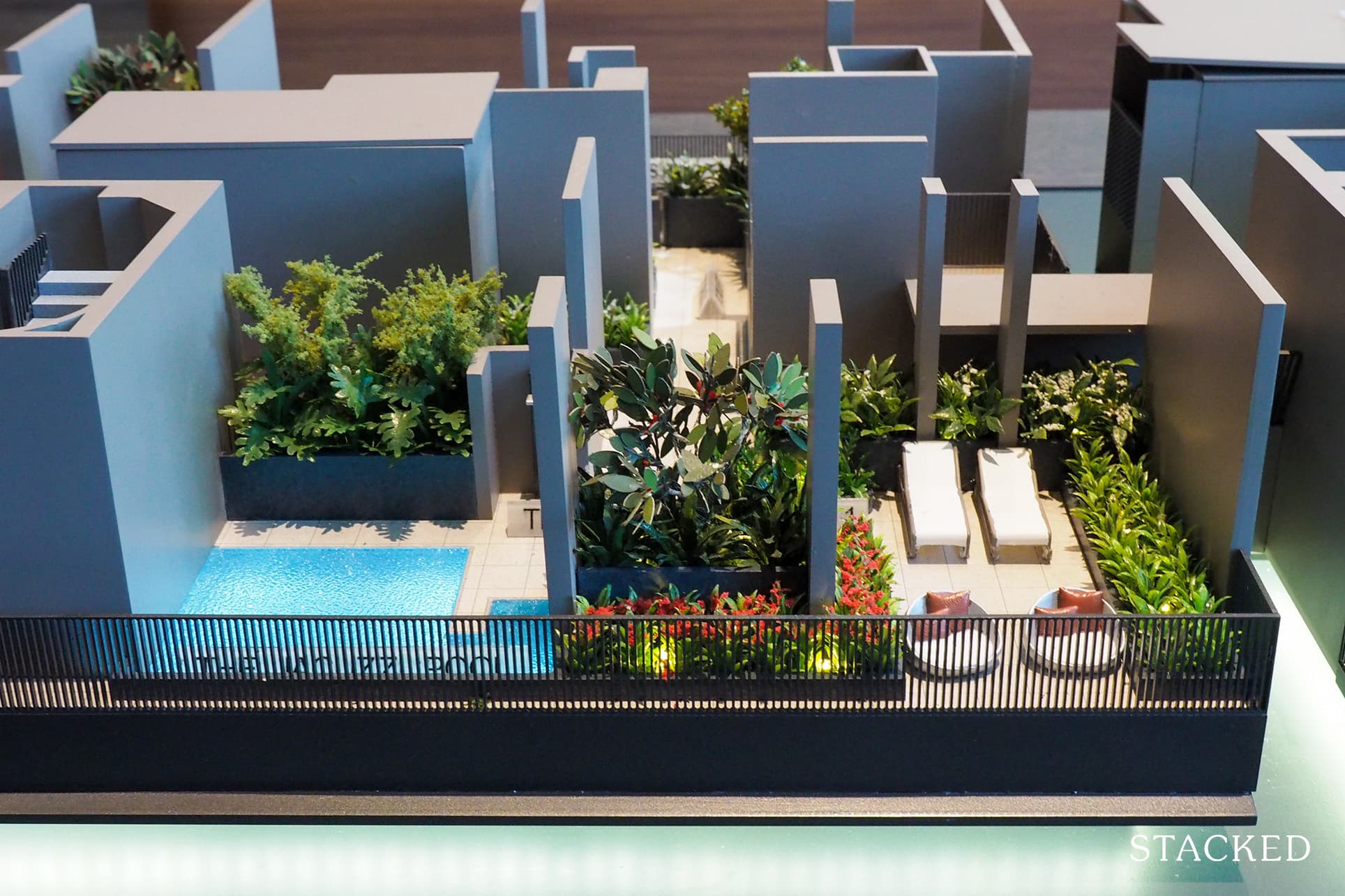 Note that these are all open-air concepts, so none of them are air-conditioned. There are also 2 jacuzzis of varying sizes for you to enjoy, and both are tucked away from the prying eyes of most.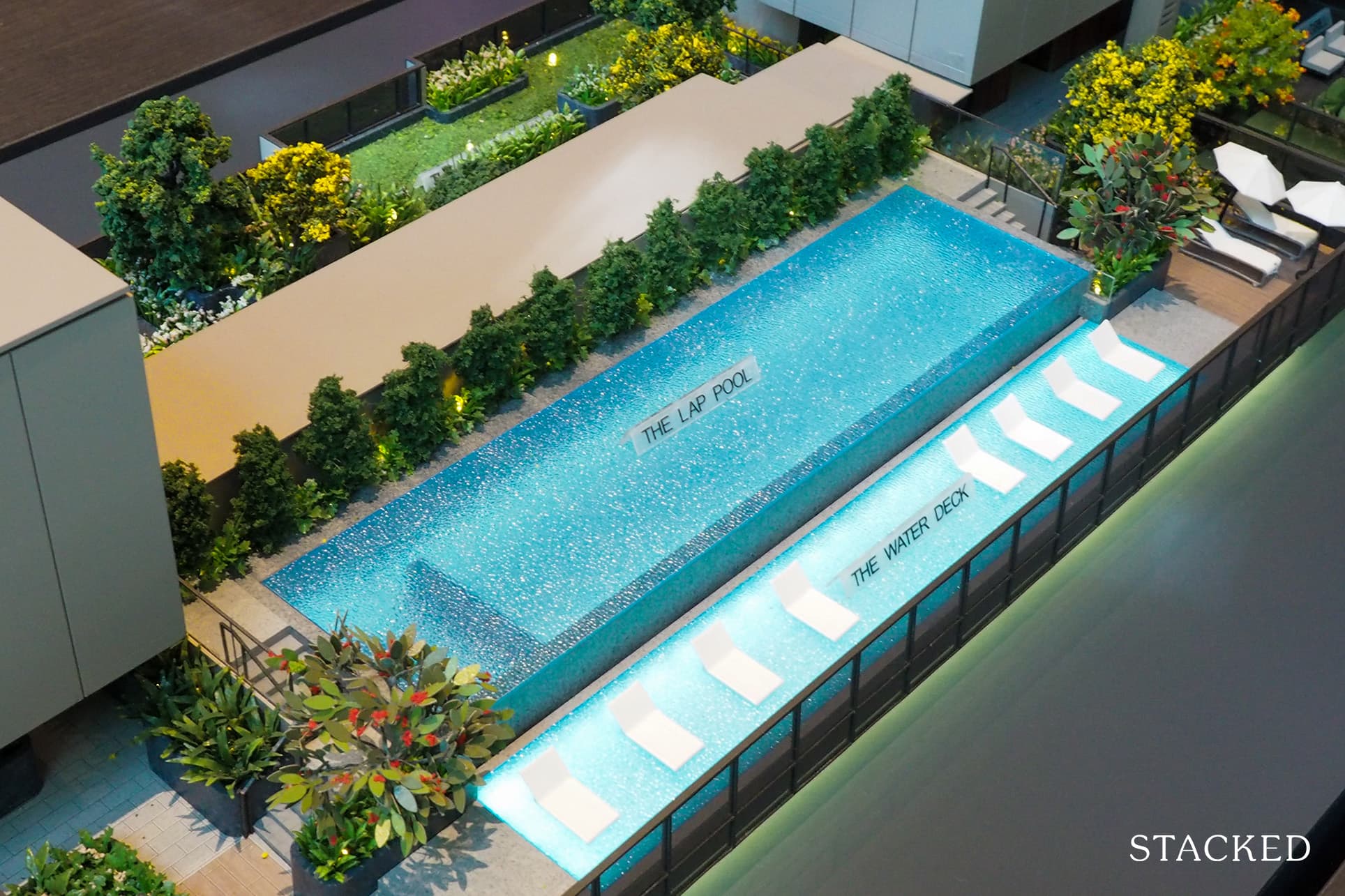 Finally, the Rooftop, which is probably the next most impressive part of this development. You have a proper lap pool that spans 14.5m so imagine doing laps whilst facing the historic Mountbatten landed estate. This is on the 20th floor, which isn't the highest but seeing that it faces the unblocked landed estate you are guaranteed the views for some time to come. There are even water decks for you to laze around here while enjoying the views.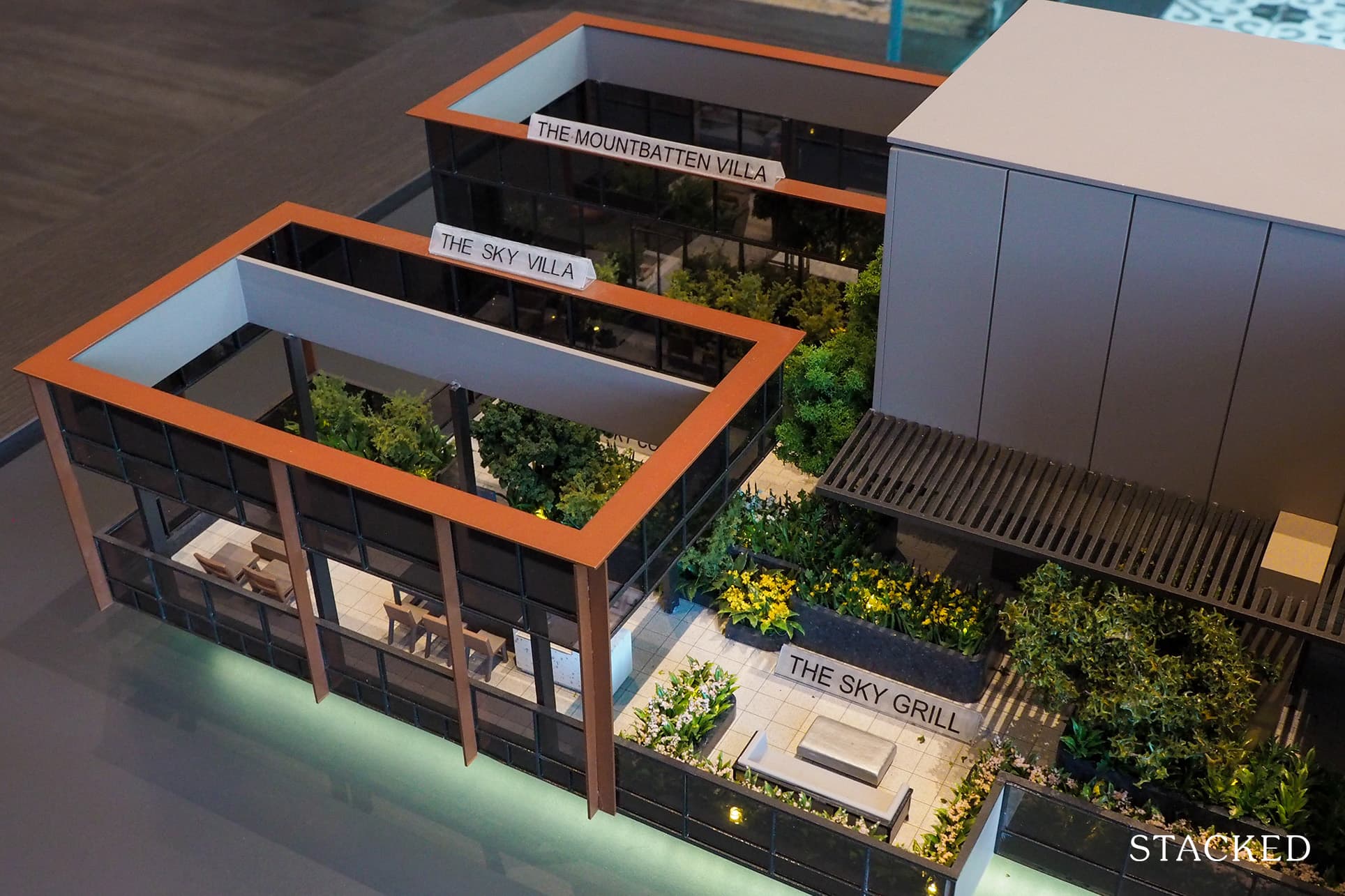 This floor is more impressive, as it also contains the Mountbatten Grill and Mountbatten Villa, both of which are very suitable for hosting guests. At least 1 of them looks to be air-conditioned, so I'm sure it's going to be well booked during the holiday season.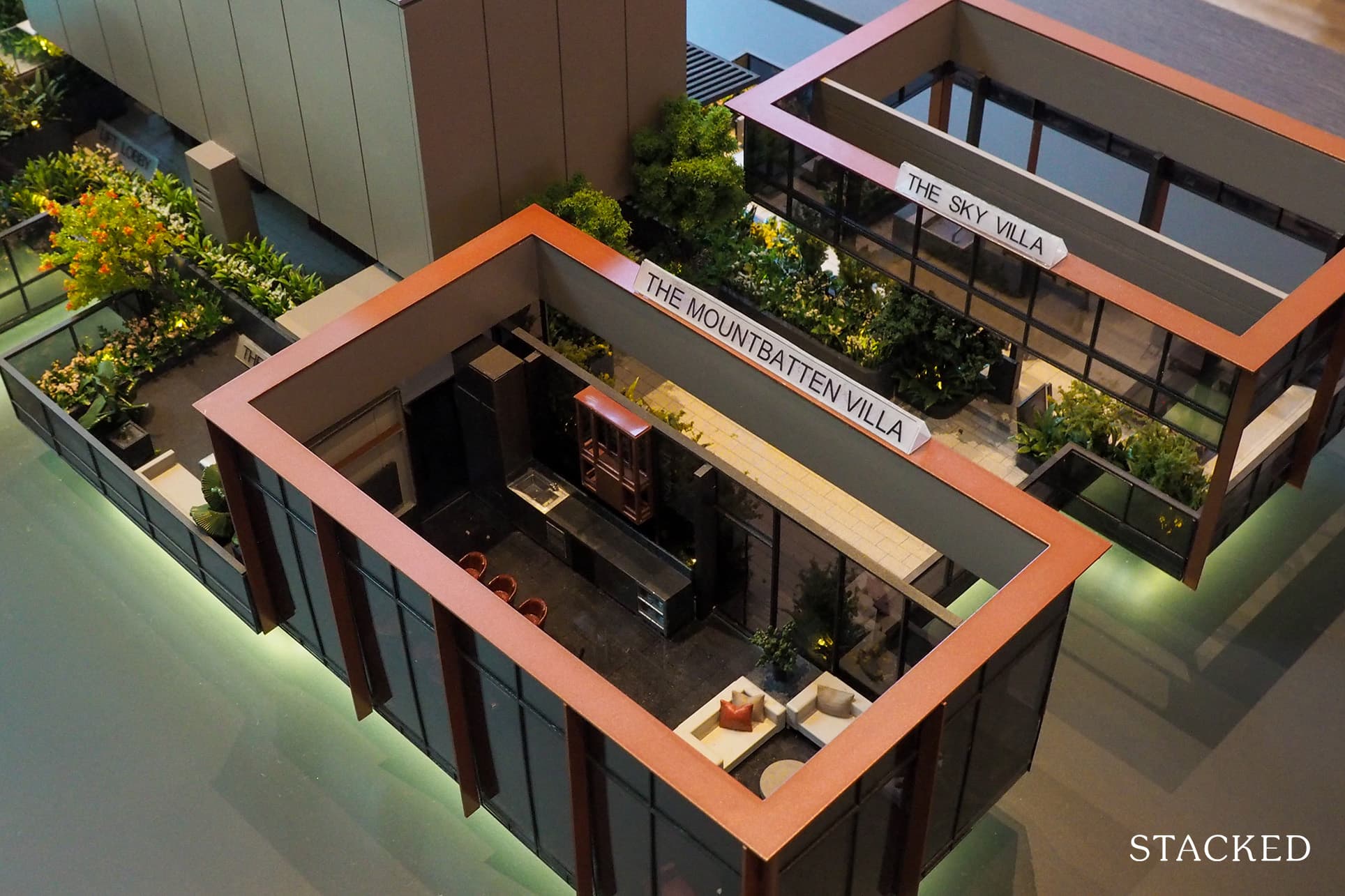 Otherwise, you can always have the option of the Sky Grill and Sky Villa here. It's been an impressive run of dining facilities through LIV@MB and it is clear that the developers have taken into account the proposed lifestyle of residents here – close to the beach and the sea while being slightly away from the city allows for a more laidback lifestyle.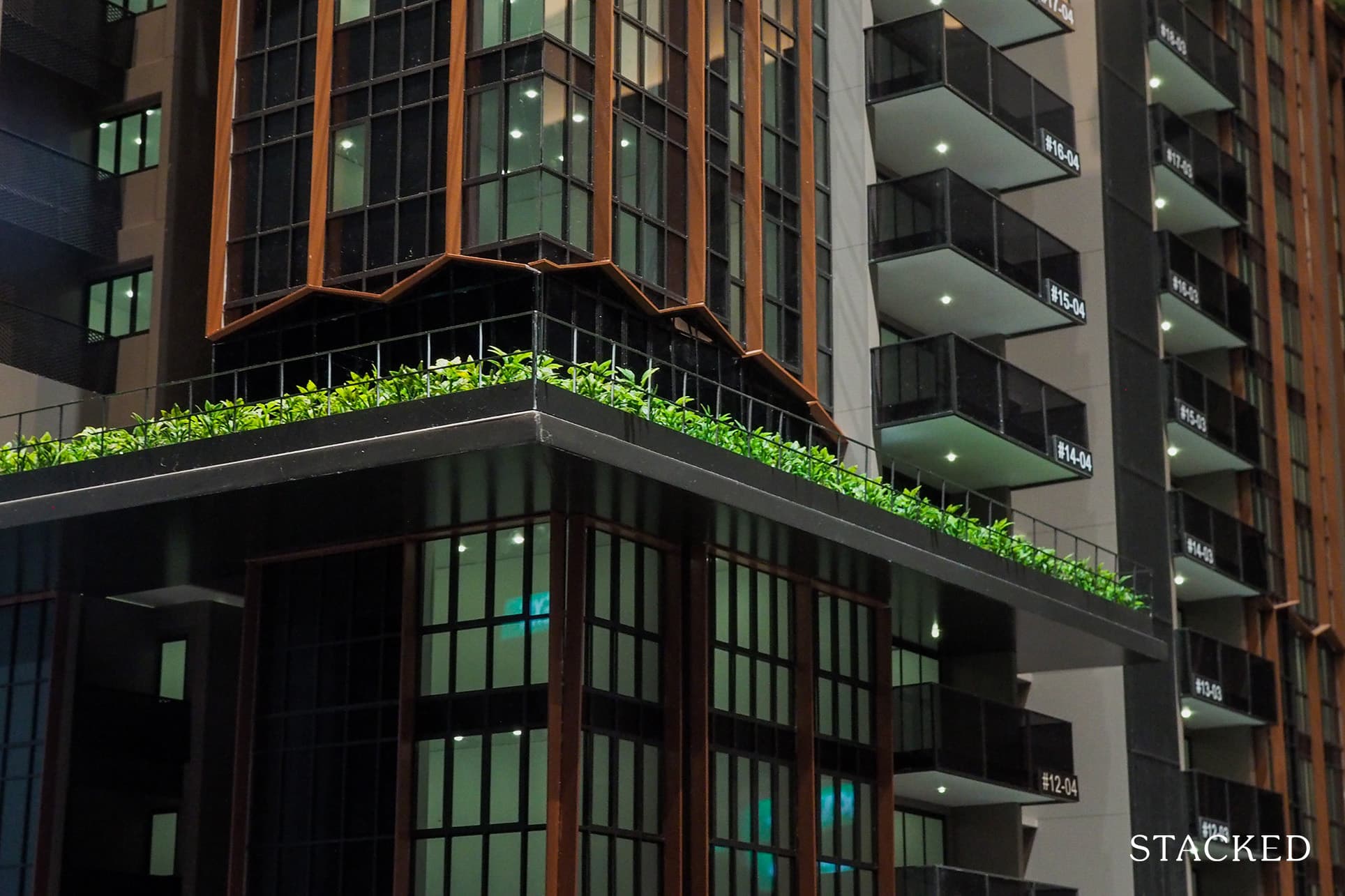 The more critical among you might point to the lack of a tennis court here, but today most developments at this size aren't going to come with one anyway so that's always going to be a trade-off for a more exclusive experience. If you really need a tennis court, you'd have to look to older developments or bigger projects for newer ones.
Without further ado, let's head straight for the show flat units!
Read this next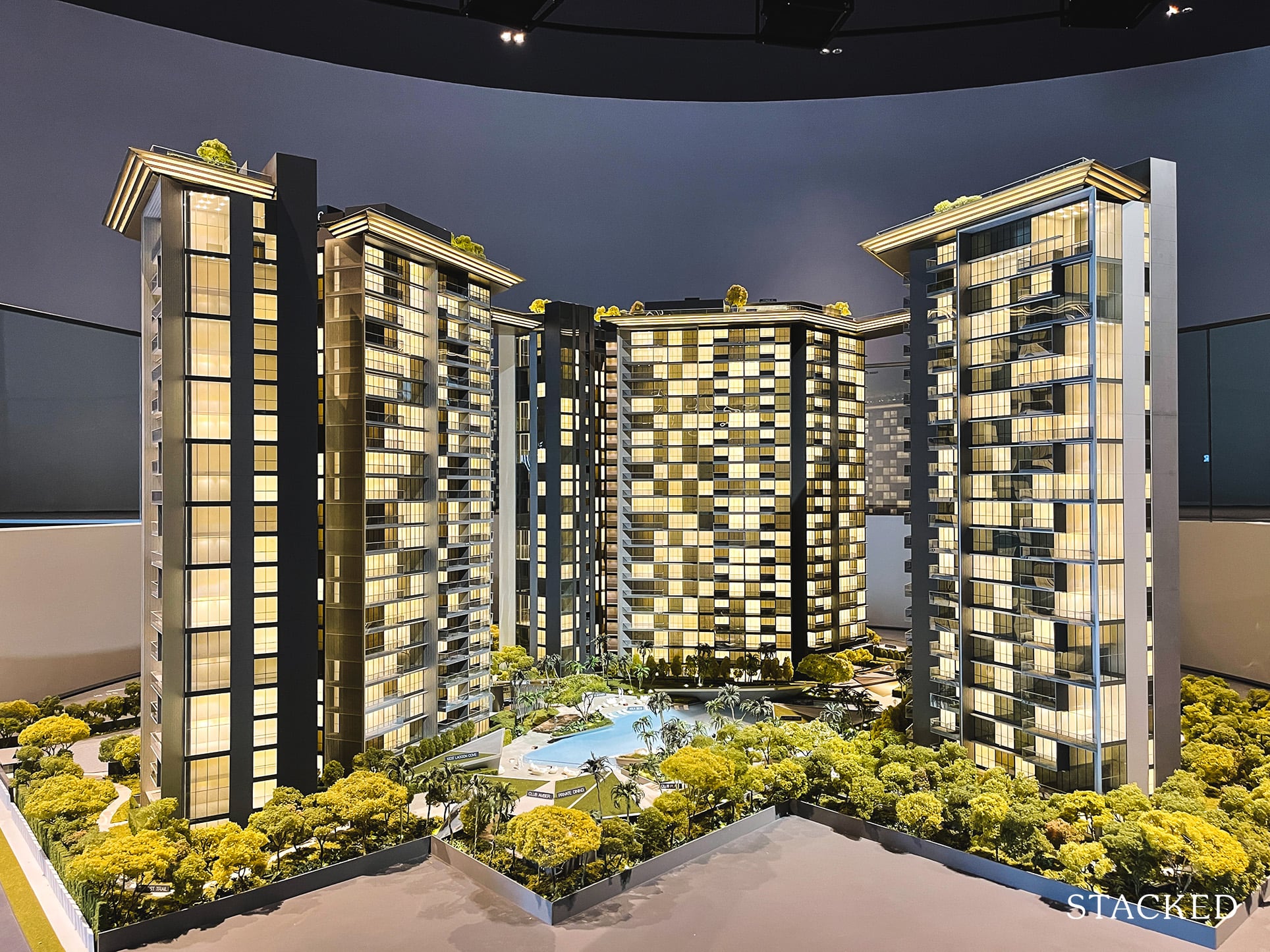 LIV@MB – 1 Bedroom Type A1 (46 sqm/495 sq ft) Review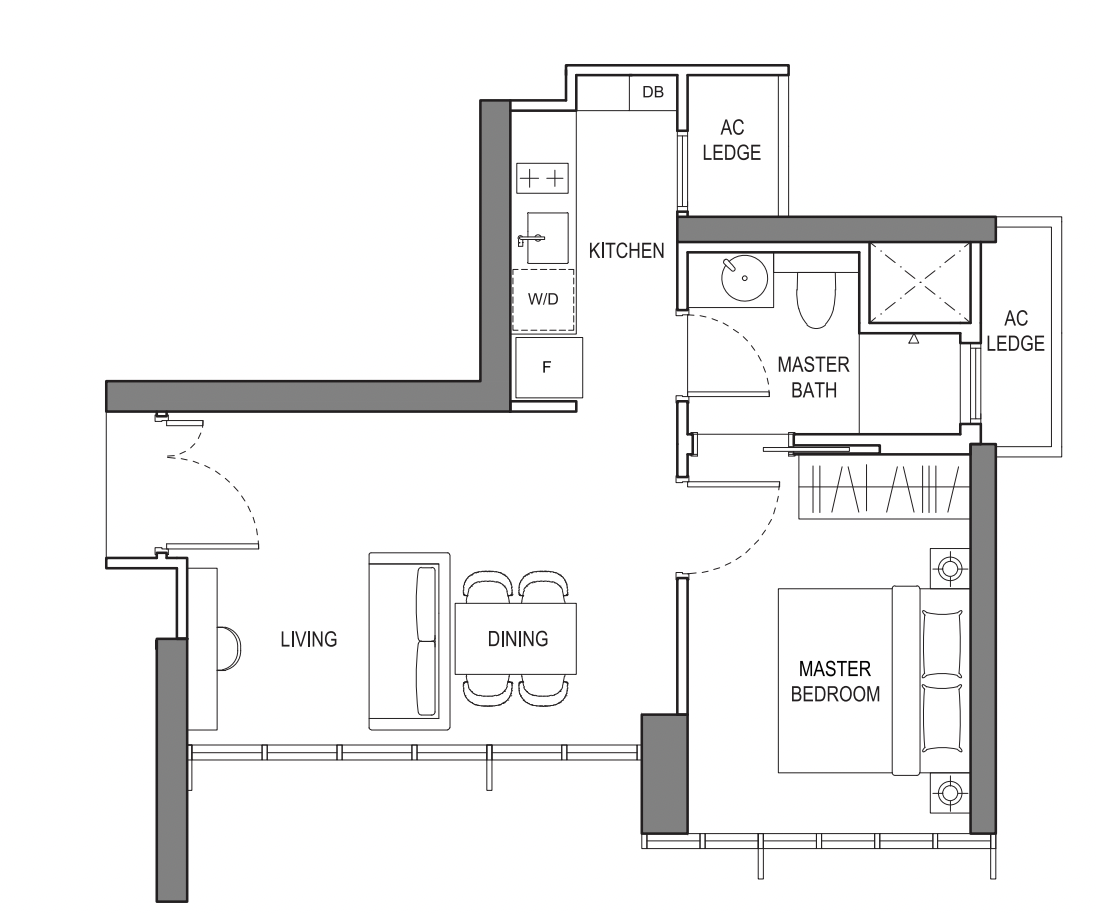 With just 39 units (13%) being the 1 Bedroom type at LIV@MB, I expect them to sell out in no time. Of course, we will also need a decent layout for buyers to bite the bullet, and this is probably as good as it gets for a 1 Bedroom unit.
In my opinion, this layout at LIV@MB is spot on from a practical perspective and is one of the better ones I have seen. At 495 sq ft, its size is, at best, marginally above average among the new launches. However, Bukit Sembawang has built a layout that appears to be very practical and liveable to me. Before delving deeper, you will get marble-like porcelain tiles for the apartment and a 2.8m ceiling – both are in line with the market and nothing to shout about. You have a choice of colour schemes – either the darker tone found in the 1 Bedroom show flat or the lighter one in the 2 Bedroom show flat (which you'll see next).
What's great here is that the developer will provide an optional layout for the 1 Bedroom unit (you can choose from a proper 1 bedroom or studio layout). Do note that if it is a proper 1 bedroom, it will be with an engineered timber floor, but if it is a studio layout it will be porcelain tile (as shown in the show flat).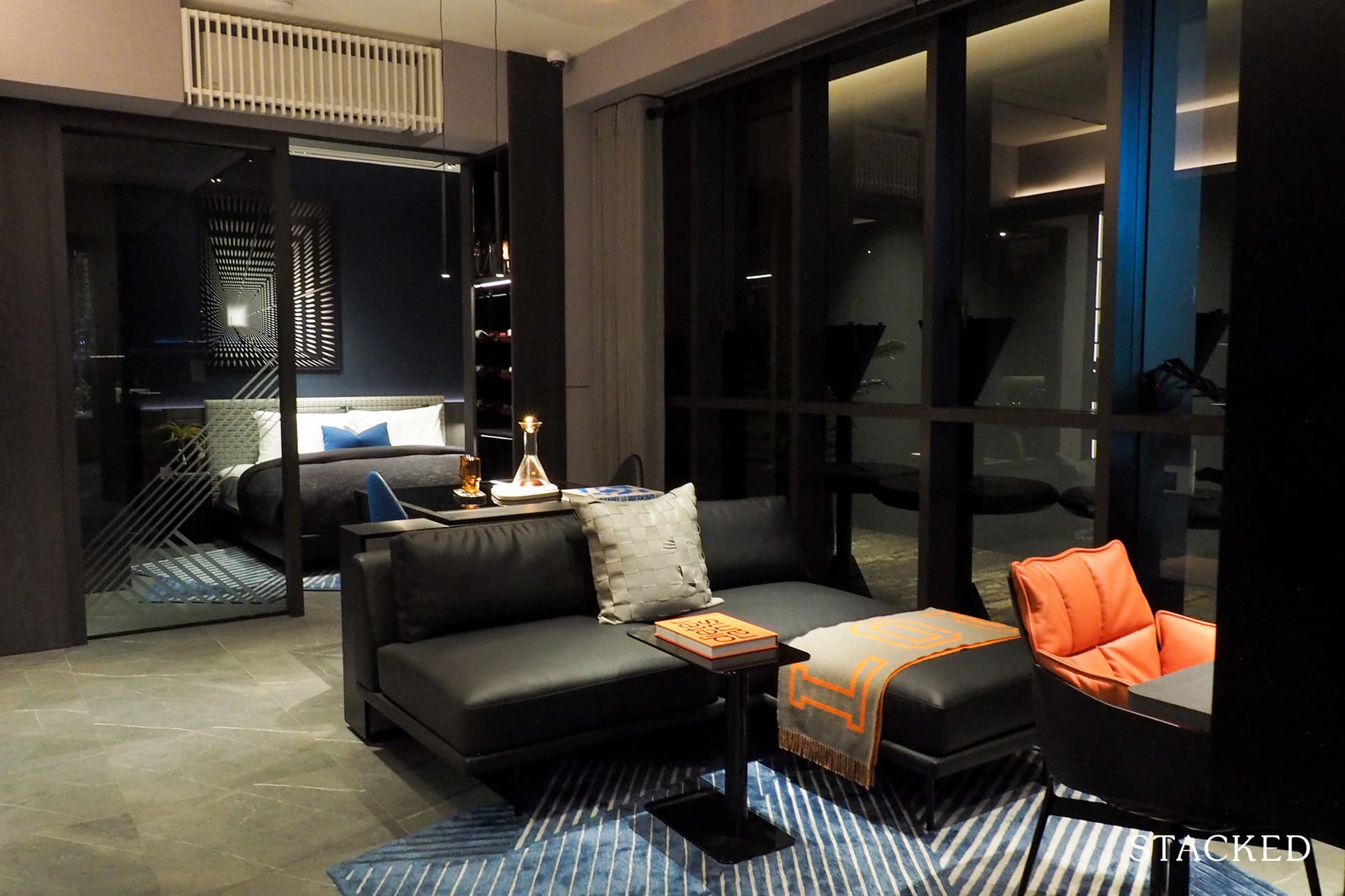 As you enter the unit, there are already a couple of unique advantages to point out about this layout. Firstly, the typical 1 Bedroom new launch often has the open concept kitchen located by the entrance, which is probably not quite the most desirable sight to greet your visitors. LIV@MB bucks this trend by having the living and dining areas greeting you as you step in instead (quite possibly the only one in the new launch market). It's certainly a breath of fresh air to see.
Secondly, it is not that common to find units that come without a balcony these days. While there is certainly an upside to having one, especially if you have always enjoyed al-fresco spaces, it also comes with additional cost. With balconies, the camp can be divided. You either love it, hate it, or are on the fence about it. At LIV@MB, you have the option to choose 1 and 2 Bedroom units with or without balconies. For this show flat unit, however, there isn't one and you could save some money for more fancy furniture perhaps.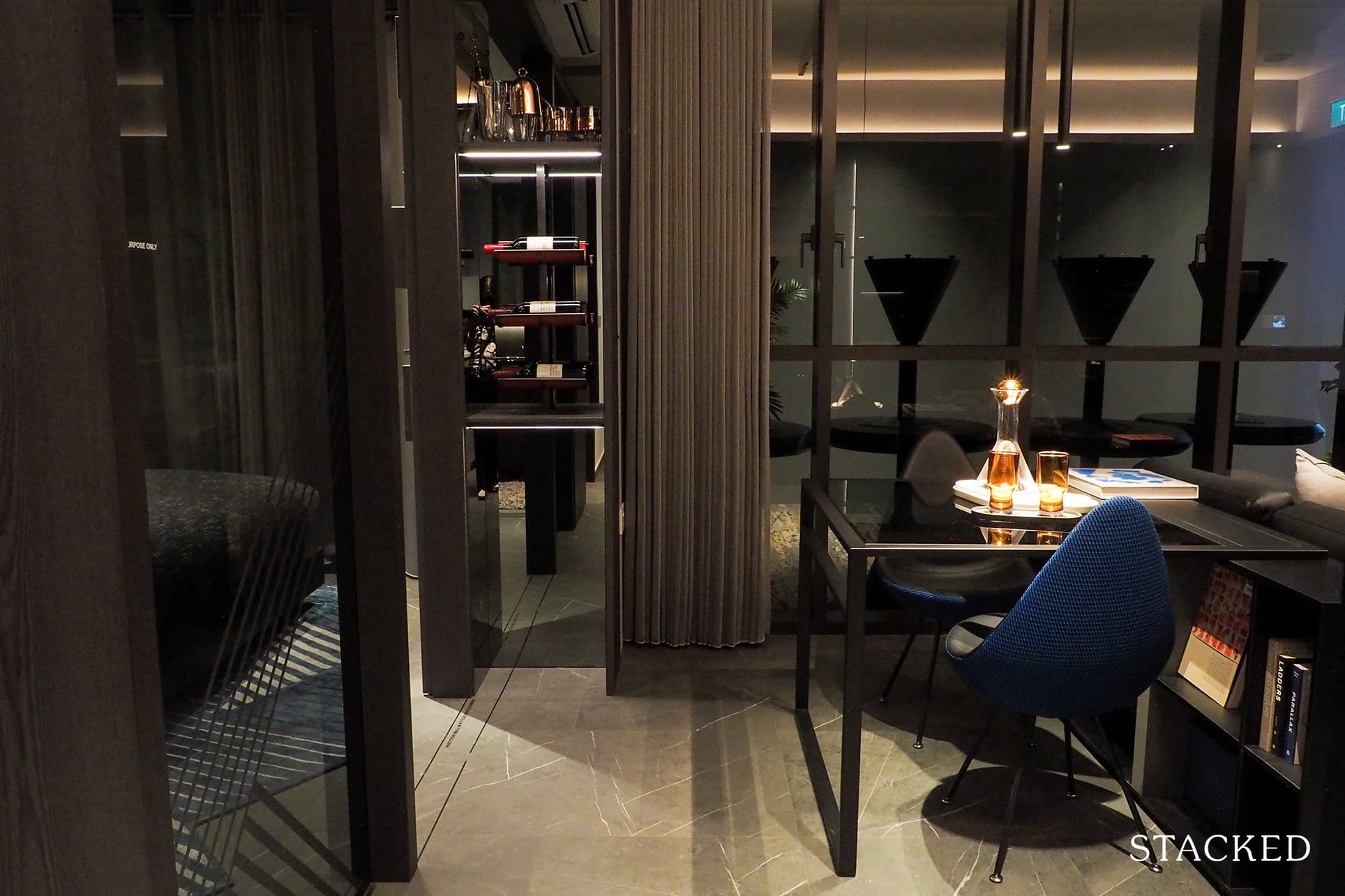 Finally, the living and dining areas are laid out in a parallel format – if you don't understand this, you will when you visit the show flat – which is virtually unheard of for 1 and 2 Bedroom units. The biggest upside to the parallel format is the amount of natural light and ventilation the unit lets in as compared to a more conventional layout. In this case, you get a full panel of windows stretching the length of the living and dining areas.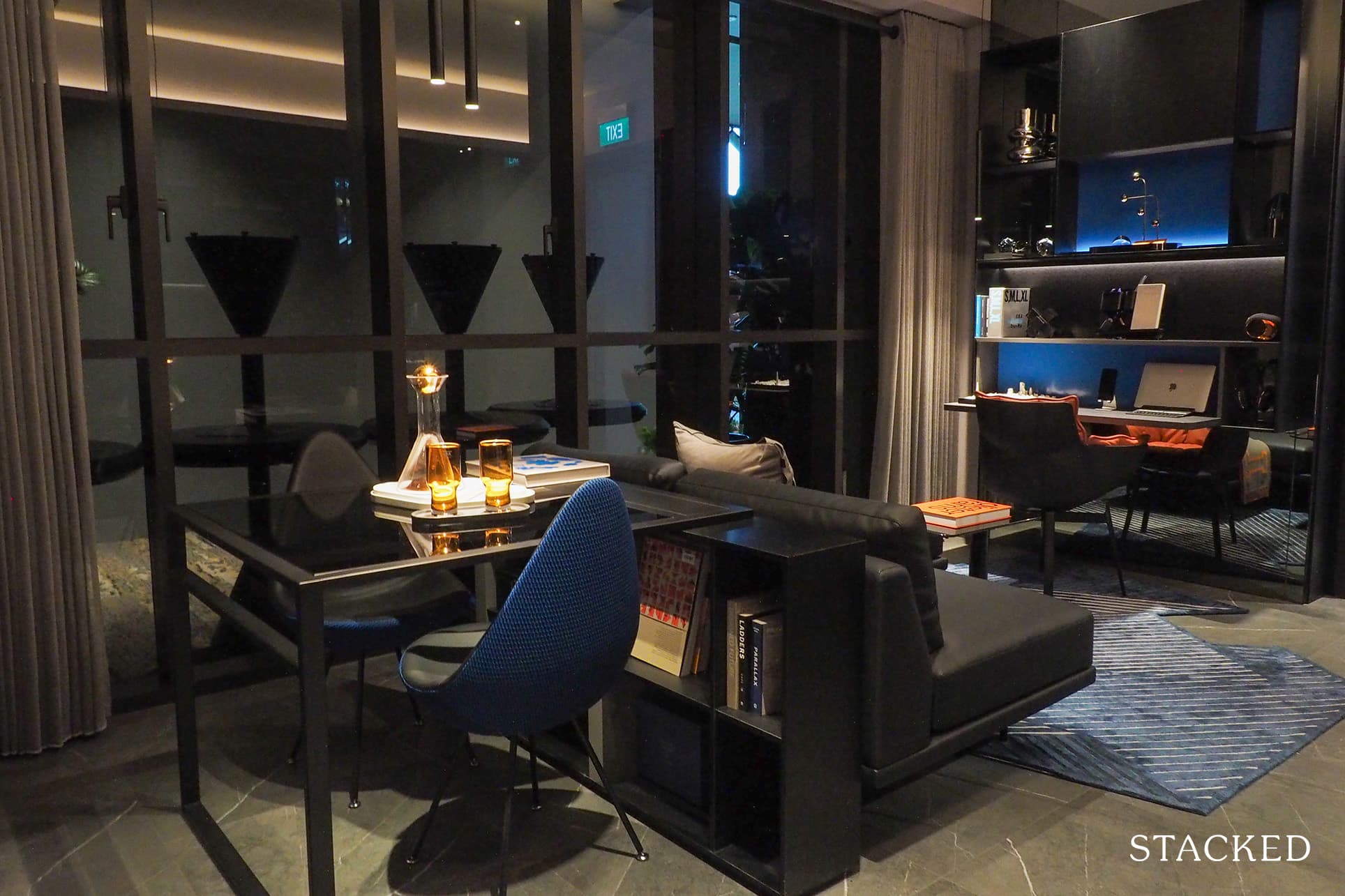 While I would prefer larger (and fewer) window panes compared to those you see here, the current setup means that you are free to open up whichever pane you want instead of being restricted to the windows on the side (as is usually the case for larger window panes).
Of course, as much as I praise the parallel layout of this unit, it remains a fact that this is a small unit of just 495 sq ft. This means it is still a compact unit, after all, intended to meet the needs of a single or a couple. In this show flat, this looks to be designed as a bachelor's pad, taking on a dark, modern theme throughout. It probably does make the space feel smaller than it actually is, but that really doesn't detract from the fact that this is an excellent layout.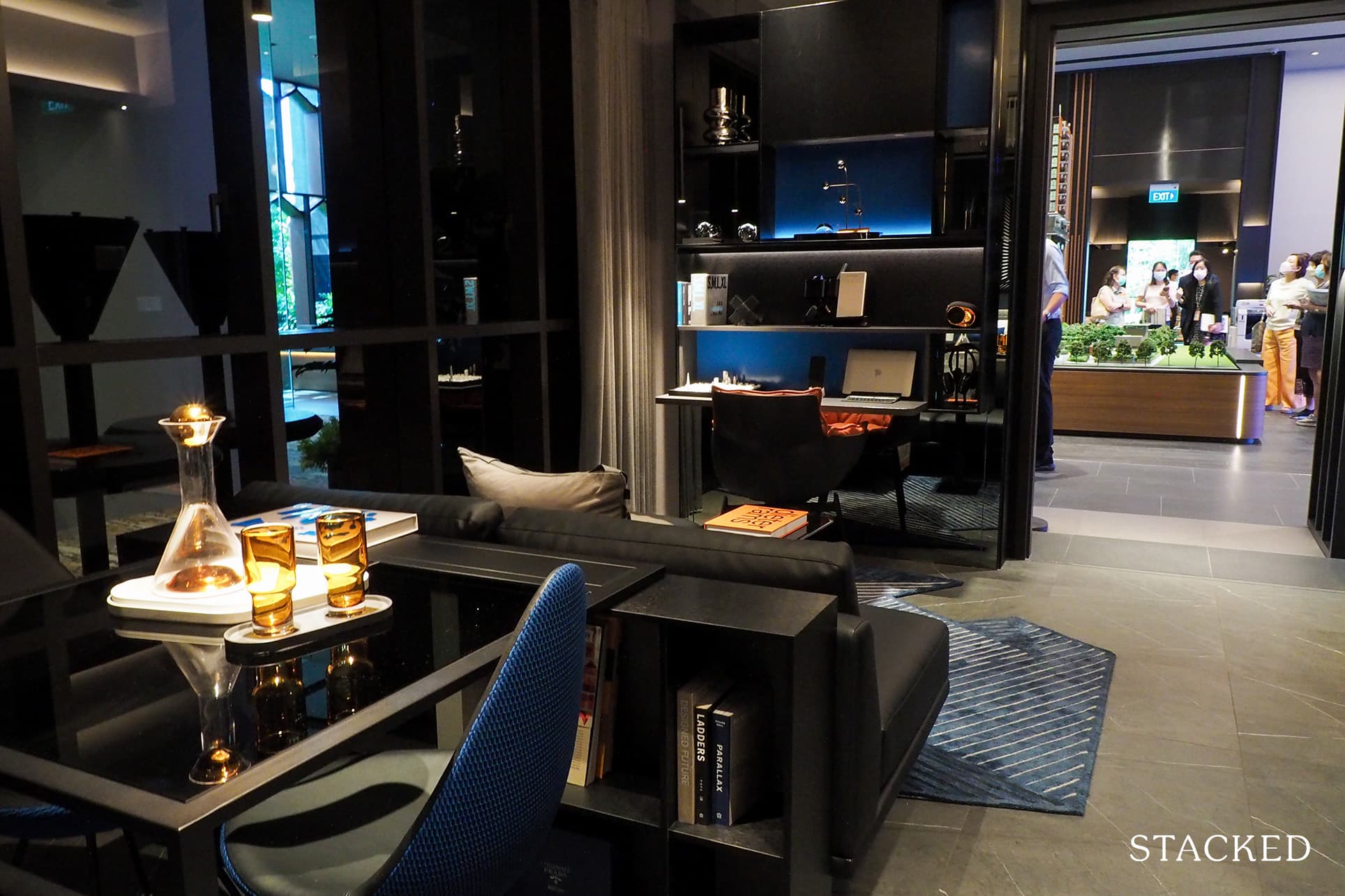 In the living area, you have the option of placing a TV console. In this case, however, it has been converted into a study, which is understandable, especially if you are in a hybrid working environment. With a study in place, there is still room for an L-shaped sofa that fits at least 3 people.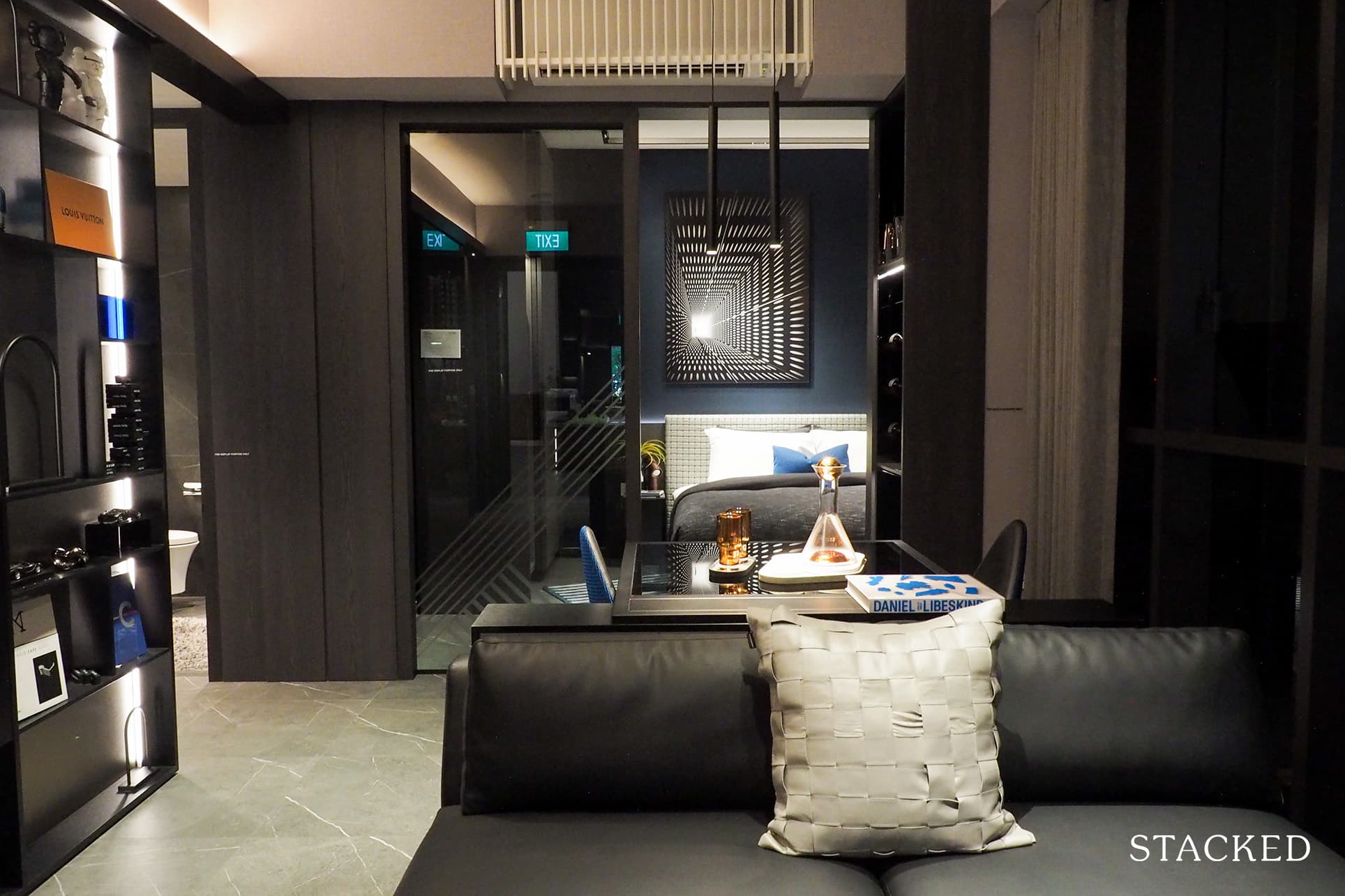 Another advantage to having a parallel living/dining layout is the flexibility of placing your sofa slightly further away from your TV, which is not an option for the conventional layout. As for the dining area, they have only managed to place a 2-seater here. While this is average, I definitely thought the IDs could have done more to accentuate the space. There's definitely sufficient room for a 4-seater at least, depending on your need for a sofa, and the size if so. It's a flexible layout overall, and one that allows you options to suit your lifestyle. The combined area of the living and dining areas is 18.8 sqm.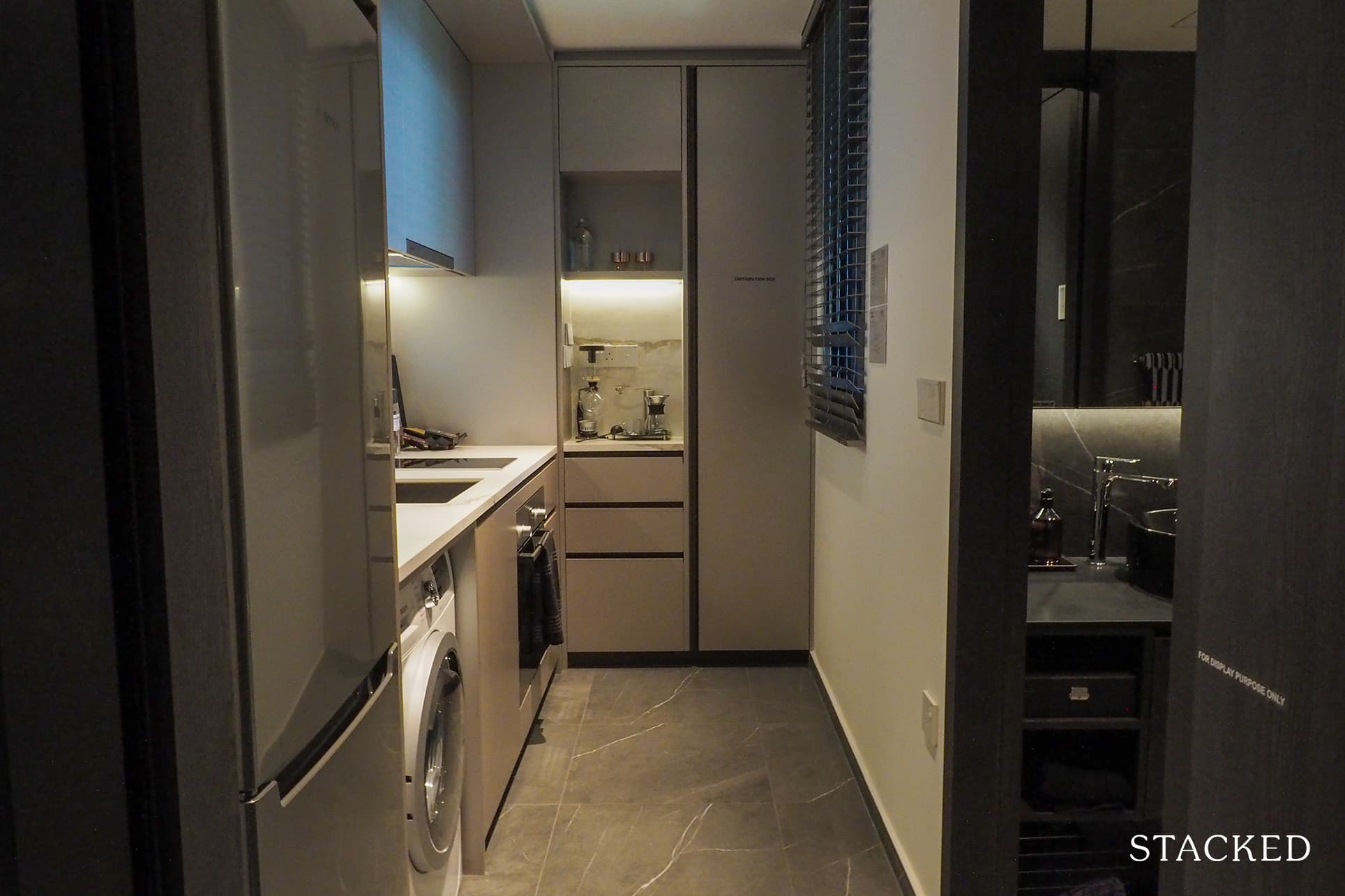 Moving on to the kitchen, which measures 5.9 sqm by itself. That's an impressive feat, considering how most 1 Bedroom apartments do not even have a segregated kitchen space. The one here is not only hidden away from the main entrance, but also comes with a window leading to the aircon ledge, so you have the option of enclosing it (the installation of a sliding door will be at your own cost though). The placement of the aircon ledge here also means that you get full-length windows in your Master Bedroom and that's brilliant and almost unheard of these days.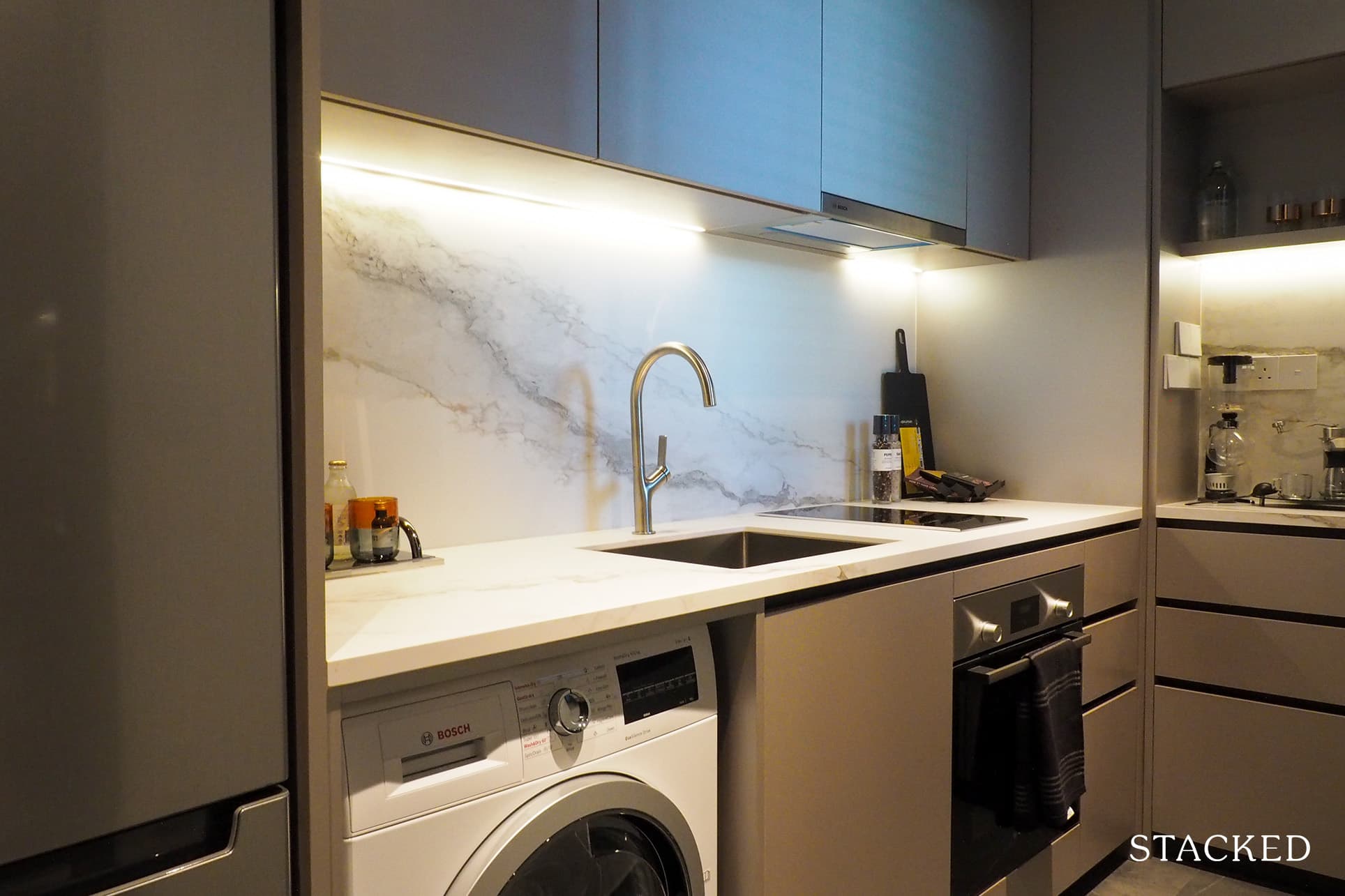 This placement of this kitchen and its functionality is quite a selling point to me personally and will be a huge perk for those who cook a lot. You get the standard white goods from the developer, including a freestanding fridge, 2 zone induction hob, hood, and washer-dryer all from Bosch. A mass-market European brand, Bosch was also the brand of choice at the other recent launch, Piccadilly Grand. You will also get built-in top and bottom cabinets for easy storage and a mini pantry of sorts just beside the window.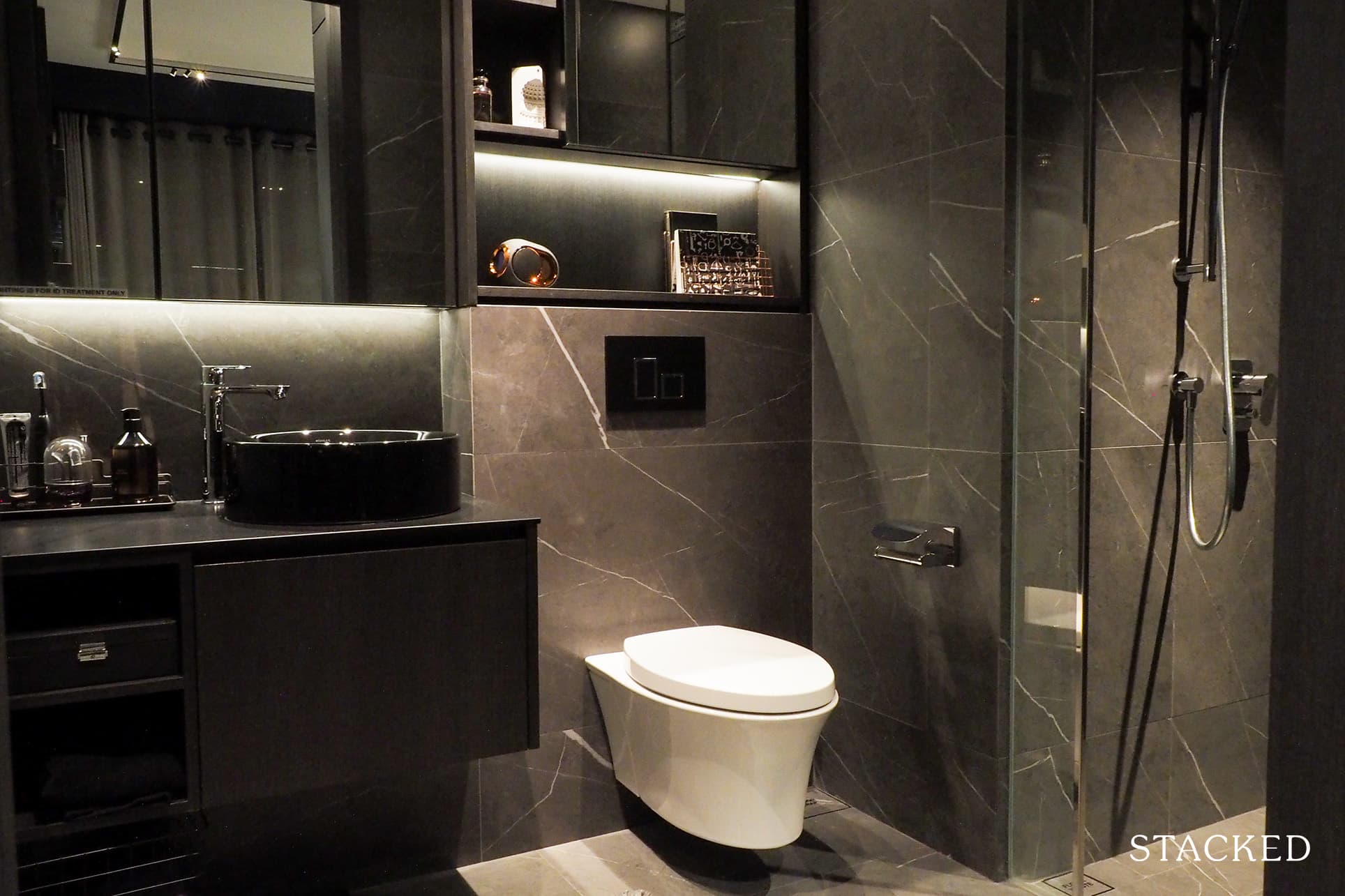 The unit's only bathroom is a jack-and-jill, with entrances from the kitchen and the bedroom. Measuring 5.1 sqm, this is very comfortable in size. Once again, you have a choice of colours – and the one here is of a darker theme that suits the overall bachelor's pad that this unit seems to be going for (the black sink is pretty unique). It will be tiled up with porcelain tiles from floor to ceiling.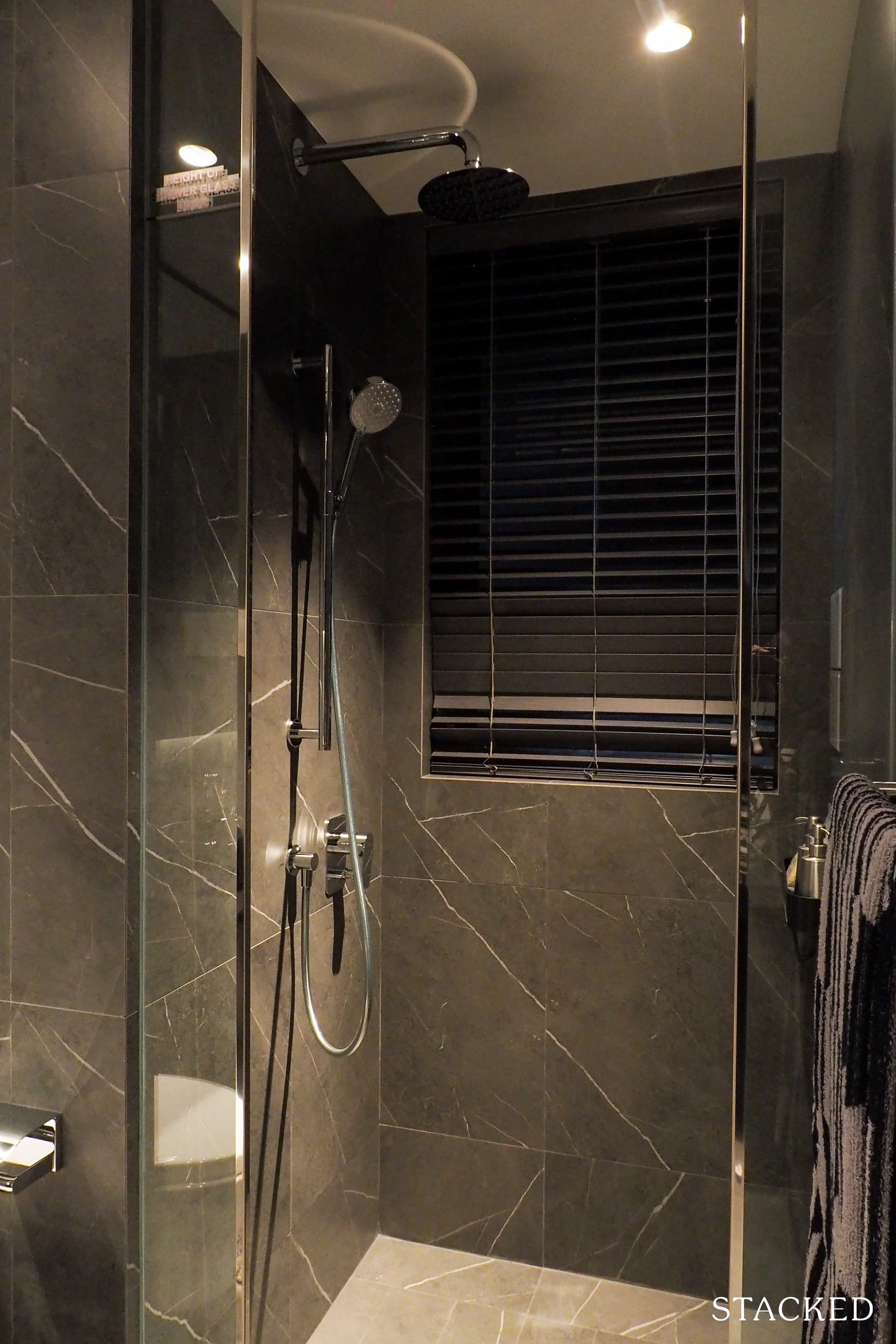 The developer will also be providing the standard storage spaces with wares and fittings from Kohler, an American kitchen and bath manufacturer founded in 1873. These include the tap, wall-hung w/c, and the rain shower. More impressively, this 1 Bedroom unit comes with a window for natural ventilation as well.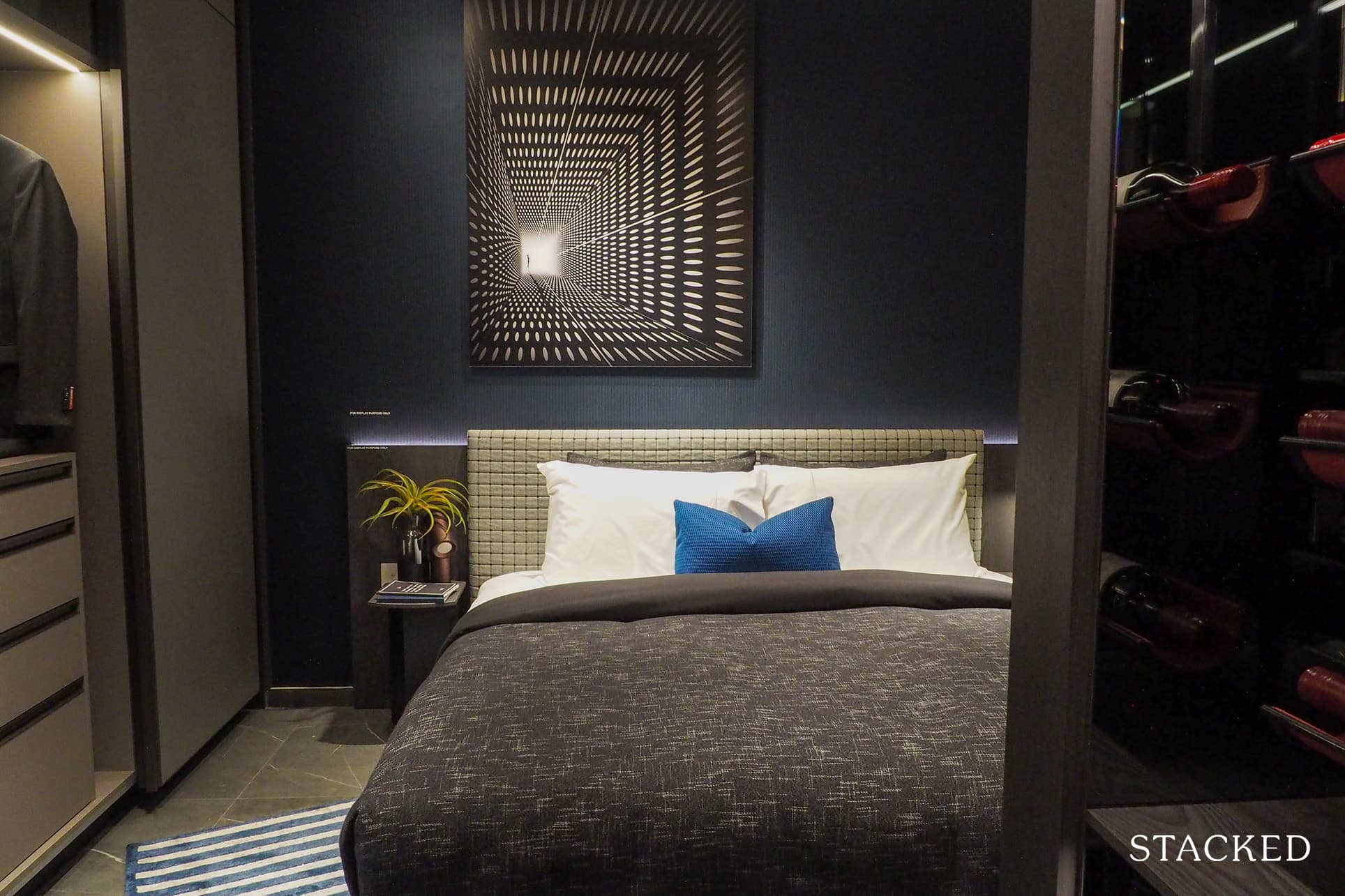 Finally, the Master Bedroom. At 12.1 sqm, this is average for a Master Bedroom in a 1 Bedroom unit. You might also have noticed that you get full-length windows here for maximum ventilation and views. Surprise surprise, but this is almost impossible to find for a 1 Bedroom unit. This is down to great planning by Bukit Sembawang, who have placed it just beside the kitchen instead.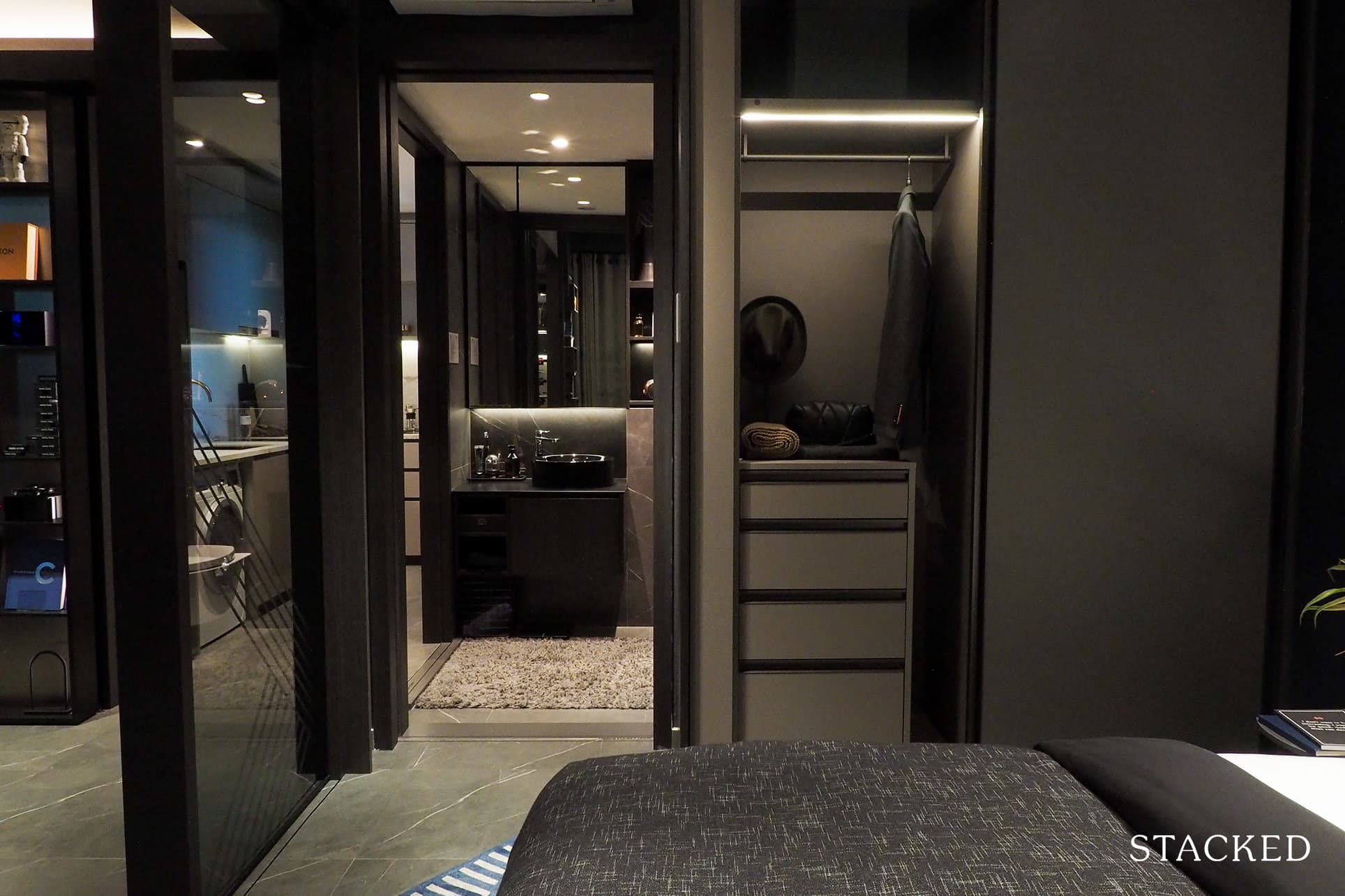 As standard, you will also have a 2-panel wardrobe built-in, along with additional drawers plus LED lighting. The finishing of the wardrobe panel is a textured laminate, and you do also have a standing dresser with shelves and a full-length mirror attached to the side as you open it up.
In summary, this has been a very practical and impressive 1 Bedroom unit and definitely one of the best I have seen among all the new launches so far. It has everything one might need from a 1 Bedroom unit, and after seeing this, it's hard to even consider anything else from a liveability standpoint.
LIV@MB – 2 Bedroom Type B3 (70 sqm/753 sqft) Review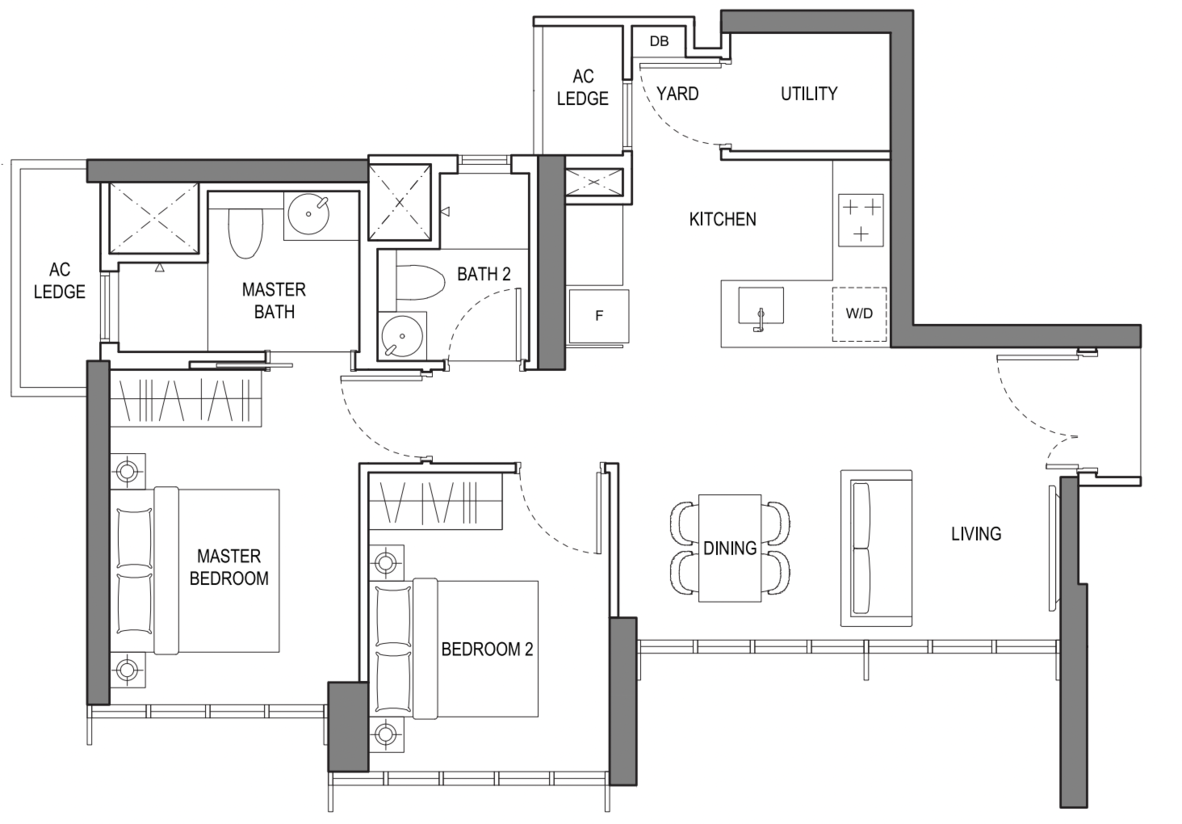 The 1 Bedroom show flat at LIV@MB was impressive, so let's see if the 2 Bedroom unit is equally so. For starters, you have the option of having 1 Bathroom (starting from 646 sqft) or 2 Bathrooms (starting from 753 sqft, which is this show flat unit). You also have the choice of a balcony or without, depending on your lifestyle needs. This particular show flat unit we are reviewing does not come with a balcony and is slightly above averagely sized for a new launch.
As with the 1 Bedroom show flat, it comes with a layout that is impressively efficient. This unit comes with a different colour scheme from the 1 Bedroom unit, but you will have a choice between the cool or warm theme. Porcelain tiles are for the common areas, with engineered timber for the bedrooms. The ceiling height is average at 2.8m.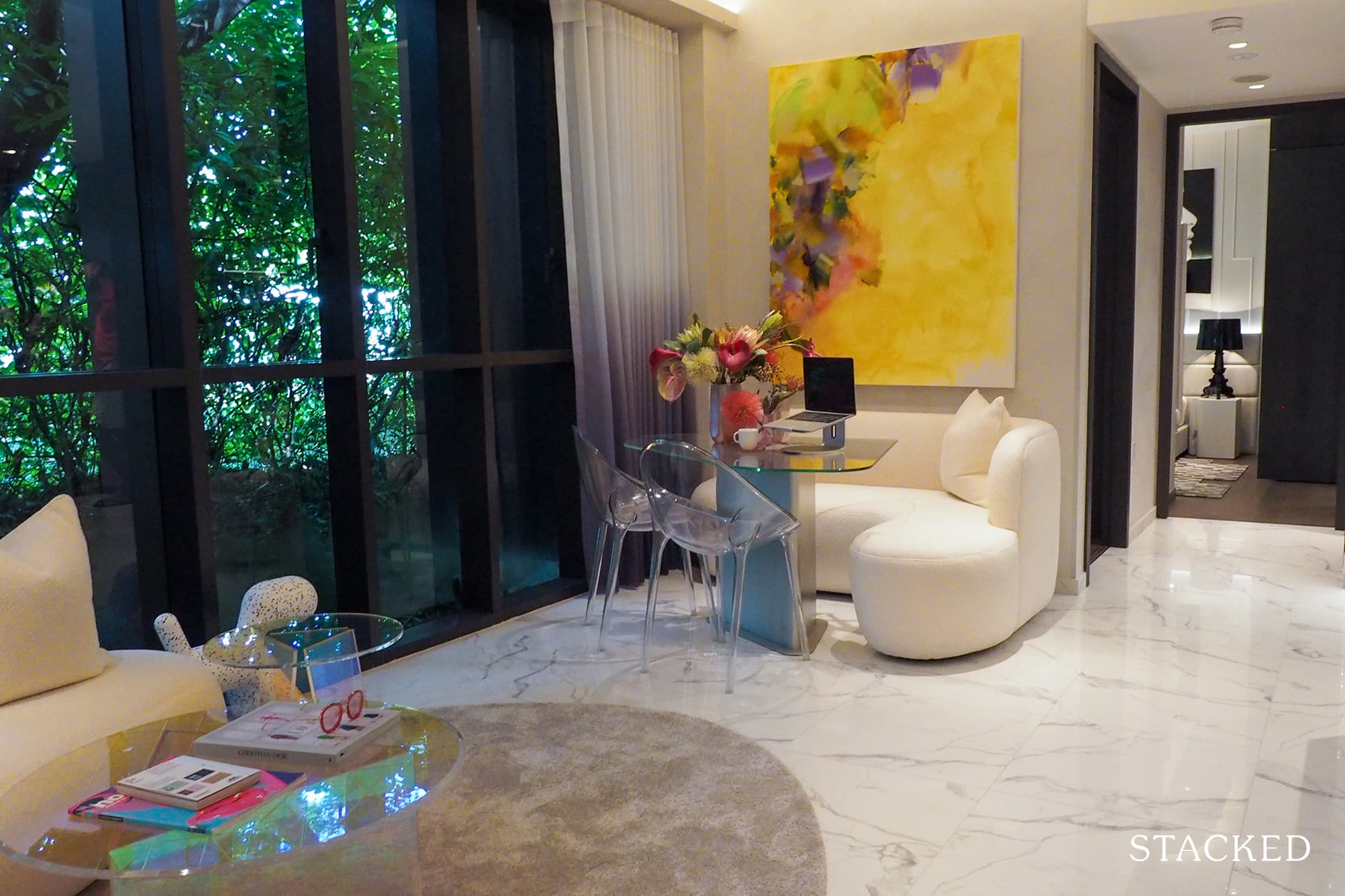 As you enter, you are immediately greeted by the living and dining areas. Once again, it is in a parallel format, which means that you get to enjoy the entire length of windows, which is helpful in bringing in more natural light and ventilation. While I have always preferred this parallel layout, it's often harder to do so for the small units because of the space constraint. I still really like the one here, but you should take note that the width is really not the widest. So you should have a good grasp of the dimensions especially if you intend on having any bulkier-looking furniture.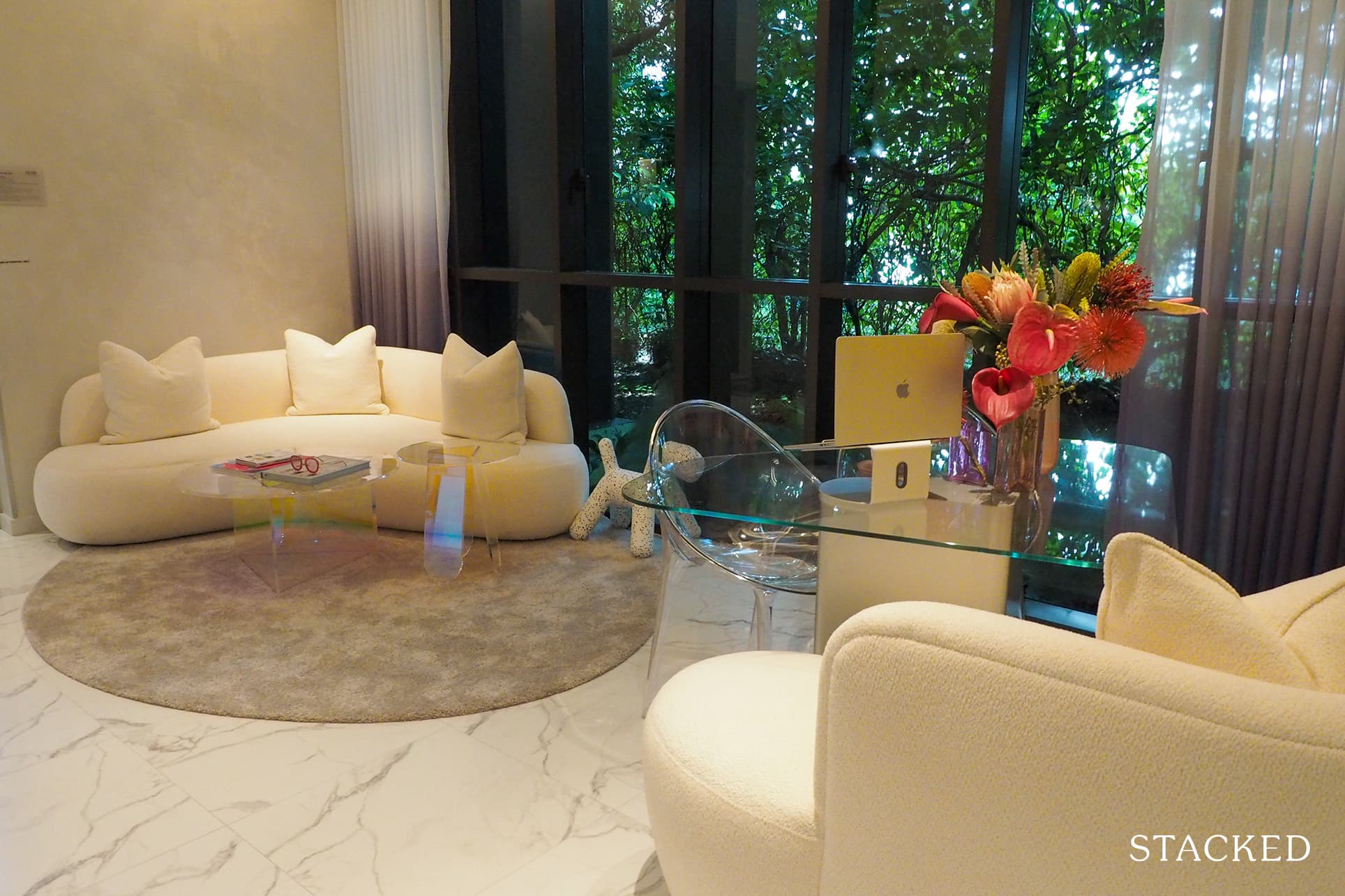 As you can see here, fitting a 4-seater should not be an issue but your choice of tables should not be too clunky (as it will eat into the walkway to the bedrooms).
Now for the living room, they have gone with just a carpet and an L-shaped couch, which makes this space look more spacious but probably not the most reflective of most people's living habits. If you require a TV console, it's definitely possible but will make this space look slightly more compact as the sofa has to be placed in the middle of the area instead (I'd probably opt for a standing TV here or maybe even a projector). The total space for the living and dining room measures 21.5 sqm.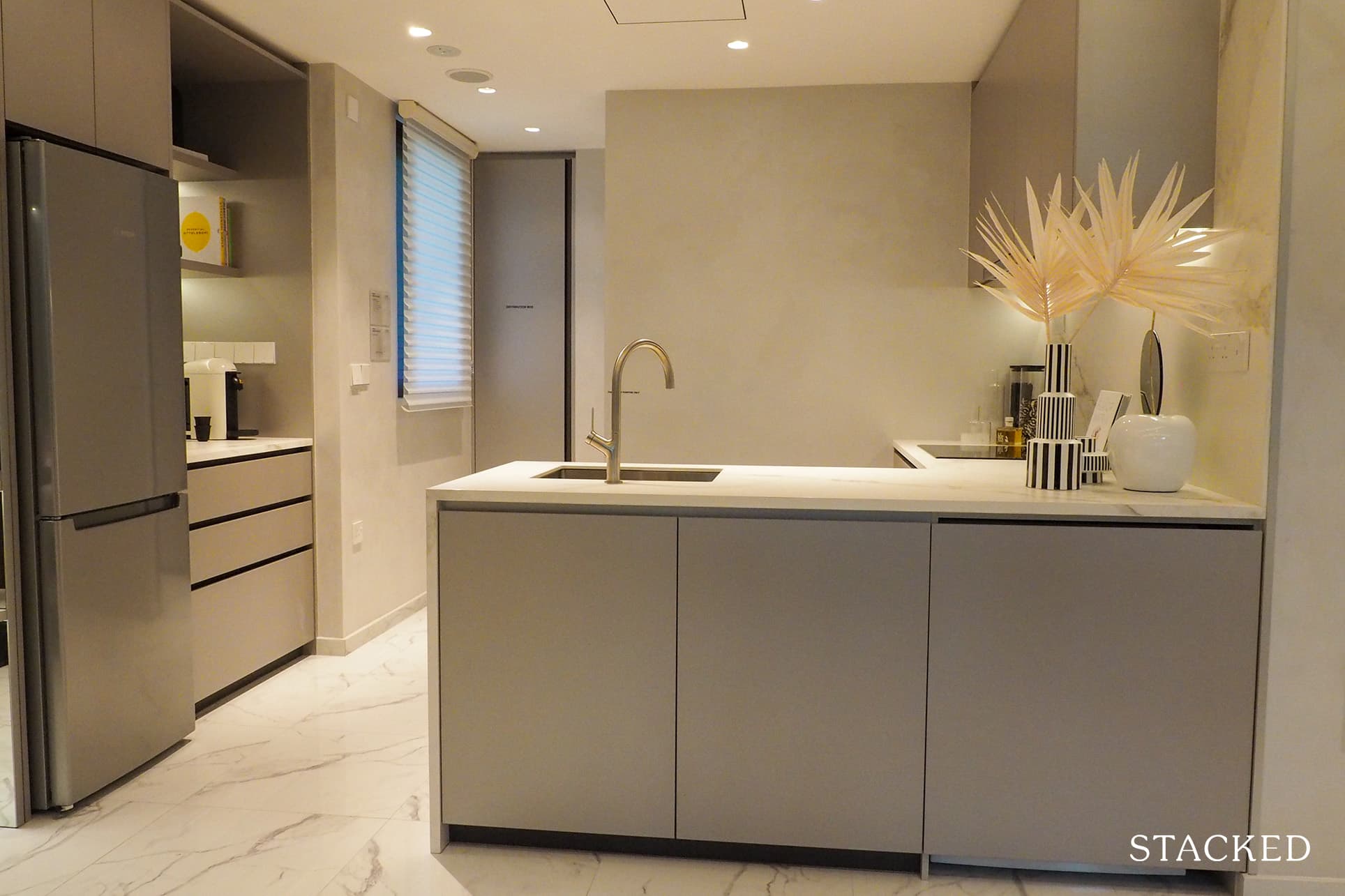 Just like the 1 Bedroom unit, the kitchen is not visible when you step into the unit. From an aesthetics standpoint, I think this is a good move and much prefer this layout. Instead, it is hidden in a nice squarish space just adjacent to the dining room.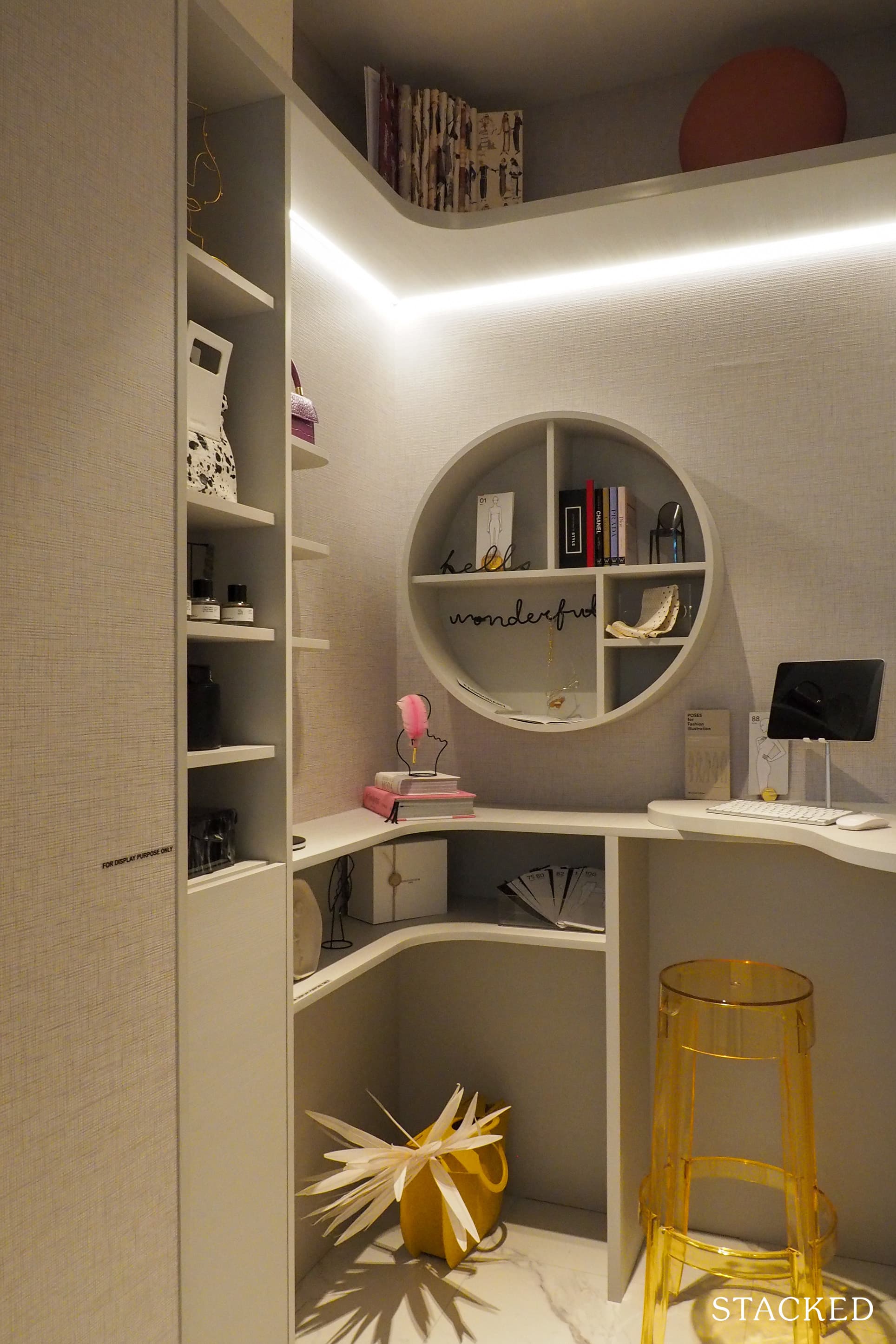 This space also houses the yard and utility room. Yes, you haven't heard me wrong, this 753 sq ft unit actually has a yard with windows and a utility room measuring 3 sqm. It's very impressive, I must say.
While the utility was done up as a study (given the lack of one in the unit), I think the more practical option would be to use it as a storeroom or a helper's room if you have one. At least this space is somewhat ventilated with the window close by. The yard is compact but gives you the option of drying your clothes naturally at least (especially when you don't have a balcony).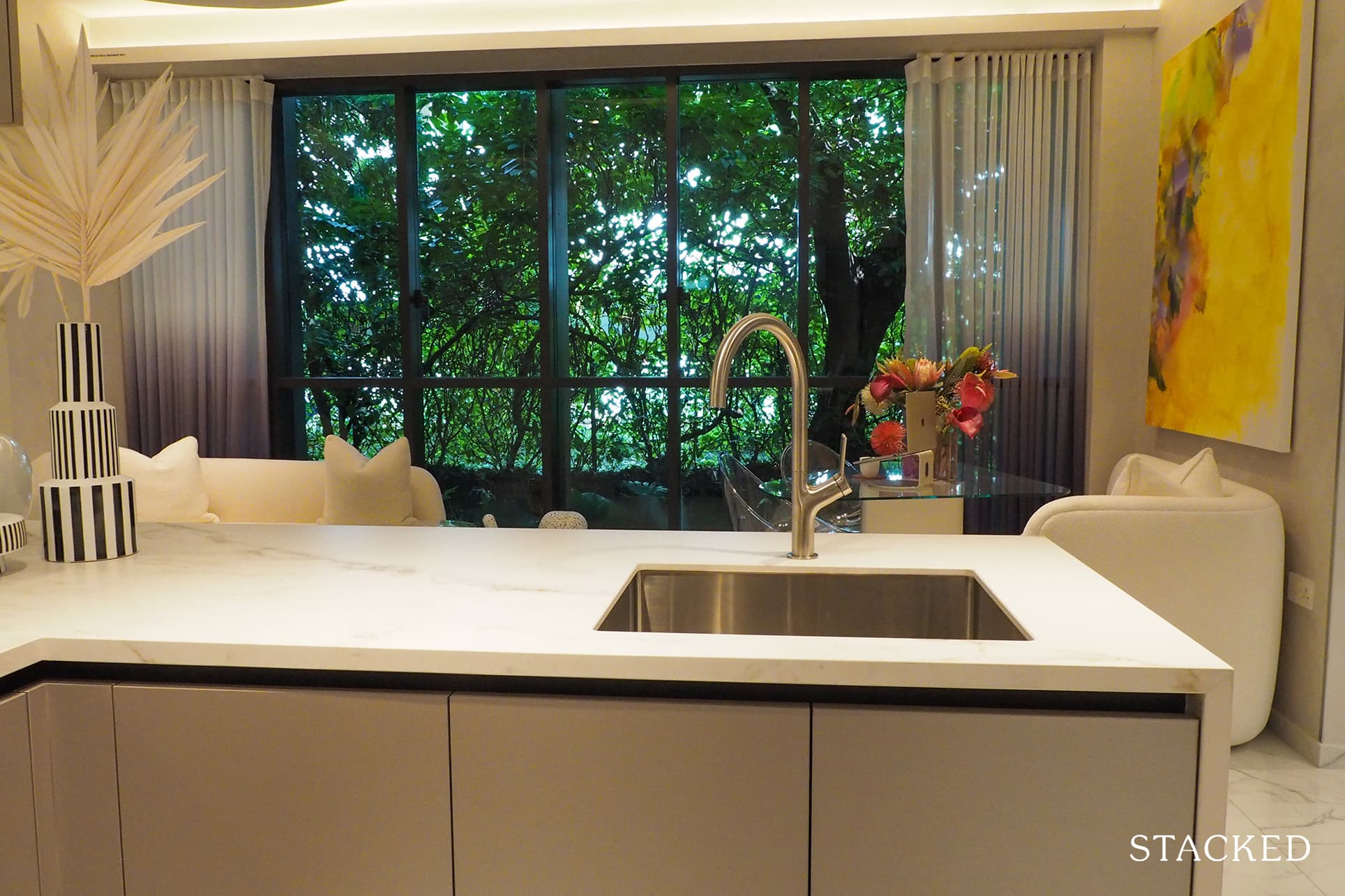 As for the kitchen, it's divided into 2 separate areas just beside each other. You have an L-shaped kitchen countertop that provides a good amount of space for you to work on. As usual, top and bottom cabinets will be built in for easy storage. Given the layout, you can enclose the kitchen here too if you so wished, and the best part is that it will actually be very usable with the window for proper ventilation!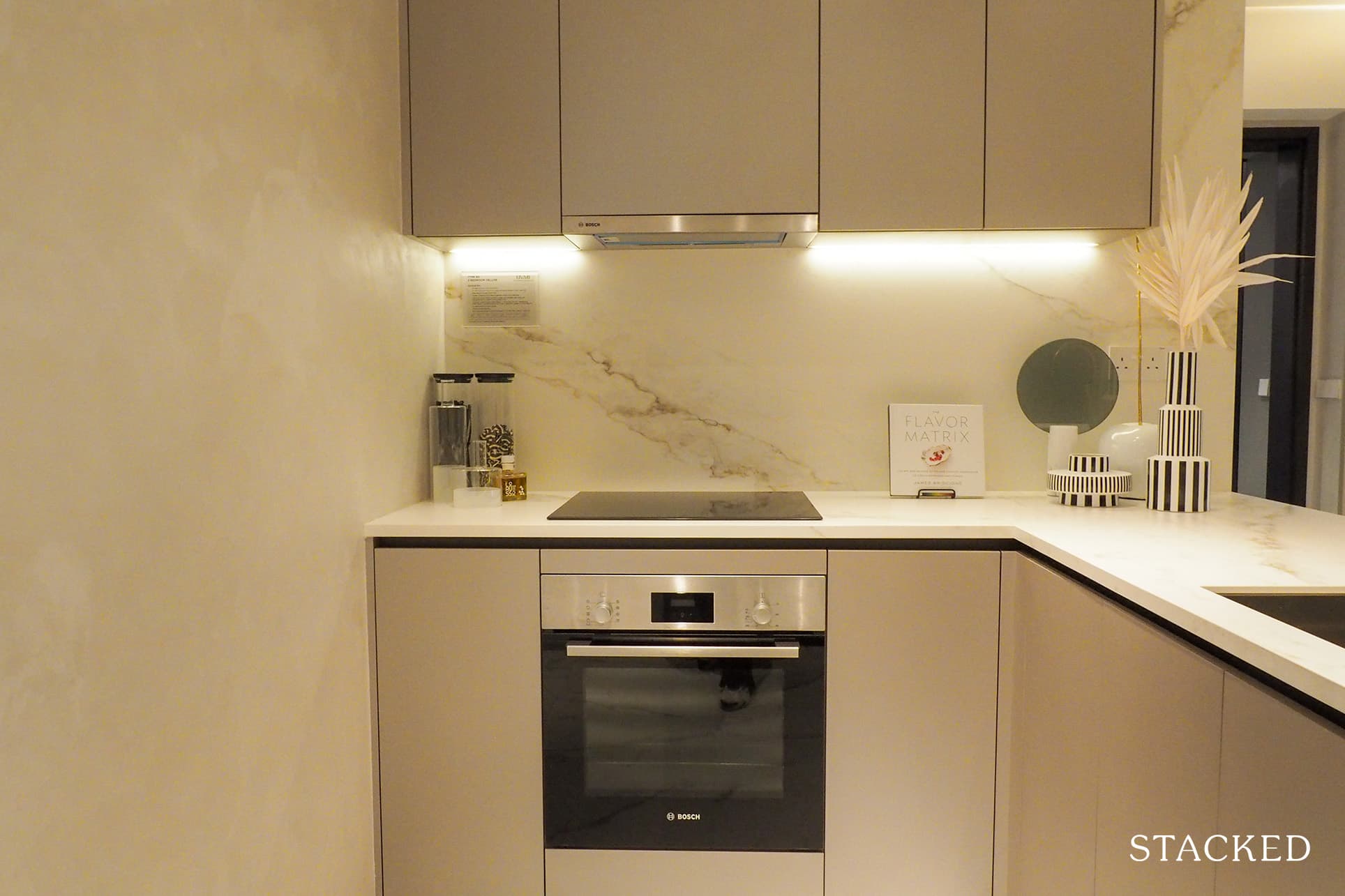 Bosch appliances including the 2-zone induction hob, hood, built-in oven, fridge, and washer dryer will be provided by the developers. Do note that the washer/dryer is placed in the outward-facing part of the bottom cabinetry.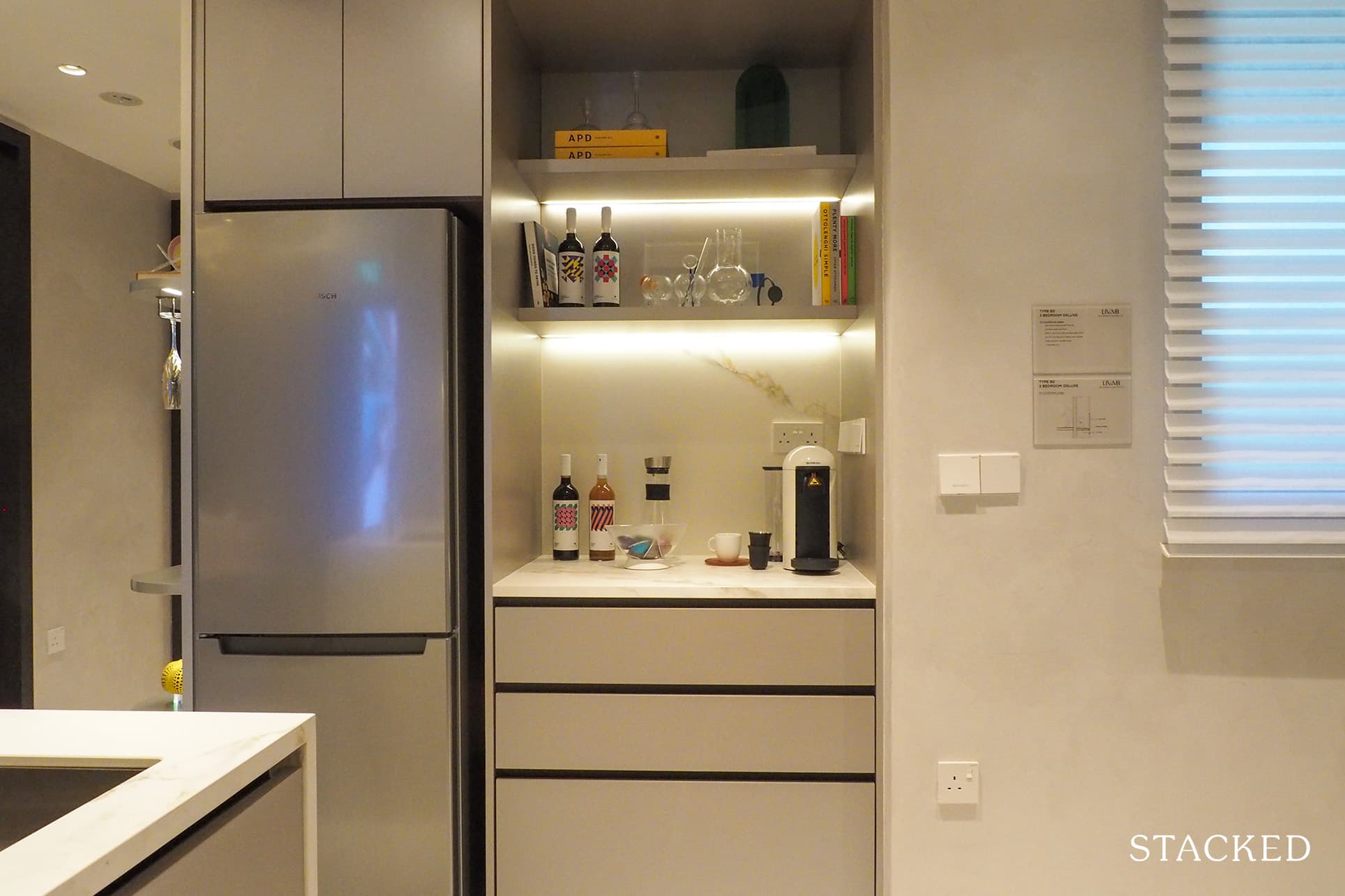 On the other hand, the fridge will be placed in a space that is beside your kitchen countertop. There, you find some additional cabinets, which are always very helpful for a smaller unit. There's also a unique part to this. You get a pantry space, which can be used to place your coffee machine and/or some alcohol. I actually really like that they have catered for this, it's somewhat like a 'fun' and 'entertainment' section of the kitchen, especially when you have some guests over.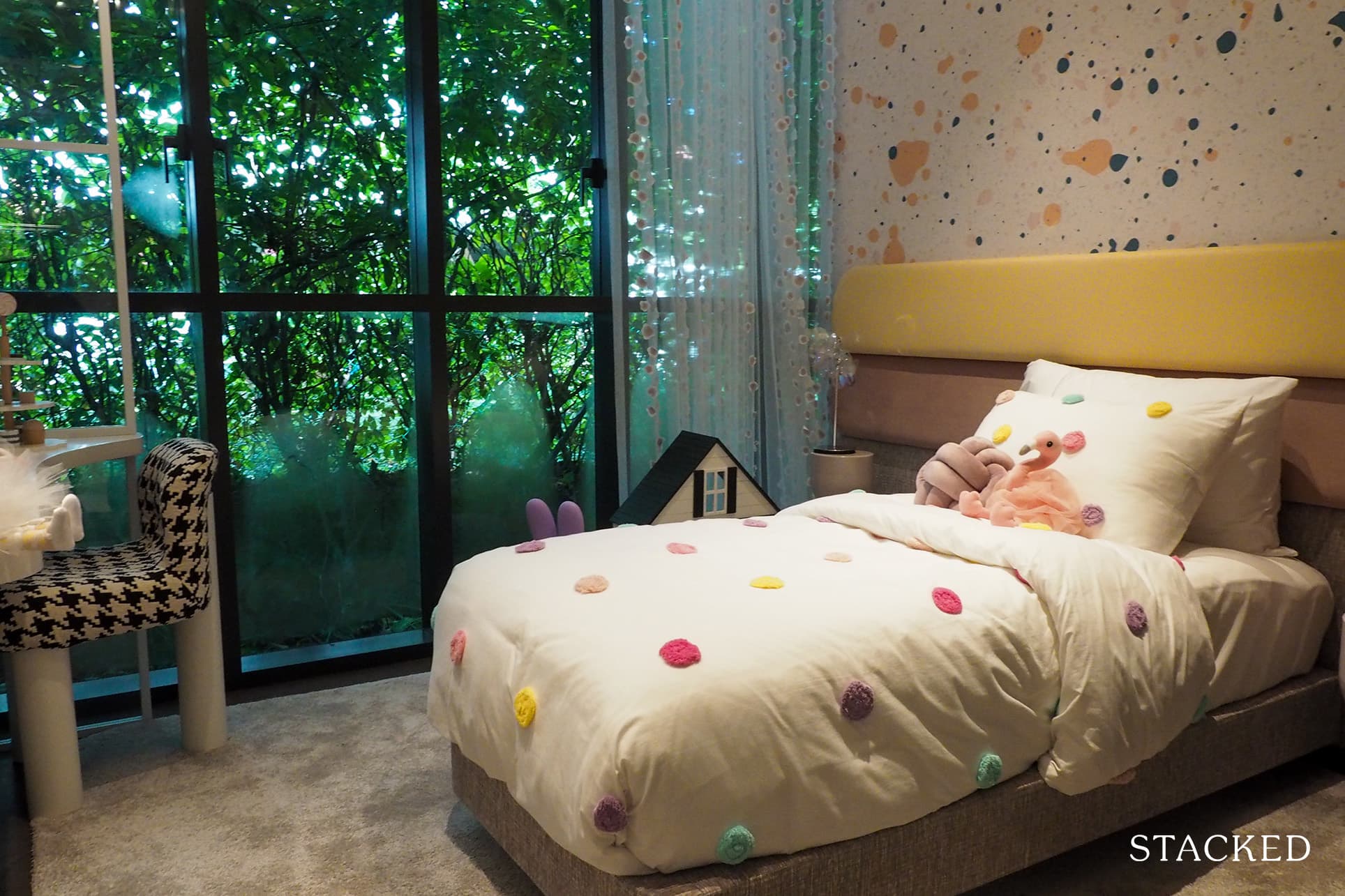 Moving on to the bedrooms, the first thing I would like to say is that almost all bedrooms at LIV@MB are larger than their new launch peers, despite some of these units being similarly sized. This 753 sq ft 2 Bedroom show flat is one good example. Let's take a simple comparison with the other recent 2022 launch, Piccadilly Grand. While the common bedroom there is 8.7 sqm, the one here is 10.3 sqm, making this almost 20% larger. Granted, at first glance, it may not be the easiest to tell the difference but once you have placed your bed in one, I believe the disparity will be slightly more visually apparent.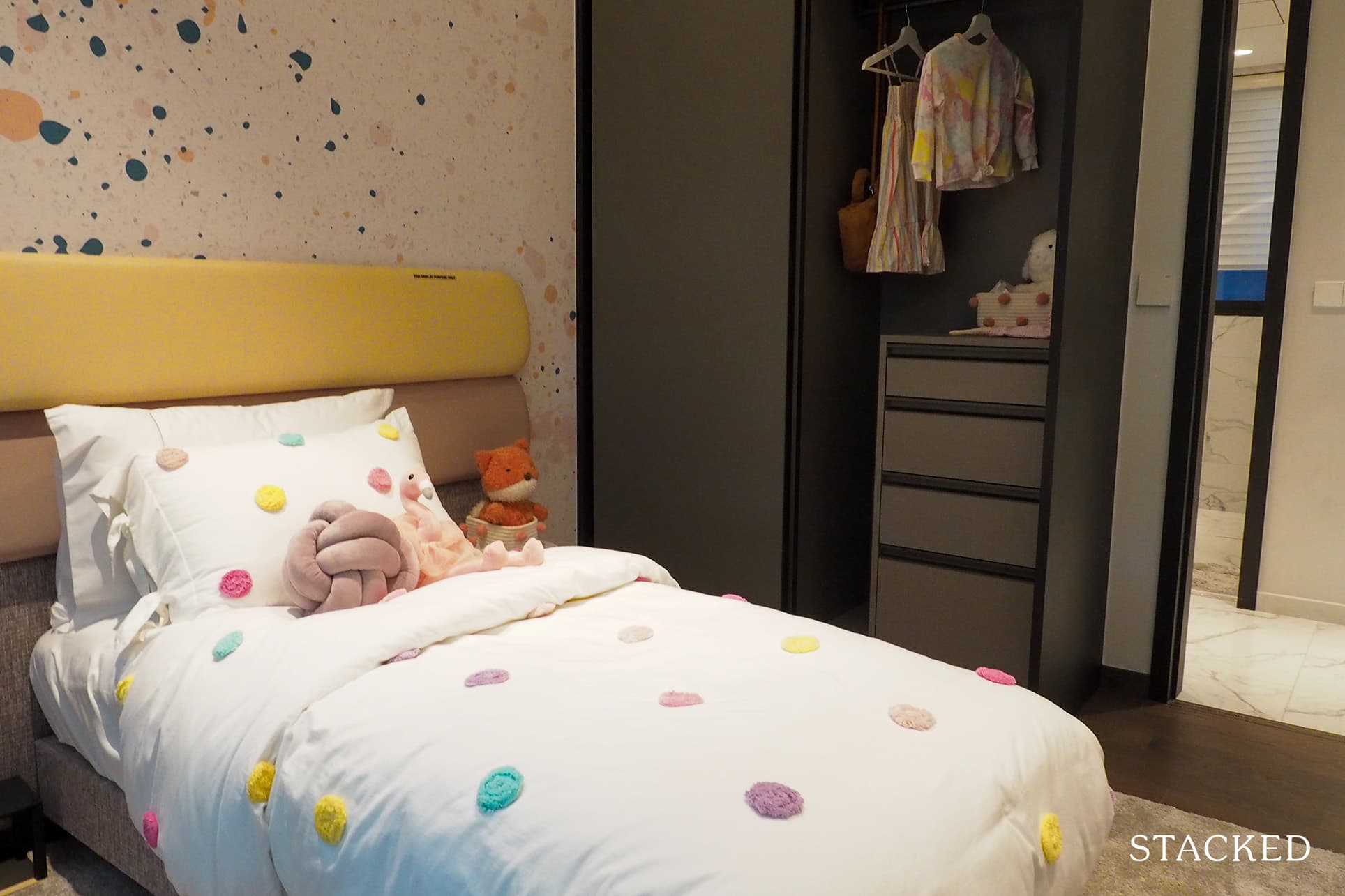 The common bedroom here will fit a Queen size bed and a couple of bedside tables. As with all new condos, you will still need to go with a Single bed if you are going to have a study table or dresser in the bedroom.
Another unique feature of this common bedroom is its full-length windows. 2 Bedroom units typically have their aircon ledges placed just outside the common bedroom, but as with the 1 Bedroom unit, this is placed just outside the kitchen as well. Again, let's applaud the developers for this good planning (I really hope to see this in more new launches).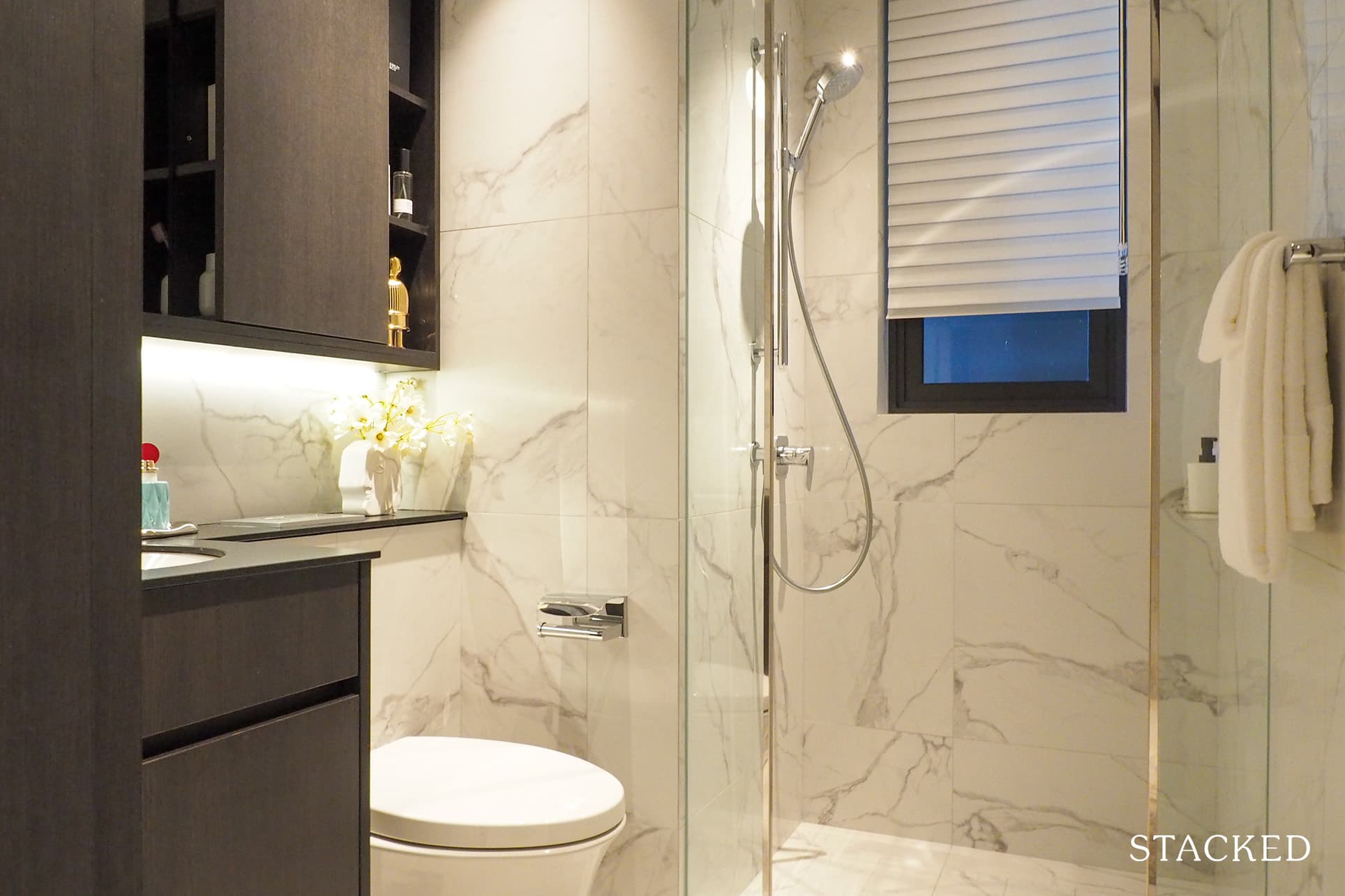 You may be wondering – if the common bedroom is larger than average, which space is being compromised then? Based on the numbers I have, the common bath seems to be slightly smaller than average (although the cool theme helps to make the space feel brighter and bigger). It's measured at 3.8 sqm so depending on how many show flats you have seen, it may or may not feel different.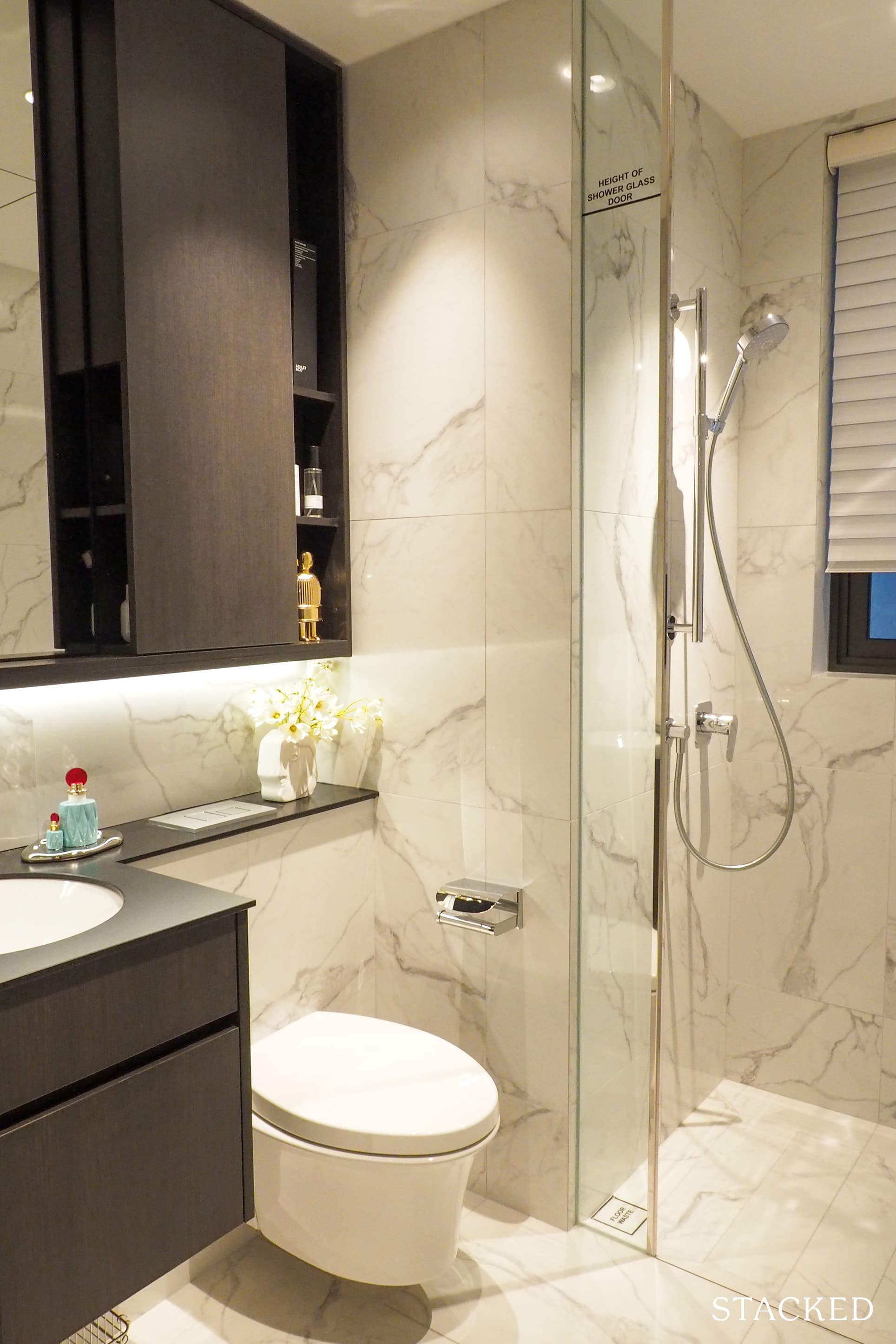 It's the standard setup in here, with porcelain tiles on the walls and floor and a built-in sink and tap provided. Wares and fittings including the wall-hung w/c and handheld shower are from American brand Kohler, which is in the same league as the likes of Grohe. The biggest advantage of this bathroom is definitely the window, which helps provide natural ventilation to this space.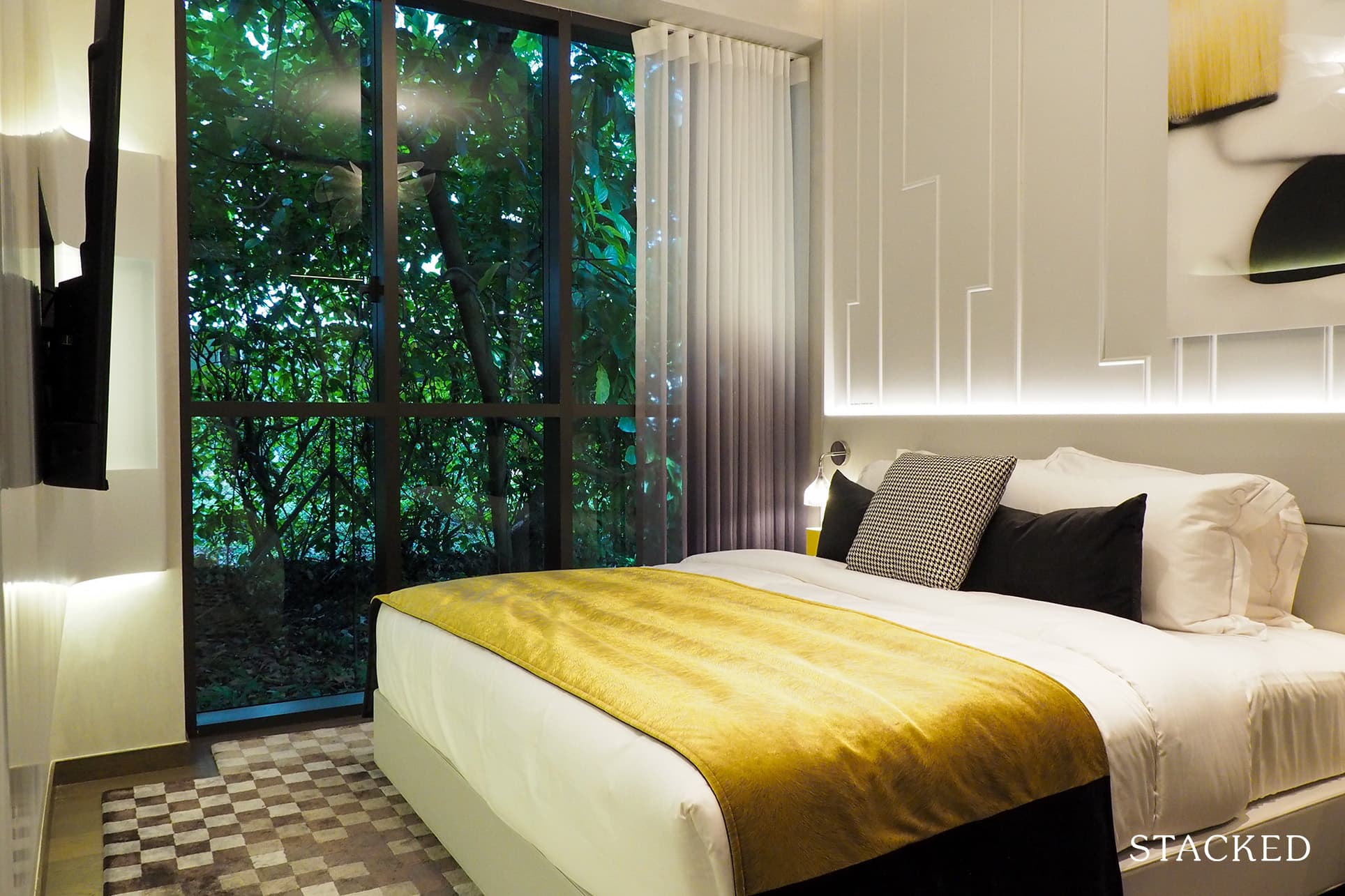 Moving on to the Master Bedroom, which combined with the Master Bath, is sized at 17.7 sqm. That's about average for a unit of this size. You will be able to fit a King size bed as they have done here, leaving some room for a your bedside tables.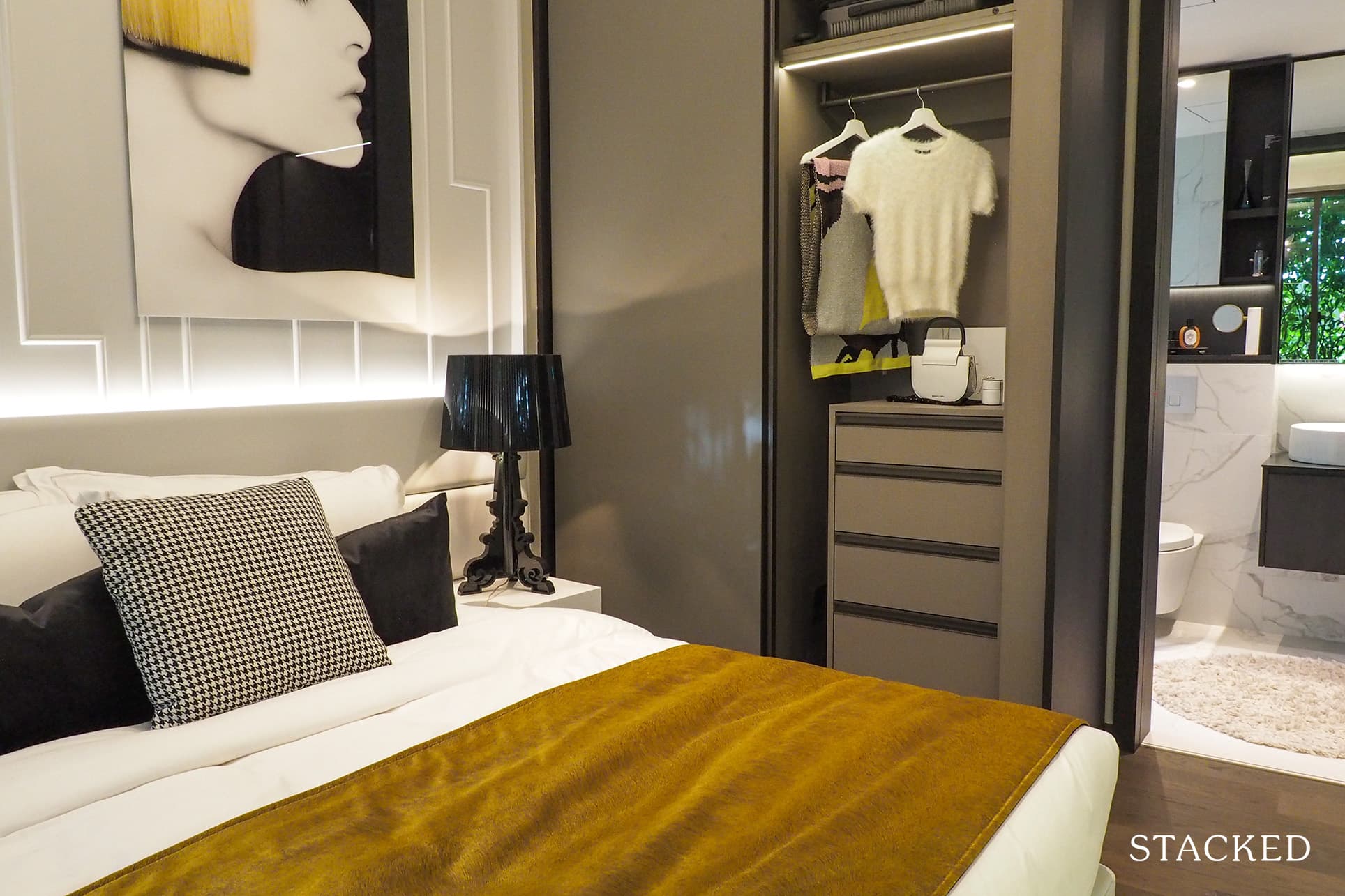 Alternatively, you always have the option of a Queen if you want a dresser. The full-length windows let in plenty of natural light, so a dresser would be an appropriate choice of fixture by the window. Like the 1 Bedroom unit, the built-in wardrobe in the Master Bedroom will come with LED lighting and the same fixtures.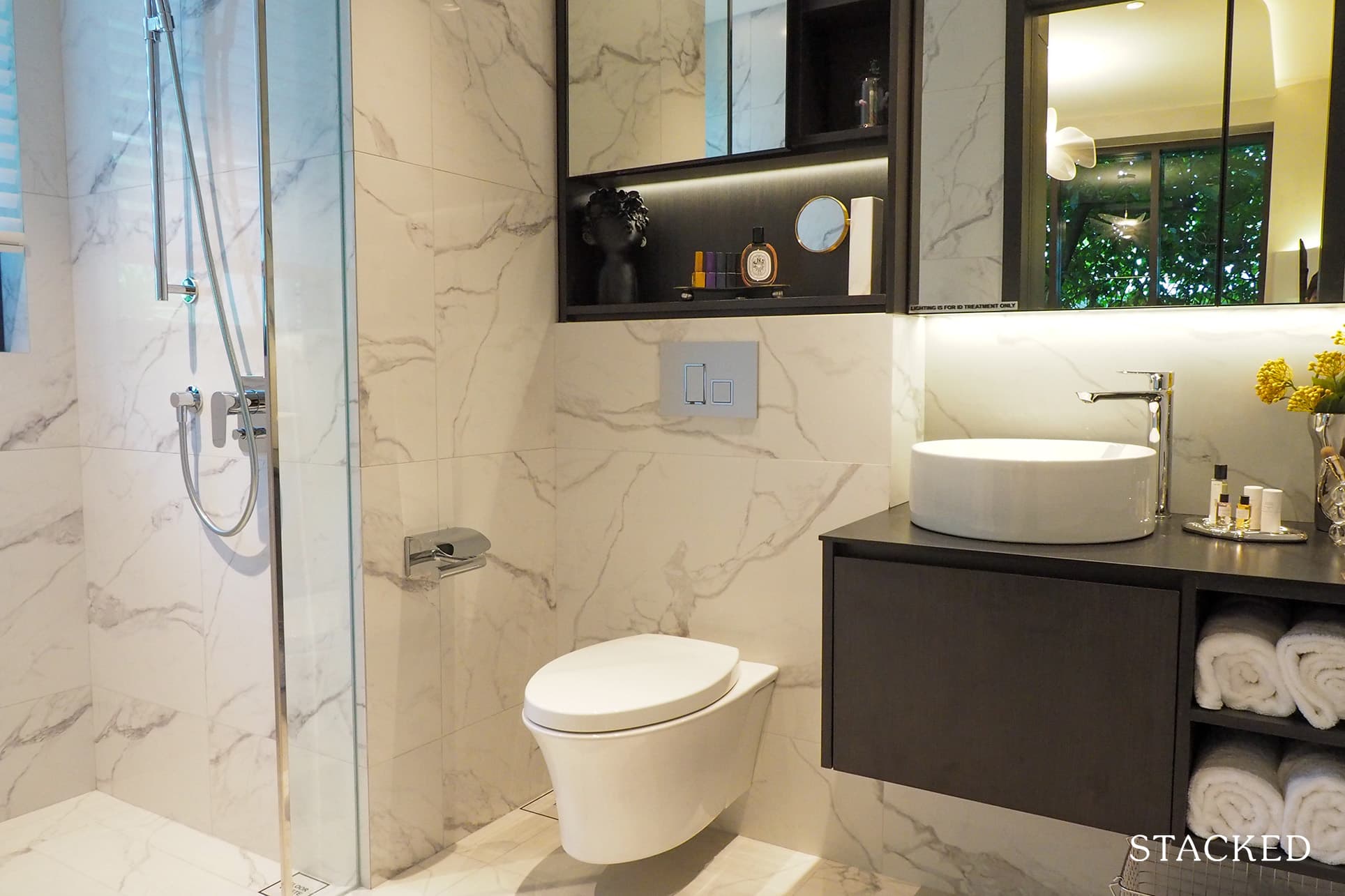 As for the Master Bath, it does already feel larger than the common bath from the outset. Behind those mirrors are storage spaces for your bathroom necessities. It's the same standard set of wares and fittings you will get here, including a basin, tap, wall-hung w/c, and shower set from Kohler.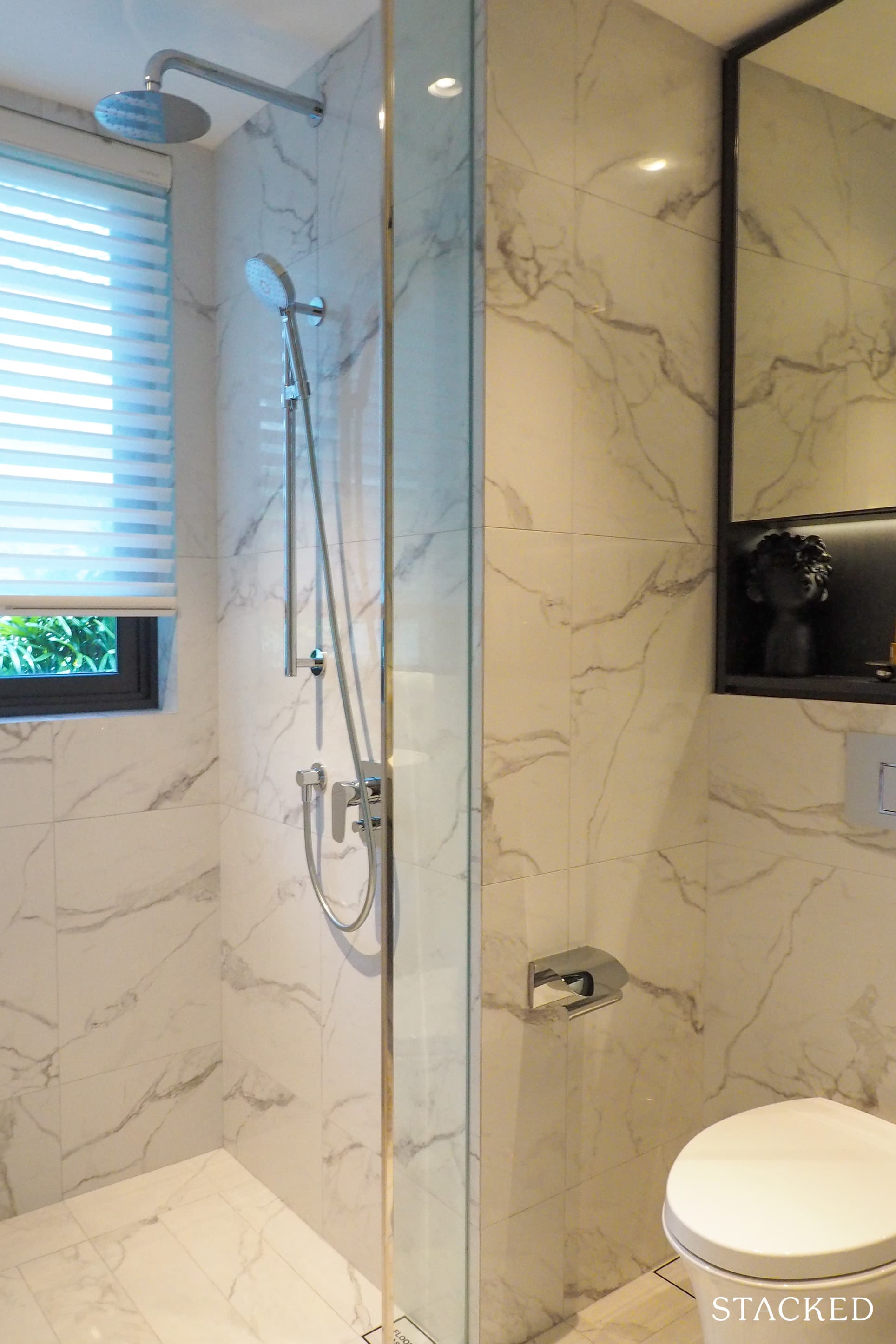 The only main difference is the presence of a rain shower in the Master Bath. Once again, LIV@MB does well with its natural ventilation – there's a window here too (you really can't take this for granted today).
LIV@MB – 3 Bedroom Type C3 (118 sqm/1,270 sqft) Review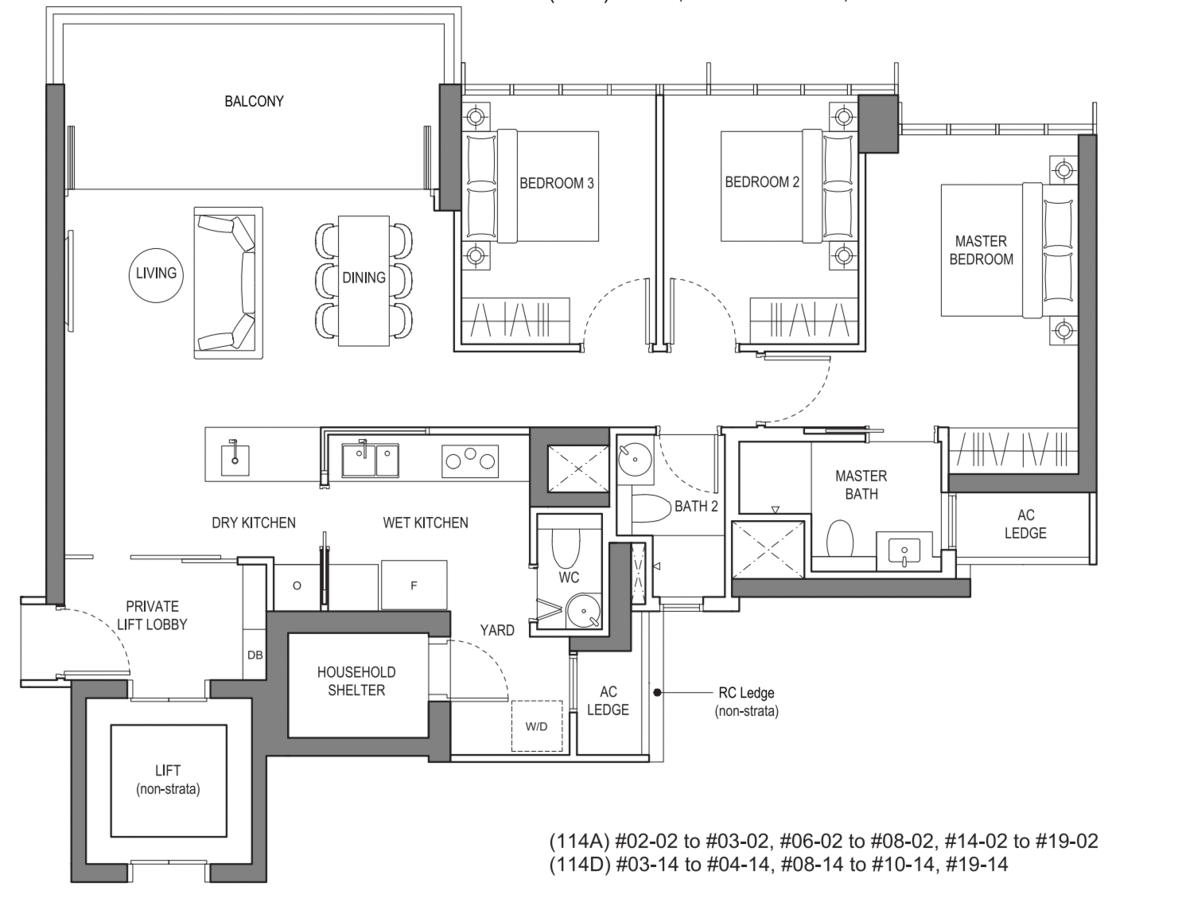 All 3 and 4 Bedroom units at LIV@MB come with private lifts, which is a nice touch to give the bigger units some distinction. It's definitely a great move by the developer to do so as it helps to differentiate LIV@MB from other launches in the market as well. The smallest 3 Bedroom unit starts at 1,119 sq ft and the most surprising thing about this development is that 3 Bedrooms are the most predominant unit type. With 3 Bedroom units supposedly priced north of $2.3 million, it is clear which segment LIV@MB is targeting here.
Like everything else, the ceiling height is standard at 2.8m and marble floors are provided (only 3 and 4 Bedrooms) for the common areas and engineered timber for the bedrooms.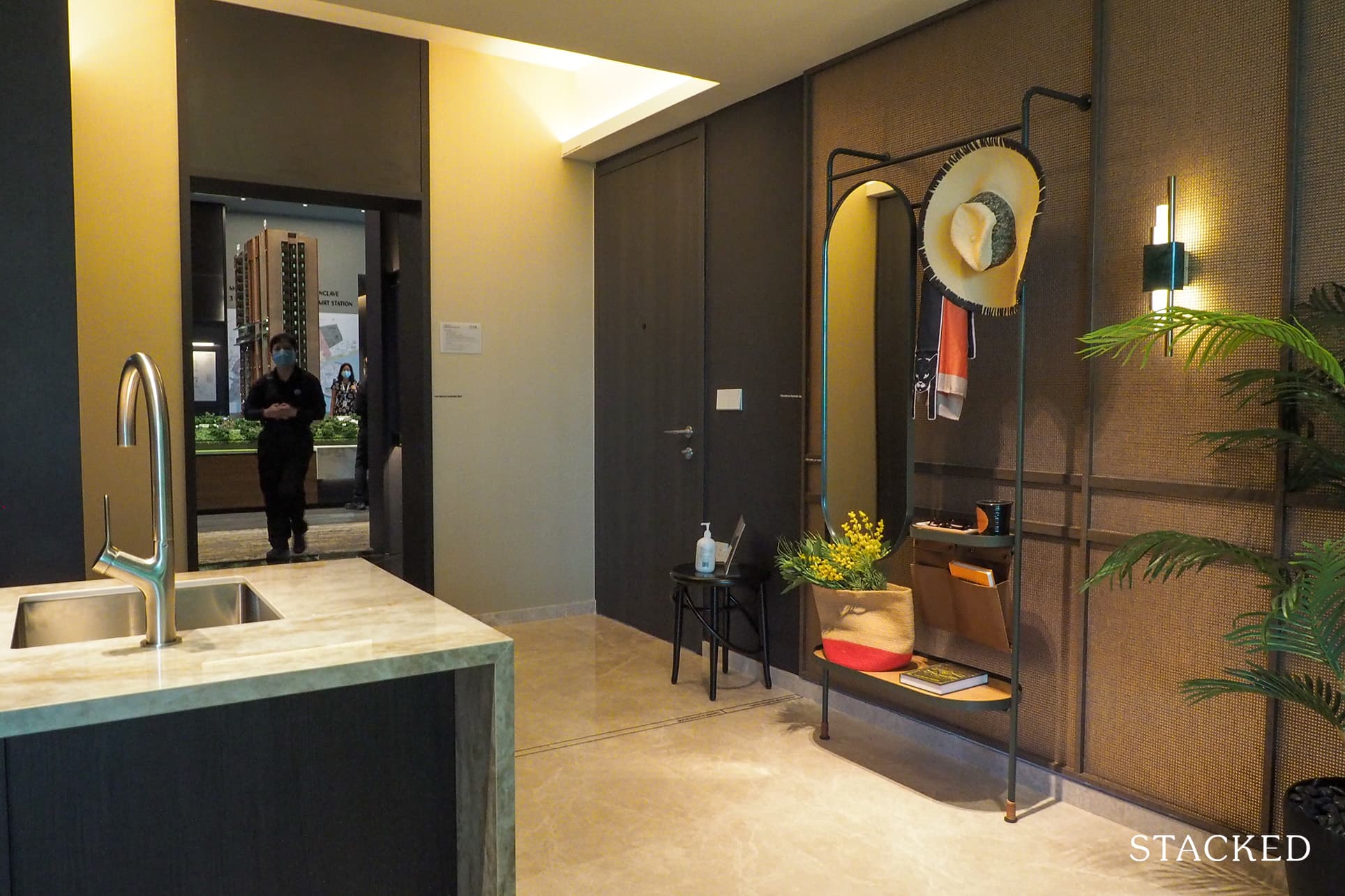 Stepping out of your private lift, you are greeted by the 6.3 sqm private lift lobby. This is a generous amount of space and provides the necessary grandeur to your visitors. Built-in cabinets for your shoes are provided to the right, but you are otherwise free to design this space however you wish since it is part of your strata area as well. The door leading to the common lift lobby is to the left of the lobby. You don't see it here, but there will also be a sliding door provided for additional security, with a screen pattern that is Peranakan inspired, reflecting the rich heritage of that community in the wider Katong area.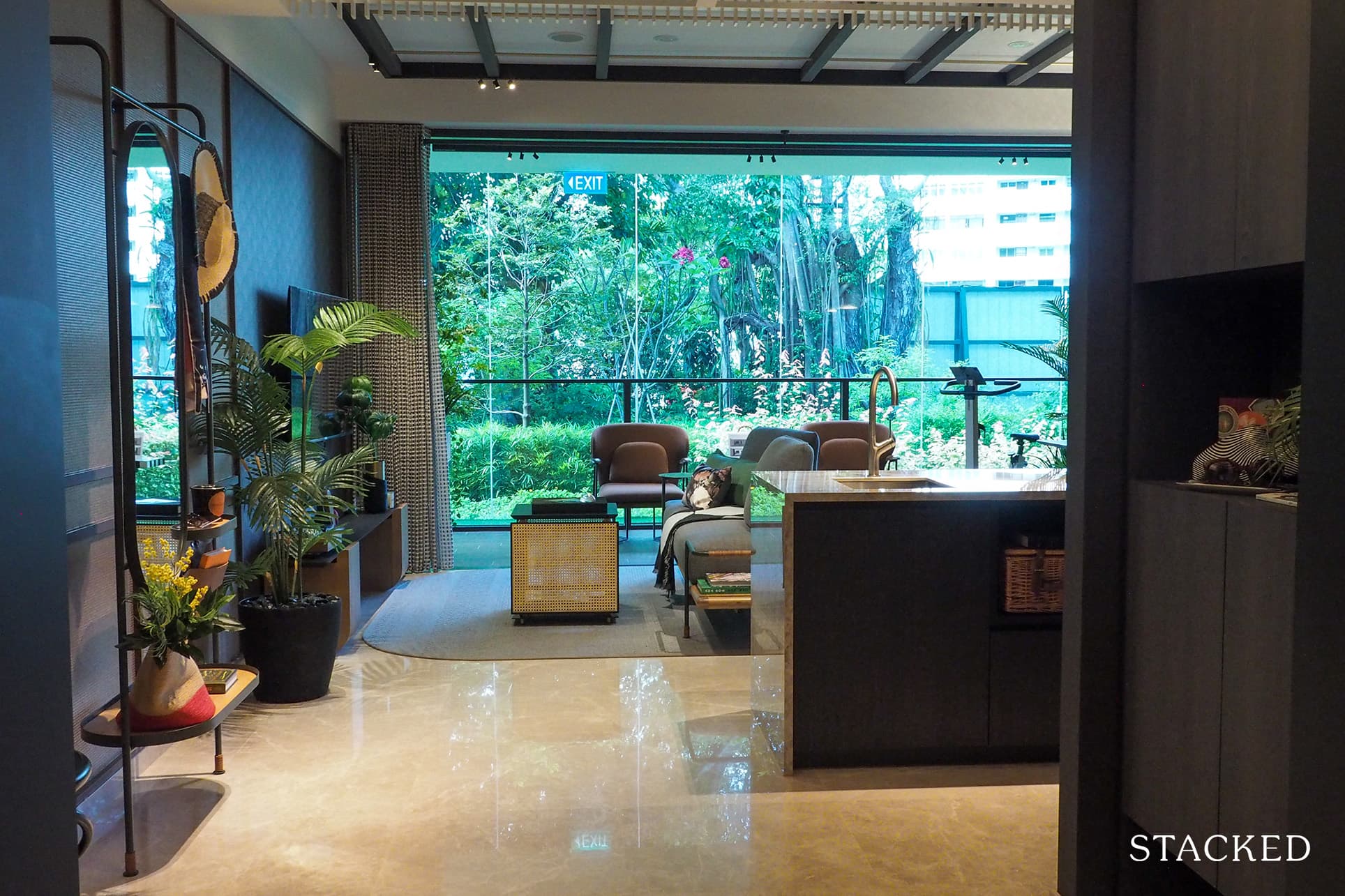 When you enter the apartment, you have the dry and wet kitchen to your right and the living and dining room straight ahead. I'll touch on the dry kitchen first.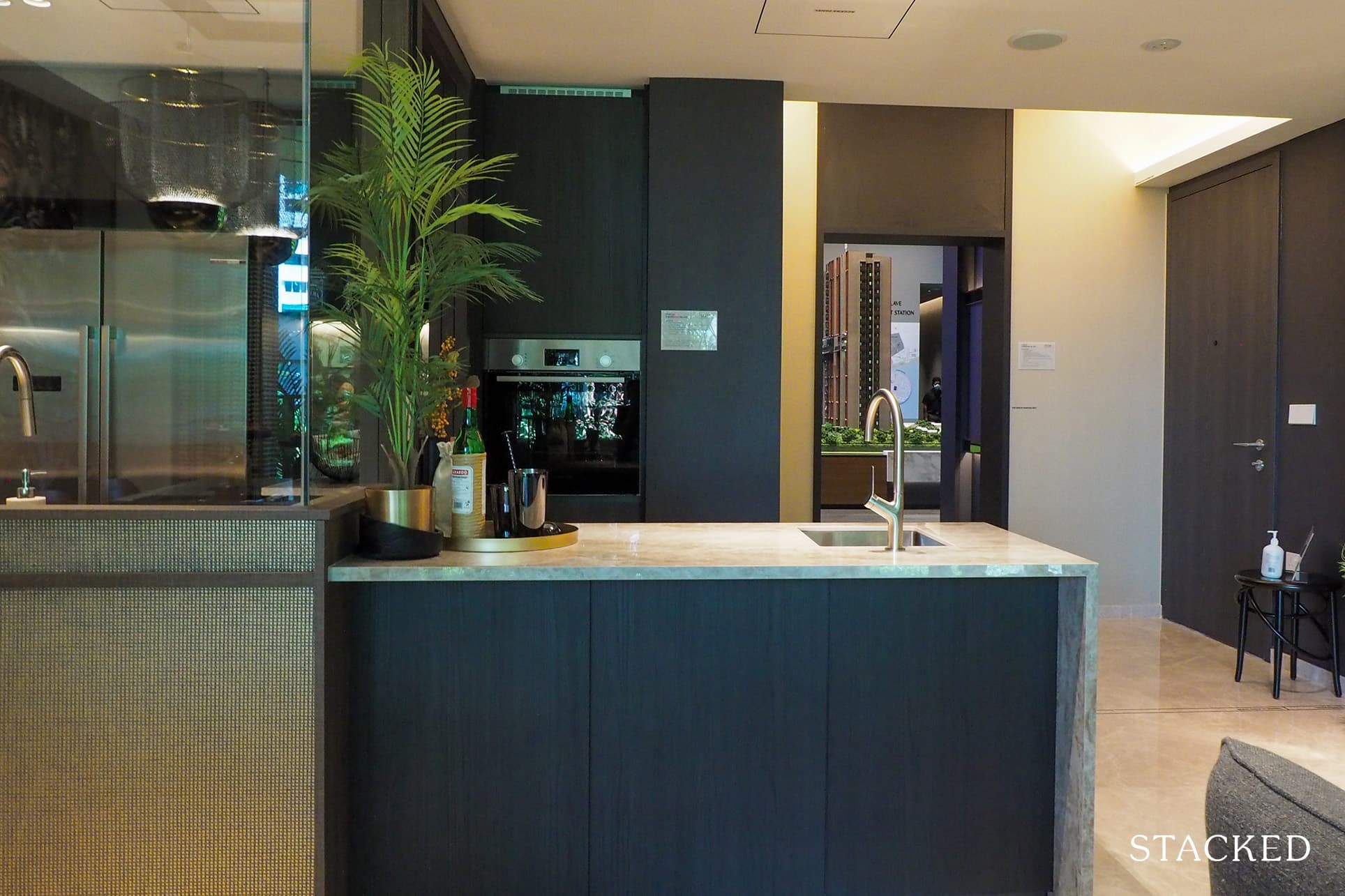 The kitchen island here is built in a luxurious marble-like finish, so you can be sure that your visitors will be impressed from the moment they step in. It also comes with a tap and sink for practicality, unlike some self-proclaimed dry kitchen counters I've seen.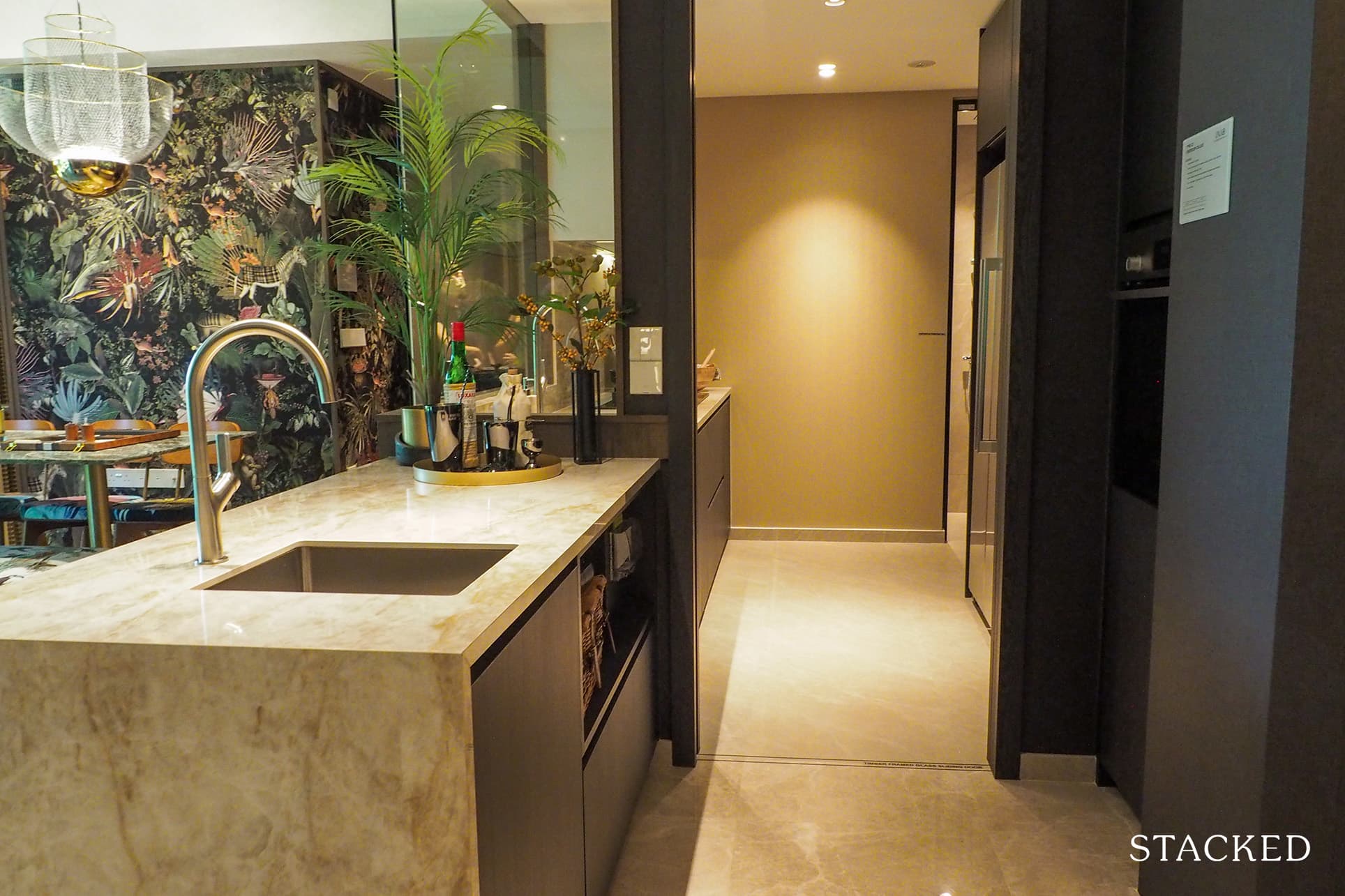 While you can consider having this as your breakfast counter with bar stools on 1 side, that might infringe on your walkway to the bedrooms. It's probably best to have this as a buffet line of sorts when friends come by. Note that the dry kitchen will also be where the built-in Bosch oven will be located.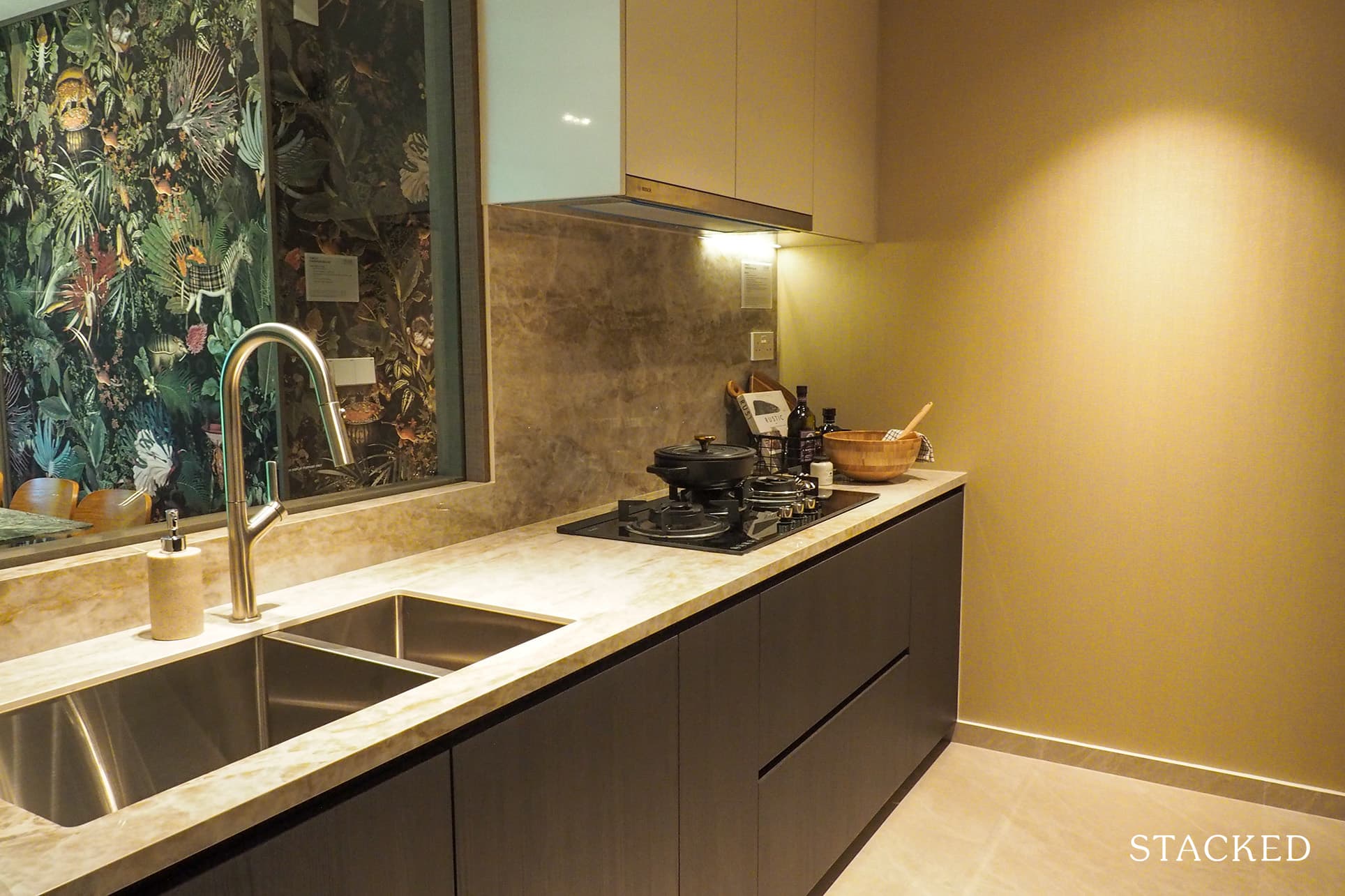 As for the wet kitchen, it comes with another sink and tap, though this will be a more practical 2-bowl sink instead. This corner of the kitchen is glass-ed up so you will also get to watch over your children/guests while ensuring that the kitchen also gets as much light as possible.
Compared to the 1 and 2 Bedroom units, the countertop here looks more luxurious for sure. Besides the standard top and bottom cabinets, you will also be supplied with other Bosch appliances, including the 3-zone gas hob, hood, and 2-door fridge.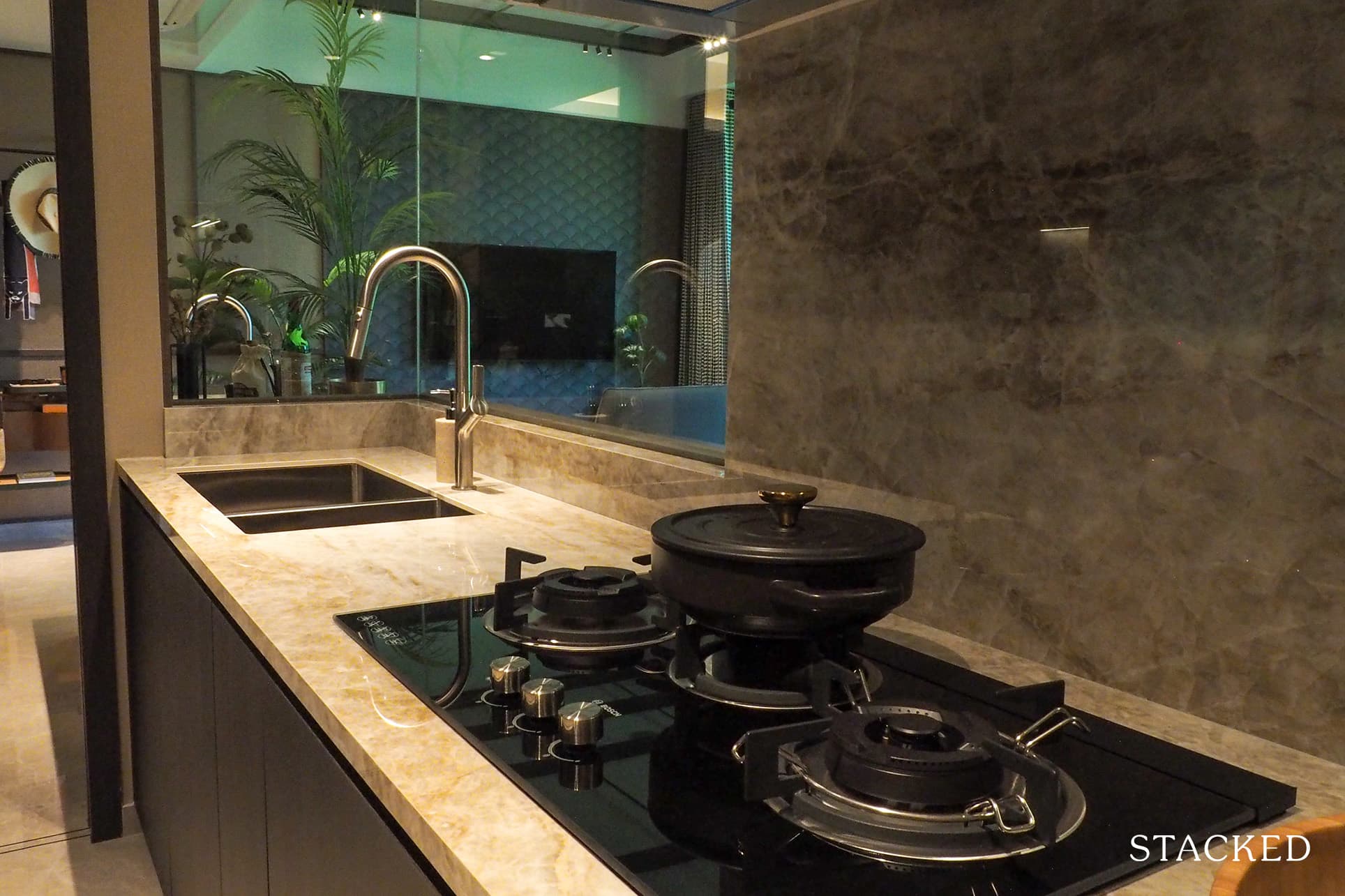 These are all practical features that a typical 3 Bedroom owner will appreciate, since many are expected to be families who may have meals at home more often.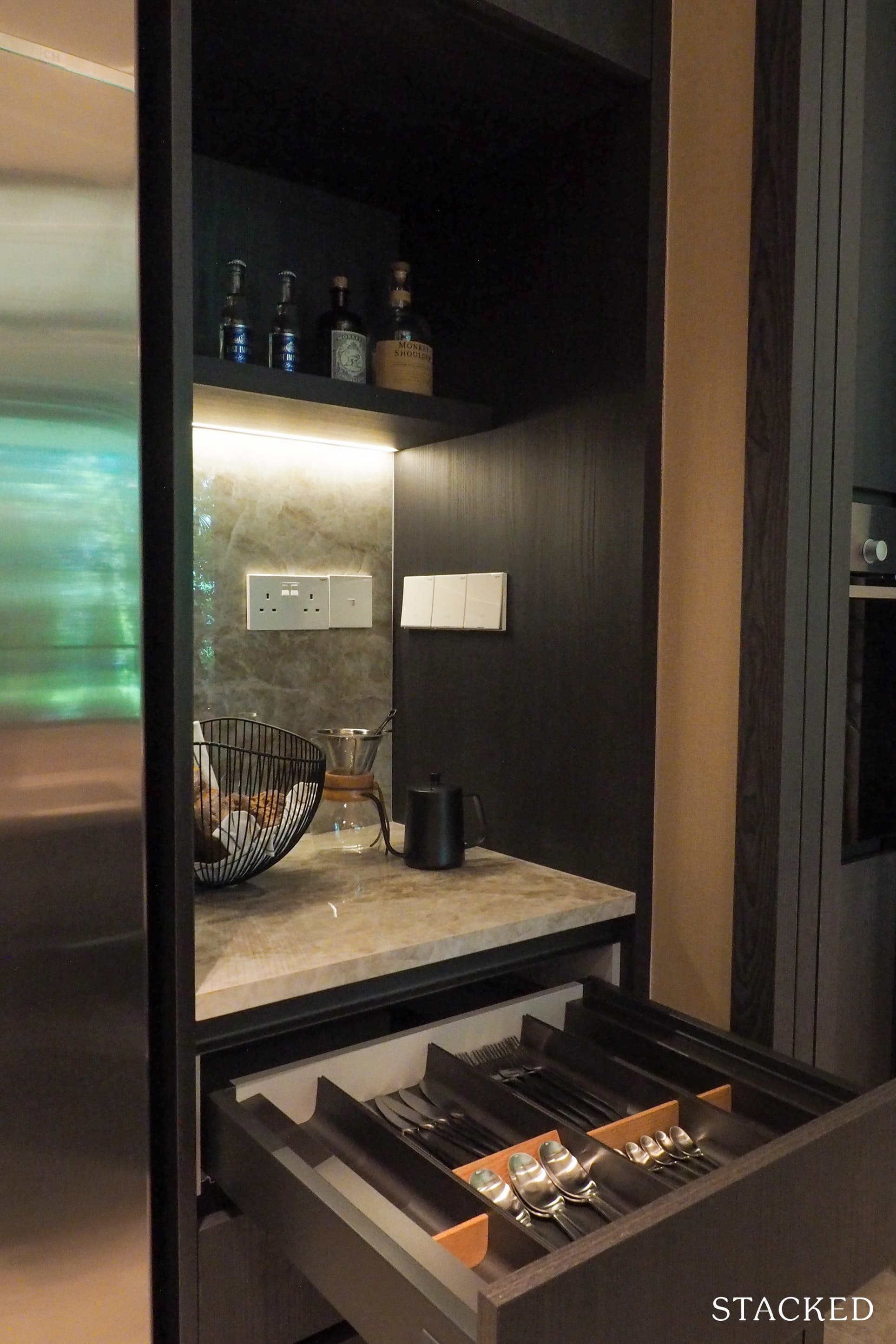 Just beside the fridge, is where you will find a small pantry, where you can place your coffee machine, alcohol or sauces, and condiments. I find this to be a helpful addition to a unit, though we don't see it that much in new launches. There are also additional storage compartments below.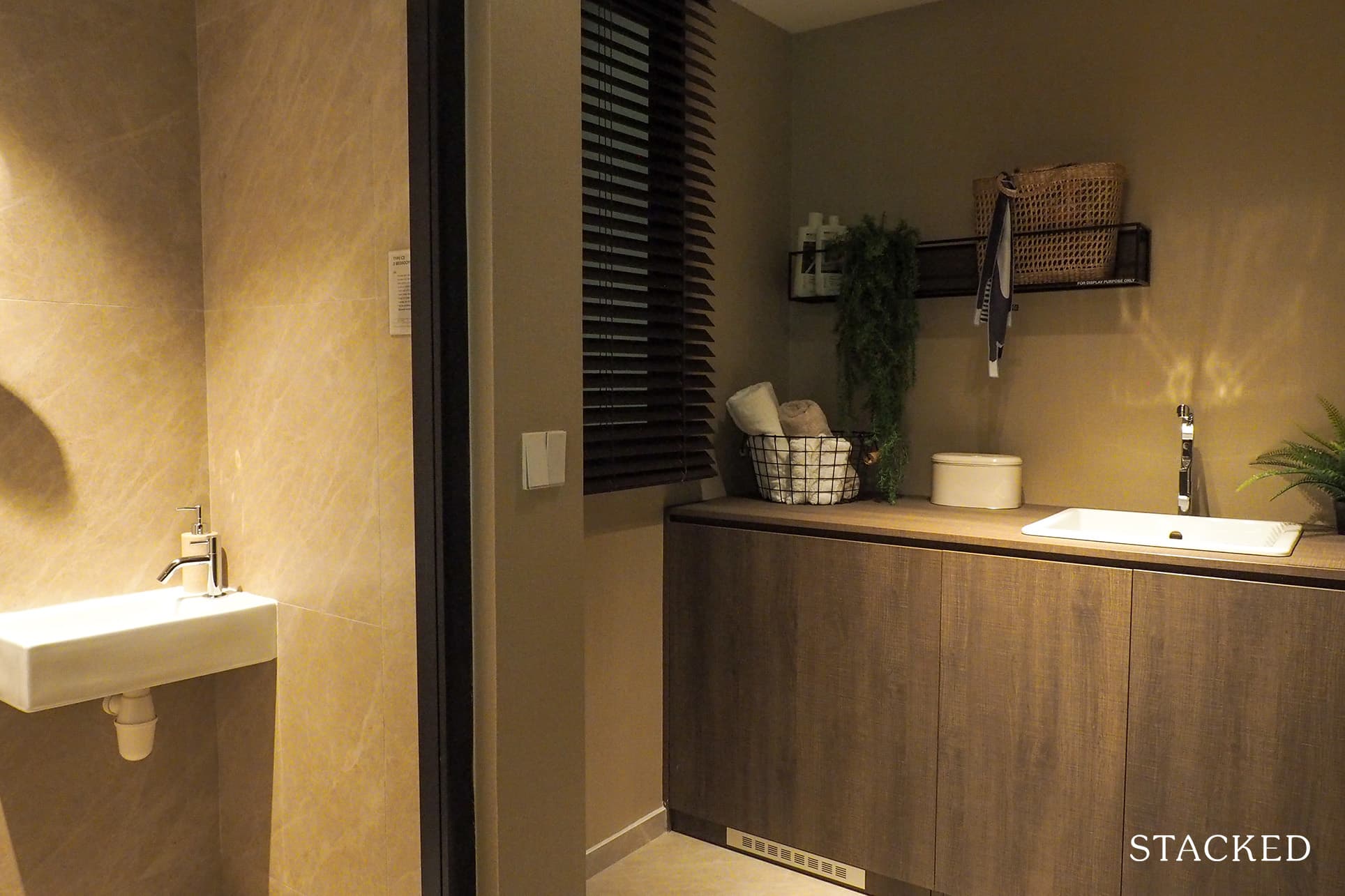 Towards the end of the wet kitchen, is an additional w/c (2.1 sqm), yard and household shelter (3.9 sqm). There's even a tap here, making this an even more practical area. If you have a helper, this will be a suitable enclosed area for her. The window in the kitchen is situated just beside the yard, so you will also be able to dry your clothes naturally if you prefer.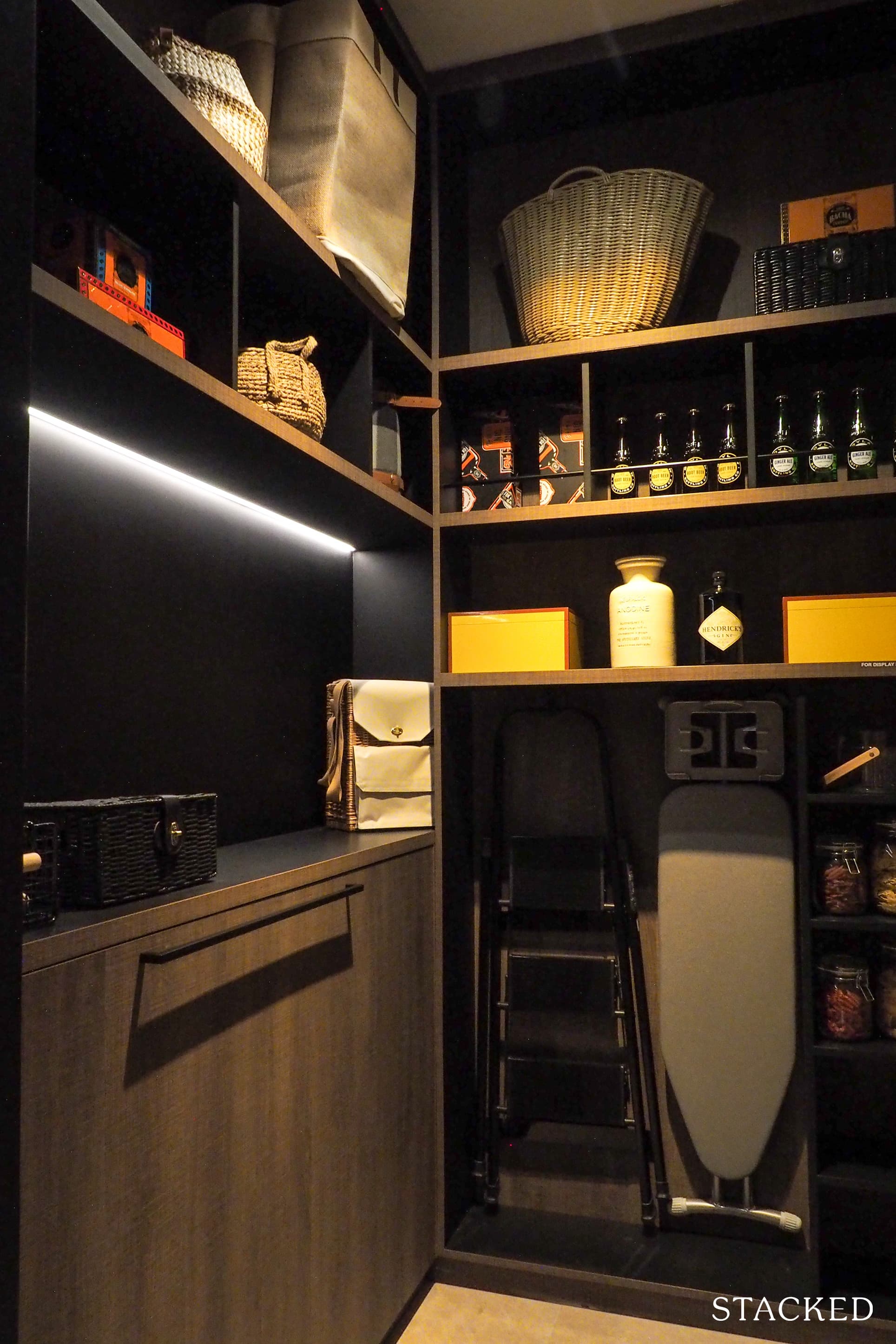 Otherwise, this household shelter should be used as your storeroom as I expect families to have more storage needs.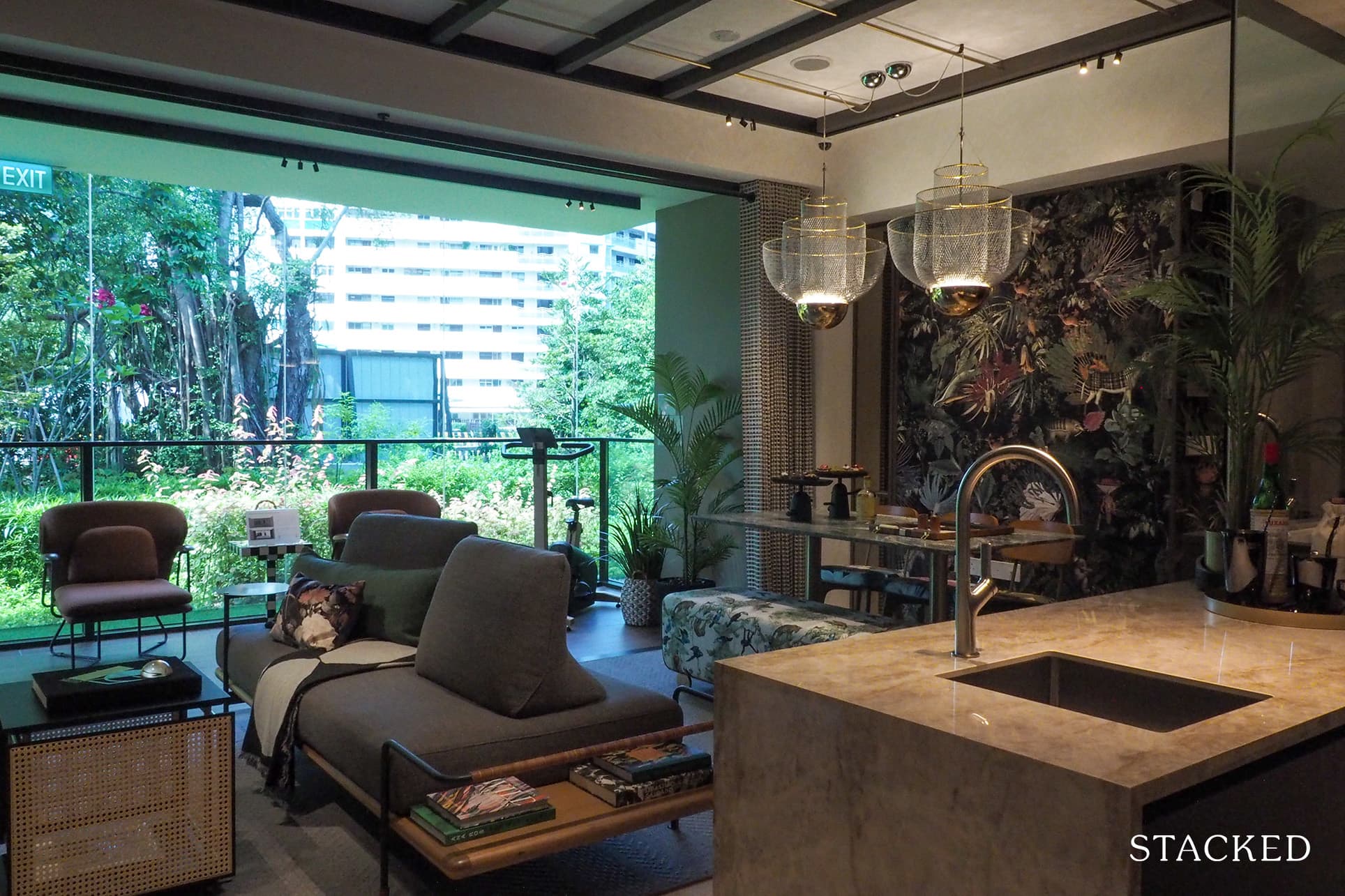 Moving back to the main living area, you will notice that the trend at LIV@MB is for all living and dining areas to be laid out parallel to each other. Compared to the 2 smaller units I reviewed above, the one here is understandably more spacious given its larger unit size.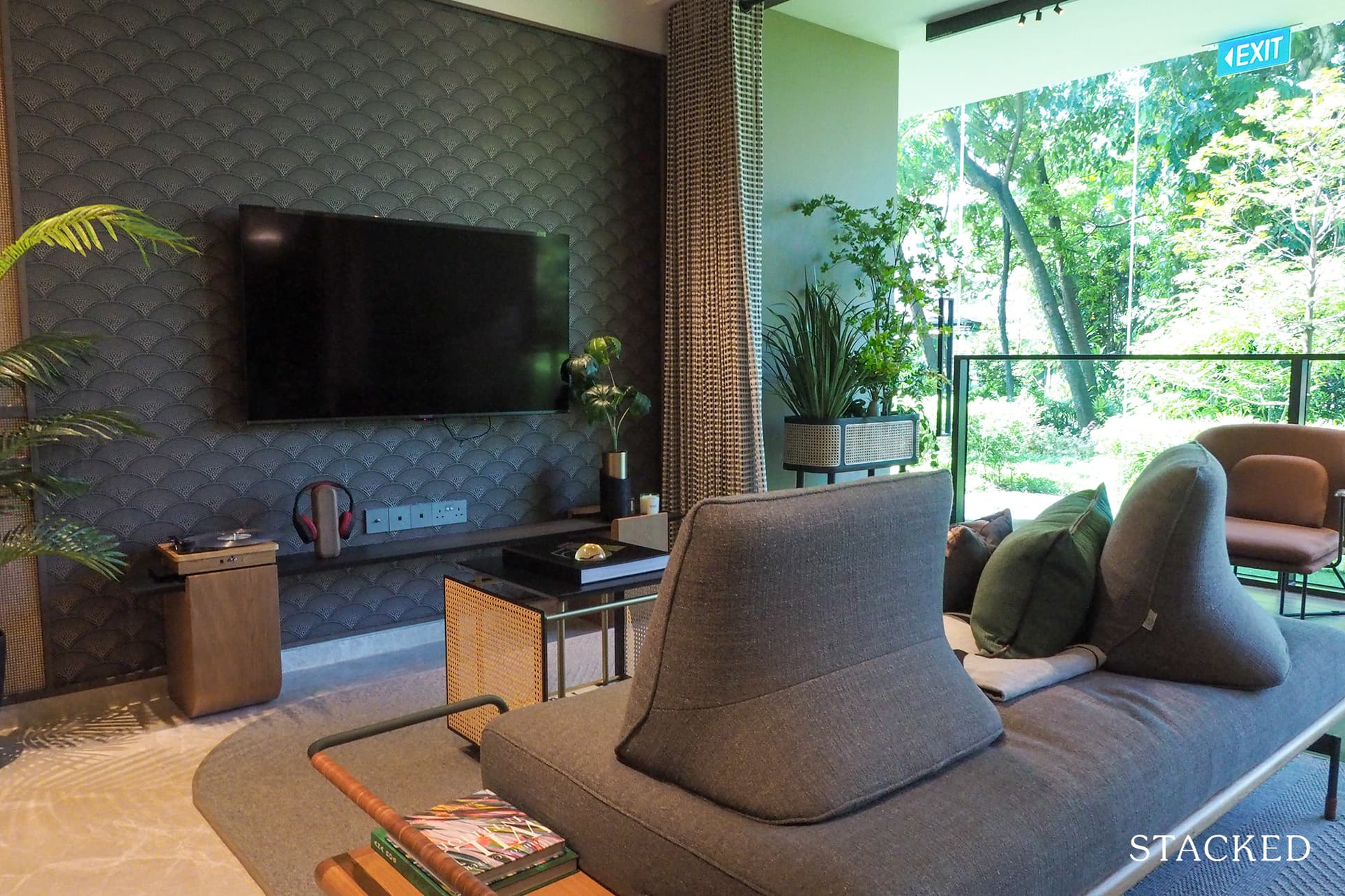 However, it is still not the widest of areas as you can tell from the relatively small couch that has been placed here (it's certainly not adequate for a family of 4/5). It will fit a 3-seater here, but the choice of furniture will matter as a bulkier piece might encroach the walkway. The distance from the TV also feels slightly compact if I had to be honest. For a 3 Bedroom apartment, I would have preferred it if the living area felt a little more spacious.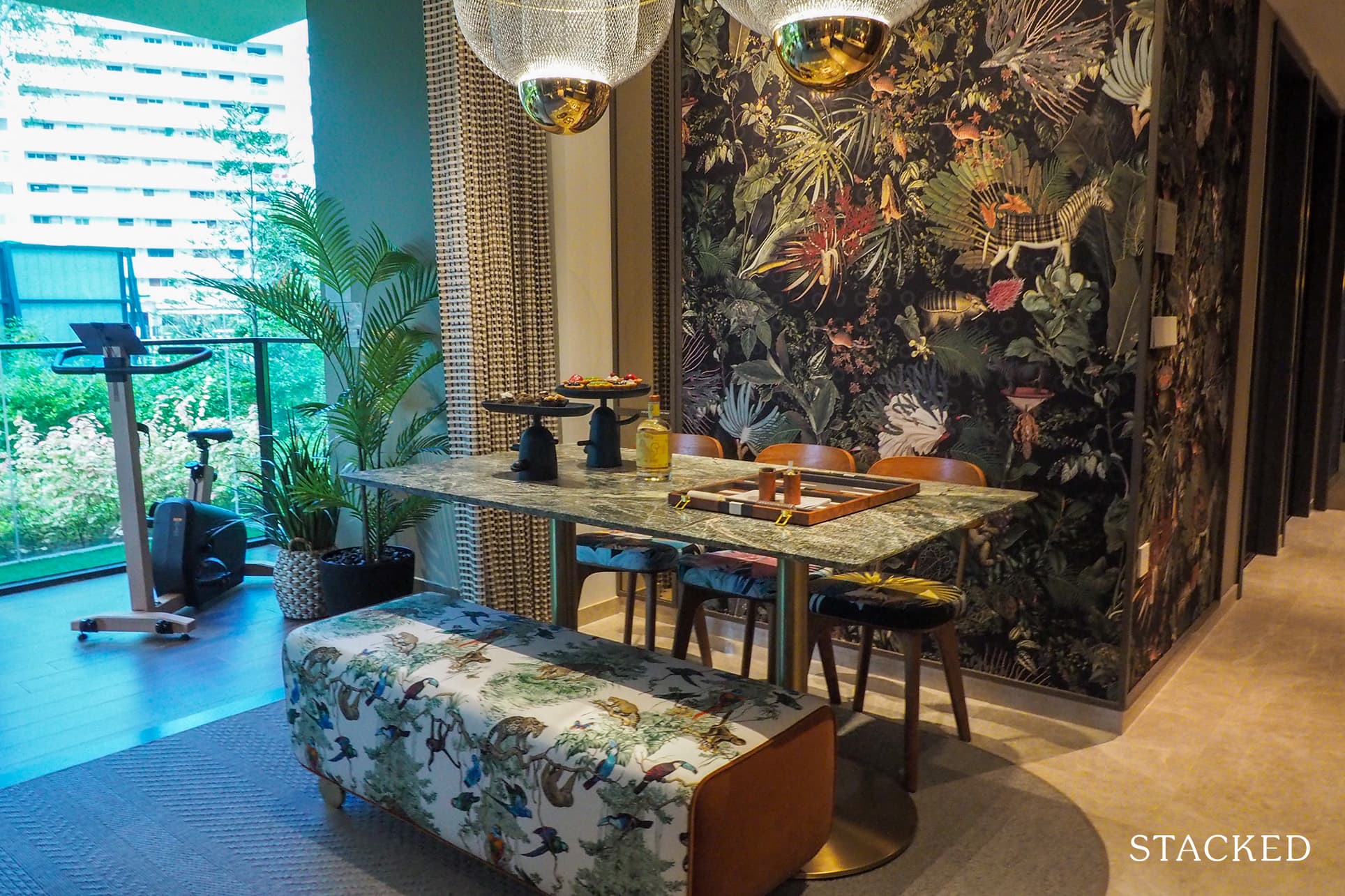 As for the dining area, a 6-seater table seems to fit in comfortably. That's a tick in the box for a 3 Bedroom, given its more family-focused nature. The placement of the seats also does not look too unrealistic (save for the bench), so you know that this is a good representation of how your unit might look in the future.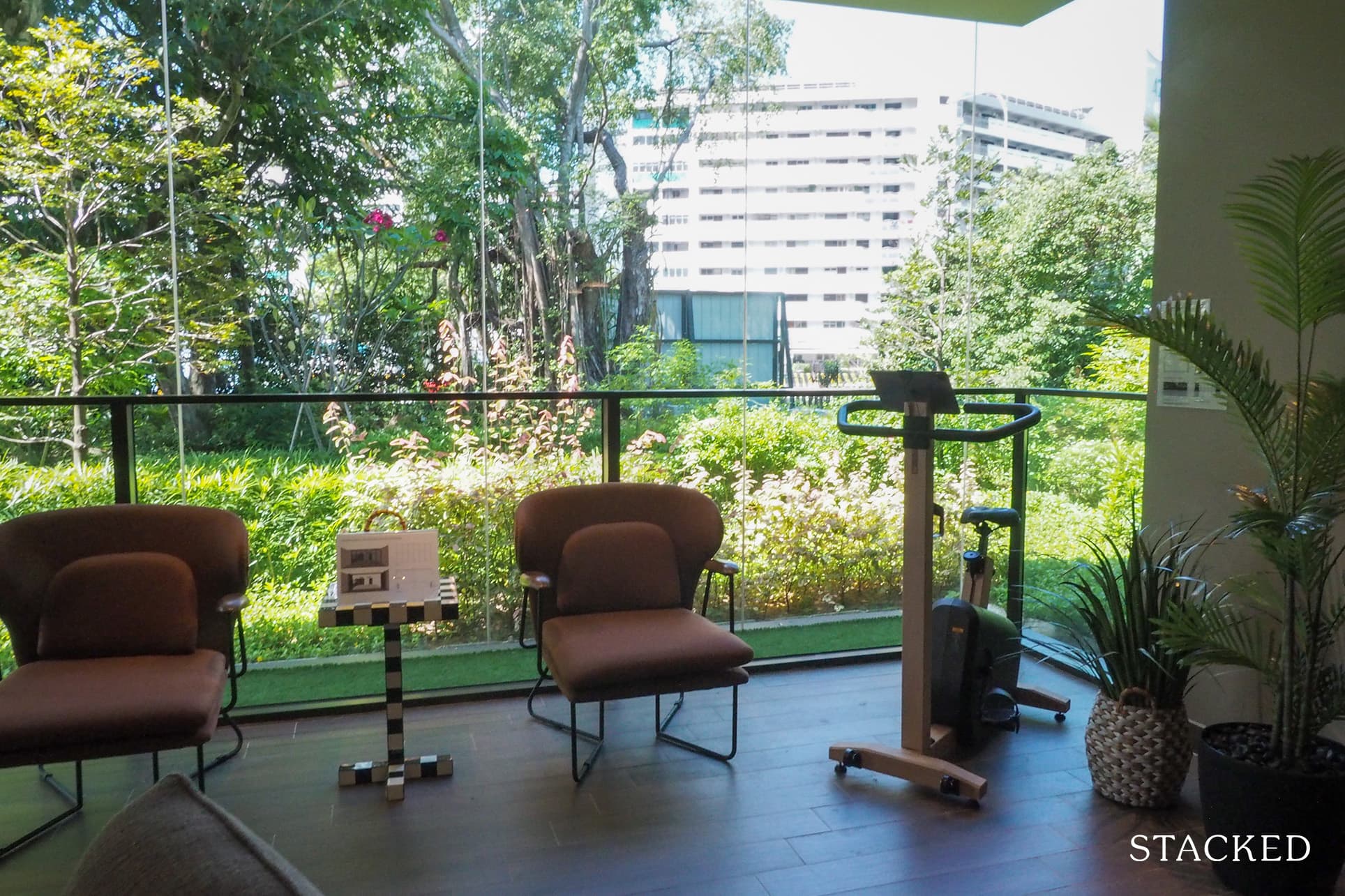 Next up, the balcony. If you're an al-fresco kinda person, this unit is definitely for you! At 14.2 sqm, this is a pretty huge balcony by today's standards. Actually, it's probably larger than your dining area so if you could install a ceiling fan here, you could consider moving your dining table out here for meals. There's no sea view to speak of, but you do have an option of the pool view or unblocked views of the landed enclave to enjoy from your balcony. Otherwise, you could always deck it out in whatever way you wish – either as an outdoor home gym or just some chairs to enjoy a book and coffee. Again, 14.2 sqm is big, so you have greater flexibility on how to best maximise this space.
The best part for me is that the balcony doors here are slide and fold, so this space can be fully opened up to make this unit look as spacious as it possibly can. Smart.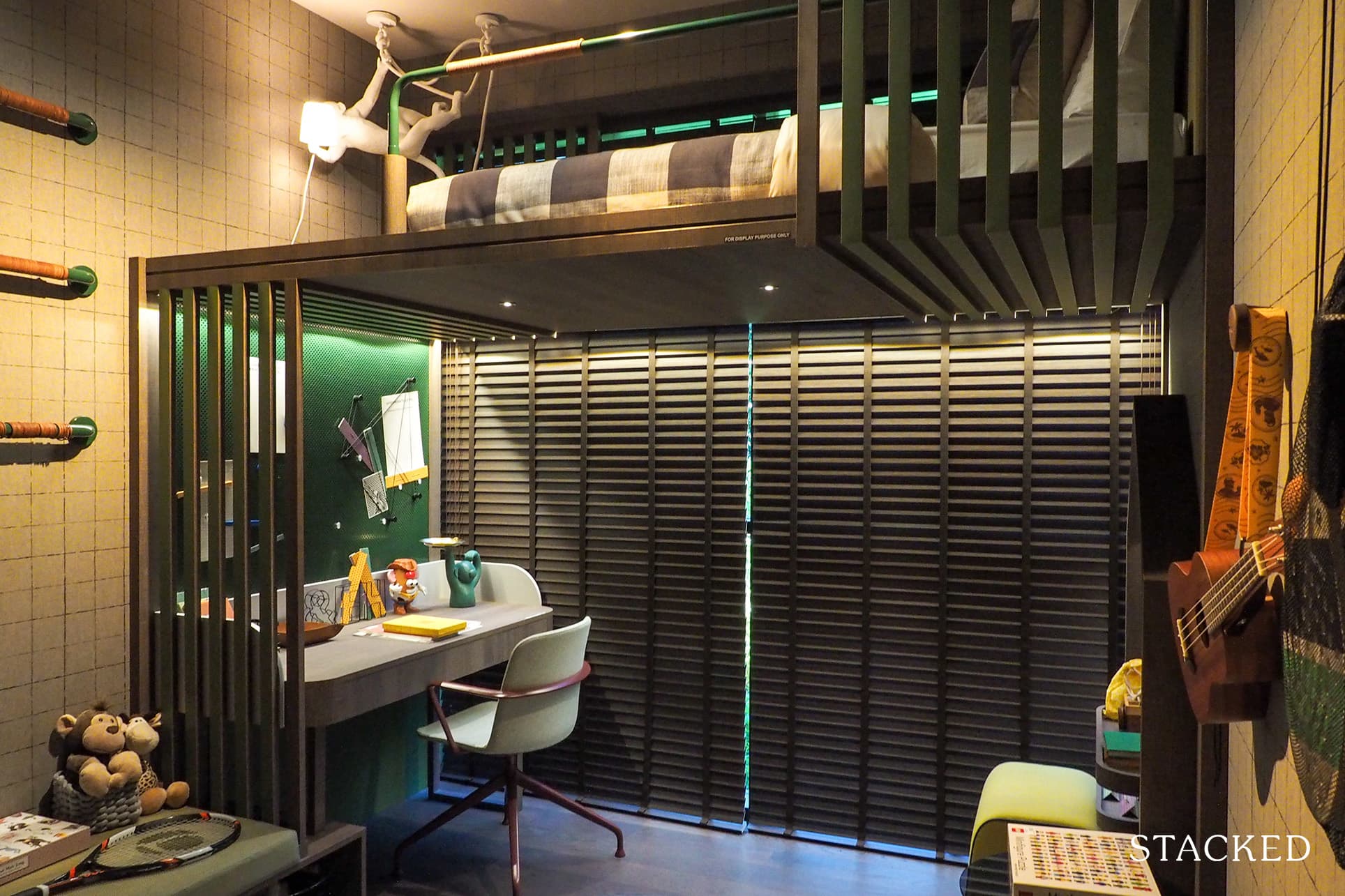 Moving on to the bedrooms, and once again, all of them are larger than average at more than 10 sqm. Bedroom 3 is 10.4 sqm and has a loft bed built-in. This is a very efficient use of the space, although it will come with the additional cost of carpentry work (and headspace at the top). It's definitely one for the kids, and he/she will have to be a very efficient climber too, given that there is a clear lack of a proper way to climb up!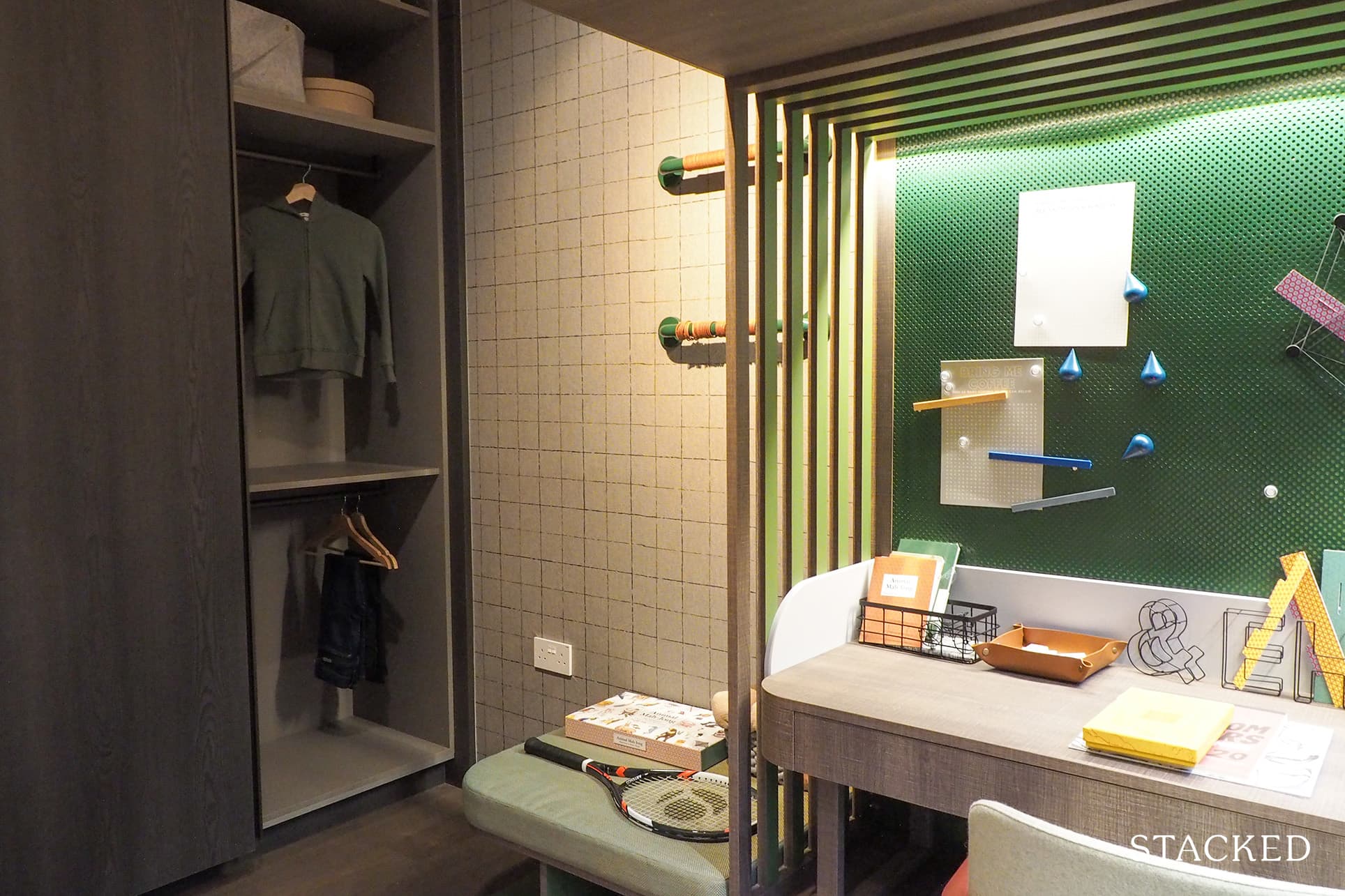 If you do go with this, there's room for you to place a study below, making it a dual function with the same amount of space. It also leaves more walking space around the room. You will also have the standard 2-panel built-in wardrobe and full-height windows here.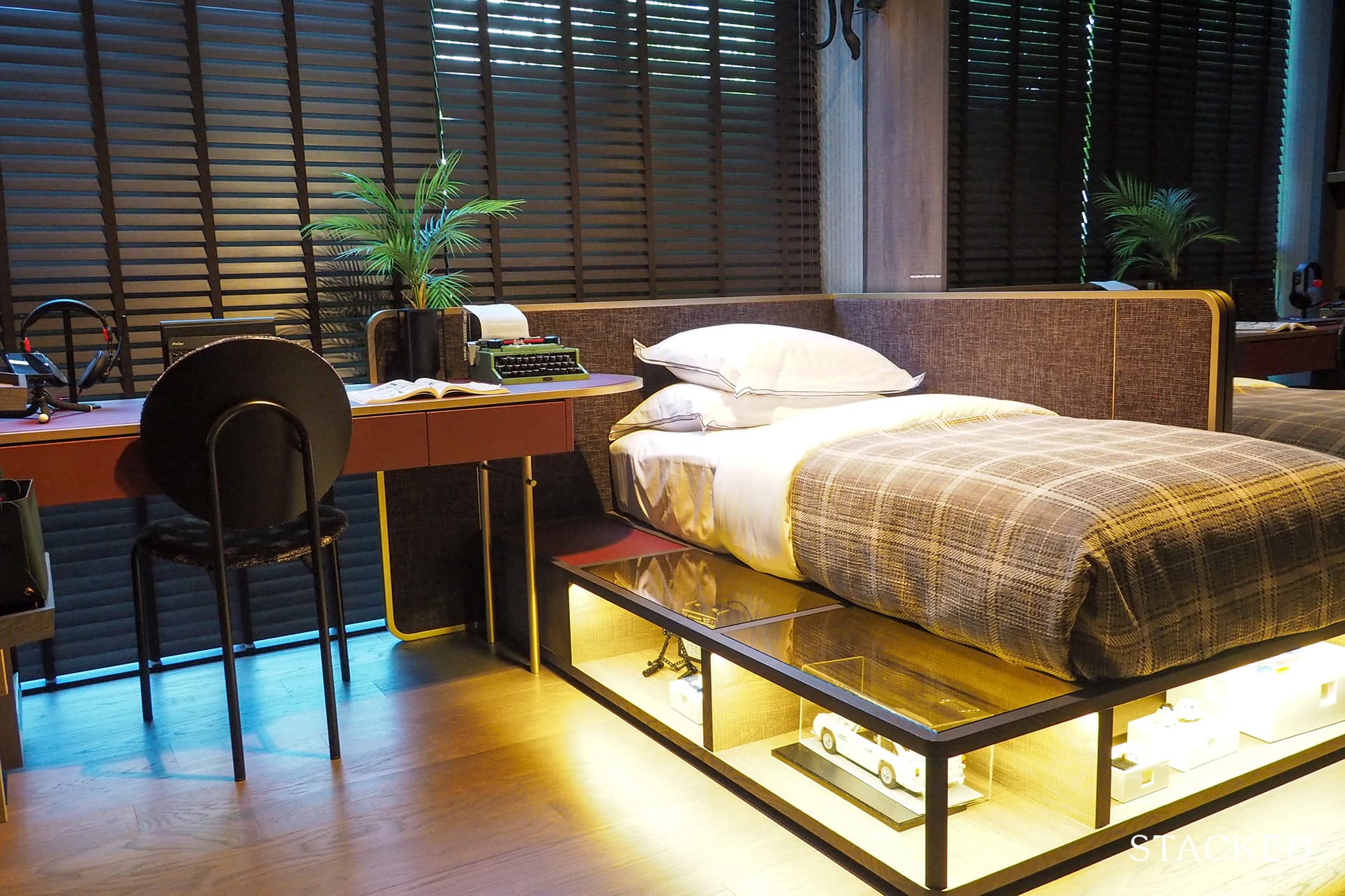 As for Bedroom 2, it is marginally larger at 10.6 sqm. Frankly, the difference is too small for me to detect any difference, if at all. This comes with a more standard design, with a single bed and a study just beside.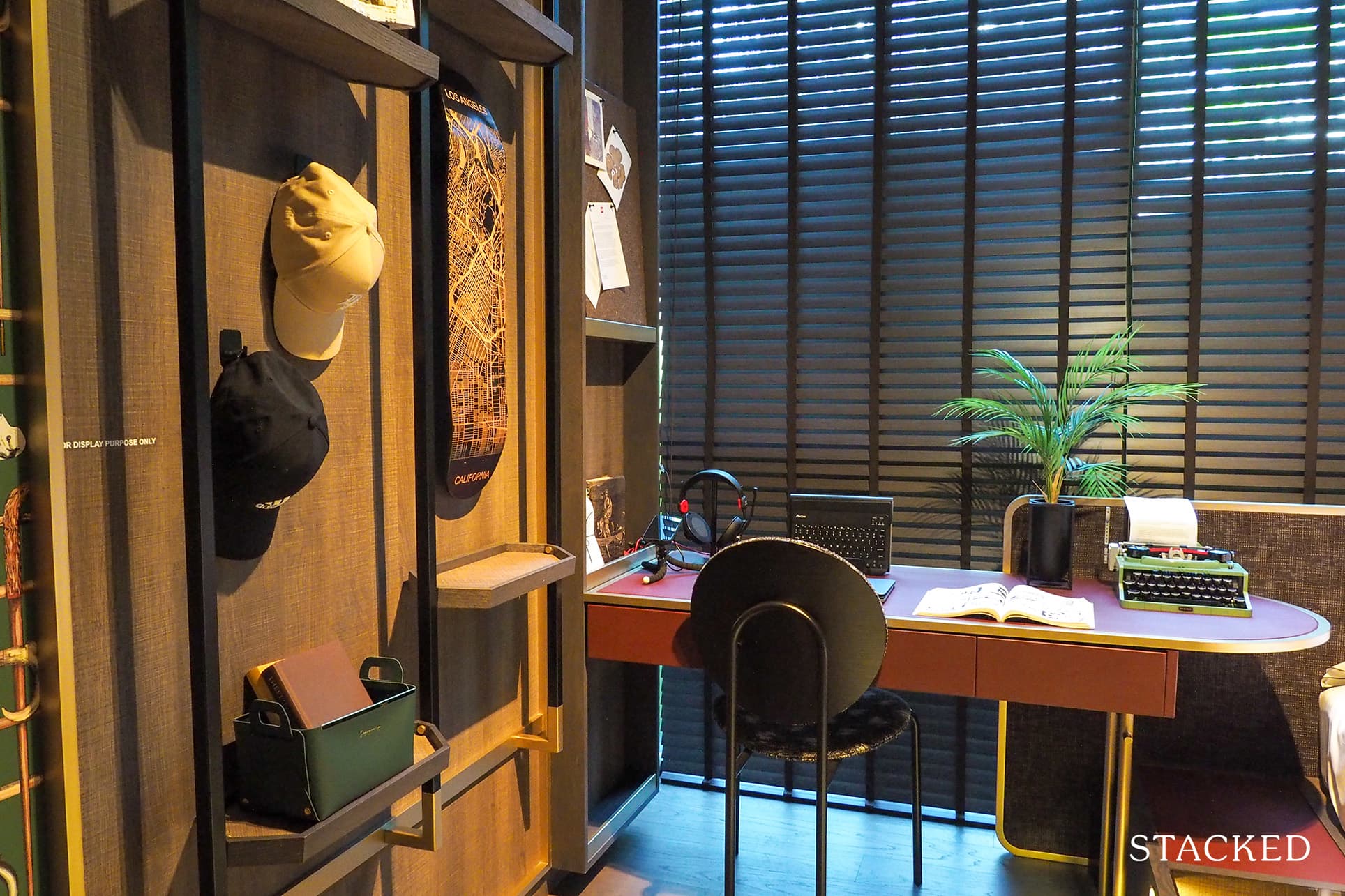 Because this is a 10+ sqm room, the study can actually be adjacent to the Single bed, leaving more space around the room. To me, this is a practical, simple, and fuss-free layout that will meet the needs of most buyers. Again, because of how the unit is laid out, all bedrooms will enjoy full-length windows here, which is something that is rare to find in today's market.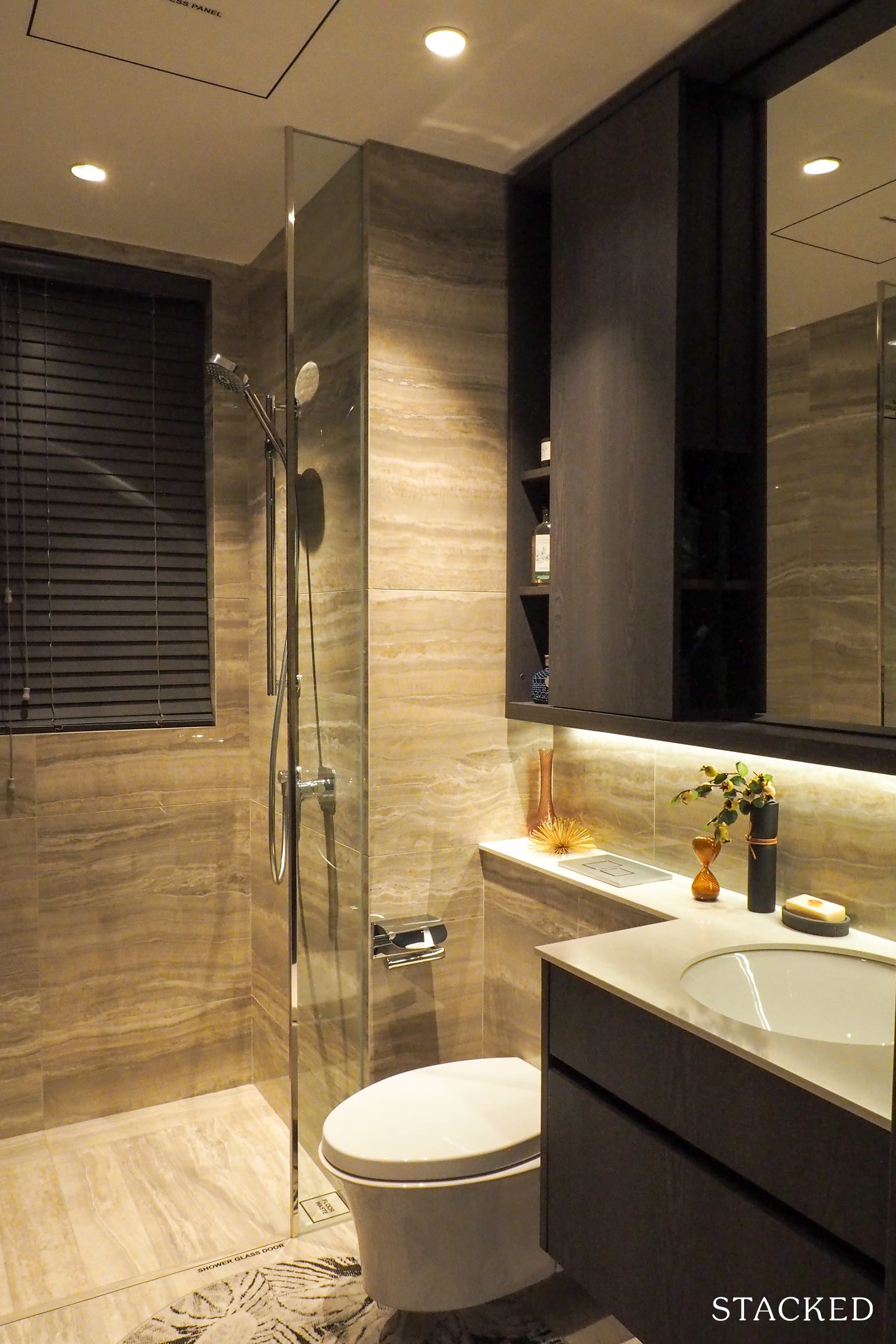 On to the Common Bath, which measures in at 3.5 sqm. If you were to judge purely size-wise, this is smaller than average. But unless you spend more time in the bathroom than in your bedroom, I would very much rather have a larger bedroom instead!
You get the Kohler branded wares including the basin mixer, basin, shower mixer, and wall-hung w/c. The aesthetics are also more beige marble-like tiles compared to the black or white options available for the 1 and 2 Bedroom units. Consistent with all the other bathrooms at LIV@MB, this one comes with a window for natural ventilation and light.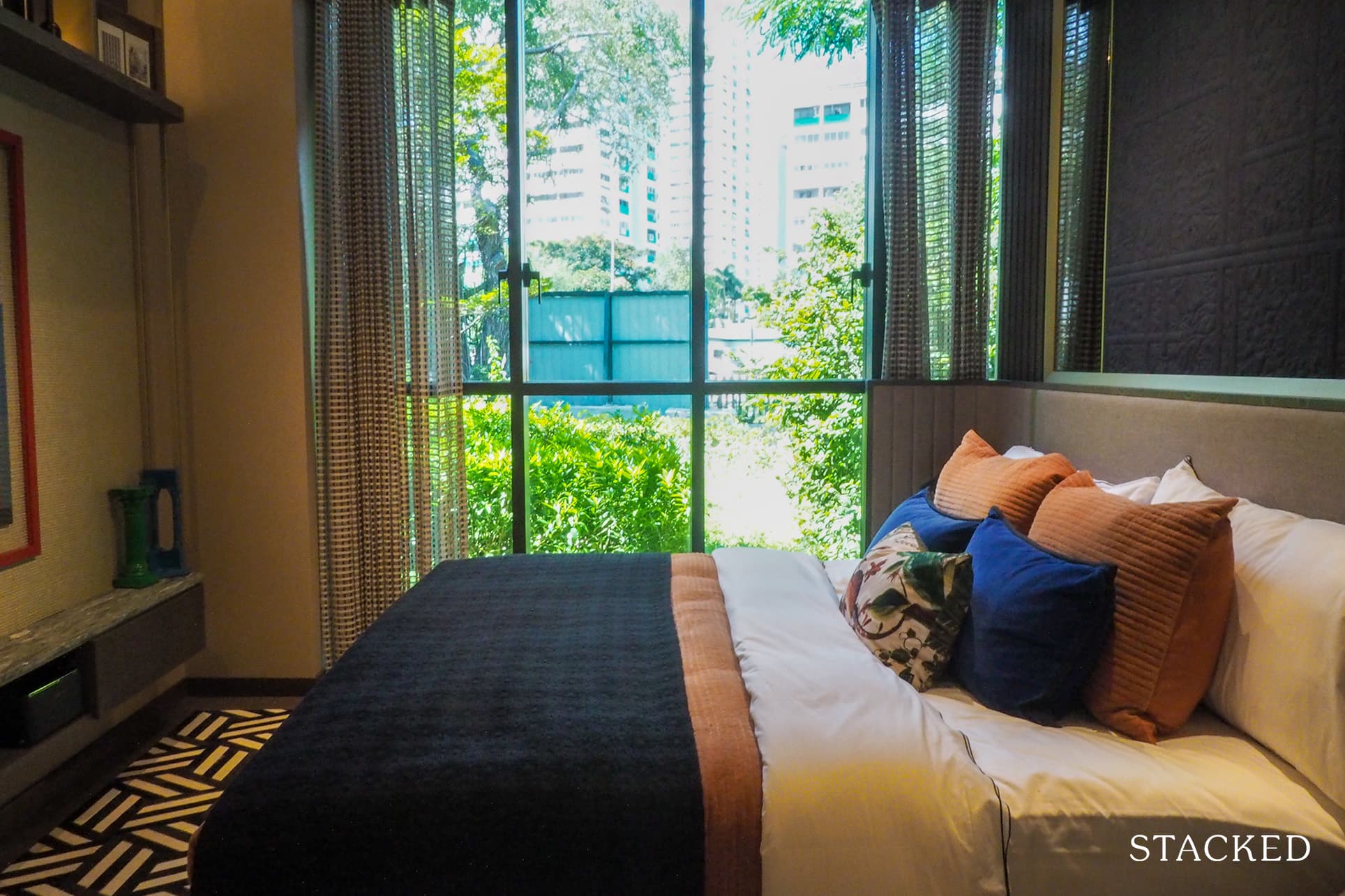 There's a bit of a walkway leading to the Master Bedroom, where you will notice that the built-in wardrobe has been flushed stylishly within a niche. It makes the room more regularly shaped and I wished more developers would have done this in their new projects. It just makes the room feel so much bigger!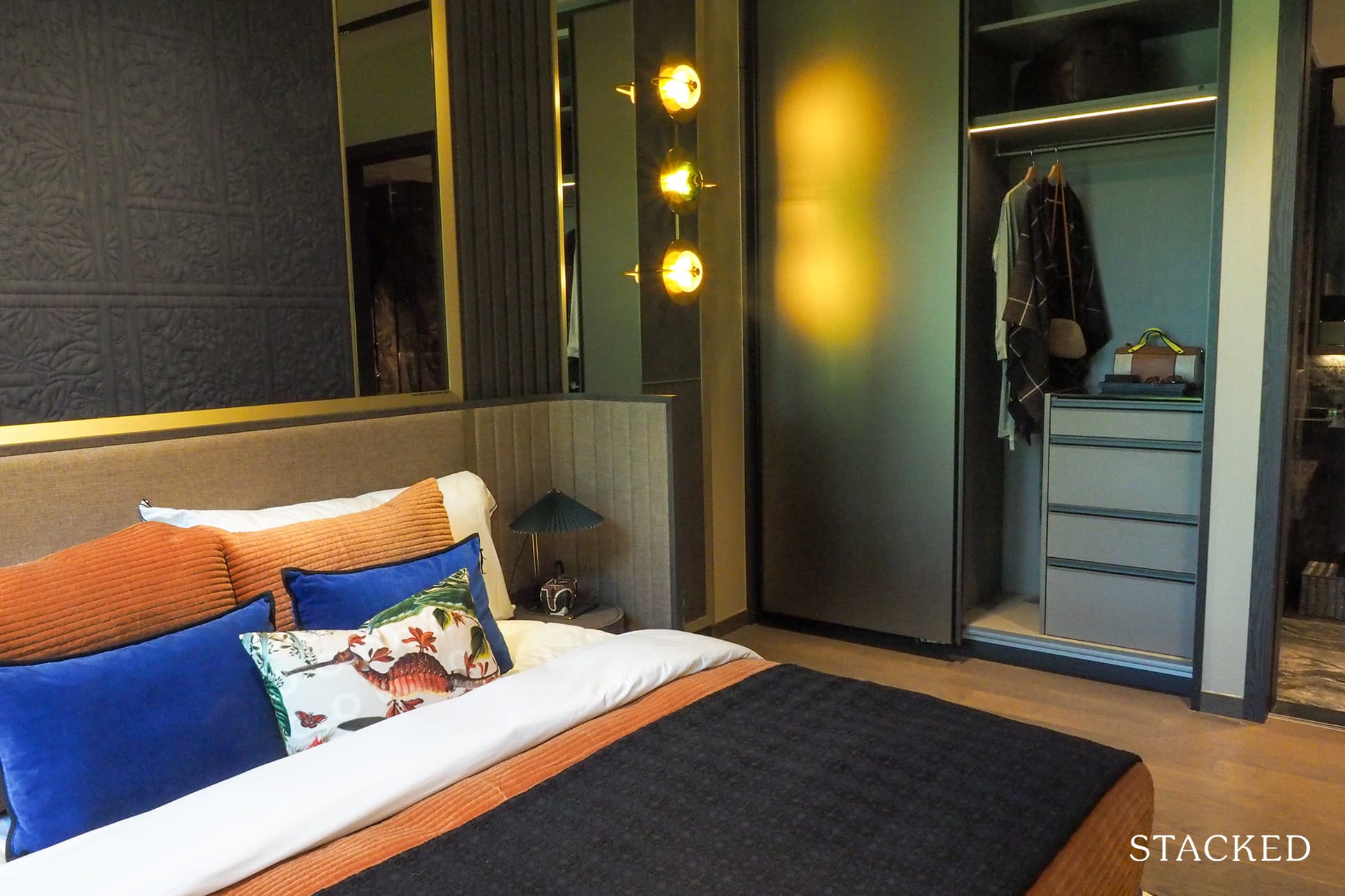 For the Master Bedroom in 3 and 4 Bedroom units, the bronze satin glass wardrobe is a classier choice of materials and has an accessories drawer and even a safe box for safekeeping.
As you can tell, this 21.6 sqm of space (combined with the Master Bath) is generous. Having a King bed is a no-brainer, leaving you with room to place a dresser or a study by the other side of the room as well. It's fitting that the Master Bedroom occupants get to enjoy the biggest room of all and a restful retreat from work.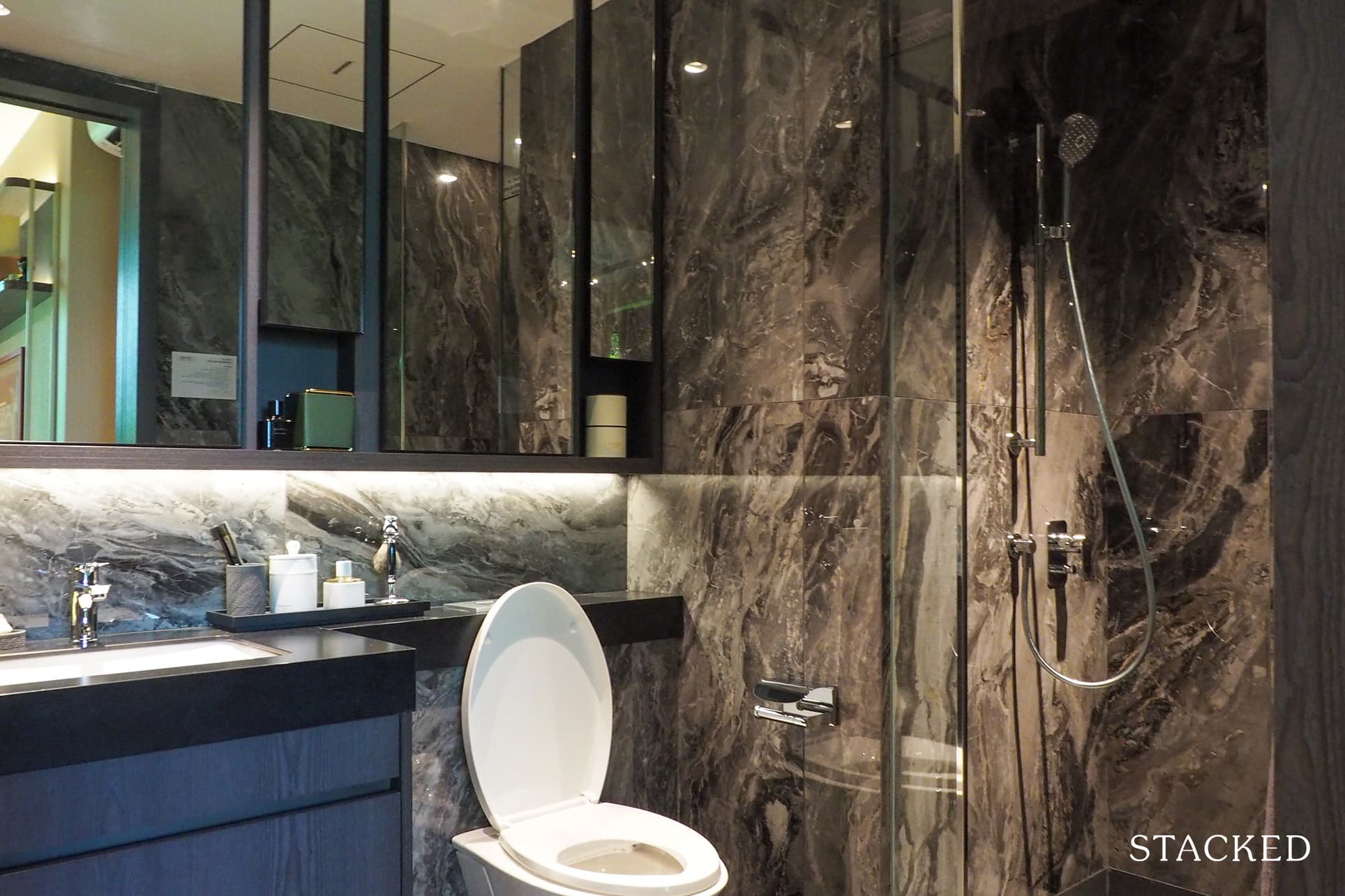 It's pretty much the same for the Master Bath as well. It is decked out in a more luxurious-looking tile, similar to those you might find in some hotels, providing a more opulent design to the mix.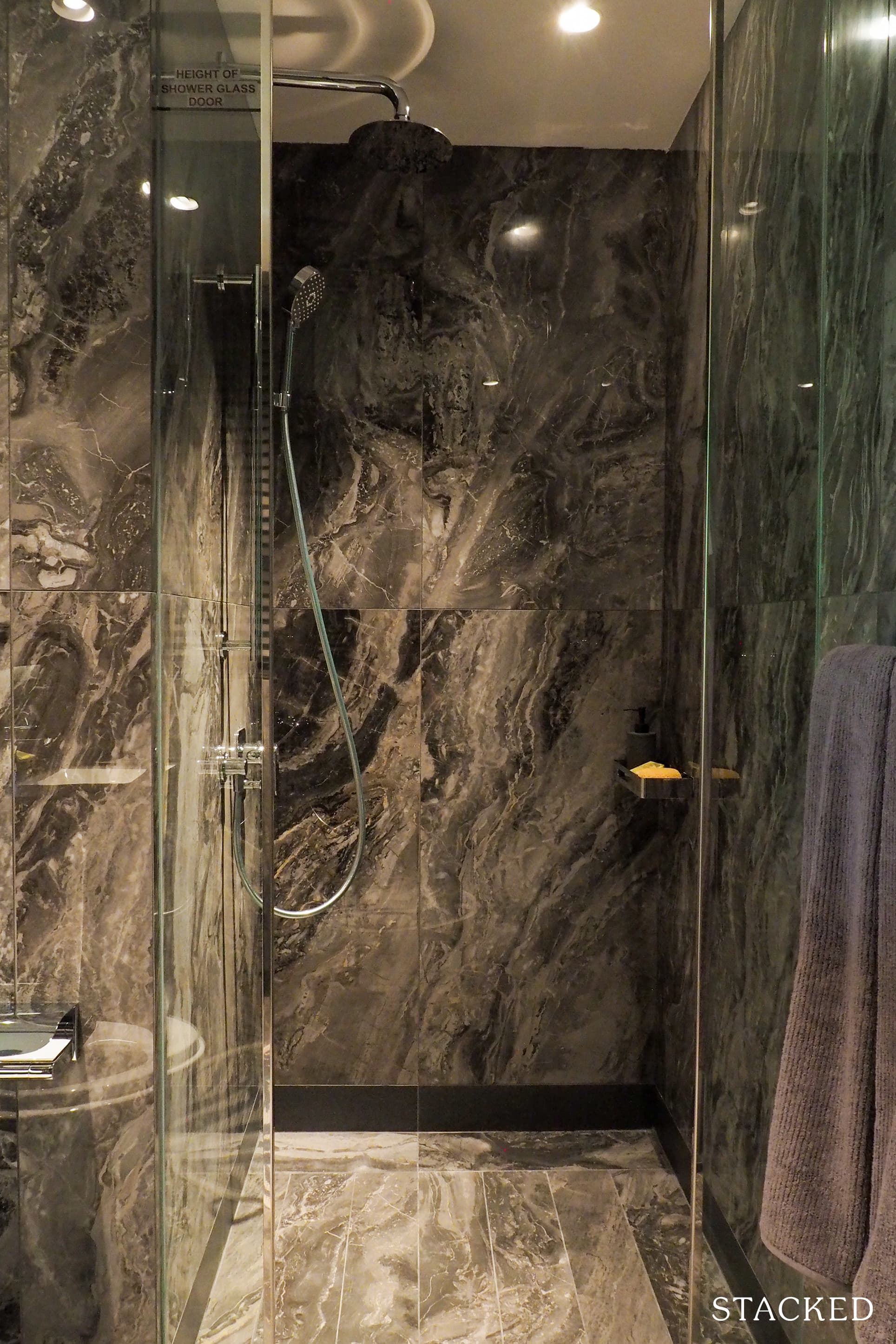 The other wares and fittings are similar to those in the Common Bath, with the basin mixer, basin, rain shower mixer, and wall-hung w/c from American maker Kohler. And of course, there's also a window here for natural ventilation.
LIV@MB – 4 Bedroom Type D2 (155 sqm/1,668 sqft) Review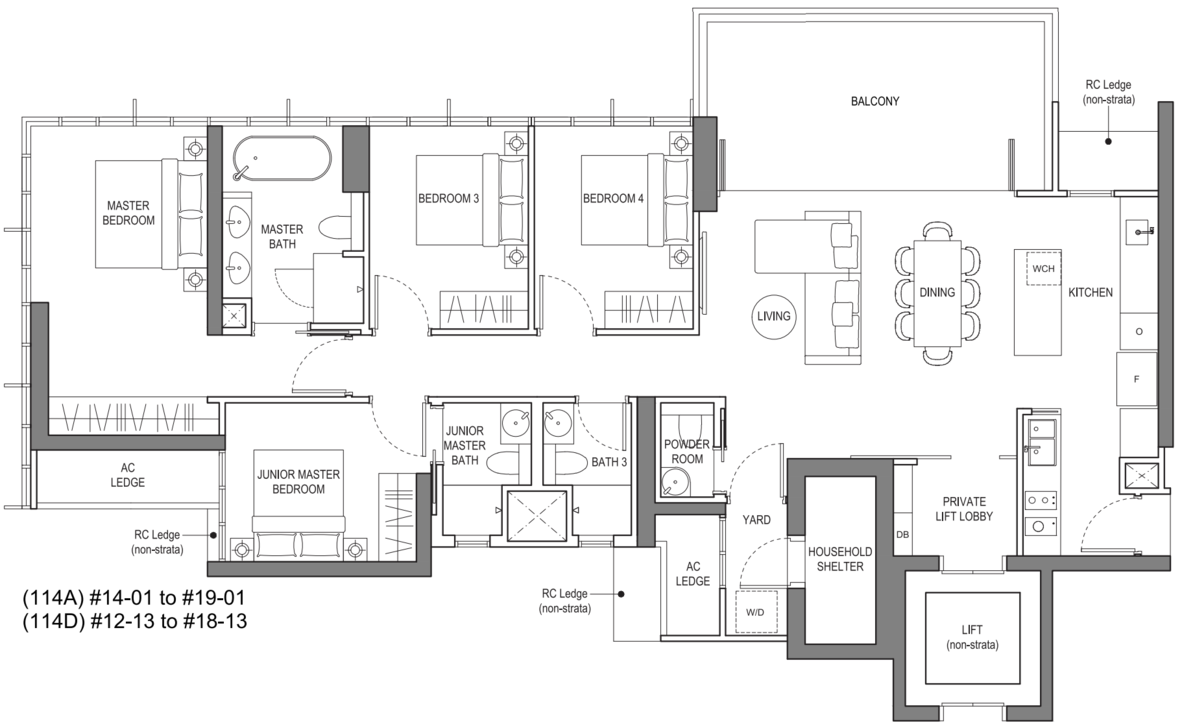 At 1,668 sq ft, this is the largest unit available at LIV@MB, but also the most "normal" comparatively given how well laid out the rest of the units have been so far. Its size puts it as one of the larger 4 Bedroom new launches around, with the average hovering around 1,400 sq ft. As with the 3 Bedroom units, all 28 4 Bedroom units will feature private lifts and private lobbies of their own, ensuring a sense of exclusivity when you arrive home. You also get marble floors for your common areas to further create a distinction and engineered timber for the bedrooms. The ceiling height is, as usual, a standard of 2.8m.
There is a smaller 4 bedroom on offer at 1,518 sq ft, with the main difference the smaller 4th bedroom, and no dry kitchen component. You also wouldn't get the option of facing the unblocked Mountbatten landed area, as that is reserved for the bigger 4 bedroom units.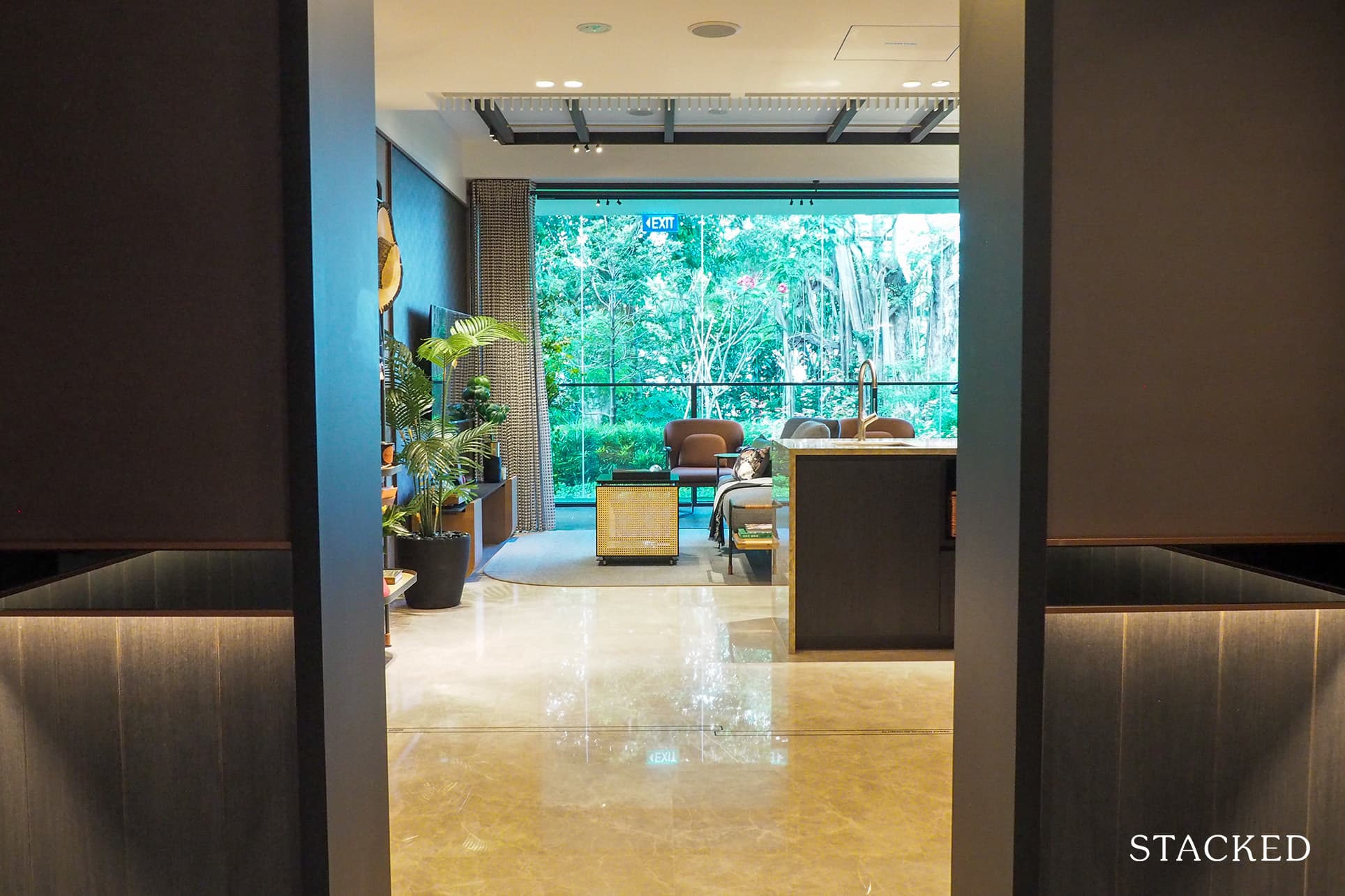 Stepping out of your private lift, you have your own lift lobby awaiting you. At 4.3 sqm, it's smaller than the one found in the 3 Bedroom unit but I don't think anyone is going to kick up a fuss here. You have built-in cabinets by your left and because the right is empty here (there's the common lift door for the 3 Bedroom), you have the option to either build more shoe cabinets, install an art piece or mirror (as they have done here) or simply have a bench to put on your shoes. As with the 3 Bedroom unit, there will also be a sliding door with Peranakan-inspired patterns for additional safety before you enter the unit properly.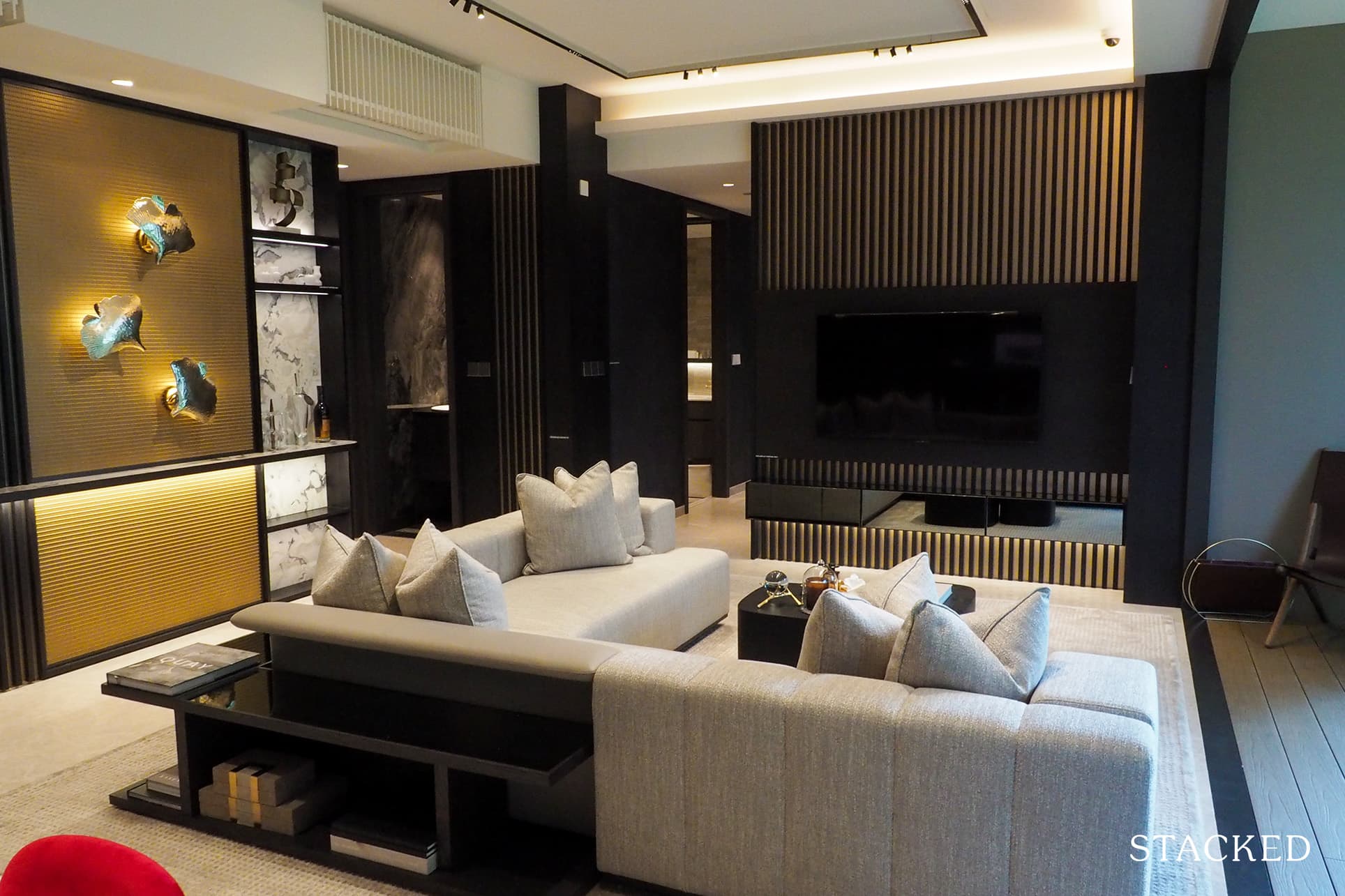 Entering the unit, you can immediately feel the spaciousness of the living room. It's actually the living and dining room combined on the floor plan, but with the dining room moved to the massive balcony instead, it makes this living room way more comfortable. As you can tell, this couch looks like it could fit up to 8 people, which in 2022 context, stands out among its peers. This also means that the distance from the couch to the TV is decent indeed.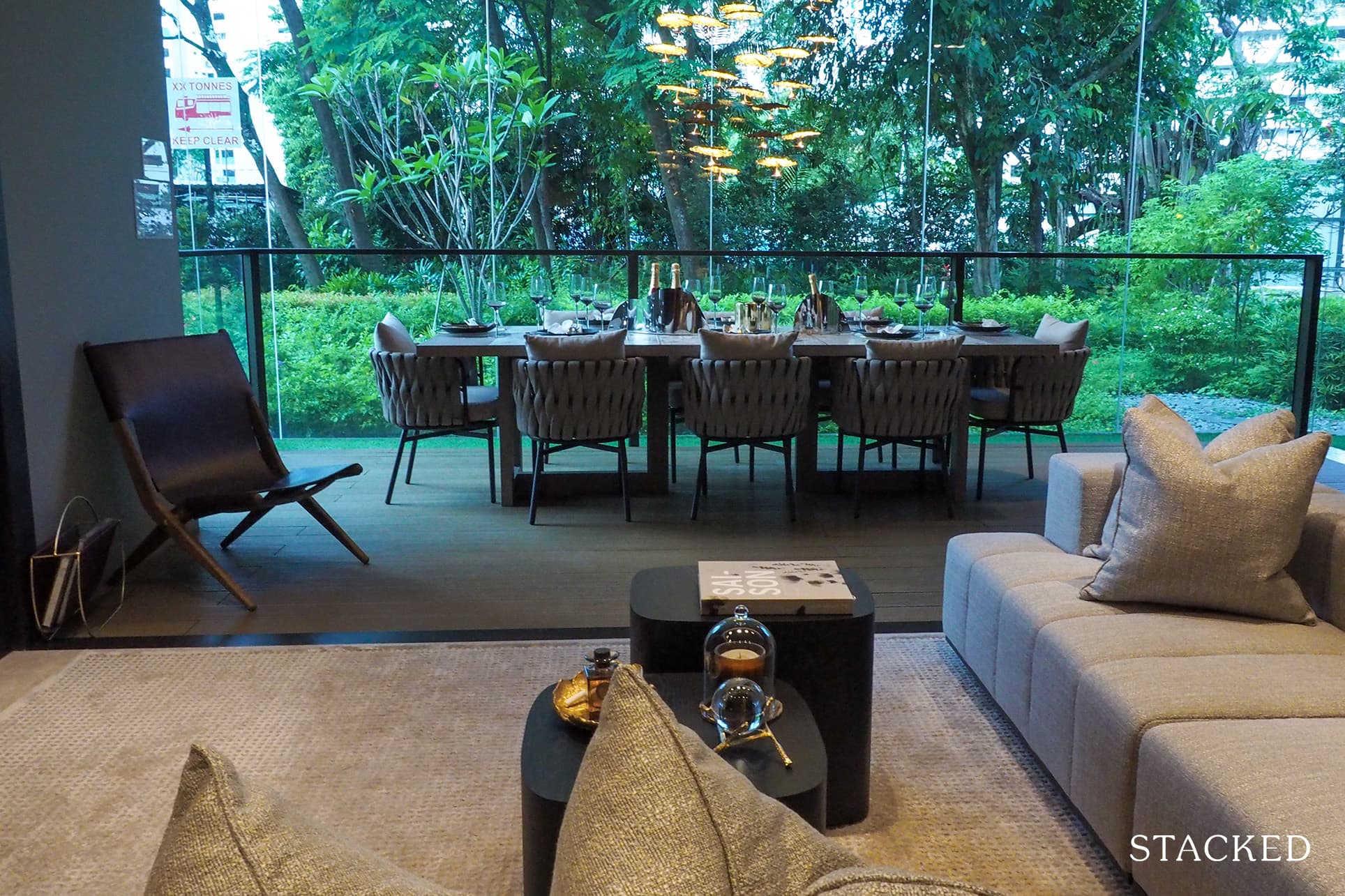 As for the dining table, it has been moved to the massive 19.1 sqm balcony as previously mentioned. For context, 19.1 sqm is larger than the entire studio unit found in the 4 Bedroom Dual Key at Piccadilly Grand which I had reviewed very recently. As you can tell, having an 8-seater here does not seem to even take up ¾ of the space, both length and widthwise. Amazing isn't it!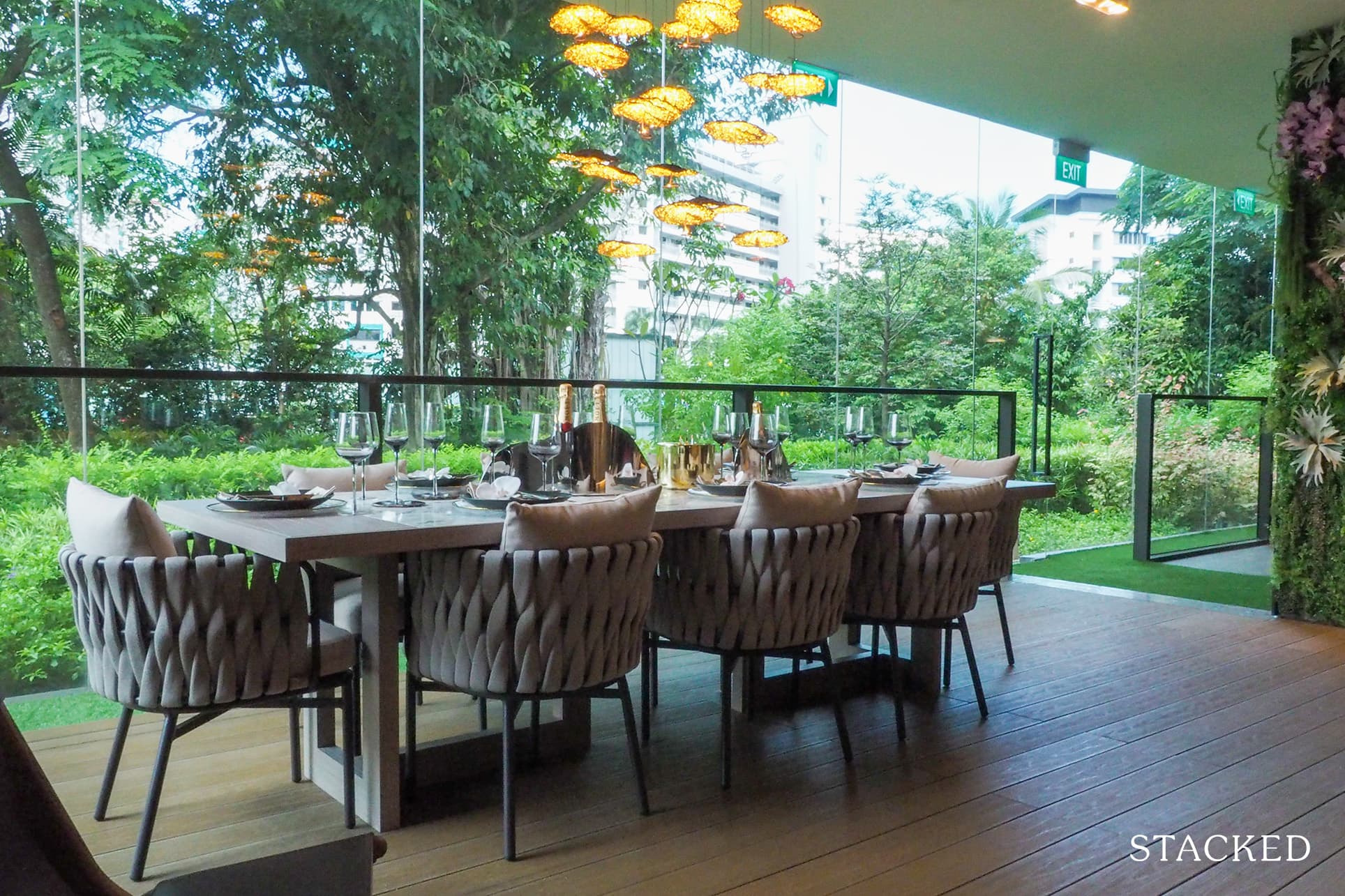 If you were to stretch the table further, I'm sure you could fit up to 16 or more, depending on how bulky your table might be. If you have a high floor unit, overlooking the Mountbatten landed enclave, I think your guests would be very happy to be sipping some wine and enjoying the high life (in the East). It's a very sensible arrangement so that you can enjoy the best of both worlds.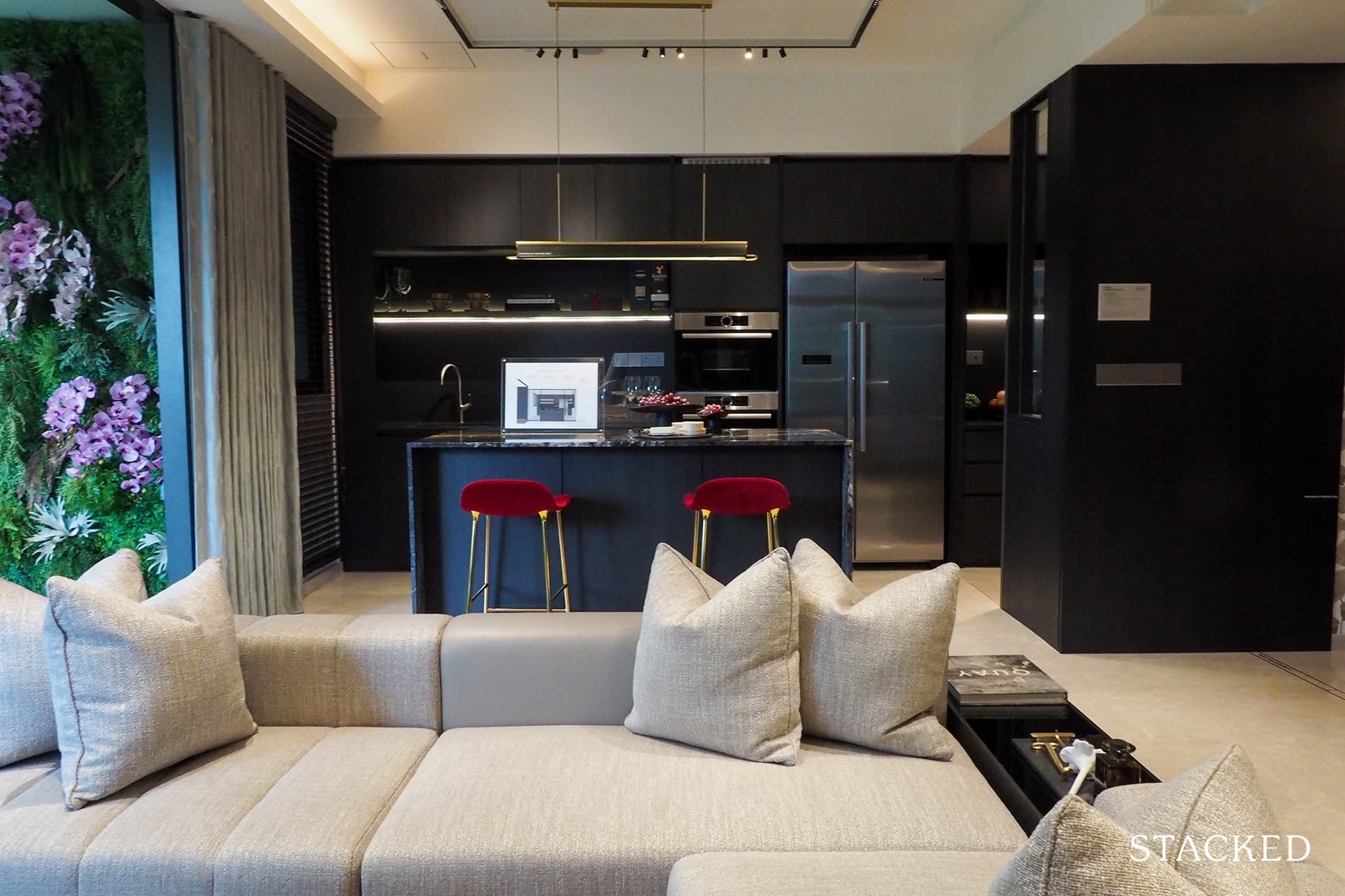 Back to the living room area is where you will also find the kitchen island. It's covered in this black granite with white and gold accents, making it a centrepiece that your eyes will naturally be drawn to once you step in. As you can see from the 2 contrasting red high stools there, this can be your breakfast countertop on a usual day and home bar at night.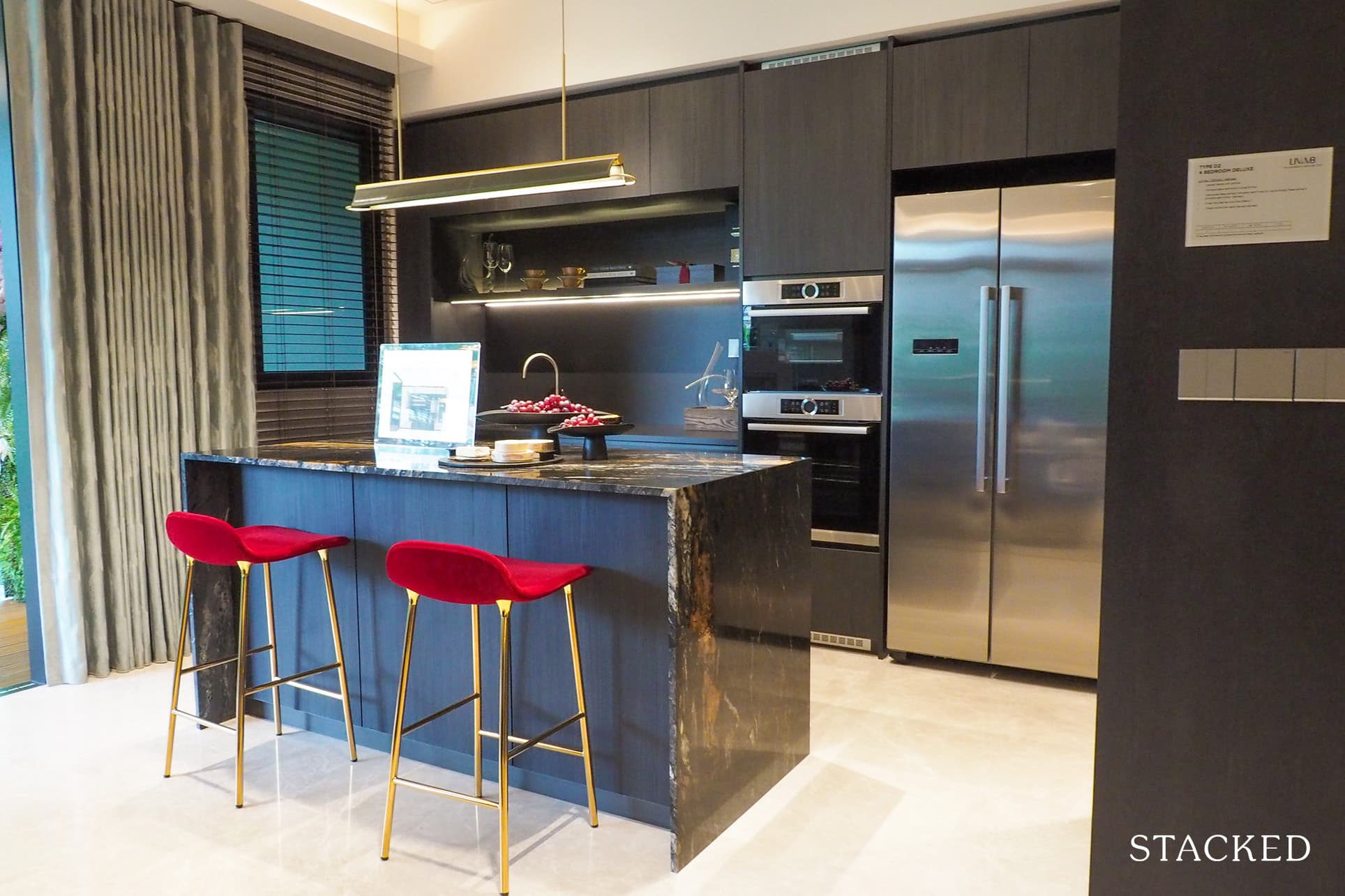 There's also a larger pantry area just behind to accommodate your wine glasses, coffee machine, and the like. For practical reasons, there's also a tap and sink here for your use. With the top and bottom cabinets built-in as well, you can also maximise the storage space available in the unit. Only for the 4 Bedroom unit are the built-in steam oven and built-in oven by Bosch – these are separate appliances which are just beside the pantry space. There's also a 560l 2-door fridge here for easy accessibility. Specifically for Type D2 (this show flat unit), there will also be a wine chiller provided by the developer.
Another interesting point to note here, you can actually enclose the entire space as well, forming a bigger "wet kitchen", if you will. There's a window right by the side too, so it still remains practical.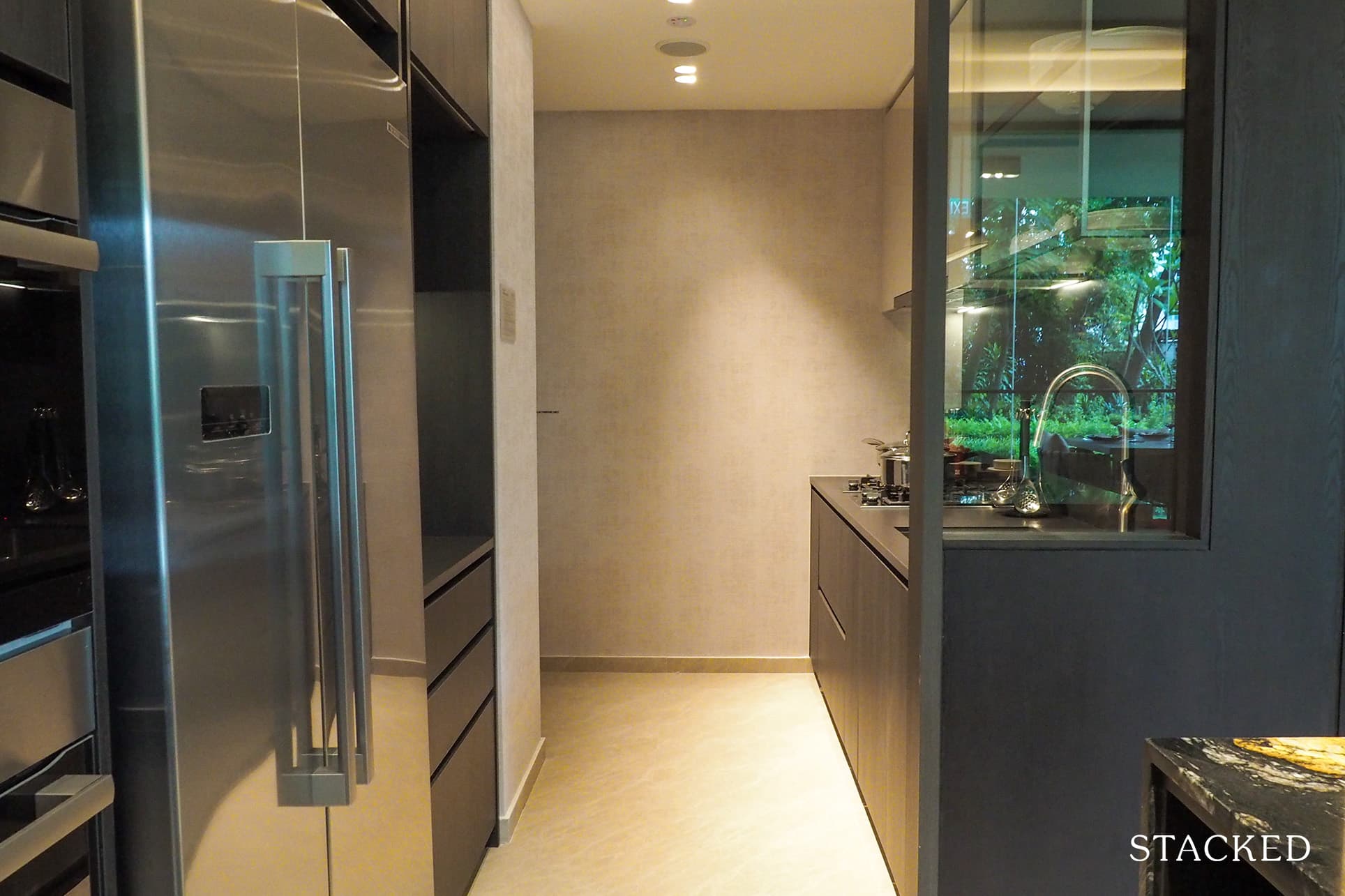 Interestingly, the wet kitchen here is not all that huge as the countertop space appears to be limited. There's also no window for ventilation here, which is odd for the wet kitchen area (and since everywhere else has been so well-ventilated so far). That said, you can open the door here to properly ventilate the space, so it isn't the end of the world (this also leads to the common lift lobby for deliveries).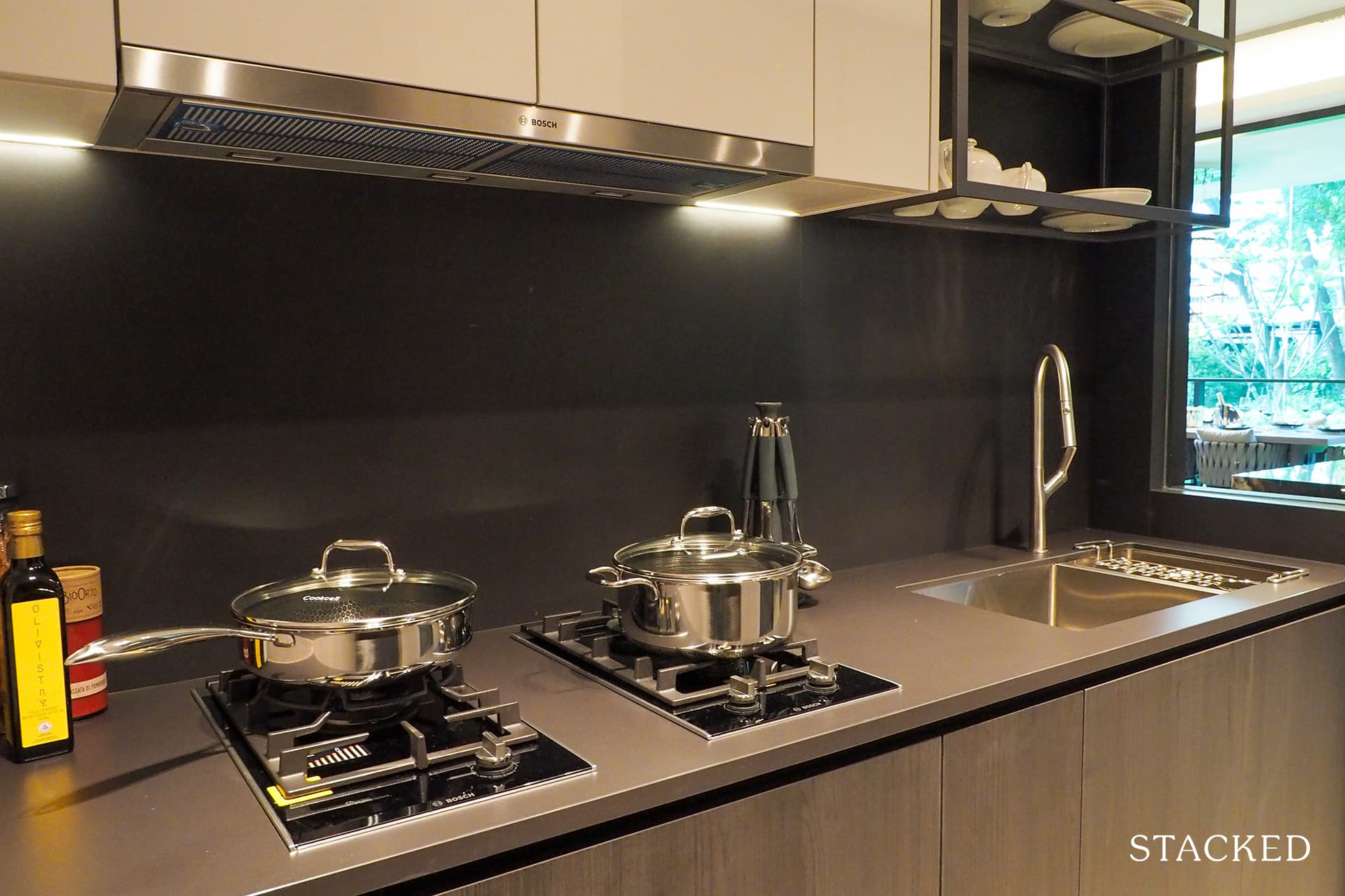 Appliances here include 2 separate gas hobs – a single one and a 2-burner one, both by Bosch. What I like about the dry and wet kitchens in this unit is the amount of combined countertop space, plentiful storage cabinets, and good practicality with 2 separate sinks.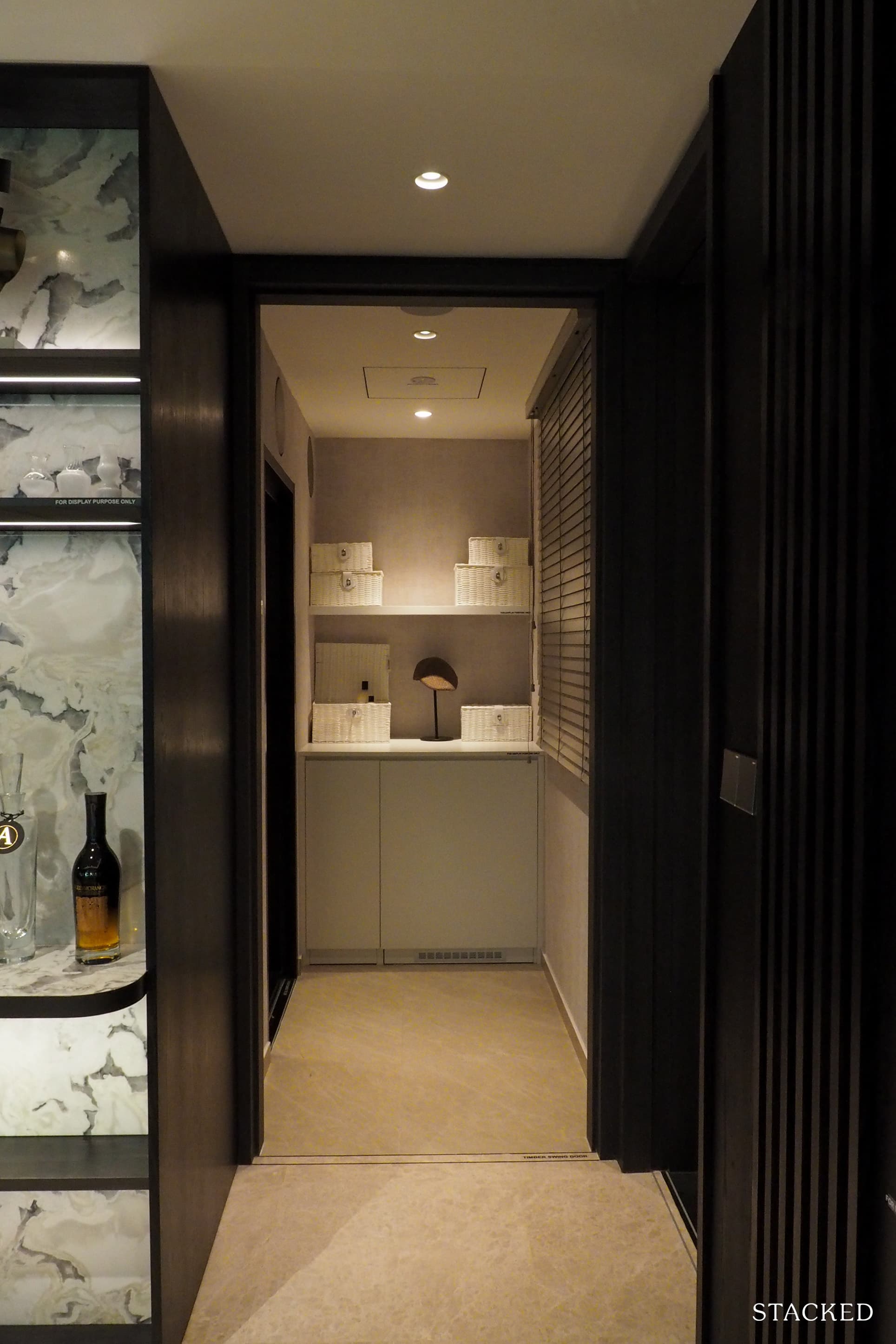 You may have noticed that the yard and household shelter are not located at the end of the kitchen, which is usually the case. Instead, it's closer to where the bedrooms are (on the left of the entrance). At the 3 sqm yard, is where you will also find the washer/dryer by Bosch. Since there's a window just beside the yard, I presume that natural drying will be an option as well. The household shelter here is of a more humane size at 4.8 sqm and would be suitable for your helper or as a storeroom.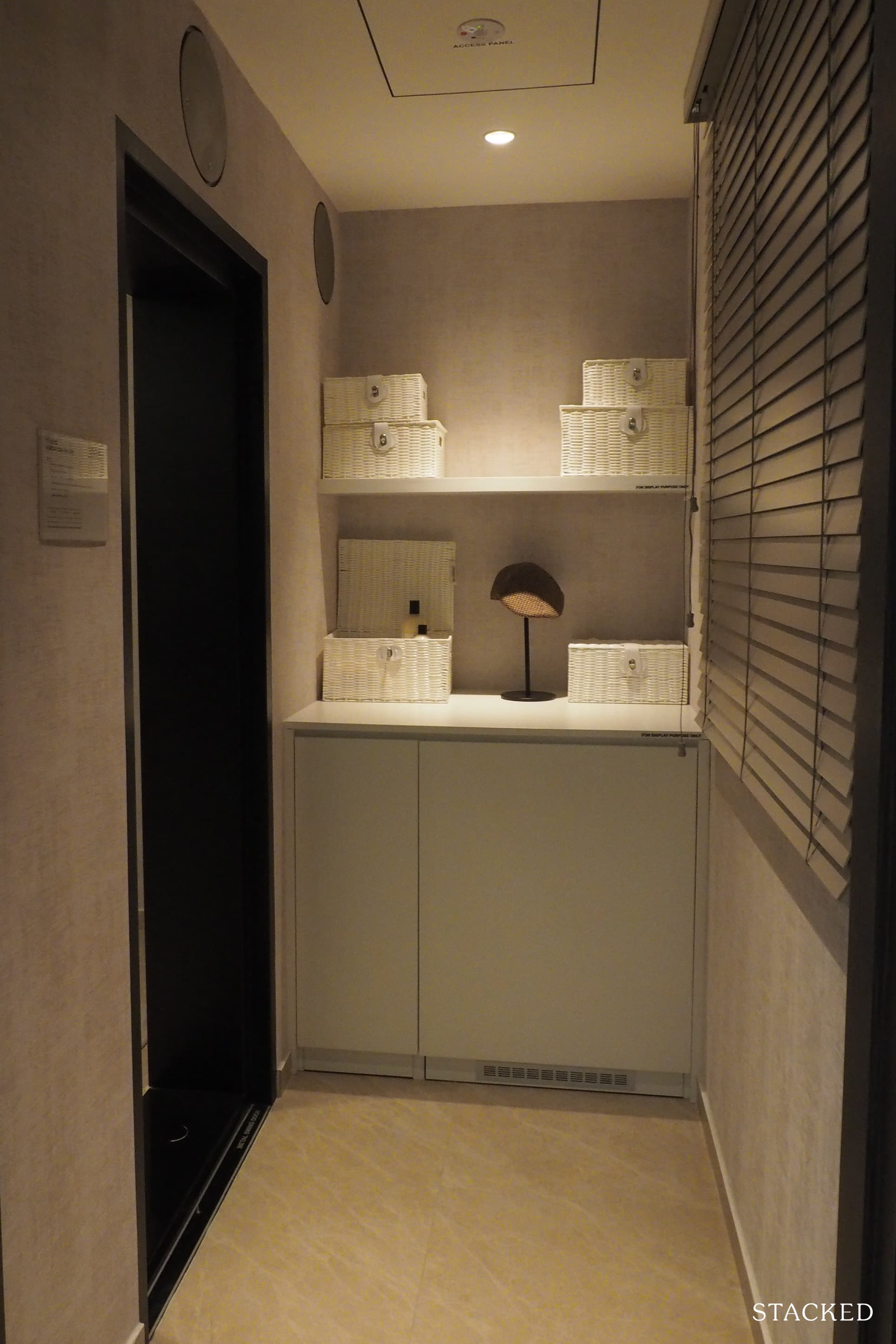 It's also great of the developers to have included a door separating the yard and household sheltered from the other parts of the apartment, especially since there is a powder room for guests just beside. You wouldn't want your guests to see how messy your storeroom might be!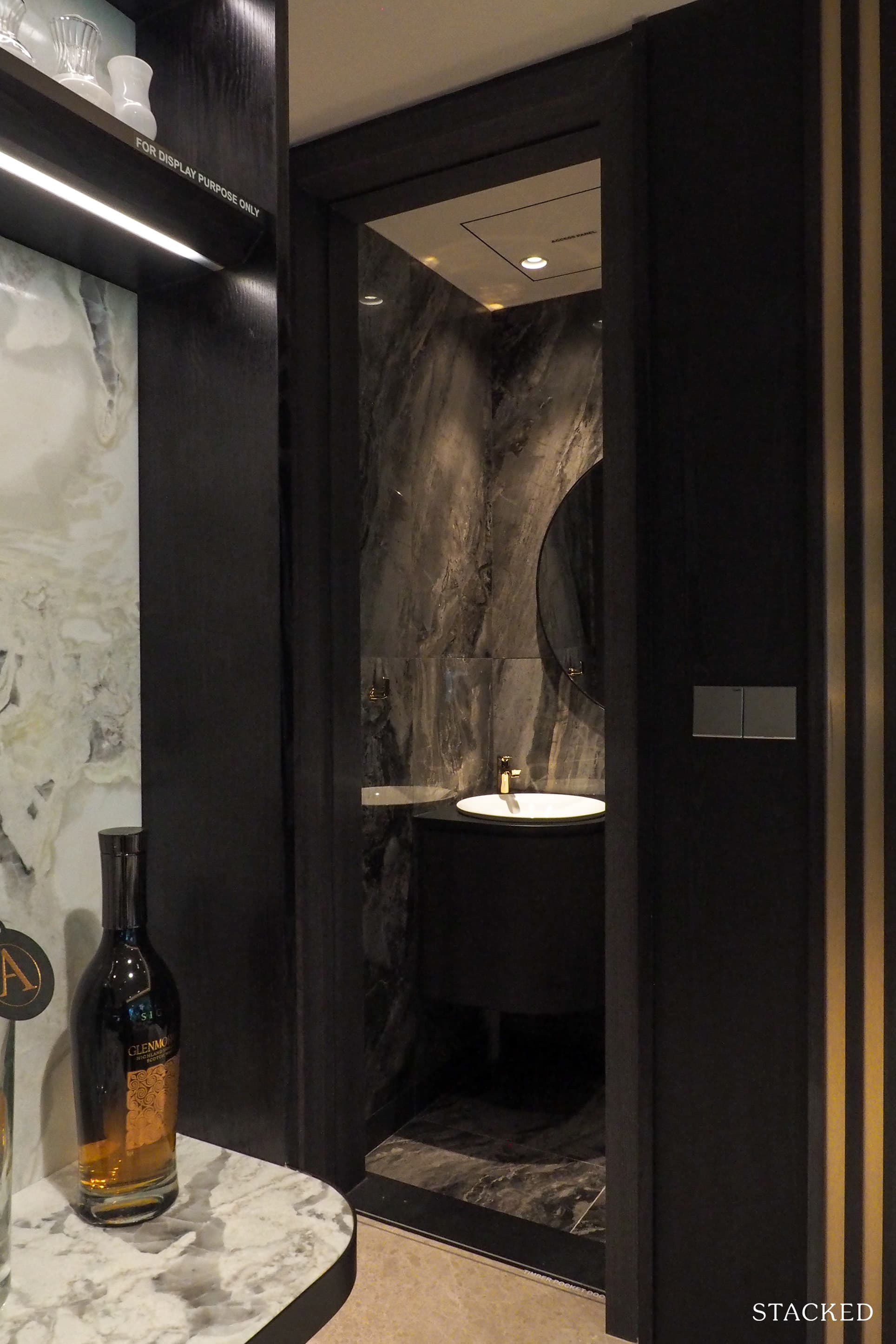 While it's usual practice for common bedroom occupants and visitors to share the common bathroom, it's great that the developers have included a powder room for visitors. First impressions always matter, and the one here has definitely stepped it up in terms of the lux factor. You get the bathroom tiled up in luxurious-looking tiles, and a polished french gold mixer, in addition to the wall-hung w/c – both by Kohler. Powder rooms are never meant to be huge, so this 2.3 sqm space would cut it. Its addition also means you get 4 bathrooms for 4 bedrooms, ensuring that you never need to share (first-world luxuries indeed).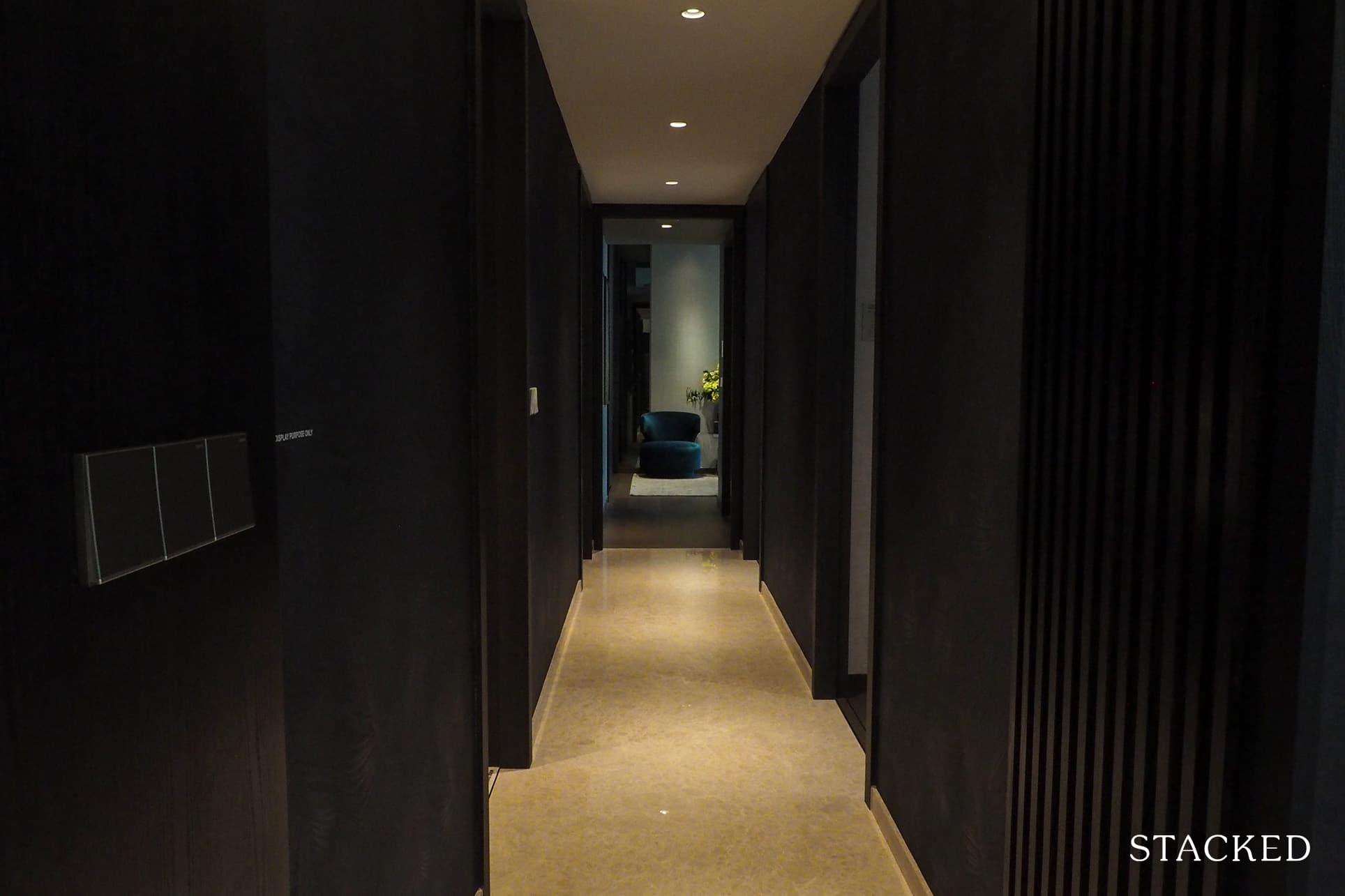 The 4 bedrooms here are divided into the Master Bedroom, Junior Master, and 2 Common Bedrooms, both of which measure up at 10.4 sqm. Once again, this is above the average in the new launch market today.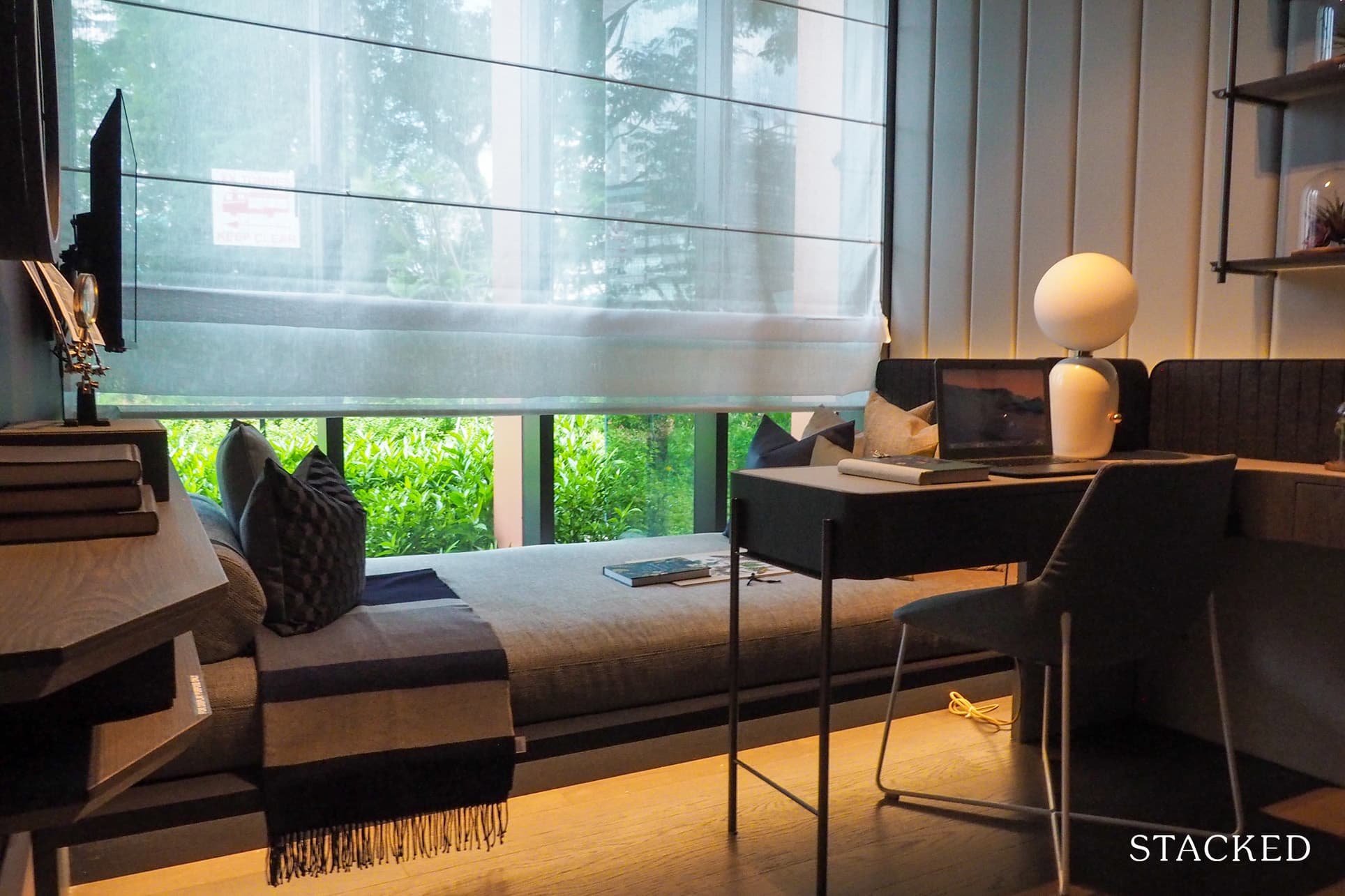 Starting first with Bedroom 4, this is a practical setup suitable for a teenager or a young adult. You have a single bed, complete with a TV set. There's also a study table to complete your school or office assignments. Coupled together, it still leaves you with a decent amount of space around the room. Again, full-length windows here so there can be no complaints here.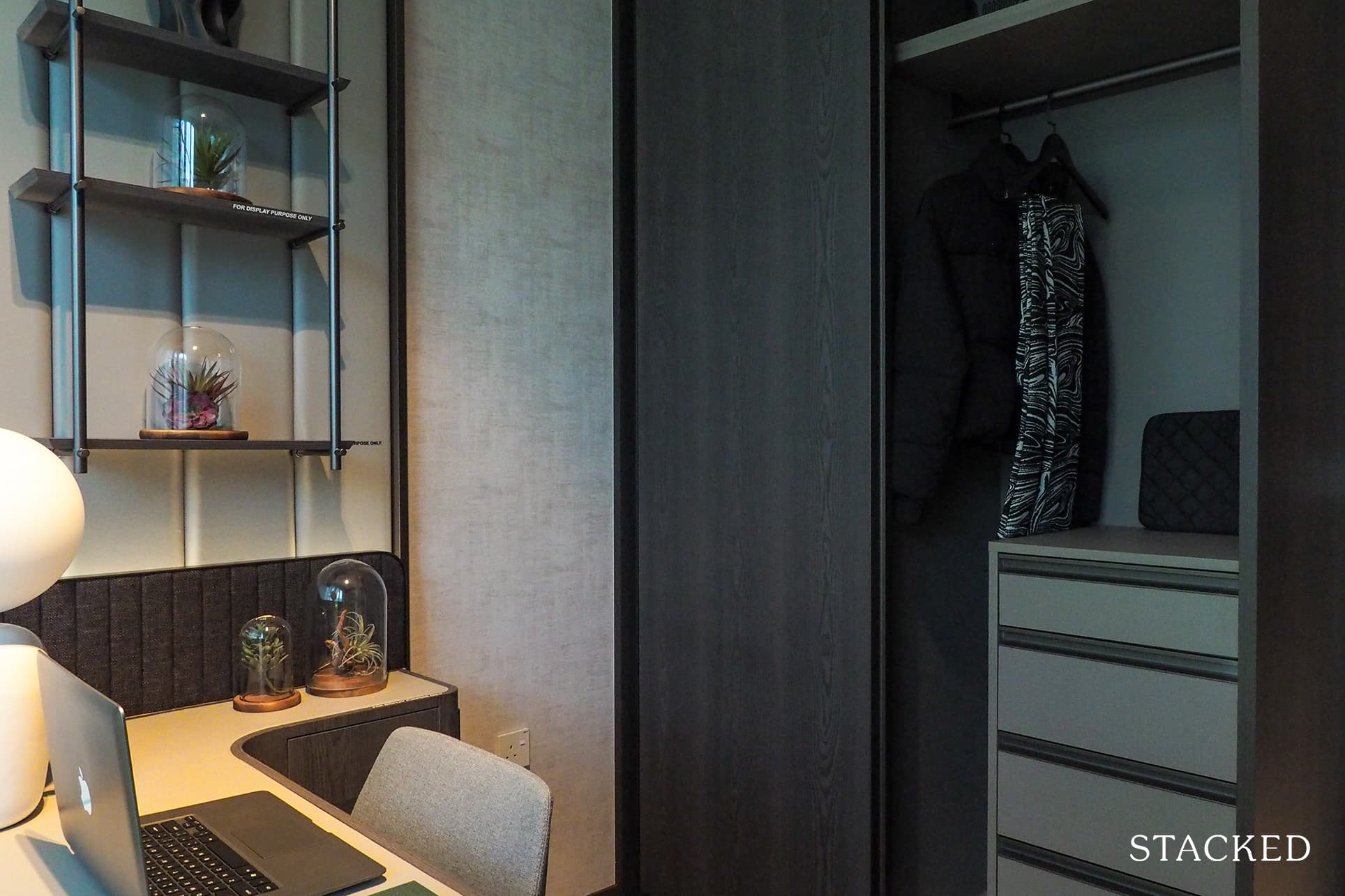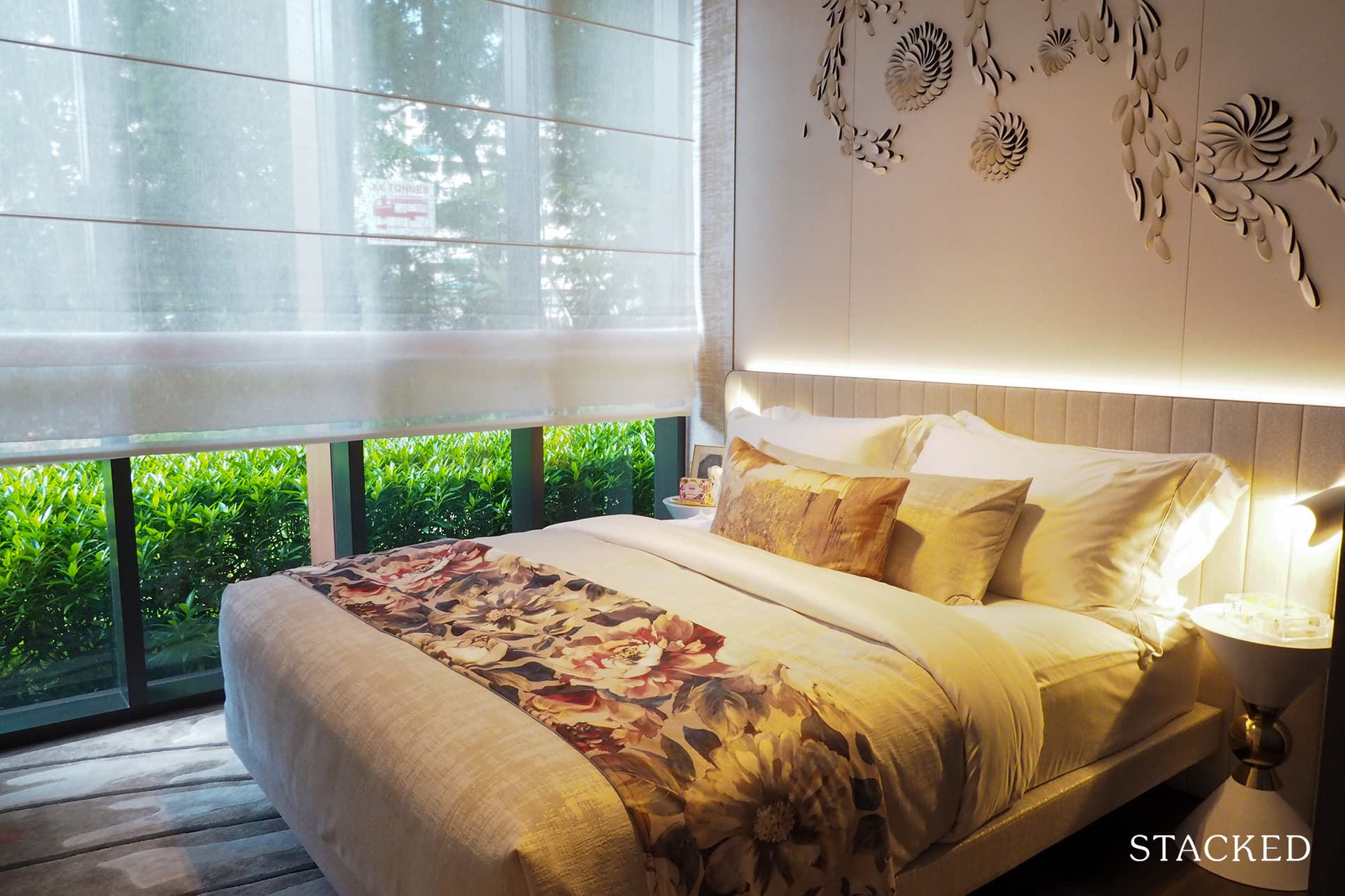 Bedroom 3 on the other hand, showcases a pure bedroom setup. You have a Queen size bed placed here, with 2 side tables around it. So even though the sizes of these common bedrooms are about ⅕ larger than average, you can't exactly have both a Queen bed and a study table in it, unless you build it in by the window. Nevertheless, it should still feel more spacious than your average bedroom in other new launches.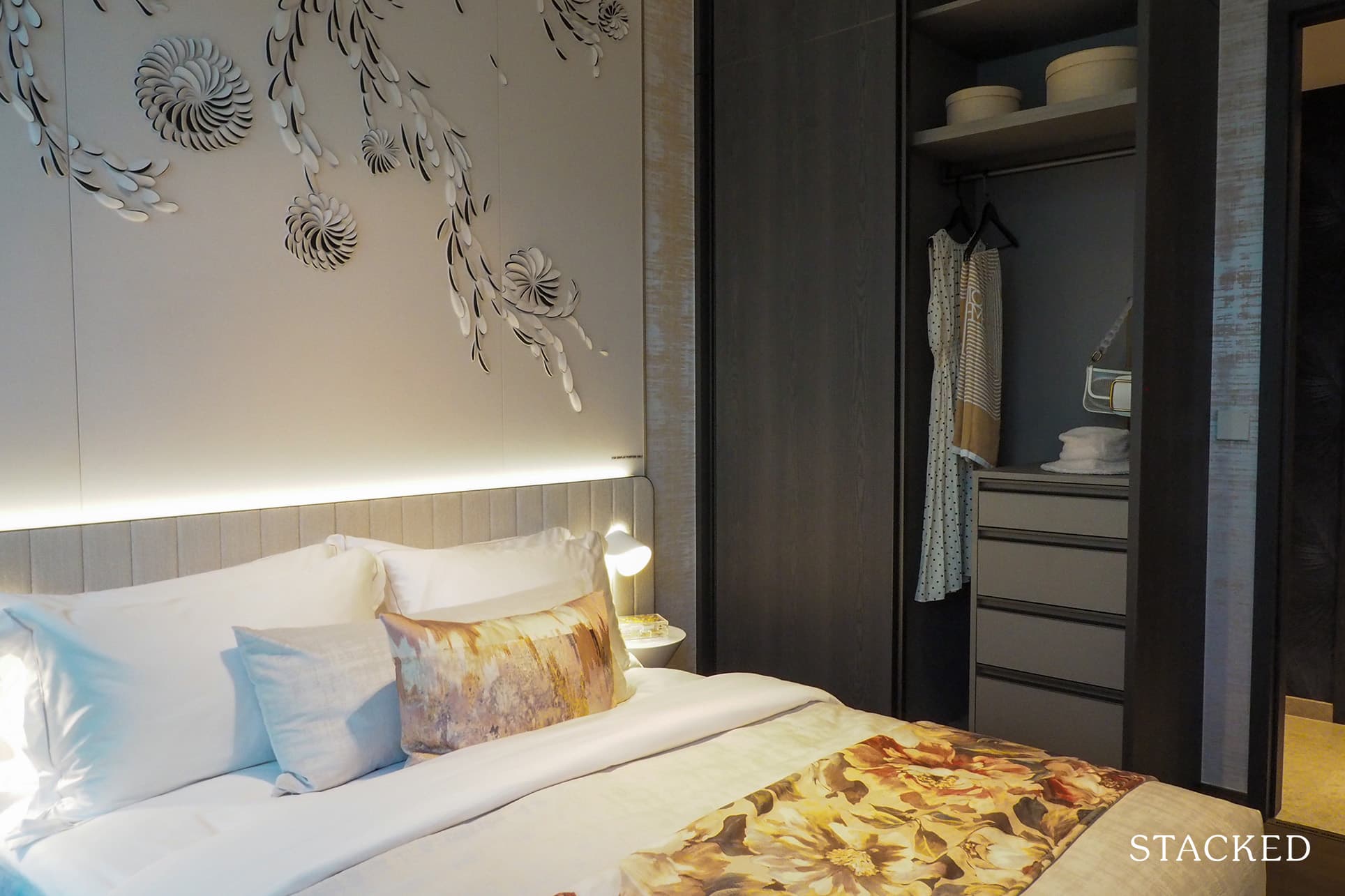 The wardrobes here are the standard 2-panel variety, with a dark wooden laminate used here which differs from the smaller 1 and 2 bedroom units.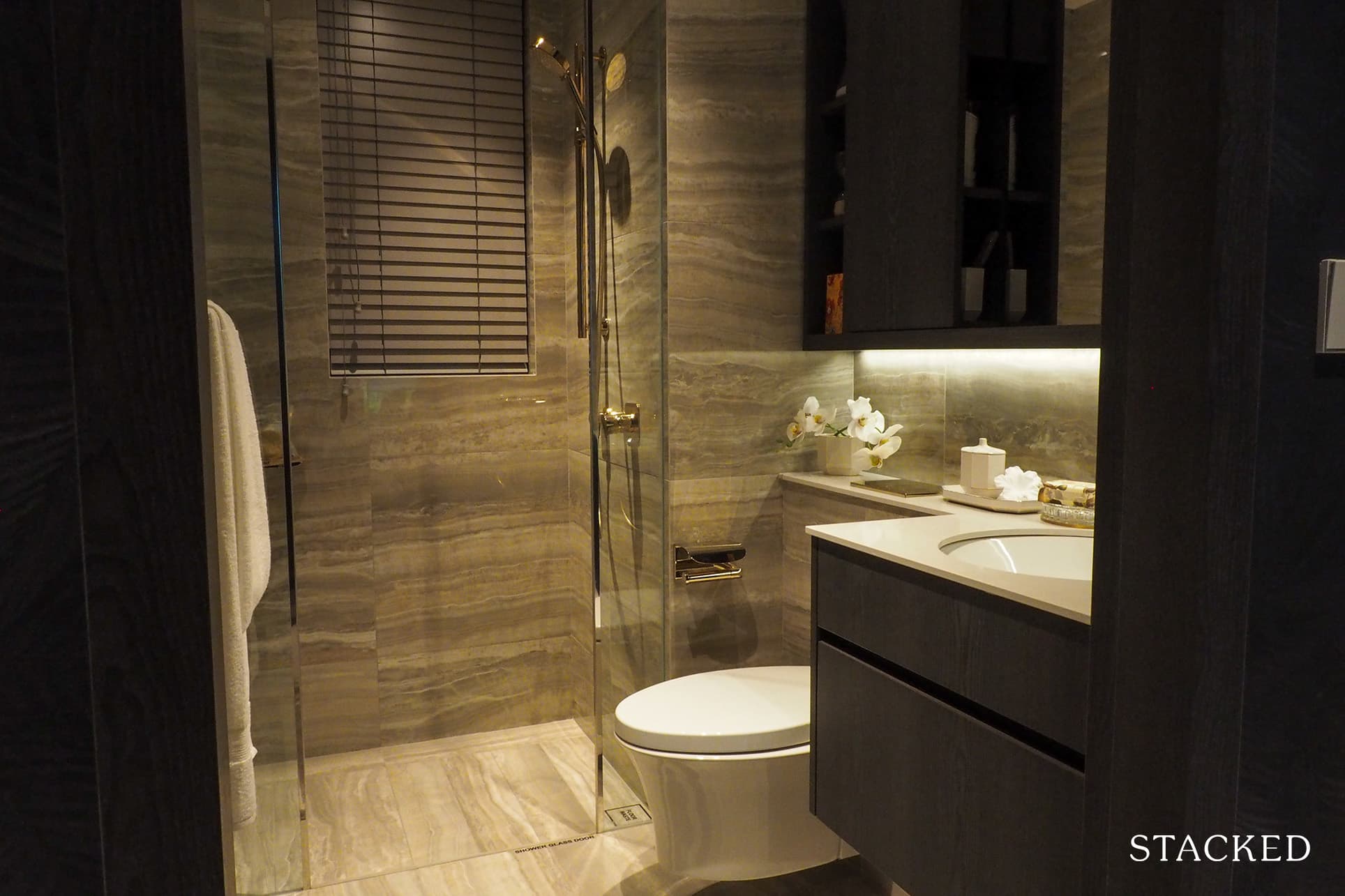 For shower purposes, Bedroom 3 and 4 are expected to share Common Bath 3 as the powder room does not include shower facilities. Bath 3 is 3.9 sqm, which is marginally smaller than the norm in my mind – not that you can tell anyway. The fittings are taken 1 notch up for the 4 Bedroom unit. Instead of the usual chrome polished ones, you have french gold finishes here instead. I like that it's a subtle touch instead of being too in your face with the gold touches. Otherwise, the wares and fittings are pretty similar in terms of their utility, with a wall-hung w/c, basin, mixer, and shower set. You will also have a window here for natural ventilation, which is impressive for a common bedroom.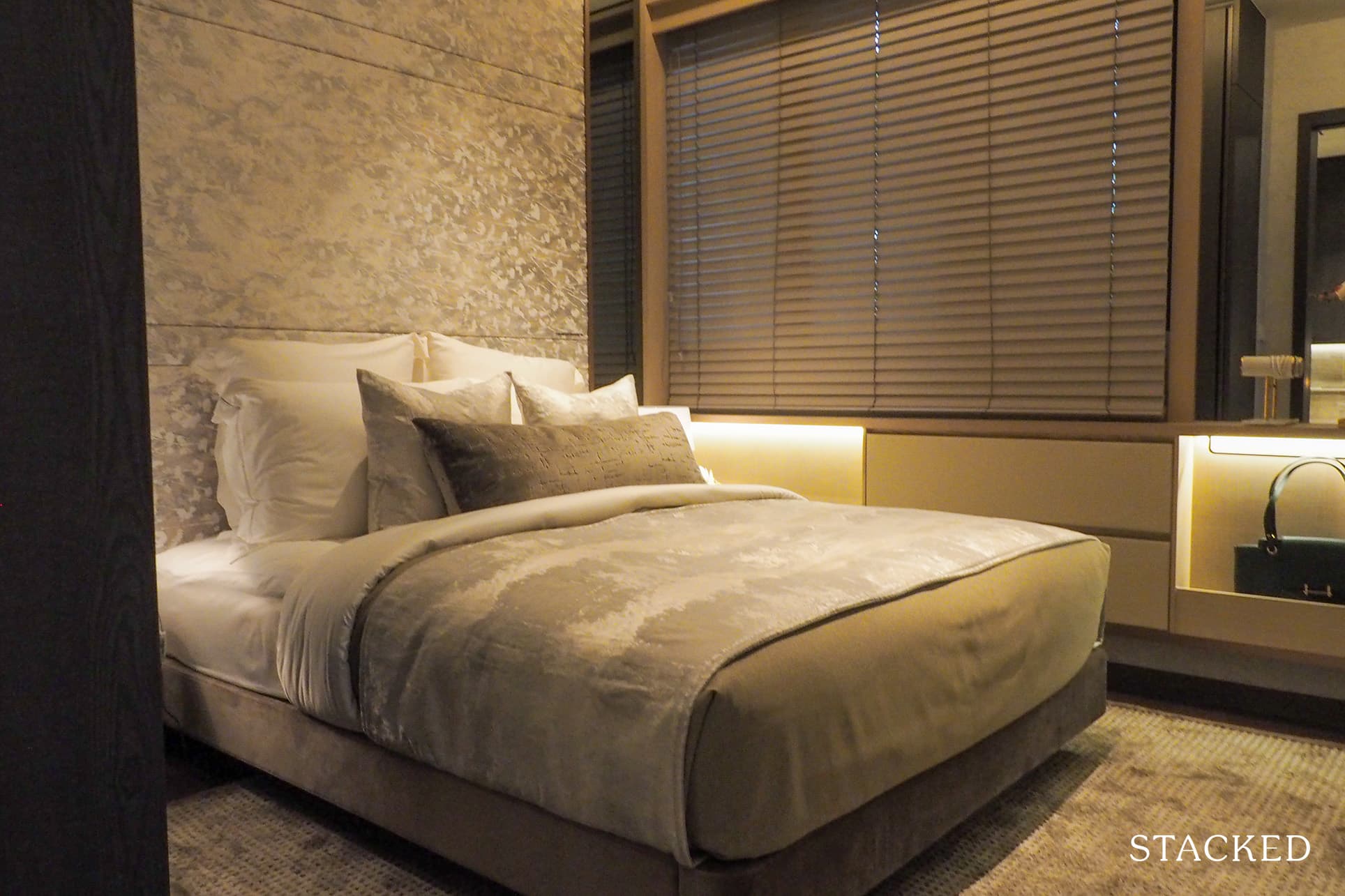 Moving to the Junior Master, which measures 14 sqm when combined with the Junior Master Bath. It's probably just slightly larger than the other common bedrooms, but the advantage is of course having that ensuite bathroom. While it's desirable to have a Queen bed in a junior master, you can see that the width of the room means that you will not have space for a proper study table if needed.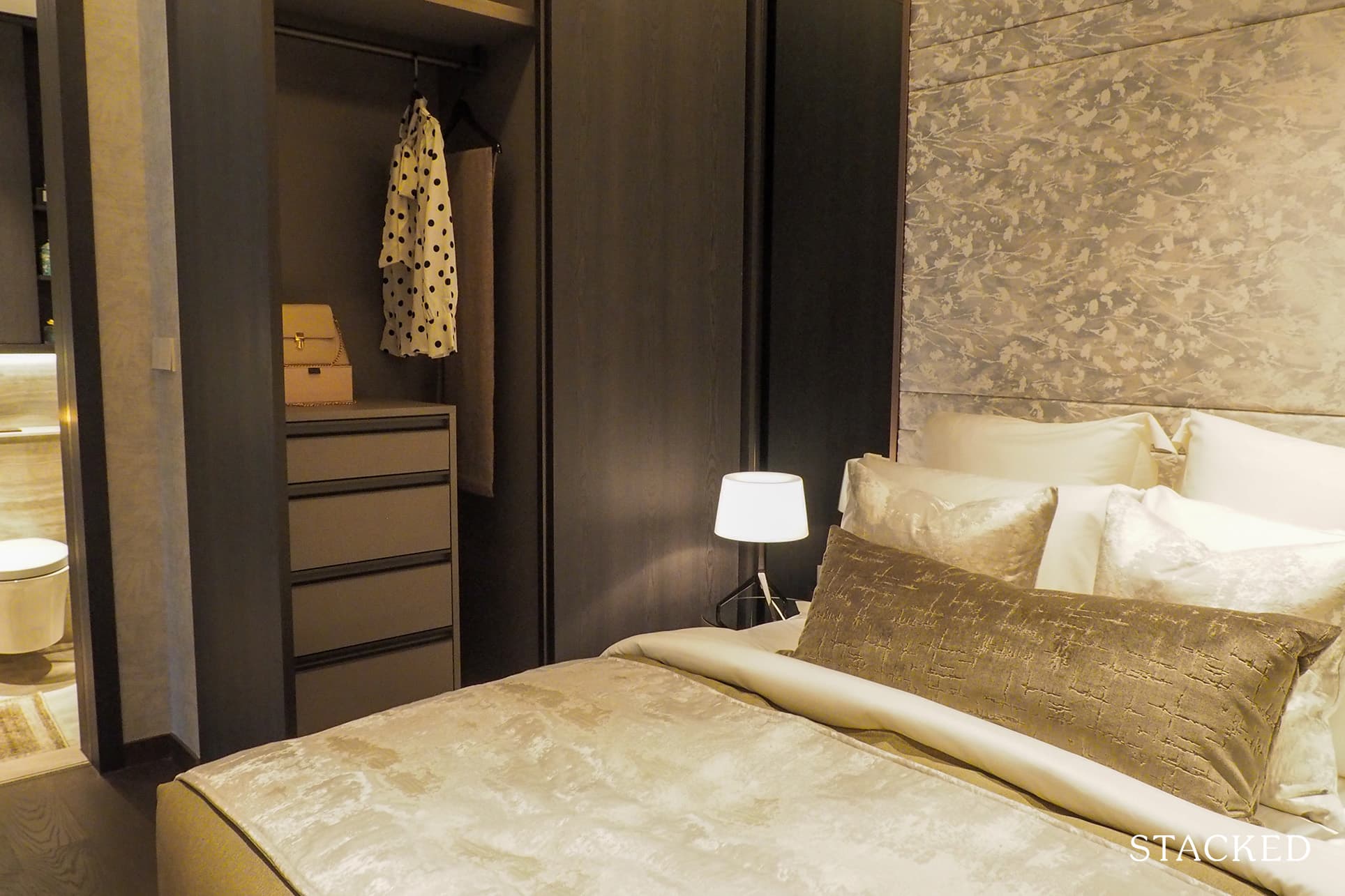 Lengthwise, however, seems to be better than the other common bedrooms, so you could perhaps consider having a small table there instead if required. Probably the only downside here is the window in this room is half-length as the aircon ledge is located just outside.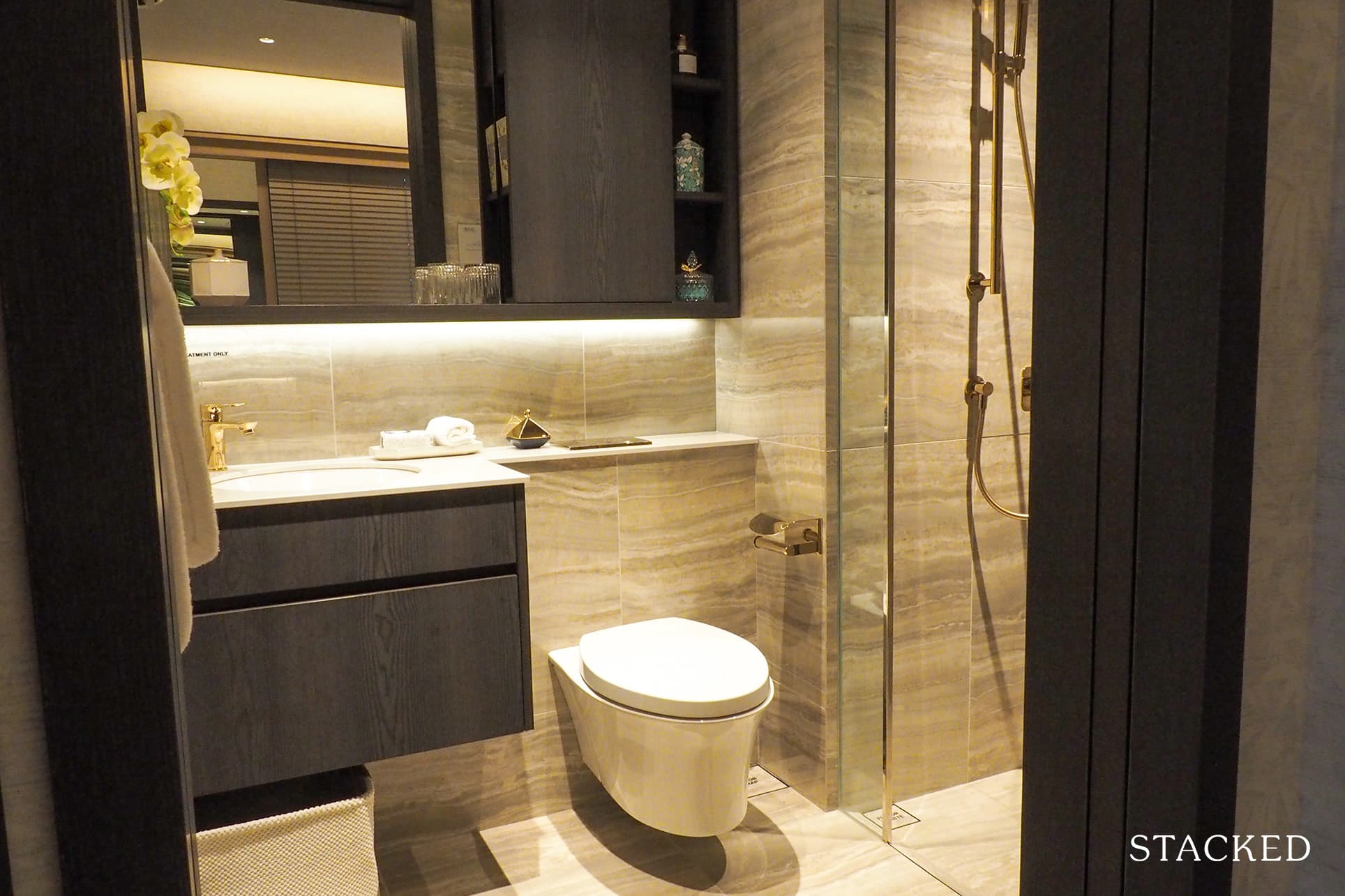 As for the junior master bath, it looks similarly sized to Bath 3 earlier. It comes with the same french gold trimmings from Kohler, which include the tap, flush plate, shower head, and mixer.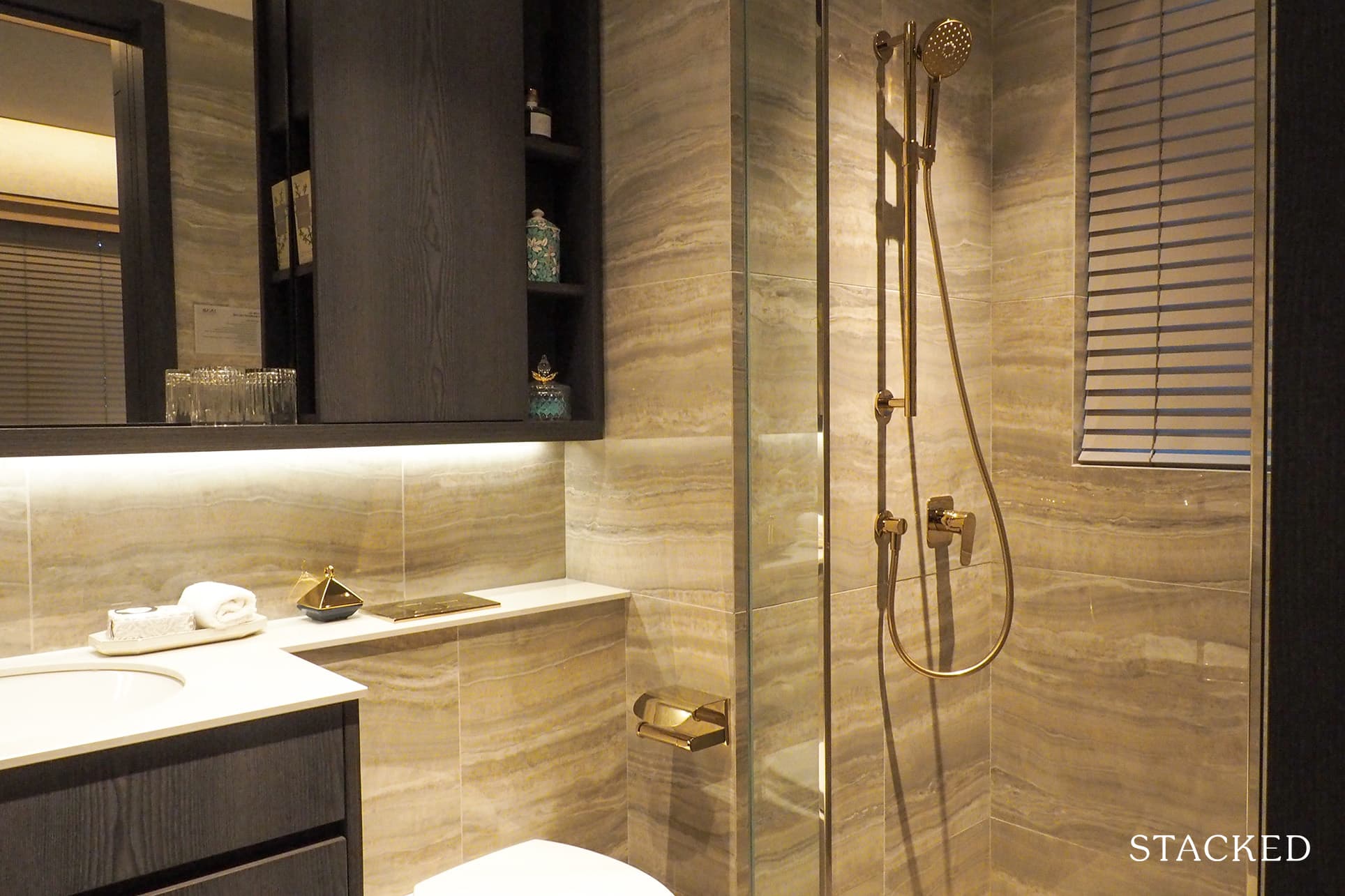 Other wares such as the basin and wall hung w/c are also from Kohler (there's a window here for ventilation in case you were wondering).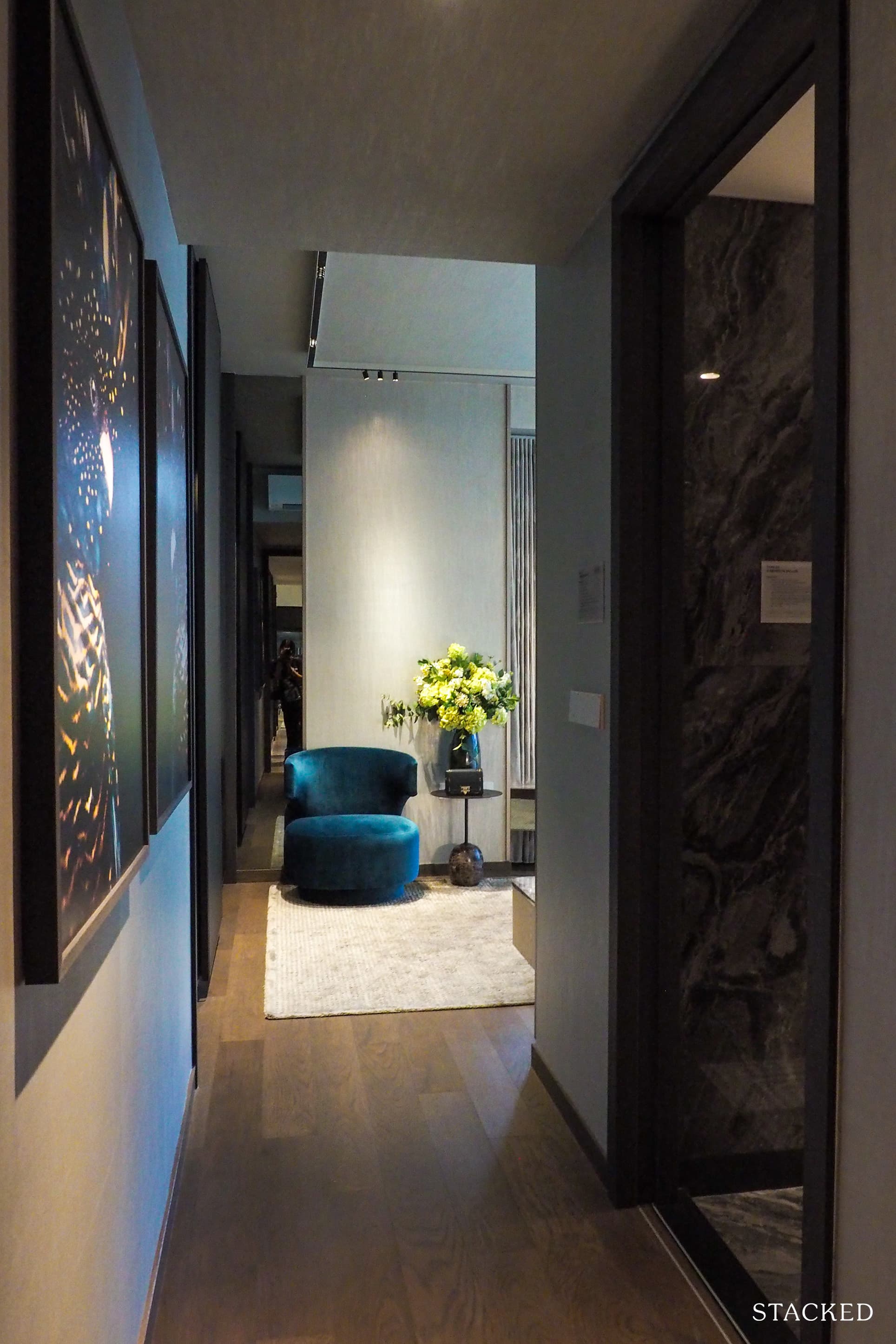 On to the most exciting part of the home for the owners – the Master Bedroom! Combined with the Master Bath, this space makes up 28.8 sqm, which is very generous by today's standards. The bed is hidden from sight as you walk in, and once you get there, you feel the expanse of space in this room.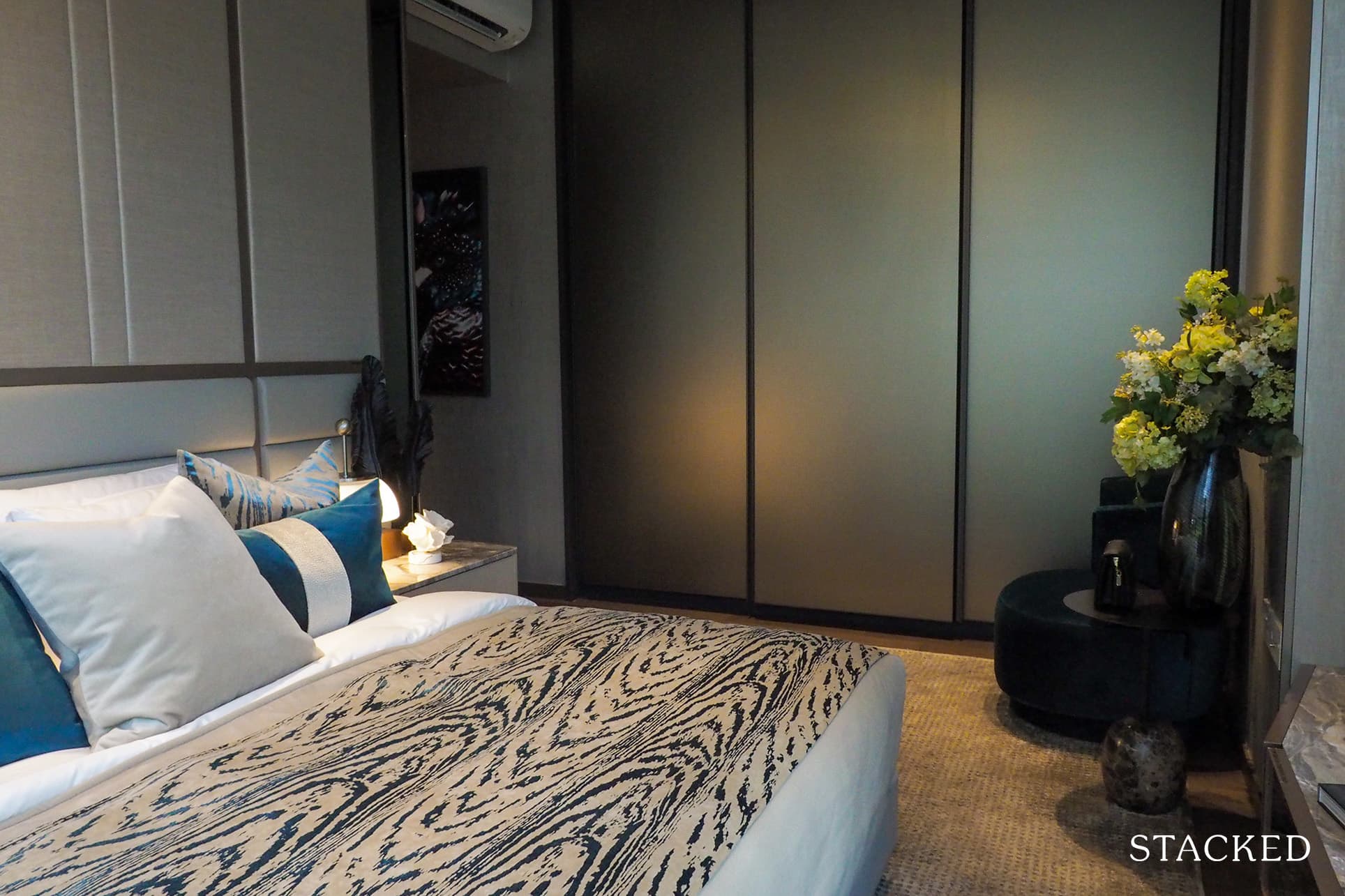 This is further accentuated as the 3-panel built-in wardrobe is flushed in, making the bedroom squarish and very usable. Note that this wardrobe is larger than the average you find in the other master bedrooms, but you could also argue that is expected given the larger size of the unit.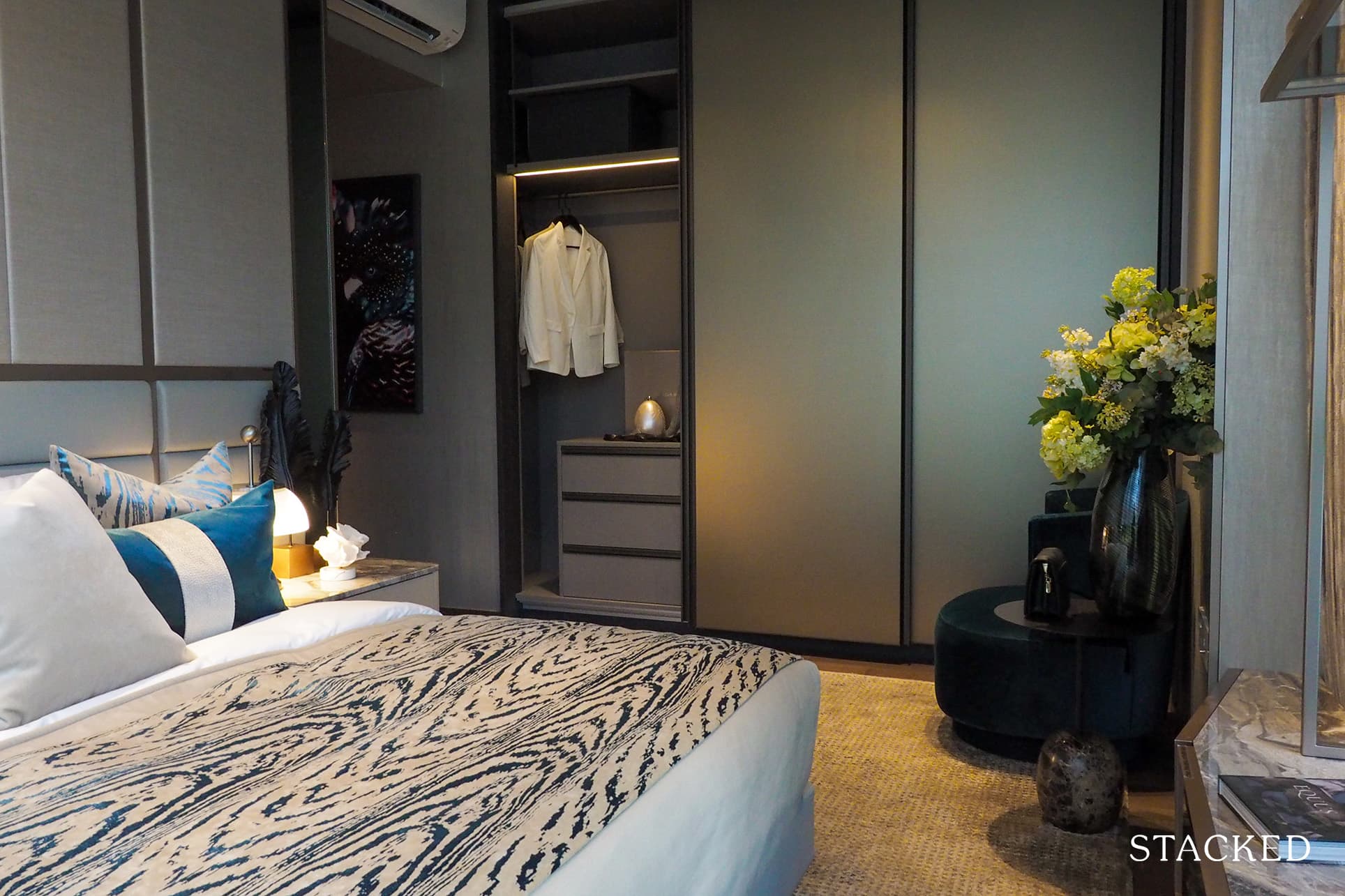 As it occupies a corner stack, you can get a ton of light streaming in during the day. You get full-length windows in an L-shape, ensuring lots of ventilation as well. There's plenty of room as mentioned, so you can definitely fit more loose consoles in this room if required.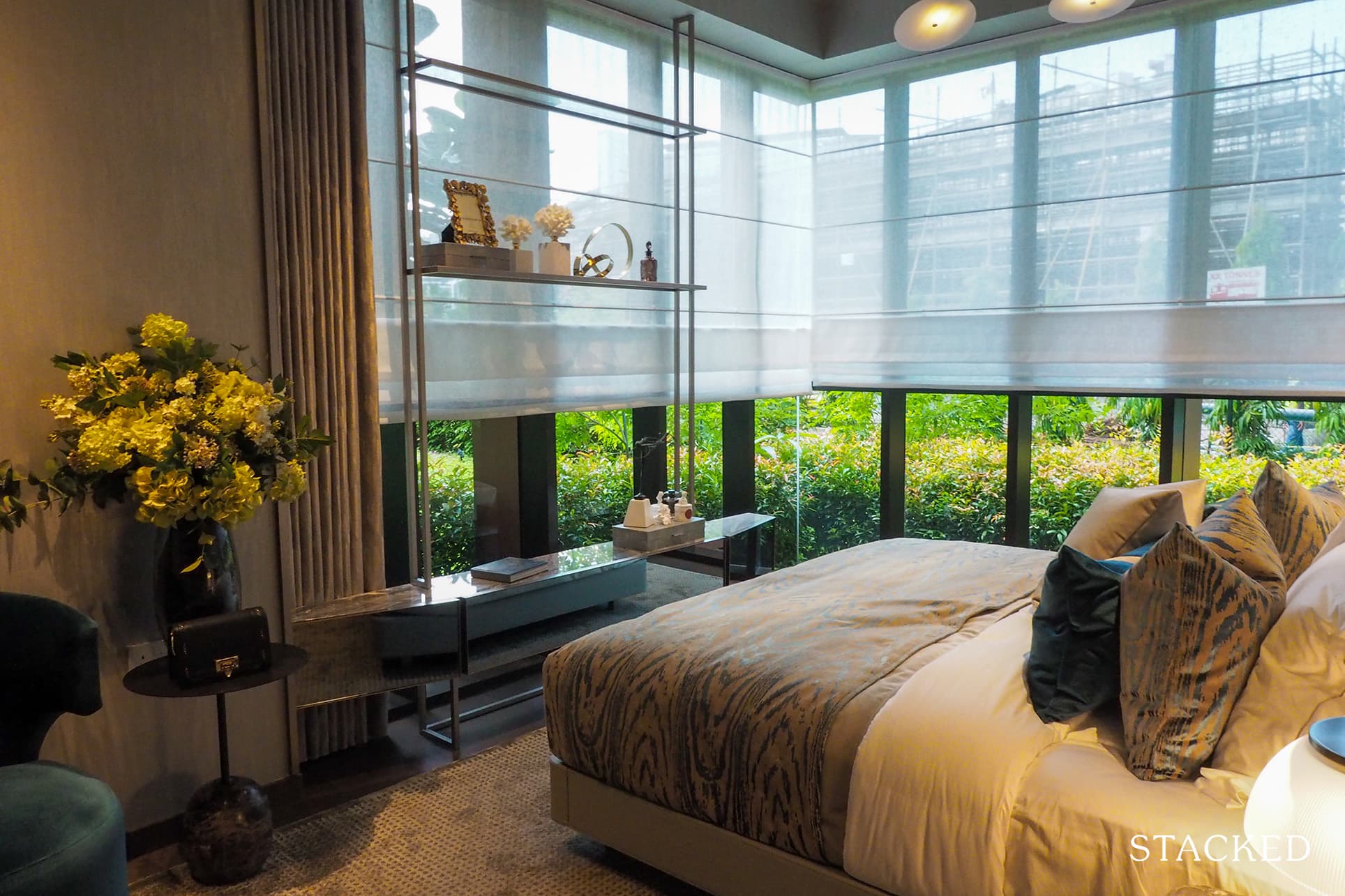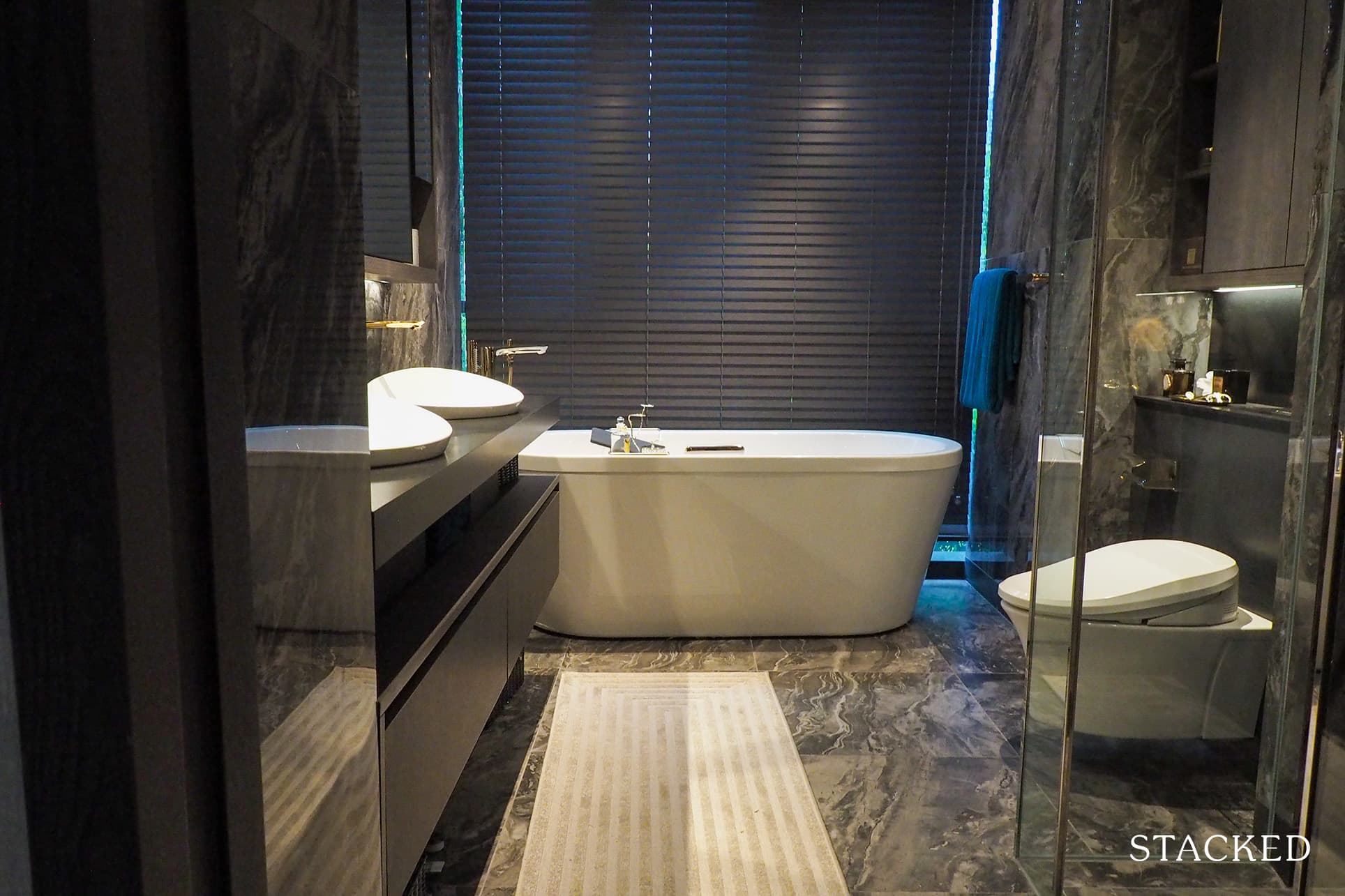 Saving the best for last, that same amount of roominess and luxury can be felt in the Master Bathroom. Just take a look at the materials and the vibes that they bring across – there's an air of extravagance to this space.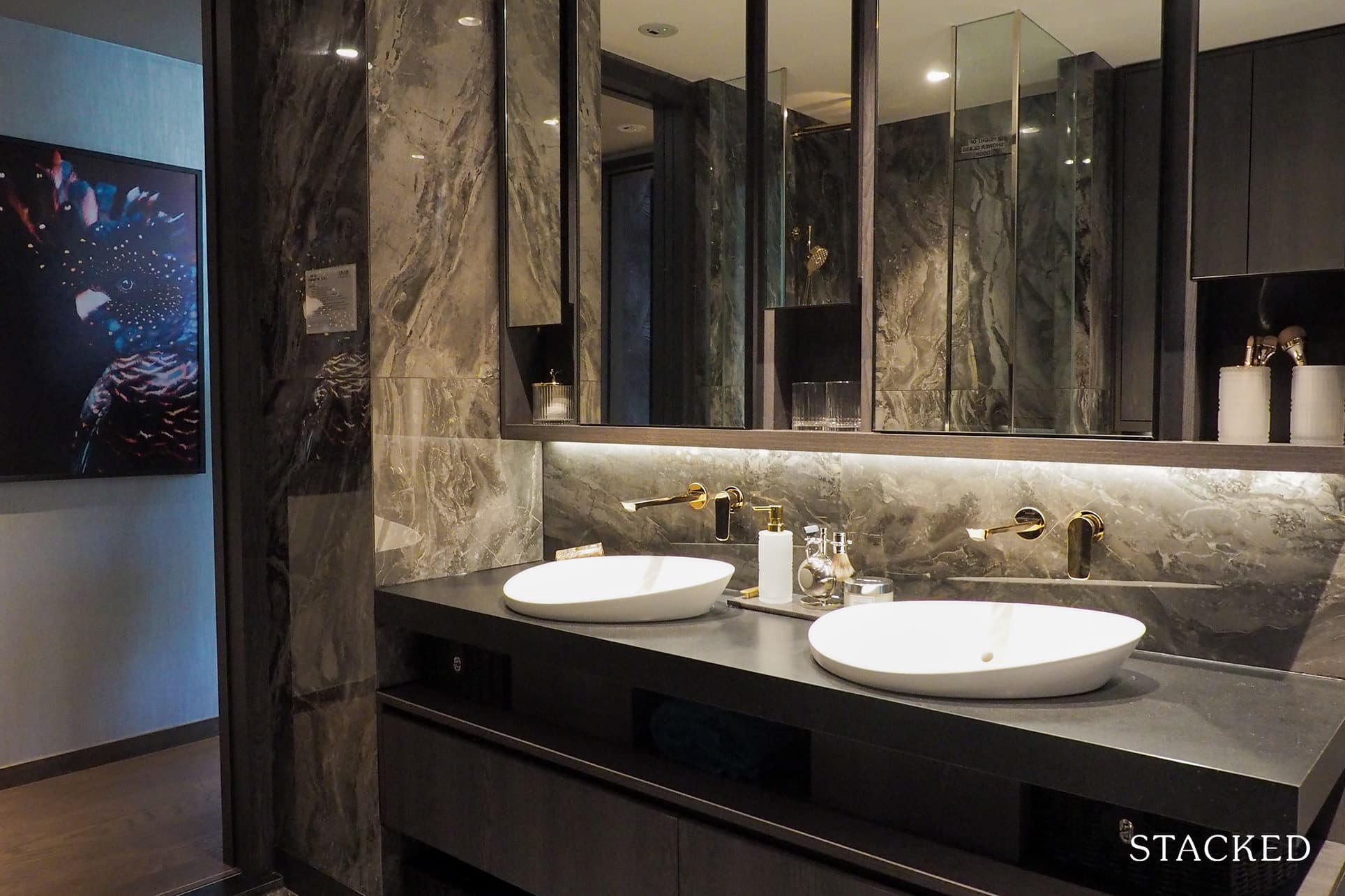 You get his and hers sinks and a wall mixer from Kohler in polished gold. Besides the usual shower stall, you also have a bathtub set with the gold mixers as well.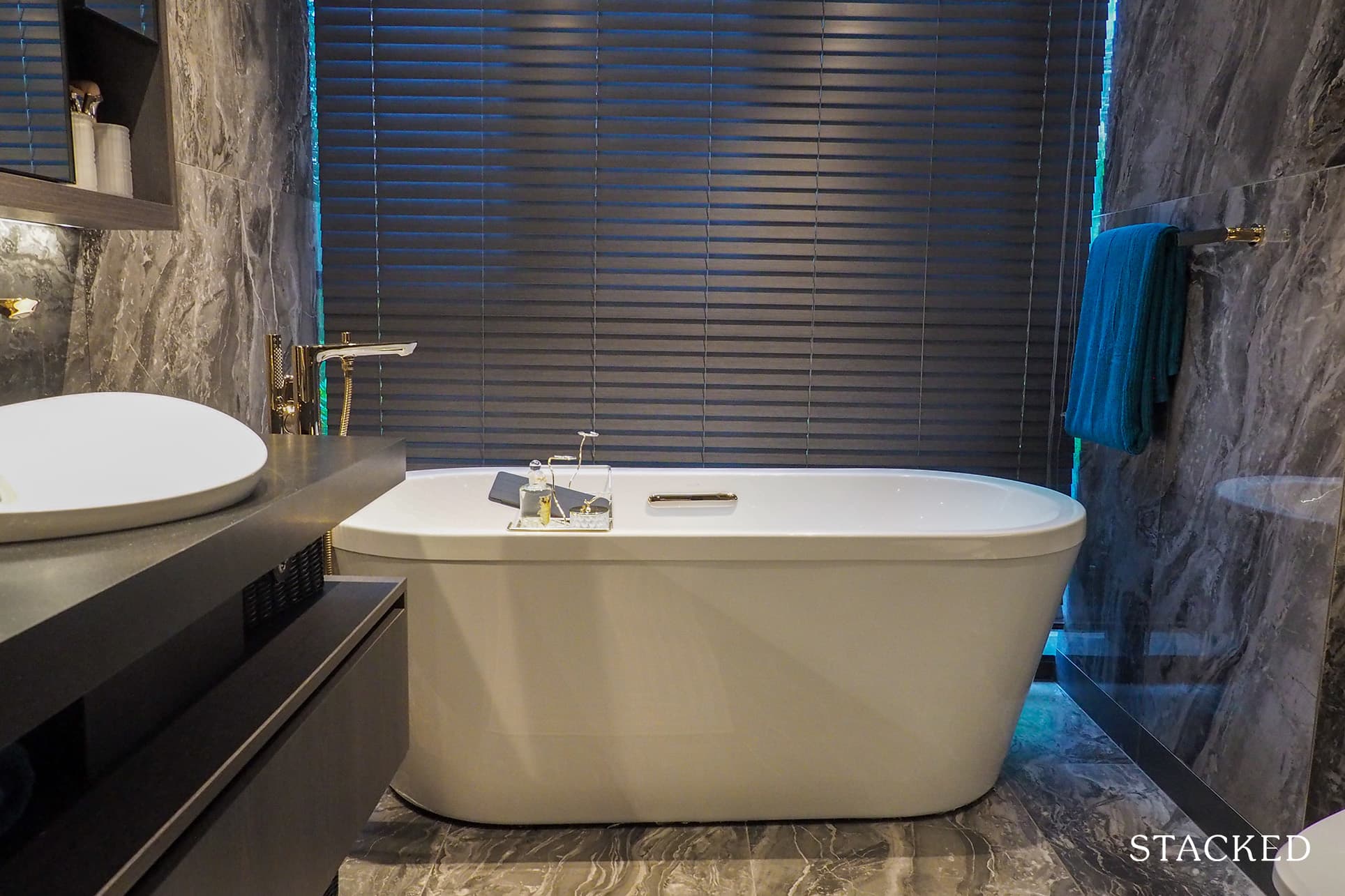 Having a bathtub means some time to spend just soaking inside when you have some time to spare. The wall-hung w/c here will also have an electronic bidet seat and all wares are from Kohler. There's also a large panel window here for ventilation, but for privacy reasons, do make sure that it is covered up when you are in the bathroom of course.
LIV@MB Location Review
LIV@MB will be visible from Mountbatten Road, located just across several beautifully conserved bungalows with rich histories. Tucked away along Arthur Road, it is a mere 3-minute walk to Katong Park MRT. Before the MRT becomes operational, buses will be your main mode of public transport. There is a side entrance leading you directly to the bus stop, so with good planning, you should never have to run after the bus. If you drive, you will notice that the drive times to the central areas can be very short if there is no congestion. That's because of its proximity to both Nicoll Highway and the ECP, making Mountbatten one of the most accessible condos by car.
As this is primarily a private residential estate, the closest amenities will have to be found at the nearby Jalan Batu HDB estate. This will be about a 7-minute (500m) walk away, which frankly is not bad at all. You have a hawker centre there but it does not have a major supermarket to my knowledge. Instead, for your grocery needs, you will have to head either to Kallang Wave Mall or Kallang Leisure Park, which are both a 5-minute drive away. Alternatively, you always have the good ol' Parkway Parade, the bastion of D15, a 7-minute drive away.
Schools wise, unfortunately, there are no primary schools within the coveted 1 km radius despite its strong emphasis on families – which is definitely a point of contention for parents (although you do have a few within the 2 km mark). Nevertheless, I expect many of the parents here to be alumni of top schools in the wider area, including the likes of Tao Nan, Kong Hwa, Tanjong Katong Primary, Haig Girls amongst others. It's less of a worry for secondary schools, as Dunman High and Chung Cheng High are just a 9 and 11-minute walk away respectively. Tuition centres are also aplenty near the Roxy and Parkway areas. I can testify to that, having grown up in D15 and attended the schools here myself.
Nearest MRT: Katong Park MRT (3 mins walk, 300m)
Public Transport
| | | |
| --- | --- | --- |
| Bus Station | Buses Serviced | Distance From Condo (& Est. Walking Time) |
| Katong Pk TwrsStop ID: 91059 | 12, 14, 14A, 196, 196A | 50m, 1 minute |
| Opp Santa Fe MansionsStop ID: 91051 | 12, 14, 196 | 400m, 5 minutes (using the traffic junction) |
Schools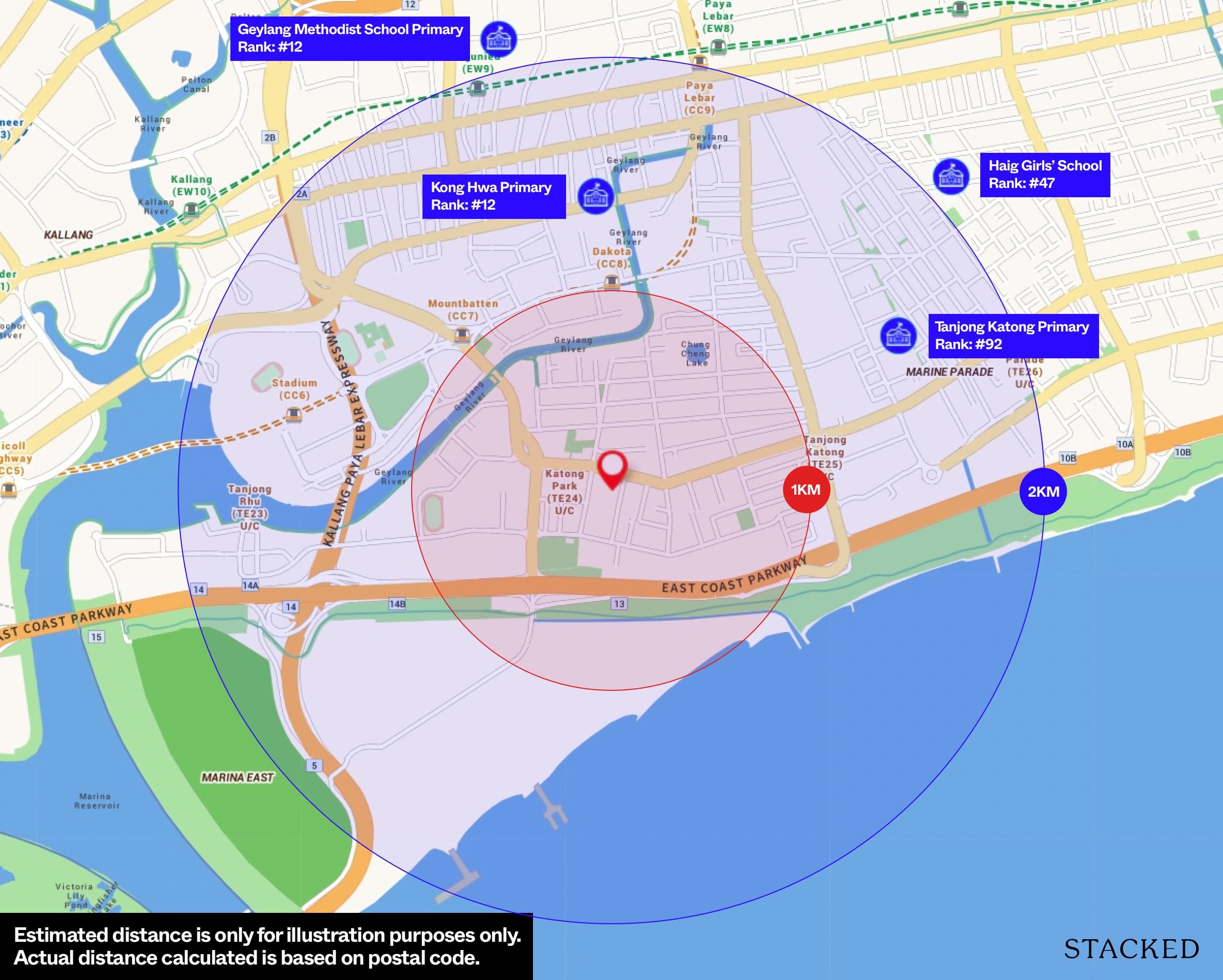 | | |
| --- | --- |
| School | Distance From Condo (& Est. Walking Time) |
| Kong Hwa Primary | 1.8km, 21 minutes |
| Tanjong Katong Primary | 1.9km, 22 minutes |
| Haig Girls' School (not all blocks) | 2.8km, 33 minutes |
| Geylang Methodist School Primary | 2.8km, 34 minutes |
| Dunman High School | 0.7km, 9 minutes |
| Chung Cheng High School (Main) | 0.9km, 11 minutes |
| Broadrick Secondary School | 1.4km, 18 minutes |
Retail / Dining Options
| | |
| --- | --- |
| Destination | Distance From Condo (& Est. Walking Time) |
| Blk 4A Jalan Batu Hawker Centre | 0.5km, 7 minutes |
| Kallang Leisure Park | 1.8km, 22 minutes |
| Kallang Wave Mall | 2.0km, 25 minutes |
| Parkway Parade | 2.5km, 32 minutes |
Private Transport
| | |
| --- | --- |
| Key Destinations | Distance From Condo (Shortest Time at Peak Hour [0830] Drive Time) |
| CBD (Raffles Place) | 7.0km, 10 minutes |
| Orchard Road | 10.3km, 14 minutes |
| Suntec City | 4.4km, 5 minutes |
| Changi Airport | 13.6km, 10 minutes |
| Tuas Port (By 2040) | 44.4km, 45 minutes |
| Paya Lebar Quarters/Airbase (By 2030) | 3.1km, 6 minutes |
| Mediapolis (and surroundings) | 15.3km, 16 minutes |
| Mapletree Business City | 13.7km, 16 minutes |
| Tuas Checkpoint | 33.9km, 30 minutes |
| Woodlands Checkpoint | 25.3km, 22 minutes |
| Jurong Cluster (JCube) | 22.0km, 22 minutes |
| Woodlands Cluster (Causeway Point) | 24.6km, 24 minutes |
| HarbourFront Cluster (Vivo City) | 10.6km, 10 minutes |
| Punggol Cluster (Waterway Point) | 16.4km, 18 minutes |
Immediate Road Exits: 1 – onto Arthur Road, where a left will take you to Meyer Road, or a right onto Mountbatten road, which is a major road that takes you to Nicoll Highway and the city.
LIV@MB Stack Analysis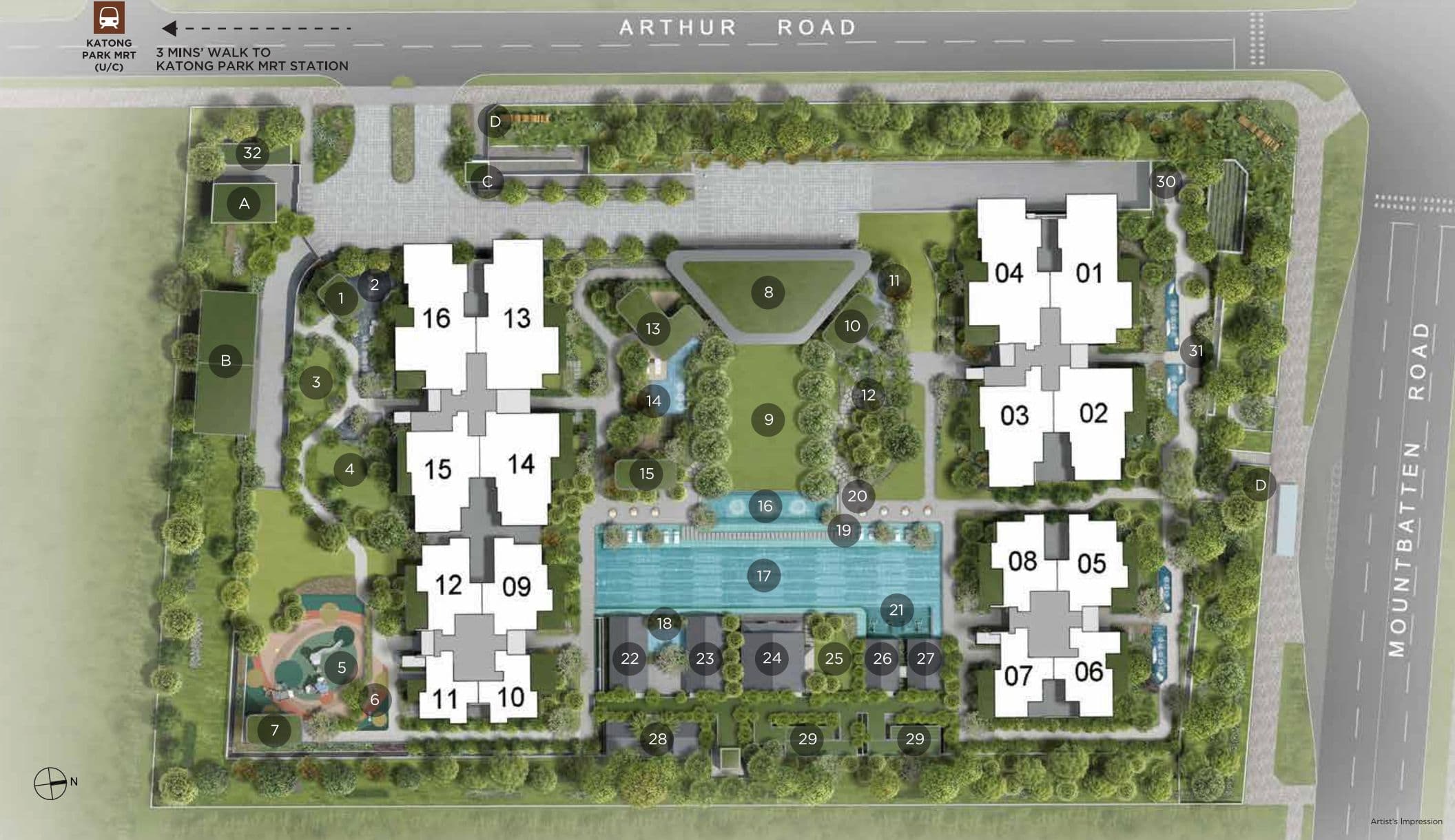 Sitting on a land plot of 140,758 square feet, LIV@MB has just 298 units which is a great density for a new condo today (472 square feet of land per unit). As a form of comparison, nearby Meyer Mansion has 85,249 square feet of land for 200 units, which is 426 square feet of land per unit – so LIV@MB certainly shows up well here. To further set the tone, mass-market launches like Treasure at Tampines (648,889/2,206 = 294 sqft per unit) are quite a bit denser as you can see.
The plot is a rectangular one that runs parallel with both Mountbatten Road and Arthur Road. The best stacks will naturally be the ones facing the low-lying Mountbatten landed area, while two sides of the development will be a facing Mia Place, 8M Residences, Rivage, Margate Point, and Santa Fe Mansion instead. The good news is that you are facing mostly the back of these developments (and the side of Mia Place), so you won't really ever be facing anyone out of the estate directly. 
It was a good choice to place the 45m swimming pool in the middle, as it allows for a wide separation between the 4 residential towers. That said, I did find it a little strange that the pool was placed closer to the back of the neighbouring developments, as it seemed to make more sense for it to be set further away instead. I suppose it was more to set the sense of arrival and that open landscaping, so perhaps this is more of a subjective issue.

It's not just the ground floor as well, as there are facilities on level 11 to explore. These are all smaller zones, with a yoga space, private jacuzzis, study areas and lounging spaces.

The rooftop facilities are still one of the main highlights here, with the 14.5m infinity pool (plus the overwater deck chairs that lets you admire the views). You also have an open sunning lawn space, along with well-equipped dining space in the form of the Mountbatten Grill, and an indoor space with the Mountbatten Villa.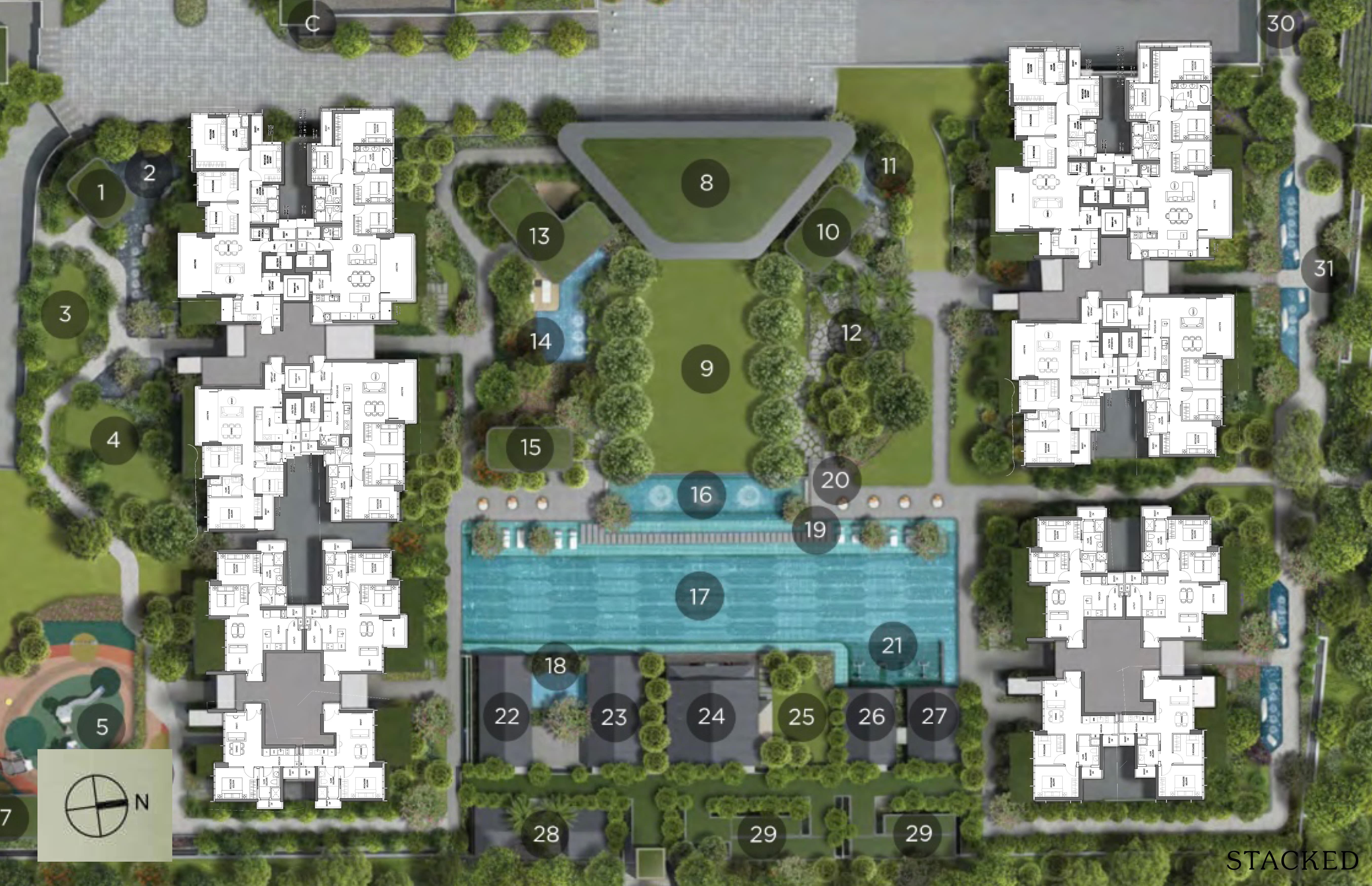 Unit Mix
| | | | |
| --- | --- | --- | --- |
| Unit Type | Size | No. of Units | Est Monthly Maintenance |
| 1 Bedroom | 495 – 667 sqft | 39 | $340 |
| 2 Bedroom | 624 – 1,044 sqft | 113 | $408 |
| 3 Bedroom | 1,119 – 1,453 sqft | 118 | $476 |
| 4 Bedroom | 1,518 – 1,668 sqft | 28 | $476 – $544 |
LIV@MB trends against the norm in the new launch market by having 3 Bedroom units as its most predominant unit type. Coupled with its larger than average sizes for 3 and 4 Bedroom units and an average psf north of $2,200, the signals point towards a well-heeled buyer profile. That should come as no surprise as the Mountbatten/Meyer precinct is already home to a number of billionaires within the landed enclave around LIV@MB.
This development will thus appear to be attractive for families looking to move out of their multi-storey landed homes nearby or as a way to keep their children close to home. The smaller units will appeal to individuals or couples who would like a foot into this established area without necessarily costing an arm and a leg (although I must caveat that affordability is also extremely relative).
Maintenance wise it is higher than what you'd see in bigger mass-market developments, but it's about what you'd expect for a development of this size, with the number of facilities (and the bigger units have private lift access).
Best stacks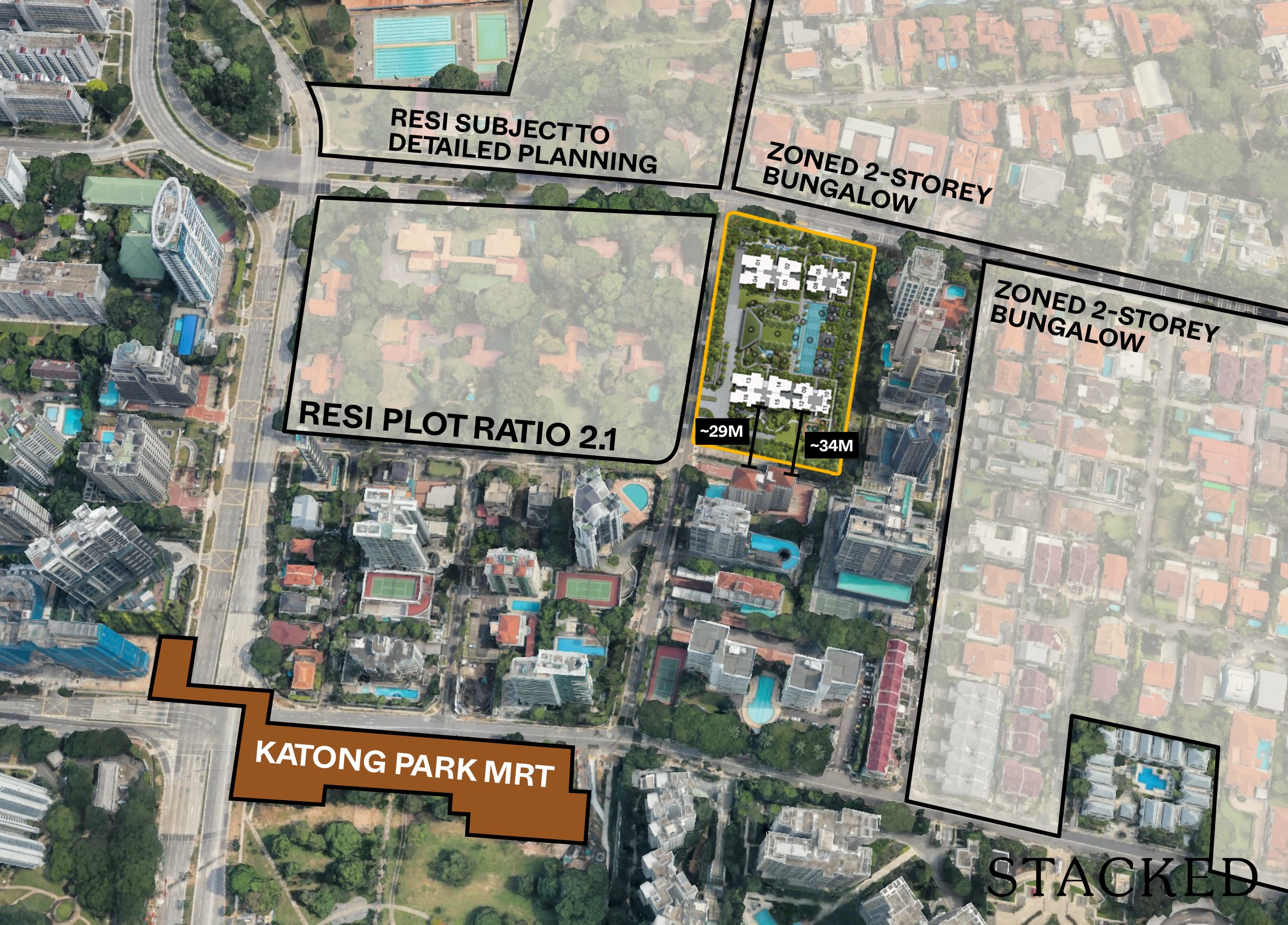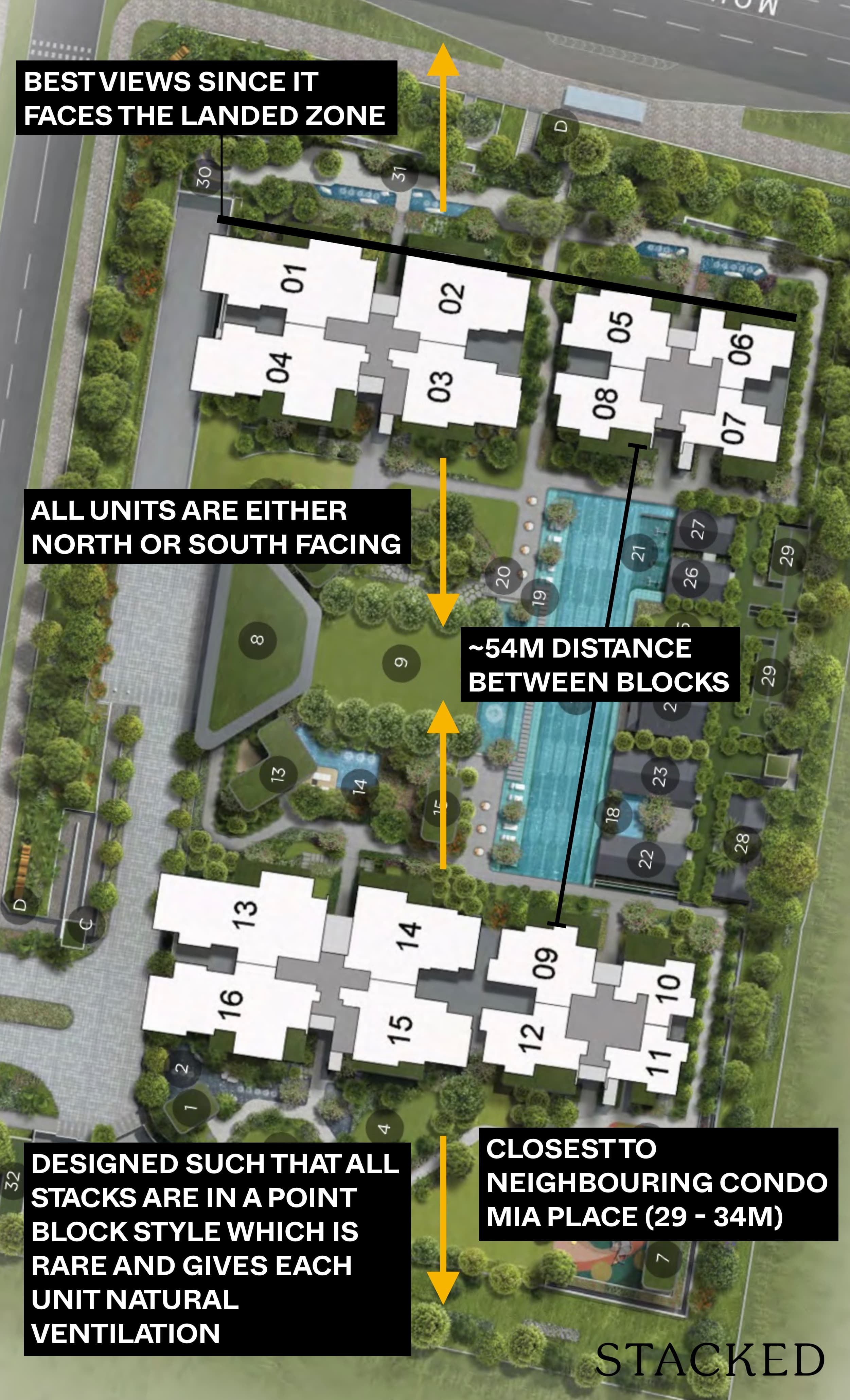 LIV@MB definitely has one of the better and more practical concepts among the new launches. Firstly, all units are either North or South facing, avoiding both the morning and afternoon sun. While that is not unique to LIV@MB per se, we are off to a good start. More importantly, every single unit in this development is in a "point block" format, i.e. to say there will be no adjoining units, even for the 1 Bedroom types.
This is virtually unheard of among the new launches and its positive implication includes having plenty of windows (and ventilation) within the unit, including in the toilets and kitchens for all units. It's potentially a more costly method of building but I definitely appreciate the additional ventilation in every unit.
It's almost always that you get a balcony in new launches these days. LIV@MB bucks the trend by giving buyers the option of not having a balcony at all. It's not a clear division on which stacks and units have balconies but essentially, you have an option of having a balcony or only internal space for your unit. The latter allows for a smaller unit and consequently, a more affordable quantum. I must admit that I was perplexed at how the same block with the same internal unit size could have units that came with and without balconies.
Another plus point is that the 2 residential blocks are situated far from each other, with a distance of at least 54m and the main lap pool being placed in between them as well. There are neighbouring condos along Arthur Road, and the closest (Mia Place) will be 29m from Stacks 15 and 16 and 34m for Stacks 11 and 12. I expect these stacks to be the most reasonably priced given their proximity to neighbouring condos.
In terms of views, the best ones for me will be the North-facing units fronting Mountbatten Road (Stacks 1, 2, 5, and 6). Higher floor units will get panoramic views of the Wilkinson/Branksome/Goodman landed estate and trust that I'm not exaggerating when I say that these are the most expensive and sprawling homes in the East. For the young among us, those are perhaps the homes to aspire towards if you plan to upgrade from LIV@MB in the future. Expect to pay slightly more for these unblocked views though.
Afternoon Sun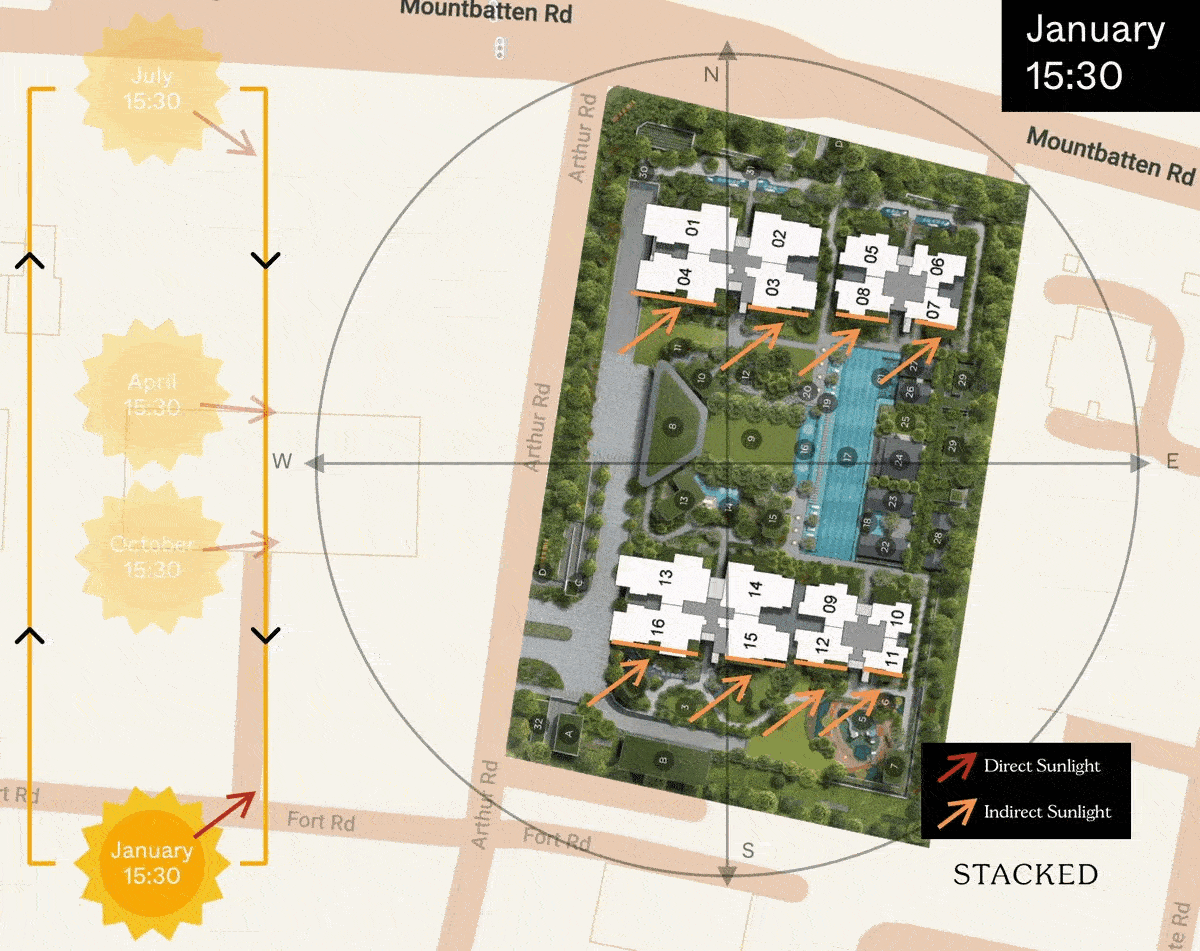 Given the north-south orientation here, most stacks would not face much afternoon sun. The southern stacks are not perfectly south-facing though, so there is some afternoon sun coming in towards the end/start of the year.
The Developer Team
Bukit Sembawang started life as a rubber company in 1911 before venturing into the landed properties scene in the 1950s. Its property development arm was formed in 1967. Today, it is a SGX-listed company with a market cap of $1.3bn. It is perhaps most known among research analysts for its extensive land bank of more than 235,000 sqm held at low valuations. They have developed over 4,600 landed homes and 1,800 apartments across Singapore, from 8 St Thomas and The Atelier to Luxus Hills and the Nim Collection.  
Architect Notes
Arc Studio was founded in 1999 in Singapore by husband and wife Khoo Peng Beng and Belinda Huang. Their 2-man outfit has grown considerably over the years. They were both named joint Designer of the Year at the President's Design Awards Singapore 2020. Their Singapore-based developments include the super iconic Pinnacle @ Duxton, The Tembusu, One Balmoral and L'Viv. Their international expertise spans developments in Cambodia and Rwanda, building schools and community spaces while also being involved in townships in Malaysia.
LIV@MB Pricing Review
If you are considering LIV@MB, you will undoubtedly compare it against its neighbouring developments. So here is how it stacks up!
| | | | | | |
| --- | --- | --- | --- | --- | --- |
| Development | Units | Psf | TOP | Tenure | Price Gap |
| LIV@MB | 298 | $2,350 | 2024 | 99 Years | |
| Meyer Mansion | 200 | $2,646 | 2024 | Freehold | -11% |
| One Meyer | 66 | $2,545 | 2024 | Freehold | -8% |
| Coastline Residences | 144 | $2,723 | 2022 | Freehold | -14% |
| Amber Park | 592 | $2,477 | 2024 | Freehold | -5% |
| Nyon | 92 | $2,332 | 2022 | Freehold | 1% |
| Fulcrum | 128 | $2,404 | 2016 | Freehold | -2% |
| The Line @ Tanjong Rhu | 130 | $2,249 | 2016 | Freehold | 4% |
| The Belvedere  | 167 | $2,003 | 2007 | Freehold | 17% |
| The Seafront on Meyer | 327 | $1,961 | 2010 | Freehold | 20% |
Prime District 15 has seen a wave of new launches from 2018 till date, with the prominent launches in the prestigious Amber and Meyer areas. I have included most of these new launches for comparison, with the exception of Meyerhouse, which recently TOP-ed. We visited the development (check out our YouTube channel) and reviewed it previously. I excluded it because the units there are humongous and will not be an apple to apple comparison. That said, Meyerhouse's psf is similar to the other new launches if you really had to know.
The Meyer and Amber precincts consist of mostly Freehold condos, with the exception of LIV@MB and The Shore Residences (which was carved out as a Leasehold development by its developers). Therefore, you will notice that all of LIV@MB's competitors are Freehold.
I have assumed the average psf at LIV@MB to hit $2,350, and the bulk of the new launches will cost more than LIV@MB, with the exception of Nyon. In my mind, the usual freehold and leasehold difference should be around 15-20% but LIV@MB is only between 5% to 14% cheaper.
Does that necessarily mean that LIV@MB is considerably 'more expensive'? It comes down to 2 other points – firstly, timing, and secondly, the product. Timing-wise, the other new launches were launched at a time when supply was a bit more plentiful and when buyers did not seem as eager to sweep every unit off the shelf. In today's red hot market, when Piccadilly Grand can command $2,150 psf on average, you could argue that LIV@MB is still fairly priced.
Secondly, the product. In my mind, there are 2 parts to this – the size (and consequently, the facilities) of the development and the views. Size-wise, only Amber Park is larger in terms of the land size, with One Meyer, Coastline, and Nyon being more of a small/boutique development by comparison. This means that LIV@MB stands out with its more abundant facilities, if that's something you are looking for.
The second part is the views. Unfortunately, on this front, LIV@MB is surely the weakest. It offers pockets of sea view at best, blocked by a number of condos that stand proudly in front of it. On the other hand, the likes of Meyer Mansion, One Meyer, and Coastline Residences offer full sea views, with Amber Park offering partial views of the sea. Nyon will have pockets of sea views as well. This is a big selling point for D15 developments, so buyers familiar with the area will definitely raise this point up.
As a whole, when comparing LIV@MB to the existing new launches, it does look a little steep if we assume the average psf to be at $2,350 and take the lack of full sea views into consideration. Note that indicative prices by the developer start as low as $2,079 psf for 3 Bedroom units and $2,291 for 2 Bedroom units, so I am caveating that it may possibly be cheaper than this.
I have also included some of the newer TOP-ed condos in the vicinity, including 2 with a Tanjong Rhu address and 2 with the Meyer Road address. All 4 are Freehold developments. Fulcrum and The Line have compact units similar to the 1 and 2 Bedroom at LIV@MB, with some units boasting sea views. LIV@MB's advantage is its larger land plot, allowing it to offer more facilities within the development.
As for The Belvedere and Seafront on Meyer, both developments also have some units with sea views, although those also come with highway noise from the ECP. Nonetheless, both of these are full-facility condos with even a tennis court each. The only downside will be their quantum, as the 2 Bedroom units already start from more than 1,000 sqft. More liveable surely, but you also need deeper pockets for them.
Now that we've covered the bases, let's take a more in-depth look at the indicative prices on offer and how they stack up against the district and other developments around!
| | | | |
| --- | --- | --- | --- |
| Unit | Size | Indicative Guide Price | $PSF |
| 1 Bedroom | 495 | $1,084,000 | $2,190 |
| 2 Bedroom | 624 | $1,430,000 | $2,292 |
| 2 Bedroom Deluxe | 753 | $1,723,000 | $2,288 |
| 3 Bedroom | 1,119 | $2,327,000 | $2,080 |
| 4 Bedroom | 1,518 | $3,390,000 | $2,233 |
| 4 Bedroom Deluxe | 1,668 | $3,632,000 | $2,177 |
Based on the indicative pricing, the average $PSF at LIV@MB is $2,210 psf.
District 15 $PSF vs Other Districts (non-landed residential properties excluding Executive Condominiums):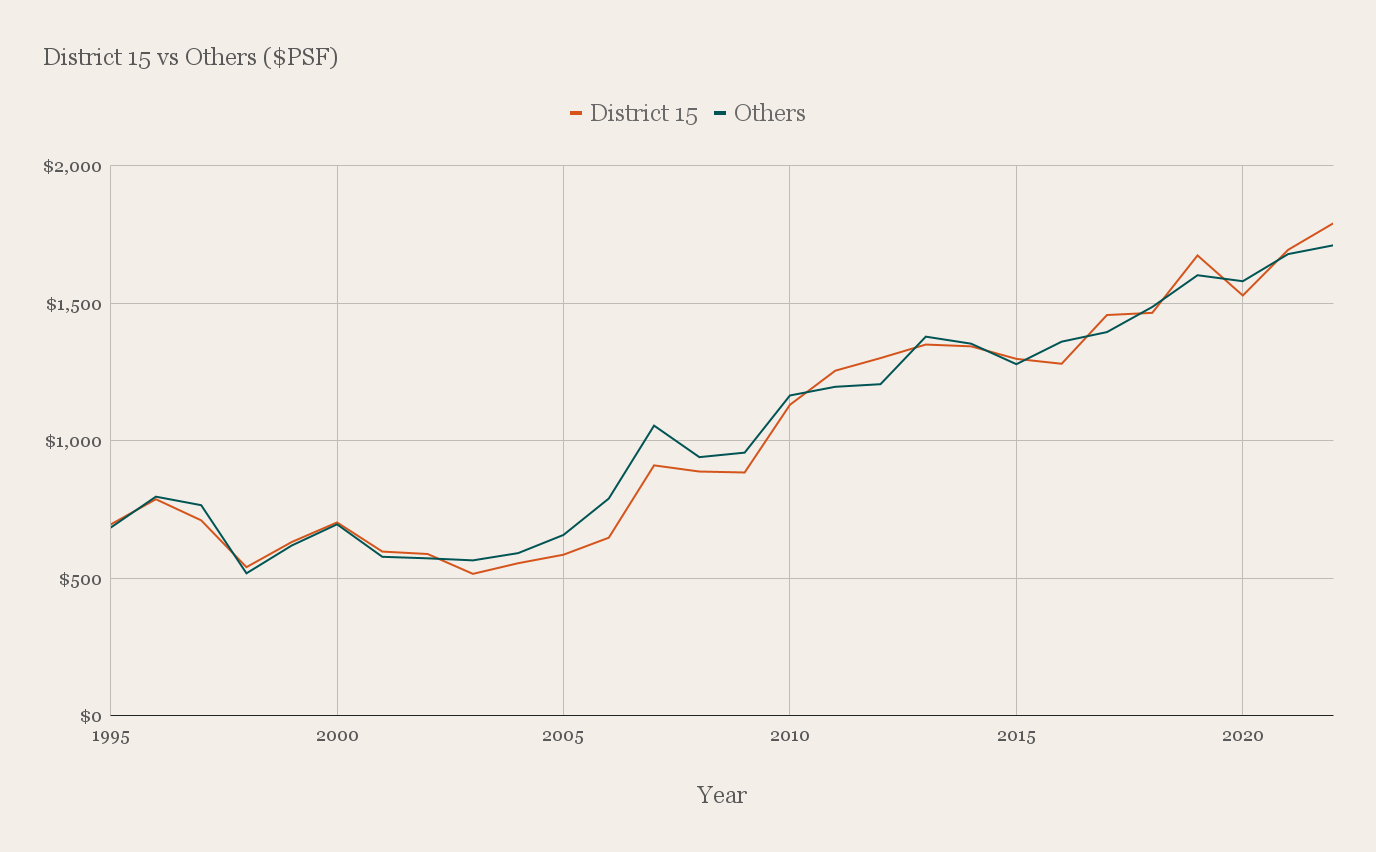 District 15 fluctuates pretty much around the average $PSF, with only a protracted period between 2003 – 2010 where it underperformed between briefly overtaking the average and then moving very much in tandem with the overall property market's price.
District 15 Vs. Rest of Central Region (Resale only)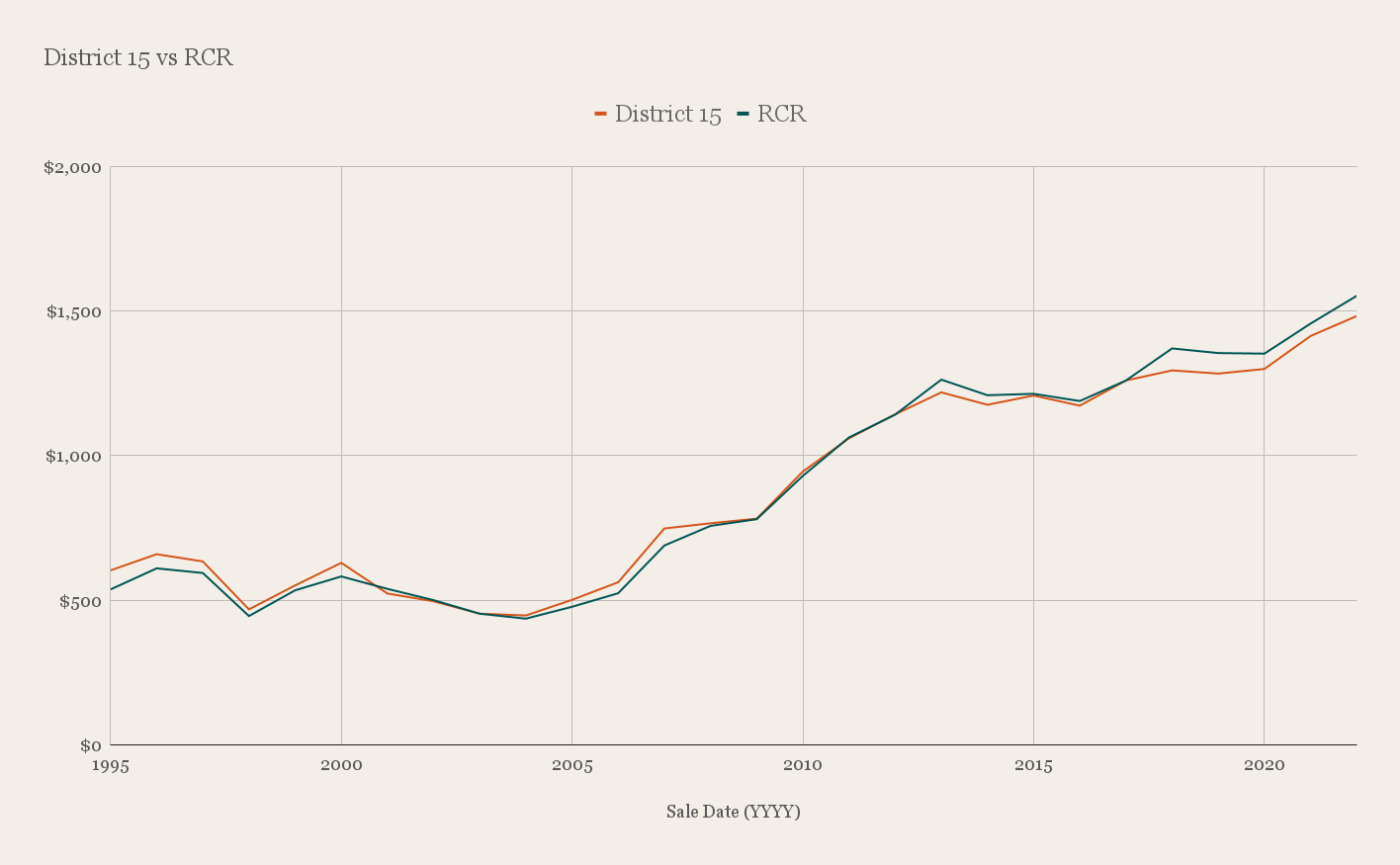 When looking at strictly resale transactions, district 15 moves very closely with transactions in the RCR. This is expected as district 15 comprises around one-third of all RCR transactions.
District 15 Vs. Rest of Central Region (New Sale only)
New sales are particularly interesting as D15 has seen a jump in disparity compared to new sales in the overall RCR area. The introduction of new launches like Amber Park, Meyerhouse, Coastline Residences, NYON to name a few, have catapulted the district's average $PSF pricing when it comes to new sales. In fact, the RCR and Amber Park were specifically mentioned in The Straits Times.
This increased gap demonstrates buyers' willingness to pay a premium (on a $PSF basis) for a new development that comes with modern facilities in the area.
99-year leasehold price behaviour in the area
District 15, and in particular the East Coast area is a very mature place, and large developments with ample facilities tend to be very old. Think Villa Marina, Bayshore Park, and Mandarin Gardens.
Considering that LIV@MB is a 99-year leasehold development, I would like to investigate how prices of similar leasehold developments have fared over the years.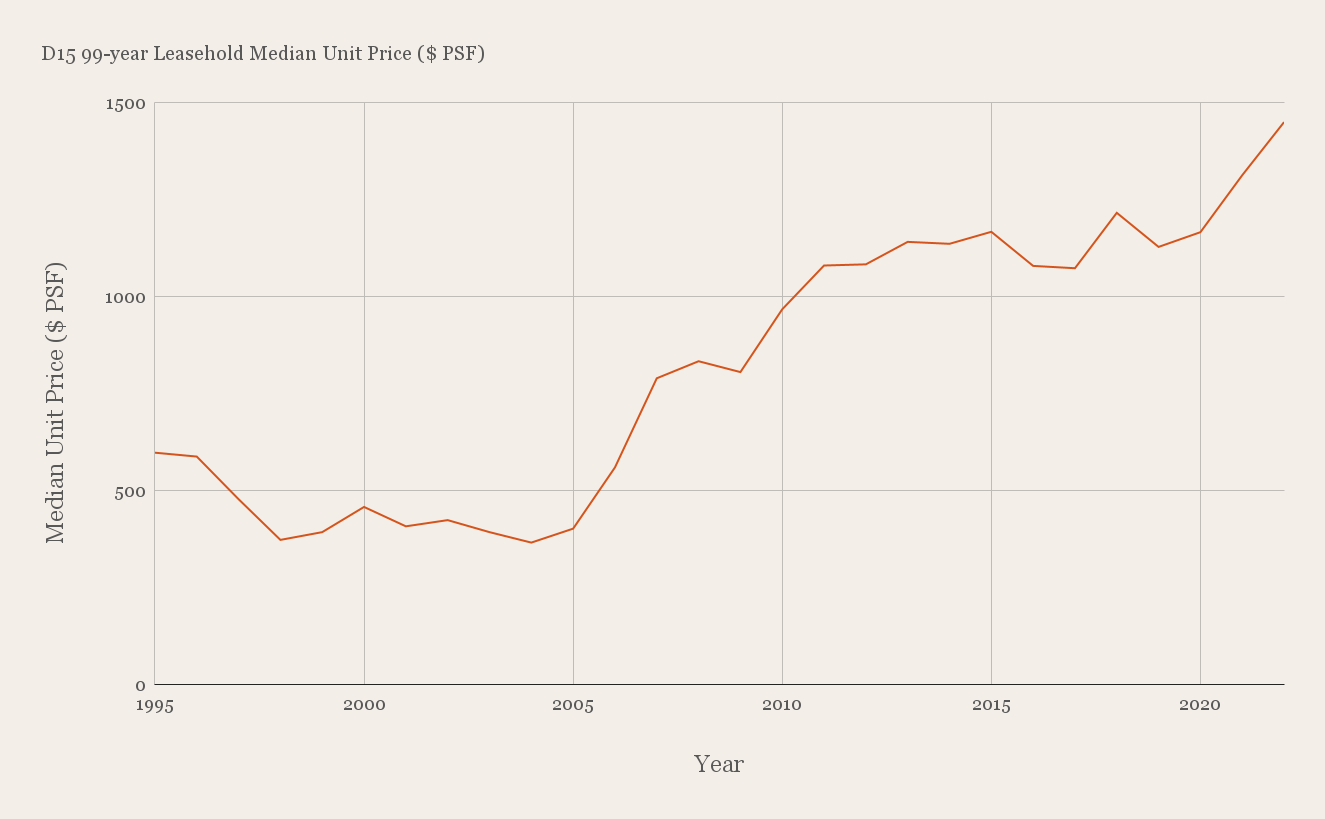 District 15's stellar performance despite the myriad of old leasehold developments in the area has been regularly used to encourage buyers to take the plunge with leasehold developments. While the data speaks for itself, it must be noted that district 15 could be more of an exception than the norm.
The old leasehold developments here have stayed relevant due to several reasons:
The improvements in transport infrastructure owing to the Thomson-East Coast Line
Many of the 99-year leasehold developments accounted for in the dataset have a good array of facilities
The continued relevance of the East Coast area being a premium lifestyle residential area due to its strong amenity offering
Good unblocked sea views for several developments accounted for in the dataset
Apart from the Tanjong Rhu area, there is a lack of available land for developers to purchase and build on. As such, a collective sale and redevelopment of older developments here is the only option.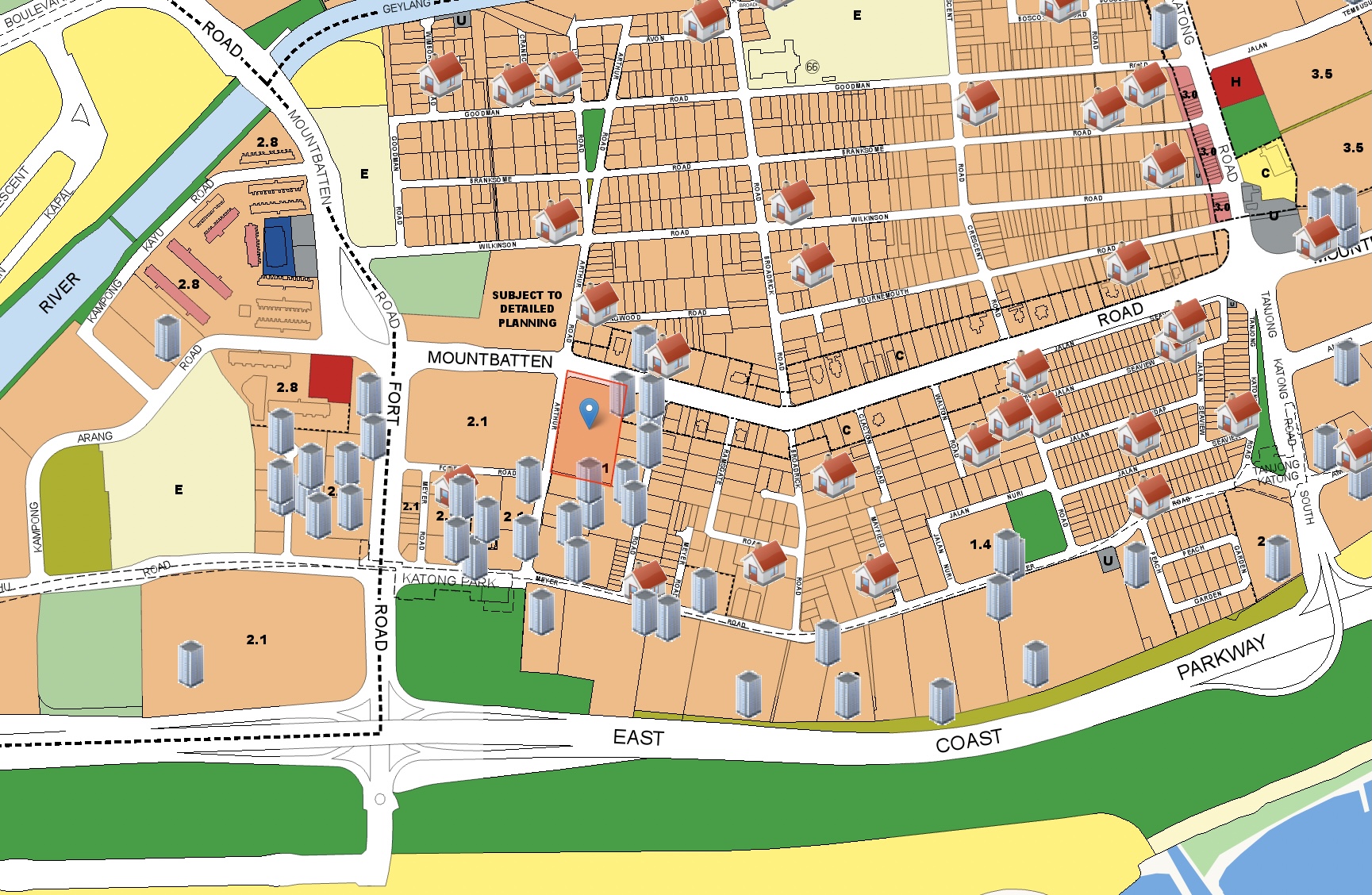 Do note that 12 out of 20 developments with a known number of units used in the study have over 300 units:
These developments tend to come with full-fledged or a competitive amount of facilities that caters to the lifestyle that many families desire in the area.
Moving forward, LIV@MB looks to remain relevant in the area given its proximity to the MRT, its facility offering, amenities, and lack of newer and desirable options around.
LIV@MB's average $PSF compared to other district 15 condos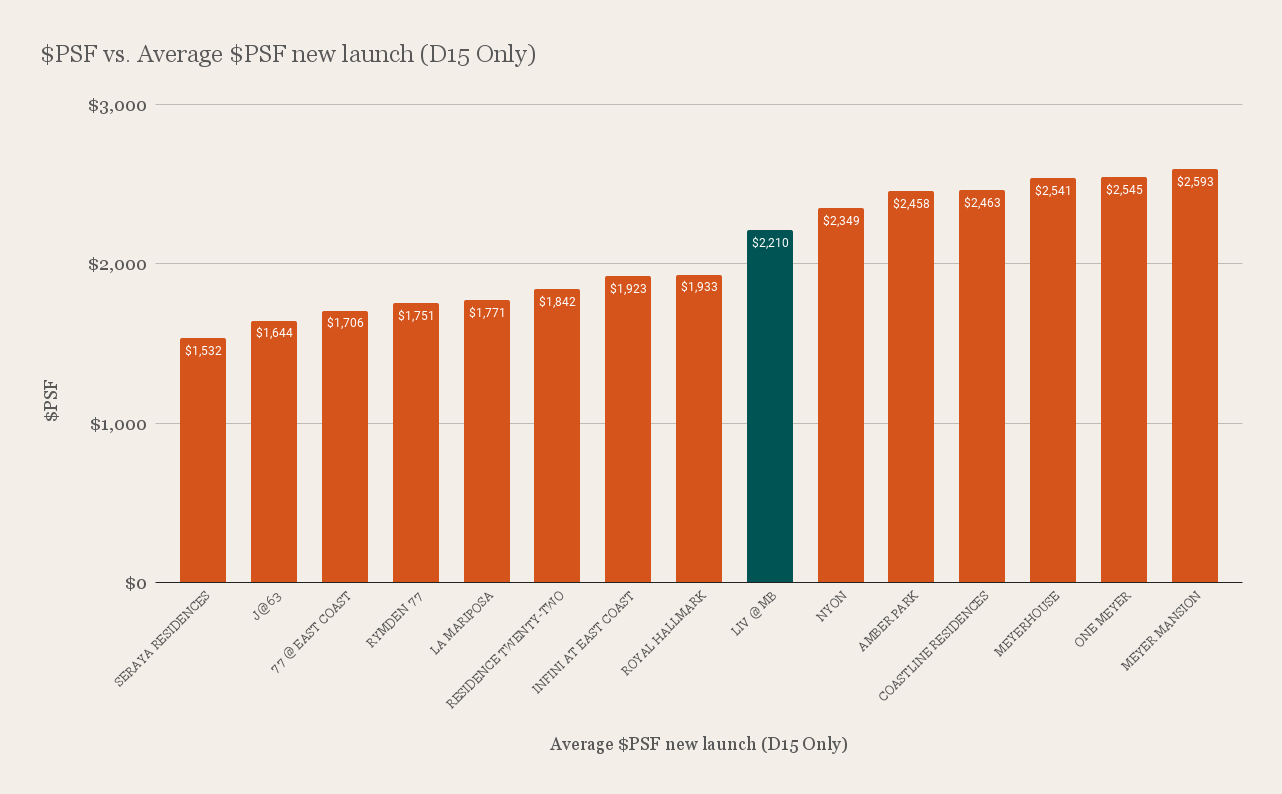 LIV@MB is neither on the expensive nor cheap end of the spectrum when it comes to new sales in district 15. It's ranked 9th cheapest out of 15 new sales in the district. This is pretty good news for those who missed out on previous launches in the area considering the market high today and the lack of supply in the market.
However, do note that LIV@MB is the only 99-year leasehold new launch above. All the other developments are freehold. But should you be concerned?
A similar situation arose for Martin Modern, a 99-year leasehold development that's also surrounded by freehold condos. However, given its affordable quantum and very fortunate timing when launched, buyers found themselves rolling in 6-digit profits a couple of years later. So is LIV@MB in the same situation today?
Well, I think that LIV@MB is quite attractively priced based on its indicative pricing. It is close to or just below NYON but has more facilities and is a better family-oriented condo. It's also quite close to the MRT like NYON, although NYON is closer and is freehold in tenure. Regardless, such an entry pricing still looks relatively attractive given it would be a new leasehold condo which has shown to be resilient over the depreciation effects and can have good capital appreciation based on our previous findings.
Ultimately it's hard to say if this would be a repeat of Martin Modern, but in today's new launch environment you really don't have much choice either.
To get a better appreciation of why it's more expensive than other freehold developments, here's a look at their number of units as well as their location:
| | | | | |
| --- | --- | --- | --- | --- |
| Average $PSF new launch (D15 Only) | No. of Units | Tenure | Average $PSF | March 2022 Take Up Rate |
| SERAYA RESIDENCES | 17 | Freehold | $1,532 | 82.4% |
| J@63 | 14 | Freehold | $1,644 | 100.0% |
| 77 @ EAST COAST | 41 | Freehold | $1,706 | 80.5% |
| RYMDEN 77 | 31 | Freehold | $1,751 | 41.9% |
| LA MARIPOSA | 17 | Freehold | $1,771 | 76.5% |
| RESIDENCE TWENTY-TWO | 22 | Freehold | $1,842 | 90.9% |
| INFINI AT EAST COAST | 36 | Freehold | $1,923 | 94.4% |
| ROYAL HALLMARK | 32 | Freehold | $1,933 | 34.4% |
| LIV@MB | 298 | 99 yrs | $2,210 | NA |
| NYON | 92 | Freehold | $2,349 | 94.6% |
| AMBER PARK | 200 | Freehold | $2,458 | 92.2% |
| COASTLINE RESIDENCES | 144 | Freehold | $2,463 | 97.2% |
| MEYERHOUSE | 56 | Freehold | $2,541 | 73.2% |
| ONE MEYER | 66 | Freehold | $2,545 | 84.8% |
| MEYER MANSION | 200 | Freehold | $2,593 | 57.0% |
As you can see, all of the more affordable freehold developments around are boutique in nature. Moreover, many of them are clustered around places where existing boutique developments are present, making them less differentiated from the others: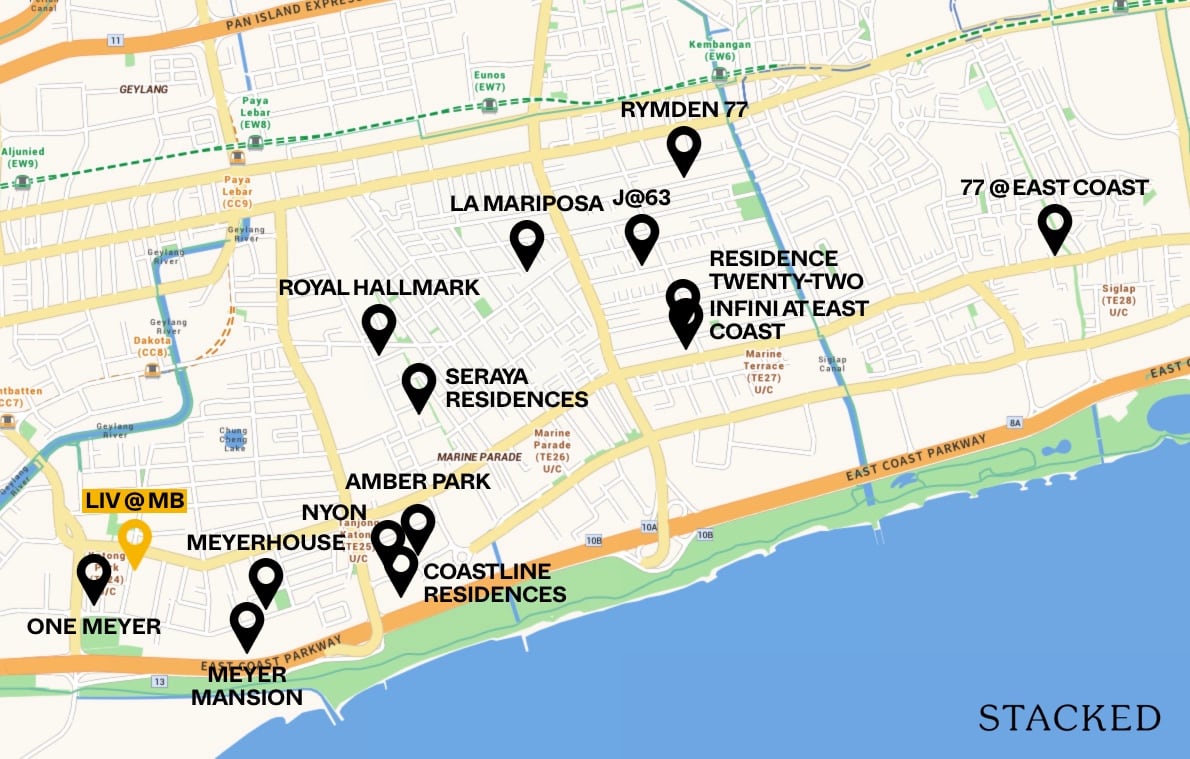 LIV@MB is also within walking distance to the MRT unlike the more affordable freehold developments like Royal Hallmark, Seraya Residences, and La Mariposa.
If you look at the take-up rate since March 2022, you'll also see that buyers do not really have much of a choice either. All developments are above 70% sold except for Meyer Mansion and Royal Hallmark.
Now that we've seen the overview of the place, here's what the competing developments look like in terms of size. Do note that sizes are being used as an estimate of the type of bedroom here.
LIV@MB compared to other 1 bedroom new launches in D15
| | | | | |
| --- | --- | --- | --- | --- |
| Project Name | Tenure | TOP | Median Unit Price ($ PSF) | Median Price ($) |
| RESIDENCE TWENTY-TWO | Freehold | 2021 | $1,772 | $877,500 |
| LIV@MB | 99-Year | 2024 | $2,189 | $1,084,000 |
| COASTLINE RESIDENCES | Freehold | 2022 | $2,513 | $1,136,000 |
| AMBER PARK | Freehold | 2023 | $2,534 | $1,227,540 |
| NYON | Freehold | 2022 | $2,624 | $1,271,060 |
| MEYER MANSION | Freehold | 2023 | $3,009 | $1,457,500 |
LIV@MB comes off as the 2nd most affordable for units below 500 sq ft, both in terms of $PSF and overall quantum.
A 1-bedroom unit would fit the profile of a single or couple. There are multiple boutiques in the area that offer 1-bedroom units too, but few have the extensive facilities that LIV@MB boasts.
Within 1KM of LIV@MB, there are only 2 resale condos with unit sizes below 500 sq ft:
Fulcrum's one and only transaction of $950,000 are for a 5th floor unit. As you can see, it's just about 13% cheaper. However, we have to consider that it's freehold and close to an MRT. The unit is smaller, and while it's slightly inefficient with the bedroom walkway, the overall efficiency is all right especially since there isn't a balcony, so there's more precious internal square footage.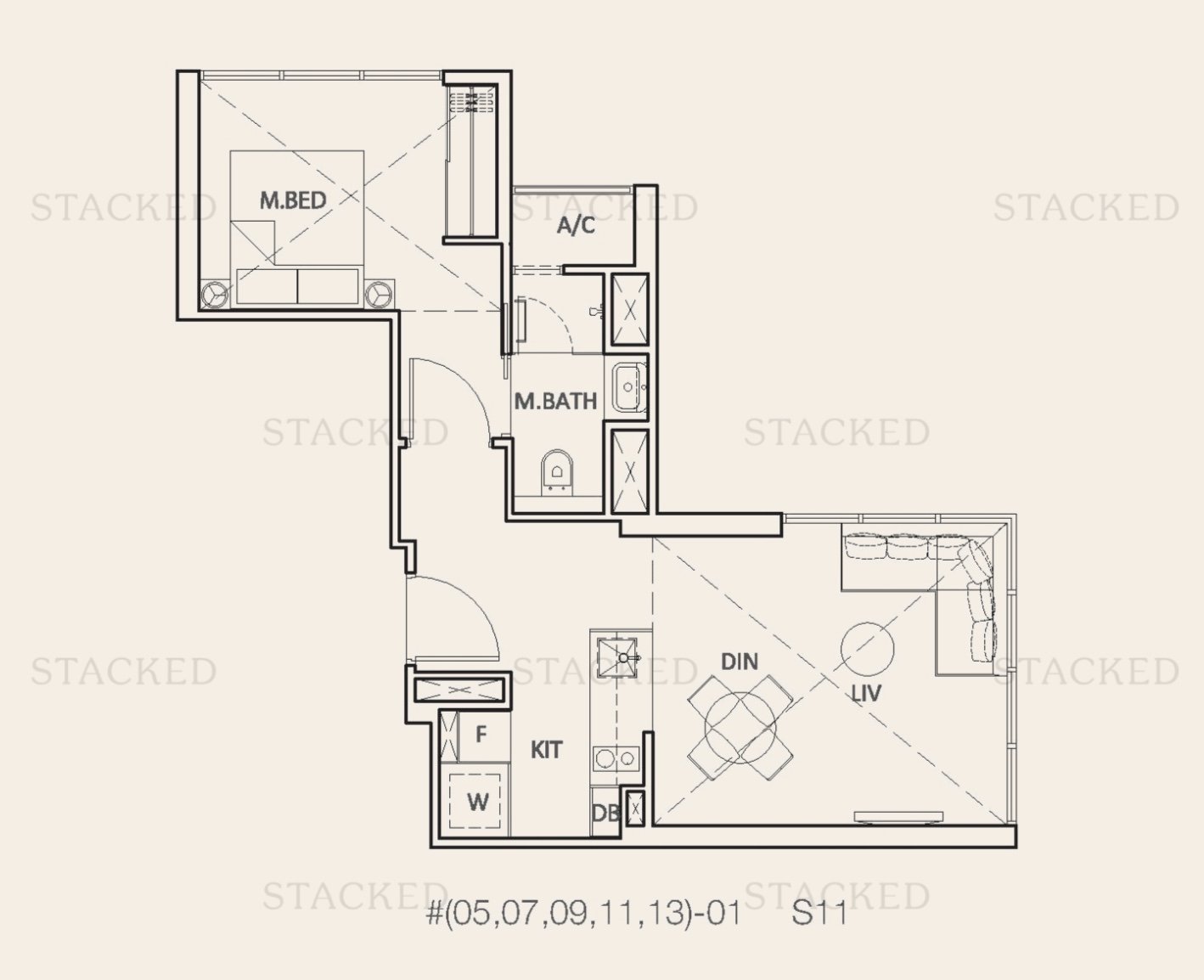 That said, its facilities are not as good as with LIV@MB, so many buyers in the short-term could continue seeing LIV@MB as a more attractive proposition at its quantum despite its leasehold nature. Of course, things could be different 10-20 years down the road.
As for Waterbank At Dakota, this is a leasehold development with a lease start date of 2009, more than 10 years older than LIV@MB. And despite being just 1KM away, it's really in a completely different area – Dakota, rather than the Mountbatten side.
LIV@MB compared to other 2 bedroom (600 – 800 sqft) new launches in D15
| | | | | |
| --- | --- | --- | --- | --- |
| Project Name | Tenure | TOP | Median Unit Price ($ PSF) | Median Price ($) |
| 77 @ EAST COAST | Freehold | 2022 | $1,735 | $1,241,000 |
| LA MARIPOSA | Freehold | 2022 | $1,957 | $1,348,000 |
| INFINI AT EAST COAST | Freehold | 2022 | $2,060 | $1,552,000 |
| LIV@MB | 99 yrs | 2024 | $2,291 | $1,430,000 |
| NYON | Freehold | 2022 | $2,413 | $1,740,000 |
| COASTLINE RESIDENCES | Freehold | 2022 | $2,467 | $1,787,500 |
| ONE MEYER | Freehold | 2023 | $2,539 | $1,557,500 |
| AMBER PARK | Freehold | 2023 | $2,556 | $1,753,080 |
| MEYER MANSION | Freehold | 2023 | $2,857 | $1,968,100 |
If we consider the 2-bedroom quantum, then LIV@MB continues to remain attractive, both on a $PSF and overall pricing level. This is likely due to its smaller size of 624 sqft which is the indicative pricing. The layout is quite efficient considering that all of this goes to indoor space, and it has a horizontal layout which means more sunlight and natural ventilation. The 2 bedroom also has the option to be enclosed given its design.
Some may point out that NYON's 5.3% premium over LIV@MB $PSF is a good deal considering it is freehold and closer to the MRT. However, it is still slightly further from the CBD, a boutique development unlike LIV@MB and the smallest 2-bedroom is 721 sqft. And this is considered big since at this size, it also only has 1 bathroom just like the 624 sqft unit at LIV@MB: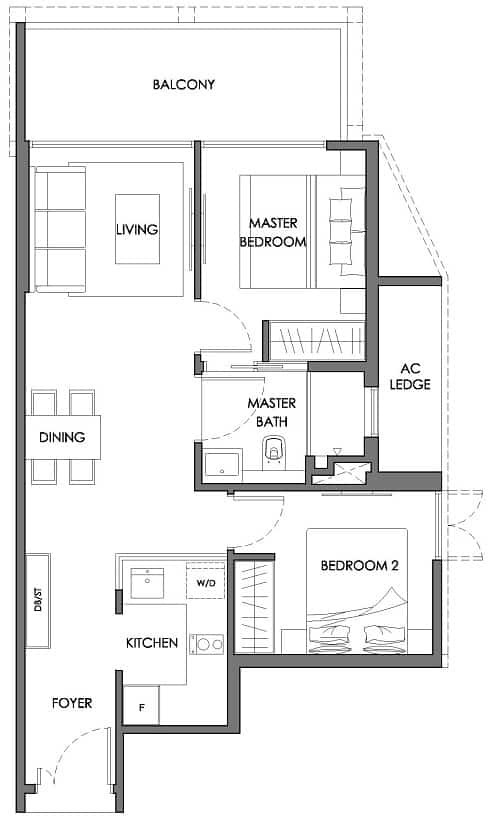 As such, the overall quantum ends up being over 20% higher making Liv@MB seem attractive – at least in the short term considering the latter's leasehold nature.
LIV@MB compared 3 bedroom units (1,000 – 1,200 sqft) new launches in D15
| | | | | |
| --- | --- | --- | --- | --- |
| Project Name | Tenure | TOP | Median Unit Price ($ PSF) | Median Price ($) |
| SERAYA RESIDENCES | Freehold | 2022 | $1,532 | $1,600,000 |
| J@63 | Freehold | 2023 | $1,631 | $1,716,960 |
| 77 @ EAST COAST | Freehold | 2022 | $1,663 | $1,887,000 |
| LA MARIPOSA | Freehold | 2022 | $1,750 | $1,977,500 |
| RYMDEN 77 | Freehold | 2022 | $1,751 | $2,017,128 |
| RESIDENCE TWENTY-TWO | Freehold | 2021 | $1,785 | $2,132,500 |
| INFINI AT EAST COAST | Freehold | 2022 | $1,945 | $2,073,000 |
| LIV@MB | 99 yrs | 2024 | $2,080 | $2,327,000 |
| AMBER PARK | Freehold | 2023 | $2,416 | $2,678,940 |
| COASTLINE RESIDENCES | Freehold | 2022 | $2,420 | $2,699,500 |
| ONE MEYER | Freehold | 2023 | $2,471 | $2,553,000 |
| NYON | Freehold | 2022 | $2,532 | $2,684,420 |
| MEYER MANSION | Freehold | 2023 | $2,586 | $2,867,450 |
For families looking at a 3 bedroom unit, LIV@MB also looks quite attractive. Its overall quantum is around 13% lesser than Amber Park. Here's what Amber Park's 1,109 sqft 3-bedroom unit looks like:
It's got a pretty long entryway but has a utility room. Its AC ledge is also quite big, and both bathrooms are not naturally ventilated.
Here's the 3-bedroom layout for Liv@MB: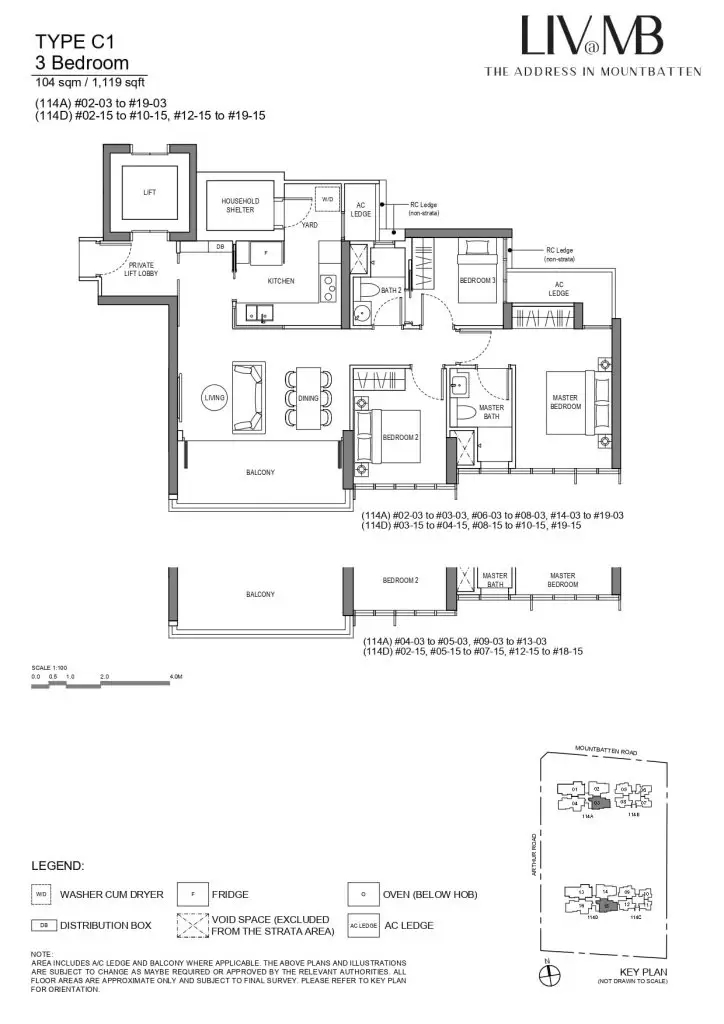 For around 13% less, buyers will have their own private lift lobby, both bathrooms are naturally-ventilated and it comes with a yard and bomb shelter for storage purposes. These unit attributes are clearly superior compared to Amber Park's 3-bedroom unit.
Moreover, considering the lack of new launch supply in the area, LIV@MB's 3 bedroom seems like a good deal now. The only downside is its leasehold nature, but again, this isn't something we're too concerned about in the short term.
Next, let's see what Royal Hallmark's 3 bedroom has to offer.

There have only been two 3-bedroom units transacted at Royal Hallmark, the lowest cost being a 915 sqft unit that went for $1,970,000 on the third floor.
Here's what the layout looks like: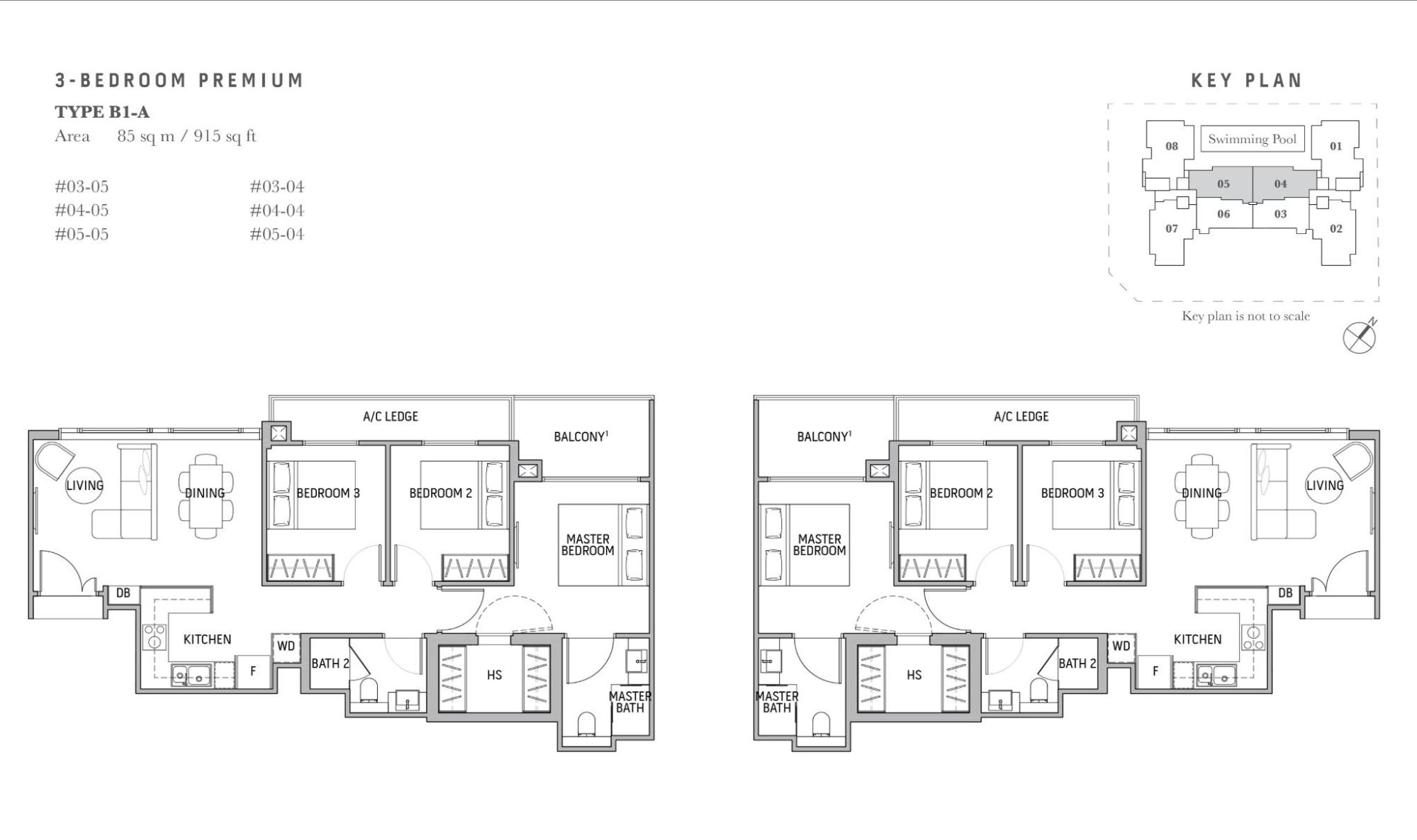 Considering the layout, we can't really compare LIV@MB to Royal Hallmark despite both being a 3-bedroom unit. It does not have a private lift, the AC ledge is right outside the 2 common bedrooms and the household shelter is in the master bedroom. The balcony is also only found in the master bedroom, so families looking for outdoor space to enjoy with their guests would be disappointed.
The kitchen is also between the living/dining and the bedroom which means it cannot be enclosed without being awkwardly positioned. As such, the overall design is not just not as good and it caters to a different family demographic than the one at LIV@MB.
Still, at the price point under $2 million for a freehold 3 bedroom unit despite its compact size, I can see some people getting swayed here if liveability isn't as strong a deciding factor for them.
LIV@MB compared 4 bedroom units (1,400 – 1,600 sqft) new launches in D15
| | | | | |
| --- | --- | --- | --- | --- |
| Project Name | Tenure | TOP | Median Unit Price ($ PSF) | Median Price ($) |
| RYMDEN 77 | Freehold | 2022 | $1,457 | $2,149,100 |
| NYON | Freehold | 2022 | $1,980 | $3,133,000 |
| LIV@MB | 99 yrs | 2024 | $2,233 | $3,390,000 |
| AMBER PARK | Freehold | 2023 | $2,404 | $3,780,920 |
| MEYER MANSION | Freehold | 2023 | $2,515 | $3,763,250 |
With the 4-bedroom size, LIV@MB finds itself priced about 10% cheaper than the freehold Amber Park. Here's what the Amber Park's 4-bedroom looks like: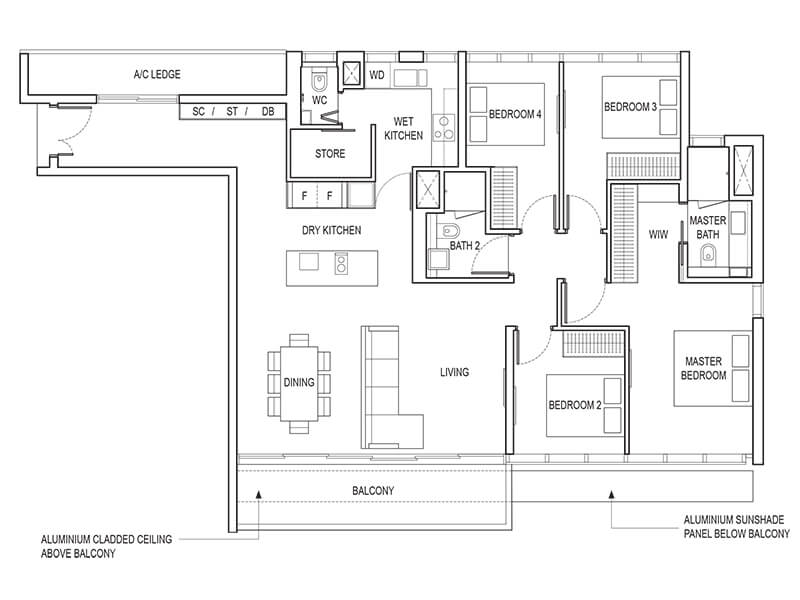 The 4-bedroom here is 1,572 sq ft. It has a long entry hallway which is considered quite inefficient. What's also lacking is a yard and it has only 1 common bathroom shared between 3 common bedrooms. It's also not naturally ventilated.
The 4-bedroom at LIV@MB comes in at 1,518 sqft, so it's slightly smaller. It does have a more favourable layout though: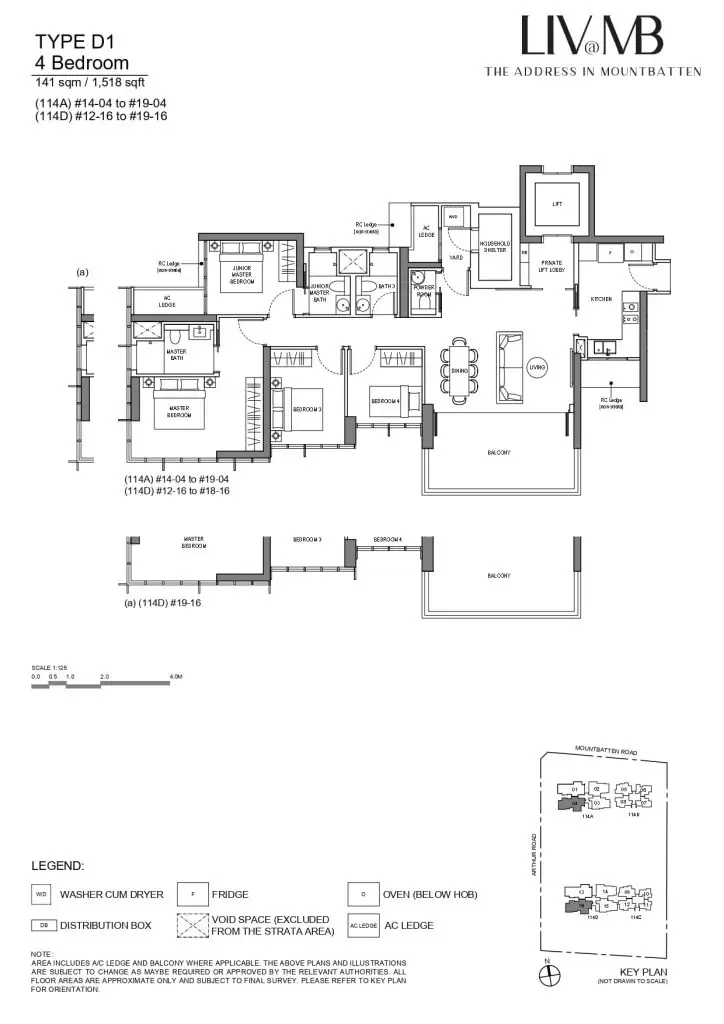 Despite being smaller, it has a yard, a private lift lobby, and 2 common bathrooms of which one of which is a Jack-and-Jill style with the Junior Master Bedroom. All bathrooms here are also naturally-ventilated. The master bedroom here has windows in a 90-degree fashion, resulting in more sunlight. It does have a narrower living/dining space though.
Comparing both, it's clear that LIV@MB has a better 4-bedroom layout, and at its lower quantum and $PSF pricing, remains attractive to families offering considering its facilities and proximity to the MRT. Although Amber Park itself is really no slouch, that freehold pricing premium is probably worth it for many buyers, as are the facilities and sea views from the roof deck.
Overall, I would say that LIV@MB remains an attractive proposition across all unit types provided the final pricing is close to its indicative. While it is a leasehold in a sea of freehold, we have shown that leasehold developments here tend to fare well based on historical data, and its facilities/layout offering is quite good.
Appreciation Analysis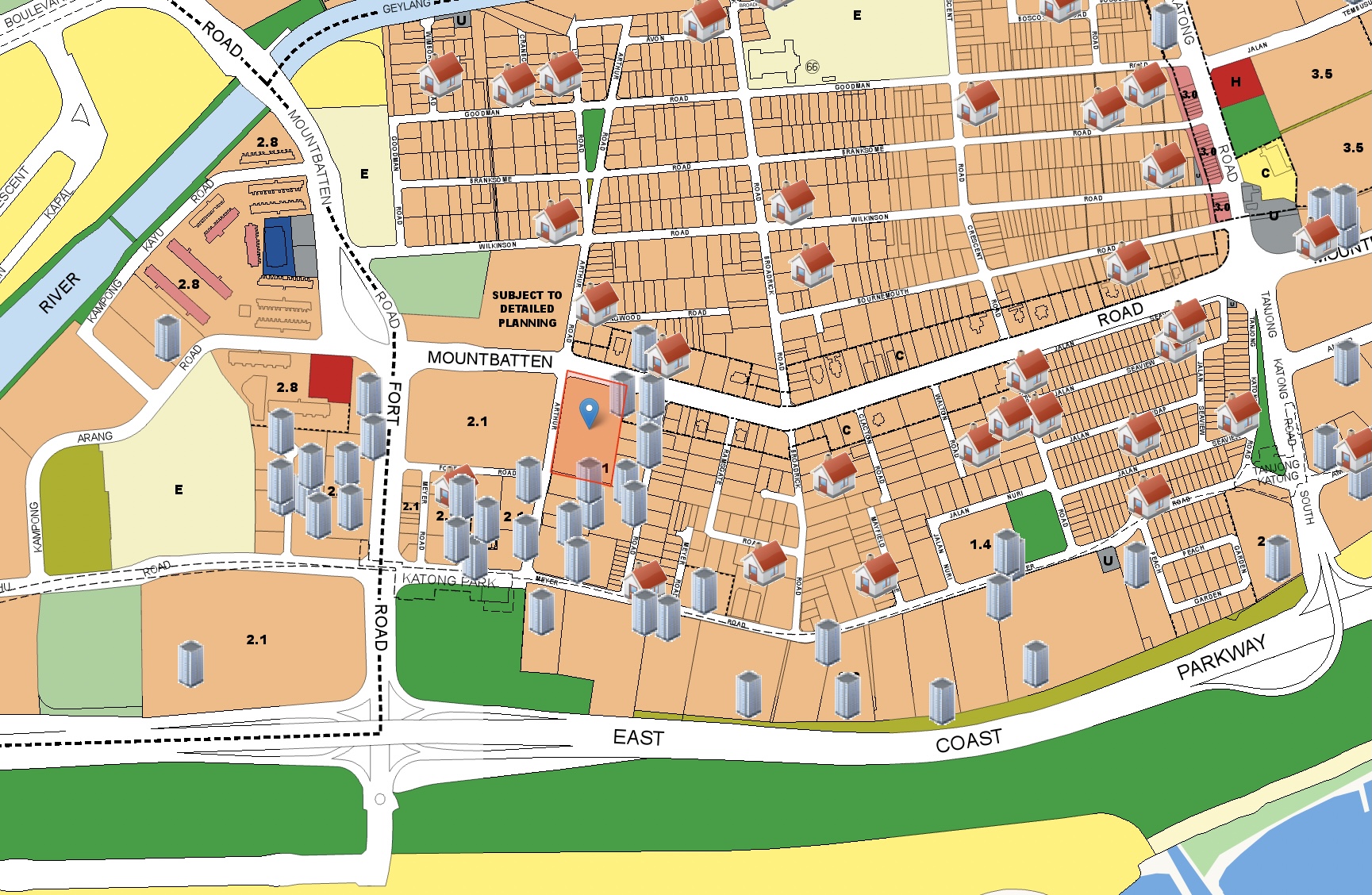 1) Established D15 neighbourhood
You can't call yourself a Singaporean if you haven't heard of this phrase – "East side, best side". In fact, a recent Propnex webinar had the exact same tagline, with CEO Ismail Gafoor and Head of Lux Dominic Lee sharing why they live in the East. And you can feel free to disagree with me, but D15 is the crown jewel of the East. My friends who live here want to continue living here, and friends who don't live here want to live here. I'm partial to D15 myself, having grown up and attended schools here. The combination of good schools, good food, proximity to the seaside, and the CBD in a culturally rich neighbourhood means the district's offering will remain attractive for some time to come. While this is not an appreciation factor per se, its established reputation among Singapore buyers means that it is unlikely to lose its shine in the coming years.
2) Kampong Bugis Rejuvenation
For the longest time, the Kampong Bugis precinct was just a large empty patch. Even in recent years, the one and only prominent structure is the Kallang Riverside condo, which will be the only Freehold project in the vicinity. Adjacent to Kallang Basin with a prominent frontage towards the Kallang River and set within the park, the large 8+ hectare site is set to be a highly desirable residential estate envisioned to be car-lite, community-centre, and sustainable. Interestingly, while the plan for the site is now completely residential, the initial one in 2008 seems to have envisioned the site to also include offices, hotels, and retail/entertainment facilities as one of 3 commercial hubs outside of the city, with the other 2 being Jurong and Paya Lebar. With its rejuvenation, expect greater vibrancy in the vicinity and hopefully, more demand for its adjacent neighbourhood at Mountbatten.
What we like
80/20 landscaping to unit ratio

Sky facilities with rooftop pool

Brilliant practicality with windows for every kitchen and bathroom

3 minutes walk to Katong Park MRT and a short drive to the CBD
What we don't like
–

No full seaview for a Mountbatten/Meyer area condo

–

Leasehold development in a sea of Freehold options in the vicinity
Our Take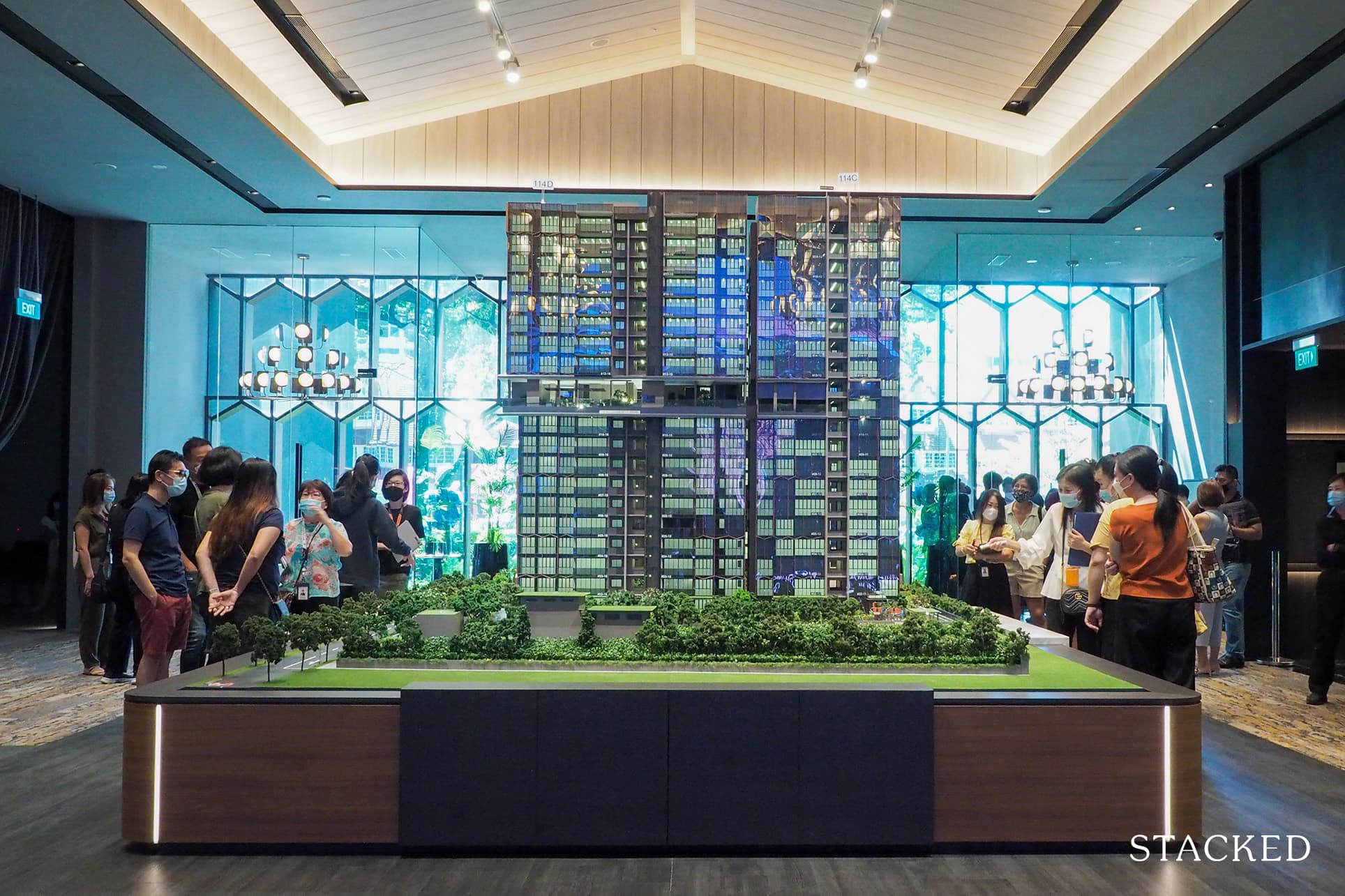 LIV@MB is the latest new launch in the ever-popular District 15, which has been widely recognised as a worthy alternative to the prime districts of 9, 10, and 11. In District 15, the Mountbatten area is tops in terms of its heritage and prestige, and that is likely to remain a selling point even in the future. LIV@MB offers you the opportunity to get a new launch at a slightly more affordable price, as it is the only leasehold development in this Meyer precinct (although there are some that will point to this as a downside more than anything). Moreover, transport connectivity is set to be further enhanced once the Katong Park MRT comes up in late 2023/2024.
As for the development itself, its 80/20 landscaping/unit ratio is impressive. But the real gamechanger here is the super practical layouts for every unit. There are windows for every kitchen and toilet, and more impressively, even the 1 and 2 Bedroom units, which are unheard of in today's market. The facilities are also plentiful, with 2 sky decks for you to wine and dine and the Mountbatten Hall inspired by the seafront bungalows that dotted this area.
For those familiar with the area, a gripe might be the lack of full sea view units and their leasehold nature. Plus for those with future primary school-going kids, not being within the 1 km radius of a primary school could be another point to ponder about.
Understandably, the biggest hurdle for buyers considering LIV@MB will definitely be its 99-year lease in a freehold area. However, for that, you have to understand the market situation today. Unless you have no qualms with searching in the resale market, you really don't have many options when it comes to new launches in the market at this present point.
And so when push comes to shove, it's hard to look past this very solid package that LIV@MB offers from a liveability perspective.
What this means for you
You might like LIV@MB if you:
• Enjoy living on a quiet and expansive grounds

With 80% of the land dedicated to landscaping, and just 298 units in a private estate, tranquility and exclusivity are of essence to residents here.

• Work in the CBD

Short drive from the ECP with MRT connectivity after the Katong Park MRT is ready.

• Love a good layout

Definitely one of the most impressive ones out there, with parallel dining / living concepts and natural ventilation in the bathrooms / kitchen even for the smaller units.
You may not like LIV@MB if you:
• Desire full sea views

Some say Meyer living is not quite complete without panoramic sea views so some might find this to be a deal breaker.

• Can't get over its 99 Year leasehold status

It is the only leasehold development along the Mountbatten belt (although there are many in D15 such as those further down at Tanjong Rhu) and set amidst many full facility Freehold condos with tennis courts.
End of Article
Join our Telegram group for instant notifications
Join Now
Matt K