En Bloc
25 En Bloc Sales Sites Up For Grabs In 2021: The Return Of En Bloc Fever?
Ryan J
October 12, 2021

5

min read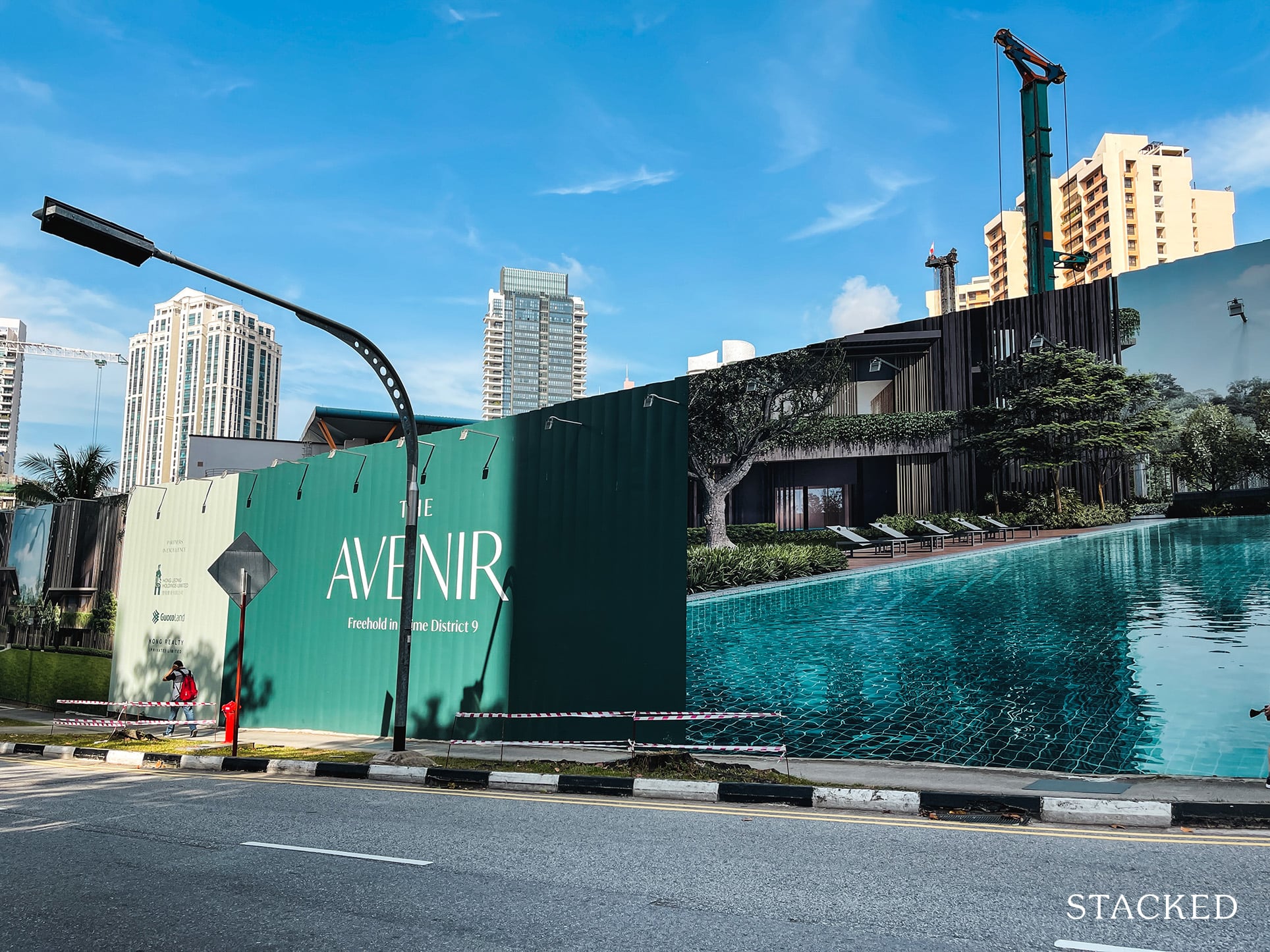 5
min read
According to some news reports, there are now around 25 en-bloc sales sites in 2021; this is more than double the 11 sites last year. On the one hand, this was expected due to the last tranche of 2017 en-bloc properties being completed. On the other, sellers seem rather optimistic, given the Covid-19 situation. Through it all, we have resale condo buyers, who continue to hope this won't push up already-high prices. Here's what you need to know right now:
What's going on in the en-bloc market?
With regard to 2021, here are some of the new en-bloc attempts: 
Baode Building
Chuan Park 
Dublin Lodge
Fortune Park
High Street Plaza
Jansen Mansions
Kai Fook Mansion
Peace Mansion
The Bayron
The Stradia
32 – 38D Hillview Terrace
551 – 553 Bukit Timah Road 
Note that some en-bloc attempts are not announced to the public; it's likely there are a few we wouldn't know about.
To date, the following residential en-bloc attempts have taken place between 2020 to 2021:
Advance Apartment
Flynn Park 
Ji Liang Gardens
2, 4, and 6 Mt. Emily Road 
93B, 93C, and 95 Lorong N Telok Kurau
Fairhaven and Sophia Ville (adjacent condo developments)
Yuen Sing Mansion 
Some of these, such as Flynn Park, were on our list of 287 condos with en-bloc potential.
Why are en-bloc sales creeping in despite Covid-19?
The existing supply of private homes is dwindling
Cyclical nature of en-bloc sales
Growing developer confidence from 2020 sales results
A surge in HDB upgraders
However, this is tempered by growing worries regarding labour shortages and rising construction costs.
1. The existing supply of private homes is dwindling
In April this year, Huttons noted that the number of uncompleted, unsold units in Q1 was down to 21,602 units. This was already over 44 per cent lower than the peak of 36,389 uncompleted unsold units, at the same time in 2019.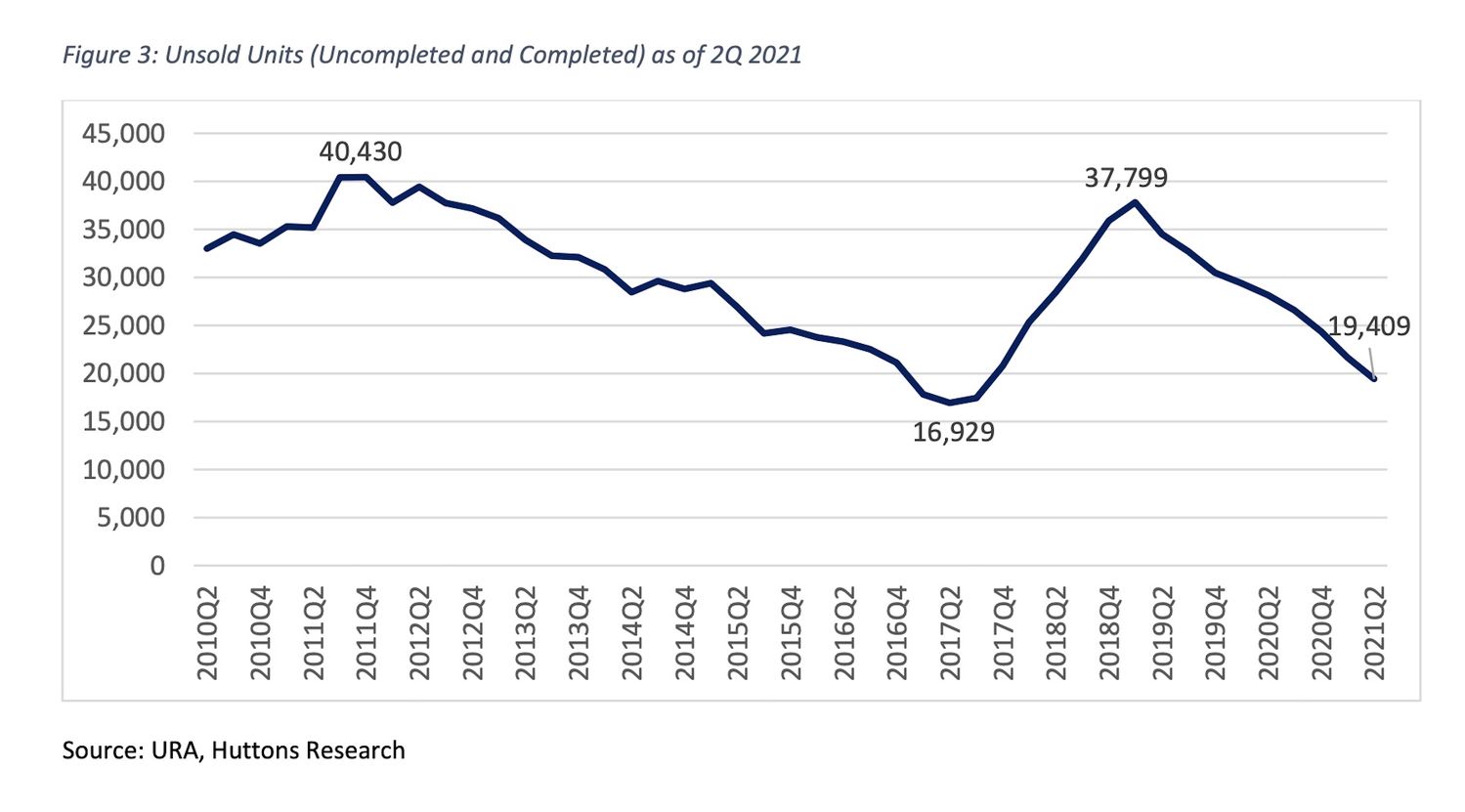 We understand that, as of Q2 2021, the unsold inventory was down to a mere 19,409 units. It's expected that this entire stock can be sold out in as little as 1.5 years, if we continue to see the same transaction volumes as 2020.
As a point of reference, the start of the en-bloc frenzy in 2017 was triggered by the low supply of existing homes, starting in Q2 2016. The number of unsold homes back then was 23,300… higher than the number in Q2 this year.
Interestingly, all of this is a reversal of what some analysts claimed in 2019. At the time, it was claimed that the 2017 en-bloc frenzy would create a massive supply glut, which could take 2.5 years to clear.
This is a good example of just how crazy property sales have been over 2020 and the present!
2. Cyclical nature of en-bloc sales
Property developers have five years to complete and sell a development, lest they incur ABSD of around 30 per cent of the land price. 
This creates a somewhat cyclical nature of en-bloc sales: there's a rush toward collective sales as land banks are depleted. After that, the collective sale market is quiet until the existing slate of redevelopments are complete, after which there's once again a rush for more land.
At present, most of the properties picked up in the 2017 en-bloc fever have been redeveloped and sold (you can check on their progress in this article).
| | | | |
| --- | --- | --- | --- |
| Project | Former Site | En Bloc Price | Take-up Rate |
| 35 Gilstead* | Casa Contendere | $72 million | 44.30% |
| 77 @ East Coast* | Lodge 77 | $29 million | 34.10% |
| Affinity at Serangoon | Serangoon Ville | $499 million | 83.60% |
| Amber Park | Amber Park | $906.7 million | 42.60% |
| Coastline Residences | Parkway Mansion | $146.99 million | 46.50% |
| Dunearn 386* | Dunearn Court | $36.3 million | 48.60% |
| Fyve Derbyshire | Derby Court | $73.88 million | 66.20% |
| Jervois Prive | Jervois Green | $52.9 million | – |
| Juniper Hill | Crystal Tower | $180.7 million | 12.20% |
| Mayfair Gardens | Mayfair Gardens | $311 million | 80.90% |
| Meyer House* | Nanak Mansions | $201.1 million | 17.90% |
| One Meyer* | The Albraca | $69.12 million | 45.50% |
| Parc Esta | Eunosville | $766 million | 98.80% |
| Parc Komo | Changi Garden | $248.8 million | 50% |
| Parkwood Residences* | Toho Green | $1.4 million per unit | 5.60% |
| Petit Jervois* | Jervois Gardens | $72 million | 10.90% |
| Riverfront Residences | Rio Casa | $575 million | 93.30% |
| RoyalGreen | Royalville | $477.94 million | 31.20% |
| The Addition | Apartment 8 | $21.53 million | Sold Out |
| The Florences Residences | Florence Regency | $629 million | 68.60% |
| The Gazania | Sun Rosier | $271 million | 11.60% |
| The Lilium | How Sun Park | $81.09 million | 1.30% |
| The Linq @ Beauty World | Goh & Goh Building | $101.5 million | Sold Out |
| The Verandah Residences | Lotus at Pasir Panjang | $121 million | Sold Out |
| Treasure at Tampines | Tampines Court | $970 million | 77.80% |
Coupled with modest supplies from Government Land Sales (GLS), some developers are now starved of land for new developments.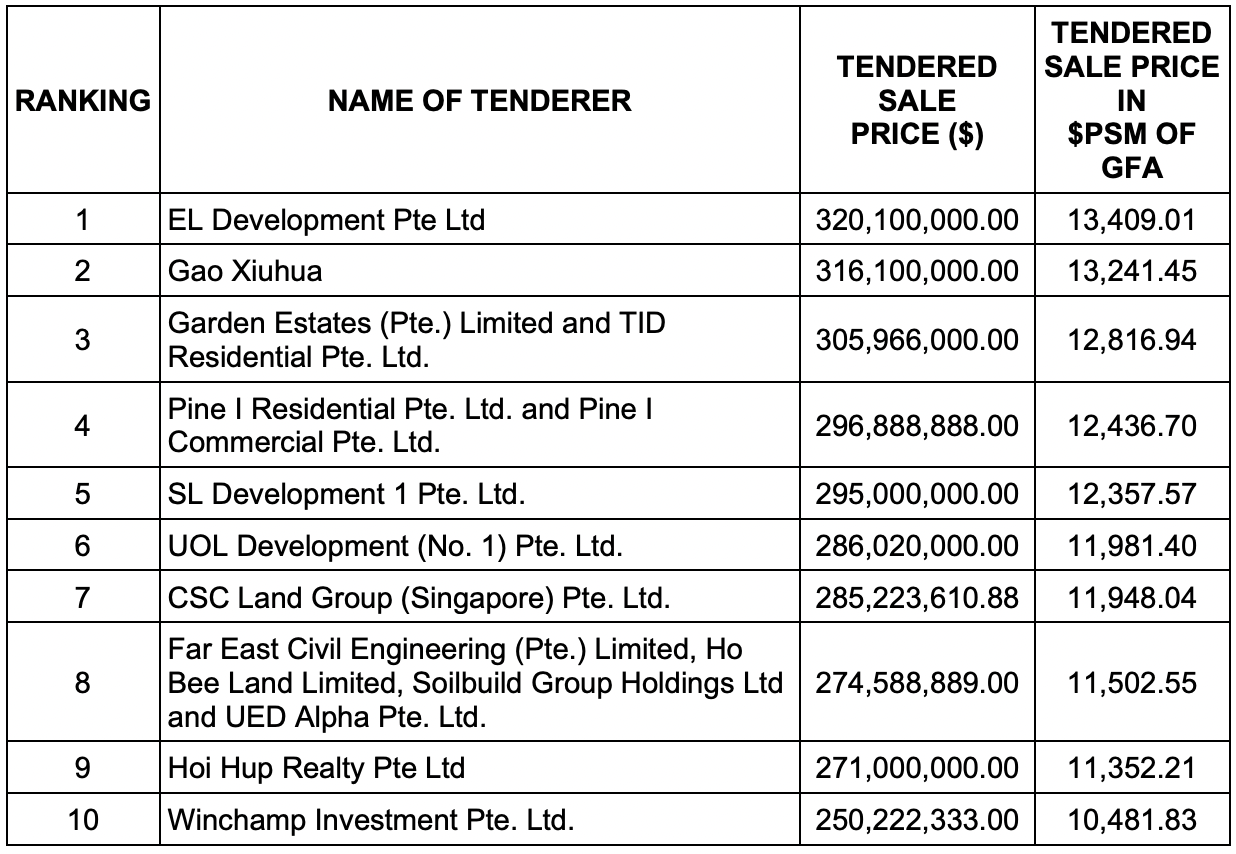 Were it not for Covid-19, the recent surge in en-bloc attempts would be considered a matter-of-course. The only surprise here is how confident developers seem, despite a major economic downturn (perhaps explained by the next point).
3. Growing developer confidence from 2020 sales results
2020 was the height of the pandemic, and also saw the Circuit Breaker period. Regardless, new home sales for 2020 hit around 10,000 units.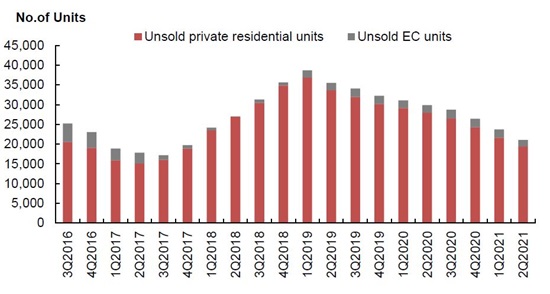 This was roughly on par with 2019, and suggests that Covid-19 hasn't had the huge detrimental effects many had initially presumed. In fact, 2020 saw strong sales figures for mega developments like Treasure at Tampines, Parc Clematis, and Normanton Park – these are condos that developers would have doubts about selling on time, even in a normal economy. 
As such, developers seem to have found the confidence to go ahead, regardless of pandemic issues (described below).
Read this next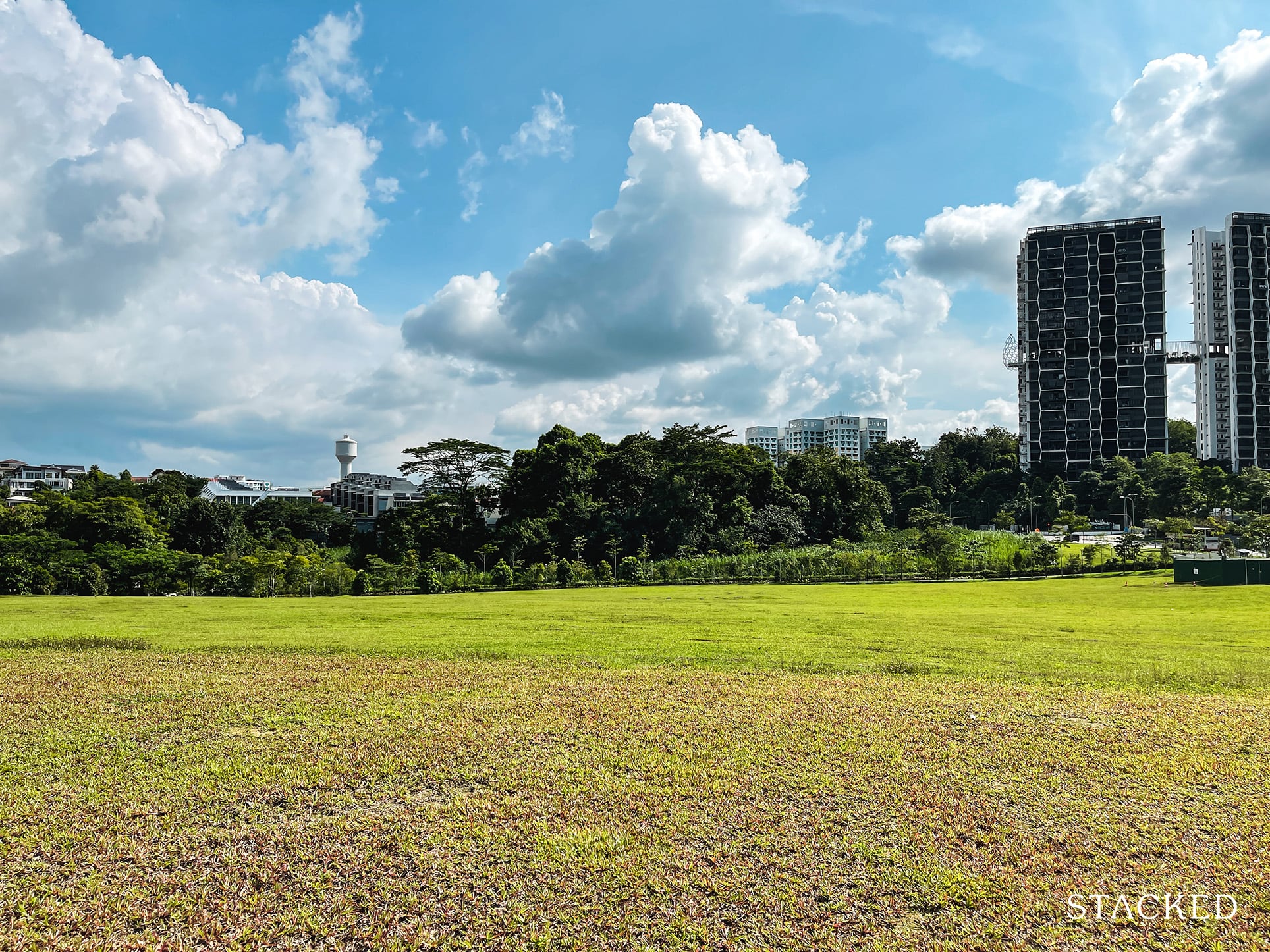 4. A surge in HDB upgraders
2020/21 has seen a bumper crop of flats reaching their Minimum Occupancy Period (MOP); in fact, we're expecting around 20,000 flats to reach MOP in 2021 alone. For comparison, between 2010 and 2018, the average number of flats reaching MOP each year was only 9,000.
This is a large buyer demographic, fuelling condo sales particularly in regions like the Outside of Central Region (OCR). Now over the past year, we have seen more of their interest channeled into older and larger resale flats. But there's still sufficient interest in new launches to motivate developers; so long as the new launches are mainly in the OCR, where prices are more palatable to this crowd.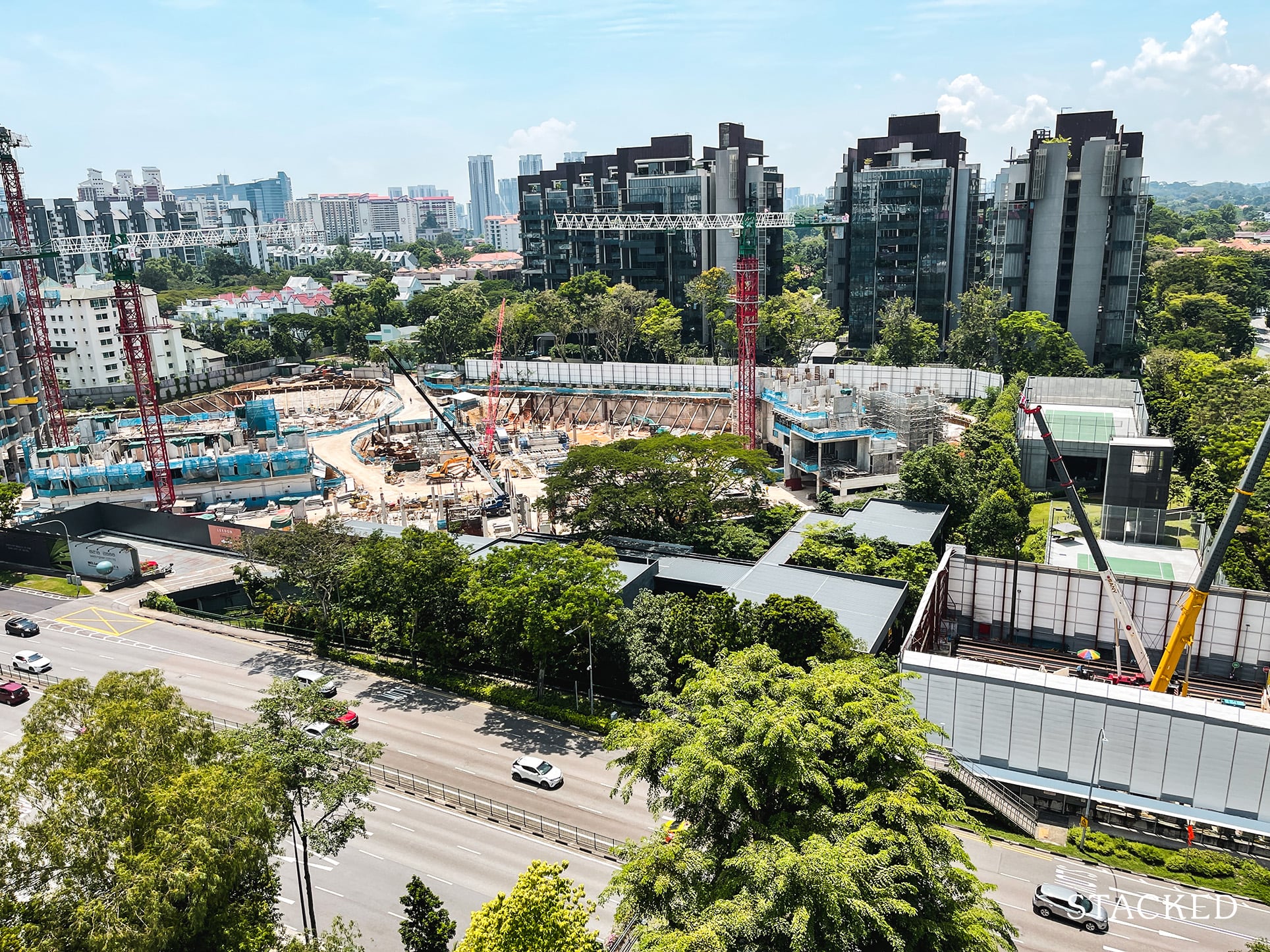 That said, developers are more restrained by labour and supply shortages this year
Covid-19 introduces a challenge that we lacked in 2017. The limited supply of foreign labour, coupled with rising construction costs, makes redevelopment a risky prospect.
Due to the high chance of delay, it's likely developers will stick with smaller collective sales for now. Large land plots, such as former HUDC estates, are still seen as a major risk: a developer has the same five-year time limit, regardless of the project's size. 
Last but not least, data from JLL says that at least 5 projects that have been put up for collective sale in 2021 have reduced their prices from the last cycle – so there's a need to be realistic for en-bloc hopefuls.
For more on the situation as it unfolds, follow us on Stacked. We'll also provide you with the most in-depth reviews on new and resale properties alike, in the Singapore private homes market.