Advice
Will A Freehold 3 Bedroom Or Leasehold 2 Bedroom In D15 Be A Better Choice For A Family Of 3?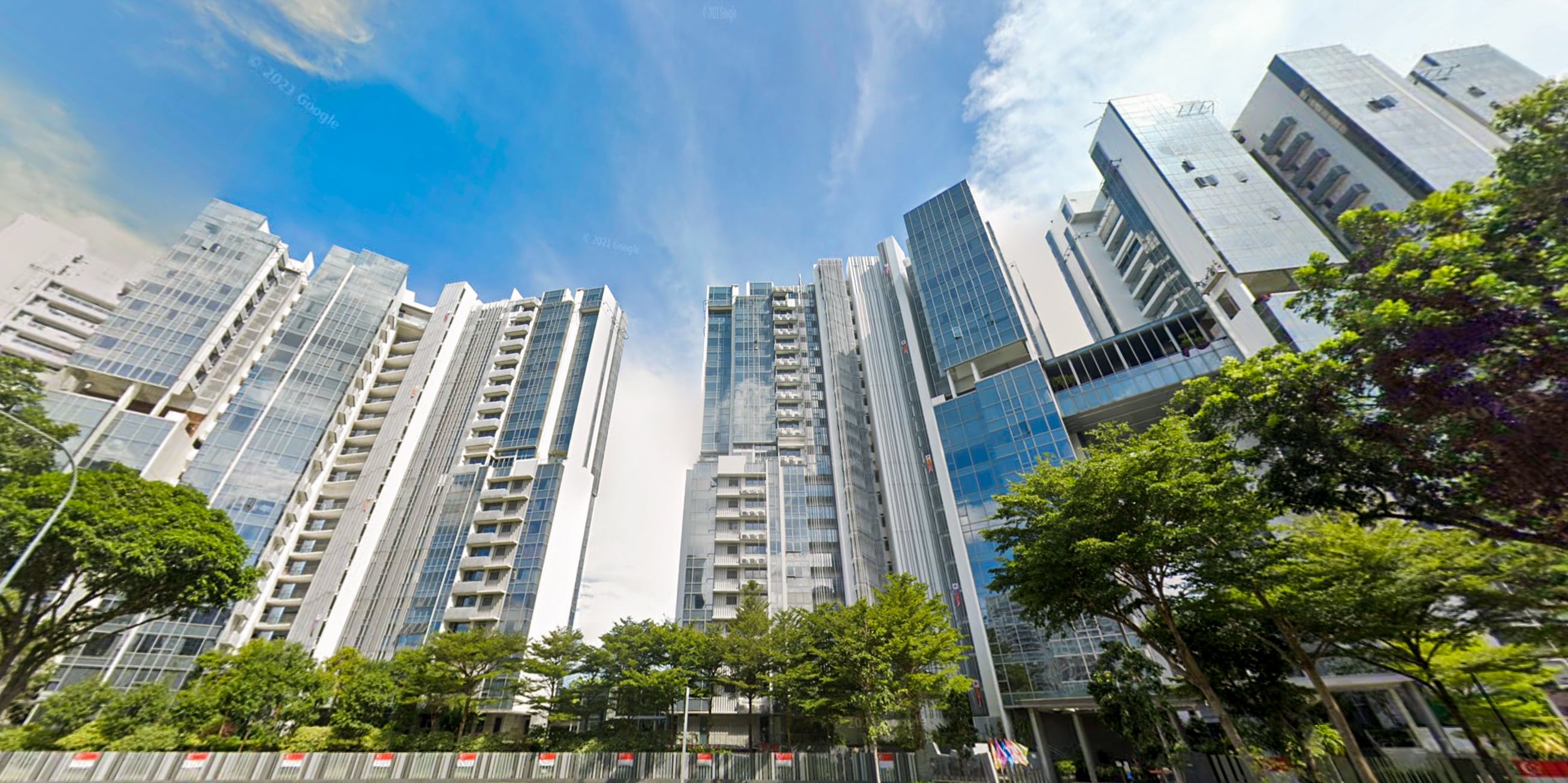 12
min read
Hi,
I saw your advice about a family of 3 looking for condo in the City Square or Potong Pasir area and thought to email you as well.
We are also a family of 3 and looking to move to D15. We have viewed many many condos, resale and new launch. Proximity to Marine Parade is key as my daughter is currently studying there.
We have shortlisted down to 2 units and I am feeling a dilemma on which is a better choice for us. Here's the comparison and their pros and cons:
2 bedder ground floor at Silversea –
Pros: within walking distance to Parkway, future TEL, much closer to my daughter's school, great facilities, proximity to ECP, wow factor due to high ceiling, family-oriented profile staying
Cons: 99 years and 2 bedder only
3 bedder high floor at Paradise Palms
Pros: freehold, 3 bedder, very efficient layout, low monthly maintenance fee, still has lots of direct bus to my daughter's school
Cons: 10 years older than Silversea, unsure of neighbors and profile of people staying there, less facilities
We also worry if we need to resell in 10 years, will the 99 years one have an issue? However same thing with Paradise Palms since it's 10 years older than Silversea.
And will a 2 bedder have harder time to resell as it appeals to a smaller group of buyers?
We are leaning towards Silversea right now cos we really love the feel of that place. Just want to know your thoughts.
Thanks
---
Hey there,
Thank you for writing to us. Although you didn't quite share the school, I would probably surmise that it is Tanjong Katong Primary given that it is the only primary school that is the closest to Silversea.
This is frankly a very hard choice as we must highlight that the two developments are very different products altogether; that cater to a different group of buyers. Silversea is a mid-sized condo development with full range condo facilities that is positioned more towards the luxury end of the market while Paradise Palms is a small boutique development that lacks facilities.
Plus, comparing one that is a 2 bedroom to a 3 bedroom puts another spanner in the works of making a sensible decision.
Nevertheless, we will try to share some of our thoughts and analysis on both developments. Additionally, we will try to shed some points to note and its future potential especially, since you are looking at a long-term own stay beyond the 10 years horizon.
Silversea:
Located at the infamous roundabout, Silversea is a mid-sized project with a great frontage of the sea (its obvious main selling point).
If you must know it won the FIABCI World Prix d'Excellence Award, in the high-rise residential category at the 67th FIABCI World Congress in Panama City and also the award for the mid-rise residential category at the FIABCI Singapore awards when it was launched. Personally to me, it doesn't mean much but I suppose to others it could come as a vote of confidence.
It comprises of four interlocking 21-storey towers with a mix of two- to four-bedroom units of 969 to 2,766 sq ft. There are also 10 penthouses, which range from 3,552 to 4,962 sq ft. The towers are quite sleek and are unmissable if you are travelling down the ECP.
It is within walking distance to Parkway Parade's newly revamped Katong i12 (unsheltered) and the upcoming TEL Marine Parade MRT station. Road connectivity wise, it is within a minute drive to ECP slip road along Tanjong Katong Road South. For a development with only 383 units, it offers a good range of facilities including two 50m Swimming Pools, sky promenades with great sea view frontage, and two tennis courts; all in all great for family profiles.
Price-wise; it is only seeing gradual price appreciation over the years since its launch back in 2009. The current average stands at $1,8xxpsf, with a total of 109 profitable and 31 unprofitable
. To be fair, it was launched during the uptrend of the property market and it boasts direct sea view frontage for most of the units here which the developer has factored in the selling price back then. Like most Far East properties though, it was priced on the higher side as compared to the neighbouring resale developments, which are mostly freehold entities. Additionally, we do like to point out that the ground floor PES unit usually caters to a niche market; as it caters to buyers that prefer an outdoor area with easy access to the ground level facilities. You should note that the two bedders offered here are of spacious unit size, minimally 969 sq ft which is equivalent to a 3 bedder unit in today's new launches. Notably, due to the unit size, this translates to its high quantum of close to $2m for a 2-bedder which is honestly on the high side.
Lastly, it is worth pointing out that Silversea has a pretty high number of foreigners that have purchased, at 42%. This is in contrast to nearby neighbours like Cote D'Azur and The Sea View which have closer to 75% instead. This could mean that you may have bigger variances in prices as for a more upmarket project like Silversea, it would be easier for wealthy foreigners to uproot and sell at a loss.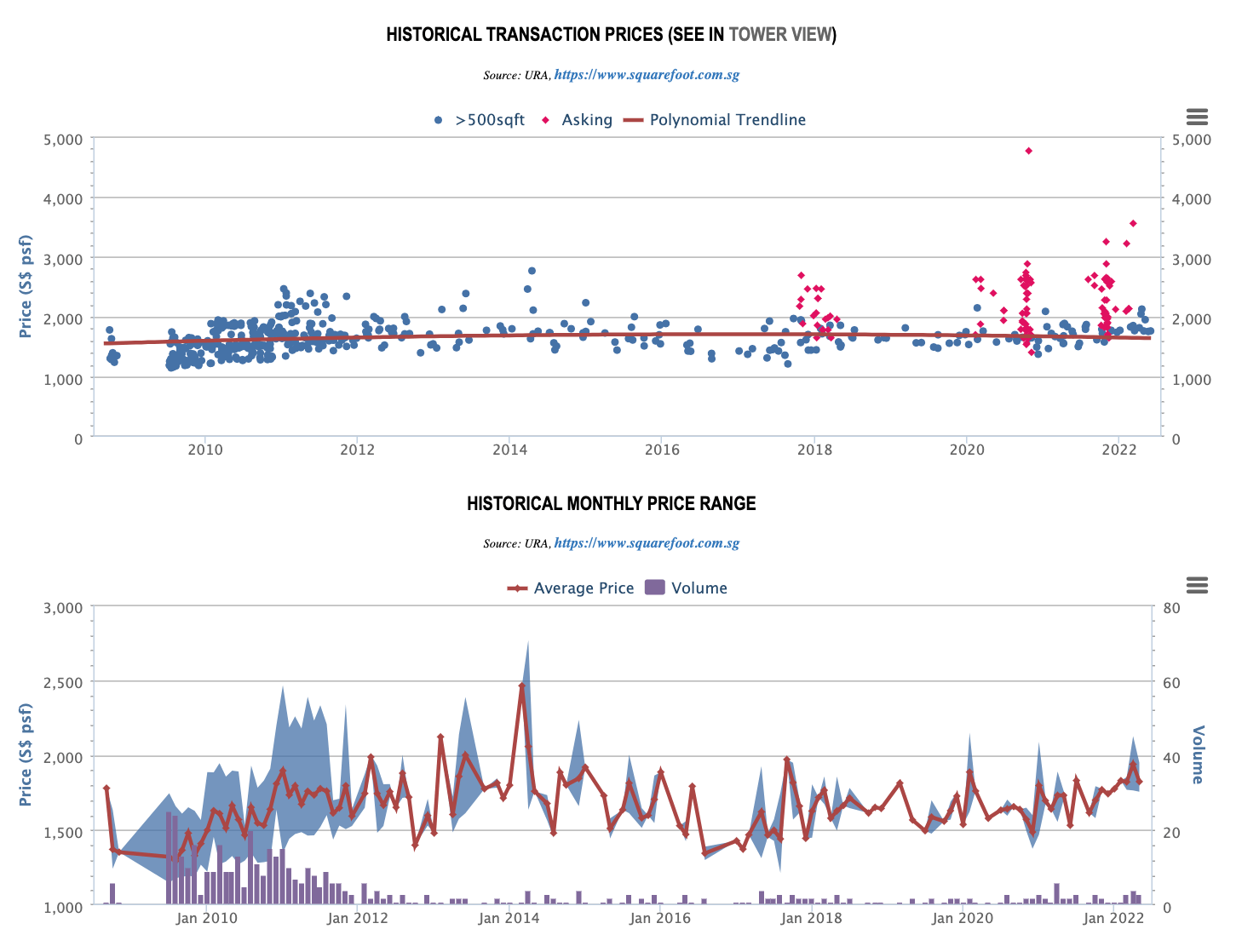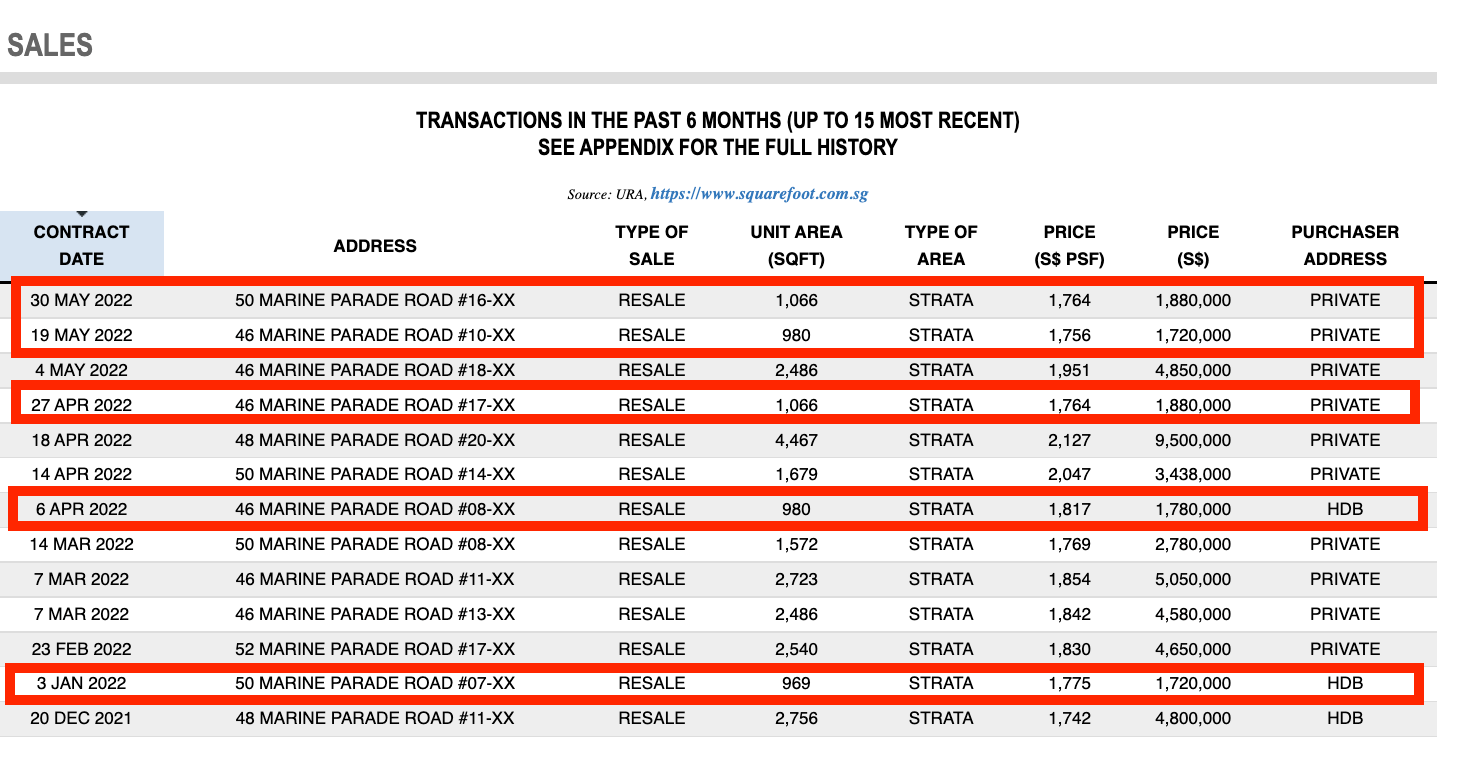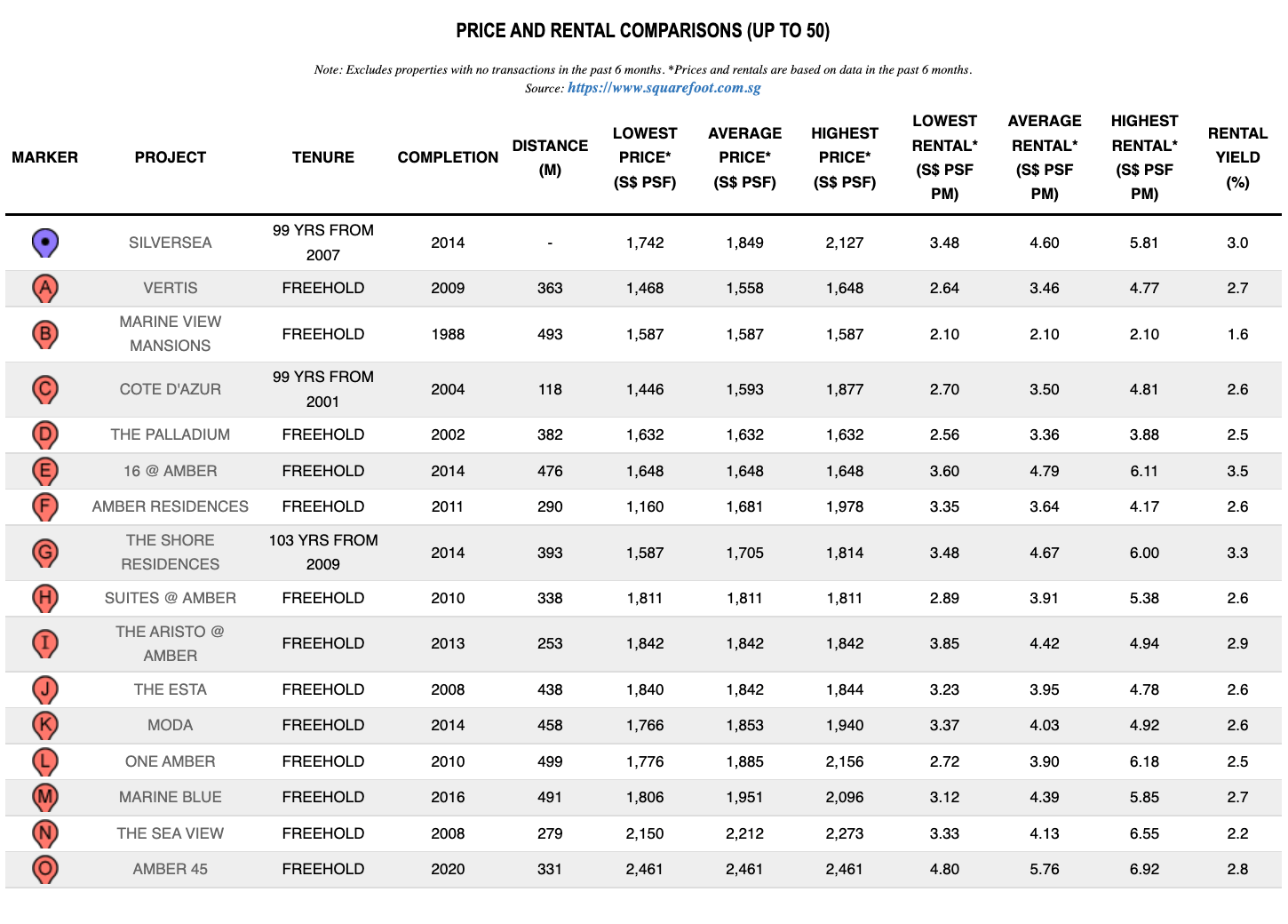 Layout analysis: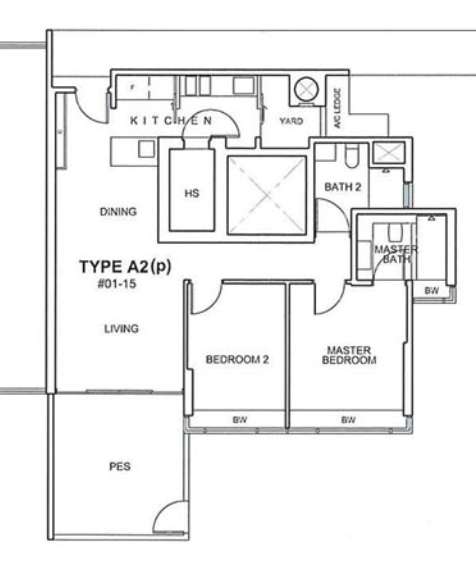 At 1,141 sq ft, it is definitely a good-sized 2 bedder, similar to a 3 bedder unit in recent new launches. With the provision of a wet & dry kitchen with an attached yard added with good-sized bedrooms; it definitely is quite good for an own stay profile of a smaller family. You do get to enjoy a squarish unit layout with a decent-sized living and dining area and a good size PES area which is great for gardening and easy access to the ground-level facilities. The unit also comes with an in-unit household shelter which is great for storage or as a utility room. On the other note, the unit comes with bay windows in both bedrooms and the master bathroom which takes up unnecessary space
Hence this layout caters to those that prefer a lifestyle product; unique as compared to non-PES units. Do note that the rather large PES could make this a harder product to move in the future, especially since those that are willing to pay the prices for Silversea would probably be looking towards having a sea view in their unit.
Paradise Palms:
Paradise Palms is a small boutique development located just off Tanjong Katong Road with rows of shophouses filled with quaint cafes, coffee shops and basic amenities. You can also find more retail options and amenities in Dakota estate and major retail northwards over at Paya Lebar. Connectivity-wise, it is located just 2 bus stops from CCL Dakota MRT station and in terms of road connectivity, you are well connected to major parts of the city since the development is located along a major road, Dunman Road with plenty of bus services.
Despite having 58 units, the developer has done well in providing a decent range of facilities including a 35m lap pool (great size) and a proper Tennis Court – a rarity in most boutique developments. With only 2 and 3 bedder units here added with efficient unit layouts; it is an easy guess which group of buyers it caters to; owner's own stay. Price-wise; it has appreciated well over the years though we must highlight that boutique development which usually has a lower transaction volume may also affect future price appreciation as banks may find it hard to give a fair valuation especially if the last resale transaction has happened a few years ago.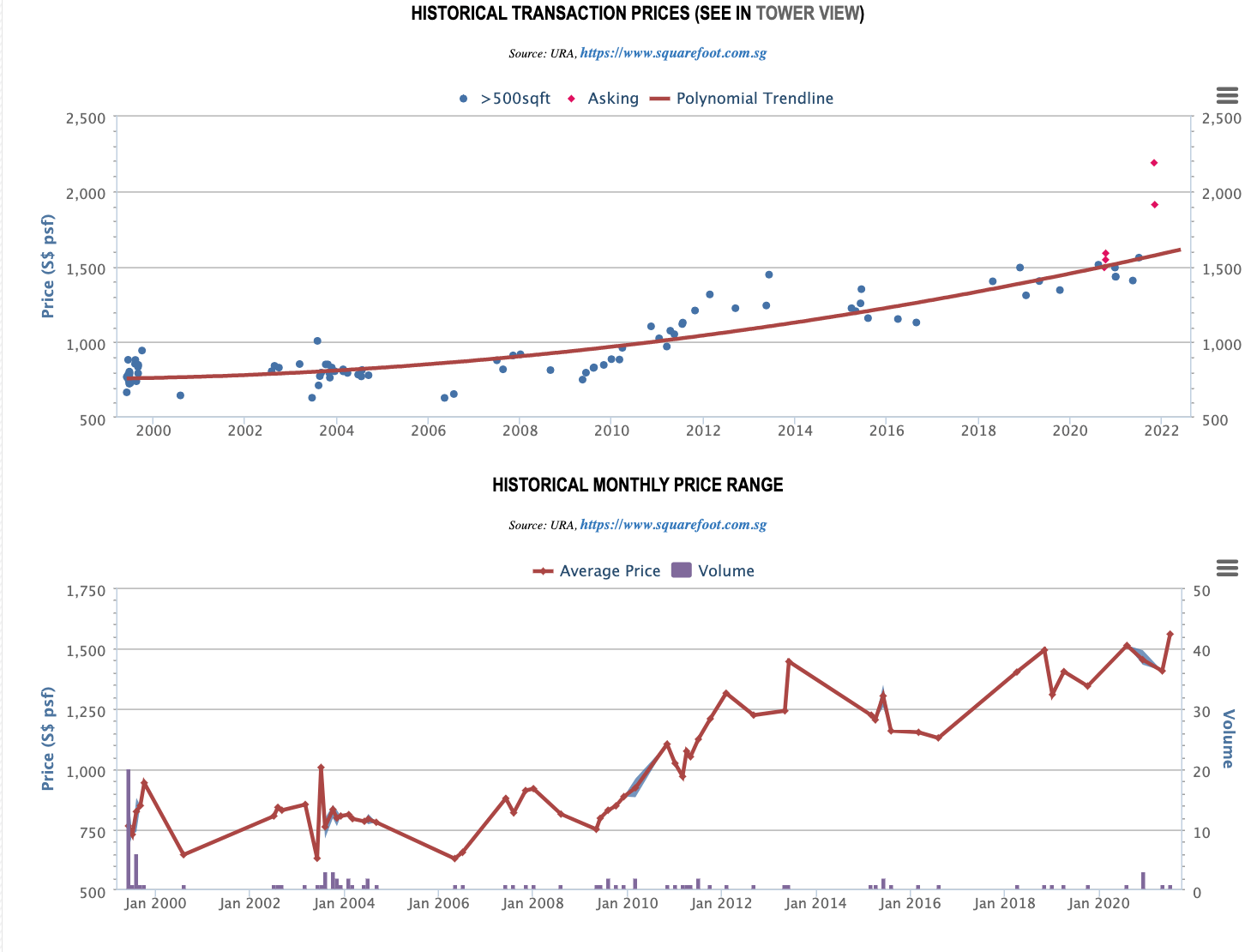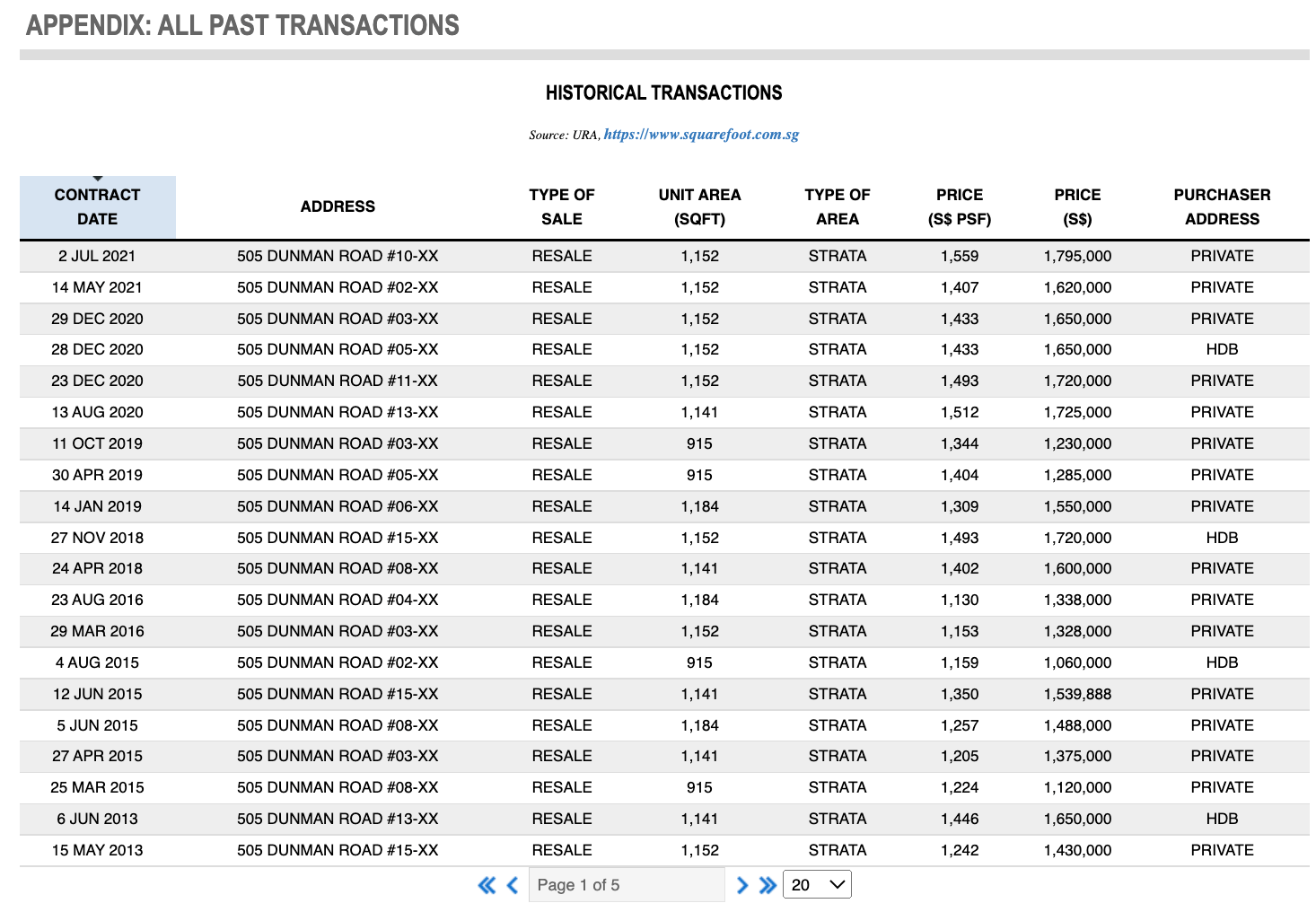 Layout analysis: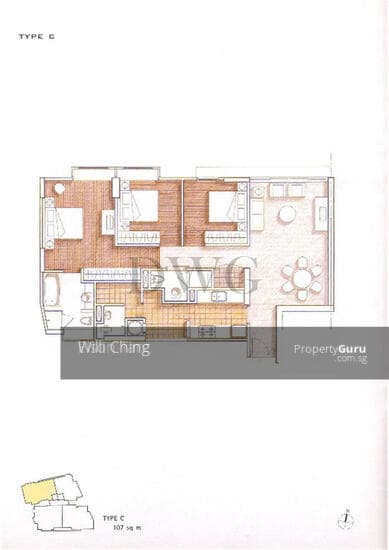 At 1152 sq ft, it is decent and efficient in terms of unit functionality and ticks most of the boxes suitable for a family's own stay profiles. The unit opens up to a small foyer area which acts as privacy from neighbours peering directly into the unit. There's nothing much to complain about the kitchen space, which is acceptable in size with plenty of space on both sides of the kitchen area. Additionally, the unit comes with both a utility room and a proper yard area for laundry. It offers decent-sized living and dining areas though in this case, it lacks a proper balcony area where planters were in place instead. All in all; this layout serves well for a family own stay profile.
Future prospects
As both developments are located in the same district, it shares similar potential when it comes to future exit. Over the years, the district has seen major changes over at Paya Lebar Central with the newly added Paya Lebar Quarters with commercial, residential, and offices with jobs added into the area. In the upcoming years, the area will see the completion of TEL MRT stations along Marine Parade Road, which helps to improve connectivity in the area.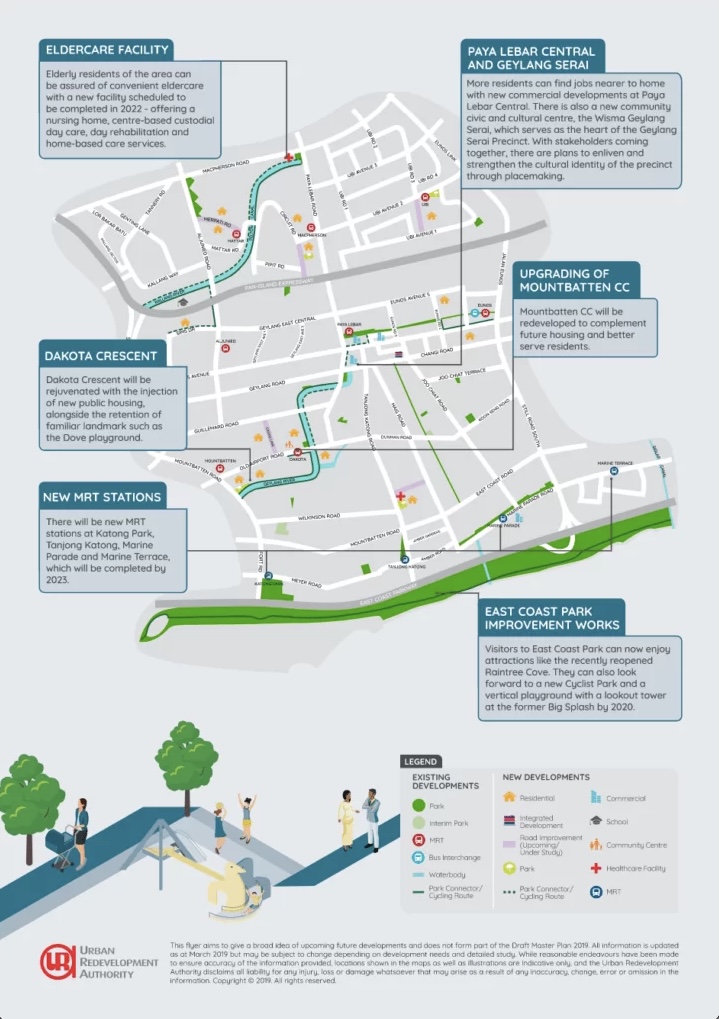 With the two recently sold GLS plots over at Dunman Road and Jalan Tembusu and just a few days back, URA has released the upcoming 2H 2022 GLS list with another development along Jalan Tembusu is in the plan; this will in return add to the competition when it comes to future exit but on the flip side, it could raise the prices of resale developments around as potential buyers may find value in the resale market of the same vicinity – but all this would depend on the supply and future prices set by developers in the future.
2 recently sold GLS: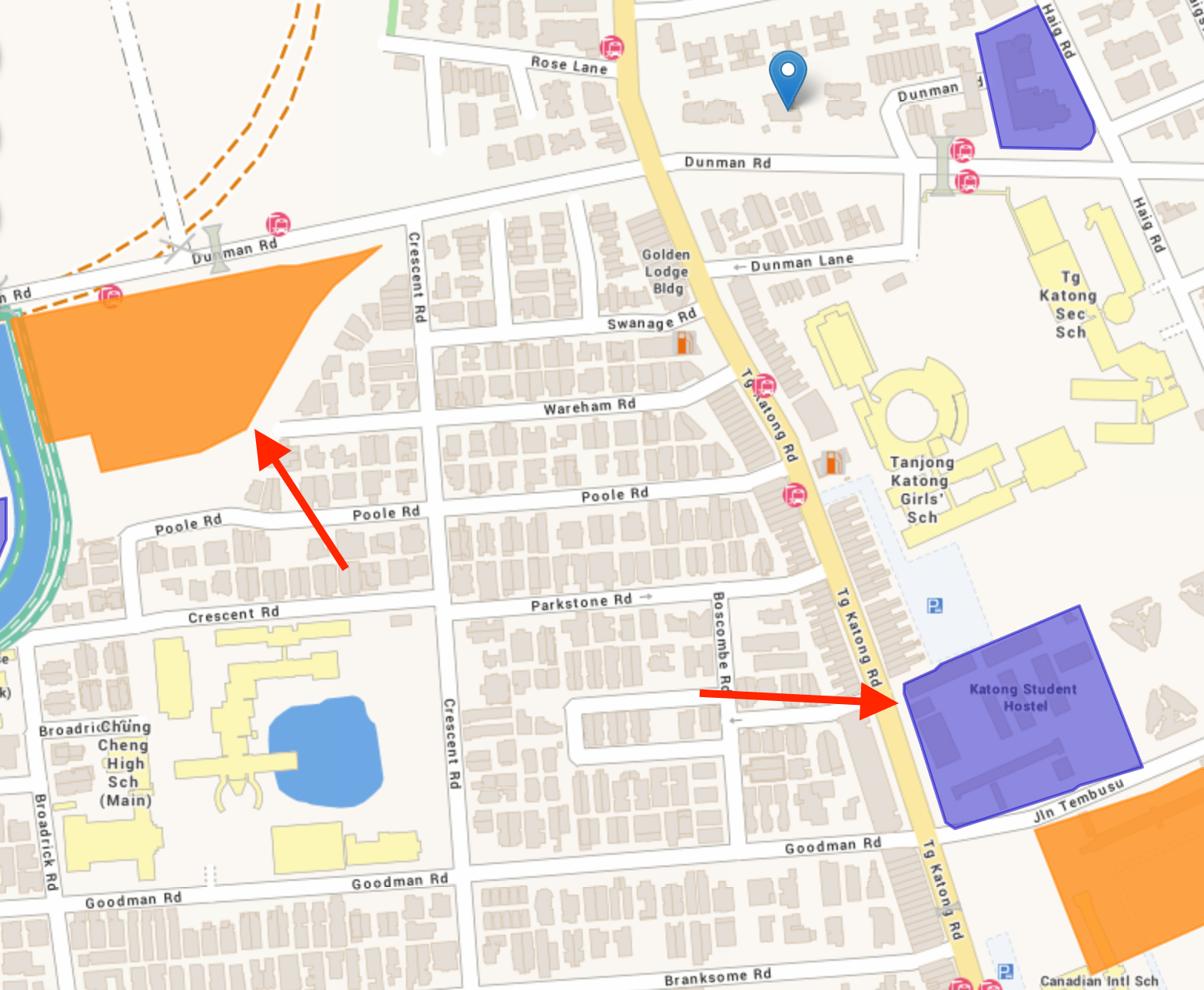 Reserve list GLS: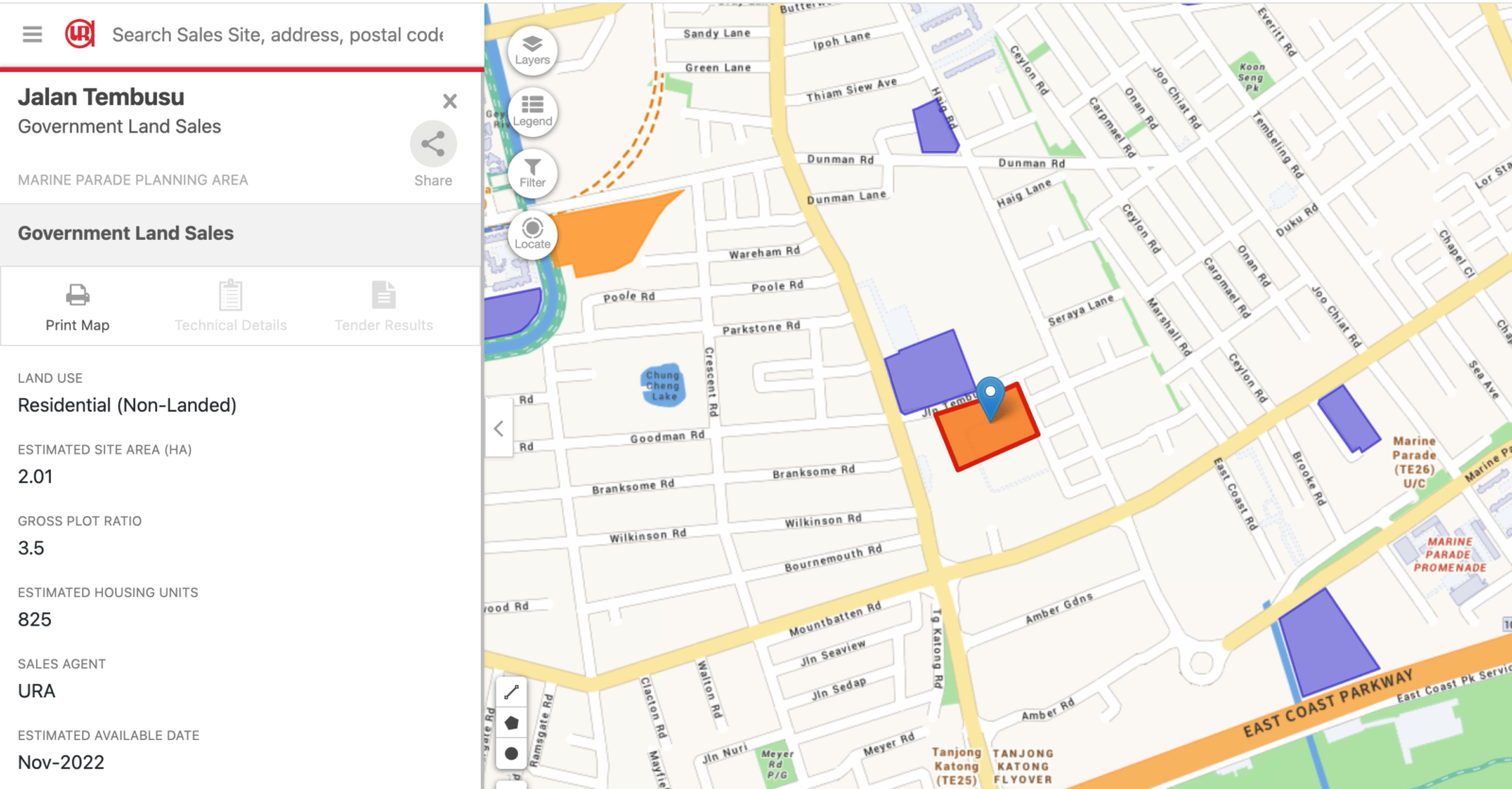 You do also have the Thiam Siew Avenue freehold sites just behind Paradise Palms to contend with. Again, these could be launched at higher prices that could help protect your pricing at Paradise Palms, but if priced well could also affect future demand in the area.
Conclusion:
As mentioned at the beginning, both developments cater to two different groups of buyers.
Paradise Palms would be the better pick for value retention and ticks most of the boxes for you and your family since it offers some degree of convenience for your daughter to her school and for the budget, you could potentially get a proper 3-bedder with an efficient unit layout and more than decent facilities for a boutique development. Since you are looking beyond a 10 years horizon, Paradise Palm will likely remain attractive to buyers that prefer a smaller community as compared to the upcoming new launches or other resale developments in the area. However, do be mindful that as the development gets older it will also be more prone to wear and tear, and more maintenance may be needed.
I would also caution that with Thiam Siew and Dunman there will be a lot of construction in the next few years. Do not discount these disruptions to your lifestyle given how close Thiam Siew is to Paradise Palms. Construction noise can be seriously annoying, and over an extended period of 3 to 4 years can really make or break your living environment as well.
Silversea is more of an emotional buy for its newer facilities offerings and convenience to major retail options over at Parkway Parade as well as the newly revamped Katong i12 and the upcoming TEL Marine Parade MRT station. Silversea will remain attractive for buyers that prefer a full range of condo facilities or the sea view frontage but in this case, the unit that you are interested in is the PES unit type hence catering to a niche group of buyers when it comes to future exit. To be blunt, 2 bedder units here are relatively large but it comes with a hefty price tag and added with its leasehold status; it may not be the best recipe for another price uptick especially since you are looking to exit beyond 2032, where Silversea will be an older leasehold development.
Currently, we are already seeing quite a number of unprofitable transactions with first owners already finding it tough to break even – these are some of the tell-tale where prices may unlikely hold up despite all the new developments in the area.
Of course, this could change depending on future sentiments, but this seems to be the most rational way of looking at things at this current juncture.
Ultimately, it depends on what you prioritise. If being close to the primary school is the most important to you, we do think there could be other choices in the area that could make a more sensible purchase than Silversea. While the 2 bedroom unit does offer everything you might need in an own stay unit, having an additional bedroom could still make it more future-proof and usable especially for a family. You will be paying a higher price here for its facilities and prestige, which then goes back to which do you value more.
Paradise Palms with 3 bedrooms would be a better choice between the 2 in the long run, but again, if school is the main concern, this also might not be the most suitable choice for you (that and the upcoming construction).
With this, we hope that this would prove useful in your decision-making.
Thank you.
Have a question to ask? Shoot us an email at hello@stackedhomes.com – and don't worry, we will keep your details anonymous.
Looking for a home? Feel free to reach out to us here for a more in-depth consultation.
For more news and information on the Singapore private property market or an in-depth look at new and resale properties, follow us on Stacked.