Condo Reviews

The Montana Condo Review: Good Location, Not So Good Facilities
Reuben
April 29, 2020

16

min read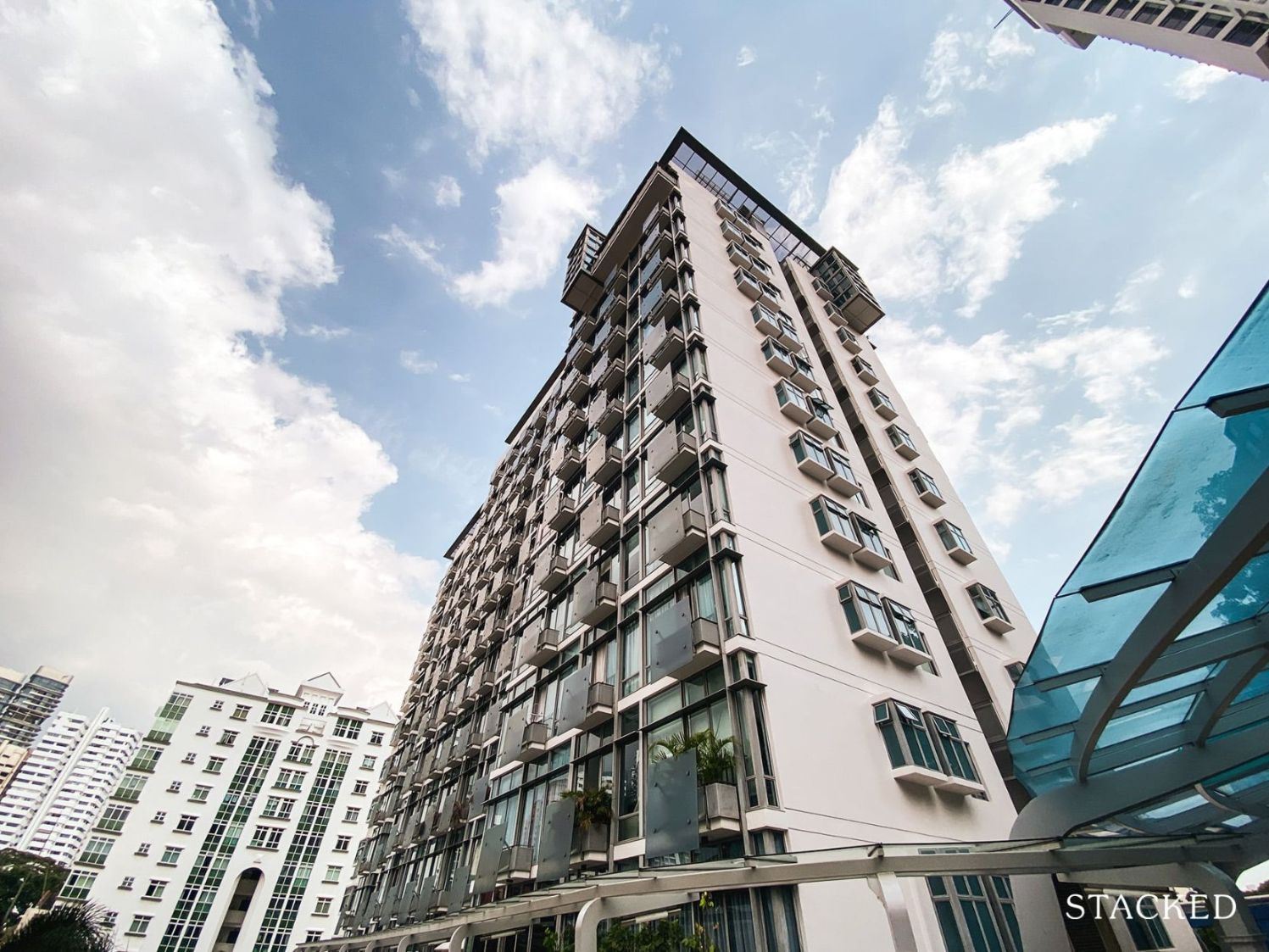 The Montana suits those who desire convenience due to its central location and proximity to the recently revamped Great World City. However, at 18 years of age, this condo is not for those who like something modern. It also doesn't come with a wide range of facilities.
Reviewed by Reuben on April 29, 2020
What we like
Convenient location

Larger than average living spaces
What we don't like
—

Open-air gym

—

Lack of facilities
16
min read
The Montana

| | | | |
| --- | --- | --- | --- |
| Project | Montana | District | 10 |
| Address | Jalan Mutiara | Tenure | Freehold |
| Site Area | 37,848 sqft | No. of Units | 108 |
| Developer | Koh Brothers Development Pte Ltd | TOP | 2002 |
I'm not gonna lie.

The first time I heard of The Montana, I couldn't help but think of cozy wooden cabins, piping hot chocolate and dreamy snow-capped mountains.

Of course, I was quickly brought back to reality when my buddy Jason then continued about how the developers (Koh Brothers) were actually setting aside 63 brand-new units for a 'relaunch' here in Singapore – despite the project having been completed in 2002!

(Imagine my puzzlement at this point)

As it turned out, those 63 (inactive) units were actually owned by an overseas fund – and with the injection of over $50,000-worth of Studiogoto refurbishments/unit, were then marketed out again as 'brand-new' units to attract buyers just as the oversupply of yesteryears hit the market full force.

That conversation took place back in 2013.

5 years later, in 2018, stories of a $1.48million profit from a 4-bedder resale at the Montana hit the news – much to the delight and reaffirmation of those who have long believed in the power/growth of long-term investments.

– The owner had kept his unit for almost 19 years!

Today, The Montana might seem like another condo that is past its prime, so let's take a closer look to see if it can stand up to its competition.

1x Insider Tour + In-depth Analysis coming your way!
The Montana Insider Tour
Facilities in The Montana
Barbeque Area
Gymnasium room
Swimming pool
Playground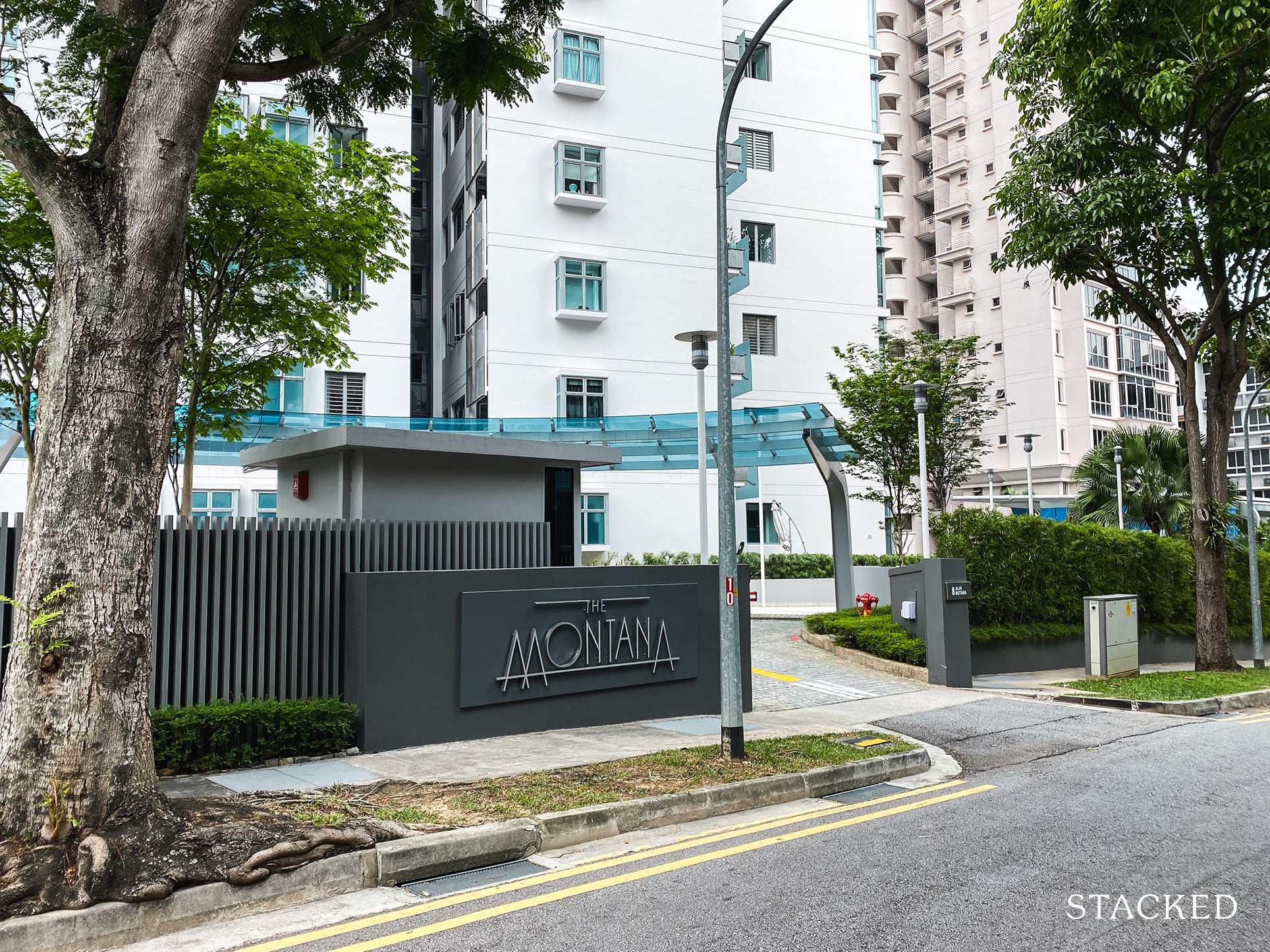 Most people think of River Valley as a place for high end luxury condominiums, and for the most part, that is true. But for me, the developments here are quite clearly split into two different sections. There are the true upscale condos along Leonie, St Thomas and Robertson Quay. And there are more "down-to-earth" developments closer to the Alexandra side – with the separation seemingly Irwell Bank/Kim Seng Road.
The Montana happens to be situated at the more affordable end, with its entrance set along Jalan Mutiara.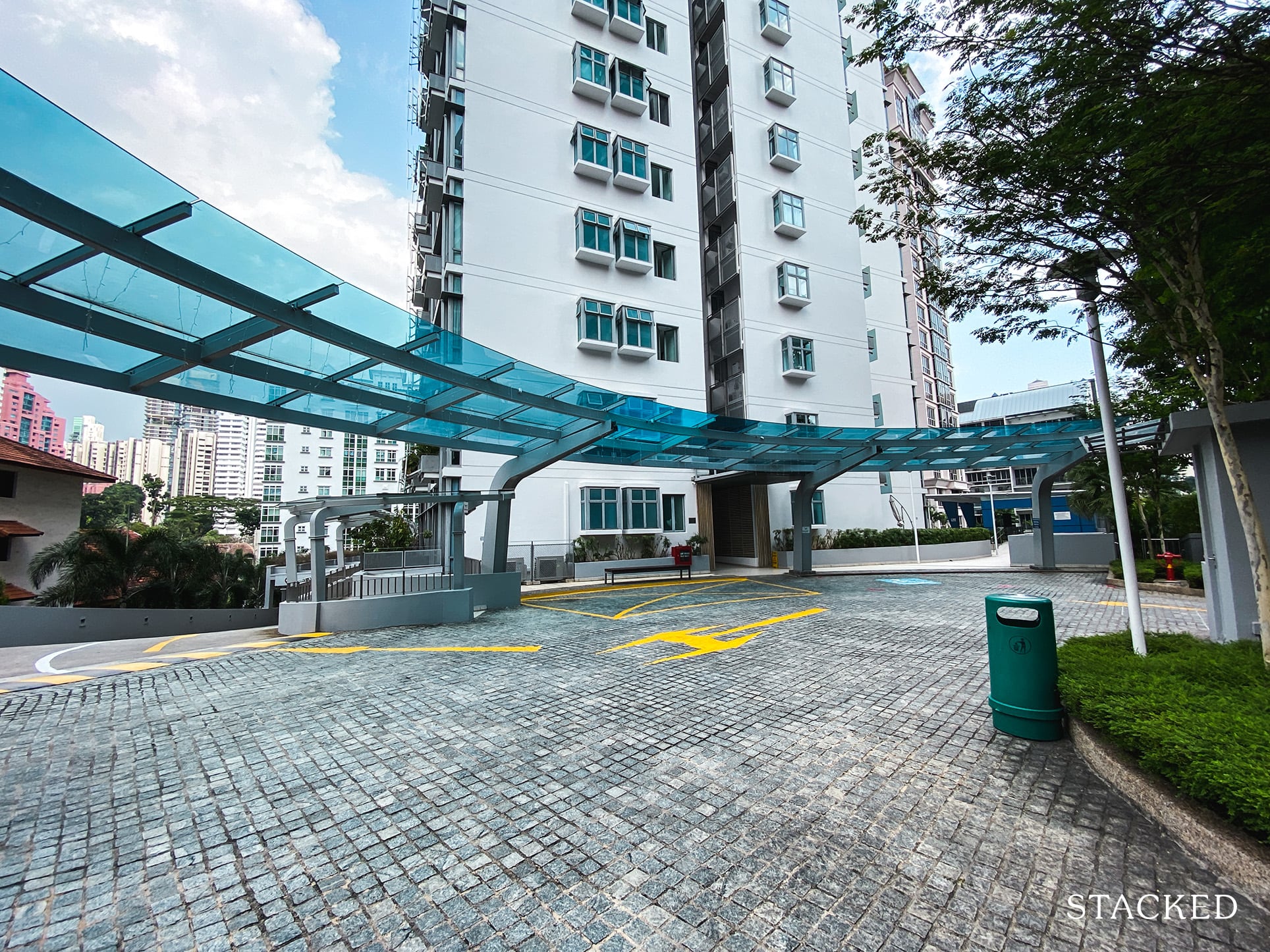 Let's be real – the Montana is not known to be a design powerhouse, but at the very least they have tried to stand out, with this sweeping translucent blue shelter. It extends all the way around the circumference of this half of the roundabout.
Other minor points to note here would be the single lane to drive into the development and the lack of shelter from the guardhouse (which really only affects visitors).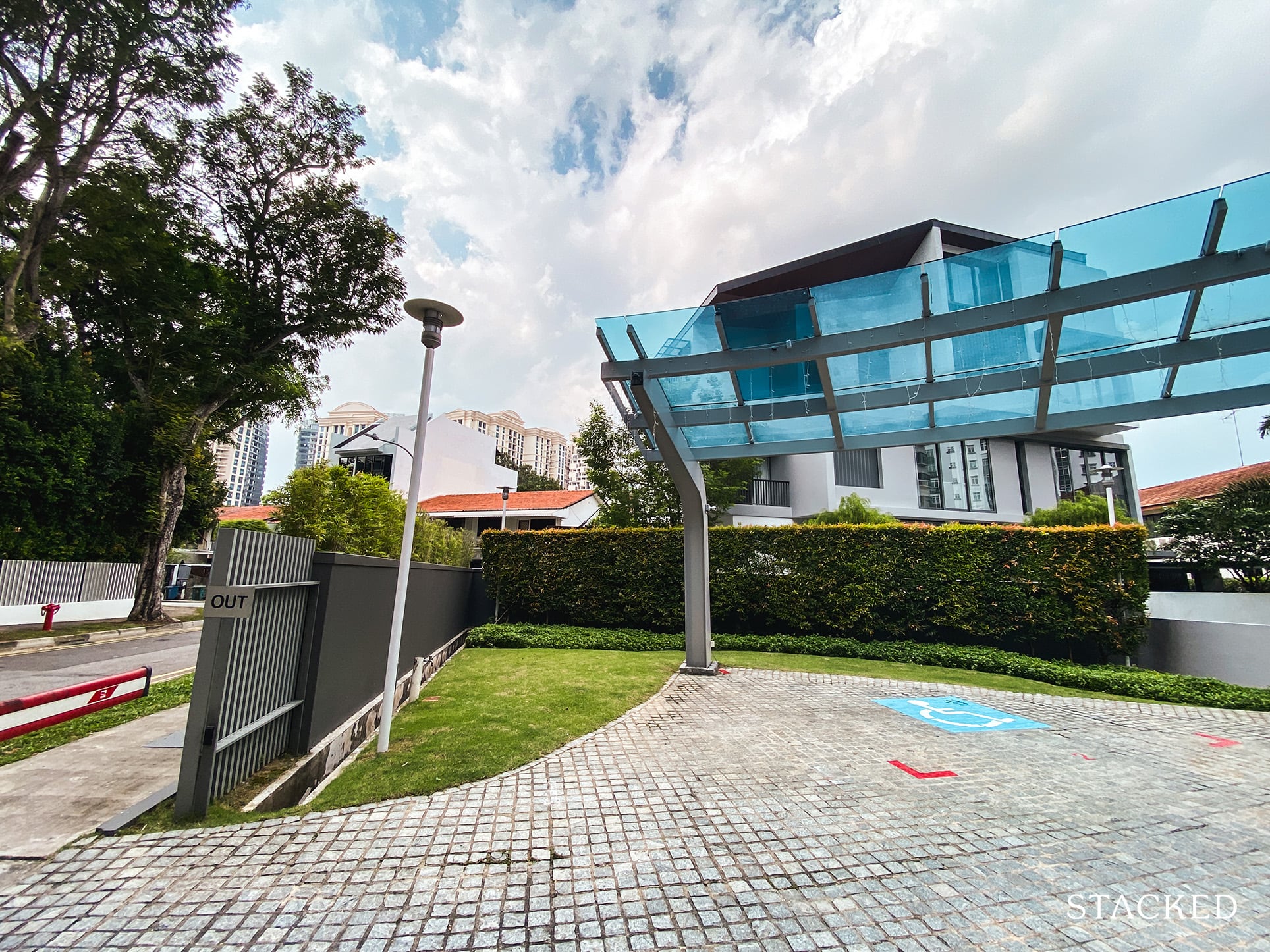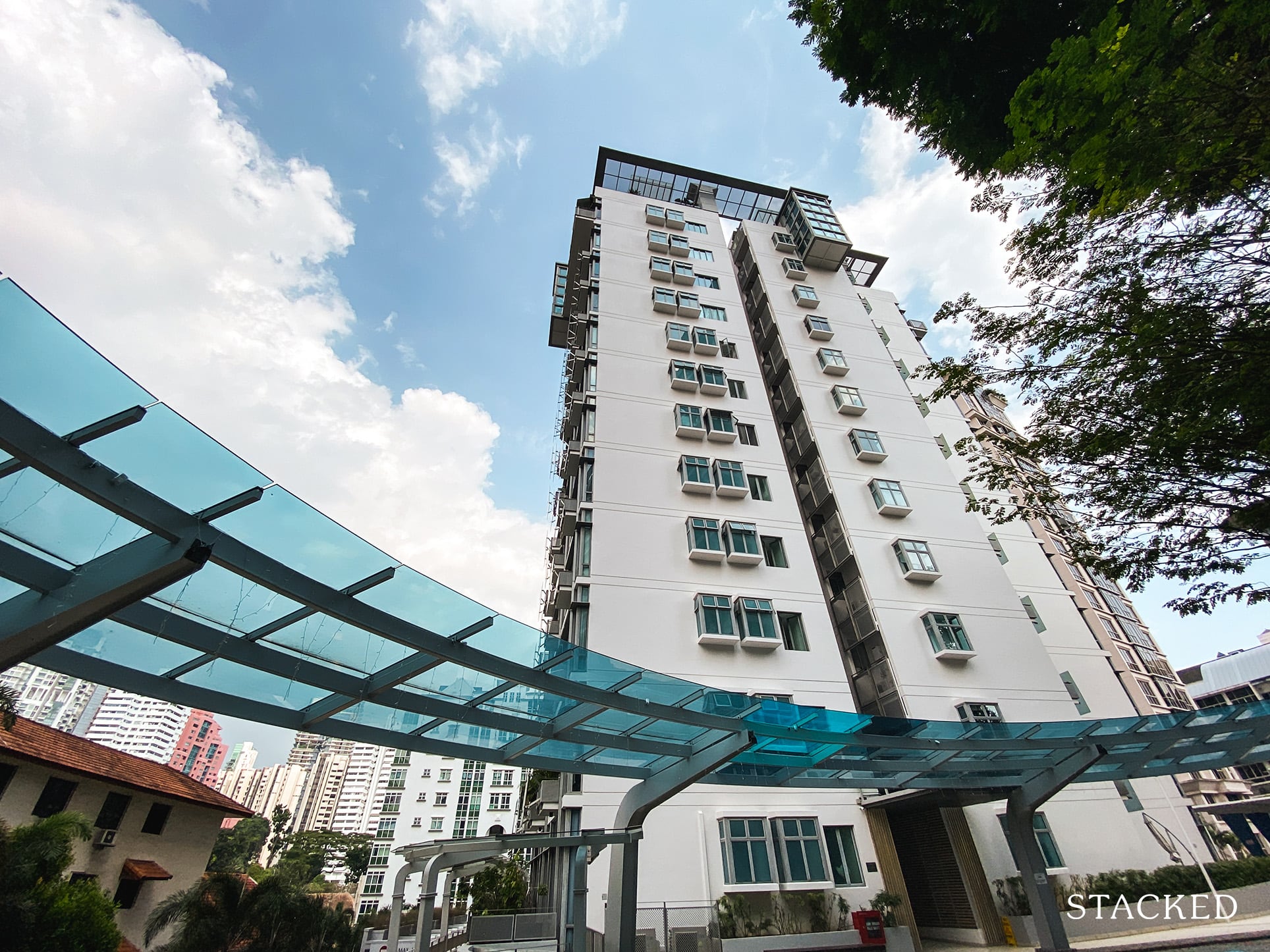 The main lobby itself doesn't give off the greatest impression. There's nothing fancy here, no air-conditioning nor water feature to greet you.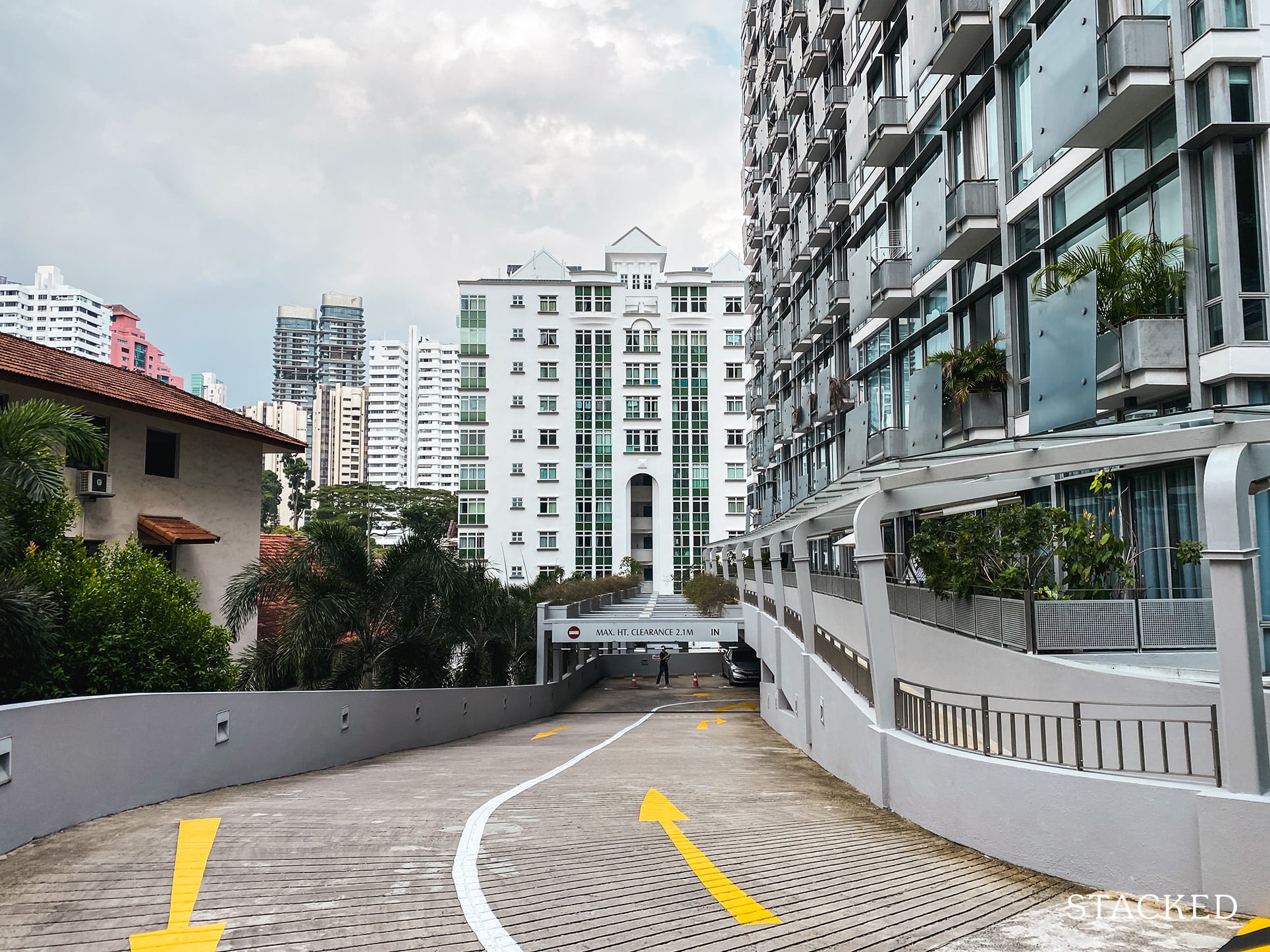 The carpark is actually a multi-storey one but it is located below the first level because of the way the land slopes down.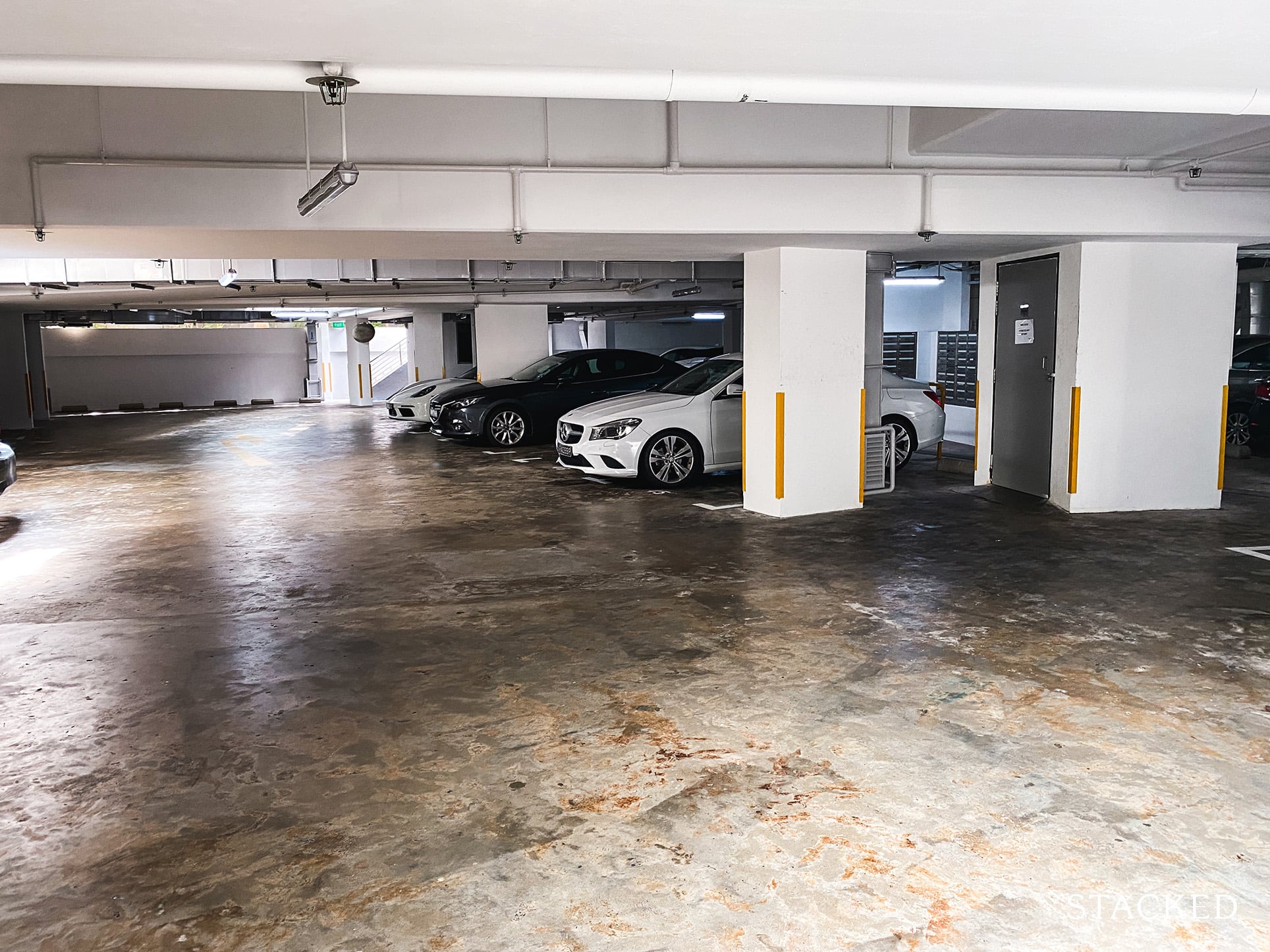 Given its convenient location in River Valley, you can expect that this development would be a popular one with tenants. Based on that and the relatively empty carpark, I think it is fair to draw the conclusion that carpark space isn't an issue here.
For some people, this might not really be a problem. But for me, the carpark lobby was rather dark and dingy, with the white light looking more at home on a submarine living quarters. It was the same story with the lift, hardly a welcoming feeling.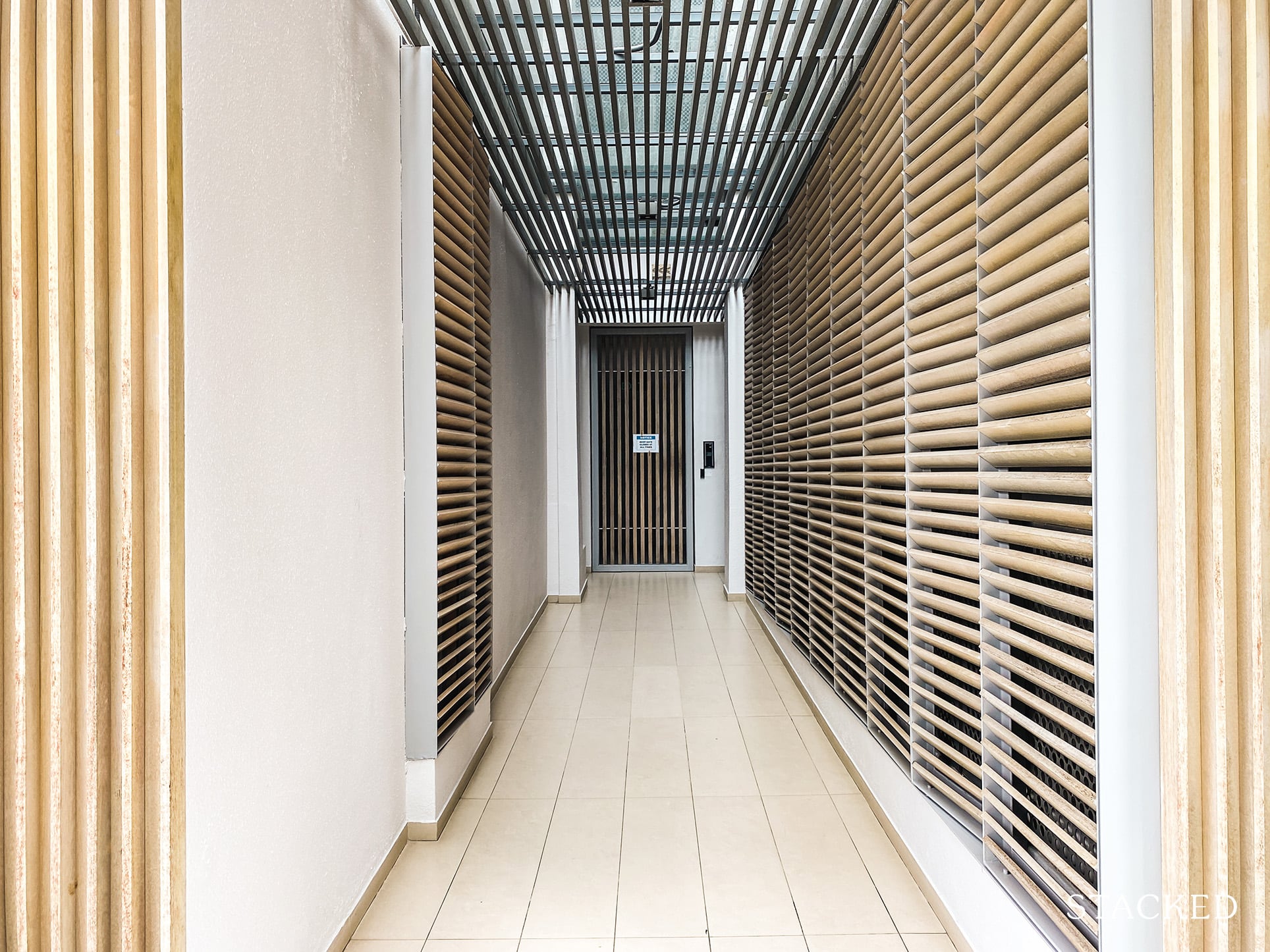 Every point into the building requires a residents key card, which is always a plus security wise.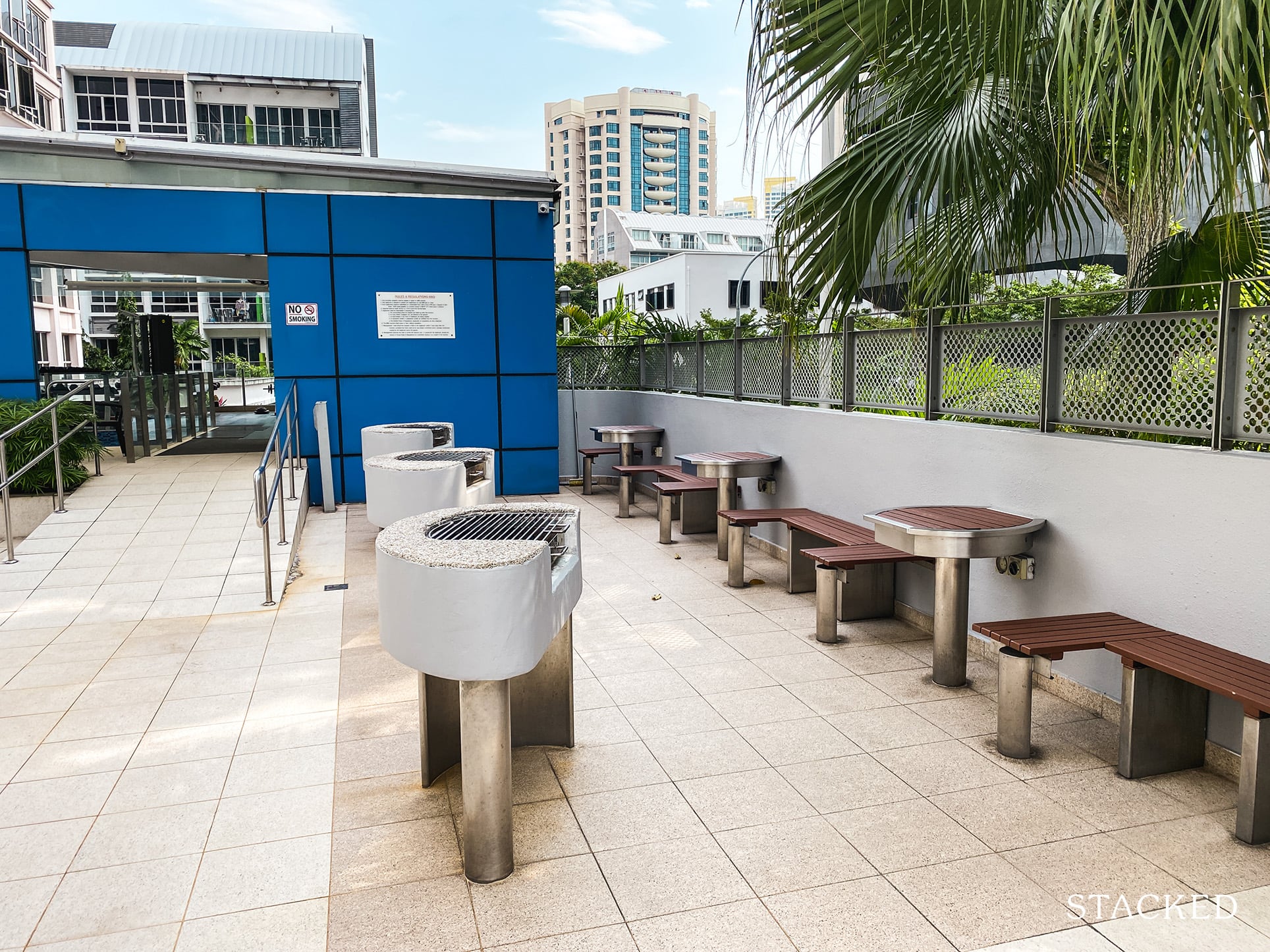 The barbecue area is actually positioned right next to the front of the entrance. Which, in my opinion, is hardly the best place for a barbecue setting. I'm definitely not a fan of the seating here either – it is rigid and doesn't look the most comfortable. Plus, I would say that the number of seating here is quite lacking too.
You probably would want to book out all the pits here too, because they are all positioned too close for comfort if you are holding a gathering. You'd have to provision for a wet weather program too as there isn't any shelter.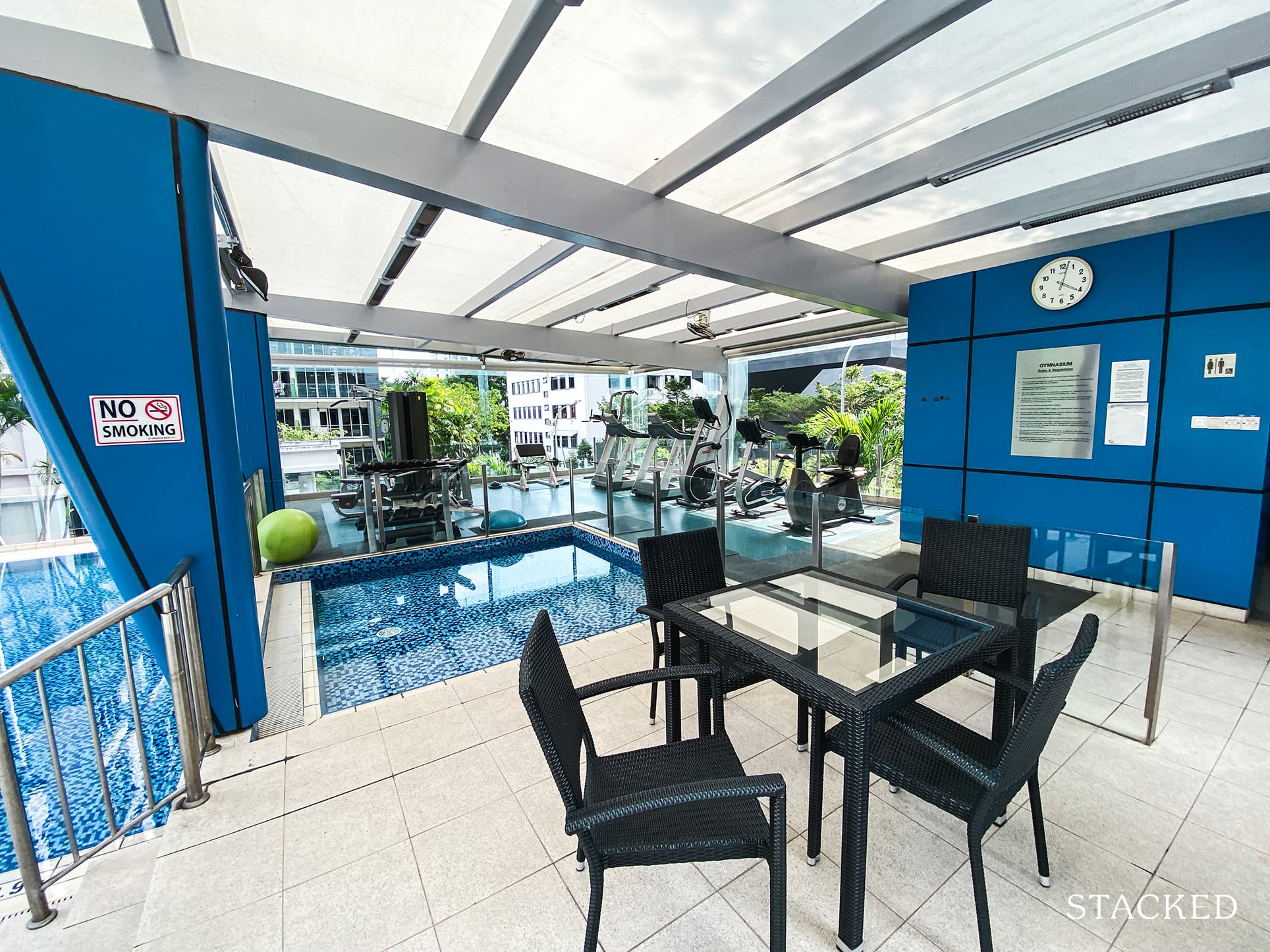 Irrespective of one's feelings on a relaxing environment, I'm sure most people would agree with me that the jacuzzi is in a rather weird spot. While I get the notion that it is meant for a water massage after a strenuous gym sessions, I think in the real world most people use it as a place to while their troubles away. So you could find yourself in a weird spot straddling between people at the gym and those who want to sit by the pool. Perhaps the only positives here is that you can still use it when it rains?
*Editors note: It's been pointed out to us that this is in fact a kid's pool and not a jacuzzi. We are sorry for the oversight.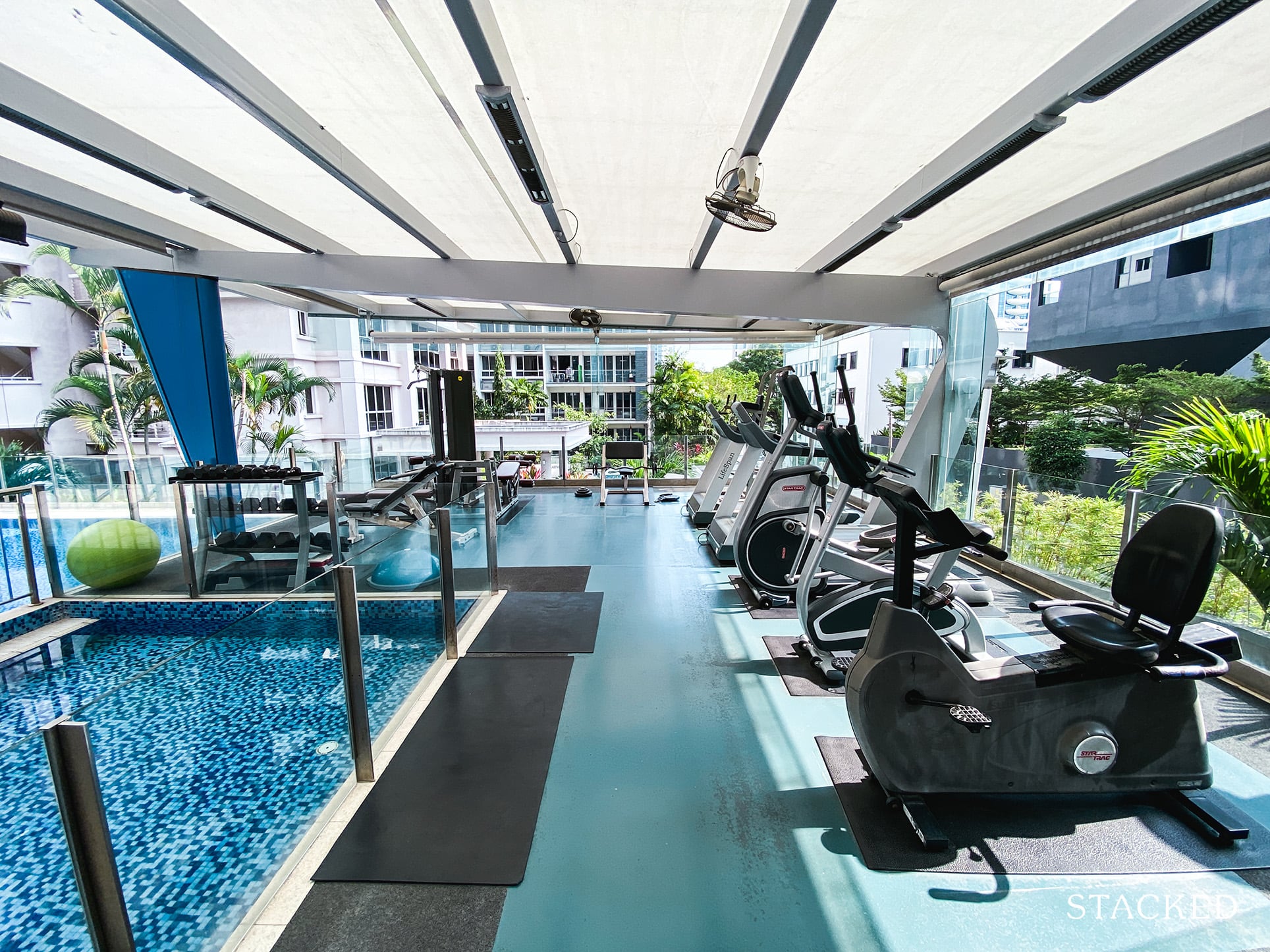 The gym at the Montana is another strange decision for me. It's as if because of the constraints of space they decided to roll a gym and outdoor fitness station all in one. Unless you love the raw, old school way of working out, I can't imagine many people choosing to work out here on a hot day. If there is a cool breeze in the evening I can envision it to be quite nice, but that is really dependant on the time of the year in Singapore.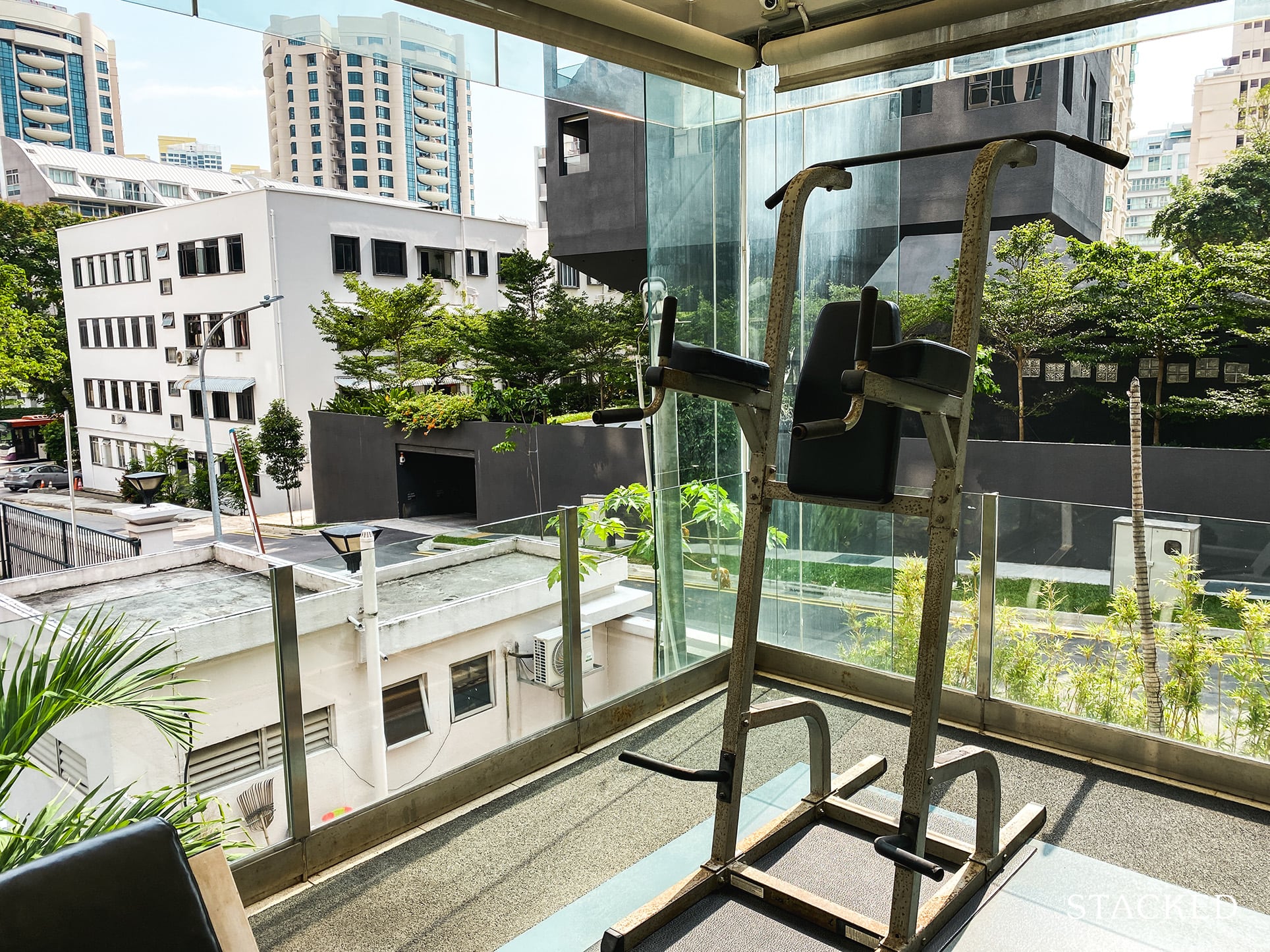 Not to mention, the higher upkeep cost for the equipment because of the higher exposure to the elements – you can see this one rusting already. On the plus side, the equipment level and variety is pretty impressive for a small development.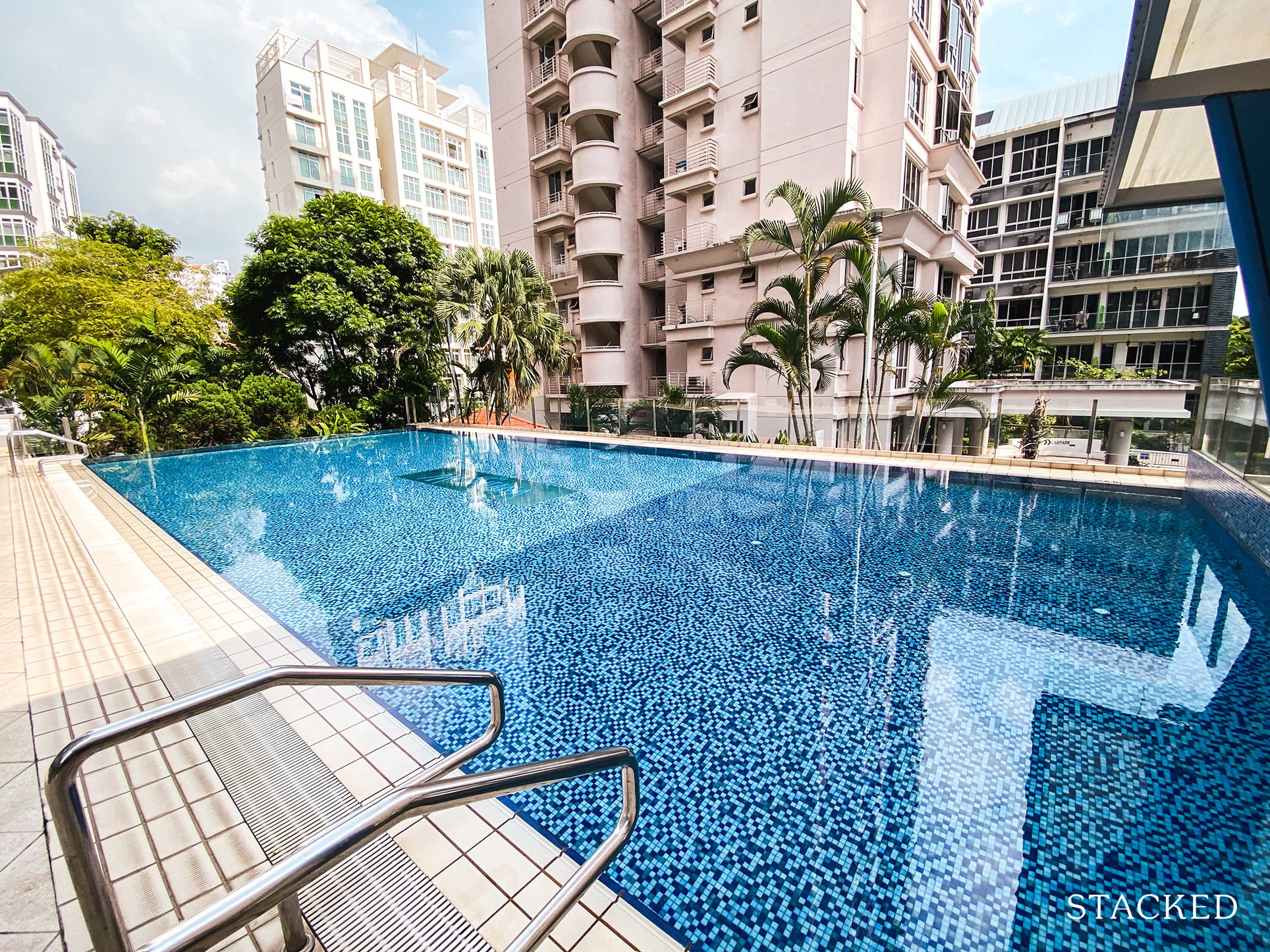 The swimming pool at the Montana is probably the best executed facility in the development. While it isn't the biggest, it is quite decent for the size of the condo. I like the infinity edge that looks out towards the greenery on the far end of the pool as well.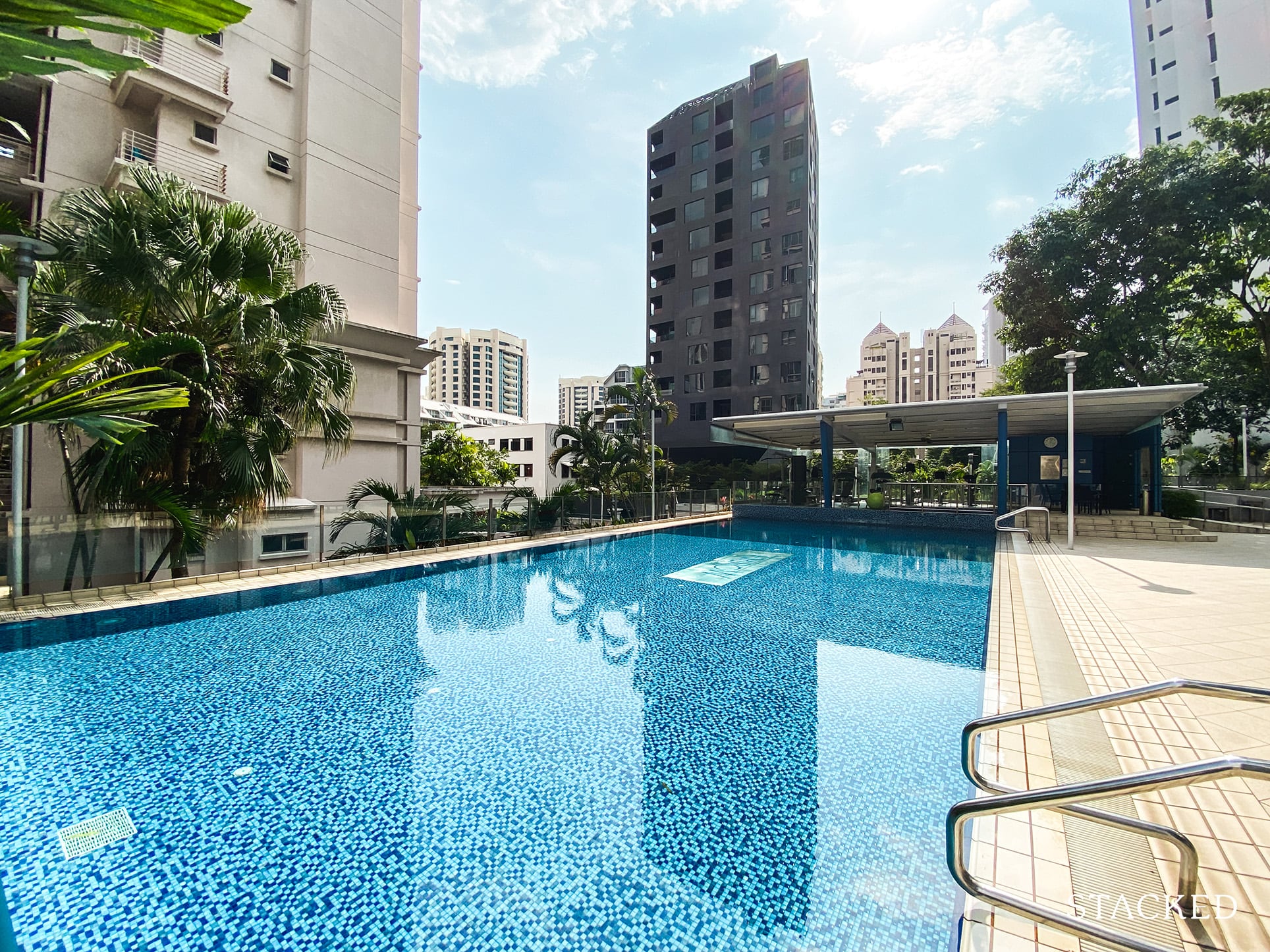 Given the open-aired nature of the gym, you can probably get a quick work out in before plunging straight into the pool from the gym.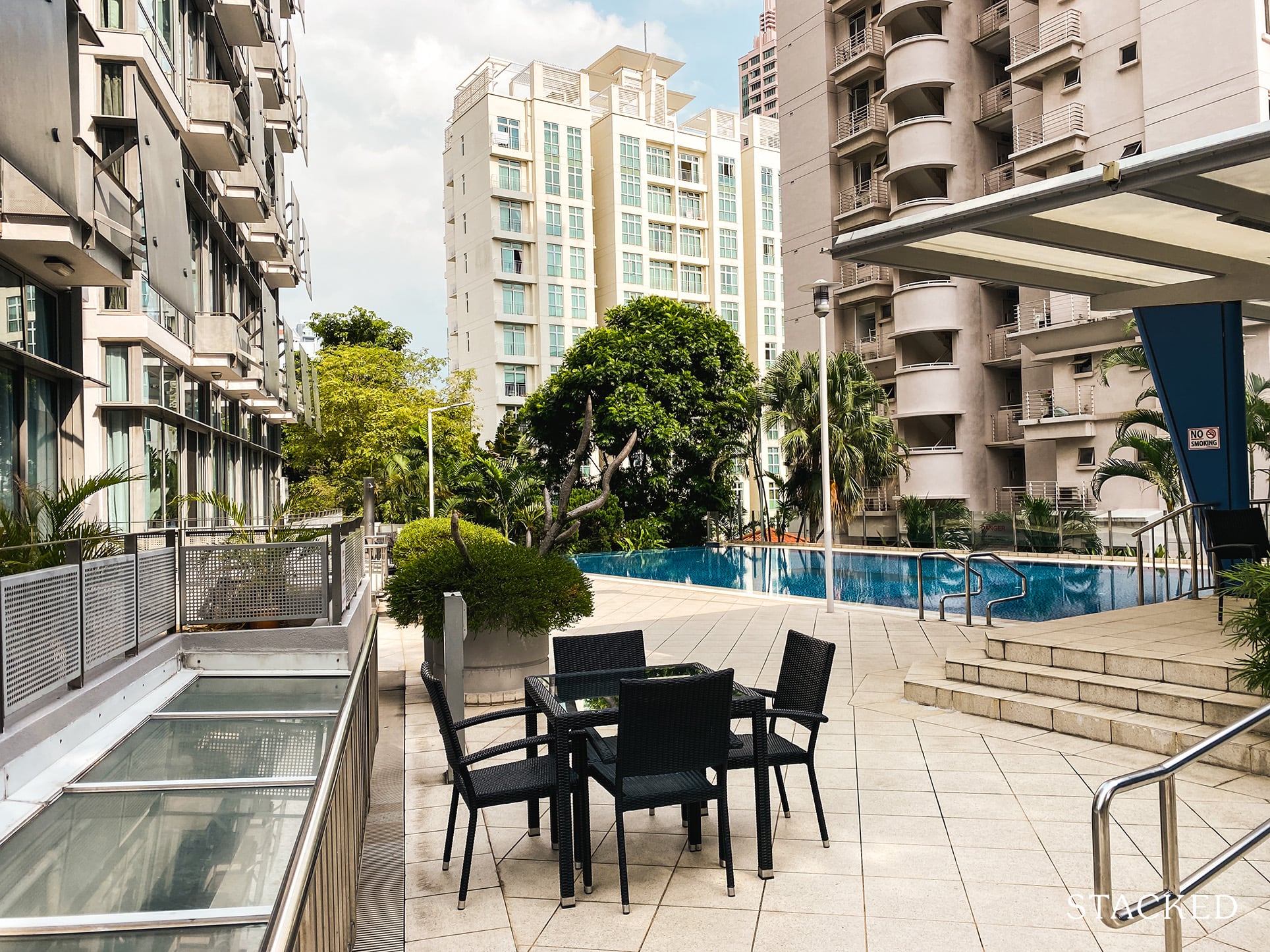 Poolside wise there isn't anything to write home about. It's just ordinary seating, not deck chairs here to relax in.
*Editors note: Again, apologies for the oversight. There is in fact a few deck chairs behind the hedges.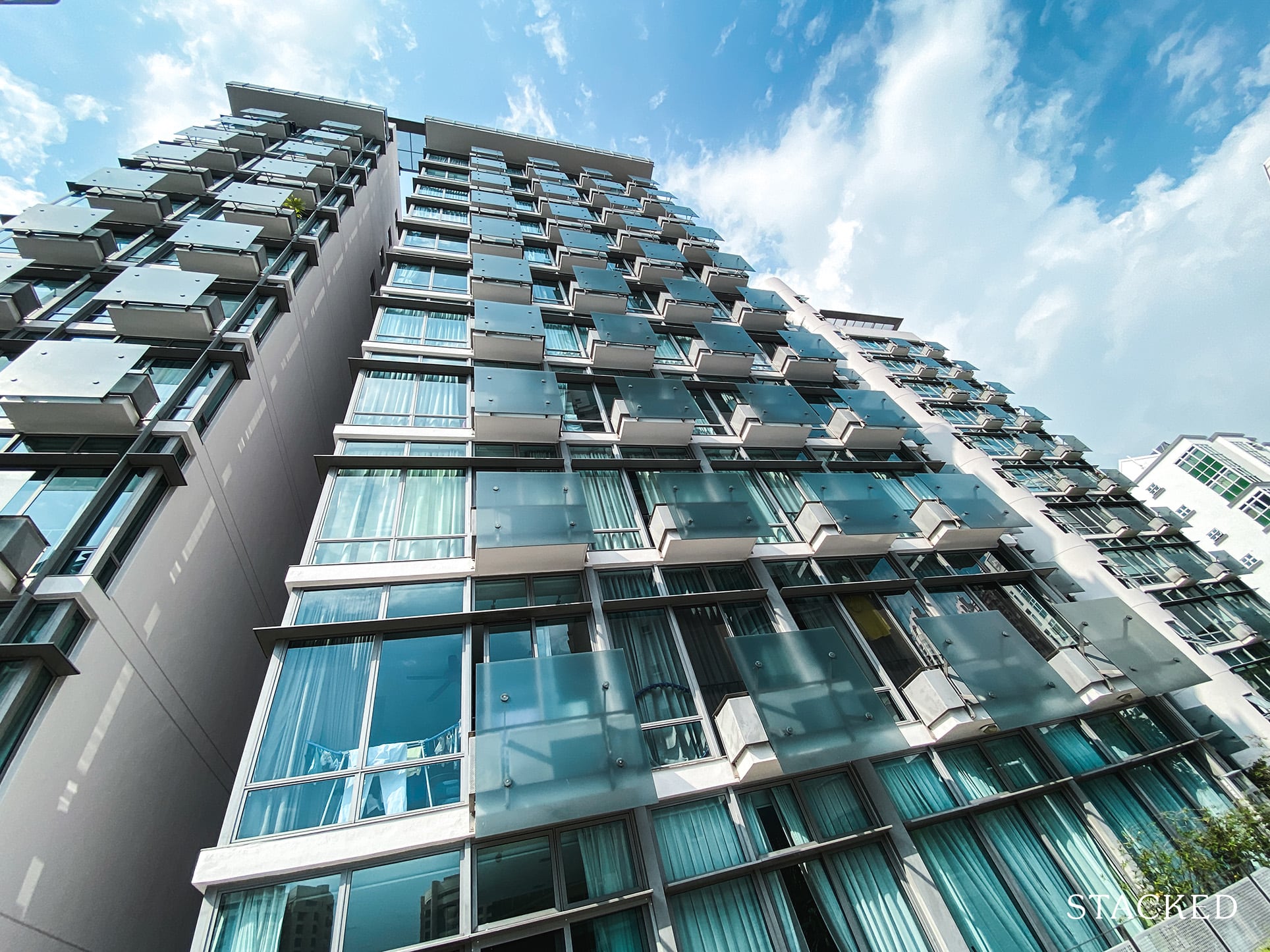 The exterior of the Montana is characterised by the square glass pieces that acts as the protection for the balcony. Well, to be clear it's more of a planter if anything. For those people who value indoor spaces and shun the outdoors will definitely be fans of this bit.
Rounding up the list of facilities, there is a children's playground located near the bottom of the carpark. It looks fresh and barely utilised, and I think the inclusion of the carpet grass is a great thing to have. Given the size of the development, this is quite a big space dedicated to it.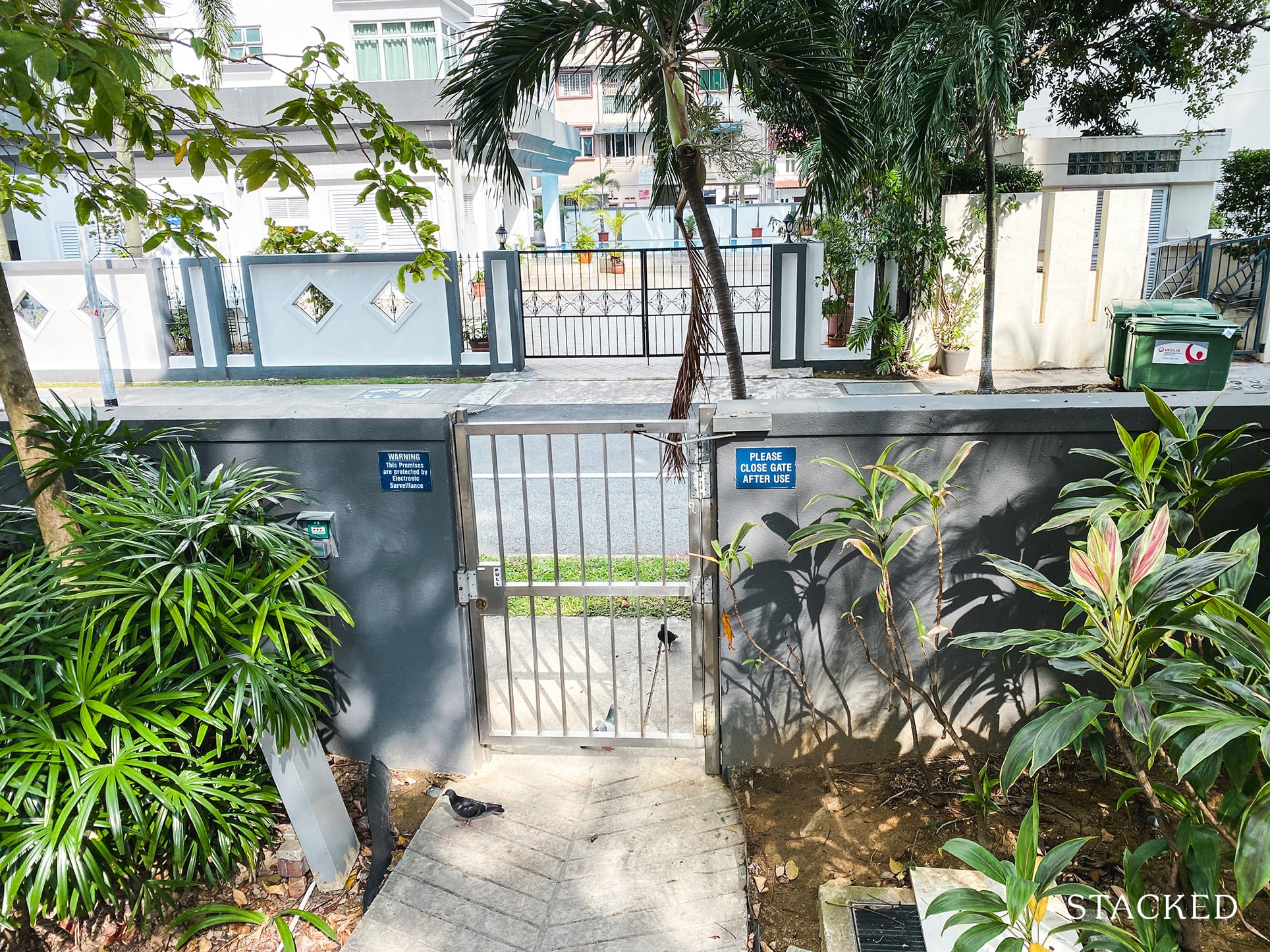 Just beyond the playground is the side gate that leads you to Kay Poh Road, which is the quickest way for you to get to Great World City and the upcoming MRT station.
Read this next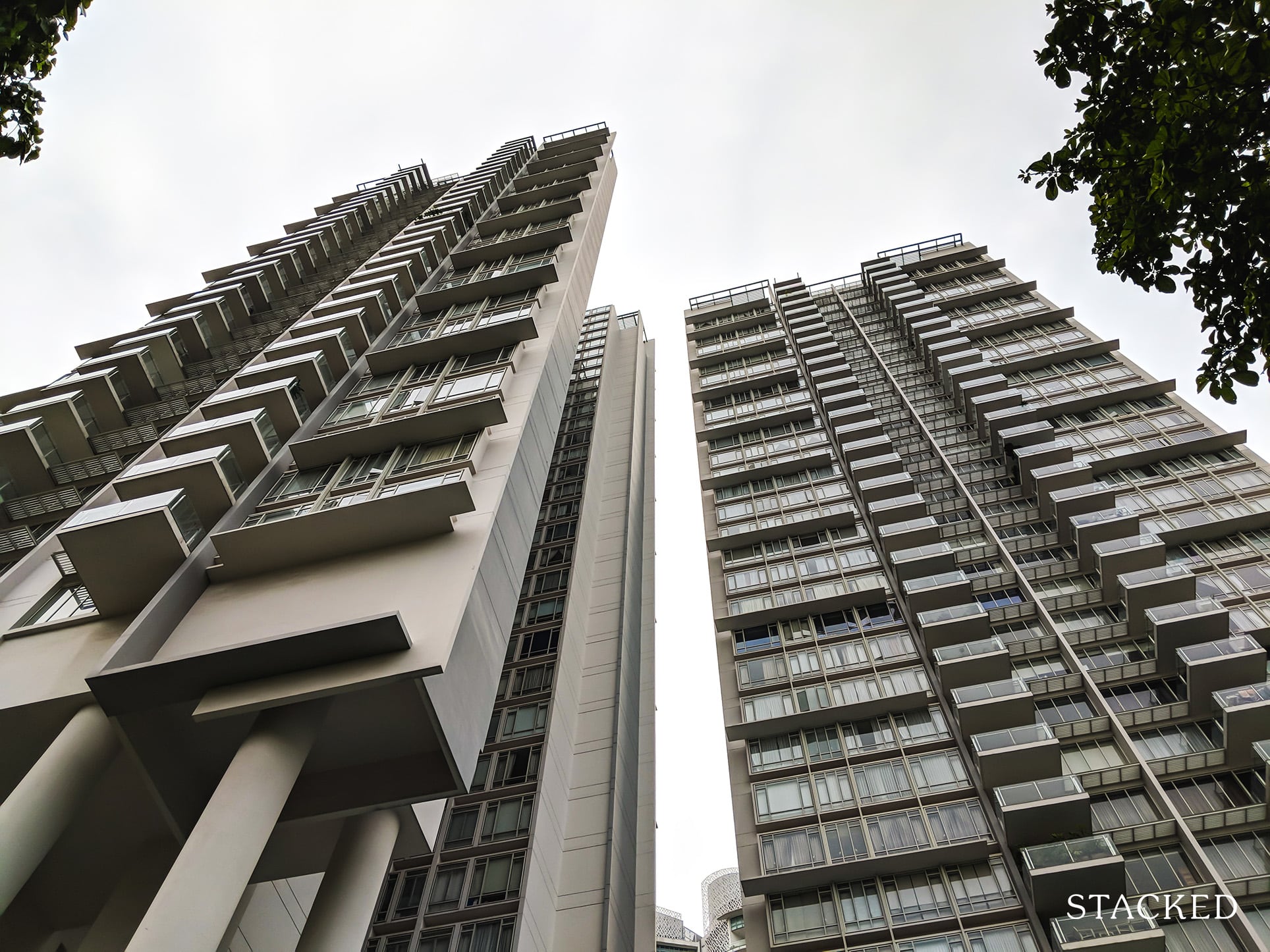 The Montana Location Review
The Montana is situated right in the heart of Singapore between Kay Poh Road and Jalan Mutiara.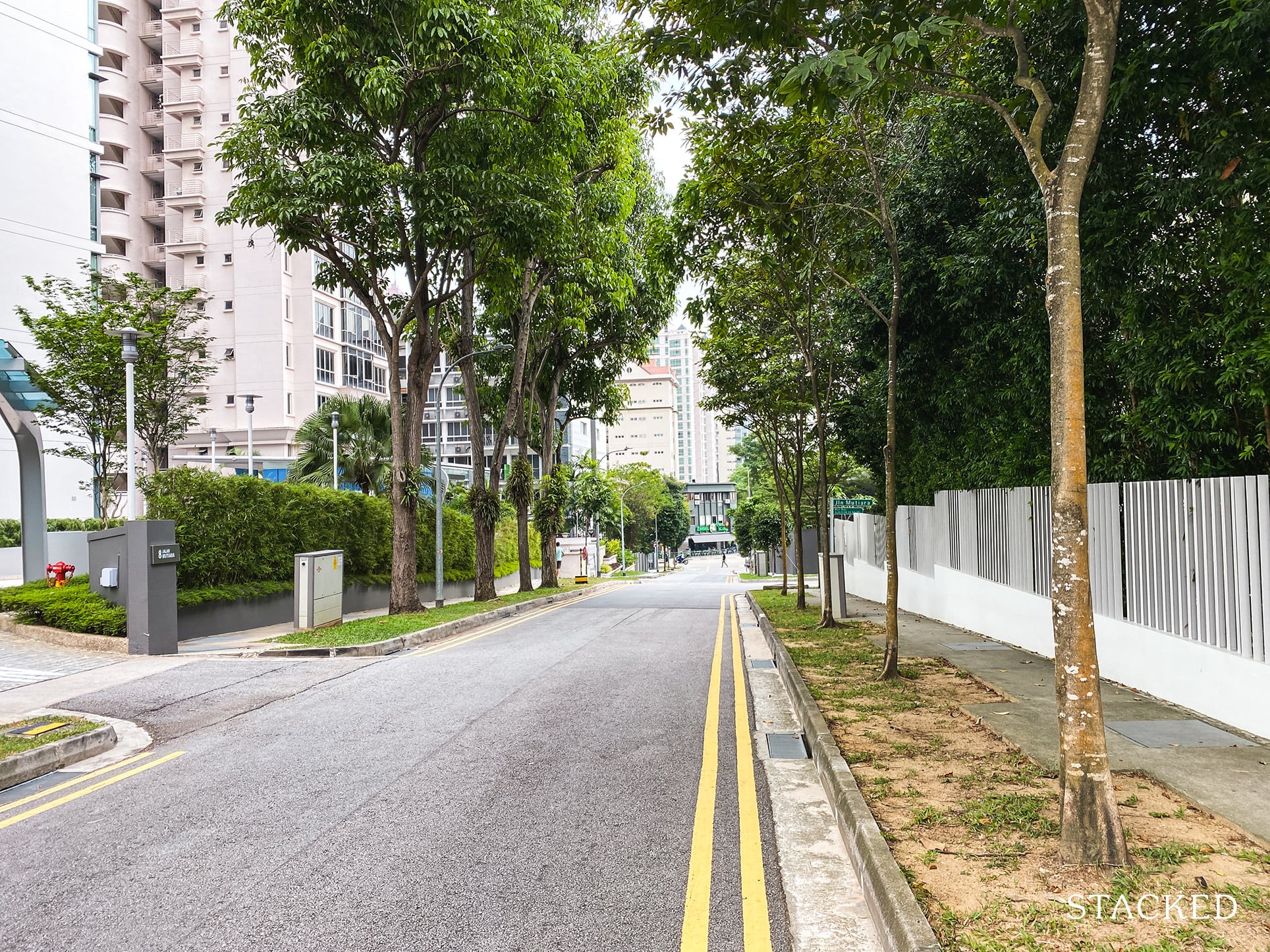 It is bordered on 3 sides by a number of older private residentials, including the likes of Latitude, RV Suites, The Aston and Kasturina Lodge.

So while it's admittedly true that not everyone will be getting this lovely panoramic view we're talking about, a bulk of those who get their hands on a unit facing the Kay Poh Road Baptist Church will find a stretch of low-rise developments in the 2-300m radius that lies ahead – and more importantly, the rare central panorama that comes with it.

Public Transport

| | | |
| --- | --- | --- |
| Bus Station | Buses Serviced | Distance From Condo (& Est. Walking Time) |
| 'Stellar Rv' | 32, 139, 970 | 210m, 2-min walk |
| 'Rv Residence' | 14, 32, 65, 139, 970 | 230m, 3-min walk |
| 'Aft Zion Full Gospel Ch' | 1N, 2N, 3N, 4N, 5, 5N, 6, 6N, 14, 16, 16M, 54, 65, 75, 175, NR6 | 450n, 5-min walk |
Closest MRT: Orchard/Somerset/Tiong Bahru/Redhill MRT – 1.5km, 18-minute walk

I haven't seen this in a while, but the Montana is smack in the middle of 4 key, central MRT stations.

That being said, it is quite the walk to any of them, so the logical alternative would be to hop on a bus en route to the stations. Here's how.

'Aft Zion Full Gospel Ch' bus-stop:

Orchard MRT – Buses 14/16/175/5/54/65 (2-min ride, 8-min walk)
Somerset MRT – Buses 14/16M/175/65 (8-min ride, 9-min walk)

'RV Residence' bus-stop:

Redhill MRT – Bus 32 (8-min ride, 4-min walk)

'The Trillium' bus-stop:

Tiong Bahru MRT – Bus 5, 16, 16M (9-min ride, 8-min walk)

Now another thing that caught my eye was the number of 'Night Owl' buses present here – 7 to be exact. Wonderful for those working night shifts or enjoy the occasional night-out.

For those working in the CBD, Raffles Place is a 16-min ride away (bus 970) from the 'Stellar RV' bus stop.

Private Transport
| | |
| --- | --- |
| Key Destinations | Distance From Condo (& Est. Peak Hour Drive Time) |
| CBD (Raffles Place) | 3.9km, 12-min drive |
| Orchard Road | 1.8km, 8-min drive |
| Suntec City | 3.8km, 12-min drive |
| Changi Airport | 24.1km, 26-min drive |
| Tuas Port (By 2040) | 37.5km, 45-min drive |
| Paya Lebar Quarters/Airbase (By 2030) | 15.4km, 25-min drive |
| Mediapolis (and surroundings) | 5.7km, 15-min drive |
| Mapletree Business City | 5.4km, 15-min drive |
| Tuas Checkpoint | 27.2km, 32-min drive |
| Woodlands Checkpoint | 20.7km, 30-min drive |
| Jurong Cluster (JCube) | 15.4km, 22-min drive |
| Woodlands Cluster (Causeway Point) | 32km, 21-min drive |
| HarbourFront Cluster (Vivo City) | 4.1km, 12-min drive |
| Punggol Cluster (Waterway Point) | 22.5km, 29-min drive |
*Note that Drive Times are calculated during Peak Hours

Immediate Road Exit(s): 1 Exit along Jalan Mutiara

Summary: High possibility of congestion at Jalan Mutiara (one-laned) due to its length and as it's shared with a number of private residential/property owners. There is a yellow box exit onto River Valley Road (thankfully) which then opens up a number of avenues to various nodes.

Groceries

| | |
| --- | --- |
| Name of Grocery Shop | Distance From Condo (& Est. Walk Time) |
| Little Farms | 500m, 6-min walk |
| Cold Storage Fresh – Great World City | 600m, 8-min walk |
| Asian Home Gourmet | 600m, 8-min walk |
| FairPrice Finest – Valley Point | 700m, 9-min walk |
Schools

| | |
| --- | --- |
| Educational Tier | Number of Institutes |
| Preschool (within 1km walk) | 1 |
| Primary (3km-drive) | 5 |
| Secondary (3km-drive) | 4 |
| International School (3km-drive) | 7 |
| Junior College (5km-drive) | 0 |
| University (5km-drive) | 5 |
| Polytechnic (10km-drive) | 2 |
Additional Pointers

Punggol has the Punggol Waterway, Harbourfront has Keppel Harbour…River Valley has?

The Singapore River!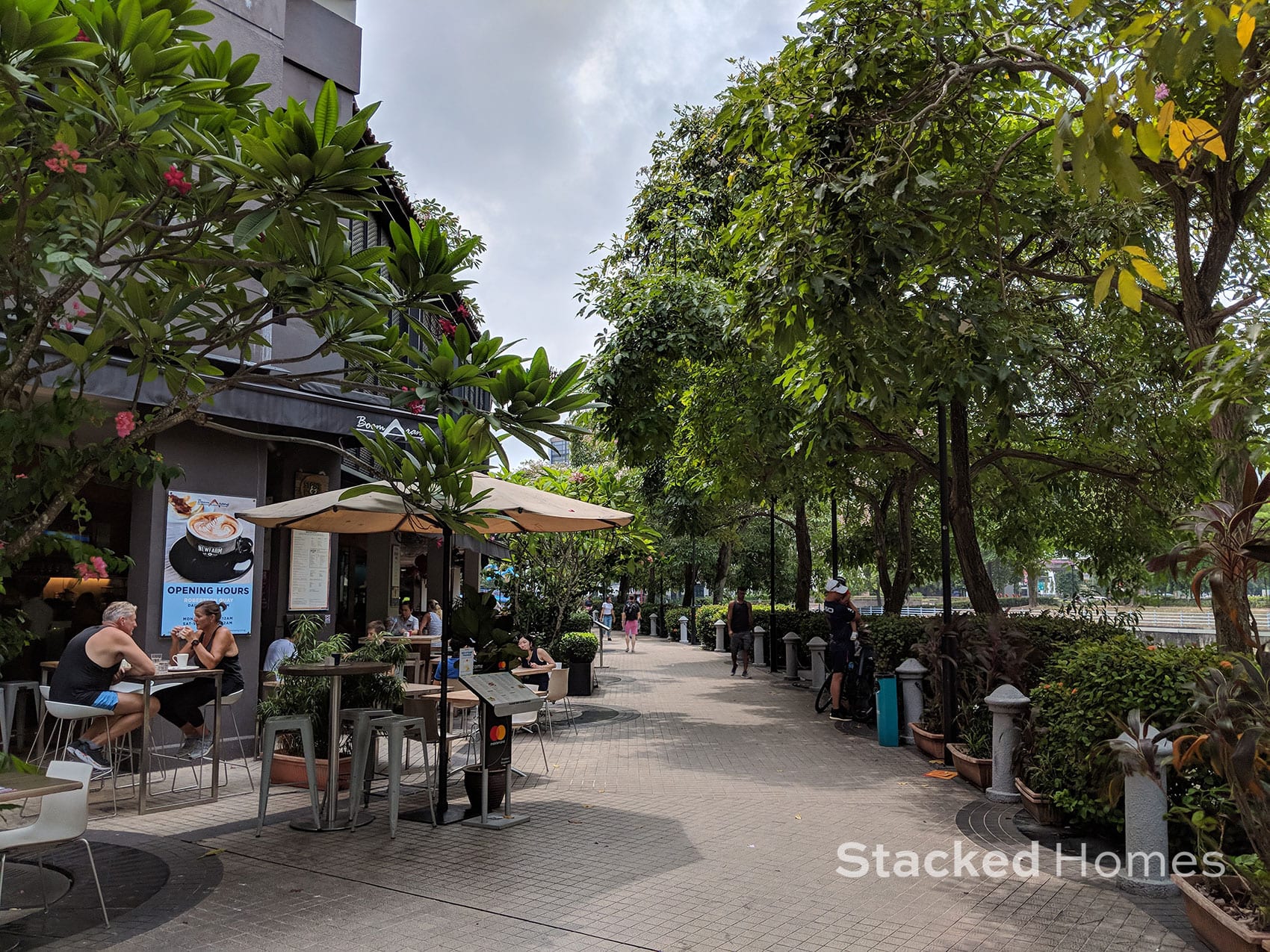 Granted, the river isn't going to turn many heads in itself (save from a number of crazy jogging enthusiasts) – but it does come with its fair share of adjacent hotspots.

The Singapore River is about 6-8 minutes walk from The Montana, and if you were to follow its meandering path for a bit, you'll end up at the infamous Jiak Kim Bridge (hello my dear Zouk buddies), as well as the subsequent bars and restaurants that line the area.

Shopping/Entertainment Extravagance
It's a no brainer that many prefer to live in the central (read: uptown) areas of Singapore for the transport convenience it brings.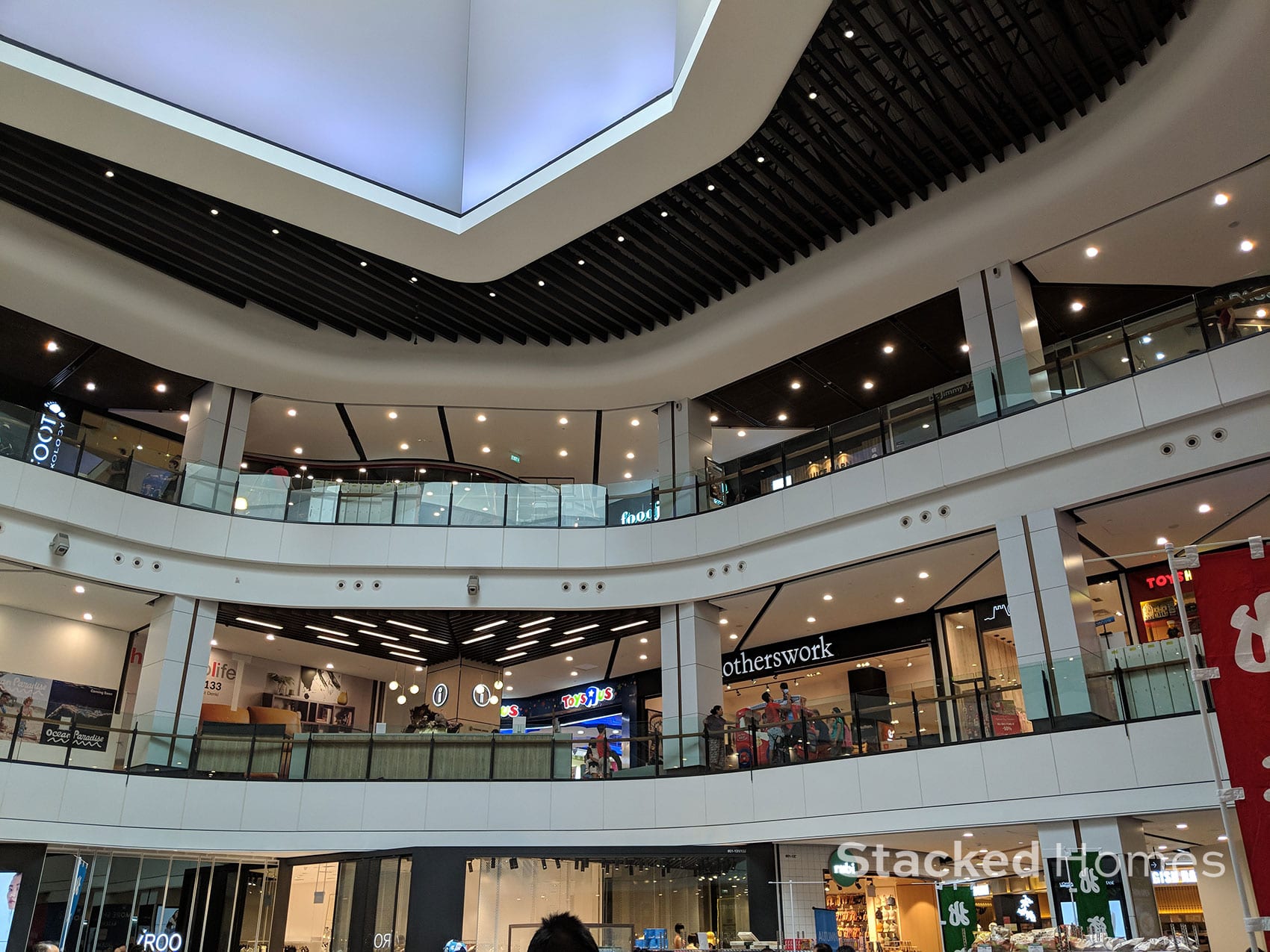 But more than that, residents at the Montana are a mere 10-15 minutes walk away from the entire glitz and glamour of Orchard Road.

I probably don't need to say anymore at this point, but shopping, food, a whole lot of pampering and an entire range of entertainment activities await you here.

Those of us who've studied/worked or even spent some time overseas will probably attest to the difference/challenges that come with living in a foreign land.

As such, having something/someone that reminds them of home is very welcome indeed.

For foreigners shifting into this part of town, you'll no doubt be joining a host of foreign expats before you that now call this part of Singapore, their home.

What's more, with a number of key international embassies in the surrounding areas, getting in touch with your local (overseas) consulate shouldn't prove too difficult.
The Montana Development Site Review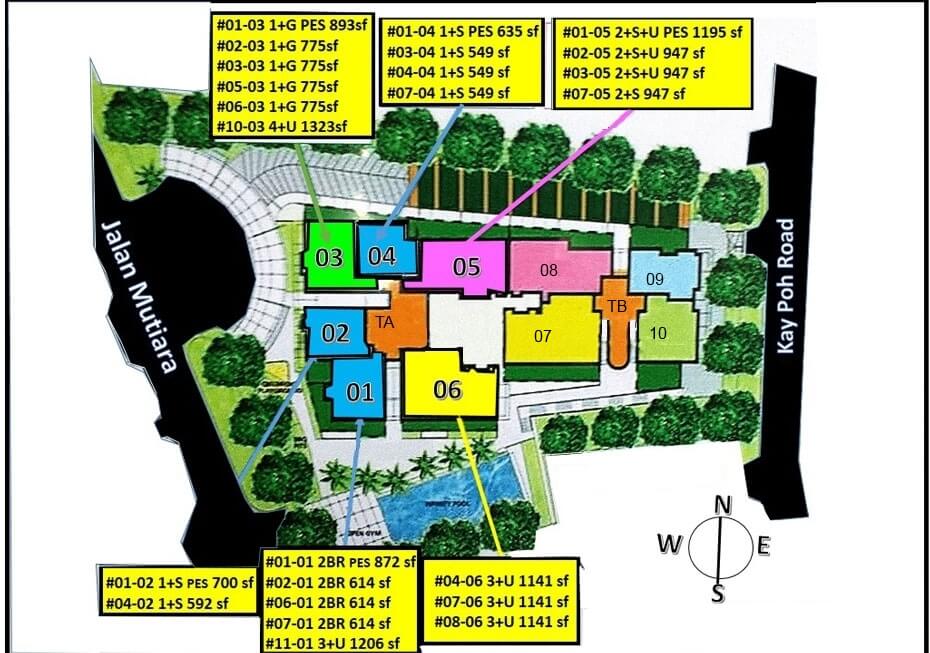 Now The Montana isn't the biggest development by far.

In fact, it stands atop a mere 37,800 square feet of land with 108 units spread across it on a 2.8 plot ratio.

Smaller-sized developments like the Onze @ Tanjong Pagar do come to mind, but as far as projects go, The Montana could be seen as a boutique-scale development.

What that means is that although you might enjoy incredible centrality (not to mention constant refurbishments and spacious units – that we will soon touch on),  you will not have much common spaces to enjoy, and perhaps more importantly, little to no diversity in facility offerings. 

With a gym, BBQ pit, playground and a pool to boot, you shouldn't expect anything at all save from the most basic of essentials in the facilities department.
Unit Mix

| | |
| --- | --- |
| Unit Type | Size of Units (sqft) |
| 1-Bedroom | 549 – 700 sqft |
| 2-Bedroom | 786 – 936 sqft |
| 3-Bedroom | 1,109 – 2,433 sqft |
| 4-Bedroom | 2,659 sqft |
In keeping with most unit sizes of older developments, you'll notice that the units here are definitely above the average sizes you see in New Launch Developments of today.

What's more interesting however is that all of these units have either high or 'very high' ceilings, so you don't have to worry about claustrophobia of any sort stemming from low ceiling level issues.

Now the 'newer' units that were refurbished from 2013 come fully equipped with intelligent home entry systems and marbled bathrooms (which I doubt current/past owners would have really altered).

If you were to pop into the kitchen of these units for a second, you'll also find a Brandt washer/dryer as well as a number of De Dietrich branded kitchen appliances (fridge, hob, hood, oven etc.) to boot.

Some of the larger units (2-bedroom +) also come equipped with a dishwasher – which is a heaven-sent if you're planning to utilise the kitchen often.

(Pssst…Drop us an email at hello@stackedhomes.com if you'd like to learn more about unit specifics, as well as photos and in depth analysis of any/all resale units currently available here)

Best Stacks
Coming soon!
Like I mentioned at the beginning, you can see this area along River Valley has a lower entry price PSF wise and this is down to two main reasons:

These areas closer to Somerset are seen as more prestigious, and also enjoy a closer proximity to Orchard and the upcoming Great World MRT. So if you don't mind a slightly longer walk to transport and the future MRT, this area could be worth considering as overall River Valley is still an extremely well connected and convenient place to live in. There's always a reason why despite the absence of major upgrades in the area it has still appreciated well overall in the past few years.

| | | | |
| --- | --- | --- | --- |
| Project Name | Tenure | TOP | Average Price (PSF) |
| 8 St Thomas | Freehold | 2018 | $3,122 |
| St Thomas Suites | Freehold | 2010 | $2,047 |
| Yong An Park | Freehold | 1986 | $2,376 |
| The Cosmopolitan | Freehold | 2008 | $2,419 |
| Espada | Freehold | 2013 | $2,390 |
Now, comparing via PSF values isn't always the most accurate, especially when it comes to developments with vastly differing numbers, but you can still use it as a yardstick to see the positioning of the development within the vicinity.

So considering that the Montana is a good 10 years older than nearby RV suites, its recent pricing is actually quite an encouraging sign. In fact, if you were to compare it to the nearest development at a similar age (the Aston, which is at a lower price) it has held its own rather well. More so given that the Aston is in a slightly more convenient location.
The Montana Appreciation Analysis

Looking at the past transaction history for the Montana, and if you were to judge solely from the performance from the graph alone – it's quite easy to conclude that the development has done quite well for itself.

But at its current 18 years of age, it is getting on in age and due to the popularity of the River Valley area there would always be newer developments that could either push up or down the price – depending on the condition of the place in the future.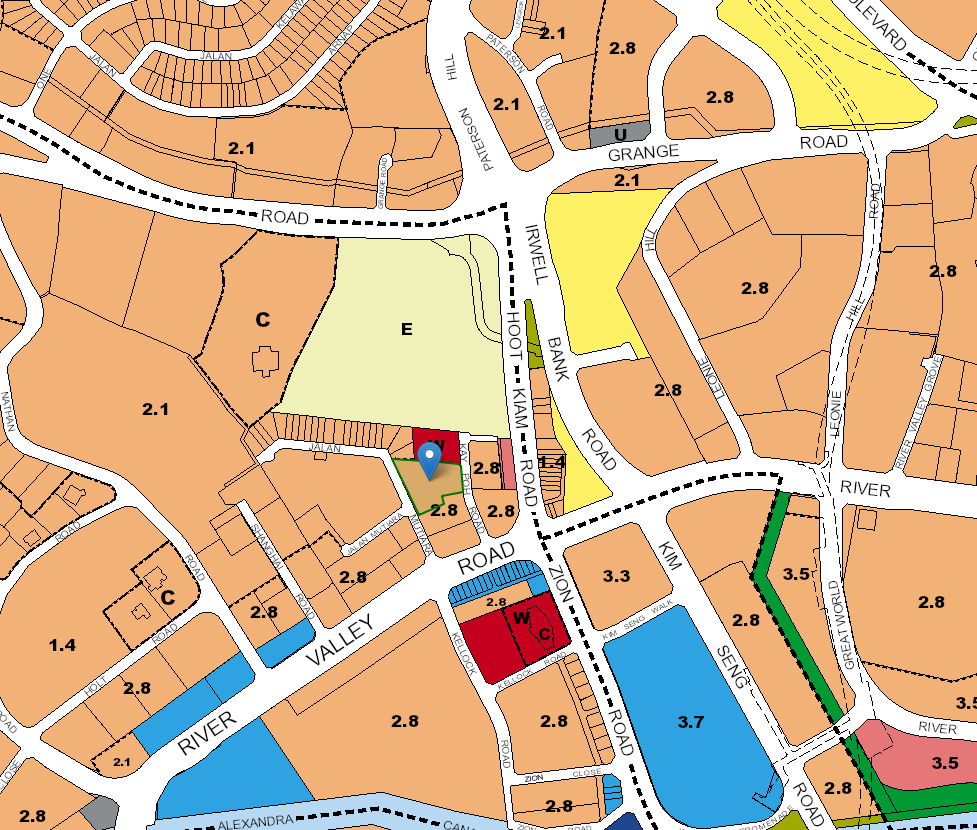 I would say in the near future there is still a certain level of potential as the future Great World MRT is yet to be completed and launched. Most of the time you do see a slight uptick to the area when there is a major upgrade, so chances are that you will see the same thing happening here. But in terms of upcoming future developments, there is the GLS Irwell Bank site (won by CDL), and the two reserve sites that you see from the URA Master Plan – so there isn't too much upheaval that is coming up.

Some people might be looking at this from an en bloc perspective, but given that there are quite a lot of older developments in the area with better plots of land, you could be in for a wait.  

Additional Comments

One key issue that the pre-existing residents at The Montana faced was extreme noise pollution from the adjacent renovation works of those 63 units I was previously talking about.  

Many of them complained that the management had no regard for construction hours and that the work would often continue into the evenings/weekends.

Now as someone who works from home (don't we all now), I can only imagine how troublesome it must have been for the poor residents here. I would therefore like to take the opportunity to remind/impart some common knowledge to those who see themselves purchasing a unit/signing a rental agreement in the future.

Always anticipate the effects that a potential/existing construction-site nearby (distance included) could have on your wellbeing.

While you might be able to 'write-in' to ensure that construction is kept to the allocated hours, the eventual noise and air pollution to your home (no matter how minimal) will be inevitable over the months/years.

Note: For better clarity, the construction of The Montana units started way back in 2013, and lasted for a number of years up till the recent 2018/2019 period. The bulk (if not all) of the renovations has since been completed.
Our Take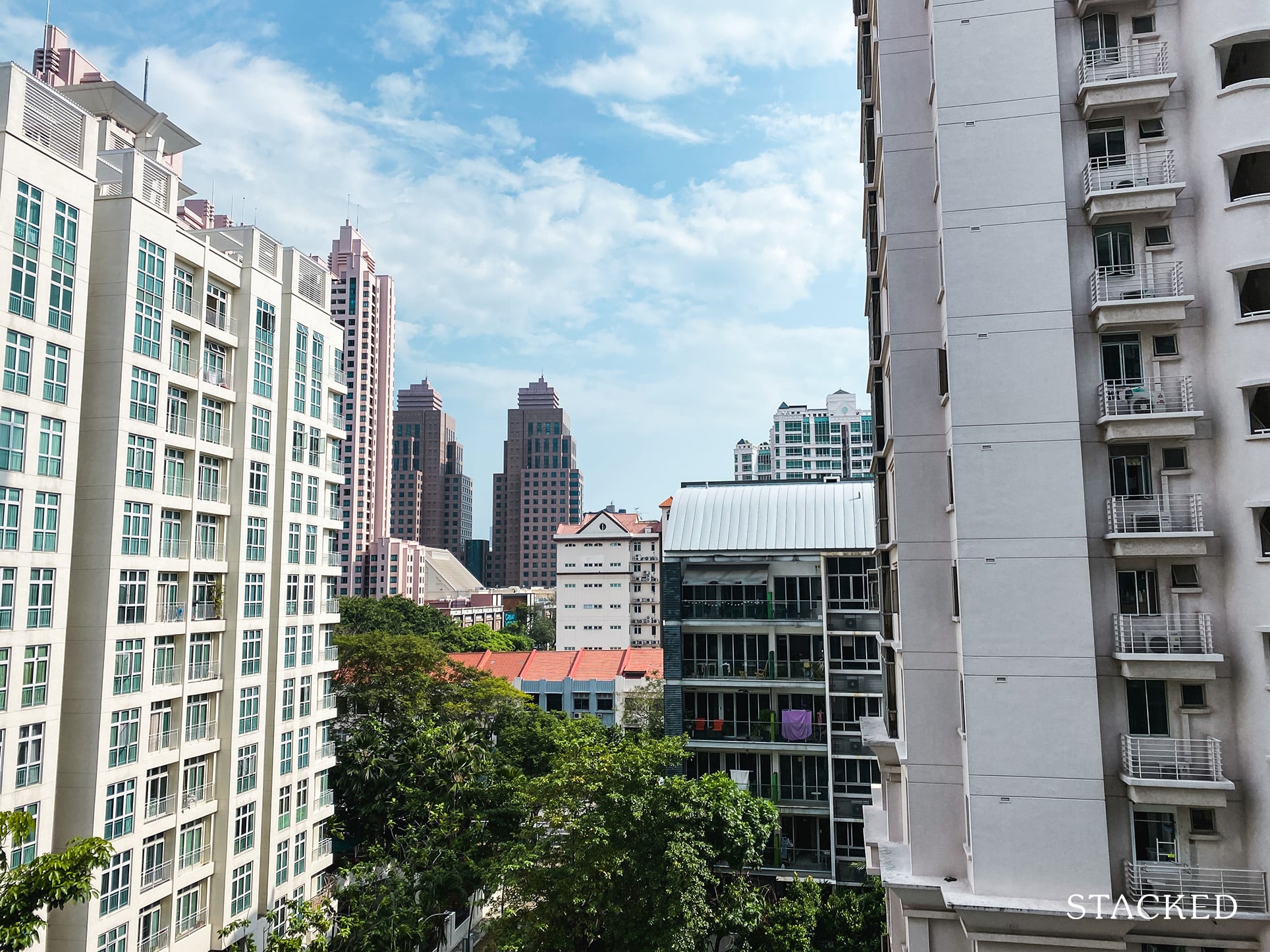 Personally, I'm not a big fan of the look and design of the Montana. I do think facilities wise it is quite lacking too. But where it shines is the size of its units and the convenience of food, amenities and transport nearby. In other words, location trumps all.

The problem as always in an area like this is the abundance of options that you have to choose from. So if the exterior look isn't as crucial and the location is the most important criteria to you, it's worth a further look – if the price is right.
What this means for you
You might like the Montana if you:
• Require convenienceWith lots of food options (with many late night ones too), you are almost spoilt for choice here. Great World City's revamp is also a good one, it looks more modern and offers an even wider spread.
• Bigger living spacesMore so because of the age of the development, but the unit sizes across the board are all larger than average.
You might not like the Montana if you:
• Like modern developmentsIt actually doesn't look that old for its 18 years of age, but it definitely doesn't hold a candle either to the sleek modern developments of today.
• Like your facilitiesWith a below-par barbecue area and an open-air gym, the Montana certainly doesn't offer a full fledged range of facilities.
End of Article