New Launch Reviews

Olloi Condo Review: Family-Focused Boutique Condo
Sean
May 22, 2019

16

min read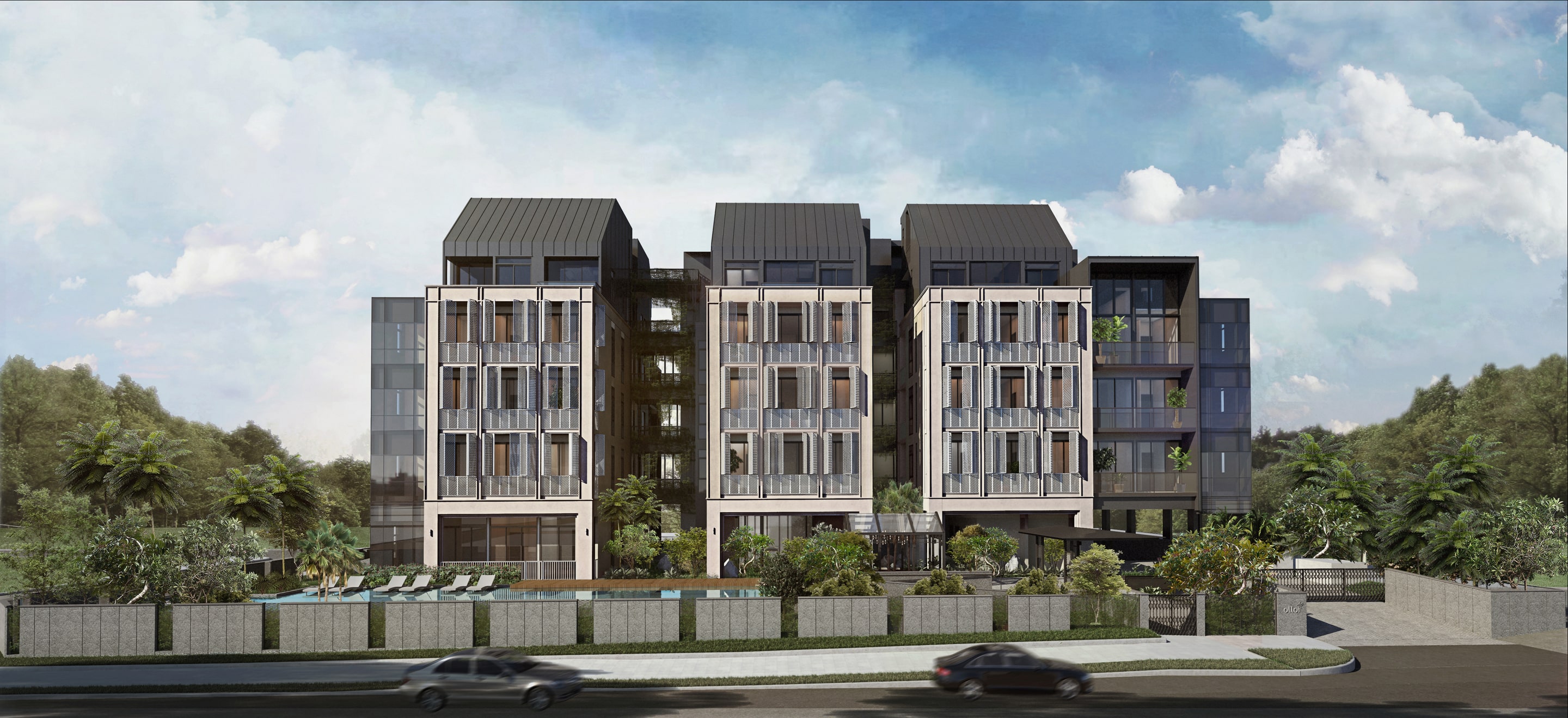 What we like
Great food in the area

Freehold

Efficient unit layouts

Good size swimming pool

Underground Carpark
What we don't like
—

Not near to the MRT station

—

Neighbourhood can get quite crowded

—

No visitor parking
16
min read
| | | | |
| --- | --- | --- | --- |
| Project | Olloi Condo | District | 15 |
| Address | 50 Lorong 101 Changi Road | Tenure | Freehold |
| Site Area | 2,490 sqm | No. of Units | 34 |
| Developer | K16 Development Private Limited | TOP | June 2022 |
As someone who has lived in the West side all my life, it's hard to imagine living anywhere else in Singapore. After all, the West side is familiar territory and is constantly being revamped. With the addition of malls like Westgate and Jem, plans for Jurong to be the second Central Business District in Singapore and One-North attracting all the tech startups, there wasn't much reason to move anywhere else.
So despite claims from friends like "east side best side" or "the east has the best food", I have never strayed away. But it always made me wonder why those who call the East home were always so passionate about where they lived in. Was living in the East really that much better that they were willing to tirelessly campaign for it?
Which is why when I was invited down to review boutique developer K16 Development's first residential project, Olloi, I was curious to know more about the development and its location in Joo Chiat. Would it be as "heavenly" as made out to be by East siders? Is the air in the East really better? (No joke, have actually heard this as an argument before).
**Please note that this review is completely unbiased and we are not sponsored in any way, monetary or otherwise, to write this review.
Olloi Condo Location Review
There's no denying that Joo Chiat is one of the cultural centres of Singapore, and the Olloi condo is well placed to tap on that. If you are a foreigner reading this, Joo Chiat might look like a funny looking word but it is one of those places in Singapore that really has its roots back to what Singapore used to be like. Once built, Olloi will be almost completely surrounded by shophouses, save for Joo Chiat complex and the small developments right opposite.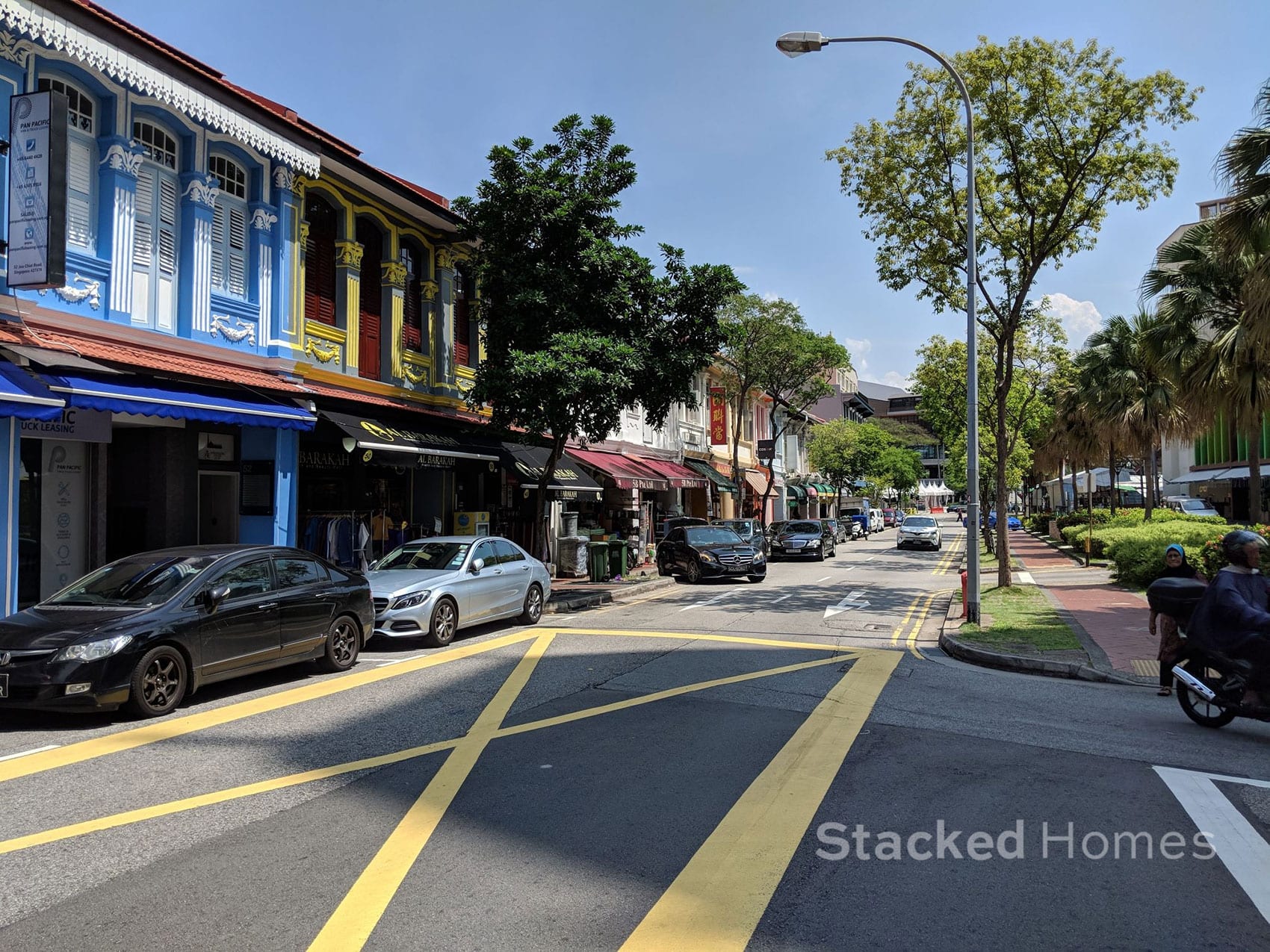 Just on first impressions, the area around the Olloi is vibrant and colourful and it's actually a really great place to just people watch. It is such a smart move on Singapore's part to preserve this area as this is truly old-time Singapore with the shophouses, small kopitiams and antique shops. For those who are older, being surrounded by these 19th-century and 1920s Peranakan shophouses will no doubt bring back a sense of nostalgia.
As said earlier, one of the perks of living in the East is the availability of good food here and the location here certainly makes a strong case for itself. Some of the standouts in this area include Fei Fei Wanton Noodles (which is 24 hours), Long Phung Vietnamese (one of the best Vietnamese restaurants) and Mr and Mrs Mohgan's Super Crispy Roti Prata. Which some people have actually crowned as hawker legends in Singapore.
If I had to make a comparison to a similar place in the West, Joo Chiat has a similar vibe to Holland Village. Except that it feels a lot more local and a little more down to earth. Frankly, it can get quite chaotic at times. But in a good way. So if you are looking for something more laid back and homely, this will be right up your alley.
And if you ever need some modernity in your life, Joo Chiat can certainly offer that too. In fact, with the upcoming Paya Lebar Quarter, the area is set to welcome an influx of office workers and businesses to the area. Paya Lebar Square and Kinex are modern malls as well that have a good mix of retail shops and eateries. Even the more popular restaurants in Singapore have decided to open outlets in this area. Some highlights you can look forward to are Charcoal-Grill & Salad Bar by Keisuke, with his first outlet in the East. Ginza Tendon Itsuki and the ever popular Beauty in the Pot also have made their mark here, with the latter even having two outlets in the same mall (Kinex).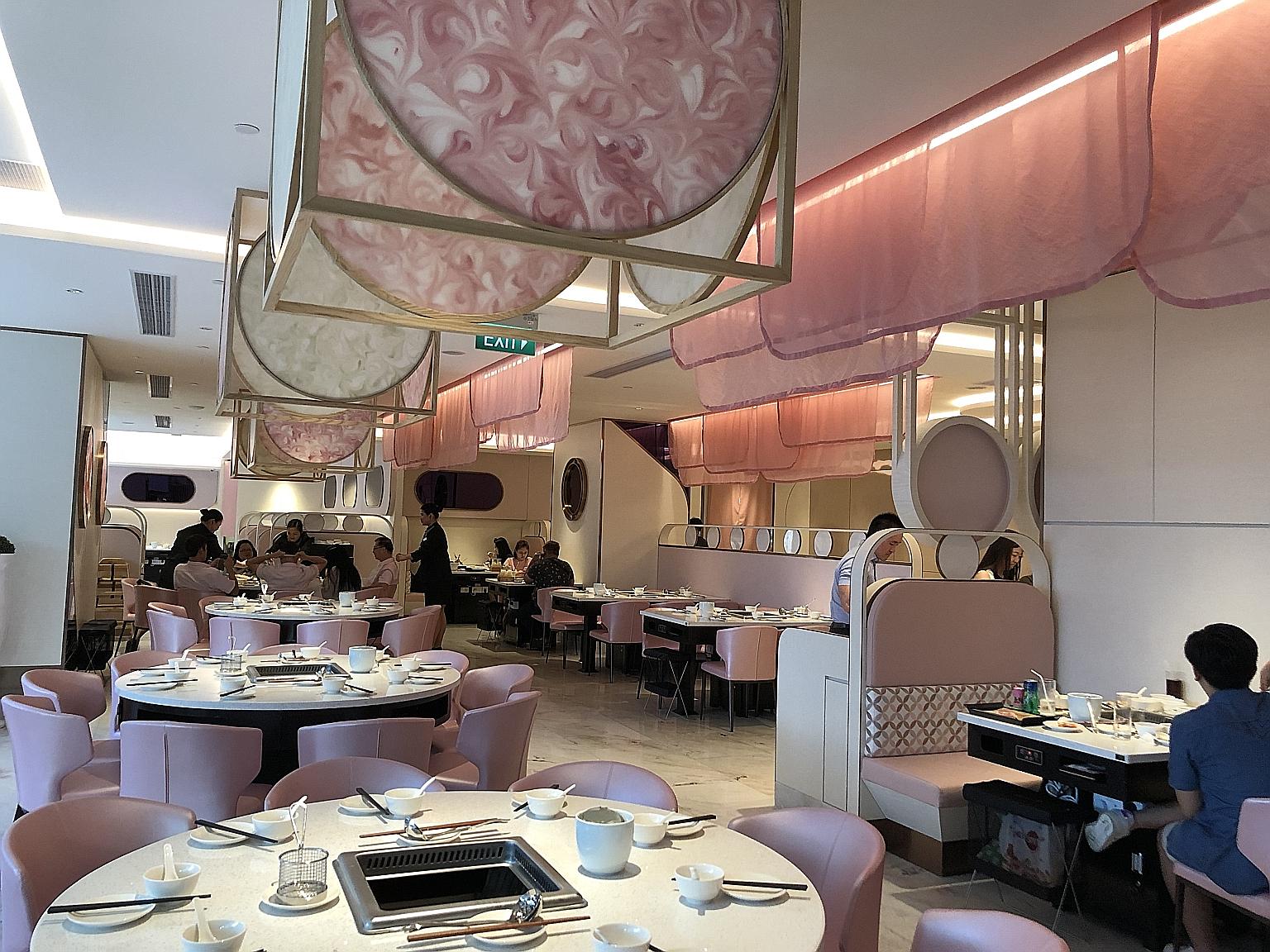 Moving back closer to Olloi, Geylang Serai Market and Haig Road Market are well within walking distance as well. Some notable highlights include the Sarawak Kolo Mee from Lin Yu Mei and old school kueh from Kueh Talam Asli. Every year during Ramadan, the Geylang Serai Ramadan Bazaar is held close by, in a less than 5 minute walk. This could be a boon and a bane for some as well, as the whole area is bustling and can get really crowded.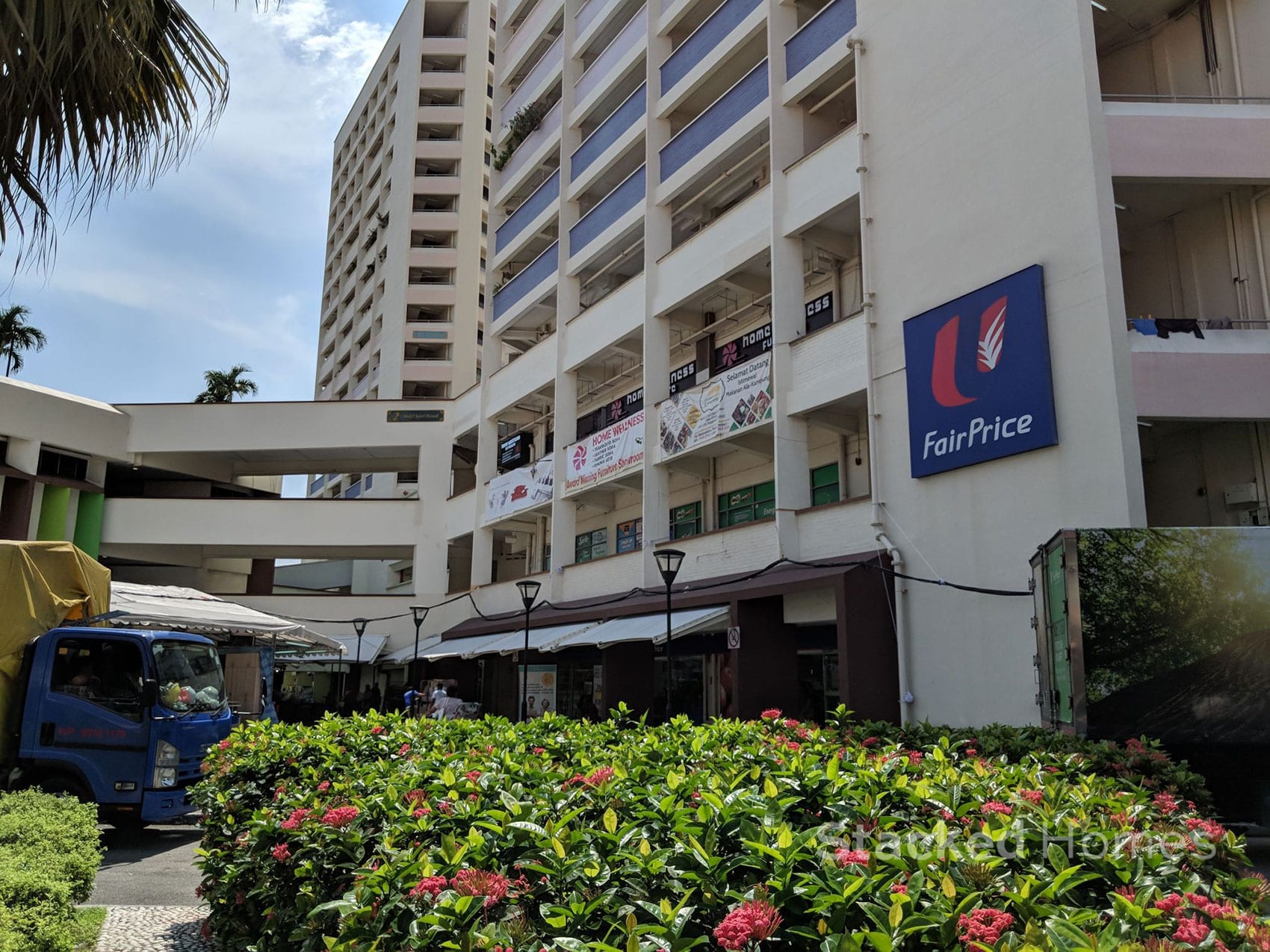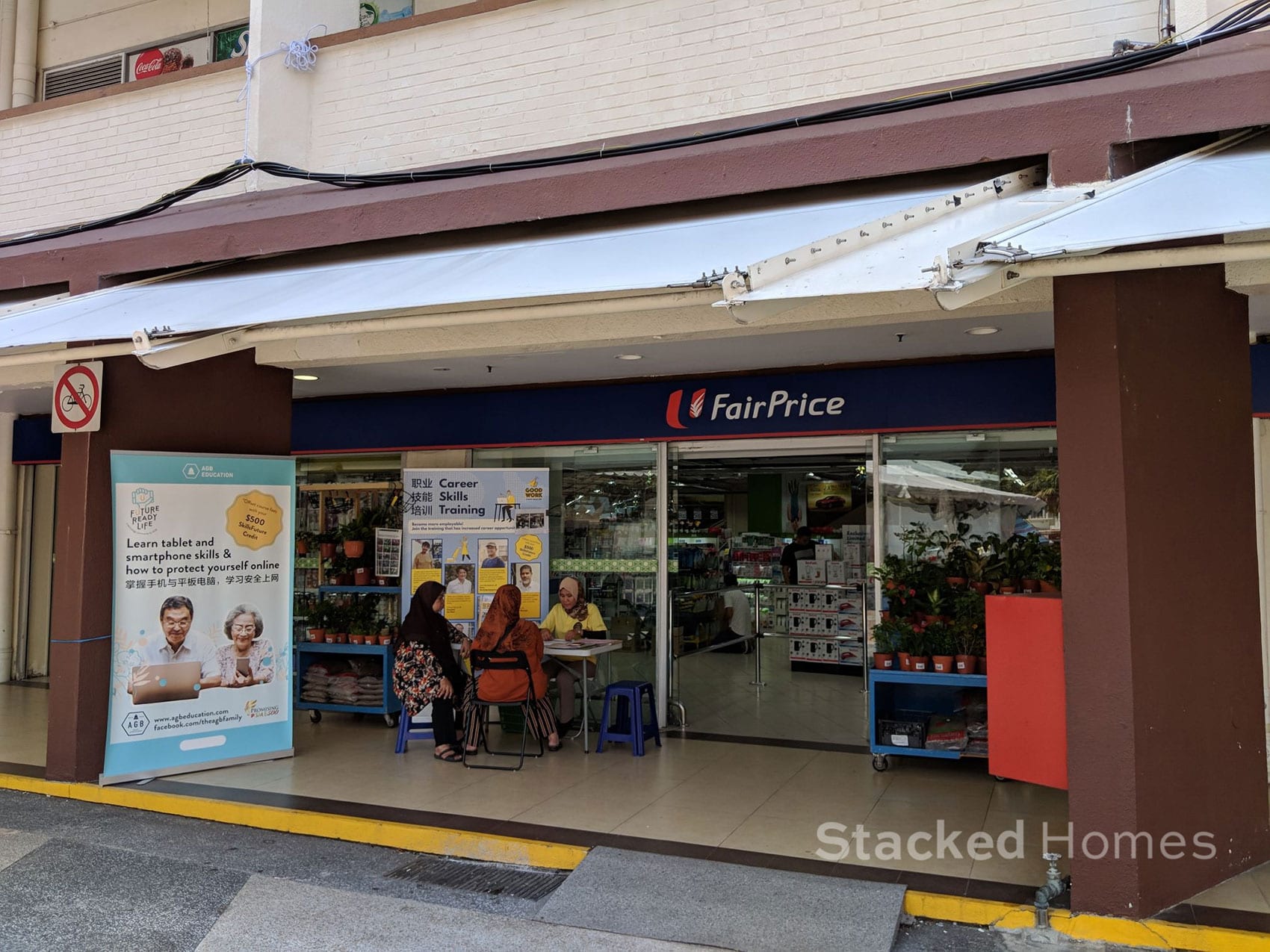 An important criteria for me when looking at condo developments is the proximity to amenities and I am glad to report that the Olloi is well covered here. Joo Chiat complex is literally at its doorstep and here you will find a large FairPrice for all your grocery needs.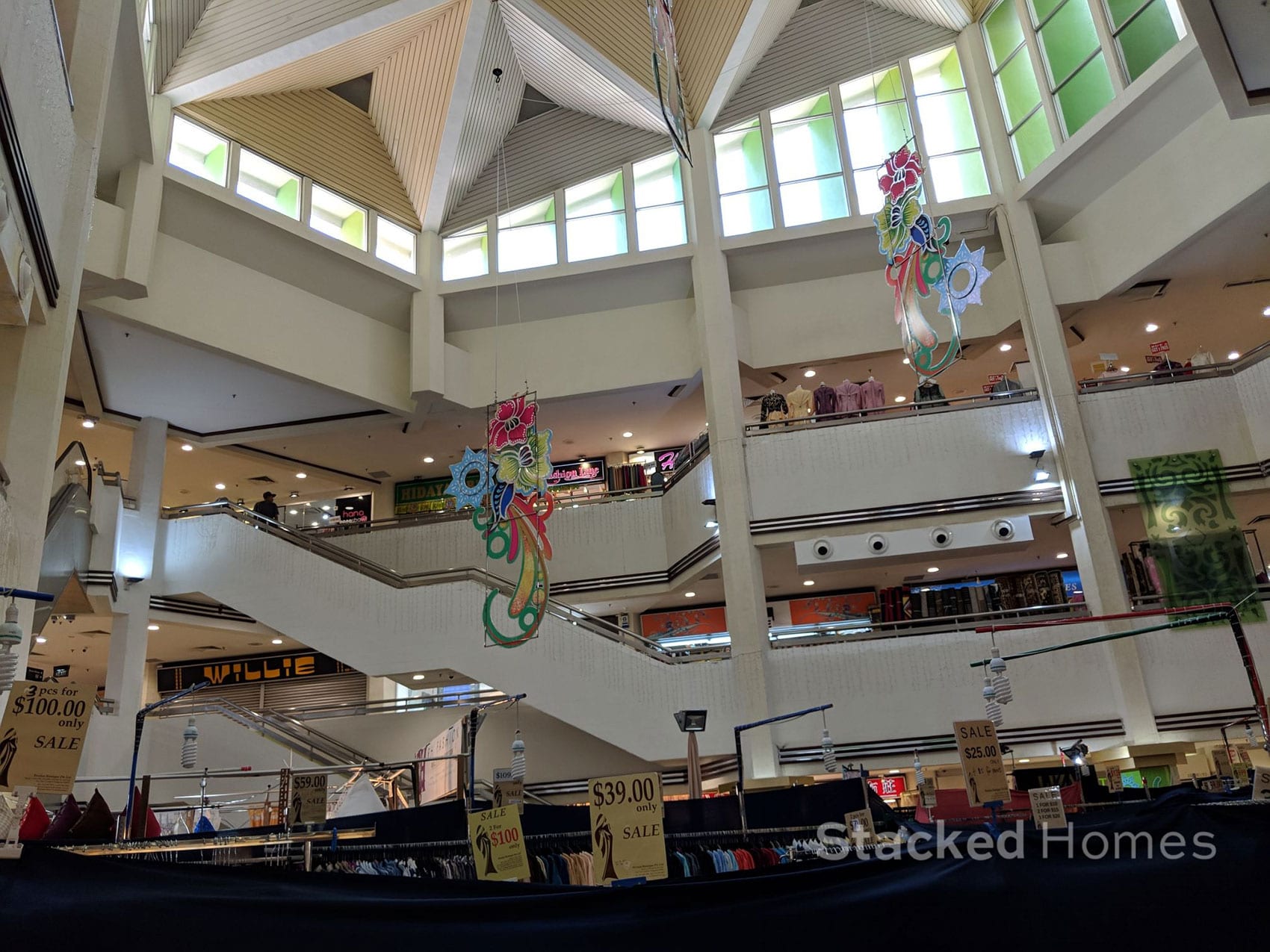 Joo Chiat complex may not be the newest and most exciting of malls, but as a heartland mall, one advantage is the more affordable prices.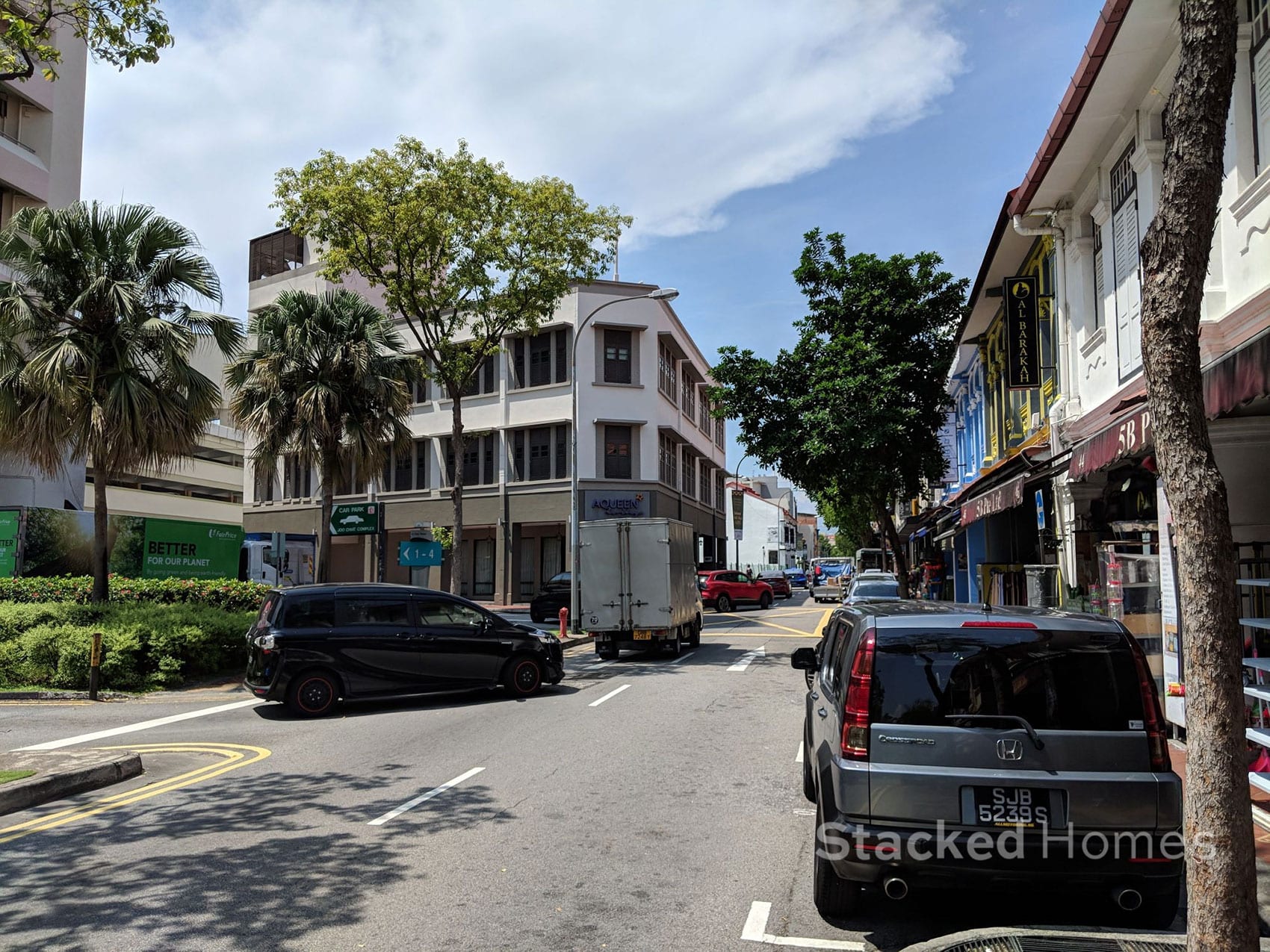 If you drive, accessibility to Olloi is not too bad if you are coming by the main Geylang/Changi Road. The downside here would be the small one way roads that can get jammed during the peak hours. You can also get to both the PIE and ECP quite easily from here, which is great.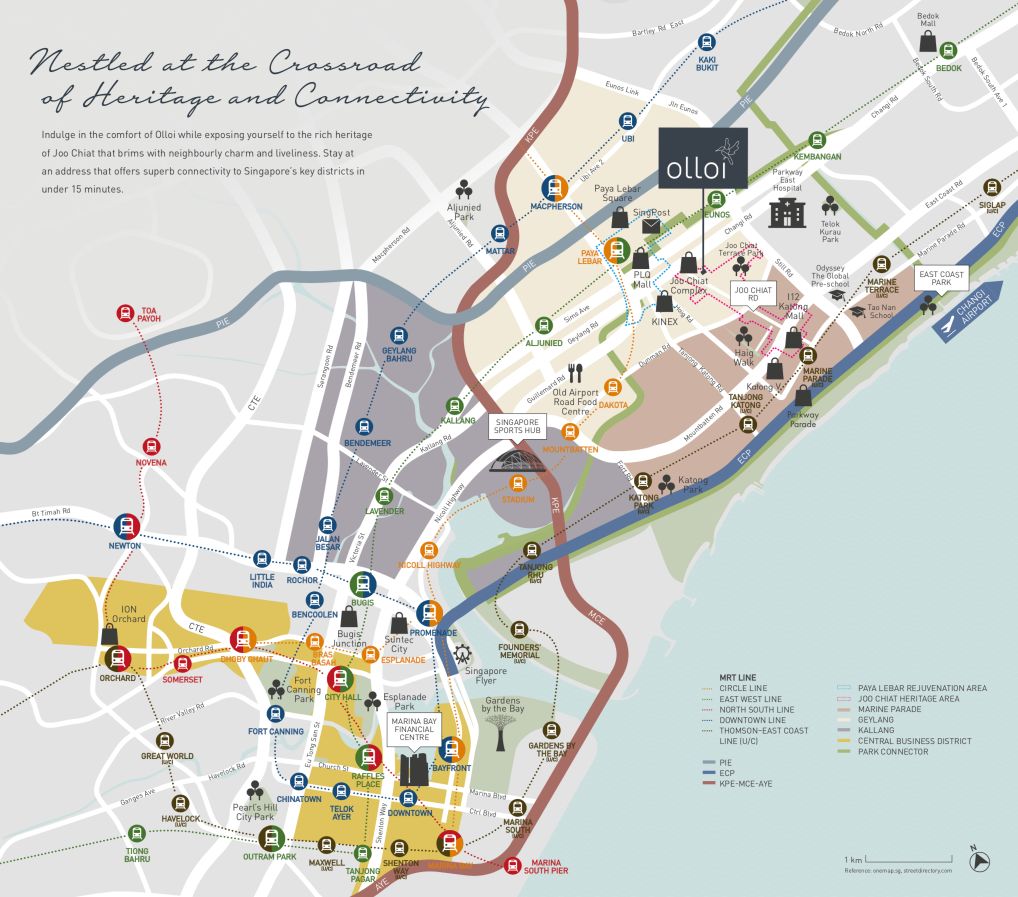 Perhaps the biggest downside to the location of the Olloi condo is the proximity to an MRT station. The closest by would be Paya Lebar MRT, which is still a 15 minute walk away. The silver lining here is that it is an interchange, so you can get to the East West line as well as the Circle line.
Lastly, as Olloi is being pitched as a condo development for families, being near good schools would be paramount. The closest would be Haig Girls School, followed by CHIJ (Katong) Primary and Tao Nan School. For parents with younger children you do get a better pick here, with Mindchamps PreSchool, My First School within walking distance and Pat's School House a further distance away.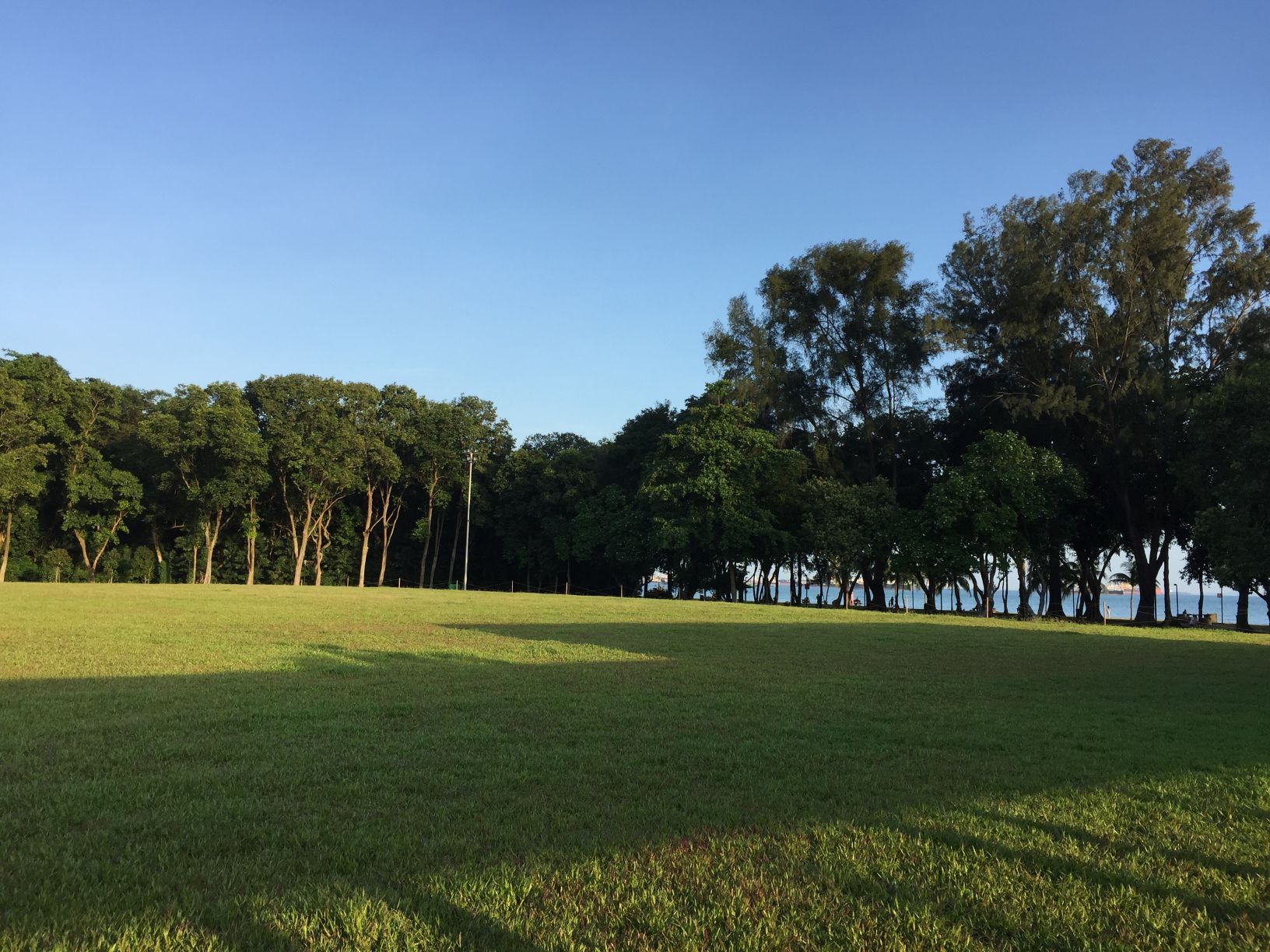 With the theme of family in mind, Olloi condo is also well positioned for frequent visits to East Coast Park. Parkland Green is a popular haunt on weekends for families to bring their young children to play as well as a quick respite from the city.
Olloi Condo Review – Development Site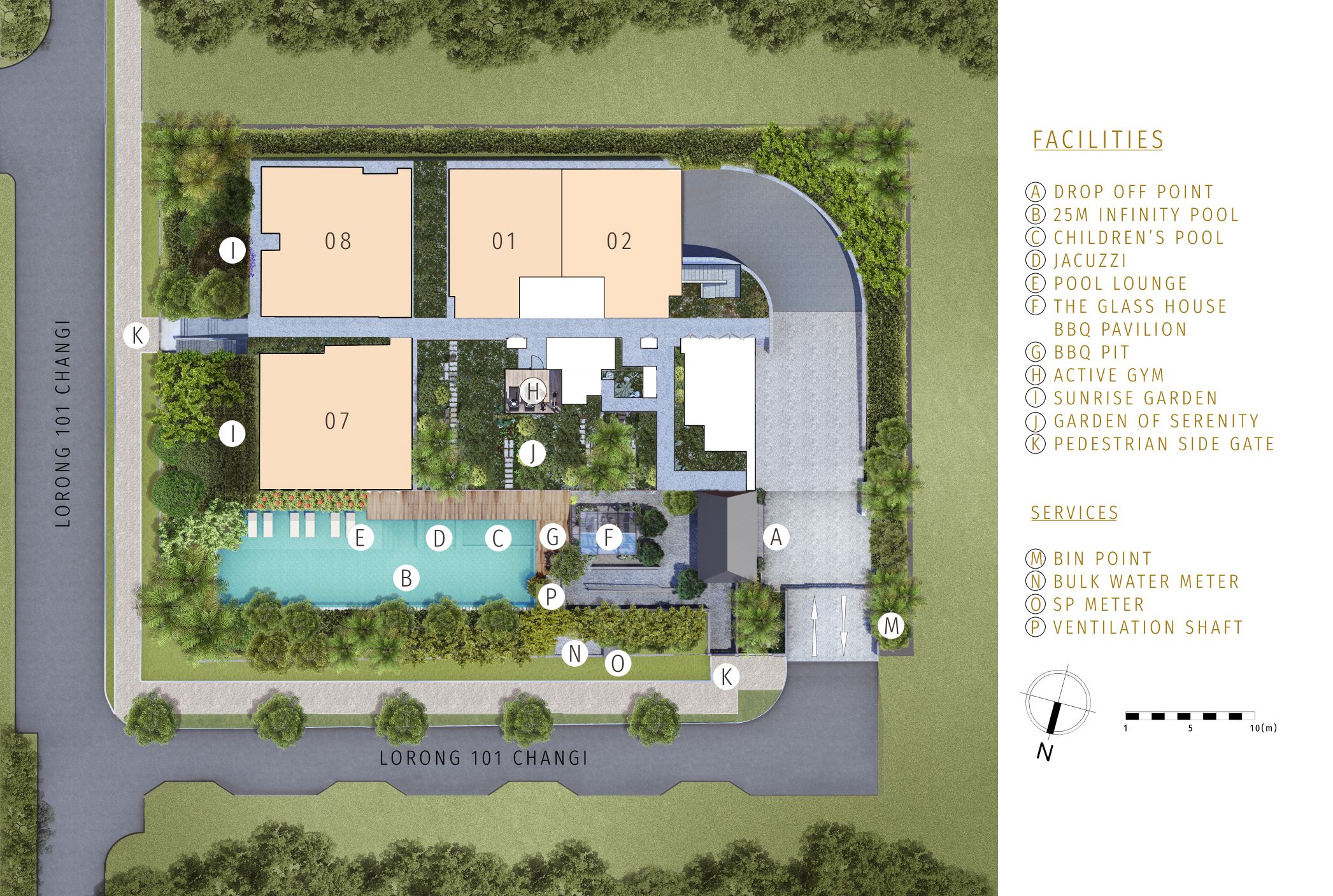 The Olloi condo sits on a regular rectangular shaped piece of land. There are multiple ways of getting to the development, whether it be through Changi Road or Still Road but do note that Lorong 101 Changi is a one way road so you will have to turn in at Lorong 102 Changi if you are coming via Changi Road.
Because the Joo Chiat area is full of shophouses, you do not get any tall building towering over and instead is quite unblocked for a big radius, which is very refreshing.
A major selling point of this development is the availability of an underground carpark. For those unaware, digging underground is always an expensive process. Which is why many of the smaller developments or even mass market condos choose to have their carparks above ground.
… the Olloi condo is the only one that comes with an underground carpark
So if you do drive and are looking for a smaller boutique development in this area, the Olloi condo is the only one that comes with an underground carpark. Judging by how expensive cars are in Singapore, this is certainly a nice touch.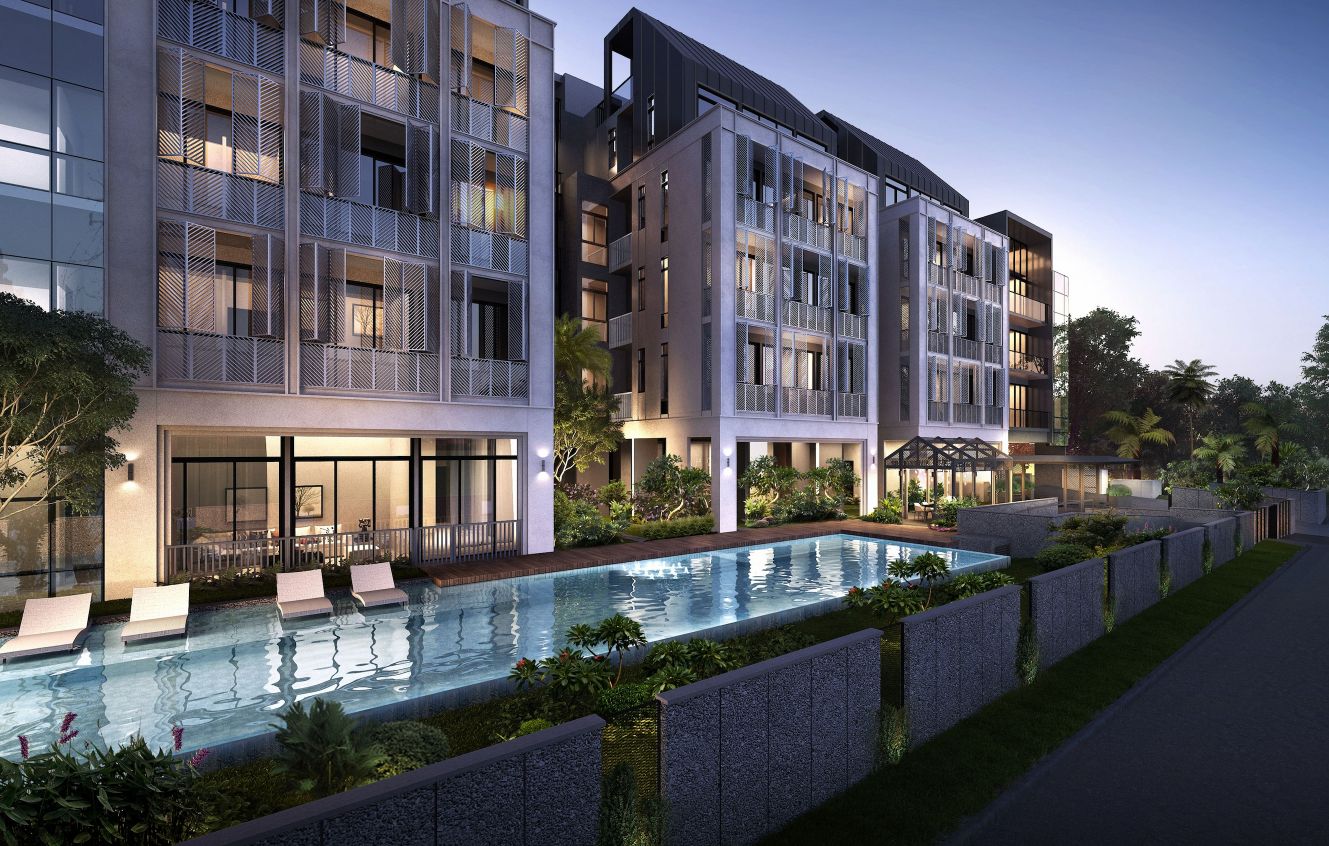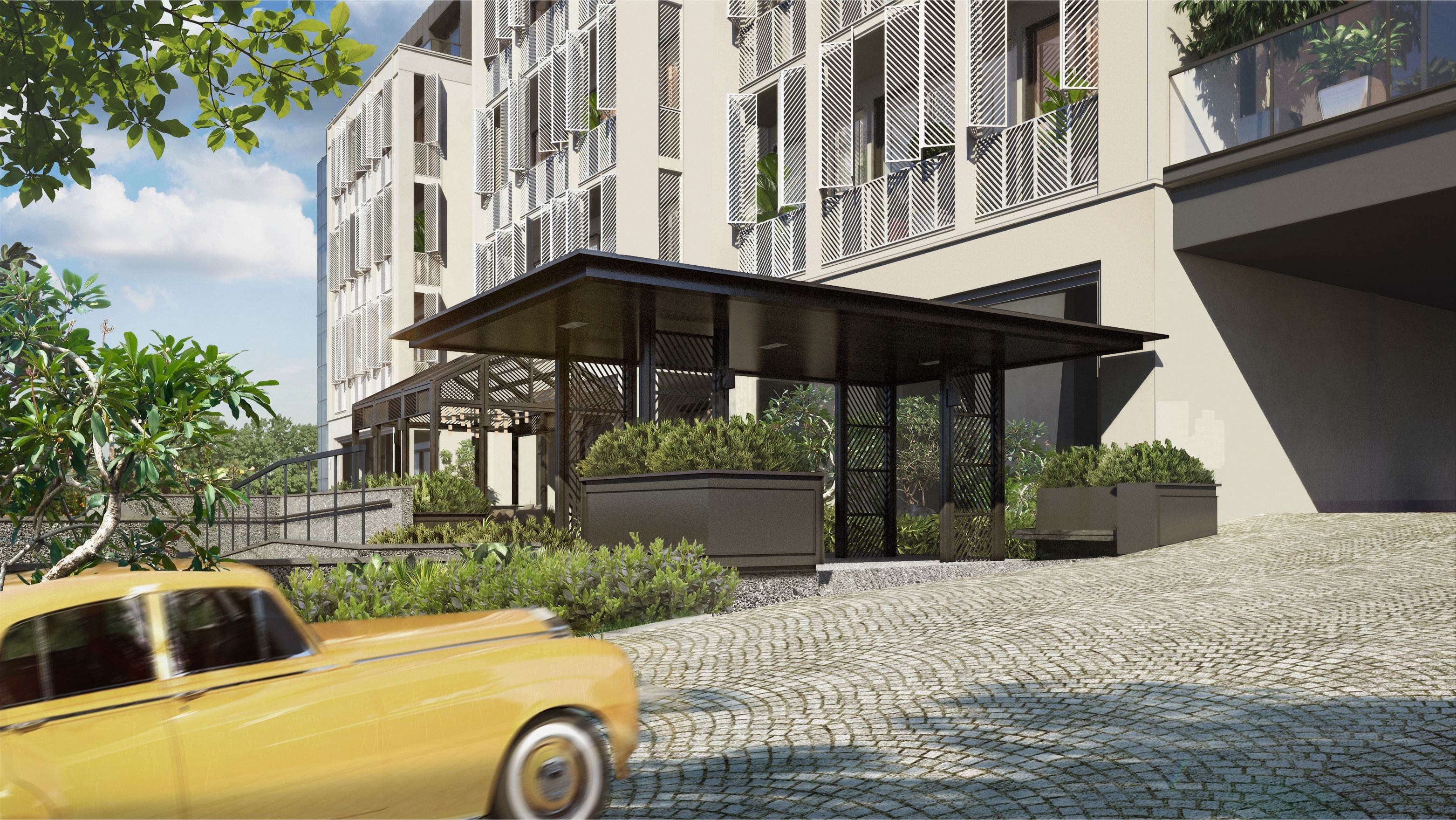 Even though this review is based on the showflat and mockups, and judgement will have to be made based on the final product. I have to say that I am impressed by the design of the development. It looks modern and in keeping with the times, yet retains a very distinct heritage feel that is totally in line with its surroundings. The shuttered windows over the balcony is a nice touch and adds character to it.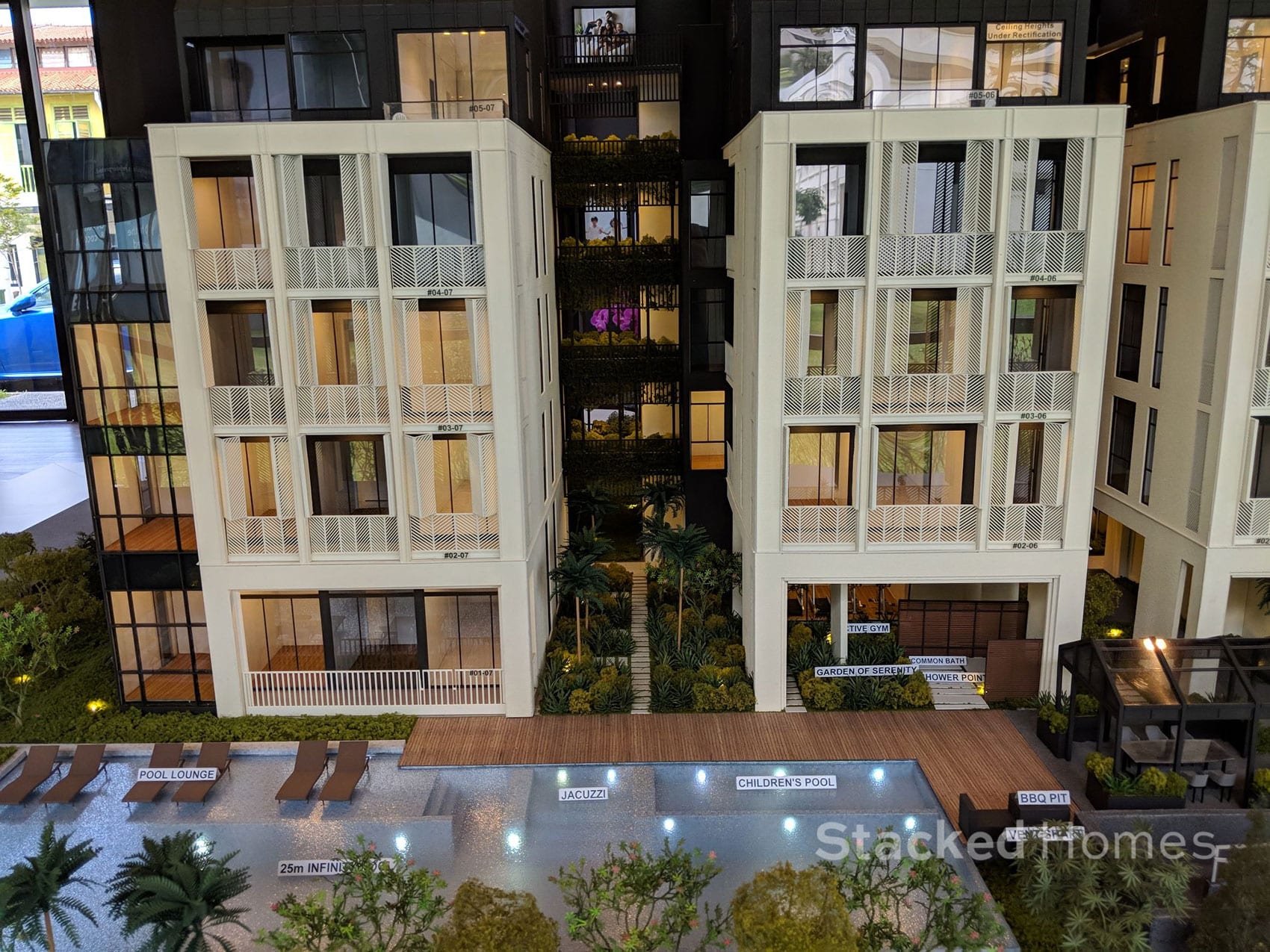 Olloi Condo was actually designed by Park + Associates, who were the ones behind developments such as the Asana and 1919 Residences. Many other small developments I have been to nowadays are just a single big block, in order to maximise space. In this case, you can see that each block has quite a big space in between which allows it to look like standalone townhouses. It is also not just form without function as the design permits airflow throughout. All in all, I think the design of the place is a plus point and hopefully the final build will be exactly the same.
Insider Tour
Facilities in Olloi condo
25m Infinity Pool
Children's Pool
Jacuzzi
Pool Lounge
BBQ Pavilion
Gym
Garden
Although the facilities here are as you would expect for a small development, it is evident that proper planning and thought have gone into its execution.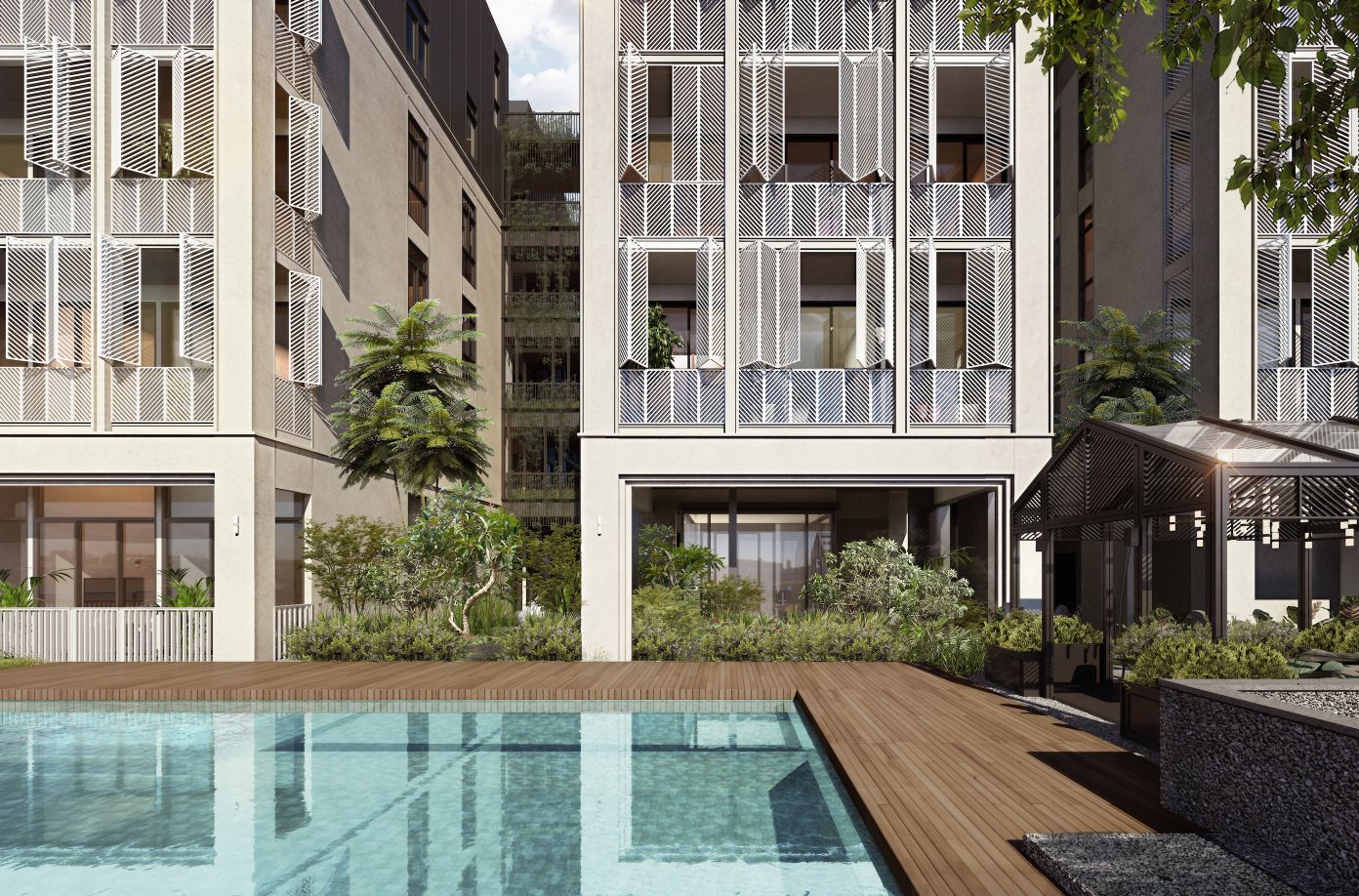 As a result of going down the non cost cutting route, the developers were able to provide a proper sized swimming pool in the development as well. If you have gone round to see a couple of boutique condos already, you would know that most of them have really small swimming pools. Some of which are more like a dipping pool really. Which is why I am glad that the developers have taken the right step here to provide a quality development that is focused on the target buyers needs. Families with young children will absolutely enjoy the pool here.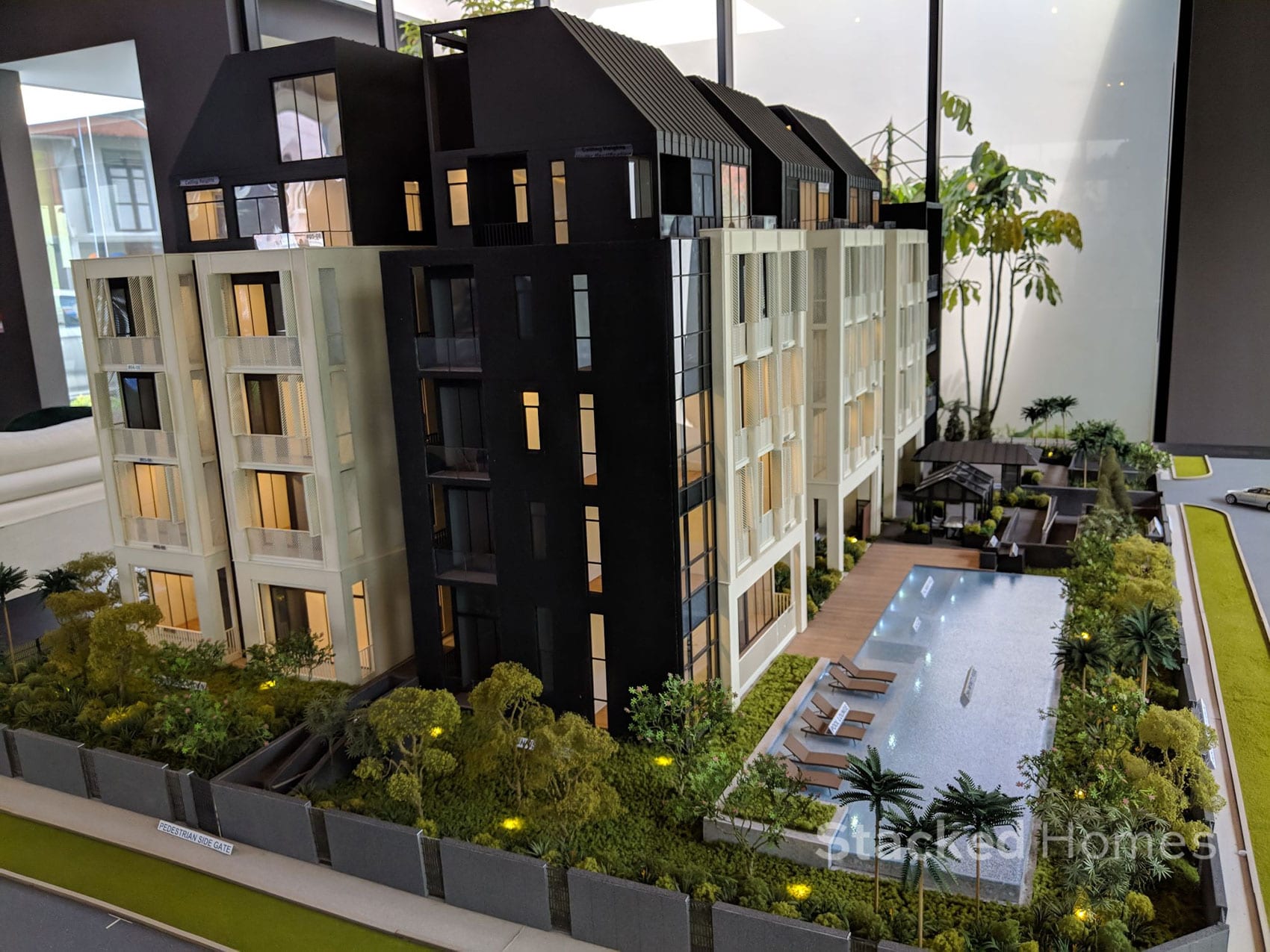 Perhaps this might give you a better idea of the size of the pool. A 25m infinity swimming pool for 34 units is really more than adequate.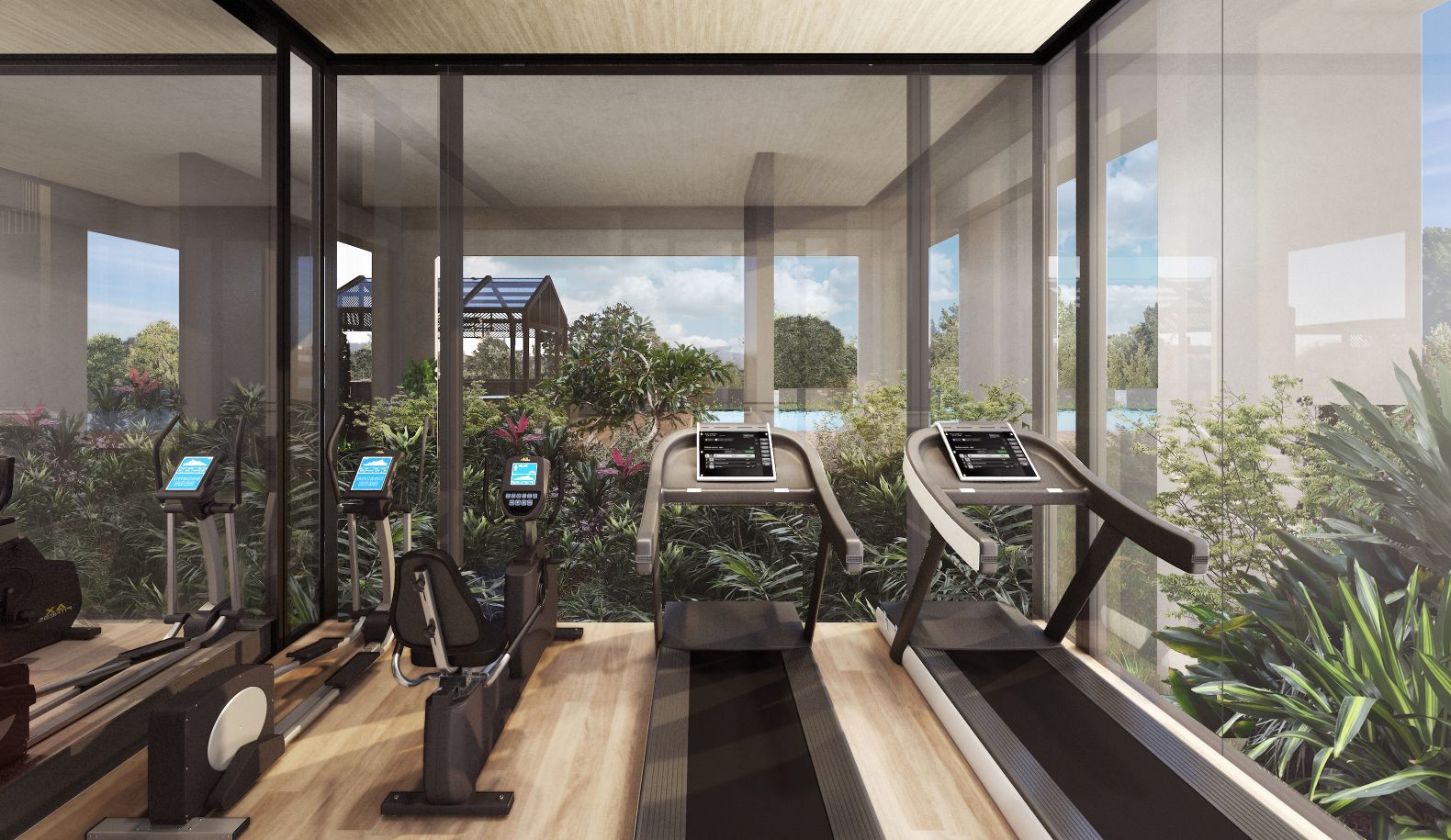 The gym here looks to be standard fare, but at the very least it looks to be bright and open and has a good view of the swimming pool.
Read this next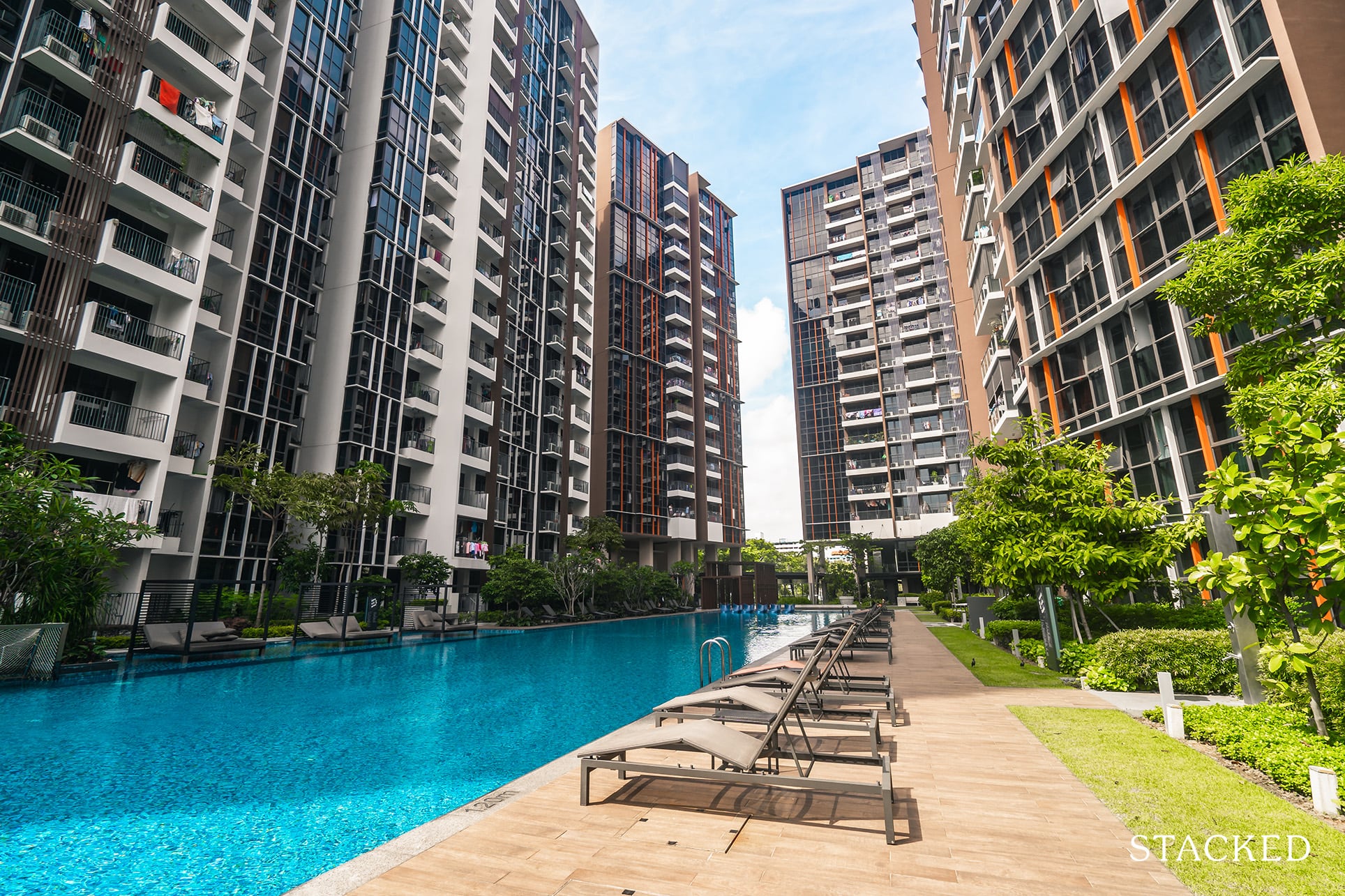 Olloi Condo Review – 3 Bedroom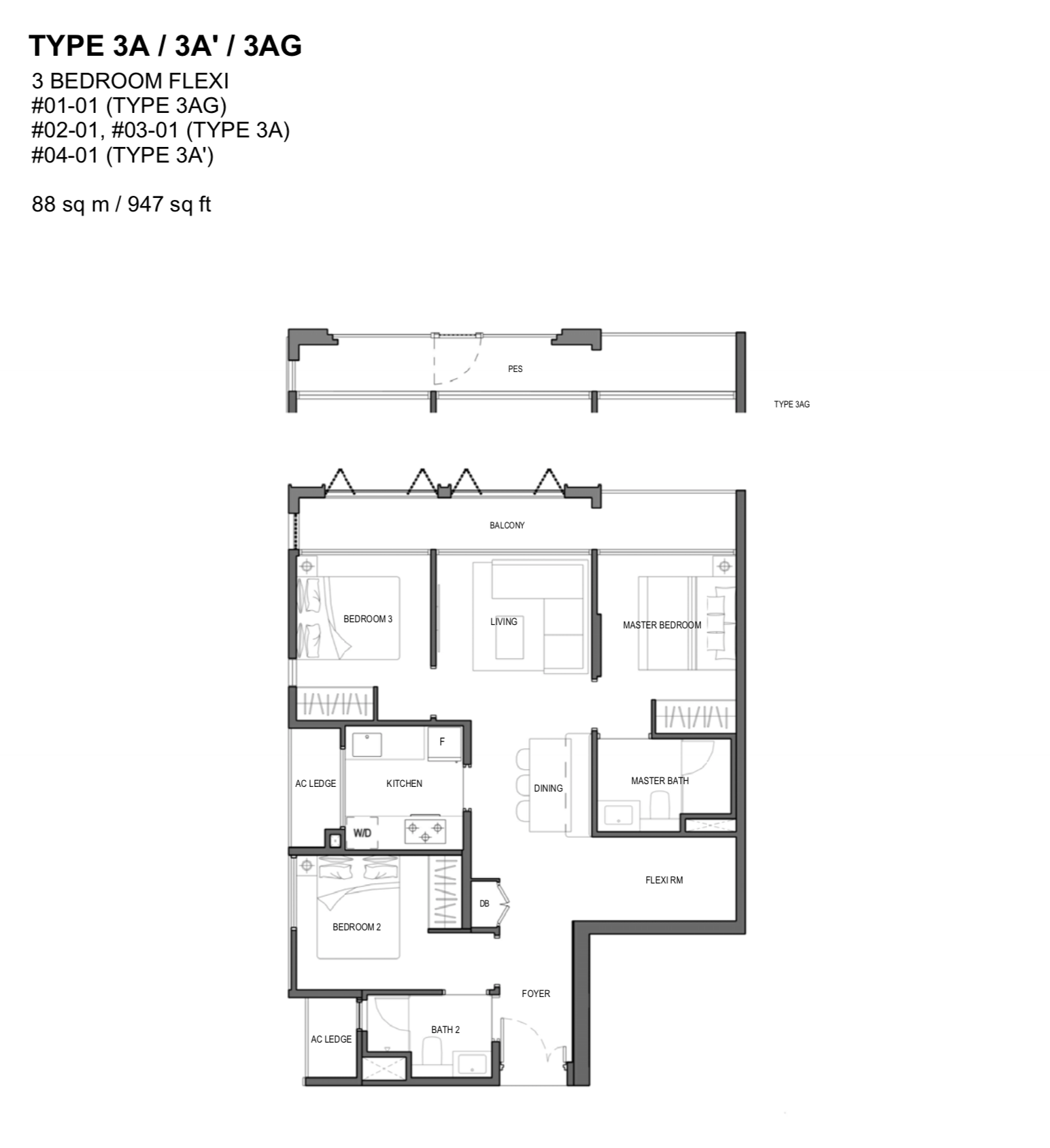 Now for the 3 bedroom showflat unit at the Olloi condo. Most small developments will pack studios and tiny units together to maximise space, but not here. Interestingly, the developers were very focused on their target market of families and as such, the development only has 3 and 4 bedroom units in a myriad of layouts.
The 3 bedroom layout here is mostly well planned, and even has an enclosed kitchen, something that is getting increasingly rare in todays space constrained layouts. I also like that the balcony stretches out the entire length of the unit, making it more open and bright.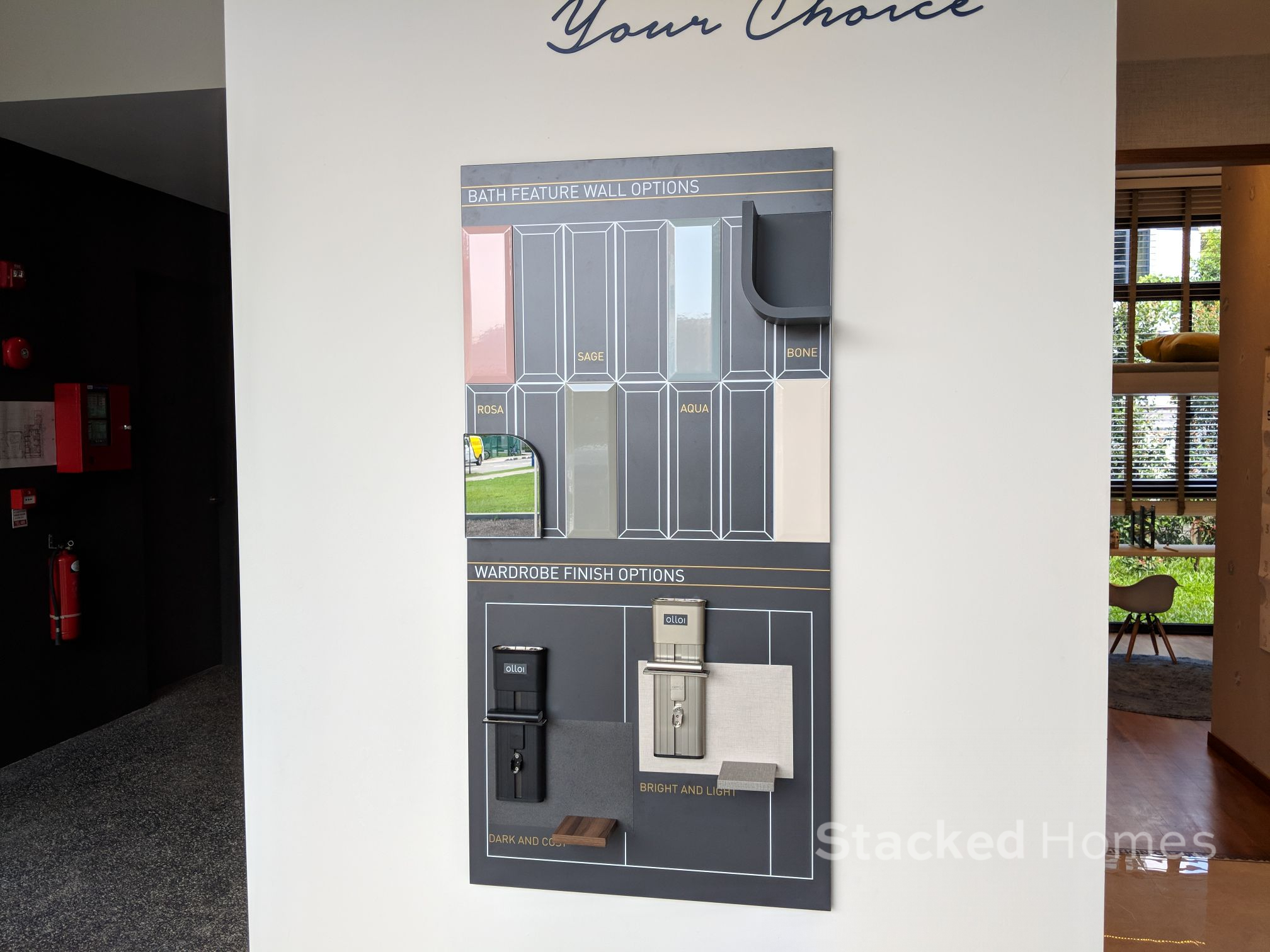 One of the first things that greet you upon entering the showflat is the fit and finishes that you can choose from. This is something that is usually available in the higher end developments and it is great to see some level of customisation here. As you can see, you'll be able to choose from different tiles options for the bathroom feature wall as well as the main door and wardrobe finishes.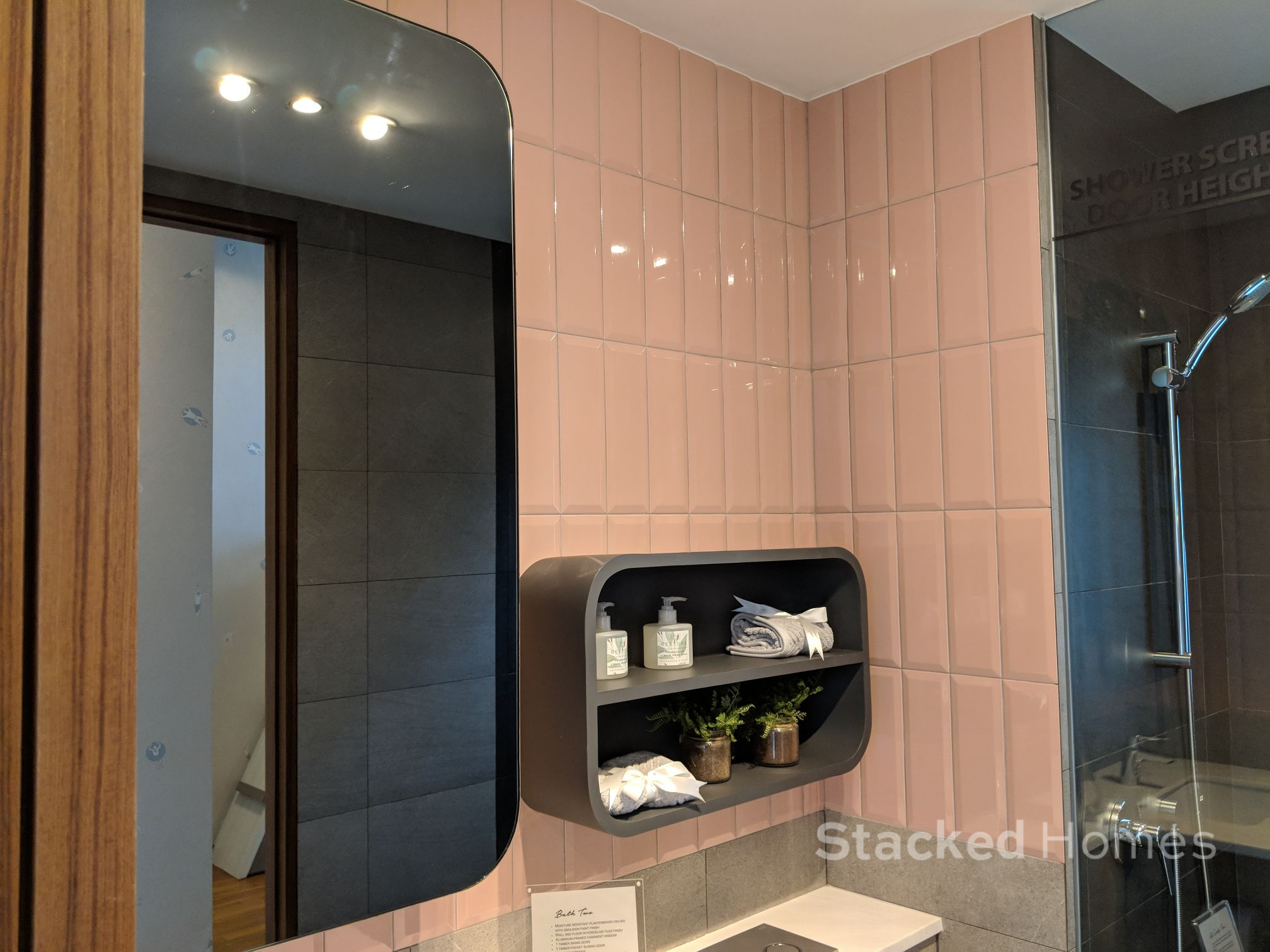 In this case, it's a light pink tile finish for the bathroom. Although I can't say I fancy pink, it does go well with the rest of the finishes for the bathroom.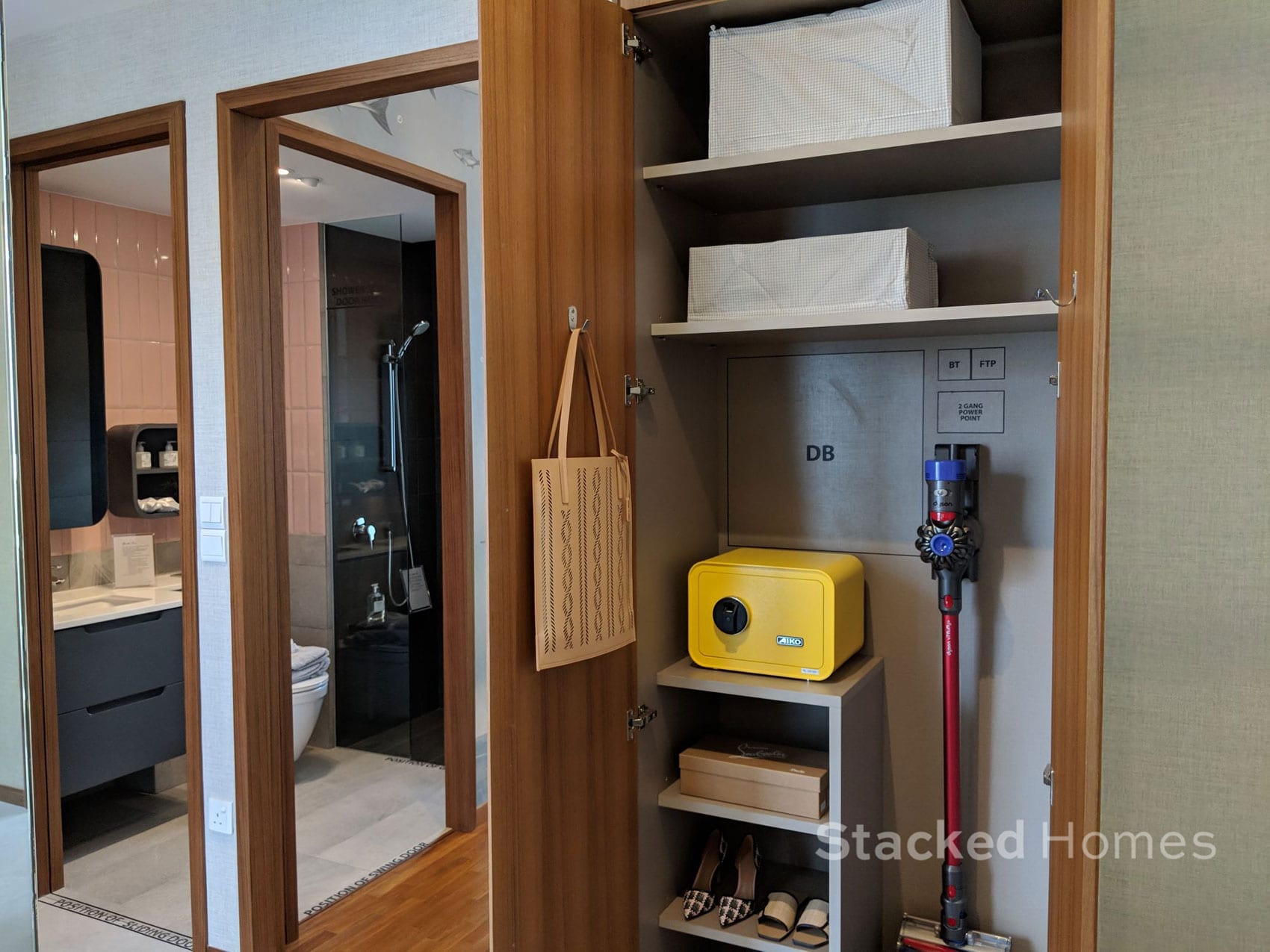 Some storage space is eked out here, which is convenient for your household cleaning items and some boxes. Most buyers don't realise this until they move in, but you can never have too much storage space.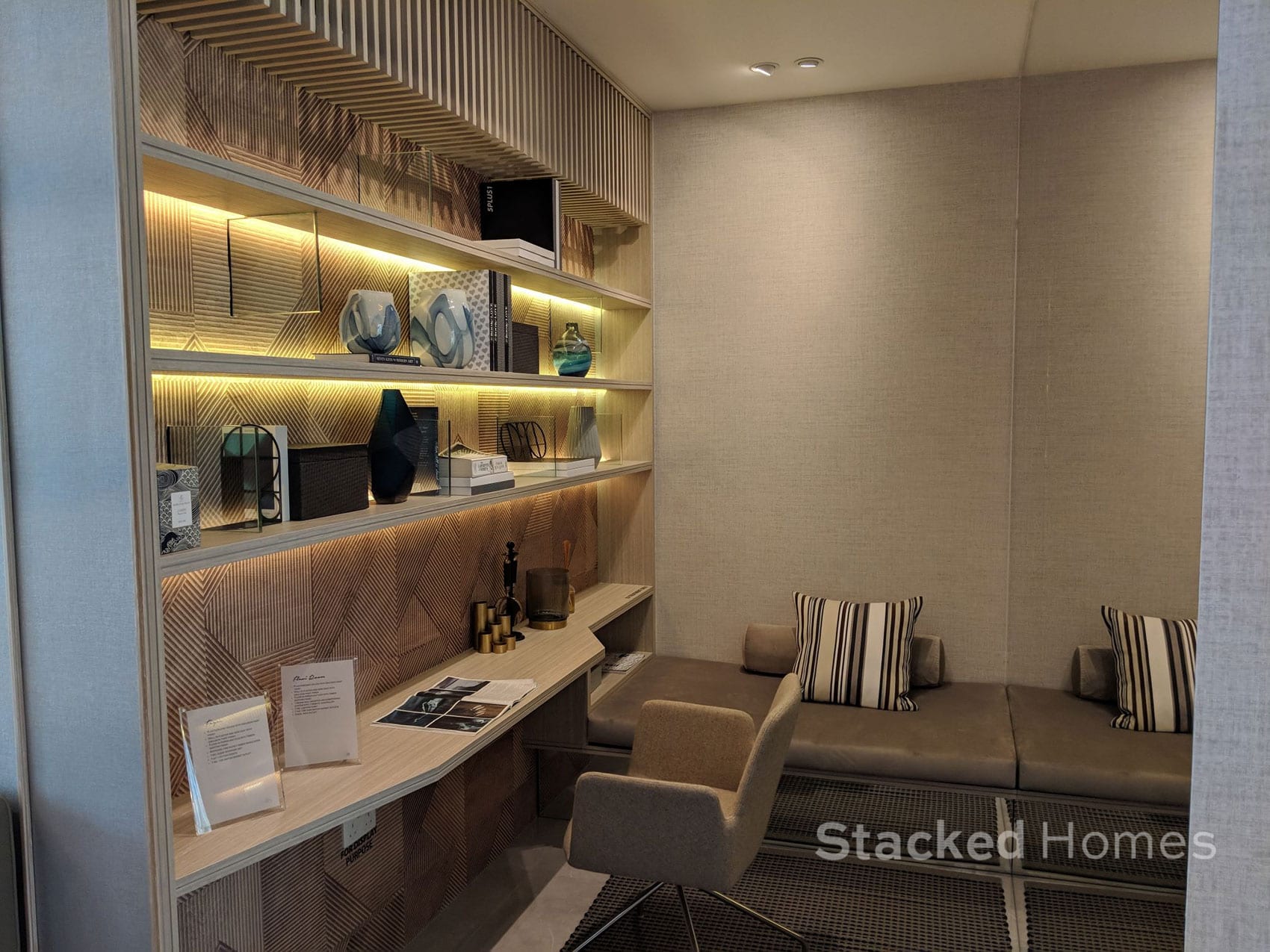 If you are facing the living area, there is a flexi area on your right. In this case, it was used as a study room, but you can use it for whatever you wish. More storage space, a small bedroom or even a helper's room. The developers are flexible here, so if you wish to add a door, it can be done at an additional cost.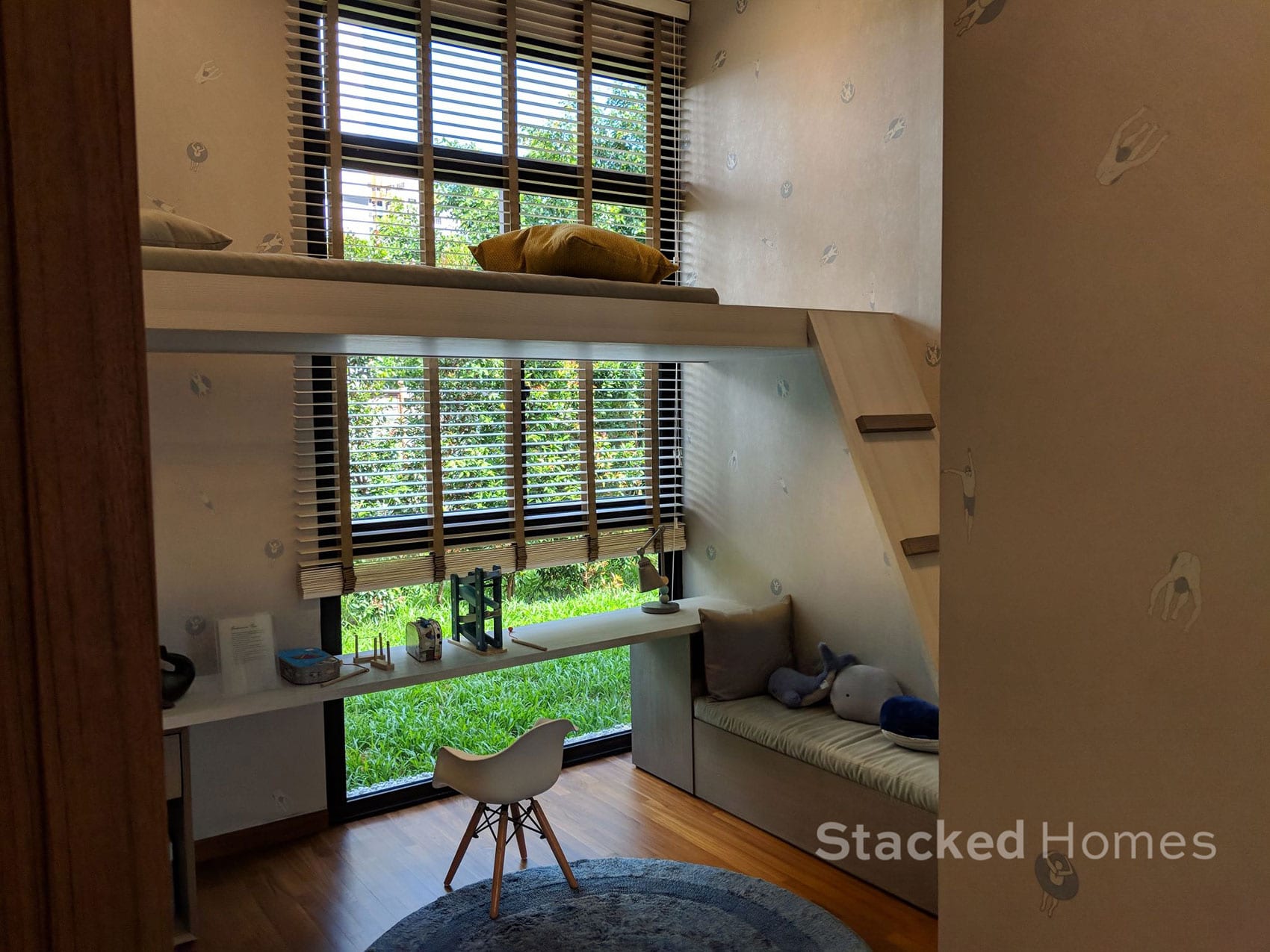 The first bedroom is of a slightly bigger than average size and has access to a shared bathroom as well.
Storage space here goes quite high up and you do get flexibility here as well in how you want the space to be structured.
It's a proper kitchen here, with space for three hobs as well. You can close it up and open the windows for heavy duty cooking, which is great.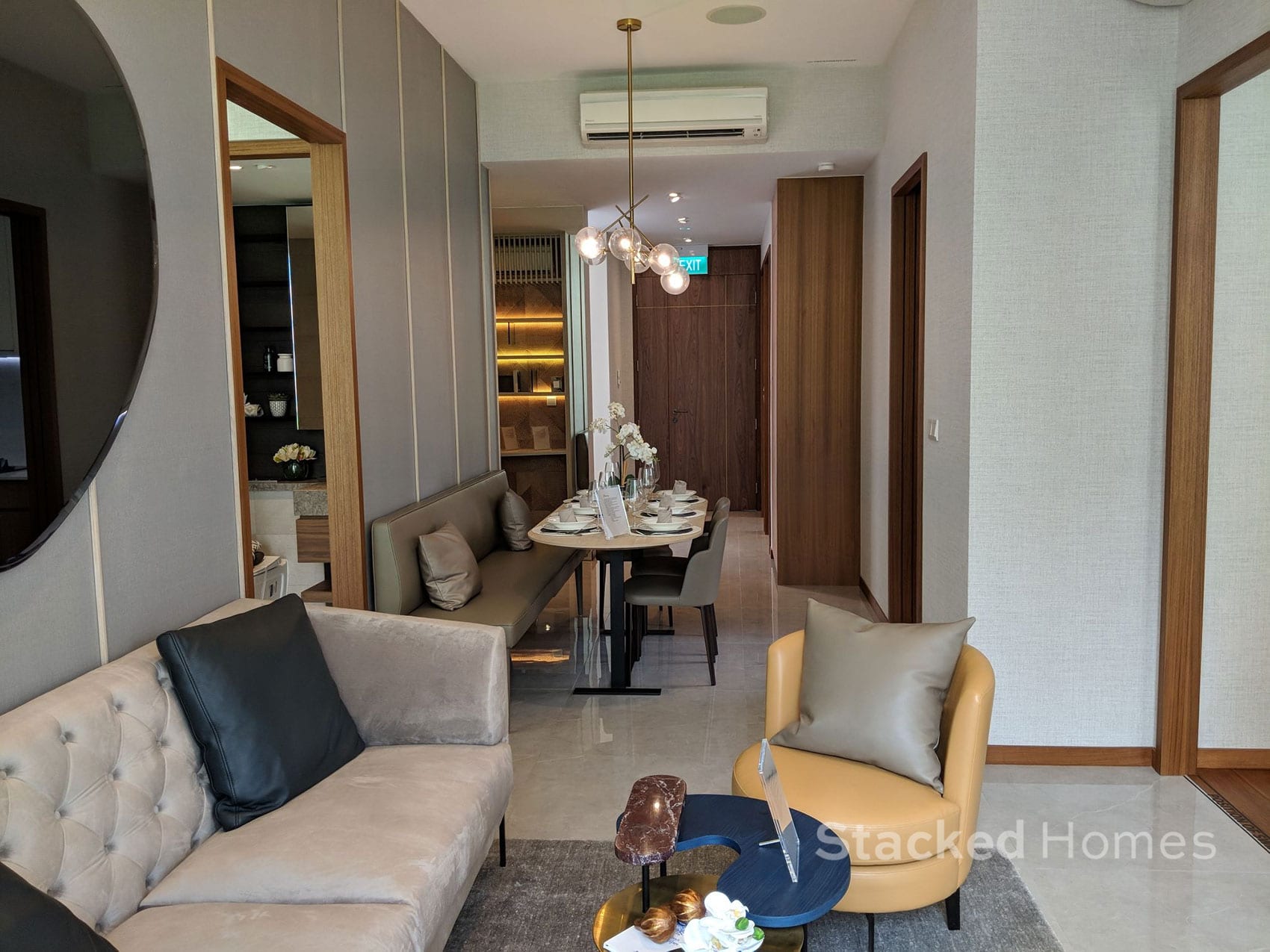 To be honest, the dining is quite narrow. You definitely would not want to fit a round sized dining table here.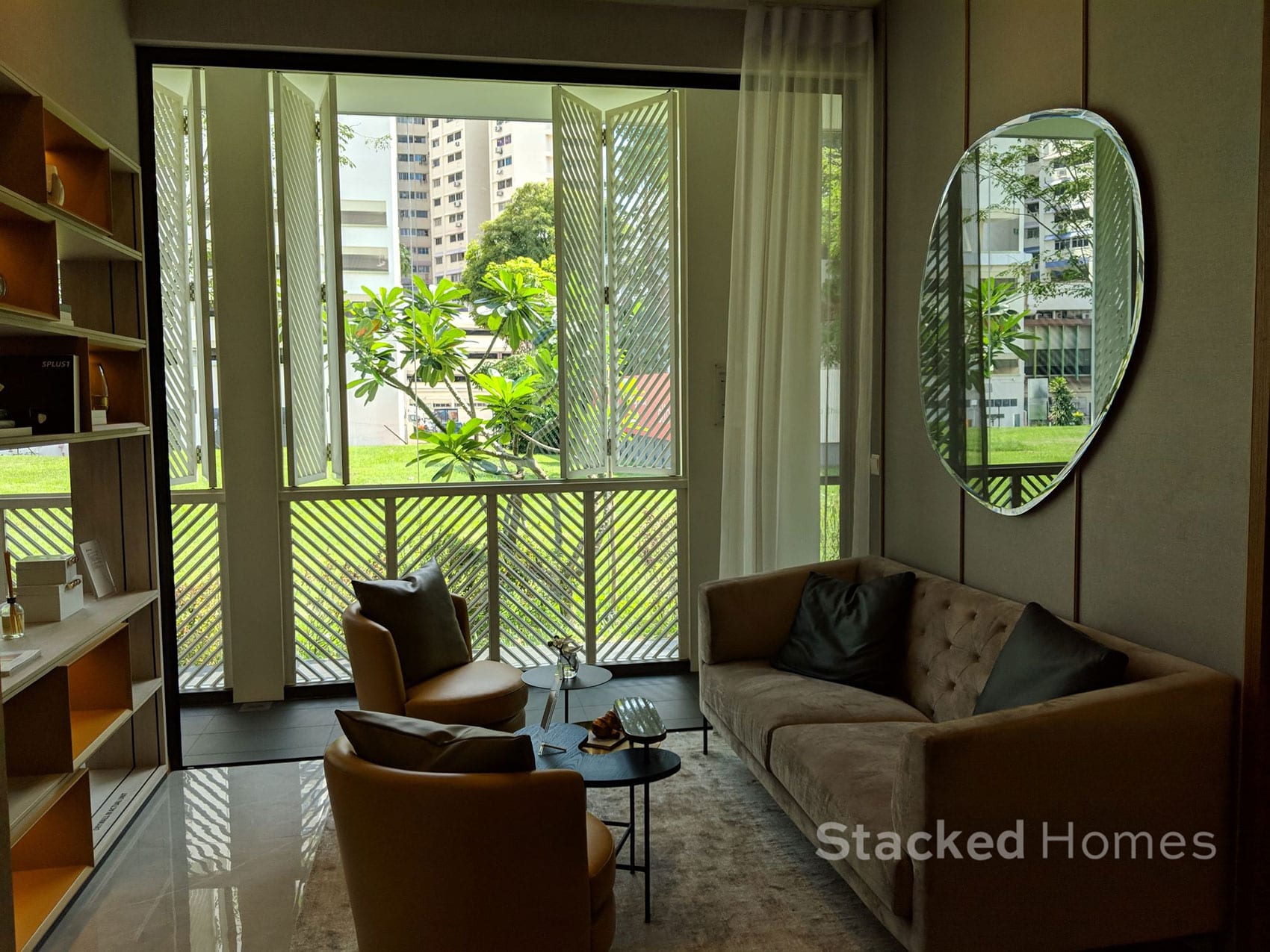 The living area is bright and airy thanks to the large frame of the open balcony.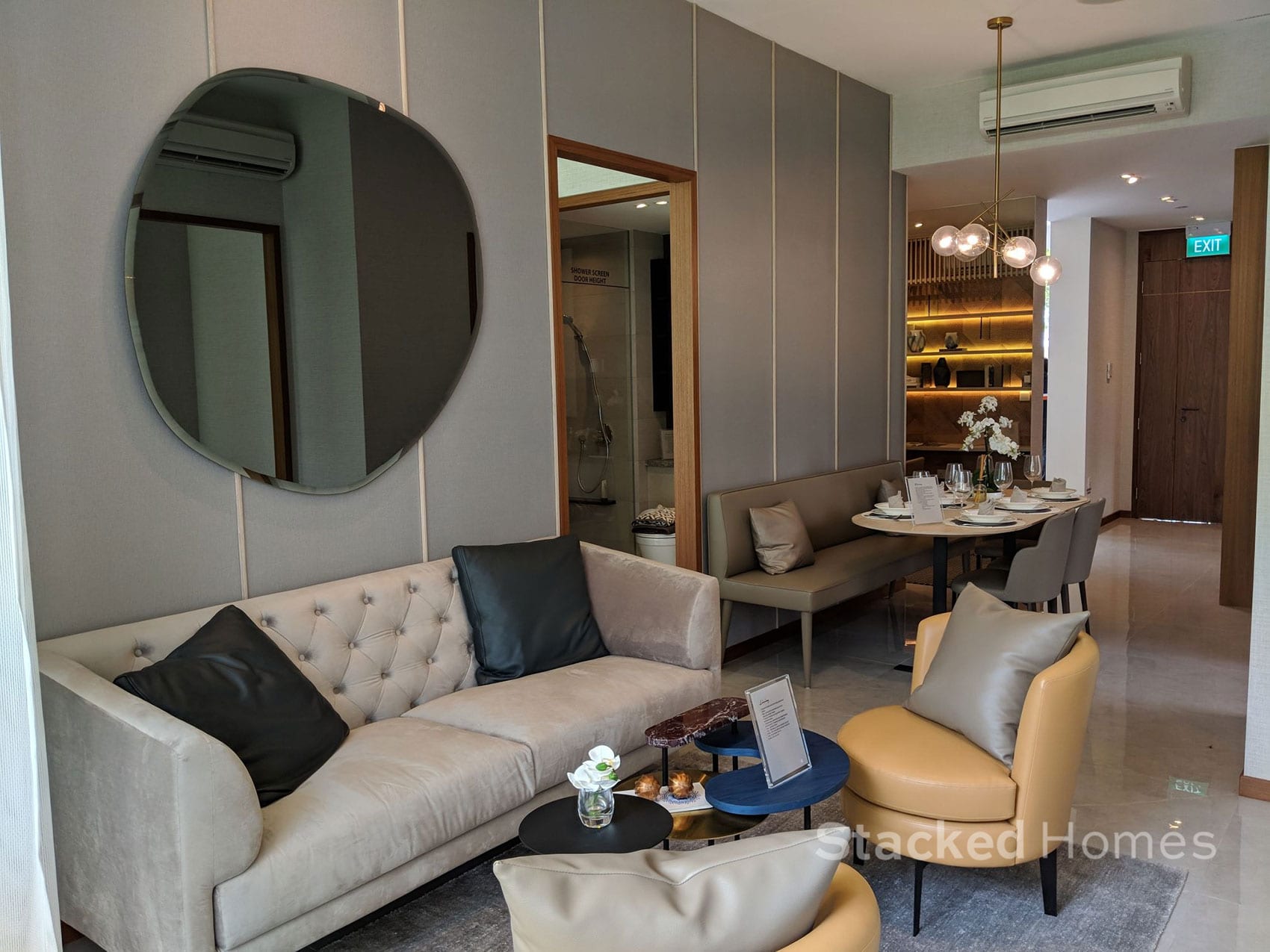 The doorway in between leads to the master bedroom.
The master bedroom here is of an average size, but I like that it leads to the balcony, where you can put some comfy seating to just chill and relax.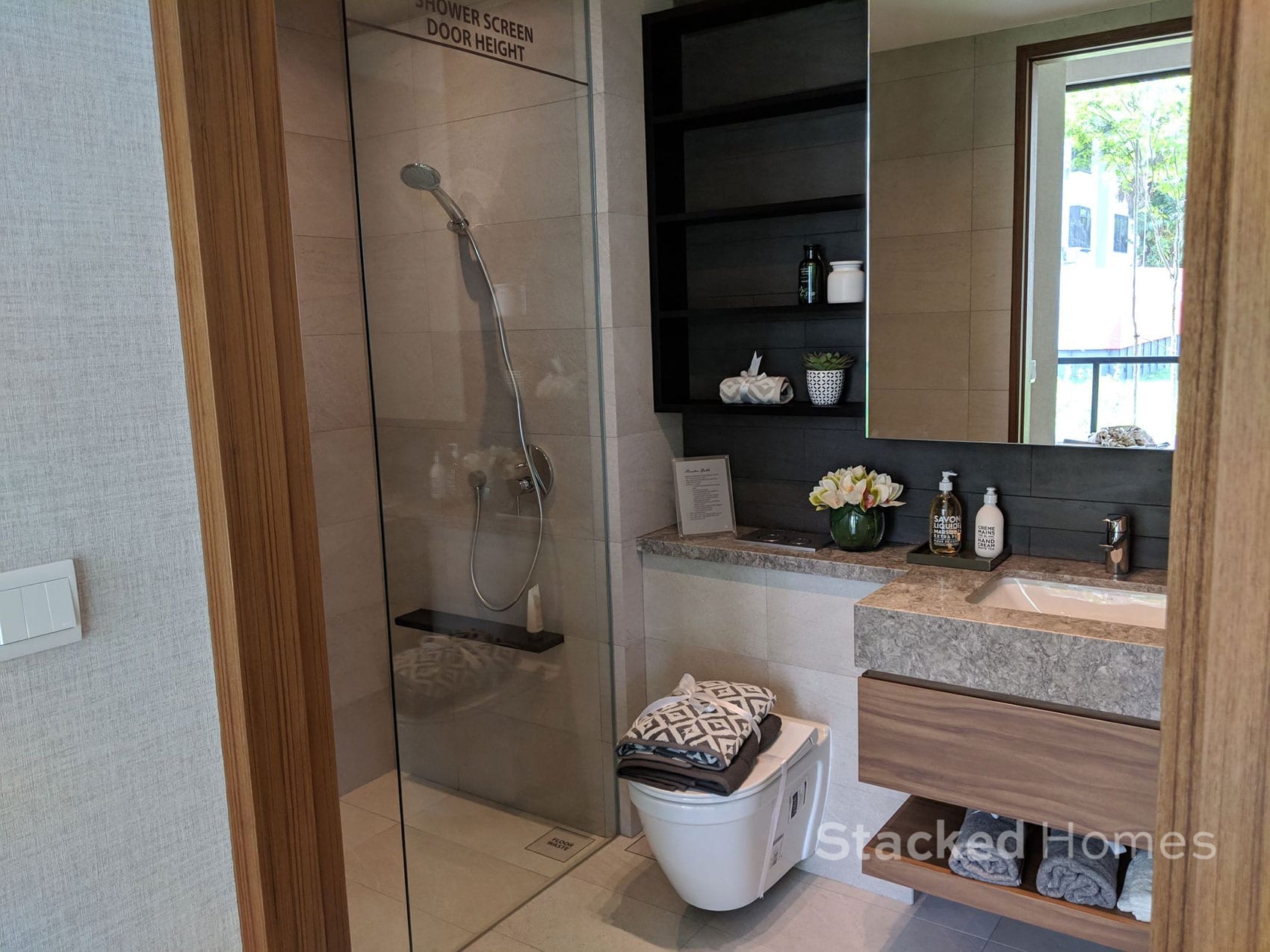 I like the fit and finishes of the bathroom, its a pity they could not fit in a bathtub here!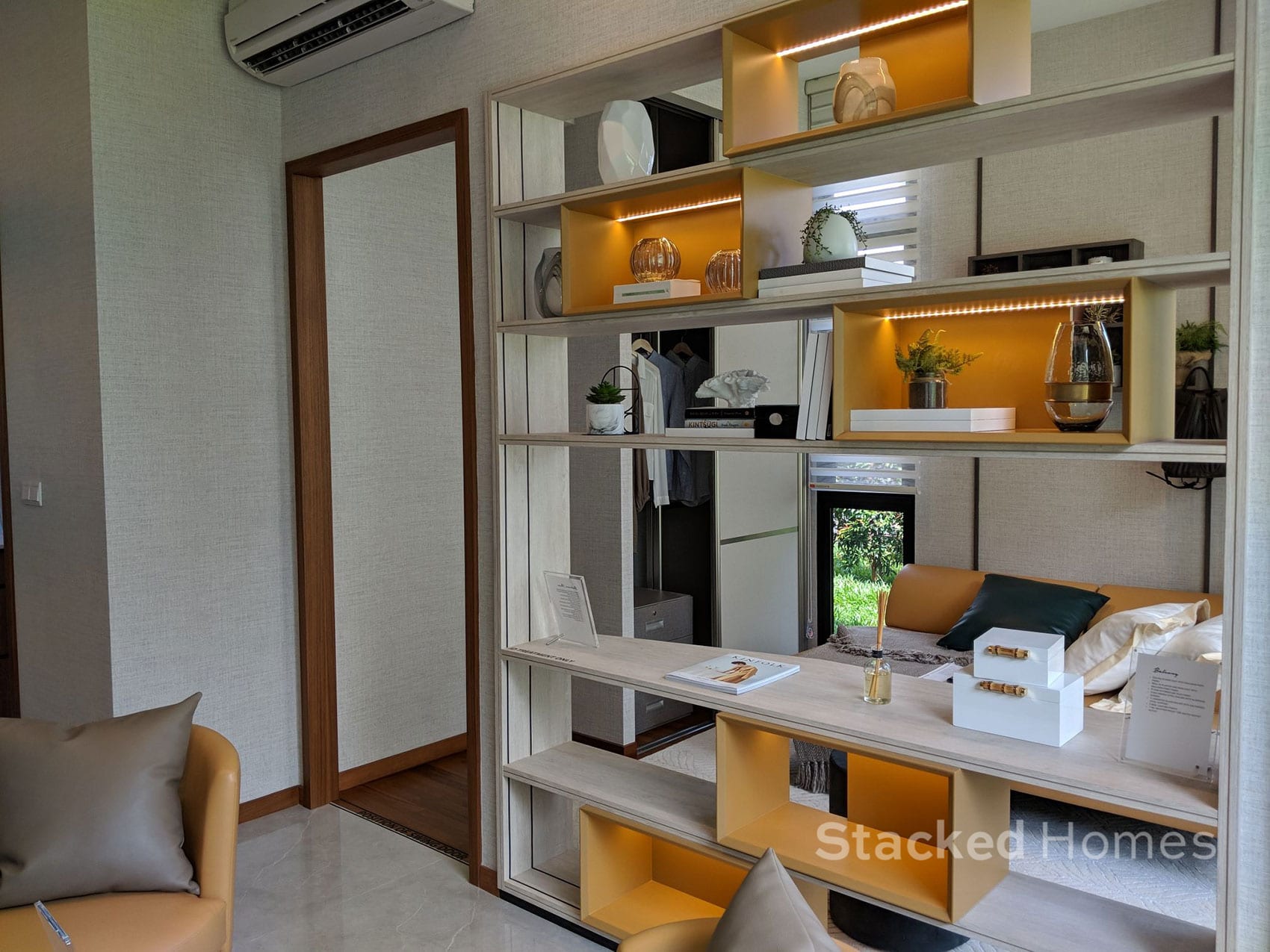 The last bedroom here is shown with an open concept of additional storage and a sitting area.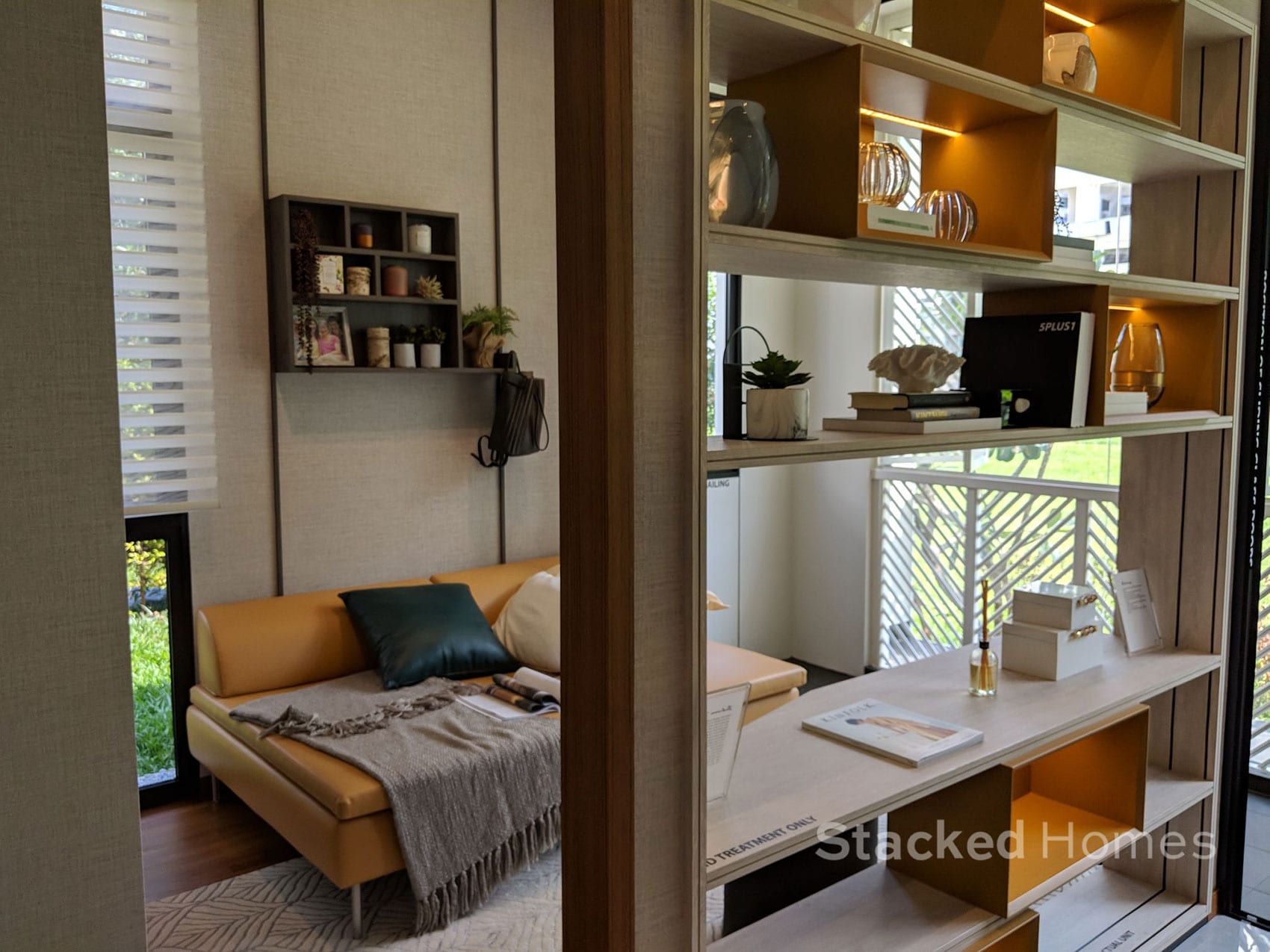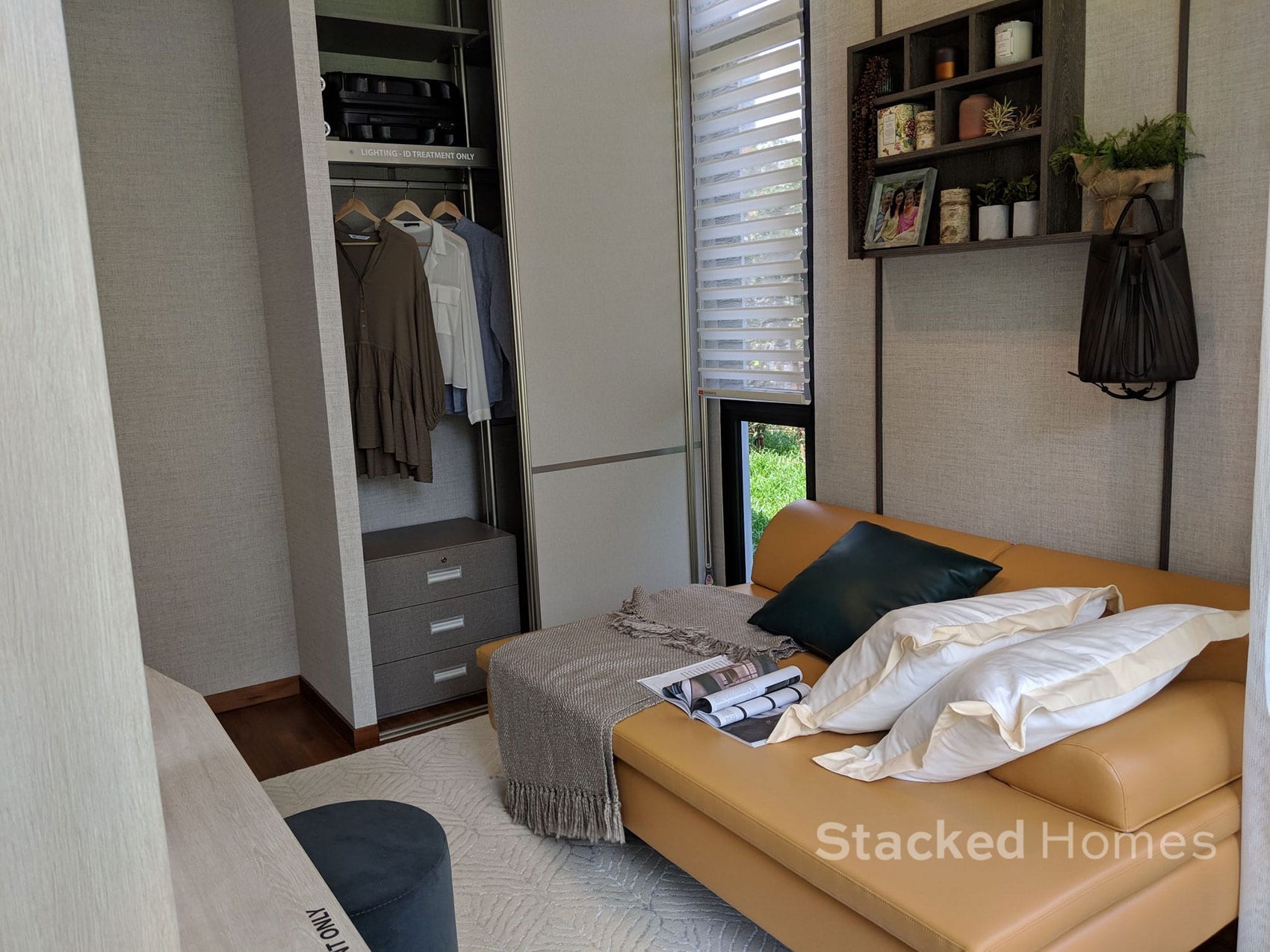 As with the flexi room, the developer is open to fitting this room to whatever fits your fancy. You could leave it open to expand the size of the living room, or simply leave it as the third bedroom.
Just to give you an idea of how big the balcony area is.
In keeping with the flexibility of the development, the Olloi condo is very interesting in the different layouts that are on offer. There is a 3 bedroom flexi + utility, 3 bedroom dual key, 3 bedroom penthouse with a high ceiling in the living room and a 4 bedroom dual key penthouse.
All of them offer a great deal of flexibility and usability depending on your needs. For example, the 3 bedroom dual key could be used for elderly parents, or for additional supplement income. The only downside is that at 34 total units for the development, you do not get many of each layout to choose from.
Our Take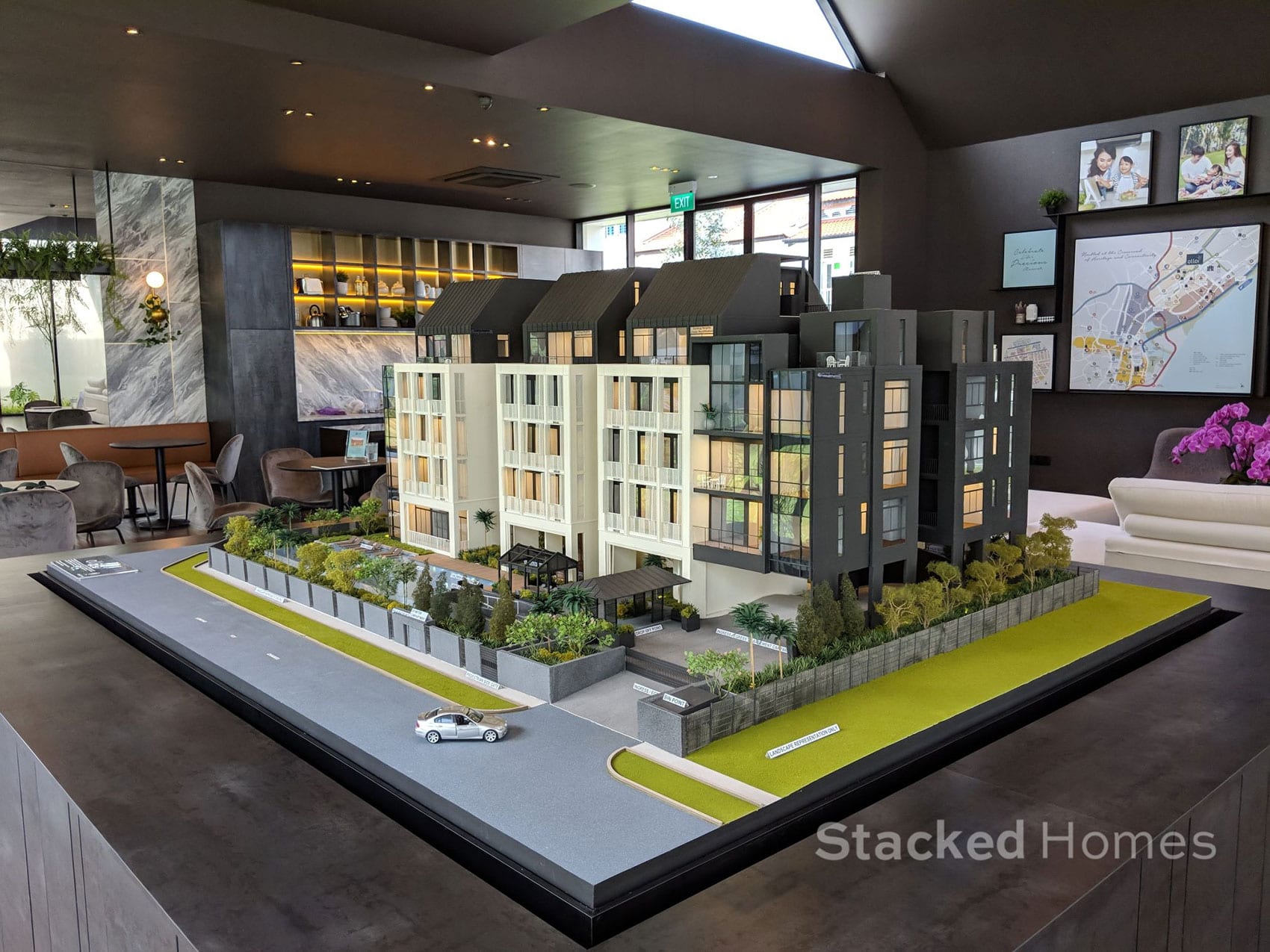 If you go into this development with no expectations of a big condo (with a multitude of facilities and space) you will be able to see the Olloi condo for what it is. A well-designed development that pays homage to Singapore's roots. It's suitable for family living, and the developer has done well to ensure that everything is catered towards that vision.
After all, home is where physical space blends with security and comfort. In this area of the east, the Olloi condo has made family living a distinct part of its identity . Sure, boutique condominiums will always have its quirks, but I like what I've seen so far.
Since the development has not been built yet, it is tough to come to something conclusive. As such, our final judgment will be reserved for when it has achieved its TOP status.
What this means for you
You might like the Olloi condo if:
• You prioritise family living.The layouts here are functional and usefully geared towards family living.
• You want to be near food and amenities.Joo Chiat offers a myriad of good food and is super convenient for amenities
You might not like the Olloi condo if:
• You prioritise space.The Olloi condo definitely cannot be compared to the space a bigger development brings, but you do get a good sense of privacy here.
• You depend on the MRT for work.If you use the MRT to get to work everyday, you might find the walk too far for a daily commute.
End of Review
[optin-monster-shortcode id="gzivtlotizxfiuzqwtnx"]