Condo Reviews

Interlace Condo Review: Spacious Units, Subjective Design But Really Great For Families
Druce
May 24, 2018

24

min read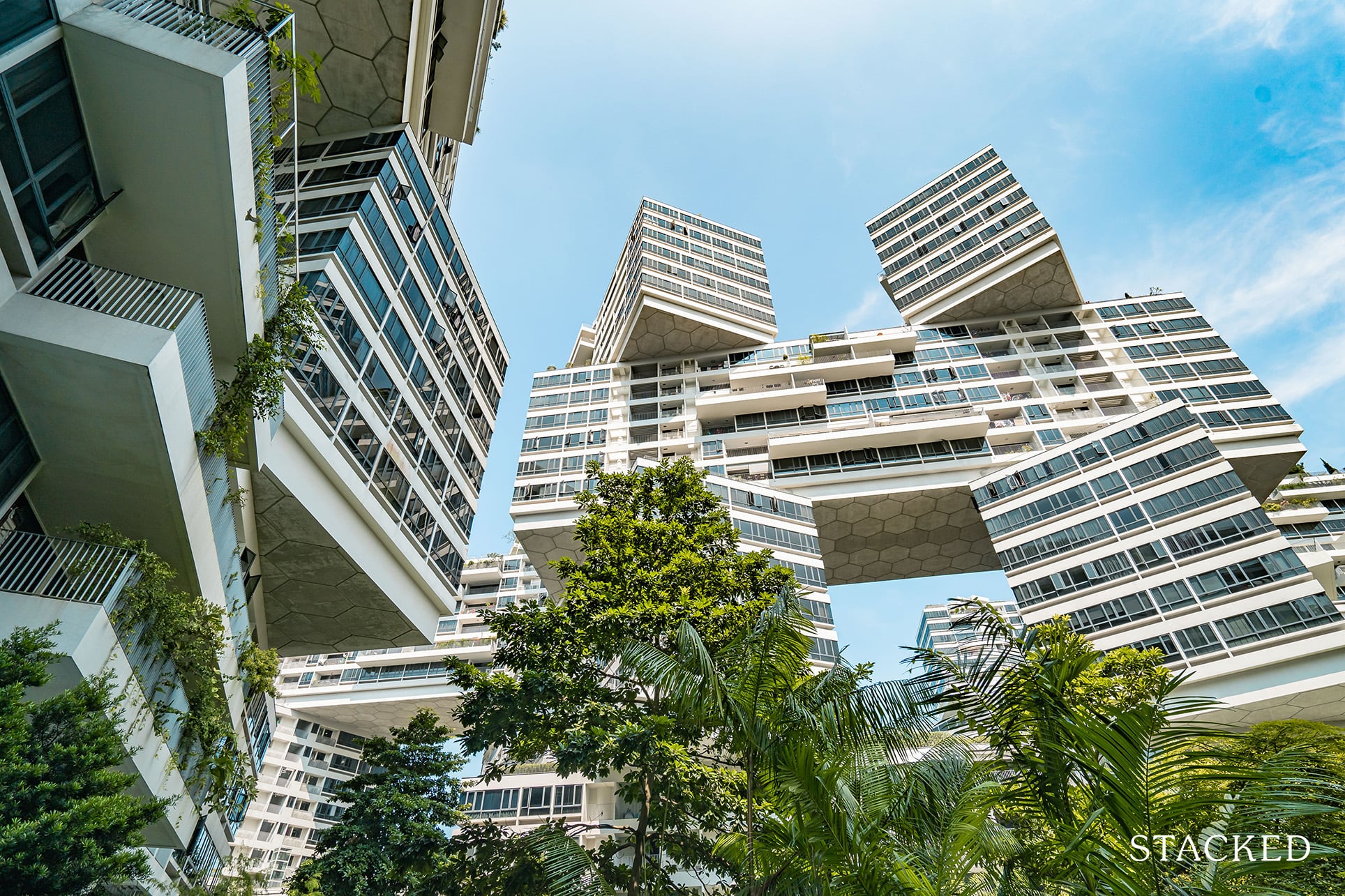 The Interlace has a very homely feel to it, and has many different unit types to choose from. If you work in Alexandra area or in the CBD, this could be a good living option.
Reviewed by Druce on May 24, 2018
What we like
Huge land

Big land space

Great facilities
What we don't like
—

Not near MRT

—

Only one entrance and exit
24
min read
| | |
| --- | --- |
| Project: | The Interlace |
| Region: | Rest of Central Region (RCR) |
| District: | 04 |
| Address: | Depot Road/Alexandra Road |
| Tenure: | 99-year Leasehold |
| No. of Units: | 1040 apartments and 8 retail shops |
| Site Area: | 869,320 sqft |
| Developer: | Ankerite Pte Ltd (Jointly Developed by CapitaLand and Hotel Property Limited) |
The Interlace Condo was one of the most talked-about condo launches in Singapore, partly because of its previous history (Gillman Heights) and its design reveal by renowned architect Ole Scheeren, who designed Duo Residences as well. In 2015 it won the top prize at the World Architecture Festival, but public opinion over the design has been a bit of a mixed bag. However, there is no doubt that it is certainly one of the most unique developments in Singapore, so let's get on with our Interlace condo review!
The Interlace Condo Insider Tour
With such a huge space on offer, you can expect the Interlace to have a multitude of facilities. And it does not disappoint in that respect.
Facilities in The Interlace

| | | |
| --- | --- | --- |
| Retail Plaza (8 retail shop spaces) | Play Zone | Outdoor Exercise Stations |
| BBQ Promenade | Jogging Track | Gardening Zone |
| Pet Zone | Party Pavilion | Tennis Court |
| Multi-purpose Court | Clubhouse | Putting Green |
| Reading Room | Billiard | 50 metre Lap Pool |
| Water Park | Putting Green | Function Rooms |
The Interlace also offers 8 themed courtyard gardens
Theatre Plaza
Water Park
Spa Valley
Bamboo Garden
Lotus Pond
Waterfall Terrace
Play Hills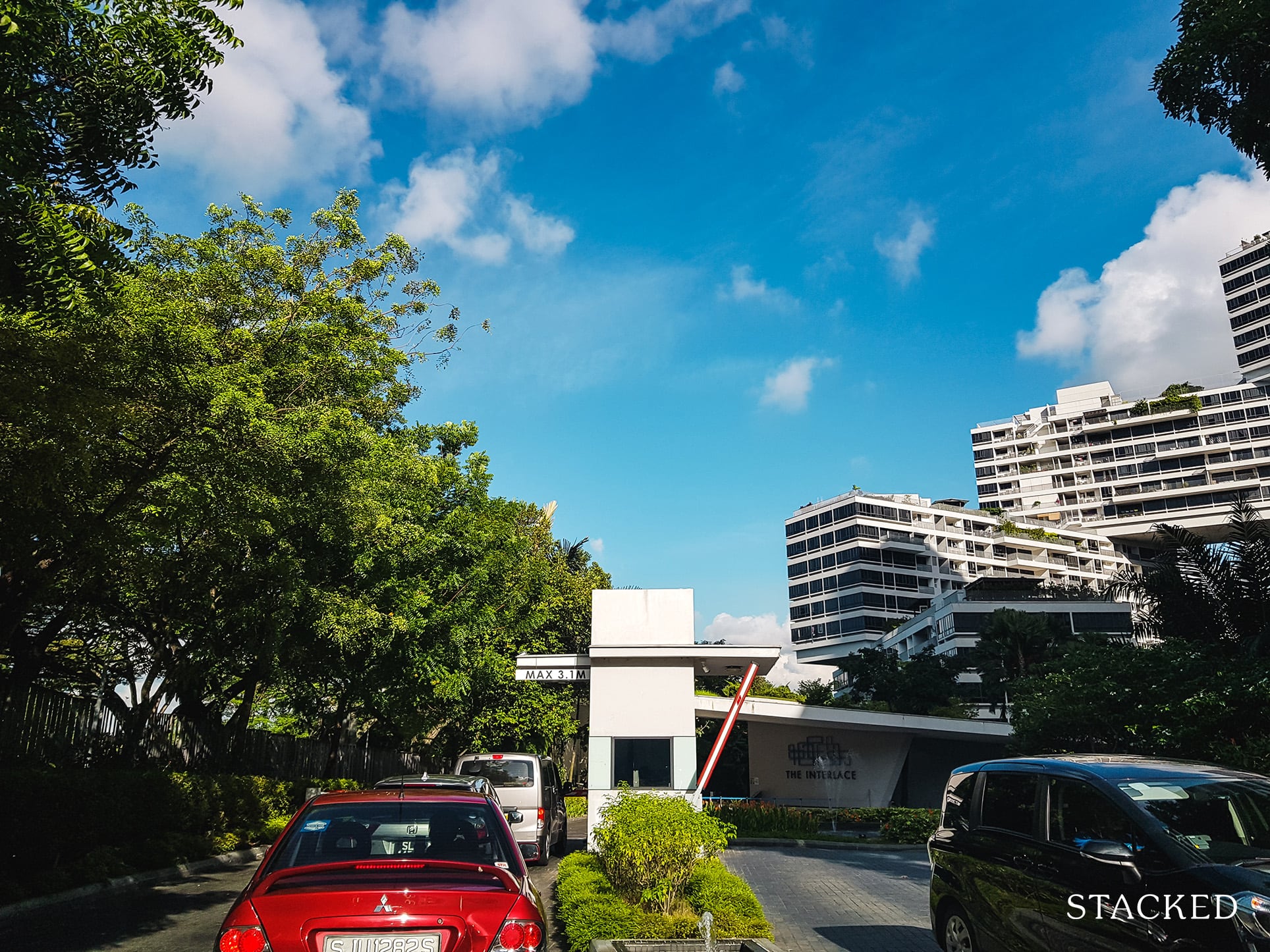 For a development of this size, it is disappointing to see that there is only one entrance and exit. Thankfully there are still two lanes available going in and out, but I can imagine it being choked up in the morning rush hour – especially with that traffic light limiting the vehicle flow.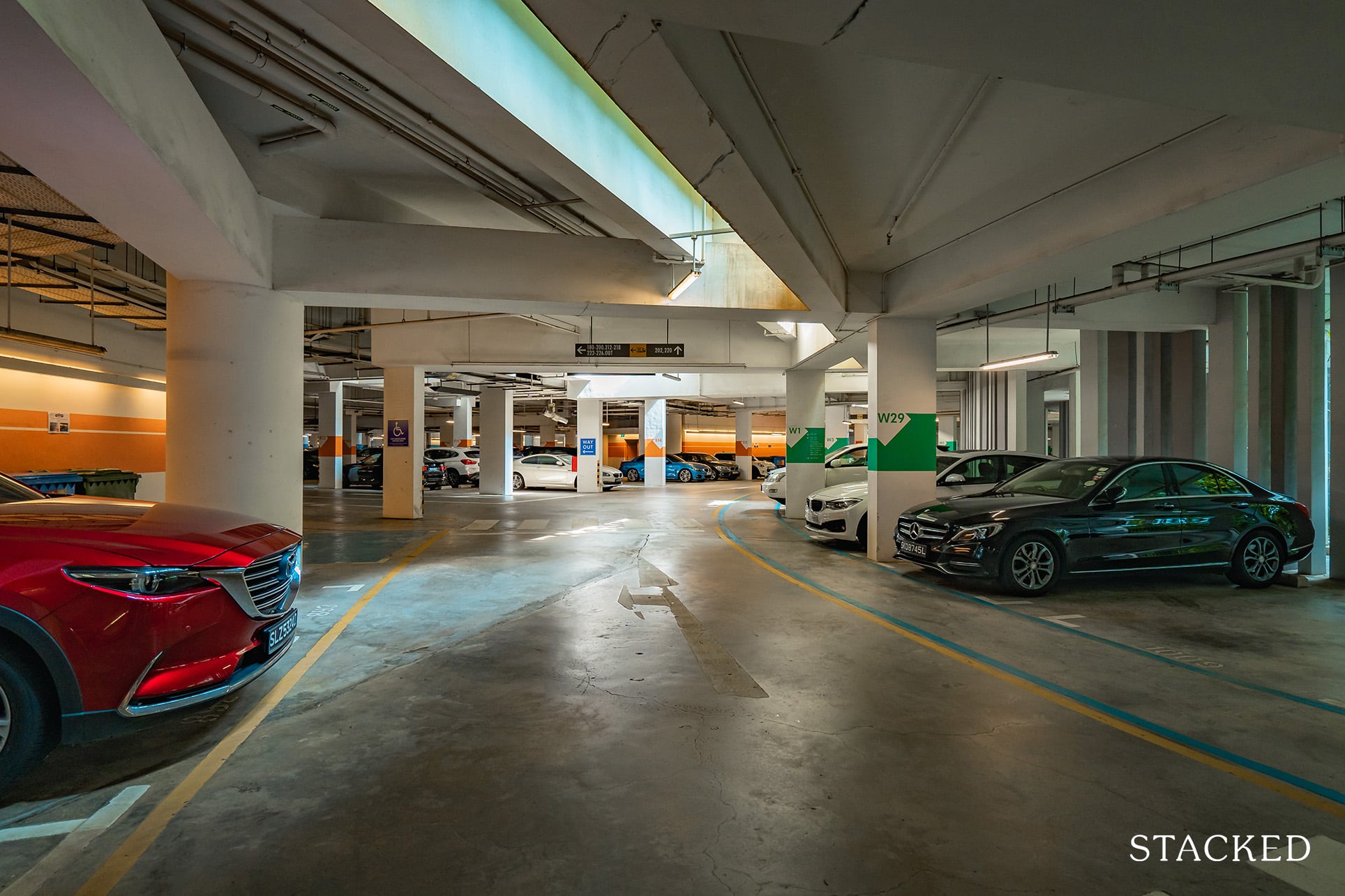 There is approximately 1 car park lot catered to each unit, but bear in mind there are probably lots of rental units due to the close proximity to Mapletree Business City – so you can expect car park lots in the Interlace condo to be more than adequate.
And boy is it needed too, as the Interlace is one of the condos that you should avoid if you are reliant on the MRT as transport.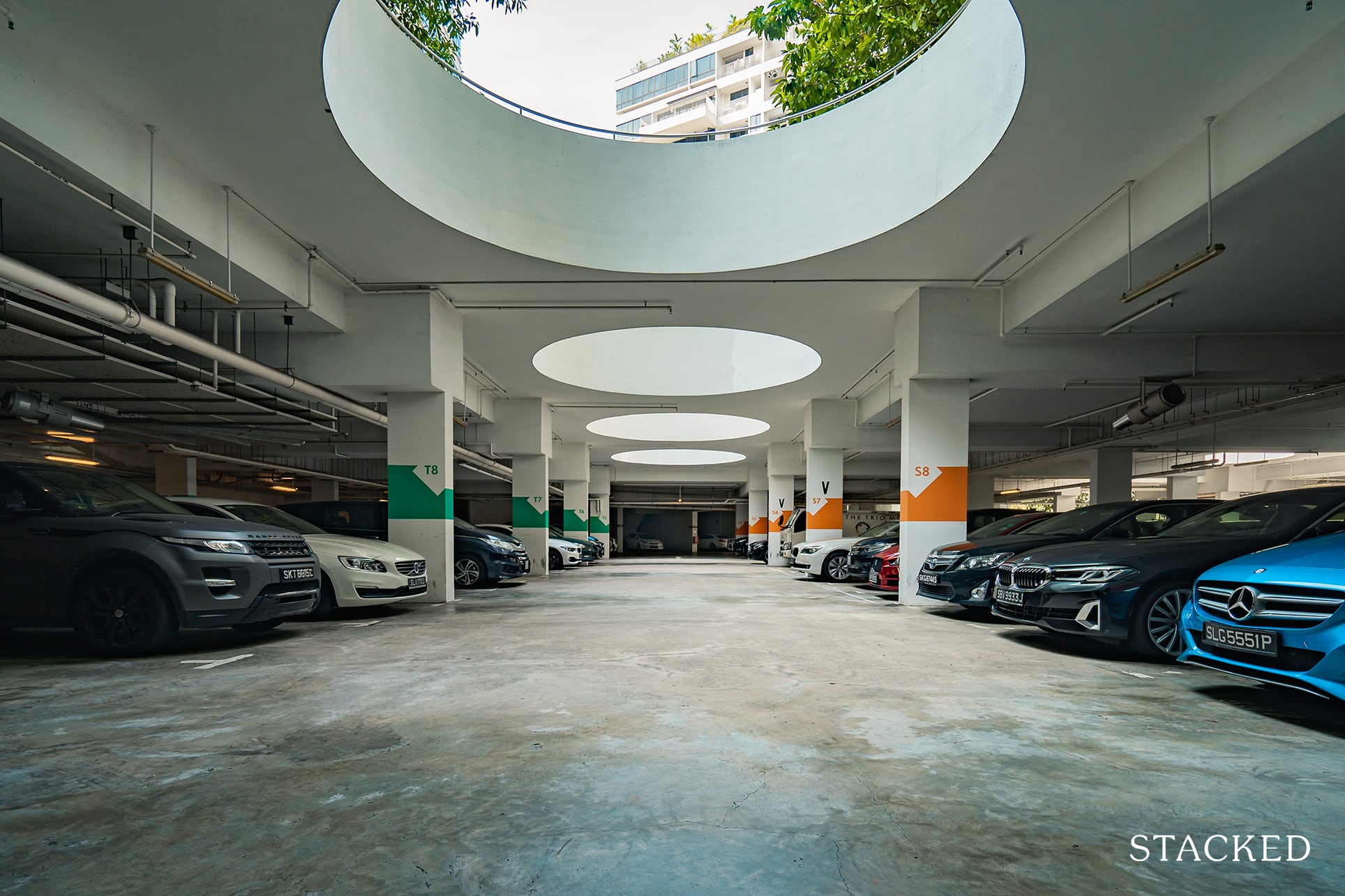 What's especially great about the car park at the Interlace is the addition of the skylights at different points. Unlike underground car parks which can feel stuffy, it feels rather open, airy, and bright here.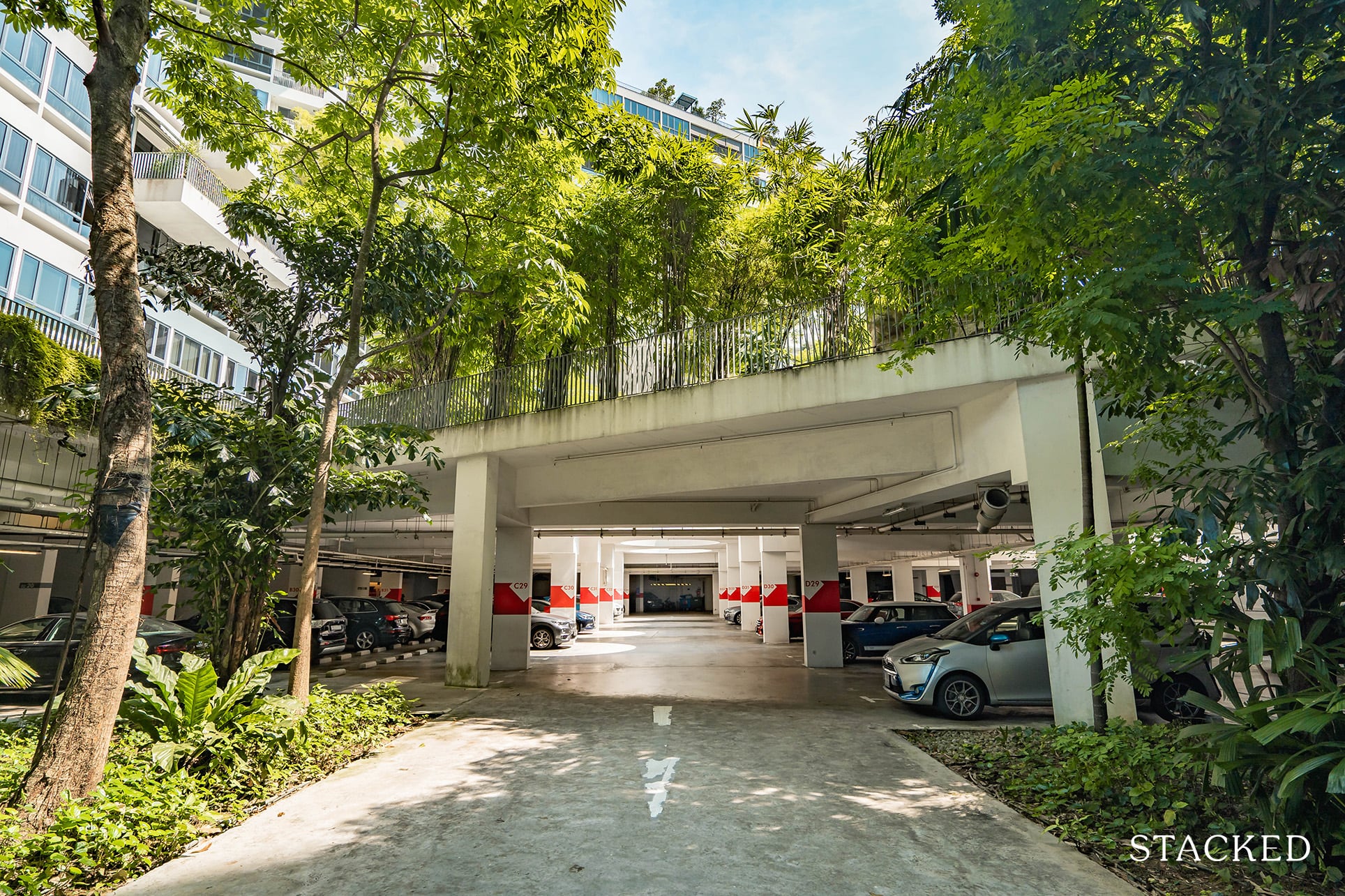 And not to mention, even picturesque at points thanks to the addition of greenery! It's certainly a nice touch.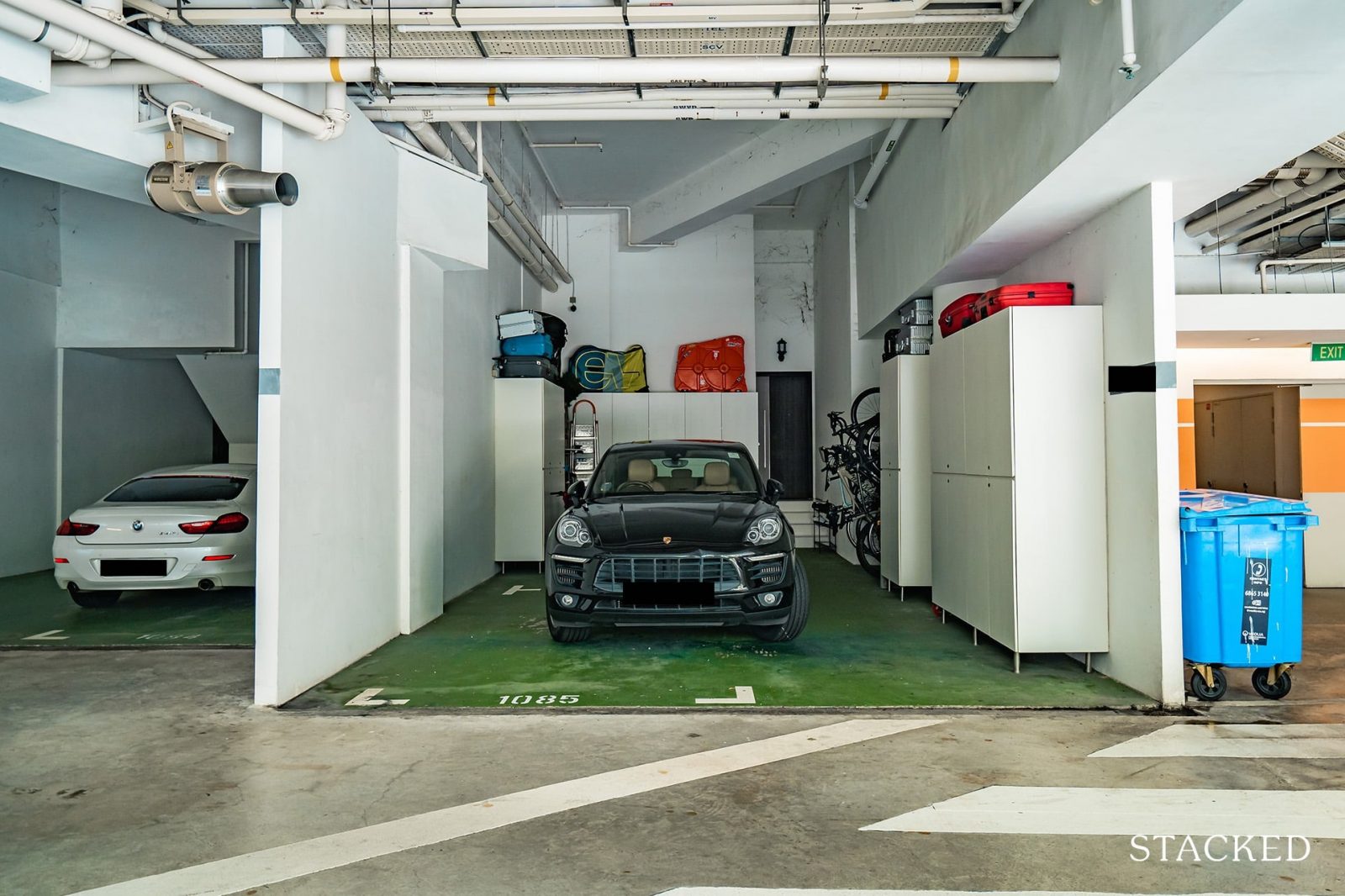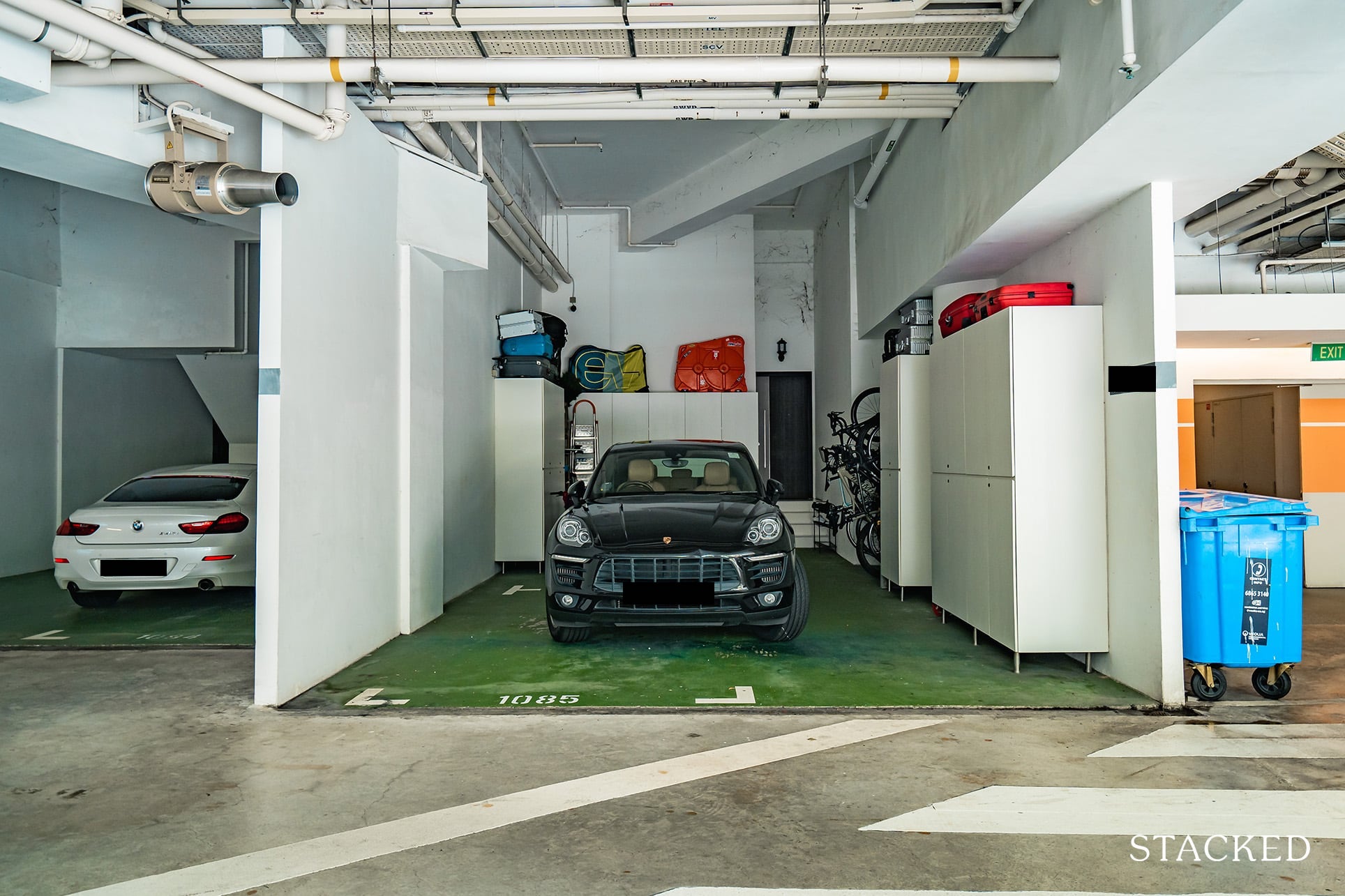 Garden units at The Interlace condo get special treatment, you will have your own dedicated car park lot at your doorstep – it's as close as you can get to landed living in a condo environment.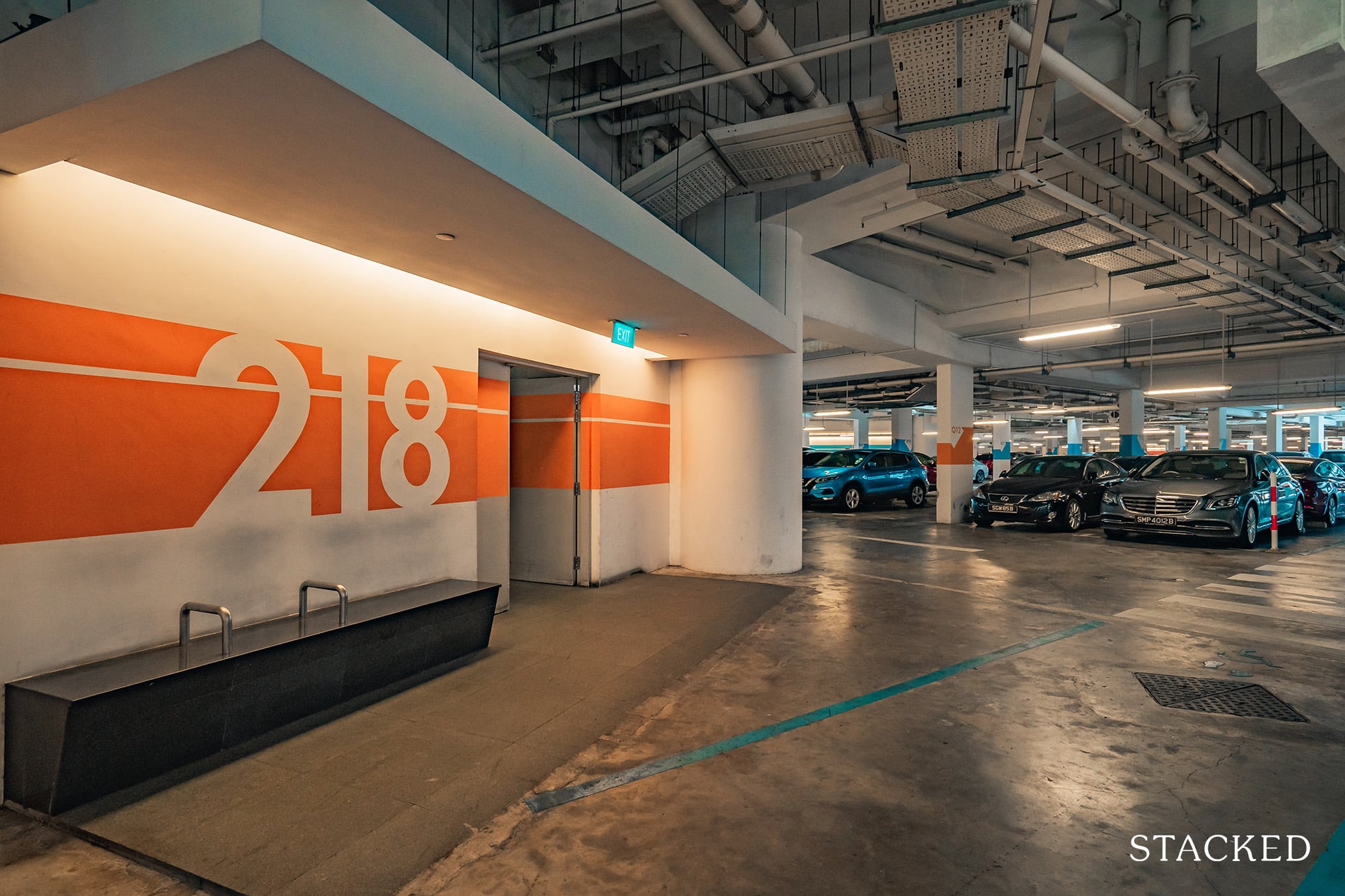 The lobby area is pretty non-descript, but you shouldn't expect too much either – this isn't supposed to be a luxury development after all.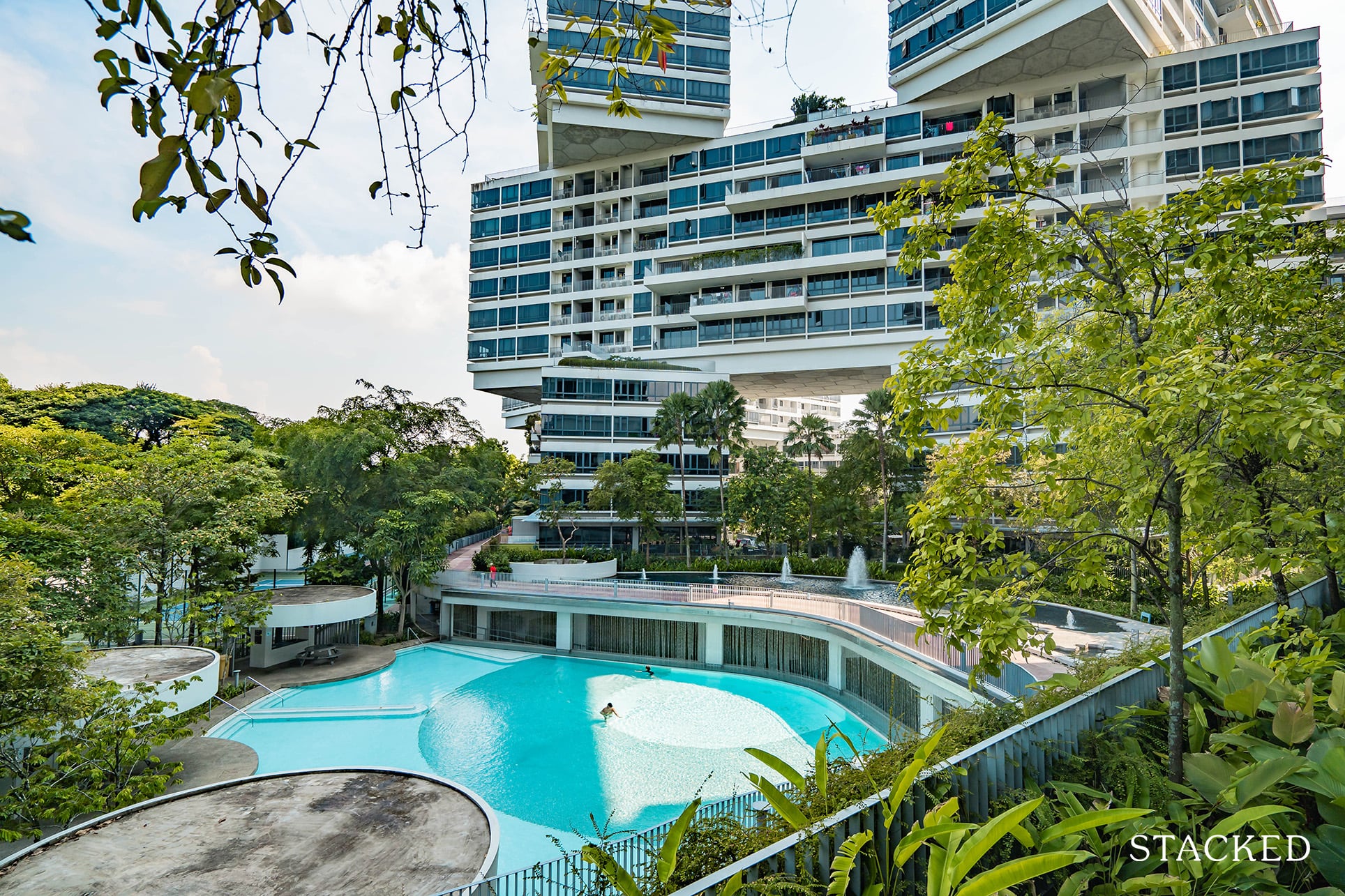 Moving up to the ground level, you'll find a multitude of swimming pools scattered around the development. By the way, this isn't even the main pool, but it is still sizeable and probably bigger than a lot of condo pools in Singapore.
The shallow access makes it popular with younger kids, so if you want something more peaceful it's probably best to stay away.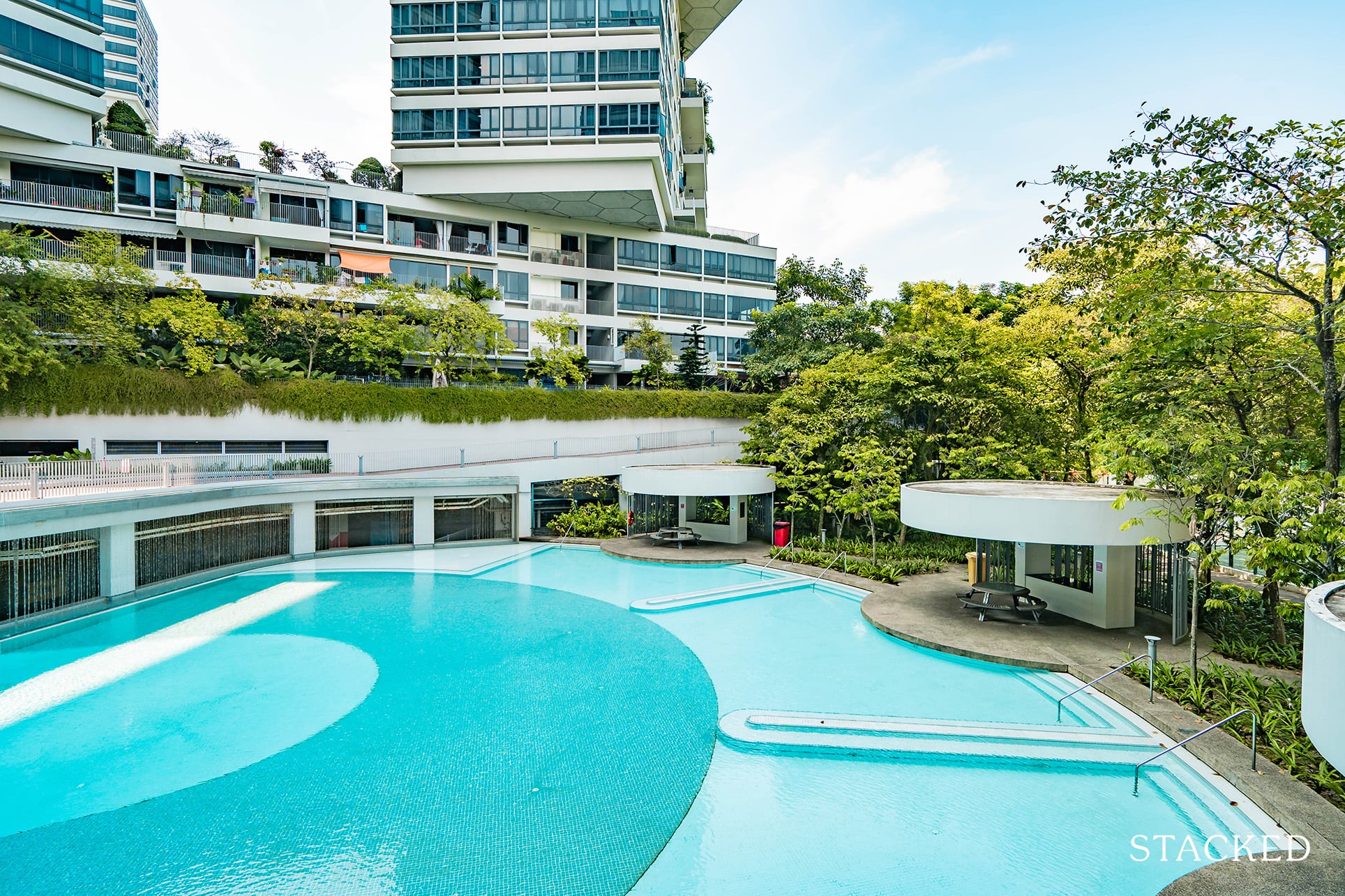 Of all the pools, however, this is probably the least attractive one in my opinion. The sheltered seating areas are not the most attractive looking – and while they've tried to mask the view towards the car park with a water fountain – it still isn't the nicest view to look at while wading around.
On the other hand, I doubt the kids would really mind too much.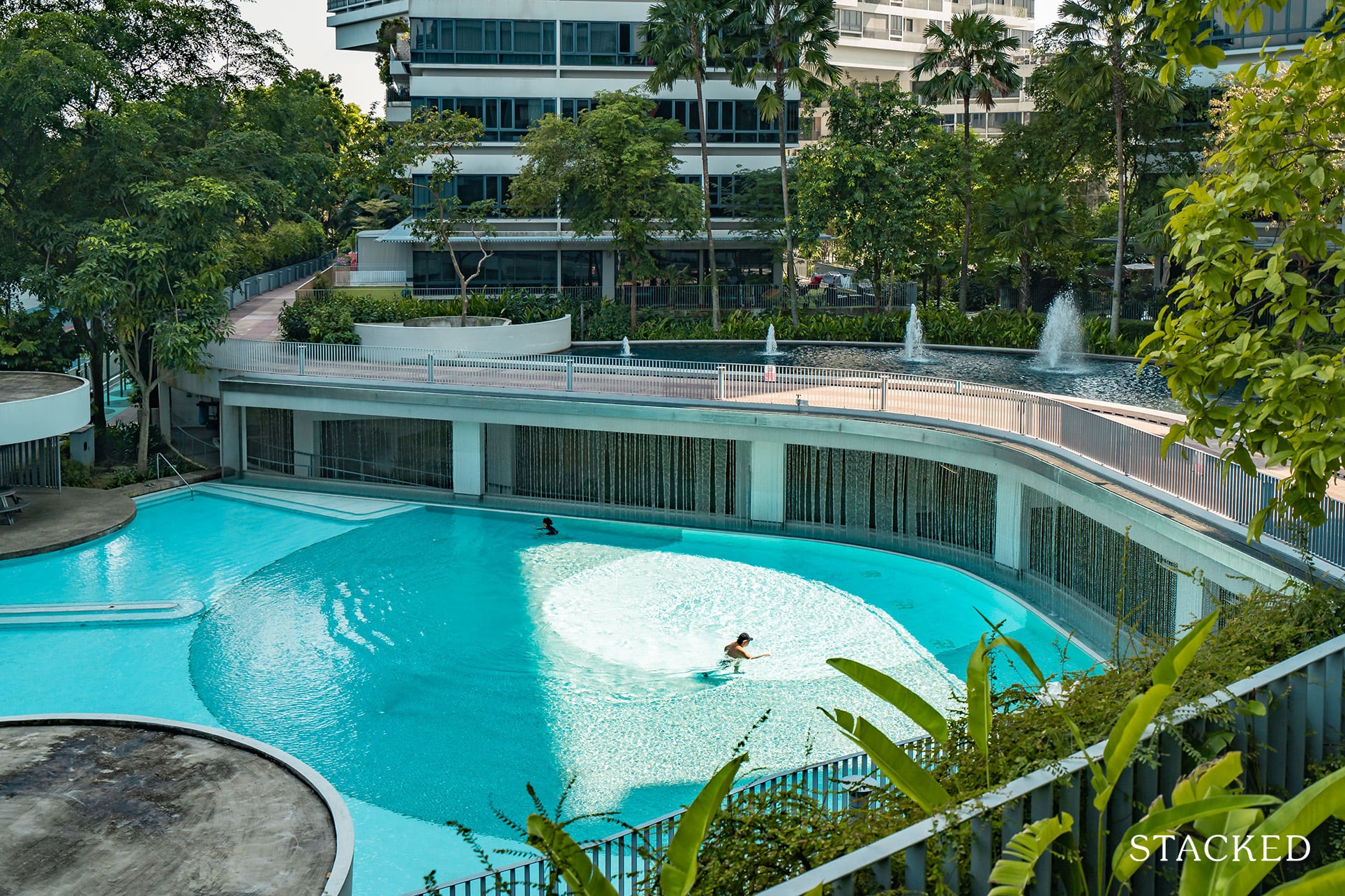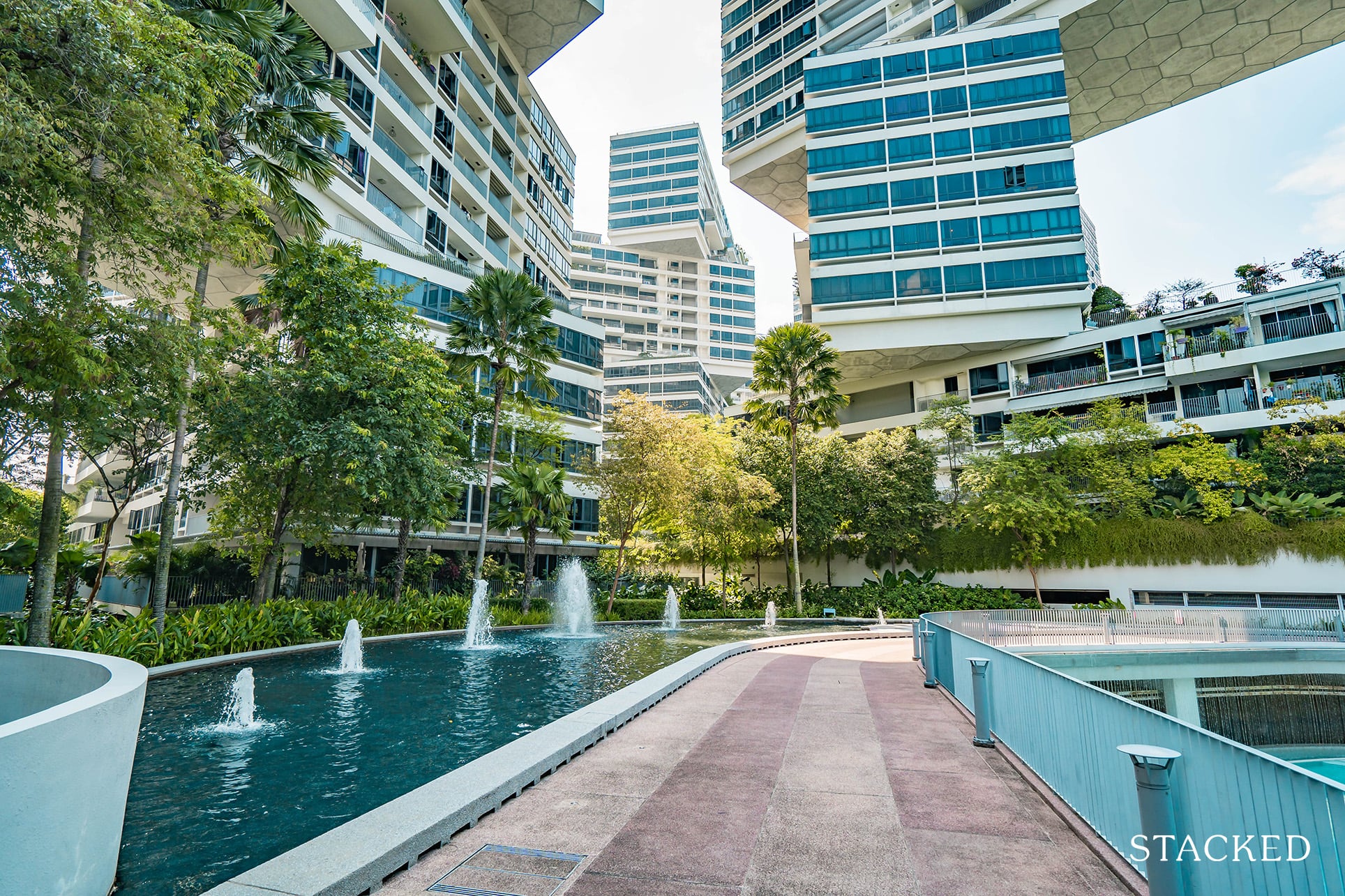 Surrounding the pool is a sizeable water fountain, which does provide for a nicer ambiance as you amble about the expansive grounds.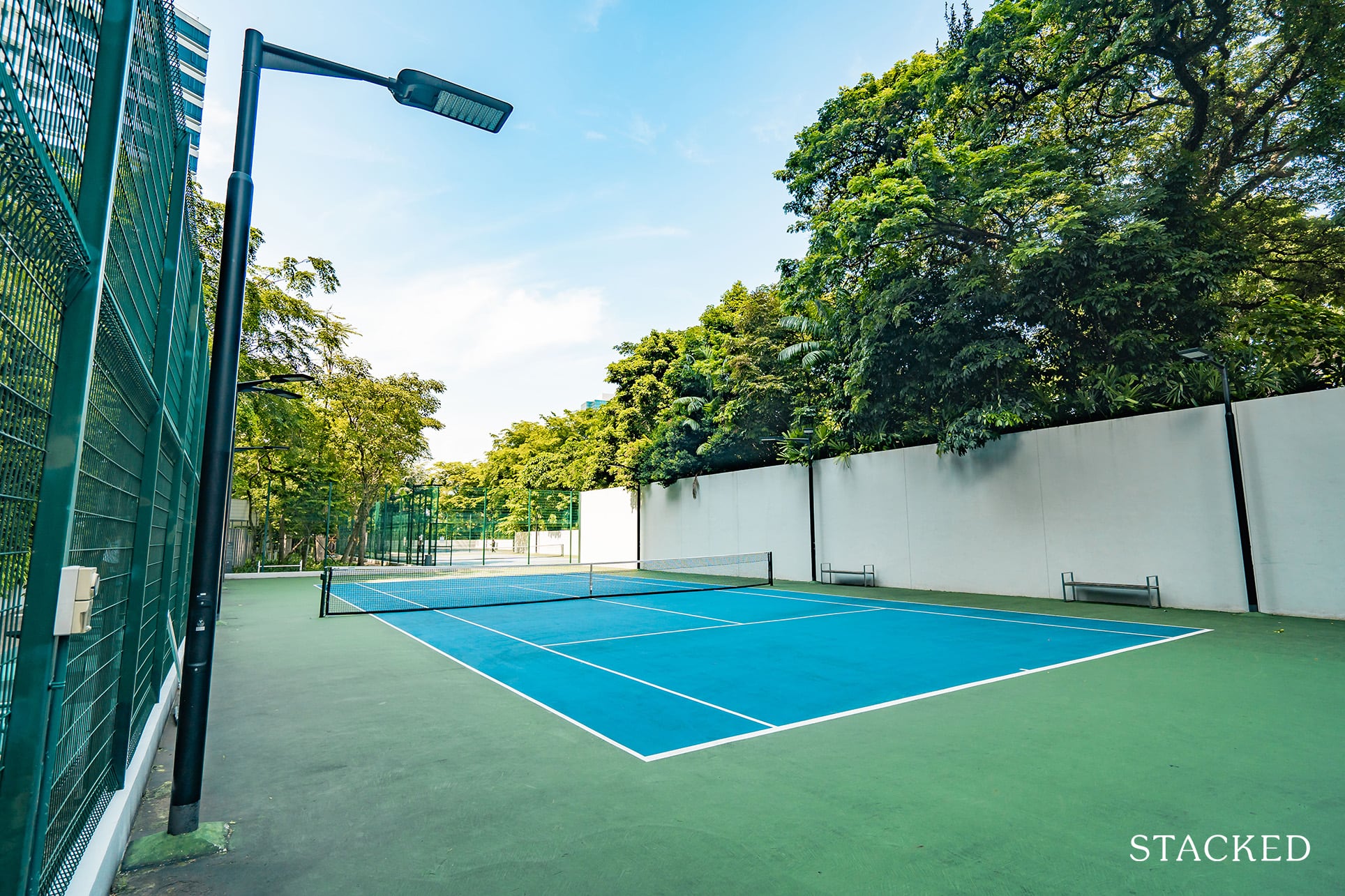 For tennis lovers, you'll be happy to find out there are a total of 3 tennis courts at the Interlace condo – which is pretty fantastic considering there are 1,040 units.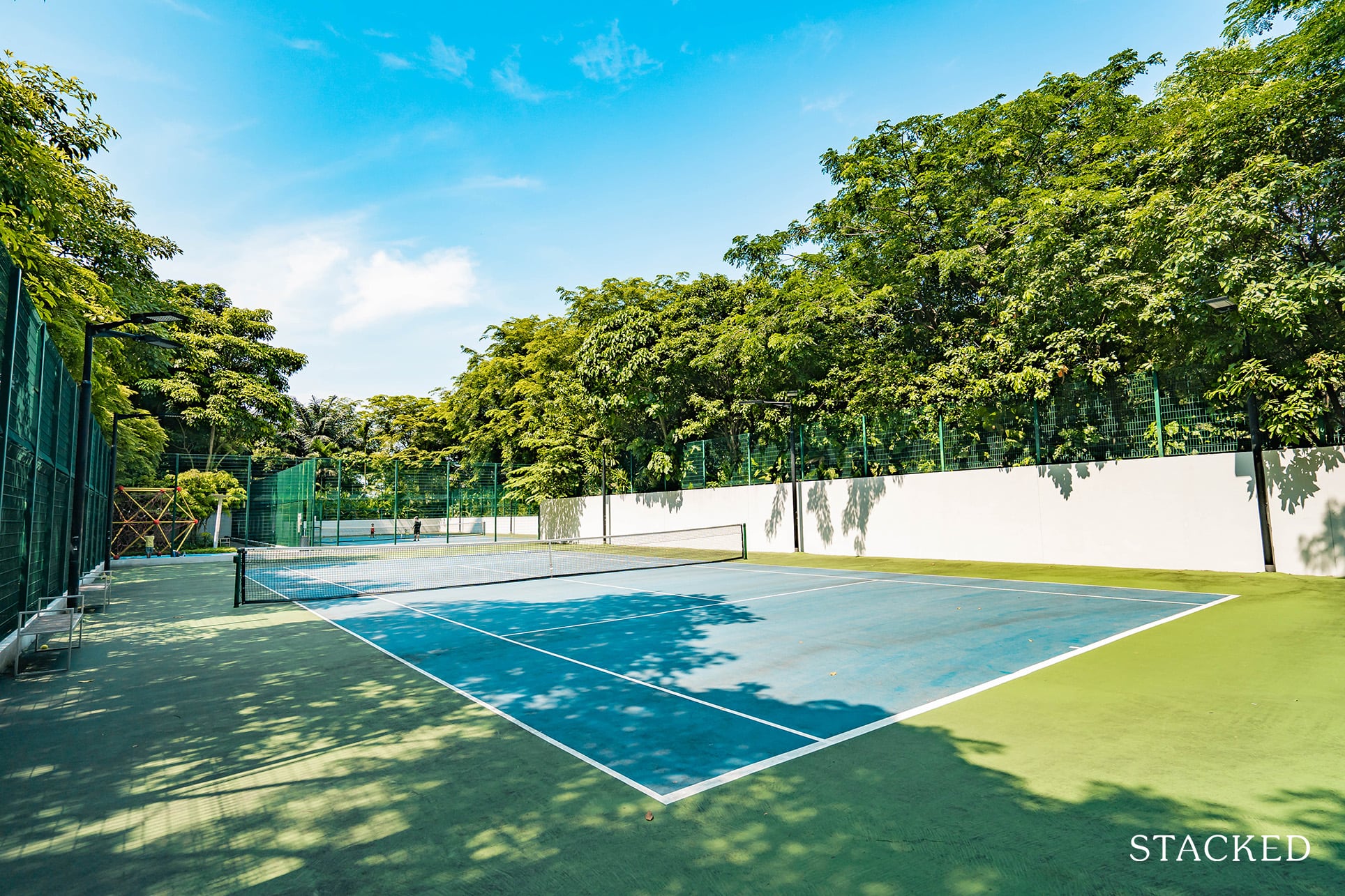 Especially in today's context where many of the bigger developments have a ratio of as high as 1,200 – 1,400 units per tennis court – this will definitely be an alluring plus point if you play tennis every weekend.
You'd also realise the clever positioning of the courts – it allows for more setback between the blocks and Alexandra Road so traffic noise will be minimised. To be fair, this isn't a slight on the surroundings here either. You're nearly surrounded by a blanket of trees, and with nothing higher than you (other than the residential blocks), that open feeling that you get here is quite nice.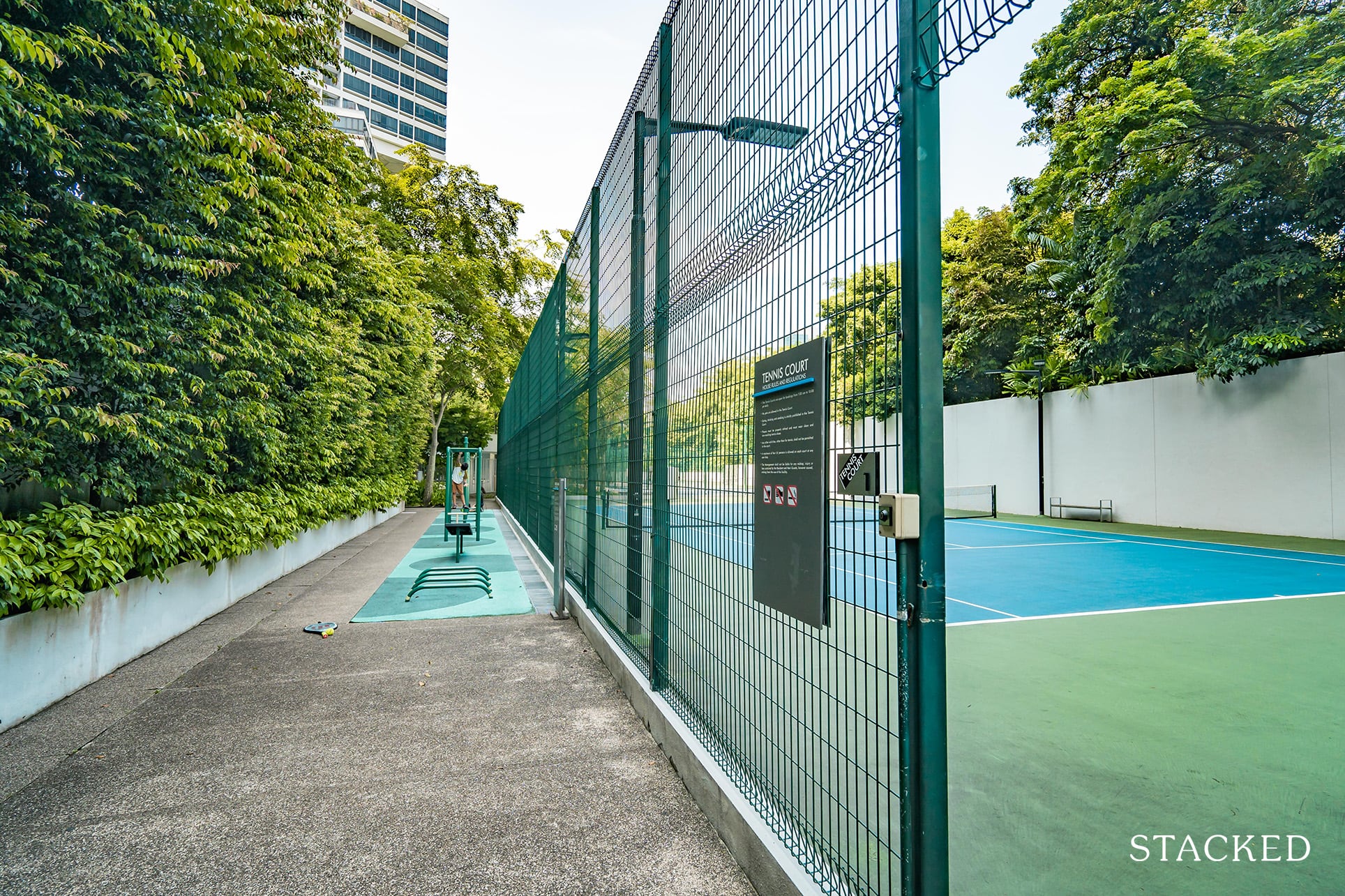 There are also workout stations outside, should you feel like getting a circuit workout in between the games.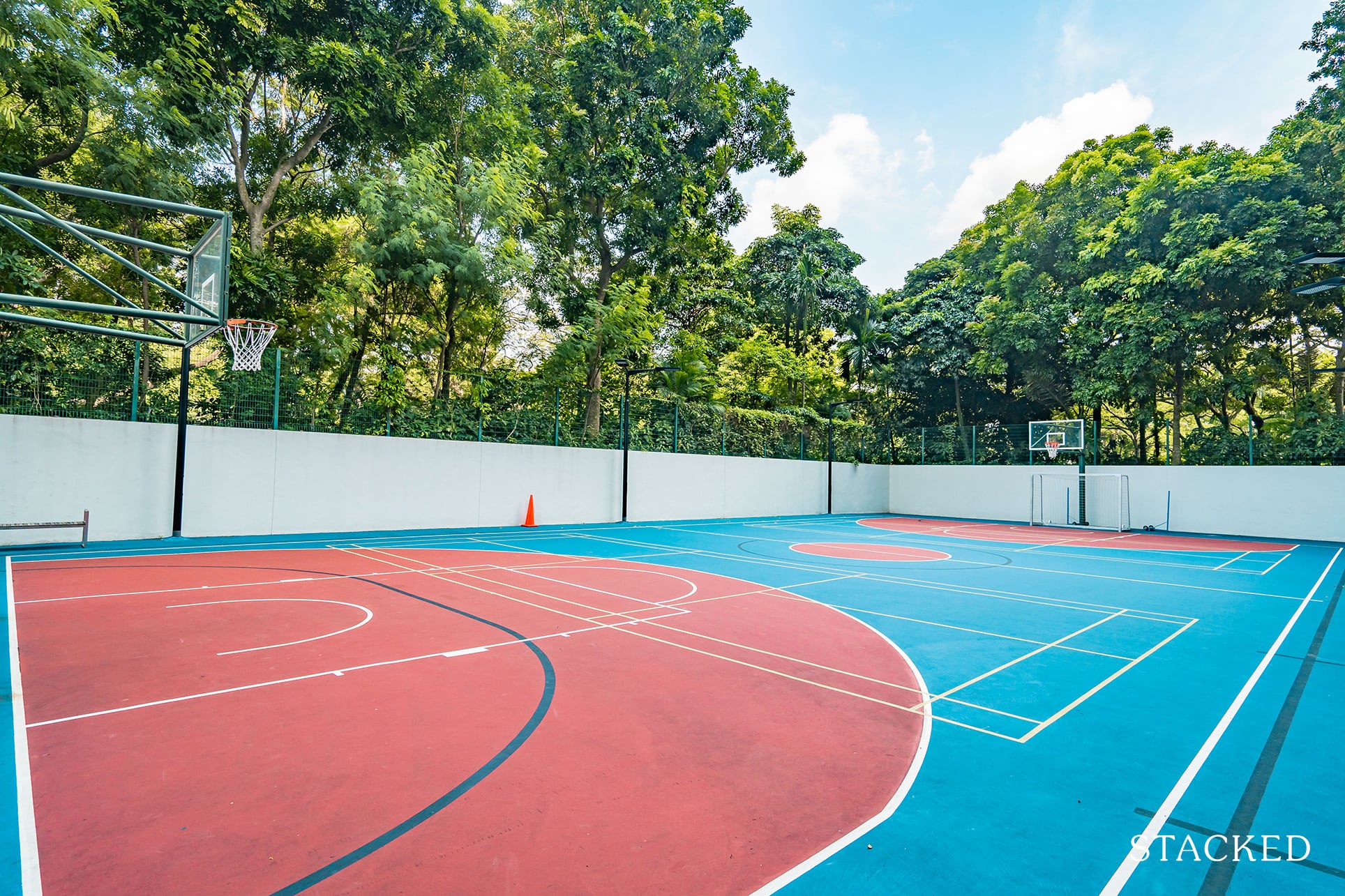 And to cap things off, there is a multi-purpose court at the end. It can function as a proper-sized basketball court, street soccer court (as you can see with the goalposts), and the markings on the floor are those of a badminton court as well.
Needless to say, you won't find these in many developments today (barring the bigger ones), so again these will be great for families with children.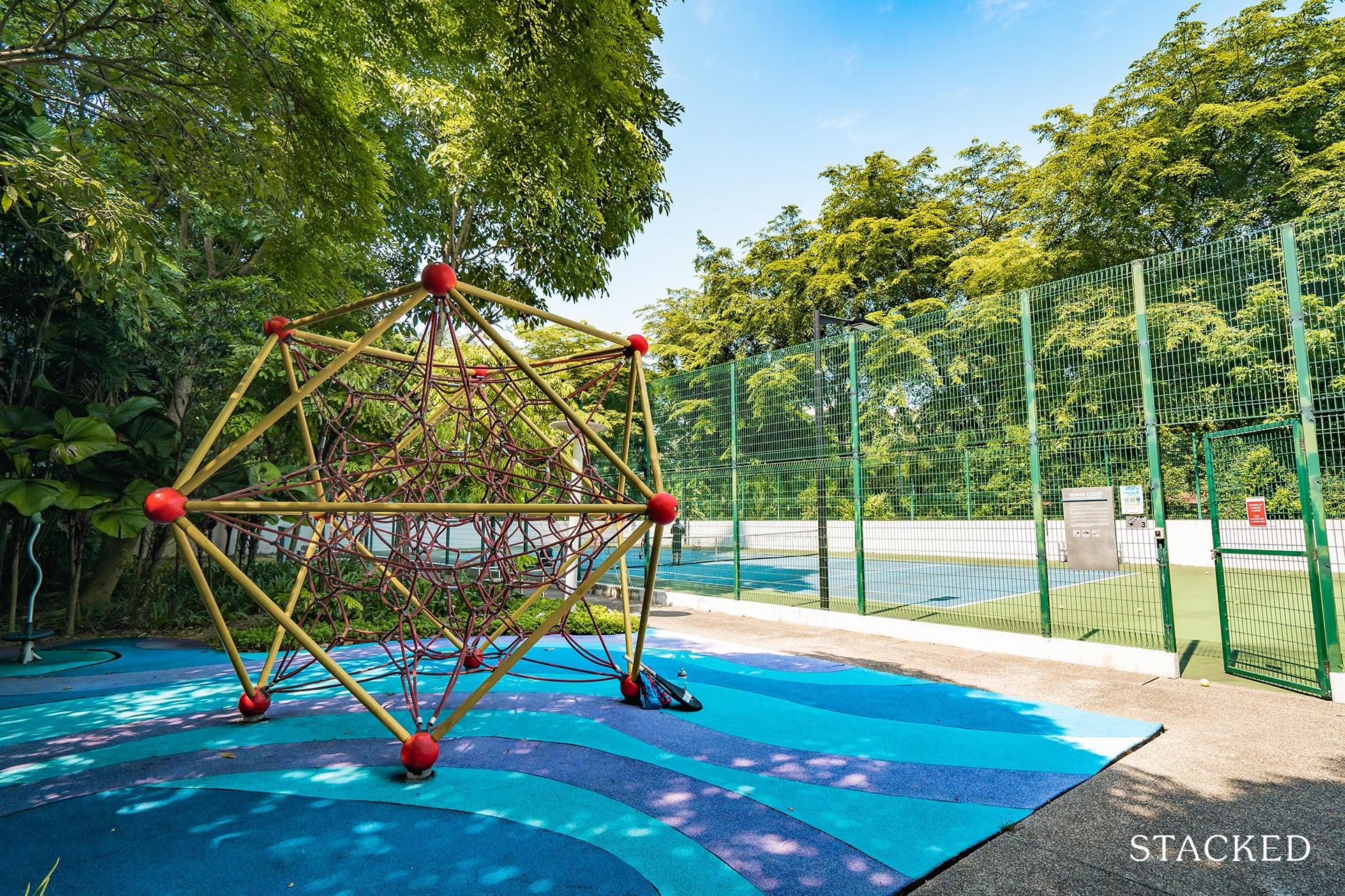 And a unique climbing structure playground outside the furthermost tennis court (one of many scattered around the development).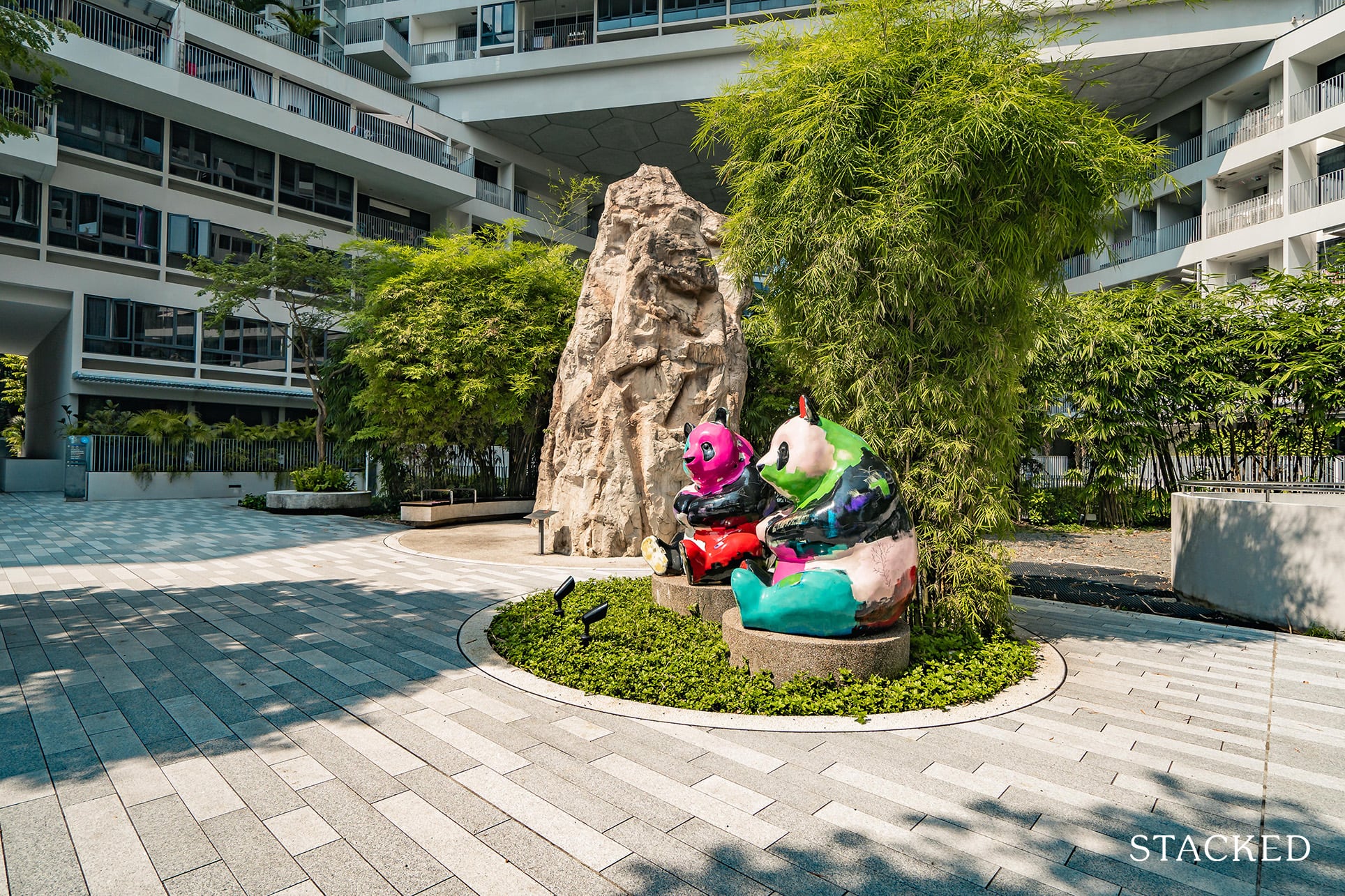 Now, onto one of the 8 themed areas at the Interlace condo. As you might expect from pandas, this is the Bamboo Garden.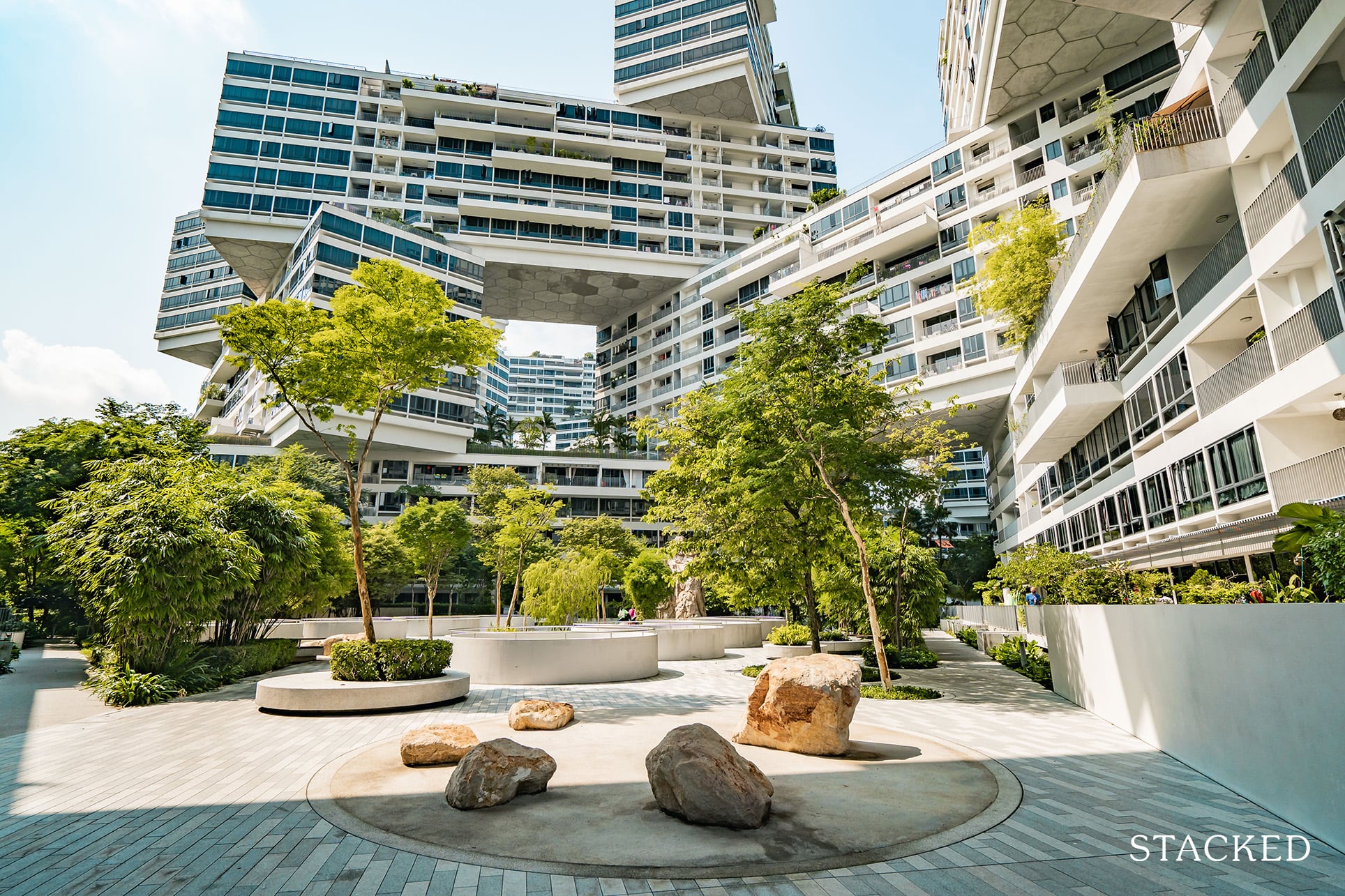 I can't say that the seating areas here are comfortable to sit on, but the stone exhibits and the different plant variations do provide for a different landscaped view.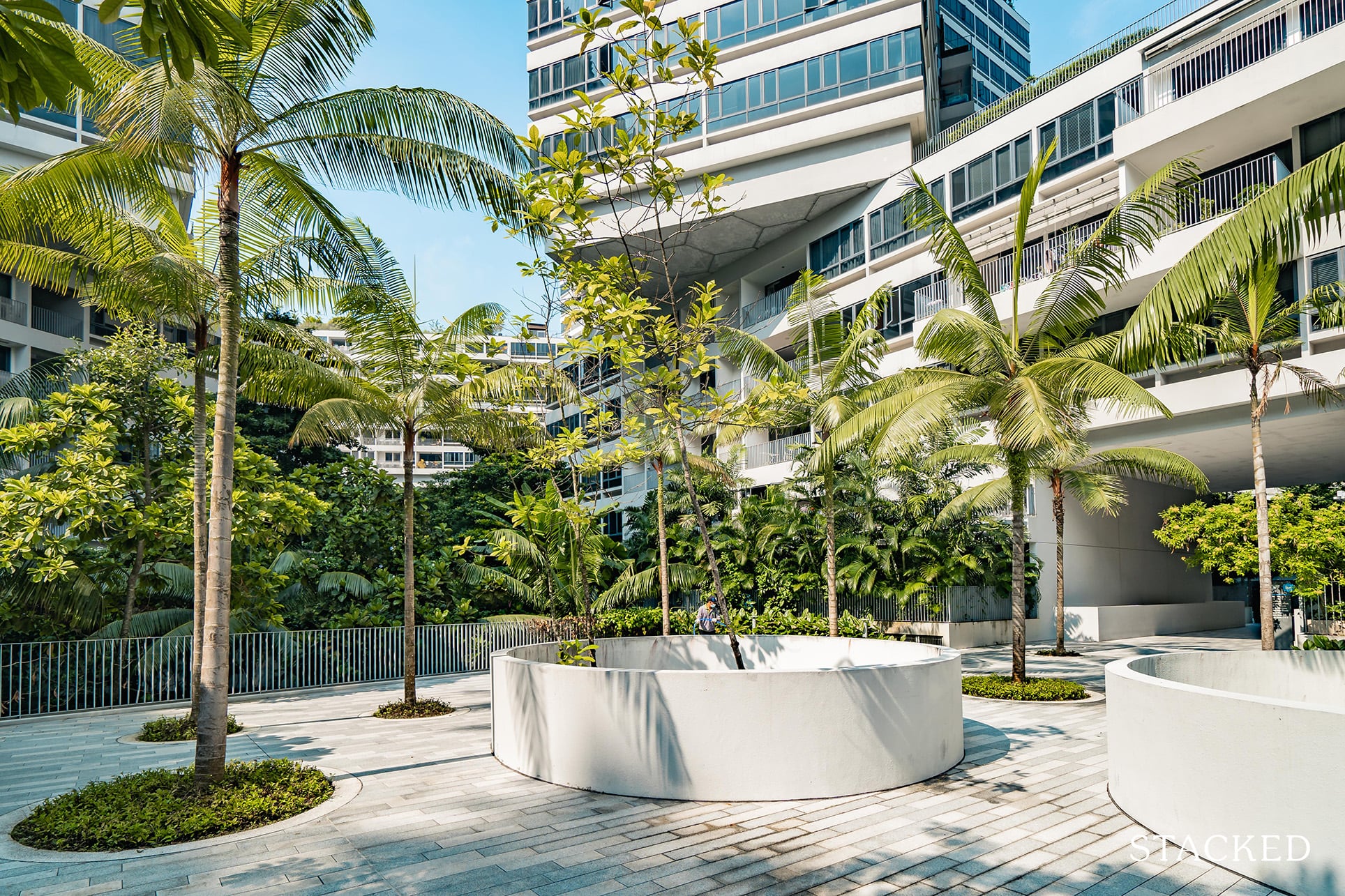 The common areas do form a pretty relaxing environment despite the "mess" of buildings above you. There is a futuristic vibe about the place, which is strangely quite appealing.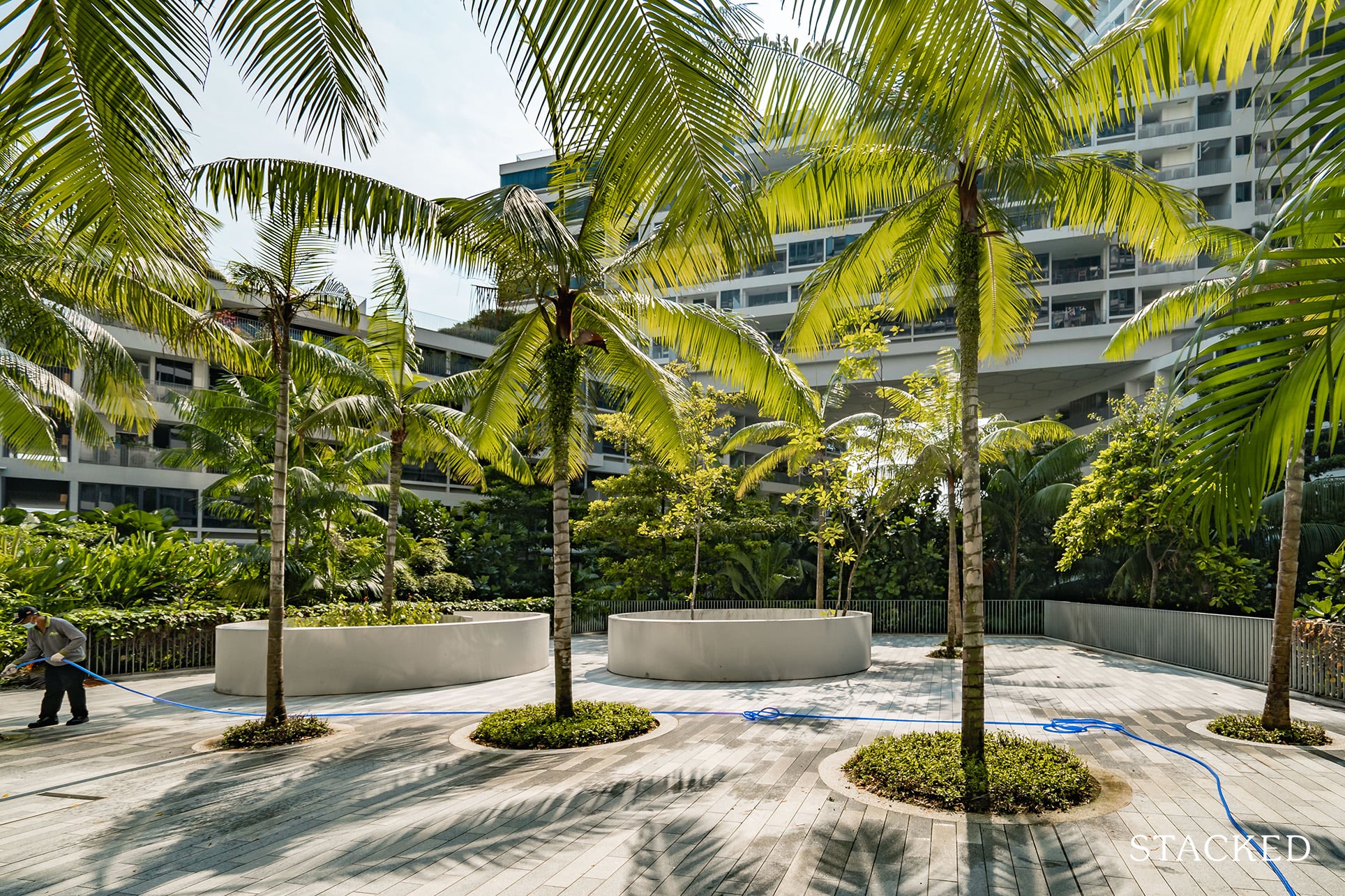 What this does is it also provides for a charming view out for the ground floor units. I know of a few people who do live here, and that landed feel of the ground floor units is a big part of the appeal of living here.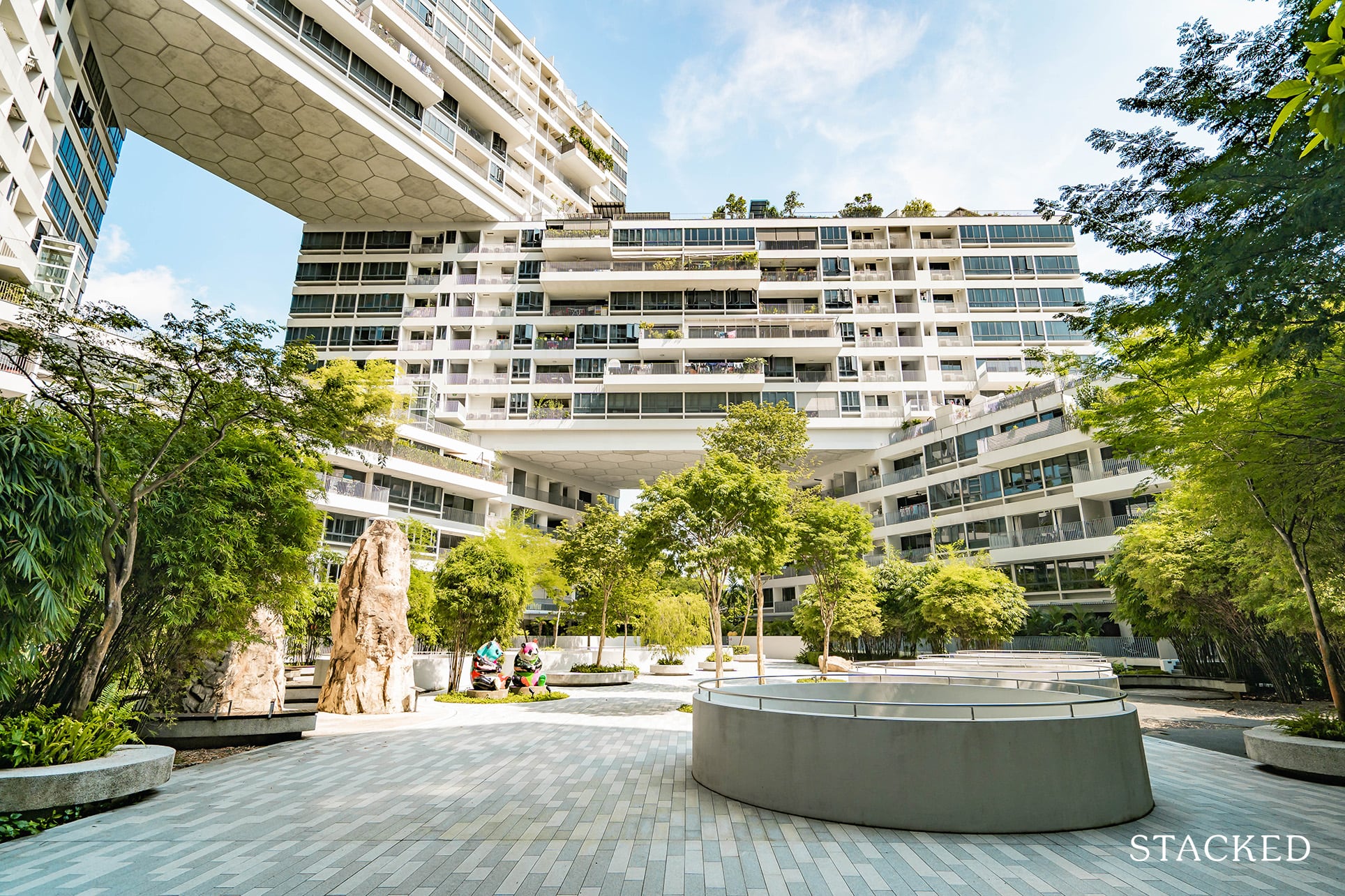 There is a lot of seating and open spaces and it really gives a great expansive feel to the place. Just walking around the development makes you feel small and it does feel like it's an ecosystem on its own, with many nooks and crannies to explore.
I really do quite enjoy the varied view of the blocks everywhere you go – it's totally unique and unmatched anywhere else in Singapore.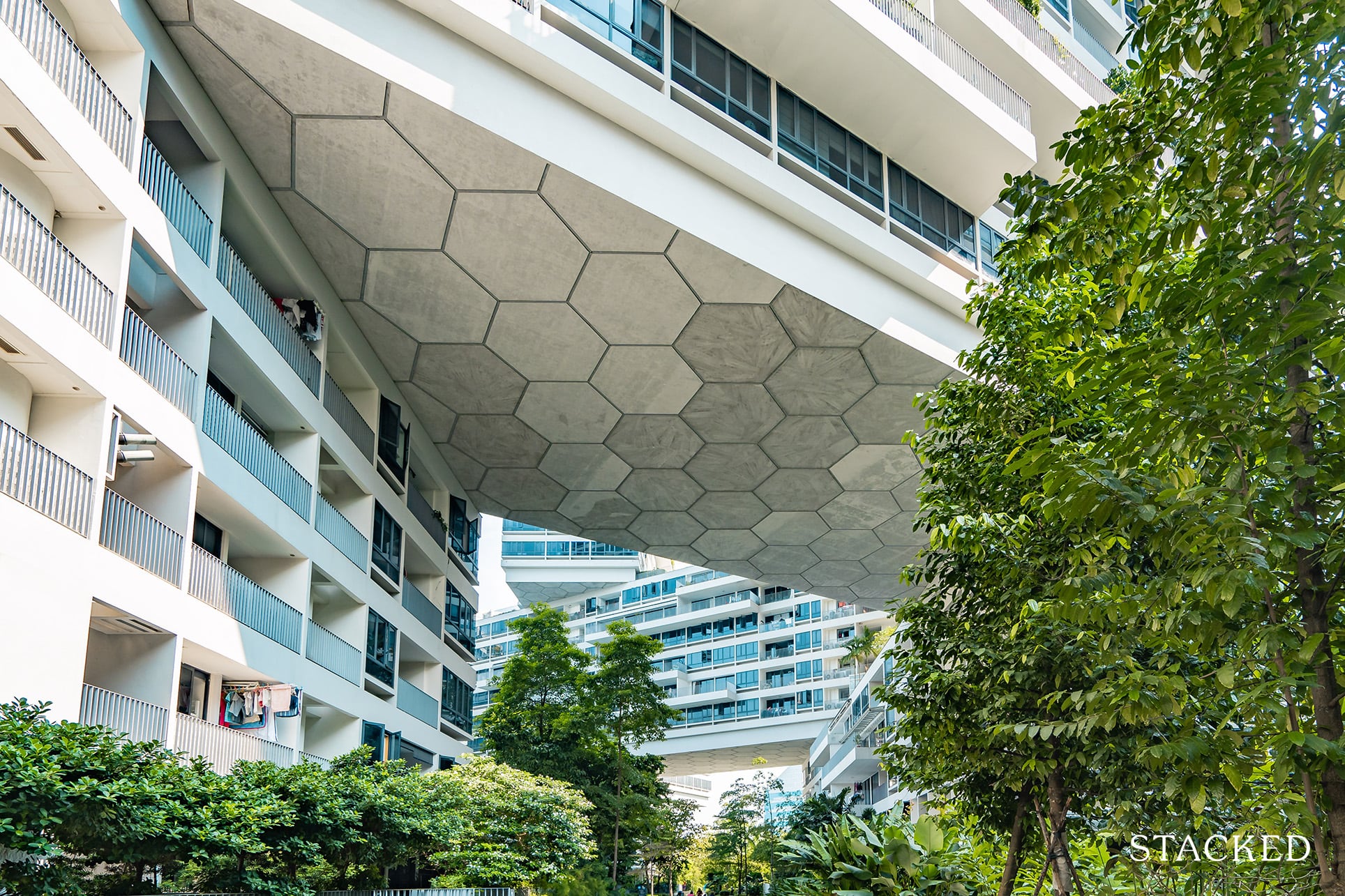 Some people have commented that it feels very haphazard, but that honestly wasn't a feeling I had moving around. Yes, it's not the cleanest of designs but it really does make you feel as if you're in a mini-town of its own.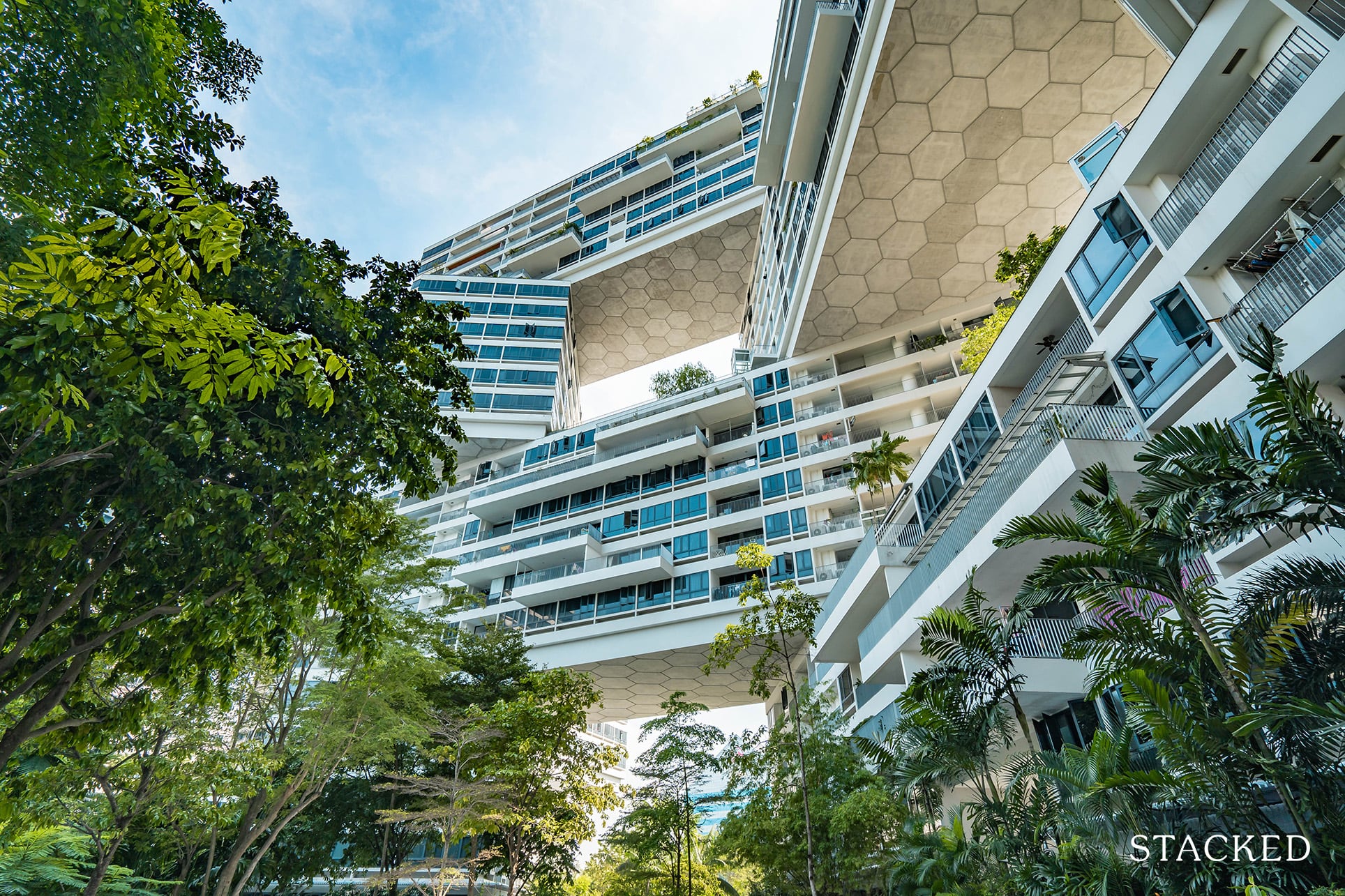 Perhaps if you've lived here for a while you might be jaded with the view – but it honestly makes for some very interesting sights.
And well, since we seem to be on the topic of the building design, let me just add in my thoughts on it. It's true, it's one of those designs that will split public opinion – most would either love or hate it.
I'll admit, that I don't quite love the design.
But (and a big one at that), it just works. Perhaps it's a mix of its hilly and very green surroundings, but because your views are so diverse depending on where you are at in the development it just creates a very differentiated living atmosphere. In such a structured environment that is Singapore, the notion that you can live in such a creative habitat is strangely appealing.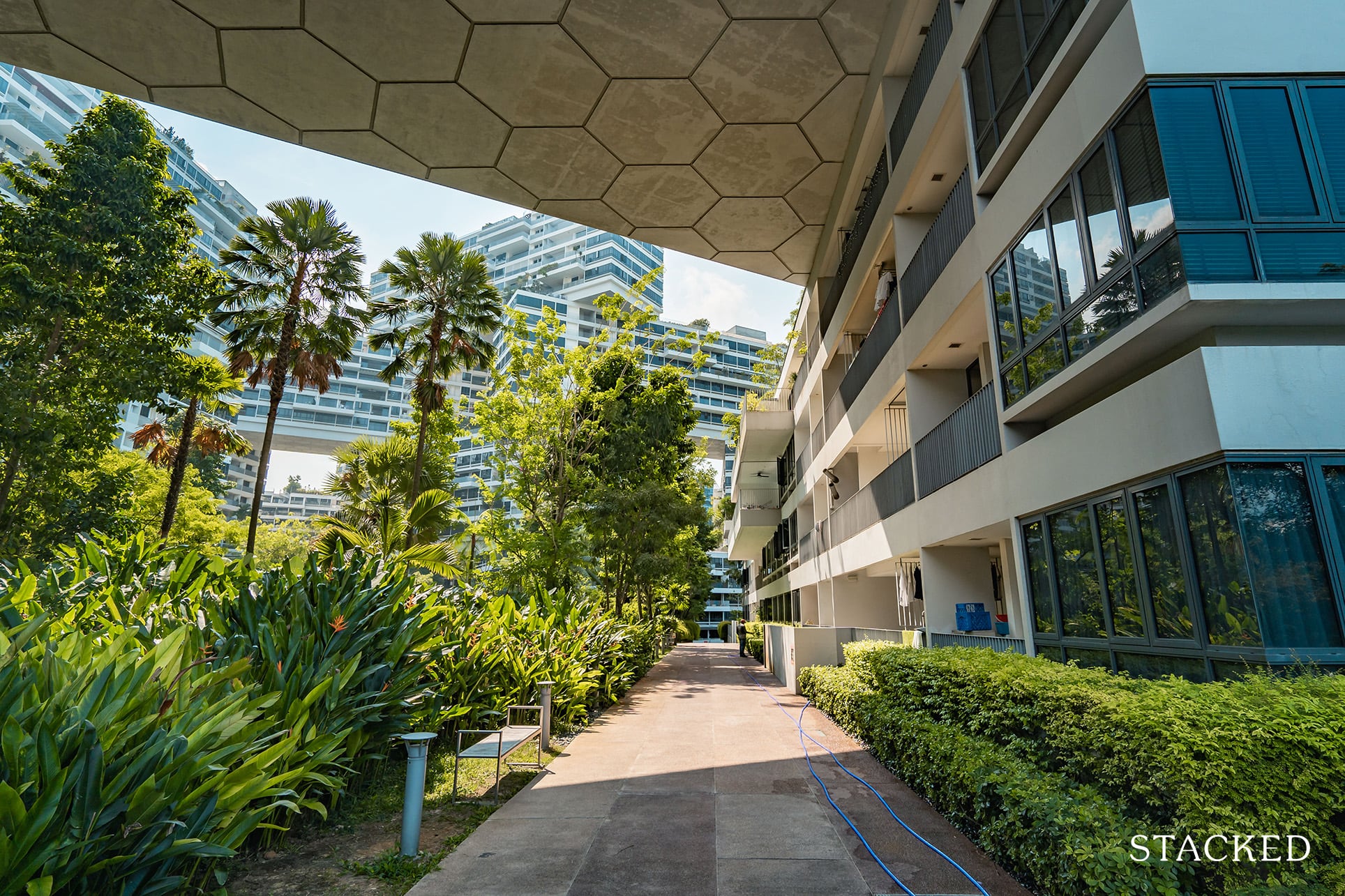 And that commitment to its design is pretty remarkable, even the underside of the blocks feature that hexagonal print.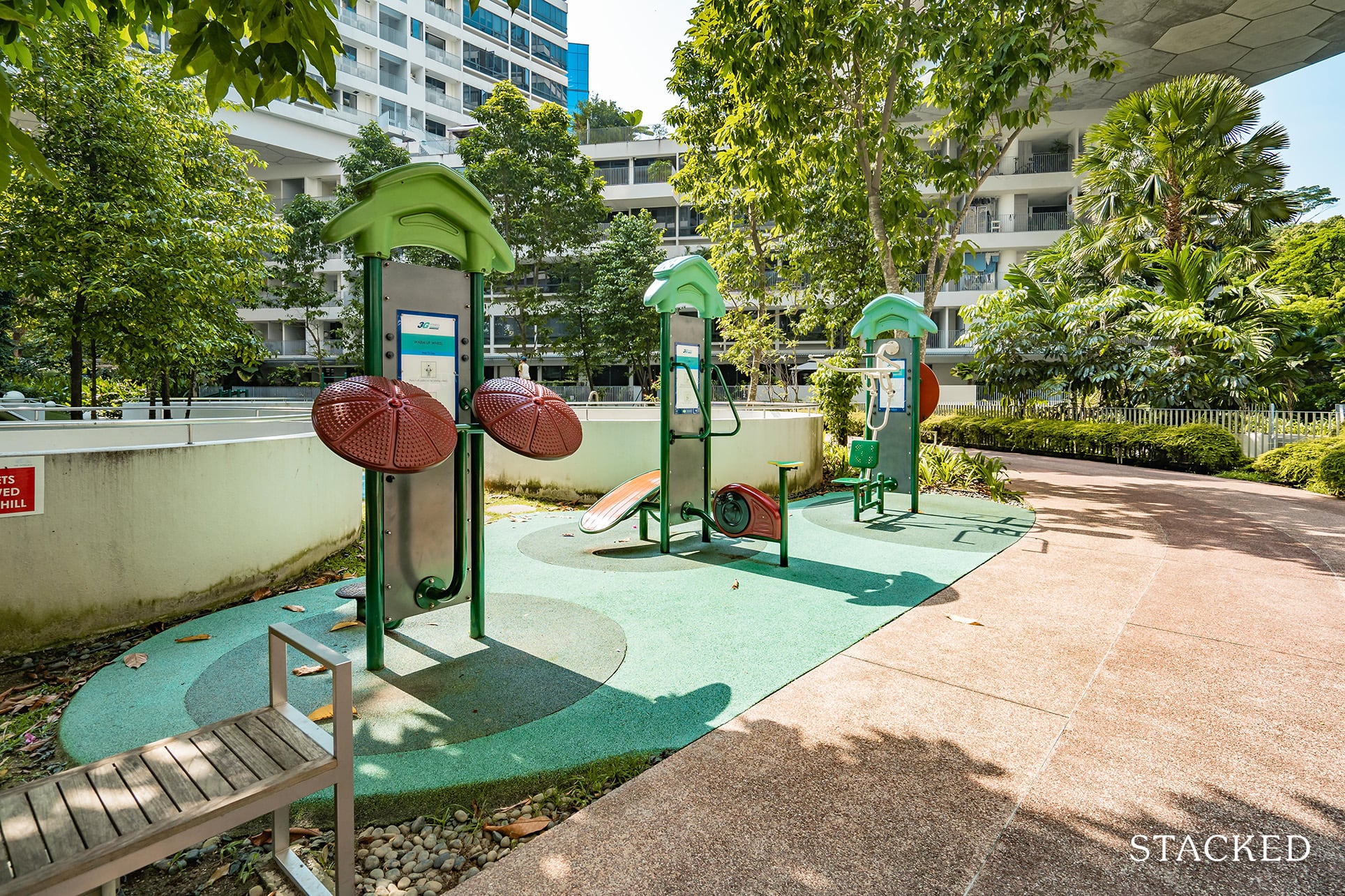 More fitness stations..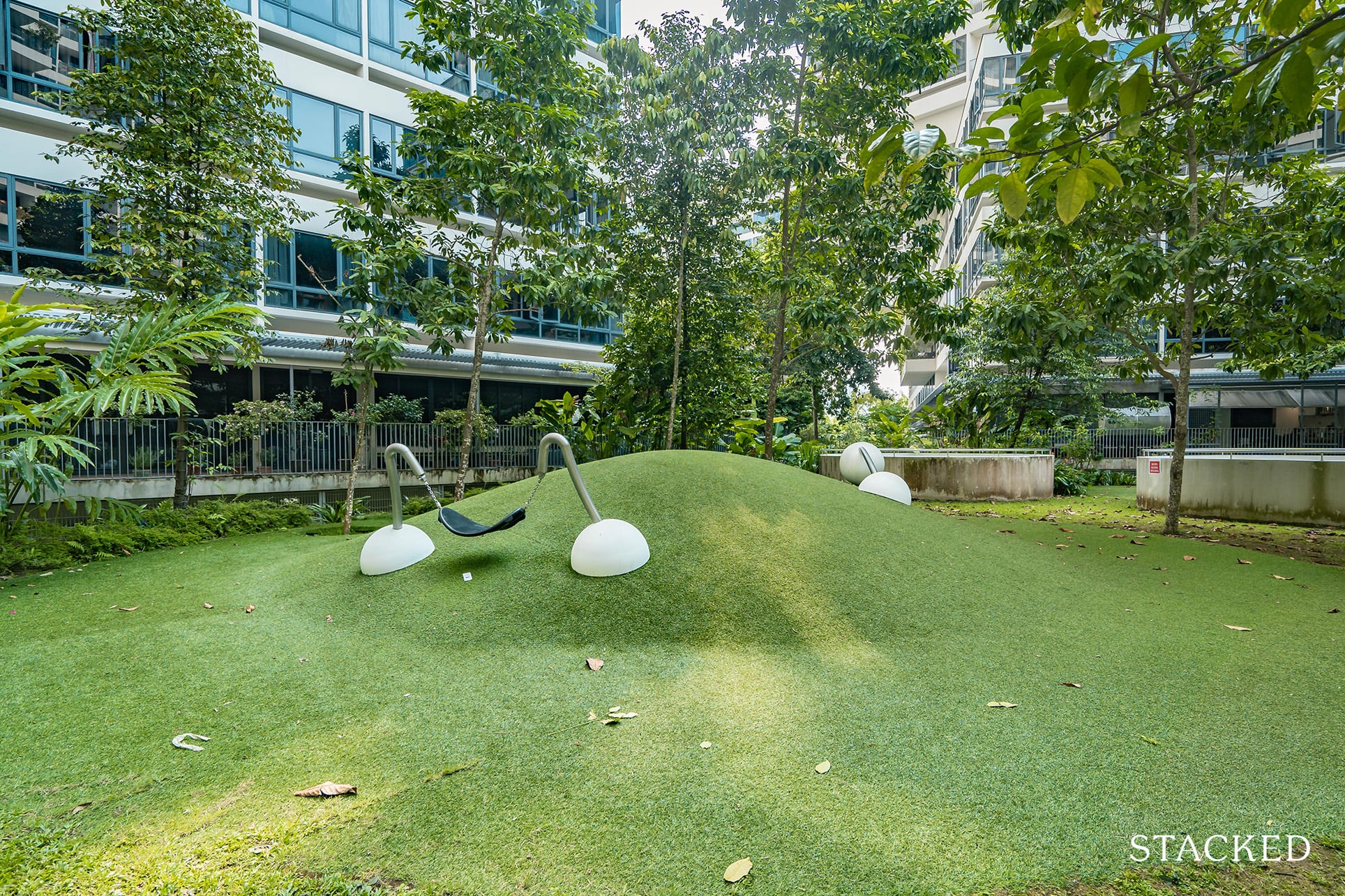 And a carpeted grassy play area nearby.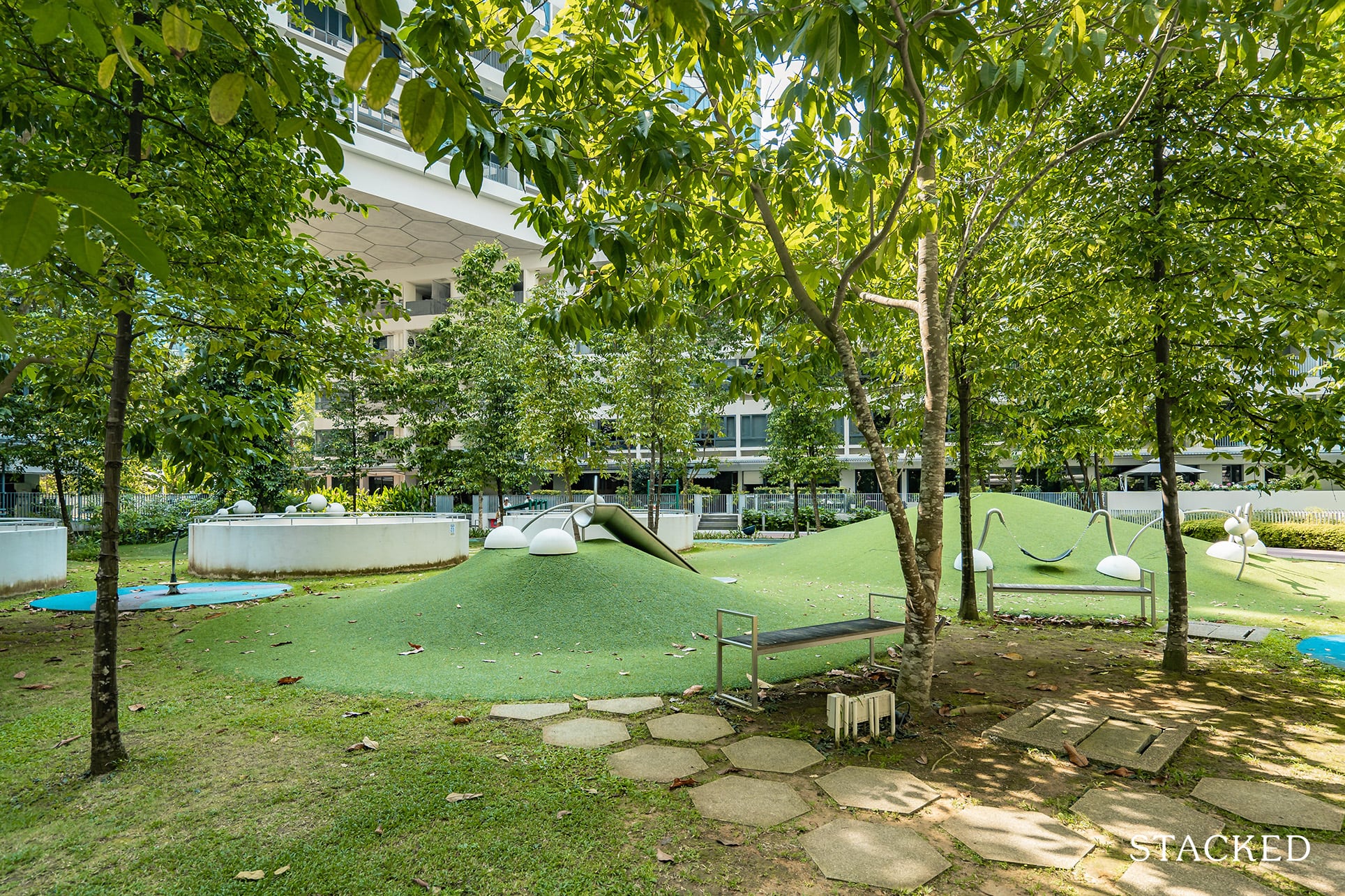 There's also a short slide, and bench seating for parents to sit while their kids amble about.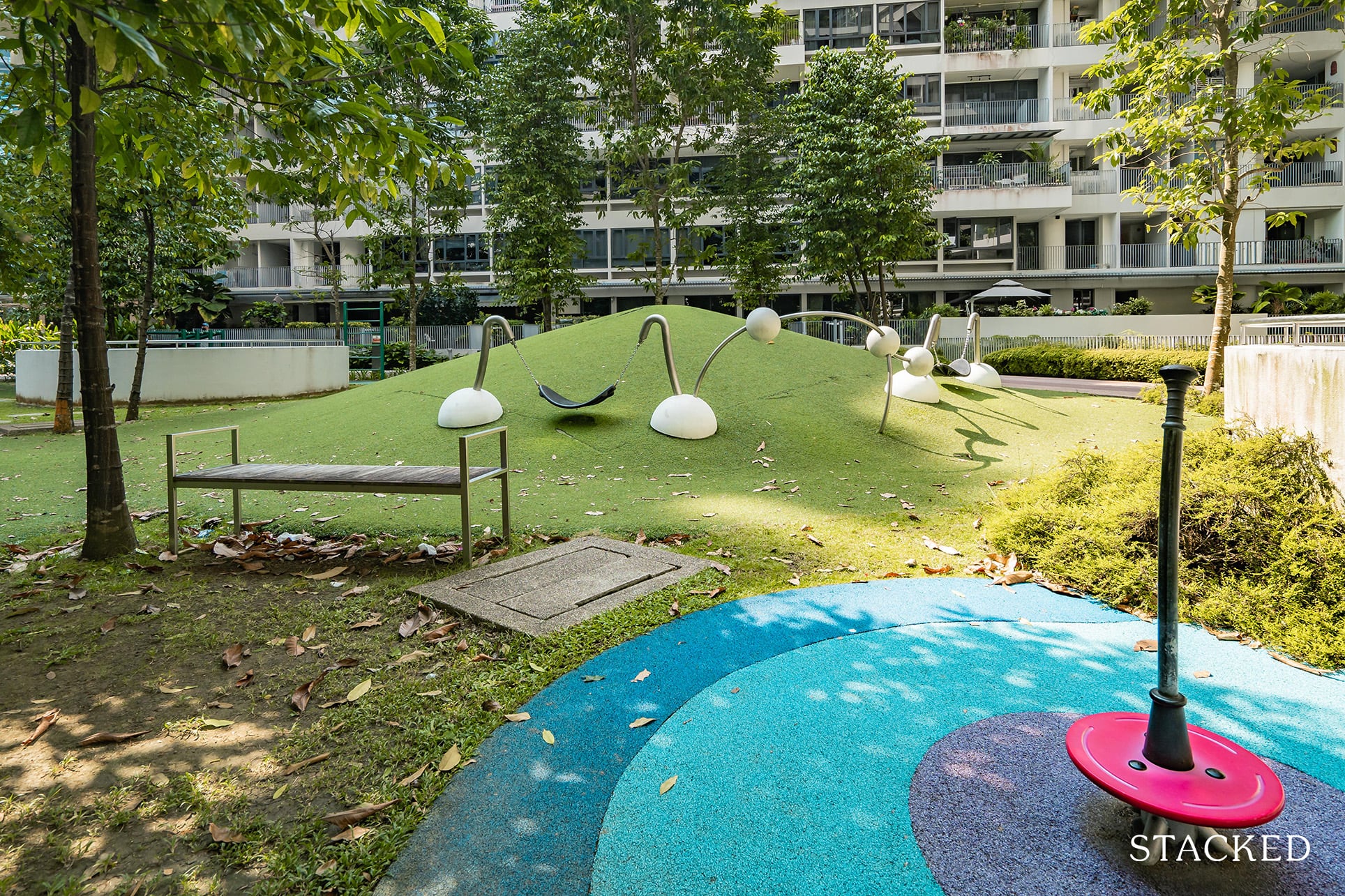 These spaces really emphasise just the amount of space that The Interlace really provides for its residents.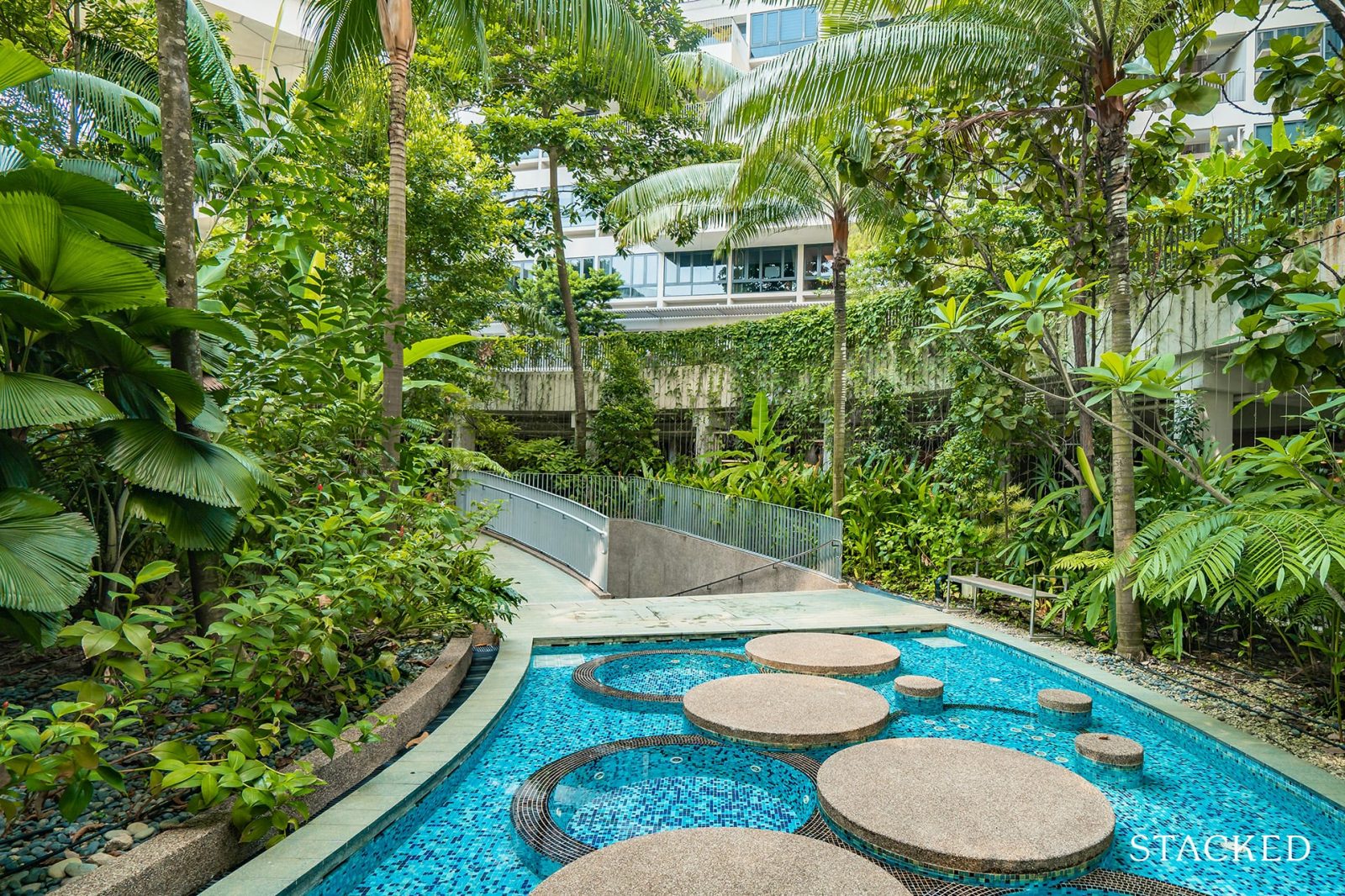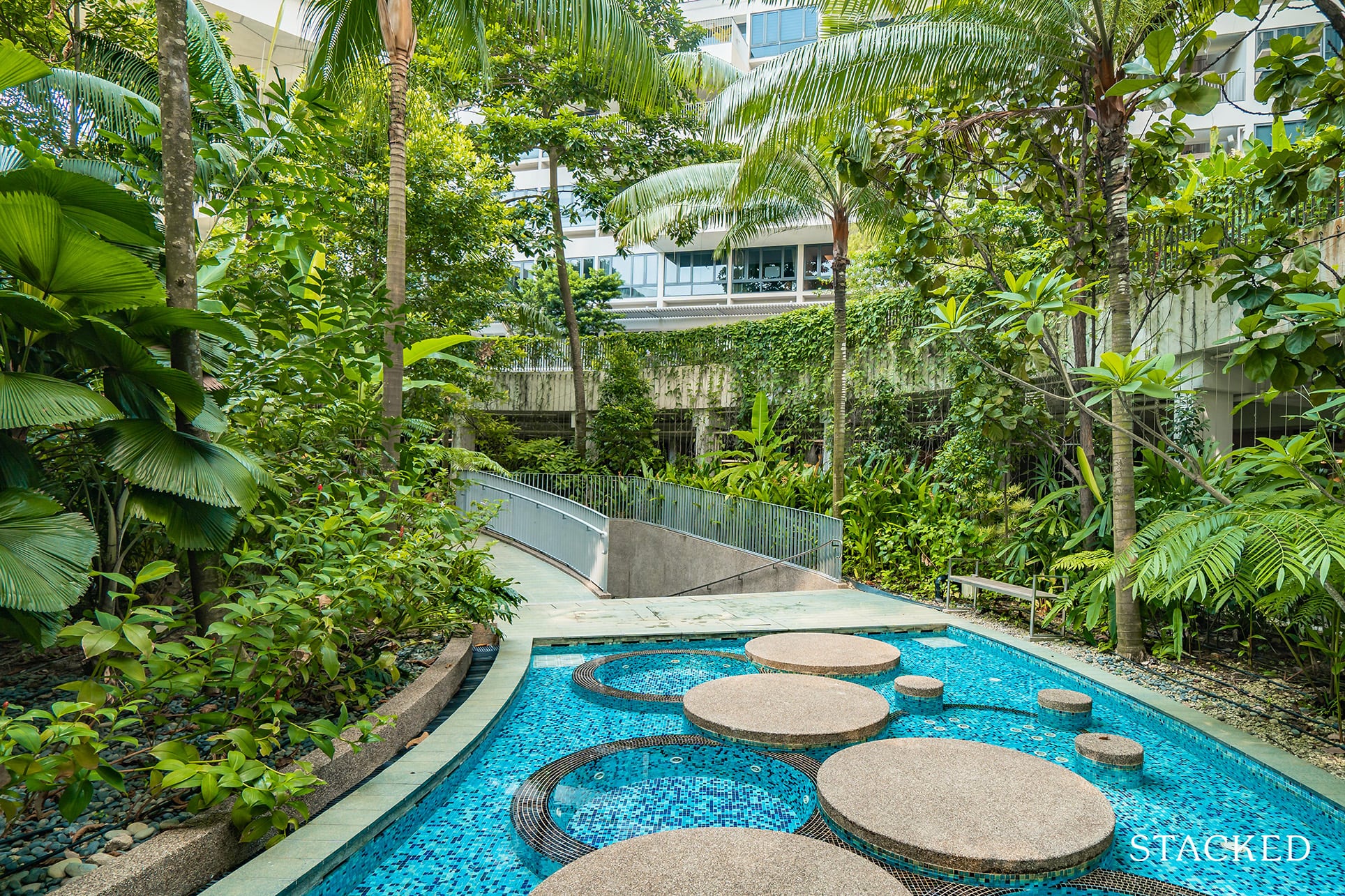 Another area is the spa valley, a series of different pools and jacuzzis.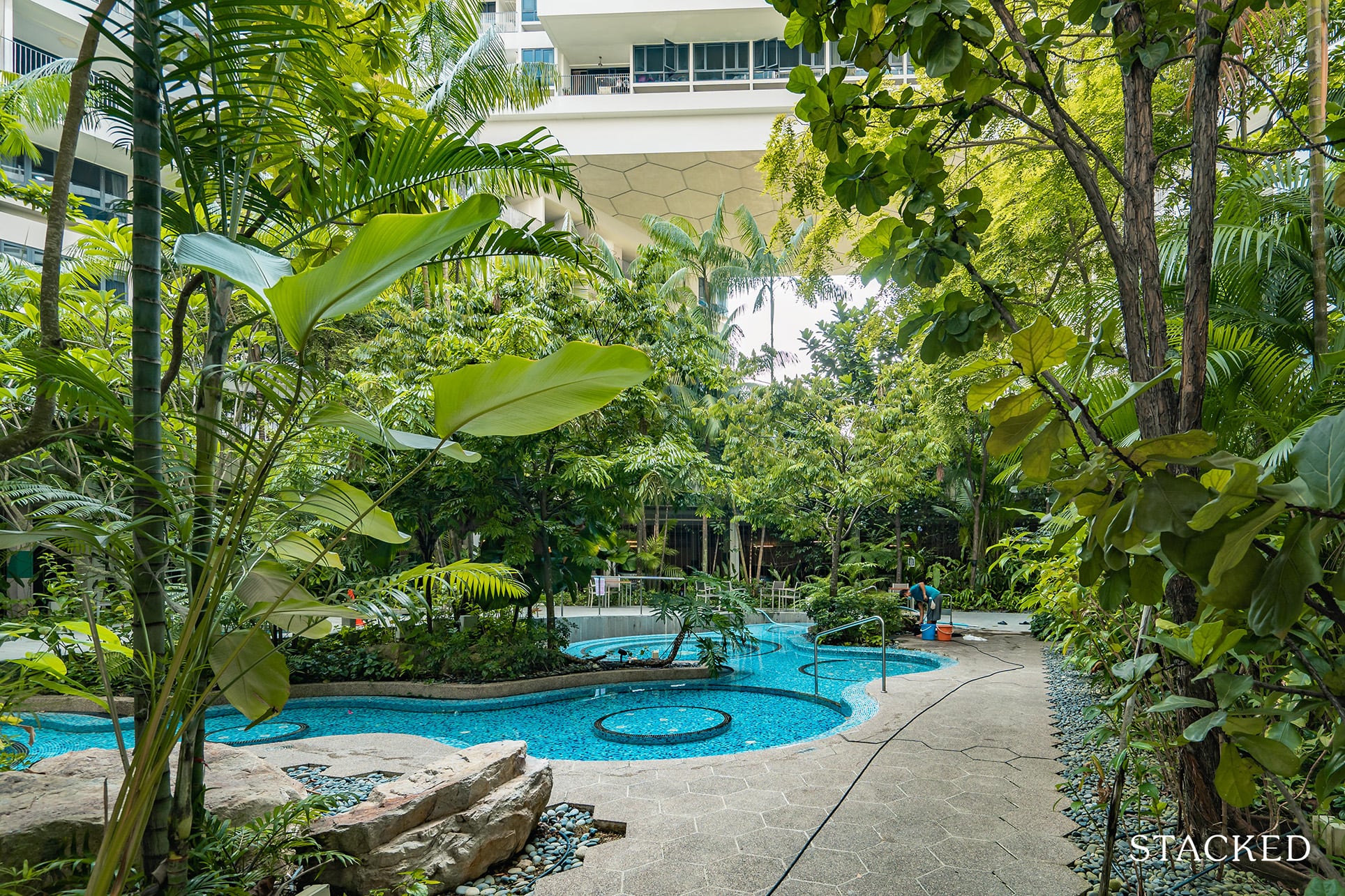 It is quite a big space to relax amongst the trees.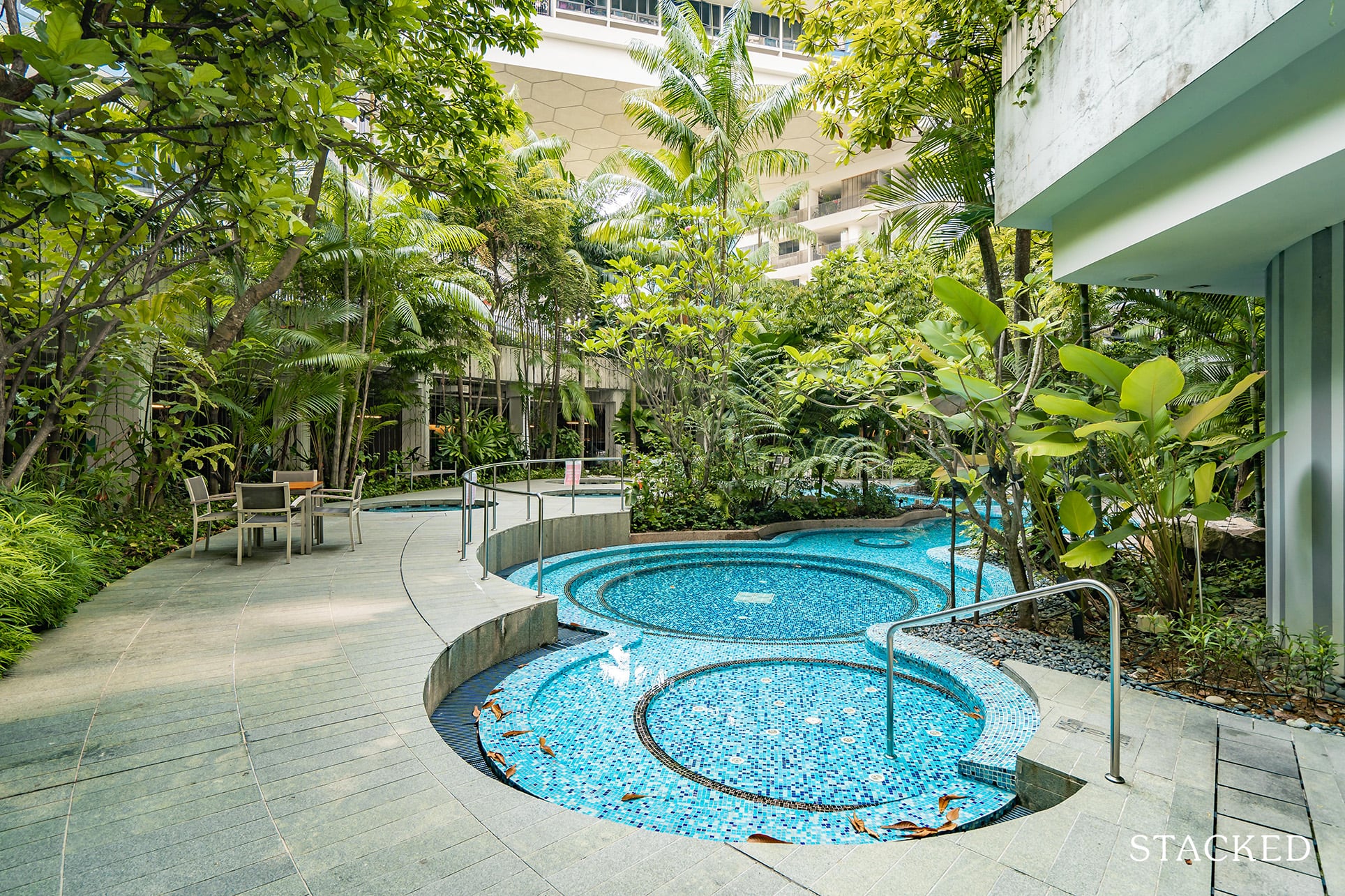 And I do like how there are different nooks to settle down in, some developments have just one jacuzzi spot – so you don't always get an opportunity to enjoy the space.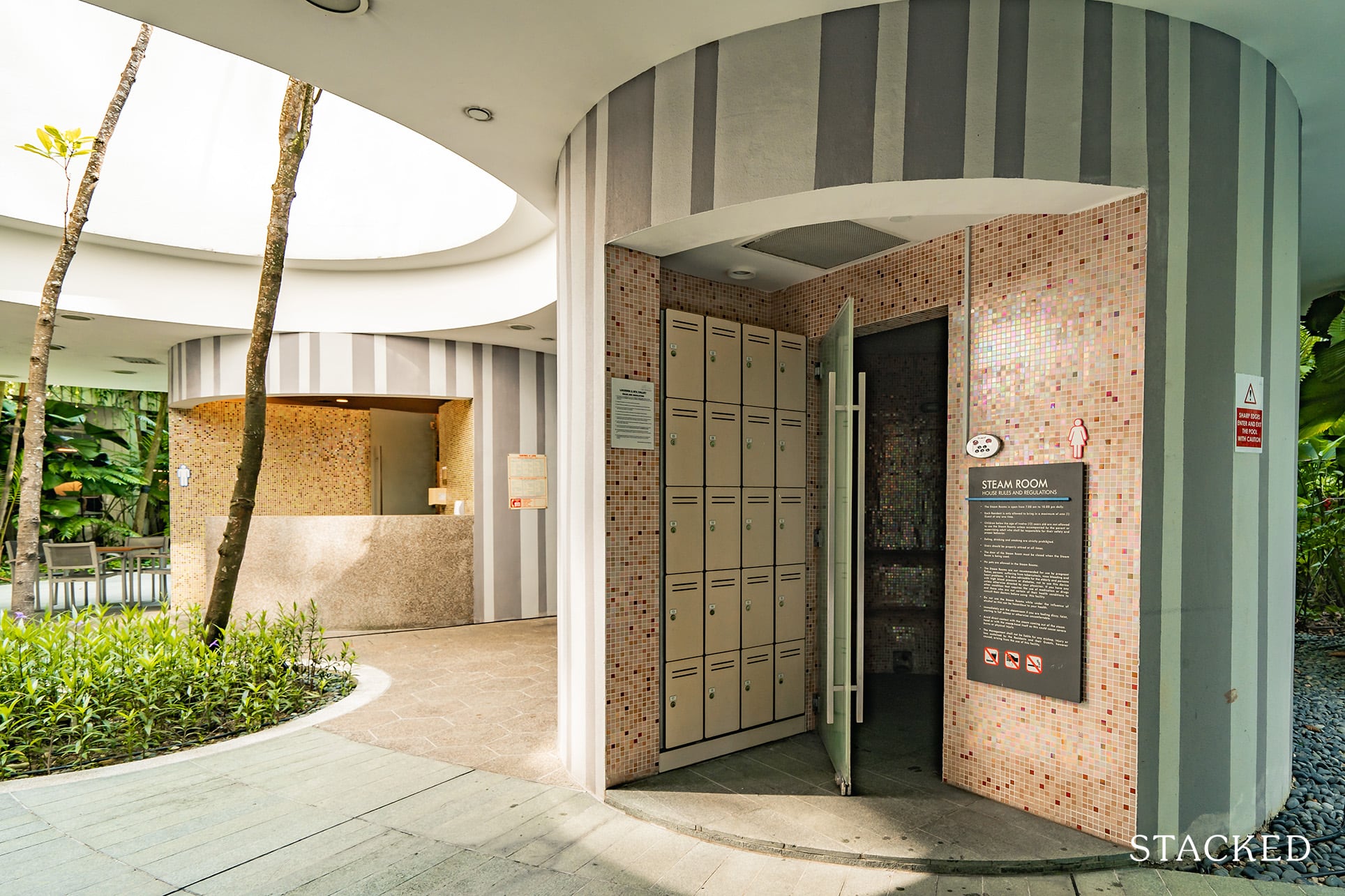 And of course, no spa area is complete without steam rooms!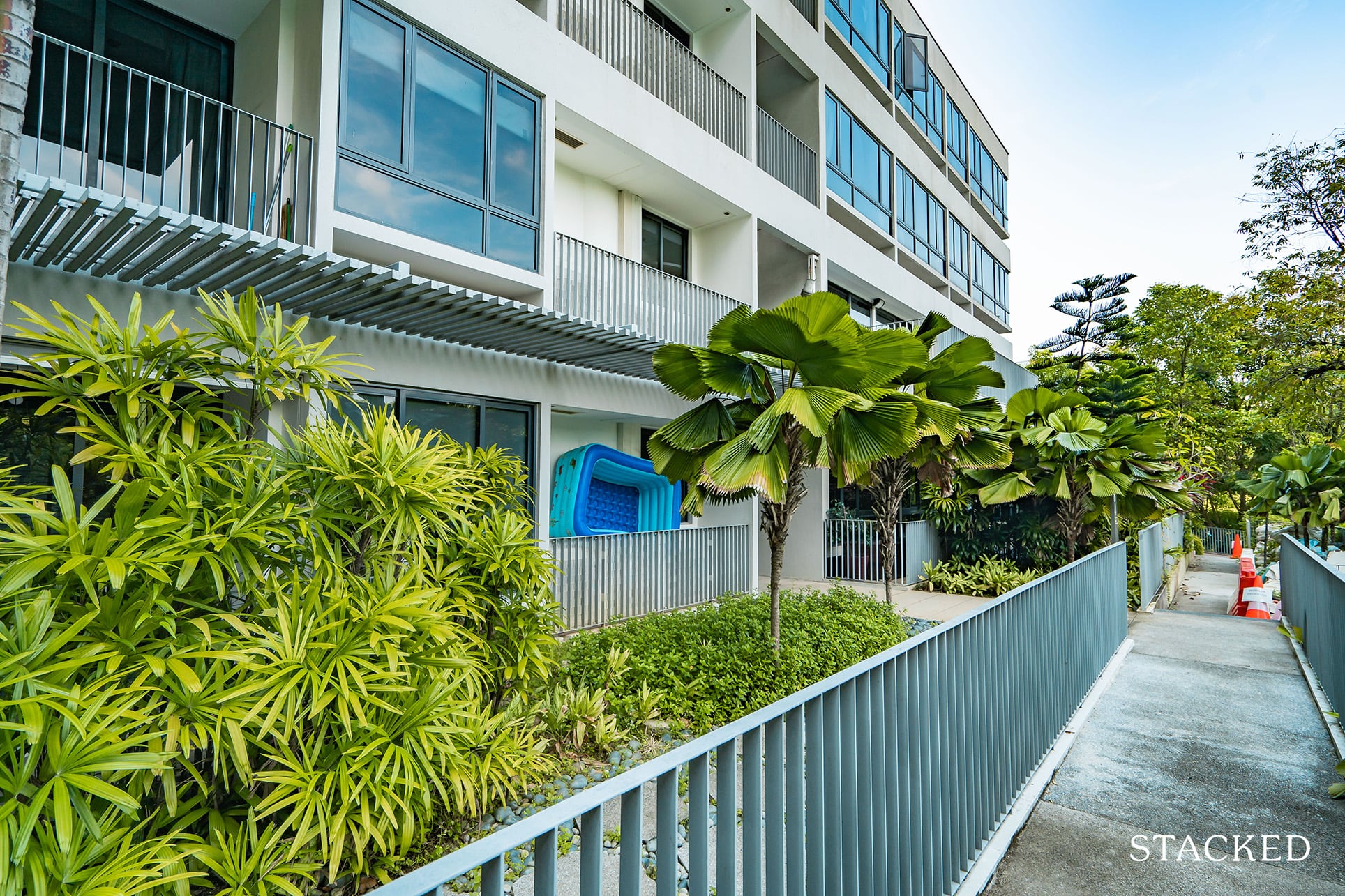 Another unique aspect of the Interlace condo is the huge range of different types of units. Massive penthouses with large open rooftops and garden units with large patios are a common feature here. And if you are looking for a somewhat "landed" living feel, this could be an alternative choice.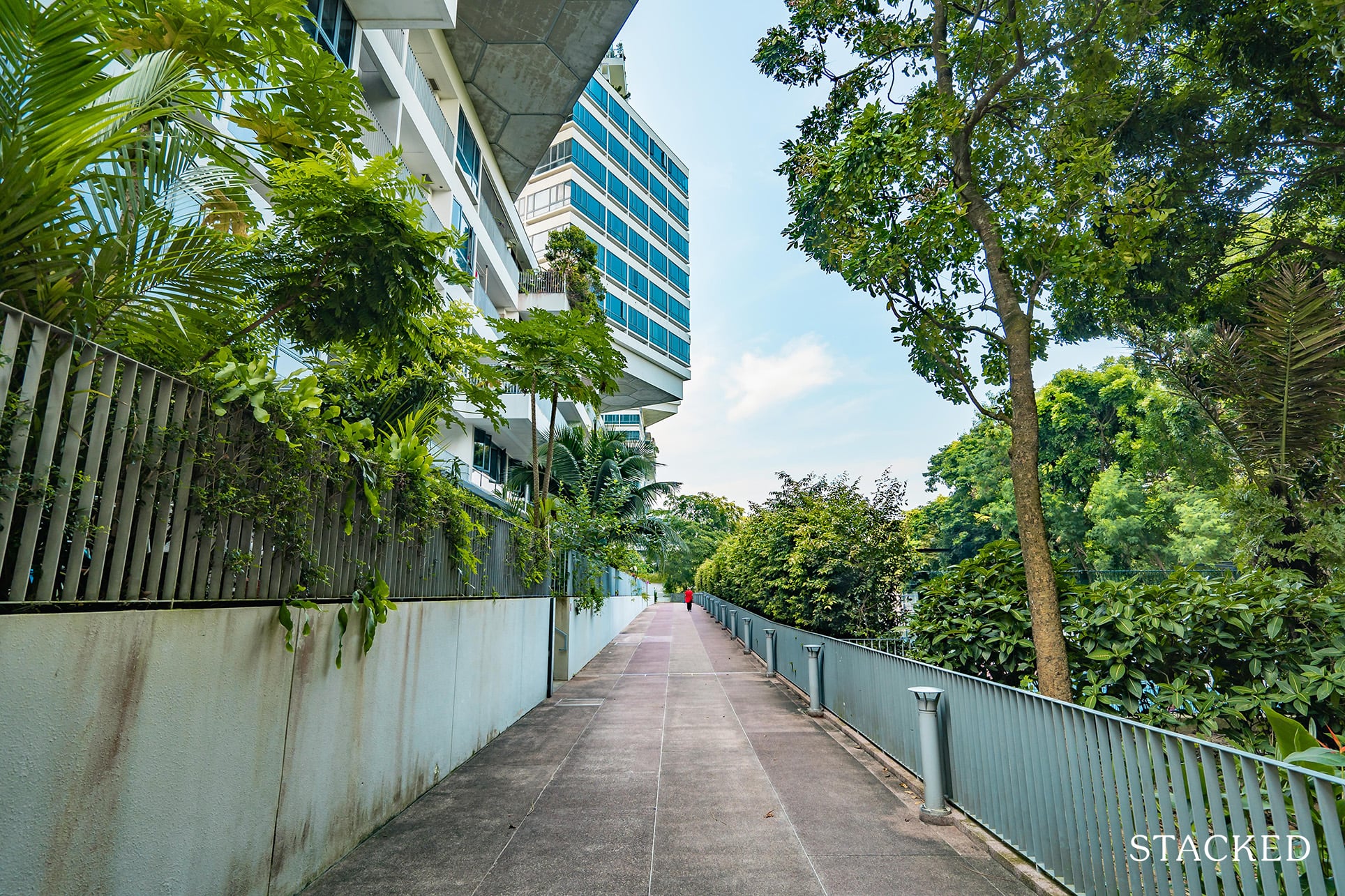 What I like too about living at The Interlace is the jogging track that runs around the circumference of the development – great for morning jogs and evening walks. It goes without saying, The Interlace condo would be a top choice if you have a dog – the space it affords is definitely not a norm in Singapore.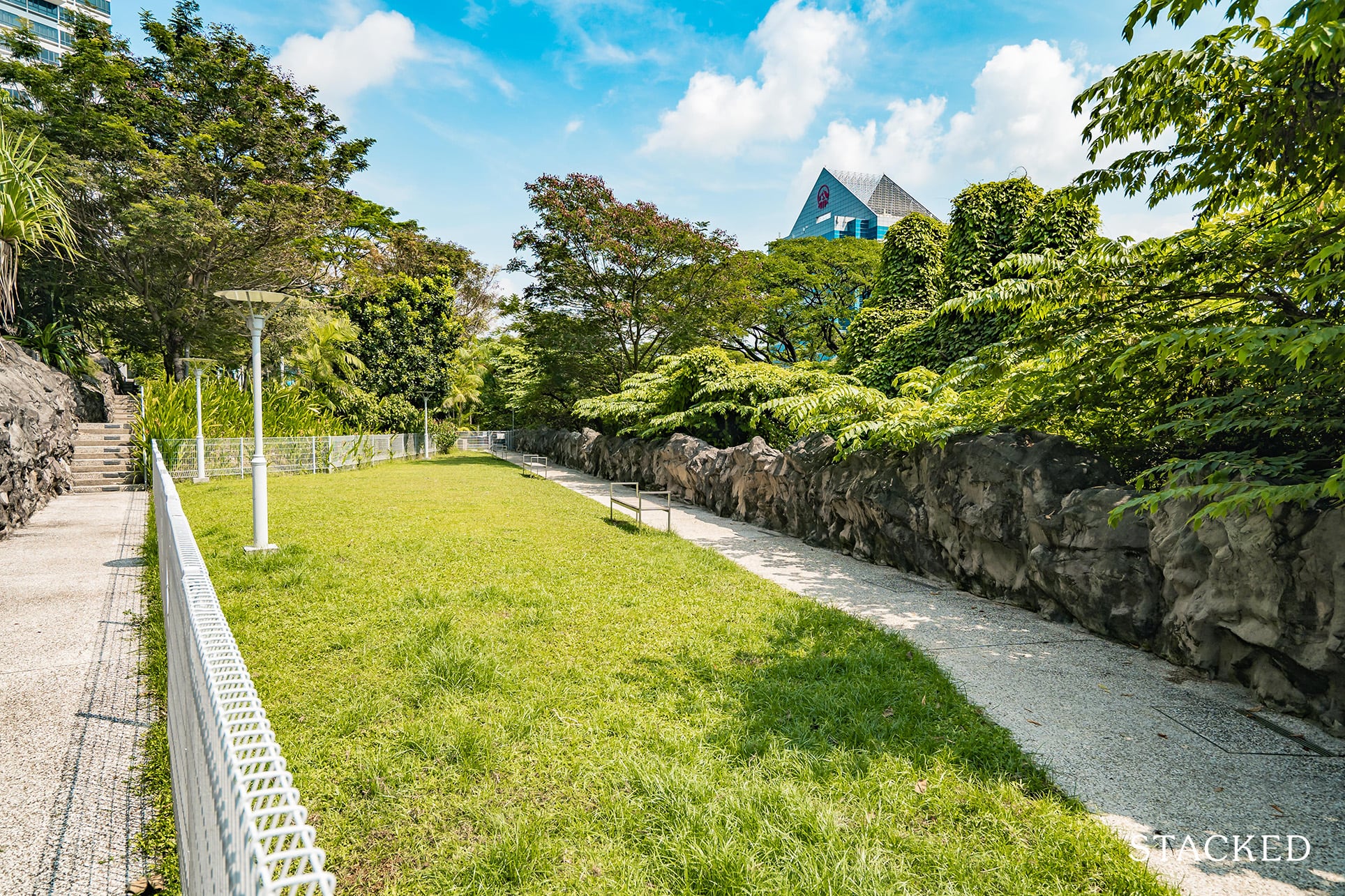 Speaking of which, there is even an area dedicated to your pets. I'm not a pet owner, so I can't attest to the usefulness of this space – perhaps pet owners can chime in the comments section to let us know what you think of such facilities.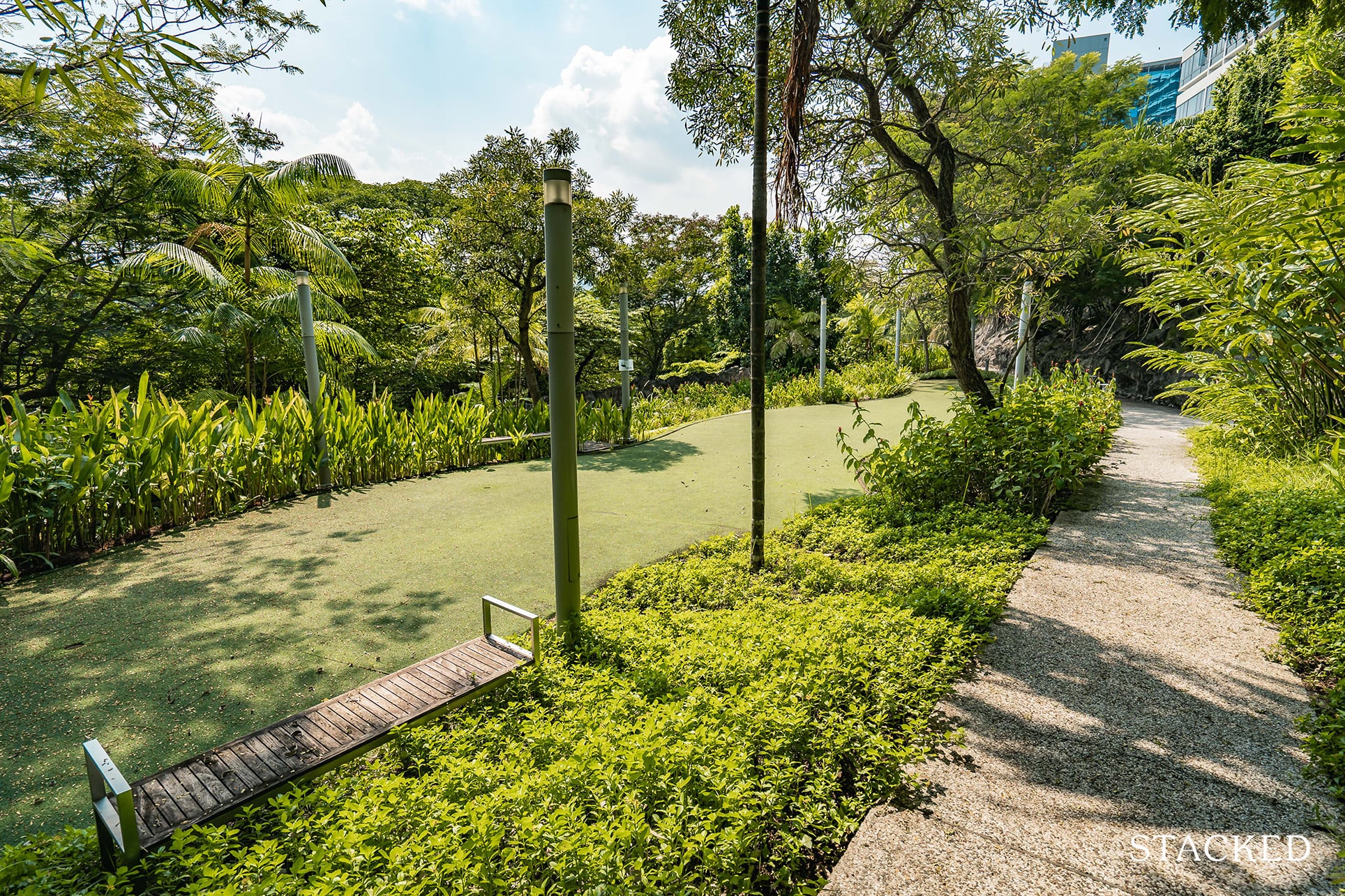 You can tell by the flat landscaping that this is a putting green area – and it's a pretty long one at that. It's a difficult one to maintain, especially with the amount trees around (all those falling leaves and branches).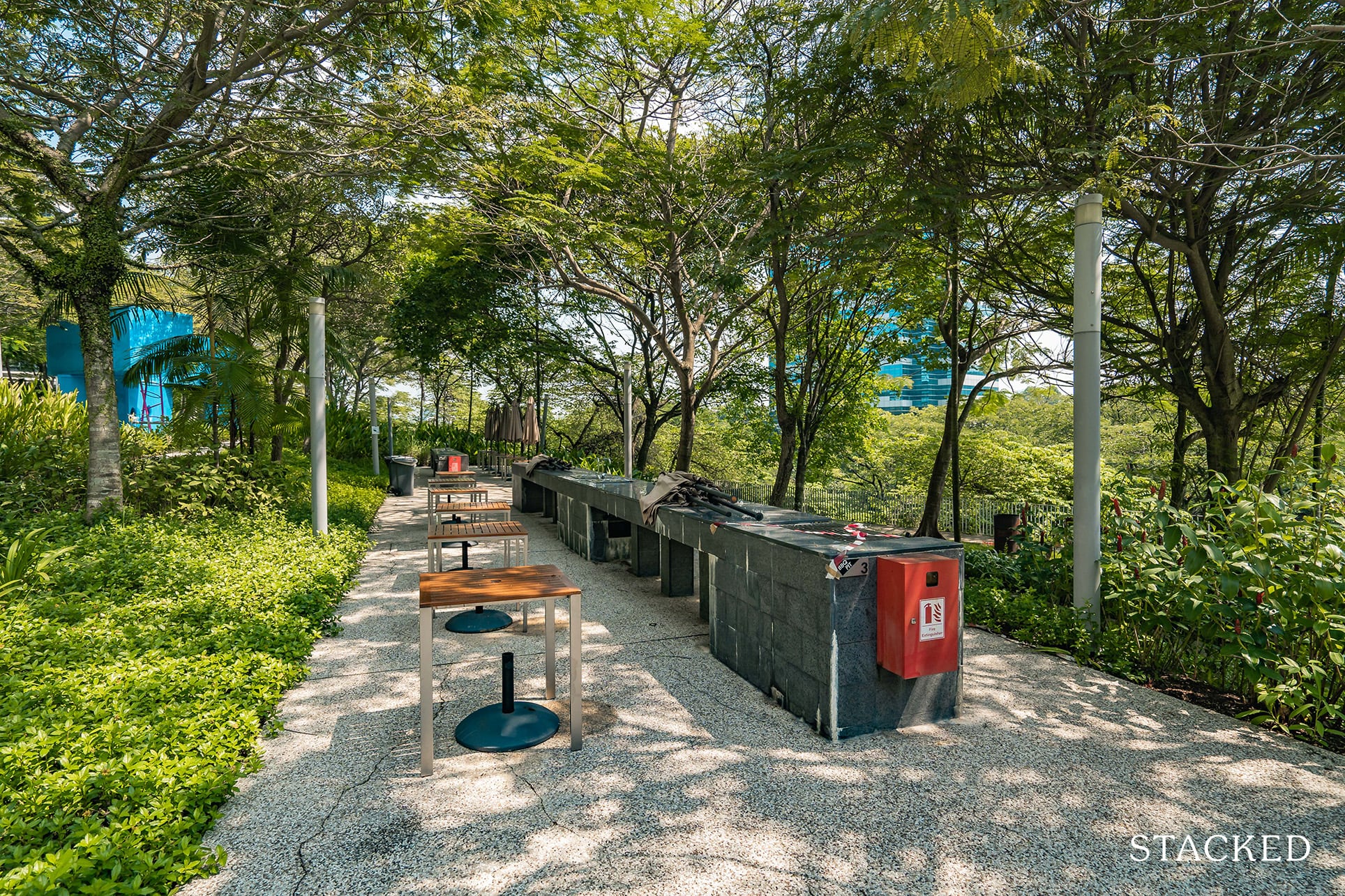 Walking further down will lead you to what is probably the most common facility in Singapore – the ubiquitous barbecue pits. While there are umbrellas for shade for the seating areas, the main barbecue area itself isn't sheltered. This isn't great when it rains of course, but on a hot day, the surrounding trees do provide adequate cover (as can clearly be seen).
Read this next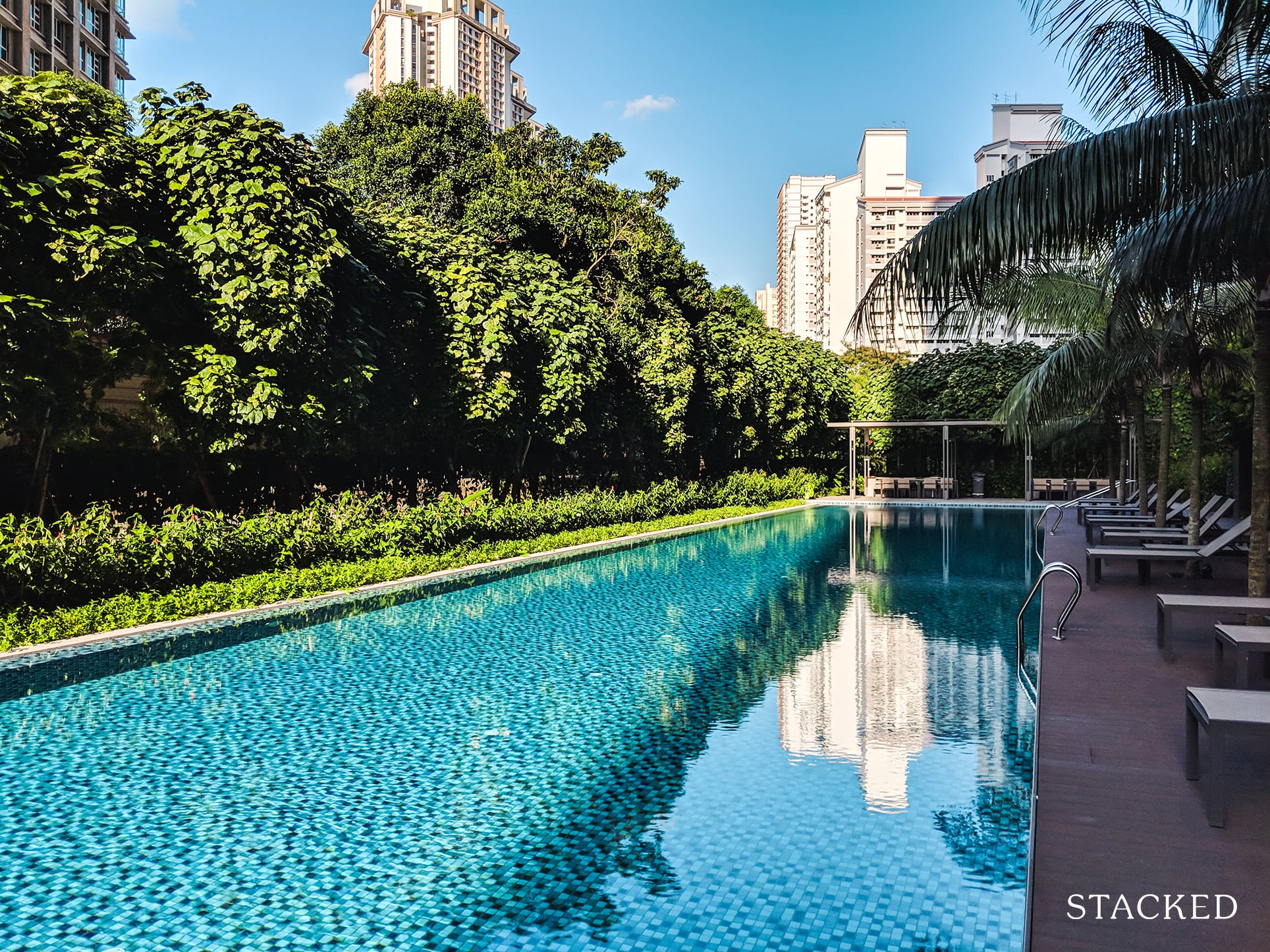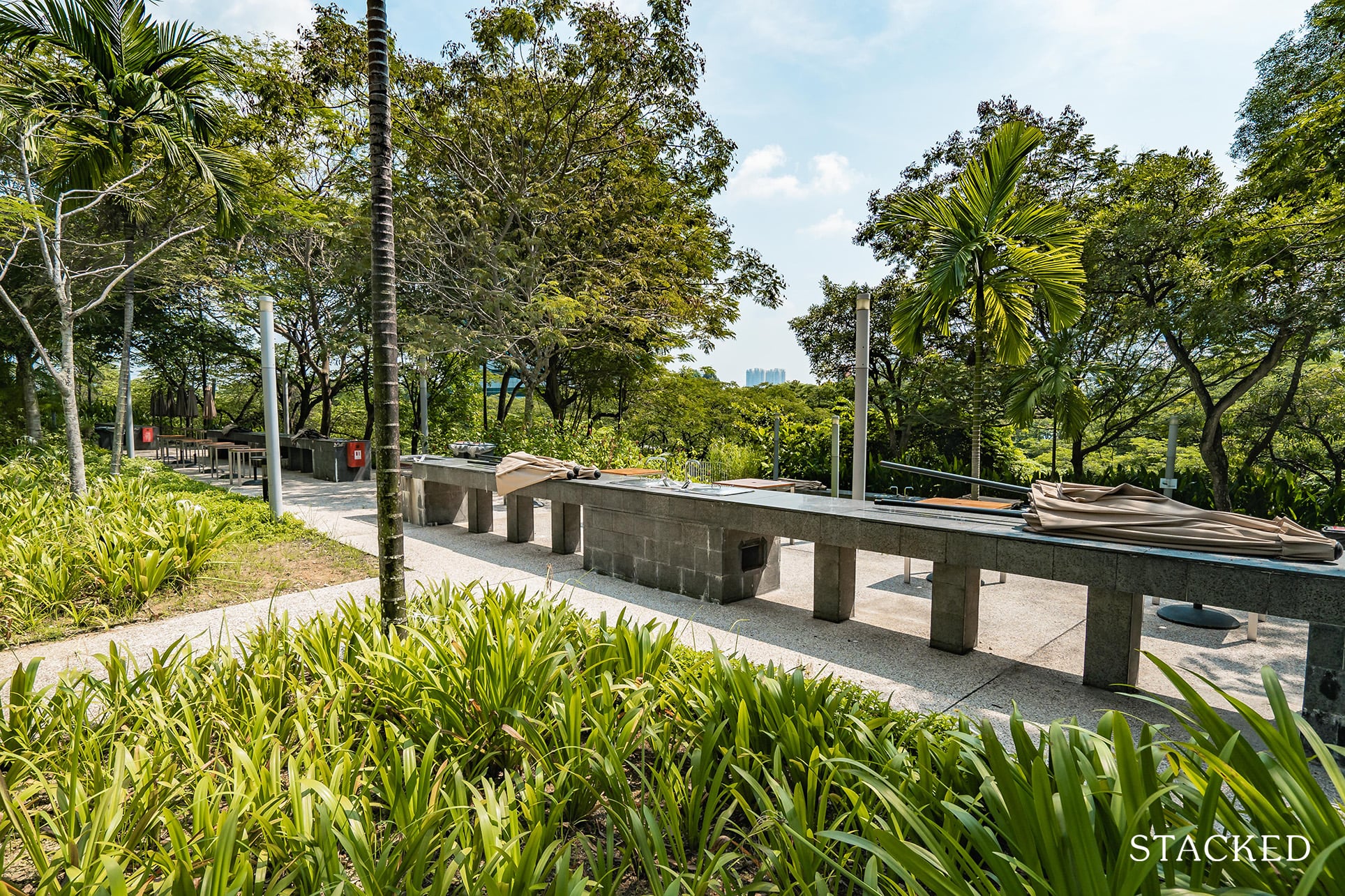 Special mention has to go to the size of it as well. The barbeque pit area is huge, with an ample amount of pits for you to choose from. Seating areas are plentiful as well, plus the added greenery around it almost feels as if you are in a park instead.
Again, due to the size of the place, this area is set quite far from the blocks. So aside from not having to feel guilty about making too much noise, it also comes across as a rather private space.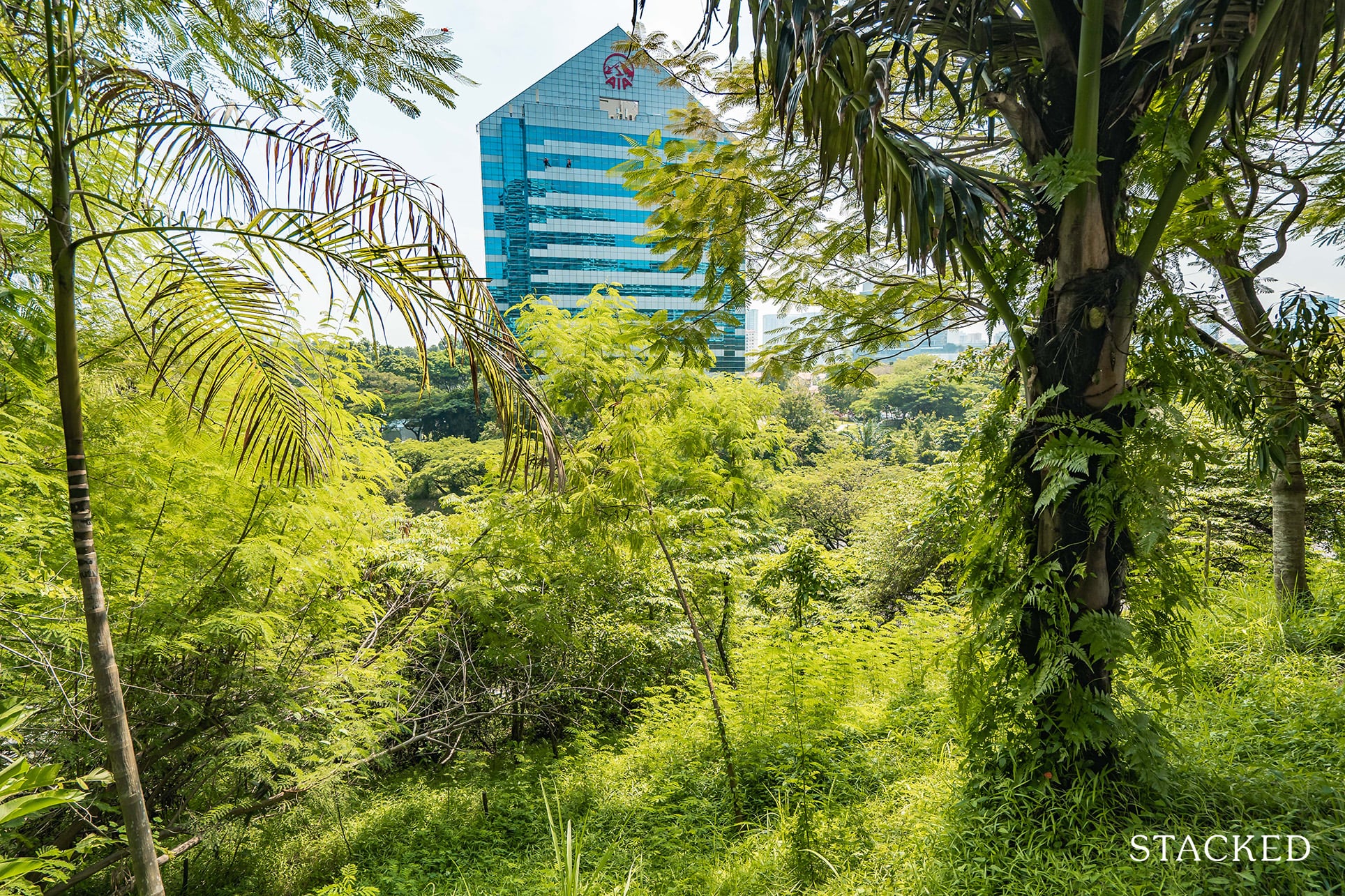 Perhaps what is really special about The Interlace condo is its elevated position over the surrounding areas. So jogging around the track feels like you are on a mini-hill of sorts, which does provide for nice views all around. This part of Singapore isn't very dense in terms of buildings – rather it is the greenery that abounds.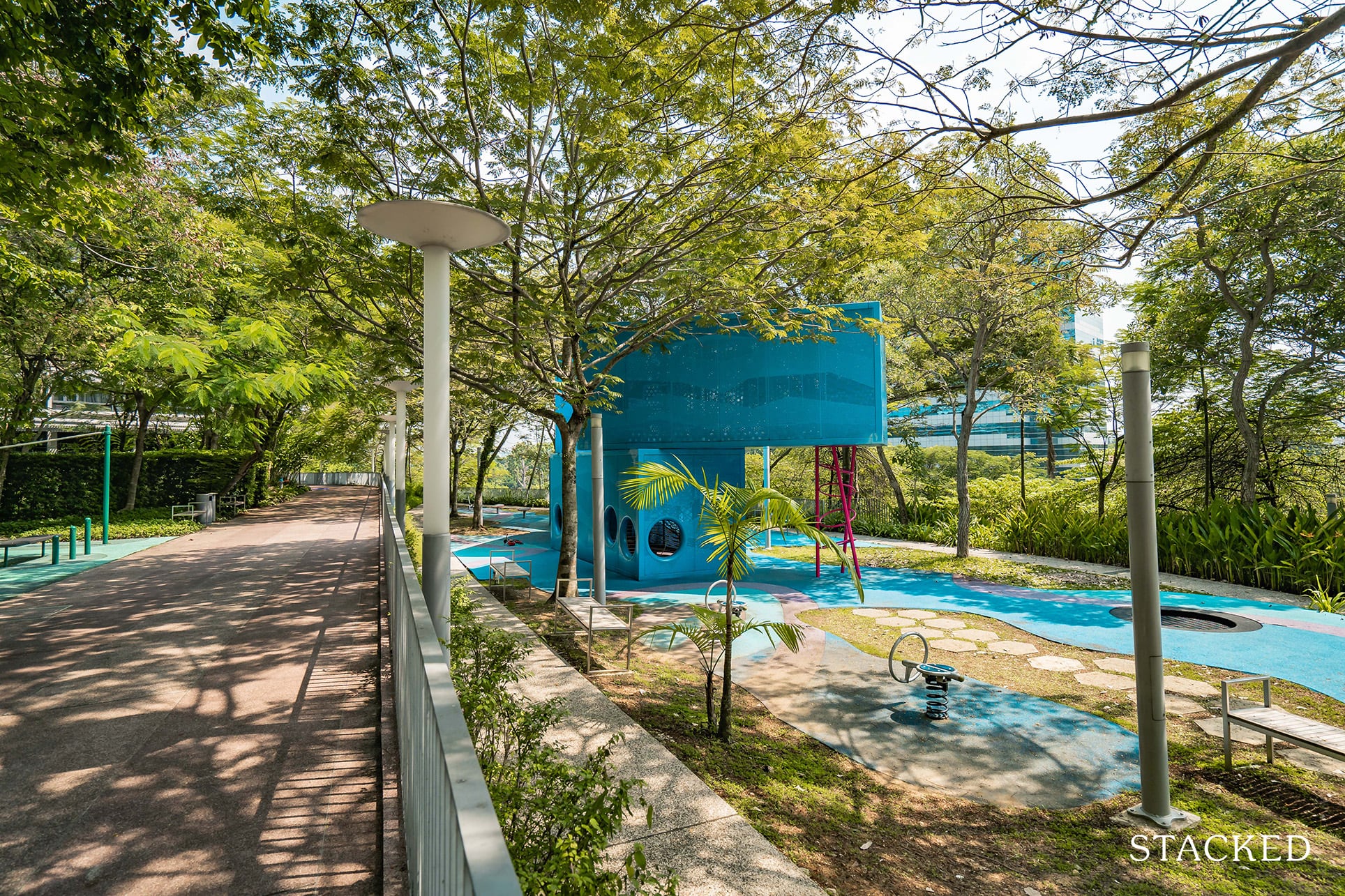 As mentioned above, there are numerous play areas around The Interlace. It is really a fantastic choice for parents, with such a wide variety of playgrounds.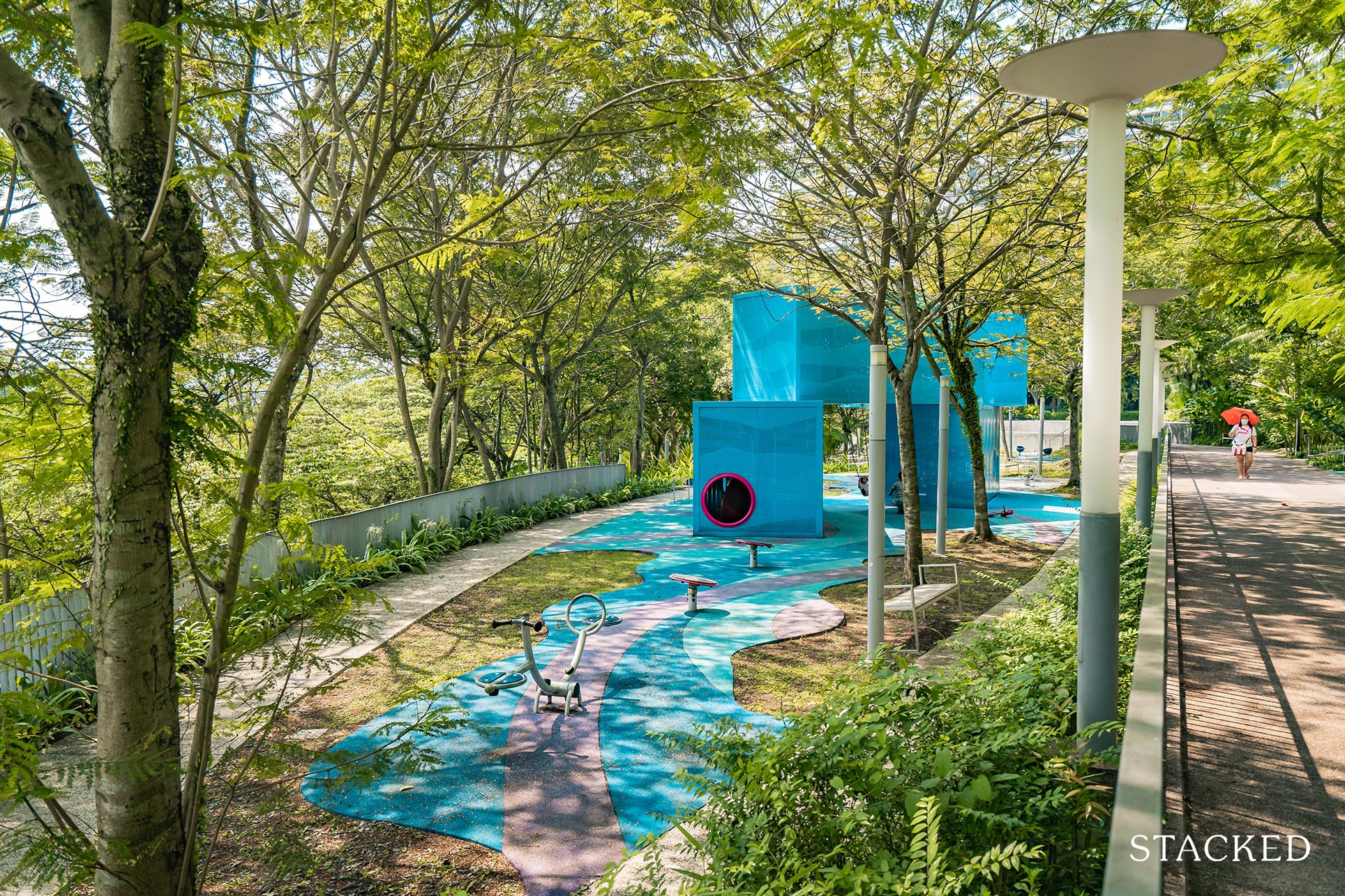 Again, most of the spaces are quite well shrouded by the trees, so it is still pretty usable even on a hot day.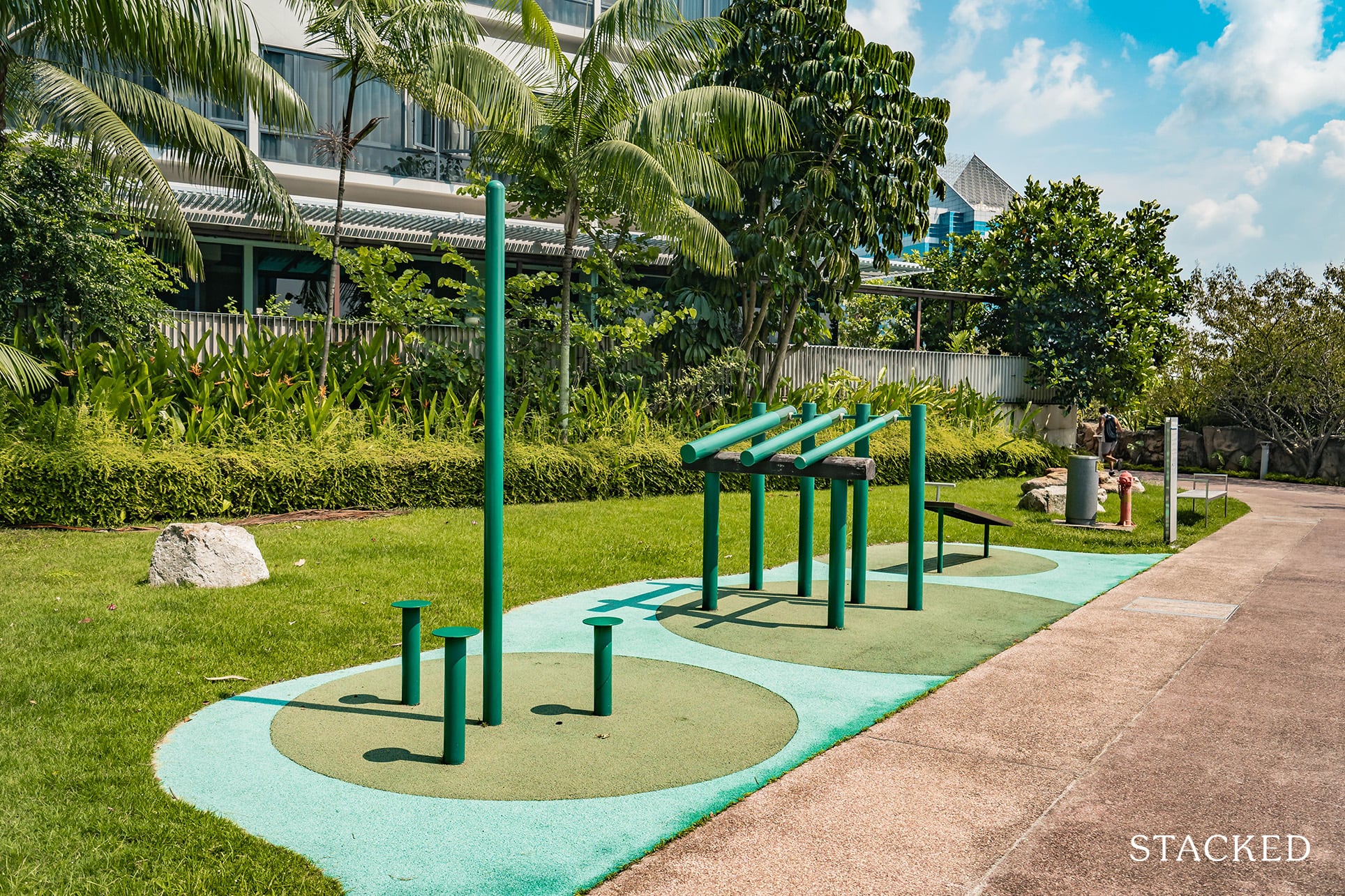 Along the jogging track, you will find multiple fitness stations too. This one above is definitely an old-school one at that! Unfortunately, unlike the kid's playground, these aren't sheltered as much.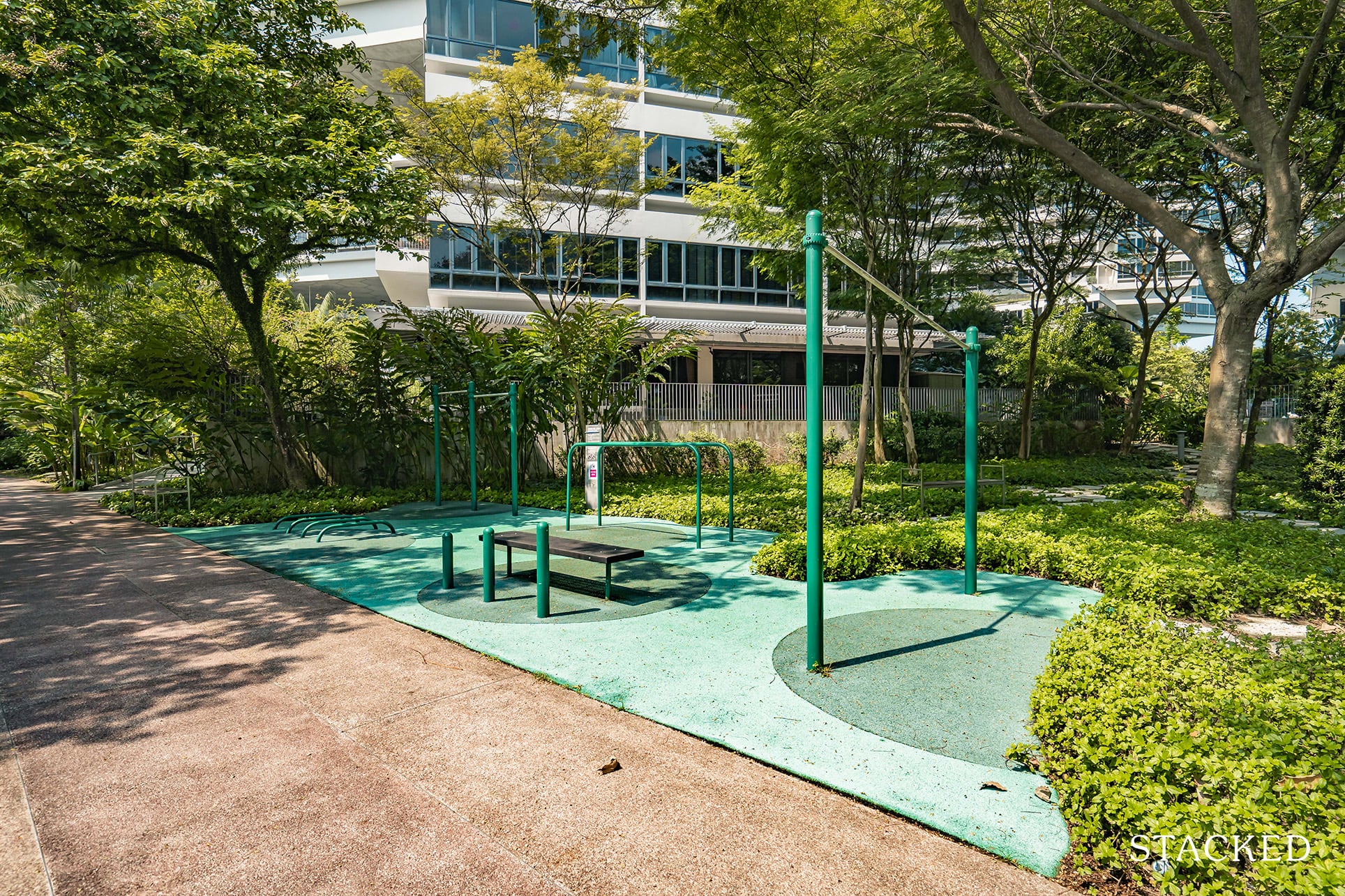 As you go along, you'll find multiple outdoor fitness stations as well, each with varied equipment. You can treat this as a super long circuit exercise – certainly keeps the exercise routines a little more exciting.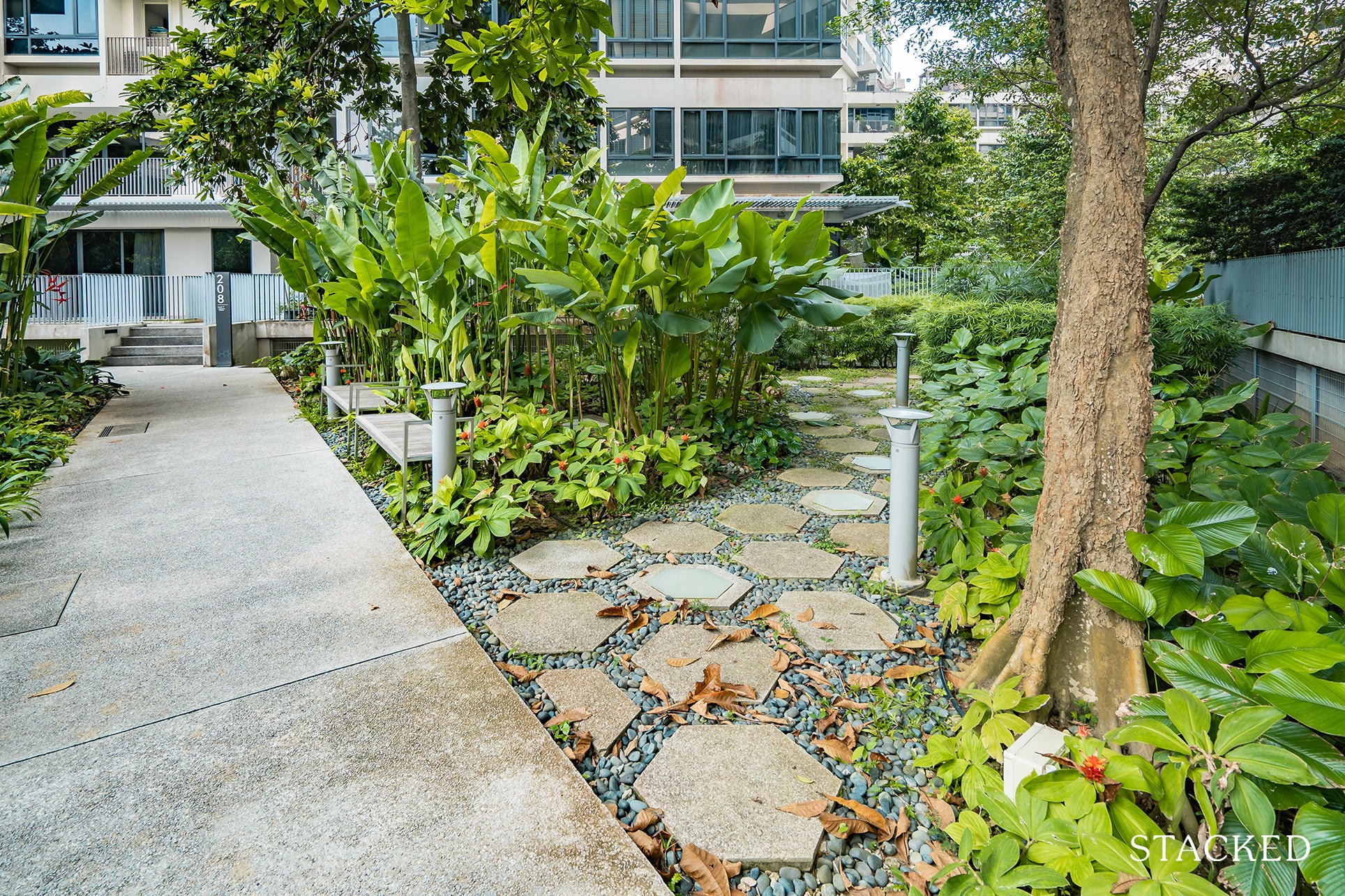 If not, you could also always take a break at one of the many resting benches along the way.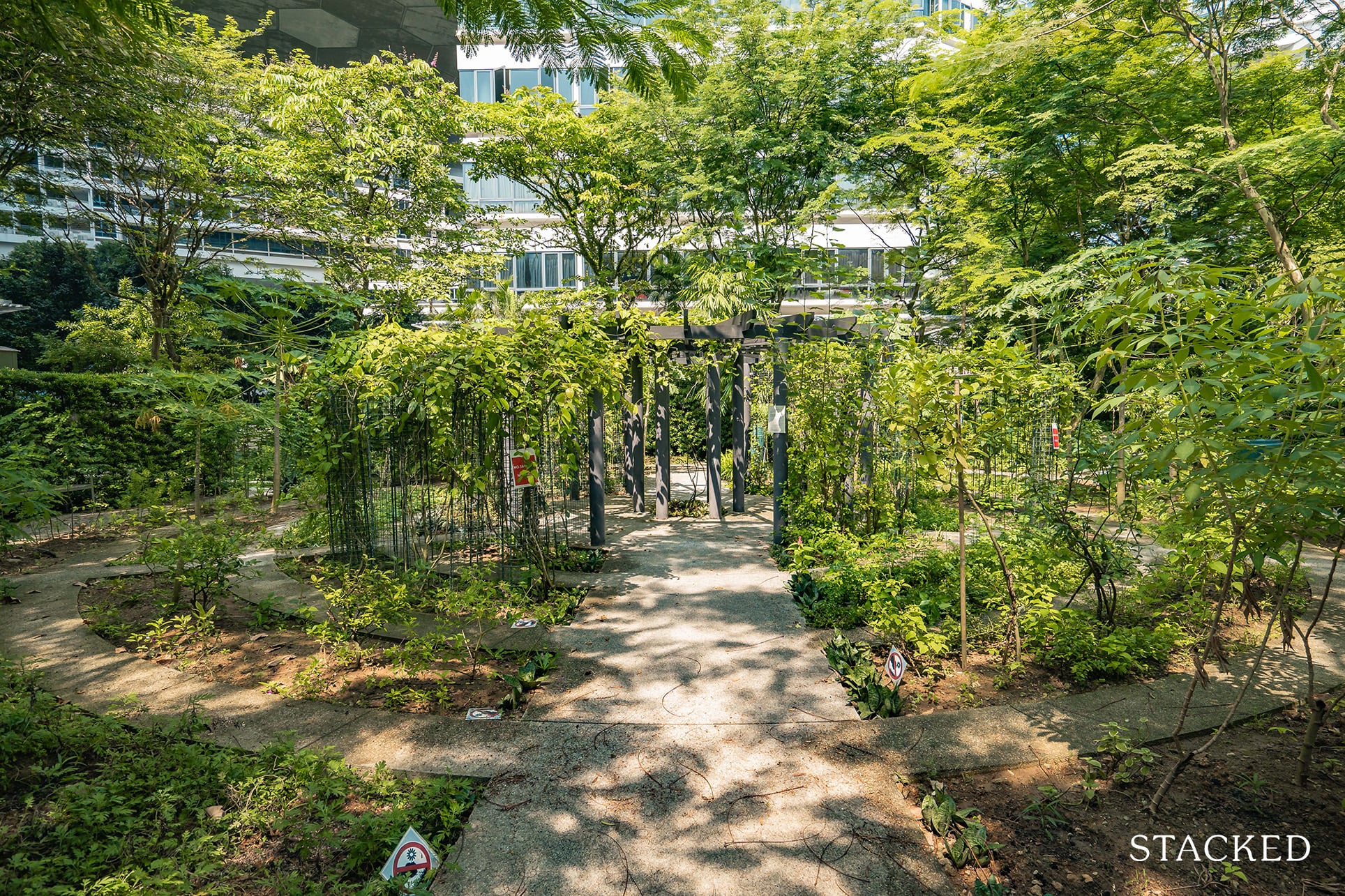 And while you cannot fault the Interlace condo for its lack of greenery, most of it isn't kept as immaculately as the OCD in me would like. It isn't a deal-breaker by any means, I can only imagine the amount of work that has to go into maintaining a development of this size.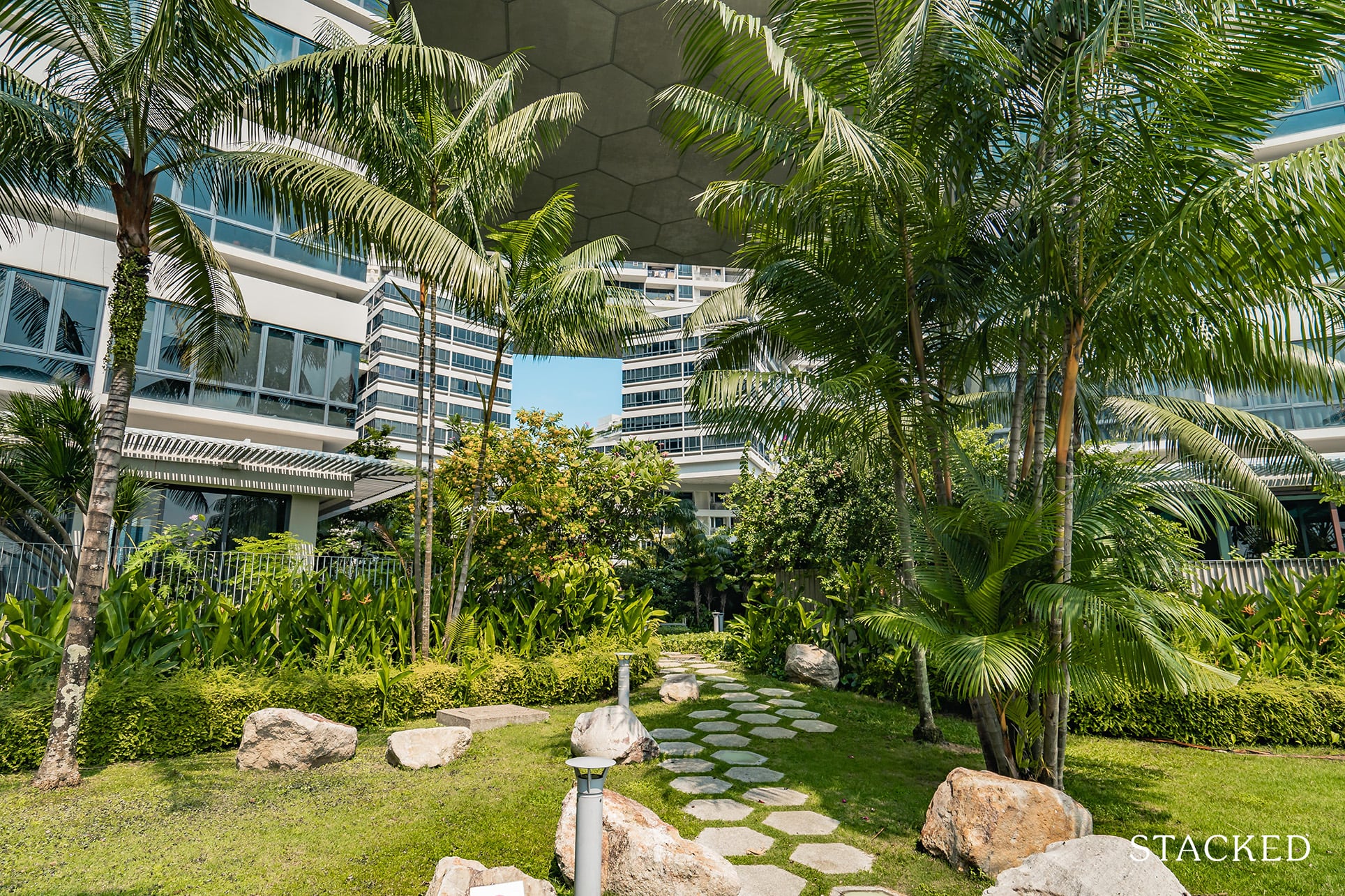 I mean, just look at the amount of landscaping to contend with! For a development approaching 10 years of age and at this size, it is really commendable to see the landscape maintenance so far.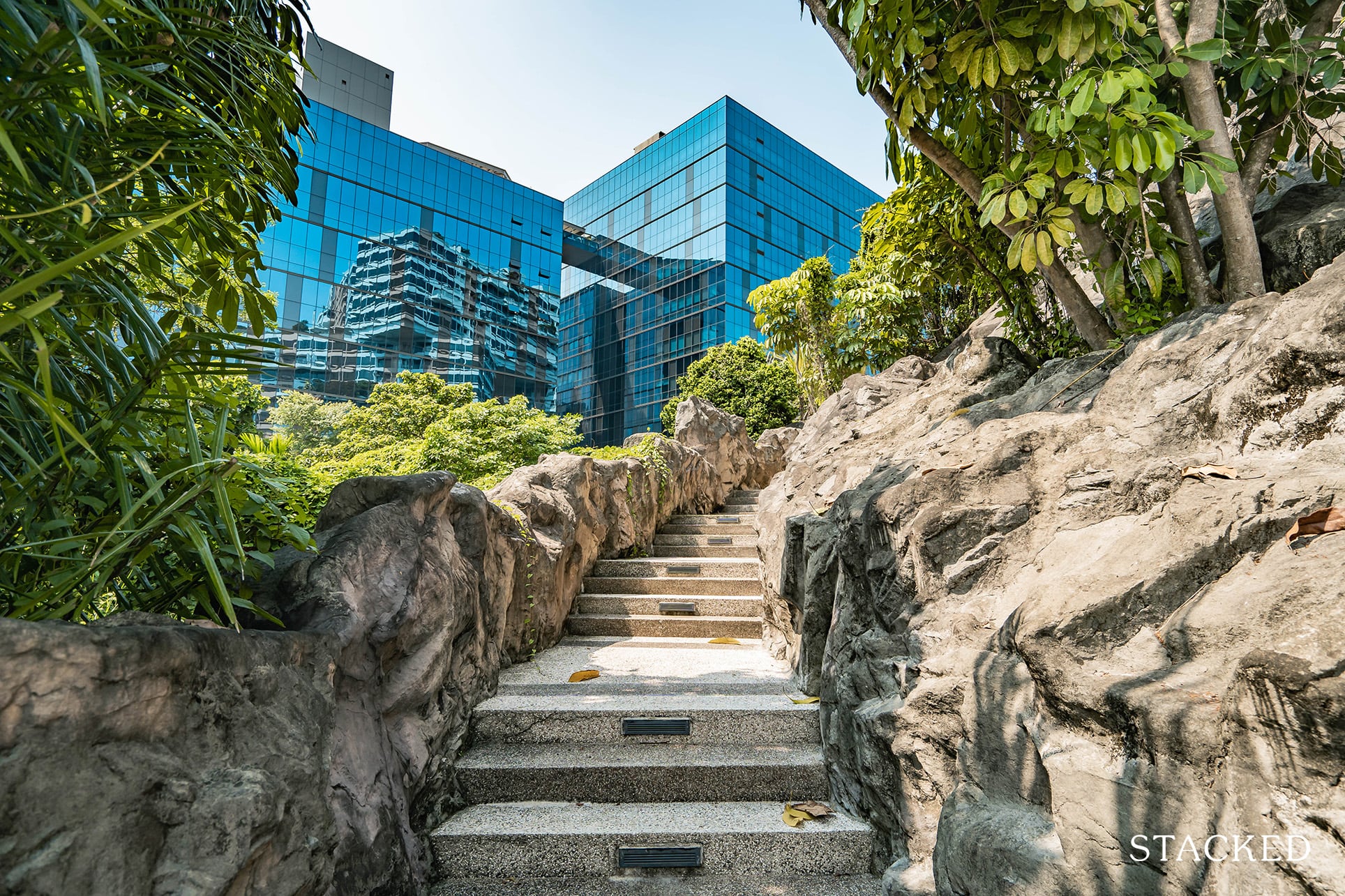 Finally, the path leads around the entire development – some more hilly than others.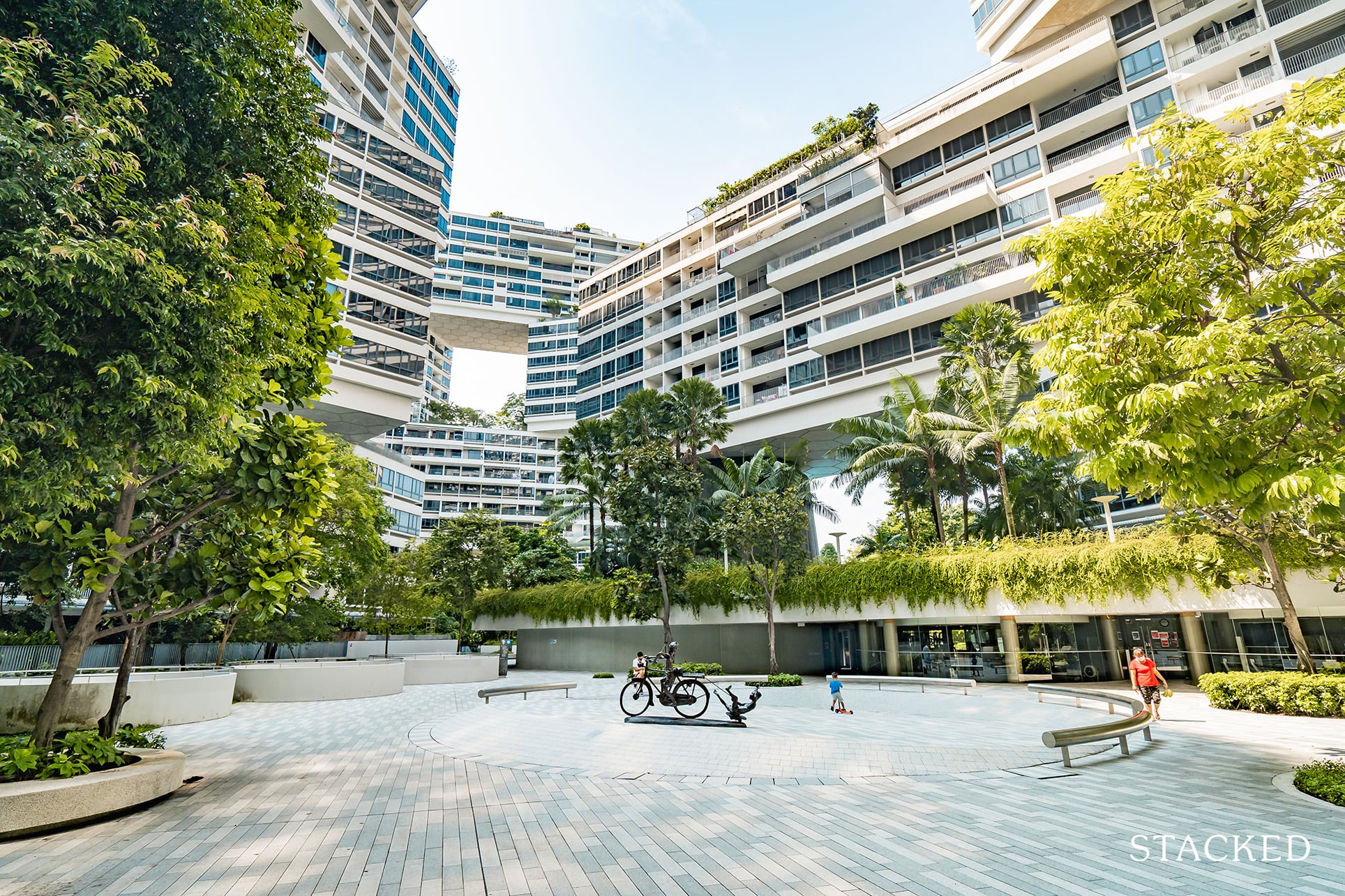 Getting back to the main areas, this is a huge courtyard space that ties in all the other facilities of the development together.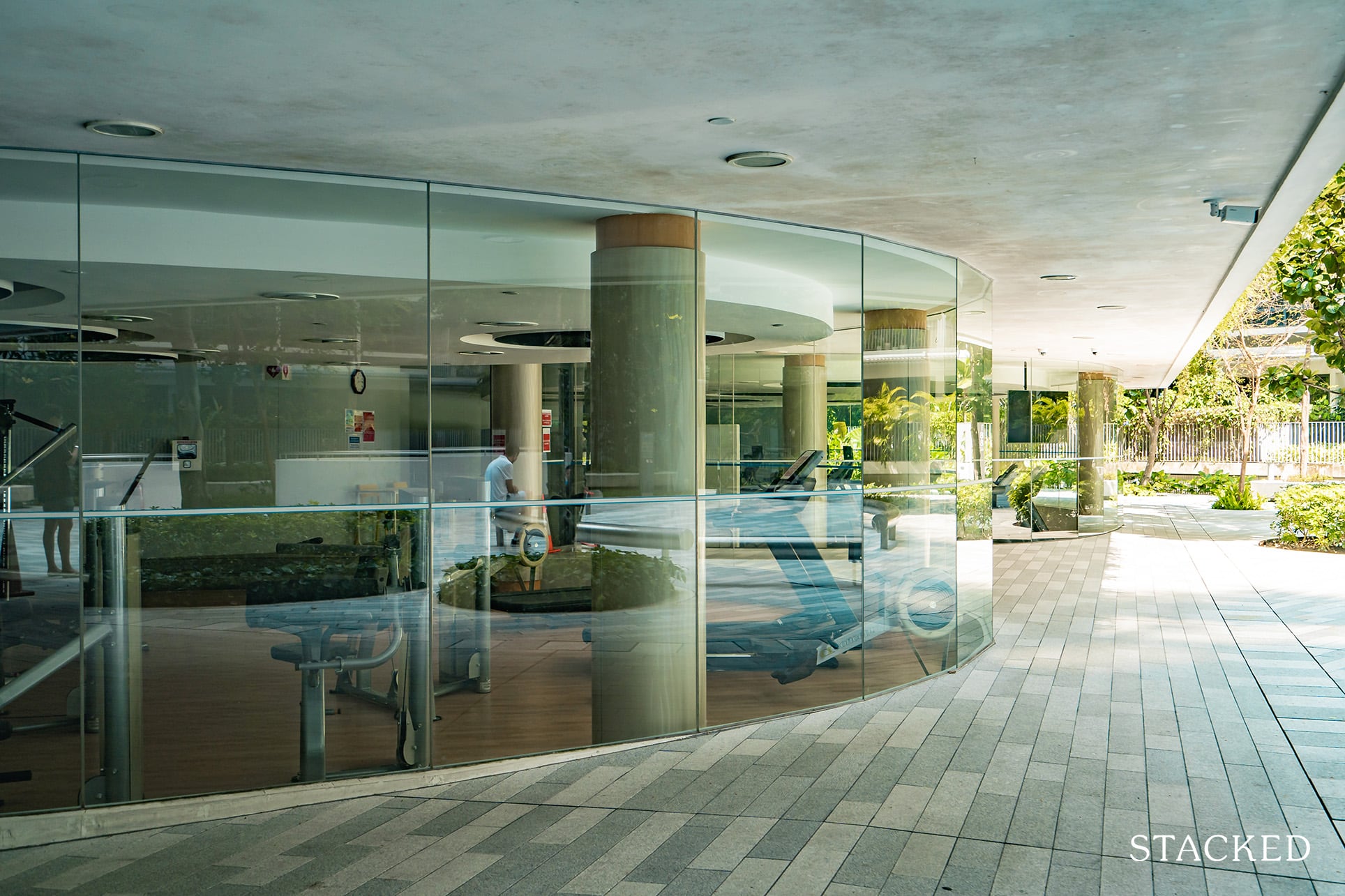 The gym is separated into two different parts, one for weight lifting and the other for cardio. There are lots of treadmills to cater to the number of residents, but it probably will get very crowded during peak hours after work. And it doesn't feature the most exciting view (just people walking past), but at the very least it is almost entirely glass wrapped which lets more light in.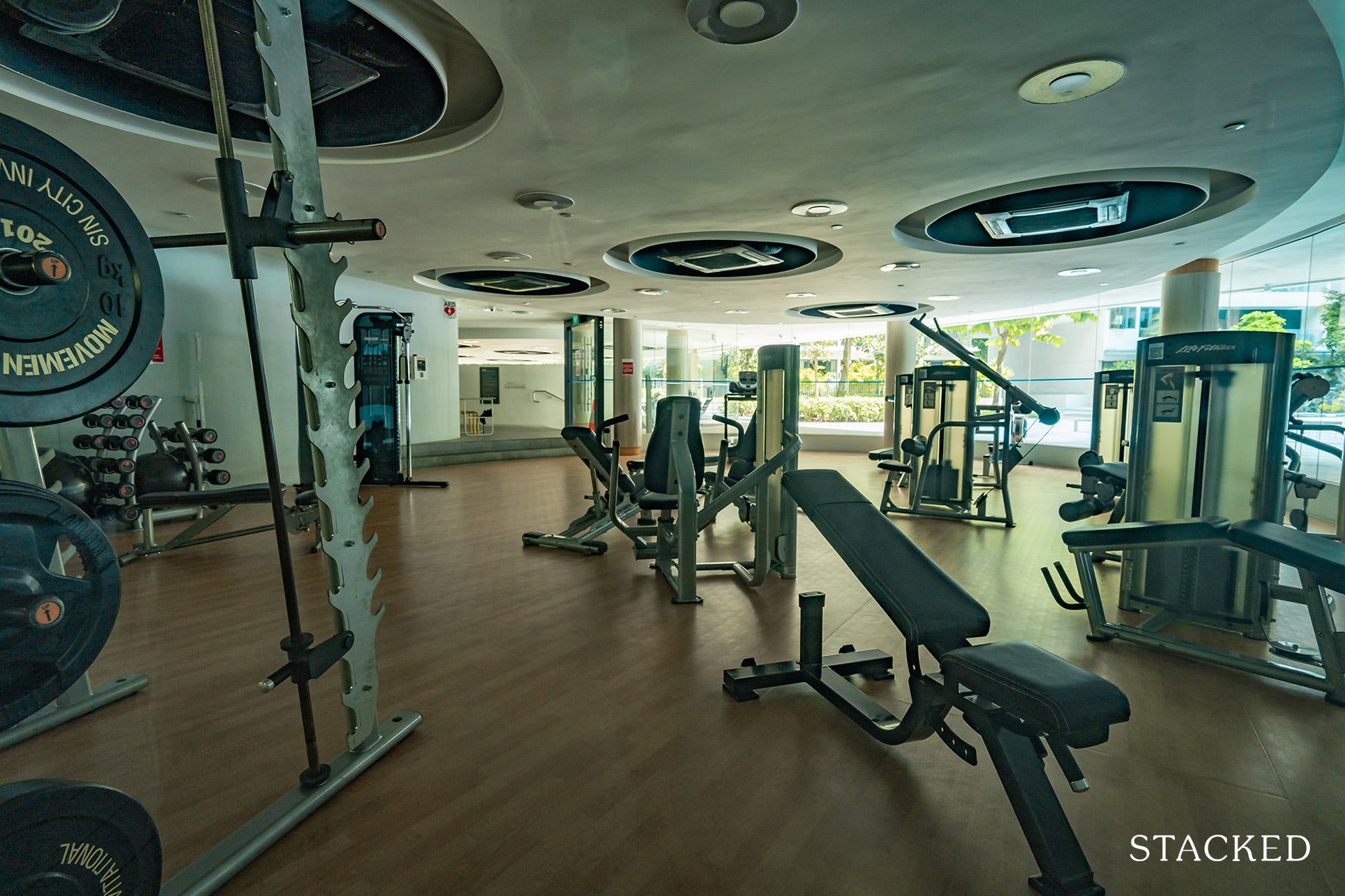 The level of equipment in here should please most fitness junkies – there are definitely more weight-lifting machines than in your regular condo gym. If anything, it is more comparable to the professional gym chains that you see outside.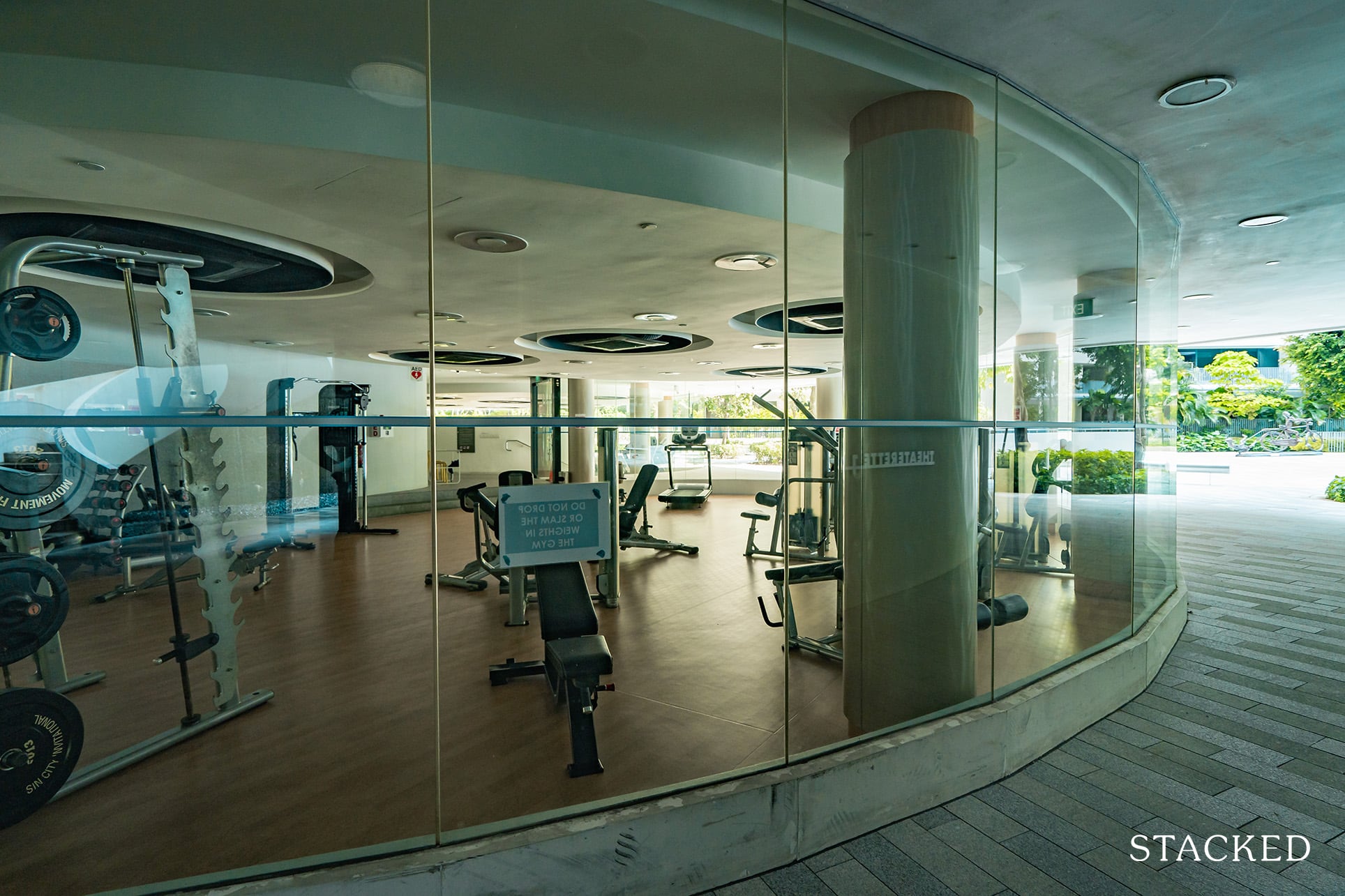 All that said, it is still a better situation than most developments I've seen – so I wouldn't really complain too much here.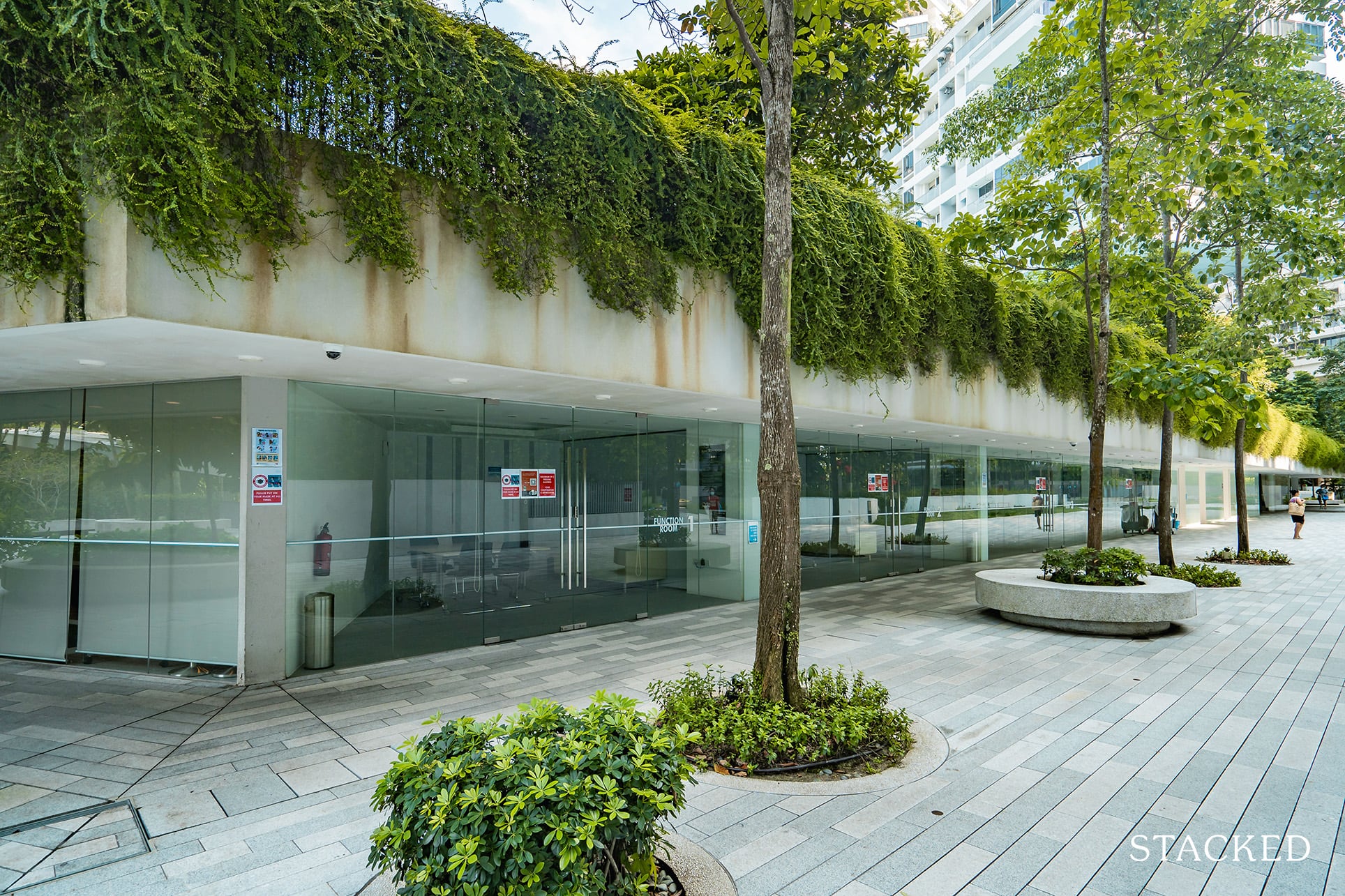 This area is the epicentre of The Interlace, with a number of different rooms to cater to your whims and fancies.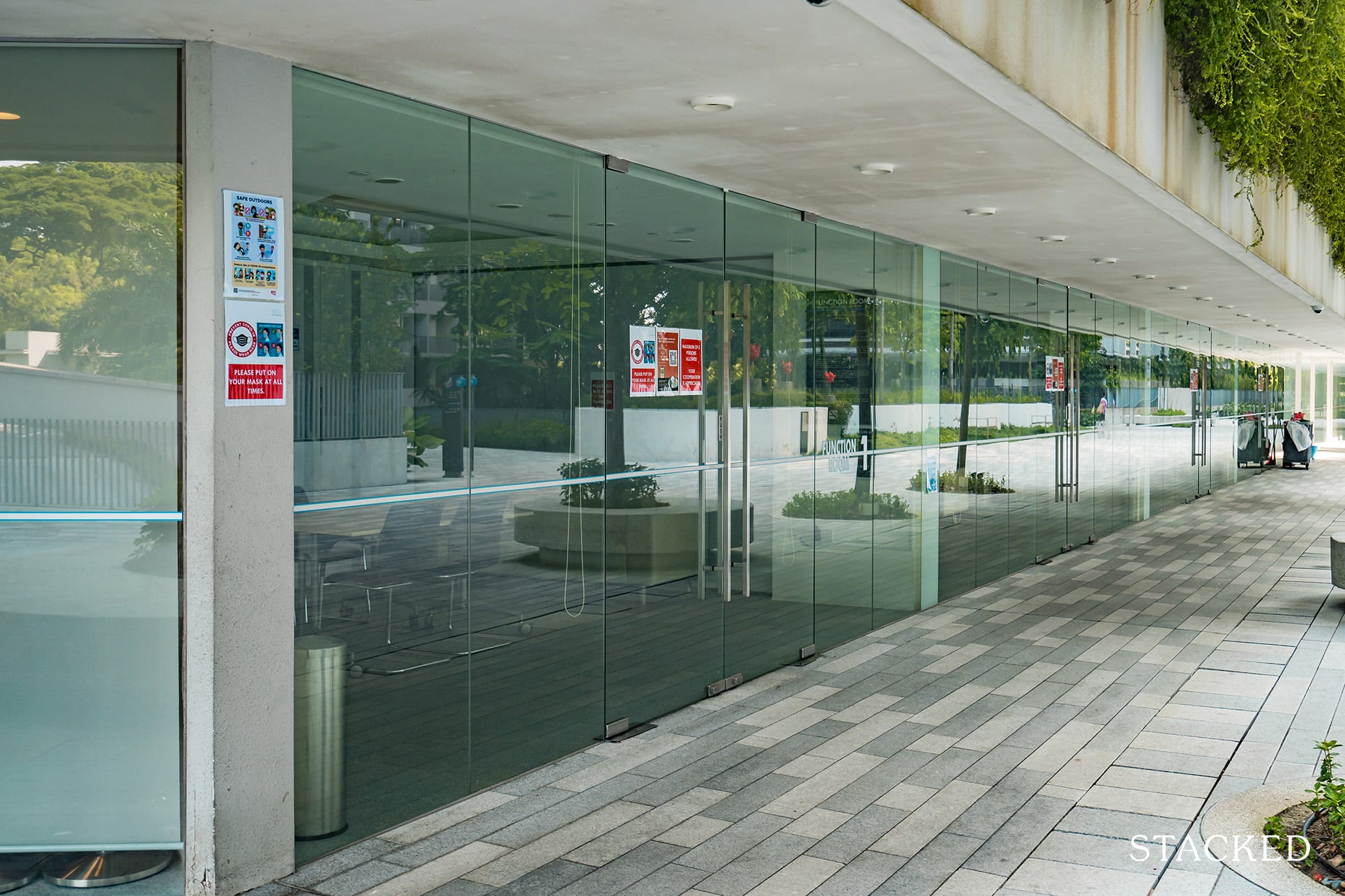 First up, 4 function rooms. It's a generous number, but if I had to nitpick, I'd say it looks too clinical and office-like for my liking.
The block next to the function rooms features a business centre as well – something that you don't see in many developments in Singapore.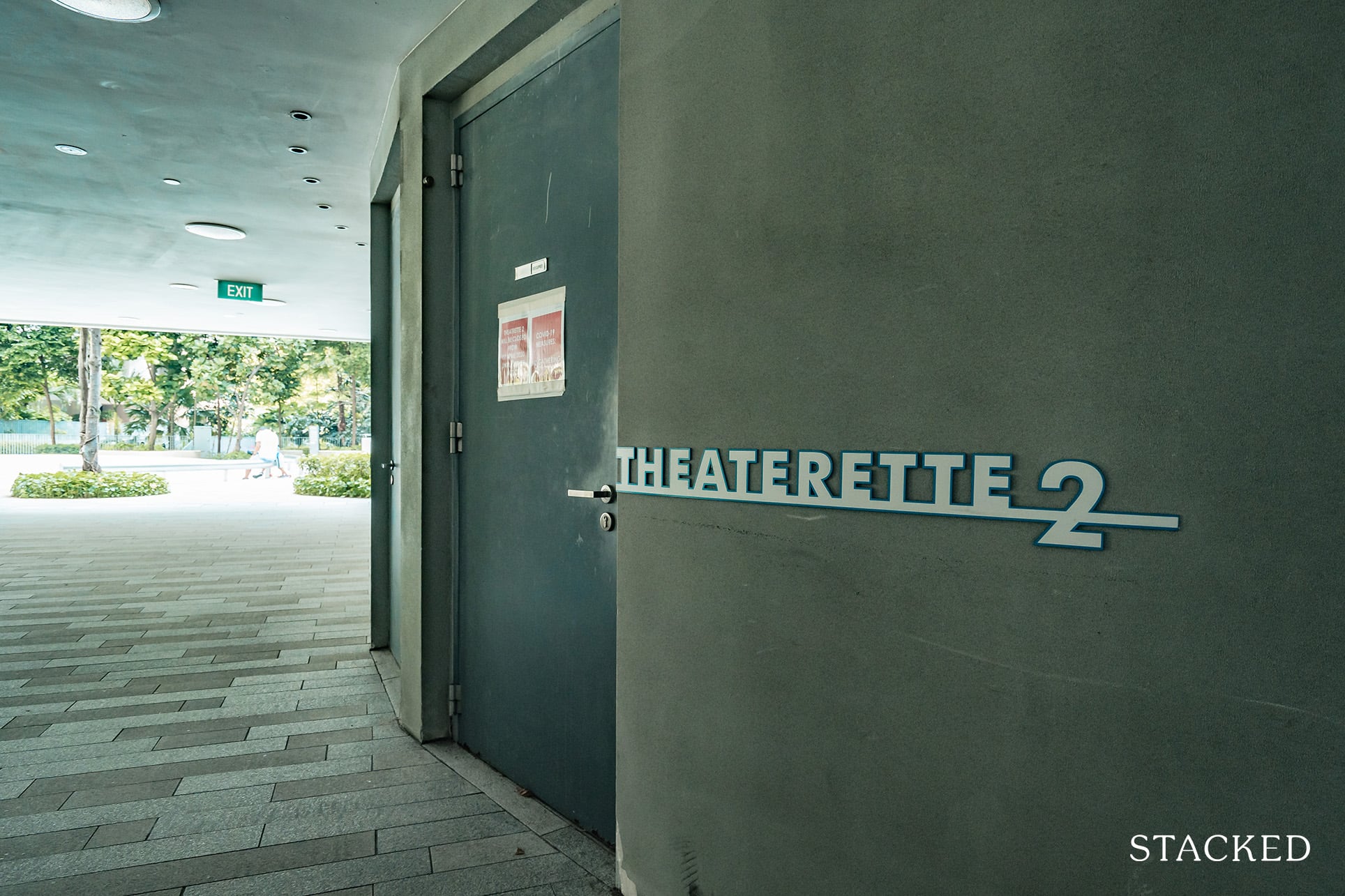 In terms of entertainment options, you have theaterette rooms, a billiard room with 3 tables plus a snooker table, and even karaoke rooms.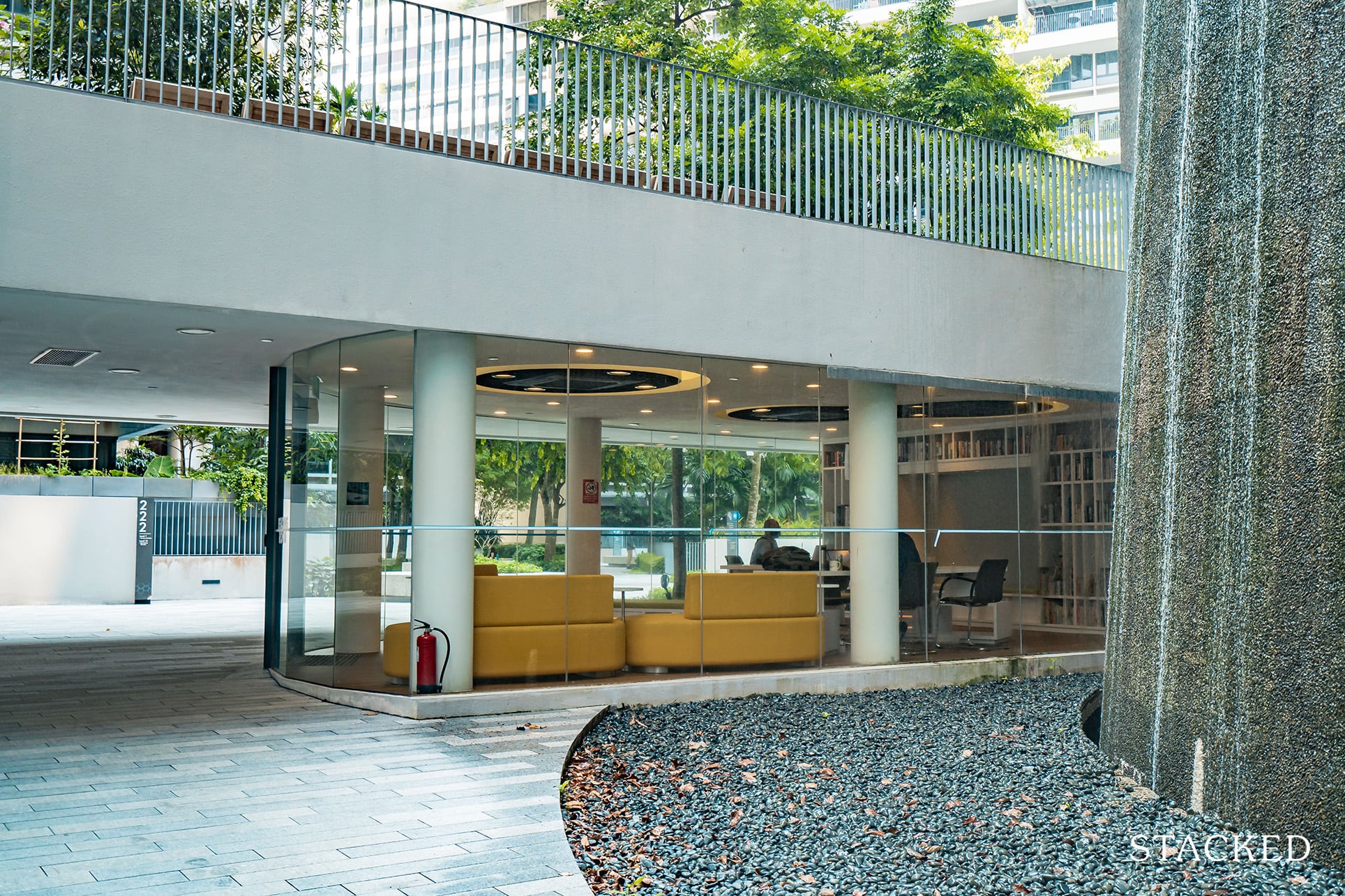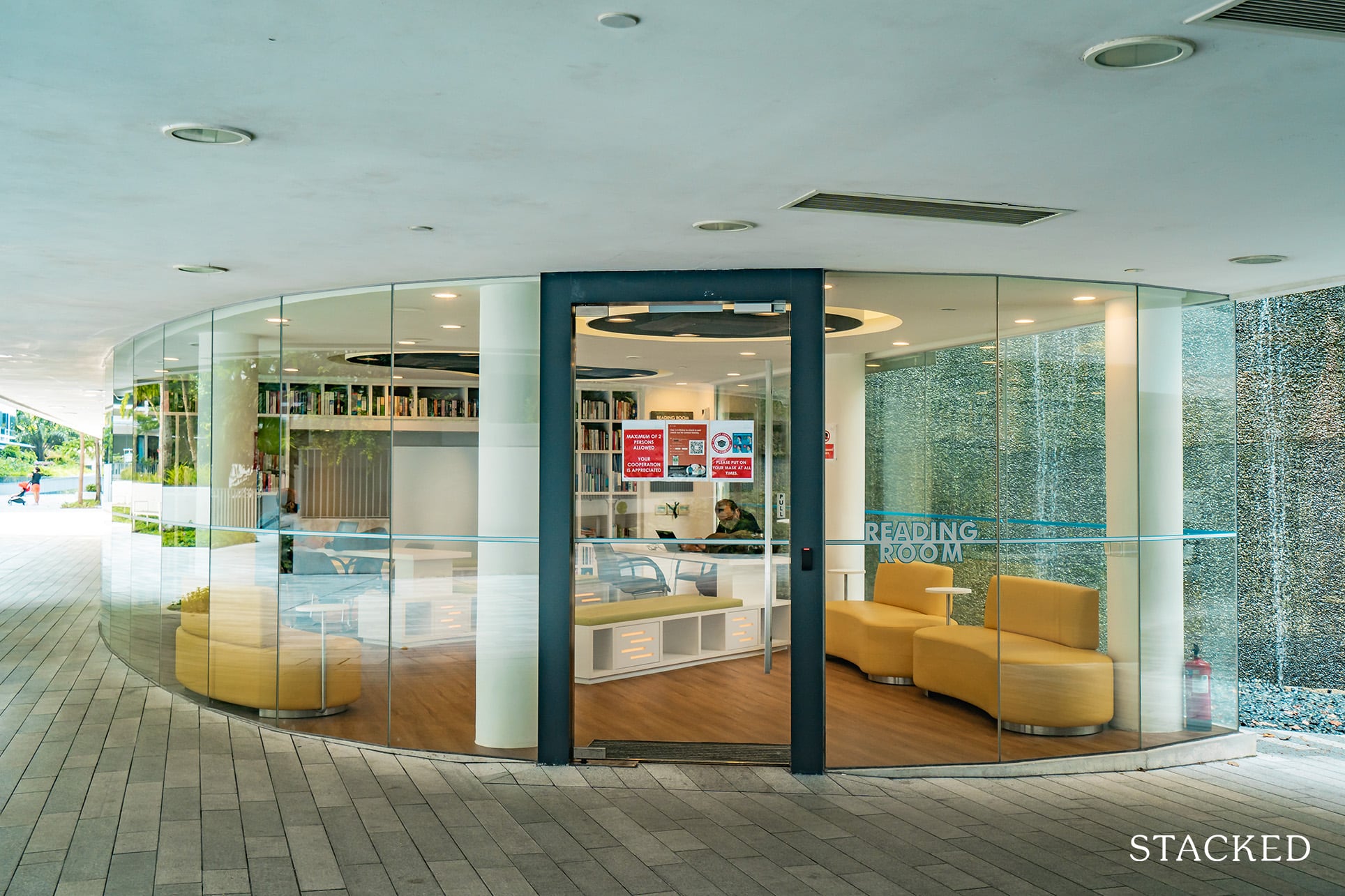 On the opposite side of the billiard room is the study/reading room. The view is of the water fountain just outside, which is nice.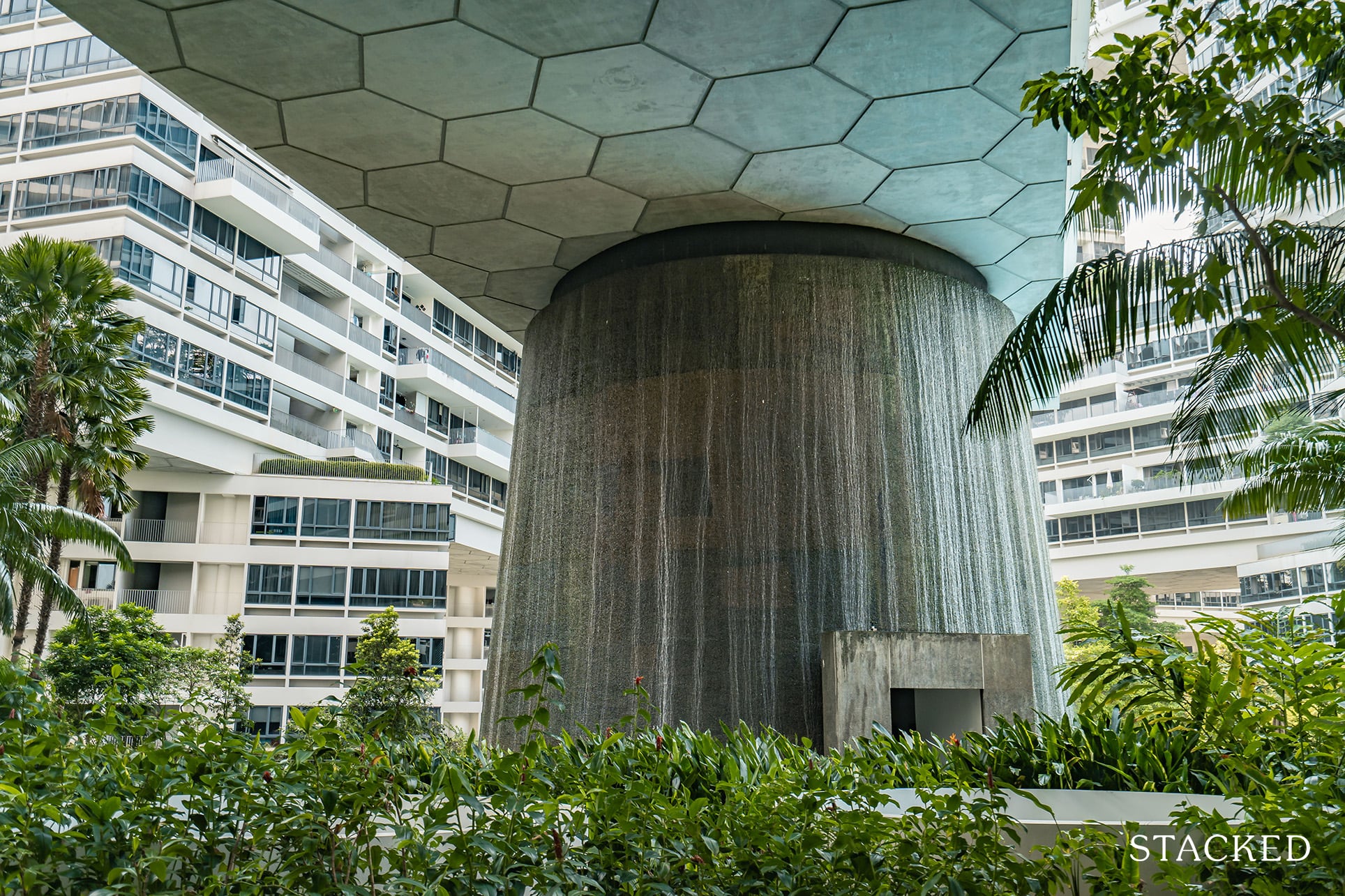 And interestingly, that waterfall leads to the 50-metre lap pool on the second level.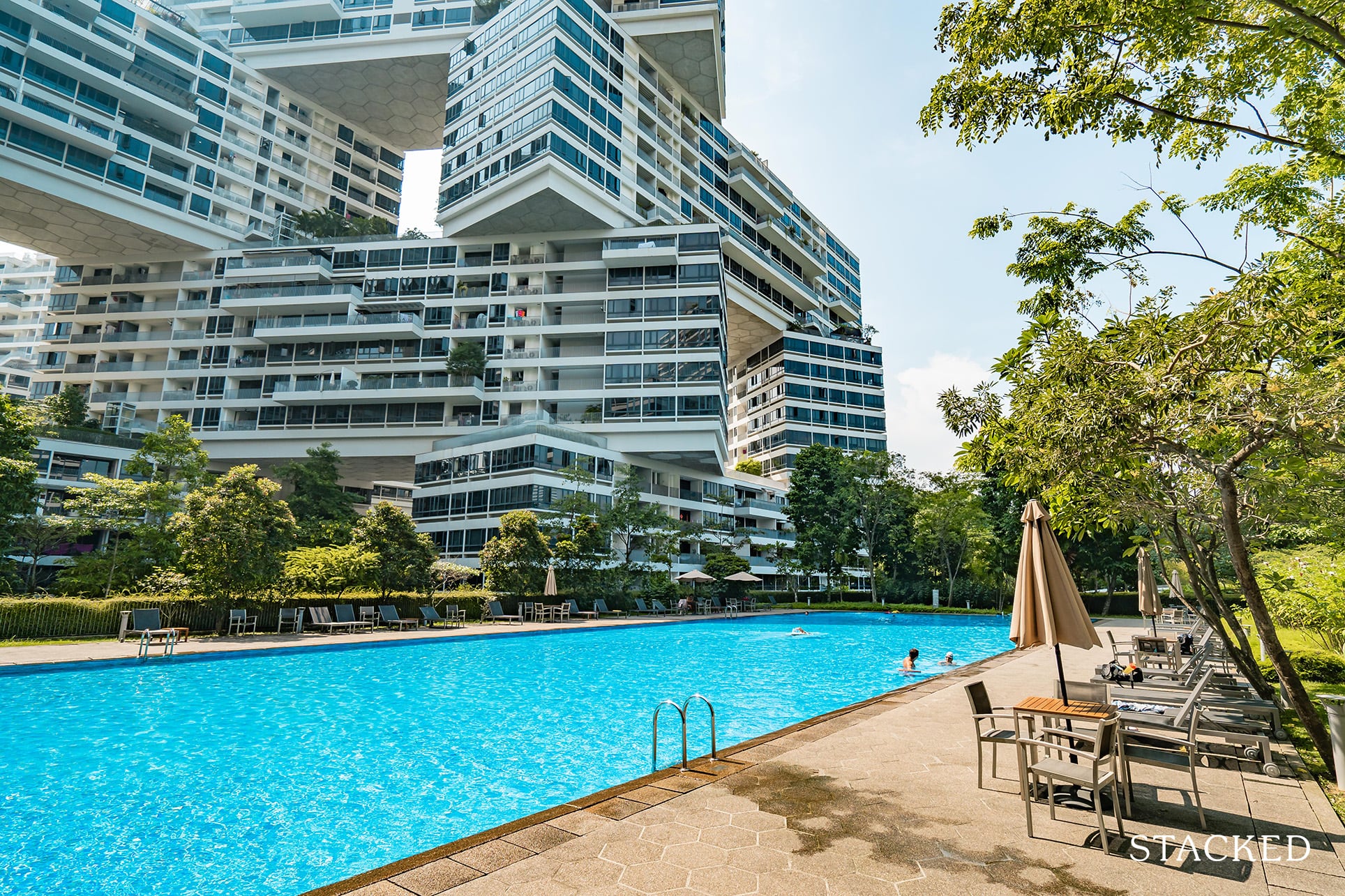 This is a proper swimming pool for swimming laps. While this isn't one of those sleek infinity pools that you'll find in newer developments, it definitely does the job still.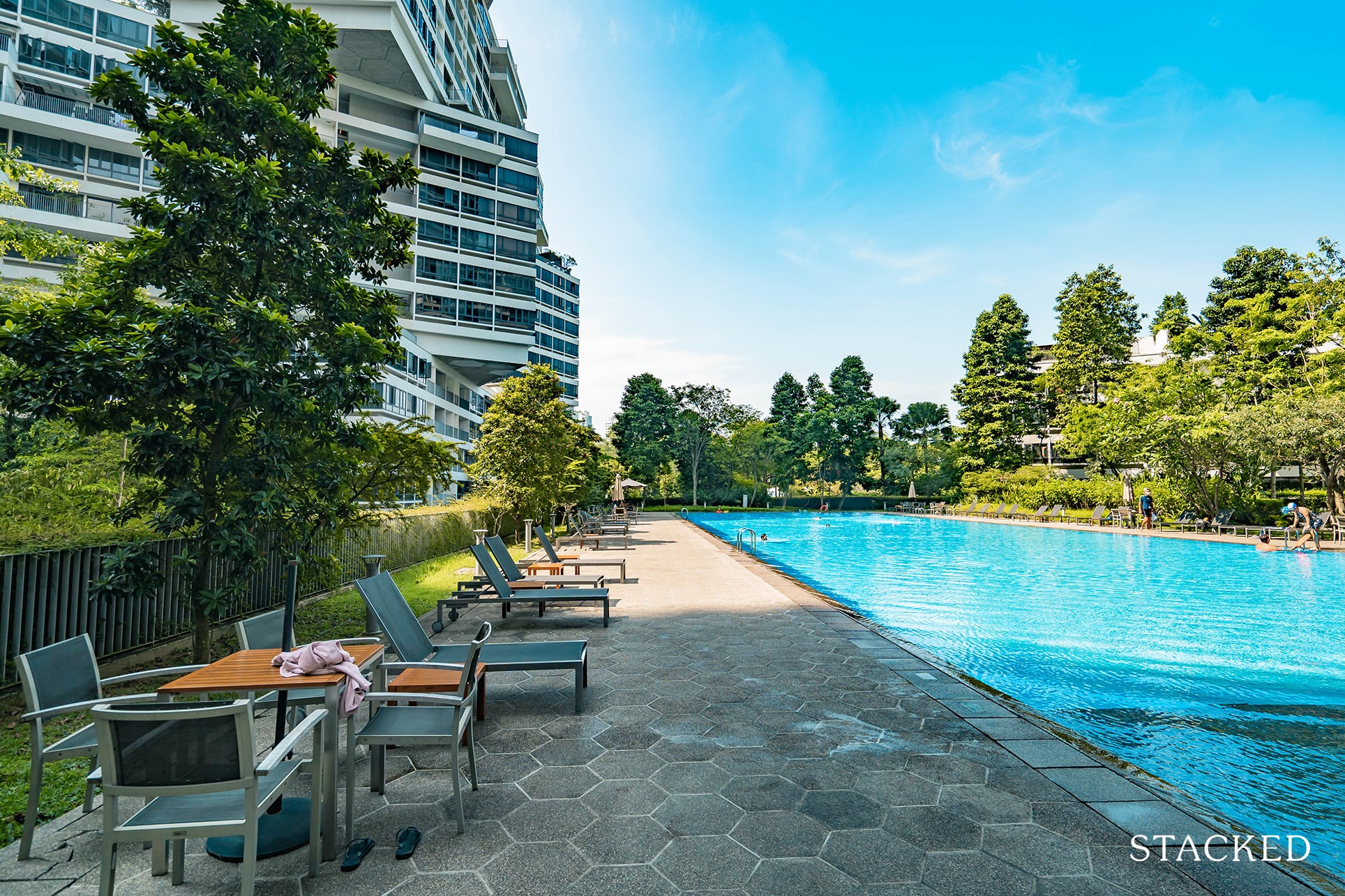 Despite the more traditional outlook, it does have one trick up its sleeve – the area is actually very cooling and almost feels as if you are swimming in a valley.
It is also lined with deck chairs and seating areas down both sides of the pool (and comfortable sofa seating at the back), so you do have a number of different places to rest and relax at.
And even around the pool, you'll find various walking paths amongst the green landscaped gardens.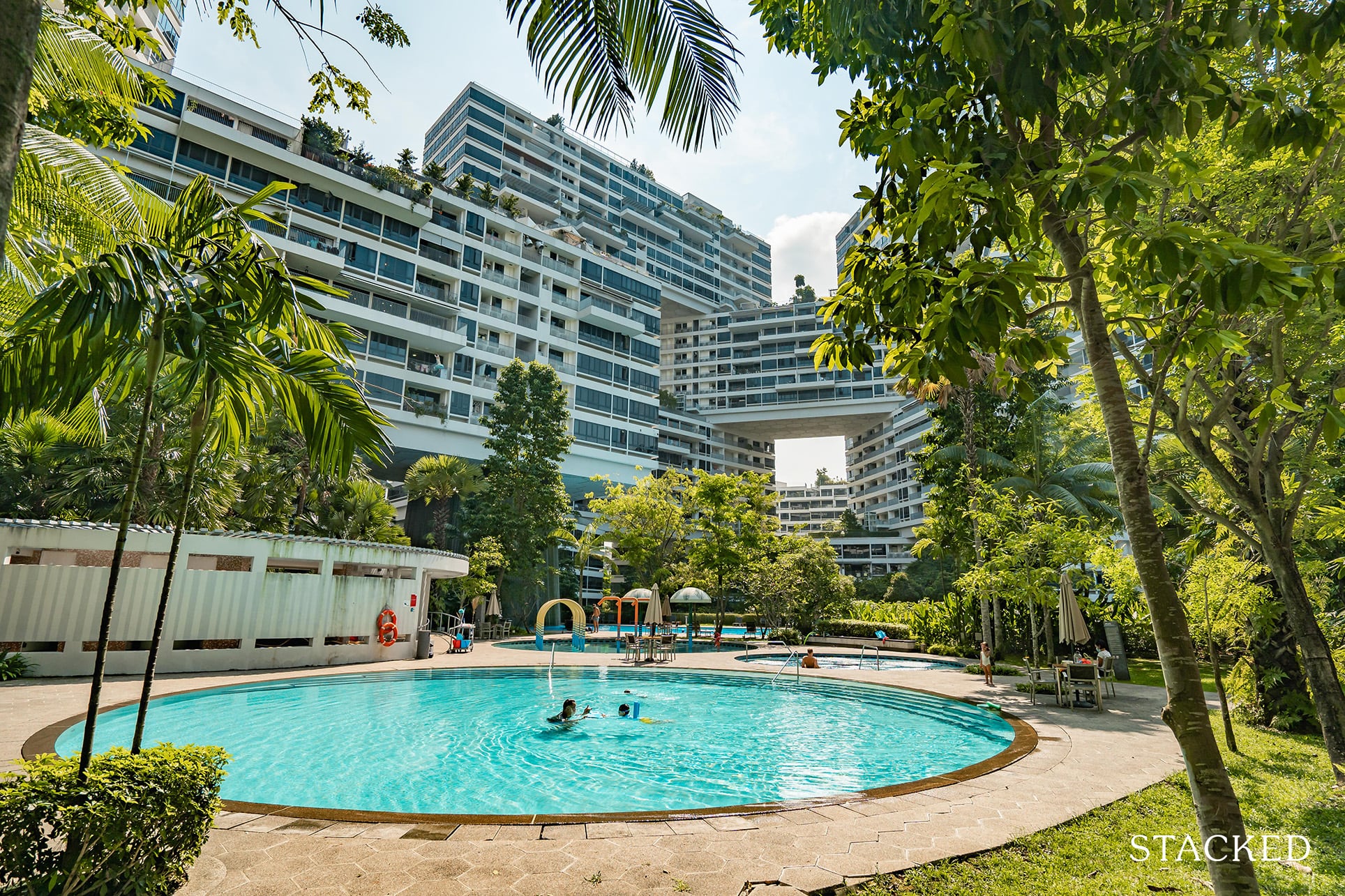 If you were worried about the main pool getting inundated with kids, there is a water park specifically for young children to frolic about.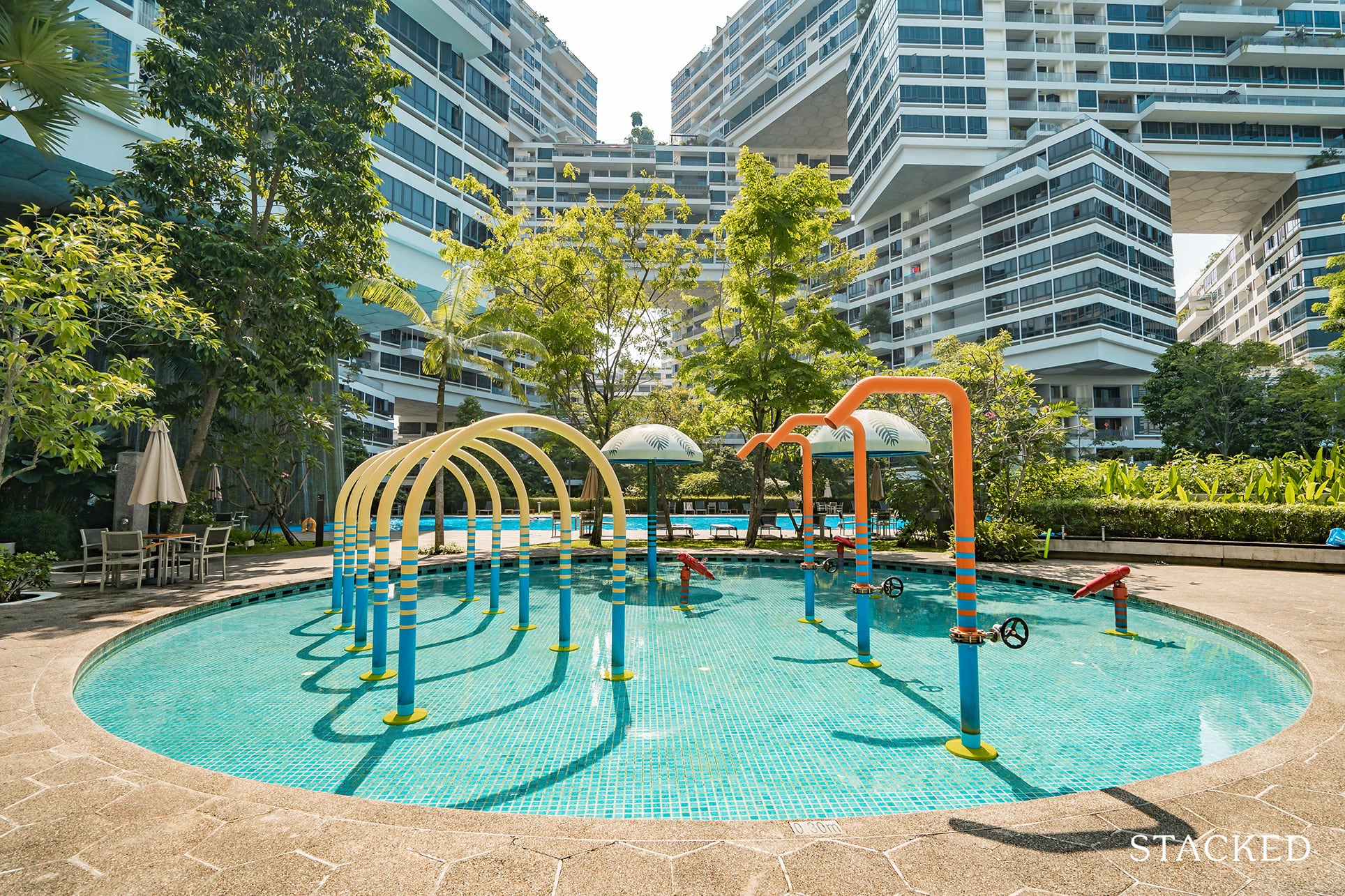 This one features lot of exciting and colourful water fountains – which is bound to keep your kids entertained.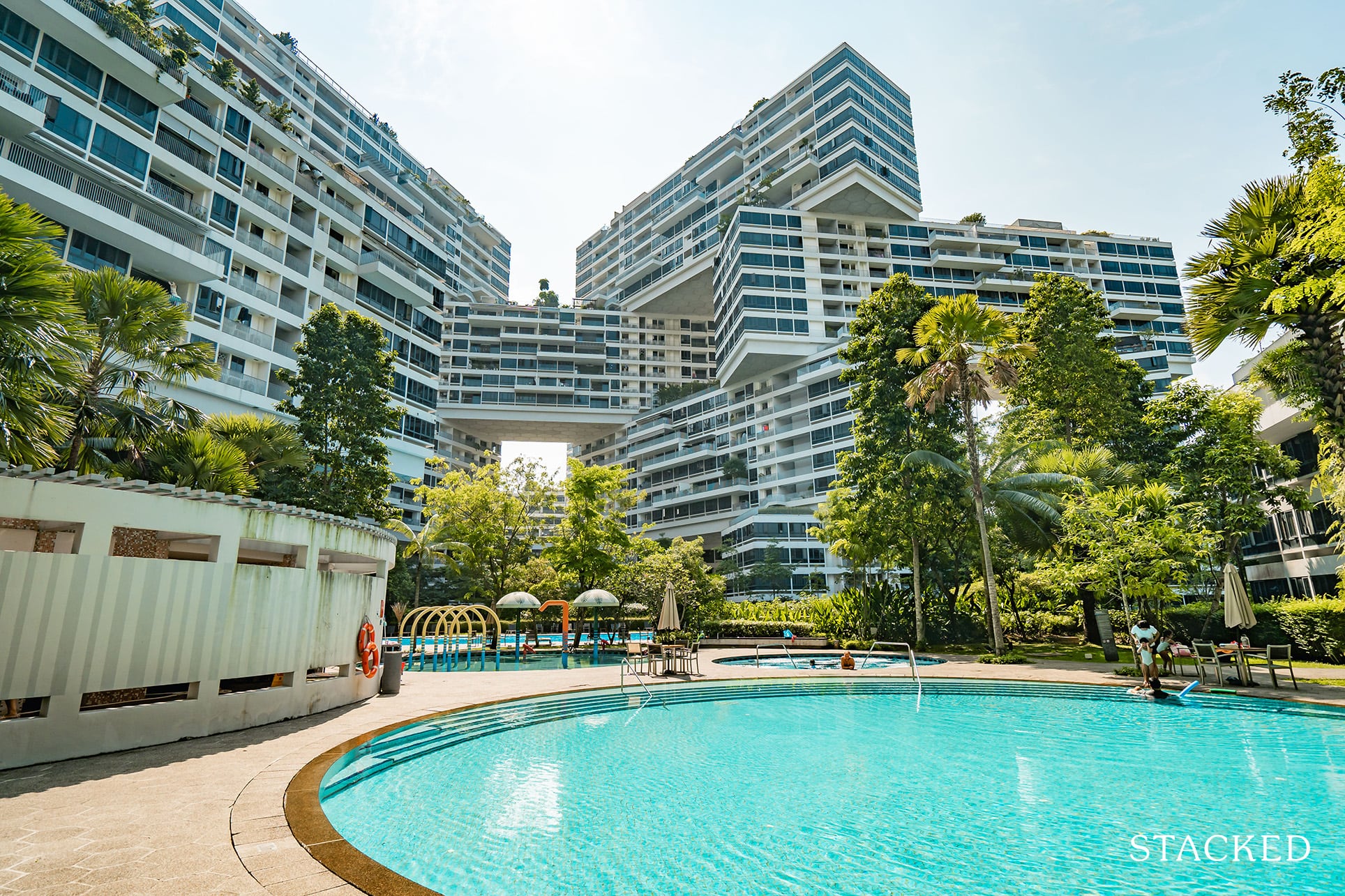 I've said it many times already, but its easy to see why The Interlace is so highly rated when it comes to being kid-friendly.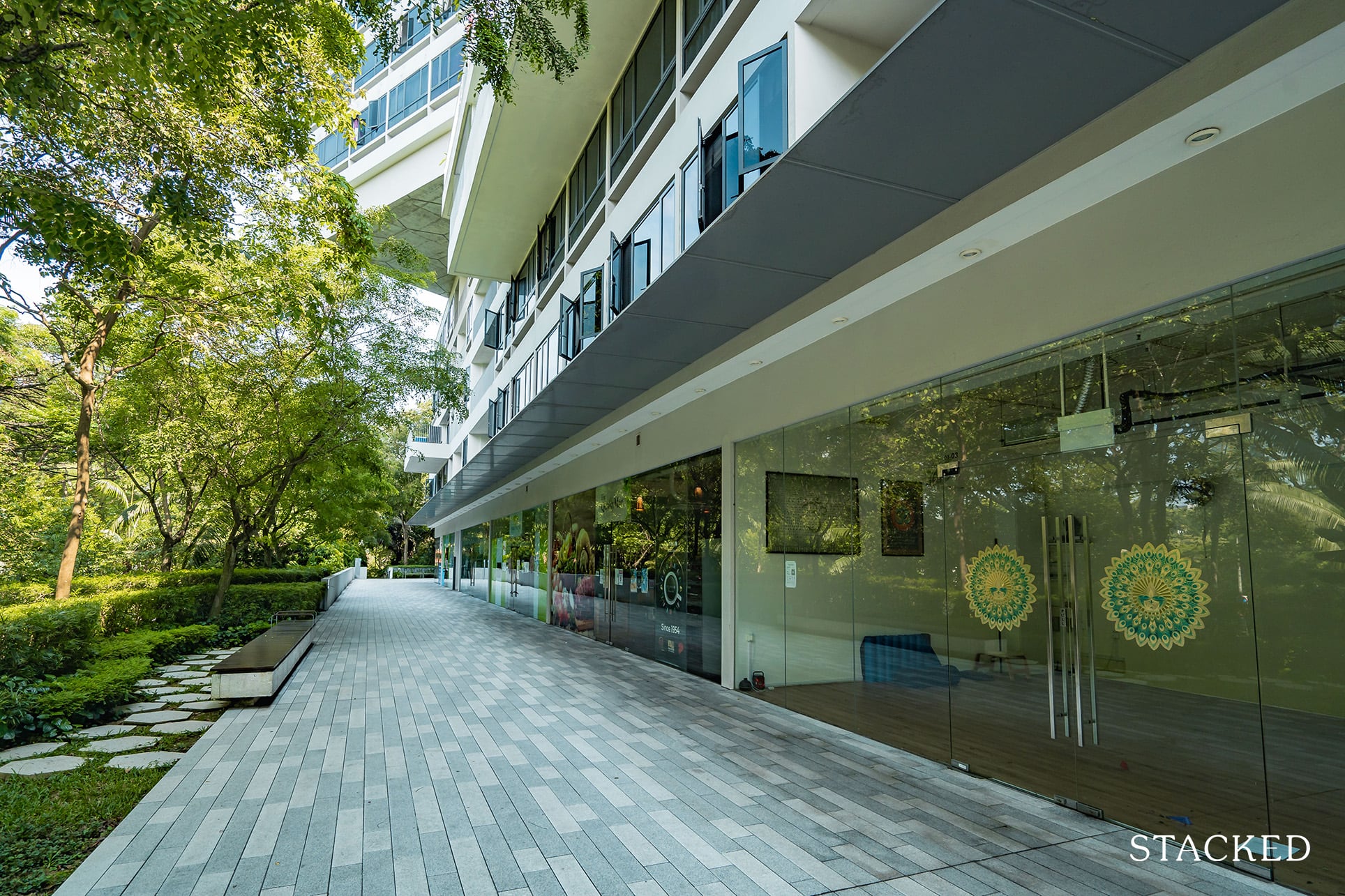 A big attraction of staying in a mixed-development is often the retail shops – just as long as the traffic is sustainable. This is part of the 8 retail spaces here, one of which is a grocery shop – which is always convenient even with proliferation of online grocers in Singapore. Nothing quite beats taking a stroll downstairs to buy last-minute items that you are missing.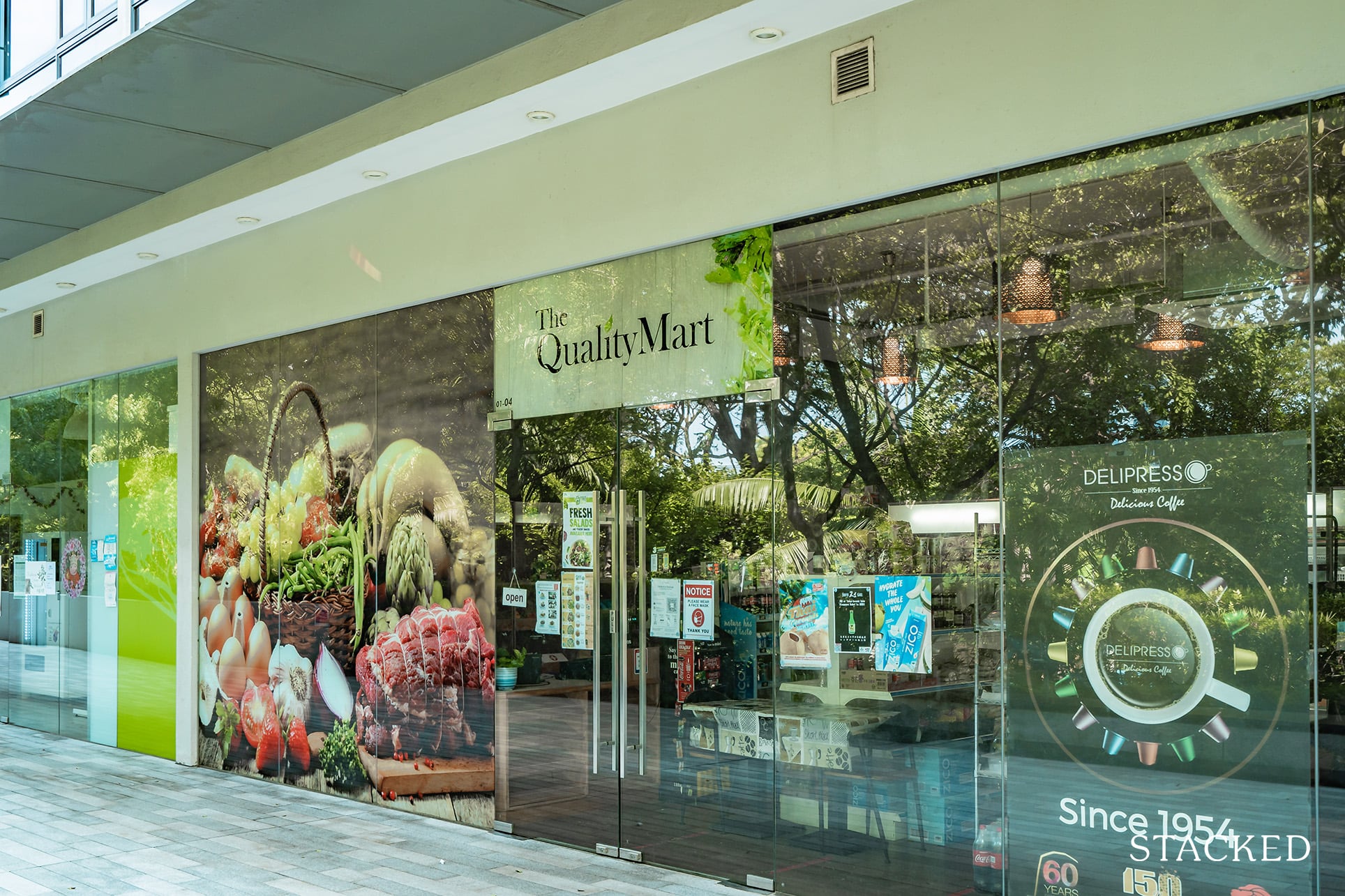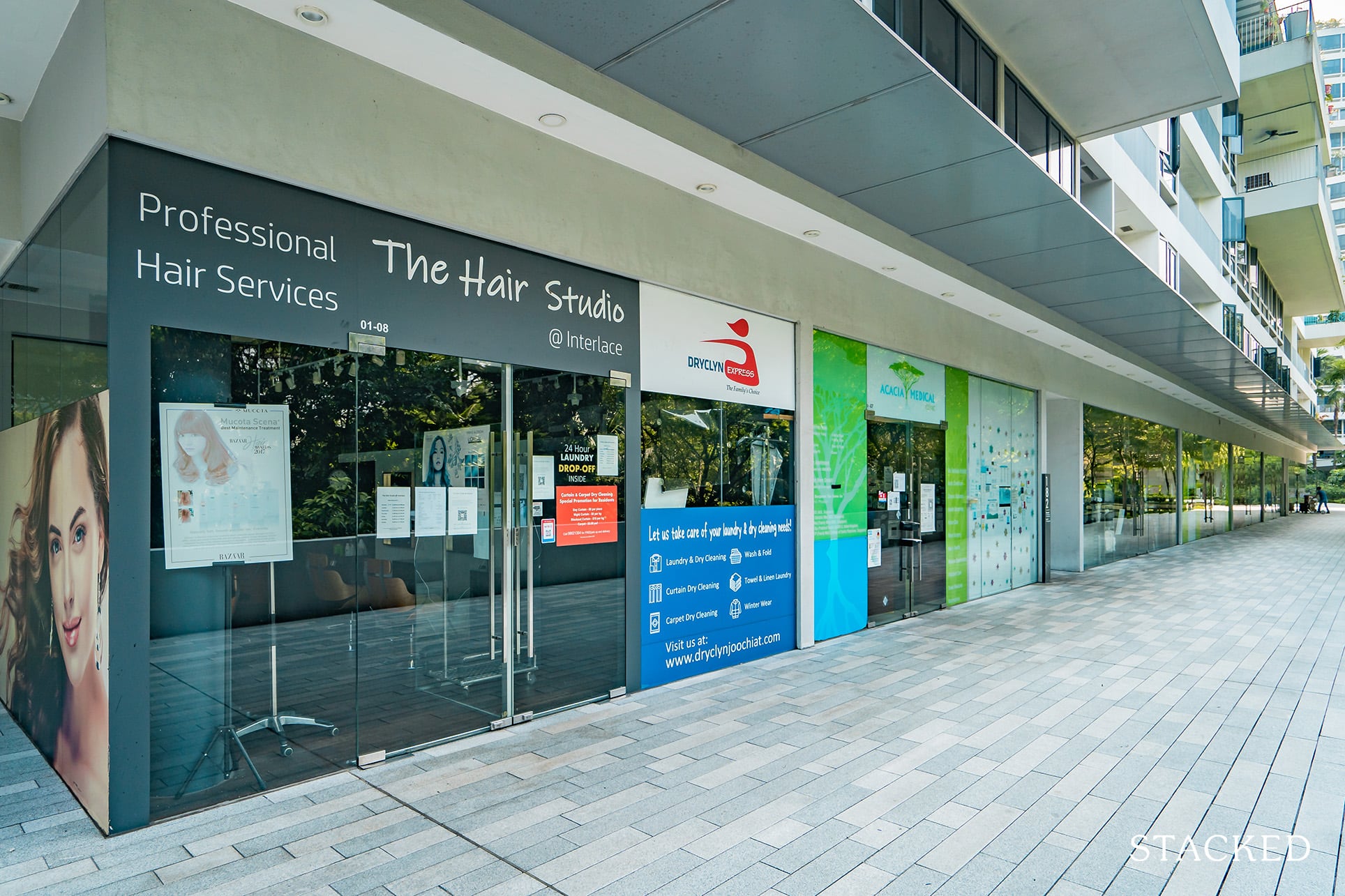 There is also a hair studio, medical clinic and dry cleaners.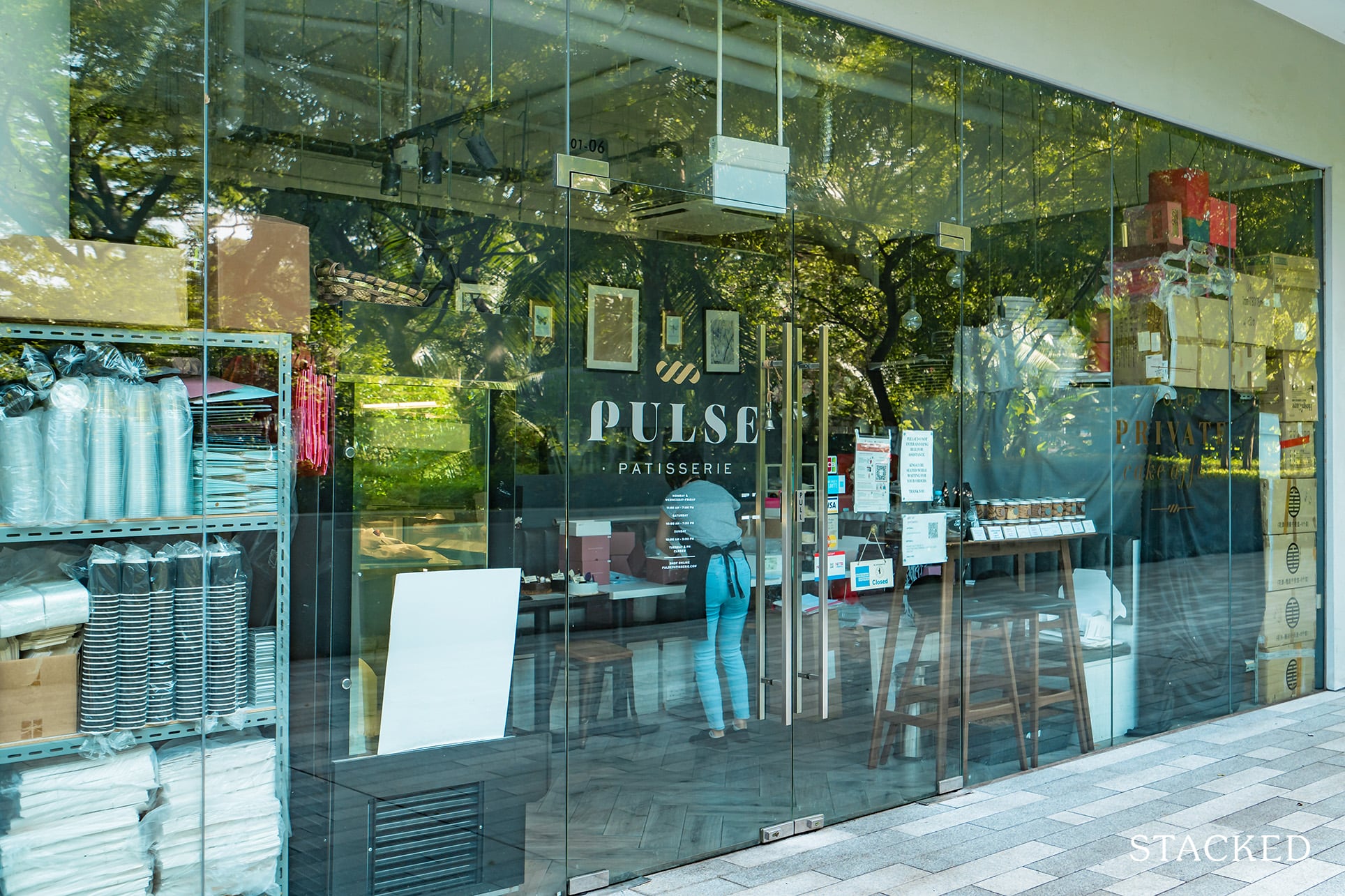 And a patisserie to go along with it!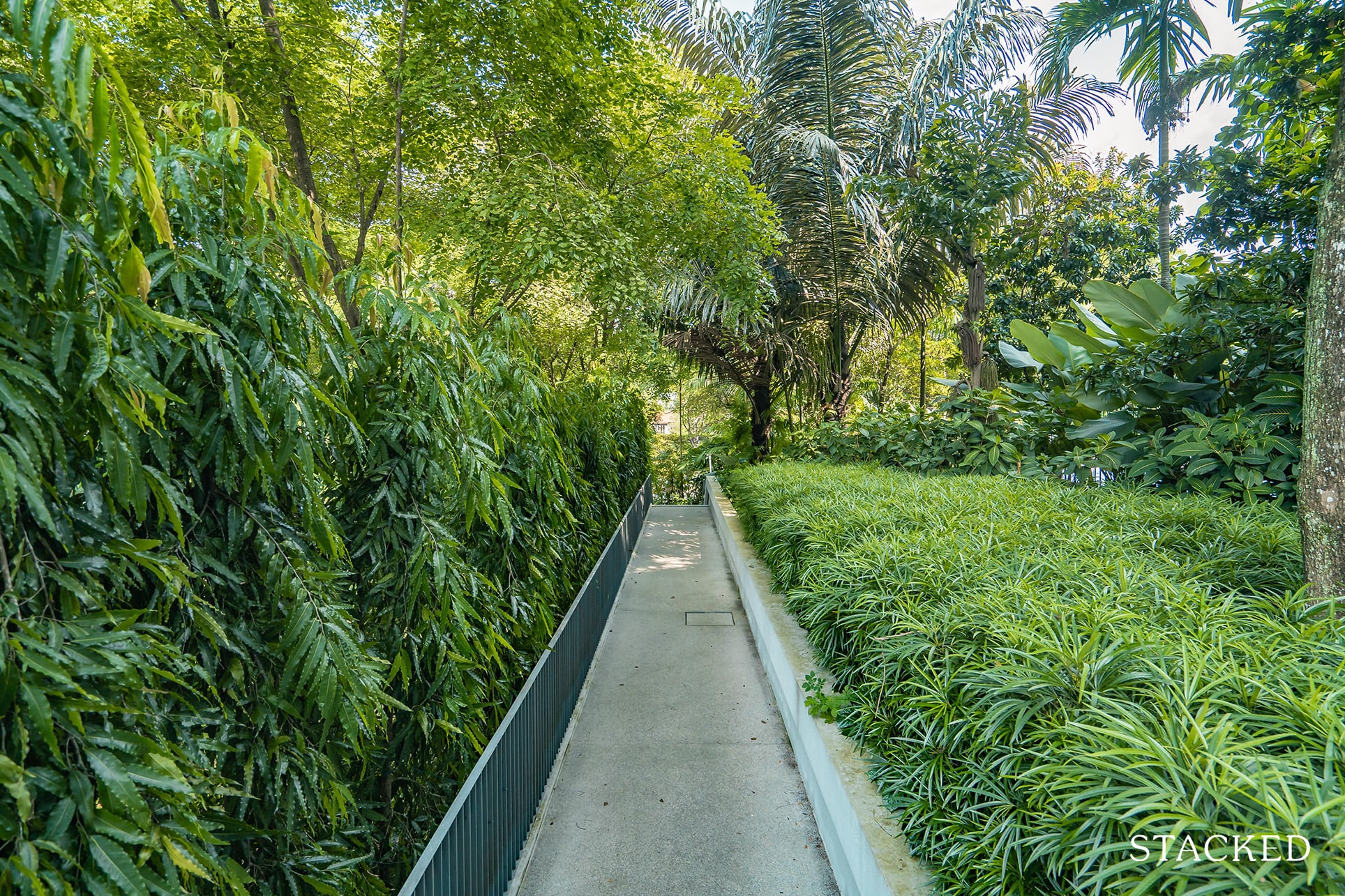 Beyond the shops is the a foot path that leads you to the side gate and straight out to Alexandra Road.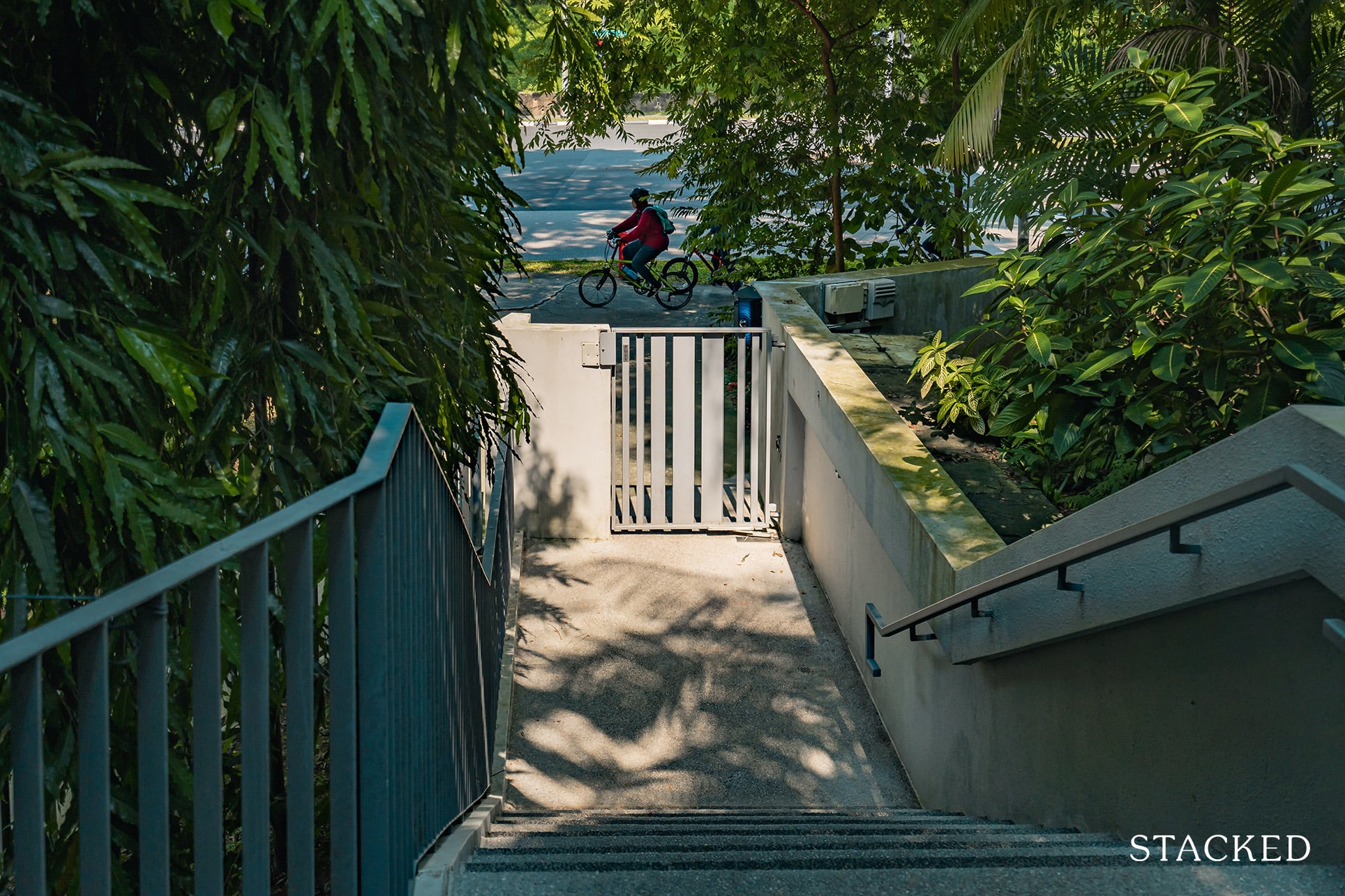 This is just one of the 2 side gates that will take you to Alexandra Road. It would definitely have been good to see a sheltered walkway here instead, Singapore's weather can be really unpredictable at times.
Finally, there is a sheltered drop off point at the main gate for taxis or the Interlace condo shuttle bus.
Interlace Condo Review – Location
The Interlace condo is located along Alexandra Road and Depot Road and is part of the Bukit Merah estate. It definitely enjoys a very convenient location, with its close proximity to Maple Tree Business City as well as Alexandra Technopark. Being centrally located also allows residents of the Interlace to be able to reach major locations rather quickly by car. For example, Orchard Road is just 10 mins away, Marina Bay at 12 minutes and it is also right next to AYE so getting to CBD can be as quick as under 15 minutes drive.
If you take the train often, the Interlace is about a 10-minute walk away from Labrador Park MRT. Bukit Merah is an old estate but probably feels less congested than a lot of the newer towns so if you are looking for somewhere convenient but has a more relaxed vibe to it than the Alexandra area would be a good place to start.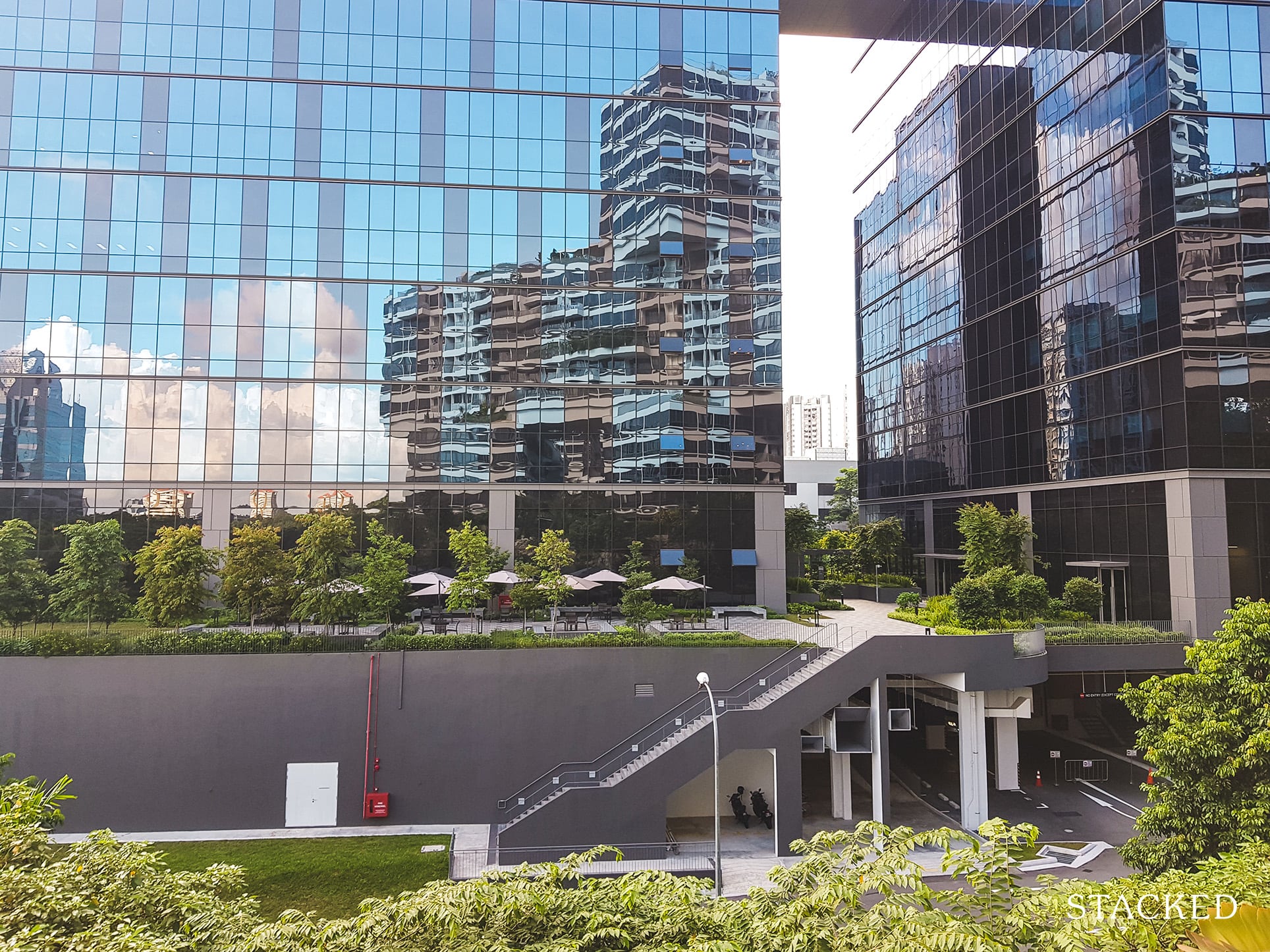 In terms of food options, as with most places in Singapore, there are a plethora of different types of food in the area. Alexandra Retail Centre is just down the road and has all your usual food haunts like a Mcdonald's (with a drive-through) and many other chain outlets. There is also an NTUC supermarket for your grocery needs.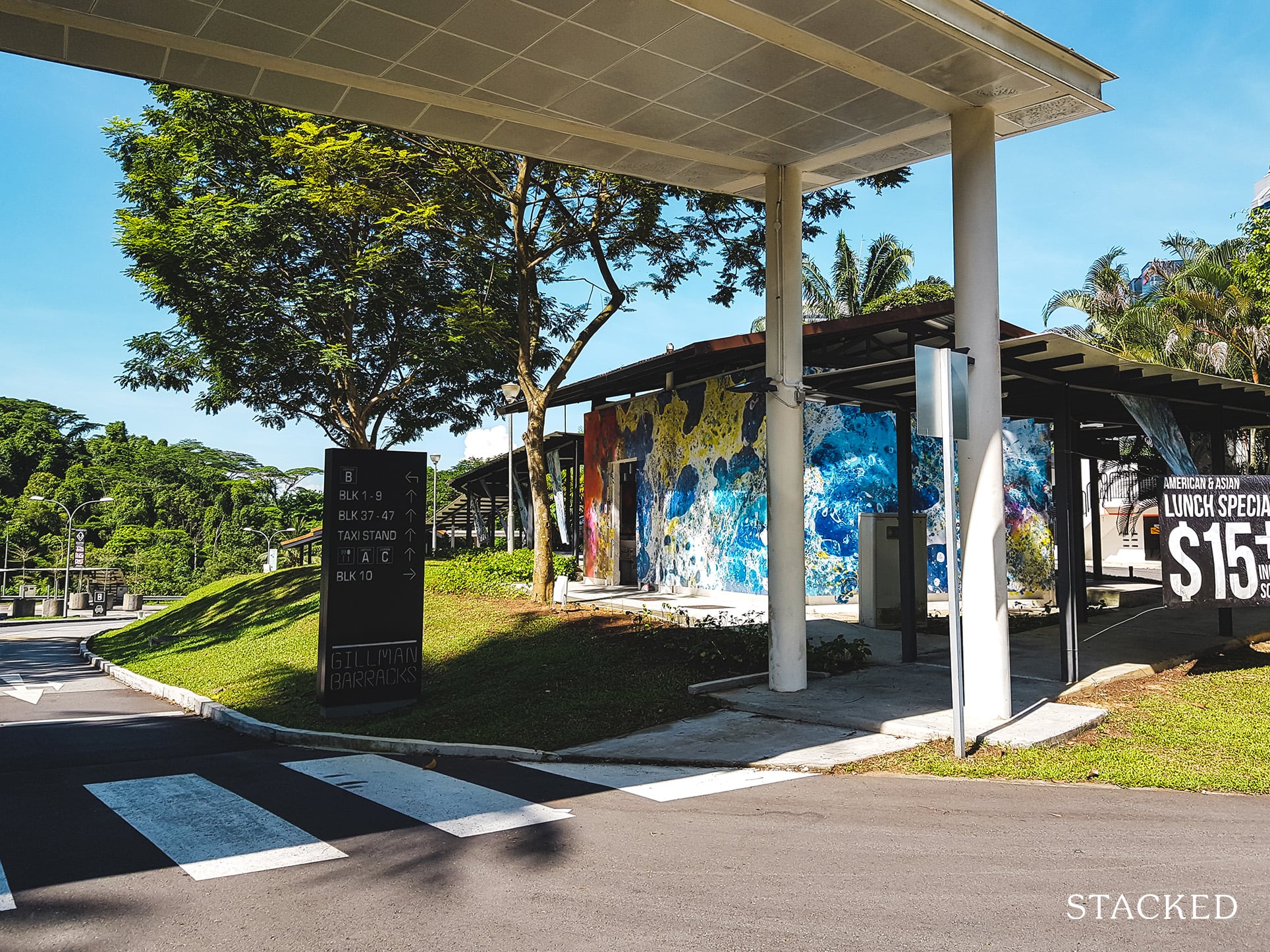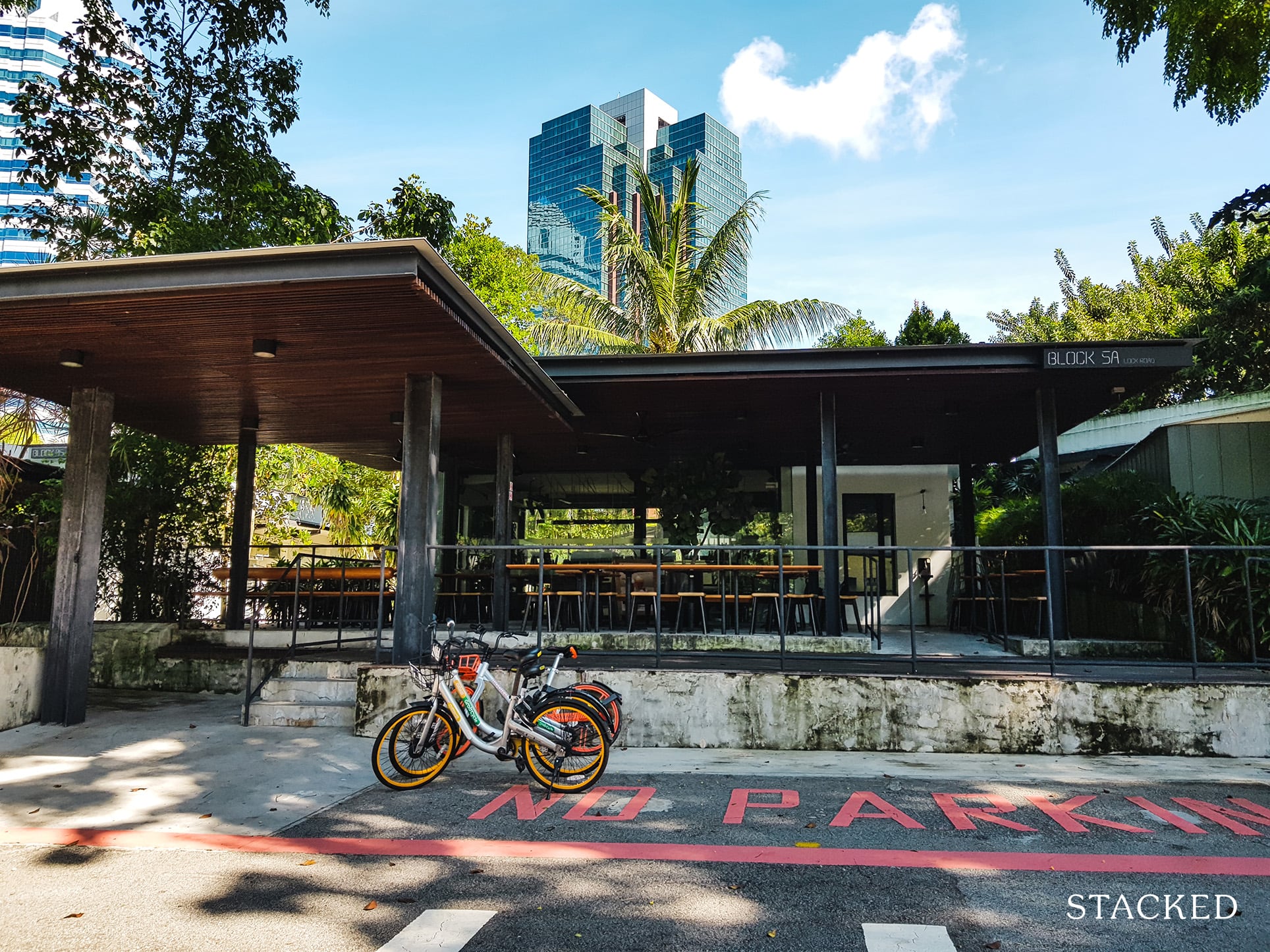 Just opposite is the Gillman Barracks area, where it is known for its laid back vibe, so think chill out cafes and al fresco dining. Further down the road would be Labrador Park which is a hotspot for date nights.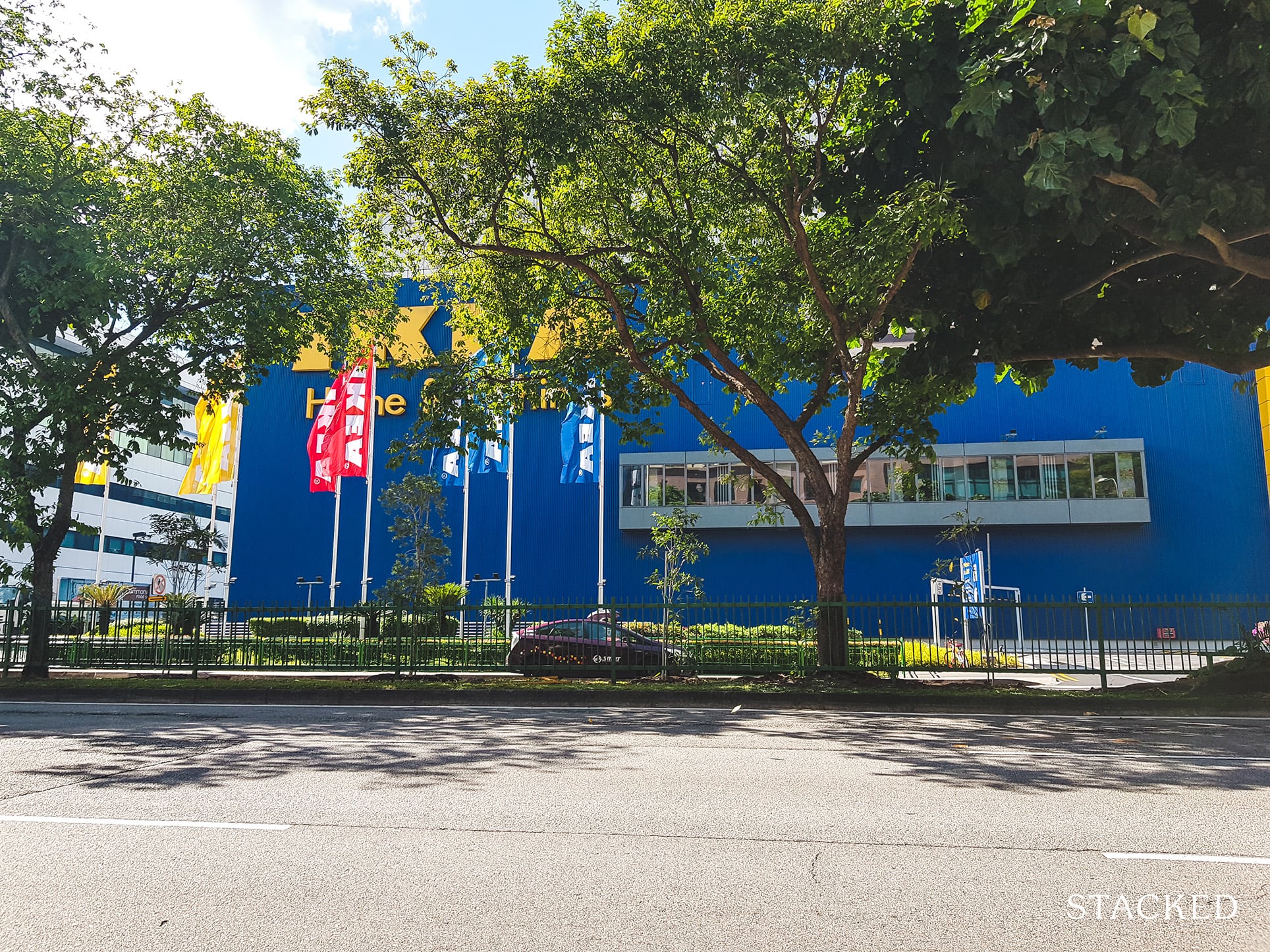 Going back down to the Bukit Merah side, if you are looking for some local grub there is always Alexandra Market and Ikea with its famous meatballs and fried chicken wings. We are really just scratching the surface here, so if you would like to know more about the food options, check out the Burpple guide for Alexandra!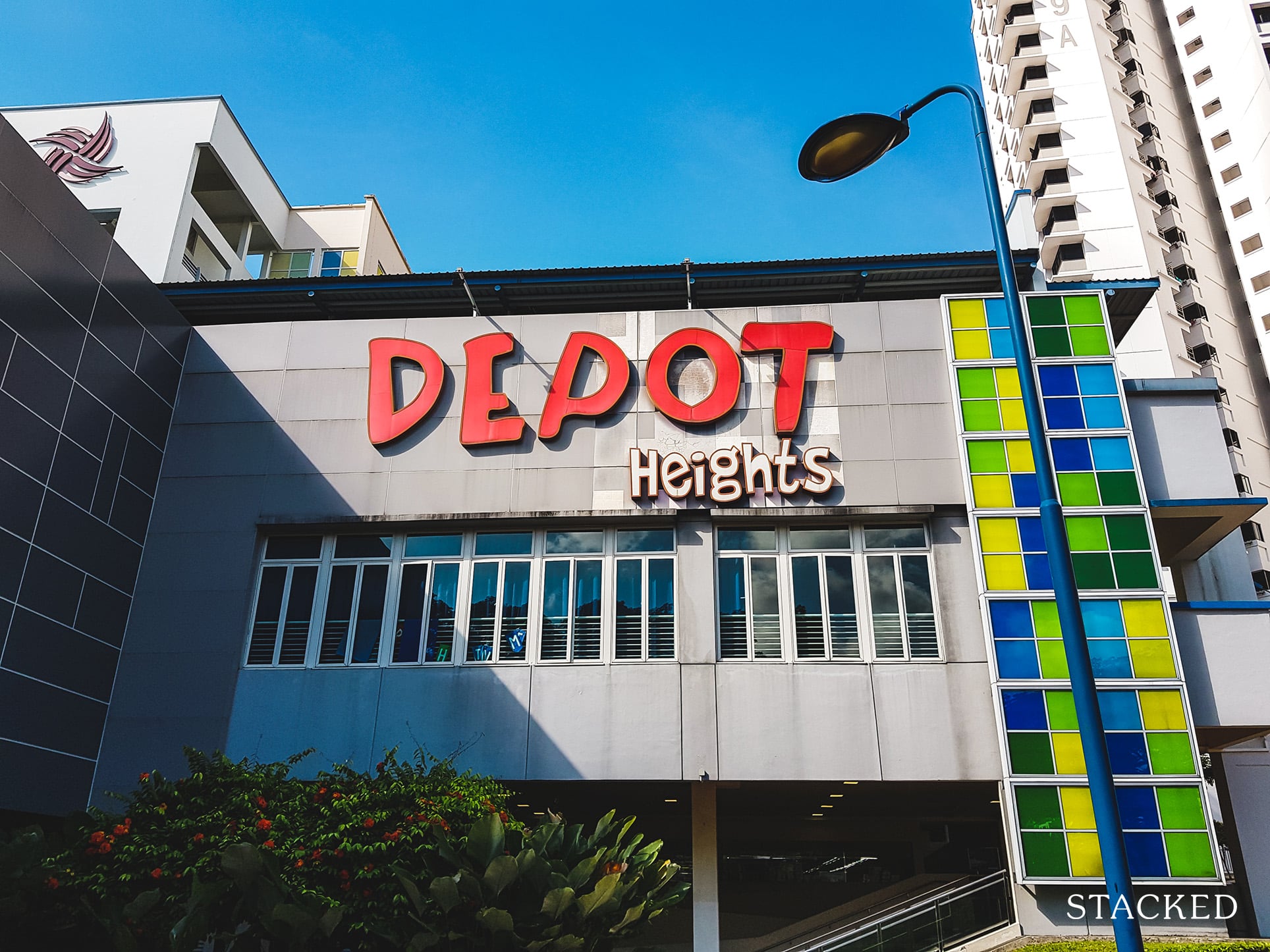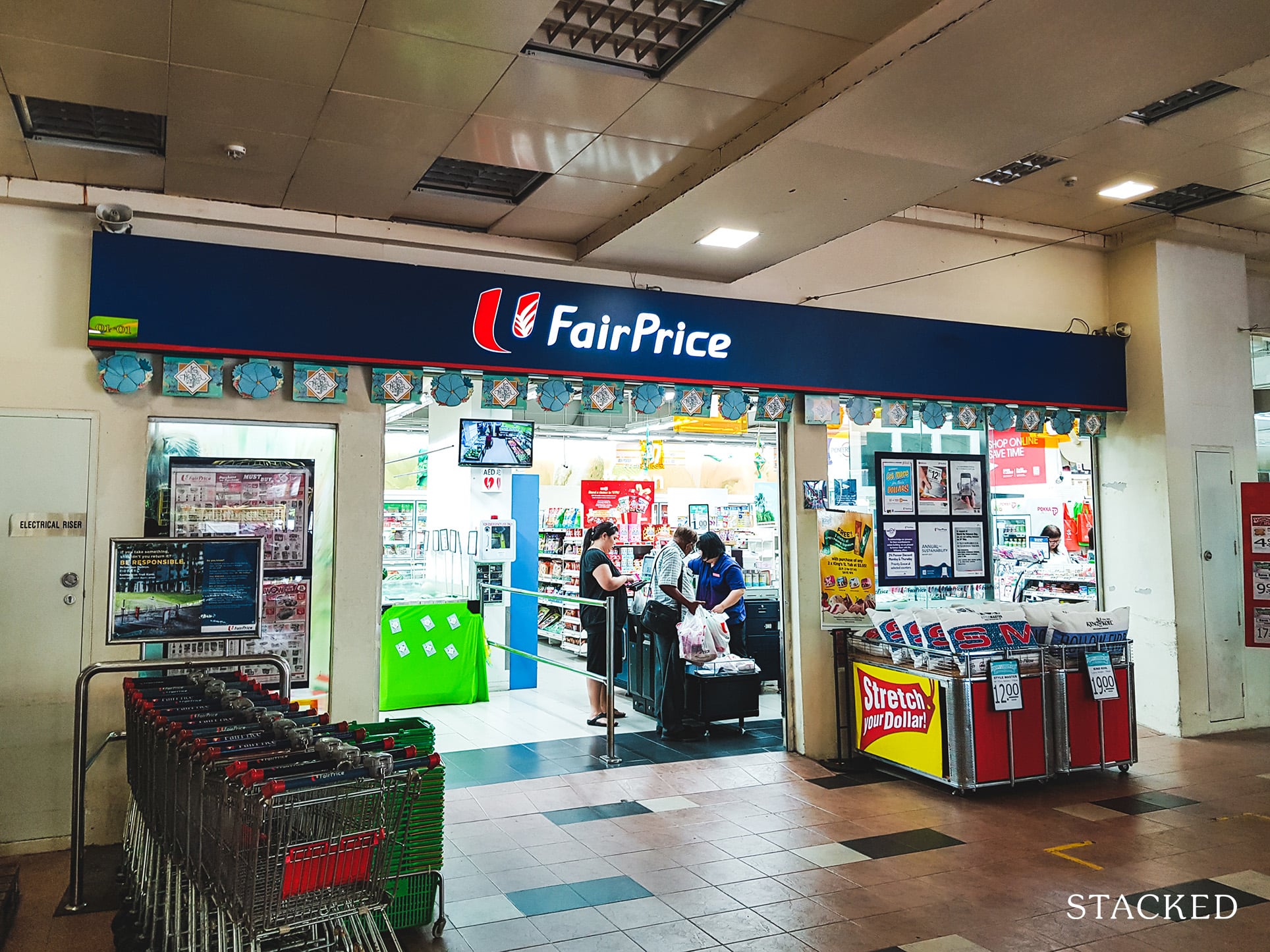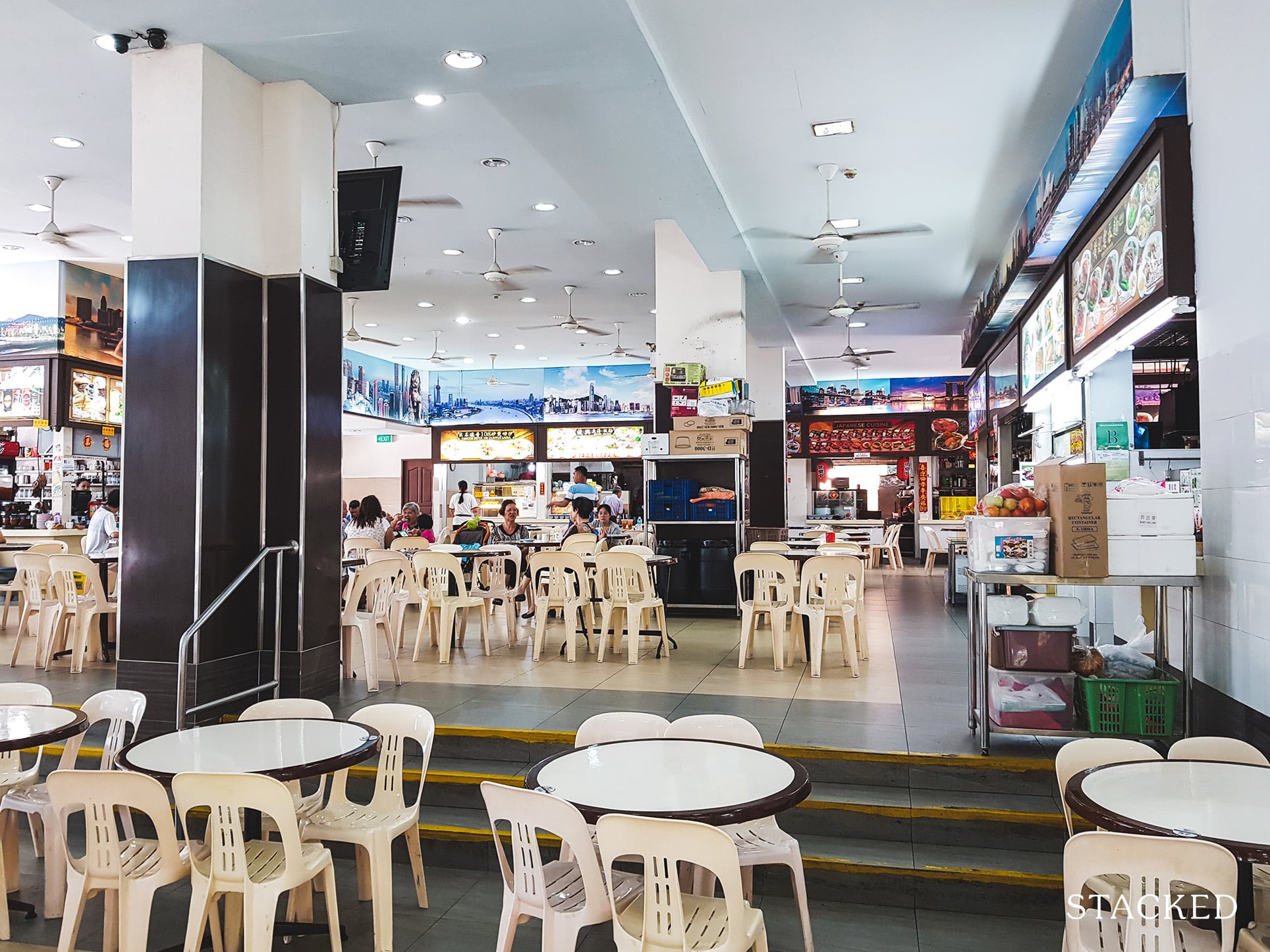 The nearest area for some shopping would probably be Depot Heights, where there are some small shops, an NTUC Fairprice and a small food court.
If you are concerned about schools nearby there are quite a number available. Within walking distance would be Bukit Merah Secondary School. Within a 2km radius would be Queenstown Primary and Gan Eng Seng Primary and Crescent Girl's School. For greenery lovers, Telok Blangah Hill Park is located just next door and Hort Park is just opposite, so it is really quite easily accessible. Frankly, the development boasts of enough greenery and has easily enough space for evening jogs or if you just want to stretch your legs so we wouldn't worry about that too much. In case of any emergencies, Alexandra Hospital is a minute drive away and Bukit Merah and Queenstown Polyclinic are located really nearby as well.
Circle Line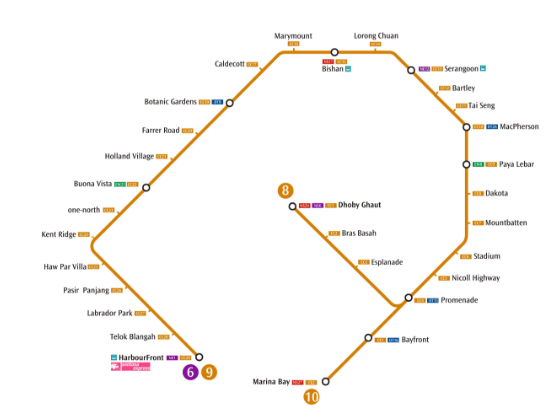 The Interlace is 10 minutes away from Labrador Park MRT. If you are looking for the East-West line, Queenstown MRT will be a couple of bus stops away. With the Circle Line, the Interlace is just 2 stops away from Vivocity and Harbourfront. If you are heading to town, Dhoby Ghaut is also a short 5 stops away.
Interlace Condo Review – Development Site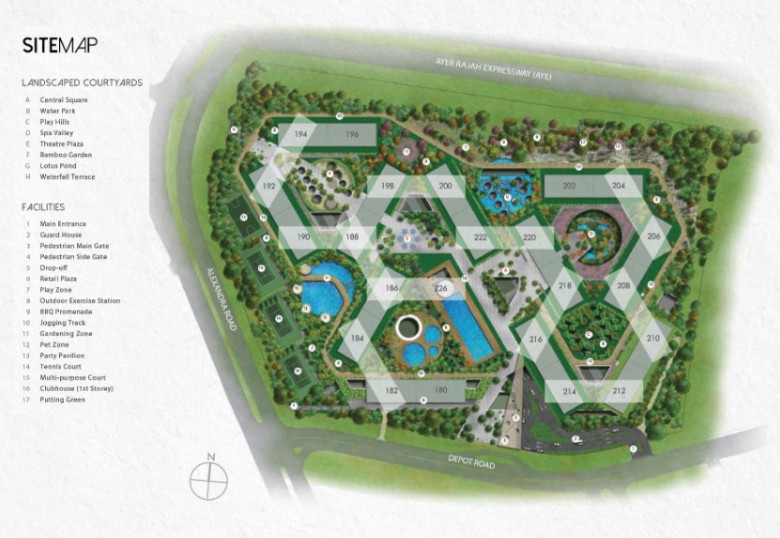 The Interlace condo sits on a huge plot of land that is elevated so with the highest block at 25 stories, it affords pretty spectacular views over its surroundings. Due to the nature of how it's designed, most units would enjoy a view of some sort.
When you are driving down towards the development, it appears to almost be rising above the ground and it is definitely very eye-catching no matter which angle you approach it from. However, what would an Interlace condo review be without any mention of its design?
Although opinions can be divided over the architecture of the place, with many comments on its odd structure, it is one of those places that you really have to go and take a look for yourself. The vibe of the place is very different from most condo developments in Singapore – it really feels like a mini country by itself.
The architecture is almost futuristic yet the greenery and environment make it feel very serene and peaceful. You do get a strong sense of community living being there, and there is so much activity going on due to the number of units but it is never overwhelming.
Connectivity to the development is great, as from the main entrance turning right would get you to the AYE in a minute and turning left down Depot Road would get you to the CTE in about 5 minutes. However, a potential issue that could arise is due to the fact that there is only one entrance and exit for cars to the Interlace.
With over 1,000 units during morning peak hours, it could get jammed as the flow of traffic is controlled via the traffic light at the entrance. There are also 2 side gates to easily access the development if you are walking, one is via Alexandra Road and the other via Depot Road.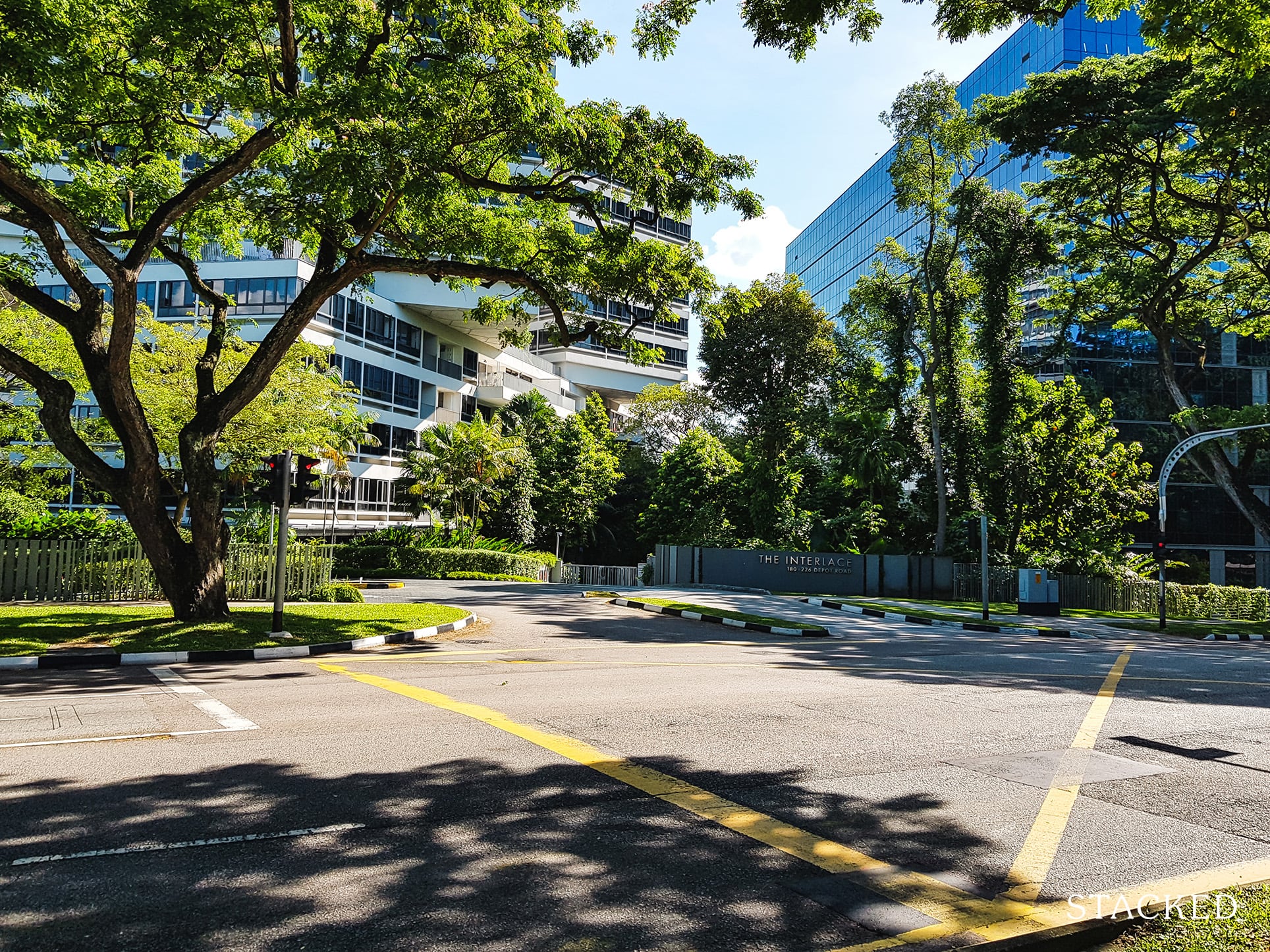 Taking a close look at the unit mix, the Interlace offers a wide range of units to cater to the different lifestyles.
Unit mix

| Unit Type | Size of Units (sqft) |
| --- | --- |
| 2-bedroom | 807 to 1,604 sqft |
| 3-bedroom | 1,259 to 3,789 sqft |
| 3-bedroom + Study / Family | 1,593 to 5,253 sqft |
| 4-bedroom / Multi-Generation | 1,938 to 5,694 sqft |
| Garden House | 2,784 to 3,886 sqft |
| Penthouse | 3,154 to 6,308 sqft |
As you can see from the size, the unit sizes are generous according to Singapore standards and are definitely above average. It is quite rare to get such big units in a central location and this is where the Interlace truly stands out compared to its competition in the area.
Some of the ground floor units have quite a sizeable patio area and the penthouse units have a huge terrace space that offers commanding views over Singapore. These areas offer a perfect opportunity for any family gatherings or private functions, or even just to have some relaxing alone time after work.
The Interlace Condo Prices
Prices for Interlace
Price Breakdown (1st Property)
2- Bedroom
3-Bedroom
3-Bedroom + Study
4-Bedroom
Townhouse
Penthouse
Penthouse
Price
$1,179,834
$1,799,111
$1,980,099
$2,513,586
$2,925,732
$3,186,900
$4,857,160
25% Down Payment
$294,959
$449,778
$495,025
$628,397
$731,433
$796,725
$1,214,290
Additional Costs
Buyer Stamp Duty
$31,793
$56,564
$63,804
$85,143
$101,629
$112,076
$178,886
Legal Fees
$2,500
$2,500
$2,500
$2,500
$2,500
$2,500
$2,500
Valuation Fees
$300
$300
$300
$300
$300
$300
$300
Stamping Fees
$500
$500
$500
$500
$500
$500
$500
Total Price
$1,214,927
$1,858,975
$2,047,203
$2,602,029
$3,030,661
$3,302,276
$5,039,346
Initial Investment Amount
$330,052
$509,642
$562,129
$716,840
$836,362
$912,101
$1,396,476
Return on Investment
Expected Rental Price
$3,632
$5,540
$6,691
$6,783
$7,185
$7,082
$13,878
Rental Yield
3.59%
3.58%
3.92%
3.13%
2.84%
2.57%
3.30%
Price (2nd Property)
2- Bedroom
3-Bedroom
3-Bedroom + Study
4-Bedroom
Townhouse
Penthouse
Penthouse
Cost Without ABSD
$1,214,927
$1,858,975
$2,047,203
$2,602,029
$3,030,661
$3,302,276
$5,039,346
Plus: ABSD (12%)
$141,580
$215,893
$237,612
$301,630
$351,088
$382,428
$582,859
Total Price After ABSD
$1,356,507
$2,074,869
$2,284,815
$2,903,660
$3,381,749
$3,684,704
$5,622,206
Initial Investment Amount
$471,632
$725,536
$799,741
$1,018,470
$1,187,450
$1,294,529
$1,979,336
Return on Investment
Expected Rental Price
$3,632
$5,540
$6,691
$6,783
$7,185
$7,082
$13,878
Rental Yield
3.21%
3.20%
3.51%
2.80%
2.55%
2.31%
2.96%
The Interlace Condo Price Review
| | | | | |
| --- | --- | --- | --- | --- |
| Project Name | Tenure | TOP | Average Price (PSF) | Comparison Point |
| The Interlace Condo | 99-year leasehold | 2013 | $1,290 | |
| The Anchorage | Freehold | 2004 | $1,496 | Close Proximity |
| Stirling Residences | 99-year leasehold | 2022 | $1,884 | New Launch |
Here's the thing about the Interlace condo – if you are speaking strictly about immediate competitors – you are left with what is basically a futile search.

In other words, zero immediate competitors.

So because you have Alexandra Technopark and Mapletree Business Park located in the vicinity with a lack of housing options in the immediate area – rental at the Interlace condo is quite robust. And as you can see from the above, rental yields for the smaller units are nothing to be sniffed at all.
Basically because of a lack of competitors in the area, it is quite tough to really compare the Interlace condo to anything – especially if you want to live in that specific area.

But if you are open to Queenstown for example, there are a number of new condos (Commonwealth Towers), new launch (Queens Peak), yet to be launched (Stirling Residences), and old resale condos (The Queens) to choose from.


While prices were quite stagnant in 2017, it has slowly crept up in recent years. This could be due to some spillover effect from the Greater Southern Waterfront announcements, and the new launches in the Alexandra/Queenstown area as $PSF wise, the Interlace was trading at what would now be a very affordable range.

Bear in mind, units here are on the bigger side – so comparatively to newer launches with higher $PSF but smaller unit sizes, you could see quite comparable final quantums. Which then leads you to the dilemma many people have – is size or having something new more important?

Our Take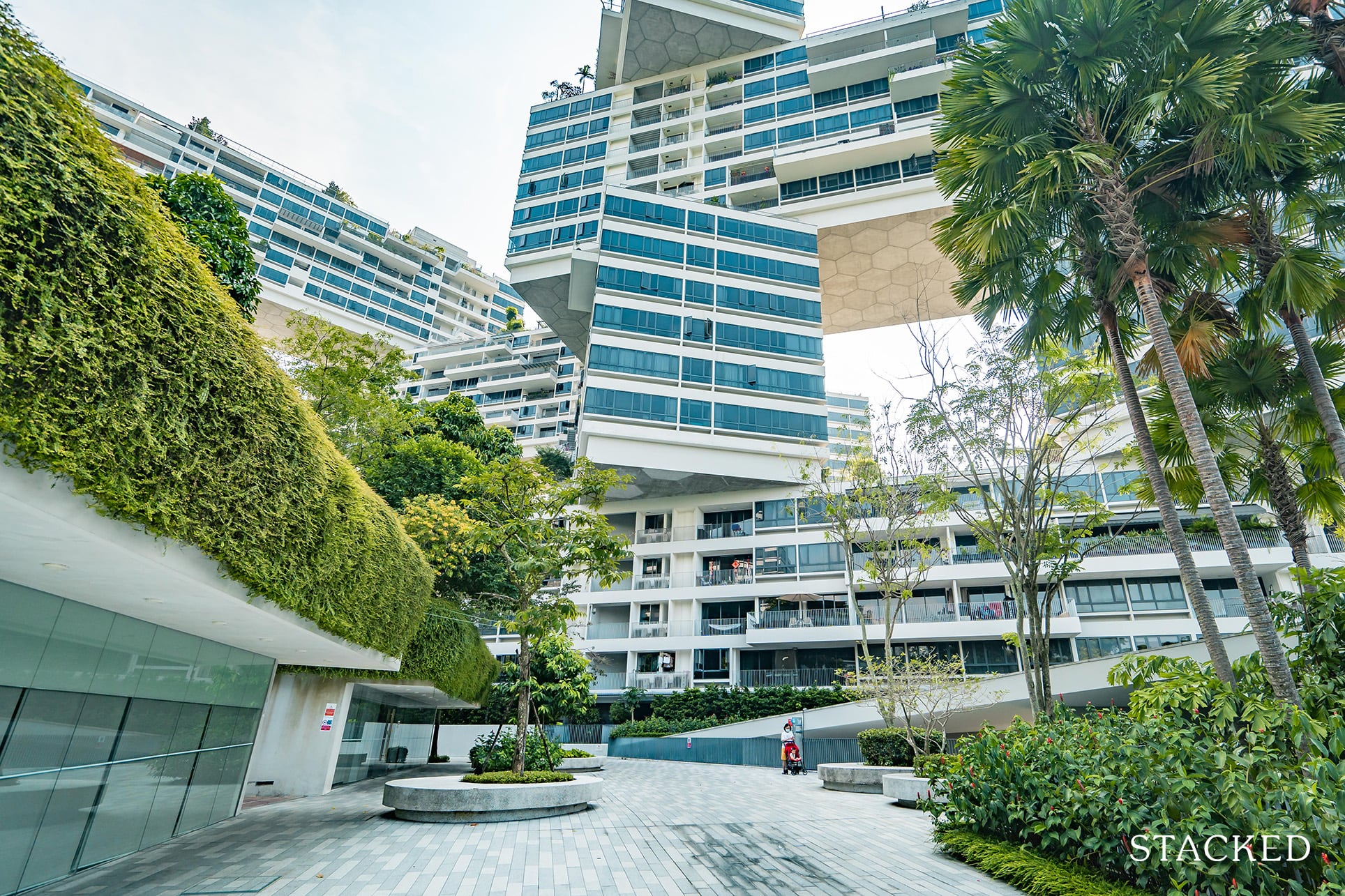 The Interlace condo is a really surprising development, despite its somewhat awkward appearance.

It offers a really comforting ambiance and a very homely feel about it. It is really one of those places that you need to visit to understand what the fuss is all about. The spaciousness of the place and the functional and yet big units are very attractive and unparalleled to anywhere else in Singapore.

I like that there are enough variances in the unit mix to cater to working professionals, and for families alike. Frankly, it doesn't enjoy the best location in terms of public transport, but if you are working in the area then it is quite a good option to consider.

I've never personally been the biggest fan of mega developments, but I can definitely see the appeal of the Interlace condo. If you have been putting off a viewing to the Interlace because it might seem like too many units, or overcrowded – you might just be surprised at how you'd feel about it.
End of Review