Condo Reviews

Sims Urban Oasis Review: Good Location, Great Rental
Reuben
March 12, 2020

17

min read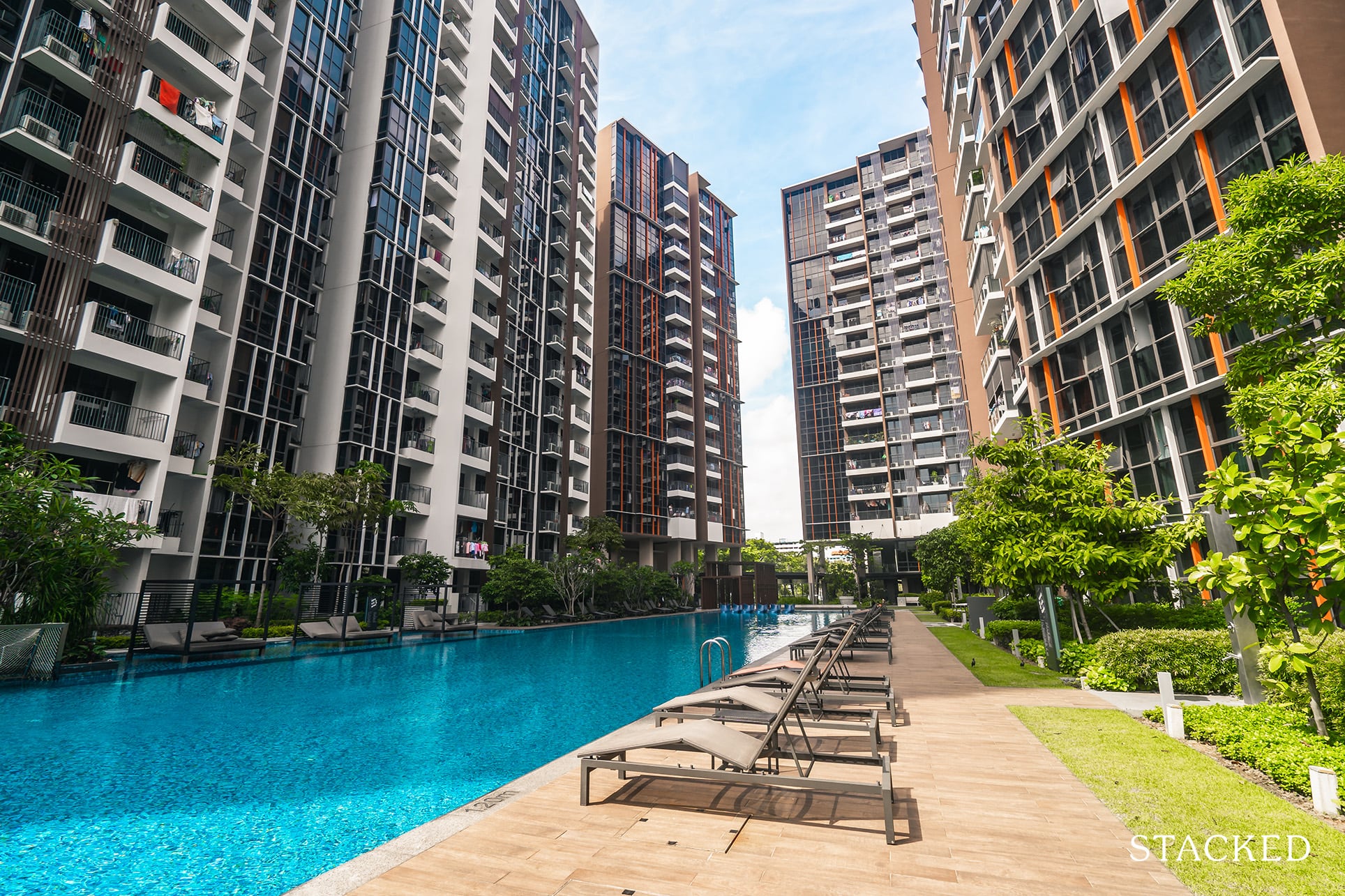 Sims Urban Oasis is perfect for those who love the charm of the East while having a tinge of centrality. Its huge common grounds is also great for those who love a spacious common area, and is especially great for families with kids.
Reviewed by Reuben on March 12, 2020
What we like
2 50m swimming pools

Convenient location
What we don't like
—

Small gym

—

Traffic noise
17
min read
| | | | |
| --- | --- | --- | --- |
| Project | Sims Urban Oasis | District | 14 |
| Address | Sims Drive | Tenure | 99-year leasehold |
| Site Area | 257,164 sqft | No. of Units | 1,024 |
| Developer | Guocoland | TOP | 2017 |
If you drive on the PIE a lot, you would most probably have noticed this brown and orange behemoth of a building.
Developed by Guocoland, this high quantum-commanding condo is home to 1,024 units, spread across a staggering 257,164 square feet of land. 
8 differentiating blocks of 15, 18 and 19-storey tower high above 7 dedicated commercial units (including a childcare centre).
Its status as the only condo in the area, as well as its proximity to the nearby Aljunied MRT means solid tenant demand (read: good investment) – even if the HDB blocks and light industrial buildings that surround does reduce the 'exclusivity' of the place to an extent. 

Rooftop amenities, solid transport convenience and incredible food options further add to the charm of the area as the development does its best to match the high quantum point of the smaller units here.

Is Sims Urban Oasis really worth its price tag?
Join us as we unravel the area in our no-holds-barred tour coming your way.
Sims Urban Oasis Insider Tour
Facilities in Sims Urban Oasis
Barbeque Area
Clubhouse
Drop Off Point
Fitness corner
Function room
Gymnasium room
Lap pool
Lift lobby
Main entrance
Pavillion
24 hours security
Tennis courts
Wading pool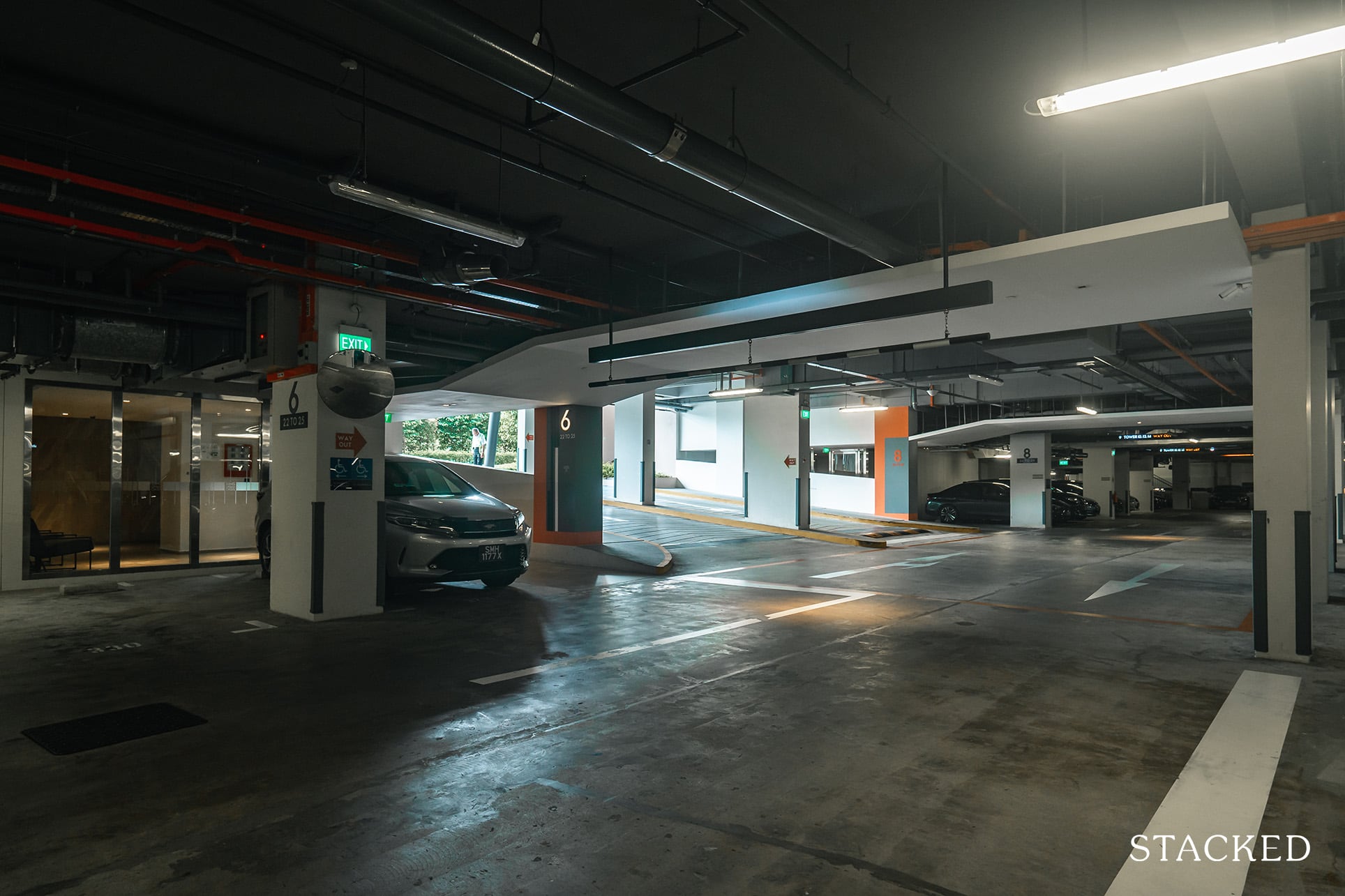 As with most condos that surpass the 1,000 unit mark, the carpark usually tends to feel very overwhelming – it's so easy to feel lost in the massive number of carpark lots.
And that's even with the development only allocating enough carpark lots for about 80 percent of its units (820 lots).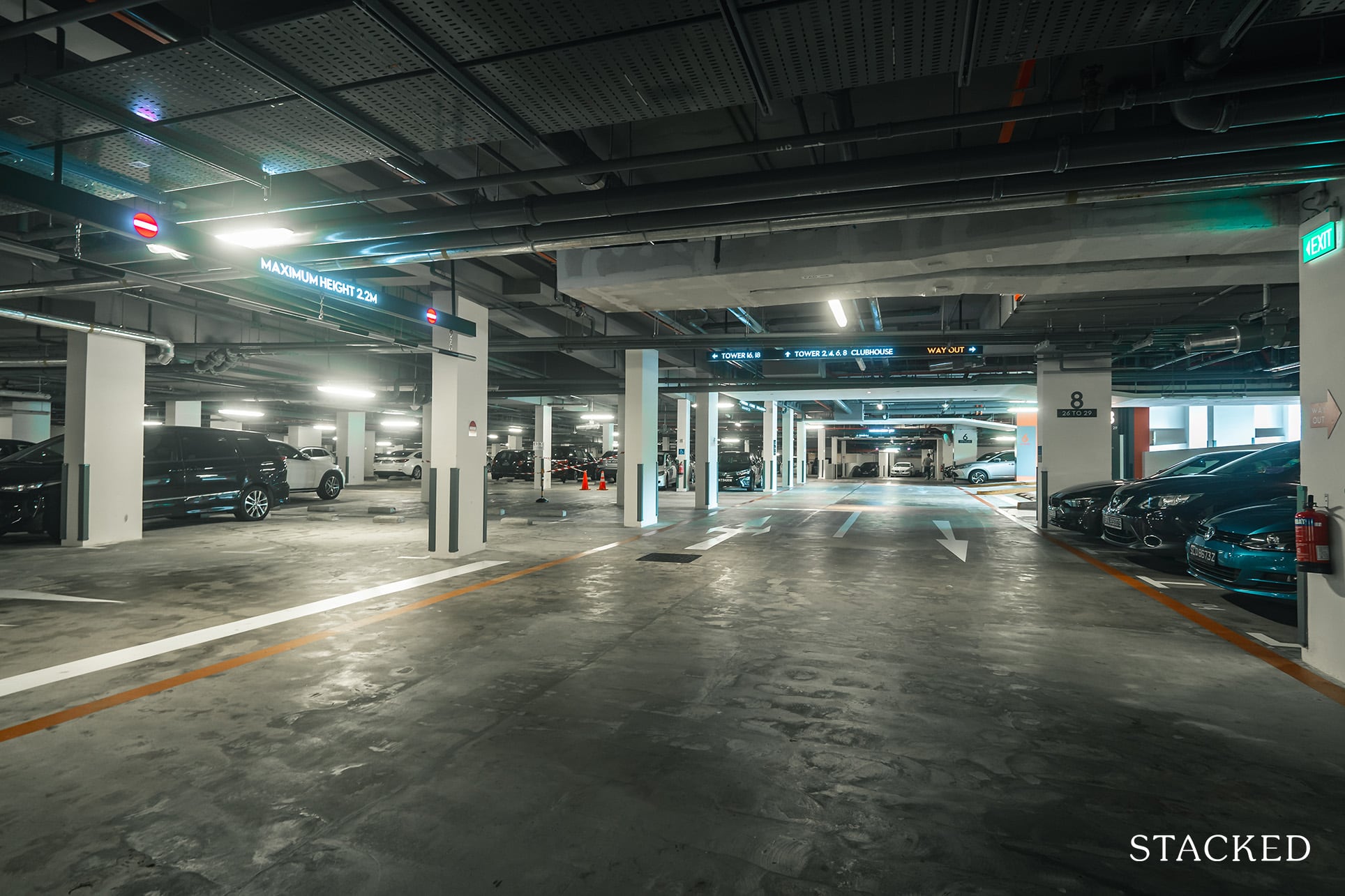 As you probably can tell, even without a 1 to 1 ratio of units to carpark lots, there is sufficient space for residents. With more than 60 percent of the units being small 1 to 2 bedroom units – it's no real surprise that many of these will be tenanted out. The convenience of the nearby Aljunied MRT will also be another contributing factor – there is definitely less reliance on having a car.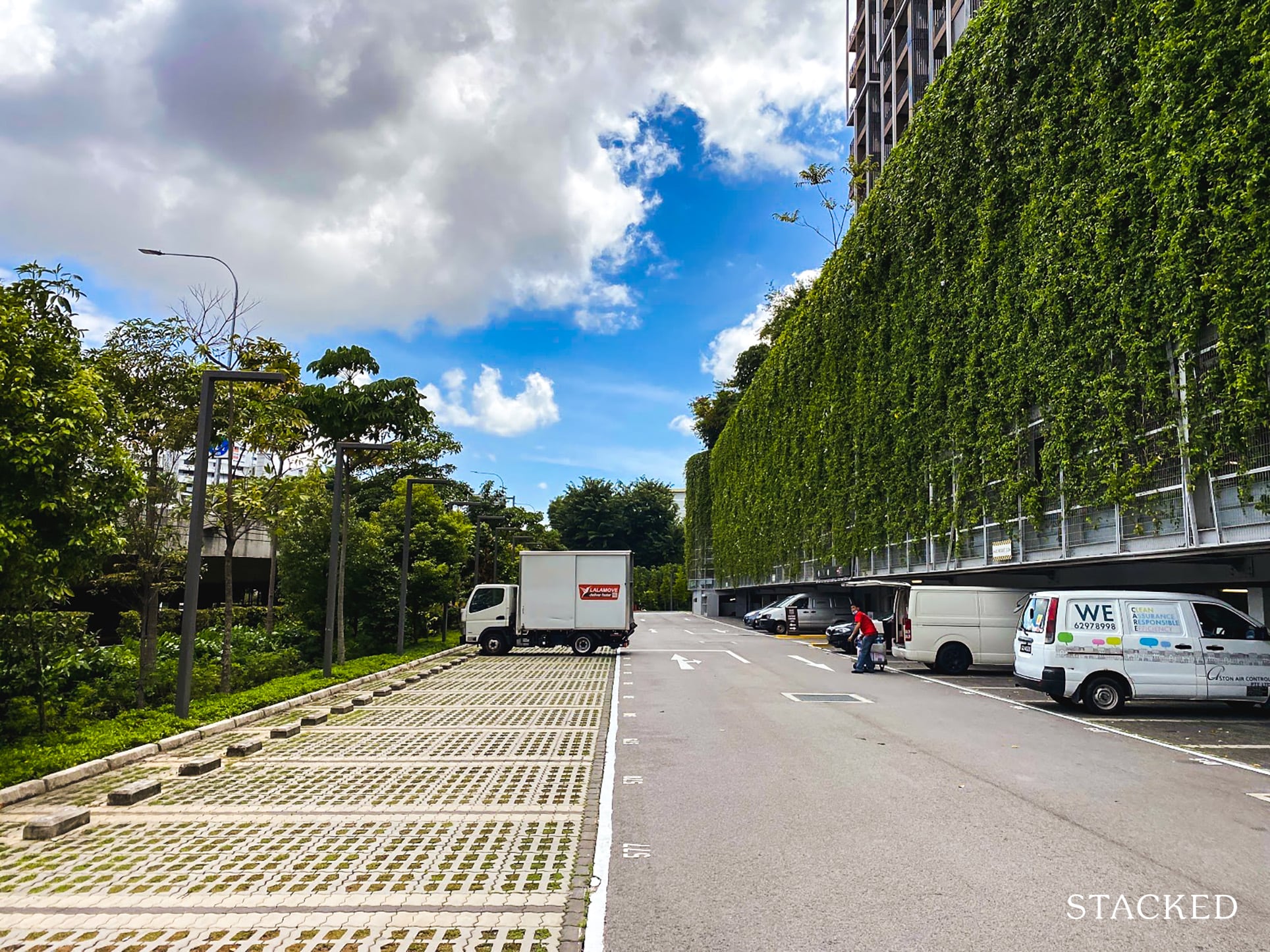 Not all the carpark lots here are underground – there is a mix of outdoor and multi-storey parking.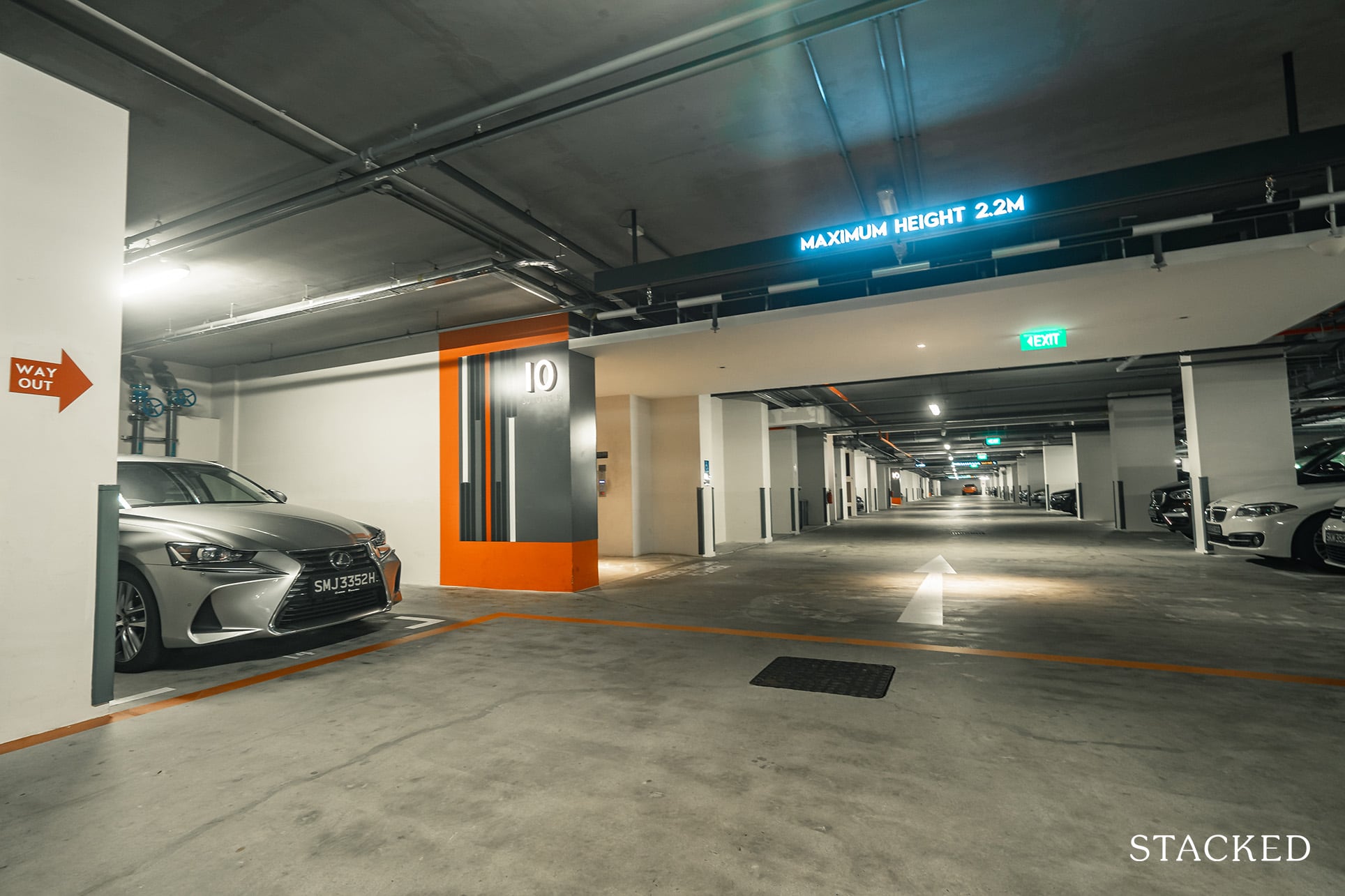 Each lobby is clearly marked out in a bright shade of orange. I'm not the biggest fan of the colour, but it certainly makes it easier to spot for a carpark of this size.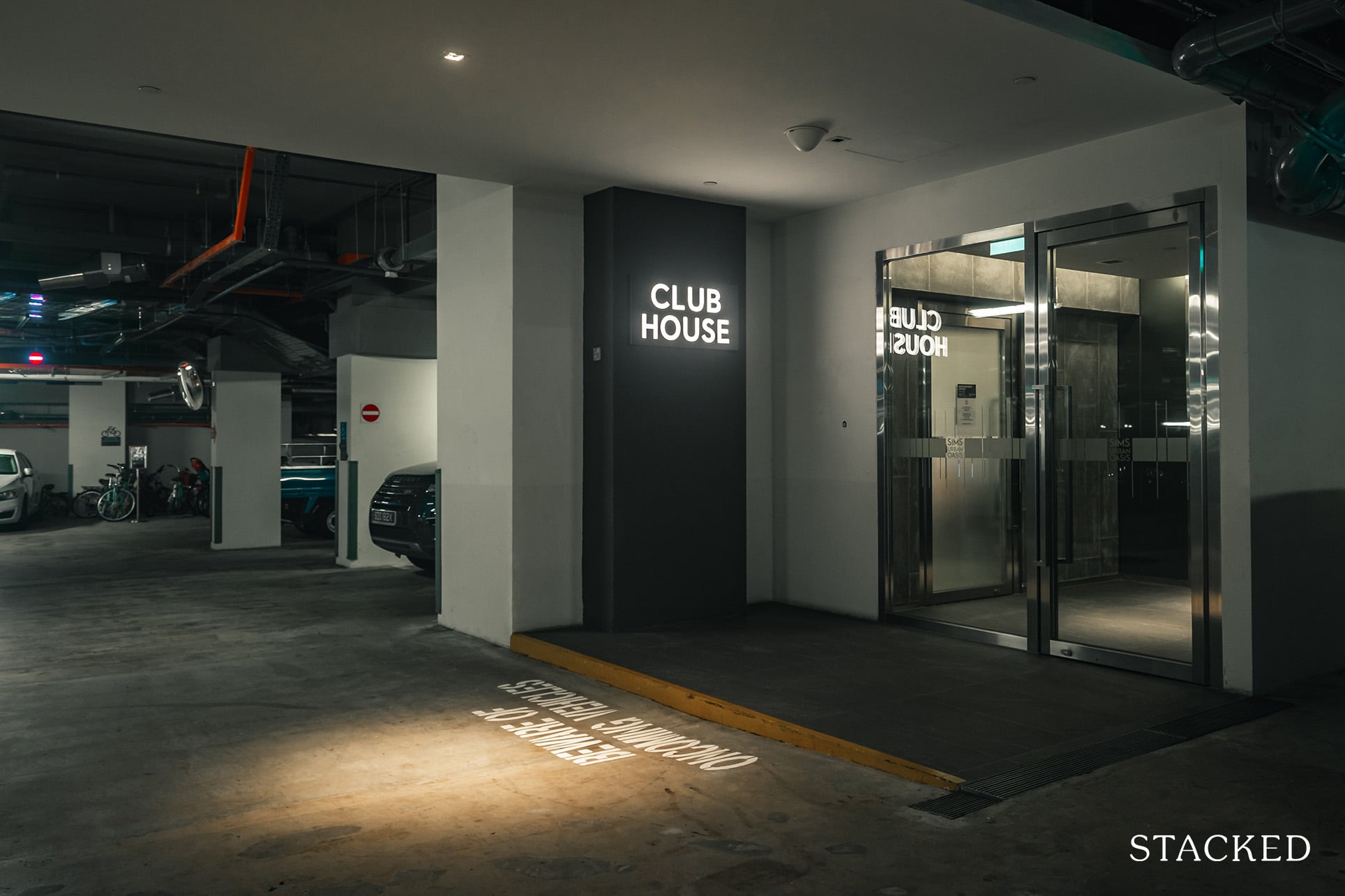 The clubhouse is accessible directly from the carpark, with the lobby itself decked out in a dark shade to differentiate itself from the blocks.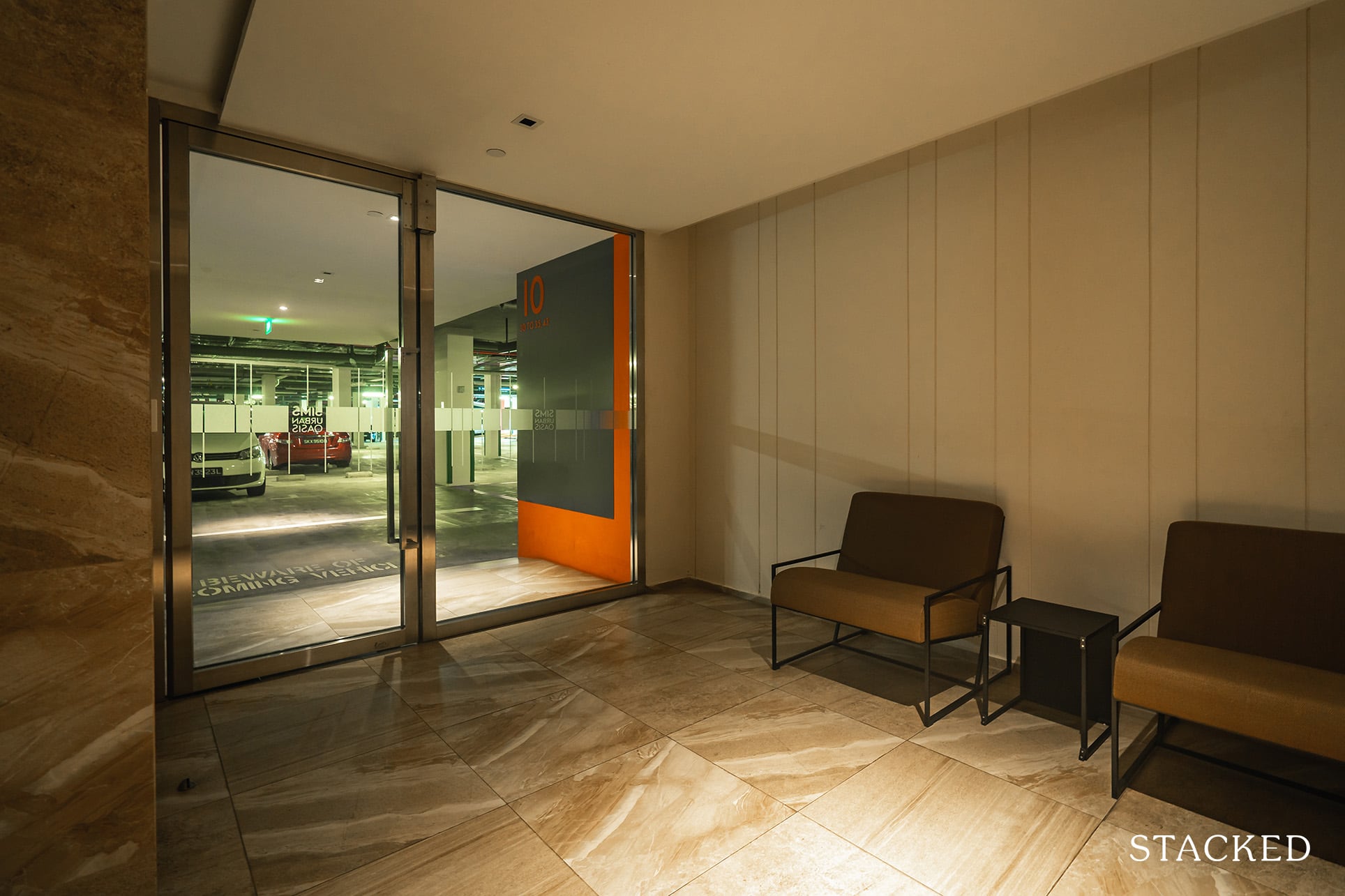 Each block has its own lobby that requires a keycard to access it. For a mass-market development, the lobby is quite stylishly designed along with creature comforts like air-conditioning.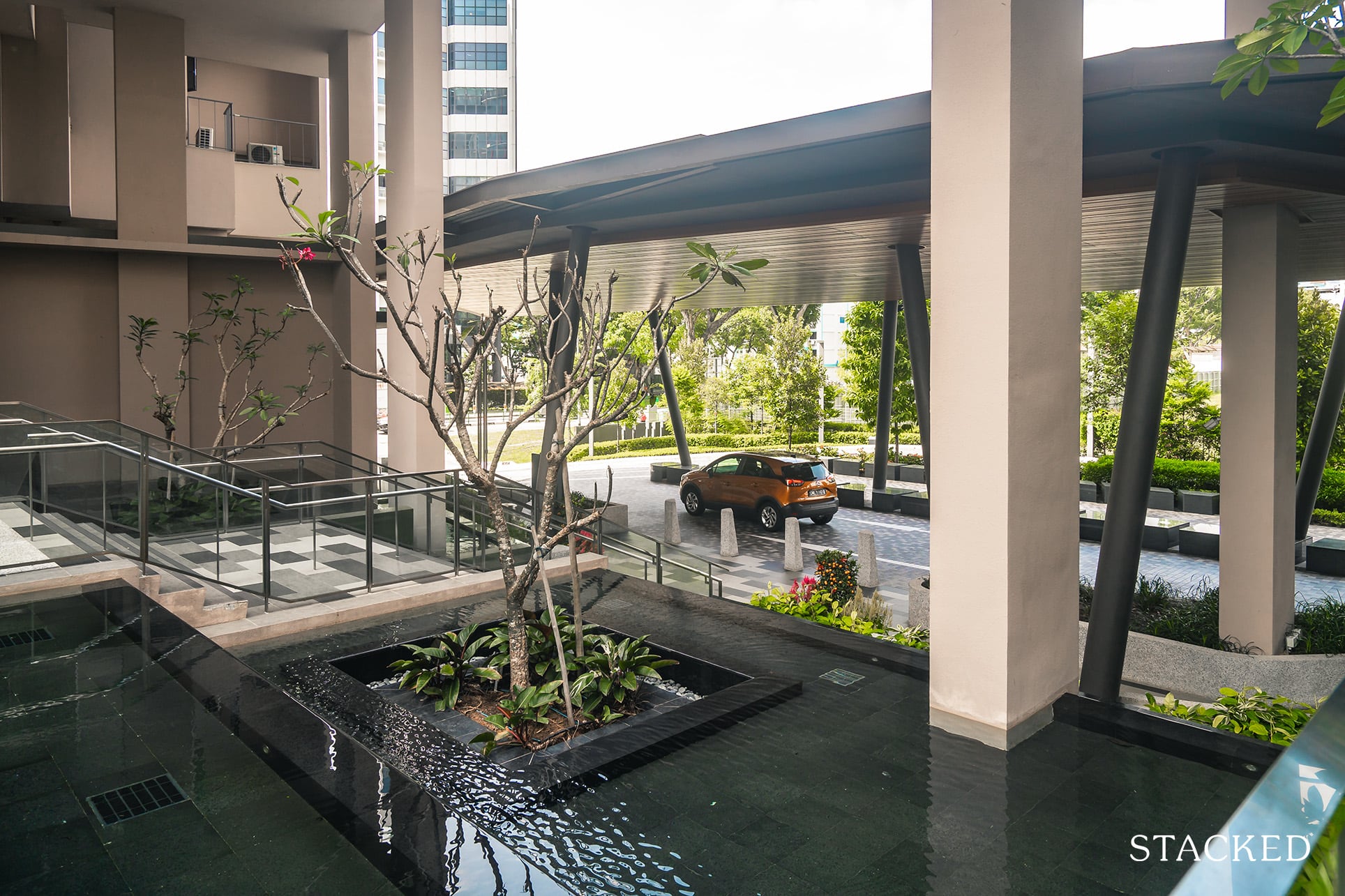 Once you get to the top, it's a really big sheltered arrival/drop-off area. Because many of the units here are probably tenanted, you can expect many of the residents to rely on a taxi or Grab. Thankfully, it's a two-lane road leading out of the estate – so even with the frequent pickups and drop offs the traffic flow should be manageable.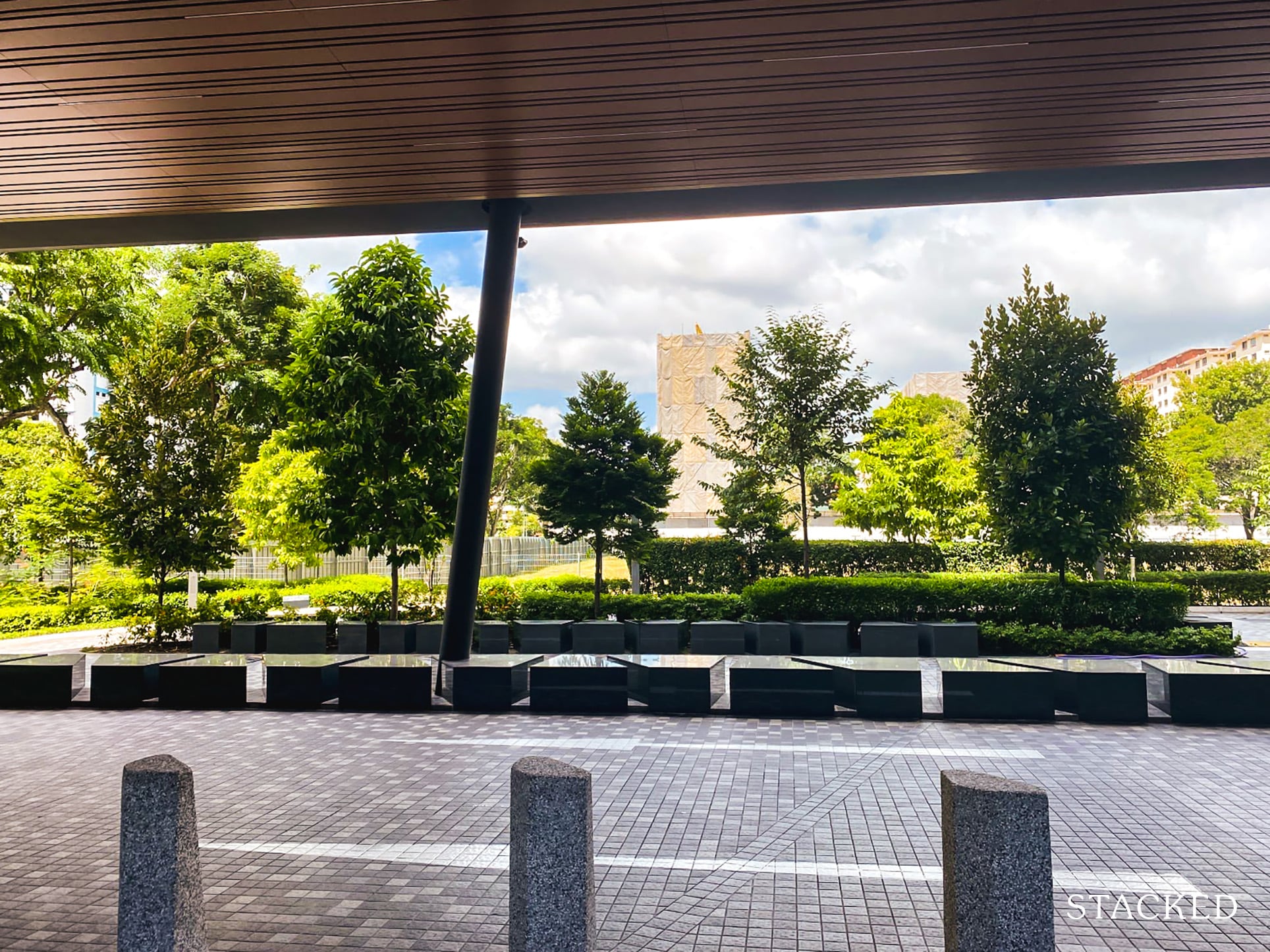 While you wait for your ride, you do get to enjoy quite a lovely unblocked view (for the time being). It's a pity this greenery and relative peacefulness will soon be disrupted by the upcoming Penrose condo development.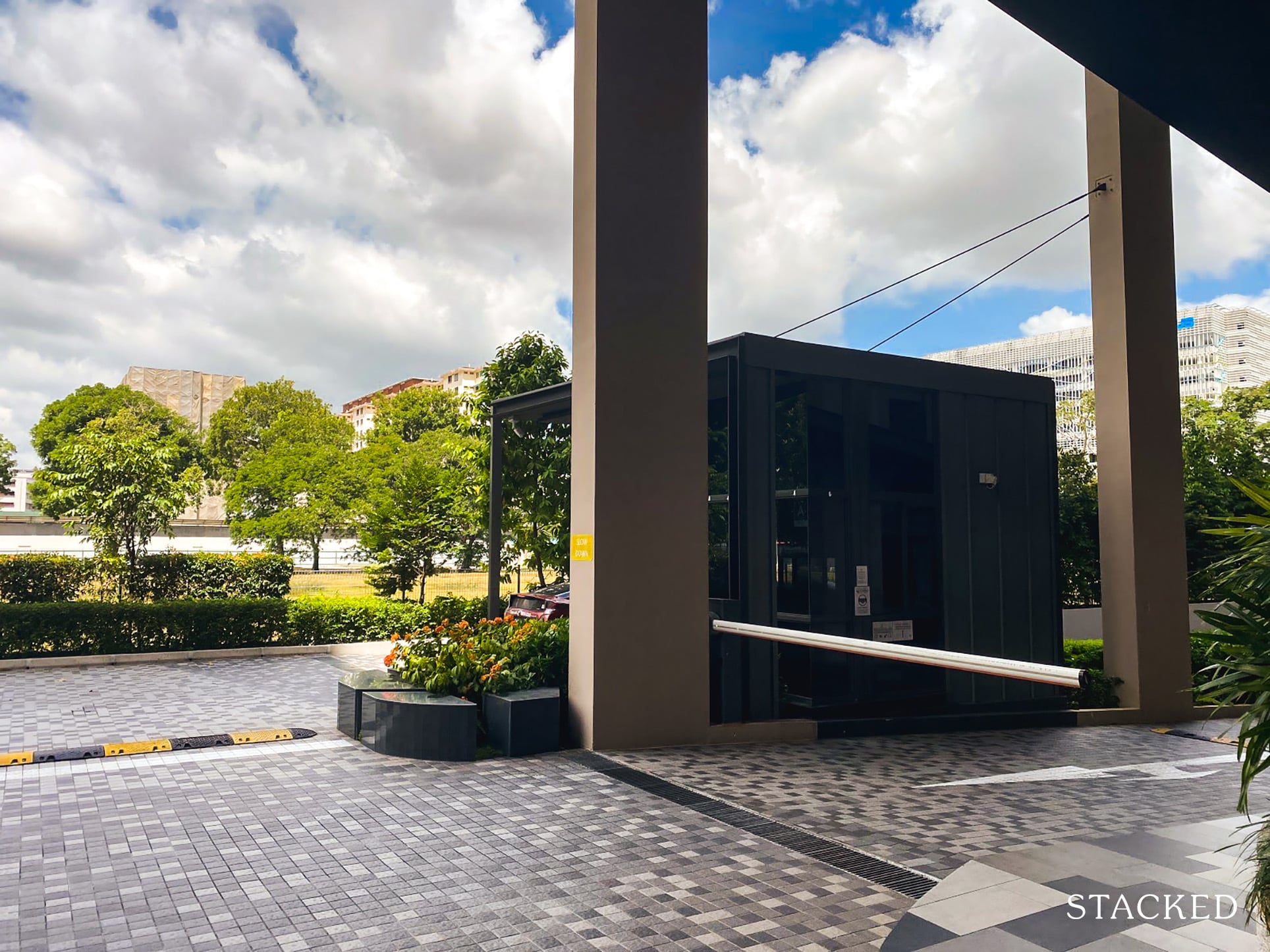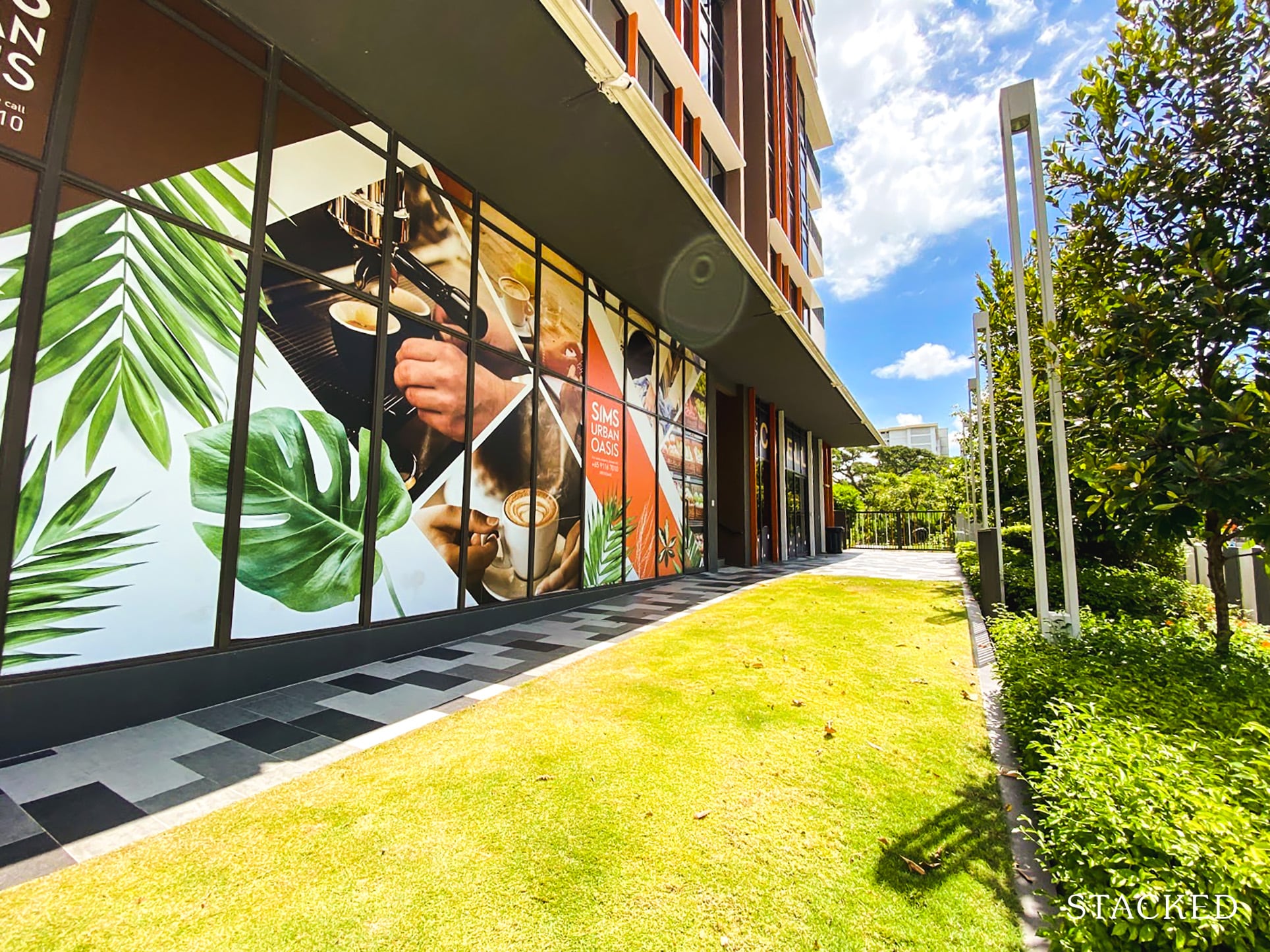 There are actually retail spaces at the entrance of the development. However, these are still not taken up at the time of writing.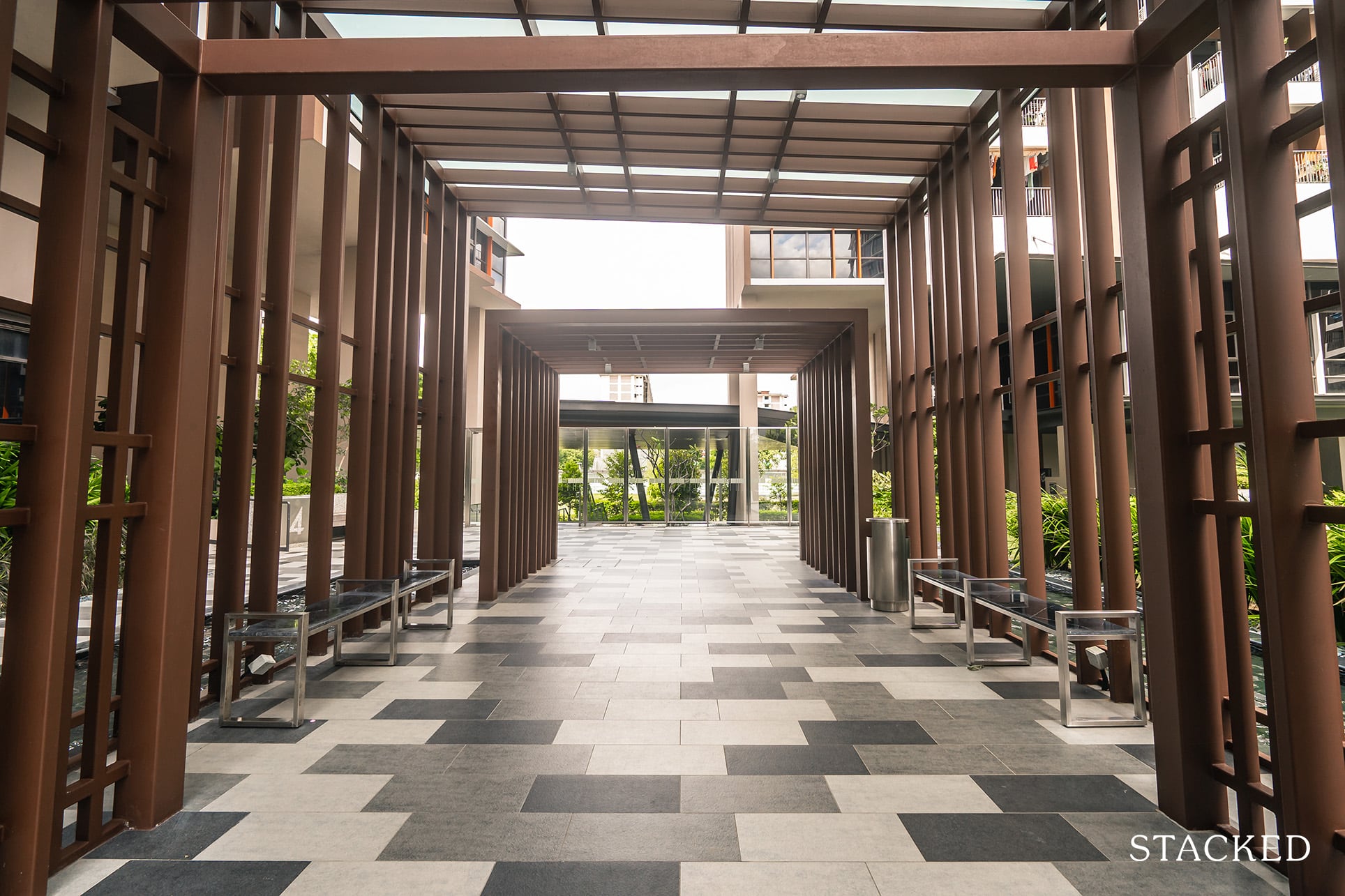 Unlike most other developments, the entrance to the Sims Urban Oasis is a glass barricade that spans the width of the entrance. While it doesn't look the most welcoming of entrances, it does prevent unwanted visitors from slipping in unnoticed.
Truth be told, the entrance does come across a little detached and office-like. It's not really a feeling you'd associate with coming home.
The arrival pavilion is a bit of a strange structure too. It's a standalone one that isn't connected to the main blocks, and neither is it attached to the arrival area – it basically doesn't serve any real purpose.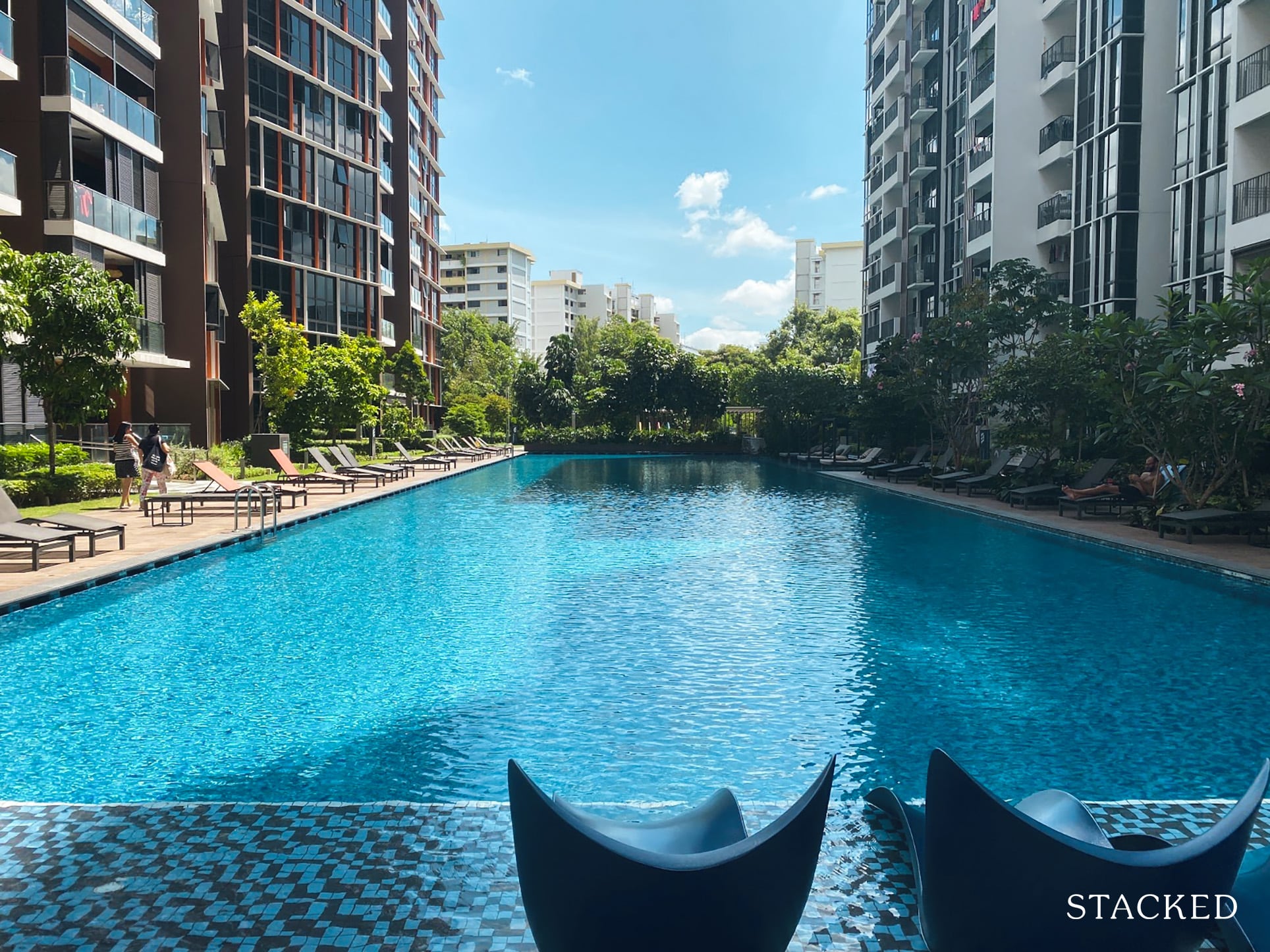 Beyond the arrival pavilion is the "family fun" 50m pool – although I'm scratching my head a little at the description of "family fun". If you're thinking that this pool is a little small for a 1,000 plus unit development, you'd be happy to know that this is actually one of four swimming pools!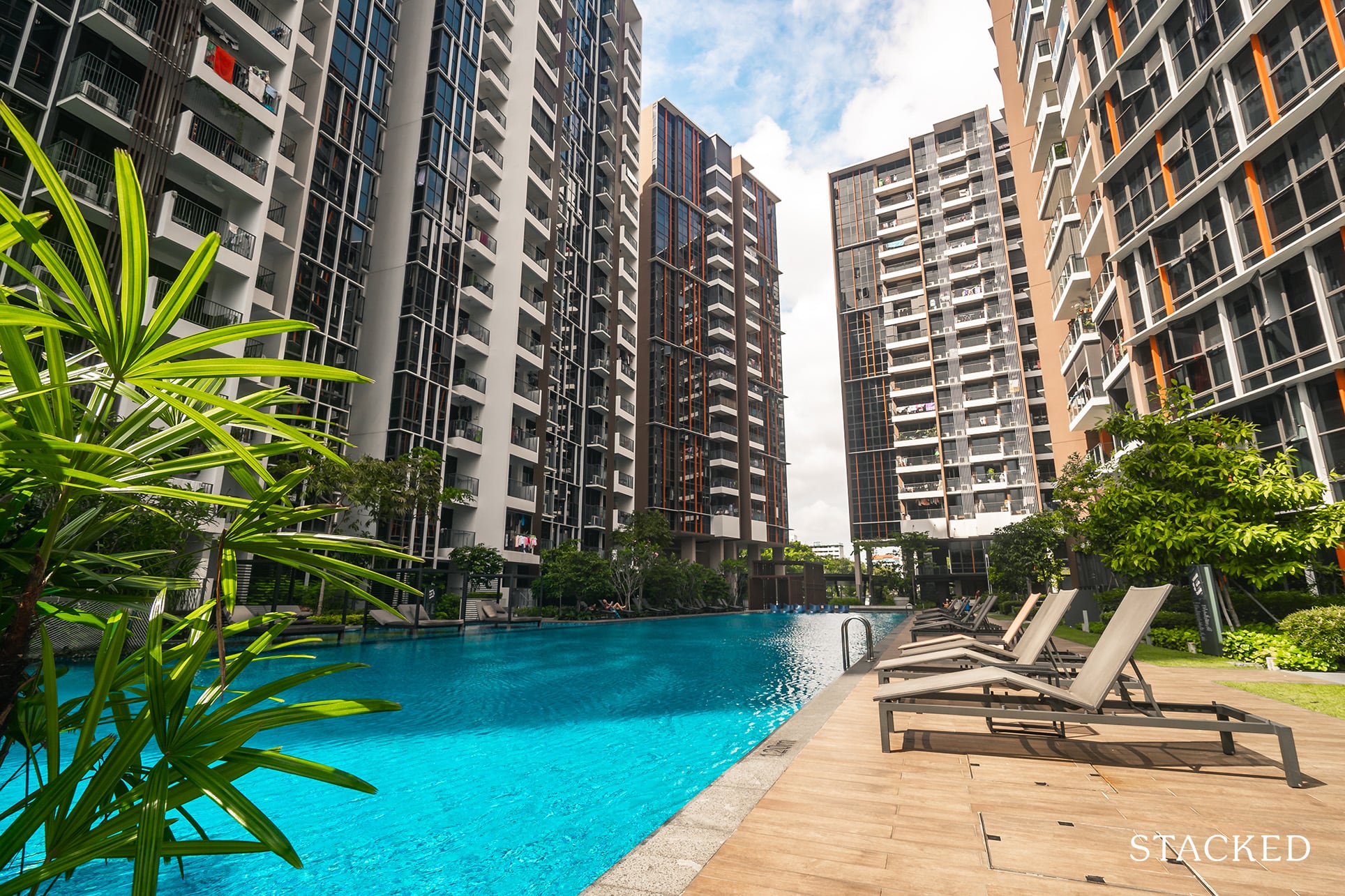 It's certainly no lagoon like the one at the Parc Clematis, but two 50m swimming pools is nothing to be sniffed at either! It's not just long, it's really quite wide too.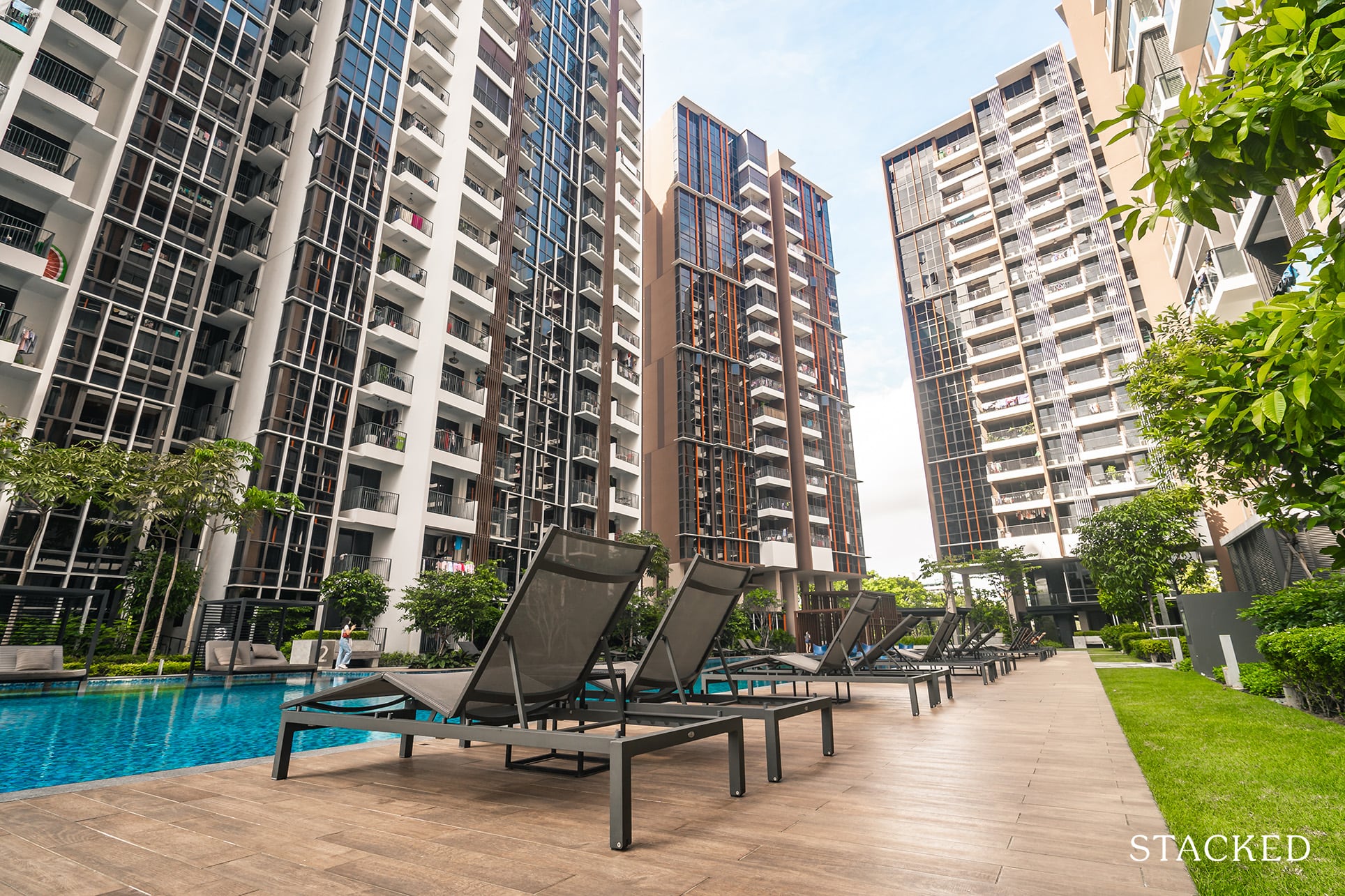 Lined along both sides of the pool are a sizeable number of deck chairs. Given the long length of the pool, it looks to be a good number – particularly because I think you can expect it to get quite crowded on weekends.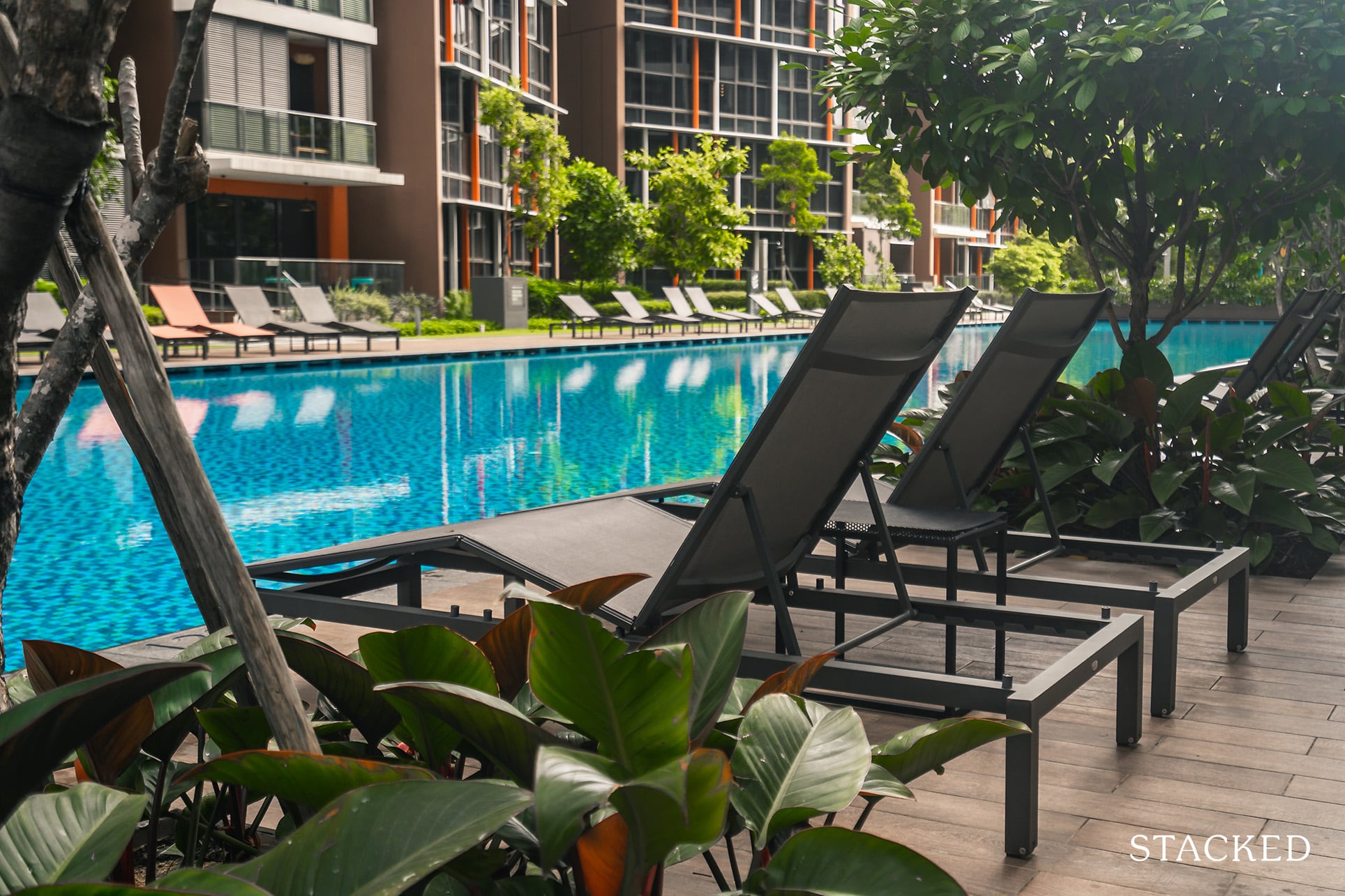 While you really cannot compare this to more resort-like condos in terms of poolside ambience, I would say that for a mass-market city development this is almost as good as it gets.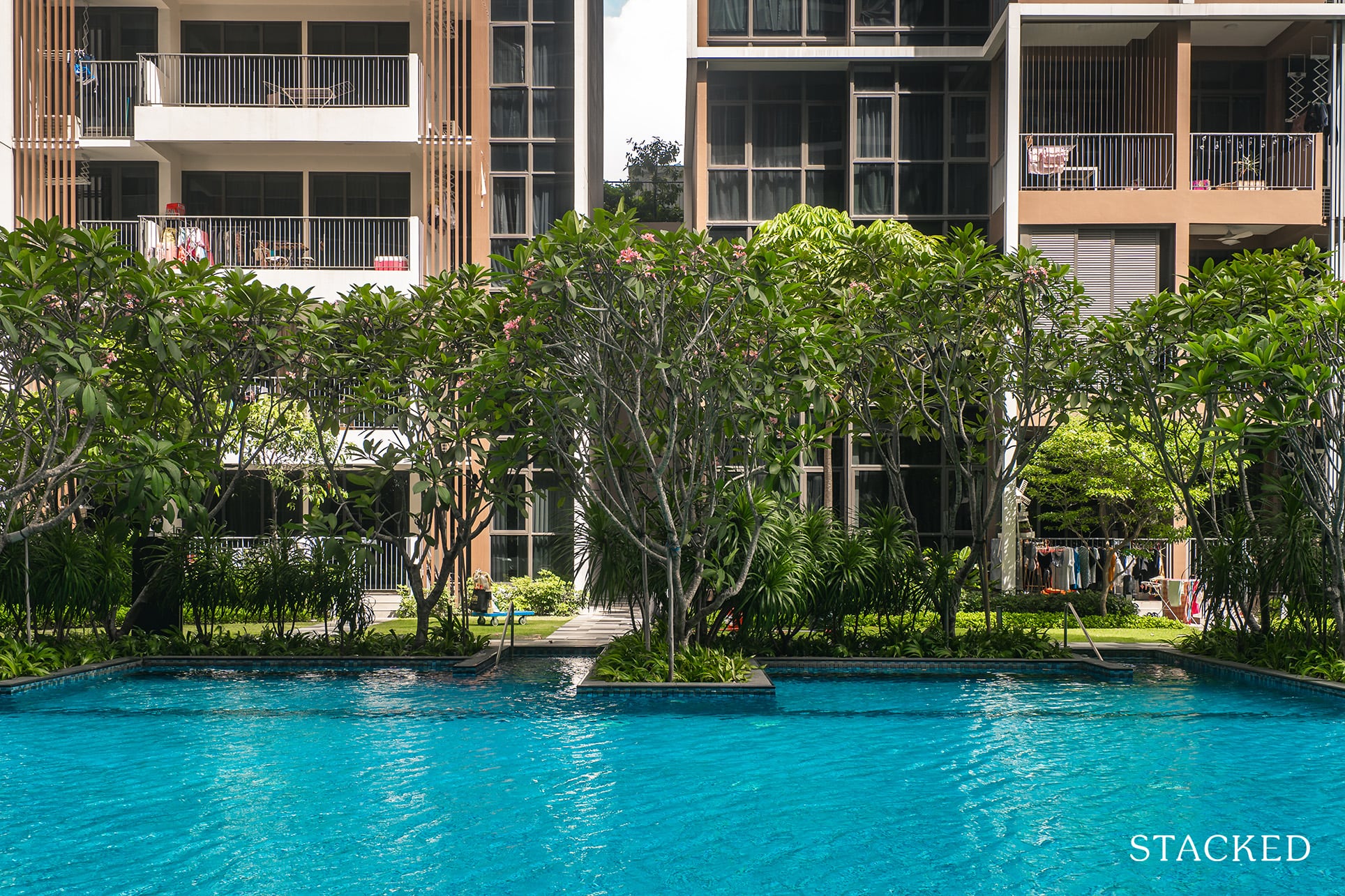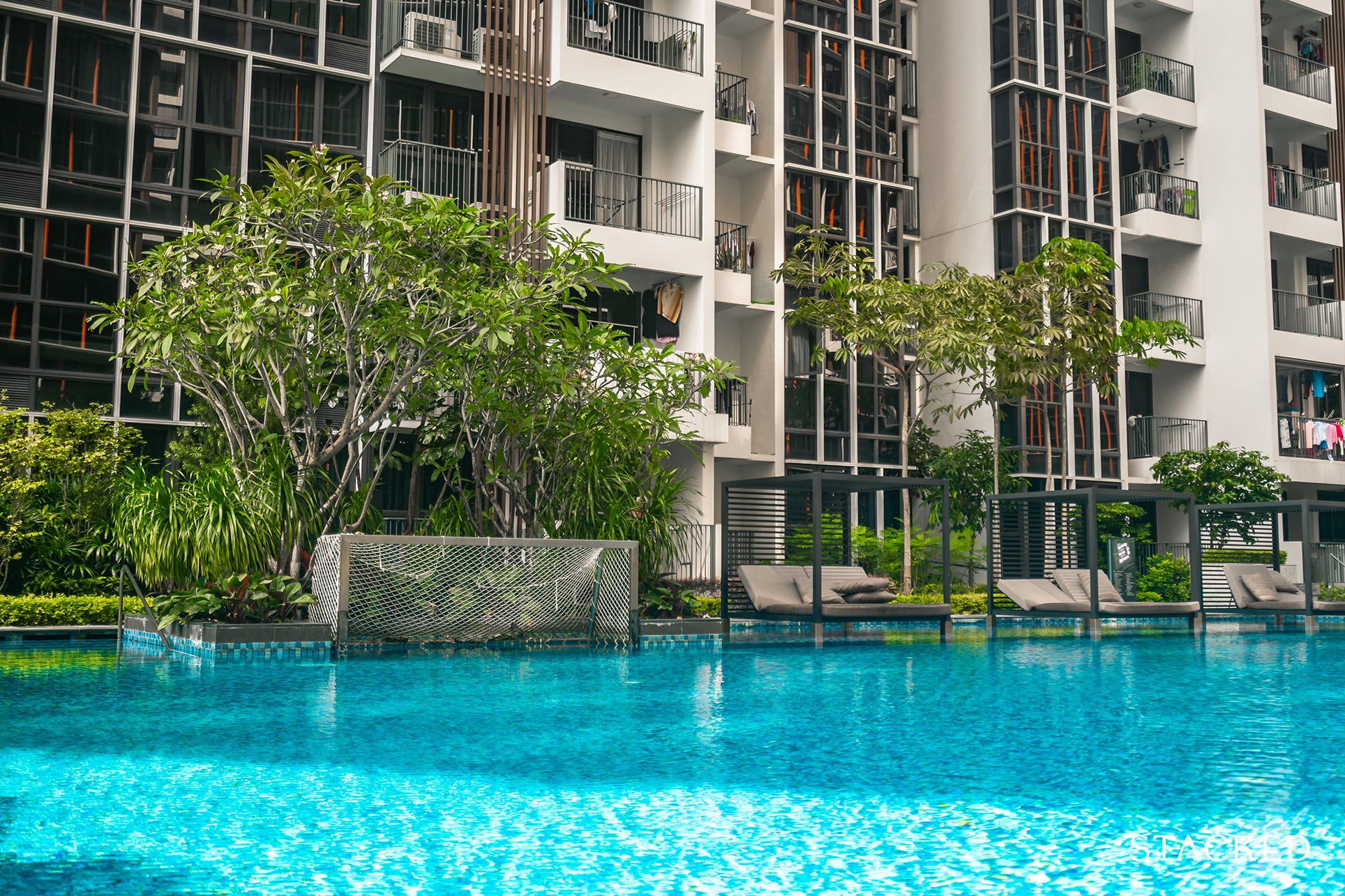 You aren't just limited to regular old deck chairs either – there are poolside cabanas too.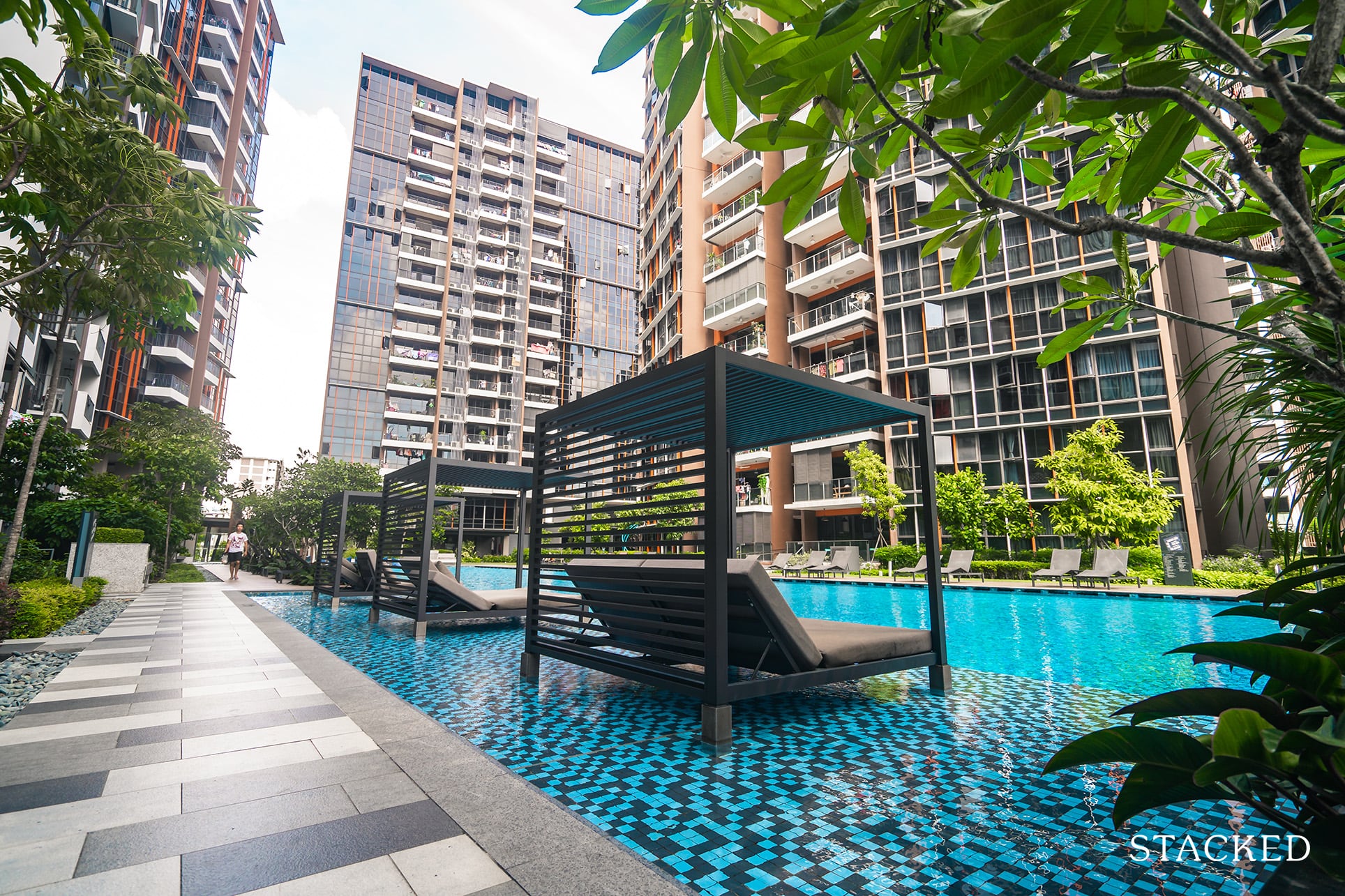 I've always liked overwater pool seating, it just feels more serene somehow to look down and see water flowing all around you.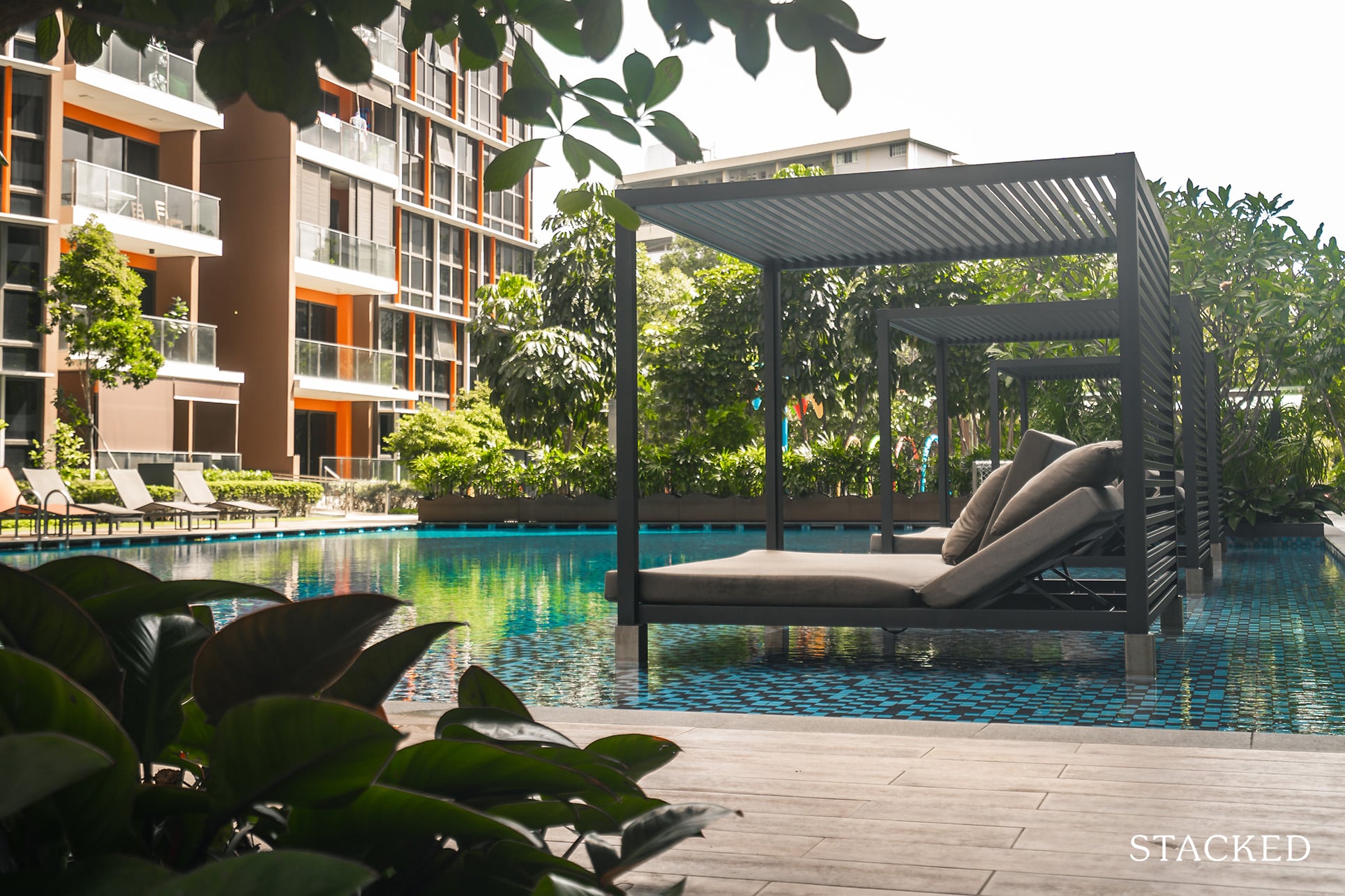 It's very much a case of the early bird gets the worm here, seeing as there are only a few pool cabanas.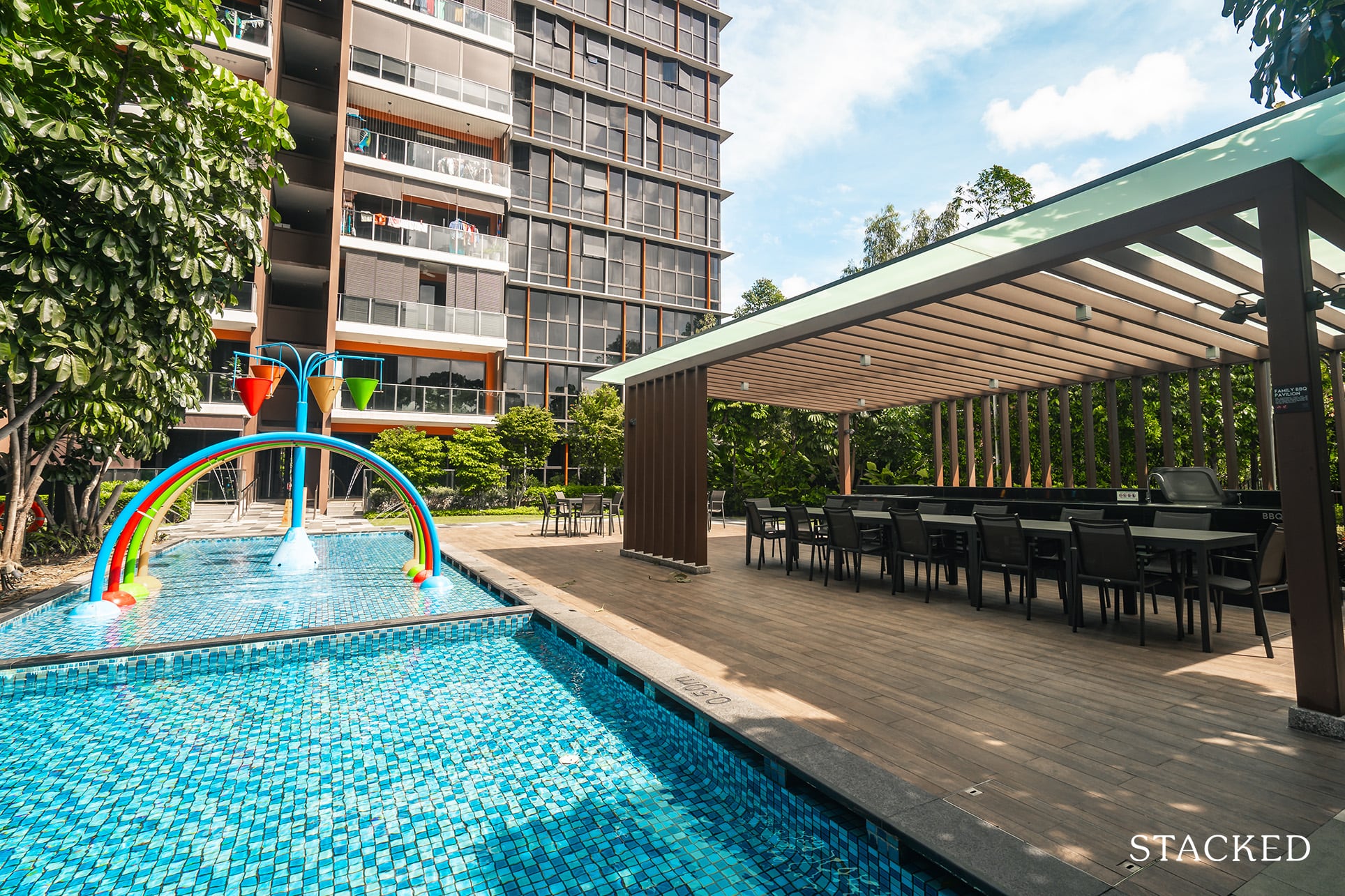 Right at the end of the 50m pool is the kids pool and play area. Clad in an attractive colour palette (for kids that is), the water jets and accompanying shallow pool is a great space to entertain the kids.
They've also smartly placed it by the dining pavilion – making it a convenient all in one space for you to entertain.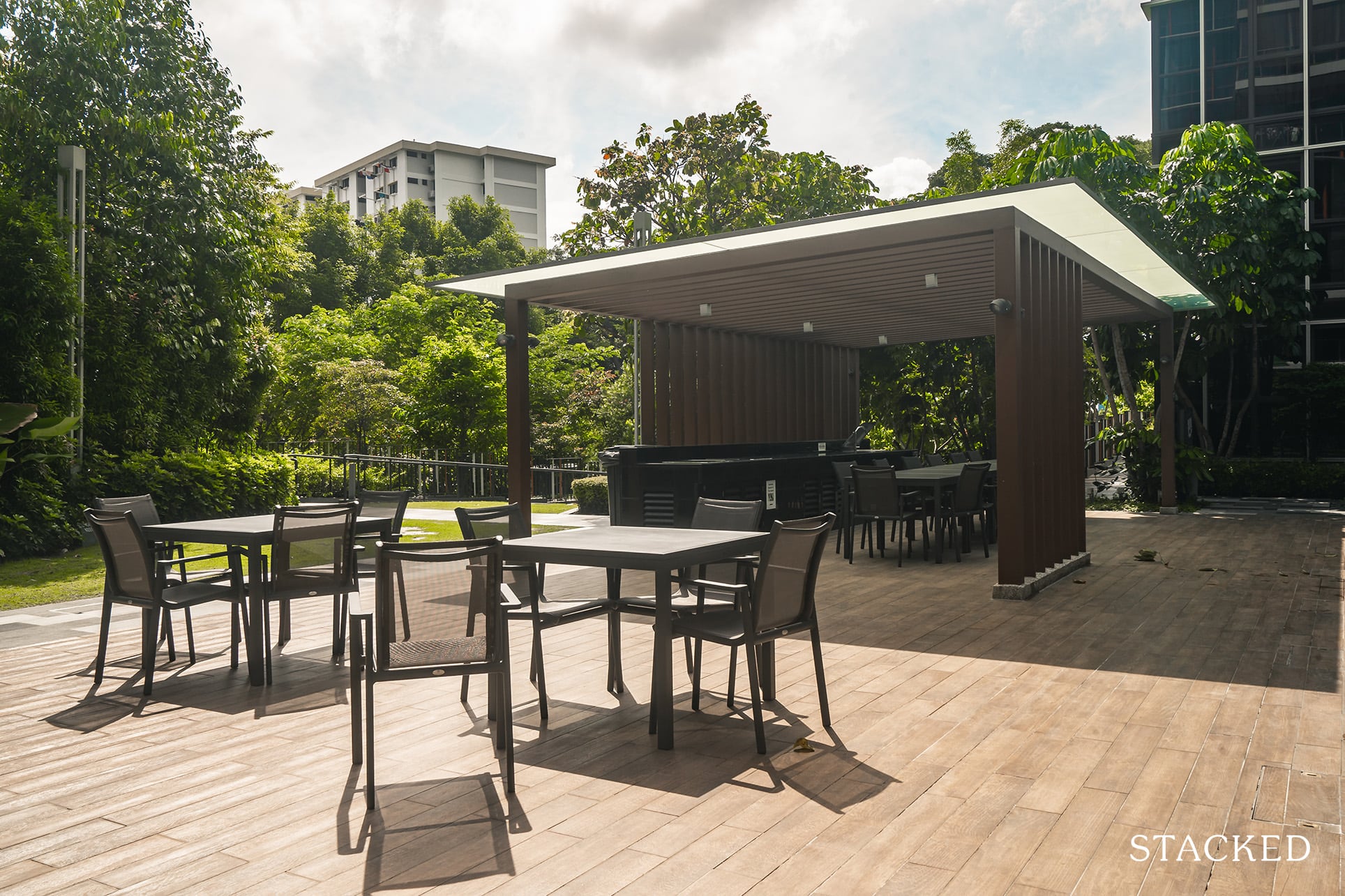 I like the dining pavilion for numerous reasons. Number 1, it is sheltered. Number 2, ample seating. And number 3, it's set away from the blocks so you get a better view over the (not very high) Aljunied HDB area.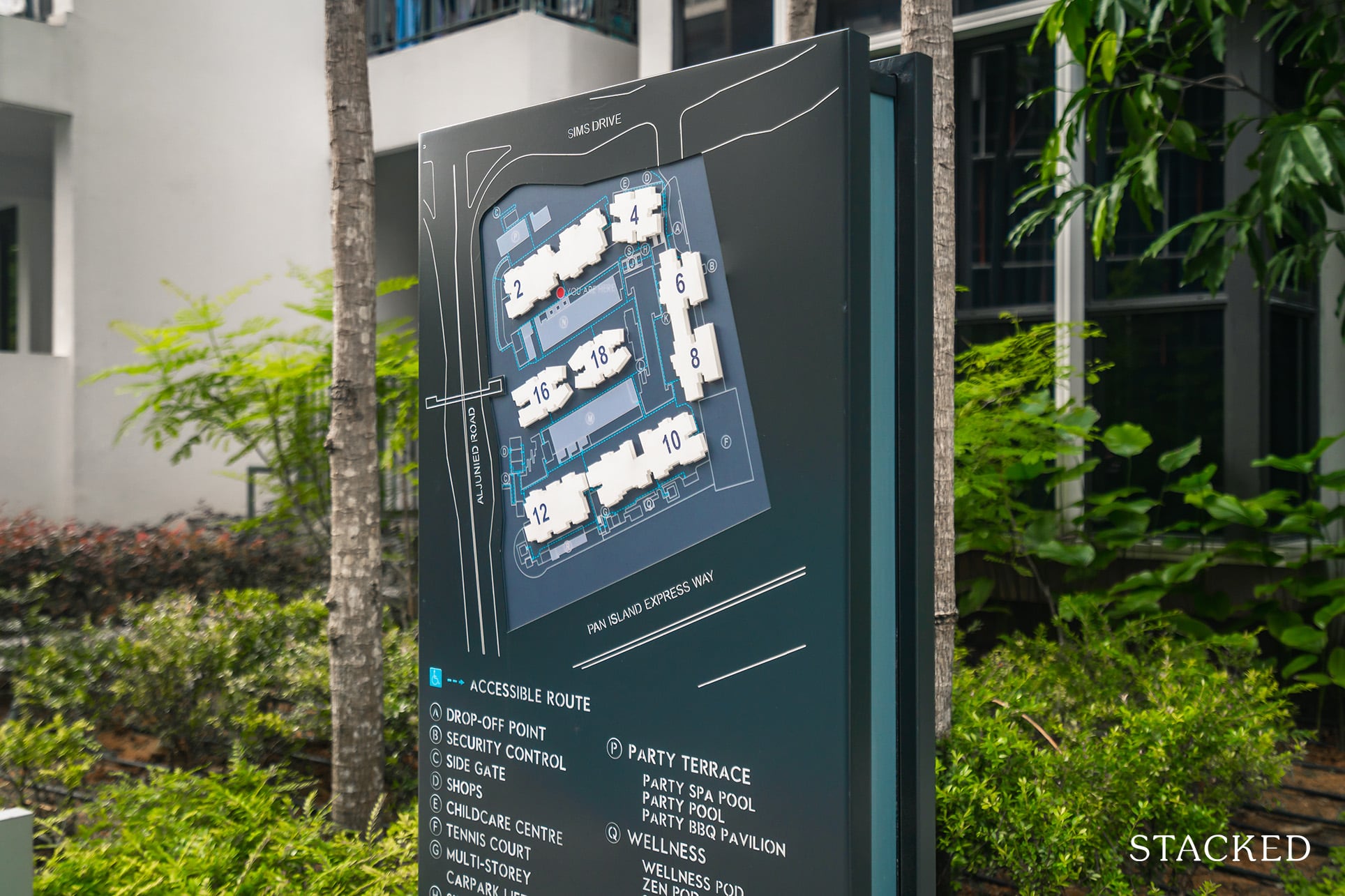 Let's take a second to just talk a bit about the design of the development. Again, I'm not the biggest fan of the orange – but the overall look is quite consistent and that flash of colour does give it some character. It's quite a recognisable look, even from afar.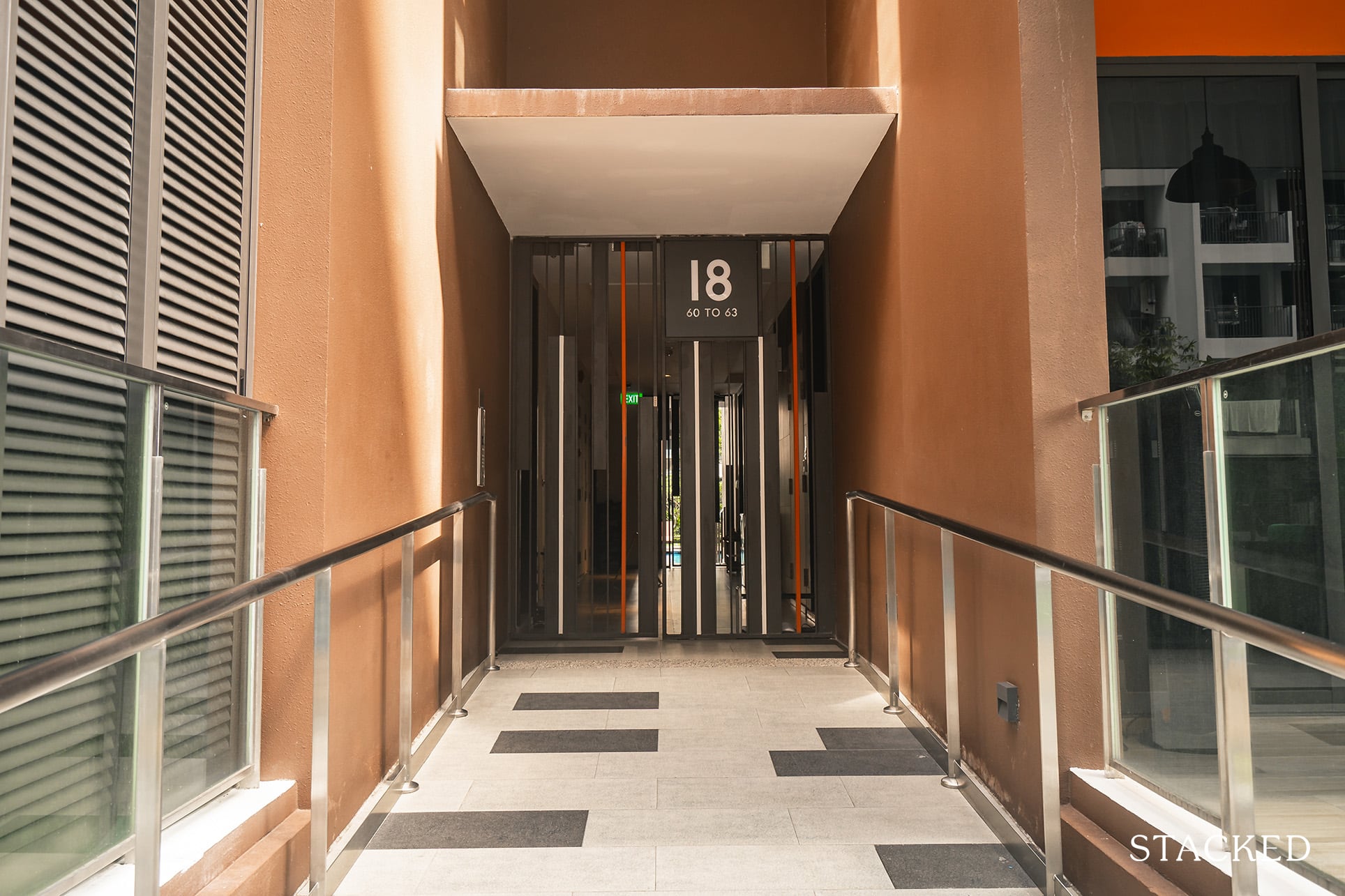 Entry to each block even at ground level has gated access. They take security to quite a strict level here – your keycard only allows you to access your own block and shared facilities.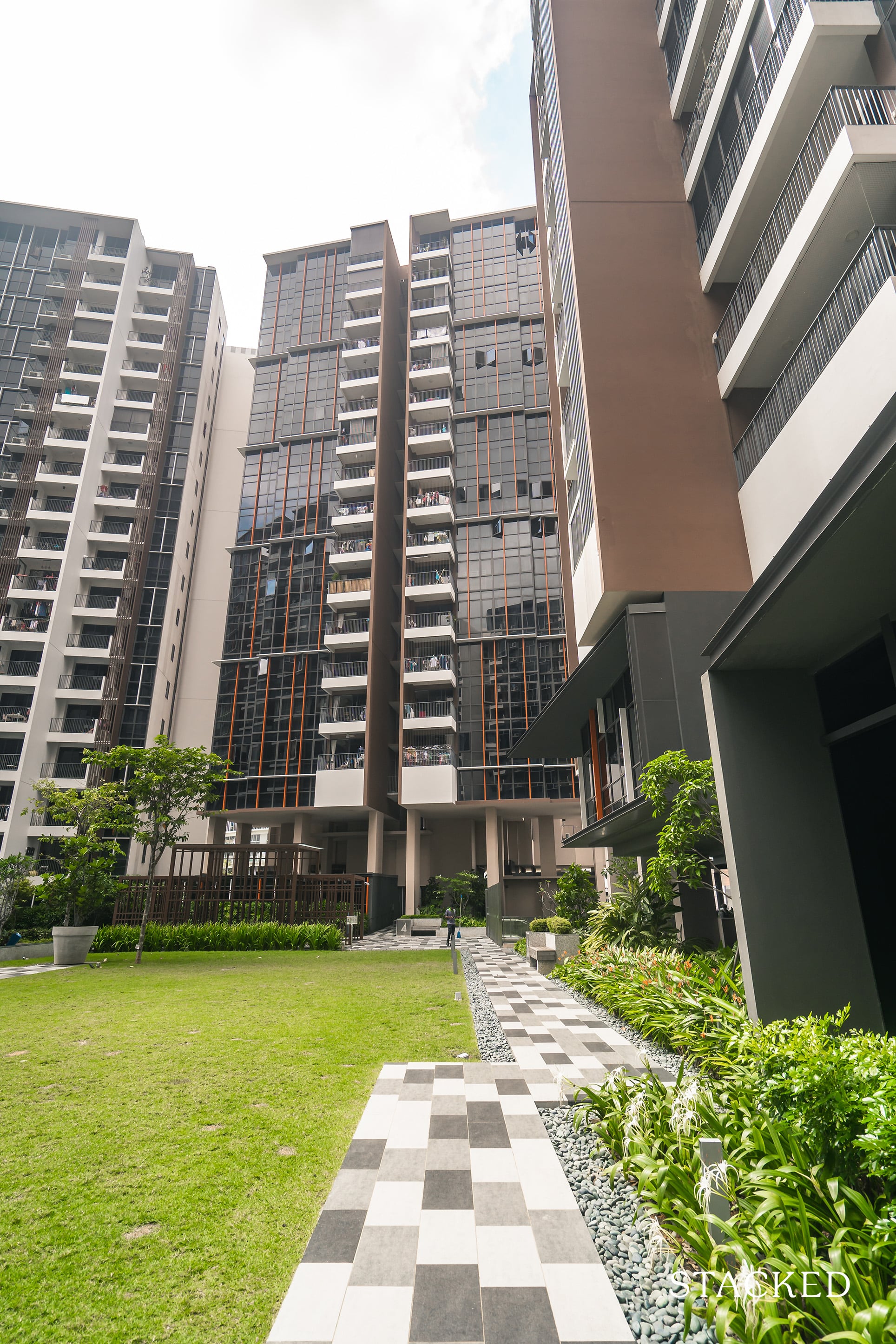 Moving back to the entrance of the development, you'll find the "meditation" lawn. They've clearly taken a page out of Apple's playbook here – it's just a plain lawn – and a somewhat patchy one too.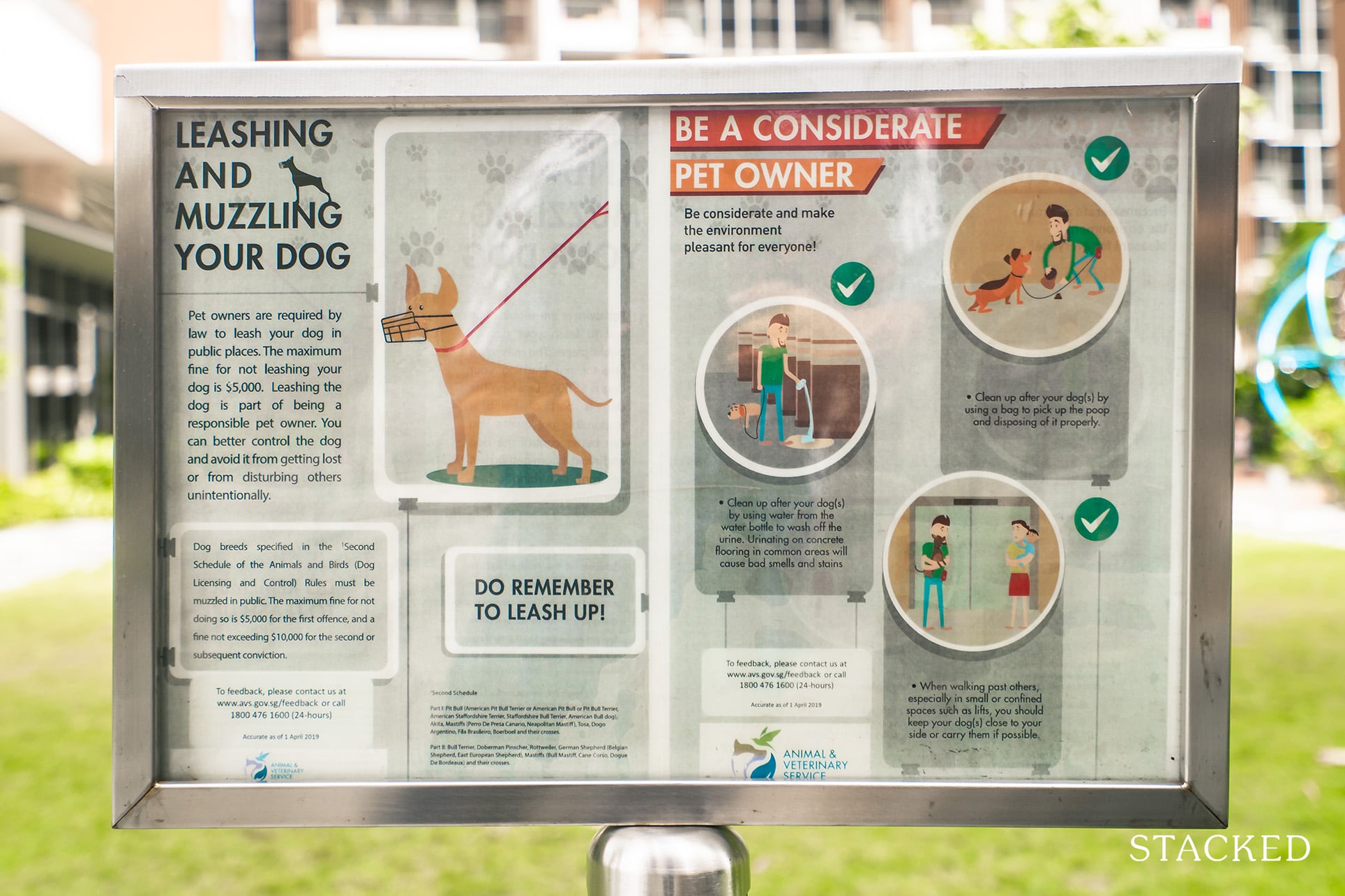 While it isn't manicured as best as it could be, it's no doubt a byproduct of it being a pet-friendly development. I'm sure pet owners would also appreciate the open land for their pets to amble around in.
The kids playground is located right next to the lawn and with no slides and swings in sight, this certainly isn't your usual playground. I can't speak on the behalf of the little ones – but this webbed climbable sphere does look quite interesting.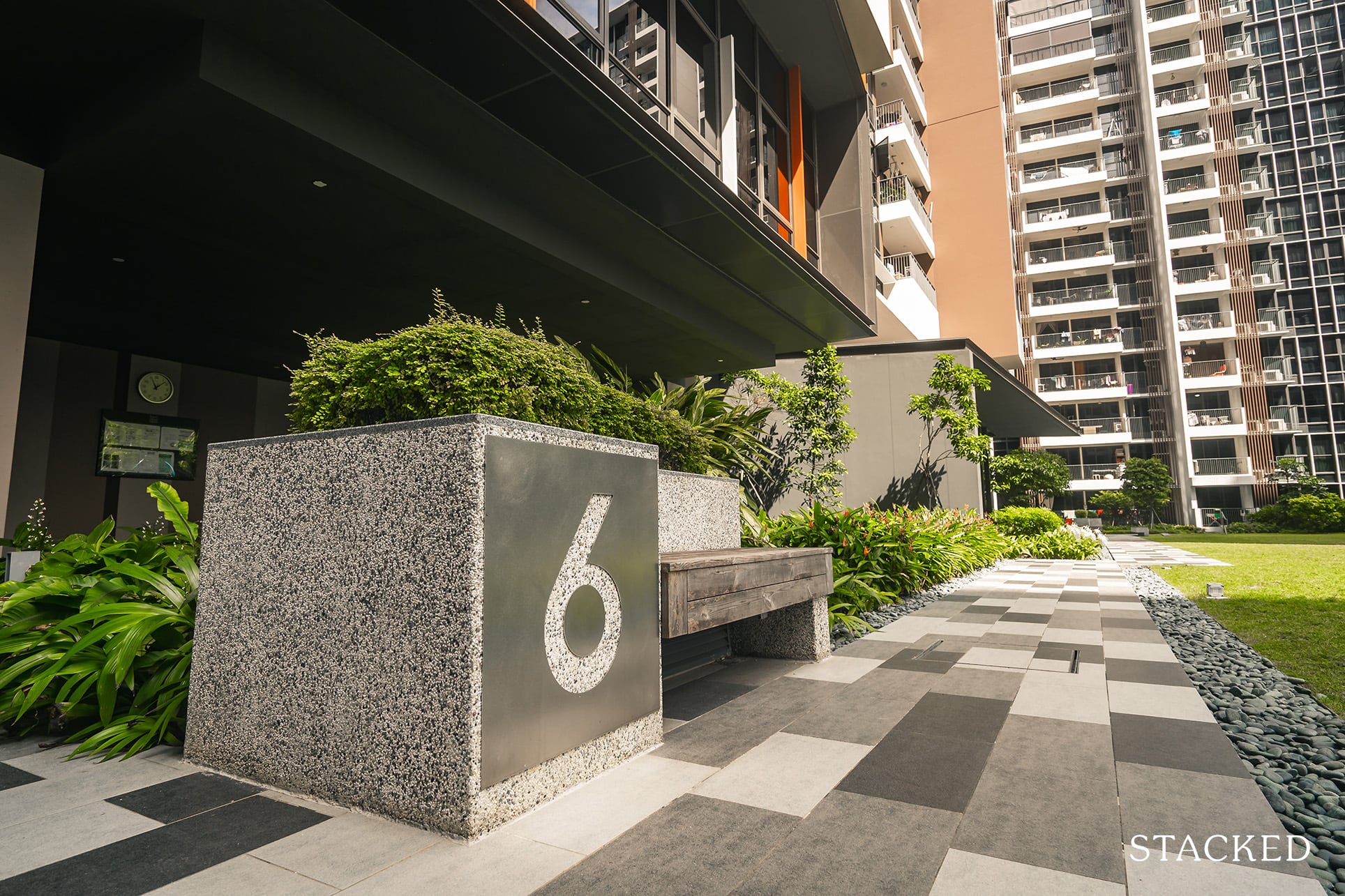 In front of the lawn is the clubhouse that holds the function room, gym, and the childcare centre.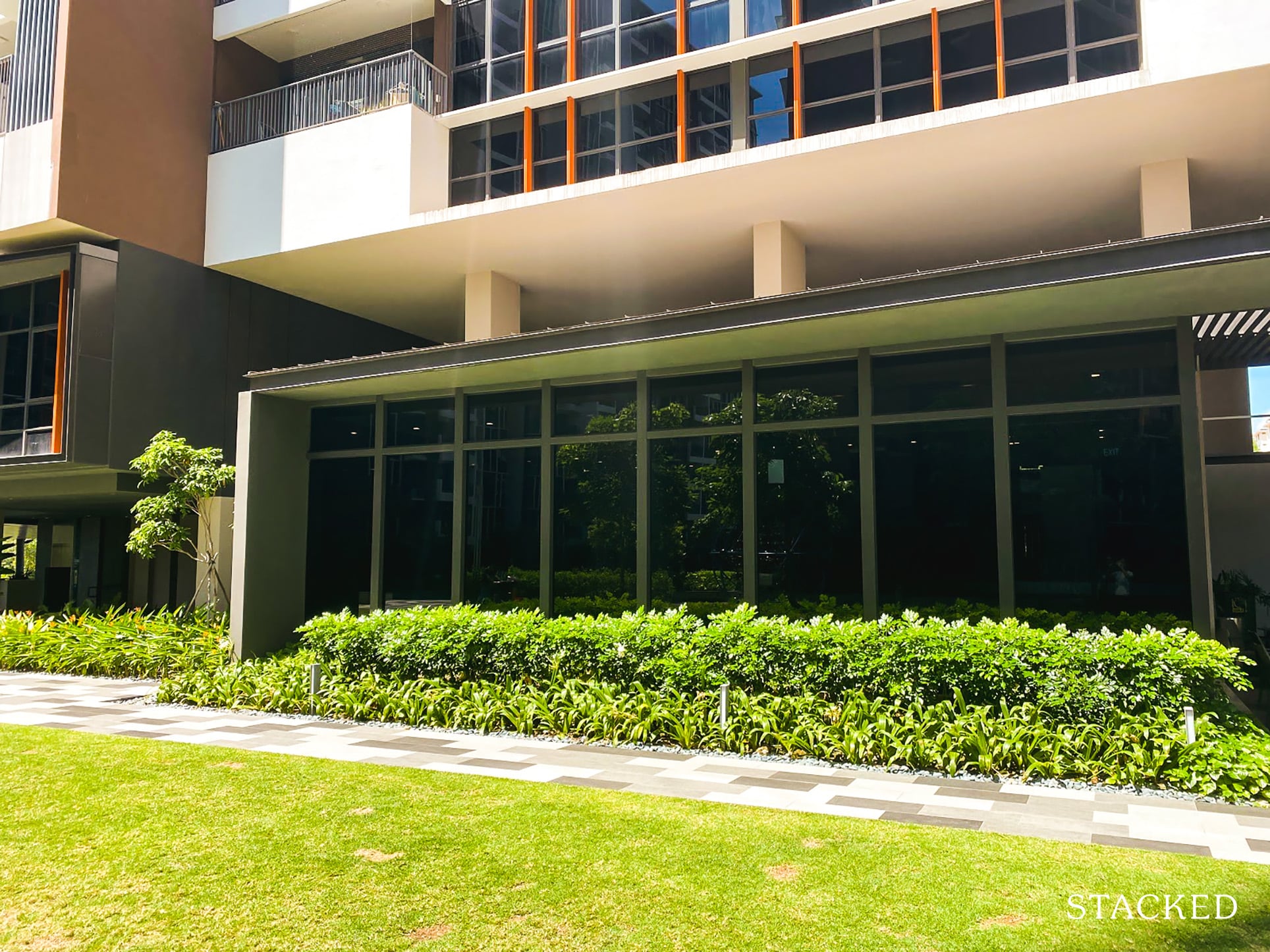 There's an indoor lounge space.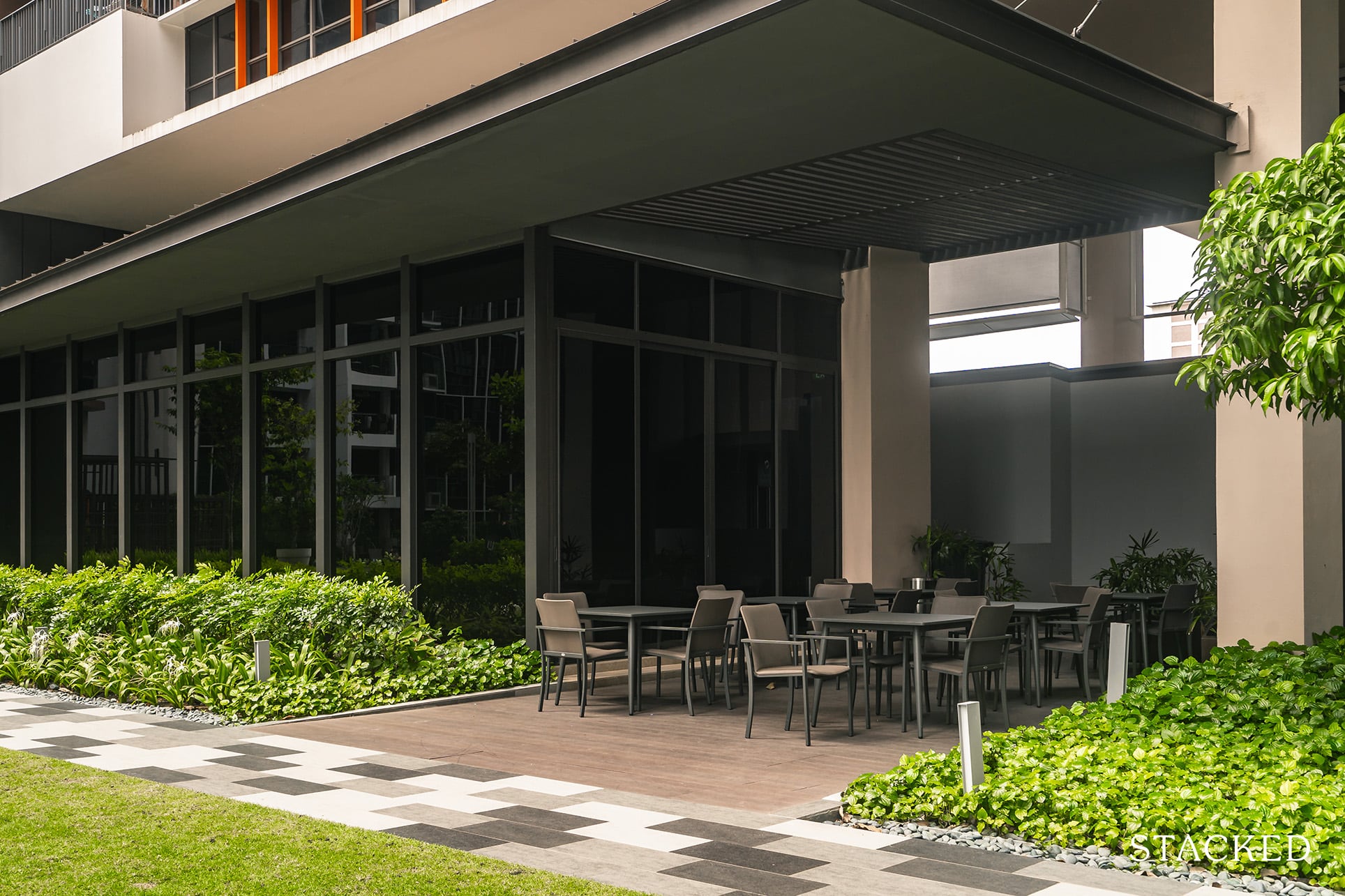 With more seating on the outside as well.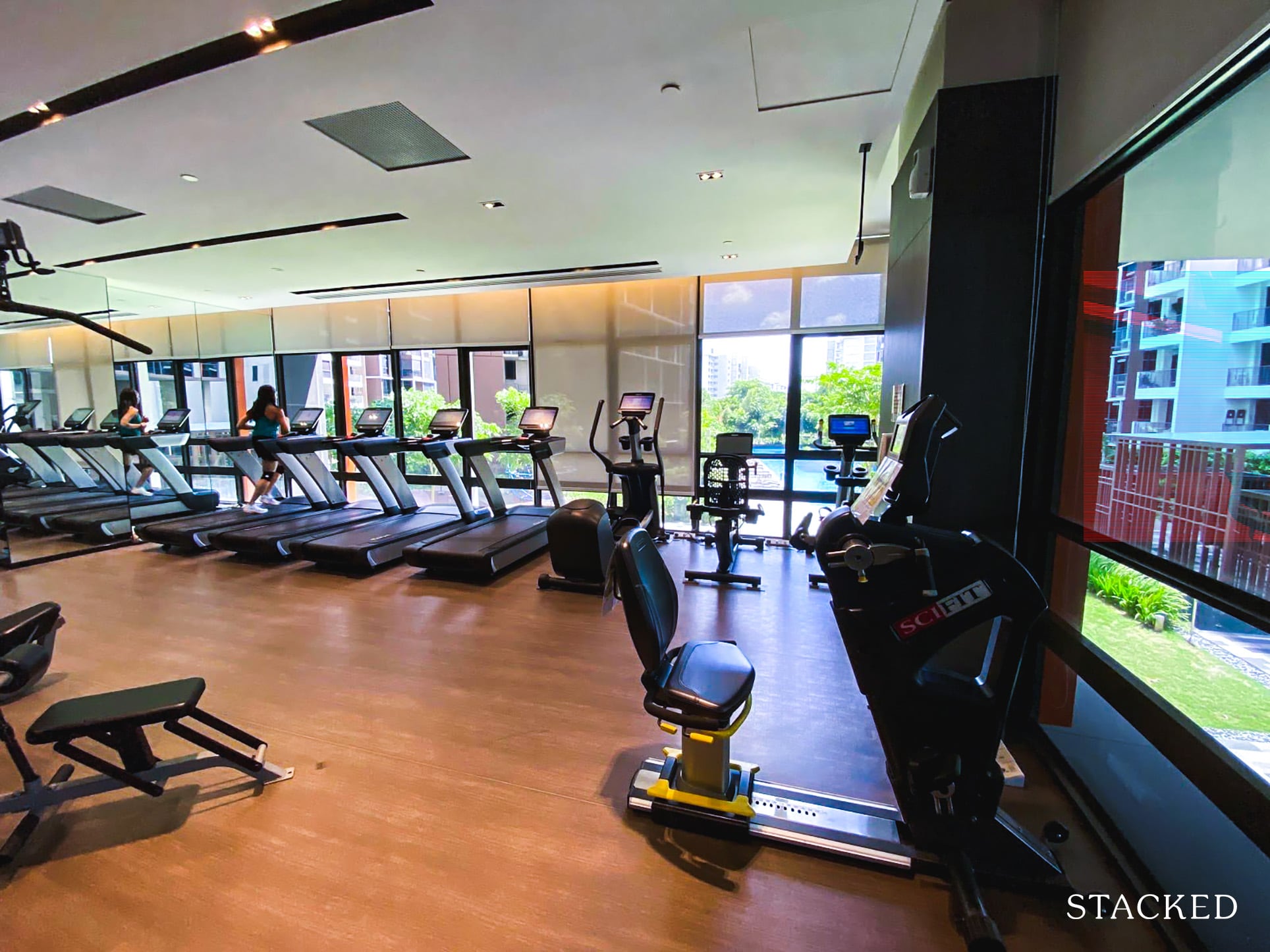 The gym is situated on the second level and provides a view of the family lap pool. As a bit of an exercise junkie myself, I would have so much preferred the gym to be placed at the Sky Park instead – the views would have been so much better.
I think the size of the gym is quite disappointing too. While it has a decent range of equipment, it's definitely not at a scale that I would expect for a development of this size.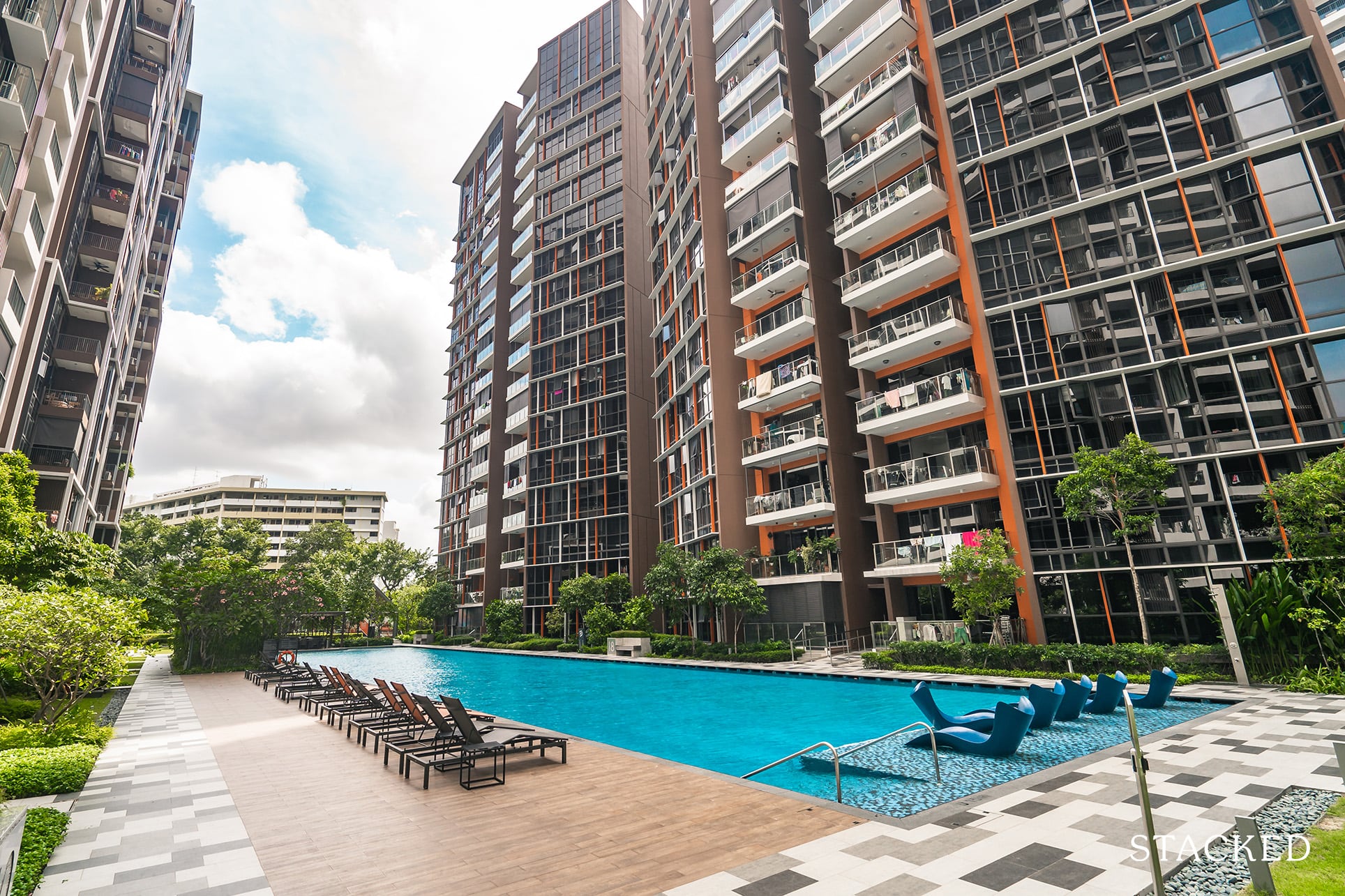 The second lap pool is almost a carbon copy of the first one – save for the lack of cabanas by the poolside. I would have liked the family pool to have come in a different shape for some variation – but yet at the same time, I do understand they are limited a little by how they've structured the layout in the first place.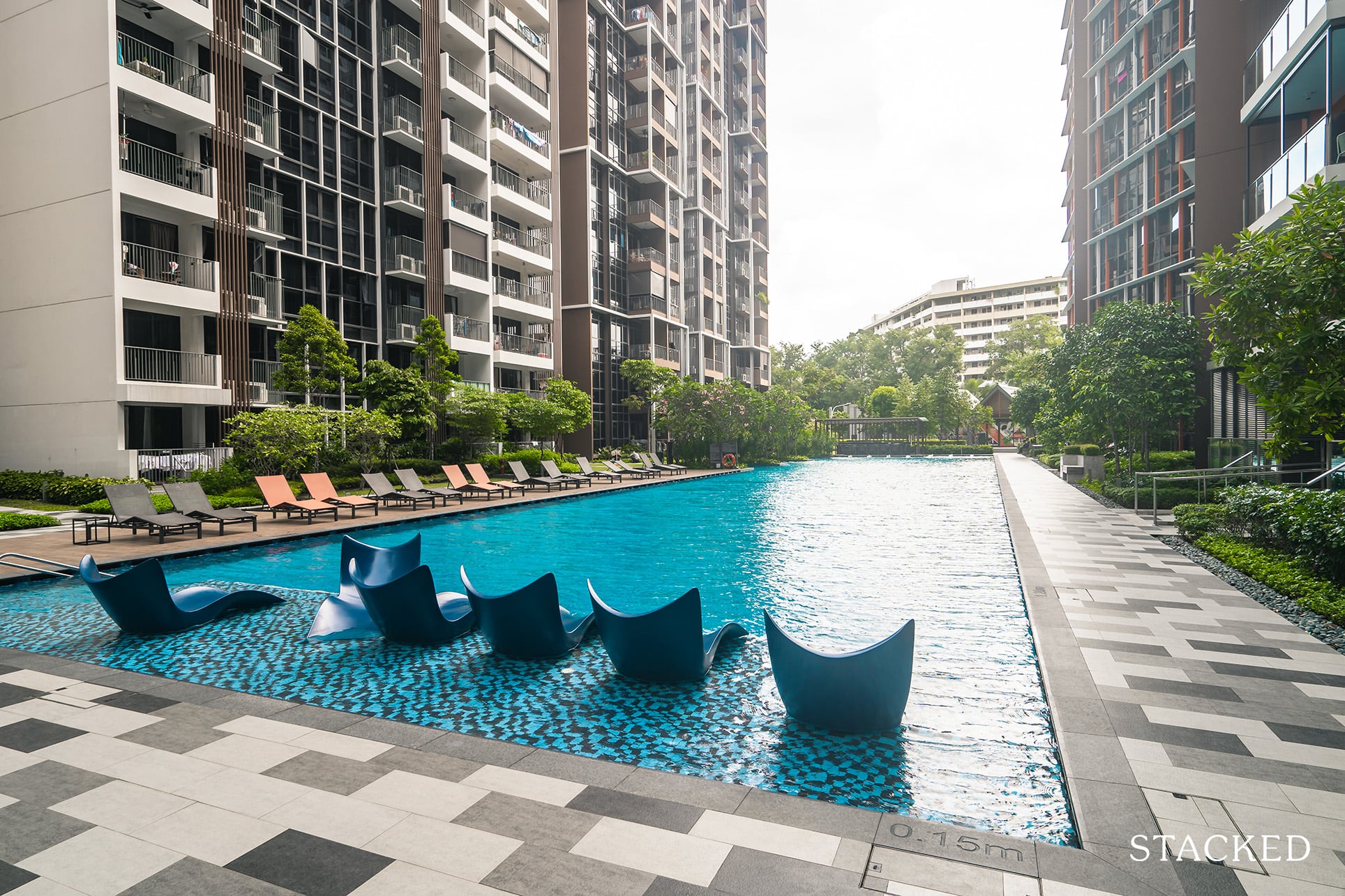 Like the first pool, I like these sunken seats facing the open view on the other side.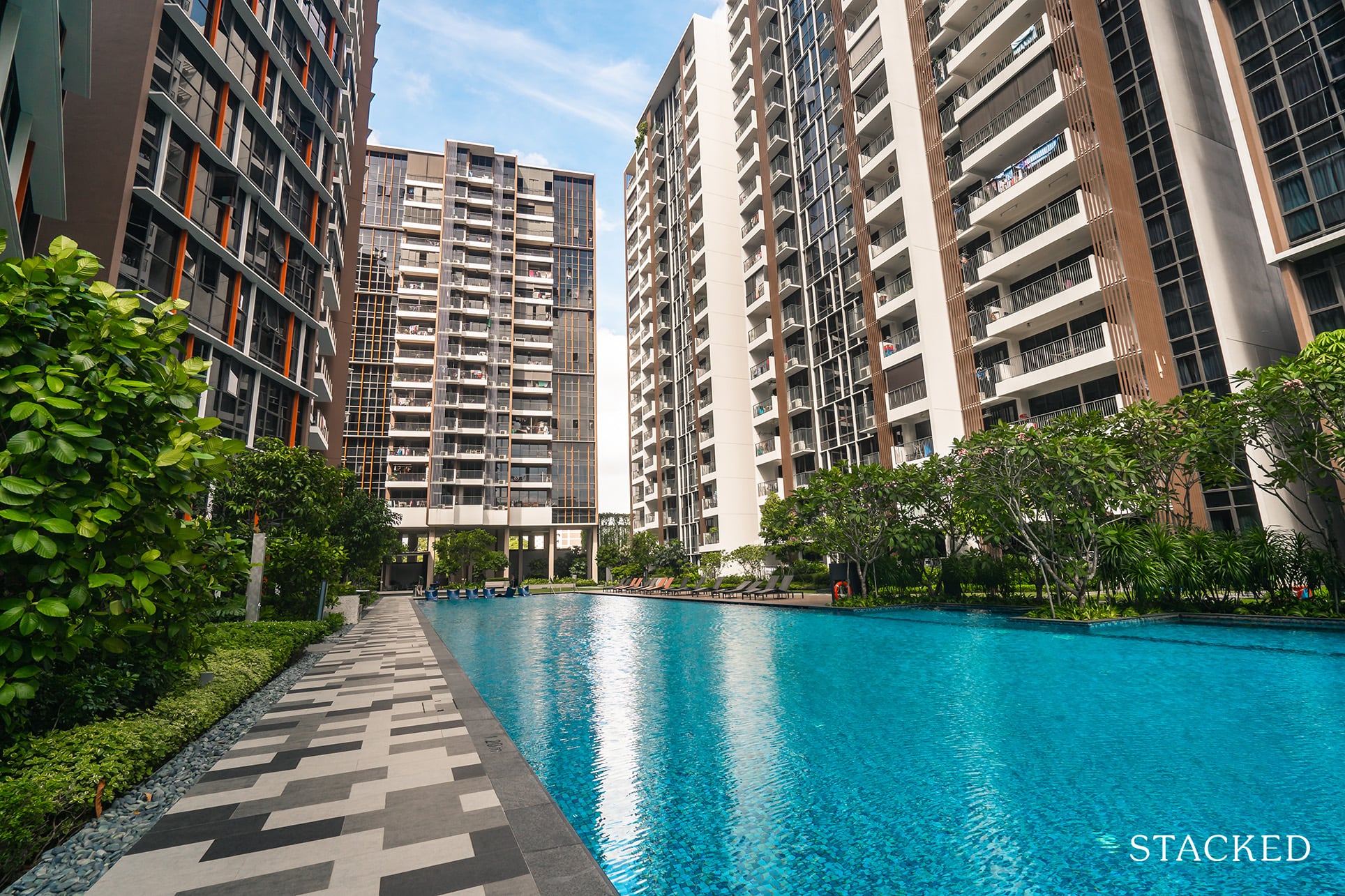 It'd be nice if this pool was reserved just for adults – for proper swimming and a more peaceful environment. But that's unlikely to happen in reality, most people would just go to the pool that is the closest to their block.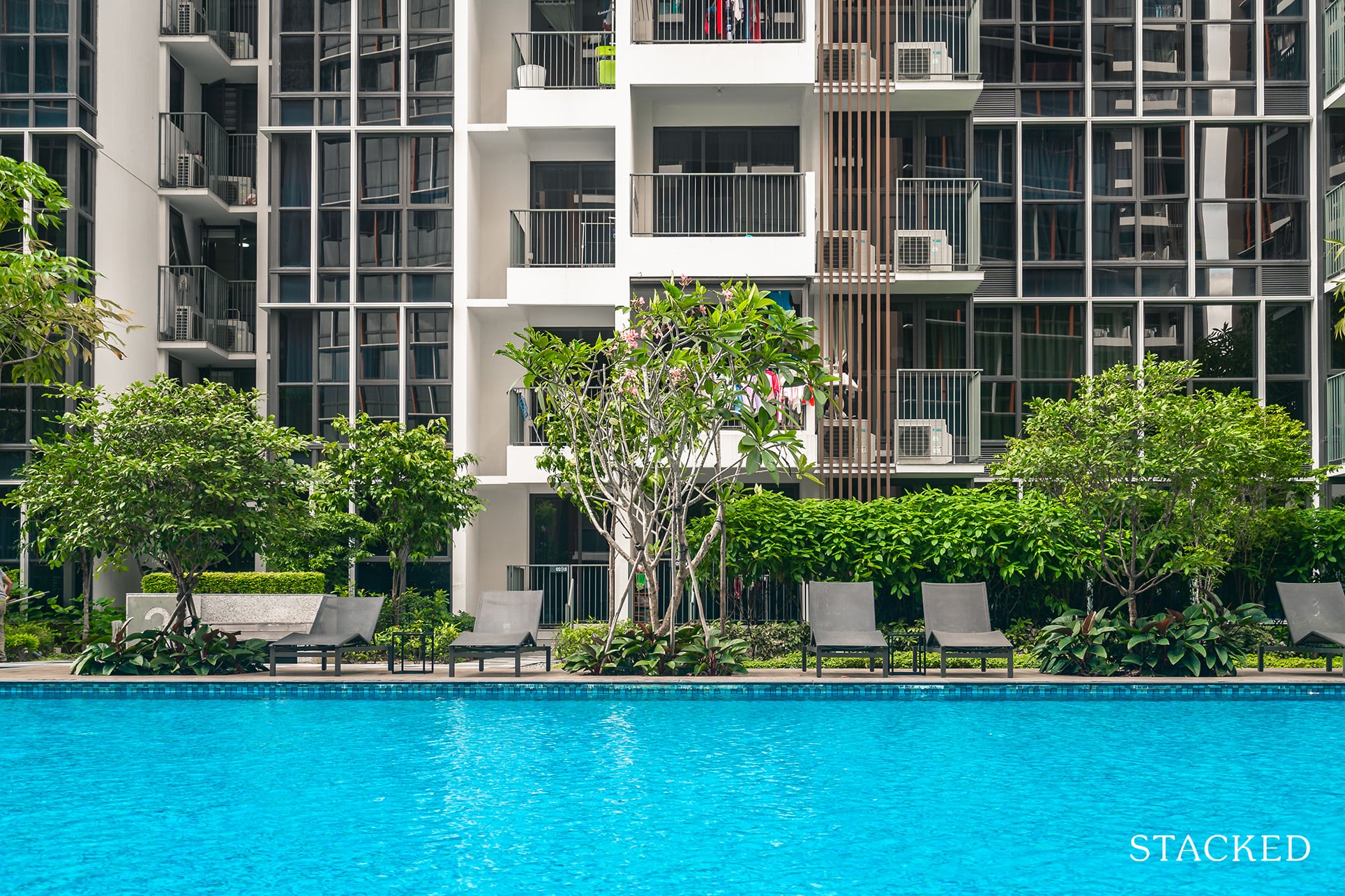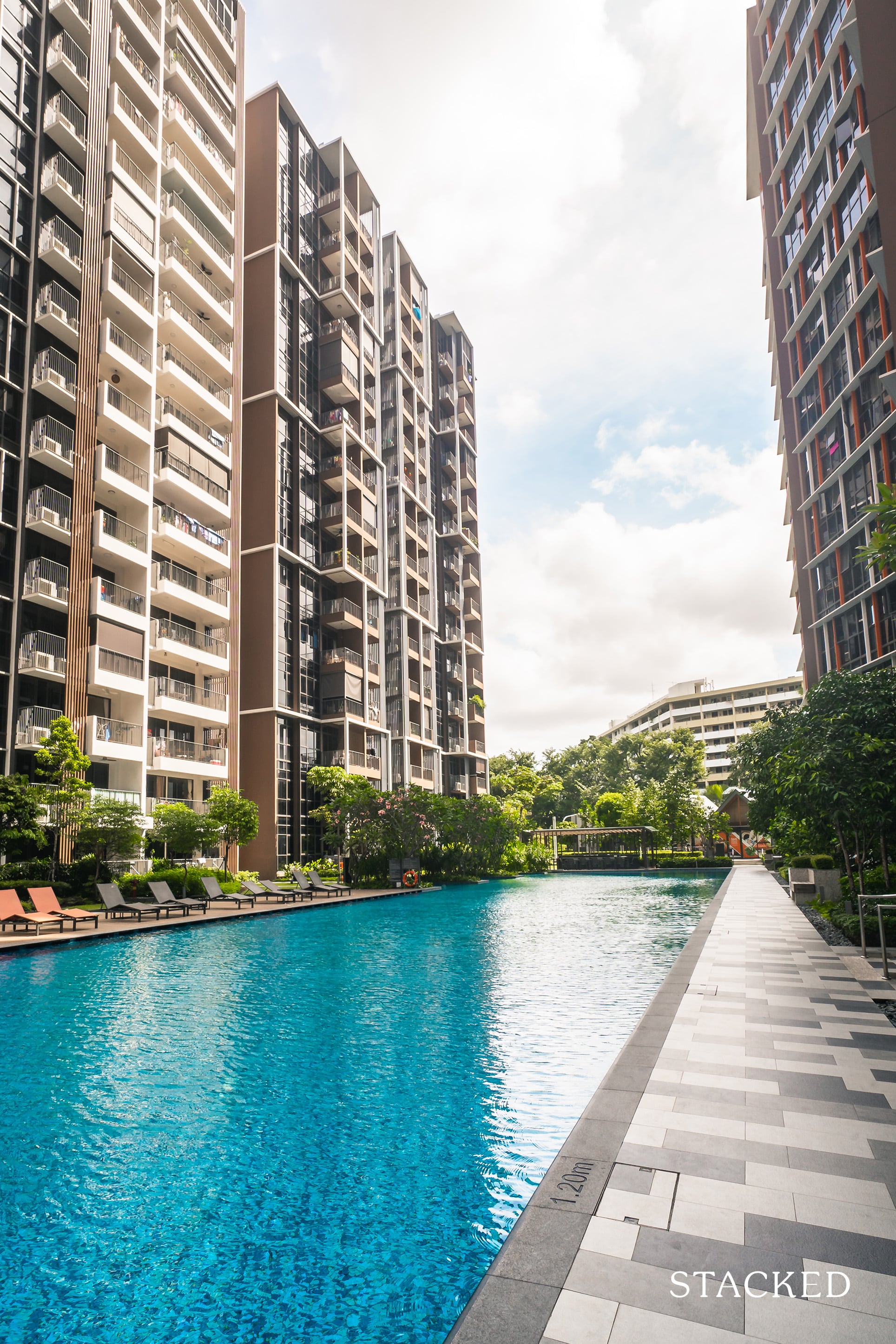 What more can I say about a 50m lap pool that hasn't been said already. Unless you're a sucker for an infinity pool, most people would be quite happy with this arrangement.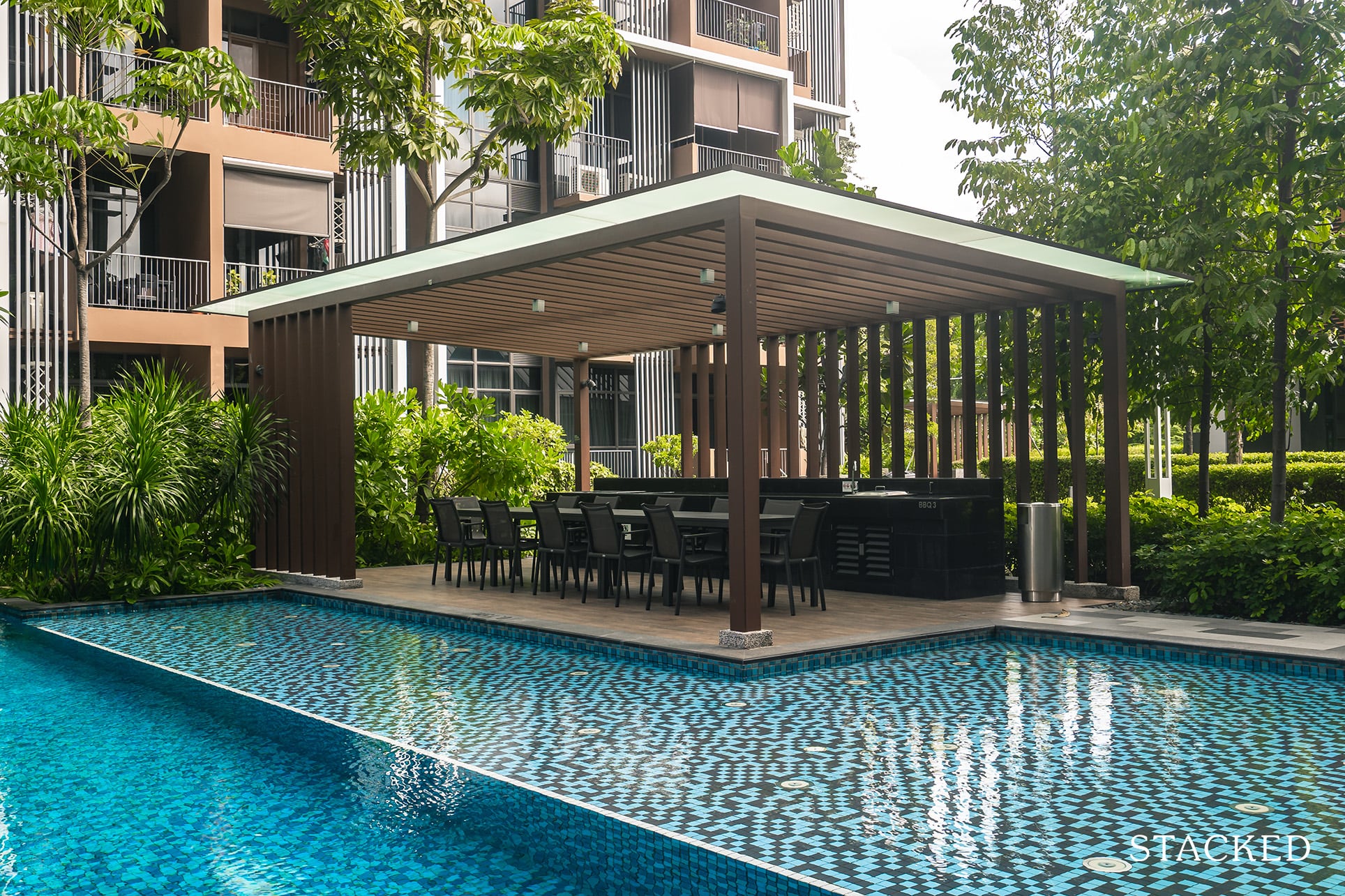 There's a dining pavilion at the end of this pool too, with the exception of the kids pool.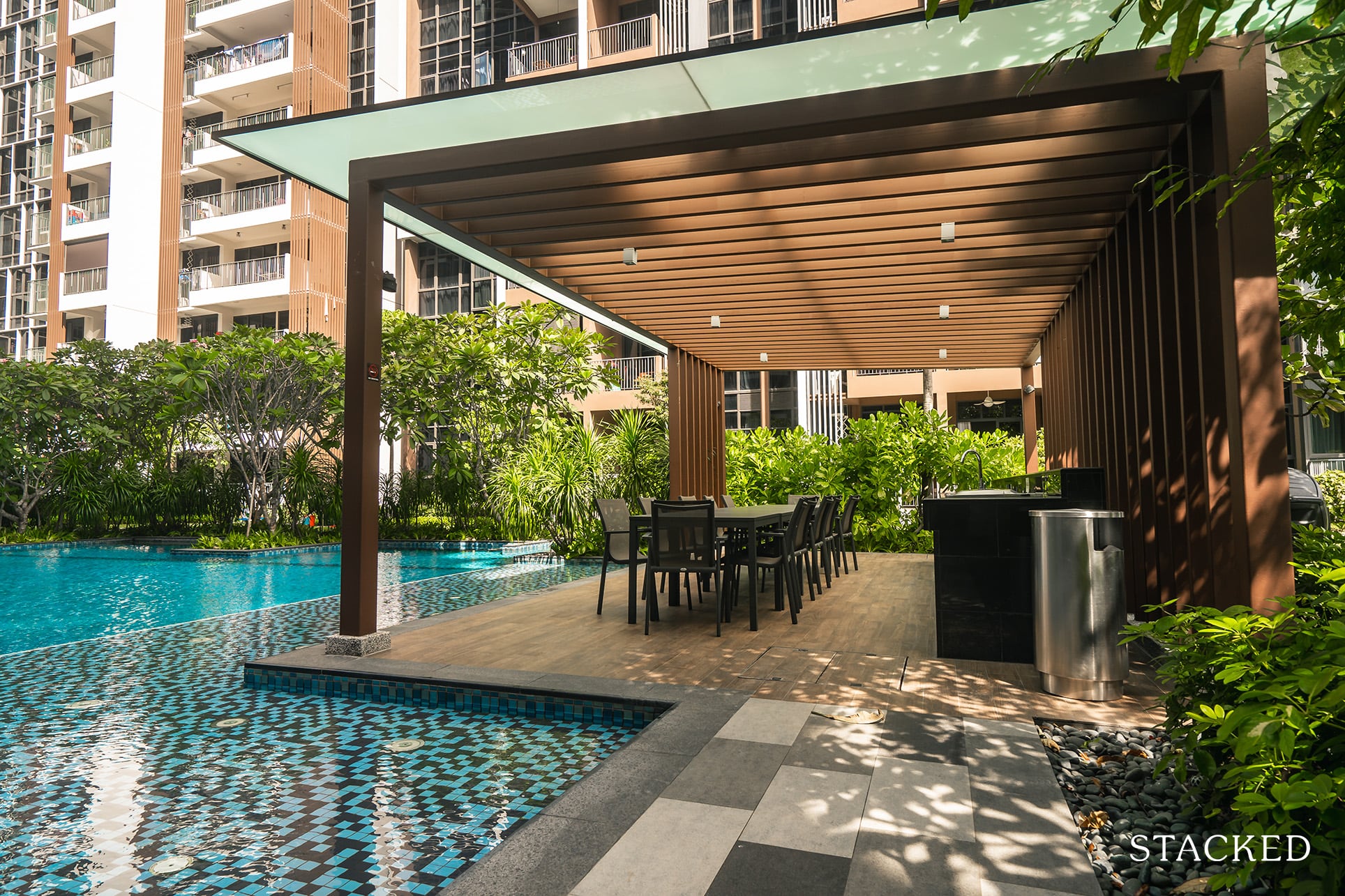 It's sheltered too, and while it is a smaller space, it definitely feels the more intimate of the two.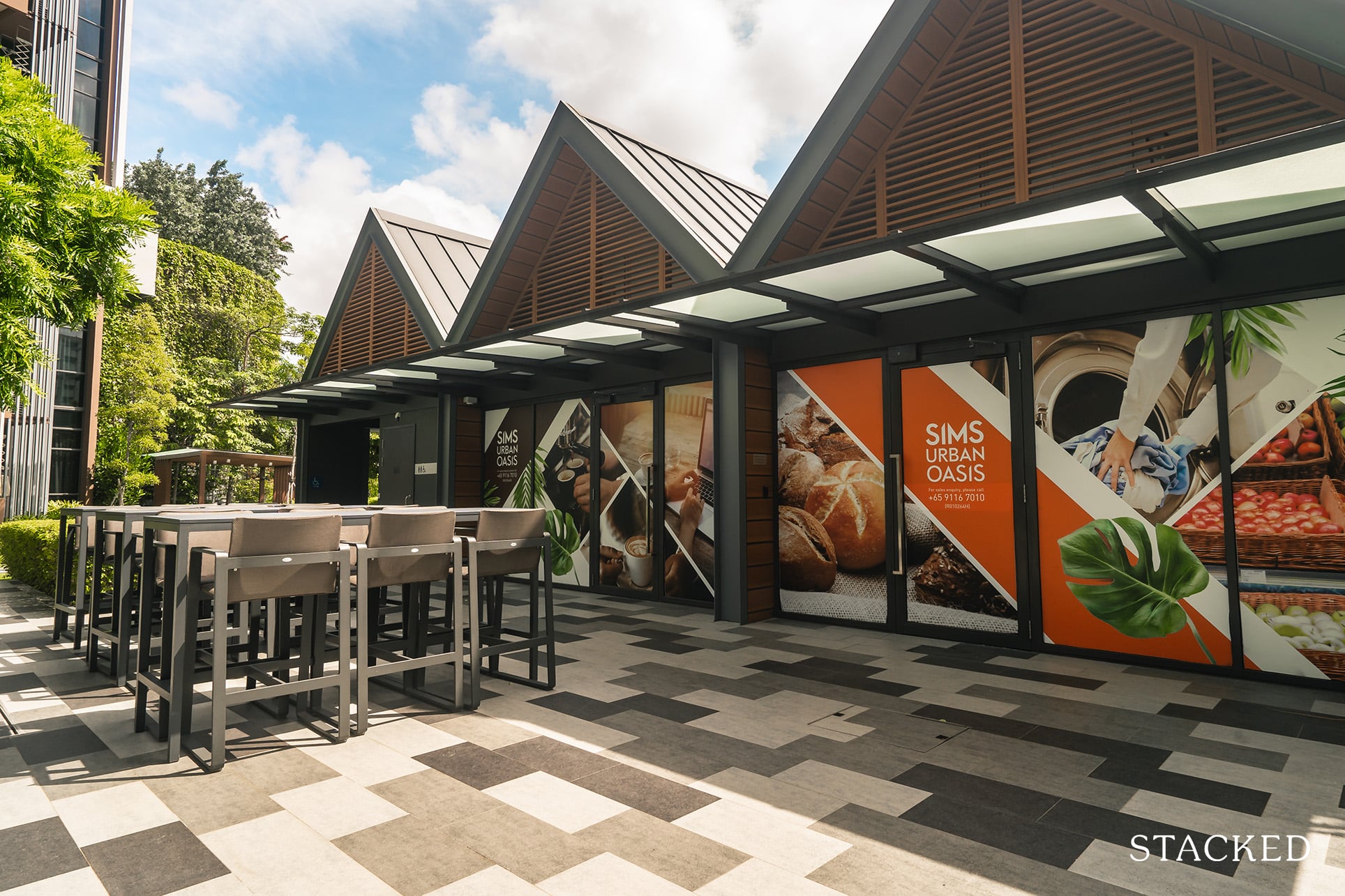 Round the back are more seating areas and a couple of retail shops. These are currently untenanted at the moment.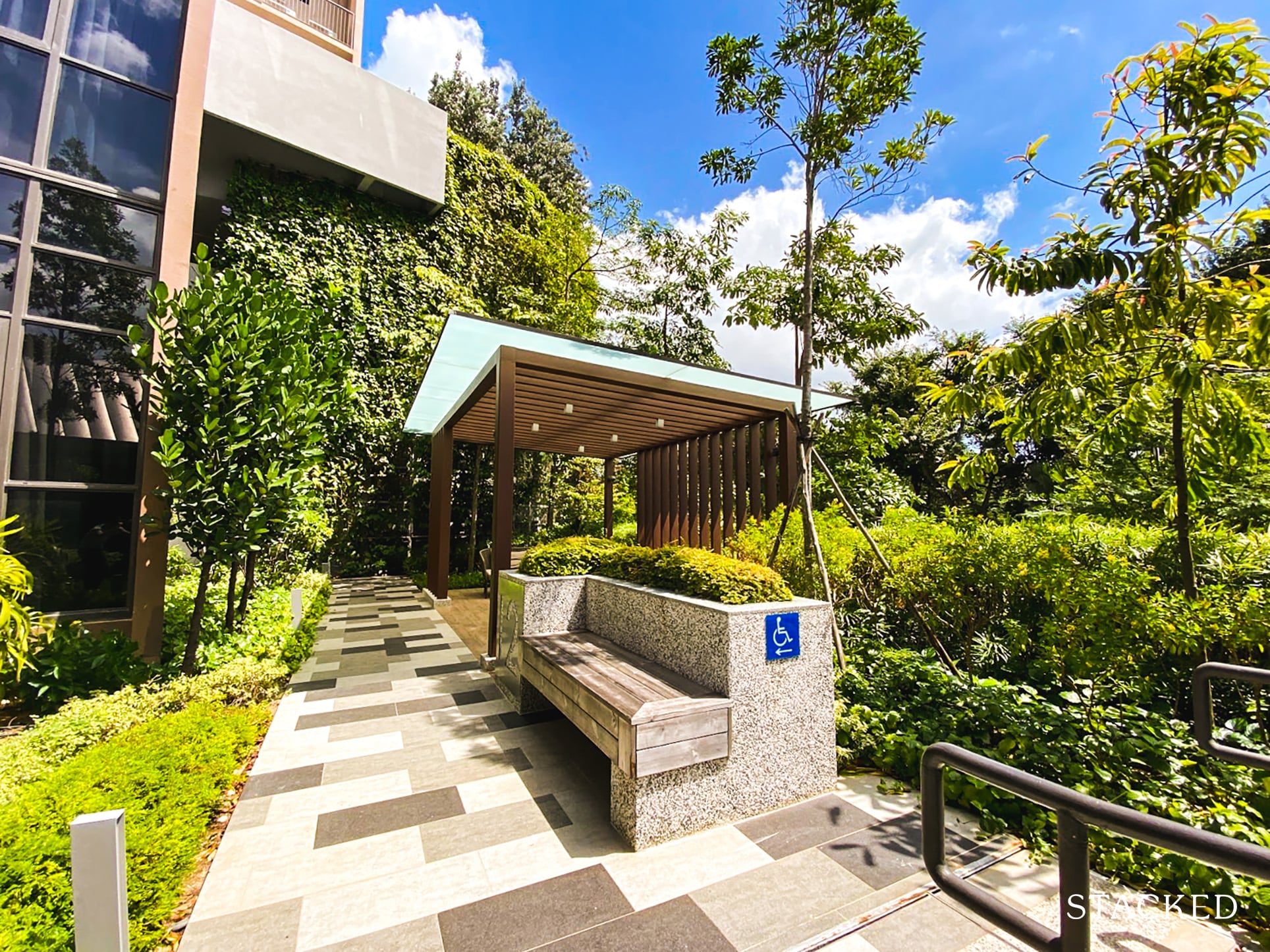 By the corner of the development is a sheltered seating pavilion. If you are looking for a more private space – this would be it.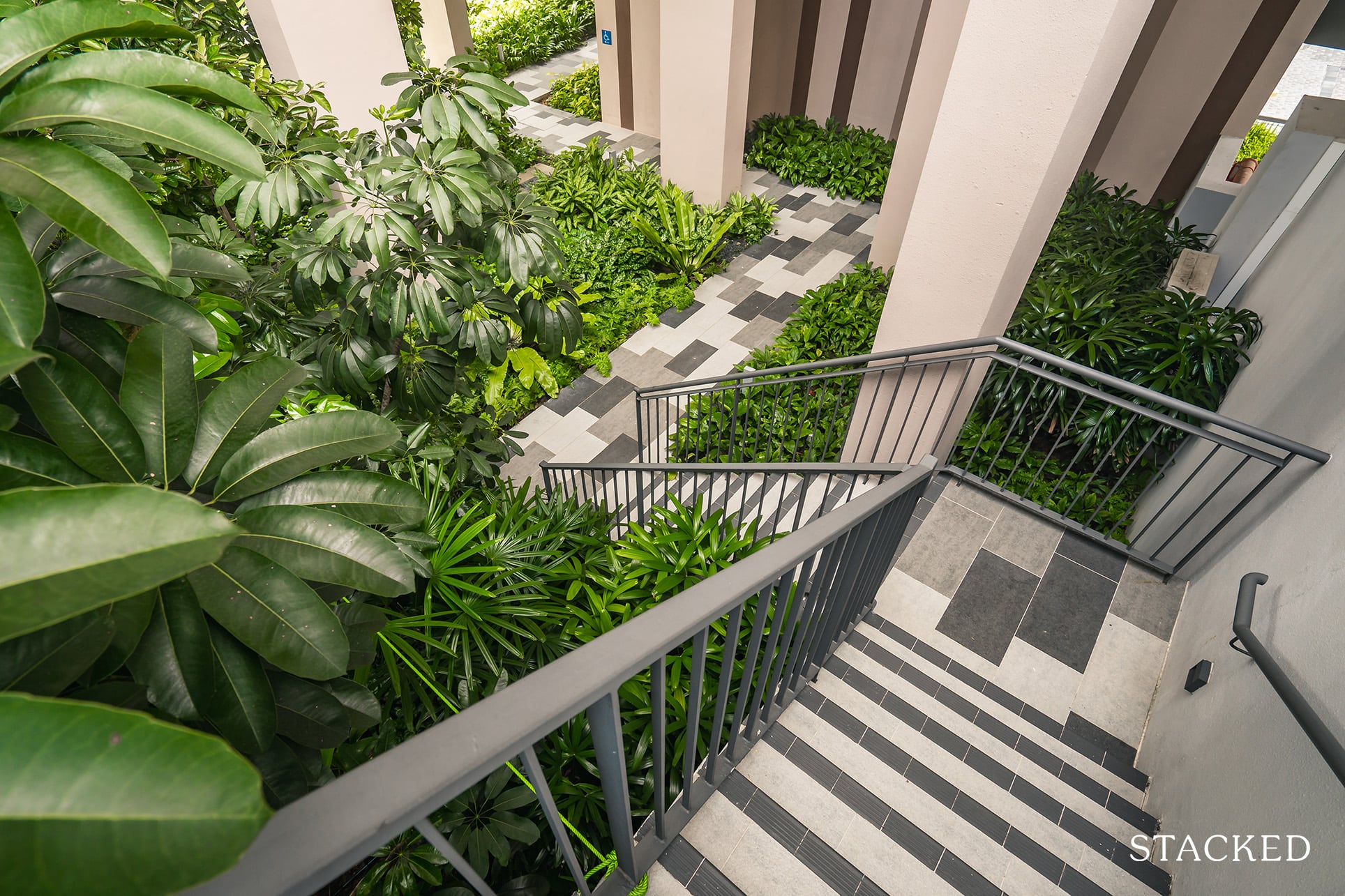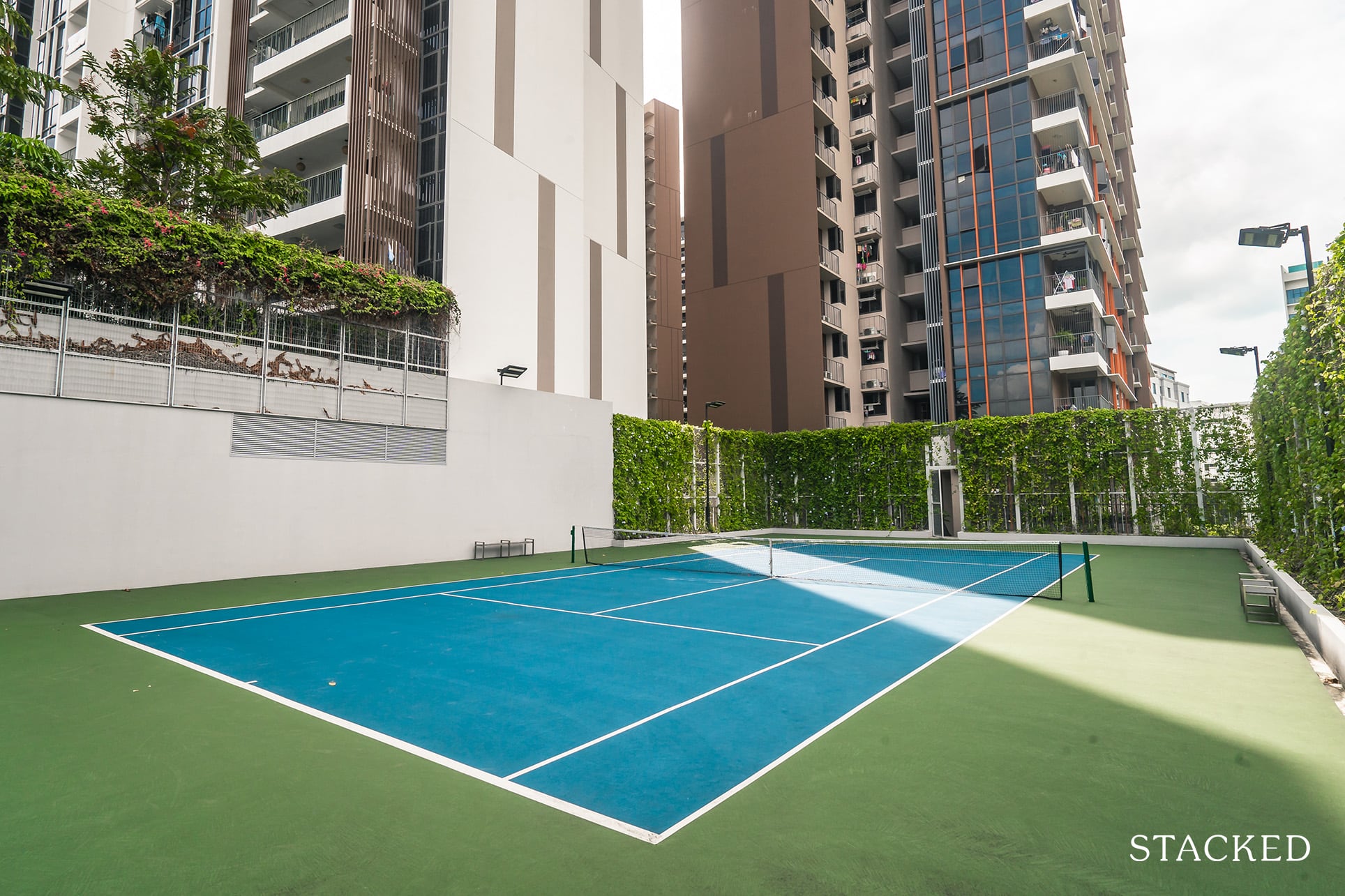 Rounding up the facilities on the ground level is the tennis court. Obviously, when it comes to usage, this is going to be a hotly contested arena – as it is one court spread amongst more than 1,000 units.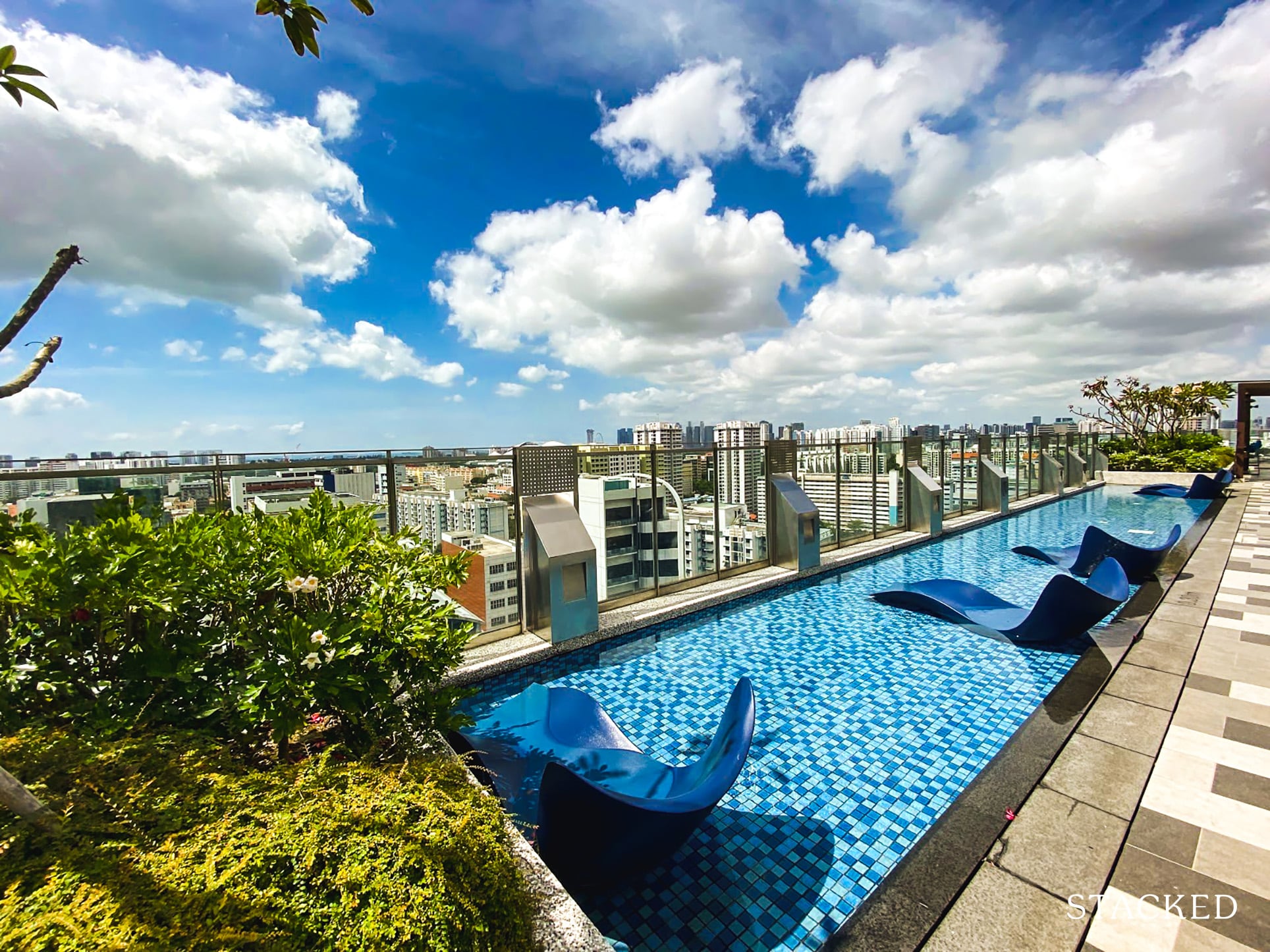 Saving the best for last, residents here can enjoy a Sky Park right at the top of the block. As with everything high up, it affords a beautiful view of the Aljunied area. You'll be one of, if not the highest in the immediate area – so no blocked views from here at all.
The pool here isn't really for swimming – it's more for lazing and chilling whilst you admire the sunset type of place.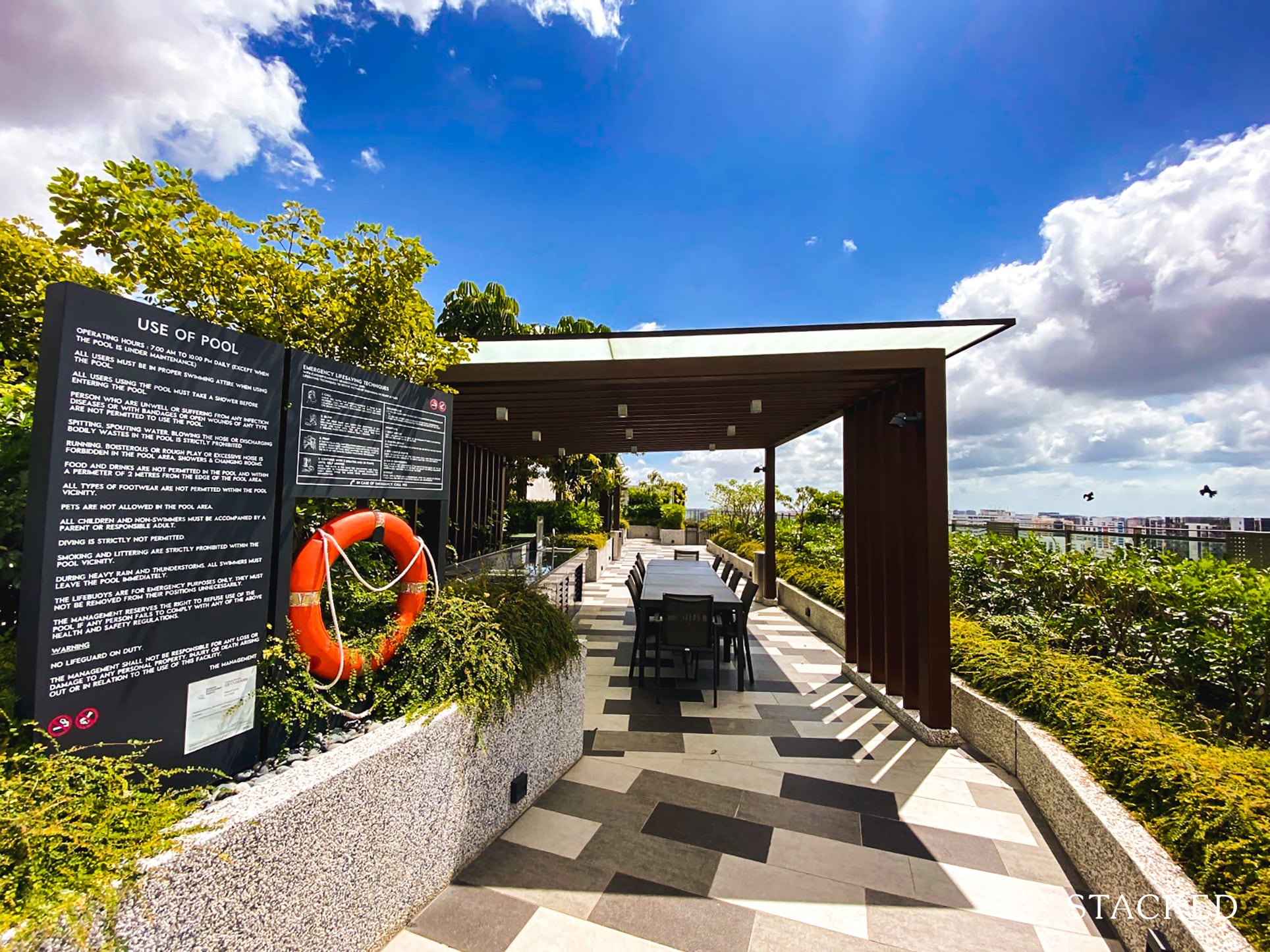 If you are looking for the ultimate private dining area in the Sims Urban Oasis – this is probably your best bet. It's relatively quiet plus you get to soak in the views – what more could you ask for in a dining location?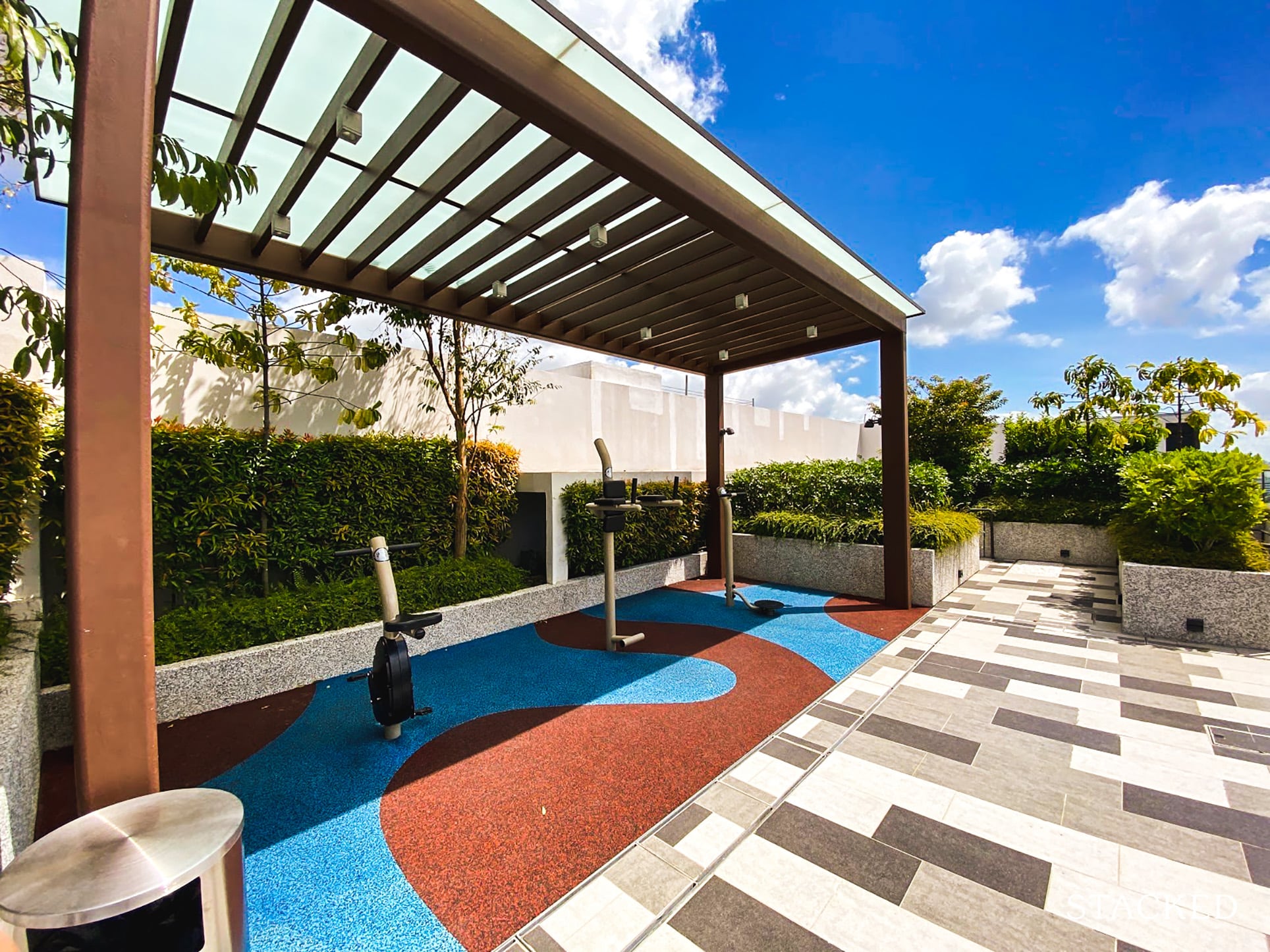 That's not all there is to the Sky Park, with an outdoor fitness station over at the far end. It's a good move to keep this sheltered as well, the midday sun can be merciless at this height.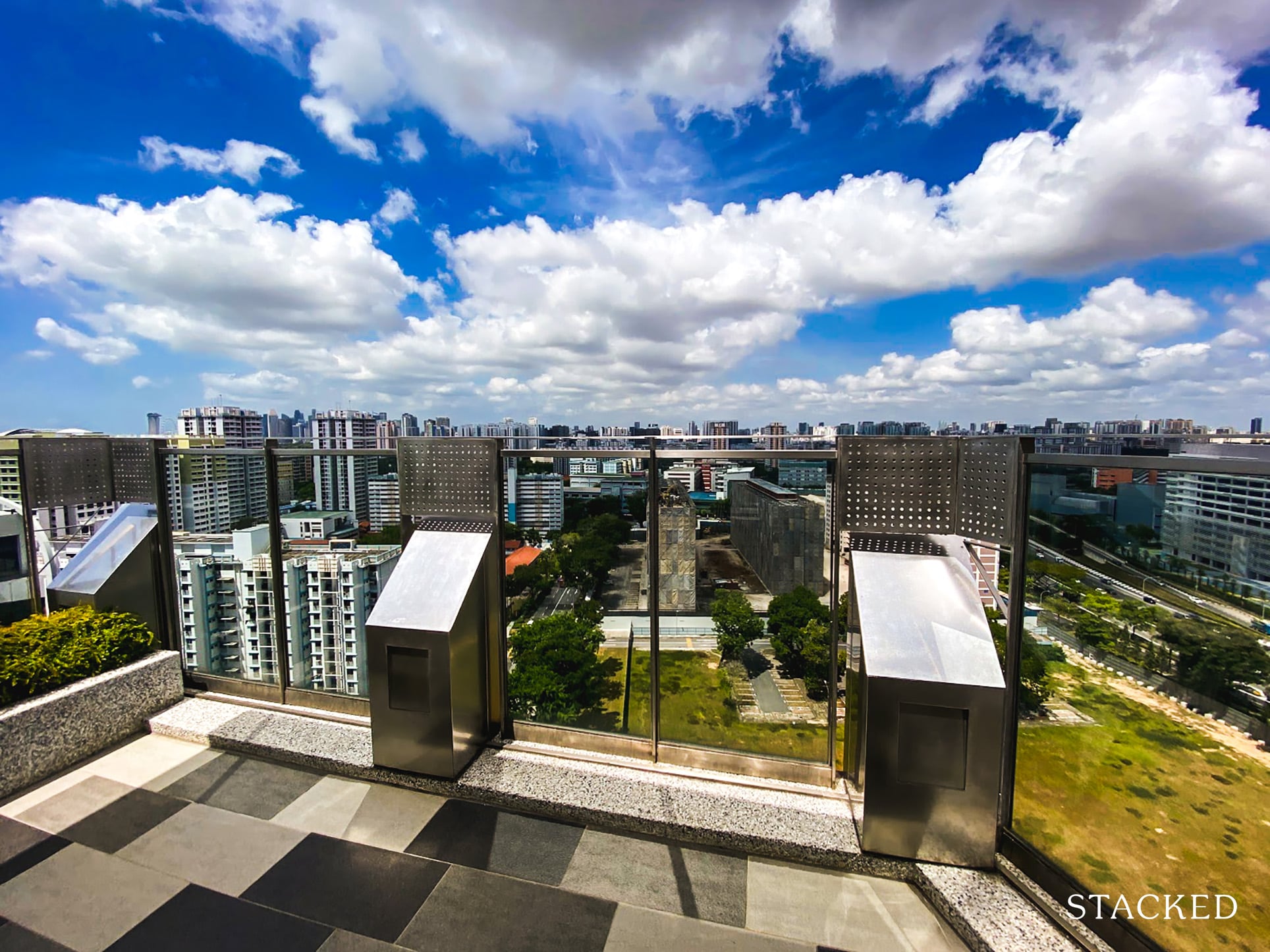 Finally, right at the corner is a viewing deck of sorts.
Sims Urban Oasis Location Review
Nestled into the junction of Sims Drive and Aljunied Road, the condo's locale comes as a double-edged sword…attracting those who desire convenience and dispelling those who find distaste in noise disturbances.

It is smack in the middle of an extremely well-developed cluster in Aljunied, and the nearby Paya Lebar and Geylang clusters serve up incredible food, grocery and entertainment fare.

That said, the thought of living next to a relatively seedy area in the latter might raise some conservative eyebrows.
Public Transport

| | | |
| --- | --- | --- |
| Bus Station | Buses Serviced | Distance From Condo (& Est. Walking Time) |
| 'Opp Blk 53' | 64, 134, 137 | 140m, 2-min walk |
| 'Sims Urban Oasis' | 40, 62, 63, 64, 100, 125, 125A, 155, 158 | 260m, 3-min walk |
| 'Aljunied Stn' | 2, 2A, 13, 21, 26, 40, 51, 62, 63, 67, 80, 100, 137, 158, 158A, 853M | 600m, 8-min walk |
Closest MRT: Aljunied MRT – 600m, 8-min walk

You'd actually be surprised at how close Aljunied MRT is to central areas.

It's a mere 5 stops from the CBD/Raffles Place MRT (10-min ride) and 7 stops from the Orchard Road MRT station (13-min ride), with a line change at City Hall MRT.

To add to that, Bugis MRT (and access to the Downtown Line) is just 3 stops away on a 6-minute ride.

The Aljunied Bus Interchange is located where the Aljunied MRT station too – and as you can see, it further caters to a massive number of convenient bus services.

Private Transport
| | |
| --- | --- |
| Key Destinations | Distance From Condo (& Est. Peak Hour Drive Time) |
| CBD (Raffles Place) | 7km, 20-min drive |
| Orchard Road | 9.5km, 20-min drive |
| Suntec City | 4.2.km, 10-min drive |
| Changi Airport | 12.6km, 18-min drive |
| Tuas Port (By 2040) | 46.8km, 1hr drive |
| Paya Lebar Quarters/Airbase (By 2030) | 4.8km, 15-min drive |
| Mediapolis (and surroundings) | 18.2km, 30-min drive |
| Mapletree Business City | 15.7km, 27-min drive |
| Tuas Checkpoint | 36.1km, 40-min drive |
| Woodlands Checkpoint | 25.6km, 35-min drive |
| Jurong Cluster (JCube) | 21.5km, 30-min drive |
| Woodlands Cluster (Causeway Point) | 24.9km, 30-min drive |
| HarbourFront Cluster (Vivo City) | 12.4km, 20-min drive |
| Punggol Cluster (Waterway Point) | 15.6km, 25-min drive |
*Note that Drive Times are calculated during Peak Hours

Immediate Road Exit(s): 1 Exit along Sims Drive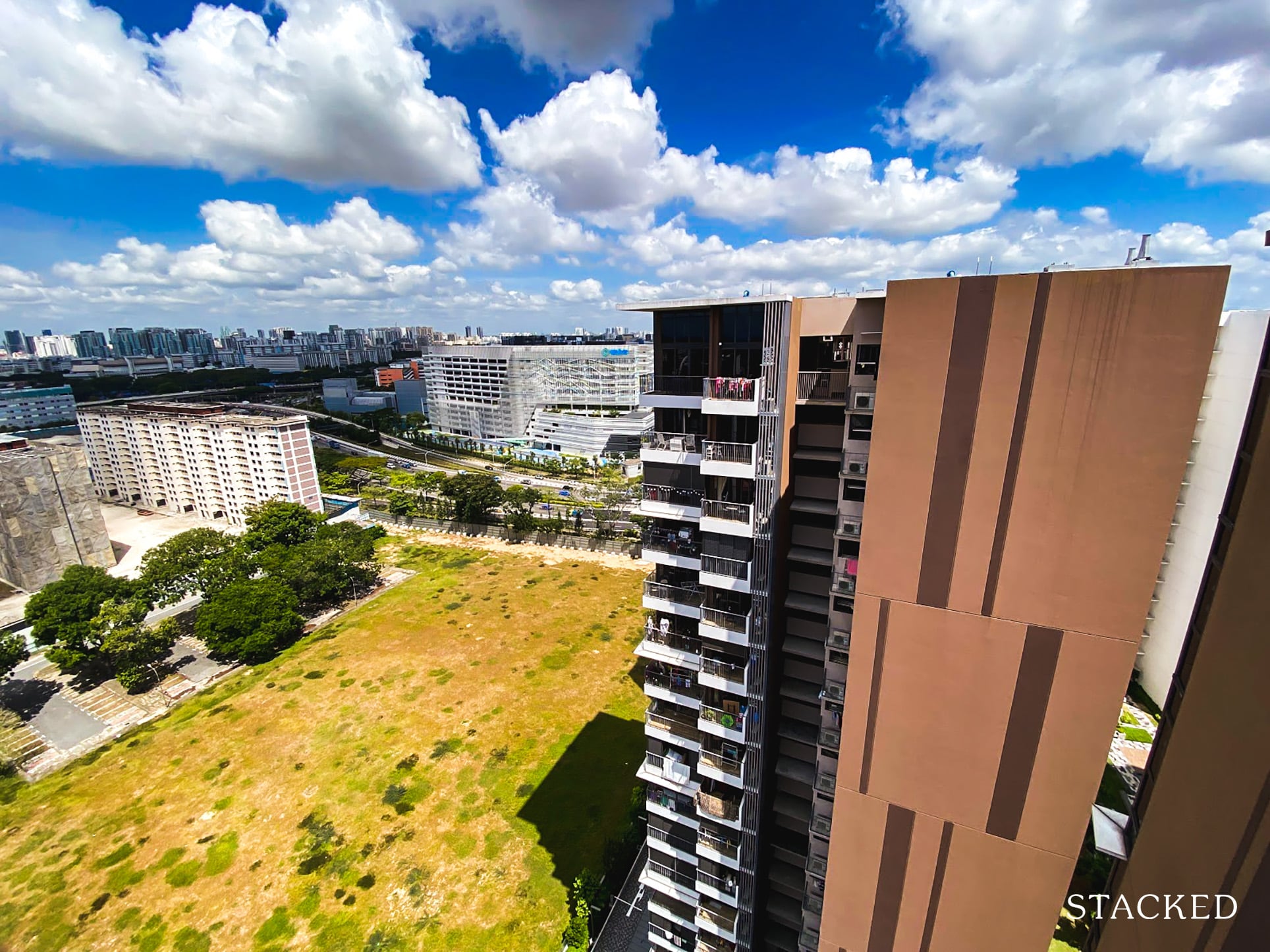 Summary: Adjacency to major roads like Sims Drive, Aljunied Road and the PIE (Aljunied Flyover) means a truckload of noise disturbance to certain units. Also means massive peak hour jams, even if the road connectivity/convenience aspect is very much enhanced for those who frequent private transport.

Groceries

| | |
| --- | --- |
| Name of Grocery Shop | Distance From Condo (& Est. Walk Time) |
| FairPrice – Aljunied Avenue 2 | 1.1km, 13-min walk |
| Sheng Siong – Geylang Road | 1km, 13-min walk |
Schools

| | |
| --- | --- |
| Educational Tier | Number of Institutes |
| Preschool (within 1km walk) | 0 |
| Primary (3km-drive) | 5 |
| Secondary (3km-drive) | 5 |
| International School (3km-drive) | 4 |
| Junior College (5km-drive) | 1 |
| University (5km-drive) | 8 |
| Polytechnic (10km-drive) | 1 |
Additional Pointers

Proximity to Mission Schools
Geylang Methodist Primary & Secondary are the first pair that come to mind, being just 400m (or 5-min walk) from the condo.

A number of other top-tiered schools with mission affiliates are also within the 5km drive radius from Sims Urban Oasis. The list features the likes of St. Margaret's, St. Andrew's and Canossa Catholic Primary, amongst a handful of others.

If you were to pop up Google Maps on a new tab and search up Sims Urban Oasis, you'd realise that it's actually rather near to the CBD area. Of course, jams and tolls will probably deter most drivers who frequent the area for work (what with the incredible public transport accessibility), but it's worth knowing that it occupies such a 'central' area in that sense.

A 'Farrer Road in the East', if you will.

And instead of being within close proximity to the Dempsey Hill/Tanglin Enclave, residents at the condo have East Coast Park and the amazing (and affordable) neighbouring food districts to contend with.

One of the earliest housing estates was built in Aljunied in 1953 (this was even before independence). Over the years, we've seen it become a thriving hub for entertainment, culture, and probably most importantly, food.

Surrounding bazaars and hole-in-the-wall cafes alongside affordable and well-diversified hawkers magnetises the area for food-lovers all around Singapore, further providing unparalleled convenience for those who lead a busy lifestyle.
Sims Urban Oasis Development Site Review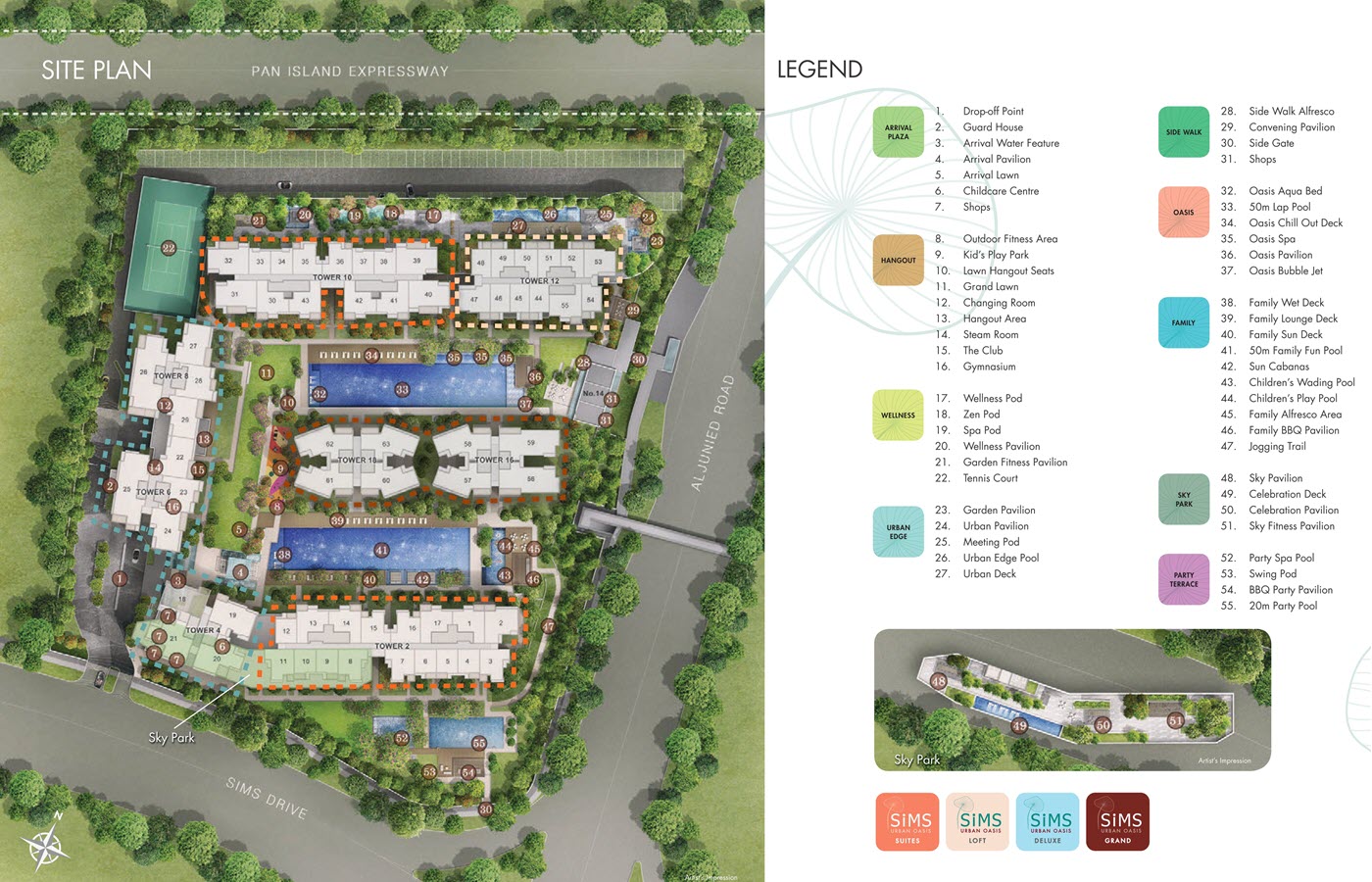 For over 250,000 square feet of land, you'd expect a solid supply of facilities – and Guocoland hasn't disappointed by far.

With two 50m pools and a 20m party pool (amidst a couple of other smaller ones), a tennis court, numerous resting pavilions/cabanas/decks and an entire sky park to boot, you soon see why.

It isn't overly-cluttered or overly-hyped (like many of the newer condos with all their fancy section names), but ergonomic, and well laid out.

Children play areas are located away from the main common facilities to ensure peace and privacy for both parties – a great example of good space planning/utilisation.

One point worth highlighting though is the fact that overhead bridge over Aljunied Road does allow pedestrians to peer into the swimming pools, hence this lack of privacy might come as a concern to some.

What's more, the single exit-point (onto or off the busy Sims Drive outside) for cars might prove a little restricting during peak hours, especially when you consider that there are over a 1,000 units here – even if quite a handful of current residents are off the tenant demographic.
Unit Mix

| | | |
| --- | --- | --- |
| Unit Type | No. Of Units | Size of Units (sqft) |
| 1-Bedroom | 172 | 441 sqft |
| 1-Bedroom Loft | 120 | 463 – 484 sqft |
| 2-Bedroom | 282 | 624 – 678 sqft |
| 2-Bedroom Loft | 42 | 700 – 710 sqft |
| 2-Bedroom Dual Key | 30 | 786 sqft |
| 3-Bedroom Compact | 18 | 818 – 829 sqft |
| 3-Bedroom | 198 | 958 – 1,033 sqft |
| 3-Bedroom Dual Key | 66 | 985 sqft |
| 4-Bedroom Compact | 30 | 990 sqft |
| 4-Bedroom | 36 | 1,206 sqft |
| 4-Bedroom Dual Key | 15 | 1,442 sqft |
| 5-Bedroom | 15 | 1,722 sqft |
With up to 3 variants for each previous tier leading to the exclusive 5 bedder options, it's safe to say that the developers have paid attention to thoroughly differentiating the 1,024 units here.

It's clear small units take up a big bulk of the total development, plus the addition of dual key options (for the 2-4 bedders) is further testament of Guocoland's confidence on the rental potential of the condo – a move that adds further exclusivity to the 15 5-bedder units available.

Judging by the current rental figures, I'd say that their predictions have been well-received (much like their parking lot prediction covered earlier on).

At the end of the day though, unit (and bedroom) sizes do look to be on the smaller side with the largest variations of the 1-4 bedders going at 484, 786, 1,033 and 1,422 square feet respectively.

The 5-bedder unit here also falls off that prized 2,000 square feet mark.

Prices for Sims Urban Oasis
Price Breakdown (1st Property)
1-Bedroom
2-Bedroom
2-Bedroom Dual Key
3-Bedroom
3-Bedroom Dual Key
4-Bedroom
4-Bedroom Dual Key
Price
$759,402
$919,776
$1,127,124
$1,444,664
$1,494,245
$1,767,996
$2,170,210
25% Down Payment
$189,851
$229,944
$281,781
$361,166
$373,561
$441,999
$542,553
Additional Costs
Buyer Stamp Duty
$17,382
$22,193
$29,685
$42,387
$44,370
$55,320
$71,408
Legal Fees
$2,500
$2,500
$2,500
$2,500
$2,500
$2,500
$2,500
Valuation Fees
$300
$300
$300
$300
$300
$300
$300
Stamping Fees
$500
$500
$500
$500
$500
$500
$500
Total Price
$780,084
$945,269
$1,160,109
$1,490,351
$1,541,915
$1,826,616
$2,244,918
Initial Investment Amount
$210,533
$255,437
$314,766
$406,853
$421,231
$500,619
$617,261
Return on Investment
Expected Rental Price
$1,985
$2,496
$2,751
$3,353
$3,448
$4,221
$5,047
Rental Yield
3.05%
3.17%
2.85%
2.70%
2.68%
2.77%
2.70%
Price (2nd Property)
1-Bedroom
2-Bedroom
2-Bedroom Dual Key
3-Bedroom
3-Bedroom Dual Key
4-Bedroom
4-Bedroom Dual Key
Cost Without ABSD
$780,084
$945,269
$1,160,109
$1,490,351
$1,541,915
$1,826,616
$2,244,918
Plus: ABSD (12%)
$91,128
$110,373
$135,255
$173,360
$179,309
$212,160
$260,425
Total Price After ABSD
$871,212
$1,055,642
$1,295,364
$1,663,710
$1,721,224
$2,038,775
$2,505,344
Initial Investment Amount
$301,661
$365,810
$450,021
$580,212
$600,540
$712,778
$877,686
Return on Investment
Expected Rental Price
$1,985
$2,496
$2,751
$3,353
$3,448
$4,221
$5,047
Rental Yield
2.73%
2.84%
2.55%
2.42%
2.40%
2.48%
2.42%
Best Stacks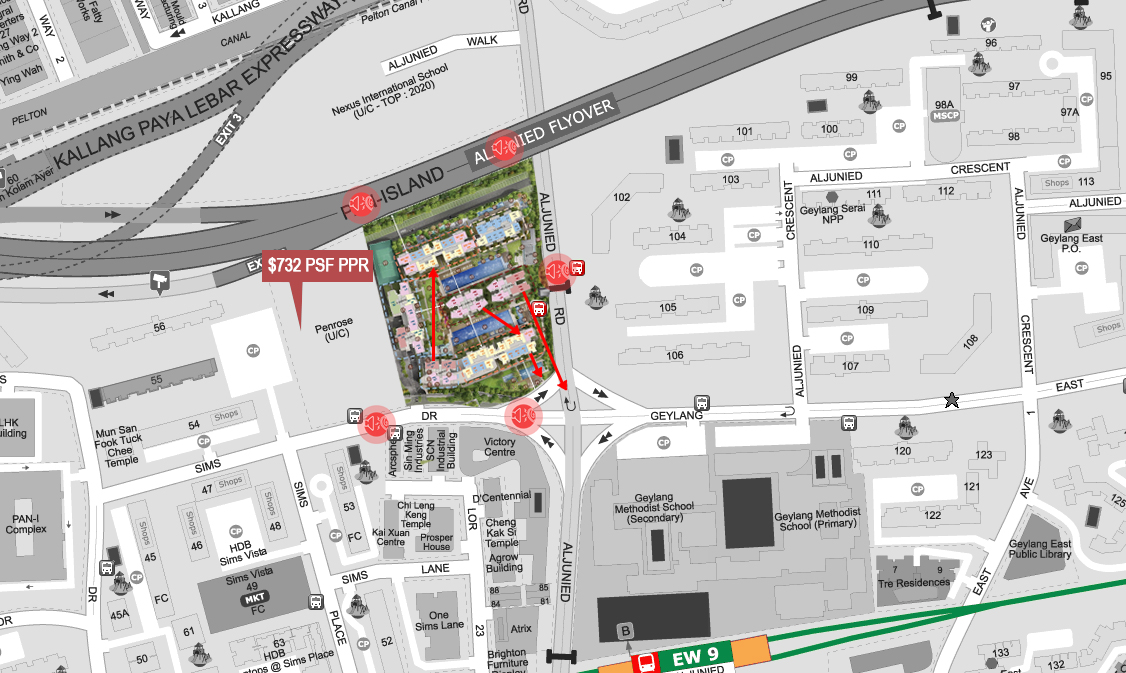 As mentioned earlier, Sims Urban Oasis is one of those places that those sensitive to noise should probably visit at peak hours to check if it is tolerable. As it isn't the tallest project to begin with, even the highest floors wouldn't be spared from the traffic noise.
So our pick for this project would be a low floor unit at Stack 60 or Stack 18. These stacks are set the furthest away from the highway and face the SE and NE respectively, which avoids the west sun.
If you are hankering for some view but less road noise, Stack 56 would probably be your best bet as you will enjoy a view along Aljunied Road towards the MRT.
Sims Urban Oasis Price Review
| | | | | |
| --- | --- | --- | --- | --- |
| Project Name | Tenure | TOP | Average Price (PSF) | Comparison Point |
| Sims Urban Oasis | 99-years | 2017 | $1,571 | |
| Central Grove | 99-years | 2001 | $1,001 | Closer Proximity to MRT |
| Tre Residences | 99-years | 2018 | $1,715 | Closer Proximity to MRT/Age |
| Centra Studios | Freehold | 2014 | $1,062 | Closer Proximity to MRT/Tenure |
It's a little hard to compare Sims Urban Oasis with an immediate neighbour, quite simply because…well, there aren't any.

Of course, this will change once the upcoming Penrose next door is built.

For now, however, there are a couple of condos in the relative region that we've brought in, simply for the sake of comparison. Their comparison will be based on proximity to the MRT, age and tenure.

One look at the black and white and Centra Studios naturally looks like the best option. It's incredibly close to the MRT, has a competitive quantum command (despite its freehold tenure) and is relatively new.

What it lacks, however, is the facilities and amount of general land space that Sims Urban Oasis boasts, and that is something that shouldn't be underestimated – as we've seen with the Park Infinia @ Wee Nam case study.

Interestingly enough, Central Grove which boasts just 131 units on 118,708 square feet of land hovers around the same price range despite its age and 99-year leasehold.

On to the heavy lifters.

Tre Residences recently TOP-ed in 2018, a year after Sims Urban Oasis. Given its further close proximity to the Aljunied MRT station (220m, 3-min walk), it isn't surprising that it's quantum stands at almost $200 average psf higher than the latter.

For those interested, it sits on 67,147 square feet of land, boasting 250 units across 2 17-storeyed blocks on a 2.8 plot ratio (Sims Urban Oasis plot ratio: 3.0) and is situated right next to Geylang Methodist Primary and the Geylang East Public Library.

Its location away from the PIE could possibly mean lesser noise disturbances as well, though Sims Urban Oasis is closer to the main general amenities point in Sims Vista Market & Food Centre (4-min vs 9-min walk).

Appreciation Analysis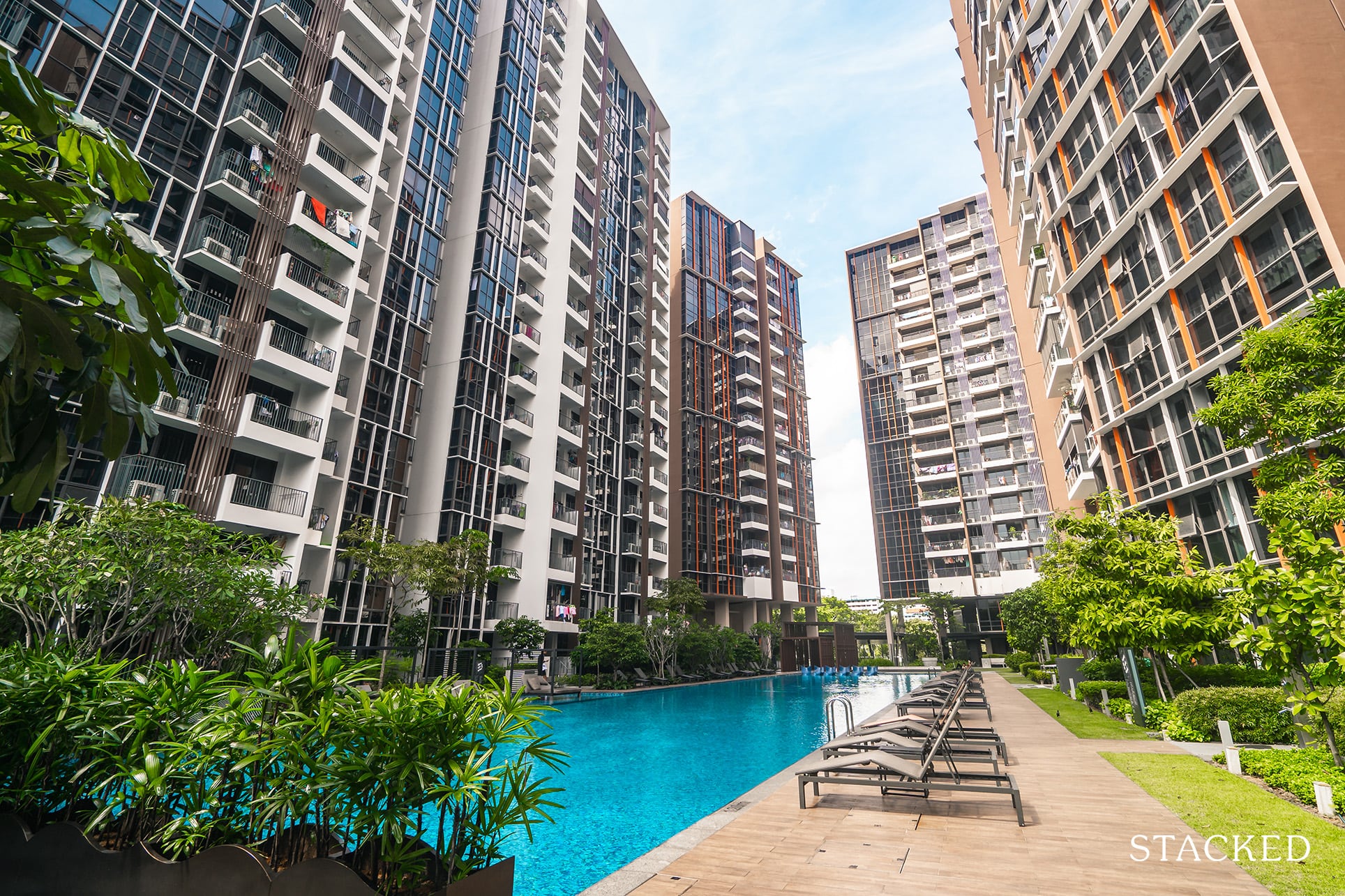 In crux, Sims Urban Oasis is better known for its rental demand and yield (which we will touch on in a bit) as compared to its resale profile.

Further given that the land use in the immediate area has already been maxed out with a range of development types (ranging from HDBs to Educational Institutes), we shouldn't be expecting a sudden 'upcoming development-related surge' in unit quantum over the next few years.

It also seems like owners here would be relatively unwilling to sell (even if the SSD period is now up for most of its new launch buyers) their units.

And thus, while we shouldn't observe a sudden surge in prices (barring economy/property market outcomes), we should, however, expect continued quantum growth over the years, even if they are somewhat gradual.

The upcoming Penrose could provide a slight boost to prices, but will also bring about the added competition to the private rental scene here.

On top of that, note that quite a number of units here are affected by traffic noise, so the 'primer' units will naturally command a higher price and hence receive better appreciation figures on average.

As for the rental stats, we've got a whopping 3.2-3.4% for the lower-tiered units (1 & 2 bedders).

And if you were to make the calculations, they make a total of 292 (1-bedder) and 354 (2-bedder) units.

Out of which an approximate 54 (18.5%) and 47 (13.3%) units are currently being rented out from both tiers respectively.

Our Take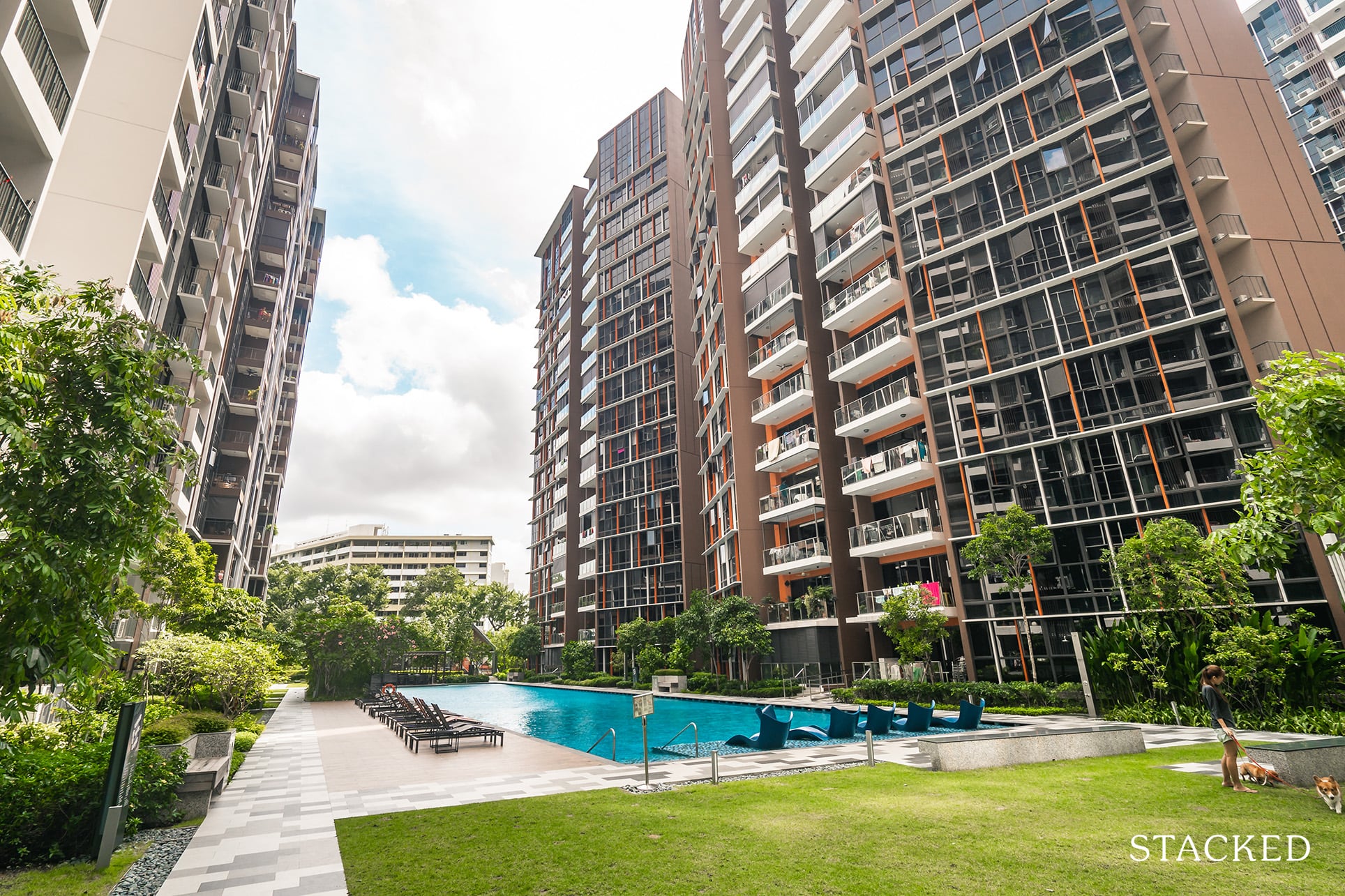 3.3% rental yield is a decent figure to take in, especially when you consider that average rental yield in Singapore ranges from 2-2.8%.

Add in the solid 200,000+ square foot of space (with well supplied/laid-out facilities), relatively good proximity to a 'central', east-sided MRT station in Aljunied, plus immediate access to the well-stocked Sims Vista Mart & Food Center – and the development really begins to shine.

Despite the positives, however, it is important to note that it can get noisy and slightly jammed pack at the exit/entry points of the condo over peak periods (with this adjacent trio of major roads), plus units are understandably small due to the number of units that have been 'squeezed' into that 3.0 plot ratio.

If you're somehow able to mitigate those cons however, Sims Urban Oasis does seem very attractive, either convenience-wise for homestayers, or from the financial point of view for the investors.
And while some would argue that the surrounding HDB flats reduce the general 'exclusivity' of the place, I think that it merely serves to enhance the status of those living here.
What this means for you
You might like Sims Urban Oasis if you:
• Enjoy the East, with a Tinge of Centrality:For all the charms that the East holds, many complain that it is often too far from central areas. Living 5 stops from the CBD goes a long way in easing this concern.
• Appreciate Spacious Inner-condo Grounds:At 257,164 square feet of land and a string of facilities on offer, there is plenty of room for both the kids to run in and for the adults to find peace from.
You might not like Sims Urban Oasis if you:
• Prefer Larger Unit Spaces:Unfortunately, units here are on the smaller end, to the extent that the 5-bedders here are sadly falling short of that 2,000 square feet mark.
• Want a 'Classier' Neighbourhood:Some might argue that living next to the Geylang district amidst a cluster of HDB flats reduces the general 'snazz' of the development.
End of Review