Condo Reviews

Marina One Residences Review: Stunning Hideaway in the CBD
Reuben
September 24, 2019

15

min read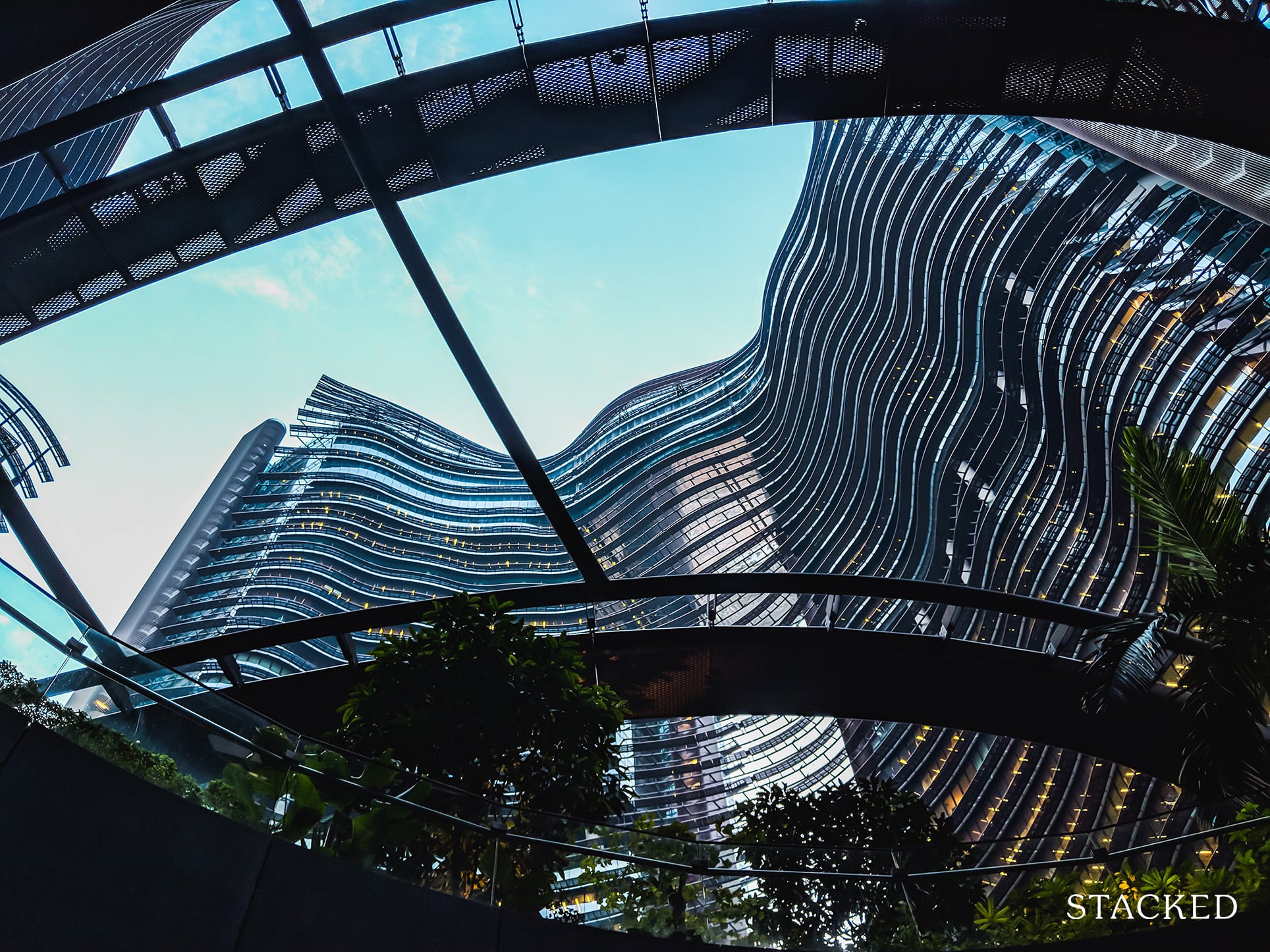 Extremely convenient and full of amenities, both in and outside the condo. Marina One Residences is perfect for that outgoing bachelor who wants this extreme convenience, but not so much for families with children. It's also worth noting that overcrowding could occur once all the units are taken up, and the noise from development of the surrouding areas will only increase.
Reviewed by Reuben on September 24, 2019
What we like
Near MRT

Lush Greenery in city

CBD address

Upside with GSW
What we don't like
—

Quiet on weekends

—

Not near good schools
15
min read
About this condo

| | | | |
| --- | --- | --- | --- |
| Project: | Marina One Residences | District: | 01 |
| Address: | Marina Way | Tenure: | 99 years |
| Site Area: | 282,400 sqft | No. of Units: | 1,042 |
| Developer: | M+S Pte Ltd (A company owned by Khazanah and Temasek) | TOP: | 2017 |
Pause whatever it is you're doing for a second and picture a luscious green hideaway nestled in the heart of Singapore's busiest district. Now imagine a cascading 3-storey waterfall at its core, complemented by a reflecting pool that has been ingeniously cosied amongst 386 species of flora, sublime wooden walkways, and scintillating view-points.
Welcome to the brainchild of the Ingenhoven Architects – the Marina One Residences.
A series of undulating architectural structures (very much resembling rice terraces) offer shelter to this mythical yet futuristic 'Green Heart' – an initiative that has helped the condo bag both the prestigious Green Mark Platinum as well as the unfathomable 'Best Innovative Green Building' at the international 2018 MIPIM ceremony in Cannes.
Steeped in luxury with a tinge of the exotic, multibillion-dollar project Marina One Residences also offers dedicated retail, office and event spaces for its residents and visitors amidst a host of other luxuries. More than just a fancy residential enclave, you can bet your dollar that great things are expected of this incredible establishment from the get-go.
Insider Tour
Facilities in Marina One Residences
50m Lap Pool
Jacuzzi
Aqua Gym
Sauna
Steam Room
Wellness Sanctuary
Gym
Clubhouse
Concierge
Private Dining Room
Private Lounge
Teppanyaki Terrace
BBQ Terrace
Relaxation Cabana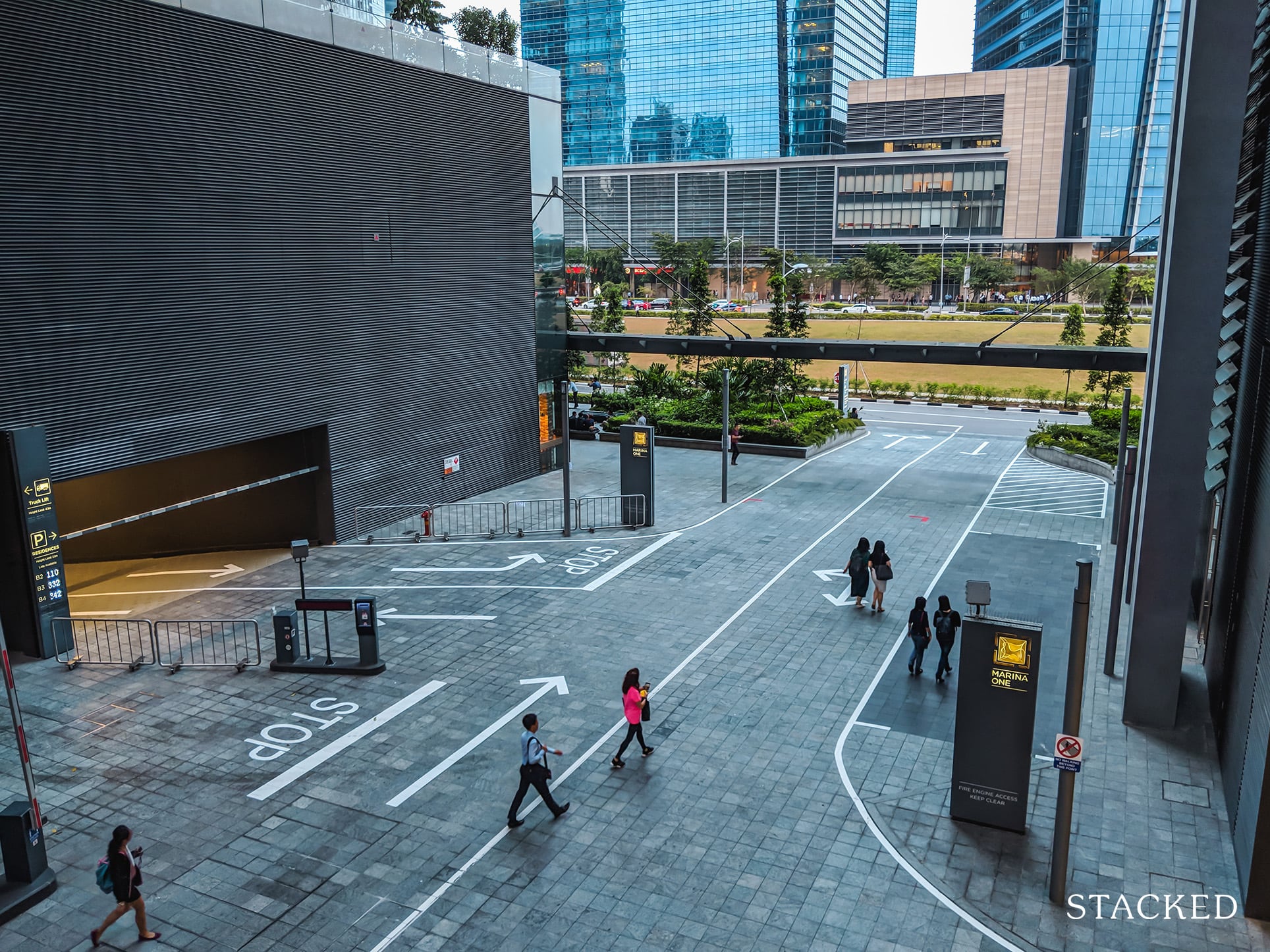 Marina One Residences has two different entrances to the carpark, which is always a good thing. The roads leading to it are very wide and spacious, so it is a cinch to get in and out of the carpark.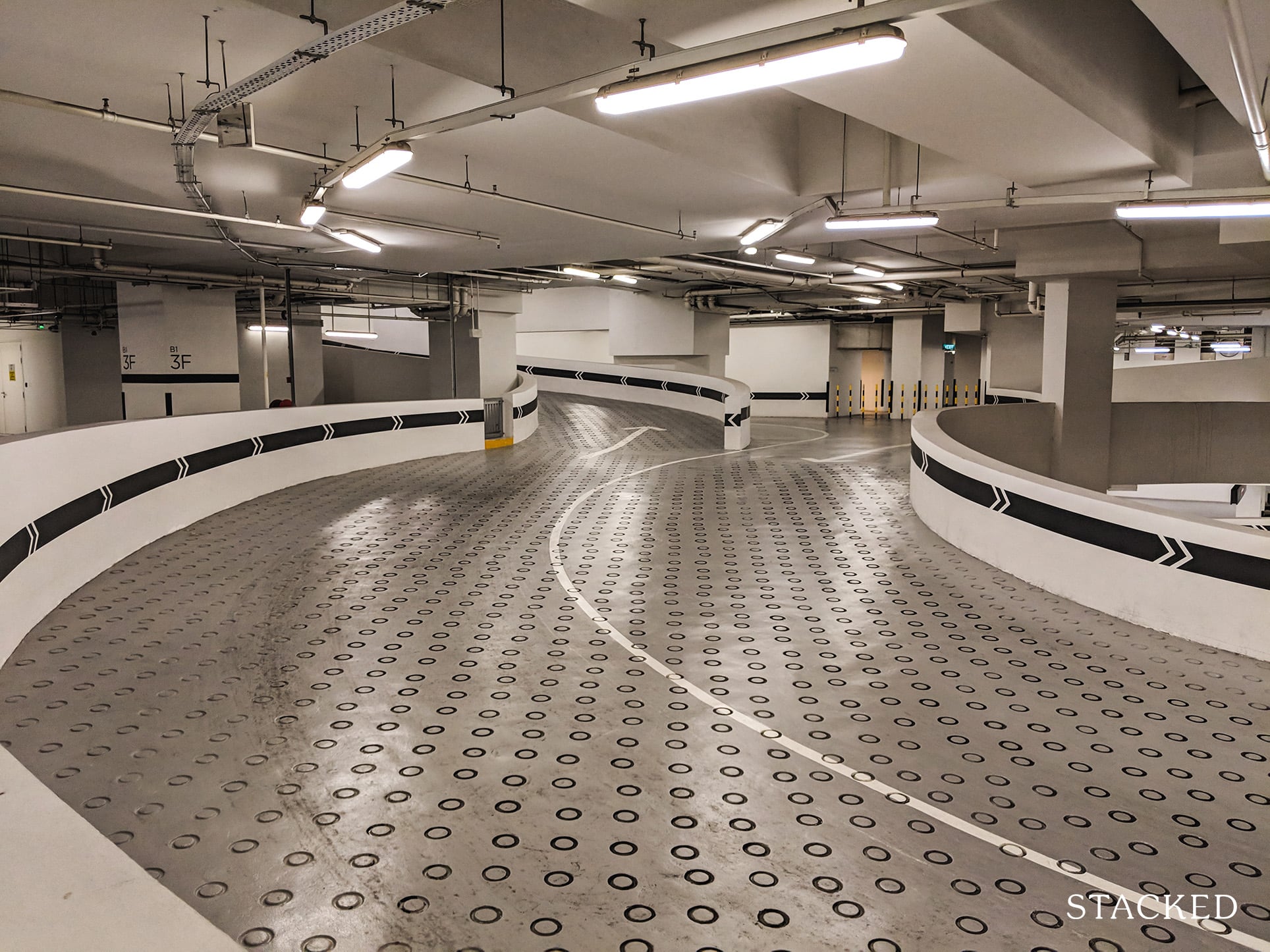 It is wide and easy to maneuver all the way in, so even if you drive a big car it is no problem at all.
As with all modern luxury developments, the carpark floor has a glossy sheen finish, instead of the usual rough concrete that you might see in lesser condos. The carpark lots are really generous. A major reason for that is that you do not get any carpark allocation with a unit purchase, instead if you have a car you will have to pay for monthly parking. As such, this allows the monthly maintenance for each unit to be reasonable. Either way, I think most residents here will have no use for a car given the excellent central location.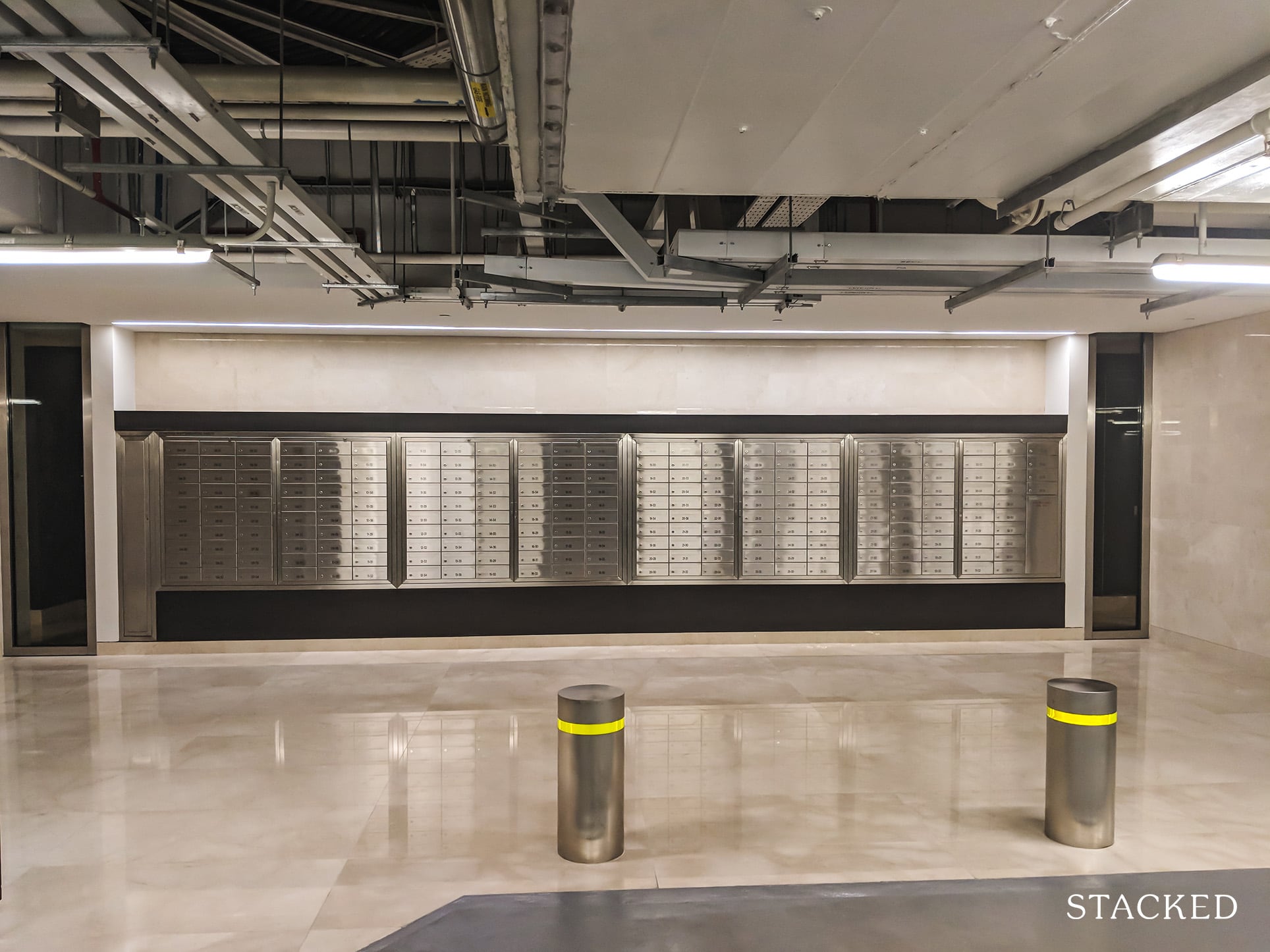 Maybe because they are new, but the letterboxes here are especially sleek and shiny.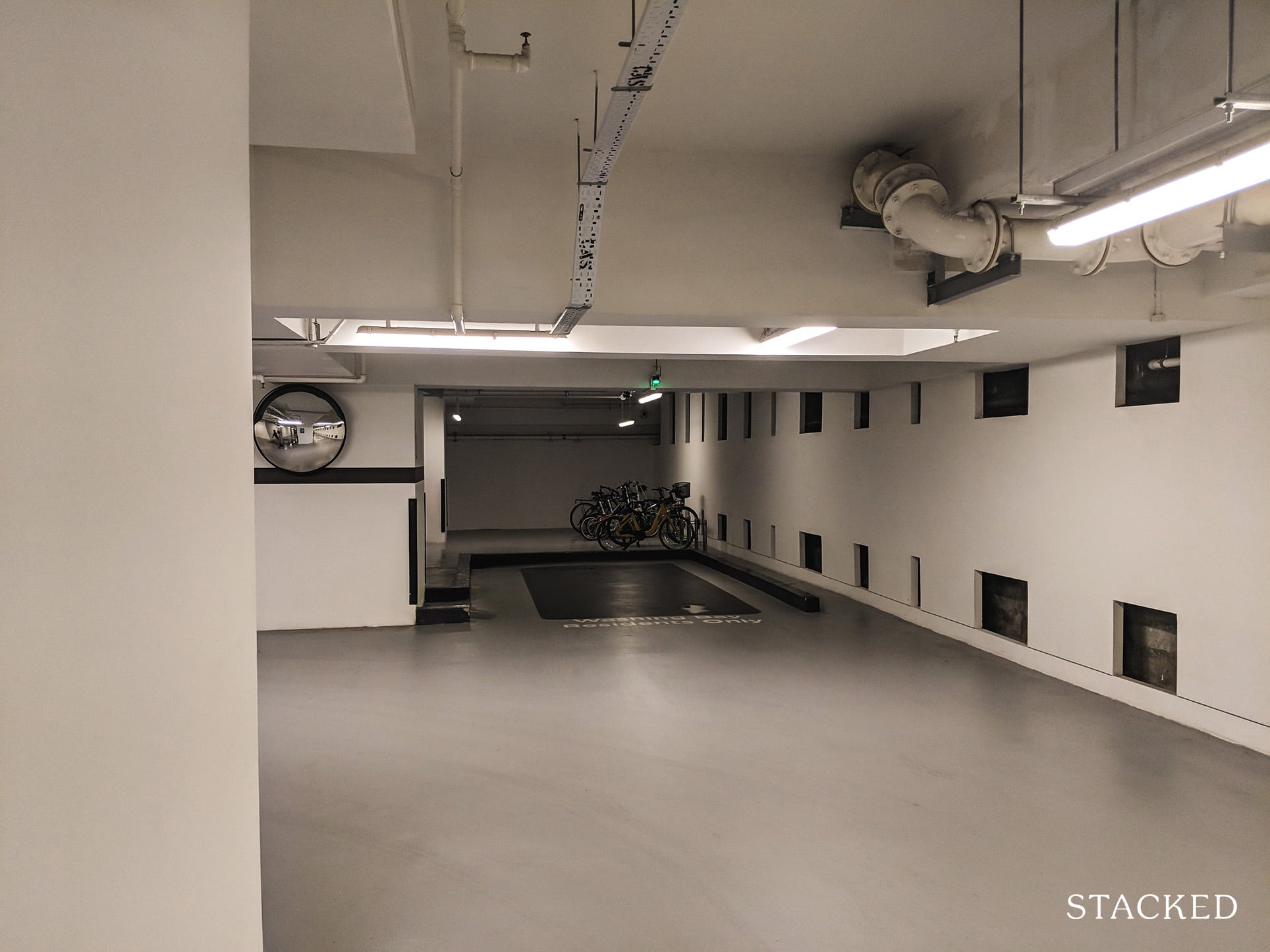 There is also provision for a car wash bay, and behind it is an area where you can park your bicycles. Which is especially useful in a city centre development.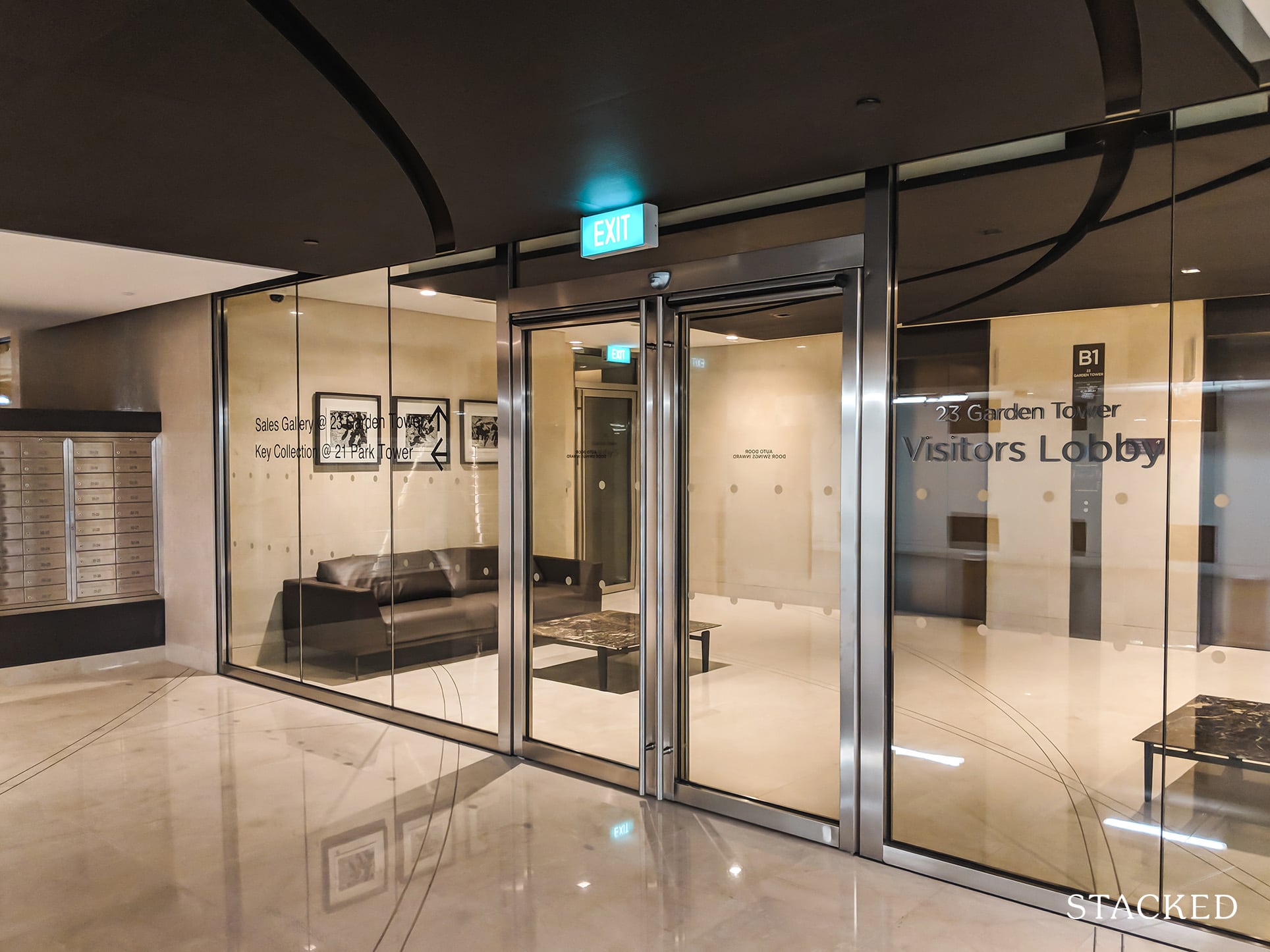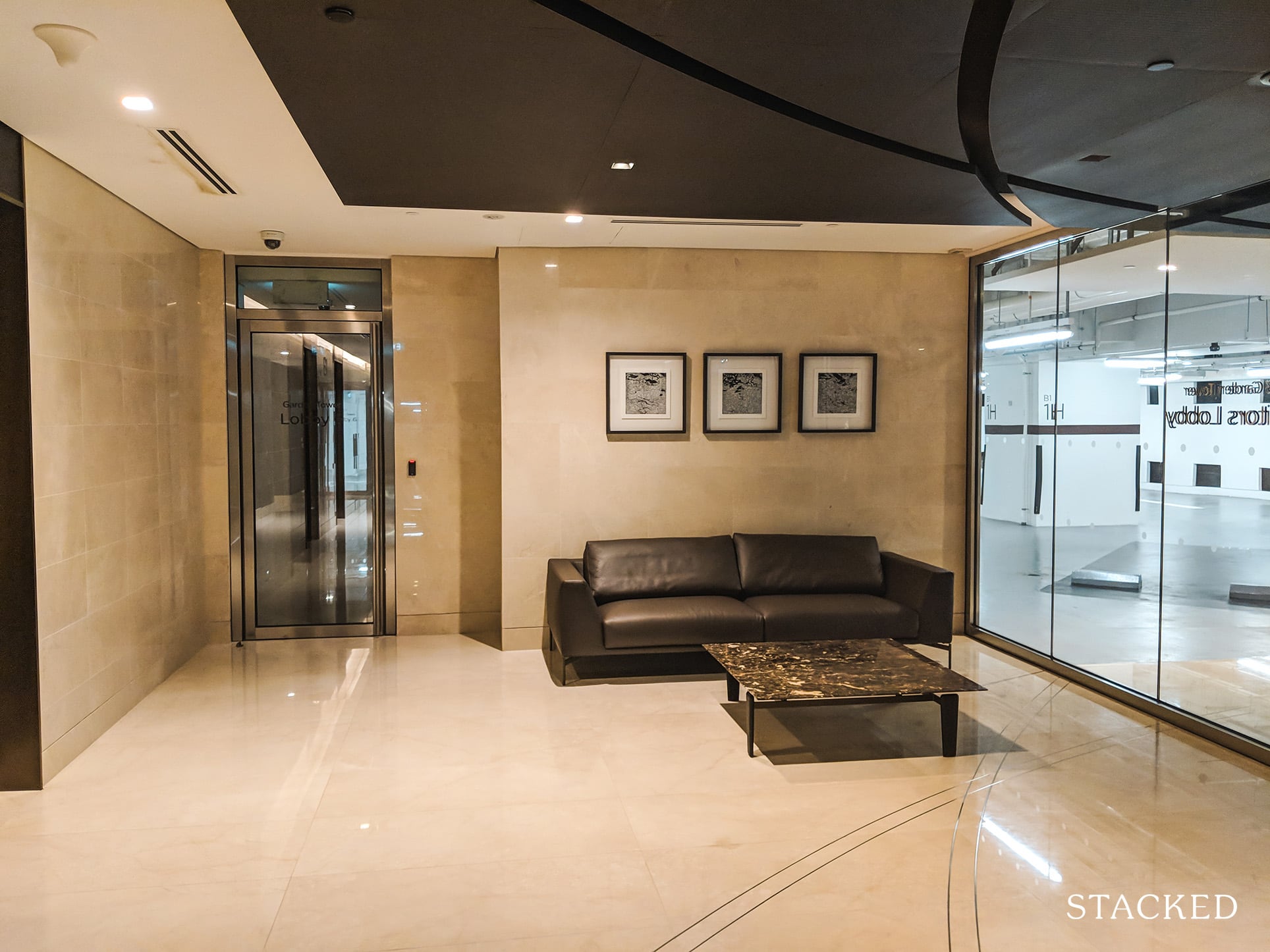 Everyone has their own quirks when it comes to what they like about a development. For me, I always like a nice lobby as a welcome home. The lobby at the Marina One Residences is simple but looks upmarket enough. It is airconditioned and the scent piped through is a great touch. As first impressions go, I think that the Marina One Residences has done a pretty good job.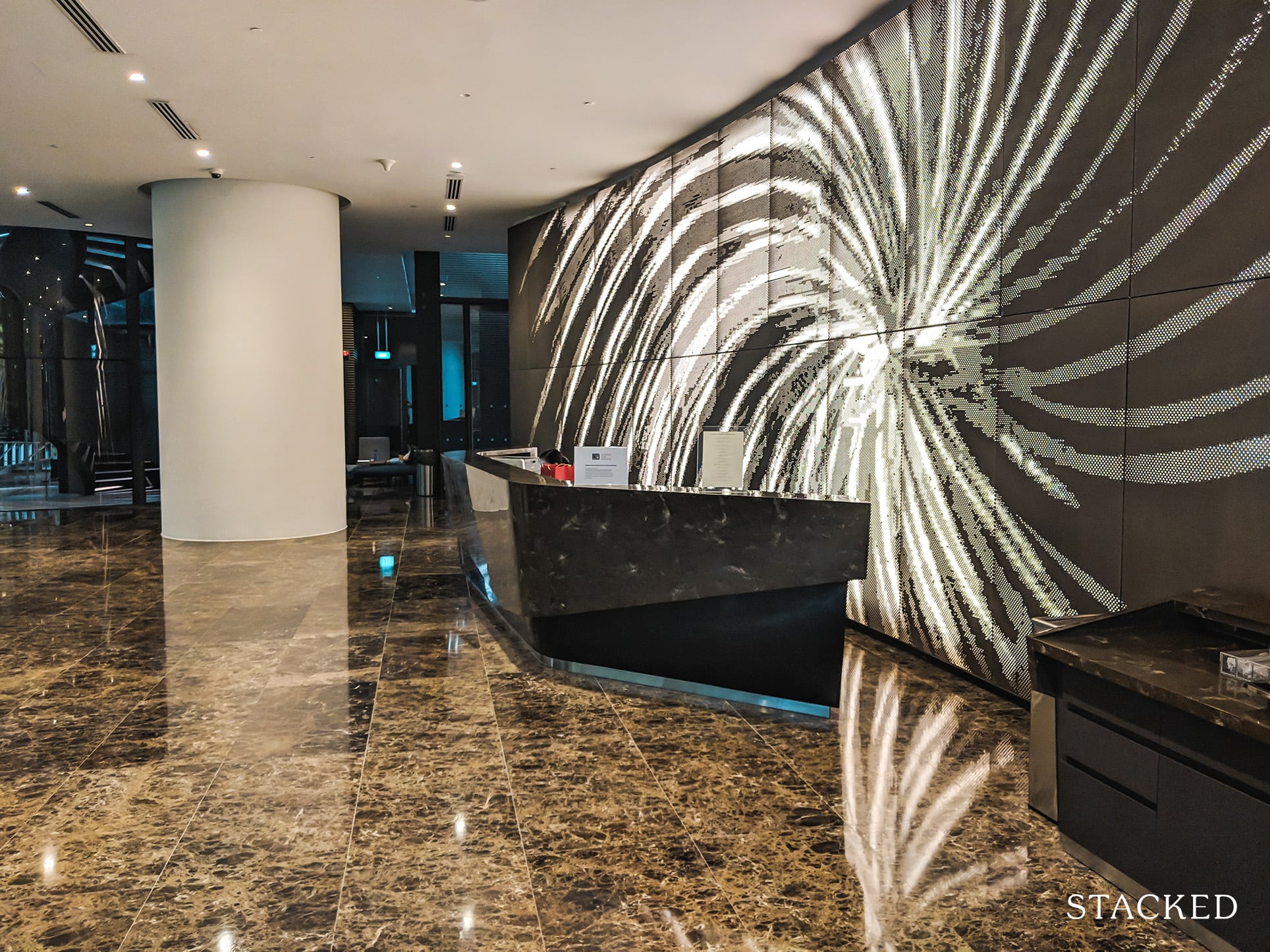 Once you get to the main lobby level, you will have to go through a security gate, just like how you would in some modern offices. To your right will be the concierge desk. One thing you will immediately notice is the high ceilings and fully decked out marble flooring which almost makes it feel like you have entered a high-end hotel.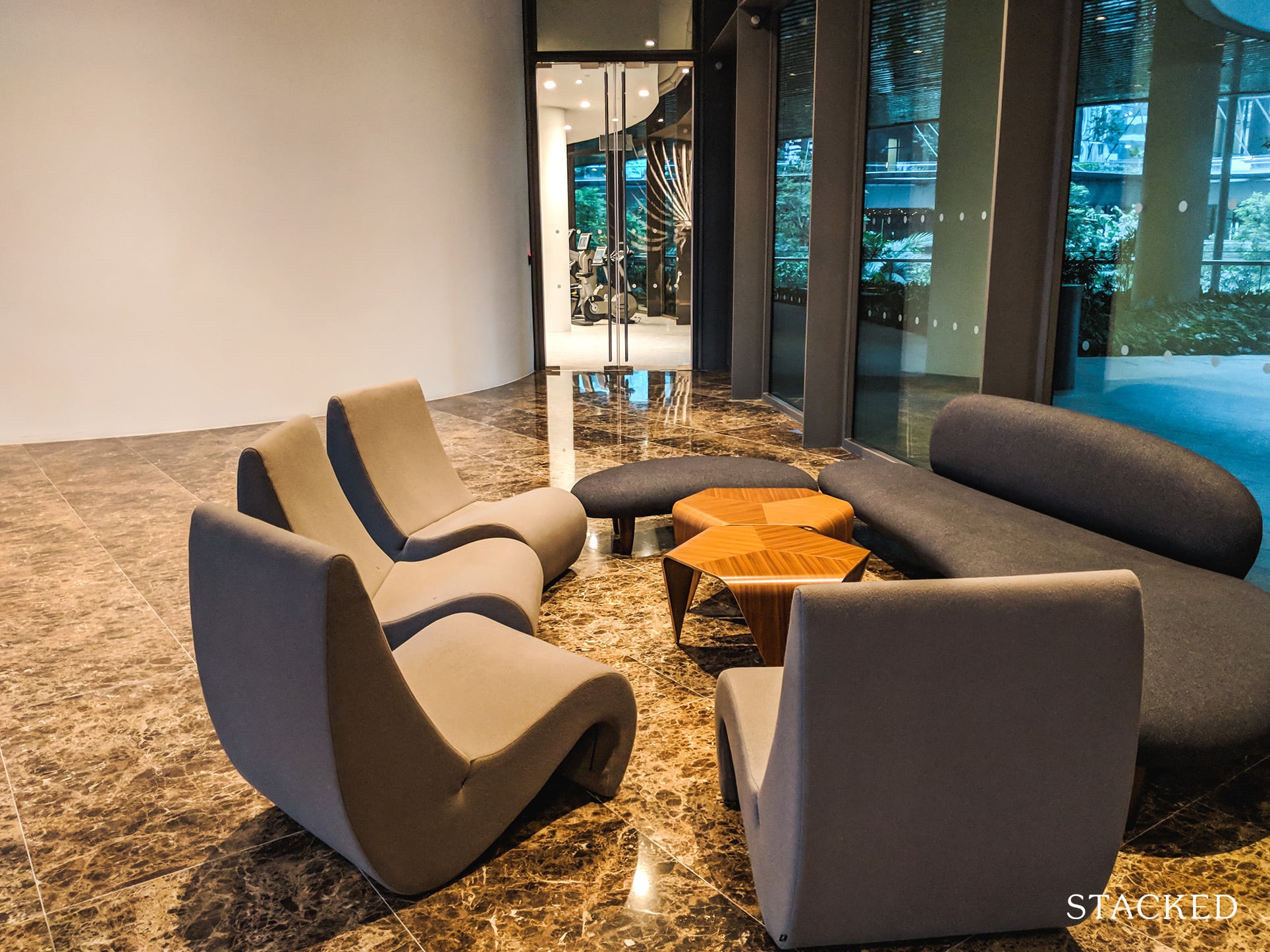 There are seating areas scattered around the main lobby too. Visually speaking, it is all quite well done, but perhaps some floor lamps and accessories would have done wonders to the entire look.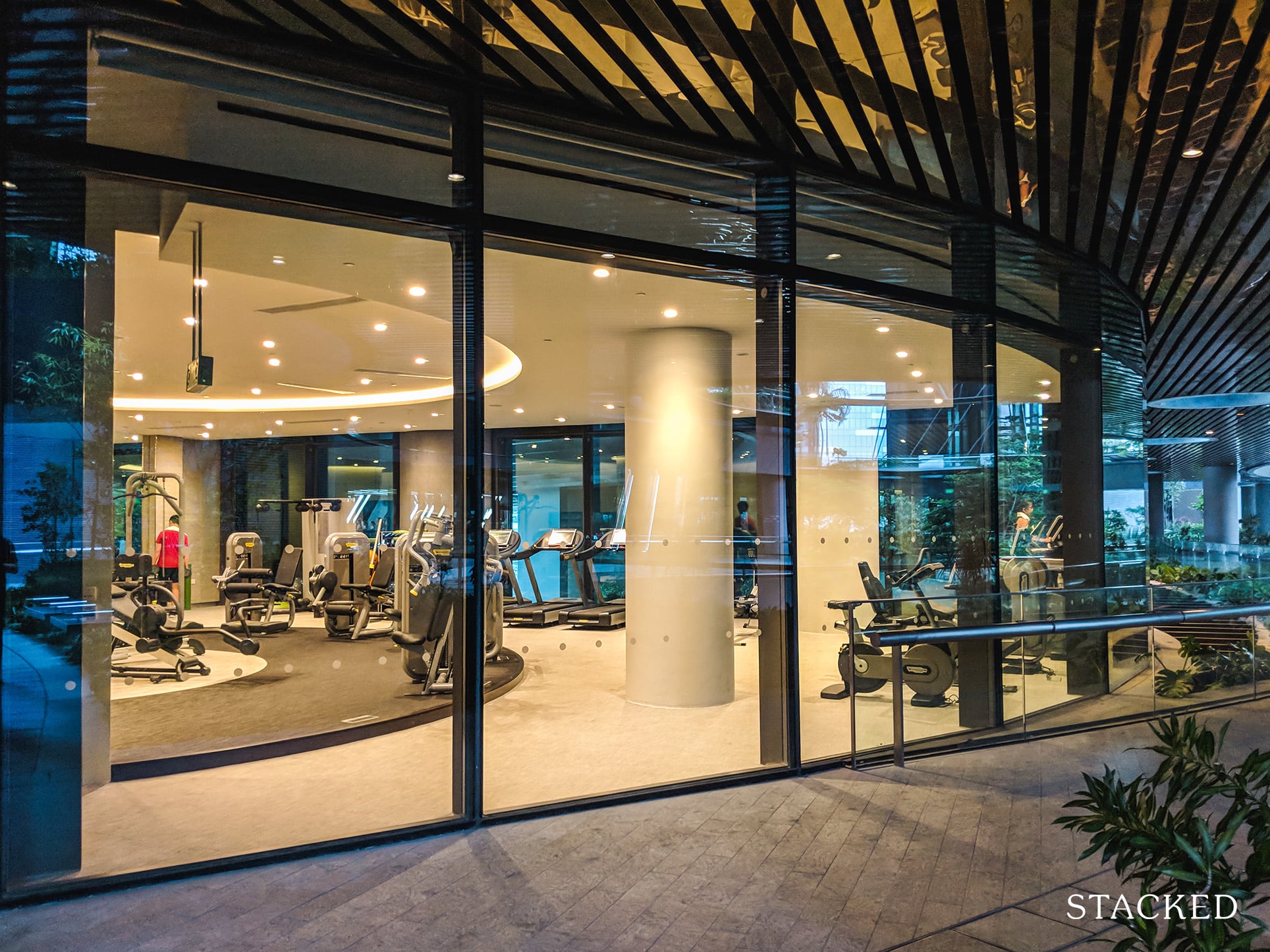 The gym is just beyond and is certainly a very nice space to be exercising in. It is quite spacious and I like how bright and open it is.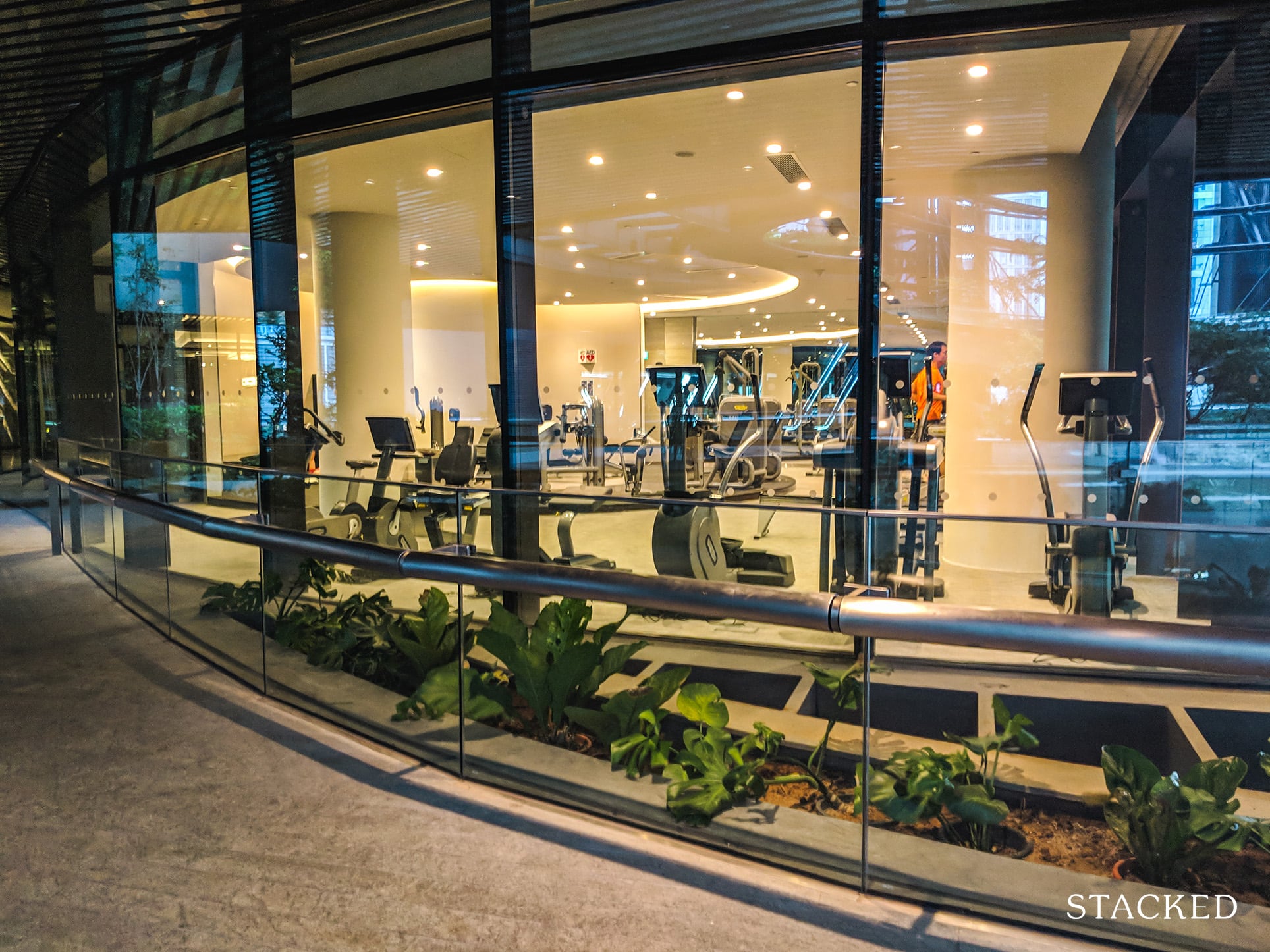 The floor to ceiling windows are fantastic to give you a view out, but on a negative note, this means it is equally easy to look in. I also think the gym could get a little crowded once the development is completely sold out. However, on the commercial side, you do have Virgin Fitness so if you do want a full-fledged gym, you have options. Not to mention, it is just a 10-second walk away as it is on the same level!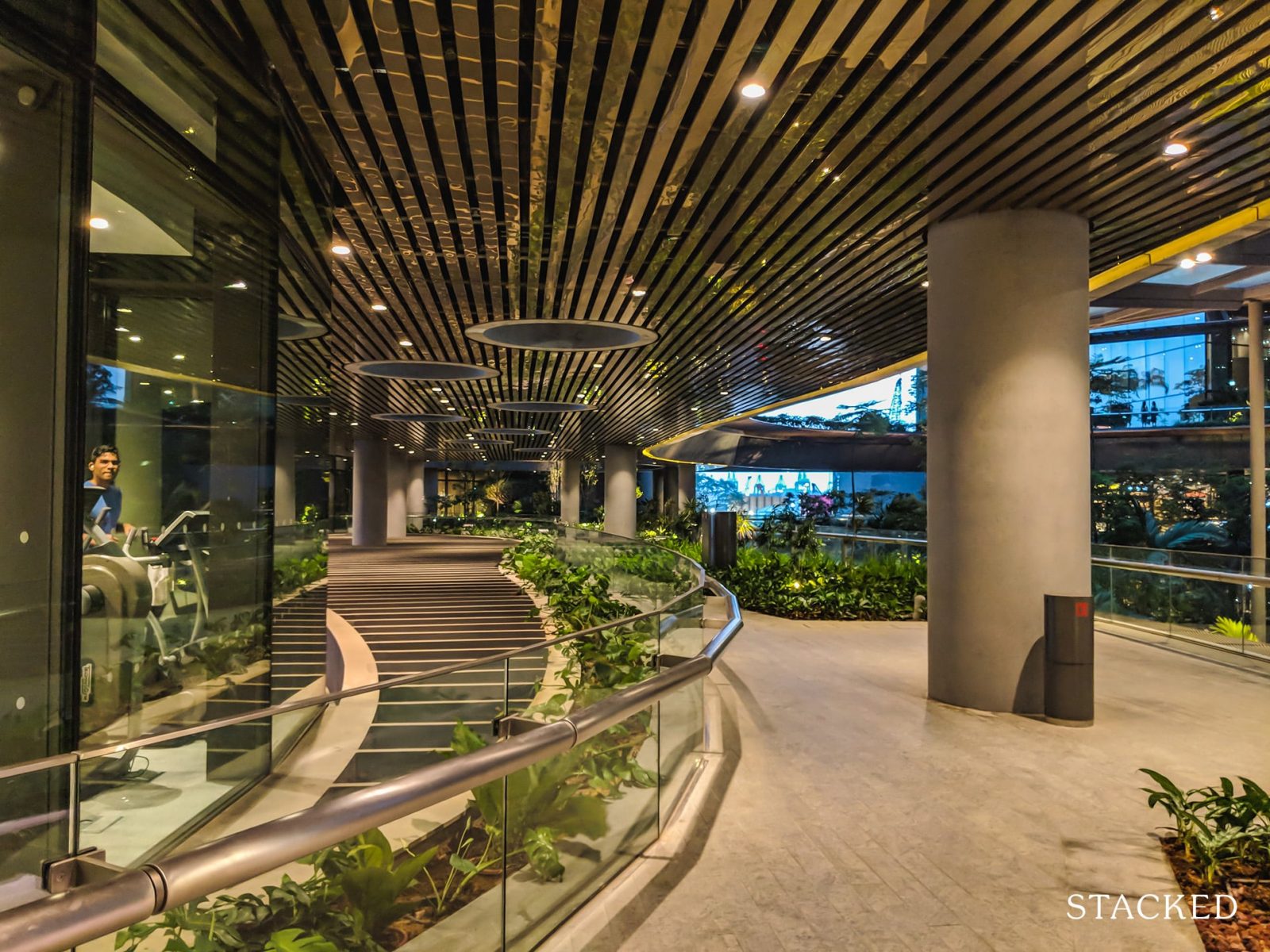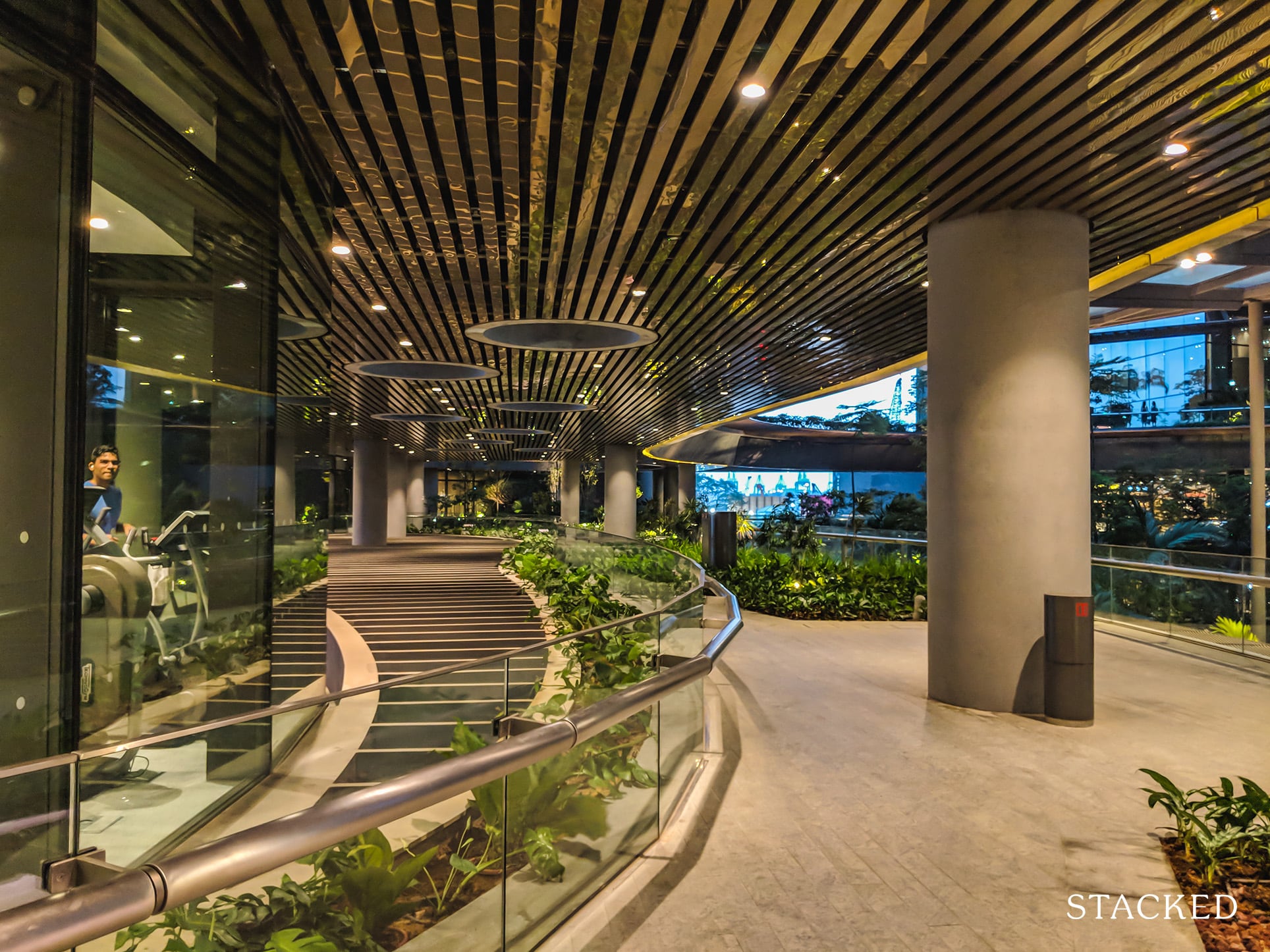 Outside the gym itself lies a very pleasant walkway that lets you get between the two residential blocks. It's great how well lit it is at night.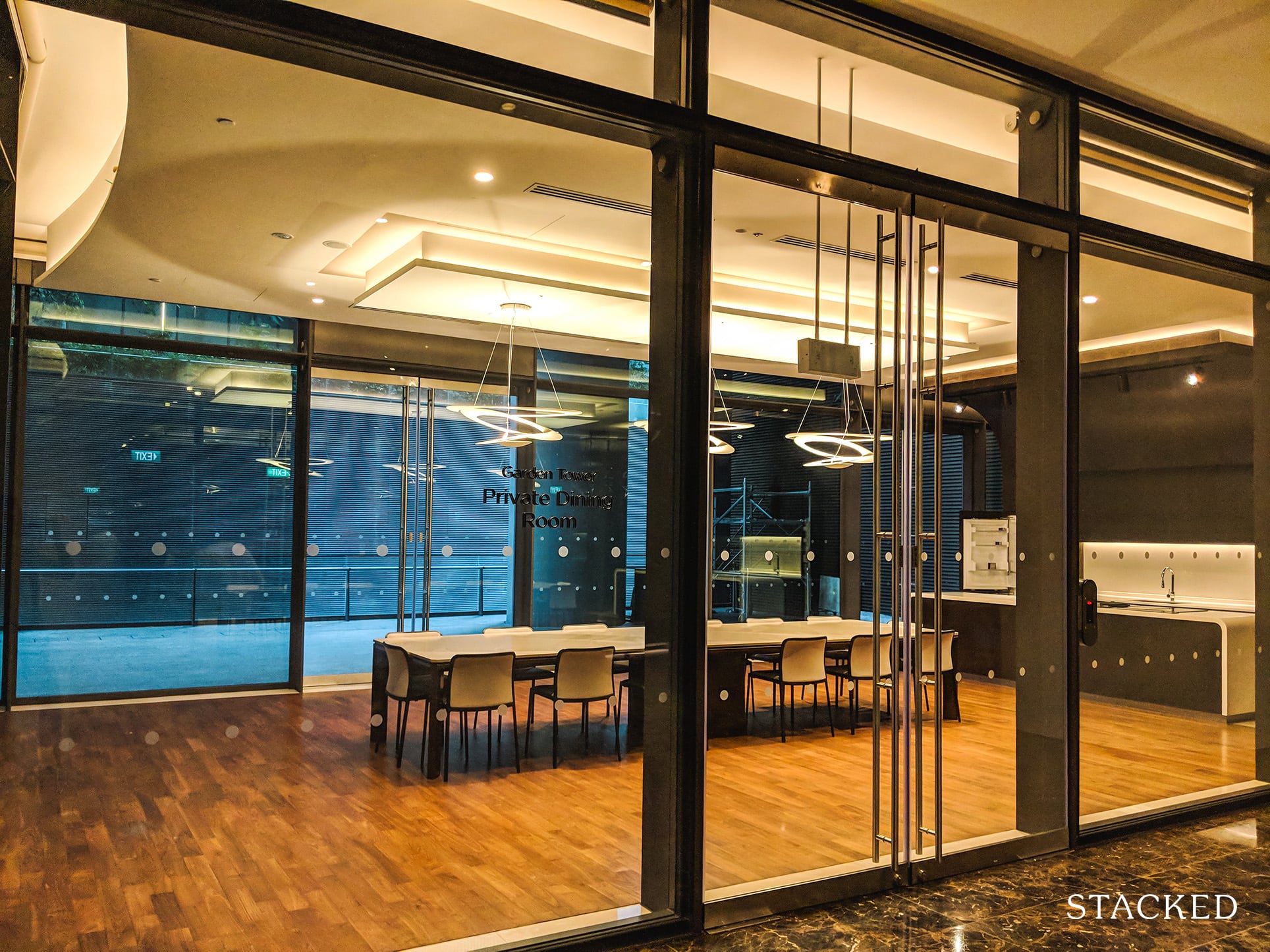 Back in the lobby area, there is a private dining room that you can use to entertain your family and friends. It is a really well-designed space, and as you can see, super spacious too. It also comes with a fully equipped kitchen! One thing to note here: While I love that the glass surrounding the space makes it seem so open, it also means that it is a lot less private. Particularly as this area is located on the same floor as the lobby.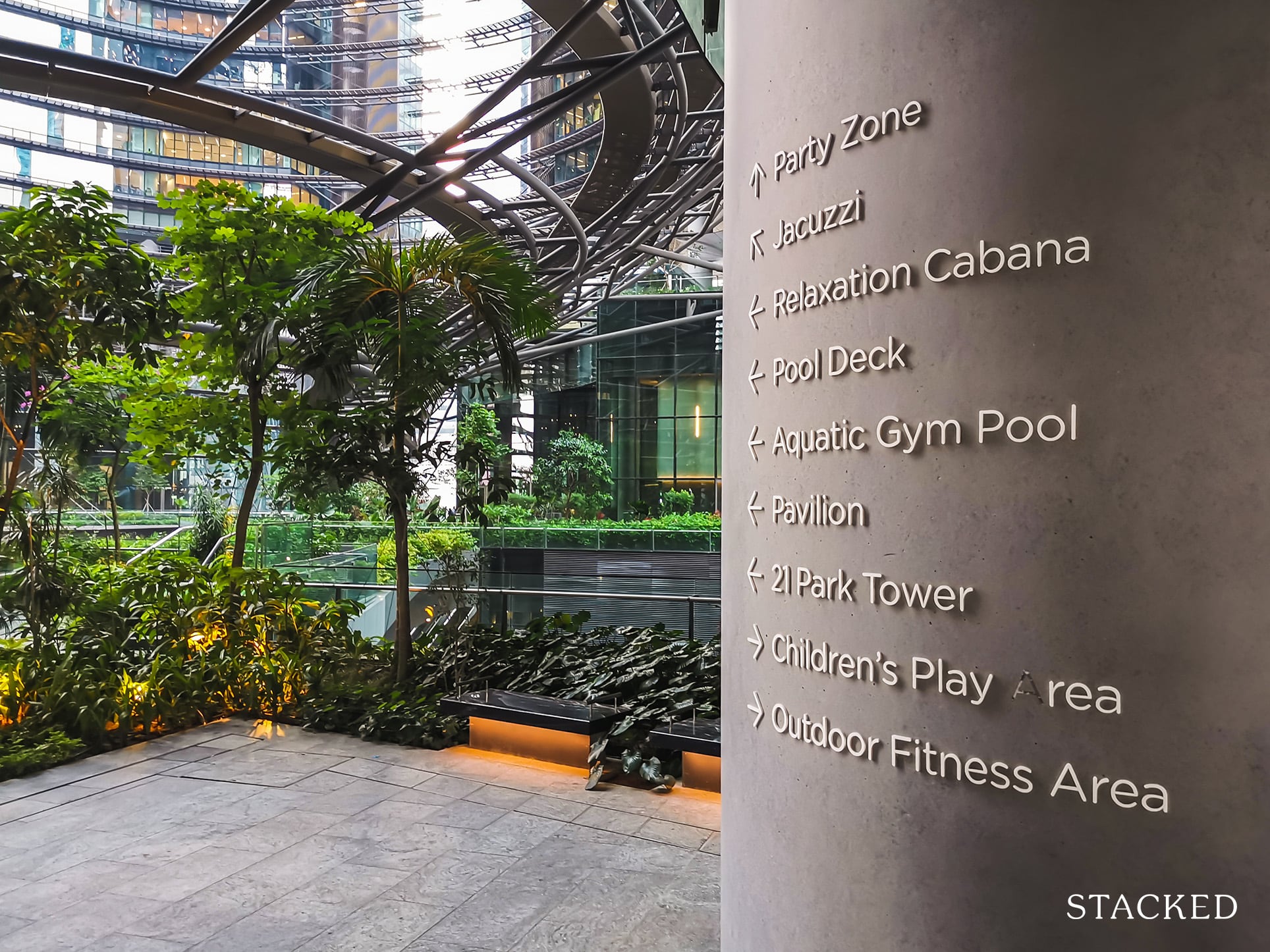 Just a teaser at the number of facilities on this next level.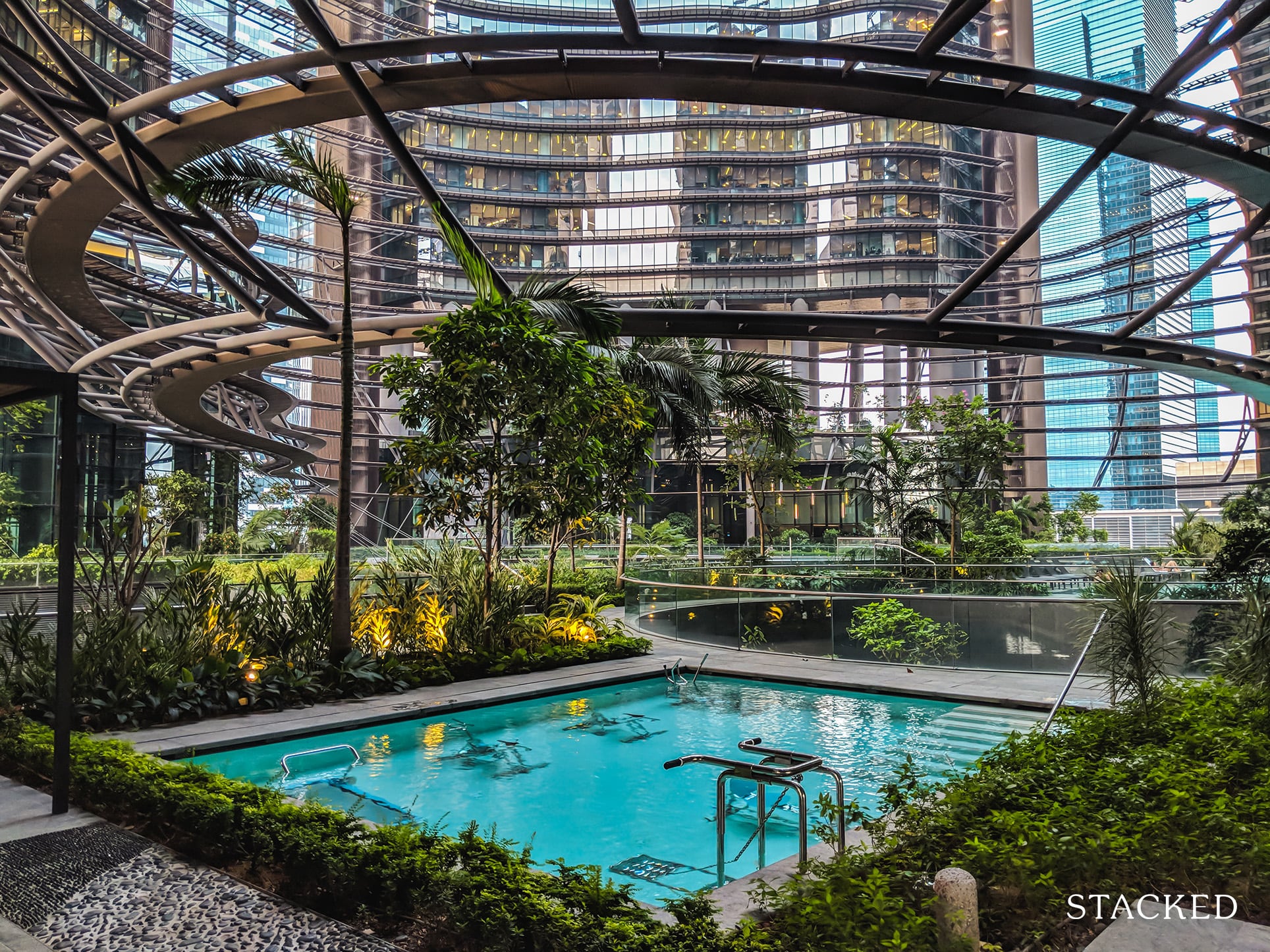 On the next level, you have your usual aqua gym. This facility to me has always been a bit useless but just look at the surroundings of it! The landscaping, the futuristic-looking towers around it. This has to be the nicest aqua gym in Singapore for sure.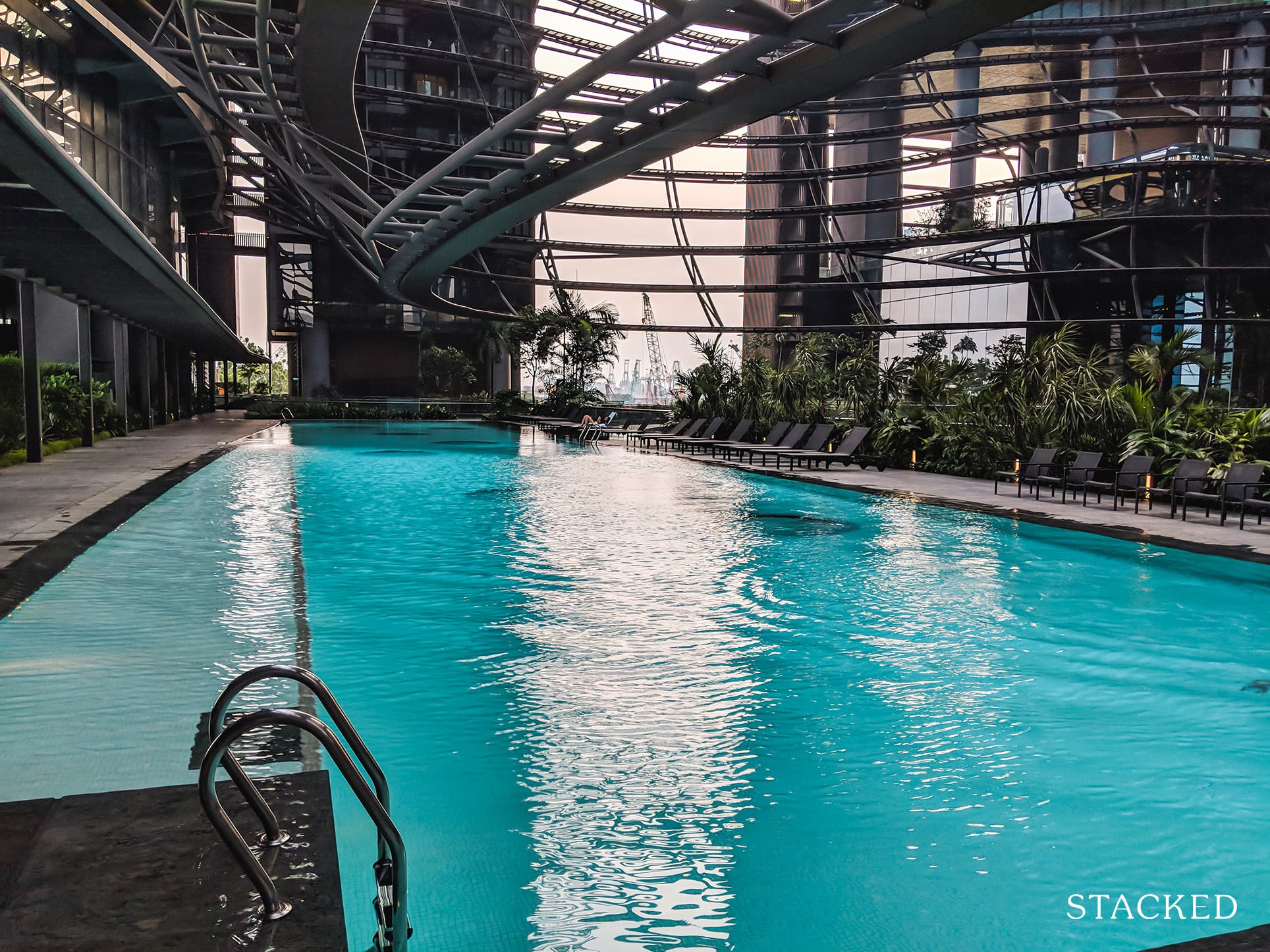 One of the highlights of the Marina One Residences is really the pool. It is a proper long lap pool and it looks pretty dramatic at night. I'd say I would have loved for the swimming pool to be right at the top of the towers but I totally get why they would place it here as well. The location in the centre with the towering blocks around you gives off a very cutting edge vibe about it. It's hard to explain in words and is something that really has to be experienced in person.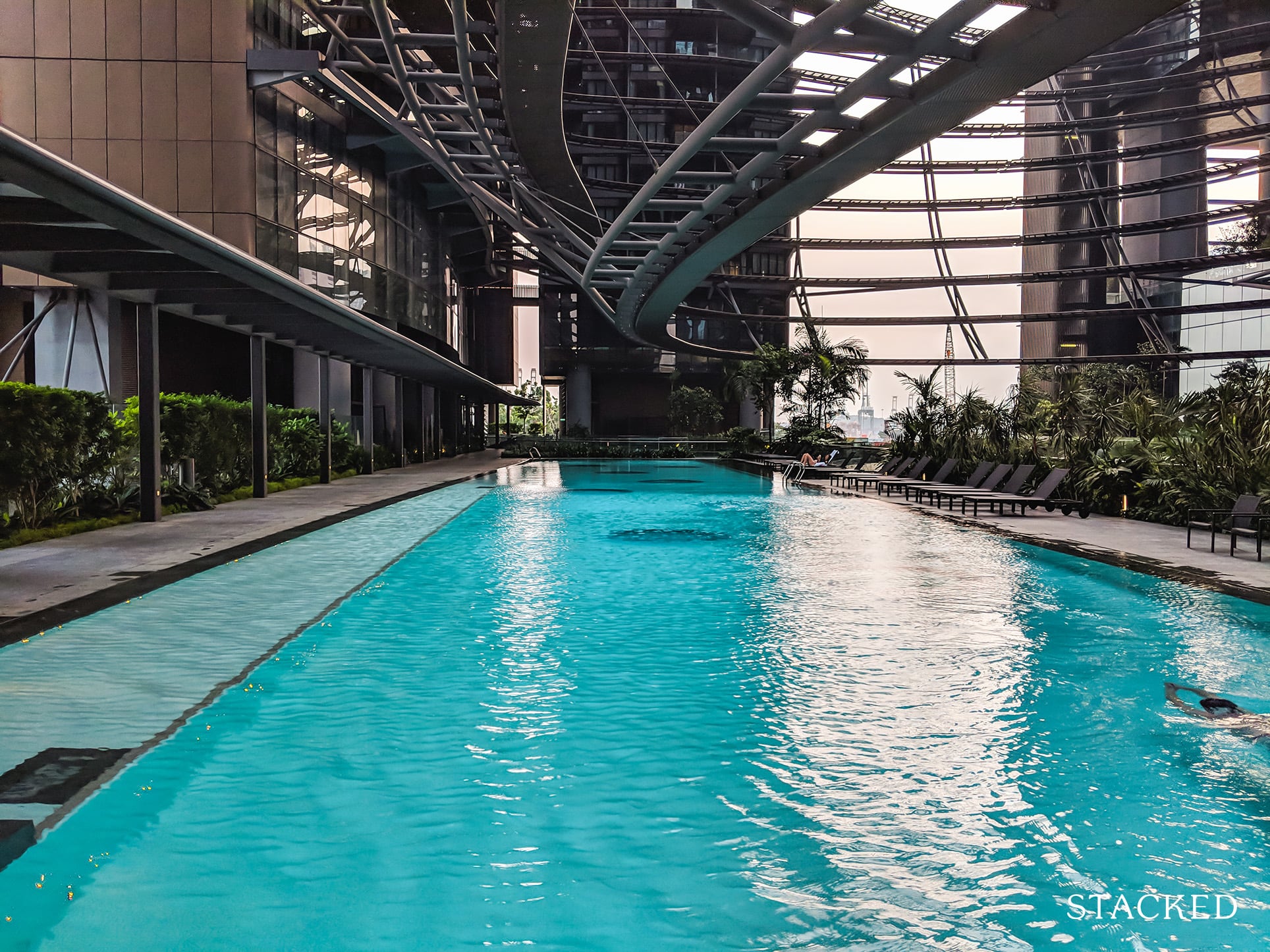 There are quite a number of deck chairs along the side and lovely poolside cabanas. It tends to be quite dark here, due to the towering blocks around it, and certain areas can look a bit gloomy especially on an overcast day.
On the side facing the Marina South, there is a putting green.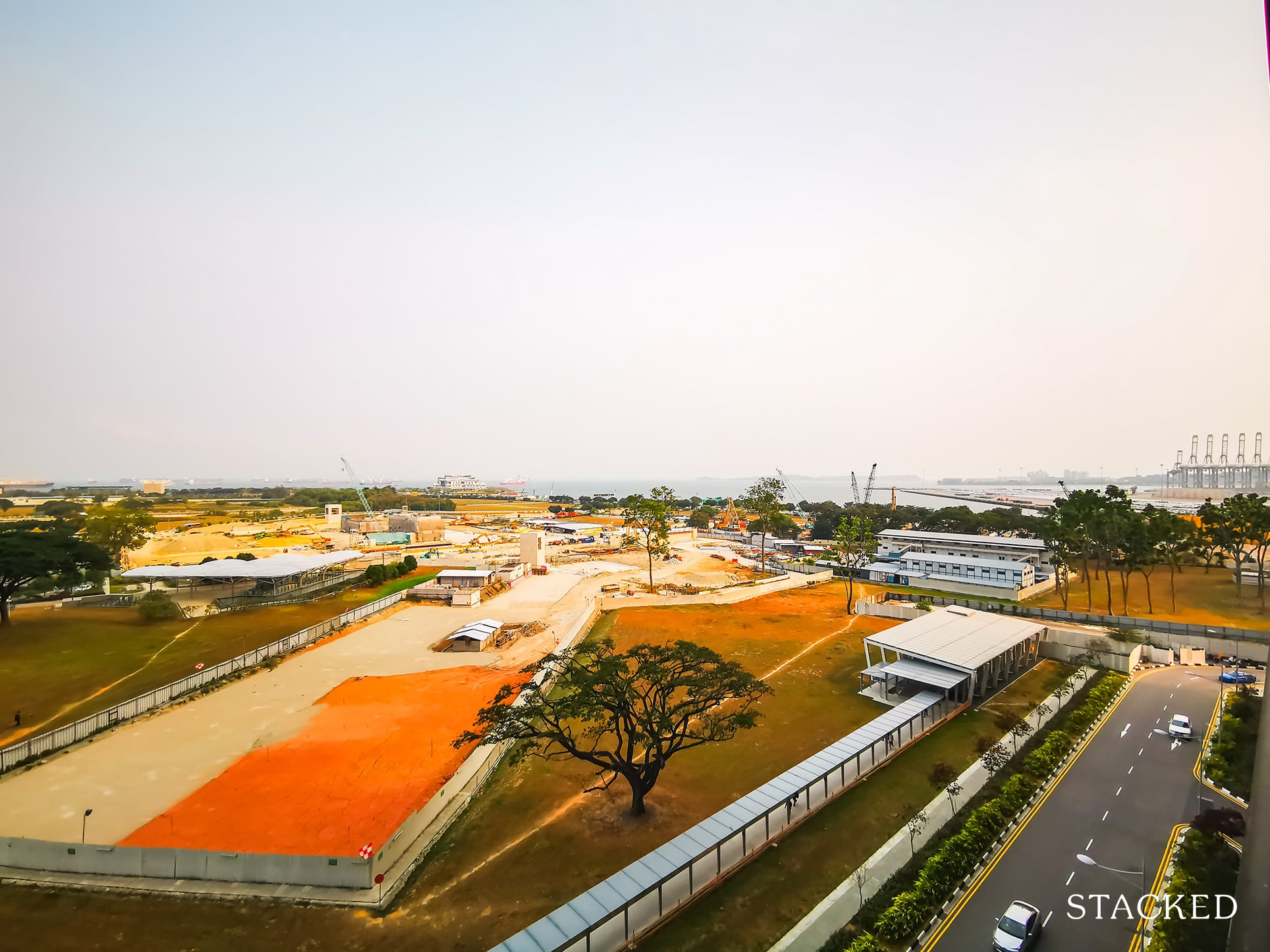 The views beyond are open, but with all the construction going on for the MRT lines, it currently isn't the prettiest of sights.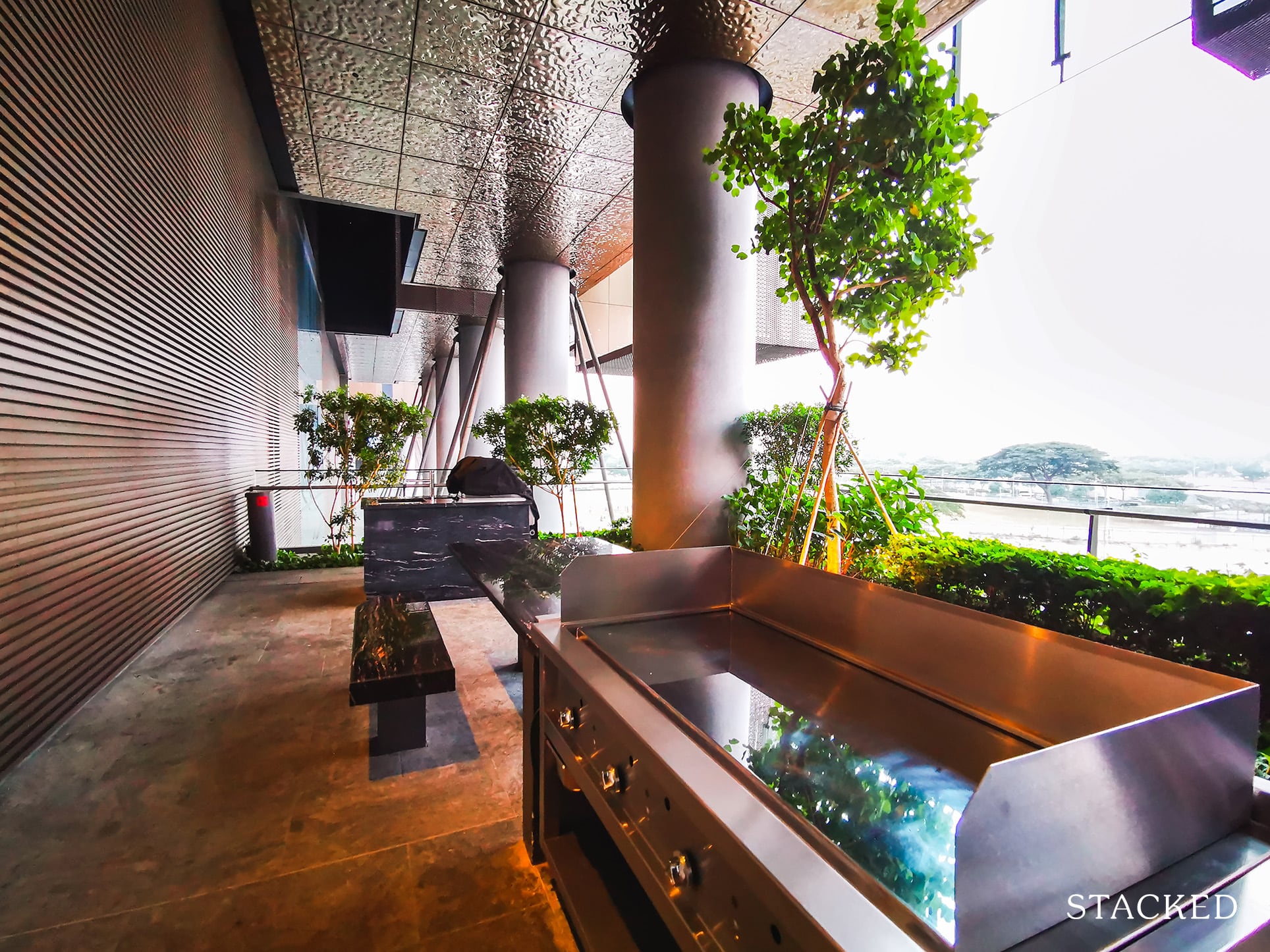 I like the outdoor grill and dining area here, it is breezy and a lot more private.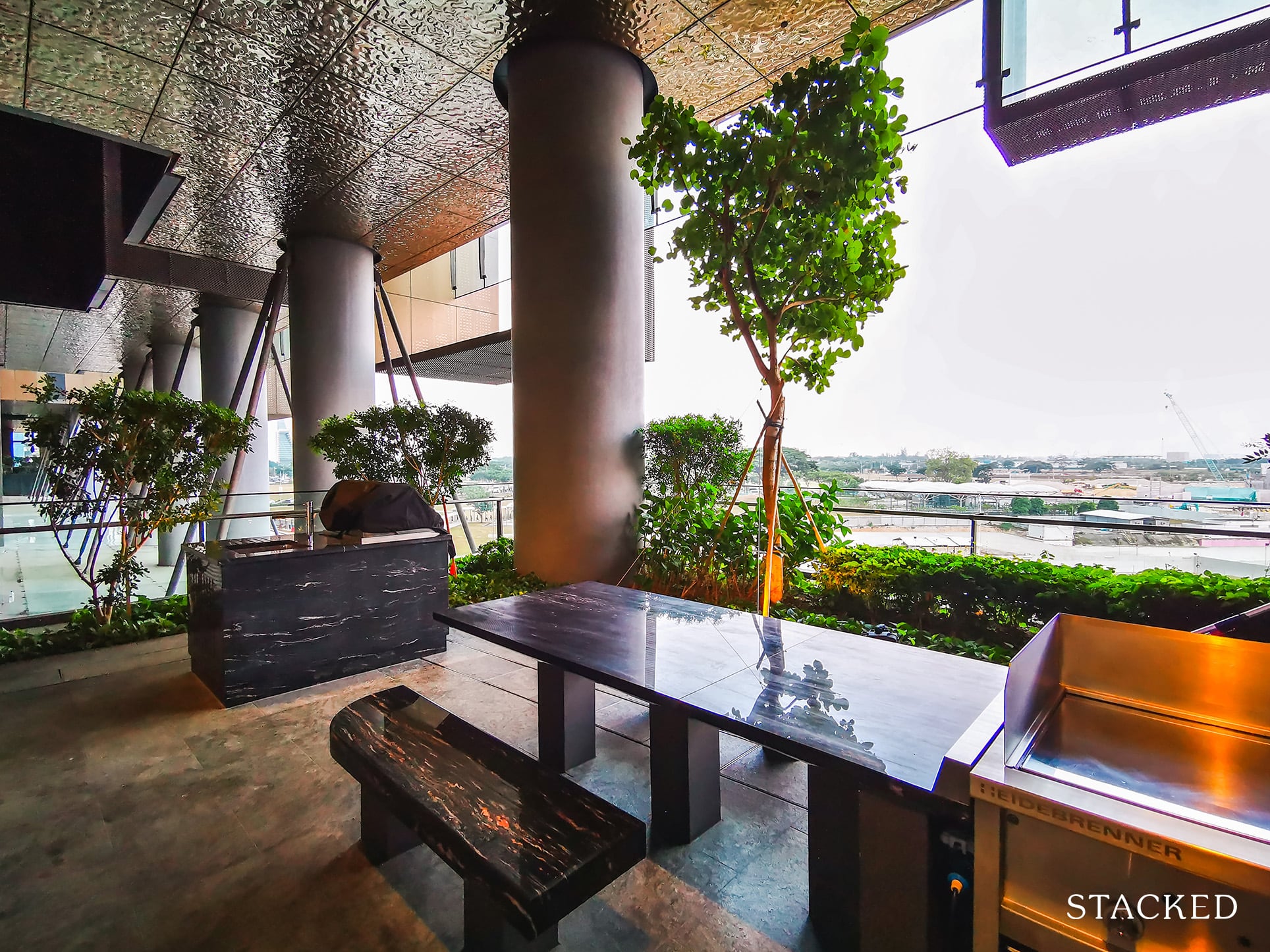 It could do with more movable seating, but on the whole, I think it is a good option for entertaining your guests or even an outdoor grill session on the weekend.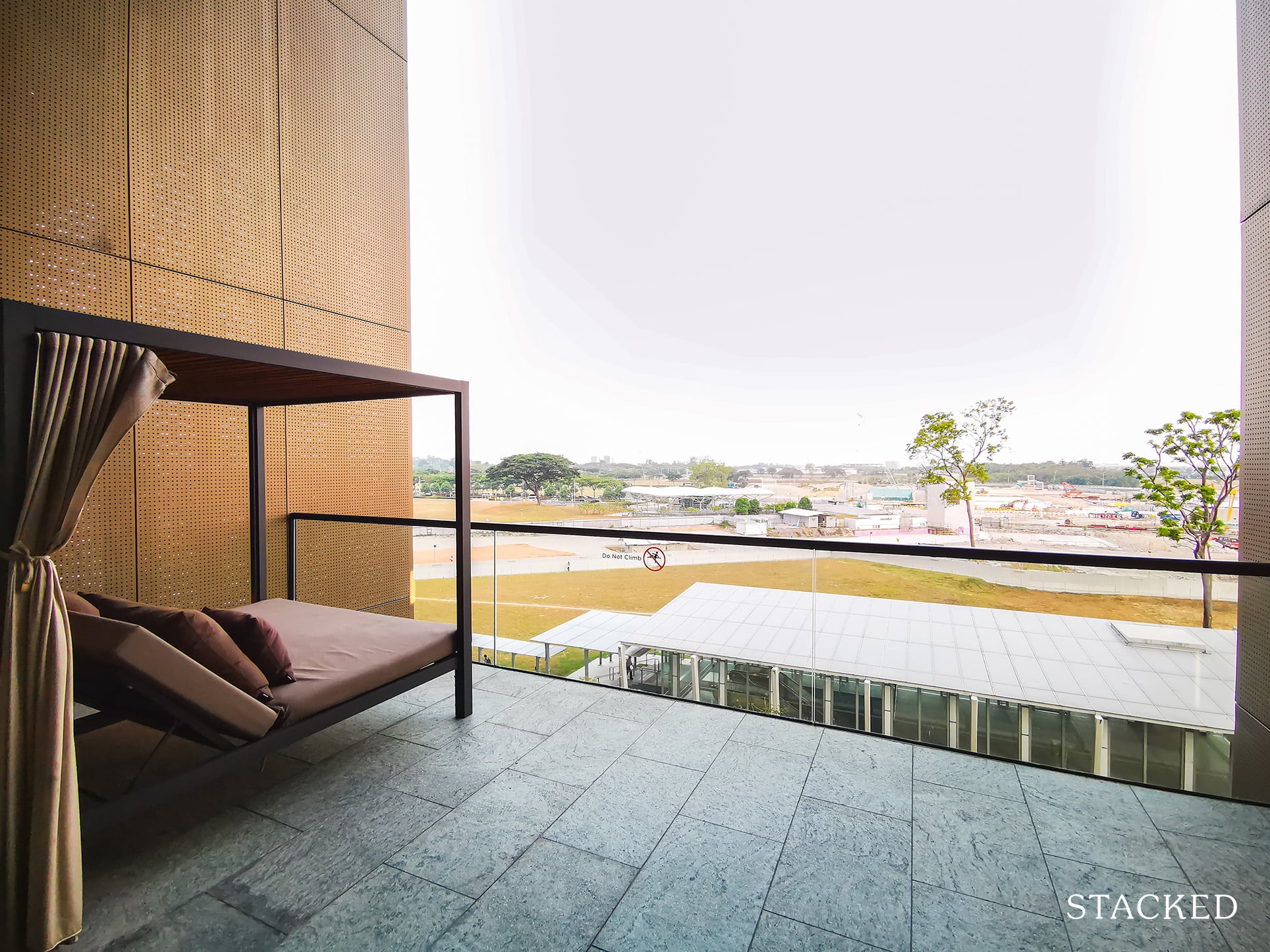 Again, not the best view but it can be a very relaxing and quiet place to be. Especially at night when the construction is done, it is quite windy and serene.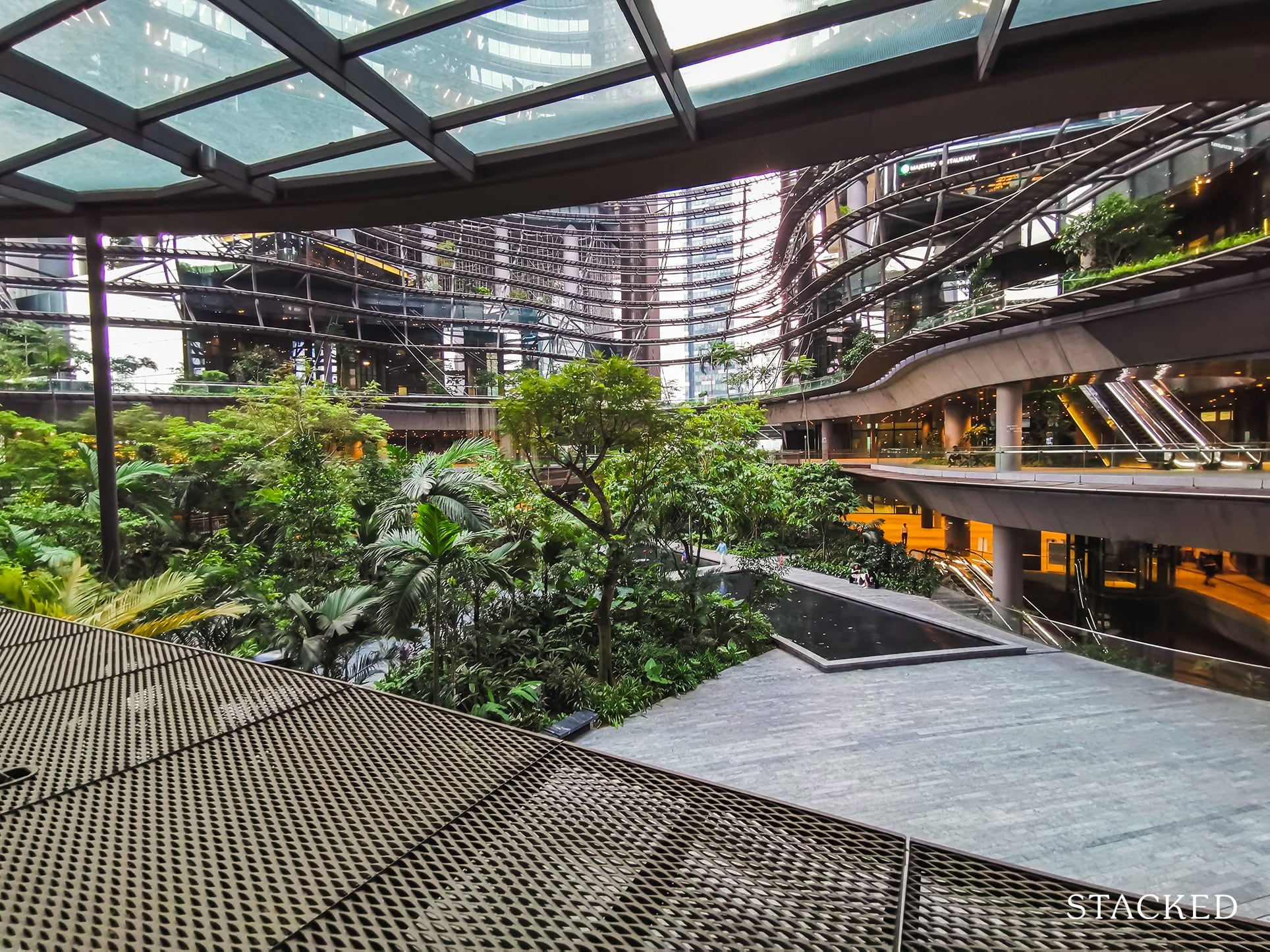 Where the Marina One Residences really shines is the Green Heart in the centre.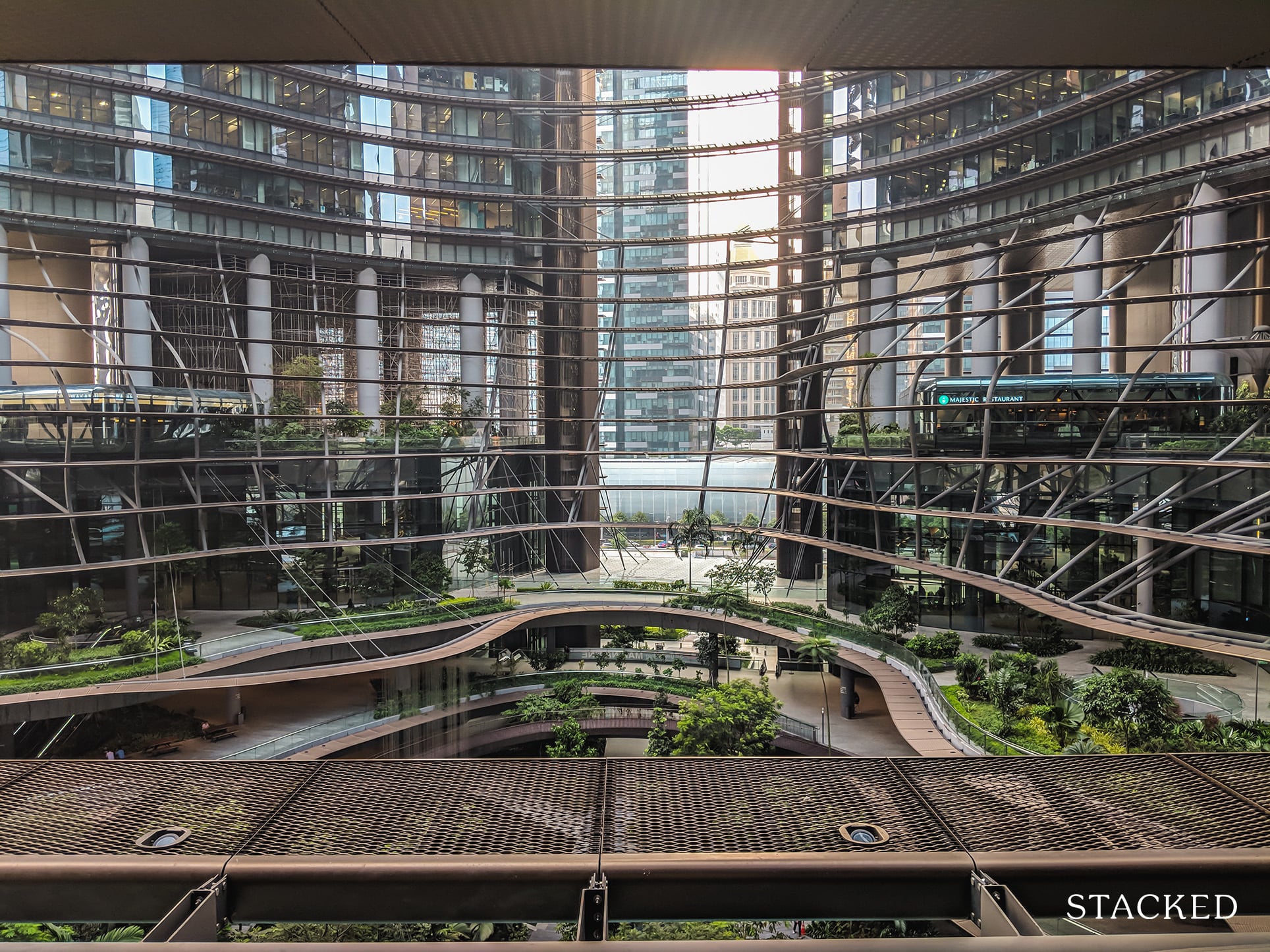 Other than the stunning architecture, all that greenery and landscaping intertwined with the curvy tiers give it a look unlike any other development in Singapore. The louvres on the inner edges actually shield people on the inside from the sun and gives the whole estate such an organic look.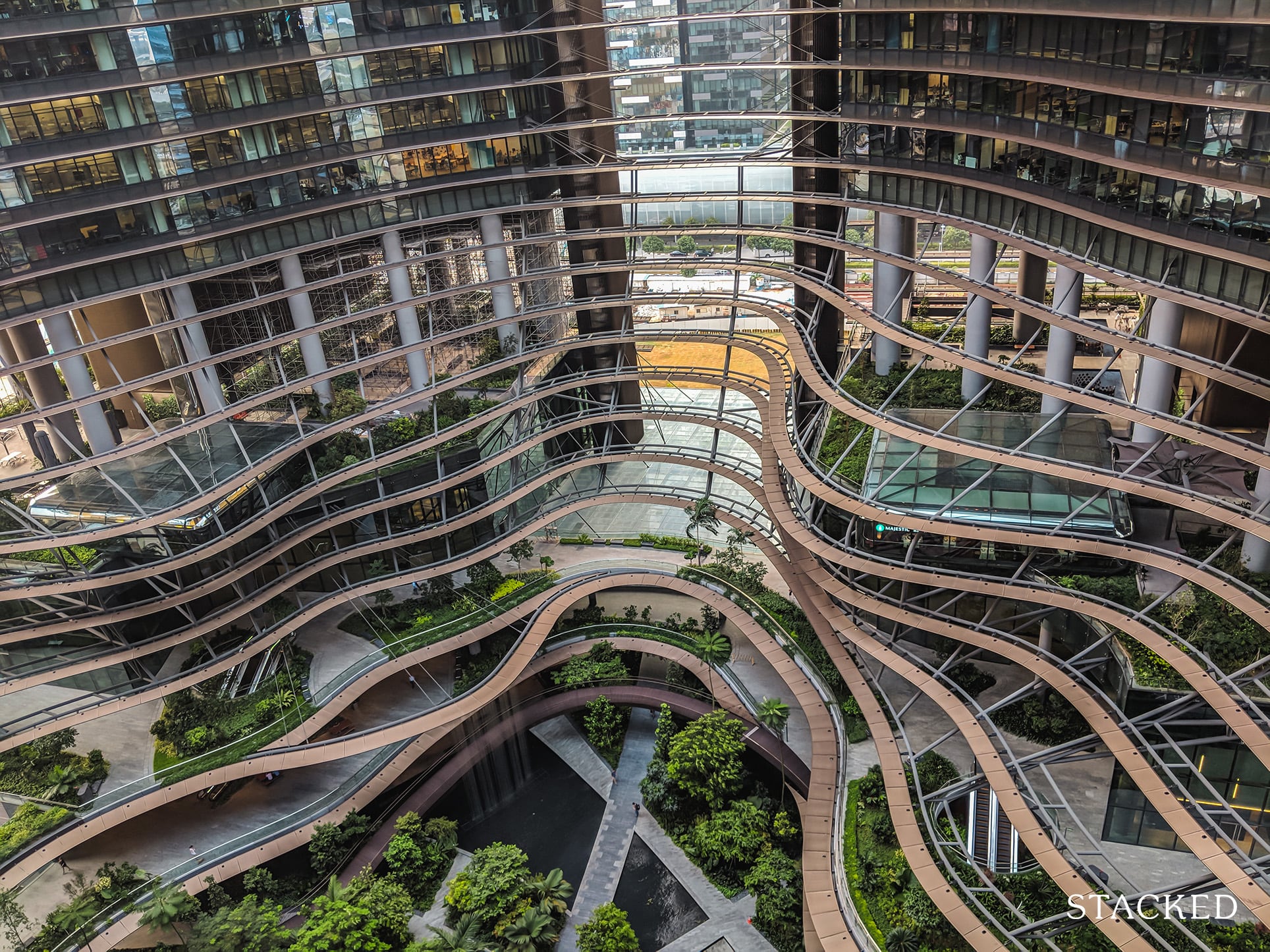 These curves unquestionably sets the Marina One Residences apart and you can see why it is such a popular place for people to come and take photos.
I really, really like the Green Heart in the centre of the Marina One Residences. The landscaping is truly a green haven in the middle of the business district. With close to 400 plant species here, plus trees, it is quite a magnificent sight.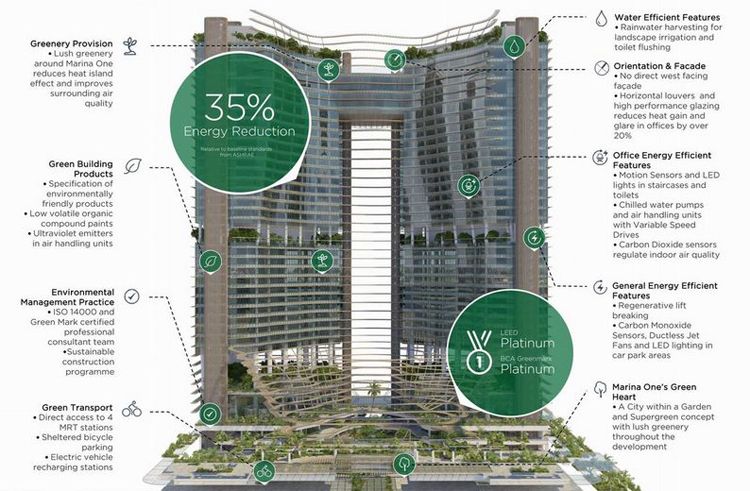 For the inner geek among you.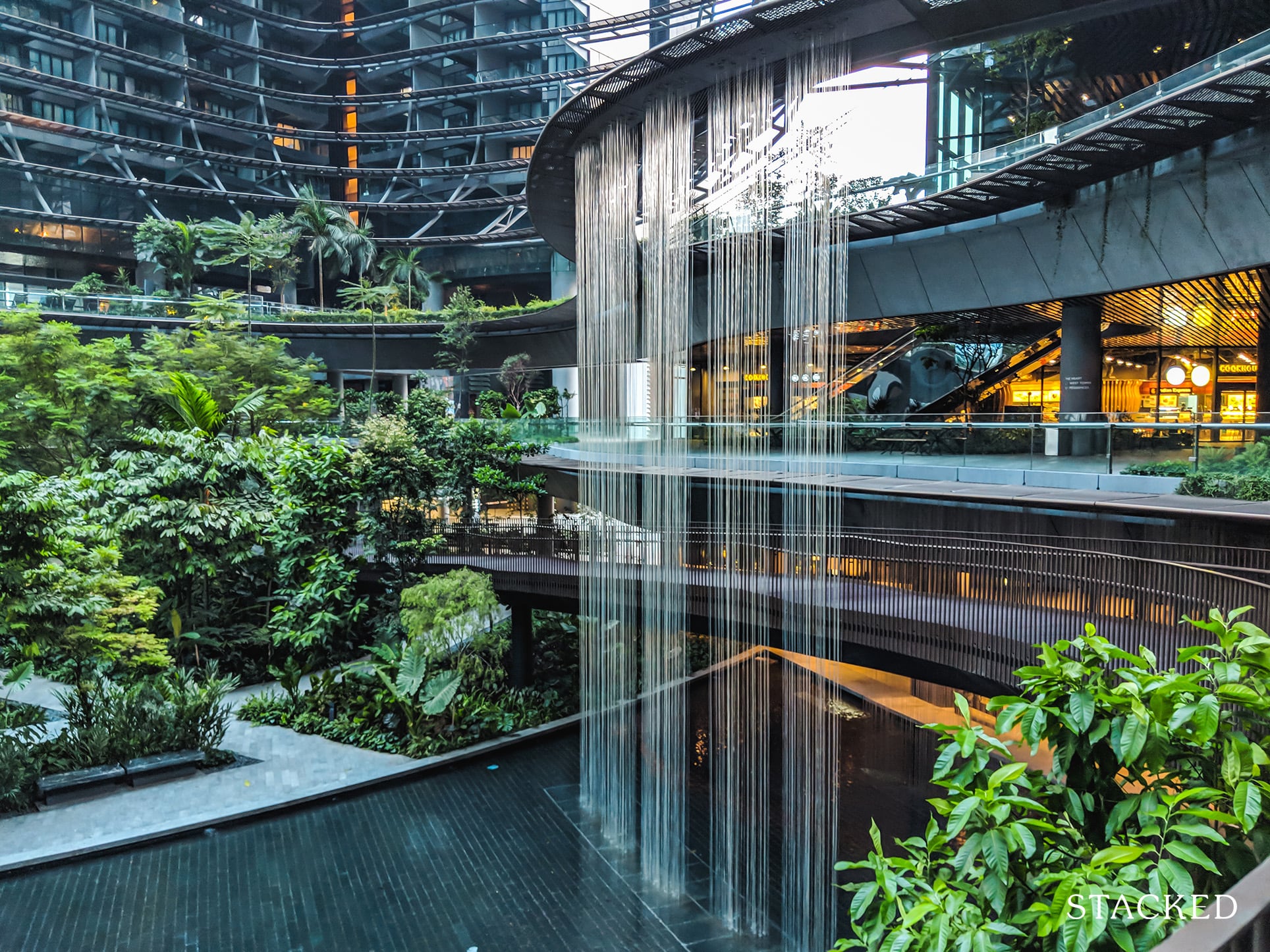 The three-storey waterfall is the main attraction here, with the main feature being to cool the air and add to the rainforest atmosphere. For those familiar with the HBO television show, West World, this place was actually featured because of its ultra-modernistic look!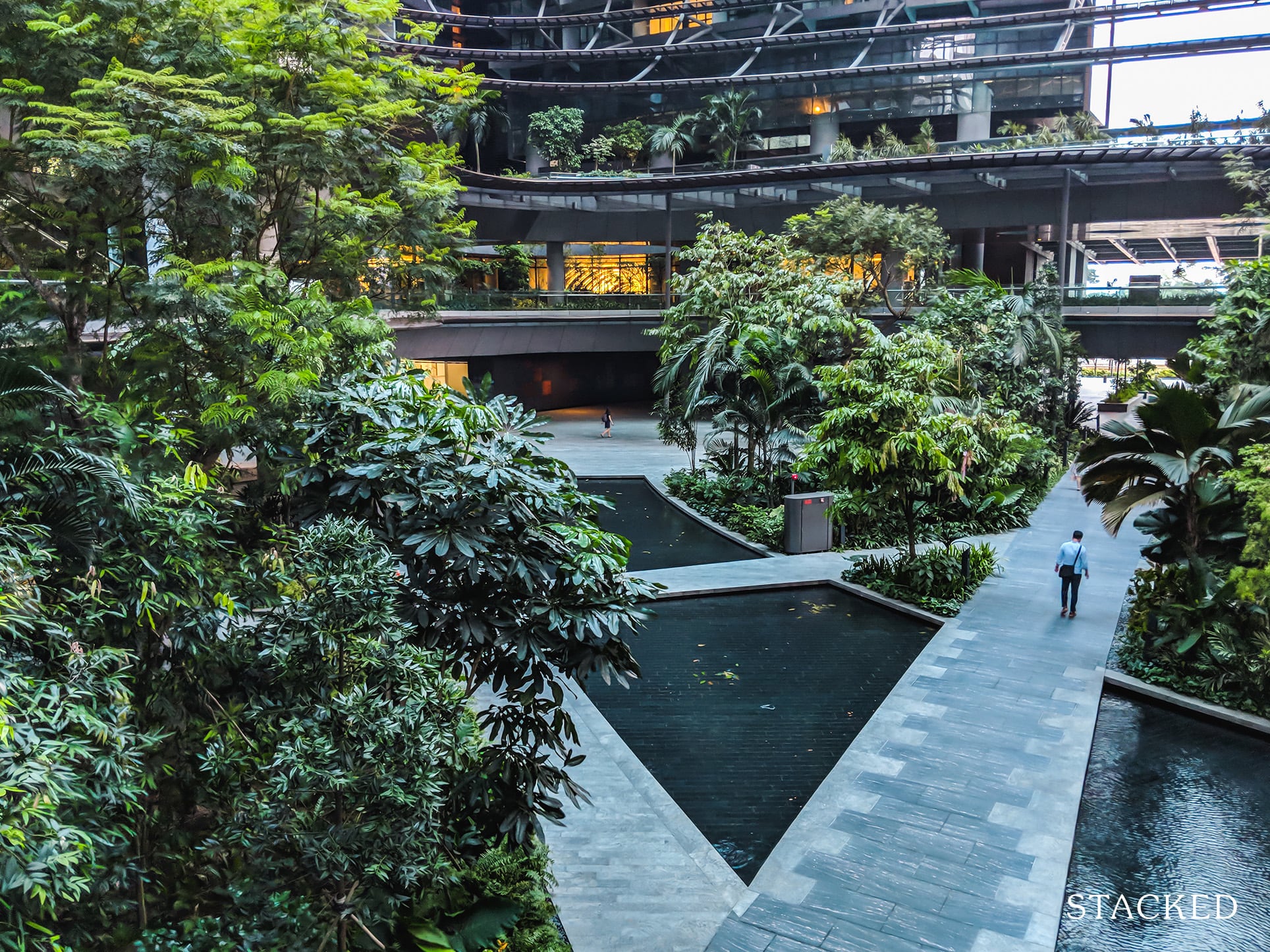 The garden pathways and water features must be such a breath of fresh air, both for residents and office workers here.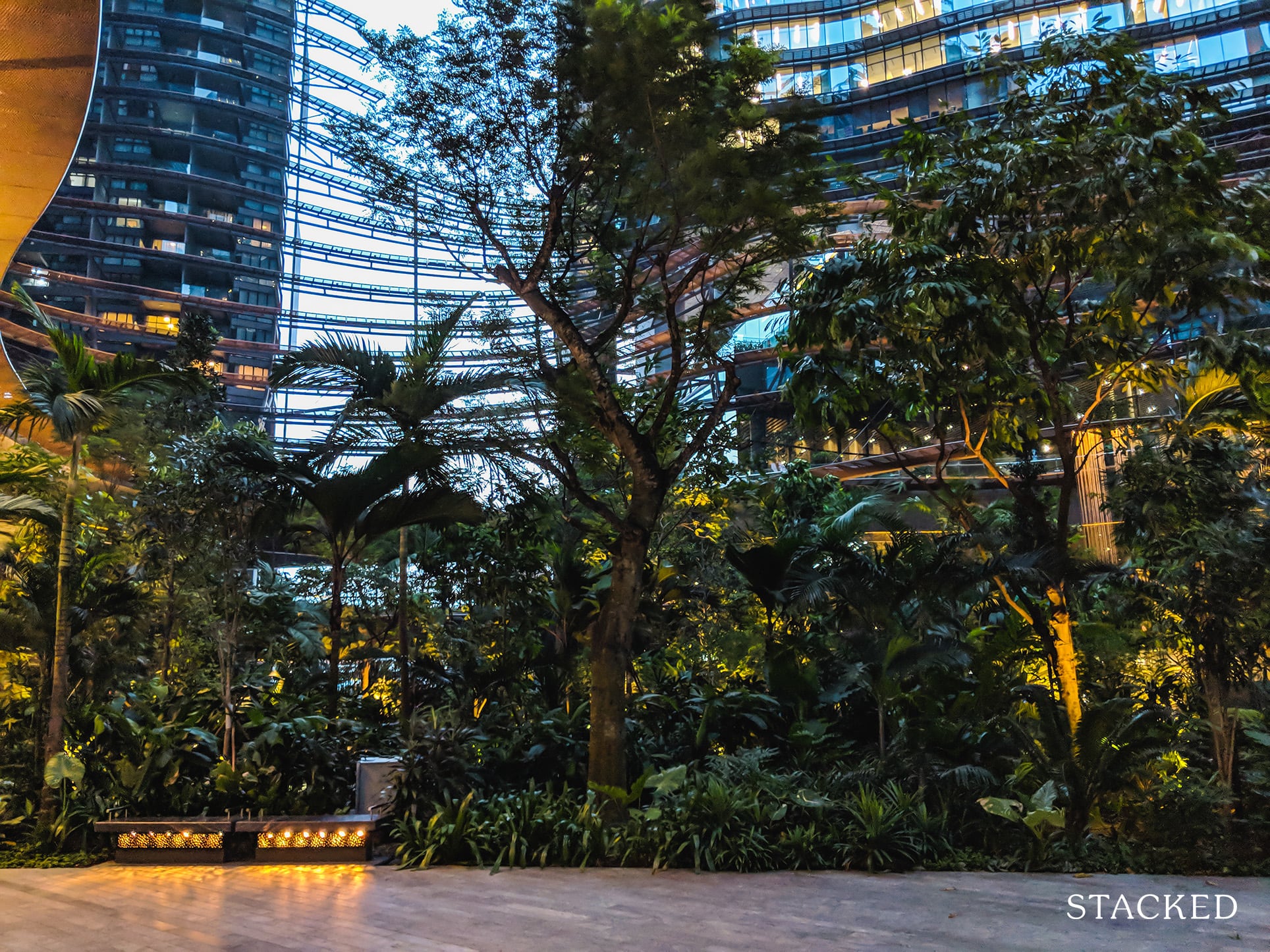 It is when it turns to dusk where the Marina One Residences takes on a whole new light. The lighting here is exemplary and really shows off the place in a different angle.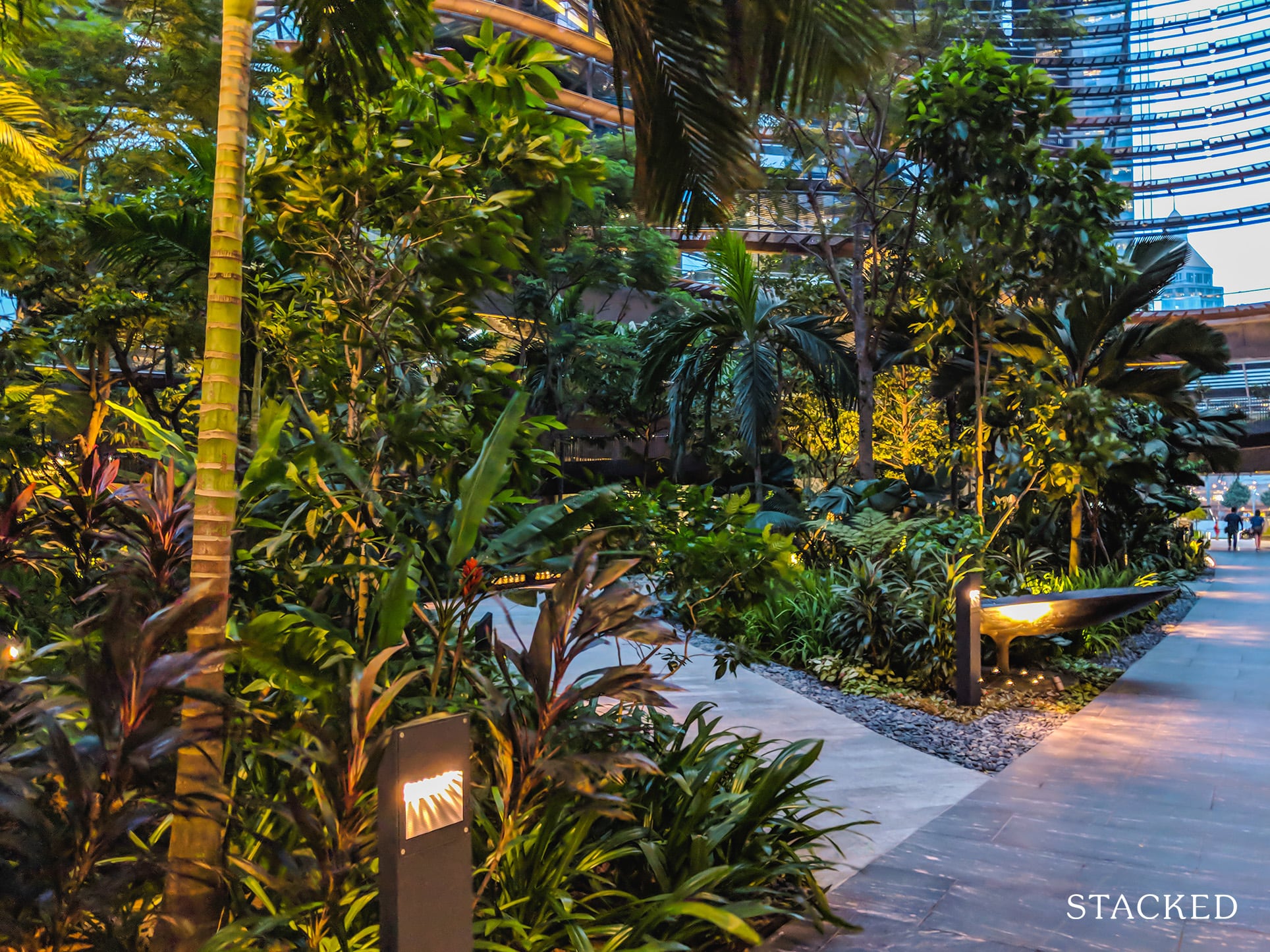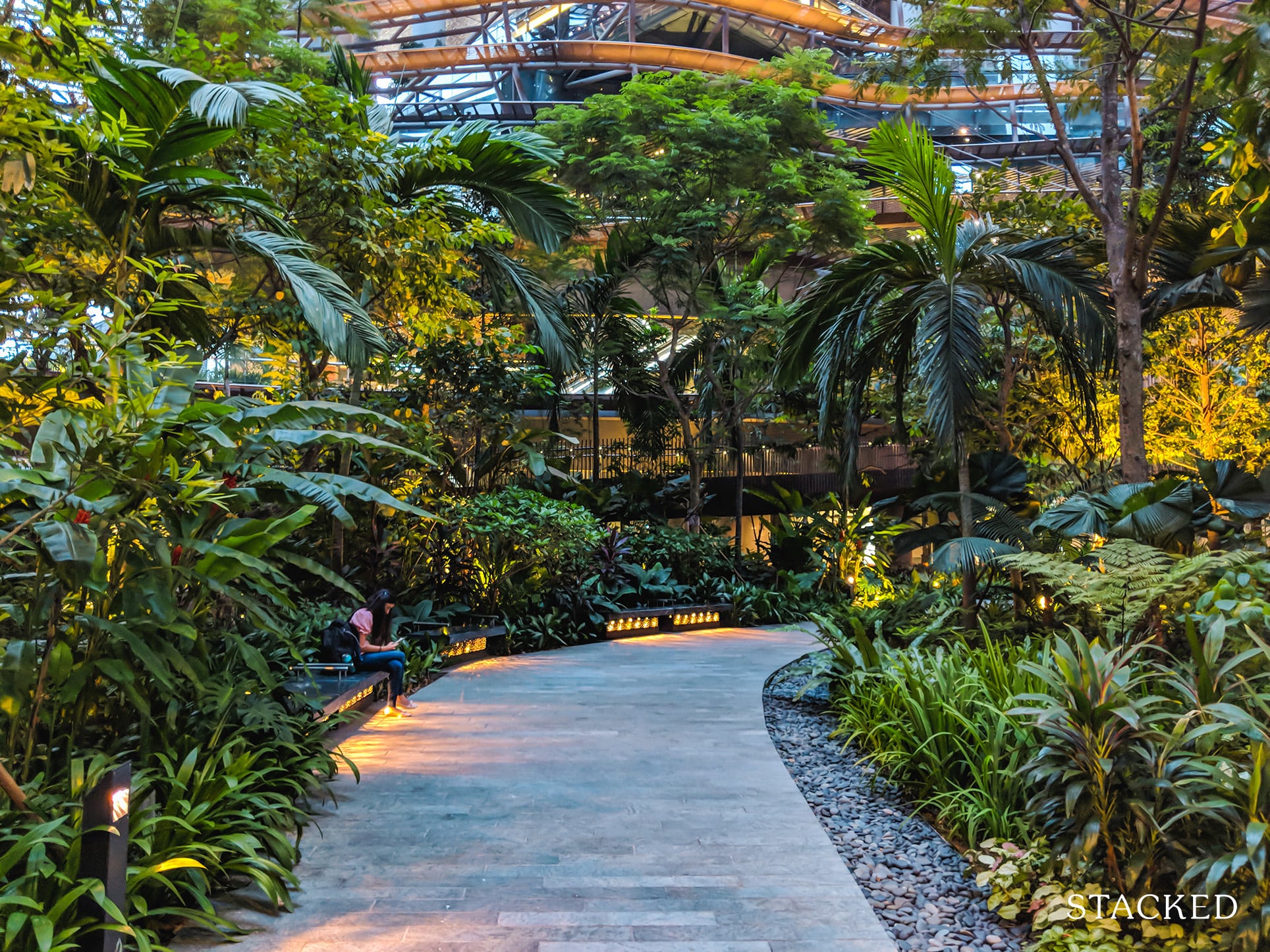 Having greenery integrated in buildings is nothing new in Singapore, but I must say that this green valley here is superbly done. Developers tend to like to boast that their developments are green focused, but in this case, you can really feel that this is the focus here and I am happy to see that. I think when you visit for yourself you will agree with everything I am saying here. It truly is a very differentiated space from most places in Singapore.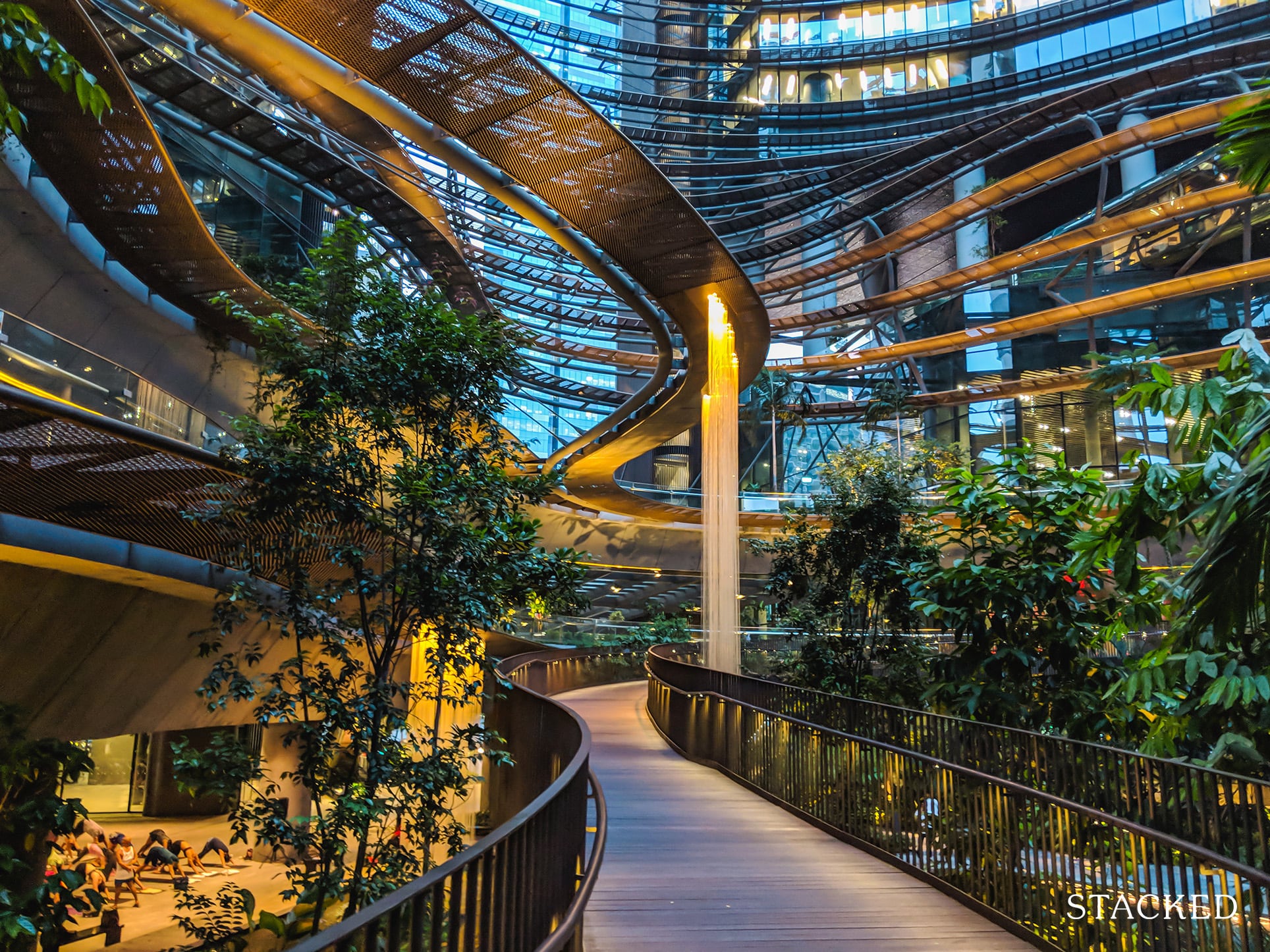 The bridge linking the first and second level is super cool as well, and as I said earlier, it is just a delight to walk around.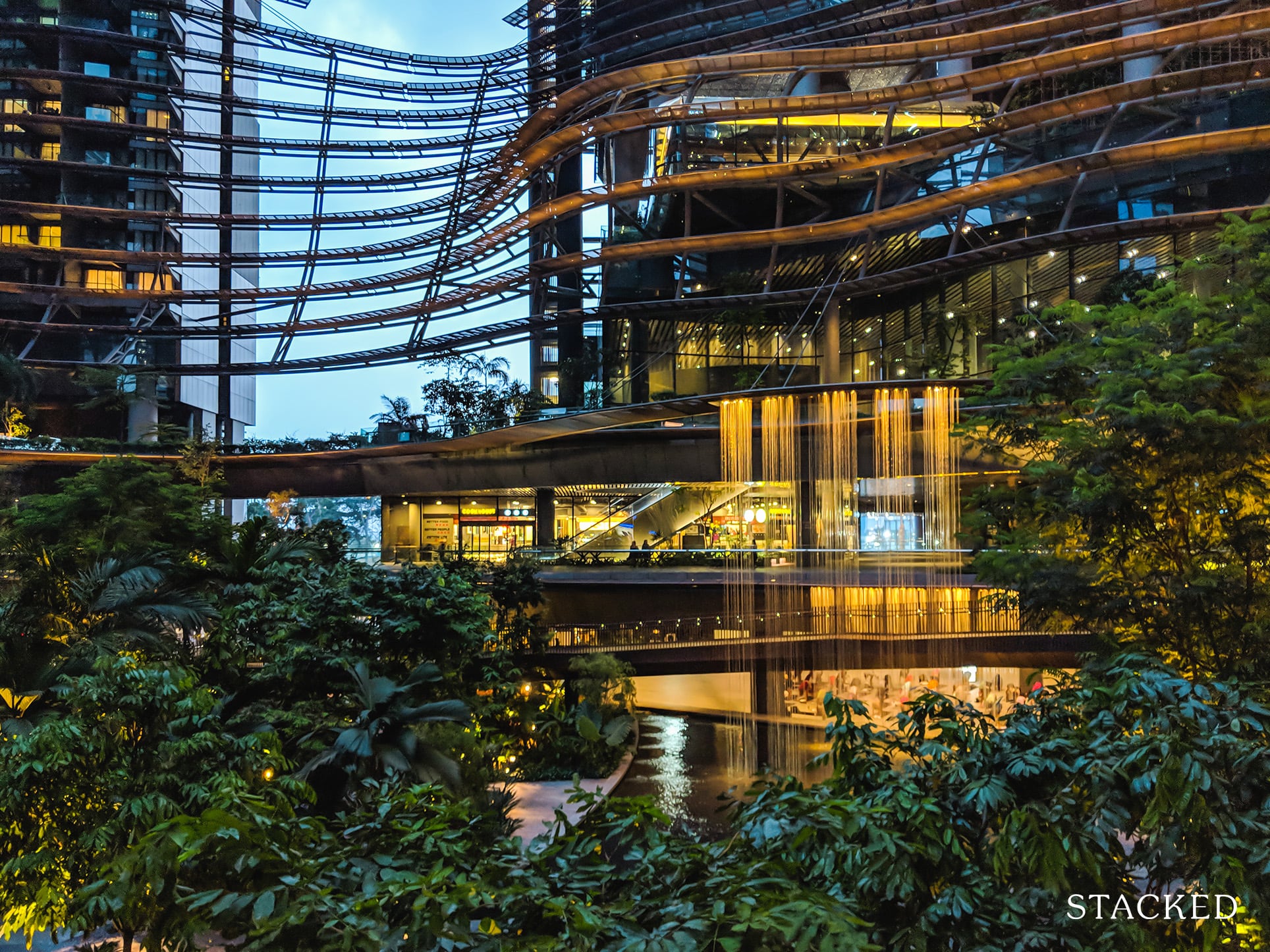 Just one last shot of the waterfall at night with the lights!
Marina One Residences 1 Bedroom Showflat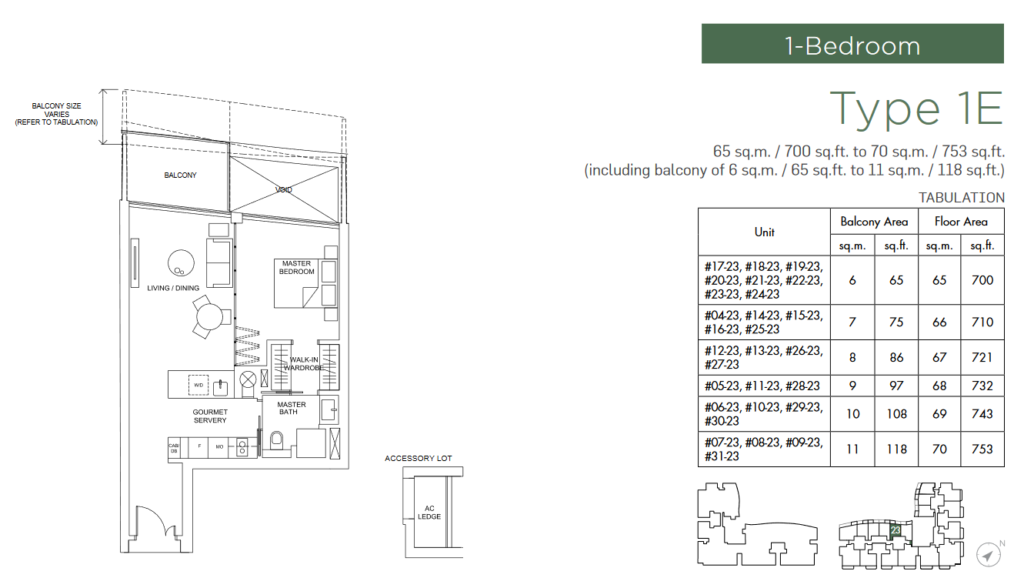 The 1 bedroom unit at the Marina One Residences is really well sized. At 753 square feet, it is bigger than the average.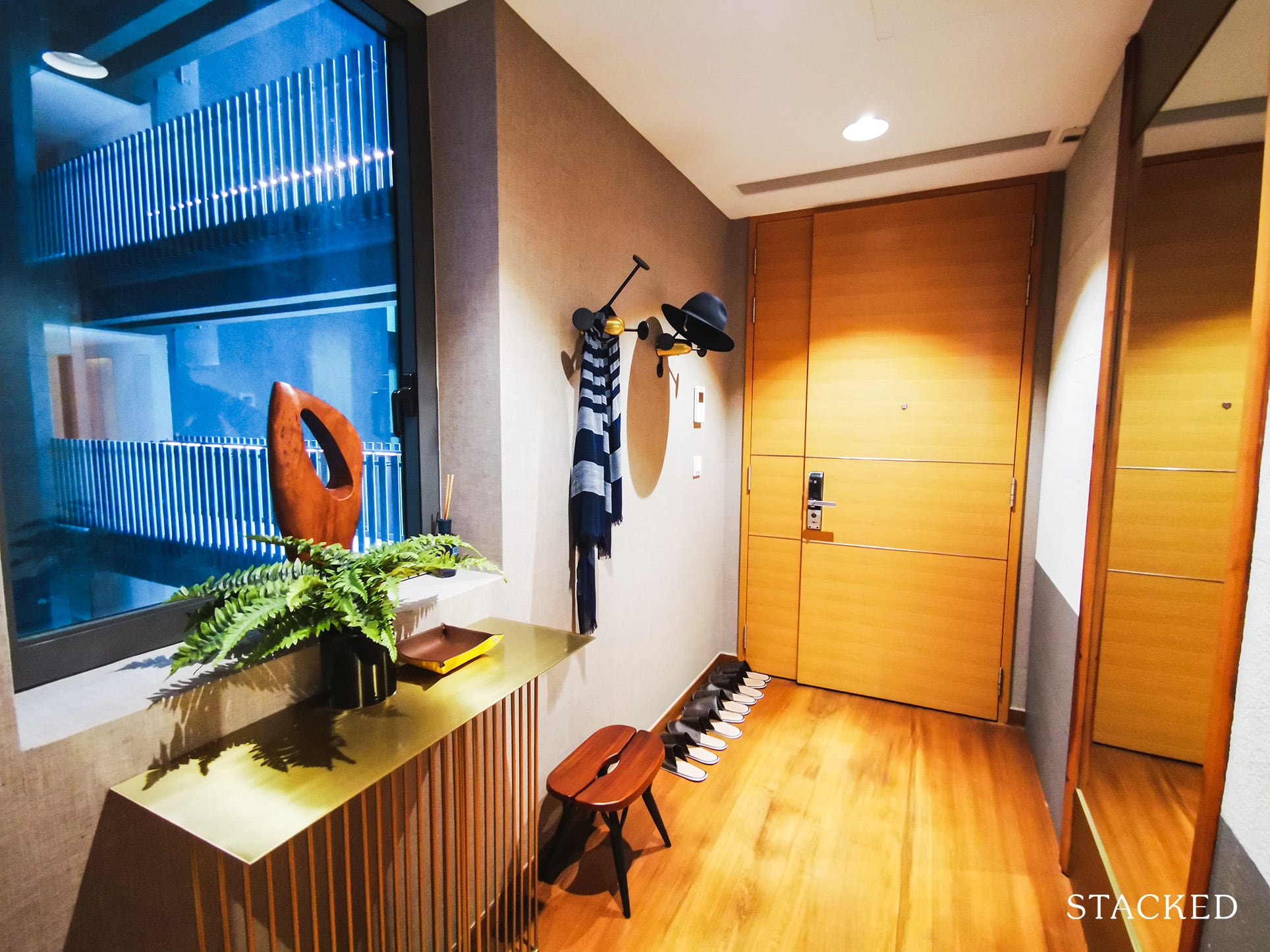 The entranceway is good in the sense that it has an entryway and makes the unit seem more spacious. But some people might feel like it is wasted space.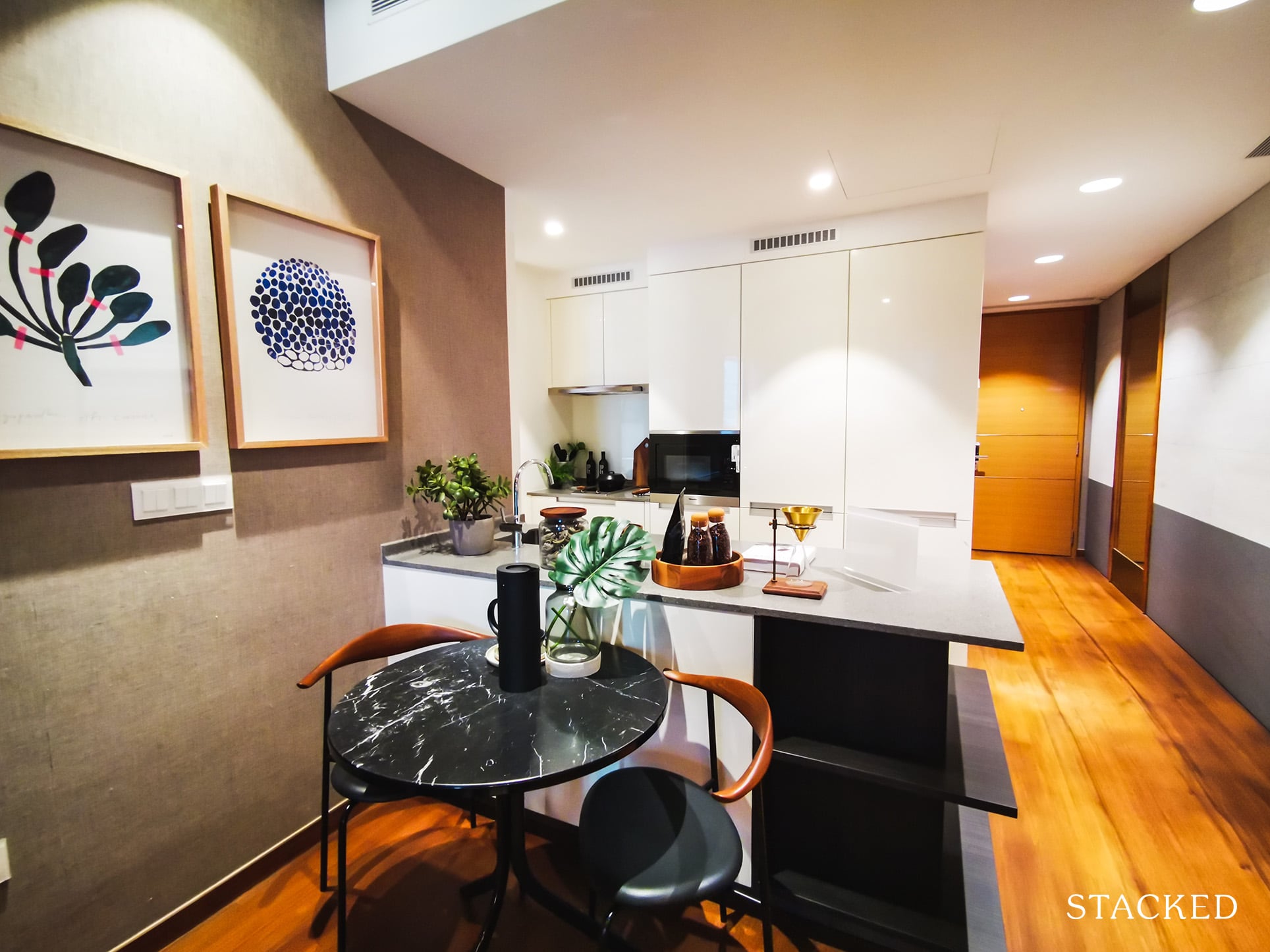 I really like the ID done to the show unit. Its warm tones and colour really give off a homely feel, but yet is very modern. The kitchen has a mini island table but don't expect to do heavy cooking like frying unless you open the main door and balcony for ventilation.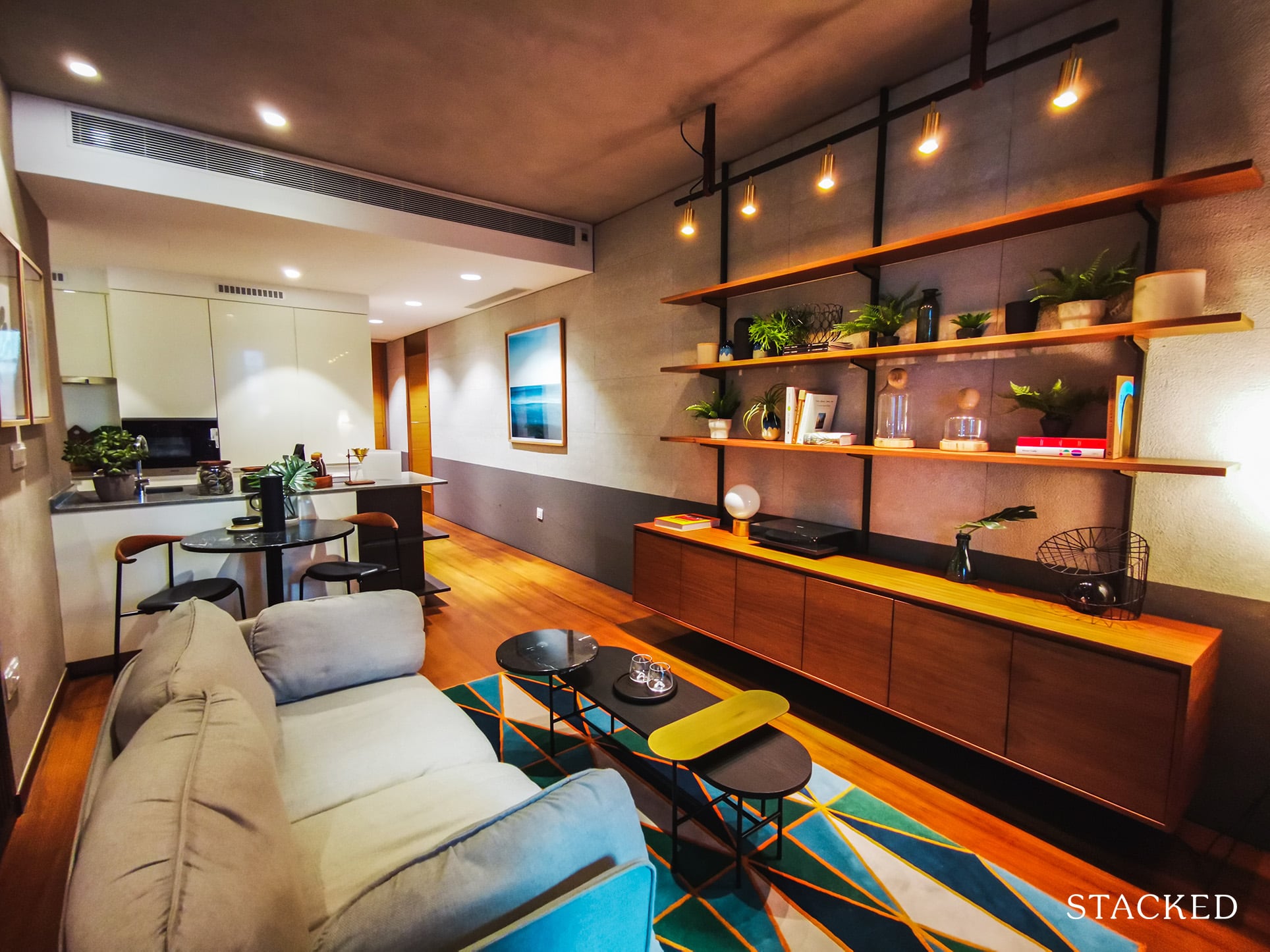 The living area is quite a big space, with enough leeway for a small dining table and a large comfy couch.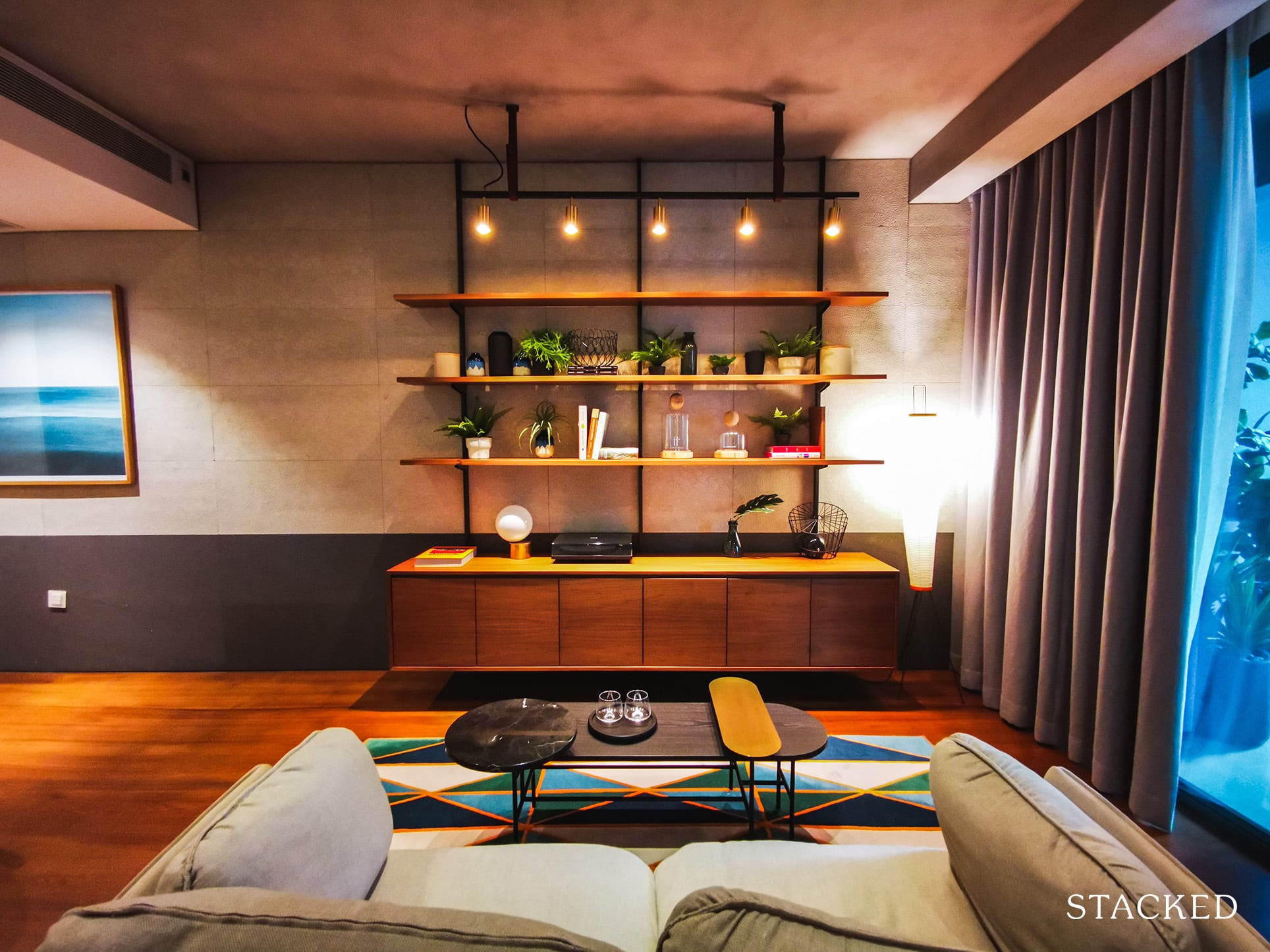 Again, the ID is really well executed here and shows off the space well.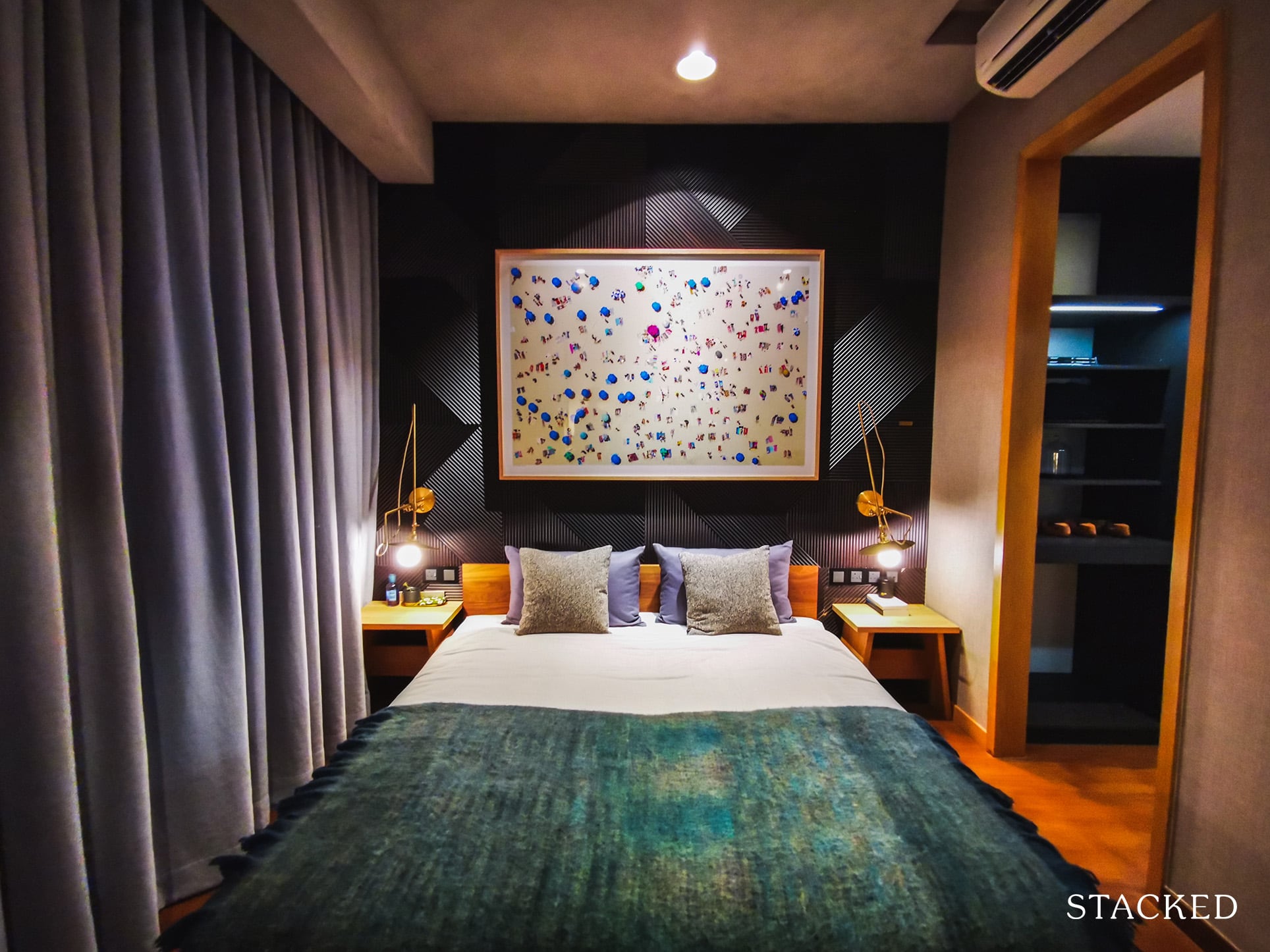 Between the bedroom and living, there is a foldable door to separate the spaces and also for privacy, if needed. But when opened up it definitely gives a better sense of space.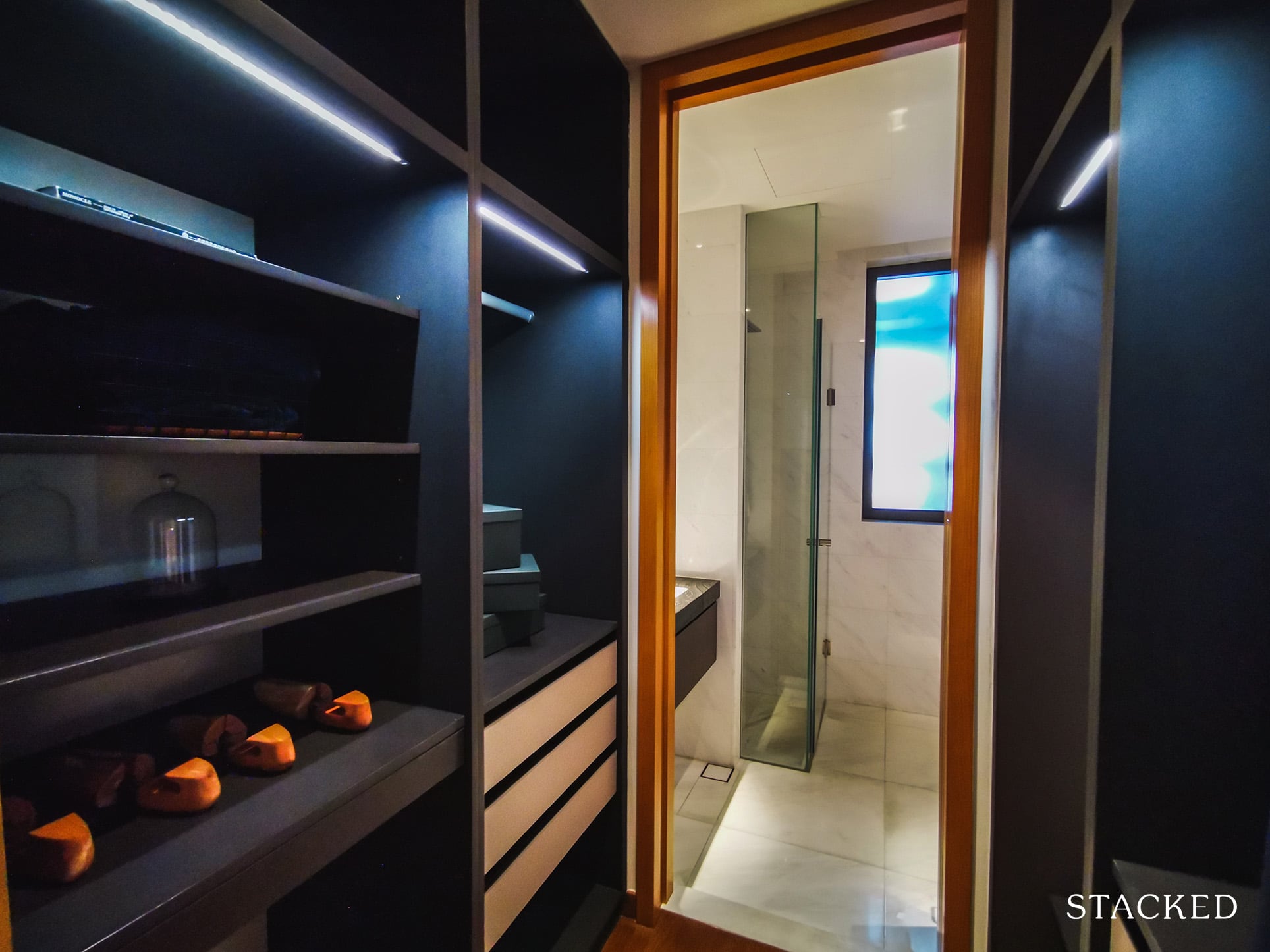 Next to the bedroom is a walk-in wardrobe with a ton of space, considering it is a 1-bedroom unit. This leads to the master bath. The layout is well-planned as you can access the toilet both from the bathroom and the kitchen. So when you have guests over, they can get to the bathroom without going through your bedroom.
Marina One Residences Location Review
Marina One Residences has hands down one of the best condo locations in the entirety of Singapore. Situated alongside uptown neighbours like The Sail at Marina Bay and the prestigious Marina Bay Suites, its array of perks come as no surprise.
The condo's biggest plus point? Its convenience factor.
Residents of Marina One are privileged with 140,000 square feet of retail space at their very doorstep (save maybe a quick elevator ride down – sorry guys no teleportation devices as of writing).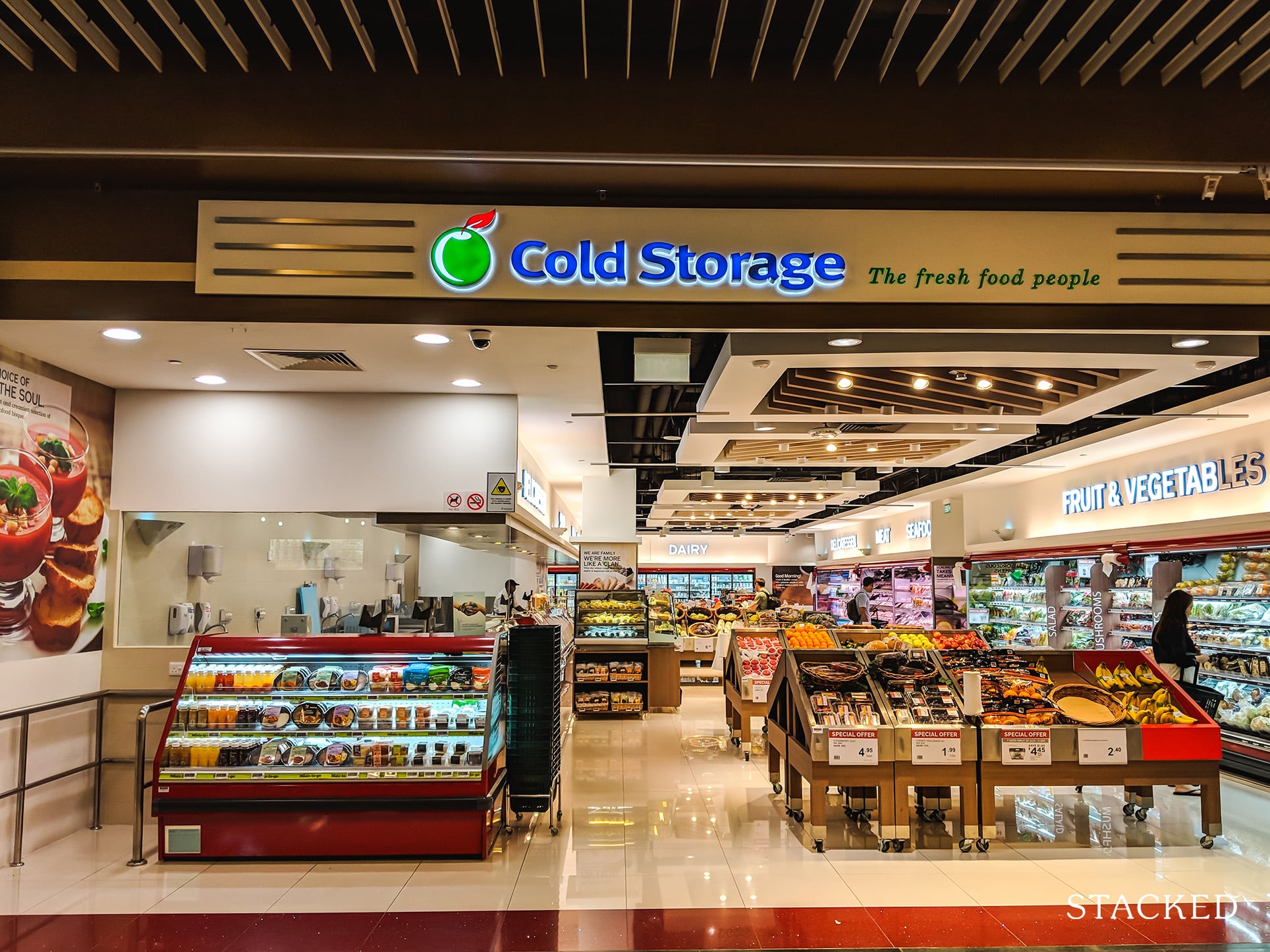 Here you will find a variety of household names including (but not limited to) Cold Storage, Nutrition Depot and Virgin Active amongst a range of top-class eateries and retailers.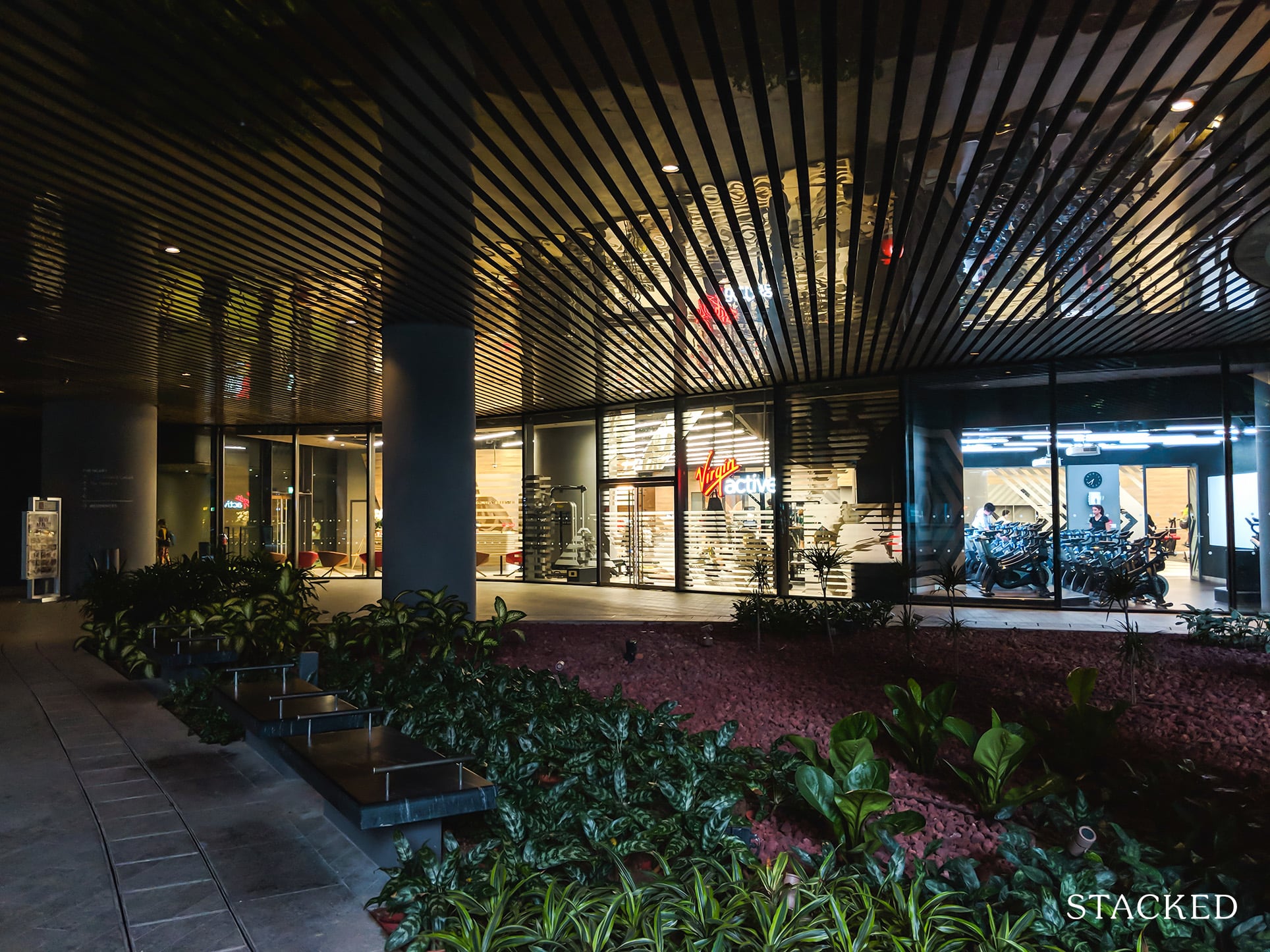 Move out of the condo and you will find that Marina One Residences also has incredible ease-of-access. A minute or two's walk away from the condo lie both Marina Bay MRT (red line) and Downtown MRT (blue line) stations.
The 'Downtown Station' bus stop (located just outside said MRT) also brings with it a solid string of bus services. They include 97, 97e, 106, 133, 400, 502, 513, 653, 654, 655, 657 and 982E.
As for those who drive, you can revel in the proximity of a variant of highways to the condo. These include the Marina Coastal Expressway and East Coast Parkway, as well as Ayer Rajah Expressway and Kallang-Paya Lebar Expressway.
With transport out of the way, a question does pop to mind. What if residents want a change of scenery from their 'local' cold storage every once in a while?
Well, the answer to that lies in a couple of gourmet grocers scattered within walking distances of the condo. They include AP house and The Providore Downtown – the latter dealing mostly with baked goods.
FairPrice options are also available in Chinatown Point, 100am and Tanjong Pagar Plaza – all within similar driving radiuses from the condo.
Regarding (the incredibly important) entertainment sector, living in the (almost) immediate vicinity of Marina Bay does have its bonuses. Gardens by the Bay, Marina Bay Sands and the Singapore Flyer all present themselves as options for an occasional treat.
The two parks in the condo's vicinity – Central Linear and Marina Station Square as well as the three bridges – Helix, Anderson and Esplanade make for incredible strolls by day or by night, as do the various shopping malls in the area – One Raffles Place, Suntec City, Chinatown Square and 100am make for easy escapades from home.
One thing for sure is that residents here will not suffer from a lack of food options (even outside The Heart). Lau Pa Sat and Telok Ayer Market offer themselves as affordable yet diverse food options (just think of the number of food stalls there), a mere 3-minute drive from the condo.
Probably the best options still remain within the development itself, as the options are plenty and it is super convenient.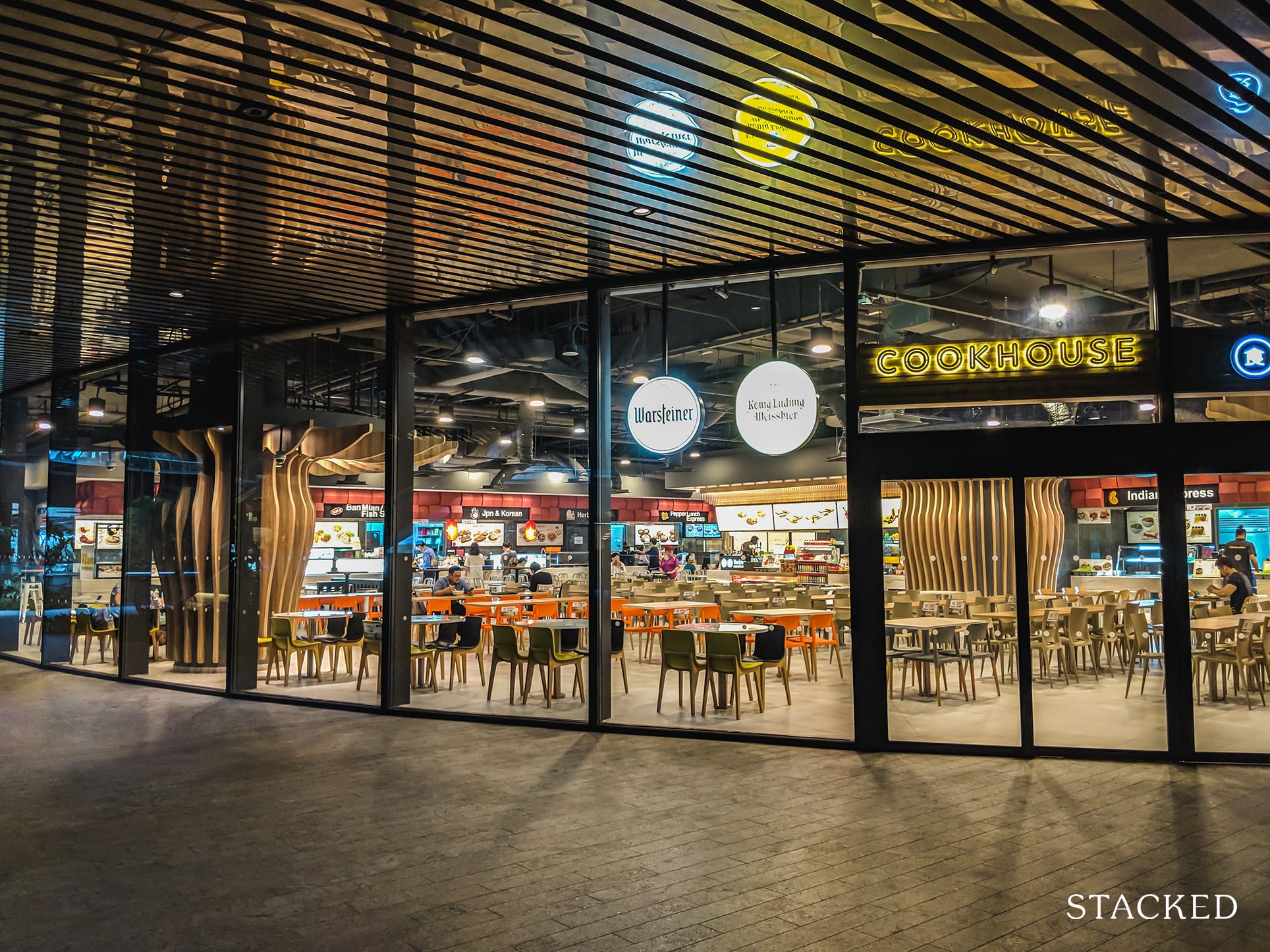 For those familiar with the army life in Singapore, this isn't like any of the cookhouses that you know (and love). Jokes aside, it's modern, clean and air-conditioned. Everything you would want for a quick meal that doesn't break the bank.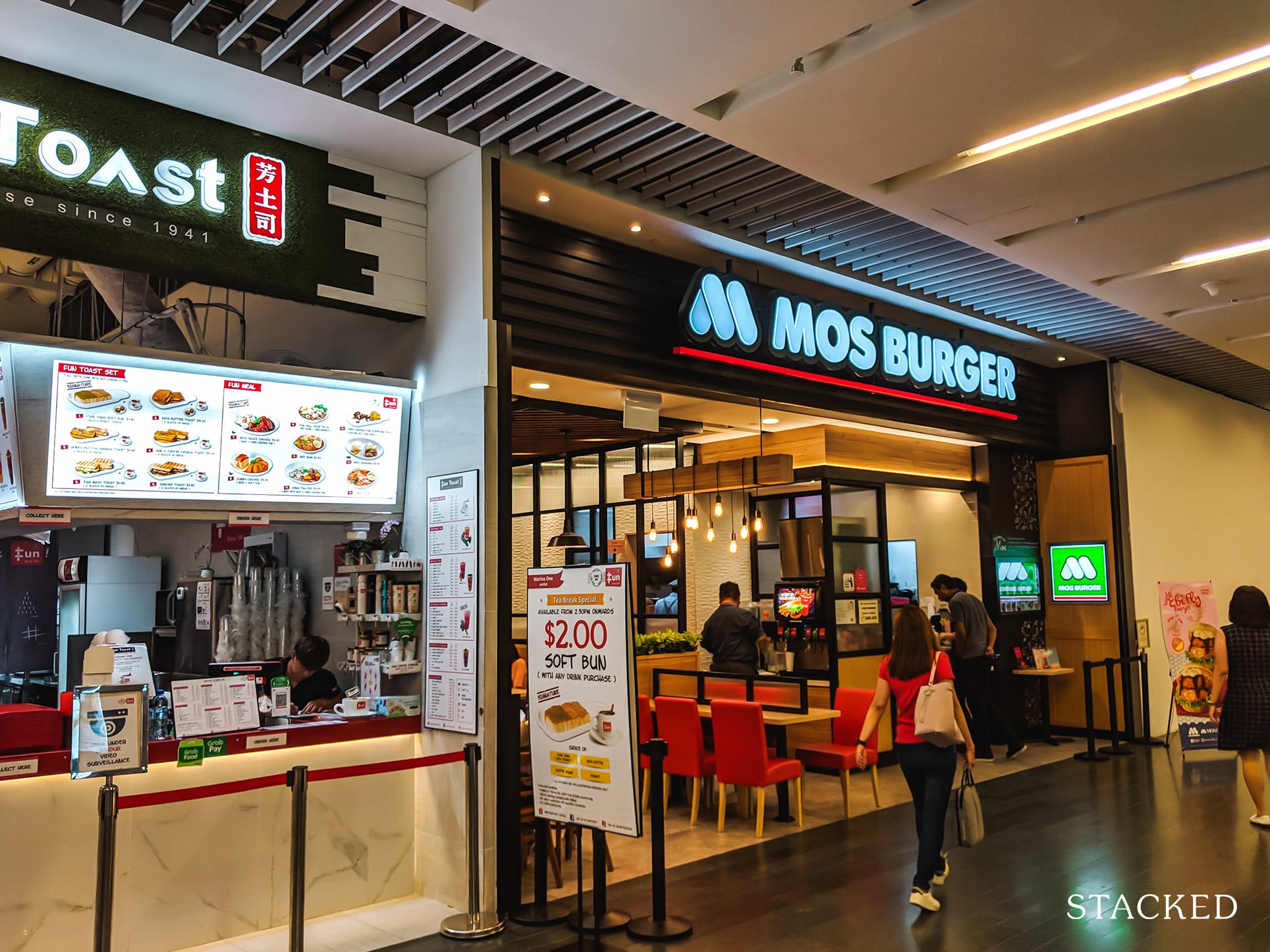 You do get your fast food options at the basement too!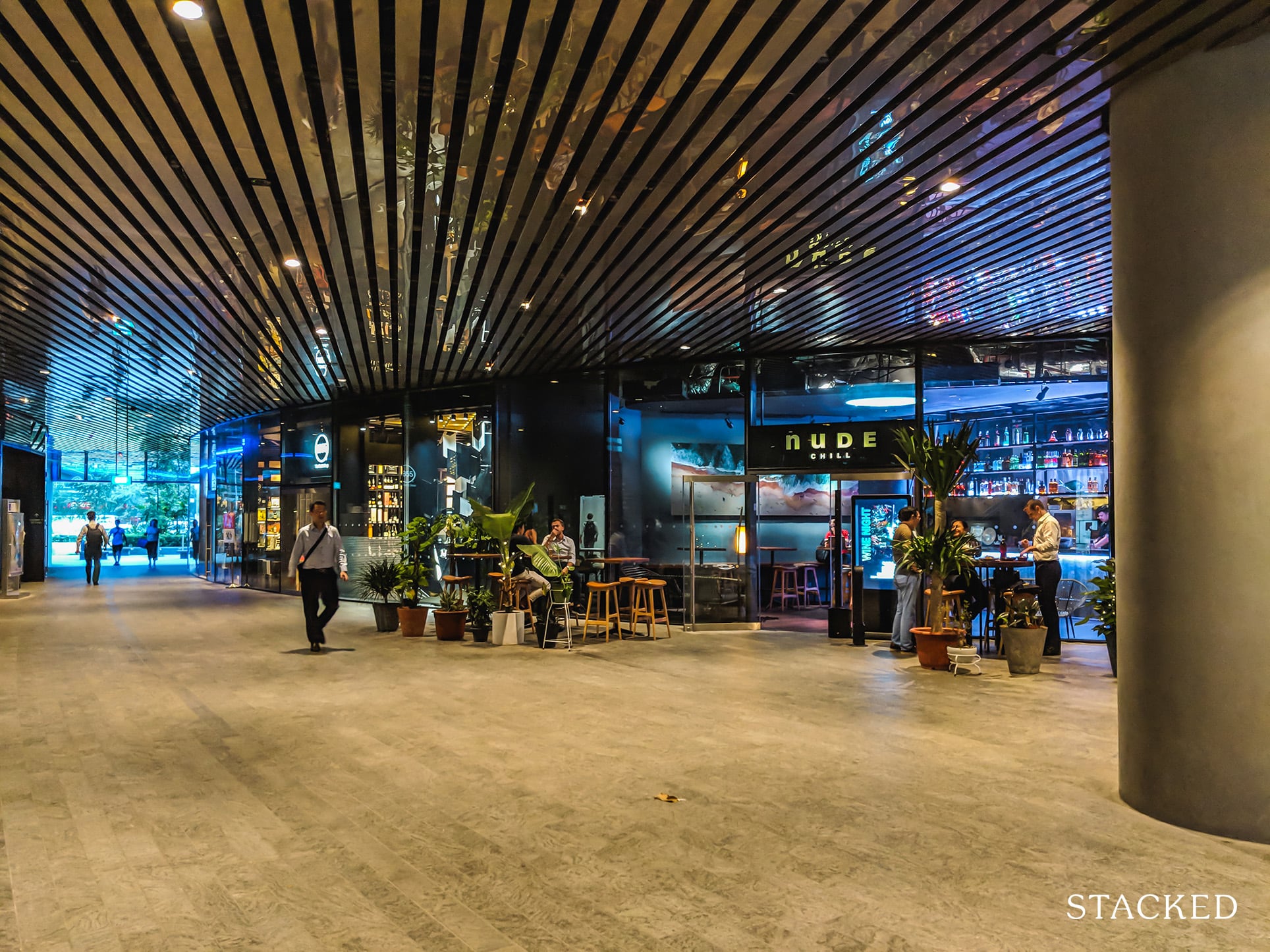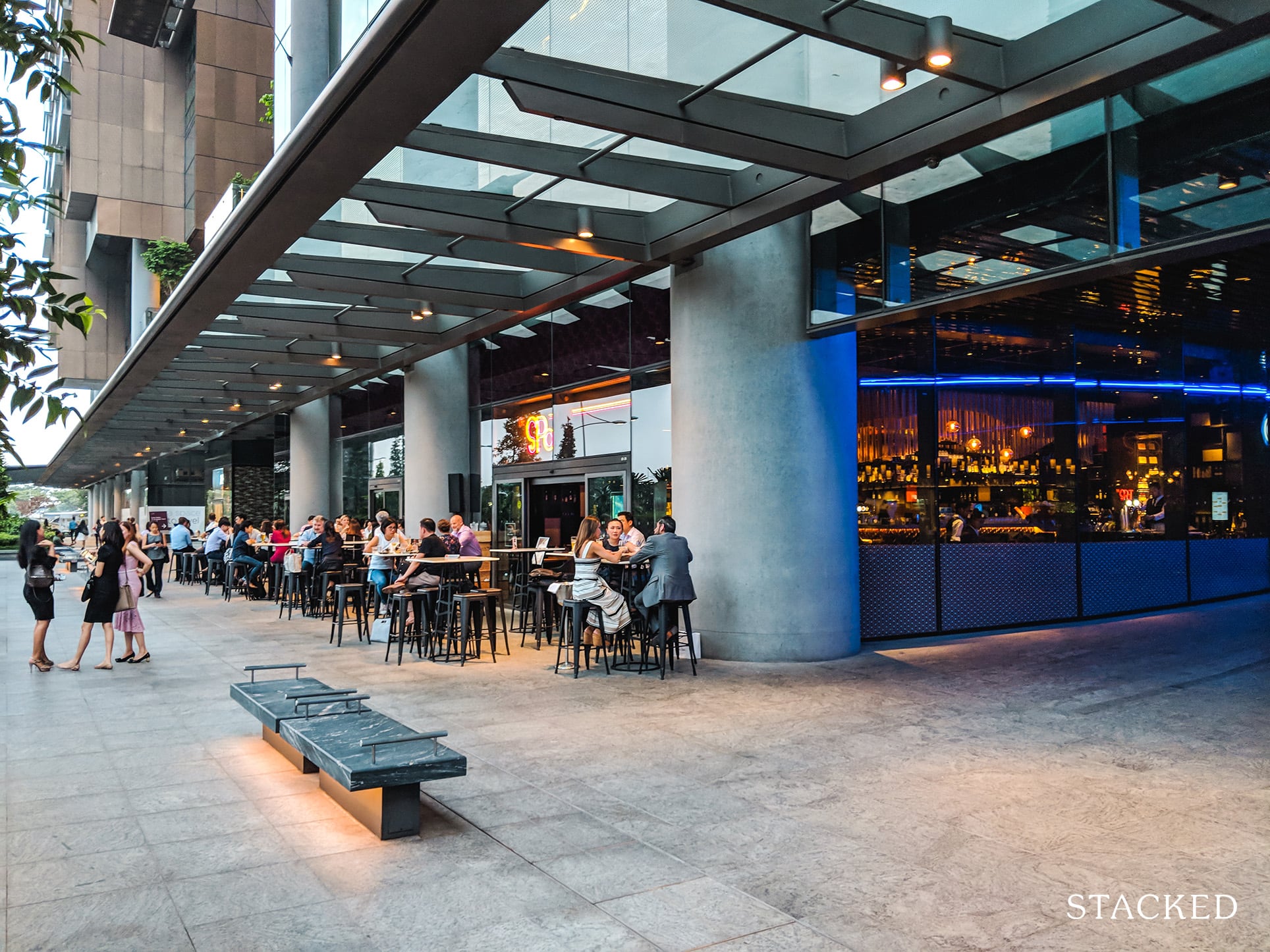 Some people might say that nightlife on weekends isn't the best, and while that is quite true, you do get lots of opportunities to mingle on weekday nights after work. It's lovely to sit outside too, where it is cooling and windy at night.
As for those who frequently seek uptown choices, you will have a peach just sifting through the numerous high-class dine-ins along Marina Bay Sands and its surroundings.
Despite all these incredible perks, the condo's locale isn't a complete bed of roses (though it does come pretty close).
Its biggest trade-off is the rate of development in the surrounding area – a double-edged sword scenario that unsurprisingly repulses some, yet appeals to others.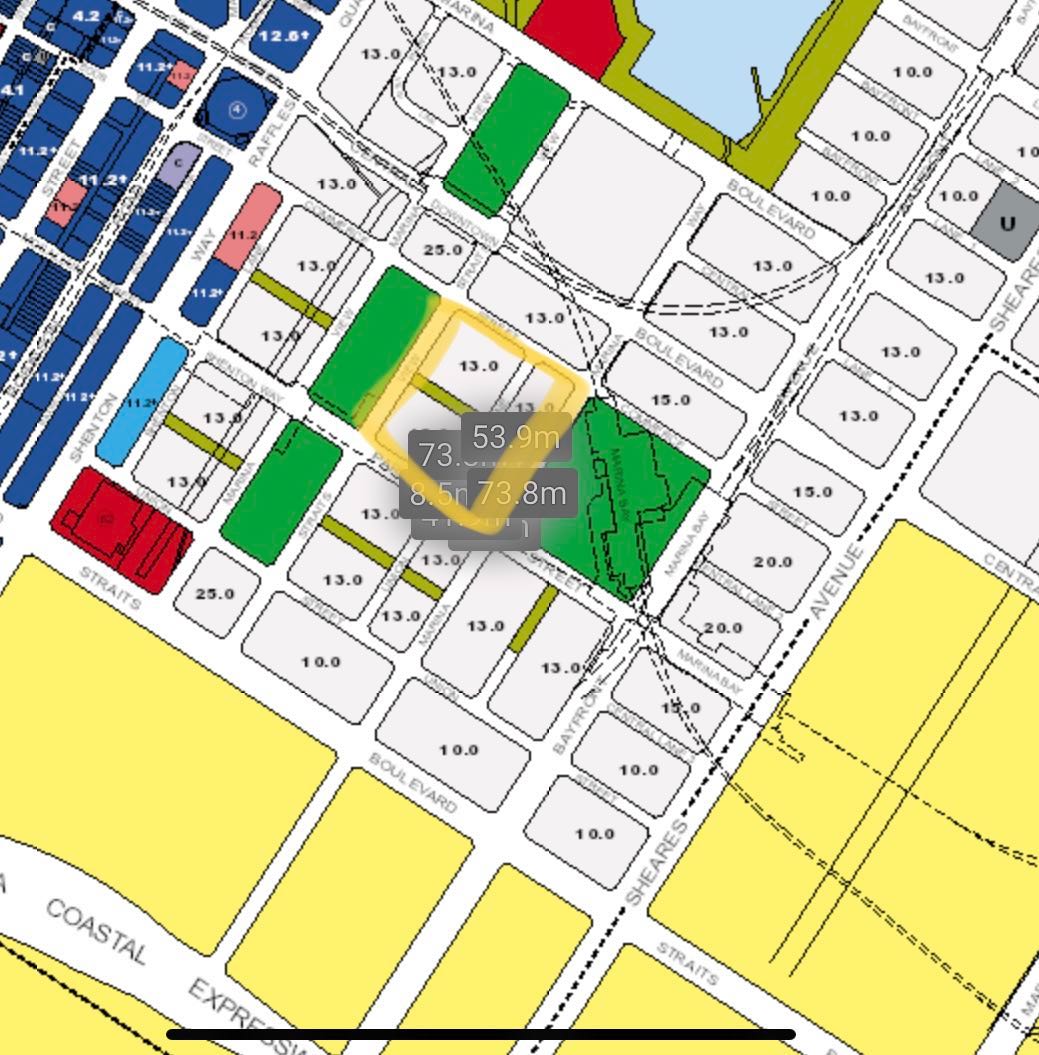 Statistically speaking, large subplots of land around the condo have yet to be released. For those that have, however, it has become a source of construction-related noise and air pollution to residents of the One Marina. It also fuels the worry that further/future developments will impede unit views.
On the good side of things, more developments here will further rejuvenate the area and could also prop and push prices up in the future.
Another (unorthodox) worry worth mentioning comes in the form of supercars.
Quite a few have complained of these beastly machines speeding around the highways in the wee hours of the morning – an uncharacteristic albeit important point to observe for our light-sleeping readers.
Don't forget to look into these issues should you choose to make the Marina One Residences a residential option!
That being said, there are some positives to these (current/potential) developments – mostly from an investor's point of view.
The upcoming Greater Southern Waterfront coupled with future residential launches in the vicinity could definitely see prices gradually rising in the not-too-distant future.
Our last point brings us to the condo's suitability for kids.
While the range of entertainment opportunities and the presence of nature in the area makes it a very viable option to raise children in, availability of good education in the Marina One's vicinity does feel wanting.
Preschools are slightly more abundant in the area with Genius Hive, Tots and Teddies, Kinderland and Da little Preschool at Cecil Street within a 5-minute drive radius of the condo.
As for primary and secondary schools, you will find Cantonment, River Valley and Stamford Primary as well as Outram, Dunman High and Gan Eng Seng Secondary schools – situated just short of 10-minute drives from the condo.
In the immediate vicinity (walking distance), you will mostly find a bunch of tuition centers as well as the occasional tertiary institute including Nanyang Institute of Management and the Manchester Business School.
Marina One Residences Development Site
Marina One Residences currently resides on 282,014 square feet of land – not that much when you consider how many aspects the entire development caters to. With 140,000, 65,000 and 40,000 square feet of space dedicated to its retail, urban tropical paradise and events' areas respectively (not to mention a 4-storey carpark), you would naturally expect a larger development area.
Add in the condo's 30-storeyed office towers and 34-storeyed residential blocks and it does seem like the vicinity could get a tad overcrowded – especially when you factor in the public's access to its retail and nature areas.
The Marina One Residences' numerous walkways, greenery and entrances/exits should, however, do their bits to ease this aspect – especially when all the units are eventually occupied.
Let's pop over to the unit mix:
Unit mix

| No. of Units | Unit Type | Size (sqft) |
| --- | --- | --- |
| 229 | 1-Bedroom | 657 – 775 sqft |
| 144 | 2-Bedroom | 969 – 1,130 sqft |
| 29 | 2-Bedroom + Study | 1,141 – 1,216 sqft |
| 86 | 3-Bedroom | 1,507 – 1,539 sqft |
| 29 | 4-Bedroom | 2,045 – 2,250 sqft |
| 4 | Penthouse | 6,491 – 8,568 sqft |
The condo does have a rather nice spread of unit selections, even if they are mostly concentrated to the 1-2 bedroom units. As you can see, the sizes of these units are definitely above average when compared to other similar units from condos in the region.
This is a worthwhile point to highlight given the claustrophobic-feel of most 1/2-bedroom condo units in Singapore. It is also worth noting that the unit's limited space has been well managed by the condo's interior designers (as we have seen).
Prices Review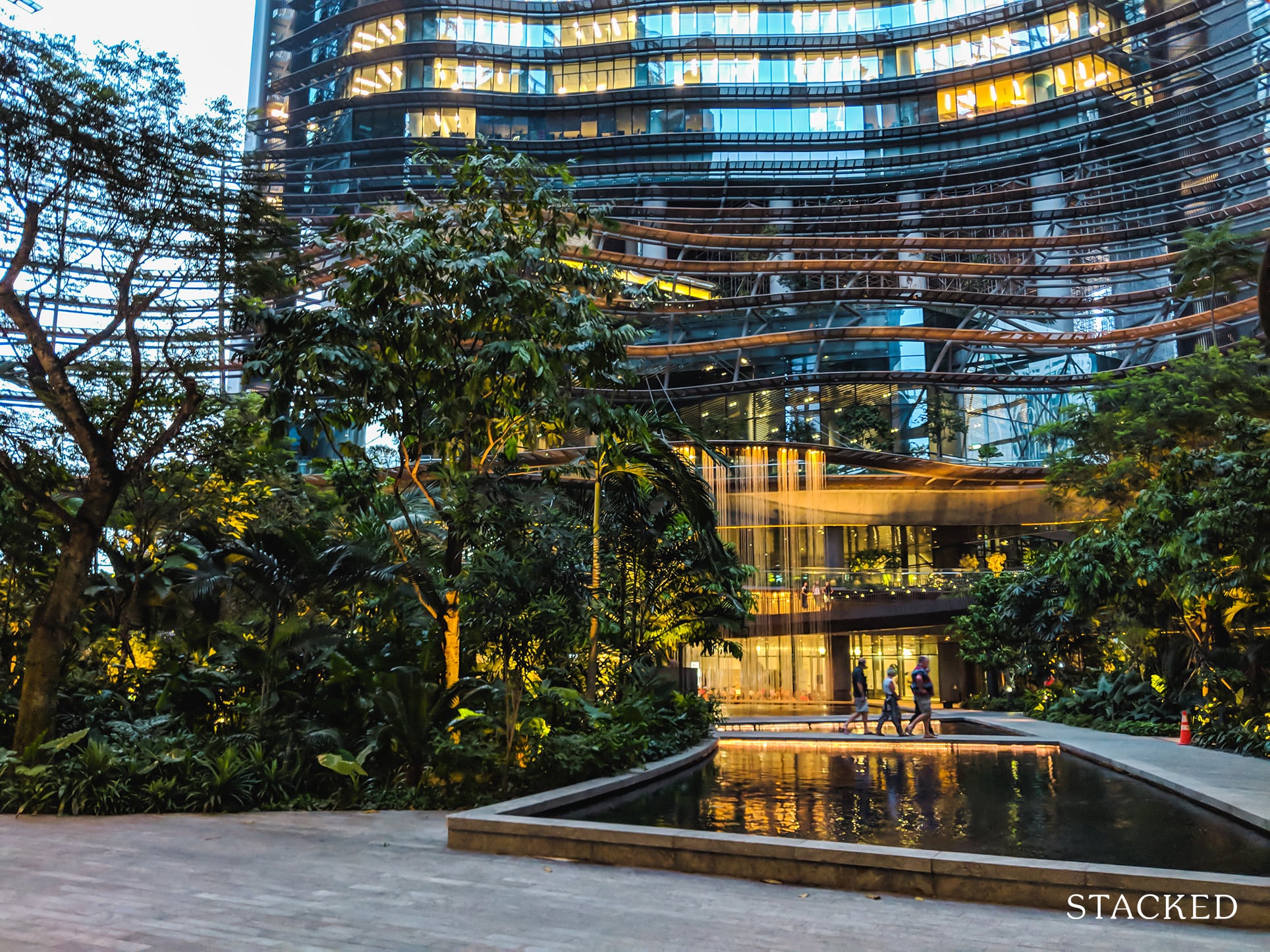 Surrounding developments

| Project Name | Tenure | TOP | Average Price (PSF) |
| --- | --- | --- | --- |
| Marina One Residences | 99 years | 2017 | $2,554 |
| The Sail @ Marina Bay | 99 years | 2008 | $1,924 |
| Marina Bay Suites | 99 years | 2013 | $1,972 |
| V on Shenton | 99 years | 2017 | $2,272 |
| Marina Bay Residences | 99 years | 2010 | $2,395 |
Marina One Residences is by far the costliest amongst its neighbours (no doubt because of its 'residential-amenities') – although Marina Bay Residences does come pretty close especially when you consider the 7-year TOP difference between both condos.
Earlier in 2014, most of the Marina One Residence's purchases were made by bulk-buying investors looking into 1-2 bedroom units, no doubt with the intention for lease. Prices then were reasonable especially with the 10% early bird discount that came alongside.
Further considering how units belonging to The Sail @ Marina Bay as well as the Marina Bay Residences were completely snapped up during their individual launches a couple of years before, it is easy to observe the location's pull.
With such high demand amongst investors and certain homeowners for units in this area of district one coupled with upcoming developments in the GSW and surrounding plots of land, we could indeed be looking at a further rise in valuation for the Marina One Residences.
Our Take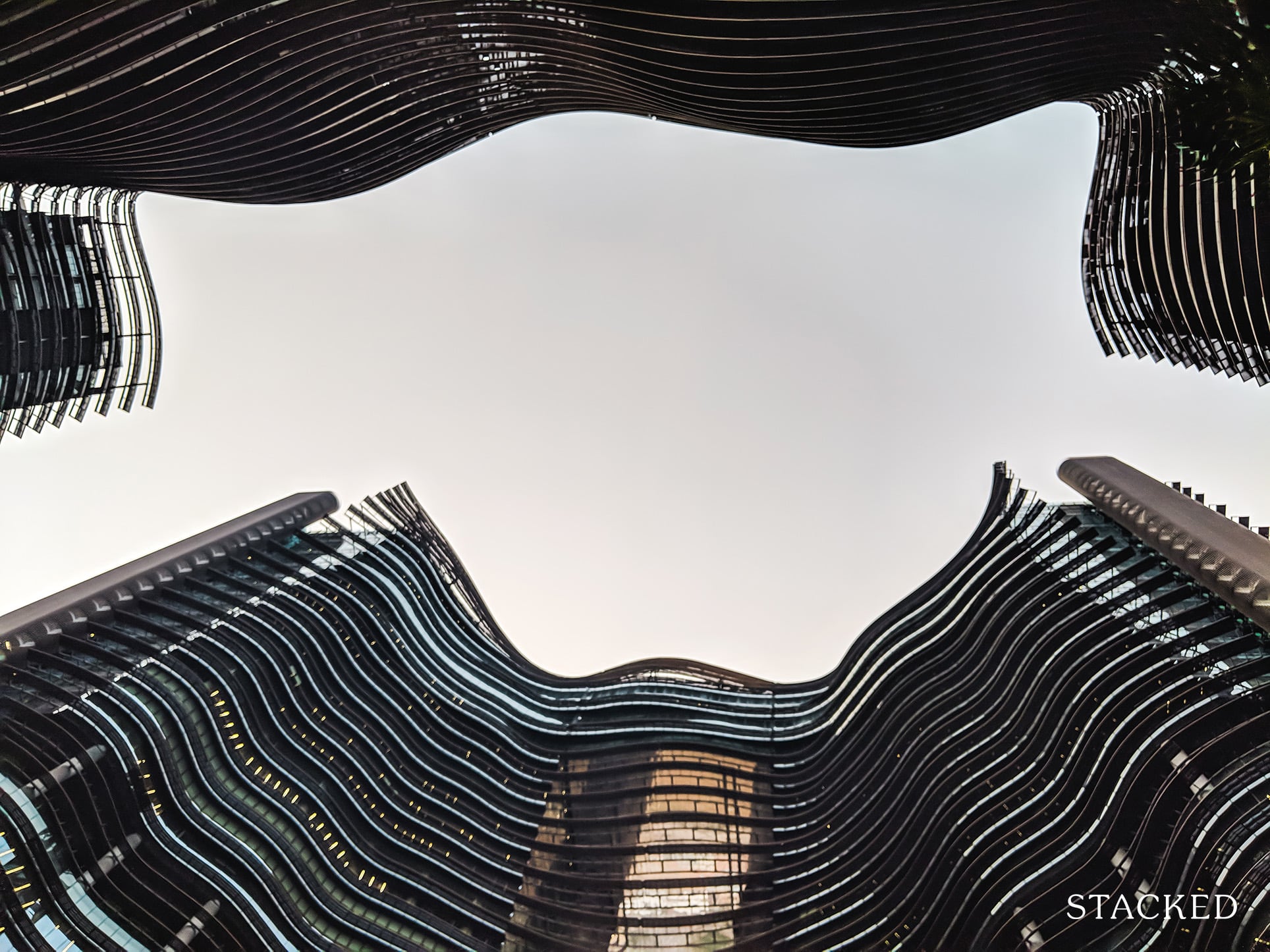 Would I want to live in a place like that? Hell yeah I would. Would I want to fork out that amount of cash to live here on the long-term? Partially.
Allow me to elaborate.
As with the Reflections at Keppel Bay, Marina One Residences is another incredible development that does not have that prized 'family heirloom' status. On top of that, upcoming developments in the area could prove tedious in terms of noise and air pollution, notwithstanding the potential overcrowding in the condo's immediate vicinity once all units are taken.
Couple that with its incredible residential amenity access, wonderful architecture, solid location and 'urban rainforest', and it begins to vibe with me more as a short-term dream home. Anything longer than a year and I would naturally feel the negatives begin to weigh me down.
Truthfully, the particular scenarios in which I could see myself looking into Marina One Residences would be either as an investor (unit purchase) OR a bachelor working in the CBD (short-term lease).
What this means for you
You might like Marina One Residences if:
• You value convenience tremendously:Marina One Residences has an incredible factor in convenience – something that is greatly appreciated by busy individuals/families.
• You are an outgoing bachelor:With freedom comes the ability to fully utilize all the amenities in and surrounding the condo.
You might not like Marina One Residences if:
• You are a family man/woman:The distance to good schools might be a slight hindrance when raising kids in the area.
• You work from home:Potential overcrowding leads to a potential increase in noise – something that is further escalated by the upcoming developments in the vicinity.
End of Review