Property Stories
A Dream Home Or An Investment Asset? Here's How This Couple Made Their Choice
Ryan J
July 17, 2021

7

min read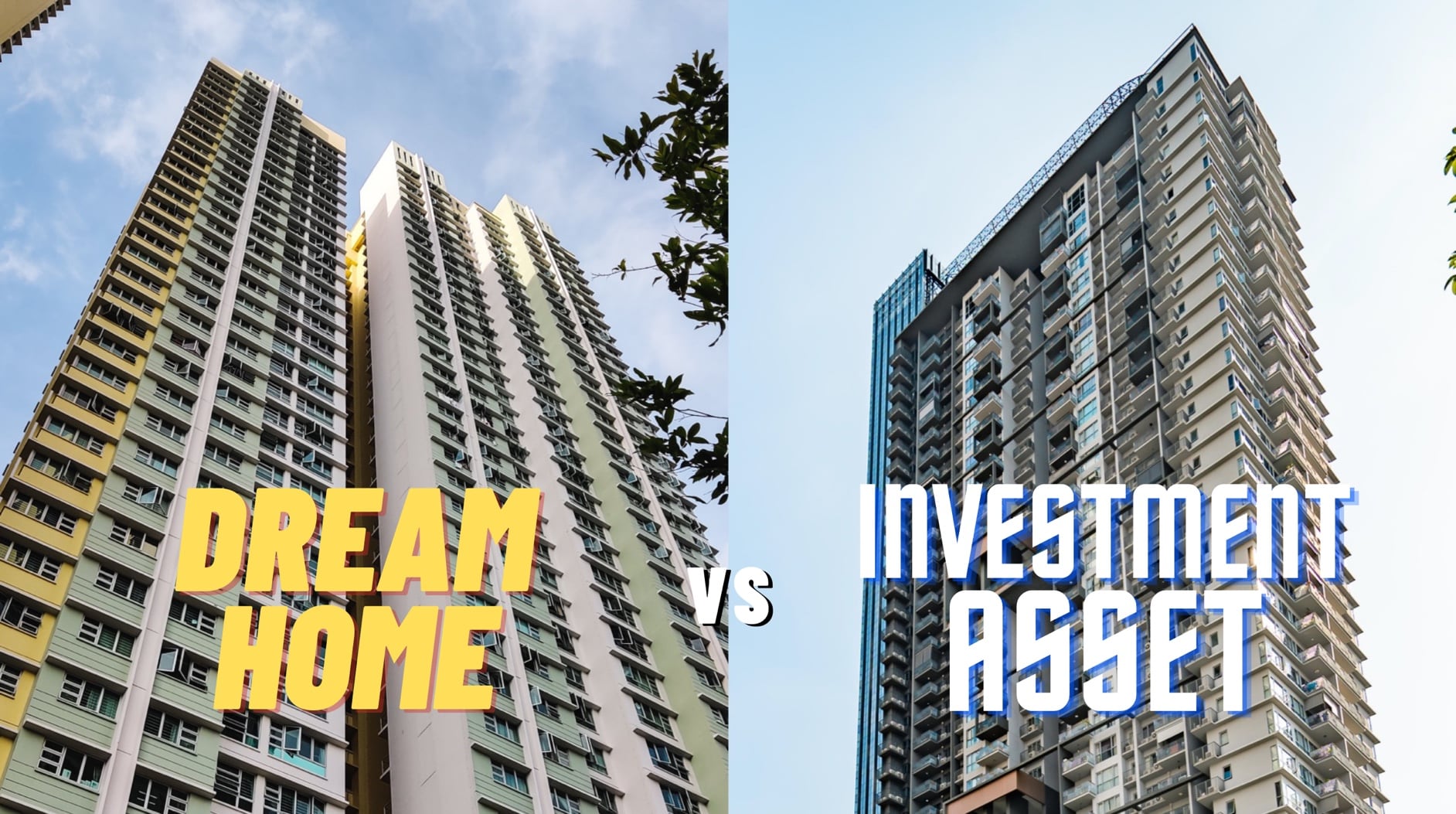 7
min read
"Why did you all buy a resale HDB? You might as well have bought a condo with that amount of money."
For couples who've recently bought a resale HDB in a central location, you might have encountered this reaction from friends and family time and again.
It might even be a little tiresome to hear – till the point where you may even start to second guess your choice.
Well, welcome to Singapore, where your housing decisions get scrutinised by friends and family alike.
So this very scenario happened recently to this couple, who shared this story on their thoughts after buying a resale flat (in response to the many different questions on their decision). There's certainly a lot of debate on this – lease decay, limited SERS prospects, high resale prices, etc. But they had good reasons, and here's a deeper look at some of them. See if you agree:
"My fiance…wanted a house that made investment sense and was not a depreciating asset.
I, on the other hand, wanted a dream home which was spacious, bright, and potentially beautiful".
As mentioned above, this is a very common predicament that most couples will find themselves in. Everyone wants a balance between a home and something that can be an investment – but more crucially, this is a hard juggling act when you throw in the matter of a budget.
So if you aren't clear about this from the get-go, you will realise that a lot of time will be spent on viewing houses that doesn't actually fulfill what you truly want.
Just as in the case of this couple, while certain condos were within their budget, they were just too limiting in what they could offer as a home – too small, noisy, or too far away from the MRT were some of the common reasons thrown out.
"The turning point was when we sat down and decided that the house shall be first and foremost a HOME…"
So in order to create a plan, they decided to create a list of their top priorities that was ranked in order of importance.
This was what they decided on:
The location had to be close to their workplace (and 6 to 7 minute walk away from an MRT at most).
Sufficient space for their parent (potential family expansion)
Age of house (and price)
No road or track noise
Flexible layout to encompass an expanded living and open kitchen
No afternoon sun
And so with that in mind, they were able to push towards a common goal.
First, let's look at the argument that HDB flats are a depreciating asset, whereas condos are not.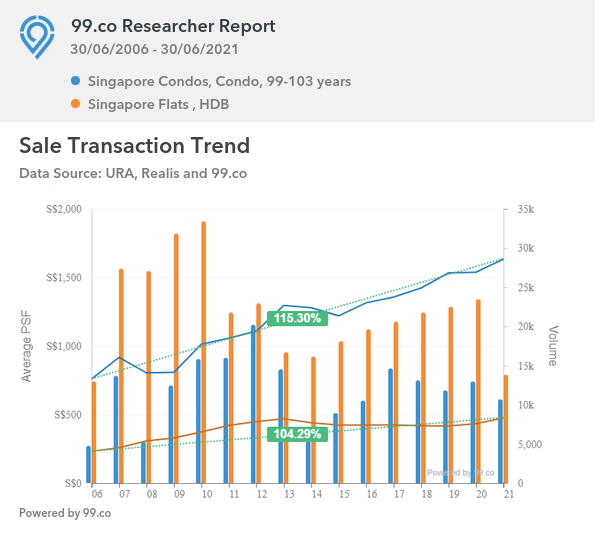 This is the appreciation of condos versus HDB flats, island-wide, over a period of 15 years (we've excluded freehold condos to make the comparison fairer, as all HDB flats are leasehold). 
In a very loose and general sense, condos appreciate better. Over the past 15 years, they've gone from an average of $759 to $1,634 psf. HDB flats have only risen from an average of $233 psf, to $475 psf.
But while it's true condos are usually better for resale gains, the depreciation of HDB flats is often overstated. In truth, even some very old HDB flats can still show signs of appreciation.
Don't believe us? Check this out: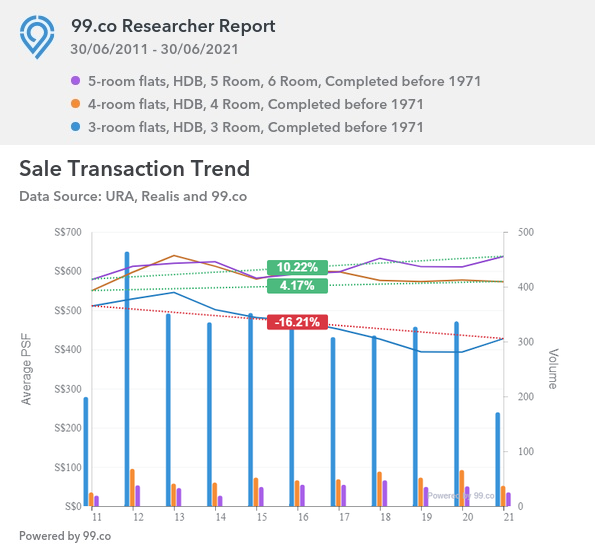 The above shows the average prices of flats completed before 1971, across Singapore, over the past 10 years.
You'll see that while the 3-room flats have depreciated, these old 4-room and 5-room flats still managed to rise in price. This won't last forever of course; as they near the end of the lease their value will fall sharply. But keep in mind that, even at 50-years old, some flats can still be appreciating.
You'll also notice that the bigger flats appreciate better, which relates to our next point
One of the reasons such old flats still appreciate is space. In the 1980's and before, the typical 4-room flat was 1,130 sq. ft. (4-room flats built after 2010 average around 970 sq. ft.).
Going by the average condo price of $1,634 psf, as above, a condo equal in size to an old 4-room flat would run up a quantum of $1,846,420.
Even if you want a condo the size of a newer 4-room flat, this would come to about $1,584,980. So perhaps that clarifies why people are still buying older resale units.
This also means that, if you have a budget that's under $1 million, any new launch condo unit you buy is going to be tiny. So for our buyer in question, who wants more space, a resale flat is probably an appropriate choice.
And while "beautiful" is subjective, we should point out that the bigger your unit, the more customisability and renovation options you have. One of the couple's requirements – a flexible layout to expand the living room – almost necessitates a bigger unit.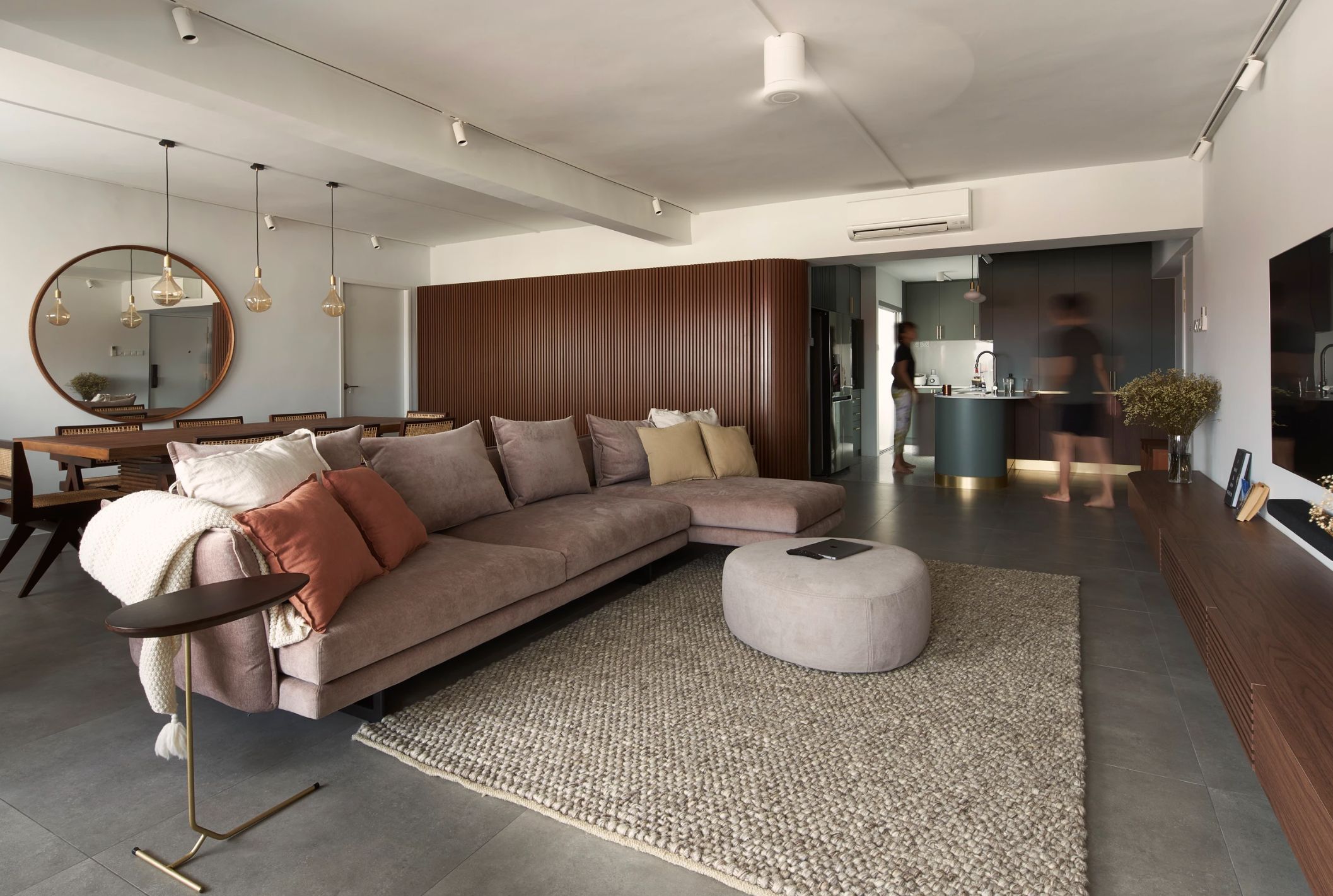 You can simplify the decision significantly, by using the lens of a pure investor, or pure homeowner. However, it doesn't have to be exclusively one or the other.
For example, you could decide that your priority is a home for the next 10 to 15 years; but you will start considering your home as a retirement asset, after that point (this can mean an upgrade further down the road).
That said, it's generally a good move for the average Singaporean to focus on housing first, and an investment second.
Not least because, if you buy a private property first, you need to wait 30 months after selling it before you can buy a BTO flat (so you're often stuck with resale flats, if you need to downgrade in a pinch). 
"Six to seven minutes away from MRT at most"
Maybe this is why they picked a resale flat and not an EC. With few exceptions, ECs (usually the next preferred alternative to a resale flat) are not within walking distance of the MRT.
We've only found 26 to date, out of all the EC developments.
Read this next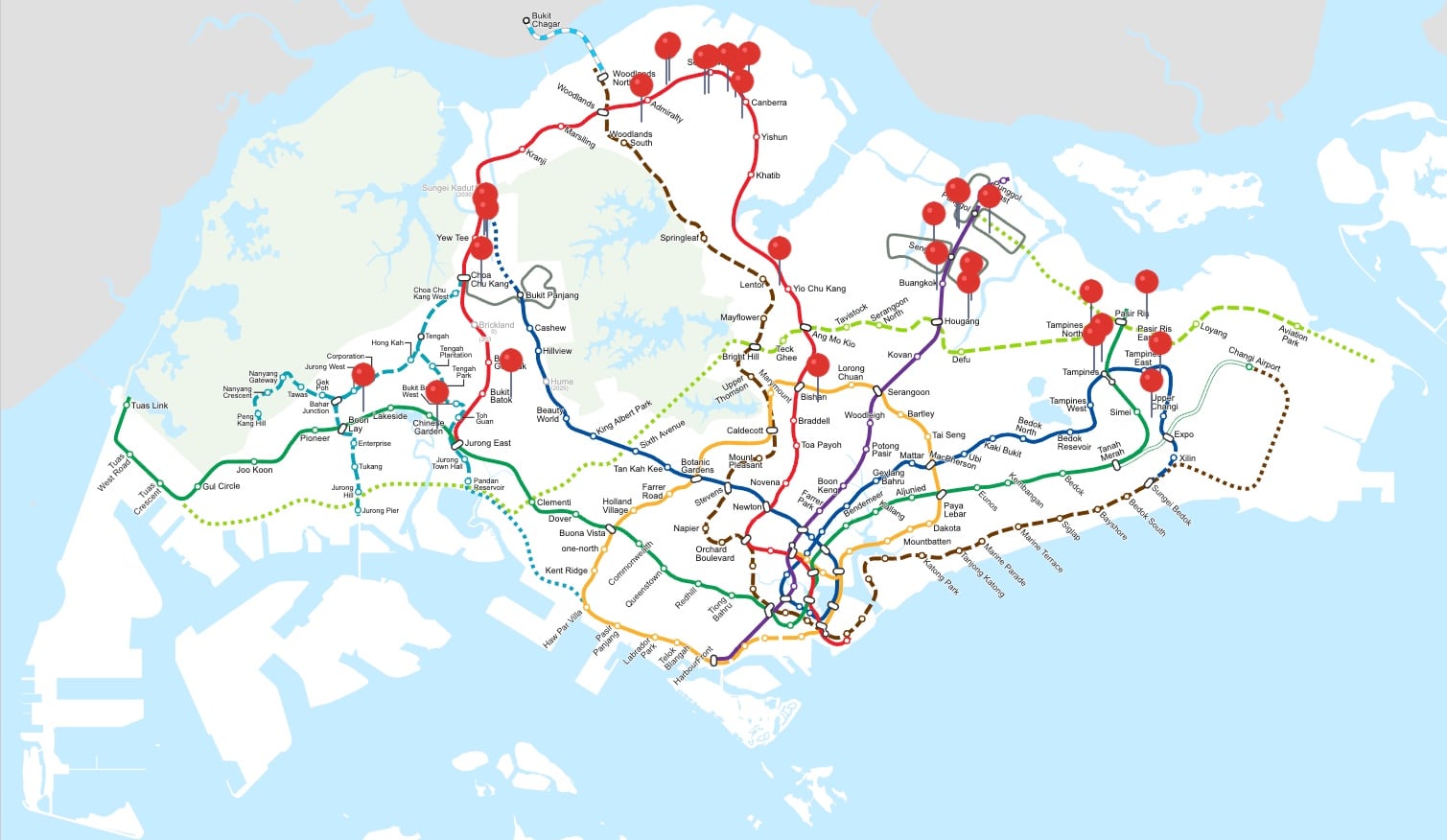 Also, a condo within walking distance of an MRT station is typically at a 15 to 20 per cent premium, which could shrink your unit size even more.
"There may be a day this house no longer meets our needs."
To be fair, this would be true even if they had bought a condo. It even happens with landed property (many older Singaporeans sell off their landed homes when the stairs become a killer). 
For condo dwellers, one particular concern is post-retirement income. Remember that the maintenance fees of a condo unit – which are typically around $200 to $400 a month – don't go down with time. Retirees often cash out and switch to a flat or smaller condo, later on in life.
So once again, think in terms of where you'll be in 10 to 15 years; rather than try to find the one magic property that will be "right" from the age of, say, 35 to 90. You might find one like that; but it's more likely you'll frustrate yourself with this mindset.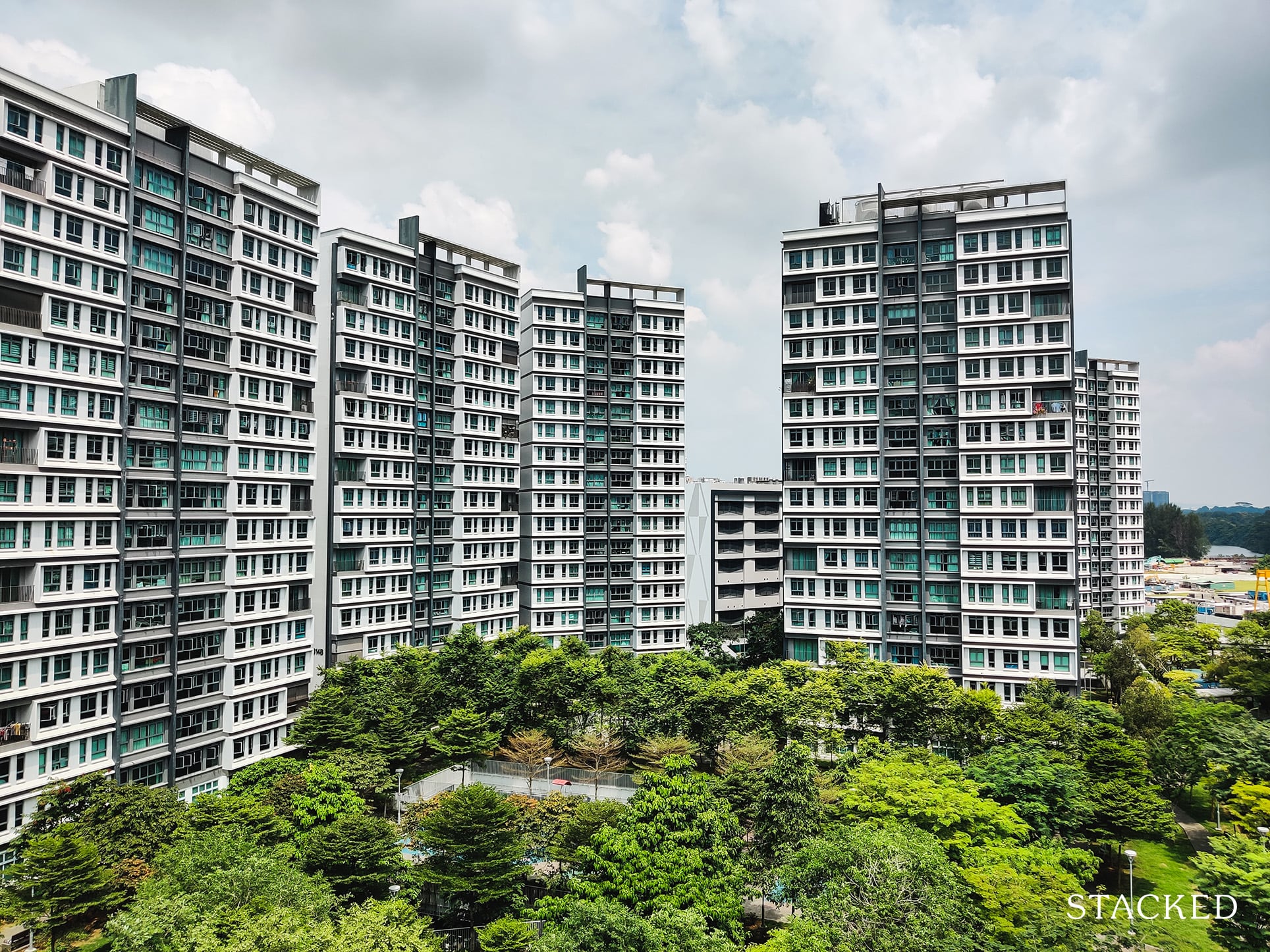 There's another advantage to consider, in having chosen a resale flat
Another common question is "why not a BTO flat, if you want to save money?"
Well as the coupled pointed out, they want to "minimise the financial losses (if any)." We take it this means switching to a better appreciating property, or having that option, if it becomes practical.
If they had bought a BTO flat, they'd need to wait three to four years for construction. After that, they need to wait out the five-year Minimum Occupancy Period (MOP). That's a total of eight to nine years, before they have the option to upgrade if they choose to. A resale flat limits the wait time to just five years.
Financial issues aside, there are other advantages to this flexibility
If the couple's workplaces change, they may need to up and move. This may not be possible, if the construction time and MOP are locking them down. Likewise, families with children should consider future schooling needs (will the MOP period be up, in time for your child to move to a desired Secondary School?)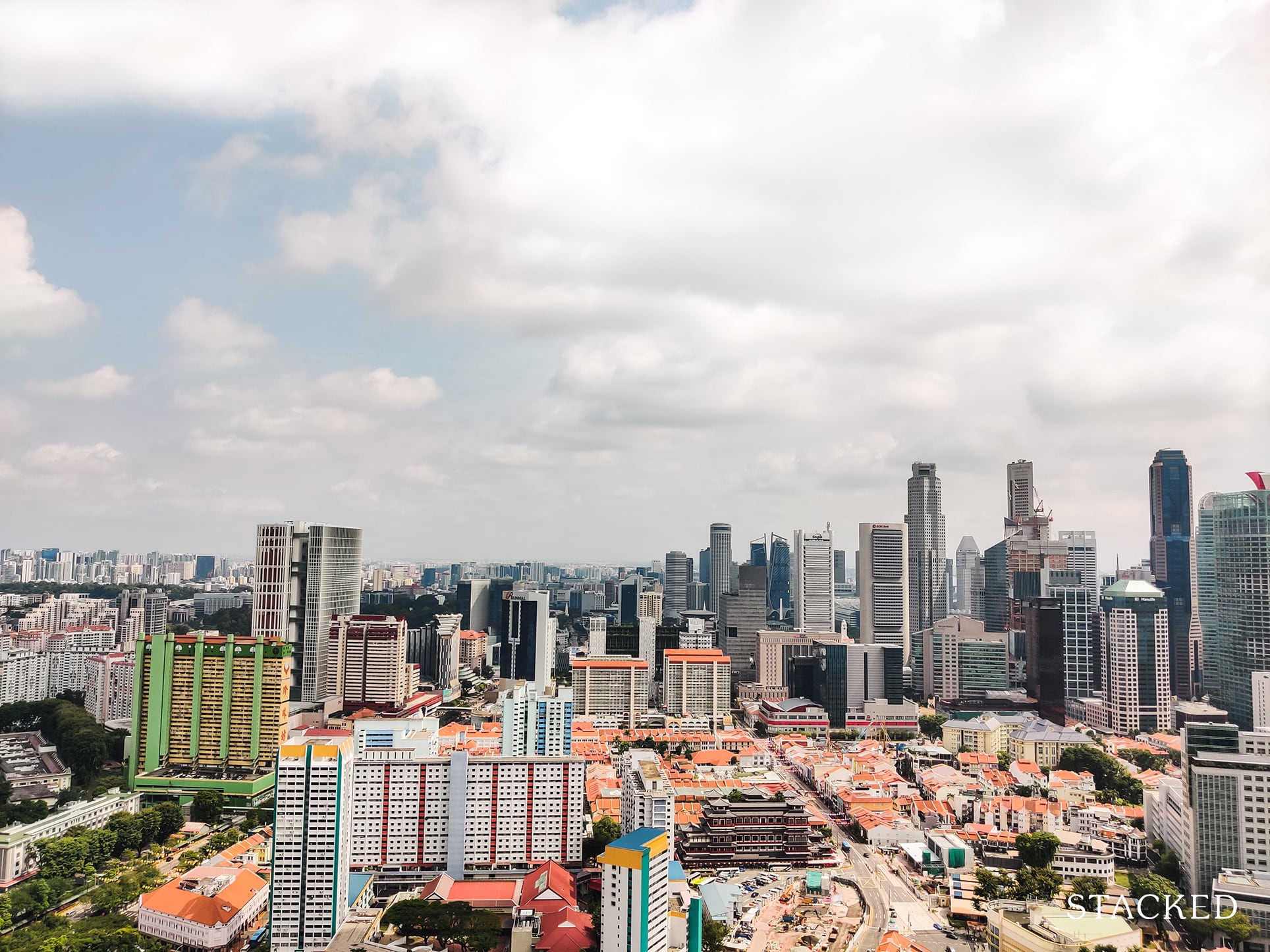 In short, don't overlook resale flats because they're older, or don't appreciate as fast as a condo
Resale flats offer an affordable way to get more space, or be close to amenities like public transport. At the very least, they're a good stepping stone to other properties later on.
Ultimately though, everything said above is about numbers and the practical side of a home.
Many people forget that buying a home is a truly emotional purchase – and many a time it is more than just about the money or practicality – it's about buying a home that you love and resonate with.
"It not only met our criteria, but totally vibed with us.
We started grinning even before the lift doors closed after the viewing. No doubt, it was expensive, but we felt at peace."
And we totally agree. It's hard to put a price on that feeling of returning to a warm and cosy home. It may not be a cash cow that everyone dreams of having, but having that peace of mind that you've made the right decision is super important.
And as aptly shared by the couple at the end:
"With the evolving rhythms of life, there may be a day that this house no longer meets our needs. We may even come to be dissatisfied with our decision.
When that happens, I hope we can look back and remember that God provided us with a home that met our needs and desires at this point in life and that it was in this home that we embarked on our new life together with hope and anticipation."
You can follow us on Stacked for more details on how to pick a first property, as well as current trends for investors and home buyers alike.