Condo Reviews

The Scotts Tower Review: A Designer Building With Vertical Neighbourhoods
Reuben
July 22, 2020

33

min read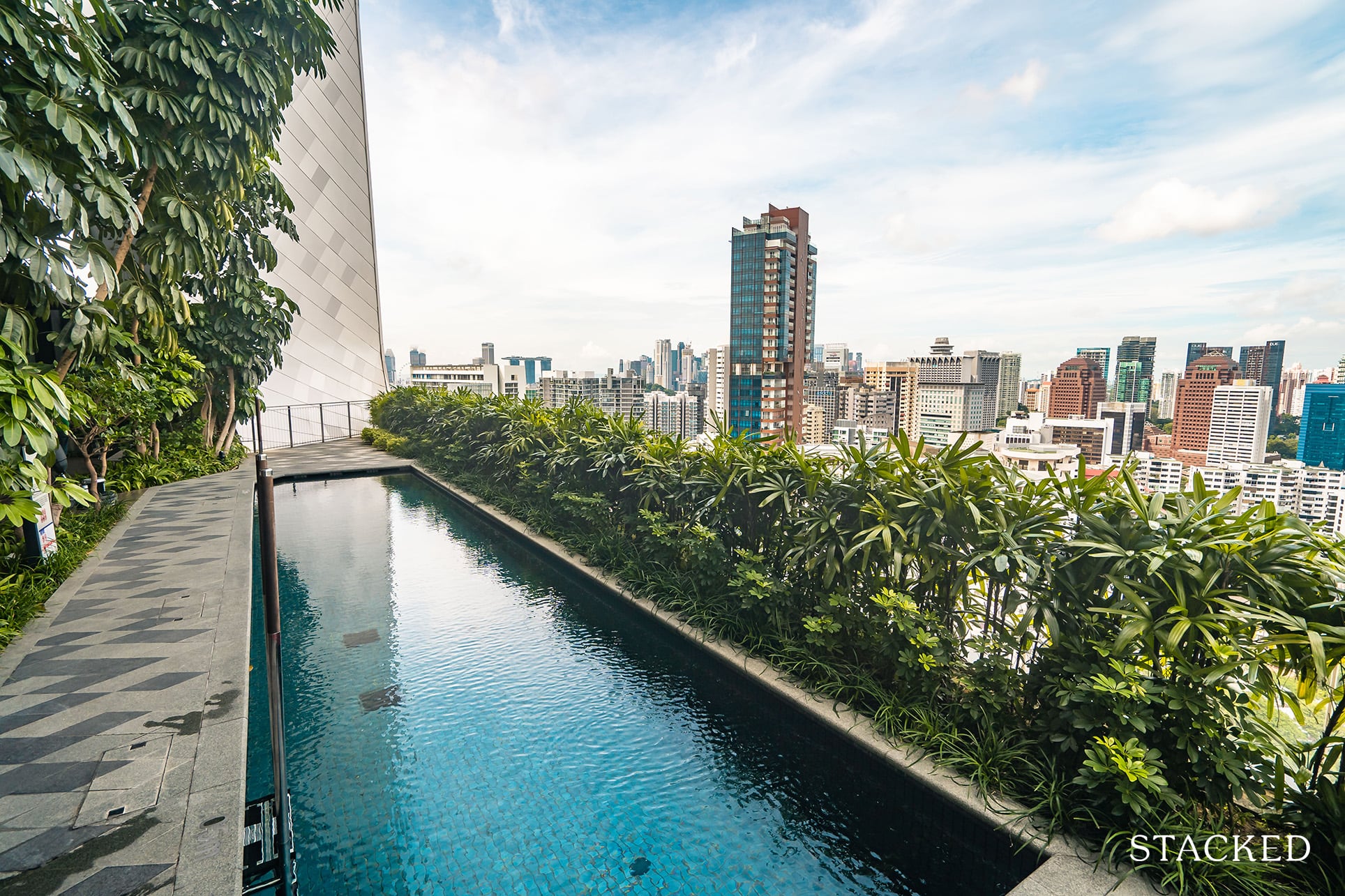 For those who place the upmost priority on a stylish modern design with the lifestyle facilities to boot. Expect to pay a premium for it.
Reviewed by Reuben on July 21, 2020
What we like
Incredible views

Generous pools

Stylish building design
What we don't like
—

Inconvenient lift layout

—

Small plot of land
33
min read
| | |
| --- | --- |
| Project: | The Scotts Tower |
| District: | 09 |
| Address: | Scotts Road |
| Tenure: | 103-Year Leasehold |
| No. of Units: | 231 |
| Site Area: | 65,665 sqft |
| Developer: | Far East Success Development Pte. Ltd & Whitewater Properties Pte. Ltd. |
| TOP: | 2016 |
Merging work and home has always been a tricky concept to pull off, but with the recent Covid-19 events, we could see concepts such as these start to gain in popularity.

Enter The Scotts Tower.

This SOHO (Small Office, Home Office) project offers 1 to 3-bedder and penthouse apartments, with ceilings of up to 3.35 metres high.

Set on the edge of the CBD, the 231-unit project is minutes away from Orchard Road.

Having TOP-ed back in 2016, The Scotts Tower offers majestic views from its staggering 31-storeys, while adding that extra 'flair' to the neighbourhood with its iconic exterior.

Naturally with such attributes, staying at this development is going to set you back a hefty sum – with the average unit valued at a whopping $2,581psf.

We'll go more in-depth into the nitty gritties of the condo in just a moment, but first, a tour of the project's grounds.
The Scotts Tower Insider Tour
Facilities in The Scotts Tower
Basement car park
Cafes
Car Park
Drop Off Point
Gymnasium room
Jacuzzi
Lap pool
Lift lobby
Main entrance
Pavillion
Pool Deck
24 hours security
Sky Lounge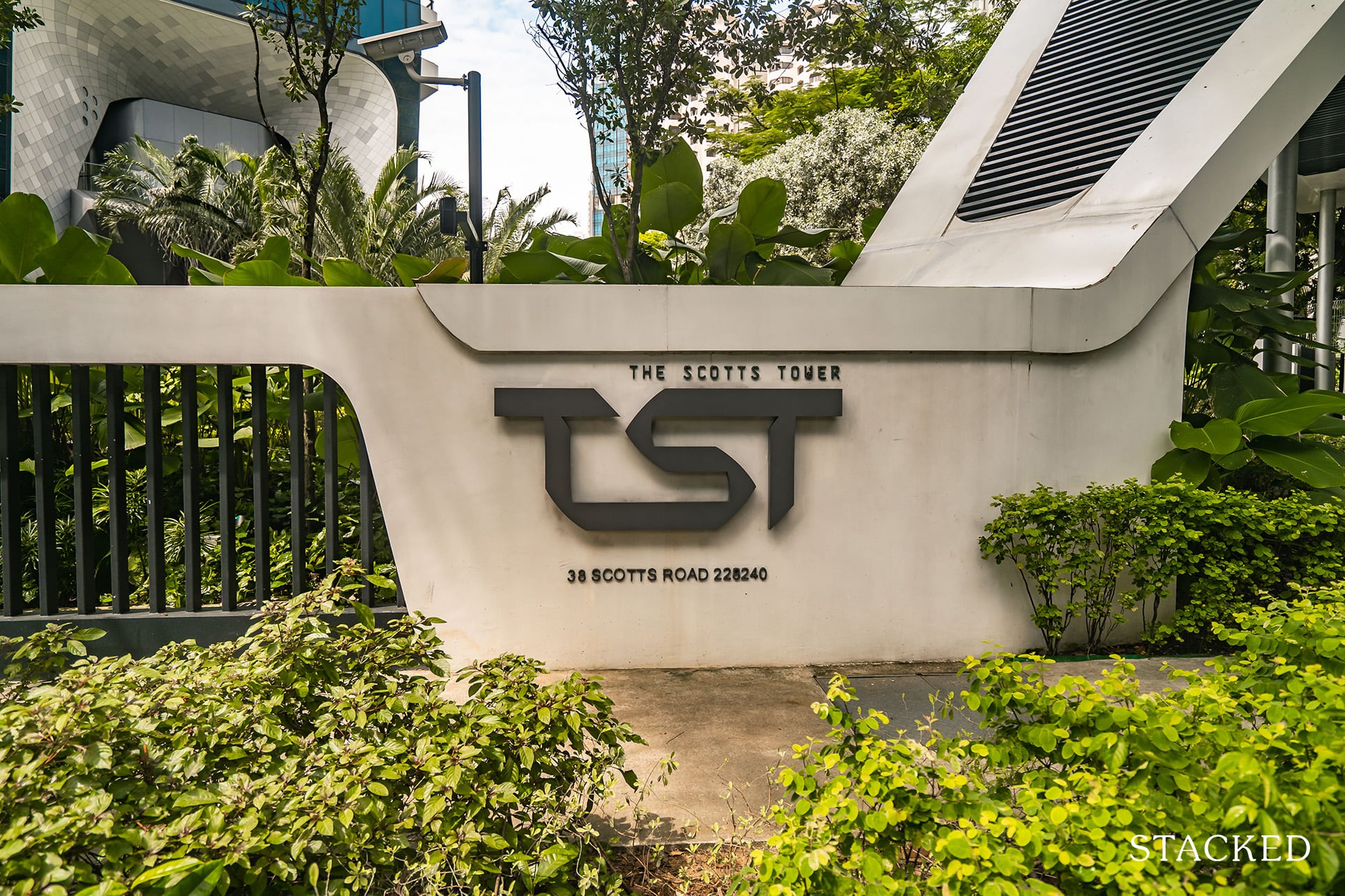 For those who have a keen interest in architecture, Archdaily would probably be one of your go-to reads on the noteworthy structures around the world. Singapore currently has 23 of such featured, and the Scotts Tower joins an illustrious list of Singapore properties such as the Duo Residences, Marina One, and The Interlace.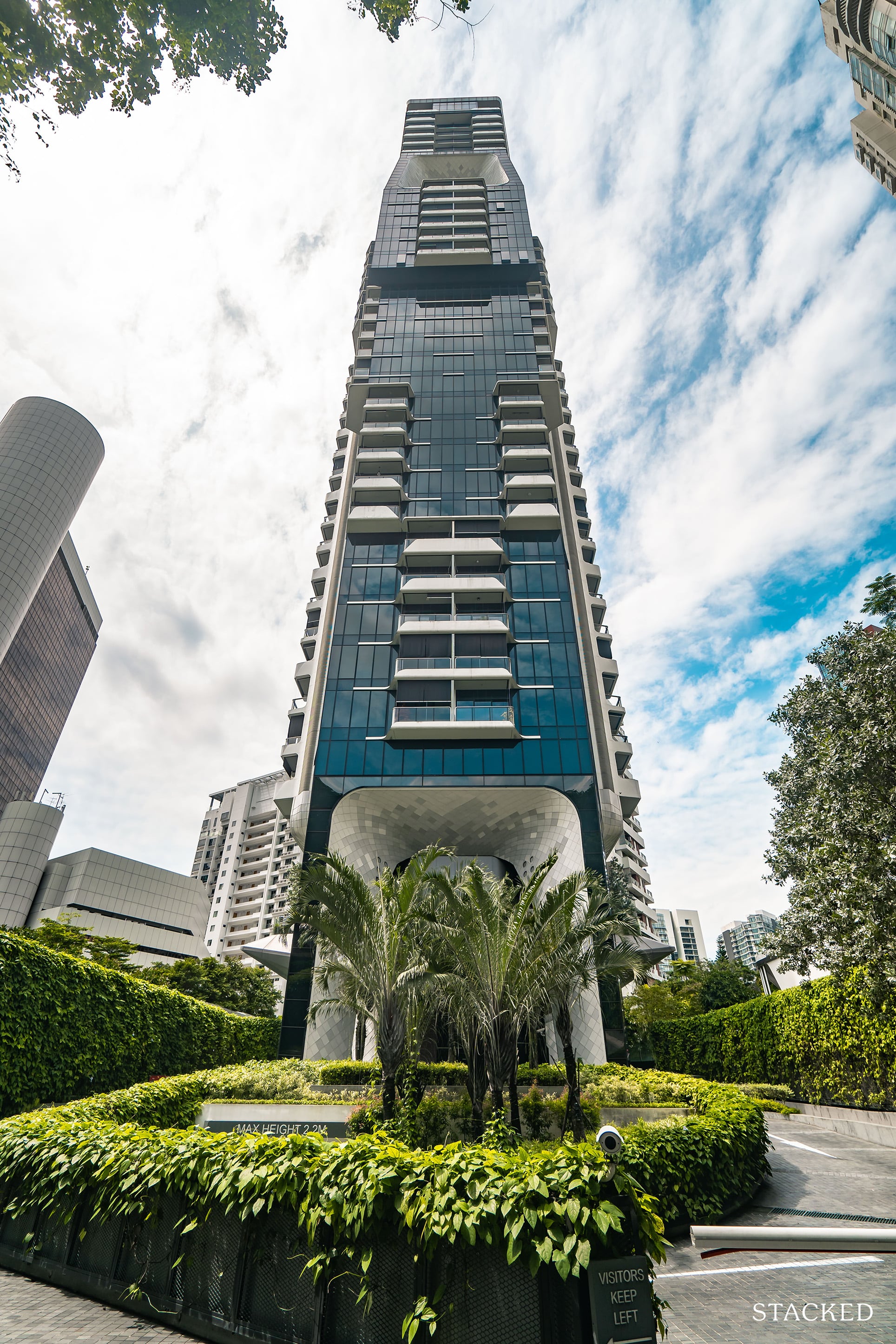 There's no denying that The Scotts Tower cuts an imposing figure. I'll be the first to admit that I'm no architecture expert, but I do find the design of the building to be very easy on the eyes. Unlike some of its more famous peers like the Interlace (which tends to divide opinion), I think most people would agree that its design is rather handsome.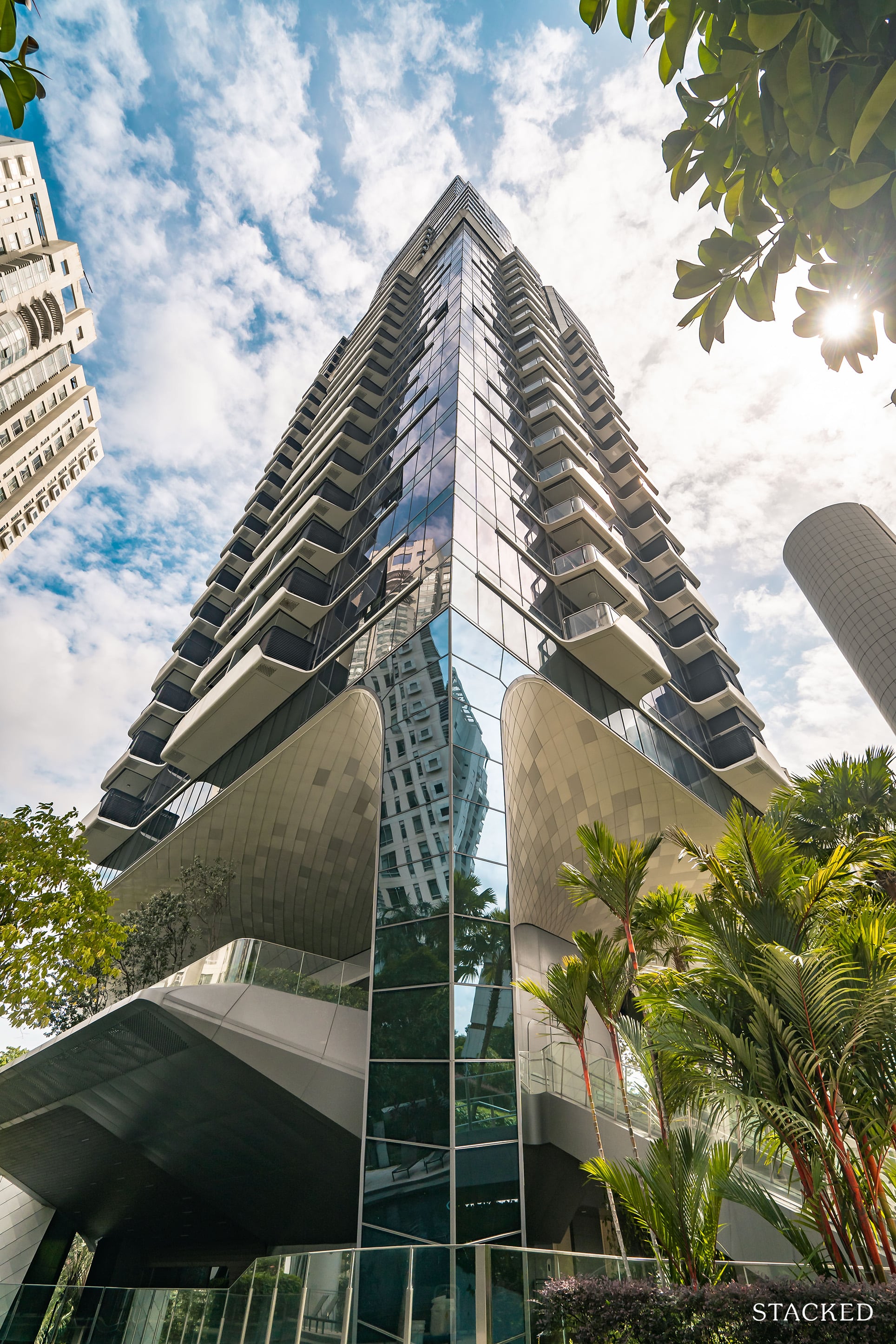 Designed by renowned architects UNStudio (the minds behind V on Shenton, Raffles City Hangzhou and the Qingdao World Horticultural Expo Theme Pavilion), you will notice some familiar traits if you are a fan. The front facade is covered in glossy darkened blue glass, with the curvier balconies poking out at different intersections of the building.
It helps also that its immediate surrounding doesn't contain any particularly notable buildings – which makes it an even bigger standout. Just across, the Environment Building is getting on in years, while the same can be said for Trendale Tower with its dated exposed brick exterior. A claim could be perhaps made for Reignwood Hamilton Scotts (the one where you can proudly display your car right outside your living room), but to me that is more of a trophy asset than a subject of nice design.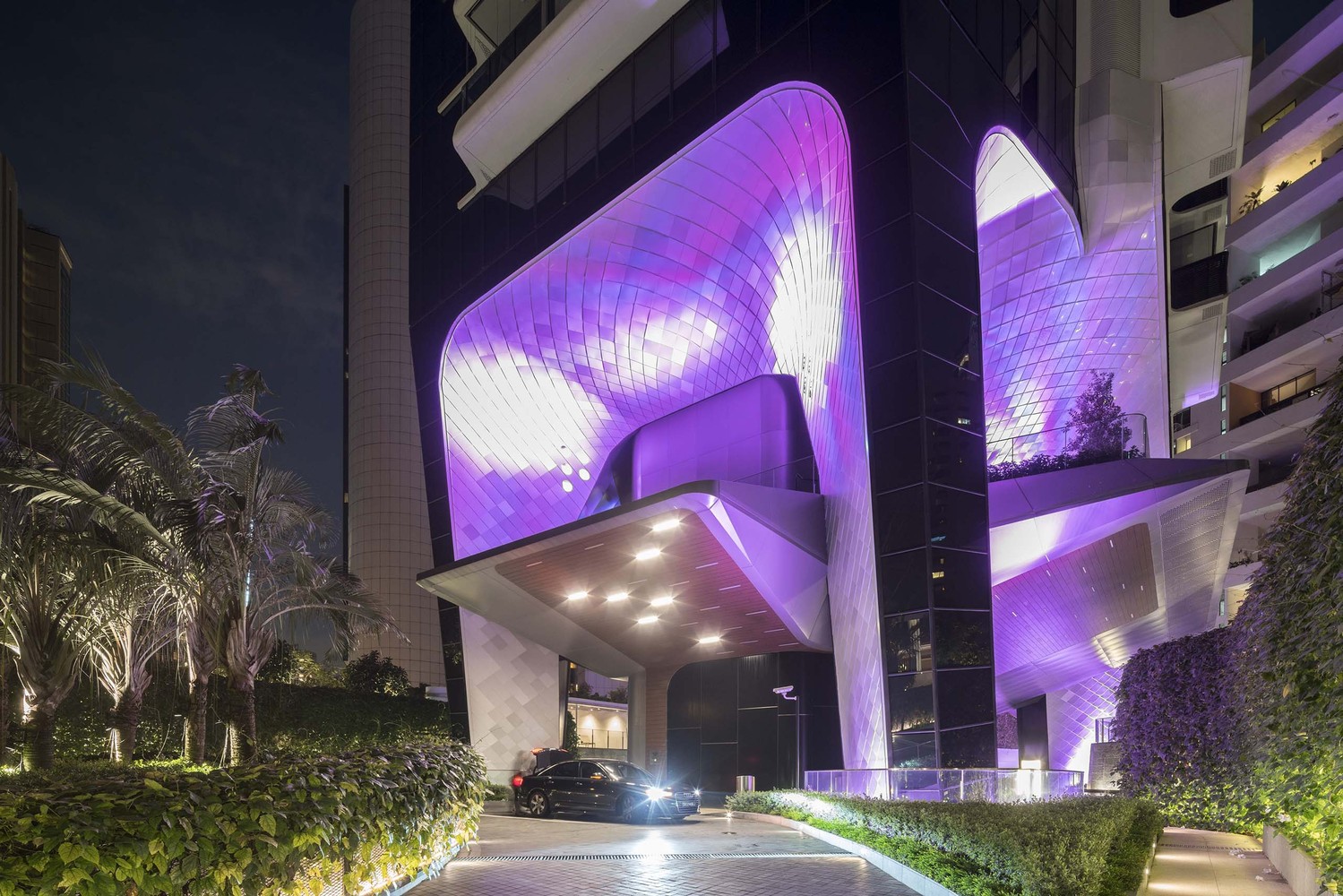 The marble tiles actually extend from the ground into the paneling all the way to form part of the lobby walls. If you've driven past at night you'd notice the hip lighting that glows in different hues – both on the ground floor and the Sky Terrace at level 25. It certainly lends a different character to the place – the younger demographic will definitely be fans of this lighting effects.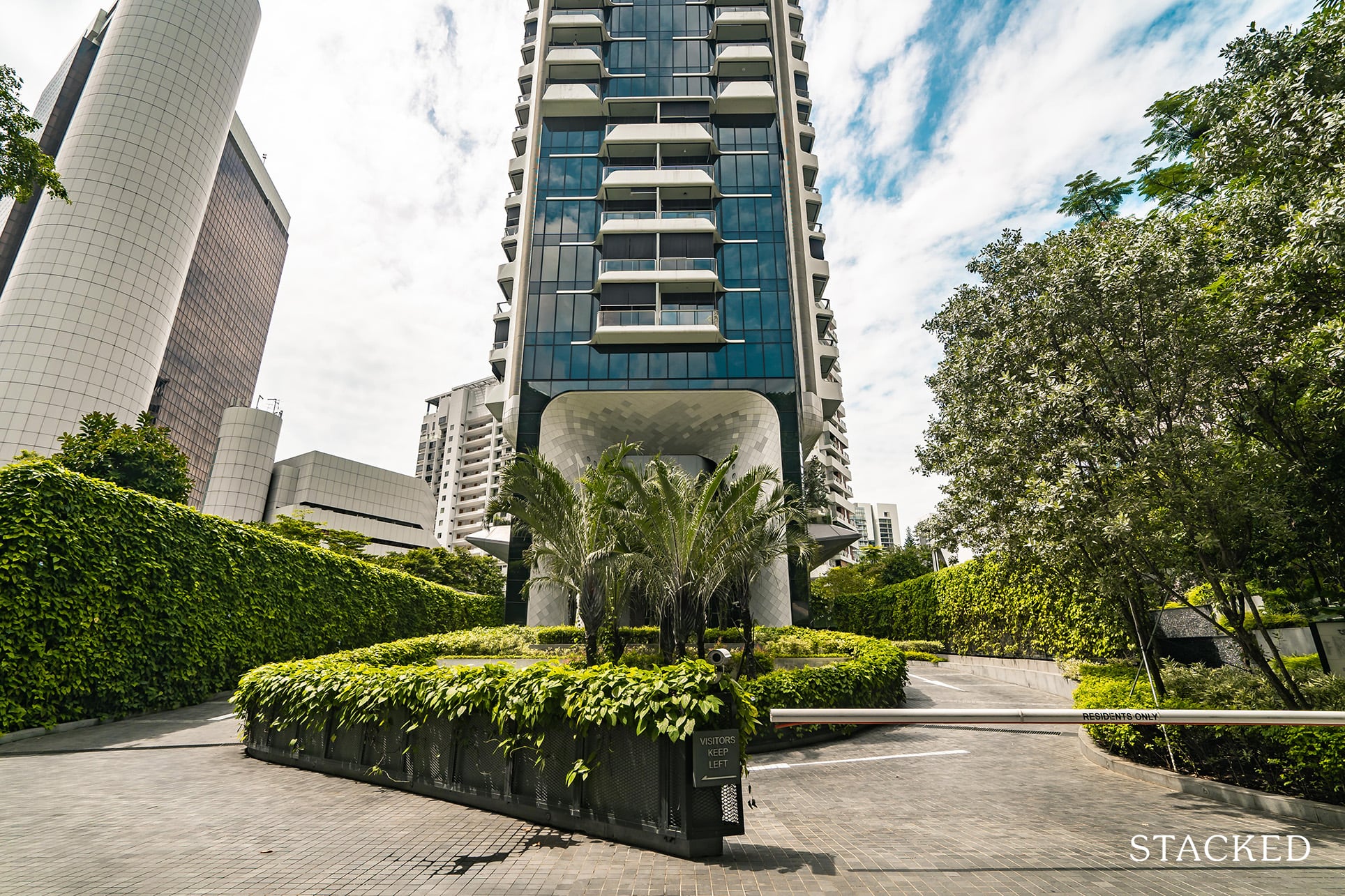 Let's start with the front entrance of The Scotts Tower. It's located along Scotts Road, where the entrance is actually quite inconspicuous. So if it's your first time visiting it would be quite easy to miss. Plus it doesn't help that the traffic along Scotts Road is usually pretty fast moving.
The entrance is also quite unorthodox as it is a one-way road – with the exit located along Cairnhill Road instead. I'm sure that there is a practical reason to this but this means that you could find it slightly inconvenient at times as the junction at Cairnhill can get quite jammed during peak hours – exiting by Scotts would be more ideal.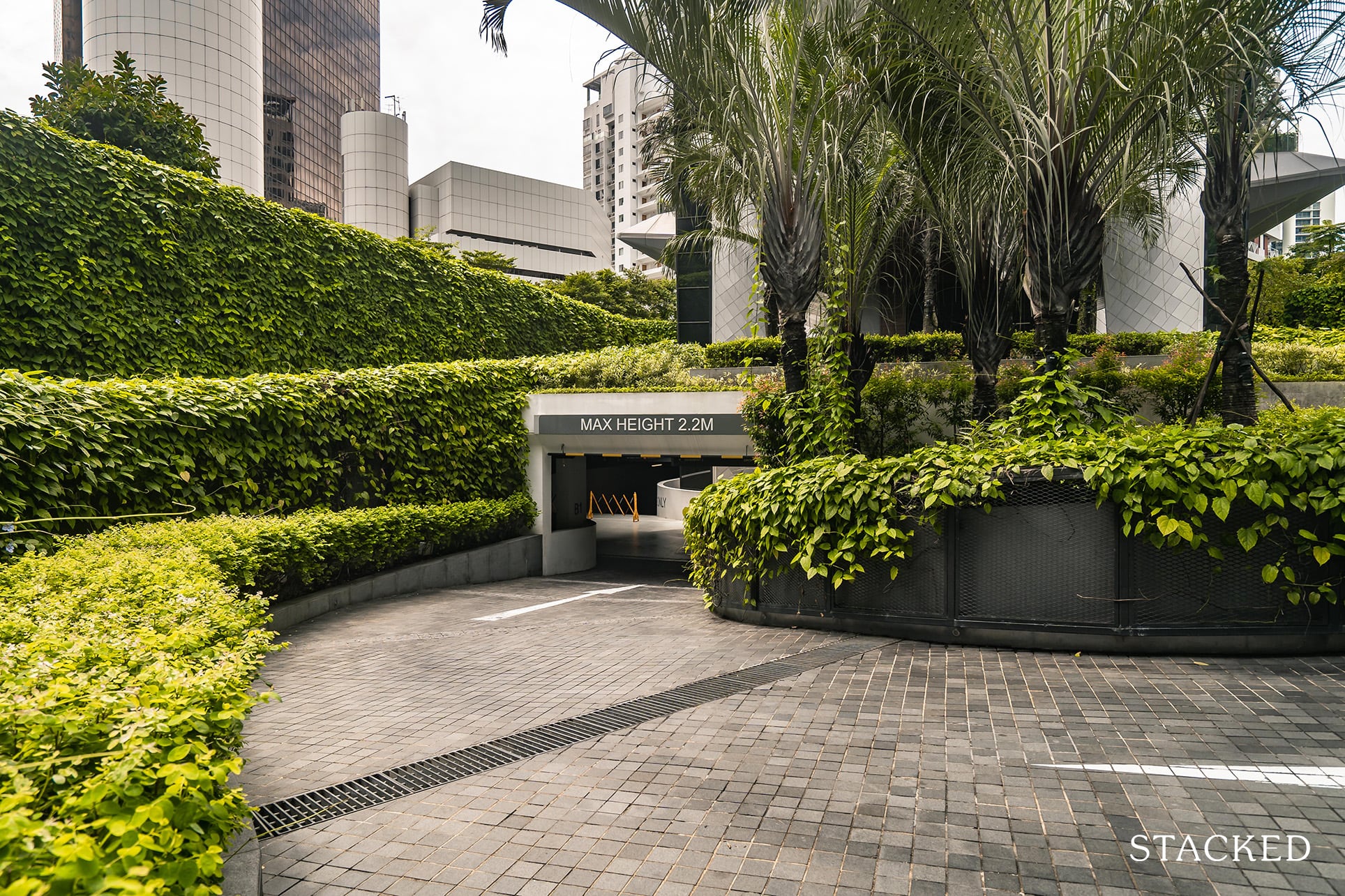 If you are a resident, you can drive straight through the barrier and into the basement carpark. For everyone else, you will have to go the longer way past the drop-off point.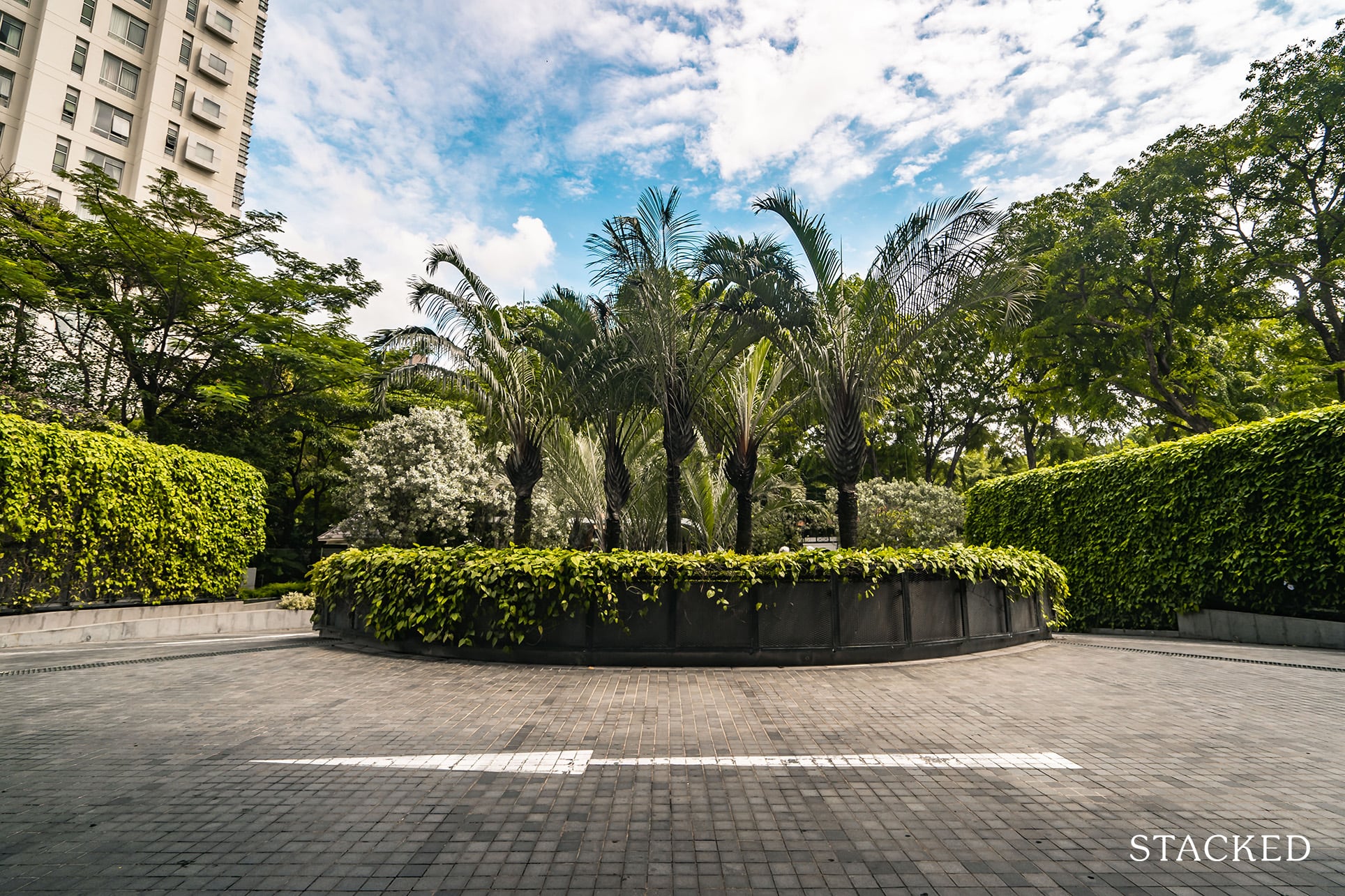 As far as first impressions go, it is quite a positive one. Save for Scotts 28 on the left, it is nearly unblocked views as the opposite Goodwood is a low-lying landed area.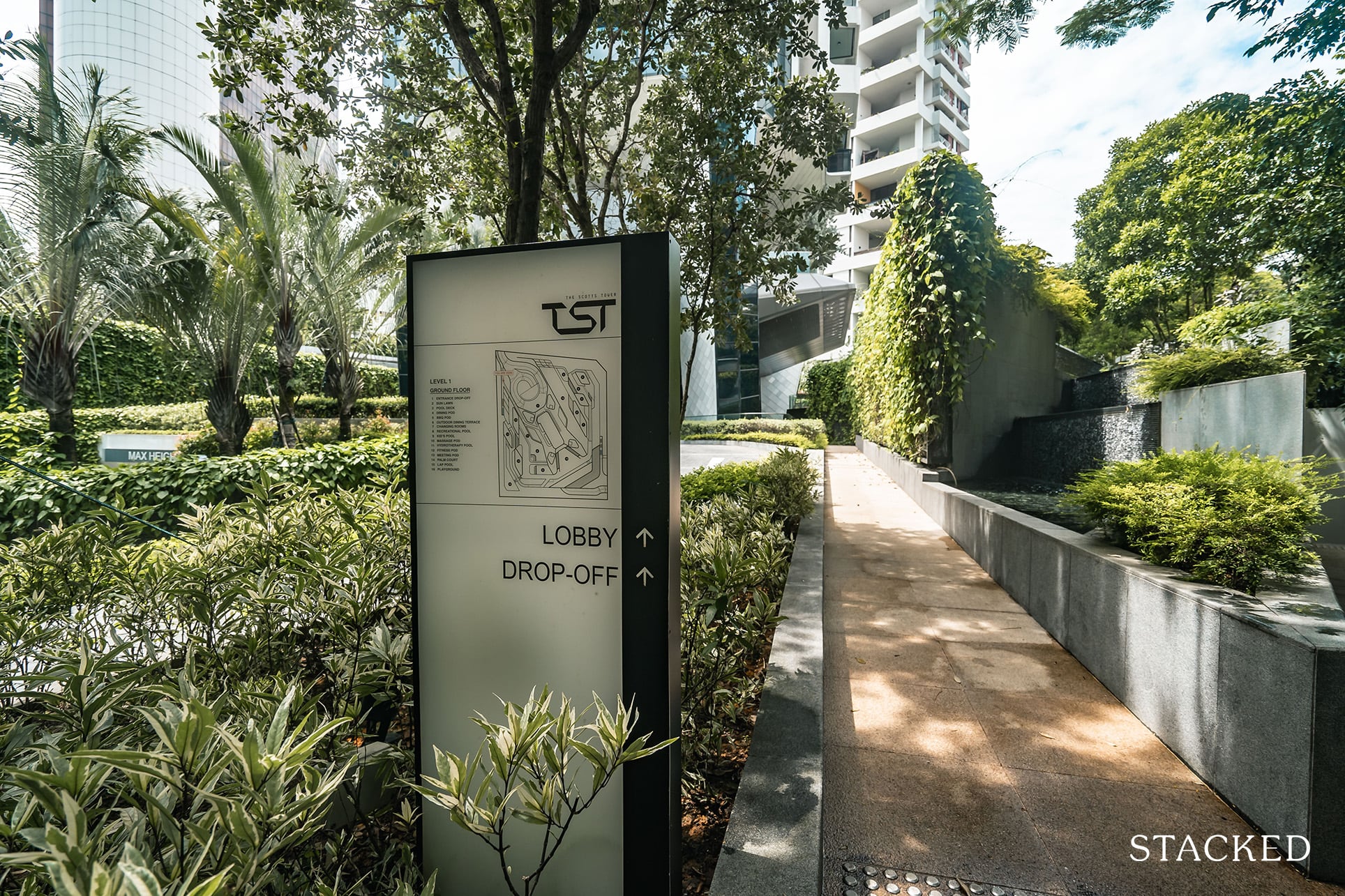 There's also a long walkway to the side gate which leads on to Scotts Road. If you're intending to go to the Shaw or Far East area this would be the fastest way by foot.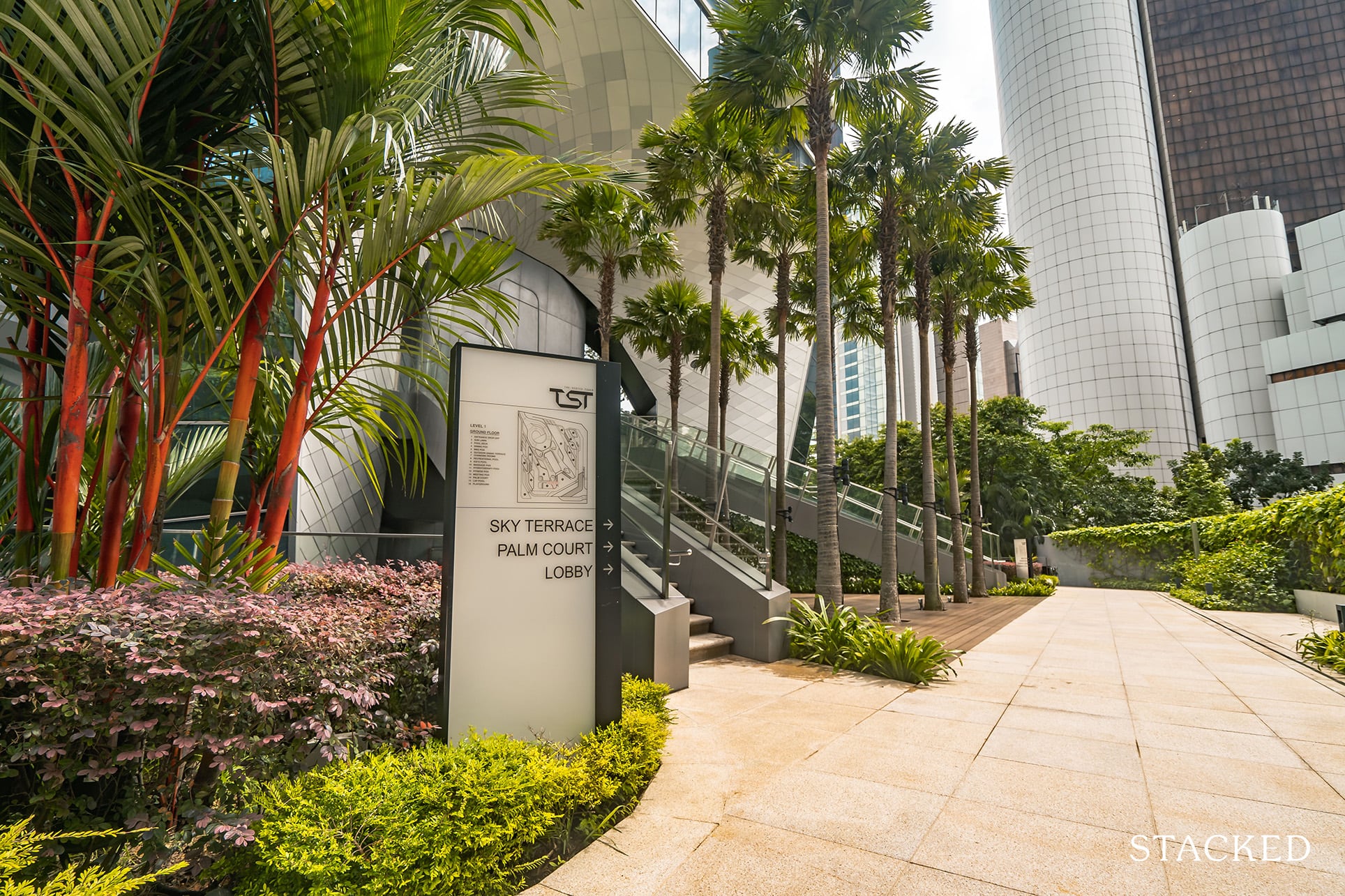 Here's another feature of The Scotts Tower that's worth a mention: the dual staircases by the Palm Court that leads up to the deck.
While the Palm Court doesn't actually have a real world use, visually it is definitely very pleasing to the eye. Perhaps some couches to sit and enjoy the ambiance would do the trick?
Gazing up at the structure, it does remind me of an upright spaceship that has its retractable ramps drawn out.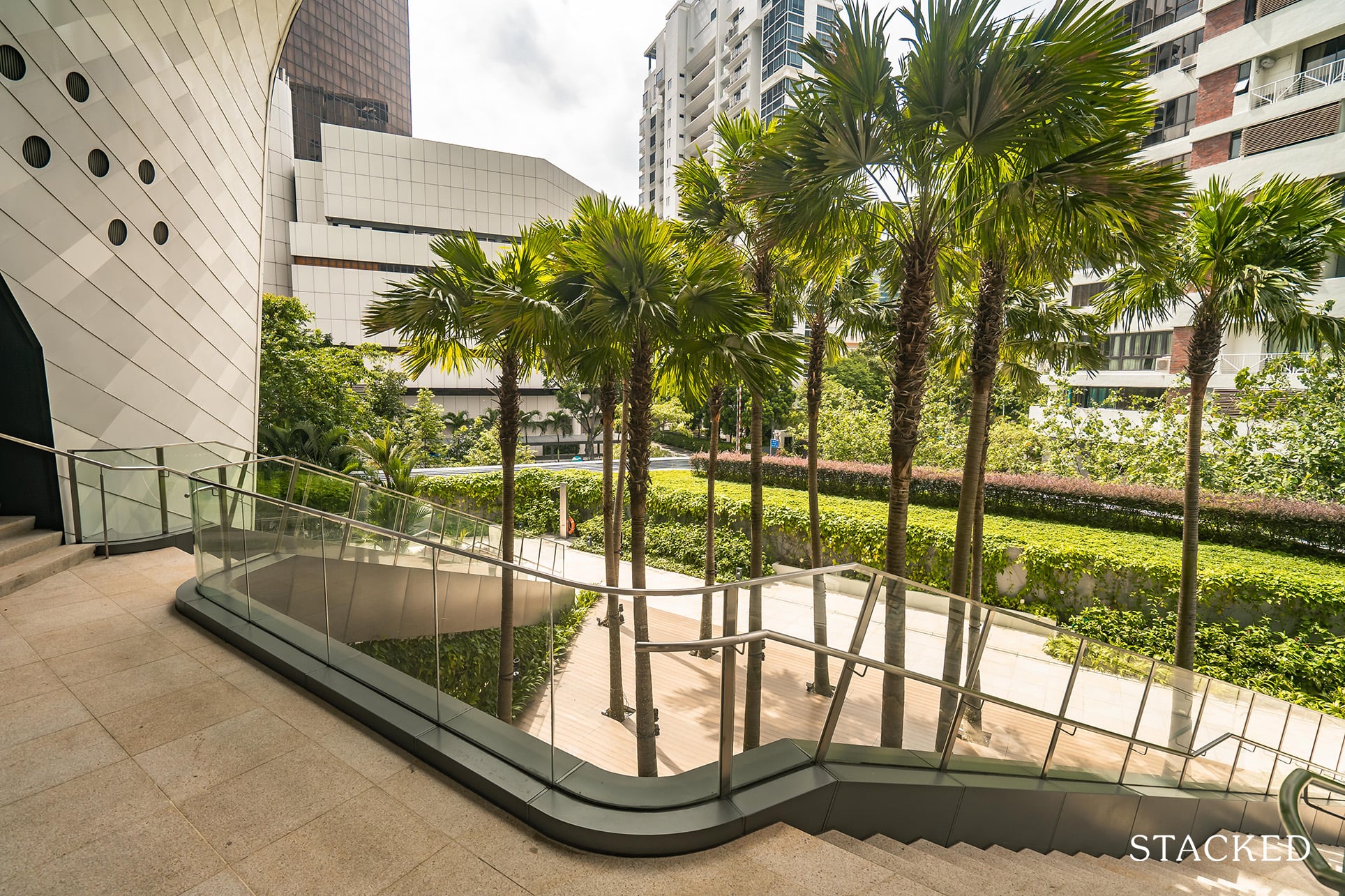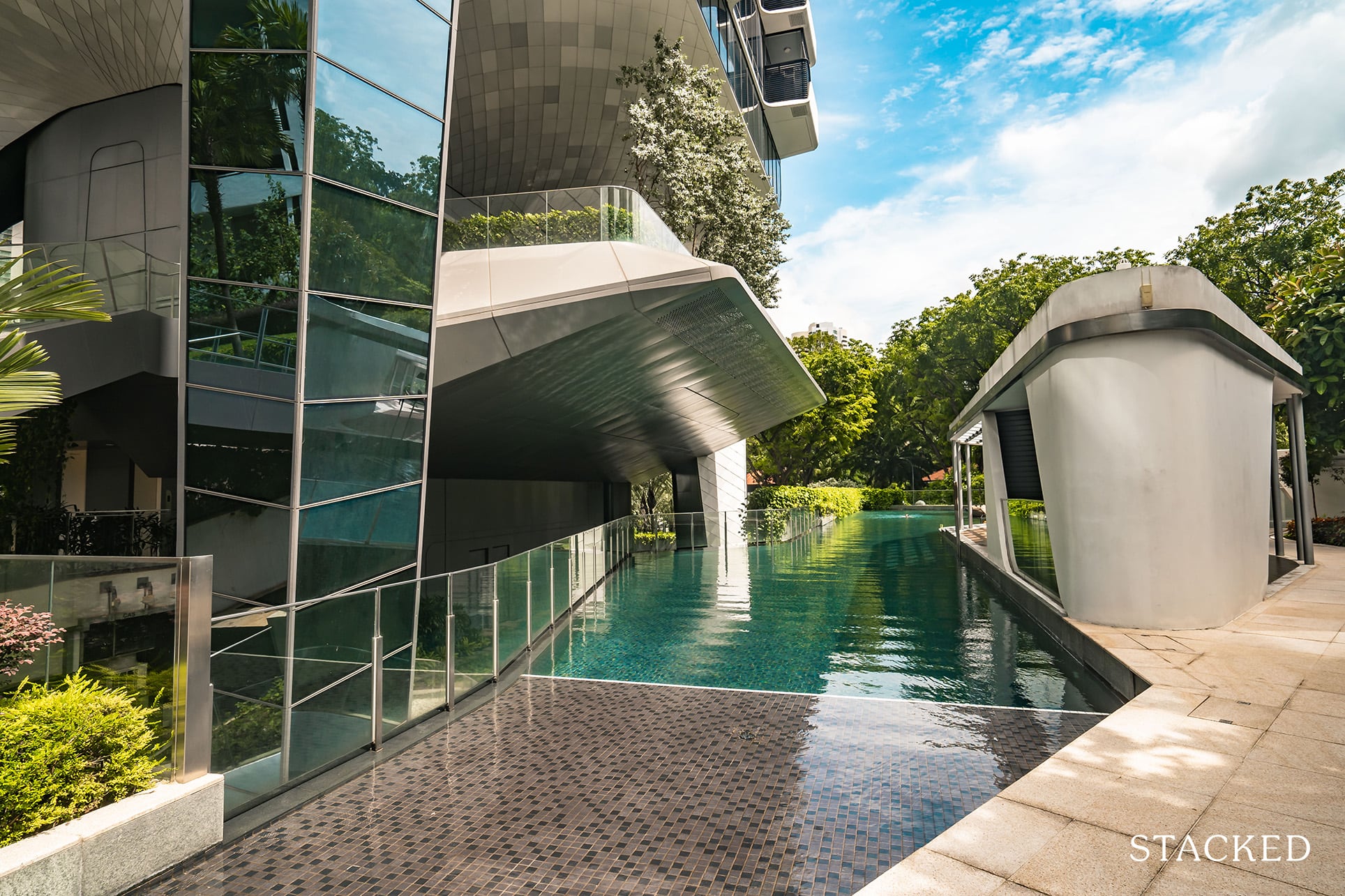 Flanking both sides of the Scotts Tower are a series of swimming pools, with this one being the 50m lap pool.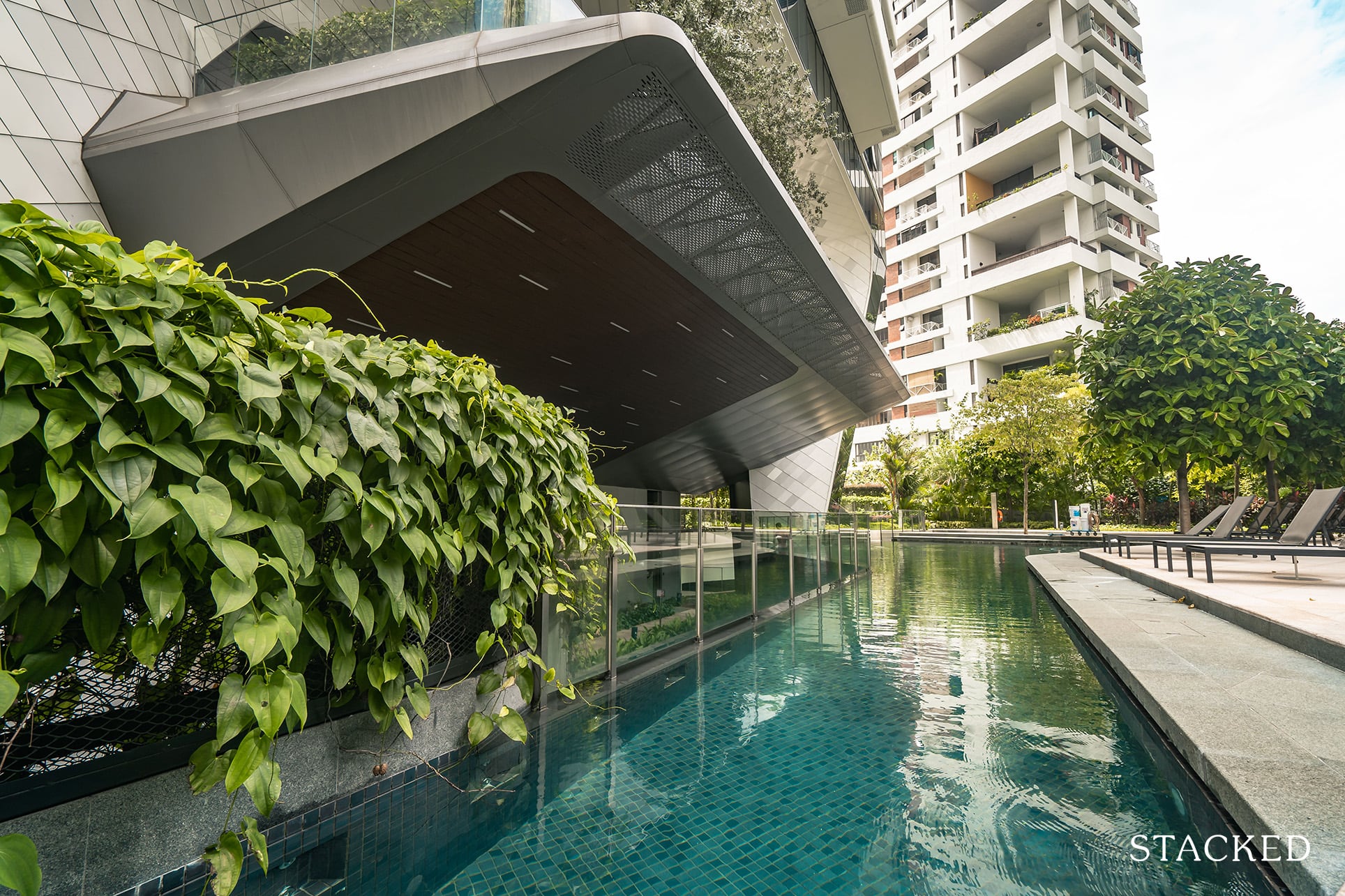 It's not the regular shape you'll find in most other lap pools. Instead, this one starts off quite narrow and widens significantly in the middle.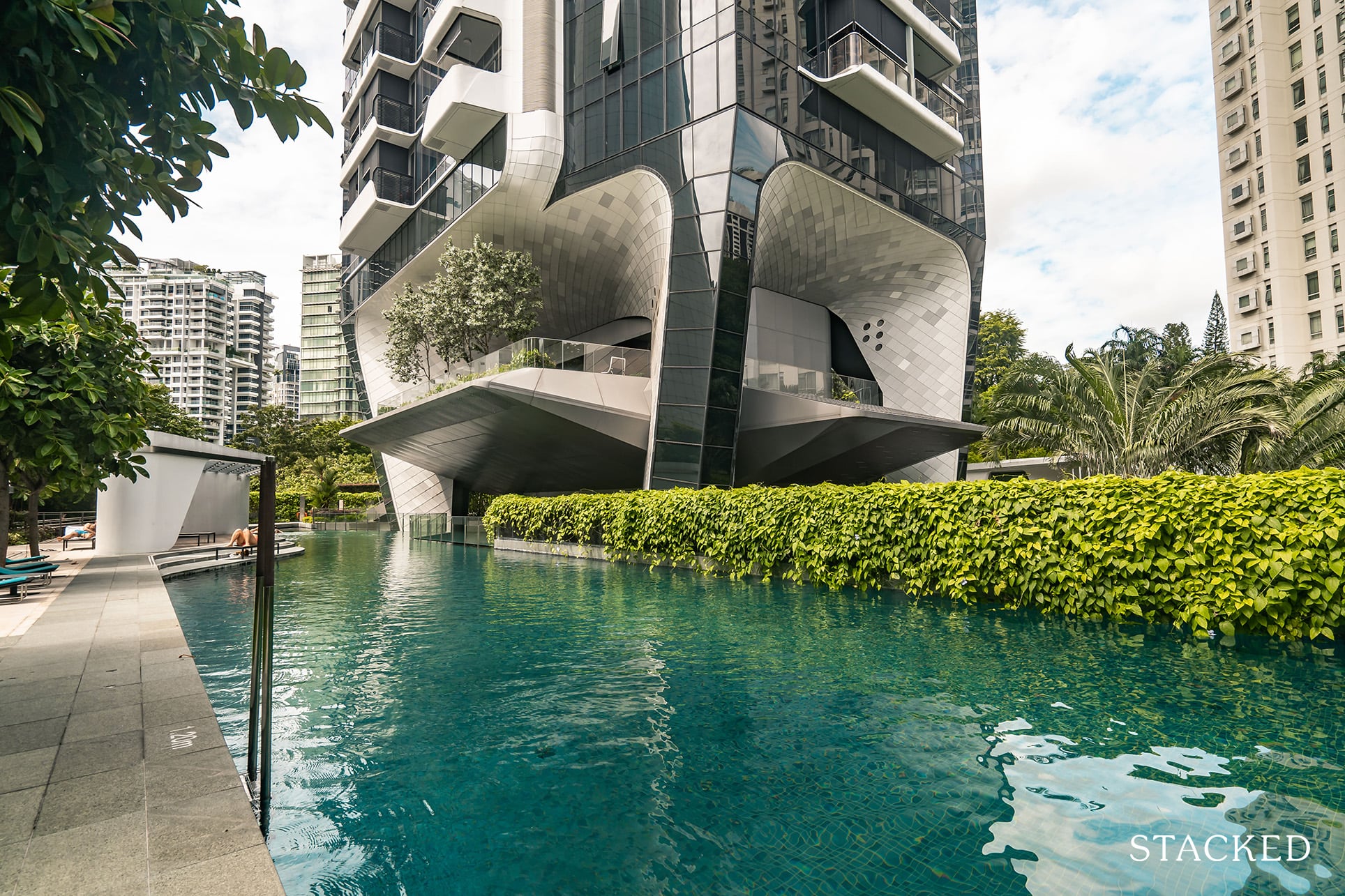 Maybe its because The Scotts Tower isn't fully sold yet, but you get the feeling that it never really gets super busy here. The ambiance here gives you the feeling of staying at a stylish modern city hotel – it's like a weekend getaway.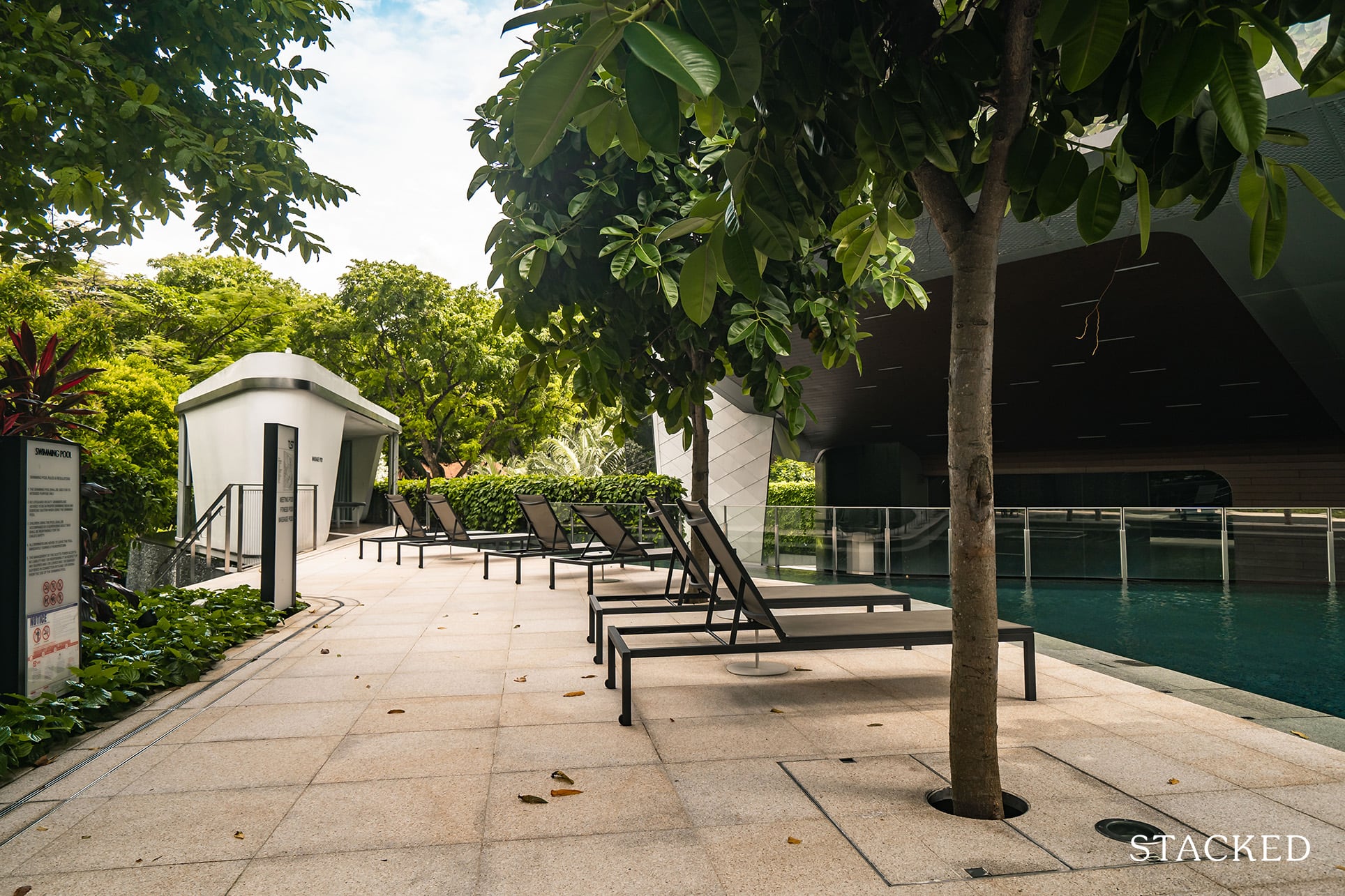 On the other side of the building, you'll find the kids pool, recreation pool, bio pool, and the hydrotherapy pool. This one right here is the recreation pool, which explains the number of deck chairs lined by the side.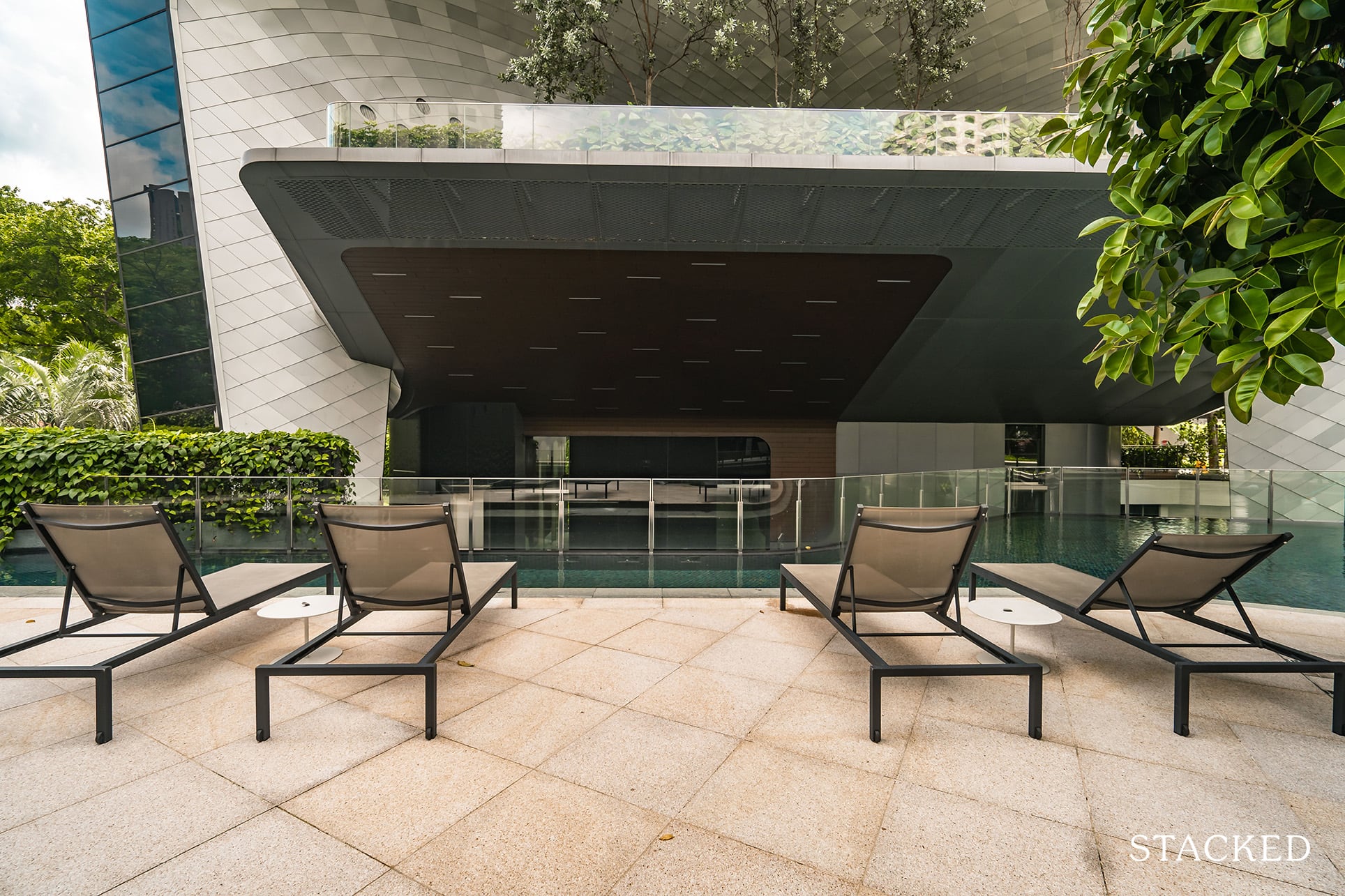 Surprisingly, there are no poolside umbrellas here.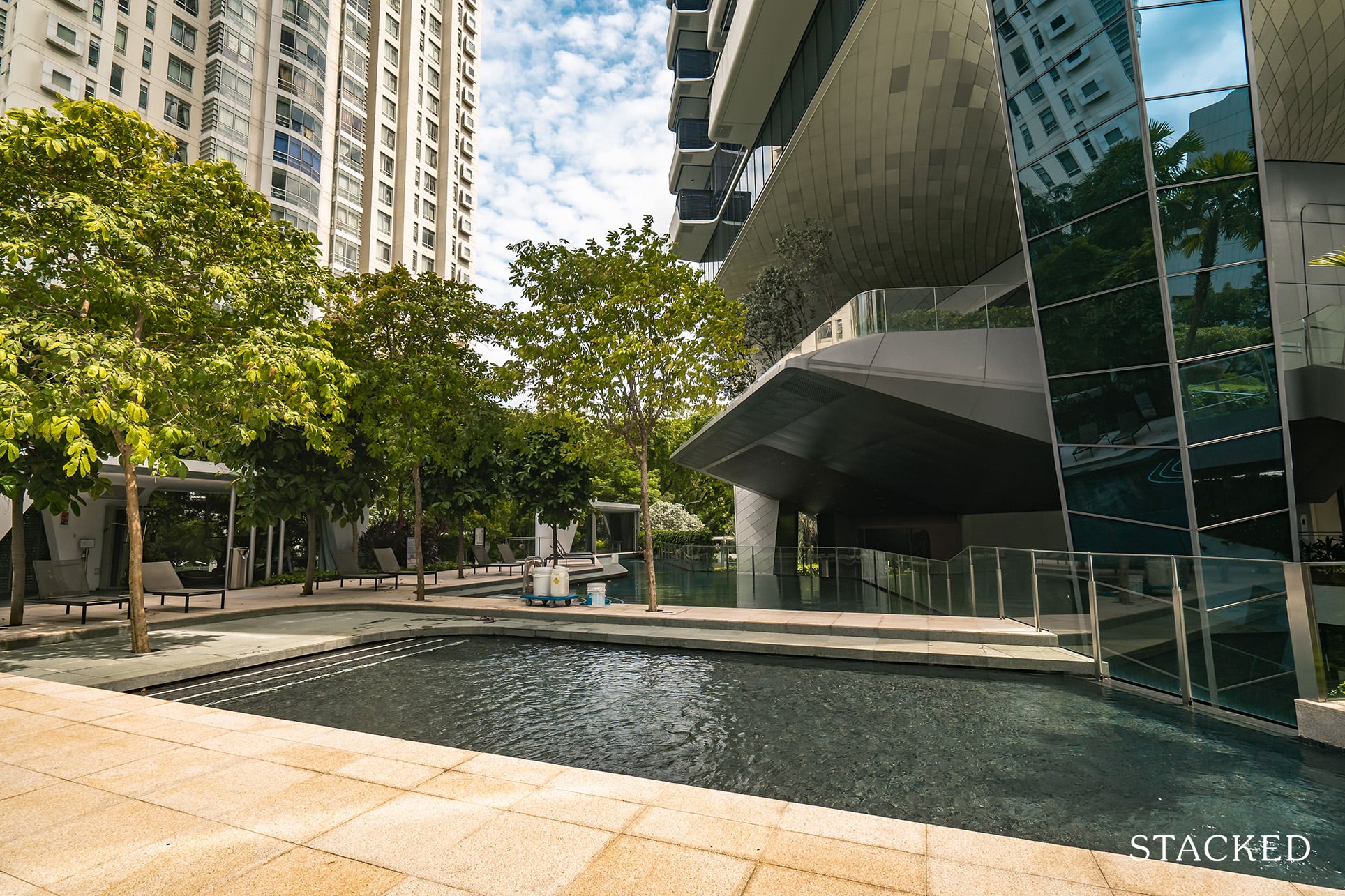 If you didn't have the site plan on hand to refer to, you'd be hard pressed to identify this as a kids pool. It's really just a separate small pool that's described as such, but there is nothing remotely "kiddy" about it.
Then again, this isn't a bad thing at all – it's clear the type of clientele The Scotts Tower is angling for and I prefer that it is focused as such.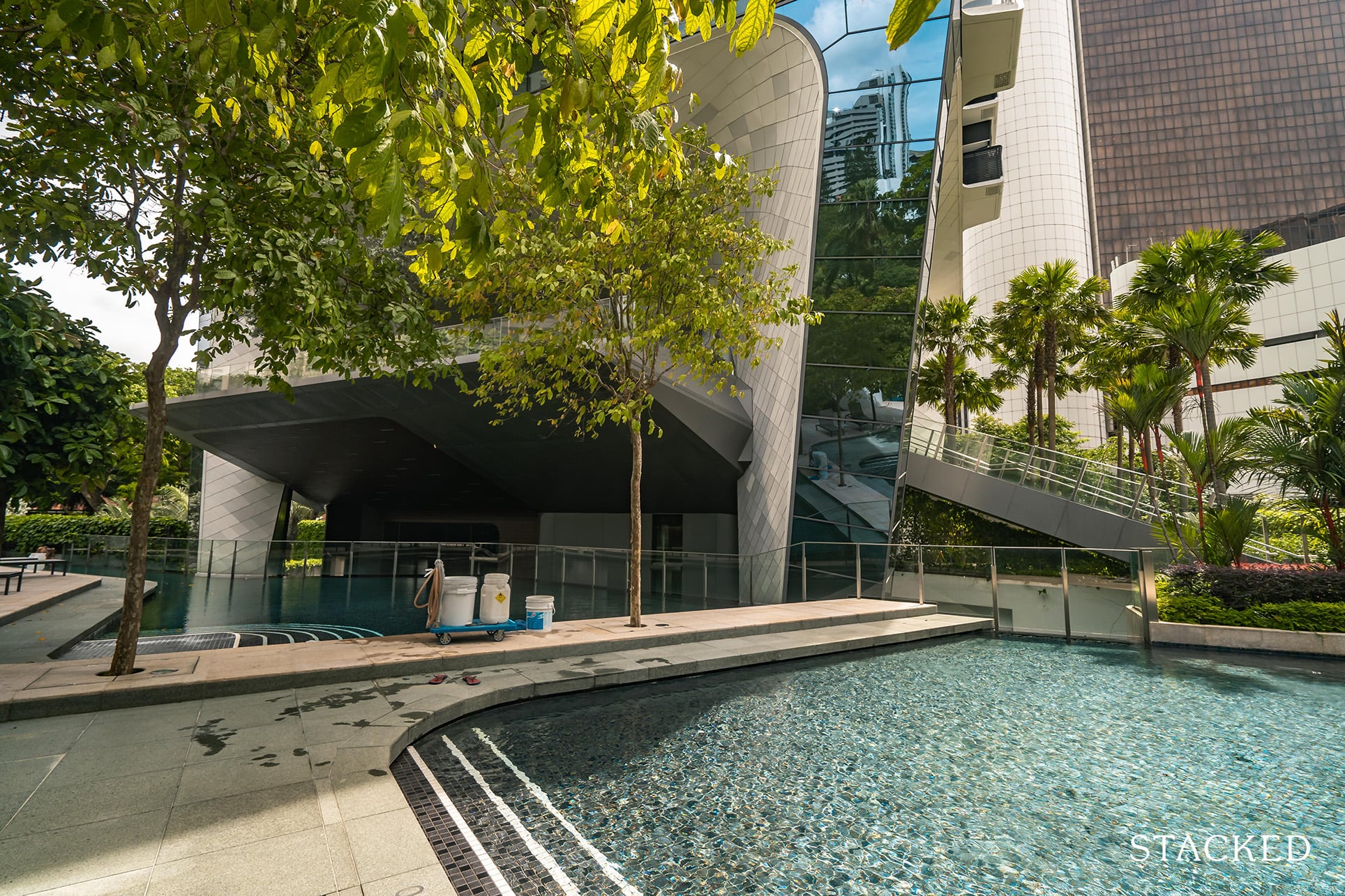 Given the number of pools on the ground level itself, I think there is certainly enough space for residents to wander about with a certain degree of privacy.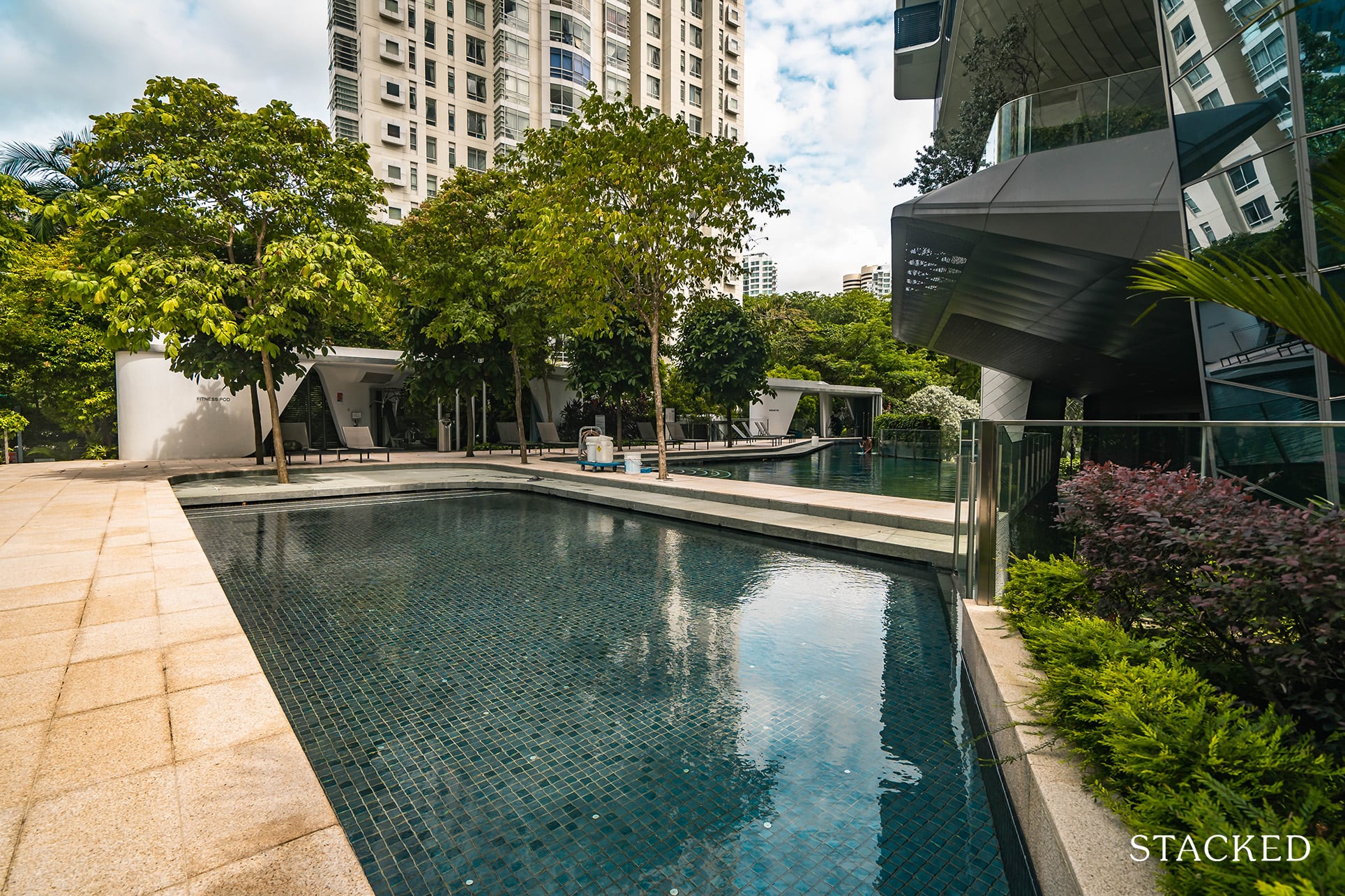 That said, at a size of 65,665 square feet, The Scotts Tower isn't on the most spacious of land plots, even with its 231 units. To give you a better perspective, Cyan (another FEO project) has a site area of 161,000 square feet with a tad more units at 278.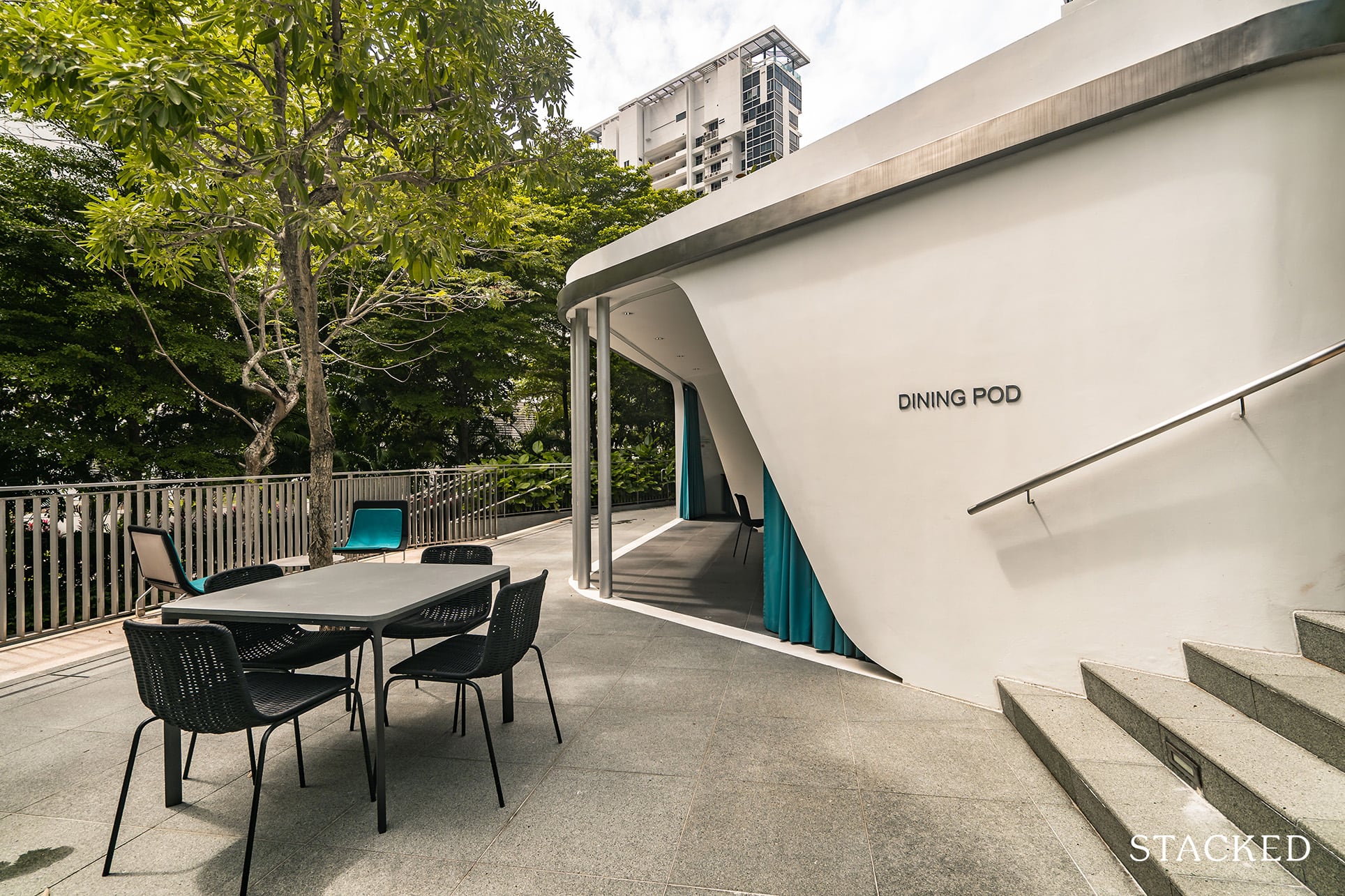 Close to the swimming pools, there are different pavilions available. This one is the dining pod – a futuristic term for a dining pavilion.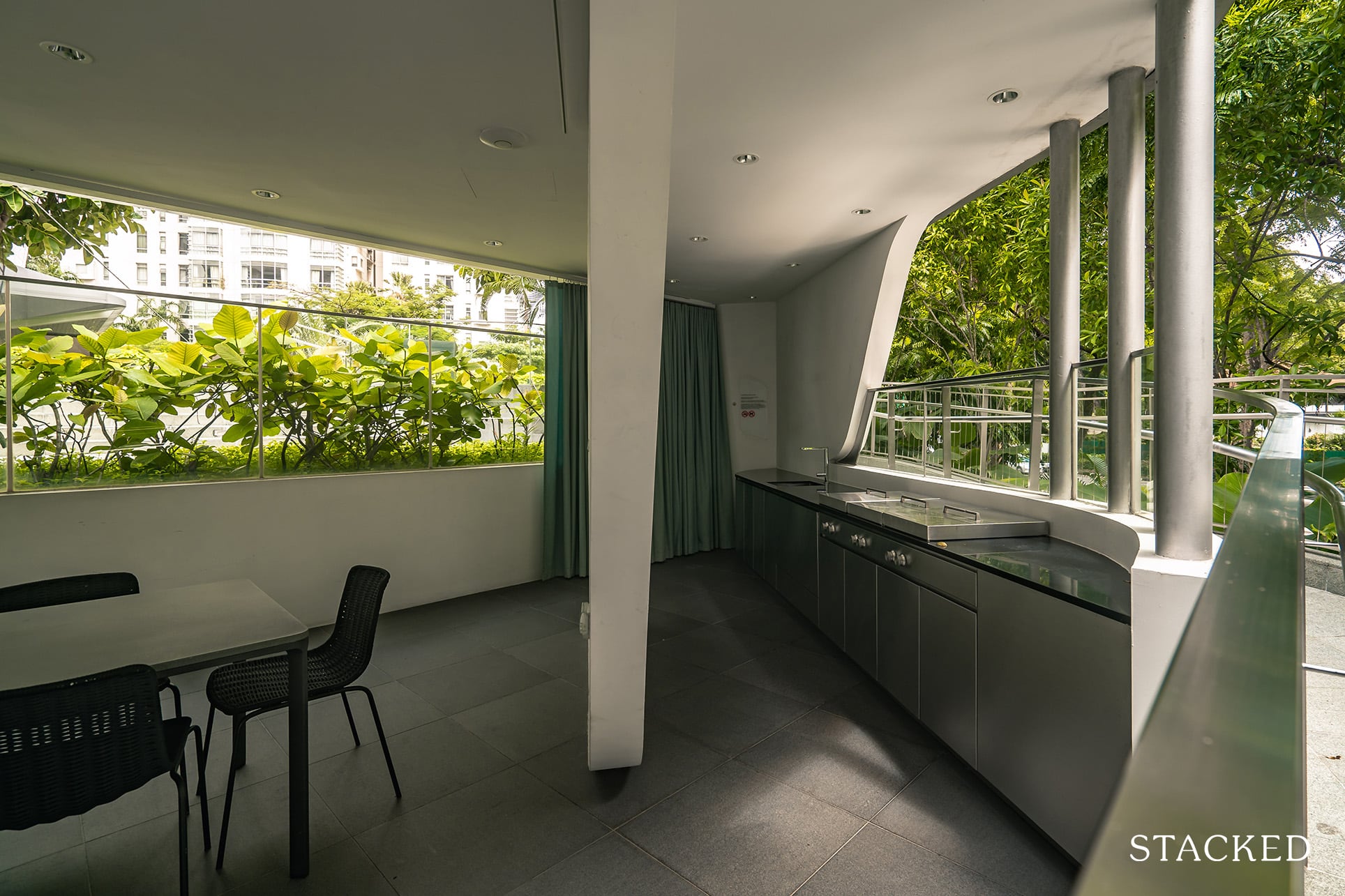 It's actually quite a unique concept – being able to dine in a hybrid of indoors and outdoors, while still being able to enjoy the air-conditioning. You can even draw the curtains for additional privacy.
On a less positive note, the dining tables and chairs look quite ordinary and not as in keeping with the rest of the design so far.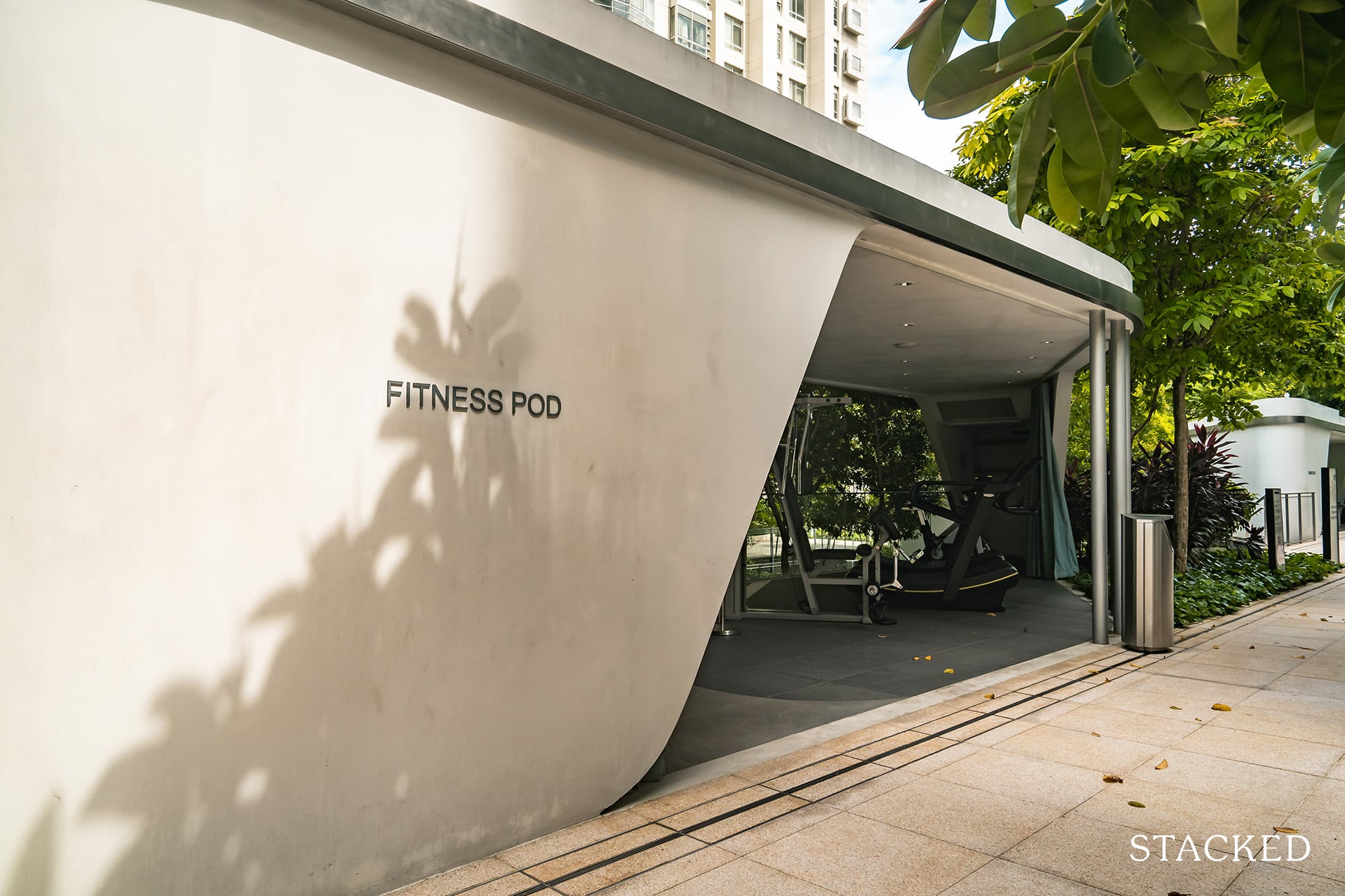 Besides the dining pod, there is a fitness pod close by. Again, it's just a fancy term for the gym.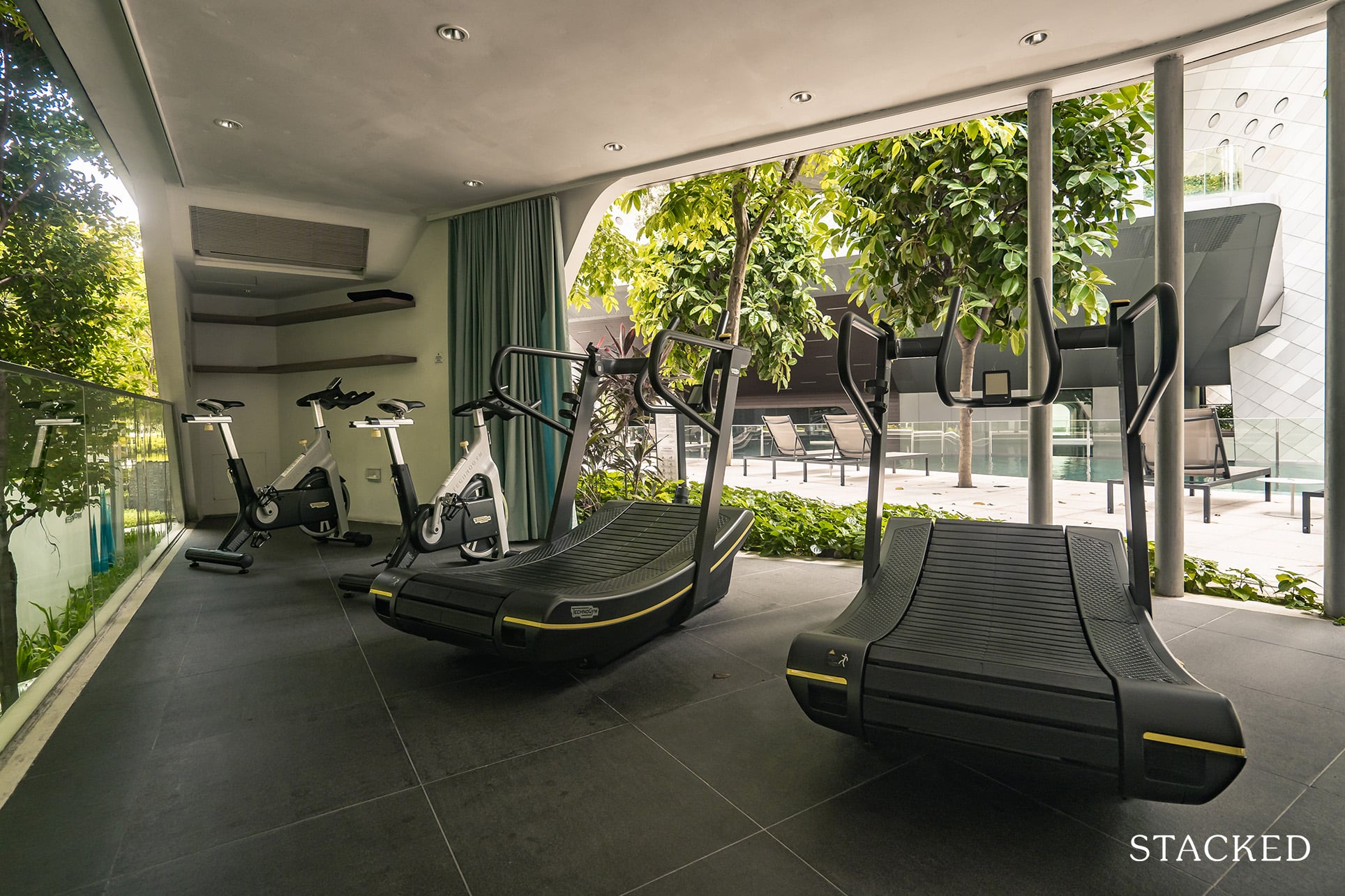 It's not a terribly exciting gym – especially if you're into weight training as there is just the one multi-purpose machine. There is decent space for some free weights, so I can't quite understand its exclusion.
For those who are into more strenuous cardio exercises, you should be pretty much satisfied with the range here.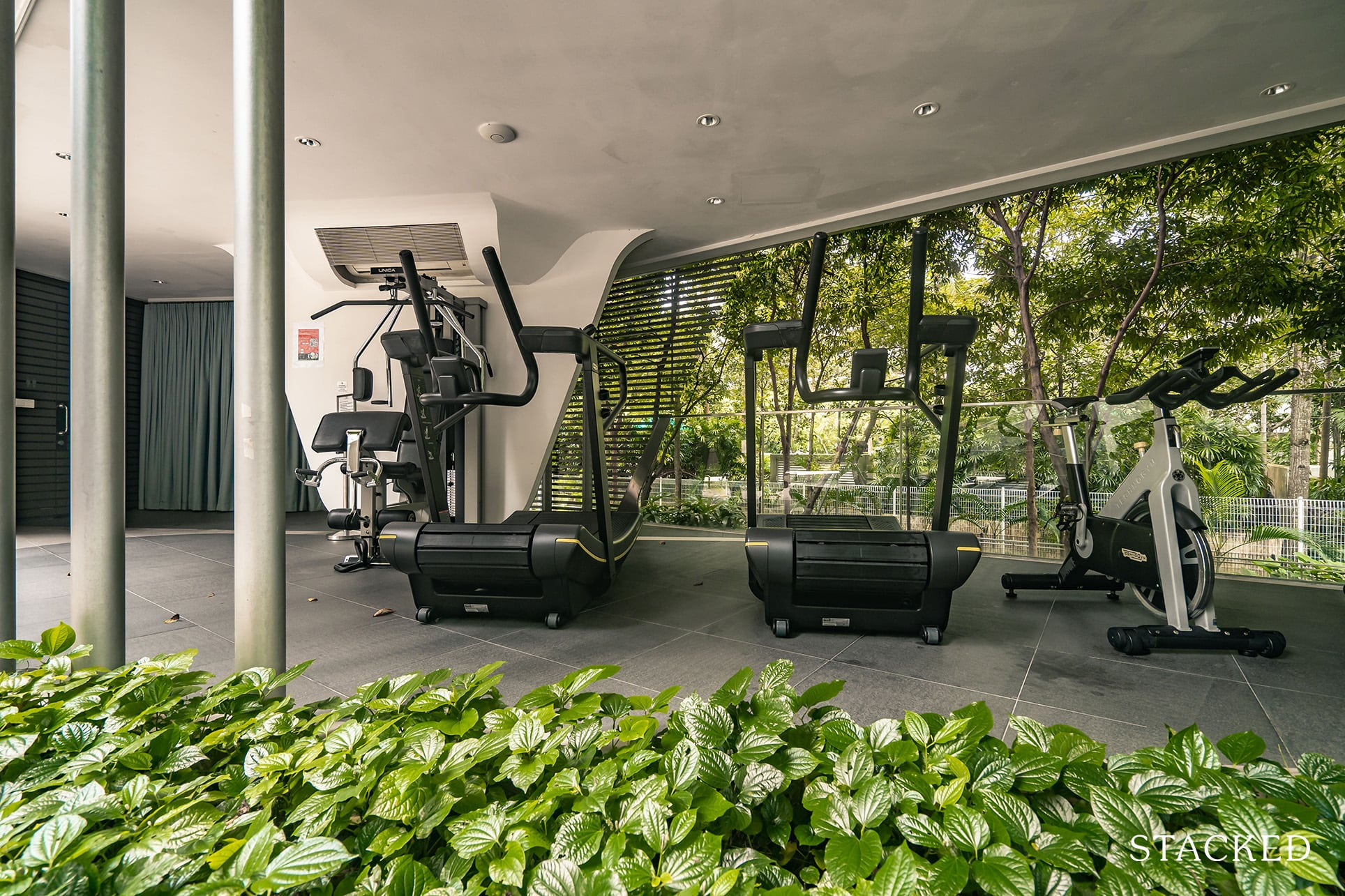 Read this next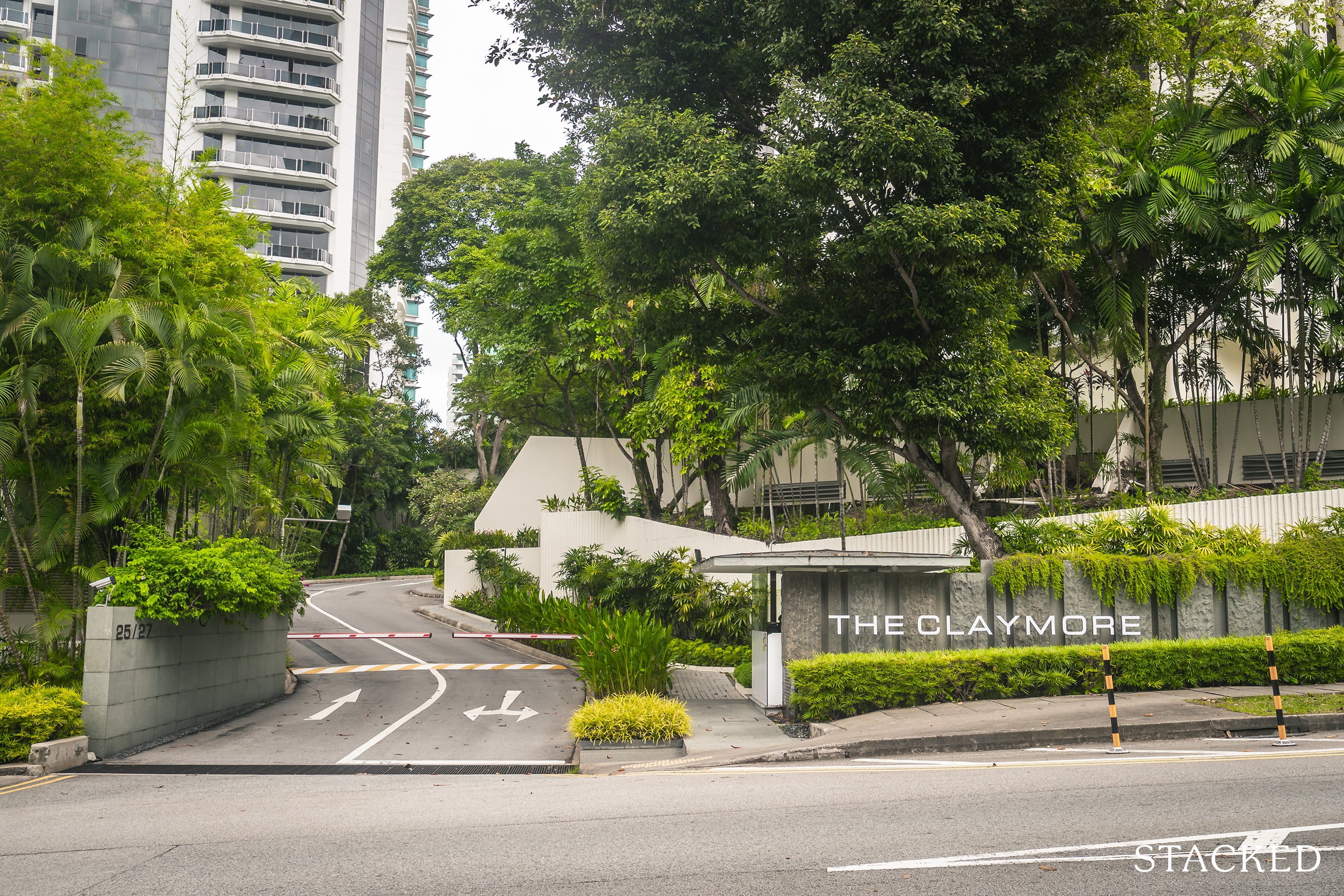 Like the dining pod, the fitness pod is an open/closed concept. So if you do like to sweat it out, at the very least there is that option.
However, as a frequent gym goer myself, I have to say its a pity the gym wasn't located on the 25th storey Sky Terrace instead – the views would have been amazing.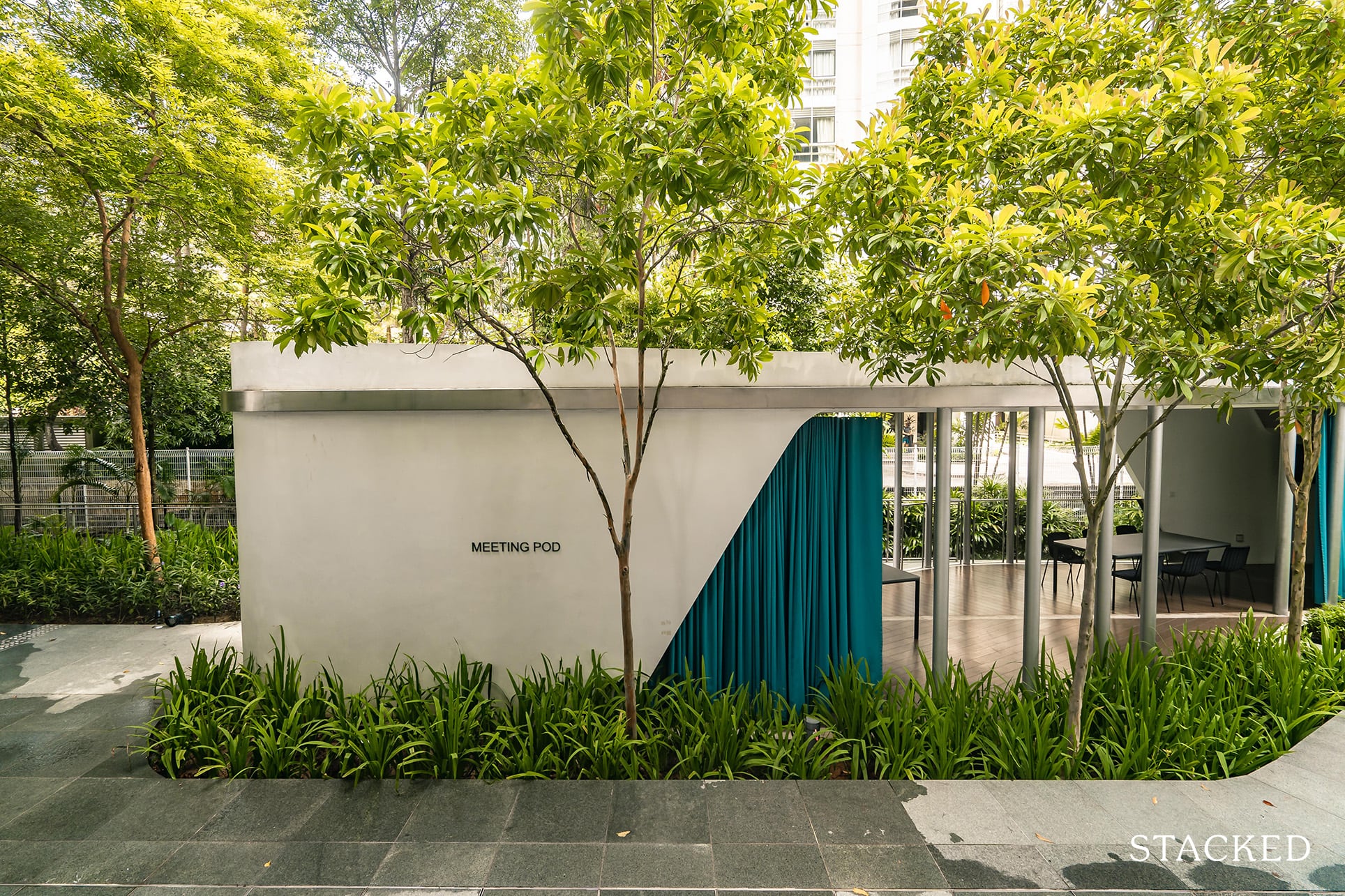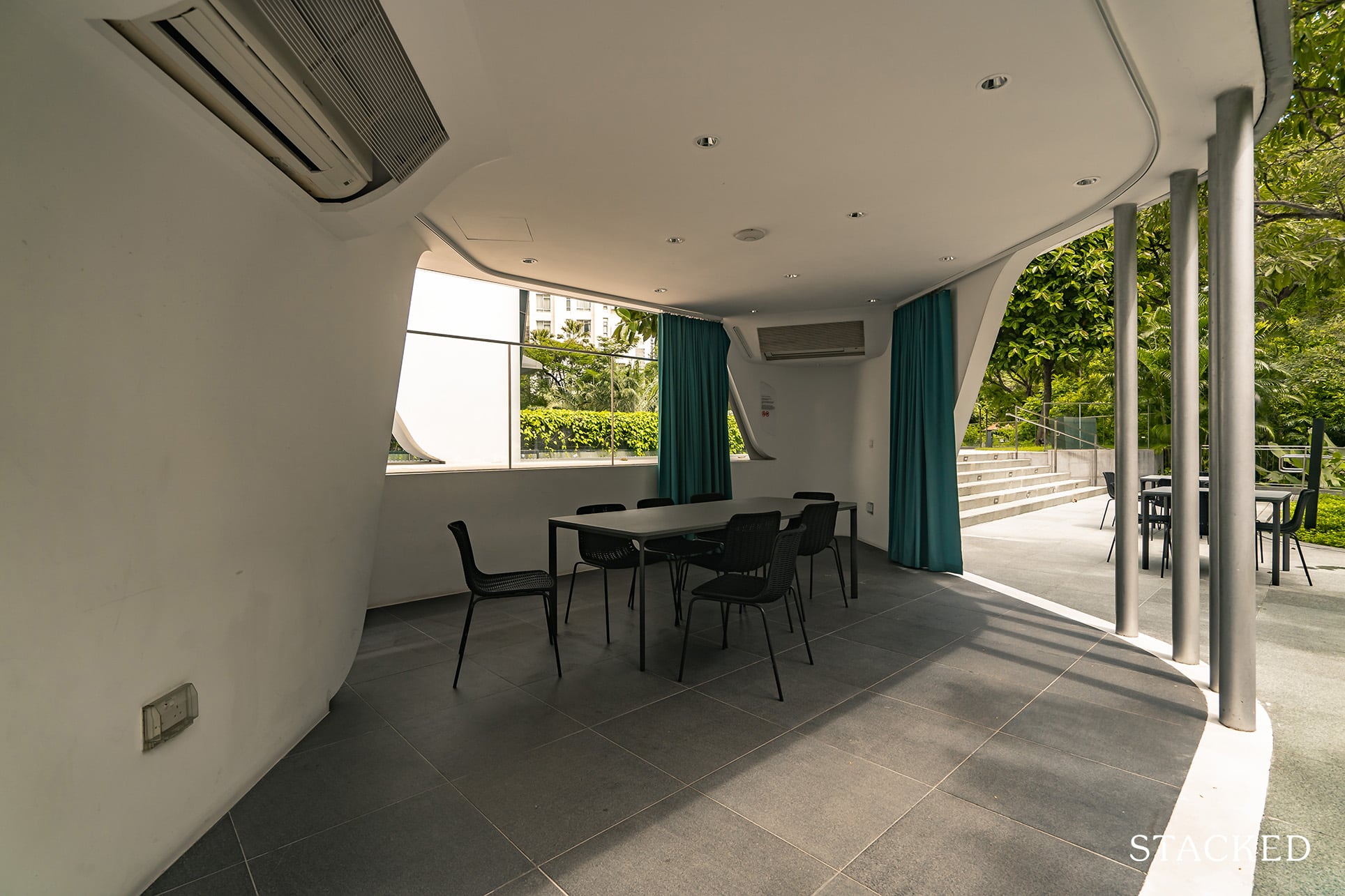 There's also a meeting pod, which features the same indoor/outdoor concept.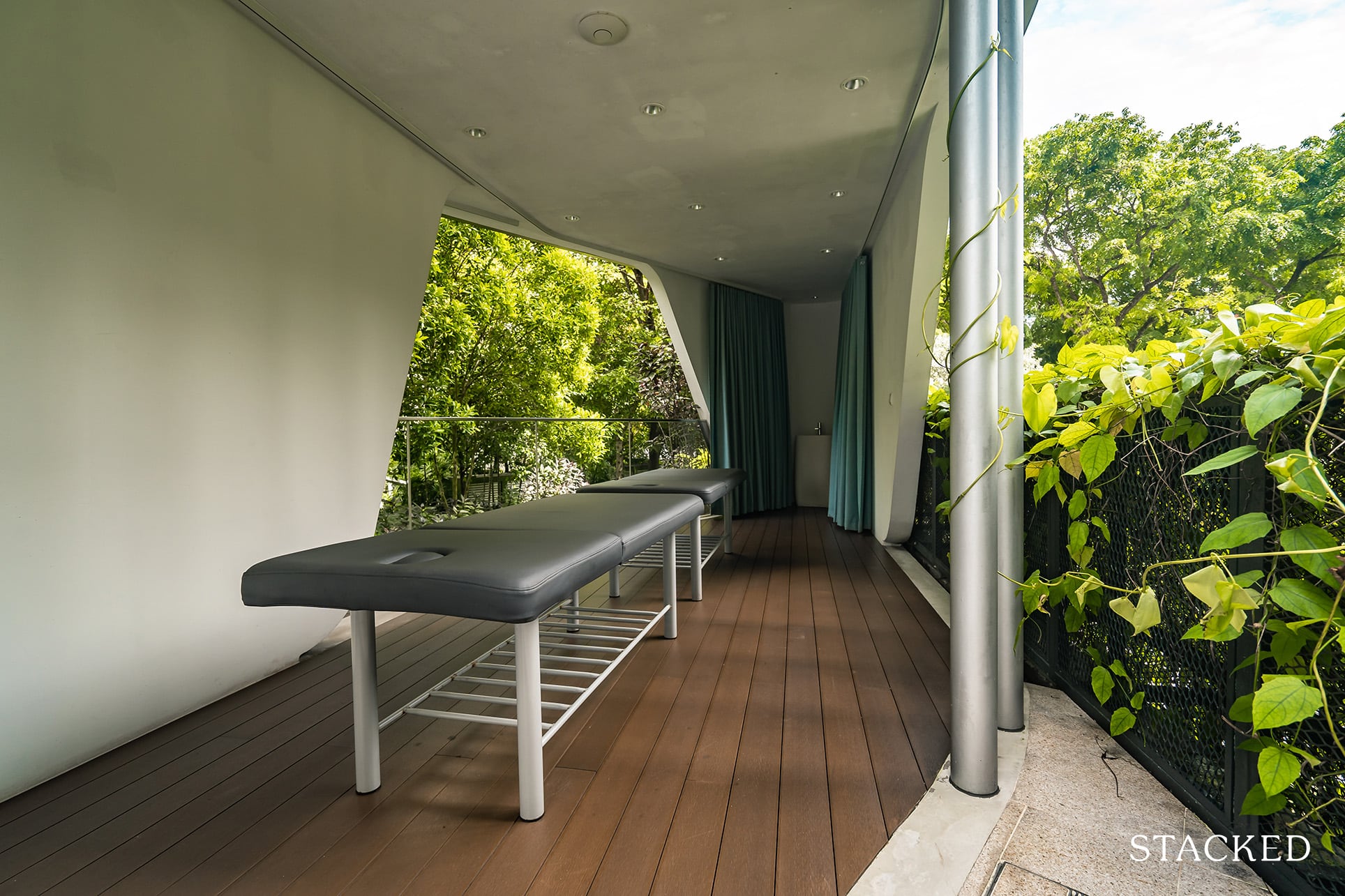 Last but not least, the massage pod. While it comes with all the essentials, it doesn't (unfortunately) come with an on-site masseuse!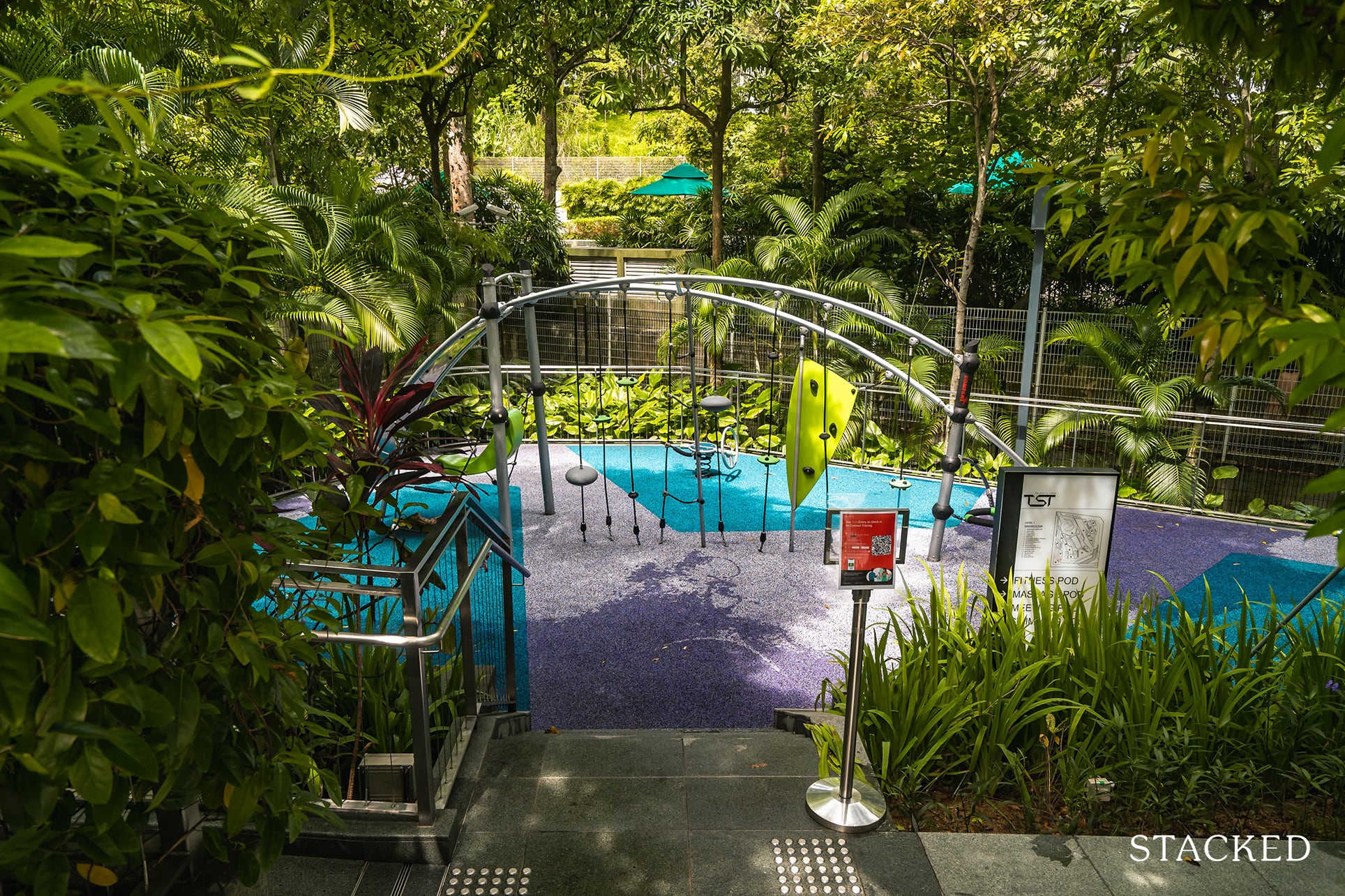 Rounding off the list of facilities on the ground level is the outdoor fitness section. Unsurprisingly, there isn't a kids playground included here given the limited land size and targeted clientele.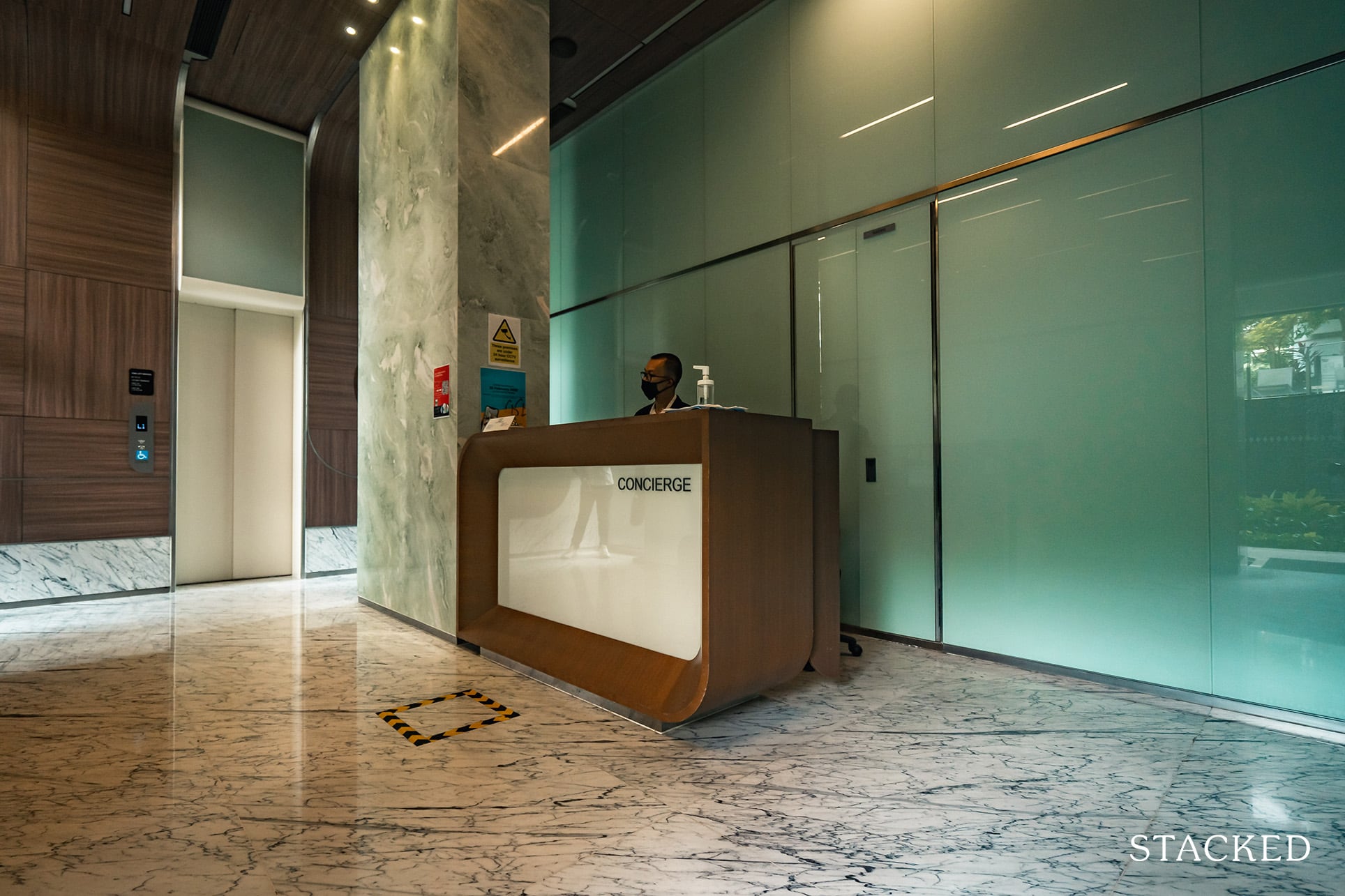 Moving into the building itself, most of the interior is clad in marble and sleek looking wood panelling. As with most high-end developments, there's a concierge available during normal working hours.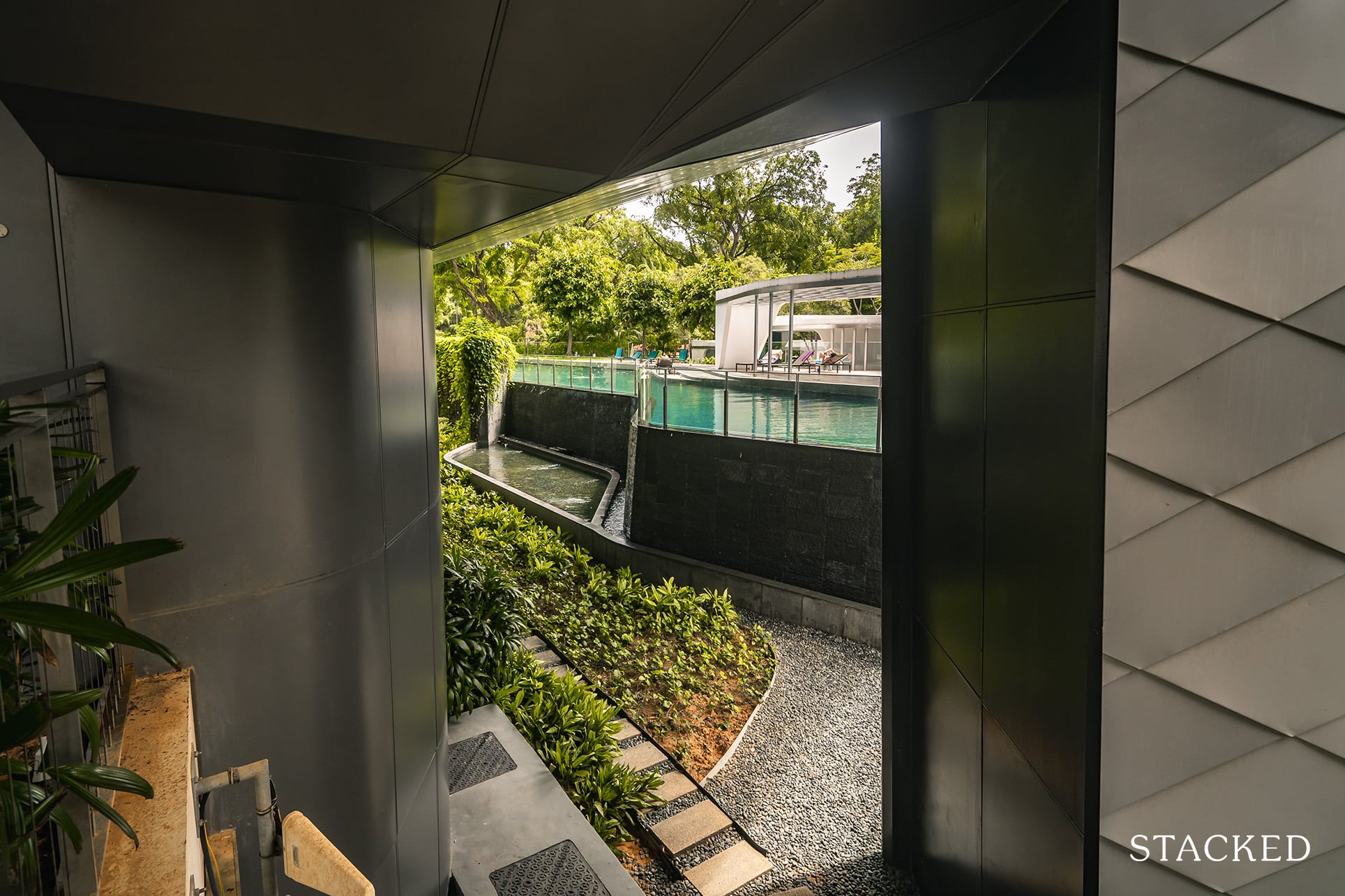 Moving on to the jacuzzi located at the sky lobby (a bit of a funny terminology here, given that its actually just on the second level).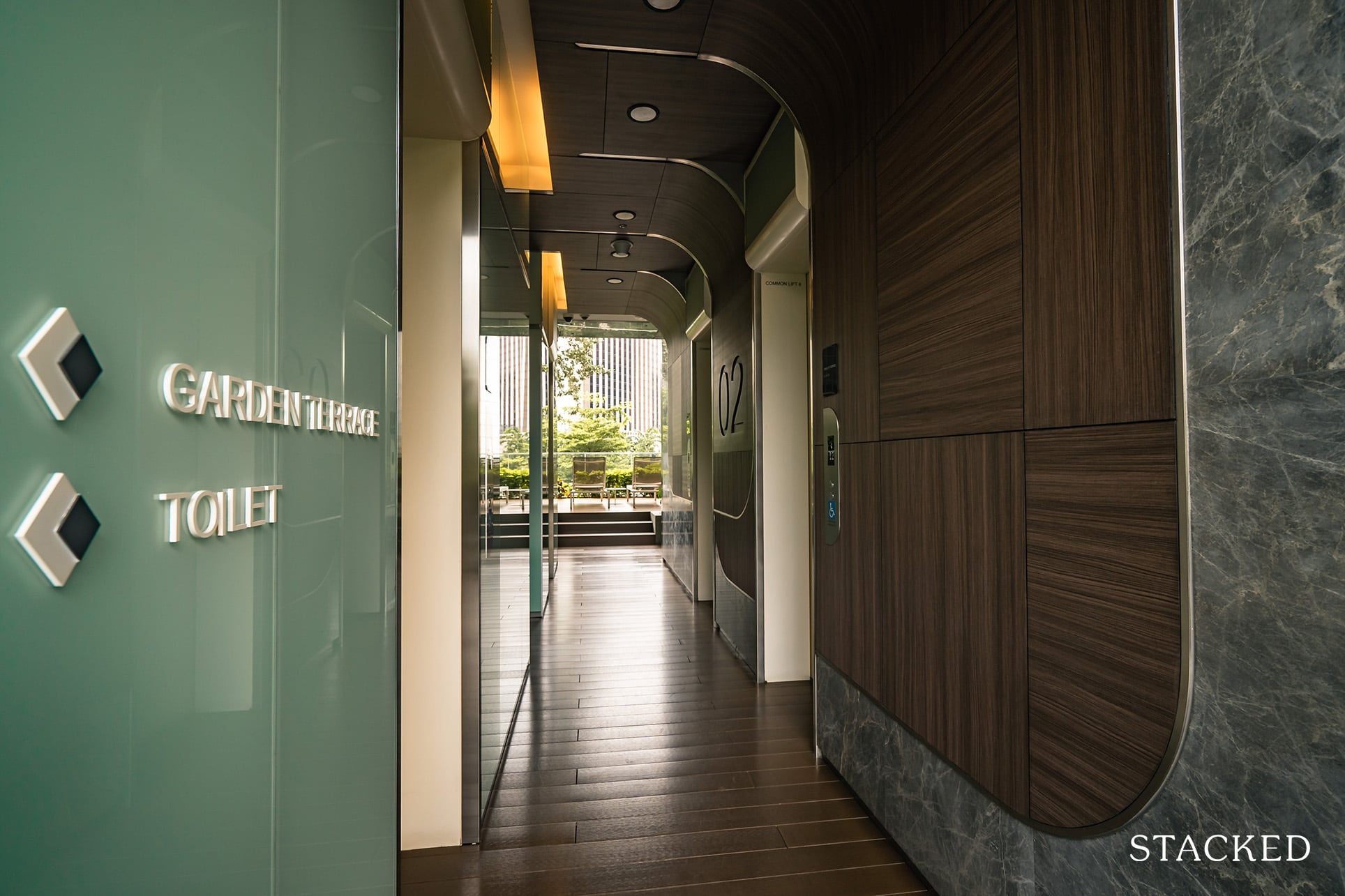 It's a decent enough space, with the added bonus of it being set aside from everywhere else for increased peace and quiet.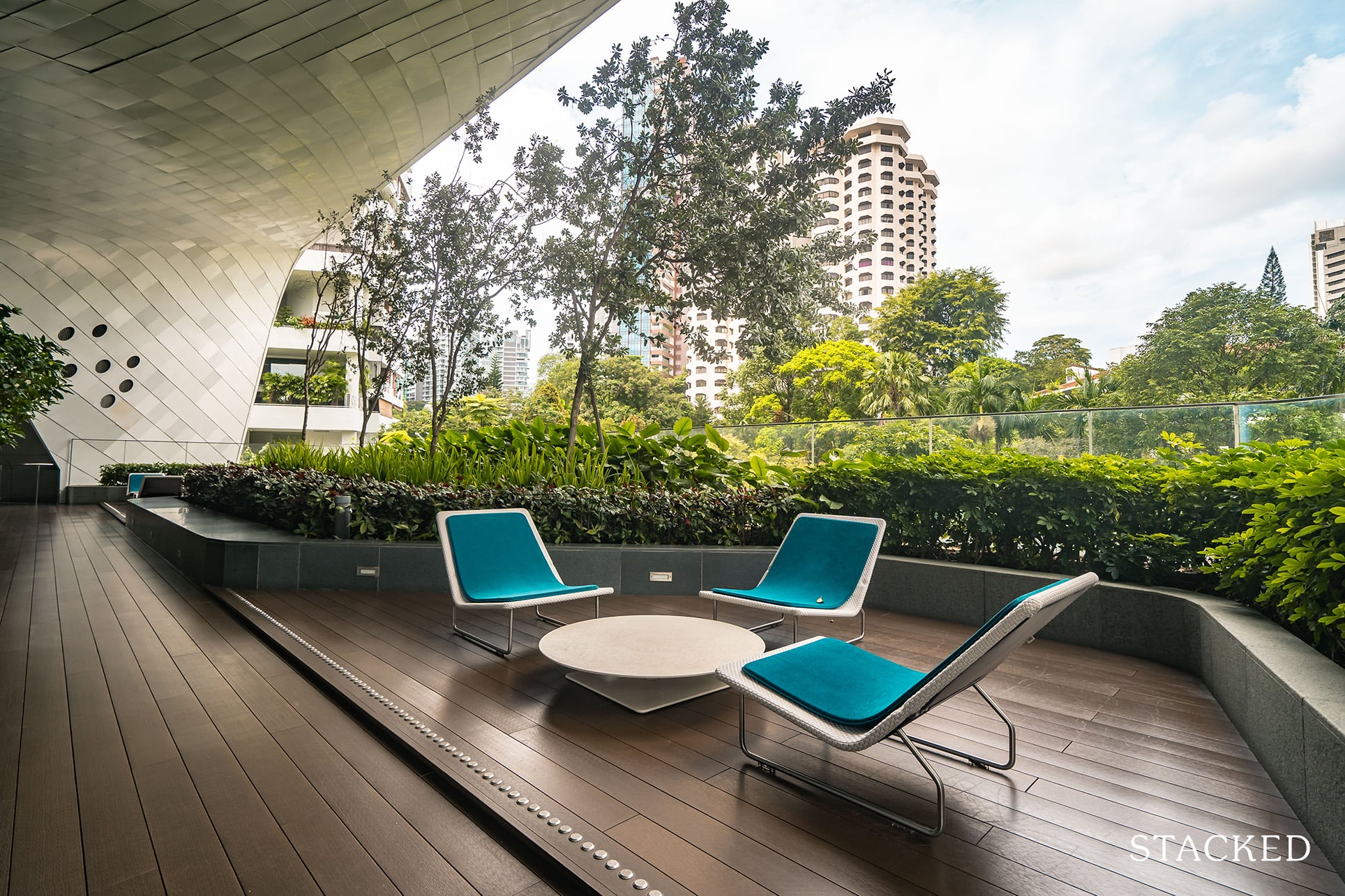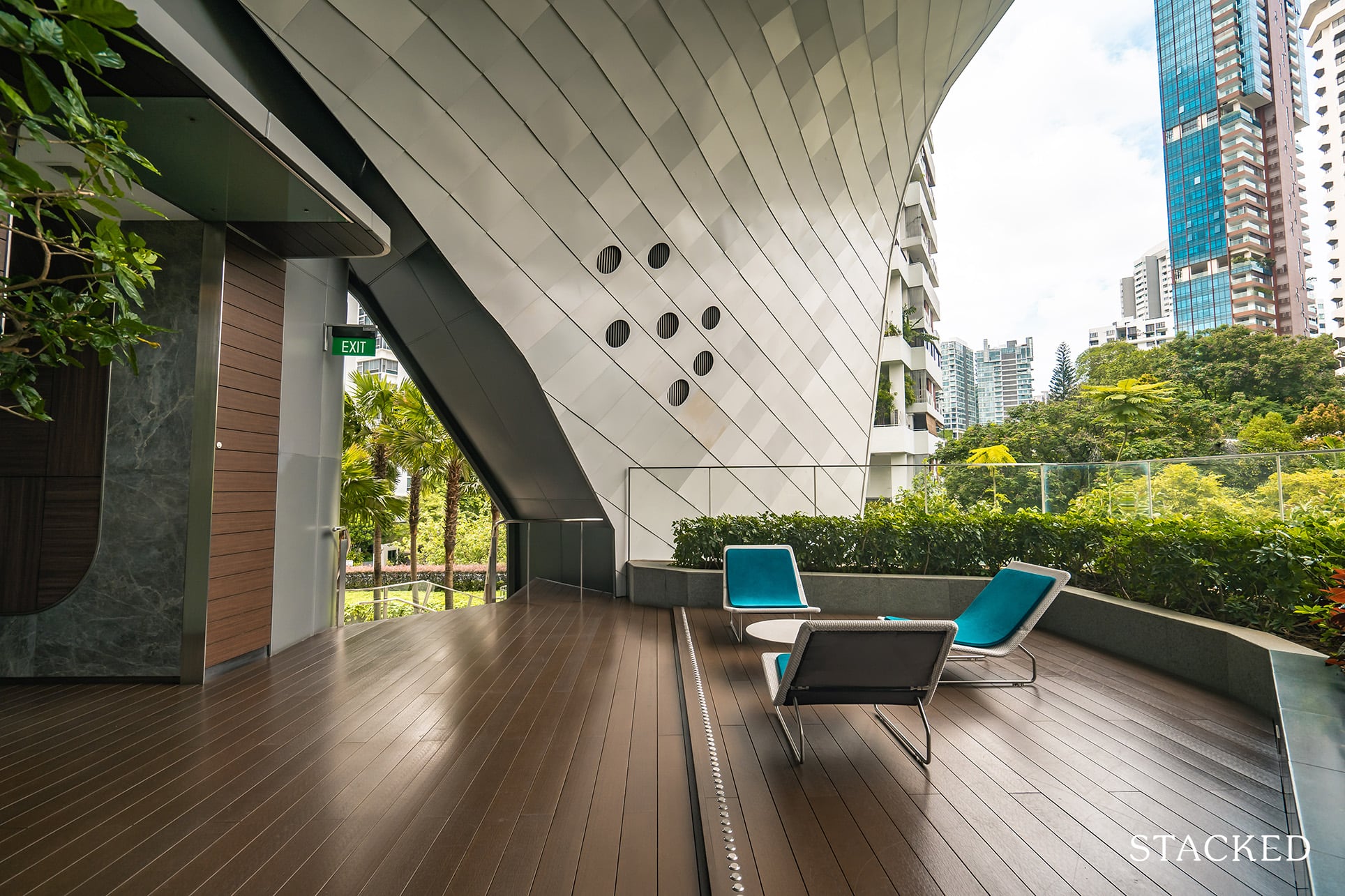 It might not boast the best views in the house, but if you are looking for some solitude this would be your best bet.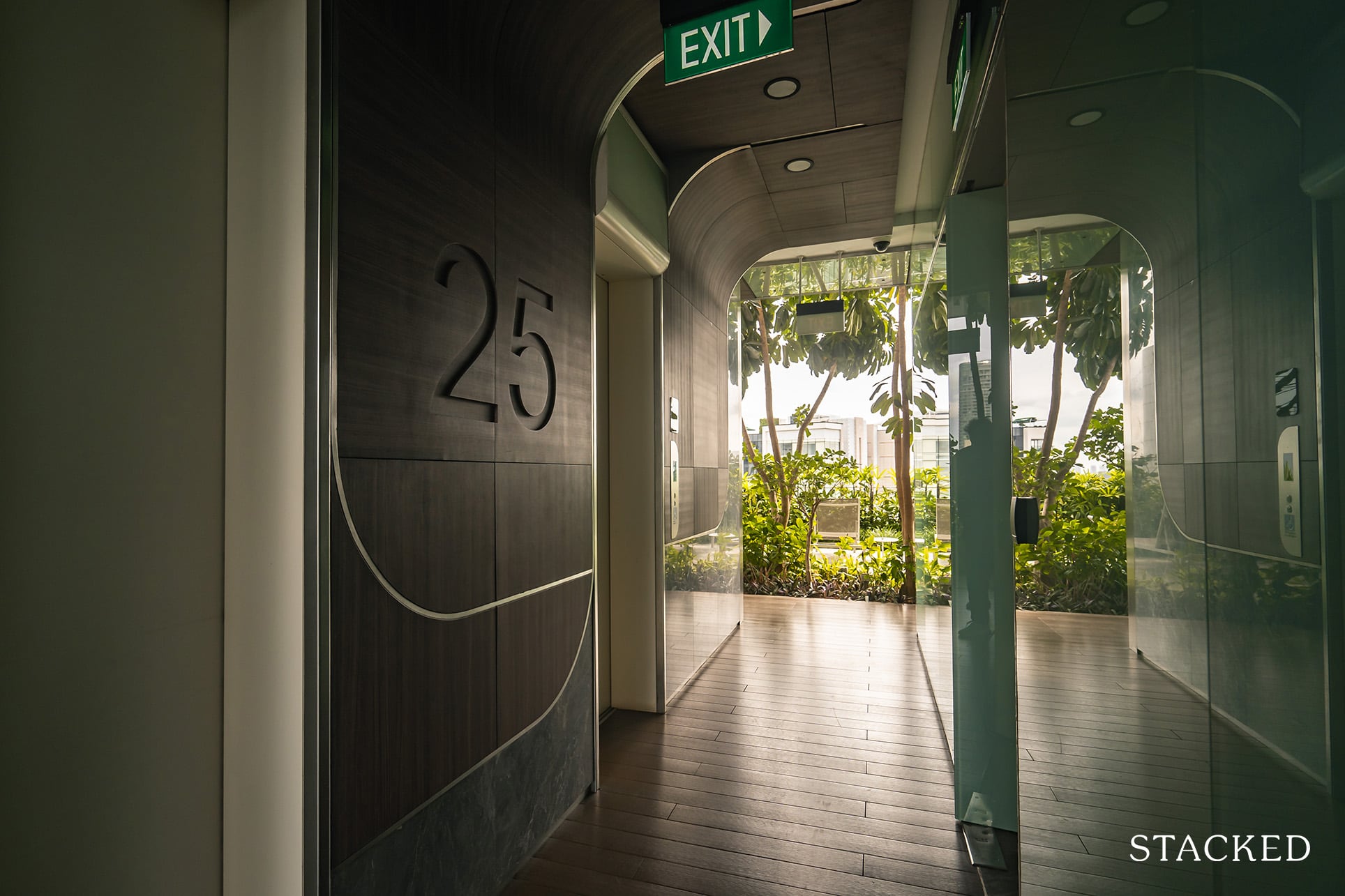 Let's move up to the showpiece of The Scotts Tower – the sky terrace on the 25th storey.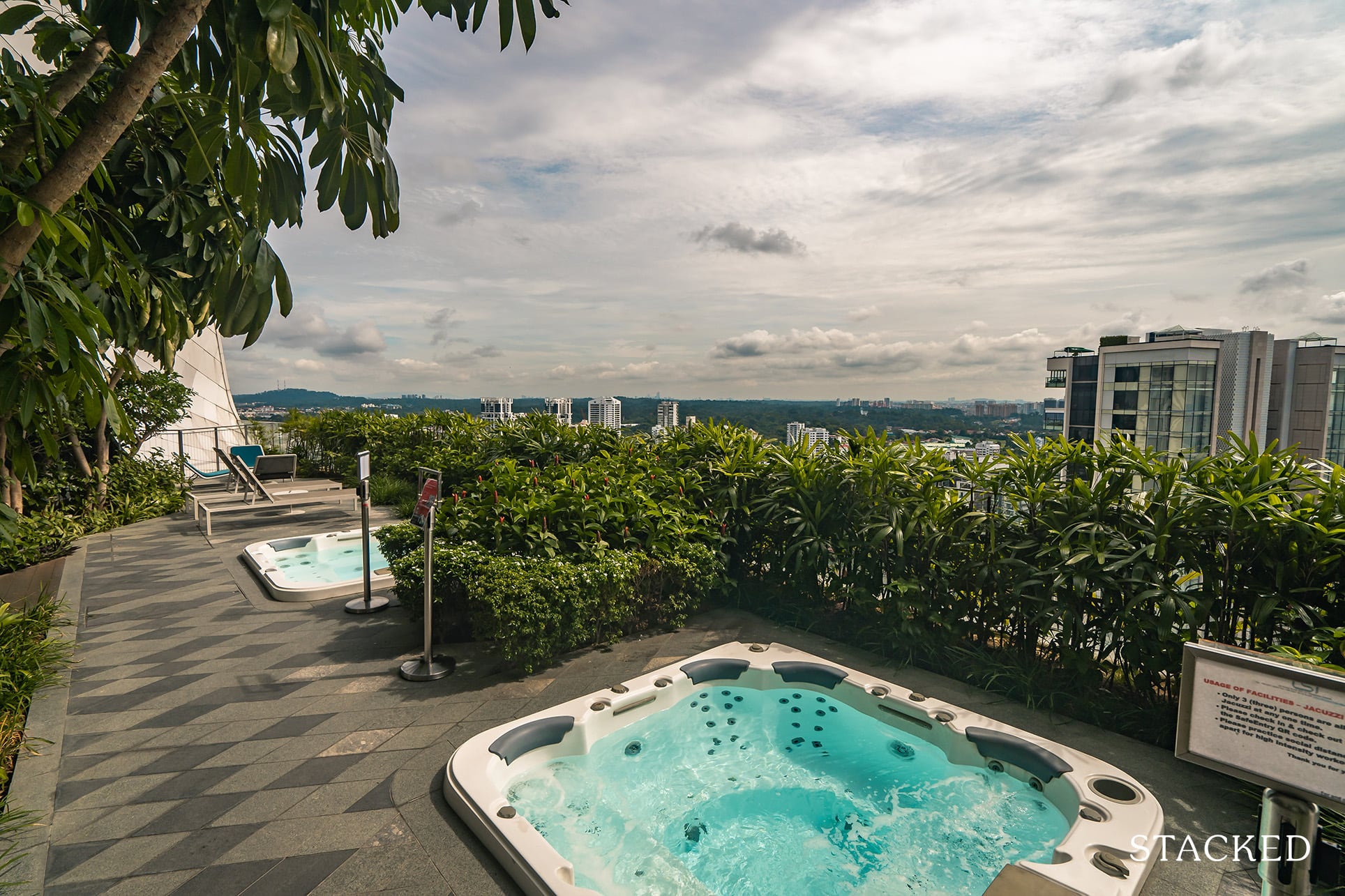 Encompassing the entire level, this floor is dedicated to one thing only – taking in the sumptuous views.
That said, I'd much rather the green plants be behind the jacuzzi instead, that way it creates a privacy shell while still letting you admire the views over the Cairnhill area.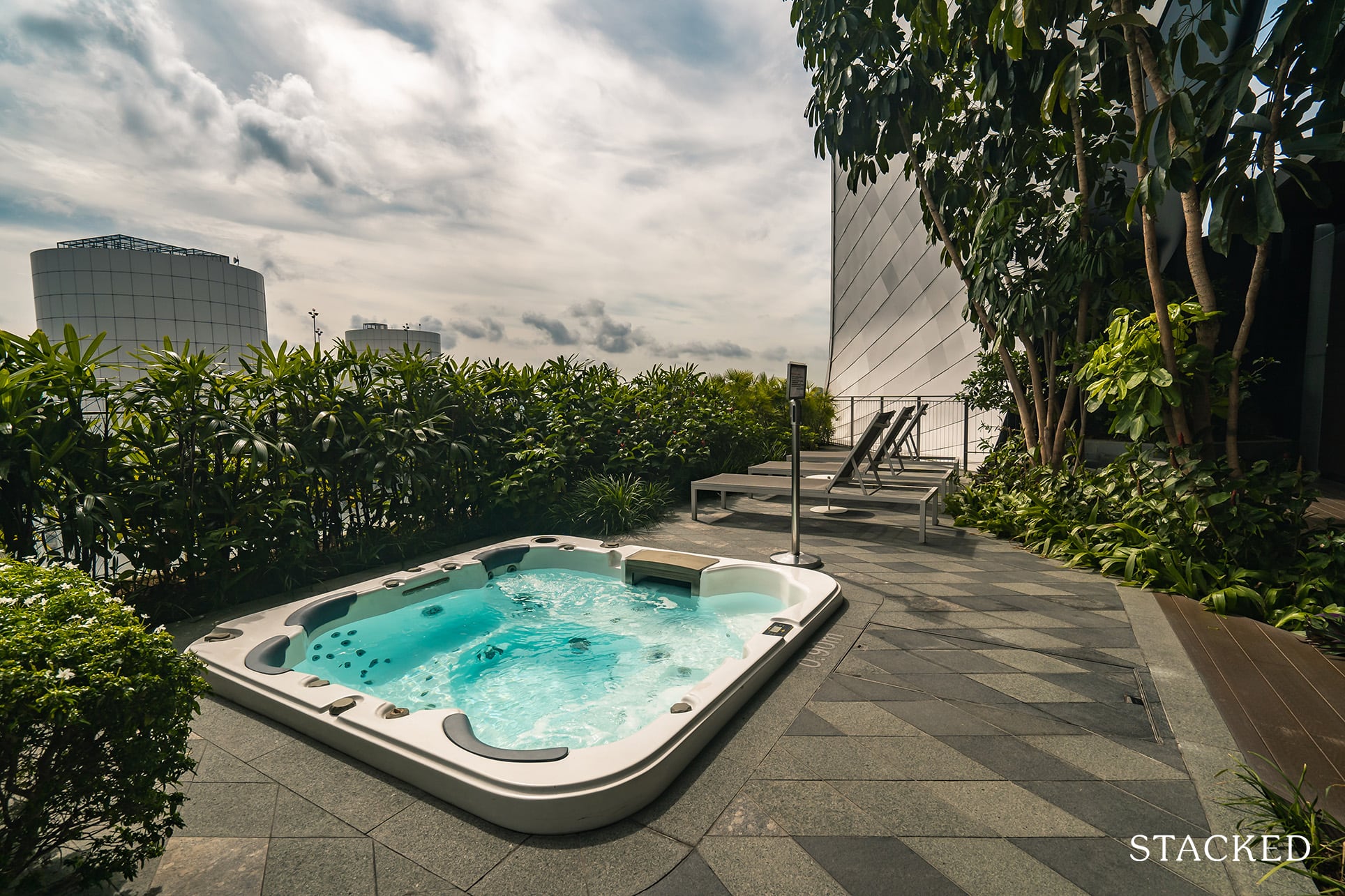 While I can't attest to how powerful the jets are here, it certainly looks to be a very relaxing place to chill at.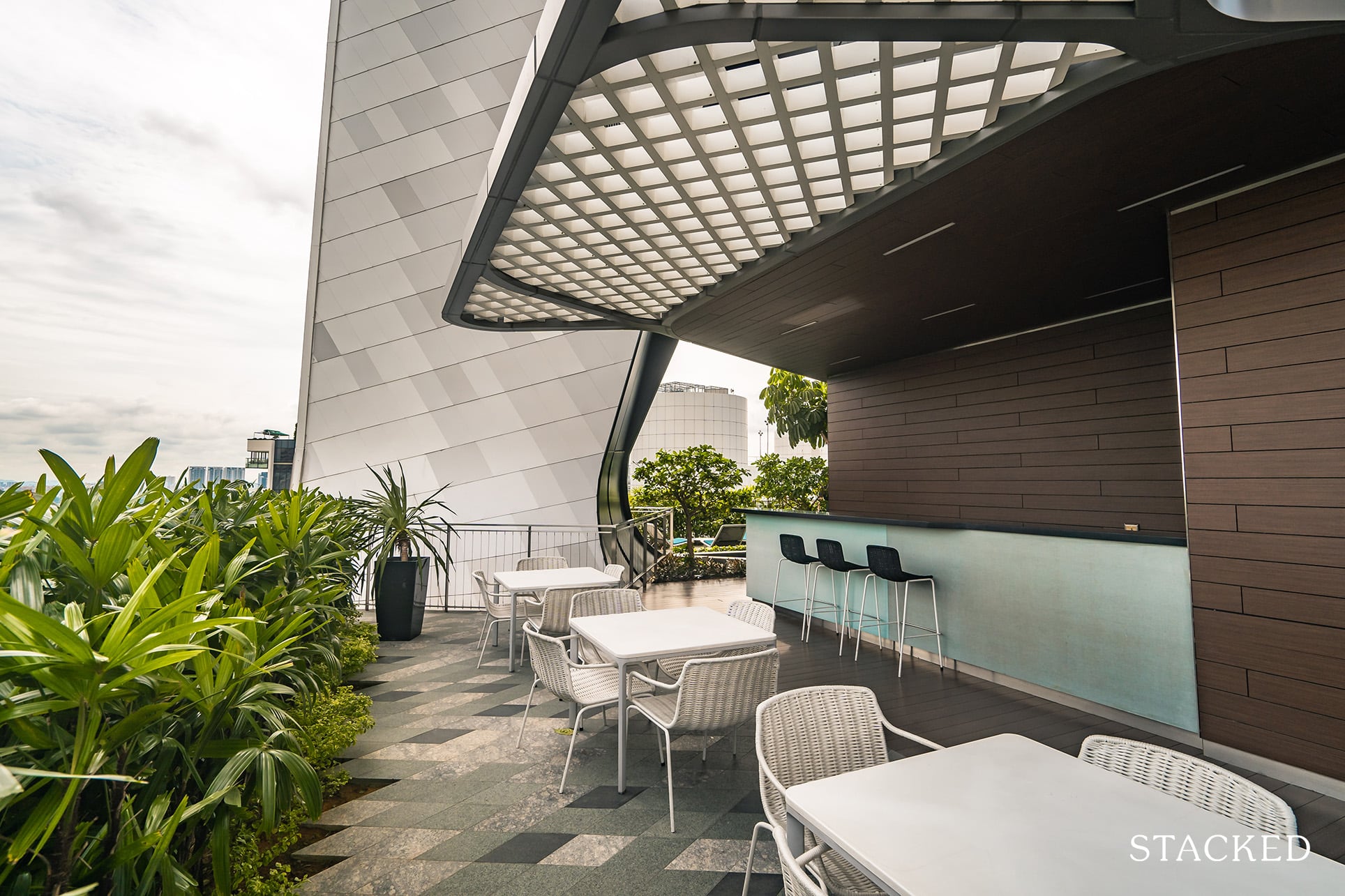 On the side facing Scotts Road, you'll find the sky bar and lounge.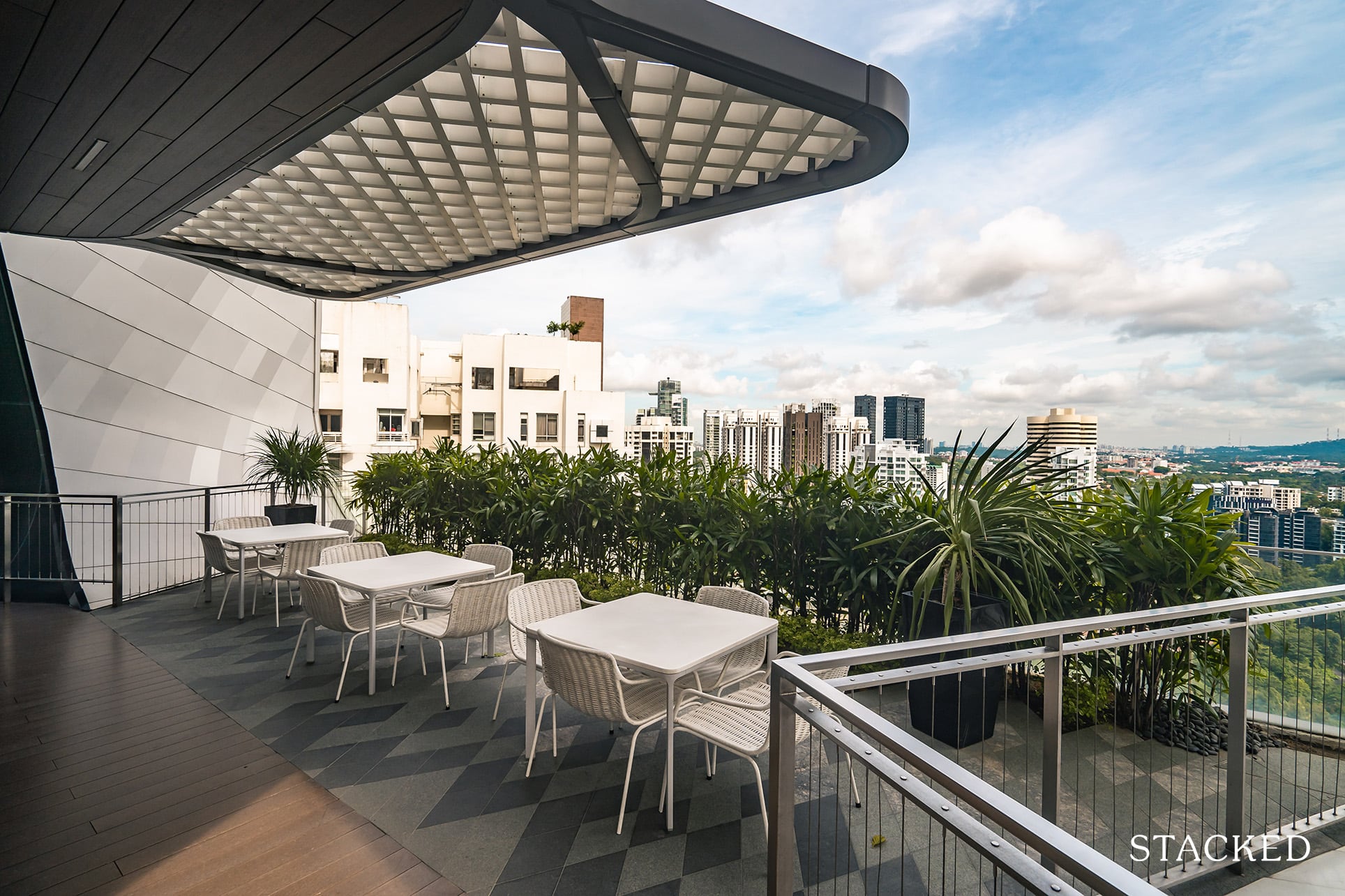 There's multiple seatings here for you to take in the view. Unfortunately, I wasn't able to get a shot of the space during the night. But as with the sky lobby at the bottom, there will be different hues of light that will illuminate during night time.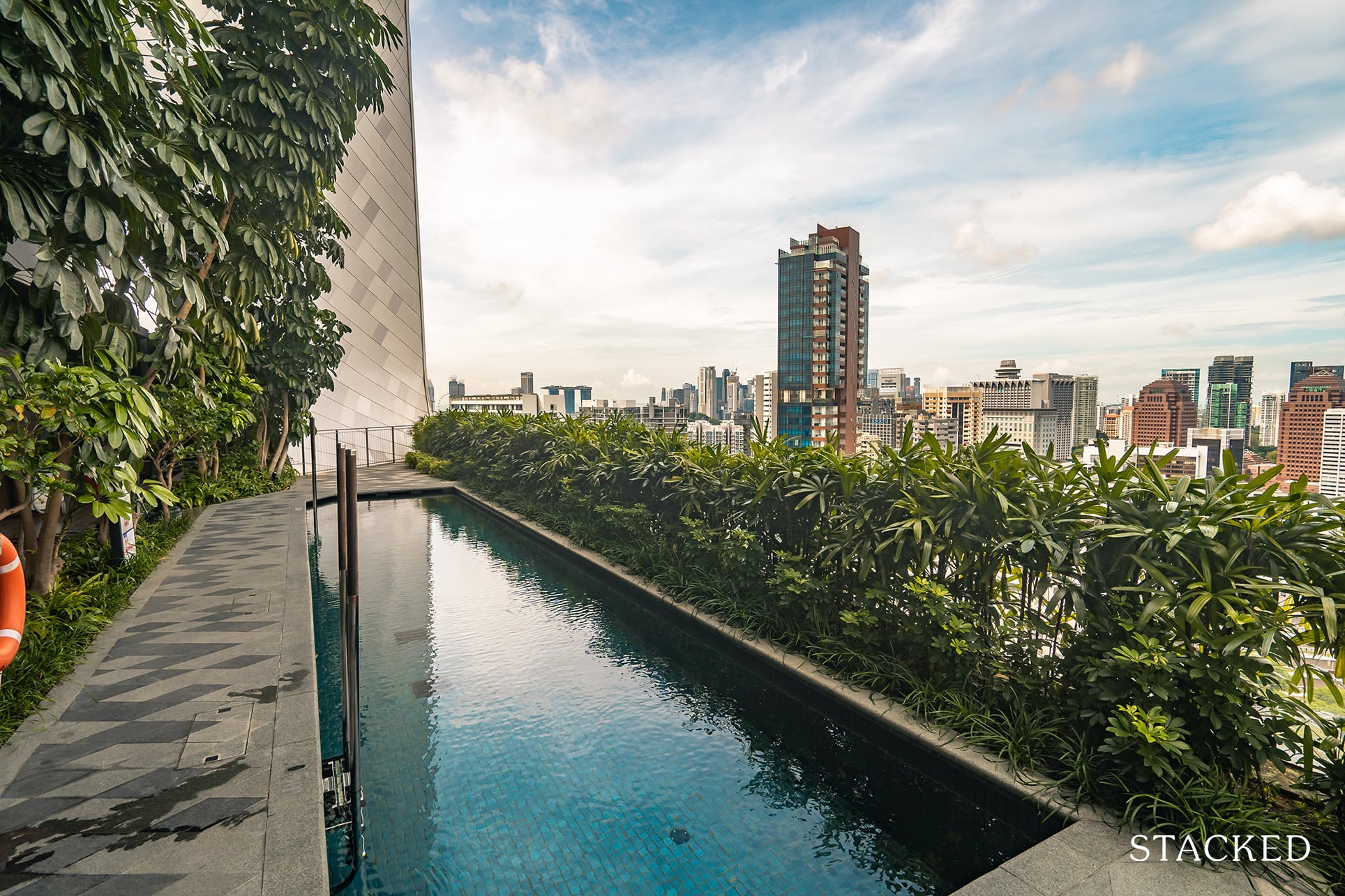 The last noteworthy spot on this sky terrace is the swimming pool. It's certainly not at a size for swimming laps in, but it's always a luxury to be able to relax in a body of water so high up.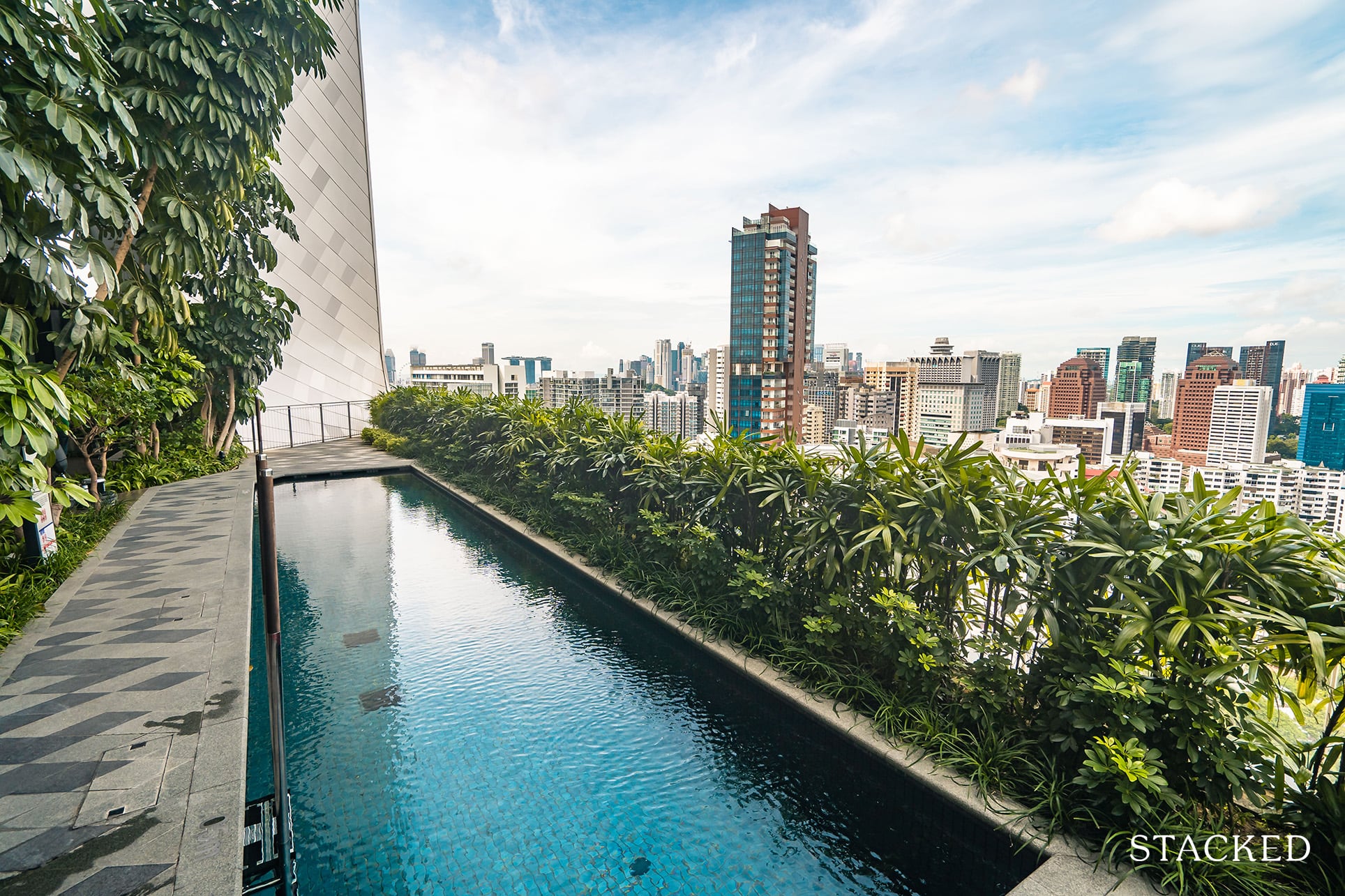 As with the jacuzzi, I'm not sure why the planters were placed here as it blocks the entire view while you are in the pool.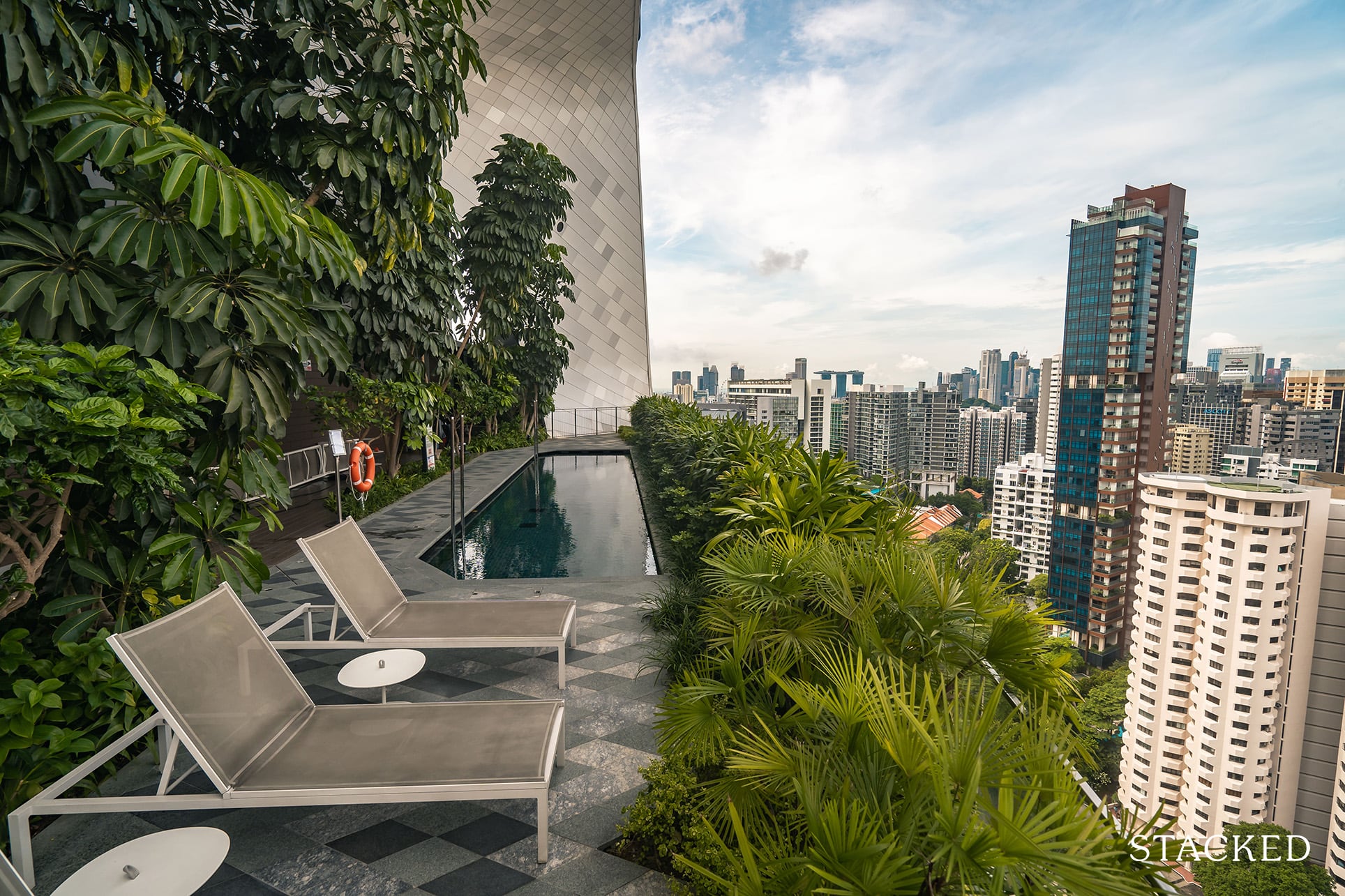 Of course, it's a different story when you are on the deck chairs.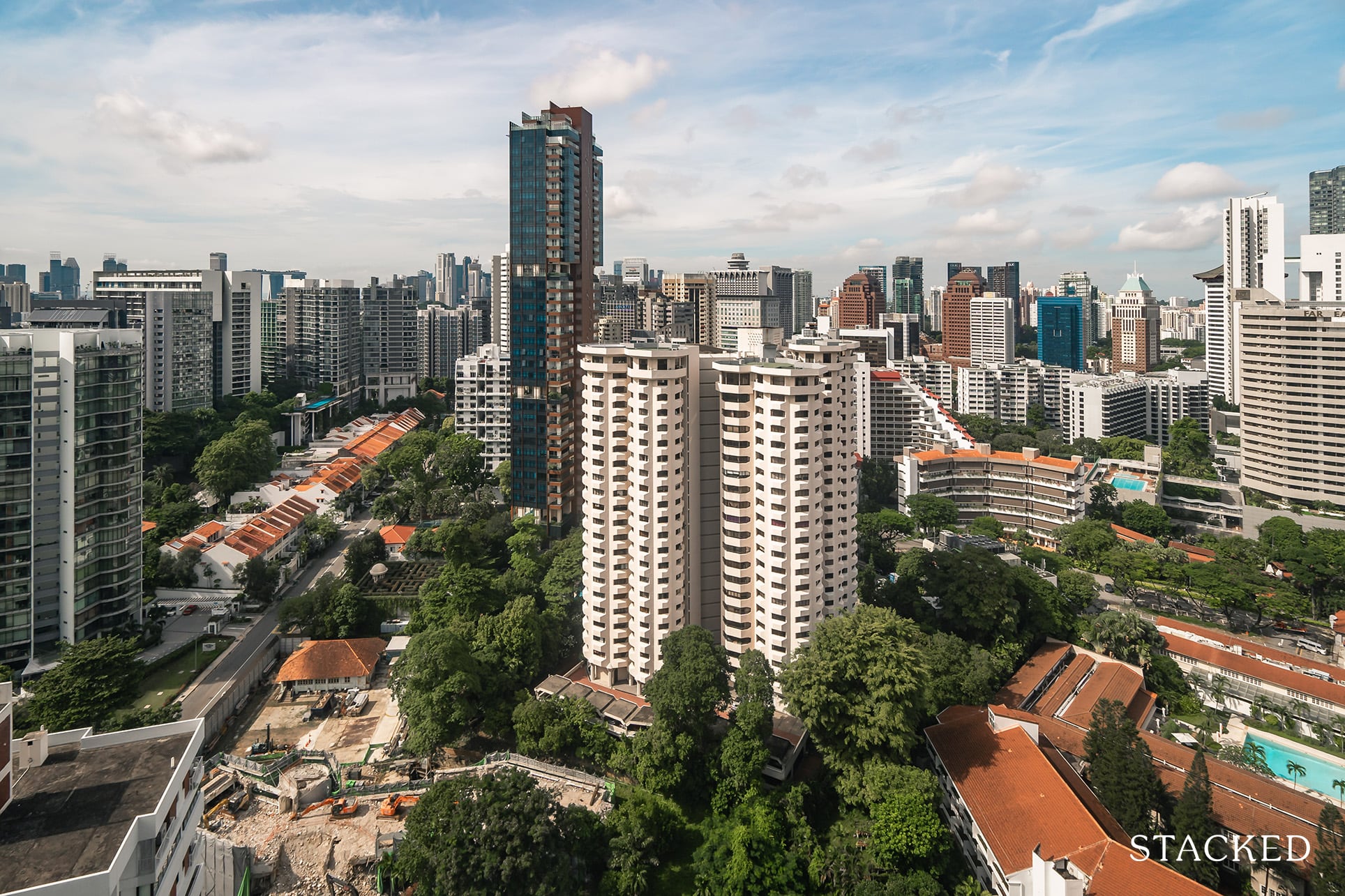 The views from The Scotts Tower in all its glory.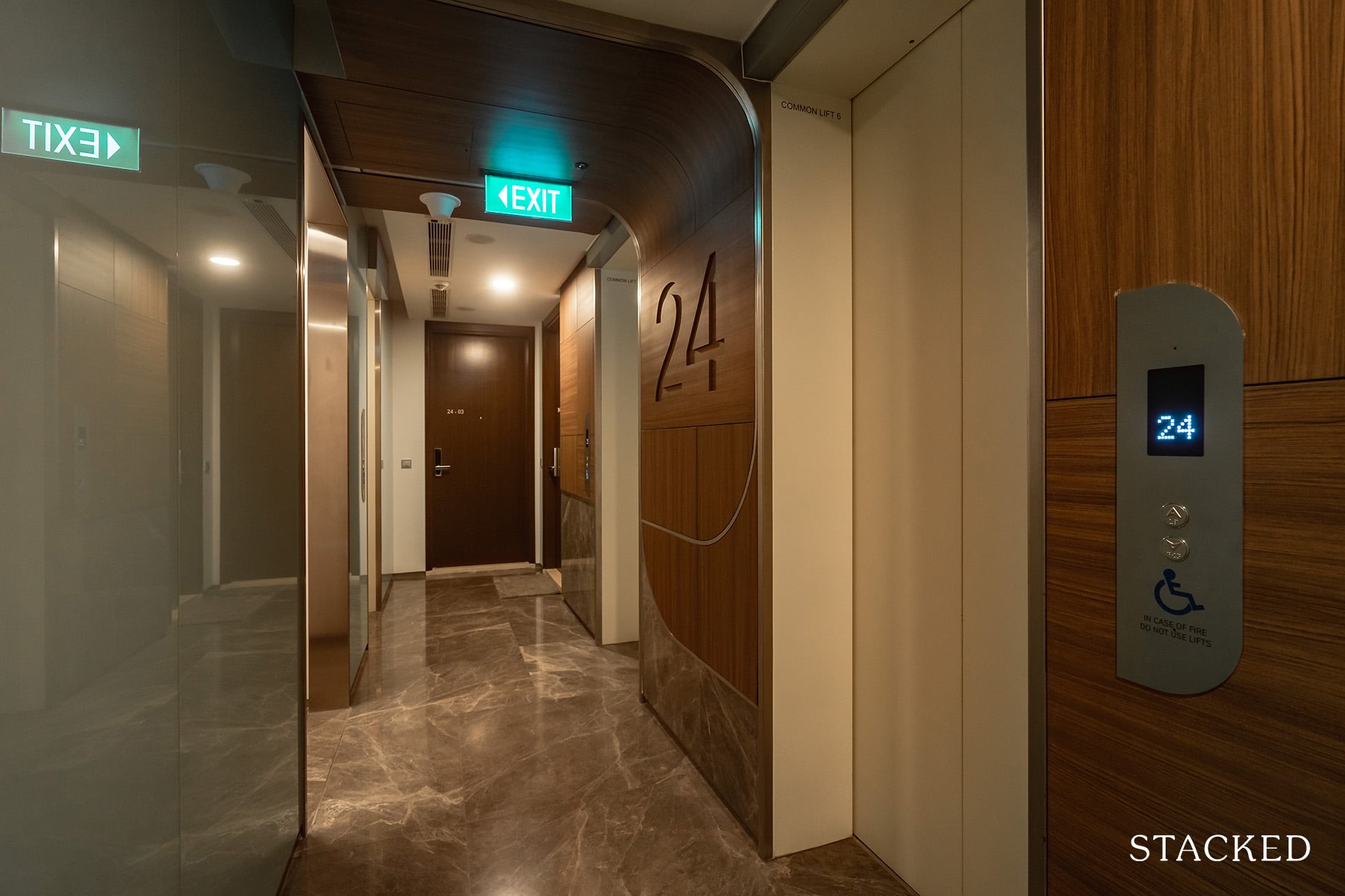 Before I move into the unit reviews, I have to mention the strange arrangement of the lifts at The Scotts Tower. Depending on which floor you are at, you might not actually have a direct lift to the Sky Terrace. So if you do plan to utilise the space frequently, you'd need to look for the right floor with a direct lift.
Other than that quirk, each lift lobby is air conditioned – a luxurious comfort you'd usually only see in hotels.
The Scotts Tower 2 Bedroom Review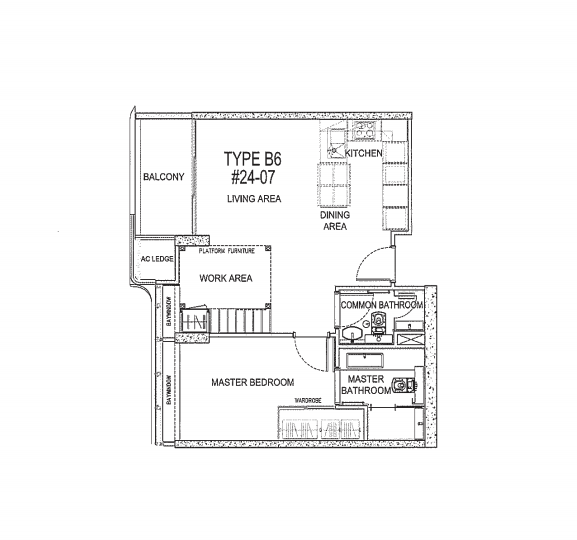 At 807 square feet in size, this 2 bedroom unit at The Scotts Tower is slightly larger than the average 2 bedroom unit that you'd usually see. However, the layout is rather unconventional because the second room is opened up to showcase a work area instead.
That said, the common bathroom that protrudes out does make the space in front of the entrance an awkward shape and thus harder to utilise.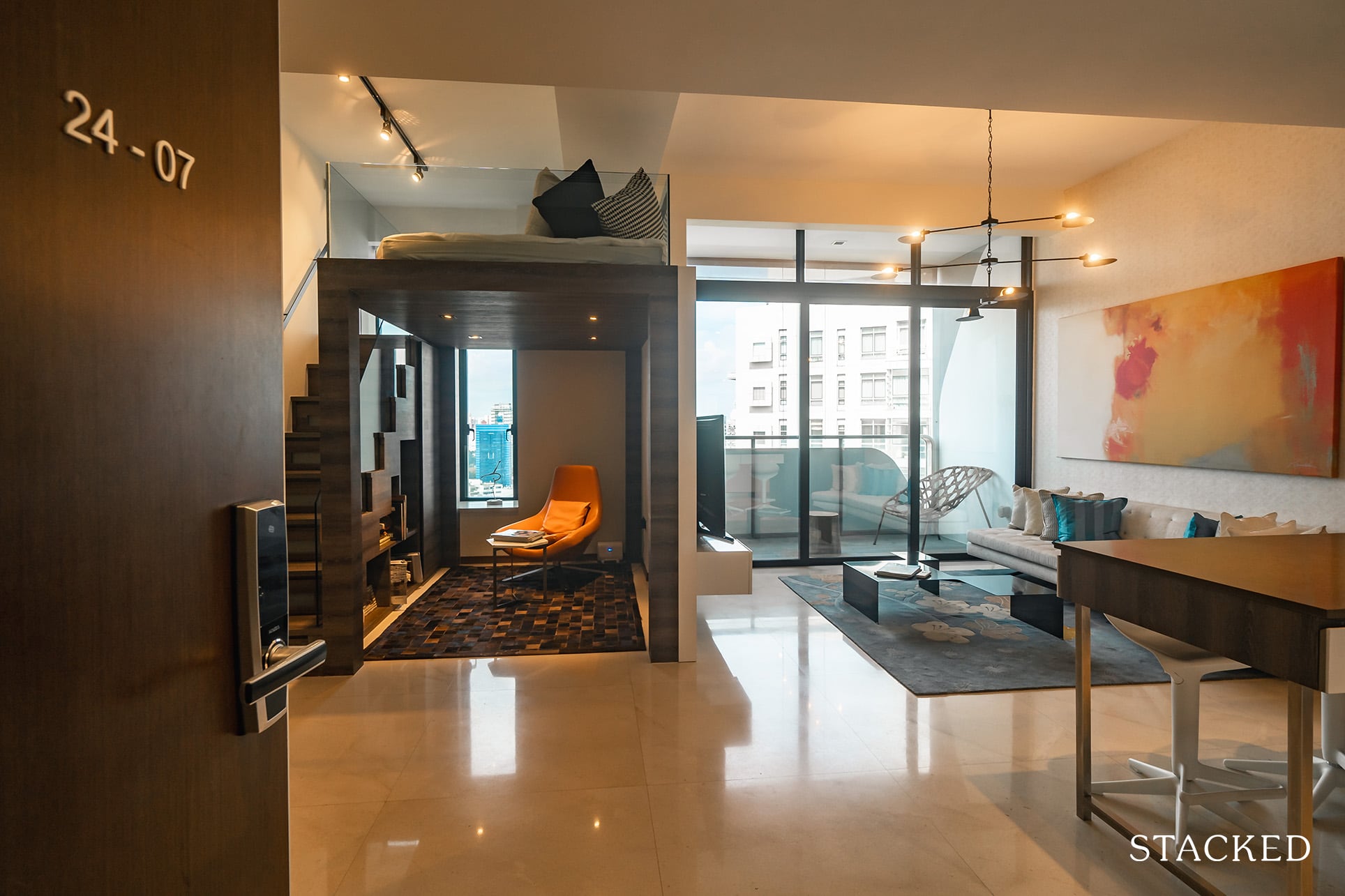 Immediately when you step into the unit, it gives off a very spacious feel. Perhaps its because I'm used to seeing the entranceway being merged with the kitchen space, so it is quite a welcome change.
The other main difference is down to the higher than average 3.35m ceiling height – it really makes quite a difference to the feel of the space.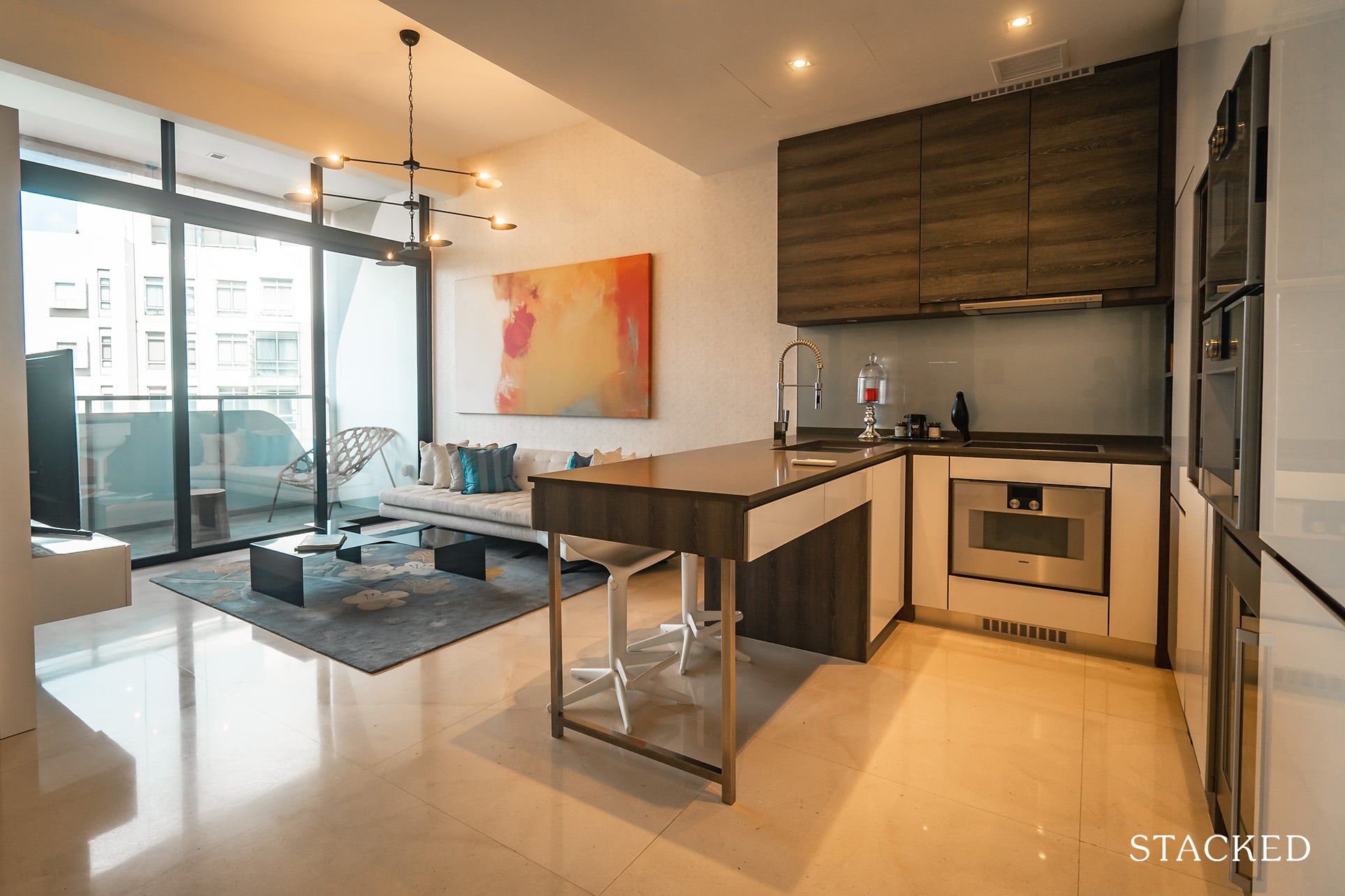 In the case of this unit, the kitchen counter has been extended to form part of the dining table as well. It's not for everyone, that's for sure – but it does mean that you reserve a lot more space for the living area as well.
Also note that this is an open concept kitchen, so you will have to open up the balcony and the main door for airflow should you be indulging in some heavier cooking.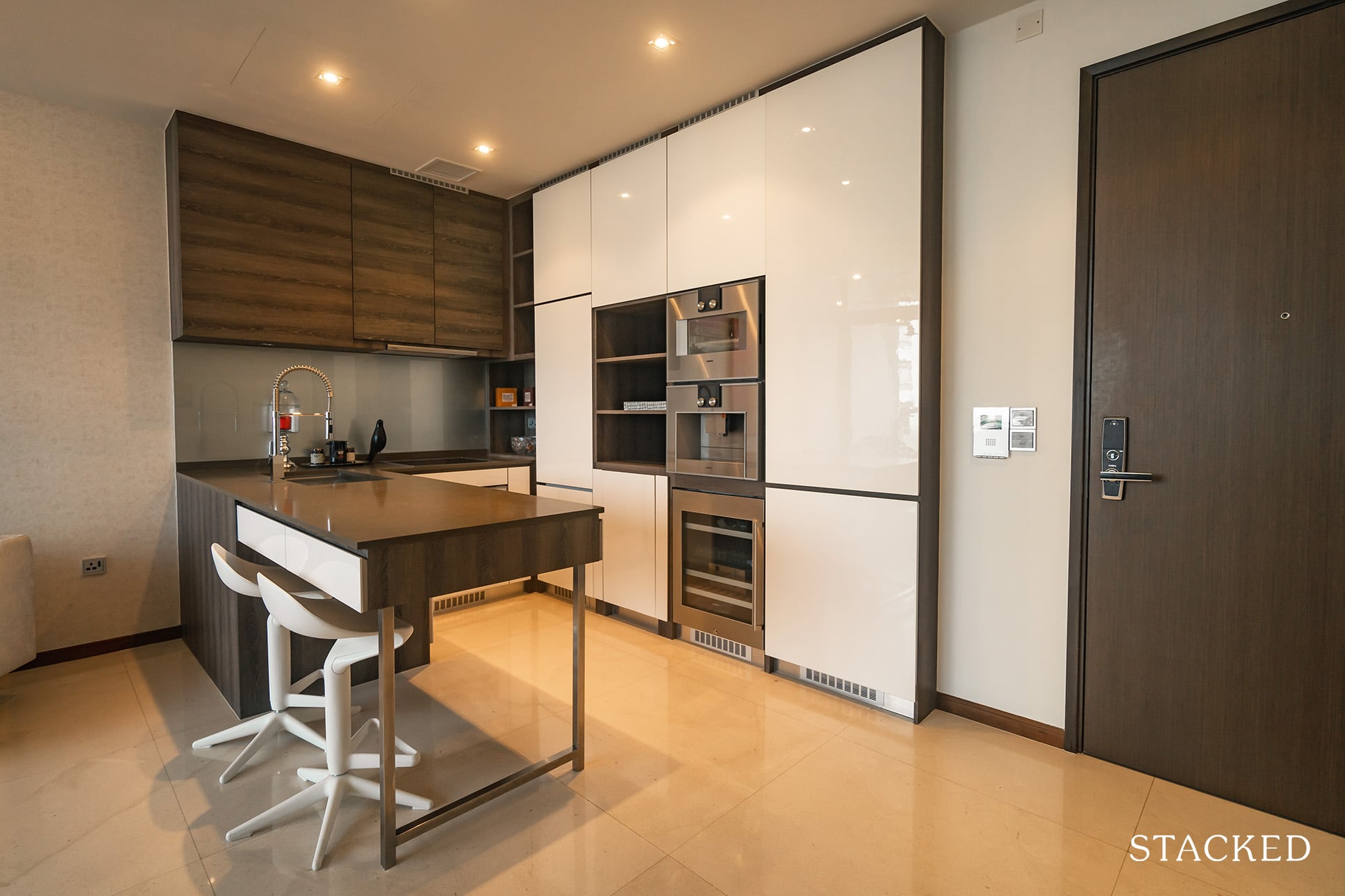 For the kind of money that these units are going for, one can reasonably expect to have a better than average level of kitchen equipment. In this case other than the usual oven, fridge, and washer/dryer there's even a wine fridge included. It's all equipped by the high-end Gaggenau, so it's all good on that front.
With the added extension, the dining table can double up as kitchen counter space as well so in that regard it should be sufficient for most. Storage areas are plentiful too.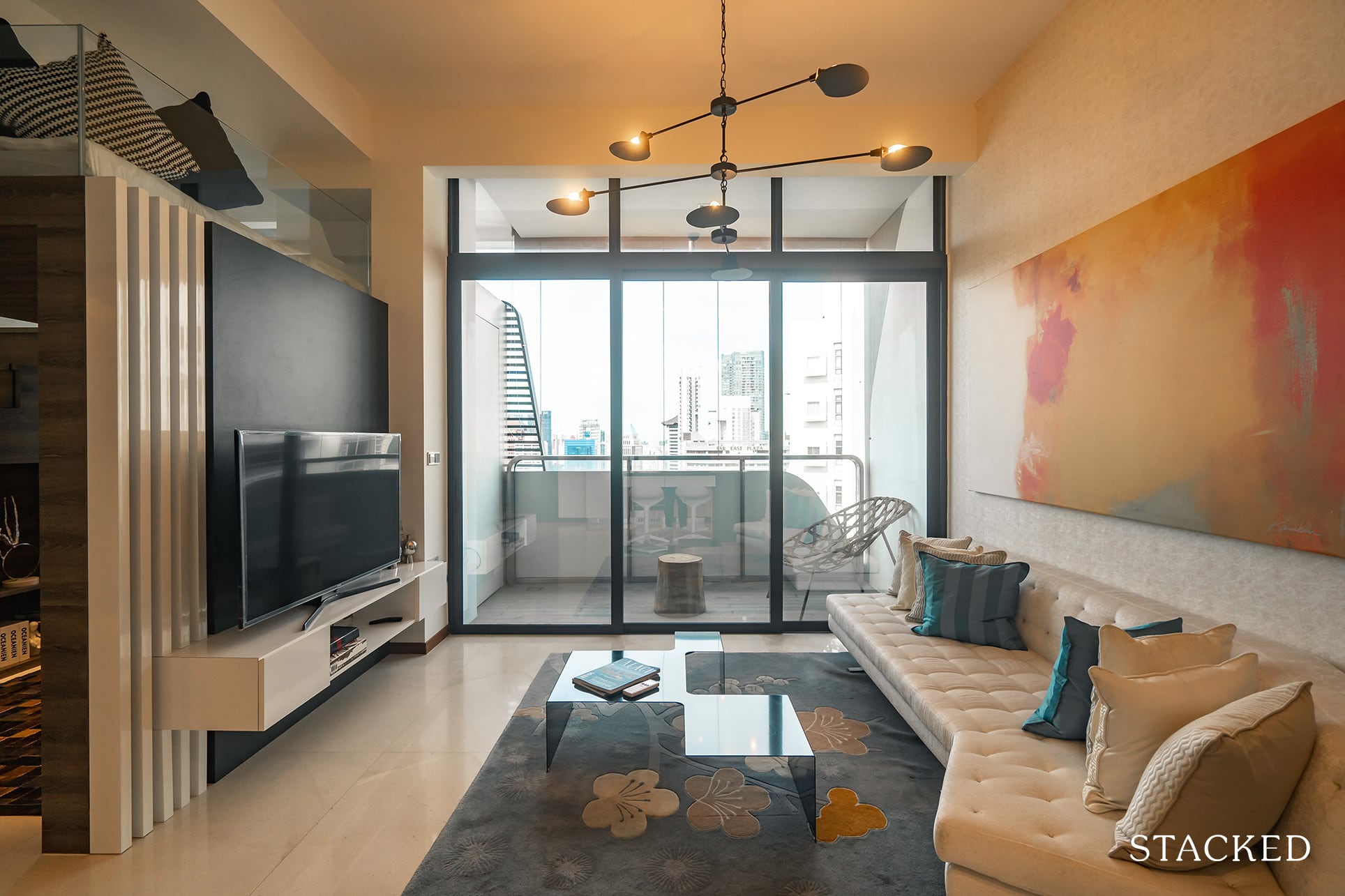 The living and dining area is the standard rectangular layout, so there isn't any real separation between the two areas.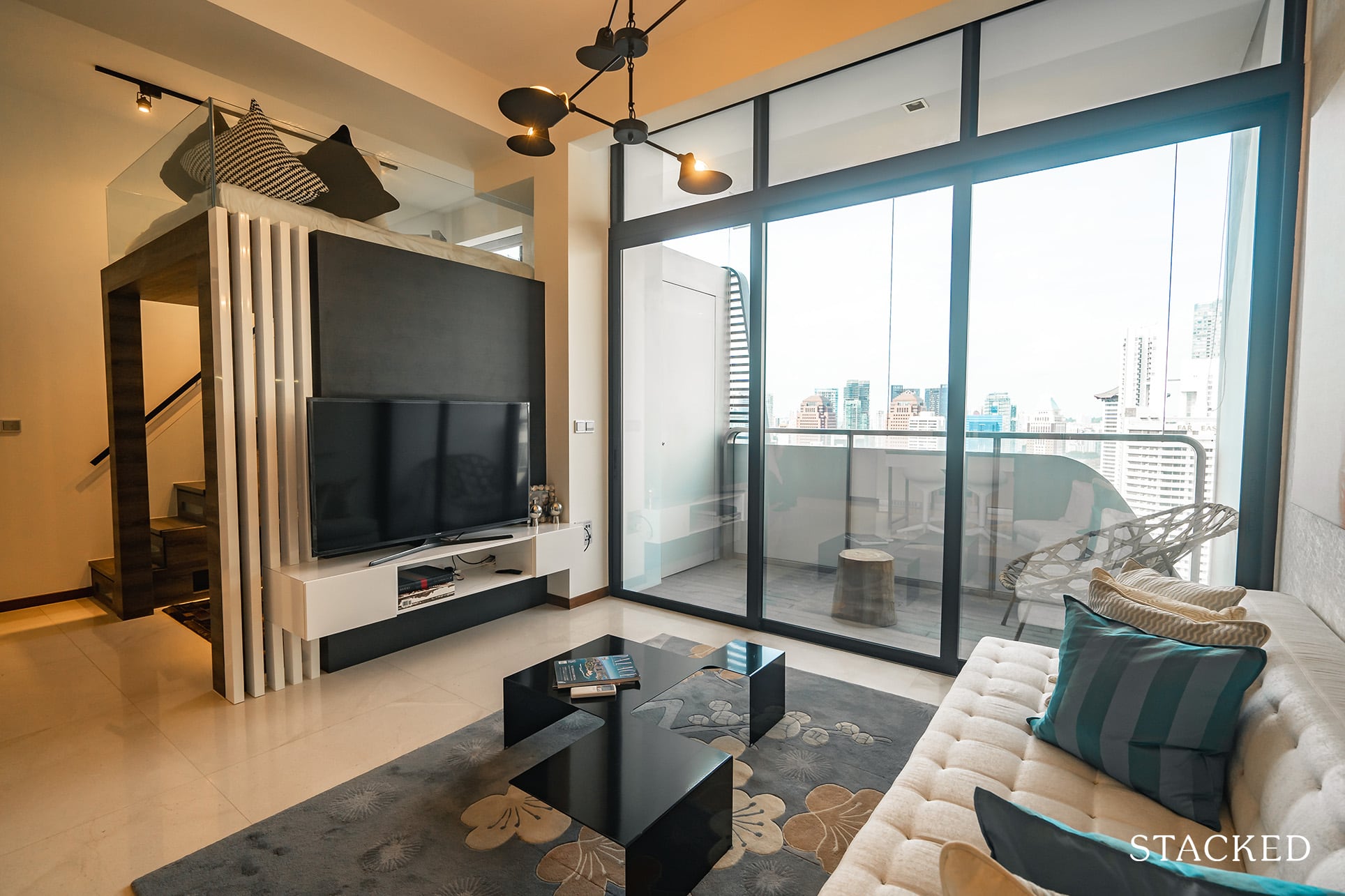 As mentioned above, because the dining has essentially merged with the kitchen, you do end up with a very well-sized living room. It's wide enough for a proper couch, coffee table, and TV console.
Also because of the nearly floor to ceiling balcony doors and the open concept second bedroom, the living area feels very substantial and airy.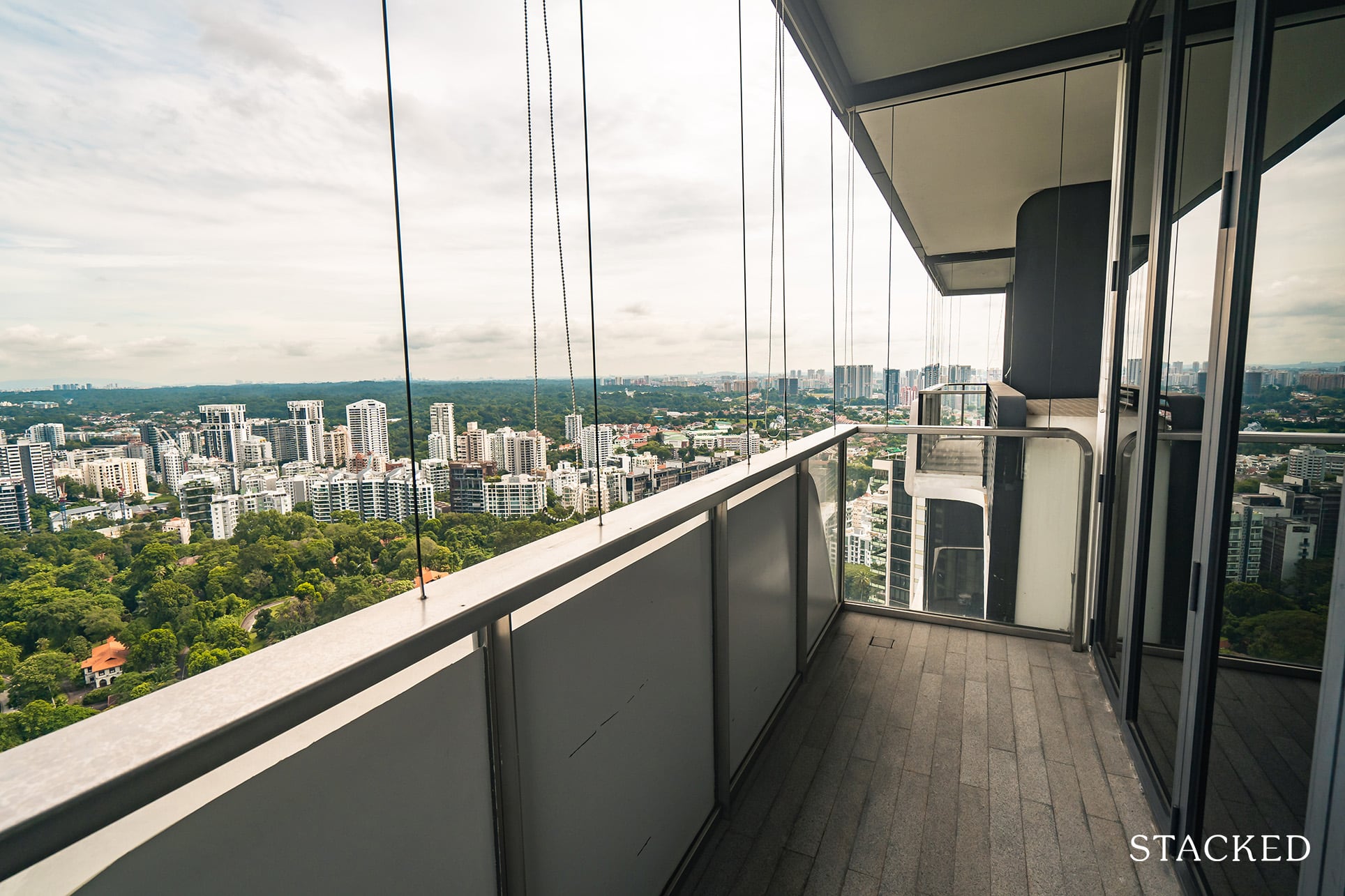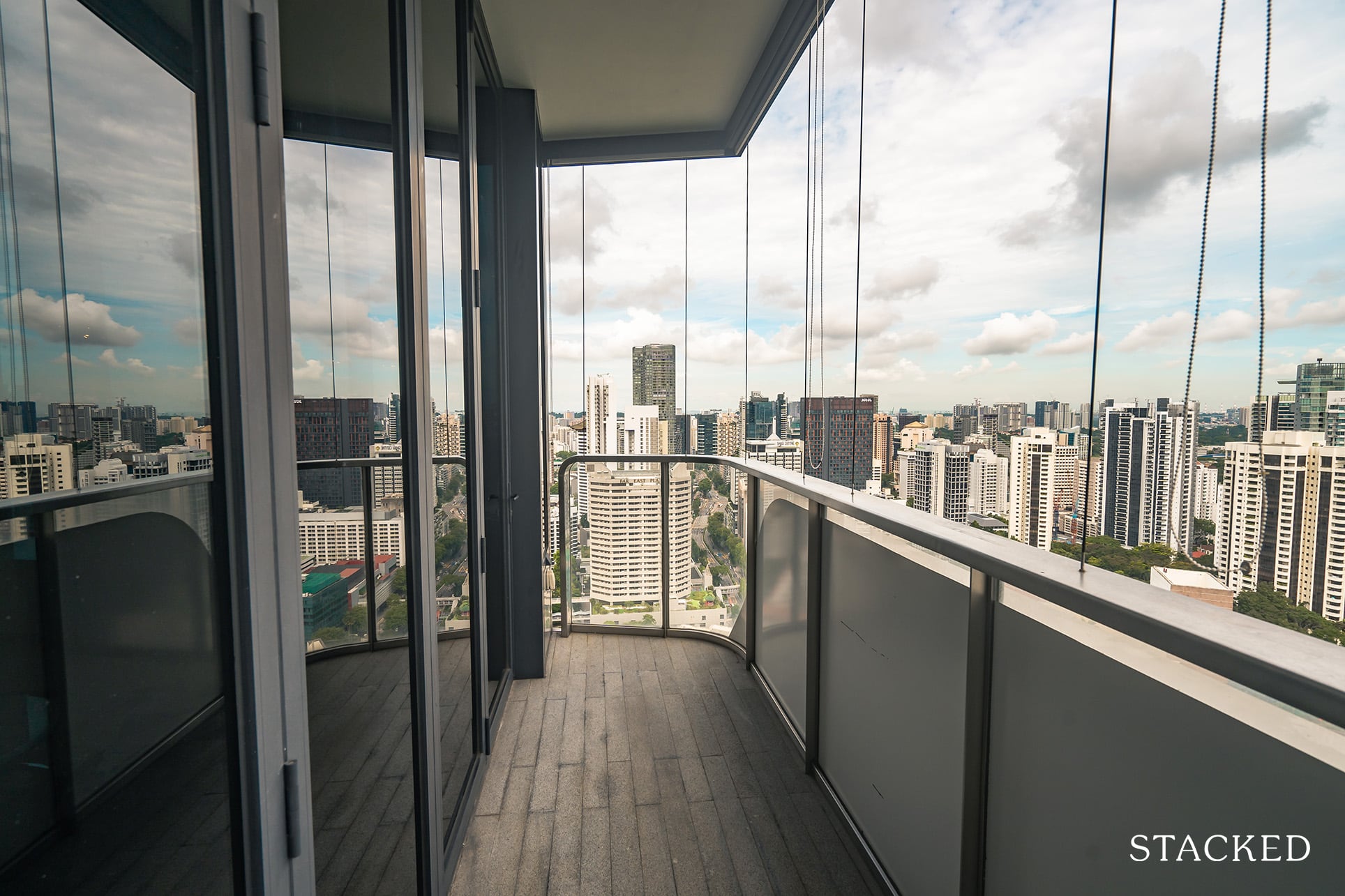 In order to preserve the exterior outlook of the building, these white panels have no choice but to be present. It's a pity as it blocks the otherwise wonderful view. Of course, if you're standing on the balcony it's not a problem – but if you are sitting on your couch in the living you wouldn't be able to take advantage of the views at all.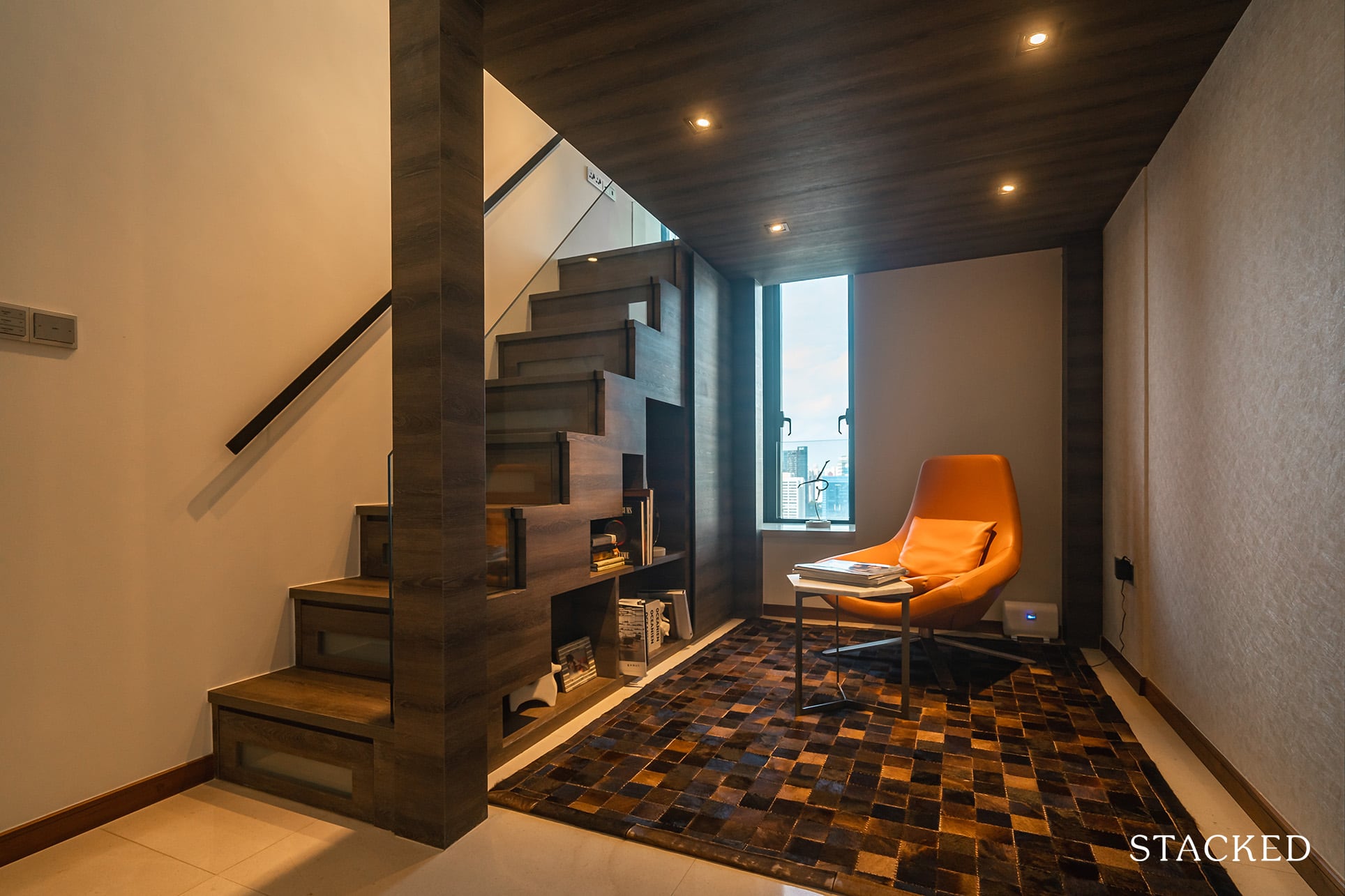 Here's where the SOHO part of the unit comes in, with the platform installed to take advantage of the higher ceiling. Granted it isn't high enough for it to be a comfortable height to be standing under the platform for most people – but it certainly increases the usage of the space.
On the plus side, the lower platform ceiling does create a cosier work environment.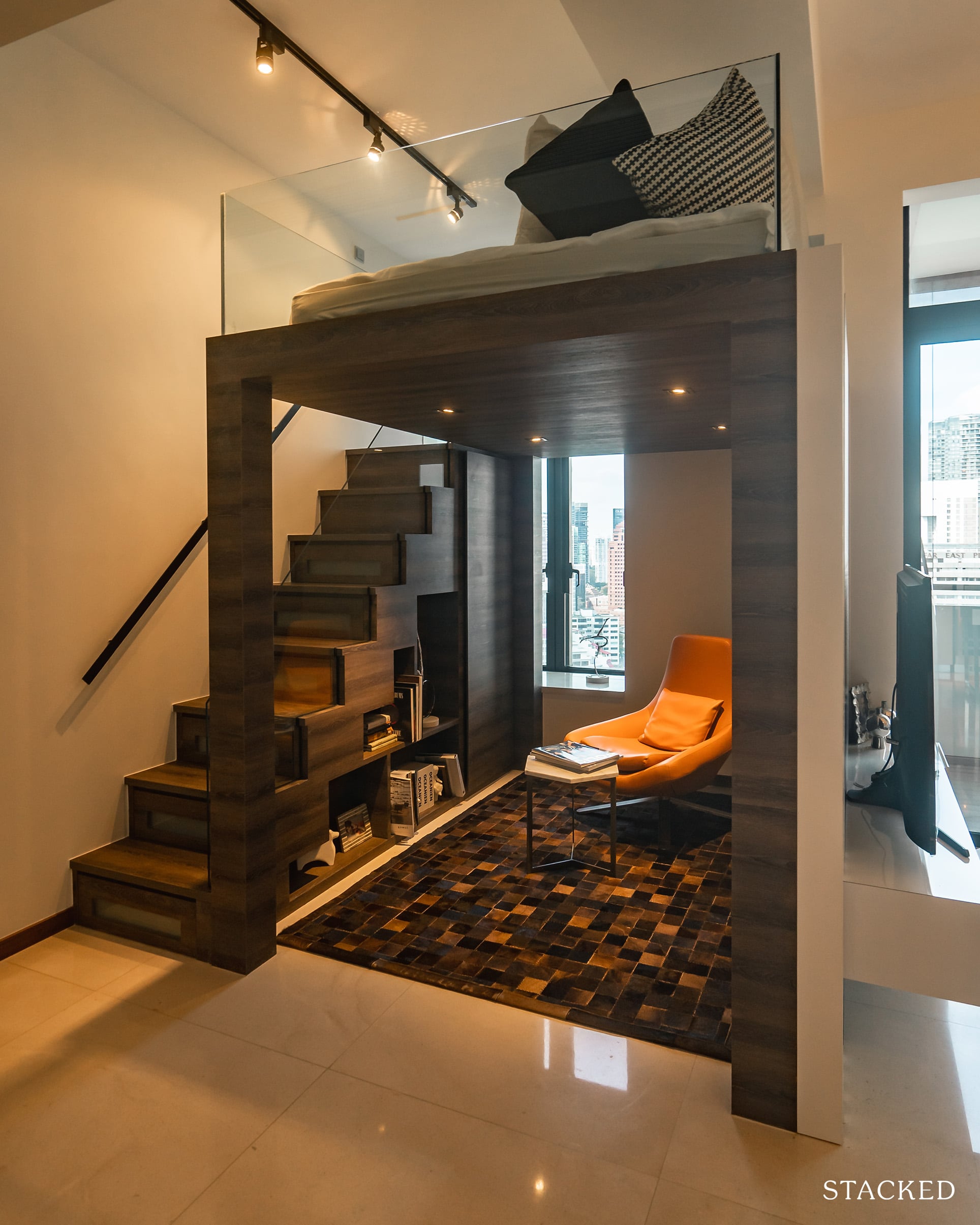 Likewise, the top ceiling is of an even lower height, so standing up is definitely not an option. Again, it makes for a cosy bedroom scenario but it really isn't for everyone.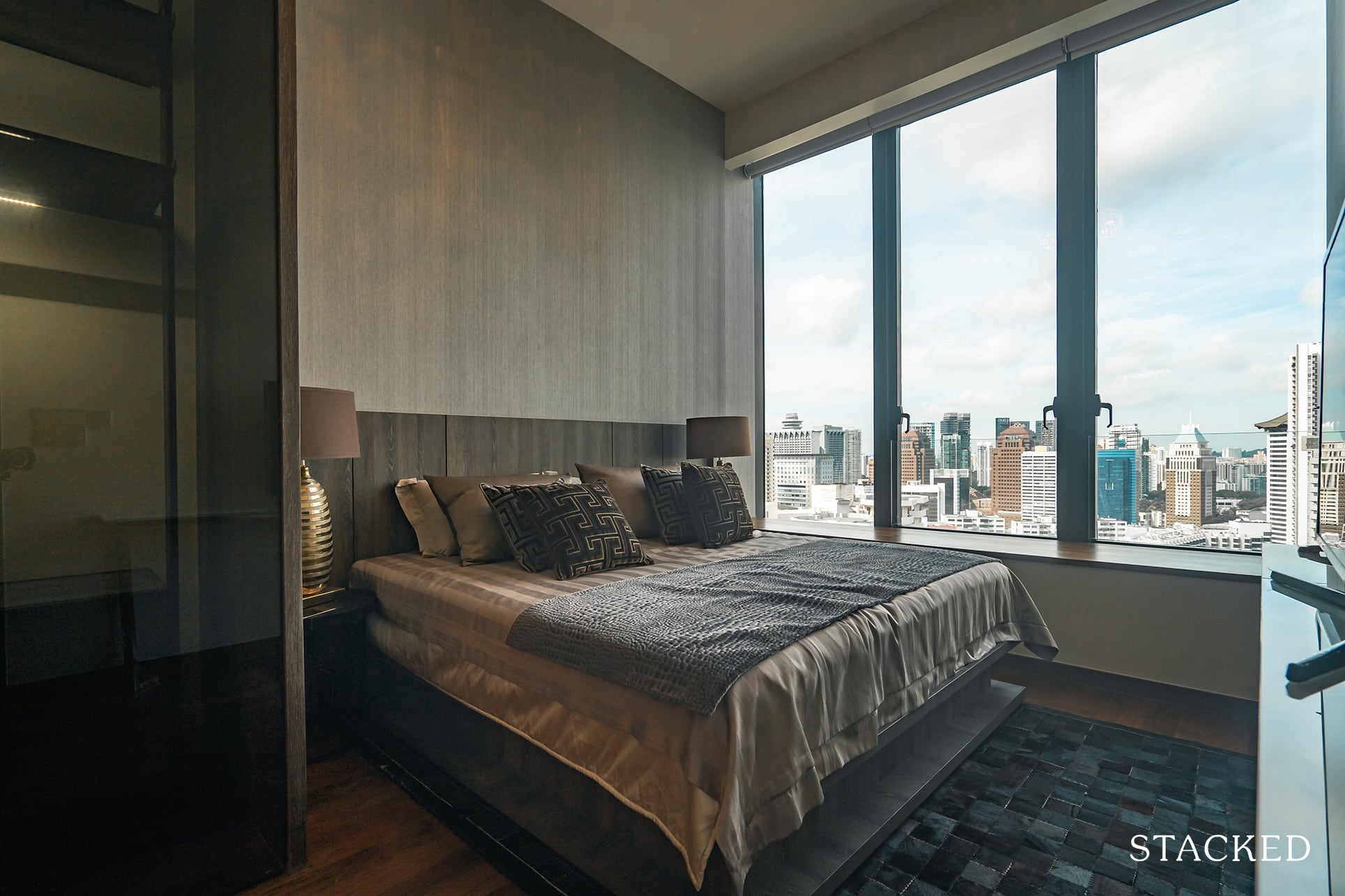 As far as master bedrooms go, this one at The Scotts Tower leans towards the larger side, but the bay windows does eat into your usable space.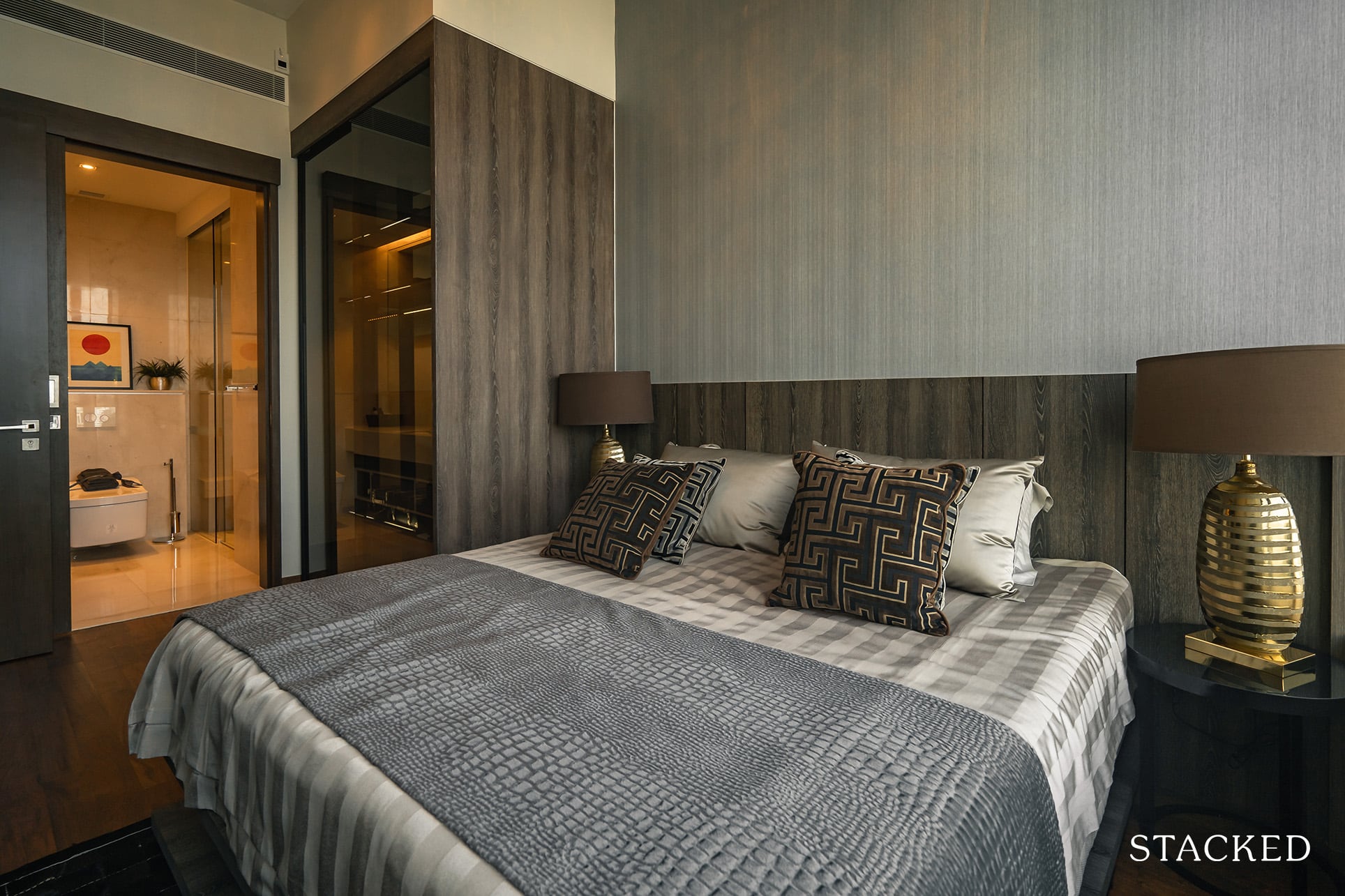 Also because of how the wardrobe is positioned towards the door instead of the usual parallel to the bed, it definitely creates a bigger space in front of it.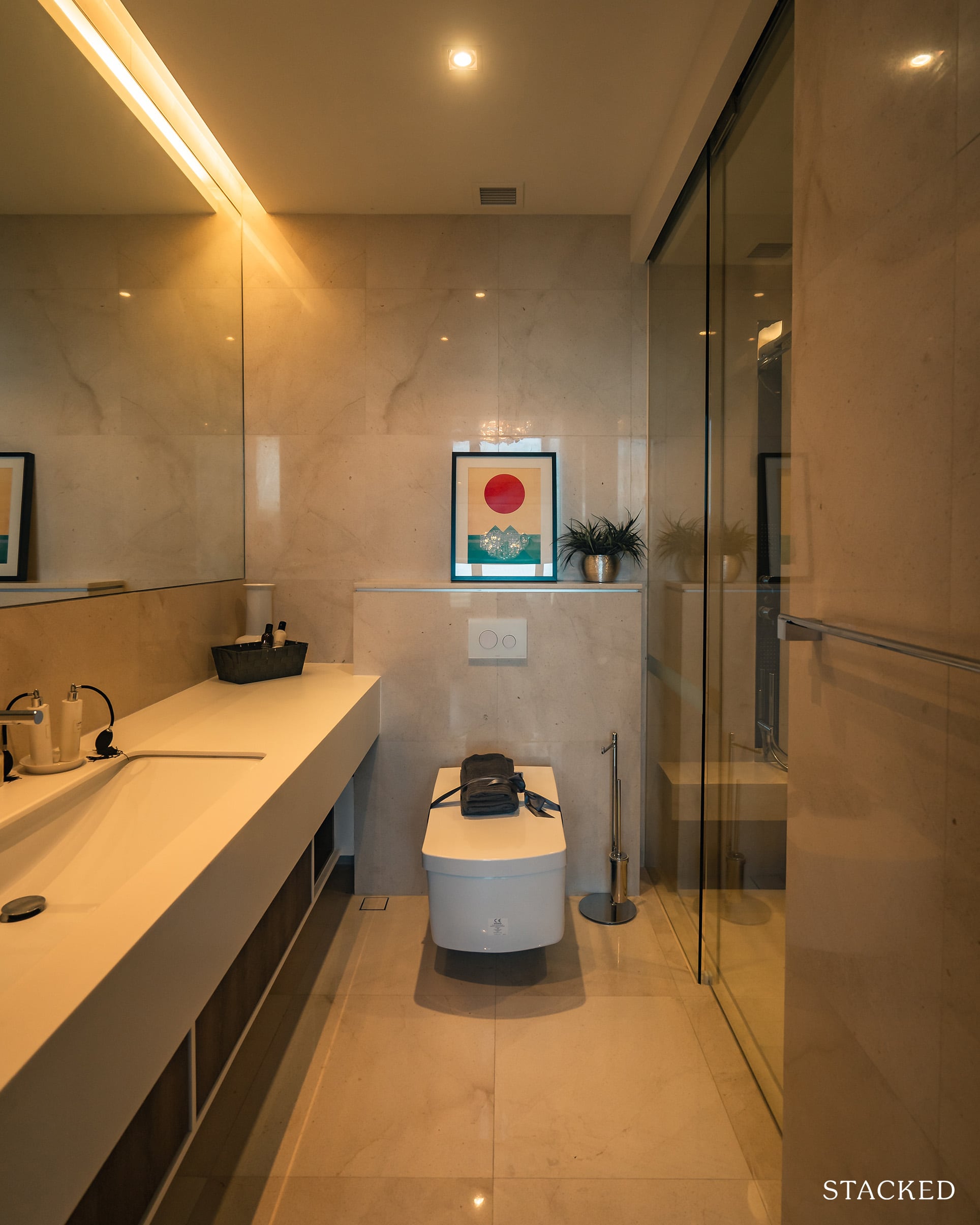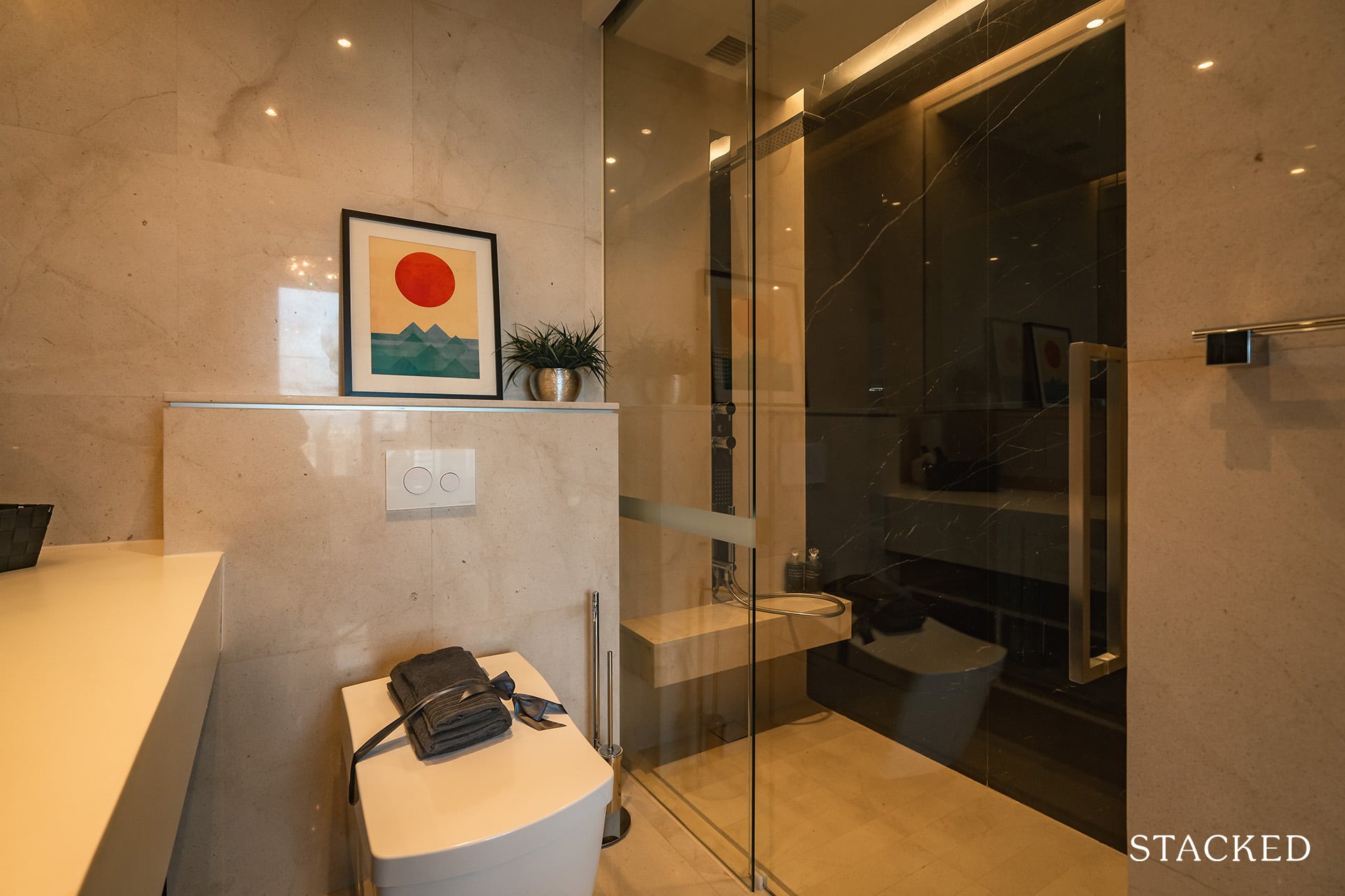 The master bathroom is decently sized, and features a cross between a rain shower and a regular shower head.
The Scotts Tower 3 Bedroom Review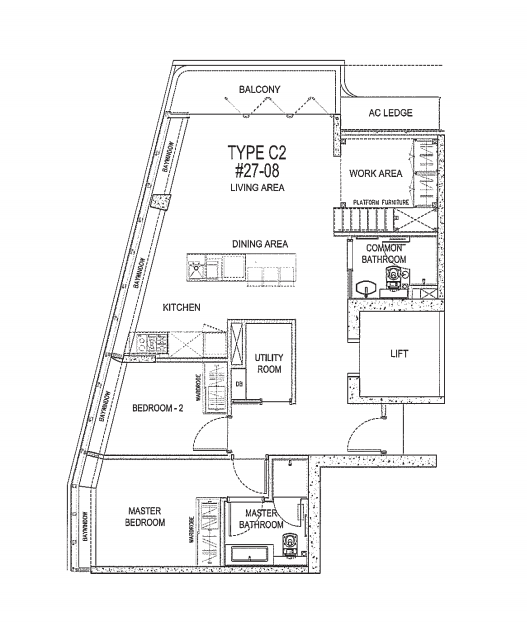 At 1,227 square feet, this 3 bedroom unit is not a bad size at all, especially if you take into consideration the really minimal size of the balcony.
Unlike the rest of the units, the 3 bedroom and penthouses come with a private lift. In this case, it doesn't actually have a dedicated lift lobby – which is actually a good thing here as it helps preserve the space. Although I can't say I like the positioning of the utility room.
You'd also have noticed by now the inclusion of bay windows here, something that most people are glad to see being phased out in recent new launches.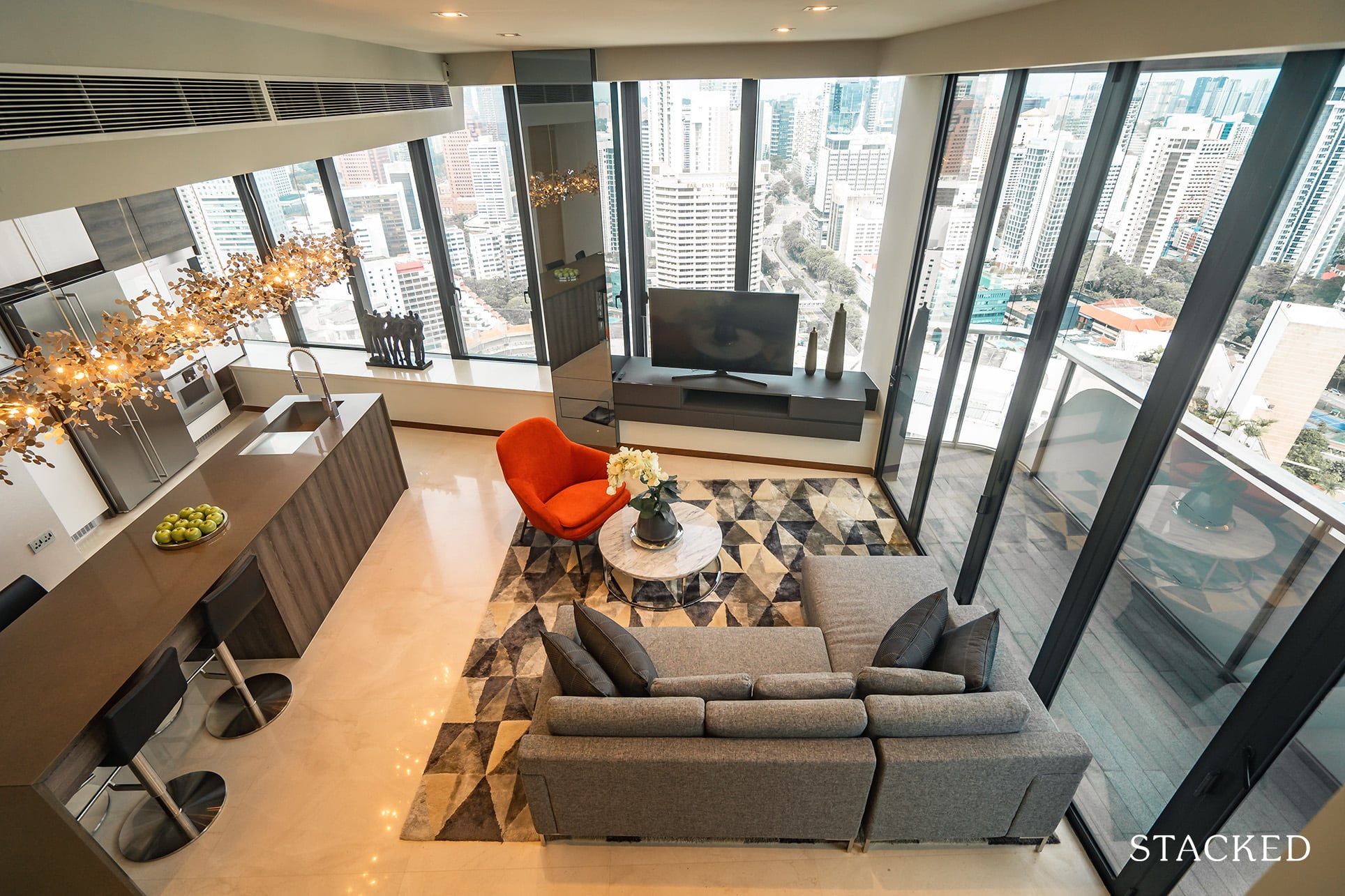 While it may not be the most practical on a hot day in Singapore, what I especially like about this unit is the almost end to end glass frame – it really allows you to appreciate the views all around you. The slanted nature of the windows here also does you no favours in terms of usability, but the angles do make the living areas look a lot more interesting.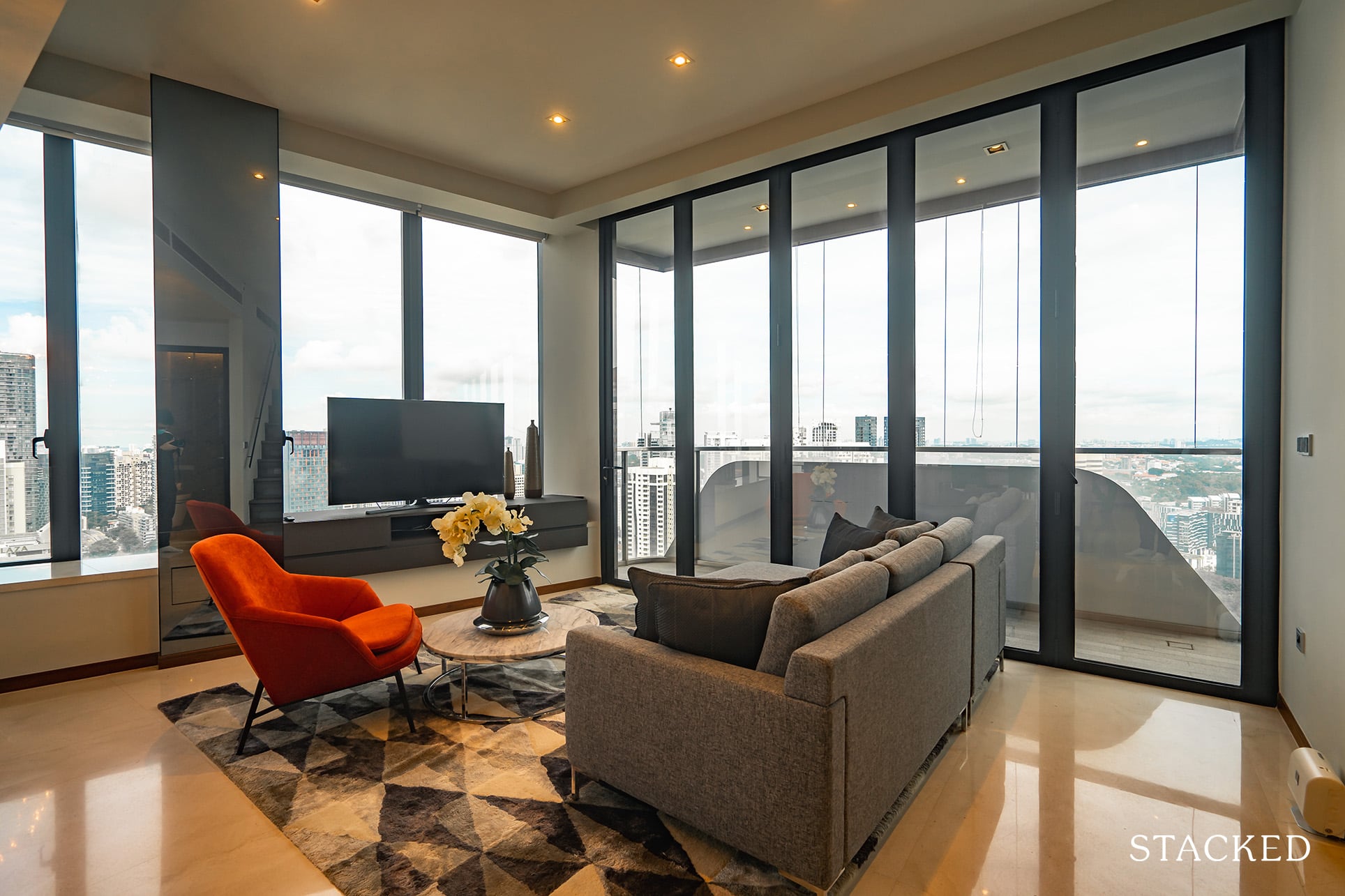 Like the smaller 2 bedroom unit, the balcony does block the views if you are seated – it's the price you have to pay for its exterior design.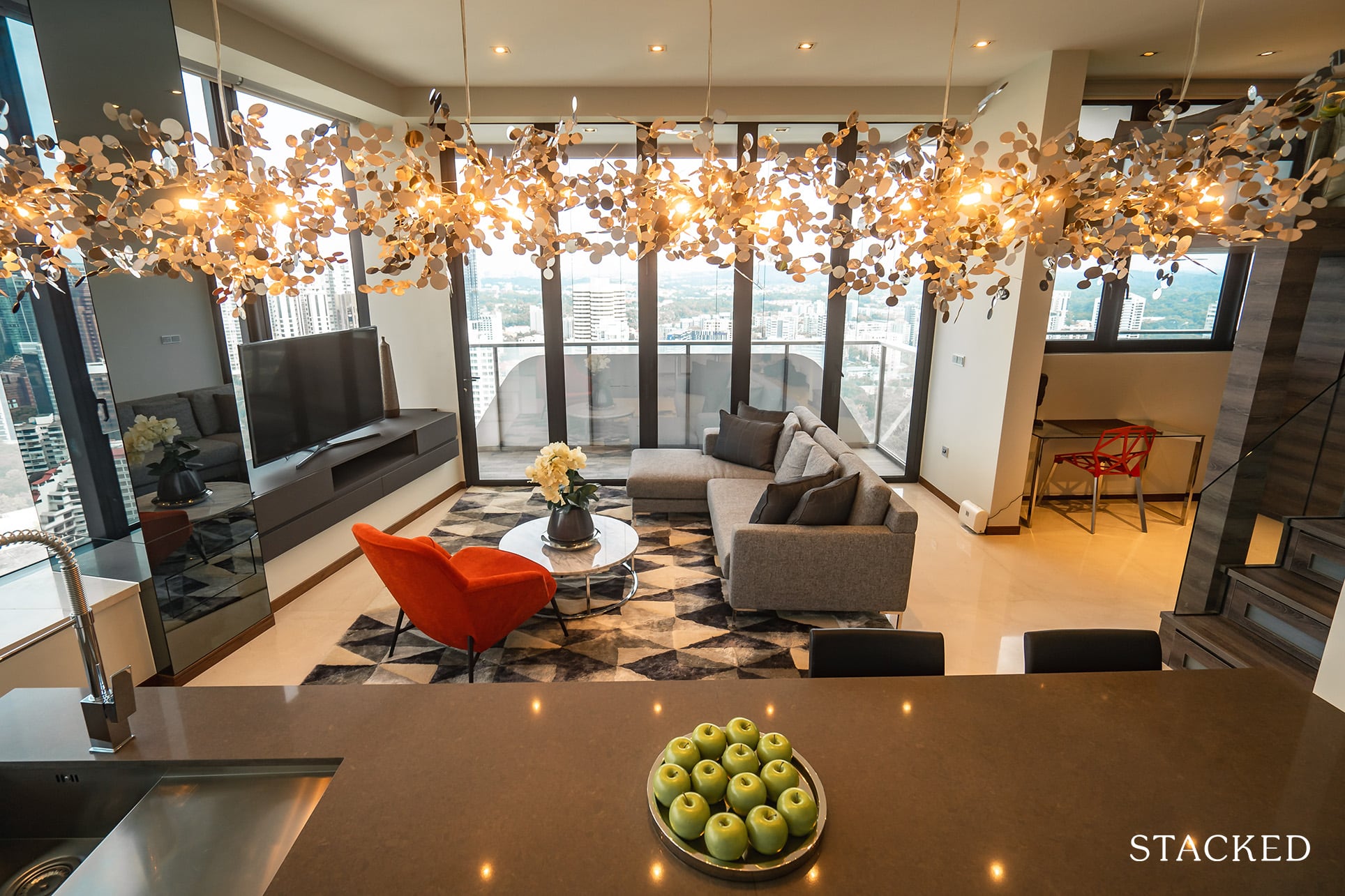 The bay window here is well utilised to form part of your TV console instead, which does save you some space. But you'd have to angle your TV to centre it, as previously mentioned, the entire window section is angled outwards.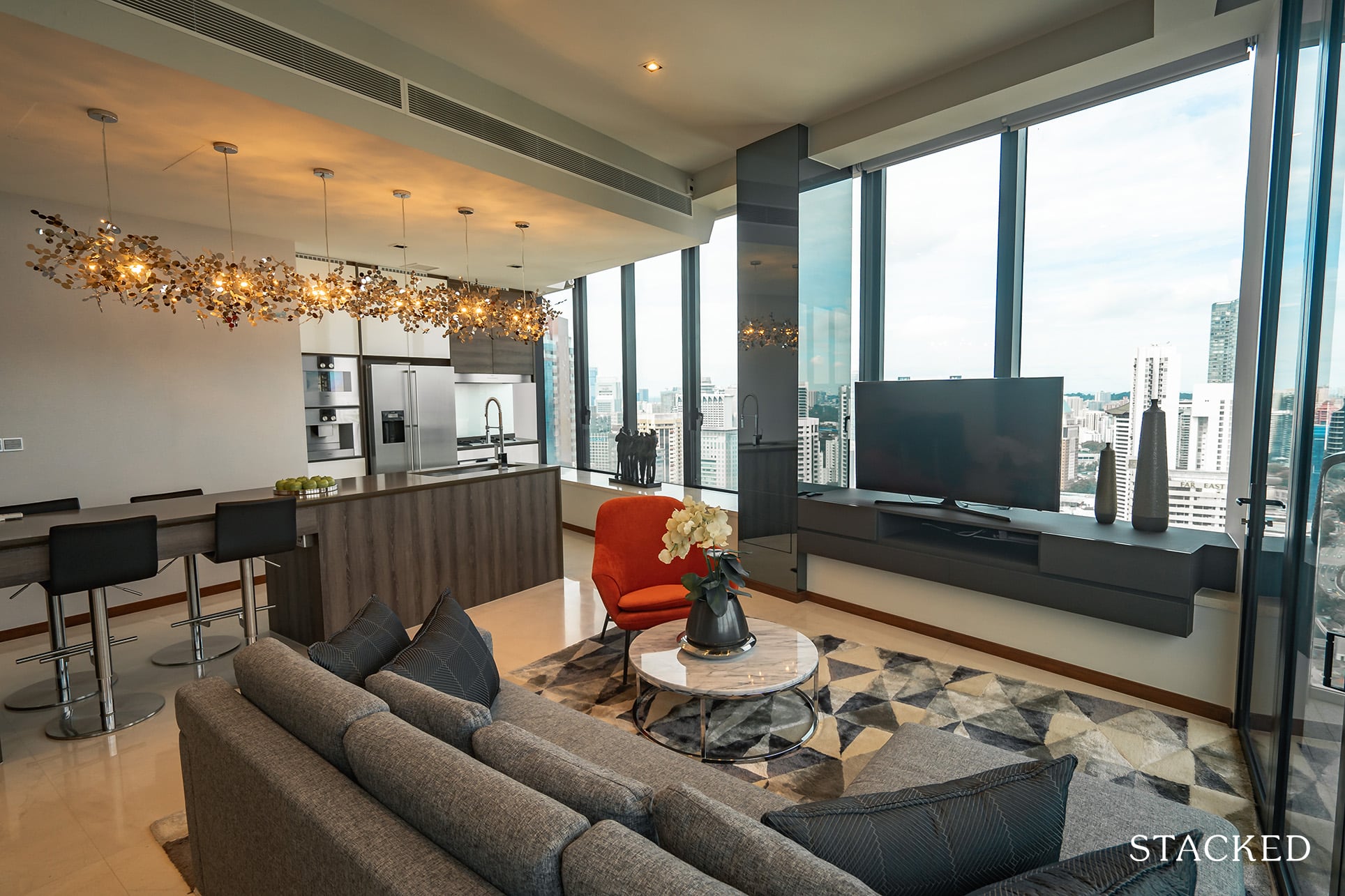 While the living room space looks very decent, do remember that the dining table has been extended from the kitchen island in this ID unit. So if you'd rather have a bigger dining table (or a round one), you'd have to make allowances for it.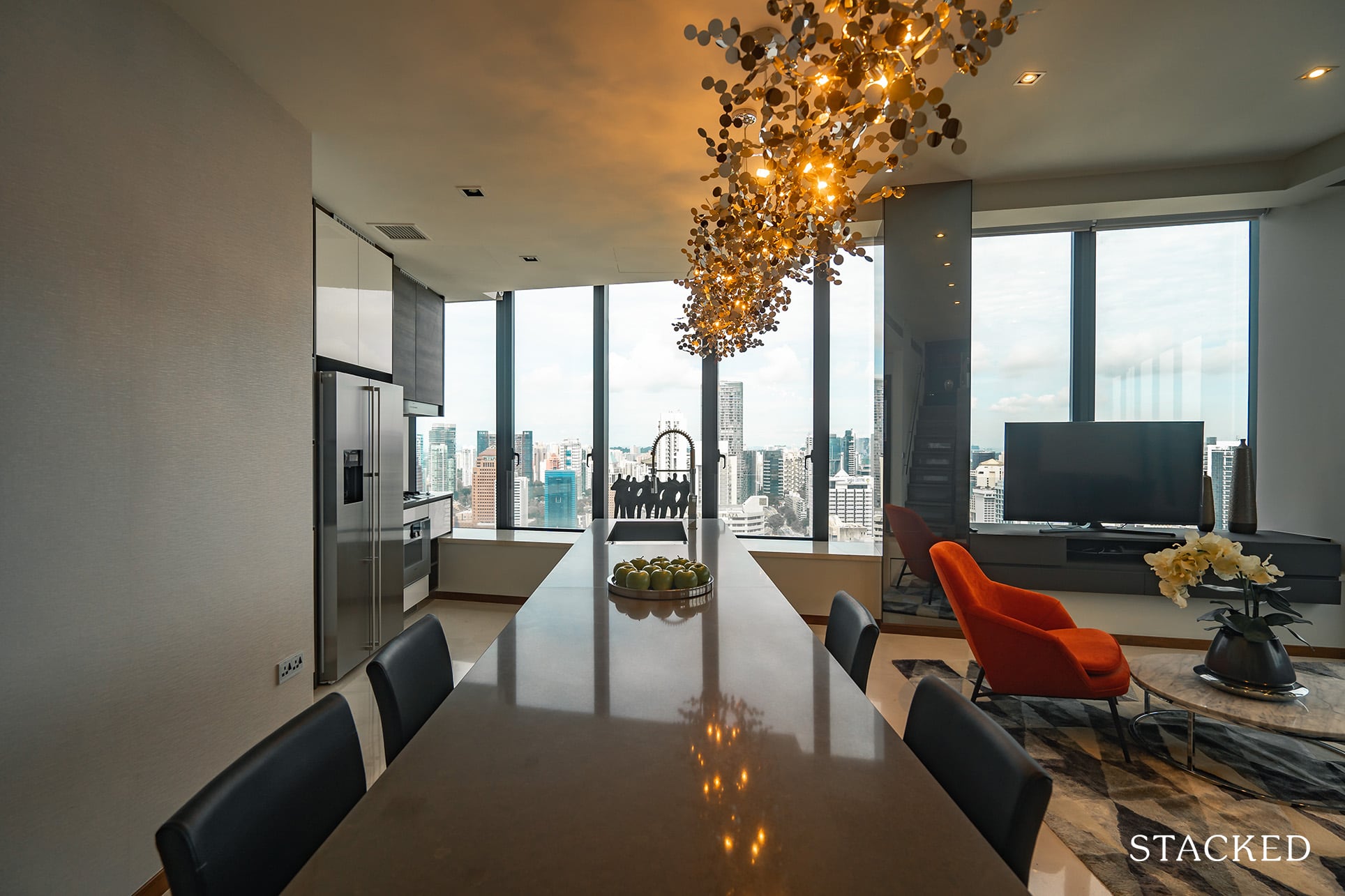 In any case, this arrangement works well too because the extended counter makes it very flexible during non-dining times.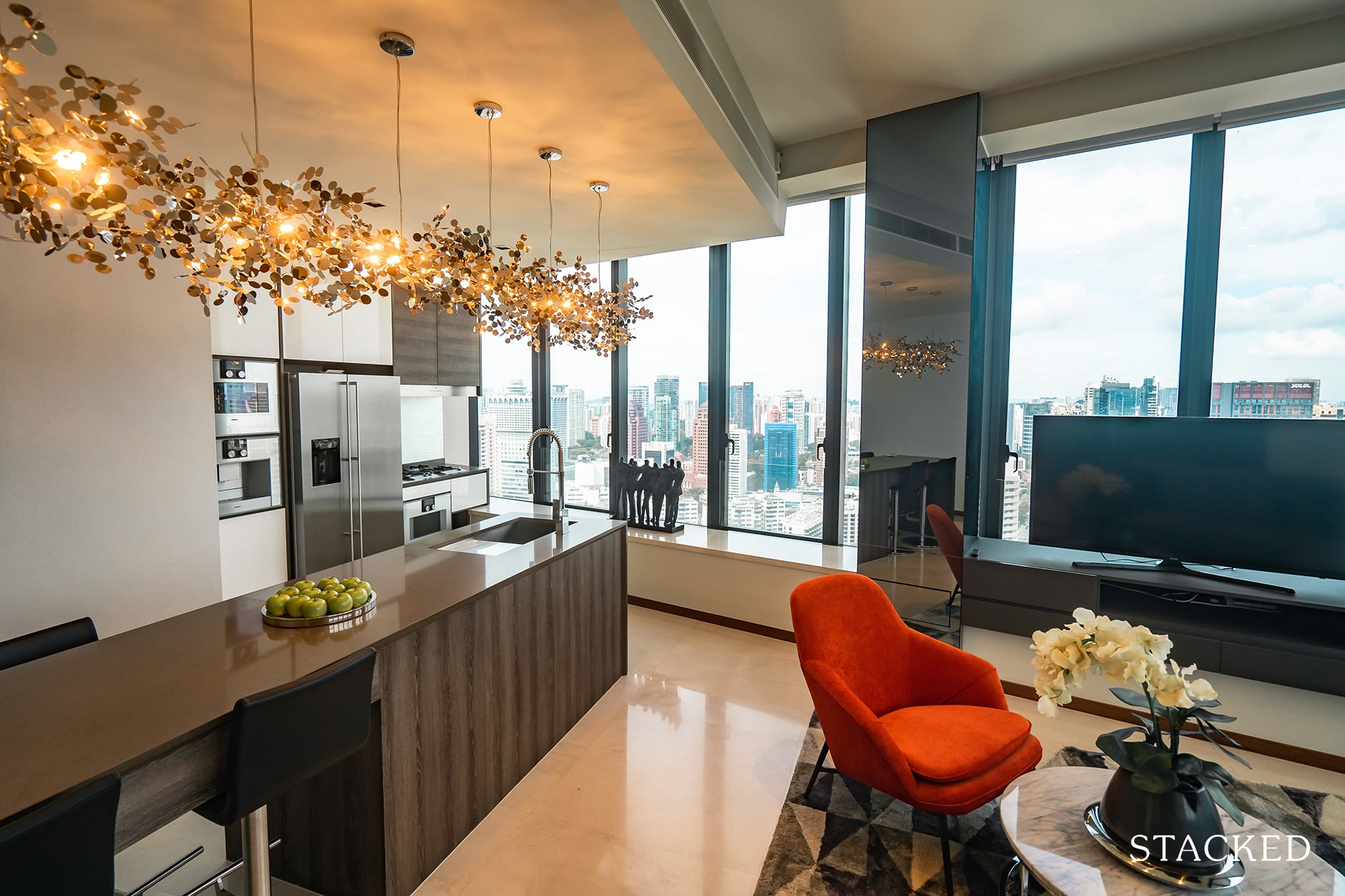 For most people that cook a lot, they'd usually prefer a wet/dry concept or at the very least, an enclosed one. That being said, this open concept appeals a lot more to the occasional cook, as visually with the kitchen island it does look more stylish.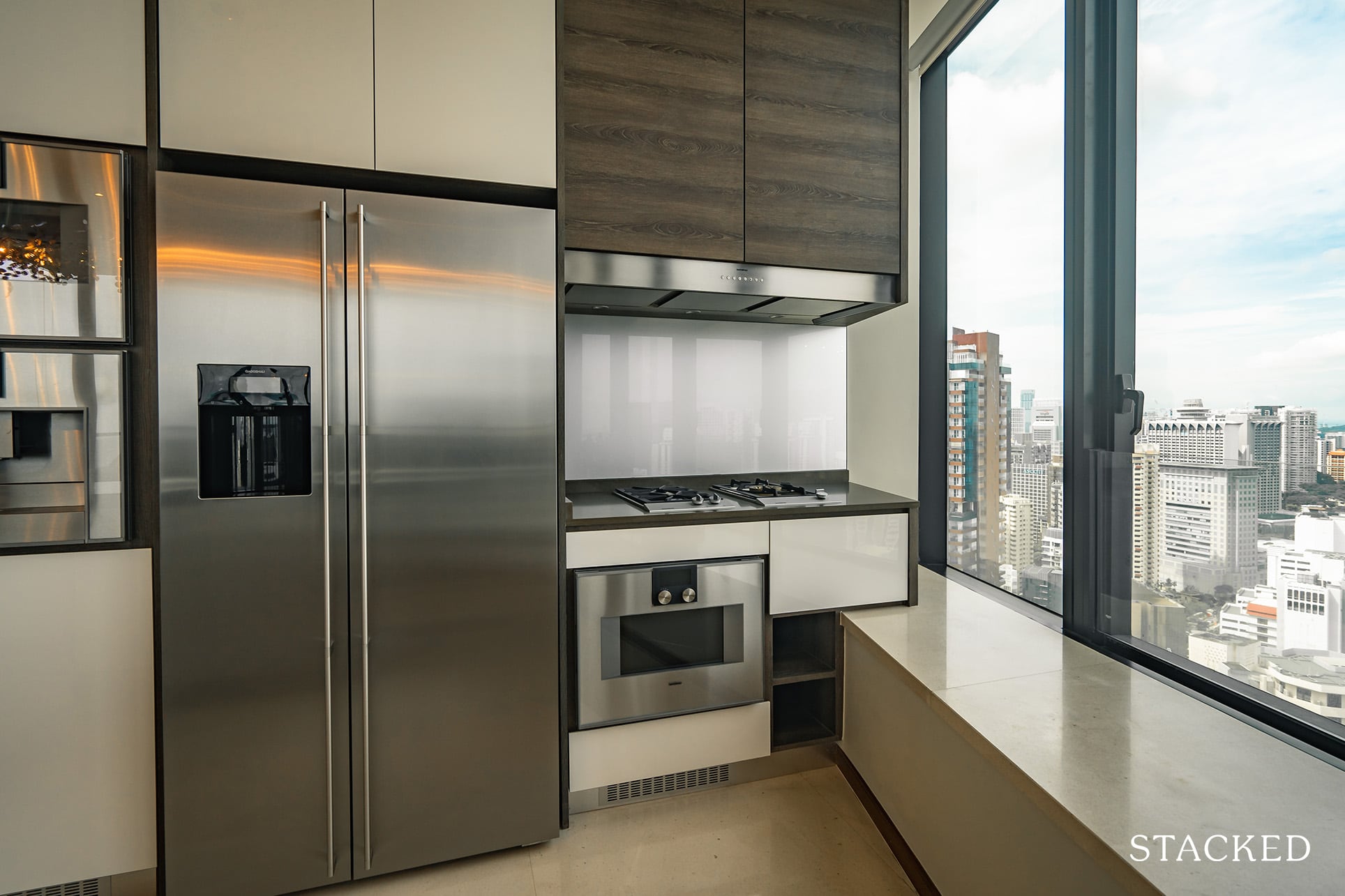 Kitchen appliances come equipped by Gaggenau as well, which would definitely satisfy even the higher-end clientele. From here you can see the downsides of the angled windows + bay windows – it certainly makes for an awkward standing position while you use the stove.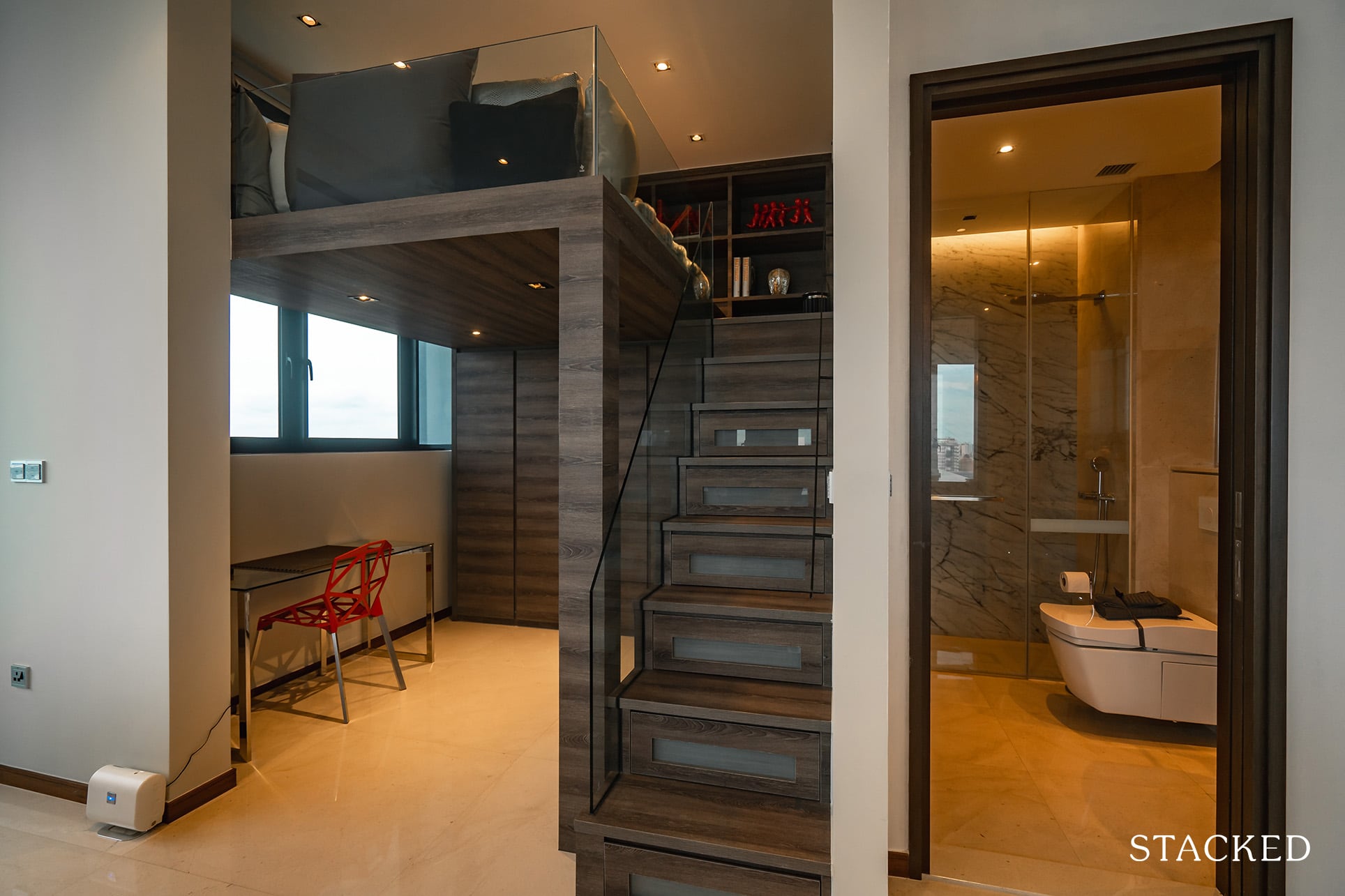 The work/study area is located behind the living room. Of course, if you'd like this could always be converted into a bedroom instead.
Like the 2 bedroom unit, the platform makes full use of the high 3.35 metre ceiling. It's a similarly cosy set up, just as long as you don't intend on standing up to stretch.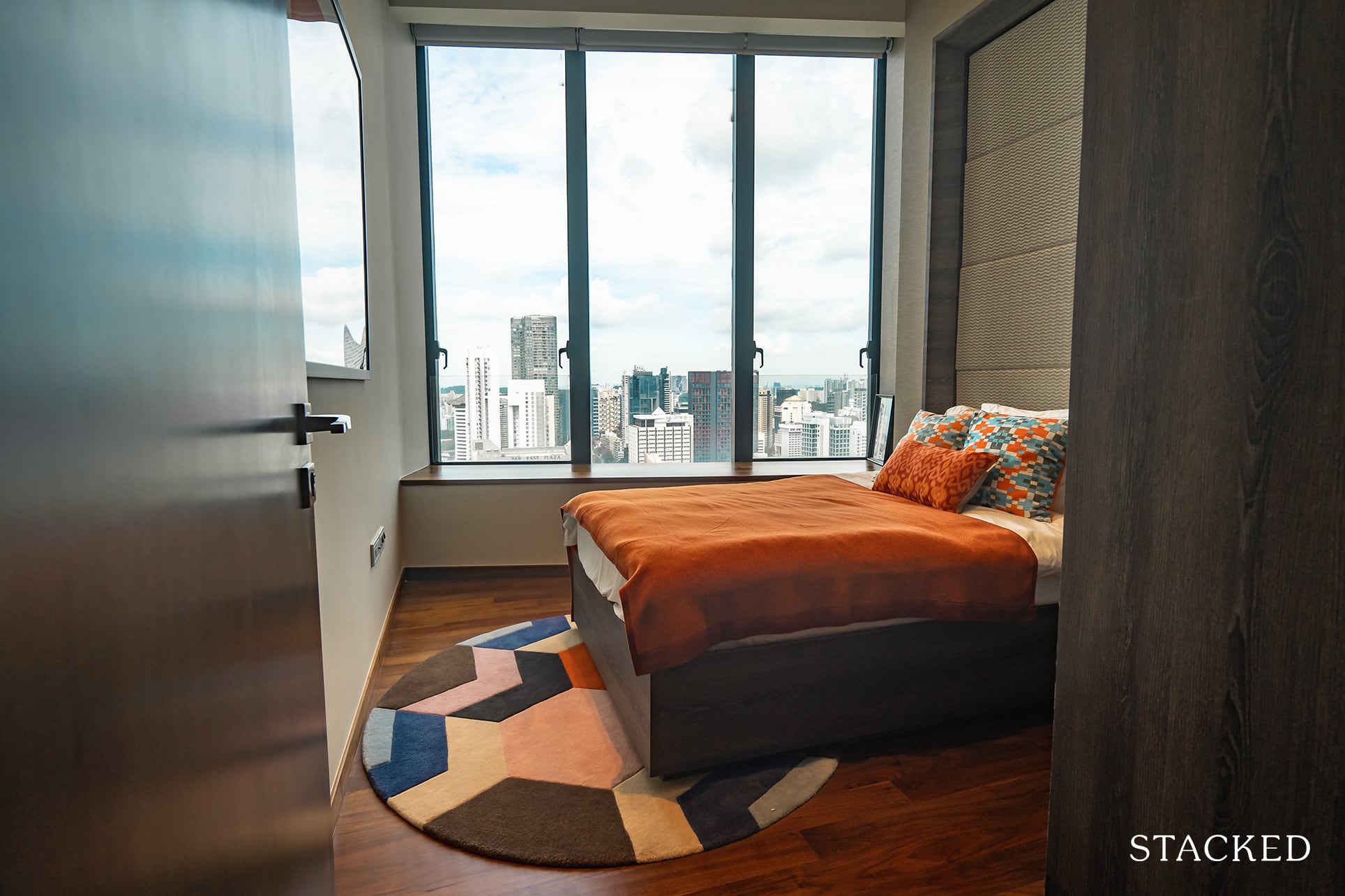 The common bedroom is quite a good size, with the high ceiling really making it feel a lot more spacious.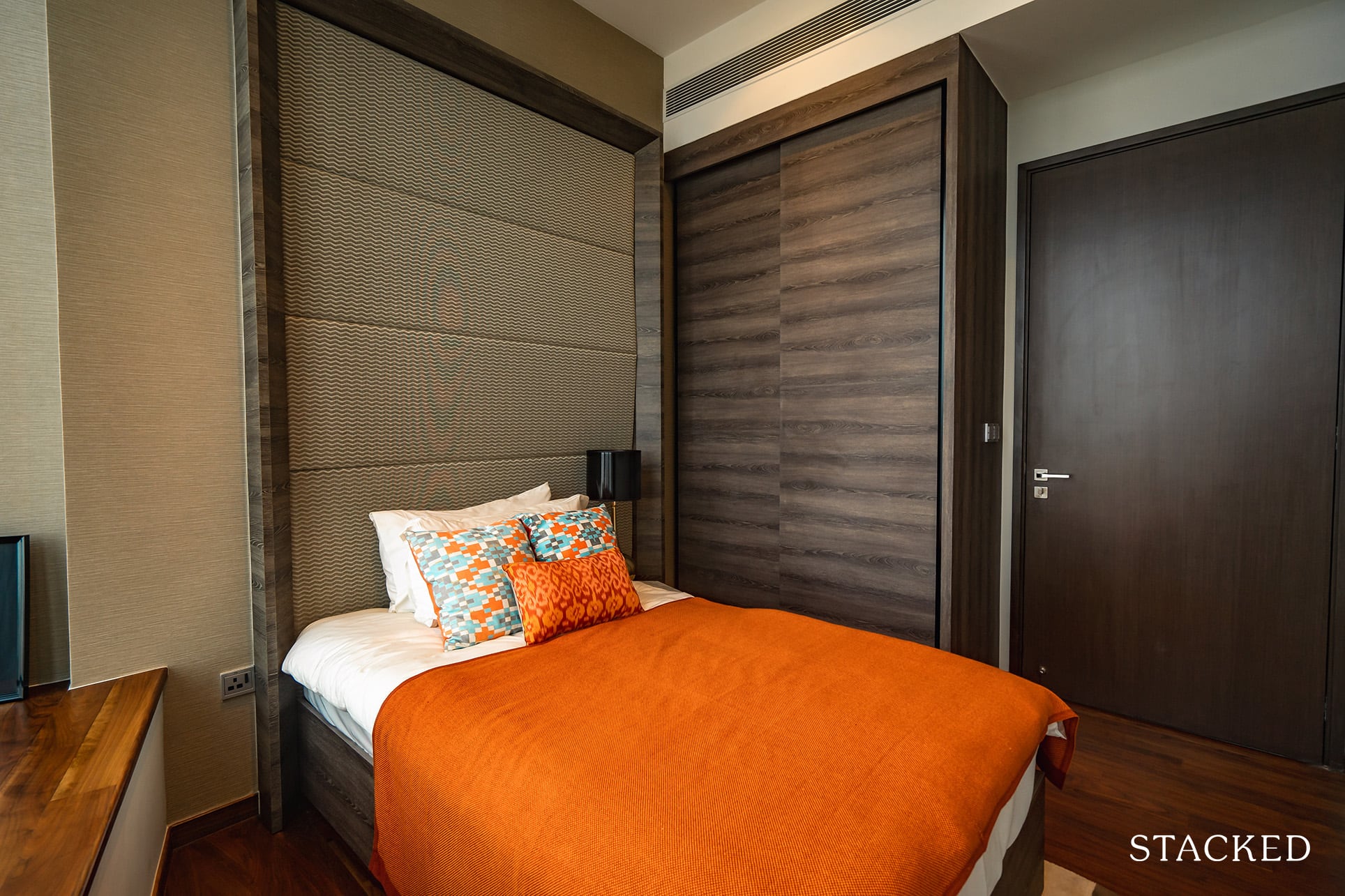 The air-conditioning here is the ducted type, which does eat into the height of the wardrobe space.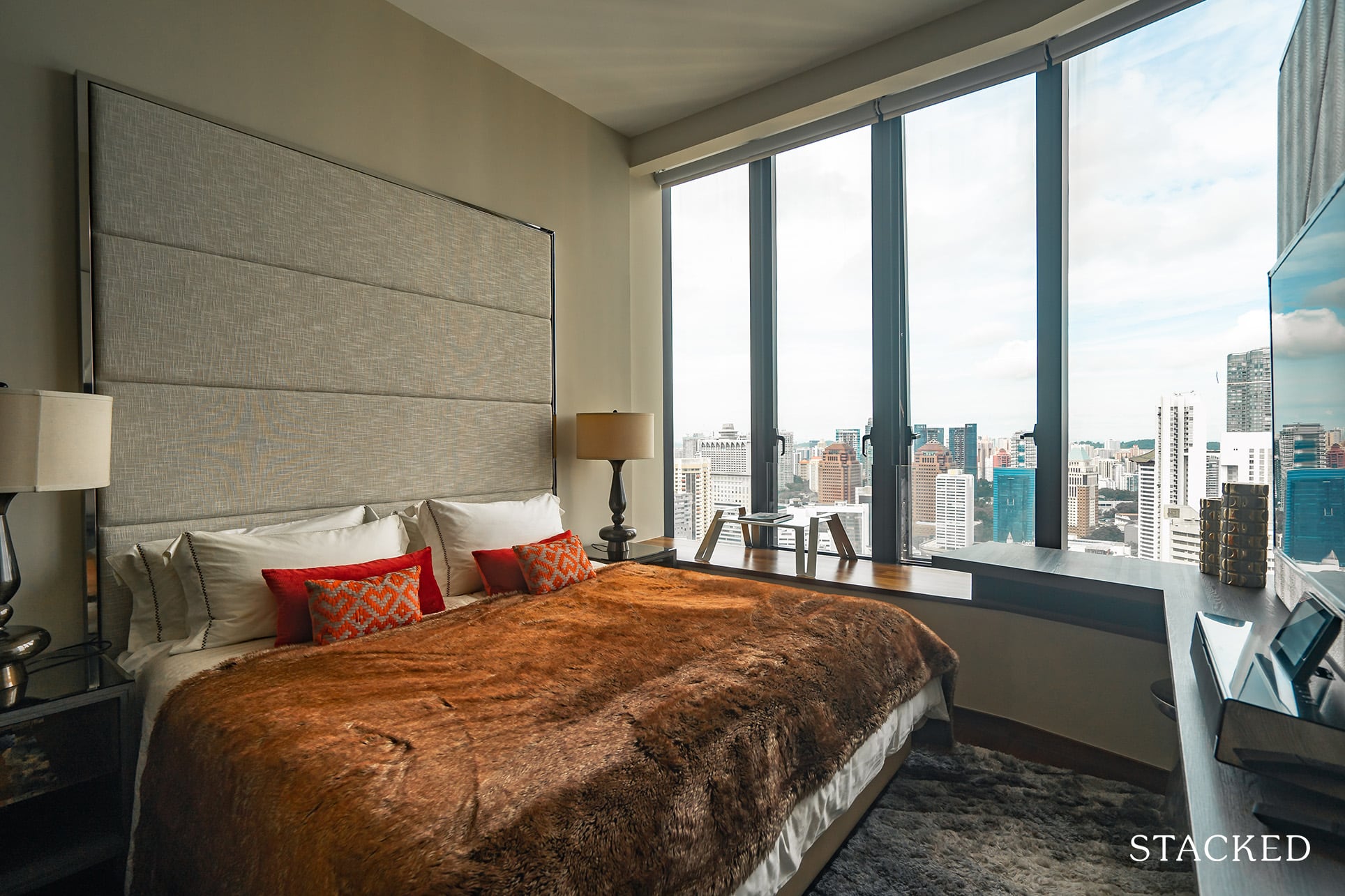 The master bedroom is quite typical of the size you'd usually expect. Again the bay windows are really not a great addition, although with some creative carpentry work you could fashion it into a study/dresser table instead.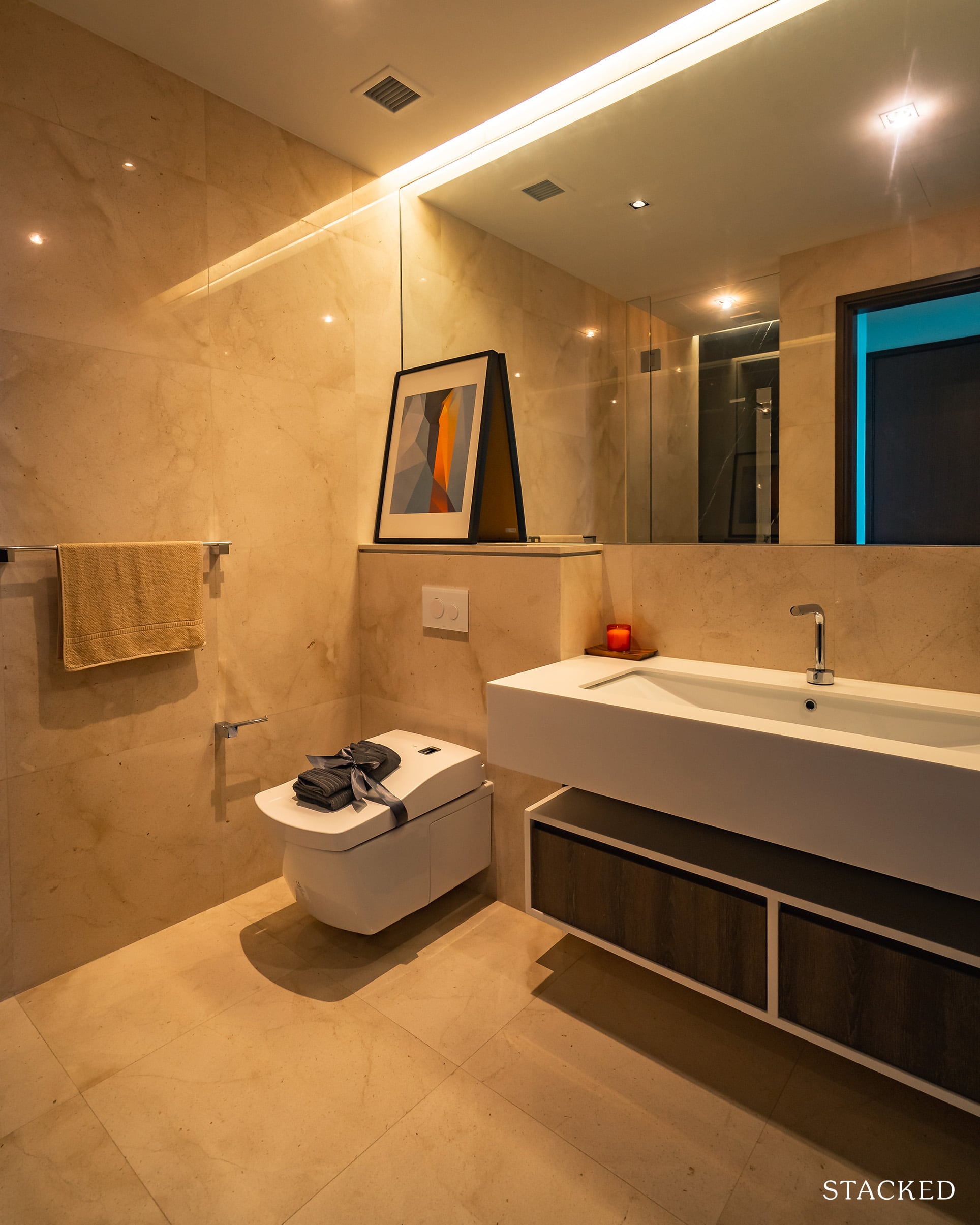 Sadly, there's no bathtub here, although I must say – the sink is very generously sized. For a couple that wants to utilise the bathroom at the same time it certainly would come in very handy.
The Scotts Tower Location Review
Set on the edge of the CBD, The Scotts Tower is located in Singapore's original glitziest district – District 9. 

Filled with lavish hotels and top-notch architecture, District 9 is known for its intense shopping scene and all-out luxurious lifestyle.

Of course, that also means one thing – prices here are bound to be steeper as well, with no exception made for The Scotts Tower (we'll explore pricings later in our price review).

Some of the unique highlights of this residence include its close proximity to the MRT, an abundance of schools across all educational levels in the region, and it's many luxurious features within.

That said, its location does suffer from what I'd term a first world problem. In other words, you can't describe it as true convenience right at your doorstep. It's a near enough walk to places like Far East Plaza and The American Club, but if you were to venture further to popular spots like Ion Orchard, that 10-minute walk can be quite formidable in Singapore's hot weather.
Public Transport

| | | |
| --- | --- | --- |
| Bus Station | Buses Serviced | Distance From Condo (& Est. Walking Time) |
| 'Opp Env Bldg' | 5, 54, 124, 143, 162, 162M 167, 167e, 171, 700, 700A, NR1 | 110m, 1-min walk |
| 'Env Bldg' | 5, 54, 124, 143, 162, 162M 167, 167e, 171, 518, 518A, 700, 700A | 210m, 3-min walk |
Closest MRT: Newton MRT – 470m, 5-min walk

While it is true that units adjacent to MRT stations are susceptible to the associated noise disturbances that often come alongside, The Scotts Tower is situated just far enough to avoid this experience altogether, while being relatively close enough for easy access.

What's more, Newton MRT is conveniently built underground – not just to free up valuable land space above, but to also reduce possible noise-related disturbances to neighbouring projects (for those looking at neighbouring projects here).

Additionally, given its location as a city-fringe development, public transport times from here to central areas are incredibly efficient.

Orchard MRT is a mere 2-min bus ride away across 2 bus stops (though I'm sure that the whole point of living here is so that you can stroll to… and through Orchard!)

Continuing on that sentiment, a journey to the CBD doesn't not take very long either – a slightly longer 9-min ride across 5 stations starting from Newton MRT, which will then bring you straight to Raffles Place MRT.

Private Transport
| | |
| --- | --- |
| Key Destinations | Distance From Condo (& Est. Peak Hour Drive Time) |
| CBD (Raffles Place) | 4.8km, 9-min drive |
| Orchard Road | 1.1km, 2-min drive |
| Suntec City | 5.1km, 11-min drive |
| Changi Airport | 24.8km, 26-min drive |
| Tuas Port (By 2040) | 36.2km, 40-min drive |
| Paya Lebar Quarters/Airbase (By 2030) | 15.5km, 21-min drive |
| Mediapolis (and surroundings) | 7.8km, 15-min drive |
| Mapletree Business City | 7.7km, 15-min drive |
| Tuas Checkpoint | 27.2km, 32-min drive |
| Woodlands Checkpoint | 19.2km, 23-min drive |
| Jurong Cluster (JCube) | 14.9km, 21-min drive |
| Woodlands Cluster (Causeway Point) | 20km, 23-min drive |
| HarbourFront Cluster (Vivo City) | 6.2km, 13-min drive |
| Punggol Cluster (Waterway Point) | 20.2km, 24-min drive |
*Note that Drive Times are calculated during Peak Hours

Immediate Road Exit(s): 2 Exits – 1 along Scotts Road, 1 along Cairnhill Road

Summary: 2 road exits for a 231-unit project might bring joy to some, but the exit along Cairnhill Road is actually a service entrance/exit, in contrast to the main entrance/exit along Scotts Road. Both roads are double-laned, with Scotts Road exiting onto the nearby Newton Circus Roundabout – so don't be too surprised to see some heavy traffic flow here during peak hours. Heavy traffic aside, public transport here is very convenient, with the majority of nearby bus services leading further into the heart of town.

Groceries

| | |
| --- | --- |
| Name of Grocery Shop | Distance From Condo (& Est. Walk Time) |
| Fairprice Finest – Scotts Square | 530m, 7-min walk |
| Cold Storage – Orchard Hotel | 810m, 10-min walk |
| Cold Storage – Takashimaya | 800m, 10-min walk |
Schools

| | |
| --- | --- |
| Educational Tier | Number of Institutes |
| Preschool (within 1km walk) | 7 |
| Primary (3km-drive) | 6 |
| Secondary (3km-drive) | 2 |
| International School (3km-drive) | 5 |
| Junior College (5km-drive) | 1 |
| University (5km-drive) | 3 |
| Polytechnic (10km-drive) | 2 |
Additional Pointers

Intricate but Impressive Architecture
This development boasts a wide array of unique architectural features.

Take the lower floors for instance – a single, elevated floor plate shoulders the load of the 30 stories above, in contrast to the typical high-rise building design where the stories extend directly from ground level.

This elevated floor plate allows for more room for residents to roam freely, and extra space on the building's lower stories for an 'open view' concept (a tad like Principal Gardens if you will).

The entire building itself is supported by four inward-slanting columns, featuring an "outrigger transfer system" to stabilise the structure (as you can see in the following image).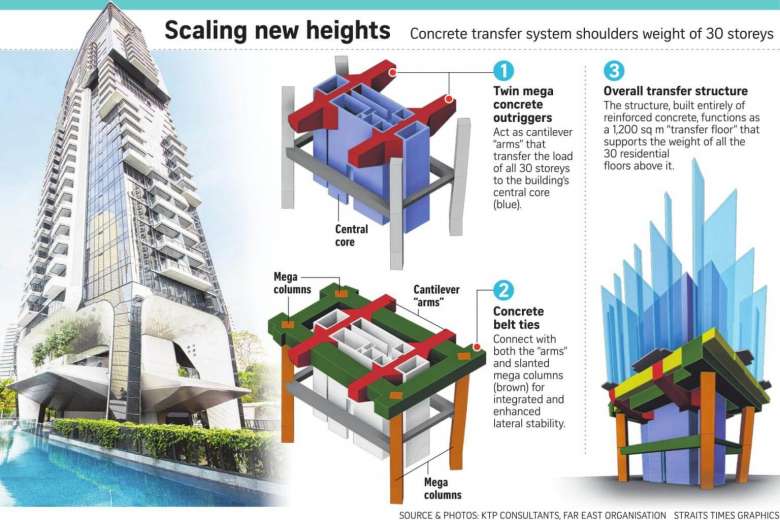 The early phase of construction of The Scotts Tower was somewhat turbulent – posing multiple issues including unfavourable soil conditions and an uncomfortably close proximity to an MRT protection zone.

But thanks to the careful efforts of Aaron Fong (lead structural engineer for The Scotts Tower) and his team, these issues were eventually resolved with the building of a "second generation foundation".

(Fun fact! A dual-ring earth retaining wall was utilised to help excavate the podium basement while construction was ongoing, and carefully remove soft clayish soil without causing damage to the nearby MRT tunnels)

It's almost no wonder that the unique design and architectural features of The Scotts Tower earned Aaron Fong the Building and Construction Authority (BCA) Design Engineering and Safety Excellence awards in 2017 – making him just one of 6 professional engineers to win the award.

Abundance of Amenities…of ALL Kinds
As mentioned recently, I've been trying to drive away from the usual 'abundance of amenities' addition, while delving more into the specifics of these incredible amenities (even if it means having to peruse them myself… oh the chore!).

Residents of The Scotts Tower have the luxury of easy access to all sorts of amenities in the vicinity – from F&B outlets and cinemas, to a multitude of popular shopping centres (like ION Orchard and Tangs Plaza).

For those with kids, you wouldn't have to worry too much about locating good schools in the region. With numerous schools across all educational levels in the area, it really boils down to both you and your kids' preferences… as well as the availability of education slots and the occasional ballot nightmare (trust me, I know your pain).

As for families with little ones in their growing years, you'll no doubt appreciate the abundant preschool centres and primary schools nearby.

Finally, let's not forsake the importance of nearby medical care and quality medical services too – especially in light of this current pandemic.

Just down the road from The Scotts Tower lies a host of clinics in the malls along Orchard Road offering a wide variety of medical services. Each clinic is no more than a 4-min drive away (the nearest one being Raffles Medical Clinic in Shaw Centre, a 6 to 7-min walk away).

More conveniently, Mount Elizabeth Hospital is a mere 5-min drive away, with a total of 6 other hospitals within a 5-kilometre drive. Rest assured, any unanticipated medical contingencies at home/work (if you do take up working residence here) can be easily and swiftly attended to.
The Scotts Tower Development Site Review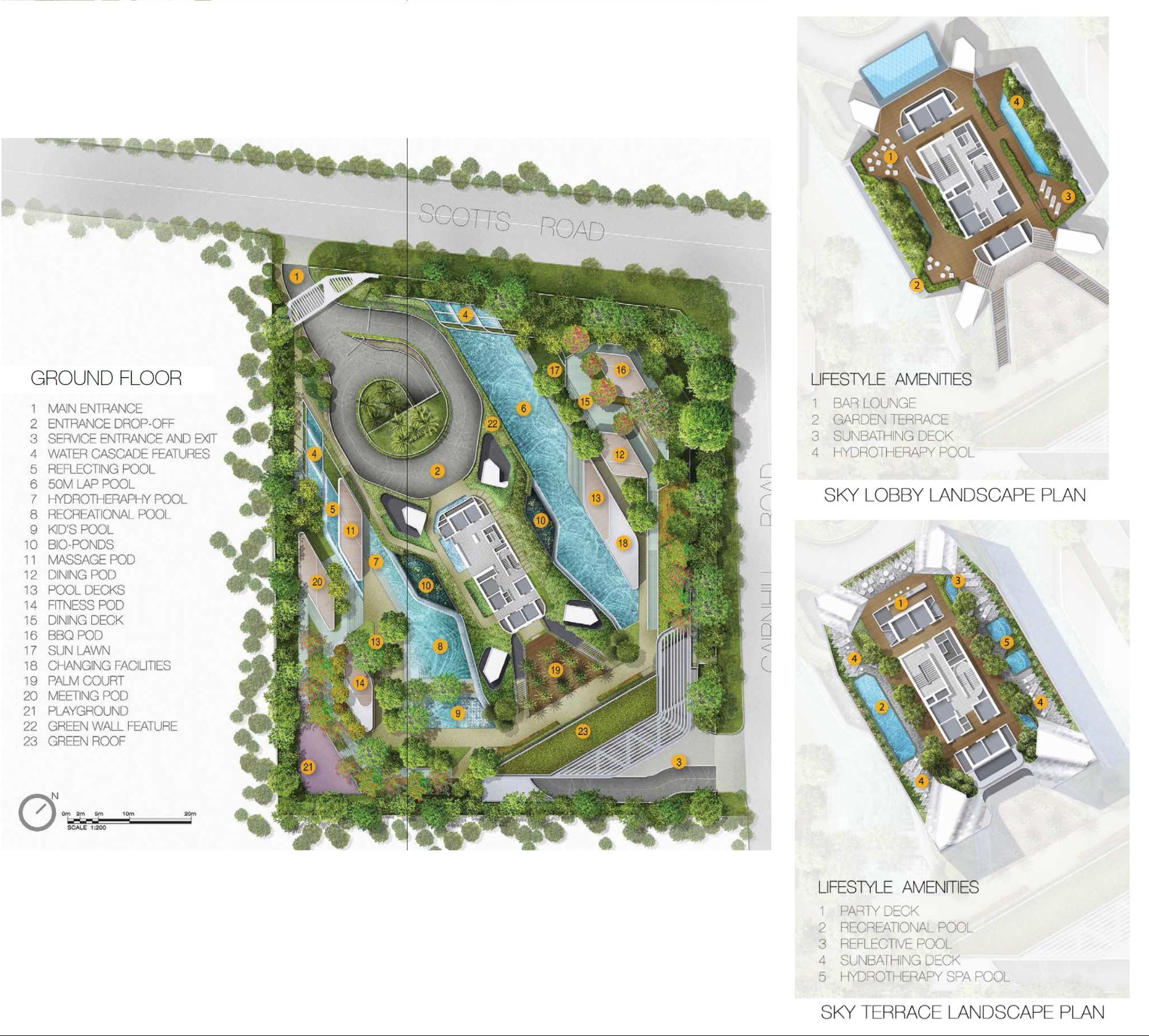 | | | | |
| --- | --- | --- | --- |
| Bar Lounge | Party Deck | Fitness Pod | Hydrotherapy Pool |
| Outdoor Dining Terrace | BBQ Pod | Massage Pod | Kids Pool |
| Meeting Pod | Dining Pod | Swimming Pool | Playground |
The first thing that caught my eye was how both Scotts Road and Cairnhill Road are immediately adjacent to The Scotts Tower.

If you're a home-buyer seriously considering any of The Scotts Tower's lower-level units for the first time, be sure to observe the general traffic patterns of both roads, and to align it with your current lifestyle (i.e. will you be home or heading in/out during peak traffic hours?).

For a residence in the middle of town, there's really no denying that residents on the lower levels will experience a degree of noise disturbances over the weekends as well.

While we're on the topic of residents, we see that The Scotts Tower actually has an interesting layout of its residential units – which are divided vertically into 4 clusters by two majestic 'Sky Frames'.

These Sky Frames contain the bulk of the residence's prime facilities, and act as communal spaces to encourage neighbourly interaction between residents.

The first 2 clusters of units are stacked on top of the lower sky frame ('Sky Lobby' occupying Levels 1 and 2), which also forms the elevated floor plate. The next 2 clusters are located higher up, separated from the lower clusters by the second sky frame ('Sky Garden' at Level 25).

As for the actual facilities (which you don't really see on the maps unfortunately), The Scotts Tower features a garden of lush greenery and a variety of swimming pools on the lower levels. Of this variety is a 50-metre lap pool, a kid's pool, jacuzzi, a recreation pool, and even a hydrotherapy pool.

If you wish to wind down after a long day with a cocktail or two, there is also a bar lounge at the Sky Lobby.

Let's move on to the Sky Garden higher up. Among other fun activities, residents can choose to either host extravagant private parties, or take a dip in the hydrotherapy spa pool – all while enjoying the panoramic views of our little island's cityscape.

For my fellow fitness enthusiasts, The Scotts Tower also contains an open-air gym, a yoga deck and a palm court.

At this point, the only thing that seems to be missing in this 'vertical city' is built-in commercial retail outlets, much like what Sengkang Grand Residences boast. (But of course, with so few units that would never be a reality).

Anyhow, being conveniently situated in town just means residents of The Scotts Tower wouldn't have to venture too far for food and entertainment.

Best Stacks
Unit Mix

| | | | |
| --- | --- | --- | --- |
| Unit Type | No. Of Units | Size of Units (sqft) | Maintenance Fee |
| 1-Bedroom | 128 | 624-667 sqft | $540 |
| 2-Bedroom | 80 | 807-904 sqft | $540 |
| 3-Bedroom | 20 | 1,227-1,389 sqft | $630 |
| Penthouse | 3 | 2,960-3,315 sqft | $900/$990 |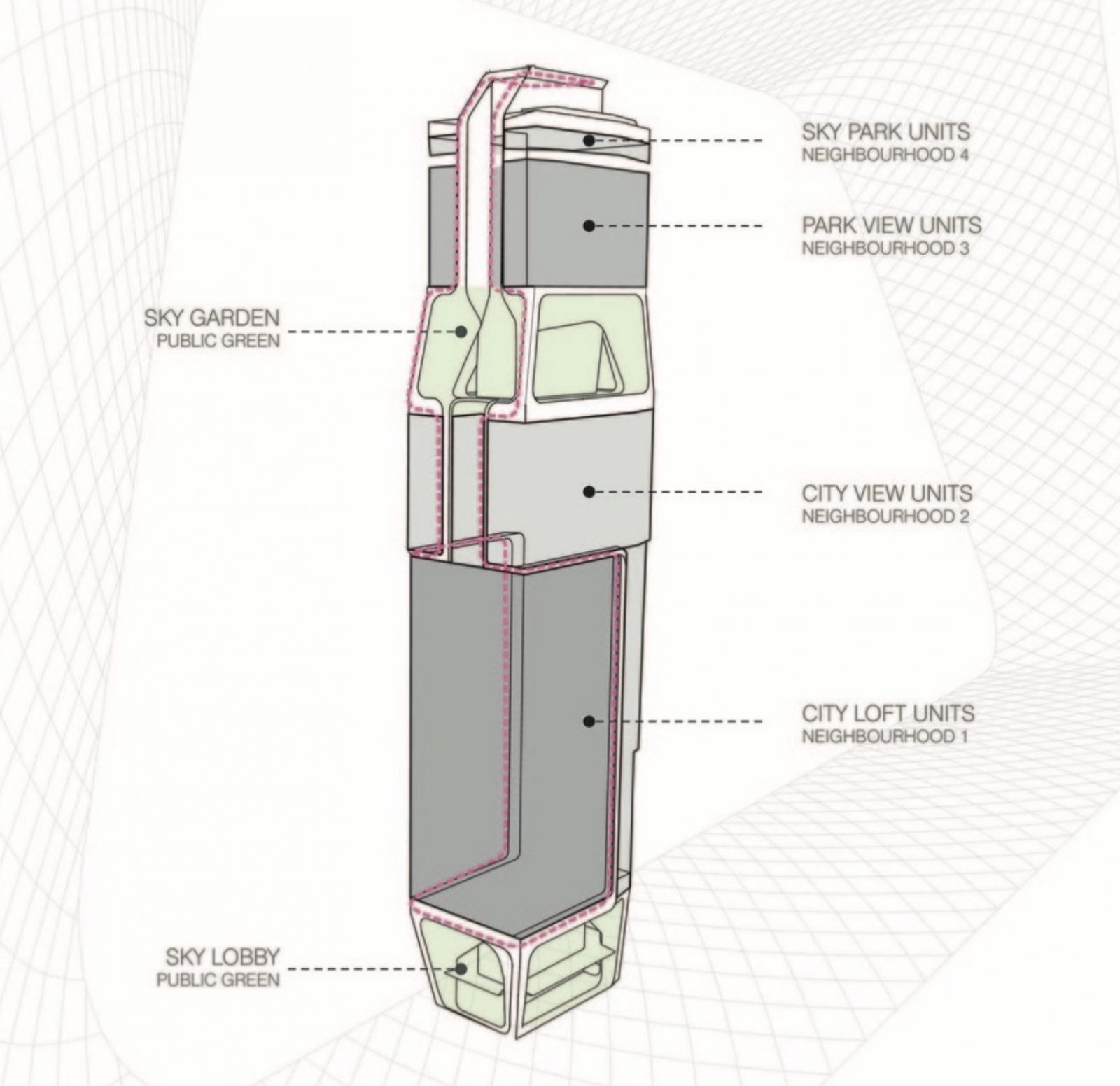 For a 31-storey residence, The Scotts Tower certainly doesn't seem like it contains a mere 231 units at first glance.

To be fair, much of the internal structure (which takes up most of the space) shares the sole purpose of reinforcing the building's integrity.

As mentioned earlier, the residential units are arranged in 4 clusters (or 'neighbourhoods') on top of one another.

If you refer to the image above, you'll notice that Neighbourhood 1 contains the City Loft 1-bedders, while Neighbourhood 2 holds the City View 2-bedders and Neighbourhood 3 accommodates the Park View 3-bedders.

At the top of the stack rests the 3 exquisite Sky Park Penthouse units, which also have their own rooftop terraces.

As we've seen earlier, the 600+ square feet 1-bedders here have a very unique (semi 2-storey) design that restricts spatial usage of the '1st floor' to an extent.

In essence, the unit's bedroom is set on a raised deck, made accessible via a small staircase. It's a great piece of architectural engineering, though couples might struggle to find privacy/individual space here.

On the bright side, every single unit across all 4 types allow for personalisation of interior layout, so residents have the freedom to personalise their fittings and space within their unit based on their preferences. Every single unit (except for penthouses) also features a 3.35-metre floor-to-ceiling height, along with spacious hotel-like bathrooms.

The 3-bedders also have unique traits that are worthy of mention.

Apart from the panoramic views and incredibly spacious living rooms, they also feature private lifts that take residents to and from the basement carpark (ie. no more forced smiles and chatter in the public condo lift!).

Best Stacks

Prices for The Scotts Tower
Price Breakdown (1st Property)
1-Bedroom
2-Bedroom
3-Bedroom
Price
$2,137,999
$2,998,998
$4,570,992
25% Down Payment
$534,500
$749,749
$1,142,748
Additional Costs
Buyer Stamp Duty
$70,120
$104,560
$167,440
Legal Fees
$2,500
$2,500
$2,500
Valuation Fees
$300
$300
$300
Stamping Fees
$500
$500
$500
Total Price
$2,211,419
$3,106,858
$4,741,732
Initial Investment Amount
$607,920
$857,609
$1,313,488
Return on Investment
Expected Rental Price
$4,524
$5,649
$8,344
Rental Yield
2.45%
2.18%
2.11%
Price (2nd Property)
1-Bedroom
2-Bedroom
3-Bedroom
Cost Without ABSD
$2,211,419
$3,106,858
$4,741,732
Plus: ABSD (12%)
$256,560
$359,880
$548,519
Total Price After ABSD
$2,467,979
$3,466,737
$5,290,251
Initial Investment Amount
$864,479
$1,217,489
$1,862,007
Return on Investment
Expected Rental Price
$4,524
$5,649
$8,344
Rental Yield
2.20%
1.96%
1.89%
Price Review
| | | | |
| --- | --- | --- | --- |
| Project Name | Tenure | TOP | Average Price (PSF) |
| The Scotts Tower | 103-year Leasehold | 2016 | $2,531 psf |
| Trendale Tower | Freehold | 1984 | $1,715 psf |
| Cairnhill Mansions | Freehold | 1963 | $1,730 psf before En Bloc Sale in 2018 |
| Scotts 28 | Freehold | 1998 | $2,261 psf |
| Reignwood Hamilton Scotts | Freehold | 2012 | $3,048 psf |
The thing you'd notice immediately about The Scotts Tower is that it is the only leasehold development on this list.

…And we all know that once a condominium passes a certain mark on its leasehold, it starts experiencing poorer appreciation rates, and will likely start depreciating.

Especially for those leasehold projects with freehold neighbours being the majority.

While the end of that 103-year leasehold may seem a long way from now, it is possible that in the 'longer' run, the surrounding freehold developments may outlast The Scotts Tower in terms of appreciation potential.

That said, the centrality/iconic-value of The Scotts Tower should go some way in mitigating this (ie. high demand, low resale transactions).

Subsequent buyers looking to snap up a unit here many years down the road however, should be sure to bear this in mind.

The Scotts Tower is also the newest development in its immediate vicinity. Naturally, the 'young residence' is also a pricey development to invest in based on its novelty factor.

However, it isn't even the priciest on the list.

Reignwood Hamilton Scotts tops our price review list today with an even heftier price valuation than what The Scotts Tower boasts, despite both residences being barely 150 metres apart.

To be frank, I'm not exactly surprised.

Reignwood Hamilton is another hotel-like residence that is maintained like a hotel.

Offering a huge platter of professional services, one of its most notable features would be the residential units' 'sky garages' which allow a resident's car to be transported up to their adjacent personal garage via a vehicle elevator.

I mean who wouldn't want to showcase their Lamborghinis from the comfort of their own homes right?

Quite the symbol of status, which naturally adds a significant chunk to the unit price tag.

Let's move on down the price list to Scotts 28.

From the numbers, we see that the years have been kind to Scotts 28's appreciation rates, with the prices of 1,658 sq ft units in 2018 ranging upward of $2,000psf – a huge contrast to an identically-tiered 1,658 sq ft unit sold back in July 1998 for a mere $1,100psf !

Finally, let's explore the two residences at the low-end of the price spectrum – Trendale Tower and Cairnhill Mansions, older residences still standing in the midst of the competition posed by the surrounding newer condos.

This won't be the case for long for one of them though.

While Trendale Tower continues to be a more 'affordable' option here (not to mention its hot en-bloc potential), Cairnhill Mansions has already been acquired for $362 mil in an en bloc sale back in the 2018. 

In time to come, the re-developed condo stemming from this site should turn out to be higher in value than The Scotts Tower and possibly even the Reignwood Hamilton.

And that's only going to serve as further weightage to price points here in the near future.

Appreciation Analysis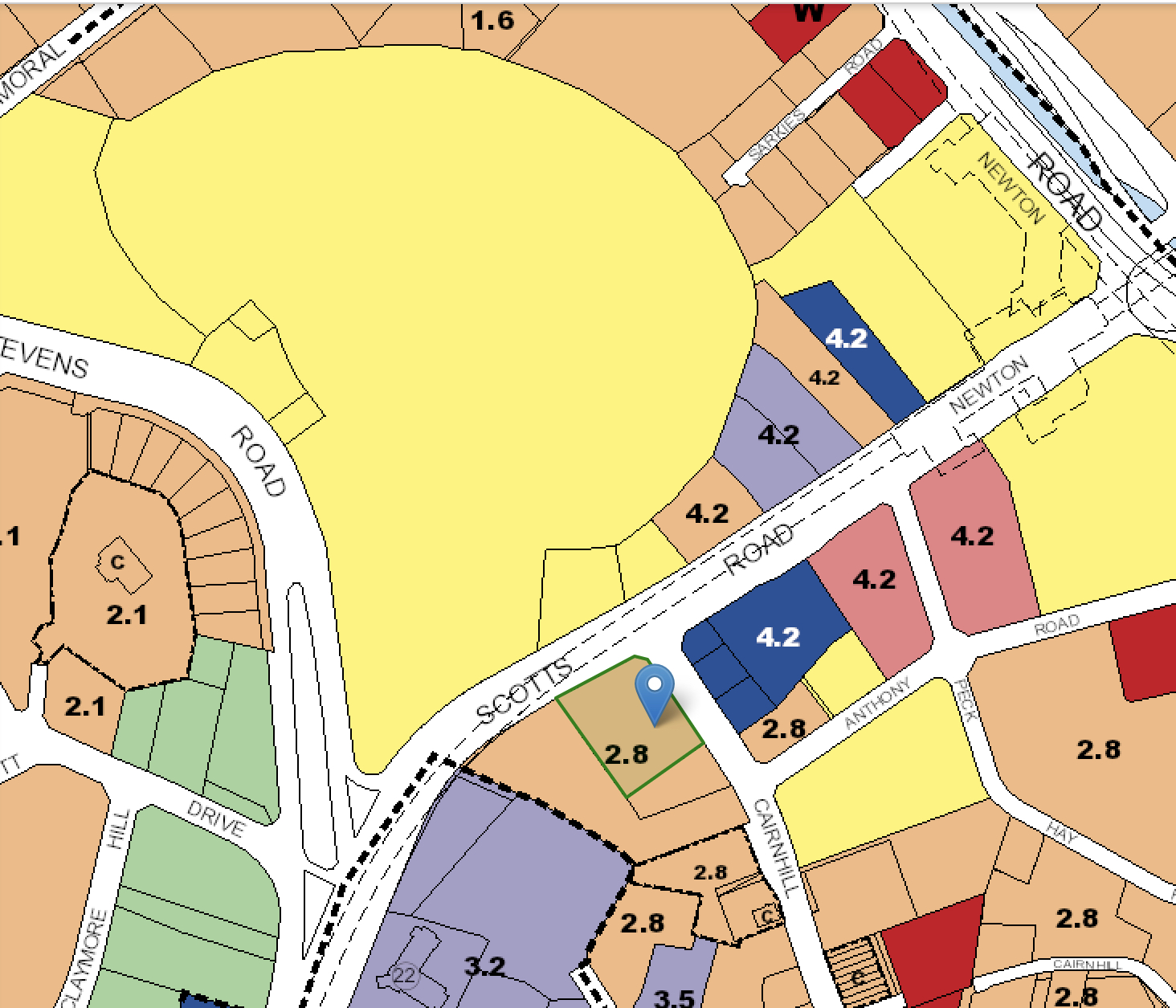 If you take a look at this image from URA Master Plan 2019, you'd notice the large areas of reserve sites (yellow regions) around The Scotts Tower (marked by blue pin).

In the near future, it is possible that these reserve sites will be developed into new residences, or even commercial developments like shopping malls – adding on to the existing and extensive list of amenities in the area, and at the same time, making the area a hotspot for property appreciation.

As for The Scotts Tower itself, note the close proximity of the residence to Newton MRT, and the ease of accessibility to major roads and expressways like the CTE, PIE, and even the westward-running Bukit Timah Road – not to mention the incredible nearby amenities and unique condo-features that it also boasts.

Given that The Scotts Tower is in a prime locale in the town area, residents who work in the CBD have easy access to their offices – and as many of you would know, ease of accessibility is a factor that can contribute to the appreciation of any development.

There may be a slight hindrance to The Scotts Tower's growth in appreciation, though.

A lack of a sheltered walkway to Newton MRT (may prove tough to get to work on a rainy day), and the noise disturbances to lower floor units from Scotts and Cairnhill Roads below have put a slight dampener to The Scotts Tower's future potential.

At the end of the day, it is also important to note that price competitiveness will always take a hit when you're a leasehold development surrounded by freehold neighbours (unless it's iconic status somehow takes precedence and its leasehold is eventually renewed/extended).

The most important thing you'd need to know if you are thinking about purchasing a unit at The Scotts Tower is that resale prices have dropped significantly from the prices when it was first launched.

Prices back in 2011 were going for about $3,100 to $3,400 psf, and subsequently rose even further in 2013 when the higher floors were released – with its peak being a $4,267 psf unit on the 22nd floor.

Since then, there has been only one resale transaction so far which has garnered a loss of -$627,312 in 2019. 

So the question really is, will this new price for The Scotts Tower be a new normal? Or would it be able to return back to its former prices, or perhaps even higher than before? It's a tough one, that's for sure.
Our Take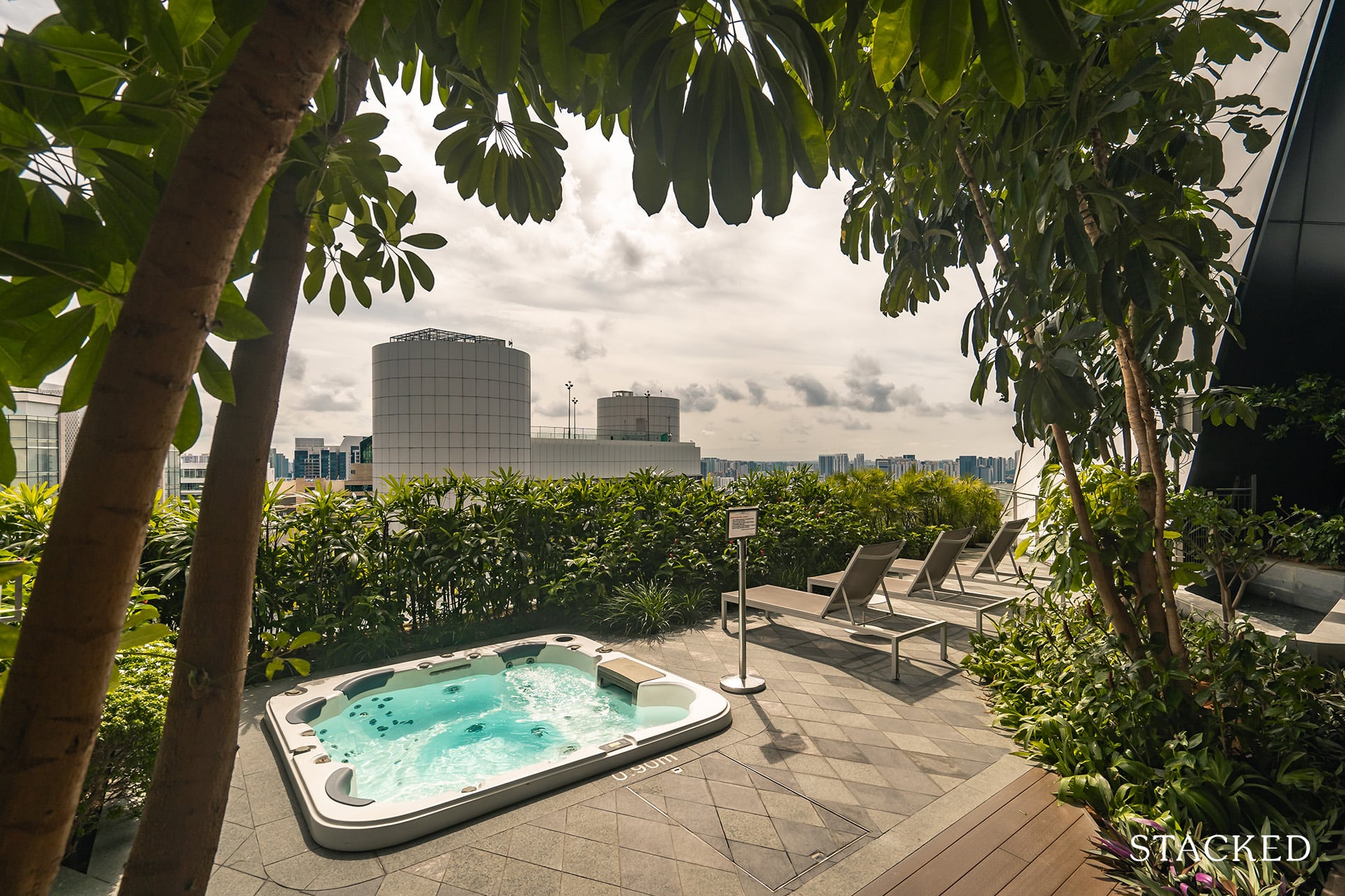 What I like about The Scotts Tower is that you can clearly see who they are trying to focus on – the wealthier younger crowd that is willing to pay more for good design, while still enjoying a work/home concept.

So if I am a part of the target market, it is a compelling product – the views, the stylish exterior, and the SOHO units that suit my lifestyle.

But from the numbers so far, the issue lies in that there probably just isn't a big enough target demographic to support it.

Older buyers would prefer more space in general, and there are a ton of comparable properties in the area – if you are willing to compromise on the design.

That being said, units in The Scotts Tower do make great places to work from home. The chance to personalize your unit's interior layout makes way for multiple possibilities for your desired home office layout. And even if you don't work from home, there's no lack of accessibility to public transport services around the residence.

Ultimately the question really is – just how much are you willing to pay for good design?
What this means for you
You might like The Scotts Tower if you:
• Work in the CBD:There is ease of accessibility to both hot-spot areas across town from The Scotts Tower. Orchard Road MRT is only 2 bus stops down, while Raffles Place MRT is just a couple of train stations away.
• Work from Home:As you've seen from our virtual showroom tour, the aesthetically-pleasing interior design of units in The Scotts Tower makes for a perfectly conducive working environment in the comfort of your home.
You might not like The Scotts Tower if you:
• Are a Growing Family:This applies for those considering the 1 or 2-bedder units. Even with the increased likelihood of your child enrolling in a reputable school nearby, the size of the smaller units may eventually prove too squeezy as the months go by.
• Prefer Lower-Priced Developments:In order to invest in a unit at The Scotts Tower, you really have to be earning some serious dough. If you like the location, but prefer more affordable options, feel free to check out our past reviews of Robin Residences and Espada Condominium.
End of Review