31
min read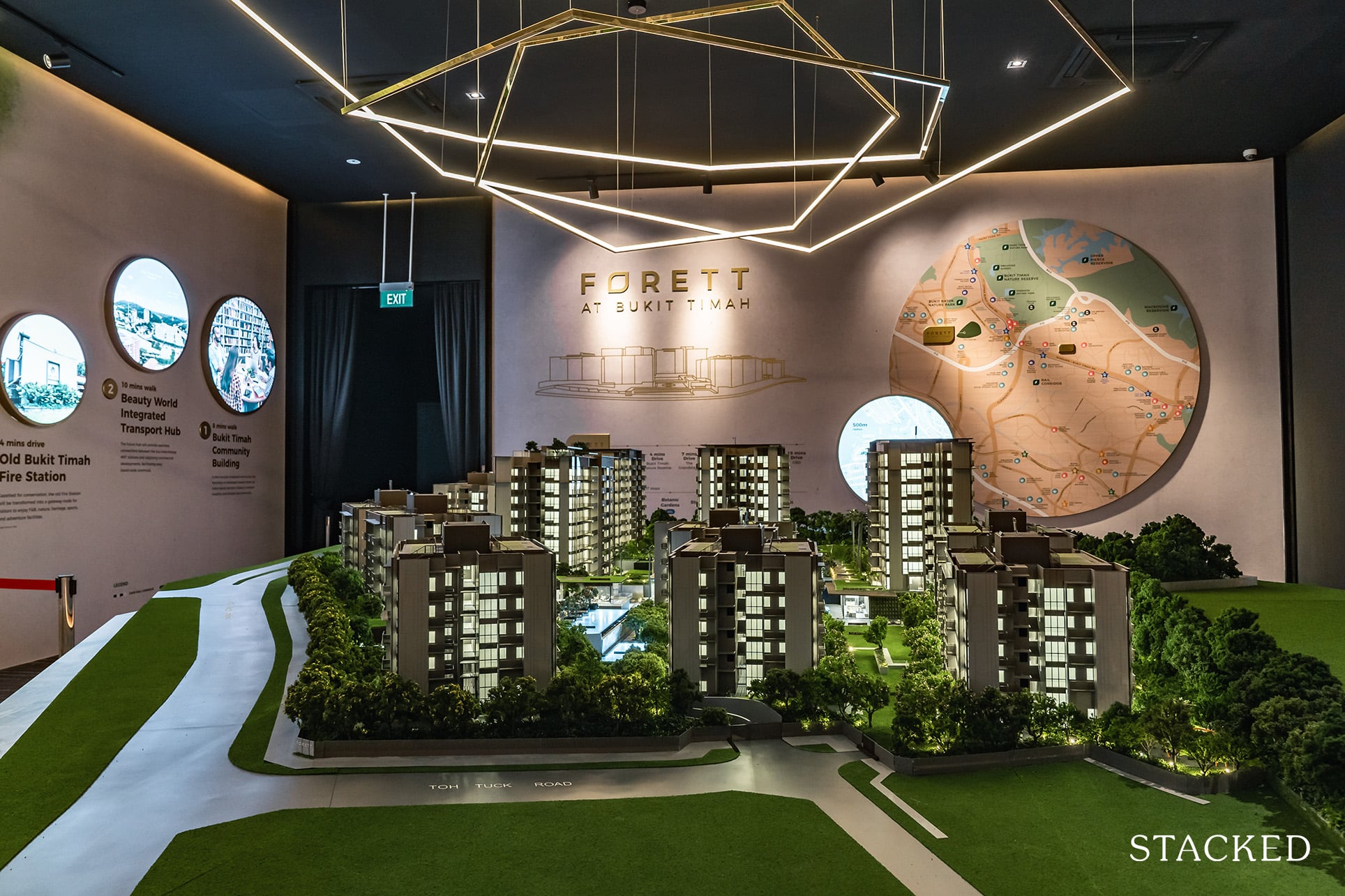 Freehold development with great facilities near Beauty World.
Forett at Bukit Timah offers the opportunity for buyers to own a freehold development that would take advantage of the Beauty World transformation. But the long walk to the MRT might be a concern for some.
| | |
| --- | --- |
| Project: | Forett at Bukit Timah |
| District: | 21 |
| Address: | Toh Tuck Road |
| Tenure: | Freehold |
| No. of Units: | 633 |
| Site Area: | 360,143 sqft |
| Developer: | Qingjian Perennial (Bukit Timah) Pte. Ltd. |
| TOP: | 2024 |
Being the first major property launch since the easing of circuit breaker meant that the launch of Forett at Bukit Timah over the National Day weekend was keenly watched by many – both from developers and consumers alike.

If you're wondering why any developer would be hoping for success for their competitor, it's really because this much-anticipated launch was to be a litmus test considering the respective project launches in the coming months. So if the launch day sales figures at Forett at Bukit Timah were anything to go by, it does seem to make for optimistic reading.

30% or 190 units of the 633-unit project were sold in Singapore's first-ever virtual balloting exercise. Given the ongoing pandemic, virtual balloting exercises may well be the way forward. Is it goodbye to the good ol' white tentages where enthusiastic potential buyers (and their agents) used to squeeze together on balloting day? Those were great times though (for the property enthusiast).

But first, a little backstory about the initial acquisition of this land site at Toh Tuck Road. In March 2018, Goodluck Garden, a 210-unit development was sold en bloc to Qingjian Realty and Perennial Real Estate for $610mil ($1,210 psf ppr), eventually making it the 5th largest en bloc deal of 2018. The eventual launch of Forett at Bukit Timah was delayed by a year because of a lawsuit by a group of minority owners. Perhaps thanks in part to its good fortune sounding name, the majority owners managed to eventually get the suit dismissed.

This collective sale came just a few months before the launch of Daintree Residence in July 2018, which is also along Toh Tuck Road but is a shorter distance from Beauty World MRT. Funnily enough, Daintree Residence was actually the first development to be launched after the latest round of cooling measures in 2018.

However, Daintree Residence is a 99-year leasehold project. The launch of Forett at Bukit Timah seems to have reignited interest in Daintree Residence though, with 14 units sold over the post-circuit breaker weekend and about 60% of its 327 units sold to date.

No doubt many of you looking at Daintree Residence would be seeing what Forett has to offer as well – so let's go right into our insider tour!
Forett at Bukit Timah Insider Tour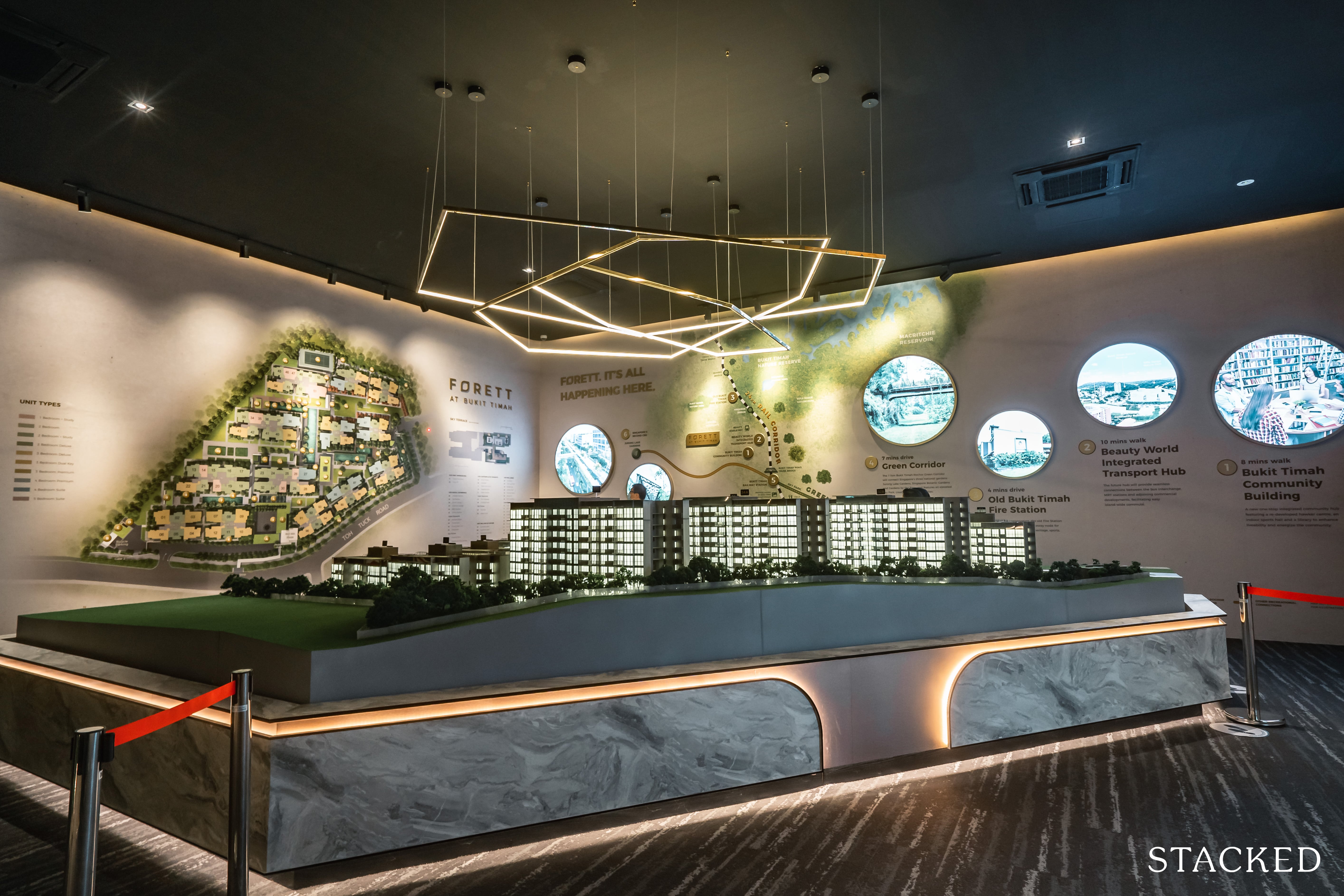 The showflat for Forett at Bukit Timah is located at Yarwood Avenue, beside the recently refurbished Link@896 (formerly Sime Darby Centre) at King Albert Park MRT. This is some distance away from the actual site and nestled at the foot of a Good Class Bungalow Area (GCBA).

If you needed any hint of the key selling point of the Forett at Bukit Timah, it would have been answered the minute you set your sight on the exterior of the showflat. Boldly emblazoned on the front below the name was the word "FREEHOLD". Not as if anyone can argue with that strategy though – as mentioned above, launch sales have been very encouraging.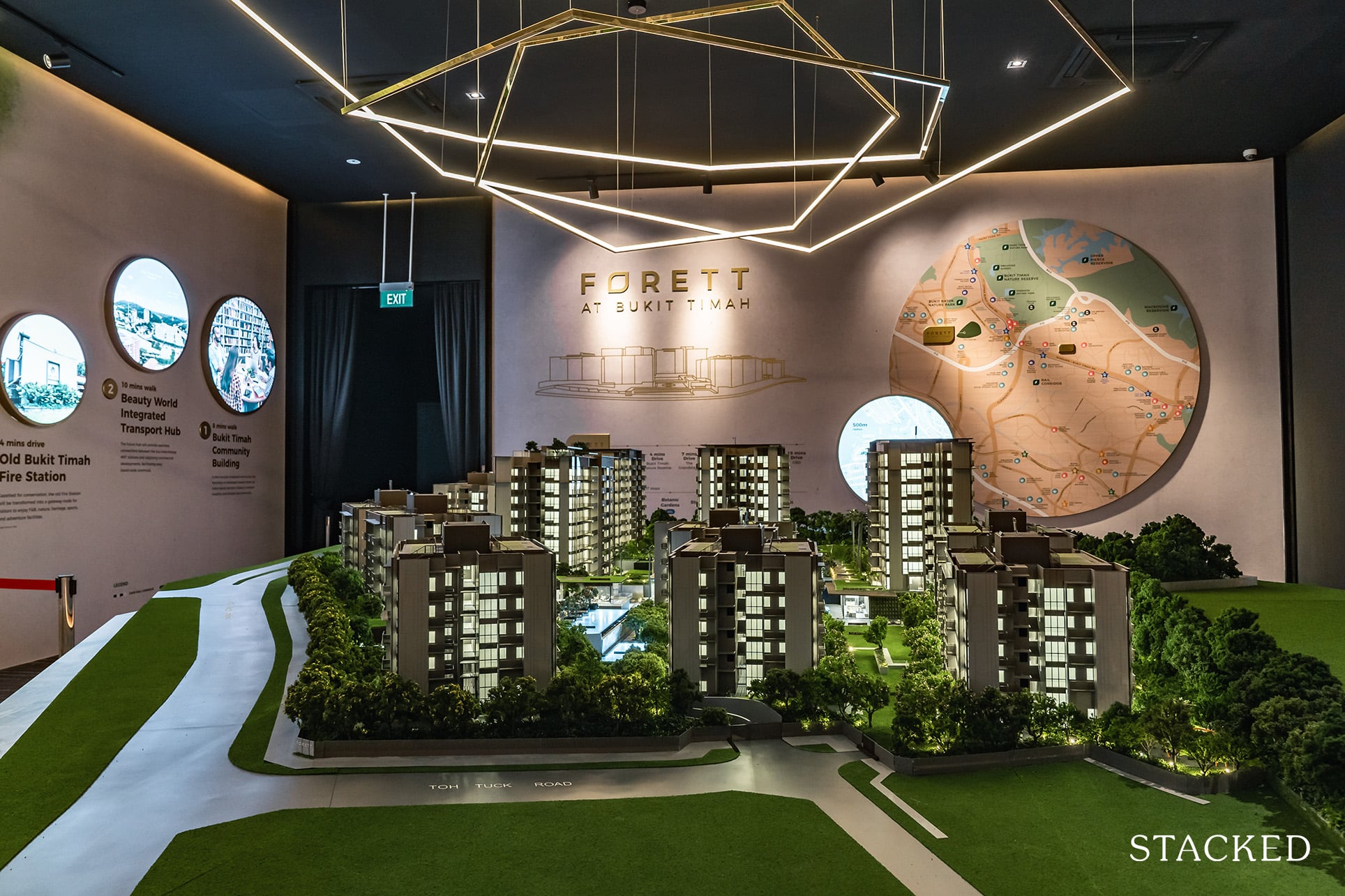 This new development consists of 633 units spread across 4 9-storey blocks and 9 5-storey blocks. I do appreciate this variation of block heights as it gives off a less modular vibe and offers buyers a choice between low and high-rise living. It's a stretch but it reminds me a little of the low-high rise concept at Reflections at Keppel Bay.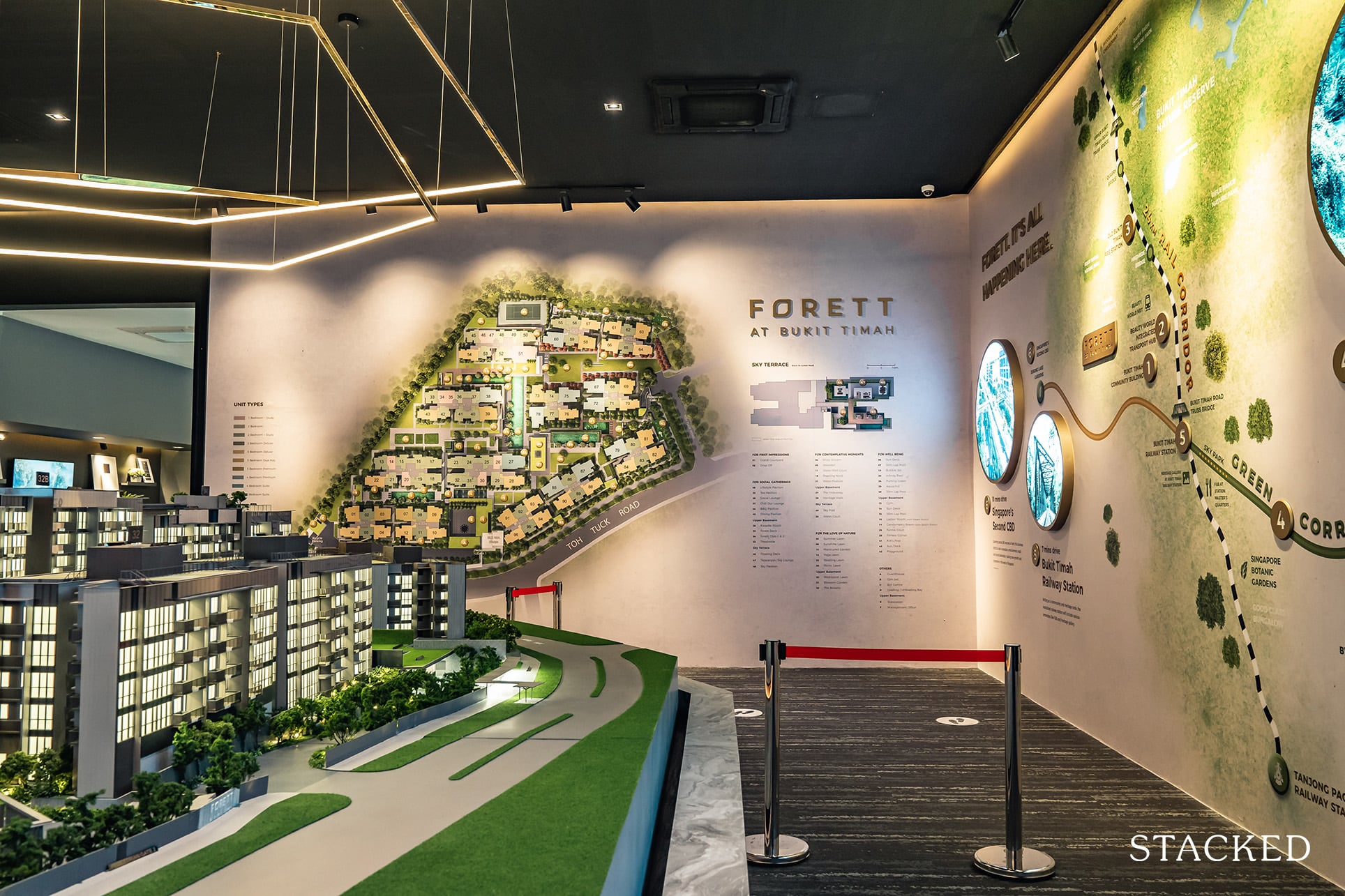 Some developers tend to place heavy emphasis on the architects in their marketing material but I haven't seen Qingjian do the same. Admittedly, the architecture of this project is nothing to shout about, but if you were curious, Hong Kong-based P&T Group were the architects for Forett at Bukit Timah. These are the same guys who designed The M, Stirling Residences and Raffles City Chongqing amongst others. Personally, knowing that your project's architect has a history of designing quality projects is comforting and perhaps something to shout about as well.
Incidentally, both Daintree Residence and Forett at Bukit Timah share the same landscape architect – EcoPlan Asia, whose name is pretty apt given the site's relative proximity to the Bukit Timah and Bukit Batok Nature Reserves.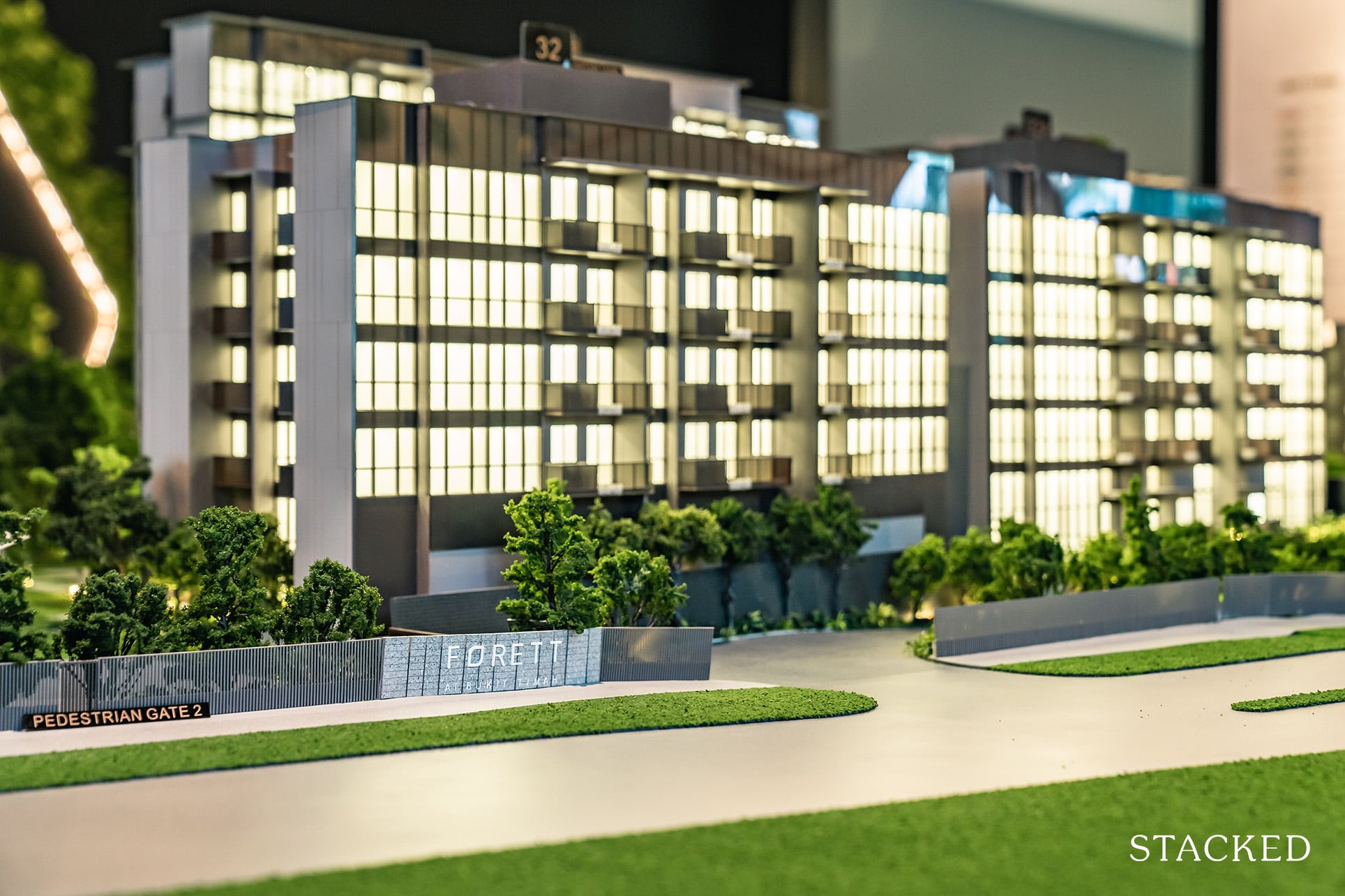 Onto the development itself, instead of the usual roundabout drop-off right at the entrance, you will find a long driveway running parallel to Toh Tuck Road leading up to the guardhouse, courtyard and drop off point. I was a little sceptical of this concept initially as it seems a tad unnecessary.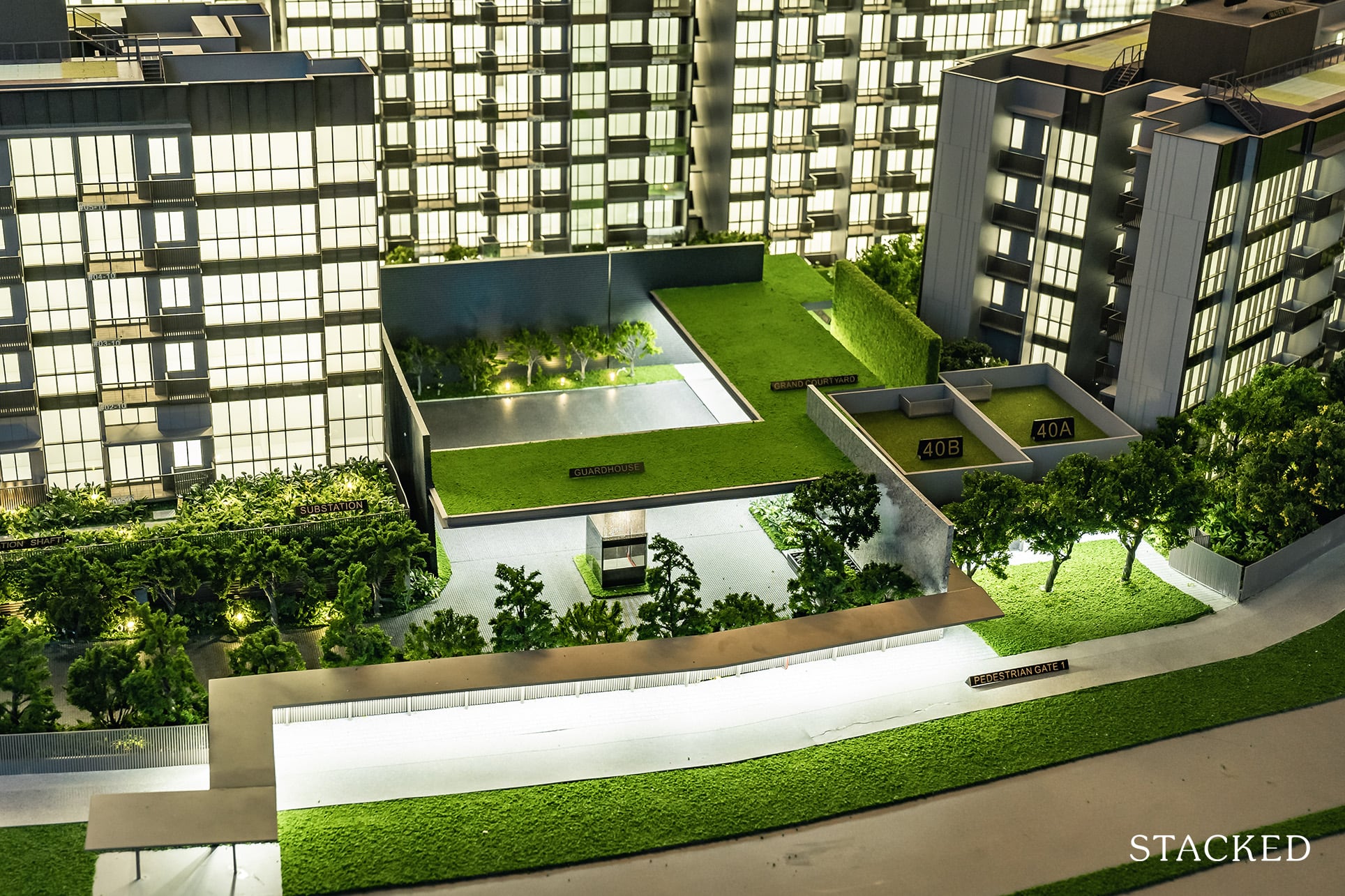 That said, it does offer a greater level of privacy and may ironically be more practical. Let me explain myself – imagine a rainy morning with the poor Grab drivers getting honked at by impatient drivers desperate to get to work whilst they wait to turn into the development. This long driveway will instead allow them to line up along the driveway whilst waiting for their passengers.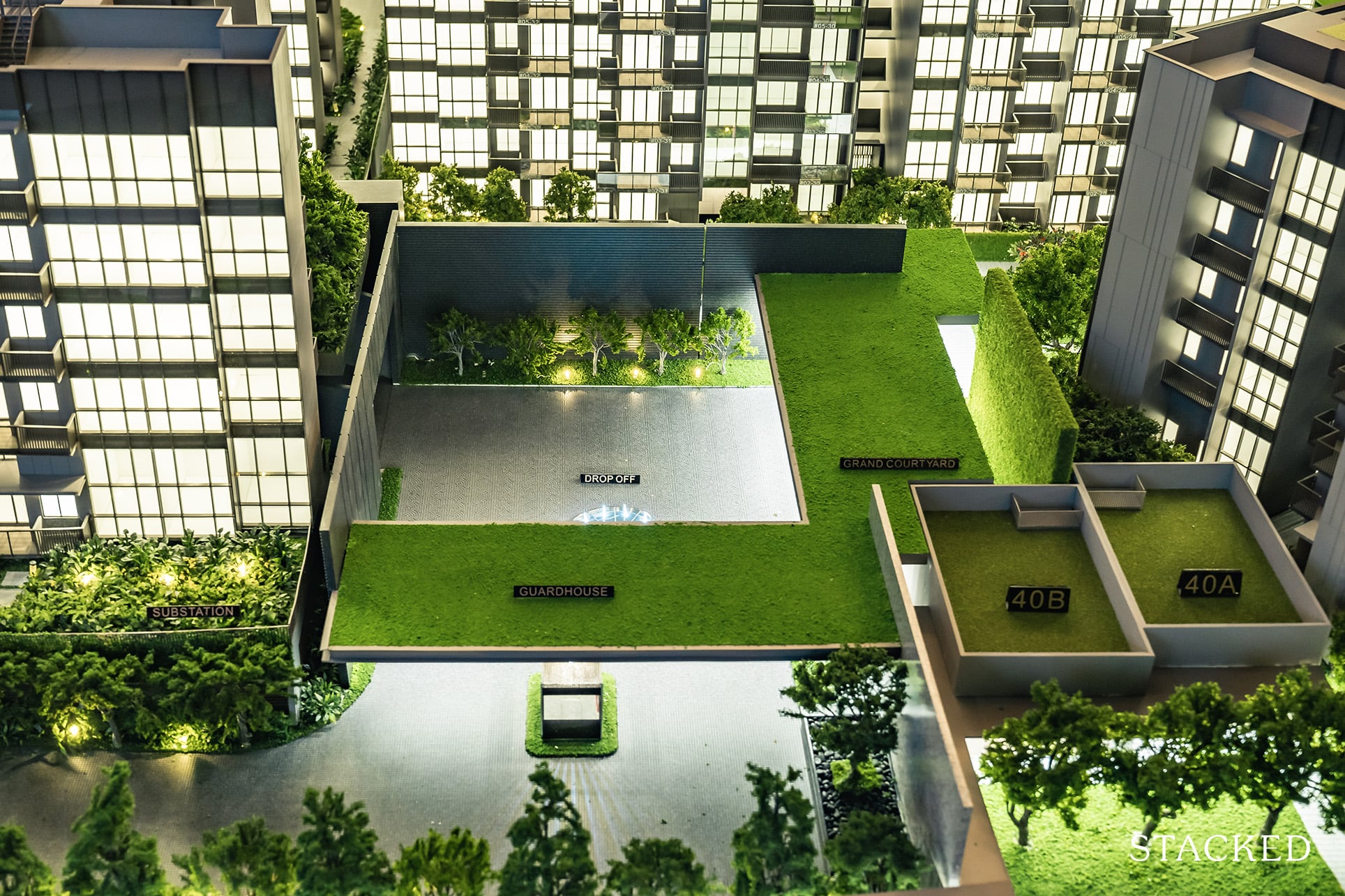 I must also compliment the developers for ensuring that the drop-off point is lawned on the top, ensuring that the blocks facing it will not have to deal with an unsightly view outside their balcony. There will also be a sheltered walkway from the courtyard to the bus stop, which can take you to Beauty World MRT.
I do also like how there is a 1-to-1 parking to unit ratio, a rarity in new projects these days. Of course, it is expected that some of the units will be rented out to tenants who don't drive – freeing up more carpark lots. Moreover, congestion should also be eased slightly with 2 egress points, one along Toh Tuck Road and another along a small side road, which used to be the main entrance for Goodluck Garden.
There is only one ingress point though, but Qingjian Perennial made a wiser choice in swapping the main entrance around to Toh Tuck Road, which is wider.
Although it remains to be seen how the traffic congestion on Toh Tuck Road will hold up during peak hours, especially when both Forett at Bukit Timah and Daintree Residence is up. It's long been a sticky point for current residents staying in the area, and I don't suppose it is going to get much better with the new additions.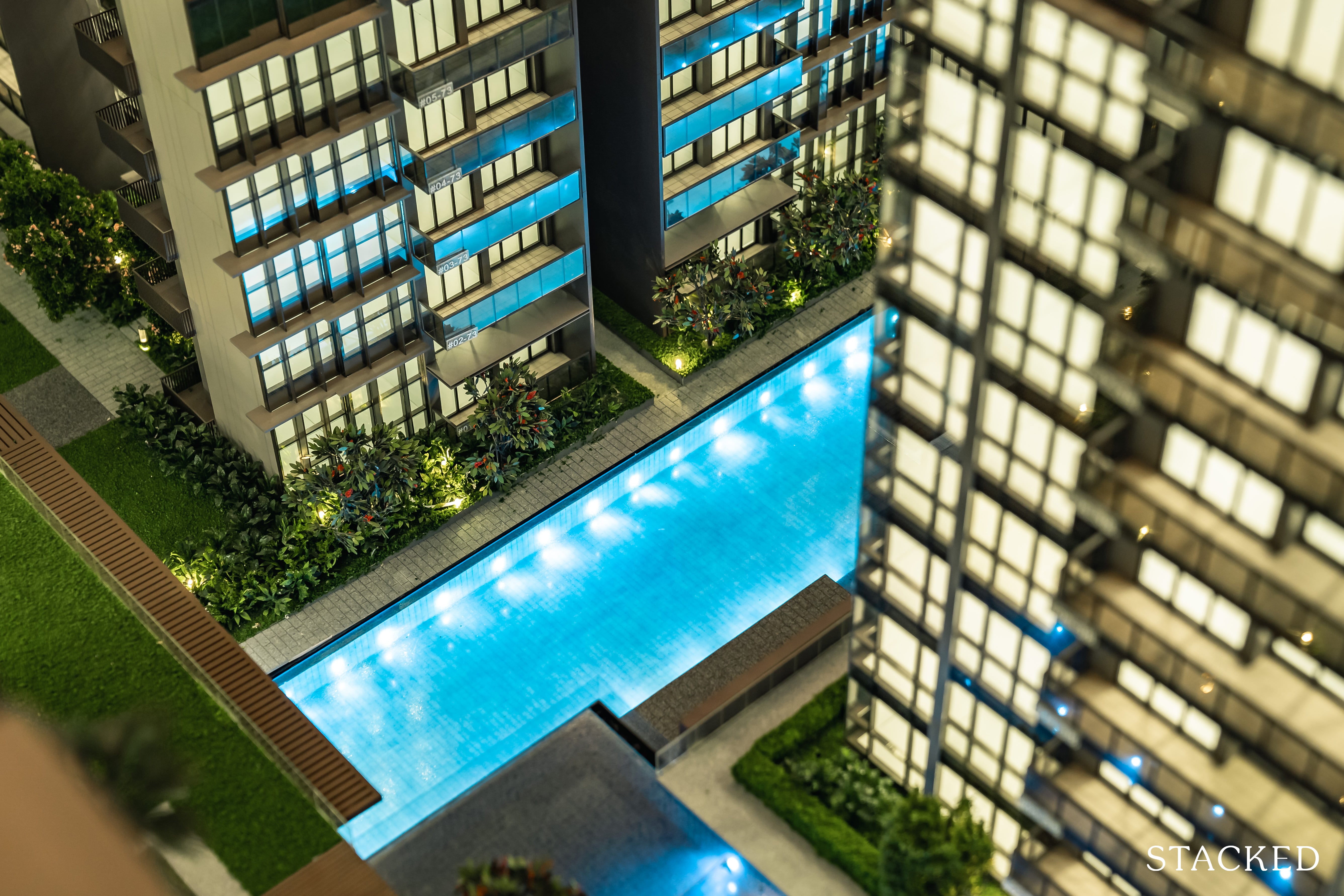 Given the relatively clustered blocks, I must say they did a decent job at packing in the facilities, especially the number of pools. There is a 50-metre and 2 30-metre lap pools (plus a few smaller ones, kids pool etc). Personally, I do feel they are more than sufficient for the 633 units.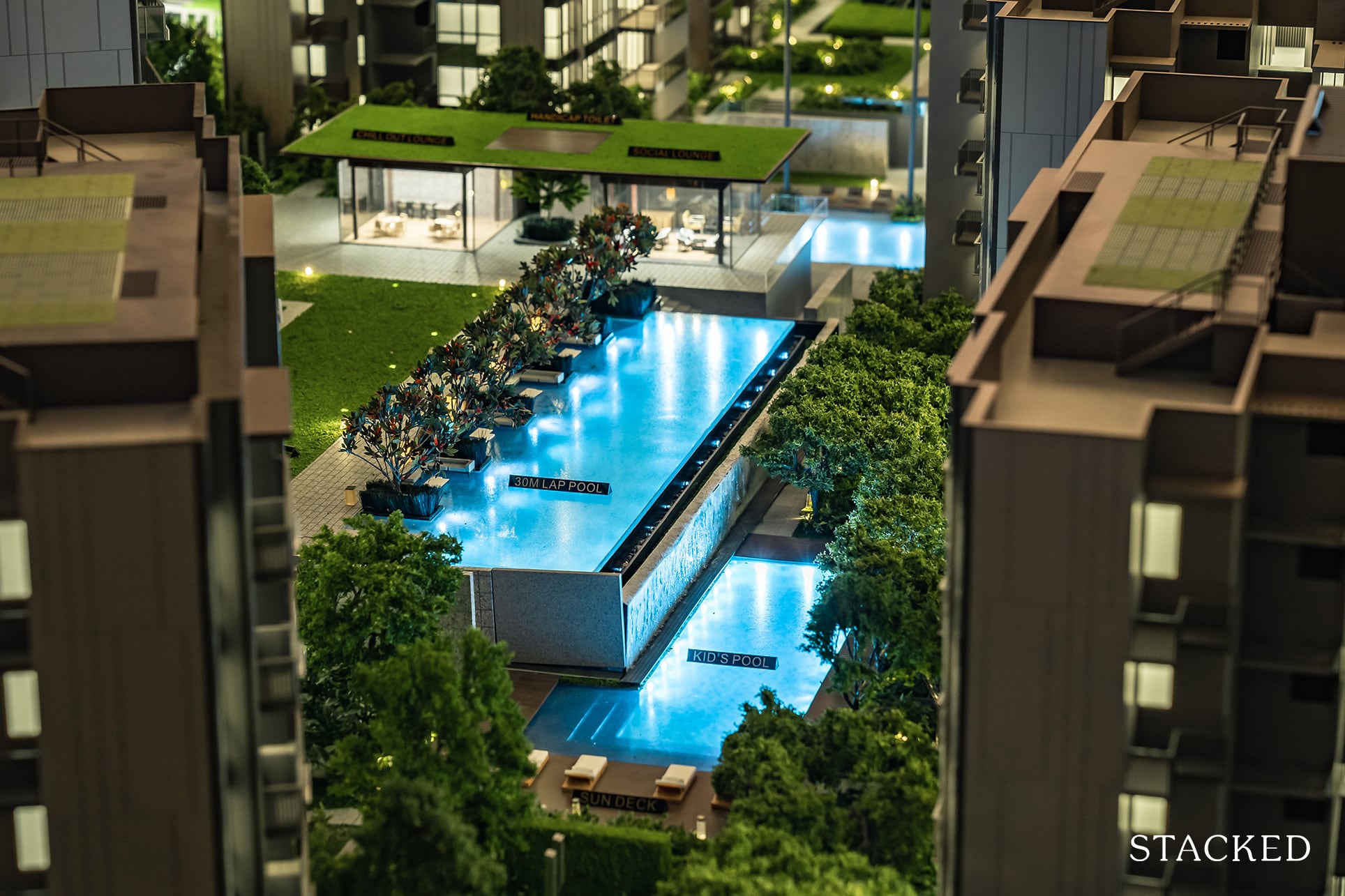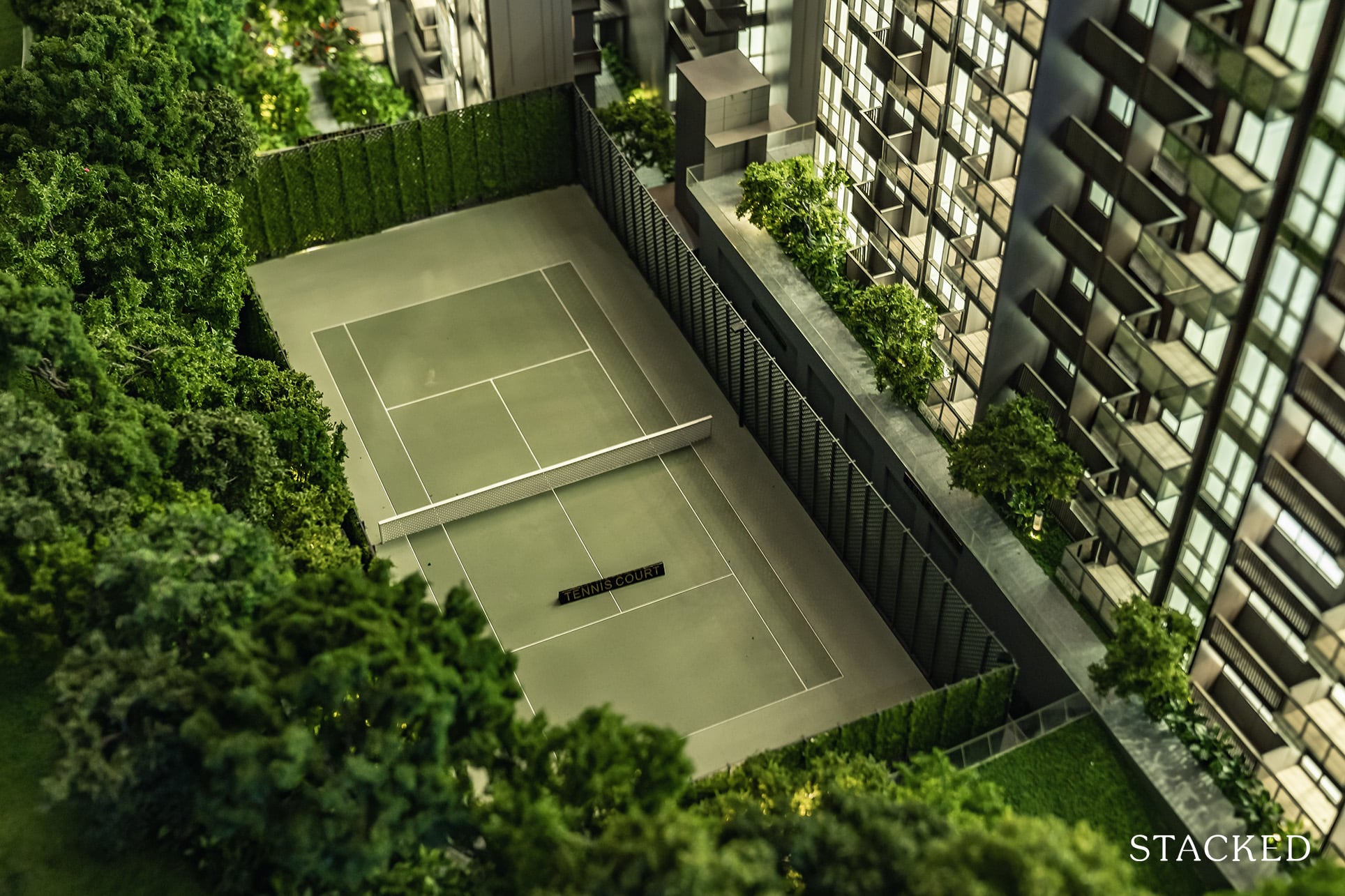 What is disappointing, however, is the lonely tennis court at the back of the development. Unfortunately these days, that is already something to be thankful for. It seems to only be a matter of time before even tennis courts are slowly phased out, given that some new developments such as Amber Park have done away with tennis courts altogether.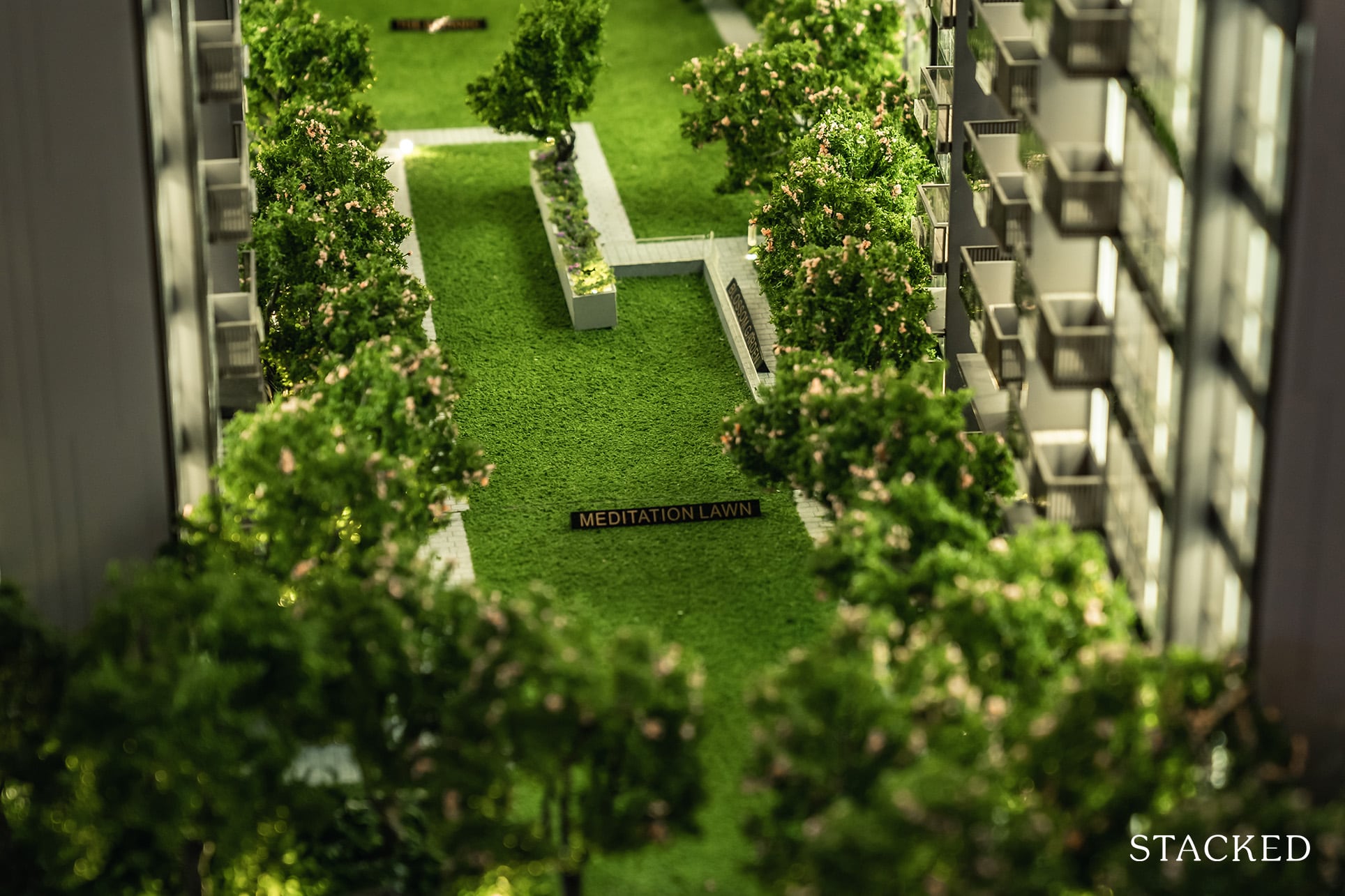 A potential downside could be the close proximity between each block, with the tightest points going to as close as 13.1 metres. Which is why having these open green spaces (as shown above) are doubly important to ensure that the general areas feel as expansive as possible.
At the end of the day, it is really just a lawn, but it does serve an important function.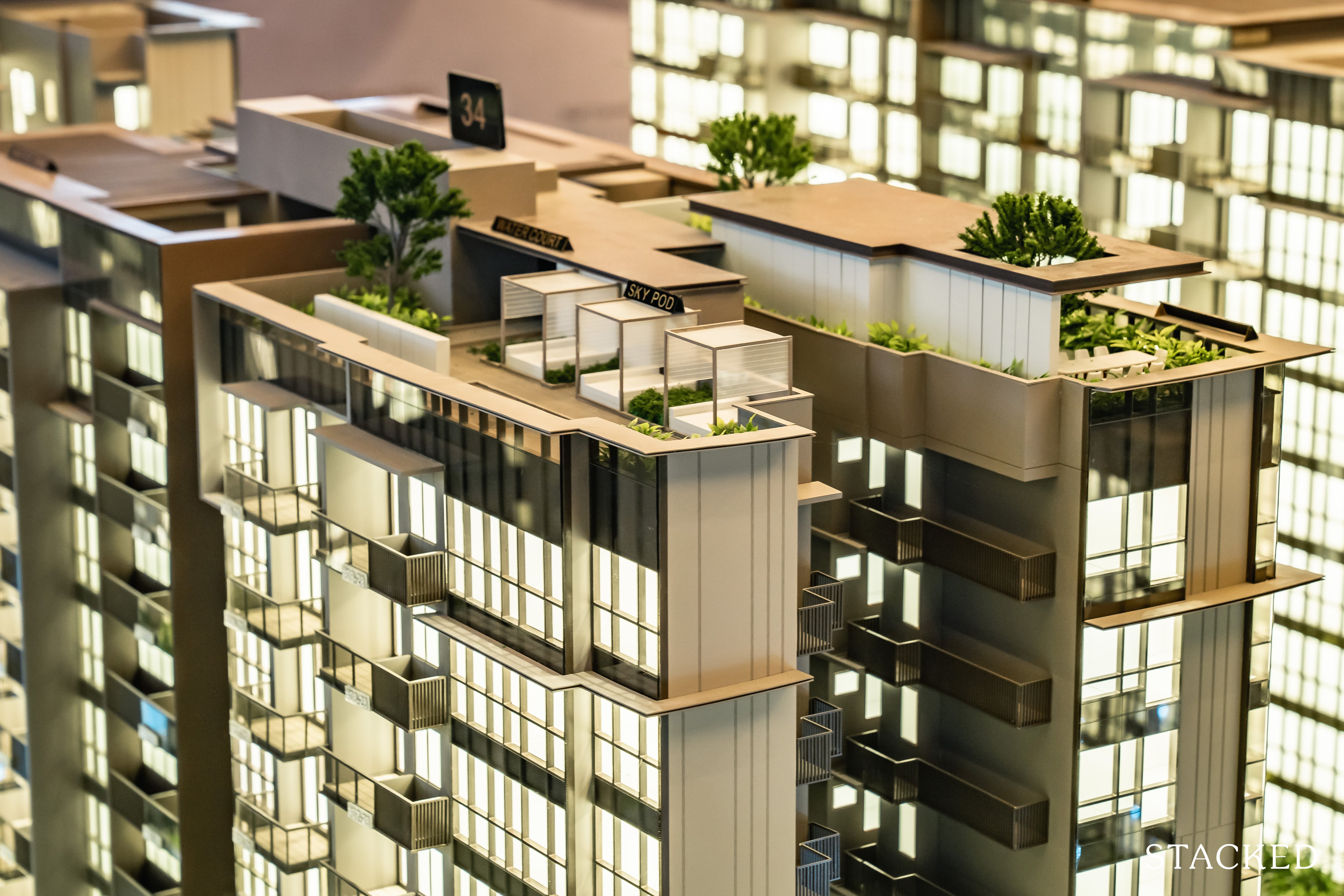 It is also a nice touch to have a roof terrace above Block 34, which comes complete with a teppanyaki sky lounge and sky pods. And seeing as most of Bukit Timah is pretty low-lying, I would imagine the views to be quite picturesque. Which does beg the question though – why just 1 for 633 units?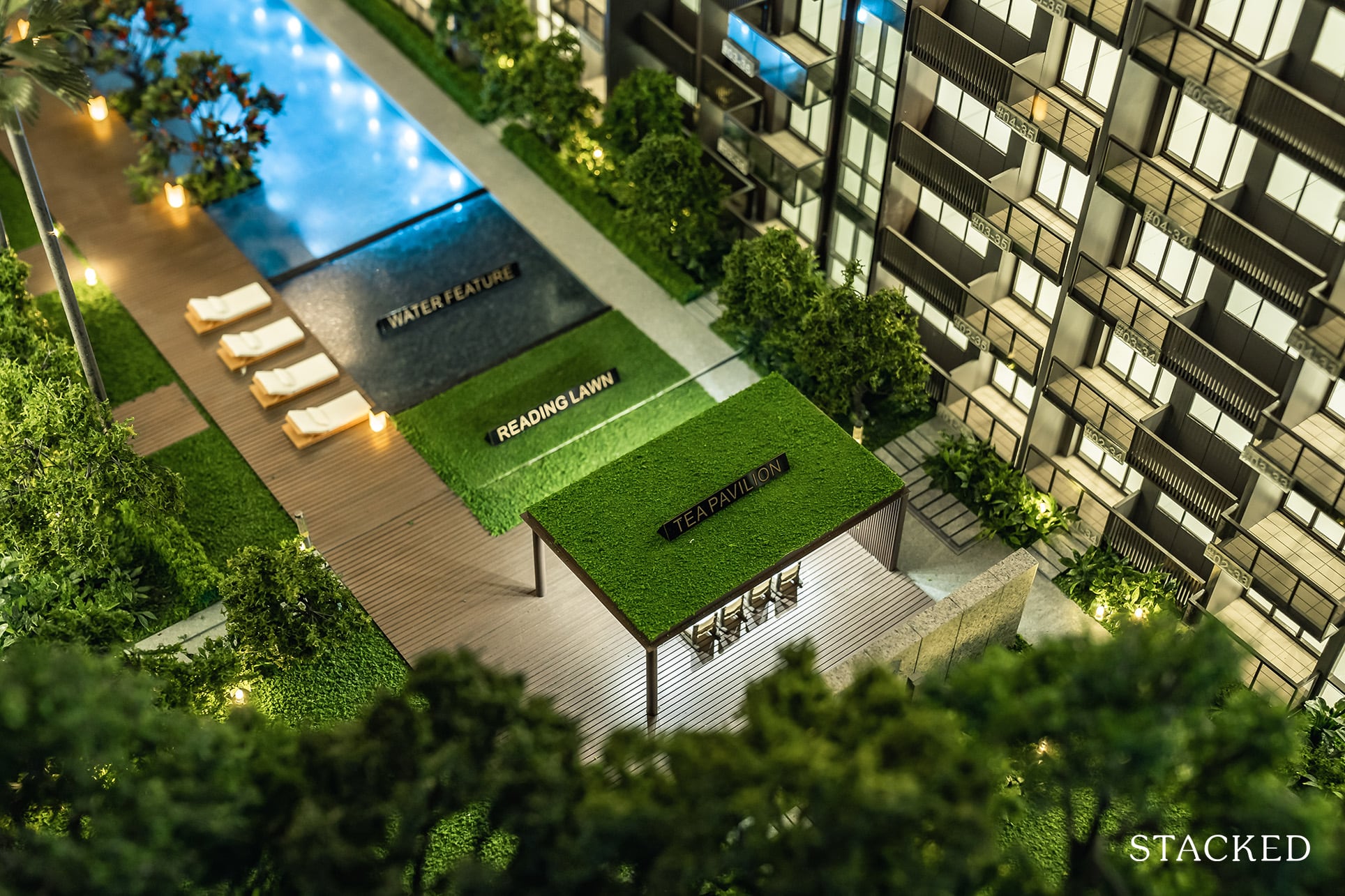 There are also several social spaces in the form of lawns and pavilions spread across the development so the little ones and pets can roam around.
I do appreciate the effort that Qingjian Perennial has put in to create some less common facilities, such as the theatrette and karaoke room. The full list of facilities are as follows: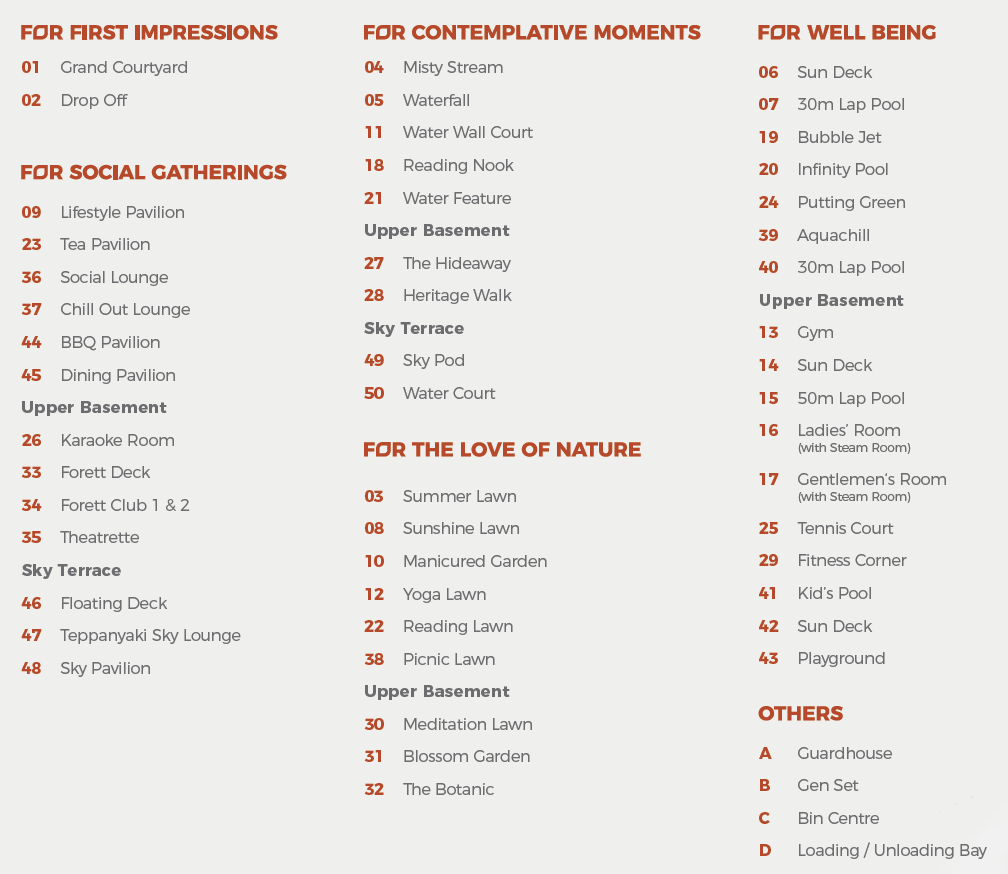 Show Units
In terms of unit mix, about 6 in 10 units will be one and two-bedroom units, ranging from 474 sqft for 1 one-bedders and 549 to 764 sqft for two-bedders. Notably, some of the two-bedder units here are smaller (and more affordable as a consequence) than the average in the market. Of course, these are the 2 bed 1 bath units. The remaining 4 in 10 units will be 3 to 5 bedder units, ranging from 947 to 1,884 sqft.

Marble floors will be provided for the living and dining areas while bedrooms come with timber floors. These are pretty standard for new launches at this price point. As expected of a relatively premium project, branded bathroom fittings come standard, with Laufen and Gessi wares used across all units. I would stop short of calling Qingjian and Perennial premium developers but based on what I have seen for JadeScape and Forett at Bukit Timah, they do ensure that premium materials and fittings are used.

The showflat showcases 2 to 4 bedroom units and I will delve first into the 2 bedroom unit, as I find it the most noteworthy and impressive.

Forett at Bukit Timah 2 Bedroom Deluxe Unit Review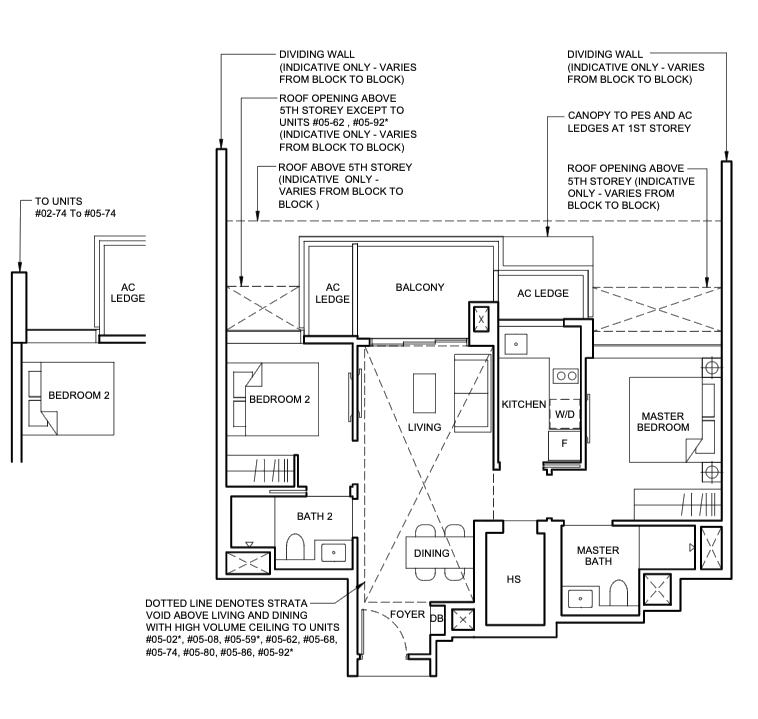 At 732 square feet, this is quite typical of a 2 bedroom unit on offer these days (slightly larger, given its deluxe status). Nevertheless, its layout is pretty good in my opinion.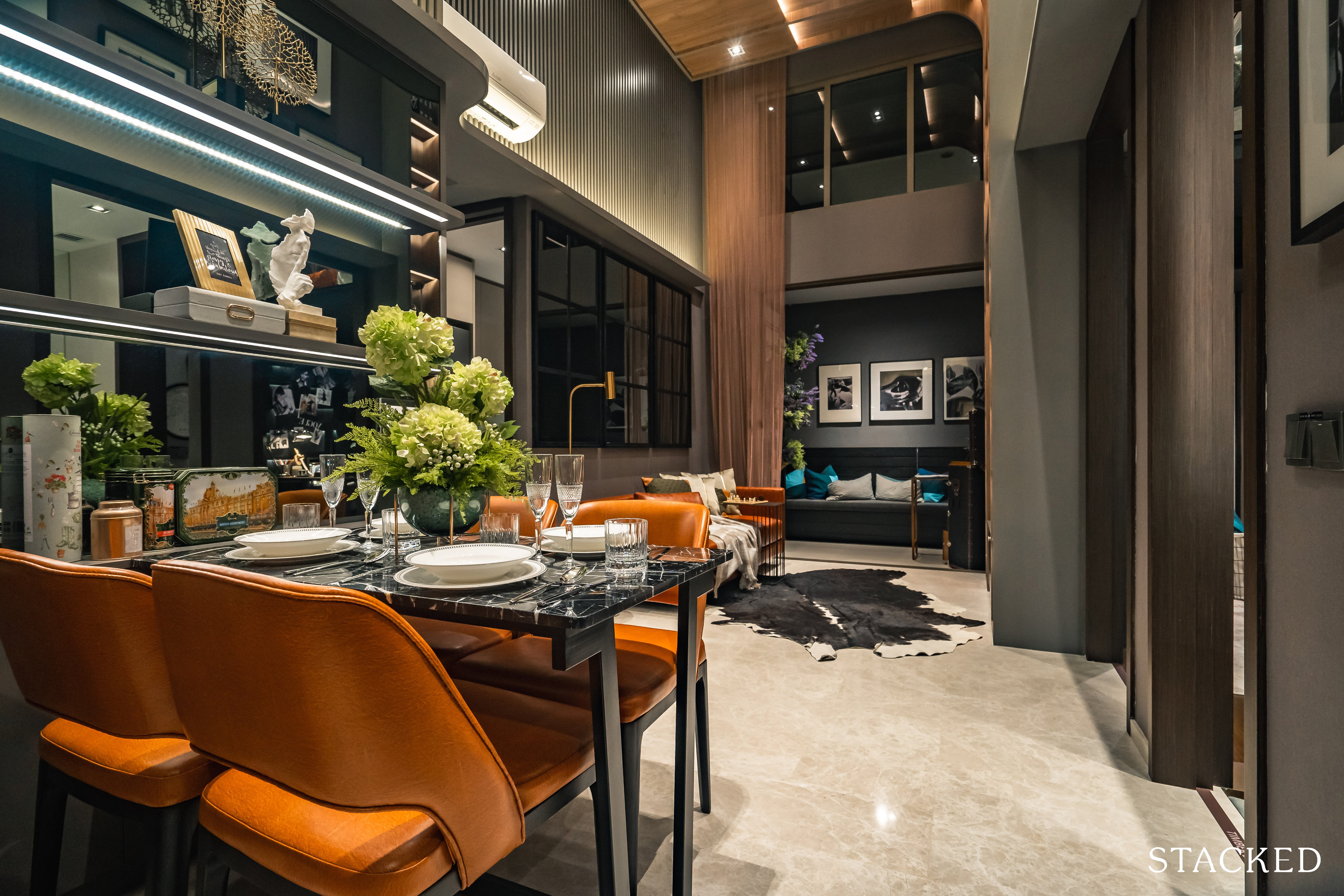 Stepping into the unit, you are greeted immediately by the dining area. Some may find that there is less privacy that way, with no foyer as a buffer (although it says there is on the floor plan).
Nevertheless, as a millennial buyer myself, I am a firm believer of efficient utilisation of space – especially seeing how homes are getting smaller and smaller!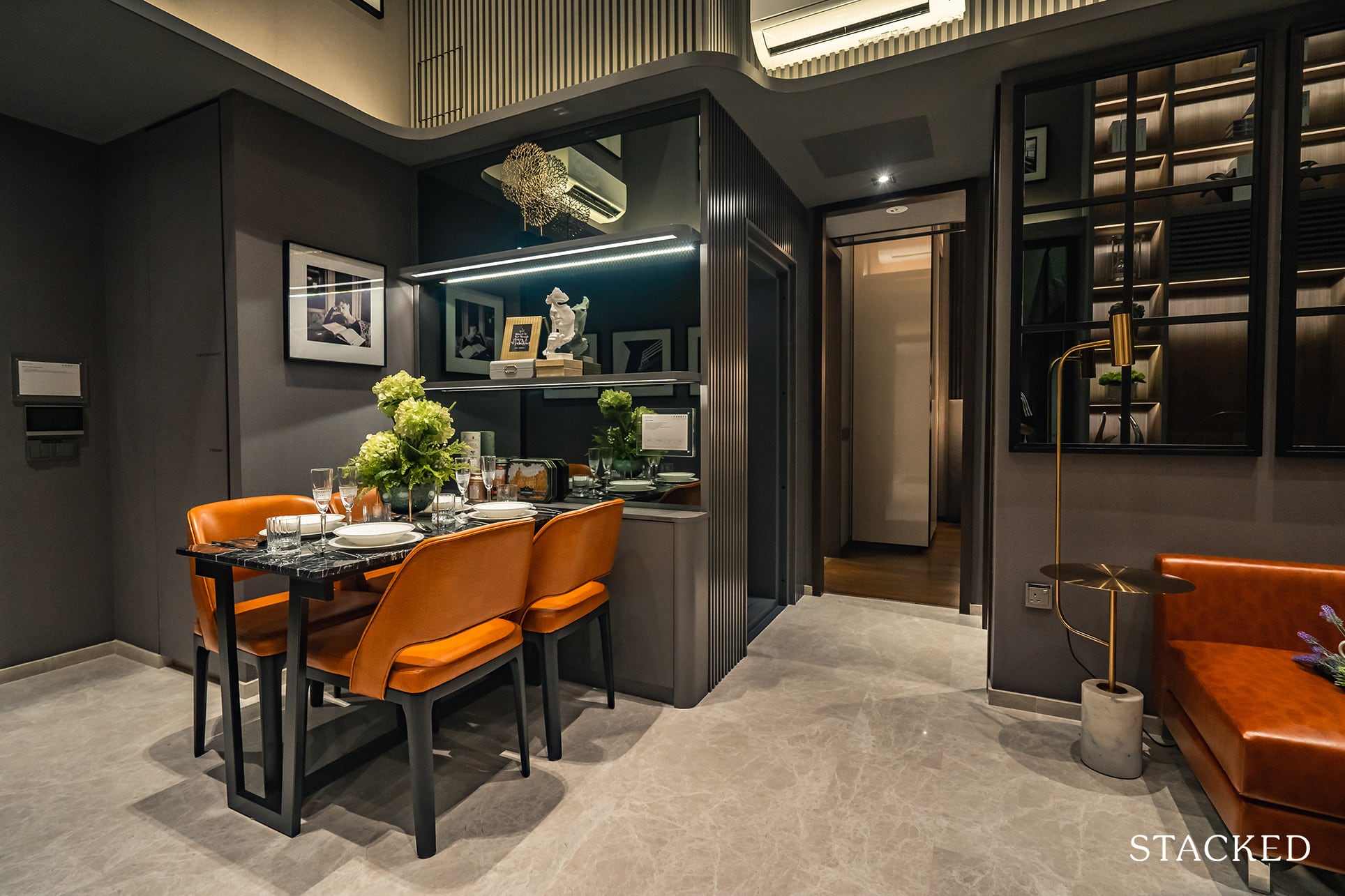 As you can see here, the dining table is pretty skimpy and is quite a cramped setting altogether. So it is worth noting the importance of choosing the right dining set as it will eat into your visitors' walkway if the set is too large.
Depending on your lifestyle, this could be an issue – but it is frankly one of the few downsides in a layout that is rather refreshing.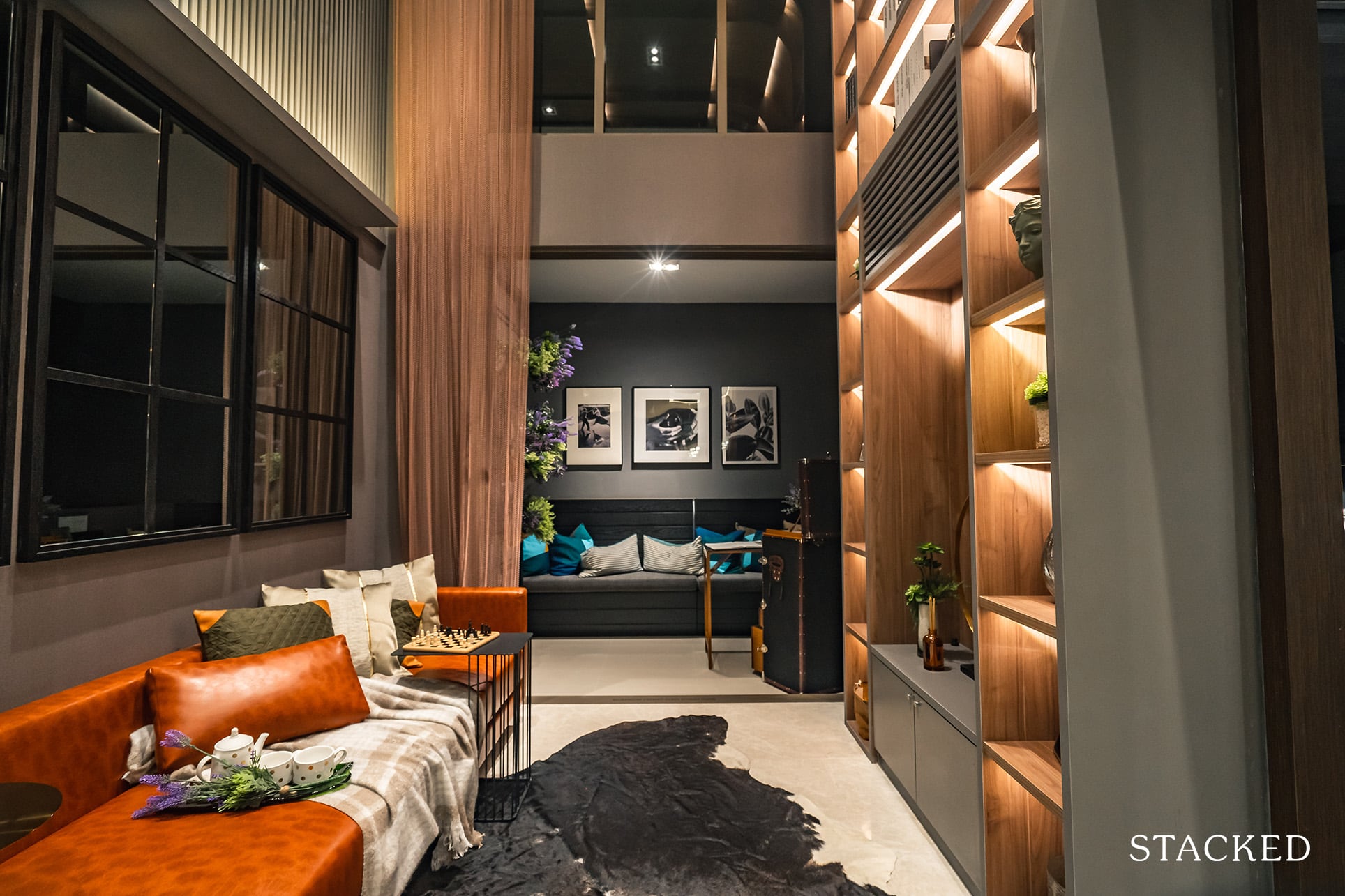 The unit on display here is a 5th storey unit (ground floor units enjoy the high ceilings too) with double volume ceiling of 4.6m. Because of its ceiling height, it should immediately accentuate the grandeur of the unit. However, in this case, the interior designers have gone with a darker tone, which kind of takes away that illusion of space in my opinion. Don't get me wrong, I'm a fan of double volume ceilings because of the flexibility it brings, especially when you see the possibilities in the common bedroom later on in this review.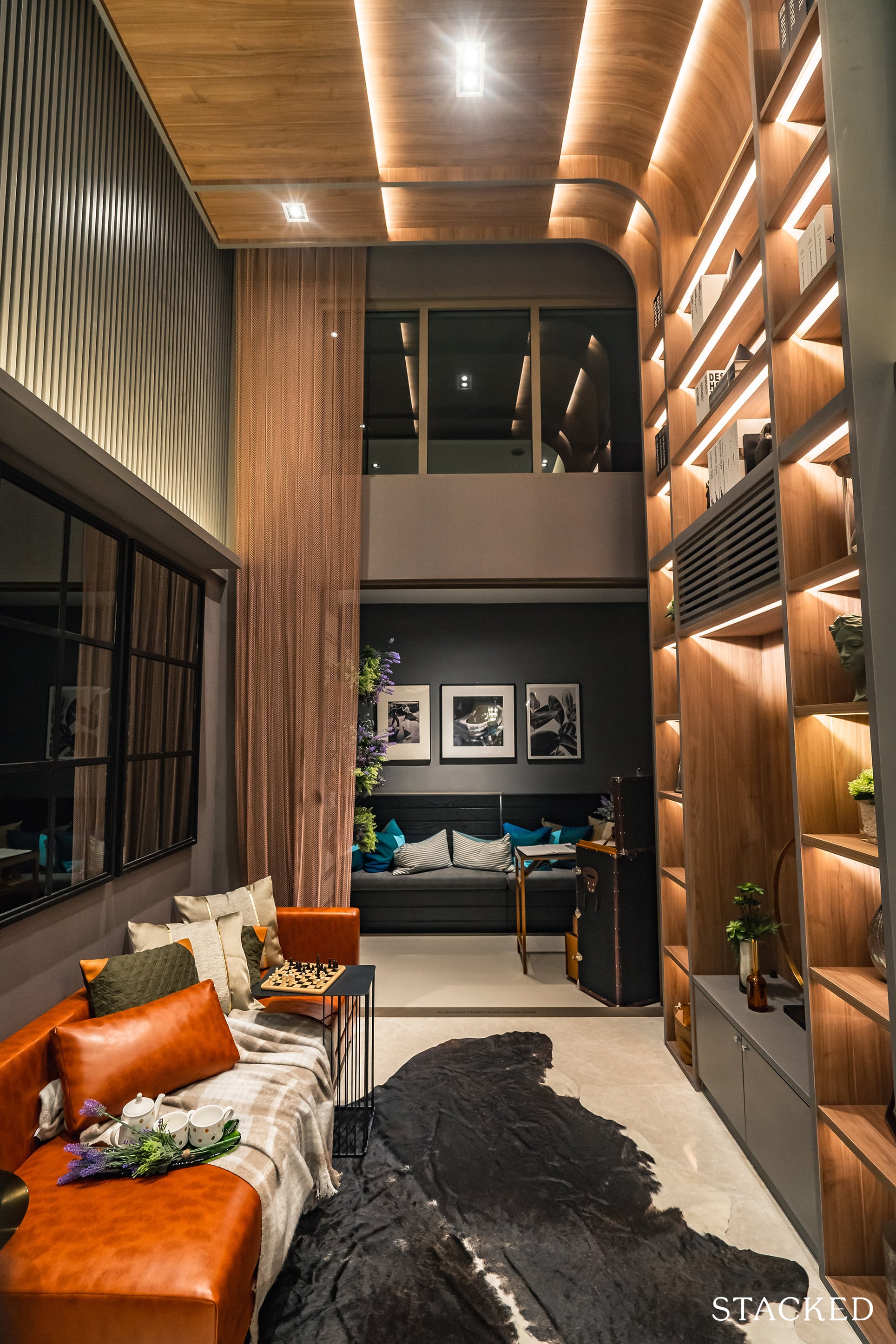 Be that as it may, the high ceilings in this show unit still go a long way in helping to elevate the sense of space.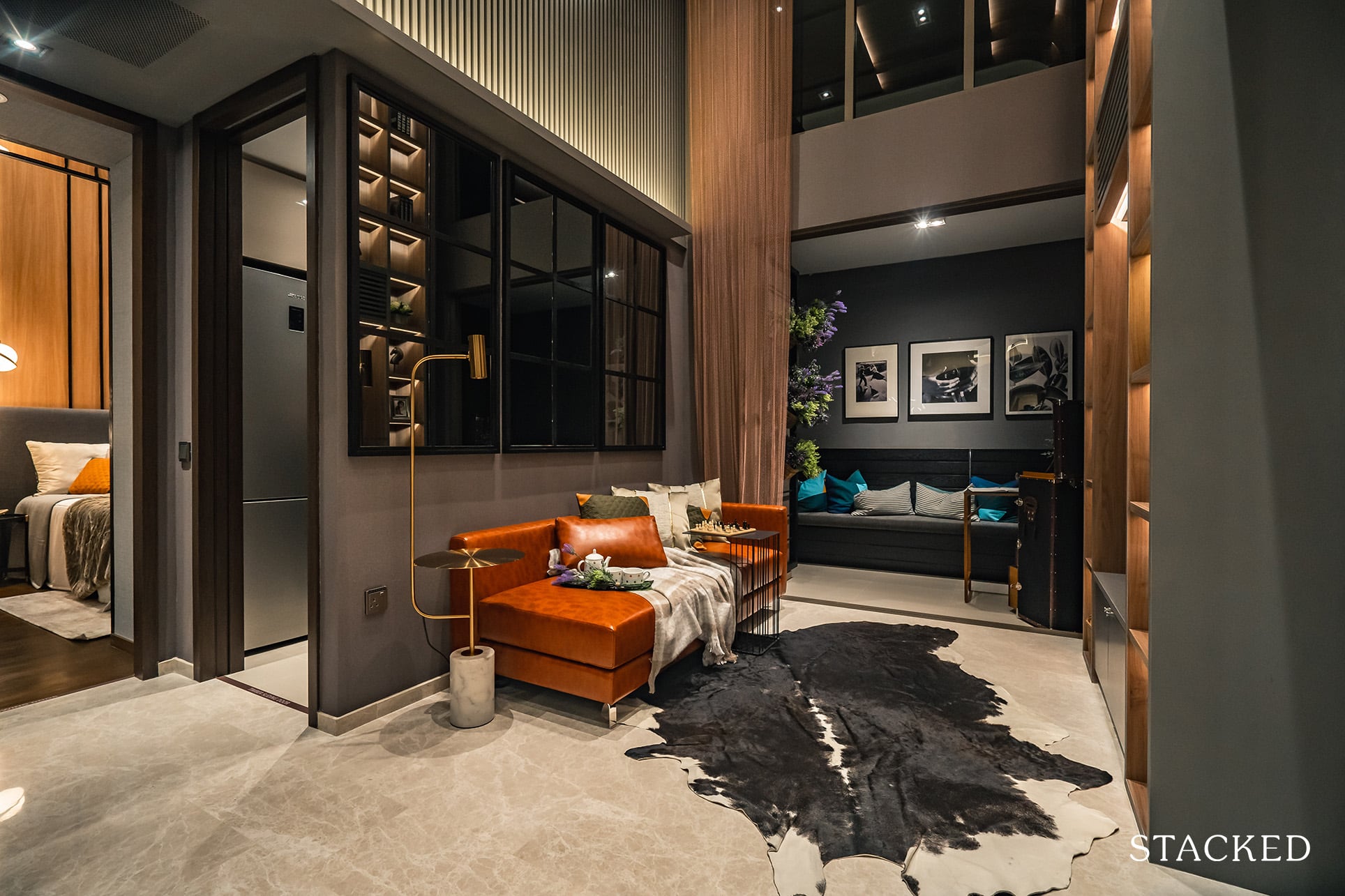 Going further into this unit will take you to the living room and balcony, with the living room being slightly narrow if I had to nitpick.
The balcony here is on the small side, so it is great for those who want to preserve interior space instead. Do also note that the air-con ledge is positioned just beside the balcony, so it might get a little noisy at times.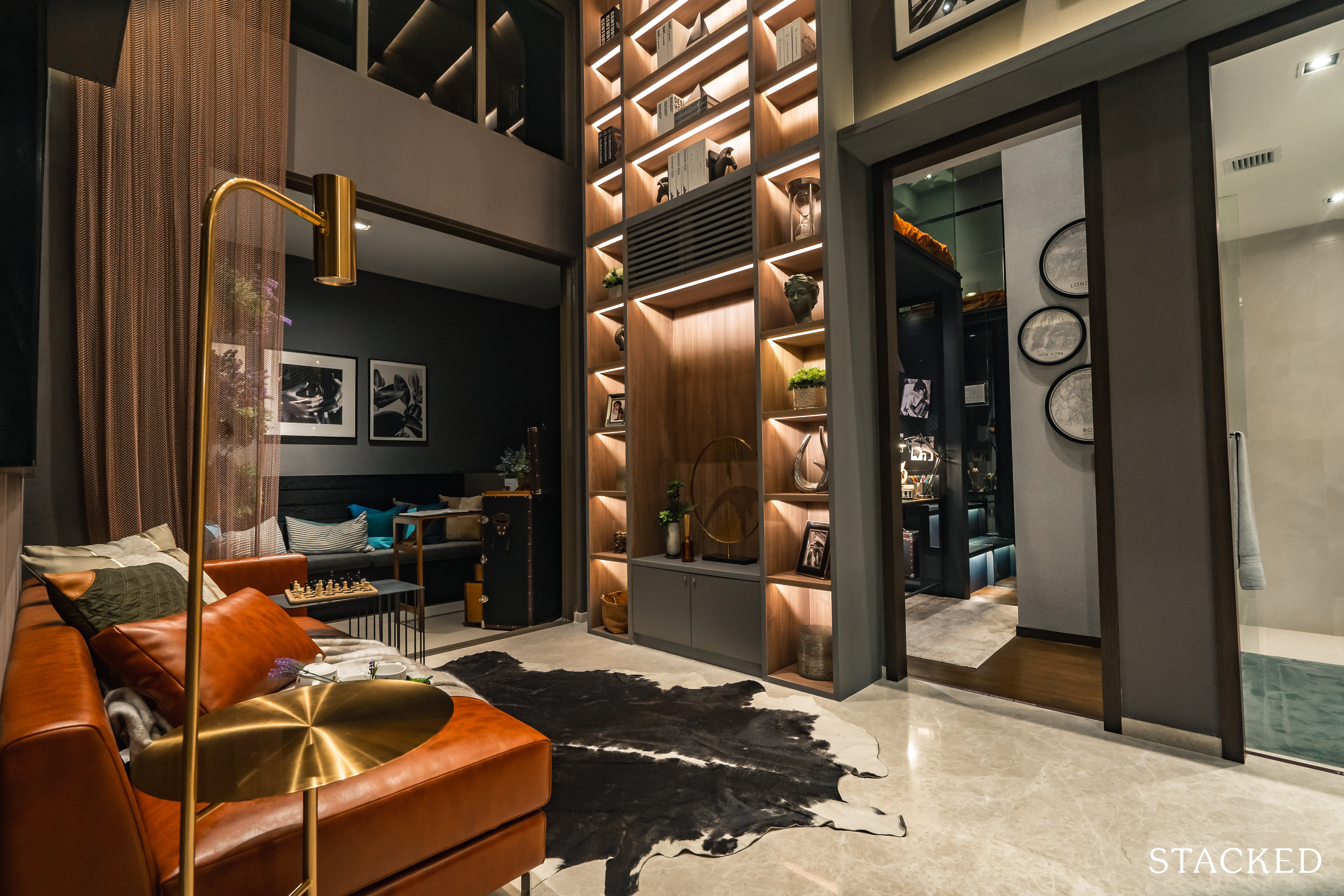 You will also notice that this has the increasingly popular dumbbell layout, which means you have bedrooms on both sides of the unit. This strips out the need for a common corridor leading to the bedrooms and is a more efficient use of space.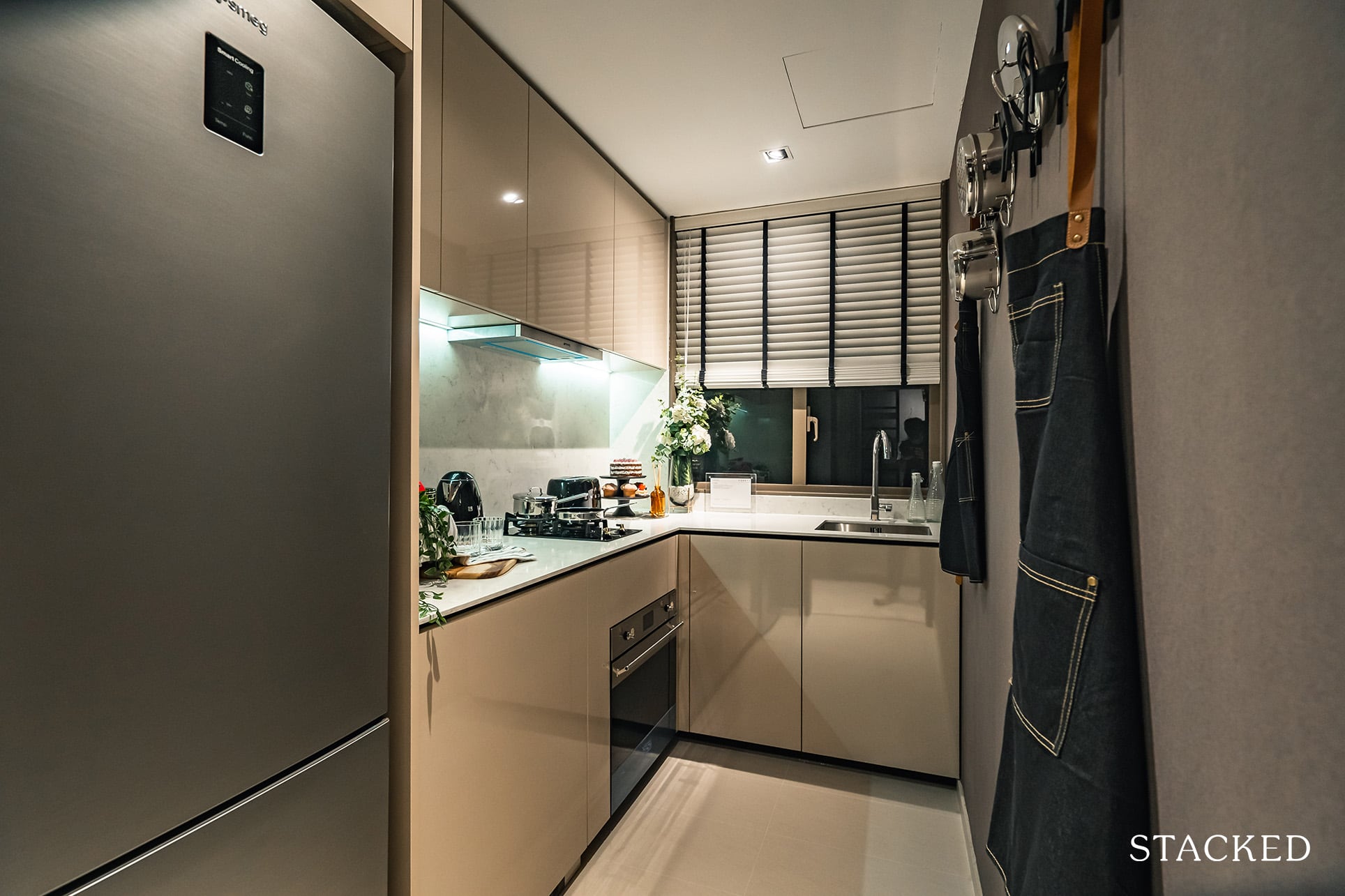 Coming to the most impressive aspect of this unit – it is the existence of an enclosed kitchen, with a gas stove and a window! This trinity of options give 2 bedroom buyers lots of flexibility. From my memory, there are only a handful (if any at all) of developments which can meet this trinity of checkboxes in a 2 bedroom unit!
As an Asian, heavy cooking is part and parcel of my family's lifestyle and I really appreciate the existence of a gas hob and a window to emit all the unnecessary smell thereafter. Appliances here are from Smeg, a premium Italian brand known for its colourful appliances. It is also the same brand used in Qingjian's other project, JadeScape. Of course, those used here are of a more palatable colour to the masses. Note: you do get an optional combo steam oven or dish warmer drawer from Robam.

All that said, however, not everyone is going to appreciate that it is right beside the master bedroom – so it's really dependant on your tolerance for privacy.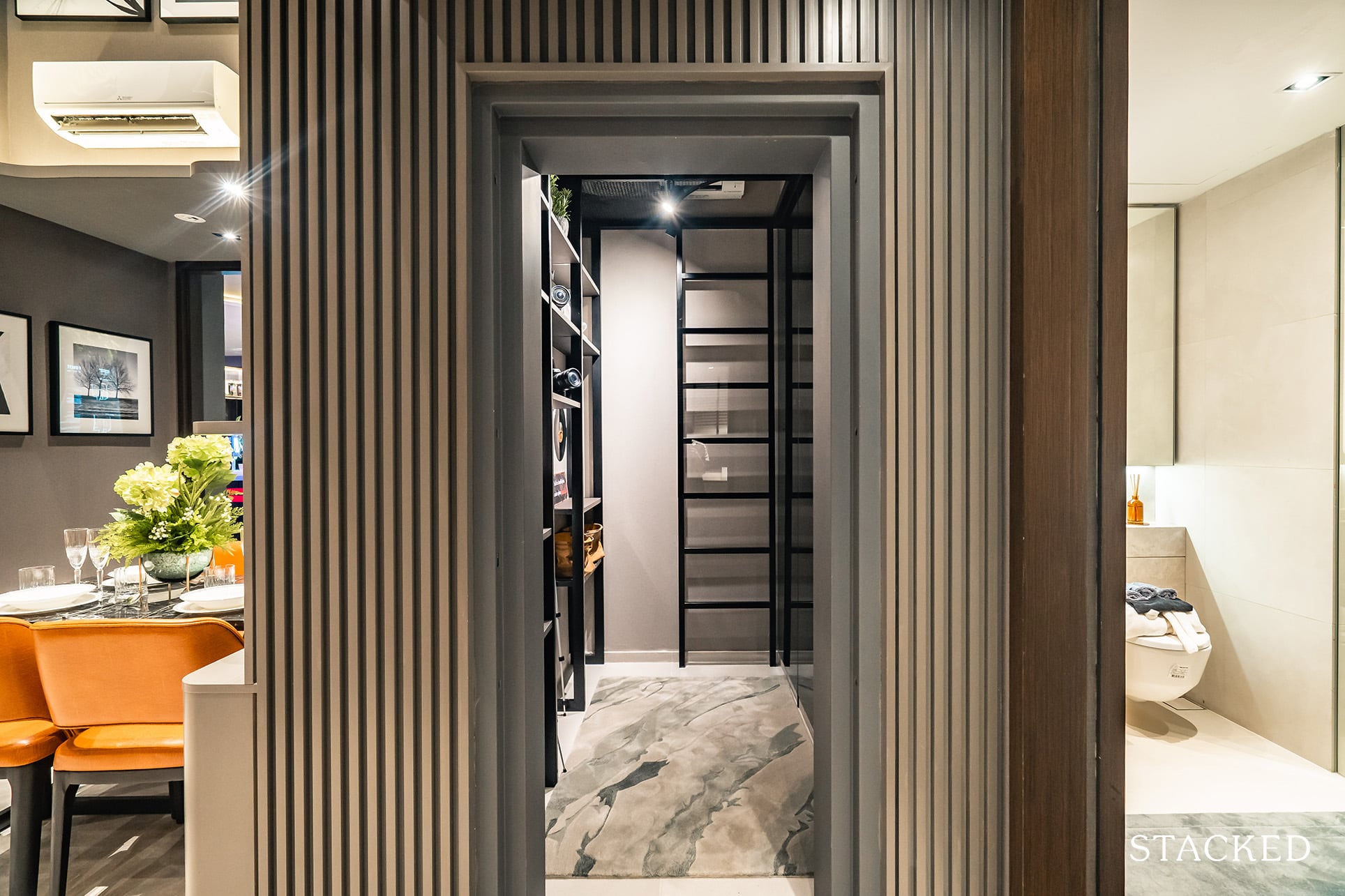 There is also a household shelter (read: storeroom) opposite the kitchen, which is always helpful as additional storage.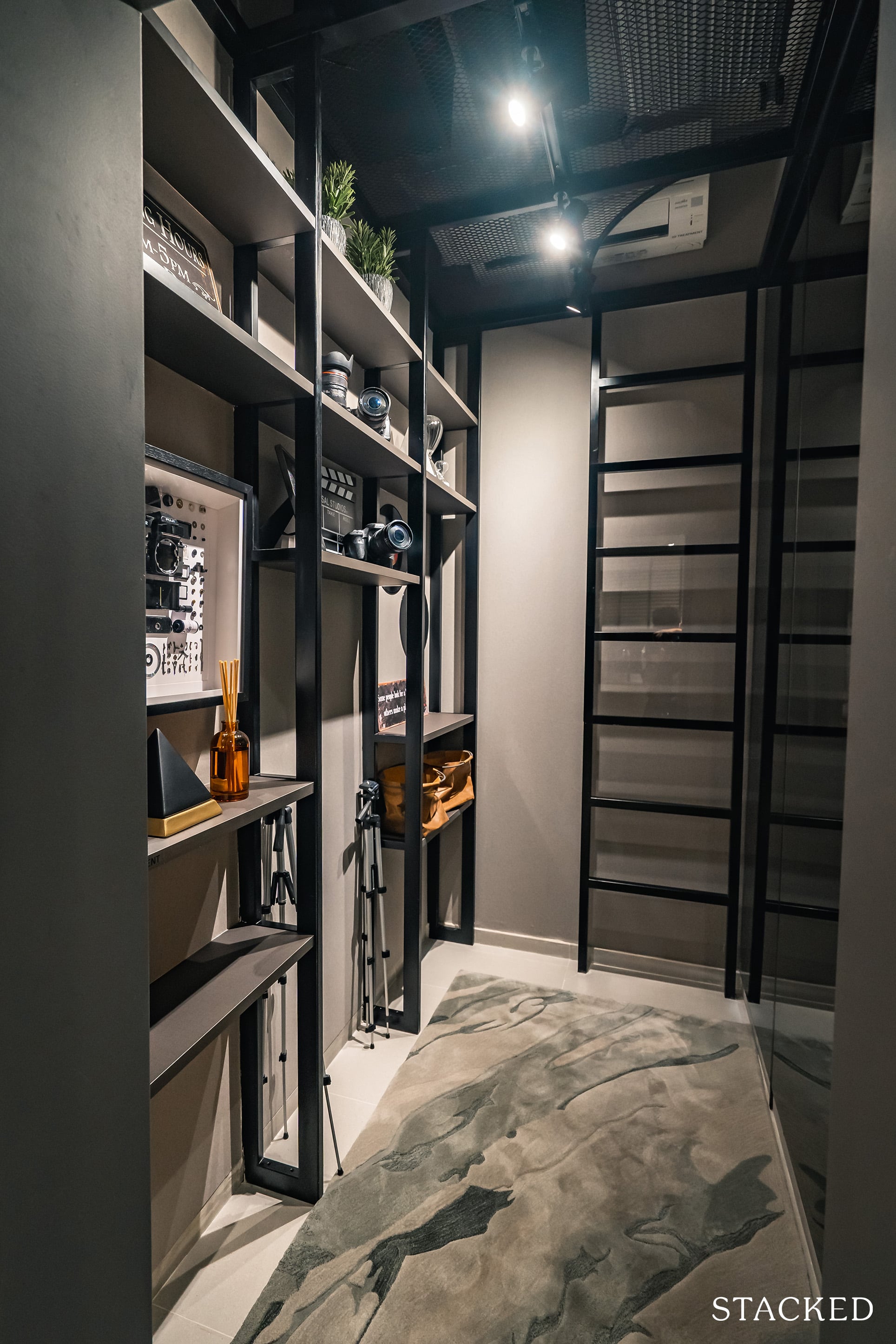 Alternatively, you could always use it as helper's room or even a separate study/office space, which is especially relevant in today's context.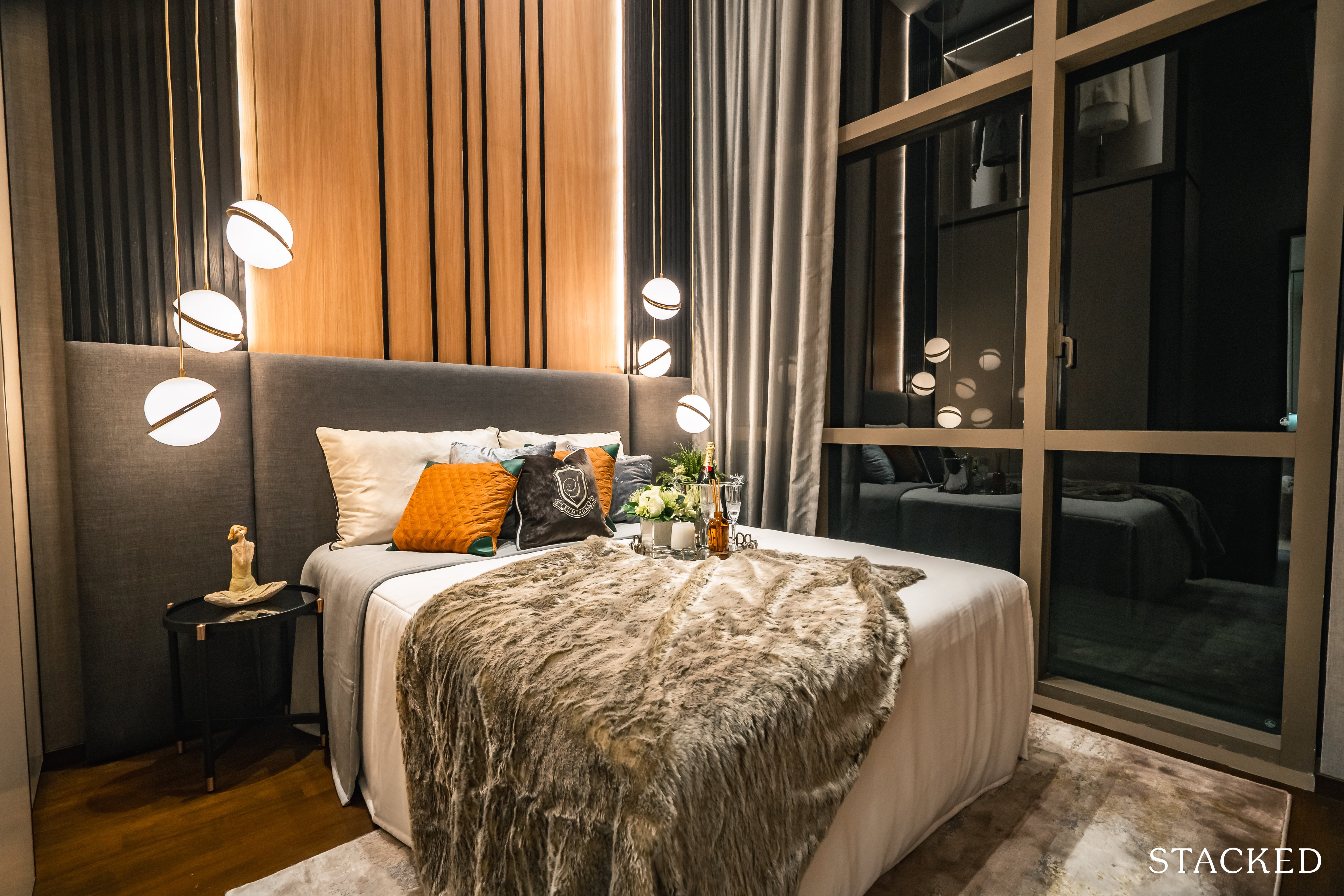 The master bedroom is not the biggest around but it will fit a Queen-sized bed easily, with space for 2 side tables.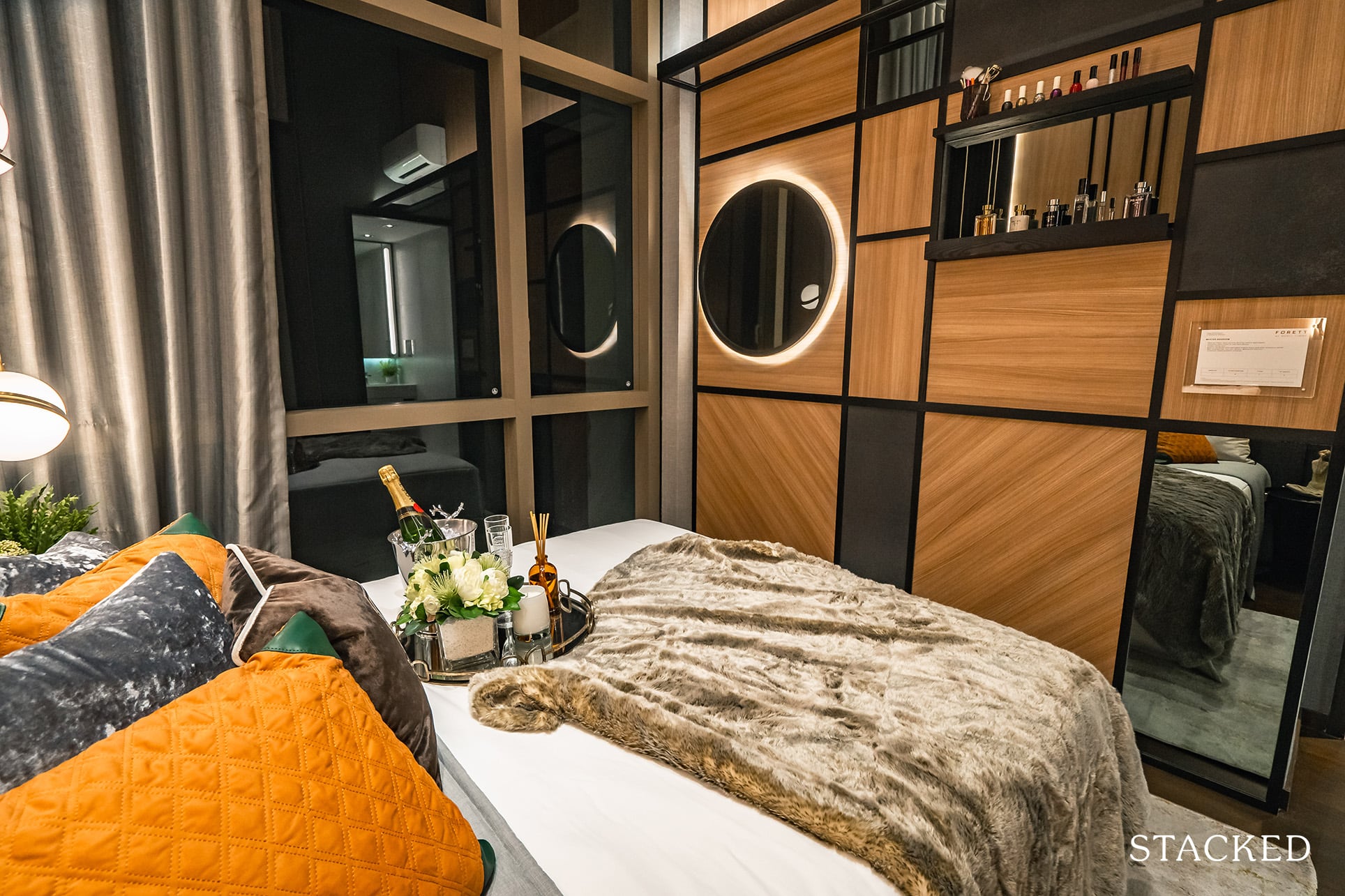 Other than the high ceiling (again 1st and 5th floor only) and floor to ceiling windows it is pretty much typical of what you'd expect to see today.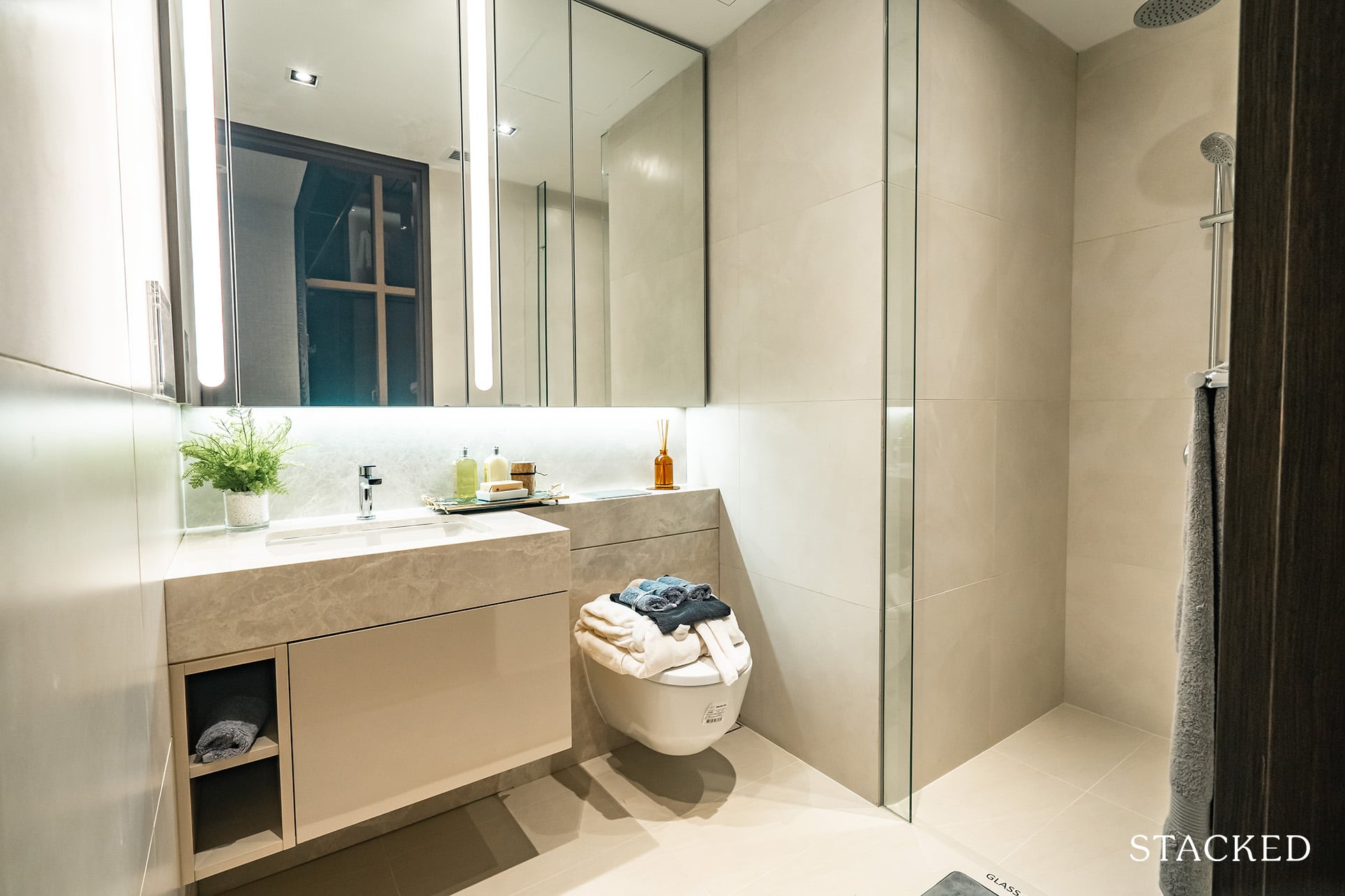 The attached master bathroom, just like the one we reviewed for Treasure at Tampines, can be best described as no-frills. It's a clean, neutral concept which I appreciate, whilst not compromising on the smaller details such as the wall-hung toilet bowl and rain shower. I wouldn't worry too much about their quality here as they will be from premium brands Laufen and Gessi.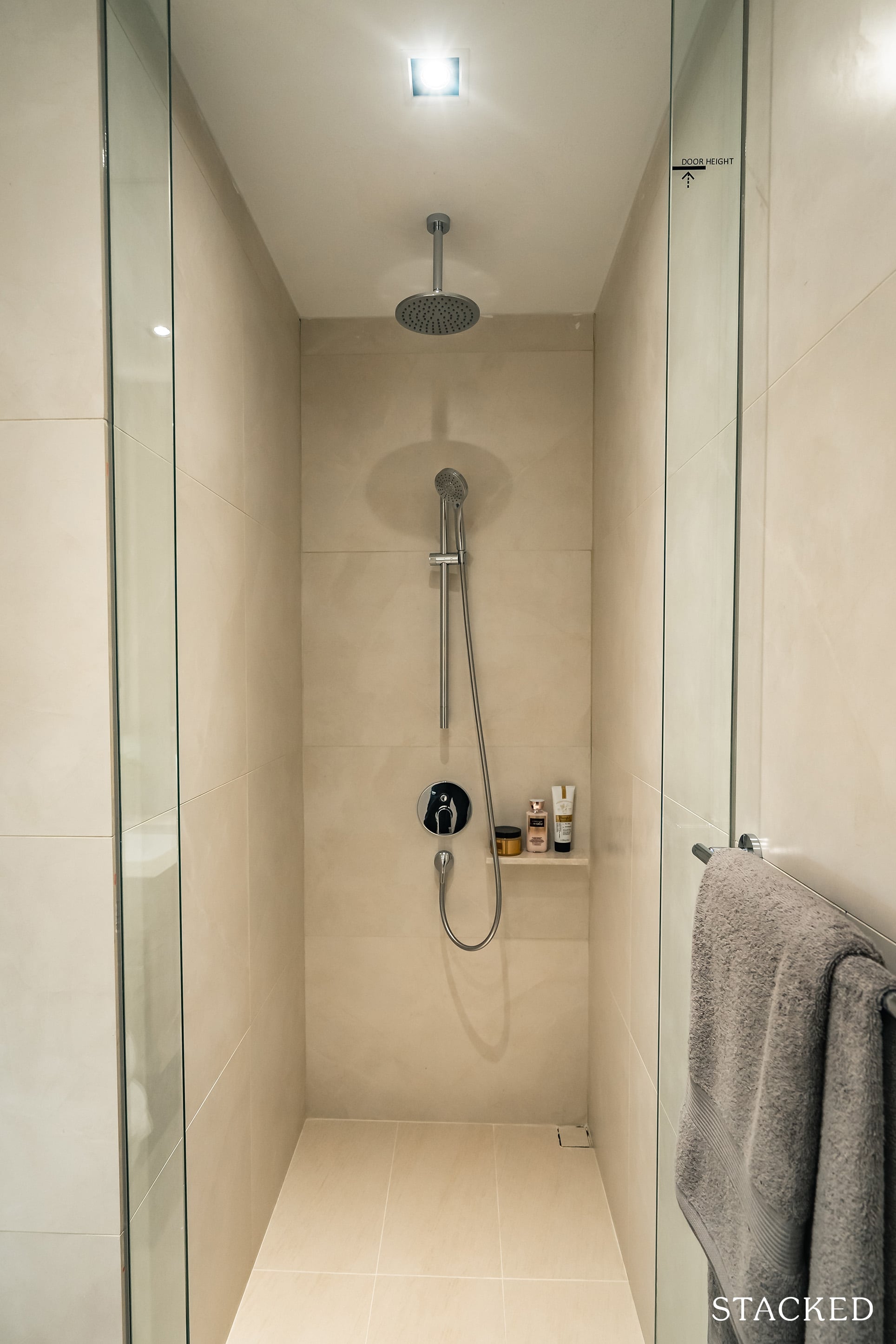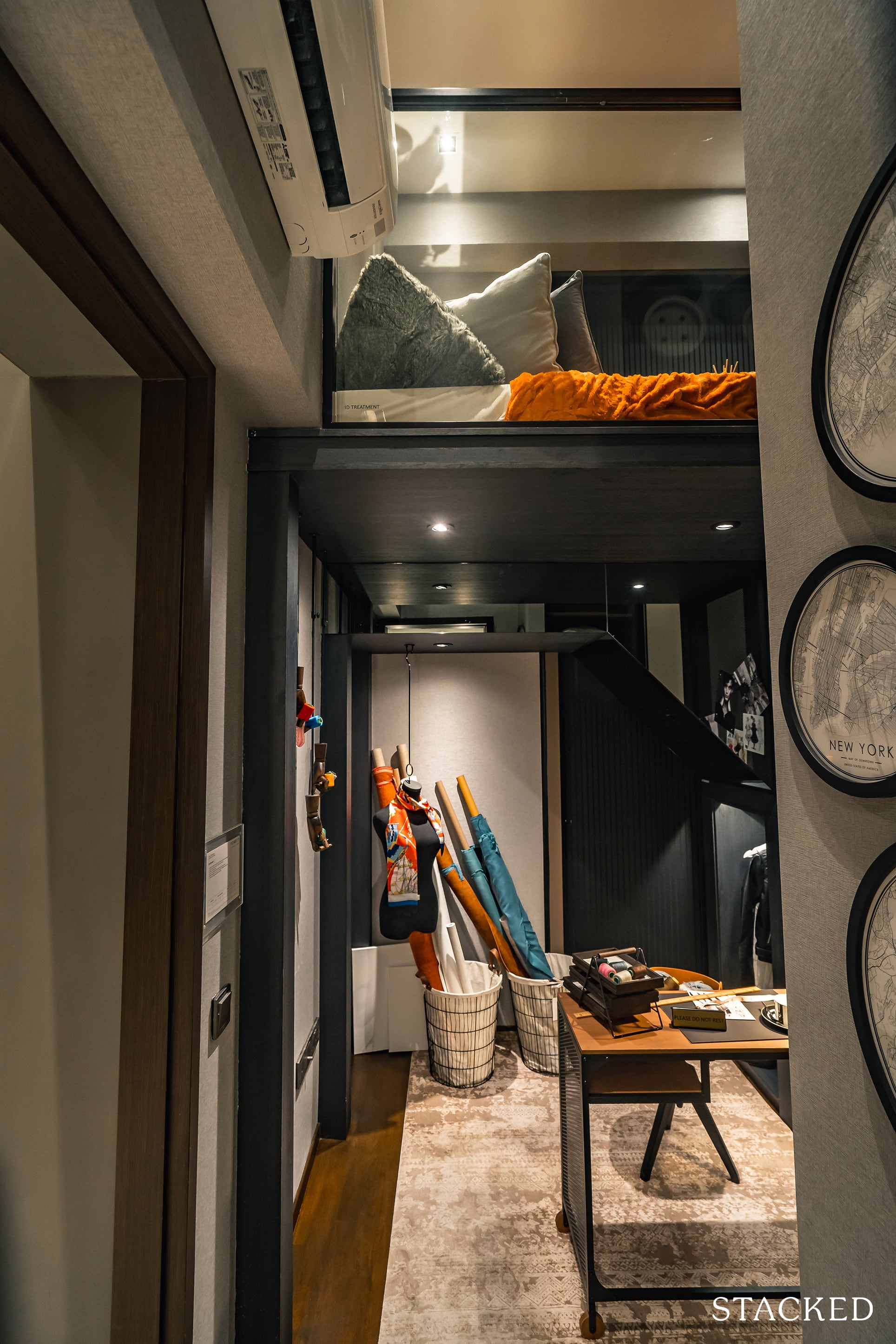 Coming to the common bedroom, the developer has constructed a furniture deck, which should comfortably fit a single bed, to showcase the possibilities of having a double volume ceiling. This is great as provides room for a small study just right below it.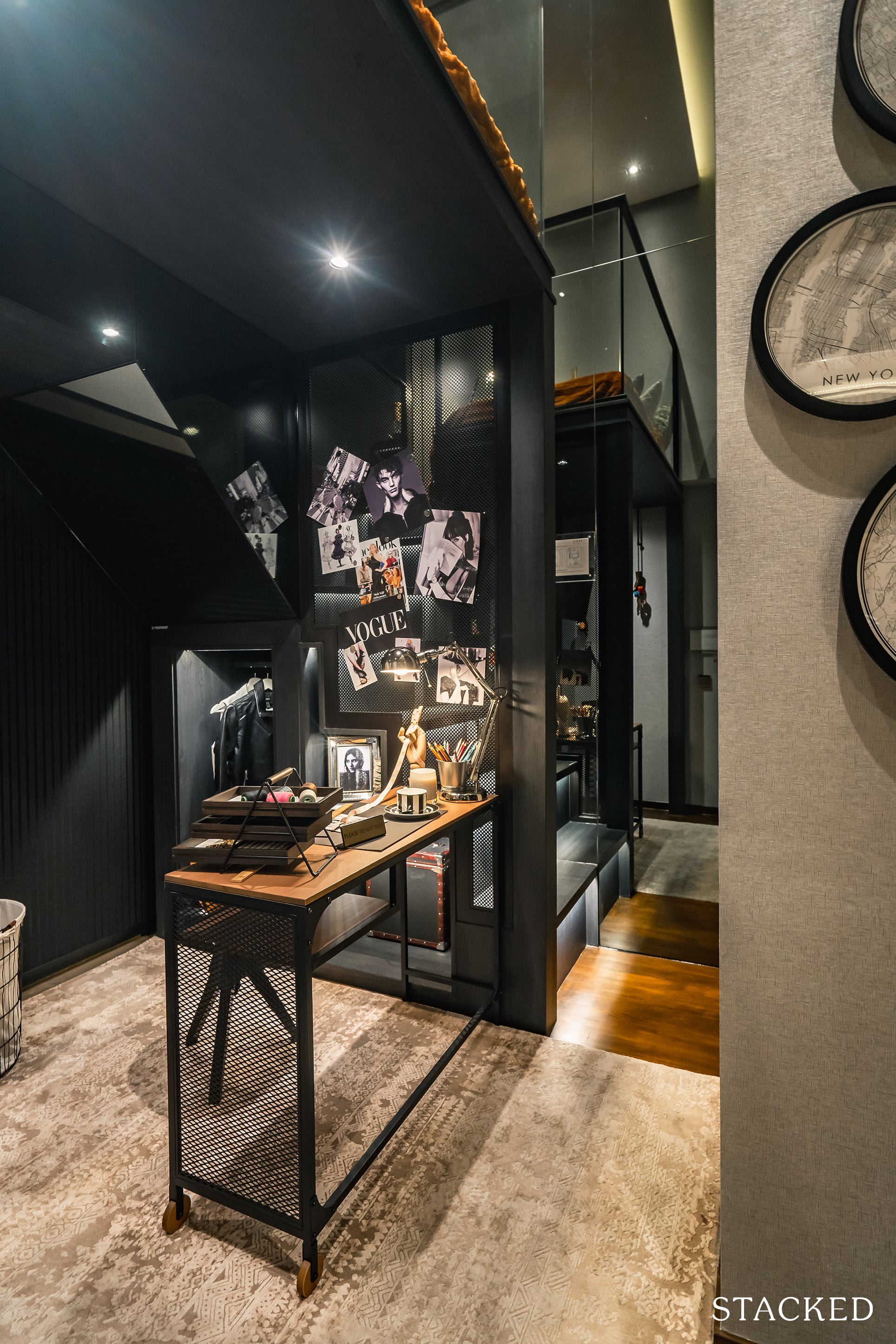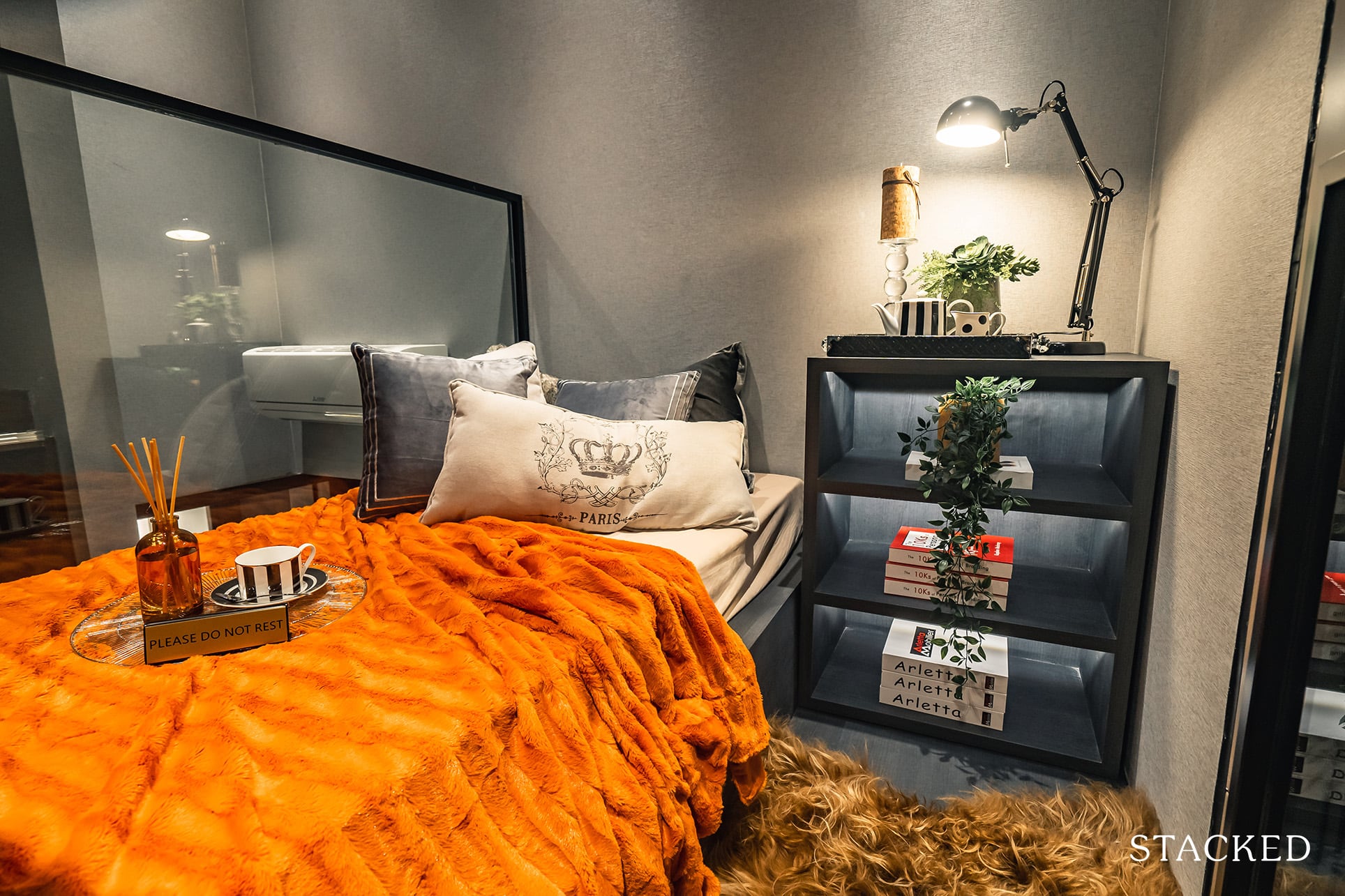 It's a cosy set up that's for sure. And unlike some of the loft bedrooms I've been to, the high ceiling here is definitely adequate enough to stand up in (for most people, save for the vertically blessed individuals).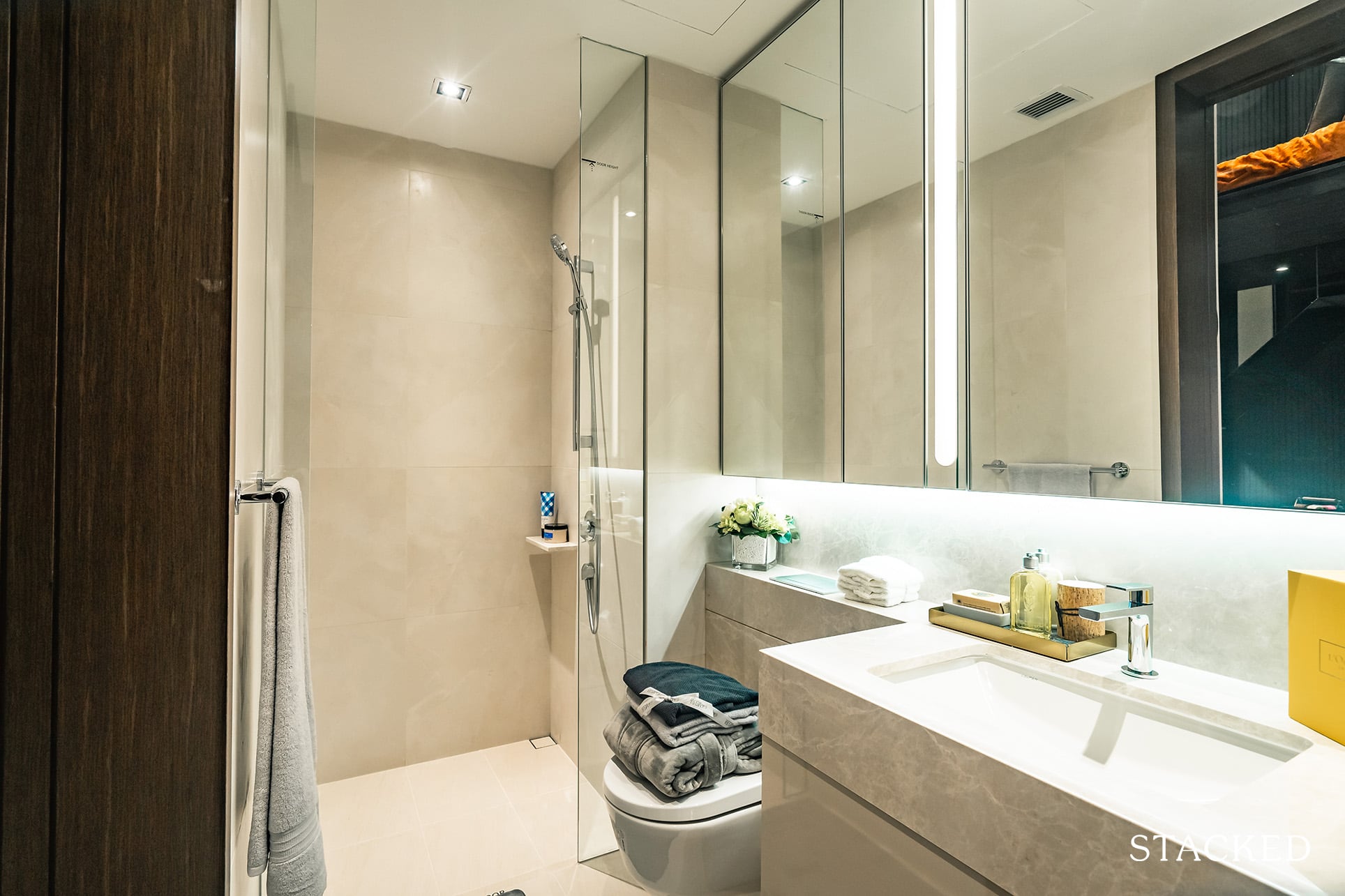 It was pretty thoughtful of Qingjian Perennial to have done a jack-and-jill concept with the common bathroom, as it effectively makes the room an ensuite when there are no visitors. No rain shower here, but it is equipped with the same brands as the master bathroom.
Read this next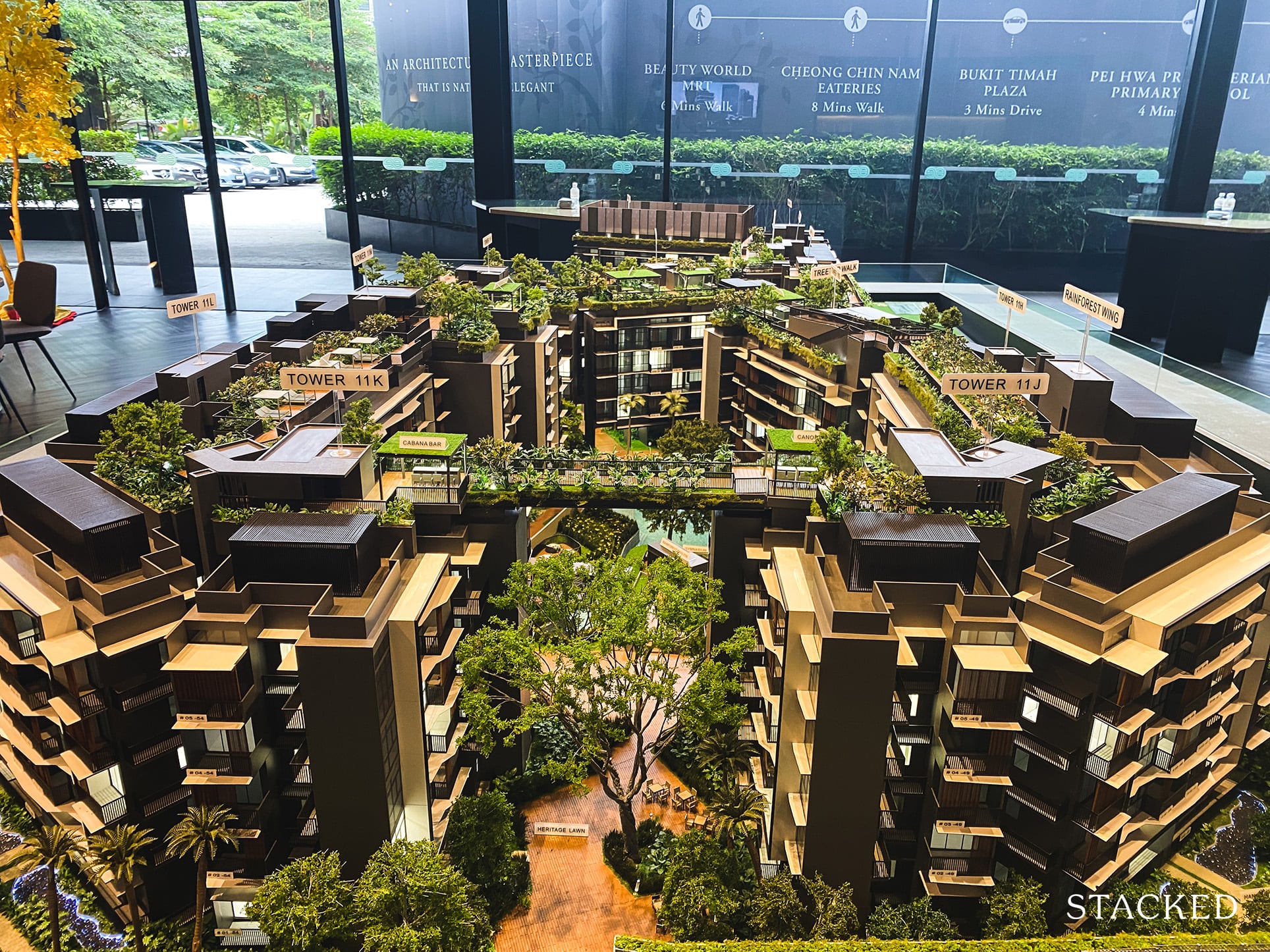 Forett at Bukit Timah 3 Bedroom Review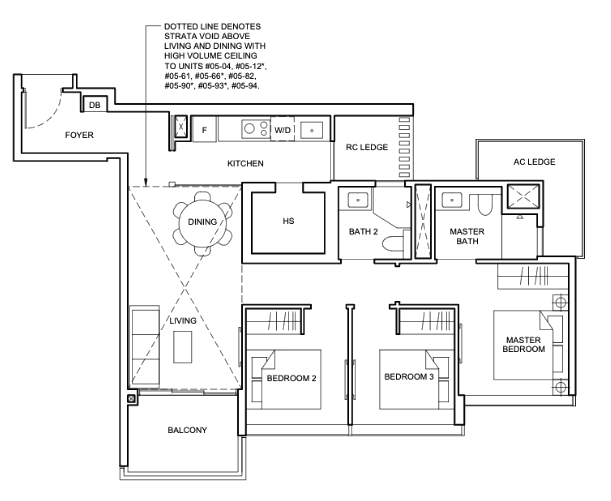 For starters, my views on this 3-bedroom 980 square feet layout is that it is.. uninspiring. In my earlier review of the 2 bedroom unit, you can tell where I stand on space wastage. Coming in under the 1,000 square feet mark for a 3 bedroom unit would need the space to be ultra-efficient – and unfortunately, if I had to view it from an efficiency standpoint, it misses the mark in a few areas.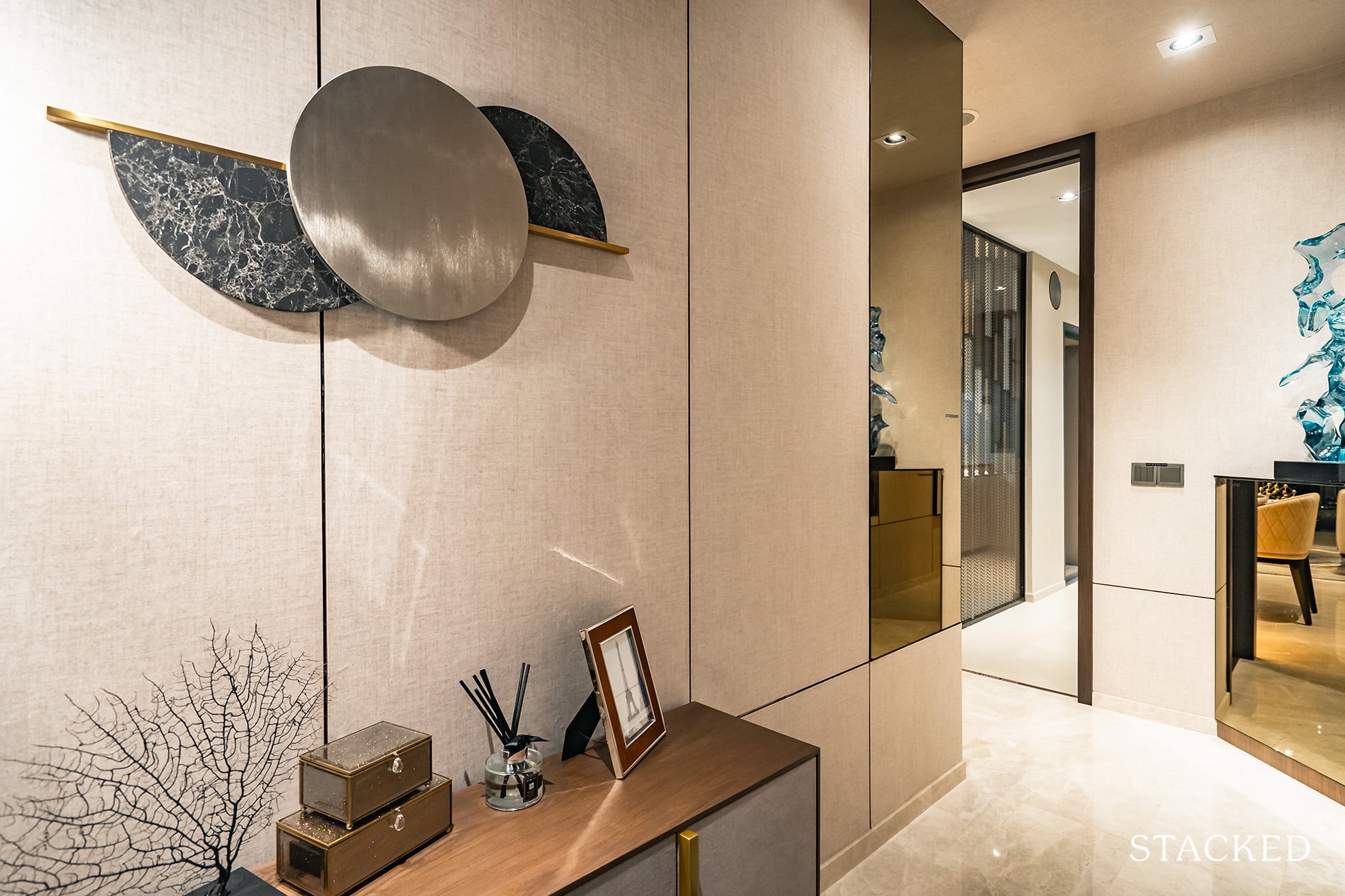 Coming into the unit will bring you to a relatively narrow and long foyer area. It's not terribly long and it does ensure that your neighbours will not be able to peer into your unit but I do find it a tad unnecessary. Of course, don't take my word for it. Come down to the showflat to have a feel for yourself.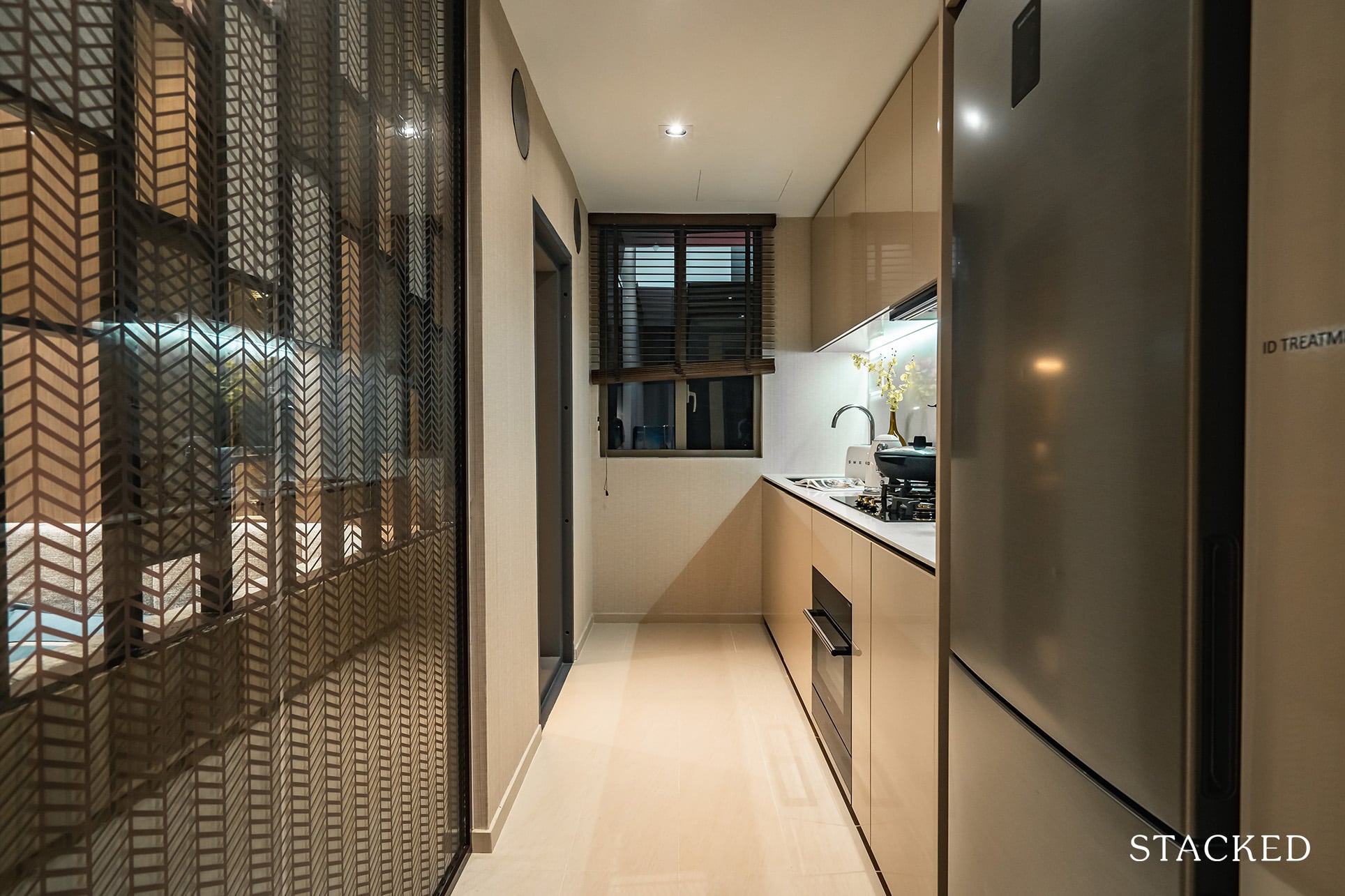 This also comes with an enclosed kitchen, which is expectedly larger compared to the 2 bedroom unit. There isn't a fantastic amount of worktop space available (given it is really only on one side), but I think this is sufficient for an average family.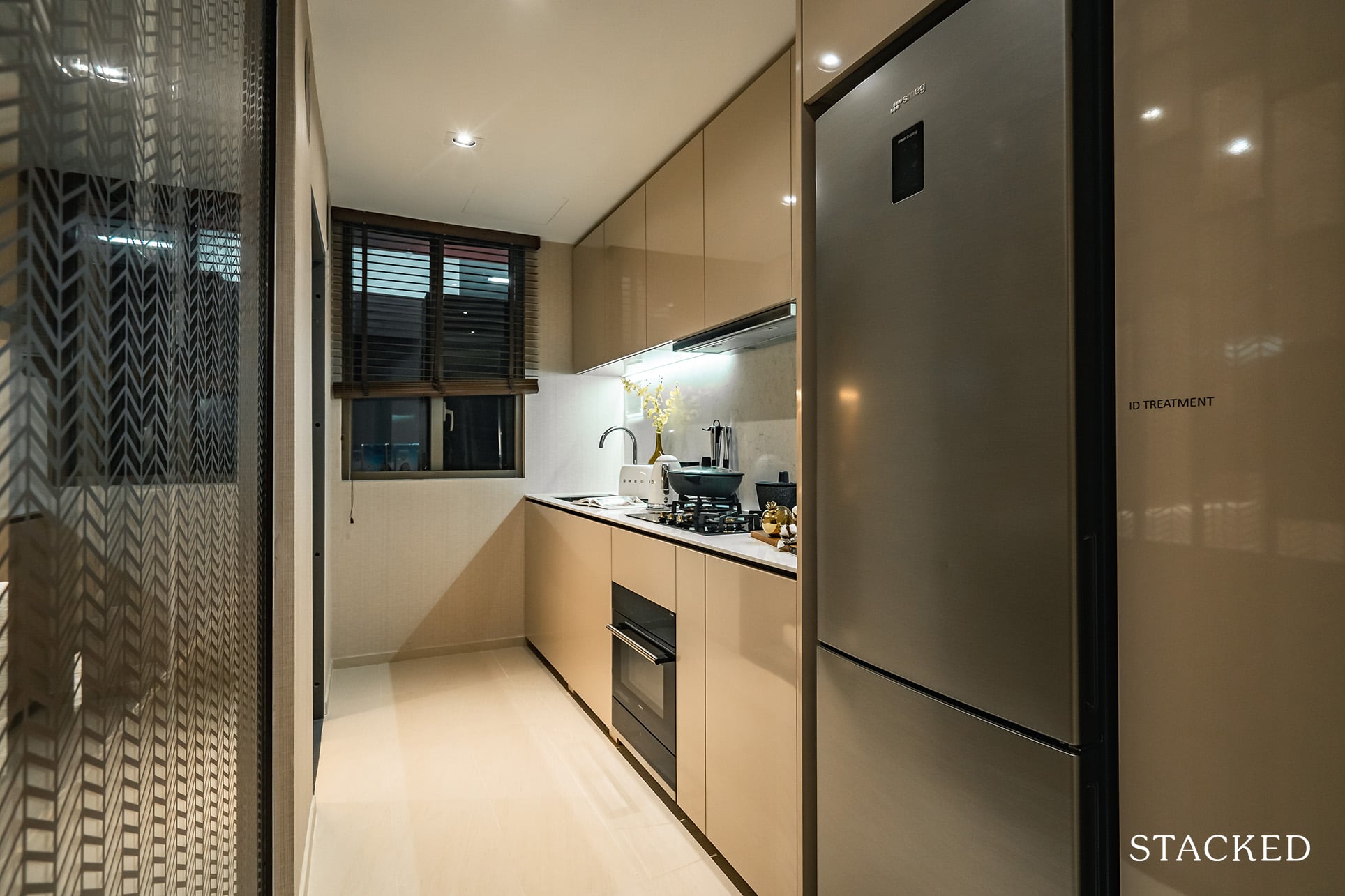 Kitchen appliances will be provided by Smeg. The bomb shelter can also be found inside the kitchen so no special attempts are required to conceal it. Of course, this will typically be used as your storeroom or helper's room. One shouldn't underestimate the importance of having a household shelter in your home though, given how small homes are these days. It's difficult to think of somewhere else to store your mop and buckets without getting in the way.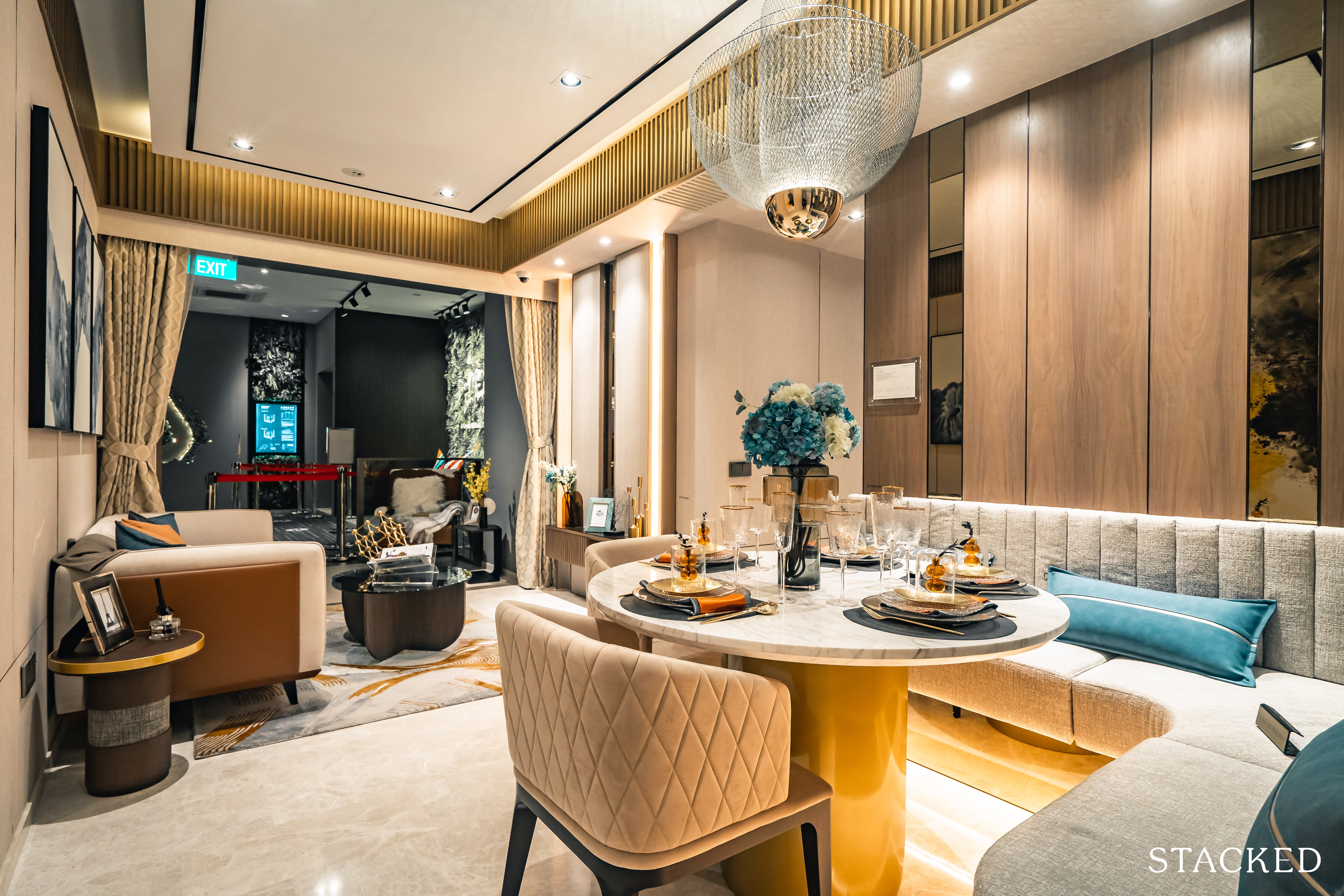 The living and dining areas are also quite typical of what you might find in a sub-1000 square feet unit – with no segregation between the living and dining room.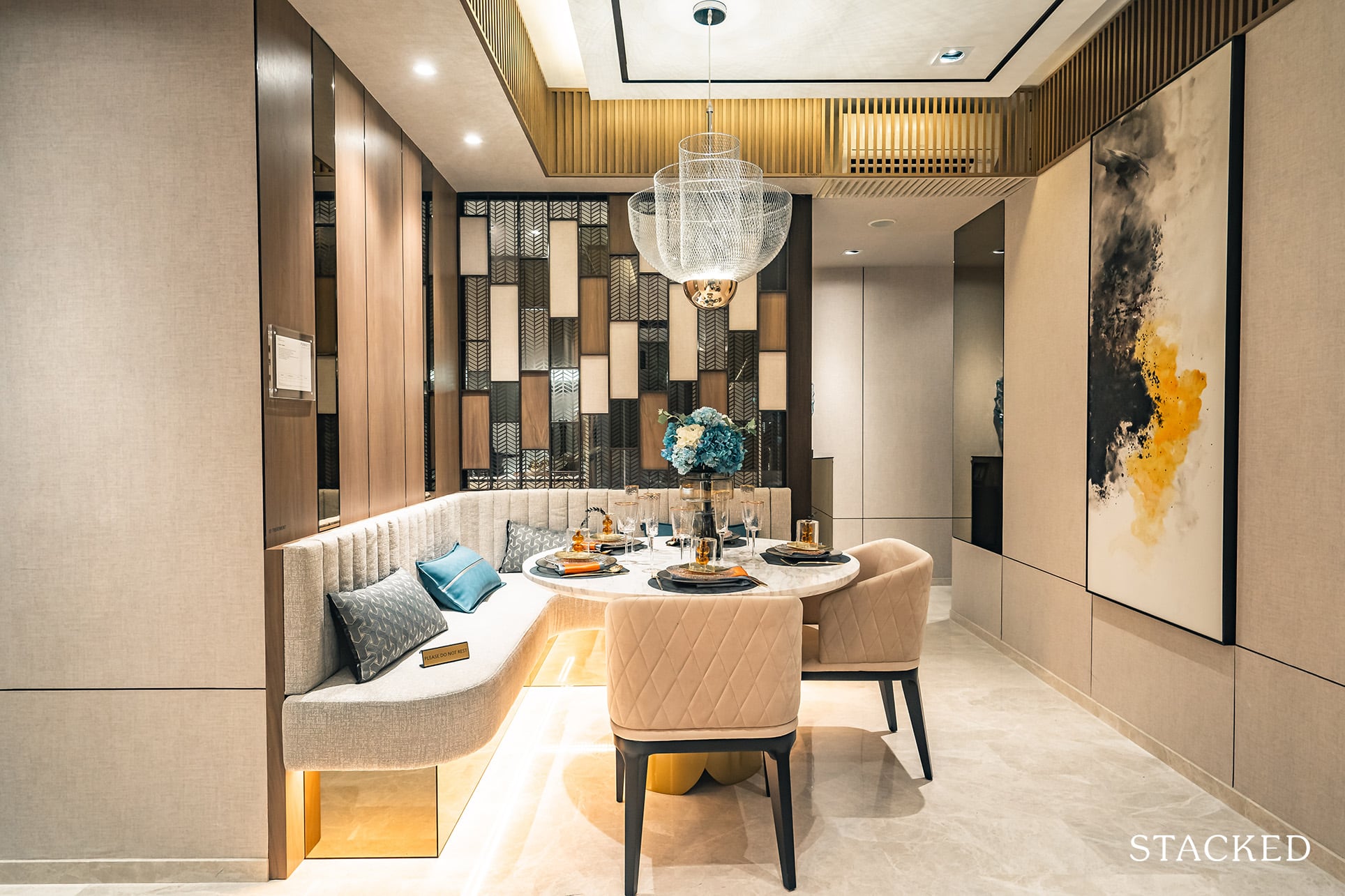 It faces a similar issue to the 2 bedroom unit earlier – a dining room that is leaning towards the smaller side. Of course, you would still need to choose your set carefully, bearing in mind that it may eat into your walkway if it's too imposing. This set up that you see here would probably be a good bet if maximising the space is your priority – although I know some people don't fancy the rigidness of bench seating.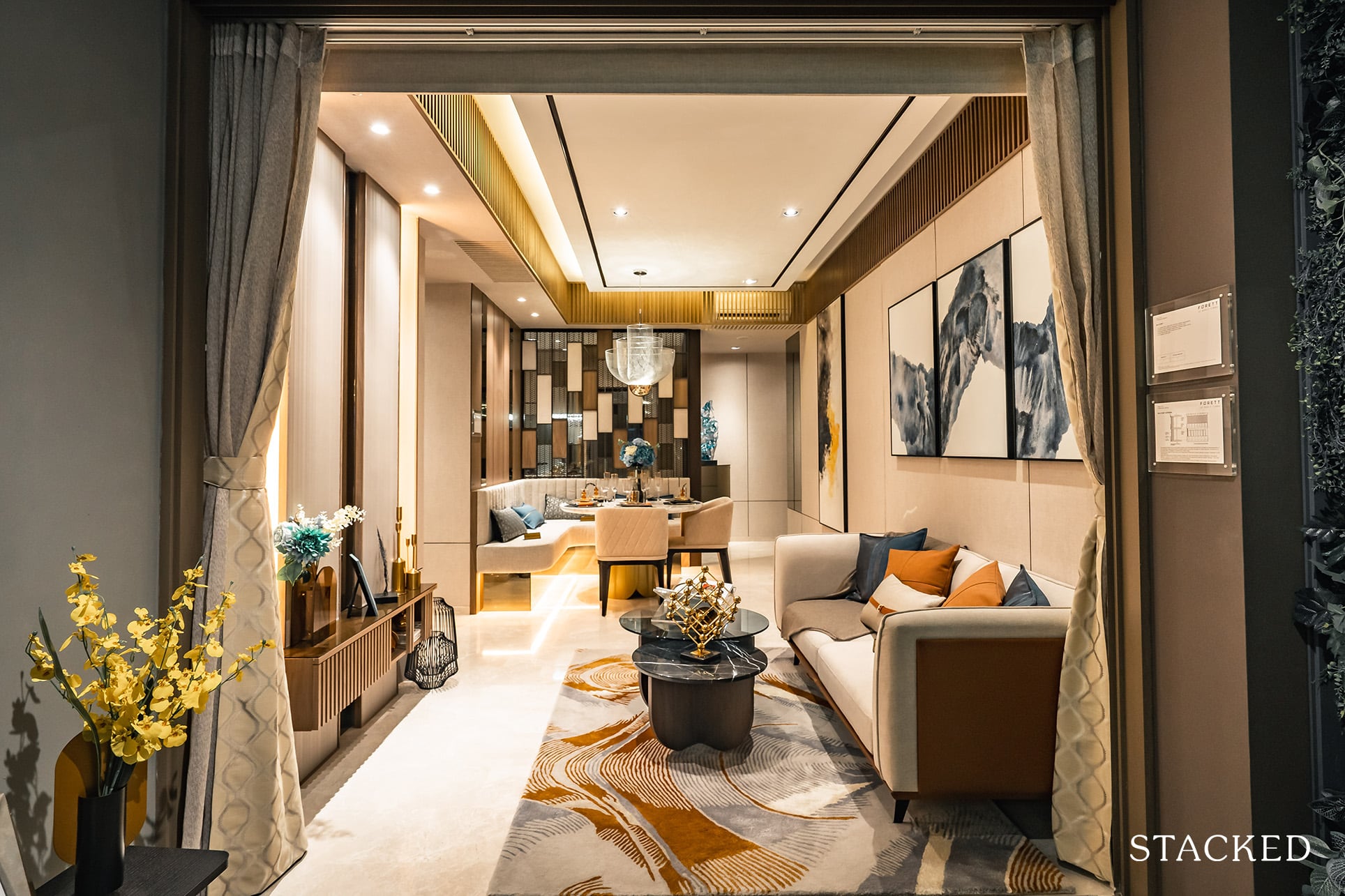 The distance from the couch to the proposed television set is just okay and should be sufficient for a 3-seater sofa.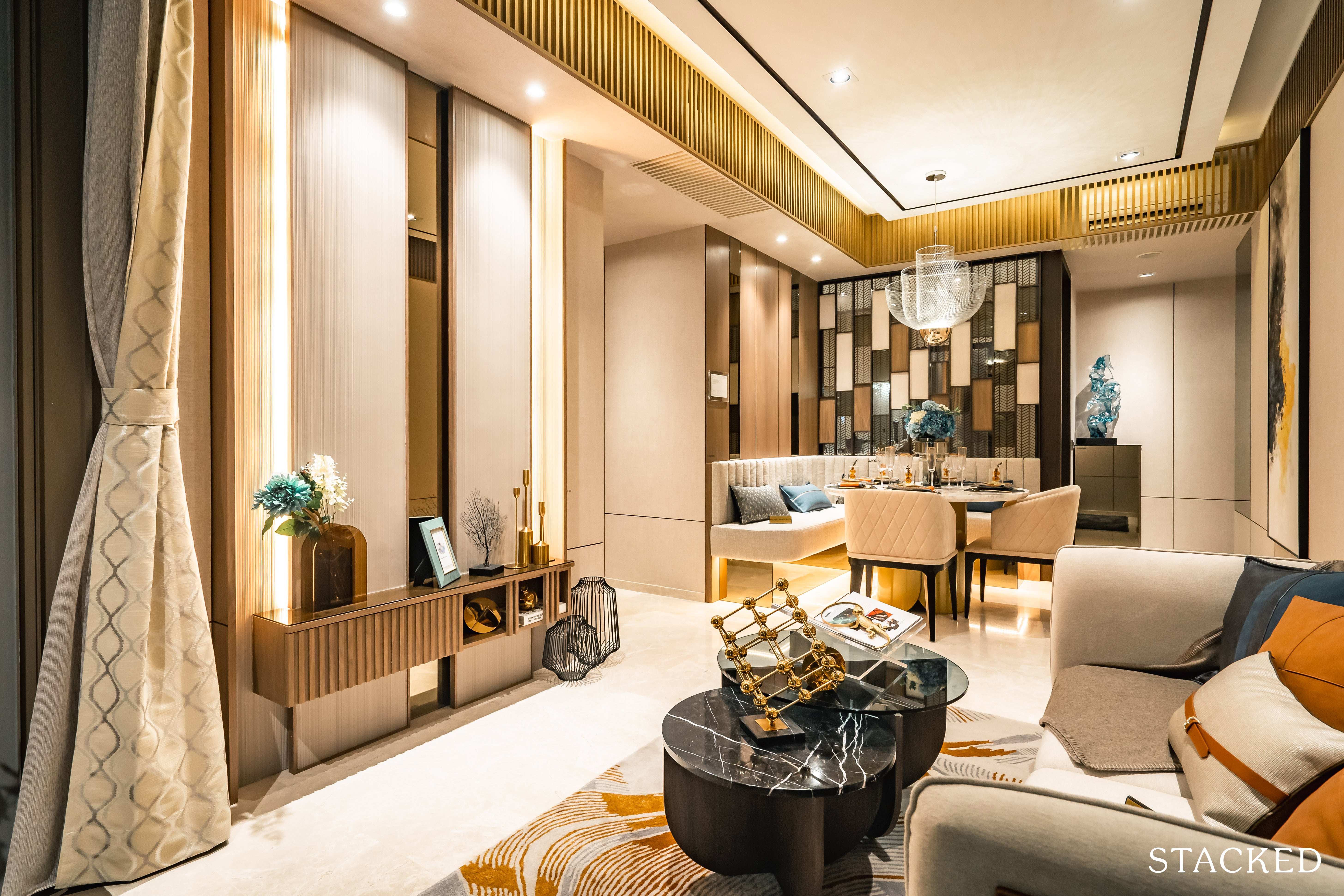 But that's really only if you are prepared to trim down your TV console. I think a better option here would be to frame your TV instead – thank goodness for ultra-flat svelte television sets today.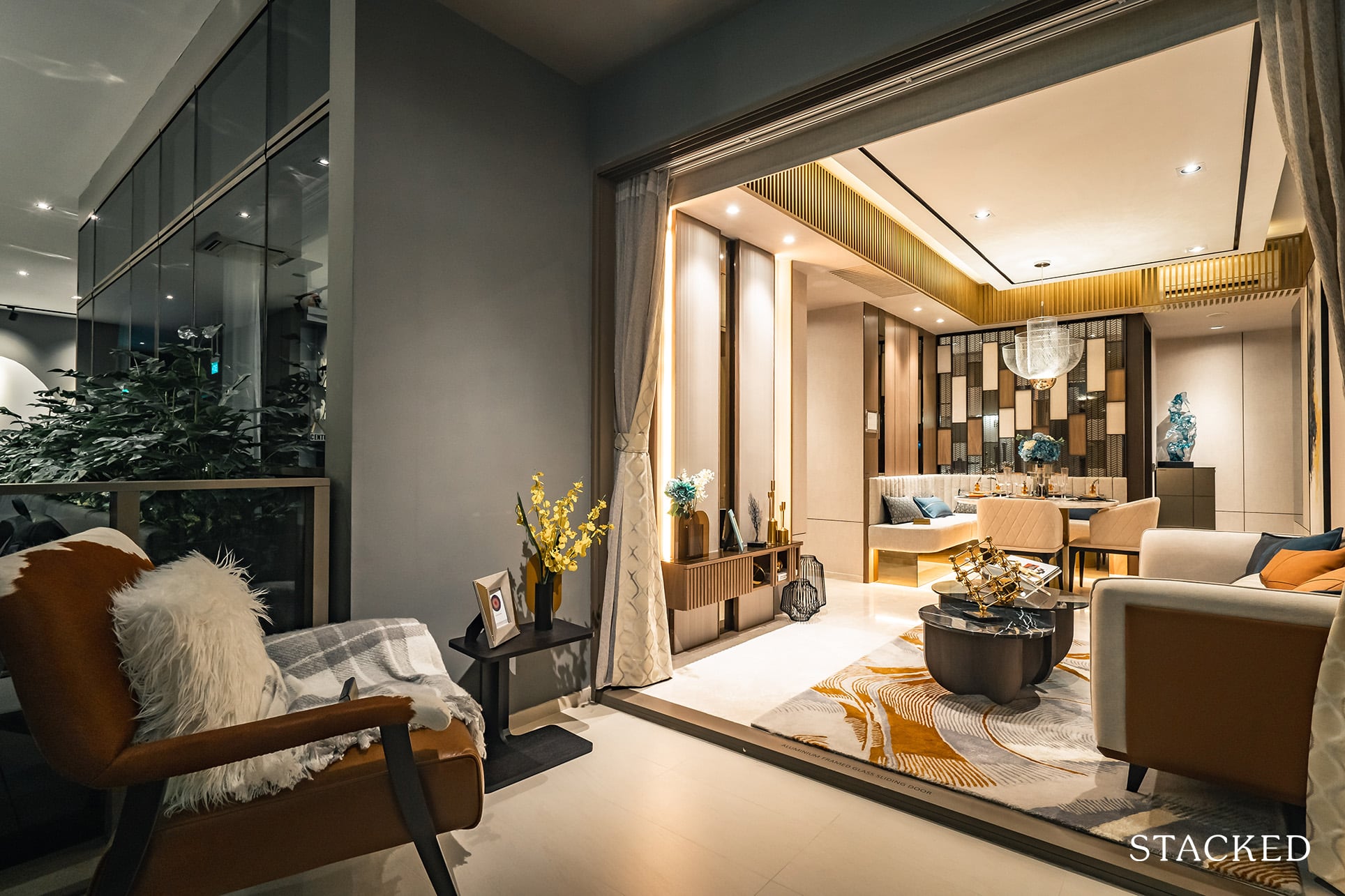 The balcony here is small, so it takes up less of the total usable area of the unit – which is a good thing given the already overall smaller size of this 3 bedroom unit.
Both common bedrooms are regularly shaped and should fit a queen-sized bed (which would be tight), a single with a small study table is much more preferable.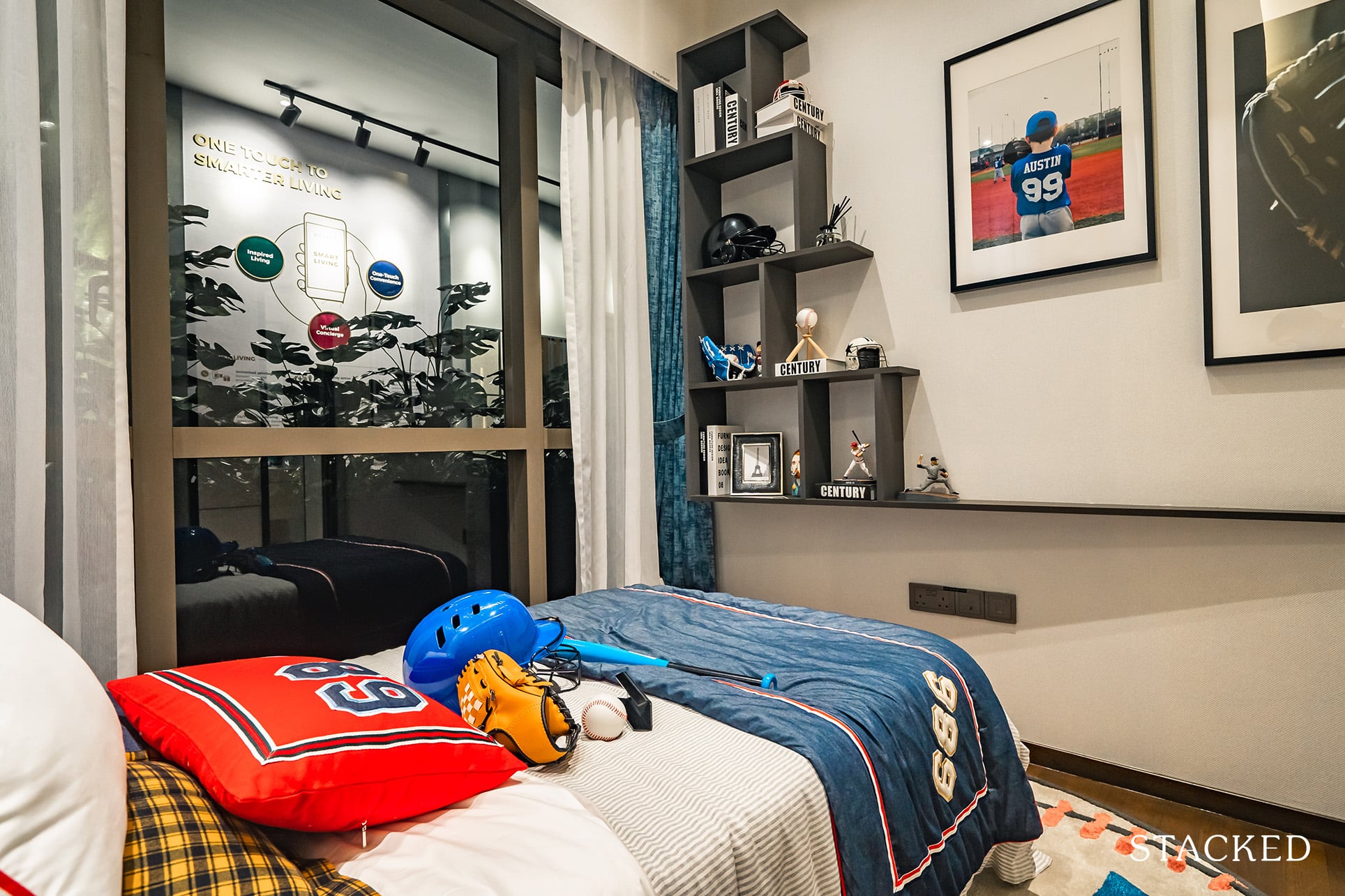 Thanks to their good planning for the air-con ledge, all bedrooms will have floor to ceiling windows. Although it must be said that the aircon ledge in this unit is a pretty substantial one that wraps around the master bathroom instead.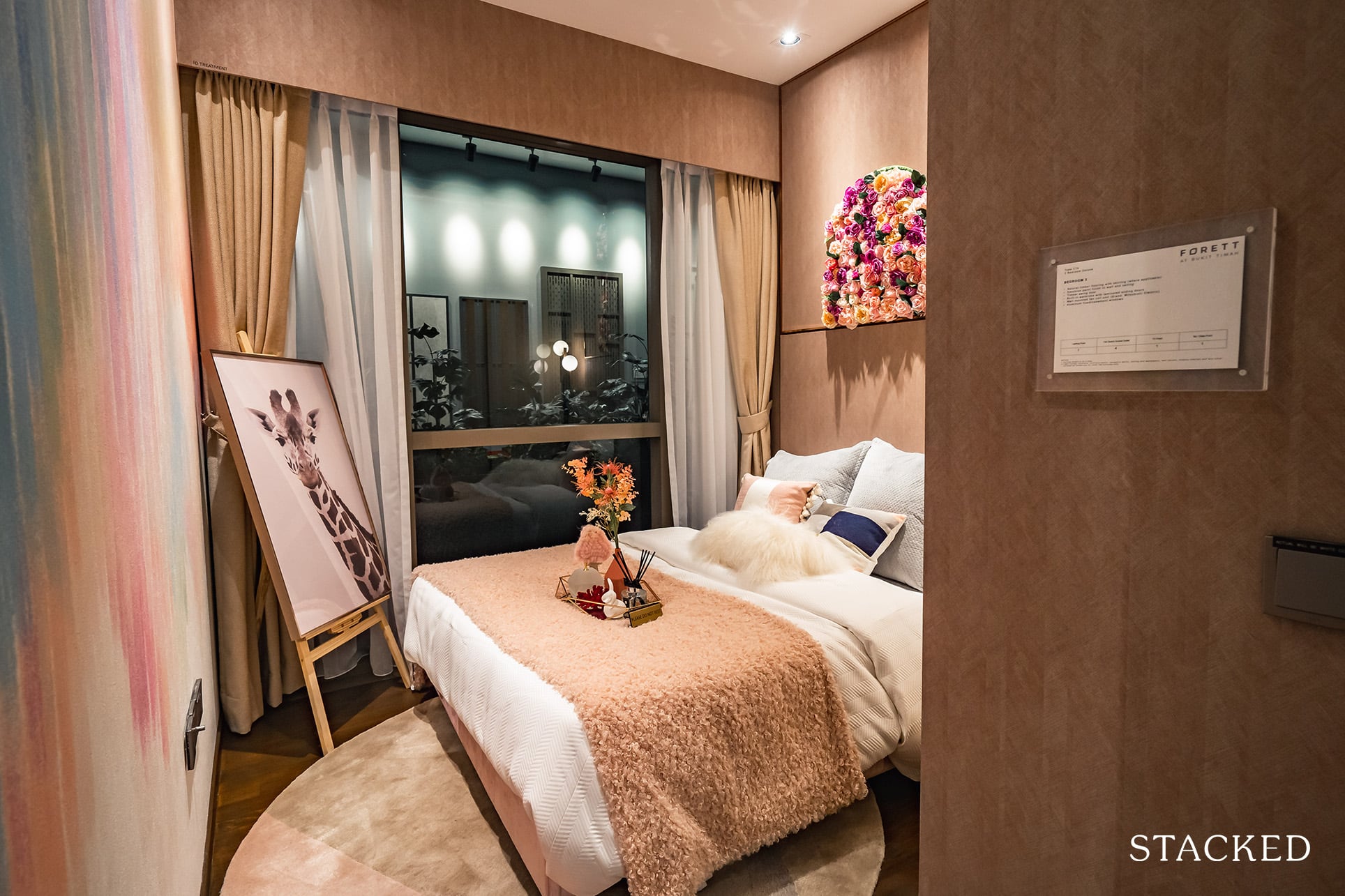 The second common bedroom is of the exact same size, with the same storage constraints as well.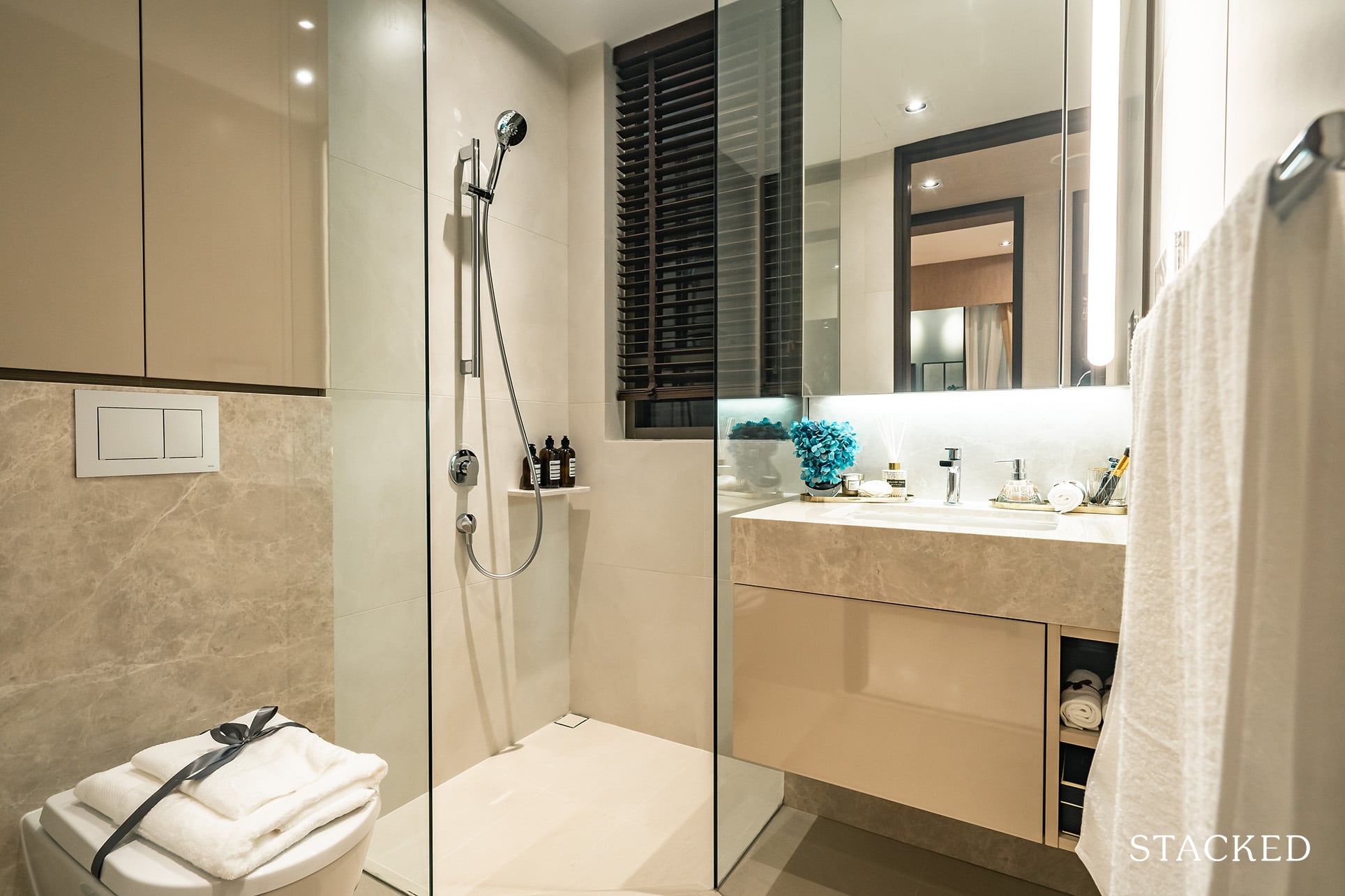 Since a few years back, bathrooms have all had to comply with strict regulations to ensure that they are wheelchair friendly, from the width of doors to the accessibility to the shower. This has helped to ensure that even the common bathrooms are all comfortably sized and don't feel too cramped. Whilst expected of a development of this price range, I do also appreciate the small touch of having a wall-hung toilet bowl provided, which always gives off that more premium feel. Bathroom fittings will come from established brands such as Laufen and Gessi.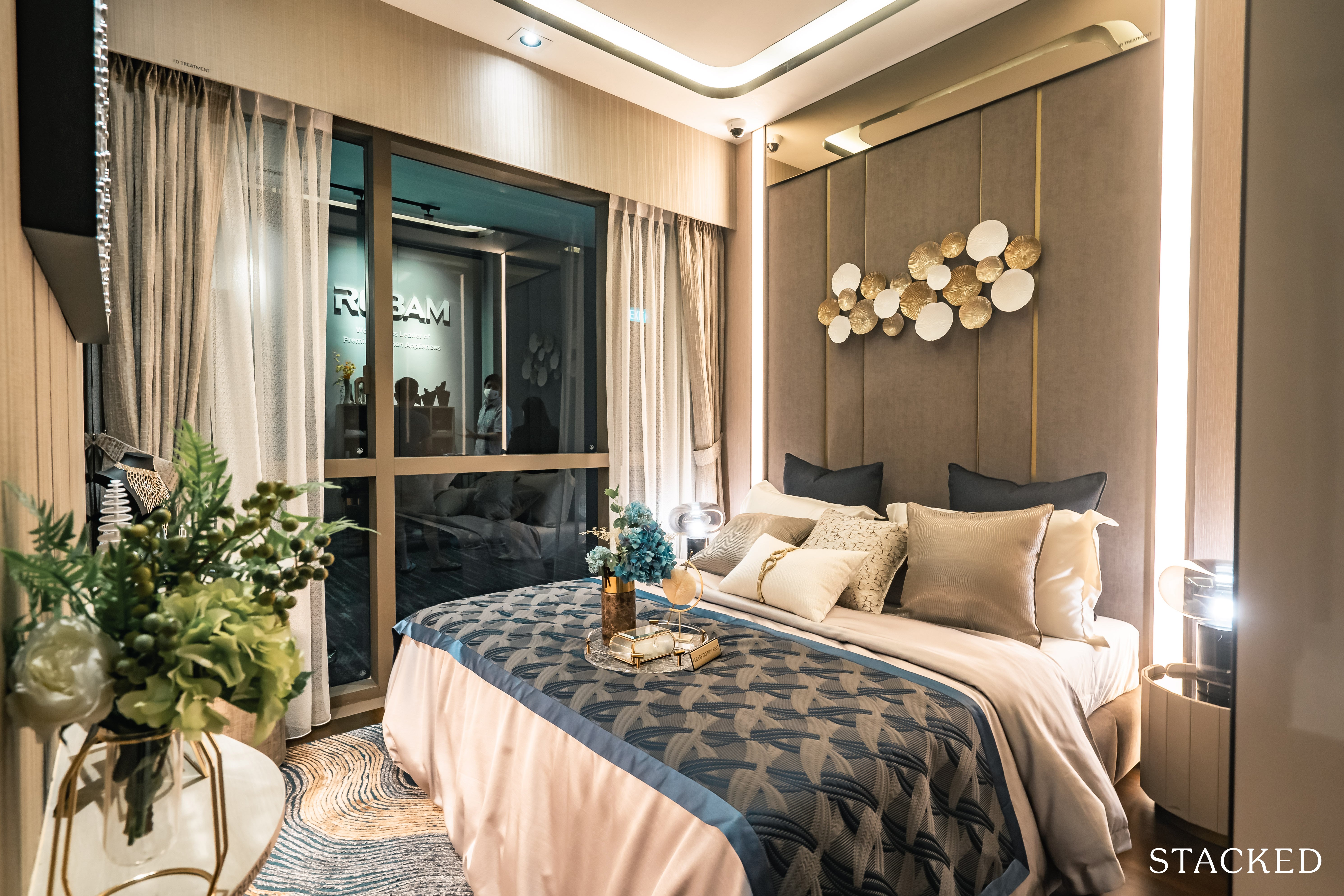 The master bedroom is decently sized but nothing to marvel about. It will fit your king-sized bed, but frankly, you won't have much space to do anything else thereafter.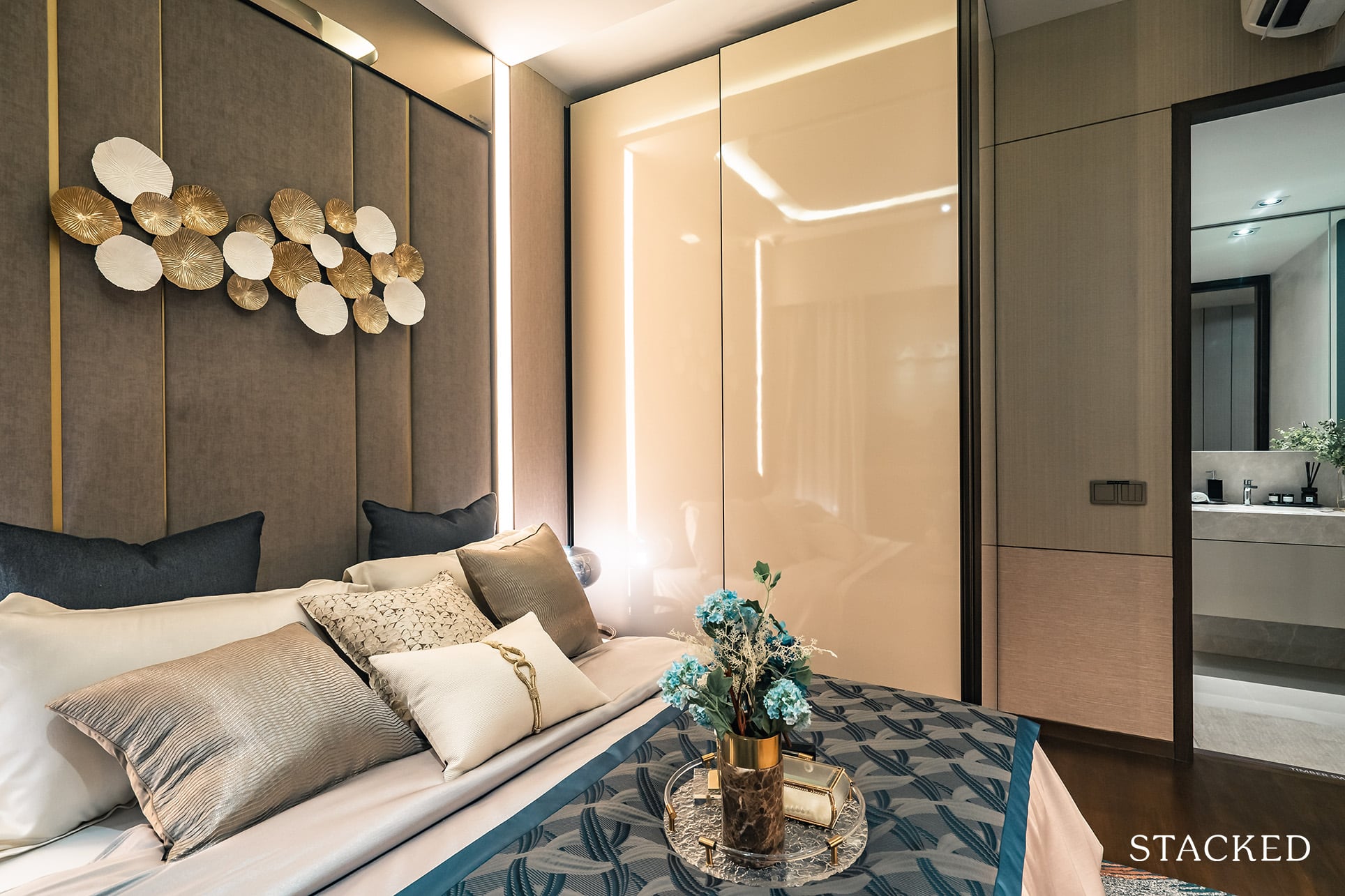 Wardrobe space is marginally larger than those found in the common bedrooms so vying for wardrobe real estate might be something you have to contend with. Again, this is a typical issue in all the new launches – even the luxury ones.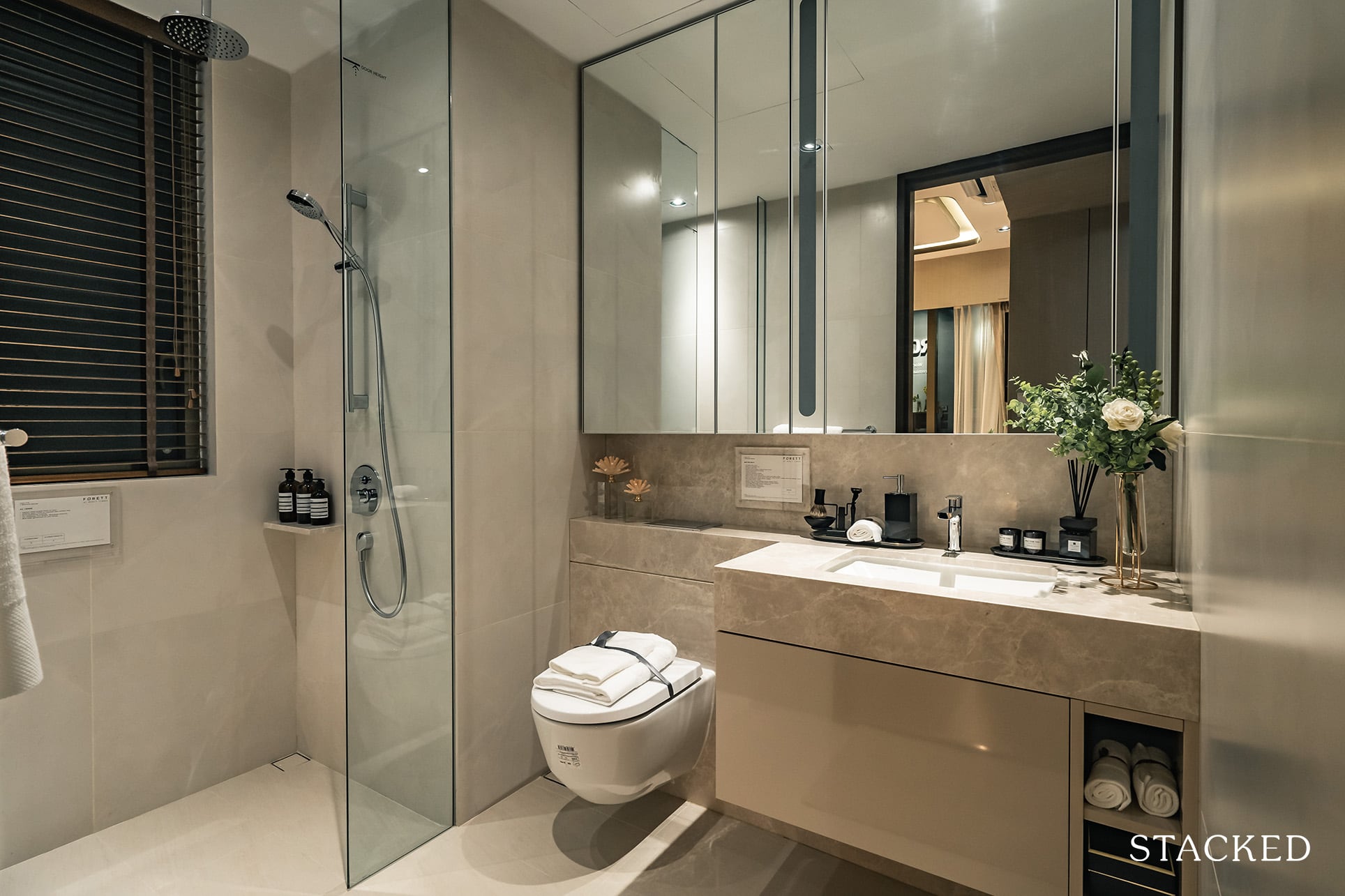 The attached master bathroom is larger compared to the common bathroom but besides that, the only differentiating factor between the two would be the presence of a rain shower in the master bathroom.
Forett at Bukit Timah 4 Bedroom Review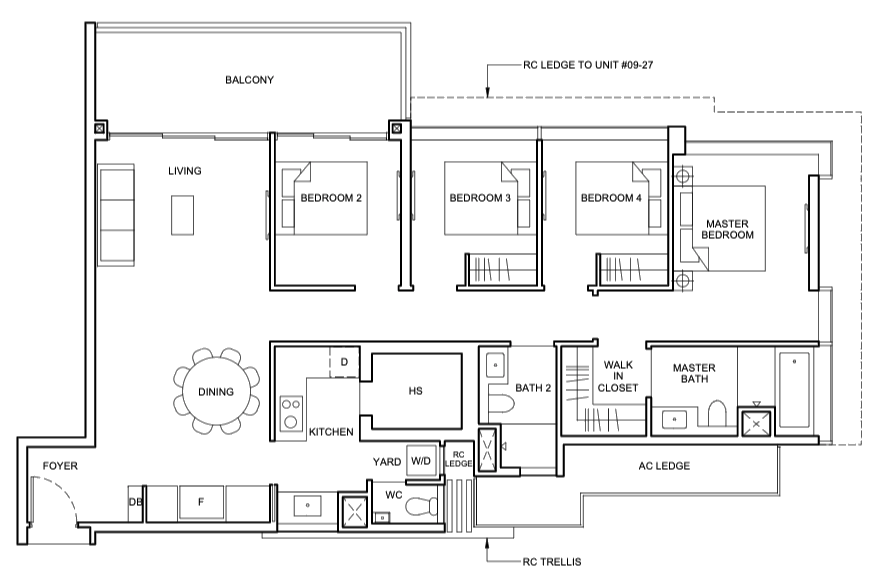 At a total size of 1,442 square feet, the 4 bedroom unit at the Forett fares quite well in terms of size. I would have preferred for one of the bedrooms to be on the opposite side of the living instead, which allows for more privacy and flexibility.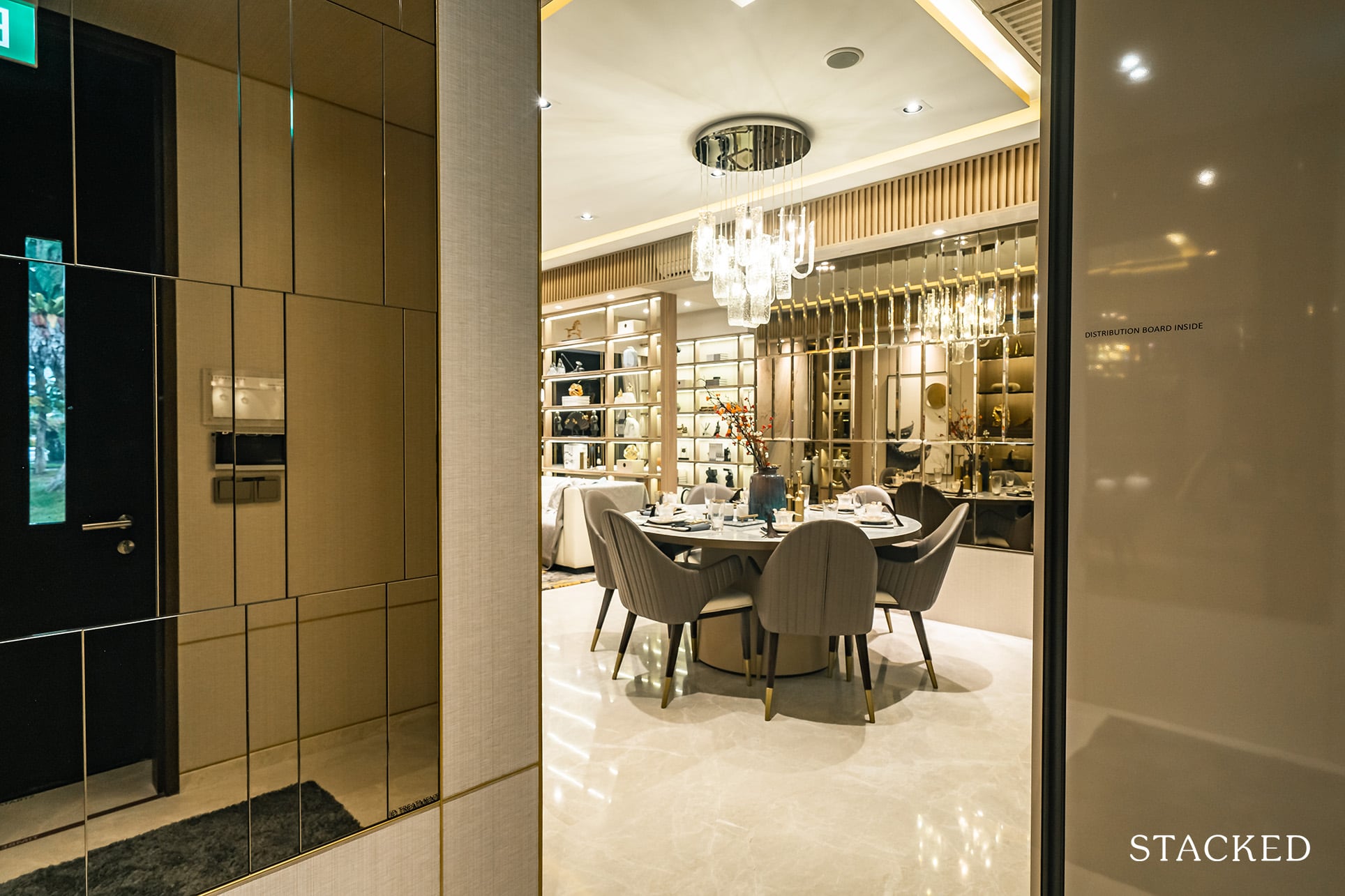 Now, you have heard my gripe about the wasted foyer space in the 3 bedroom unit and my compliments about the absence of one in the 2 bedroom unit. So I'm glad to say that I think the 4 bedroom show unit here strikes a good balance between the 2. It has a small L-shaped foyer area, which is ideal for displaying a standout art piece before it leads you to the unit itself.
Plus at this price range, I think it's important to have a certain degree of privacy so I think this foyer is spot-on.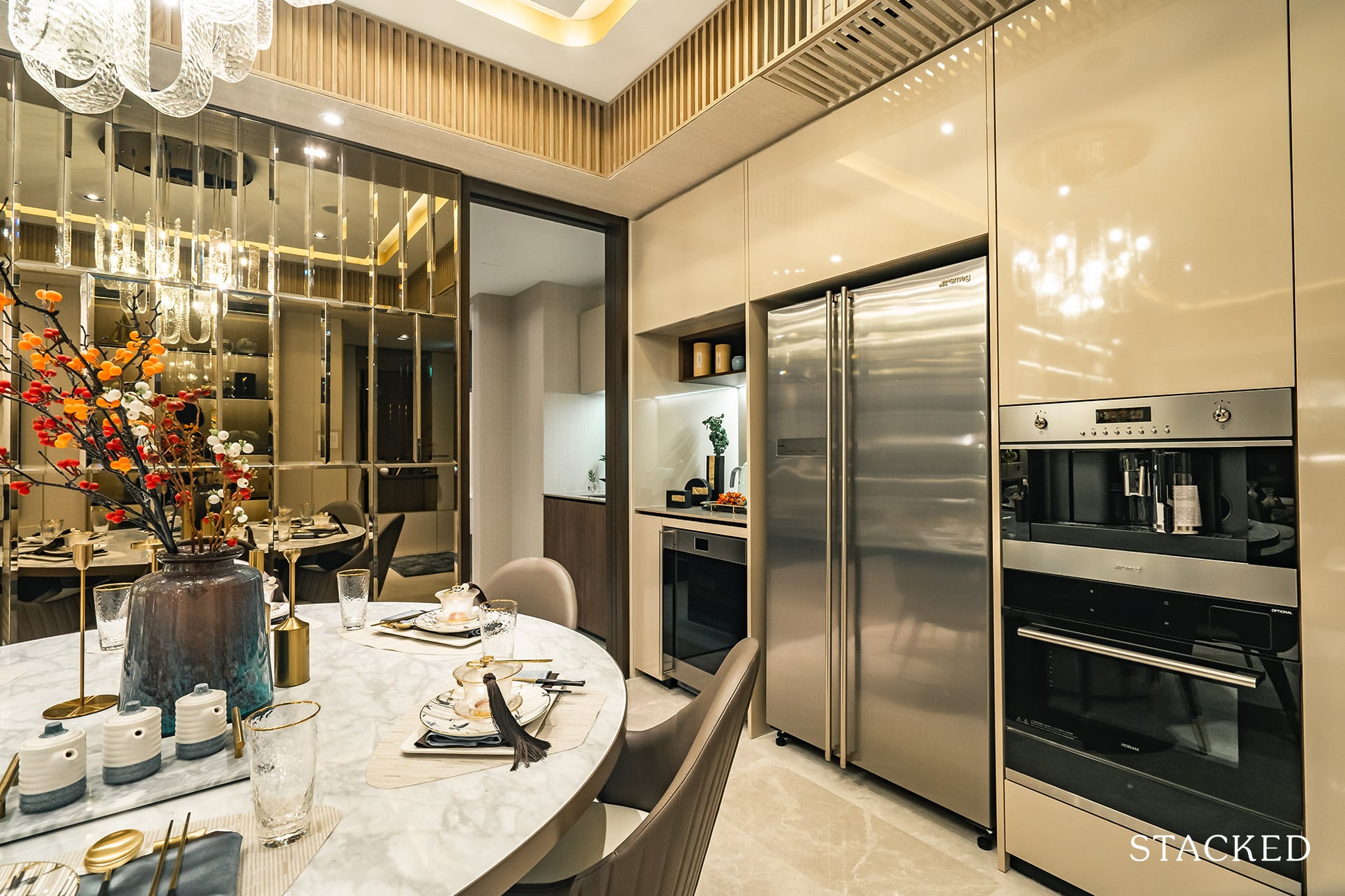 They have gone with placing some of the kitchen appliances such as the oven and fridge outside, which I have no qualms about. Although I do know of others who dislike the oven in the living as the smells would linger about in the living area. This unit comes with a 2-panel fridge and a wine chiller included, which is always a nice touch.
I also like the small countertop space in between, with sufficient room for a coffee maker that will provide you with your morning brew before work.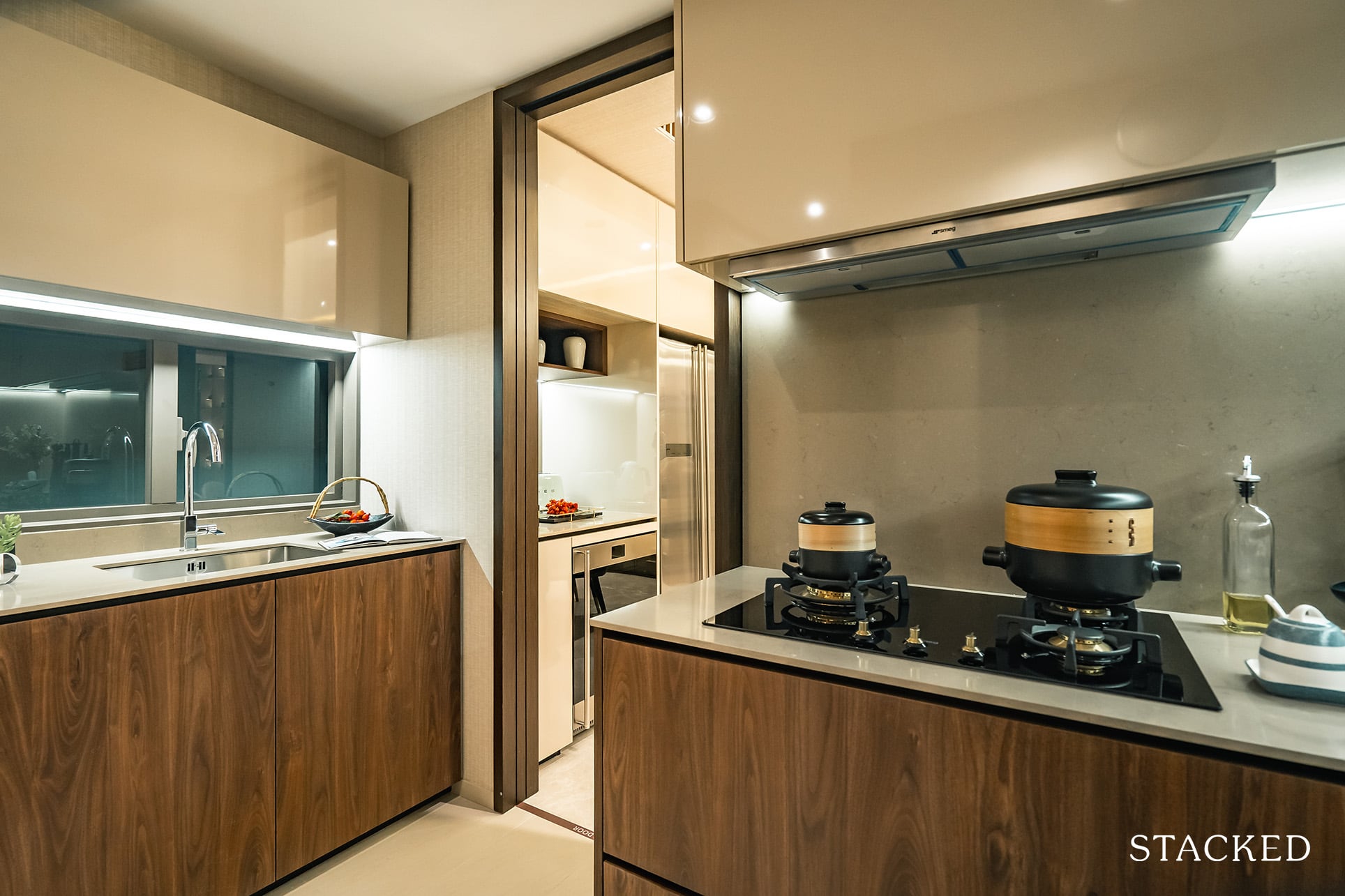 Buyers of the 4 bedroom units usually have larger families so I'm surprised that the wet kitchen itself is not the biggest of spaces. There isn't a lot of cabinets or countertop space to work with and I can imagine my grandmother being annoyed if I asked her to work with such a space.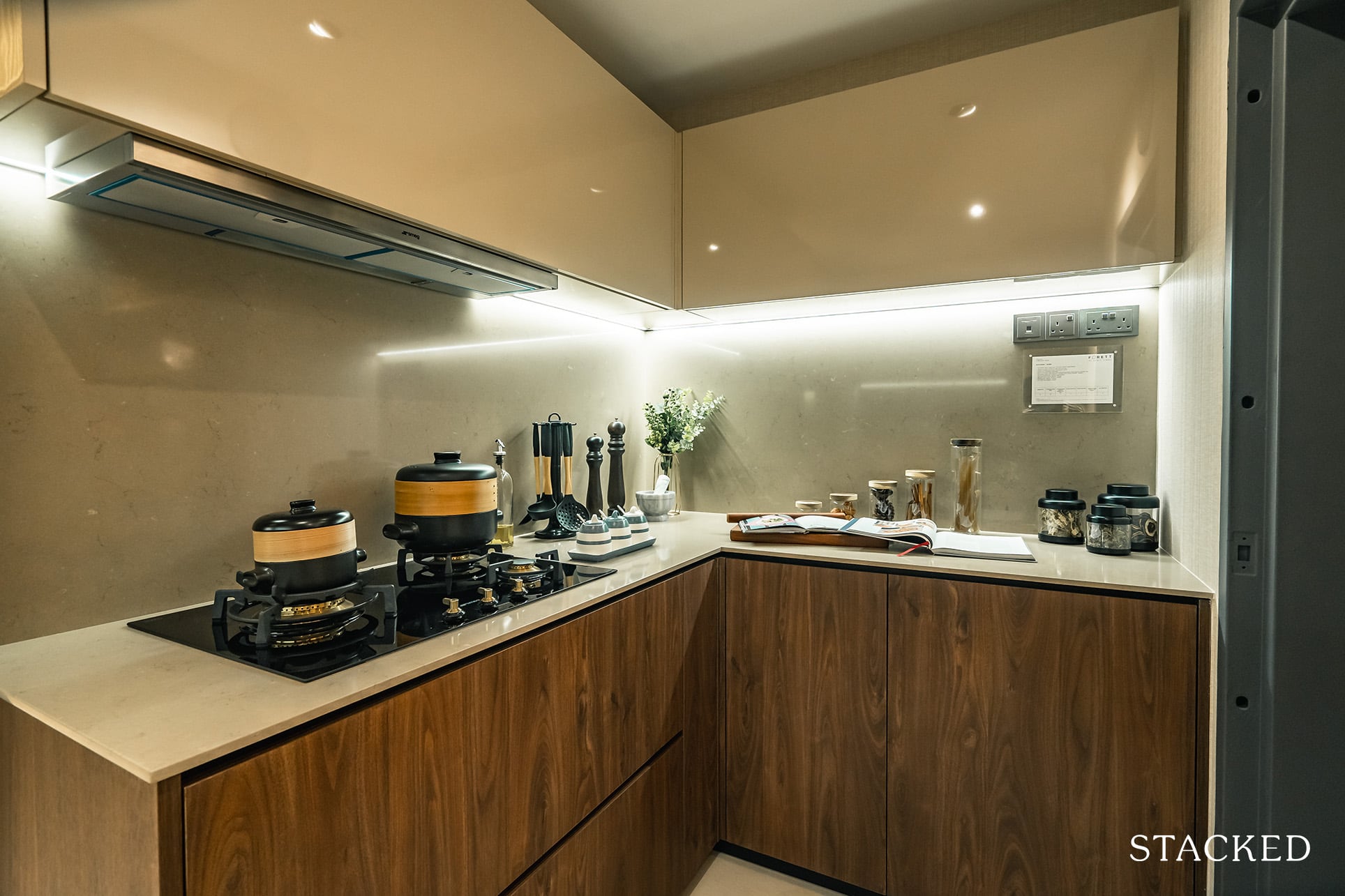 Nevertheless, have a closer look at the cabinets they used, and you will find that they make great use of the odd corners so that's a credit to the interior designers Ong & Ong.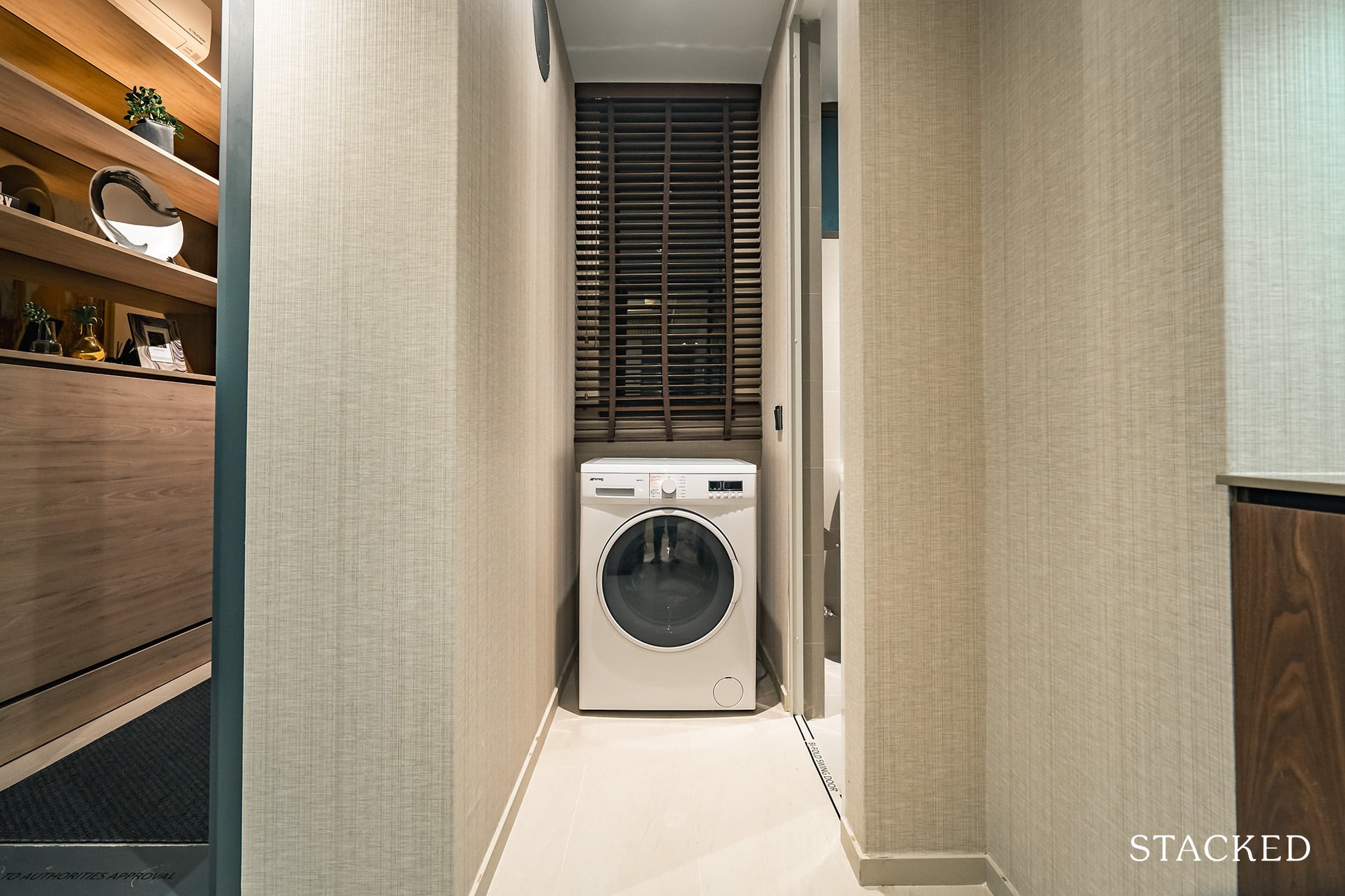 You will also find the home shelter, a yard and a w/c here. It's not the most ideal yard area that's for sure, its cramped and really only suitable for your washer/dryer – not a great situation to be in if you prefer to air dry your clothes.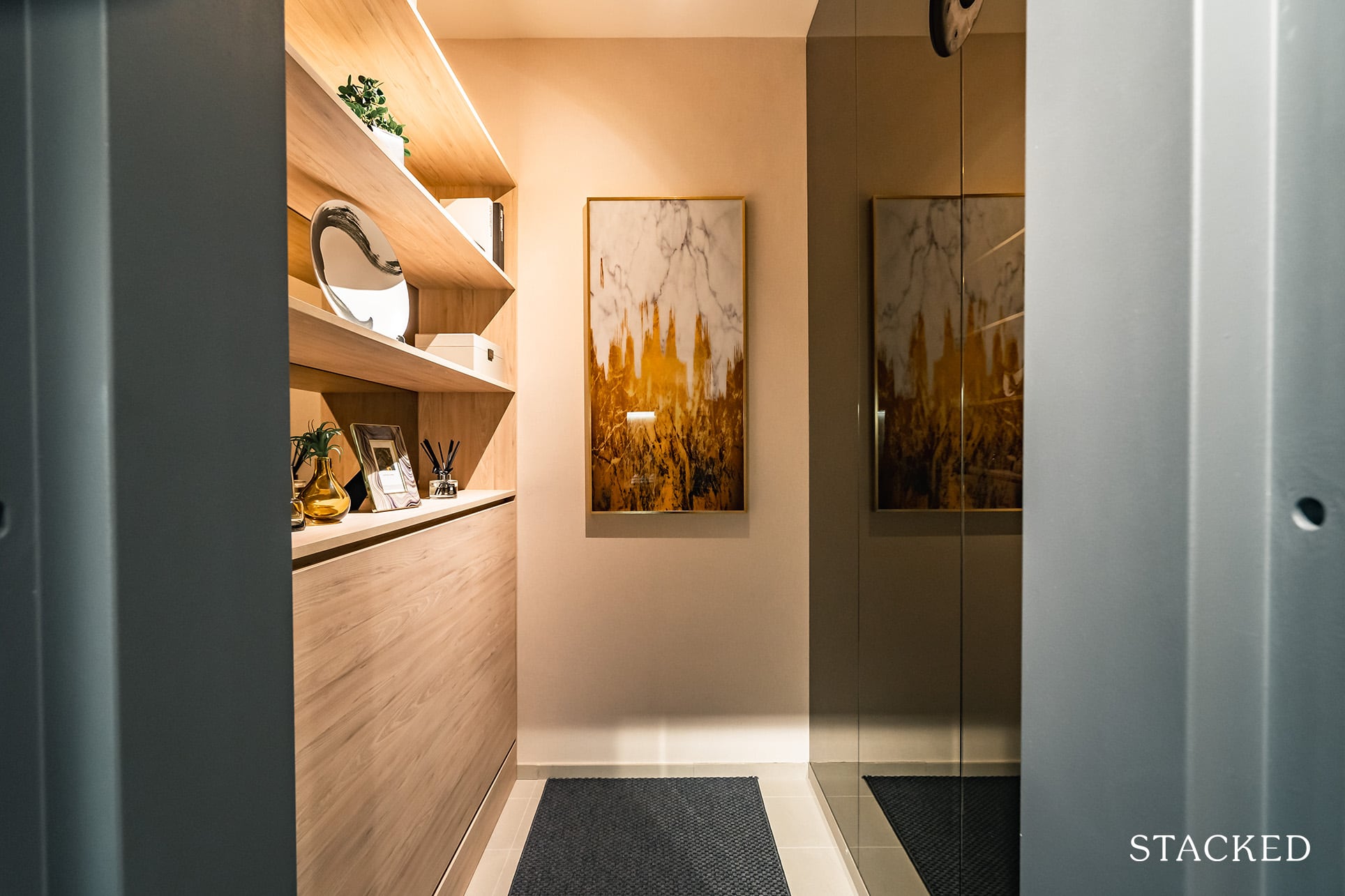 I think in most cases this would most certainly be used as a helper's room, but in any case, additional storage spaces are always a good option to have.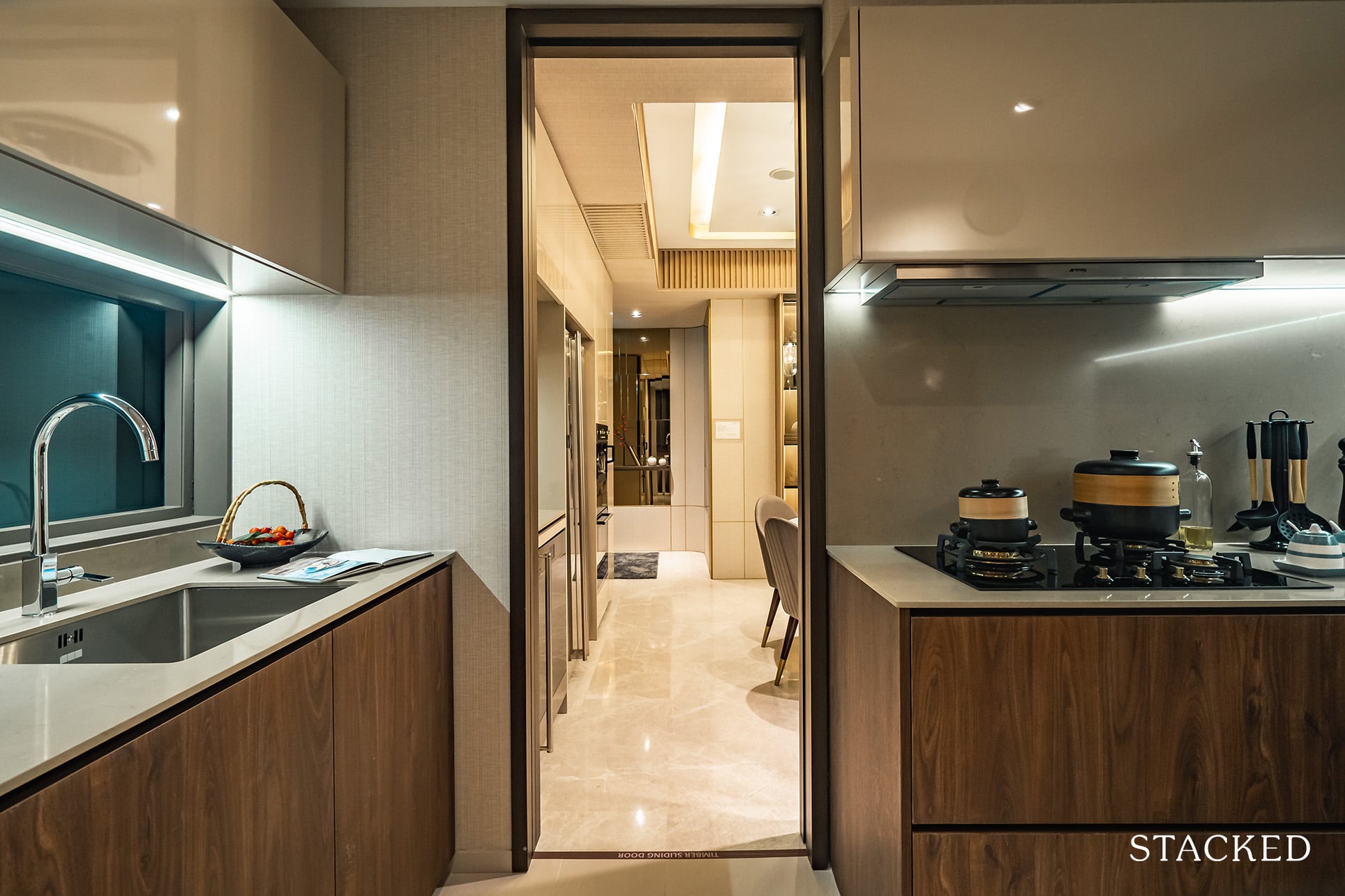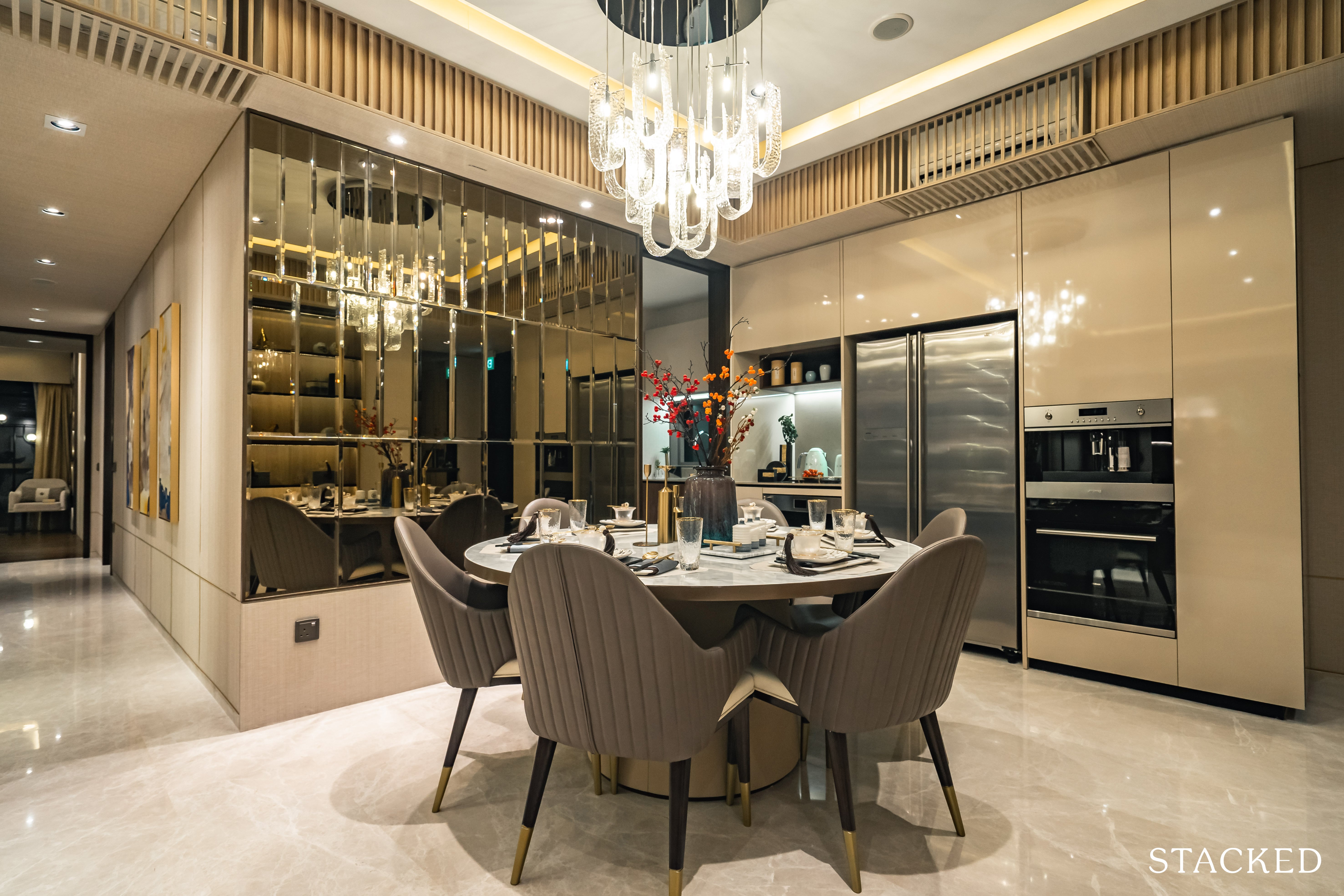 The dining area in this 4 bedroom unit is of a good size. Their dining set of choice is a 6-seater round table, which I thought is appropriate for the setting. The interior designers of the show unit have gone with a more neutral tone, which brightens up the space instantly.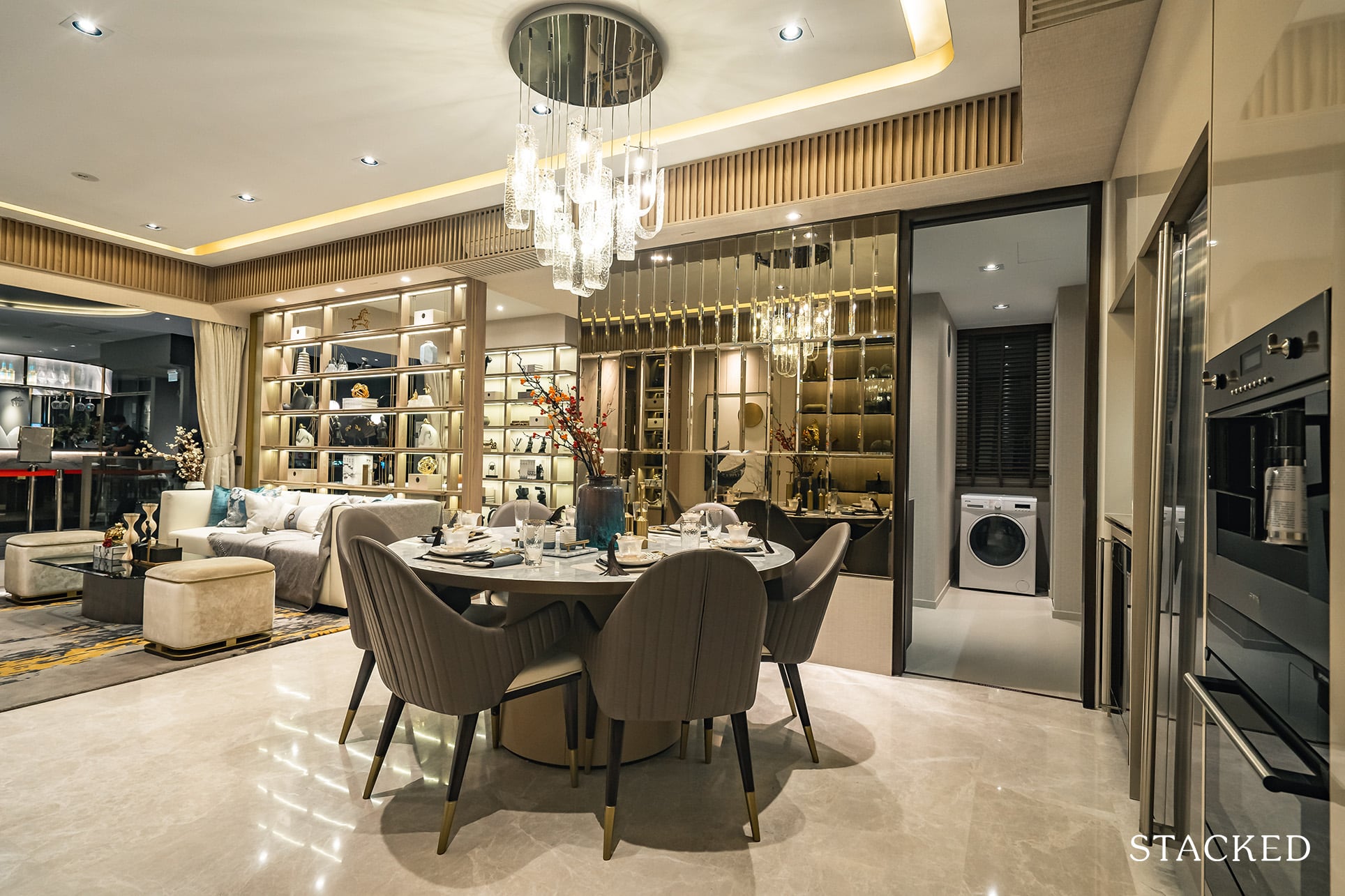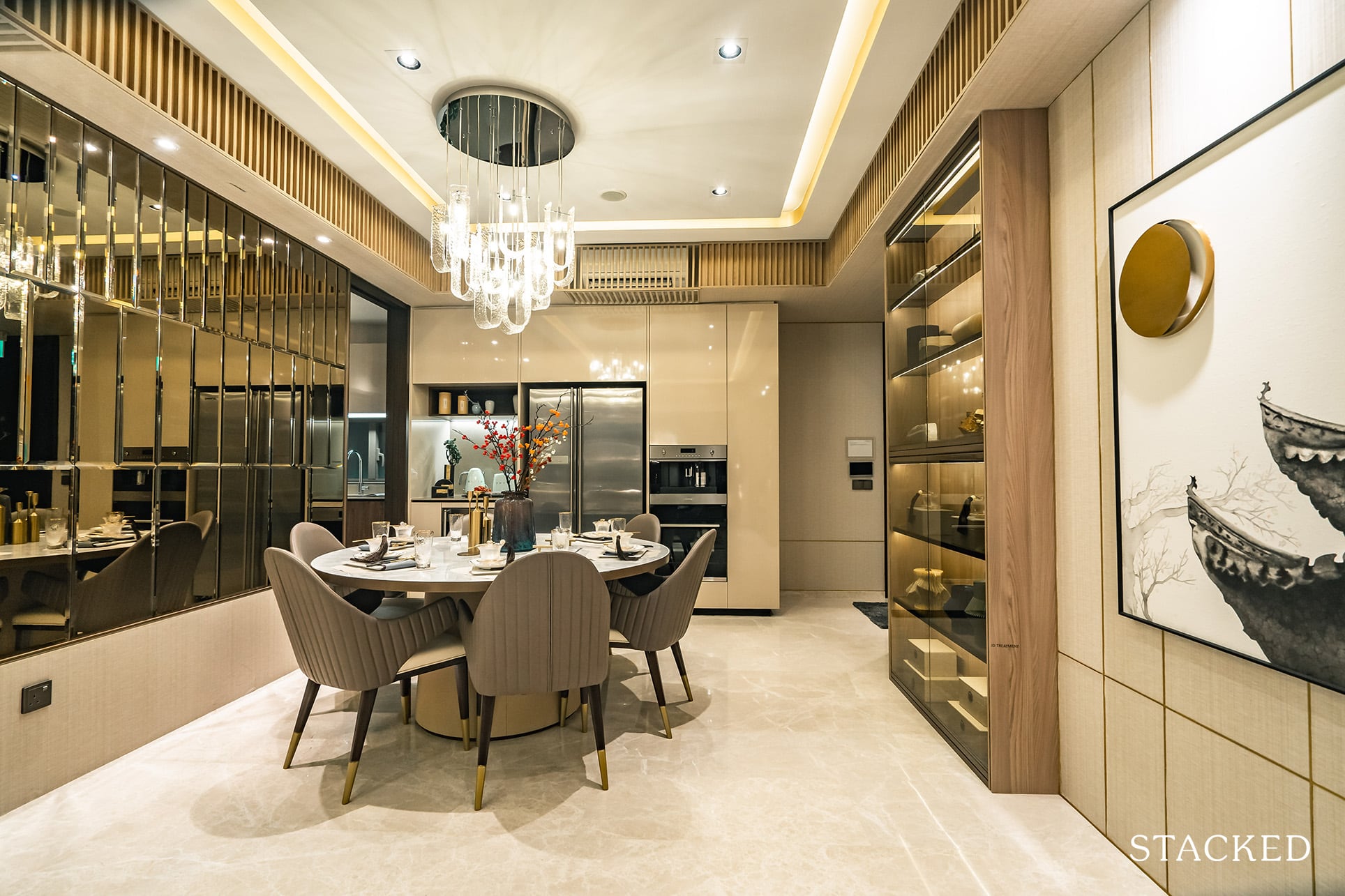 Should you choose to go for a rectangular dining table instead, it would definitely work too.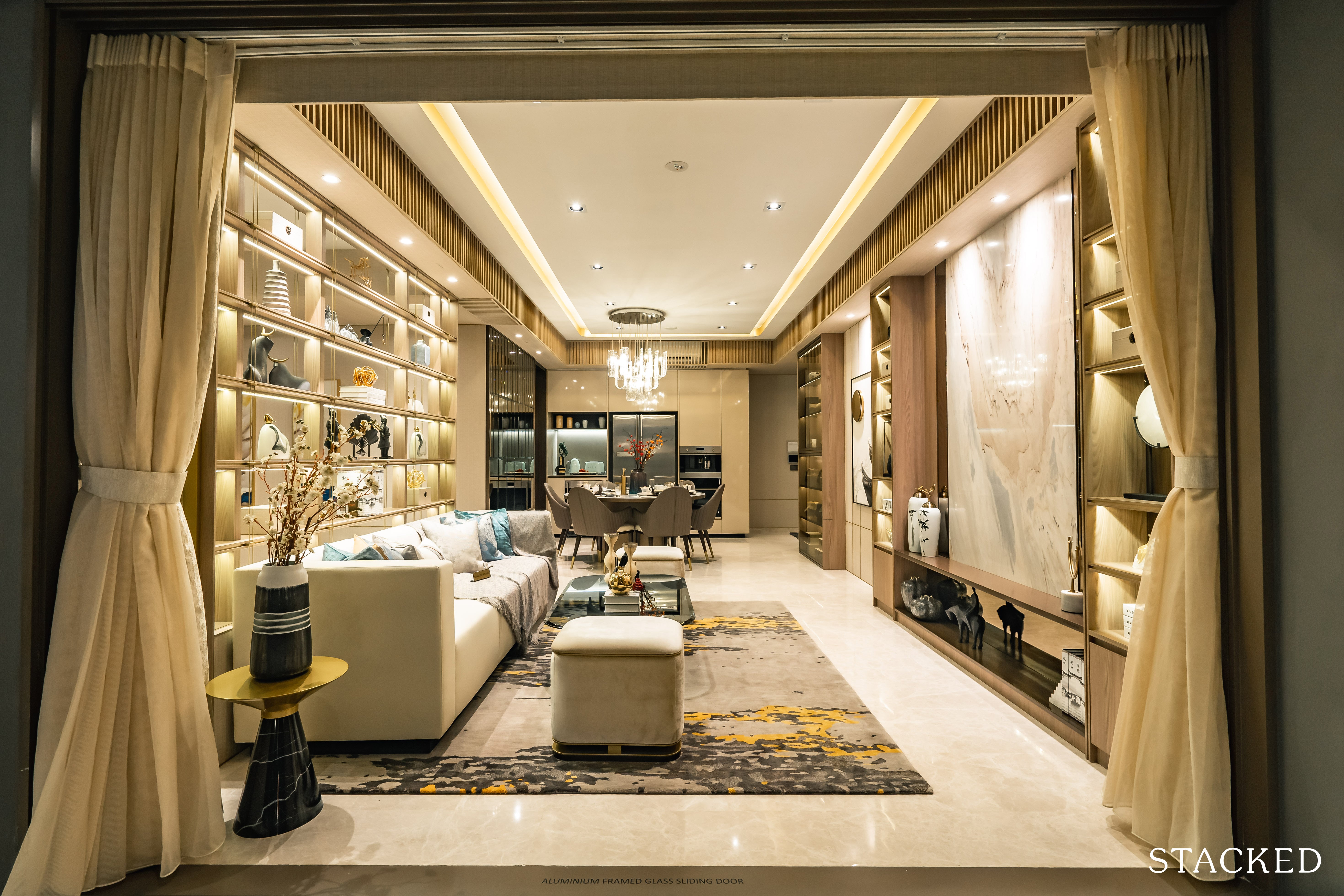 Given the regular layout of this unit, the living room is quite wide and does give off a spacious vibe. Because of this, you should be able to fit in an L-shaped sofa or have a couple of side chairs beyond your usual 3-4 seater facing the TV console.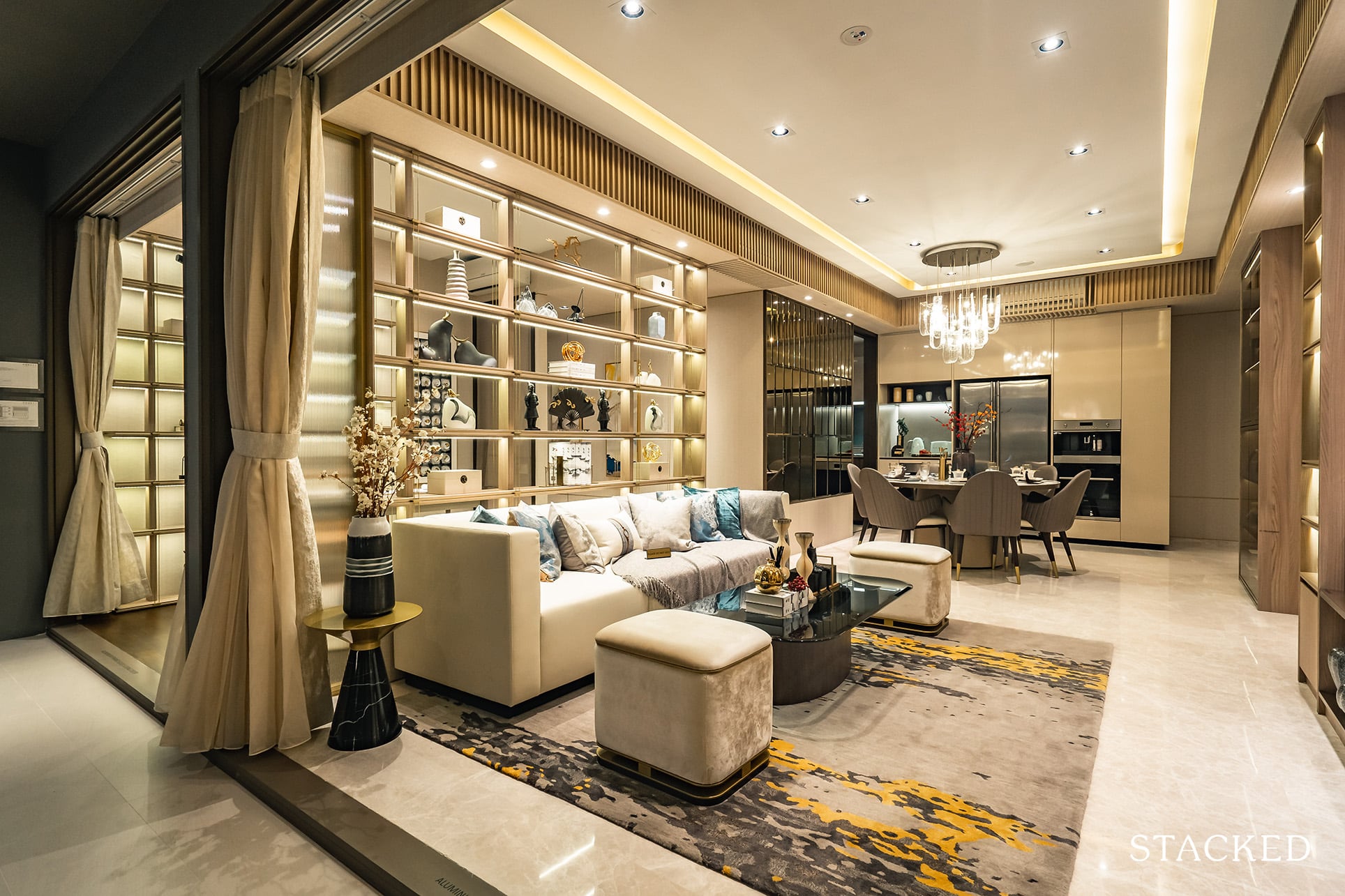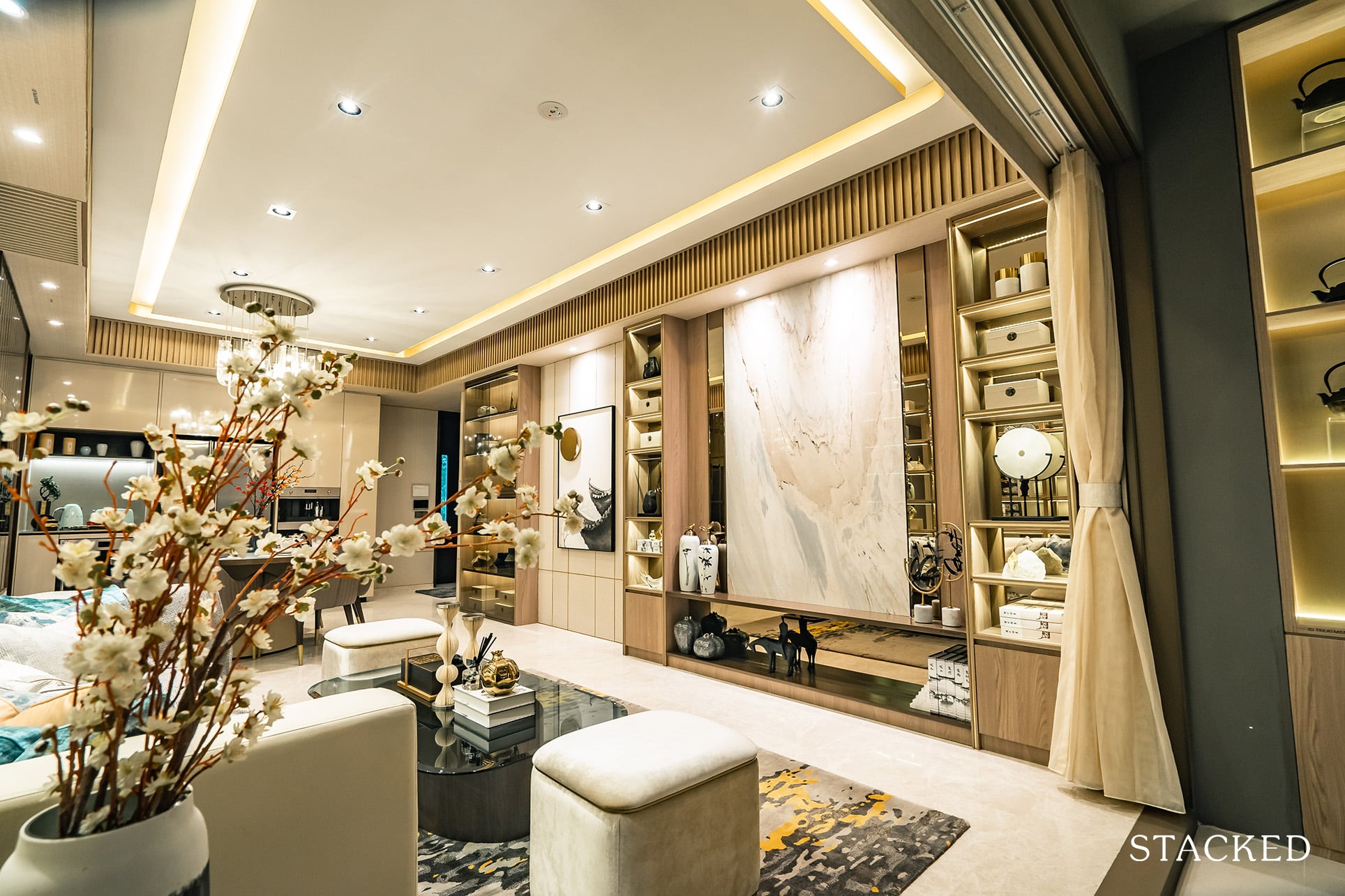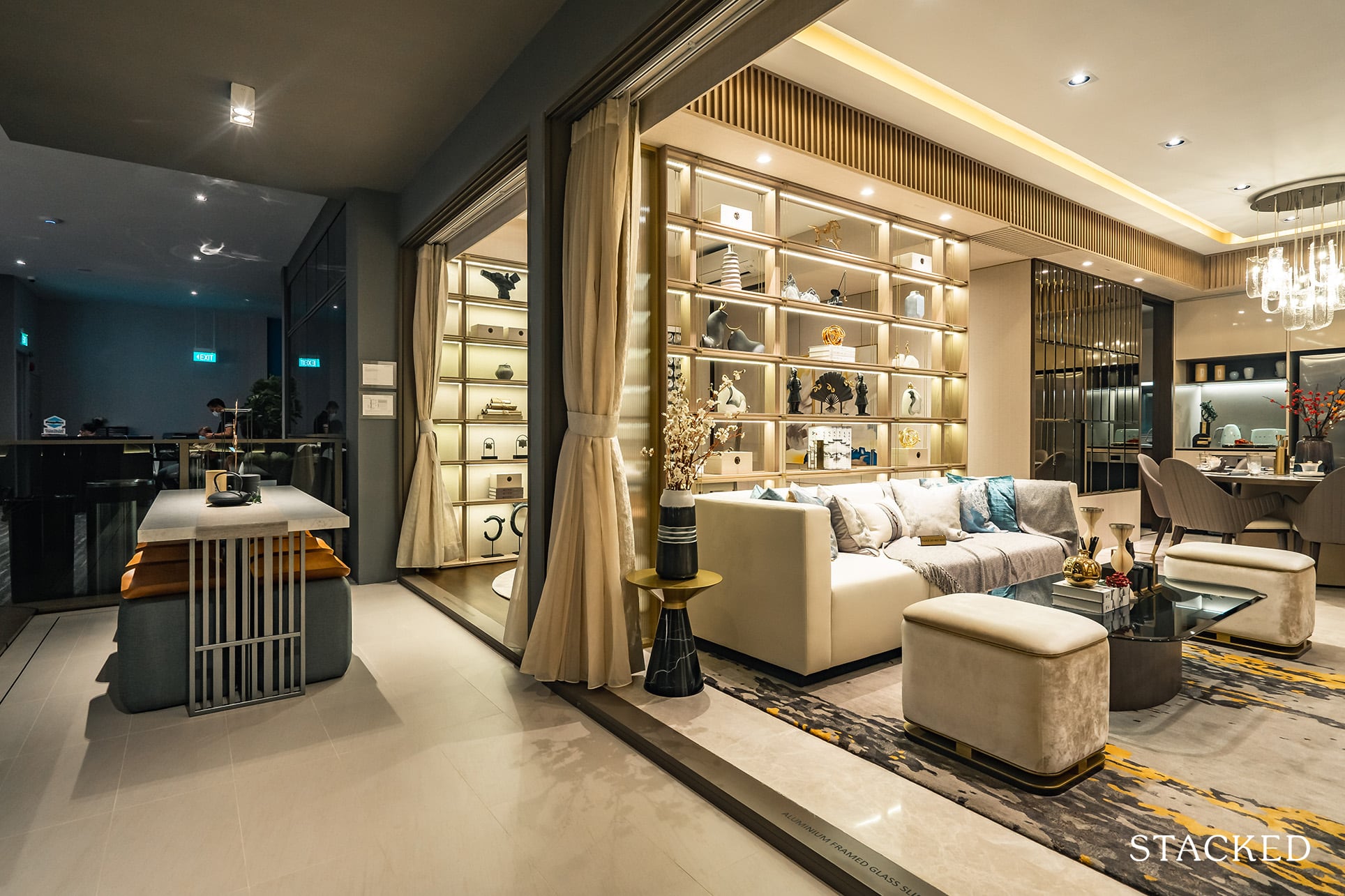 The balcony in this 4 bedroom unit is pretty big, also mainly because it extends into the space of one of the common bedrooms as well. Given the overall size of the unit, it is definitely acceptable. You could think of it as an extension of your living space here too, with enough space for some outdoor lounges or even a dining option.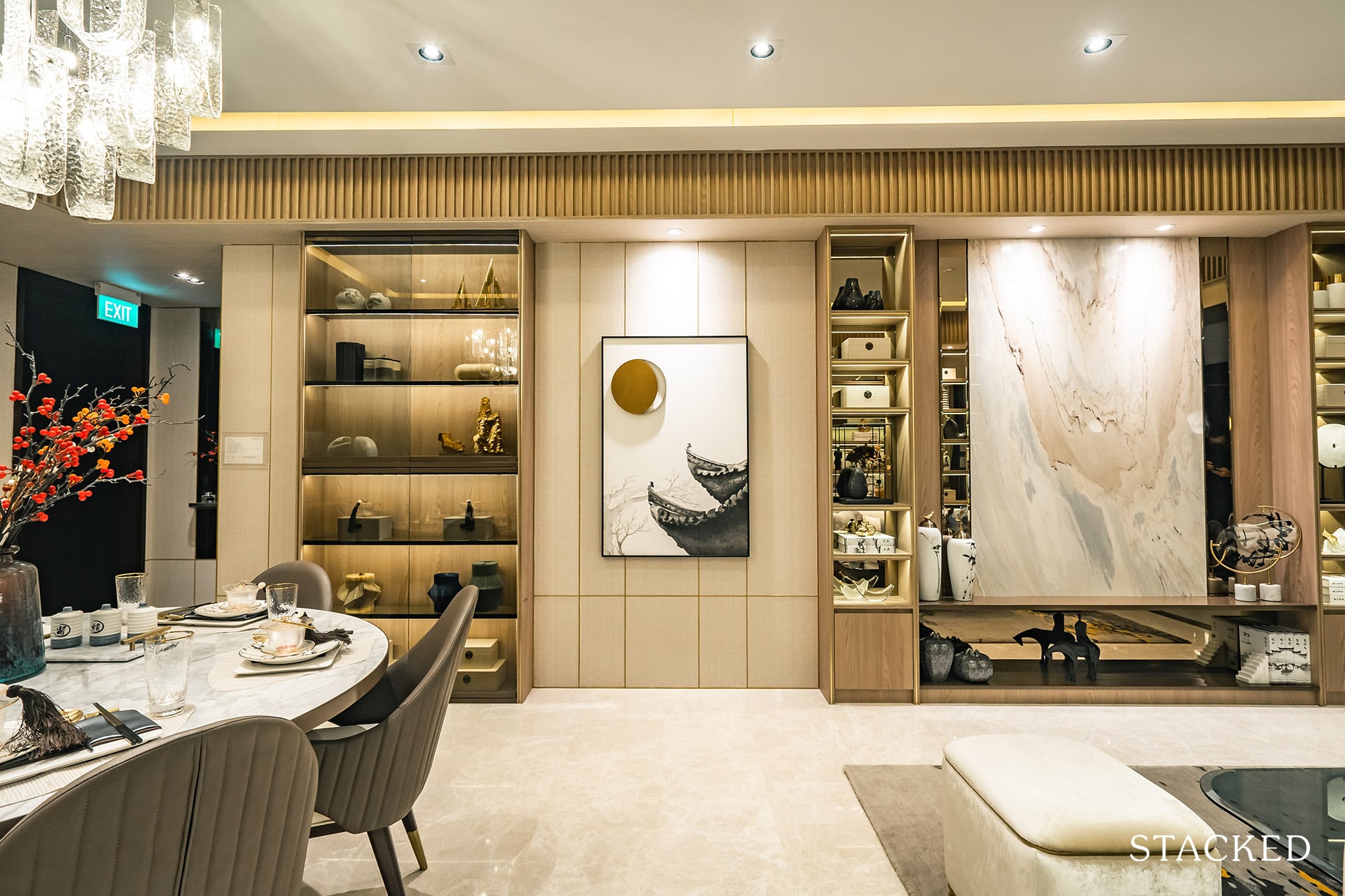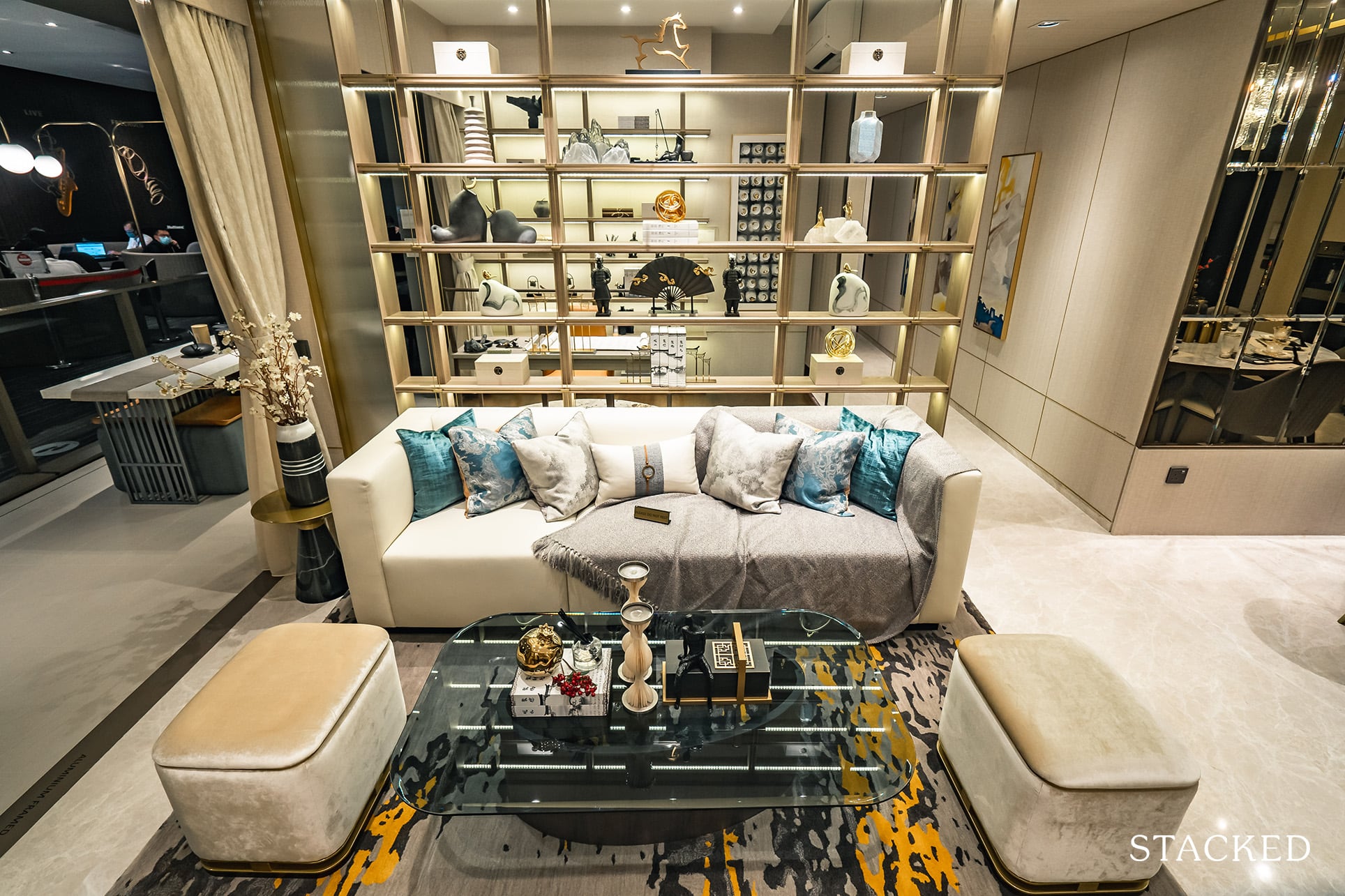 They took down the walls of the common bedroom next to the living room and converted it into an open-plan study, an example of what you could potentially do if you purchase such a unit.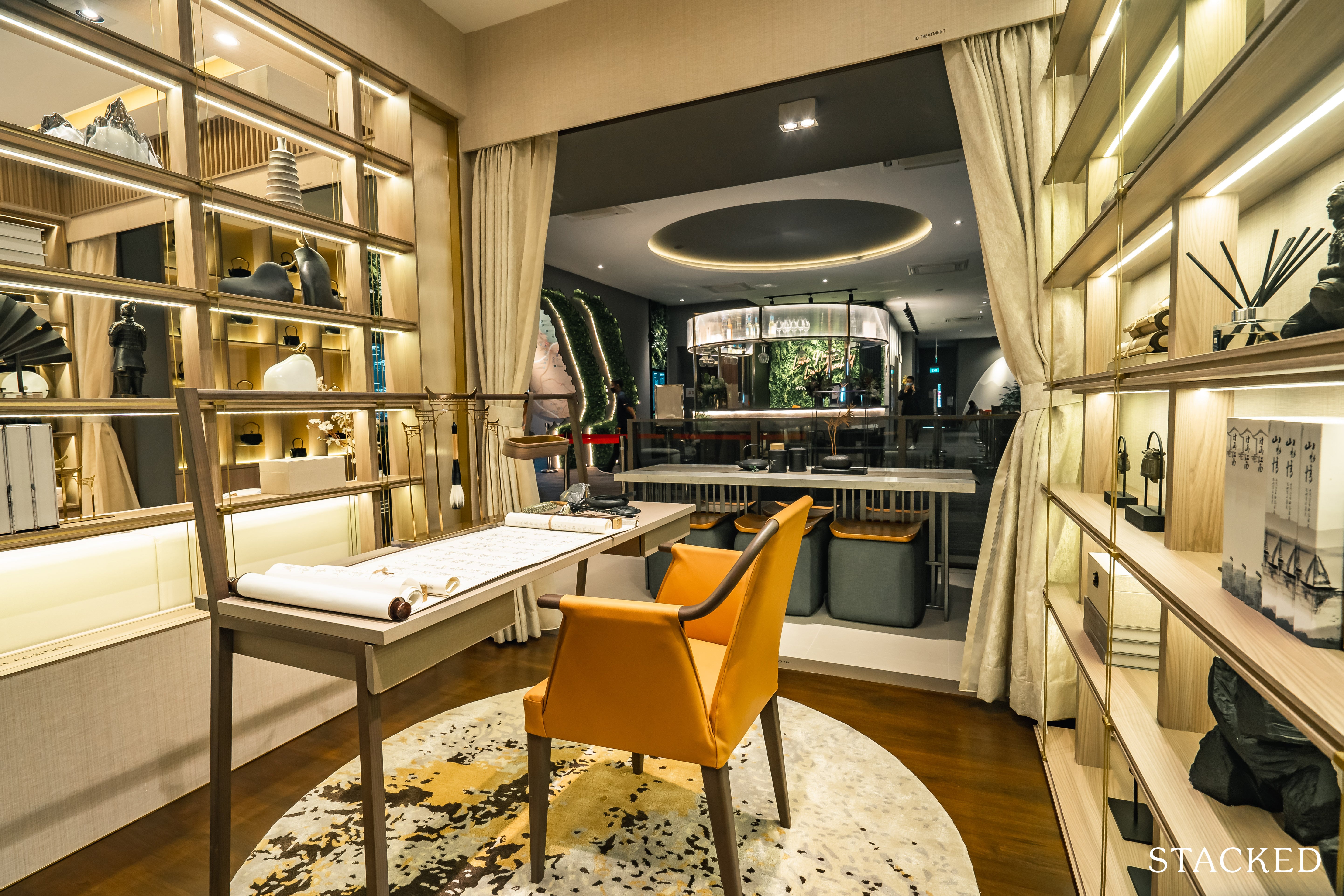 The balcony also extends to this room and can potentially add to your liveable space or provide you with an al-fresco dining option should you prefer.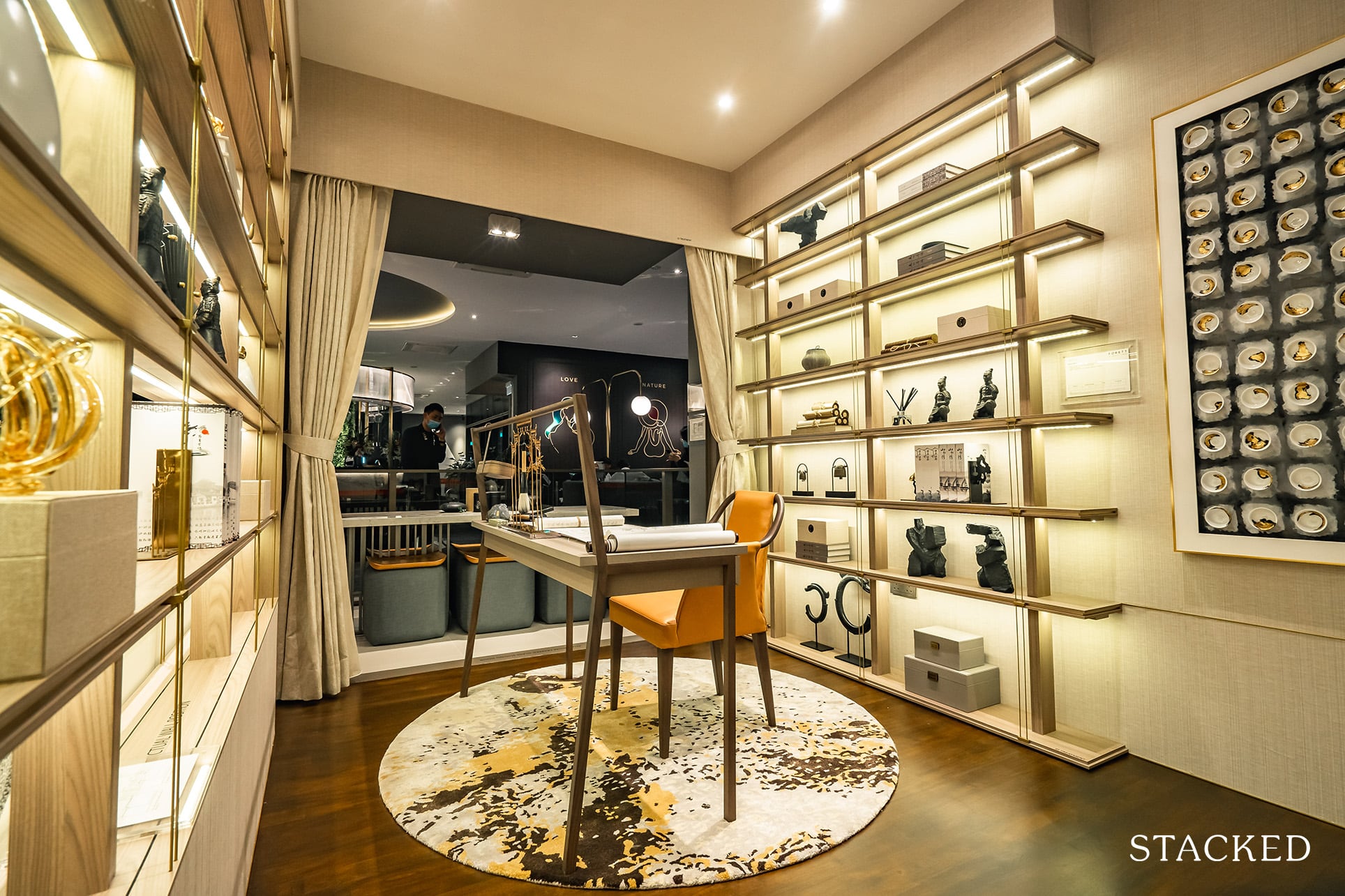 Do note that this common bedroom does not come with a built-in wardrobe. You can always request for it to be installed, however, so it's good there is some flexibility with what you plan to do with the space.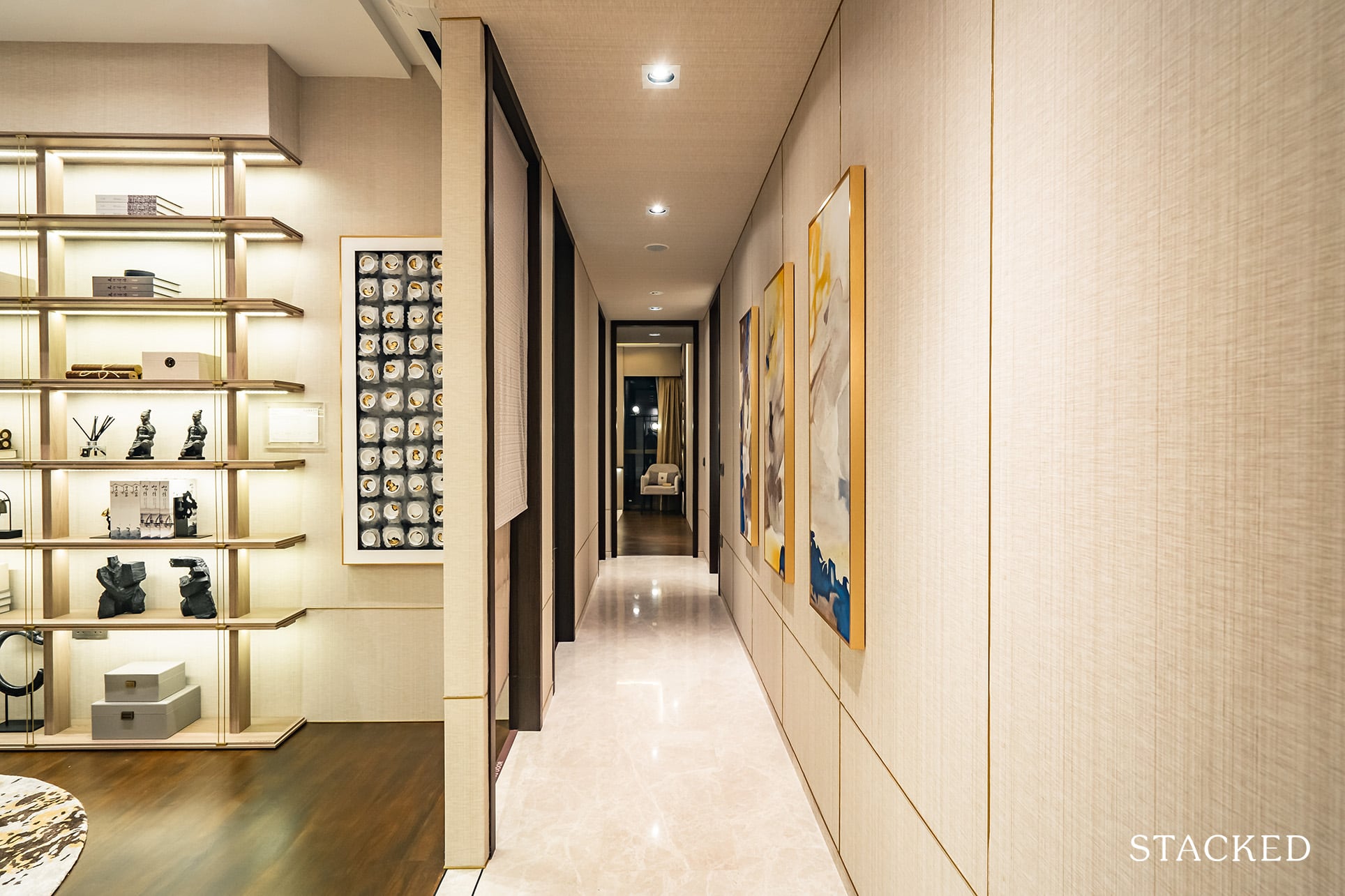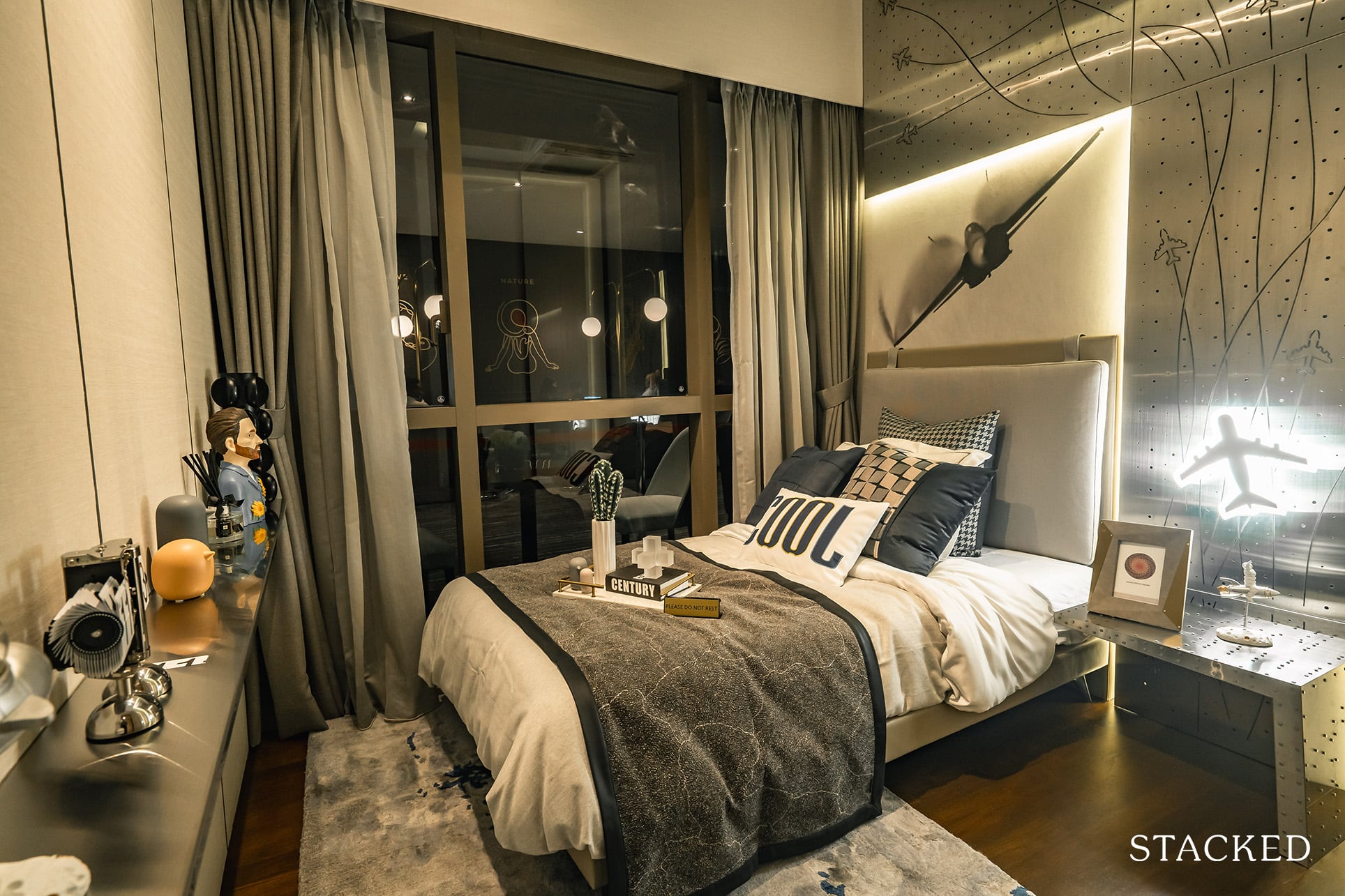 As with the 3 bedroom unit, this unit comes with a common corridor leading to all the bedrooms. The common bedrooms are more or less equally sized and will fit in either a queen-sized bed or a single with a small study table.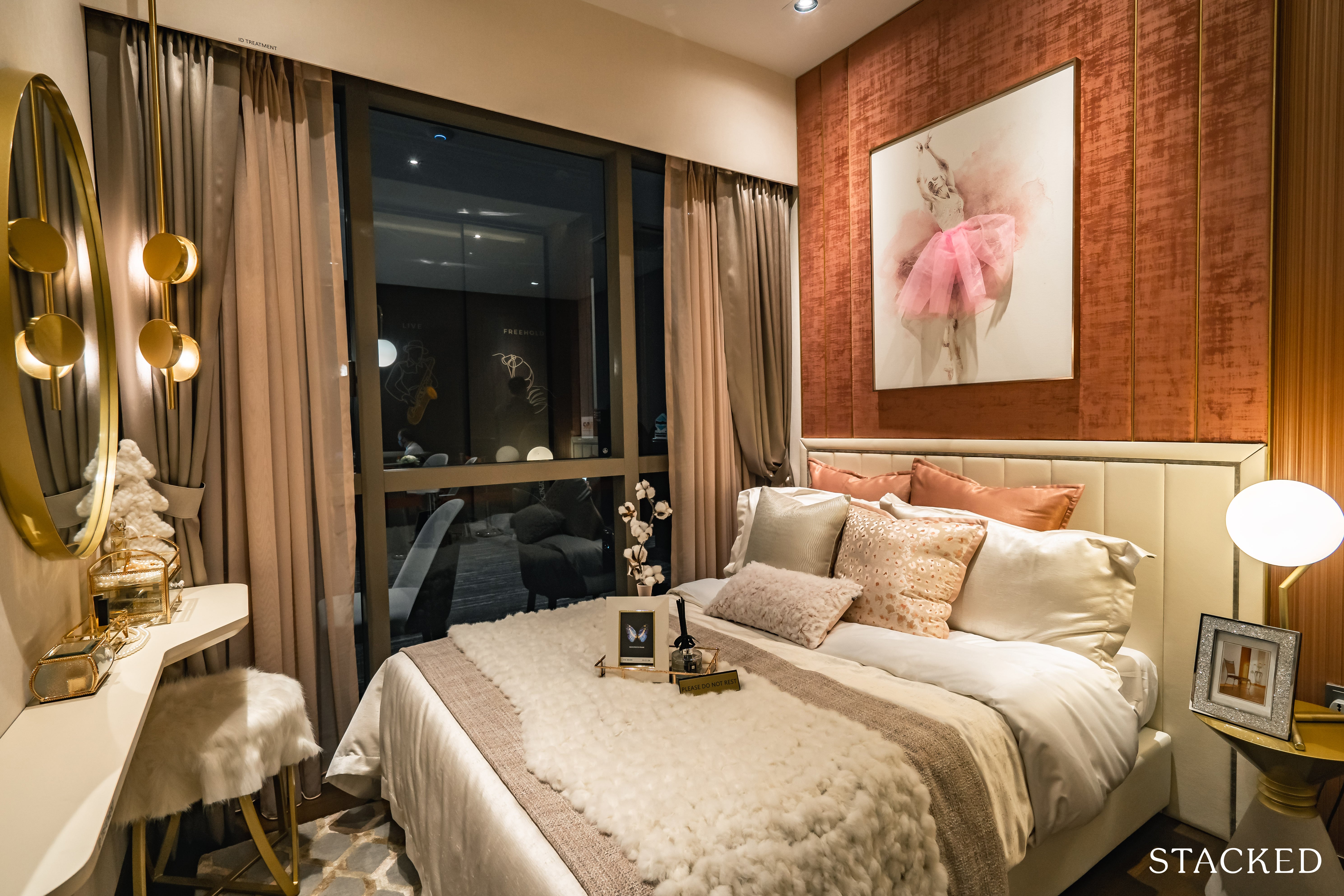 A 2-panel wardrobe also comes standard and all bedrooms come with floor-to-ceiling windows as the air-con ledge has been well-positioned behind the common and master bathrooms.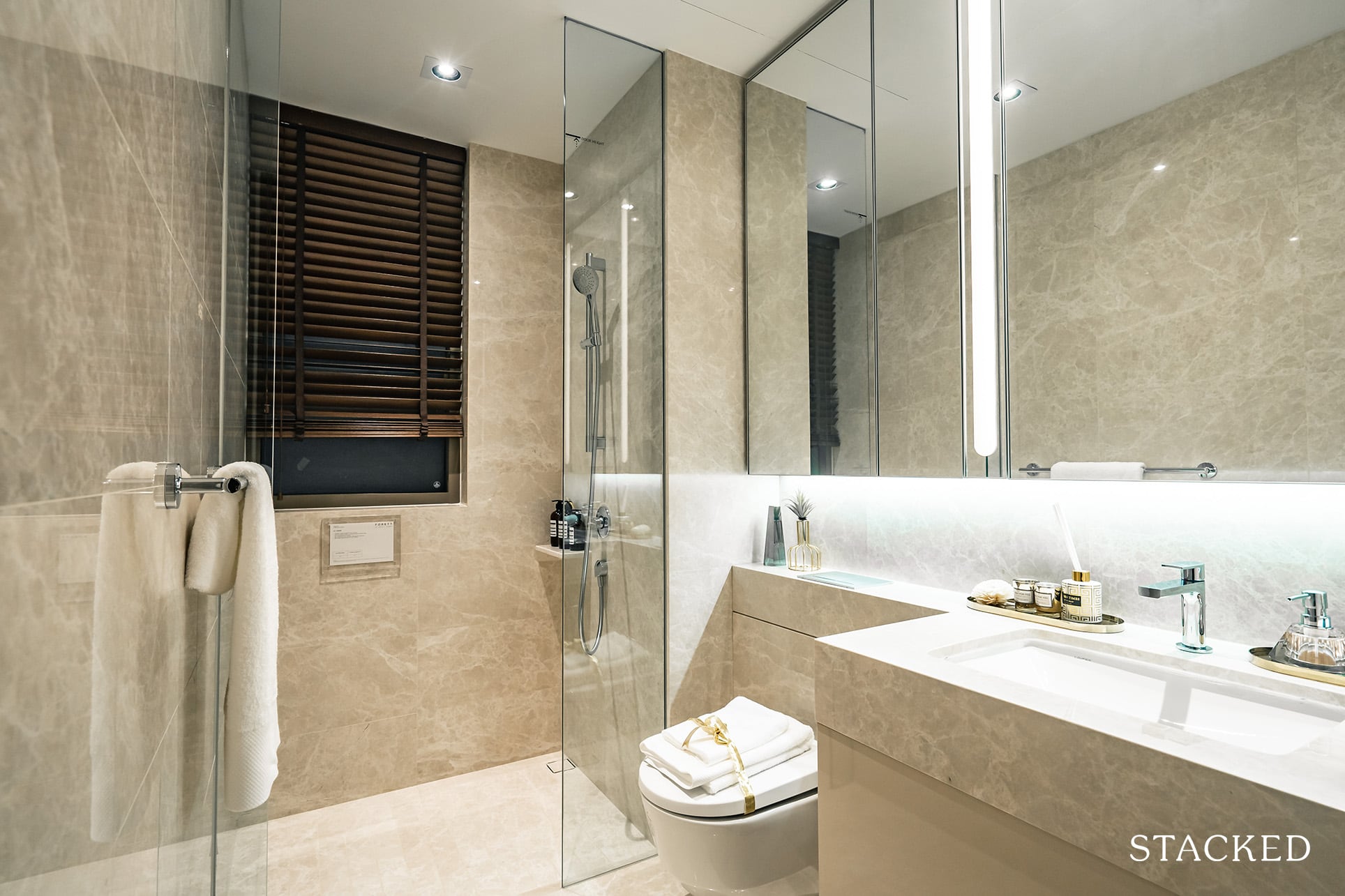 The common bathroom is more or less the same, it's a good size with fittings from Laufen and Gessi. But you do have to remember that this bathroom will be shared by occupants from 3 common bedrooms (if they are all utilised), as well as any guests that might visit.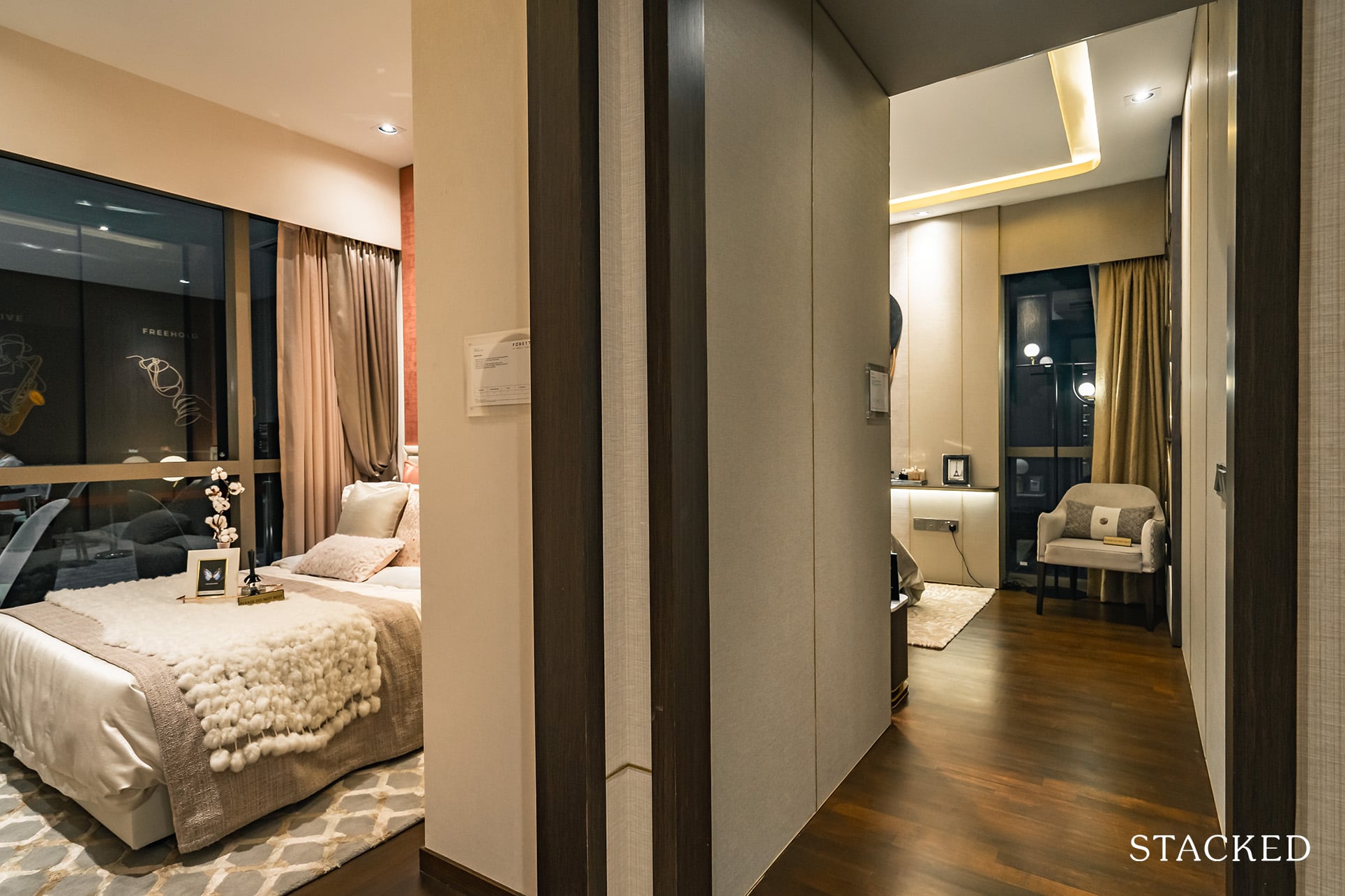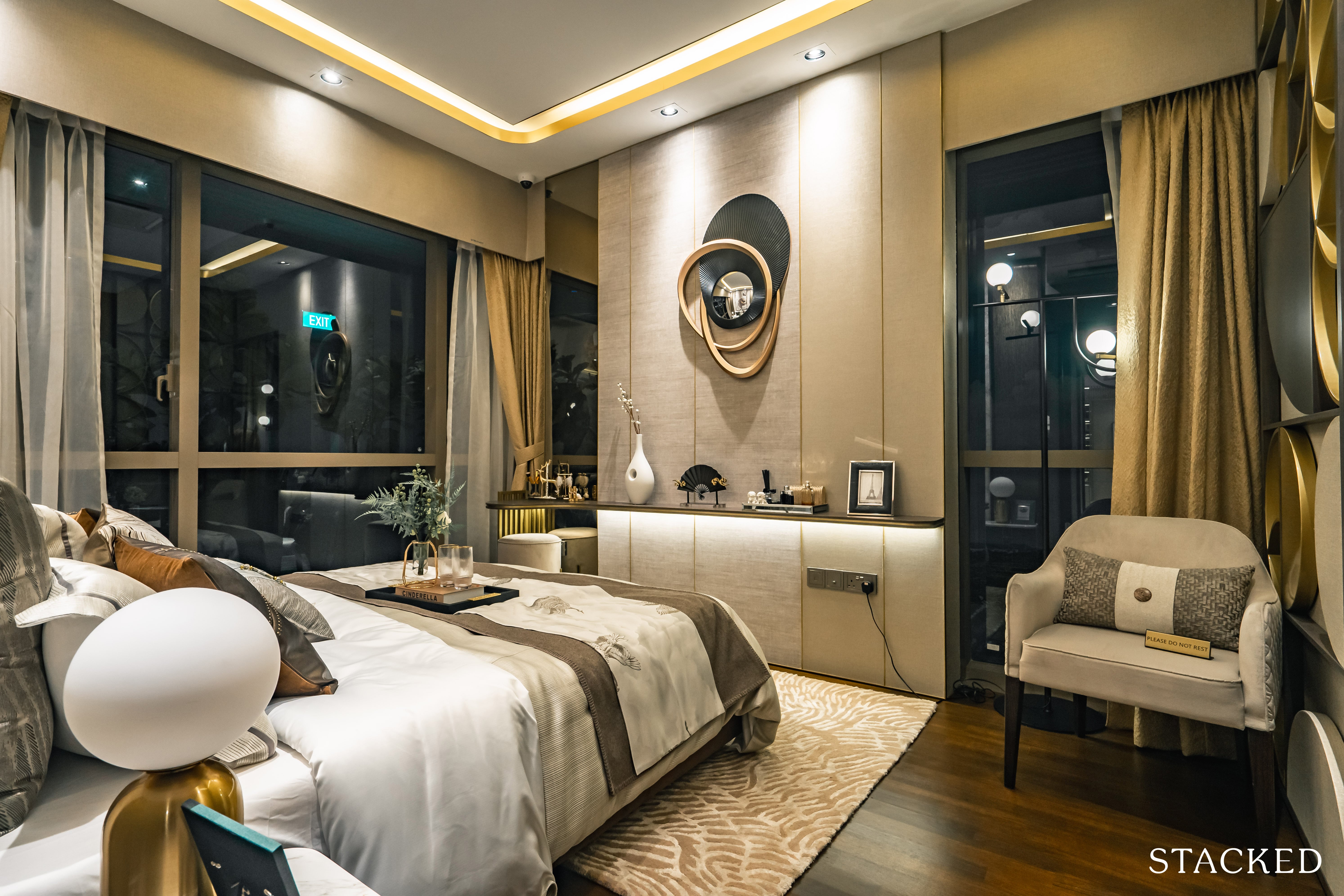 Walking into the master bedroom, you will realise just where all the space had gone to. If you are looking for that extra bit of luxury, this is just about where you'll find it – I especially like the additional windows.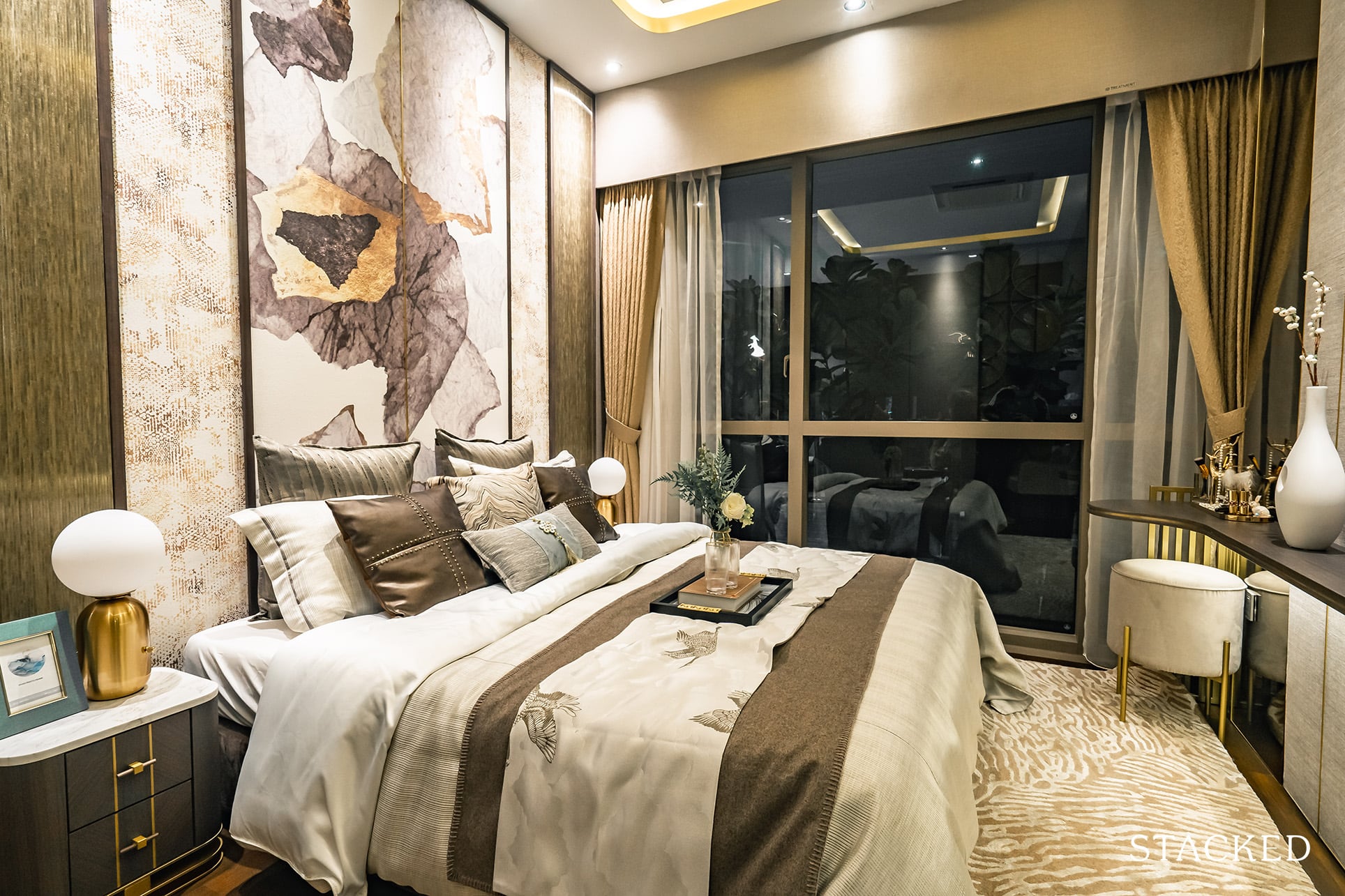 It occupies quite a large area, with a dedicated walk-in wardrobe and lots of space to saunter around on your day off. Okay, maybe that's an exaggeration but you get what I mean. The width is quite extensive so it will be able to accommodate your king-sized bed where required.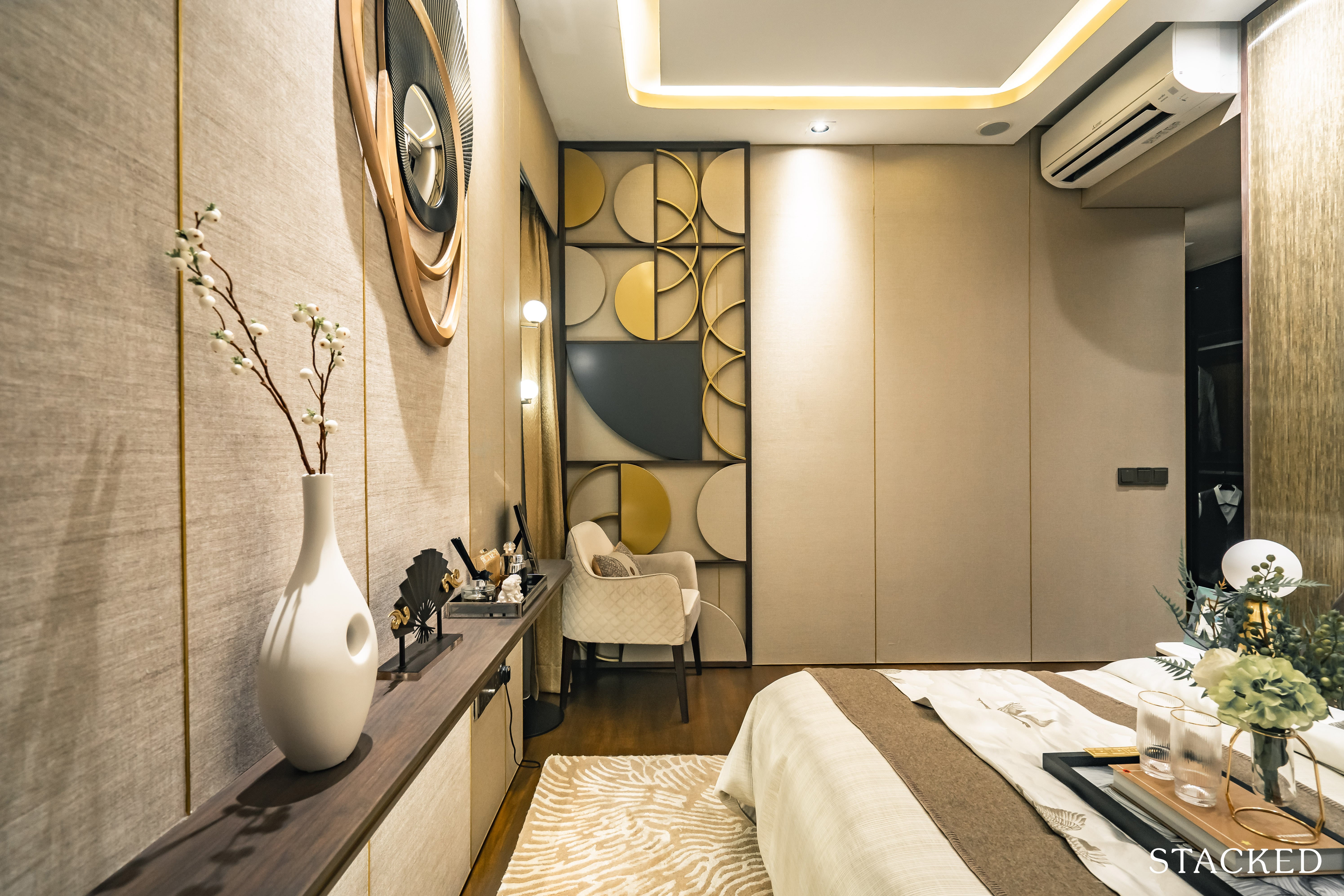 If need be, there's enough space for a lounger or even a dresser table.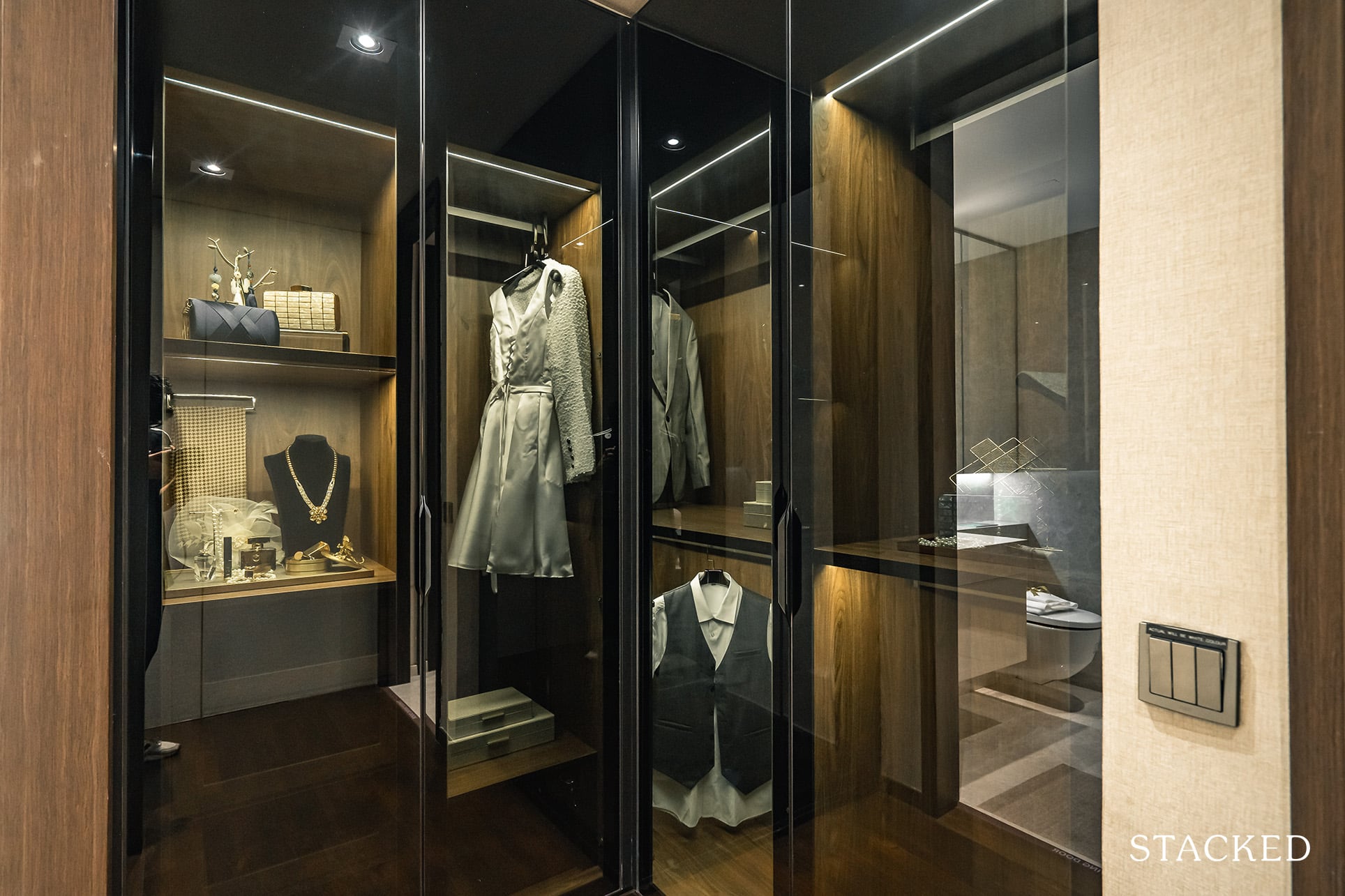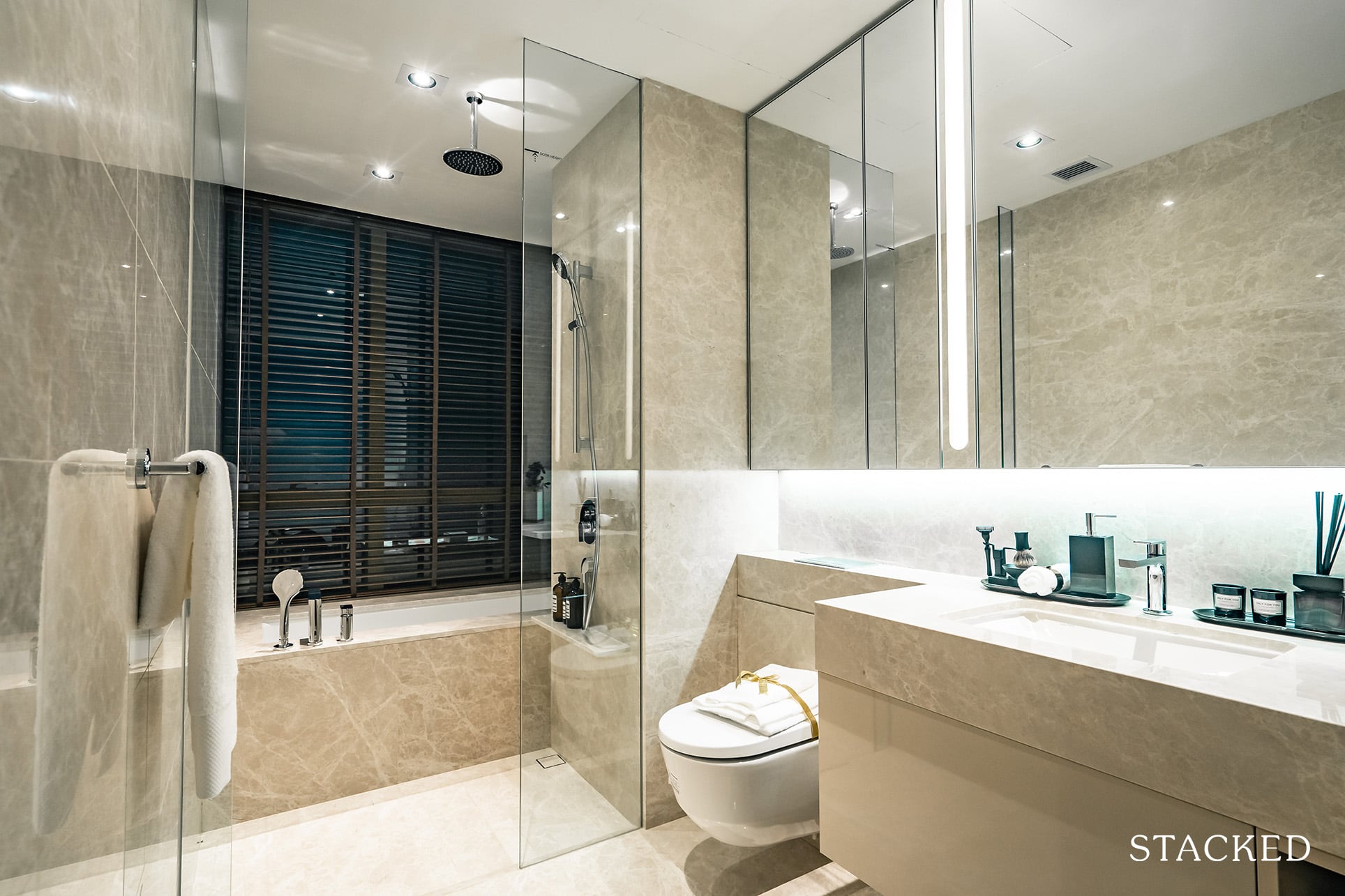 Bath bomb lovers, rejoice! The attached bathroom comes with both a rain shower and a bathtub so you do have some flexibility depending on your mood and if you are pressed for time.
Forett at Bukit Timah Location Review
This development is situated along Toh Tuck Road, off Jalan Jurong Kechil. It is an established private enclave in the Upper Bukit Timah / Beauty World Estate. Toh Tuck Road is also a pretty long road for those familiar with the area and connects Upper Bukit Timah on one end to Bukit Batok and Toh Guan on the other, where you will find the popular malls such as JCube, IMM and Westgate a short drive away. Forett at Bukit Timah is situated closer to the Upper Bukit Timah end.

In comparison, Daintree Residence, which is also along Toh Tuck Road, is more convenient given its closer proximity to Beauty World MRT. Nevertheless, do bear in mind its 99-year tenure as compared to this freehold project.

Despite being a predominately private housing estate, there are a couple of HDB blocks located just beside Beauty World station at Toh Yi Drive. What this entails is further conveniences for you as Bukit Timah Market & Food Centre and neighbourhood shops are situated close by.
Public Transport

| | | |
| --- | --- | --- |
| Bus Station | Buses Serviced | Distance From Condo (& Est. Walking Time) |
| 'Goodluck Garden' | 41, 77 | 120m, 1-min walk |
| 'Aft Toh Tuck Terrace' | 41, 77 | 120m, 1-min walk |
| 'Aft Jln Jurong Kechil' | 41, 77, 173 | 190m, 3-min walk |
Closest MRT: Beauty World MRT – 750m, 9-min walk

The walk to the MRT is not unbearable, but it is quite a distance. Moreover, do take note that it will be unsheltered for most parts of your journey, exposing to whatever elements that may come your way.

Don't take our word for it, if you are genuinely interested in Forett at Bukit Timah, do try walking to the MRT yourself. Of course, this will be not a concern if you drive or are chauffeur-driven daily (by your friendly Grab uncle no less).

That said, a 3-minute ride (2 stops) aboard Bus 41 from the bus stop just outside the development will take you to Beauty World MRT, almost at least. You will, unfortunately, still have to cross the road to do so.

As for those working in the CBD, Beauty World MRT is along the Downtown Line, bringing you Downtown easily.

It is a 24-min train ride across 12 stations to get to Downtown MRT, with no line changes required. Offices such as Marina One, MBFC and Asia Square can be found there.

Private Transport

| | |
| --- | --- |
| Key Destinations | Distance From Condo (& Est. Peak Hour Drive Time) |
| CBD (Raffles Place) | 17.5km, 24-min drive |
| Orchard Road | 10.8km, 25-min drive |
| Suntec City | 17.8km, 23-min drive |
| Changi Airport | 26.7km, 28-min drive |
| Tuas Port (By 2040) | 29.3km, 36-min drive |
| Paya Lebar Quarters/Airbase (By 2030) | 16.9km, 26-min drive |
| Mediapolis (and surroundings) | 8.4km, 20-min drive |
| Mapletree Business City | 12.5km, 22-min drive |
| Tuas Checkpoint | 19.1m, 22-min drive |
| Woodlands Checkpoint | 14.4km, 20-min drive |
| Jurong Cluster (JCube) | 4.8km, 13-min drive |
| Woodlands Cluster (Causeway Point) | 15.1km, 21-min drive |
| HarbourFront Cluster (Vivo City) | 14.7m, 22-min drive |
| Punggol Cluster (Waterway Point) | 25.5km, 31-min drive |
*Note that Drive Times are calculated during Peak Hours at 8 AM
Summary: The development is well-connected to the PIE via Upper Bukit Timah so that residents driving in the direction of either Changi or Tuas will hardly have an issue. For those working in the Jurong cluster, Forett at Bukit Timah would be an ideal development for you in a private neighbourhood.

Groceries

| | |
| --- | --- |
| Name of Grocery Shop | Distance From Condo (& Est. Walk Time) |
| Koryo Mart – Lor Kilat | 750m, 9-min walk |
| Giant – Upper Bukit Timah Rd | 1.2km, 16-min walk |
Schools

| | |
| --- | --- |
| Educational Tier | Number of Institutes |
| Preschool (within 1km walk) | 5 |
| Primary (3km-drive) | 5 |
| Secondary (3km-drive) | 1 |
| International School (3km-drive) | 4 |
| Junior College (5km-drive) | 1 |
| University (5km-drive) | 1 |
| Polytechnic (10km-drive) | 1 |
Additional Pointers
Lots of different units types
Well, this could be seen as a pro or a con, depending on the type of home buyer you are. Personally, I do like that there is quite a wide variety of different floor plans per unit type – so what you see in the show flat isn't necessarily representative of what there is on offer. There are some quite varied options out there that might suit you better, so you should take some time to look at the brochure.
I do know of many people who cite one of the bigger reasons for their preference for the general Bukit Timah area is because of the greenery. If you're familiar with the area, I'm sure you'll find it hard to disagree. It is after all close to the 163-ha Bukit Timah Nature Reserve.
If you don't care to venture too far, it is in relative walking distance to Bukit Batok Nature Park as well. Basically, if escaping the city is what you are after, this area is probably well suited for you.
Forett at Bukit Timah Development Site Review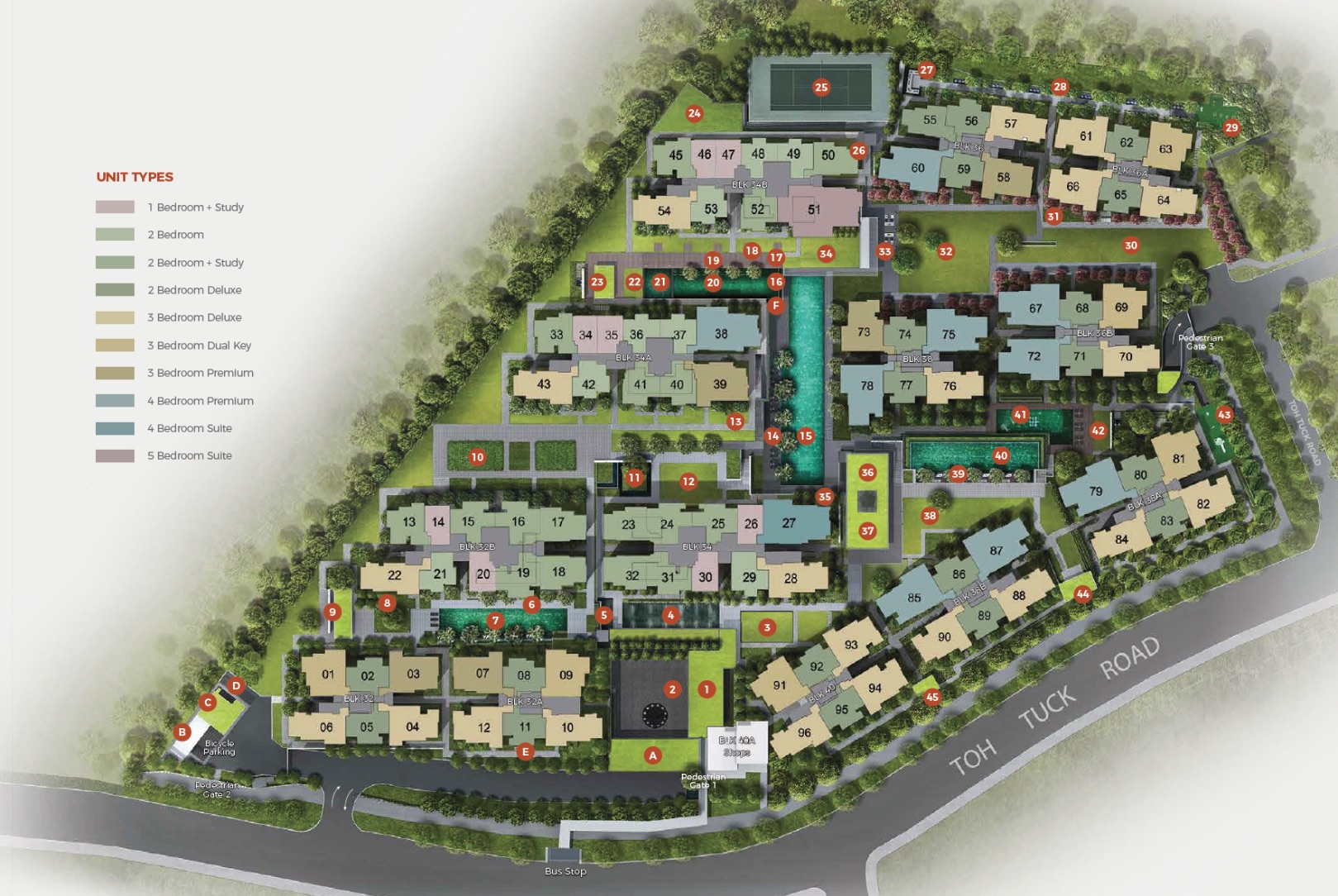 Facilities in Forett at Bukit Timah

| | | |
| --- | --- | --- |
| Drop Off Point | Lounge | BBq Pavilion |
| Dining Pavilion | Karaoke Room | Clubhouse |
| Theatrette | Teppanyaki Sky Lounge | Sky Pavilion |
| Reading Nook | Walking Trails | Lawn |
| 30M Lap Pool | Jacuzzi | Infinity Pool |
| Gym | 50m Lap Pool | Tennis Court |
| Fitness Corner | Kid's Pool | Playground |
If you were to look at the development from a birds-eye view perspective, the site plan does look a little dense – more so if you're looking at Forett as an ex-owner of Good Luck Gardens.

A good gauge of this would be to look at the number of units as a proportion of the land size. Forget about comparing with its immediate neighbour, Signature Park, which is going to win by a yard. Instead, a fairer apple-to-apple comparison would be one with nearby new launches Daintree Residence and View at Kismis.

Forett at Bukit Timah (360,143 sqft / 633 units = 569 sqft per unit)
Daintree Residence (201,511 sqft / 327 units = 616 sqft per unit)
View at Kismis (90,863sqft / 186 units = 489 sqft per unit)

Evidently, in terms of density, Forett sits snugly between the 2 neighbouring projects, both of which were en bloc sites as well. Unfortunately, in land-scarce Singapore, tighter spaces are something we have to grow to live with.

As I mentioned in the insider tour, there is only one entrance to Forett at Bukit Timah through Toh Tuck Road – which is still okay. What's better is that there are two exits, which does help ease traffic flow during peak hours in the morning when everyone is trying to get to work on time.

The bigger problem comes when you think about road traffic on Toh Tuck Road, which has always been an issue for residents in the vicinity. It is a single lane road serving as a connector towards the PIE/AYE which is, in turn, an entrance/exit for many of the developments in the area. Couple that with the buses plying the route and you do get quite a peak hour situation on your hands.

You could also use Toh Tuck Terrace as another road to move out towards the main road (if you are going towards PIE/Bukit Timah), but that is taking a slight detour.
Unit Mix
| | |
| --- | --- |
| Bedroom Type | No. of Units |
| 1 Bedroom + Study | 76 |
| 2 Bedroom | 72 |
| 2 Bedroom + Study | 149 |
| 2 Bedroom Deluxe | 93 |
| 3 Bedroom Deluxe | 119 |
| 3 Bedroom Dual Key | 29 |
| 3 Bedroom Premium | 28 |
| 4 Bedroom Premium | 50 |
| 4 Bedroom Suite | 9 |
| 5 Bedroom Suite | 8 |
As with most larger-scale developments, you'll find a wide spread of units within Forett at Bukit Timah.

It's quite clear that priority has been placed towards the smaller 1 and 2 bedroom units as these take up nearly 62% of the 633 units.

As I've mentioned above, even amongst each bedroom type, there are quite a few different layouts to choose from. Which isn't a bad thing at all as you are able to choose something that fits your lifestyle.

Apart from that, there are only 8 5 bedroom units on offer – and these are the only ones that come with a private lift as well.
Forett at Bukit Timah Maintenance Fees
| | |
| --- | --- |
| Unit Type | Maintenance |
| 1 Bedroom + Study | $262 – $314 |
| 2 Bedroom | $314 |
| 2 Bedroom + Study | $314 |
| 2 Bedroom Deluxe | $314 |
| 3 Bedroom Deluxe | $314 – $364 |
| 3 Bedroom Dual Key | $314 – $364 |
| 3 Bedroom Premium | $314 – $364 |
| 4 Bedroom Premium | $364 |
| 4 Bedroom Suite | $364 |
| 5 Bedroom Suite | $418 |
Best Stacks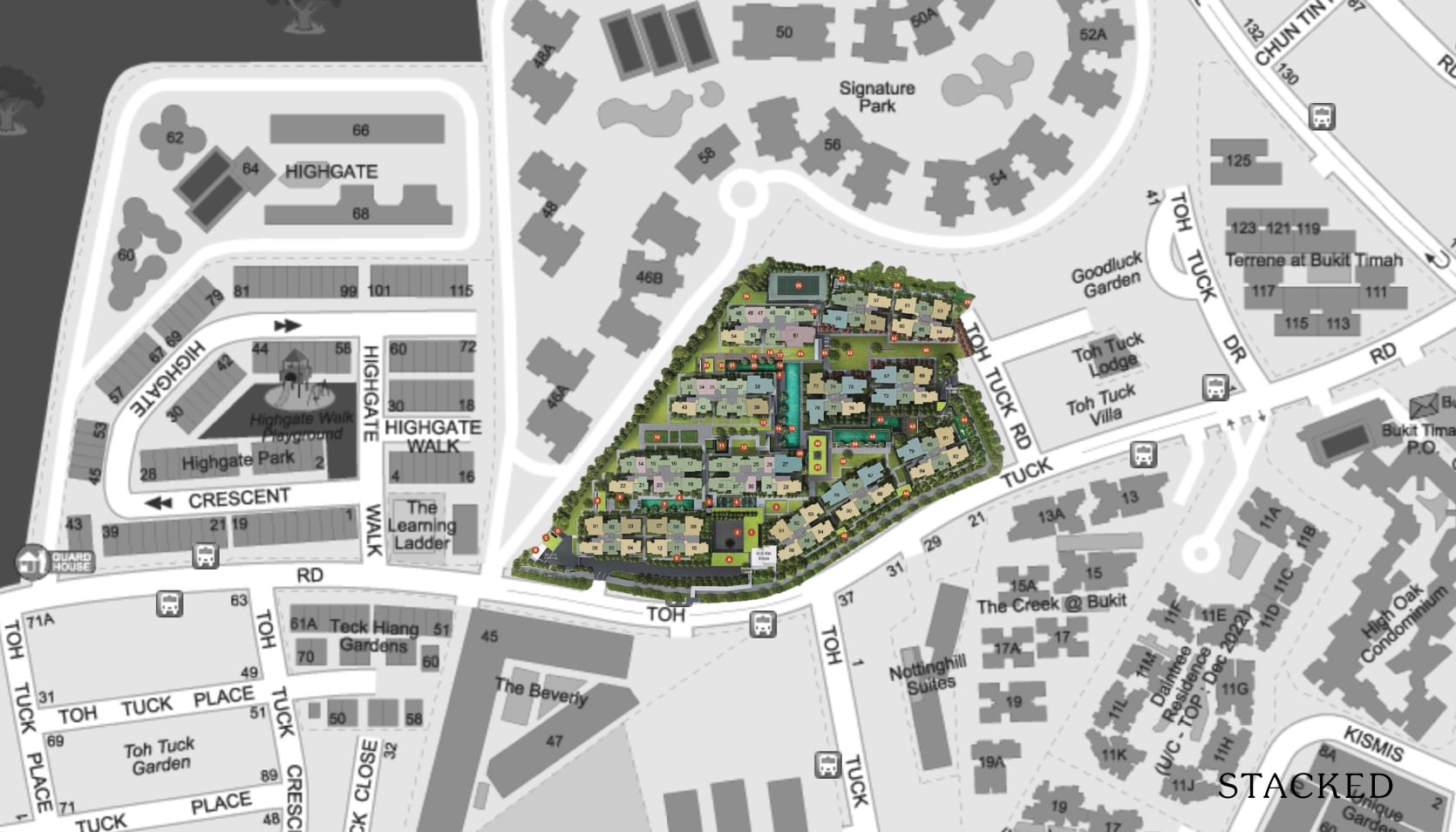 One thing I must highlight about this development is that most of the units are North-South facing. This is great because you know how hot Singapore can get and avoiding the West sun is something many homeowners set out to do. This is a natural endowment that favours this plot of land.

Because of the increased density of this redevelopment, where there are more than 3 times the number of units compared to its former Goodluck Garden days, blocks are understandably quite close to each other. If privacy is a major concern to you, do try to avoid Blocks 34 and 40 as the distance between Stacks 28 and 93 go as little as 13 metres. I would also avoid Block 34 because I am not a fan of facing the drop-off, despite the best efforts by the developer to make it slightly more aesthetic.

On average, however, the distance between blocks will be around 25 metres, which is still generally acceptable and definitely nowhere as crammed as Van Holland.

You can either go for the pool view or the lawn view and I would personally prefer the latter. Pools can get really popular on weekends and with the blocks relatively close to each other, the last thing you would want to do is to be awoken from your afternoon nap by the kids having fun downstairs.

I would personally go for Blocks 36 or 38 for a quieter and more serene environment in the development.
Best Stacks With The Least Afternoon Sun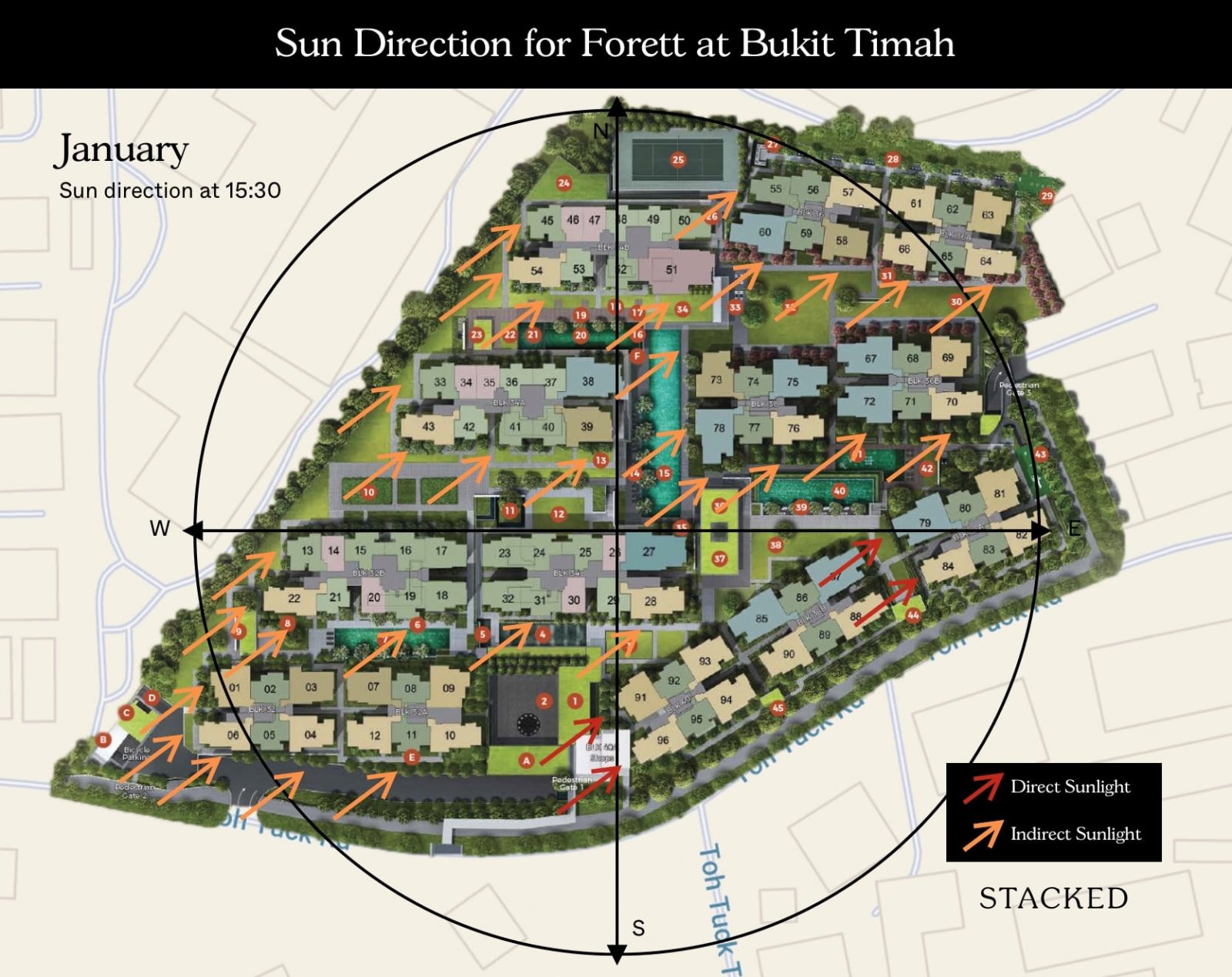 Stacks facing the South-East orientation such as 82, 83, 86, 89, 94, and 95 have the least afternoon sun.
Stacks 01, 06, 13, 22, 33, 43, 45, and 54 have the most afternoon sun all year round. Stacks 91 and 96 also get strong afternoon sun in the period around July.
Prices for Forett at Bukit Timah
Price Breakdown (1st Property)
2-Bedroom Deluxe
3-Bedroom
4-Bedroom
Price
$1,360,000
$1,847,000
$2,886,000
25% Down Payment
$340,000
$461,750
$721,500
Additional Costs
Buyer Stamp Duty
$39,000
$58,480
$100,040
Legal Fees
$2,500
$2,500
$2,500
Valuation Fees
$300
$300
$300
Stamping Fees
$500
$500
$500
Total Price
$1,402,300
$1,908,780
$2,989,340
Initial Investment Amount
$382,300
$523,530
$824,840
Return on Investment
Expected Rental Price
$3,294
$4,410
$6,489
Rental Yield
2.82%
2.77%
2.60%
Price (2nd Property)
2-Bedroom Deluxe
3-Bedroom
4-Bedroom
Cost Without ABSD
$1,402,300
$1,908,780
$2,989,340
Plus: ABSD (12%)
$163,200
$221,640
$346,320
Total Price After ABSD
$1,565,500
$2,130,420
$3,335,660
Initial Investment Amount
$545,500
$745,170
$1,171,160
Return on Investment
Expected Rental Price
$3,294
$4,410
$6,489
Rental Yield
2.52%
2.48%
2.33%
Price Review
| | | | |
| --- | --- | --- | --- |
| Development | Tenure | No. of Units | Average Psf |
| Forett at Bukit Timah | Freehold | 633 | $1,880 |
| Daintree Residence | 99 Years | 327 | $1,670 |
| View at Kismis | 99 Years | 186 | $1,693 |
| Mayfair Modern | 99 Years | 171 | $1,911 |
| Mayfair Gardens | 99 Years | 215 | $1,957 |
| Linq at Beauty World | Freehold | Yet to launch | TBD |
| Verdale | 99 Years | Yet to launch | TBD |
Amidst the Covid-19 pandemic, you have to launch your development at an attractive price to entice potential buyers and that's exactly what Qingjian Perennial did.

Being one of the only freehold options in the vicinity, its price premium over neighbouring leasehold projects Daintree Residence and View at Kismis is a mere 13% and 11% respectively (psf wise). Considering how Forett at Bukit Timah has more extensive facilities compared to its 2 competitors, I must say that this project is rather attractively priced.

Even when compared to its next door neighbour Signature Park, which is already 22 years old, the premium stands at 35%, which is still fair in my opinion. In fact, Forett at Bukit Timah is even cheaper than 2 leasehold projects, Mayfair Modern and Mayfair Gardens. Of course, these are projects found 1 station closer to town at King Albert Park MRT and is also within 1km to Methodist Girls School.

You might be wondering why the take up rate so far for Forett at Bukit Timah has been pretty encouraging despite it pushing the PSF boundaries of the immediate vicinity.

The answer lies in its quantum.

You could say that it is by design, or just a matter of coincidence. But while the Forett at Bukit Timah definitely surpasses Daintree Residence in terms of PSF (and understandably so because of its freehold status), when it comes to the final quantum of each competing unit, it actually is quite close.

This can partly be attributed to the bump up in price for Daintree Residence, given that it has currently sold about 60% of its total units, and also because the overall unit size for Forett is smaller. This therefore closes the gap in price between both developments.

To give you a few examples: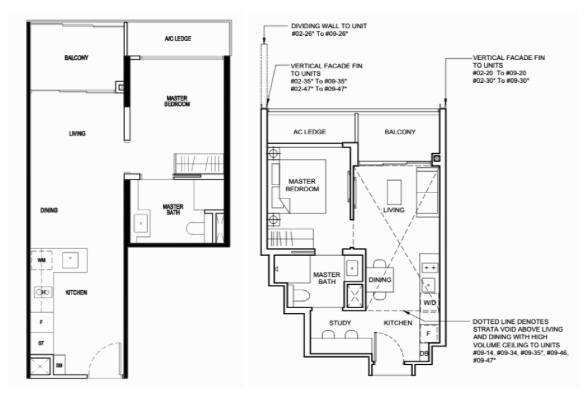 First let's look at the 1 bedroom unit between Daintree Residence and Forett at Bukit Timah.

Now to be fair, this might not be a like for like comparison given that they could have different facing or stack characteristics. But these figures are based on the latest transactions so far for the 1 bedroom unit.
| | |
| --- | --- |
| Daintree Residence | Forett at Bukit Timah |
| 538 sqft | 474 sqft |
| $1,704 psf | $1,790 psf |
| $916,900 | $848,000 |
As you can see, despite the higher PSF price, its overall quantum comes in even lower as compared to Daintree Residence because of its smaller size. Sure, it is going to be more cramped, but you can see from here why people would choose a 1 bedroom at Forett given the lower overall quantum.

If anything (size aside), the layout at Forett even appeals to me more – especially with the additional study area carved out.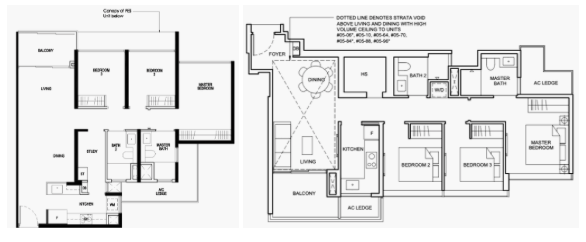 Now let's look at the Daintree Residence versus Forett at Bukit Timah's 3 bedroom unit.
| | |
| --- | --- |
| Daintree Residence | Forett at Bukit Timah |
| 1,001 sqft | 947 sqft |
| $1,719 psf | $1,783 psf |
| $1,720,450 | $1,689,000 |
It's a similar story for the 3 bedroom unit, where even despite the higher psf, the overall quantum is lower because of the smaller unit size. Again, given the freehold aspect of Forett, you can understand why the price points here are appealing.

Do bear in mind though, the current prices for Daintree Residence are higher (as compared to its launch), given that they've sold a substantial number recently. So if you were one of the earlier buyers of Daintree Residence at the $1,500/$1,600 PSF range, you would have purchased it at a lower price as compared to Forett. Naturally if Forett continues to sell well, you can expect to see price increases along the way too.

Appreciation Analysis
As mentioned in the Daintree Residence review, most of the appreciation hopes are primarily from the Beauty World Transformation. If you take some time to compare the URA Masterplans of 2014 and 2019, you will notice that there will be a 1 million sqft mixed-used development as part of a new integrated transport hub at Beauty World. More than 800 units are also expected to be launched as part of that development.

Personally, this means exciting stuff for buyers as it is expected to rejuvenate the neighbourhood that looks past its prime, with drab-looking buildings such as Beauty World Plaza still standing. With added vibrancy and increased connectivity brought about from the new integrated transport hub, it definitely will add a greater potential to the area – the question is – how much value does it really add?

There's also talk about the potential oversupply of units in the area – and it is easy to see why. View at Kismis, Mayfair Gardens/Modern, Ki Residences, Linq, Verdale, and the upcoming Jalan Anak Bukit site – there will be a substantial number of units that will be added to the area.

On the left of the URA Masterplan shot above, you can also see that there are two huge reserve sites that is currently a forested area. Currently, there is no indication of what will be earmarked for the future – but there still is lots of land yet to be redeveloped. Of course this is still some time away, but you can look at it positively – especially if you are considering a longer hold for Forett at Bukit Timah.
Our Take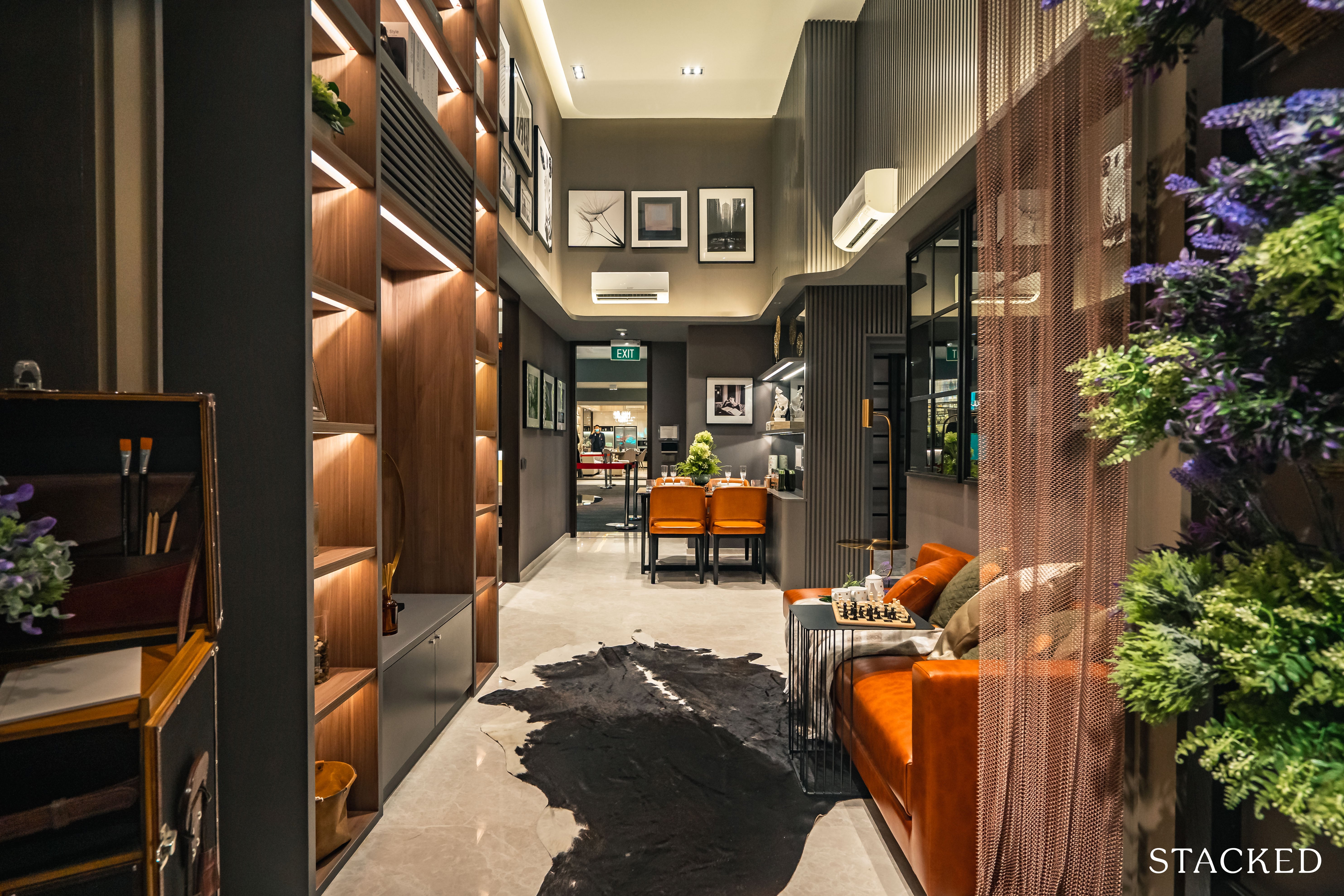 What we like
Good number of pools

Unique layouts

Beauty World Transformation
What we don't like
–

Distance from MRT

–

Quite dense
First, the downsides. Forett at Bukit Timah in my opinion, is definitely still a bit of a walk to the MRT station. So if public transport is crucial – I do think there are better placed developments that can fulfil those needs.

Second, the small unit sizes will always be a constraint – so you will have to weigh in or what is more important to you and your family in terms of priorities.

With all that said, I can see the appeal of Forett too – mainly from the view of its current price point. Firstly, if you are already a D21 lover or are considering a new property in D21, this will be one of the more attractive options around. Its average PSF of $1,880 is, in my opinion, fairly priced as its peers have less extensive facilities and are leasehold projects. Remember, overall quantum wise they have been smart in how they've positioned each unit in terms of comparables to the area – for now the quantum is still very much in their favour especially with the freehold aspect.

Secondly, even if you do find the PSF slightly expensive or are constrained by a budget, the wide range of unit sizes means there might be something for you. For example, you should able to get the smallest 2 bedroom unit of 549sqft at less than $1.1 mil, which is considered quite an affordable entry price for a freehold property. 

Thirdly, you will be well-placed to take advantage of the Beauty World Transformation plan. Whether or not this plan becomes a resounding success remains to be seen. However, my take is that given its fair entry price, freehold status and transformation plans, Forett at Bukit Timah should at least hold its value relatively well.
Developer Notes:
Qingjian Realty is part of Hong Kong-listed CNQC International Holdings Limited, which extends its footprint in Singapore, Hong Kong, Macau amongst others. It started as a construction firm in Singapore in 1999 and has come a long way since. Its first property development came in 2008 with a DBSS (Natura Loft) in Bishan before thriving in Sengkang and Punggol, where it built a total of 6 projects, including the likes of Bellewaters and Riversound Residence. It has since expanded to the North and West as well, before launching Jadescape, its largest project to date. 

What impresses me is their continual strive to be ahead of the game, especially in terms of technology. It rolled out the HiLife app in July 2015 for its residents to not only book facilities but also assist with a wide range of services to ensure a seamless moving in process. For Jadescape, they have also placed a strong emphasis on Smart Home living and even have dedicated spaces at the showflat to showcase them to you.

Perennial Real Estate is an SGX-listed company with a presence in China, Singapore, Malaysia, Indonesia, Myanmar, Sri Lanka and Ghana. Besides real estate, the company also has healthcare interests in China. In Singapore, their investment properties are iconic buildings such as Capitol Singapore, CHIJMES, House of Tan Yeok Nee amongst others. What is most interesting amongst them is Capitol Singapore, which is an integrated development with Eden Residences and The Capitol Kempinski Hotel Singapore, which is notable for being Kempinski's first property in Singapore.

What this means for you
You might like Forett at Bukit Timah if you:
• You believe strongly in the Beauty World Transformation Plan:

This is supplemented by plans made for the old Bukit Timah Fire Station and the future Bukit Timah-Rochor Green Corridor, all of which will bring about greater connectivity to the estate.

• You are looking for a new freehold development with full condo facilities around Beauty World:

You don't have many choices out there as the likes of Daintree Residence, View at Kismis and Mayfair Collection are all leasehold projects and Linq at Beauty World is a more boutique development
You might not like Forett at Bukit Timah if you:
• Living near an MRT is a priority:

While the walk is not unbearable, doing so everyday might take a toll on you.

• Like big open spaces

The general site isn't the most spacious, and barring the bigger 4/5 bedroom units, the smaller units are slightly smaller than average.
End of Review
Join our Telegram group for instant notifications
Join Now
Matt K