Our Verdict
Amo Residence marks the first condo launch in Ang Mo Kio since 2014, in an area that arguably has almost everything you need. Living in the heartlands means proximity to affordable amenities such as hawker centres and wet markets, whilst not sacrificing the importance of good schools (Ai Tong, St Nicks, Eunoia, RI, RI (JC), RGS) and convenience (centrally located, with MRT connectivity). Read on to find out if Amo Residence is truly worth its hype!
62
min read
| | |
| --- | --- |
| Project: | Amo Residence |
| District: | 20 |
| Address: | 21 / 23 Ang Mo Kio Rise (Singapore 569417/8) |
| Tenure: | 99 Years from August 2021 |
| No. of Units: | 372 |
| Site Area: | 136,479 sqft |
| Developer: | JV between UOL Group Limited, Singapore Land Group, and Kheng Leong Company |
| TOP: | 2026 |
I remember it was the early 2000s when I visited the show flat of Grandeur 8, which is regarded as one of the first condos in the Ang Mo Kio area. It was a number of years before another 2 condos were launched in Ang Mo Kio – Centro Residences in 2009 and The Panorama in 2014 (which didn't quite sell so well at first). It is evident that Ang Mo Kio, despite its prominence as a popular (and populous) residential estate and the quintessential heartland, has a dearth of private condo developments. 
One could posit that this lack of private residential supply bodes well for a new launch like Amo Residence, which will help to meet the needs of upgraders from the nearby million-dollar HDB flats. While not every flat has hit $1 million, the potential pent-up demand here could be significant – Ang Mo Kio is no small HDB estate, with more than 50,000 flats according to HDB. It's safe to say that Ang Mo Kio's geographically central location, good schools, and amenities found in nearby HDB estates and AMK Hub have made this a sought-after area for many Singaporeans.  
Having viewed the show flats of Grandeur 8 in the early 2000s and The Panorama, I have personally witnessed the meteoric rise in prices over the years – although this is, of course, not exclusive to Ang Mo Kio. From the sub-$500 psf launch for Grandeur 8 in ~2002 to $1,100+ psf for Centro Residences in 2009 and ~$1200+ psf for The Panorama in 2014, you could easily dismiss Amo Residence's expected average launch price of $2,100+ psf (although starting from $1,890 psf) as overpriced for an OCR development.
To be clear, the developer's indicative pricing have 2 bedrooms starting from $1.3m ($2,117 psf), 3 bedrooms from $1.8m ($1,879 psf), 4 bedrooms from $2.5m ($1,934 psf) and 5 bedrooms from $2.9m ($1,967 psf). I will caveat that these are for the lowest priced units, which may have less than ideal views (e.g. towards the car park of the nearby BTO at Kebun Baru Edge). I, therefore, predict units that clear both the BTO's car park towards the South (~4th floor and above) and the landed estate towards the North (~6th floor and above) to be priced higher, hence arriving at an average psf of ~$2,100.
While this will set a new benchmark for the area, we have been close to these figures before – a buyer (quite bizarrely, in my opinion) paid $1,920 psf for a 1,001 sqft unit at Centro Residences back in 2013 (average prices are now ~$1,600 psf) while The Panorama hit a new peak of $1,819 psf in June 2022 for a similar-sized unit. The property market is in a unique situation at the moment – with the conflicting effect of high land costs (this plot was acquired at $1,118 psf) and rising interest rates, so I will advise due caution and consideration. Should you require advice on your purchase, feel free to message us at Stacked for a more detailed look into your finances and options.
I'm sure you're excited to find out what makes Amo Residence stand out, so let's go right to the Insider Tour!
Amo Residence Insider Tour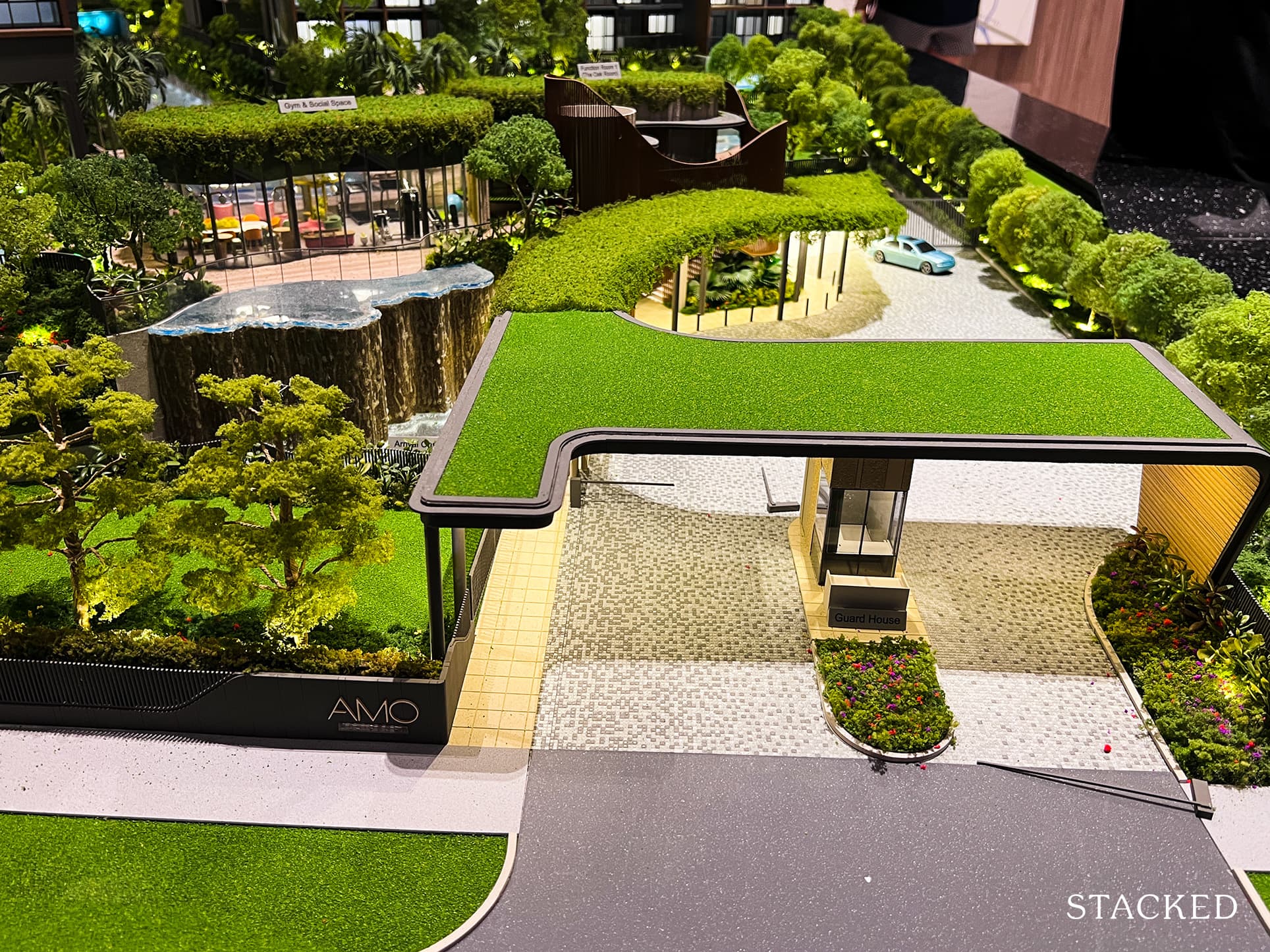 Amo Residence will be situated along a newly built road, Ang Mo Kio Rise, which is just off Ang Mo Kio Avenue 1. It will be sandwiched between the one-of-a-kind clover-shaped HDB block and the Kebun Baru Edge BTO project, which is expected to TOP before Amo Residence in 2025 (so you don't have to worry about the incessant construction noise, for now at least). Another BTO project beside Amo Residence is Kebun Baru Court, which has recently obtained its MOP, and 5 room flats there are being sold in excess of $1 million and 4 room flats well above $800k. If that's a barometer of how Amo Residence will perform, we are off to a good start. Residents of Amo Residence will have exclusive access to Ang Mo Kio Rise, as the BTO residents will access their car park via Ang Mo Kio St 21 instead.
Amo Residence sits on a land plot of 136,479 square feet with 372 units, which while not as awesome as LIV@MB's 298 units on an ever so slightly bigger 140,758 square feet – is still very decent. To give you some context to some newer condos – Margaret Ville has 309 units on just 51,772 square feet of land. It does sit on a slightly sloping piece of land too, with the increase in height from Ang Mo Kio Rise to the back at 600mm.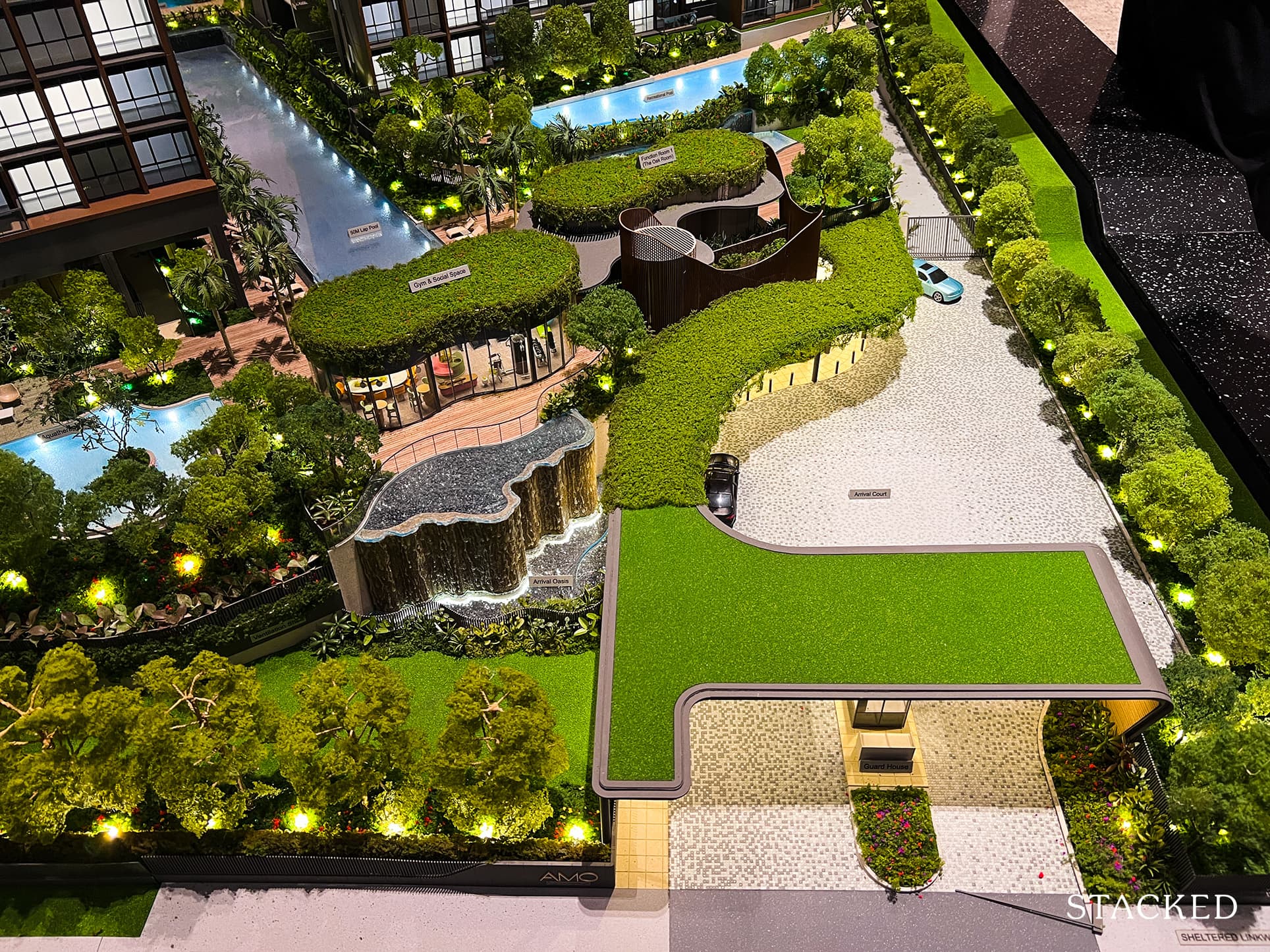 As expected, you are first greeted by the guardhouse at the entrance, with a side gate for residents on foot. Upon entry, there is the Arrival Court with an Arrival Oasis water feature awaiting you. These areas are often the first touch points for those who visit, so it is important for them to be executed tastefully. In this case, while it is nowhere near the grandest of arrival courts, the water feature provides a sense of calm when you arrive home and is suitably comforting. The roof of the guardhouse and arrival court have also been thoughtfully covered up with greenery, making them more aesthetically pleasing.
It does seem a little cramped here though, which I guess gives a better feeling of surprise when you see the space available at the back of the development!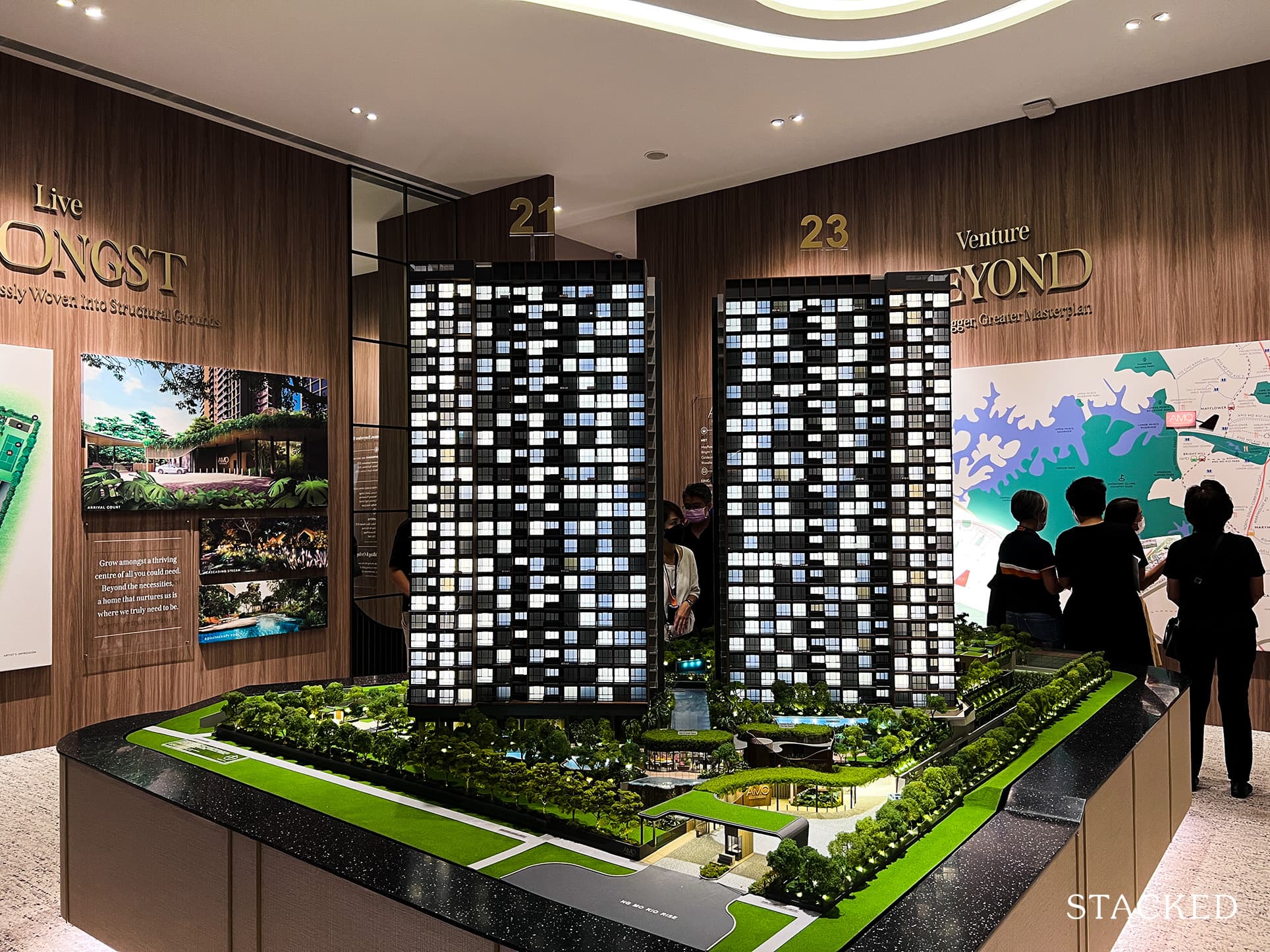 A left turn after the arrival court takes you to the basement car park. In terms of car park lots, you will be pleased to know that there is a 1-to-1 car park to unit ratio at Amo Residence. This is definitely a plus considering this condo's target buyer segment, which I presume will largely be families. As much as we are transitioning towards a greener future, many Singapore families (in this income group) still rely on cars as a primary means of transport.
Nonetheless, I have noticed that developers are increasingly cognisant of this and here at Amo Residence, 4 lots will be catered to Electric Vehicles. This is definitely a marked increase from the 1 token lot catered by developers just a year or so ago.
Continuing in the spirit of environmental sustainability, there is also a bicycle park near the entrance to store your bicycles away – that's helpful if that is your preferred mode of transport. Even if you don't cycle to work, the Ang Mo Kio-Bishan Park is right opposite, with plans for a 20km looped network around the estate. If you haven't already thought about it, cycling can easily be part of your exercise plans living here!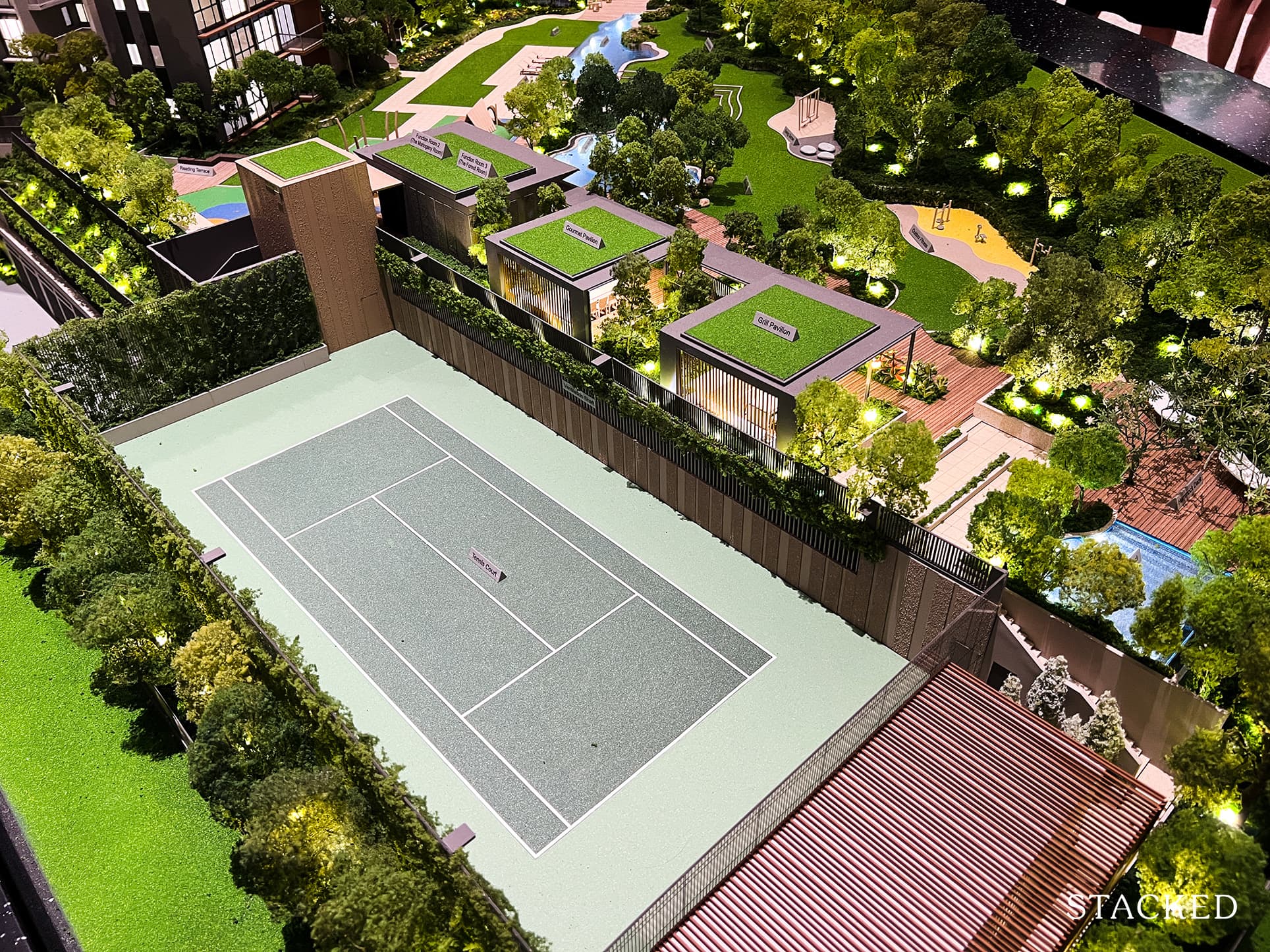 Speaking about exercising, I must say that the facilities here at Amo Residence are impressive. It's a mid-sized land plot, similar to that of the latest major launch, Liv@MB. While Liv@MB has impressive rooftop facilities that this development does not, you get a full-sized tennis court here. It's quite a rarity for new developments today, and even rarer for a development of this size. The sunken tennis court is found at the North East end of the development, just beside the Shangri-La landed estate and Ang Mo Kio St 21 flats. There is also a side gate there as well, which is the closest exit to Mayflower MRT (~5 minutes walk) and the nearby coffee shops and supermarkets.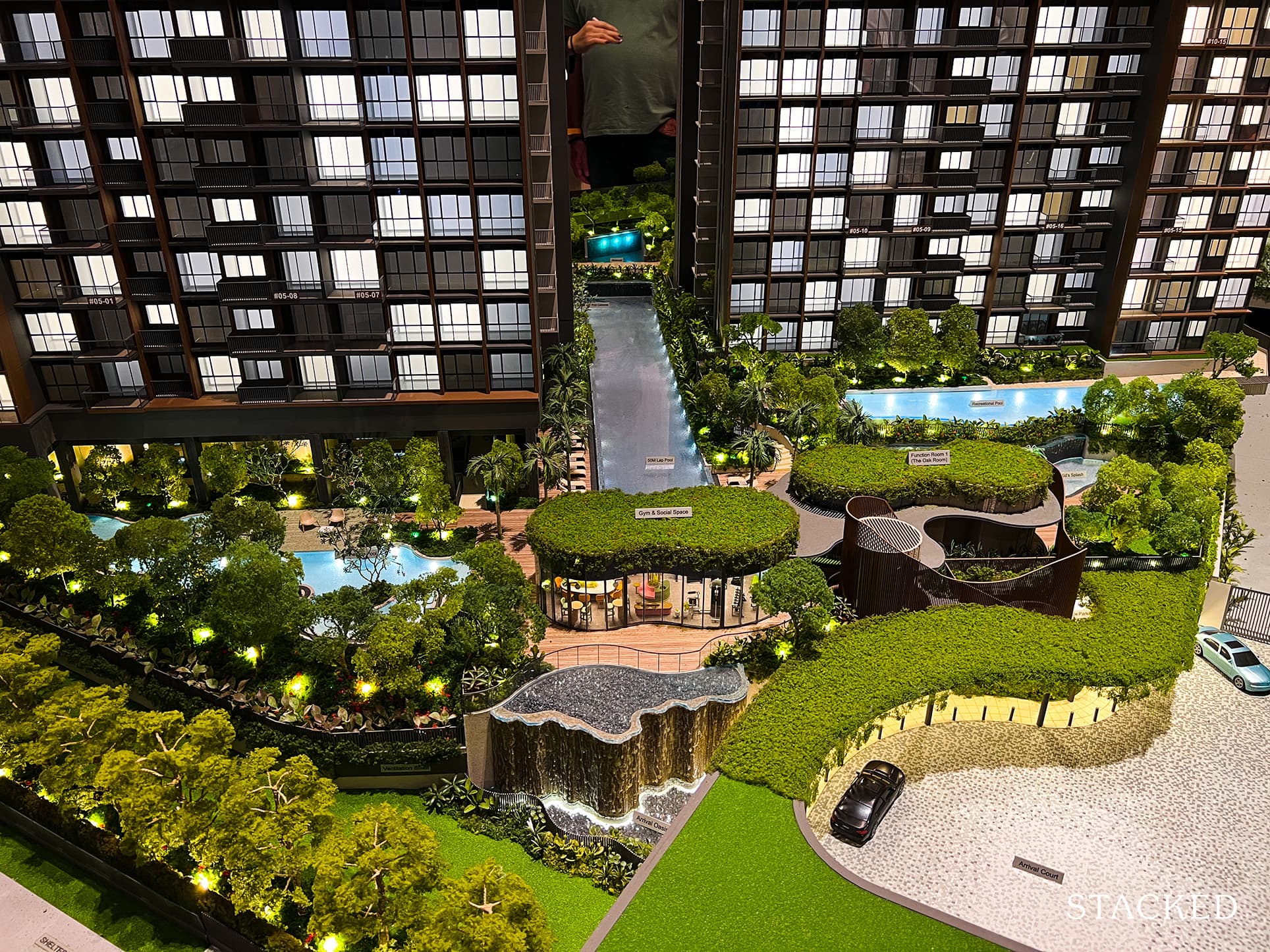 For swimmers, you have a 50m lap pool that lies in the middle of the 2 residential towers. Unlike many other developments, there are no units that are facing the main pool. This means more privacy and peace for residents, although units facing the Kid's Splash Pool (Stacks 9, 10, 15, and 16) might still have to contend with excited kids shrieking on the weekends!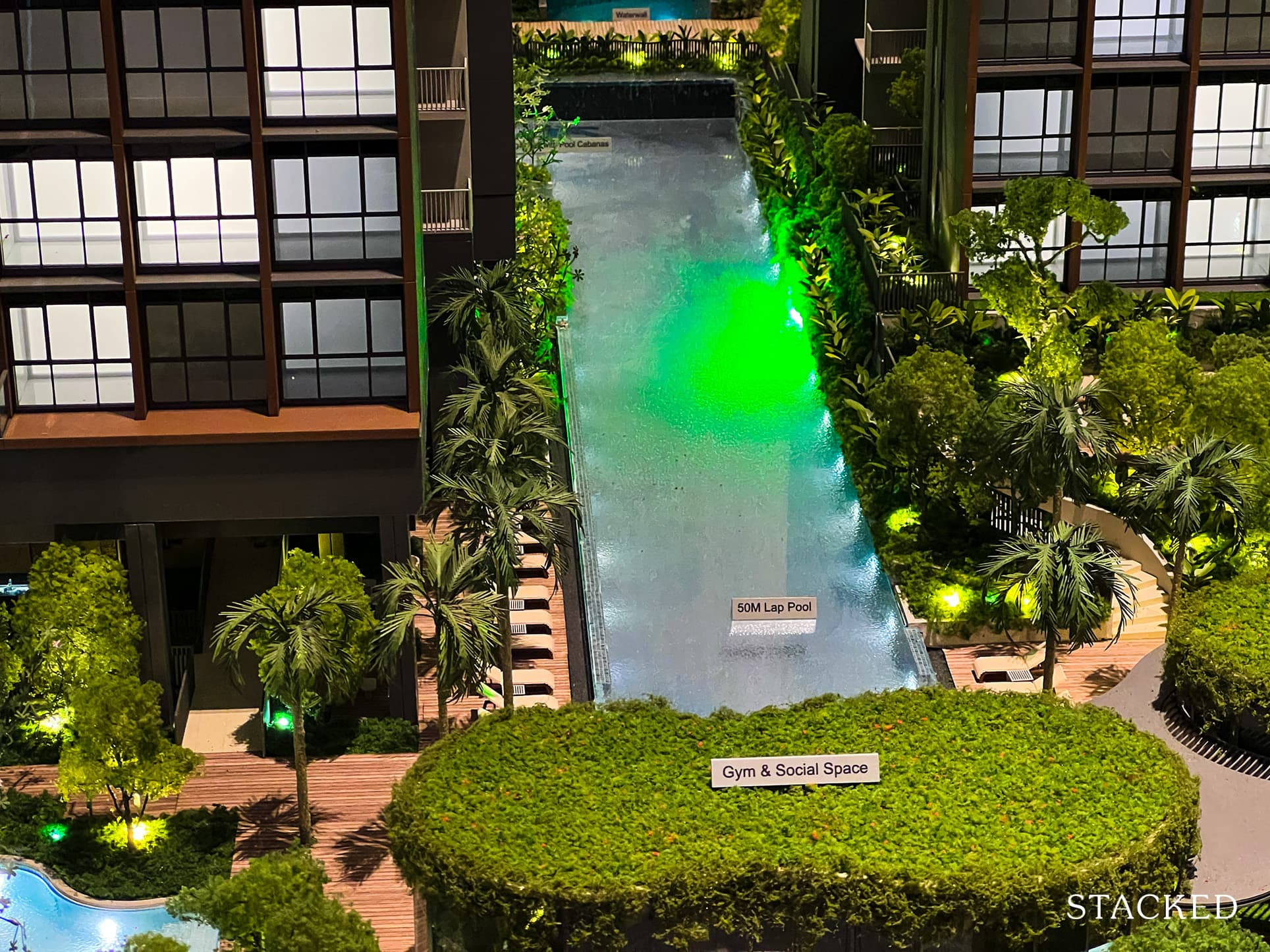 As standard, you can also expect cabanas and sun decks by the poolside for residents who wish to laze around and read a book instead.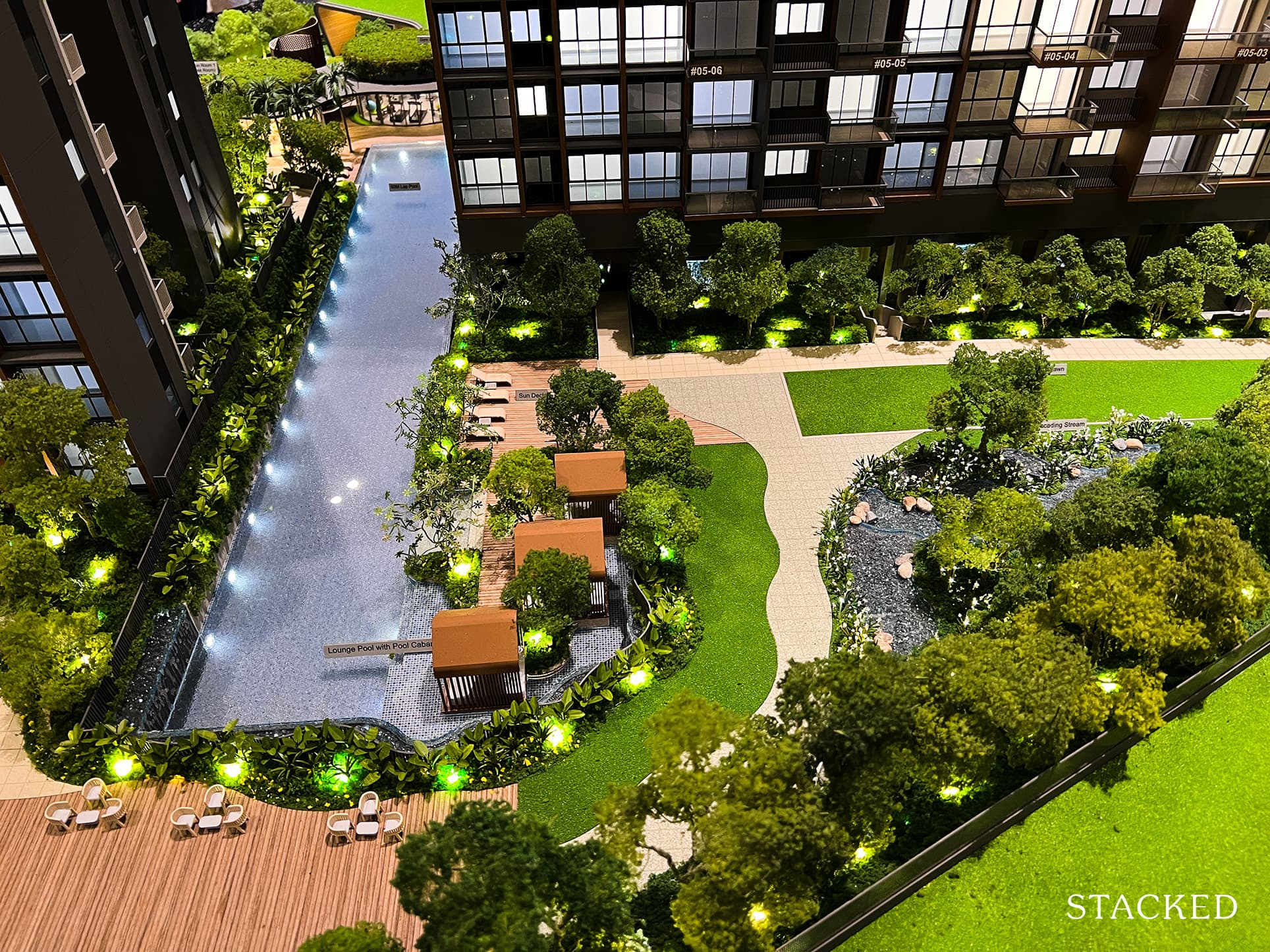 As much as I like to applaud for the provision of a 50m lap pool for 372 units, I can't say that I'm a fan of the pool being caught in between both blocks. It is slightly claustrophobic-feeling for me, although perhaps some people might liken it to swimming in between a valley of sorts. You do also have less space to laze by the pool as a consequence (like how there are only 3 poolside cabanas here).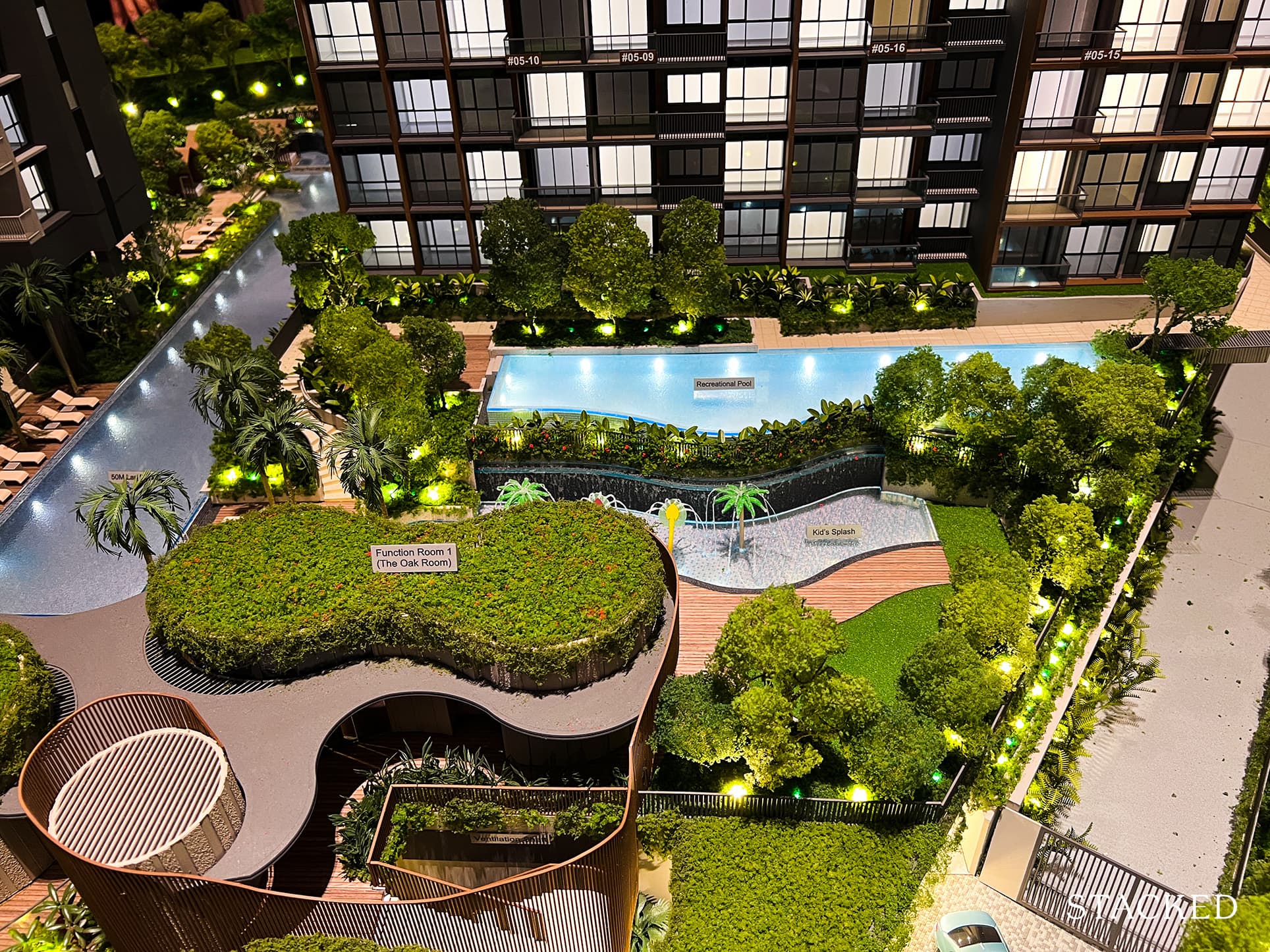 While we have the 50m lap pool for the serious swimmers, how can we forget about the budding ones as well? There's a Kid's Splash pool close by for the children, which is also adjacent to the Recreational Pool. With exception to the 50m lap pool which is 1.2m deep, the rest of the pools are between 0.9 to 1m in terms of depth. The Recreation Pool looks to be around 25m, which is a really decent size too. Just in front of Stacks 11 to 14 is the Leisure Pool, which also looks to be in the range of ~20m as well.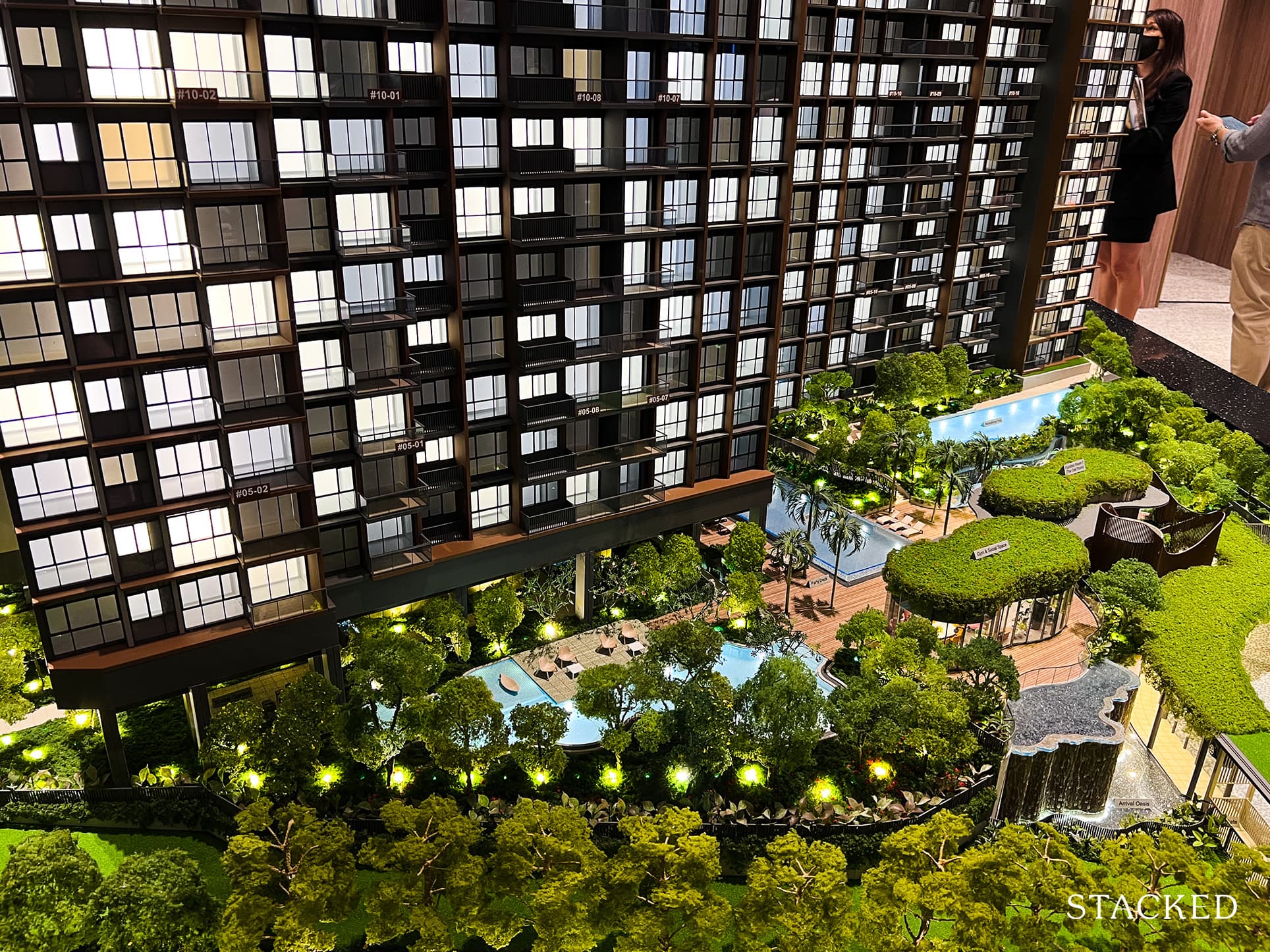 For those who are really just in the mood to chill, there is the Aquatherapy Pool just in front of Stacks 1 and 8. There's also the Vitality Pool tucked in a private corner, beside the Genset and Tennis Court, for you to recharge and a Hammock Deck to use if you would so prefer.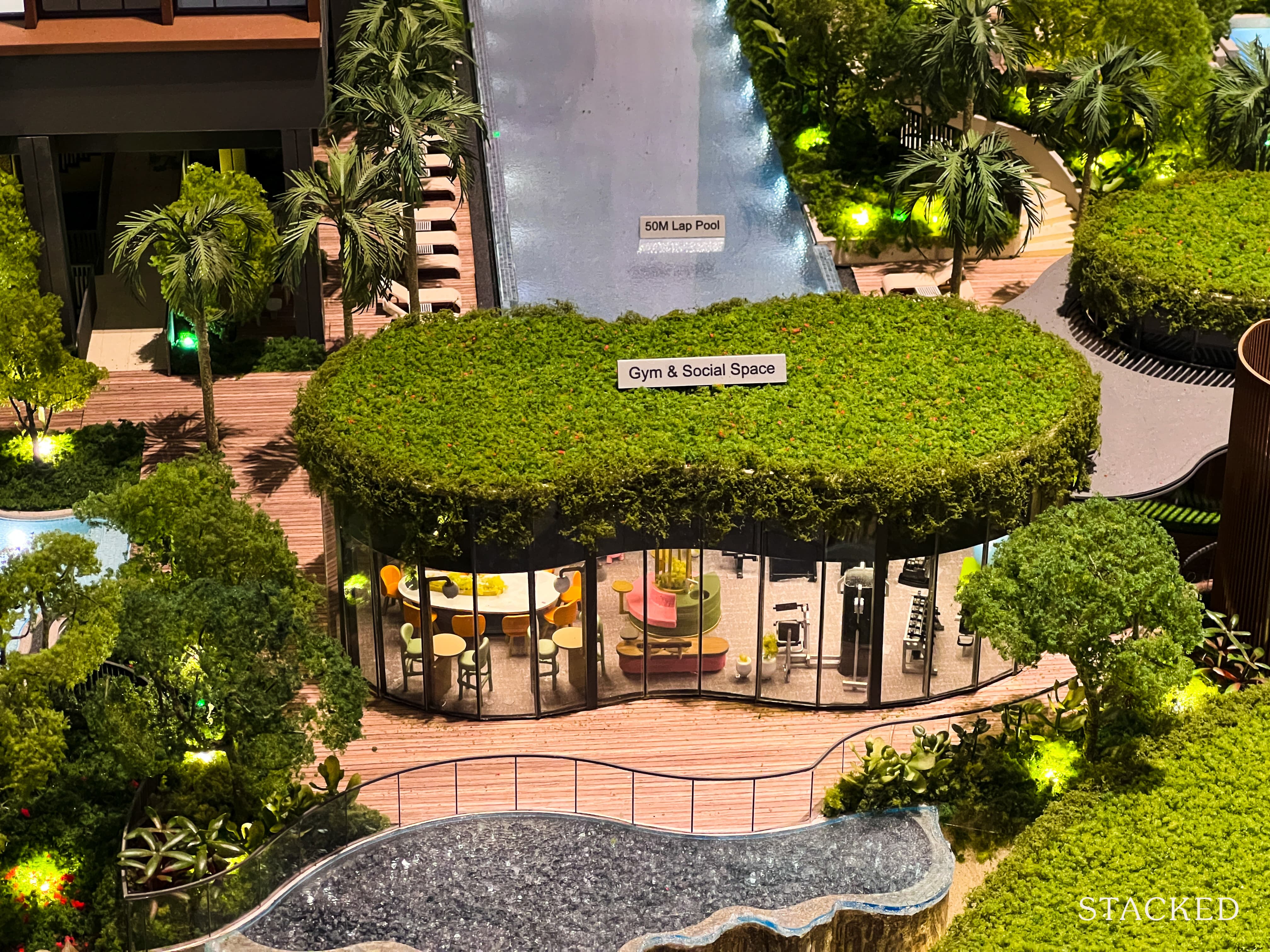 As for the gym buffs, you have the option of either the standard indoor Gym (which interestingly is meshed with a social gathering space) located close to the drop-off point at the entrance or the Outdoor Fitness area closer to the side gate.
For just 372 units, I think that this development has done well in terms of its exercise facilities, with 3 decent-sized pools and a tennis court to meet the needs of residents. It's definitely got everything covered, and even well spread out for the number of units. To put things into perspective, a luxury development like Riviere with 455 units has a smaller lap pool (36m) and doesn't have a tennis court either. Granted, the locations are obviously incomparable, but it does say a lot about how fully-featured Amo Residence is – even with fewer units!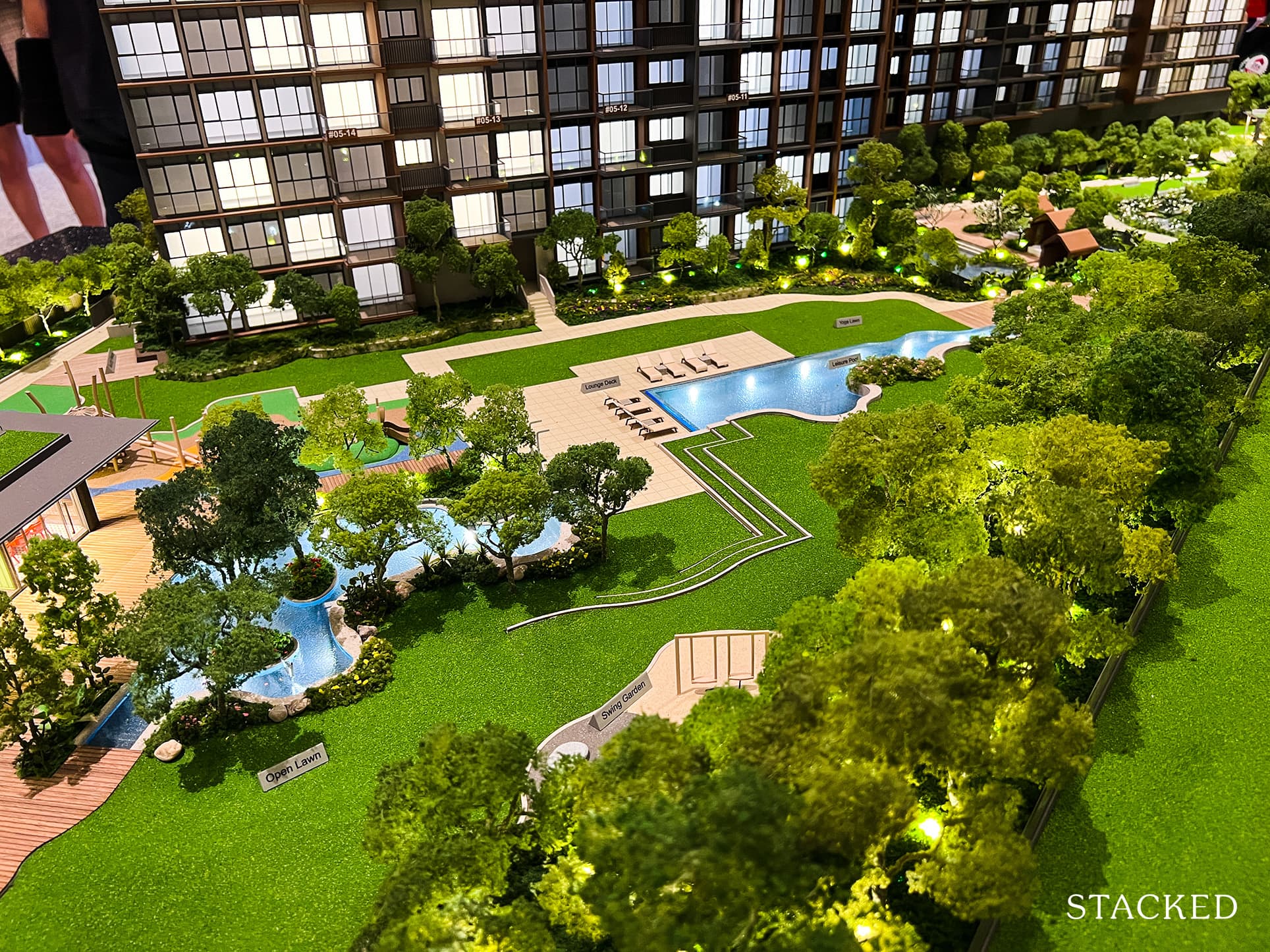 Apart from the good number of sports facilities, you will also notice an emphasis on lawn spaces around Amo Residence. You have the Tranquil Lawn, Yoga Lawn, and the Open Lawn forming a continuous line of greenery along the North West side of the development. To picture it from a more geeky perspective, it is along the hypotenuse of this triangular land plot.
You might also have noticed that the landscaping trees along this end is especially thick, this is because this end of the estate borders the landed homes – so this serves as a privacy filter.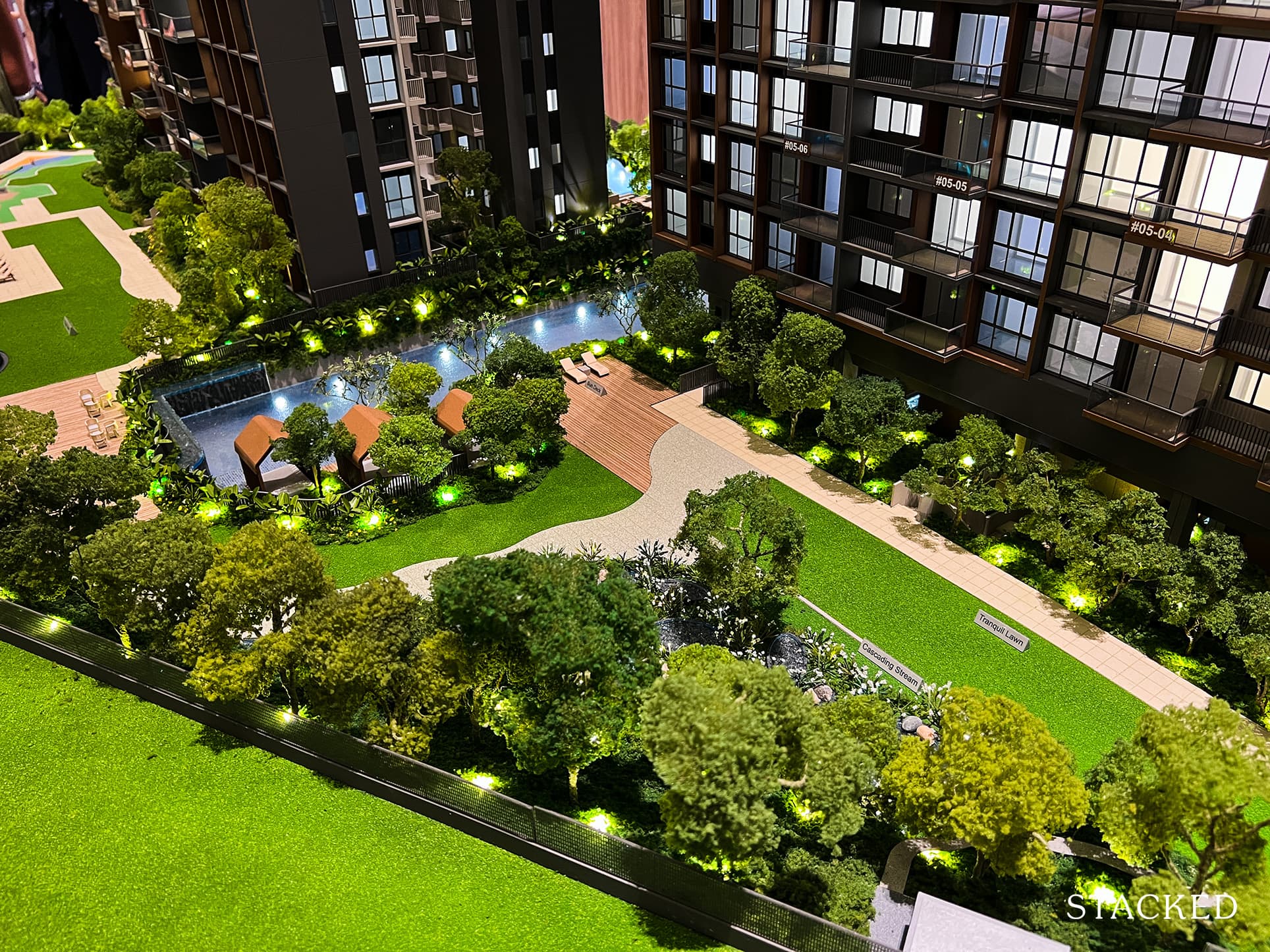 These lawns will go some way in making the site look more expansive and provide spaces for your children and pets to run around too. From the show flat model, you will really be able to tell the generous amount of space dedicated to this side of the development, which does contrast with the comparatively more cramped arrival area. If numbers help, 70% of the site will be dedicated to landscaping, which is more than the regulatory requirements. So while this isn't the biggest plot of land around, you will certainly get to benefit from as much open land here as possible.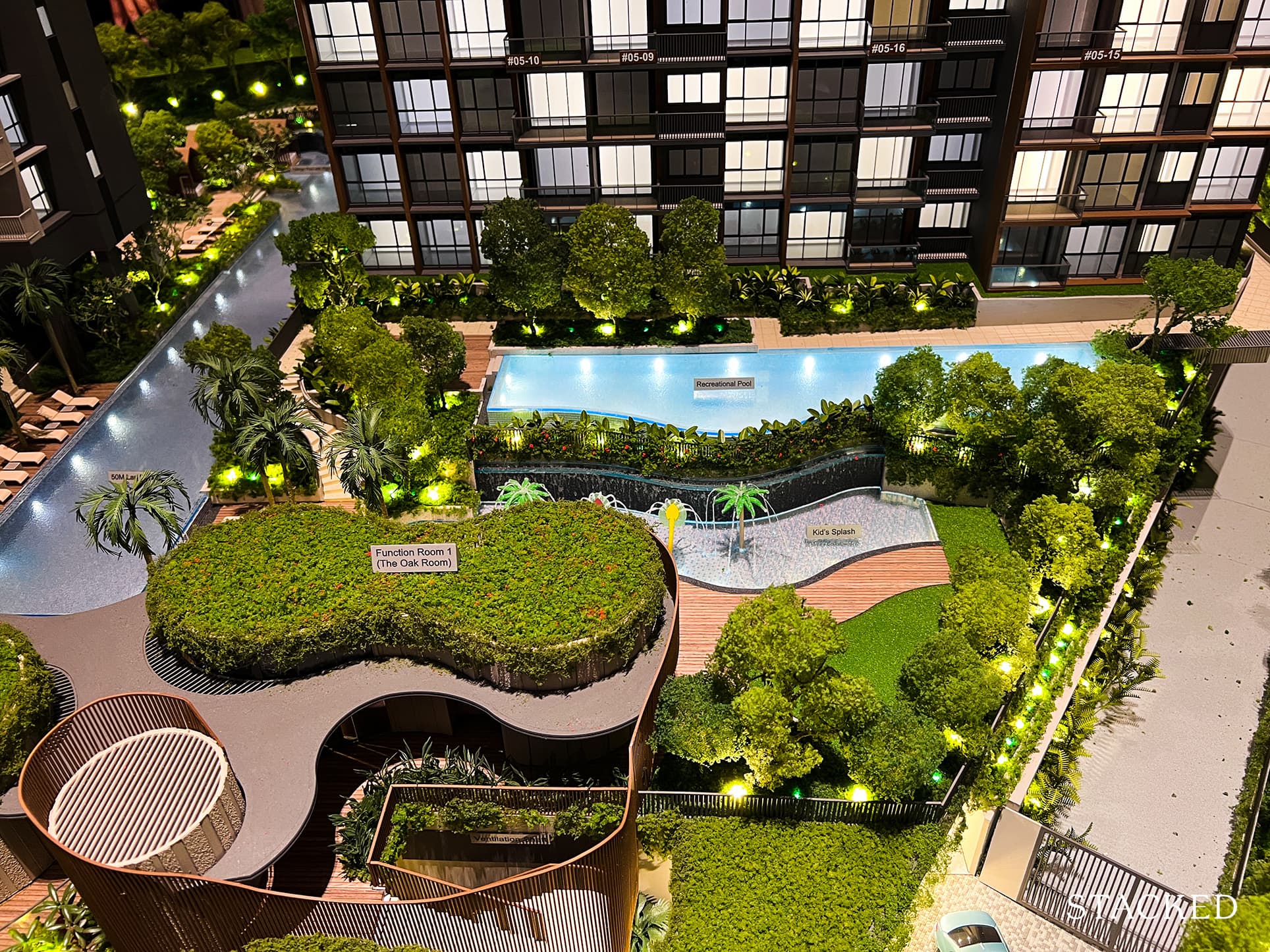 For those of us interested in hosting, the first of 3 function rooms (The Oak Room) will be situated right by the arrival area. I'm sure we all know of friends who are perpetually lost when visiting a new development, so booking this function room for gatherings might do the trick! What I also like about this particular function room is its location beside the Kid's Splash pool, making it suitable for multigenerational parties.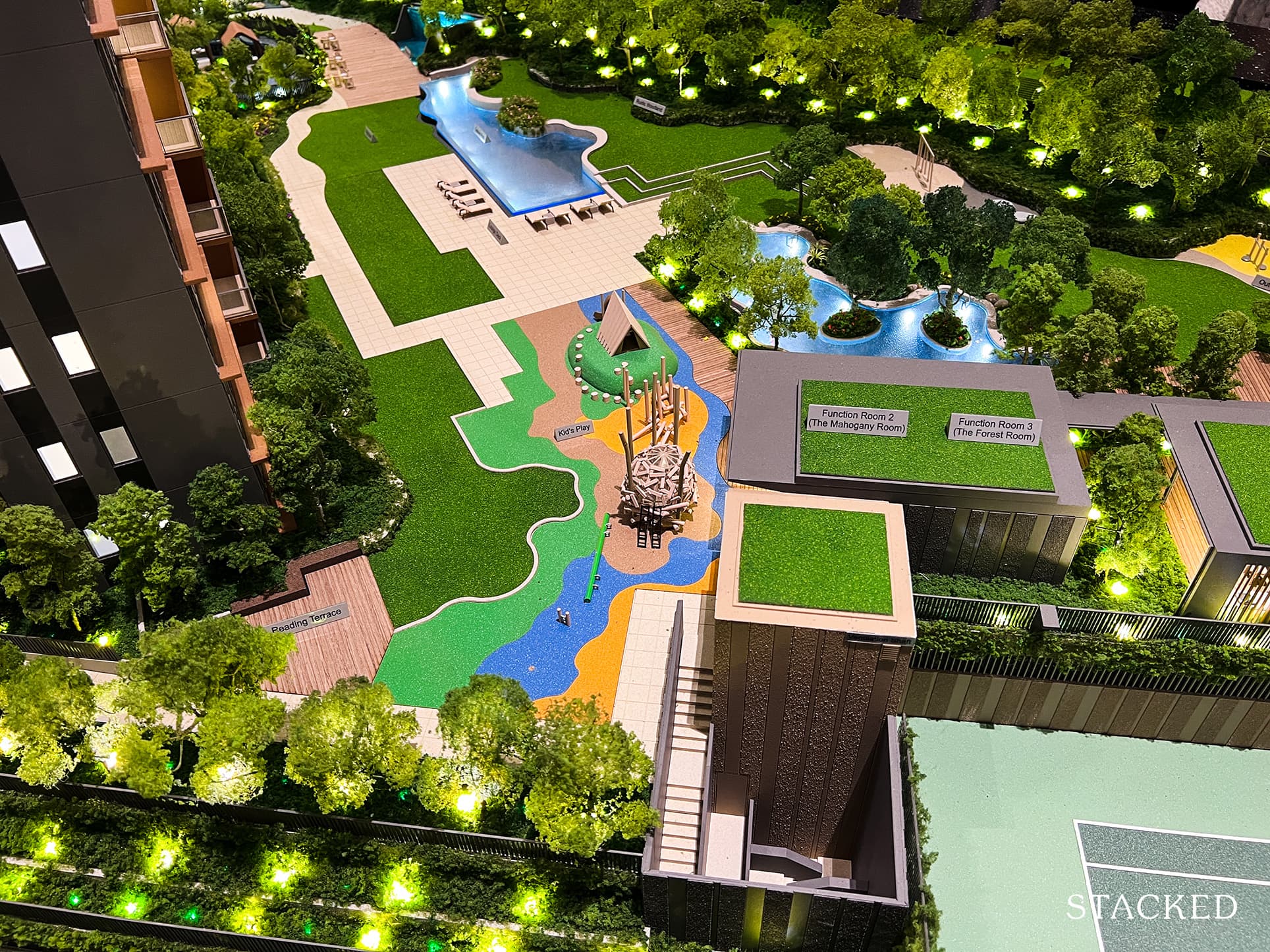 You also have the option of booking the other 2 function rooms (besides the one closer to the entrance), named The Mahogany Room and The Forest Room, situated beside the tennis court. These are expected to be air-conditioned and would therefore be suitable especially for functions you would like to hold during the day.
Just like The Oak Room (the first function room I mentioned), these 2 function rooms will be beside kid-friendly facilities – this time, the Kid's Play area. It's nice that the developers have kept the family-friendly nature when planning the location of these facilities. Being at the 'back' of the development with plenty of open spaces means the kids have free rein to roam around, and parents can also be assured that there is no vehicular traffic here as well.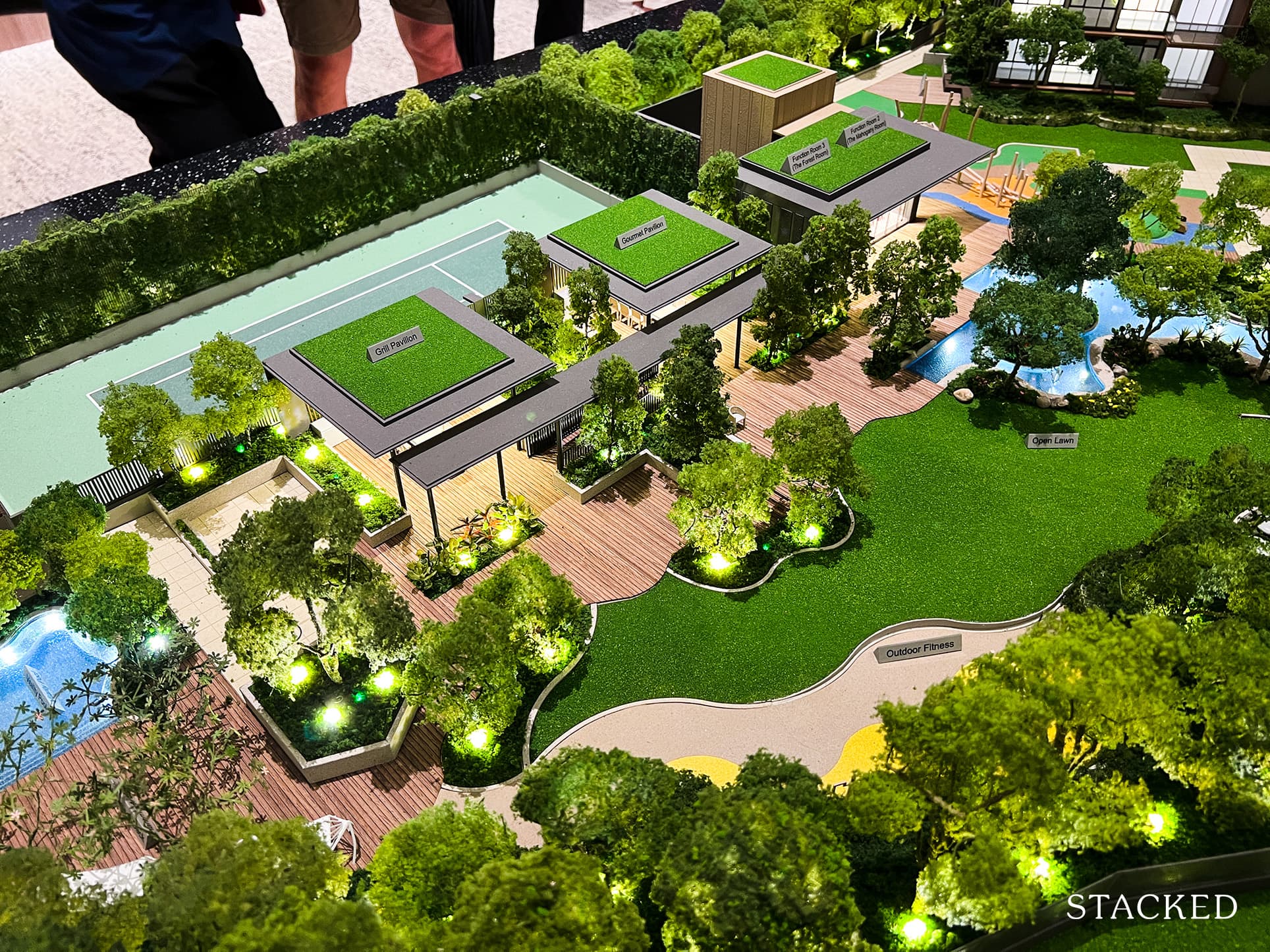 Aptly located beside these function rooms are the Gourmet Pavilion and Grill Pavilion. These will be sheltered from the elements at the very least and will have cooking facilities available (charcoal grill for the Grill Pavilion and electric grill for the Gourmet Pavilion). For those who prefer having a BBQ night, these are the ones for you to book!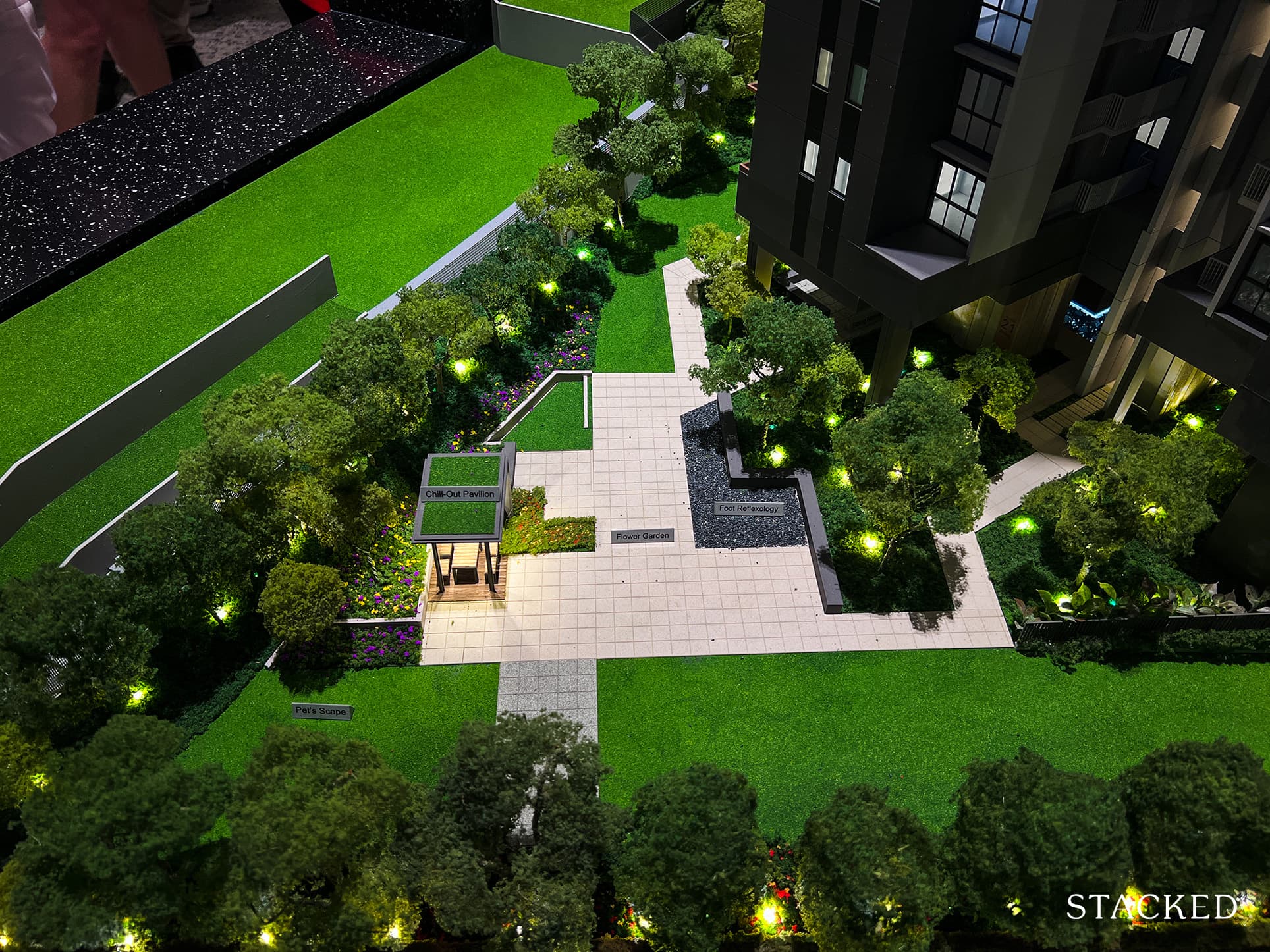 There are also a number of ancillary facilities spread across the development. For example, you have the Pet's Scape, Sitting Alcove, Flower Garden, Foot Reflexology, and even another Chill-Out Pavilion at the West end of the development. It's quite a sizeable spot that looks to be a spot of quiet from the rest of the spaces. I did expect to see more flowers in the Flower Garden though!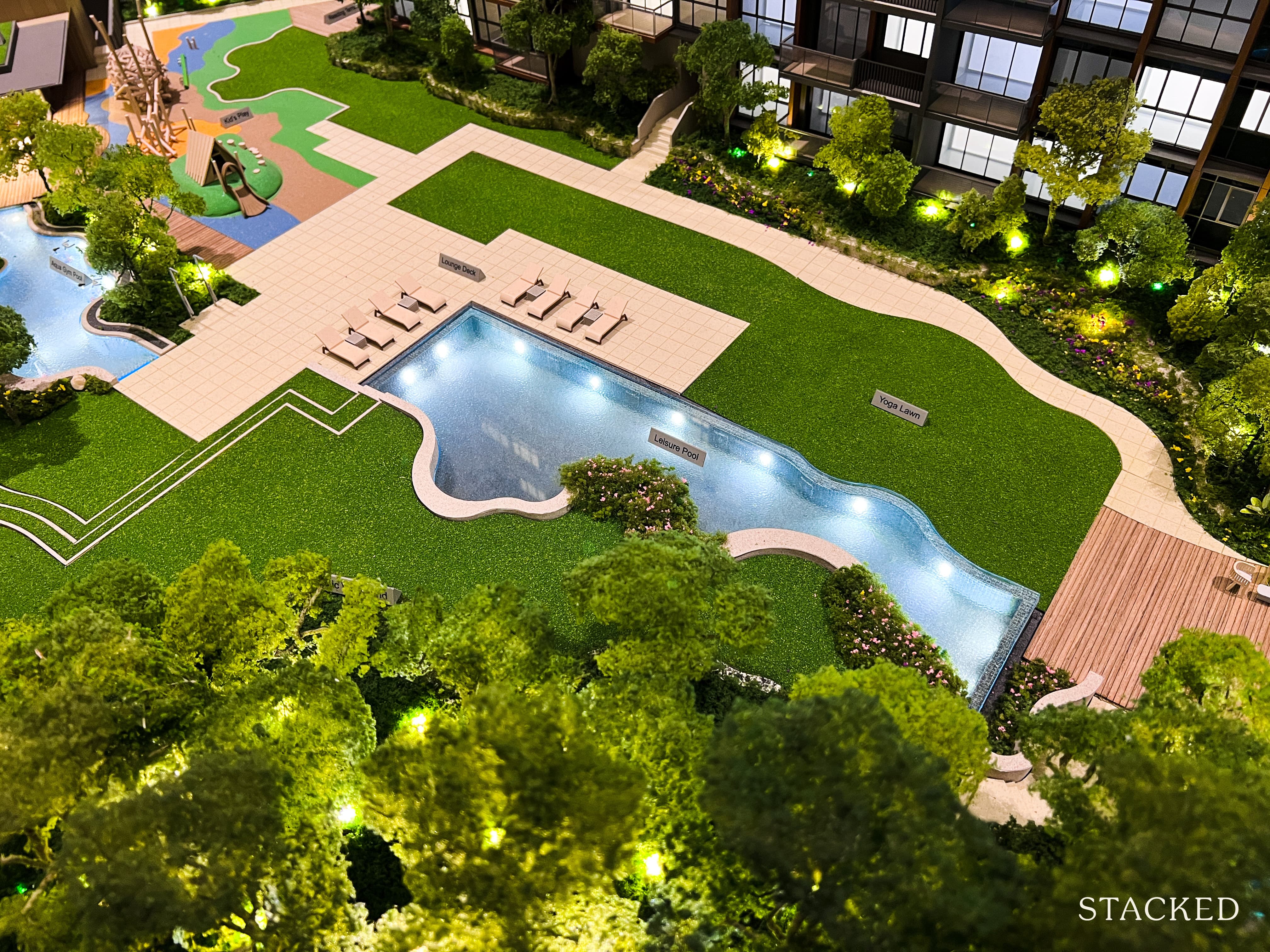 A Cascading Stream, Waterwall, and Rustic Woodland also line the borders of Amo Residence to provide more character to the entire development. UOL is rather well known for their good landscaping in their projects (see Clement Canopy and Principal Garden, for examples) so I daresay that you shouldn't be worried about how the landscaping at Amo Residence would turn out.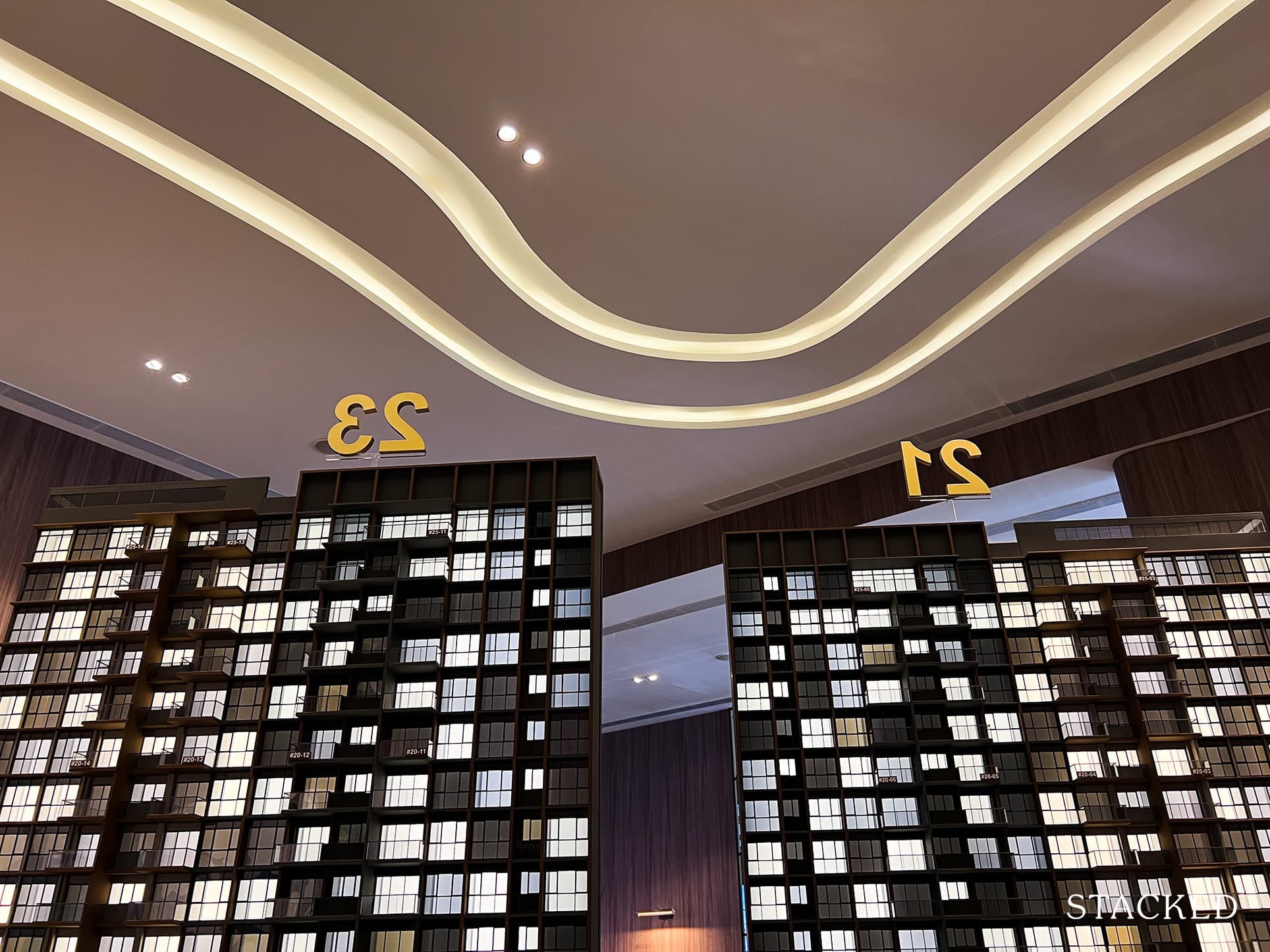 It's also worth noting here that there are only 3 penthouses on offer at Amo Residence, and if you've seen the floorplan for these – the master bedrooms are truly quite luxurious spaces. These are located on only one side of the development toward the landed views, while the other side just has regular units (no higher ceiling heights here). And with that, there aren't any facilities here that you might expect. As such, if you've bought a lower floor here, there's no chances of you enjoying the views from the top floor I'm afraid!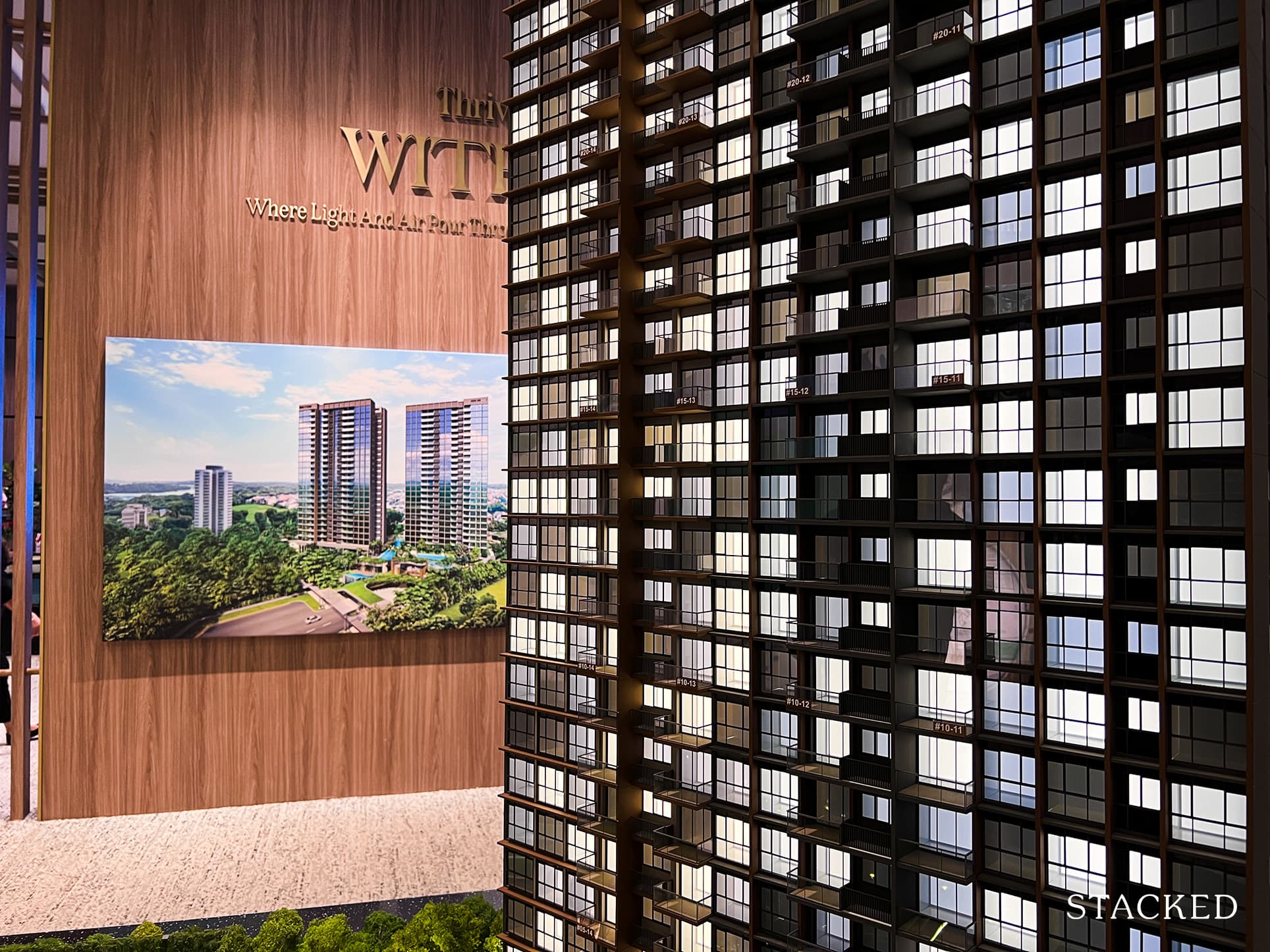 Last but not least, if I were to put a positive spin on it, the design of Amo Residence is a safe but predictable choice. You could call it the pitfalls of the job, but having seen many launches, Amo Residence definitely doesn't stand out for me.
Although to be fair, it's not that they have to anyway given the target audience – I'm sure many people are fond of the glass-filled and sleek look. And as look as it looks suitably modern, I don't think many will care too much on this front.
So to wrap up, let's head to the show flat units to see if they match up!
Read this next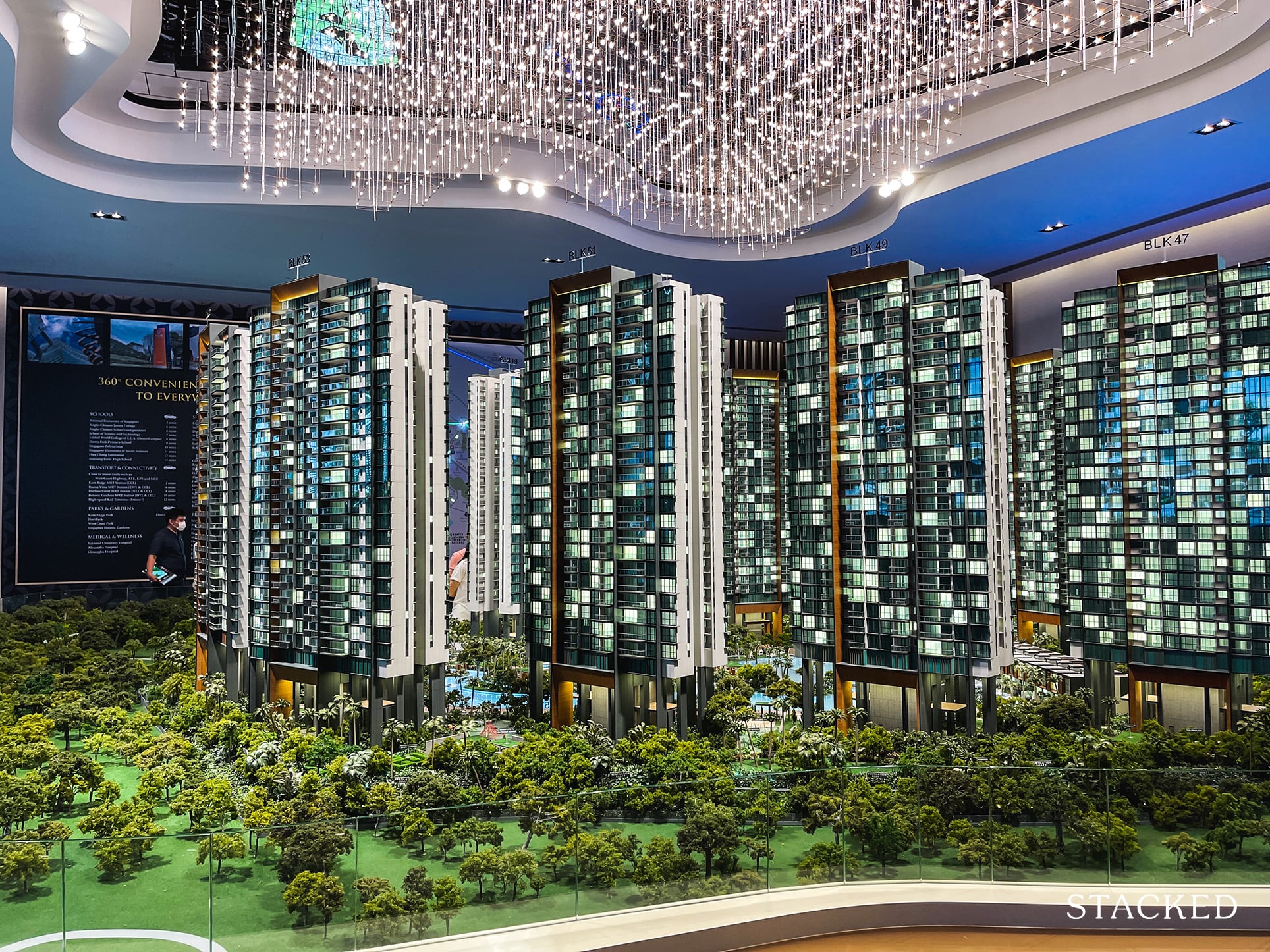 Amo Residence 2 Bedroom Premium Type BP1 (69 sqm/743 sq ft) Review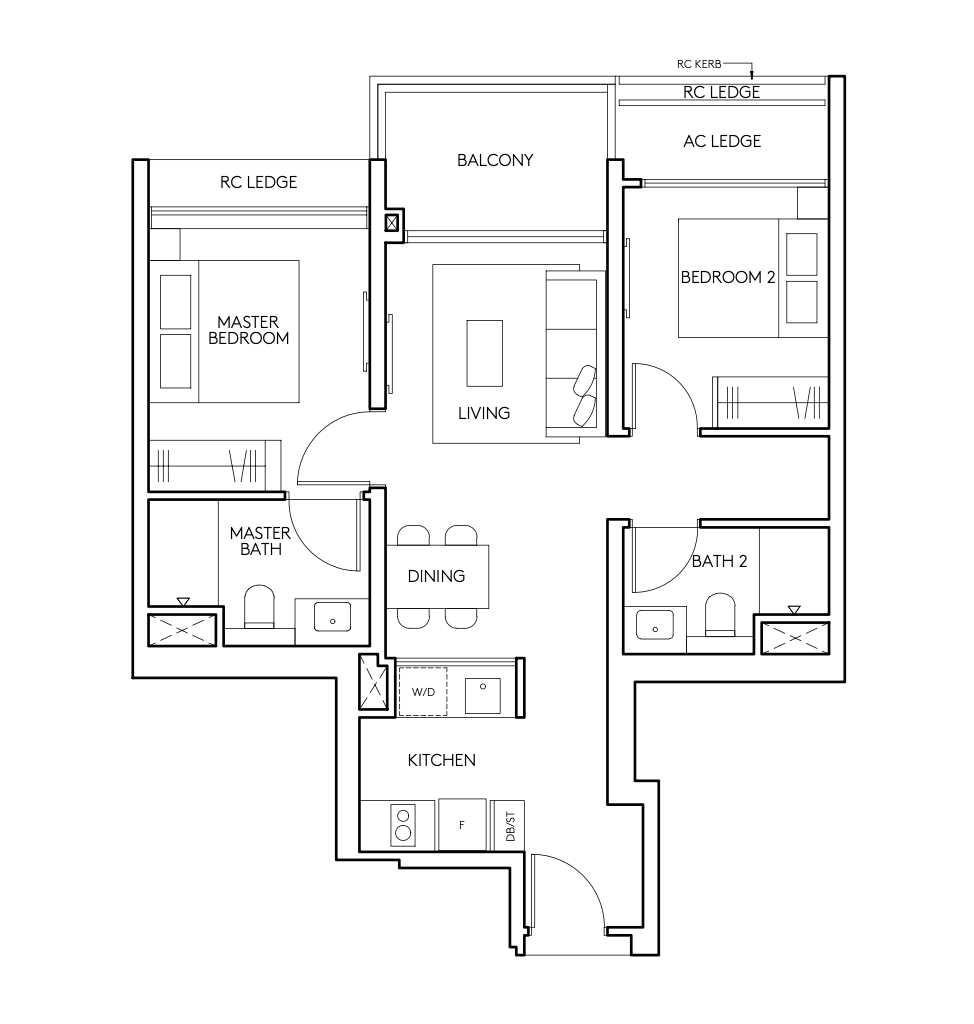 The most predominant unit type at Amo Residence is the 2 Bedroom unit, which comprises 49% of total units here. They are split equally between 2 Bed 1 Bath units (614 to 678 sq ft) and 2 Bed 2 Bath units (743 sq ft). The show flat unit is, therefore, the largest 2 Bedroom available in the development and is quite fairly sized in the market. If your budget permits, having 2 bathrooms gives you more versatility, especially if you have children or foresee guests staying over. In any case, the 2 Bedroom units all look to be of a dumbbell layout, which is my preference given its efficiency.
Units are decked out in porcelain tiles for the common areas and vinyl for the bedrooms. Porcelain tiles seem to be the norm these days but I must admit I miss the times when a mega-development like Parc Esta was able to deck all their units in marble and white oak timber. Ceiling height will be standard at 2.79m, so nothing too surprising here.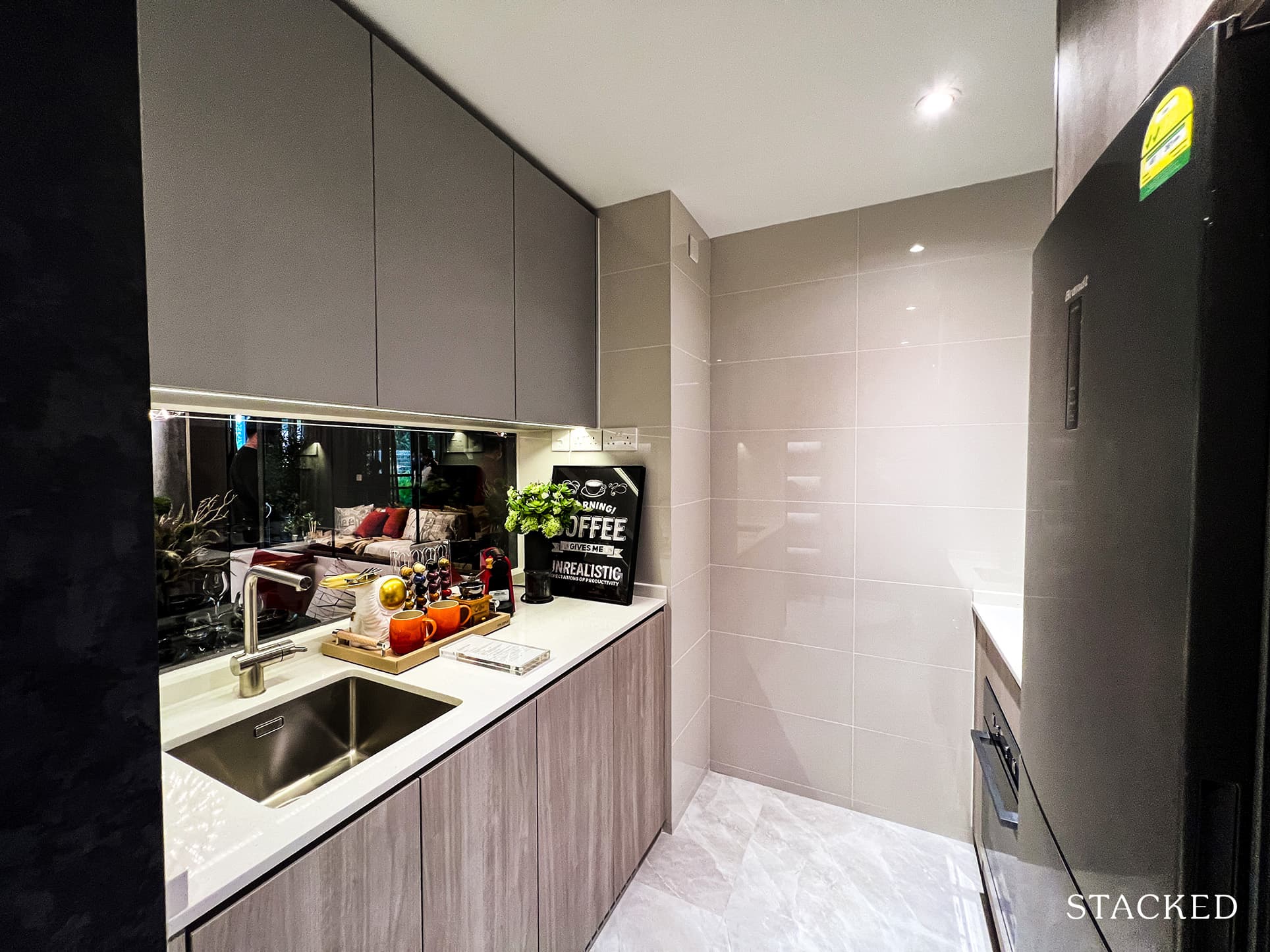 As you enter the unit, there is a slight nook by the side to accommodate a full-height shoe rack if required. The kitchen will be by your right and the good thing is that it can be enclosed if needed (although there isn't any natural ventilation window here). As expected, this is not a huge space at 5.1 sqm, but certainly sufficient for 2 or 3. It's also helpful that there is a glass cut-out here, allowing you to check on your family who are in the living room.
A 2-zone induction hob by Brandt will be furnished, which will also be the brand behind the hood, oven, fridge, and washer cum dryer. Larger units will get De Dietrich appliances instead, which is Brandt's premium arm for those who don't already know. The sink will be from Franke, which seems to be the brand of choice for most developers today. UOL will be providing the top and bottom kitchen cabinets as standard, and they should be sufficient for a small family.
Unfortunately, all the 2 Bedrooms at Amo Residence will not come with a home shelter, so you will have to either keep your home as sparse as possible or build in additional storage spaces around the house wherever possible.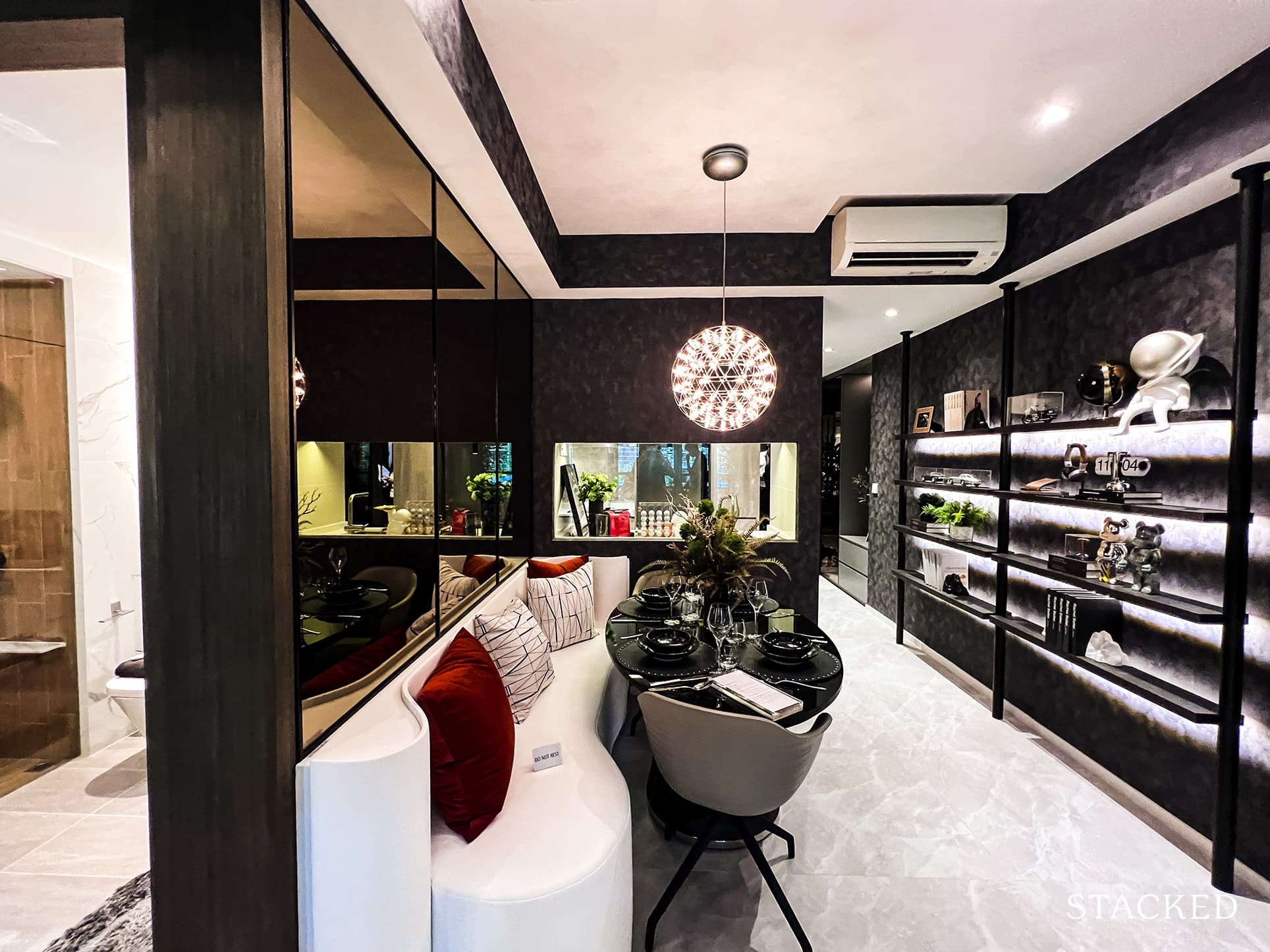 Just ahead of the kitchen sink is where the designated dining area is. In line with other new launches, this space will be able to accommodate a 4-seater table comfortably enough. Having an extendable table could be an option if and when you are planning to host friends, but expect this to infringe on your walkway if you do so.
You should note here that the standalone chairs are tucked at either end, but to utilise the table for 4 it would have to be on the opposite end of the sofa instead. It will eat a little into the walkway space, but it's definitely not a dealbreaker either.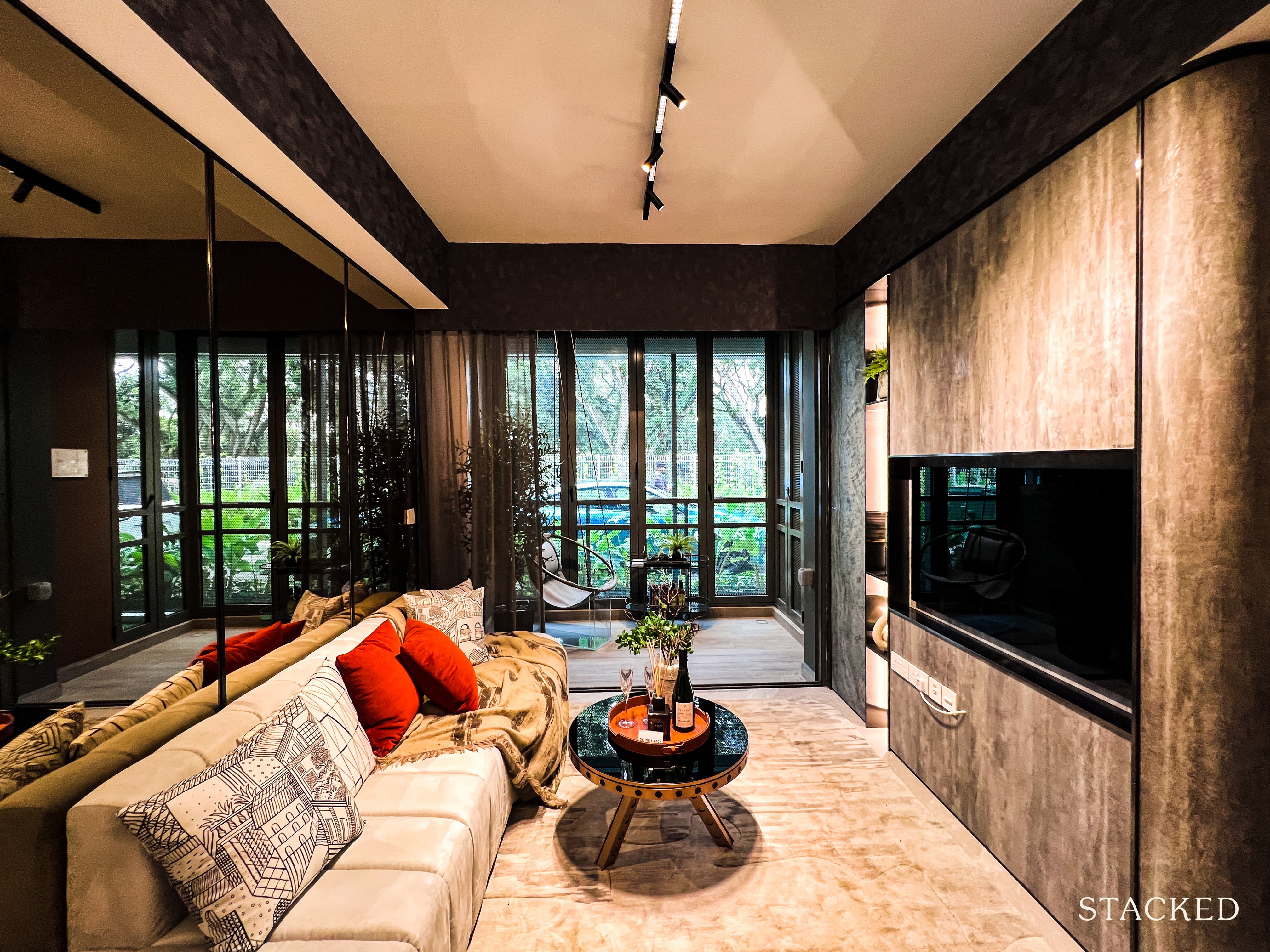 Moving on to the living room, and this space is once again average in size. It has a 2.8m width, which I reckon is standard fare today. You have enough space for a 3-seater couch, a coffee table, and perhaps a compact TV console. In new condos these days, you really shouldn't have expectations around a spacious living room, especially for the smaller units.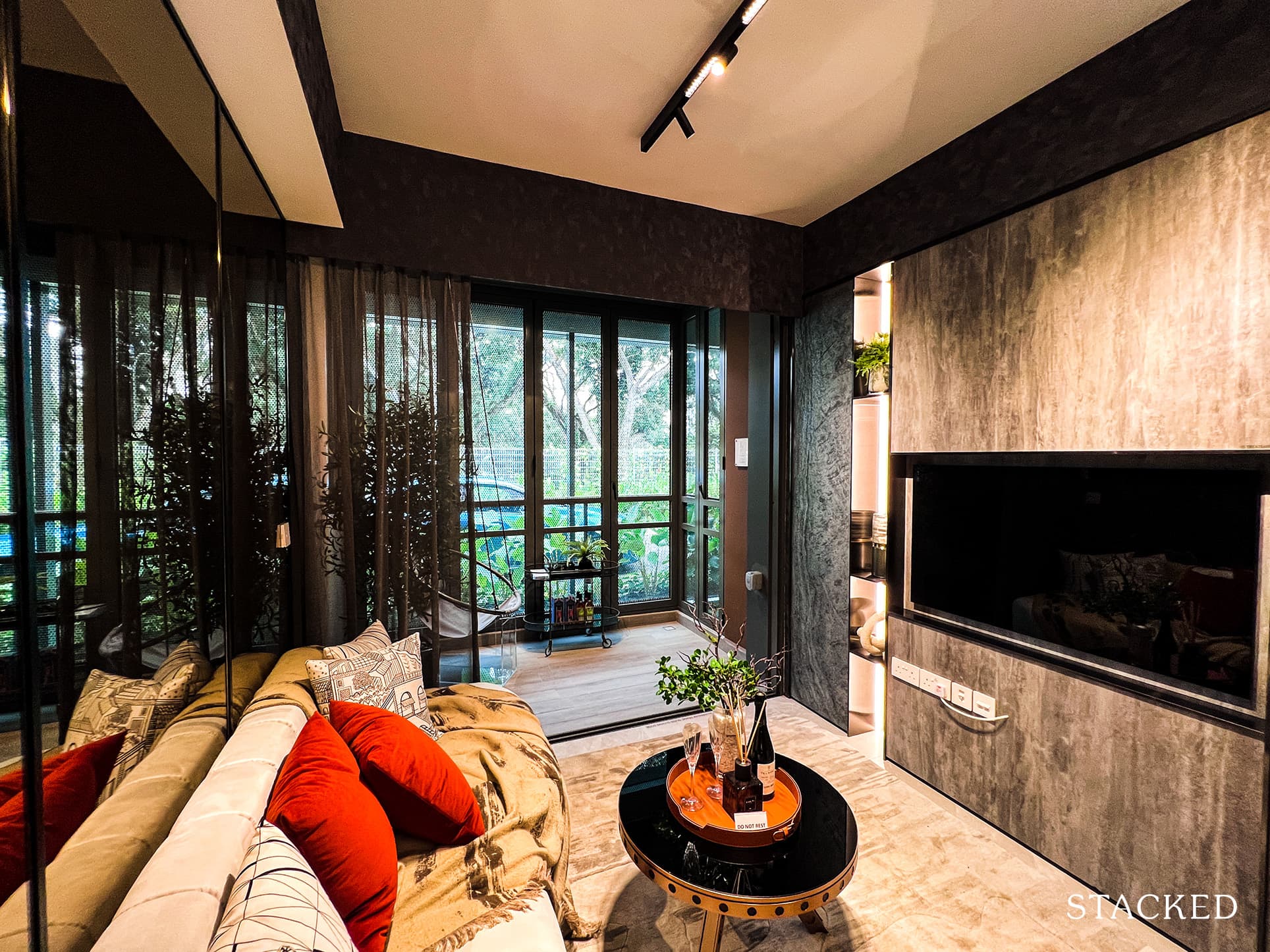 I would also take adopt some of the design features here, such as the mirror wall behind the sofa as this helps to accentuate the size of the space.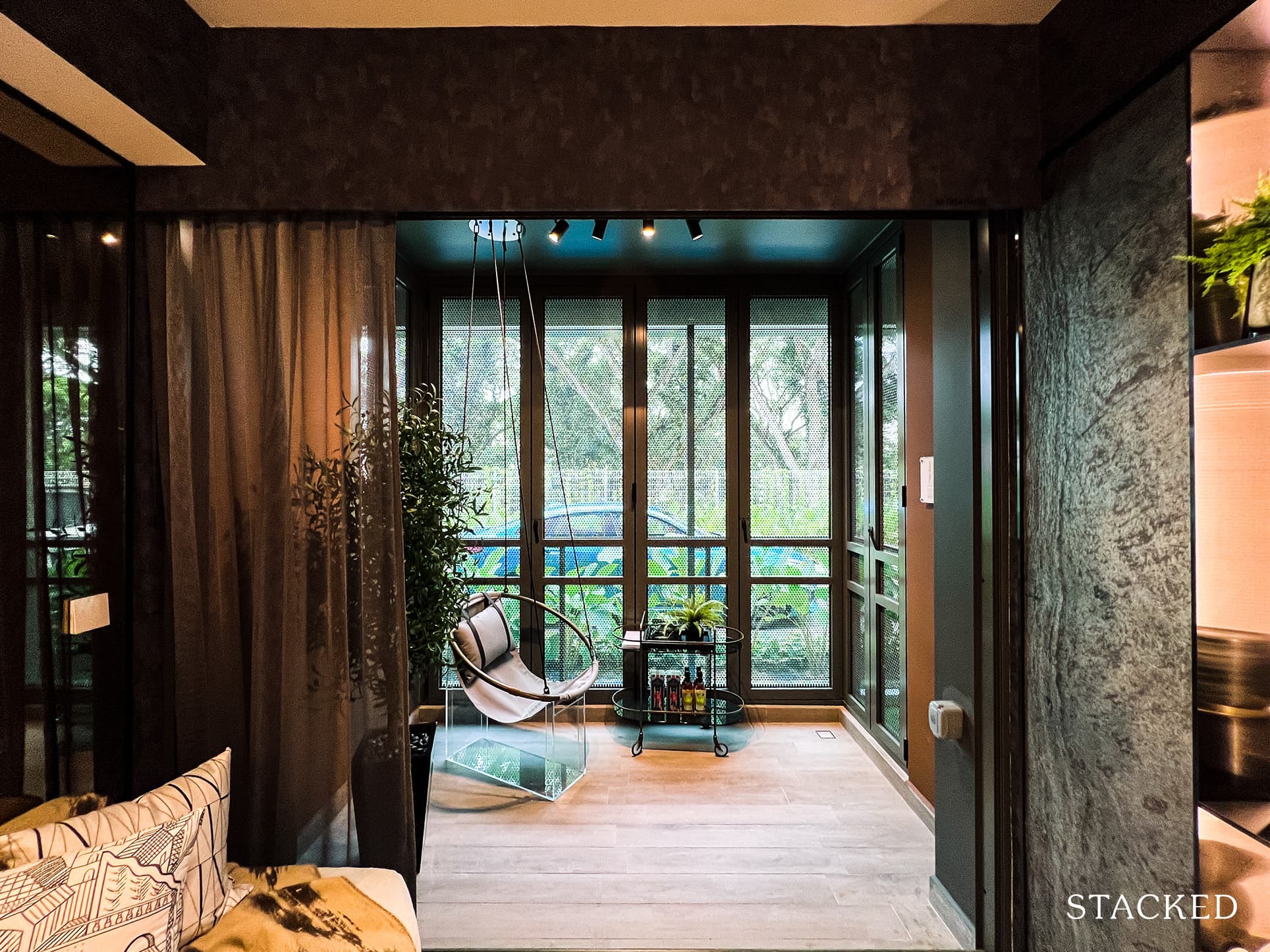 On the other hand, the balcony here is sizable compared to the rest of the unit. It is 5.9 sqm, and rivals the size of the actual usable living room space. Depending on the view you are getting and which side you are on for the balcony debate (waste of space vs lifestyle), you will either love or hate this roomier balcony.
Personally? It's worth it if I have a good view – I view the additional ventilation and space offered as important, especially for the smaller units. They haven't done much with the balcony here, placing just a chair and tea trolley here. The screens you see here will not be provided, but just to showcase what the approved screens will look like. I've heard these are not cheap though, which is the reason most buyers end up not going ahead with these.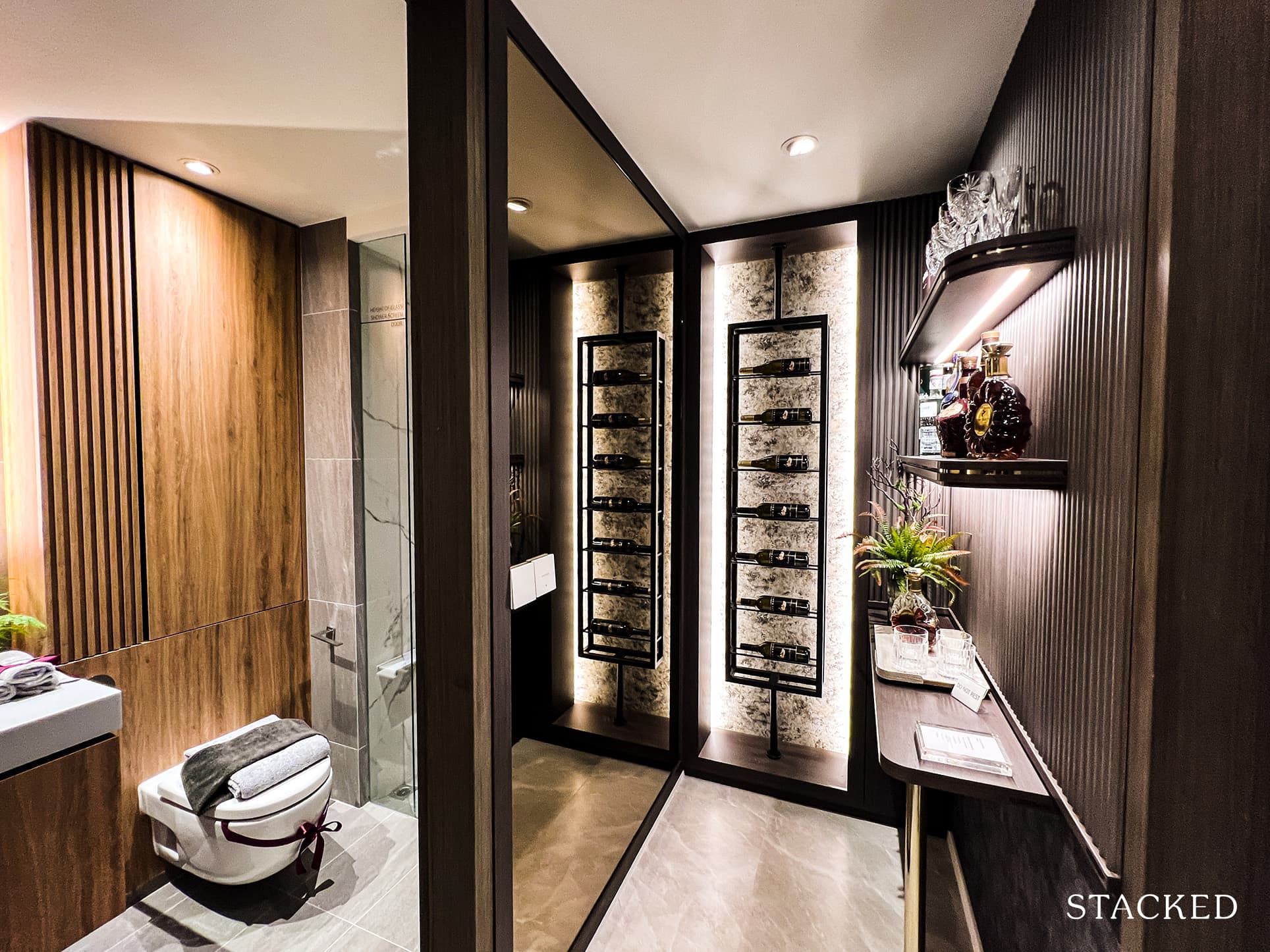 Moving on to the bedrooms, starting with the space leading up to the common bedroom. As mentioned earlier, this is the largest 2 Bedroom unit and comes with an additional nook right here. They have transformed this into a fancy wine display shelf, which can be a good idea if you're a connoisseur. But if you are more of a boring guy like me, this could well be either your study area or additional storage space with the help of some built-in cabinets. I would probably go for the latter, especially since this unit lacks a household shelter.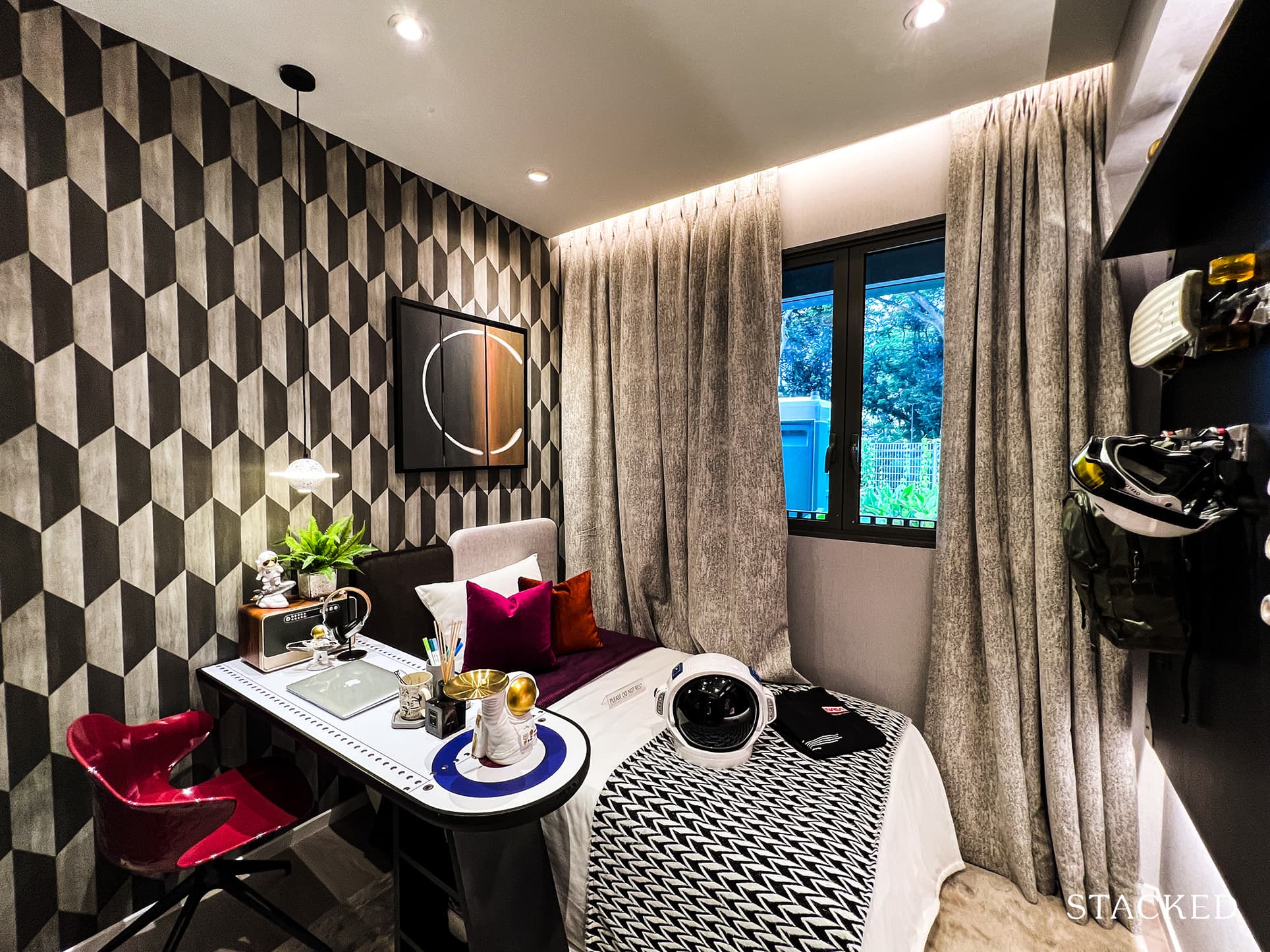 As for the common bedroom itself, it is averagely sized at 8.8 sqm. A point to note is that contrary to most other developments, the floor used for the bedrooms is vinyl, which is arguably a more budget option by new condo terms. As standard, you have a built-in wardrobe provided and the windows here will not be full length to accommodate the aircon ledge just outside. The space in this room will allow it to fit a Queen sized bed, but if you require a study table or dresser, you should consider having a Single bed instead, as they have done here.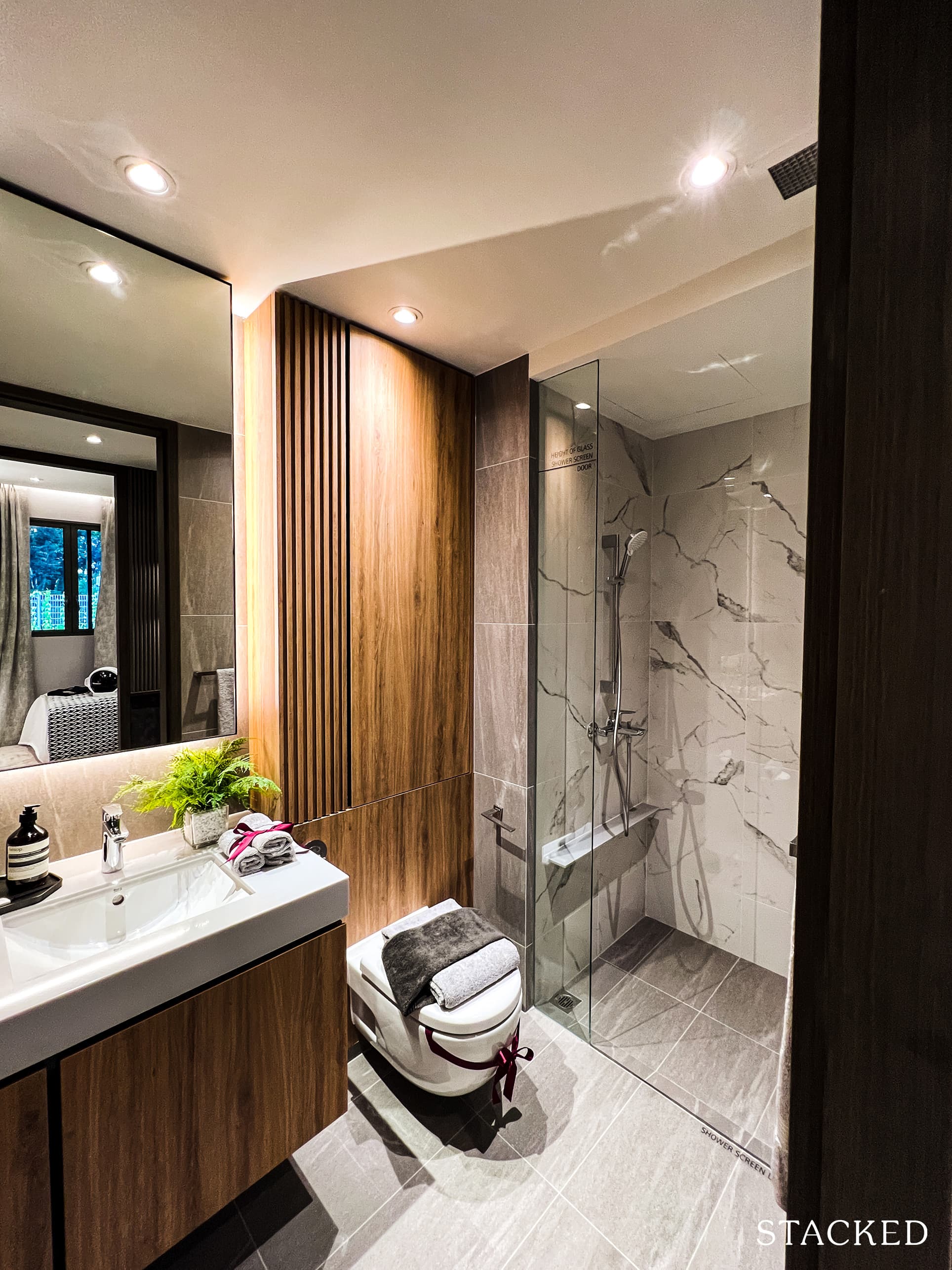 The common bath (Bath 2) is situated just across from Bedroom 2 and measures 4.5 sqm in size. It's of an ordinary size compared to other new launches, so don't be expecting too much here. Well-known European brands such as Roca, Gessi, and Hansgrohe will be used for your wall-hung w/c, tap, and shower set.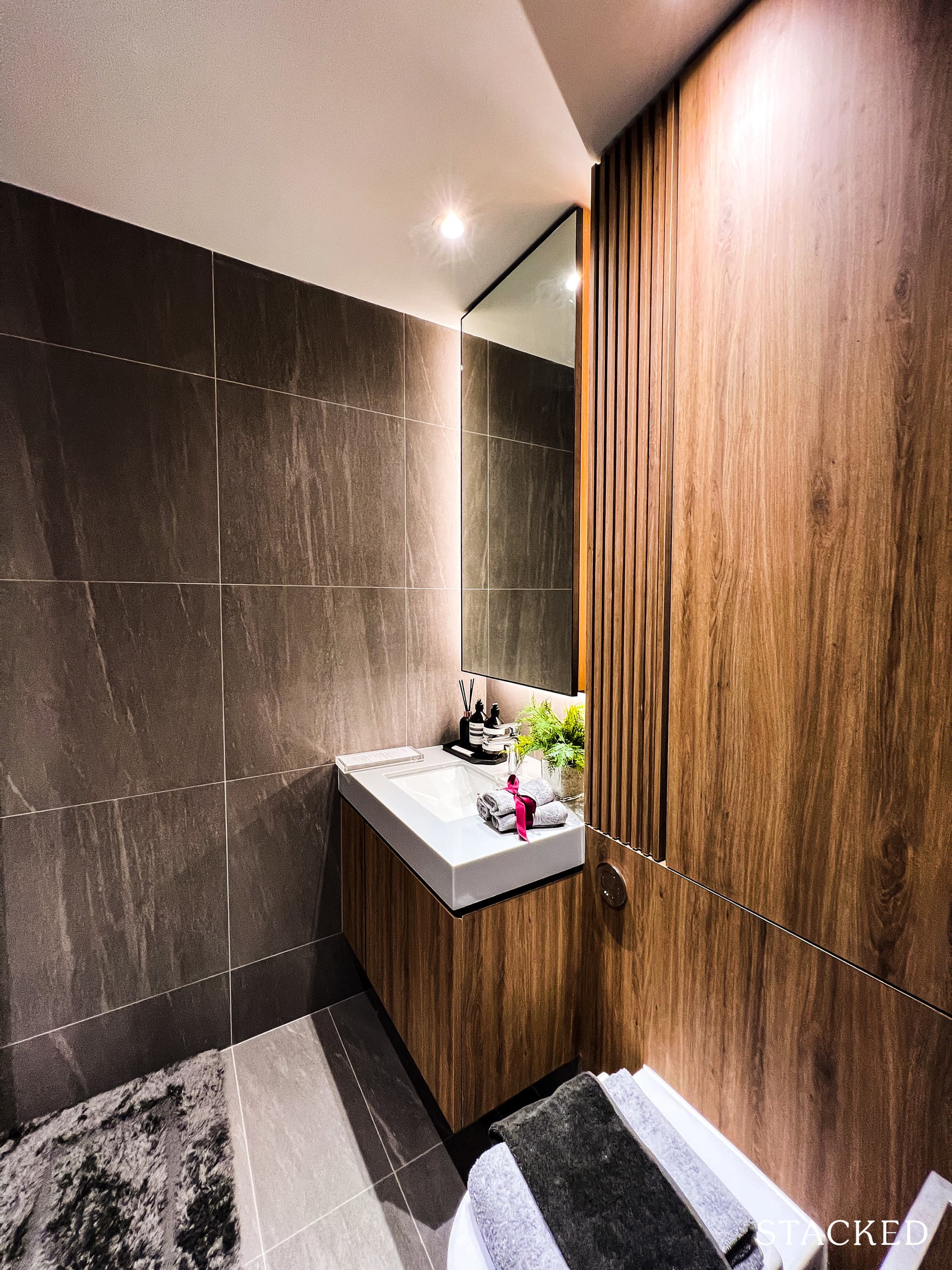 Neutral tones of white and wood have been used here. As expected, there is no rain shower for the common bath and no windows for natural ventilation. Built-in cabinets will also be part of the developer's provision for the unit.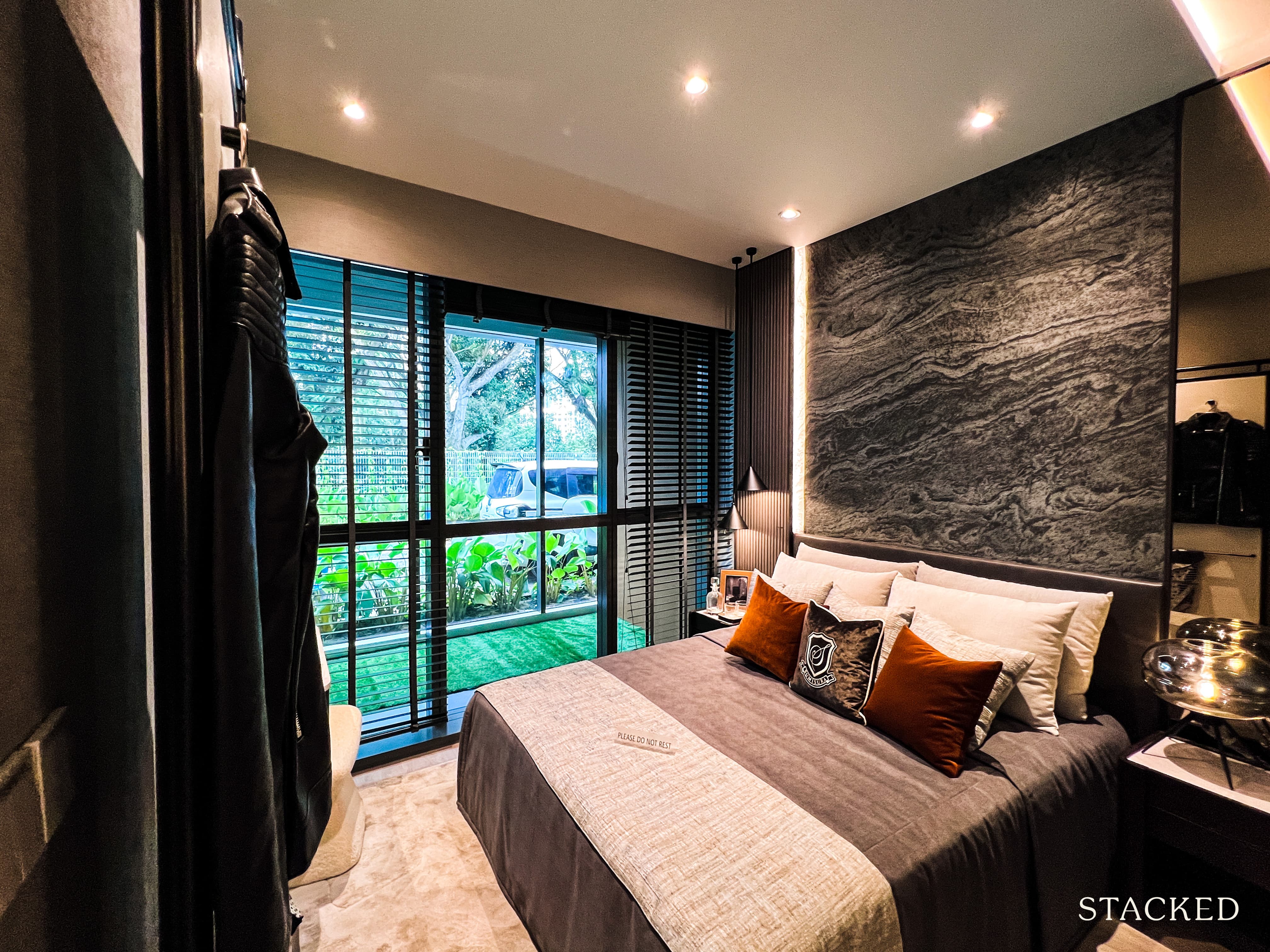 Moving on to the Master Bedroom and it is in line with the market average at 16.7 sqm (including the Master Bath). It's nothing to shout about, but you will be able to fit a king size bed with space for a small bedside table.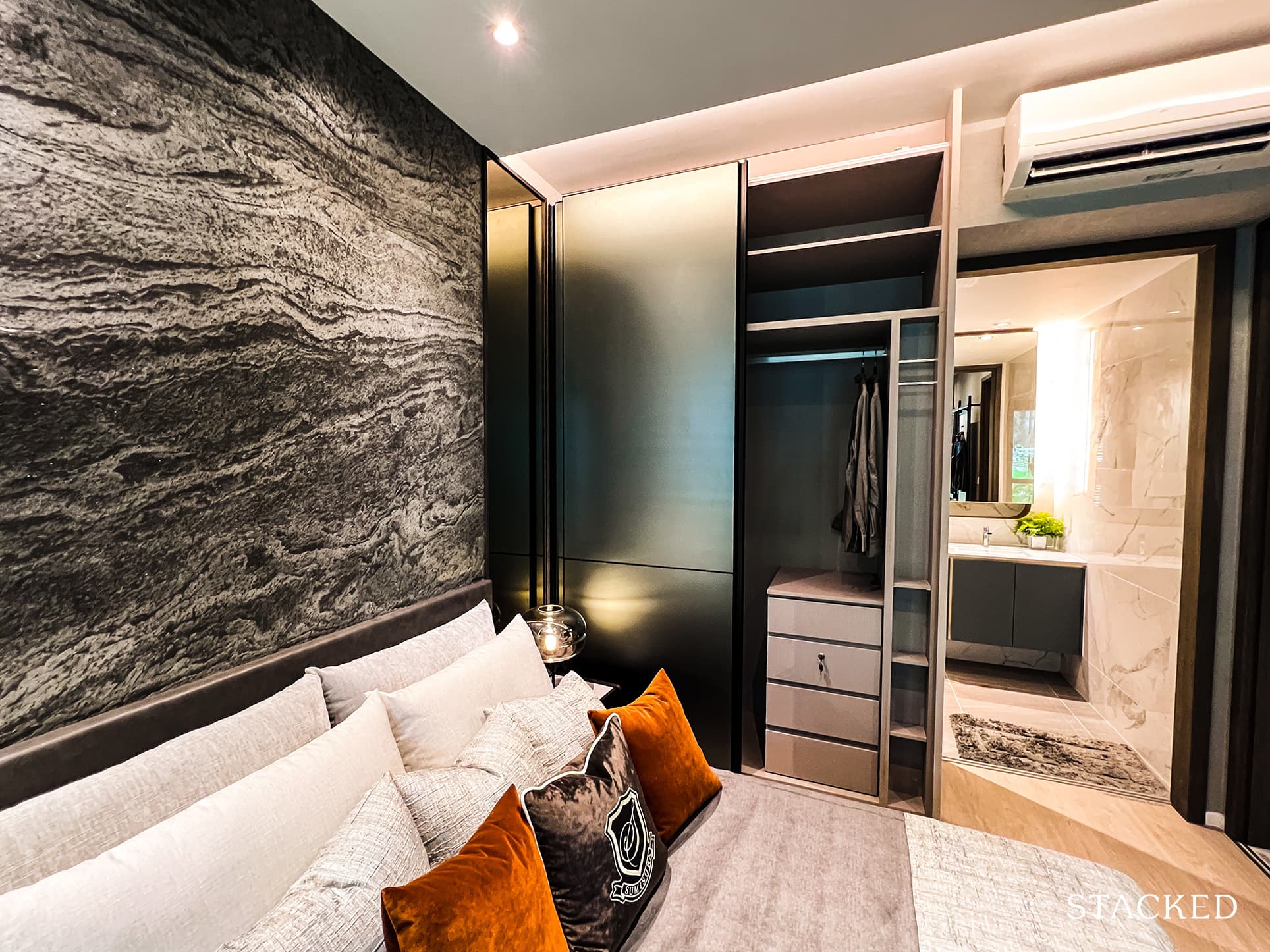 The built-in wardrobe will also be provisioned for as standard with an accessories compartment by the side too. It also comes with a full-height window for maximum light. Do note that unlike some other new launches you might have seen, there won't be a light fitting provided as standard in the wardrobe.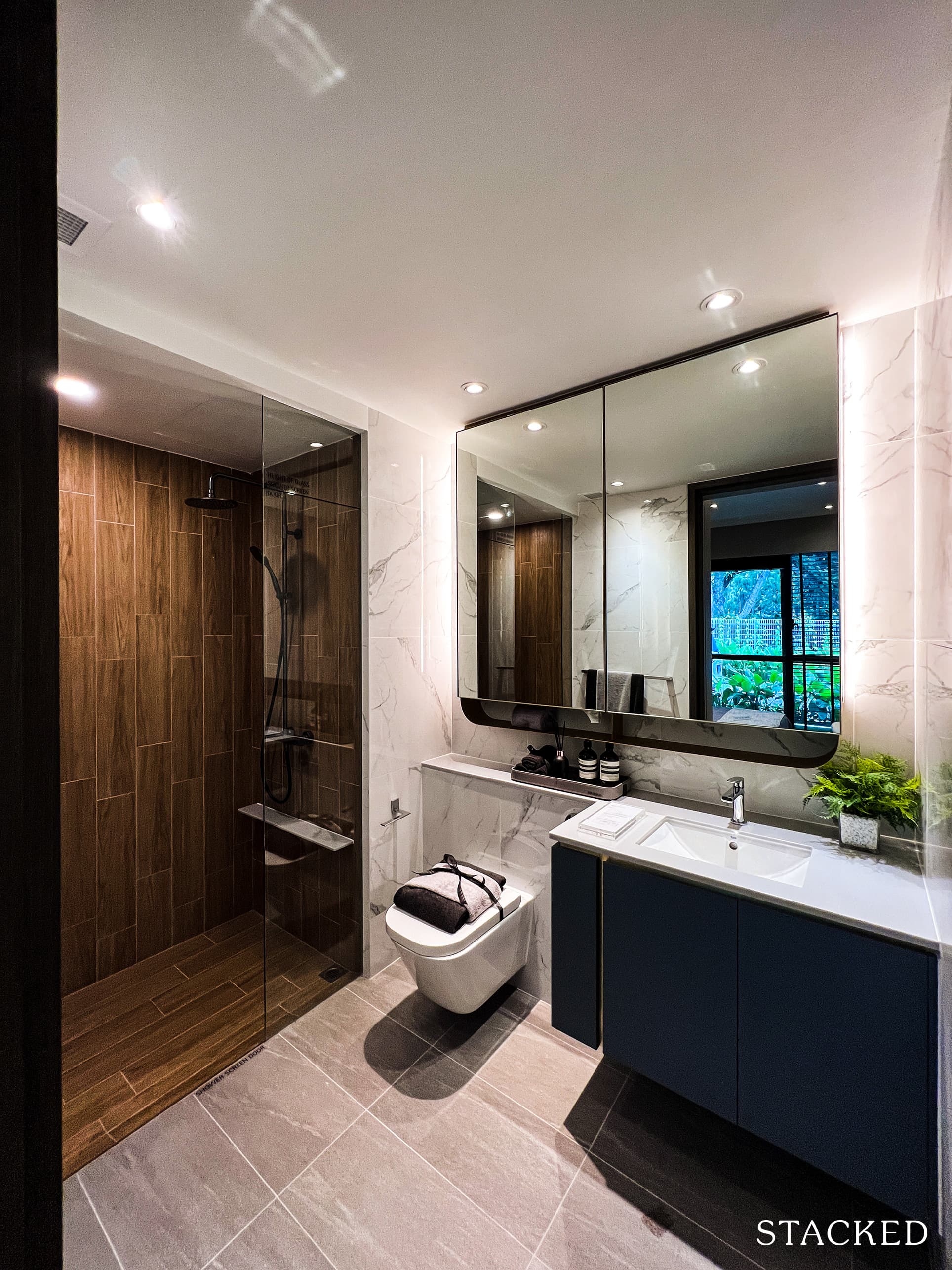 Of course, the Master Bedroom will come with an ensuite bathroom, which is probably about the same or marginally larger than the common bath. There are still no windows though, which differs from the last launch Liv@MB, where every bathroom had windows. That said, Liv@MB was a real exception in the market and the one here at Amo Residence is more of the norm.
This bathroom comes with your standard bells and whistles, all from renowned European providers Roca for the w/c and sink, Gessi for the tap, and the brushed metal shower mixer.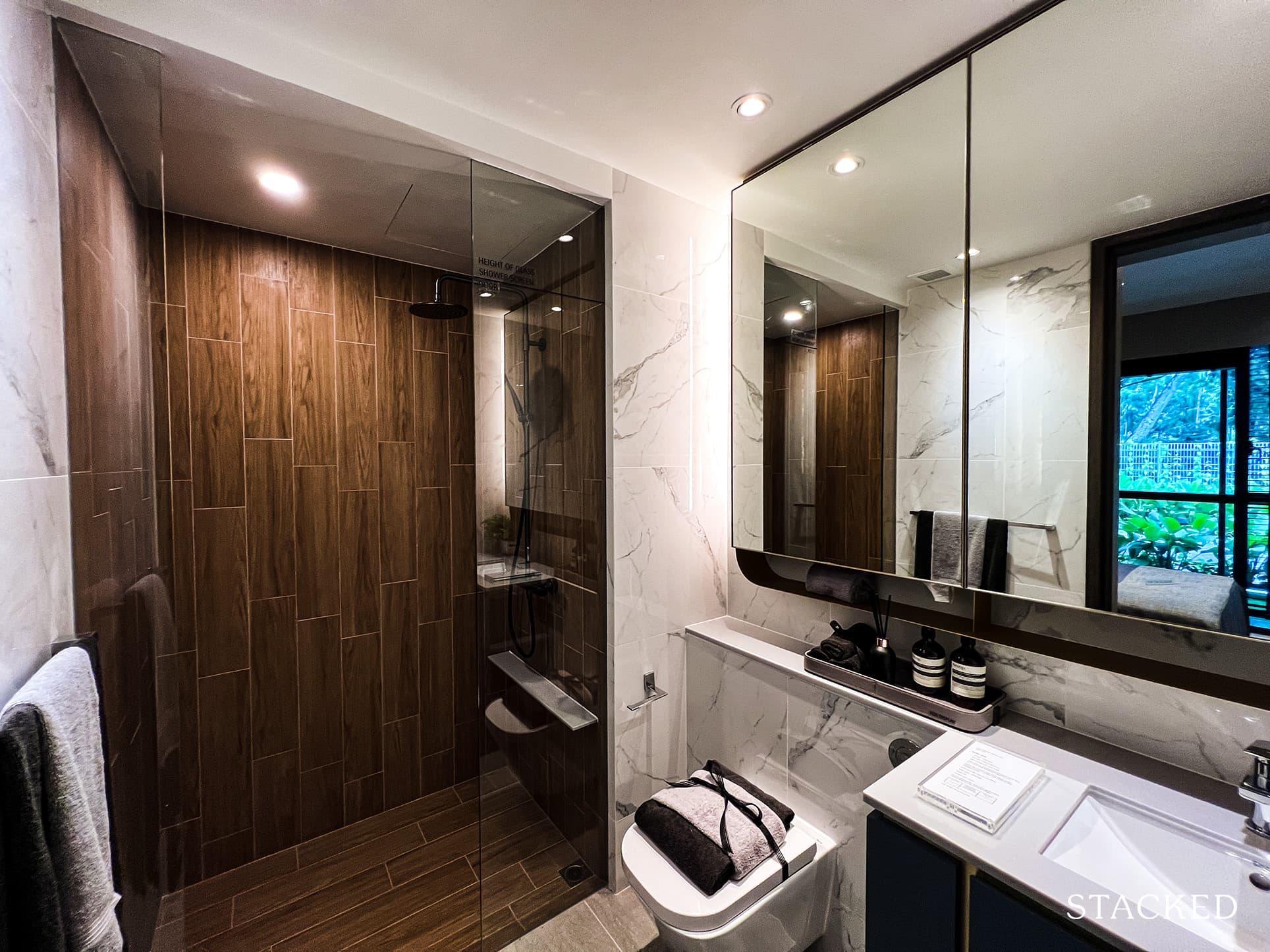 As you can already tell, the design for the Master Bath is markedly different from the Common Bath. In my personal opinion, the wood-inspired shower stall was not exactly what I would have expected, especially when contrasted against the rest of the bathroom. That said, the choice of blue here is my preferred choice as compared to the orange in the other bigger units – as it does look a lot more pleasing to the eye.
Amo Residence 3 Bedroom Premium + Study Type CPS1 (106 sqm/1,141 sqft) Review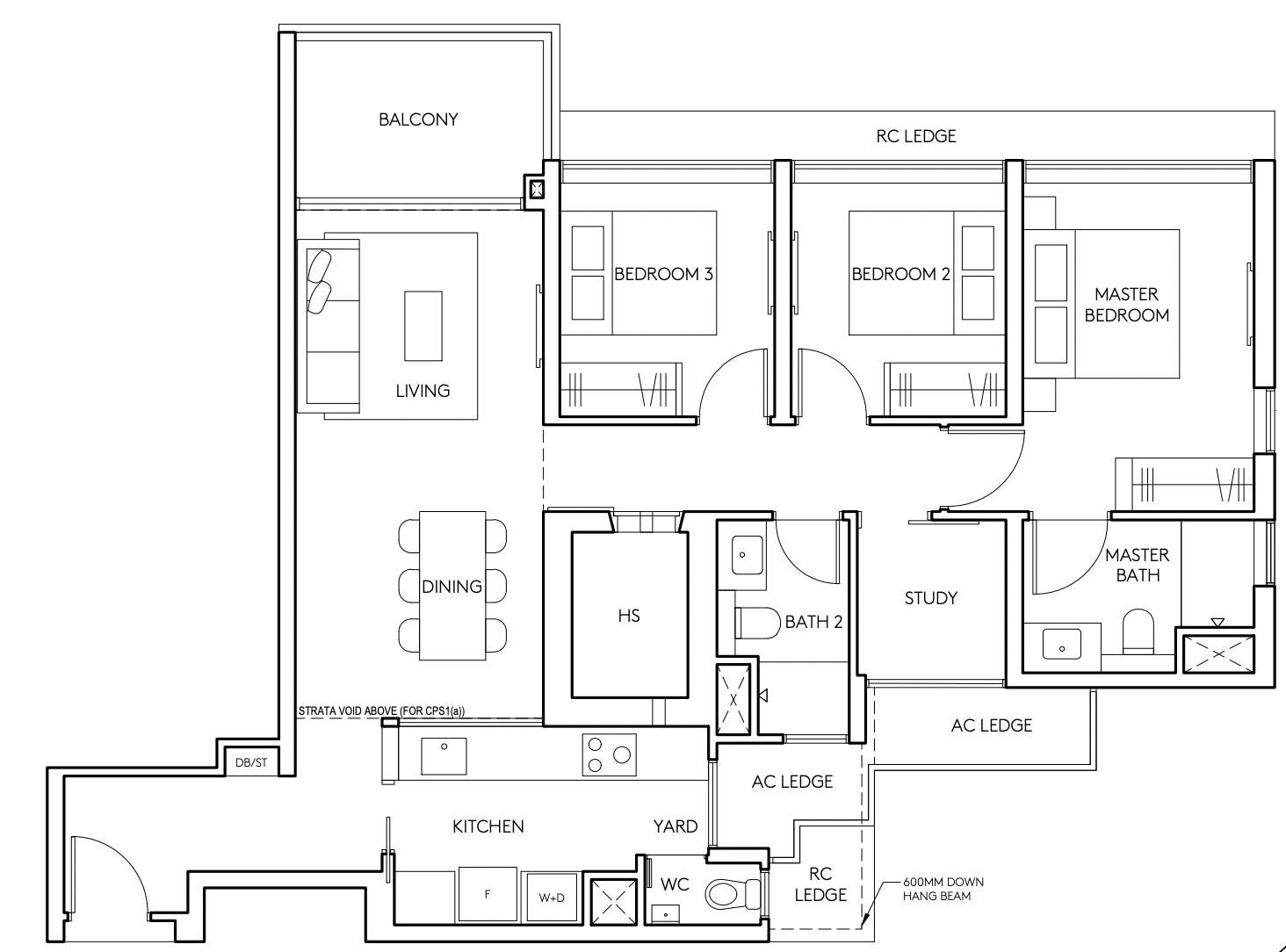 Besides the 2 Bedroom units, 3 Bedroom units are the next most predominant bedroom type at Amo Residence. Unsurprising you may say, as this is expected to be a project that will be on the radar of many families. At 1,141 sq ft, this 3 Bedroom unit is generously sized by today's standards and is Amo Residence's largest 3 Bedroom type (bar the high ceiling unit where void space is included). The other types start from a more compact 958 sq ft, which is similar to the size of a new 3 Bedroom BTO (4-Room flat).
The standard 3 Bedroom unit will have your living and dining areas laid with porcelain tiles with the bedrooms in vinyl. My personal view is that the flooring choices have become more budget-conscious with every new launch and I expect the trend to continue with rising costs. However, as this is a 3 Bedroom Premium unit, marble floors for the common areas and timber for the bedrooms will be supplied instead. The ceiling height remains the same at 2.79m, which is unspectacular, to say the least.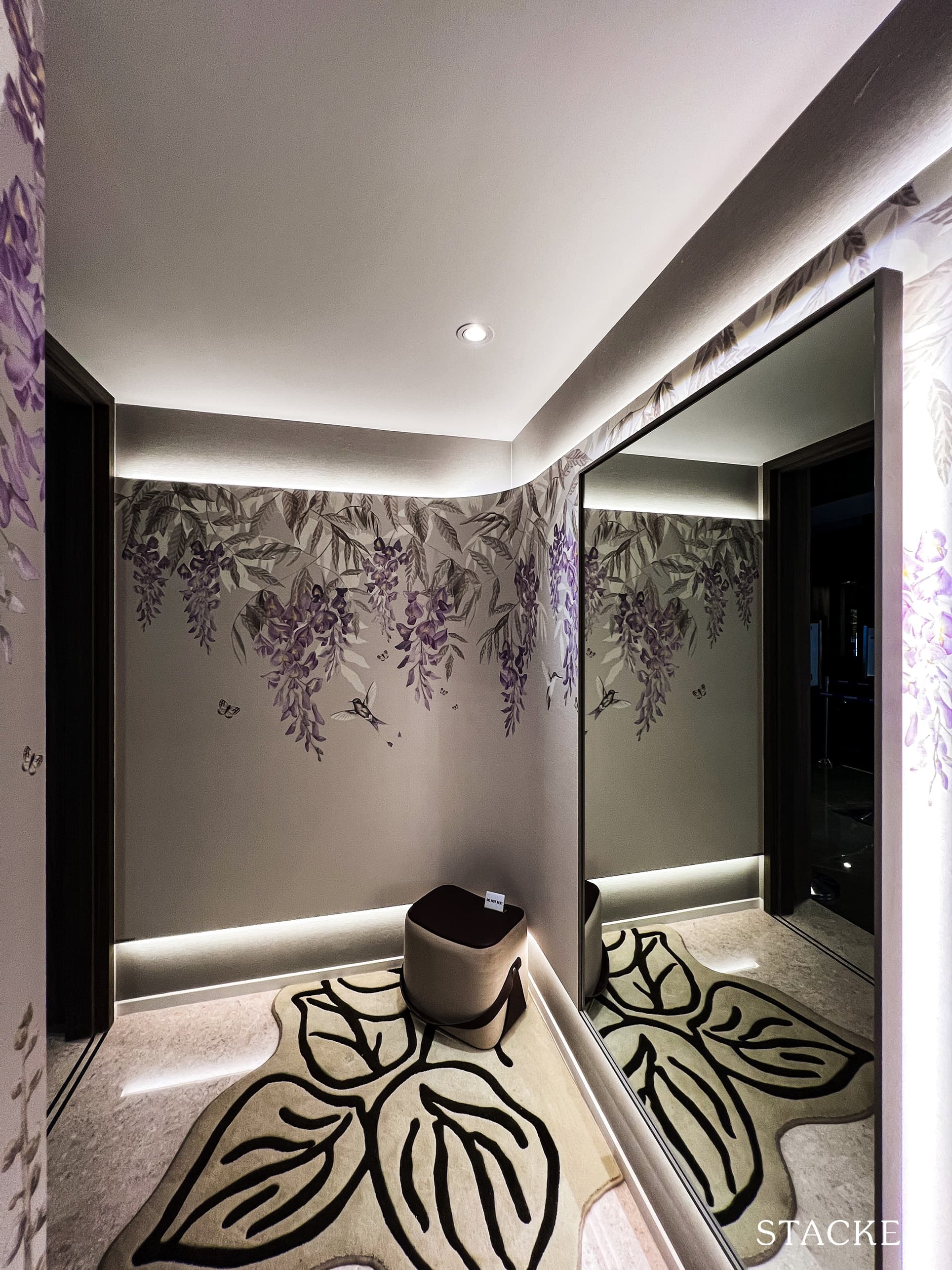 Stepping into the unit, there is a foyer area where it will be useful to place a bench to put on your shoes. You could also easily build more shoe cabinets if you have a collection of them. However, I am not a fan of this long walkway, and find that to be wasted space, especially in this generation of high per square foot costs.
It's not an unconventional layout (many other developments are similar) and this layout usually gives the unit's occupants total privacy since you will not be able to see any part of the house from the entrance. Tell me if you disagree with my thoughts in the comments!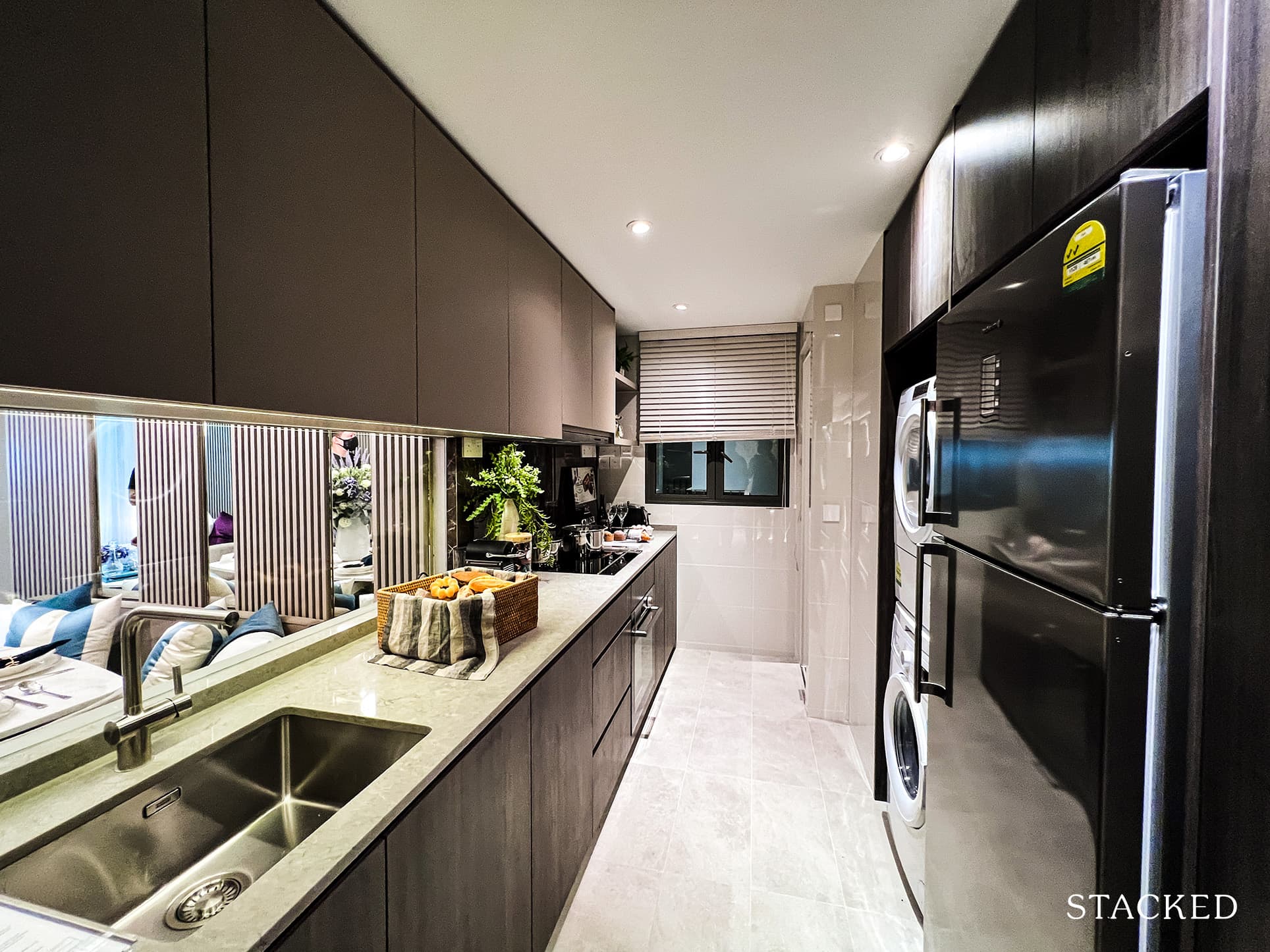 Before you get to the living room proper, you have the enclosed kitchen that is sized at 9.1 sqm by your right. There is a glass cut-out window that allows you to keep tabs on your children in the living room while also letting in additional light into the kitchen. There is 1 side of quartz countertop space, with top and bottom cabinets provided, and should be sufficient to meet the requirements of a small family.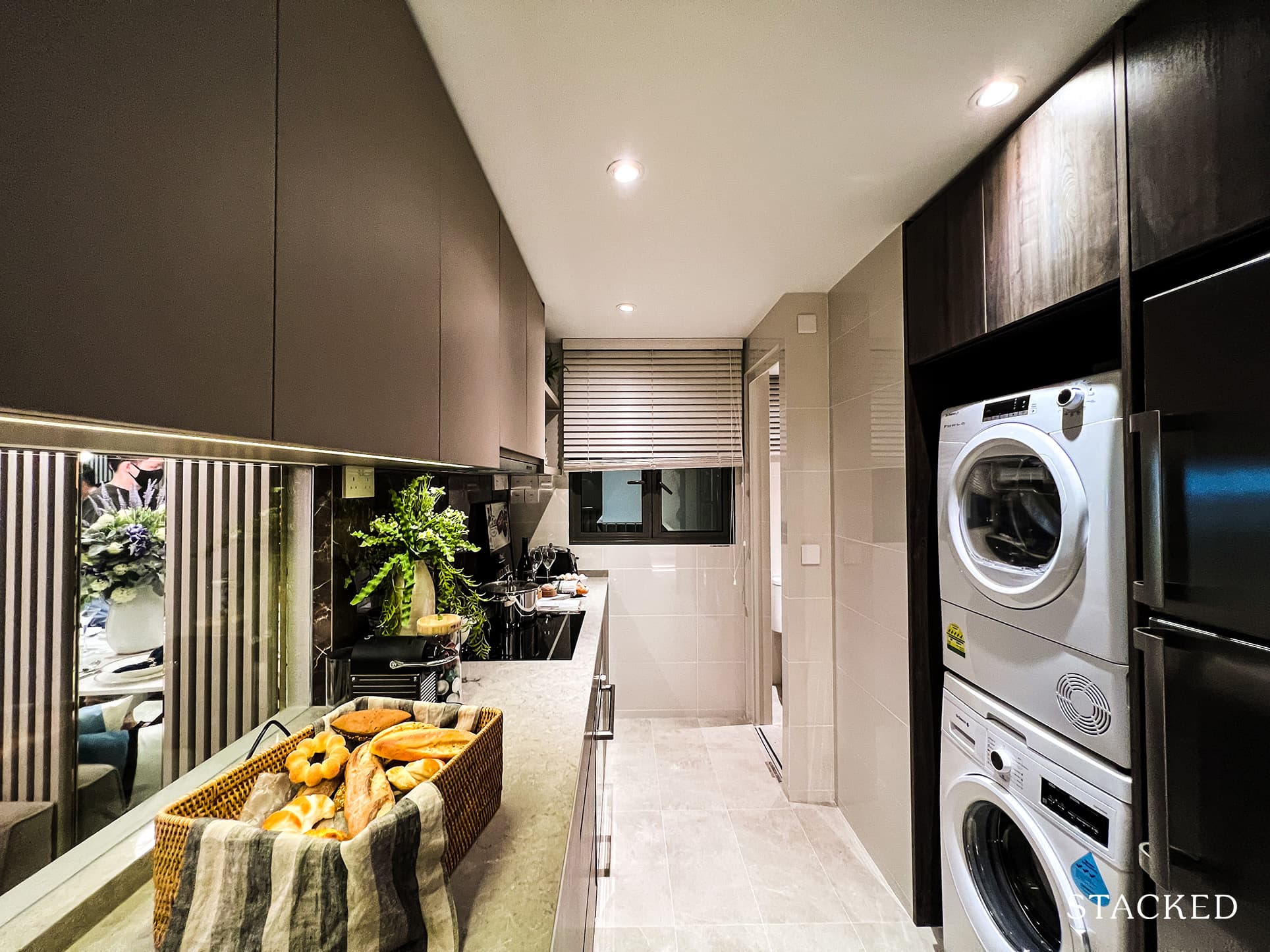 Being the most premium 3 Bedroom unit type (since it is the largest in size), the kitchen appliances will be supplied by French luxury appliance maker De Dietrich, which has more than 300 years of history. This includes the 3-zone induction hob, hood, oven, washer, dryer, and fridge. All units, regardless of size, come with an induction hob instead of a gas hob. I find that surprising since Amo Residence is a condo project in the heartlands, and I do expect a fair number of buyers to cook Asian meals regularly. UOL has done this before at The Watergardens at Canberra, so perhaps they are privy to more buyers' preferences than I'm aware of. While I can understand the safety advantage of induction hobs, I can imagine it not sitting well with many keen home chefs.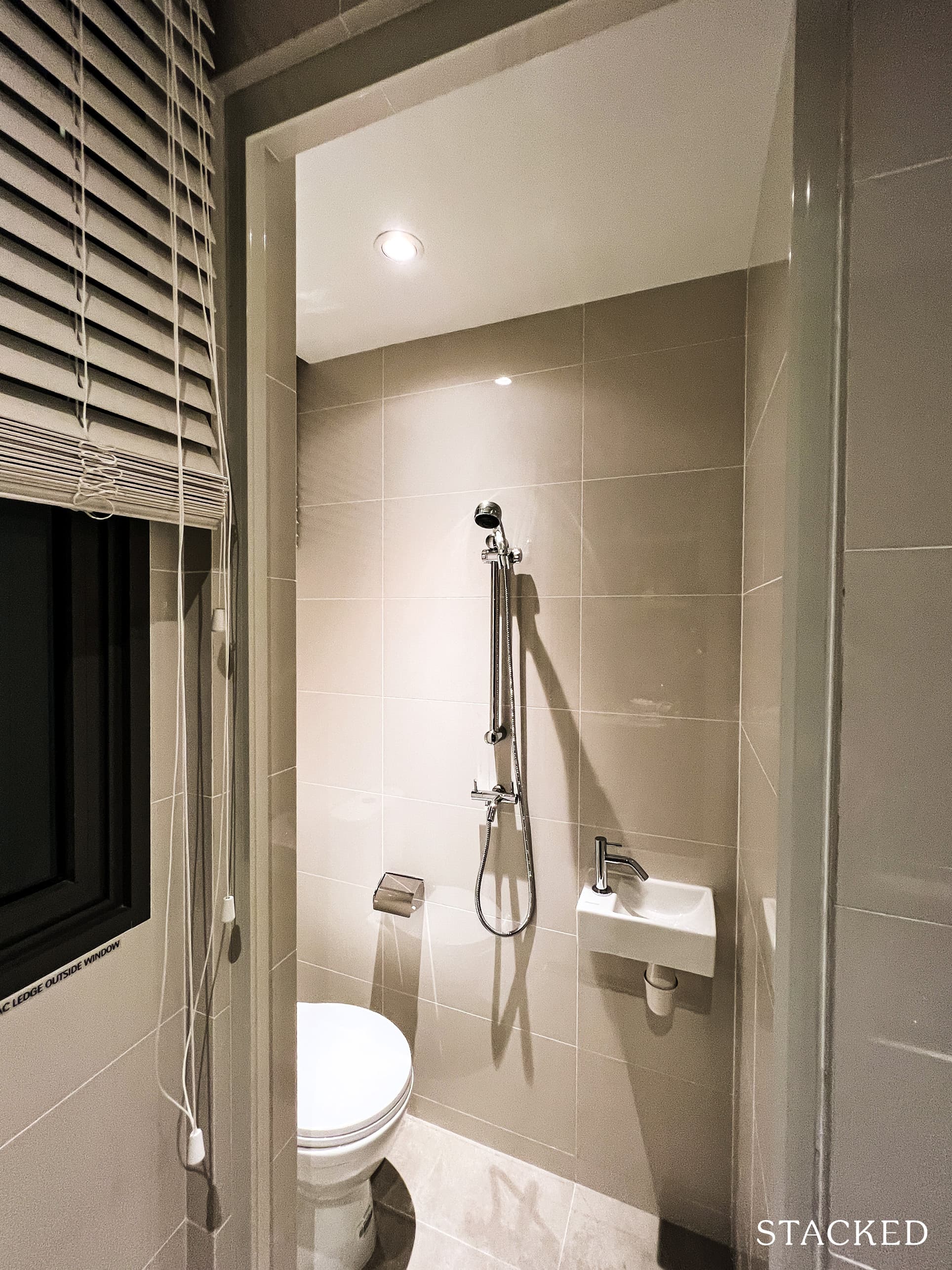 There's also a designated (not dedicated) yard space beside the window that opens up to the aircon ledge, although I must say that this yard should truly be seen as part of the kitchen instead. While there isn't a dedicated helper's room here, you have an additional w/c here for any messy washing up just by the yard.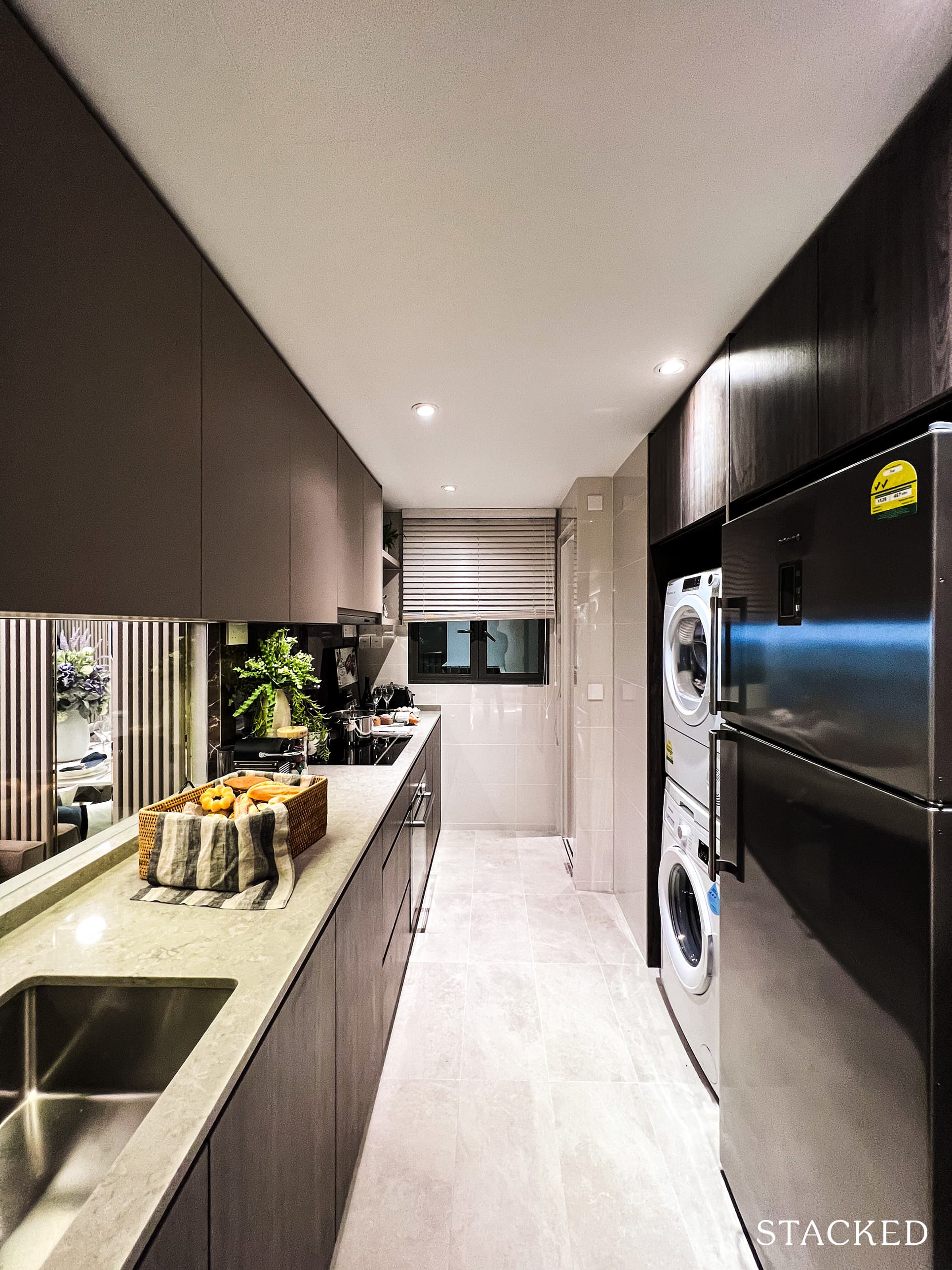 One thing I like about this kitchen is the abundance of storage cabinets. Top, down, left, right – you seem to be surrounded by them here, and there is even one just by the kitchen's entrance. While you might think it is overkill now, you will probably be appreciative of it after you move in.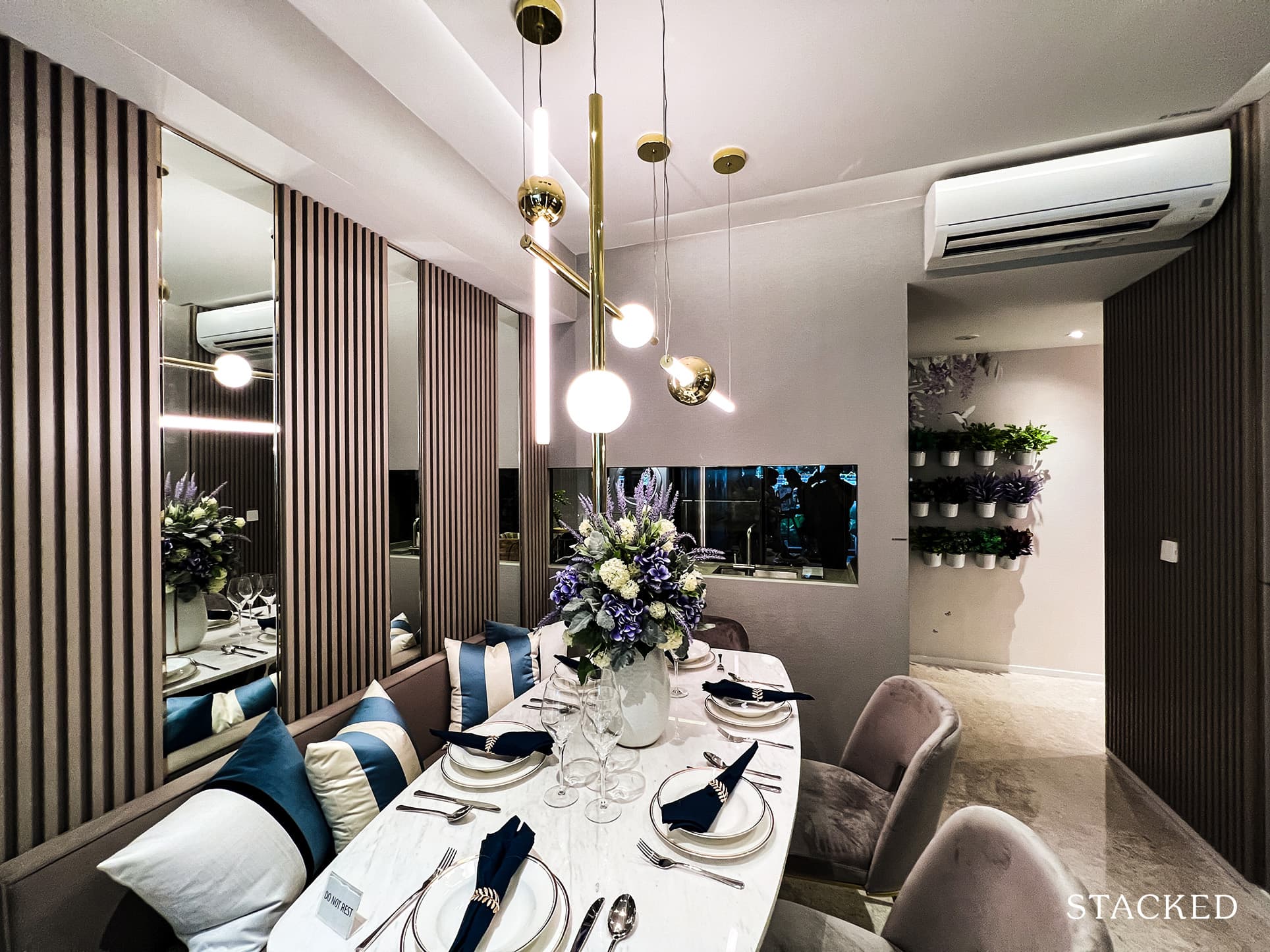 Coming to the dining room, you will notice that this unit certainly feels larger than the 2 Bedroom I reviewed earlier. While the earlier unit could only fit 4, the one here can fit 6 comfortably enough. If you have been in the new launch market long enough, you will know that having a 6-seater dining space is a luxury these days – even if it's with the aid of bench seating on the side!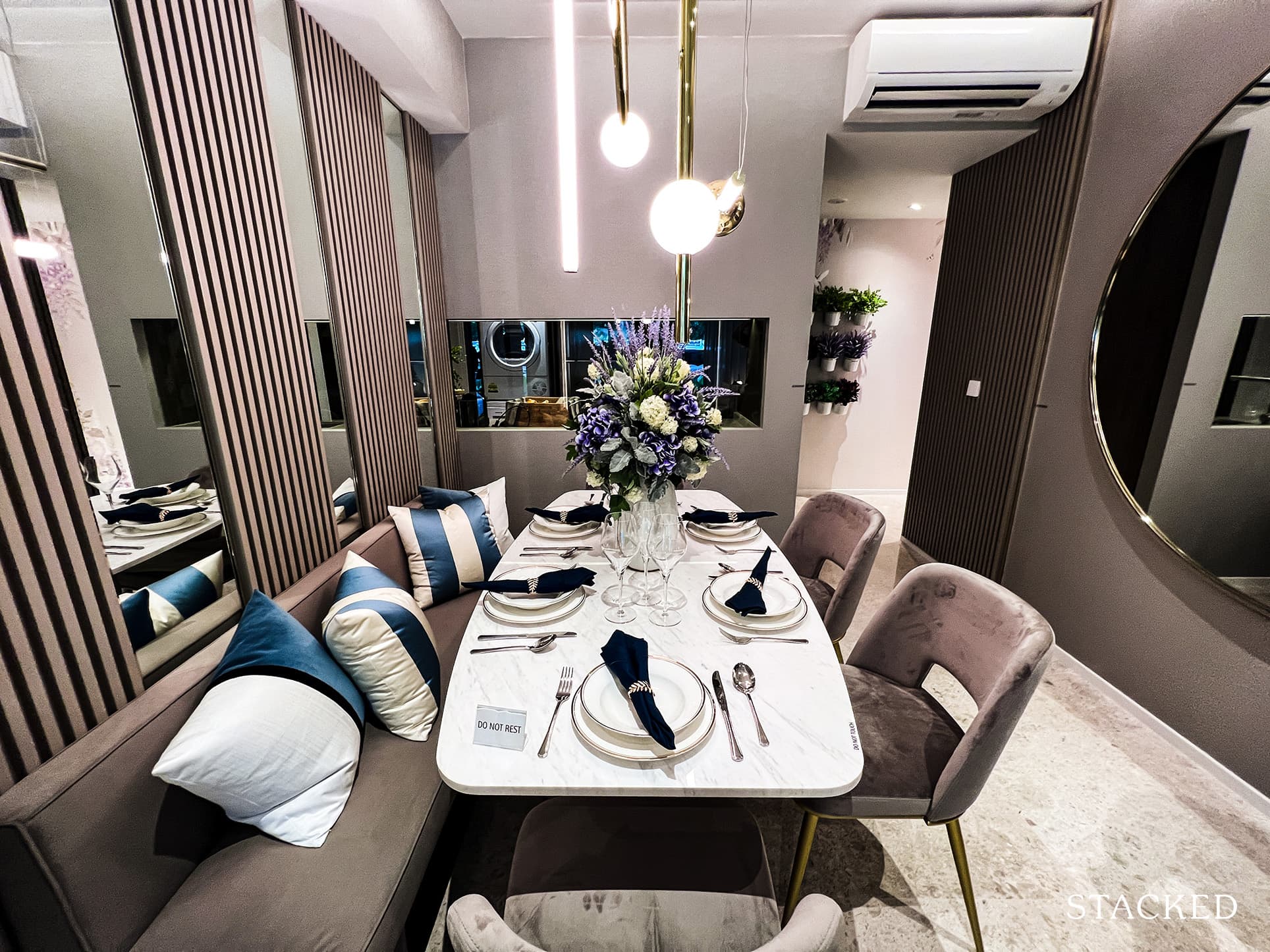 I have to say, from here I do wish that the glass cut-out at the kitchen was a wrapped-around piece instead, as it would just look that much sleeker.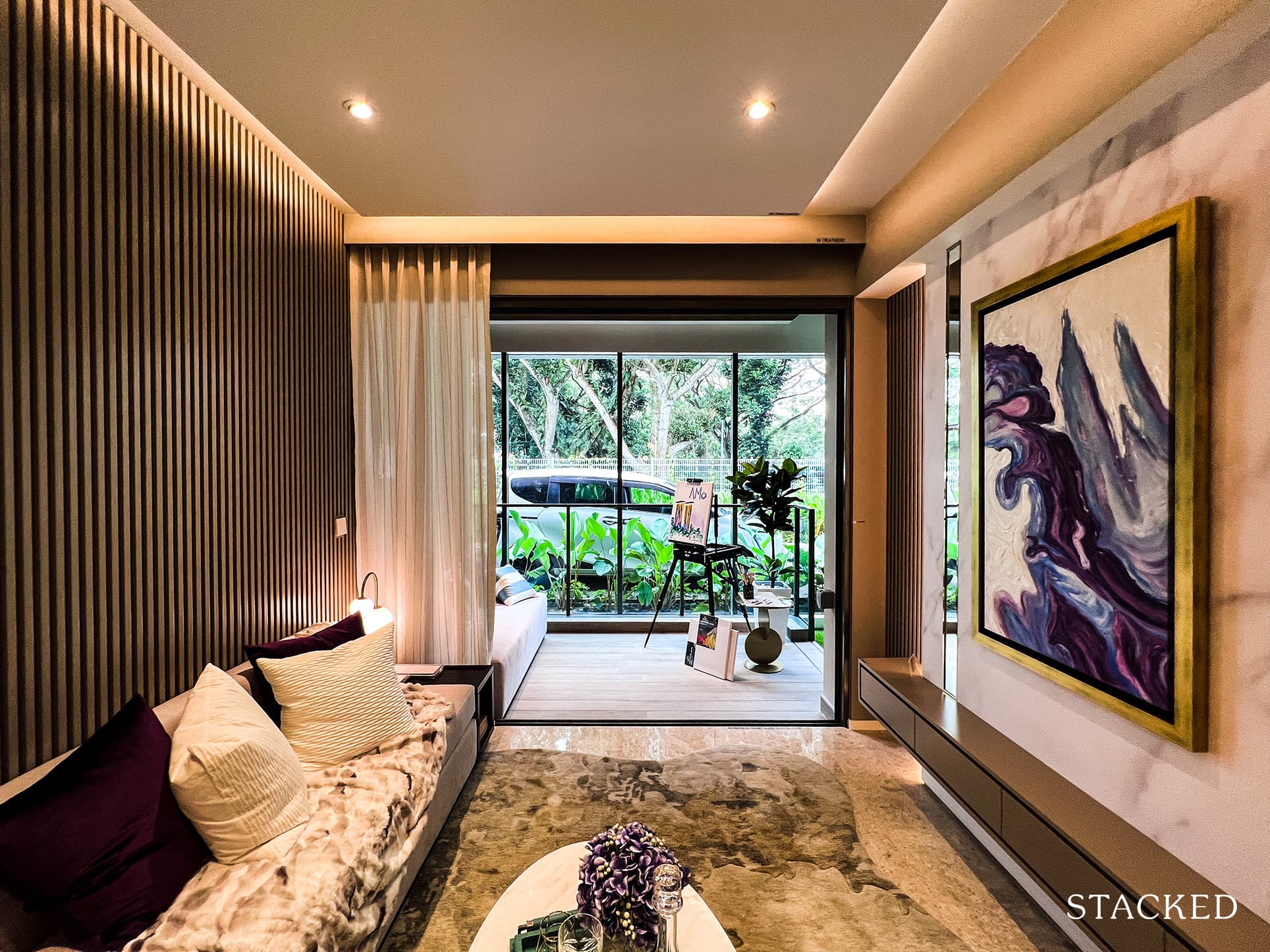 As for the living room, it is 3m in width, making it marginally wider than the 2.8m we saw for the 2 Bedroom show flat earlier. I must confess I am not able to tell the difference immediately. I also think that the length is at best slightly longer, if not the same, as that found in the 2 Bedroom unit. This means that you can fit a 3-seater couch here, as well as a coffee table and small TV console if required.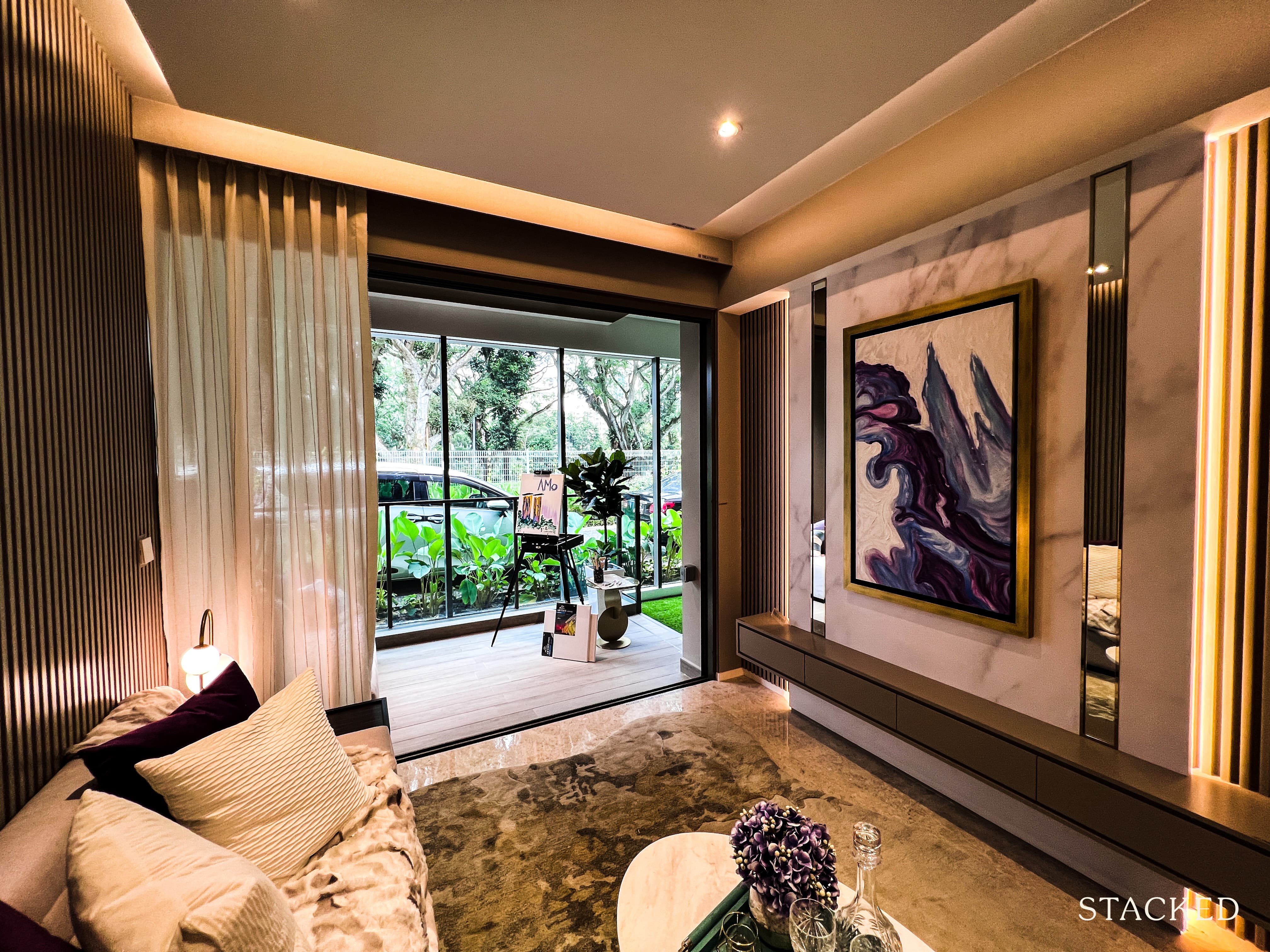 And as this is shown without a proper TV console (which many households usually like to incorporate), it's definitely not the biggest of spaces around for a living space.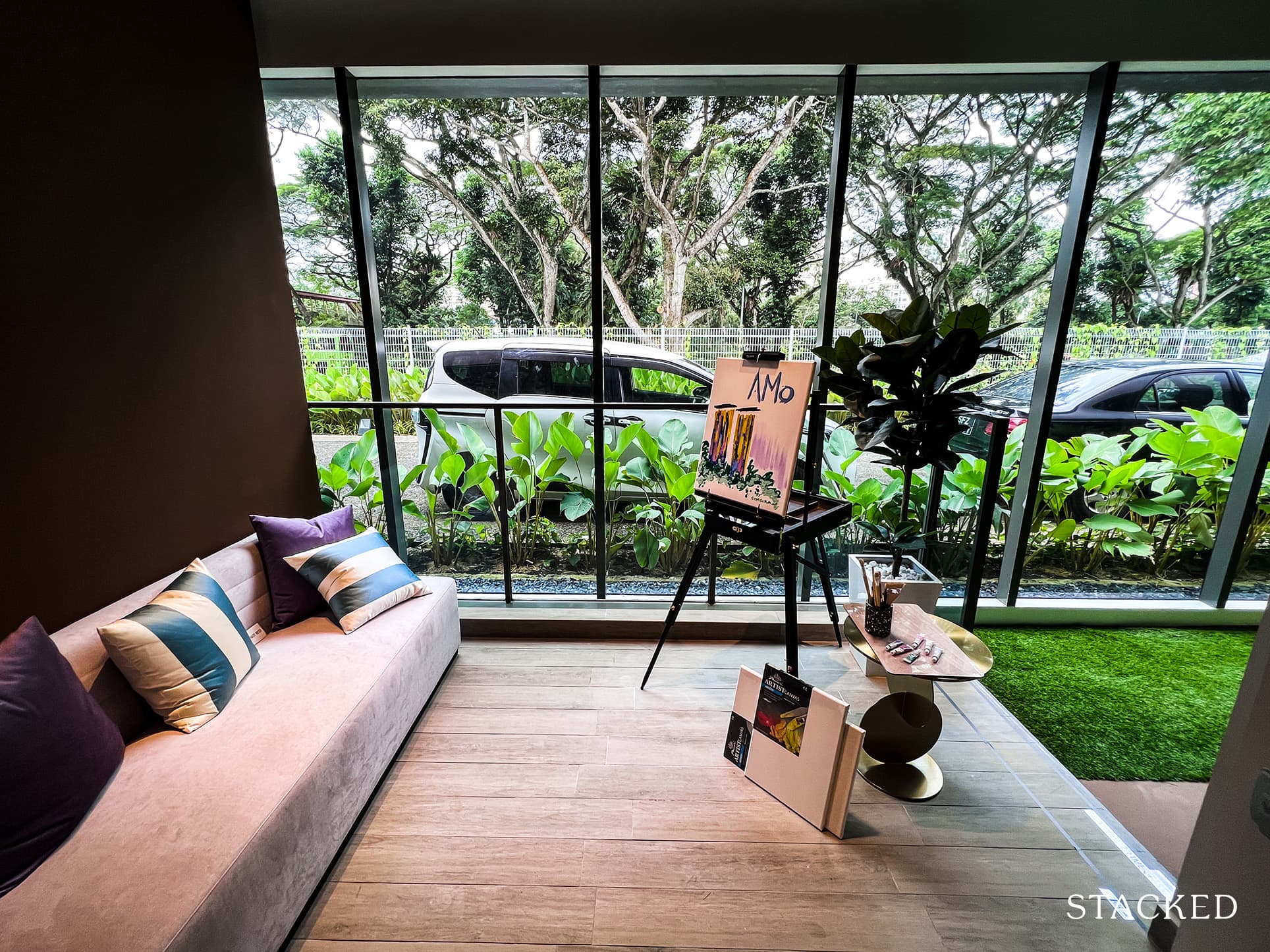 In what is turning out to be a trend across Amo Residence, the balcony here is once again relatively big at 6.9 sqm. Not a bad thing in my opinion, as balconies can sometimes be too small to actually get any utility from. Instead, the one here offers you options – whether you would like to use it as a morning coffee spot, exercise corner, or a mini garden, the discretion is yours.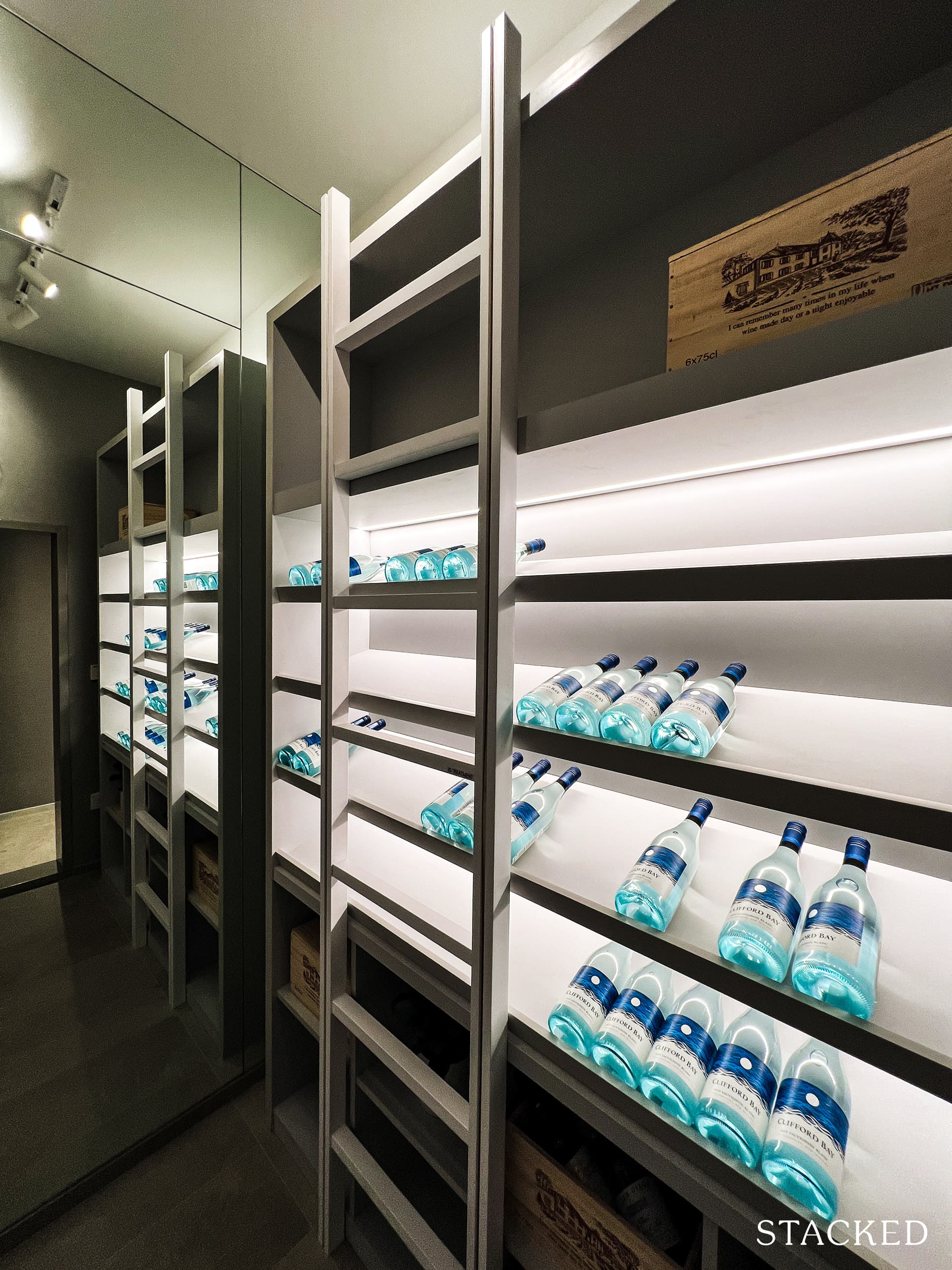 What's helpful about this 3 Bedroom layout is the inclusion of the home shelter, which measures 4 sqm. For a unit of this size, it's important to have one, especially to store away any items you may not be using for some time. While the one at the show flat has been designed as a wine cellar of sorts, it is probably more practical to use it as a storeroom or a room for your helper instead.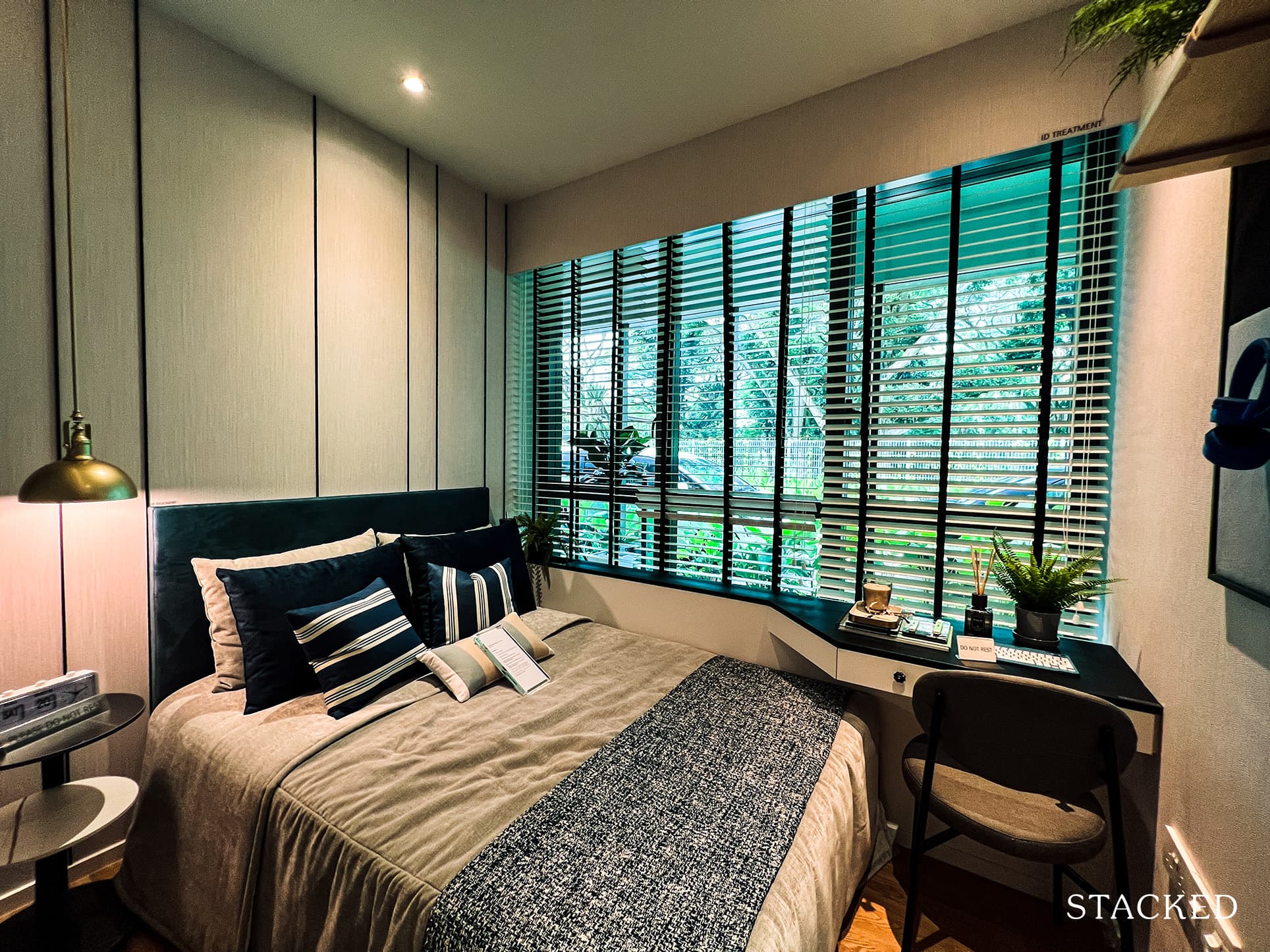 Bedroom 3 and Bedroom 2 are the common bedrooms for this 3 Bedroom unit. They are identical in size, at 8.8 sqm, and have full-height windows for both bedrooms. As standard, you get timber floors and a full-height sliding wardrobe for both bedrooms.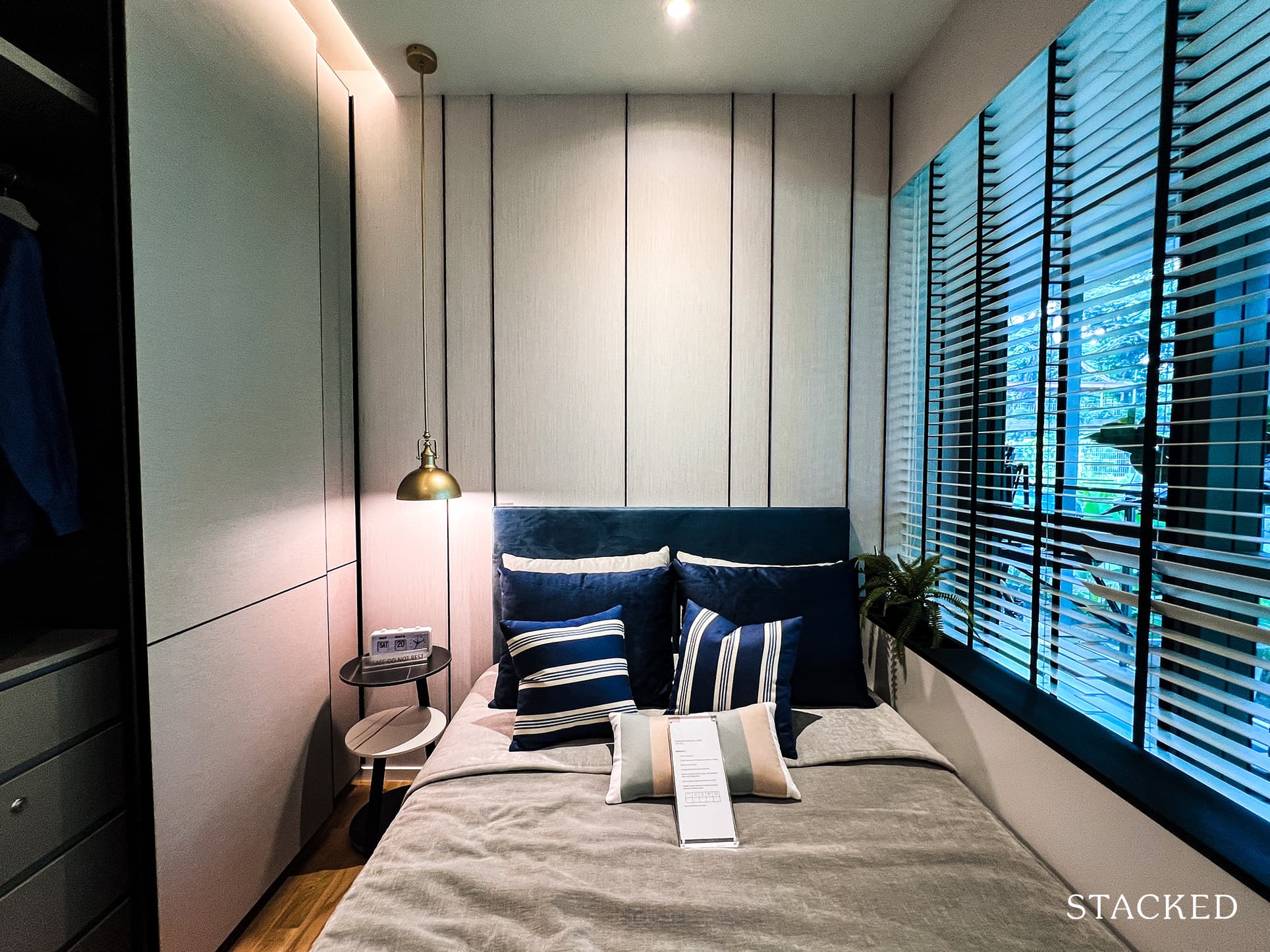 Bedroom 3 has been done up as a plain and simple room, with a Queen size bed fitted. They have managed to also fit a small study table in the corner. As you can see, it is not exactly the most comfortable setup, so you might want to consider a Single bed to give the room more utility.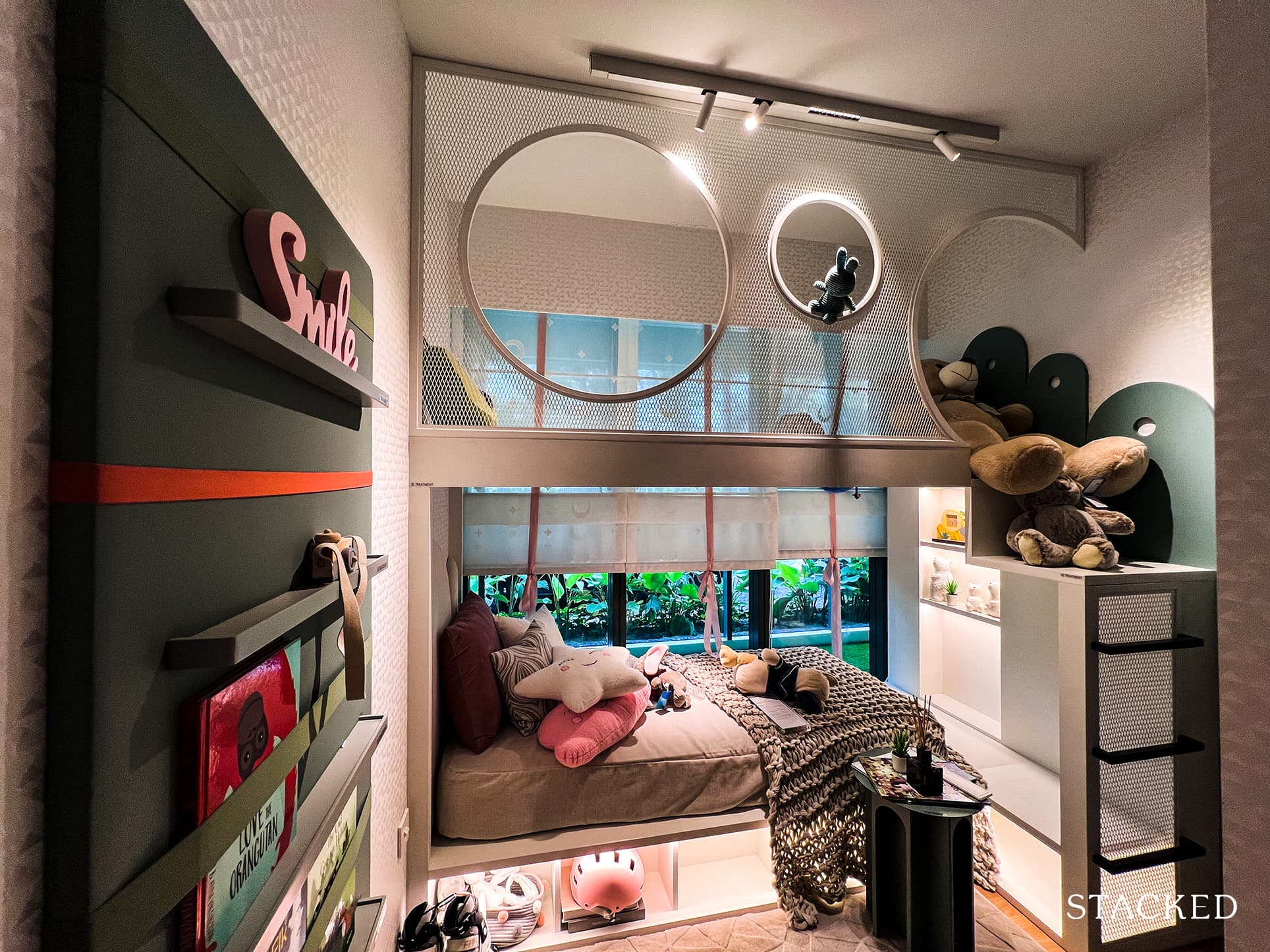 On the other hand, Bedroom 2 has been done up as a kid's room. While the ceiling height is very typical here, I do suppose this is a cosy set up for kids. I always like the inspiration I get from these double-decker bed concepts, as it looks like it's both fun and efficient use of space. Of course, this furniture deck will have to be built at your own cost but definitely something to consider for your little ones.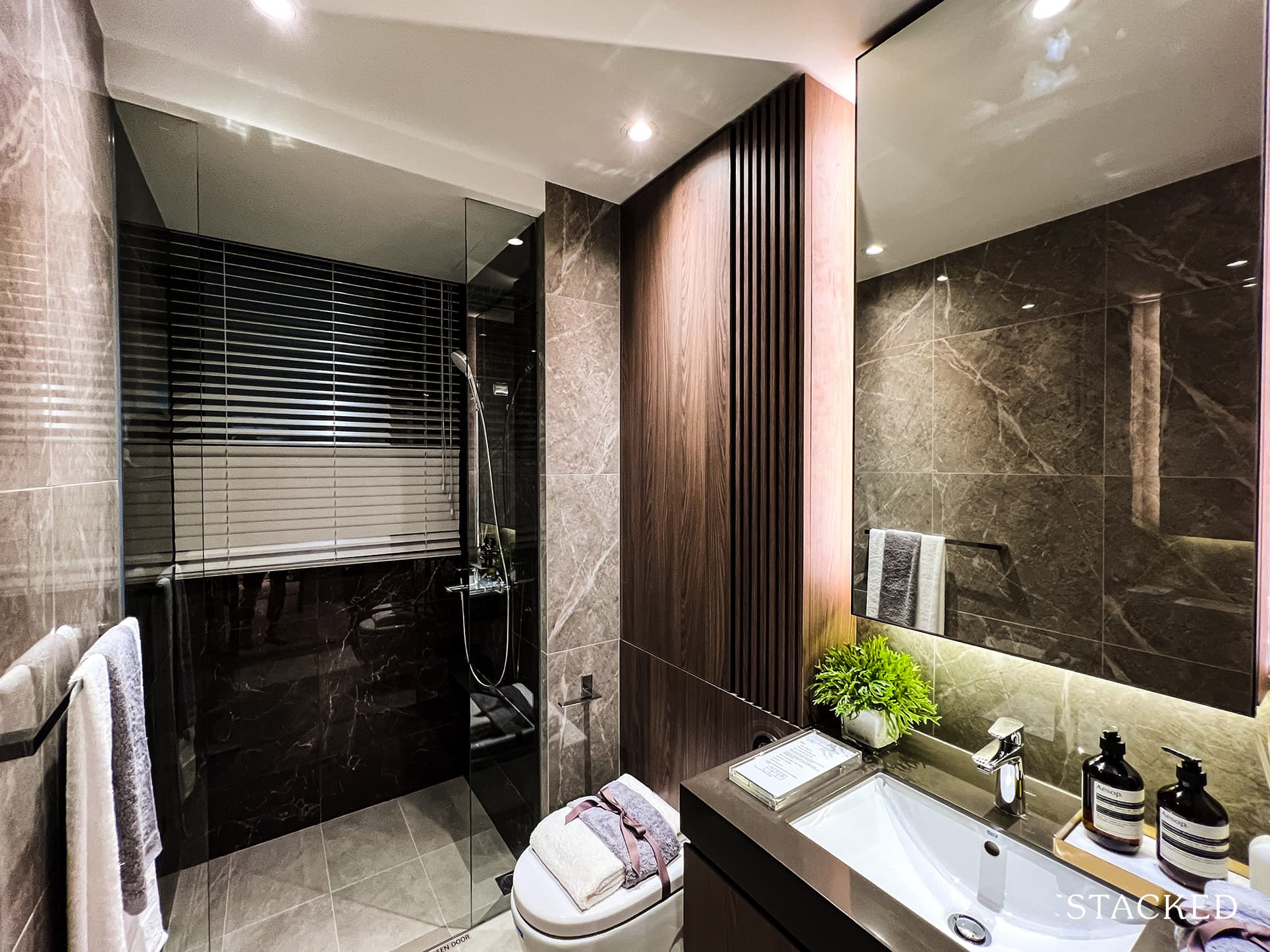 Both these common bedrooms will share Bath 2, as will your guests. It is sized at 4.4 sqm, which is average. Contrary to some of the other 3 Bedroom unit types, you have windows in this bathroom for natural ventilation – which is great to see.
I find the design of the common bathroom to be neutral and inoffensive, filled with greyish and wood tones. There are also storage cabinets behind the trendy fluted panel design. Standard sanitary wares are all from Spanish bathroom brand Roca, which includes the wall hung w/c and sink while the sanitary fittings on the other hand are from the German brand Hansgrohe, which you may be more familiar with given its ubiquitous presence in the condo market. This includes the handheld shower and tap.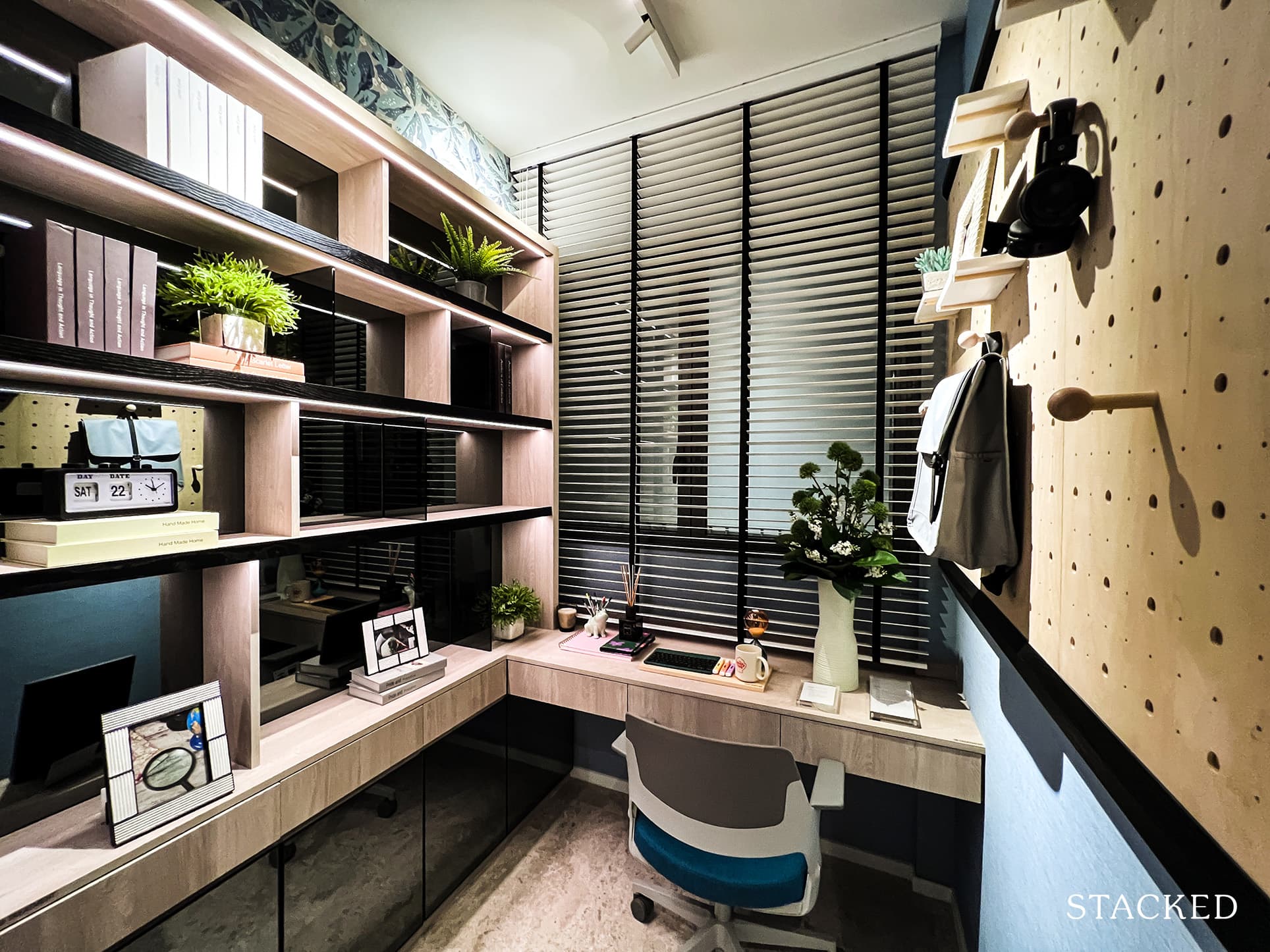 This 3 Bedroom unit also comes with a 4 sqm Study, which is helpful especially if you work from home sometimes and prefer a segregated space. The developers have fitted this room as such in this show flat, and it is helpful that there are windows and aircon for this room, making it a well-lit and comfortable place to work from.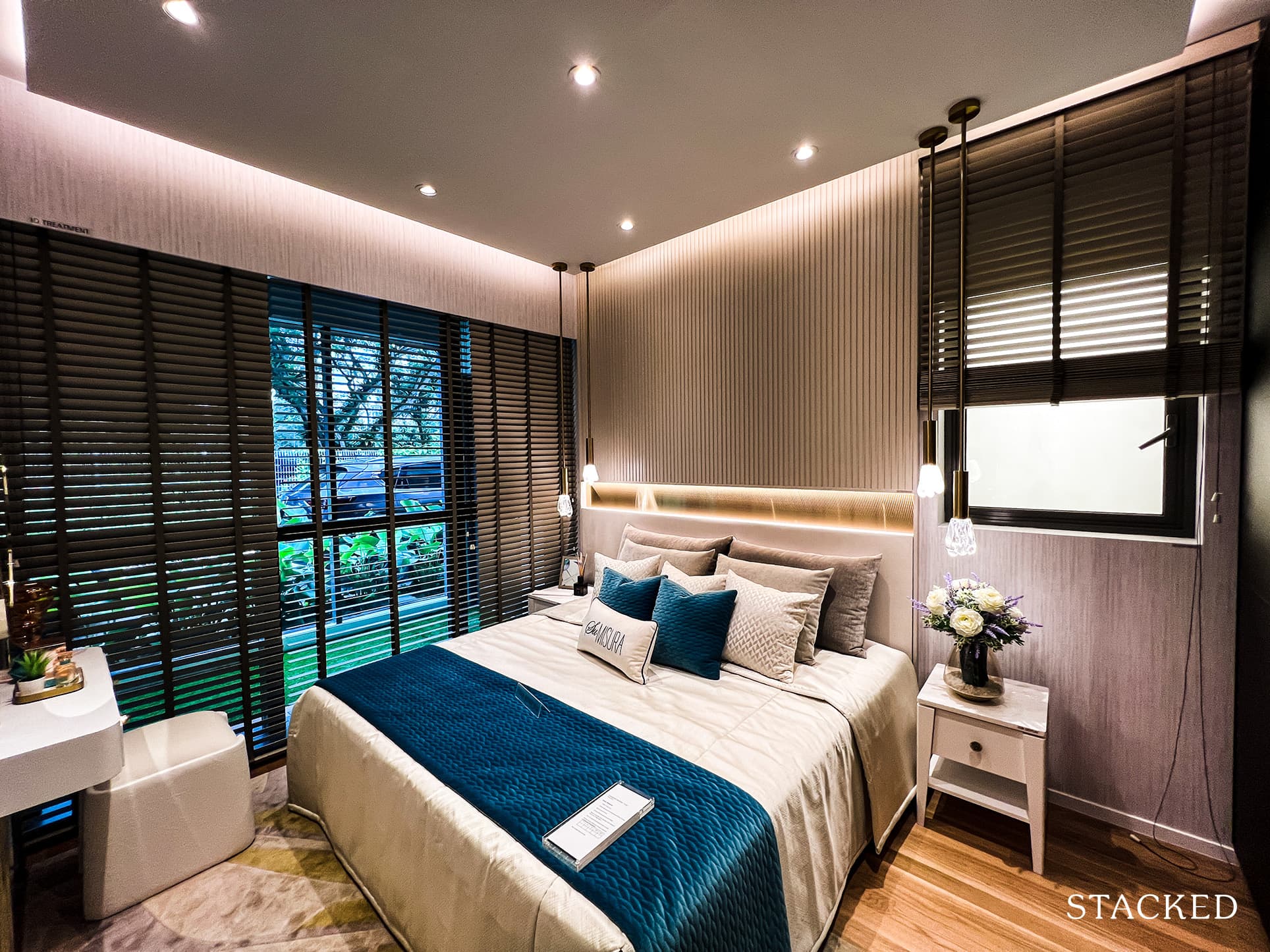 Finally, coming to the Master Bedroom, which together with its ensuite Master Bath, is 19.5 sqm in size. I would say it's not huge for a unit of 1,141 sqft but acceptable. You will fit a king size bed here easily, with room for 2 bedside tables or a small dresser to get ready. Light will flow in both from the full-height windows on one side and a smaller window just beside the built-in wardrobe.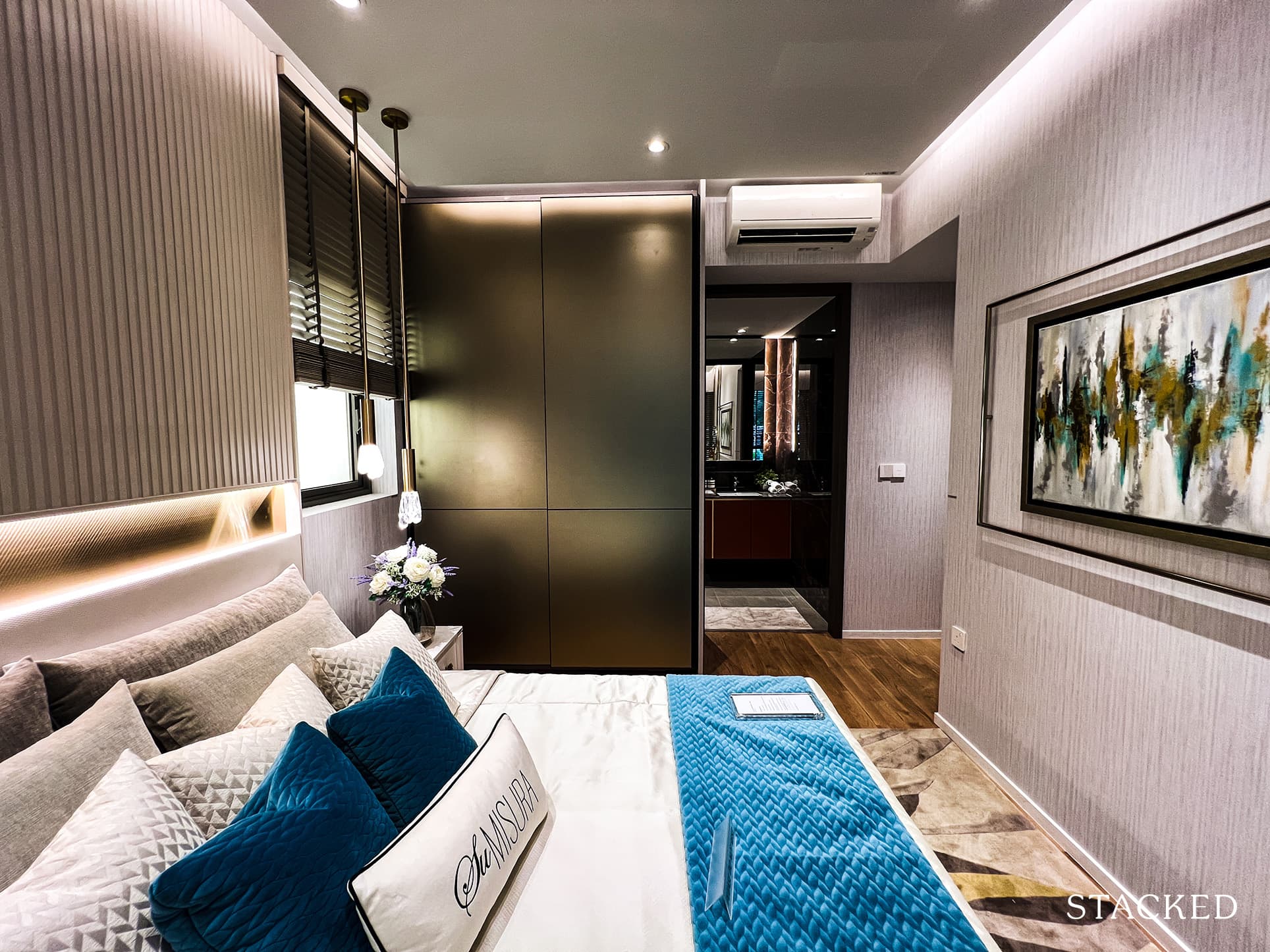 The wardrobe space is very typical, but would hardly be enough storage space for most couples (thankfully there is a household shelter). Instead of the usual side panel to hold your accessories, they've opted for one that is in-built instead.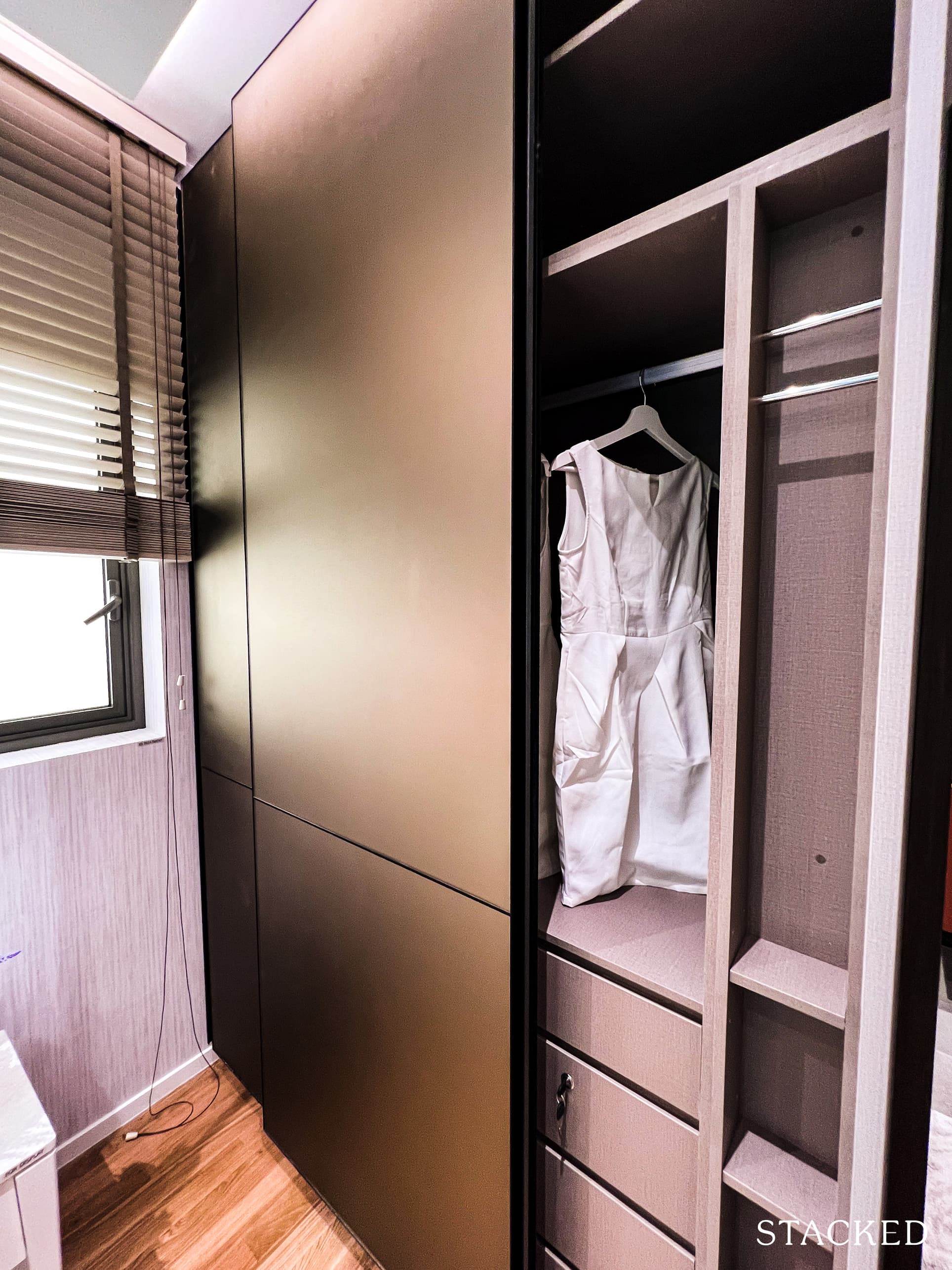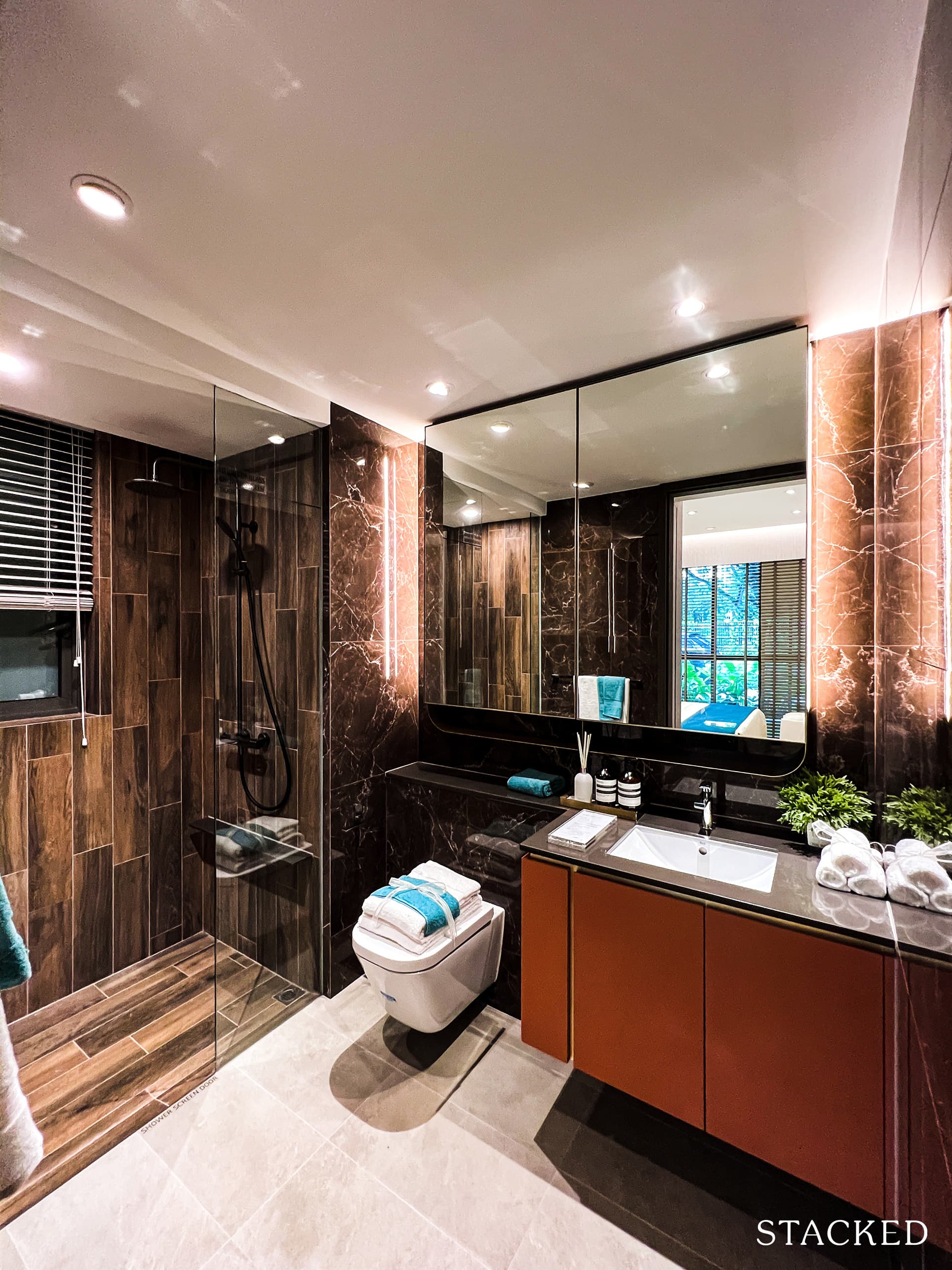 As for the Master Bath, it is marginally larger than the Common Bath. It comes with additional features such as the Gessi brushed metal rain shower set. The rest of the bathroom comes with the same European wares and fittings such as the tap, sink, and wall-hung w/c from Roca, Hansgrohe, and Gessi. There is also a window in this bathroom, so you get natural ventilation here as well.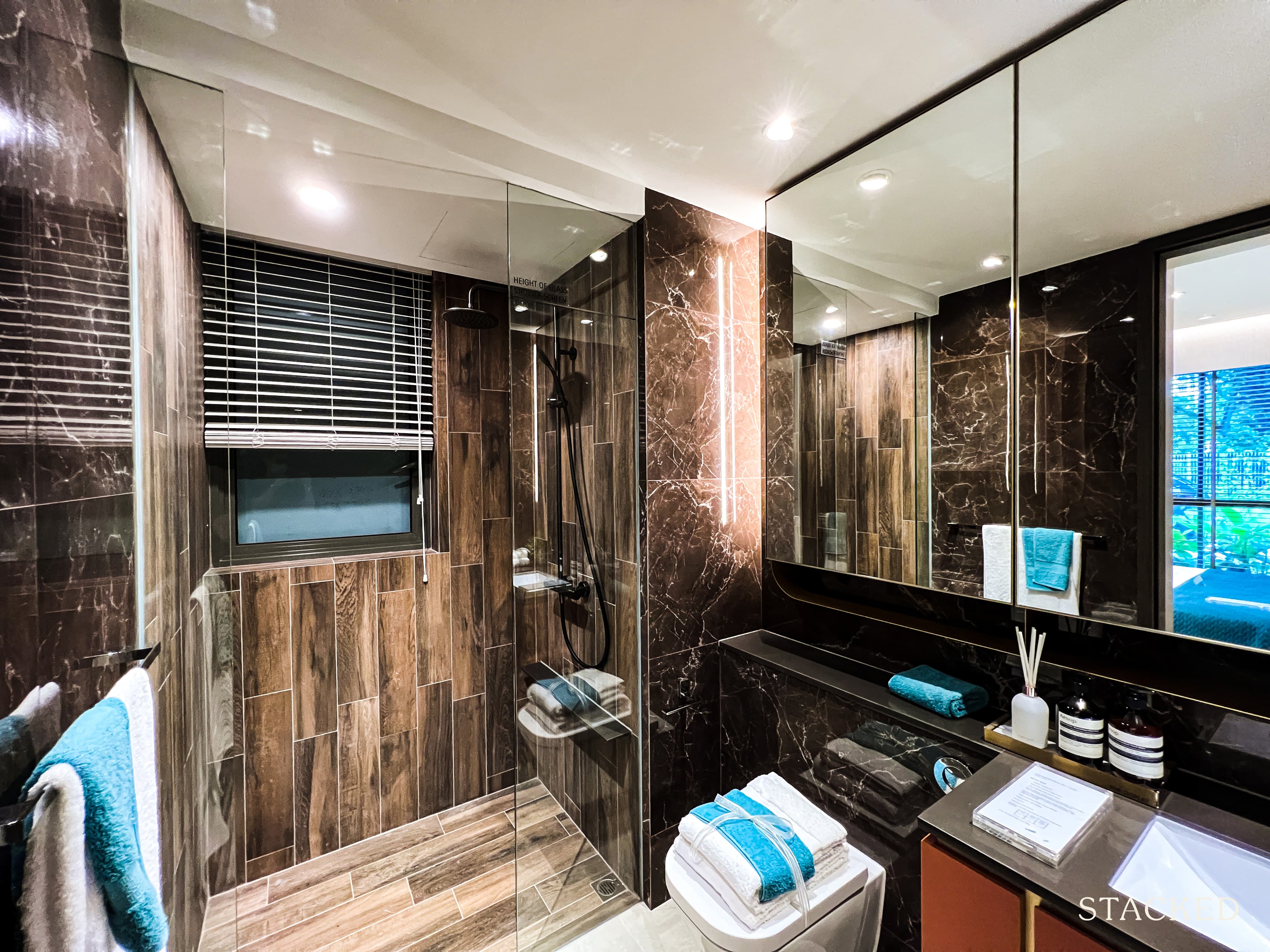 The use of the orange cabinetry does give a certain brightness to the darker tones of the space, but I do think orange can be quite a divergent choice. It's usually a love-it-or-hate-it type of opinion.
Amo Residence 4 Bedroom Type D1 (120 sqm/1,292 sq ft) Review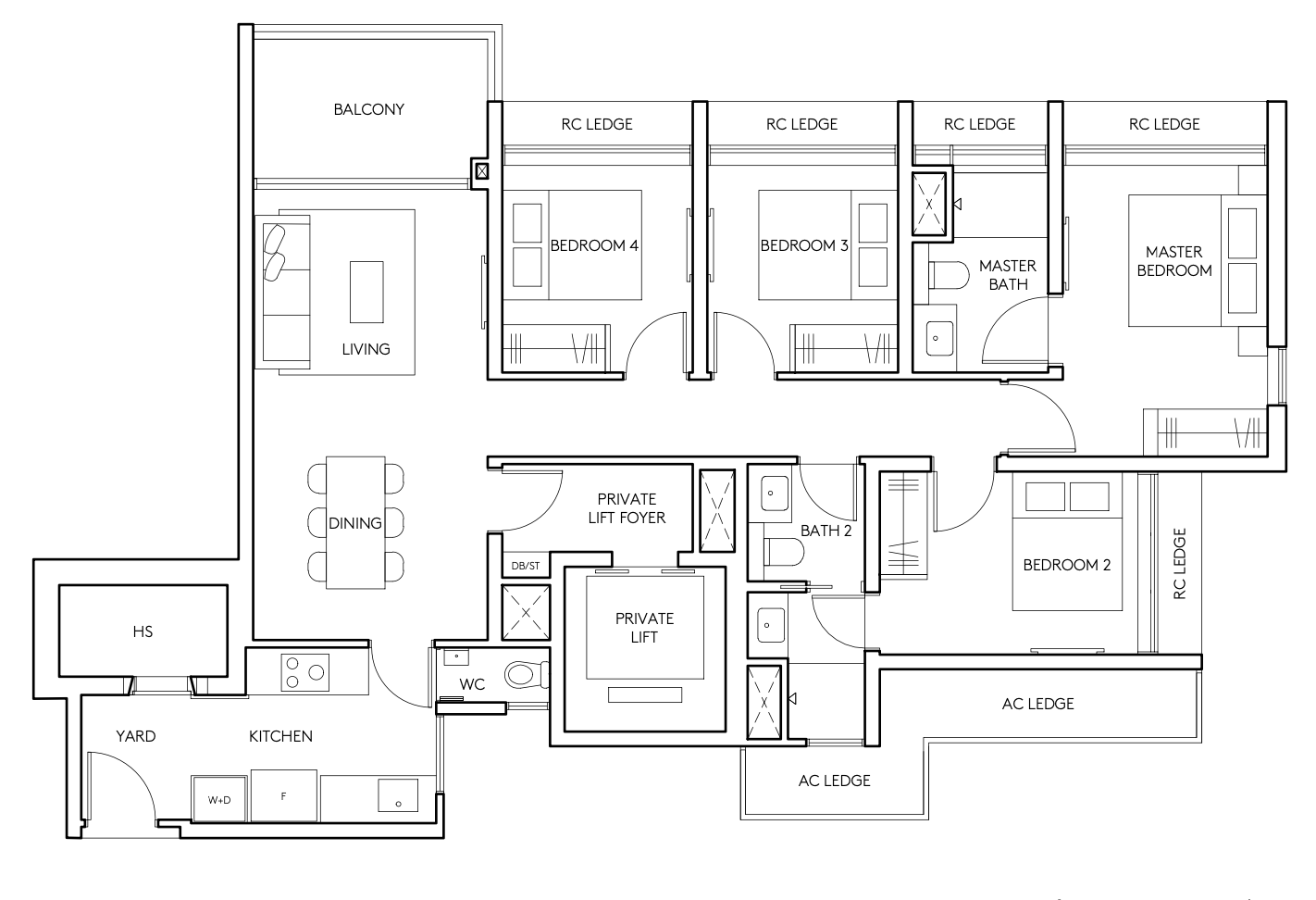 All the 4 Bedroom units at Amo Residence come in one size only – 1,292 sq ft, making up 12% of the project. This is not the largest 4 Bedroom out there, but it strikes a good balance between practicality and a comfortable quantum. As a premium feature, all 4 and 5 Bedroom units have a private lift and will have marble floors for the common areas and timber floors for the bedrooms. Sadly, the ceiling height is the only constant, at 2.79m.
Stepping out of your private lift, you are greeted by your own private lift lobby. At 4.1 sqm, this is just the right size. Big enough to accommodate a bench and/or additional shoe cabinets, but not to the point that it is excessively large.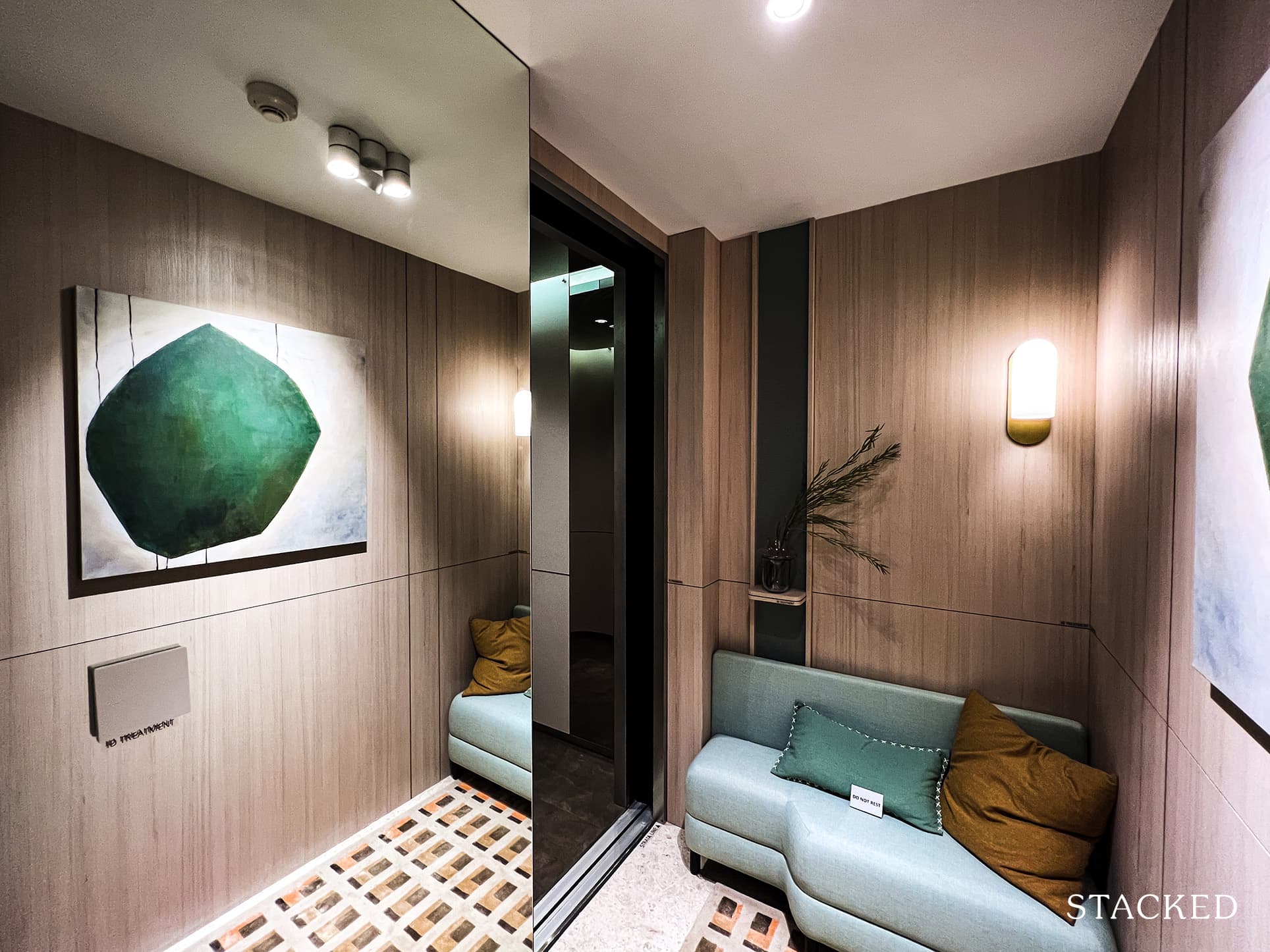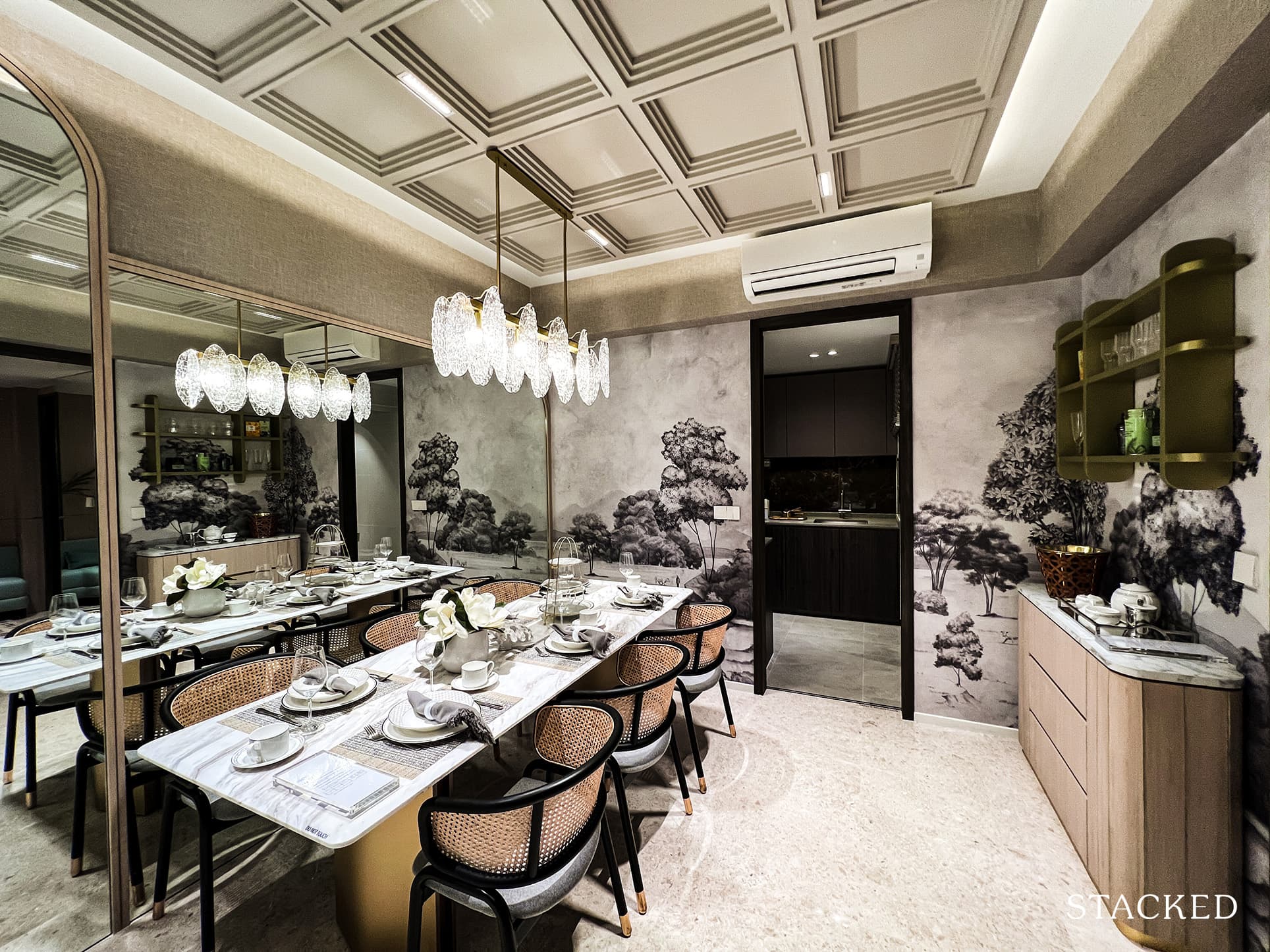 As you open the door to your unit properly, you have the dining area straight ahead. It is a long, rectangular shape along with the living area. Therefore, even though they only have a 6-seater dining table here, I reckon you could have an 8-seater one if you prefer. Again, that long mirror really helps to expand your perception of space here, and it's something I'd look to include here as well.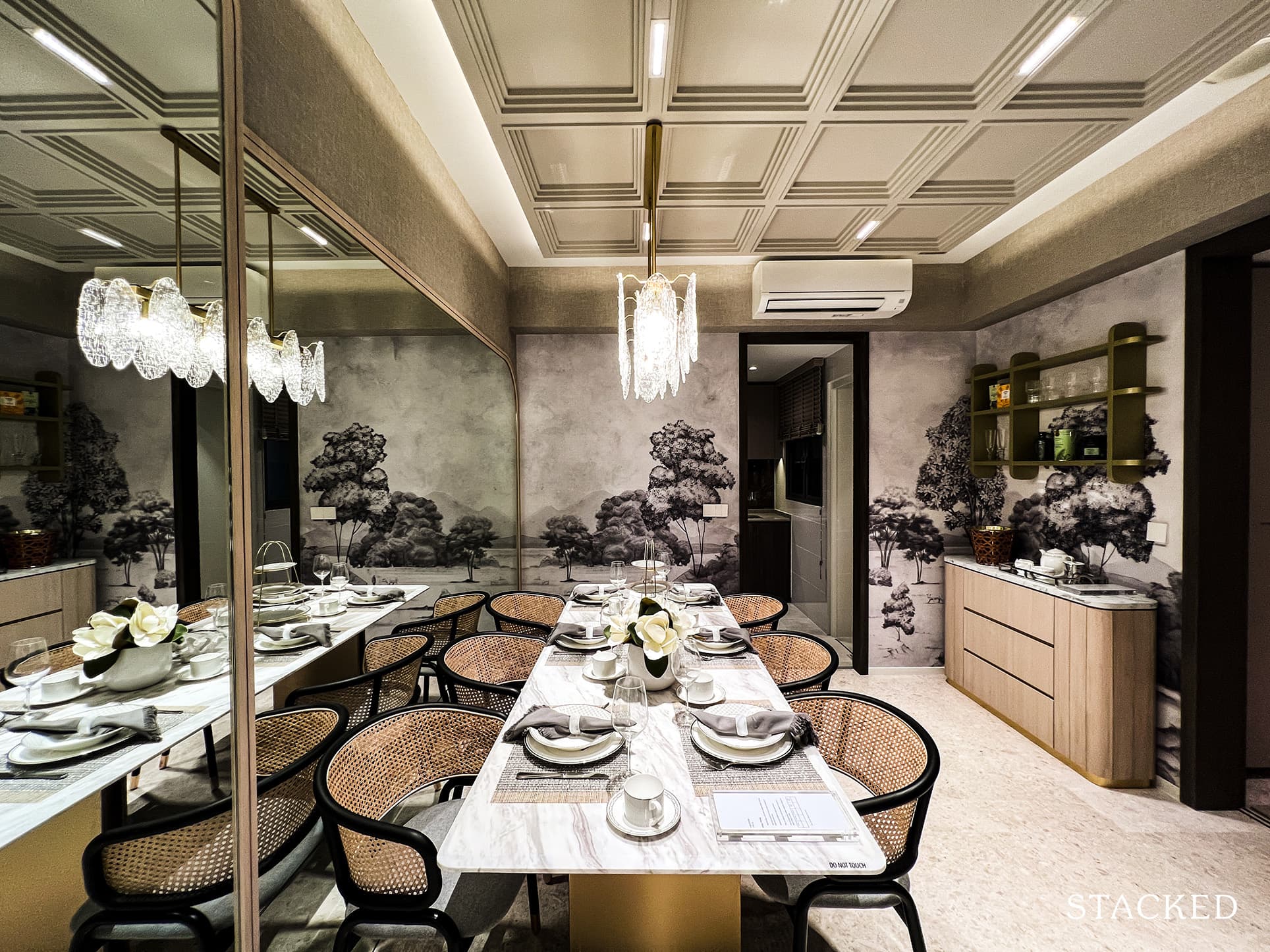 There is also some space at the corner to have a console for additional storage. Although you should note that the dining table here is very neatly pressed against the wall (while you can sit, you basically can't pull the chair in or out currently). So the table will definitely have to be shifted out for practical purposes.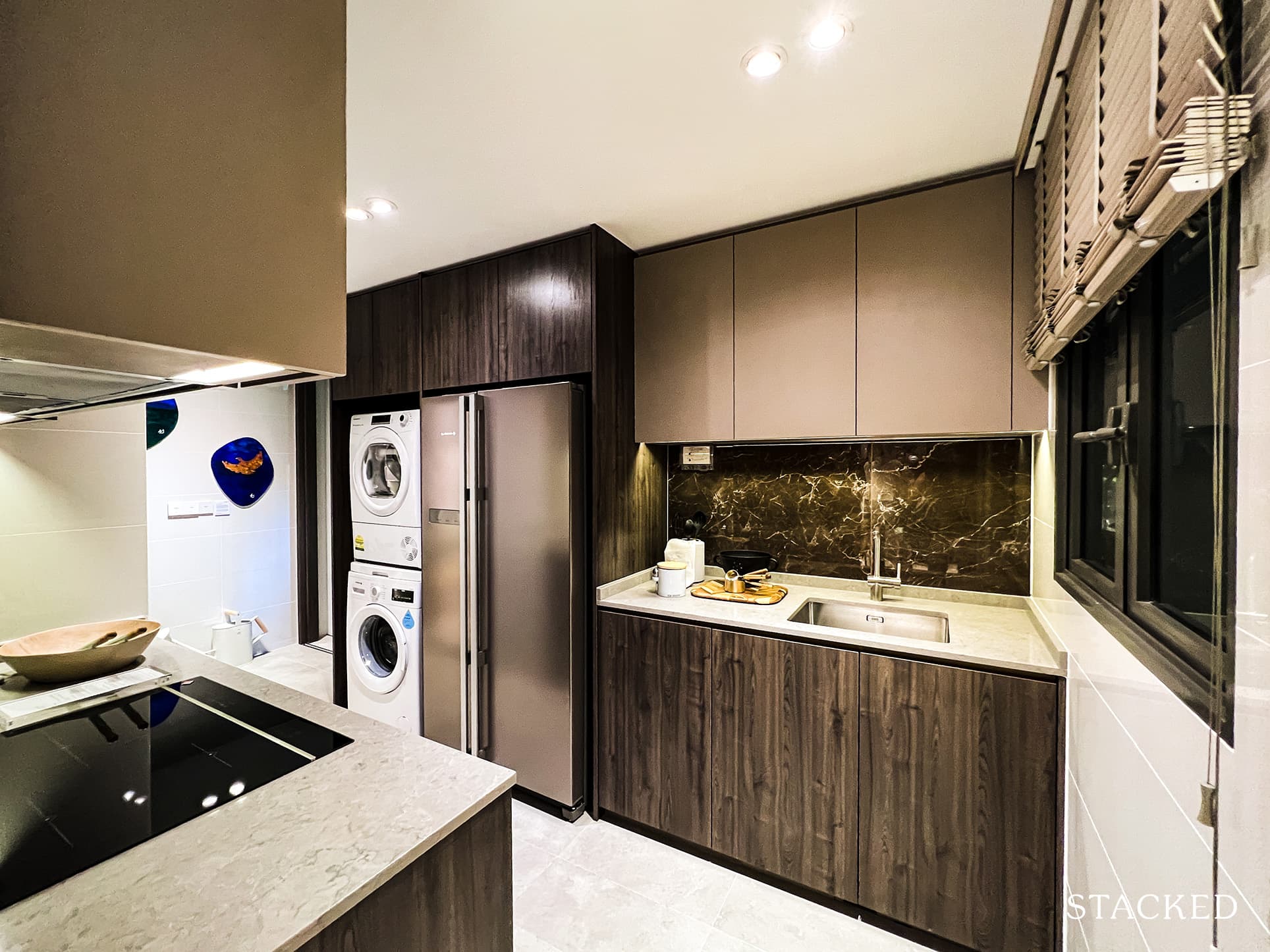 The enclosed kitchen is right beside and measures 11.6 sqm. Interestingly, this time it doesn't come with a cutout glass portion, unlike the smaller units. It comes with a Franke sink as well as furnishings from French luxury appliance maker De Dietrich, which includes the 3-zone induction hob, hood, oven, washer, dryer, and fridge.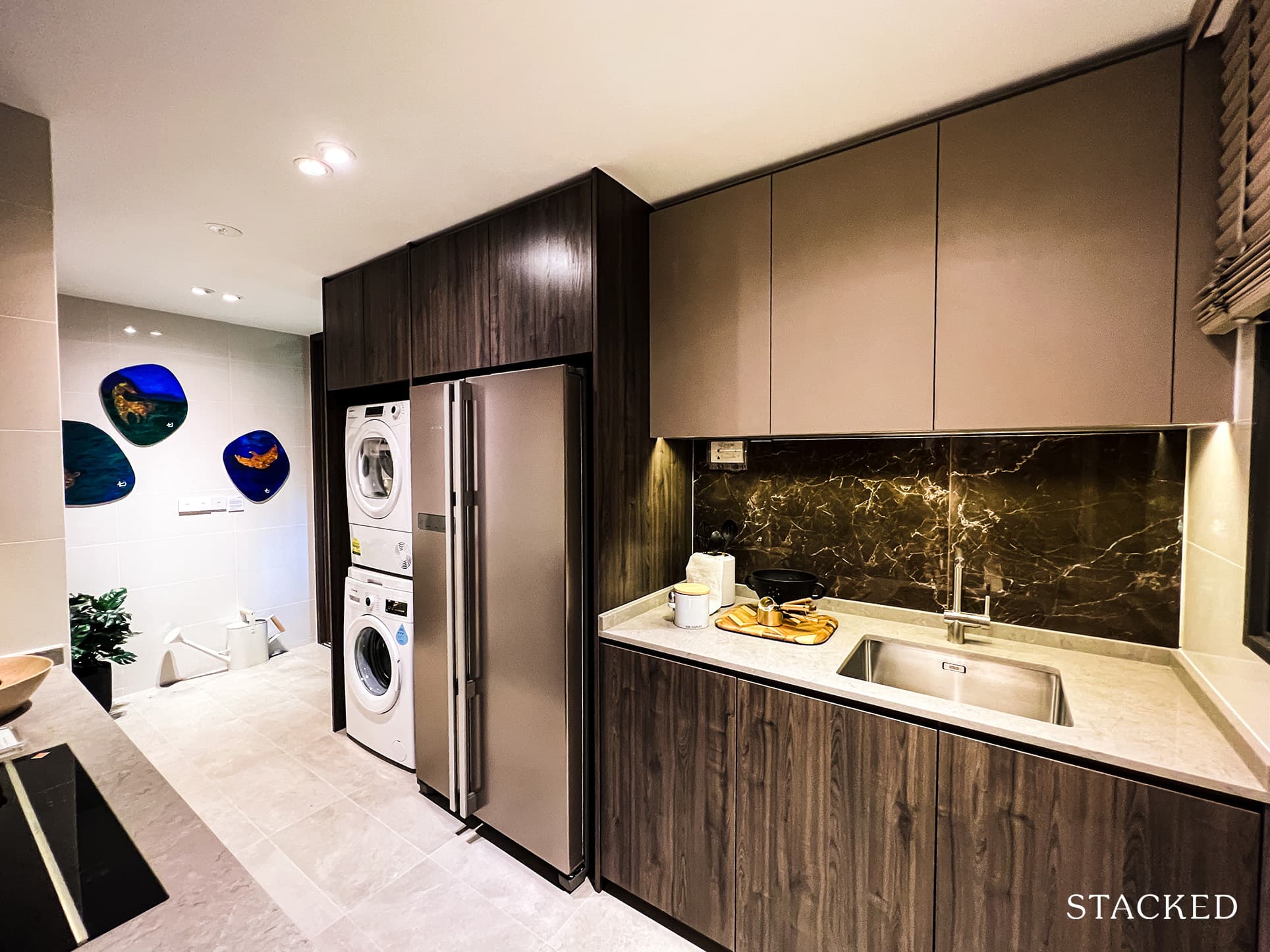 I highlighted this in the 3 Bedroom review above and will do so again. Occupants of 3 and 4 Bedroom units are usually bigger families and are expected to cook a fair bit in general. Most Asians prefer an open flame for the smoky effect, or wok hei in colloquial terms, so it was surprising for UOL to have excluded this. It seems like a conscious decision they have taken since they did it for their latest new launch The Watergardens at Canberra as well.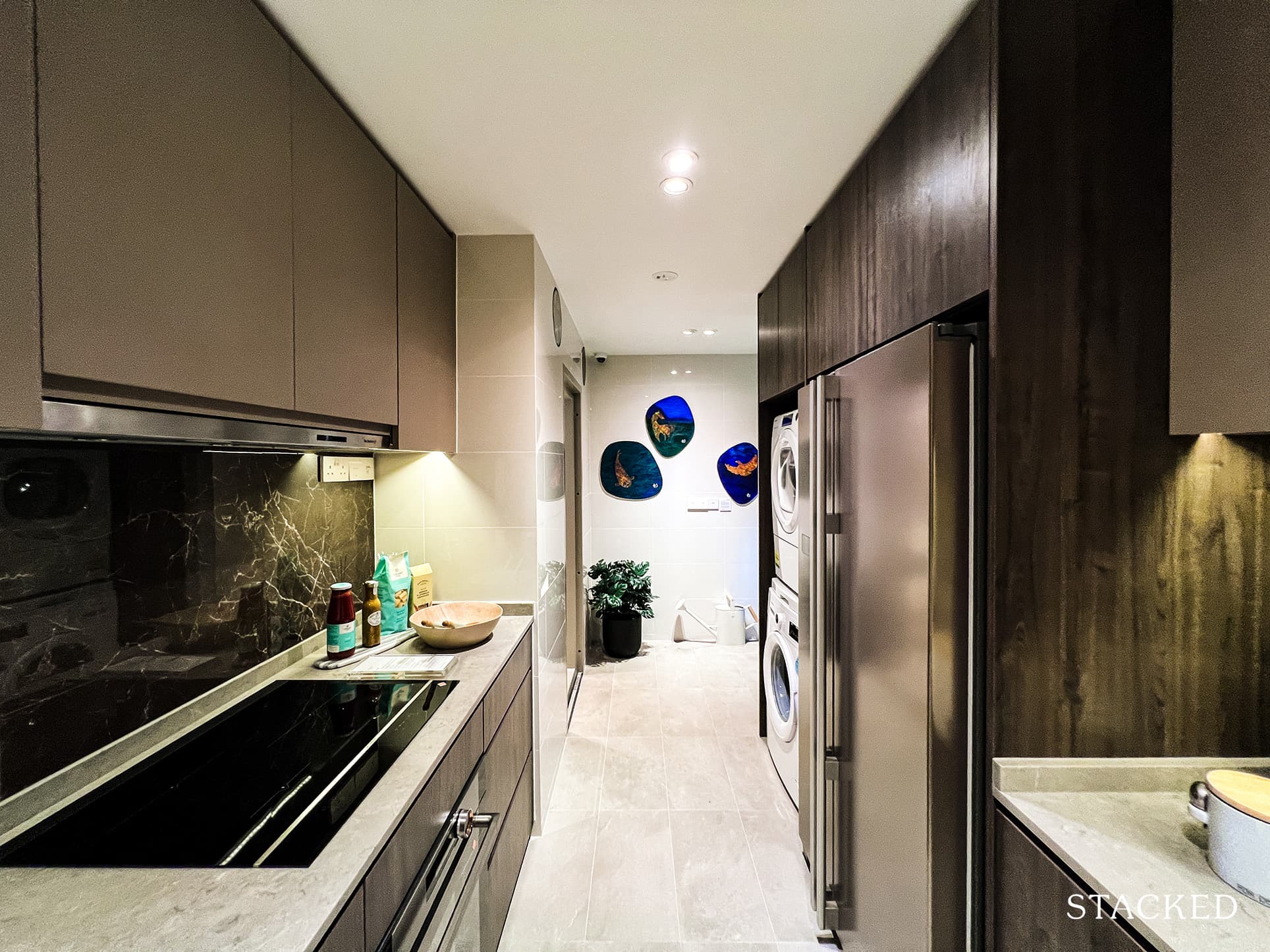 Another gripe I have about this kitchen is the lack of countertop space. I don't think the size of this kitchen is small, and cabinets come aplenty, which includes a condiments rack. However, I find that there is limited countertop space, which may be an issue for families who cook often since there is less space for meal preparation.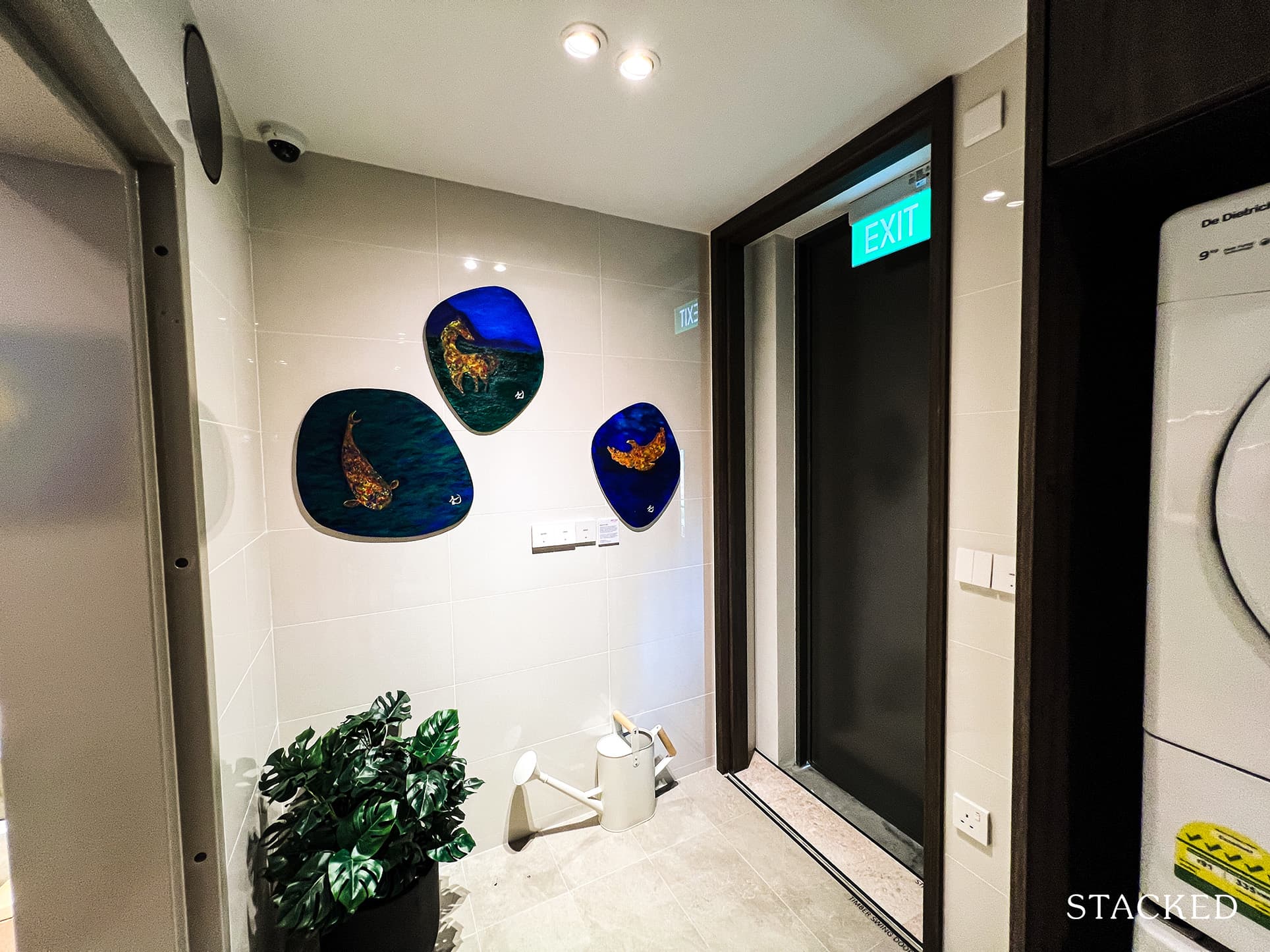 Towards the end of the kitchen is the back door that leads to the common lift lobby, as well as the Yard and Home Shelter. To me, the former is usually somewhere occupants could hang dry their clothes but given that the window is actually across the kitchen instead, one could question the effectiveness of this space.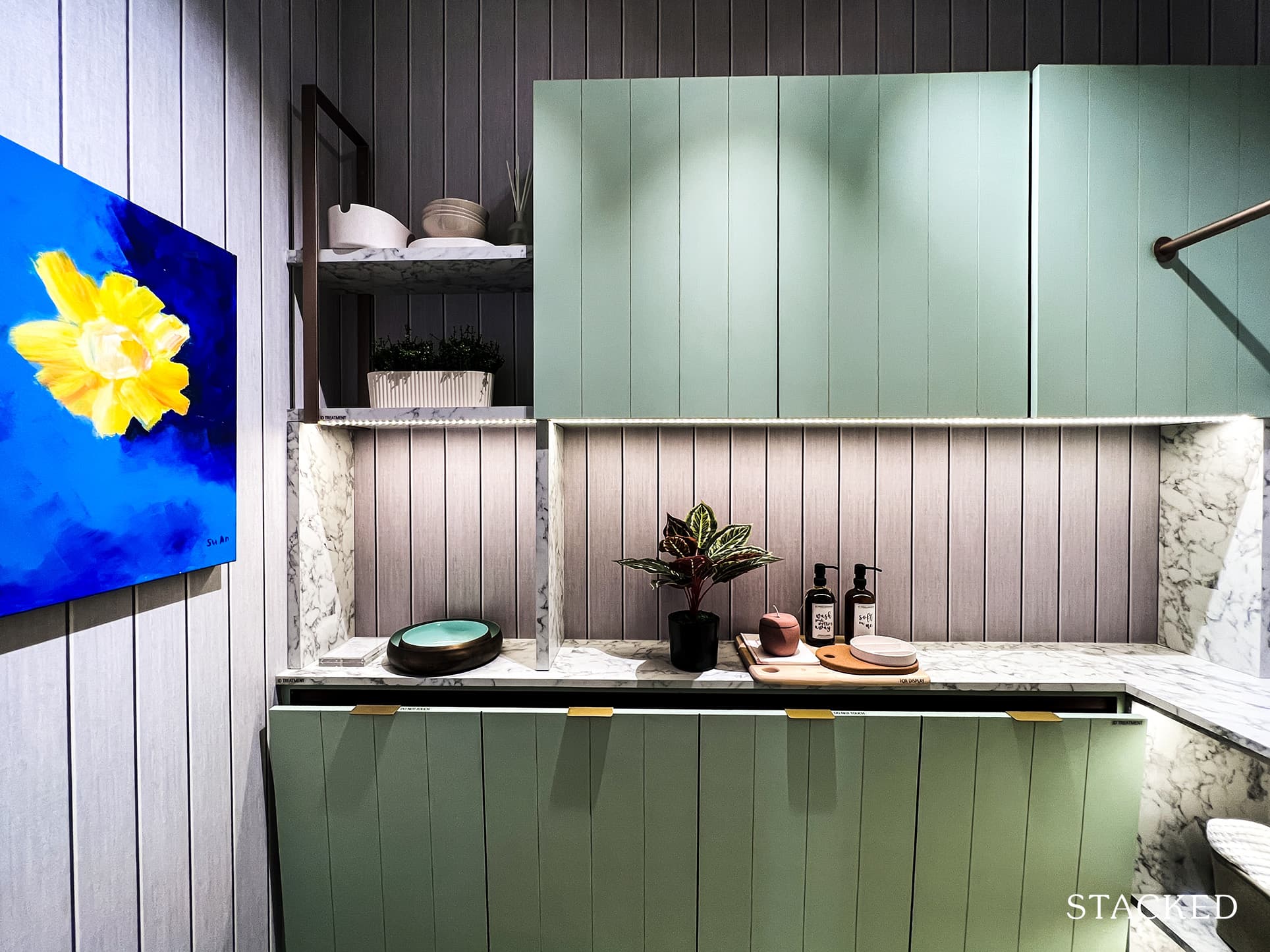 You can't dispute the usefulness of the latter though, and it is certainly a must-have for a 4 Bedroom unit. Like it or not, we need a storeroom to store away our excess or more typically used as a helper's room and I'm glad we have a 4.1 sqm space here.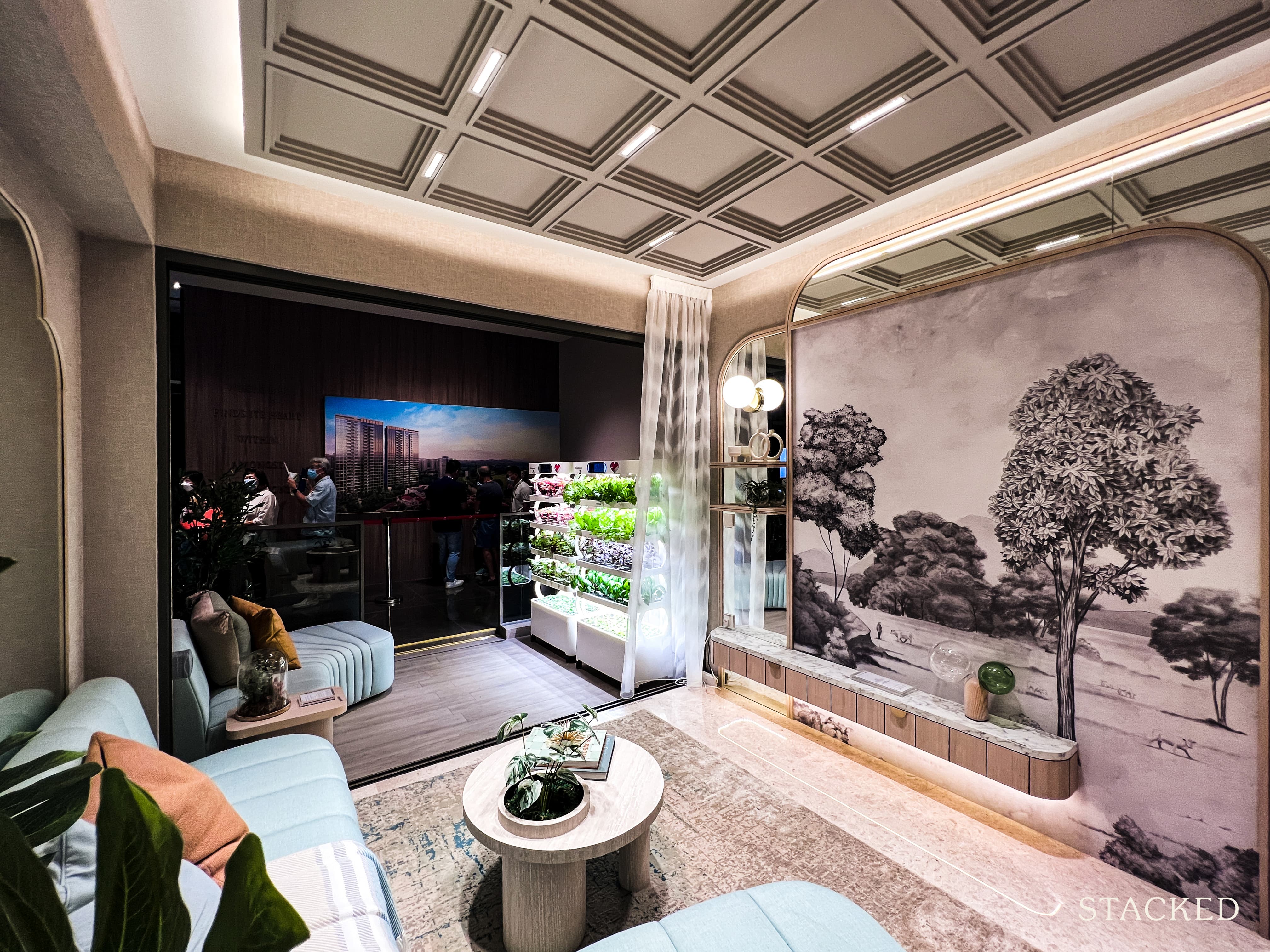 Now, back to the living room, which is adjacent to the dining area. At 3.2m in width, it is wider than the 3 Bedroom (3m) and 2 Bedroom (2.8m) show flat units. You could probably tell this from the photos since there is sufficient room for a slightly larger L-shape couch, a small coffee table, and a wall-mounted TV console.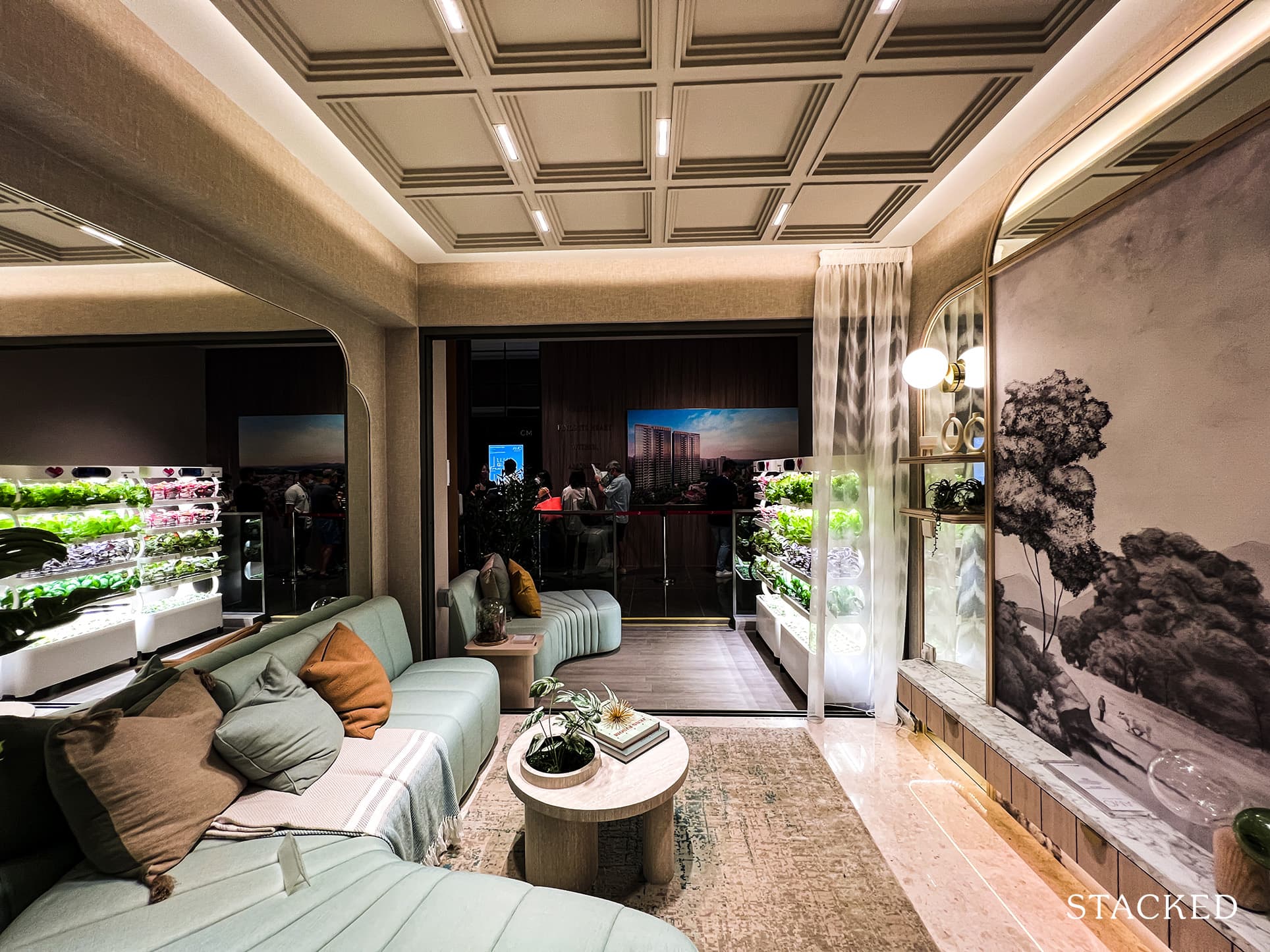 That said, you still have to be very careful with the choice of furniture here, as too big a TV console or coffee table will leave you with little room to move freely to the balcony.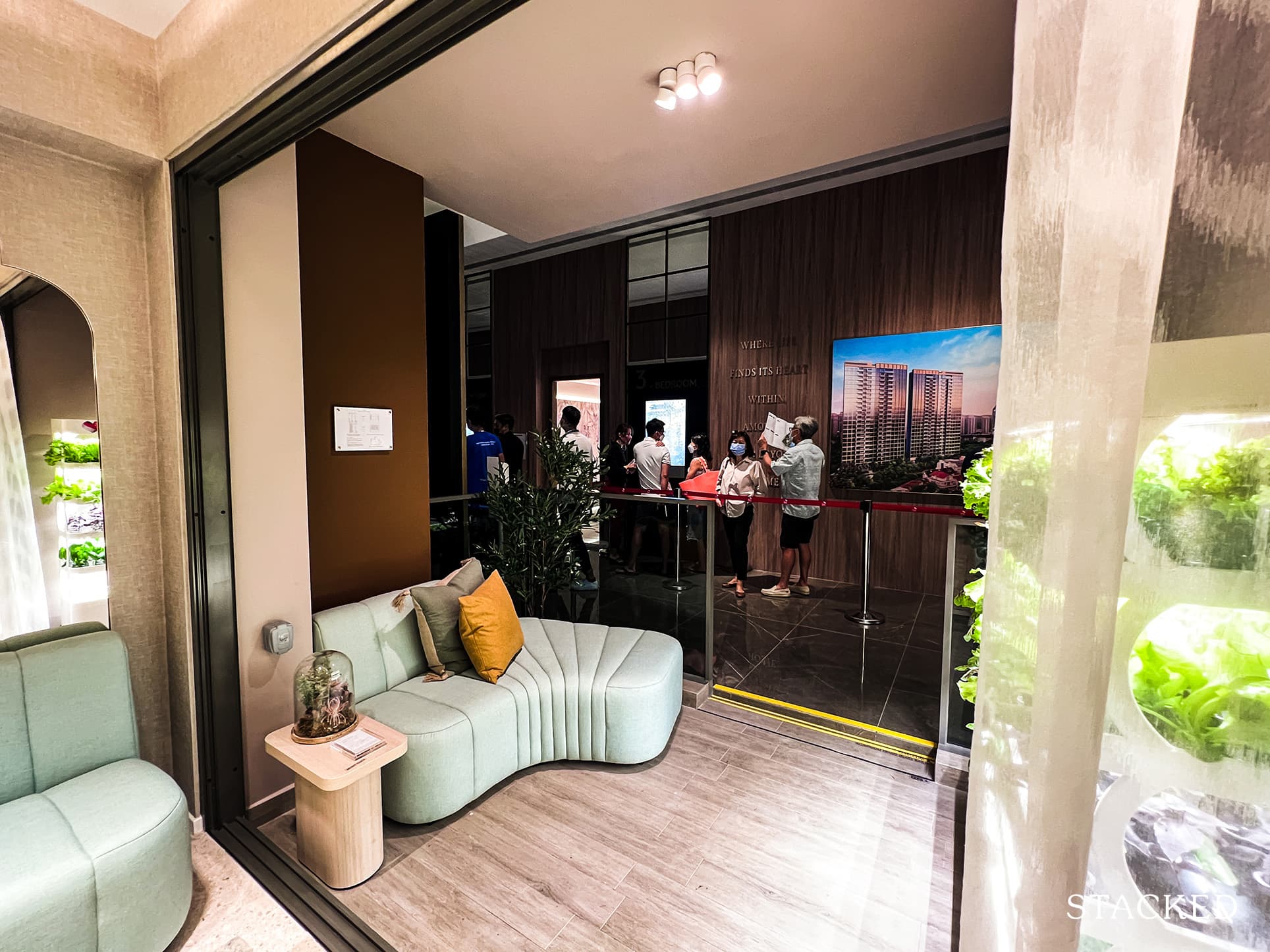 The balcony in this 4 Bedroom is average when you compare it to the 2 earlier show flat units we reviewed earlier. At 7.3 sqm, it's probably the right size for a 1,292 sq ft unit. Here, they have extended the couch to the balcony on one side with a hydroponics shelf on the other side – all about self-sustenance isn't it? Perhaps not quite big enough for your entire dining table to be moved out, but definitely sufficient for a coffee table with chairs if you prefer that setup.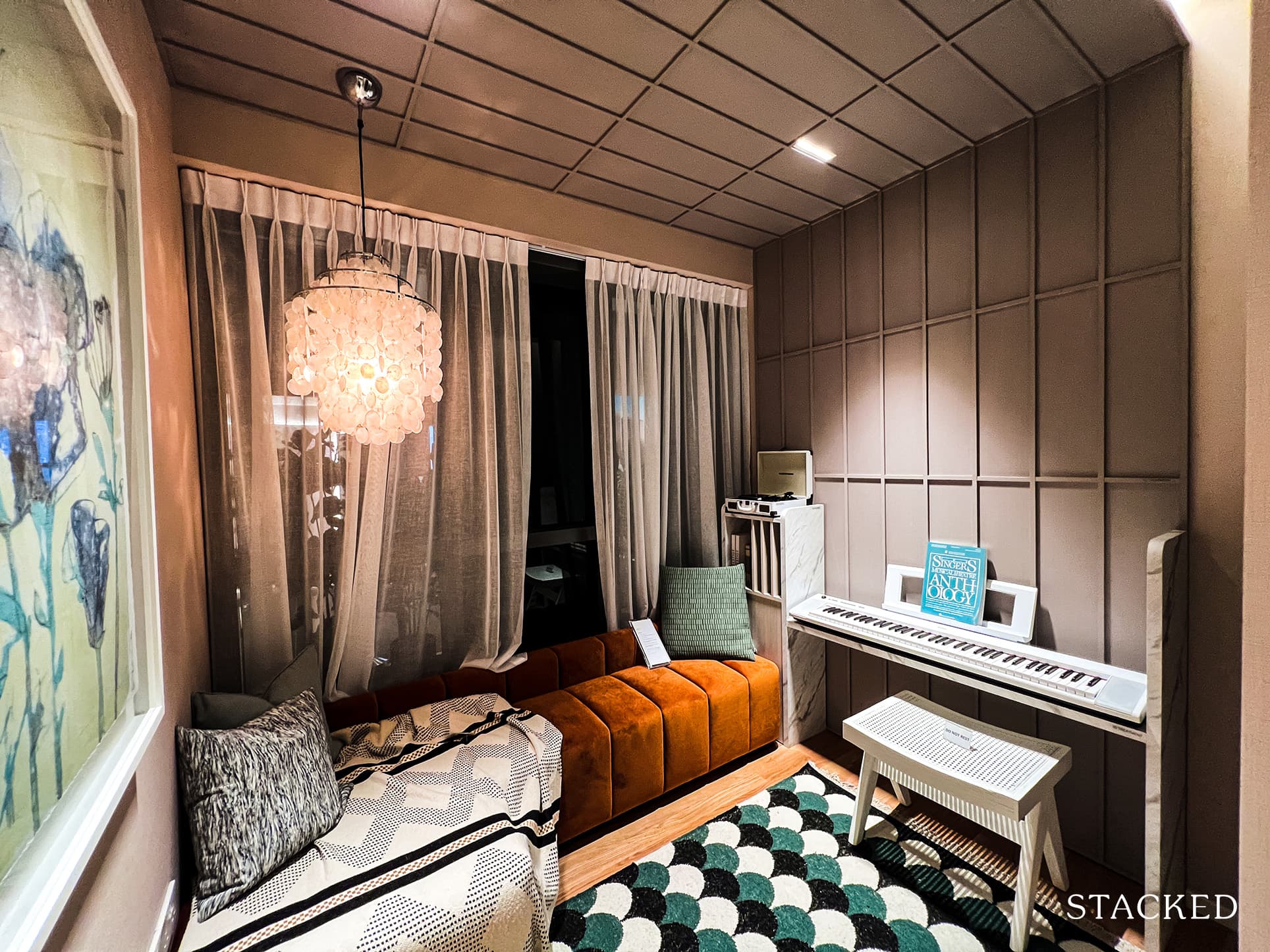 All 4 of the bedrooms are situated along the same corridor, and being the only 4 Bedroom layout, there is no flexibility between this traditional layout and one with a dumbbell layout, which some view as having a little more privacy. You get timber floors and full-height windows in all 4 bedrooms.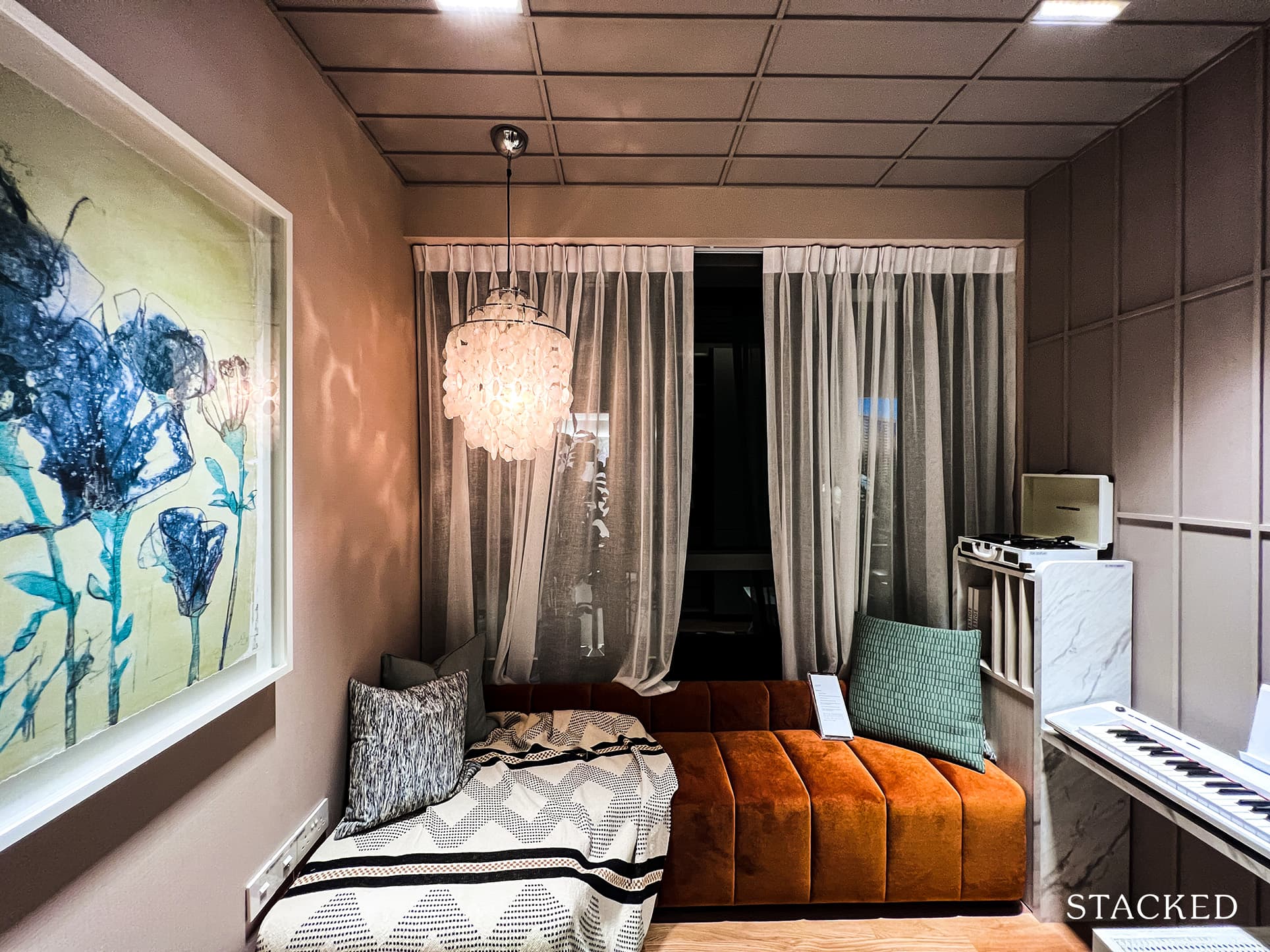 Starting first with Bedroom 4 and you can see that the developers have tried to frame this more as a spare/music room, with a keyboard and a couple. A 2-panel sliding wardrobe will still be provided and the room size is 8.8 sqm, which is the market standard. This means that you could fit in a Queen size bed alternatively.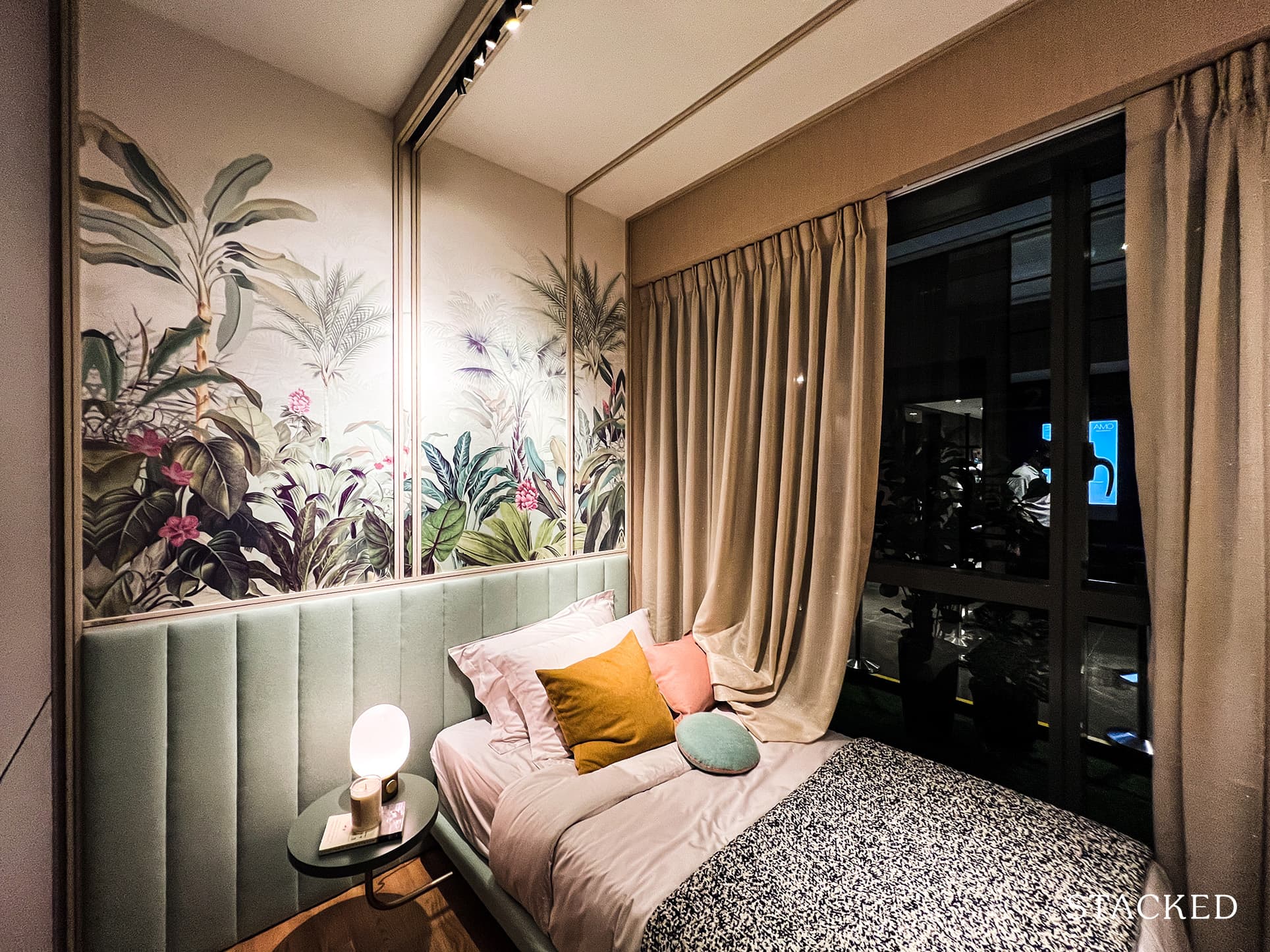 As for Bedroom 3, it is of a similar size at 8.8 sqm. With a Single bed in place, you can tell that there is at least some walking space.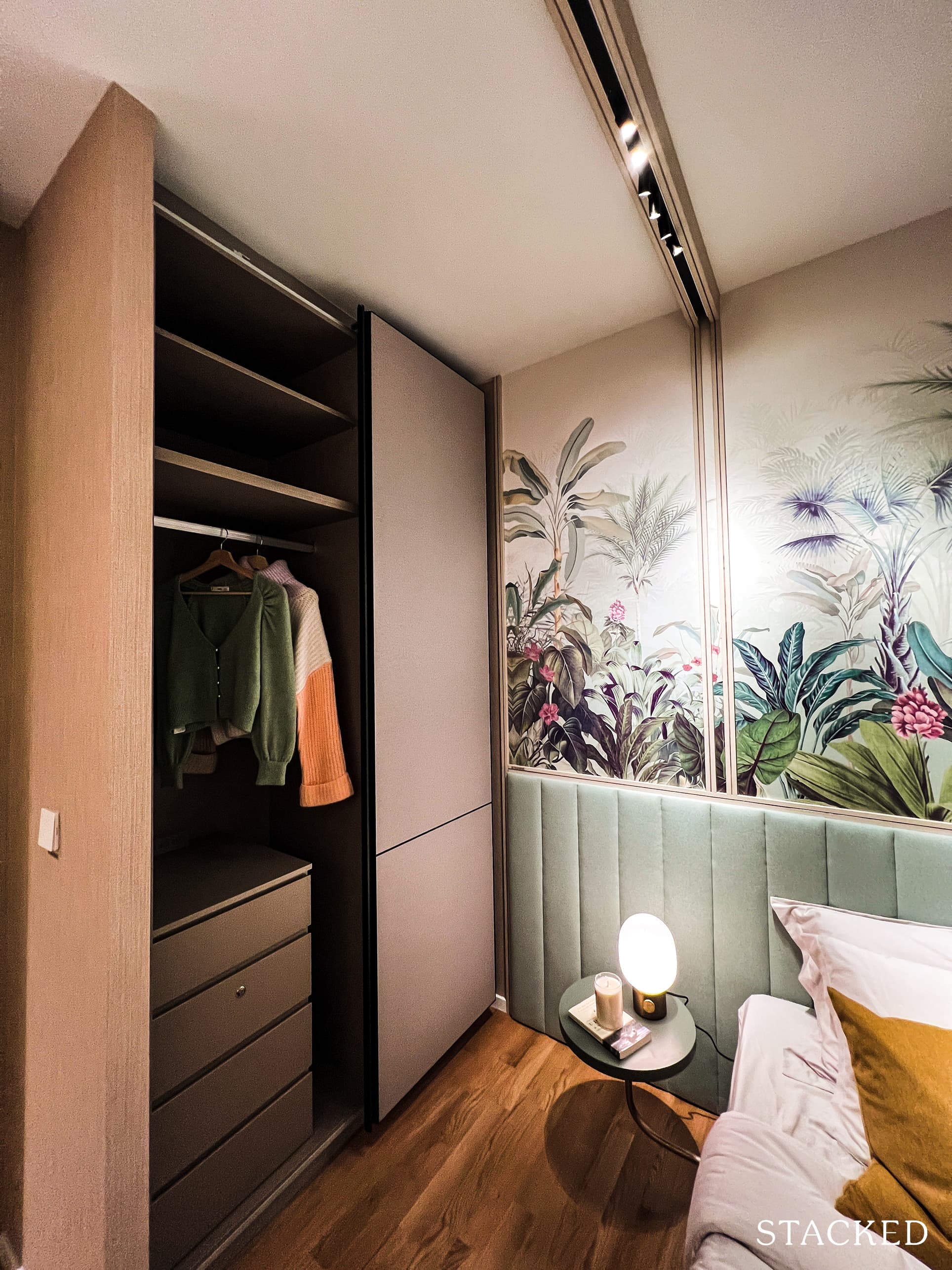 You then have the option of placing either a dresser or study table to make the room more practical beyond resting. As standard, you will get the built-in 2-pane sliding wardrobe from the developer.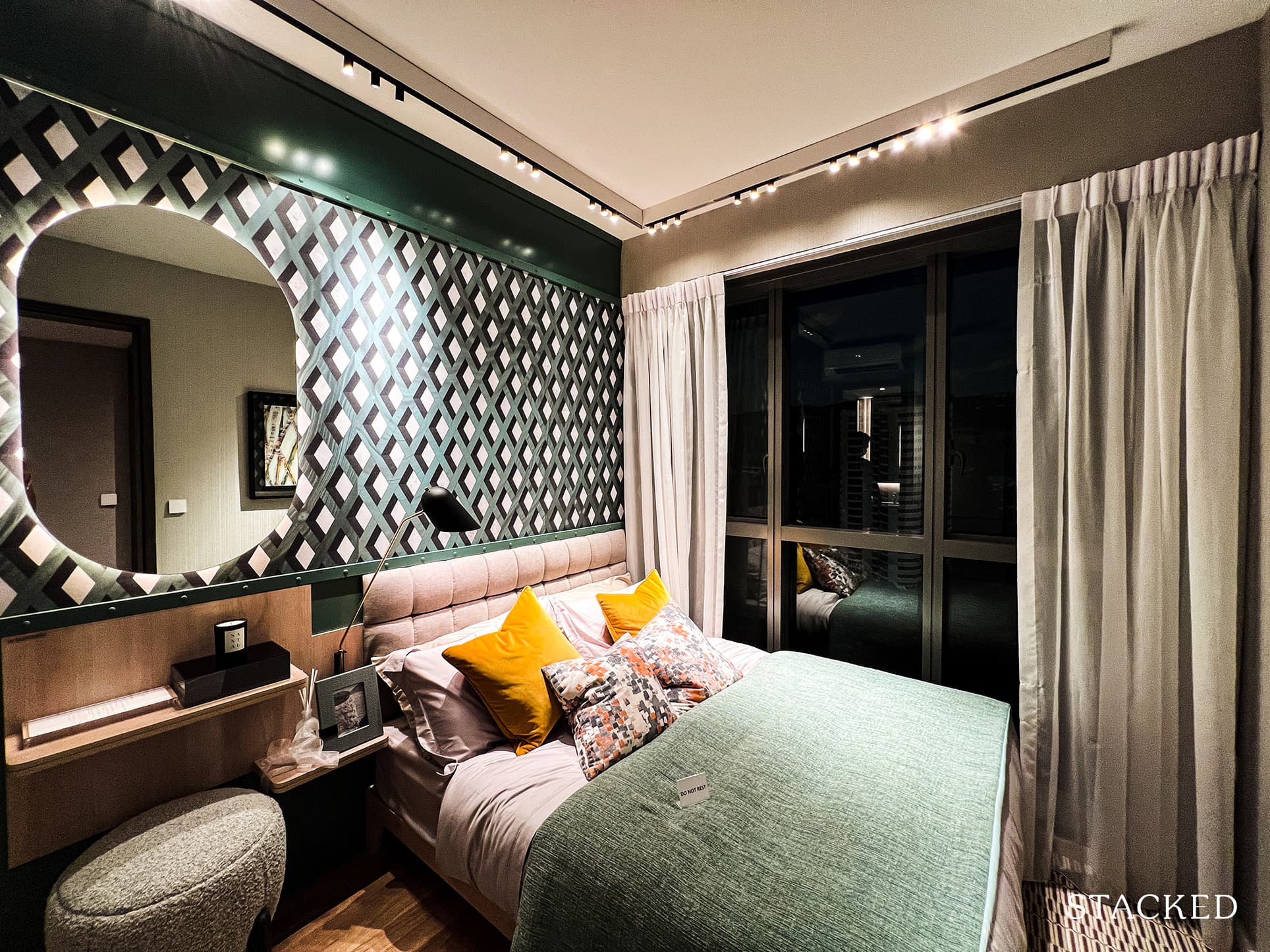 Bedroom 2 functions more as a Junior Master, with an ensuite/jack and jill bathroom. Combined, they will make up 16.8 sqm of space, which is the size of the Master Bedroom in the 2 Bedroom unit. Before reviewing the bedroom, let's start with the bathroom instead.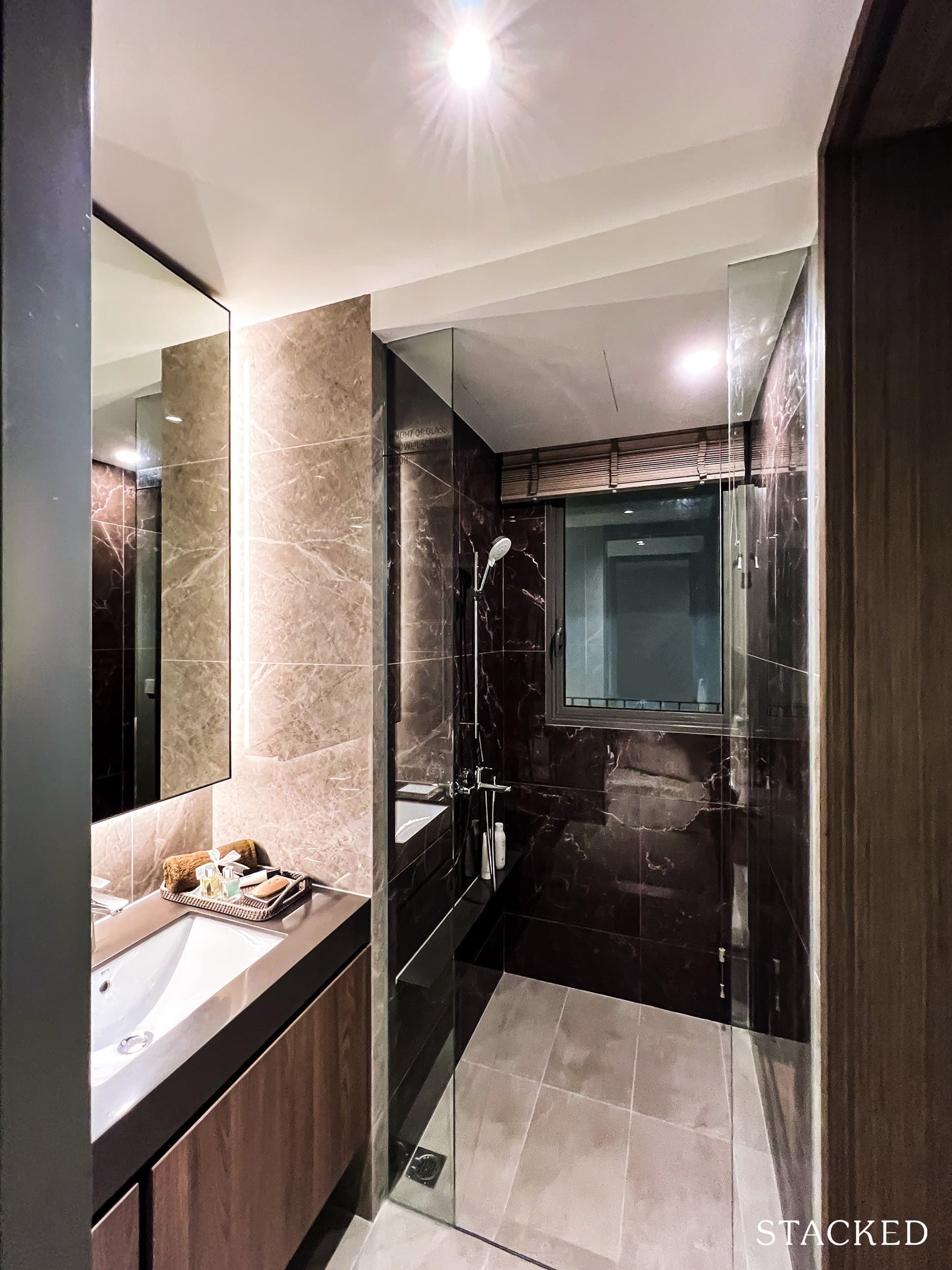 This bathroom will be shared between Bedroom 4, Bedroom 3, Bedroom 2, and guests so you can imagine there to be quite a jam, especially in the mornings or when you are hosting parties. The layout of the bathroom is also a bit different from what we have seen before. The bathroom here is separated into 2 rooms, 1 with a sink and w/c and the other with another sink and the shower stall. Assuming the 2 rooms are locked, you are able to access the part with the w/c via the common corridor, while you can only enter the shower stall through Bedroom 2.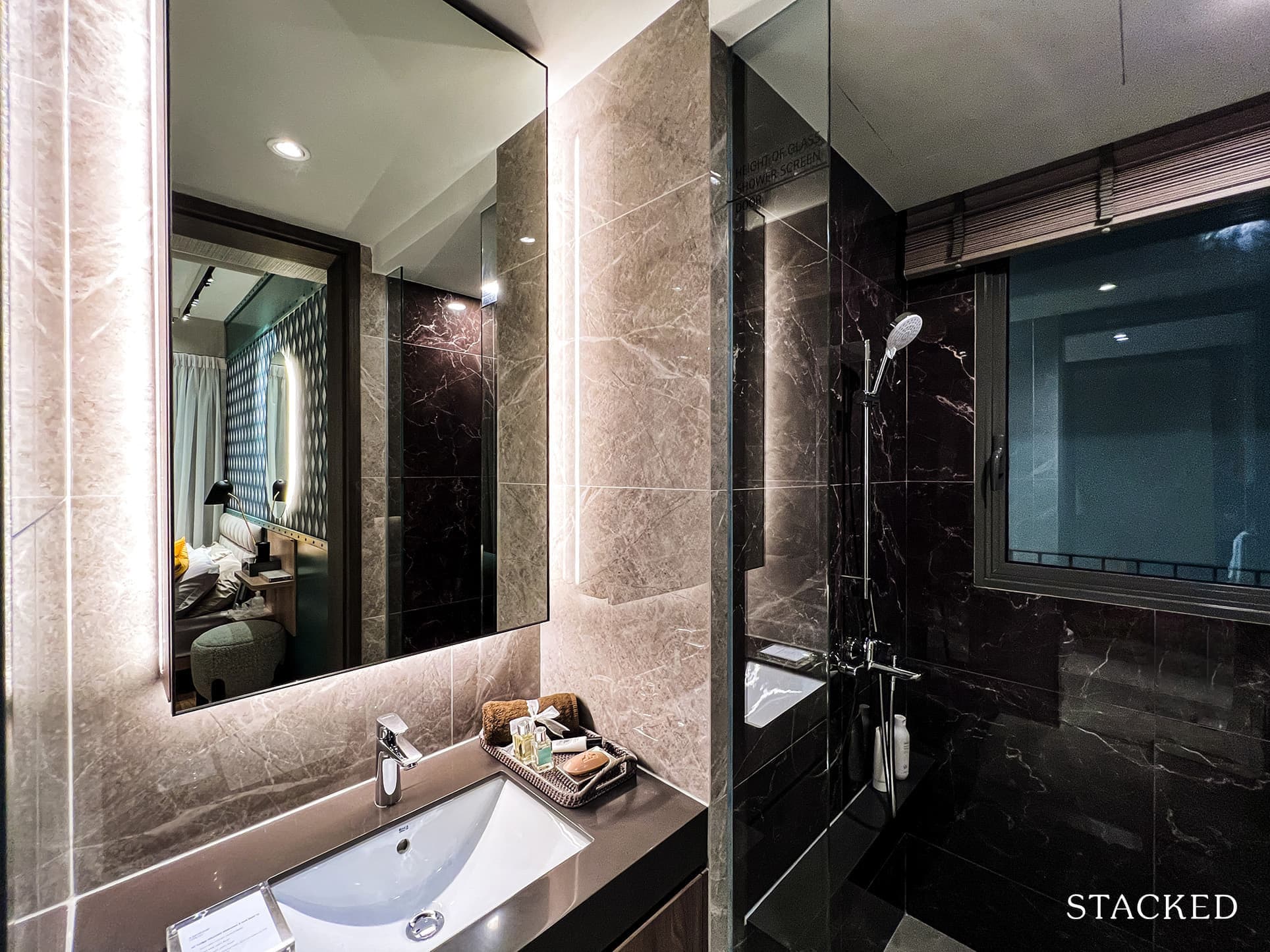 Given how congested the bathroom might be, I guess the idea is to ensure that there can be 2 different parties using the w/c and the shower, which helps to speed up time. This could perhaps be one of the first times I have seen something like this – it's a really smart idea actually!
For the bathroom, wares are by Roca for the sink and wall-hung w/c while Hansgrohe will supply the tap and shower mixer. Behind the half-fluted wood-like laminates, there are also storage spaces. For the shower stall, there is also a window right beside, ensuring that the remnant moisture evaporates naturally with time.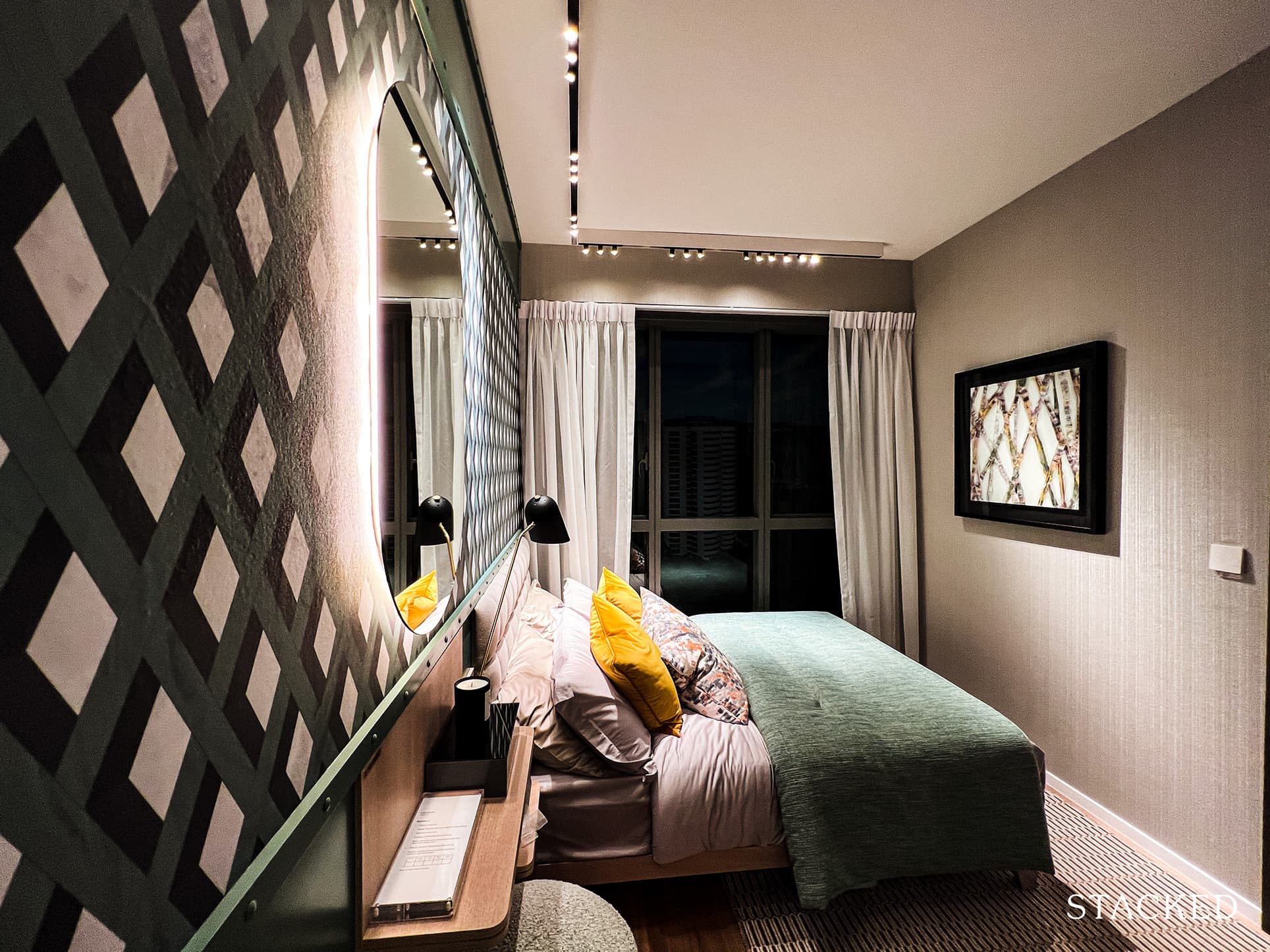 Even though the Junior Master Bedroom (Bedroom 2) is about the same size as the Master Bedroom for the 2 Bedroom unit, I believe this bedroom is actually smaller due to more space dedicated to the bathroom here. Nevertheless, it is still more generous than the other bedrooms and you can see that despite having a Queen size bed, there is still room for a mini dresser by the side. The built-in wardrobe will be right by the door.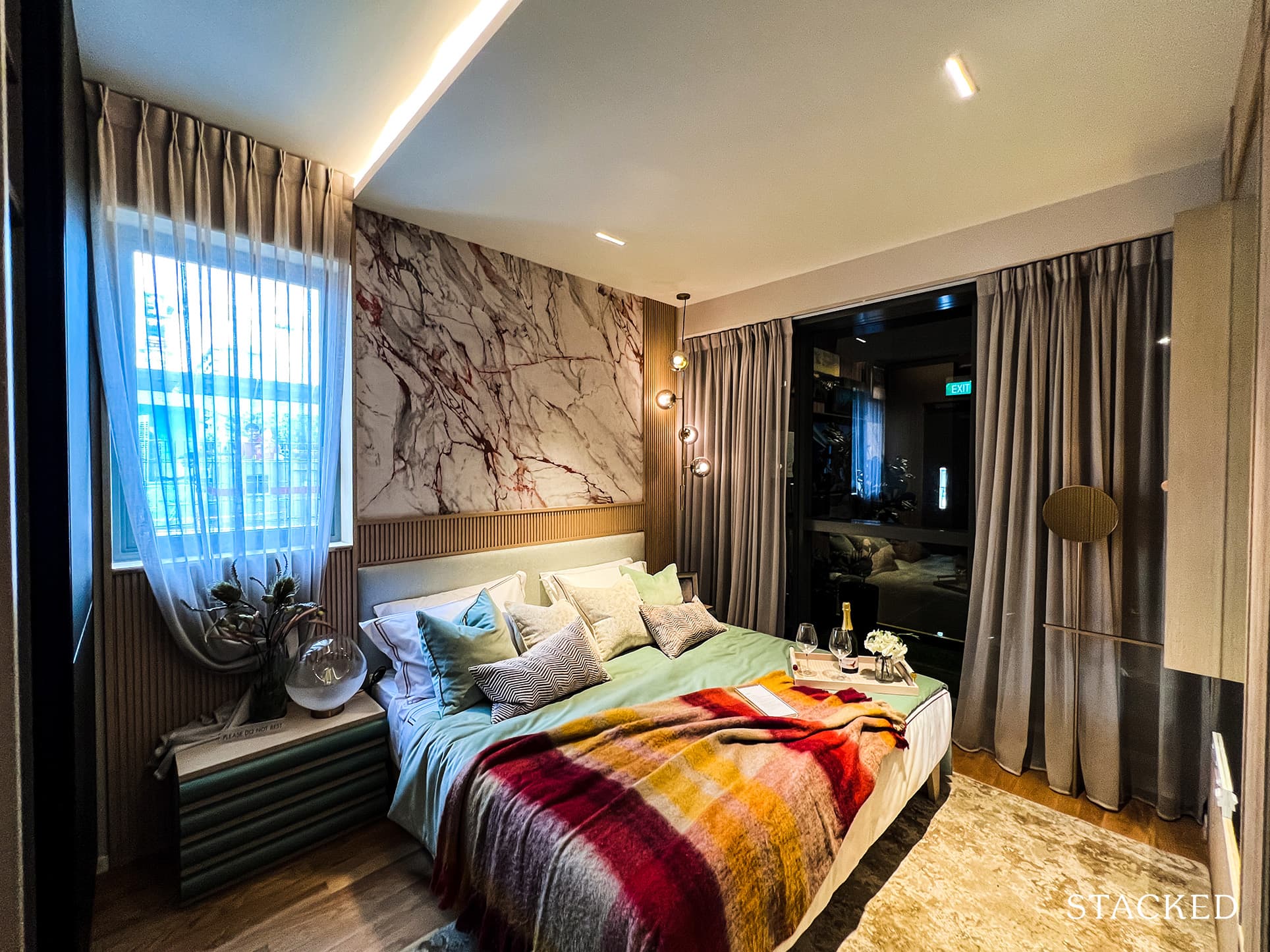 Moving finally to the Master Bedroom and I must say that standards are always high for this room, especially for a 4 Bedroom unit. Size-wise it's decent at 19.7 sqm, which includes the ensuite Master Bath.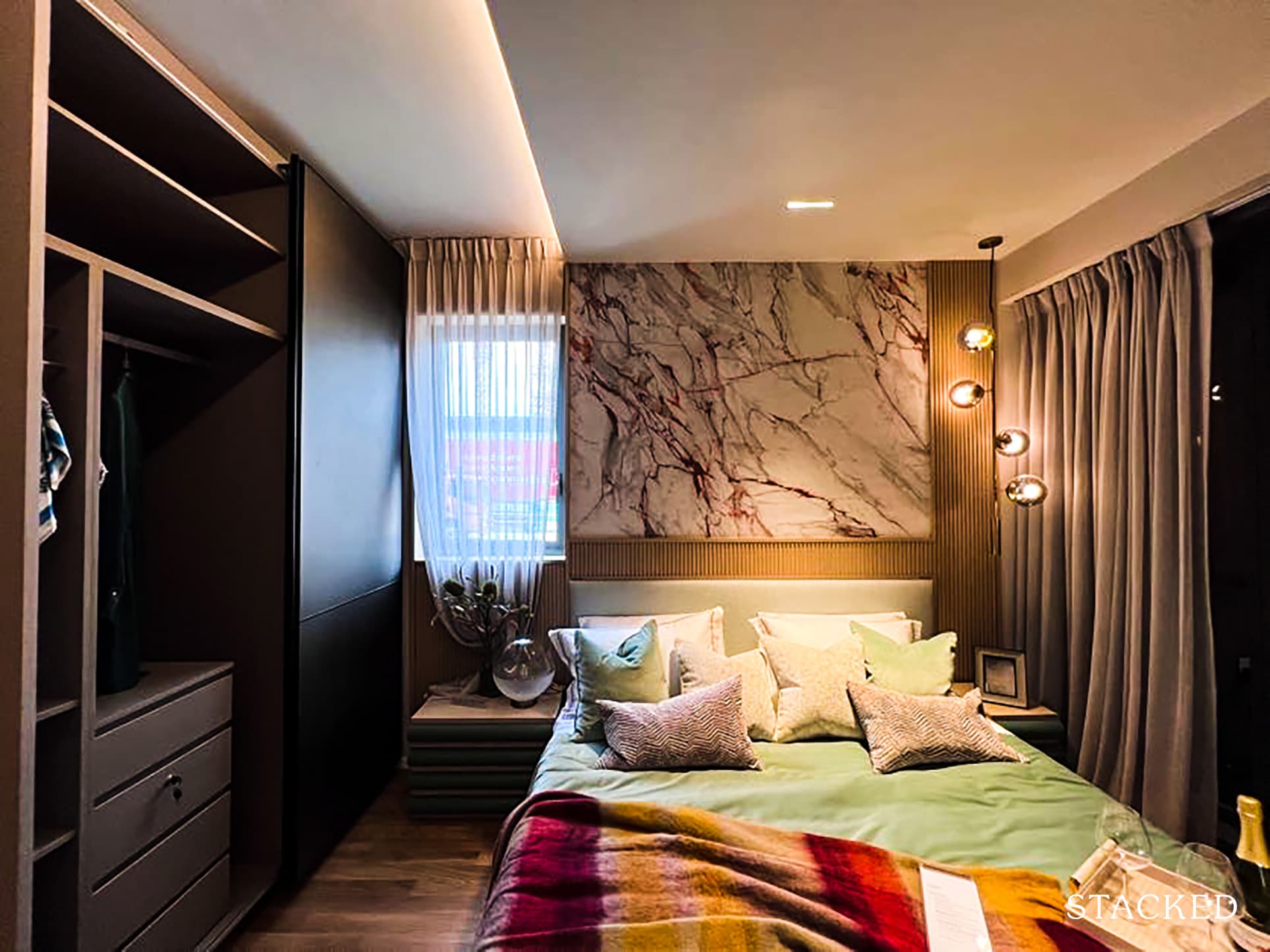 It has full-length windows on 1 side and a small window on the other, ensuring that light flows through from multiple fronts. Having a King bed would fit comfortably, with room for a small dresser.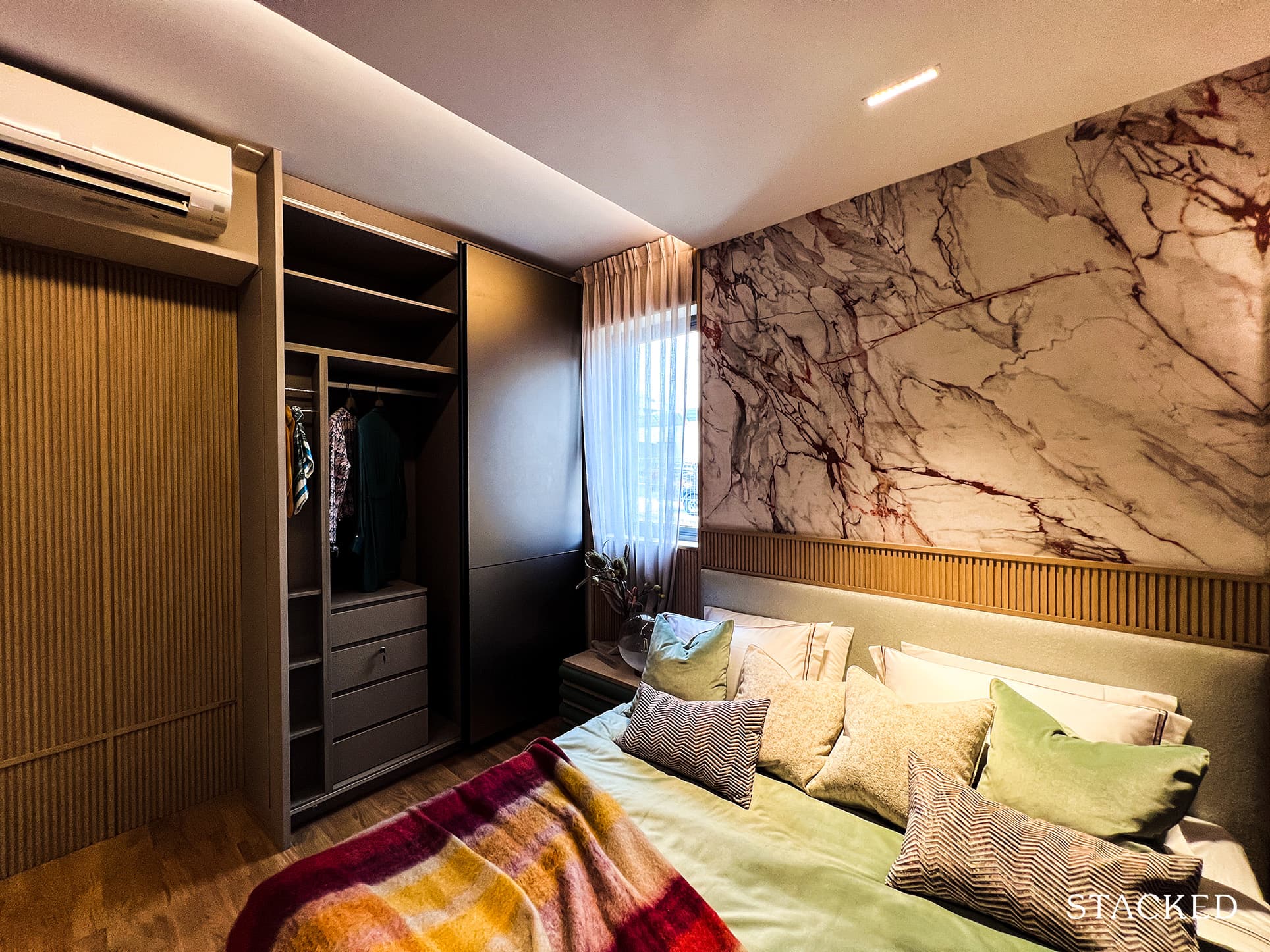 Again, the storage space is par for the course, but most people would definitely need to incorporate more storage solutions. And unlike the smaller units, you do also have a proper accessories cabinetry tucked by the side.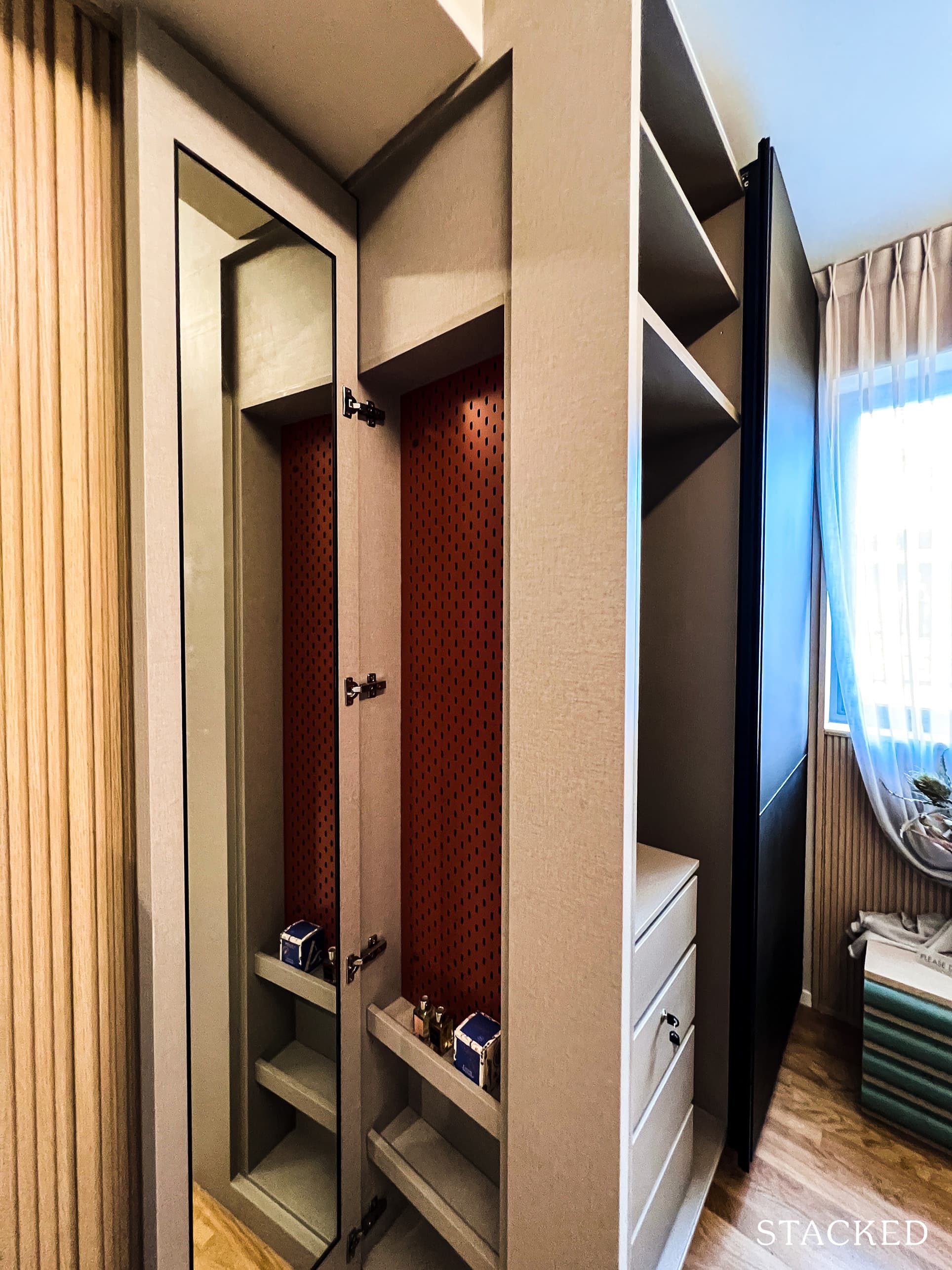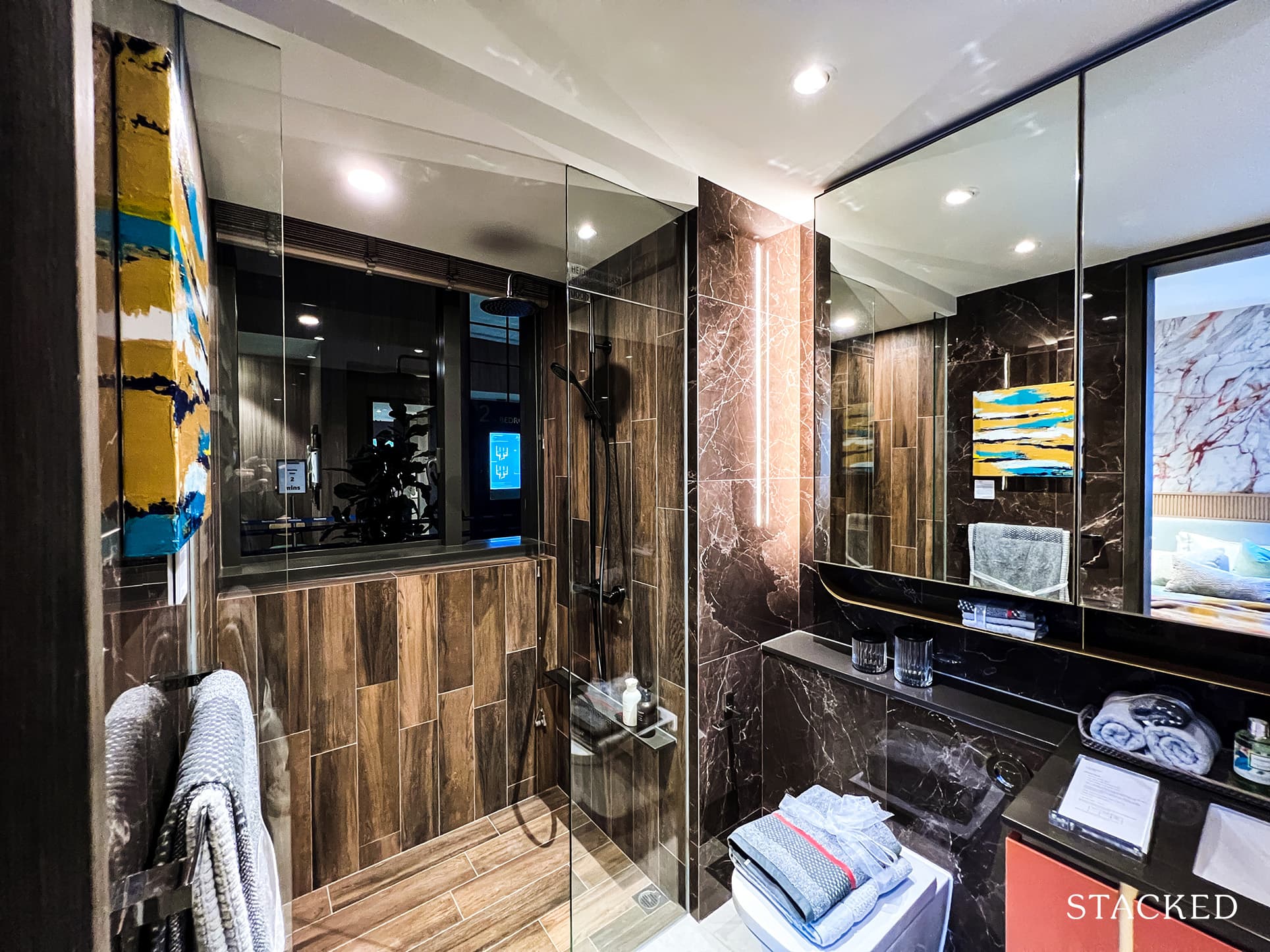 As for the Master Bath, I find the colour scheme a little questionable. Again, design is not my strong suit but I am surprised by the combination of wood-like tiles for the shower stall with a brushed metal shower mixer against a backdrop of beige and black porcelain tiles and an orange vanity counter. It is a little messy for my liking – but as always – design is a very subjective thing.
There's no question about the quality of the wares and fittings though, as they are all from top European brands such as Gessi, Hansgrohe, and Roca.
Amo Residence Location Review
Amo Residence is conveniently located just 500m away from Mayflower MRT via its side gate, which opens up to the Kebun Baru HDB flats and Shangri-La Walk.
Unsurprisingly, food options are plentiful here, with many coffee shops that include popular chains such as Boon Tong Kee, Melben Seafood, and Crab Wang close by. As for wet markets, you have the option of either Kebun Baru Market & Food Centre or Mayflower Market & Food Centre, both of which are less than 1.5km away. There is also a Sheng Siong and NTUC Fairprice relatively close by in the HDB estate as well. These are certainly some of the perks of living just beside an HDB estate!
One of Amo Residence's main selling points is its 1km proximity to 2 very popular primary schools – CHIJ St Nicholas Girls School and Ai Tong School. As we know, in hyper-competitive Singapore, the only way around not being an alumni of a desirable primary school is to live close to it – and as ridiculous as it sounds – planning sometimes begins even before the child is born. And if your plan is to avoid this mini rat race altogether, you still have the option of a 3rd primary school – Ang Mo Kio Primary School, within a 1km radius.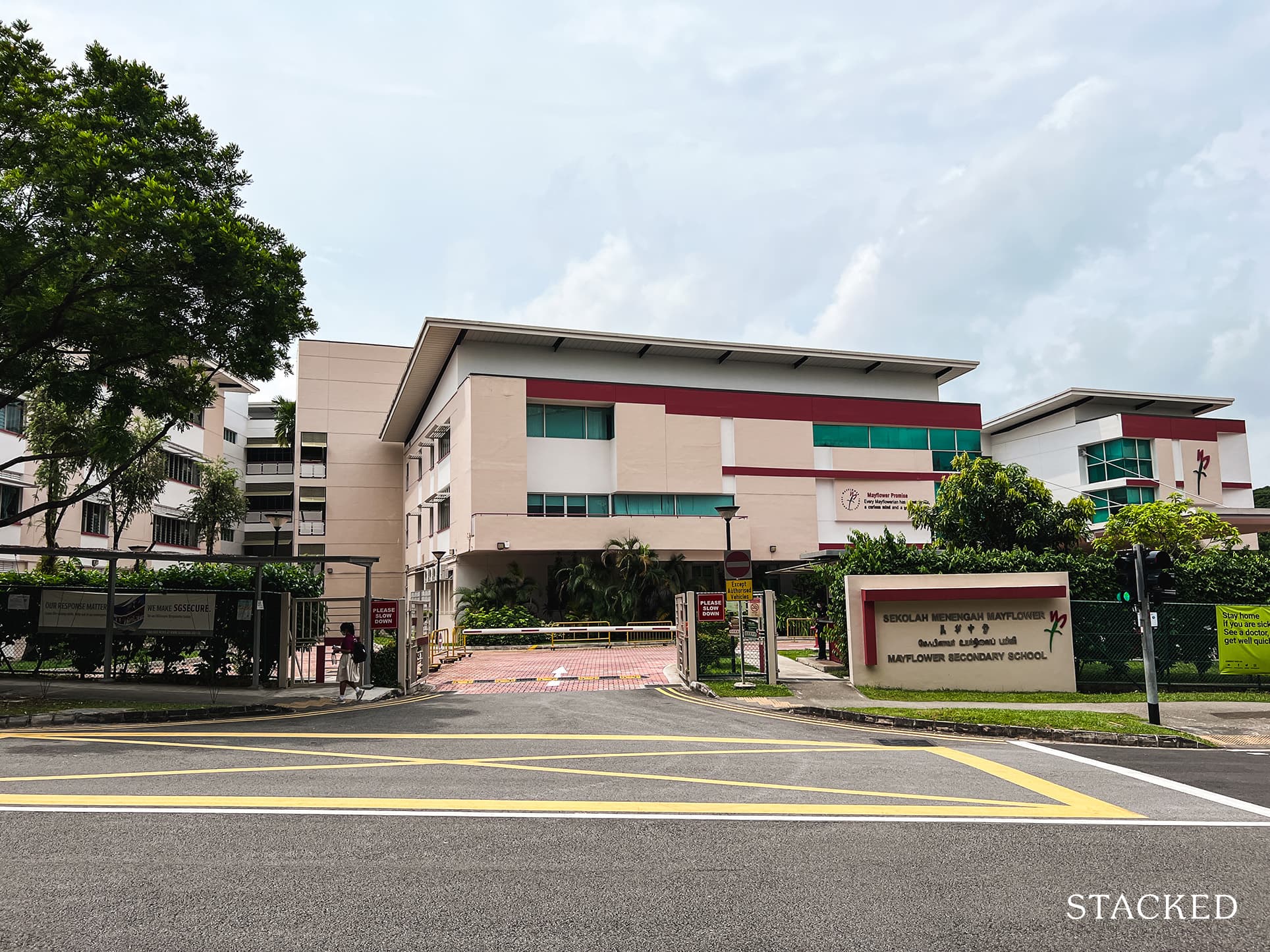 Let's not forget that if your child does well enough, living at Amo Residence also means being close to many top pre-university institutions. This includes some of Singapore's foremost institutions, the Raffles family of schools, in close proximity. RI, RGS, and RI (JC) are all less than 10-minute drive away. They have produced the most number of President's Scholars by a wide margin and are seen to be the top international feeder school to Ivy League universities.
AMK Hub is the closest mall to this development and a pretty mega one indeed. It is a reasonable 6 mins (2.9km) drive away for your one-stop retail and dining needs.
As we already know, Ang Mo Kio is very centrally located from a geographical perspective. Hence, it's no surprise that most important locations are less than 20km away. If I am allowed a small gripe, it would be that Singapore's CBD (Marina Bay, Tanjong Pagar, Suntec, Bugis) are all concentrated down South on the map, making Ang Mo Kio slightly further than expected – compare that to an East-side development like Liv@MB, which is arguably closer to the locations I have listed.
Nearest MRT: Mayflower MRT (6 mins walk, 500m from side gate)
Public Transport
| | | |
| --- | --- | --- |
| Bus Station | Buses Serviced | Distance From Condo (& Est. Walking Time) |
| Aft Ang Mo Kio Ave 2Stop ID: 56261 | 132, 165, 166, 169, 262, PBS 761 | 100m, 2 mins |
| Bef Ang Mo Kio Avenue 2Stop ID: 56269 | 132, 165, 166, 169 | 200m, 3 mins |
Schools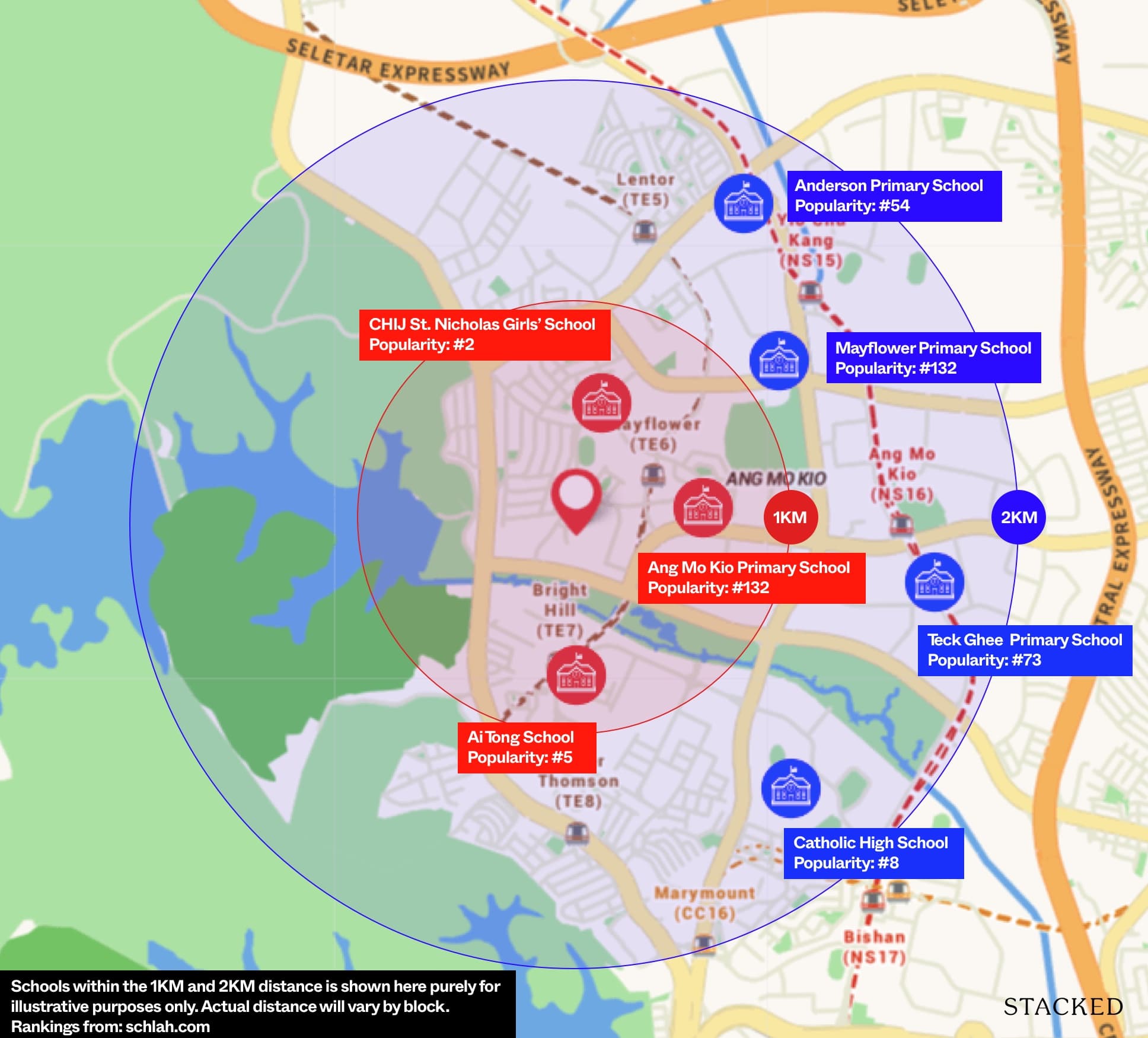 | | |
| --- | --- |
| School | Distance From Condo (& Est. Walking Time) |
| CHIJ St Nicholas' Girls School | 1.1km, 15 mins (<1km radius) |
| Ang Mo Kio Primary School | 1.1km, 15 mins (<1km radius) |
| Ai Tong School | 1.8km, 22 mins (<1km radius) |
Retail / Dining Options
| | |
| --- | --- |
| Destination | Distance From Condo (& Est. Walking Time) |
| AMK St 22 Eateries (Boon Tong Kee, Melben Seafood, He Ji Mushroom Minced Pork Noodle etc) and Sheng Siong Supermarket | 750m, 9 minutes |
| Mayflower Market & Food Centre, McDonald's, 4 Fingers, Gim Tim, | 1km, 13 minutes |
Private Transport
| | |
| --- | --- |
| Key Destinations | Distance From Condo (Fastest Time at Peak Hour [0830 Weekday] Drive Time) |
| CBD (Raffles Place) | 14.0km, 18 mins |
| Orchard Road | 11.6km, 14 mins |
| Suntec City | 12.1km, 16 mins |
| Changi Airport | 20.9km, 20 mins |
| Tuas Port (By 2040) | 43.1km, 45 mins |
| Paya Lebar Quarters/Airbase (By 2030) | 10.5km, 14 mins |
| Mediapolis (and surroundings) | 13.4km, 18 mins |
| Mapletree Business City | 15.4km, 24 mins |
| Tuas Checkpoint | 32.6km, 30 mins |
| Woodlands Checkpoint | 15.8km, 16 mins |
| Jurong Cluster (JCube) | 18.1km 22 mins |
| Woodlands Cluster (Causeway Point) | 12.7km, 14 mins |
| HarbourFront Cluster (Vivo City) | 16.9km, 20 mins |
| Punggol Cluster (Waterway Point) | 13.9km, 14 mins |
Immediate Road Exits: 1 – onto Ang Mo Kio Avenue 1. A 5-minute drive upon the condo's exit will take you to the CTE, which will connect you easily to the rest of Singapore.
Amo Residence Developer Review
The 3 JV developers are related to the Wee family of UOB Group, arguably one of Singapore's most successful families. Besides their well-established banking interests, they are also active in the property market and have developed a solid reputation here.
UOL started life in 1963 as Faber Union Ltd before UOB acquired a controlling stake in 1973, renaming the company United Overseas Land in 1975. In 2018, Singapore Land became a subsidiary of UOL Group. UOL is a publicly listed company on the SGX with over $20b in assets under management. Their core businesses are in property development, property investments, and hotel operations. On the property development front, they have been active since the 1970s with iconic projects such as Cairnhill Plaza and Orchard Bel-Air. More recently, they have been involved in a spate of new launches including Clavon and Avenue South Residence. 
Kheng Leong was founded in 1949 as an international commodity and spice trading company. They eventually evolved into an investment holding company with property interests and came to be owned by the Wee family. Over the years, they have been involved in a wide spectrum of developments – ranging from ultra-luxurious ones (Nassim Park Residences) to mass market projects such as The Topiary and Double Bay Residences. More recently, their new launches include Avenue South Residence and Meyerhouse and 15 Holland Hill. 
Architect
Hong Kong-based P&T Group is one of the oldest architectural firms in the world, having been founded in 1868. They found early success in their Shanghai style buildings for Chartered Bank, Bank of China and HSBC back in the early 1900s. Over in Singapore, they were responsible for the MacDonald House (1949) and Bank of China Building (1953). These days, their designs are no longer as eye-catching as before but they are still very active in the Singapore condo market. Their recent projects include Forrett at Bukit Timah, The M, Stirling Residences and Parc Clematis. 
Unit Mix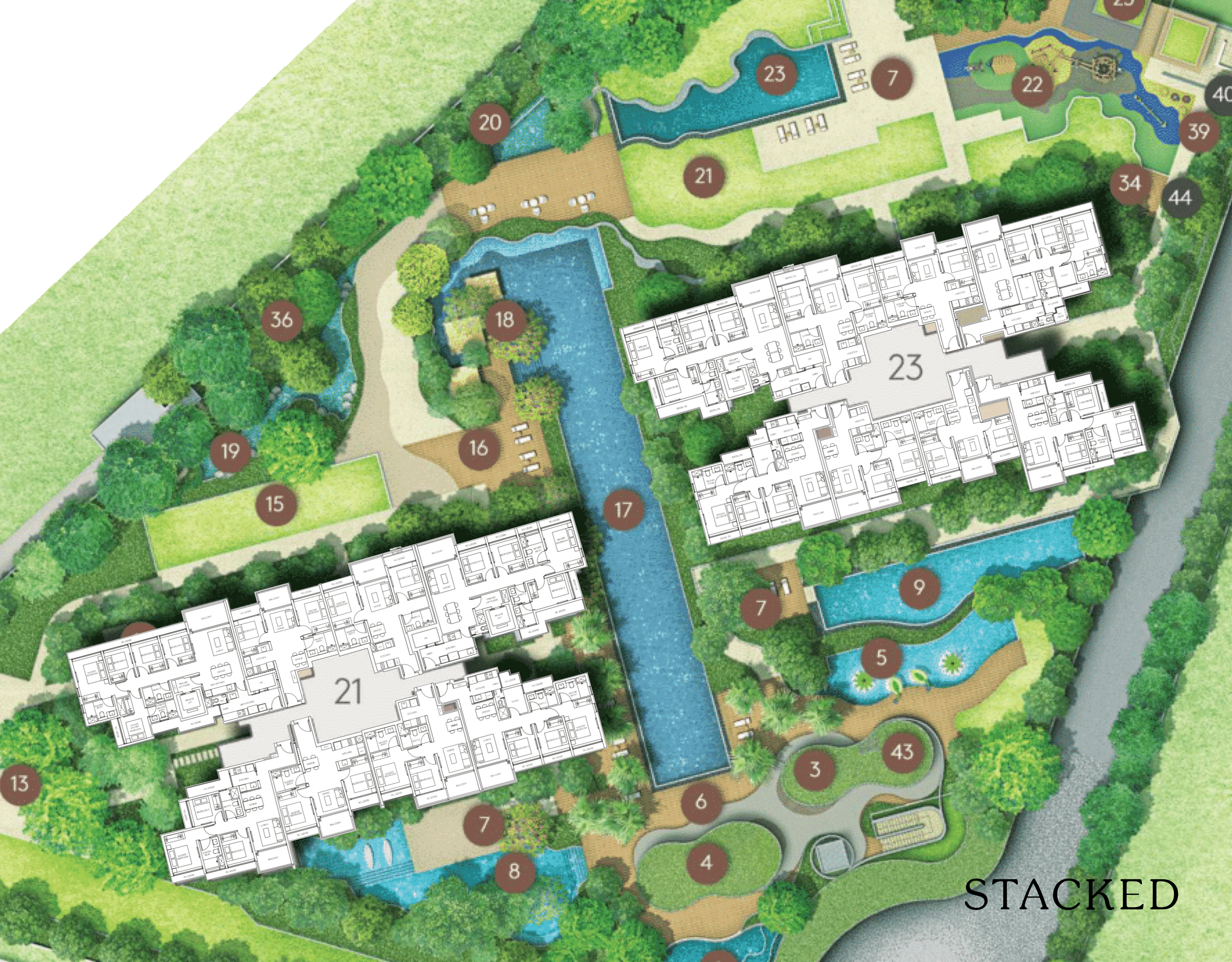 | | | | |
| --- | --- | --- | --- |
| Unit Type | Size | No. of Units | Est Maintenance |
| 2 Bedroom | 614 – 678 sqft | 92 | $414 |
| 2 Bedroom Premium | 743 sqft | 92 | $414 |
| 3 Bedroom | 958 sqft | 47 | $414 |
| 3 Bedroom + Study | 1,044 sqft | 47 | $414 |
| 3 Bedroom Premium + Study | 1,141 / 1,367 sqft | 24 | $483 |
| 4 Bedroom | 1,292 sqft | 45 | $483 |
| 5 Bedroom | 1,475 sqft | 22 | $483 |
| Penthouse | 2,293 sqft | 2 | $552 |
| Penthouse | 2,497 sqft | 1 | $621 |
Similar to UOL's last new launch, The Watergardens at Canberra, they have omitted 1 Bedroom units from Amo Residence, choosing instead to focus on 2 Bedrooms and above. Size-wise, they are also largely similar to their Canberra development, which was launched around this time last year.
Being situated in a popular, family-friendly enclave of Ang Mo Kio, I wouldn't blame you if you thought that the 2 Bedroom units here are small, although it is in line with other launches. The 3 Bedroom and above units, on the other hand, are better sized and more liveable from an objective point of view.
Of course, the trade-off of a larger unit is a higher quantum. With units expected to cost north of $2,000 psf, the 3 Bedroom units in better-located stacks will consequently be $2 million and above – and the now overused term for just about everything comes to mind – this is the 'new normal'.
That said, I am surprised that the 3 bedroom units here aren't the biggest category, given Ang Mo Kio's more family-focused nature. It was the same case with The Panorama (although not by much), and I expected Amo Residence to follow suit. In fact, I reckon dual key units may have also made sense here for multi-gen families looking at upgrading to a condo environment instead.
With regards to maintenance, prices here may be on the higher side compared to what you may have seen in mass market mega launches (particularly for the smaller units). That said, it's not wildly so and is inline with the fewer units as well as the numerous facilities and landscaping offered.
Amo Residence Stack Analysis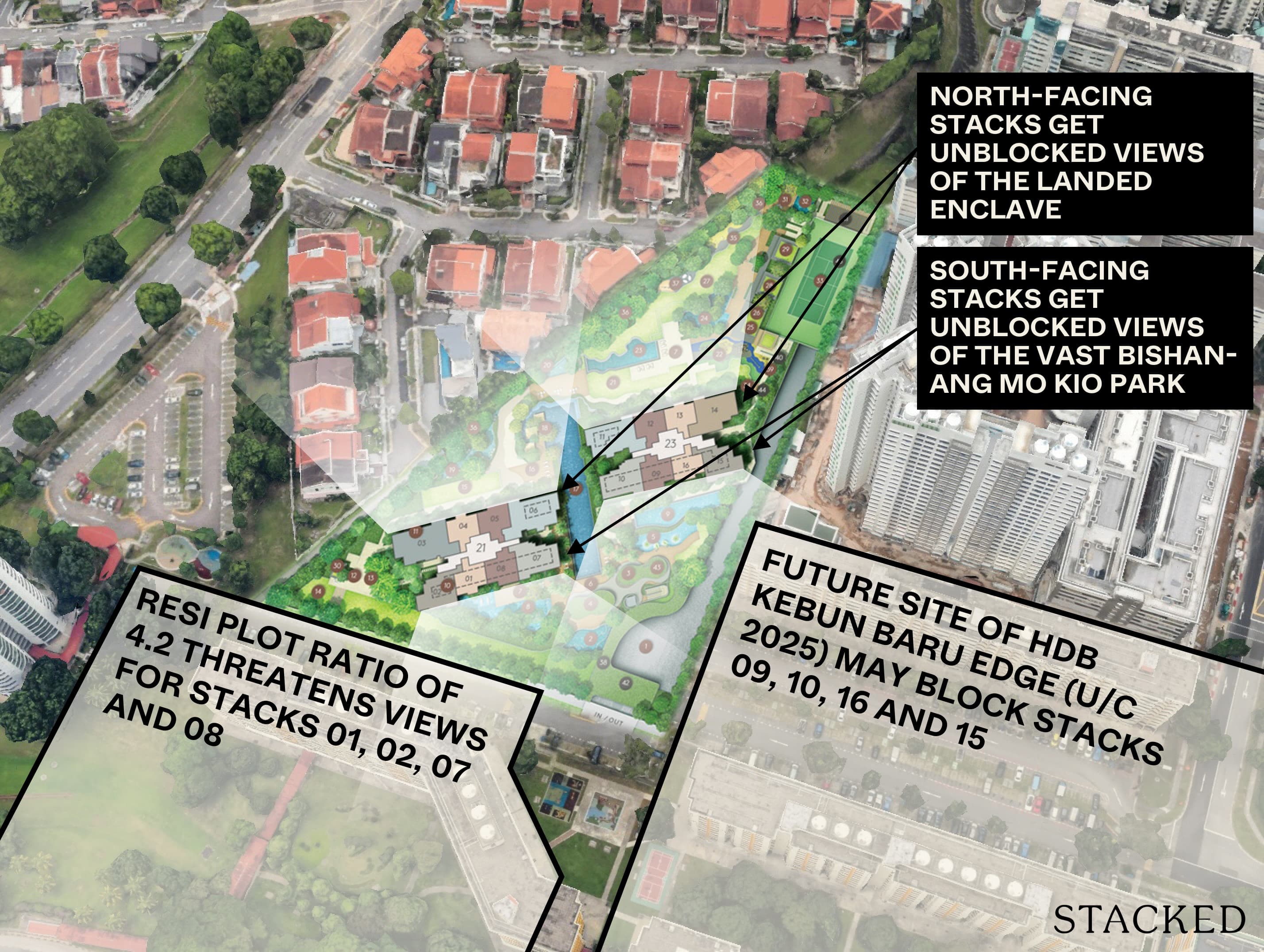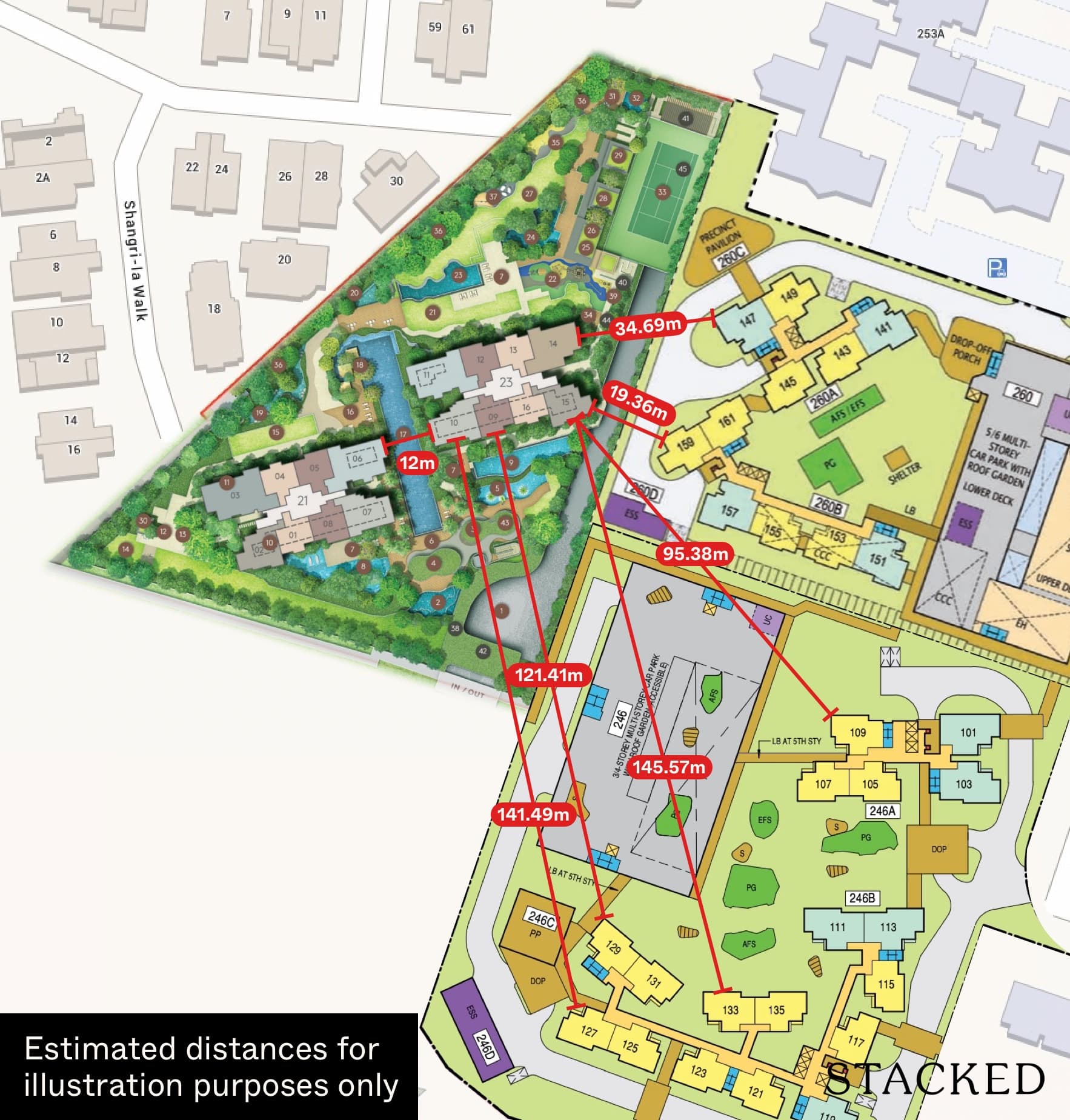 If you look at the site plan, you will notice that the 2 towers at Amo Residence have been tilted to maximise the cross ventilation for all units, with no units facing each other. Units are almost completely North and South facing, with the marginal West sun coming into the North facing units.
In terms of views, you will either get unblocked views of the landed estate (North) or that of the vast Bishan-Ang Mo Kio Park (South). The landed estate includes the adjacent Shangri-La estate (which did not derive its name from the Shangri-la Hotel but rather James Hilton's 1933 Lost Horizon novel) and the wider Mayflower estate. Personally, I would go for the landed North facing, even though objectively, both are equally good in different ways. Let me explain.
This has more to do with the future developments expected in the area, which I believe might affect the views of the South, Park facing units. For stacks 9, 10, 15, and 16, there is ongoing construction for the Kebun Baru Edge BTO project, which will be 29 storeys high when completed in 2025. While the BTO has more floors, I expect it to be around the same height or shorter due to the lower ceiling heights in BTOs. Nonetheless, I feel that your views of the park will be blocked by these flats that are right in front of you.
The views will likely be less affected for Stacks 1, 2, 6, and 7, which are located closer to the main road at Ang Mo Kio Avenue 1. However, this too, may not be for the foreseeable future. The URA Masterplan points to a 4.2 plot ratio site just beside, which is noticeably higher than the 2.5 plot ratio for Amo Residence. This means that the blocks will very likely be higher than here, and depending on how the eventual developer plans the site, may or may not affect the views for these stacks. That being said, to my knowledge, this site is not on the GLS pipeline at the moment so you will have those unblocked views of the park for a number of years hopefully.
On the other hand, views of the landed estate are likely to be for the long term. Unless and until there is a specific need for acquisition, it is unlikely for URA to rezone landed estates given the high cost of compulsory acquisition.
Afternoon West Sun Analysis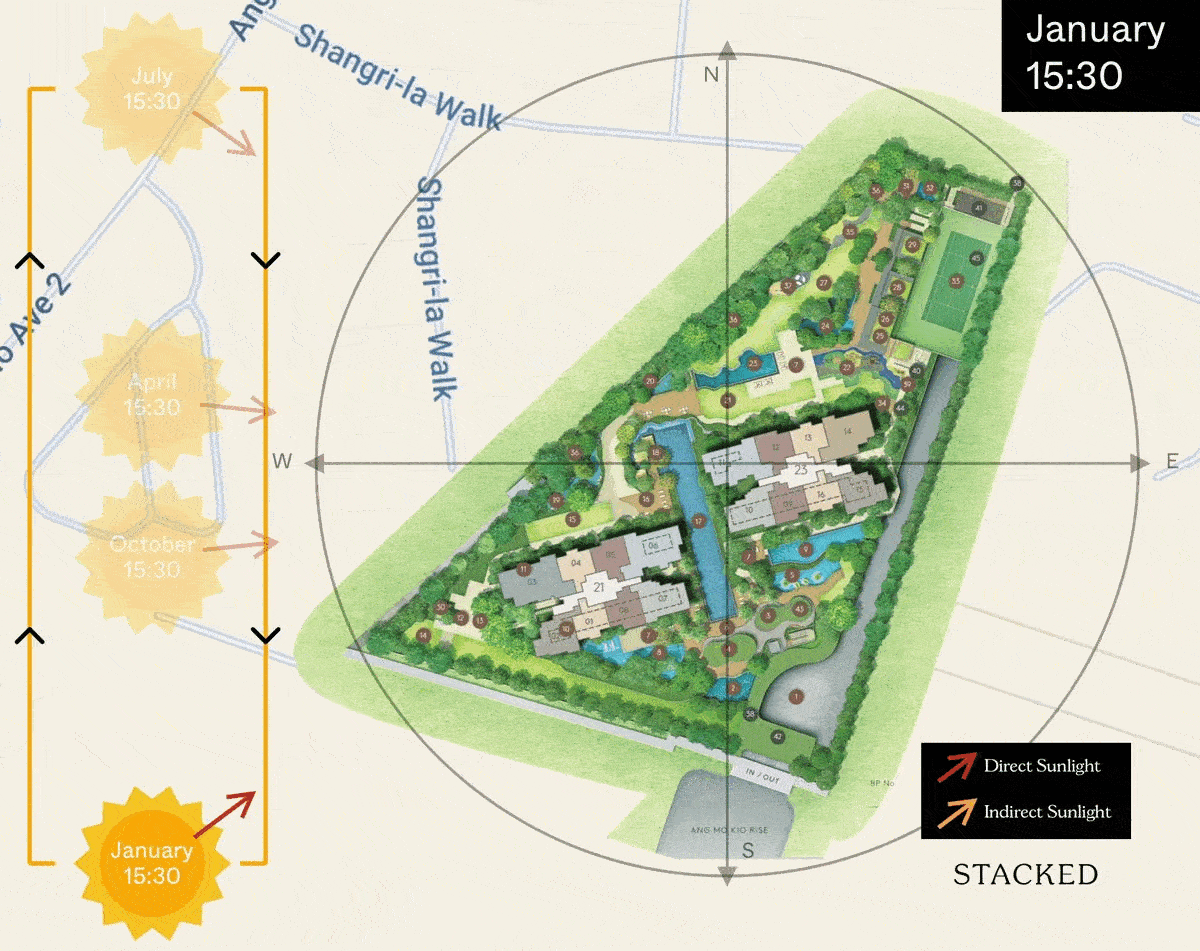 As mentioned, stacks are in a north-south orientation. However, given its slight tilt, those facing the north could experience some direct afternoon sun towards the middle of the year.
Amo Residence Price review
If you are considering Amo Residence, you will undoubtedly compare it against its neighbouring developments. So here is how it stacks up!
| | | | | | |
| --- | --- | --- | --- | --- | --- |
| Development | Units | Psf | TOP | Tenure | Price Gap |
| Amo Residence | 372 | $2,100 | 2026 | 99 Years | |
| The Panorama | 698 | $1,711 | 2017 | 99 Years | 23% |
| Thomson Grand | 339 | $1,510 | 2015 | 99 Years | 39% |
| Centro Residences | 329 | $1,567 | 2014 | 99 Years | 34% |
| Grandeur 8 | 579 | $1,215 | 2005 | 99 Years | 73% |
| Lattice One | 48 | $1,907 | 2022 | Freehold | 10% |
| Jadescape | 1,206 | $1,863 | 2022 | 99 Years | 13% |
While Ang Mo Kio itself does not have that many condos, its nearby areas of Thomson and Yio Chu Kang have a number more worthy of comparison. Nevertheless, I have included those which I think are more appropriate by being of a similar age, location, and size of the development.
For the nearby resale developments, we have The Panorama and Thomson Grand in close proximity to Amo Residence, which costs 23% and 39% more respectively. Despite being relatively similar in age, and offering similar unblocked views, Thomson Grand is surprisingly much lower in terms of its average psf. Without too much of a deep dive, I reckon this could be attributed to its larger unit sizes. For example, The Panorama has 2 Bedrooms from 678 sqft while Thomson Grand's 2 Bedroom units start from 904 sqft. It's a similar story for the 3 Bedroom (990 sqft vs 1345 sqft), 4 Bedroom (1313 sqft vs 1679 sqft) and so on.
In fact, I would say the sizes at Amo Residences are rather similar to The Panorama, despite being almost 10 years apart. Taking that into account, I would say that being 23% more expensive than The Panorama makes Amo Residence well priced in today's market, considering its new launch premium and the additional 10 years lease. Moreover, that price gap could be non-existent for lucky buyers who manage to snag the $1,890 psf units at Amo Residence.
The price differences become a little wonkier when we compare Amo Residence with the condos in the wider Ang Mo Kio area. Centro Residences is undoubtedly holding up well due to its strategic location just beside AMK Hub and Ang Mo Kio MRT, with its convenience and rental yields likely to hold up its price for years to come. However, if you don't have a strong desire to live a stone's throw from AMK Hub, it would likely be a safer bet to stick with Amo Residence given the lease decay that will eventually beset Centro Residences.
We see that lease decay playing out for Grandeur 8, which is now 17 years old and will be 21 years old by the time Amo Residence TOPs. Its price difference is a whopping 73%. That said, let's not forget that Grandeur 8 was launched at less than $500 psf, so launch day buyers are already sitting on gains of ~250% despite its age. Unless you are punting on an eventual en bloc (this is not advisable, really), you will have to be mentally prepared for prices to stagnate in the coming years should you purchase a unit here, despite its relative affordability. 
As for the fellow new launches in the area, Lattice One and Jadescape, both of which are soon to TOP, the gap is justifiable. Both these sites were purchased in a 'different era', when prices were arguably not as high so having a 10-13% price gap is really not too much at all. Moreover, Amo Residence sits in a nice sweet spot between these 2 developments in terms of the project size. Lattice One is a boutique development while Jadescape is very much a mega-development. Both have advantages of their own, and depend on personal preferences around privacy and the need for facilities. Amo Residence strikes a balance between the 2 by being of a good size and yet not sacrificing the facilities provided.
Detailed Price Breakdown
Now that we've gotten an overview of the pricing and its immediate surrounding comparisons, let's take a detailed look at the numbers and comparisons. in the Outside of Central Region as well as how it compares to other new launches in Singapore.
Amo Residence was purchased at $381,381,000. According to Squarefoot research, the estimated breakeven after accounting for other costs is $1,822 psf.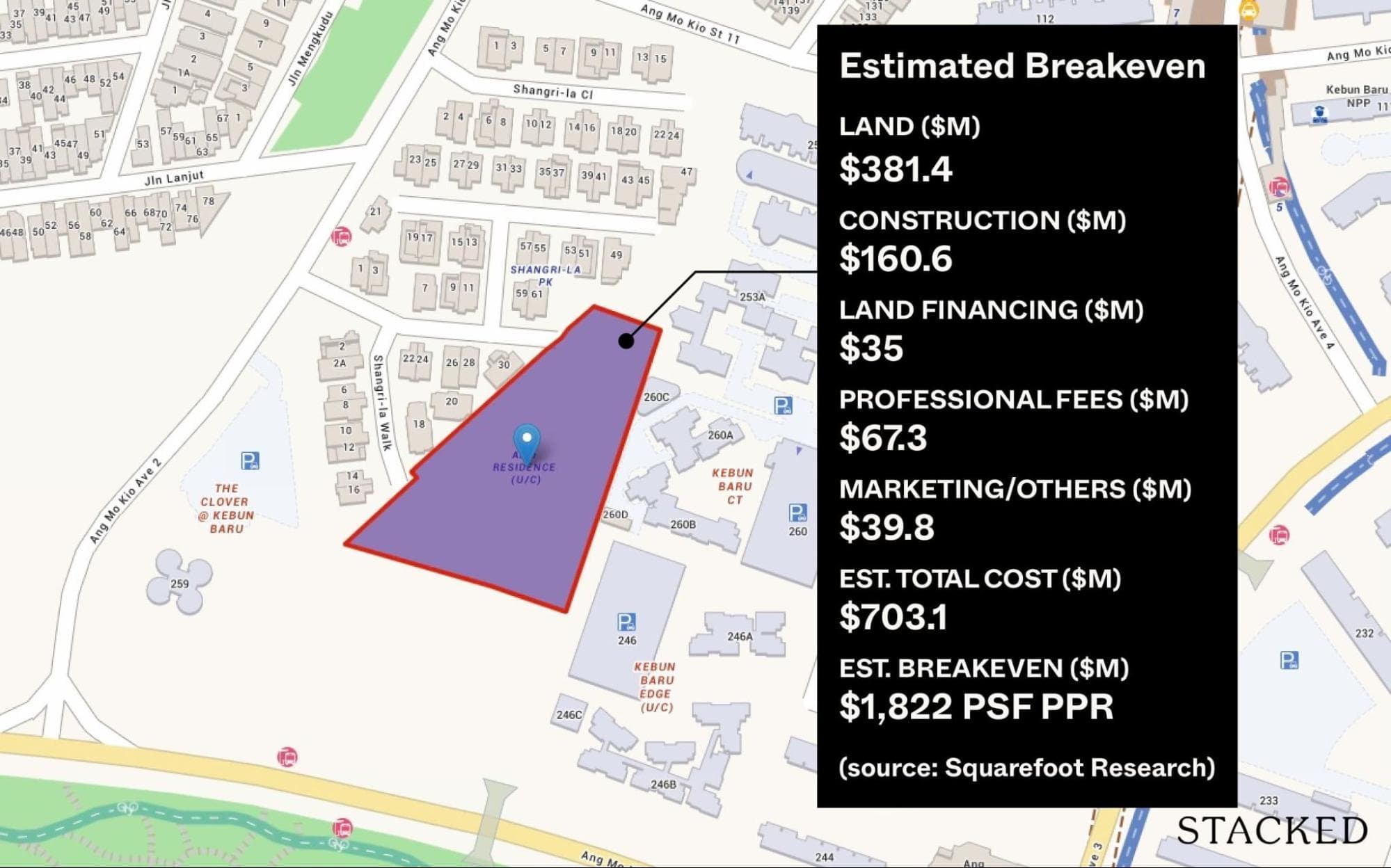 Given this backdrop, the starting price of $1,890 psf does seem like thin margins for the developer. We can expect prices to reach $2,000+ psf for some of the smaller units here. However, for the purpose of this review, we will breakdown how prices for the different bedroom types compare with other new launches within district 20 and the Outside of Central Region (OCR).
Estimated prices
| | | | |
| --- | --- | --- | --- |
| Bedroom Type | Size | Est. Price | Est. $PSF |
| 2-Bedroom | 614 | $1,260,000 | $2,052 |
| 3-Bedroom | 958 | $1,810,000 | $1,889 |
| 4-Bedroom | 1292 | $2,480,000 | $1,920 |
| 5-Bedroom | 1475 | $2,850,000 | $1,932 |
Given these prices, how do they fare against new sales over the past 6 months from December 2021?
Performance in the area
D20 Vs OCR (New, 99-year leasehold only)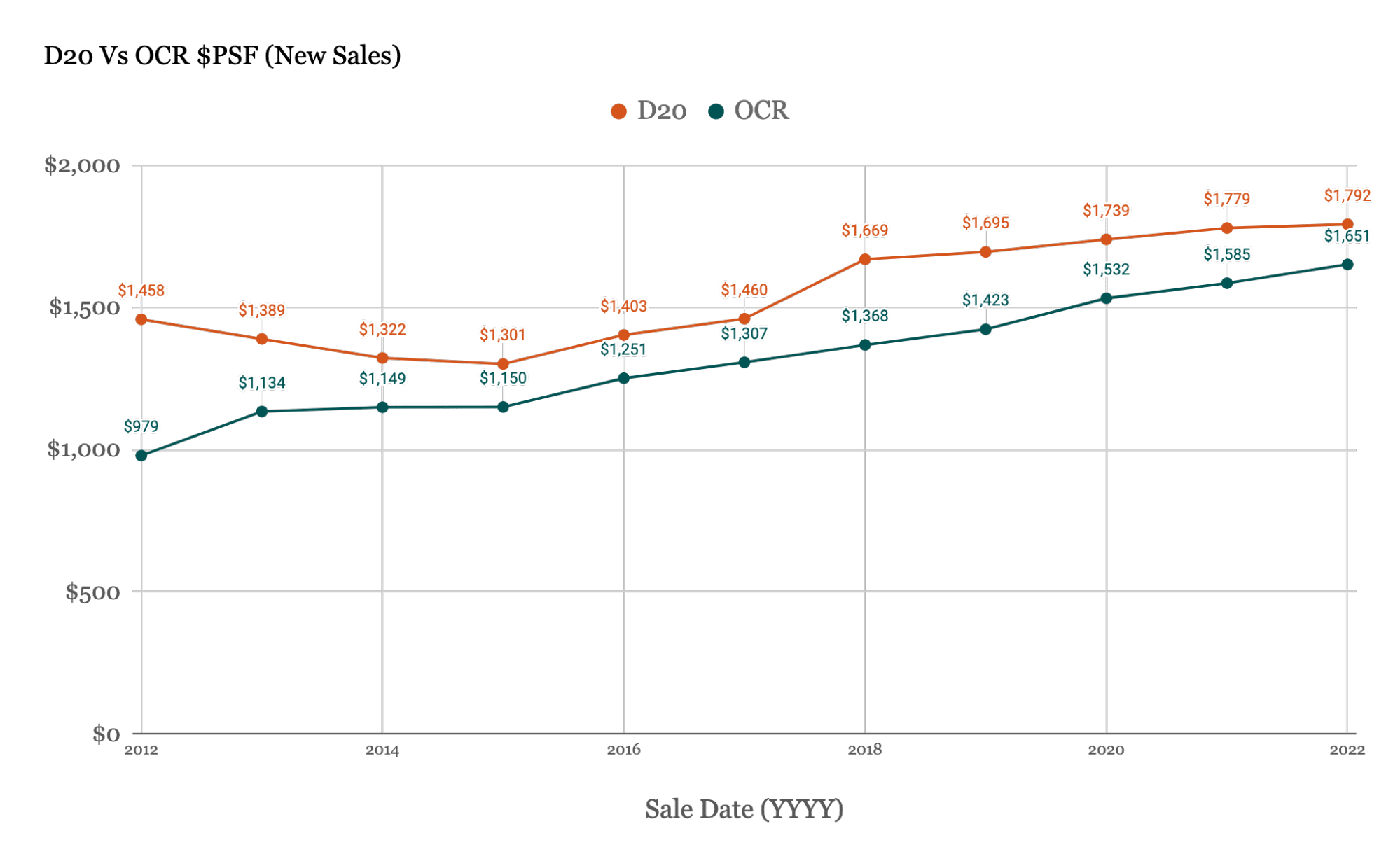 D20 new launches have constantly maintained a higher $PSF compared to the average OCR. This is unsurprising considering Bishan and the Ang Mo Kio area are considered more central than other planning areas such as Punggol and Sengkang.
However, we have noted that the new launch $PSF gap has been narrowing since 2019. It's hard to believe that the average OCR $PSF would someday go higher than D20's $PSF, but that isn't so far-fetched considering the increased focus on regional hubs such as the Jurong and Woodlands Regional Centre.
The median $PSF for 2022 so far in D20 is $1,792. Thus, the starting price of $1,890 psf puts it minimally at a 5.4% premium. This seems reasonable considering it is a new launch in an area that's not had one in the past 8 years, plus it's being launched at a market high.
It's also only around 14.4% higher than the median new sales for all OCR transactions – and this includes new launches in further out places such as The Jovell, The Commodore, Dairy Farm Residences and The Watergardens At Canberra.
D20 Vs OCR (Resale, 99-year leasehold only)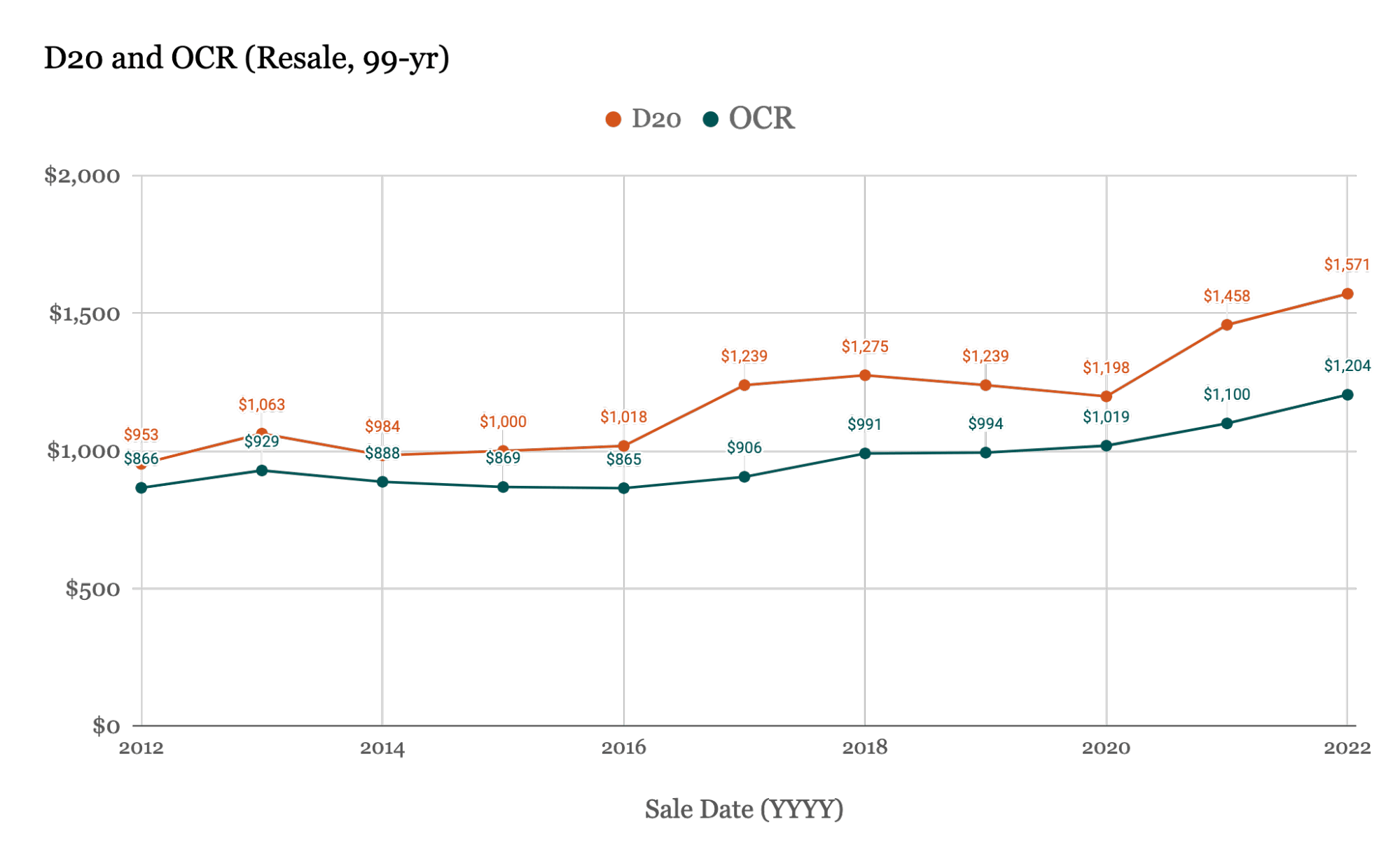 Above is the chart of resale $PSF since 2012 for both D20 and the OCR. Why would we be interested in resale $PSF when we're looking at new launches?
Our primary interest here is in the new-to-resale gap between D20 and OCR and how this has fared in the past 10 years. Perhaps by looking at this gap would we come to appreciate where the district has come from and where Amo Residence stands in today's context: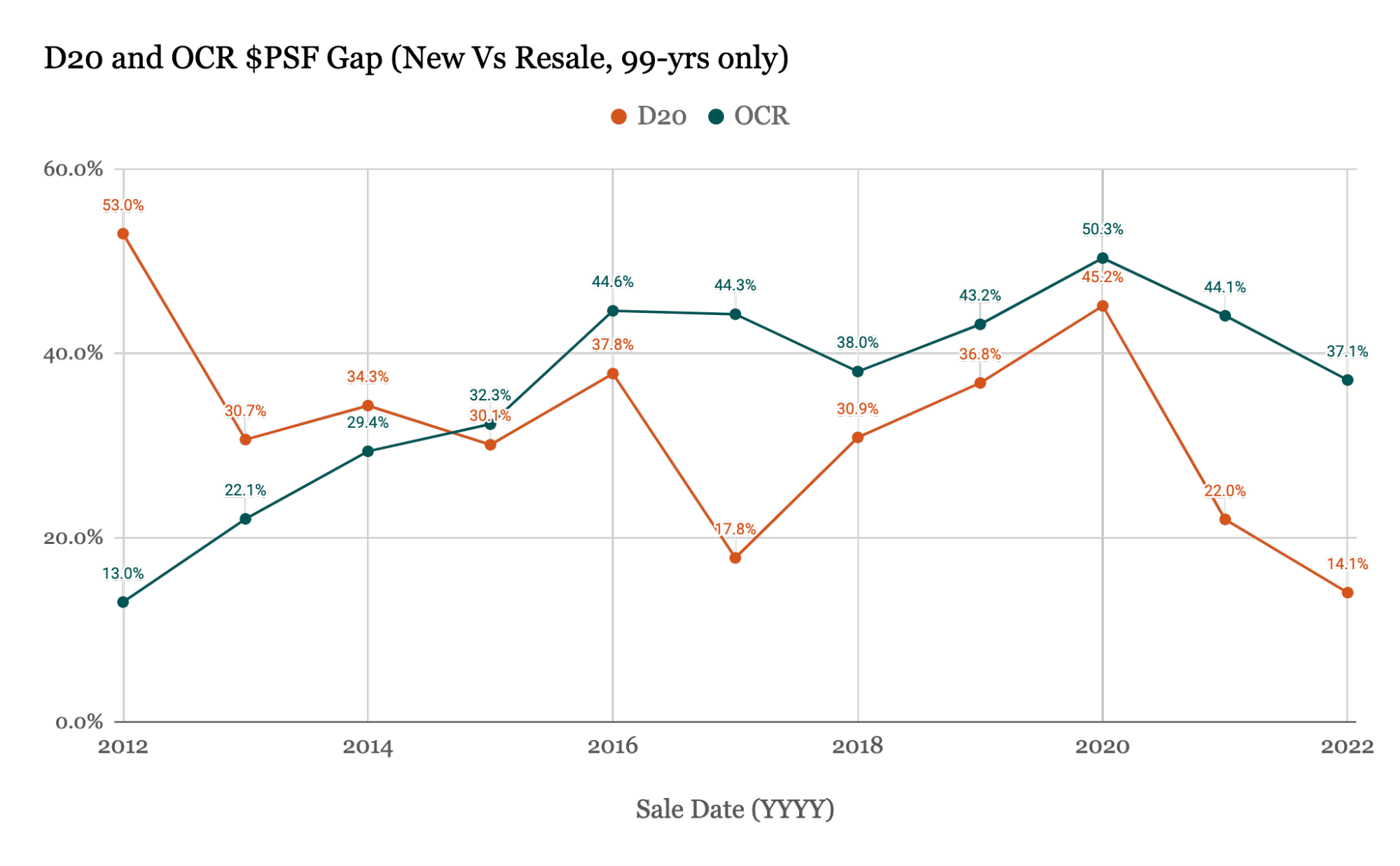 Overall, the OCR has seen its new-to-resale $PSF gap increase from 13% to 37%. The $PSF has fallen for OCR since 2020, likely due to resale prices catching up with new launch prices.
On the contrary, the D20 new-to-resale gap has fallen from 53% to 14.1%. It did sharply increase between 2017 to 2020, but like with the overall OCR $PSF, it has fallen to almost the low in 2012.
At the estimated $PSF of $1,890, Amo Residence would have a 20.3% gap with its resale peers. Here's a look at the resale developments with transactions in the past 6 months:
| | | | |
| --- | --- | --- | --- |
| Project Name | Number of Caveats | Median Unit Price ($ PSF) | Completion Year |
| SKY VUE | 20 | $1,832 | 2016 |
| THOMSON THREE | 26 | $1,730 | 2016 |
| THOMSON IMPRESSIONS | 11 | $1,728 | 2018 |
| THE PANORAMA | 22 | $1,716 | 2019 |
| SKY HABITAT | 9 | $1,659 | 2015 |
| THOMSON GRAND | 17 | $1,555 | 2015 |
| CENTRO RESIDENCES | 6 | $1,548 | 2014 |
| CLOVER BY THE PARK | 10 | $1,472 | 2011 |
| THOMSON V ONE | 3 | $1,434 | 2008 |
| THE GARDENS AT BISHAN | 18 | $1,393 | 2004 |
| BISHAN 8 | 5 | $1,325 | 2000 |
| BISHAN POINT | 4 | $1,275 | 2005 |
| RAFFLESIA CONDOMINIUM | 10 | $1,262 | 2002 |
| GRANDEUR 8 | 8 | $1,231 | 2005 |
| BISHAN PARK CONDOMINIUM | 3 | $1,102 | 1994 |
| LAKEVIEW ESTATE | 4 | $1,016 | 1977 |
| SEASONS VIEW | 2 | $1,002 | 2000 |
| BRADDELL VIEW | 7 | $929 | 1978 |
Amo Residence would sit right at the top with its minimum of $1,890 psf which is to be expected. The next closest in terms of $PSF is Sky Vue which trades at just a 3% discount, followed by Thomson Three at 8.5% (bear in mind that $1,890 is the minimum, so it will be higher).
By the time Amo Residence reaches its TOP, it would be 10 years newer compared to Sky Vue and Thomson Three. Thus, we do think that this premium is pretty reasonable.
Next, let's see how Amo Residence estimated overall price for the different bedroom types compare to similar new sale transactions in the past 6 months.
Price comparison (new)
Comparing to all new launches in Singapore (with transactions in the past 6 months)
Here's a look at where the starting from $PSF stands among all the other new launches with transactions in the past 6 months: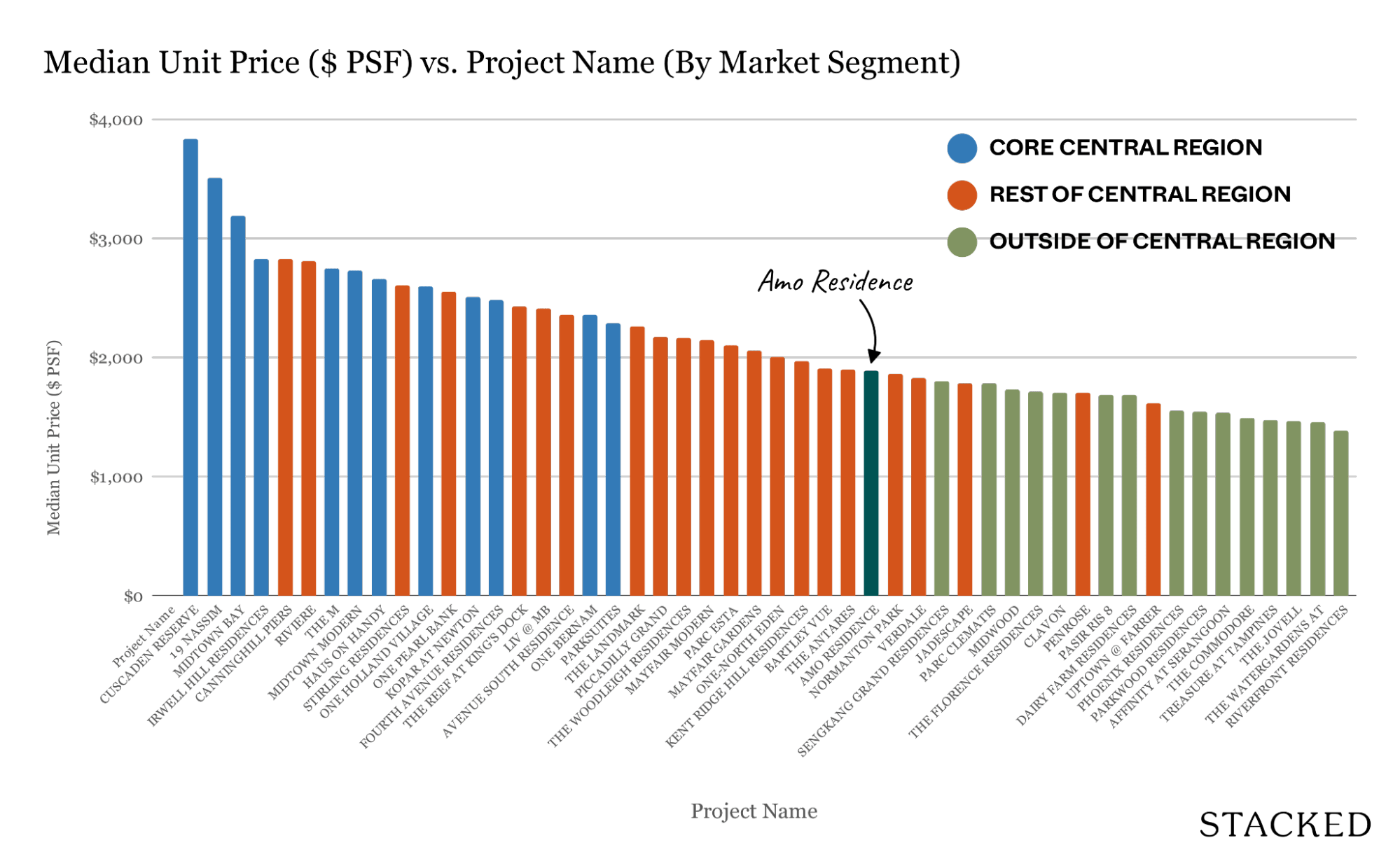 Amo Residence would be the most expensive OCR new launch based on its estimated $PSF – and this is already at its lowest. If we assume the $PSF goes up to $2,100 psf, then it would be priced close to where Parc Esta transacted.
Right now, it sits between Normanton Park and The Antares. This is not bad considering the proximity to Mayflower MRT that Normanton Park lacks, and the surrounding area at Amo Residence is much nicer than at The Antares since that area is more industrial than residential.
Now that you've gotten the context of where it's priced overall, let's dive deeper into the pricing of various bedroom types.
2-Bedroom Comparison
The smallest 2-bedroom at Amo Residences is 614 sqft and is estimated to start from $1,260,000 ($2,052 psf).
Here's what prices of new launches in the OCR look like for similar 2-bedroom sizes (up till 700 sqft):
| | | | | | | |
| --- | --- | --- | --- | --- | --- | --- |
| Project | Take-Up Rate | Area | Average Price | Average $PSF | Size (sqft) | Premium/Discount |
| PARC CLEMATIS | 95.8% | Clementi | $1,430,000 | $2,076 | 689 | 13.49% |
| THE GAZANIA | 46.0% | Serangoon | $1,391,800 | $2,198 | 624 – 657 | 10.46% |
| MONT BOTANIK RESIDENCE | 99.1% | Bukit Batok | $1,278,600 | $1,856 | 689 | 1.48% |
| AMO RESIDENCES | 0.0% | Ang Mo Kio | $1,260,000 | $2,052 | 614 | 0.00% |
| 77 @ EAST COAST | 97.6% | Bedok | $1,241,000 | $1,774 | 700 | -1.51% |
| MIDWOOD | 100.0% | Bukit Batok | $1,233,962 | $1,832 | 635 – 700 | -2.07% |
| THE WATERGARDENS AT CANBERRA | 86.8% | Sembawang | $1,045,333 | $1,541 | 678 | -17.04% |
| THE COMMODORE | 80.4% | Sembawang | $1,030,000 | $1,650 | 624 | -18.25% |
| DAIRY FARM RESIDENCES | 96.3% | Bukit Panjang | $1,021,700 | $1,637 | 624 | -18.91% |
| THE JOVELL | 100.0% | Pasir Ris | $981,671 | $1,520 | 646 | -22.09% |
Source: URA. Prices from December 2021 – May 2022
Disclaimer: Take-up rates here are as of May 2022 based on URA's report. It is likely higher if we account for June 2022, of which certain developments shown above may be sold out.
Considering Amo Residences is in Ang Mo Kio and is just 5 minutes away from Mayflower MRT, its pricing below the likes of Mont Botanik Residence which isn't even near an MRT and is further away from the CBD makes it quite compelling. Granted, Amo Residence 614 sqft 2-bedder is about 75 sqft (or 7 sqm) smaller, but in terms of practicality, you should really consider if this amount makes a difference to your lifestyle.
Even as you compare the prices of the 2-bedroom at Midwood, Amo Residences seems to be a worthy consideration at this price given its location. Imagine just topping up $30,000 to live in a newer Ang Mo Kio new launch compared to Bukit Panjang while still having 2 bedrooms. I've nothing against Bukit Panjang, but there's a reason why district 20 has always traded at a premium to that area.
3-Bedroom OCR Comparison
The smallest 3-bedroom at Amo Residences is 958 sqft and is estimated to start from $1,810,000 ($1,889).
Here's what prices of new launches in the OCR look like for similar 3-bedroom sizes (below 1,000 sqft):
| | | | | | | |
| --- | --- | --- | --- | --- | --- | --- |
| Project | Take-Up Rate | Area | Average Price | Average $PSF | Size (sqft) | Premium/Discount |
| THE GAZANIA | 46.0% | Serangoon | $1,840,444 | 2106 | 850 – 904 | 1.7% |
| AMO RESIDENCE | 0.0% | Ang Mo Kio | $1,810,000 | 1889 | 958 | 0.0% |
| RYMDEN 77 | 83.9% | Bedok | $1,753,050 | 1790 | 980 | -3.1% |
| PARC CLEMATIS | 95.8% | Clementi | $1,702,000 | 1835 | 893 – 969 | -6.0% |
| SENGKANG GRAND RESIDENCES | 99.7% | Sengkang | $1,678,025 | 1792 | 936 | -7.3% |
| LATTICE ONE | 100.0% | Ang Mo Kio | $1,588,650 | 1898 | 829 – 840 | -12.2% |
| TEDGE | 100.0% | Bedok | $1,517,176 | 1658 | 915 | -16.2% |
| DAIRY FARM RESIDENCES | 96.3% | Bukit Panjang | $1,484,667 | 1589 | 915 – 958 | -18.0% |
| MIDWOOD | 100.0% | Bukit Batok | $1,456,000 | 1630 | 893 | -19.6% |
| THE COMMODORE | 80.4% | Sembawang | $1,442,167 | 1489 | 969 | -20.3% |
| AFFINITY AT SERANGOON | 99.1% | Serangoon | $1,426,406 | 1639 | 850 – 926 | -21.2% |
| THE WATERGARDENS AT CANBERRA | 86.8% | Sembawang | $1,424,889 | 1487 | 958 | -21.3% |
| RIVERFRONT RESIDENCES | 99.5% | Hougang | $1,287,700 | 1407 | 915 | -28.9% |
Source: URA. Prices from December 2021 – May 2022
The Gazania is still more expensive than Amo Residence in the 3-bedroom category. To be fair, The Gazania has its set of pros – it's about a 4-5 minute walk to Bartley MRT, is just 25-minutes to Raffles MRT and it does come with decent facilities. Amo Residence provides full-fledged facilities and is also relatively close to the MRT, although it is further from the CBD (though not by much, if you're driving).
In terms of overall price, it's more expensive than every other OCR 3-bedder below 1,000 sqft that transacted in the past 6 months (on average). I would say that its pricing above Sengkang Grand's 3-bedroom does make the integrated new launch look more attractive now.
While the gap of 20% does look steep compared to developments like The Commodore and The Watergardens At Canberra, remember that we're comparing very different locations even though they're all in the OCR. The presence of the upcoming Mayflower station will bring huge convenience to residents at Amo Residence which justifies this premium.
4-Bedroom OCR Comparison
The smallest 4-bedroom at Amo Residences is 1,292 sqft and is estimated to start from $2,480,000 ($1,920).
Here's what prices of new launches in the OCR look like for similar 4-bedroom sizes (below 1,000 sqft):
| | | | | | | |
| --- | --- | --- | --- | --- | --- | --- |
| Project | Take-Up Rate | Area | Average Price | Average $PSF | Size (sqft) | $PSF Premium/Discount |
| AMO RESIDENCE | 0.0% | Ang Mo Kio | $2,480,000 | $1,920 | 1292 | 0.0% |
| THE GAZANIA | 46.0% | Serangoon | $2,465,000 | $1,941 | 1270 | -0.6% |
| PARC CLEMATIS | 95.8% | Clementi | $2,245,000 | $1,762 | 1238 – 1292 | -9.5% |
| 77 @ EAST COAST | 97.6% | Bedok | $2,195,000 | $1,631 | 1346 | -11.5% |
| MIDWOOD | 100.0% | Bukit Batok | $2,088,722 | $1,666 | 1249 – 1259 | -15.8% |
| TREASURE AT TAMPINES | 100.0% | Tampines | $1,905,800 | $1,513 | 1238 | -23.2% |
| THE COMMODORE | 80.4% | Sembawang | $1,781,000 | $1,504 | 1184 | -28.2% |
| THE JOVELL | 100.0% | Pasir Ris | $1,757,400 | $1,383 | 1270 | -29.1% |
Source: URA. Prices from December 2021 – May 2022
It seems that as the bedrooms get bigger and bigger, Amo Residence is starting to cost more than its peers.
The 4-bedroom at Amo Residence may be more expensive than other OCR developments, but again this is due to the diverse locations in the OCR. At this stage, it's worth highlighting that the premium over Parc Clematis could be a concern.
Based on historical transactions, Clementi carries a premium over Ang Mo Kio in some years when considering both new sales and resale transactions, whether it's a mix of all tenures or just 99-year leasehold developments.
Here's what the median resale $PSF in both areas look like since 2012: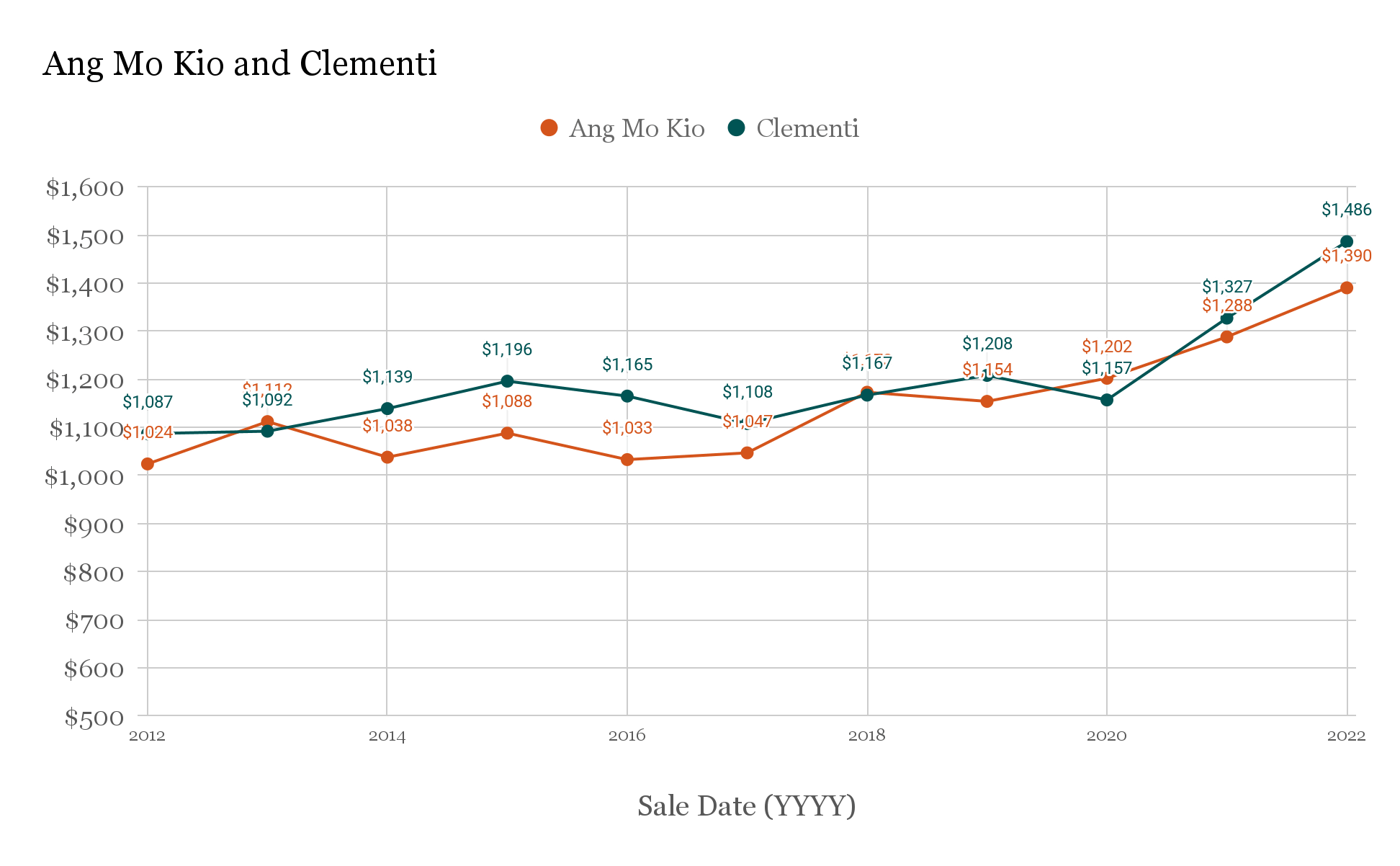 We're interested in resale developments so that we can focus on the area, and not new launches, as new launches could skew the data due to specific attributes of particular new launches in that year. We've also only looked at freehold developments to remove the lease effect of age on the prices.
In 7 out of 11 years, Clementi has traded above Ang Mo Kio – particularly so in the last 2 years as it shot up to $1,486 psf compared to Ang Mo Kio's $1,390 psf, so buying into Amo Residence would be bucking this trend since you'll be entering at a higher $PSF to a Clementi new launch.
To be fair, this may not be an apple-to-apple comparison. While Amo Residence costs more than a new launch found in a more expensive area, it is much closer to an MRT compared to Parc Clematis while also having the exclusivity that the 1,468-unit Parc Clematis cannot offer. As such, the presence of Mayflower MRT may actually turn the tide here.
5-Bedroom OCR Comparison
The smallest 2-bedroom at Amo Residences is 1,475 sqft and is estimated to start from $2,850,000 ($1,932 psf).
Here's what prices of new launches in the OCR look like for 5-bedroom units. There weren't any 5-bedders that were of similar size to the smallest at Amo Residence, so I've taken them all into consideration:
| | | | | | |
| --- | --- | --- | --- | --- | --- |
| Project | Take-Up Rate | Area | Average Price | Average $PSF | $PSF Premium/Discount |
| PARC CLEMATIS | 95.8% | 1,636 – 1,927 | $2,886,375 | $1,689 | 1.3% |
| AMO RESIDENCE | 0 | 1,475 | $2,850,000 | $1,932 | 0.0% |
| PARC KOMO | 98.6% | 1,808 – 1,905 | $2,814,128 | $1,532 | -1.3% |
| PARKWOOD RESIDENCES | 44.4% | 1905 | $2,777,000 | $1,458 | -2.6% |
| CLAVON | 99.4% | 1690 | $2,726,920 | $1,614 | -4.3% |
| THE FLORENCE RESIDENCES | 97.8% | 1,668 – 1,916 | $2,700,579 | $1,592 | -5.2% |
| AFFINITY AT SERANGOON | 99.1% | 1,572 – 1,722 | $2,547,157 | $1,582 | -10.6% |
| THE COMMODORE | 80.4% | 1,668 – 1,679 | $2,480,667 | $1,481 | -13.0% |
| TREASURE AT TAMPINES | 100.0% | 1711 | $2,402,000 | $1,403 | -15.7% |
Source: URA. Prices from December 2021 – May 2022
Amo Residence has the smallest 5-bedroom unit at 1,475 sqft while maintaining the 2nd highest spot (and probably highest if we average out the higher-floor units later). This makes its $PSF very expensive compared to other 5-bedroom units in the market.
If we consider the take-up rate, however, you'll see that there really isn't much of a choice here if you're looking at 5-bedroom units. Parkwood Residences has only 1 5-bedder, and it's the Penthouse which is already taken for $2,777,000 as shown above.
There are still 5-bedders available in Parc Clematis, however, our checks show that they are at least $3 million (level 02) for the 5-bedroom premium (1,711 sqft).
There are no more 5-bedders in Parc Komo, Clavon, The Florence Residences, Affinity At Serangoon and Treasure at Tampines.
As such, there really isn't much of a choice here for those looking at 5-bedroom units. The question is, should you be paying such a high $PSF for the 5-bedder here?
In considering this, let's look at the practicality of the 5-bedroom layout versus Parc Clematis 1,711 5-bedroom premium: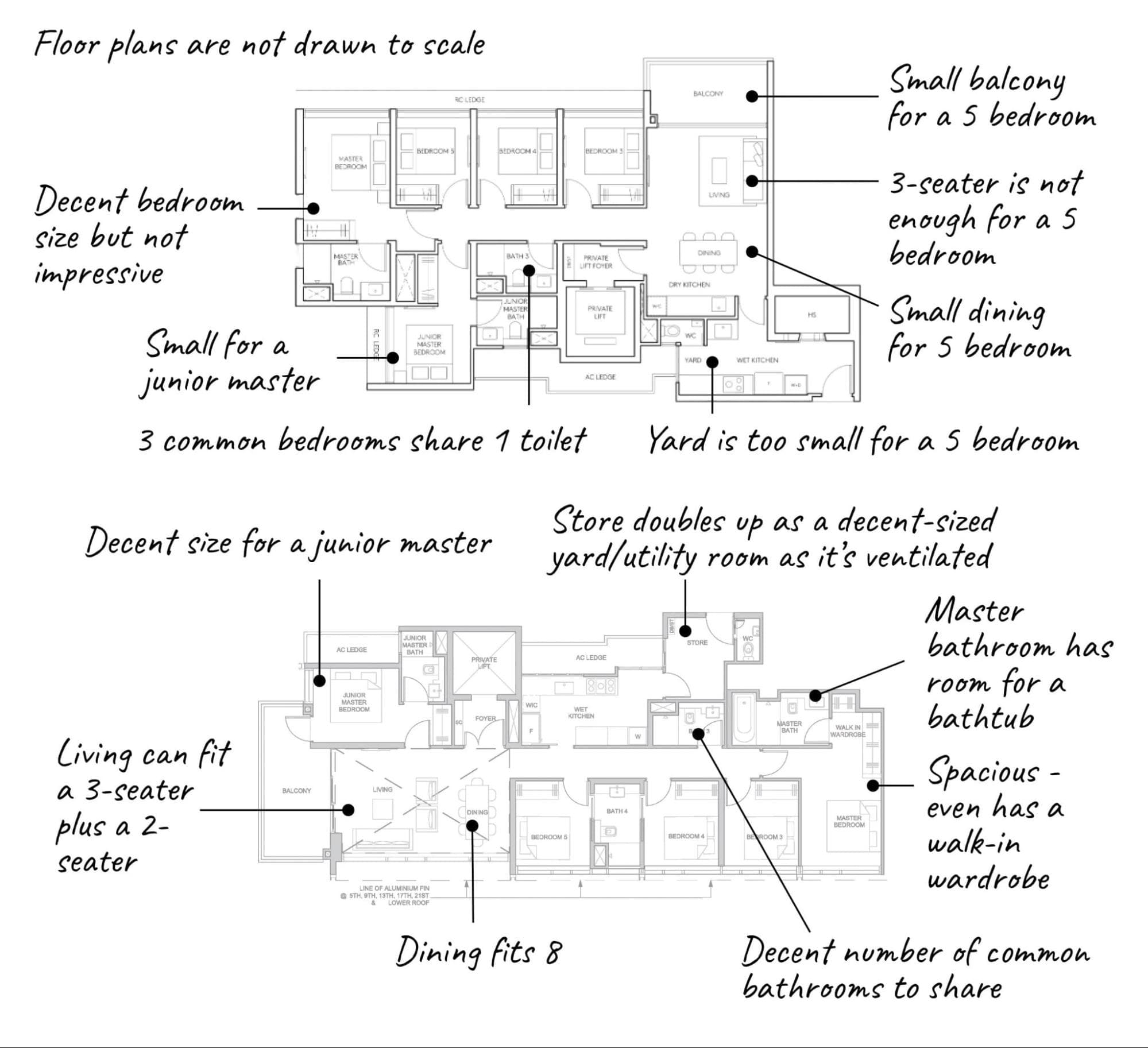 Immediately, you'll see that the size makes quite a difference. The living and dining area in Parc Clematis is more suitable for a large family since it can fit a table that accommodates up to 8 people, and the living area can fit two sofa sets instead of one. The store in Parc Clematis is also more practical either as a yard or as a room for a helper. There are also 4 bathrooms compared to Amo Residence's 3 bathrooms.
Considering their roughly similar price points, it does seem that the bigger 5-bedroom premium units at Parc Clematis are a better proposition.
Amo Residence Appreciation Analysis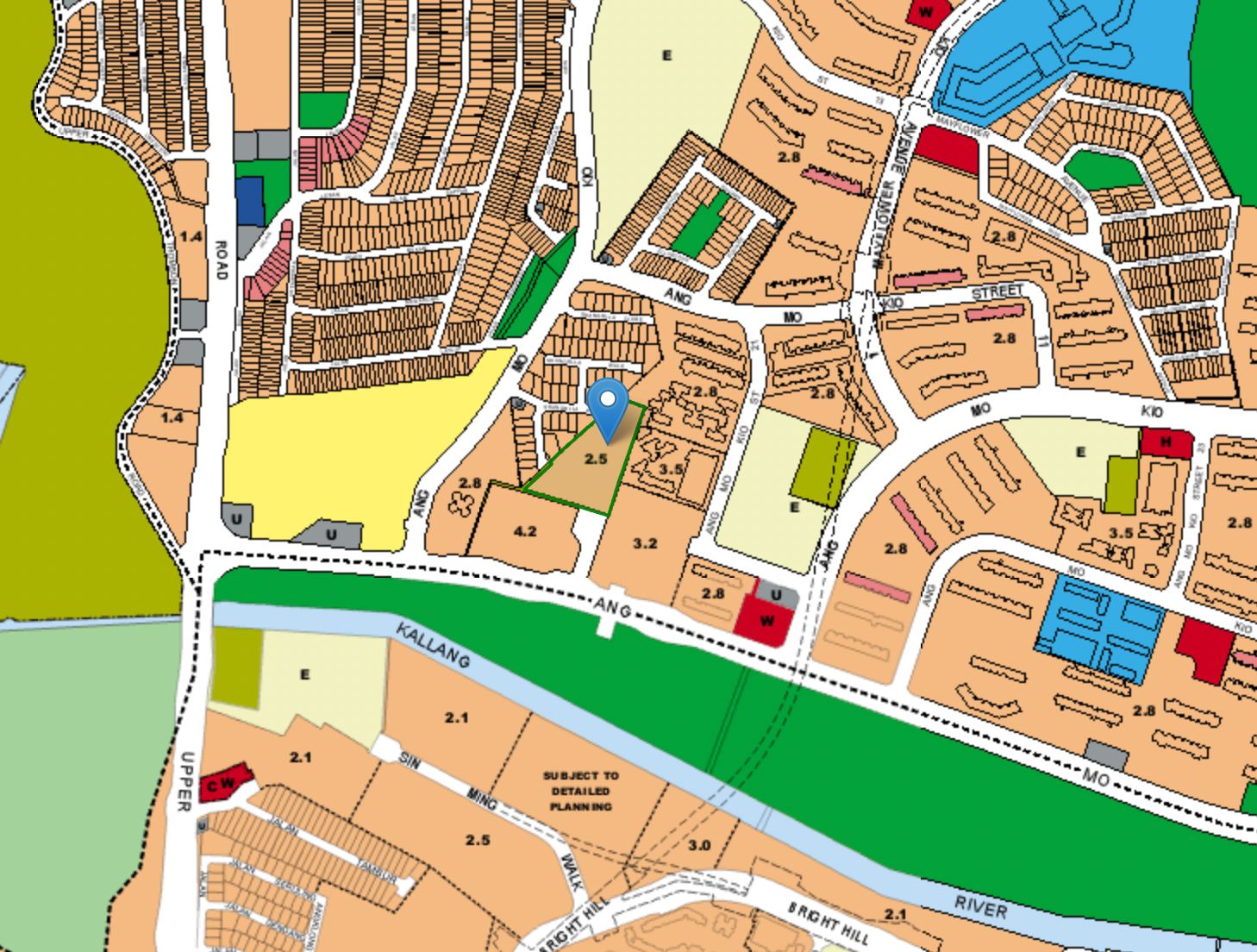 Limited Condo Supply in Ang Mo Kio
Weird as it may sound, condo supply in Ang Mo Kio is surprisingly limited. There are only 3 main developments that come to mind – Grandeur 8, Centro Residences, and The Panorama – all of which will be ~10 years old or older by the time Amo Residence attains its TOP. The total number of units? Less than 2,000. There are a number of private developments in the Yio Chu Kang / Lentor area, including Nuovo which has an Ang Mo Kio address but is in fact closer to Yio Chu Kang MRT. Given the low supply, I do expect strong demand from HDB upgraders in the Ang Mo Kio estate. After all, some of these flats are going for above a million dollars and the estate has more than 50,000 flats according to HDB figures. In the longer term, sustained demand for Ang Mo Kio homes will help to support the asking price here at Amo Residence, which will be the newest kid on the private residential block. 
Strong support by nearby HDB prices
In addition to the low condo supply in the Ang Mo Kio area, Amo Residence is also anchored by the high prices that the nearby HDB flats are selling for. Kebun Baru Court, which is just beside Amo Residence (many of you would have parked your cars there to get to the show flat), has many units which have sold for well above $1 million (5 room flat) and $800k (4 room flat). I very much expect the same after the upcoming Kebun Baru Edge BTO project TOPs and then reach its MOP in 2030. This provides the necessary price support for Amo Residence, as buyers would definitely use the BTO prices as a proxy of sorts.  
Amenities, Schools, and the Park
This point is a little less substantive as it is more about the Ang Mo Kio area in general. You don't get much more 'heartland' than Ang Mo Kio, with many hawker centres, wet markets, and supermarkets close by. Not to mention that all of these are usually more affordable than their peers.
Another important reason why Amo Residence will continue to see strong demand is its <1km distance from both Ai Tong School and CHIJ St Nicholas' Girls School. Both are very popular and reputable institutions, and it certainly helps that you have top pre-university institutions such as Raffles Institution and Eunoia JC close by as well.
The fairly large Bishan Ang Mo Kio Park is also an important source of leisure for many residents in Ang Mo Kio. It provides a good area to exercise and in a way, serves as the green lung for the area. Being close to it is helpful in ensuring that Amo Residence ticks the boxes both in the needs and wants categories.
What we like
Full-facilities for just 372 units

Multiple pools

Good, open areas

Tennis court

Proximity to reputable primary schools, top secondary schools and JCs
What we don't like
–

Obstructed views from Kebun Baru Edge BTO

–

Future construction noise and further view obstruction from adjacent residential plot
Our Take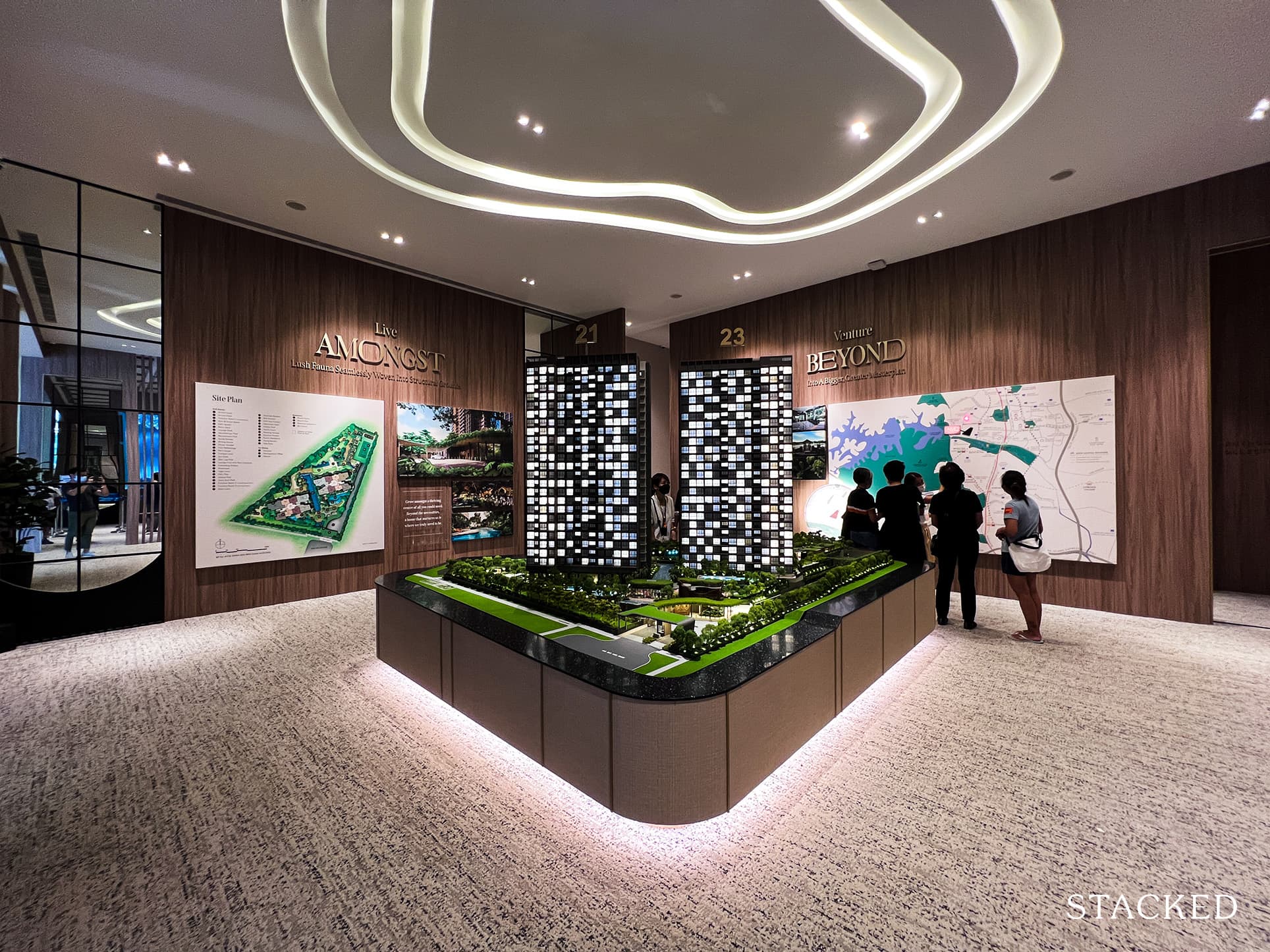 Amo Residence is Ang Mo Kio's first launch in 8 years and it's quite incredible to see how prices have moved since. Alas, let us not dwell on the past but embrace the present. This development ticks many boxes for many Singaporeans, especially for parents of young children or would-be parents. Good schools, good connectivity, and good food are 3 main factors that will help to drive and sustain the demand for Amo Residence.
Besides the locational attributes, it has lots to offer within the estate itself. I find that 3-400 units today is a sweet spot – not too big and not too small and has a more than decent amount of facilities both for those who enjoy exercising and entertaining. For example, the tennis court is a unicorn these days, especially for condos with less than 400 units so kudos to UOL for including this facility.
It doesn't even come as a detriment to the space of land available, as there are pockets of open spaces and lawns for residents to enjoy. And with the 1:1 car park ratio, it is also another feather in its cap despite the fact that you are quite close to Mayflower MRT station as well.
Overall, if you are comfortable with the asking price and are not too concerned by macroeconomic undercurrents around inflation and recessions, there is little not to like about Amo Residence.
What this means for you
You might like Amo Residence if you:
• Want to be close to 2 popular primary schools

1km from Ai Tong School and CHIJ St Nicholas' is definitely an important draw for would-be buyers. The Raffles family of schools (RI, RGS, and RI (JC)) are also close by.

• Value amenities close by

Staying in Ang Mo Kio means plenty of food centres, markets, and neighbourhood shops within walking distance.

• Fancy staying in the newest condo in the area:

First condo launch in Ang Mo Kio in 8 years, coupled with the low condo supply here means buyers here will be the envy of many nearby residents.
You might not like Amo Residence if you:
• Are worried about entering at the peak

Amo Residence's expected average psf of ~$2,100, although expected, will set a new benchmark for the Ang Mo Kio area in an uncertain economic environment. That said, the lowest psf for Amo Residence is expected to be as low as $1,890 psf.

• Dislike construction noise in the future

While the adjacent BTO project will be completed before Amo Residence, there is still a residential plot, which will be taller than Amo Residence that has yet to be released for sale
End of Review
Documents
Join our Telegram group for instant notifications
Join Now
Matt K