Commentary

6 Unusual Rules That Have Shaped How Condos Have Been Built (For Better Or Worse)
Ryan J
March 13, 2023

9

min read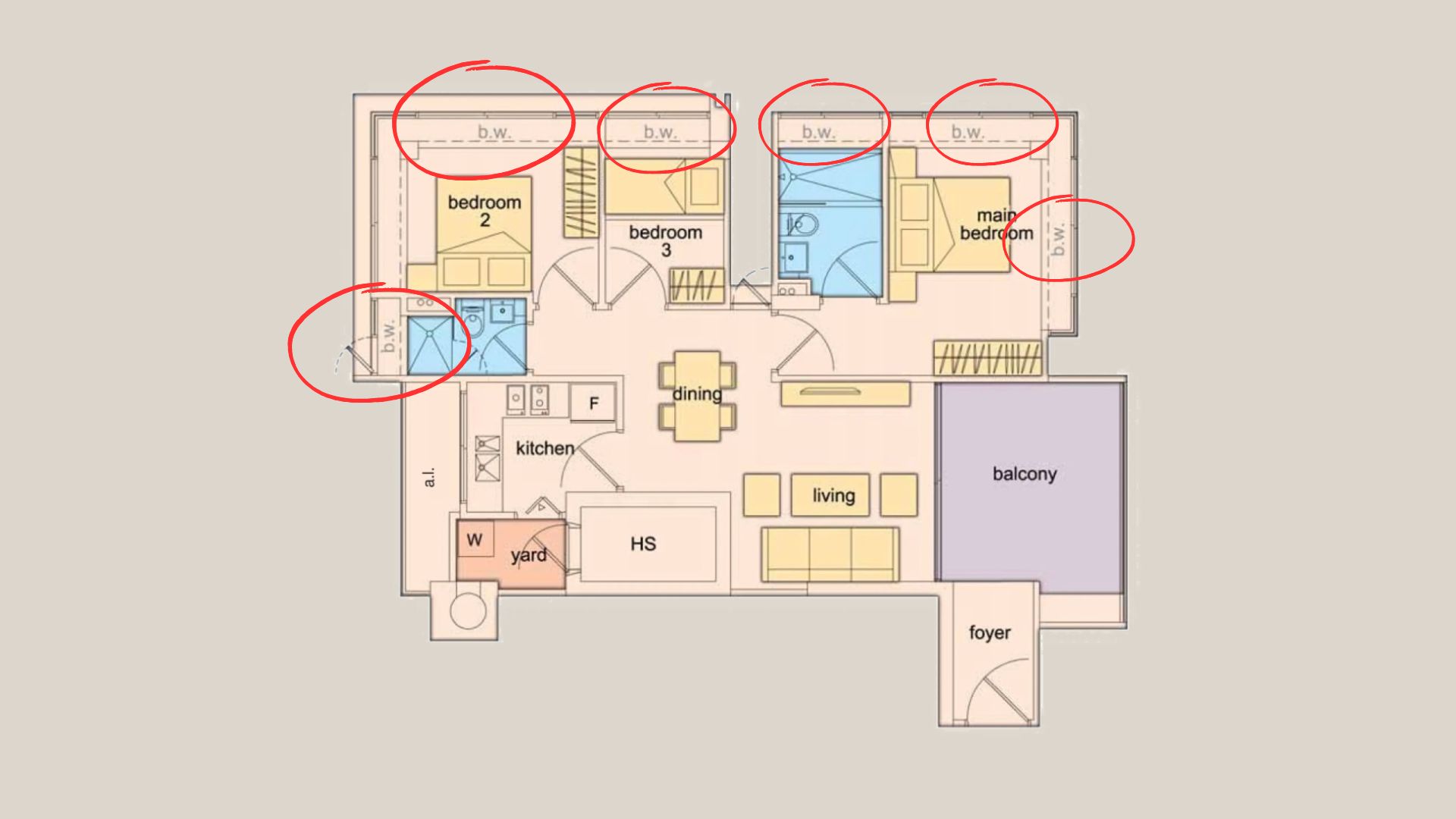 9
min read
Property developers in Singapore have a solid reputation, but a common criticism is that our projects are all "cookie-cutter". There's only one Interlace for every dozen other similar-looking projects. But there are reasons why developers build this way, just as there are reasons for some of the more awkward design choices.
For example, you've probably wondered why some rooftop facilities don't have a proper shelter built when it seems like such an obvious thing to include. Or perhaps why do some developments just have so few car park lots (or even visitors ones for that matter), when it only makes sense to build more for the number of units.
Truth be told, while most things would just come down to cost, there are some others that actually have reasonable explanations for it.
Here are a few of the most common ones:
1. Bigger condos are more "cookie-cutter" thanks to ABSD deadlines
Developers pay 40 per cent ABSD on the land price. Then, if they're able to complete and sell out the project within five years, they can get an ABSD remission of 35 per cent of the land price (five per cent is non-remissible).
The crucial factor here is the time limit: the government doesn't discriminate between a small condo with just 17 units, or a mega-project like Treasure @ Tampines (2,200+ units). No matter the unit count, developers get the same five-year deadline.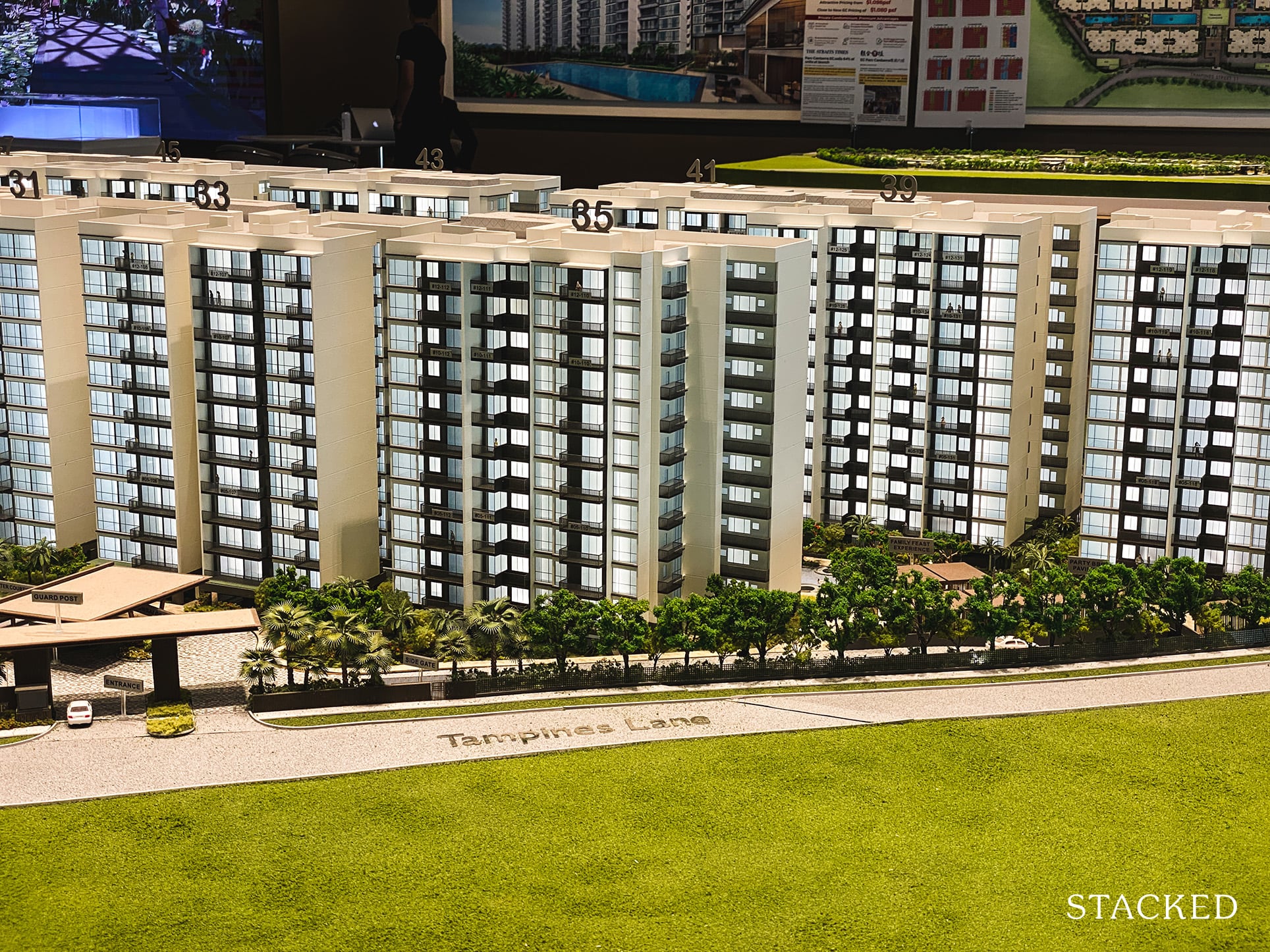 This is why you see less risk-taking with developments today. There is little incentive to really experiment or challenge the status quo as if you do get it wrong, the repercussions are huge. This is especially so with huge developments, as the risk of paying the 40 per cent ABSD is too serious to take chances – since bigger projects mean bigger land plots (and hence bigger sums paid for ABSD).
As such, developers tend to be extra cautious with big projects; and they're incentivised to follow proven formulas for success. It's only once every blue moon – or in very prime locations – that most developers dare to get experimental (a location like Orchard or Newton sells itself, and the buyer demographic probably won't be fazed by costlier features).
2. The rule on Private Enclosed Spaces (PES) used to lead to larger air-con ledges and ground-floor patios
There is a cap to how much a developer is allowed to build, on any given land plot. This is called the Gross Floor Area (GFA).
There used to be different rules governing Private Enclosed Space (PES), but that has been changed some time ago:
Via previous rules, building large PES spaces could work to the benefit of the developer. For example: air-con ledges counted as PES – no matter how huge the developer made the ledge, they don't use up any of their precious available GFA.
On the other hand, you as the buyer would pay more for the unit – because the PES increases the square footage of your unit. This is why you sometimes come across comically huge air-con ledges, or ground-floor units with exceptionally large patios.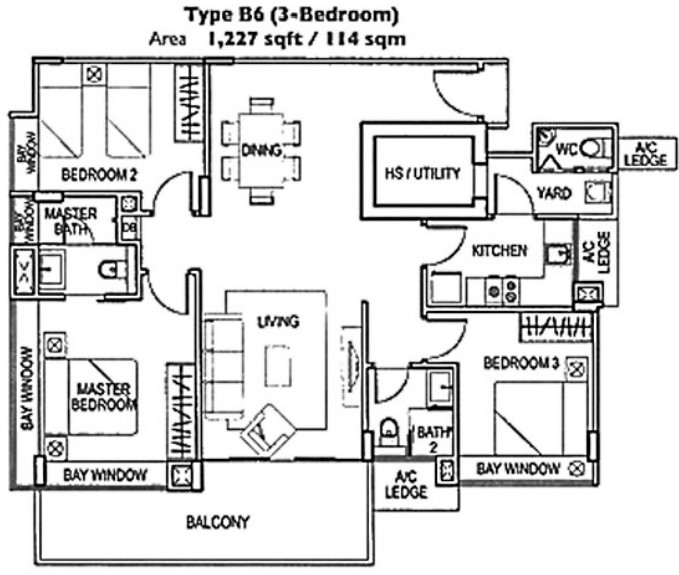 The height of this was around the time La Fiesta made the news, for condo ledges that sometimes stretched up to four metres. Due to feedback from homeowners, URA has tweaked the rules; but you may still find older properties with oversized air-con ledges, bay windows, etc.
These features don't necessarily make a condo unit bad – but be aware that you could be paying for a lot of space you don't use.
Do remember that for things like bay windows, before you just hack it away, think again: you need to get official approval to do that if the ledge space was originally exempt from the Gross Floor Area (GFA). That can come with some hefty fees, as you're expanding the GFA.
3. Building with less concern for long-term maintainability
Older condos, such as those from the 2000s or earlier, were built before BCA started to use metrics like MIDAS or CONQUAS scores. This is both an upside, and a downside.

On the positive side, these condos emphasised marketability. That means cool features like monumental facades, which look extra grand when lit up at night (while consuming more electricity); or you'd see avant-garde structures with lots of glass, colonnades, or well-concealed infrastructure.
In these earlier days, downstream maintenance was somebody else's problem. The developer's sole job was to create a pretty project that sold well. Whether it was cost-effective to maintain was the future property manager's problem – and this resulted in buildings that need a lot of specialised equipment and personnel to upkeep (e.g., the cleaners need to build scaffolds even for simple jobs like clearing out choked air vents, due to low accessibility).
This creates the downside of higher maintenance fees and a higher risk of poor maintenance as the project ages.
Newer projects, on the other hand, are often built with an eye toward sustainability, and easier downstream maintenance. This may result in forfeiting certain features such as false facades, or faux waterfalls, which are costly to maintain – but there could be more longevity in the projects.
4. The growing trend of condos without a visitor parking
This is due to revisions by LTA in 2019 called the Range-based Parking Provision Standards (RPPS), which reduced the number of car lots developers need to provide. Condos within the CBD, or within 400 metres of an MRT station, can have 20 per cent fewer lots than are usually required.
Also, five new growth areas (Marina South, Kampong Bugis, Woodlands North, Bayshore, and Jurong Lake District) will be gazetted for development as car-lite areas. This means that parking provisions for developments here will be determined by LTA on a case-by-case basis.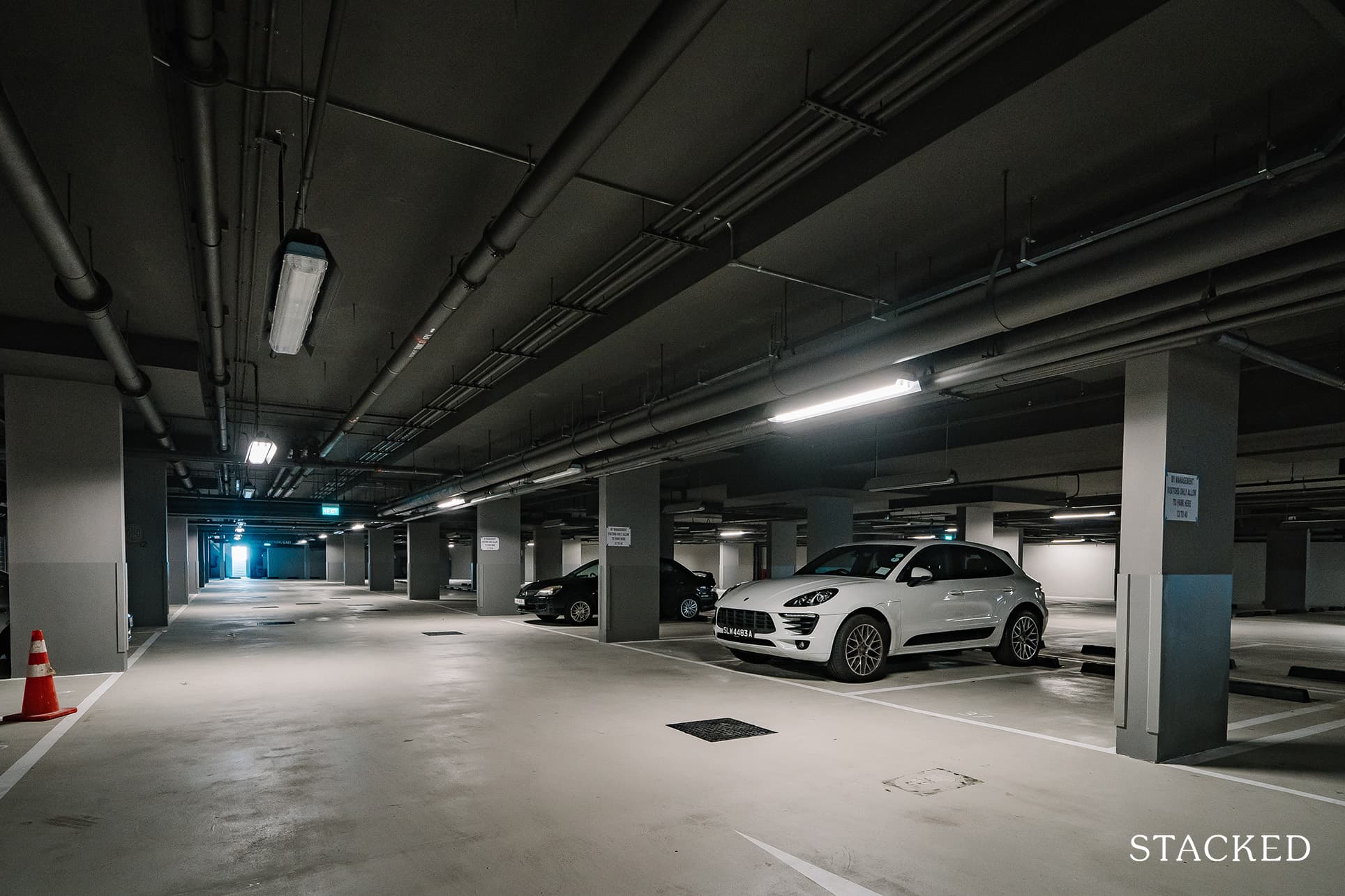 This is why a lot of the newer condos in the CBD – despite being in a luxury or prime area – seem to lack a basic amenity such as parking for your visitors. Some buyers in the CBD area specifically want older resale condos, to avoid this situation. It's also becoming common for condos near MRT stations to provide fewer than one parking lot per household.
It also means that, quite ironically, condos in more "ulu" locations without MRT access could have more parking lots per household; and it may be easier for your guests to park when they come to visit.
This has resorted to certain developments having to charge a parking fee for visitors after a certain time (could be between $8 to $10), or having to apply for overnight parking in advance for visitors.
That said, this will be less of an issue moving forward anyway. With the high COE prices, and the vision to have a car-lite society (and when driverless cars become the norm), we will probably be less reliant on actually owning a car anyway.
5. Some floors in a stack may have blocked views because they face-sensitive areas
You may have heard warnings against buying condos near military camps, or government buildings. There is some truth to this – a handful of condos have deliberate blind spots or obstructed views on certain floors. This really can happen, if the authorities decide that a building will overlook a sensitive or top-secret area.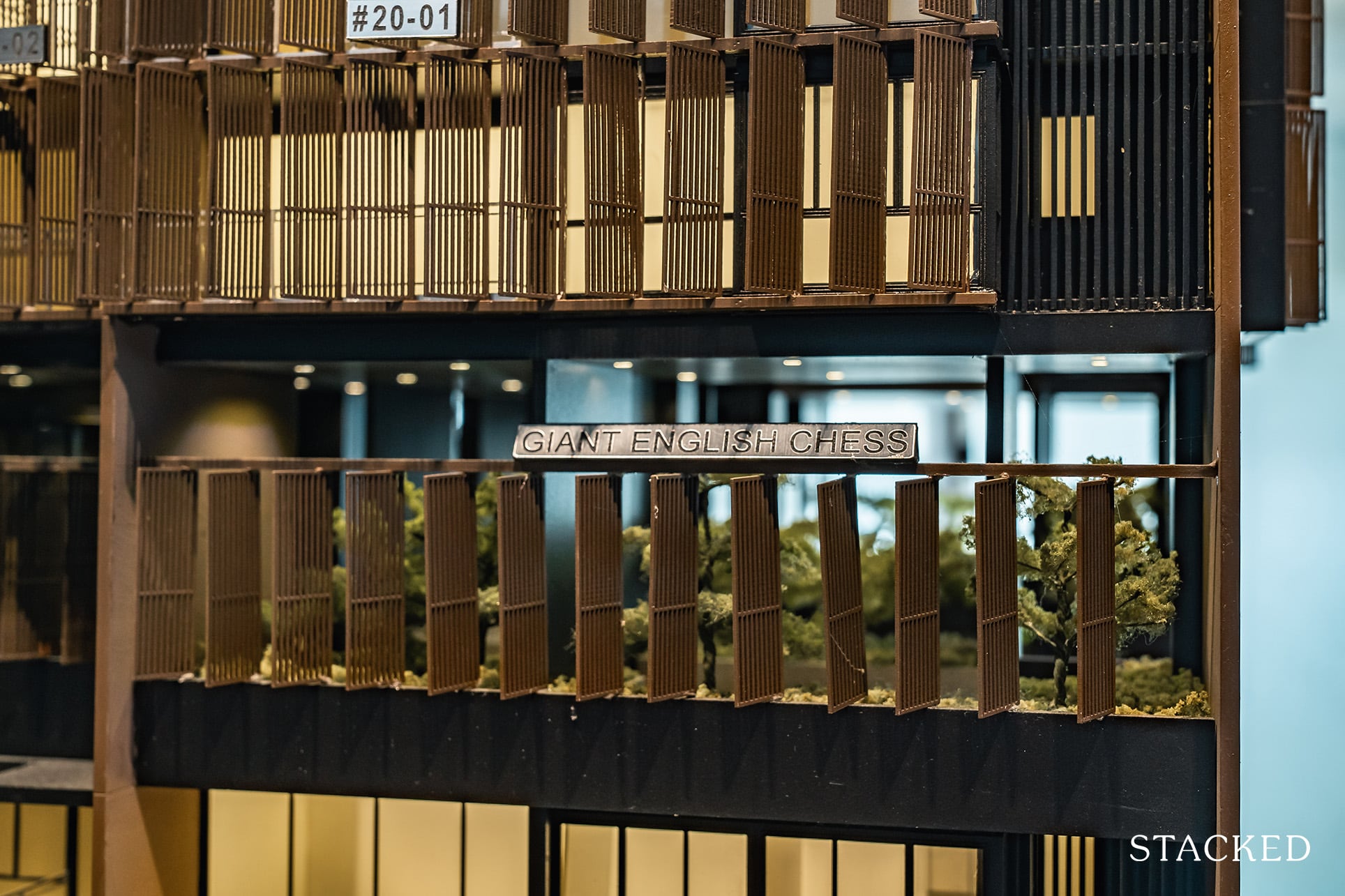 This information is usually conveyed to the developer earlier on, who will get architects to try and build around it. However, it can result in the occasional stack with an odd facing, or some floors being clearly better for views than others.
On a related note, some buildings that are near airports may face additional height restrictions – and are thus built lower than their Gross Floor Area (GFA) would usually allow. These condos are often thought to have lower en-bloc potential, as a future developer would face the same height restrictions (unless the airport itself moves, like what has happened with Paya Lebar Air Base).
6. Selected GLS sites will require the use of PPVC
Since 1st November 2014, the use of PPVC is required for selected residential non-landed Government Land Sale (GLS) sites.
Now, there are certainly benefits to using PPVC which we've talked about before here.
For example, it would be faster to build when it comes to construction. So the benefit is clear if your decision on a new condo hinges on how fast it can be built. Here's an illustration of the impact:
| | | |
| --- | --- | --- |
| | Clement Canopy | Forest Woods |
| TOP | March 2019 | Nov 2020 |
| Purchase Price | $949,000 | $908,000 |
| Size | 657 | 667 |
| Rental | | |
| Monthly Rent | $2,800 | $2,800 |
| June 2019 | $33,600 | – |
| June 2020 | $22,400 | First rental transaction commenced in Feb 2021* |
| Total Gross Rental Income | $56,000 | $5,600 |
Based on actual rental transactions
But, on the other hand, this means that you are limited in how different you want the layout to be. For PPVC developments, you are typically constrained to a certain size because of limitations in transporting the modules.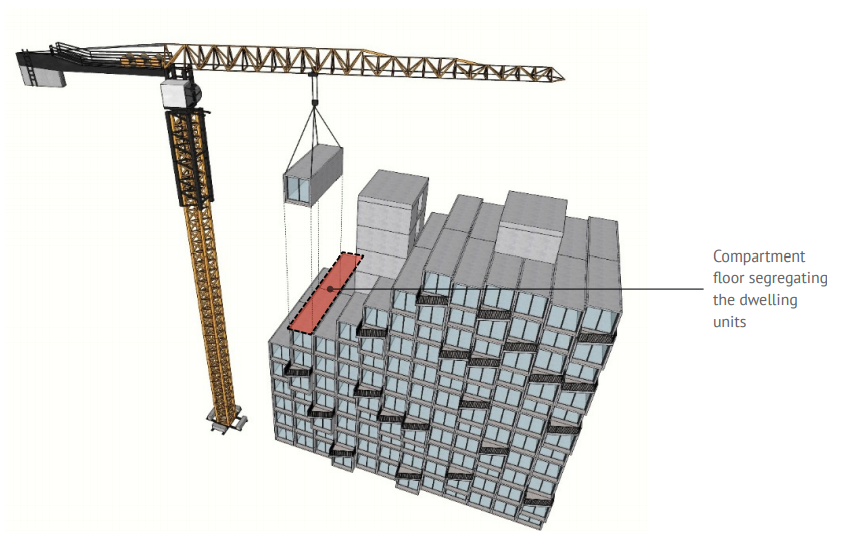 As a result, you could point to this as a reason why most developments today have a uniform look.
Developers in the current property market walk the proverbial tightrope, balancing between regulatory compliance, narrowing margins, and the struggle to innovate amidst these constraints. So far they've managed to cope – but there may be a hidden cost, in the sense that we're not seeing the full range of their creative capabilities.
For more on condos that are different, check out our in-depth reviews on Stacked. We'll help you spot the condos that stand out from the rest.